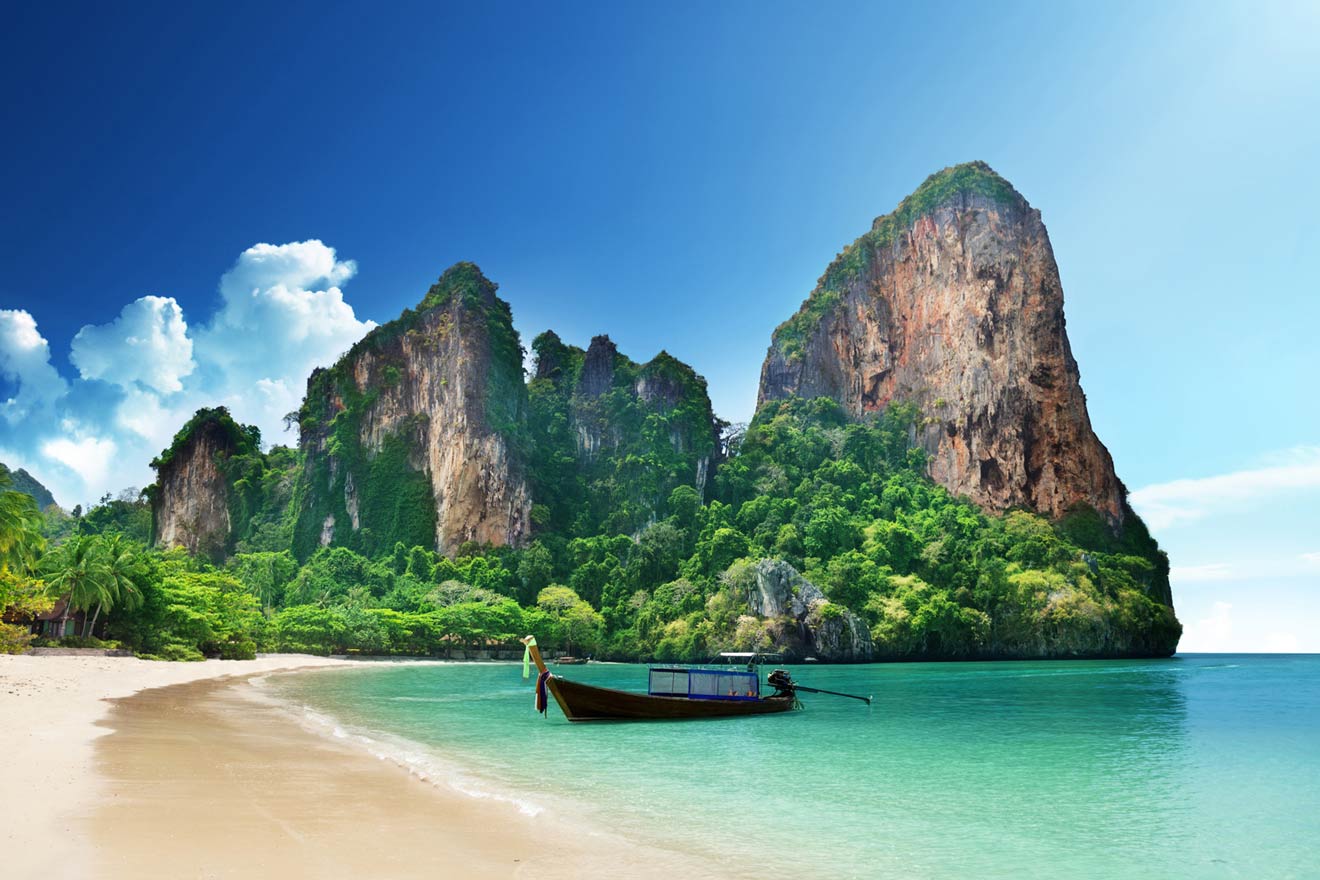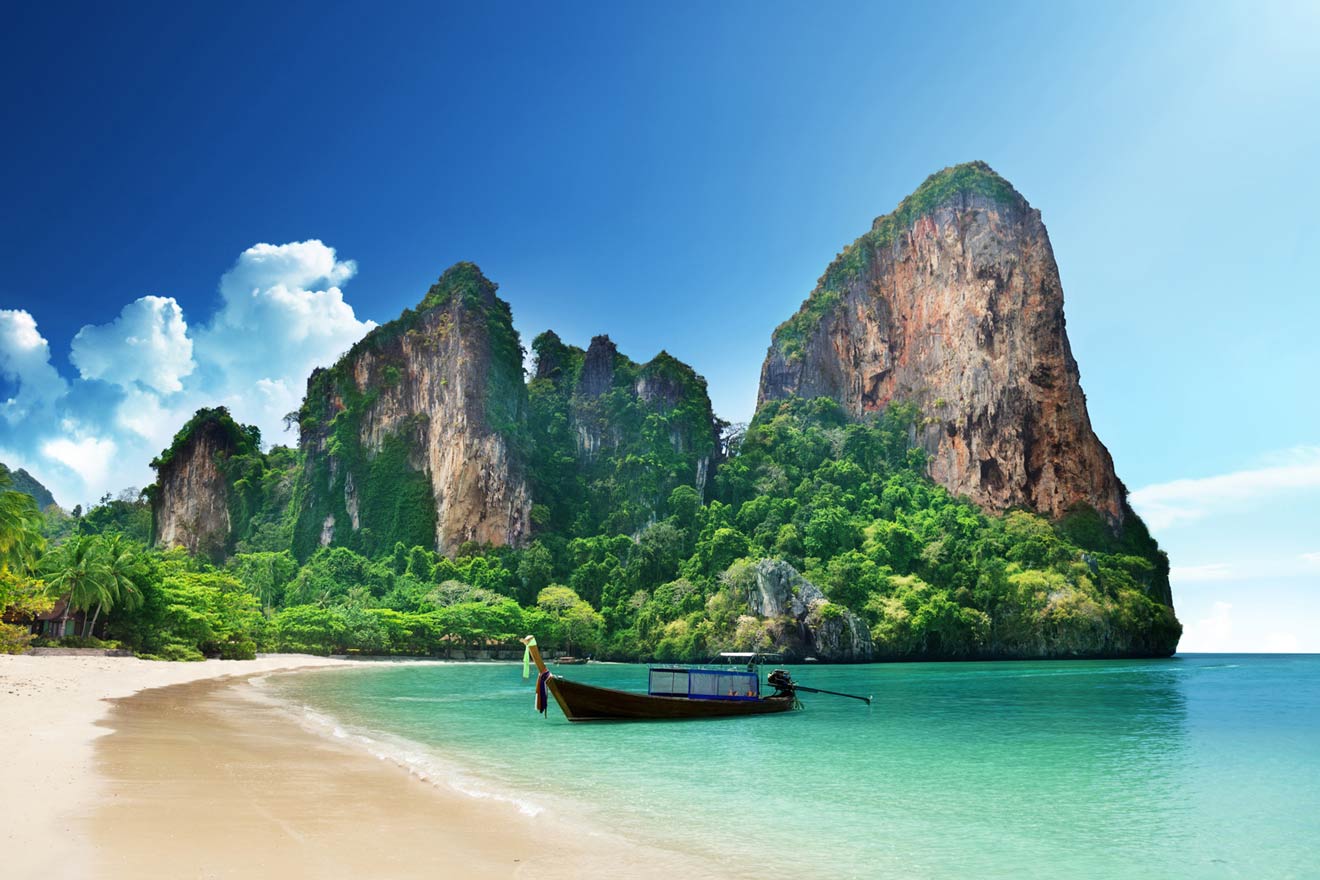 Have you ever wondered what paradise on earth looks like? Well, now you've got the chance to see it with your own eyes!
Below, you'll find a detailed guide to the best areas where to stay in Krabi, plus a list of hotels from most to least expensive! Ao Nang is my number one pick for the top area in the region as it offers unique beaches and fabulous resorts!
However, if you prefer a super popular place, affordable hotels, or something a bit more romantic, I'll also talk about Phi Phi Island, Krabi Town, and Klong Muang in this article!
This place is so special that I couldn't let you start your trip just with that, so I've added 2 more bonus sections with some fantastic hotels for families and super unique accommodations that you shouldn't miss out on!
Keep in mind that Krabi is a super popular destination so I highly recommend booking your hotels in advance!
Grab your sunglasses and let's go!
If you are in a hurry
Ready to book your hotel right now? Then have a look at this short list of the best hotels where to stay in Krabi, all of them are set in Ao Nang:
Check out this map that will help you visualize all the areas where to stay in Krabi that I'll talk about in the post:
1. Ao Nang – where to stay in Krabi for the first time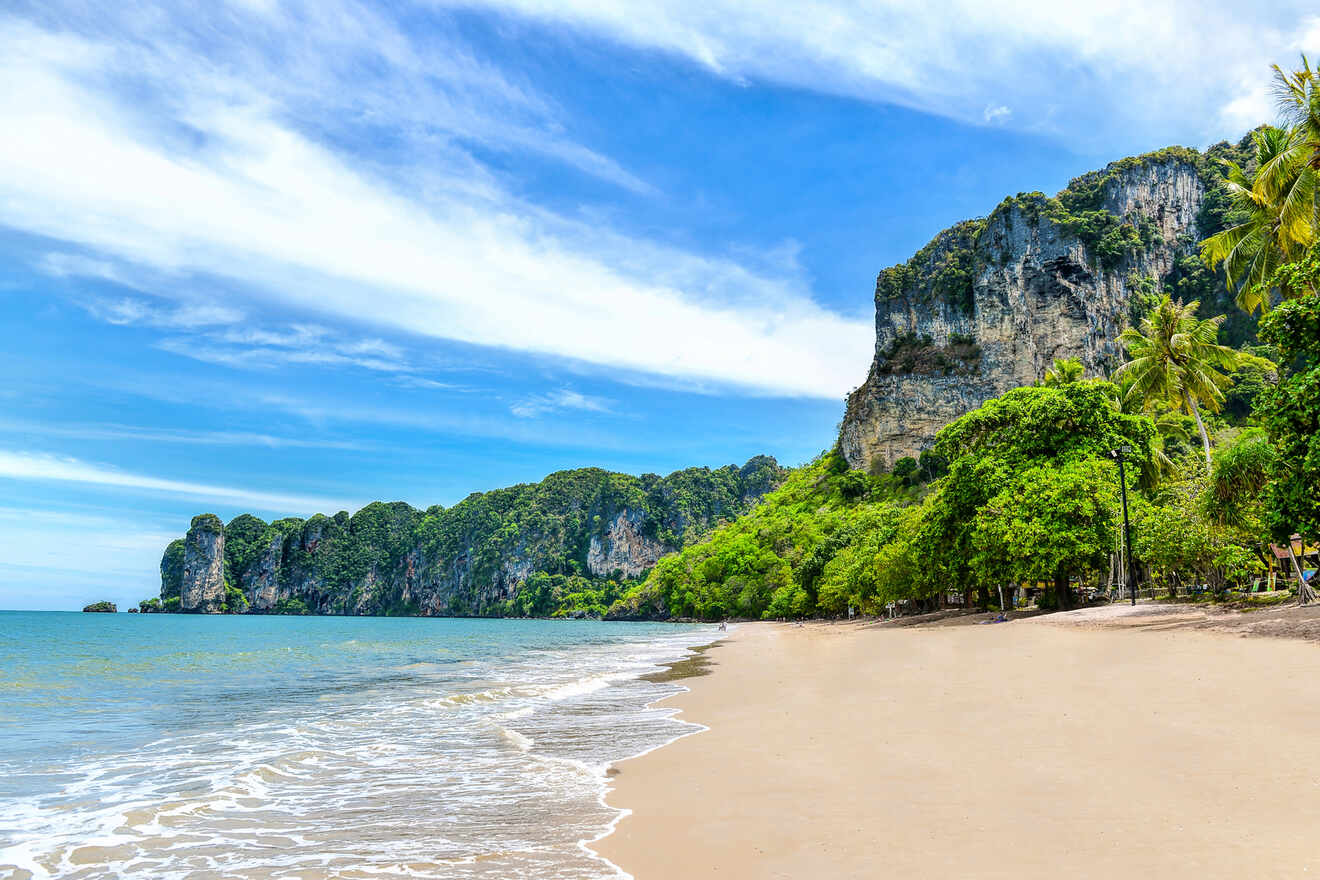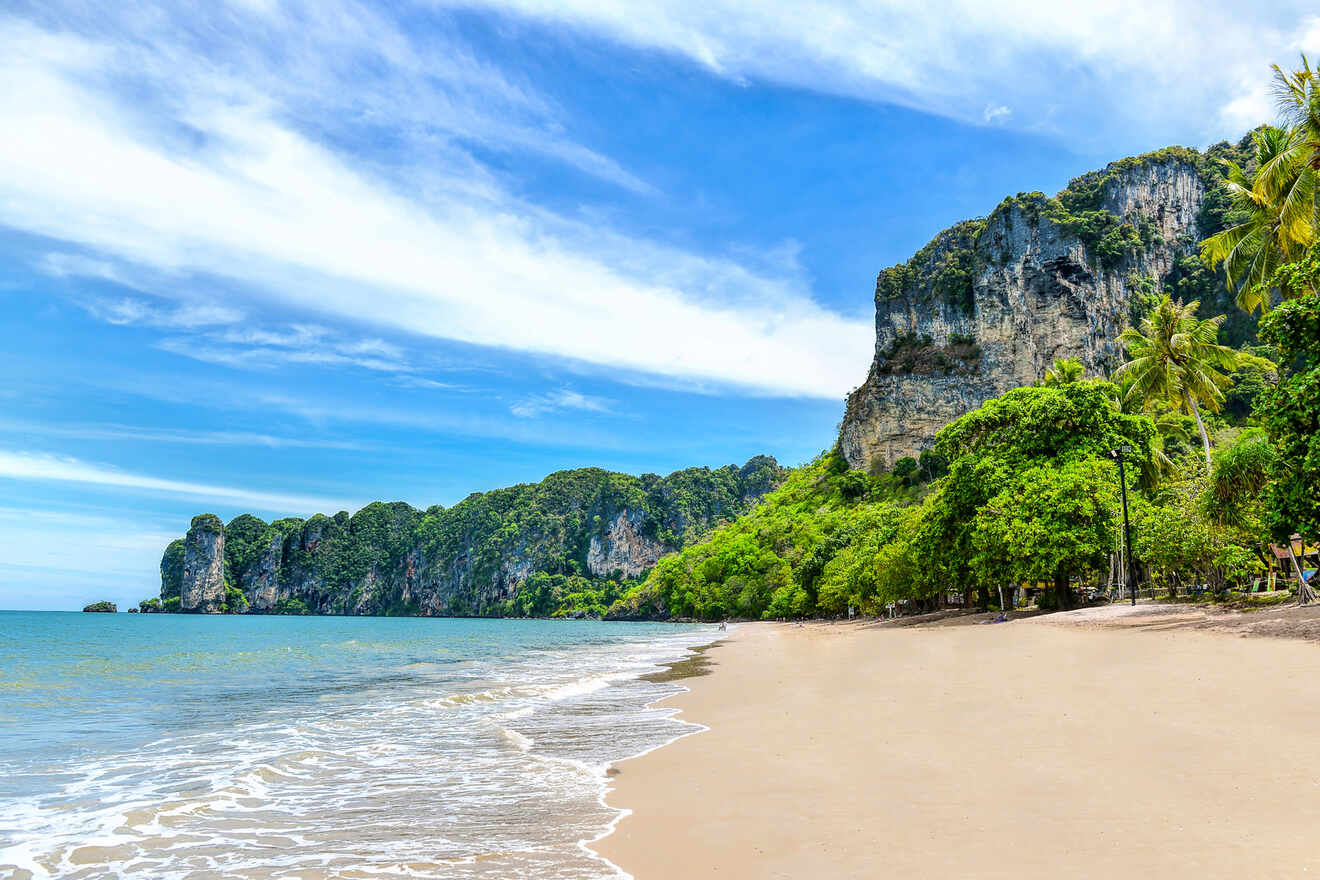 The main resort town, Ao Nang, is by far the most popular place where to stay in Krabi, thanks to its laid-back beach lifestyle, excellent restaurants, and hotels! It's also fantastic for anyone who wants to do island hopping and explore other sites!
Ao Nang is pretty big so I've divided it into 2 sub-areas (that you'll see below) so that you can easily choose which one you prefer depending on what you want to do!
This dreamy place has scenic landscapes, beautiful limestone cliffs, and turquoise waters that look from another world! Sounds pretty good, right? Plus, you'll find everything your heart desires here from lively markets, shops, nightclubs, and entertainment!
During the day, you're free to try all sorts of watersports on the popular Beach, Ao Nang! Snorkeling is pretty popular since the waters are super clear and perfect for that, but you can also try kayaking or chilling on the beach and enjoying the sun!
As I mentioned, Ao Nang is the best area to stay in Krabi for the first time, and many tourists return here as the area is perfect for visiting, so I highly recommend booking your hotels in advance as everything gets booked out super early!
1.1 Ao Nang Beach & Town Center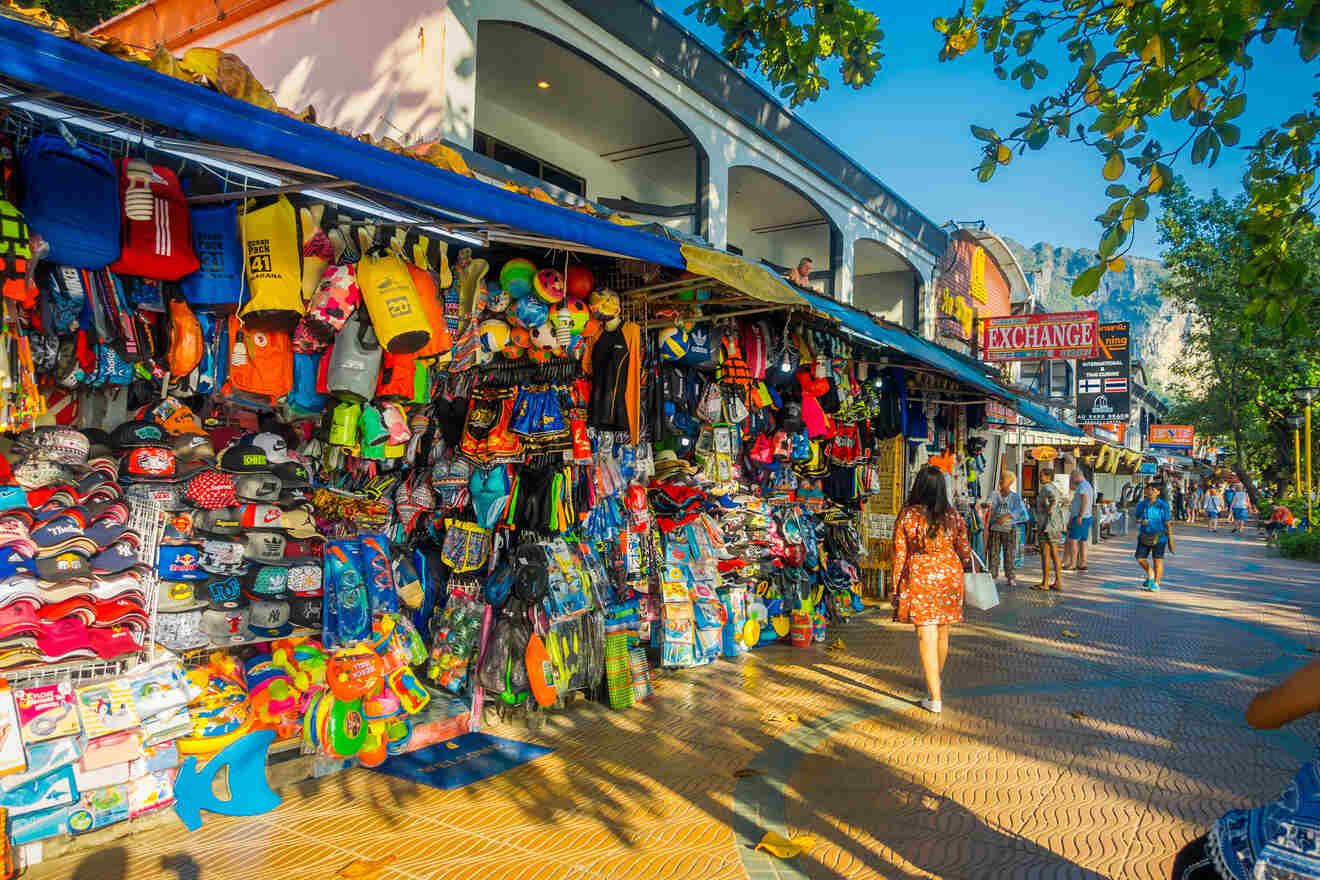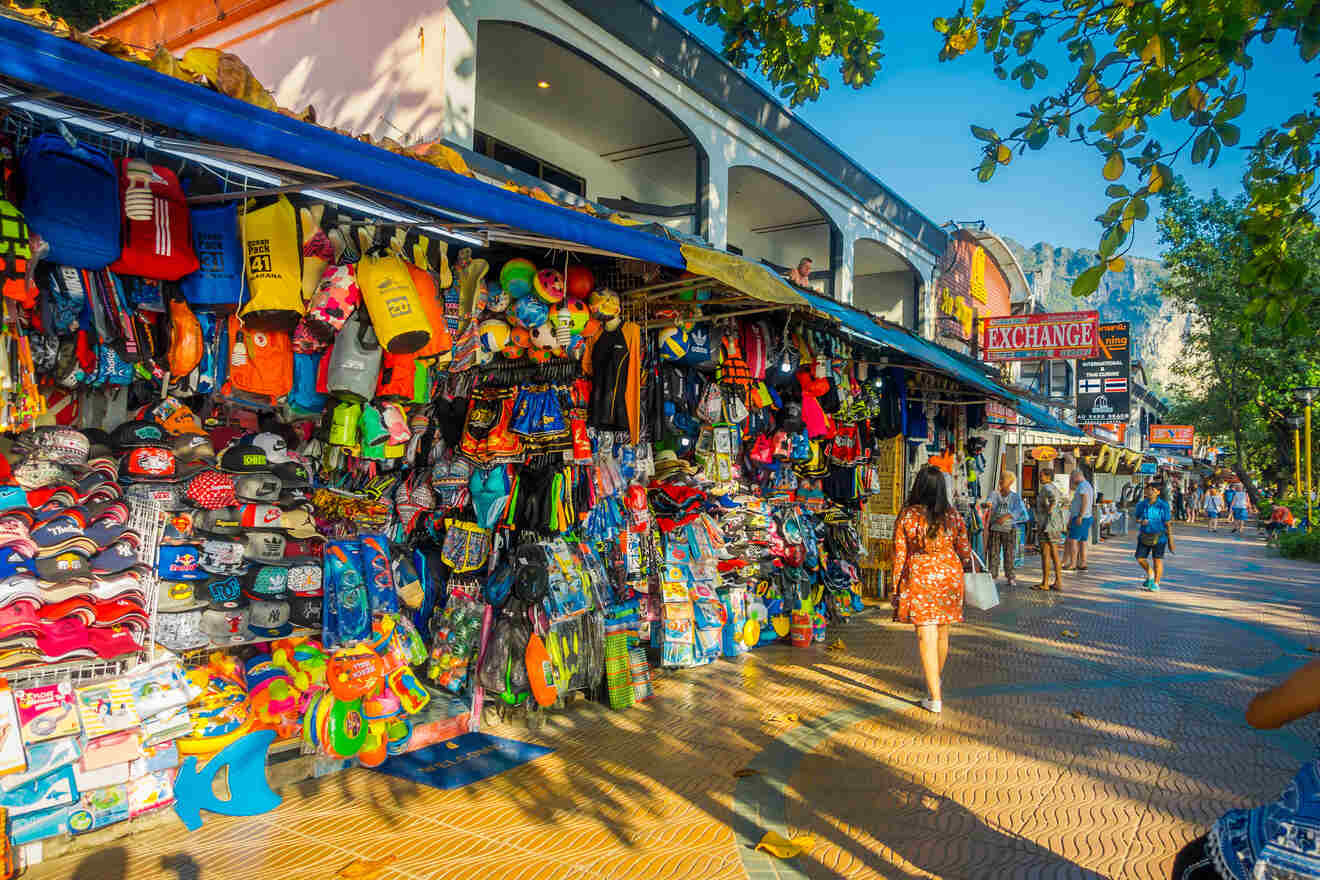 Ao Nang Beach and the Town Center area are most people's favorite places where to stay Krabi. That's because from here they'll have access to many activities, restaurants, and island hopping of course! Here's a list of the best hotels in these areas that you'll love!
Other accommodation options in Ao Nang
1.2 Railay Beach – best place to stay in Krabi for outdoor activities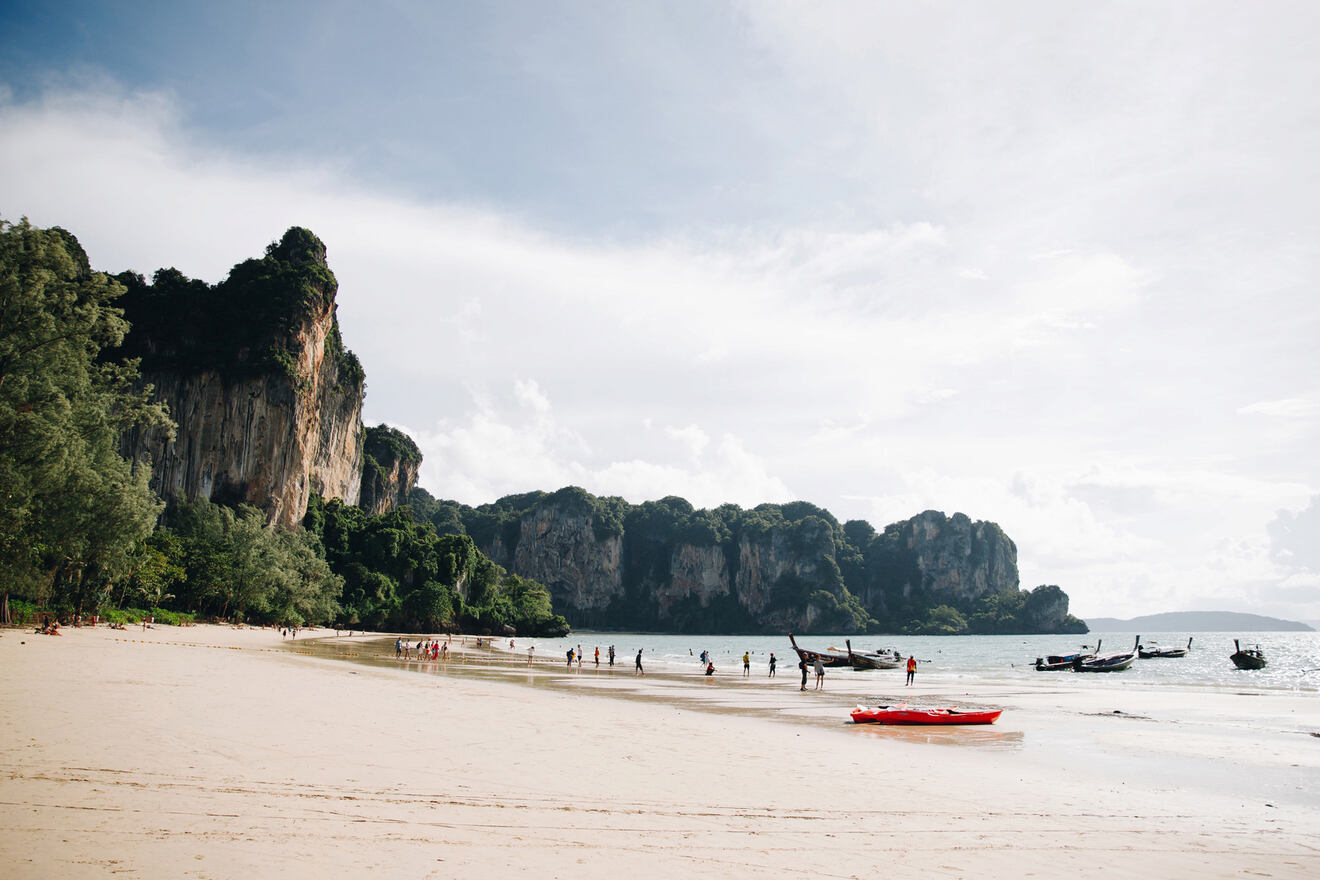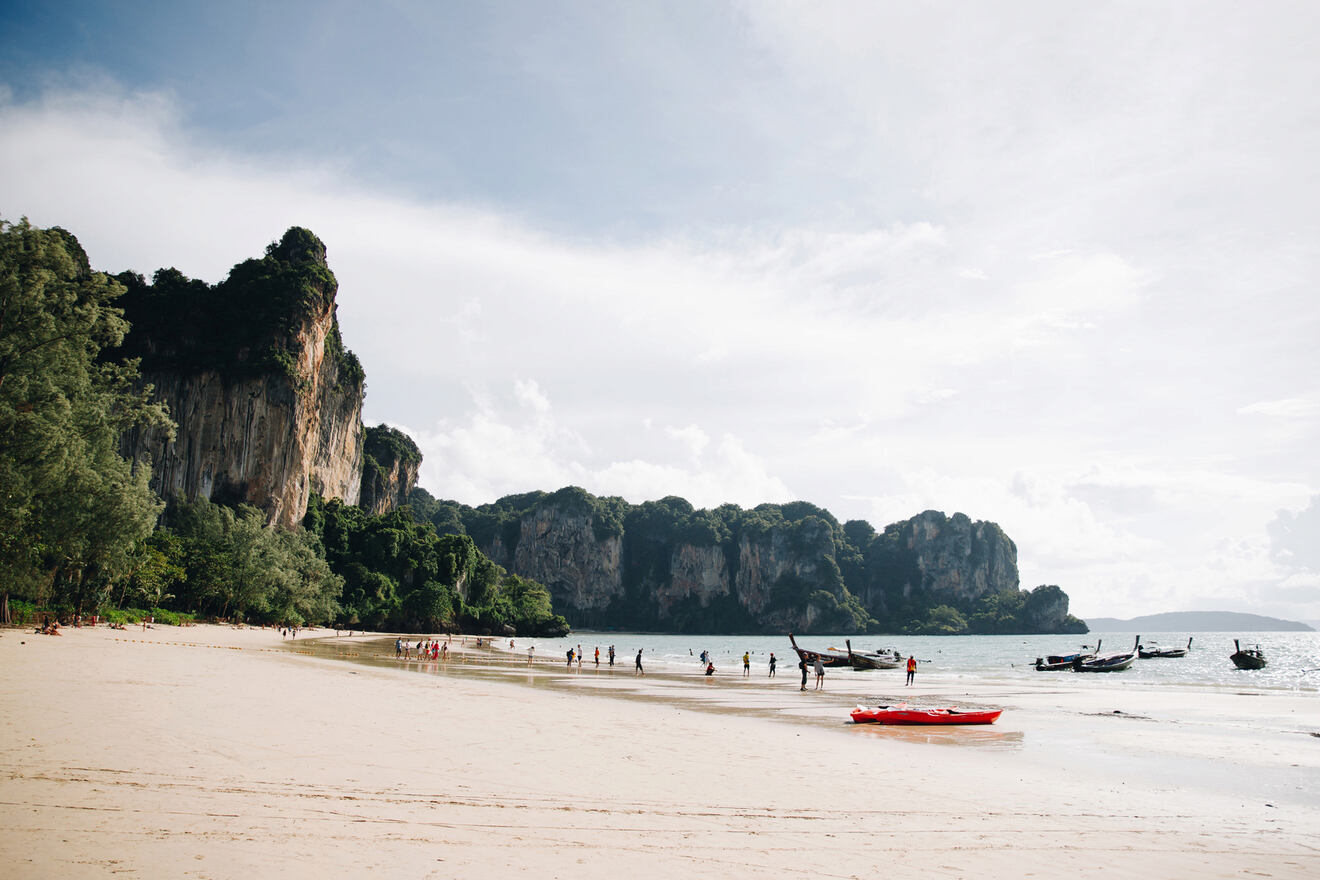 As I mentioned Ao Nang is a pretty big district, so naturally, there are small sites that shouldn't be overlooked as they're pretty amazing. Railay Beach is one of those places and it's popular with tourists as it offers many outdoor activities like rock climbing and diving. Only accessible by boat, Railay Beach also has a laid-back and hippie atmosphere going on, which everyone loves!
Other accommodation options in Railay Beach
Things to do in Ao Nang
Have fun during a rock-climbing trip on Railay Beach
Explore the grottoes on Phra nang Cave Beach
Sunbathe on the popular beach Ao Nang
Visit the beautiful Emerald Lagoon Railay
Check out Tonsai Bay
Grab dinner at Tree House Bar & Restaurant
Go on an island-hopping tour
2. Phi Phi Islands – the trendiest place to stay in Krabi
Koh Phi Phi is pretty big and I didn't want you to miss anything! That's why below you'll find a smaller area inside Koh Phi Phi called Ton Sai Beach. This place is a bit more tranquil but many people prefer to come here as the other parts of the island get super crowded at times.
2.1 Phi Phi Islands overall (expect Ton Sai)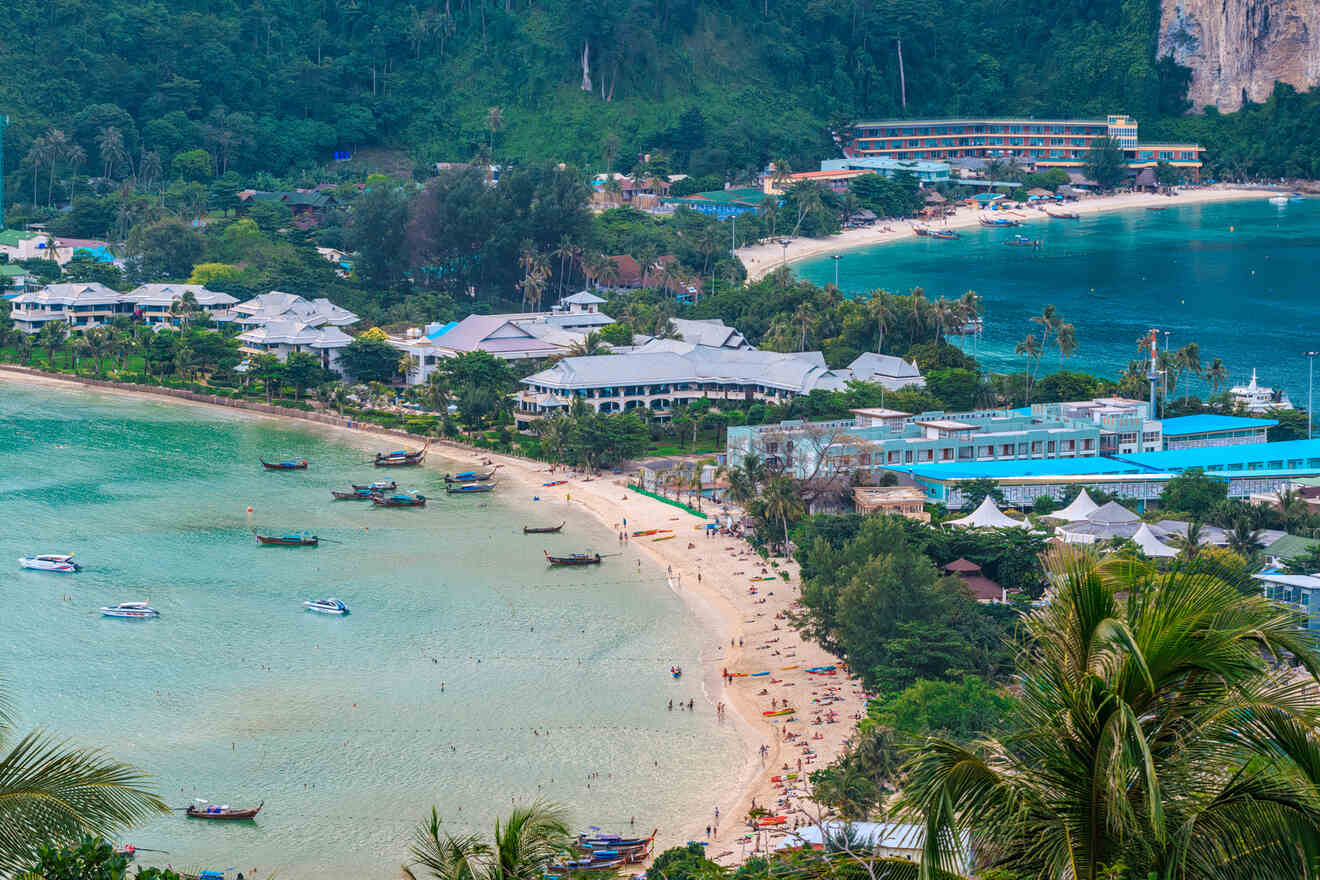 I guess we all heard at one point of the famous Phi Phi Island! Set off the coast of Krabi, the islands look like paradise!
The charm and beauty of the Phi Phi Islands have reached people from all around the world! And their popularity increased after Leonardo DiCaprio shot his movie, The Beach on Phi Phi Leh island.
White sand beaches, gigantic cliffs that look out of this world, and an atmosphere that will make you forget you're on Earth! Oh yes, they are pretty special! But their popularity also brought a lot of tourists, especially from nearby areas like Phuket and the Phi Phi Islands which tend to get pretty crowded.
What's great about these islands is that they offer a mixture of natural beauty and idyllic landscapes but also a fun nightlife, shops, and some of the best resorts!
I would recommend Phi Phi Island (we've got a whole post on these places for you) for younger crowds who want to party, go rock climbing and try different water sports like scuba diving. Also, for people who don't mind the crowds and being in such a vibrant place!
Other accommodation options in Phi Phi Islands
2.2 Ton Sai Beach – where to stay in Krabi for relaxation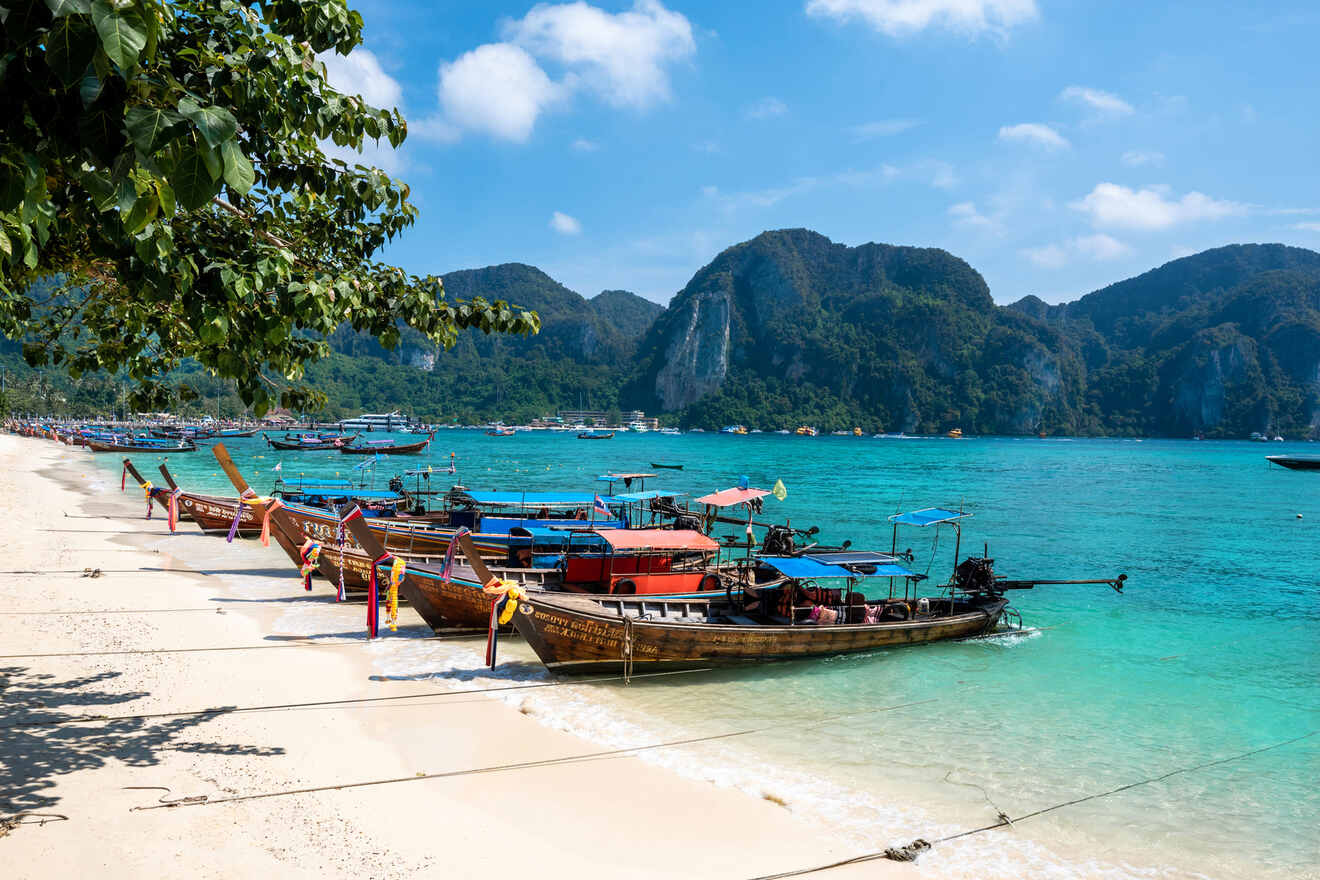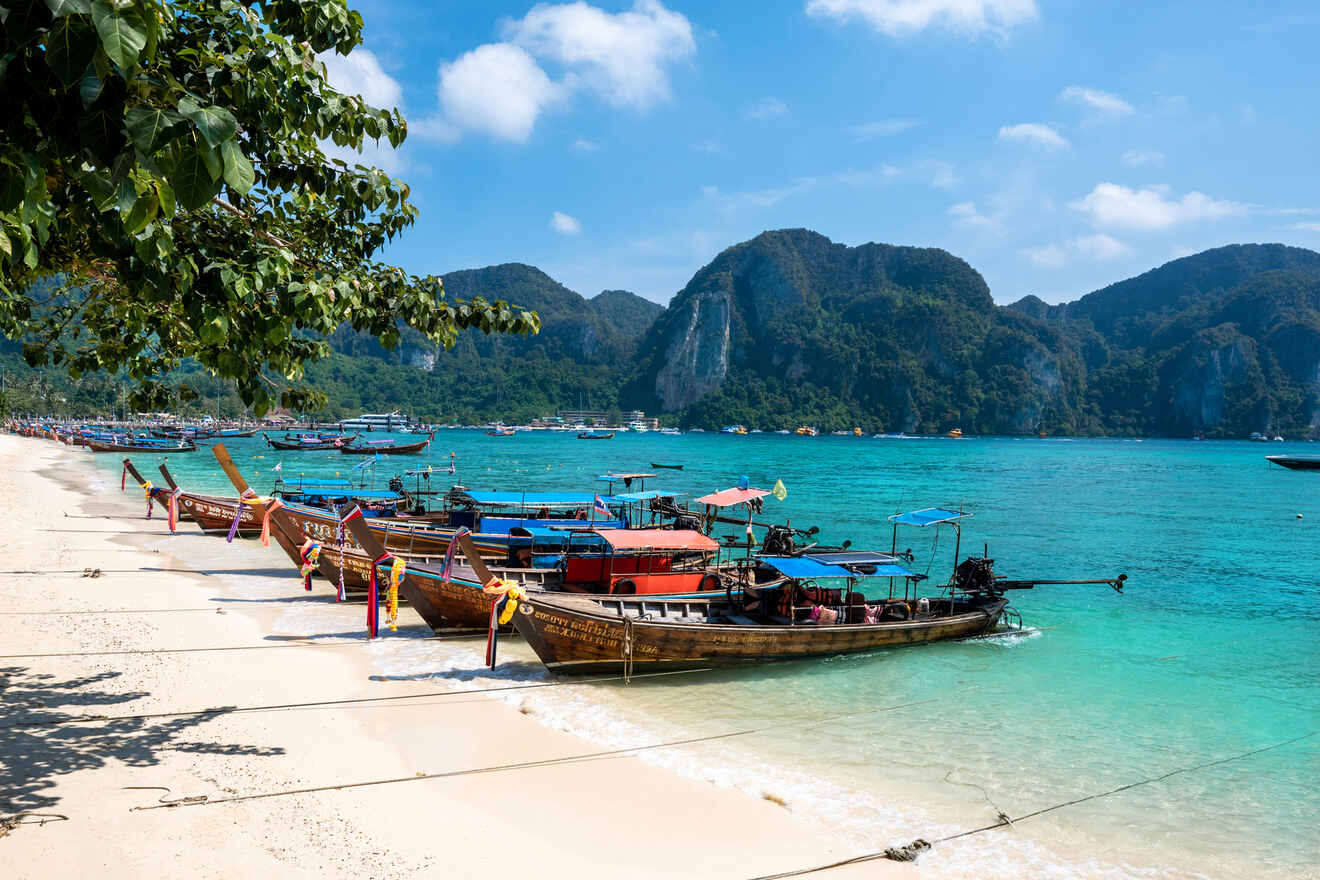 Another great area that's located in the Phi Phi islands is Ton Sai Beach! Trees and stunning cliffs surround this white sand beach.
Ton Sai is famous for rock climbing but is also known as a tranquil area where people come to relax and unwind. The beach is within walking distance from the Village and Bay area (which have the same name), that's awesome as here you won't find any cars or roads, only footpaths!
In case you get bored of lying on the beach or snorkeling, there are plenty of things to explore in the village, filled with restaurants and souvenir shops!
The Bay area is where you'll find all the boats and ferries that take tourists to the nearby islands. You might find this side a bit more crowded but don't worry, when you reach the sandy shores, the crowds disappear!
Let's check out the best hotels in Ton Sai Beach!
Other accommodation options in Ton Sai Beach
Things to do in Phi Phi Islands
Try rock climbing on Ton Sai Beach
Explore the cave at Wang Long Bay
Have fun snorkeling on Nui Beach
Admire the island view at Ko Phi Phi Viewpoint 3
Go on a boat trip tour of the Phi Phi Islands
Make some monkey friends at Monkey Beach
3. Krabi Town – best place to stay for budget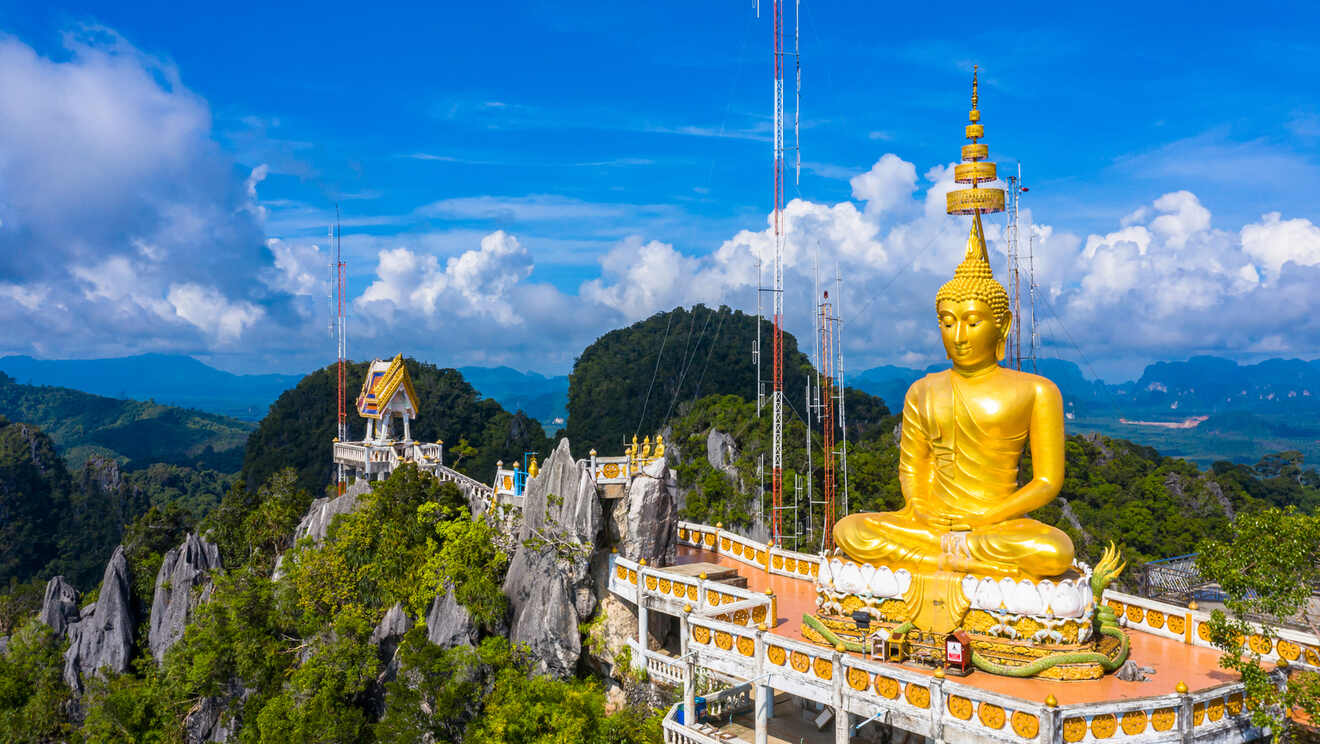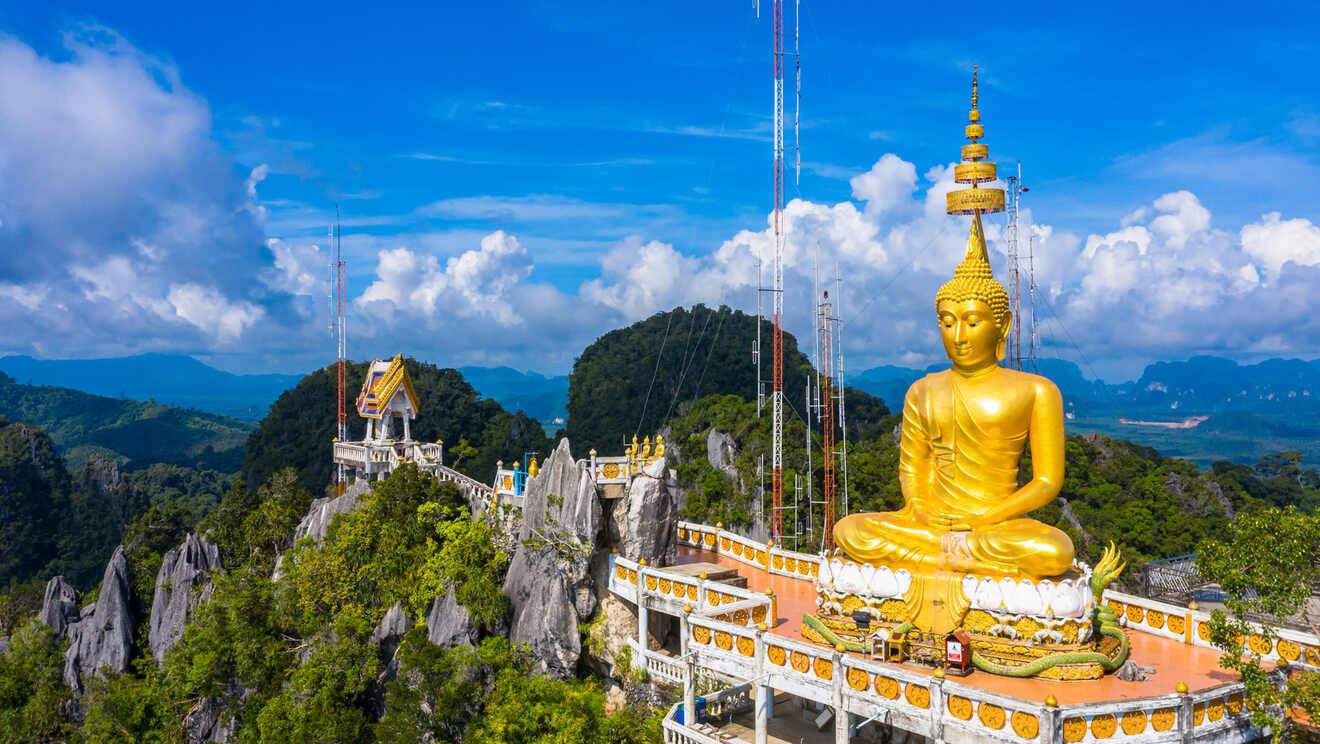 Most people pass through the capital of Krabi province on their way to visit the other islands. At times it can get pretty busy but often, you'll find a tranquil atmosphere as well. Krabi Town offers some of the best budget places to stay!
So if you're looking for a cheap hotel where to stay in Krabi, stop scrolling for a few minutes and check out this part of the article!
Although it's the capital of Krabi province, the town is pretty small, but it does a great job at offering the visitors a local vibe which you'll probably not encounter in places like Ao Nang and Railay Beach since they're super touristic.
You won't have enough of exploring the lively markets, shopping for souvenirs in the small stores, and eating at the best places in Krabi Town!
While you won't find beaches here, Ao Nang beach and Railay beach are easily accessible by boat or taxi. Or you can even take a trip to the Phi Phi Islands if you want!
Backpackers and budget travelers, you'll love this area so let's check out the best hotels around!
Other accommodation options in Krabi Town
Things to do in Krabi Town
Buy lots of souvenirs from Krabi Walking Street market
Visit the City Pillar Shrine in Krabi Town
Enjoy the views at Chao Fah Park Pier
Take a picture of the Crab sculptures in Krabi Town
Eat delicious food at Maharat Fresh Market
Get a bot to Ao Nang and Railay beach
Go for a walk in the Krabi Town Urban Forest
4. Klong Muang – where to stay in Krabi for couples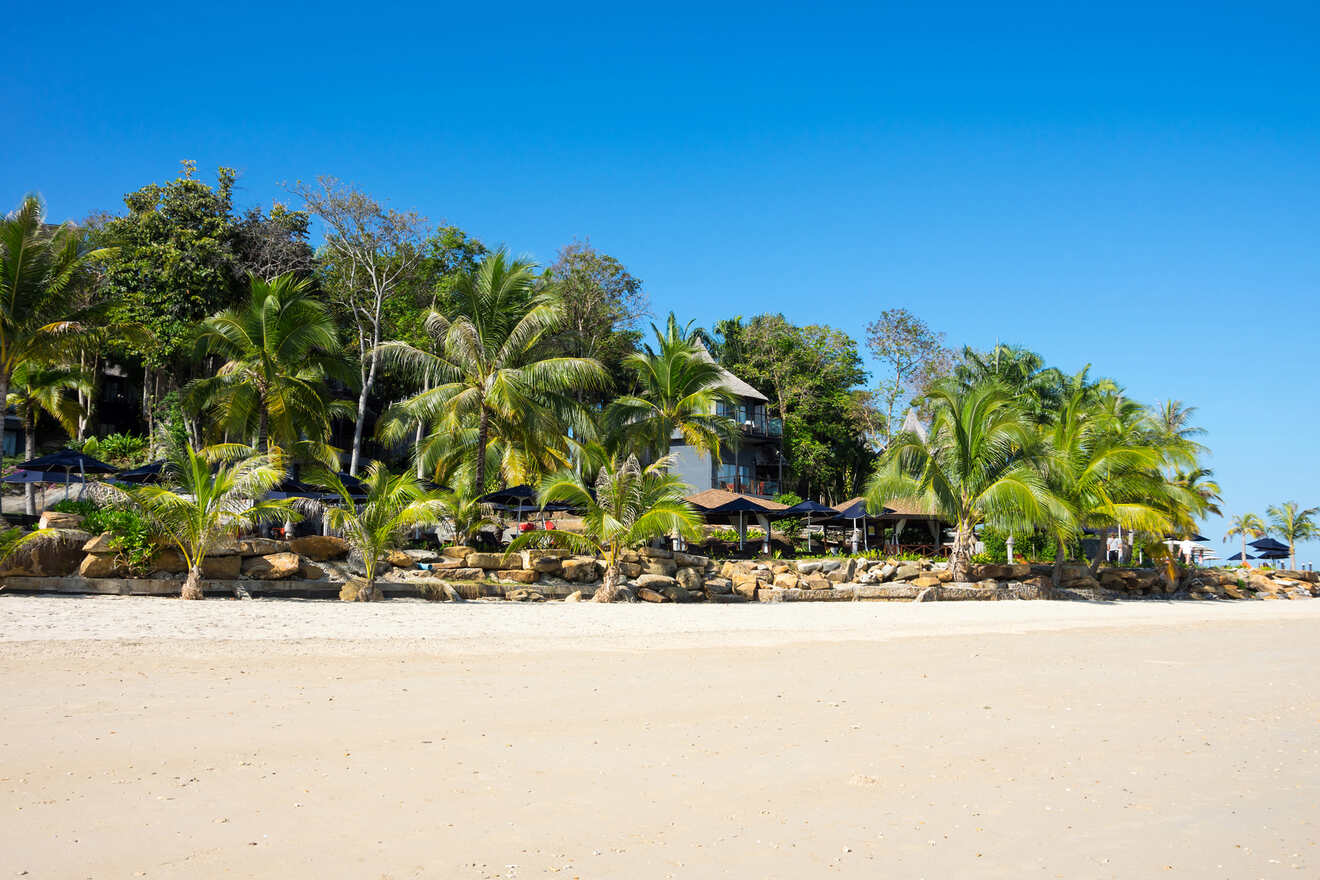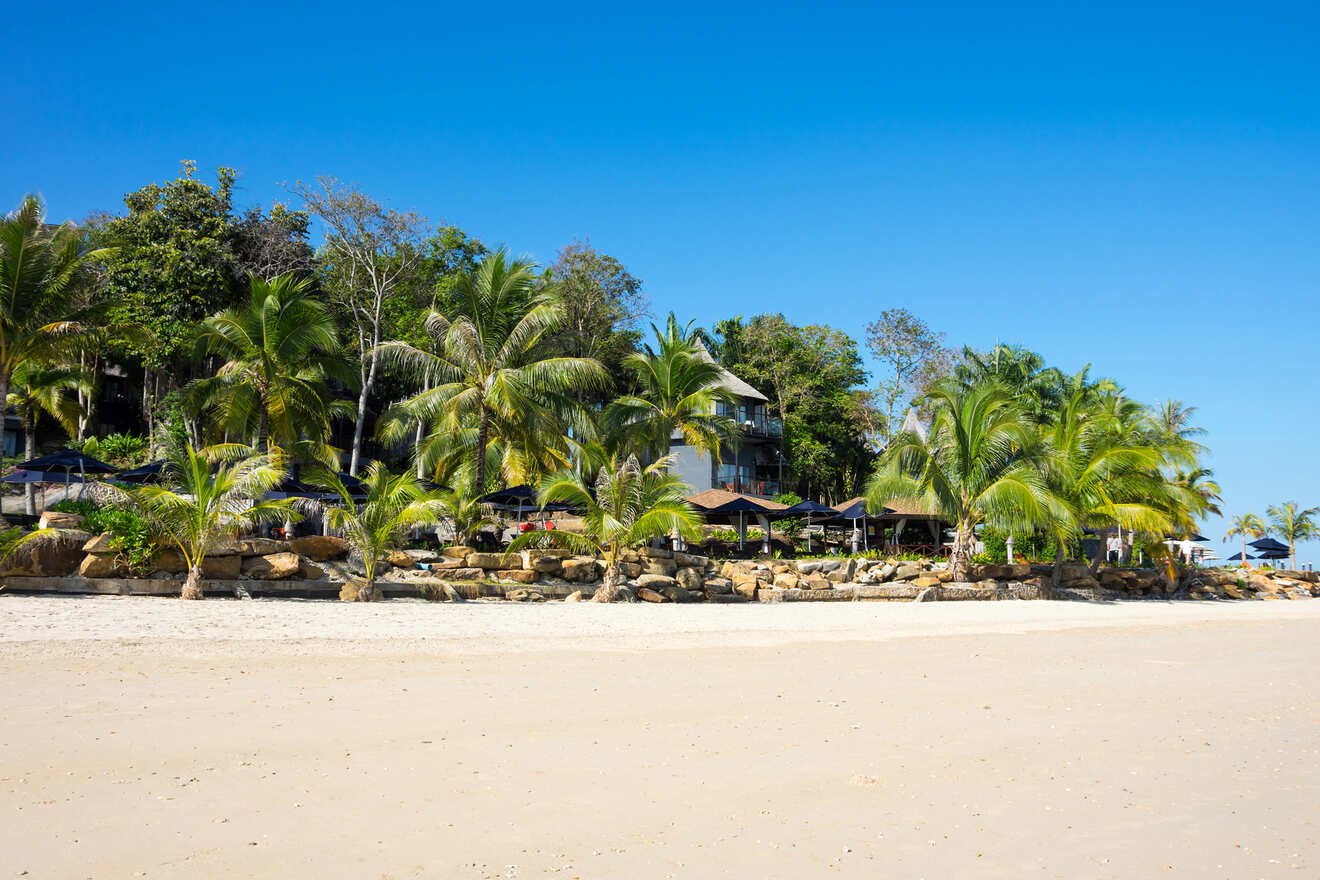 If you're looking for a romantic place to stay on the island, you'll love Klong Muang! It has all the great elements that I've mentioned above (turquoise waters, pristine beaches) but what's different about this place is that you'll feel like you guys are the only people on the island!
The town has a laid-back atmosphere, and it's super tranquil, so you can enjoy its magic in peace!
Its main road divided Klong Muang into 2 sections. The beachside has most of the resorts, and the inland part is where you'll find the best restaurants and bars around.
Klong Muang beach is pretty long and has a serene atmosphere, so you can sunbathe, swim and chill on the soft sands all day long without a worry in the world! Late-night romantic walks are definitely a must here!
There's a wide range of places to stay in Klong Muang, from luxury hotels to mid-range bungalows and budget yet chic spots. So let's check out the best ones!
Other accommodation options in Klong Muang
Things to do in Klong Muang
Sunbathe all day on Klong Muang Beach
Go island hopping and visit the Mu Koh Lanta National Park
Grab a coffee at The Boat Coffee
Enjoy a delicious dinner at Royal Clay Oven Krabi
Take a day trip tour and explore other places
BONUS 1: Best hotels for families in Krabi
Finding the best hotels for your family trip to Krabi can prove to be a bit more difficult than you first imagined! There are many things to consider, and I'm happy to be here and help you with that process!
So come along and let's look at the list below, it has the top hotels in Krabi! All the hotels below are luxury and mid-range with prices from US$200 to US$60: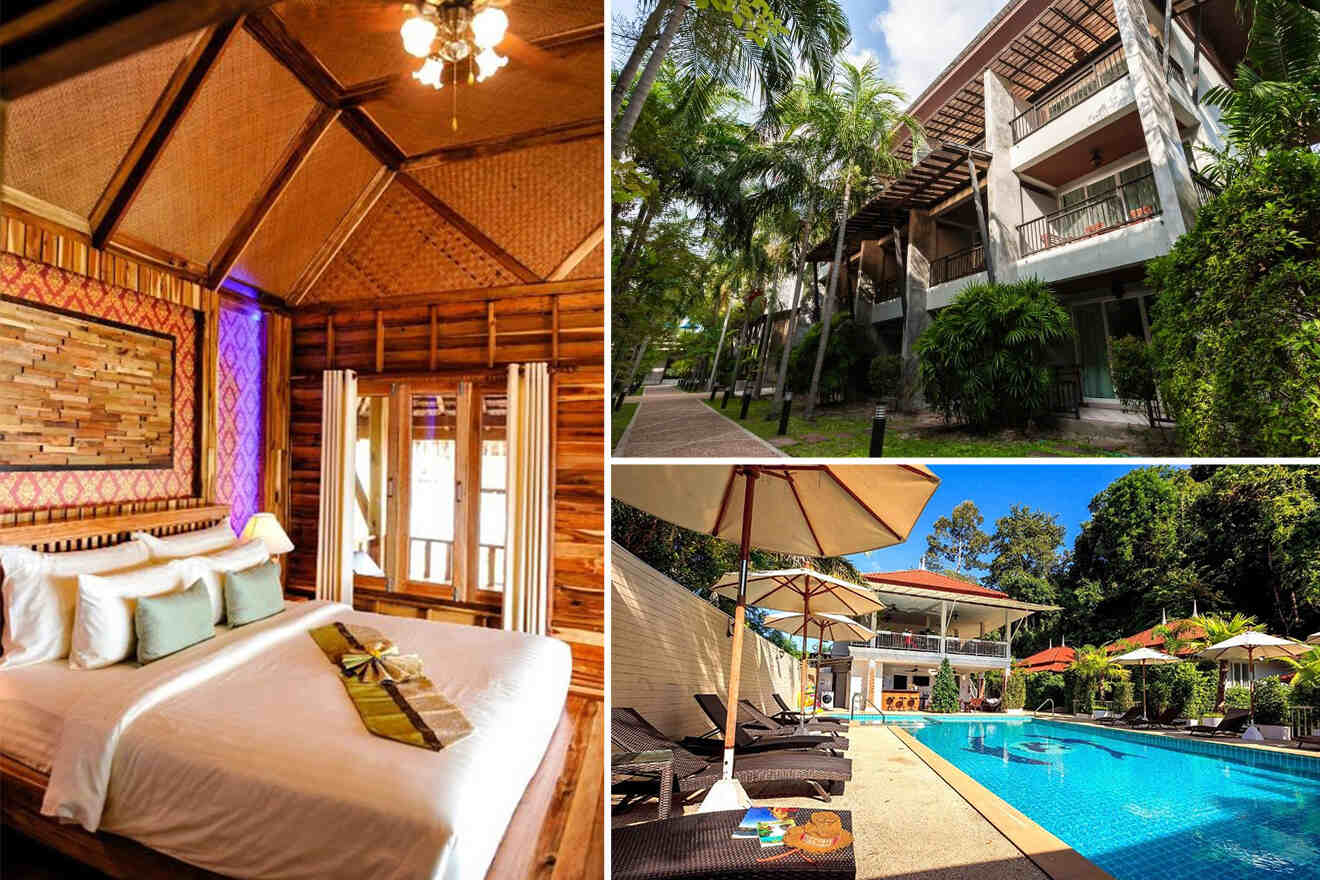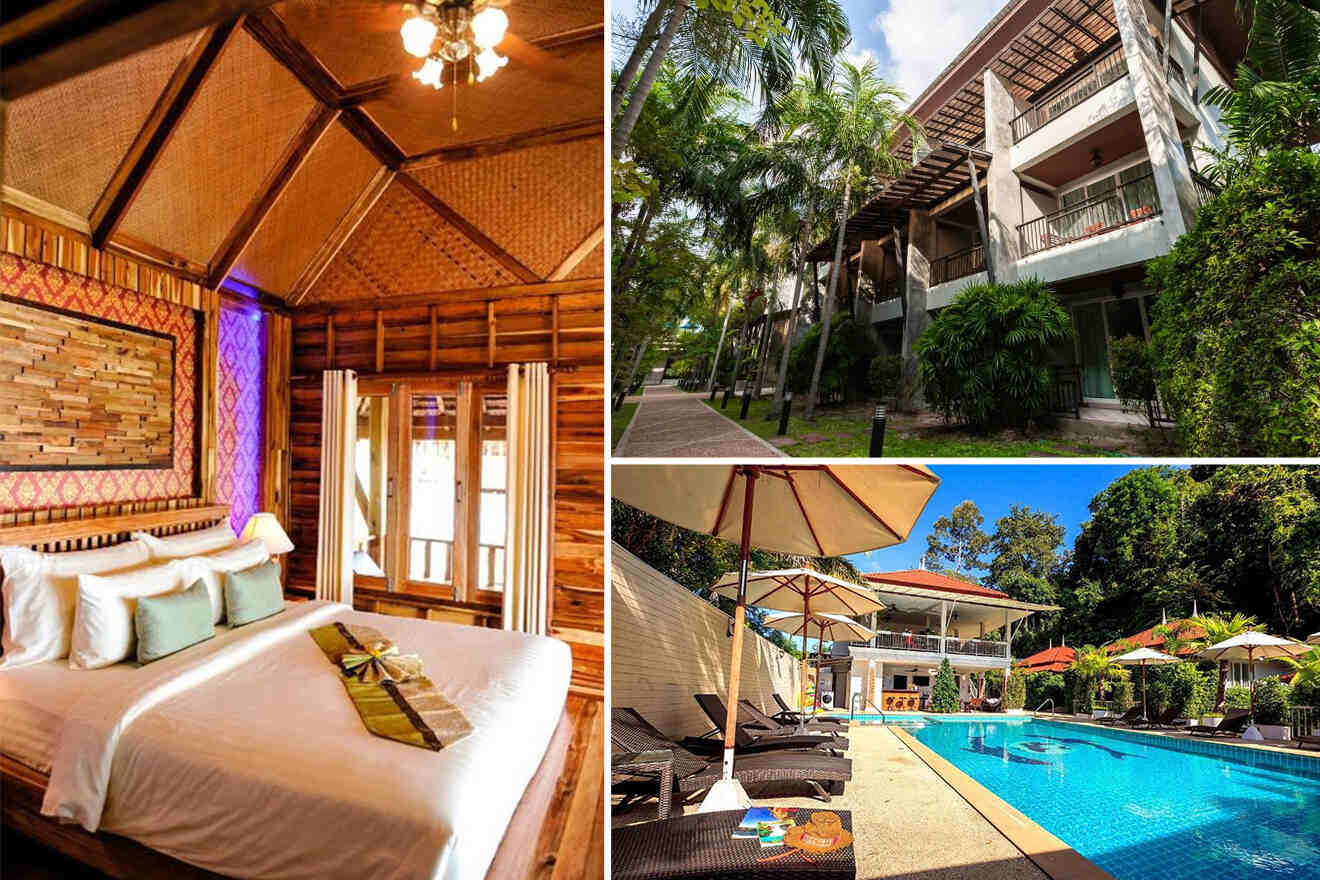 BONUS 2: Unique hotels in Krabi
In such a special place like Krabi, there is such a long list of unique hotels and resorts that I'm sure many of you will fall in love with! I've decided to list these places as an extra bonus for you!
These hotels where to stay in Krabi have super interesting decors and are set in the most magical locations! So, enjoy!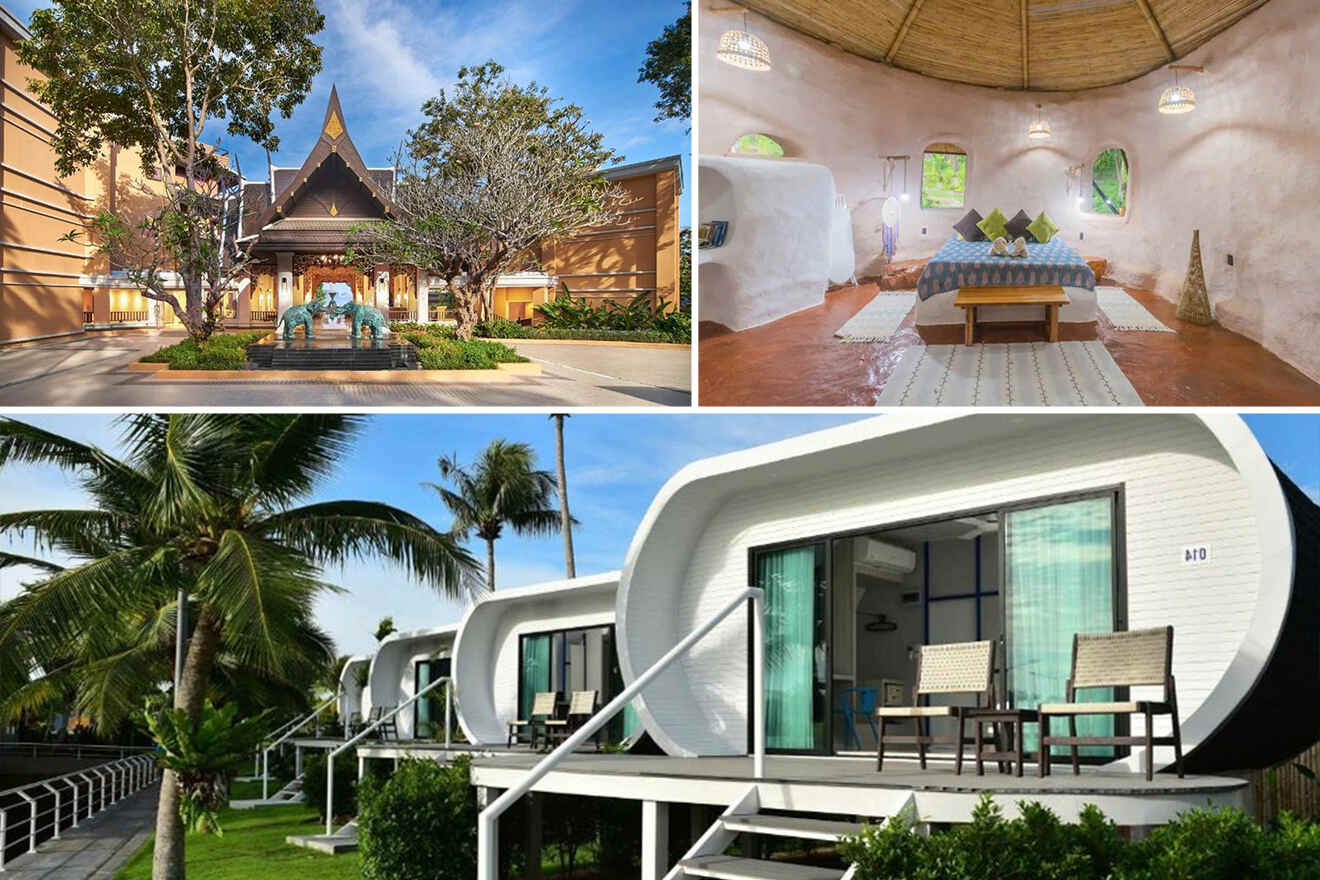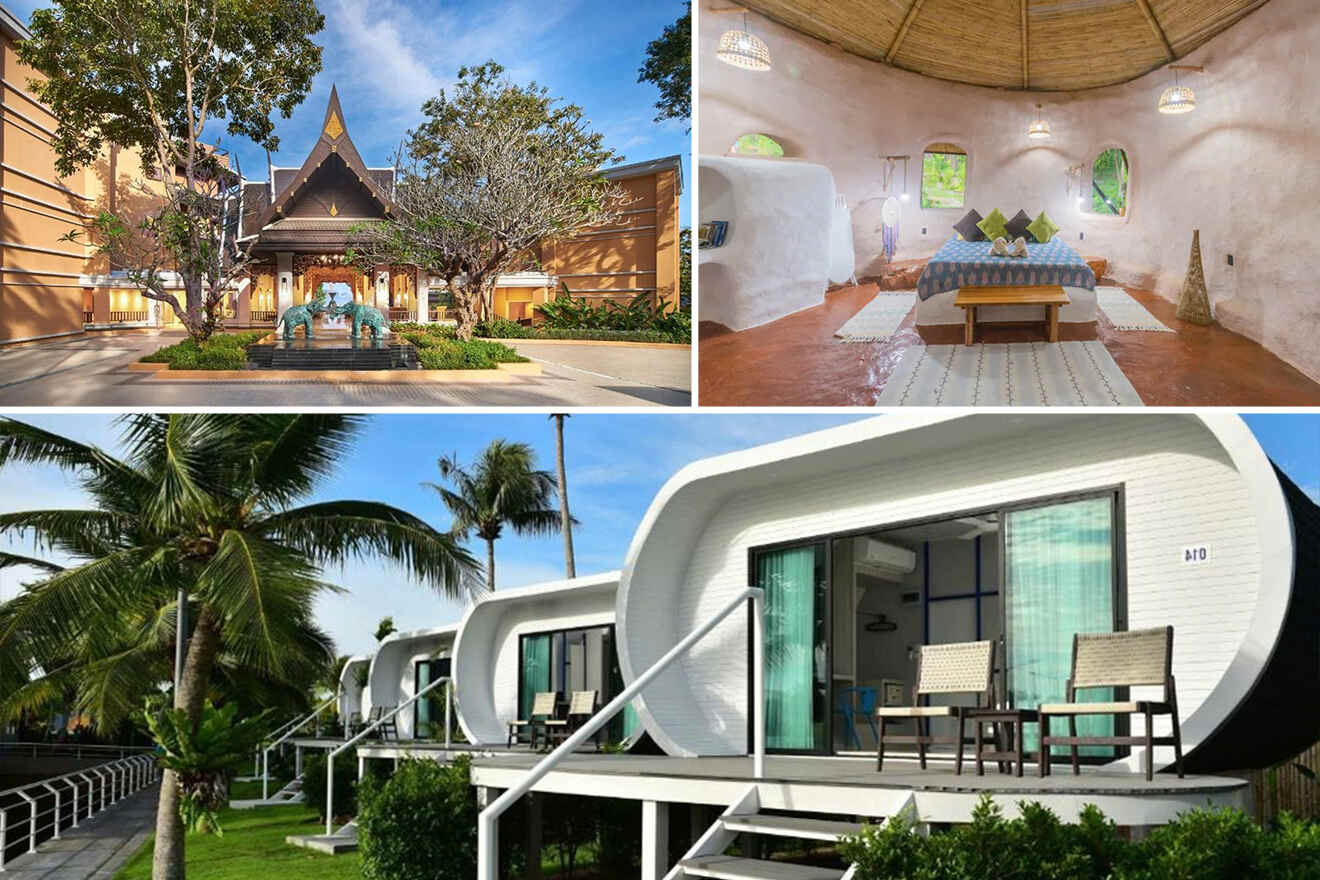 Luxury
Amari Vogue Krabi – You guys will want to move to this resort! The name (Vogue) is not a coincidence since the accommodation has such a great style! The rooms are decorated with traditional Northern Thai artwork and carvings (wow) plus stunning wooden flooring! Relax at the spa, sunbathe by the pool all day long and enjoy the private beach area!
Mid Range
Krabi Boat Lagoon – How cool are these transformed boats? Each unit is pretty spacious and equipped with a private bathroom. Some even have a dining area and a balcony! The resort is set in Krabi Town, and it offers some nice sea views and a swimming pool. Rent some bikes and head out to explore around!
Airbnb
Bedrock Home – Perfect for anyone who wants to be one with nature, this cool villa is set on a hill overlooking the Andaman bay. Made entirely out of the materials they found during excavation, like soil, rocks, and trees, the house also offers a large bamboo yoga space, a private pool, and barbecue facilities!
Frequently asked questions about hotels in Krabi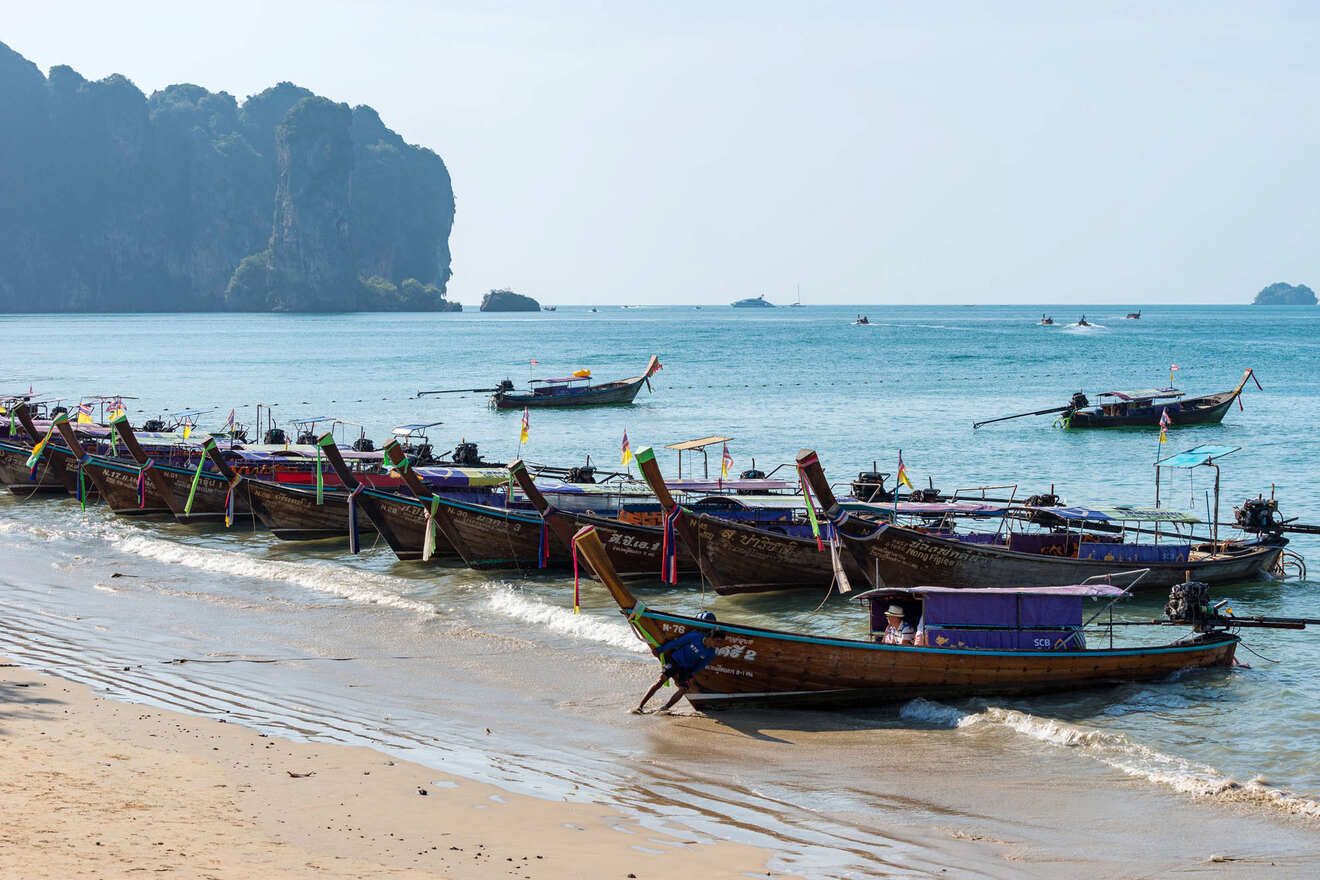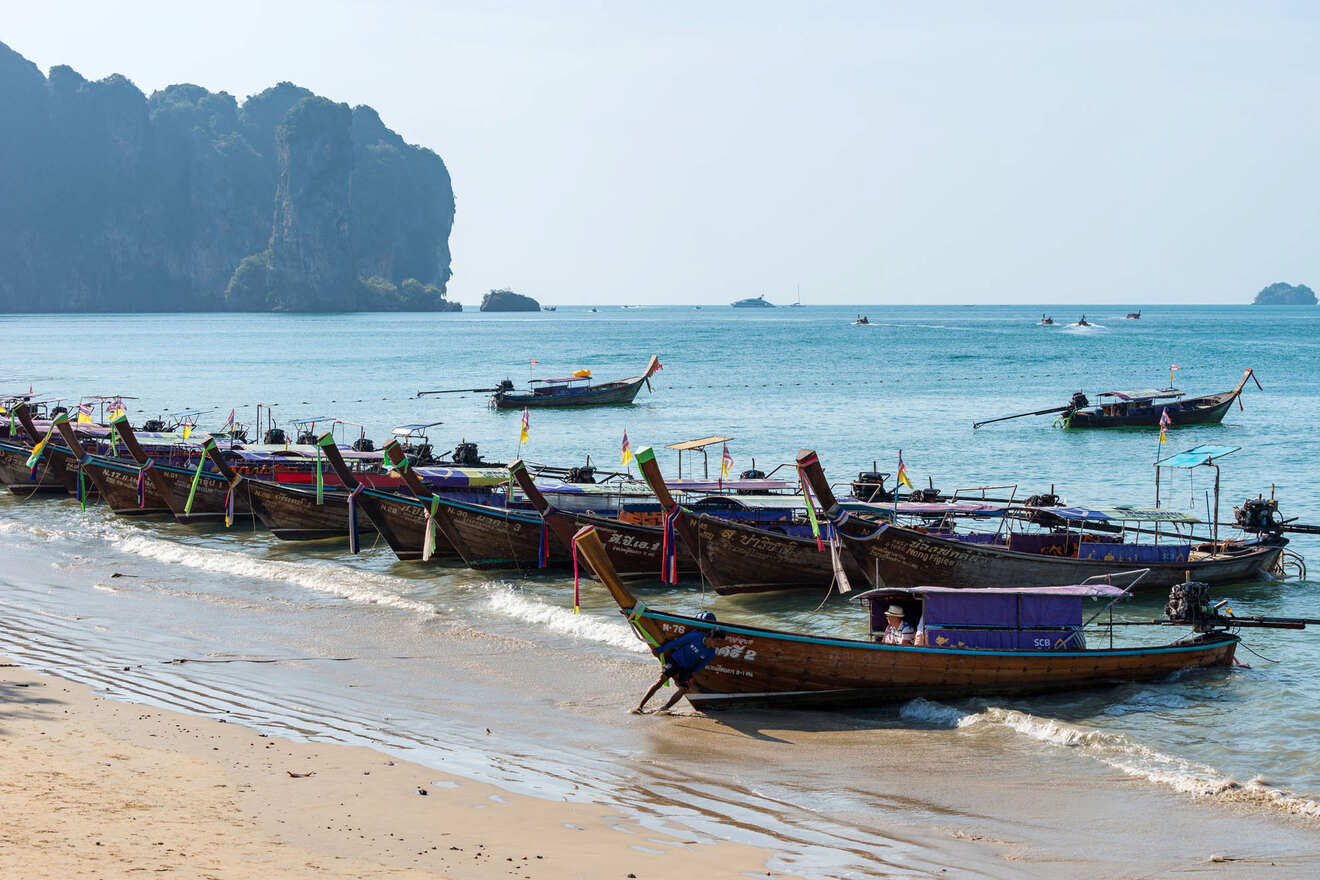 Conclusion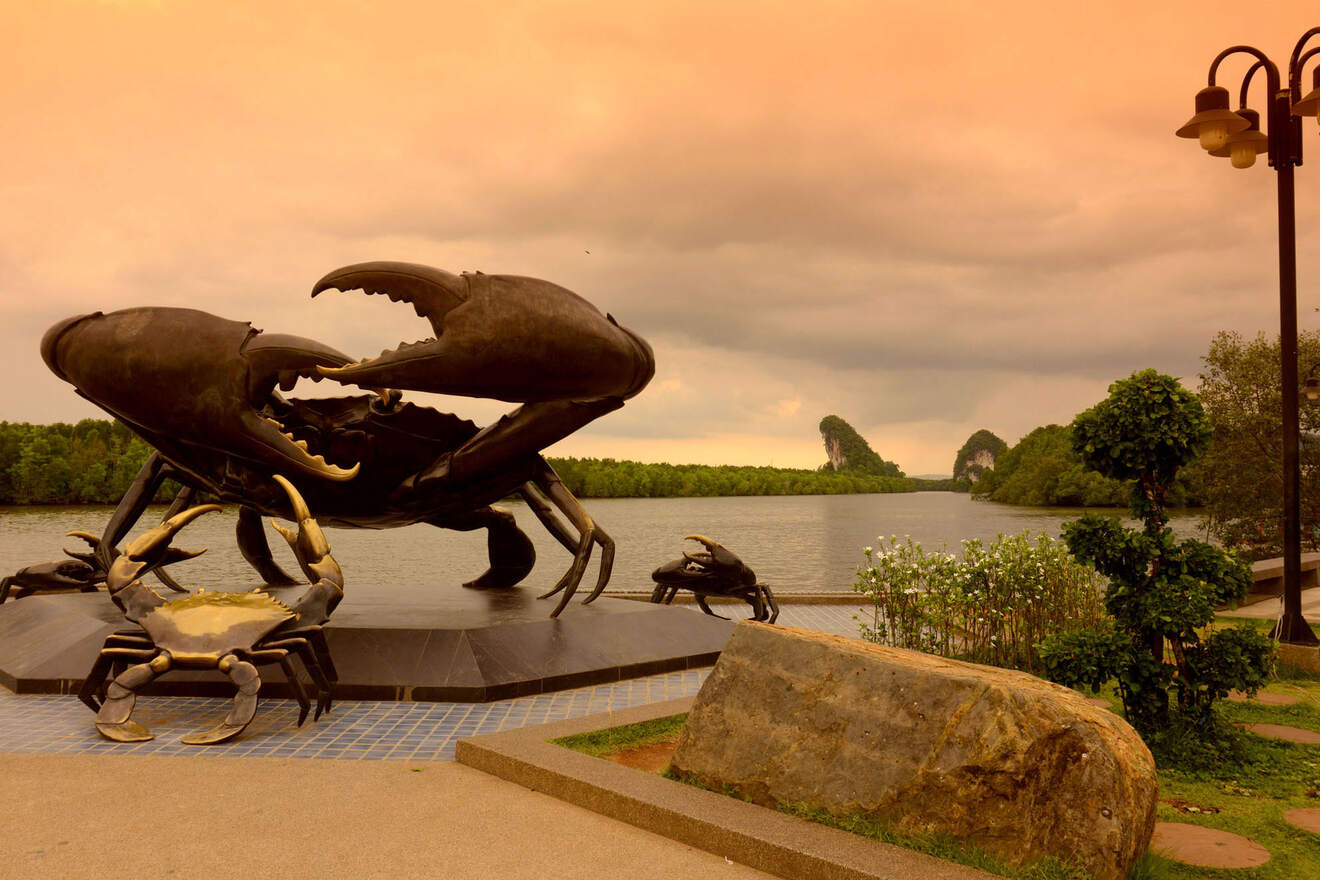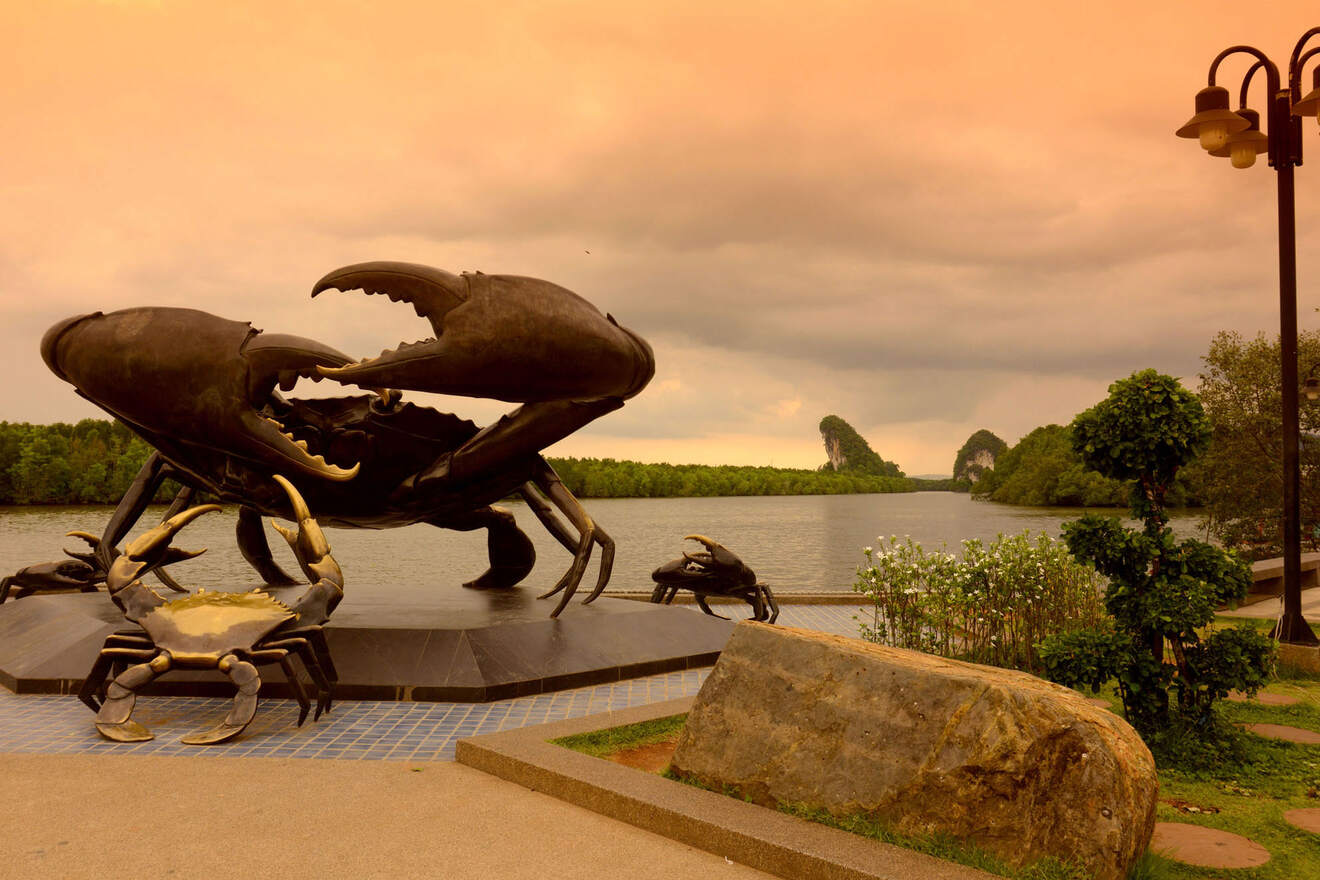 What a place! If you're coming here for the first time, get ready to plan another island trip as soon as possible!
Let's quickly recap what we've talked about in this article. In the first part, I've mentioned the best areas where to stay in Krabi and added hotel options from most to least expensive to help you make the right decision.
Don't run off after you've finished that bit because you'll miss out on 2 excellent bonus sections with some charming family hotels and also unique accommodations in Krabi!
I know there are so many options in the article (oops, I did it again) but trust me, it will be super helpful! Still, if it's too hard to decide, here are my top 2 favorite options, both located in Ao Nang:
Ban Sainai Resort – Tucked away between the lush gardens, just a short walk from the beach this luxury resort offers an outdoor pool and mountain views
Sea Seeker – The perfect mid-range option for your stay in Krabi that has a spa center and hosts themed dinner nights
As I mentioned before, book your hotels in advance! Krabi is super popular and if you wait until the last minute you'll most likely miss your chance at your favorite mid-range or luxury hotels!
Don't shy away from asking any questions or giving some suggestions of things to do on the island or places that people shouldn't miss. I'll make sure to answer the comments as soon as possible!
Until then, enjoy this trip in Krabi, (take care while rock climbing) and take lots of pictures!
Have a wonderful trip,
Victoria