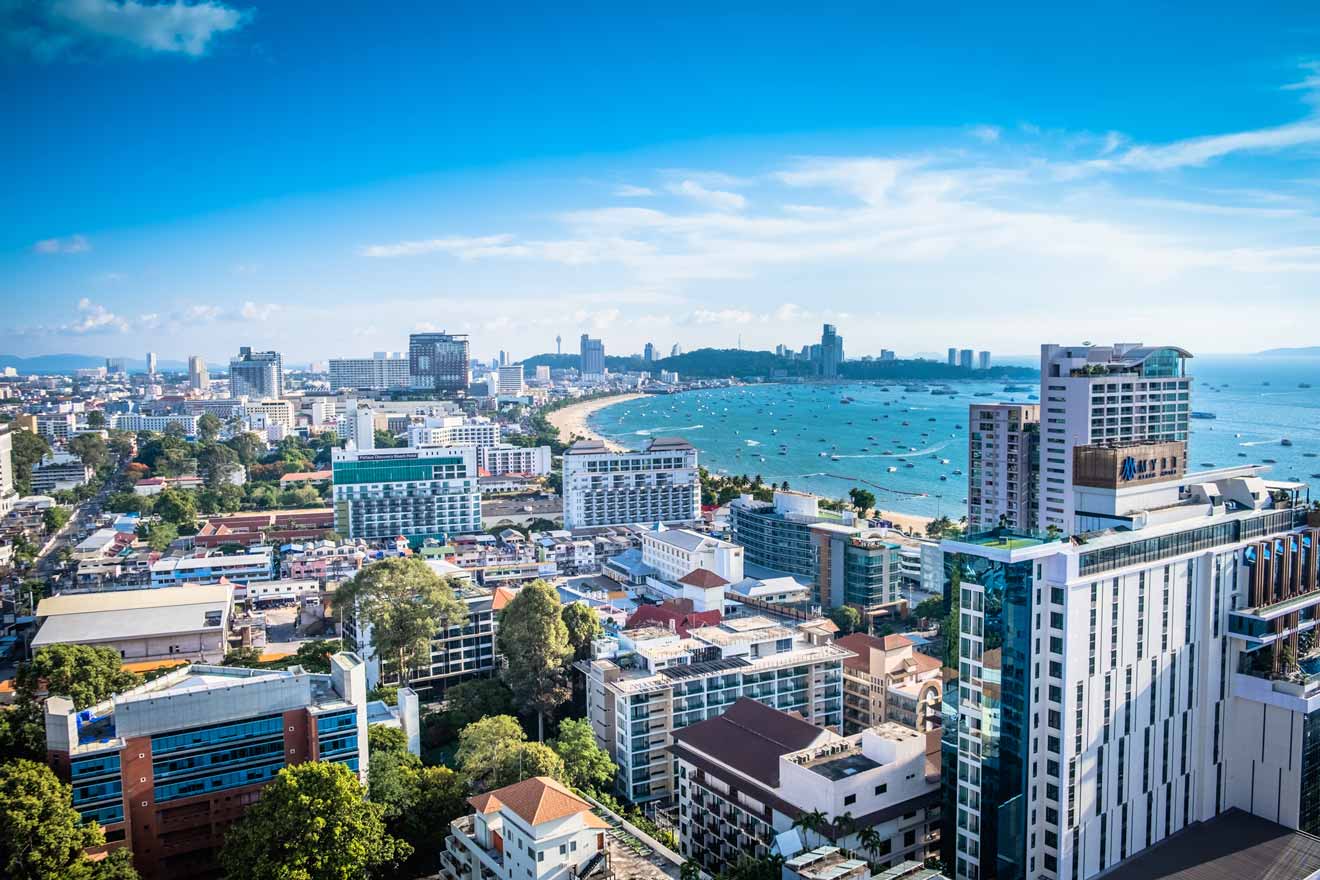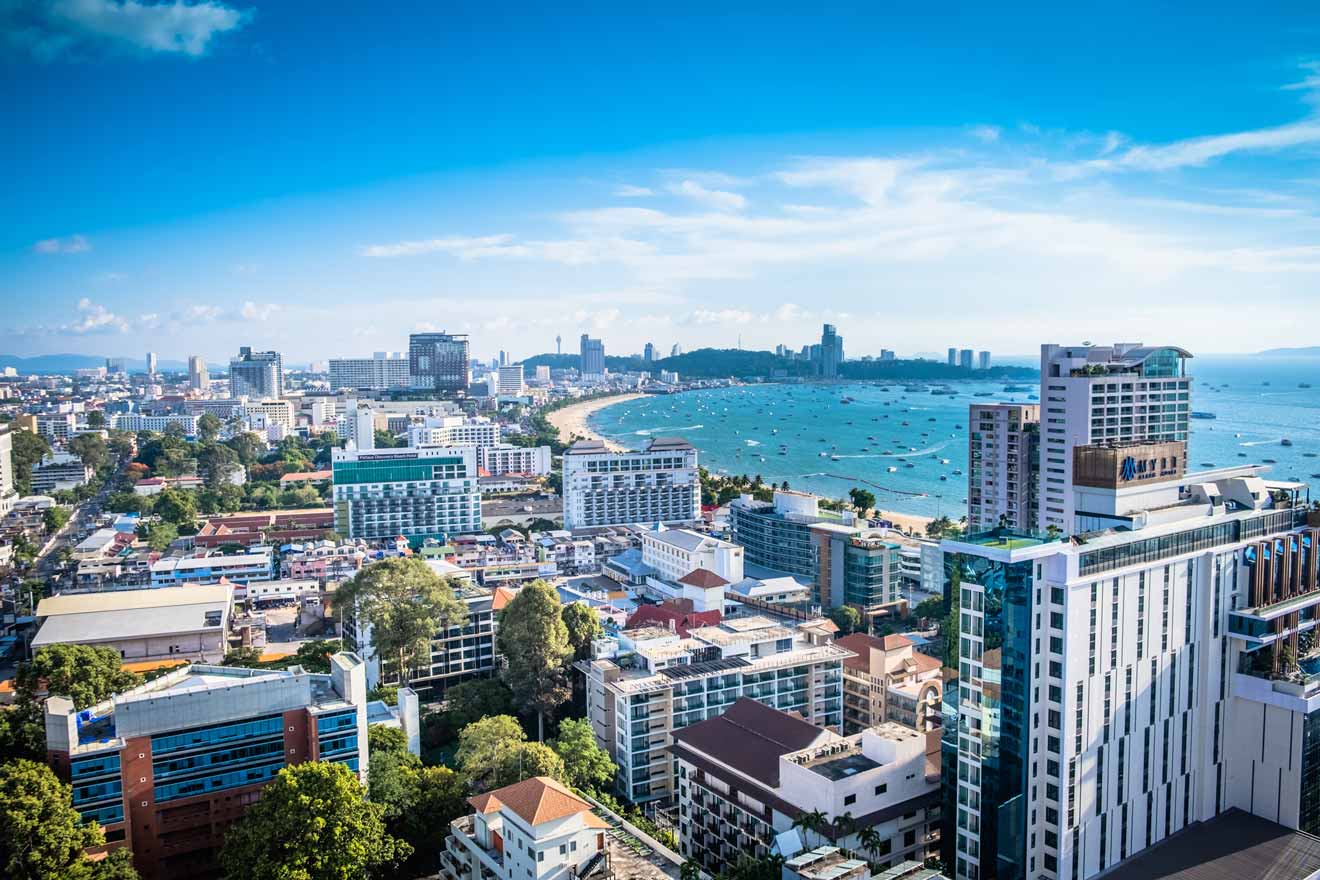 Located on Thailand's eastern Gulf coast, Pattaya is one the most famous and loved destinations in Thailand, known for its beautiful beaches and crazy nightlife.
For this reason, the city is home to countless accommodation types, from luxury hotels and resorts to high-rise condos and budget accommodation. You'll probably be wondering: how can I find the right one for my holiday in Pattaya?
And that's where I come! To help you with that, I created this guide with the best hotels to stay in Pattaya for any taste, and I divided them by price range so you can quickly look for ones that fit your budget. And make sure to check out my bonus if you're looking for something a little different, I have some super unique options for you!
The only thing you have to remember is to book your favorite choice far in advance, so you can secure yourself a spot and maybe even take advantage of some good offers. So what are you waiting for?
Let's start!
If you are in a hurry
You don't have the time to read all the post? Then check out this quick list of the best hotels in Pattaya, from luxury to budget:
Here's a map to make you understand where the best hotels in Pattaya are located:
Luxury (US$110 and up)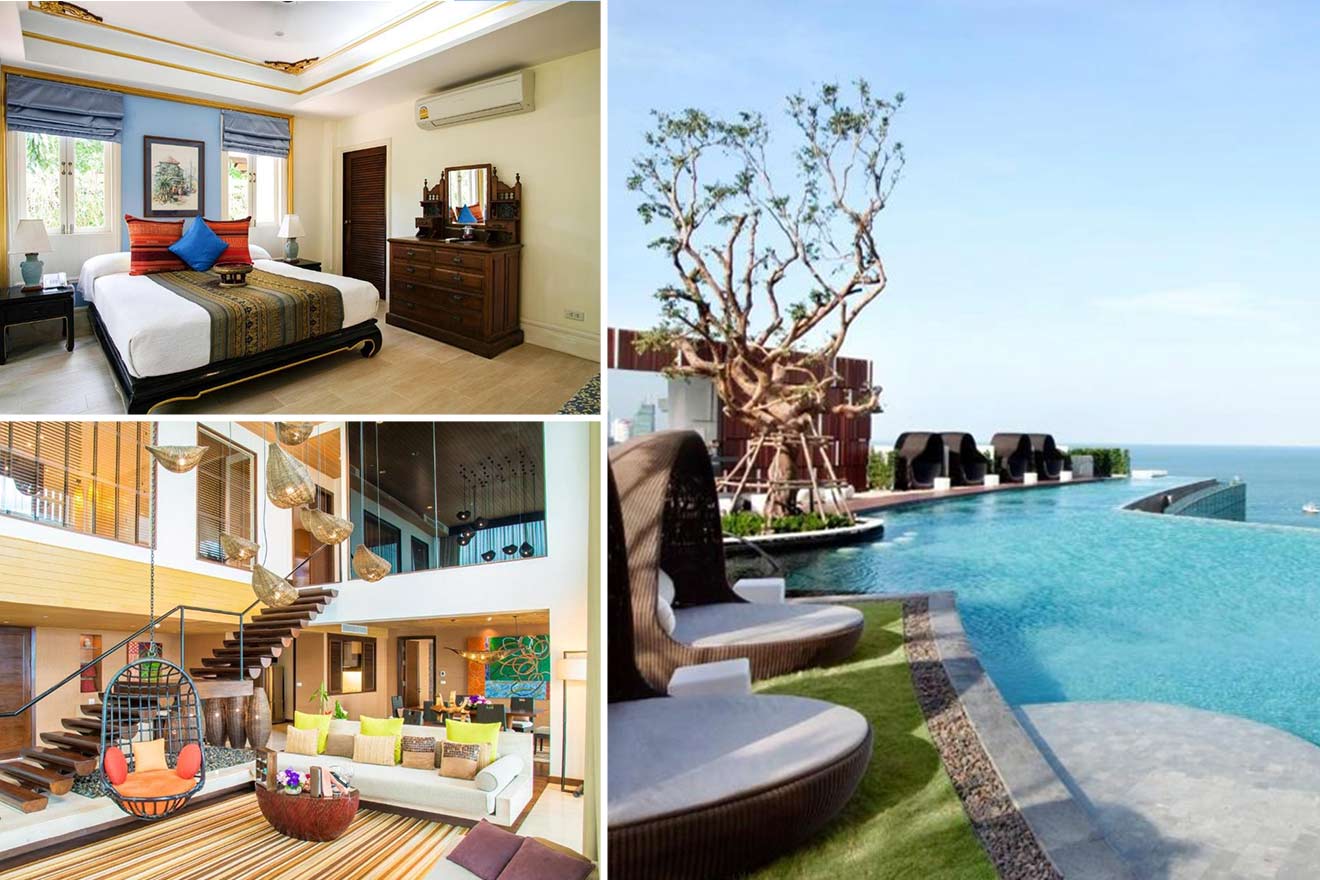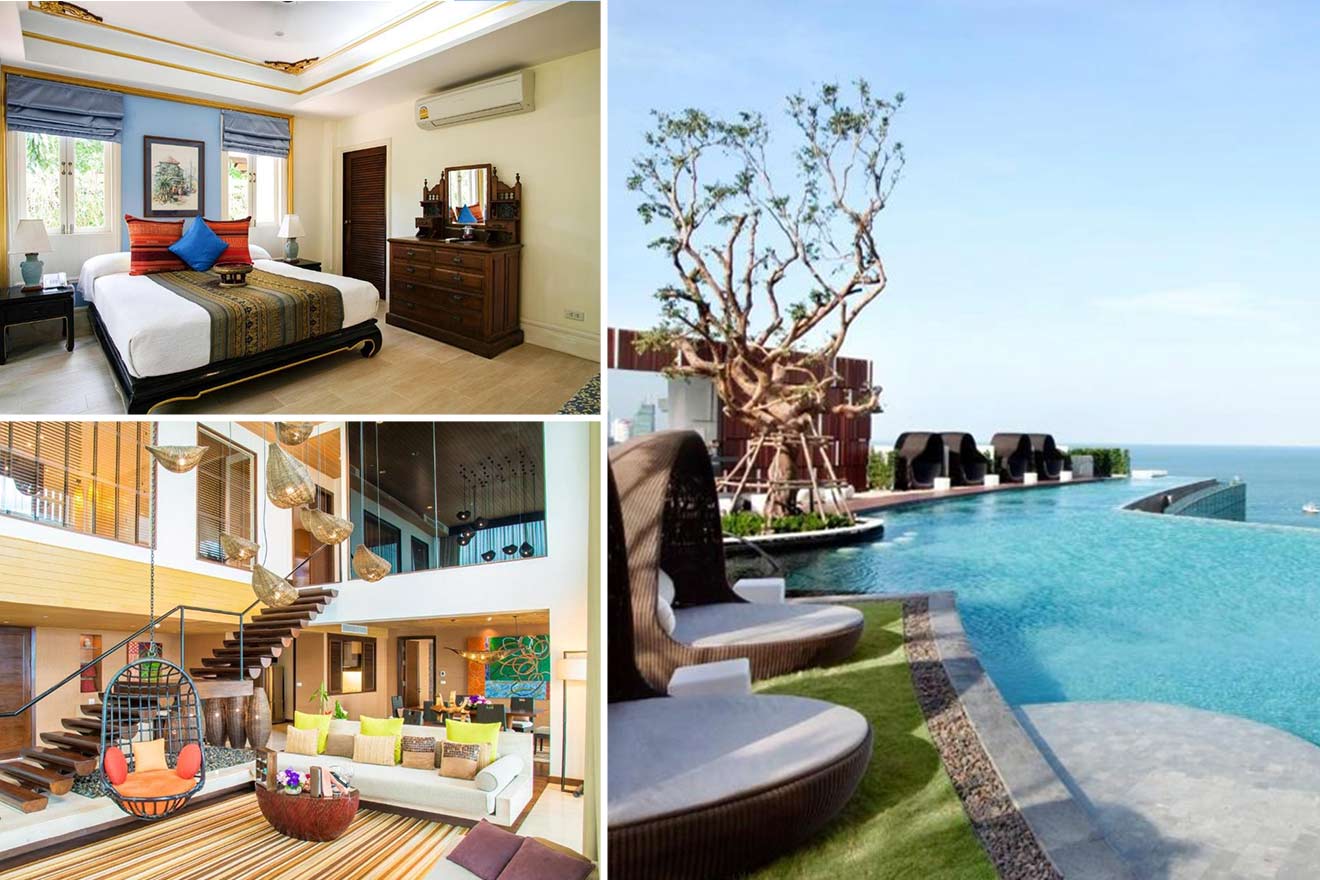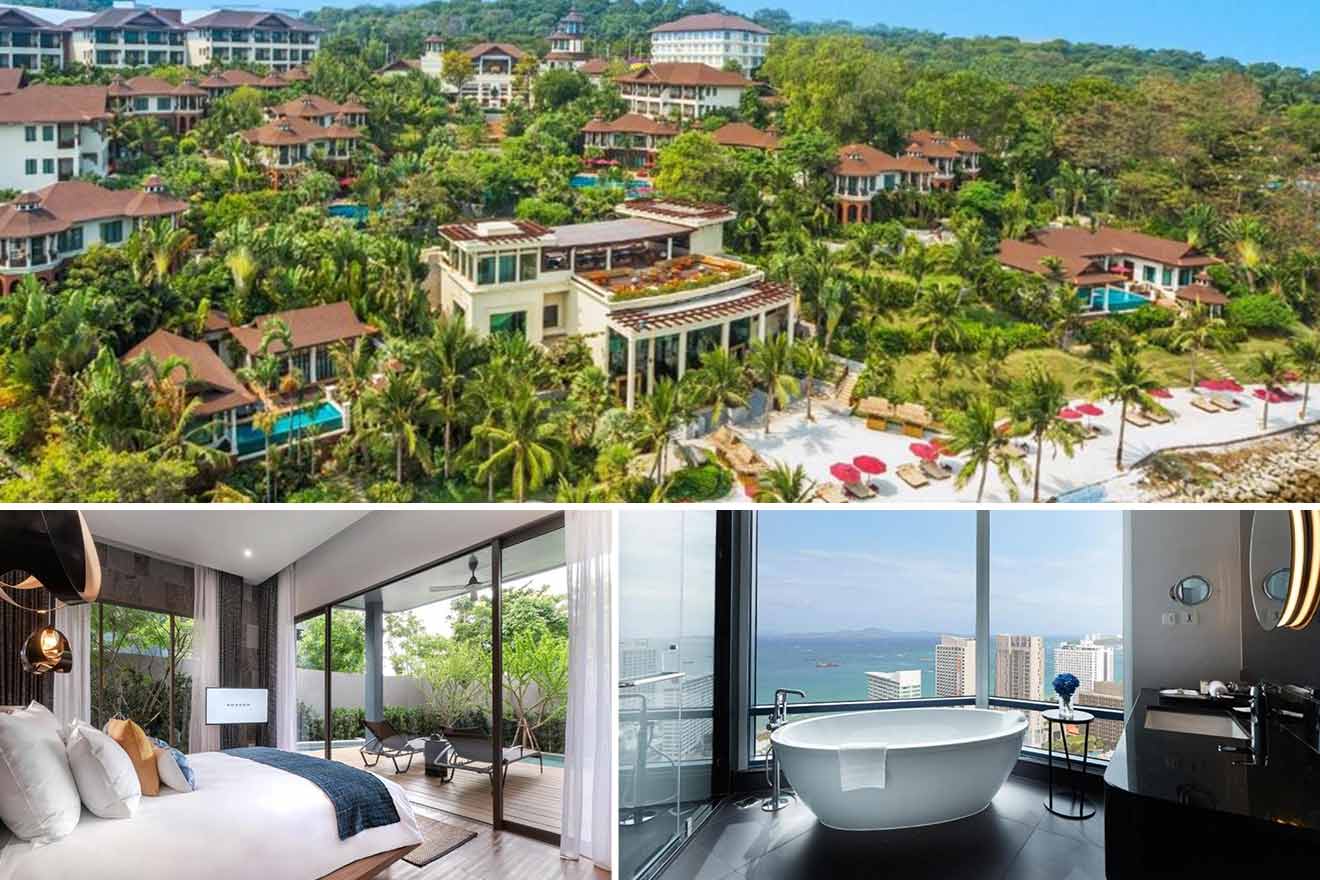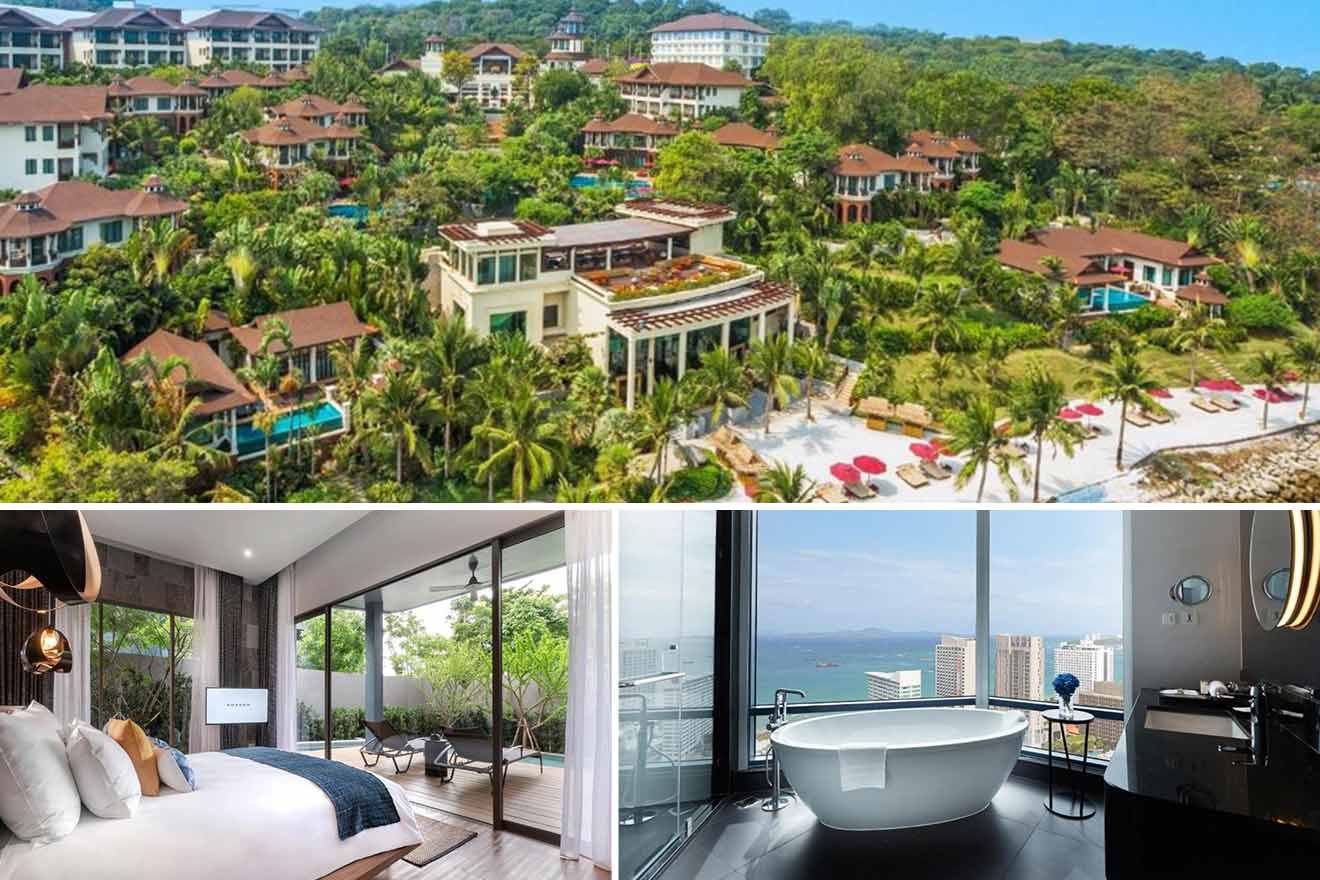 Mid Range (US$50 – US$100)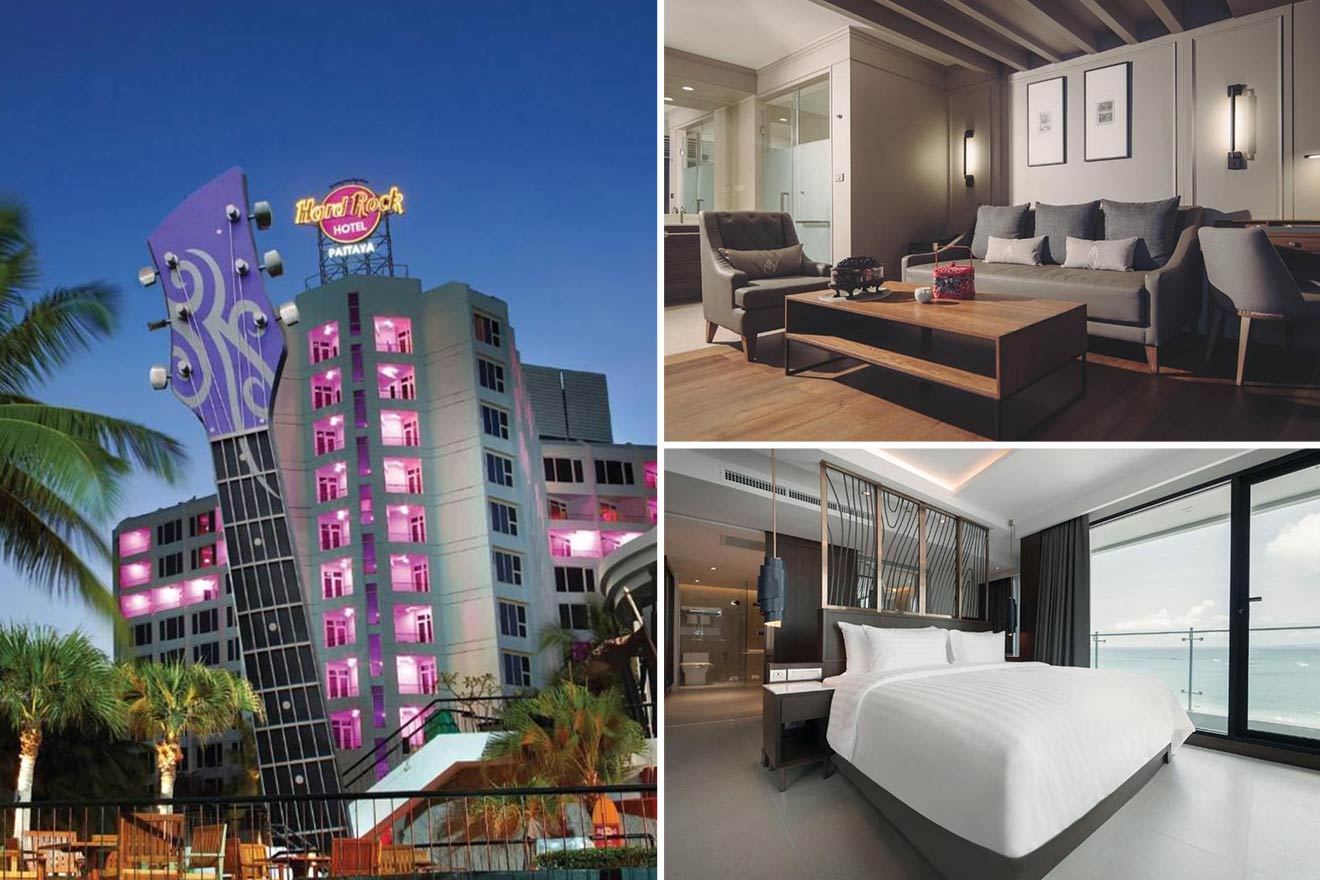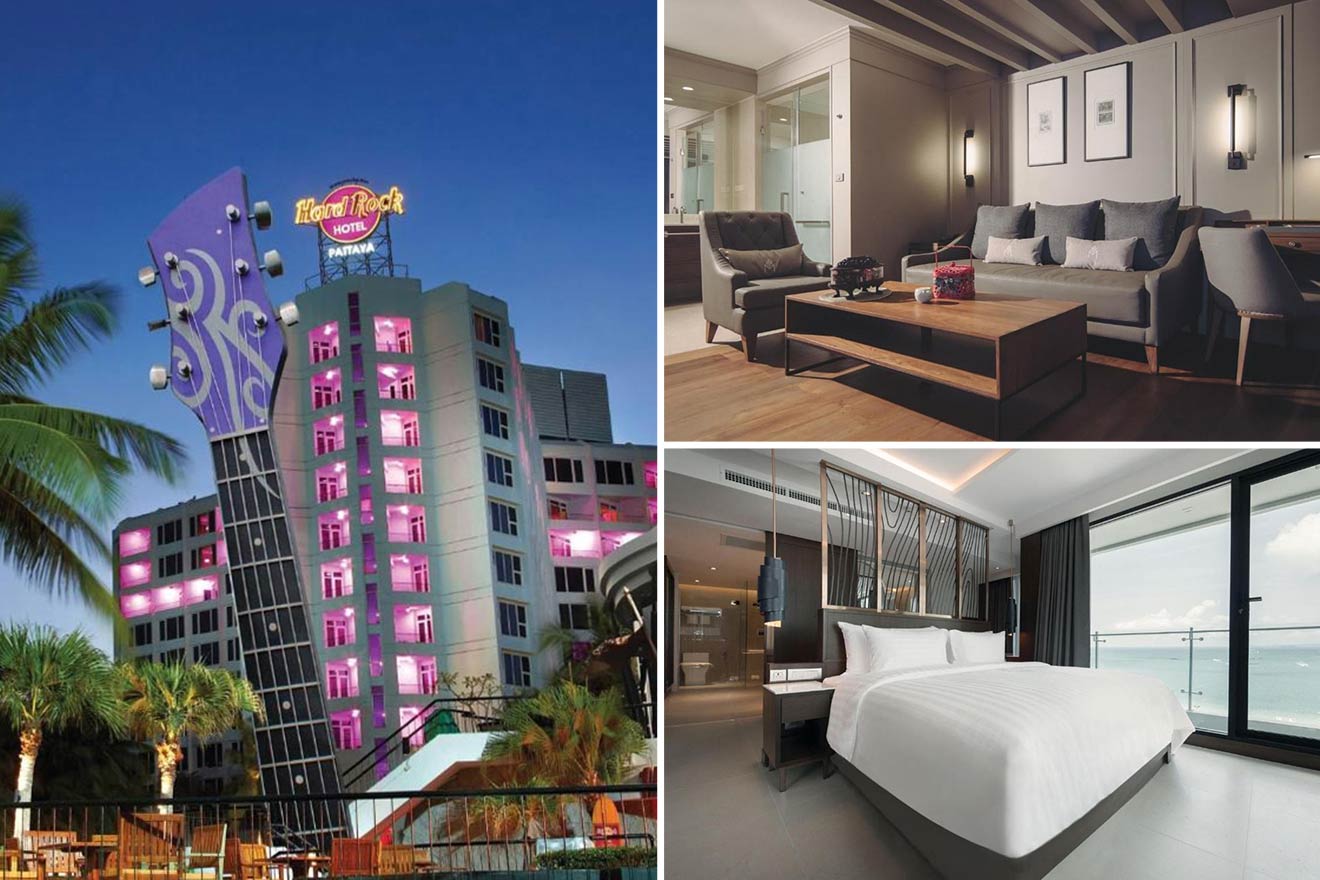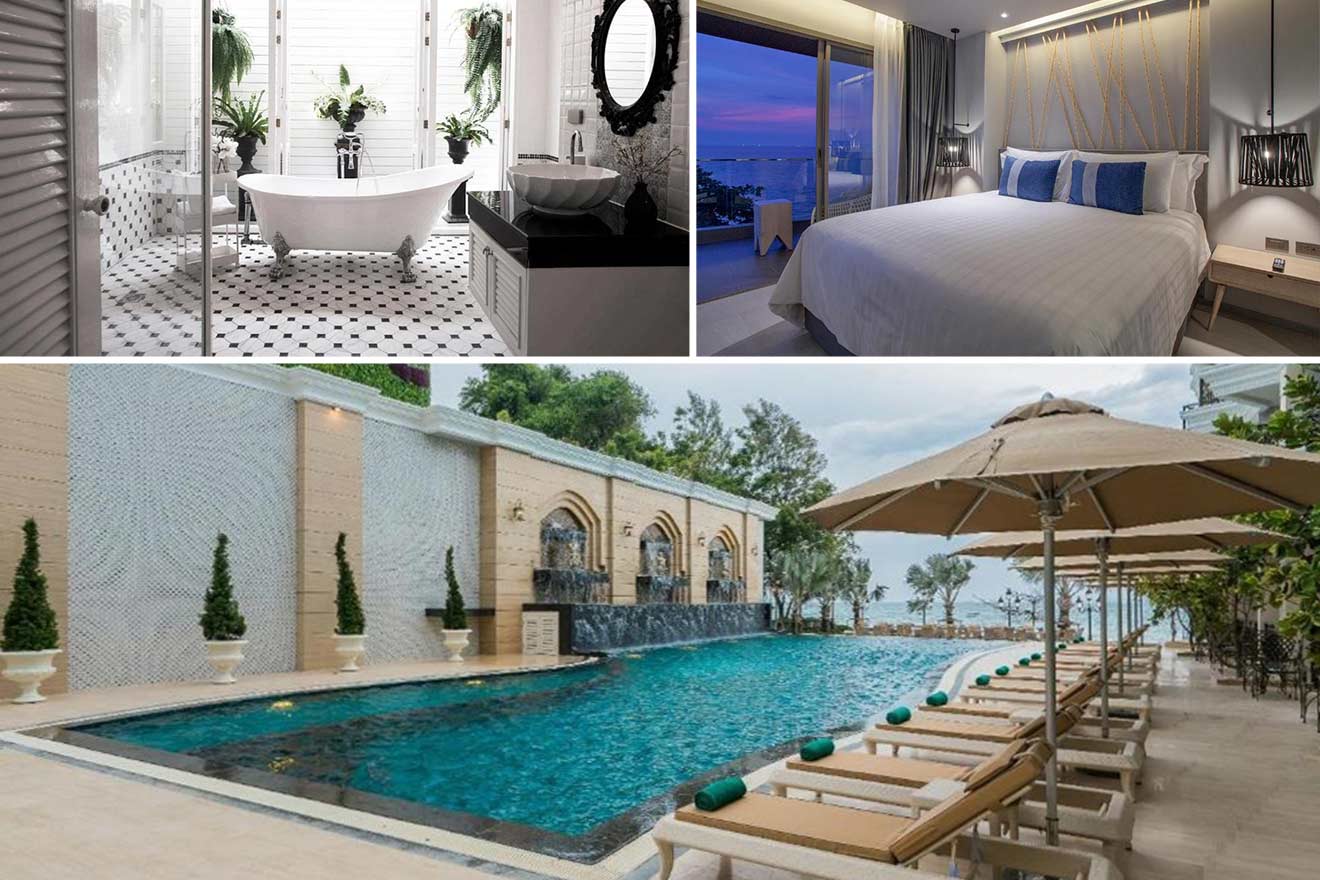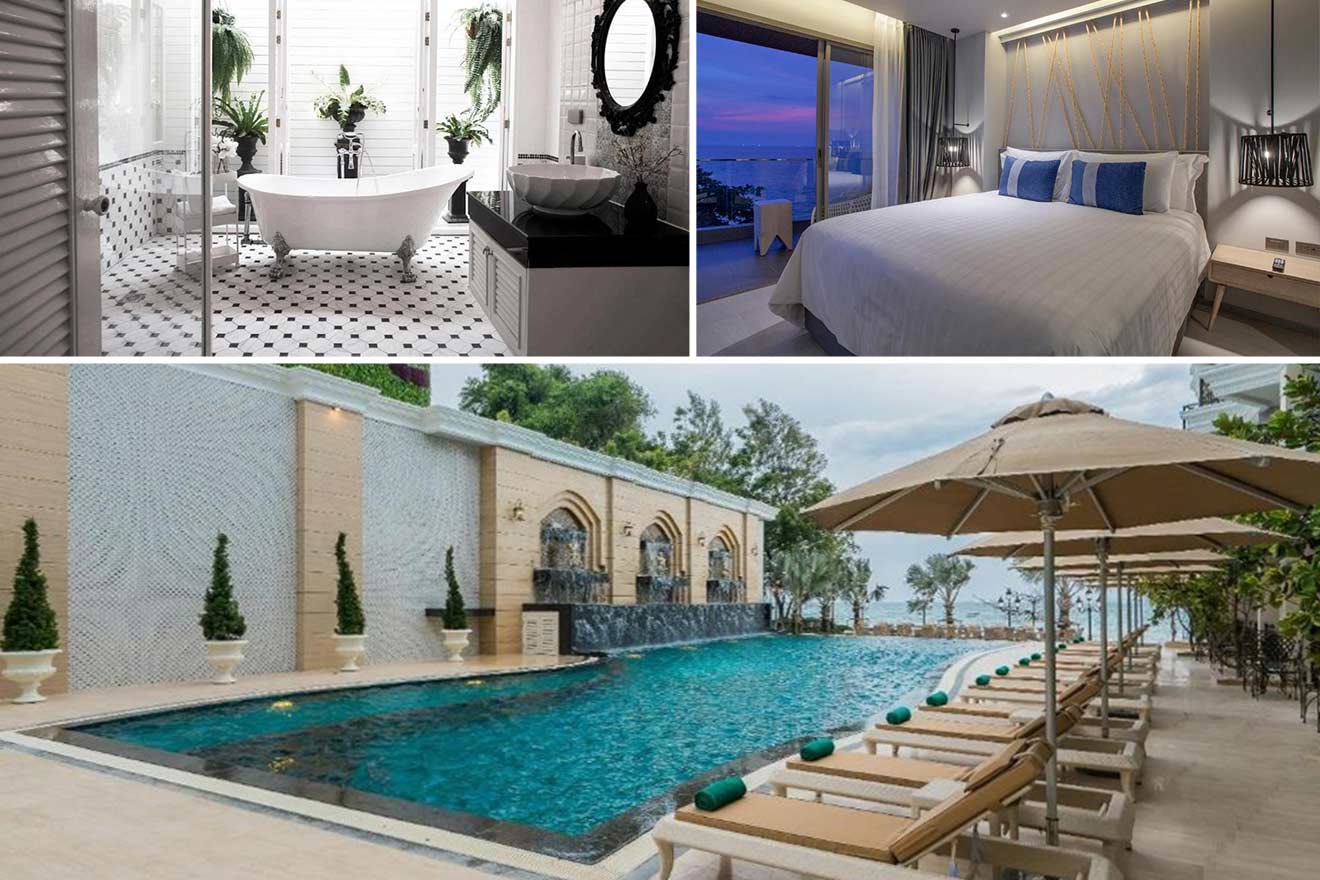 LK Emerald Beach – SHA Extra Plus – This beautiful hotel is just near Pattaya Beach (2 minutes walking from it), so you can imagine that the views you'll get from the rooms are just outstanding! And the facilities are even better: a delicious on-site restaurant, a huge swimming pool, and a relaxing spa with a sauna and garden. And from all the property you'll have access to free wifi!
U Jomtien Pattaya – SHA Extra Plus – U Jomtien Pattaya is located across the road from the beautiful Jomtien Beach. Check out the deluxe rooms: they all have a private balcony from where you can have a delicious breakfast while looking at the ocean… Do you like the idea? Then you'll also like spending the day relaxing at the swimming pool, or enjoying snacks and beverages at the rooftop bar.
Noursabah Pattaya – If you want to enjoy some tranquility, Noursabah Pattaya is what you're looking for, located in a peaceful area of Pattaya! This hotel is uniquely designed in Halal style, offering Halal Thai dishes at the onsite restaurant. You will feel relaxed and at home as soon as you step inside the property… check out the pictures and you'll understand what I am talking about!
One Patio Hotel Pattaya – SHA Extra Plus – One Patio Hotel Pattaya is perfect if you want to enjoy a 5 stars service at affordable prices! The staff here is super helpful, kind, and informative, and the spacious rooms are lovely, with comfy beds and free wifi… There is even a honeymoon suite for those who are having a romantic getaway! The location is also great, near many different dining, shopping options, and massage places!
Budget (up to US$45)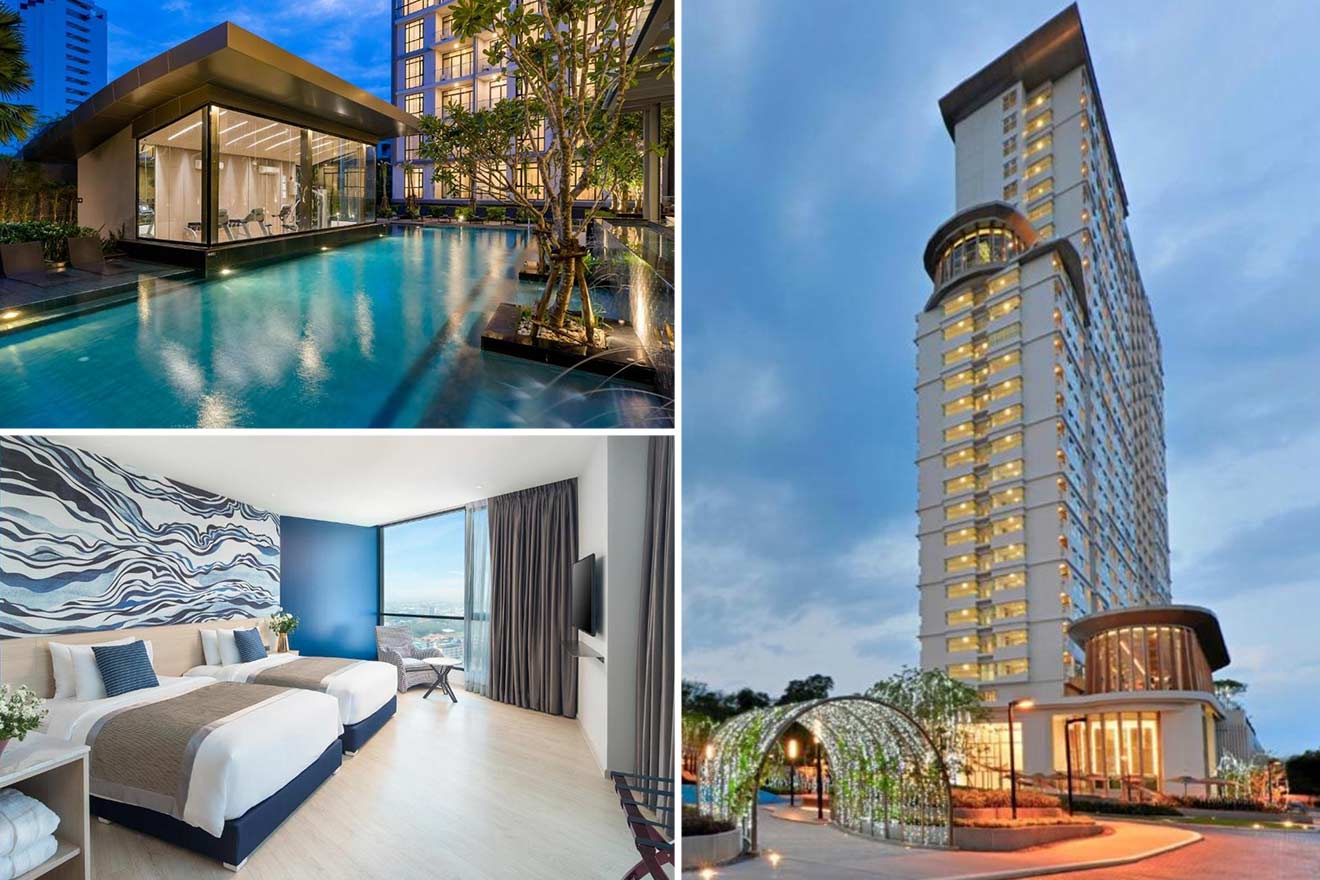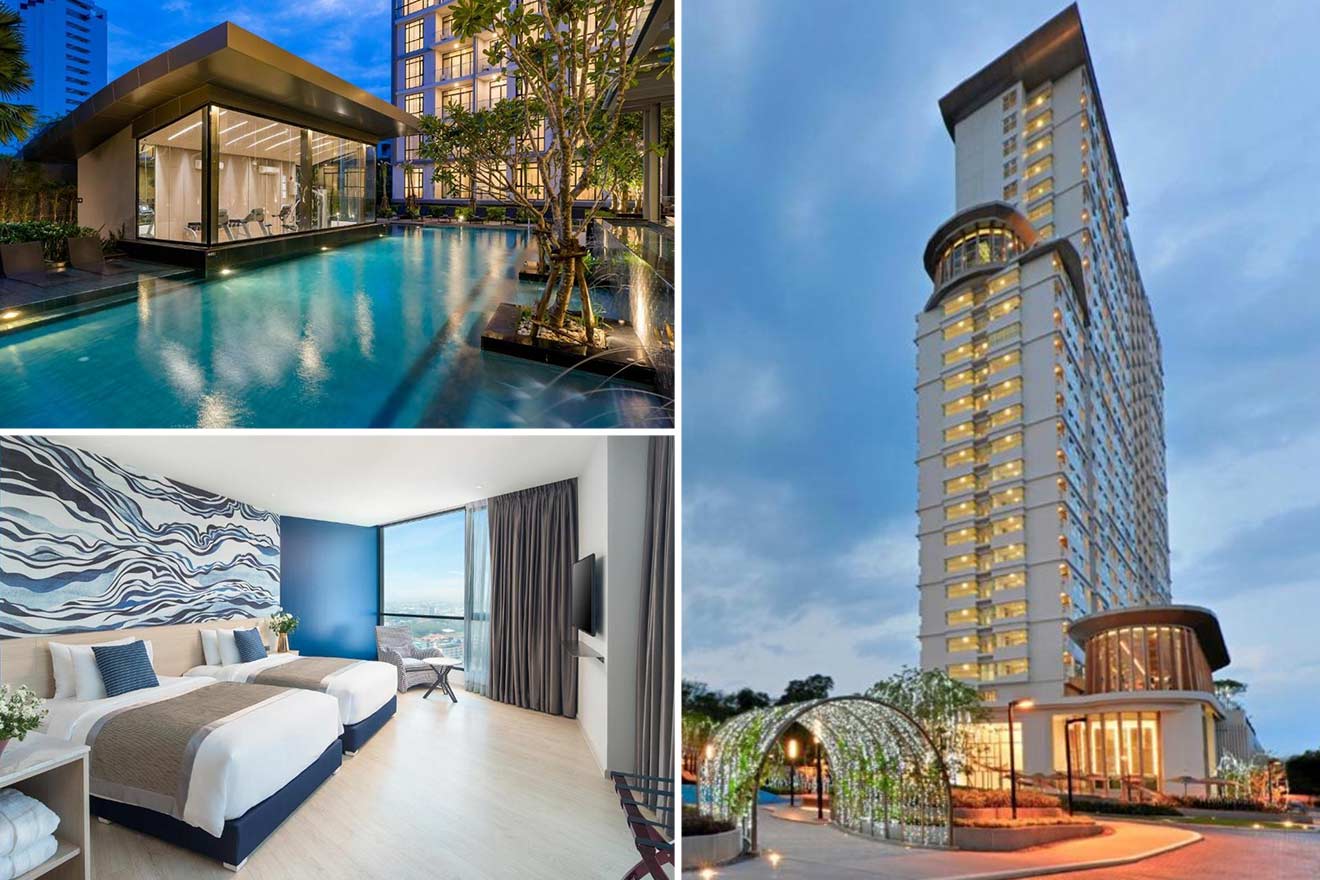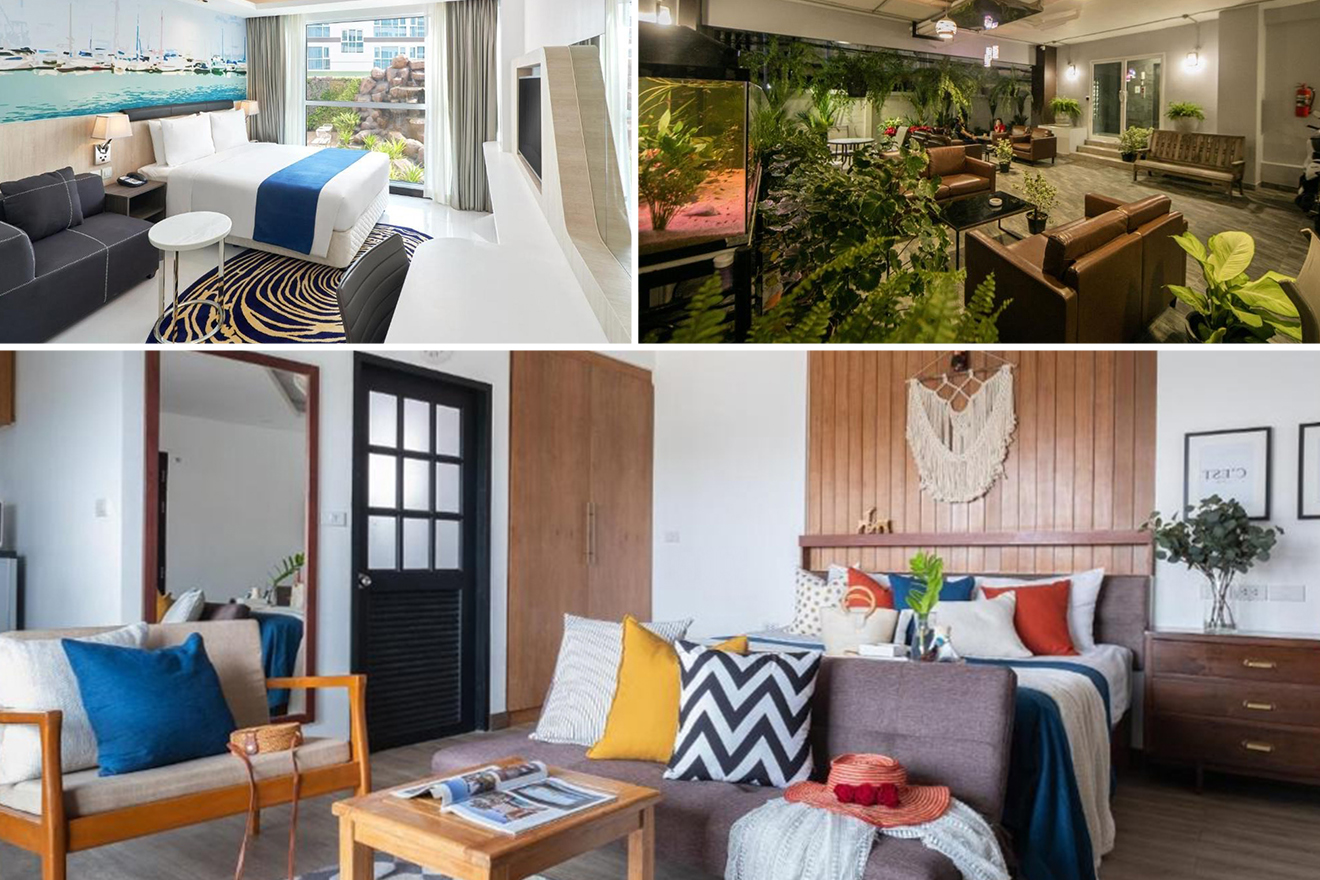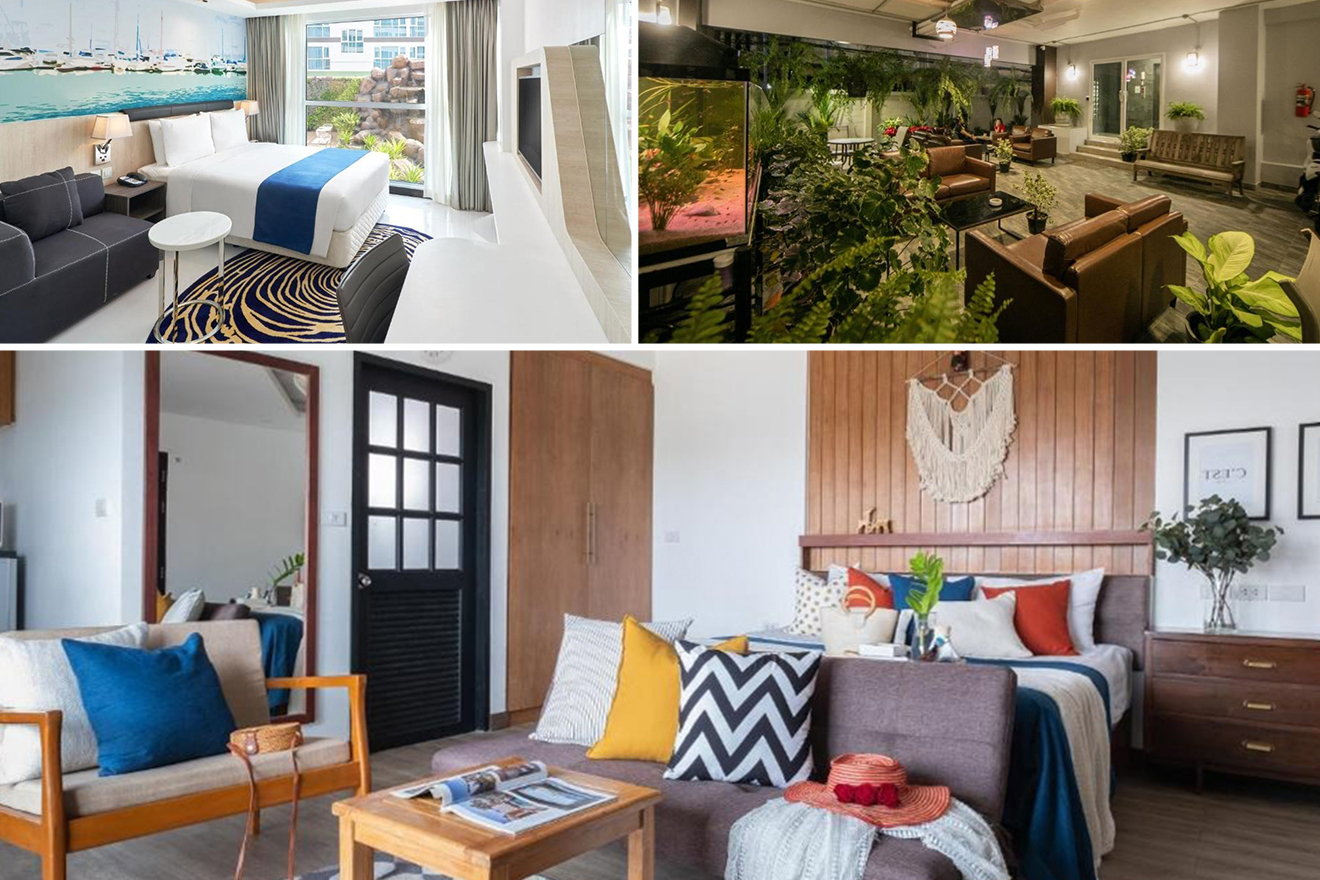 BONUS: 3 best hotels in Pattaya for a unique stay
I decided to add a small bonus for you with some unique and particular accommodations for your stay in Pattaya. I gathered here a quick list of 3 cool unique stays: a futuristic hotel with an amazing rooftop, a holiday house with a year-round pool, and a cool hostel! Maybe you'll be inspired to try something different!
They are listed from the most to the least expensive ones… check them out: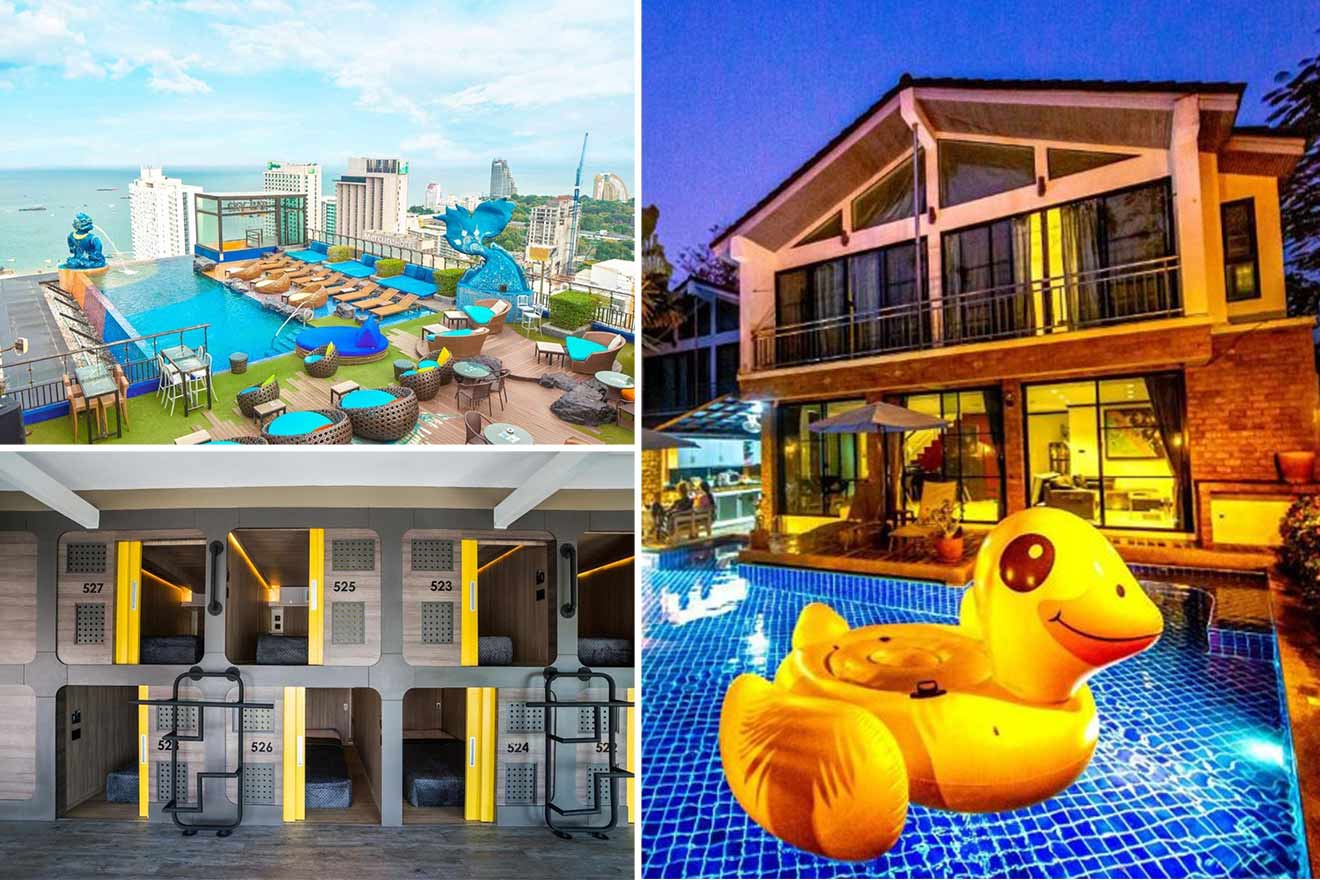 1. [email protected] Design Hotel Pattaya
This luxurious 5-star hotel has the best rooftop in all of Pattaya, where you can just chill in the infinity pool and take in some incredible ocean views! In fact, the hotel is literally a 6 minute's walk from the beach. The vibe and style of the hotel are very futuristic, with bright colors and modern design, and the rooms are just great! But one of the best things here is definitely the food that you will try at the 2 on-site restaurants, serving delicious Thai and European dishes!
2. 4poolvillas
Check out these incredible holiday homes, located in Pattaya North, only a 5-minute walk from the beach. This is the perfect place if you're going on a holiday with the family, or friends, offering all the space and privacy you need… you will immediately feel at home! Here you can cook amazing dinners in your fully equipped kitchen or splash in the and a year-round outdoor pool.
3. Nonze Hostel
If you want to save money and sleep in unique accommodations, this affordable and cool hotel is for you! In fact, whether you choose to stay in dorms or private rooms, here you will sleep in futuristic capsules, with their own sliding door for added privacy (check the pictures!). This is the best place to socialize and meet new people, offering several activities, plus the design is also super cool, being rustic, modern, and vintage at the same time!
Frequently asked questions about hotels in Pattaya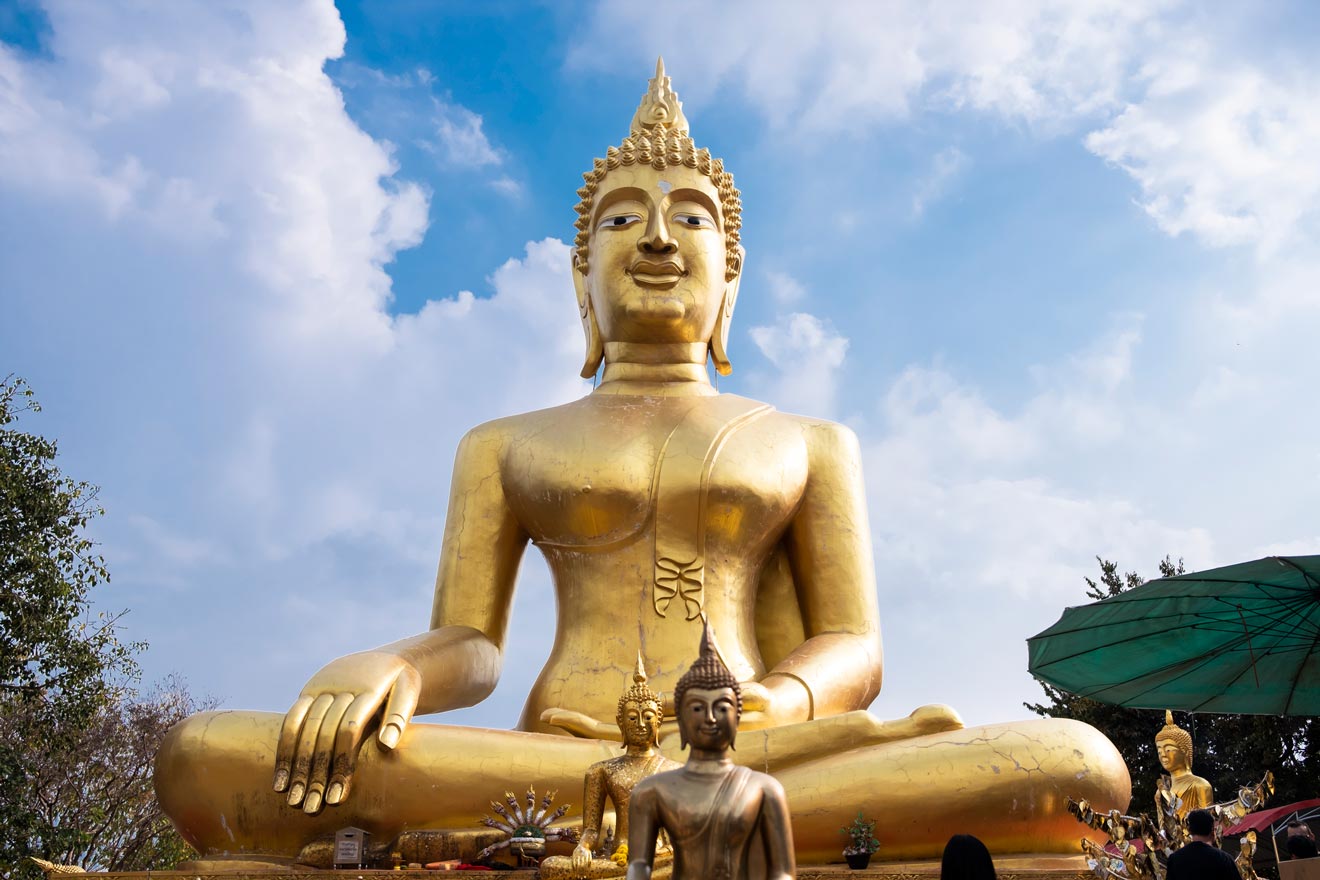 🏨 Which are the best hotels in Pattaya, Thailand?
🎉 Which are the best hotels in Pattaya, Thailand, near the walking street?
📅 How many days are enough in Pattaya, Thailand?
3 or 4 days are enough to stay in Pattaya: it will give you enough time to enjoy its beautiful beaches, explore the city at night, check out the lively bars and clubs of the famous Pattaya walking street and join some cool tours!
📍 Which is the best area to stay in Pattaya, Thailand?
Depends on what you are looking for: if you want to enjoy the beaches you might prefer Pattaya Beach or South Pattaya, while if you're looking for some crazy nightlife you should stay near Walking Street where all the bars and nightclubs are located!
Conclusion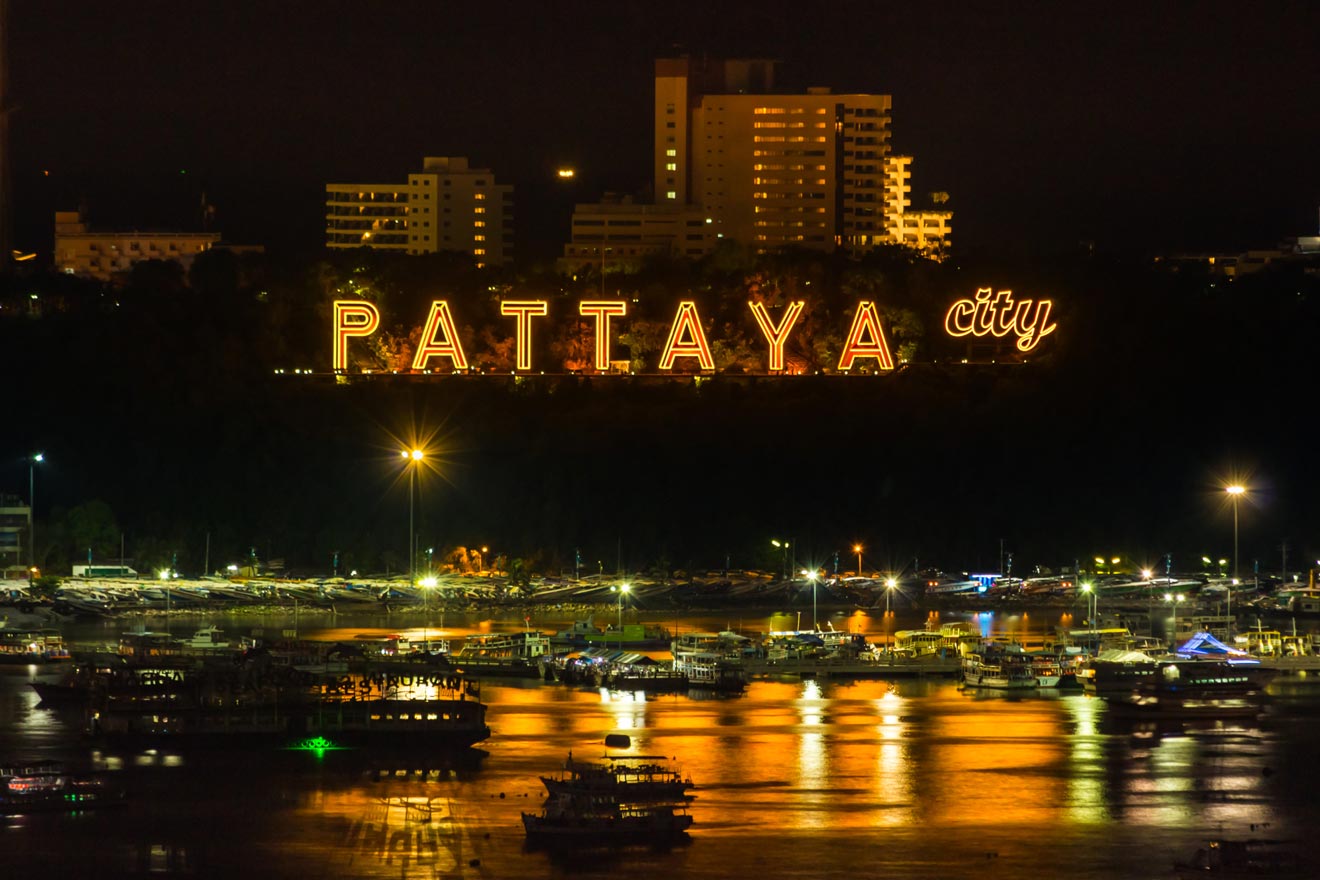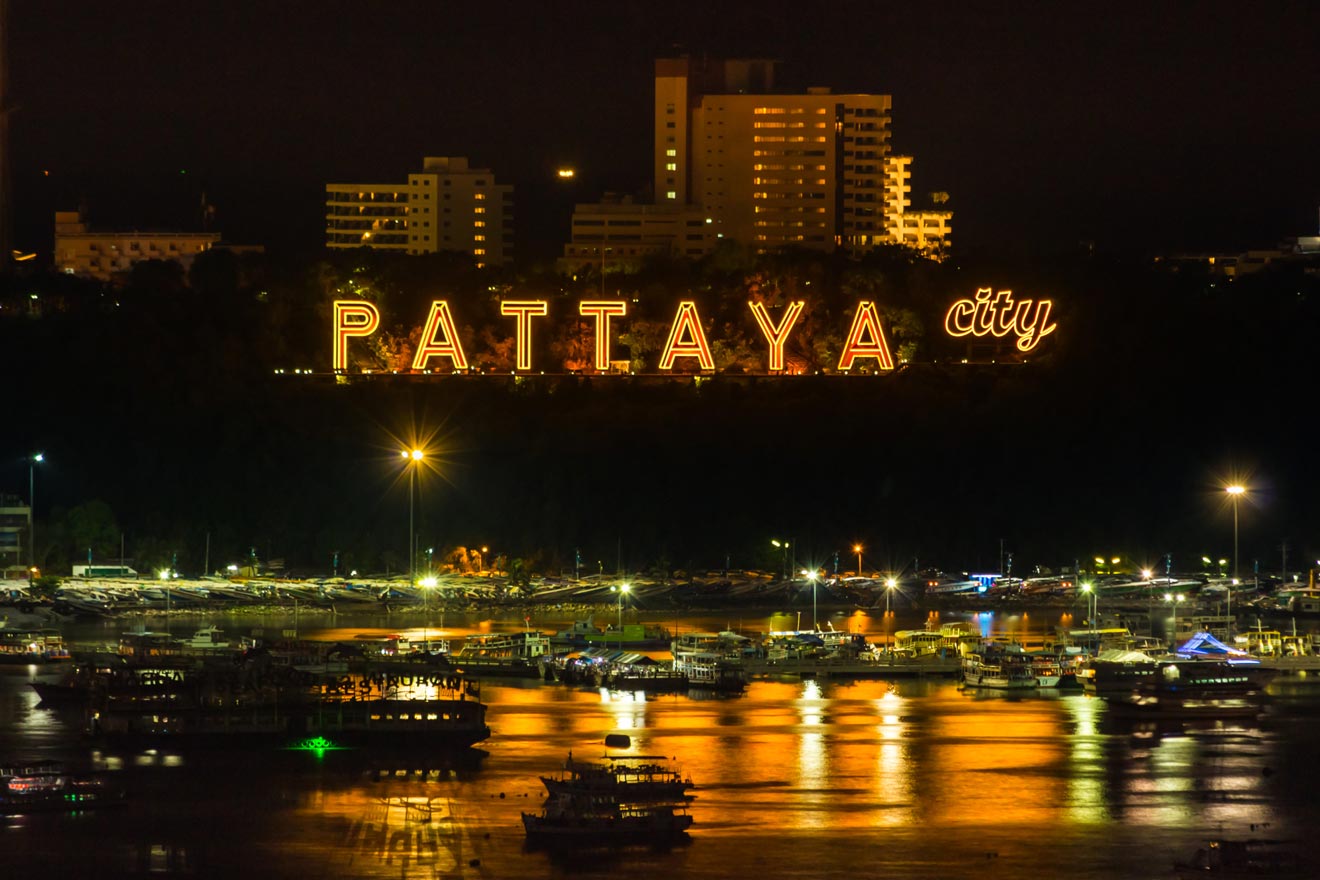 Here we are at the end of this cool guide with the best hotels in Pattaya, Thailand! We saw accommodation options for any budget and taste: luxury hotels with sea view rooms, beach resorts, budget hostels, and even some unique and cool stays!
The hotels all offer different amenities and locations, either in Pattaya Beach, and Pattaya South, both offering great beaches, or close to the famous Pattaya walking street and its crazy nightlife! Have you decided which one to book?
If not, I cannot blame you, there were so many hotel options! So let me give you my 2 personal favorite choices, with great value and amazing reviews:
If you like anything on this list I suggest you book it as soon as you can, or you might lose the spot… Pattaya is a very popular destination in Thailand!
I hope you enjoyed reading my guide, and if you have any questions for me, please leave them in the comments below… I will answer you as soon as I can!
Have a great vacation!
Elena
---
Pin it for later!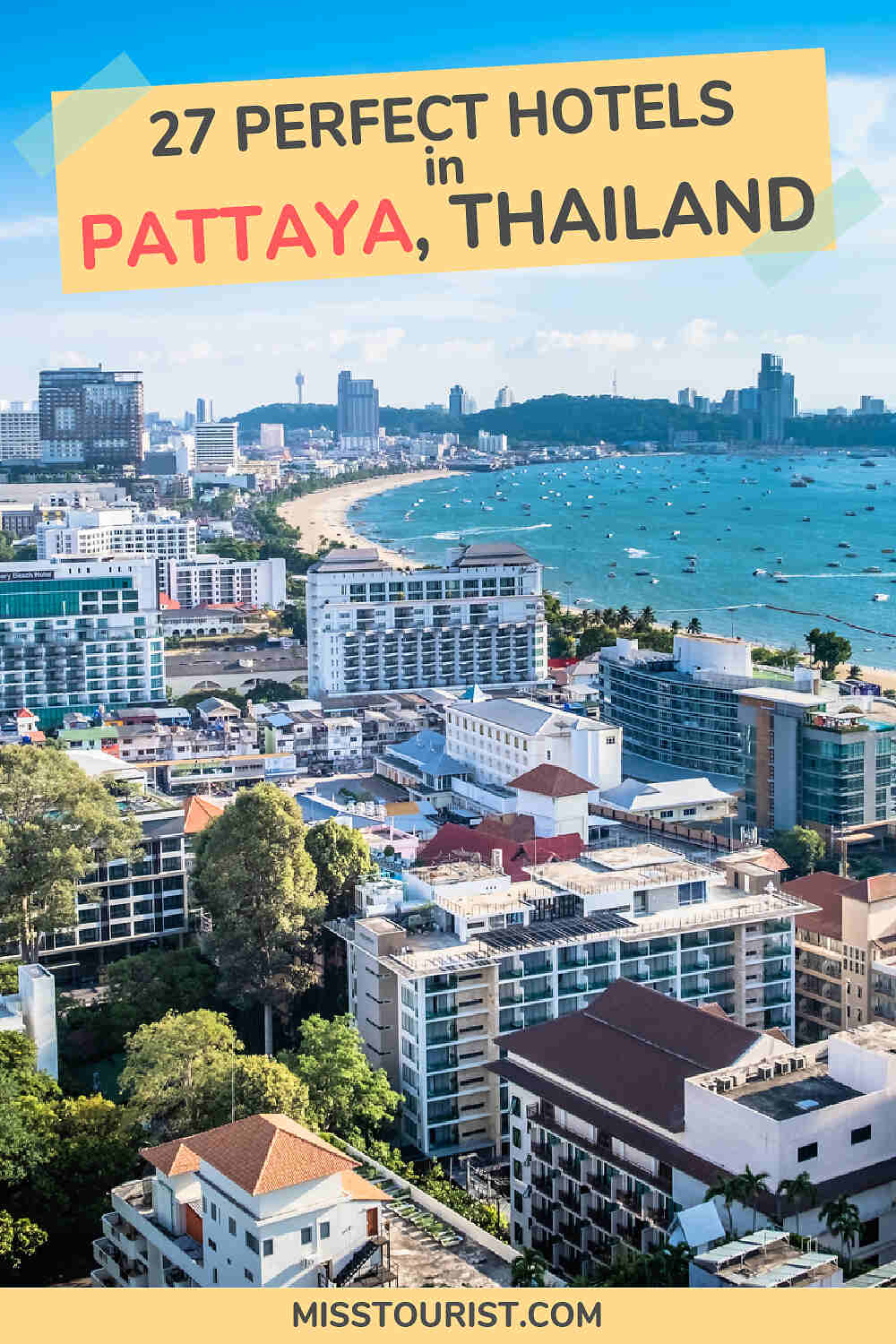 Pin it for later!