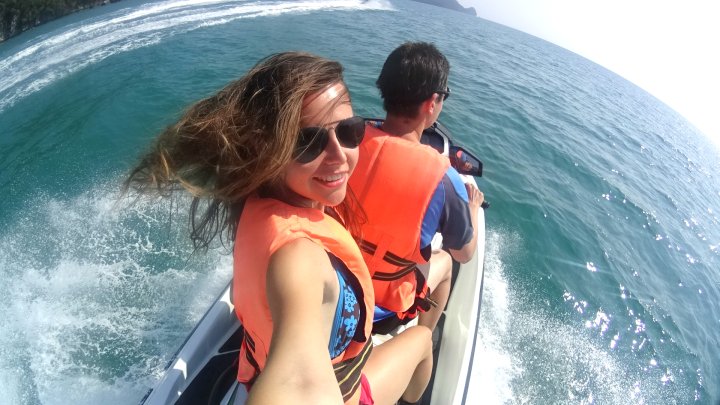 Are you planning a vacation in Langkawi, Malaysia? Great choice, you're in for a great adventure!
Some tourists only consider going to Langkawi because of its gorgeous beaches, but this Island is filled with much more magic thanks to its rainforest areas, waterfalls, and local culture! Shame on me, I did not know this paradise island existed before, seriously!
Langkawi is an archipelago of 99 amazing islands (and 5 "bonus" ones that appear during low tide) and this means it has a lot of sea shores. But it clearly has more than I had expected! My decision to visit Langkawi came out of an incredible offer that AirAsia had (it cost me only 6€ to go from Kuala Lumpur to Langkawi island!) and I didn't regret it at all!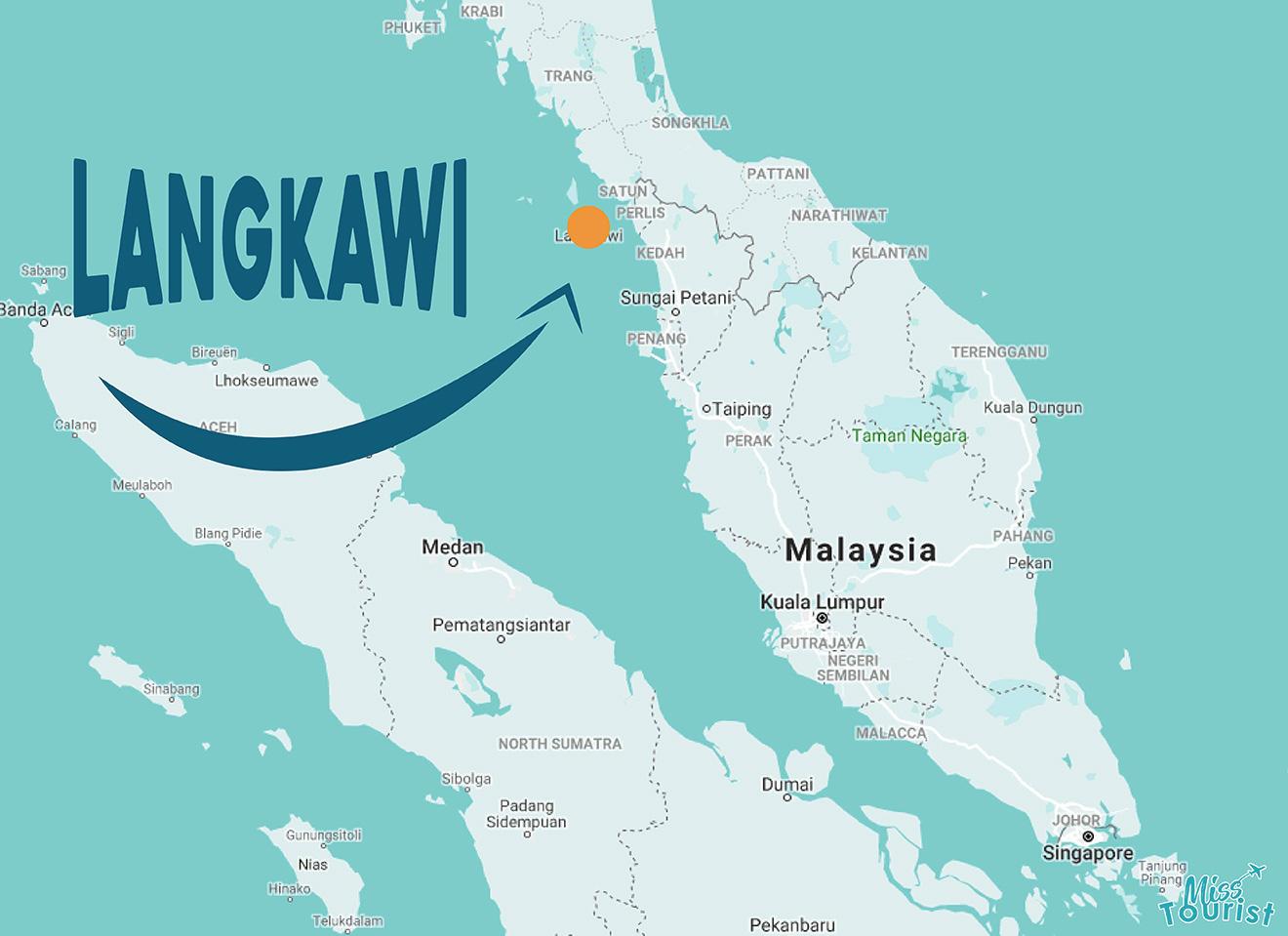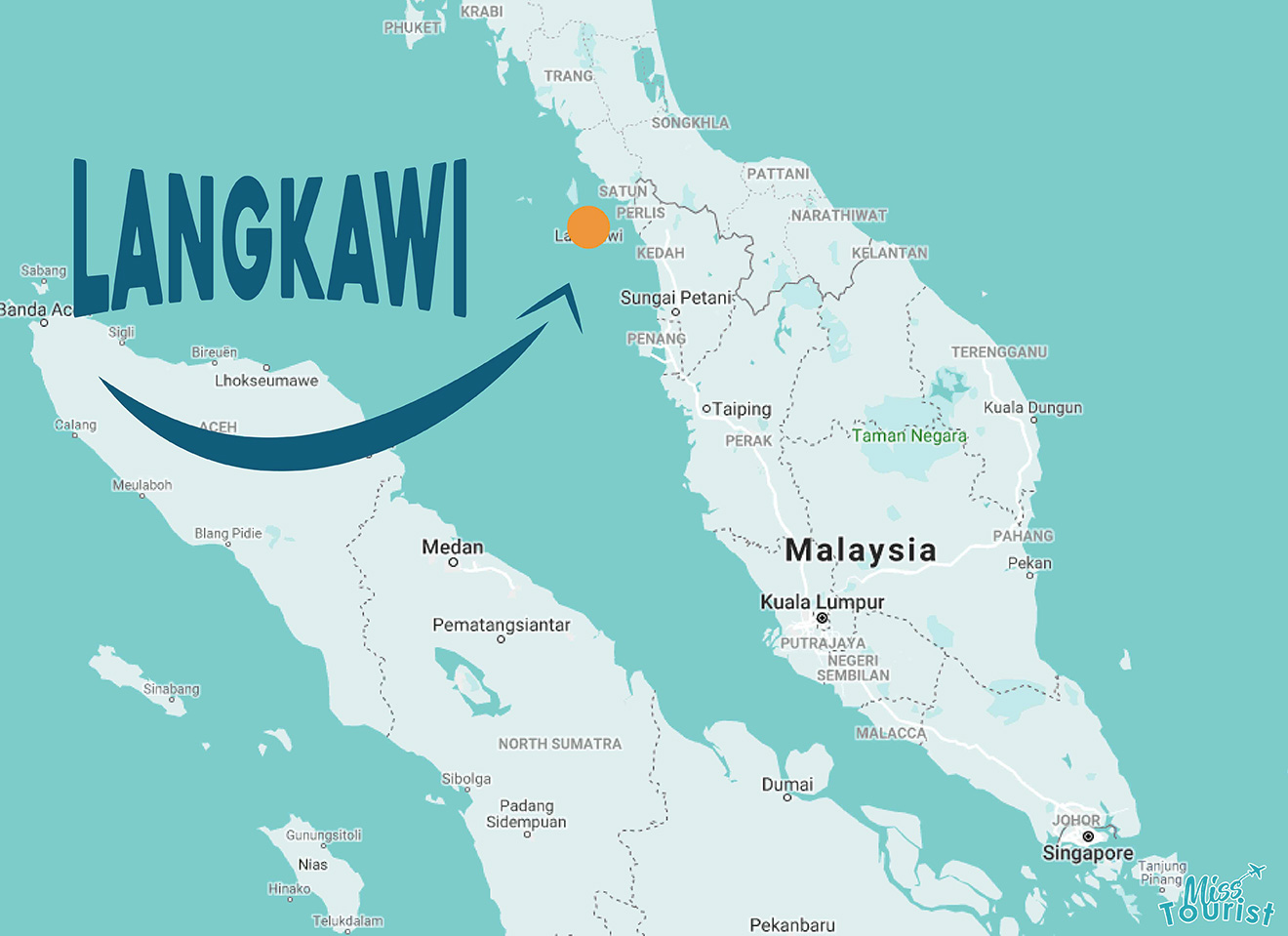 Langkawi is perfect for any type of tourist, regardless if you choose to only spend a couple of days on the island or a couple of weeks!
In addition to enjoying (amazing) deserted beaches and climbing up the hill with a cable car, this article includes many other awesome, adventurous activities which I have tried and would like to tell you all about!
These are the best Langkawi activities and attractions I recommend you consider for your trip:
1. Take the cable car and go up to Langkawi Sky Bridge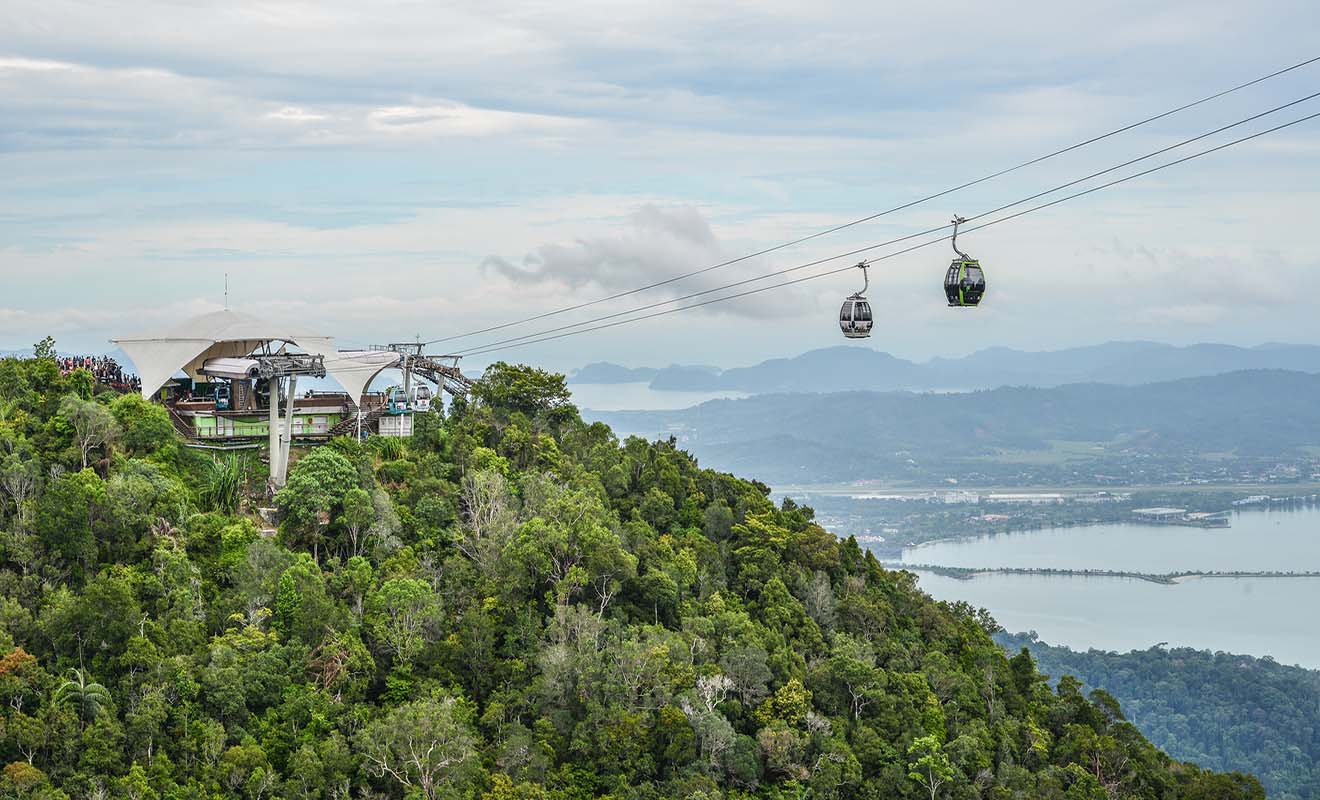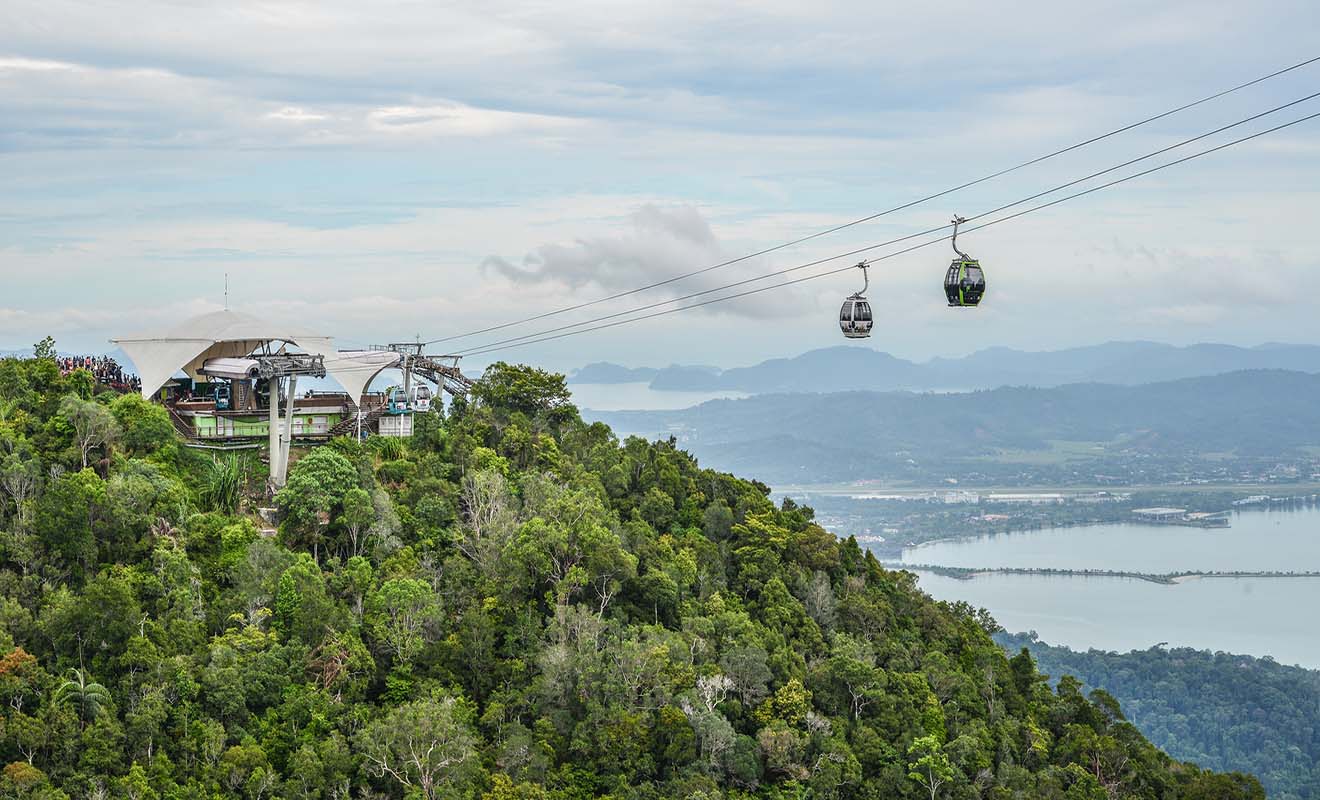 Walking on the Sky Bridge is one of the most famous things to do on the island!
Langkawi Cable Car is an aerial "link" that goes up to Gunung Mat Cincang, the most famous mountain on the island.
The cable car is also one of the most popular Langkawi island attractions because it provides an impressive 15-minute ride where you'll see some really magnificent views of the forest, the Telaga Tujuh (Seven Wells Waterfall), and the sea.
Langkawi has so many waterfalls and forest areas – who wouldn't want to see the island from above?
Once you reach the top, you'll find the SkyGlide there, an inclinator-cabin that gives access to the Sky Bridge. The Sky Bridge is a pedestrian cable-stayed bridge that's 125 meters long and just 660 meters above sea level. You can easily walk from one point to the other and take numerous pictures while enjoying the surrounding views.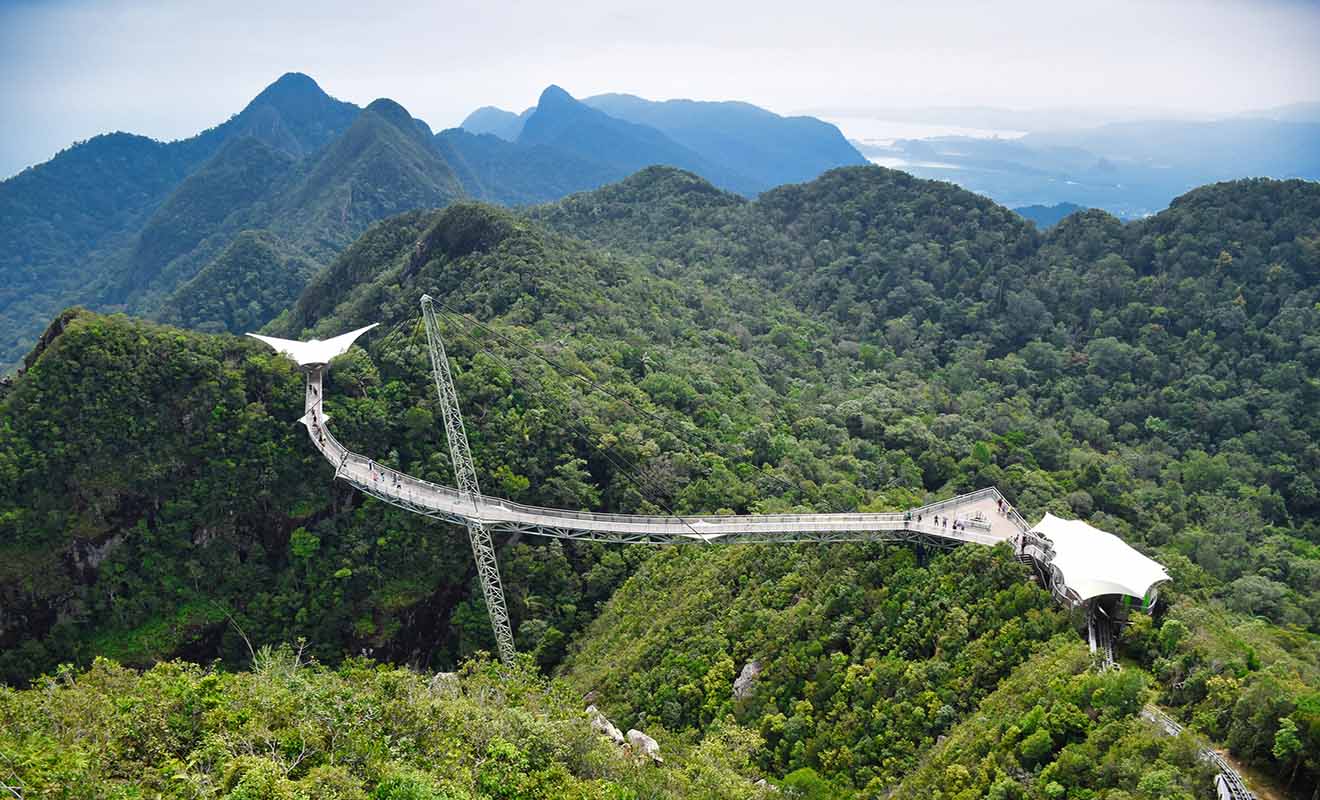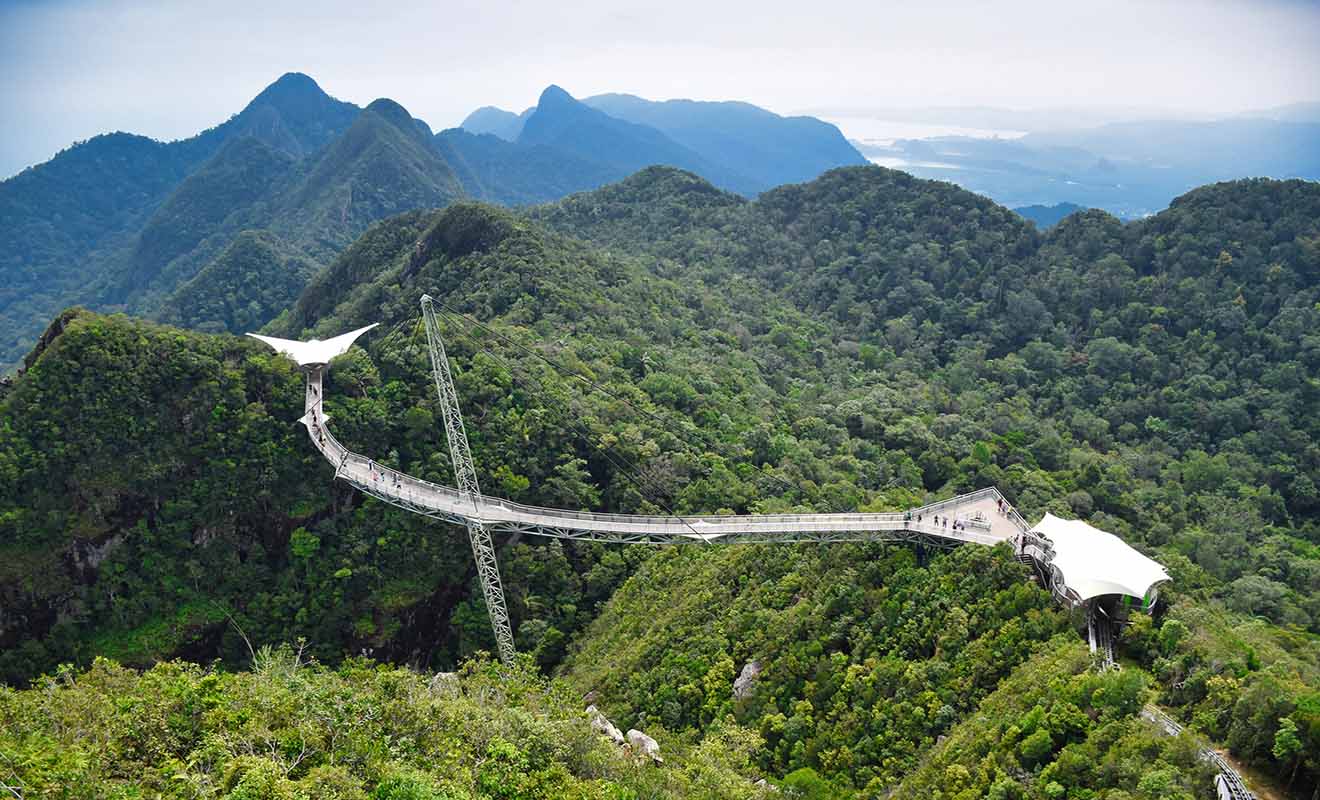 PRO TIP: Instead of taking the Sky Glide, you can save some ringgits (MYR) and walk up the (slightly steep) stairs to the bridge.
NOTE: The cool 3D art museum called "Art in Paradise" is included in this online cable car ticket, check it out!
PRICE: Cable car + Sky Bridge ticket is US $33. The price for the SkyBridge only is 5 MYR (US $1.20) if you buy it on the spot once you arrive there.
Alternatively, you can buy this ticket for the cable car only (no SkyBridge) for US $32 that includes entry to the 3D Art Museum "Art in Paradise" (a fun museum where paintings come out of the canvas, great photo opportunities!), the SkyRex (Dinosaur Exhibition) and the SkyDome (a simulated roller coaster ride). Then you can buy the SkyBridge ticket separately for 5 MYR (US$1.20) once you arrive. I think it's a great combo!
2. Relax on the beach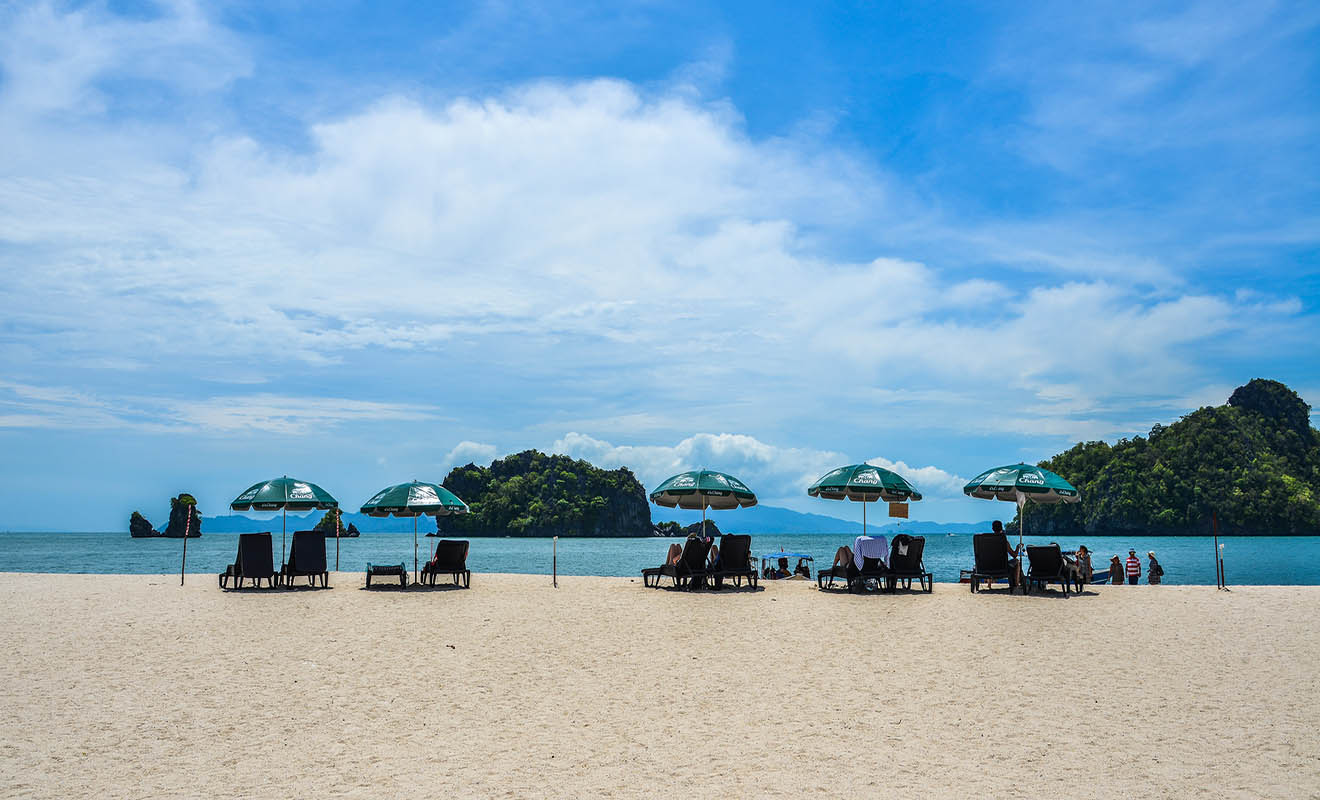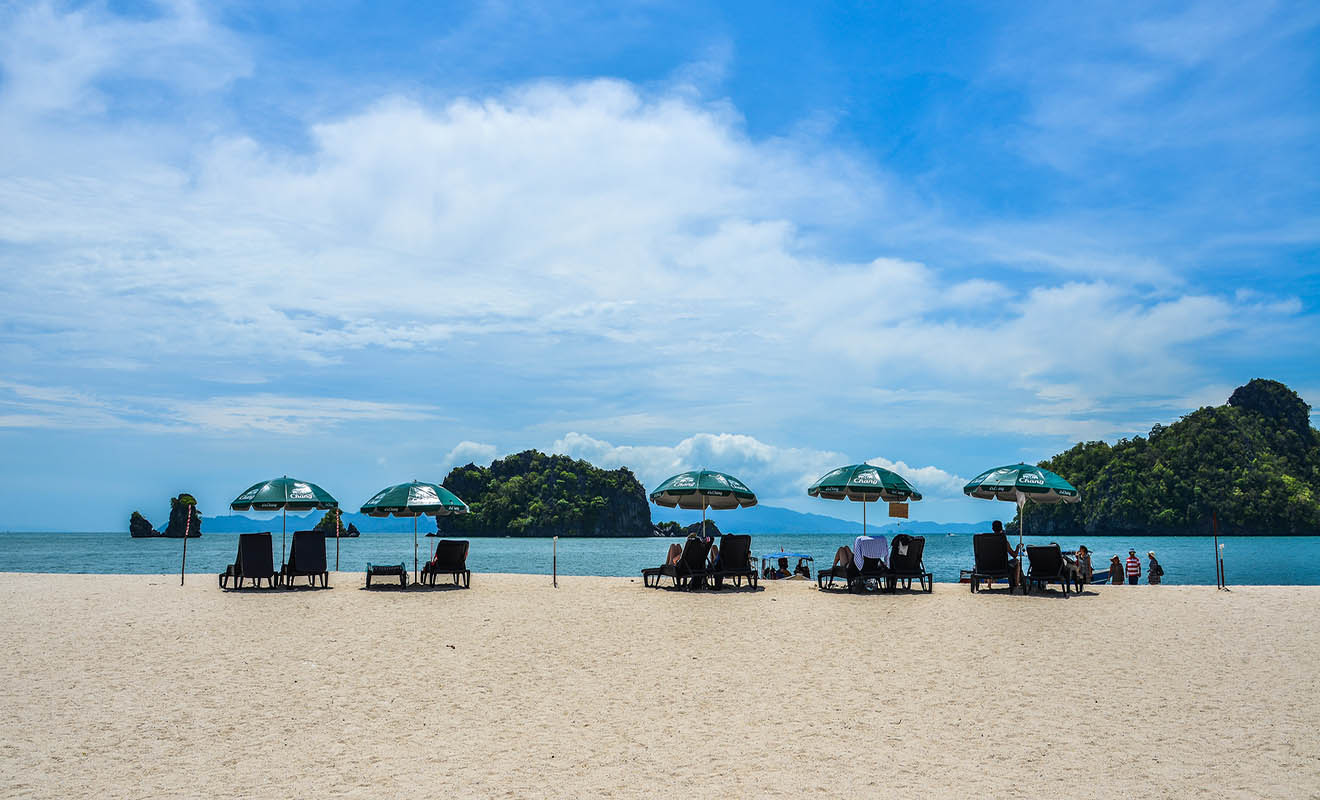 You will find at least 10 amazing beaches on the main island such as Pantai Cenang, Tengah, Tanjung Rhu, Pantai Kok and more, as well as some unnamed ones and private areas.
Deciding on which one is the best is pretty subjective and it depends on your preferences, but I would definitely go to Pantai Cenang because I like water activities!
Here are two of the most beautiful beaches in Langkawi:
2.1. Pantai Cenang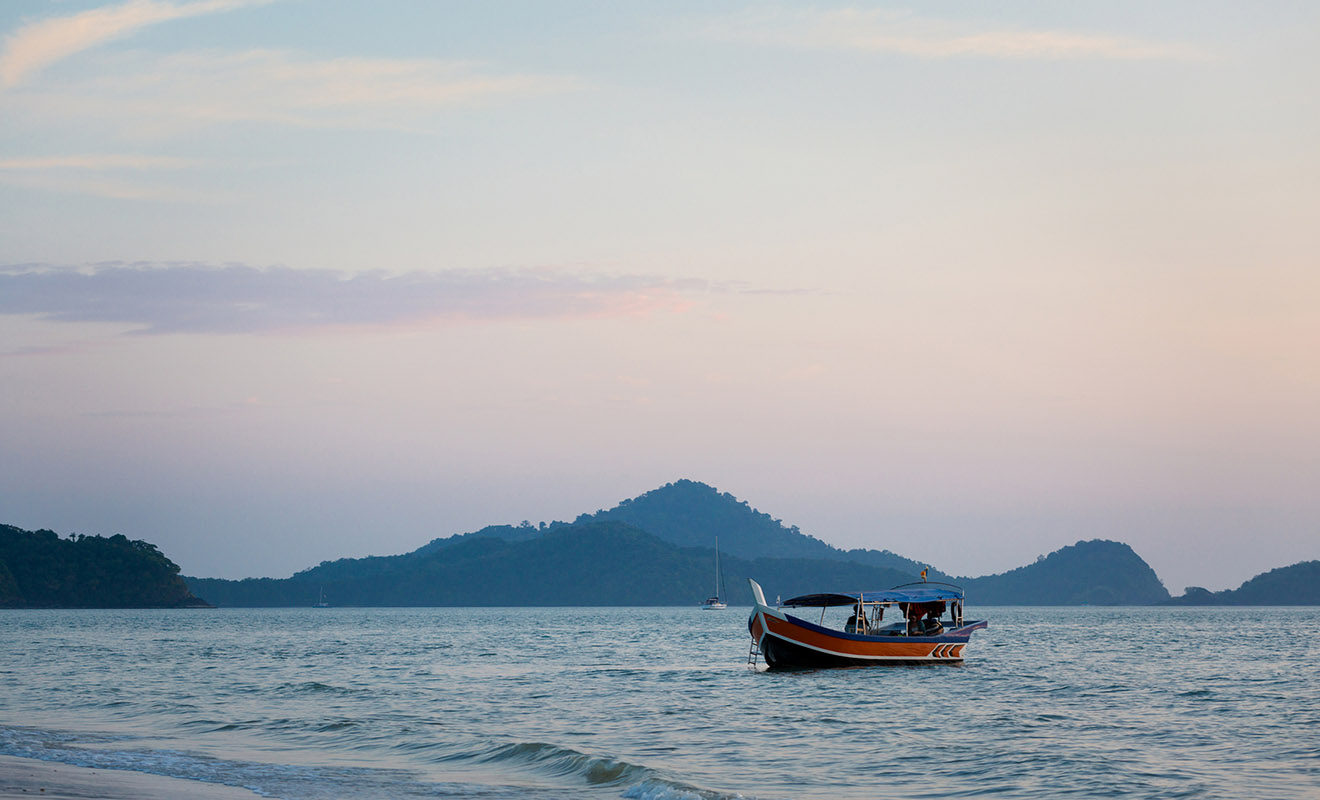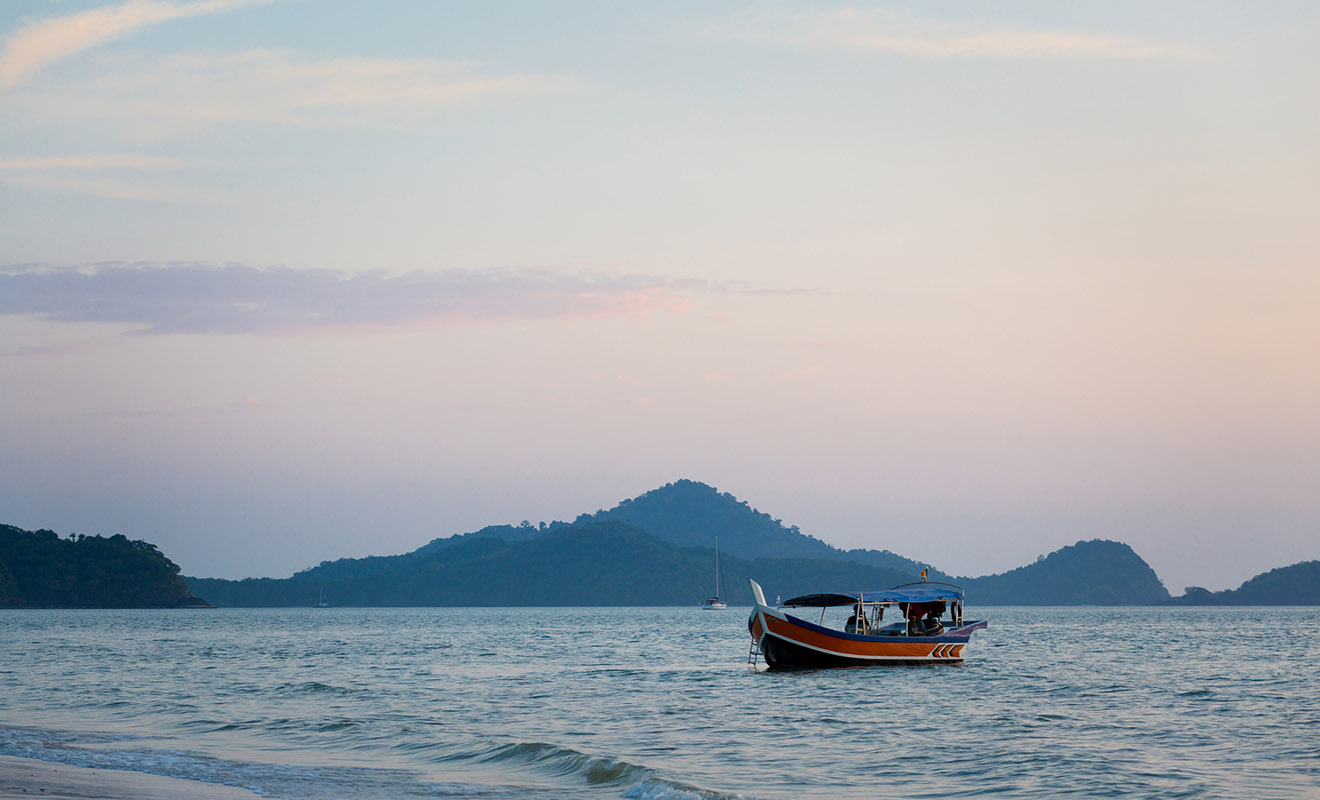 Pantai Cenang, also known as Cenang Beach, is probably the busiest Langkawi beach because of the many restaurants, souvenir shops, duty-free outlets and perfect sand that attracts many locals and tourists year-round.
There is a diversity of activities you can choose from at this beach such as banana and donut boat rides, and also parasailing (more about it in the Bonus section). These water activities range between US $5 to US $37 per person, based on what activity you select.
You can also go for some water ski or wakeboard rides for at least 15 minutes for the price of US $27 per person.
2.2. Tanjung Rhu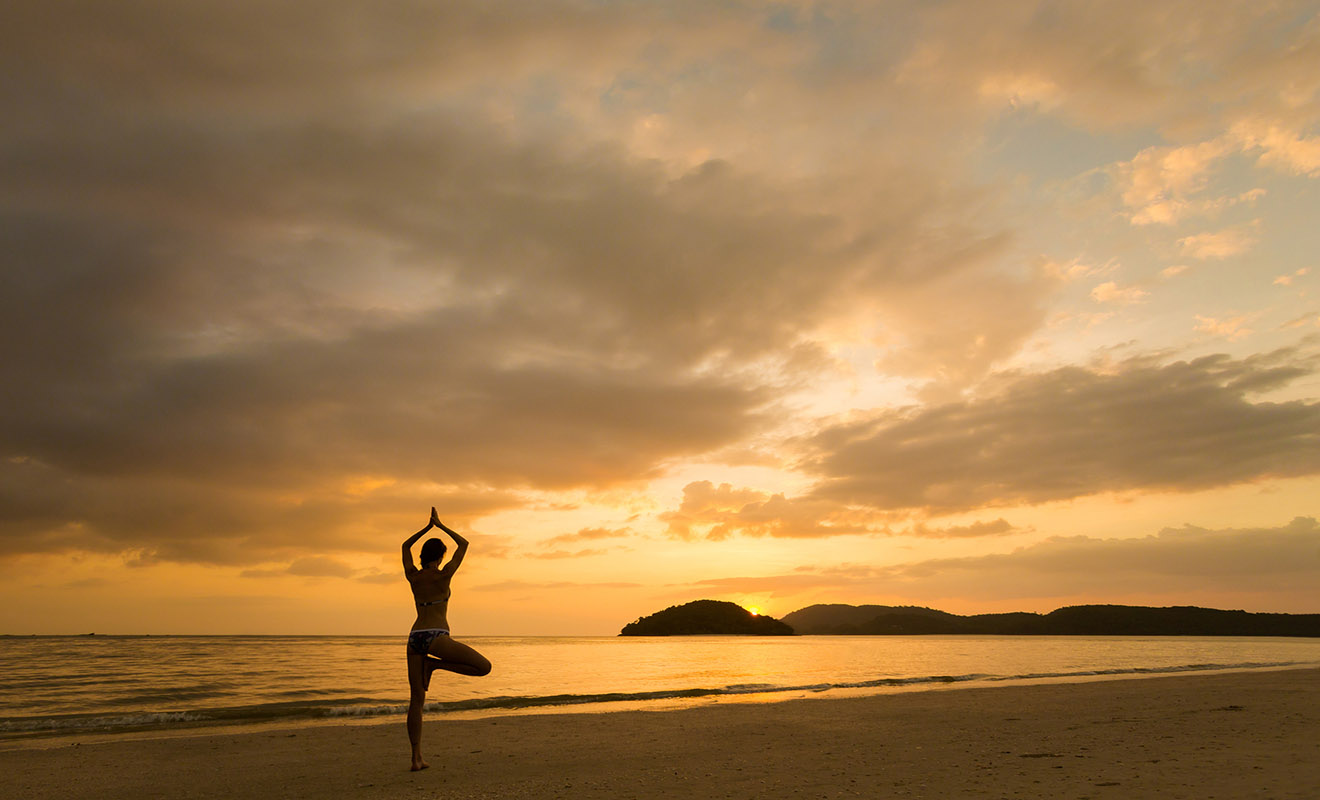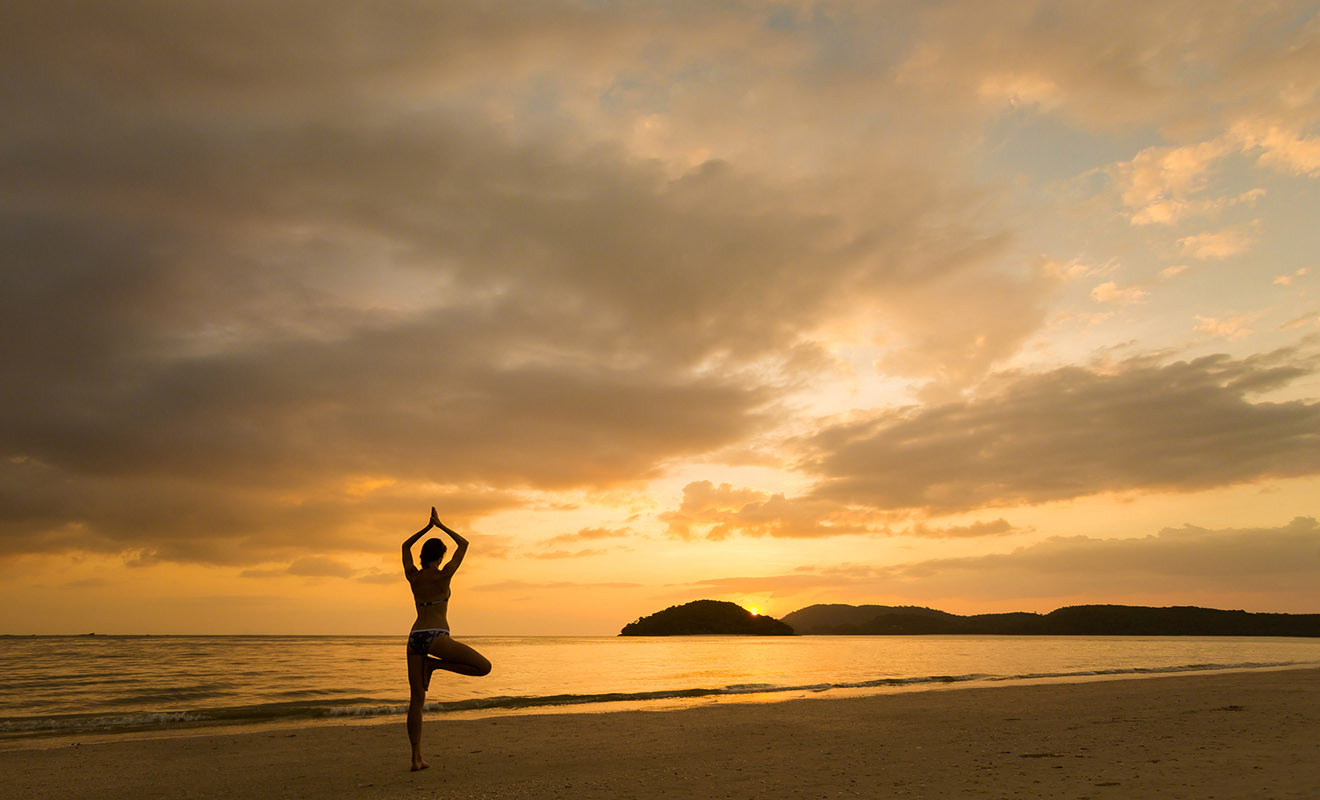 Tanjung Rhu Beach has one of the most visited shorelines on the island, with crystal clear waters and powder-fine sand!
To get to this secluded, peaceful area you will only need to go across a jungle corridor and that's something that makes this place even more interesting! On your way to this beach you can find many roadside stalls that offer the local mee gulung (noodles wrapped with egg and soup) – a must-try while in Langkawi!
PRO TIP: The beach is also a departing spot for boats heading out on a mangrove tour (no. 4 below)! So you can come here for a bit of sunbathing and then join your mangrove trip.
3. Stop by the amazing Eagle Square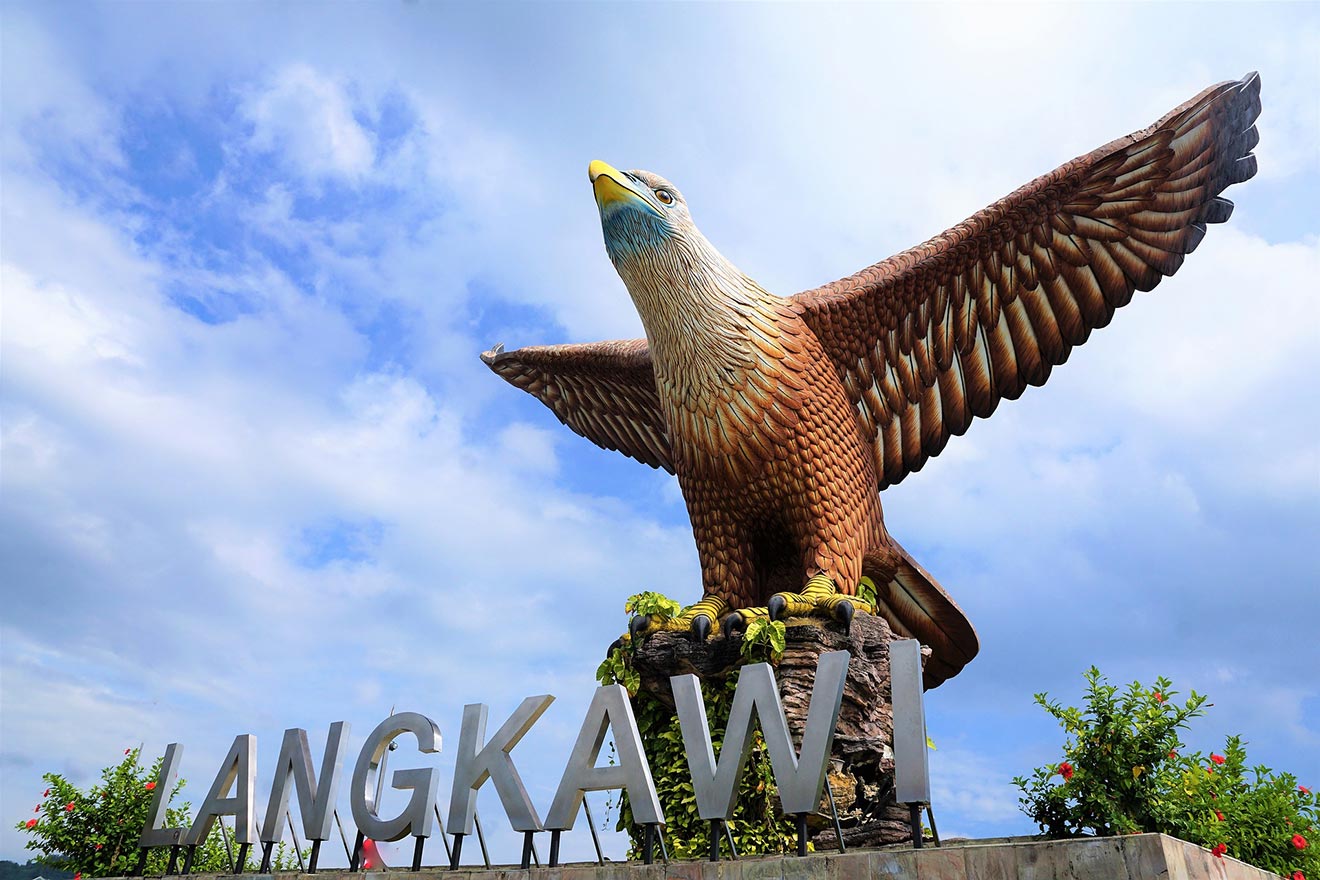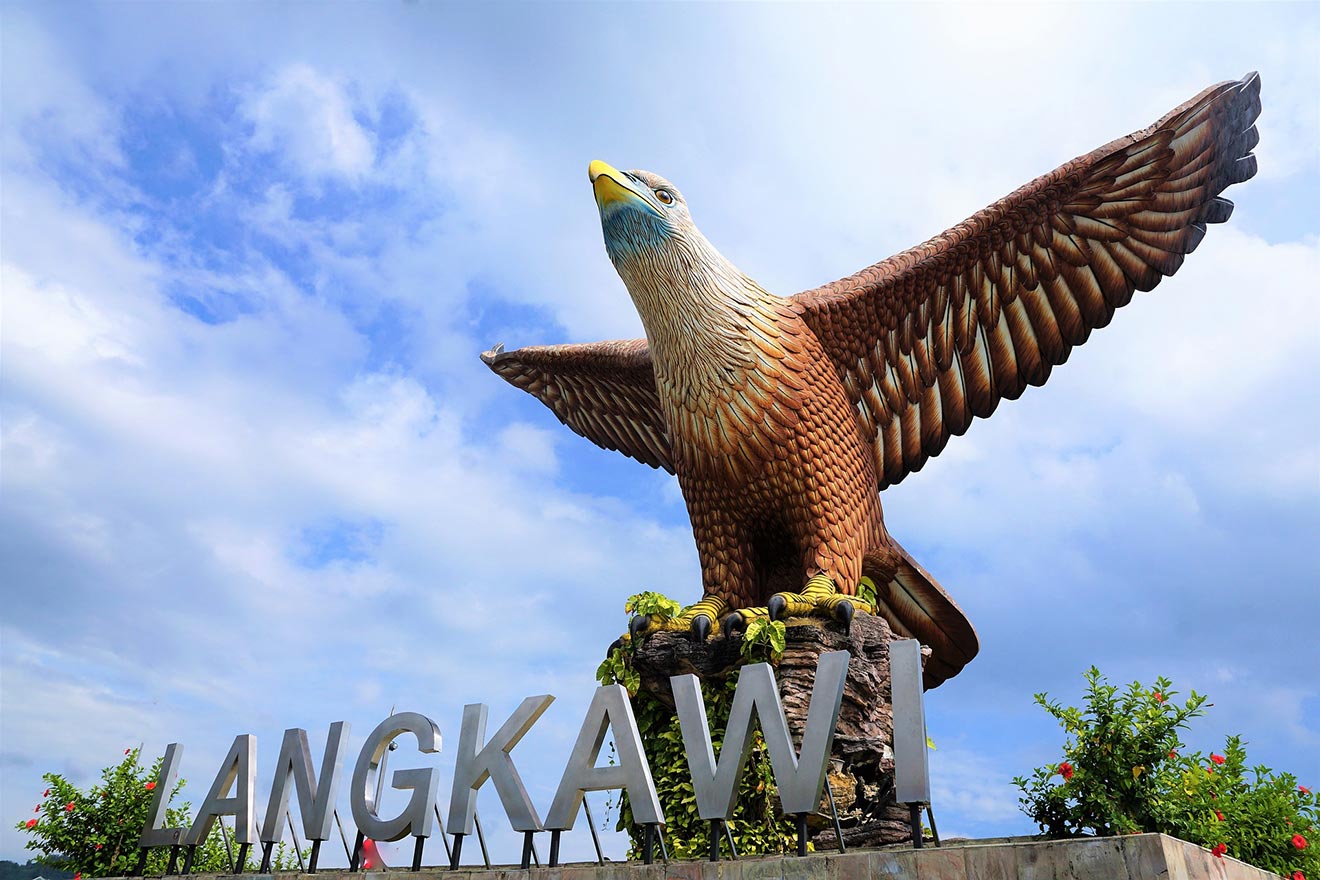 Eagle Square (also known as Dataran Lang) is an impressive man-made square that has one of the landmarks of the city – a statue of an eagle ready to fly.
The eagle represents the name of Langkawi itself – although there is no exact translation, the Malay word for eagle is "healing" or "lang", while kawi is related to the red stone.
I recommend you visit Eagle Square to take a picture with this iconic statue! You can also find some nice fountains and bridges to walk around near the square, so it's a great place for relaxation, regardless of the time of day you decide to visit.
4. Go for a mangrove tour at Kilim Geopark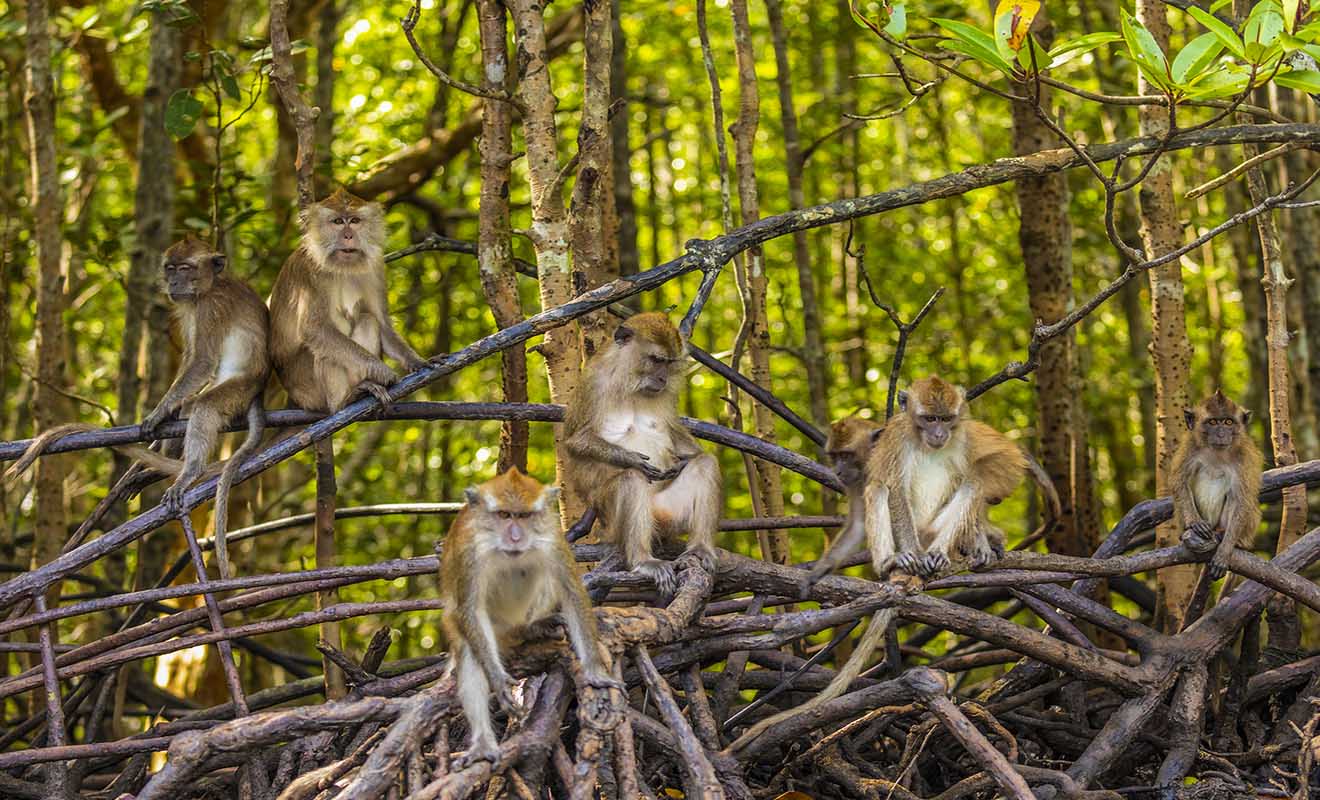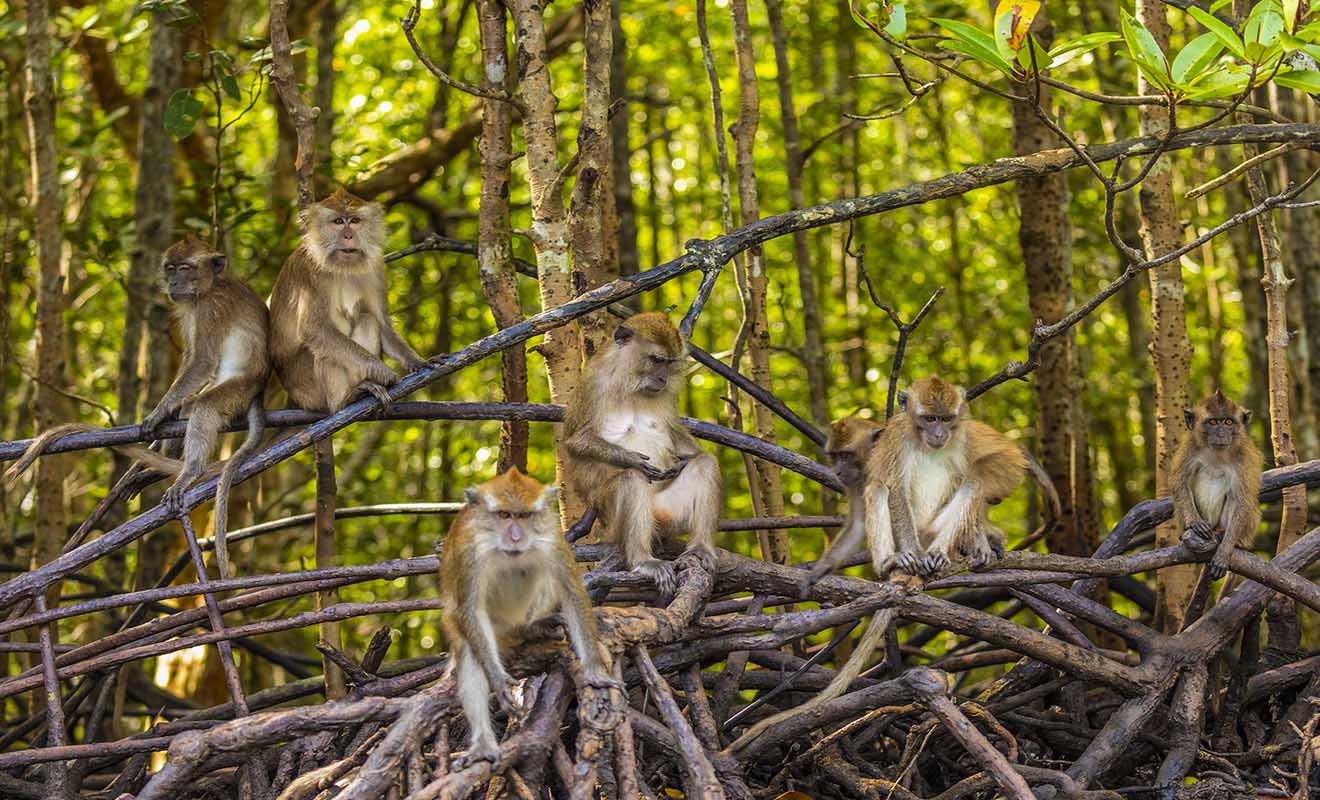 Langkawi Mangrove Kilim Geoforest Park is a natural reserve of 100 square meters where you can see some amazing geological formations, fossils, caves, and more. If you take a Langkawi Mangrove tour, you will go by boat and visit part of the GeoPark, which is one of the most frequented Langkawi tourist attractions!
But why is this Langkawi tour so popular? Well, on the boat ride you will go through the dense green mangroves and pass by huge limestone rocks that were formed more than 500 million years ago! You will also see a lot of animals such as mud crabs, monkeys, and even Monitor lizards. If you get lucky you might even catch a glimpse of a dolphin or otter! The tour stops include monkey and fish feeding, and also going by a crocodile cave.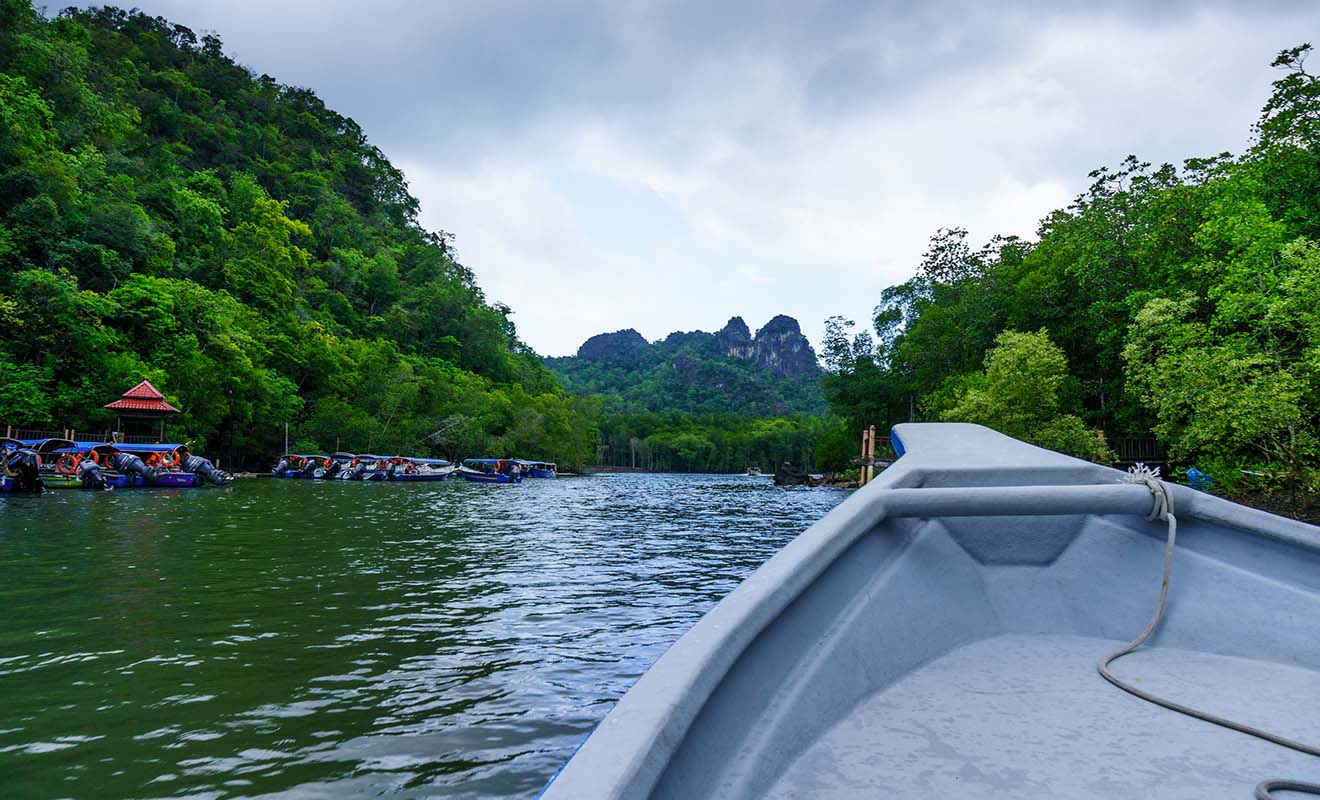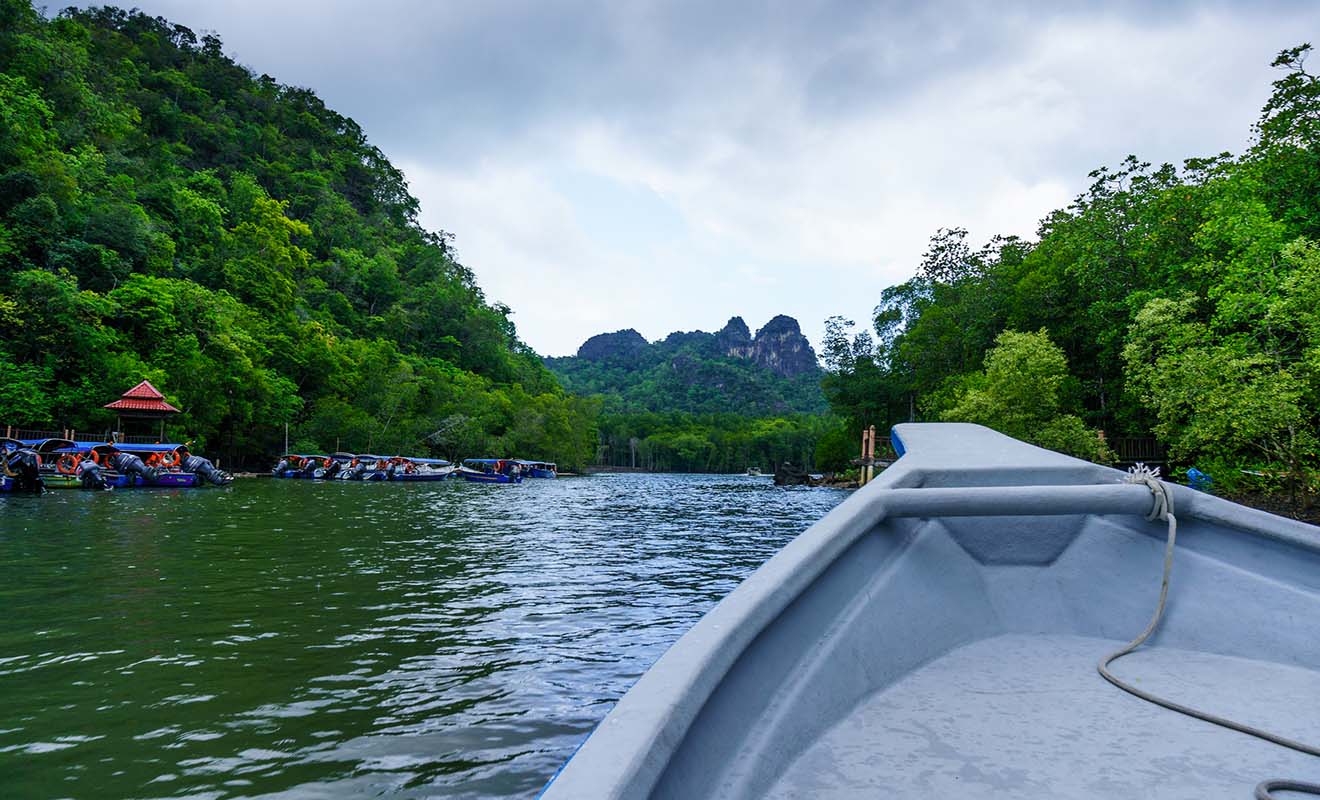 If you don't want to worry about how to get from your hotel to the departing bays for this tour, you can choose to book a spot with an organized tour.
PRICE: US $30/person for a group tour, US $53/person for a private tour. You can book your spot here.
BONUS: If you want to learn more about Langkawi's agriculture, I recommend you stop by MARDI Agro Technology Park (where you can take a fruit farm tour and learn all about fruit cultivation) or Laman Padi Langkawi (a rice garden and museum).
5. Try some local food at a night market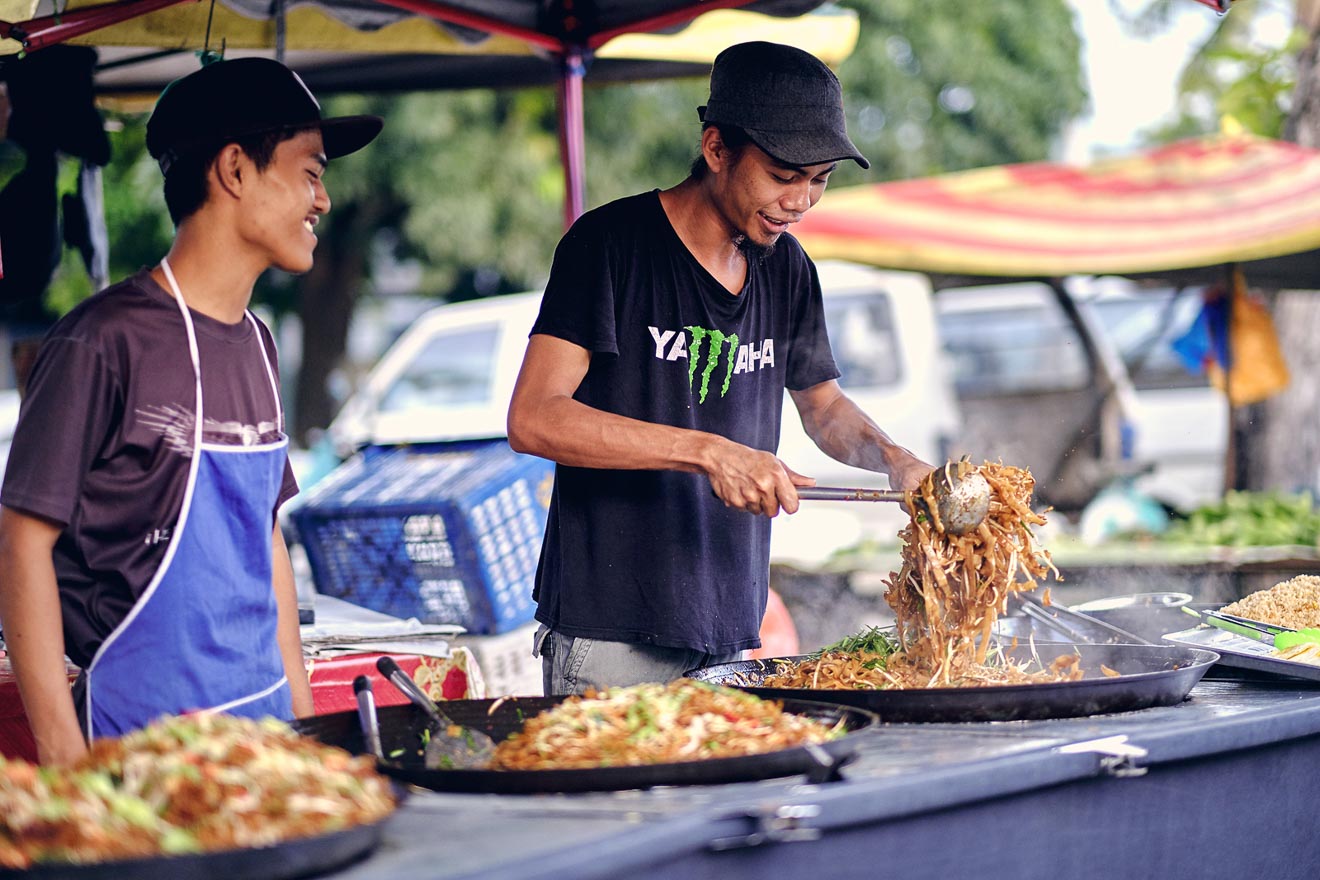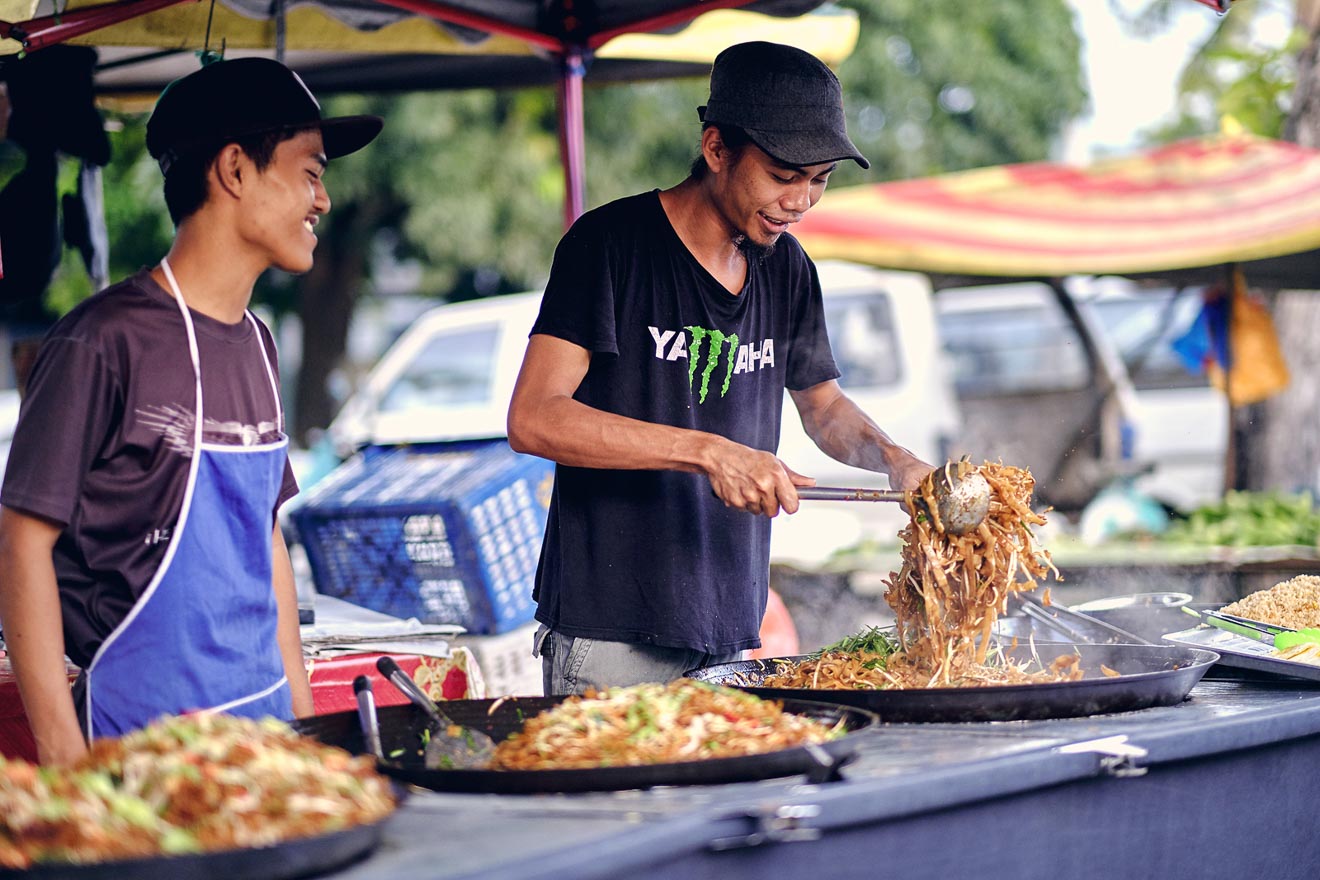 The best place to sample some fresh local food is at the Langkawi Night Market, known as Pasar Malam!
You can find these night markets open every day on the most visited beach towns such as Kuah, Pantai Cenang, and Padang Matsirat. They are open from around 4 PM until a bit after sunset (which is usually around 7PM).
Some of the delicious food you can try there include nasi lemak (coconut rice), pisang goreng (fried bananas), keropok lekor (fish crackers), and much more for as little as 2 MYR (US $0.50) per dish.
PRO TIP: If you are not quite sure which are the best dishes to try while walking around the street food stalls, I suggest you join a gastronomic tour at the night market. It is a 3-hour walk during which you will get to indulge in a diversity of local dishes from steaming pots filled with fresh foods!
PRICE: US $59 for a food tour (by the way, it's cheaper if you are traveling with a small group!)
6. Do some snorkeling at Pulau Payar Island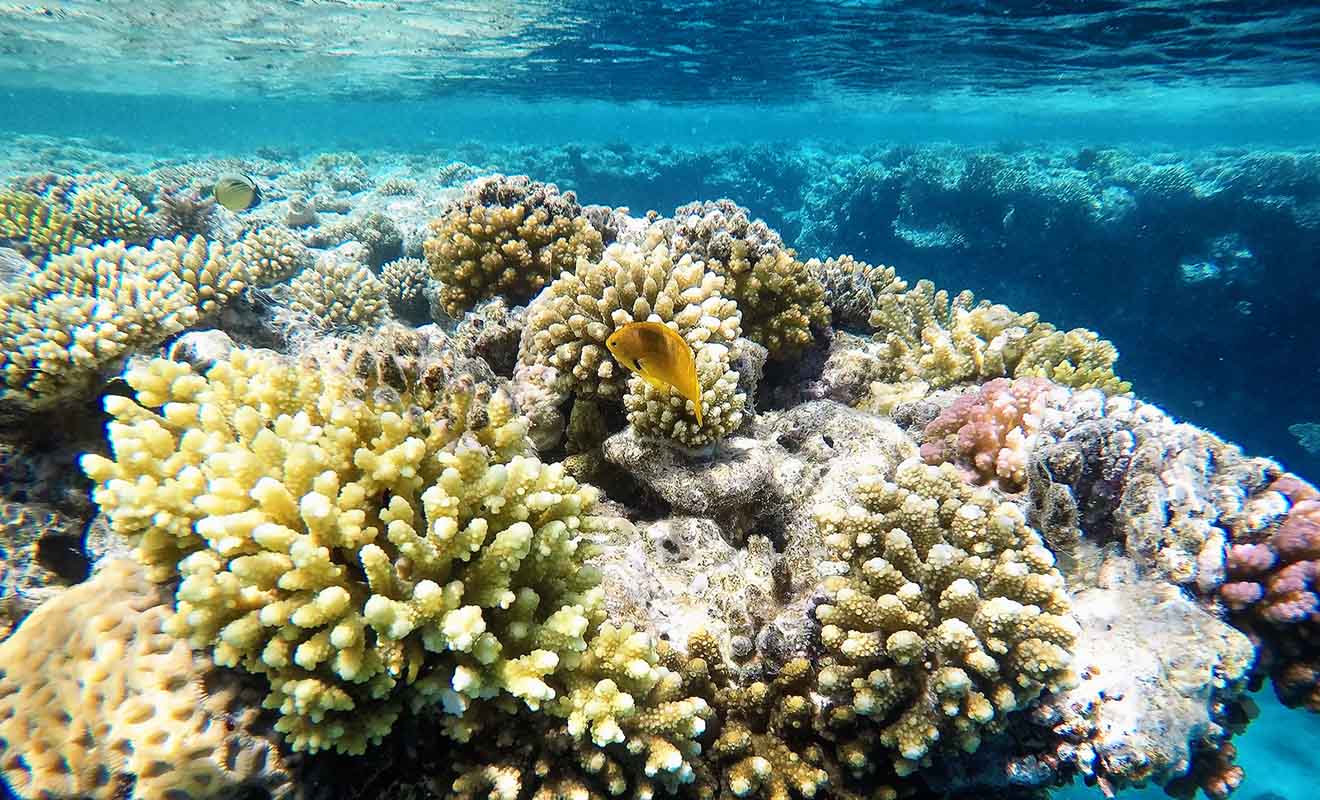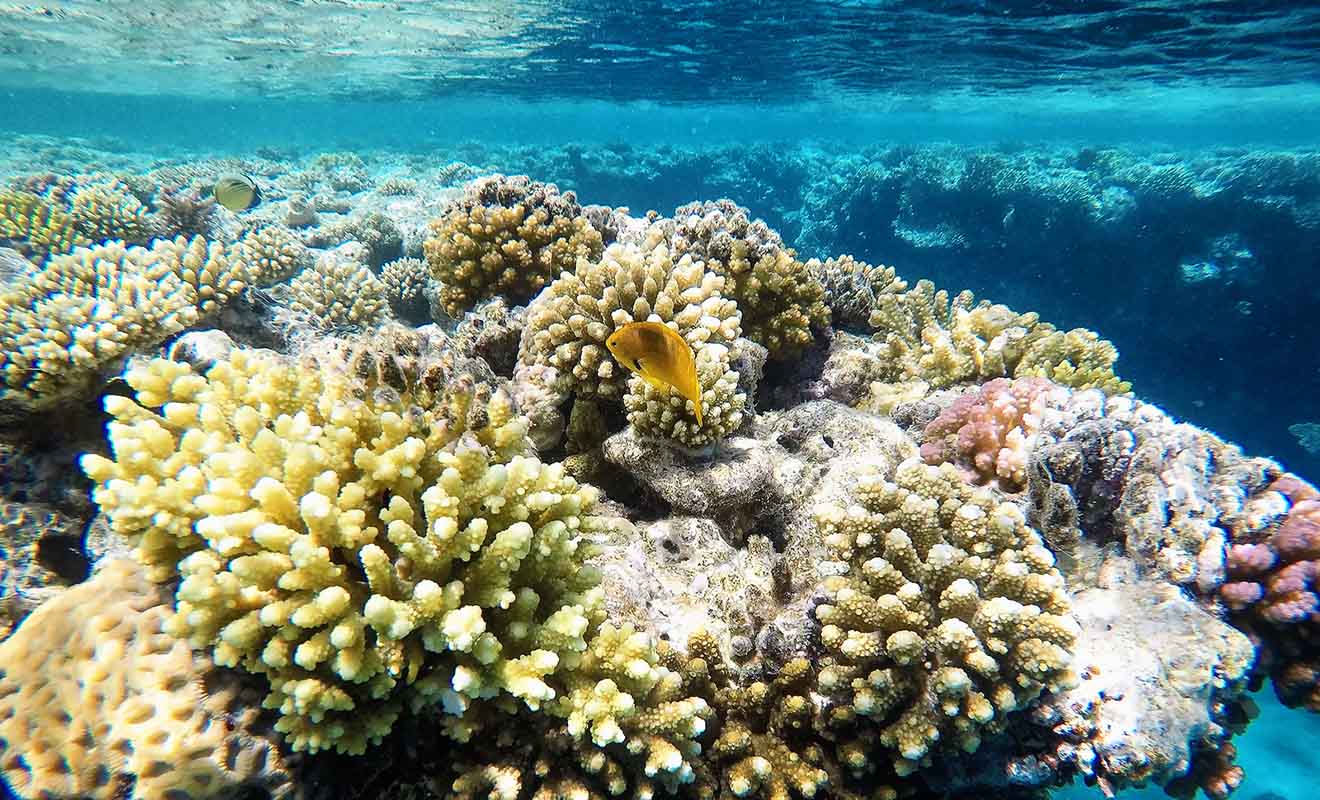 There are some amazing opportunities for diving or snorkeling in Langkawi! For example, Payar Island (Pulau Payar) is an island located about an hour away from the main Langkawi island, where you can find a diversity of exotic species including baby sharks!
The snorkeling activities can be done on the shore or at a reef platform in the deep ocean. You can even go for a diving journey to see some deeper ocean life!
PRO TIP: I recommend going for an organized tour that includes transfer from your hotel to the island so you won't have to worry about anything!
PRICE: US $48 (only snorkeling), US $110 (snorkeling and diving).
7. Go island hopping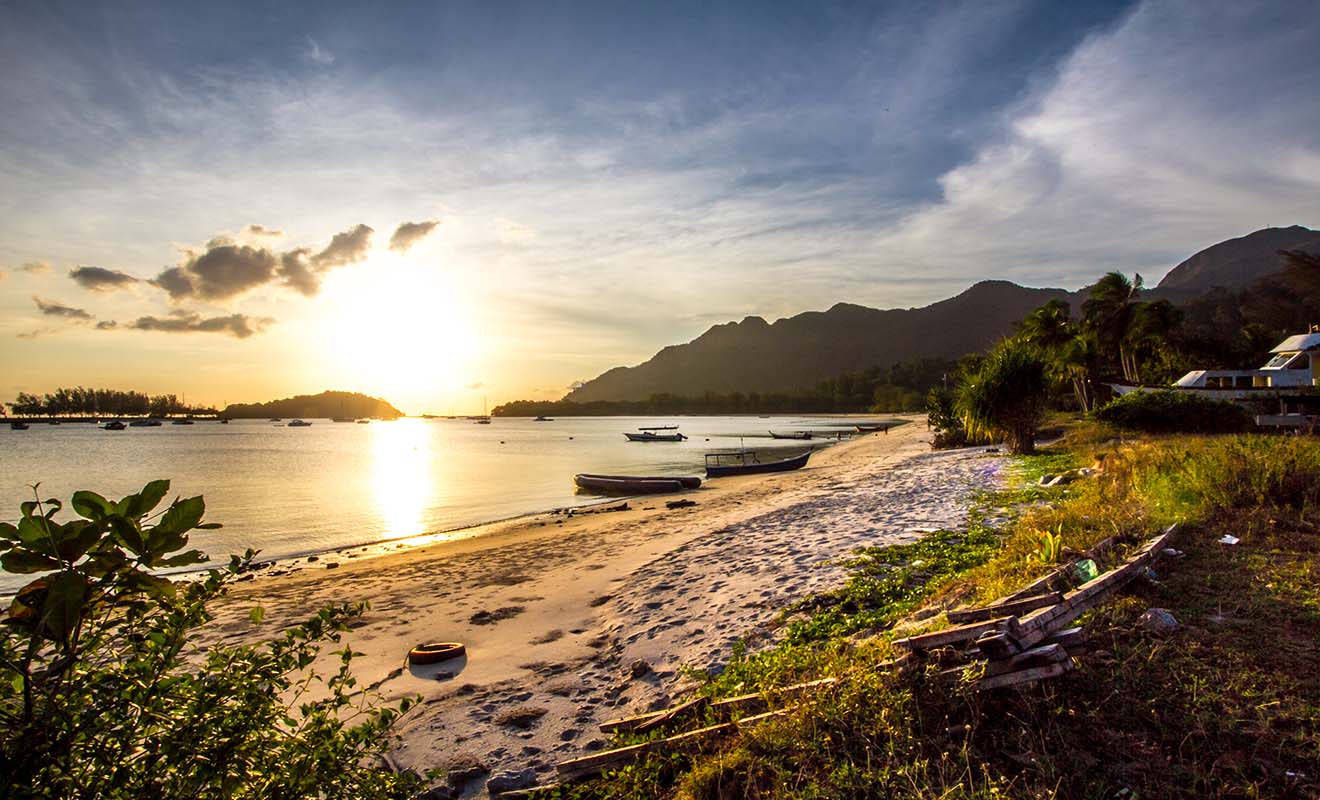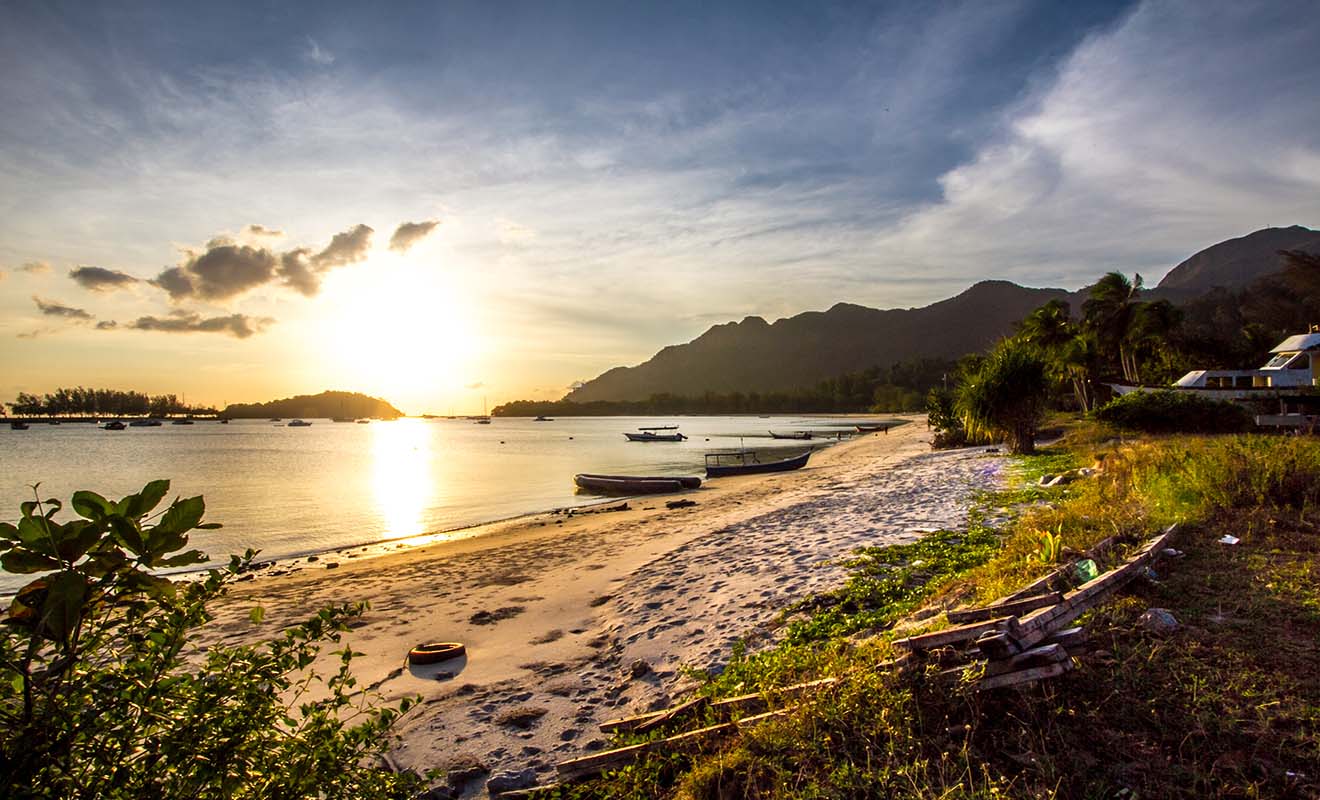 You can find everything about my experiences with island hopping in Langkawi by jet ski in the Bonus section below, but here I want to tell you about island hopping by boat.
You start at Teluk Baru Jetty and you'll get to visit Pulau Dayung Bunting (the second largest island) and then go for a swim or paddle-boarding at Lake of the Pregnant Maiden. Some other stops include eagle watching at the Big Lions Island (Pulau Singa Besar) and you'll finish at the Wet Rice Island (Beras Basah Island) for some relaxing time on the white sand.
PRICE: starting at US $15; it depends on your chosen pick-up spot. You can check the prices per area here.
8. Enjoy a sunset dinner cruise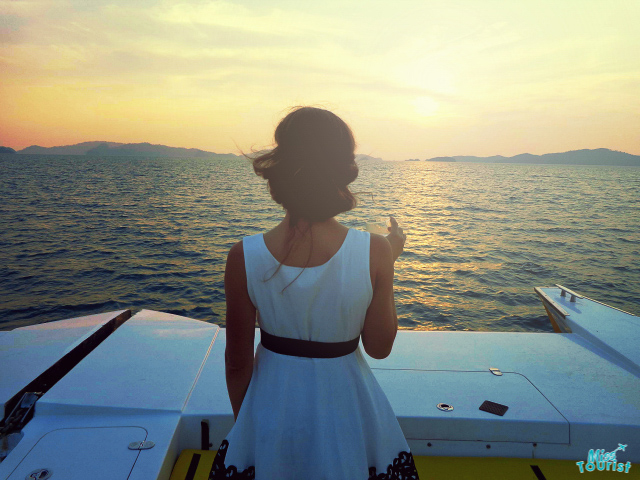 While in Langkawi, a cruise might be the perfect way to finish your day of exploration! When I was in Langkawi, I chose Naam Adventures because they have a cruise on an amazing luxury boat, which made my last day in Langkawi truly romantic and unforgettable!
It is a 3-story yacht with bedrooms and showers and everything else you might want, such as unlimited wine to fully enjoy your experience there. I am very glad I was also picked up from the hotel – I was wearing a dress so it wouldn't be cool if I'd have to get there on a scooter, right?
We sailed off and went around Eagle Square first. Afterwards, all I did was soak in that luxurious atmosphere, listen to some romantic music, sip on my wine, eat delicious food and just enjoy those jaw-dropping sunset for about 4 hours!
Here is a video of my experience doing the sunset cruise:
I recommend the sunset cruise as a great way to spend a romantic evening or if you are looking for a getaway with your family!
PRICE: US $77 on the official Naam Site. If the guys are not available, here is another good (and even cheaper!) option for US $64!
9. Visit the Mahsuri Tomb and Museum
The tomb and museum are dedicated to the curious legend of Mahsuri Pandak, a young woman from Langkawi who was accused of adultery and executed by stabbing. Legend says that she would not die. Instead, white blood came out as a symbol of her innocence!
This tomb is one of the most interesting places in Langkawi, not only because of the story behind it, but also because you will be able to see what a traditional Malay house used to look like, hear some local ladies play a few folklore tunes and learn about local life at the museum!
PRICE: Entrance fee is 10 MYR (US $2.50). You can purchase tickets at the museum entrance.
10. See the beautiful Thean Hou Temple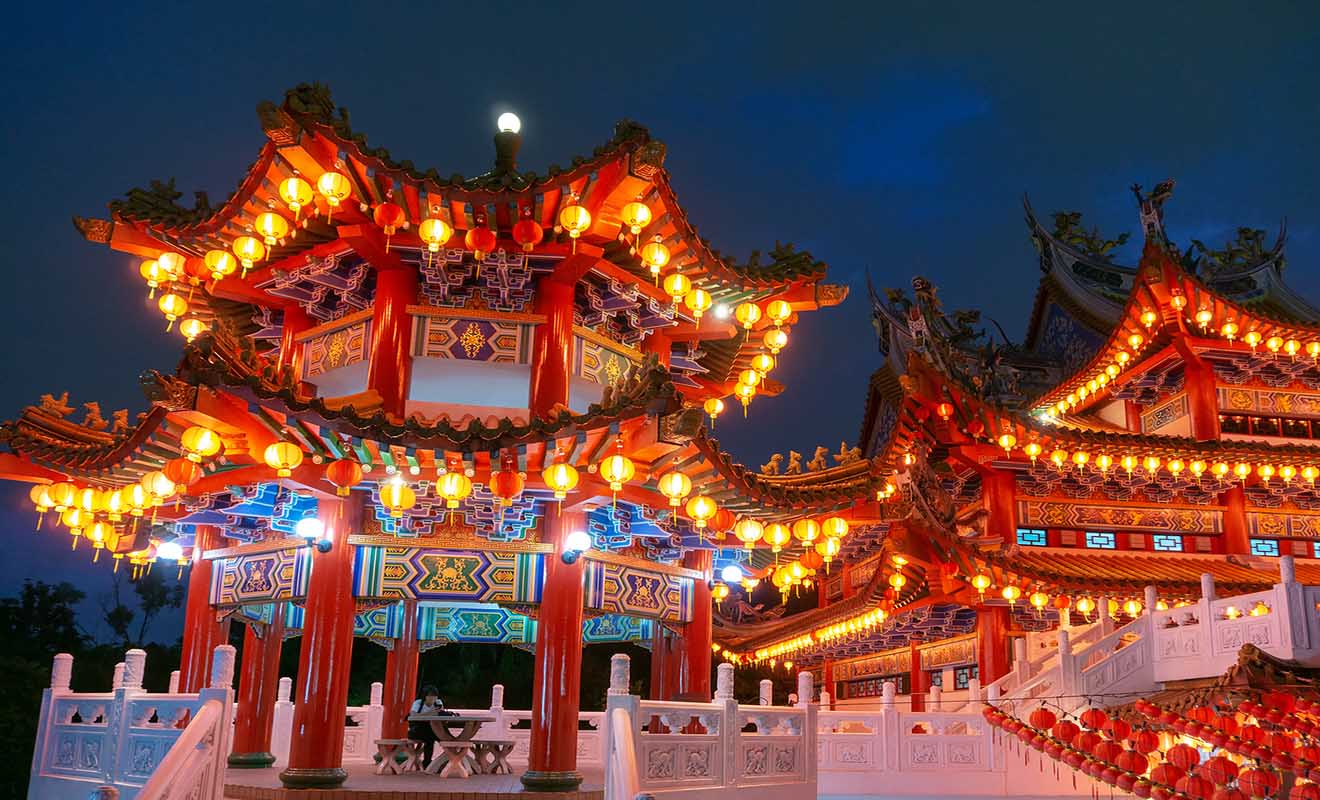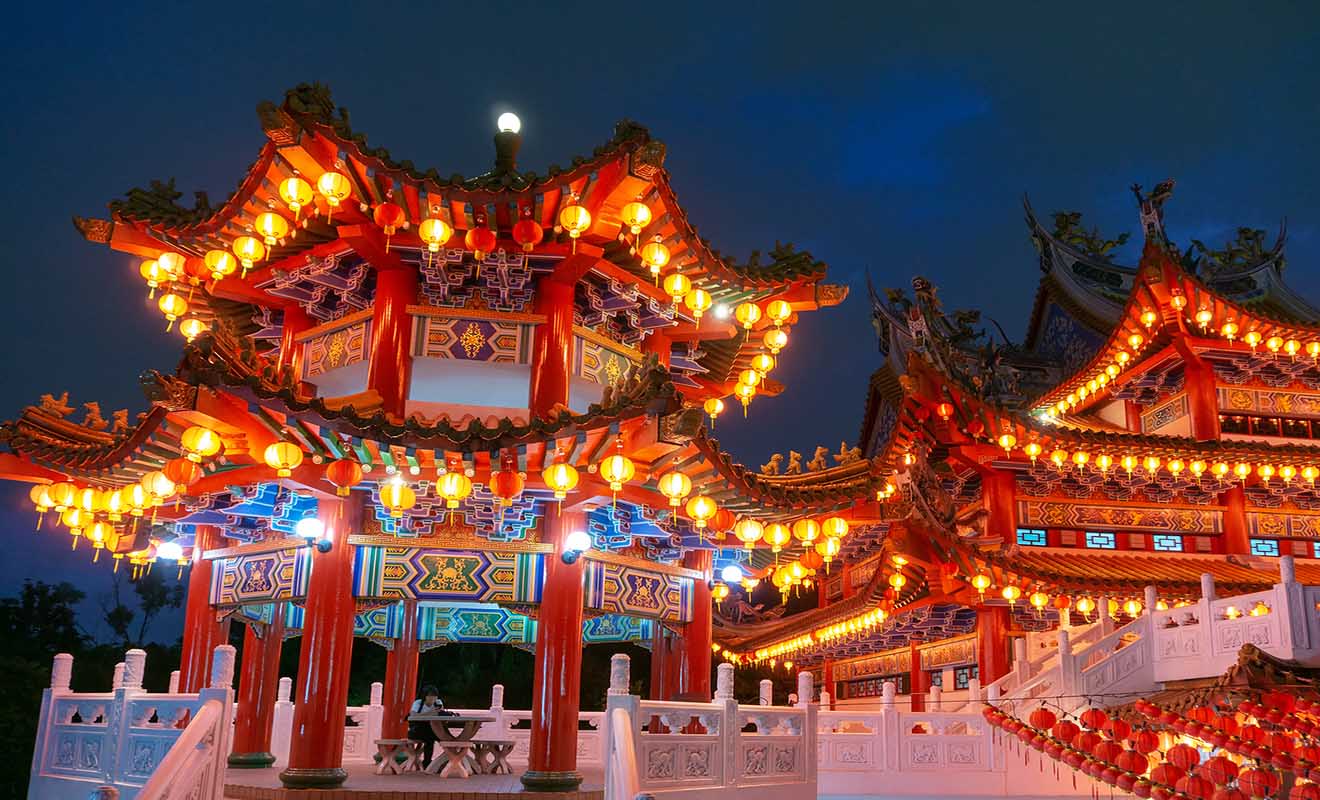 This Chinese Buddhist temple is a great representation of the Chinese culture and a super interesting place for foreigners because you can see a unique mixture of cultures in one place!
The main purpose of the temple was for the Chinese immigrants to thank the Taoist deity Mazu for keeping them safe on their journey from Hainan Island to Langkawi.
If you want to head straight to the most significant and impressive works of art during your visit, you must see:
The stone carvings on the front of the building that were brought from China in 1995
The main shrine to the Goddess Mazu
The shrine dedicated to the Goddess of the Waterfront, Shui Wei
The shrine dedicated to the 108 Brothers who were killed by pirates while trying to reach Vietnam
PRICE: Free
11. Go for some duty-free shopping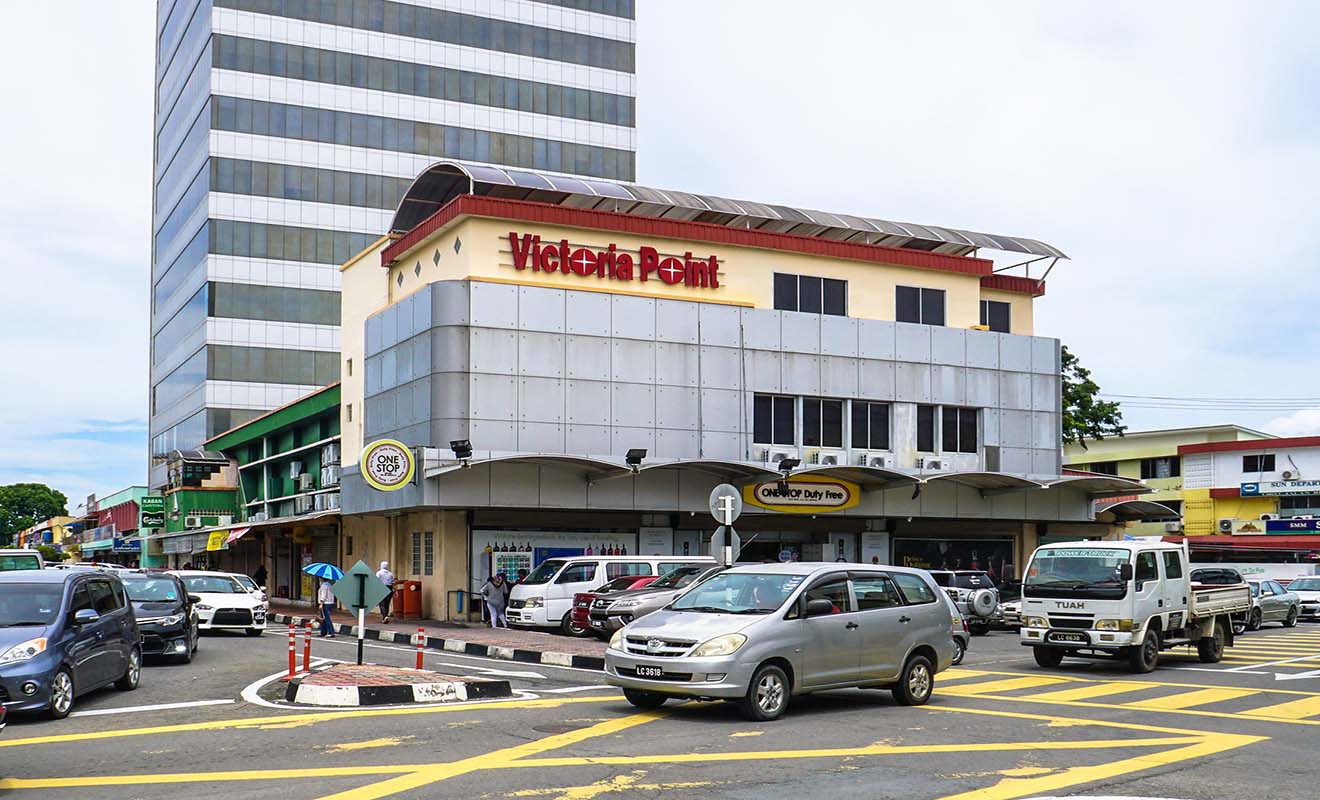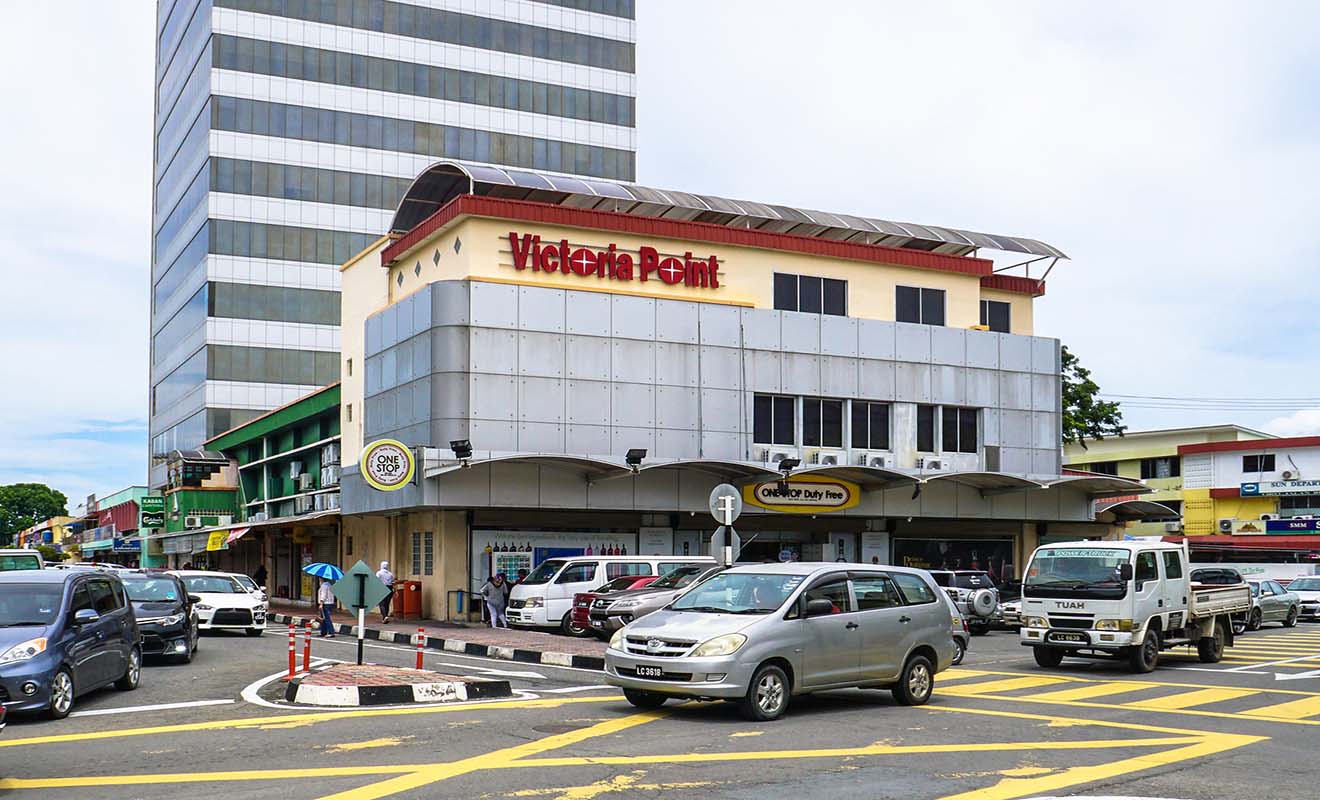 Langkawi is a duty-free territory, which is probably the second best reason (after beaches, of course!) why people find their way to this Island. You can get some great deals on tobacco products, liquor, clothing, and perfume here, and the discounts can range from 25% to 75%.
Already getting some ideas on what products you want to buy or which well-known brands you've got your eye on? Here are some of the best duty-free outlets in Langkawi.
Click on each to find directions on how to find them:
12. Discover the natural salt water springs at Air Hangat Village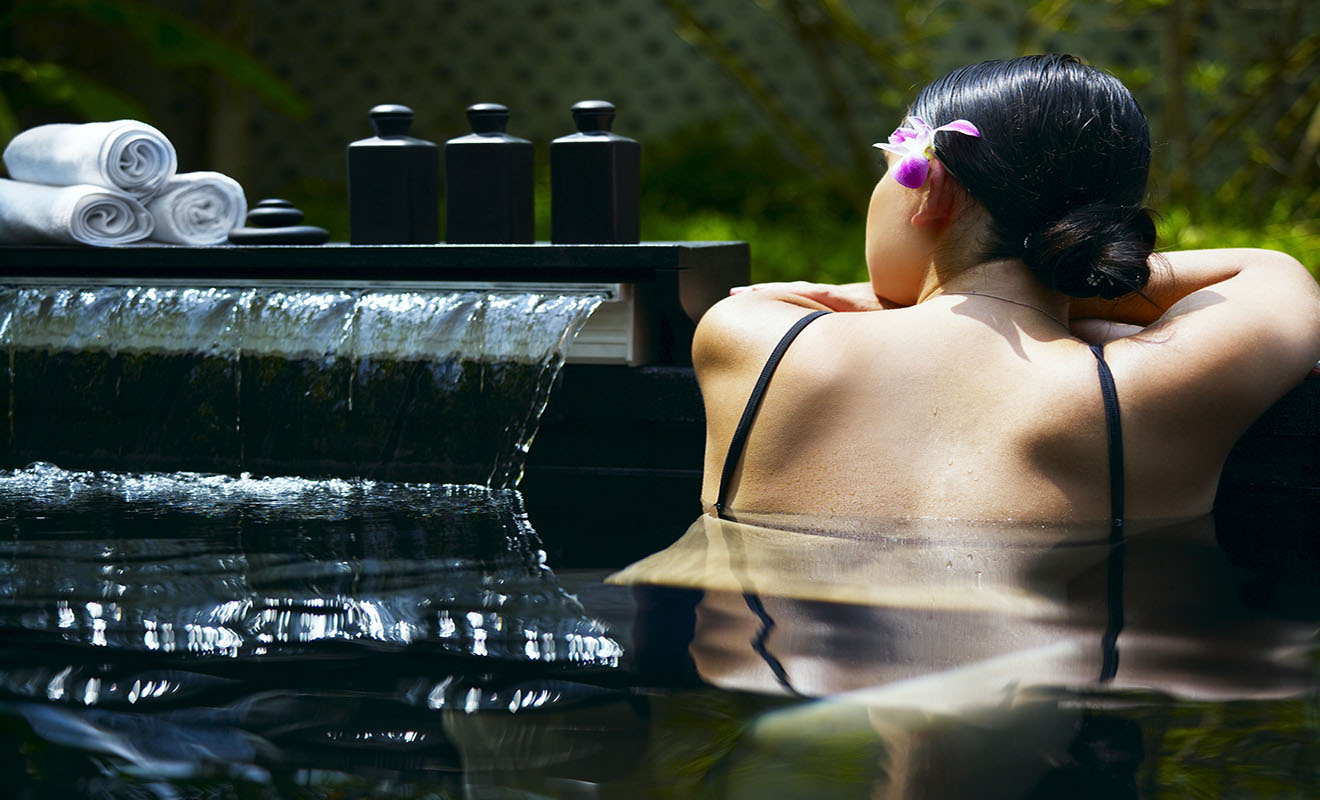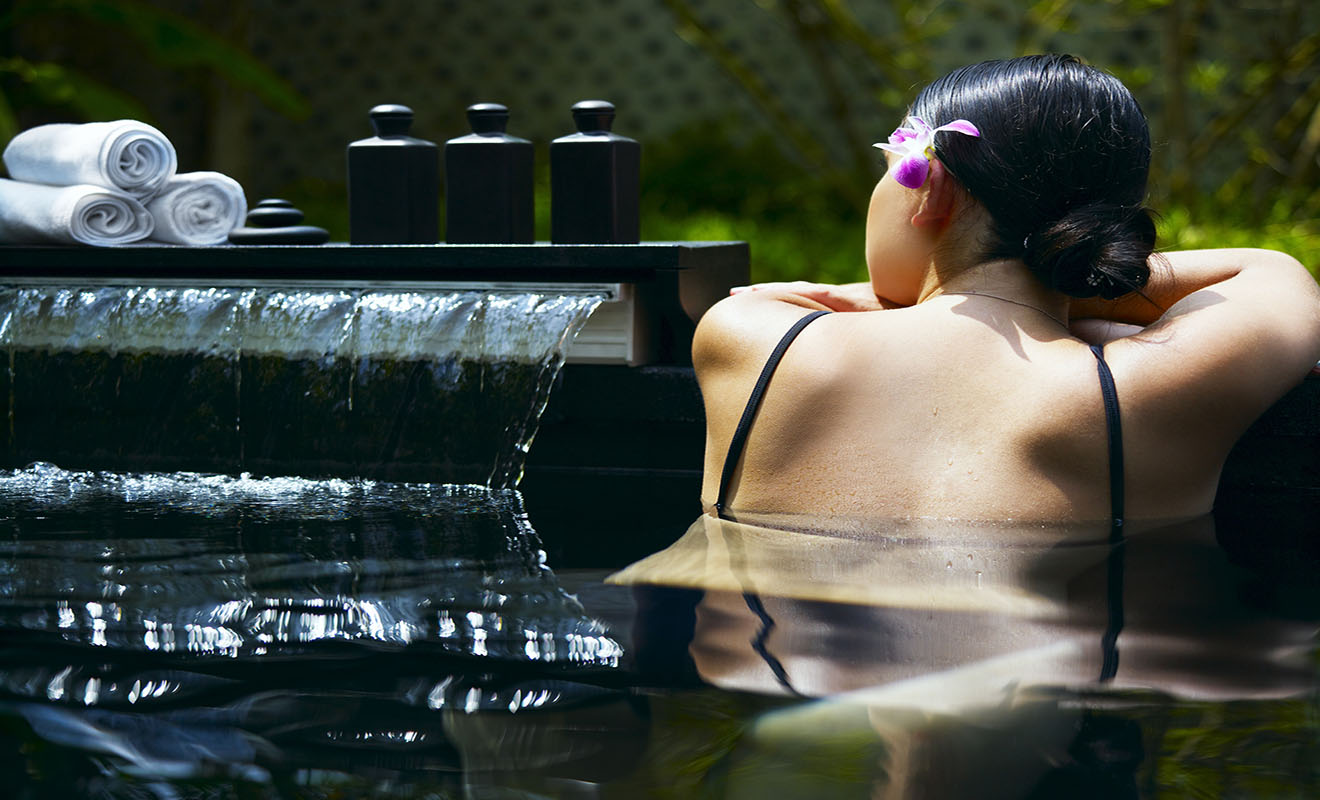 Air Hangat (or Ayer Hangat) is a village located about 14 km from Kuah Town and the place where everybody goes to see the three-tiered hot water spring wells!
Going for a spa day in Ayer Hangat Village is the perfect excuse to treat yourself to a relaxing day at one of the most unique Langkawi attractions.
You can choose between muscle pain and stress releasing packages with hot springs or body scrubs. It is said that these hot saltwater springs have minerals that help heal any foot pain, skin disease and more!
How can this get any better? Well, you can go for an organized package and you will get a roundtrip transfer from the spa to your hotel so you can literally be stress-free and relax at the spa.
PRICE: Basic entry fee is 5 MYR (US $1.20), paid at the entrance. The basic hot spring packages with transfer included start at US $42. You can check the updated prices here.
| | |
| --- | --- |
| 🚶🏽‍♂️ Best free activity: | Langkawi Thean Hou Temple |
| 🌳 Best for outdoors: | Mangrove Kilim Geoforest Park |
| 🛥️ Top water activity: | Parasailing |
| 🍚 Must try food: | Nasi lemak and pisang goreng |
| 📍 Best area to stay: | Kuah Town |
| ☀️ Best time to go | October – March |
| 🚕 Average taxi PRICE: | US $3/10 minutes |
| 💵 Avg hotel PRICE: | $100 |
BONUS 1: Adventurous things to do in Langkawi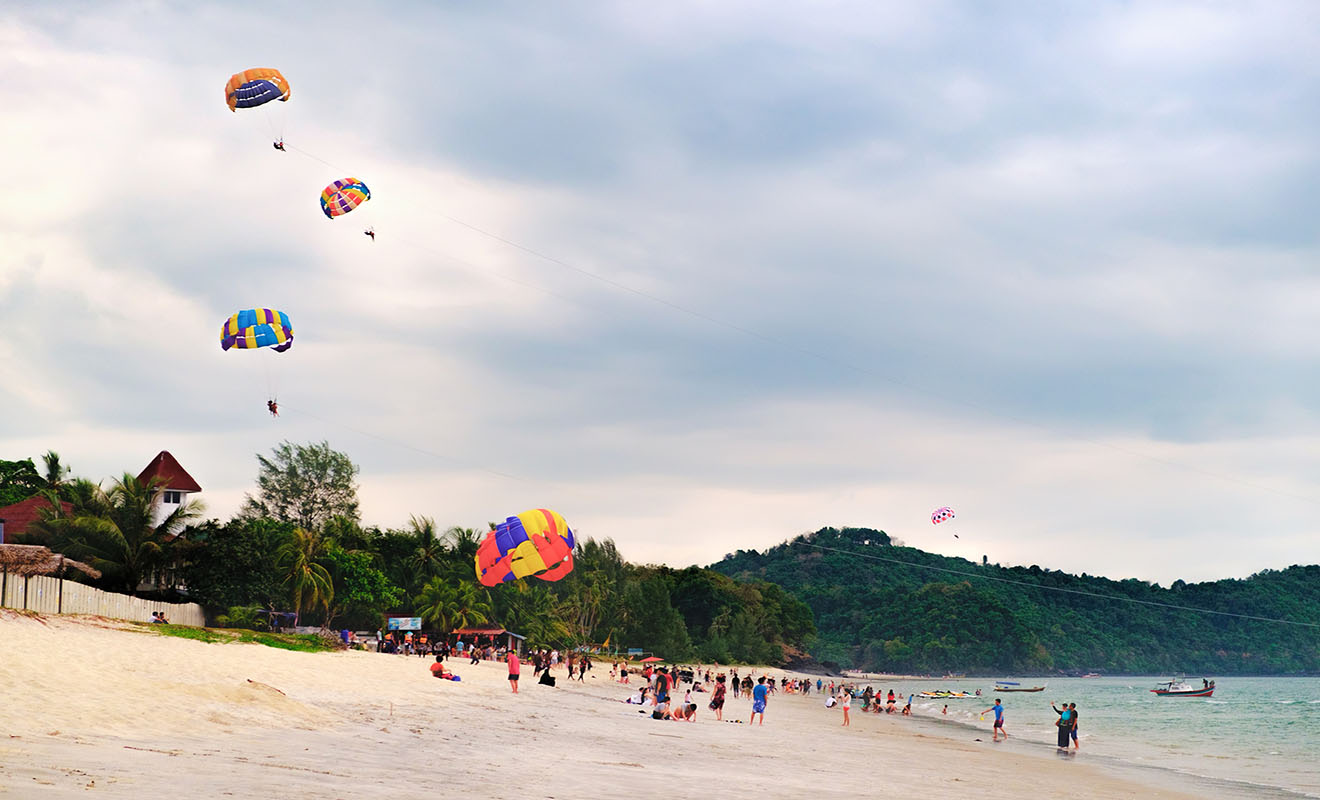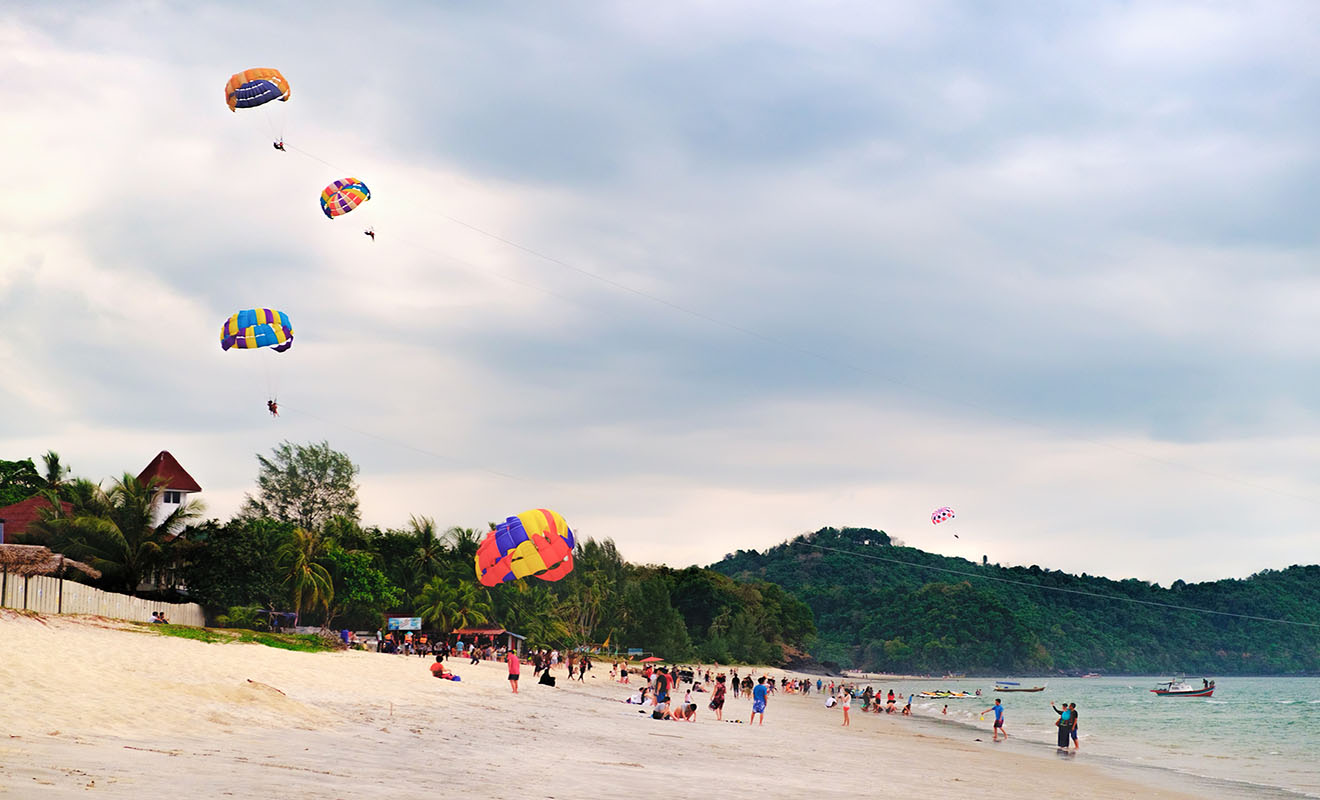 Okay, that was my list of the top, "regular" things to do in Langkawi, now comes my favorite part!
Are you an adventurer wondering what to do in Langkawi? I've got you covered! In case you are looking for some activities that will get your adrenaline pumping, I have put together a few great adventurous ideas for you to check out:
1. Join a jet ski trip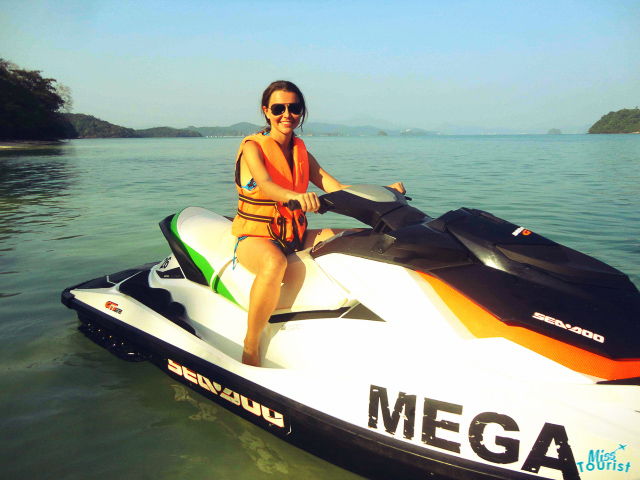 This is one of the most amazing things I did during my South-East Asia trip!
Honestly, one of the best ideas for Langkawi water sports is riding a jet ski! During my stay on the island, I took a 4-hour ski jet tour of the surrounding islands with Mega Water Sports.
Deserted beaches, flying eagles, breathtakingly beautiful islands, qualified staff – I experienced all these and more during this tour! I'll be honest with you: I was a bit afraid in the beginning, but it's actually easy to ride those huge machines, and it's such an amazing feeling!
Here is the video of my ski jet trip I did:
You will get to see many beautiful spots, but the part I liked the most was when we were permitted to roam freely. The instructor gave us absolute freedom to go wherever we wanted as fast as we wanted. It was such an awesome feeling!
I went kilometers away and I felt just like a bird! This feeling of amazement will stay in my memory forever! 🙂
NOTE: Please pay attention to what the instructor says and stay in your lane! In our case, a couple that was supposed to be on our far left going parallel with us, went diagonal and we had a small crash. Thankfully, everyone was fine, but PLEASE take the instructor's guidance seriously – then you will be safe and will enjoy the ride!
NOTE: Do NOT take a hat with you, it will be blown away in the first minute. And MegawaterSports provided me with a special tie for my glasses.
But is it hard? Nope, driving is very easy. If I can do it, you can do it! 😉
PRICE: 600 MYR (US $145) per person or 700 MYR (US $170) for 2 people, depending on your chosen tour and if you do it alone or with a second passenger. You can check the up-to-date prices here.
2. Challenge your fear at Langkawi SkyTrex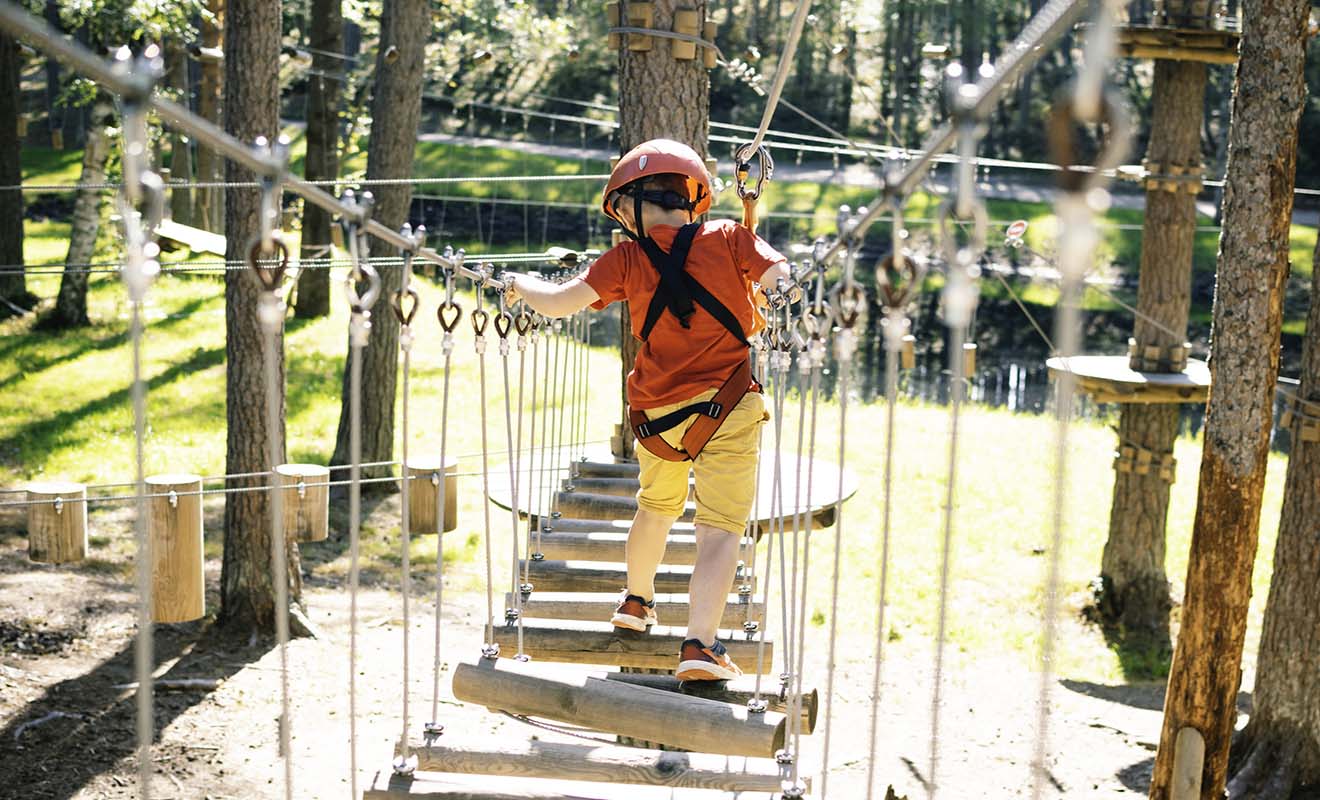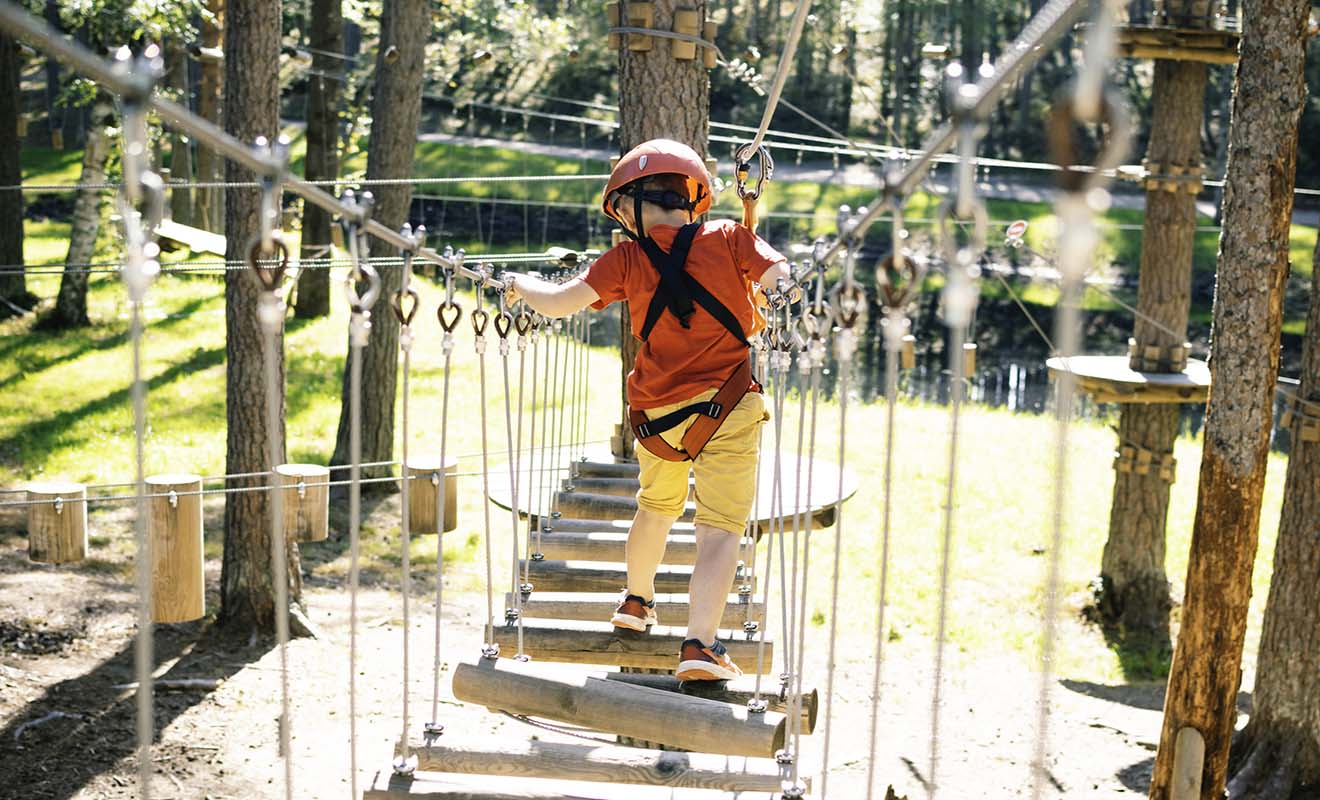 The SkyTrex Adventure is a park with outdoor activities such as flying, swinging, gliding, and dangling from tree to tree! You will find yourself immersed in the dramatic landscapes of the Gunung Mat Cincang Mountain. Ah, and one of the best things about this place is that they have paths for all types of adventurers covering beginner, intermediate, and advanced sky-trekkers!
NOTE: You must purchase your tickets online to secure your spot. You can also "walk-in" on the day you decide to go, but if there are no more available spots, you won't be able to do it!
PRO TIP: Leave you sandals or open-toed shoes at the hotel for this activity, and bring your battle-style sneakers instead!
PRO TIP 2: I recommend you include the Super Skydeal in your ticket which means you get a water bottle, a water bottle holder, and gloves so you don't get splinters. (Price alone is 20 MYR – US $5).
PRICE: US $11 for beginner circuits, US $13 for intermediate circuits, and US $16 for advanced circuits. You can check the updated prices here.
3. Go parasailing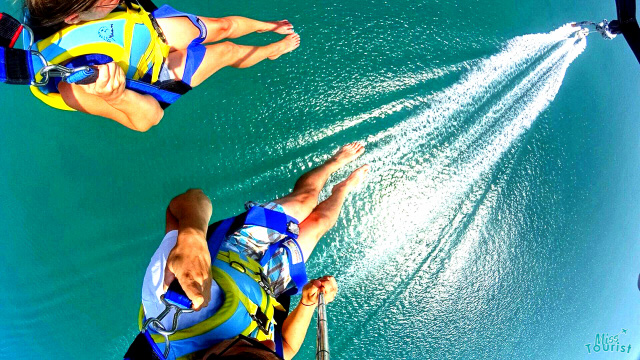 While you're relaxing on one of those amazing beaches of Langkawi, you will probably notice many parasailers flying above you!
Truth be told, I was a bit jealous of them so I searched for the best way to do it as well. In the end I found an ideal company, Naam Adventures, that organizes parasailing above Langkawi. The guys have all the certificates they need!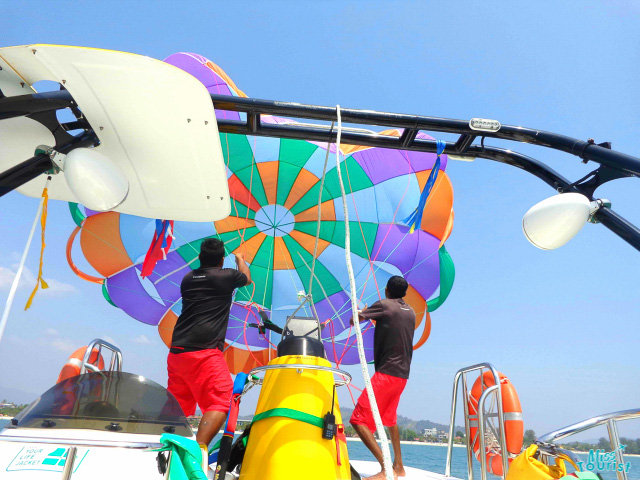 The duration of the "flight" is 10 minutes, which I found to be more than enough. What I like about Naam Adventure is that they took care of all the little details during my parasailing tour – from providing me with water bottles to giving me a wet towel to cool off at the end of the trip. So thoughtful!
PRICE: US $61 per person on the official Naam site. If they're not available for your desired date, you can go for this other option (it's also cheaper, only US $58).
BONUS: You also have the option of taking a helicopter tour above Langkawi, how cool is that? You'll be flying above Cenang and Tengah beaches for 6 minutes and the views are super beautiful. Just a small note: there has to be at least 2 people in your party in order to book it and the price is US $95 per person.
4. Hike to the top of Gunung Raya rainforest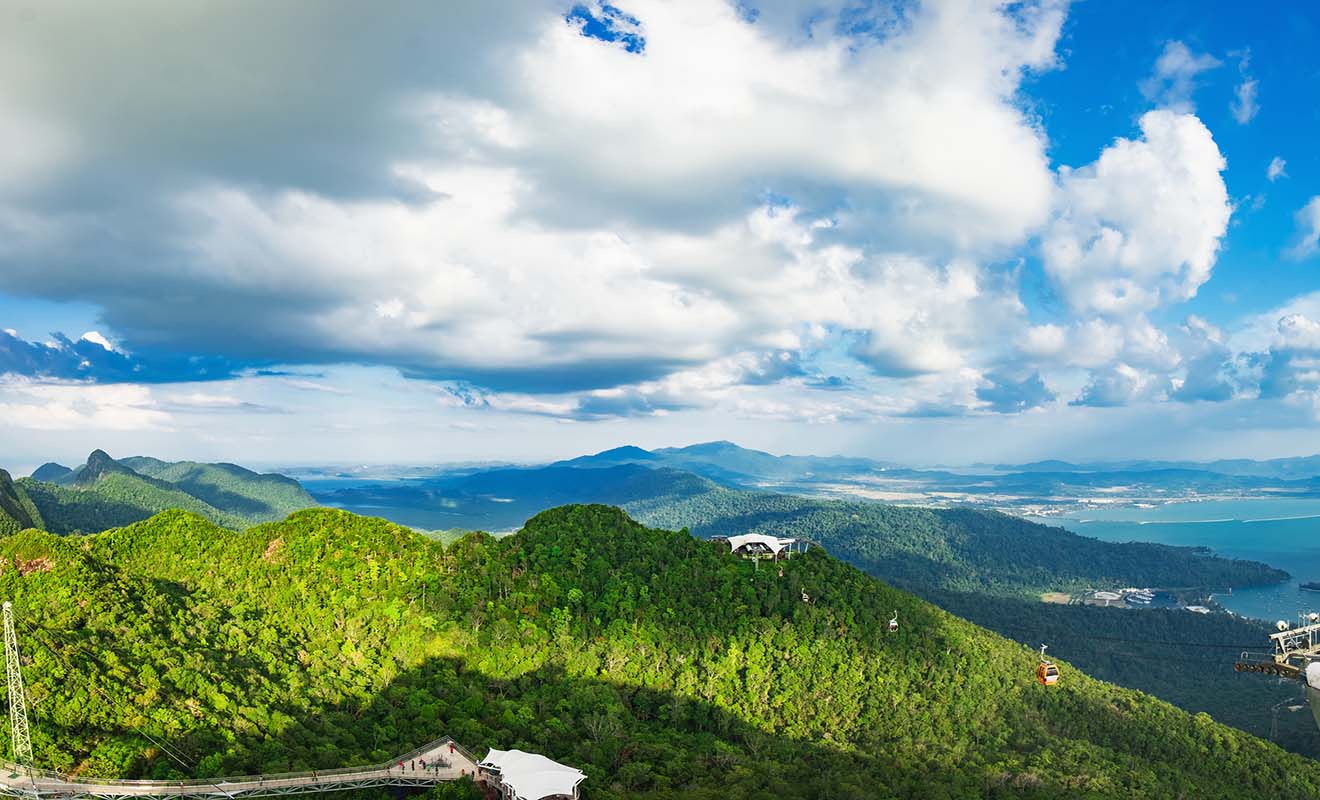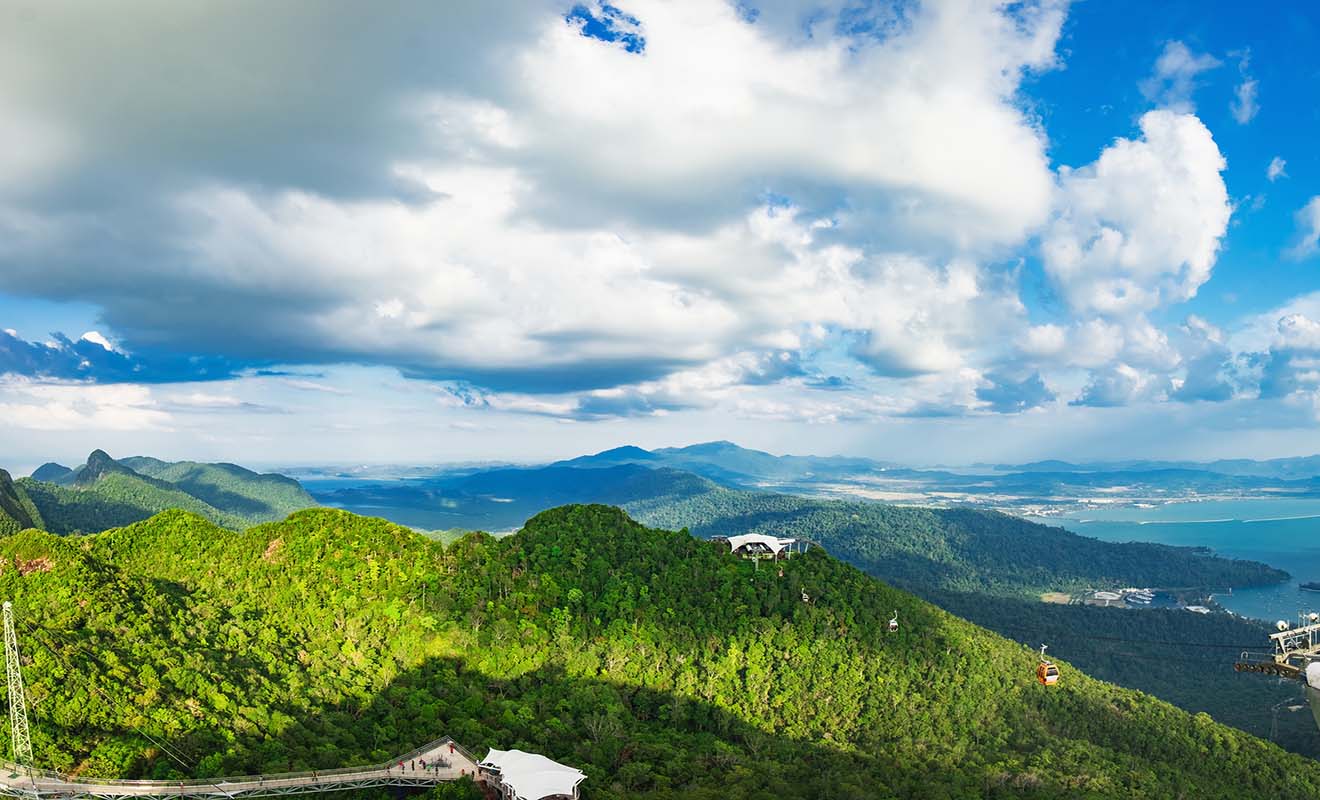 If you're a hiking lover, this activity is for you!
Gunaya Raya Forest Reserve is an area of about 5,000 hectares that includes Gunung Raya Mountain as well, the highest peak in Langkawi!
While hiking your way up to the top, keep your eyes wide open as you might encounter some of the 230 species of birds and more than 400 species of trees that are in the forest!
If you want to climb up to the top on your own, you can take the 4,827 concrete steps that go from Thousand Memories Eagle Stairway to the viewing platform at the top of the mountain. The alternative is to walk along the road, just like all the vehicles that go to the top.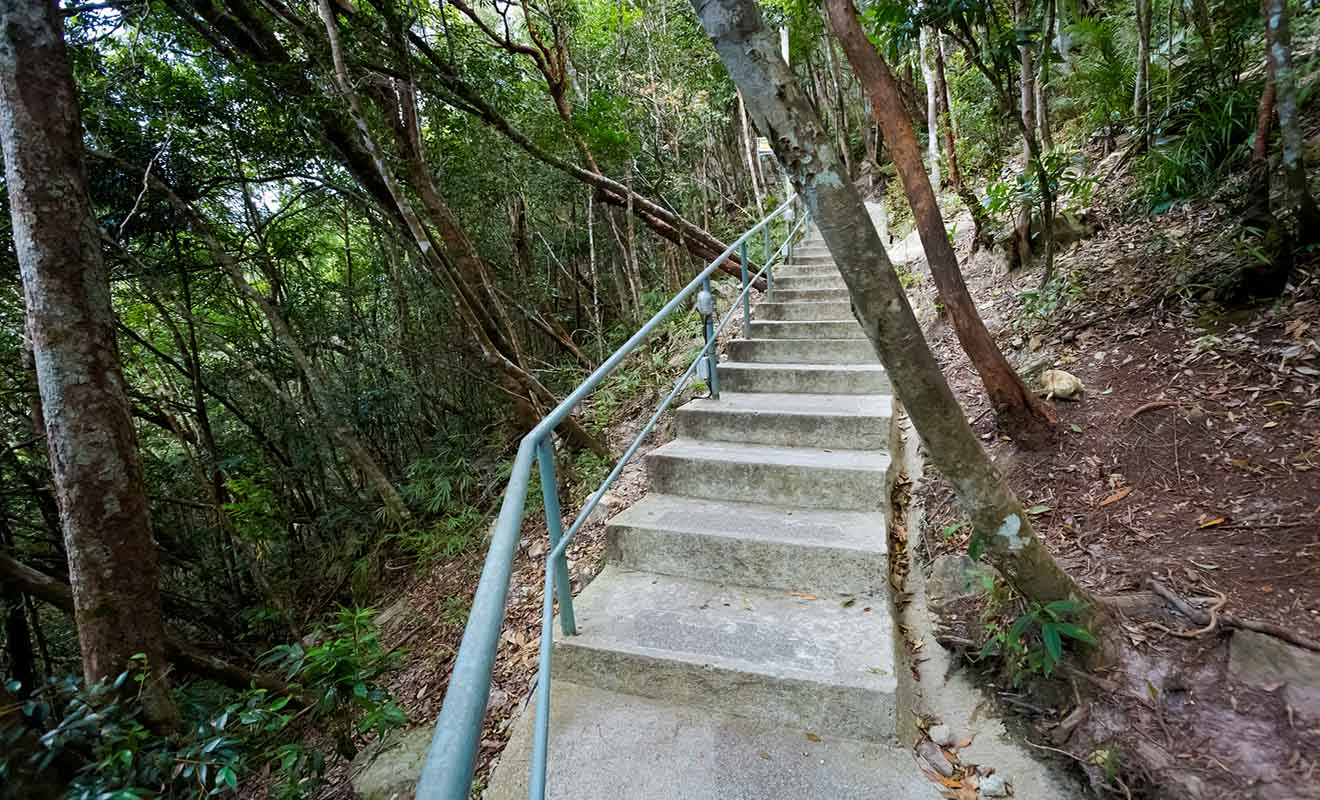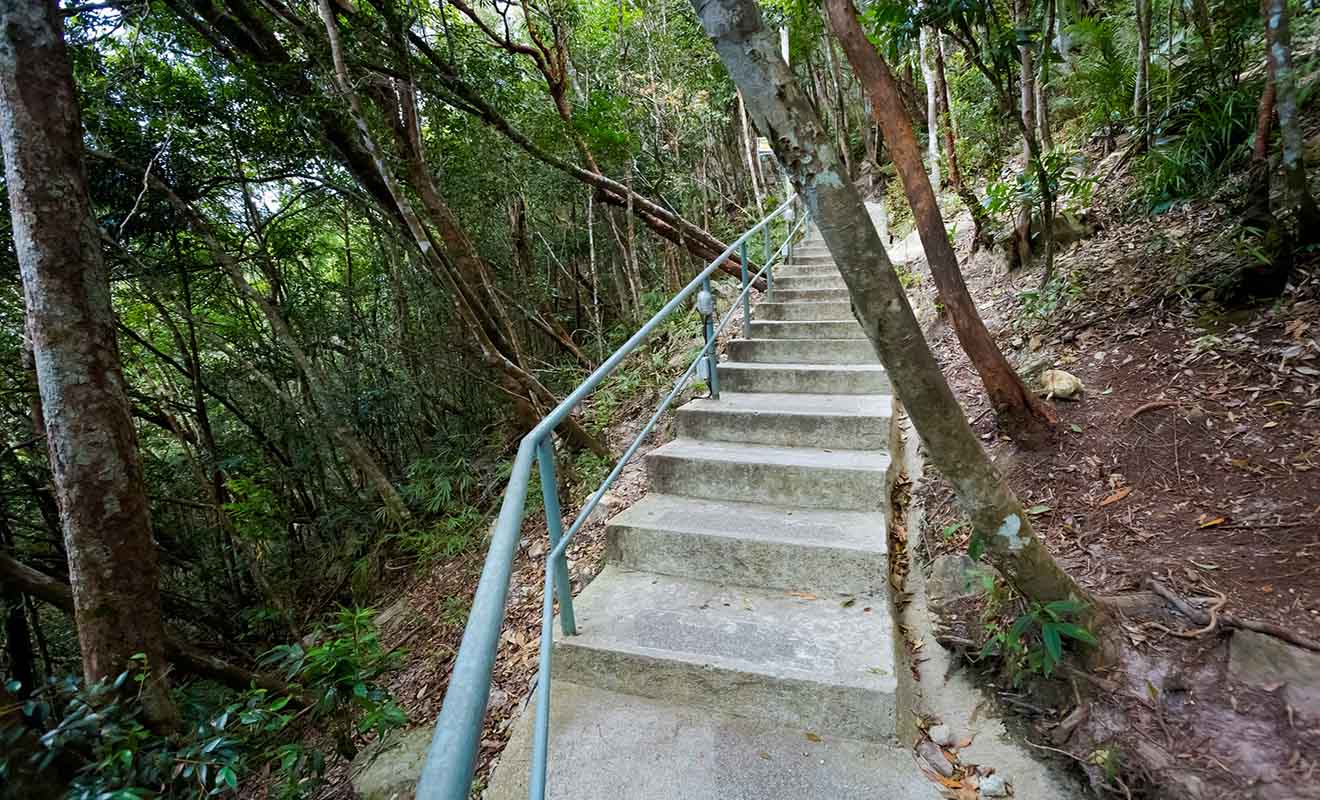 The stairway climb up might take you about 2.5 hours, and the way down takes more or less 1 hour. If you want to go the EASIEST way possible, you can take a taxi to the top of the mountain and then walk your way down the stairs.
PRO TIP: Make sure to "bathe" yourself in sunscreen and mosquito repellent before leaving for the hike during the day! Oh, and make sure to take water with you as well, super important!
Here's another great tip: You can also visit the rainforest after dark with an organized tour – you'll need somebody who knows the way and can also help with wildlife spotting! The tour takes about one hour driving to the top of the mountain and another hour of walking/trekking.
PRICE: free to hike up the mountain, 180 MYR (US $43) to go on an organized night tour
5. Go and chase the waterfalls on the island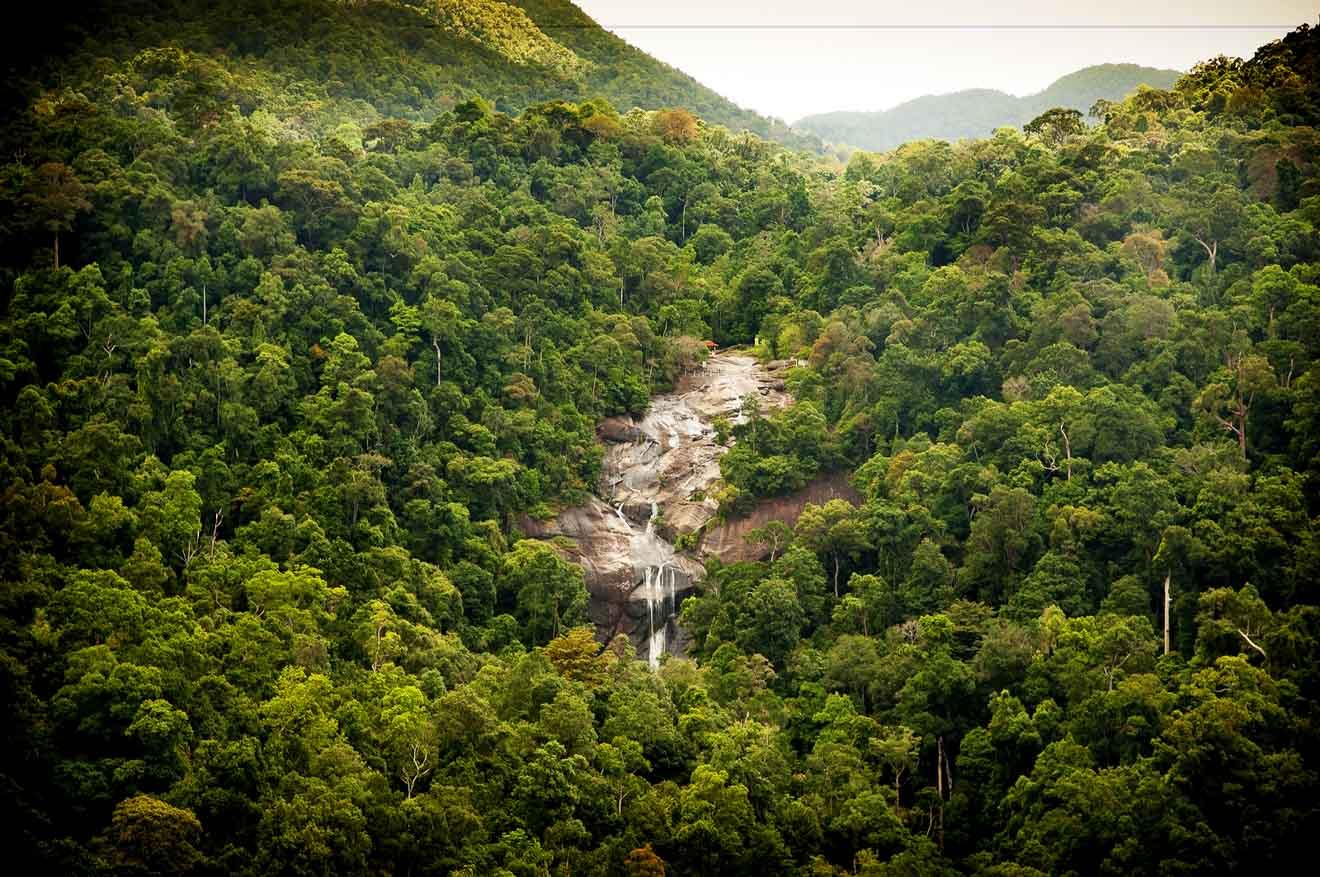 All the waterfalls are uniquely impressive, so I have no favorites at this time, but I will mention the most popular ones that you can visit.
PRO TIP: The best time to visit the waterfalls is during the rainy season (September to December), so the water is not at its slowest-moving speed.
PRO TIP 2: If you go by taxi to Temerun or Durian waterfalls, you might want to pay a bit more money for the taxi and ask the driver to wait until you come back, because there are no vehicles up on the mountains!
Here are the 3 best waterfalls in Langkawi. By the way, all of them are free to visit!
5.1. Seven Wells Waterfall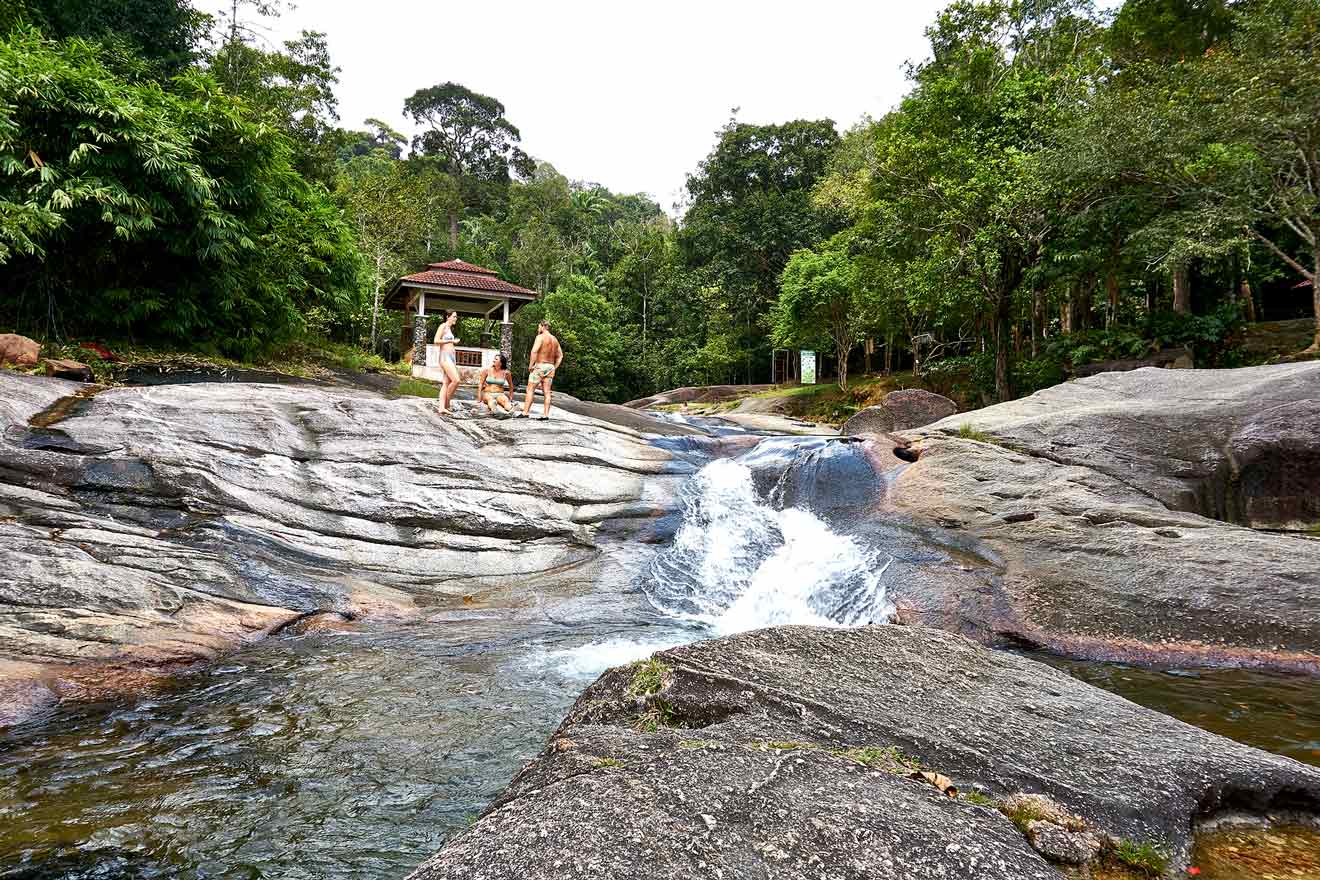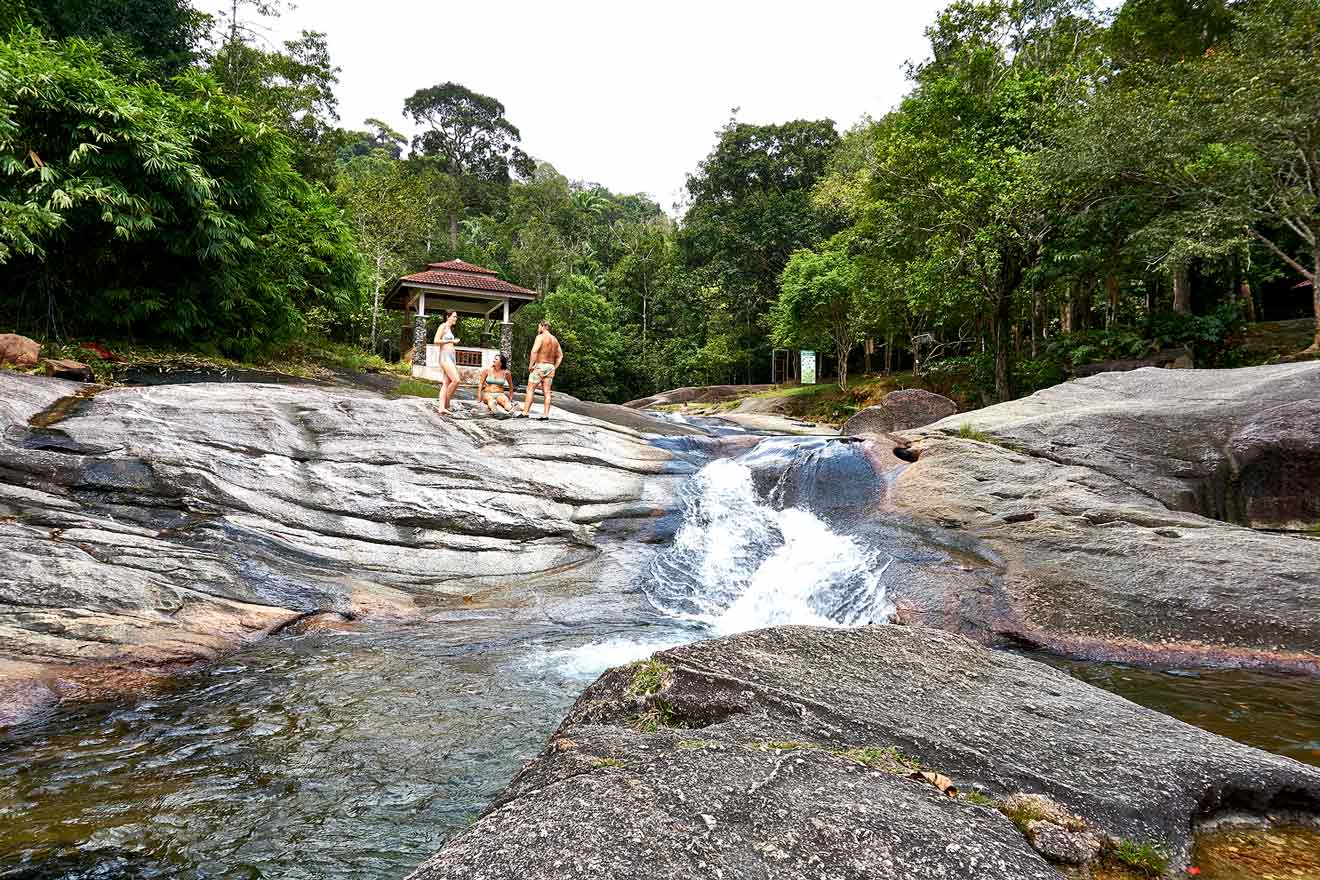 Seven Wells Waterfall is also called Telaga Tujuh by the locals. Its name comes from the seven ponds or wells that fall from Mount Mat Cincang.
Local legend says the waterfall has healing powers because of the fairies that live there, did you know that?
Now, how can you hike to the top of the waterfall? It's not that easy, but it's totally doable! It will probably take you around 45 minutes going up the steep cliff and you can start at the Oriental Village (the same place from which the Sky Cable Car departs). There are about 400 steps to reach the top and, as a bonus, you will definitely spot a couple of hornbills and giant squirrels on your way toward the waterfalls!
5.2. Durian Perangin Waterfalls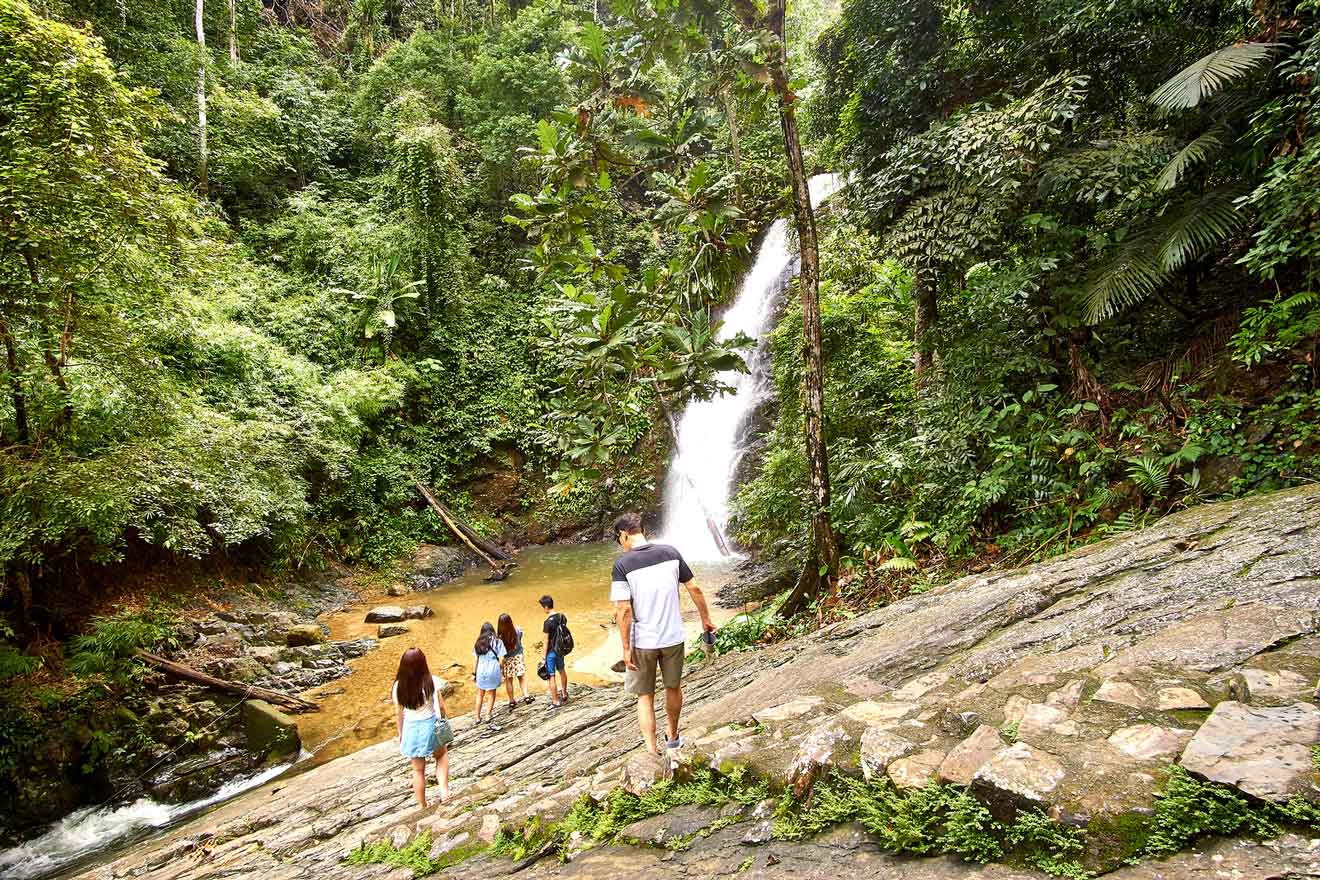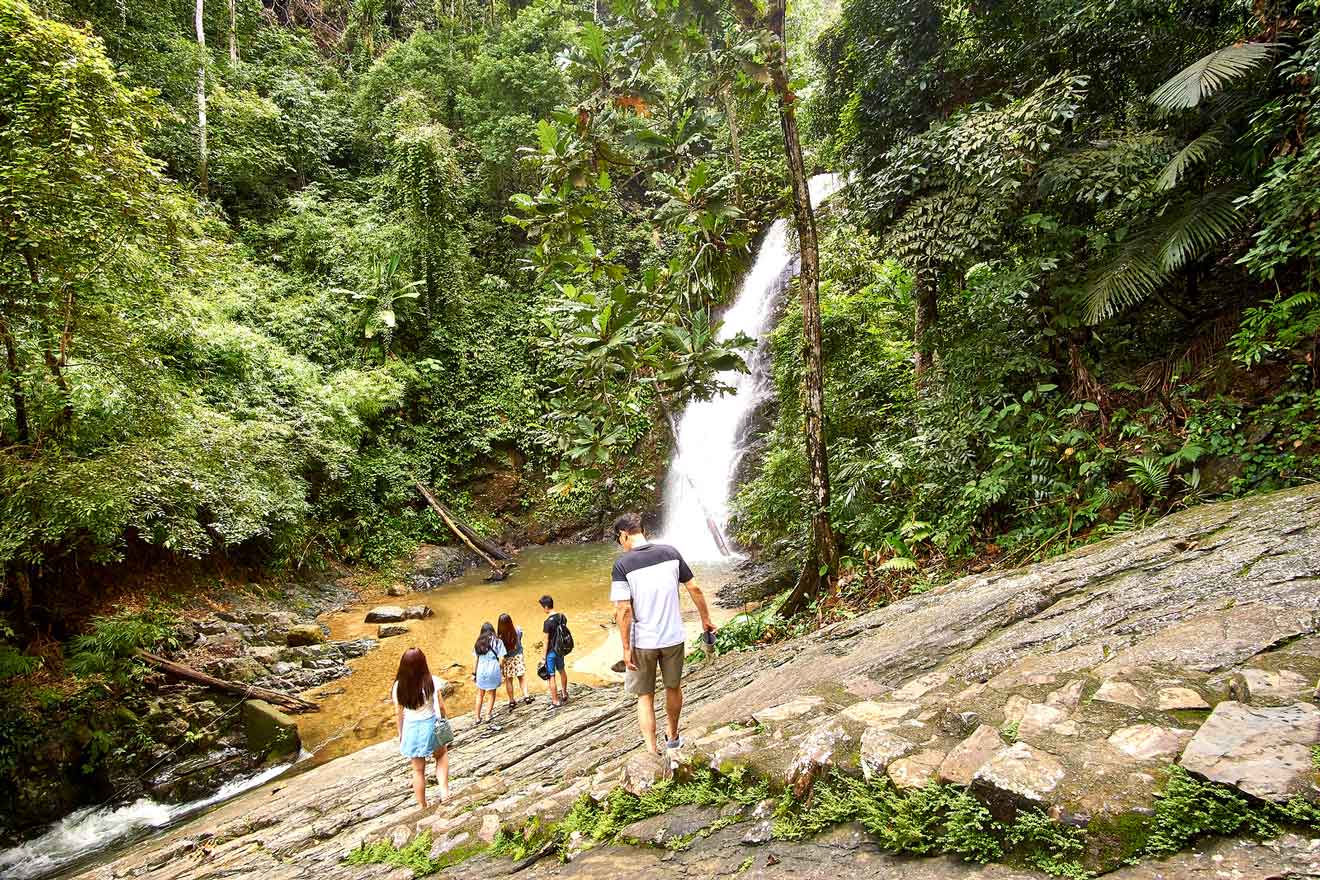 The name of this waterfall comes mainly from the many durian trees located close to it. It's a 14-tier waterfall that travels down Mount Raya and reaches a crystal clear lake. Each tier has its own shape and crystal clear pools where people can stay, swim around and enjoy!
You can access the waterfalls near Kilim Village; there is a car park with shops and stalls that mark the entrance to the waterfall area. You will first need to cross a hanging footbridge and, after this, you will see the clear path towards the waterfall tiers. How long it will take depends entirely on the amount of time you spend at each tier.
PRO TIP: While you're there, make sure to also check out the nearby hot spring in Ayer Hangat so you can relax after the hike!
5.3. Temurun Waterfall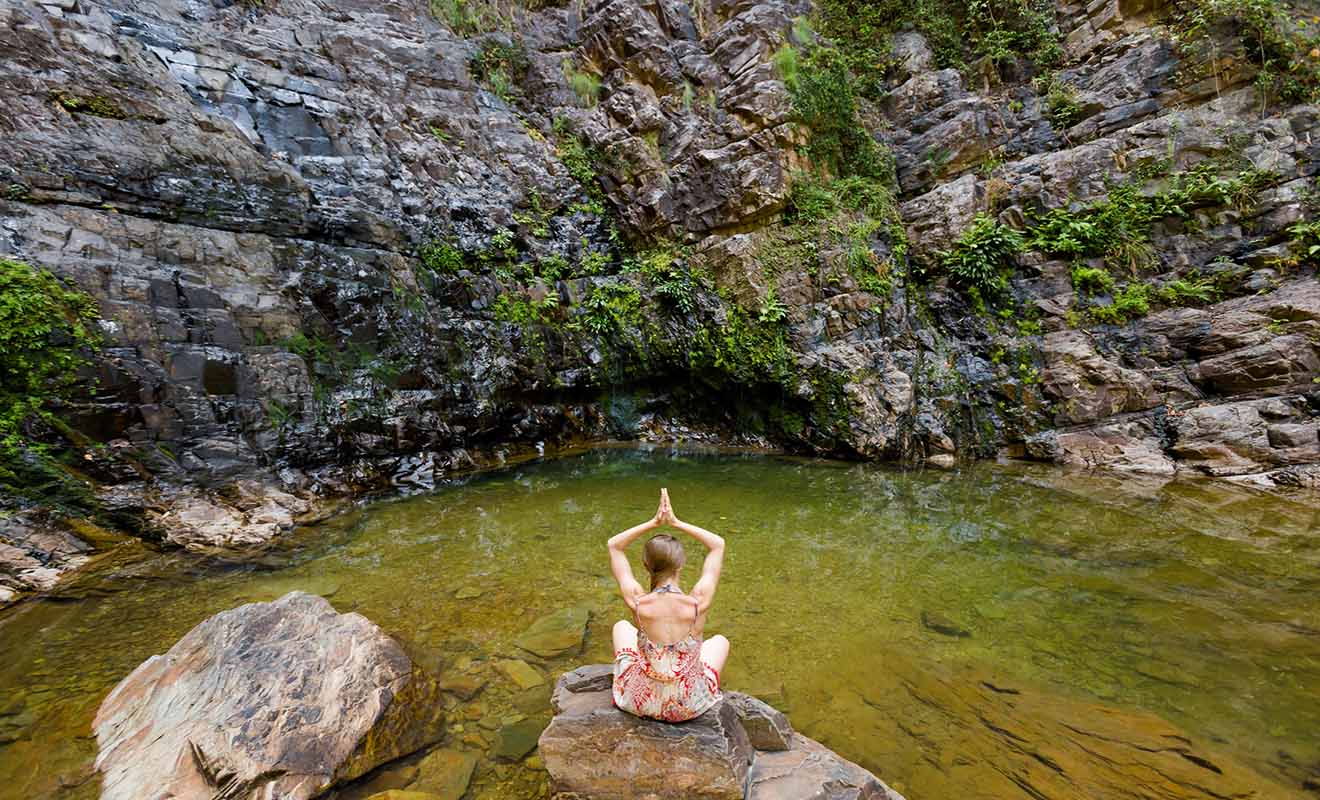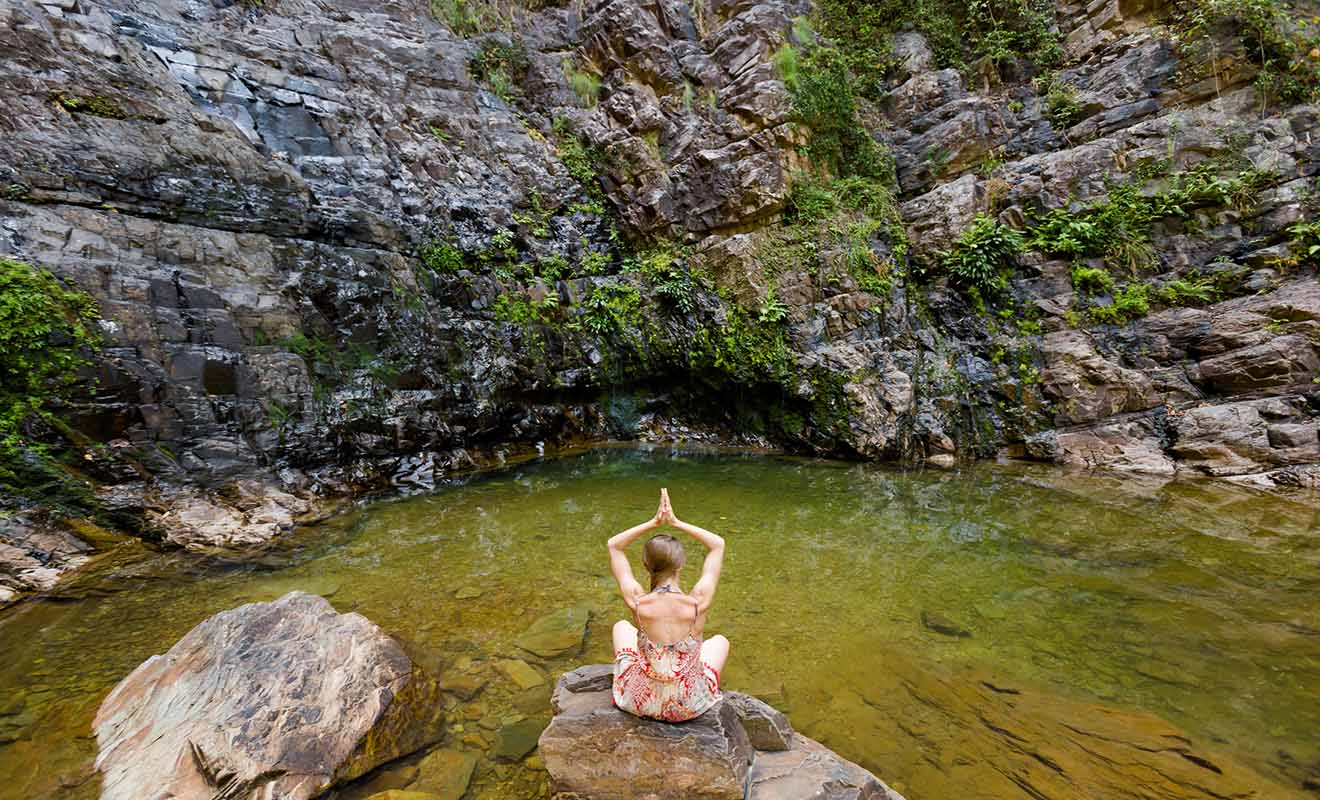 Temurun Waterfalls (also known as Air Terjun) is a 30-meter high waterfall that creates a beautiful natural pool where you can swim freely!
Access to the waterfall is easy and there are clear signs for it, so there is no way to miss it! Once there, if you want to get even closer to the waterfall you have to go down some steep slopes for about 10 minutes.
NOTE: Beware of the playful monkeys that actually want to steal your food or any object they find appealing.
6. Zipline over the jungle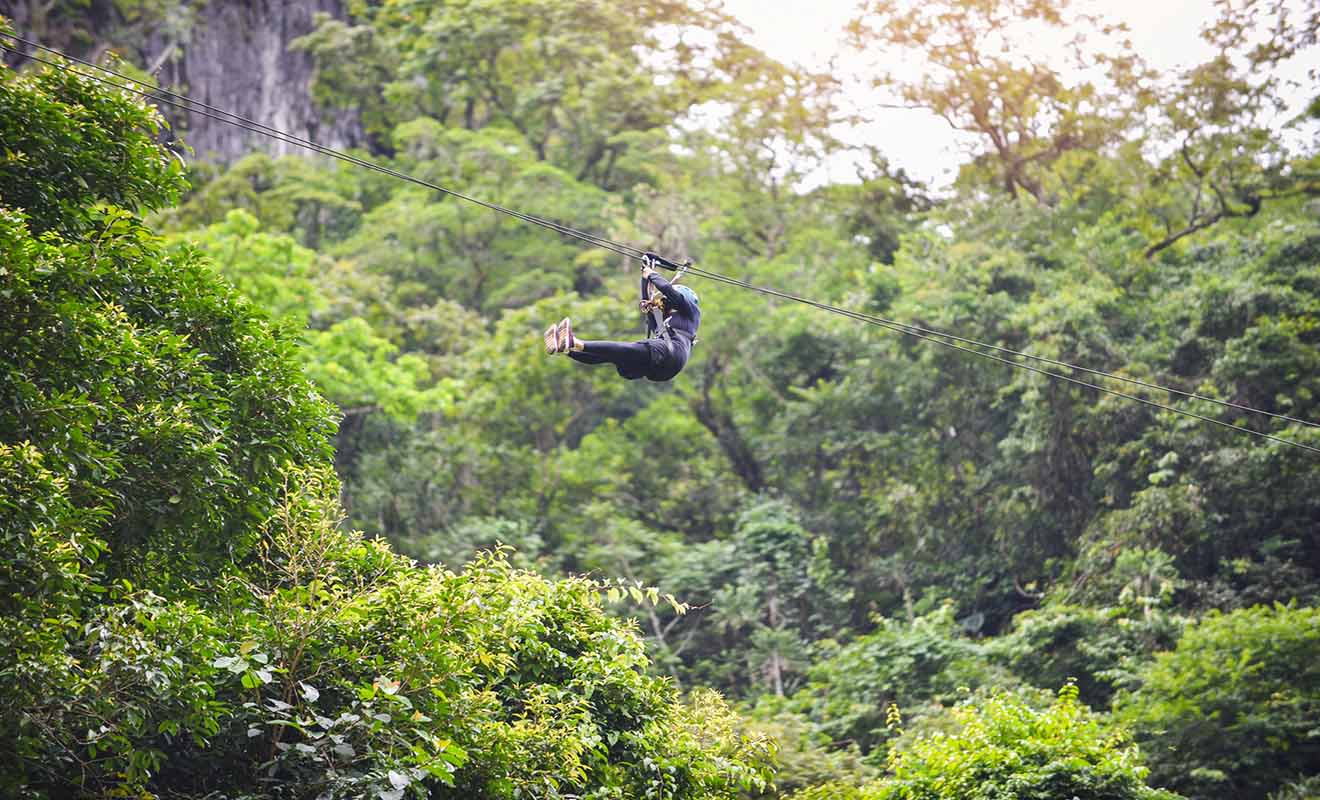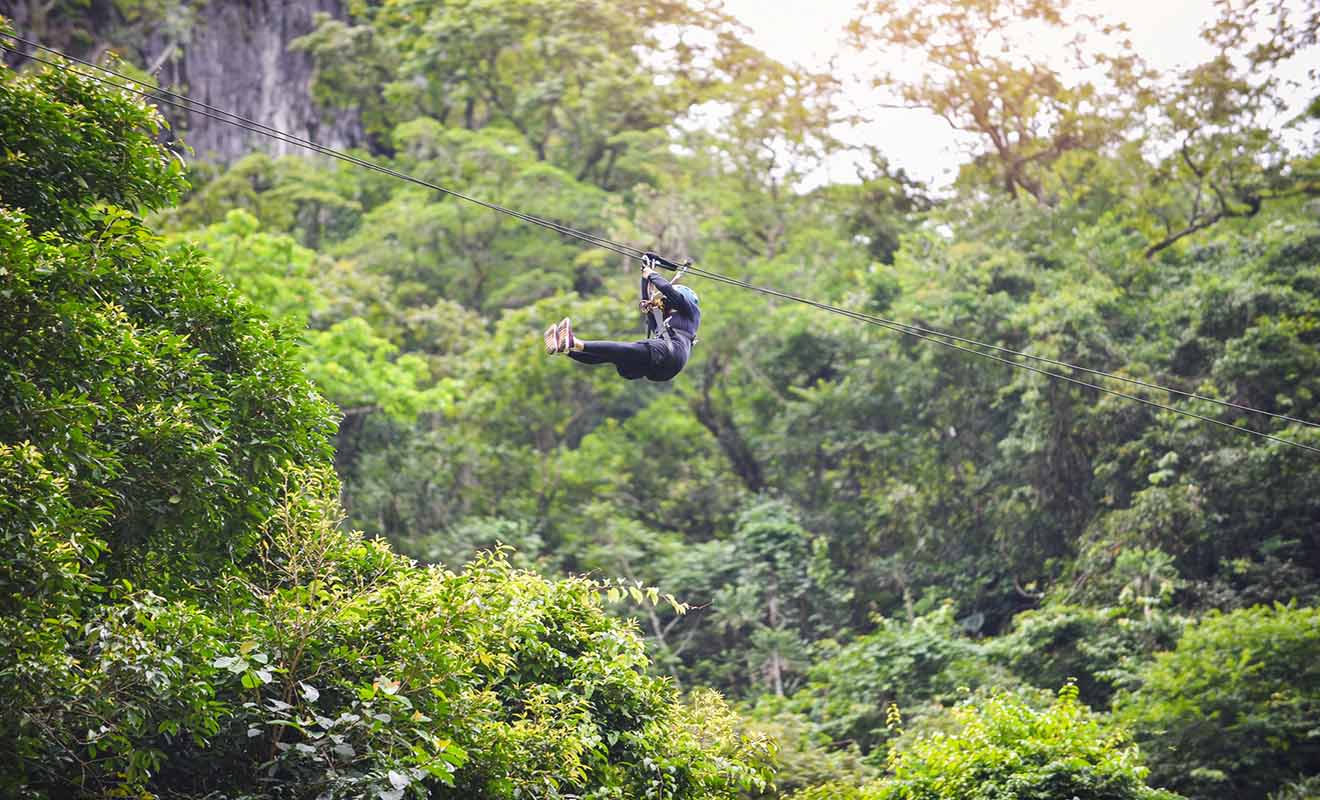 Pack your adventure gear and energy and head off to the beautiful GeoPark rainforest, where you can take on a cool zipline journey!
You can choose between riding a zipline over a jungle canopy (one hour, 6 ziplines and 1 bridge) or be bolder and join the 2.5-hour adventure to swing over the Seven Wells Waterfall. So cool!
You will also get to learn about the tropical species that live in the rainforest and see more of the exotic wildlife living there thanks to your guide.
PRICE: US $53 for the jungle zipline flight and US $107 for the waterfall swing. You can book your tickets here.
BONUS 2: Extra things to do in Langkawi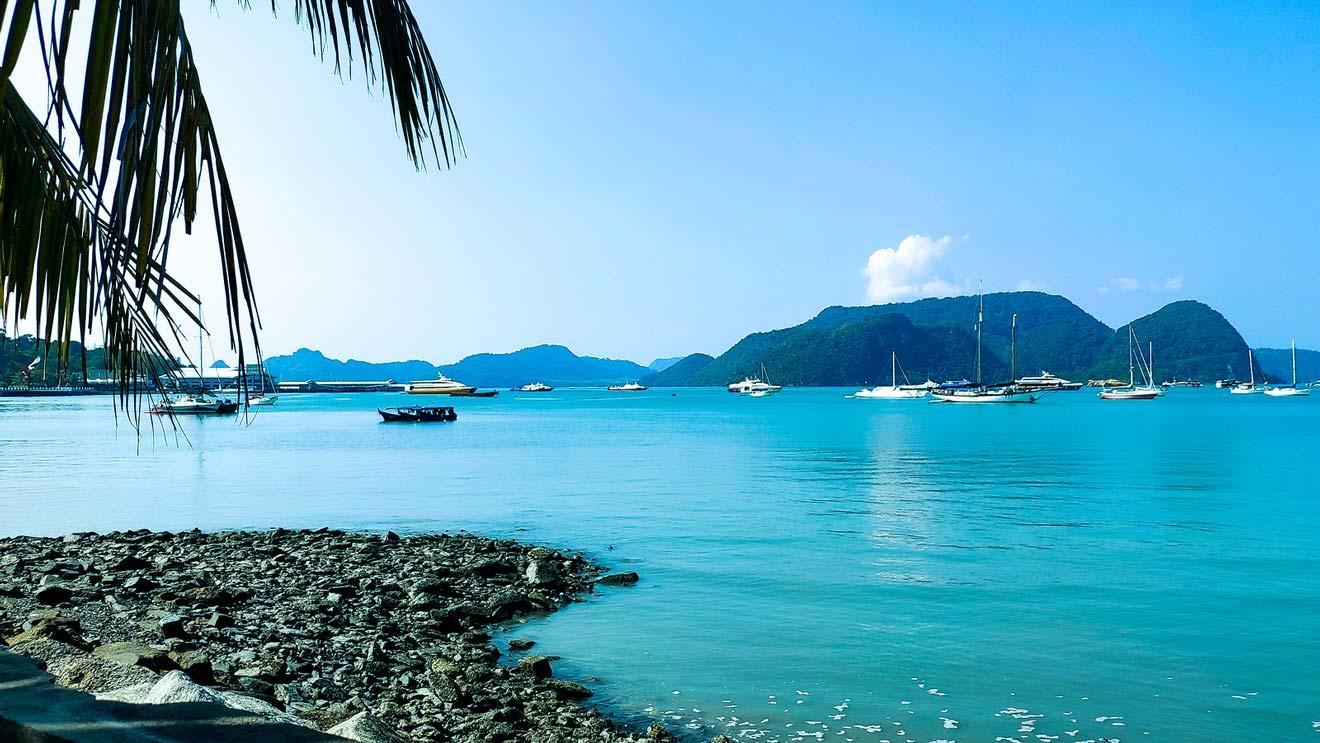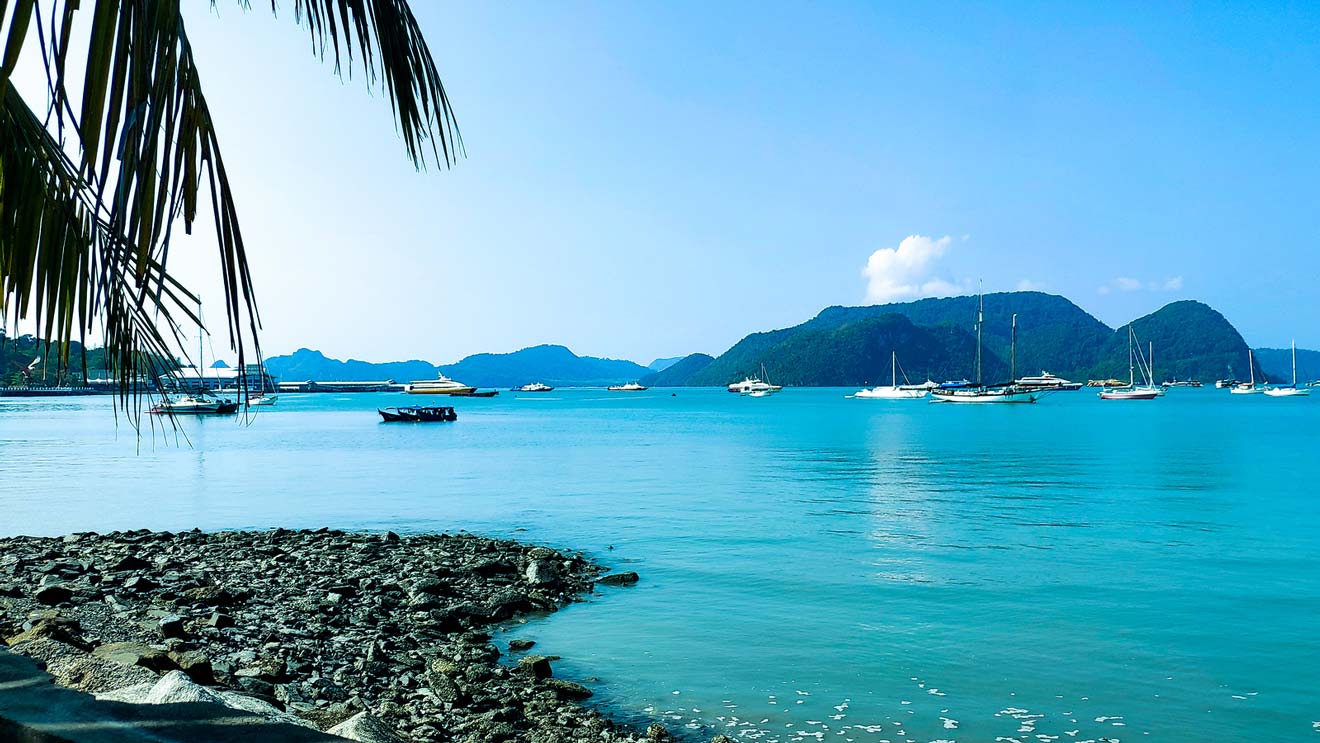 If you have some more time on the island, here are EVEN MORE things to do and Langkawi points of interest that you might want to add to your itinerary!
1. Discover Galeria Perdana
Galeria Perdana is a kind of museum with rare artwork and crafts that reflect history and culture from around the world.
Its was built to display the gifts and souvenirs the Prime Minister of Malaysia (known as Dr. M) would receive from other world leaders during his travels! Such a unique idea, right? The idea was basically that the Prime Minister wanted to share the fact that he was accepting these gifts on behalf of every citizen of Malaysia.
The museum is divided into different sections; for example, there's one with gifts made out of wood, leather or crystal, while another area has textiles and weaponry.
PRICE: 10 MYR (US $3). You can purchase the tickets at the main entrance.
2. Learn about marine life at Underwater World Langkawi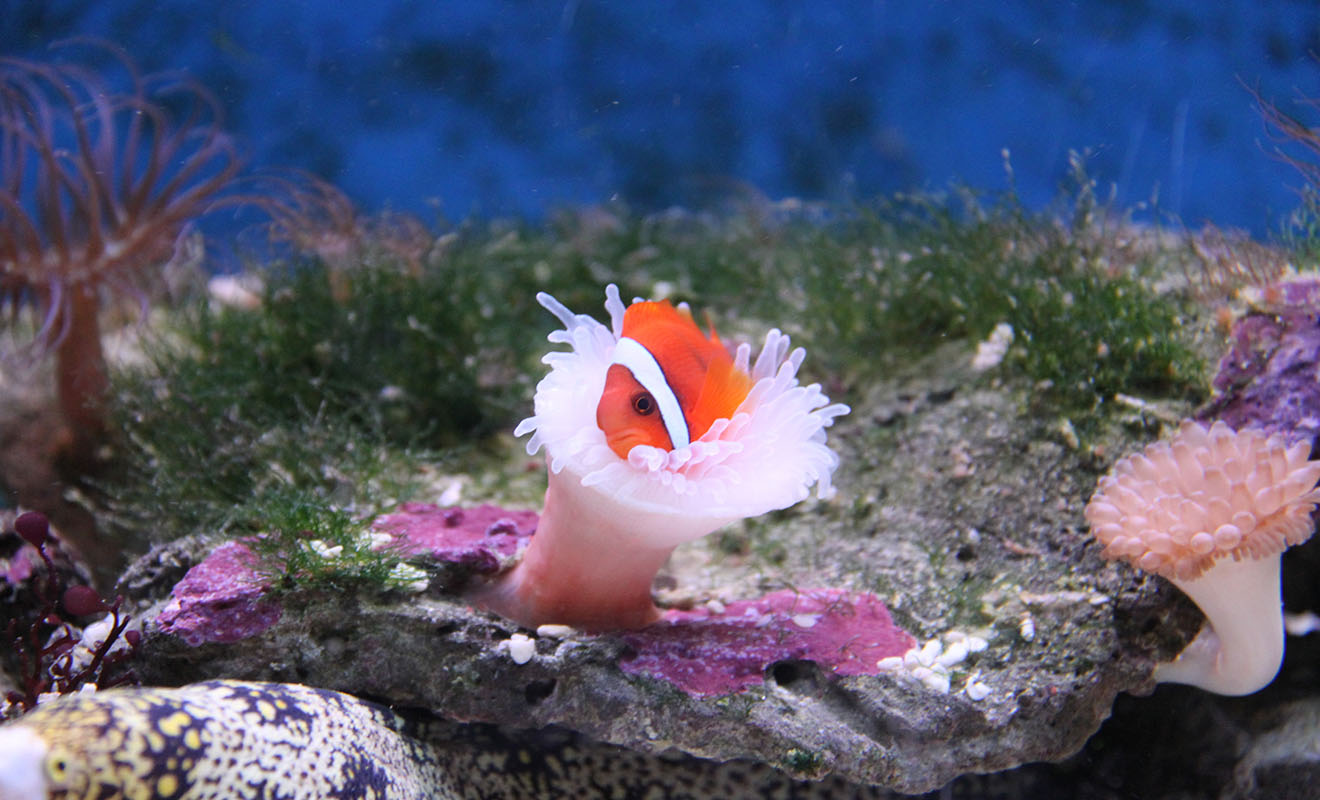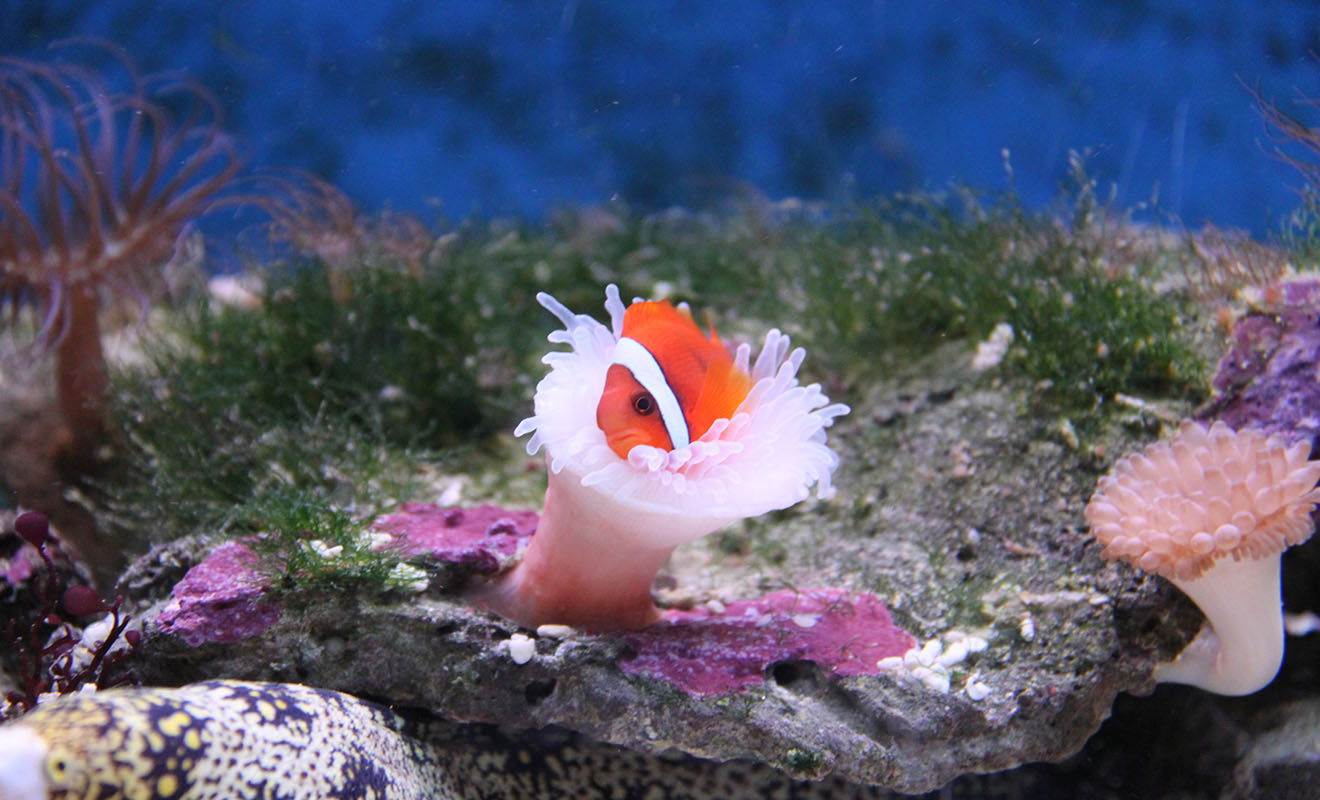 Underwater World is actually one of the biggest aquariums in the entire country! You can learn about over 4,000 aquatic species there and the place is divided based on different ecosystems!
While you're there, you can walk along the River Ecosystem, Tropical Rainforest, Sub-Antarctic section, Koi Pond, Coral Reef section, and more!
PRO TIP: Click here to find the feeding times of penguins and animals at the tunnel tank so you can also witness this in real time!
PRICE: US $11 per person. You can book your ticket here.
3. Feed some crocs at Crocodile Adventureland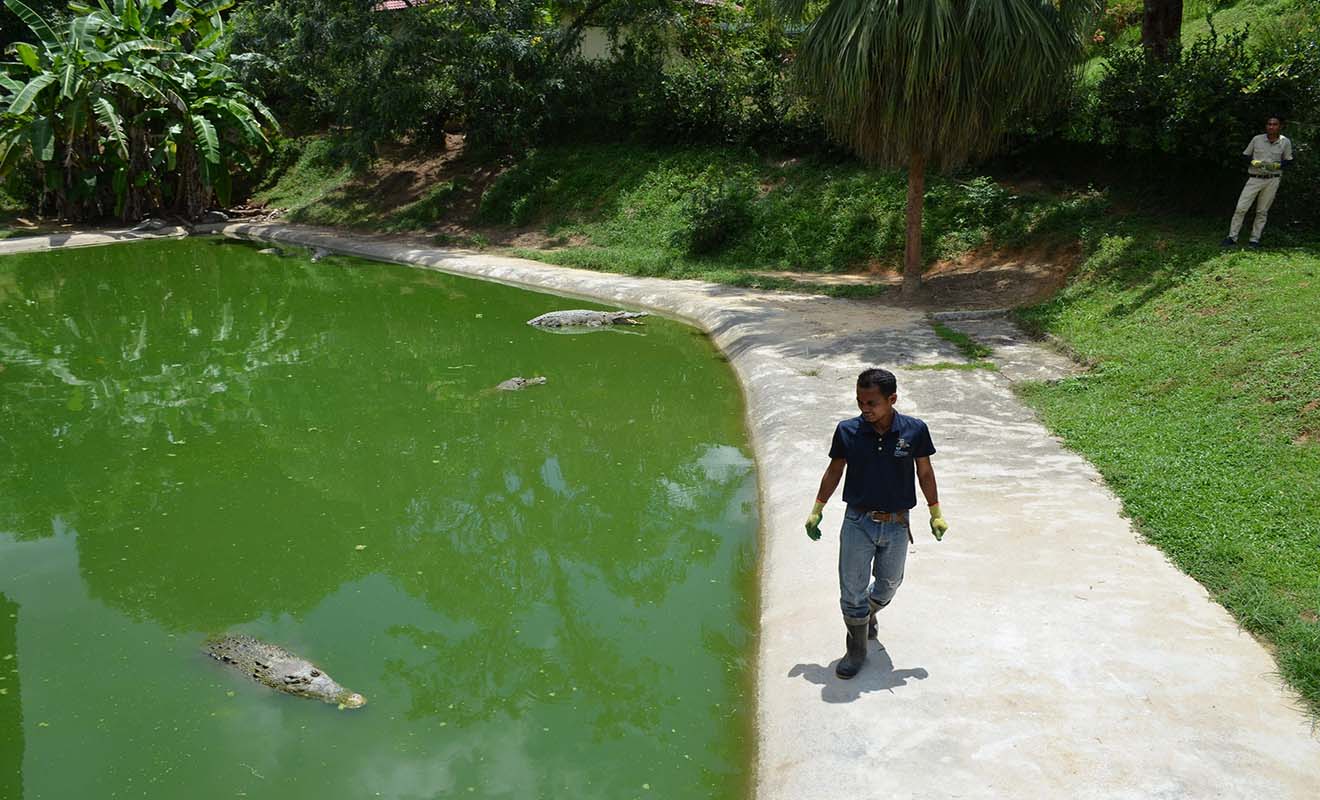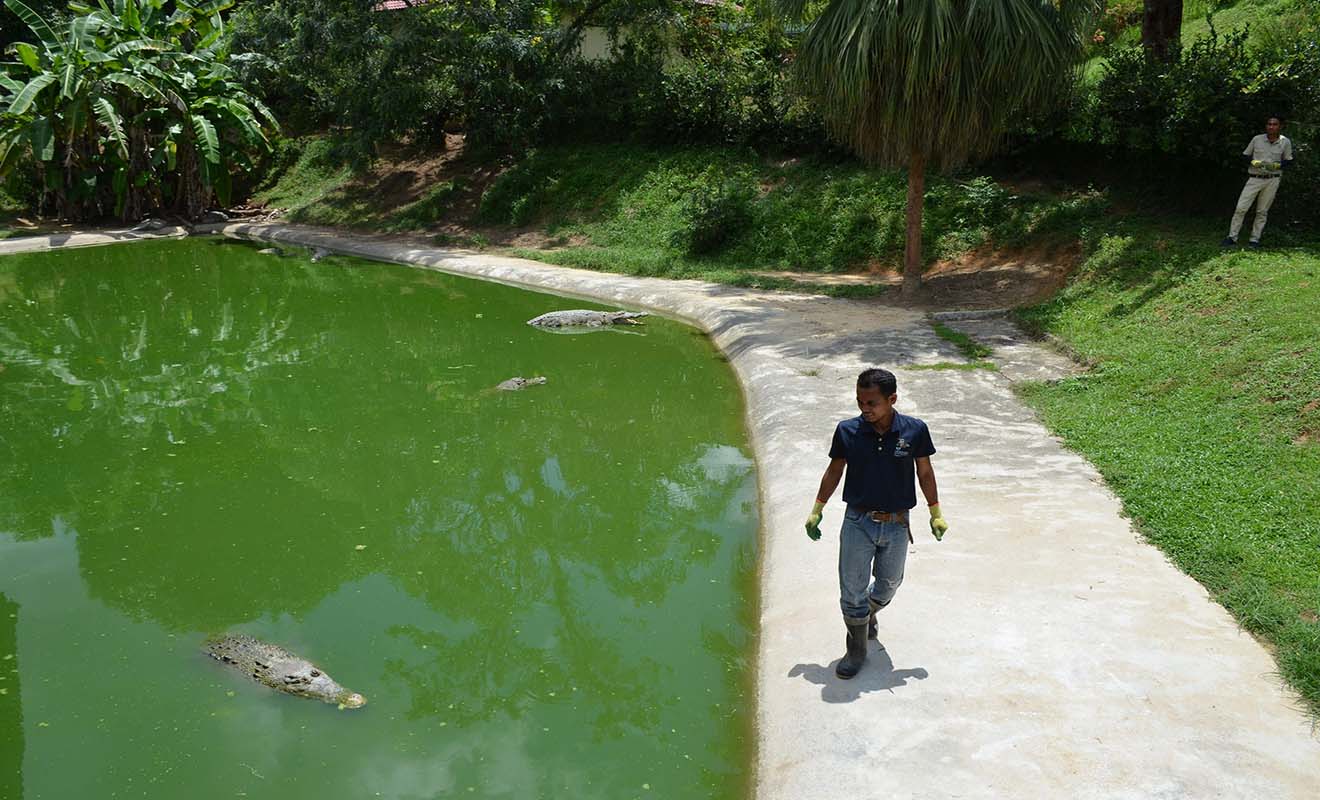 Adding the Crocodile Adventureland in Langkawi to your holiday itinerary is a great idea, especially if you are traveling with kids! They have the largest collection of saltwater crocodiles and alligators from all over Malaysia, and you can learn everything you want to know about them there!
The farm is divided into sections that include a feeding area (happens every hour), a crocodile education center where you can see an educational show, a place where they feed baby crocs, and more!
PRICE: Starting at US $7 per person (basic entry fee + food pellets to feed the juvenile crocs). You can book your tickets beforehand here.
4. Learn more about Malaysian folklore at Taman Lagenda
You may have already figured it out by now, but Malaysian people love their folklore and legends!
Taman Lageda (or Lagenda Park) is a folklore-themed park where you can learn everything you want to about local stories on the island involving giants, princesses and magical birds! Sounds interesting, right?
There are 17 beautiful sculptures there that illustrate the local legends.
PRO TIP: You can also have a picnic there or go for a jog if you feel like it!
PRICE: 5 MYR per person (US $1.20)
Practical information about visiting Langkawi and Malaysia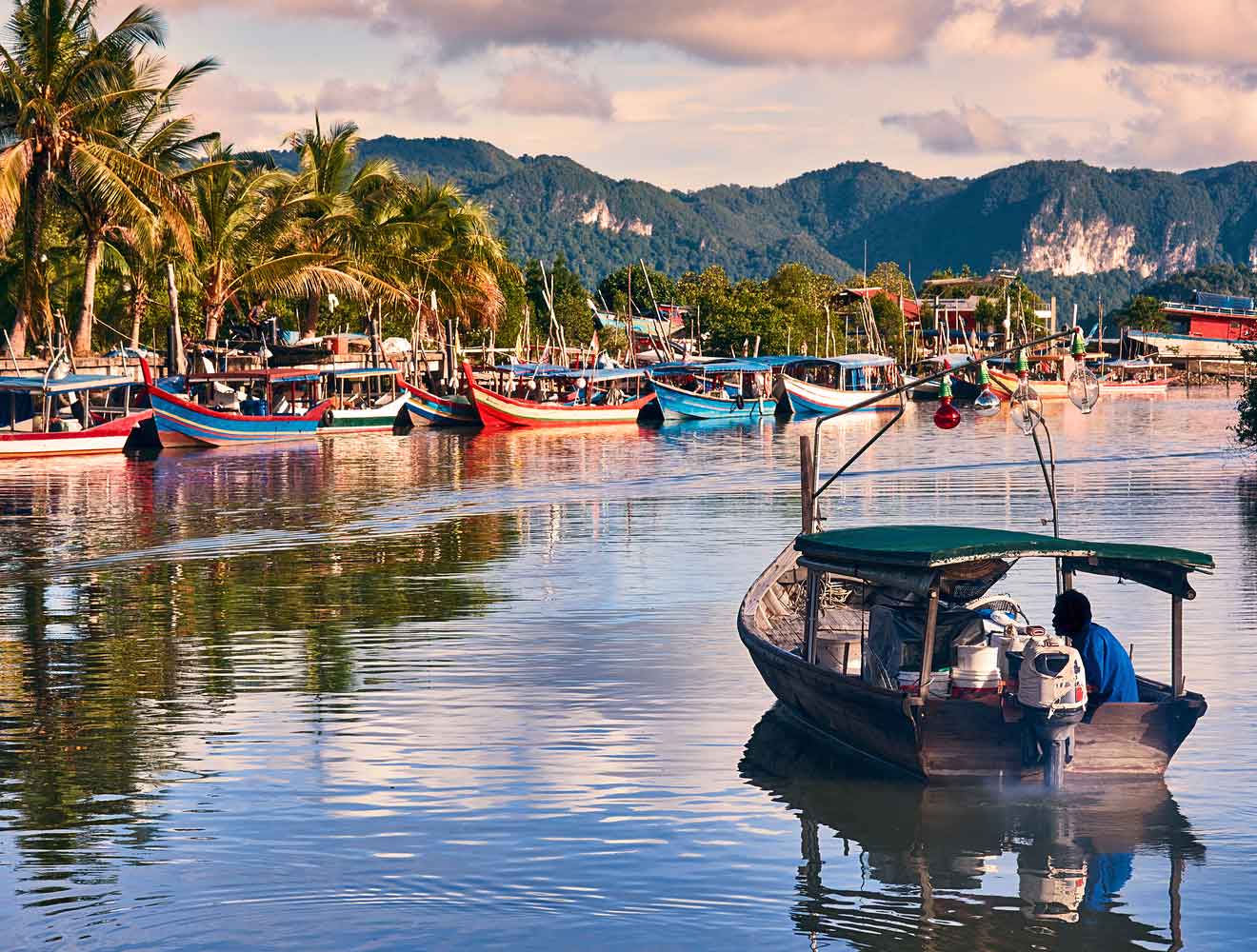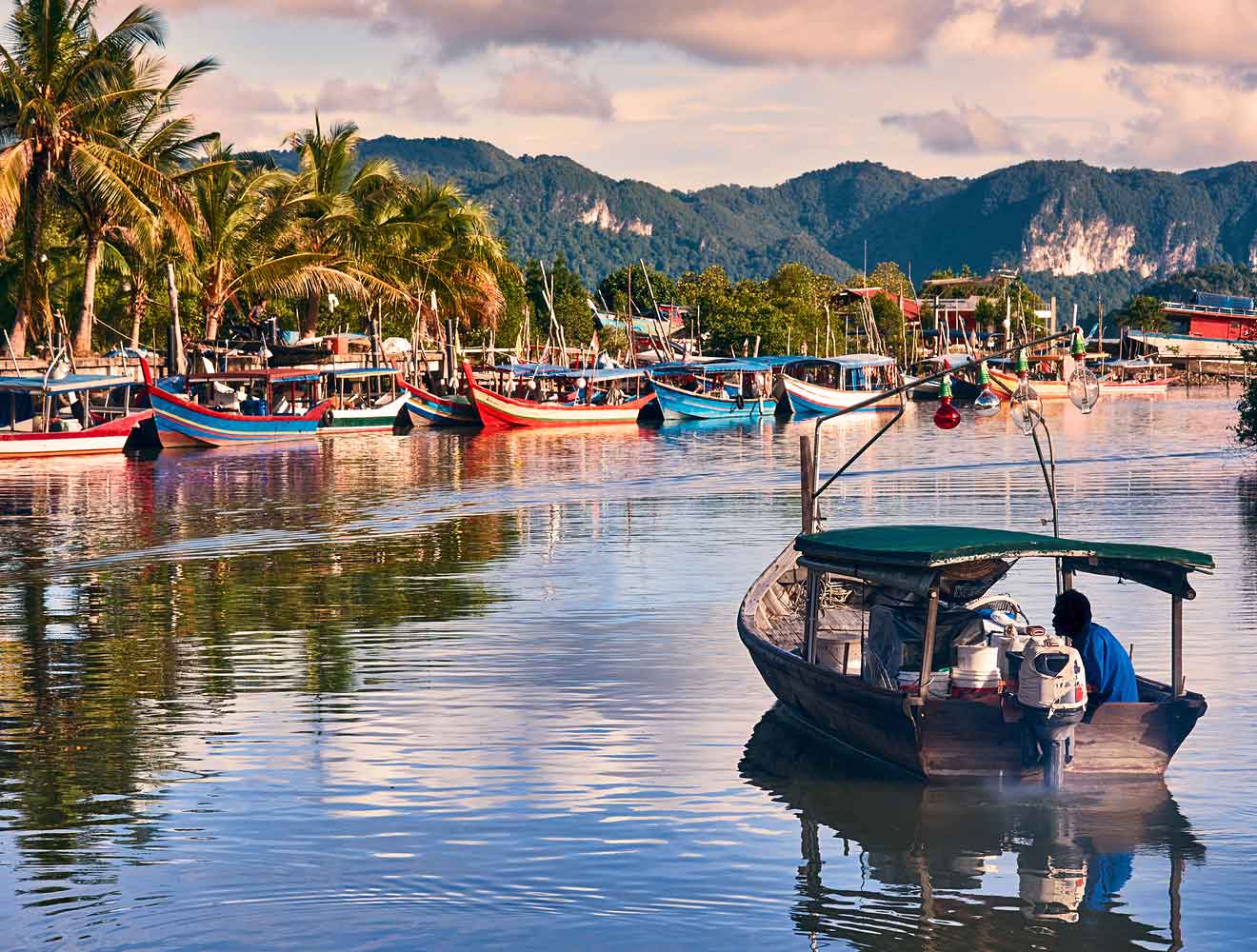 Now that you know the best things to do during your Langkawi vacation, here are some tips and ideas on how to move around the island, where to stay, and what to eat to fill out your itinerary!
Here are the most important things to know about traveling to Langkawi:
How to get to Langkawi Island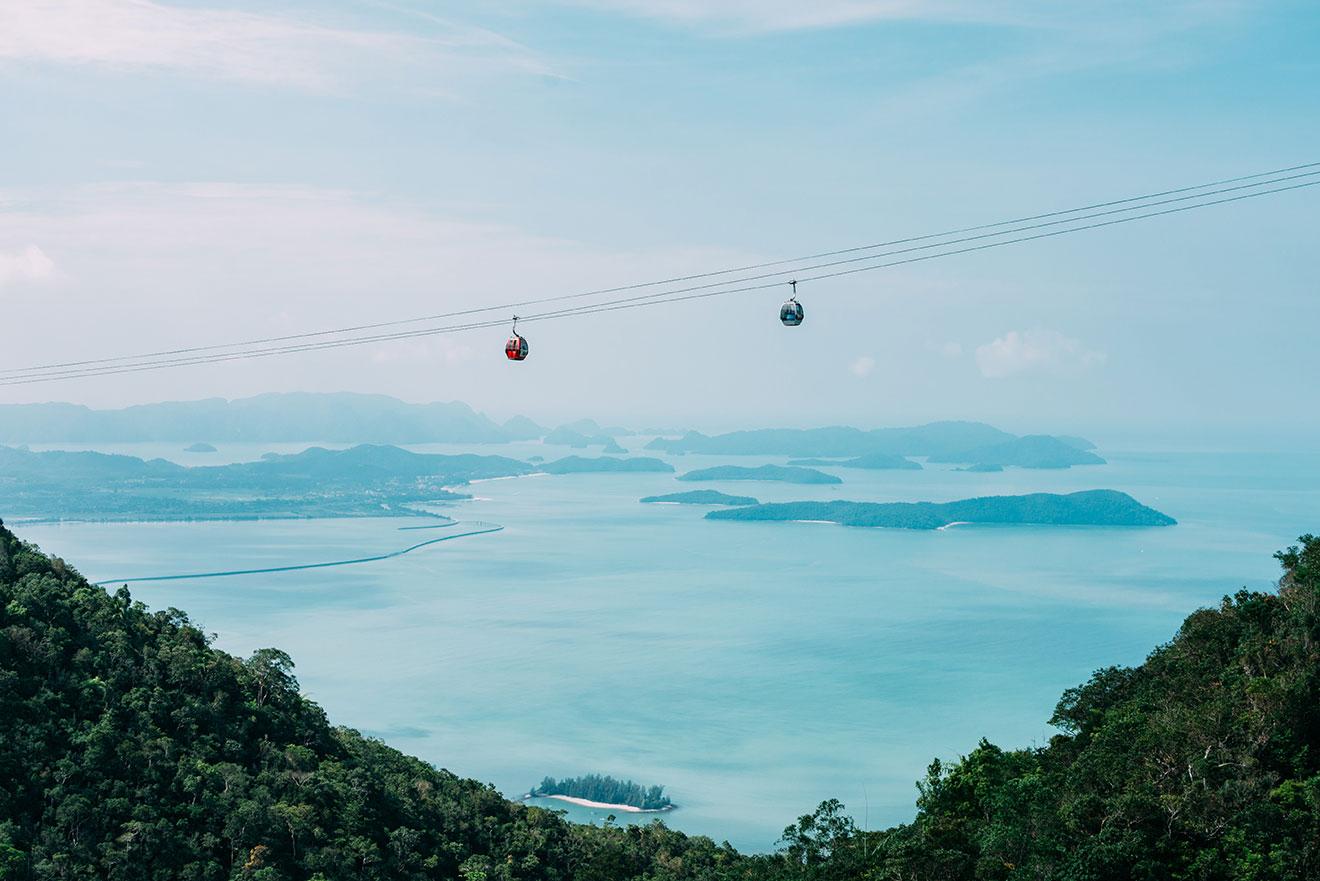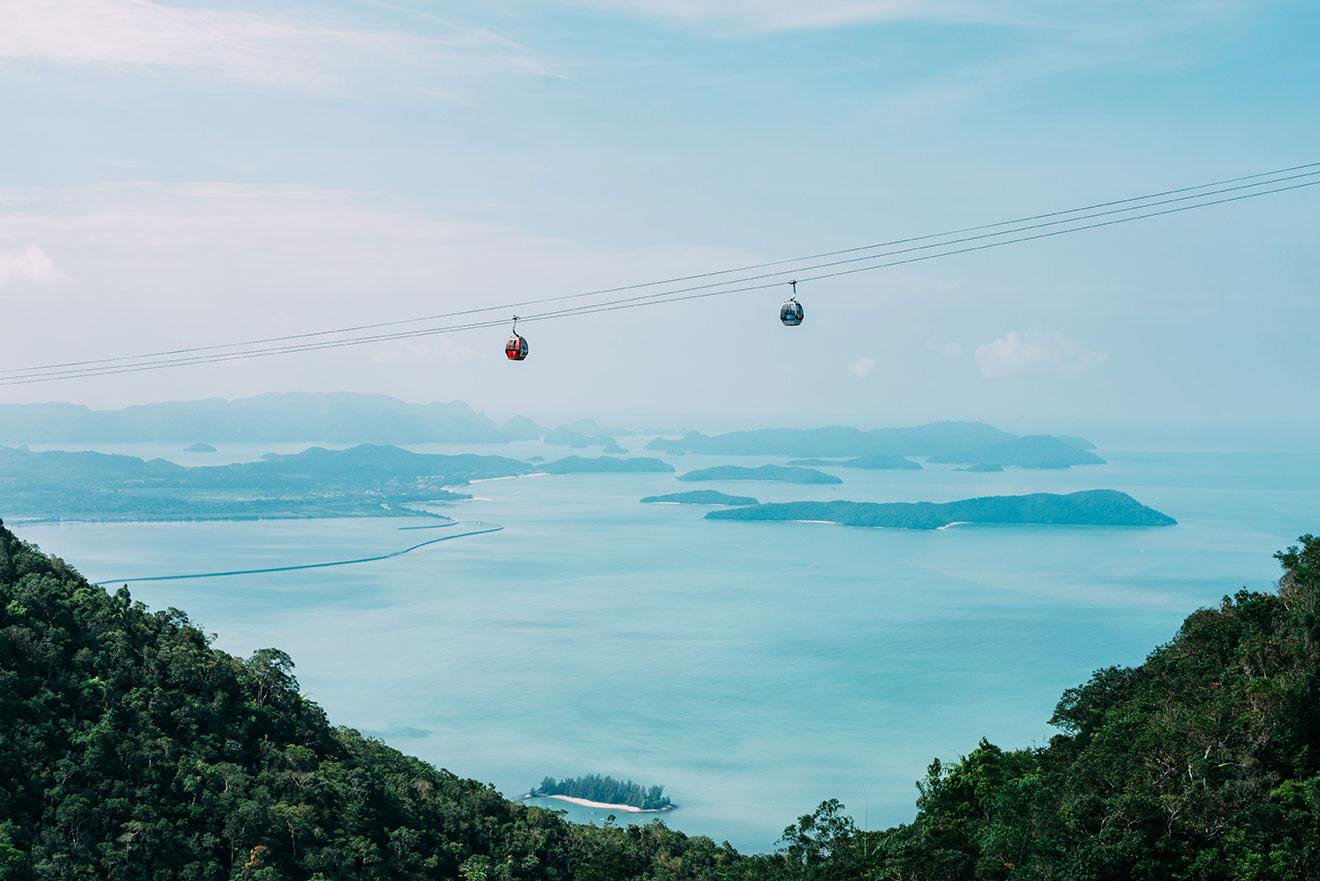 Langkawi has its own international airport, amazing!
Langkawi International Airport is conveniently connected to local destinations such as Kuala Lumpur and Penang, but also many popular overseas cities like Singapore, Phuket, Seoul, and more.
You can take a flight with airlines such as Malaysia Airlines (MAS), Air Asia, or Silk Air for an average price of US $40, depending on the current promotions. You can check out the current prices for your dates here.
How to get from Langkawi Airport to the city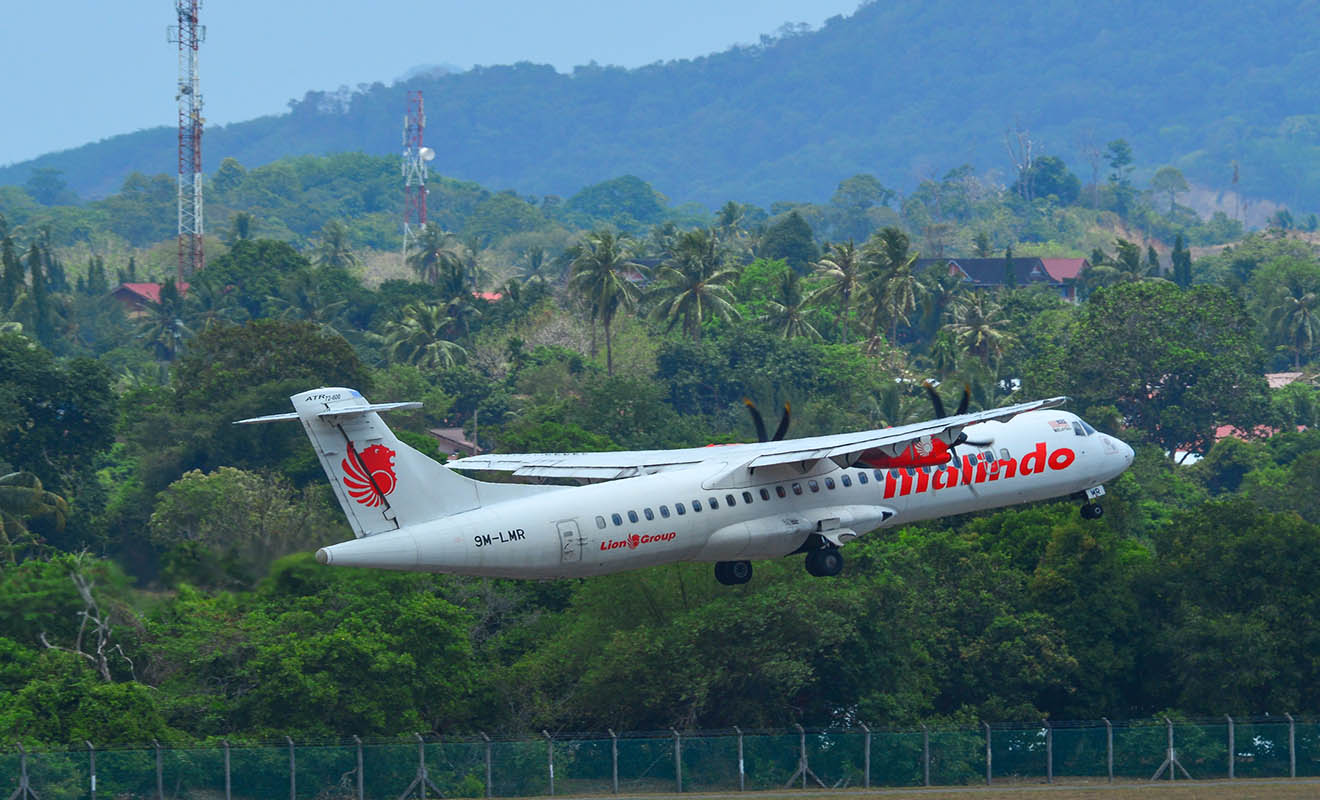 Once you arrive at the Langkawi International Airport, you'll need to decide whether to rent a car or go by taxi to your accommodation because, beware, there is no public transportation available.
By rented car
Renting a car is one of the best ideas, especially if you are going to visit a lot of different parts of the island! You can find more of my tips below on how to get around Langkawi.
By taxi
Taxi fares change depending on the number of people in your group and your destination. For example, it can be 24 MYR (US $6) for a ride to Pantai Cenang and 35 MYR (US $9) to get to Tanjung Rhu. I recommend you check the average fares from the airport to your destination here.
Transportation on Langkawi island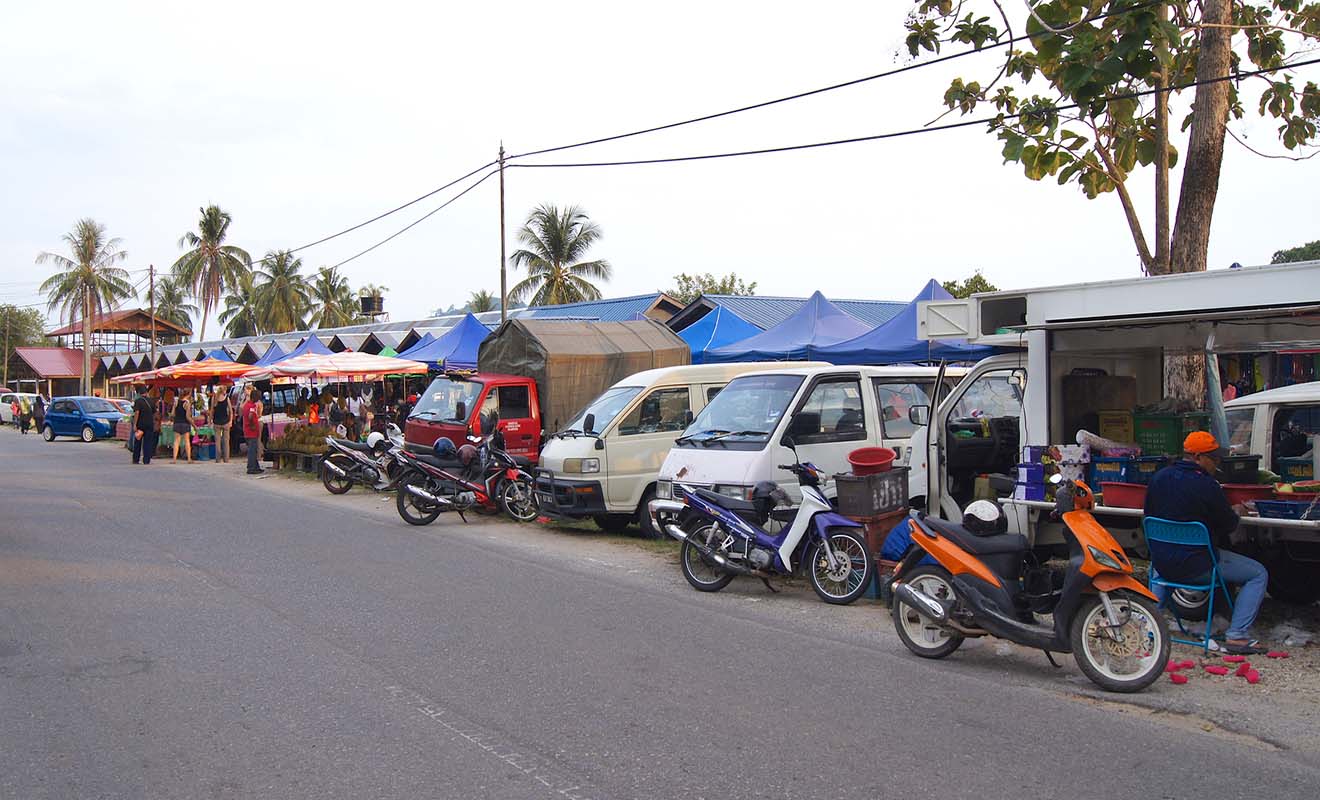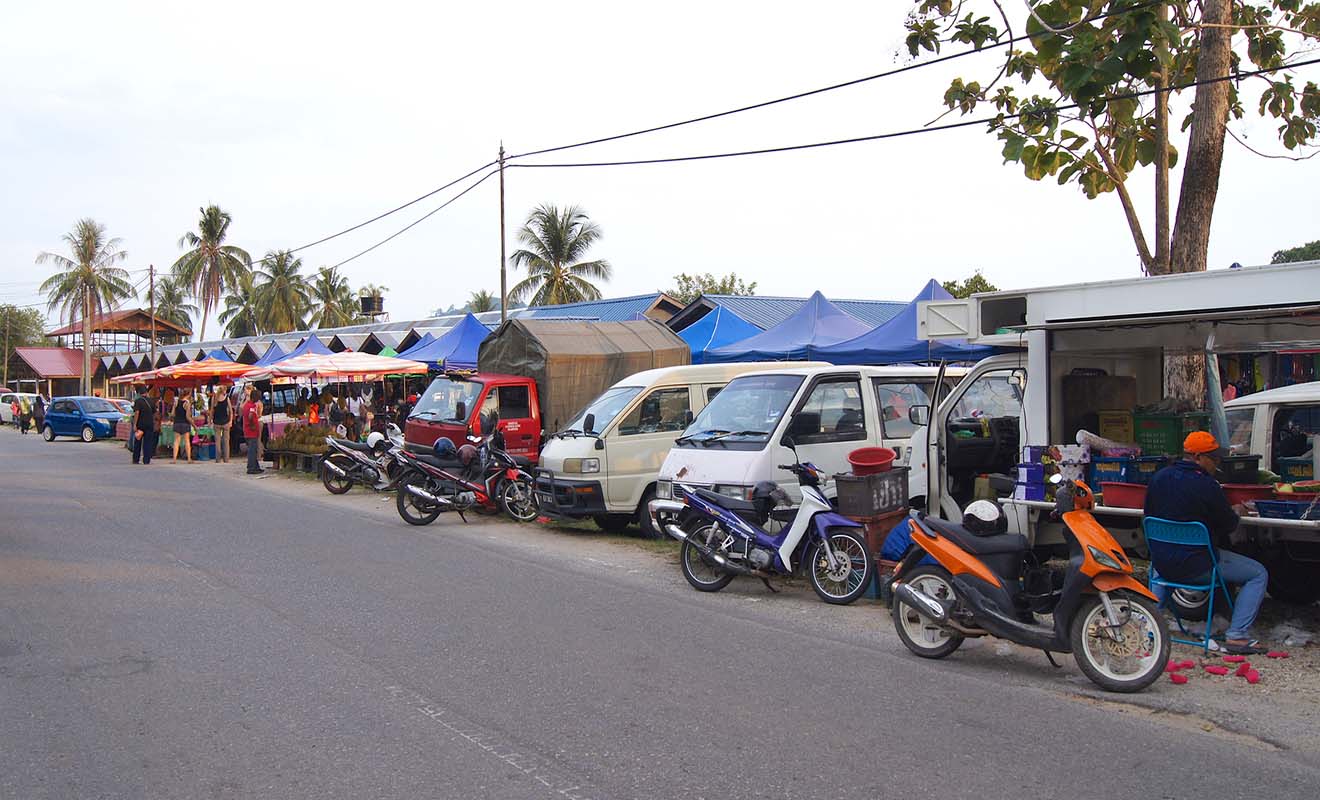 Although there is a lack of public transportation on the island, you still have some options to travel around the area:
By car
As I mentioned a bit above, one of the best options for your vacation is to rent a car! If you are looking for the best Langkawi car rental, I definitely recommend RentalCars, where you can check the up-to-date prices for all the available companies!
The benefit of getting a car is the endless flexibility of moving around the island and visiting different attractions. You don't even need to have an itinerary, you can decide on the spot!
Renting a car is, of course, more expensive compared to a scooter, but I think it is definitely much safer.
By taxi
One option is GrabCar (used instead of Uber on the island). It will cost about 15 MYR (US $4) for a 20-minute ride.
The regular taxi cars can charge about 18 MYR (US $5) for a 15-minute drive.
PRO TIP: You can even hire regular taxis per hour, which I think is a great solution! The price would be around 25 MYR (US $6) per hour and you'll have to book it for at least 4 hours.
By scooter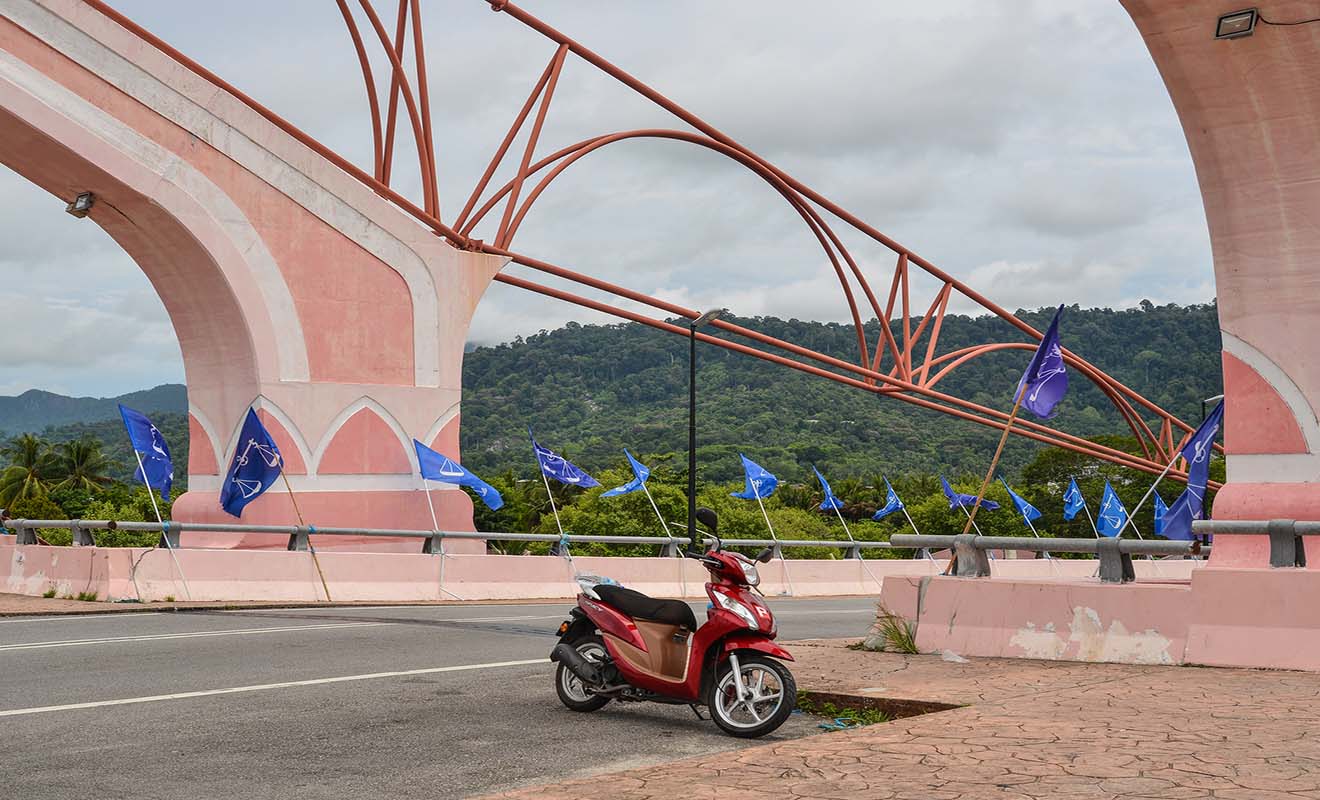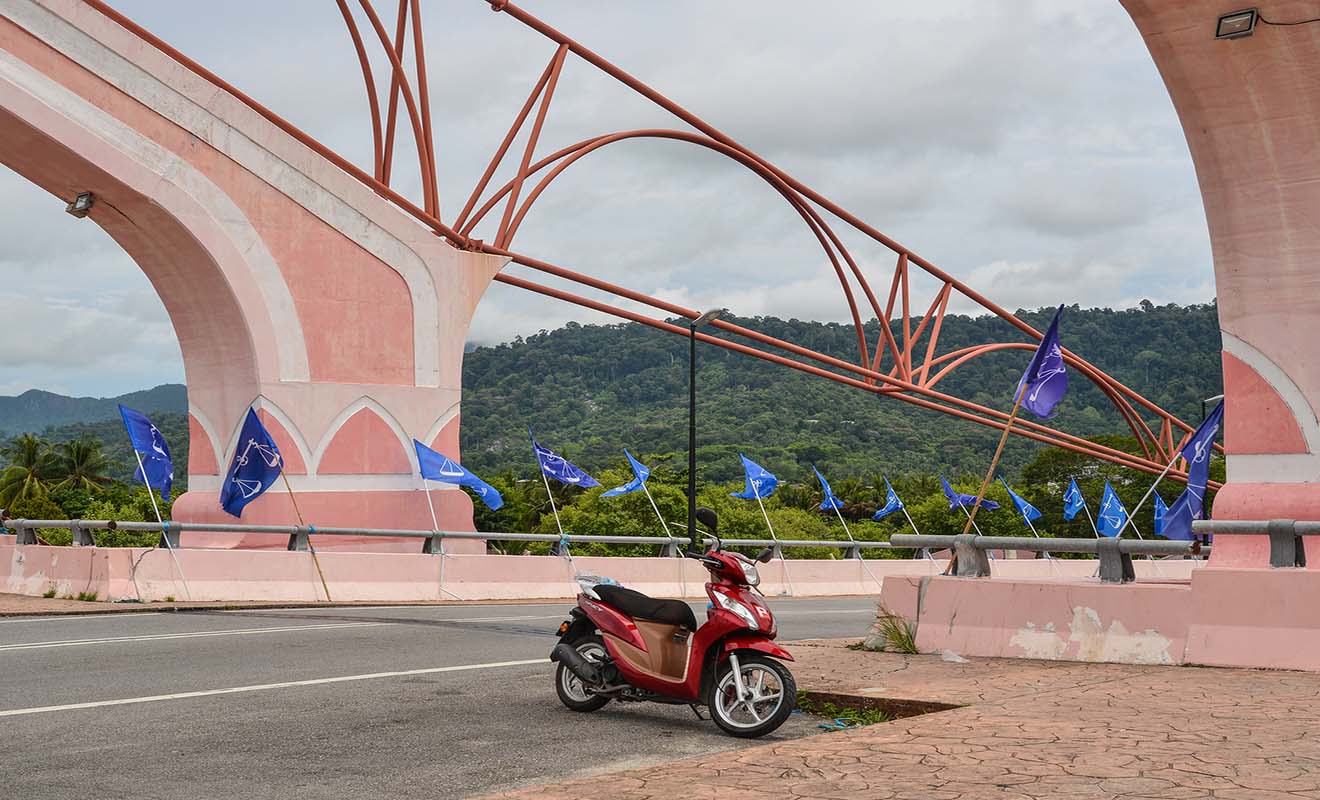 If you are in the mood for traveling around like a local, you might want to try out renting a scooter. They are the cheapest option for transportation around the island! Plus, most roads are straight, so it is easy to drive everywhere.
You can either rent your scooter at the airport when you arrive, or get it from Jetty Point (the main ferry terminal in Langkawi) for US $14 per day (24 hours).
Where to stay in Langkawi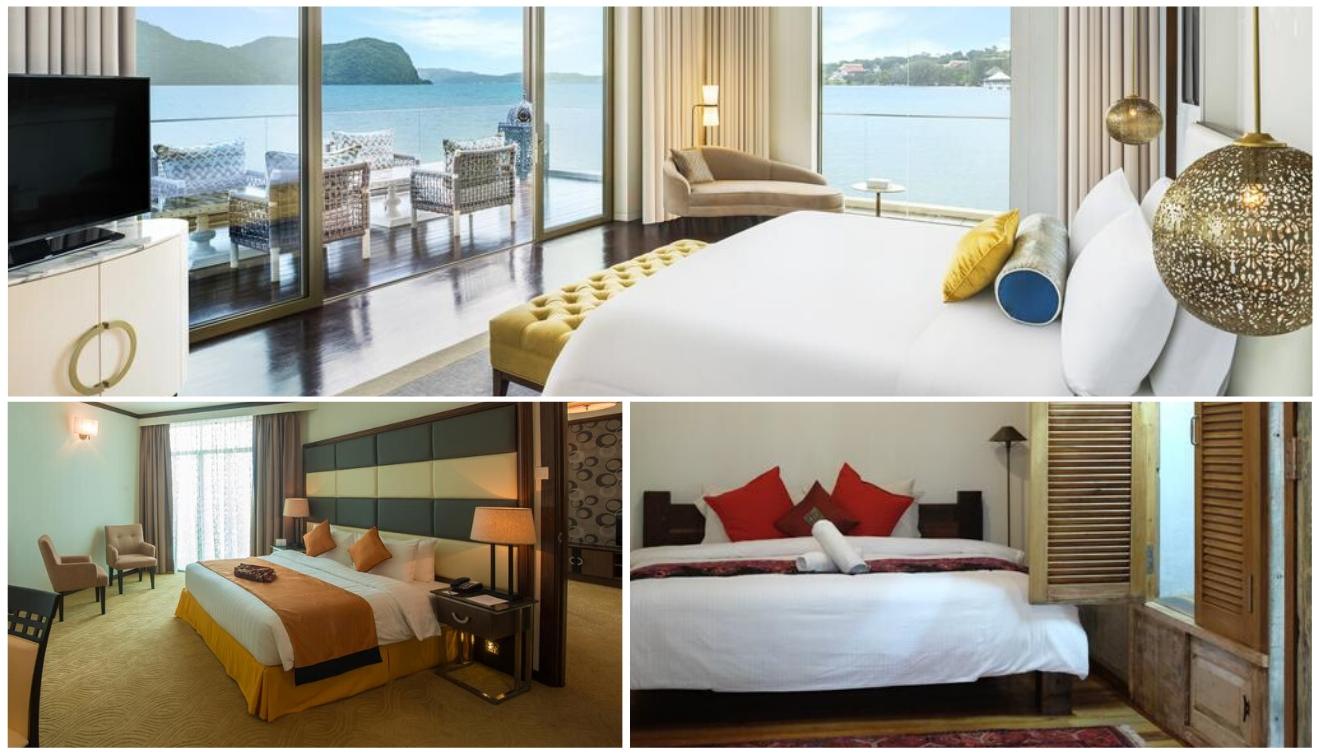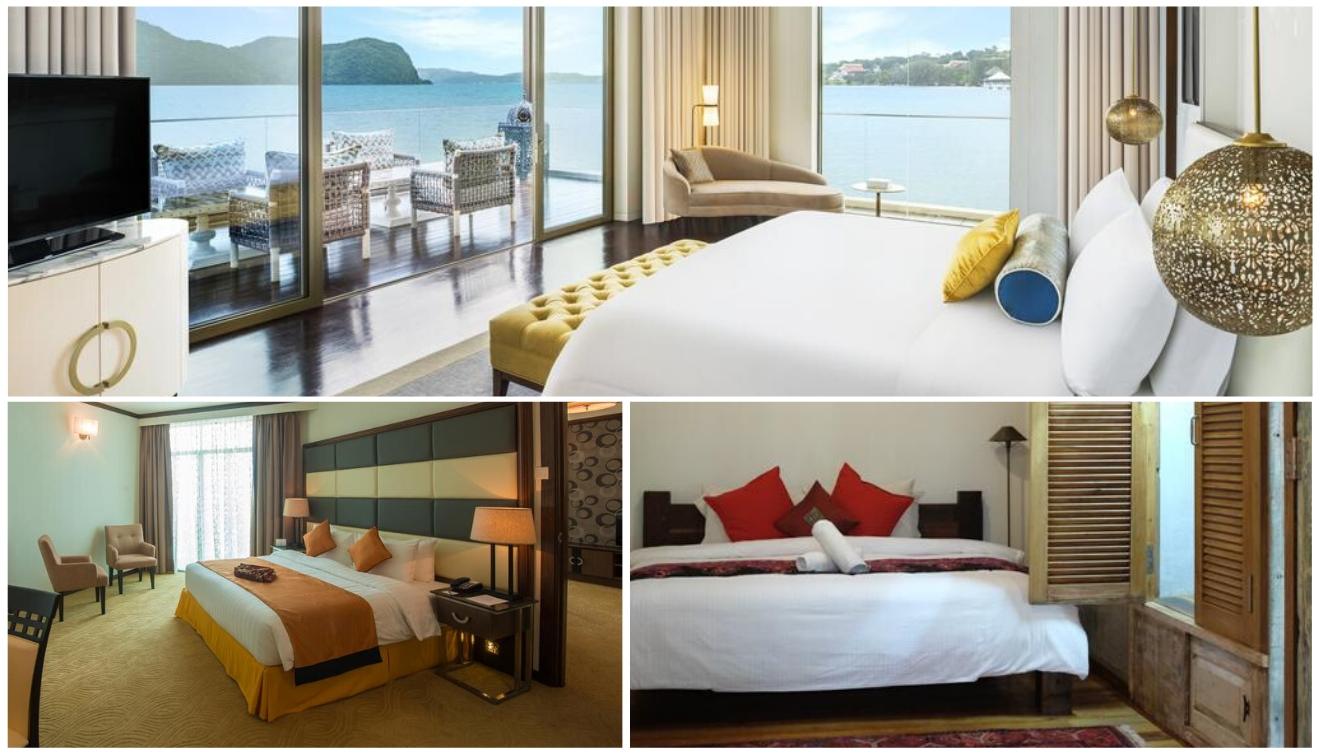 Now that you have decided to visit Langkawi, I suggest you stay for at least two whole days in order to experience it completely.
PRO TIP: Be sure to book in advance for these great hotels with fantastic prices and reviews!
Here are some of the best hotels to stay in Langkawi, hand-picked by me:
Luxury (US $160 and up)
The St. Regis Langkawi – It is a great choice for one of the best resort in Langkawi where you will feel like royalty and you won't want to fly back home. You can go for sun bathing at their private beach, take a dip at their outdoor infinity pool, or stay in their incredibly spacious rooms with elegant furniture and home entertainment system.
The Datai Langkawi – Another great option for Langkawi resorts which in addition to exceptional service has a golf course, spa, swimming pool, and tropical views from the rooms. It also has a private beach and great rates if you book in advance.
Middle priced (from US $55 to US $160)
Mamat Villa – This vacation home is set among tropical greenery with fantastic reviews and breathtaking nature scenery in the surrounding area. This three-bedroom villa includes a fully equipped kitchen, a living area, and a bathroom with a shower.
Panji Panji – It is a great option if you want to stay in a tropical wooden home with an outdoor pool and small garden. The property features hardwood flooring, air-conditioning, an important mosquito net and a private balcony.
Budget (up to US $55)
Adya Hotel Langkawi – It is a nice and budget-friendly option of Langkawi accommodation with Moroccan style architecture that has a female-only swimming pool as well as a family pool. Offering Muslim-friendly facilities there is also a halal restaurant on-site.
Rembulan Langkawi – This great and comfortable hostel is only 450 m from the beach! All private rooms and bunk dorms are non-smoking and have a shared bathroom with a shower.
What to eat in Langkawi and where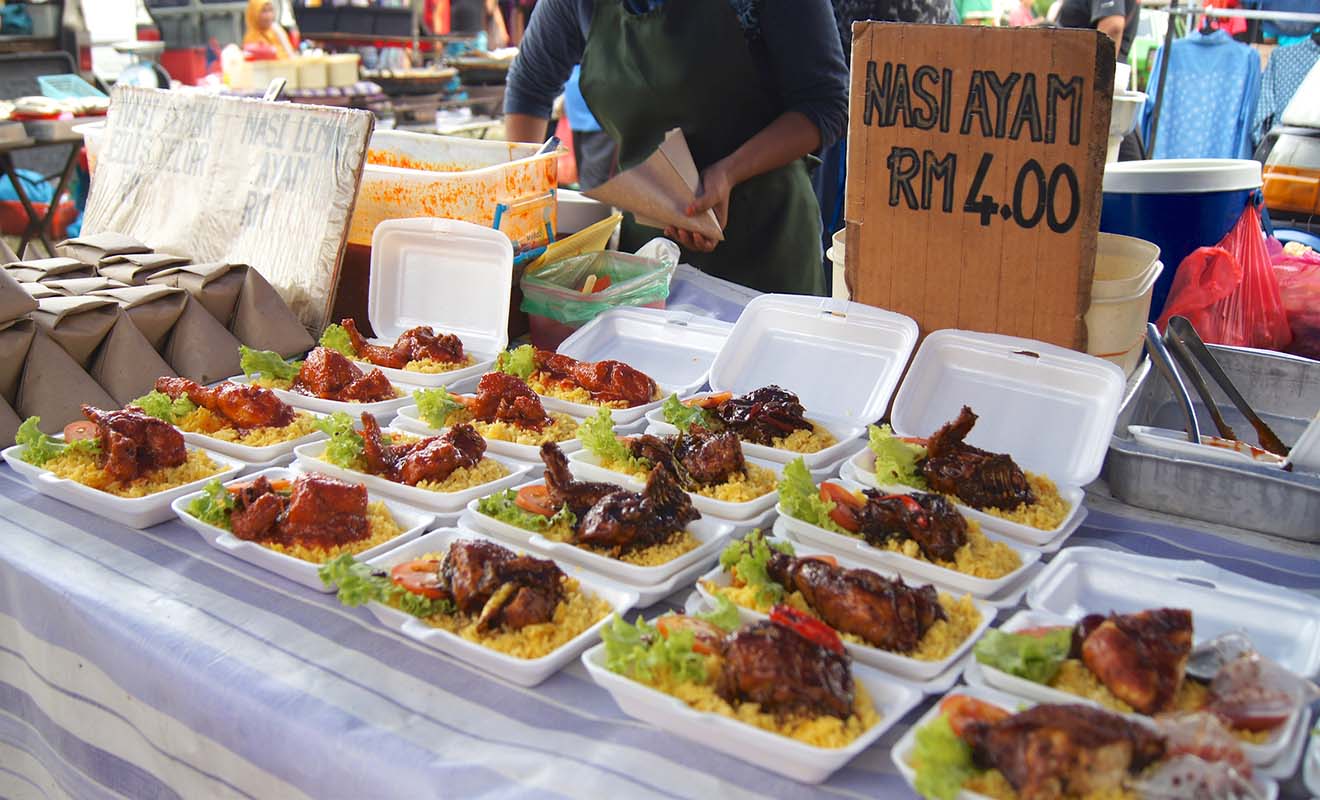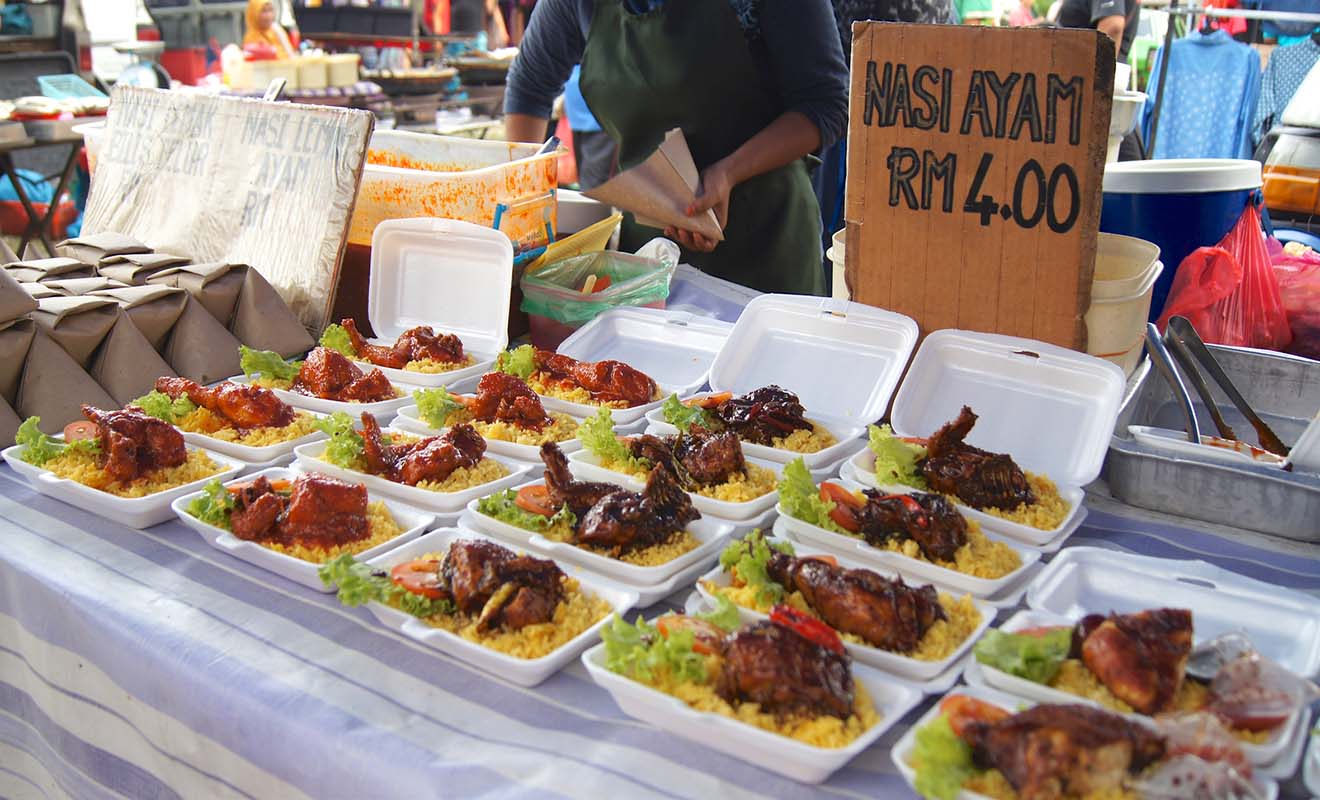 Even though Langkawi is not that big, they don't lack in gastronomic options and you can find many good local dishes in their restaurants! I also advise you to try the delicious food at the authentic roadside stalls and open-air restaurants.
NOTE: If you travel to the Island during Ramadhan (April/May/June, depending on the year), many of the Muslim-owned food stalls and restaurants will be closed during the day.
Here are some great local dishes you will want to try: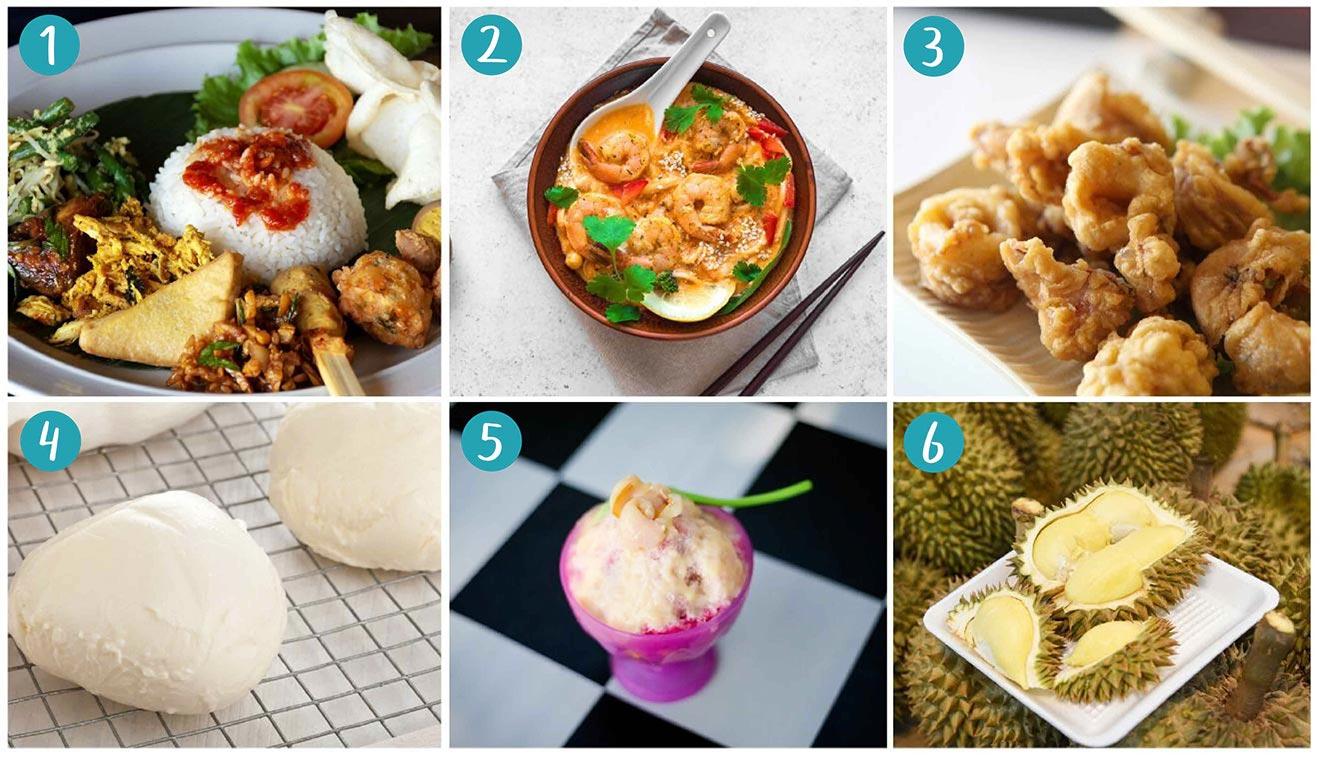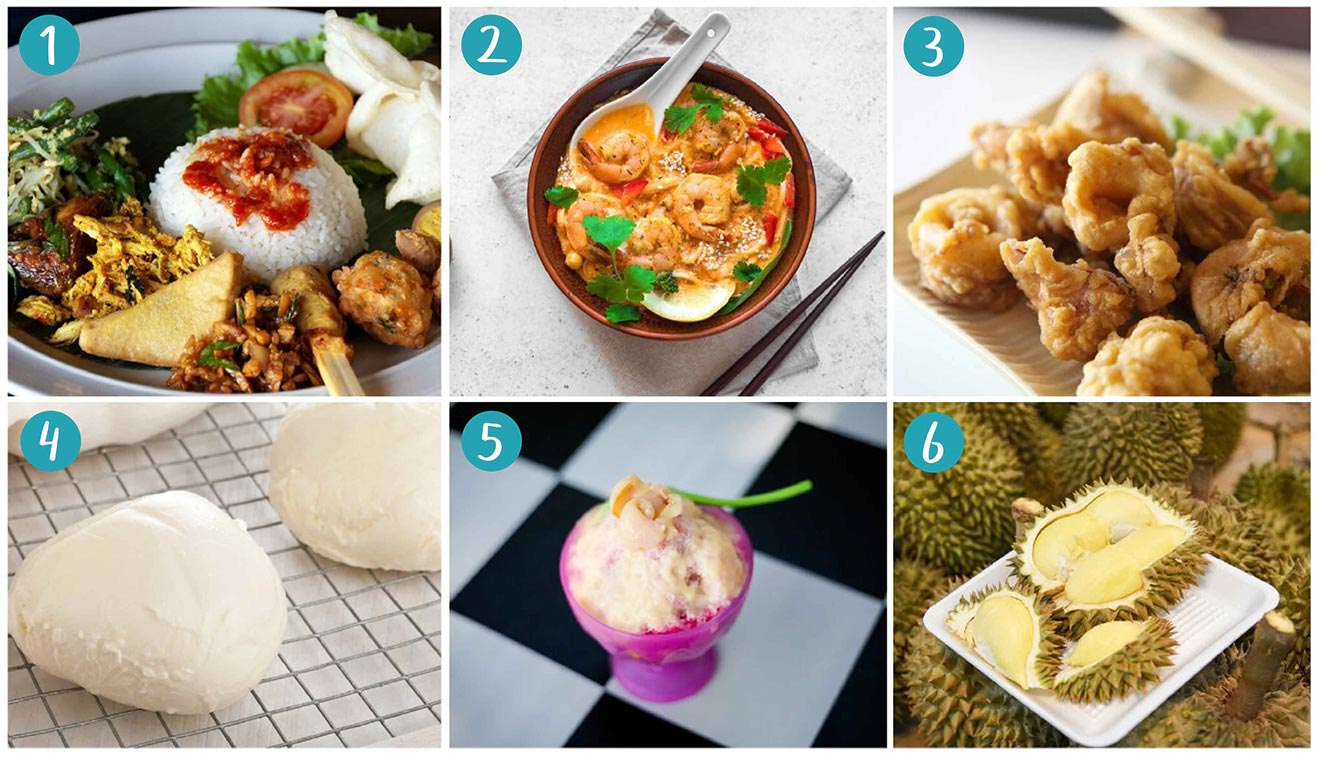 Nasi Campur – is a local Malaysian dish, found not only in Langkawi, and it consists of rice mixed with different ingredients. It is usually served with a side dish of sambal (a spicy sauce) and I suggest you try it at the Seashell Restaurant.
Laksa – is a soup you can also find in Singapore, but the Langkawi version includes fresh thick handmade noodles with a spicy broth of seafood and a hard-boiled egg. You can find laksa almost everywhere, the most interesting spot locals and visitors recommend is right across from the airport!
Squid – you can get fresh squid right at the island bay or basically anywhere else around the island. The best way to eat it is breaded and fried with chips and with a side of sweet and sour sauce.
Mozzarella – they make buffalo mozzarella on the island, can you believe it?
Ice Kacang (or ABC Special) – shaved ice decorated with fruit syrups and colored jellies; it might even have some corn kernels or beans hidden in it.
Durian – a unique fruit, honestly! It is an acquired taste for many because of its weird smell once it is cut open. But still, it is a commonly found fruit throughout the Island; you can eat it as part of a fruit salad, with ice cream, with sticky rice and coconut milk, or even deep-fried.
BEST PLACES TO EAT:
Nightlife in Langkawi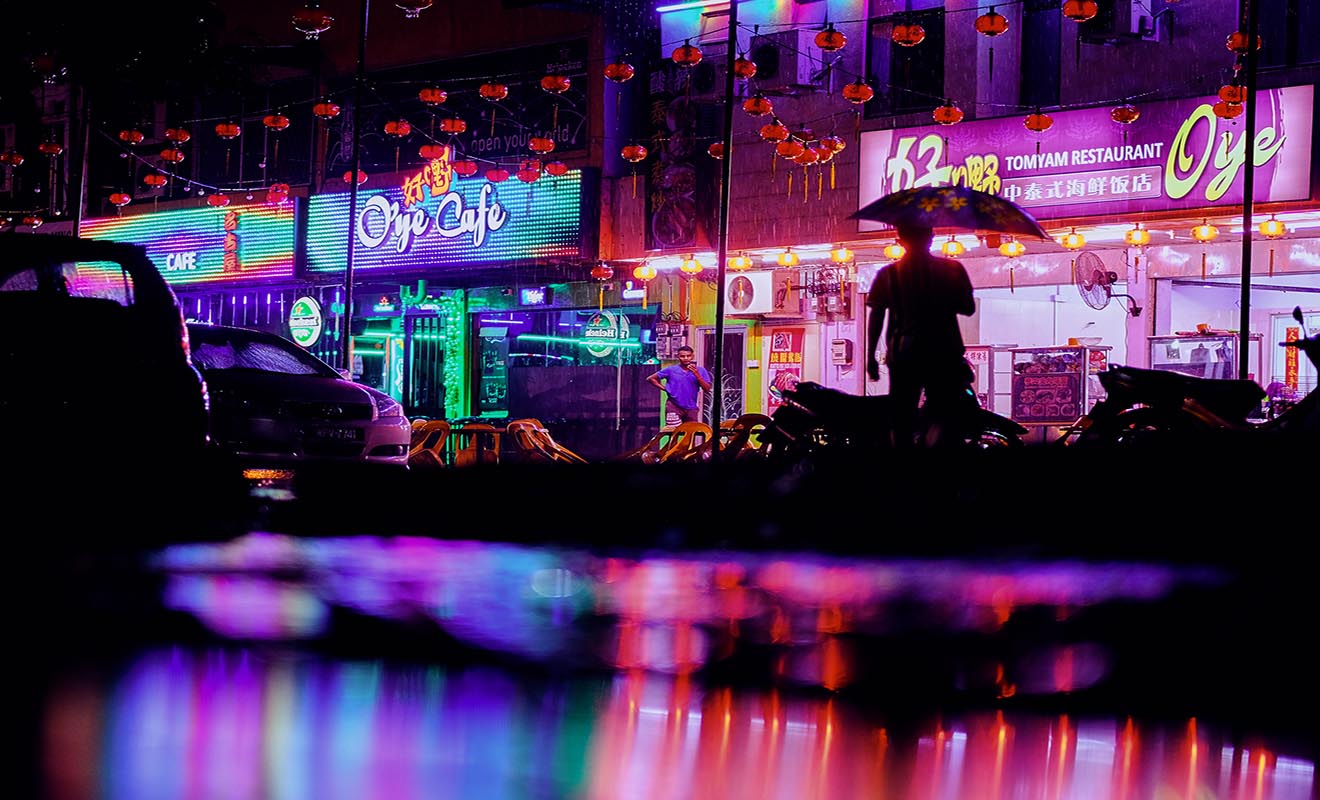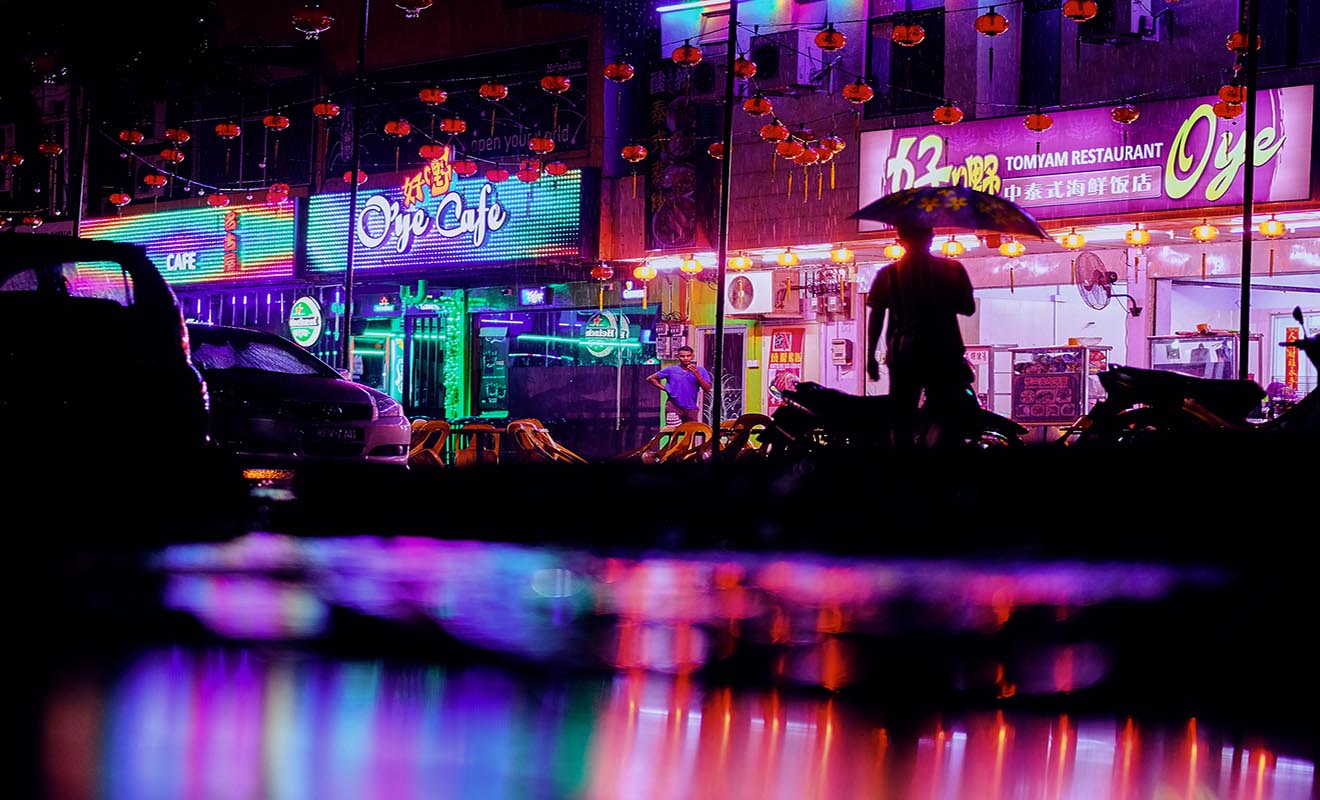 There are many places to visit around Langkawi at night, each offering a different type of nightlife experience! Here are some of the best-reviewed bars and clubs, and also an evening event at one of the resorts:
How to exchange currency in Langkawi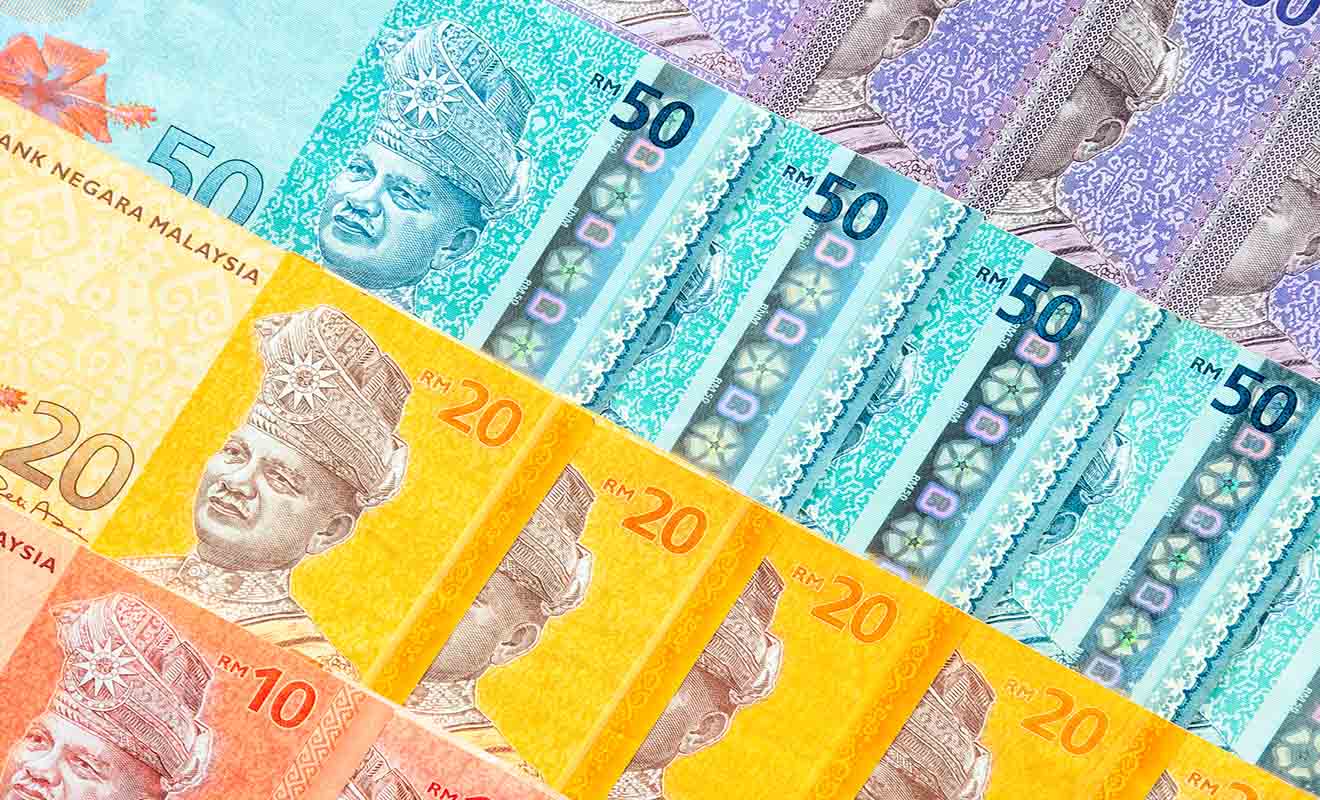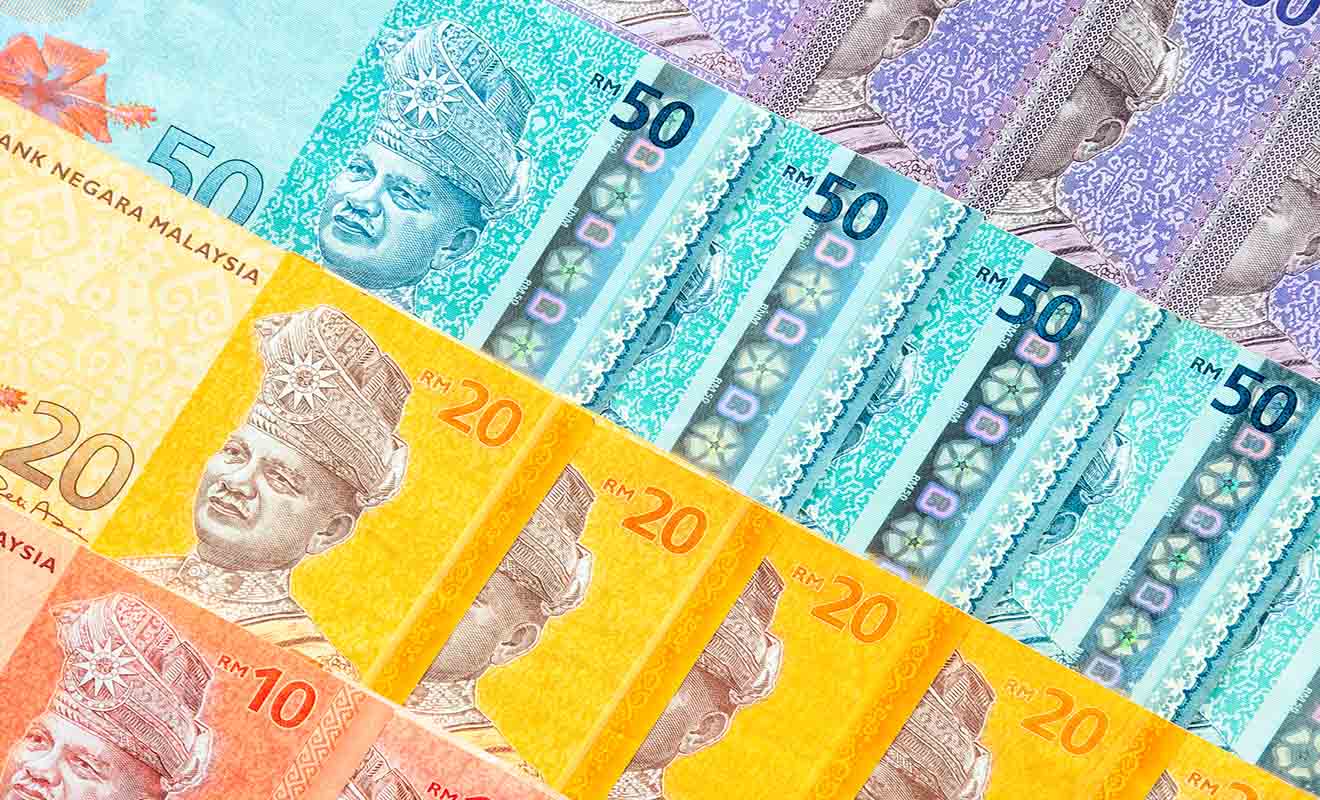 The local currency is the Ringgit (MYR/RM) but some stores and hotels might be open to accepting US dollars or Euros as well.
Here are the rates for when this post was last updated (click on the link to see the current rate):
Even if you get lucky and have no issues with this fact, I recommend traveling with local ringgits so you don't lose money because of the exchange rate, which will be much higher than on the Malaysian mainland!
There aren't many ATMs on the island and most of them run out of cash quickly. Therefore, I recommend you change currency once you arrive in Kuala Lumpur or in any other Asian country that offers you this currency or once you are at Langkawi airport.
PRO TIP: You will find most banks and money-changers at Kuah town and the airport.
TIPPING CULTURE: A 5% tip is suggested when eating at restaurants; some places already include it in the bill.
Getting a SIM card in Langkawi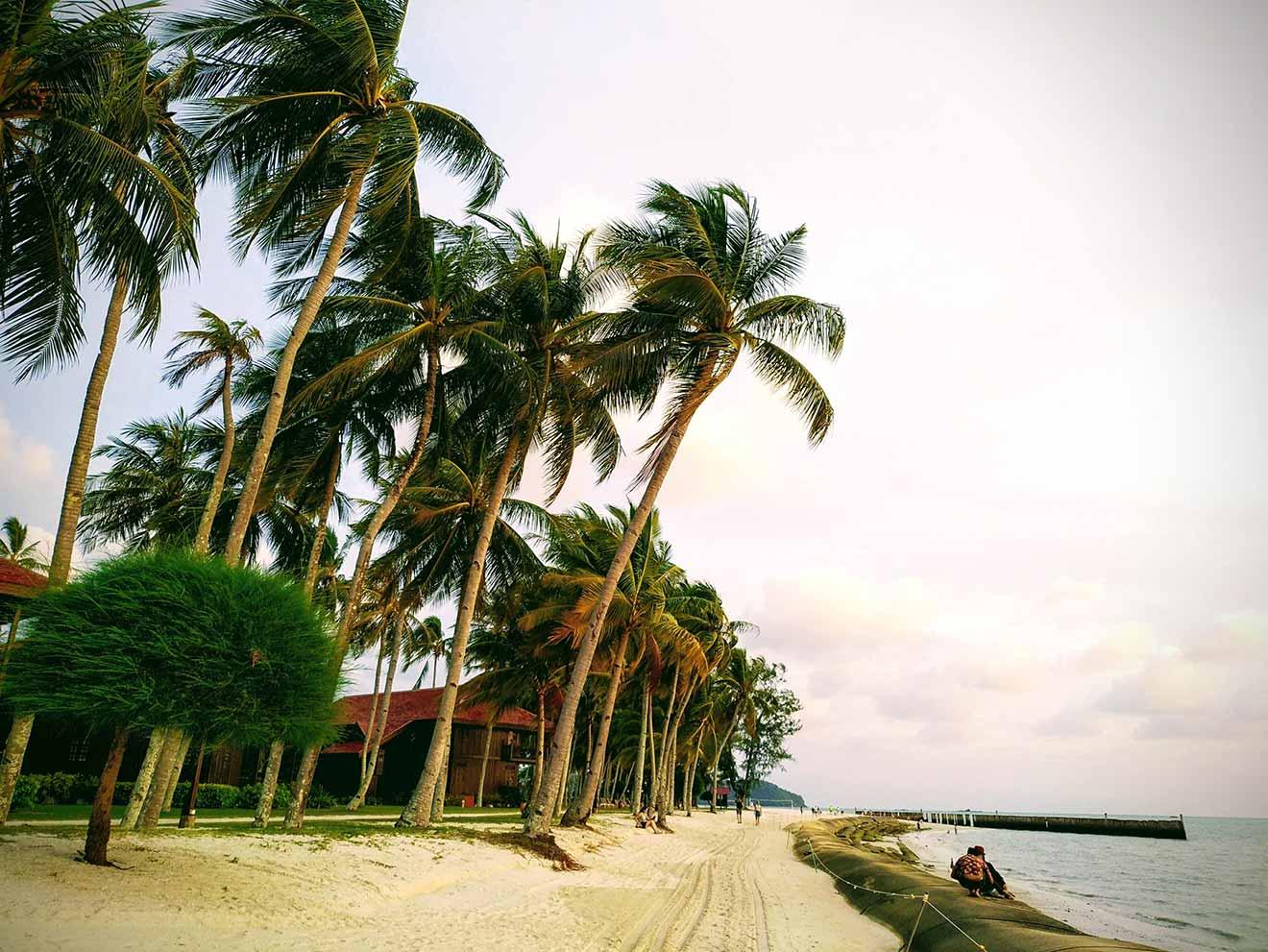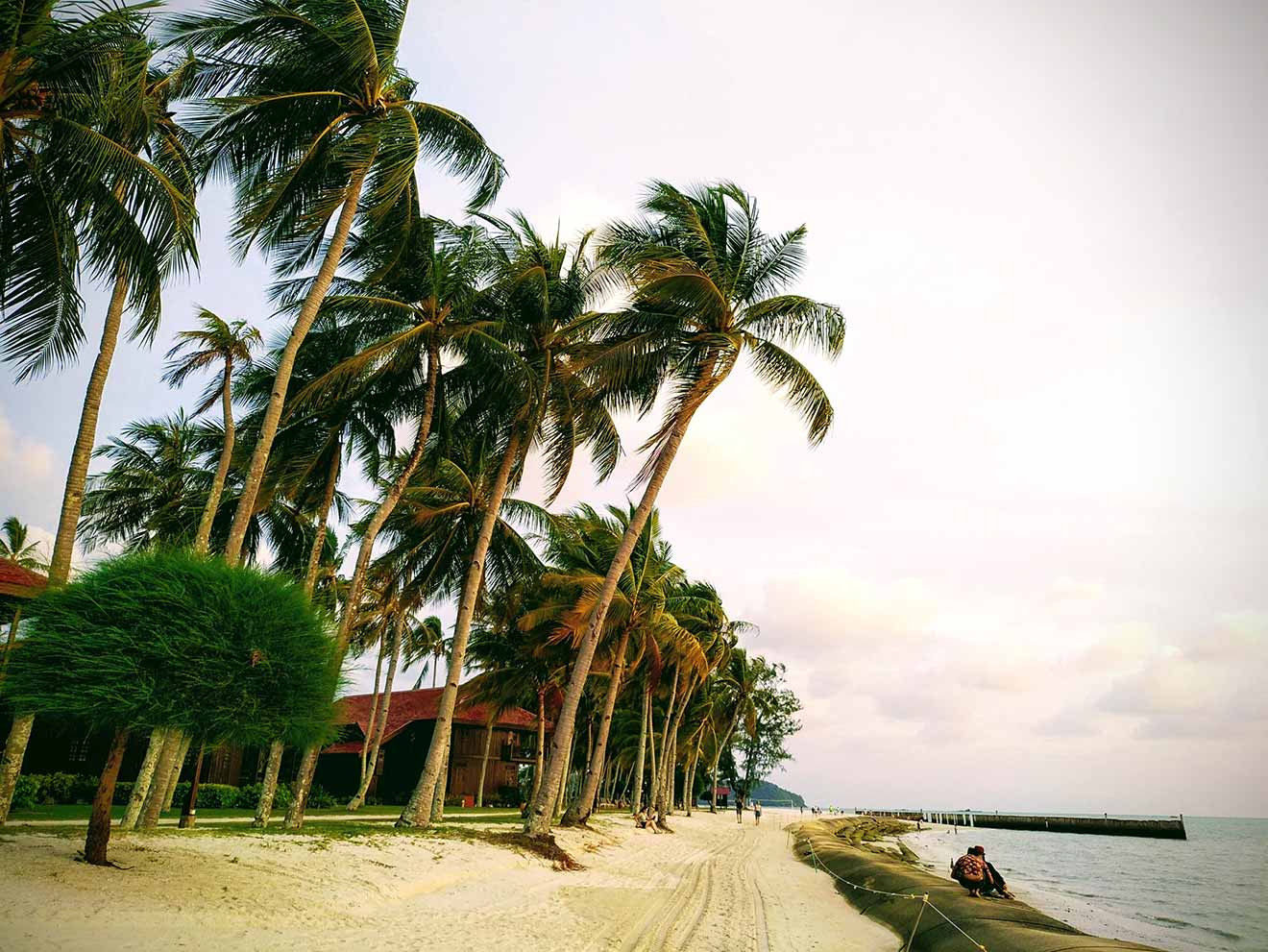 Because Langkawi is an island, you might think the internet there does not have the best connection! Oh well, this is the right assumption, unfortunately. Even so, there are times when the connection is good, and other times when it's not.
I suggest you grab a convenient TuneTalk SIM Card which can be picked up at any Malaysian Airport. The prices start at US $5.50 for 15GB, available for 7 days. Great deal!
When to visit Langkawi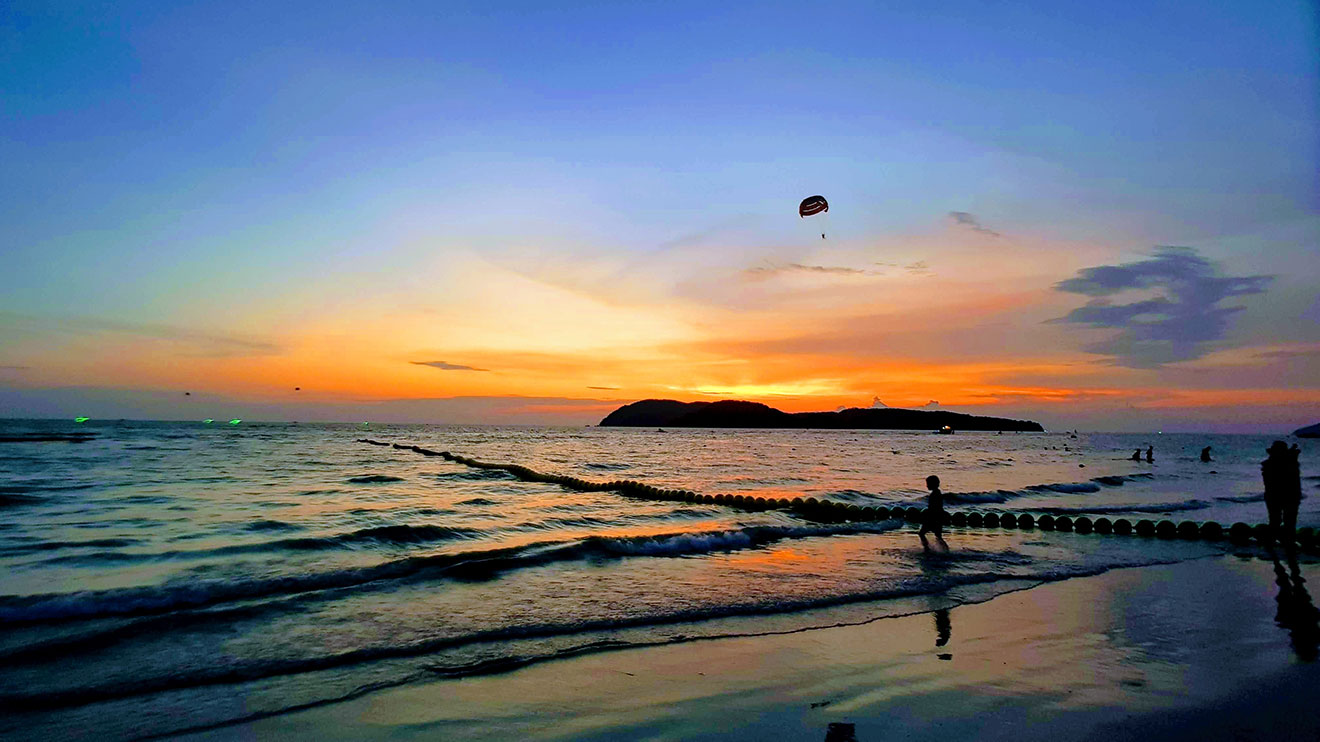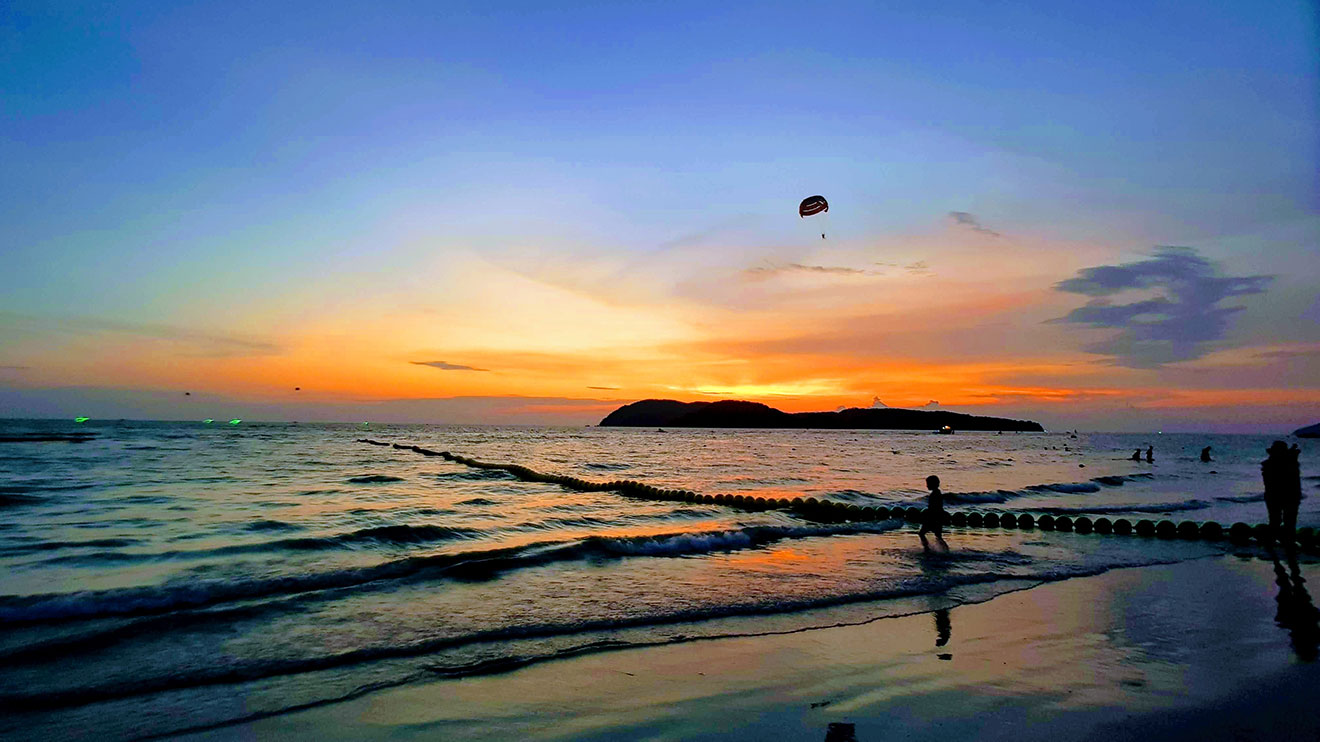 If you are trying to organize the absolute best Langkawi itinerary and you want to make sure the weather is good as well, I can share a few tips on that with you!
The high season is from January through March because of the dry weather and lack of rain, so you'll basically get an entire day of sunshine and warm temperatures (29°C to 34°C).
But if you want to escape the crowds, I think the best time to go is between the end of October to late December, or in April. There might be some scattered rain from time to time, but it's bearable for sure and the temperatures are great!
NOTE: If you go between April and August because you found some great discounts for plane tickets or accommodation, please note that during Ramadan most of the establishments close early or are completely closed.
---
Conclusion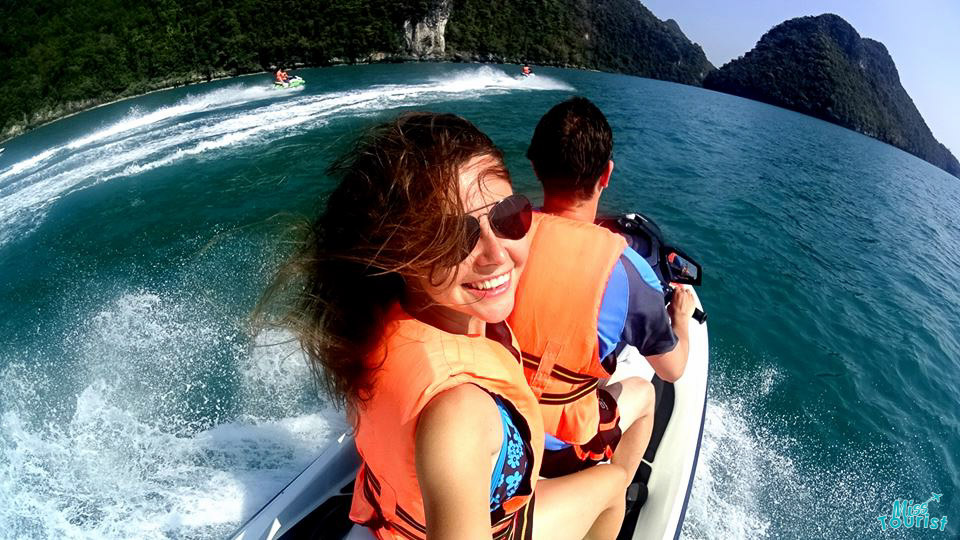 I'm sure that now, after you finished reading this article, you understand that Langkawi is a must-visit destination in Malaysia! Langkawi has an impressive mix of natural landscapes, bright colored waters and skies, fun nightlife, and a great diversity of culinary treats.
In this article, I have listed the top 12 things to do in Langkawi, including sunbathing at the beach or paragliding over it, visiting the skybridge and going shopping! By the way, I also recommended some super cool adventurous activities that you will definitely love in case you're an active type of person!
If you are still searching for the perfect place to stay, I recommend you check out my article that talks exclusively about hotels in Langkawi.
I hope my recommendations are useful and will help you plan the best Langkawi holidays!
If you have any questions, be sure to leave them in the comments section and I'll get back to you! I LOVE hearing from my readers!
Yulia
---
Pin it for later!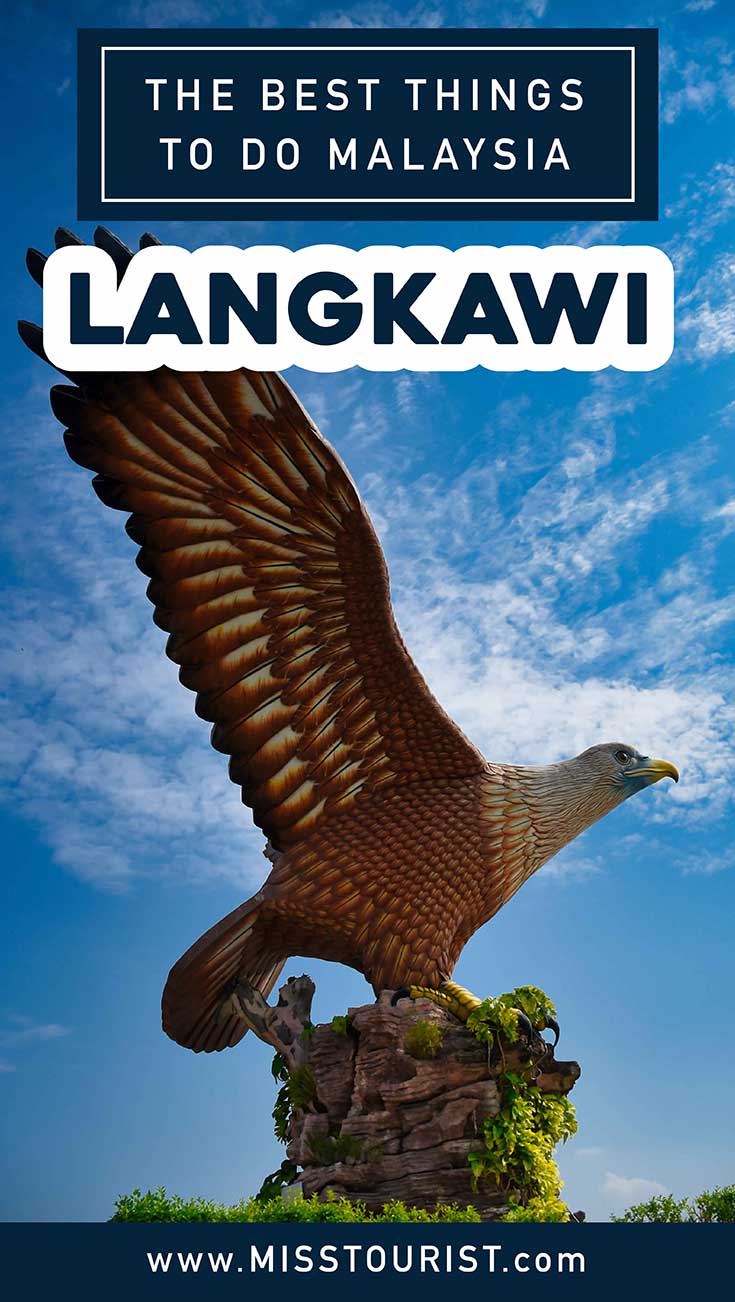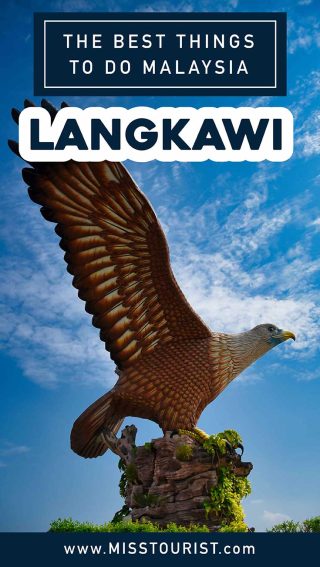 Pin it for later!