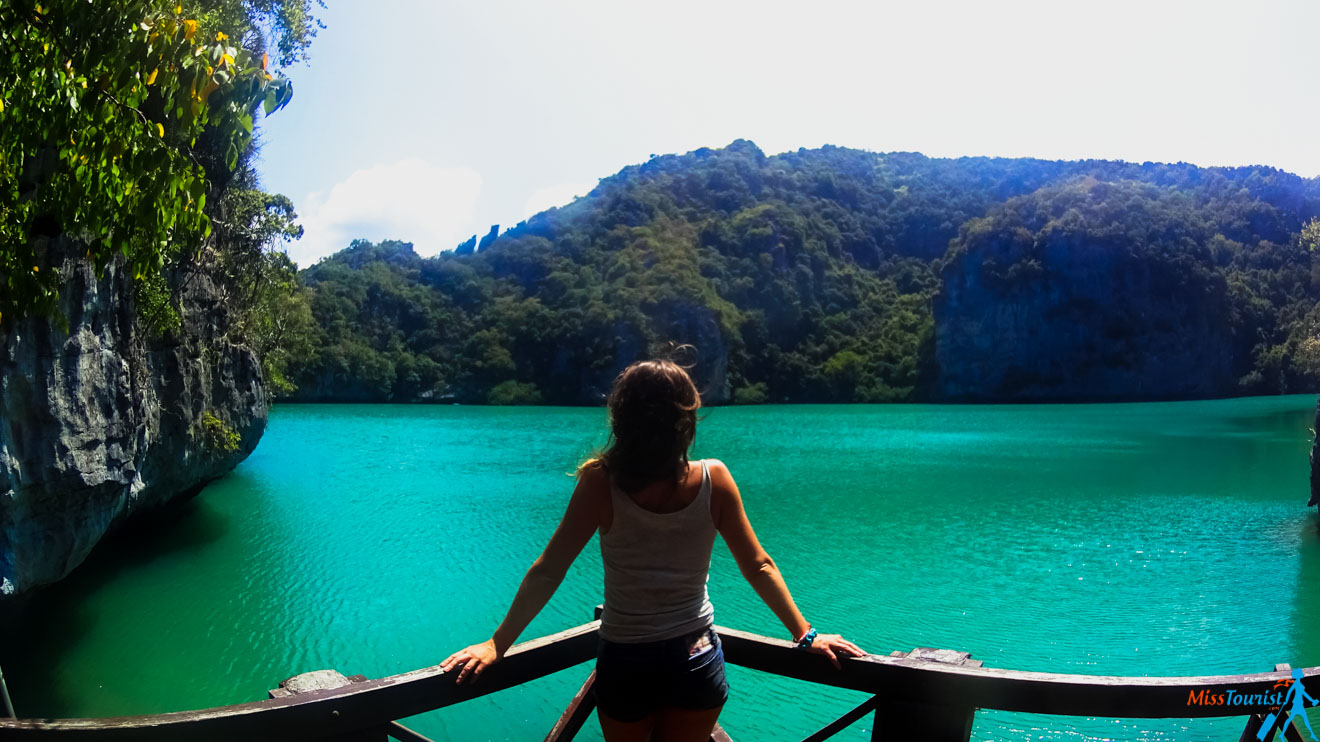 UPDATED: January 2020
Are you looking for things to do on the island of Koh Phangan, Thailand? You are in the right place! 🙂 In this article you can find the top 9 things to do on Koh Phangan as well as some bonus activities if you have more time!
Except for the fact that I lived in the north of Thailand for some time, I did not know much about the most touristy part of the country – the islands, of course!
The first one I visited was Koh Phangan Island (or Ko Pha Ngan). It was the right choice as it appeared to be my favorite Thai Island! I stayed for enough days to make a compilation of the best things to do on Koh Phangan for you. I also selected a list of places to stay on Koh Phangan for all budgets!
So, if you are thinking of going to Thailand soon or you are just curious about the activities you can do on this island paradise Island, read on, this article is for you!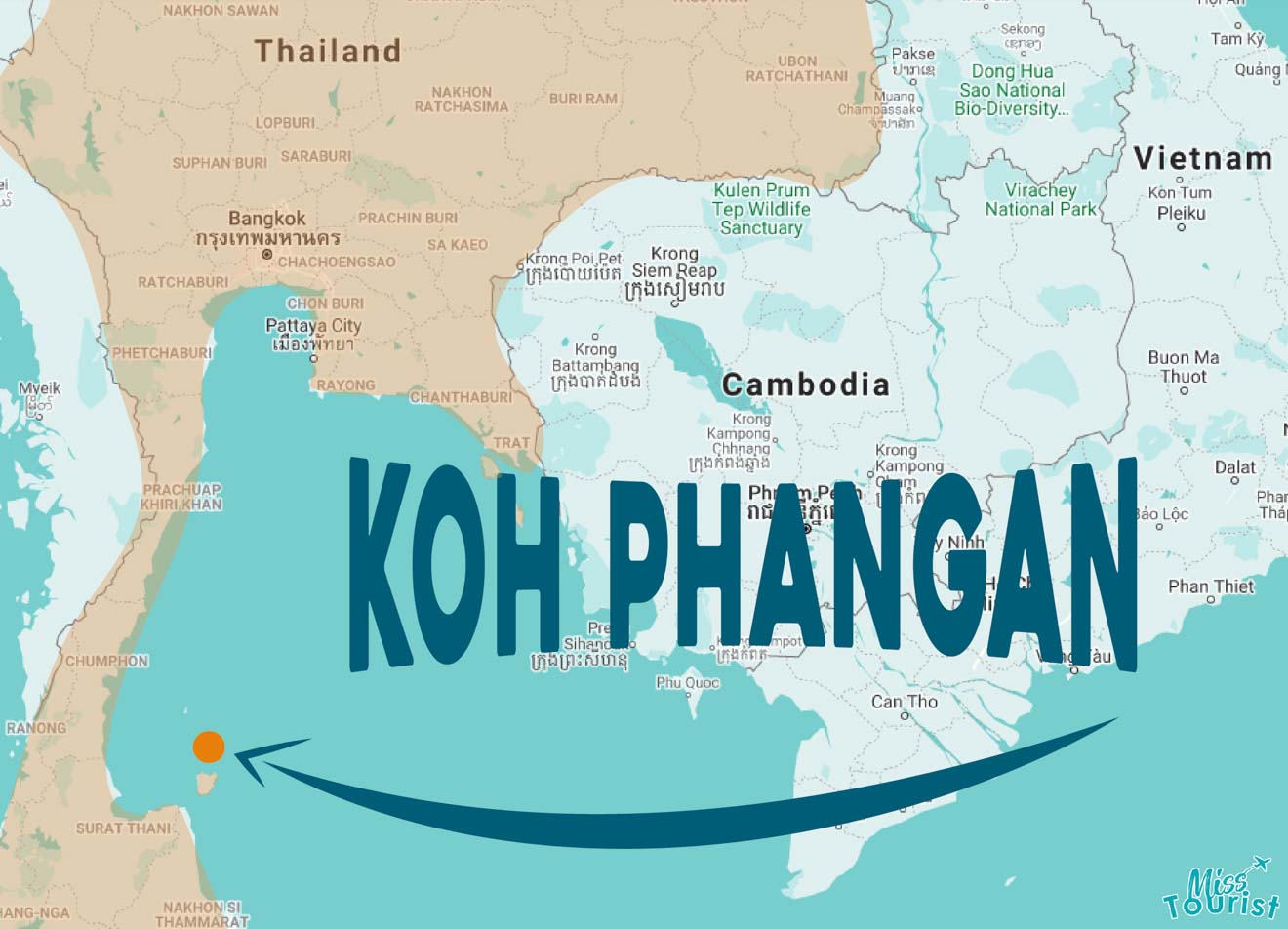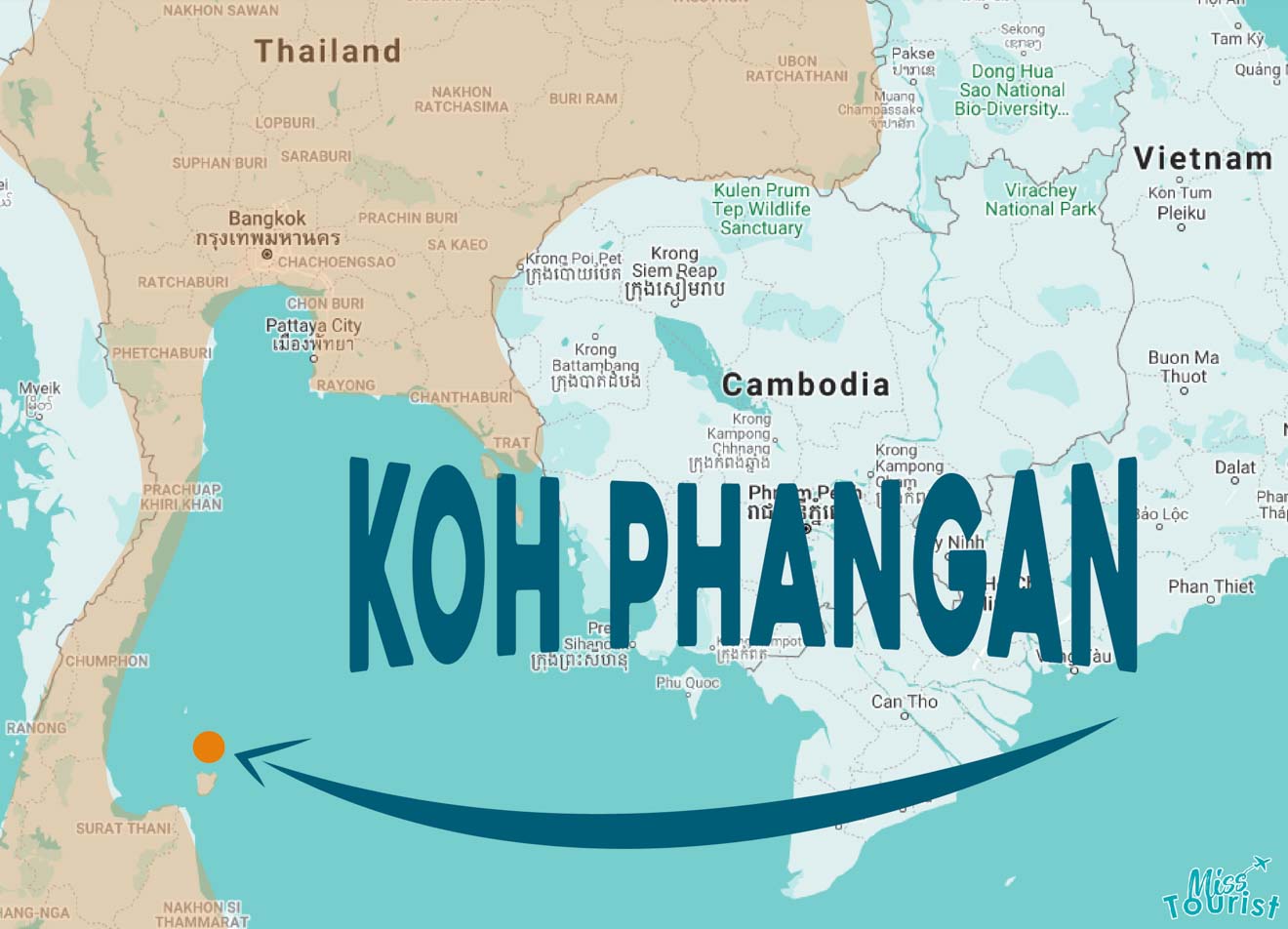 Here are my Top 9 Things to do on Koh Phangan:
1. Thong Sala Night Market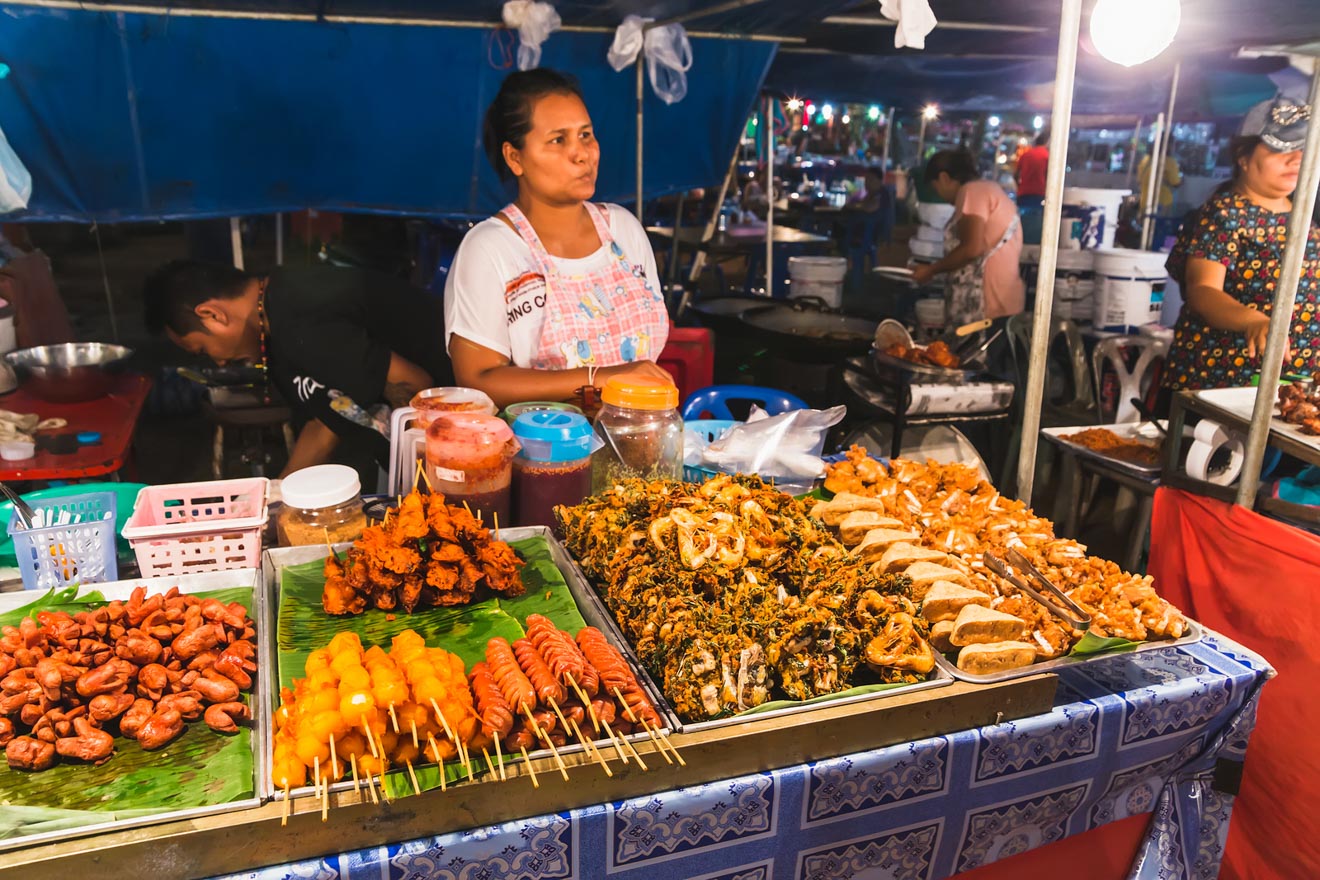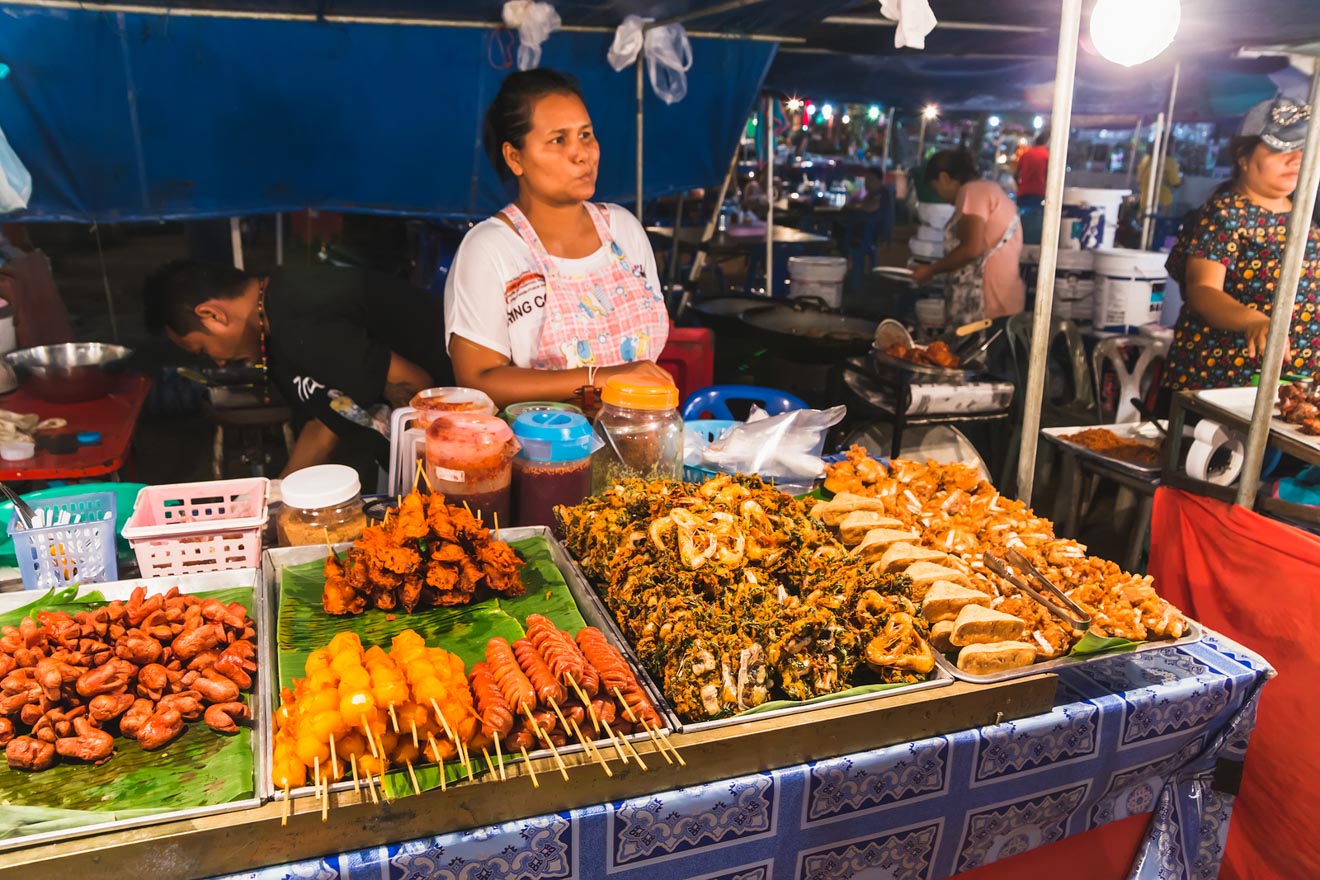 If you are a foodie, Thong Sala Night Market will be your heaven while you are on Koh Phangan!
Before going to the island, I asked my followers on Instagram what they would recommend I visit on Ko Phangan. And guess what? Almost all of them mentioned the Thong Sala Night Market! 🙂
Of course, I decided to go and check this place out and here is what I have to tell you – the night markets in Thailand are something special and you should witness them for yourself, especially because this night market is one of the best things to see in Koh Phangan!
People in Thailand simply love night markets – they are a part of their culture and, besides that, you can buy pretty much anything there!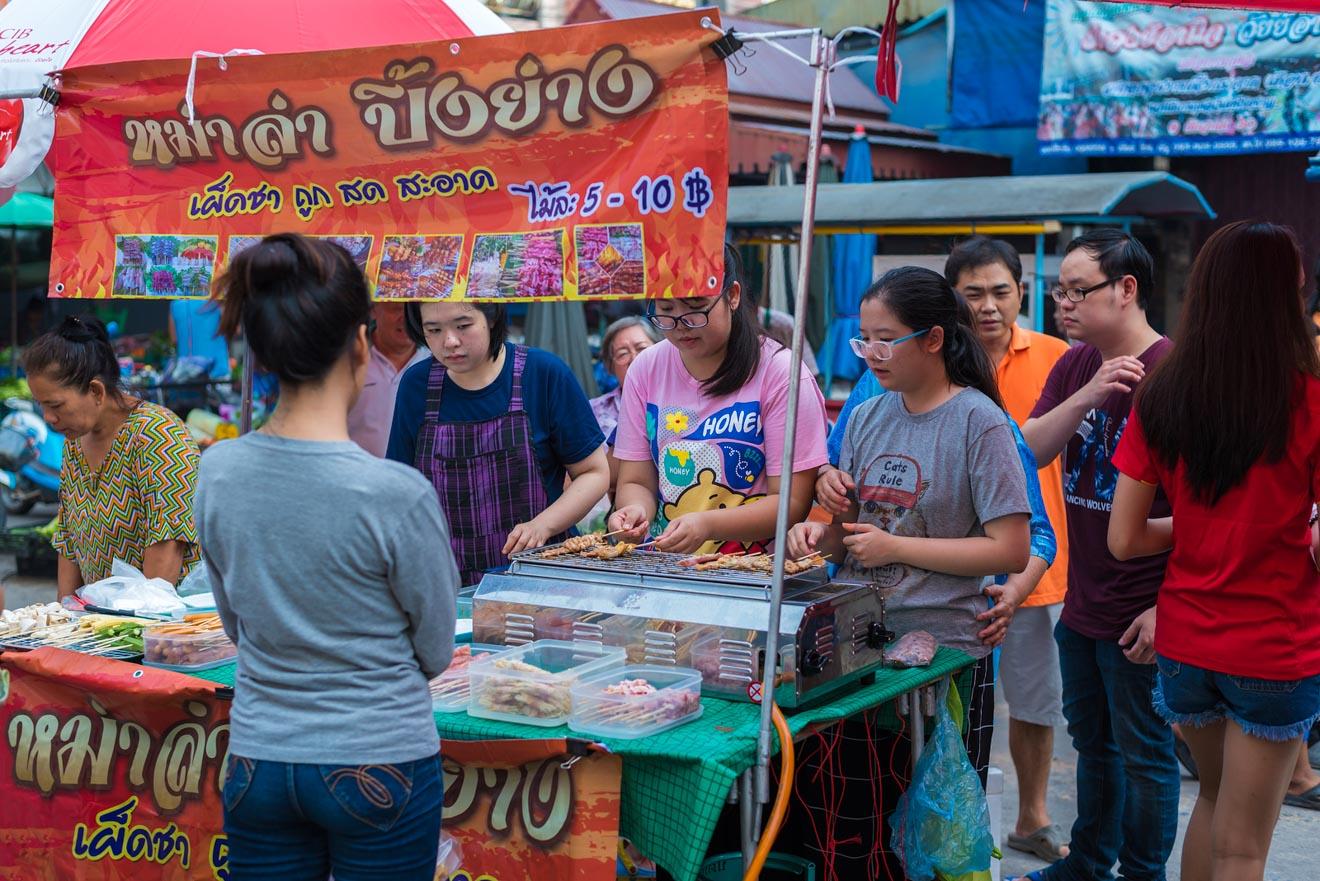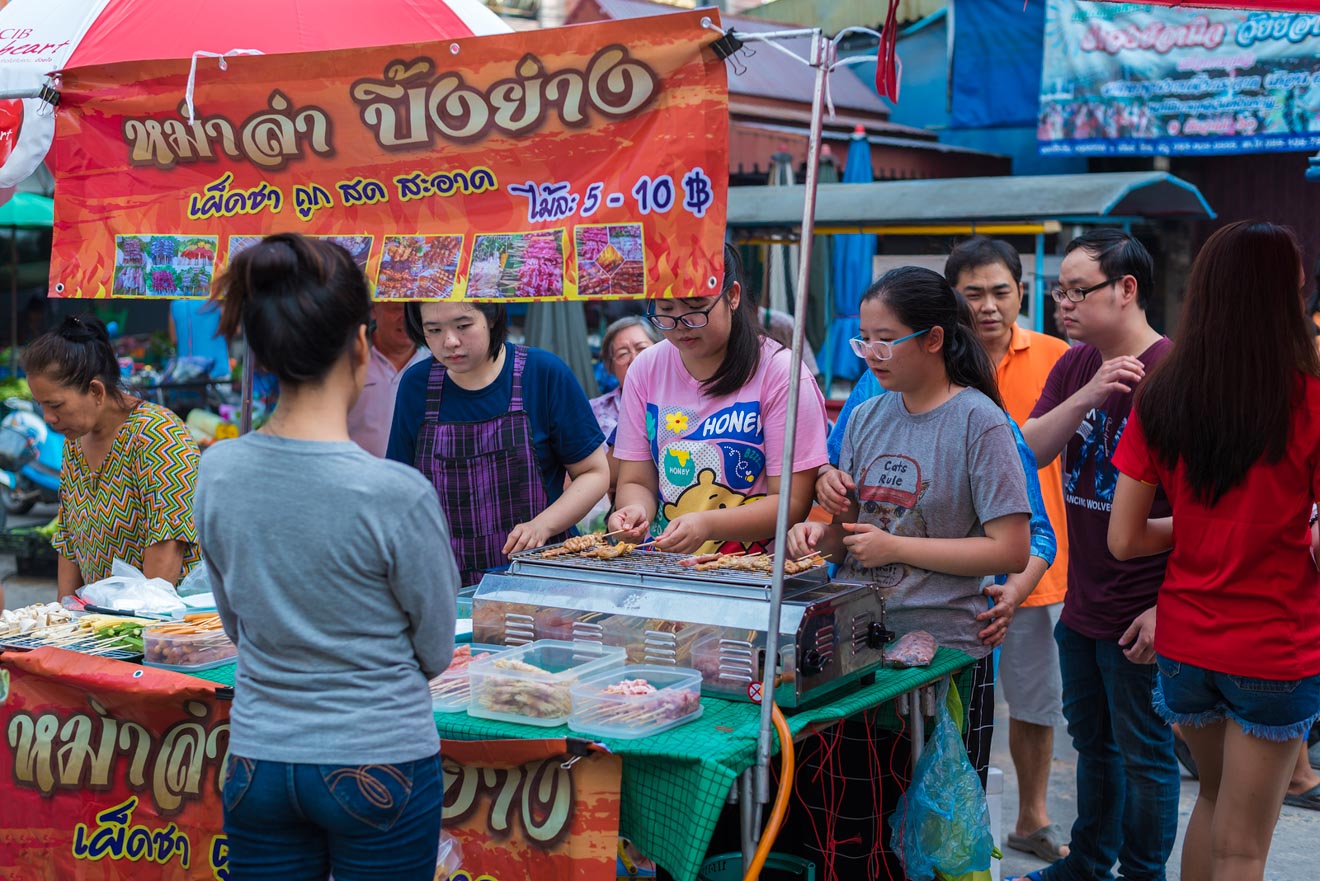 So if you are searching for the perfect place to have dinner or a great spot to taste different traditional foods, the Thong Sala Night Market in Koh Phangan is the perfect place to go, as it is a food market full of countless delicious options, from traditional Thai food to falafel, noodles, sushi, pizza, and grilled fish. While you are there, don't forget to try some seafood dishes, everything is mouth-watering and fresh!
The Night Market is open from 4 PM until late at night.
NOTE: The market is also known as "Panthip Market" to locals.
PRICE: Admission is of course free. If you want to have dinner and a drink there, it will cost you around 150-200 Baht (US $5-6).
2. Herbal Sauna Baan Tai
In case you are searching for some unique, unusual things to do on the island, I have a suggestion! One interesting place that I enjoyed very much was the Herbal Sauna Baan Tai.
It is located here, right near the biggest tree on the island. And I don't just mean a big tree! This special tree has been there for centuries and it is more than 14 meters (42 feet) in diameter. If that doesn't mean anything to you, justpicture it being wider than an average car!
The Baan Thai Sauna was founded by the monks from Wat Pho Temple and is located in a nice garden. You can also have a massage there if you wish.
PRO TIP: The sauna is open from 2 PM to 9 PM. I advise you to try get there after 6 PM as the sauna is too hot to enjoy in the middle of the day.
PRICE: 120 Baht/person (US $3.80)
3. Admire the sunset at Amsterdam bar
In my humble opinion, there is no other place in this world where the sunset is more beautiful than on Koh Phangan!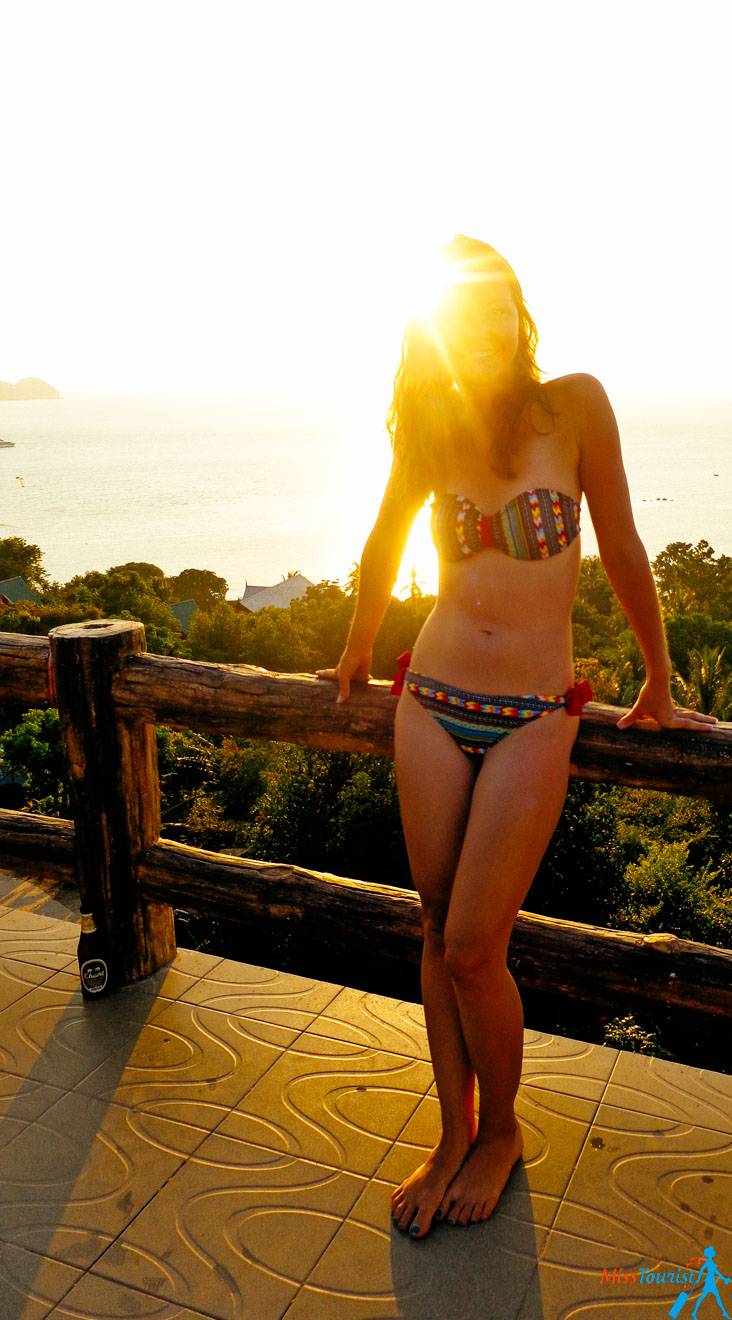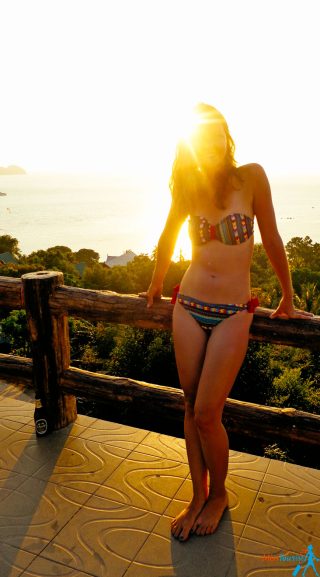 And what better thing to do at the end of a full day of exploration? There are so many great spots to enjoy the sunset on Koh Phangan, but the best one I found was at the Amsterdam Bar. While you are there, you can enjoy a breath-taking sunset while sipping your drink in the swimming pool. A DJ is playing in the background, and there is always a good mix of interesting people around. Sounds just about perfect, right?
If you aren't able to make it to the Amsterdam Bar, another amazing place to see the sunset is Secret Mountain – a very good restaurant that serves local food. Go to the Secret Mountain in Koh Phangan during the evening to have a drink and eat some Thai food, then admire the sunset. Many photo opportunities included, of course!
PRICE: Entrance is free for both places, so you will only have to pay for what you consume.
4. Half Moon Party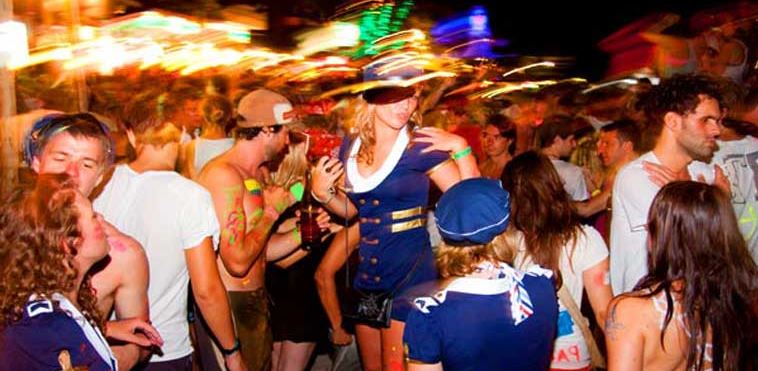 This is one of the best Koh Phangan activities for all the party animals out there!
I am absolutely sure you heard about the world-famous Full Moon Party in Koh Phangan – after all, this monthly party is the main reason this island is so famous! You can find the dates for the Full Moon Party here.
But what if you happen to miss the Full Moon Party because you won't be on the island during its dates? No worries! You can still attend a Half Moon Party!
The Half Moon Party in Koh Phangan has three stages for different types of music – funky, hip-hop and psy-trance, with many DJs and night-long fun! The Half Moon Party on Koh Phangan takes place every month, twice a month, so chances are good you will be able to join in!
PRICE: The general admission ticket is 1,500 Baht (US $47) at the gates and 1,390 Baht (US $44) online if you buy it from their website here. The ticket includes access to the party, 1 free drink and a Half Moon Party neck strap.
5. Mae Haat Beach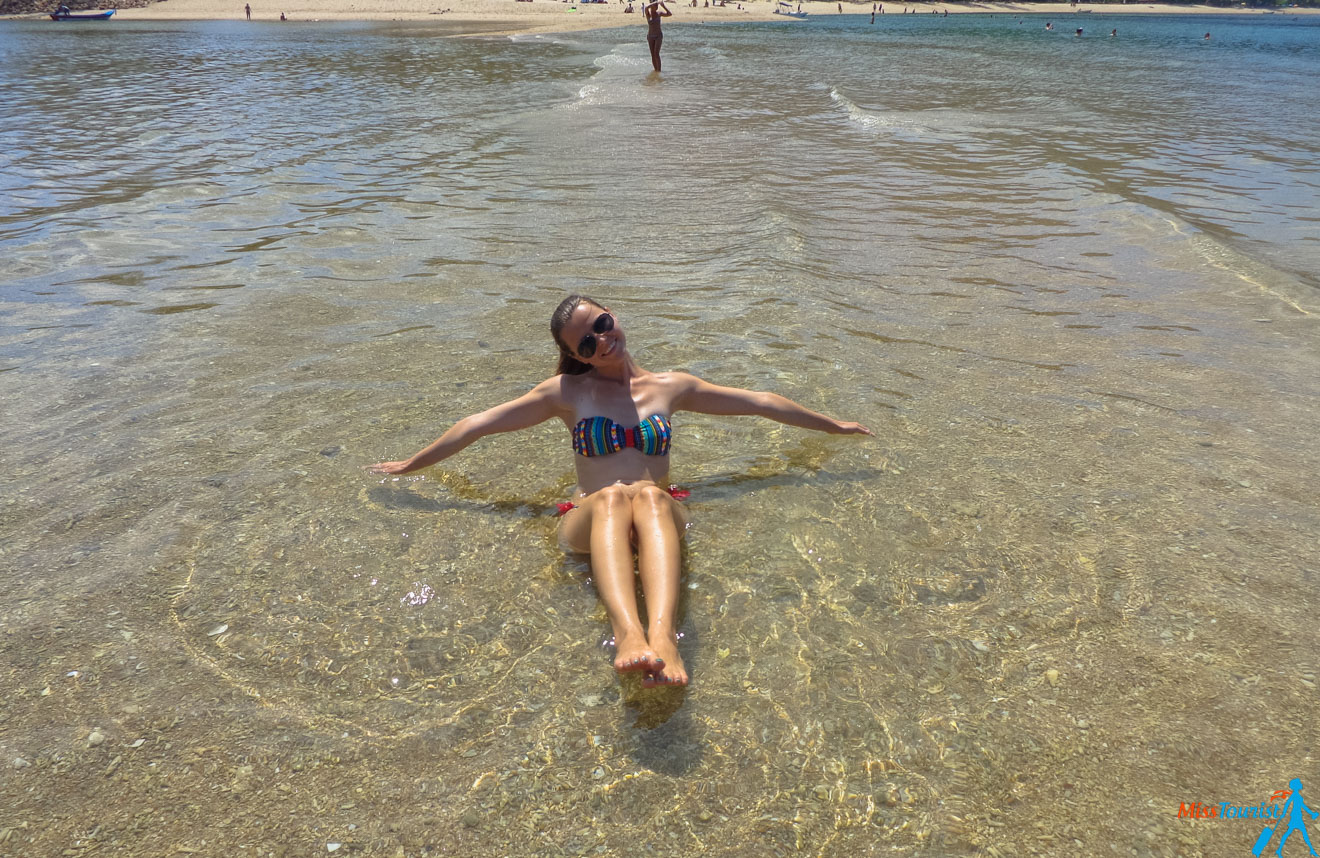 While on Koh Phangan, you must spend some time relaxing on the beach, of course!
This superb Koh Phangan beach happened to be just near my resort and it is probably the most special beach on the island! Why? Because Mae Haat is the place where 2 different currents meet. This means the water is two different shades of color and is separated by a small strip of land which, during high tide, turns into a natural bridge! During low tide, the place feels even more unique as you can literally walk on water.
Mae Haat is located on the north of the island, and I think you will love it as much as I did!
PRICE: free
6. ChaLokLum Beach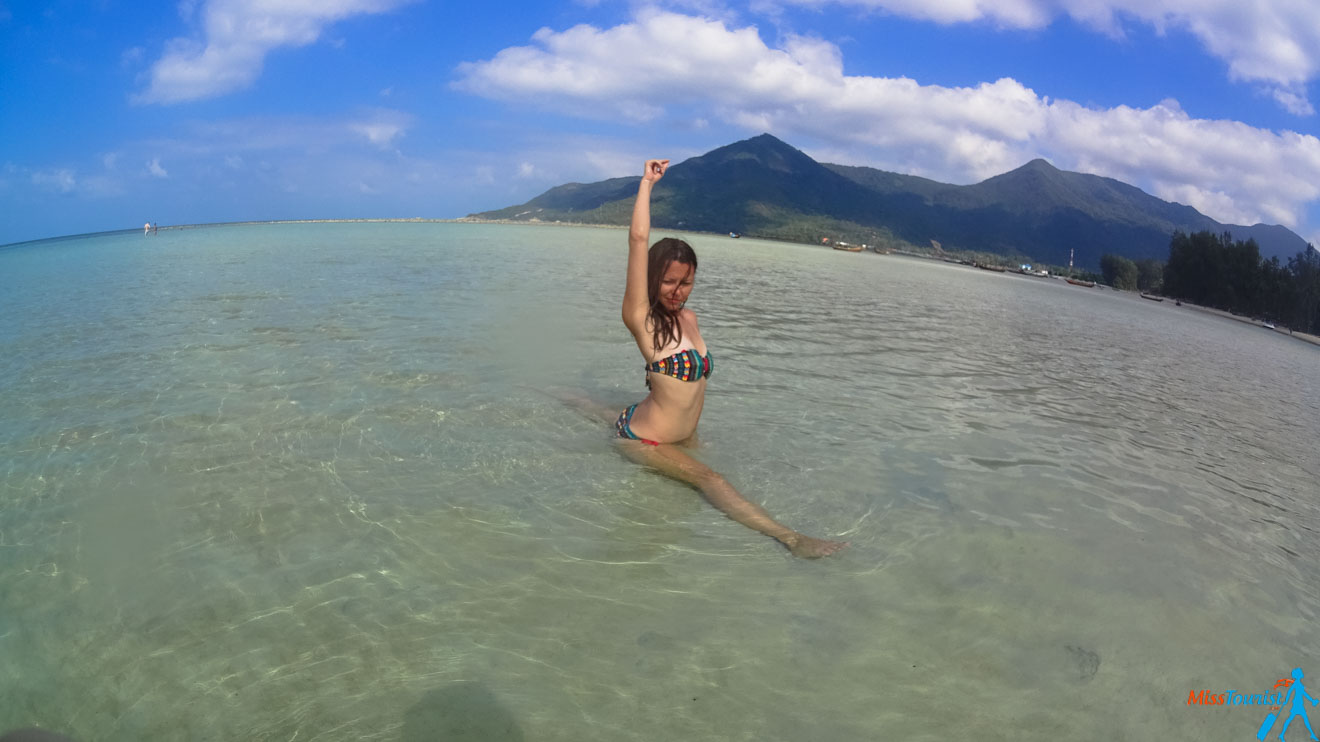 This one is by far my favorite out of all Koh Phangan beaches!
The reason I love it so much is because it is quite hidden and not touristy which is probably what I liked most about it! It is a quiet and serene beach with really warm water and really soft, white sand.
The beach is located on the north of the island and is about 2km long. Chaloklum Village, a nice little fishing village, is located in the center so there will be no drunk tourists or loud music. That means you will have that emerald water all to yourself! Perfect place to go if you want an off-the-beaten-track place to relax!
PRICE: free
7. Join a Thai cooking class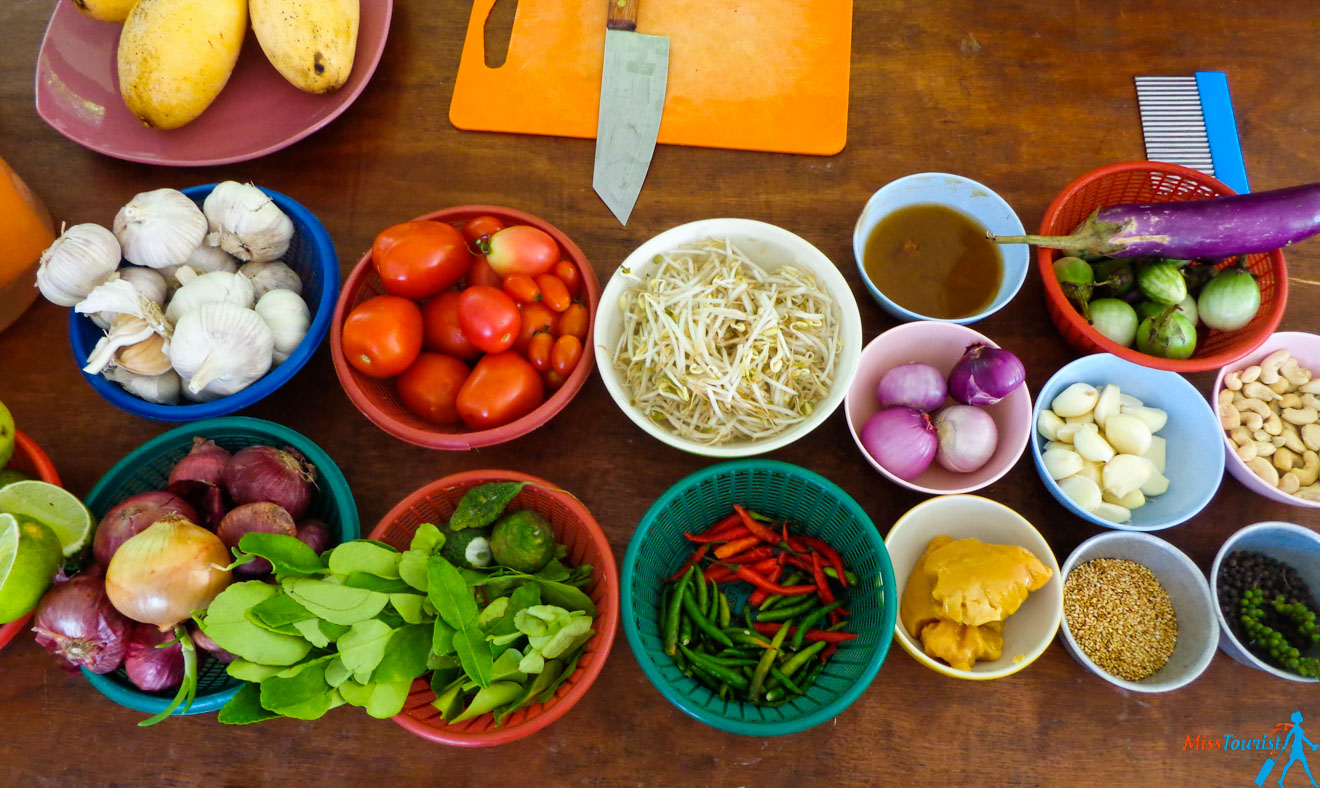 If you love Asian food, then you will definitely love Thai food as well!
I ate traditional Thai food for 3 months in a row while I lived in Thailand and I was always eager to learn how do to cook the famous Pad Thai and other notable dishes!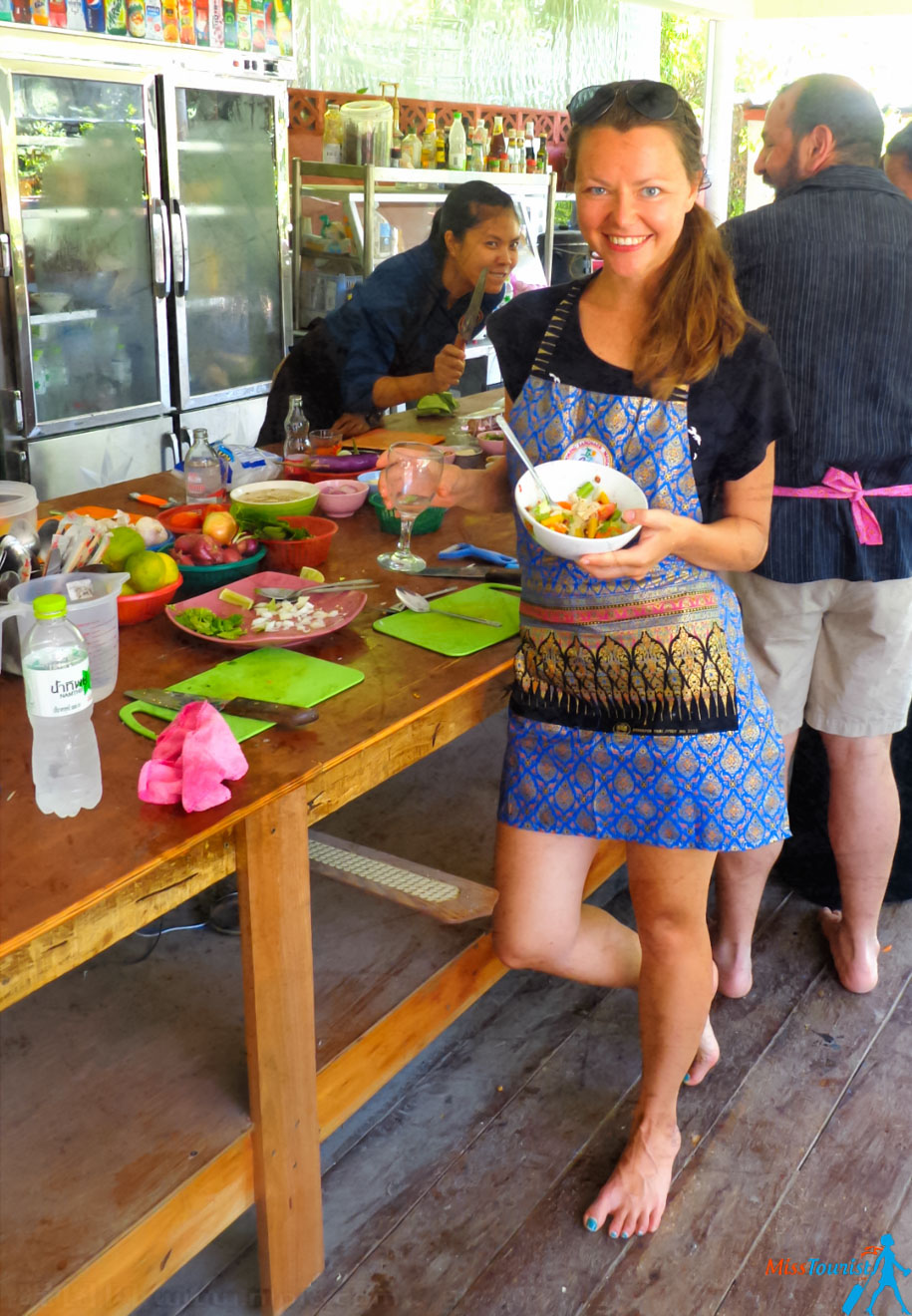 My dream finally came true when I took part in a cooking class with C&M Study Center and I consider this to be one of the absolute must do's in Thailand even if you are there just for a couple of days!
The girls who ran the cooking class made me feel at home; we cooked 5 delicious dishes of our choice and it was so much fun! The owners are two sisters and together with their expert staff they made me feel great at their class!
The kitchen is an open area, is fully equipped and is located in a picturesque corner near a lake. At the end, I also received hand-outs of what I cooked, which was very nice!
NOTE: You can also take different Thai cooking classes in other parts of Thailand as well, such as Bangkok, Koh Samui, Phuket, Chiang Mai and more!
8. Book your boat trip adventure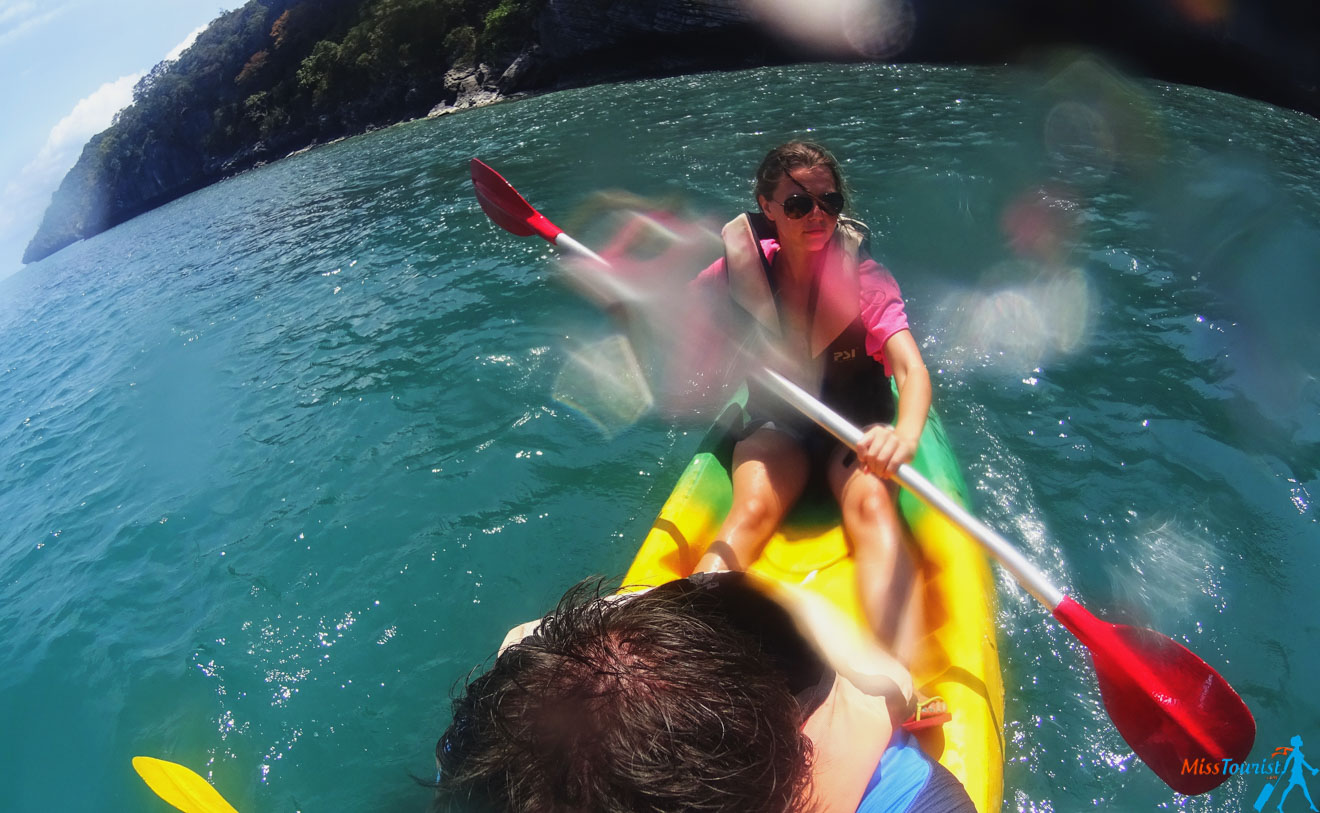 If you are feeling adventurous and you want to discover more of the island, taking a boat trip might be the perfect solution for you!
During my stay on Koh Phangan, I went on a boat trip organized by Orion boat trips and I can definitely recommend it! Here is my experience with them:
My day began at 8 AM when I was picked up from my hotel. After a nice breakfast on the boat, a charismatic captain told us the itinerary – a full day of adventure awaited us!
During the boat trip we hiked on an island where hosts Ang Thong National Park is located, we swam, we jumped from the boat and we snorkel in a few spots. I tried kayaking and woke up with sore muscles the morning after, but it was all worth it, I loved every bit of it! 🙂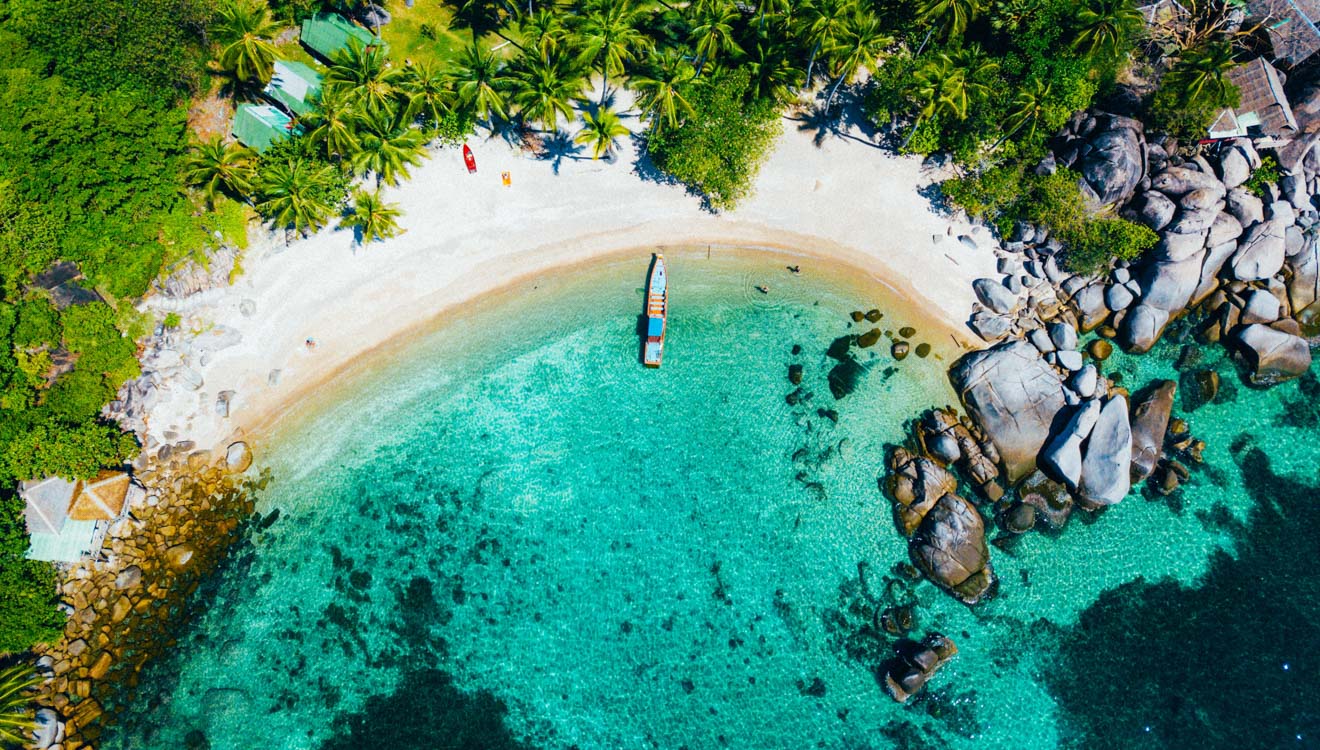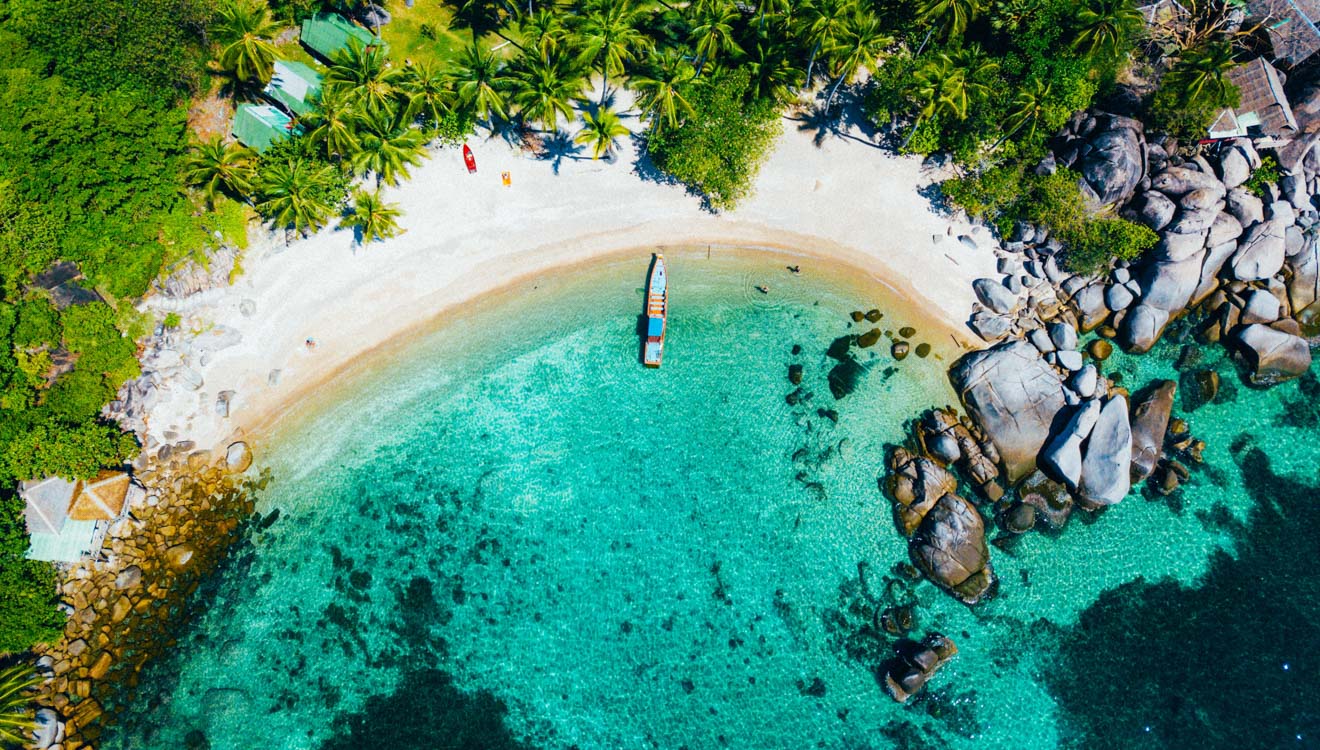 My day was really full of fun and I can recommend this activity to anyone!
When I was dropped off at my bungalow, just before sunset, I was tired but really satisfied.
PRO TIP: Don't forget your sunblock! Actually, if you are going to snorkel, you might want to get your own snorkel mask to have with you! The ones on the tours are not that great and they are always used by other people before you, which I don't consider to be very hygienic.
NOTE: If you want to go further and snorkel the coral reefs in Koh Tao, I recommend taking this tour!
PRICE: The price ranges from 800 Baht (US $25 US) to 1,900 Baht (US $60) depending on your chosen boat trip.
If you can't find an open spot with Orion boat trips for your desired date, you can check out this tour, as it includes pretty much the same thing.
Another very good option would be to book a speedboat tour that will take you on a day trip to Koh Tao and Koh Nang Yuan!
9. Make sure you don't miss the Koh Phangan waterfalls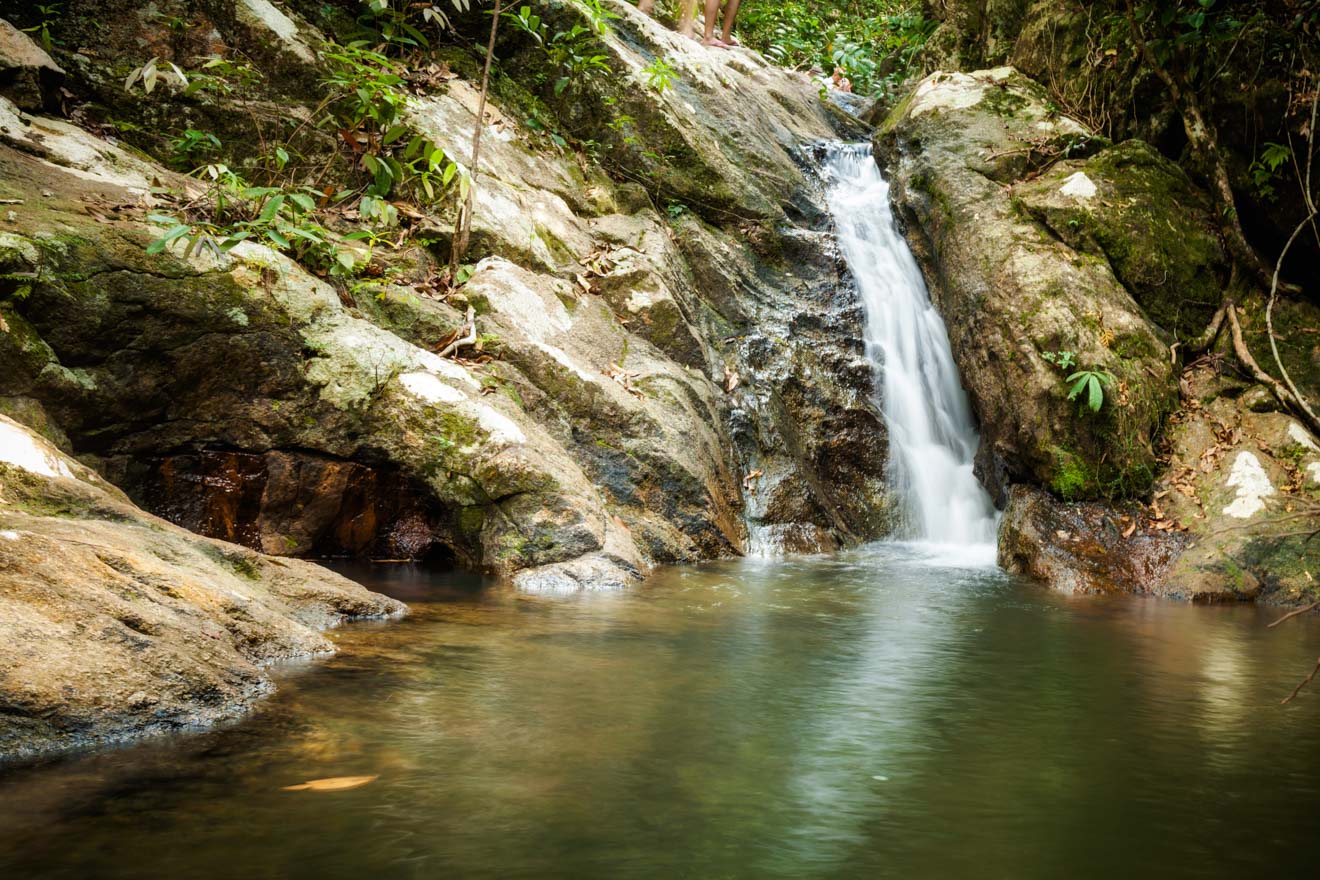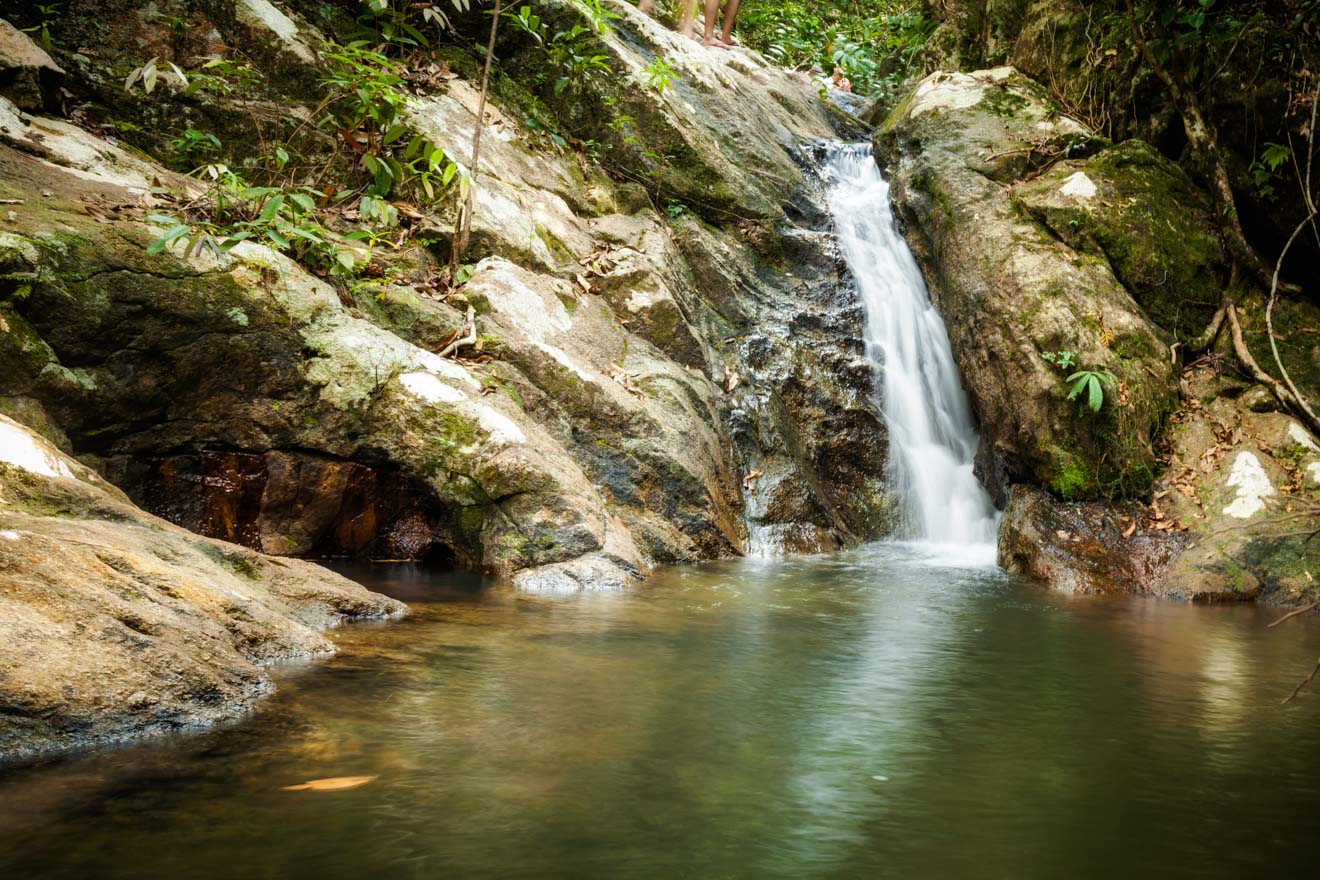 Besides parties and many wonderful white sand beaches, the island boasts 7 waterfalls that are just waiting to be discovered! The waterfalls are actually some of the best Koh Phangan attractions so you should make sure not to miss them!
Some beautiful and easily accessible waterfalls I can recommend are Paradise Waterfall (close to Chaloklum Bay), Than Sadet Waterfall and Than Prawet Waterfall (both of them close to Thong Nai Pan beach).
NOTE: Most of the waterfalls on the island will dry up during when the rainy season ends.
PRICE: Free
| | |
| --- | --- |
| 🤩 Range of activities: | Large |
| 🥳 Must visit: | Full Moon Party |
| 🏖️ Top beach: | Mae Haat |
| 🌊 Top water activity: | Orion boat trips |
| 🥽 Best free activity: | Snorkeling |
| 🛥️ Best day trip: | Koh Tao (Turtle Island) |
| 🛵 Scooter renting: | ~$6 per day |
| 💵 Avg hotel PRICE: | $40 |
| ✈️ Cost of traveling: | Medium |
Bonus Things To Do in Koh Phangan
Explore the island with a motorbike at your own pace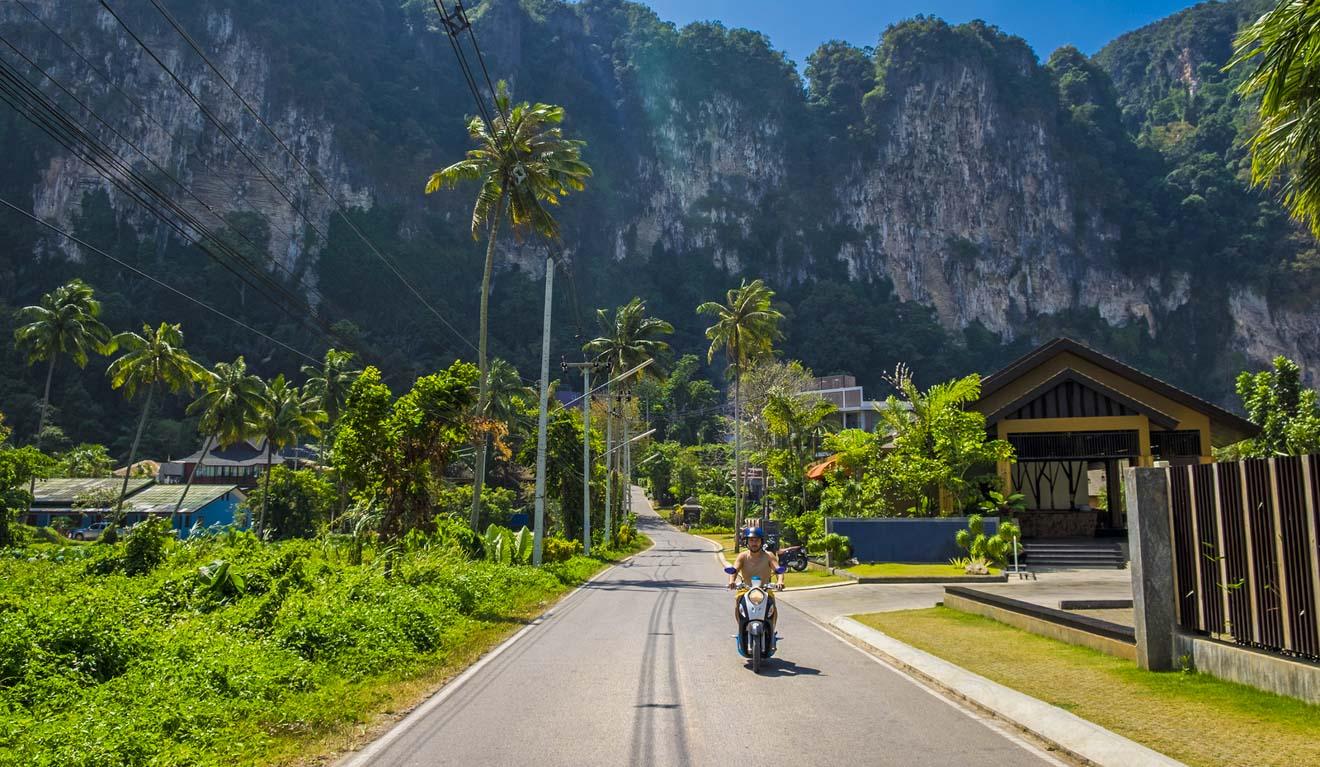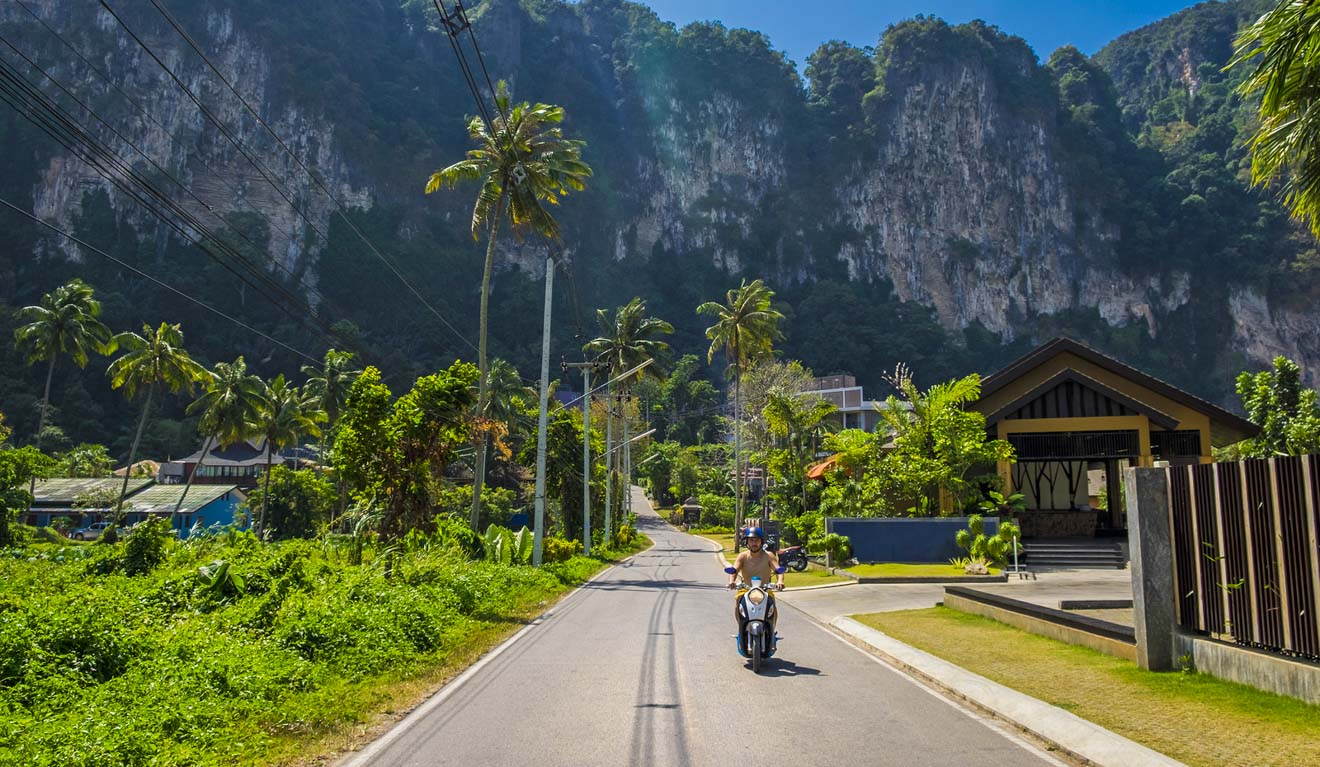 Renting a scooter during your stay on the island might be one of the best choices! As the island is quite big and the places are remote, this option will give you the freedom to explore it at your own pace. This is also one of the cheapest means of transport on the island! The price for a taxi (if you bargain) will be around 200 Baht (US $6.50) per person one-way, while I paid 150 baht a day (US $4.70) for my bike. So why not rent one if you can pay less and have infinite freedom? You can easily find a motorbike rental place in Koh Phangan.
PRO TIP: Make sure to wear a helmet and don't drive too fast – safety comes first! You should also consider taking photos of the motorbike before renting it so you won't have to pay for potential "damage" you didn't caue.
PRICE: Around 150 Baht (US$4.70)/day
Challenge Phangan
Now this is definitely one of the most fun things to try in Koh Phangan and a great activity to do with your friends!
Challenge Phangan is an adventure obstacle course on the water (similar to the ones on the TV shows) where you will be able to test your limits and have fun at the same time! The obstacle course includes rope swings, rolling barrels, big red balls and more. Everything is safe, as you will always land in the water. Children under the age of 18 must wear a life-jacket and kids under 10 years old must be assisted by an adult at all times.
Challenge Phangan is open from 10 AM to 6 PM.
PRICE: 500 Baht (US $16)
Try kayaking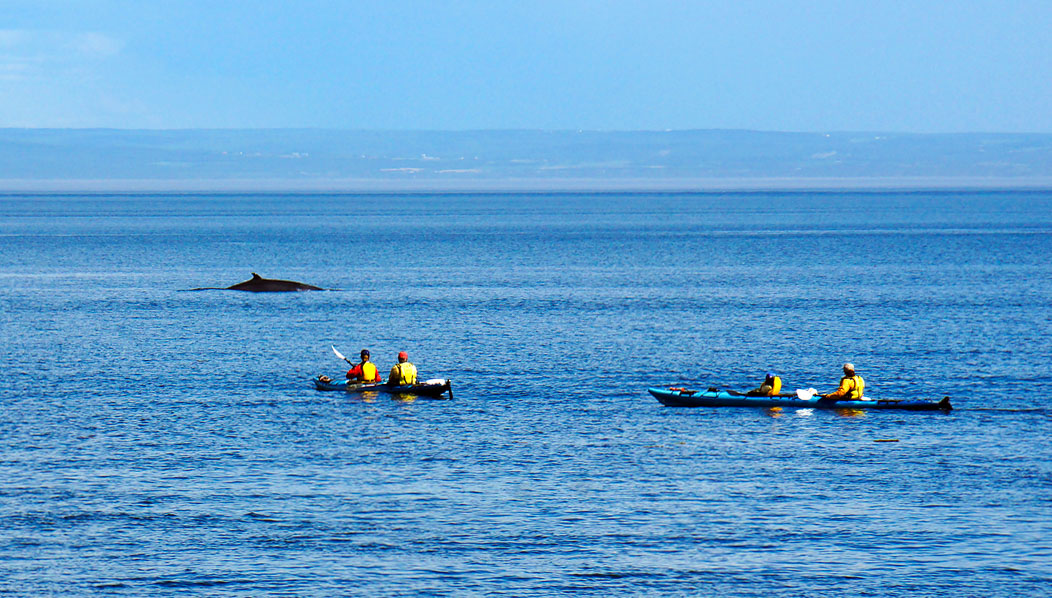 I mentioned that I tried some kayaking during my boat tour, but you can actually rent a kayak on almost any beach on the island if you want to try it by yourself!
PRO TIP: Make sure to ask the staff about the currents before you rent your kayak on the beach! Make sure you have life jackets on the boat as well.
I recommend departing from Wok Tum Beach in the direction of Koh Ma (west coast of the island). This area doesn't have strong currents and is usually safe.
PRICE: Around 150 Baht (US $4.70)/hour. You can rent a kayak directly on the beach.
Dive at the best diving site in Thailand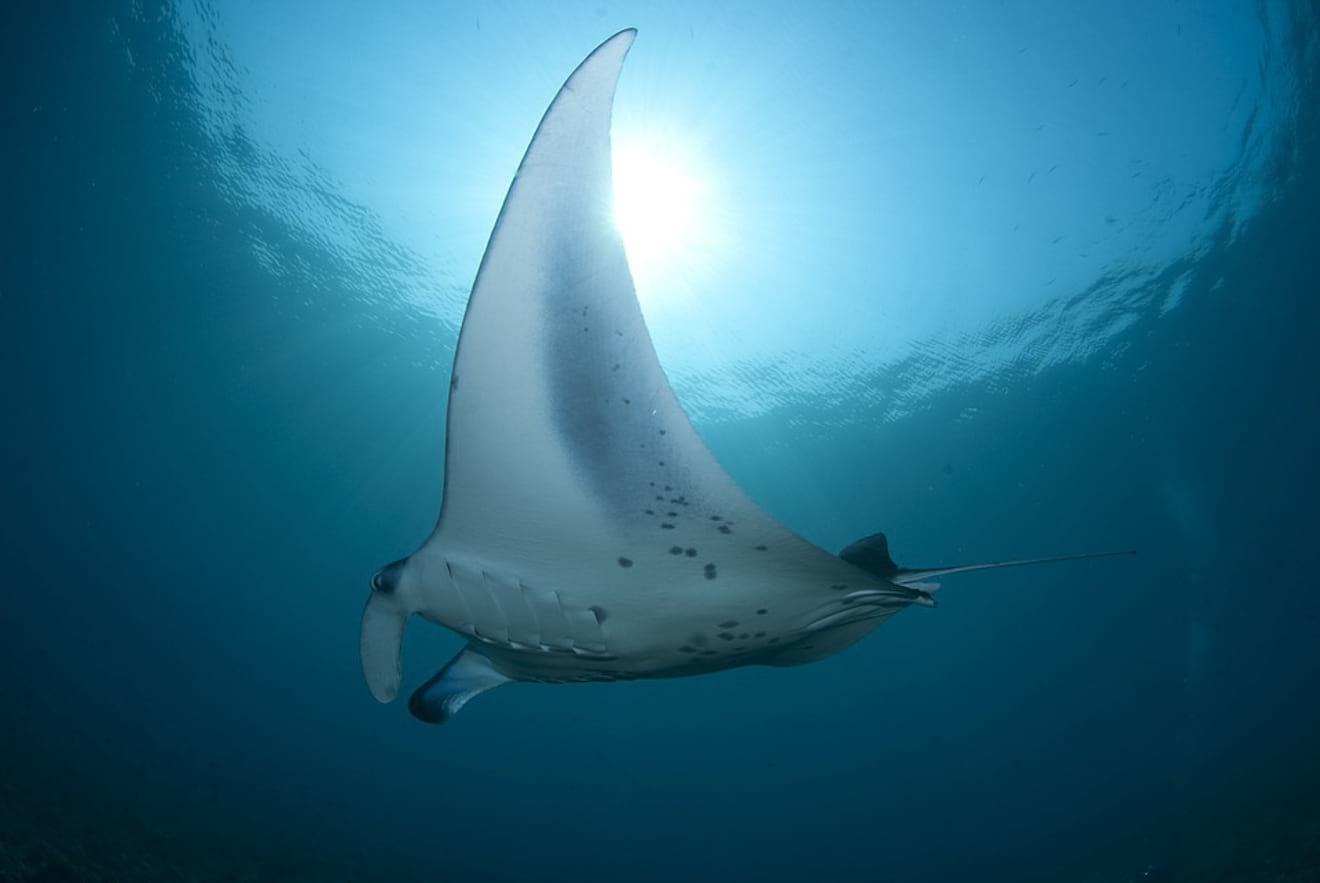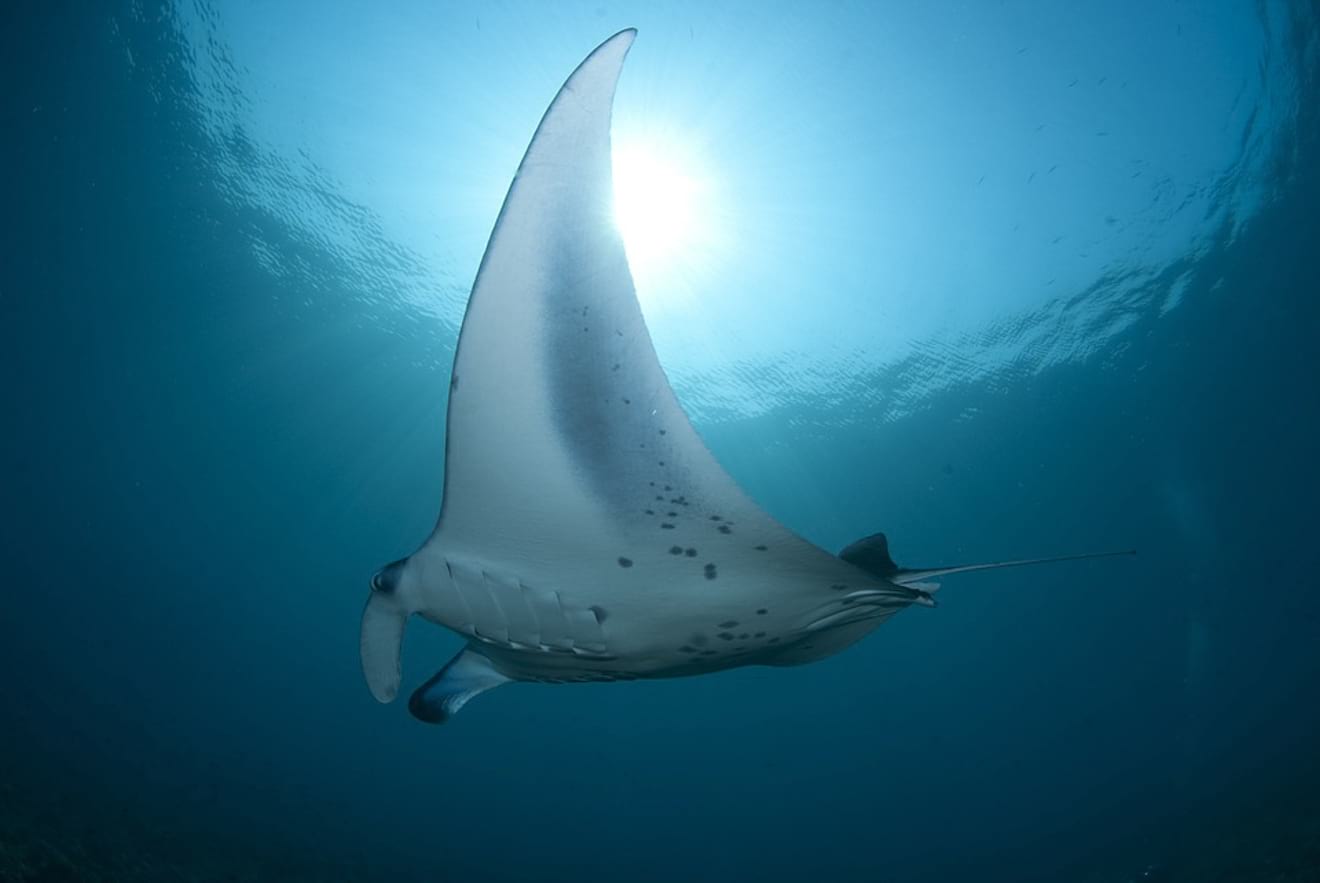 Besides partying and laying on the beach, snorkeling and diving are two of the best things to do in Koh Phangan!
Sail Rock is located between Koh Phangan and Koh Tao and it is known as the best diving site in Thailand! The best part about it? It is located very close to Koh Phangan (approximately one hour by boat).
If you decide to try diving here, you will most probably see whale sharks and manta rays, among other fascinating marine creatures. Plus, this diving spot is fit for all divers, regardless of their experience! No wonder diving here is considered to be one of the best things to do in Thailand!
PRO TIP: The best diving season is from April to October
PRICE: Ranges from 1,200 Baht (US $38) to 3,000 Baht (US $95) depending on location and how many dives you want to take. You can check the available tours here.
Try snorkeling at Mae Haad Beach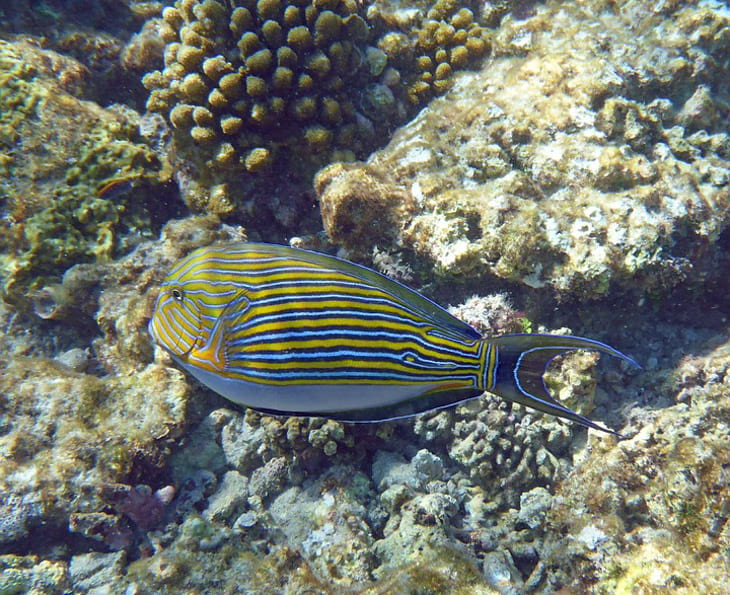 Do you want to see corals, manta rays and colorful fish during your vacation? Then you should definitely try snorkeling at Mae Haad Beach!
Mae Haad beach is the place where you will have the best snorkeling in Koh Phangan! It is located in the north-west area of the island and it is easily reachable. As i said, it is also one of the best snorkeling spots so I definitely recommend it! If you decide to go snorkeling, I advise you to bring your own snorkel mask.
PRICE: free. Just take your mask and explore the marine wildlife! You can also rent a snorkel mask on the beach for 50 Baht (US $1.50)/hour.
Hike Khao Ra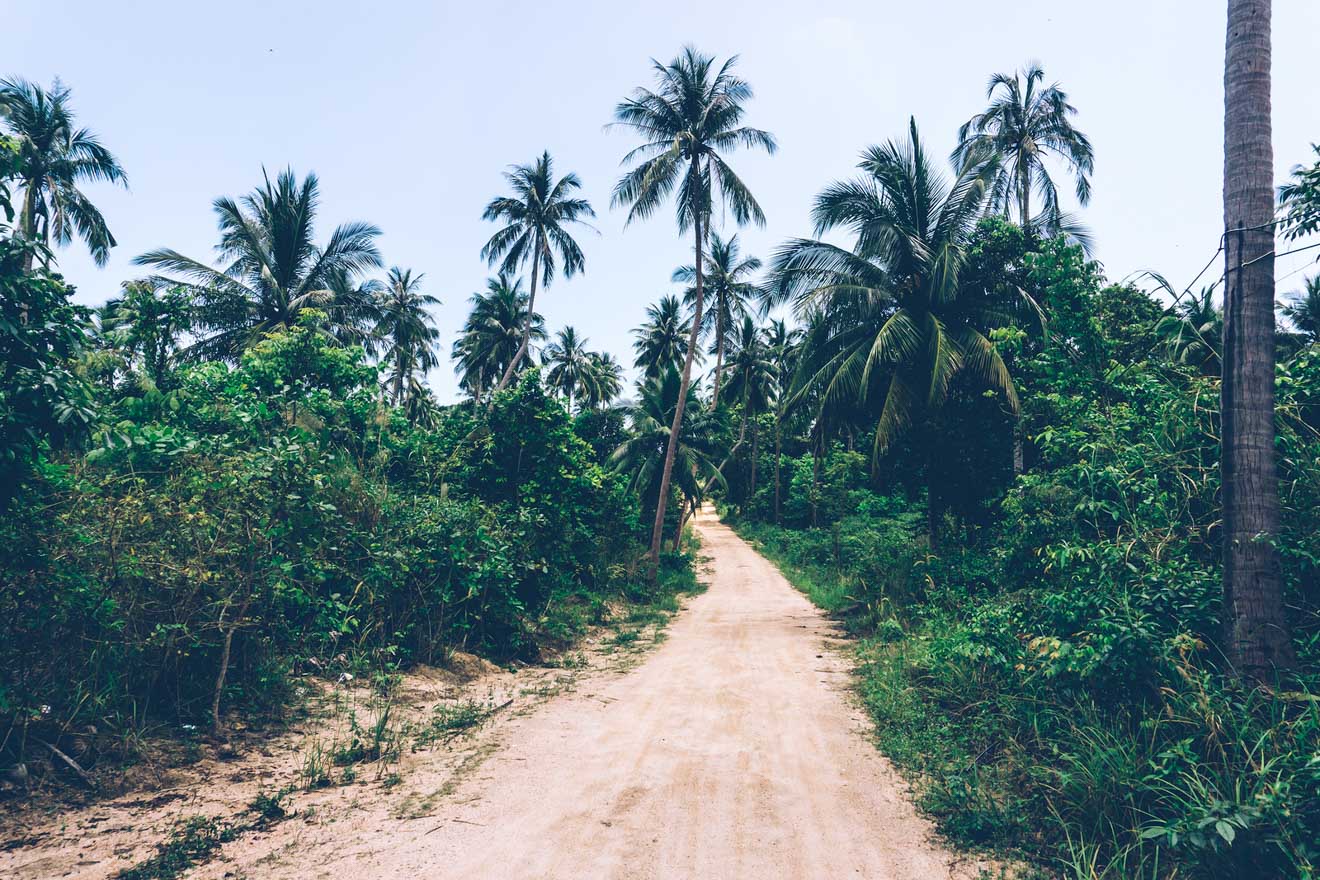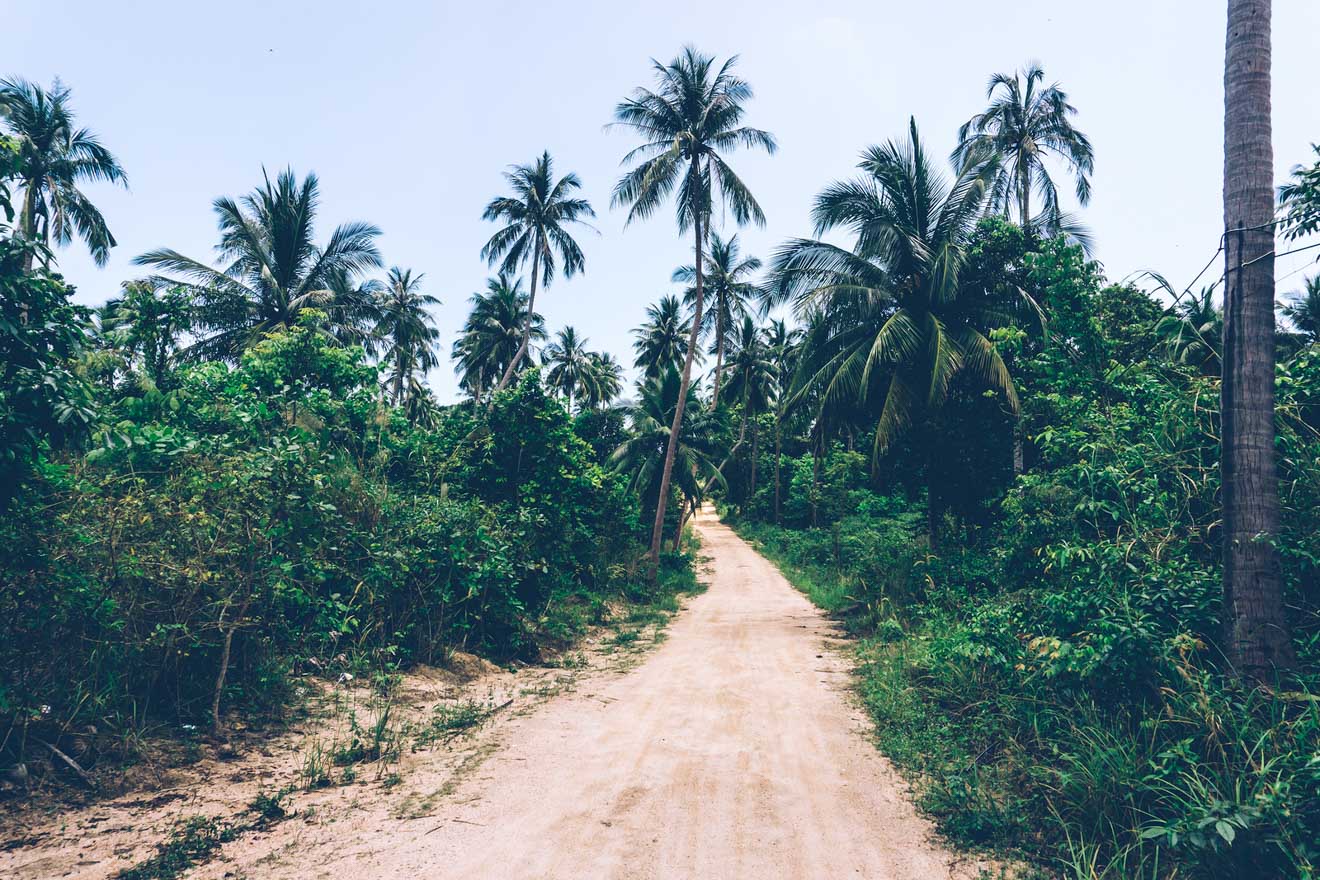 You probably wouldn't expect hiking to be one of the best activities in Koh Phangan, right? Well, this party paradise is surprising like that! You can hike up to Khao Ra Mountain – it is beautiful and very enjoyable!
The entire hike takes about 3 hours to go and return and it is very easy in terms of difficulty and orientation. It starts at Khao Ra Retreat and you can follow the marked path for the hike.
PRO TIP: I advise you go hiking in the morning or in the evening, so you can avoid the strong sun and heat. Make sure to bring some snacks and plenty of water with you as well.
PRICE: free
Spend some calm moments at a yoga class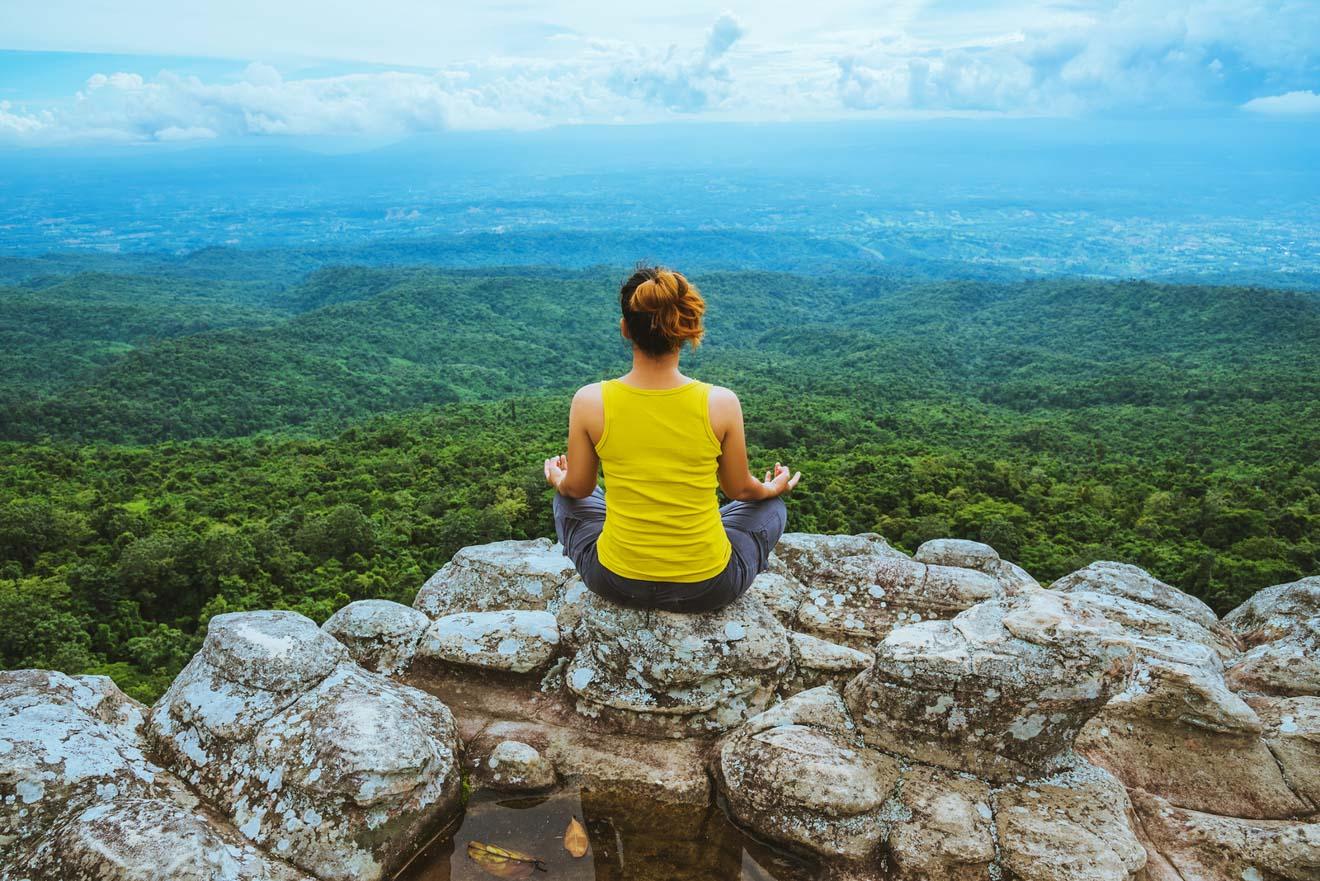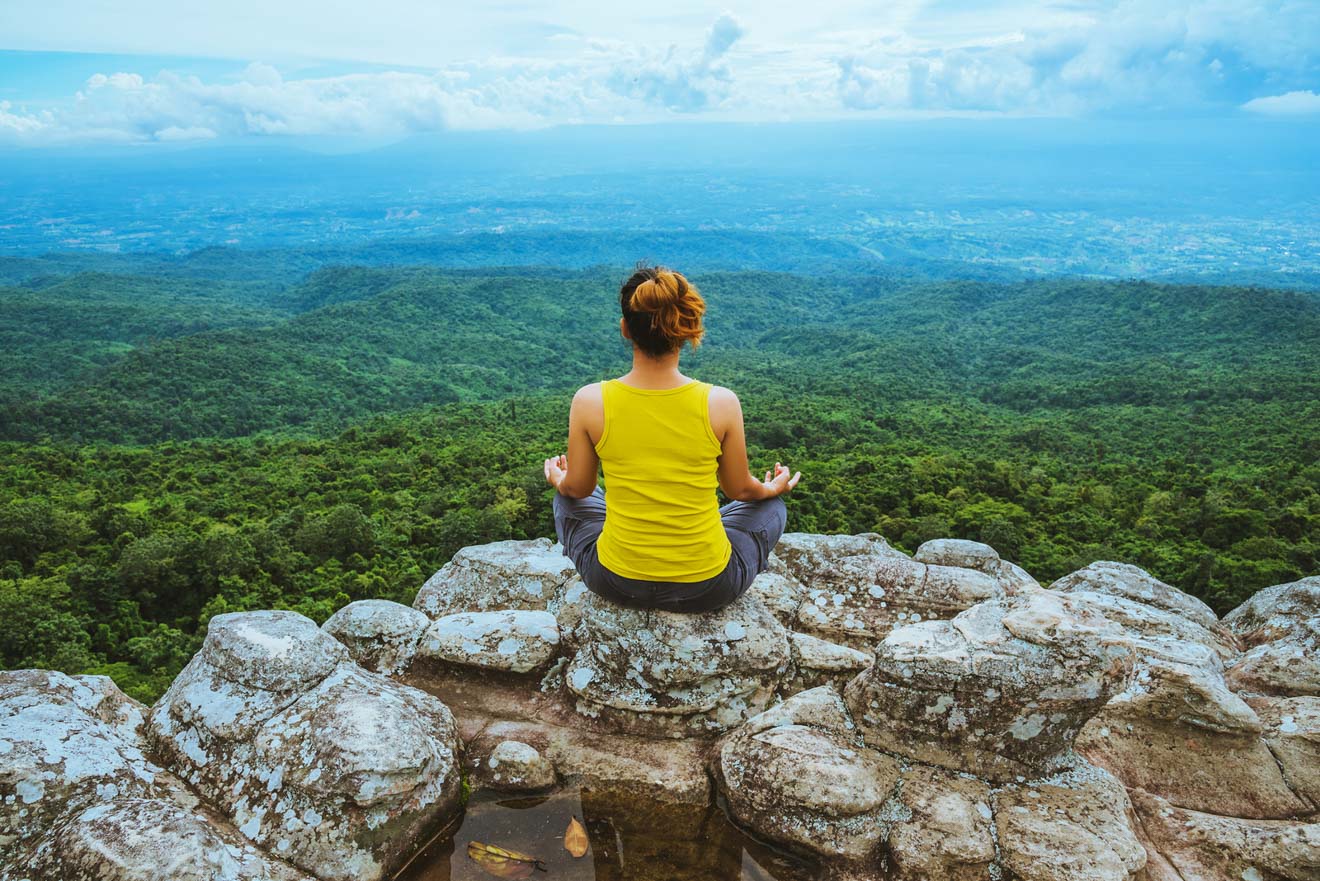 Are you tired of partying, swimming, diving and exploring everything Koh Phangan has to offer! Then it is time for some detox and relaxation!
The Yoga Retreat is a very popular place on the island where you can practice yoga, meditation, eat delicious vegan food and just relax!
This yoga retreat is located in a very calm and picturesque place in the jungle, only a 10 minutes walk from Haad Salad beach, so it is perfect if you want to get away from the loud music and parties!
NOTE: In case you have more time on hand and you are keen on the idea, you can also try a 6-day yoga retreat (this is the minimum number of days for the package). Otherwise, you can just join the daily yoga classes and stretch your muscles.
PRICE: A 1h 30min yoga class is 400 Baht (US $13) and the yoga retreat packages start at 7,000 Baht (US $220) for 6 days.
Take a day trip to Koh Tao (Turtle Island)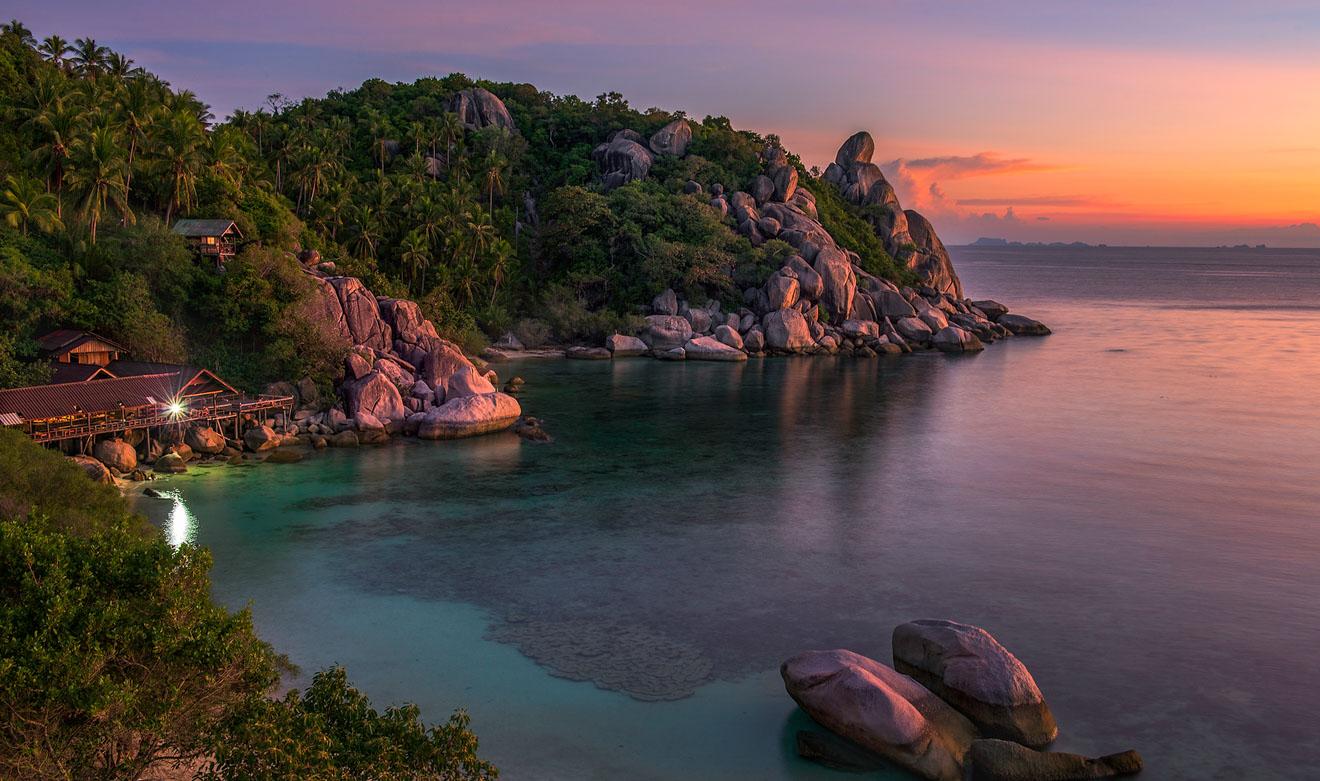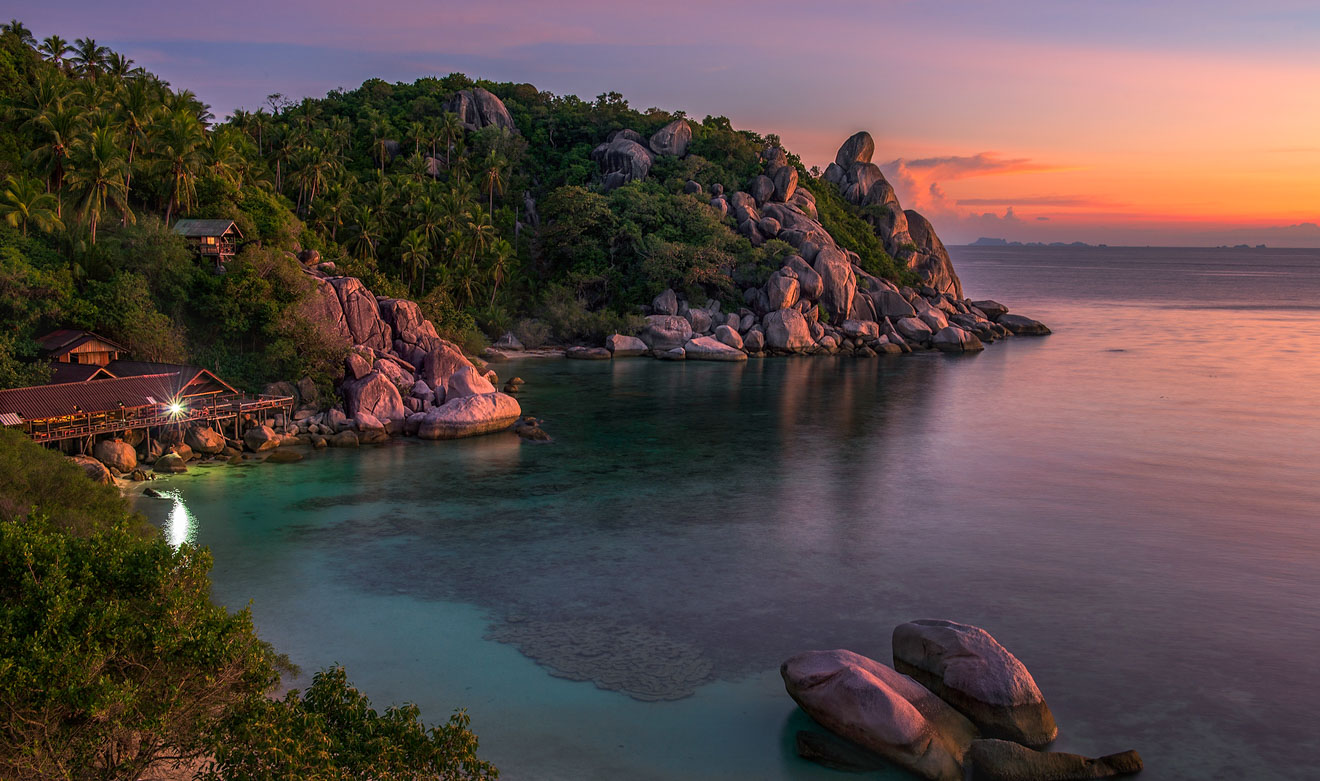 If you feel like you are done with all the best things to do on Koh Phangan (although I can hardly believe it) or you just want to visit the surrounding area as well, heading out to Koh Tao is a great idea!
Koh Tao is also known as the "Turtle Island" and it is much smaller than Koh Phangan. But this doesn't mean it has to be boring! You can just explore the island at your own pace, gdo snorkeling or scuba diving and more!
If you decide to go there, you can take a boat from Haad Rin or Thong Sala piers. The boats leave regularly and the price for the ride is 400 Baht (US $12) one-way.
You can also visit it if you book a speedboat tour that offers a day trip to Koh Tao and Koh Nang Yuan!
What is the Full Moon Party?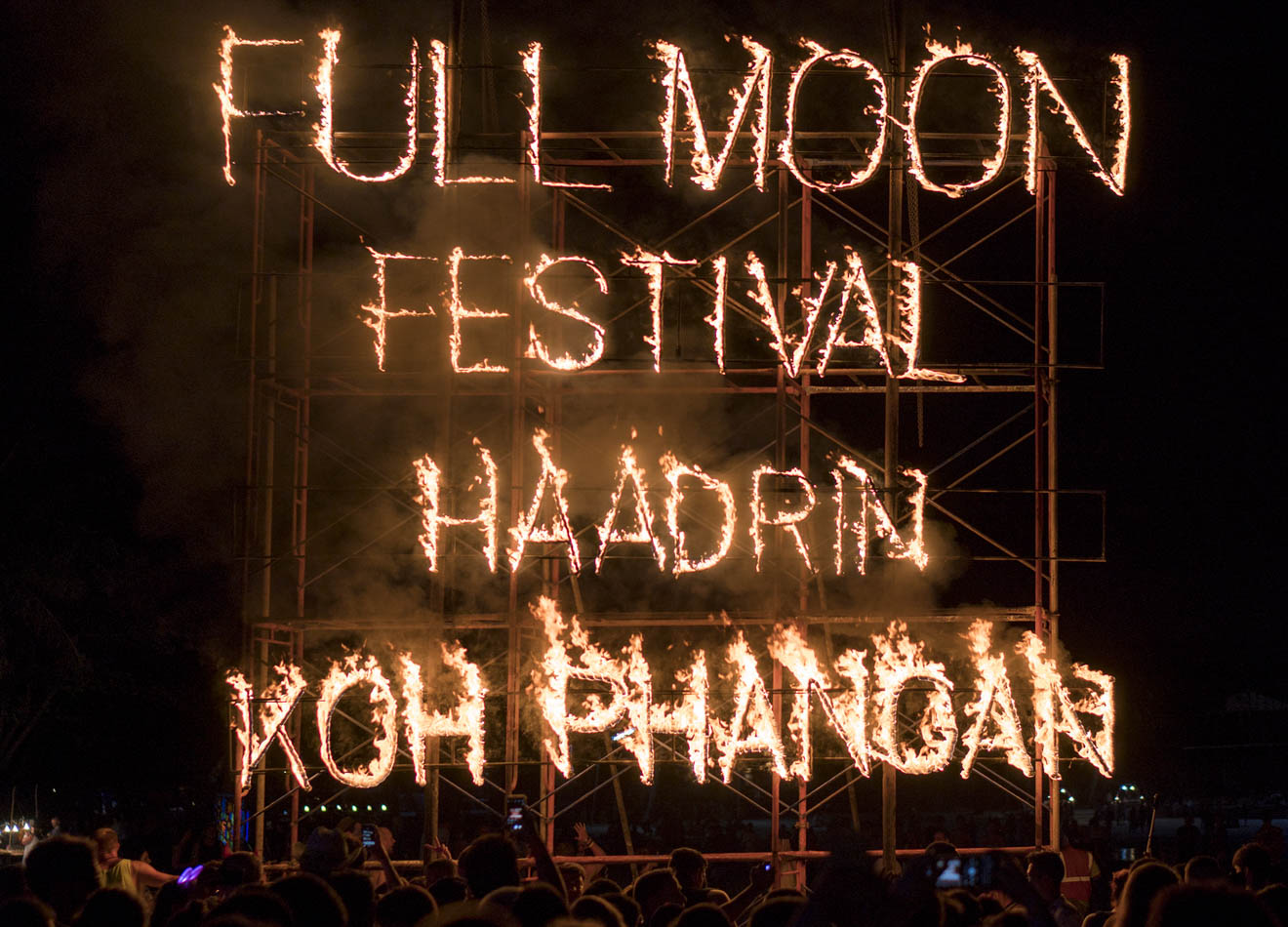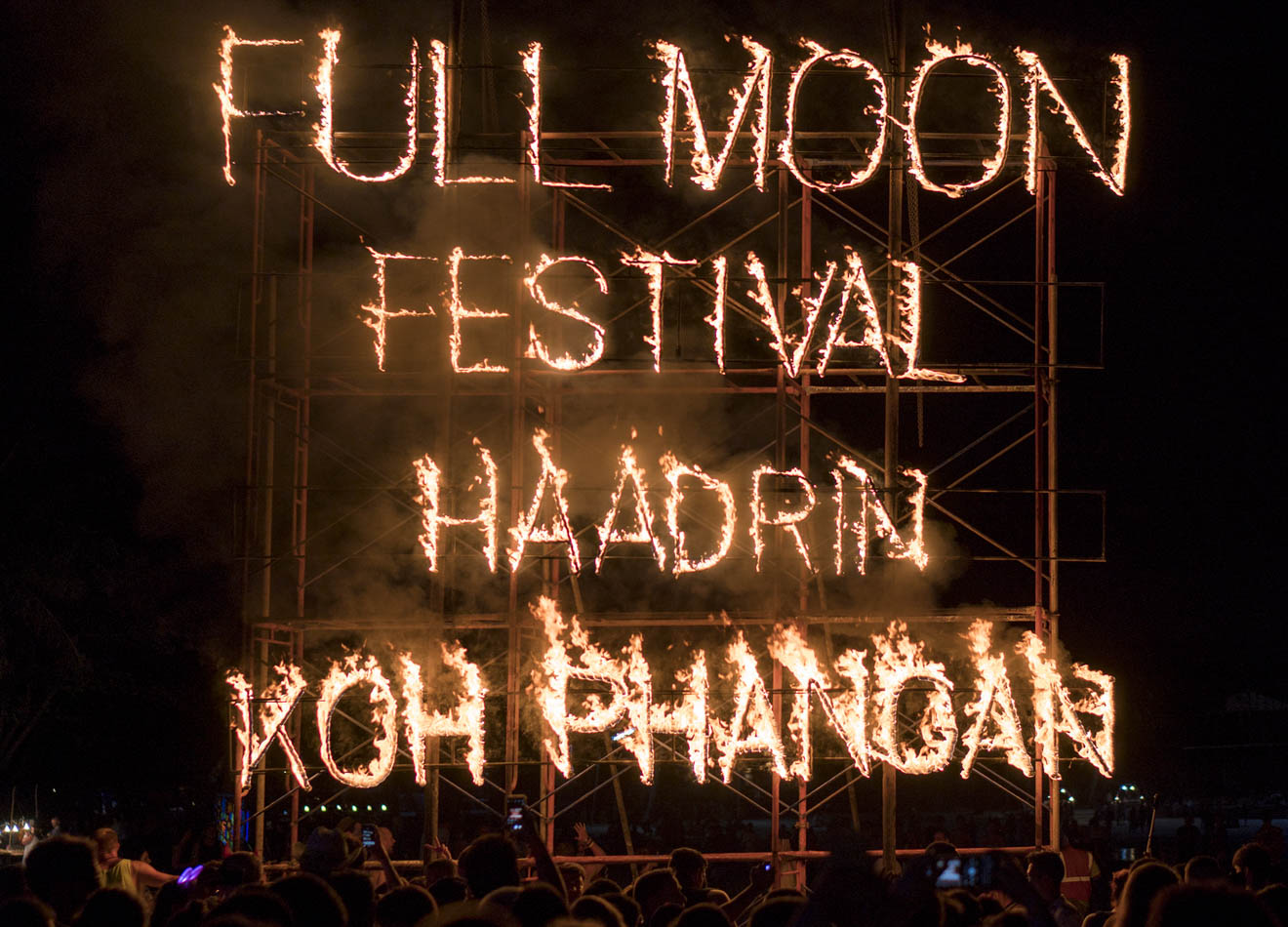 I am sure you noticed in the title of the article that I am trying to recommend some great things to do besides the most popular activity on Koh Phangan: the Full Moon Party!
In case you don't know what this is, let me explain. Most tourists come to the island for this big party-festival that takes place once a month and it attracts around 30,000 party people every time!
The Full Moon Party in Koh Phangan is hosted on Haad Rin Beach and the popular activities at the party include drinking (of course!), painting yourself in UV paint and dancing around until the sun rises!
If you are a party animal, this is definitely your place to be!
PRO TIP: Don't bring any expensive items or bags with you to the party, but make sure to take a copy of your passport (not the original).
PRICE: The entrance is 100 Baht (US $3). Here is the monthly schedule. The tickets are available to buy at the entrance of the party.
Where to stay in Koh Phangan
The island offers different types of accommodation, perfect for all budgets! In the list below I am recommending the best Koh Phangan hotels that have fabulous reviews, all sorted by price for your convenience:
Luxury (US $100 and up)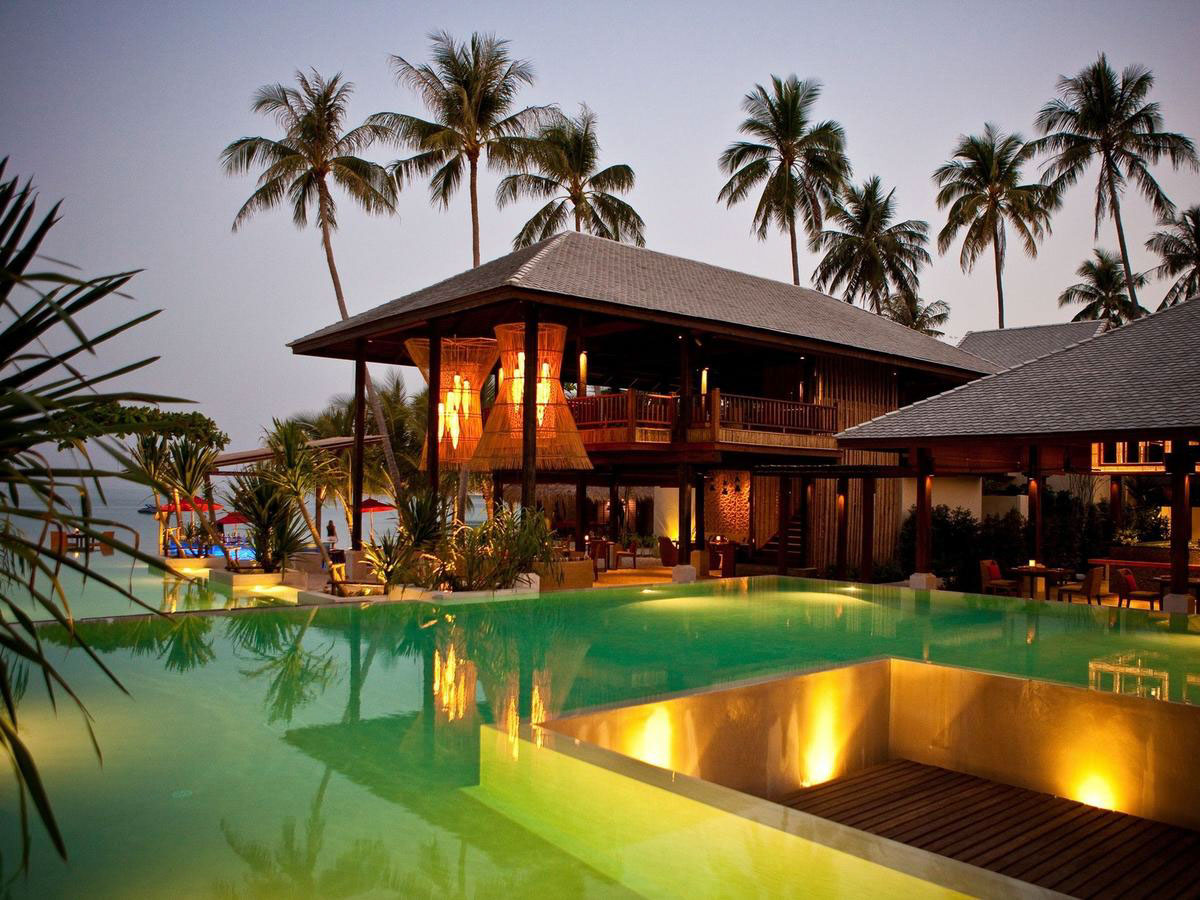 A 5-star luxury Koh Phangan accommodation, just like heaven on Earth! During your stay you can enjoy the pools, garden or seaside suite options.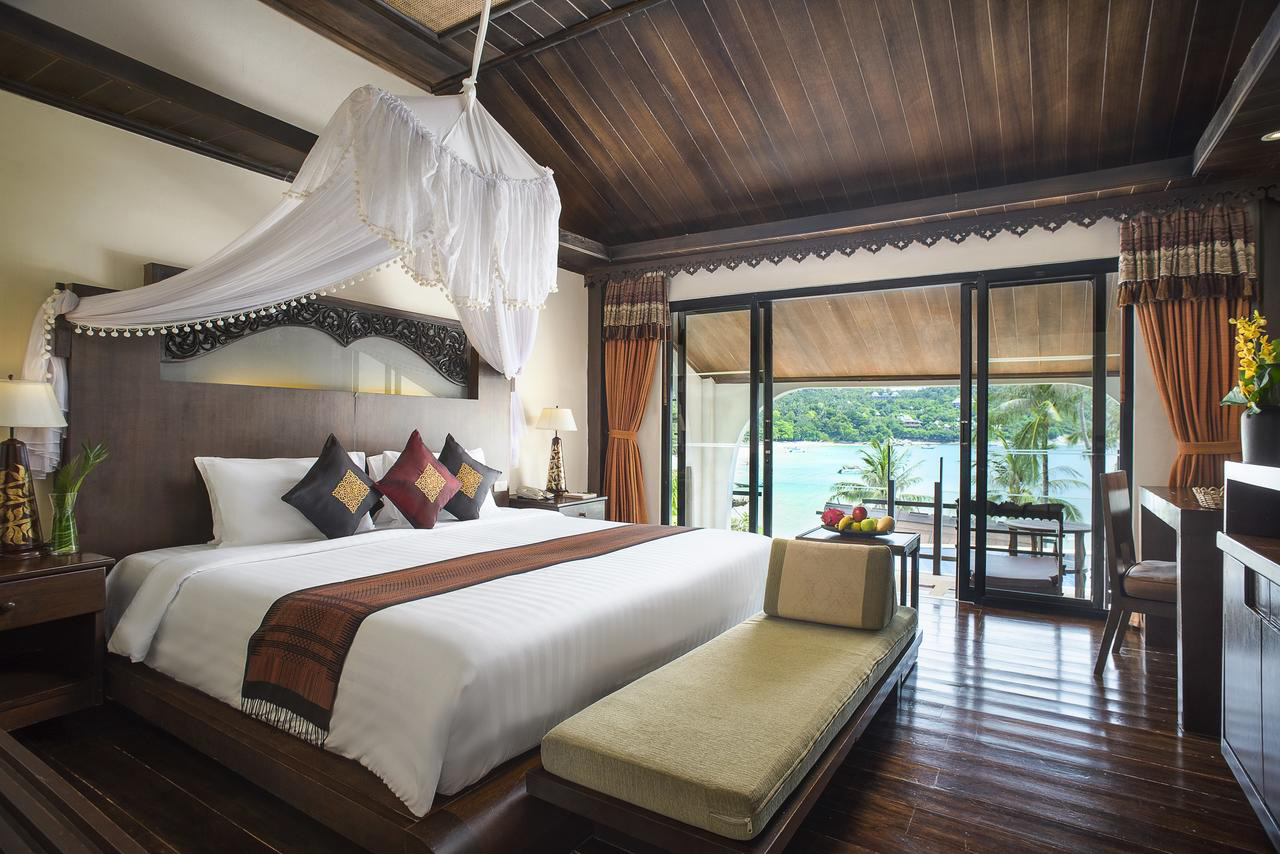 Another 5-star dreamy retreat hidden among tropical greenery. This great Koh Phangan resort offers luxury furnishings and perfect service!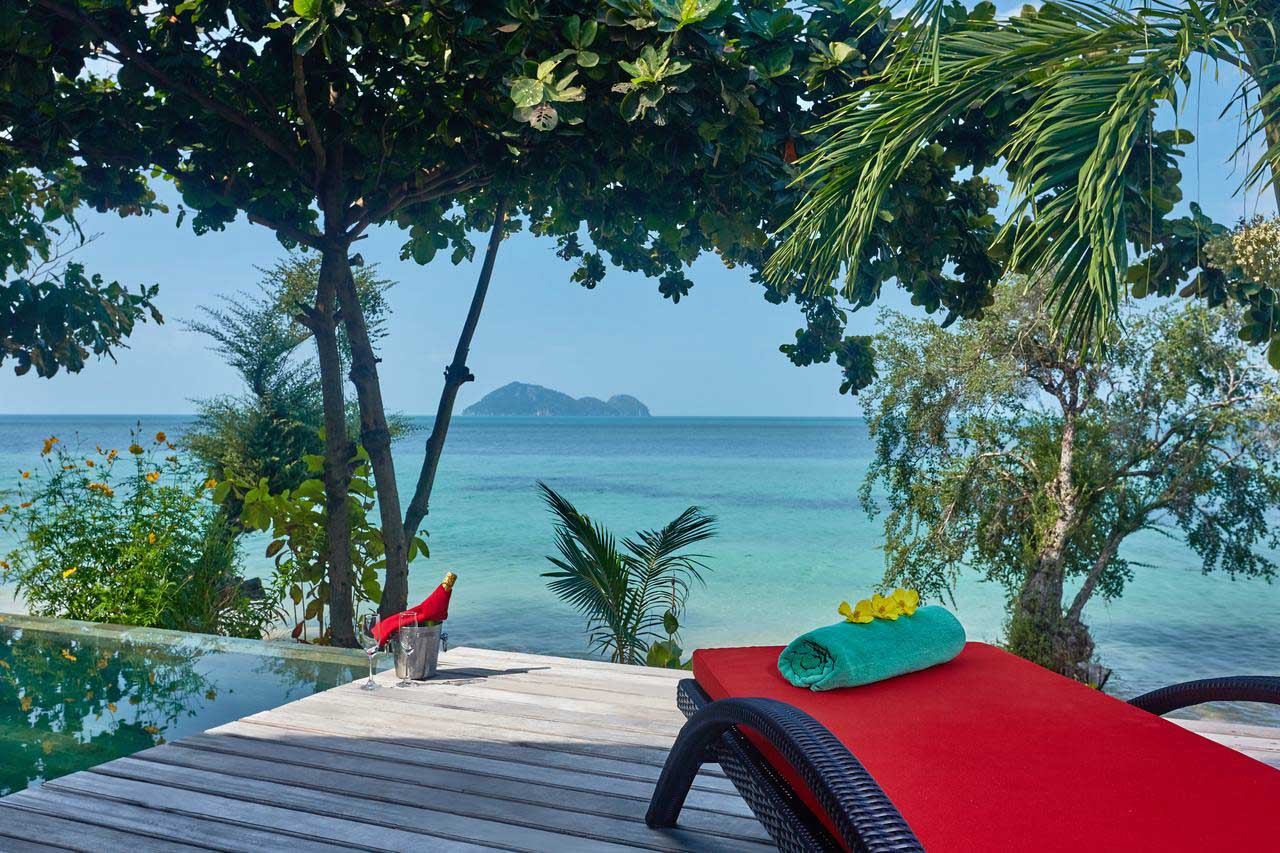 This is basically a luxurious oasis featuring a spa, a private beach, and an infinity pool. Definitely a great experience!
Middle-priced (from US $20 to $100)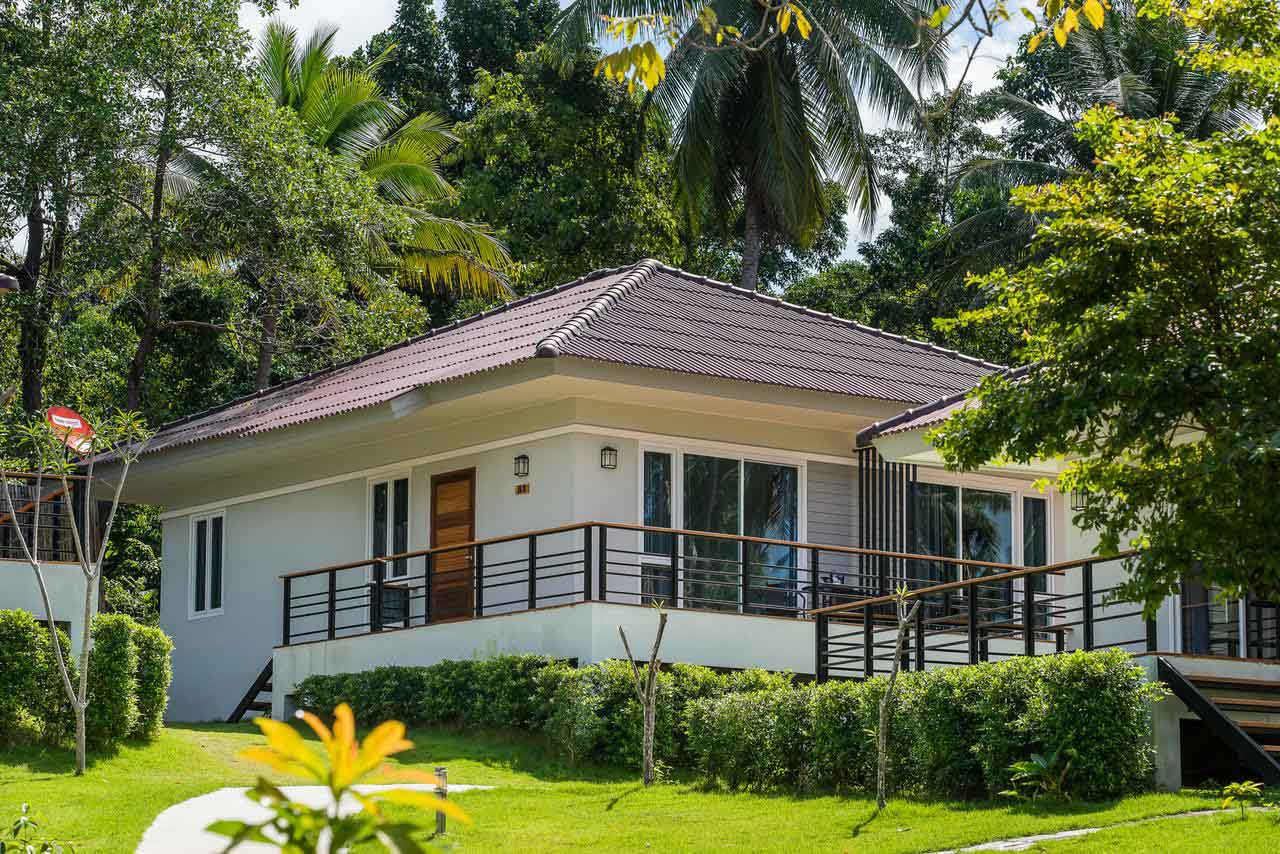 Great resort located on Sri Thanu beach. Each room has its own spacious balcony and a delicious breakfast is served at the hotel each morning!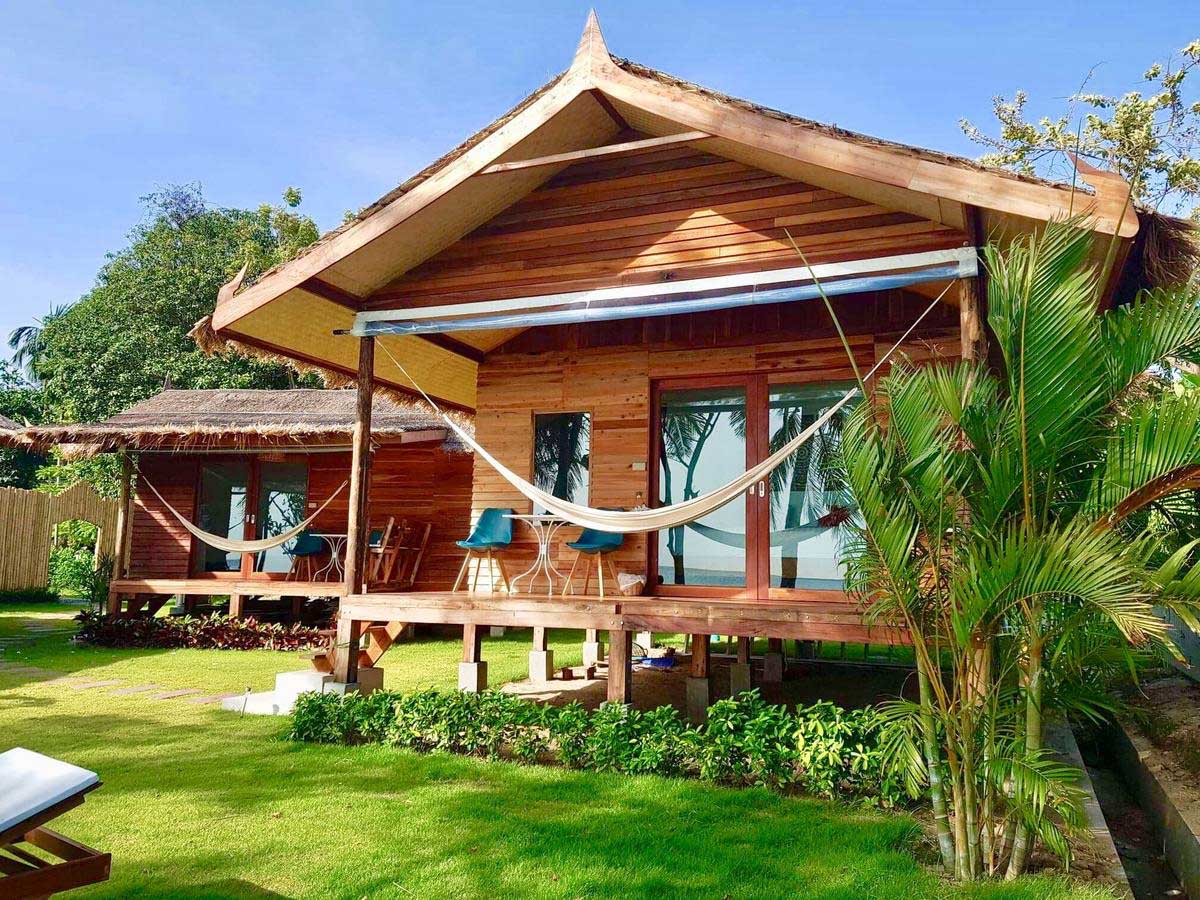 This great, middle-priced accommodation offers clean and cozy chalets on a private beach area, perfect for 2 people traveling on the island!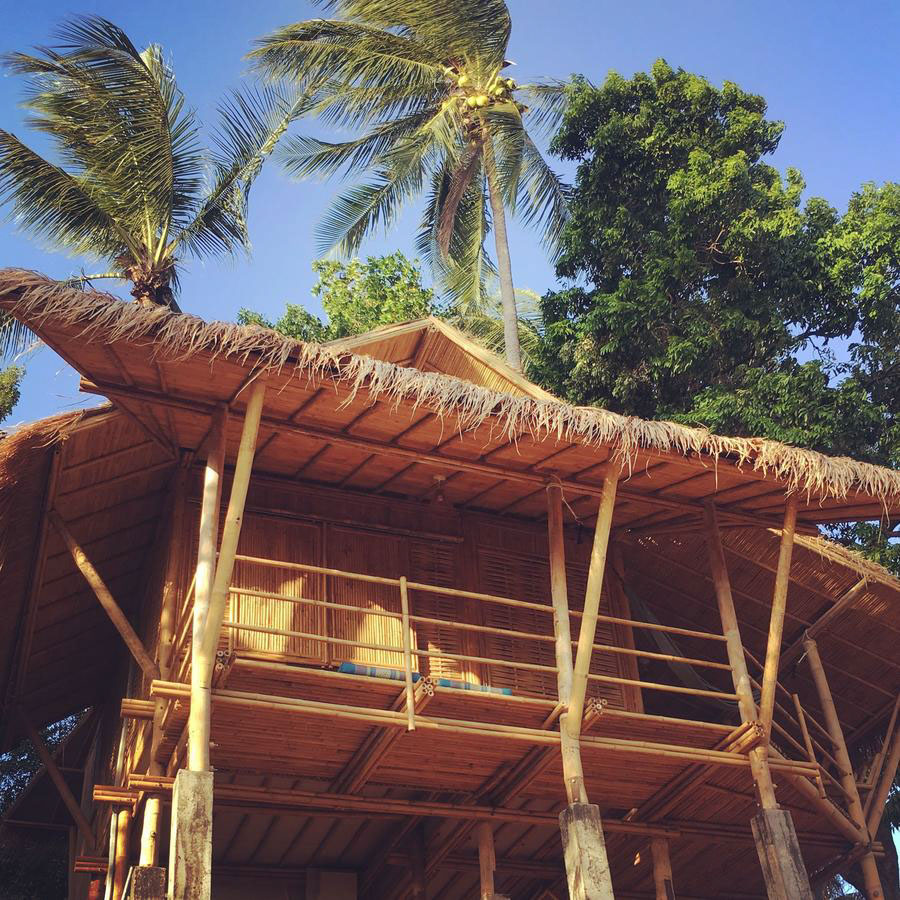 The same type of accommodation as the previous one. These Koh Phangan bungalows will also give you access to a nice terrace and garden!
Budget (up to US $20)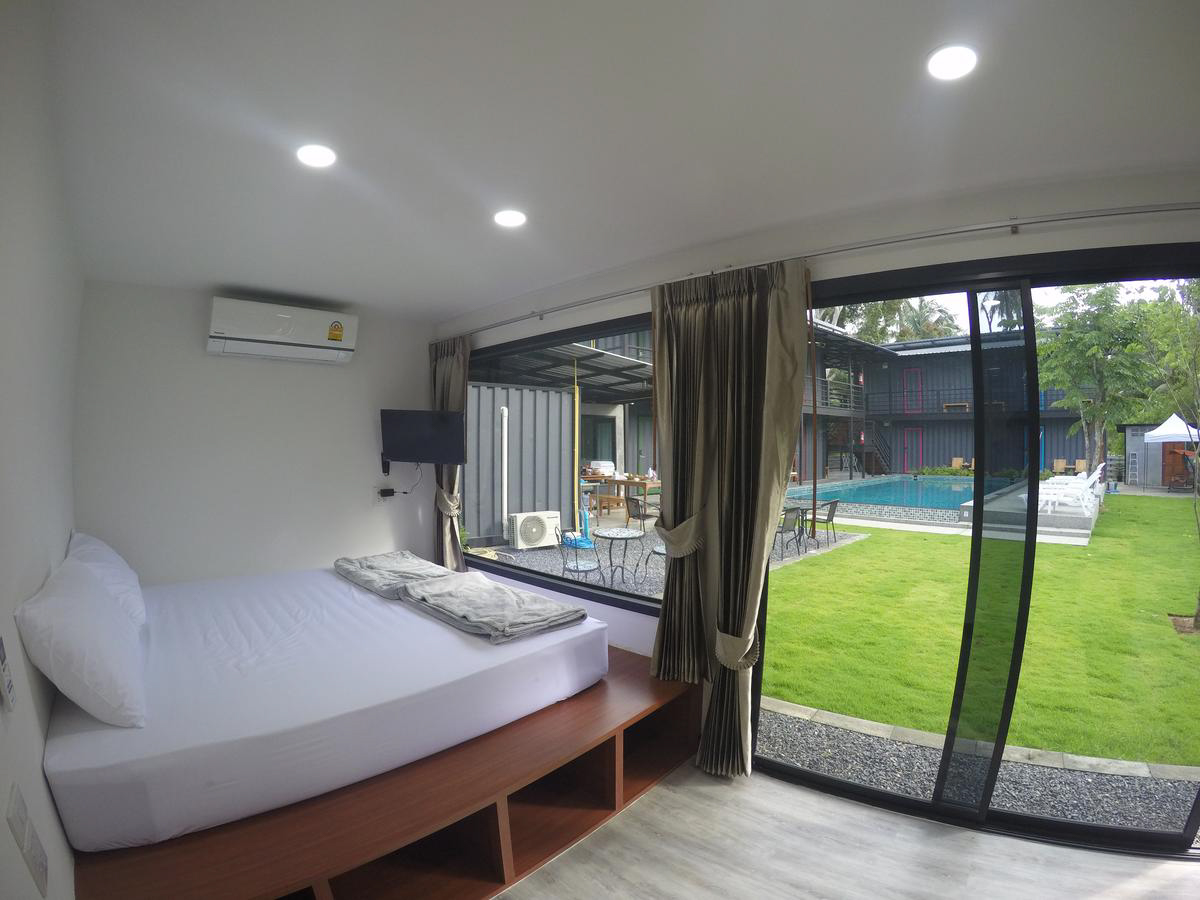 A great option where you can book beds in dormitory rooms and have a very pleasant stay.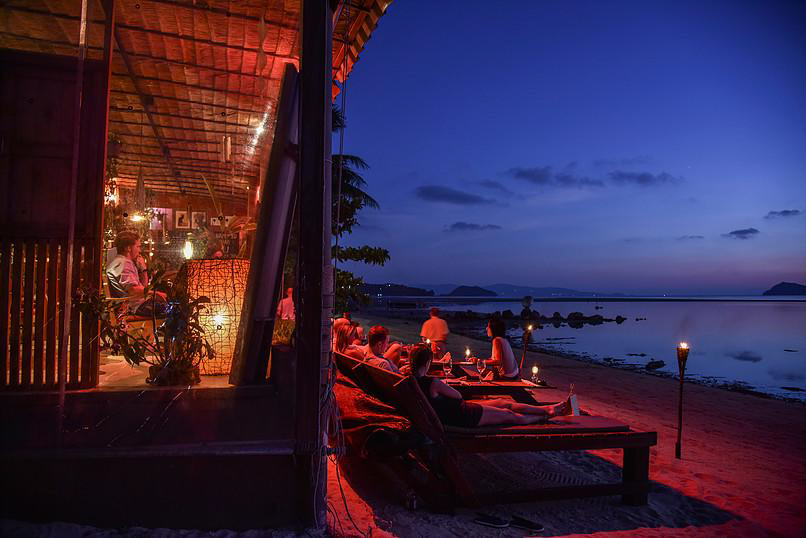 Thai-style bungalows and villas that you can choose from. The rooms are clean and cozy and you'll get free Wi-Fi as well!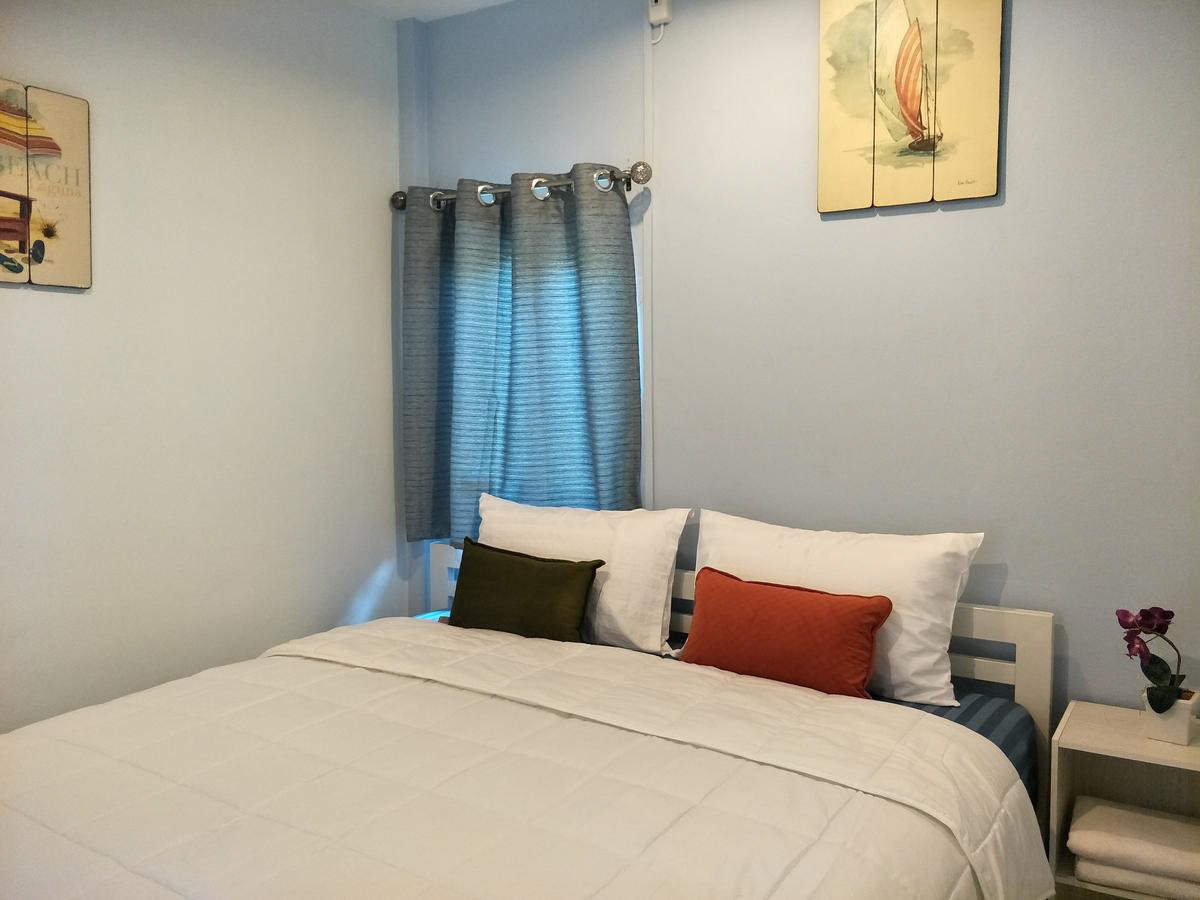 Budget accommodation with good service, including a garden, a terrace and a bar. Plus, the location is very good!
How to get from Bangkok to Koh Phangan
You are probably wondering how to get to Koh Phangan, right? The most popular route for getting to Koh Phangan is from Bangkok. There are different ways to get there, which I will list below, but if you want to quickly create the most convenient route for your dates and budget, you can do so using 12go.Asia.
By plane to Koh Samui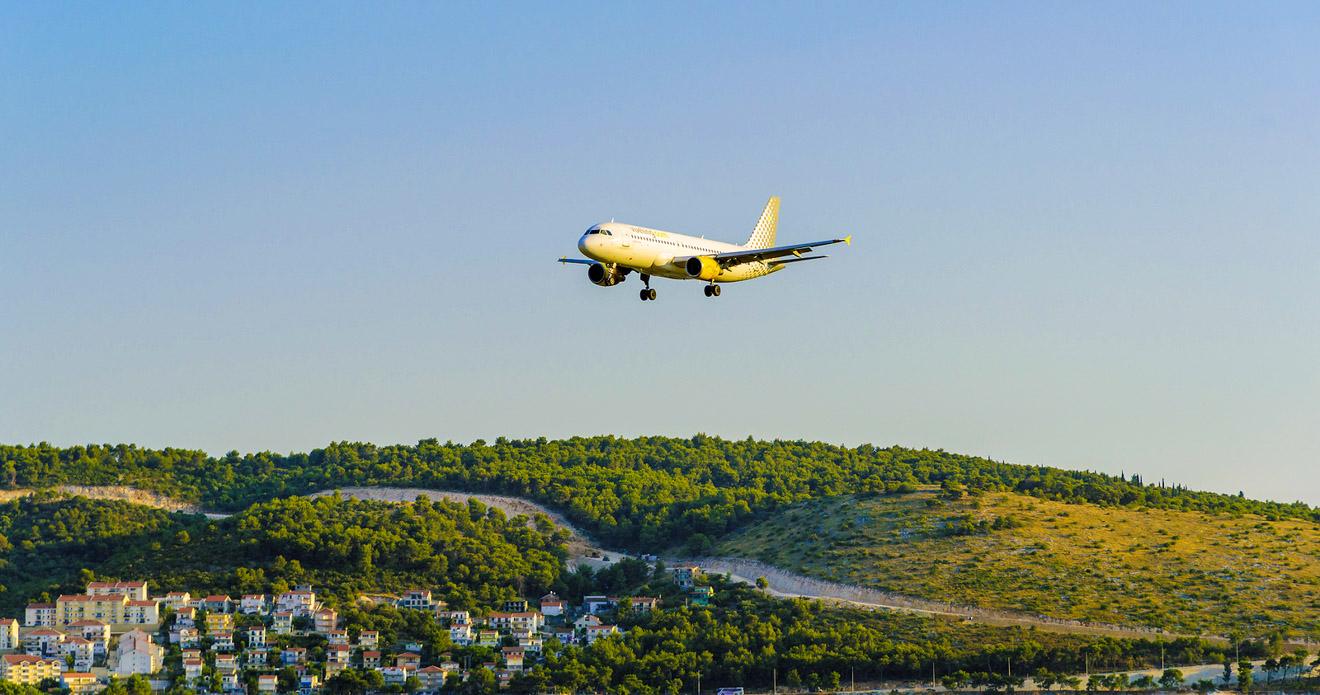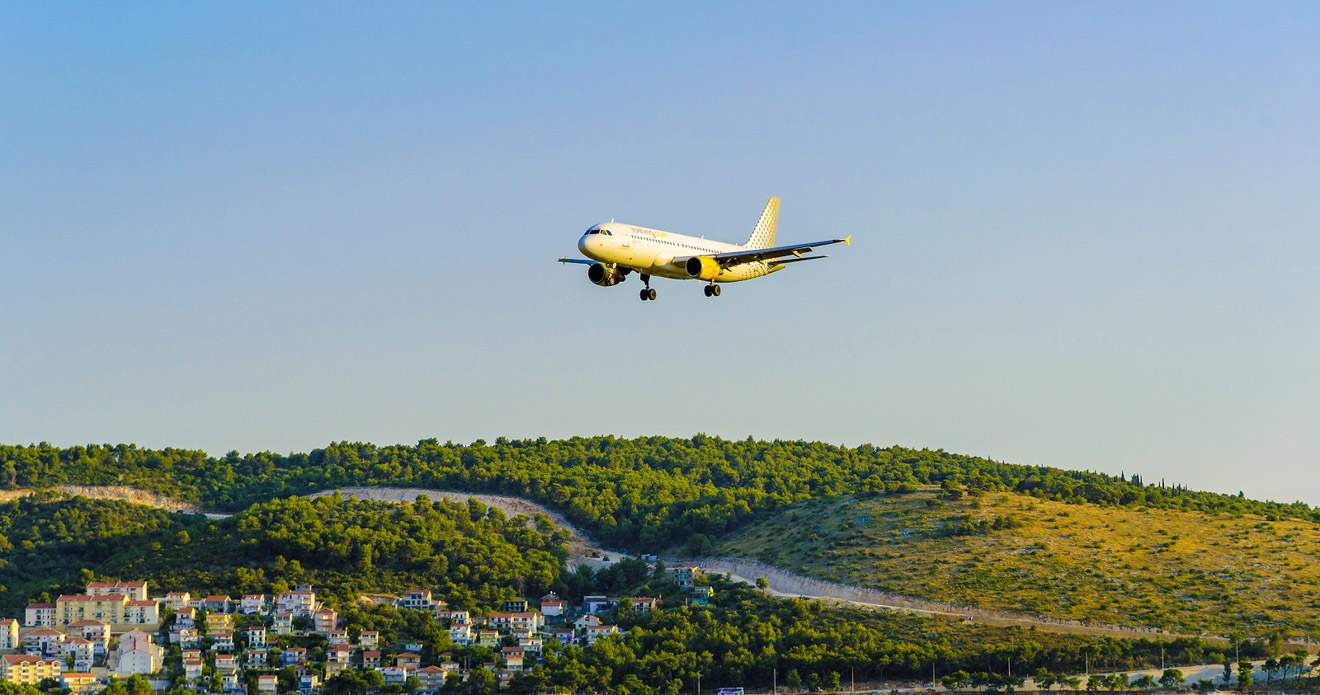 Taking a plane is the fastest solution to get to Koh Phangan, but it has its downsides as well. It is more expensive than the rest of the options and the island doesn't have its own airport (yet), so you will have to fly to other places located close-by, then go to Koh Phangan. Here is how you can do it:
The closest airport to Koh Phangan is Koh Samui. You can fly there with Bangkok Airways from BKK Bangkok International Airport. After this, you can take a taxi to the Big Buddha Pier where you can take a ferry from Koh Samui to Koh Phangan. There are at least 3 ferries/day, with the last one leaving at 5:30 PM.
You can find an airplane ticket and the joint ticket for the taxi + ferry on 12go Asia website.
By plane to Surat Thani
Flying to Surat Thani and then going to Koh Phangan takes a little bit longer than the option above, but it is more affordable in terms of price (almost half the price). You will still need multiple transfers and means of transport as well. Here is how to do it:
Take a plane (Airasia, Nok Air or Thai Airways) to Surat Thani, then take a short bus transfer to the pier and then a boat ride to Koh Phangan. You can buy the complete one-way or roundtrip fare using 12go.asia here. It is best to book the entire trip (plane + bus + boat) because it will be overall cheaper than buying the tickets individually.
By night train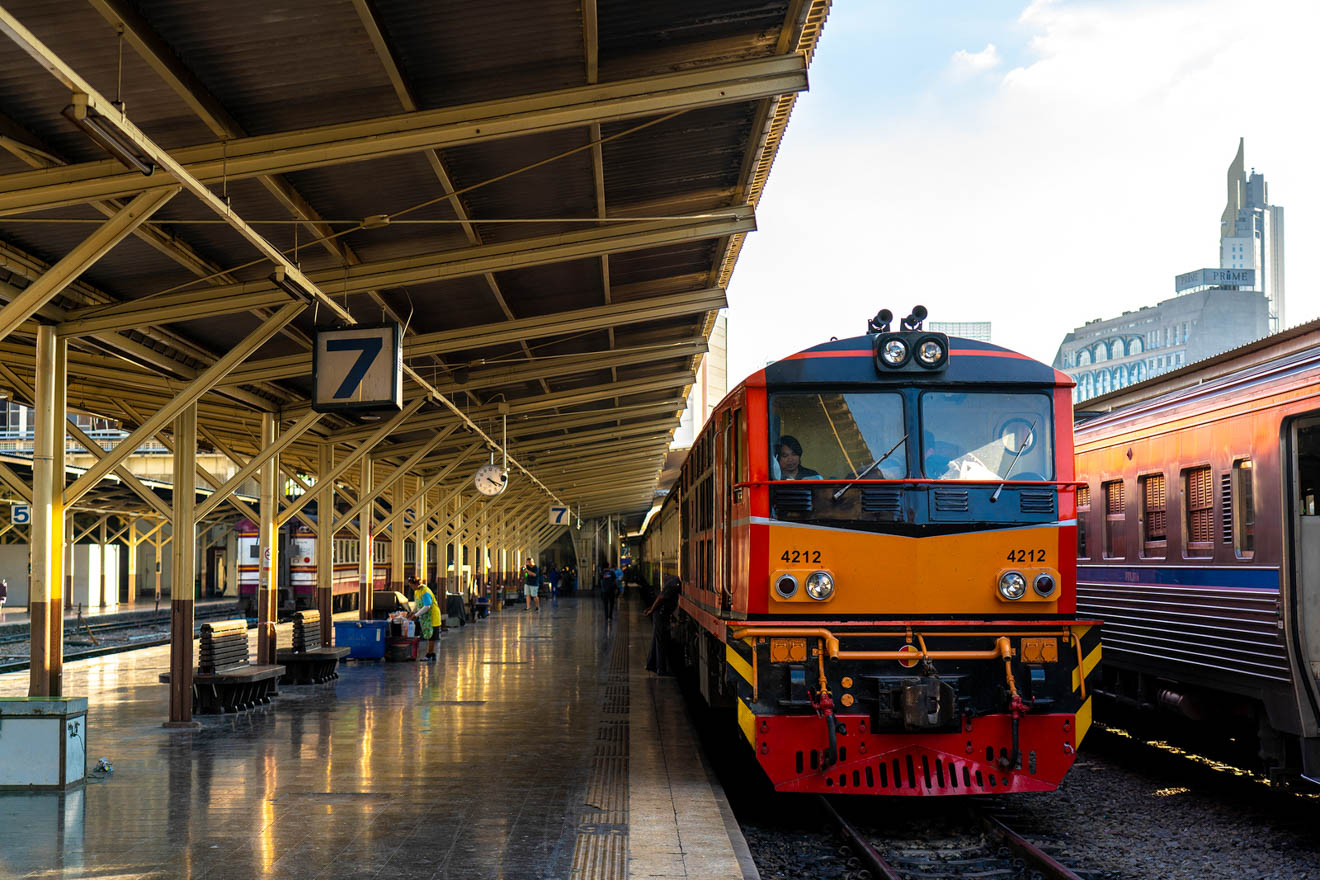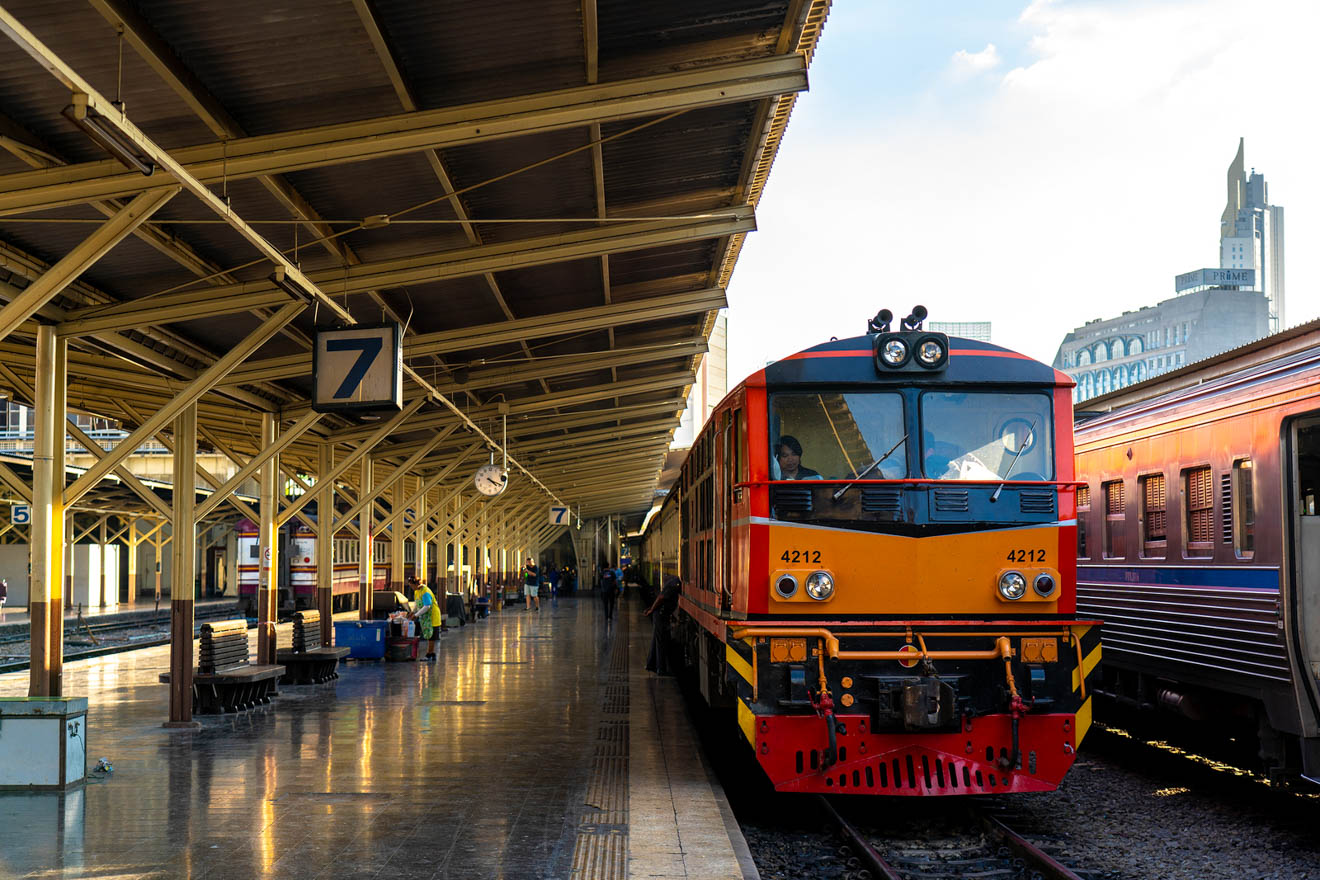 Another option would be to take a night train to Surat Thani from Bangkok.
If you decide to take a train, you should know that Bangkok has about 4 night trains that depart in that direction, so you will have multiple options to choose from.
After you reach Surat Thani, you need to take a bus to the pier and then a boat to Koh Phangan, just like in the option mentioned above.
The approximate price for the one-way route is from US $ 20 to $50 depending on the hour and how far in advance you book your tickets. You can book your complete transfer using this website here.
NOTE: I recommend booking the return train ticket (Surat Thani to Bangkok) in advance, as they easily sell out during high season.
By night bus
Taking a night bus is the most cost-efficient way of getting to the island, but it will also take the longest travel time. If you book a VIP bus with reclinable seats, it might actually be a good idea because it is quite comfy and doing traveling during the night actually means saving time for your activities during the day. The night buses leave at around 8 PM from Bangkok (Khaosan Road) and they have comfy chairs so you can sleep during the ride. You will arrive at Surat Thani in the morning, where you need to take the boat to Koh Phangan.
The price is around 700-900 Baht for the combo ticket (US $22-28).
Conclusion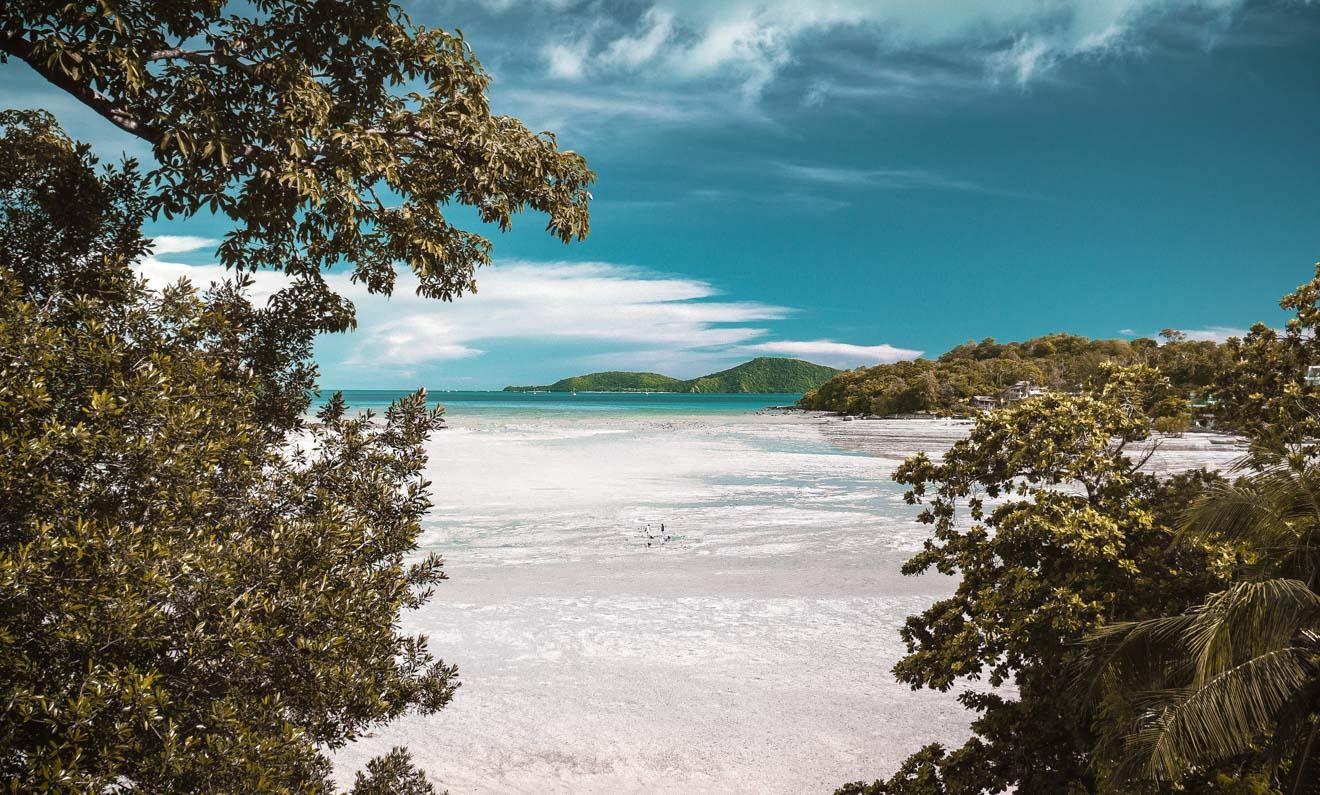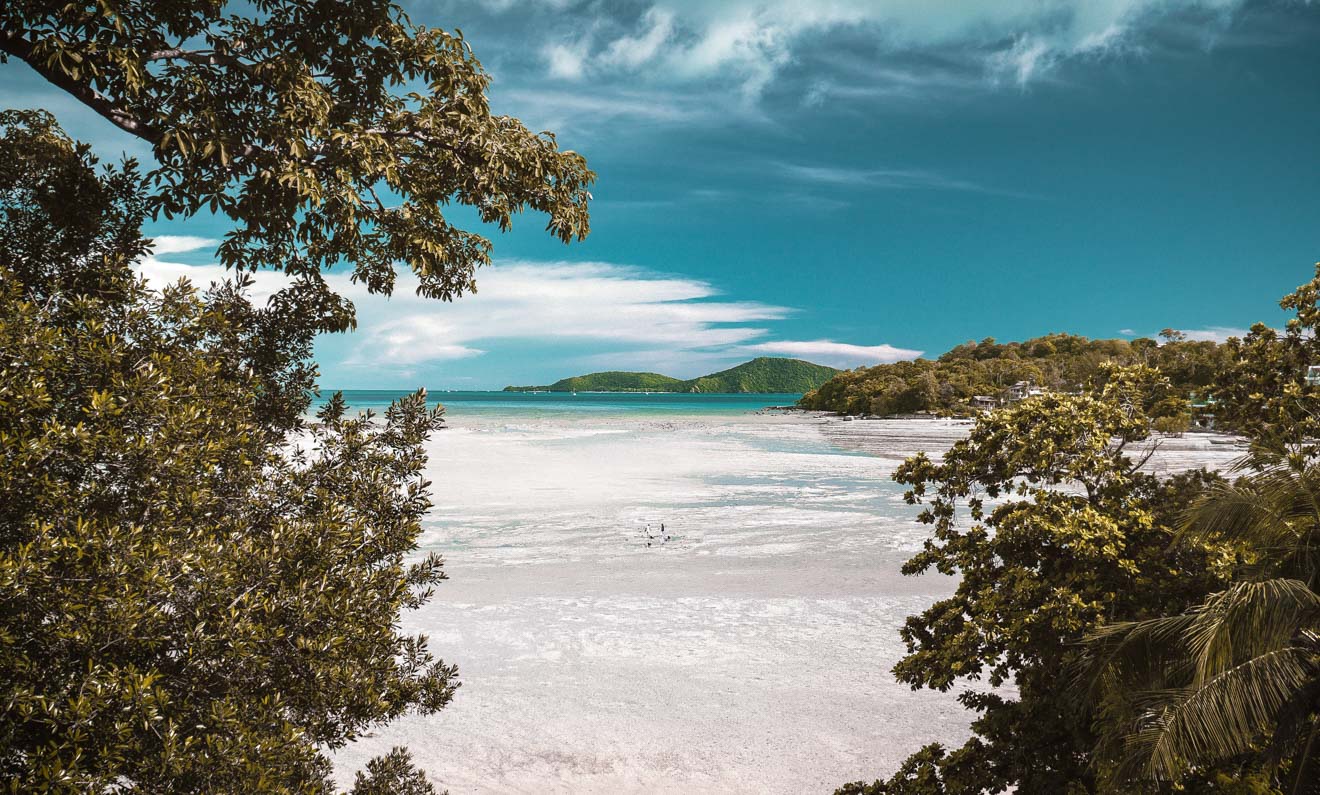 This was my complete list of what to do in Koh Phangan! Even though the island is famous for its Full Moon Party, there are numerous other activities there fit for any kind of traveler! Besides these 9 recommendations, I also wrote about some great bonus things to do if you have more time and gave you some useful information such as where to stay on the island and how to get there.
Are you going to the north of Thailand too? I lived there, so I have some good articles for you, as well as about Bangkok!
Have you been to Koh Phangan? Would you like to know more about it?
If you have further questions you can add them in the comment section below, I love hearing from my readers!
Yulia
---
---
Pin it for later!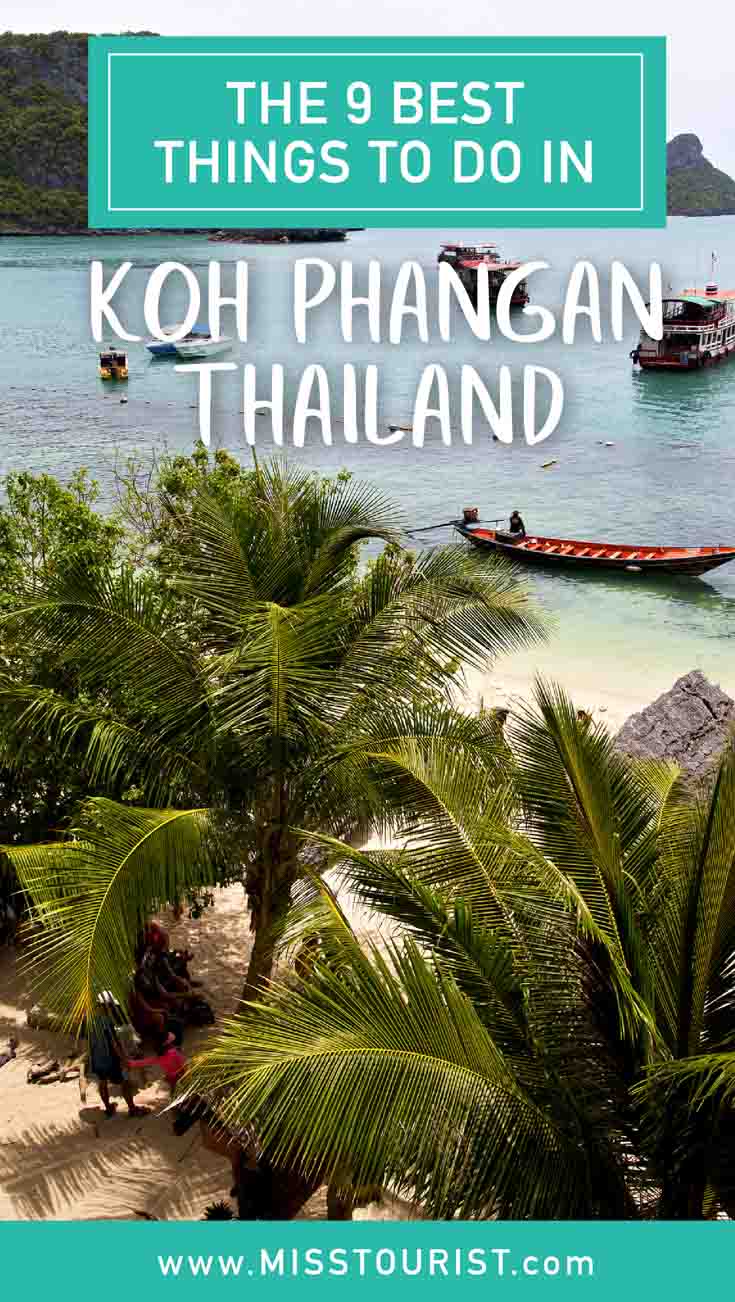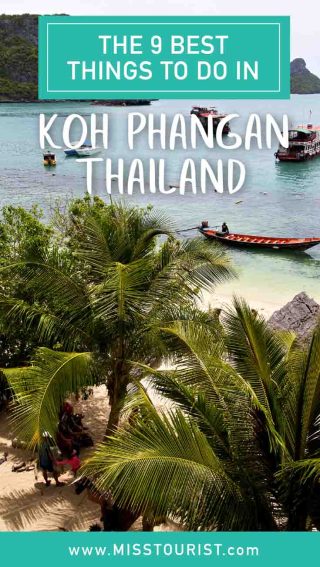 Pin it for later!