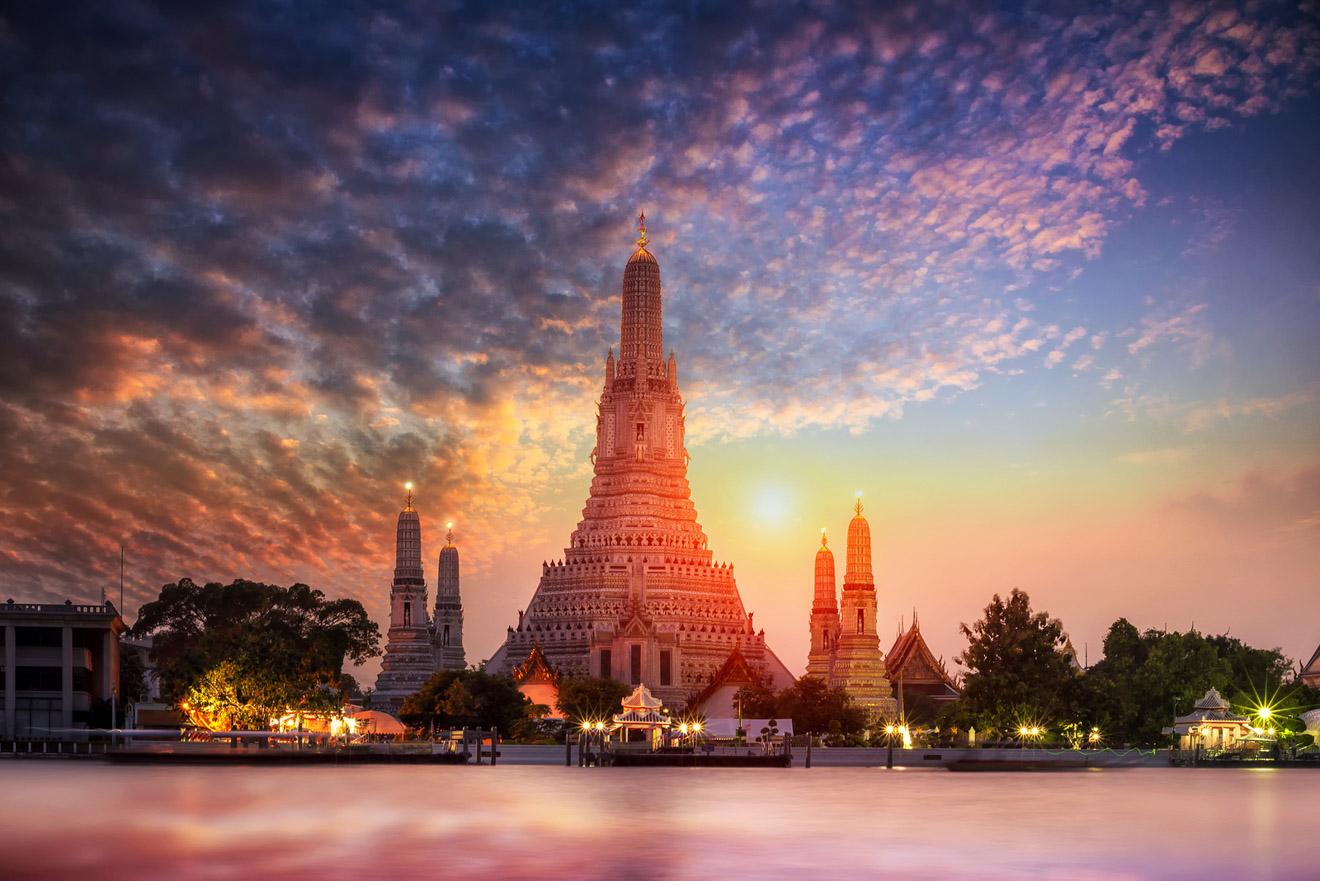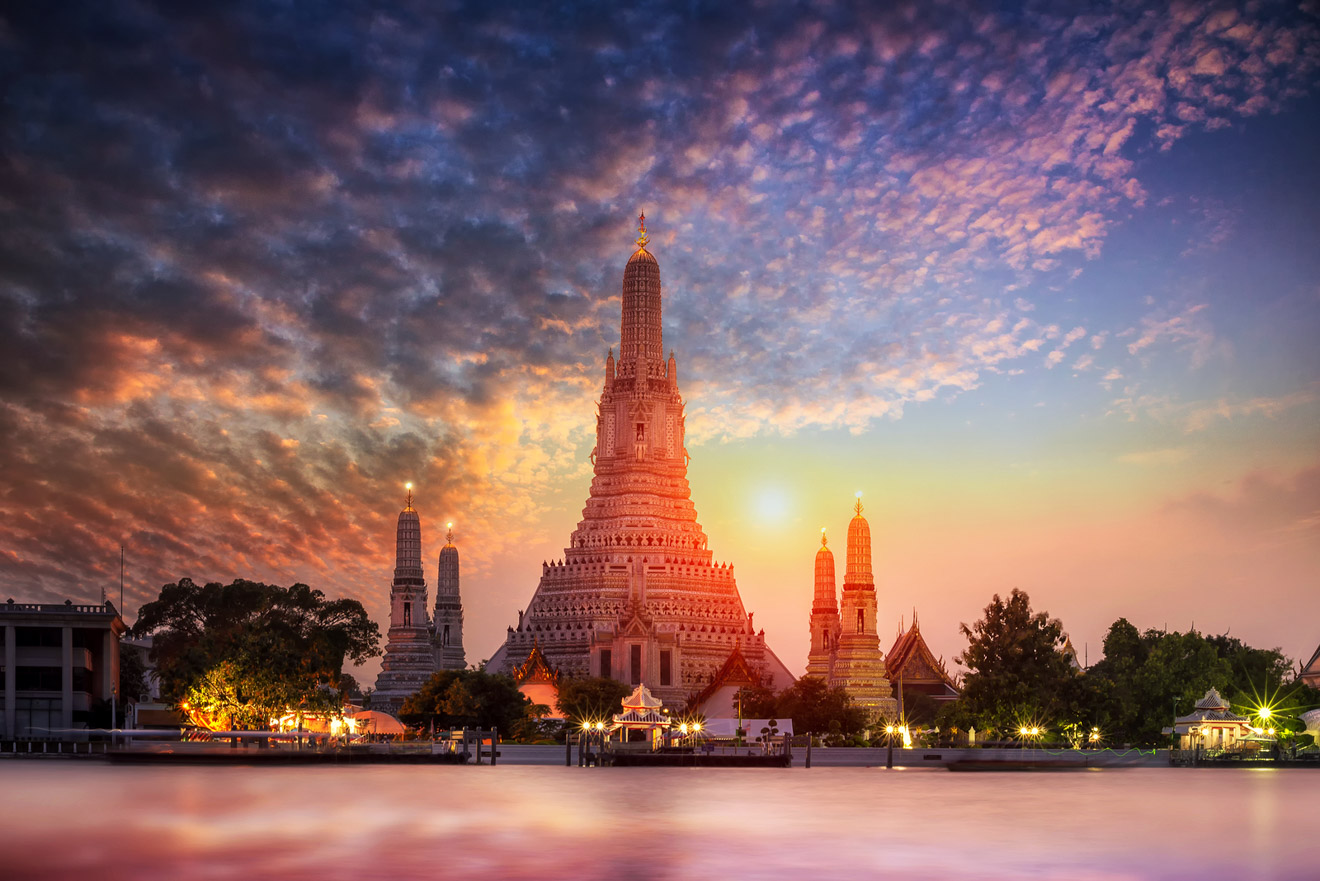 UPDATED: September 2019
Bangkok is the capital city of Thailand and one of the richest destinations in this country! The city has so much to offer to any type of traveler – from temples, a rich cuisine, interesting museums, fun night clubs to boat rides and tuk-tuks, you will find everything your heart desires here!
I would say a 3 days Bangkok itinerary is enough to discover all the best things to do there! You will get feel the city's vibe and atmosphere. The opinions about this unique city are quite different: some say it is crazy and smelly (I have to admit that is true, by the way!), but there are definitely some amazing places worth visiting while you are there.
Since Thailand is known for being a religious country (the main religion being Buddhism), Bangkok is the home of many great, beautiful temples! During your visit to Bangkok, there are some places you must definitely visit in order to appreciate it better. One can never know how beautiful a place can be if he never cares to take a look at the cultural heritage around it. There are some locations that will prove that indeed Bangkok is a must-visit city!
Are you curious to find out about the unmissable places to visit in Bangkok? Here are the things to do in Bangkok in 3 days:
Day 1 – Temples, The Grand Palace and Chinatown
The first day in the city is about two of the most famous temples in the city (Wat Pho and Wat Arun), The Grand Palace and trying some delicious food in Chinatown. Here is what I suggest visiting on your very first day in Bangkok, market on the map: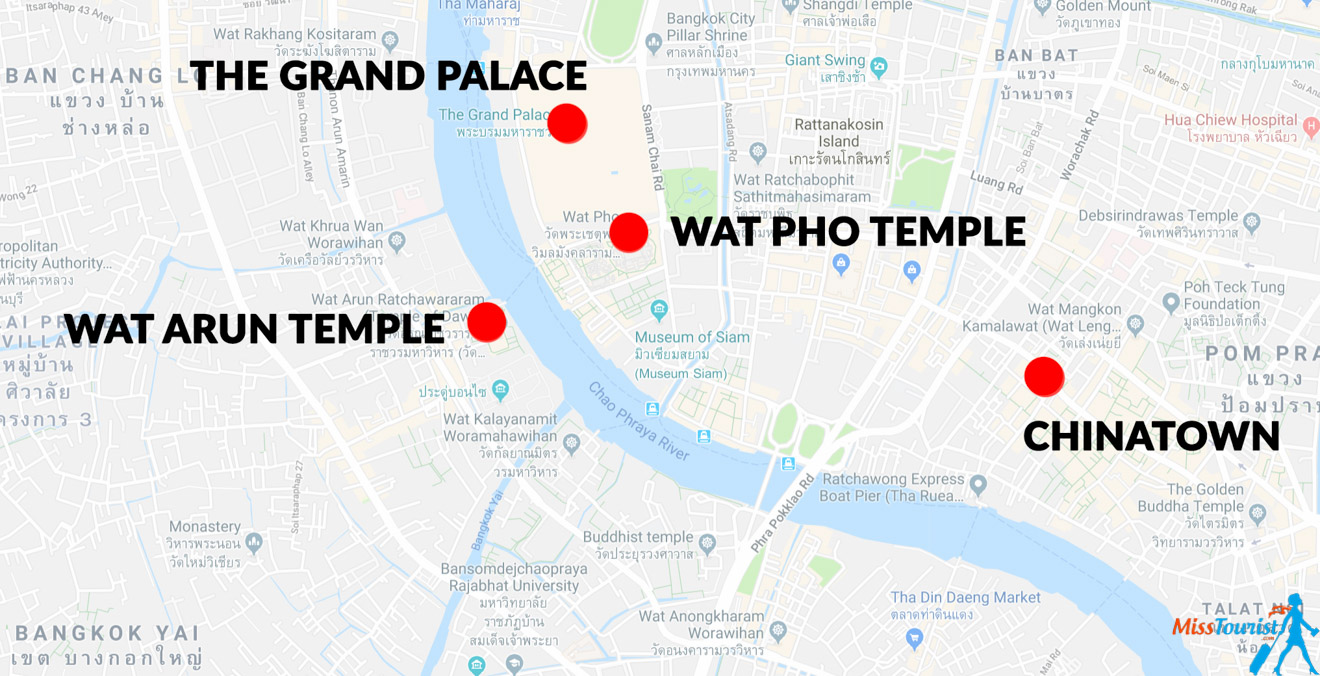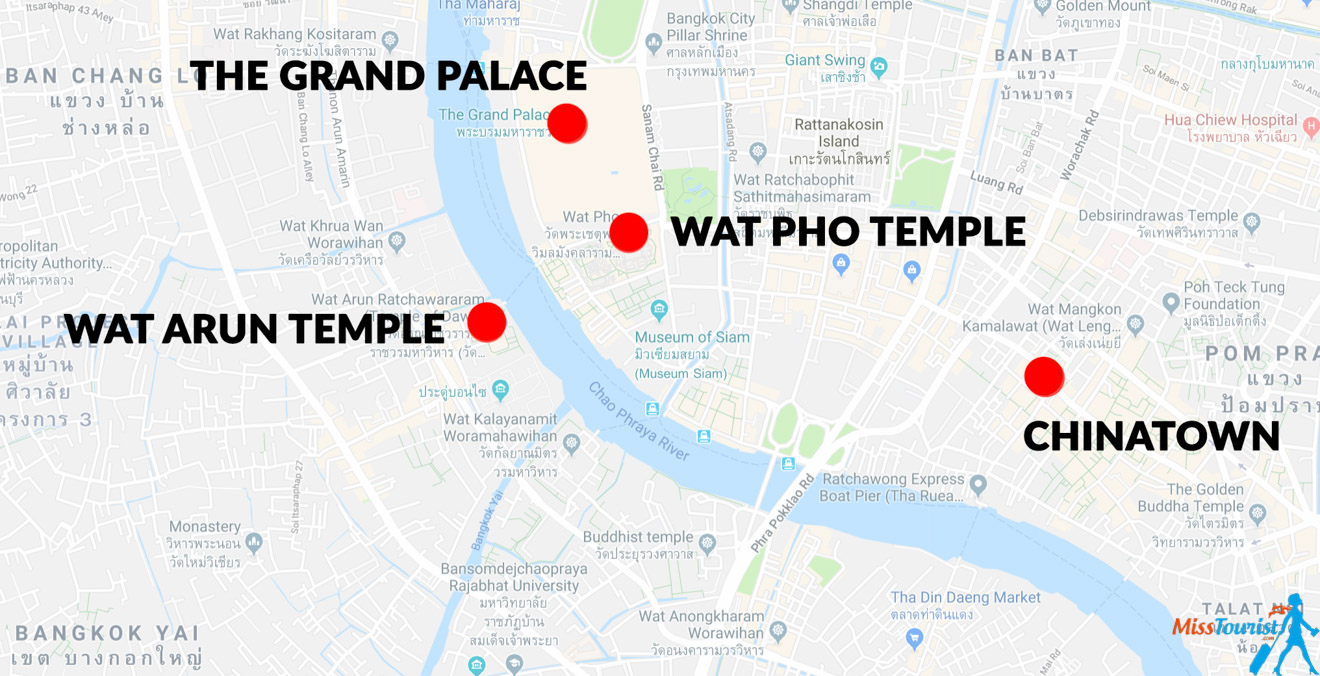 1. Get lost at The Grand Palace and the Temple of the Emerald Buddha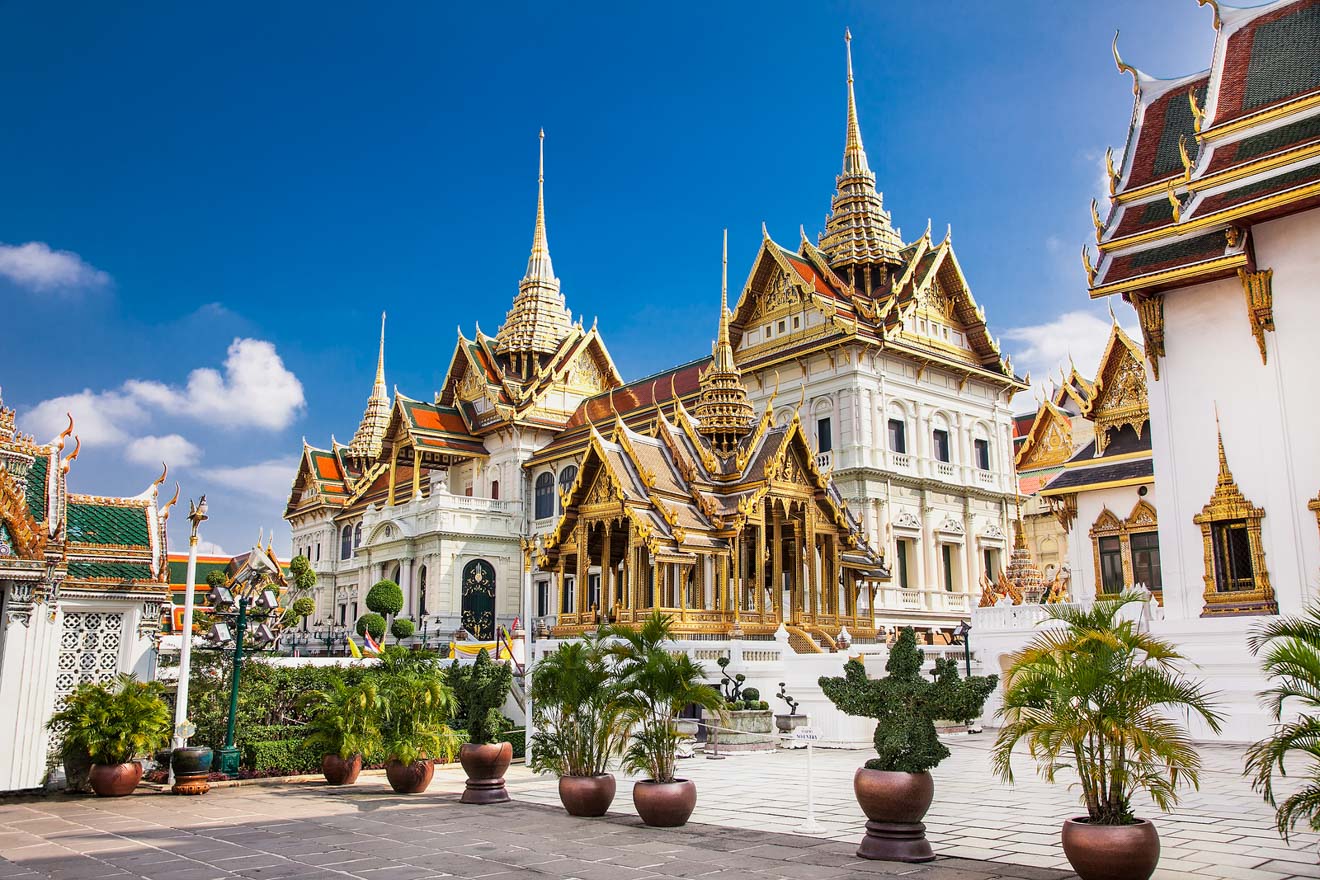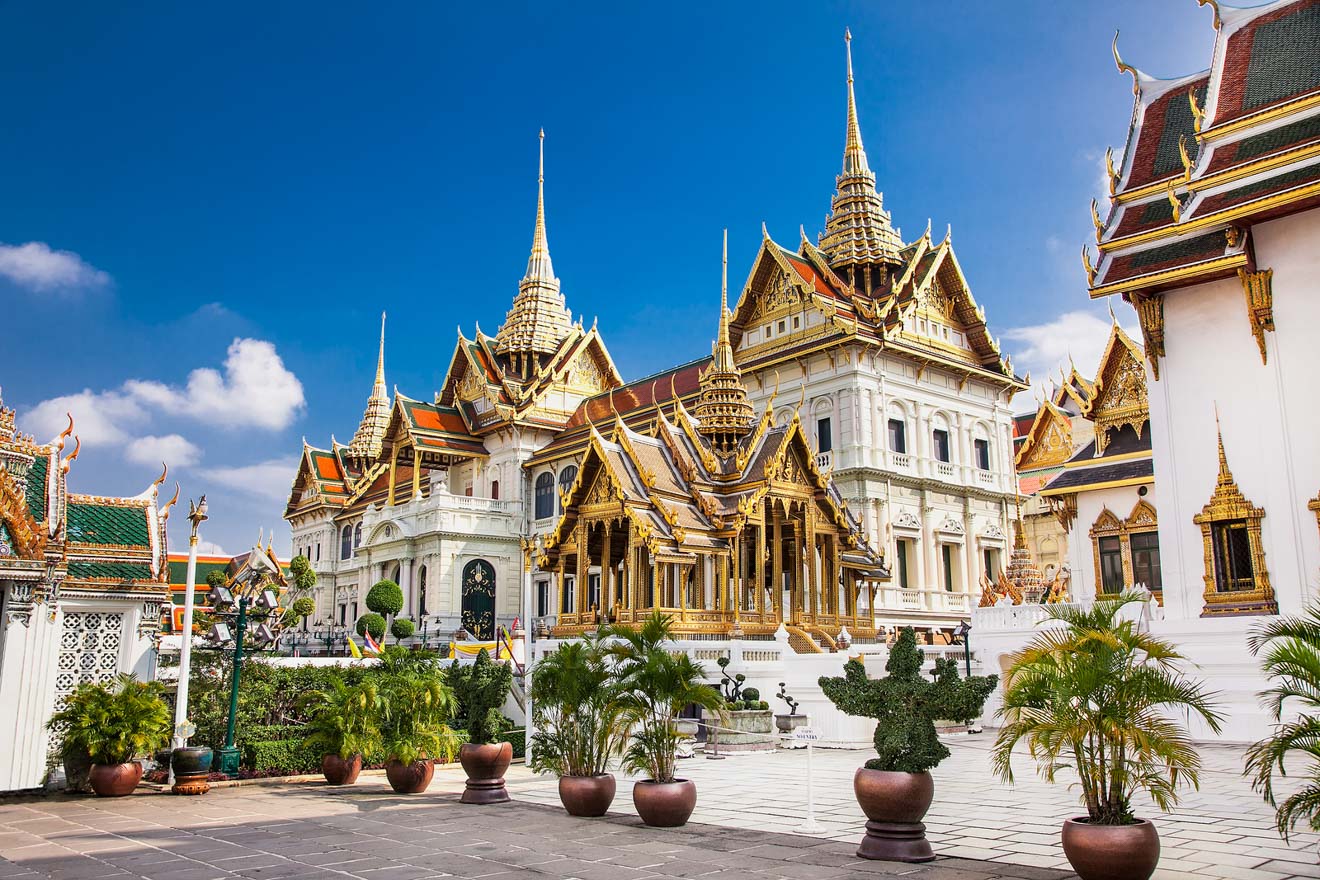 The Grand Palace is definitely one of the first places to see in Bangkok!
The Palace is a complex building located right in the heart of Bangkok that had been the home of King Siam since 1782. While at the palace, you can admire the great building and get a taste of how the royal family of Thailand lived their lives!
One of the most important things to see inside the complex is Wat Phra Kaew (also called "The Temple of the Emerald Buddha"). This one is regarded as the most sacred temple in Thailand and it has some of the most magnificent statues and buildings!
You can download the map of the complex here.
PRICE: The entrance fee is 500 THB (15,80 US$), which is quite expensive for Thailand, but it is one of the most important things to visit in Bangkok, so I am definitely recommending it! With that ticket, you can visit a couple more places in the Grand Palace complex, not only Wat Phra Kaew (for example Queen Sirikit Museum of Textiles, which I really liked!). You can buy the tickets online on their official website at least 24h in advance. You can also purchase an audio guide for 100 Baht when you get there.
HOW TO GET THERE: Take the BTS (Skytrain) to Saphan Taksin (S6) station. From there, go to Sathorn Pier (it is under the bridge) and take a boat (the ones with the orange flag cost 15 Baht and the ones with the blue flag cost 40 Baht) to Tha Chang pier.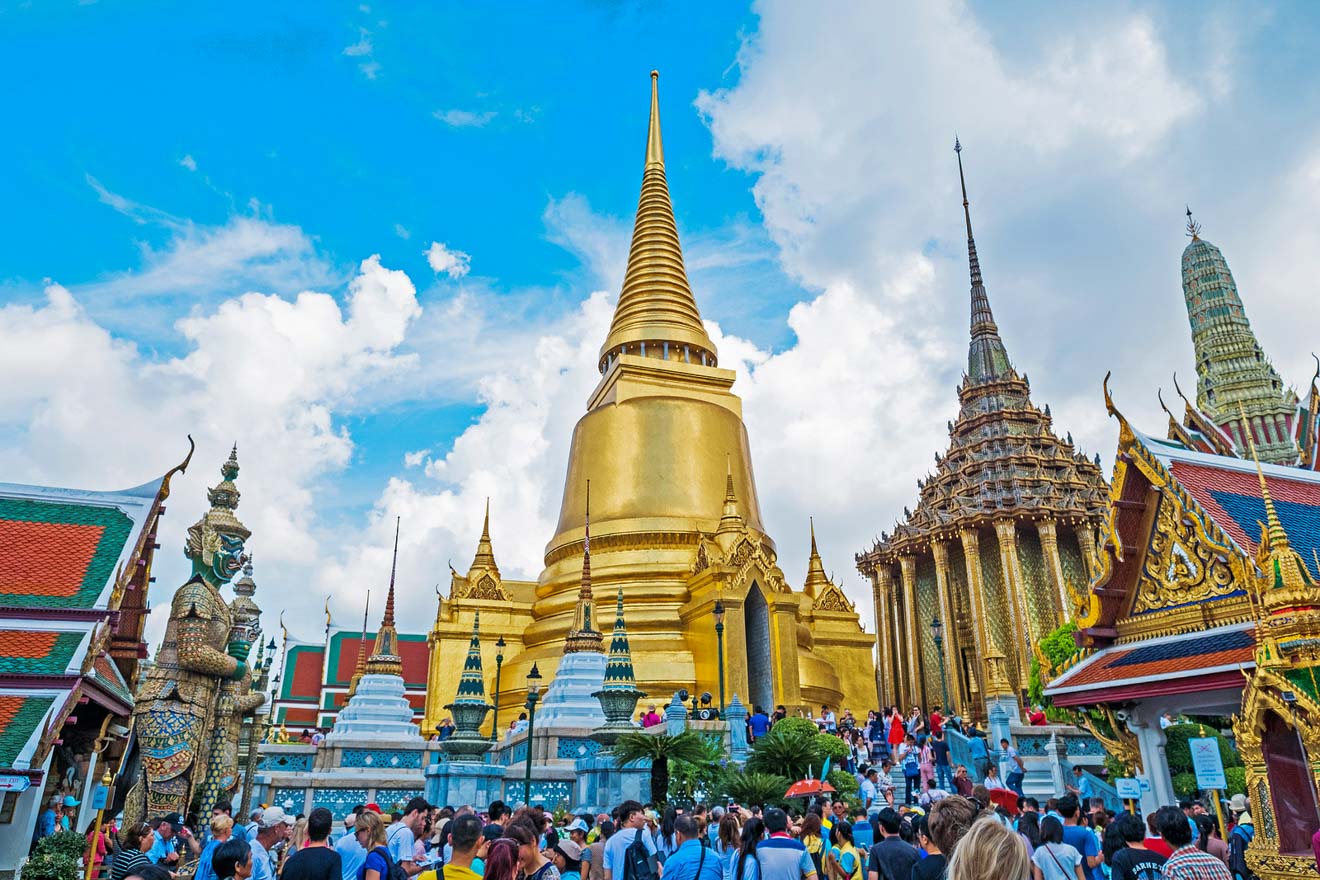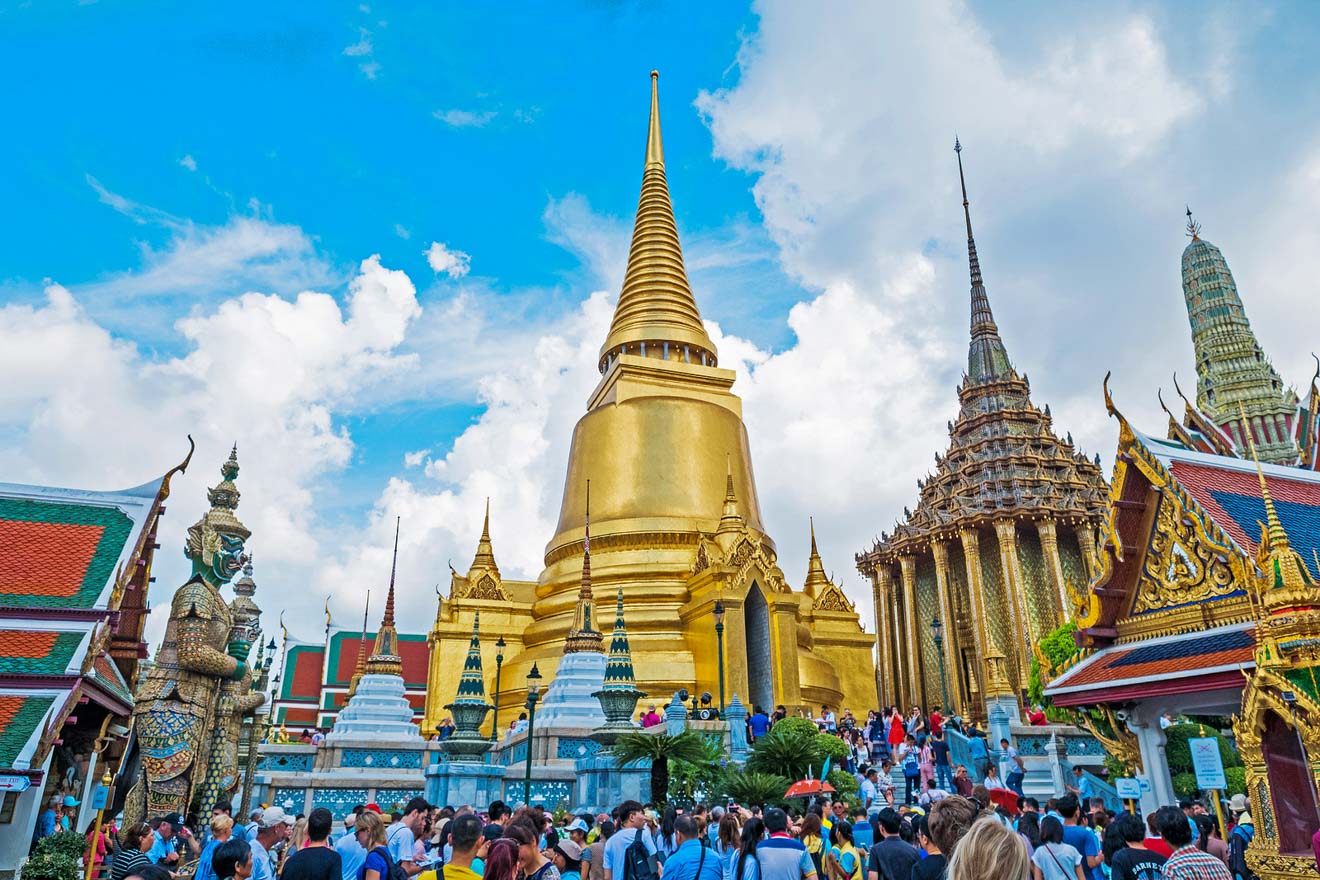 The Grand Palace is probably the most visited place in Bangkok and If you would prefer an organized tour, I can recommend this Grand Palace and Wat Phra Kaew morning tour!
If you are short on time and want to go on some good Bangkok sightseeing tours where you will see the highlights of the city, I can recommend this "Best of Bangkok" tour that will take you to the Grand Palace, Wat Pho, Wat Arun, and the Emerald Buddha Temple!
PRO TIP: Please note that there are many scams outside of the Grand Palace, such as tuk-tuk drivers who will lie that the Palace is closed (because of a religious ceremony) and ask for a small price so they can take you to some other temples. Just ignore them and keep walking to the entrance, you will see that the palace is not closed!
PRO TIP 2: You can take a free English tour at the Grand Palace at 10 AM, 10.30 AM, 1.30 PM and 2 PM.
NOTE: Make sure to have your shoulders and knees covered when you go there, as the Grand Palace has a very strict dress code. Also stay away from tight jeans, leggings, dresses, flip-flops, etc. If you want to wear sandals, make sure they have a back strap.
2. Visit Wat Pho Temple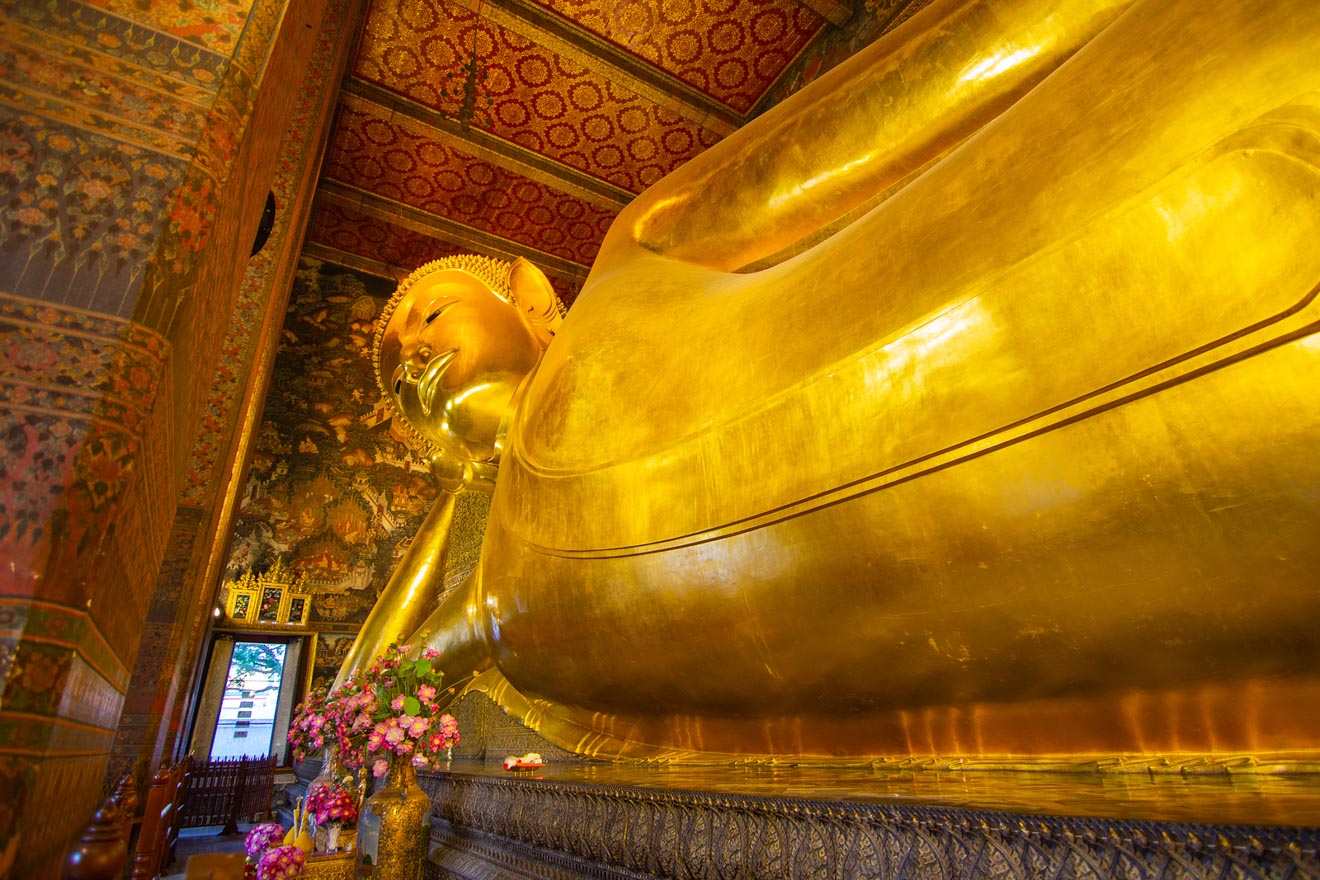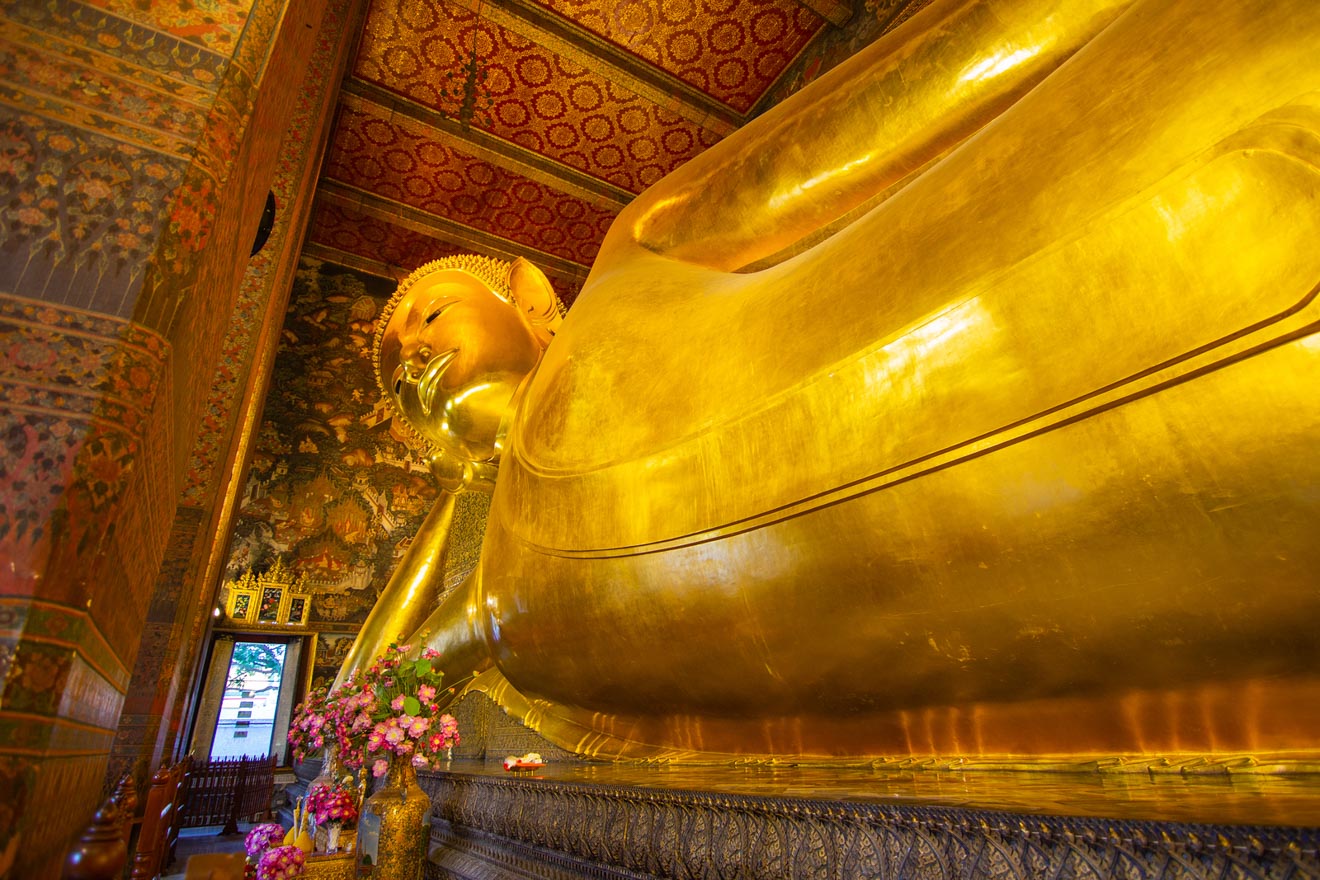 Wat Pho is also known as the Temple of the Reclining Buddha because of the impressive 46m long and 15m tall statue that you can find inside – so it is definitely one of the places that you must see in Bangkok!
But besides the world-famous Buddha statue, I do recommend walking around a little bit more while you are there. I really liked this temple complex the most because you can actually walk and get lost between hundreds of Buddha statues. It is not as crowded there and this is what I truly appreciated about Wat Pho!
Again, I definitely recommend visiting the temple at sunset – that is the time when it is less crowded and the colors and atmosphere are simply gorgeous!
PRICE: The entrance fee is 100 THB (3 US$).
HOW TO GET THERE: Wat Pho temple is located 10 minutes away by foot from the Grand Palace.
PRO TIP: If you liked Wat Pho during the day or sunset light, then you will be amazed to see it at night as well! I recommend coming back here after dawn because there will be no people but the outside of the temple will be beautifully lit! Even though the temple might seem closed at first, you can go in using the small entrance from Chetuphon Road. The best part? You won't have to pay any entrance fee!
If you want to visit it with a night tour, I recommend this bike tour that will take you to Wat Pho and Wat Arun as well!
3. Cross the river and see Wat Arun Temple as well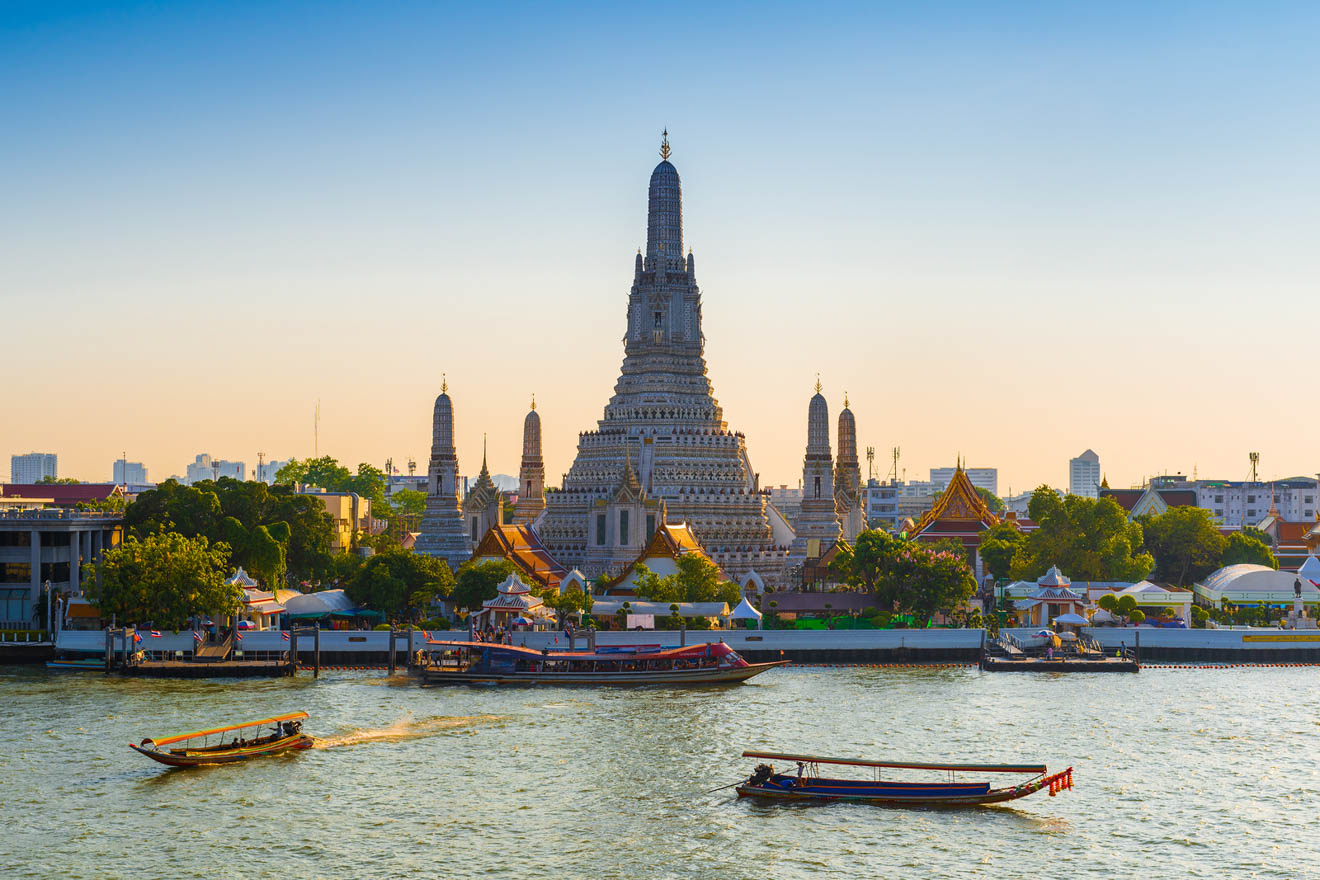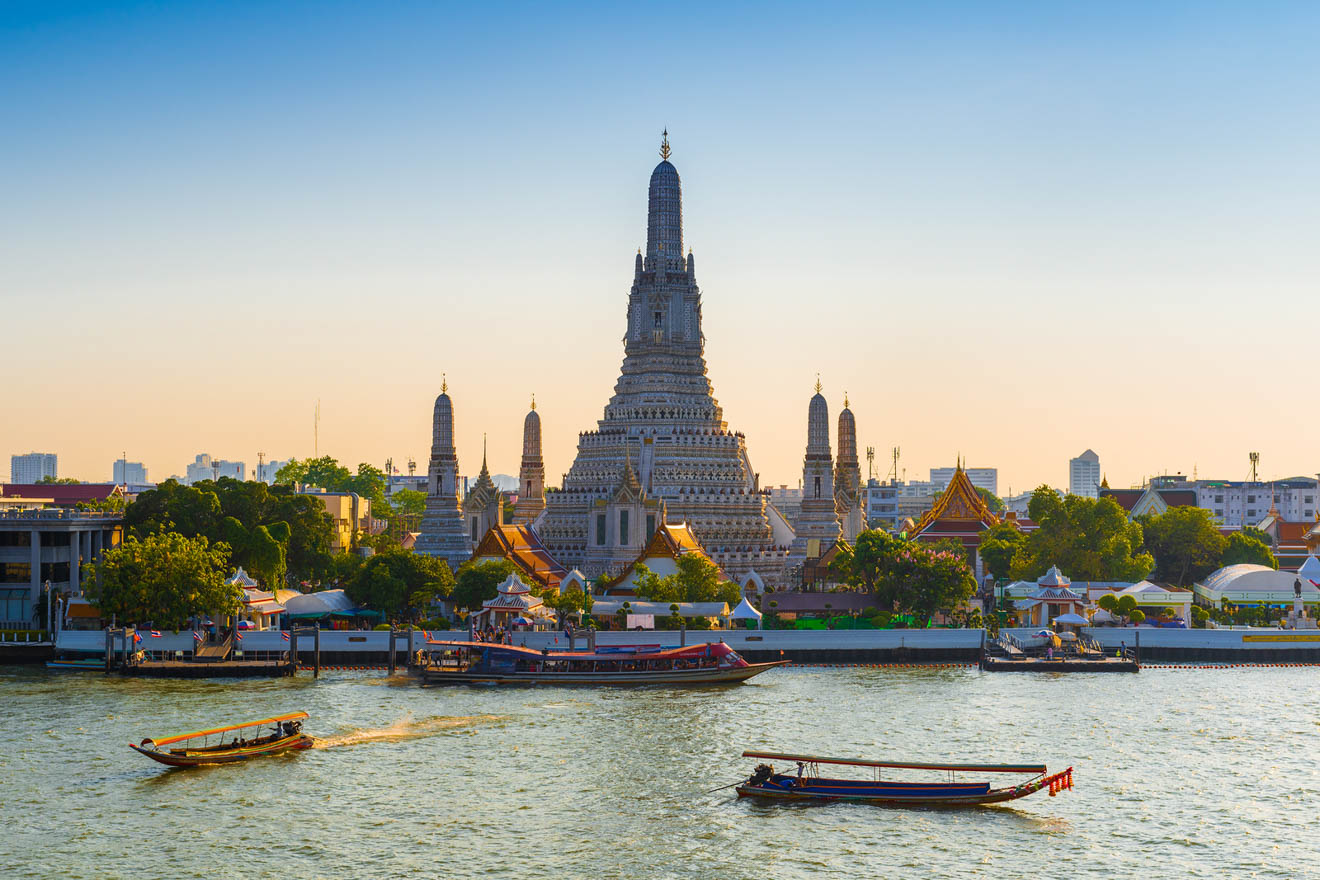 After visiting Wat Pho, you can take a ferry and visit another of the popular Bangkok attractions – a temple called Wat Arun (it is right across the river). It is also known as "The Temple of Dawn" because it was named after the God of Dawn whose name is Aruna.
The temple is 79m tall and being there during the sunset will be one of the greatest memories one can have from Bangkok!
Given its beautiful structure and the colorful porcelain tiles that cover the tower, this temple is considered to be one of the most beautiful edifices in Thailand – and I totally agree with that!
PRO TIP: I recommend climbing to the top of the pagoda (tower) for a gorgeous view over the river!
PRICE: The entrance fee is 100 Baht (3 US$).
HOW TO GET THERE: From Wat Pho, you can take a ferry across the river for 3 Baht that will take you at Wat Arun.
If you would like to visit this landmark on an organized tour, this flexi walking temple tour that includes Wat Arun, Wat Pho and the Grand Palace is a great option! If you would prefer riding a bike instead of walking, here is a great alternative.
NOTE: You are going to visit many temples, so please take into consideration that your clothes should cover your knees and shoulders. And even if you wear jeans, they do not accept people in skinny jeans, so try to take something like a sarong or a scarf with you. If you are not dressed appropriately (I wasn't, for example) that is not a problem, you will just have to wait in the queue for the sarong/scarf. Most places offer it for free, but sometimes you will need to pay (around 20 Baht) to rent it.
4. Walk around Chinatown and try different dishes
There is a Chinatown in almost every big city in Asia, but nothing can compare to Bangkok's Chinatown!
Chinatown is one of the best Bangkok tourist attractions! You know you have arrived at one of the most colorful neighborhoods in the city after you enter the big Chinese gates and you see all the restaurants and street food places in front of you!
Chinatown is the perfect place to visit if you want to indulge in delicious Chinese food for cheap prices (even at night!) – soups, rice balls, exotic fruits, seafood, the popular Yaowarat Toasted Bread and everything else your heart desires!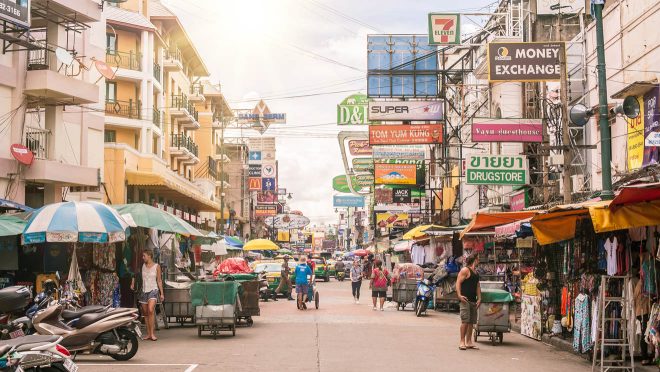 The area is also perfect for buying souvenirs to bring back home – don't forget to bargain!
HOW TO GET THERE: Chinatown doesn't have a Skytrain (BTS) station or a metro station MRT). You can get there by tuk-tuk or Chao Phraya River Express boat. Get off at Ratchawong Pier and walk to Yaowarat Road, located in Chinatown.
In case you want a guide to tell you which are the best dishes to try in Chinatown and you are also searching for things to do in Bangkok at night, I recommend this 3.5-hour night food tour! This Chinatown food tour with a focus on Yaowarat Street is another good alternative.
Day 2 – Jim Thompson House, Lumphini Park and nightclubs
For the second day I recommend visiting Jim Thompson House, Erawan Shrine, relax in a gorgeous park and go to a nightclub area. Here is what I suggest to see, market on the map (Khao San Road and Patpong are some suggestions for going out at night, you can choose from the list below).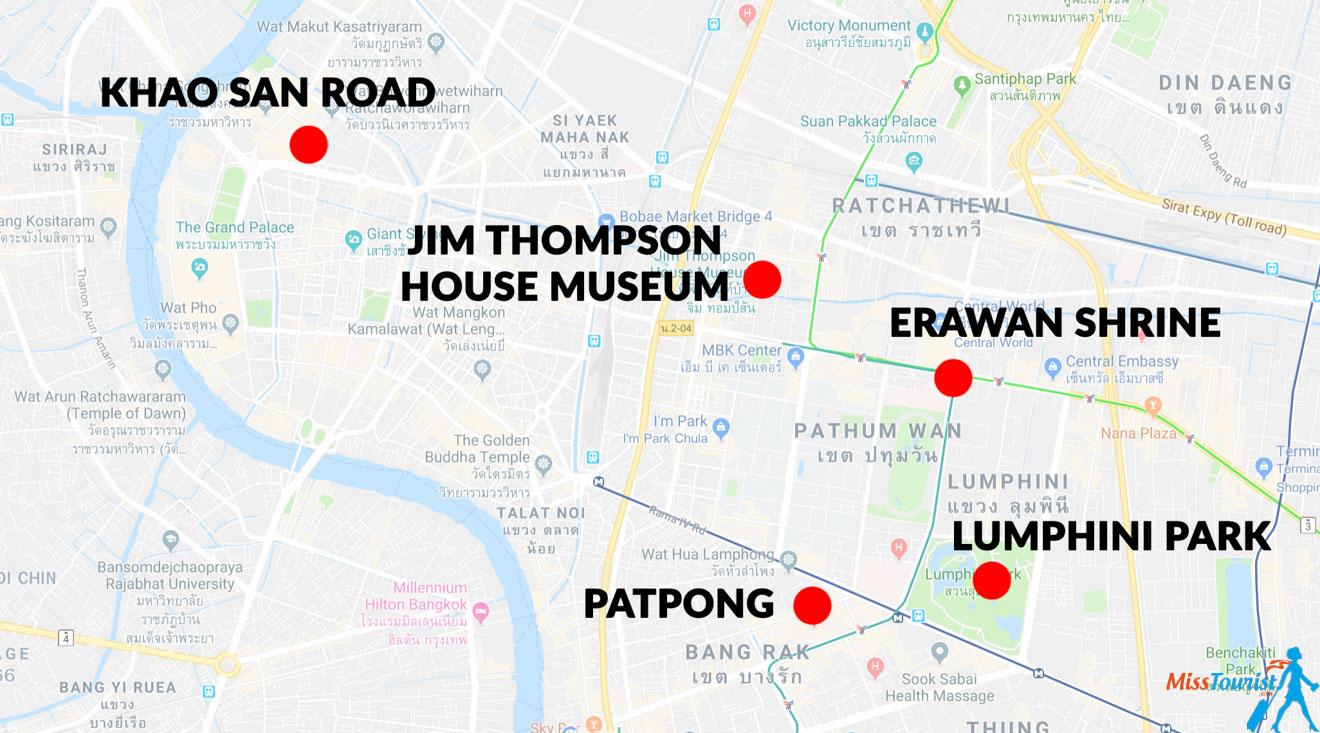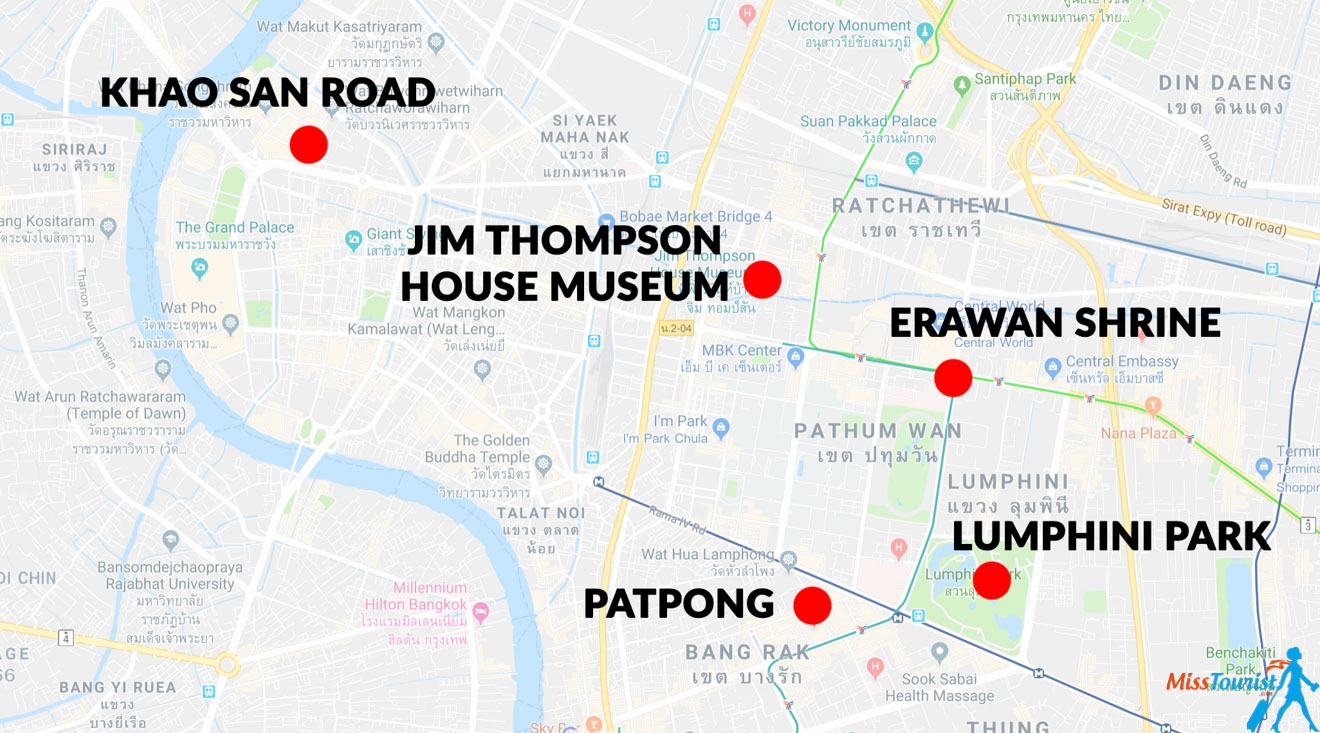 1. Pay a visit to Jim Thompson House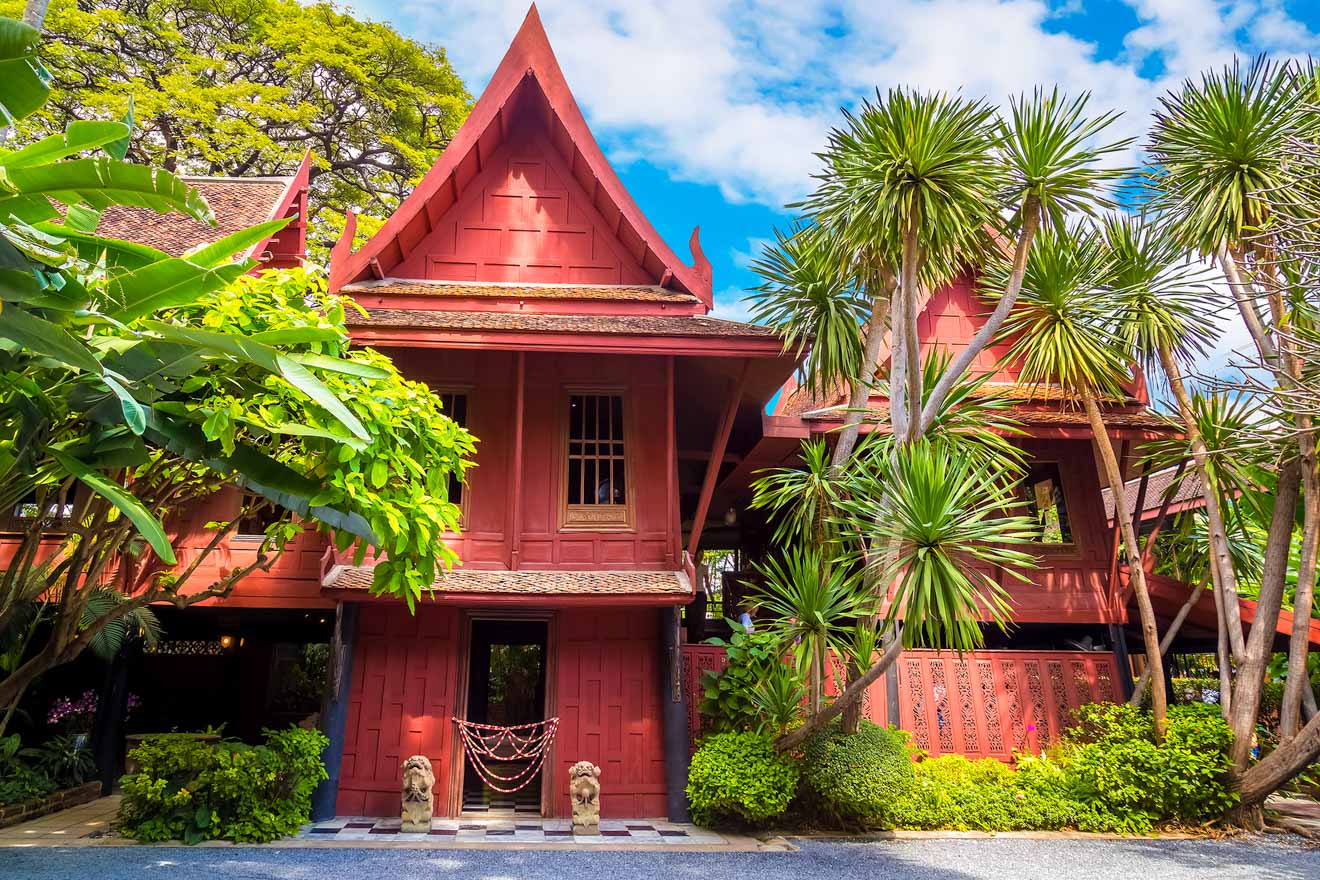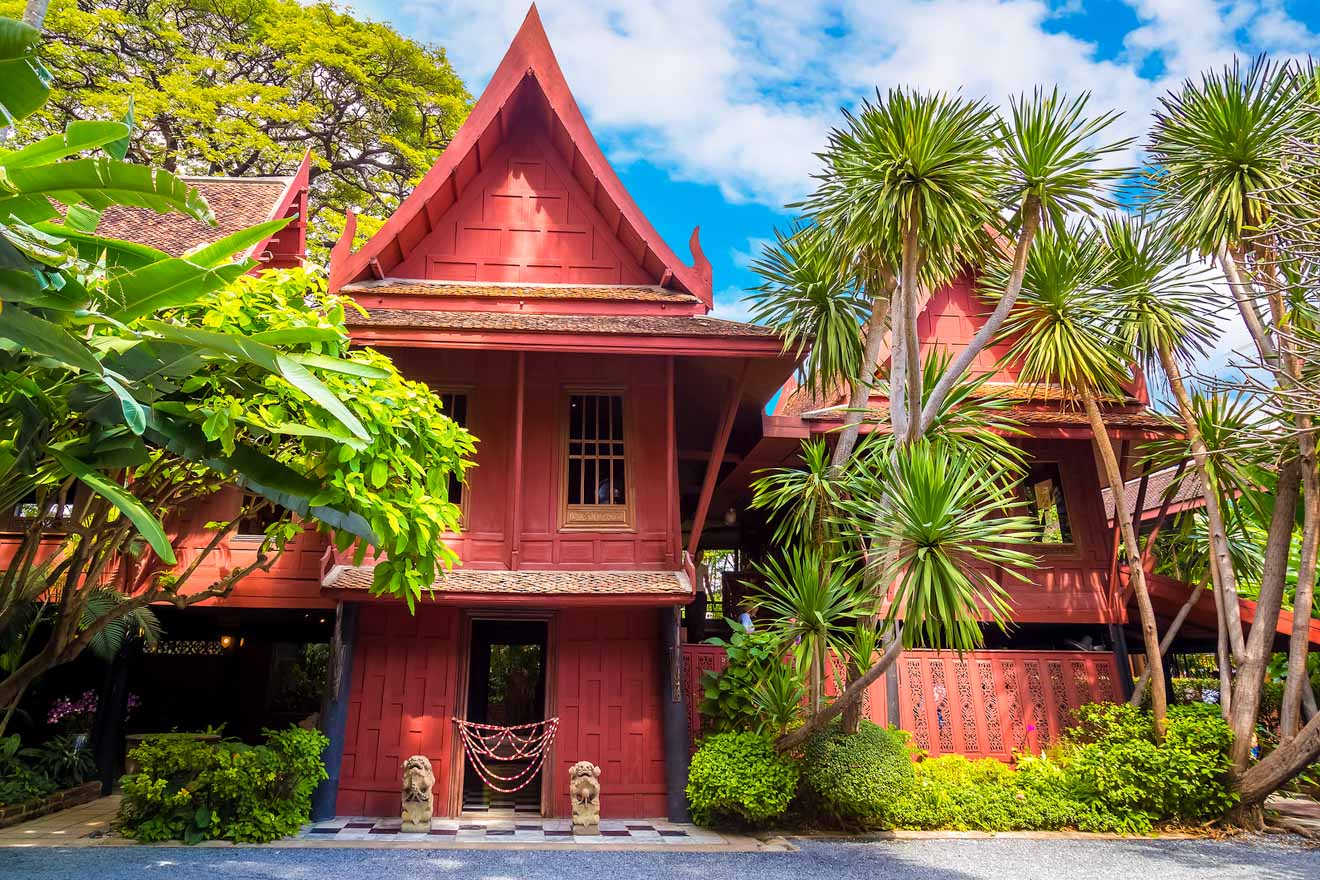 I am sure you heard about the famous, high-quality Thai silk that is appreciated all over the world! Bangkok is the perfect place to learn more about it – during a visit to Jim Thompson House!
Jim Thompson was an American architect that fell deeply in love with the Thai art of silk production and did his best to bring it back to life. He loved the country so much, that he built his residence (more like a complex) here – a gorgeous Thai-style house that was later transformed into a museum that you can now visit. It has koi fish ponds, gorgeous gardens, and beautiful artifacts and Buddhist statues! While you are there, you will truly escape the hustle and bustle of the city!
Even though this was on my list of top 10 things to do in Bangkok, unfortunately, I did not have enough time to visit it, but I definitely recommend going there to learn more about the Thai Silk Company (that he opened in 1948) and about the unique character that was Jim Thompson!
Jim Thompson disappeared while he was on a trip to Malaysia in 1967 and he couldn't be found again!
PRICE: In order to understand the history of the place and of the Thai silk industry, I recommend booking a guided tour once you get there. The price of the tour is 150 Baht (around 5 US$, includes the entrance fee), it takes around 35 minutes and the tours leave every 10 minutes. The tours are available in both English and French.
HOW TO GET THERE: Take the Skytrain to National Stadium Museum station. Jim Thompson Museum House is a 3-minute walk from there.
2. See the unique Erawan Shrine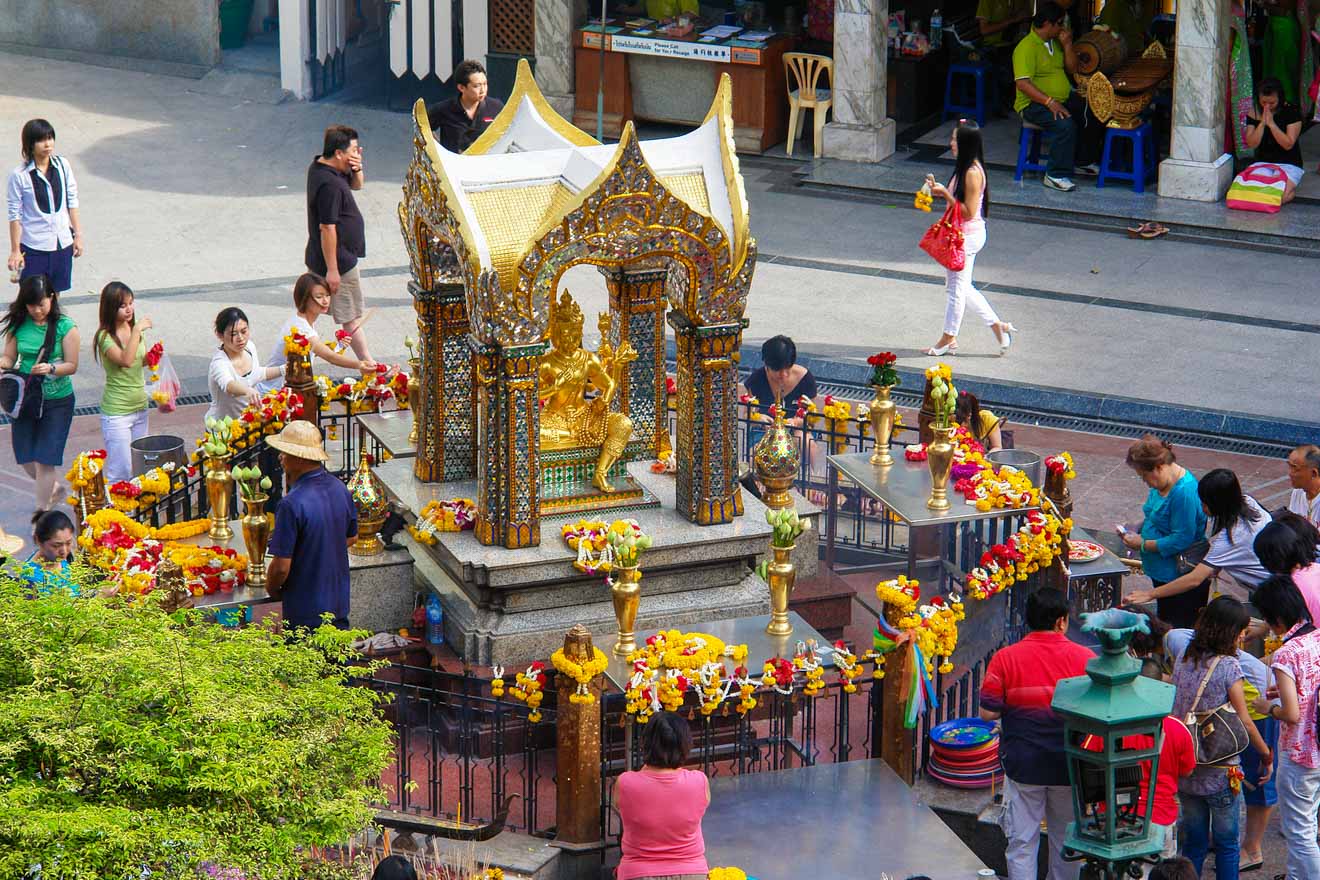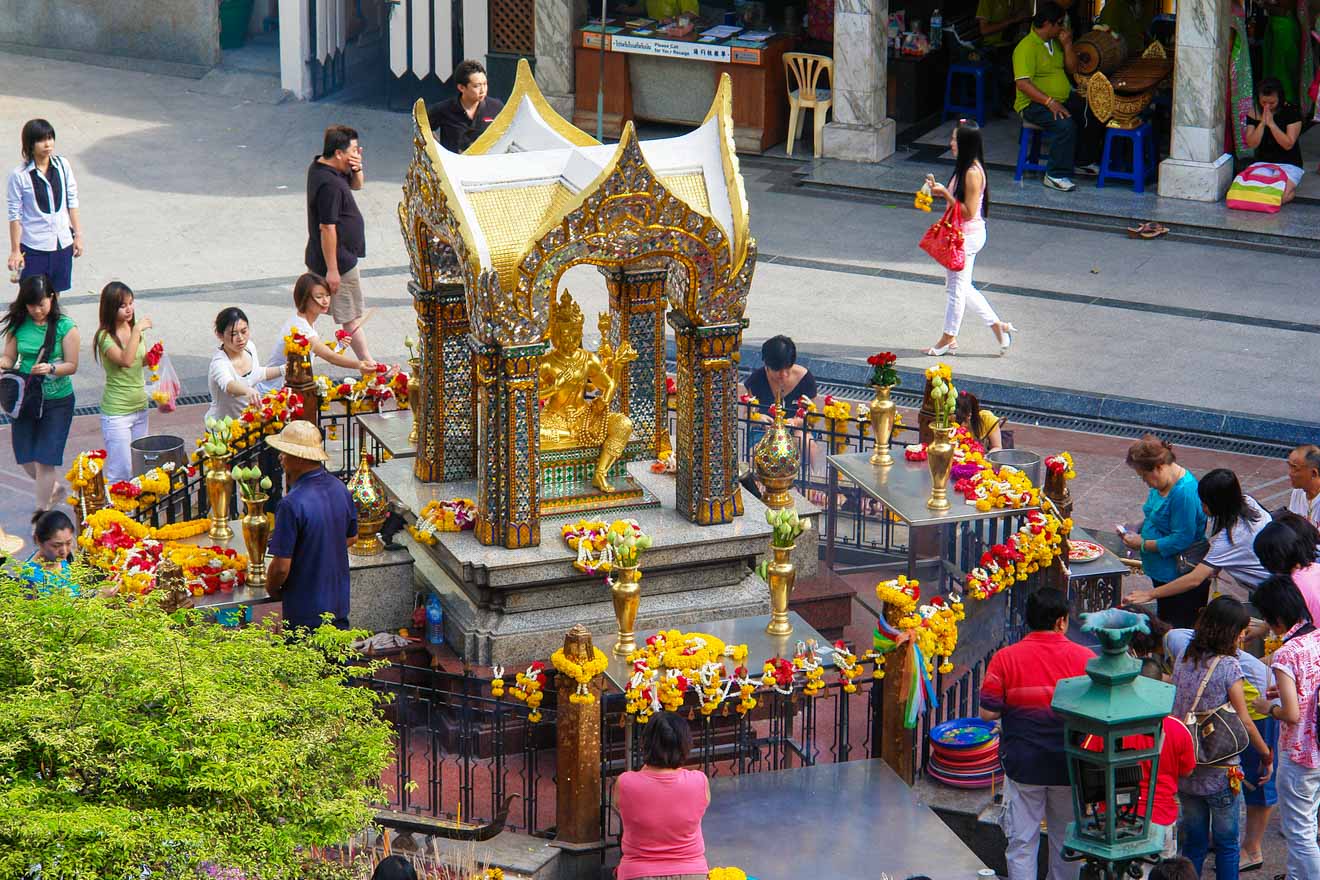 Erawan Shrine is a very popular tourist attraction in Bangkok, sometimes even more popular than some temples!
This extremely colorful and beautiful Hindu shrine has a very funny story (dating from the 50s) as well: some construction workers that were building a hotel thought that the spirits are angry because the construction wasn't going that well, so they said they can't continue the project without a shrine. So they received a shrine!
Both locals and tourists visit the shrine and the locals hang colorful flower garlands while making wishes. Because it is located right in the heart of the city, the shrine is the perfect place where traditional times meet modern times.
PRICE: There is no entrance fee.
HOW TO GET THERE: If you are at Jim Thompson House, you can walk to the shrine (it is around 20 minutes away). If you are coming from another part of the city, the closest metro station is Chit Lom.
PRO TIP: Tired from all the walking? You can try a foot massage – there are cheap parlors everywhere in the city and the prices are around 250 Baht (8 US$) for one hour or foot massage!
3. Relax in Lumphini Park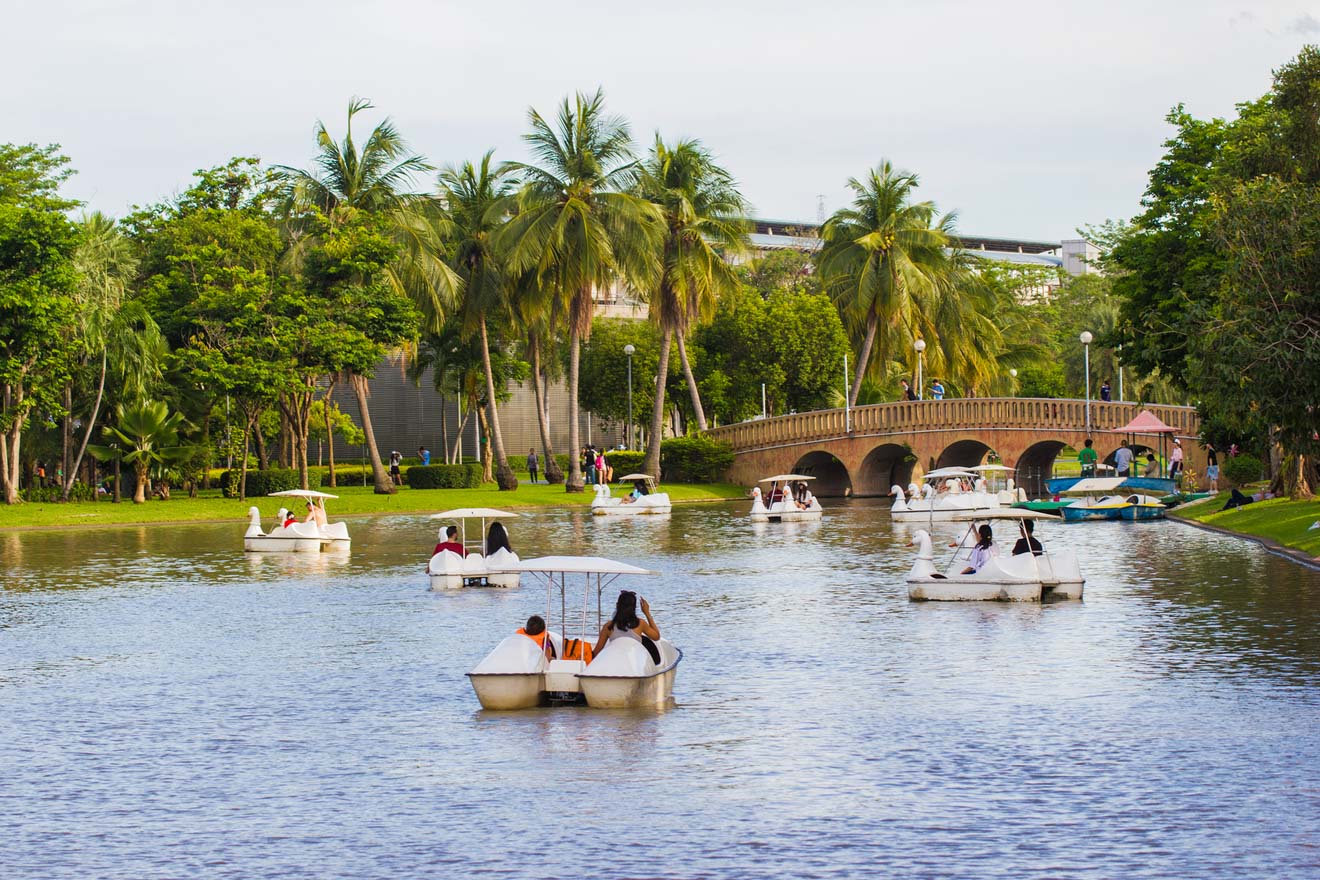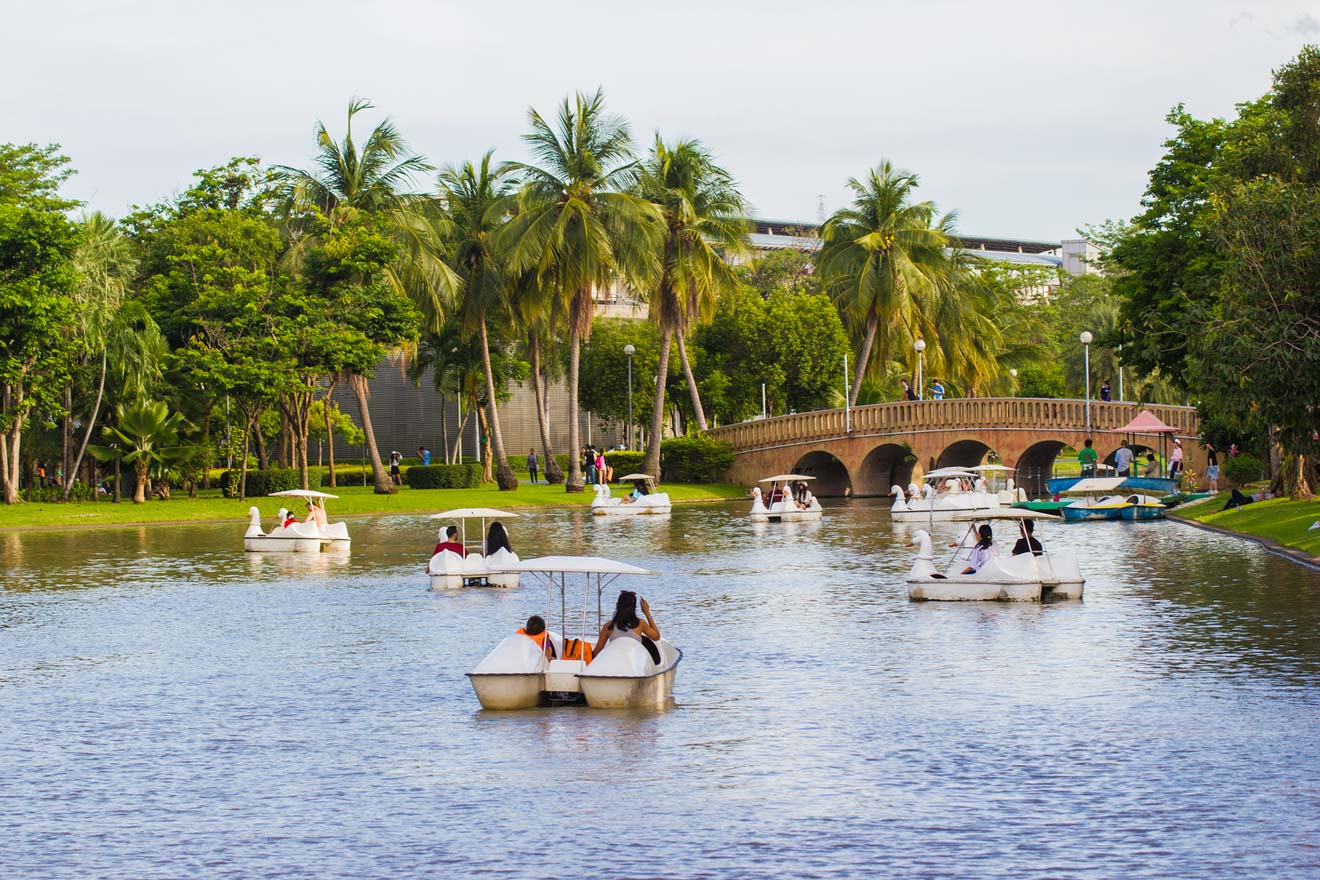 Are you getting tired of all the temples and tourists in Bangkok? No problem, there are many other cool things to do in the city!
Another one of the main places to visit in Bangkok is Lumphini Park. This is not your regular park, but a biiiig 500.000 square meters green area where you can really enjoy some silence and get away from the noisy city! If you want to avoid the crowds during the weekend, I recommend going there at sunset or early in the morning, if you can.
While you are there, you can see hundreds of Thai people doing fitness together at around 5 PM, close to the South-West entrance. Maybe you want to join as well, why not?
HOW TO GET THERE: If you are at Erawan Shrine, you can walk for 15 minutes and you will reach the park. If you are coming from another part of the city, take the Skytrain and get down at Sala Daeng station. The park is a 5-minute walk from the station.
PRO TIP: Silom Night Market is located very close to Lumphini Park and it is open from 5 PM to 2 AM. You can visit the park first and then check out the market!
3. Enjoy the rich Bangkok nightlife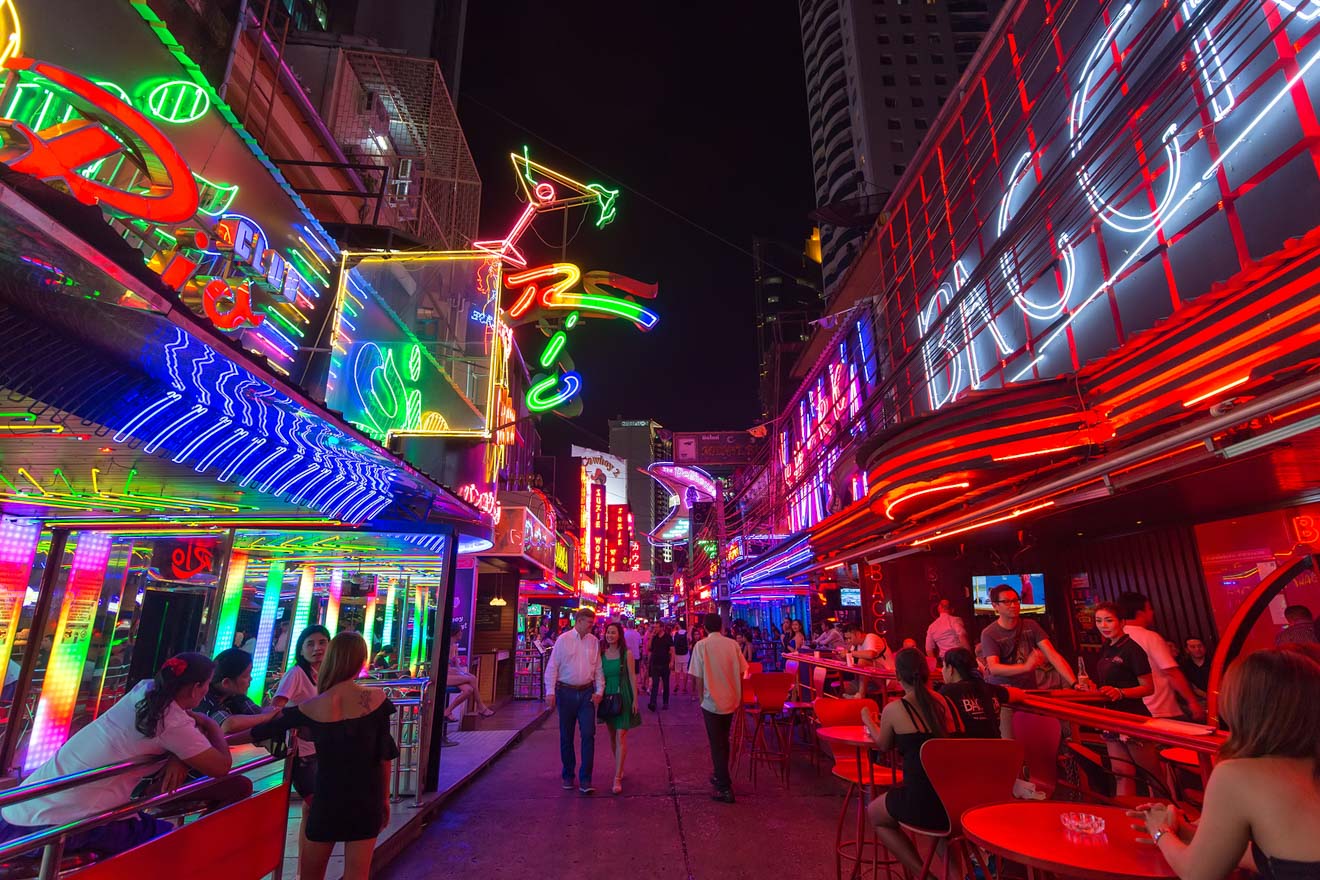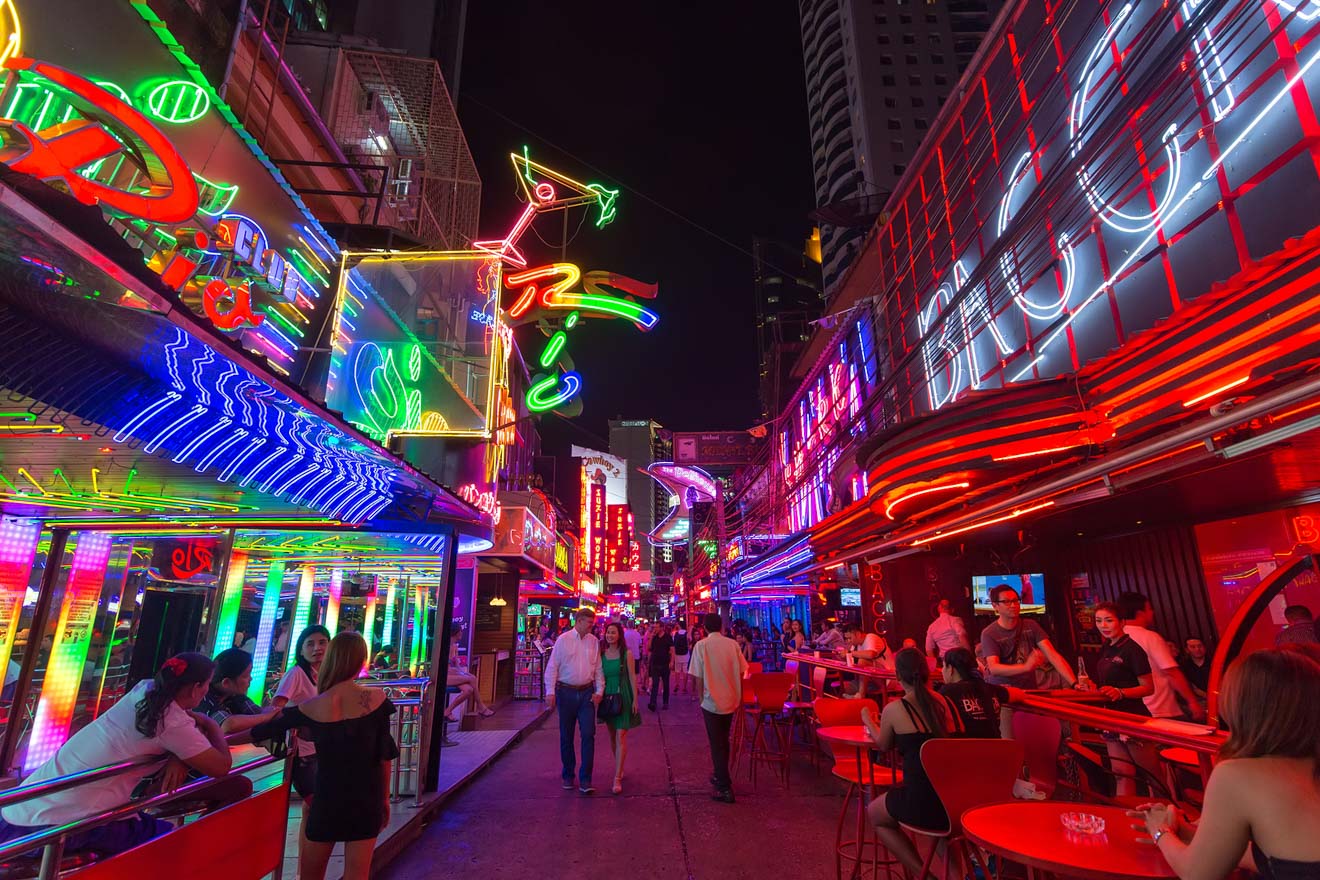 Rooftop cocktail bars, nightclubs, wild parties, nice places with live music – when it comes to nightlife, Bangkok has it all!
Here are just some of the best areas in Bangkok where you can have a true taste of its entertainment: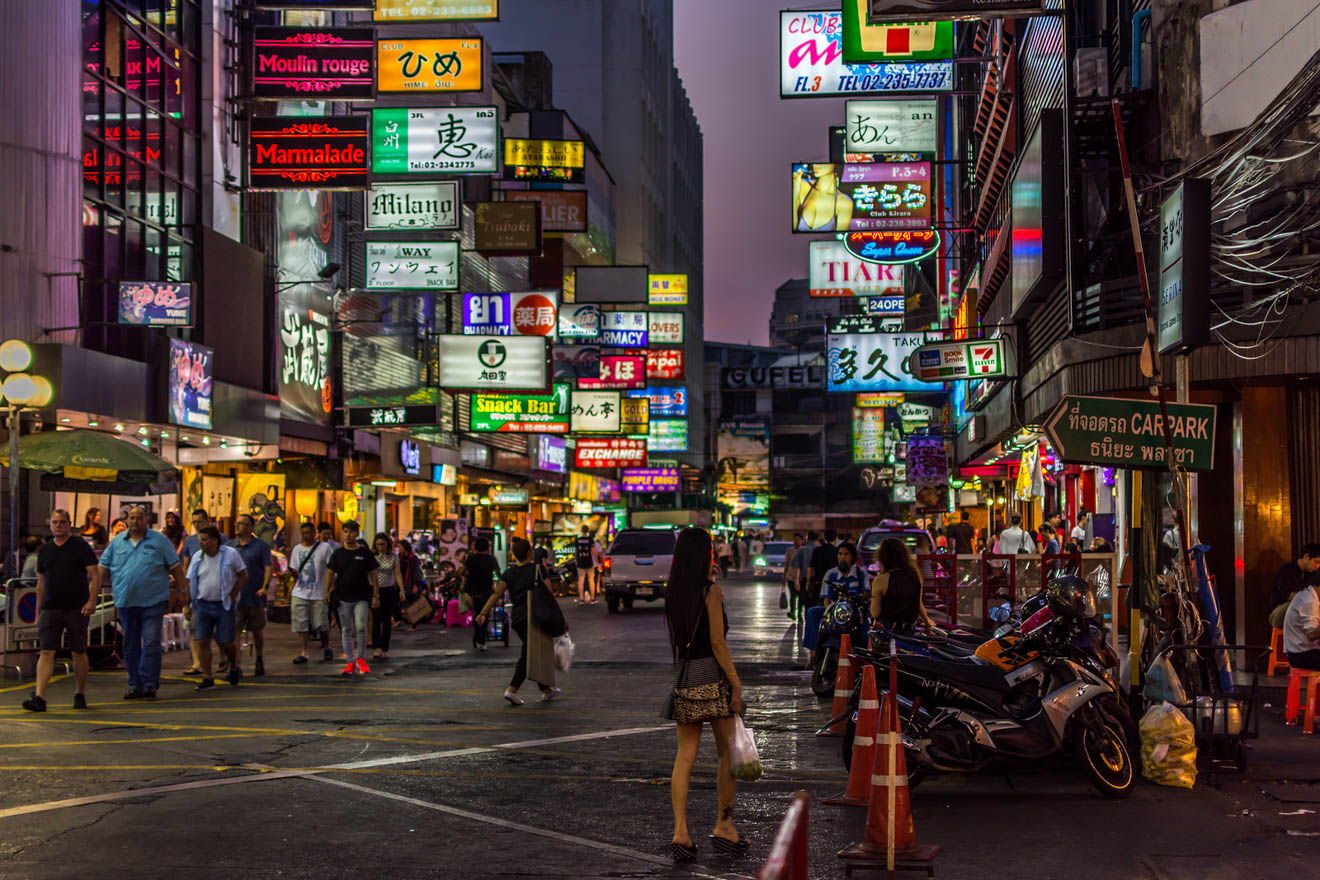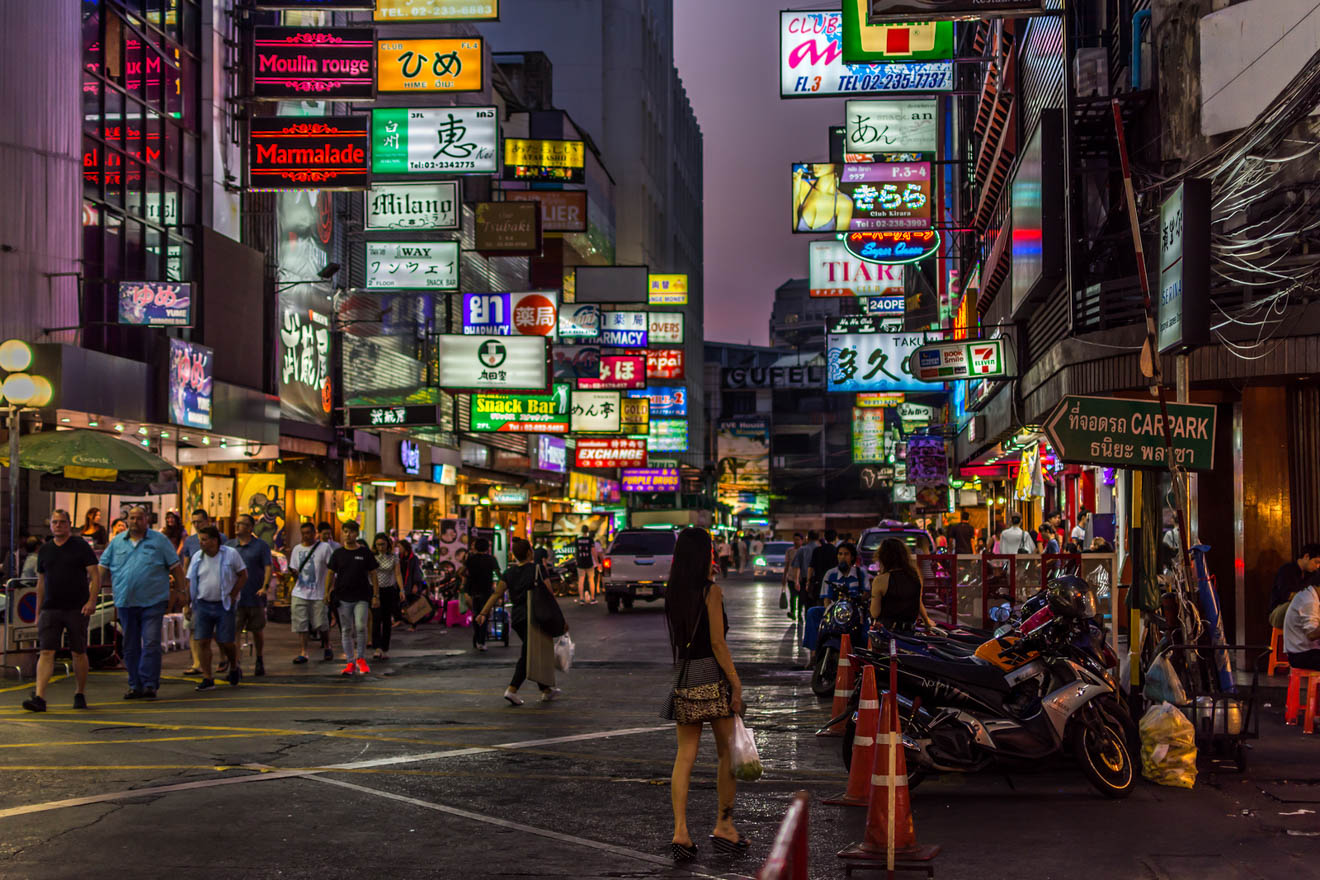 During my stay, I went to Patpong alone and I can say that it was quite an interesting experience! One very popular activity to do in this area is to go and see a "ping pong show" – it is basically a type of sex show where women "pop" or hold different objects in their vaginal cavity. It is named "ping pong show" because they usually do it with, you guessed it, ping pong balls!
If you are curious and want to see one of these shows, Patpong is the perfect place to go! Please be aware that you will most probably be overcharged for your consummation, as this is common practice in these type of places, so make sure to ask from the beginning if they practice drink fees, show fees, exit fee, etc. and try to pay for each drink rather than ask for a total bill at the end.
NOTE: The nightlife law regulations got stricter in recent years – the clubs and bars in Bangkok now close between 1.00 AM and 2.00 AM.
NOTE 2: In some clubs, tourists have to pay for a cover charge of 200 to 300 THB (7 to 9 US$) that usually includes one drink as well. Some clubs also have a strict dress code, so make sure to not wear your sandals or shorts when going out to a fancy place.
Day 3 – Shopping, souvenirs and rooftop bars
On the last of my recommended itinerary I recommend visiting a floating market, visit some malls to get souvenirs (MBK Center and Siam Paragon are just some suggestions), and at the end of the day have a cocktail in one of the sky bars. Here is this day's itinerary on the map: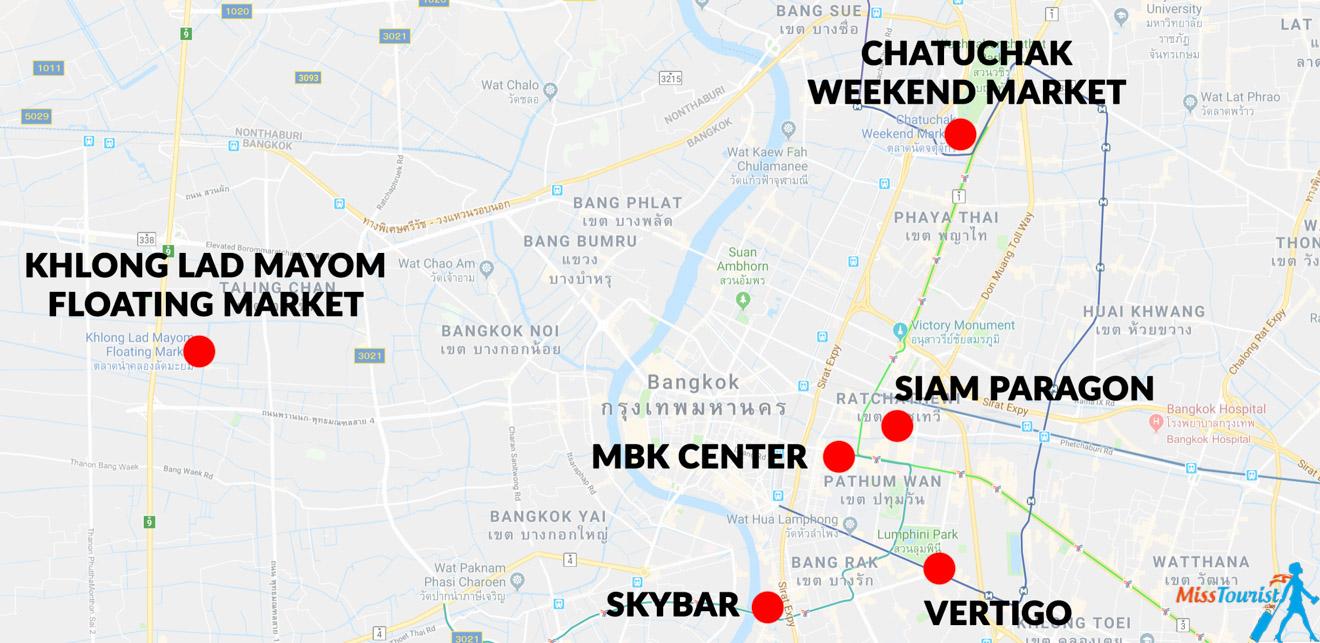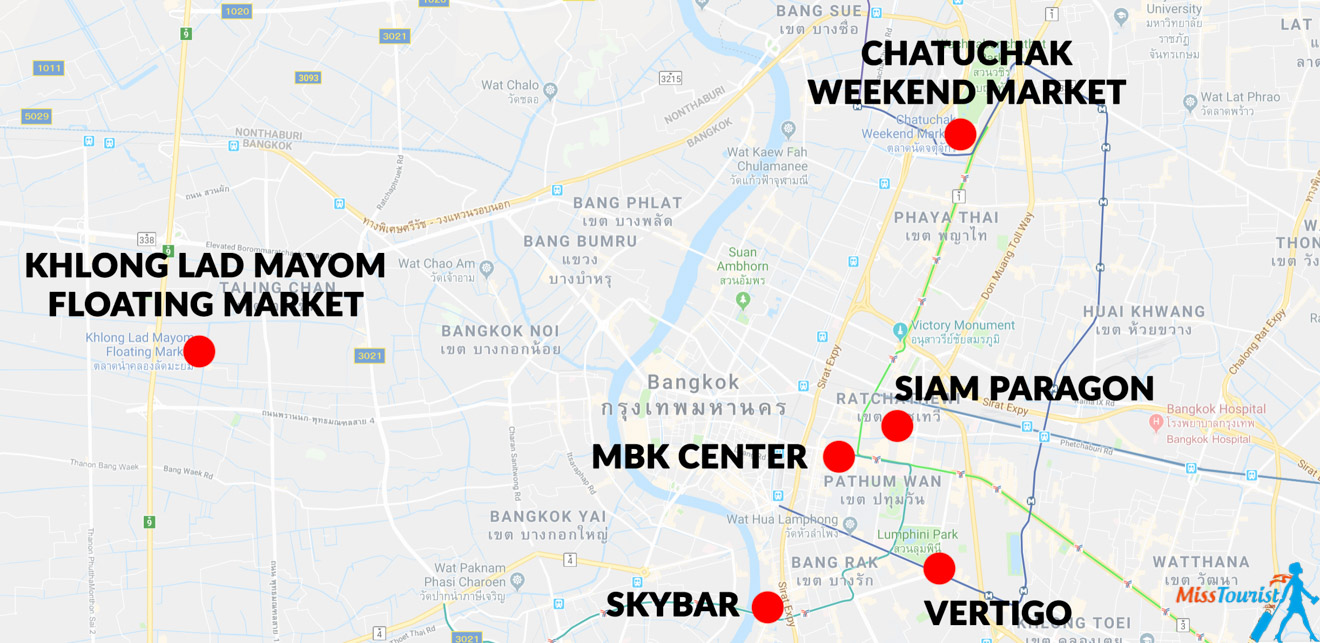 1. Experience a floating market or the famous railway market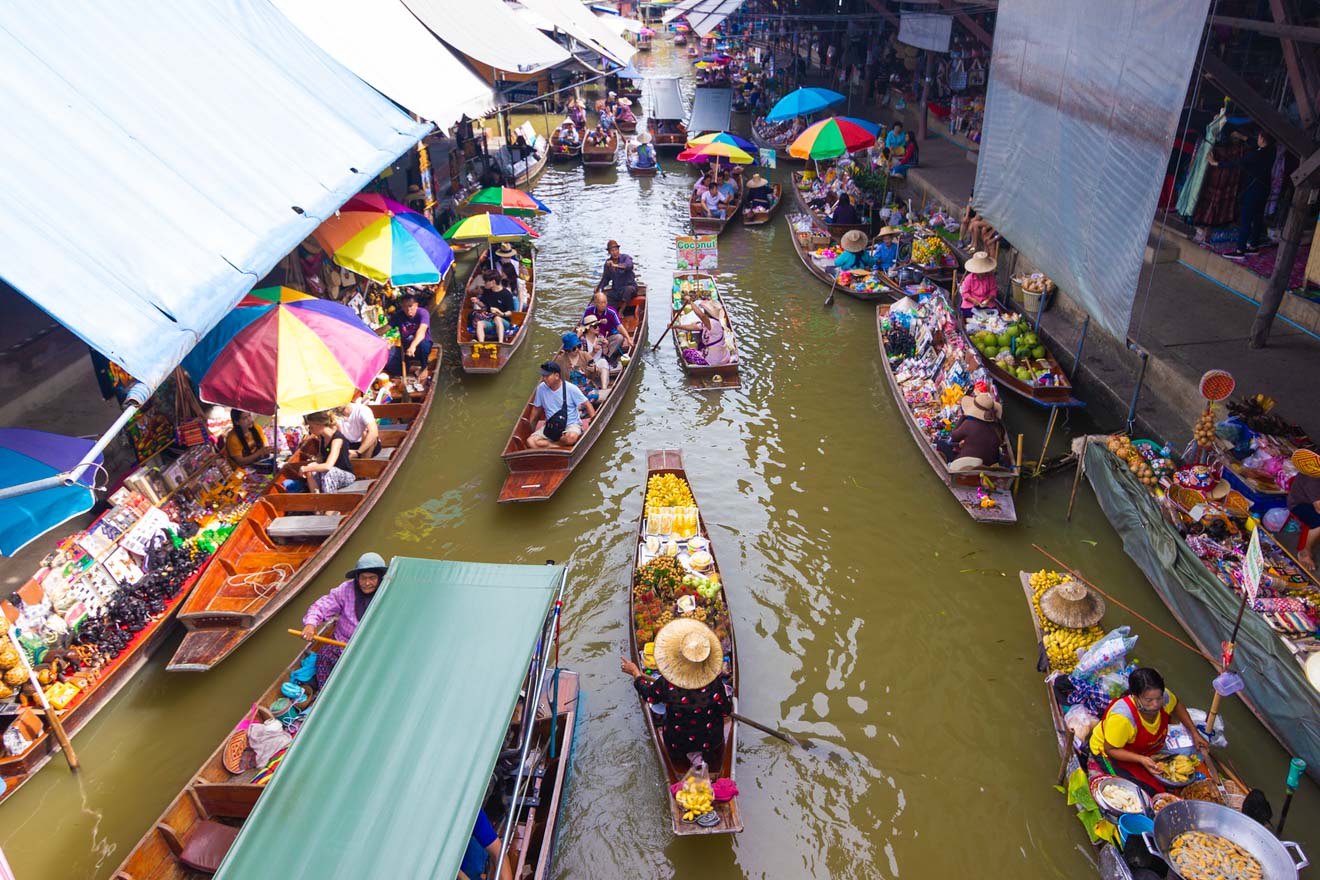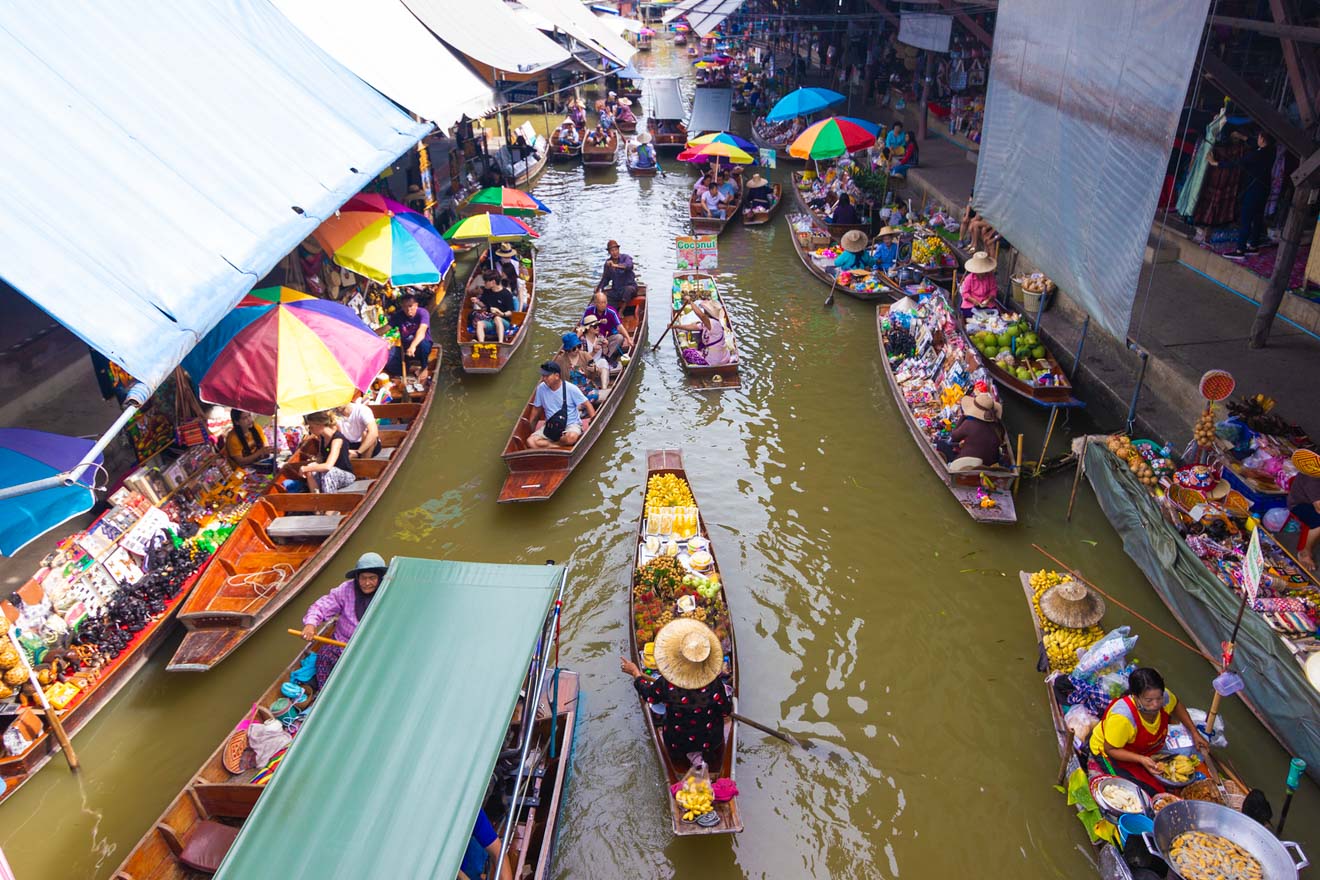 Floating markets are very popular in Thailand (as well as Vietnam, Sri Lanka, and some other Asian countries) and they are special places where people sell goods on boats. Visiting one of these markets should be on your list of must do in Bangkok, even though they are located a bit outside the city!
You can choose from these ones (or combine them with the railway market, which is truly unique):
Khlong Lat Mayom Floating Market – many people say this one is worth visiting, but it is only open during weekends, so I did not have a chance to check it out! This floating market is located around 16 km away from the city and you can get there by hailing a taxi (the ride takes half an hour and it should be 200-250 Baht / 7 US$)
Damnoen Saduak Floating Market – this is another floating market located 1.5 hours away from Bangkok that you can visit during an organized tour!
Maeklong Railway Market – this one is unlike the other markets you will see during your vacation! Maeklong Market was built on a railroad that still works! It is such a unique thing to witness all the vendors picking up their stalls before the train passes and then putting them back again until the next train comes! Where else in the world you will see this? You can visit the market during an organized tour together with Damnoen Saduak Floating Market.
If you prefer a complete day tour of the floating markets and the Railway Market as well, here is a good one.
2. Do some shopping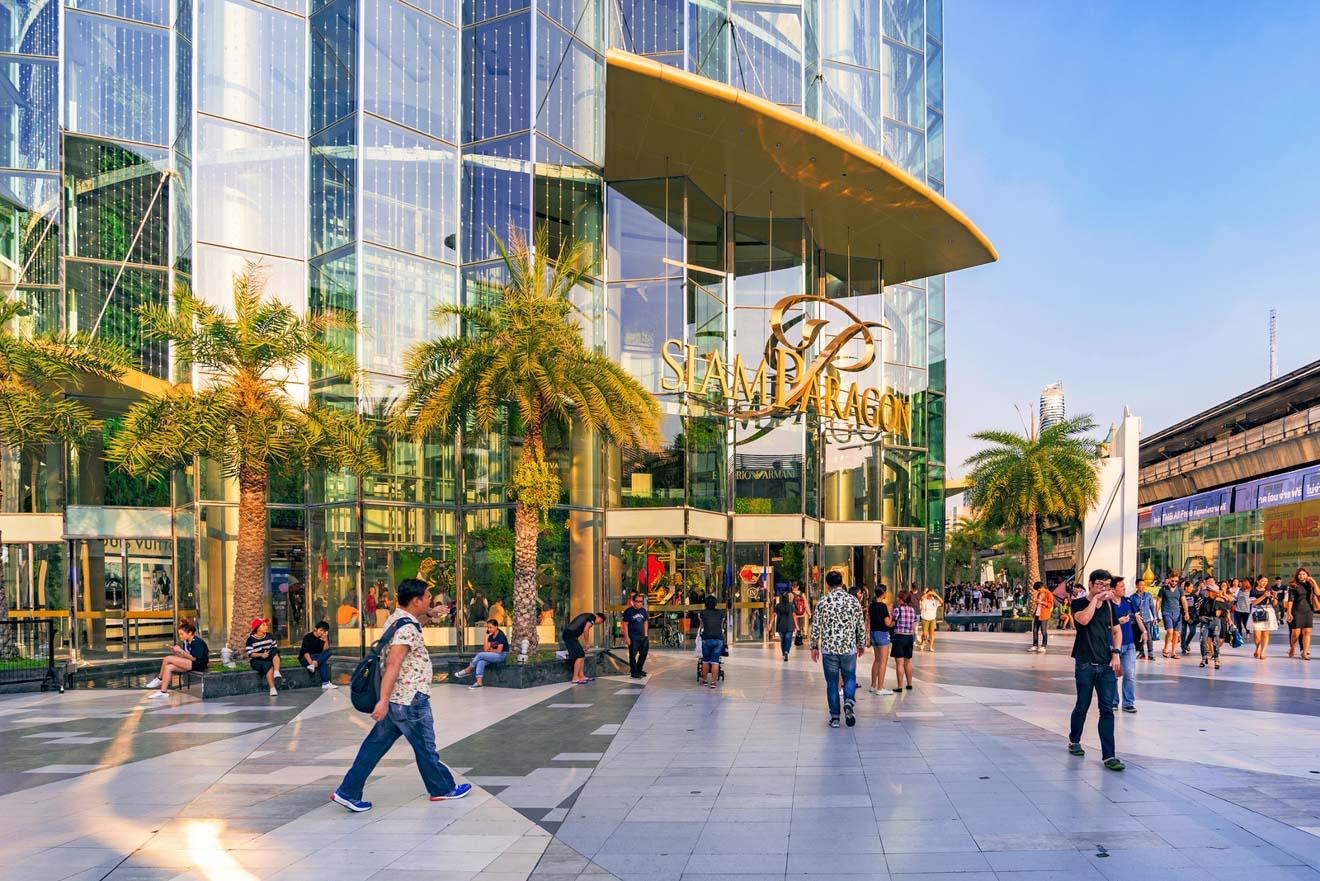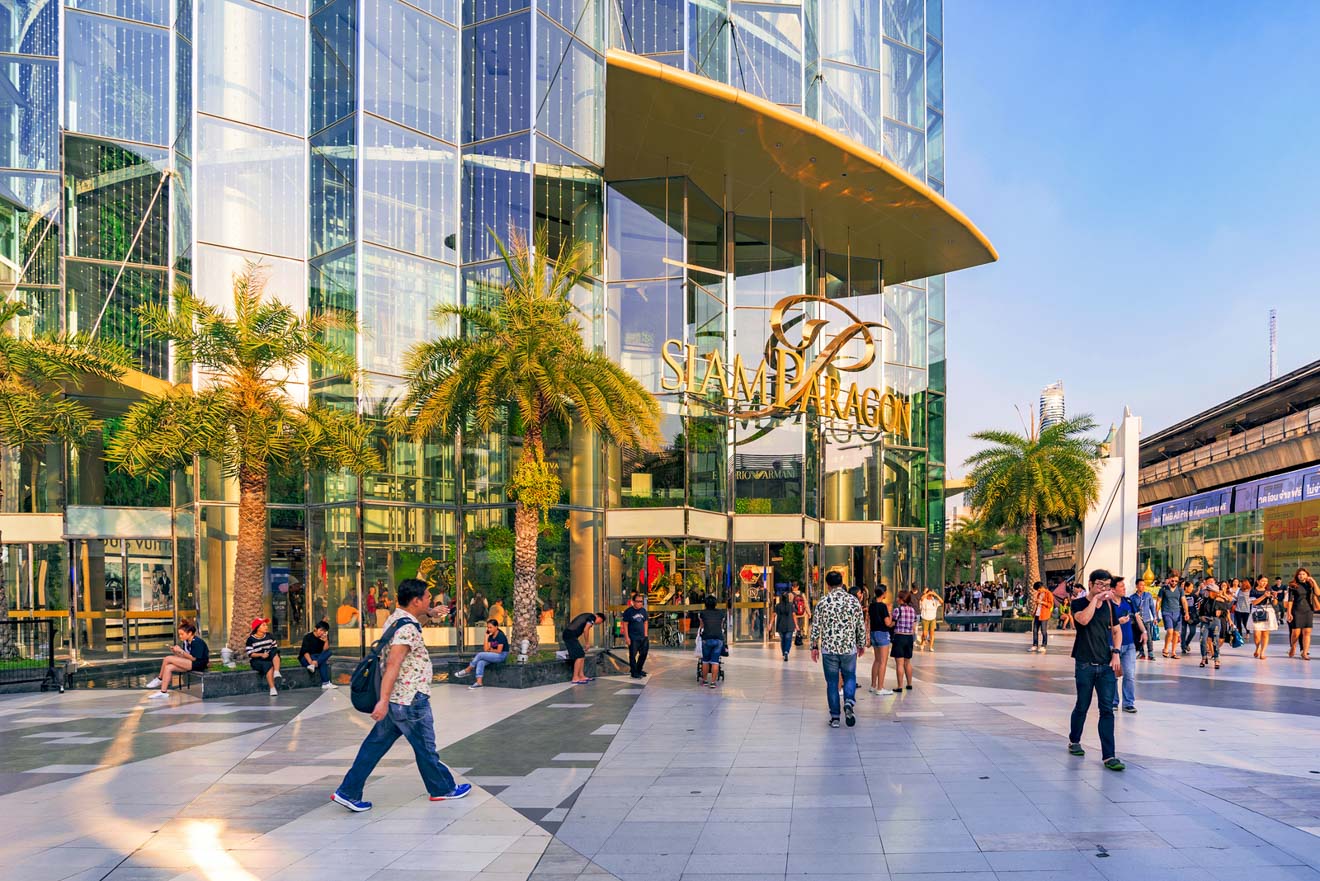 At the end of my stay in Bangkok, I had this impression that the city is one huge, never-ending market!
There are maaany markets and malls full of interesting things and going on a shopping adventure is one of those things to try in Bangkok! Here are some that I can recommend:
Siam Paragon – you can find anything your heart desires here – fashion items, electronics, food, even cars! There are more than 250 shops there!
Chinatown – vibrant, colorful and chaotic! Be prepared to see millions of people and all kind of Chinese stuff.
Chatuchak Weekend Market – I finally managed to visit it during my last visit in Bangkok! If you are searching for a place to buy cheap clothing and souvenirs from your trip, you should definitely go there! This is actually one of the biggest markets in the entire world, with more than 8.000 stalls (it is worth taking a map from the tourist info nearby!). The market is open on Saturdays and Sundays from 9 AM to 6 PM and on Fridays from 6 PM to 12 AM. I recommend trying to get there before 2 PM – after that comes the busiest and most crowded time!
The places I mentioned above are located very close to each other, so do not miss them!
PRO TIP: Do not forget to bargain and pay attention to the exit signs, it is so easy to get lost there!
PRO TIP 2: I would recommend avoiding the jewelry stalls, as it is hard to check the authenticity of the items!
3. Enjoy an authentic Thai massage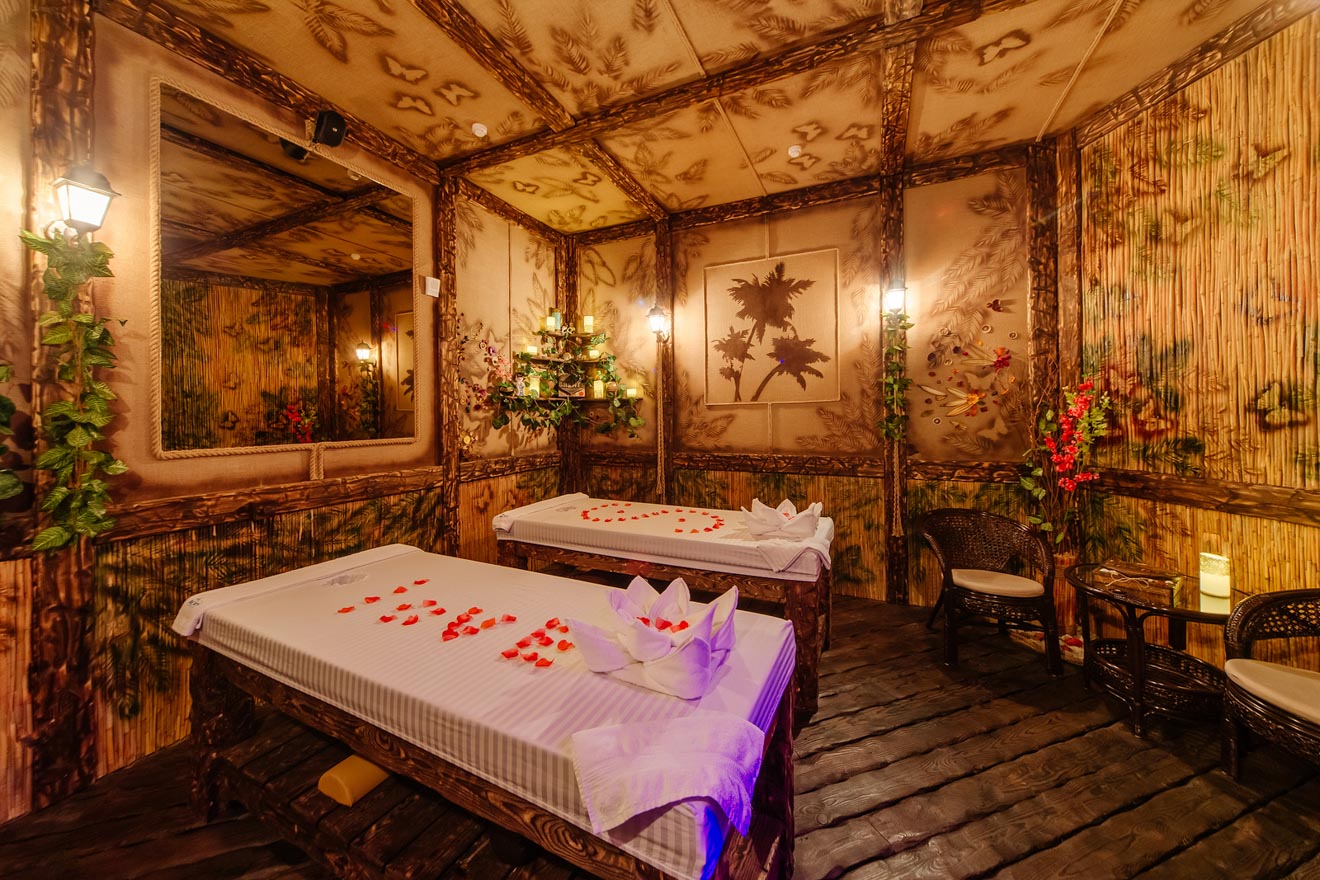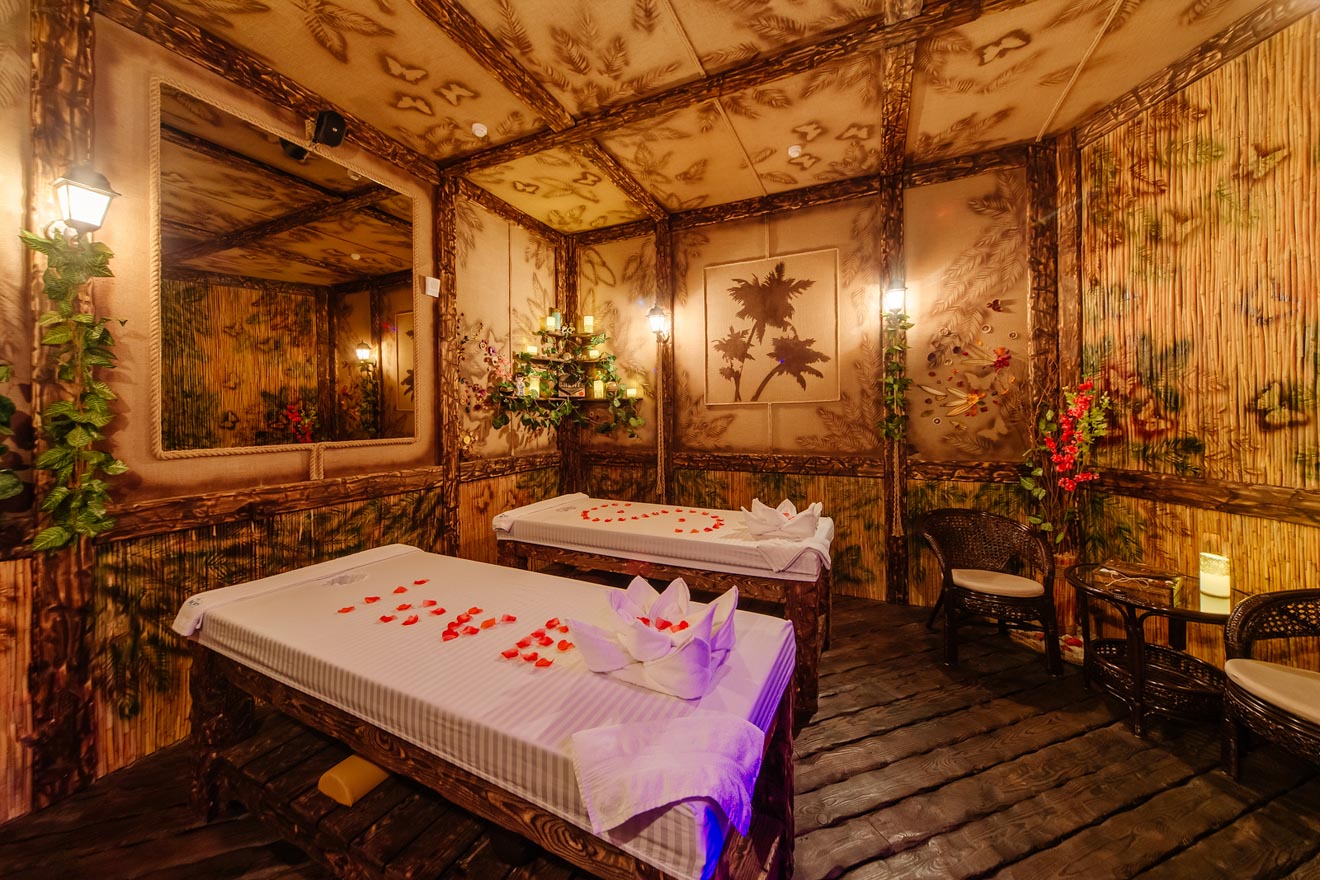 Where else in the world can you enjoy an authentic Thai massage, if not in Thailand?
Nothing could be better after a full day of shopping than a long Thai massage, which will leave you totally relaxed! There are Thai massage parlors everywhere you look around and getting a session of relaxation in one of them is one of those things not to miss in Bangkok. I can recommend Health Land Spa & Massage (in Sathorn), Sook Sabai Spa (near Lumphini Park) or Divana Massage & Spa (in Sukhumvit).
4. Have a drink at a rooftop bar and admire the city from above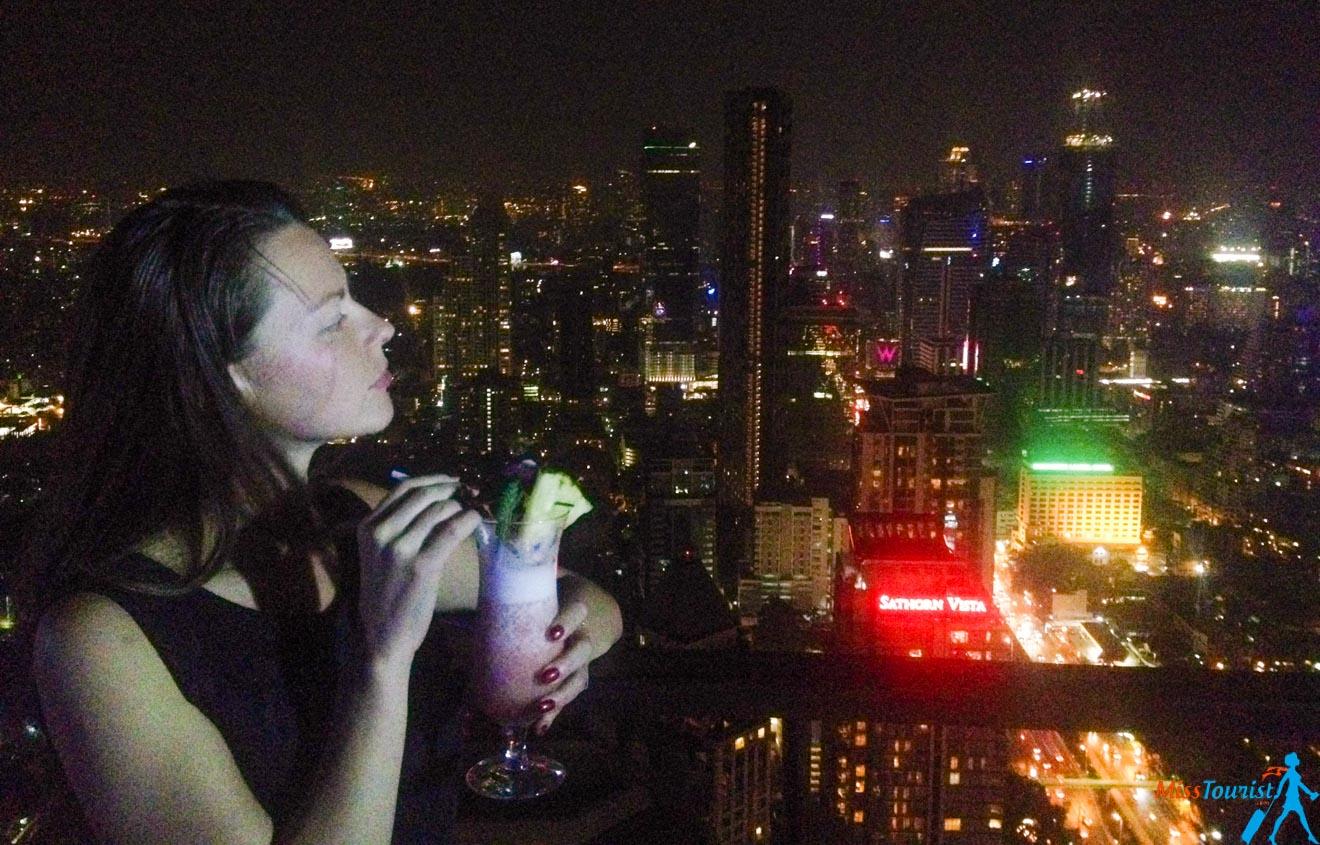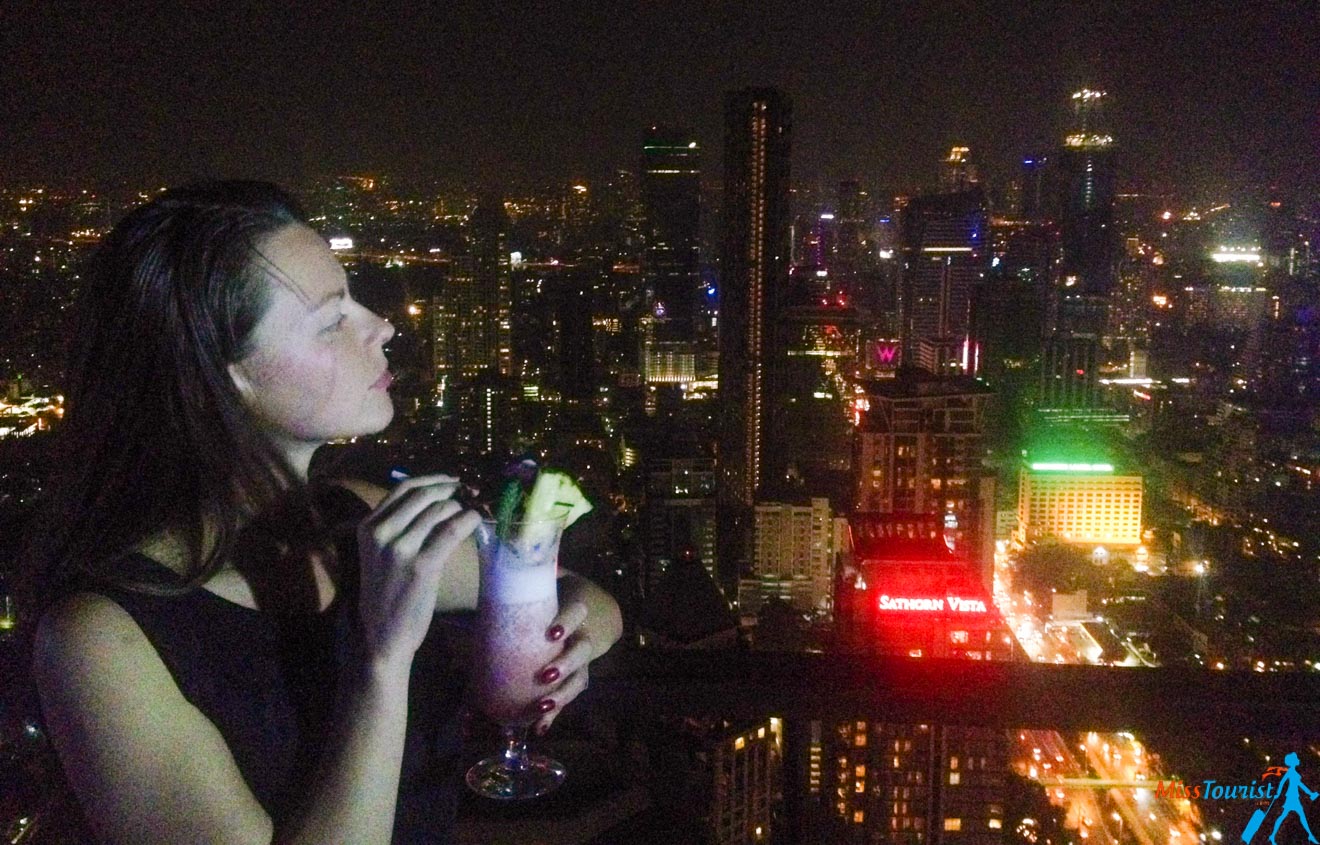 What could be better at the end of the day than treating yourself to a colorful drink and admiring the city from above?
This city is known for its many sky bars that have become some of the top Bangkok tourist spots where you can go to admire the best bird-eye view of the city while sipping on a delicious drink!
Here are some of the best sky bars out there which can be, of course, some great places to visit in Bangkok with friends:
Bonus Things To Do In Bangkok, Thailand
In case you are wondering what to see in Bangkok if you have more time on hand, no worries – I got you covered! Here are some bonus best places to visit in Bangkok and things to do in this amazing city, sorted by the type of activity:
Cultural Bangkok Activities
Visit Wat Benchamabophit (Marble Temple)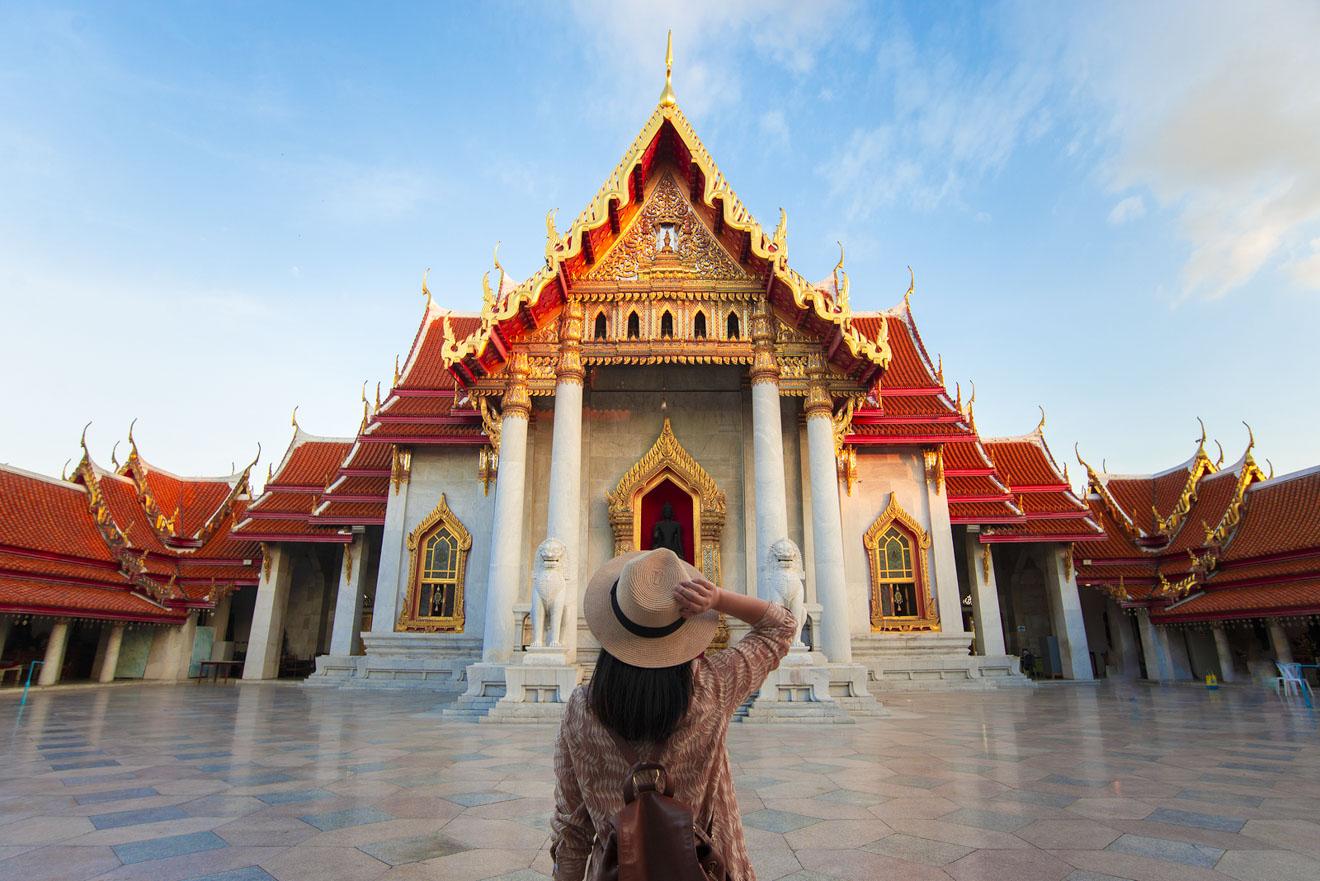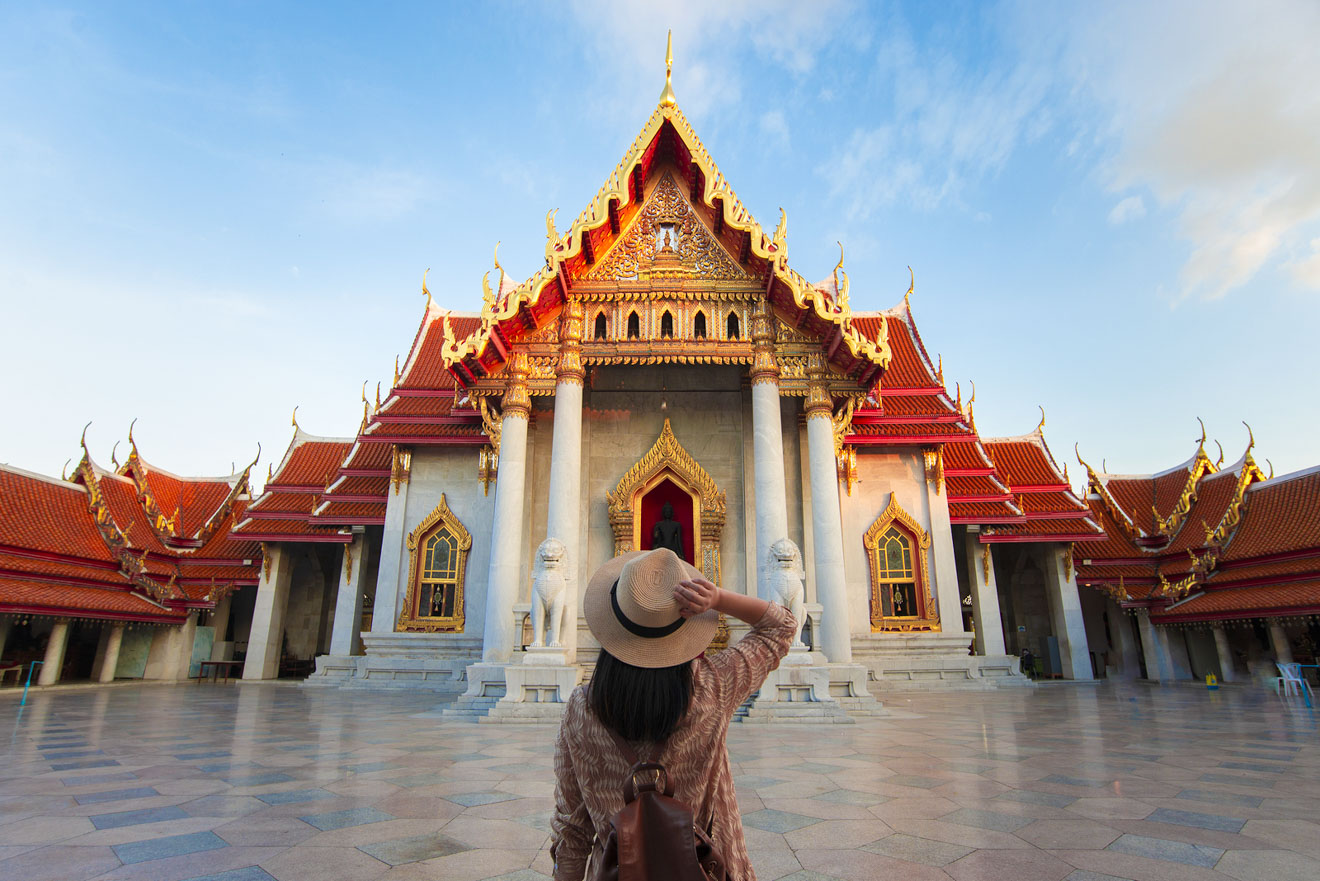 Looking for some more beautiful places in Bangkok? Wat Arun and Wat Pho are two of the most famous temples in the city, but who said these are the only ones worth visiting during your stay?
Wat Benchamabophit is another gorgeous temple, also called "the Marble Temple" because it is made almost entirely of Italian marble! While the building itself is marble-white, the roof is super colorful and elegant, created in authentic Thai style.
Inside the temple, you can find a Buddha statue under which there are buried the ashes of King Chulalongkorn. This is definitely a very special and less touristic temple to visit in Bangkok!
PRICE: Entrance fee is 20 THB (0,50 cents).
HOW TO GET THERE: There is no Skytrain or metro station close to this temple. The best way to reach it is by tuk-tuk or taxi.
You can visit Wat Benchamabophit together with Wat Pho and Wat Traimit during this private tour with an experienced guide!
Admire some true Thai art at Bangkok National Museum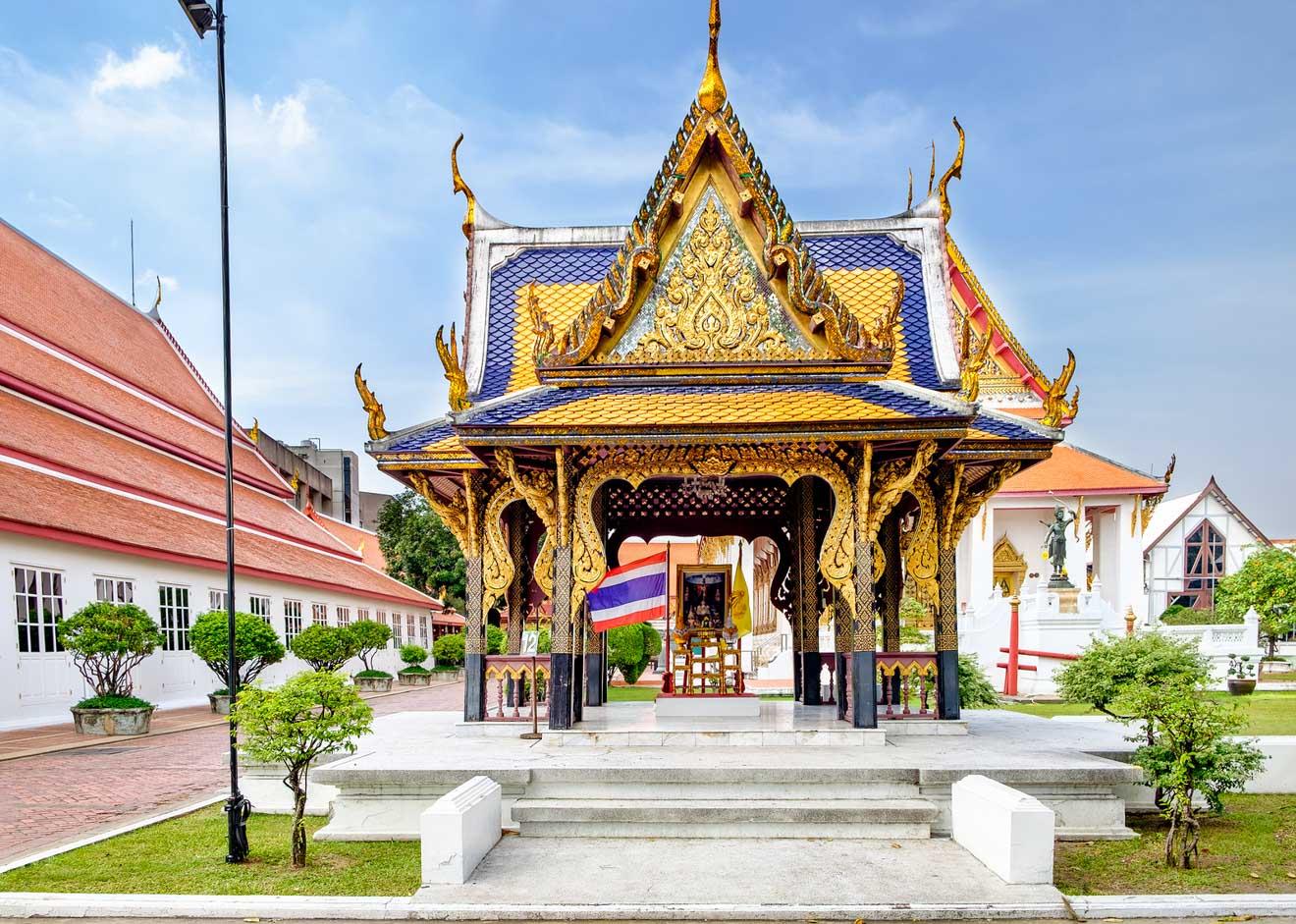 Even though it is not that big, Bangkok National Museum hosts the biggest collection of Thai art in the entire country!
If you are an art lover or if you simply want to learn more about Thai art, this is the perfect place to go. You can see many weapons, musical instruments, clothes, stones and masks there, all of them revealing more about the country's history.
The museum is located close to the Grand Palace and it is open from Wednesday to Sunday only, from 9 AM to 4 PM. Entrance fee is 200 Baht (around 6 US$).
PRO TIP: On Wednesdays and Thursdays at 9.30 AM you can take guided tours in English to learn more about the artifacts in the museum!
Visit the Vimanmek Mansion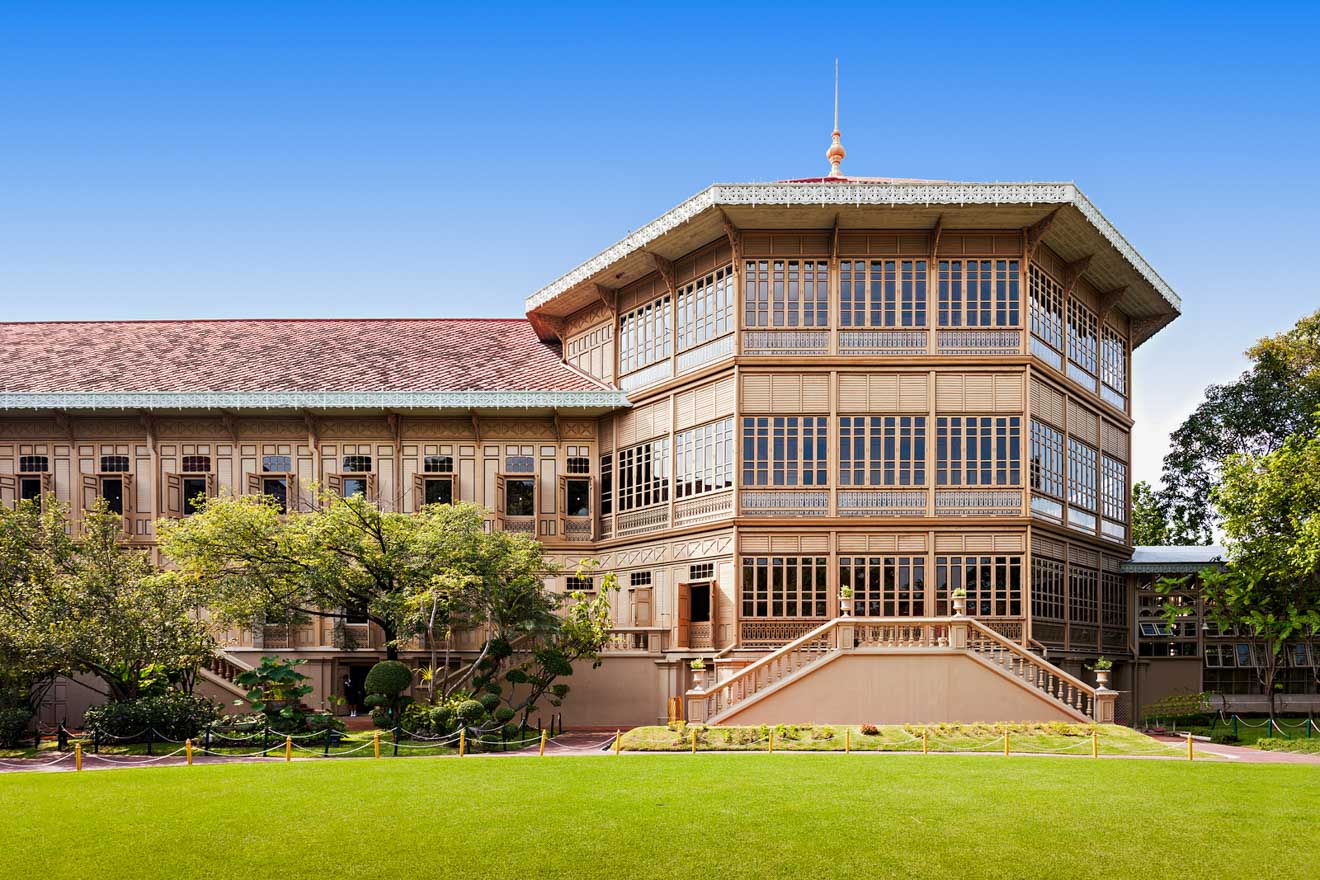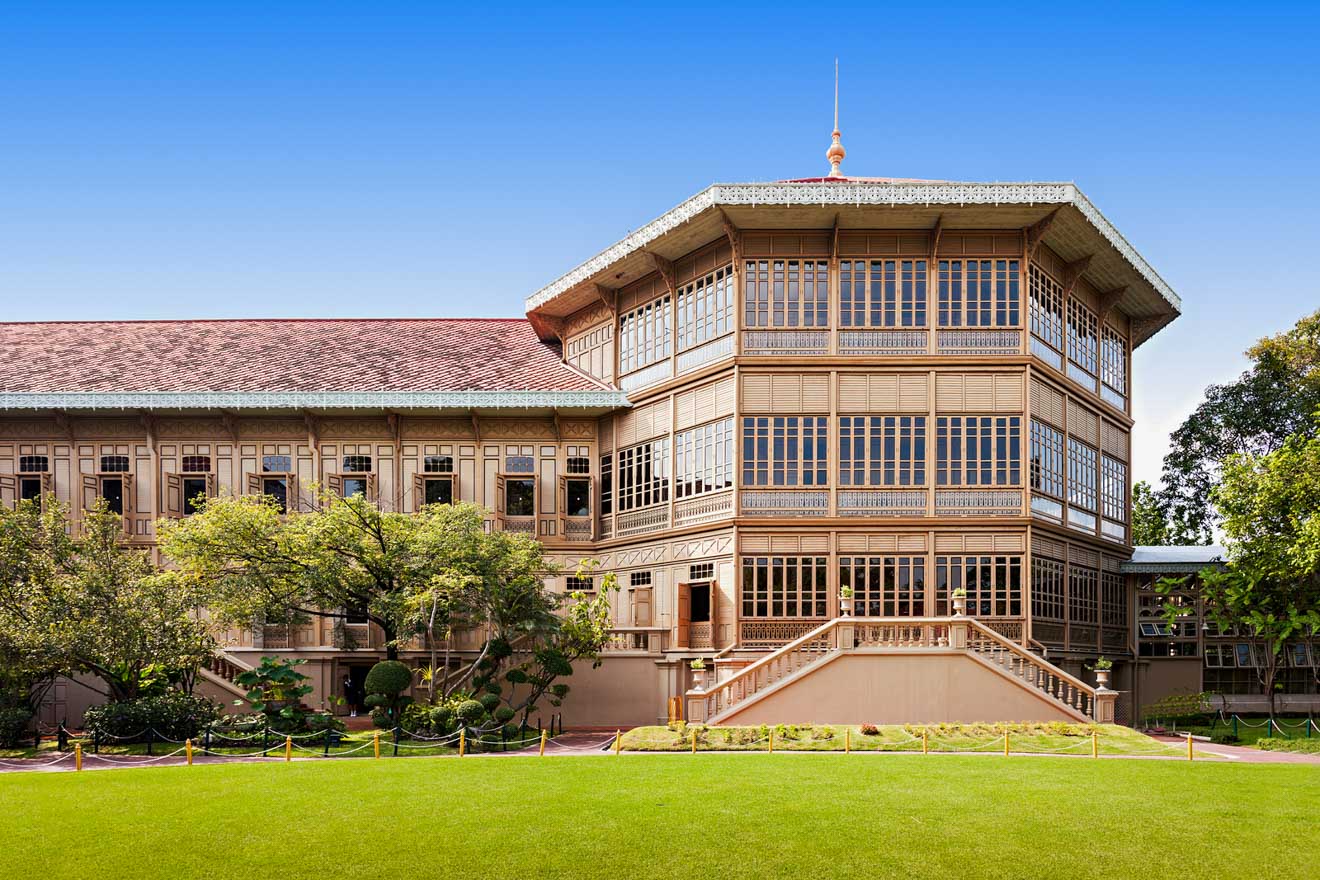 NOTE: The mansion is currently closed for renovation since August 2017. There are no details about when it will reopen, so it is best to double check before going.
Do you want to see something interesting in Bangkok? The biggest teak wood construction in the world is located here and yes, you do want to see it!
Vimanmek Mansion was a royal residence that was shortly abandoned and then transformed into a gorgeous museum. The place is worth a visit not only because the building by itself is simply stunning, but because it hosts ancient Thai artifacts and some very old, donated photographs.
The entrance fee is 100 Baht (3 US$) and you can enter any building and gallery with it. Please note that you must respect the strict dress code before entering the building. The fastest way to get there is by hailing a taxi.
Fun things to do in Bangkok
Try some real Thai cuisine on a food tour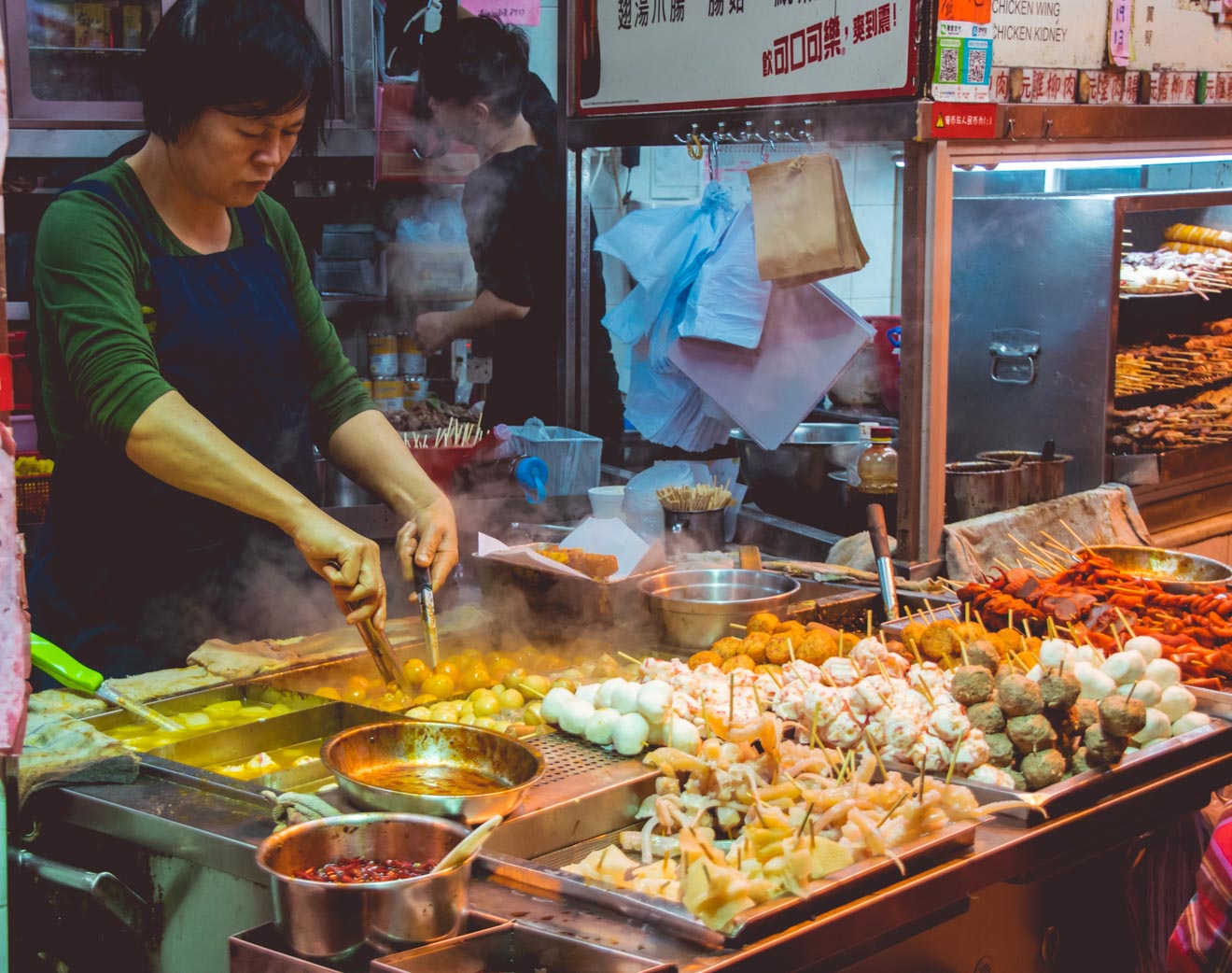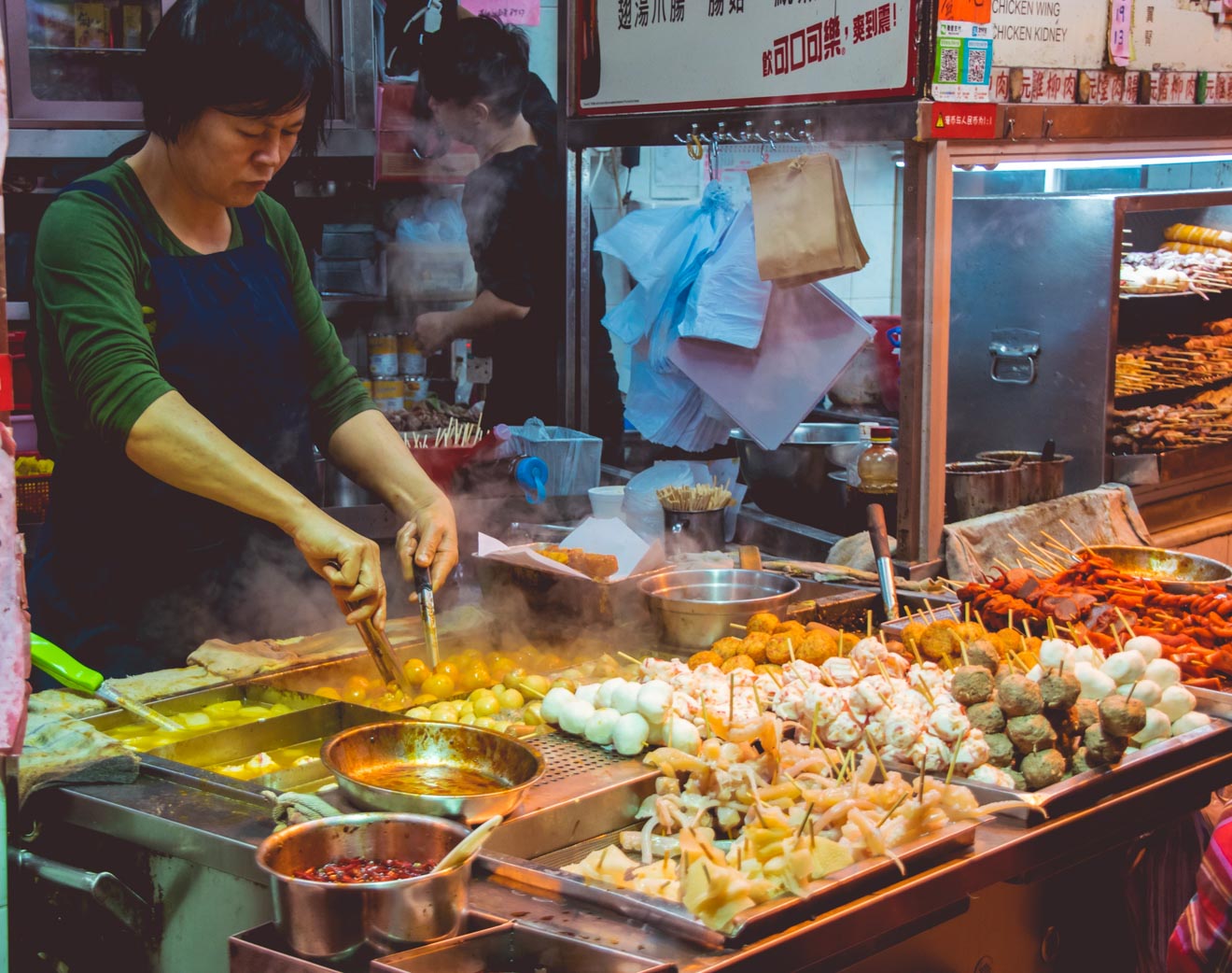 I already mentioned that one of the best things to do in Bangkok is to taste all the amazing traditional dishes! But what if you do not want to go on this quest alone? No worries, there are many great food tours that you can take in the city!
If you are a foodie short on time or if you want to know right away where are the best places to eat in the city and some more information about Thai cuisine, a food tour might be the best idea for your trip!
You can take this midnight food tour that will take you on a tuk-tuk ride and then you will try traditional food and finish the night at a rooftop bar!
Another great idea would be to take an authentic Thai cooking class in Bangkok! During this class you will visit a local market to select the best ingredients and then proceed to learn how to make some of the best Thai dishes!
See a match of Muay Thai for free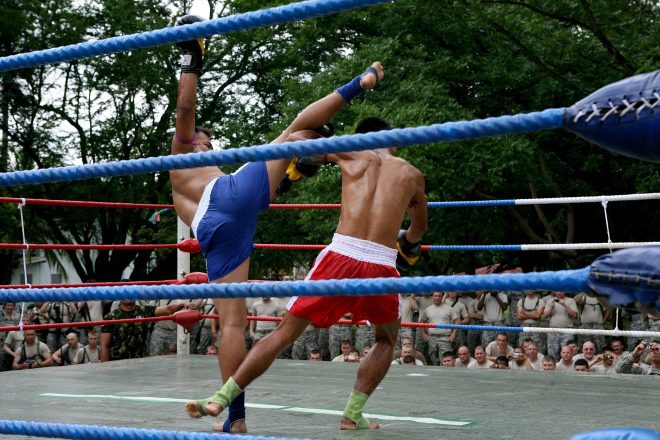 In case you are tired of Bangkok sightseeing and you were looking for something traditional to do in the city, here is the answer! Muay Thai is the name of the traditional Thai kickboxing (it is actually their national sport!) and Bangkok is full of Muay Thai stadiums where you can see authentic fights.
But did you know there is a way to see a Muay Thai match free of charge?
If you are in the city on a Sunday and you are looking for free things to do in Bangkok, you are in luck! Channel 7 has live Muay Thai fights every Sunday at 2 PM and every third Wednesday of the month and the entrance is free!
I think this can be a very interesting experience – you will get to sit among local men that watch the game and you can see them all caught up in the match and placing bets on players and you will also get to better understand this national sport.
NOTE: The broadcasting starts at 2 PM, so try to arrive half an hour earlier, as the spots fill very fast. It is very hard to leave during the match and there is no toilet inside the arena, so make sure you go to the bathroom beforehand. Each match takes 20 to 30 minutes.
NOTE 2: They have special places for tourists called "foreigner seating" and you will be directed to sit there.
PRICE: free
HOW TO GET THERE: Channel 7 Boxing Stadium is located near Mo Chit station.
In case you don't manage to get to the Muay Thai match for free with this tip, you can buy your tickets here. This special match is held by real Muay Thai champions and it starts with the origin and history of this traditional sport. At the end, you can even take free pictures with the artists!
Enjoy the Bangkok Puppet Show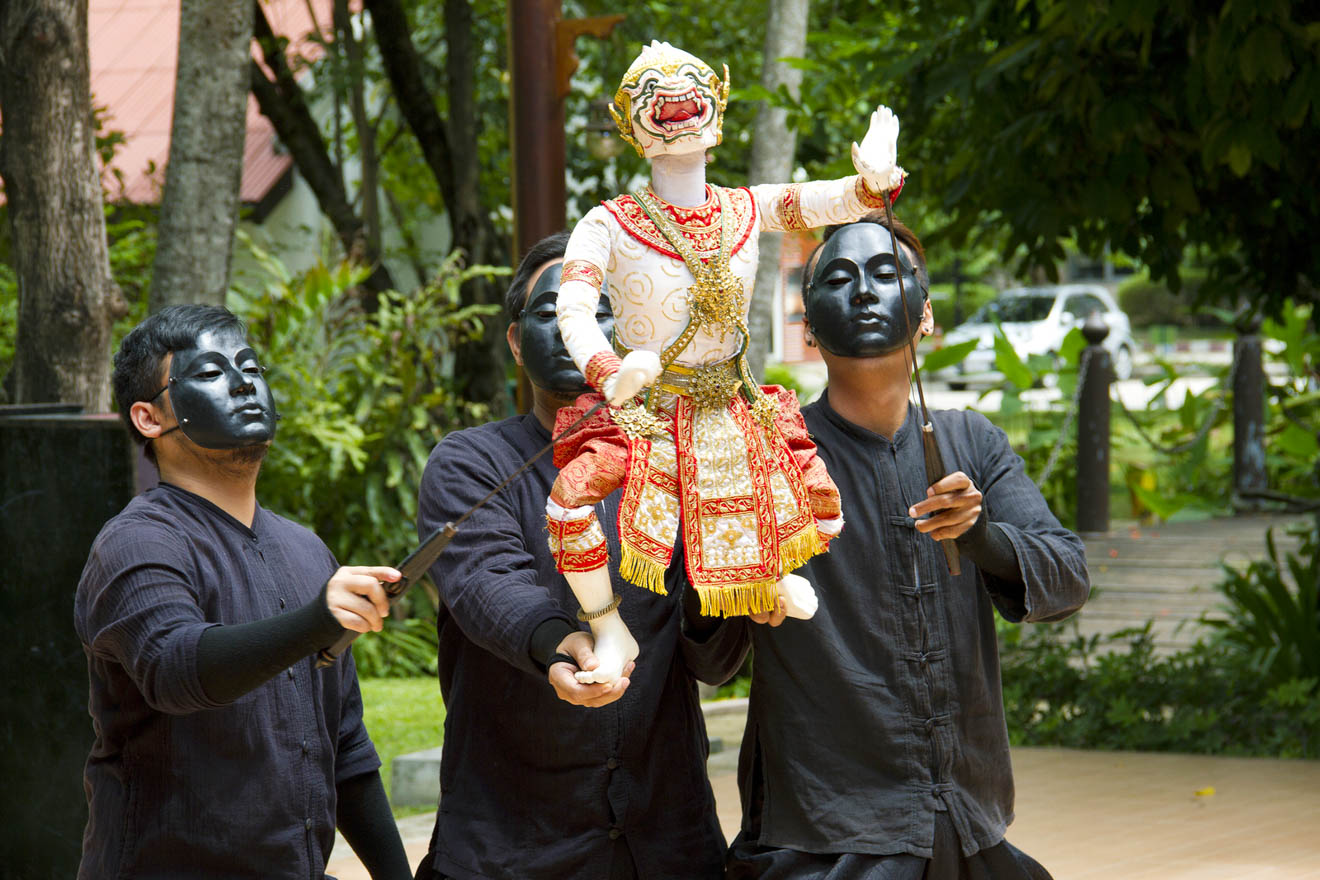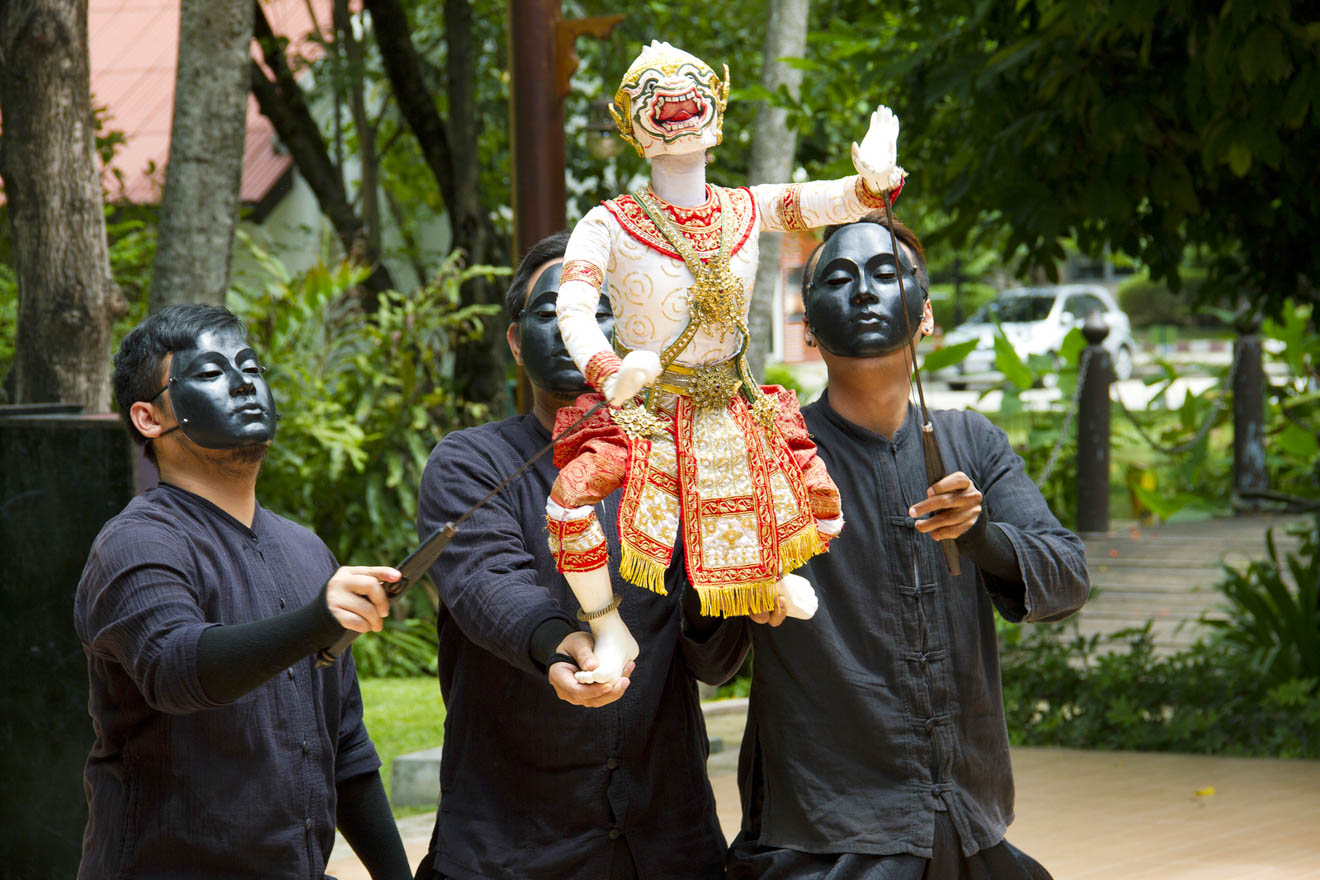 Here is another one on my list of fun stuff to do in Bangkok – go watch a puppet show!
I am sure you know that during most puppet shows in the entire world the puppeteers are always hidden. Not in Bangkok! This special Bangkok puppet show requires three puppeteers for each puppet and they play a special part in the show.
The shows illustrate classical Thai stories and they are accompanied by a live orchestra – an activity that you definitely do not want to miss while in the city!
You can buy an admission ticket to a Bangkok puppet show here. The price is 26 US$/person.
Ride a Tuk-Tuk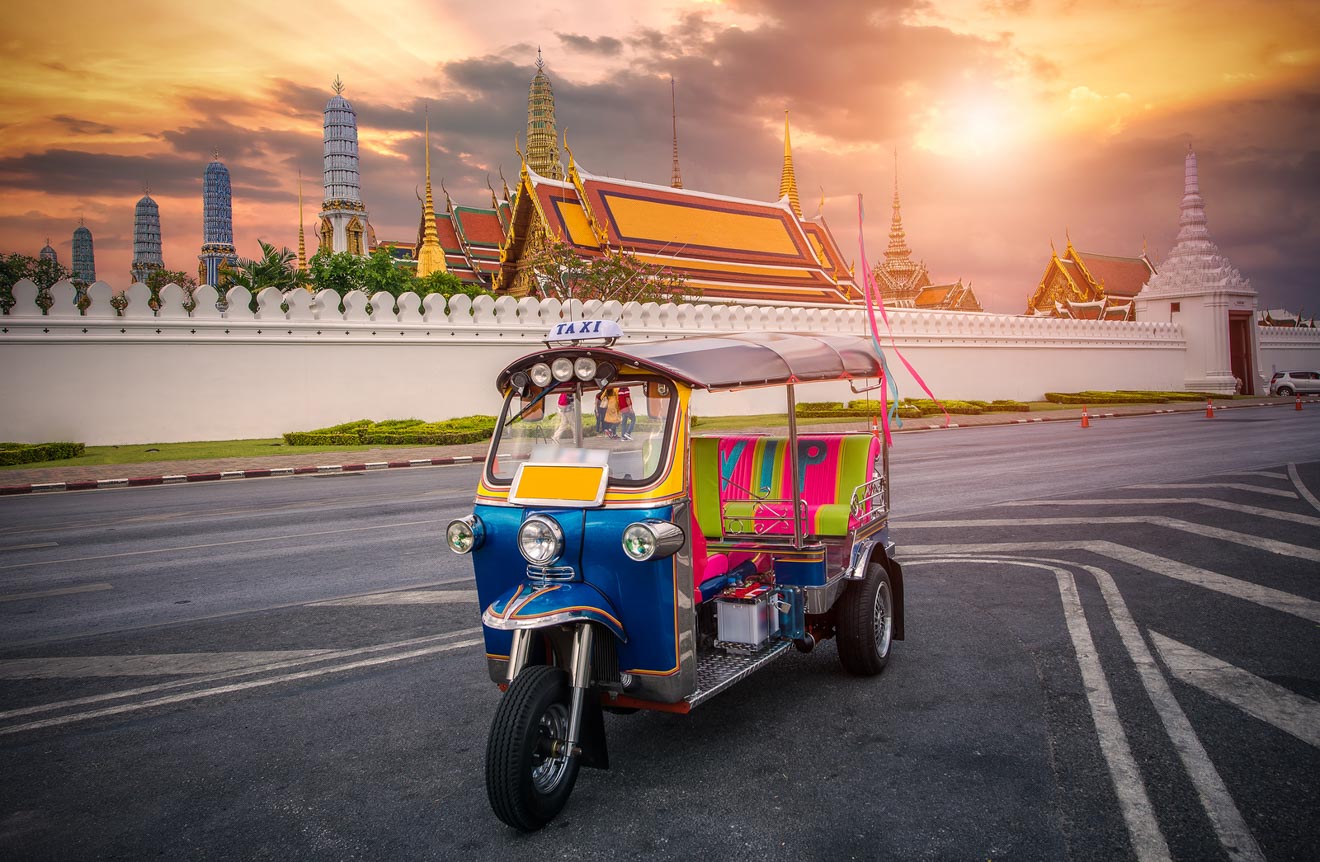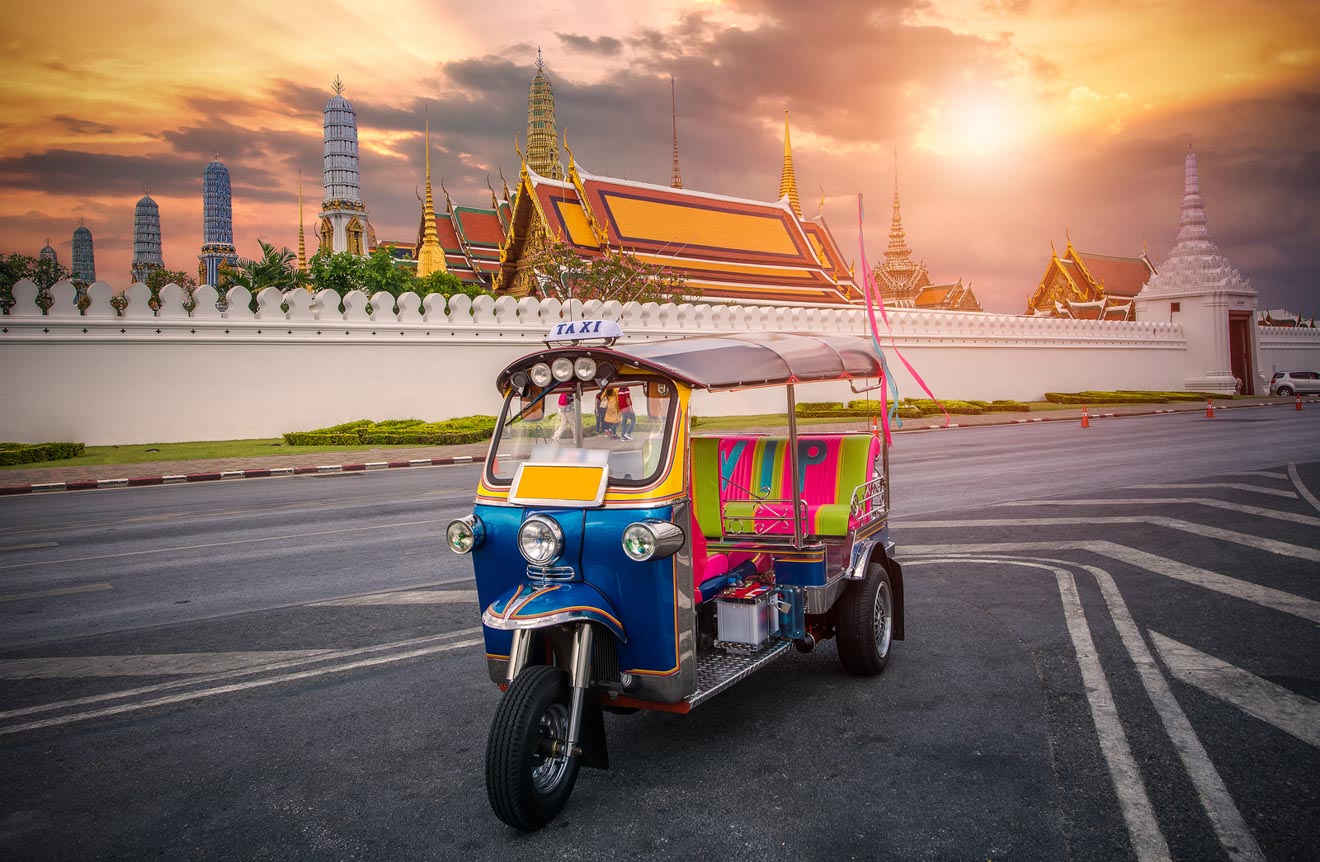 You absolutely must ride a tuk-tuk during your stay in Bangkok!
Riding a tuk-tuk requires a few bumps, but it is such a unique thing that you can only do in Thailand, you can't miss it!
PRO TIP: Tuk-tuks have no meters that would determine the exact fee of your ride. It is better to say the name of your destination and ask for the price before getting in. Even better, I recommend asking at your hotel what would be a fair price for your destination, so you will easily avoid paying too much without knowing.
Other than the tuk-tuks that you can hail on the street, you can take a night tuk-tuk tour that will help you explore the city by night, see some temples and sip a drink at a rooftop bar.
Unusual things to do in Bangkok
Fancy some adventure? Here is something to tick off your list of unique things to do in Bangkok!
Go up the Sathorn Unique Tower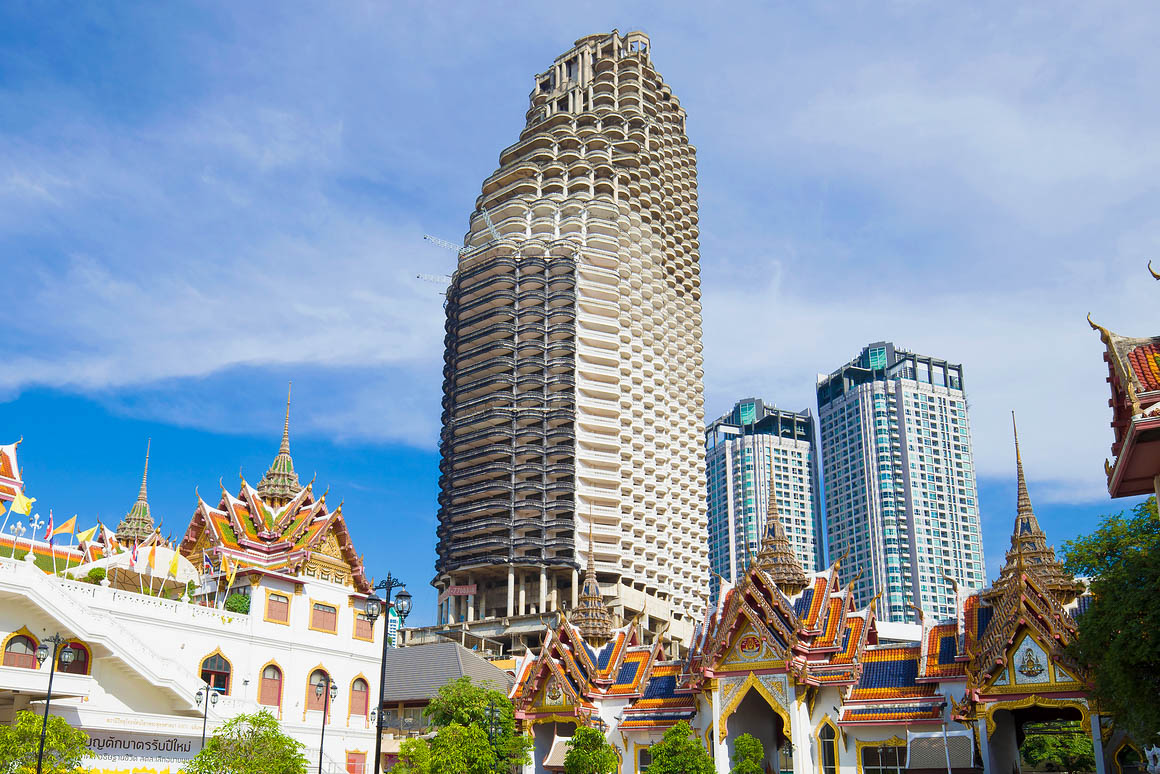 Sathorn Unique Tower was a very ambitious project that started in 1990, but it was abandoned during the Asian financial crisis in 1997. The building is 49 floors high and it was never completed. The initial plan was for it to be a condominium complex, but the building is now useless.
You can climb to the top with a little bit of "help" from the security guards at the entrance, meaning you will have to pay them (200 Baht) to let you climb the building 🙂 But the views from above are worth the climb!
You can get there by taking the Skytrain to Saphan Taksin station. The building will be visible right away.
Get wet during Songkran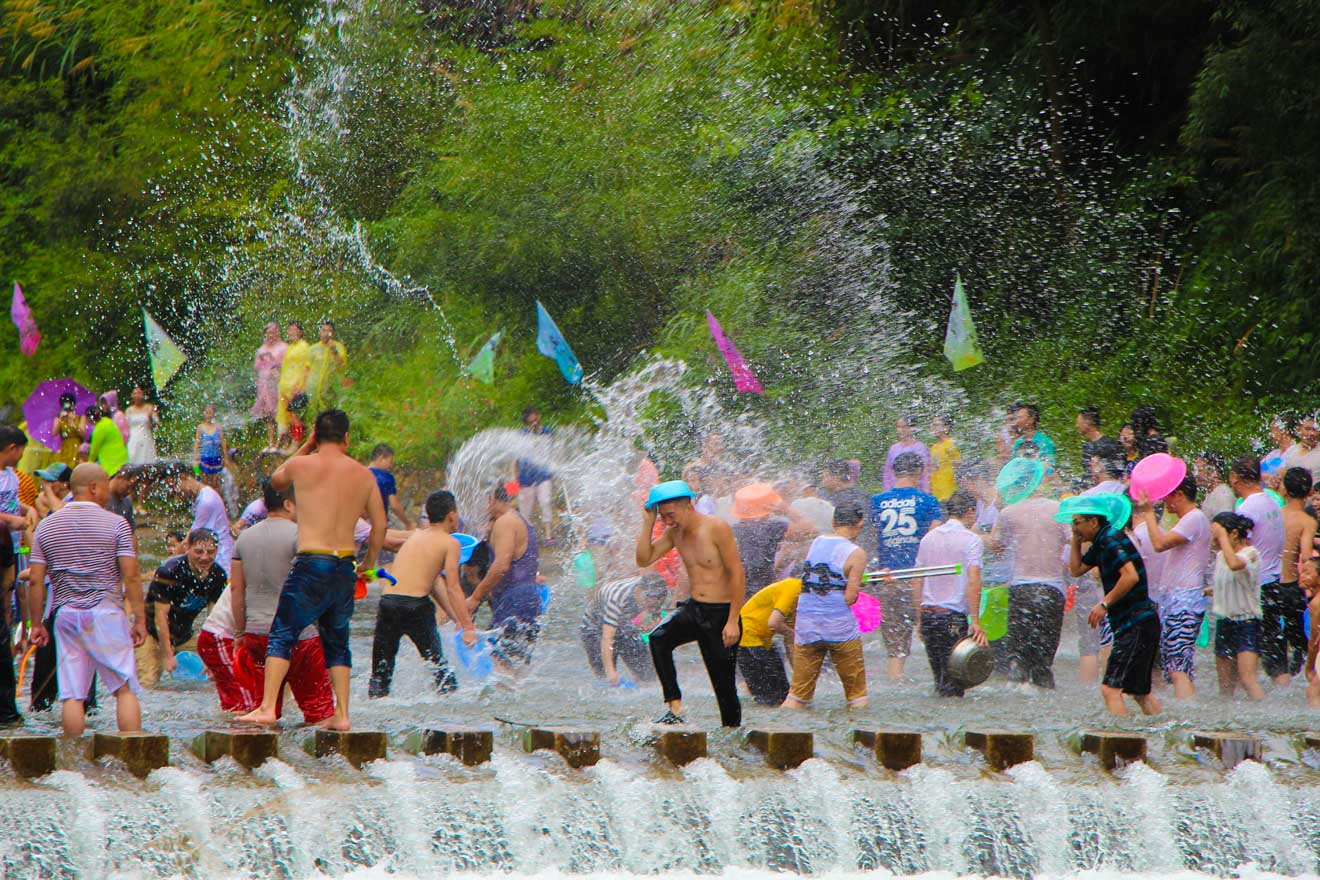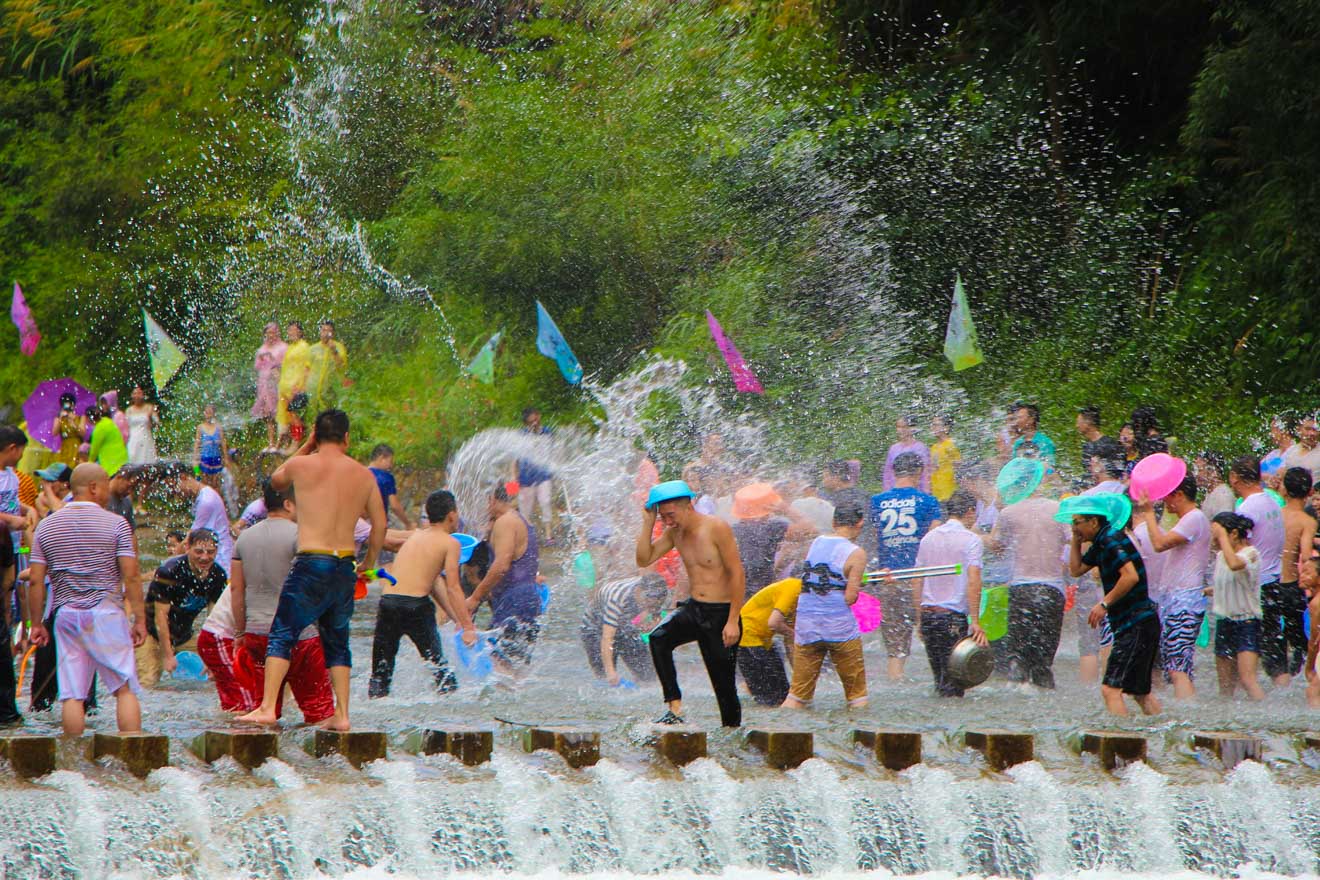 In case you are visiting the city between the 13th to the 15th of April, you are in luck! That's when Songkran (Thai New Year Festival) is and there is always a big celebration!
So what can you do in Bangkok during the New Year Festival? A traditional activity these days is to sprinkle water on each other because the Buddhists believe that the water will wash away your bad luck and all your sins!
Regardless if this is true or not, everybody gets wet during Songkran and the entire Bangkok is a big, colorful party!
Check out the Forensics Museum
I am finishing off my bonus list with a very unusual thing to do in Bangkok!
The Forensics Museum (also known as Siriraj Medical Museum) is a big complex made of six different buildings and it is definitely one of the weirdest and non-touristy things to do in Bangkok!
There are many creepy exhibits to see here – from babies with genetic disorders kept in jars with formaldehyde to Siamese twins, a mummified rapist and other similar things!
The Forensics Museum is open from Monday to Saturday from 9 AM to 4 PM. You can get there by taking a boat and getting down at Pranok Pier. Admission fee is 40 Baht (1,30 US$).
If you have more time – Things to do near Bangkok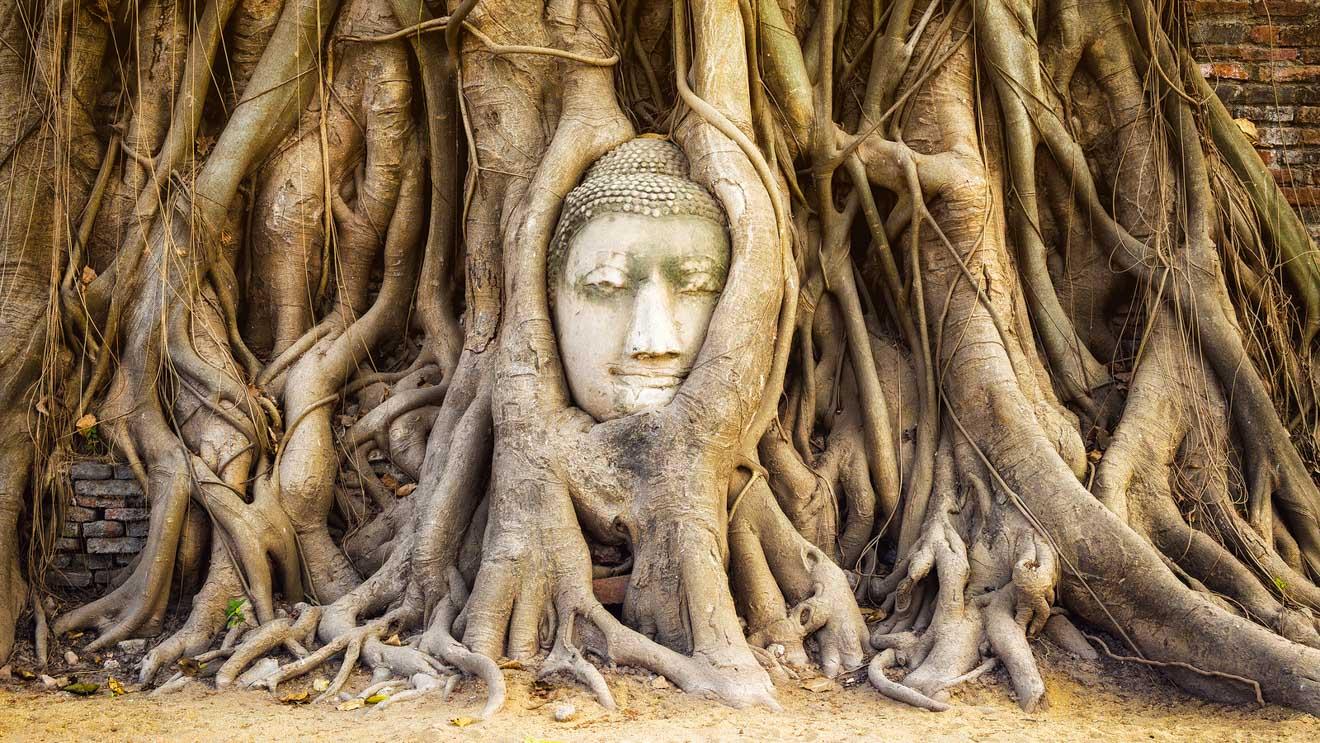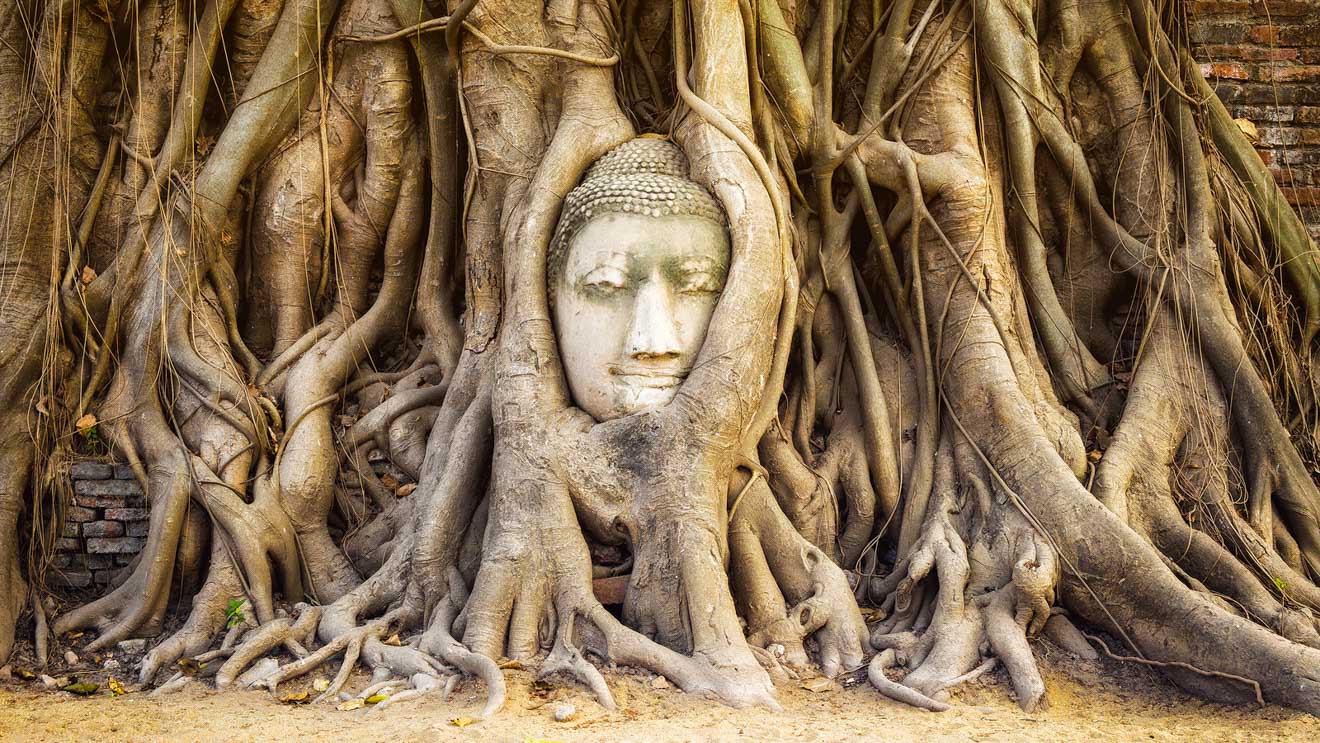 In case you saw everything you wanted in the city and you want to explore more, here is a short list of what to do near Bangkok:
Ayutthaya – this charming city makes for a great day trip away from the city! Ayutthaya is a history-rich city located around 80km from Bangkok and a UNESCO World Heritage City! Some of the best things to do there are to visit Wat Chaiwatthanaram, try some traditional food, rent a bike and wander around to see the many temple ruins and go to the floating market! You can visit Ayutthaya during an organized day tour from Bangkok or you can take this bike tour, which is a great way to discover the site! In case you want a private tour instead, here is a very good option.
Kanchanaburi – this town, located 2 hours away from Bangkok, is famous for its bridge on the River Kwai, built during World War II by the war prisoners! Even though it is better to spend more than a day there in order to experience the charm of the city, the highlights of Kanchanaburi can be easily discovered on an organized day trip.
Bangkok's Airplane Graveyard – great if you are looking for what to do around Bangkok that will be unforgettable as well. Please not expect a museum or an organized tour here, as this is simply a piece of land where you get to freely explore 5 abandoned planes. Needless to say, there are many unique photo opportunities here! The Thai family that owns the land of the "graveyard" will charge you 200 Baht (6 US$) per person to enter. Make sure to wear long pants and good shoes, as you will be exploring some abandoned planes after all!
Transportation in Bangkok
There are many ways of getting around in Bangkok and most of them are really inexpensive! The main and most convenient ones are the Skytrain (BTS) and the Metro (MRT), which are two independent networks and require separate tickets (no combined ticket yet).
In case you need to change between the two, there are several connecting stations. You can check the combined transportation map here. Changing the lines is not hard at all: you need to get out of the station, walk a small distance and get in the other station using your other ticket.
Let's see what you should know about each means of transportation in the city:
By Skytrain (BTS)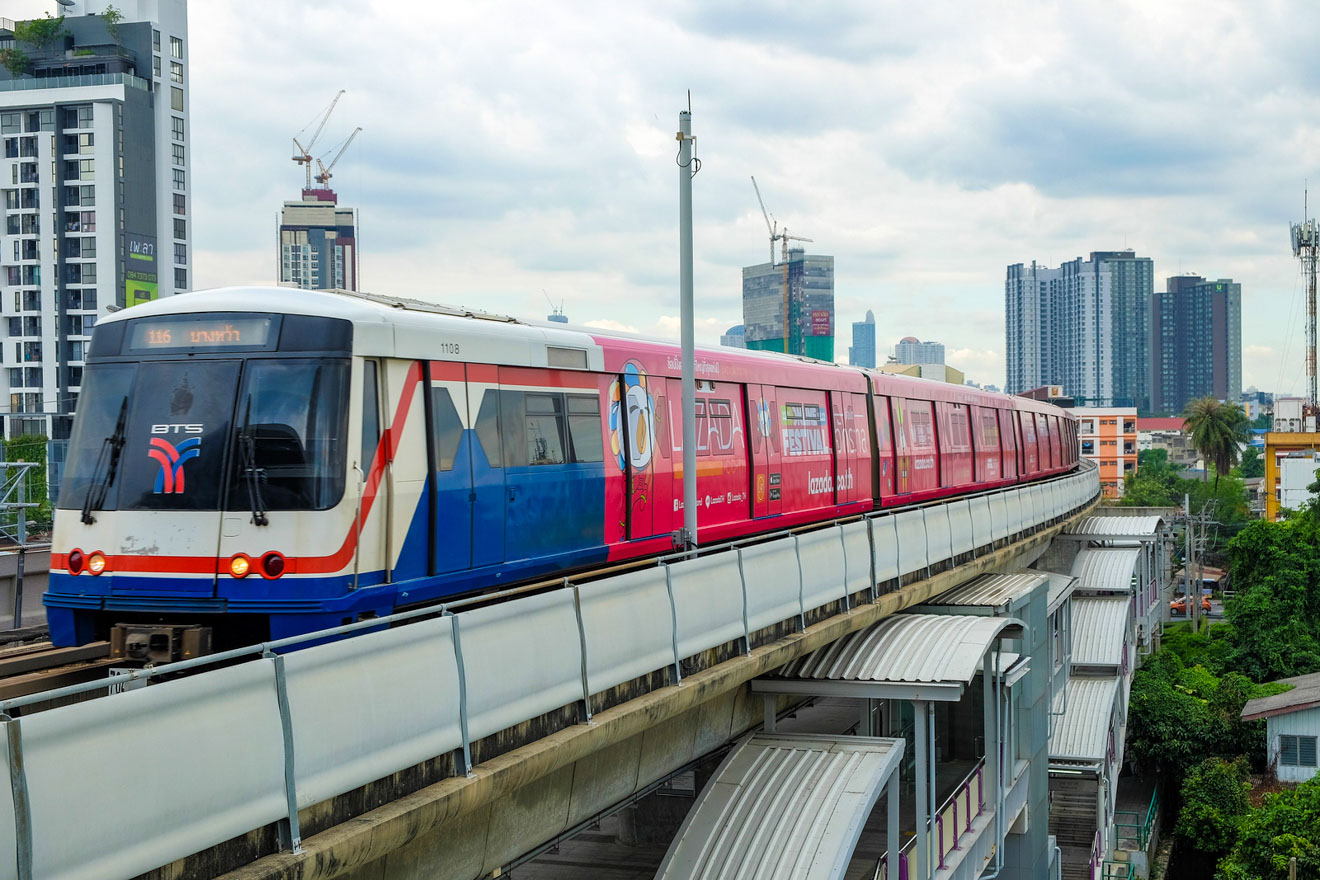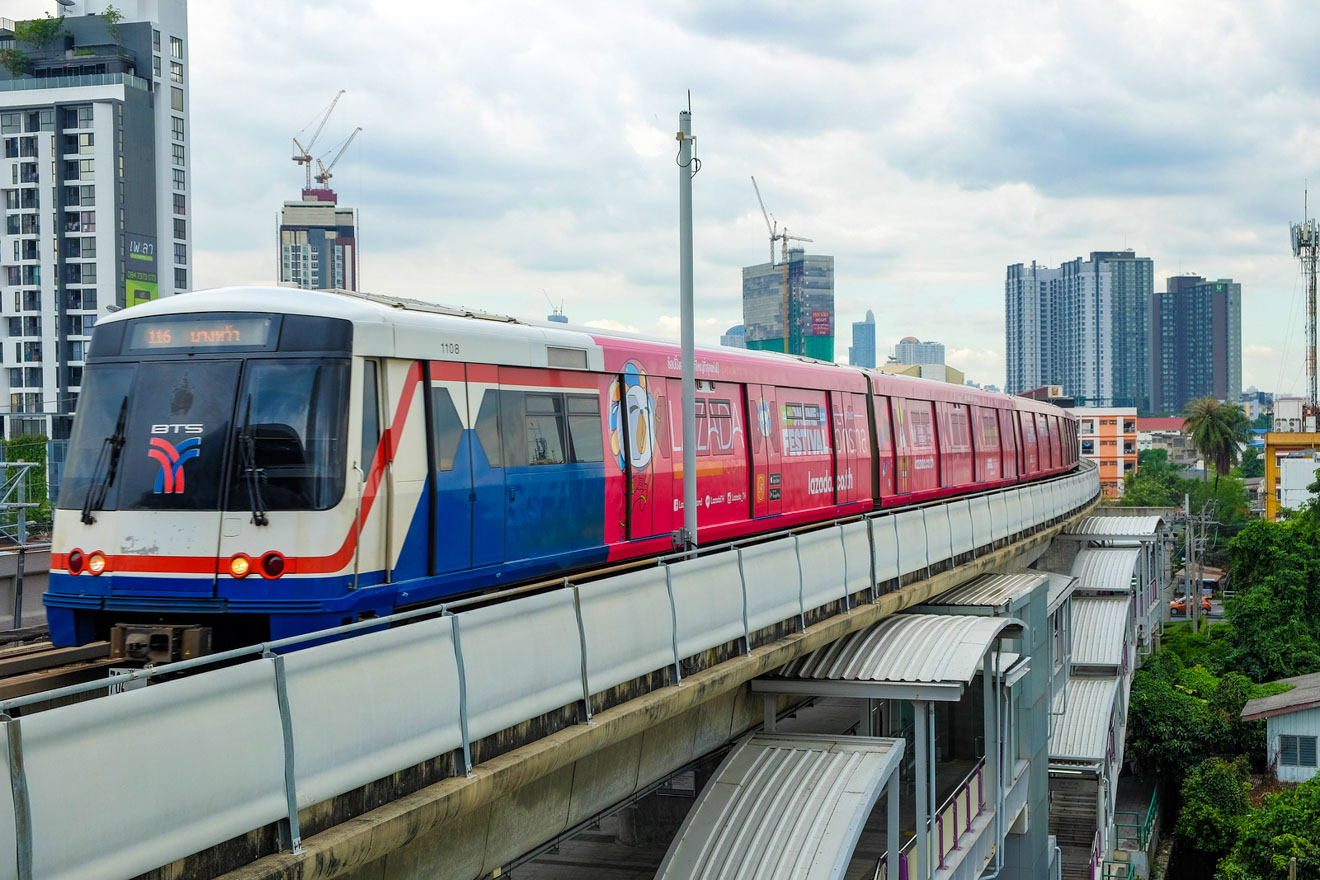 The Skytrain (also known as BTS – Bangkok Mass Transit System) is a famous elevated rapid train that can get you to almost all the famous landmarks in the city in no time! It has two lines (Silom line and Sukhumvit line). Here you can find a map of all the Skytrain stations.
The Skytrain works form 6.30 AM until midnight. The price for a ride is 16 Baht (0,50 US$) for a single stop and it can go up to 59 Baht for the entire BTS system (1.90 US$). A one-day pass could be a great option if you plan on using it a lot – it is 140 Baht (4.50 US$) and you can take unlimited rides with it.
You can buy your ticket/pass at the vending machines or ticket counters in every station. If you want to save time by not waiting in line for your ticket, you can buy a one-day pass or a pre-paid BTS Skytrain Rabbit Card online that has 200 Baht credit on it, which you can top off whenever you want.
By metro (MRT)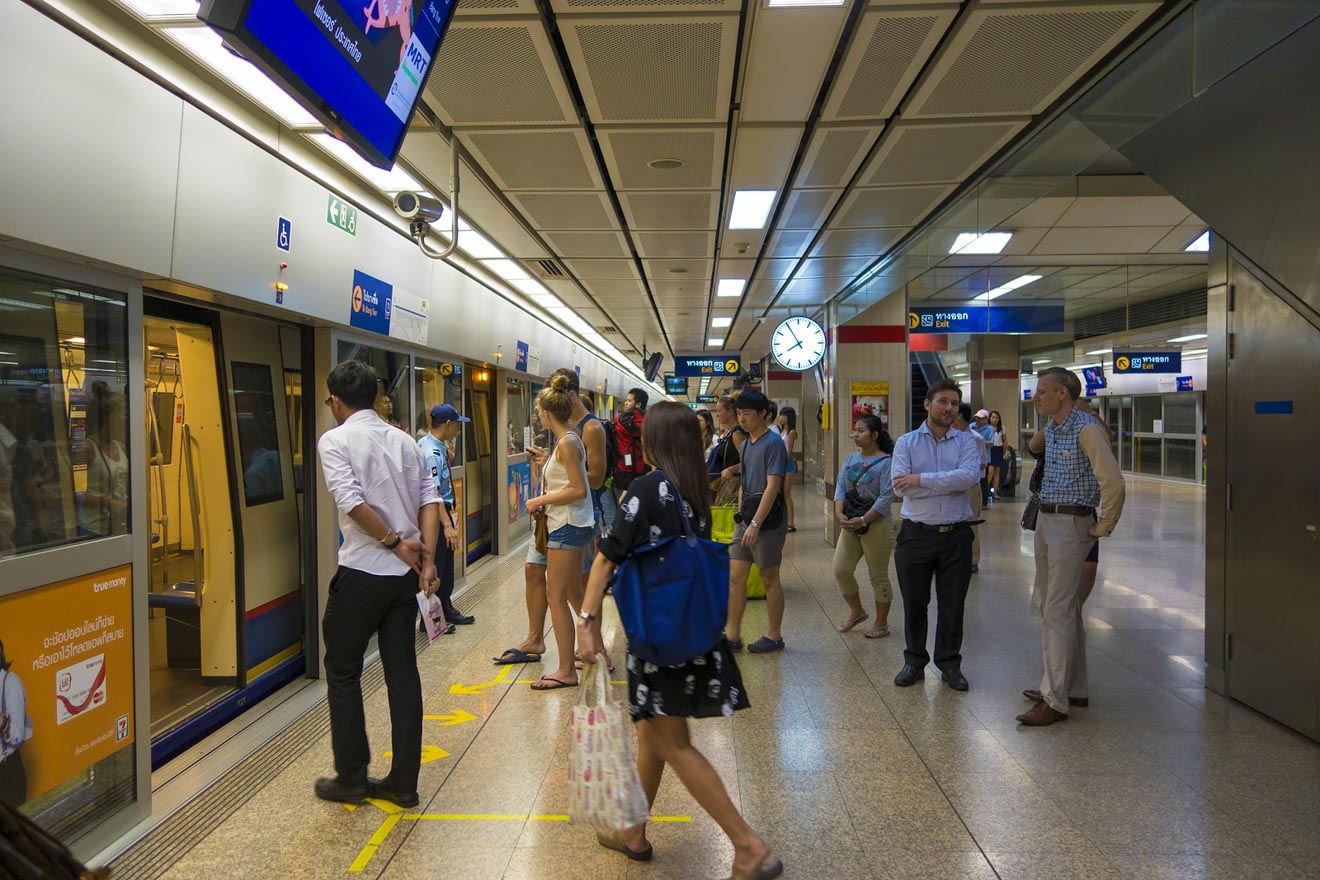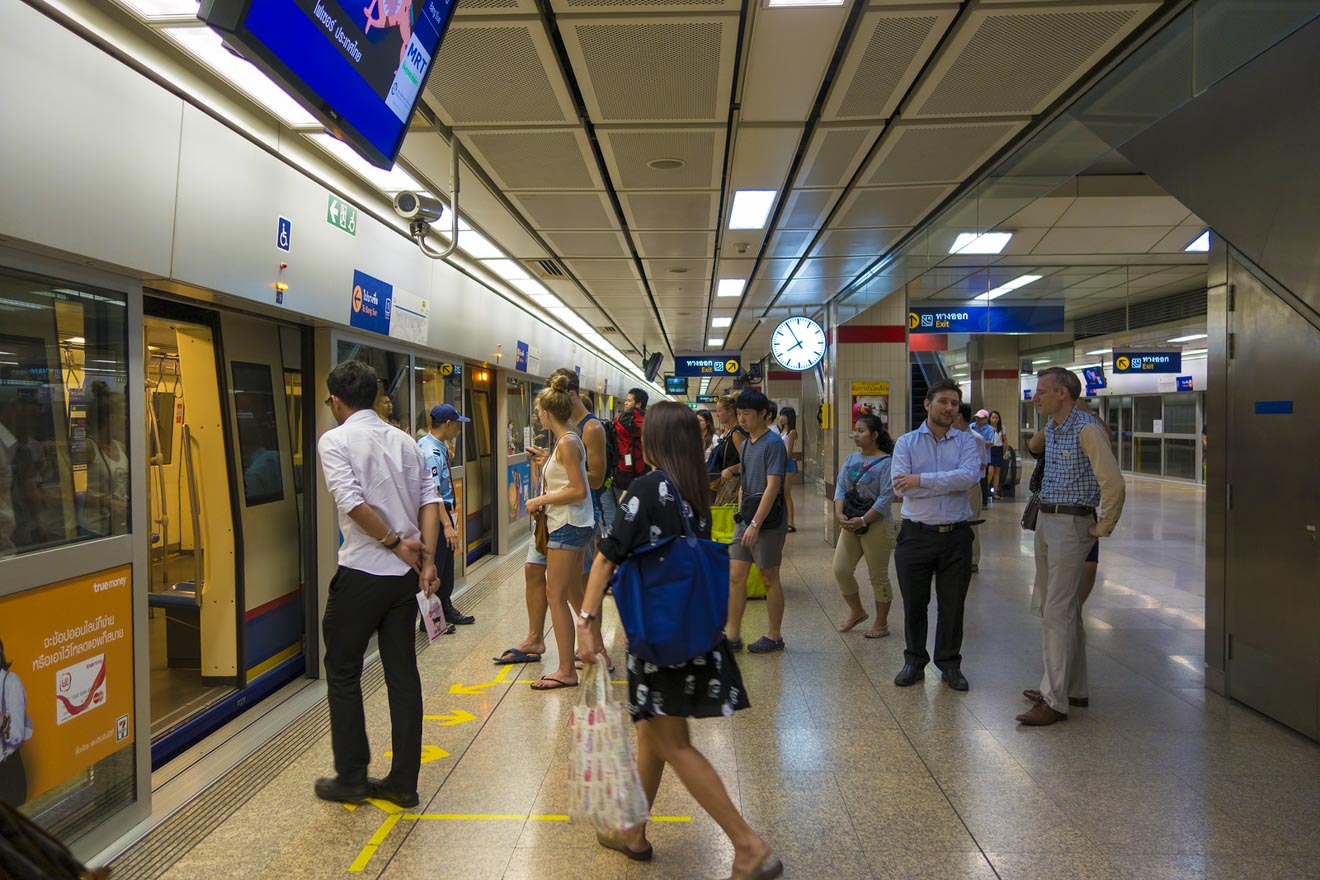 The subway in Bangkok is called the MRT (Metropolitan Rapid Transit) and it is a very efficient way of traveling in the city, as it is connected to some Skytrain stations as well. It has two lines and here you can check the MRT map with all the stations.
The MRT is open from 6 AM until midnight. A single ride ticket costs from 16 to 42 Baht (0.50 to 1.30 US$) depending on distance and up to 70 (2.20 US$) Baht if you also need to change between lines. You can calculate the fare for your itinerary using the MRT fare calculator. The tickets can be bought at the vending machines (with coins or banknotes) or at the ticket counters.
By taxi
The taxi is a popular means of transportation in the city because it is inexpensive and there are many taxies all over the city – the only downside is the traffic, which can get pretty crowded at times.
The fare is 35 Baht for the first 2 km of the ride, then it goes up with around 2 Baht/kilometer. Normal fare for a few kilometers is around 50-70 Baht (2 US$).
PRO TIP: Most of the taxis in Bangkok are now metered – just make sure your driver turns on the meter when you start the ride, otherwise you will have to bargain at the end and you will be asked for a big sum of money. If you get in the cab and the driver tells you that the meter is broken or if he wants to bargain a fixed fee, get out and find another one.
NOTE: Grab is a type of Uber in Thailand. You can download the app and use it – just like a normal Uber! You can pay with cash or card (paying in cash is better, as you will avoid the conversion fee), the only difference is they have a 25 Baht (0.80 US$) booking fee which will cover the driver's expense of getting to your location. An even better solution is to use the Grab moto taxi – it's cheaper and way faster!
By bus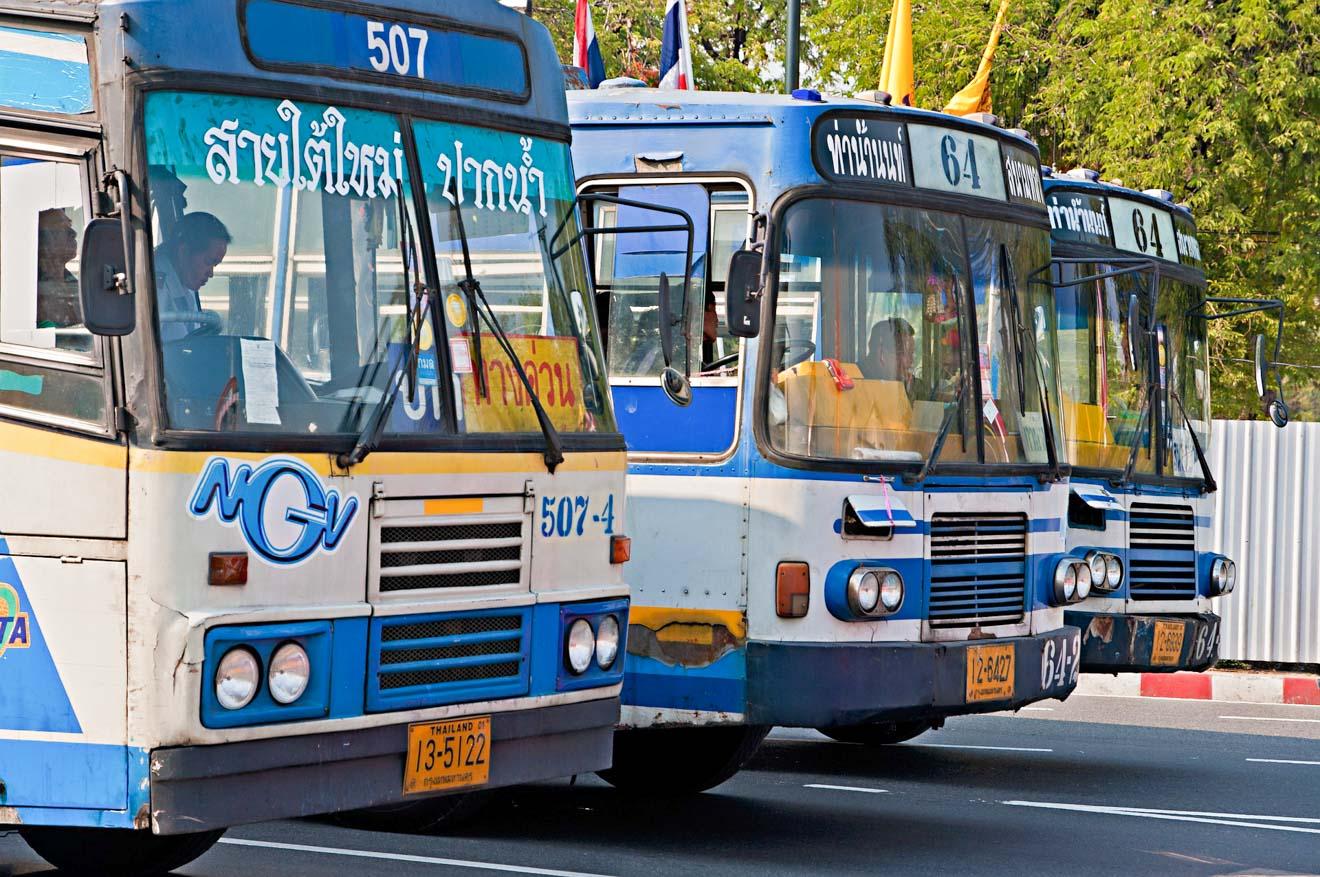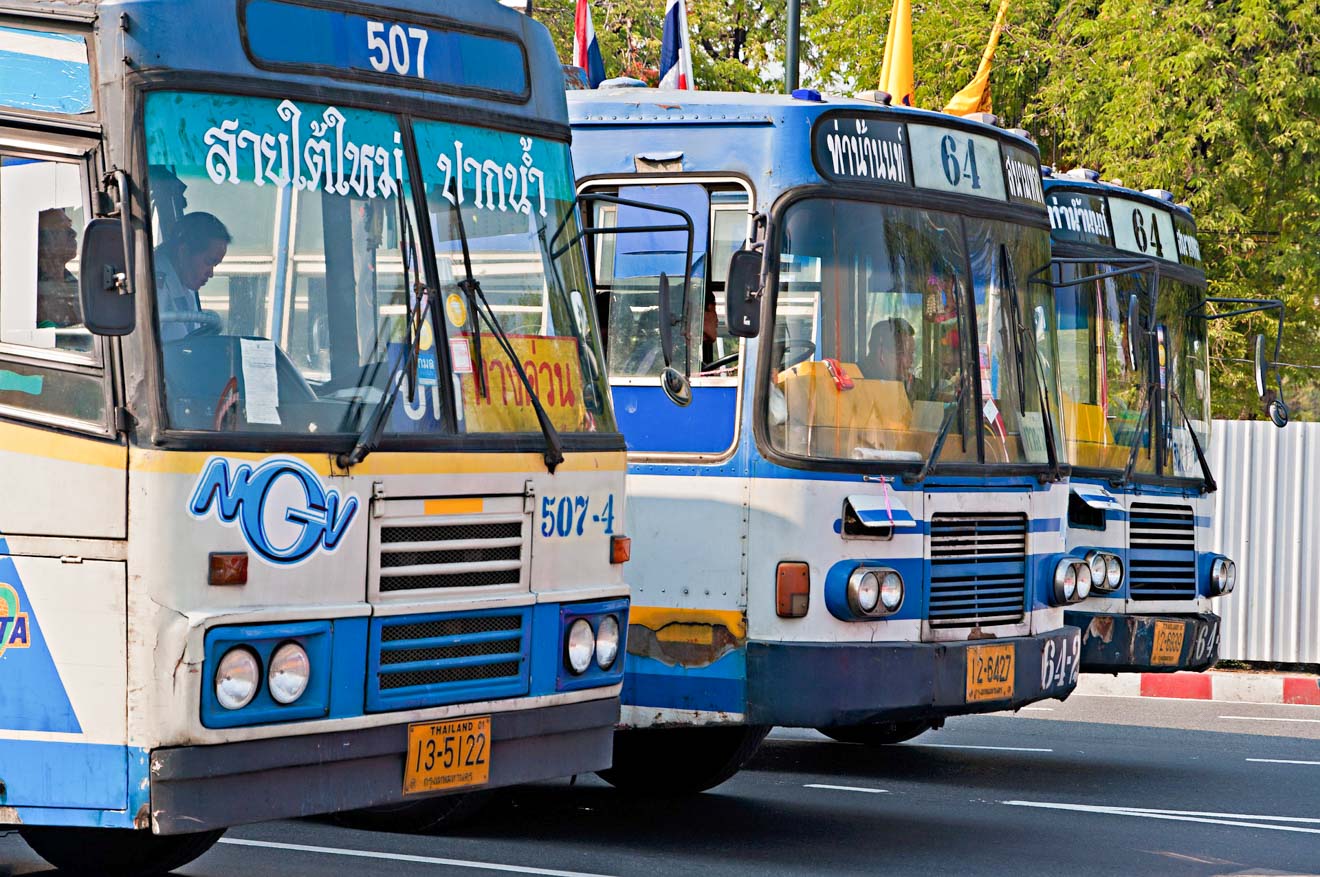 Taking a bus in Bangkok is inexpensive as well, but very slow. It is easy to get around the city via bus using Google Maps. There are different types of buses in the city:
the red and cream ones are the most basic ones; one ride is 8 Baht (0,25 US$)
the blue and cream ones are air-conditioned; one ride is 18-20 Baht (0,60 US$), depending on distance
orange buses and white buses are air-conditioned as well; one ride can be from 13 to 25 Baht (0,70 US$) depending on distance
blue buses are a new type of air-conditioned buses; one ride is around 20 Baht (0,70 US$) depending on distance
By tuk-tuk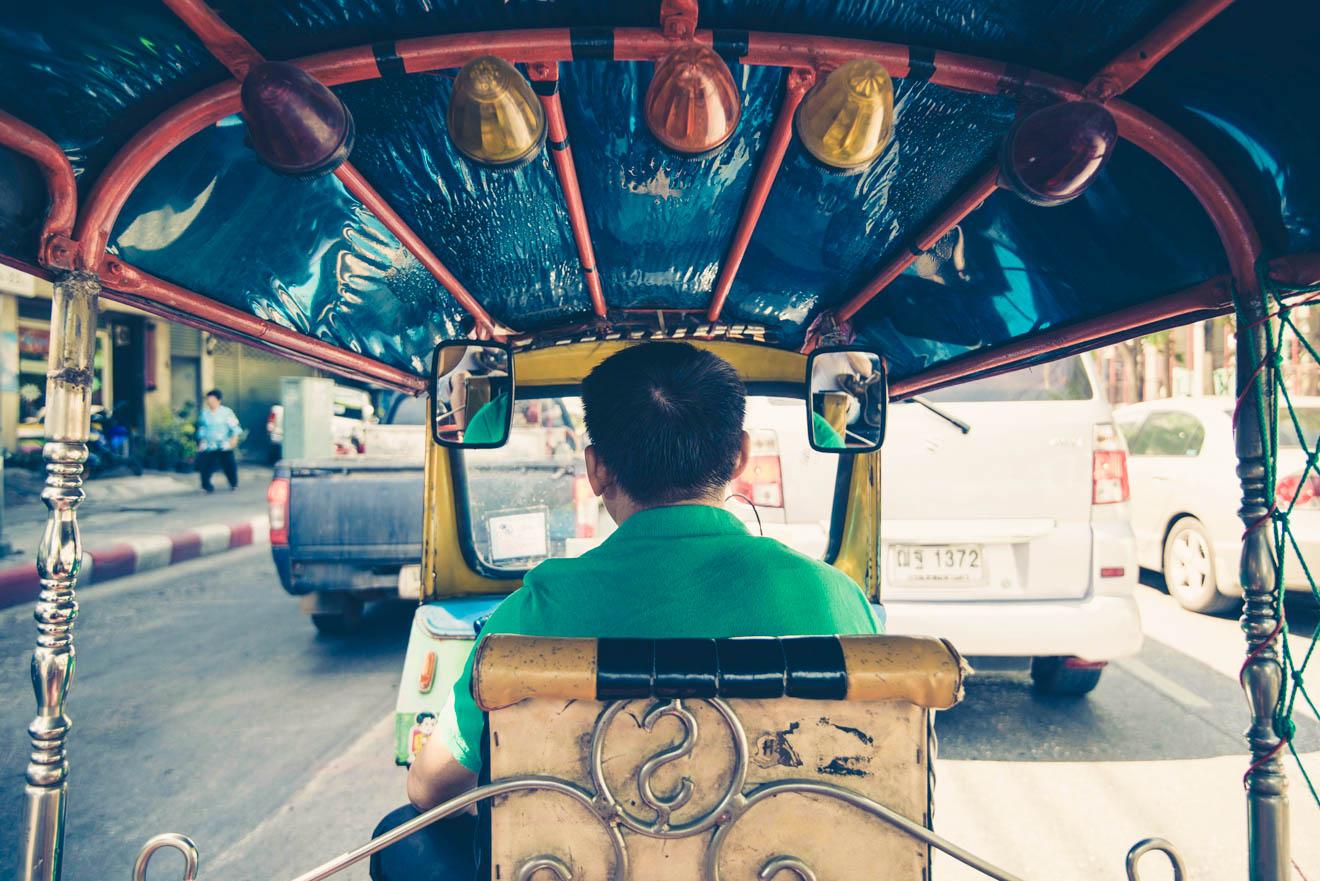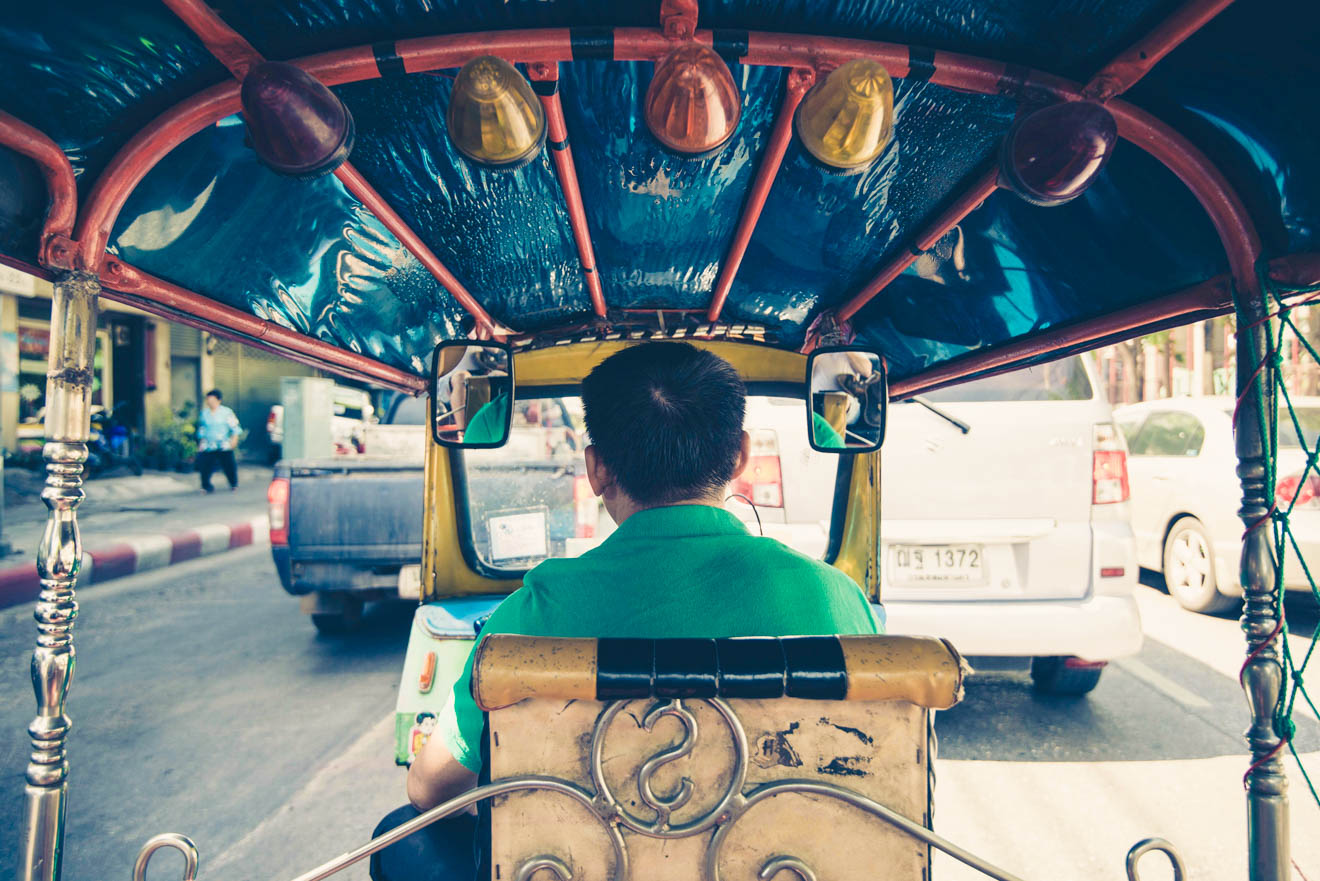 As I mentioned before, taking a tuk-tuk in Bangkok is a unique experience by itself!
Tuk-tuks are not metered, which means they have no machine to determine the exact fee of your ride. It is better to say the name of your destination and ask for the price before getting in. Even better, I recommend asking at your hotel what would be a fair price for your destination, so you will easily avoid paying too much without knowing.
As a reference, a 3-kilometer ride with a tuk-tuk should be around 100 Baht.
PRO TIP: Fare negotiating is a must in Bangkok, as the first price you will hear will be an "inflated" one! A good practice is to try and obtain half of the original price after bargaining.
NOTE: Try to stay away from tourist scams – it is common practice for tuk-tuk drivers to take tourists to jewelry or gem stores where they get commissions from sales!
By boat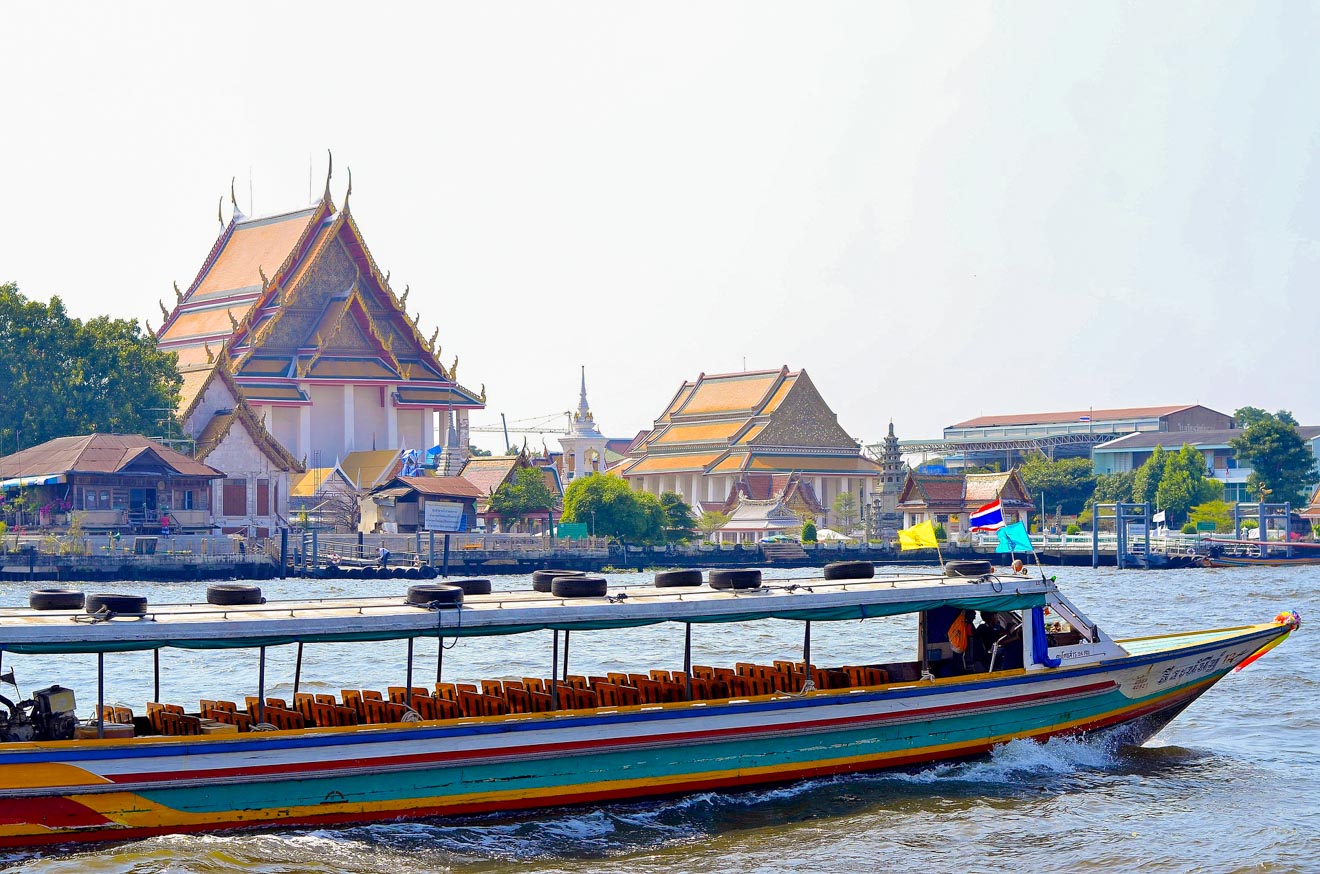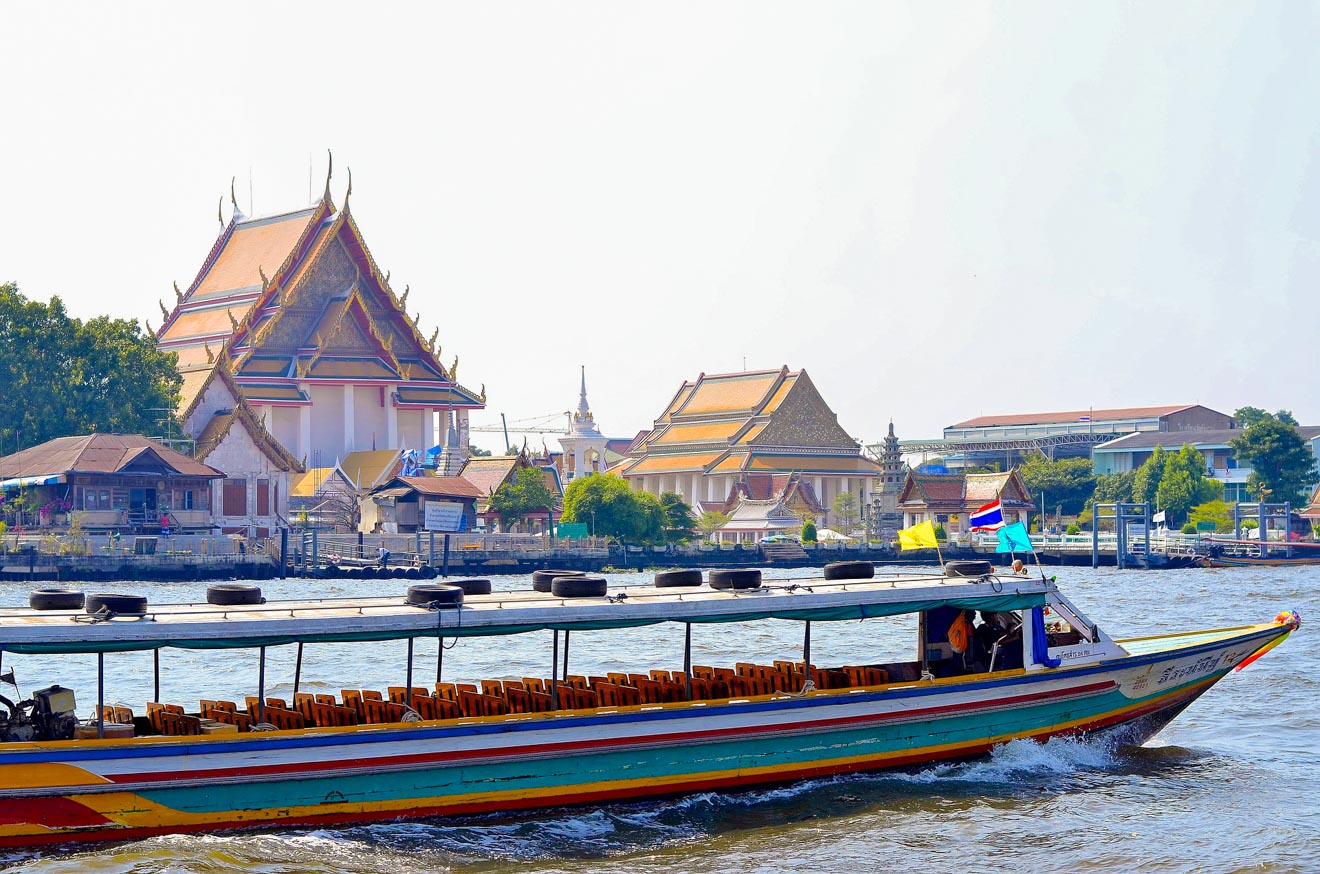 I mentioned the Chao Phraya Express Boat that can take you to Wat Arun, Wat Pho and the Grand Palace for a small price – 3 Baht to cross the river on the other side, 15 Baht for the boats with the orange flag and 40 Baht for the blue flag. Saen Saep Express boat is another option, which is mostly used by locals to commute.
Where to stay in Bangkok
UPDATE: I wrote a dedicated post about accommodation in Bangkok – 5 Best areas to stay in Bangkok with hotel recommendations and prices!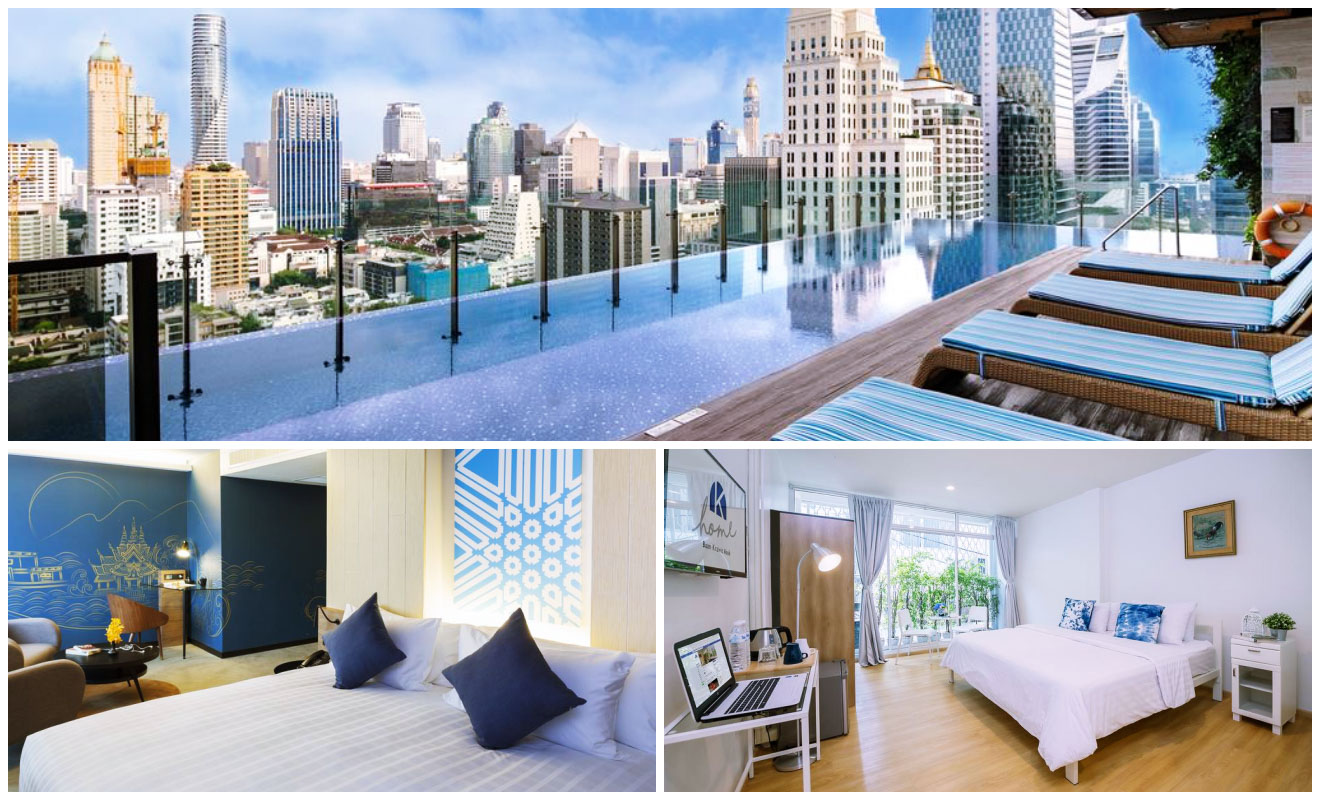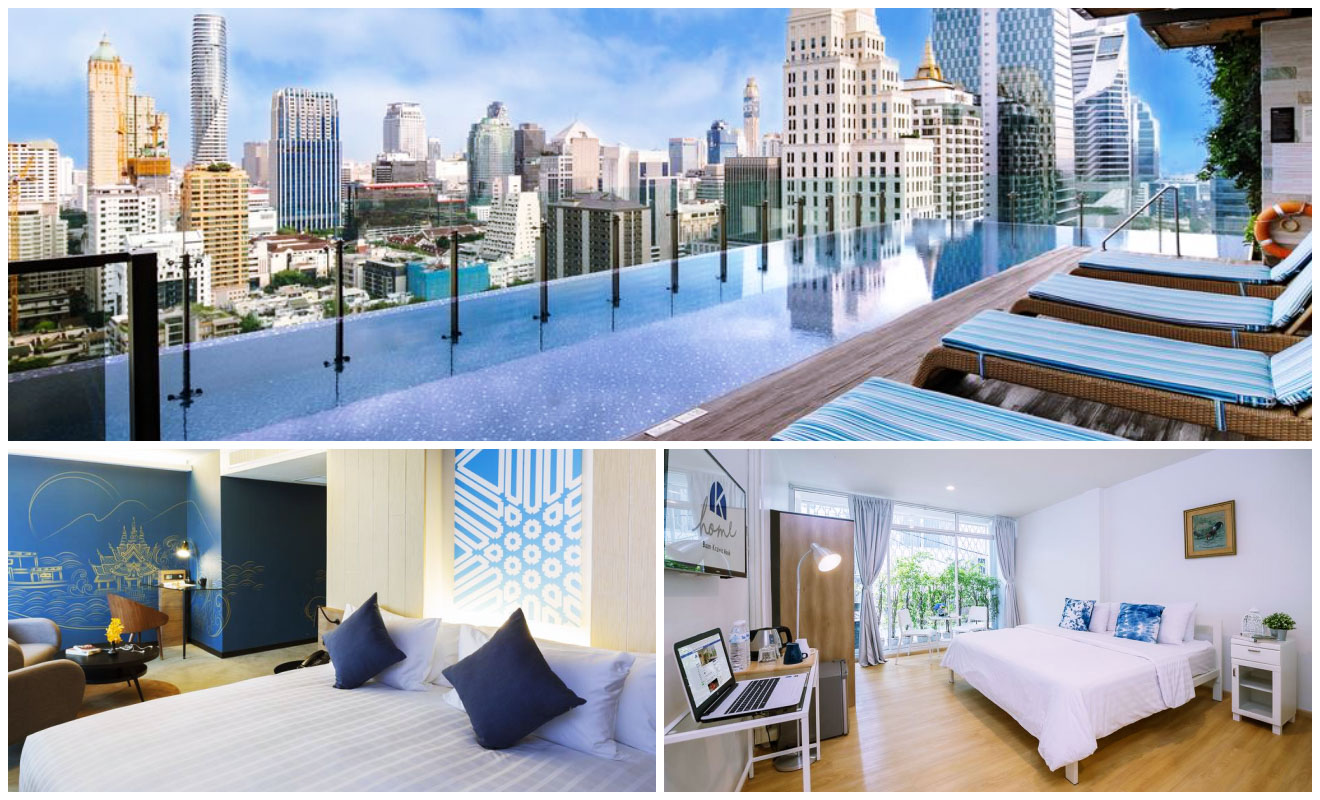 Here are some great hotels that I hand-picked especially for you – all of them are located in the city center, have fabulous reviews and are sorted out by price for your convenience:
Luxury (US$ 180 and up): Hotel Indigo Bangkok Wireless Road is a cool 5-star hotel and probably the best place to stay in Bangkok if you want to be in the center of the city. The terrace pool is absolutely incredible and the rooms are nice and clean. If you prefer a more classical look, then I suggest you book a room at The Athenee Hotel. The rooms are just gorgeous and some of them include a sitting area where you can relax. The closest airport is Don Muang Airport.
Middle (US$ 61 – 180): If you're looking for a middle-priced establishment, then U Sukhumvit Bangkok is the perfect option. They have an awesome outdoor pool and you can also use their bicycle and car rental for free. If not, you could book a room at Adelphi Forty-Nine and you will feel at home in the center of Bangkok. The rooms are spacious, with nice soft colors and they're also equipped with a kitchen area.
Budget (up to US$ 60): If you want to discover and enjoy Bangkok on a budget, then K Home Asok is a great option. This hotel is not far from the city center and it offers free Wi-Fi to the visitors, as well as private bathrooms and a flat-screen TV! Another amazing and budget-friendly option is Baan Phraeng Poshtel Bangkok, situated in the Old Town district, very close to the Temple of the Emerald Buddha, Khao San Road, and Grand Palace.
Best Restaurants in Bangkok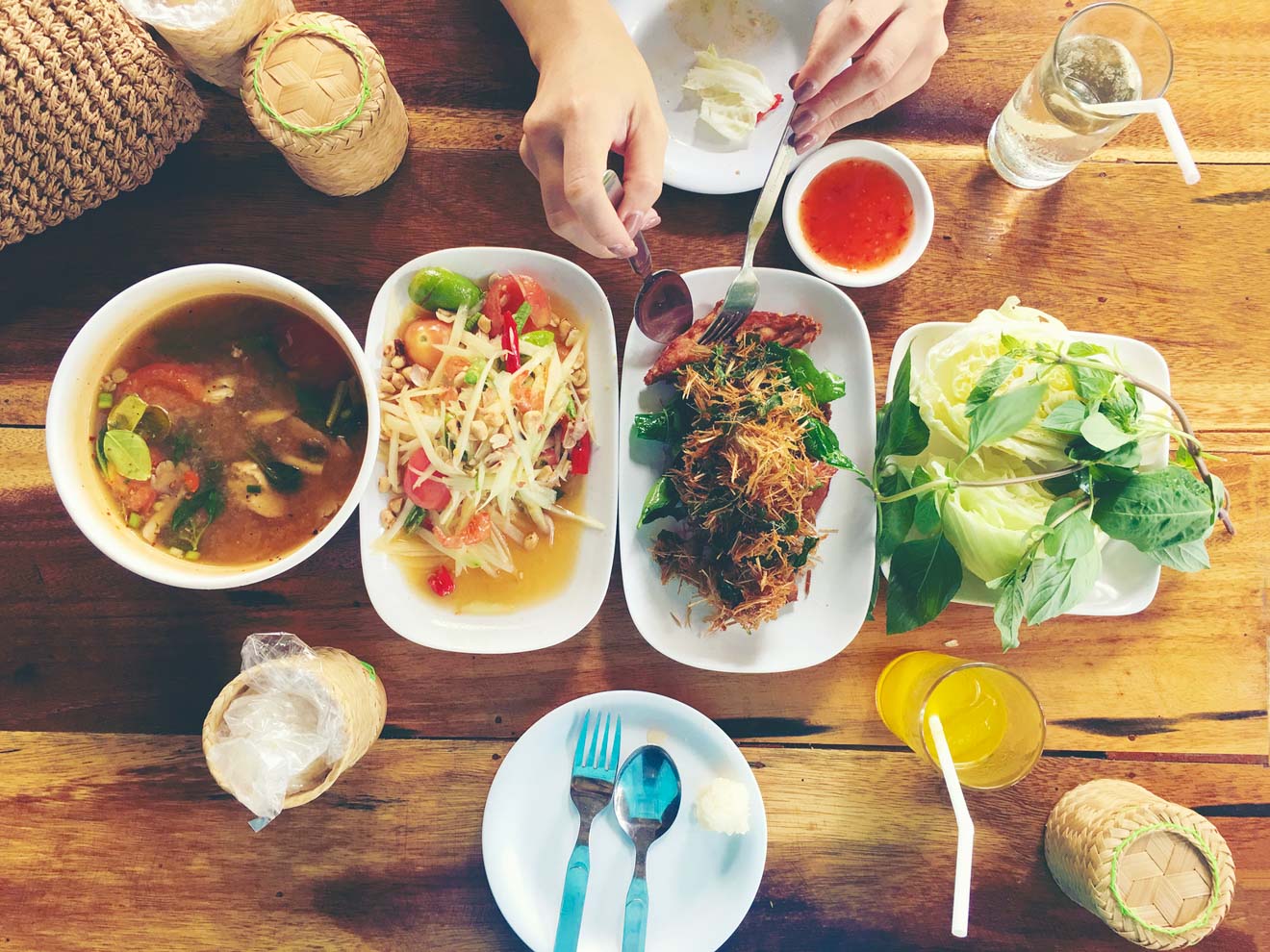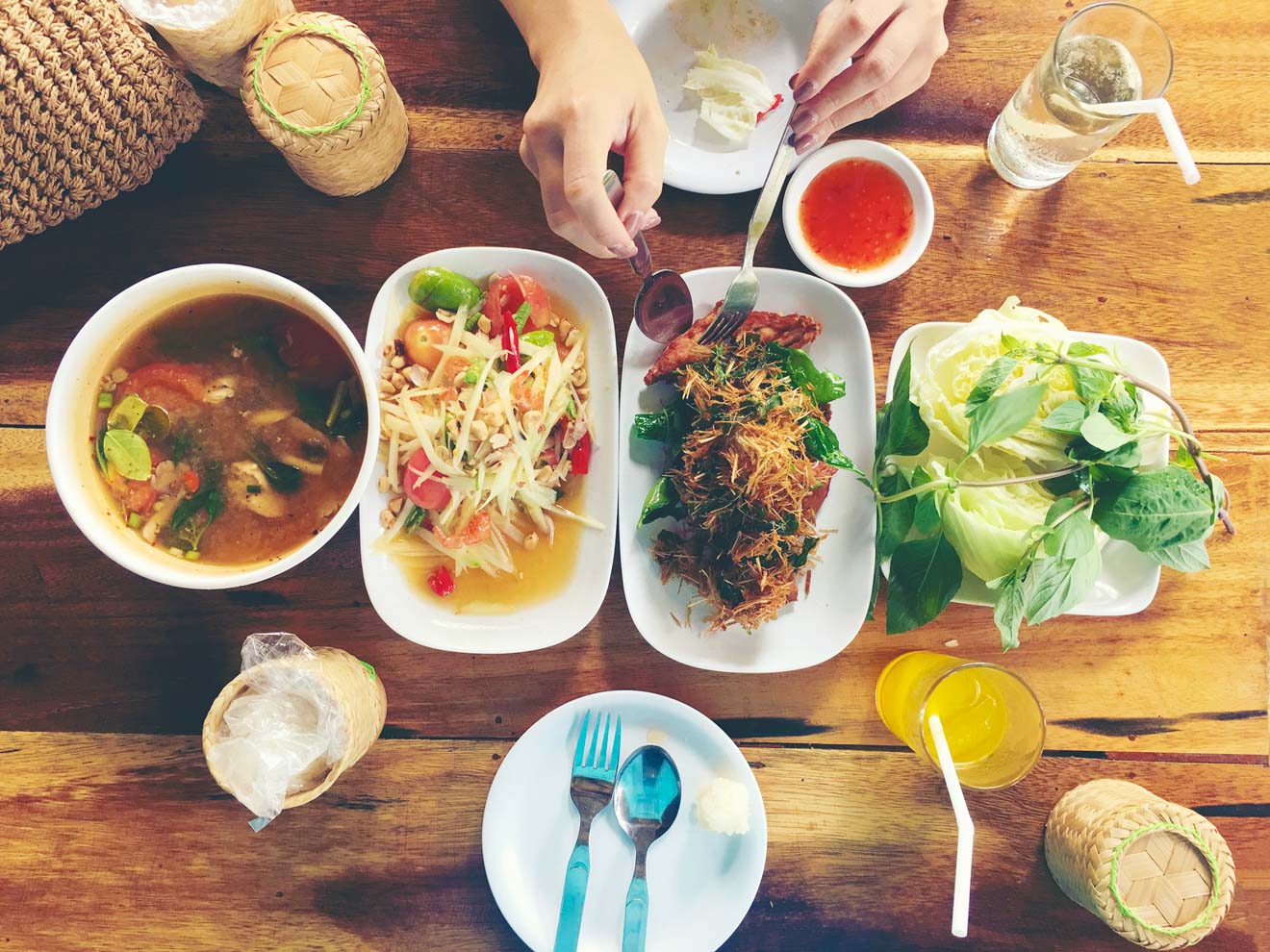 Bangkok has such a wide and incredible gastronomy, that you will need a lifetime to discover all the amazing dishes! If you want to check out some of the best restaurants in Bangkok other than the famous food markets, here are some great options:
But what about a dinner cruise? You can combine a Chao Phraya excursion with a delicious dinner and a cabaret show during this tour or this one with a gourmet buffet!
---
Conclusion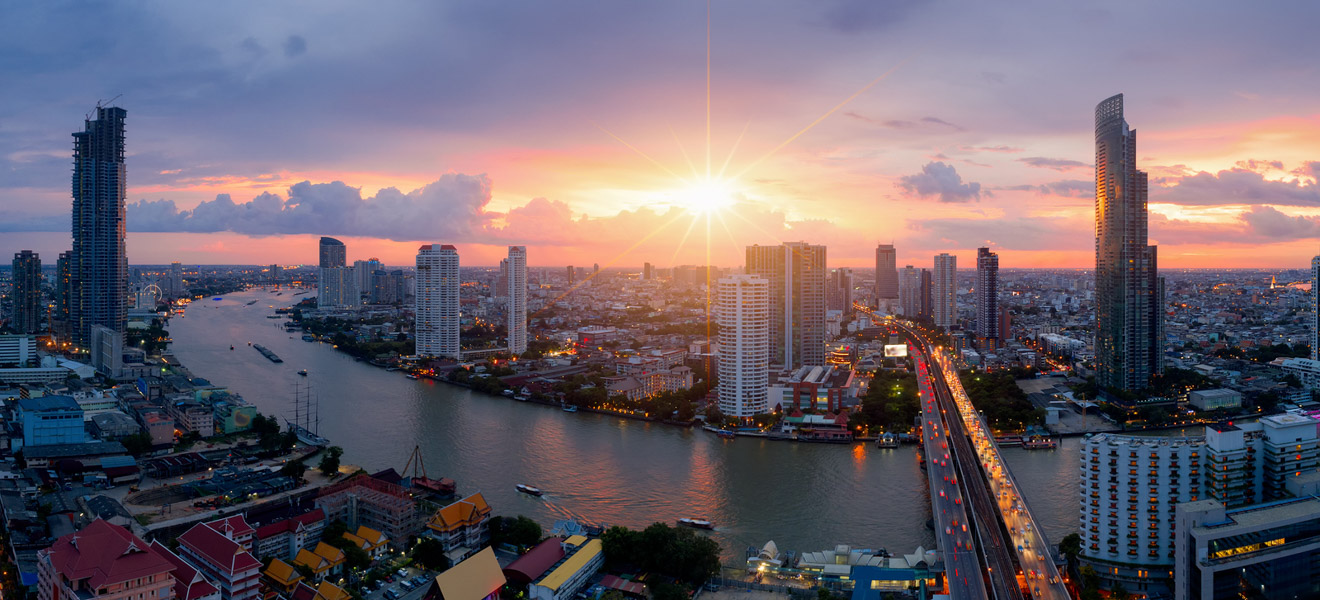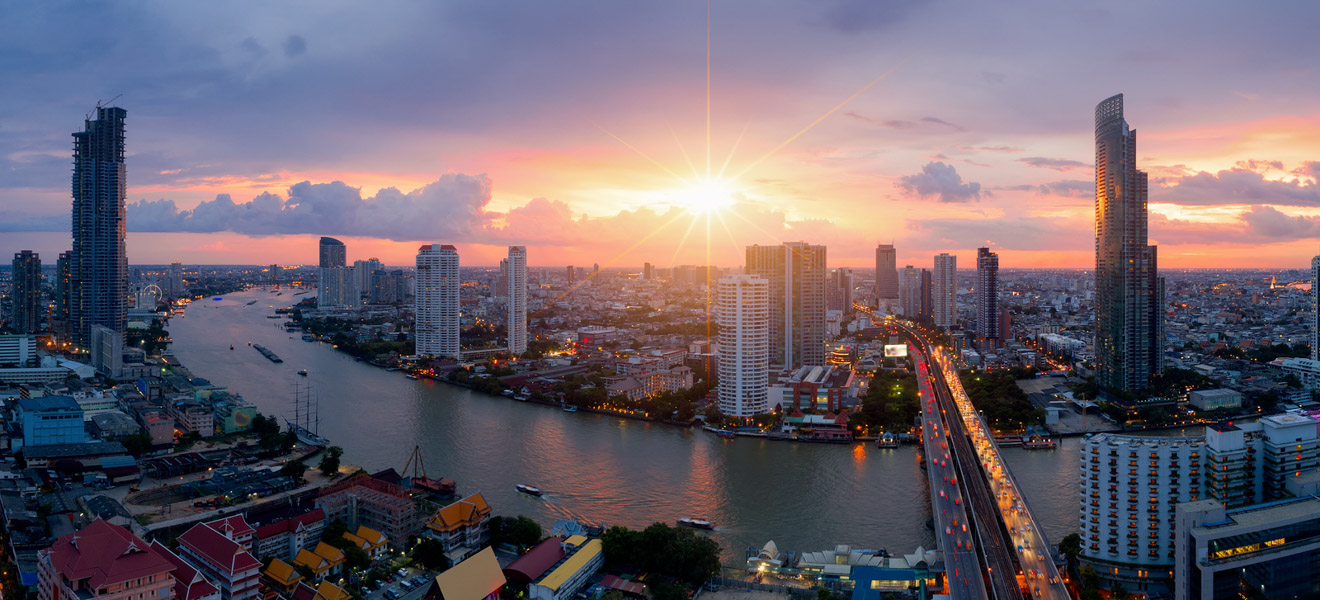 Bangkok is a colorful, vivid and unique city that will most definitely be one of the highlights of your Thailand vacation! The city has so much to offer – from incredible food to fun things and cultural attractions – that any traveler will find something fit for her/his needs!
This was my complete list of things to do in Bangkok, Thailand, as well as some bonus things to do, day trip ideas and accommodation recommendations! If you follow these suggestions, I am sure you will have a great time on your Bangkok trip and you will enjoy every minute of it!
Going to Chiang Mai as well? I can give you some great tips about it! What about Koh Phangan? That's an incredible destination as well!
I hope you enjoyed my article! If you have any questions, don't hesitate to leave your comments in the section below, I love hearing from my readers!
Yulia
---
---
Pin it for later!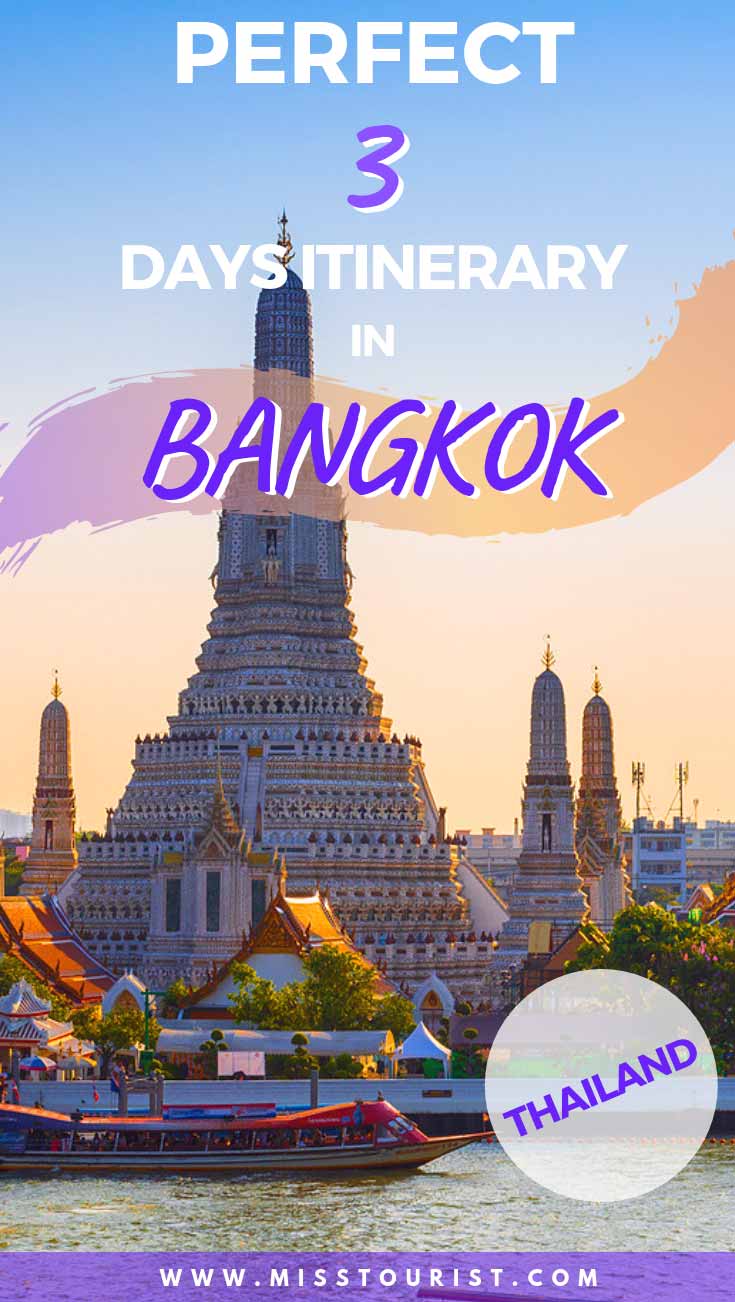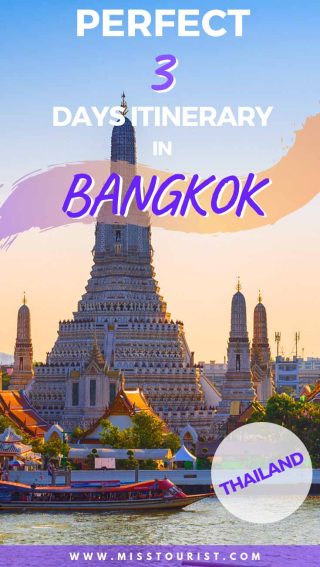 Pin it for later!