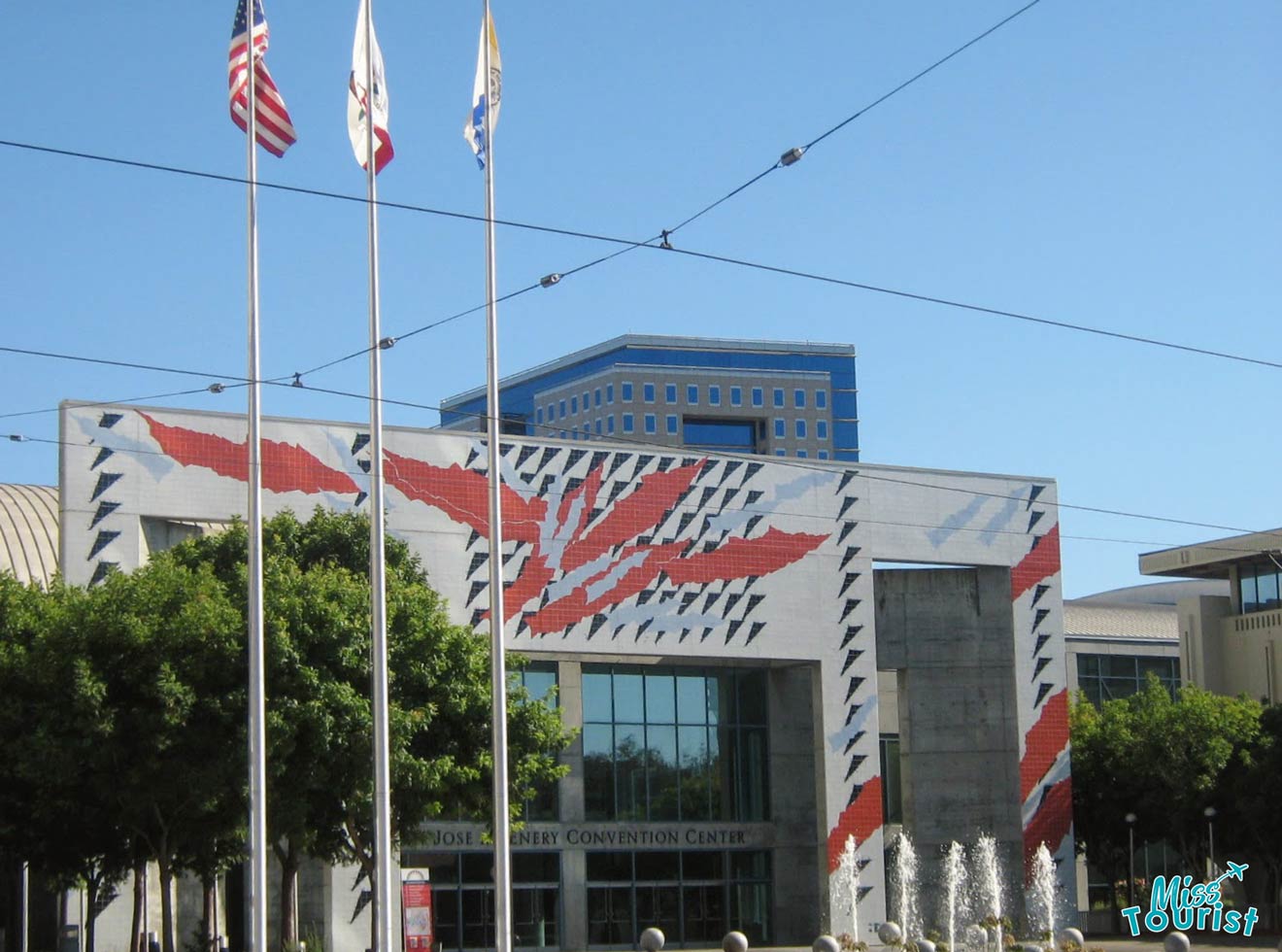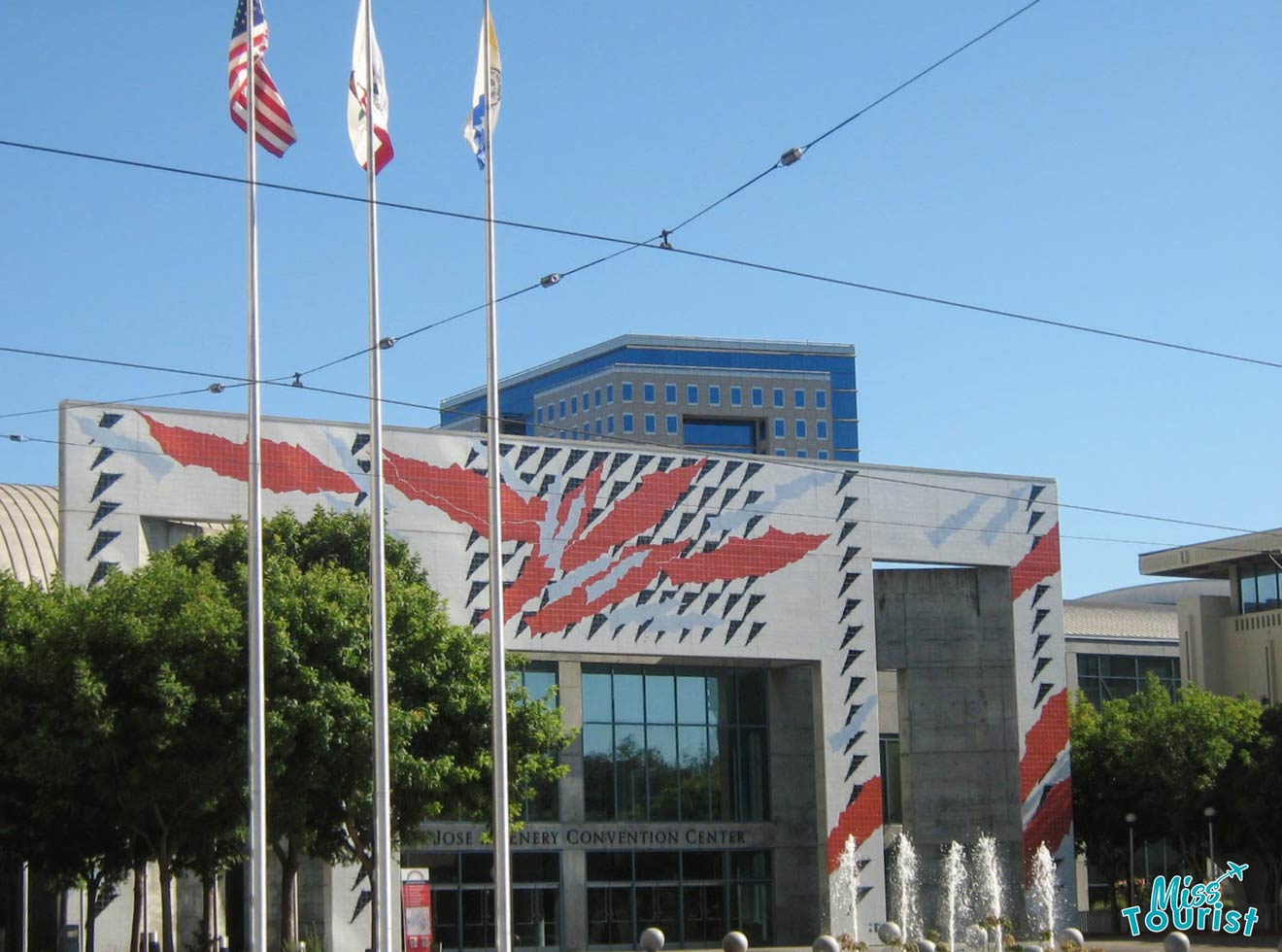 Buenos Dias! Welcome to San José, the city of innovation located in Santa Clara County, just south of San Francisco. Over the years, it has gone from an agricultural center to a base for many high-tech companies and start-ups which turned San Jose into an urban metropolitan city! Now, San José is the cultural and political center of Silicon Valley, a region located in the south of the San Francisco Bay area, where tech enthusiasts worldwide aspire to live!
I don't want to tell you too much and give you any spoilers! But one thing I can't keep to myself is that San Jose is home to America's best rose garden! I know you're probably already decided you're visiting (you might even already be on your way to the airport), but firstly, let's see where to stay in San Jose, California. This Silicon Valley region is filled with amazing places to stay and most either have a spa or a fancy pool, especially in the city center!
I've managed to search and put together an amazing list, including both San Jose and its surrounding areas. I will include a few smaller towns that technically aren't in the San Jose borders, but are so well connected by public transport that you won't even know the difference! But don't forget to book any San José hotel in advance, Silicon Valley is a famous region worldwide, and everyone wants to visit this amazing city so rooms book out fast!
So let's see which neighborhoods are the best for you!
If you are in a hurry
If you want to book now, then quickly browse this list with the best places to stay all located in Downtown San Jose
Here's a map of San Jose districts that I will be talking about in this post:
1. Downtown San Jose – where to stay for the first time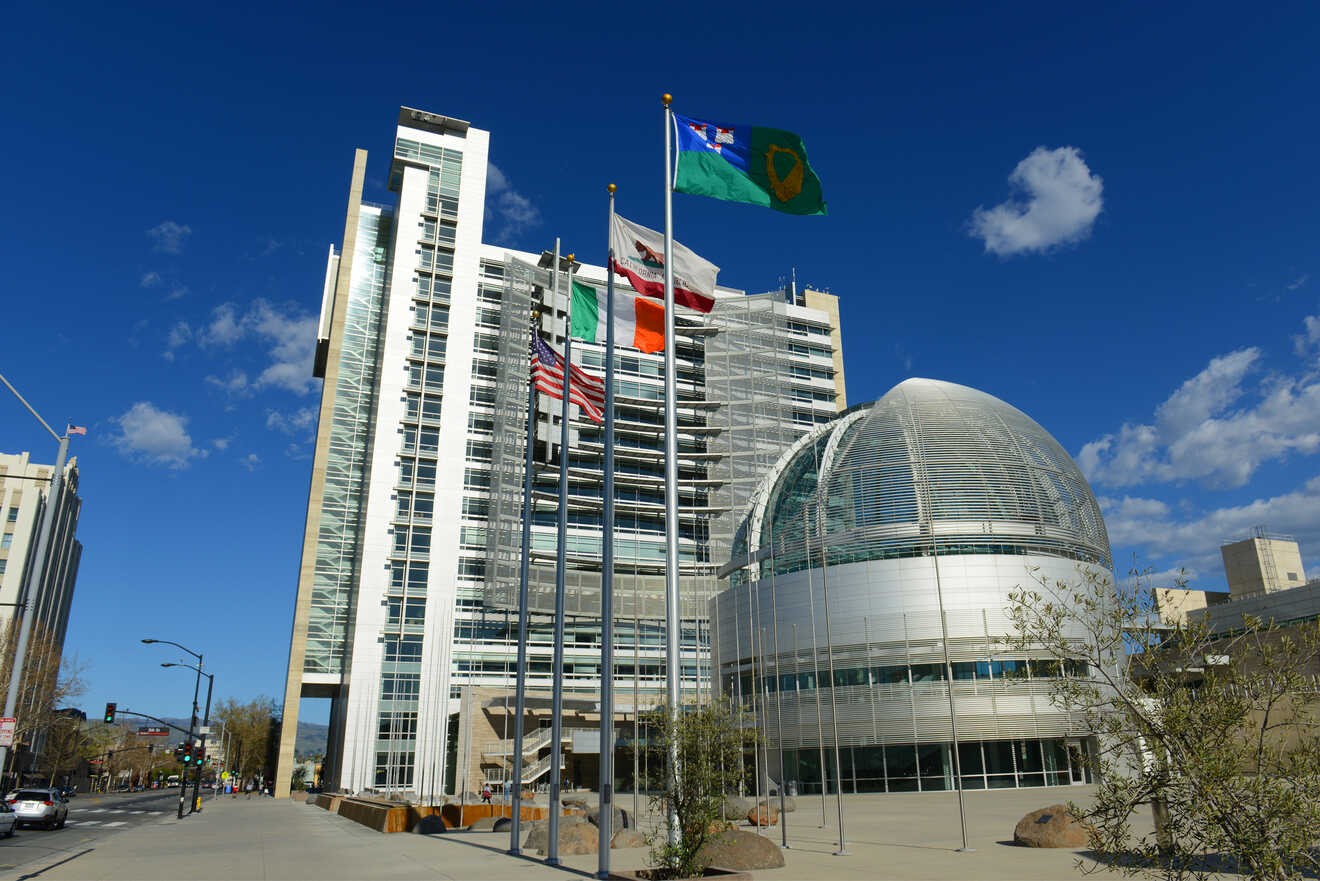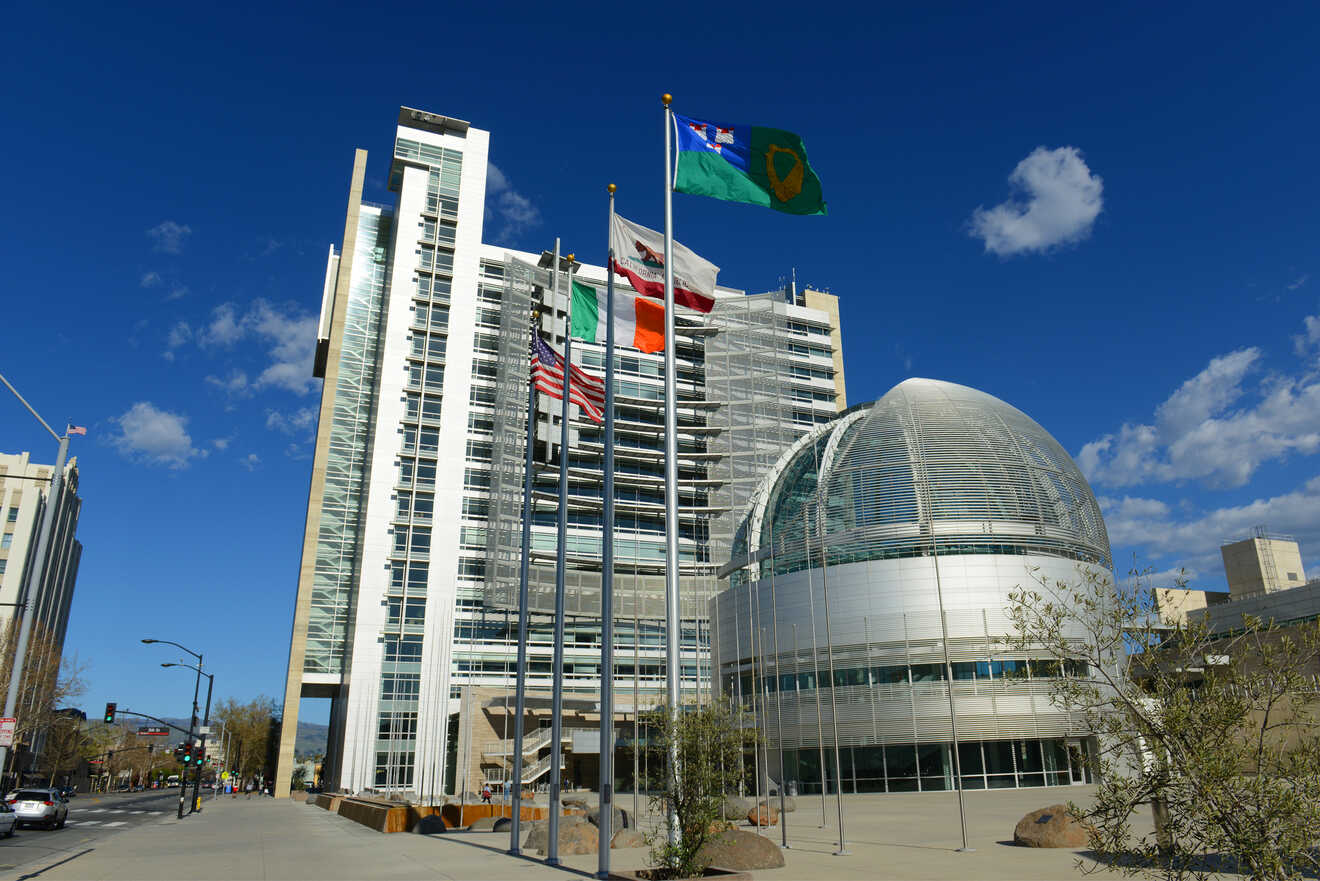 Urban vibes, tons of modern tech buildings, and palm trees everywhere! You've got to love that Californian atmosphere! If you're visiting this city for the first time, then you have to find a San Jose hotel in the Downtown area. Every attraction is located within walking distance from your accommodation and you'll find good restaurants on every corner.
This area is the perfect choice as you get a taste of everything, from amazing music festivals and fun nightlife, to cool museums. Plus you're super close to America's best Rose Garden, which you shouldn't miss! One thing to remember is that you'll have to book the hotels here in advance, the city center area is not missed by anyone who visits San Jose in Silicon Valley!
I'm sure you've heard of Silicon Valley, the famous tech region home to some of the biggest tech companies and startups, well San Jose is the business and financial center of Silicon Valley. And if you want to dive into that topic, the Tech Interactive Center is an awesome palace to start your inquiry, you'll learn tons of cool facts!
However, if you're not into that geeky tech stuff, Downtown San Jose is also the city's historic center, and there is lots to see. That's why I love this area so much, there's something to do for every type of traveler! The Cathedral Basilica of St. Joseph San Jose is a magnificent piece of architecture, and the way it looks among all the modern buildings, it's just breathtaking!
Other accommodation options in Downtown San Jose
Things to do in Downtown San Jose
2. Mountain View – best place to stay for amazing views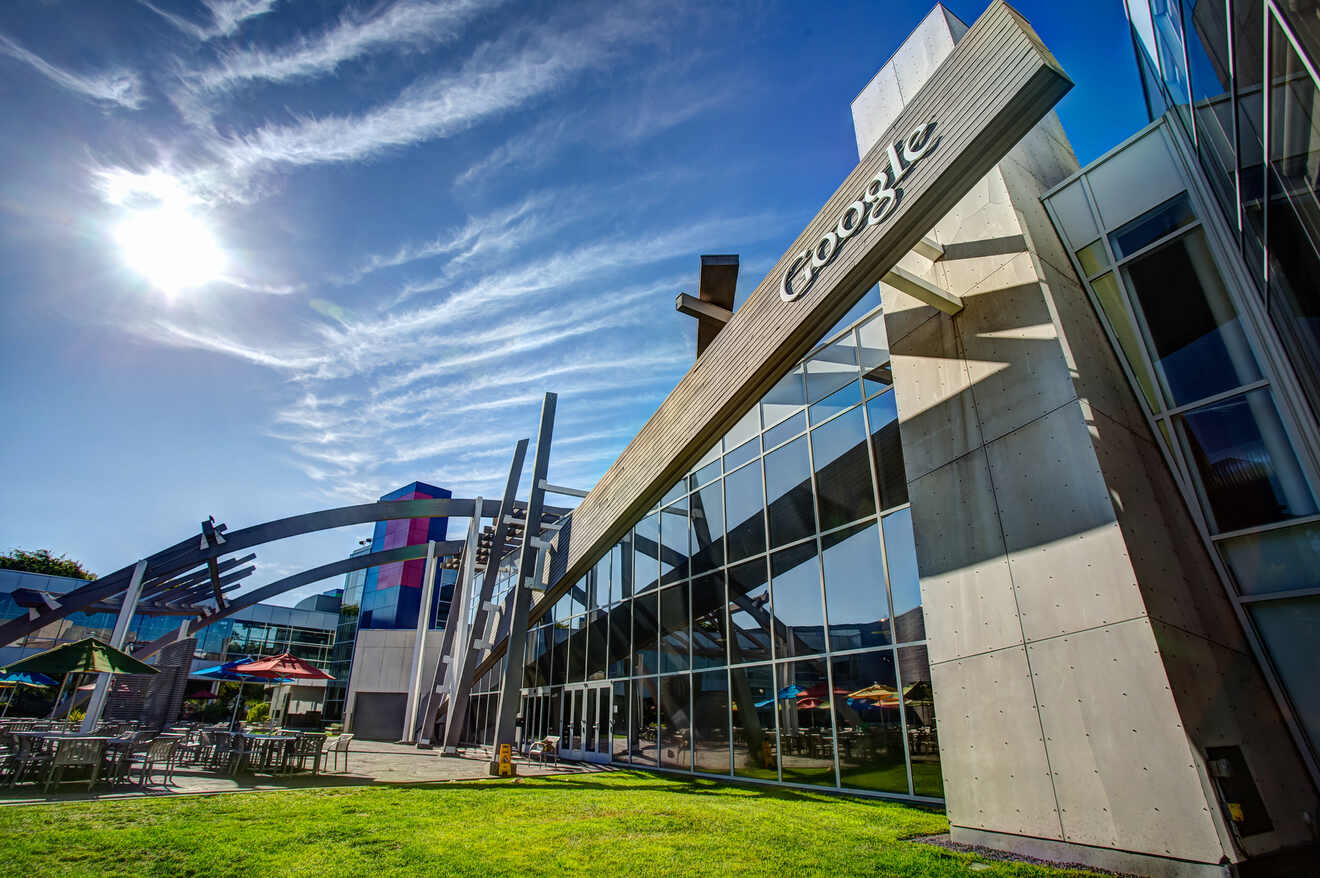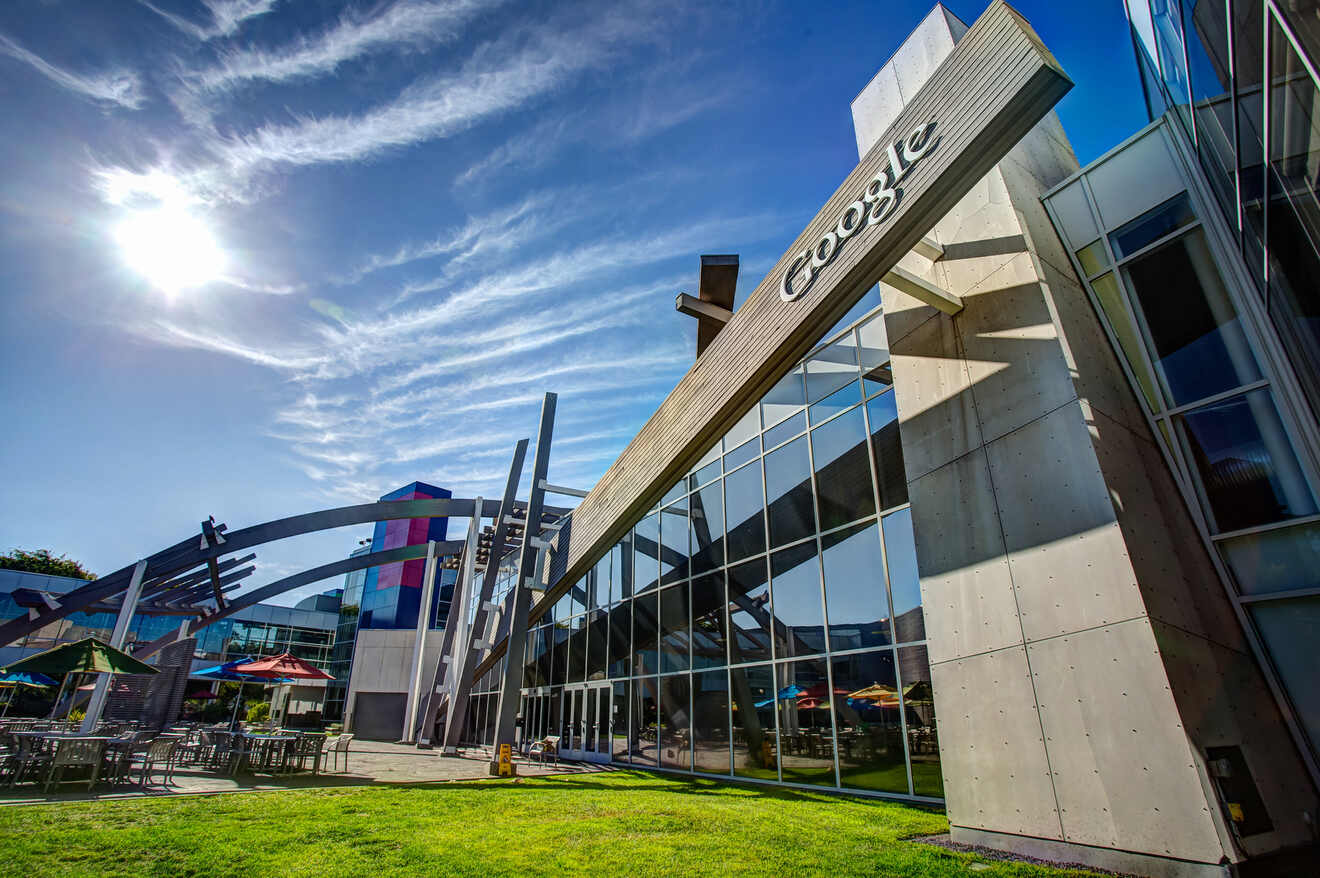 Mountain View is located between the Santa Cruz Mountains and San Francisco Bay, just 9 miles (14 km) away from the San Jose International Airport or a 20 mins drive northwest of San Jose. The area got its name thanks to the beautiful surroundings, and you guessed it, mountain views.
Mountain View is also known on the Silicon Valley map as it hosts the headquarters of some of the biggest companies like Google, Microsoft, LinkedIn etc.
Appli is technically located in Cupertino, but it is simply a 10 minute ride from Mountain View, so I would say it is all in the same area.
I also like Mountain View because it combines two of my favorite things, nature and museums! The Stevens Creek Trail is one of the most scenic spots in the area. I highly recommend making the trail and getting a breath of fresh air, you'll encounter tons of trees and some cute raccoons! If you're in the mood for a day trip, rent a car and go to San Francisco!
The Computer History Museum is one of the biggest attractions in the area, and worth a visit even if you're not that much into technology but my favorite attraction in this area has to be the NASA Gift Shop Silicon Valley. A little piece of advice, try not to spend all your money there!
Other accommodation options in Mountain View
Things to do in Mountain View
3. Campbell – where to stay around San jose for nature lovers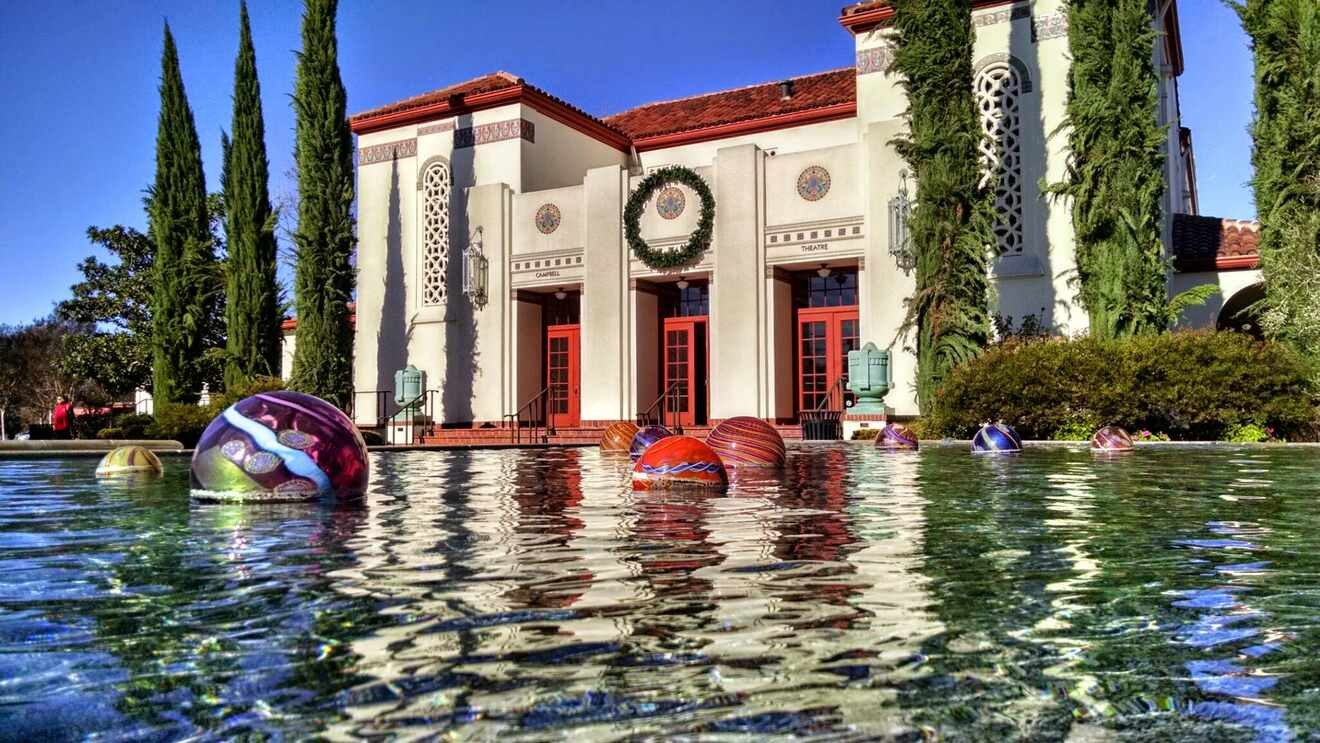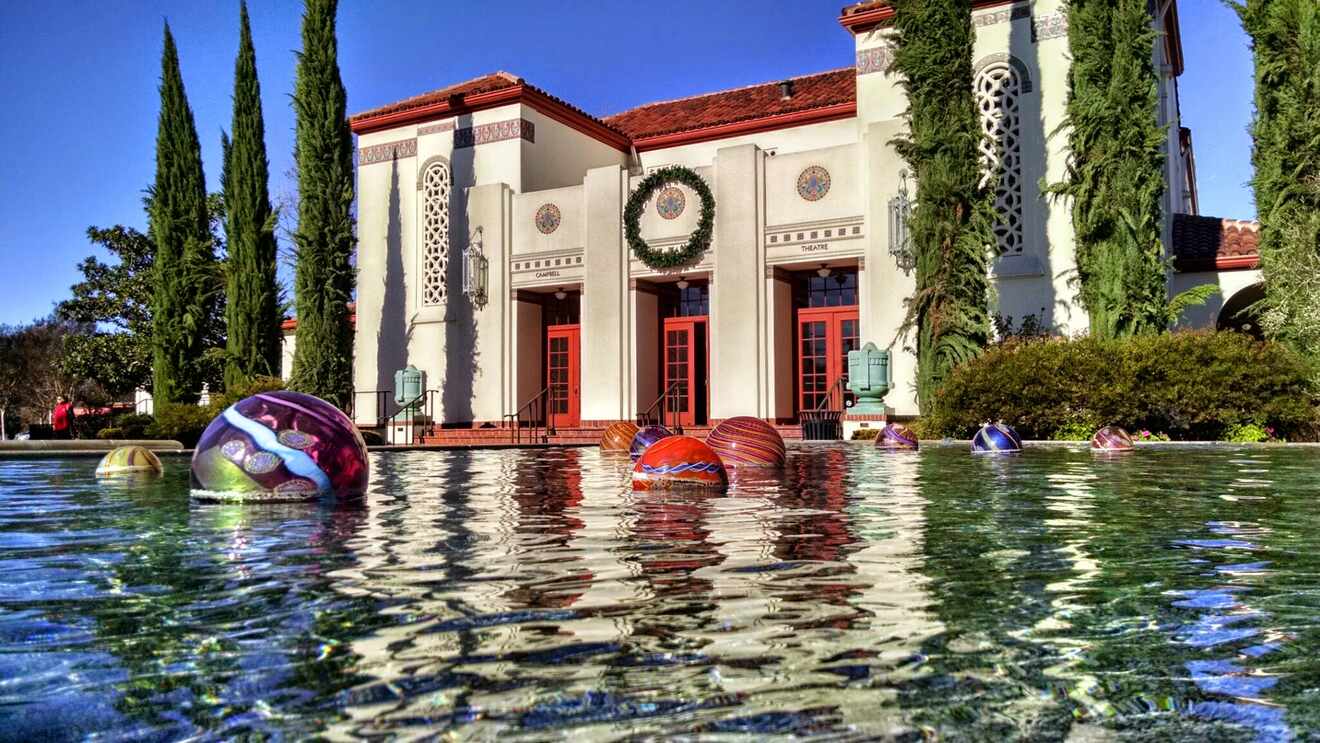 Located 7 miles (11 km) south of Downtown San Jose, this little suburb outside of the city is far enough from the city center to avoid all the crazy crowds but close enough to reach some of the biggest attractions by public transport. If you're like me and you like being close to the parks and to nature when you're traveling to a big city, then this is the perfect spot for you.
The atmosphere is very friendly and the downtown area of the suburb is filled with restaurants and boutique shops. Apart from all the nice parks in the area, Campbell has some cool attractions which you should visit like the Campbell Historical Museum, which gives a great insight into the local history of this south San Jose town.
I love finding out quirky details about these small suburbs when I'm going on a trip somewhere, I feel like there are so many cool town secrets that I can discover, and the Ainsley House Museum is one of the places where you can experience that, plus you get the chance to admire a beautiful piece of architecture! For those who are craving some beach fun, because all nature lovers love that, Santa Cruz is just 20 miles away from San Jose, so buckle up and go on an adventure!
Other accommodation options in Campbell
Things to do in Campbell
4. Santa Clara – best place to stay for families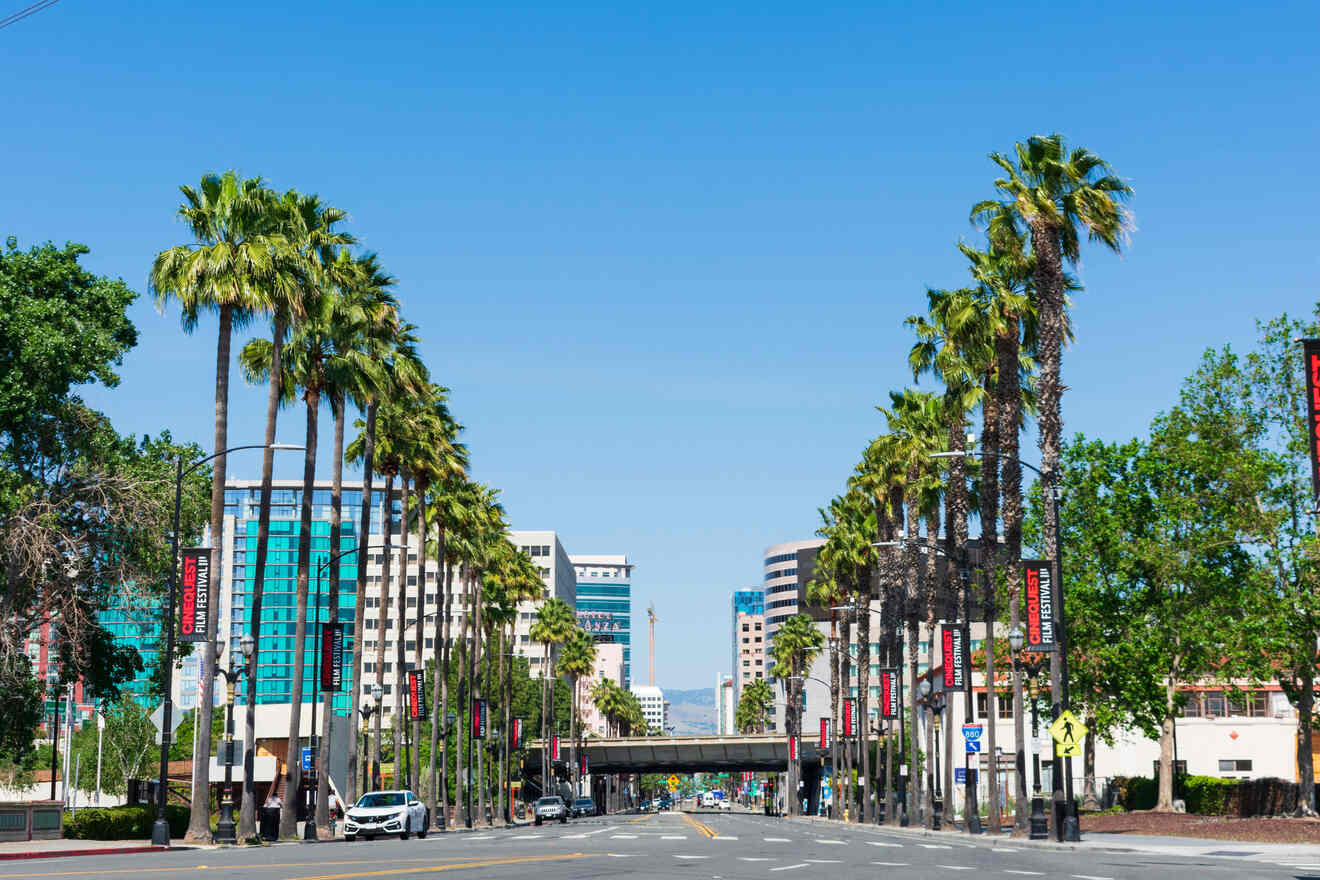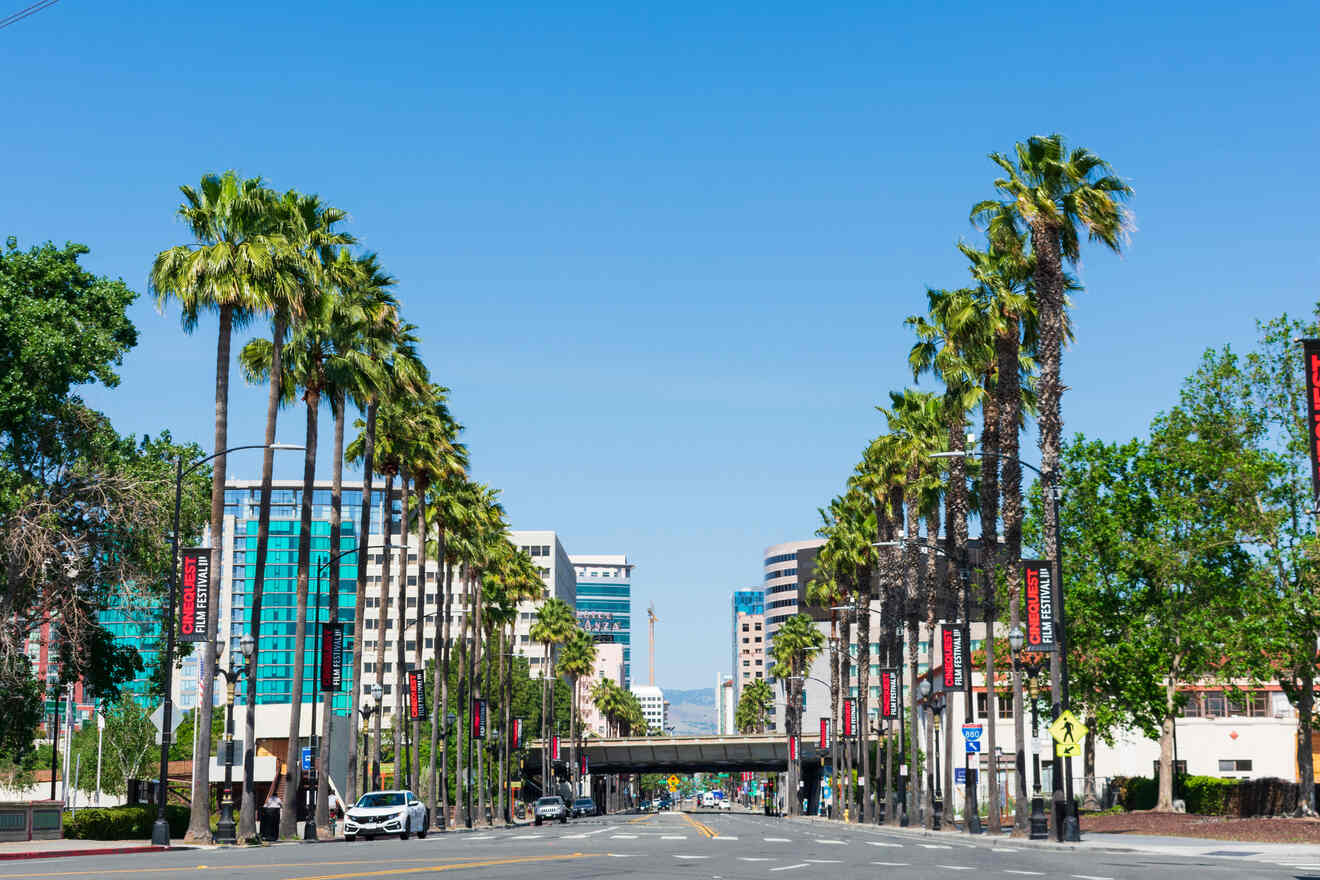 Located on the southern coast of the San Francisco Bay area, Santa Clara is actually a separate town situated just 5 miles (8 km) north of Downtown San Jose and a 30-minute train ride away. This area is home to some big Silicon Valley companies, like Intel and Namco Bandai Games! But this city is not just about business, one of the biggest attractions here is California's Great America amusement park.
Santa Clara is the perfect area to visit with the kids, I'm sure you'll have a hard time trying to convince them to see other attractions than the park! However, I know they'll also have a good time learning new things about technology at the Intel Museum or at the Triton Museum of Art. Don't forget to spend some time shopping in all the boutique stores, or visiting some historical landmarks like the Hariss Lass House Museum.
I think San Jose and the whole area around this city have a thing with parks! Trust me, you'll probably find one at every corner! Maybe in between all the museum visits, you can take a stroll around Fremont Park or Santa Clara Central Park. If you're looking for even more family fun, take a day trip to Oakland for some more awesome attractions!
Other accommodation options in Santa Clara
Things to do in Santa Clara
5. Sunnyvale – best place to stay near San Jose for tranquility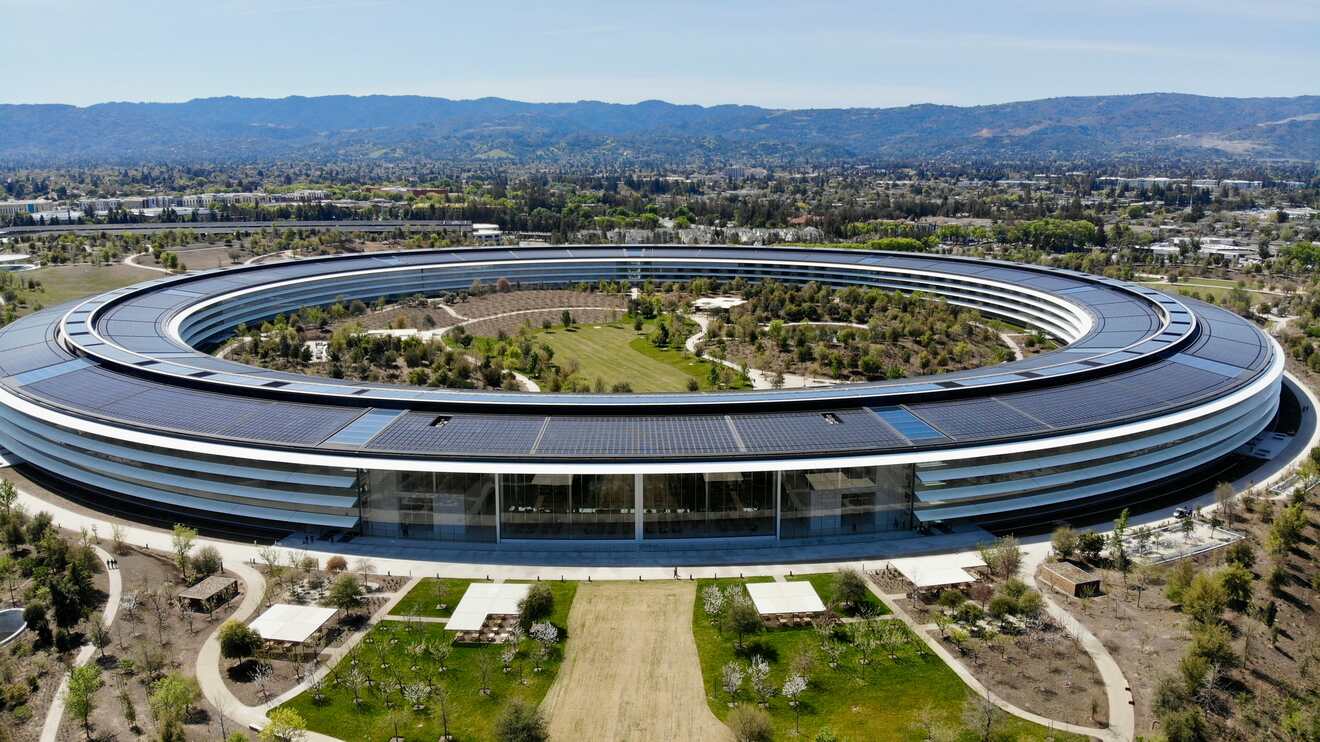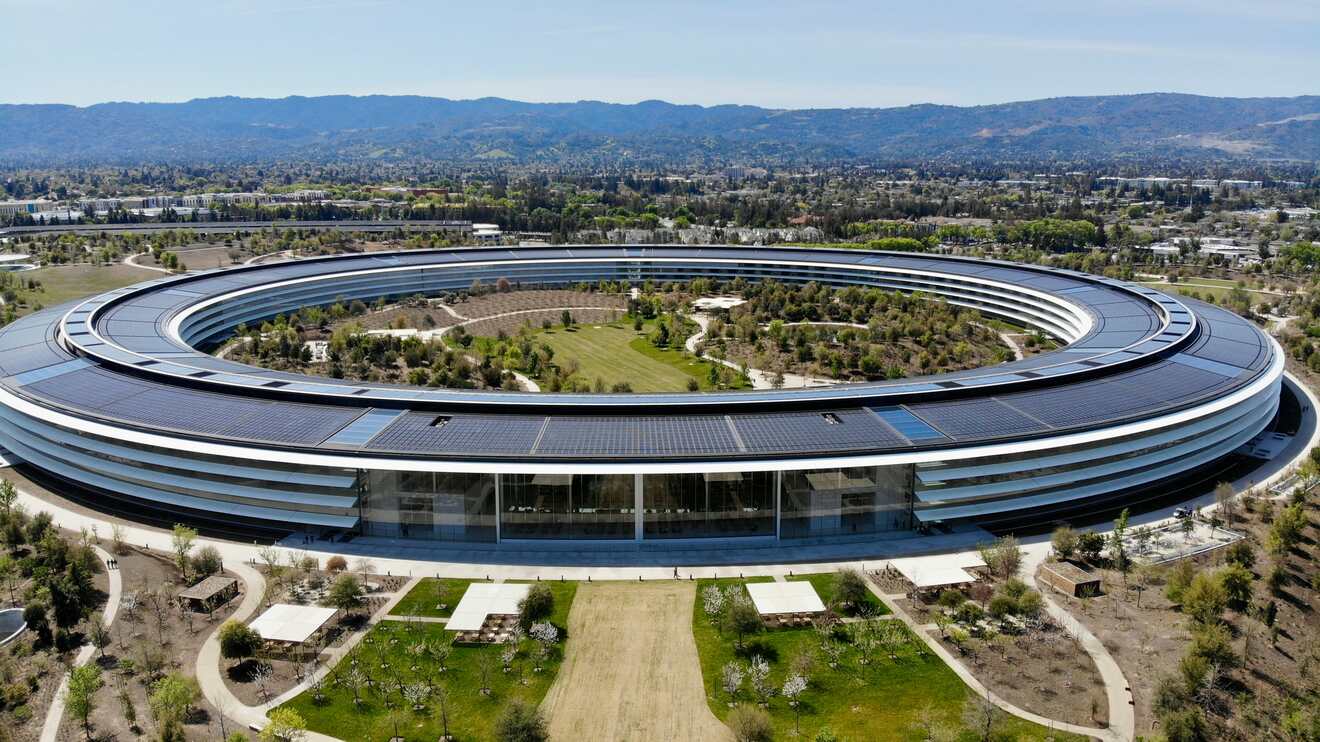 Located 12 miles (20 km) northwest of San Jose Downtown and the central area, Sunnyvale is also a separate city. I even found a nickname, "Santa Clara's little sister," as they share some parts of California's Great America amusement park. This area is super quiet, filled with restaurants, perfect for those who want to search for hotels in San Jose close to all the central attractions but a bit further away from all the city noise!
We're still in Silicon Valley, America, though, so expect to see a few headquarters of some big companies on the street. Yahoo and Intel are some of the businesses located in Sunnyvale.
The city is located near the bay area, so you'll get some amazing views here, especially at sunset. Sunnyvale Bay Trail is one of my favorite spots and probably the most scenic one as well, perfect for a midday walk. There is also a fair share of parks and recreation spots here, like Ortega Park and Serra Park.
Other accommodation options in Sunnyvale
Things to do in Sunnyvale
6. Palo Alto – where to stay in Silicon Valley for business travelers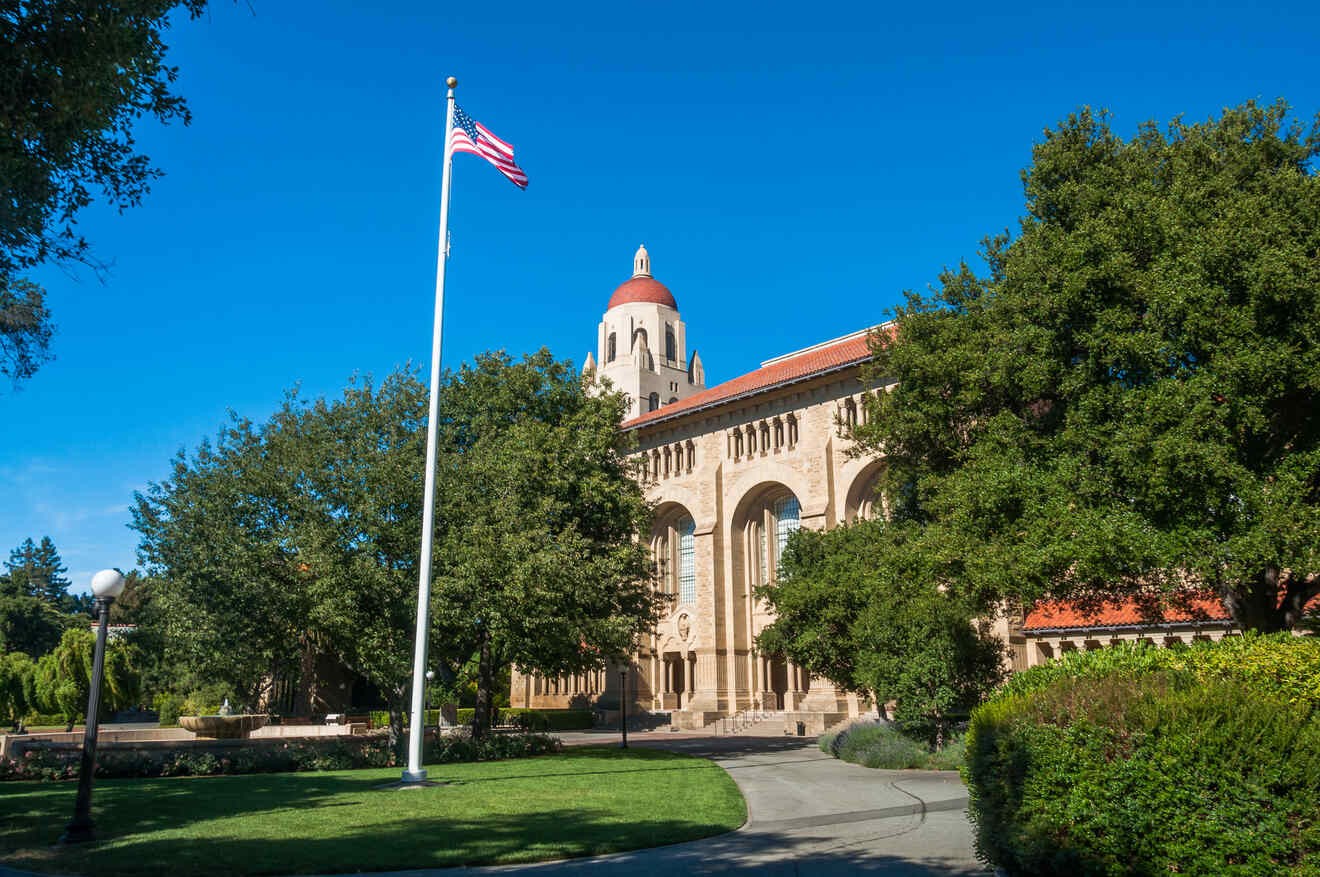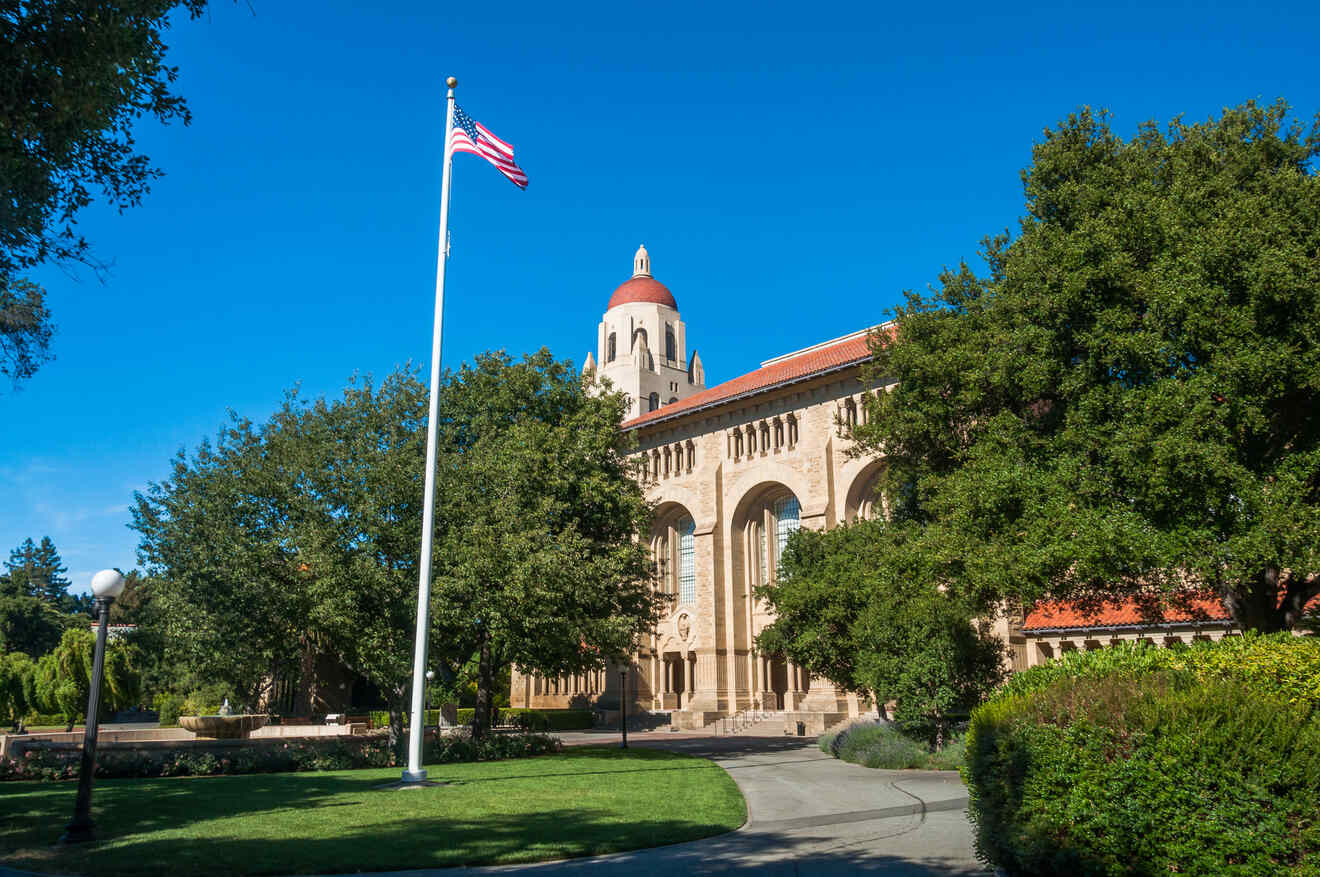 Named after the redwood tree that grows in the area, this city is located outside of San Jose, just 17 miles (27 km) northwest of the downtown area and 30 miles (50 km) south of San Francisco.
Another Silicon Valley hub, Palo Alto is home to some big company headquarters like Tesla, Skype, and Duda, making it a great place to stay in San Jose if you're traveling on business. Those are not the only big attractions in this Silicon Valley City though, Stanford University, one of the most important educational institutions in America, is also situated in Palo Alto.
I know that when you're traveling for business, you don't have time to see all the attractions, but I'm sure that once you arrive in Palo Alto, you'll want to add one or two more days to your trip to explore around. Who doesn't live to combine business with pleasure sometimes? I sure do!
As I've said before, these people never ran out of parks! You'll find plenty of those here, and some of them have playgrounds for children. My absolute favorite is the Elizabeth F. Gamble Garden, a beautiful spot full of flowers, perfect for some sunset pics. Lastly, for those who are more into culture and history, the Palo Alto History Museum is the perfect place for a short lesson on the city's story.
Other accommodation options in Palo Alto
Things to do in Palo Alto
BONUS: Where to stay near the San Jose International Airport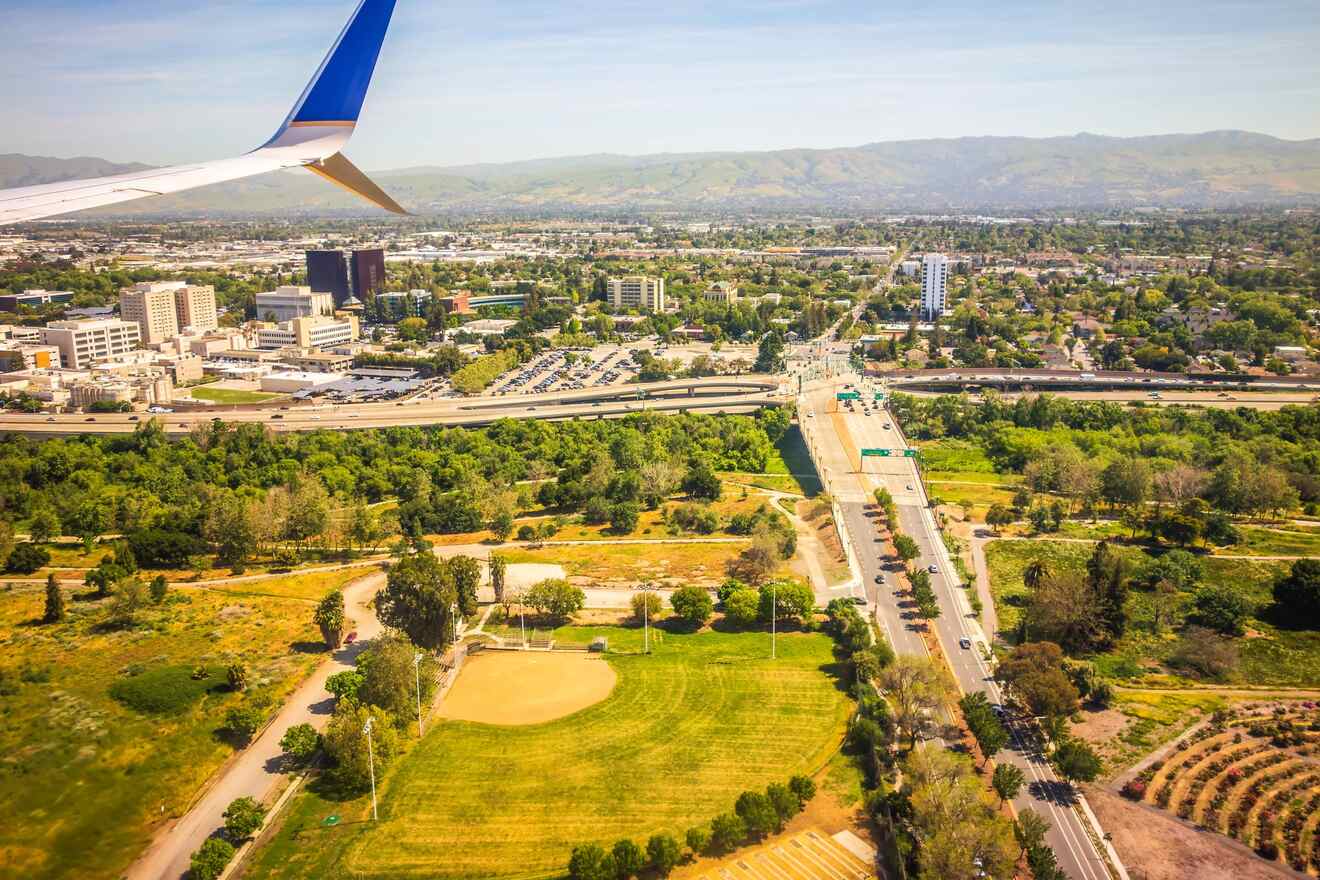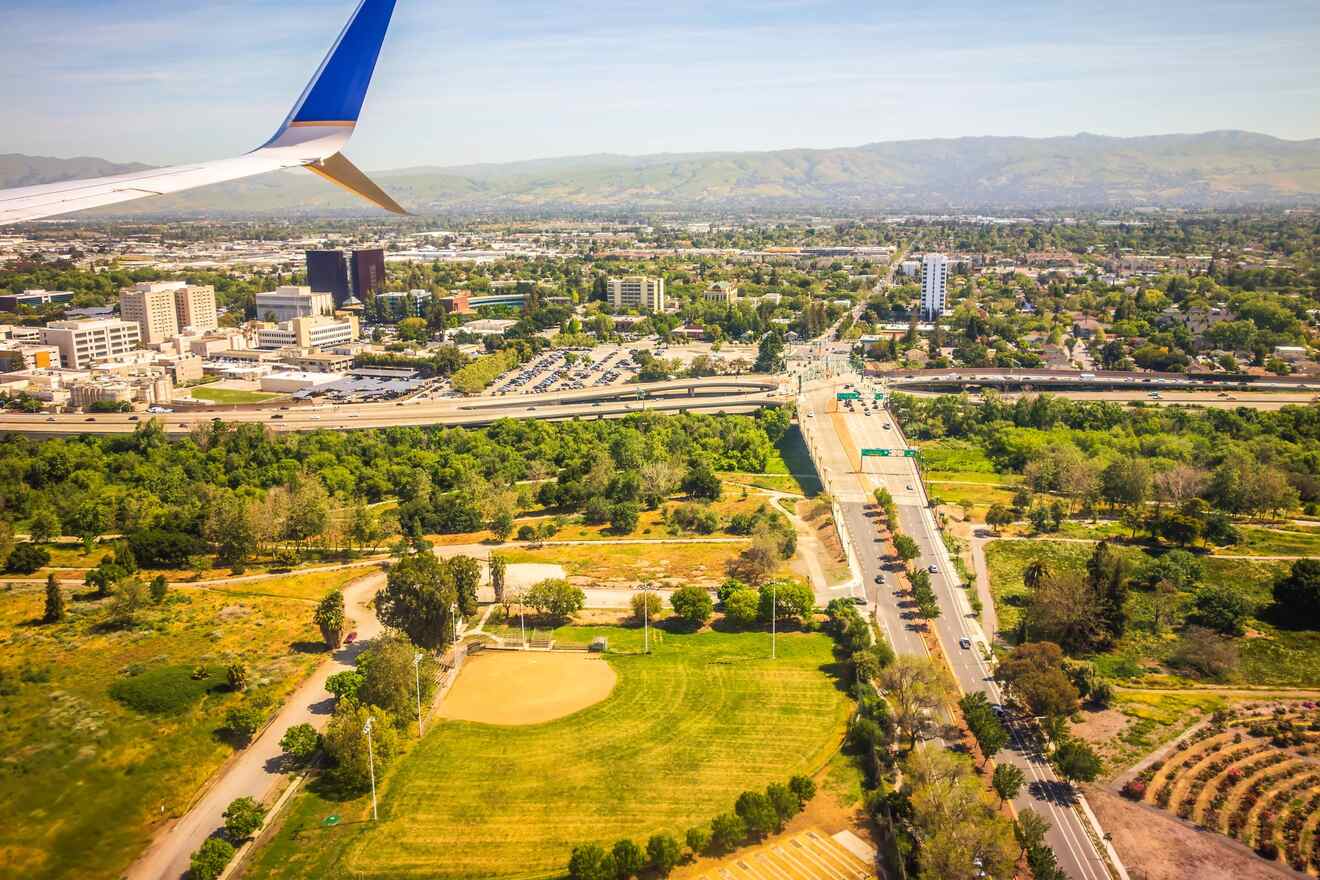 I know some of you will be looking for some hotels in San Jose, California, near the International Airport, especially if you're coming for a quick business trip, so I've made this list with the best accommodations for you, with prices ranging from luxury to budget!
1. Homewood Suites by Hilton
Chill in front of the fireplace of this luxurious hotel that's located almost 1 mile (1 km) away from the San Jose International Airport, in the north part of the city. This accommodation has such a lovely lounge area by the pool, which is perfect for those late-night swims. Homewood Suites by Hilton offers free breakfast and free parking spots.
2. Sonesta ES Suites
I love the homie feeling of this nice mid-range hotel! You can swim in the pool during the day and have a cozy movie night in your room, at night! The accommodation has a great location just 1 mile (2 km) away from the San Jose Airport.
3. SpringHill Suites by Marriott
With colorful décor and a large outdoor pool, this has to be one of the nicest budget hotels to stay near the airport, located just 1 mile (2 km) away from it. You don't have to worry about where you can go to grab something to eat in the morning as the accommodation offers a delicious and healthy breakfast!
FAQs about lodging in San Jose, CA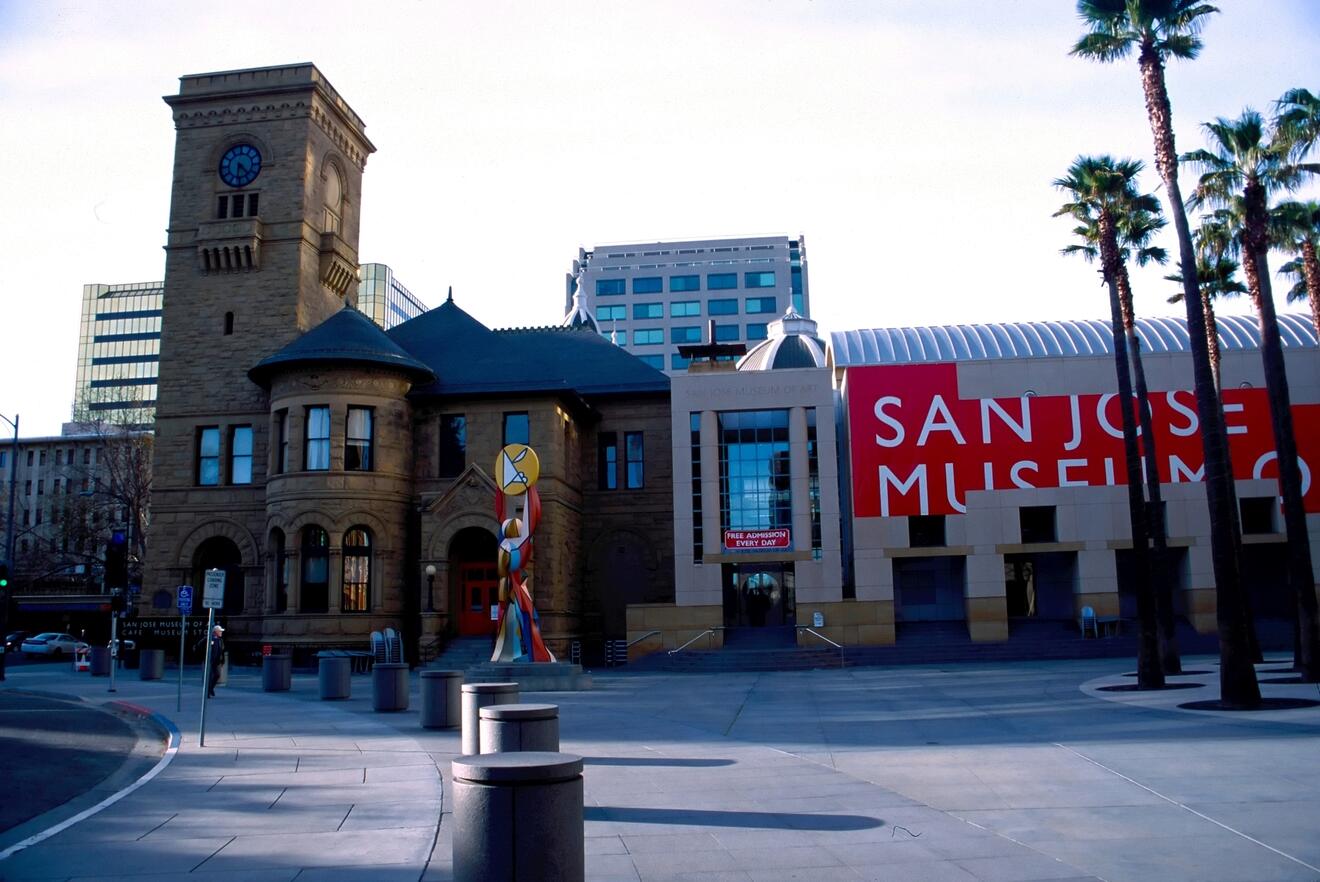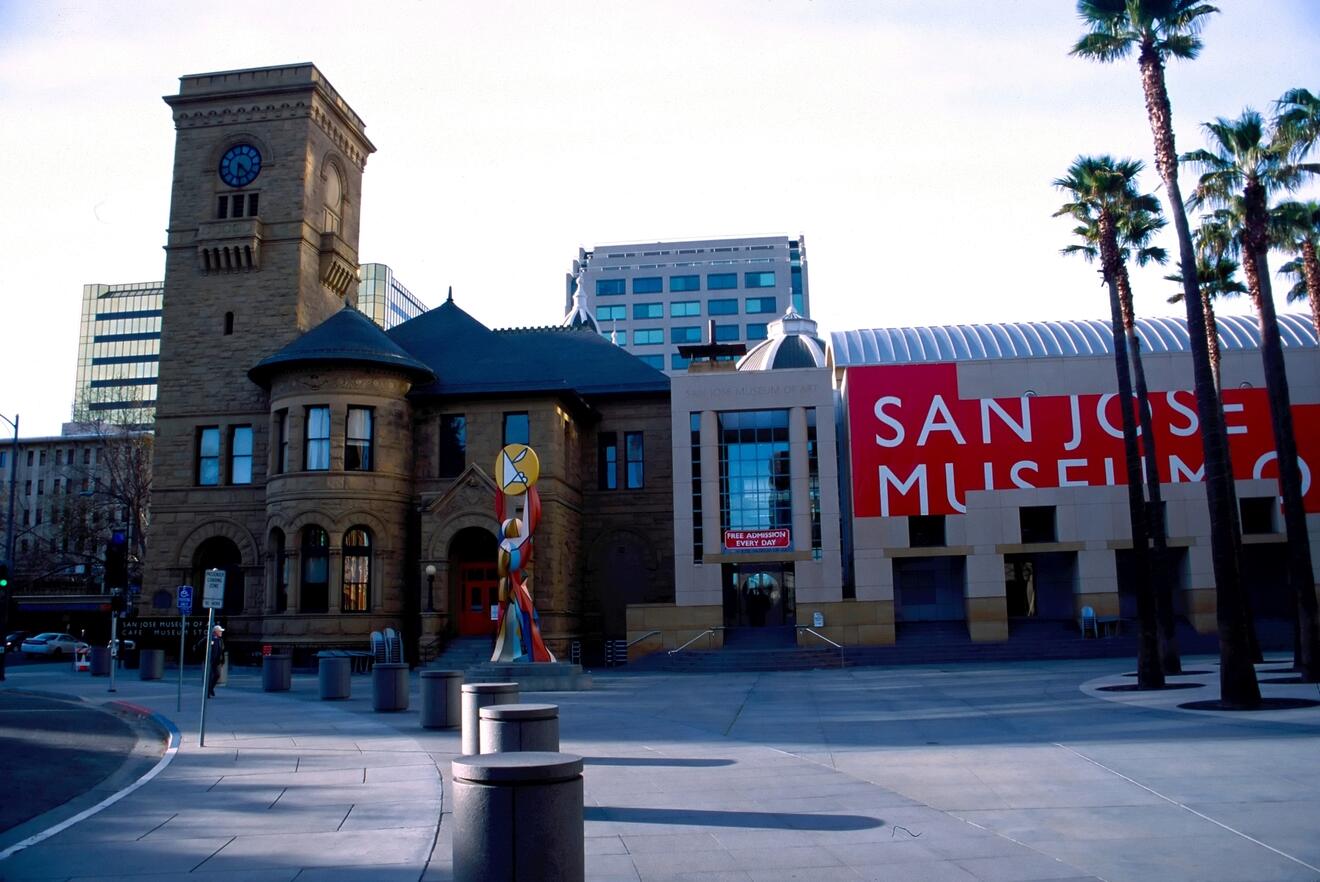 Conclusion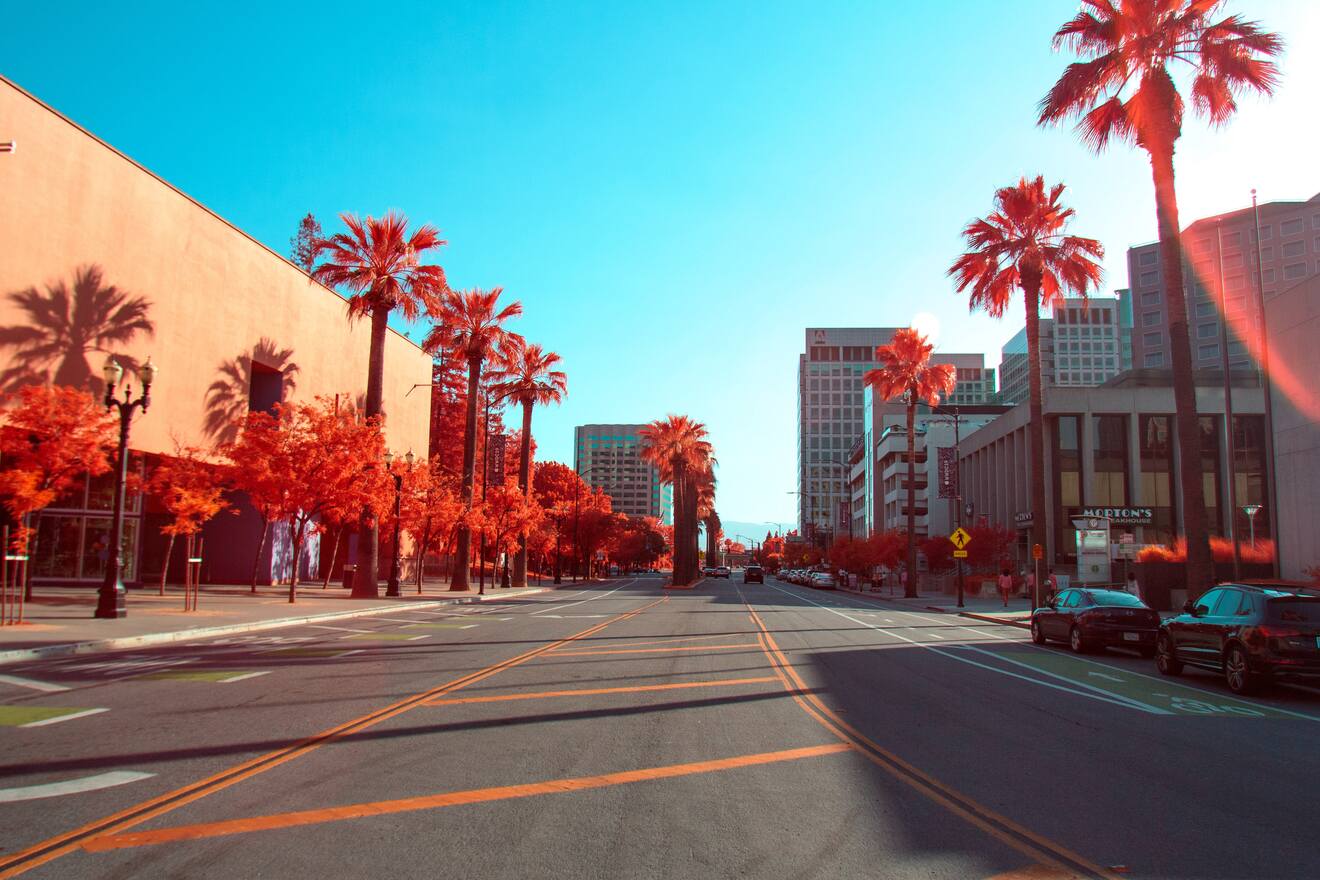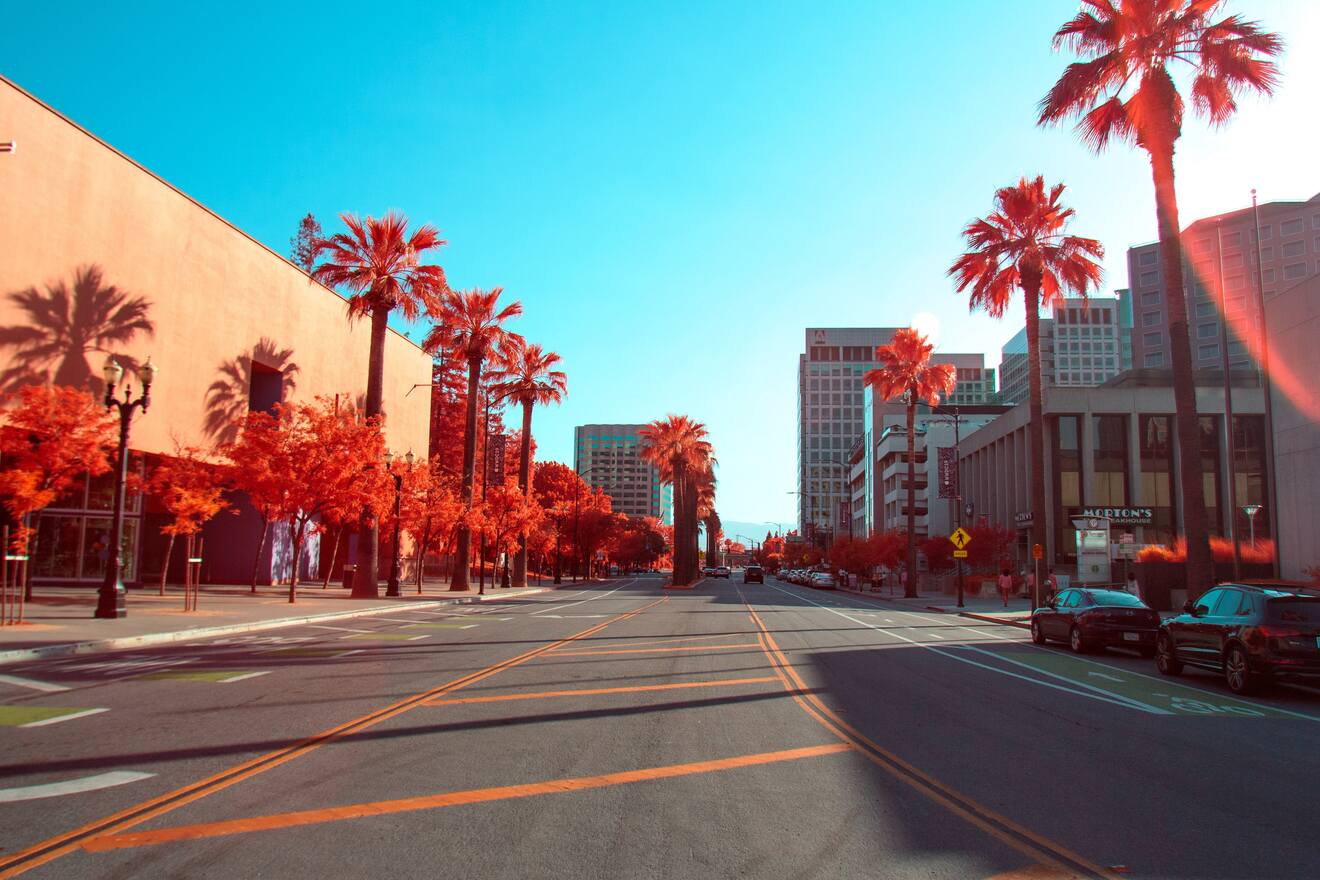 What a fun adventure! I hope this post helped you decide where to stay in San Jose and you can end your hotel search! All the neighborhoods are amazing here so don't think twice before choosing one!
This list of San Jose best hotels has tonnes of options but here are my two favorite ones. Both are situated in one of the best neighborhoods, Downtown San Jose, so you don't have to worry about the location or being far from all the cool attractions:
Now you have to do one more thing, booking your Silicon Valley hotel in advance! That's if you want a great deal, and I'm sure you want to!
Enjoy this amazing adventure in San Jose, eat at the best restaurants, visit the rose garden and learn all about the tech companies in Silicon Valley! Leave me a comment if you have any suggestions about hotels in San Jose and Silicon Valley for our readers.
Safe Travels,
Victoria
---