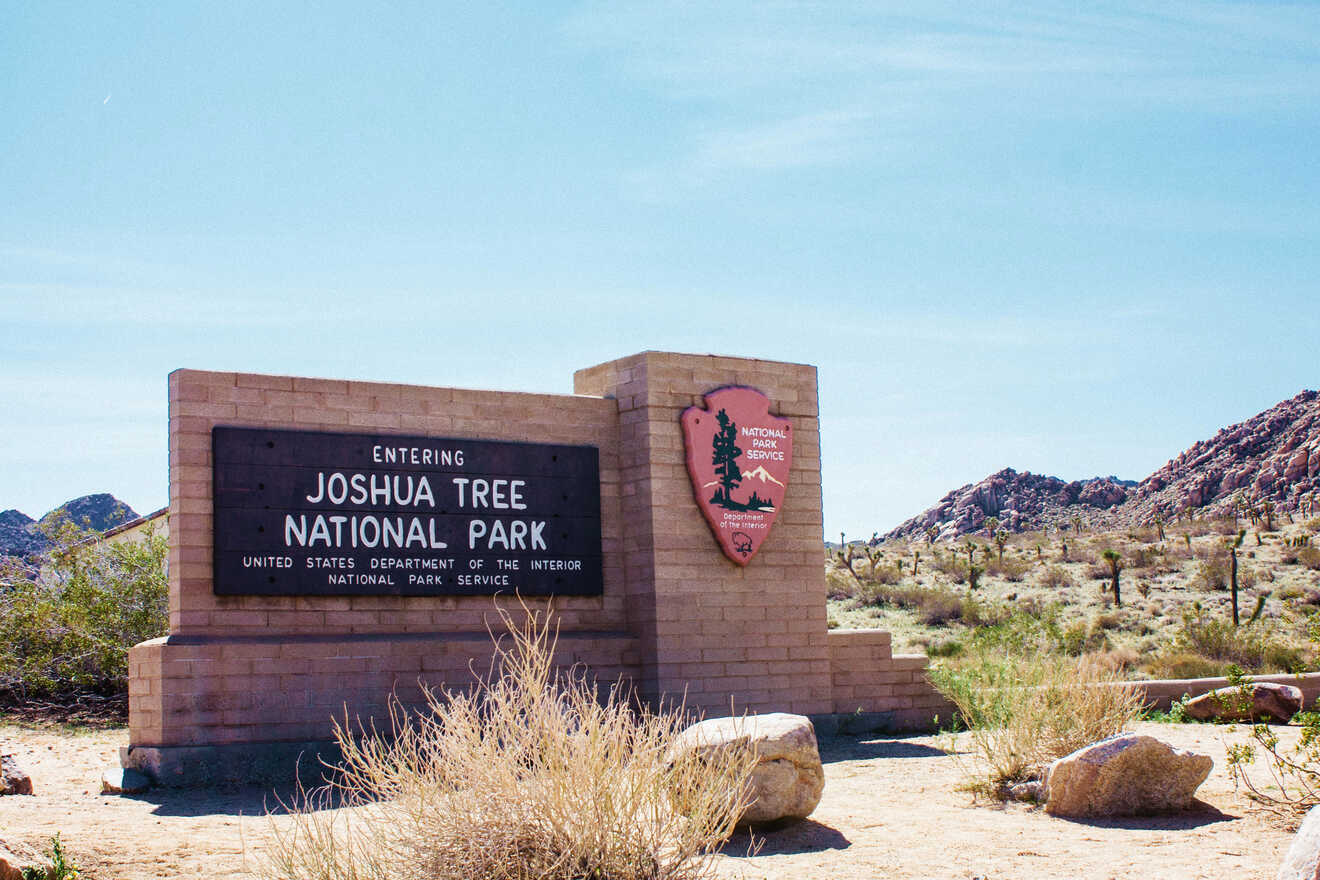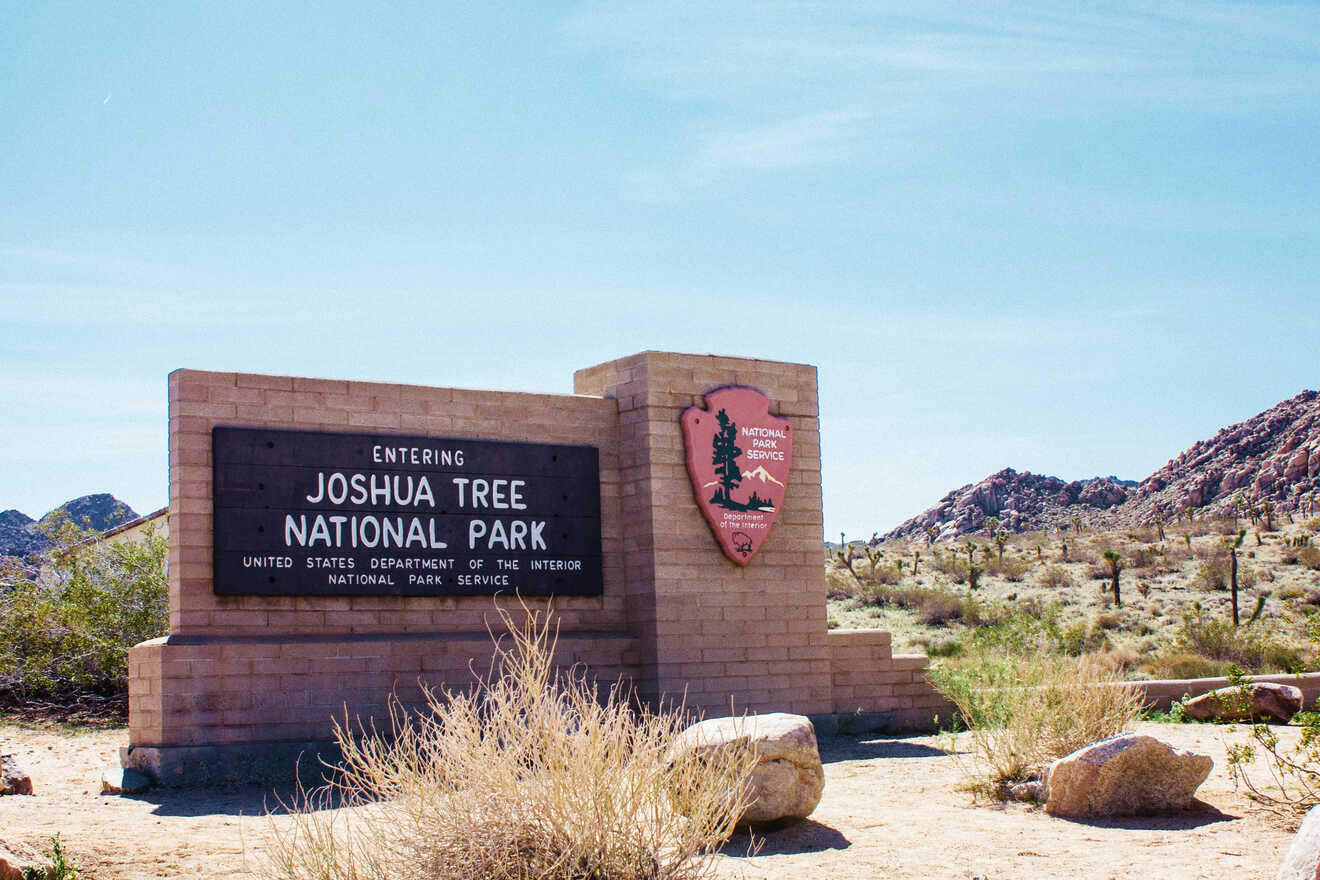 Named after its peculiar shaped trees, the beautiful Joshua Tree National Park, California, is a stunning desert oasis so big that you'll need more than one visit to see it in full! As tourists, we only get to see 15% of the Park, the remaining 85% is wilderness. I know it might seem that it's only you in the desert, but the park is home to almost fifty-five mammal species! So definitely don't let down your guard while you stay in Joshua Tree National Park.
Although loads of travelers come here for stargazing, the sunsets are pretty spectacular too! But enough small talk, now let's find the best spots and vacation rentals for where to stay in Joshua Tree National Park.
There are no accommodation options inside the national park itself but don't worry, I've looked through hundreds of hotel lists to find the unique ones around Joshua Tree. There are 3 entrances to the park where I will be giving you recommendations, 1 in the South and 2 in the North. To clear up any confusion, I will be referring to the north entrance that is closer to the park's westside as the Northwest entrance.
Some hotels may have the luxury of a hot tub or a fire pit, but one thing in common is that they all have amazing reviews! One thing that you'll have to worry about is booking ASAP! You know how fast accommodations near National Parks sell out, especially if you're looking for a camping site, so definitely start looking now!
Let's go, the desert of Joshua Tree is waiting for us!
If you are in a hurry
If you want to book your accommodation for where to stay in Joshua Tree National Park now, then quickly browse this list with the best hotels all located around a Joshua Tree North entrance:
Here's a map of all the areas where to stay in Joshua Tree National Park that I will be talking about in this post: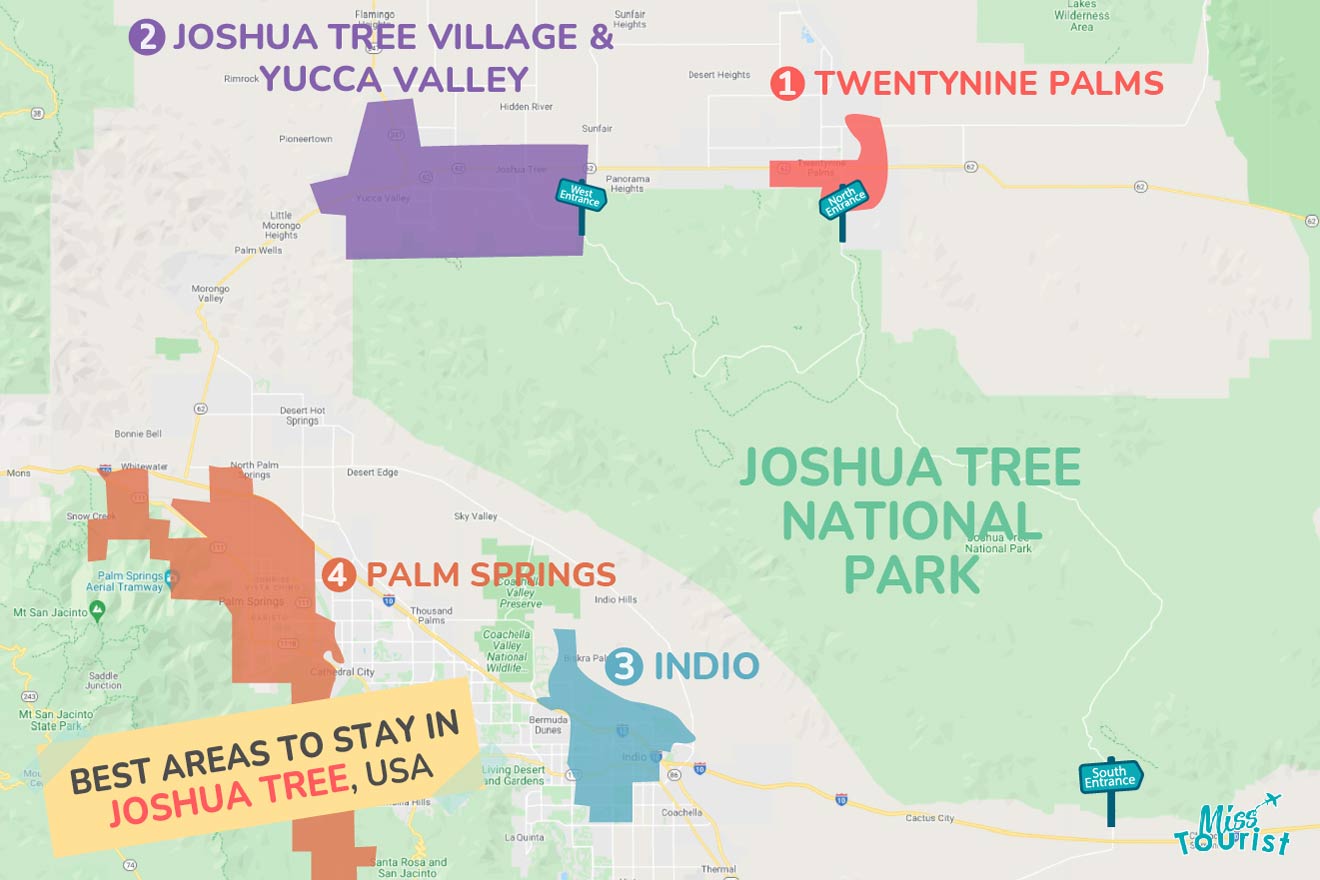 1. Twentynine Palms – near the North entrance of Joshua Tree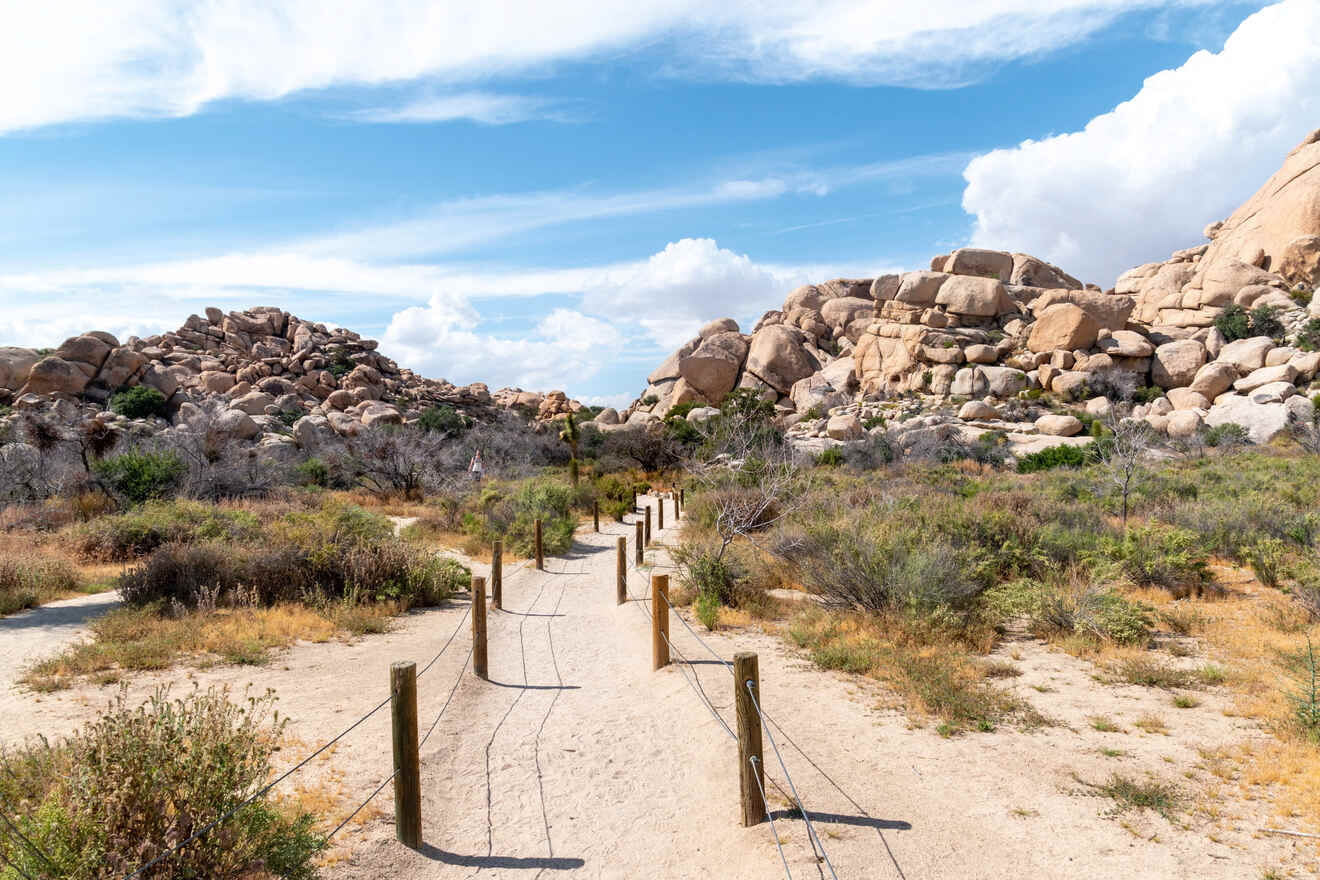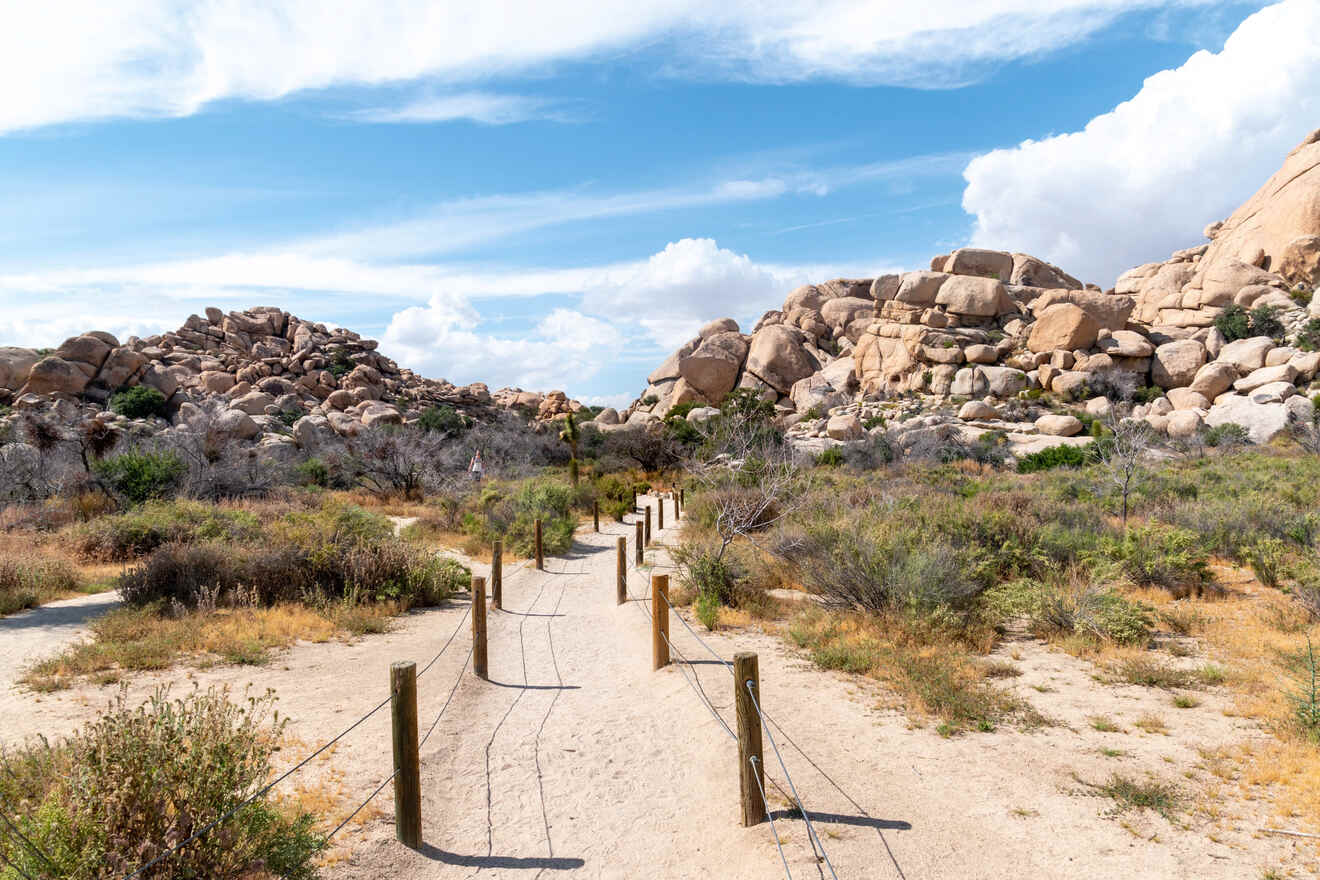 Surrounded by mountain and desert views, this lovely town is just 5 miles from the North entrance of the Joshua Tree National Park. Home to the Park Headquarters and the Oasis Visitor Center, you won't find a more convenient stay near the park than the village of Twentynine Palms.
Before you run to do all the hiking and visit the cool spots in Joshua Tree National Park, I highly recommend taking advantage of the fact that you're staying outside the park and exploring the colorful village. The Twentynine Palms Old schoolhouse Museum offers a great insight into the town's history, and if you're into more artsy stuff, the 29 Palms Art Gallery is worth a visit.
I'm sure all of you will want to find accommodation close enough to the Park to catch a cool sunrise just before you go climbing or to sneak in and spend the whole night stargazing! The village offers a wide range of hotels near Joshua Tree National Park, from luxurious to budget ones.
But Joshua Tree is also famous for some super unique Airbnbs so if you're looking for something a little more special, check out this list of the best Airbnbs near Joshua Tree. I would book them in advance though as the Park is one of the hottest spots to visit in California, especially during spring and autumn!
Luxury hotel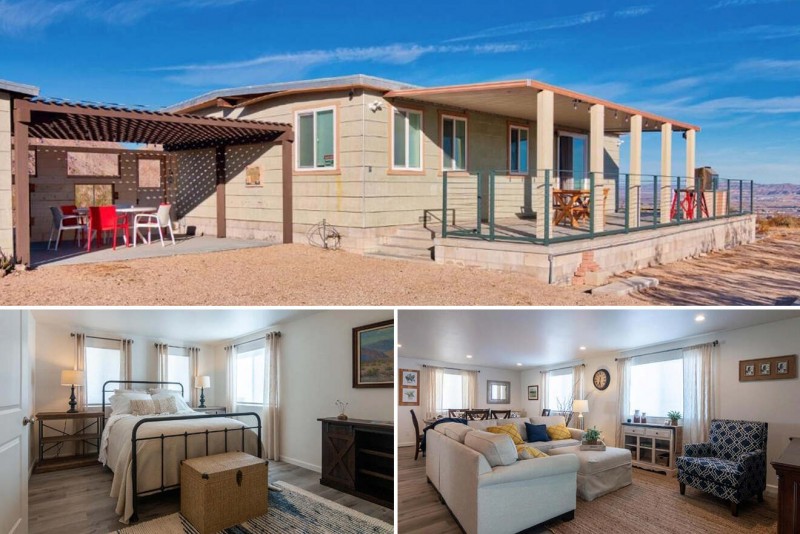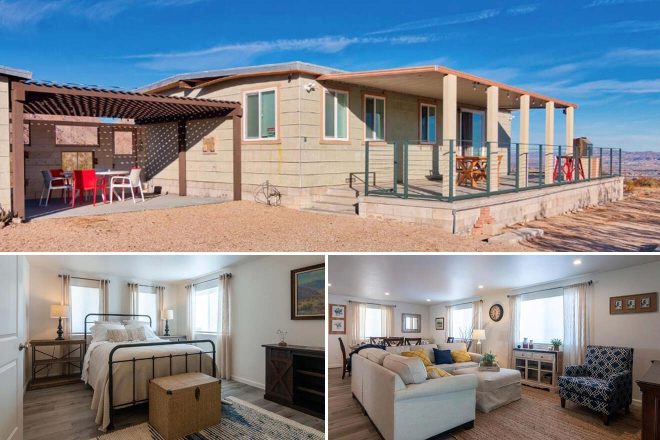 You can't beat these desert views! I love the little porch of this homie Joshua Tree accommodation, where you can drink your coffee in the morning or gather up to do some stargazing at night in Twentynine Palms! Located 4 miles (3 km) away from the Oasys Visitor Center, this hotel offers free parking, two spacious rooms, BBQ facilities, and a kitchen!
Other accommodation options in Twentynine Palms
Mid-Range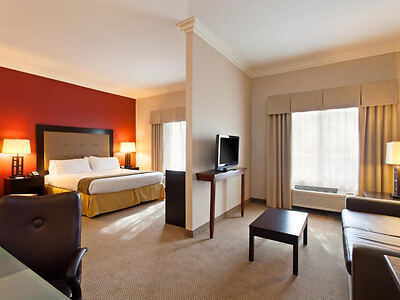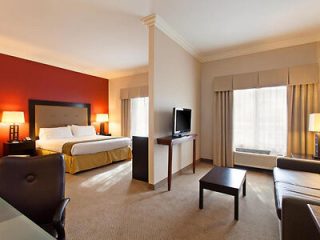 A lovely Joshua Tree inn that offers an awesome outdoor pool, BBQ facilities, and free parking
Budget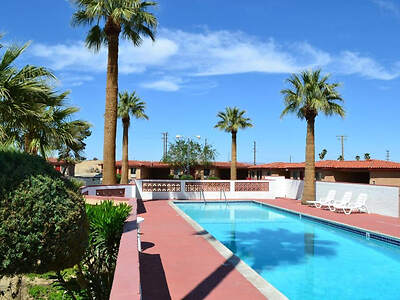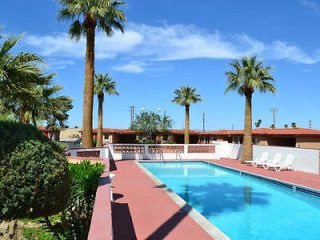 Sunbathe by the outdoor pool of this hotel that has unique views of the mountains and rooms for families
Airbnb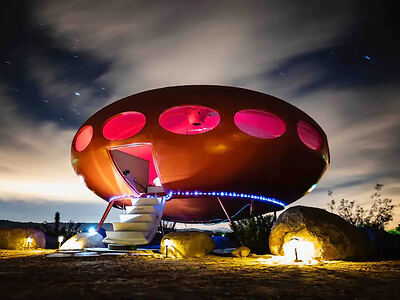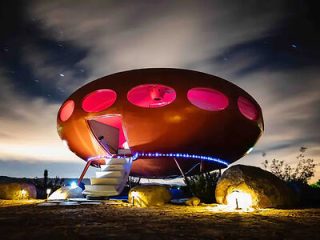 I love the unique concept and vibe of this place that has a kitchen, a backyard, and free parking spots
Things to do in Twentynine Palms & North Joshua Tree
2. Joshua Tree Village & Yucca Valley – near the Northwest entrance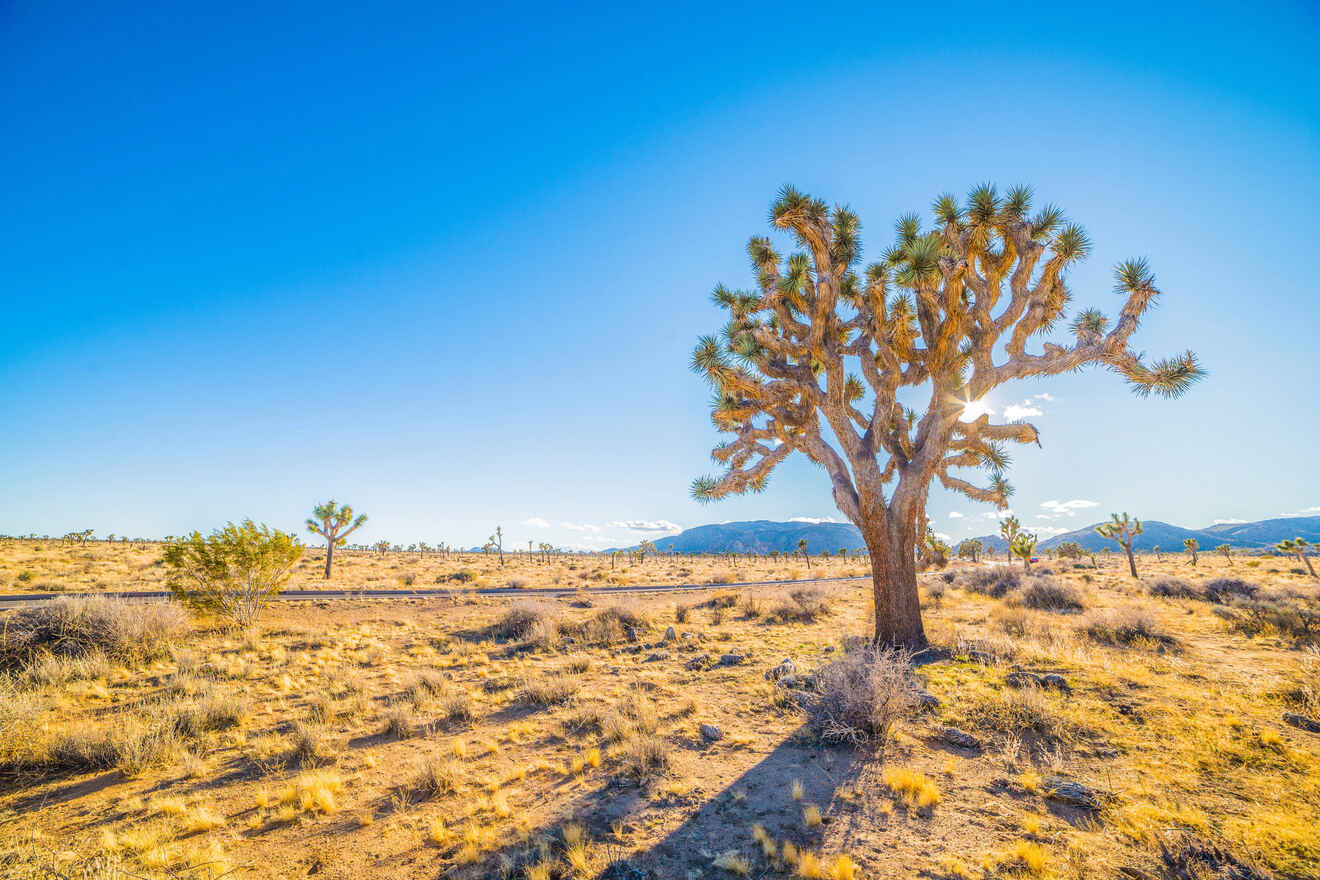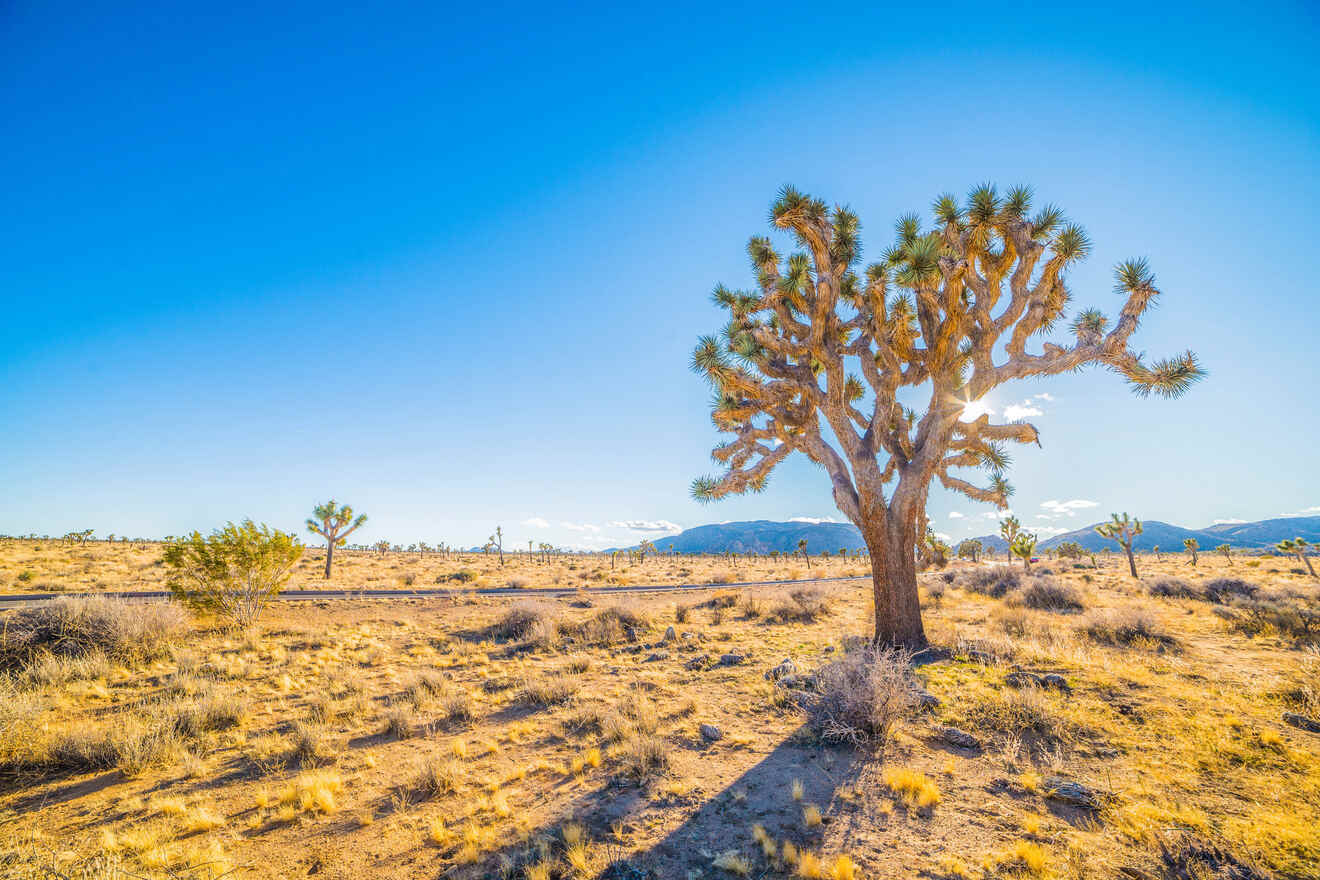 These 2 towns are the best places to stay near the Northwest entrance (sometimes referred to as the West entrance to Joshua Tree). The Village is located just 5 miles (8 km) away from the park, and Yucca Valley is located 11 miles (17 km) away from it. I personally wouldn't miss a chance to explore both of these villages before going hiking or stargazing in the National Park!
Don't just think of them as your hotel location, take time to check all the attractions here like the Desert Christ Park in Yucca Valley and I don't know if you love crochet as much as I do, call me grandma but I find it to be so cool! If you do too, make sure you stop by the World Famous Crochet Museum in Joshua Tree too.
The two towns are super different in terms of atmosphere so you can still pick the one that suits your style! The town of Joshua Tree is more laid back and it's where everyone goes to connect with nature. It's the kind of place that artists and designers frequent. In contrast, Yucca Valley has more amenities like big shopping stores, and it's a favorite amongst families!.
And if by any chance you're thinking of spending a few more days in California, I highly recommend visiting Los Angeles too. Now, let's find the best places to stay here.
Luxury hotel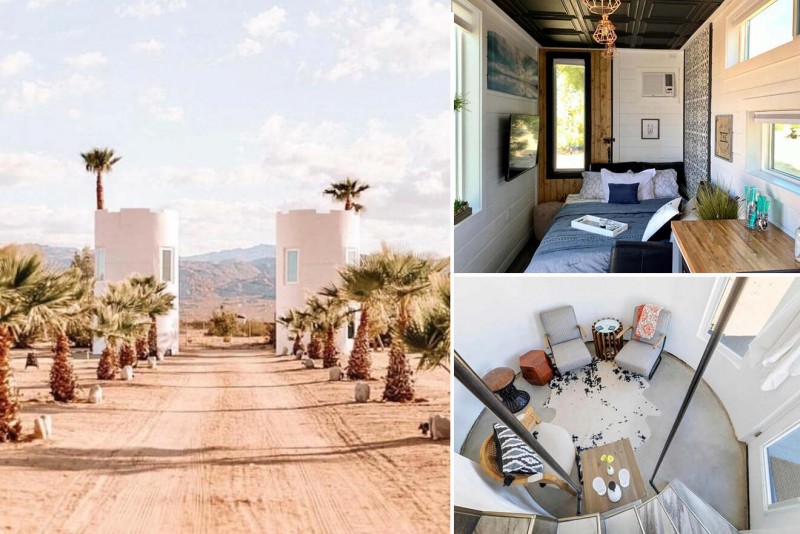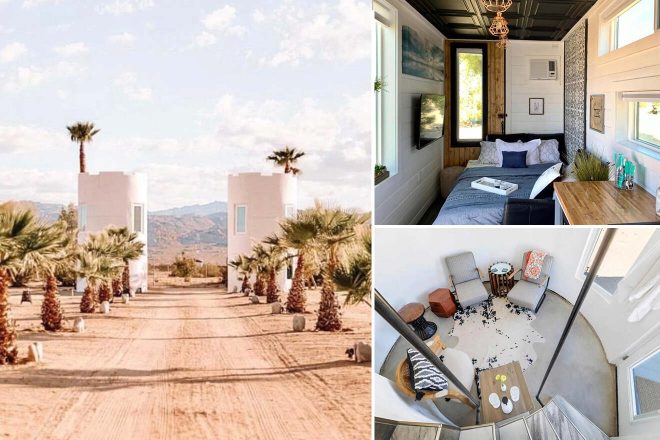 One of the best Joshua Tree hotels! I love the whole vibe of this place, it's near the West entrance, and just imagine the desert views that you'll get at sunrise! Spend your nights stargazing near the outdoor fire pit with the family in this oasis of silence. The hotel has a swimming pool, mountain views and offers parking spots for a small fee!
Other options in Joshua Tree Village & Yucca Valley
Mid-Range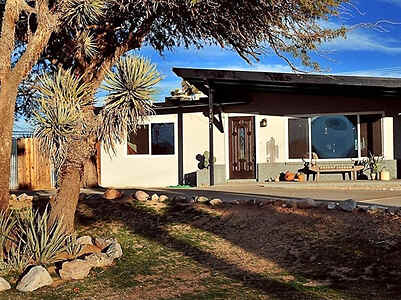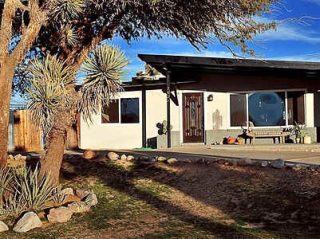 Spend your night warming up by the fire pit of this quiet Joshua Tree apartment that has a kitchen and a patio
Budget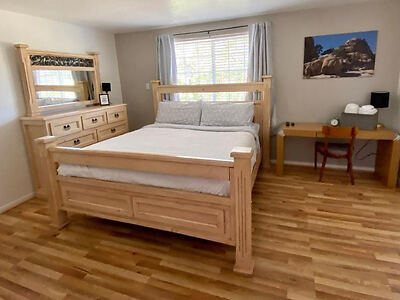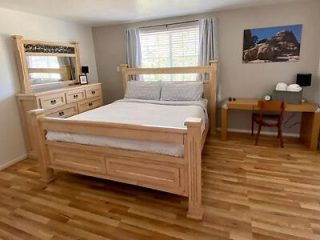 Enjoy your stay in Joshua Tree in this awesome house that has modern rooms, a kitchen, and BBQ facilities
Airbnb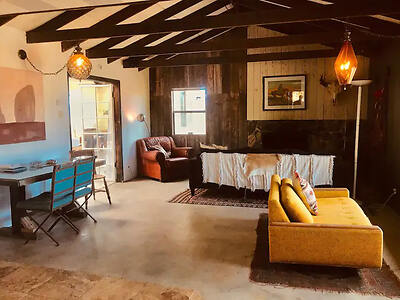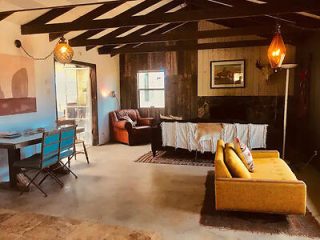 I love the rustic design of this quiet cabin that has a fireplace, an outdoor hot tub, and a kitchen
Things to do in Northwest Joshua Tree
3. Indio – the South entrance of Joshua Tree National Park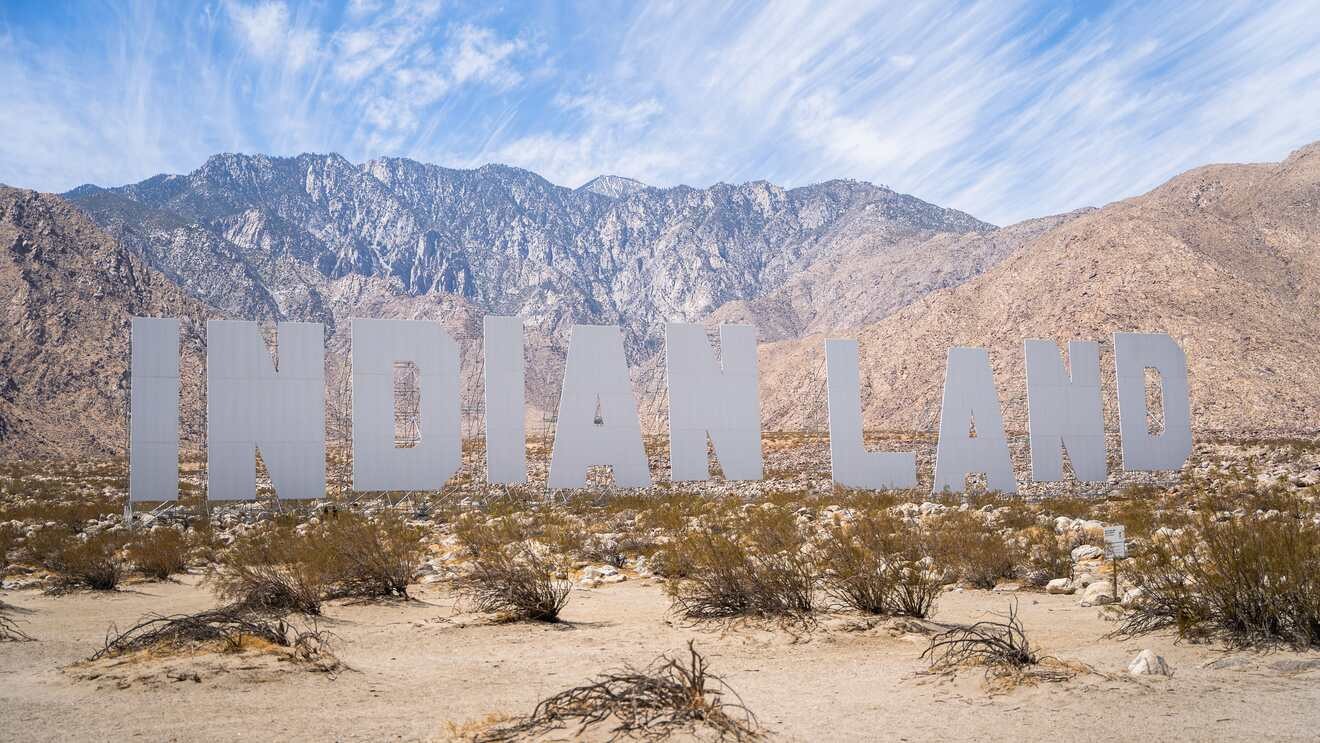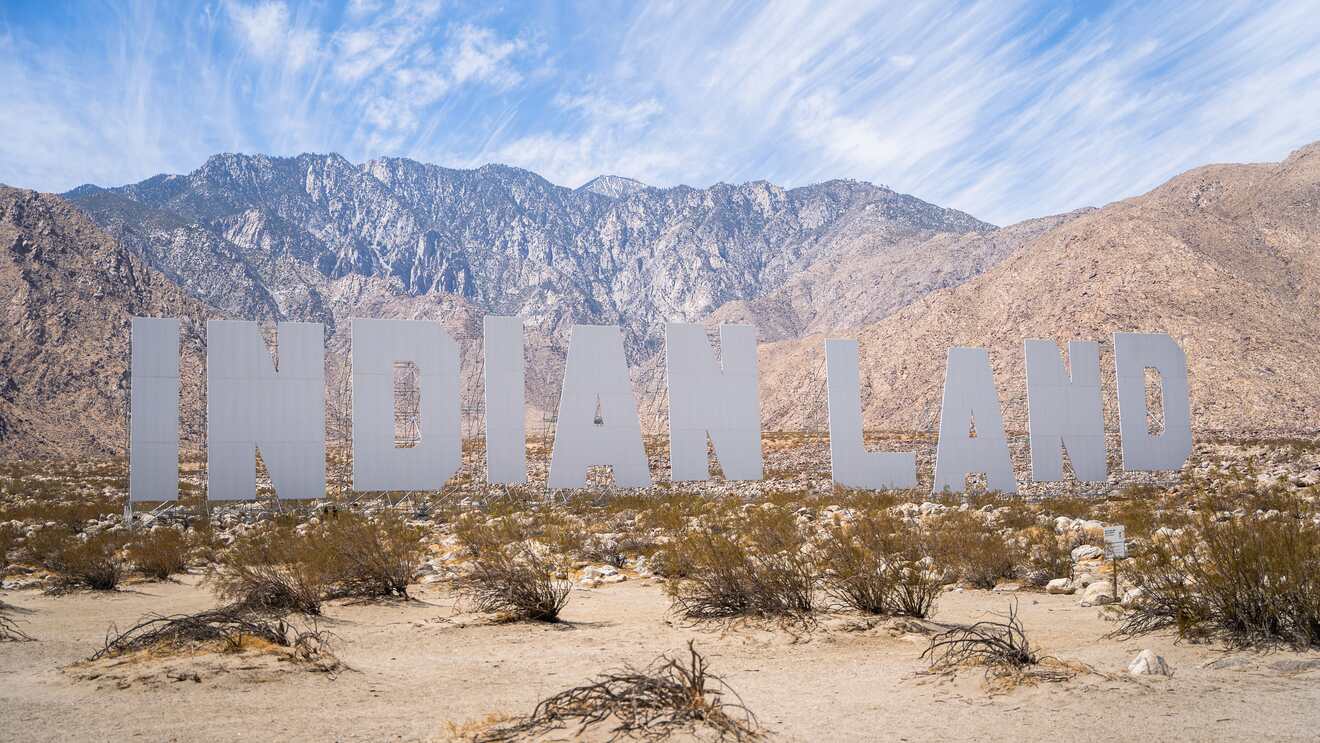 Located 20 miles (30 km) away from the Joshua Tree National Park South entrance and just 3 hours from San Diego. Indio, a town famous for the Coachella Music Festival, is one of the best places to stay if you want to be close to the park's South entrance.
Although you'll probably hurry to get to the Joshua Tree National Park, take some time to explore this picturesque village. Enjoy the views of the distant foothills at sunset and take advantage of the fact that you have easy access to a few golf courses and museums.
The South entrance is located on the side of the Colorado Desert, and usually, people who look for hotels here seek more tranquility, and of course, they want to avoid the big queues. You should consider that if you stay near the South entrance, you'll be further away from most attractions than if you would stay near the West or North entrances but at the same time, you will likely see fewer people!
Indio has its fair share of cool attractions that you can visit before heading to Joshua Tree Park.
The Coachella Valley History Museum is one of them, where you can learn tons of interesting facts about the town's history. And if you're more into outdoor activities, I'm sure you'll enjoy the beautiful hike around Indio Hills Badlands Trail, the views as the sun sets over the desert are quite spectacular here!
Luxury hotel
Homewood Suites by Hilton La Quinta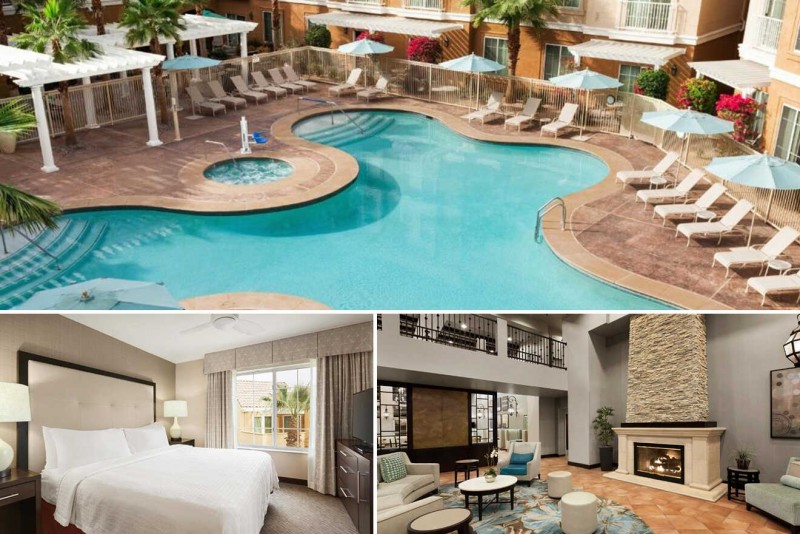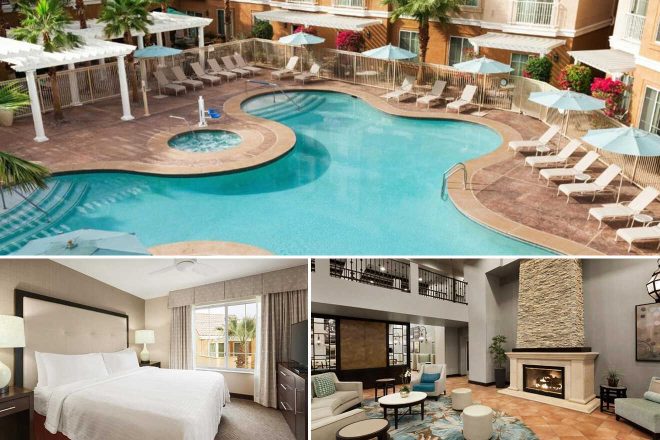 Chill by the outdoor pool of this Joshua Tree hotel that looks like a movie star's house! A beautiful luxury oasis with spacious rooms for families, a small kitchenette, and some even have a balcony. I love the lounge area, the fireplace makes it look so cozy!
Other accommodation options in South Joshua Tree
Mid-Range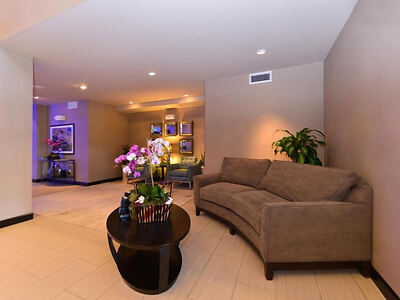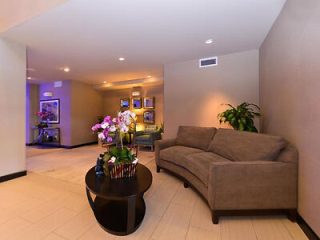 Enjoy your stay near Joshua Tree in these modern inn suites quiet, and swim in the pool all day long
Budget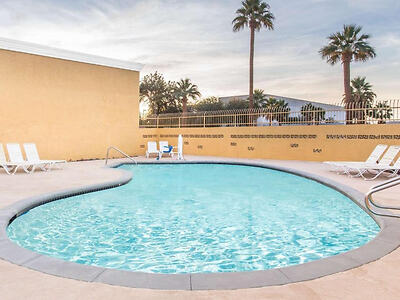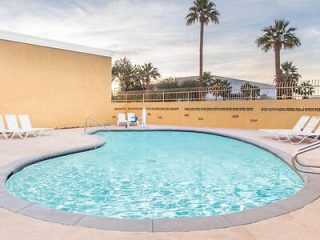 A nice budget option for travelers, this inn Joshua Tree has a rooftop outdoor pool and offers free parking spots  
Airbnb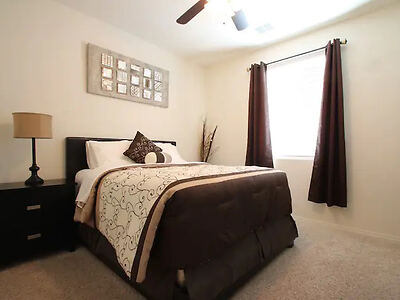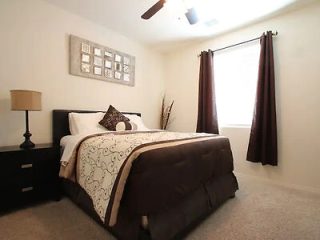 This modern Joshua Tree hotel has a comfortable room, a lounge area with a kitchen, and free wifi
Things to do in South Joshua Tree
4. Palm Springs – where to stay near Joshua Tree for luxury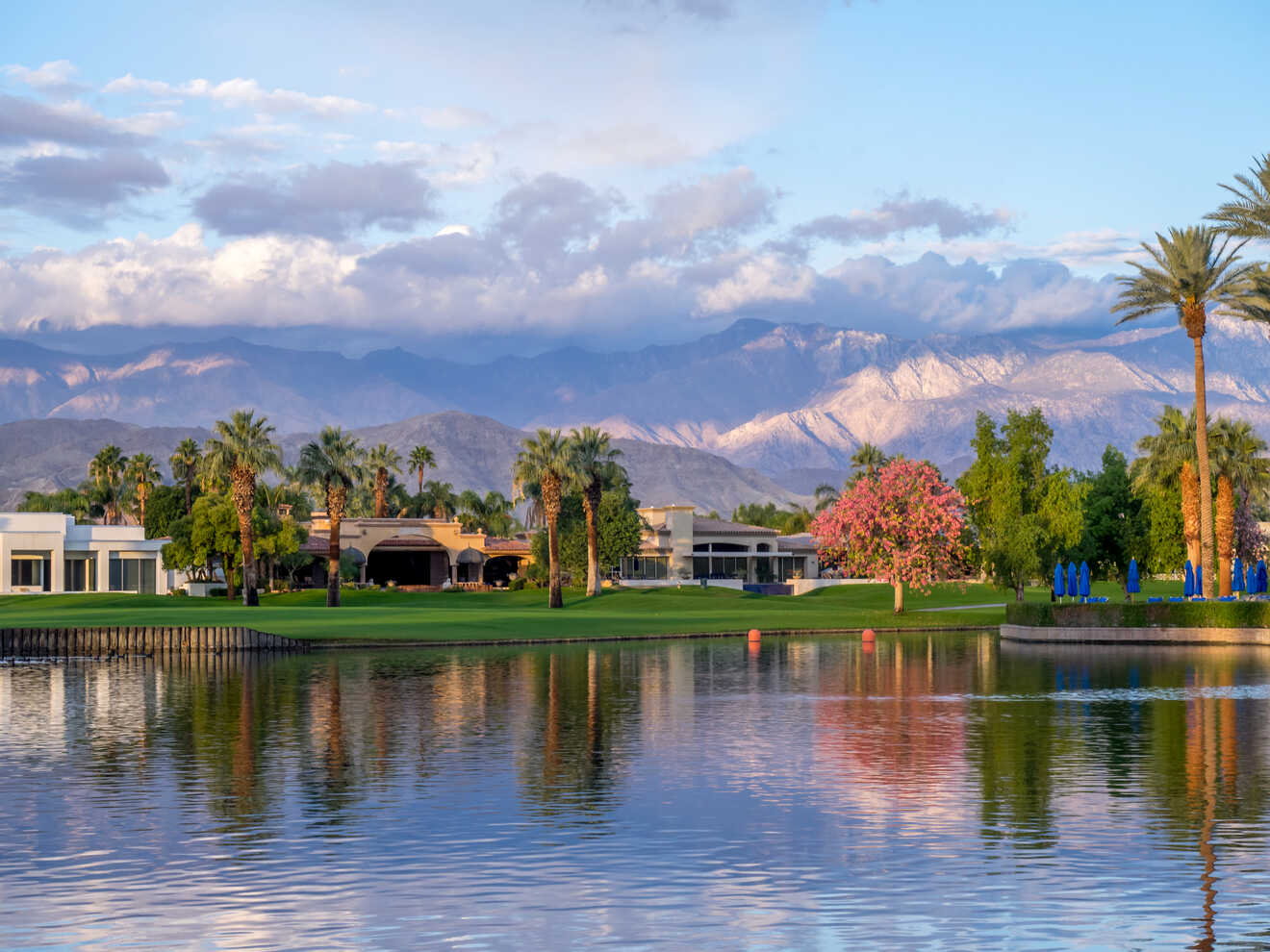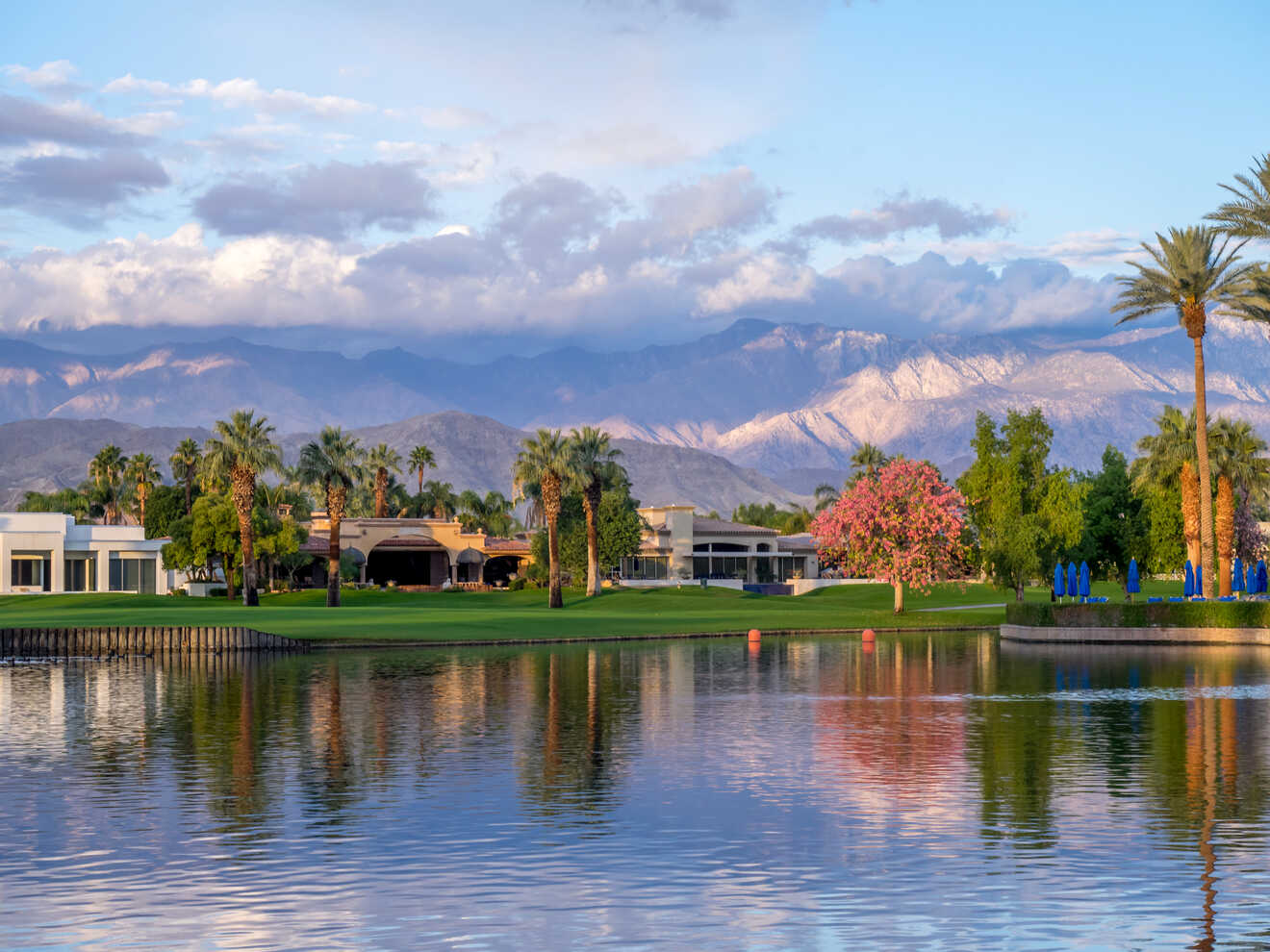 This area is located in Southern California, on the Western border of the Joshua Tree National Park, halfway between the North and South entrances. Although it's close to the park, there's a 50-minute drive to reach any of the entrances as there are none on the western side.
Usually, people who come to stay here spend most of their trip in Palm Springs and Desert Hot Springs and then go for a day trip to visit the Park, which makes sense considering the distance between the two locations. Don't worry though, I'm sure you will love every minute of your holiday here as you will be able to find some glamorous world-class amenities!
The Greater Palm Springs area includes a few cities like Indio and Desert Hot Springs, and it has been a top destination for Americans since the 50s. Palm Springs is not your typical desert town, this place is filled with amazing spa resorts, pool parties, and hiking trails. You get the desert activities but with a touch of luxury!
You can't beat the views here, and those who play golf or even mini-golf will be the luckiest ones, as they'll be able to enjoy them all day long! There are tons of attractions in Palm Springs for each type of traveler. My favorite one is the Moorten Botanical Garden. It has so many cactuses and plants, but the star of the show has to be the Palm Springs Aerial Tramway, the largest rotating tram car in the world!
Luxury hotel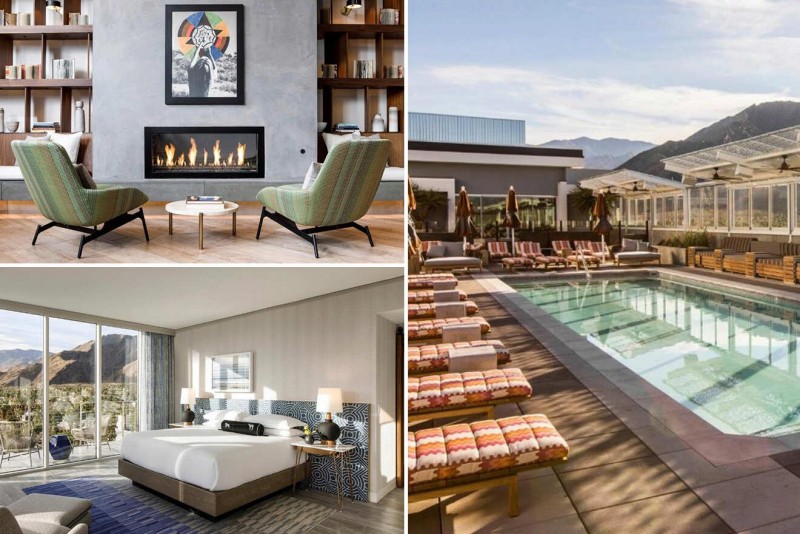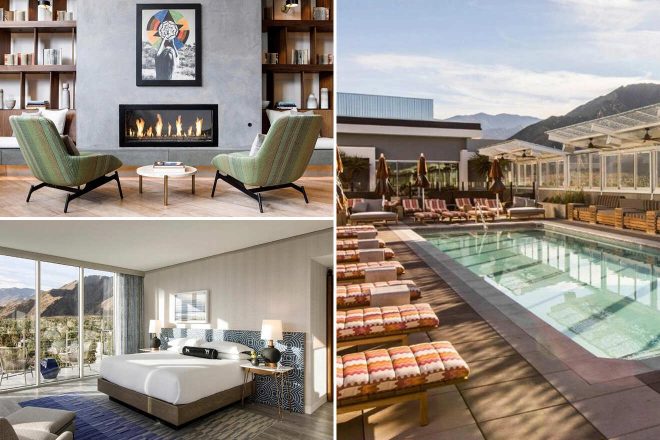 Just look at that lounge area and those mountain views! I can already picture myself with a glass of wine watching the sunset! Swim all day long in the outdoor pool and relax in the spa bath of your room. The hotel has a restaurant on-site and also a bar.
Other accommodation options in Palm Springs
Mid-Range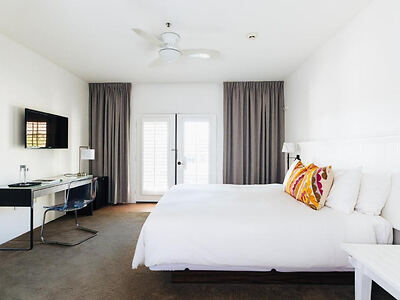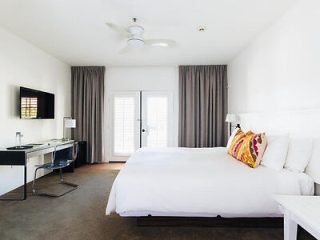 Chill in the hot tub and admire the pool views of this amazing hotel that has modern rooms
Budget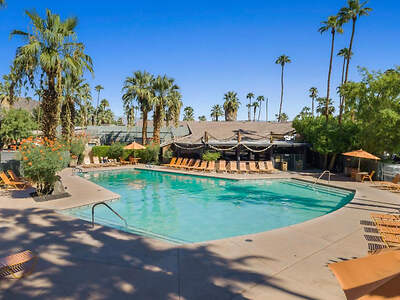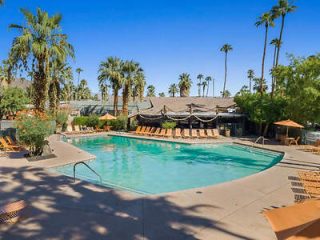 One of the best places to stay on a budget in Palm Springs, this hotel has an outdoor pool and a restaurant
Airbnb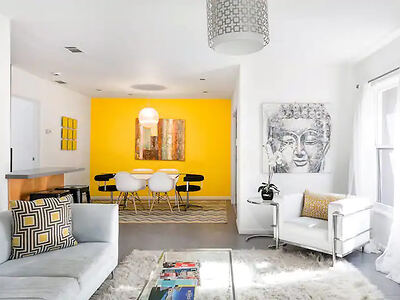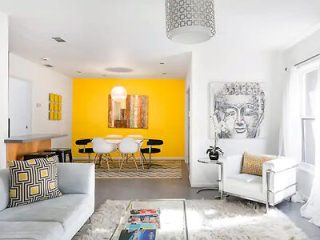 Drink your morning coffee under the trees in the backyard of this cute house that has a pool
Things to do in Palm Springs
| | |
| --- | --- |
| 👑 Luxury price: | $200 |
| 💵 Mid-range hotel: | $150 |
| 🛏️ Budget: | $100 |
| 🏠 Airbnb: | $200 |
| 💰 Accommodation prices: | Medium |
| 📍 Best Area: | Twentynine Palms (North Entrance) |
| 🛎️ Best luxury hotel: | Roadrunner's Roost |
| 👛 Best budget hotel: | El Rancho Dolores |
BONUS: Best camping sites inside the Joshua Tree National Park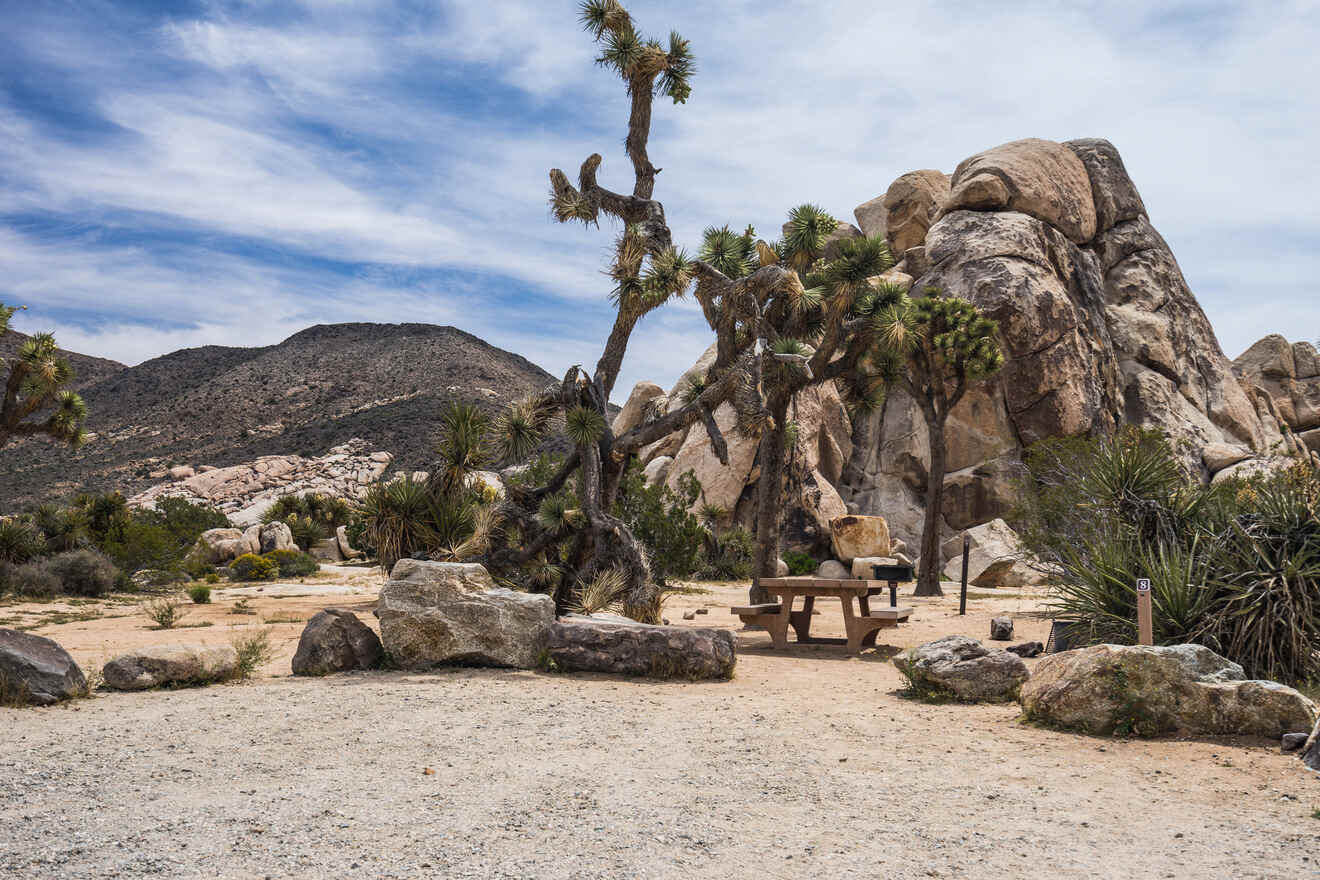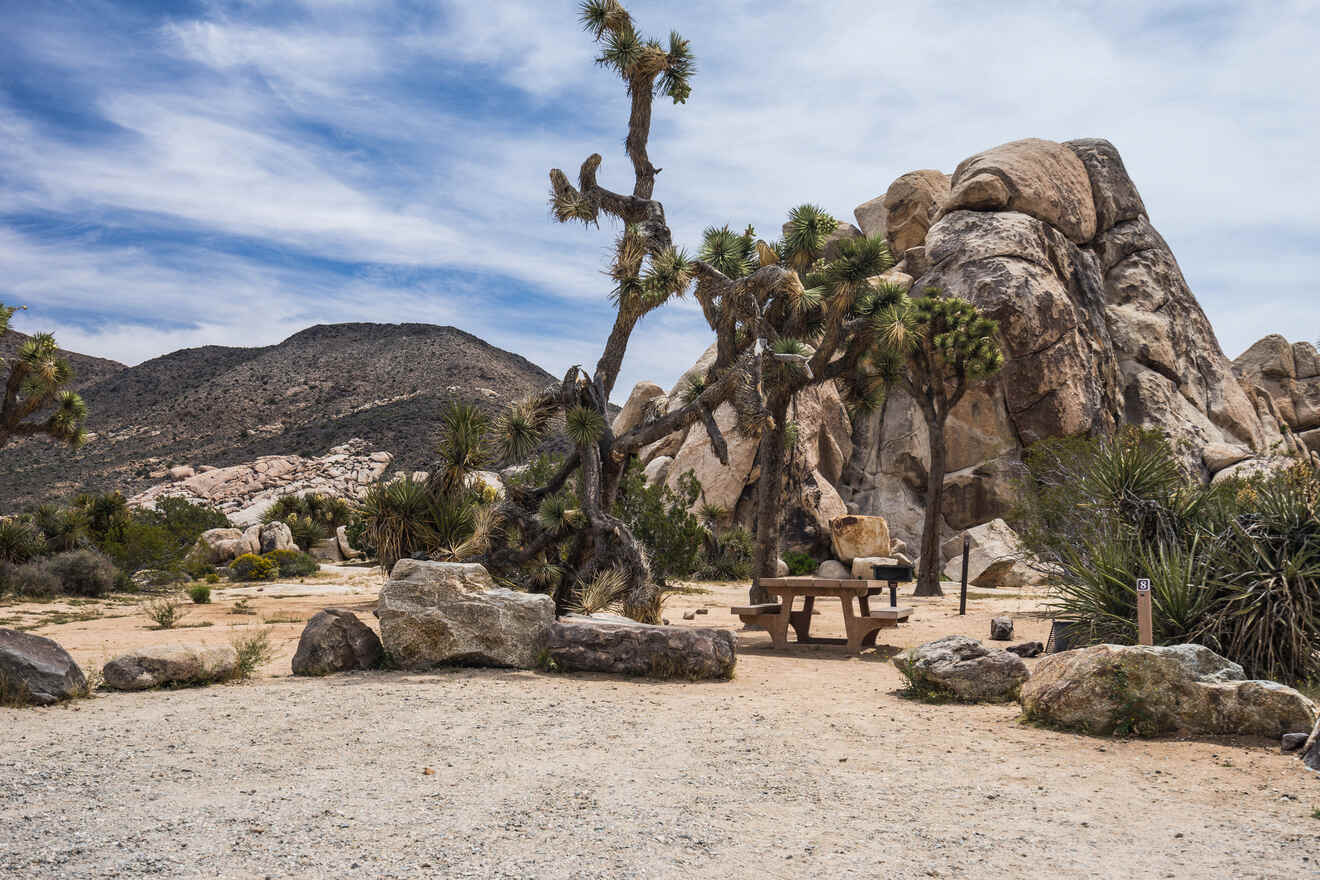 I know that some of you will still want to feel that thrilling experience of staying inside the Park. Although the comfort of a bed and breakfast or boutique hotel might make tons of travelers happy, some prefer to get in touch with nature and spend their night stargazing from their tents and RVs.
I've made a list of where to stay in Joshua Tree National Park that contains the best camping sites and vacation rentals! You can call up and make a reservation, but some of the spots in the campground are allocated first come first served so you'll have to keep that in mind when traveling!
1. Black Rock Campground
For this one, you will have to call in advance to make a reservation. Black Rock Campground is located on the Northwest side of the Joshua Tree National Park, it has ninety-nine camping sites, and you have to pay $25 a night to secure your spot. You can bring both your RV or tent to this Tree Joshua campground, and each area has a picnic table and a fire ring, perfect for those late-night drinks and storytelling with your friends!
2. Cottonwood Campground
If you're looking for where to stay in Joshua Tree National Park in the Southeast corner of the area, this campground is for you. This one doesn't work on a first-come, first-served basis, so you will need to make reservations in advance and there are sixty-two campgrounds here with toilets, each campsite here costs $25. Unfortunately, RVs and habitable trailers are not allowed on the Cottonwood Group Campground. However, some family campsites can accommodate an overall combined length (including a towed vehicle) of up to 35 feet.
3. Hidden Valley Campground
The spots in this campground are allocated first come first served, all year round! Although you're in the desert, you will be surrounded by huge rocks and Joshua Trees! There are forty-four sites in the Hidden Valley Campground. If you're looking to pay less, this campground might be for you as the fee is only $15 per campsite. You can bring both your tent, RV, or trailer but the last two should not exceed a combined maximum length of 24 feet.
Frequently asked questions about Joshua Tree National Park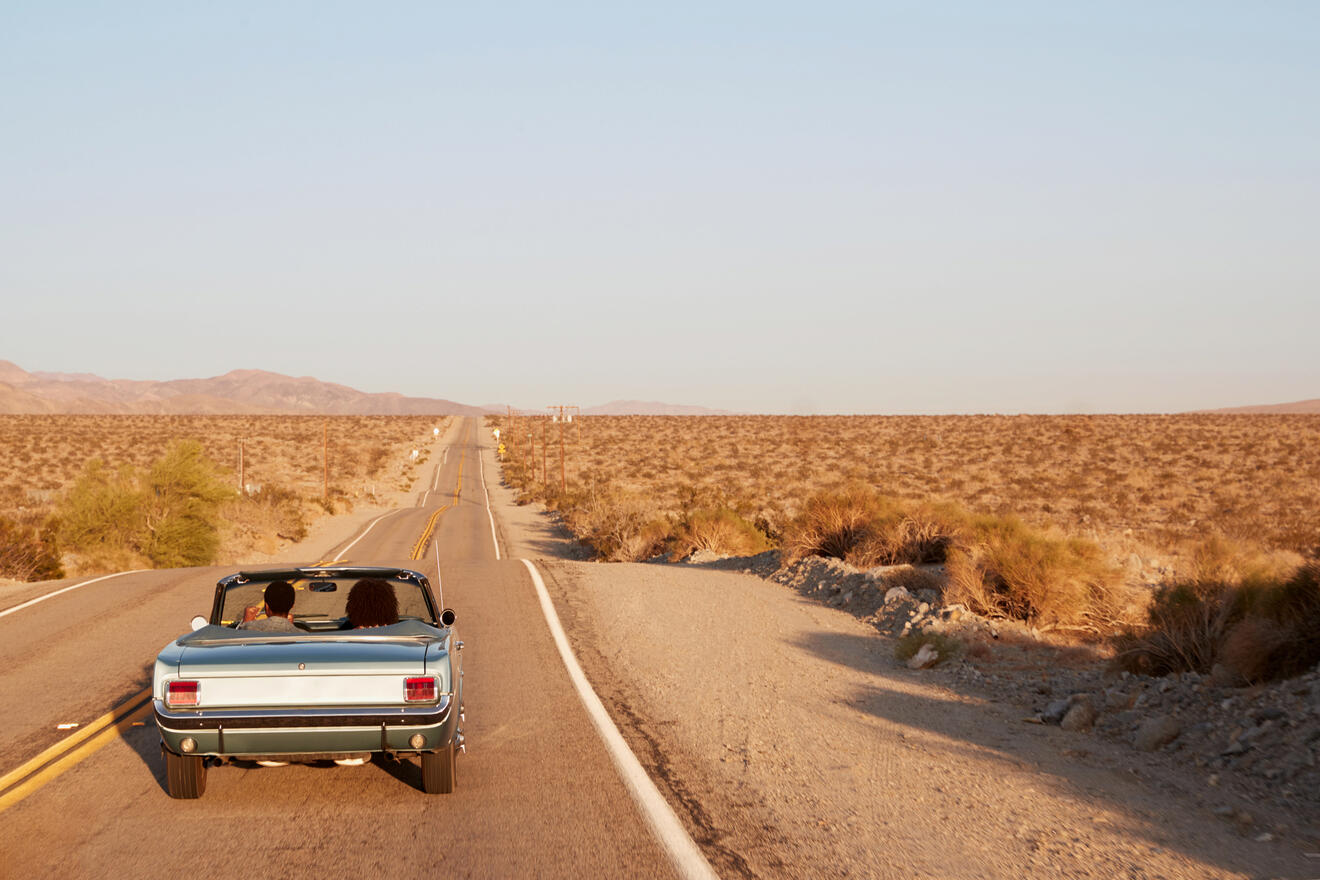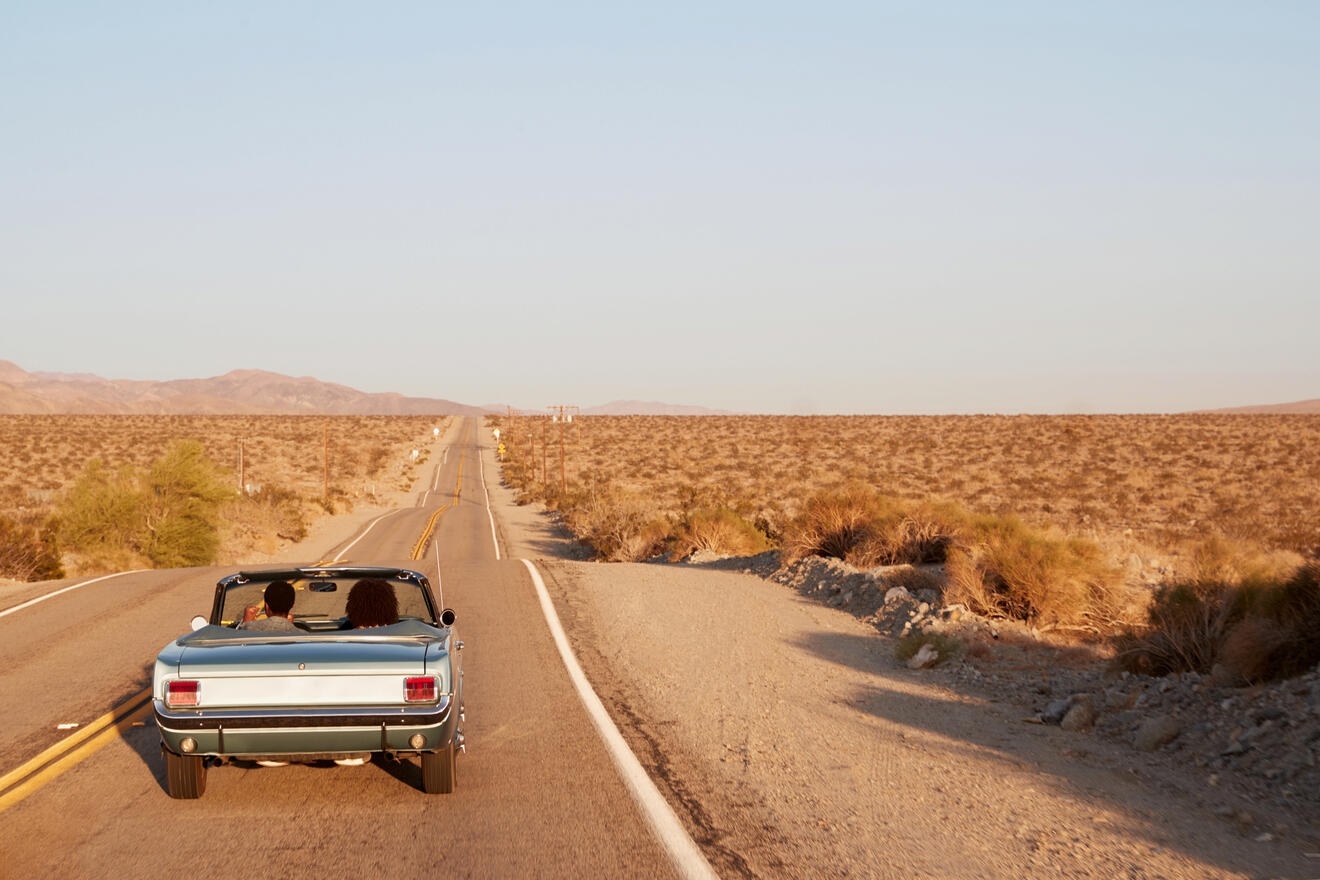 Conclusion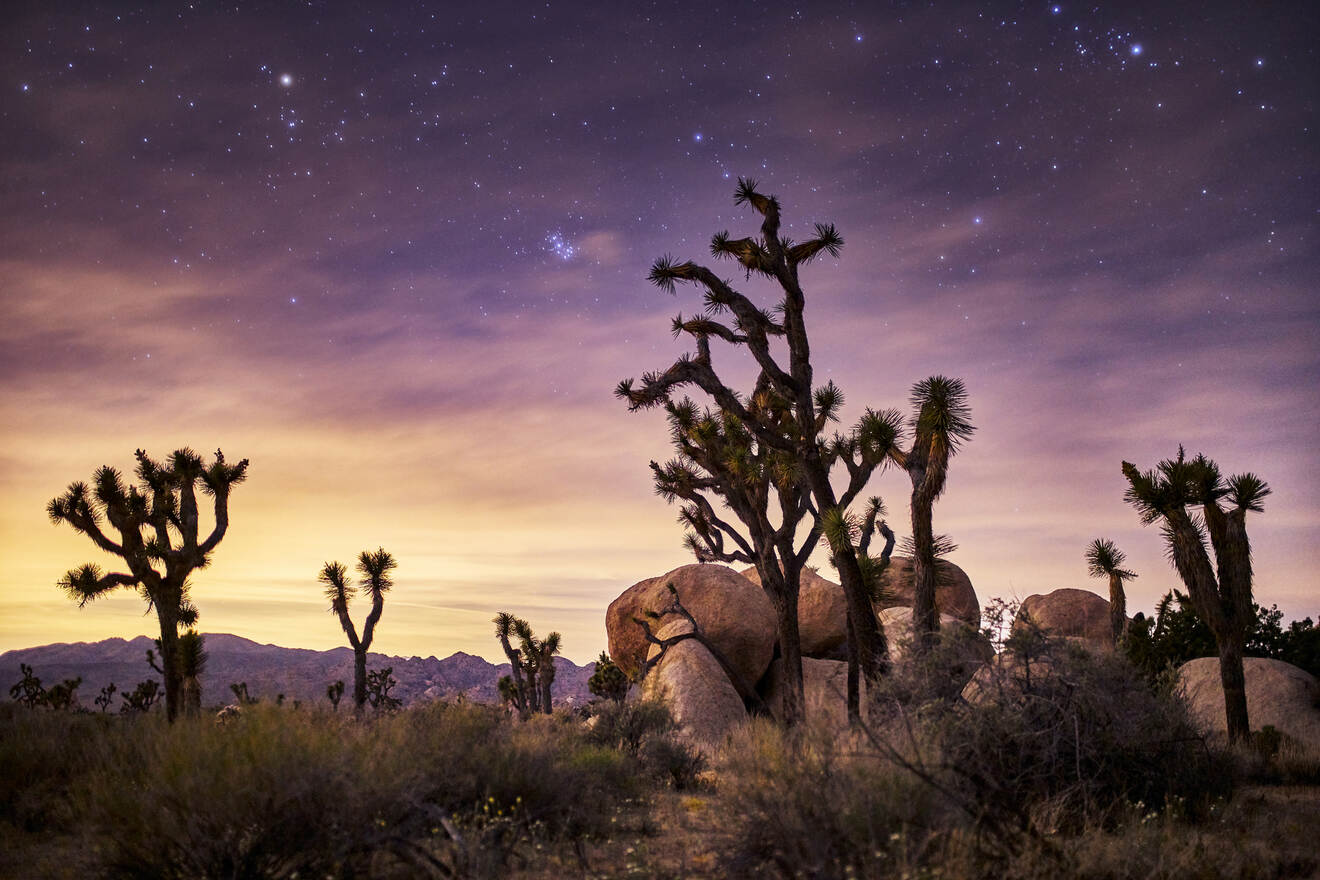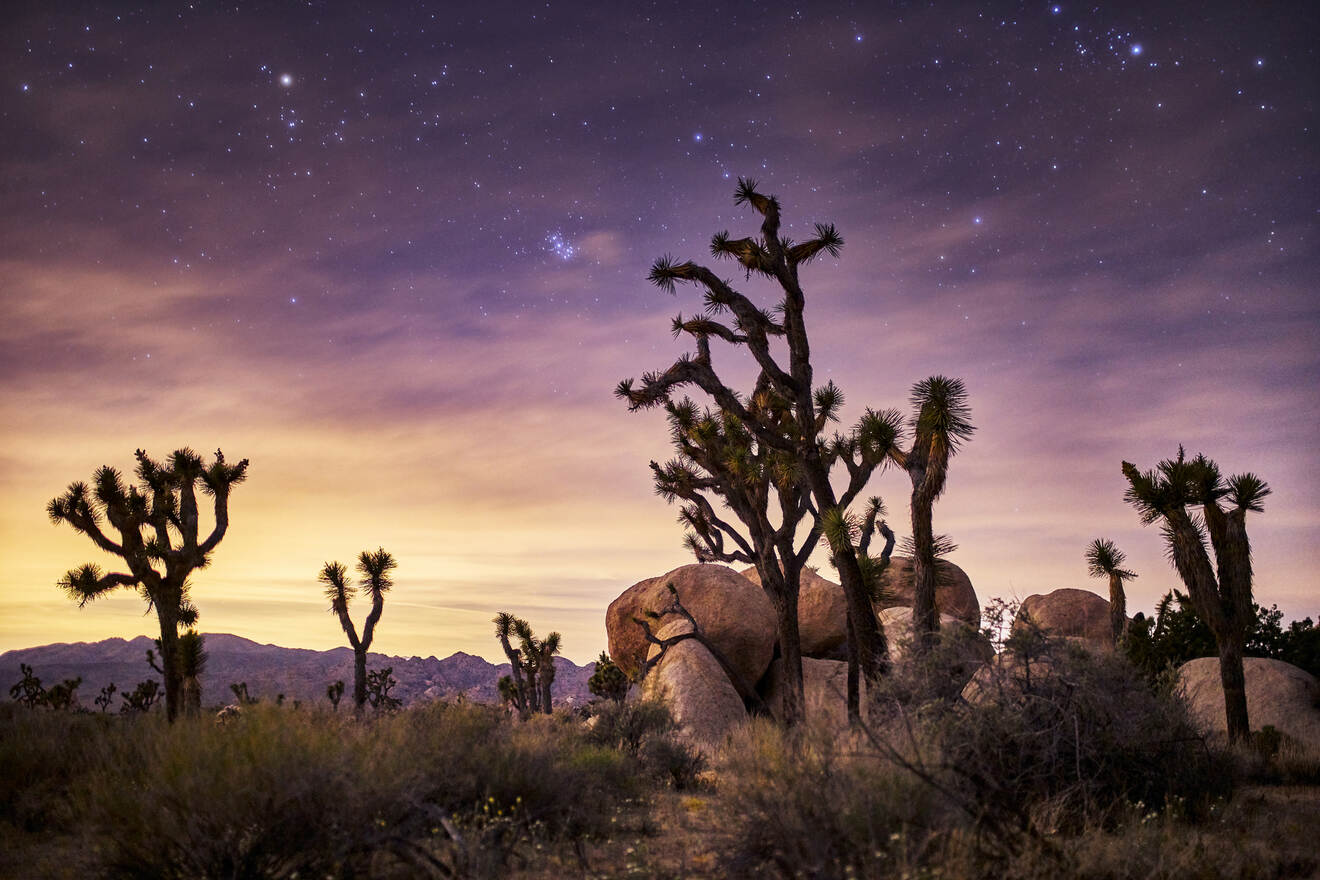 I'm afraid this is where our virtual journey ends! But yours is just beginning and I hope this post helped you decide where to stay in Joshua Tree National Park, California, whether you should stay at the West entrance, North or South and also I hope you're ready to spend some cool nights in the desert campgrounds, there's nothing like it!
There are many amazing hotel options for where to stay in Joshua Tree National Park, but I'm going to help you a bit more and give you my top two favorite spots, both located near the North Entrance of the Park
I know some of you might forget but I'm here to remind you to book these hotels which are some of the best places to stay in Joshua Tree in advance, this is a top tourist location and all the good deals disappear in a second!
Enjoy the wild west atmosphere in this cool spot! I'm excited to hear all about your experience in the National Park Joshua Tree, California so leave me a comment below, I'll make sure to reply!
Safe Travels
Victoria
---
Pin it for later!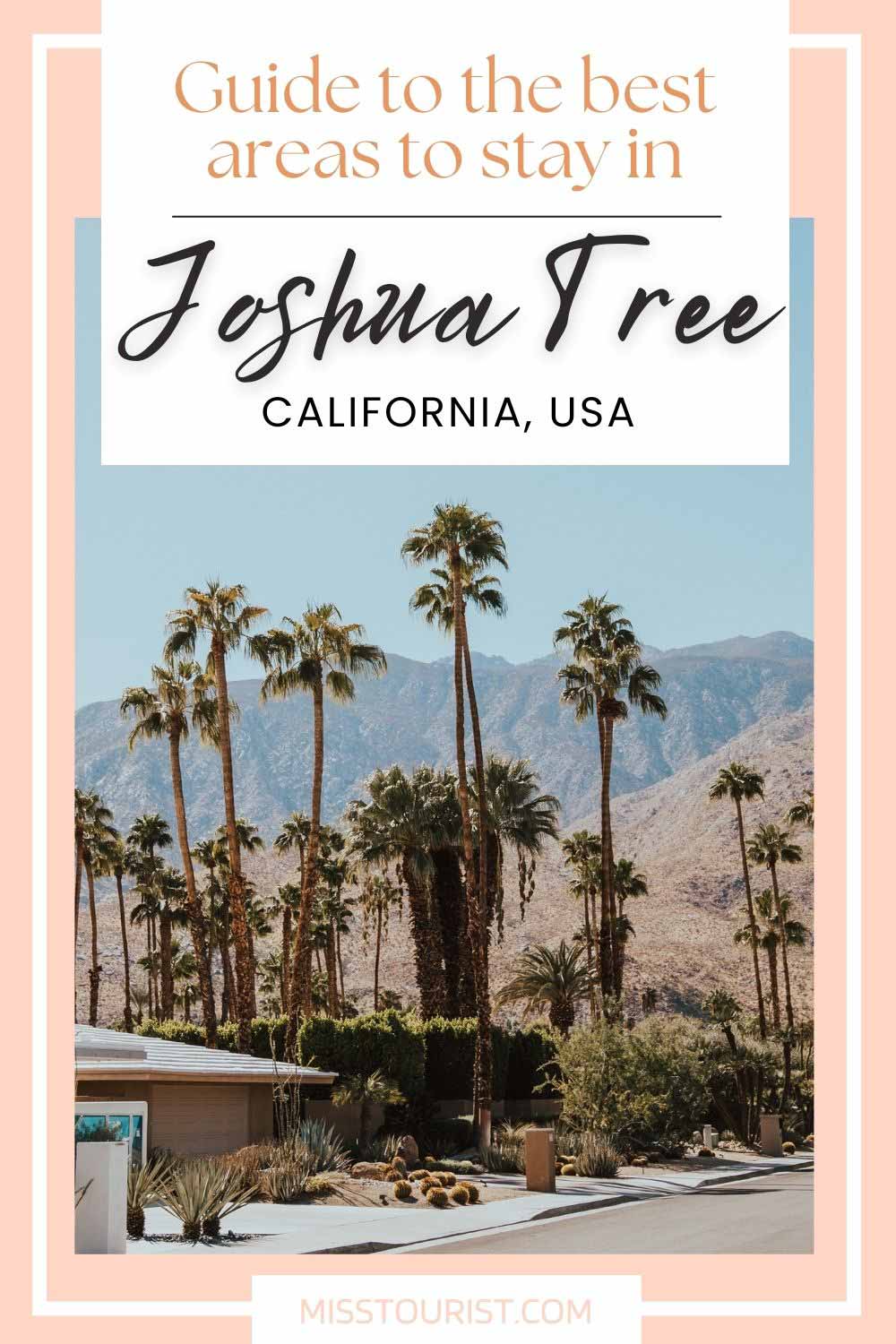 Pin it for later!