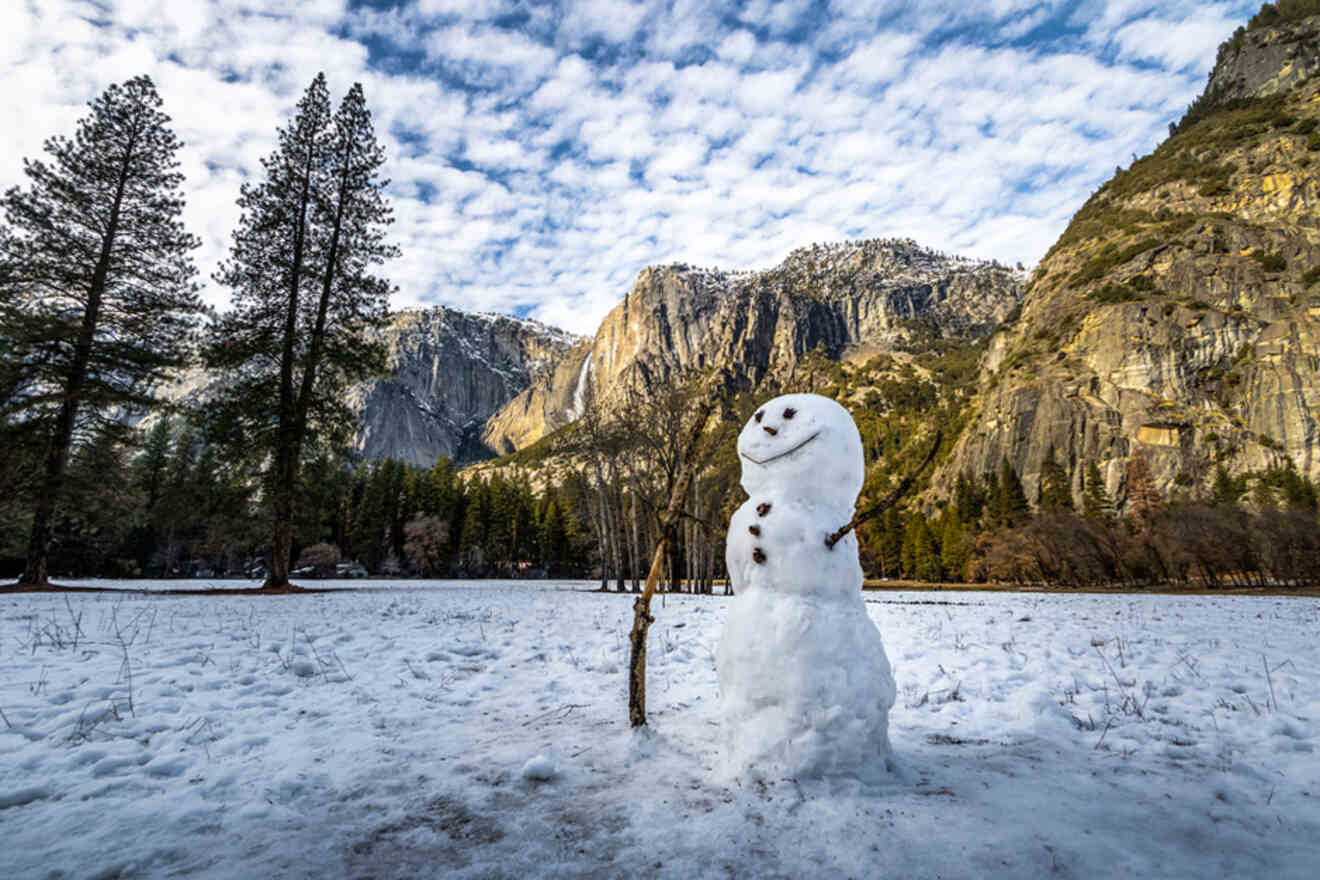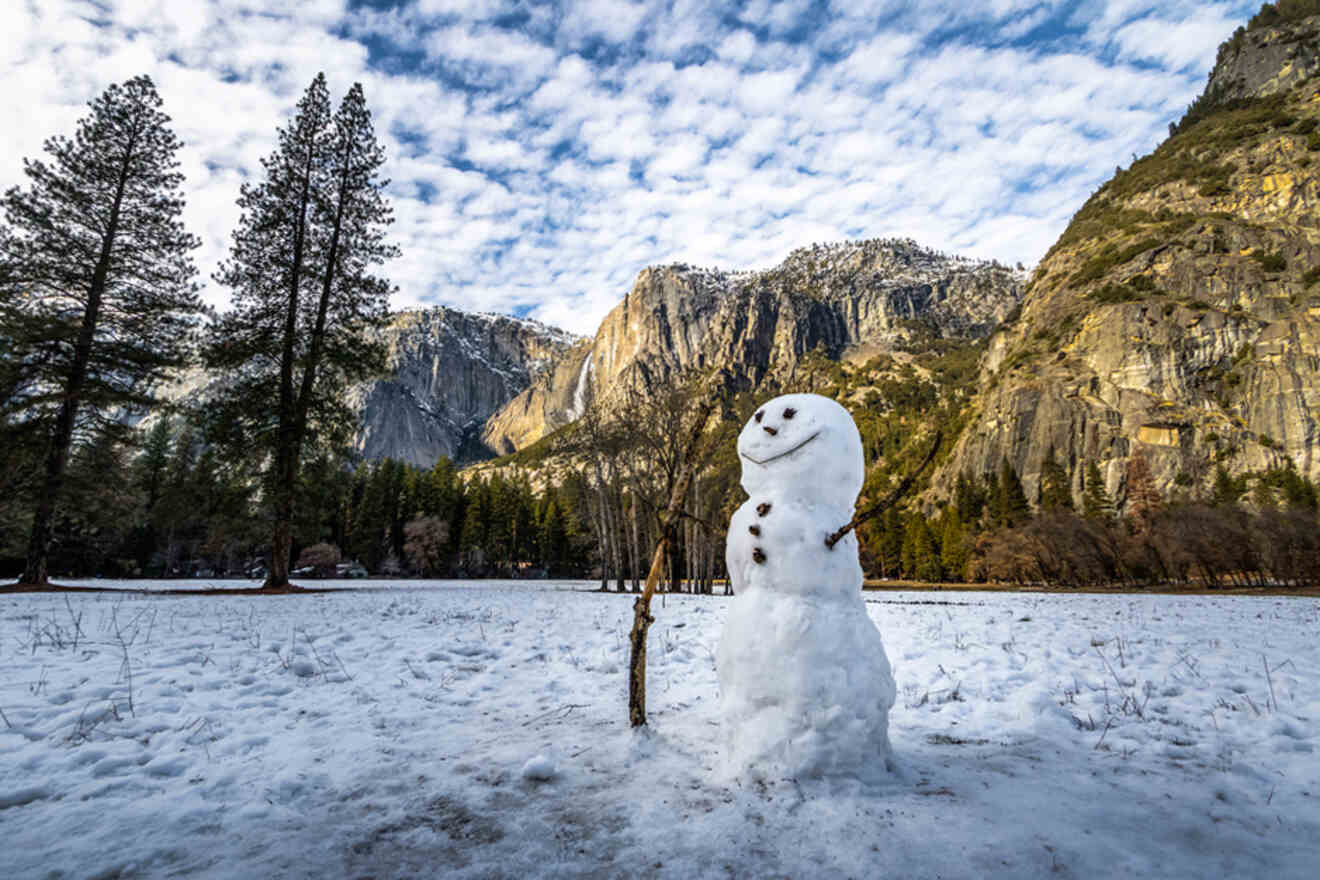 Winter in California is 2 things: non-existent on the SoCal coast and a breath of fresh, crisp air near the lakes and California mountains. There's no in-between, and I honestly wouldn't want it any other way.
With that said, there are also 2 types of people who come to California during the winter: those who are attempting to escape the cold and those who live on the coast and want a white winter getaway. The good news is there are 15 places to visit in California during winter that all types of travelers are going to adore.
As a California native, I've experienced the best of both worlds! Whether you're looking for a winter wonderland-inspired getaway or looking to escape the cold, I have a list of the best destinations and tours for you.
Let's hop right into it!
P.S.: Make sure to book your tours and hotels ahead of time to secure the best deals!
If you are in a hurry
If you only have a day or 2 to explore California in the winter, avoid the hassle and join unique, must-see, and activity-based tours that will make the most out of your time!
Here are the main things to book in advance:
And here are the best hotels: The Ritz Carlton (luxury), Lakewood Cabins (mid-range), Noon Lodge (budget)
Now here's a map of where you'll be visiting!
1. Uncover the beauty Lake Tahoe has to offer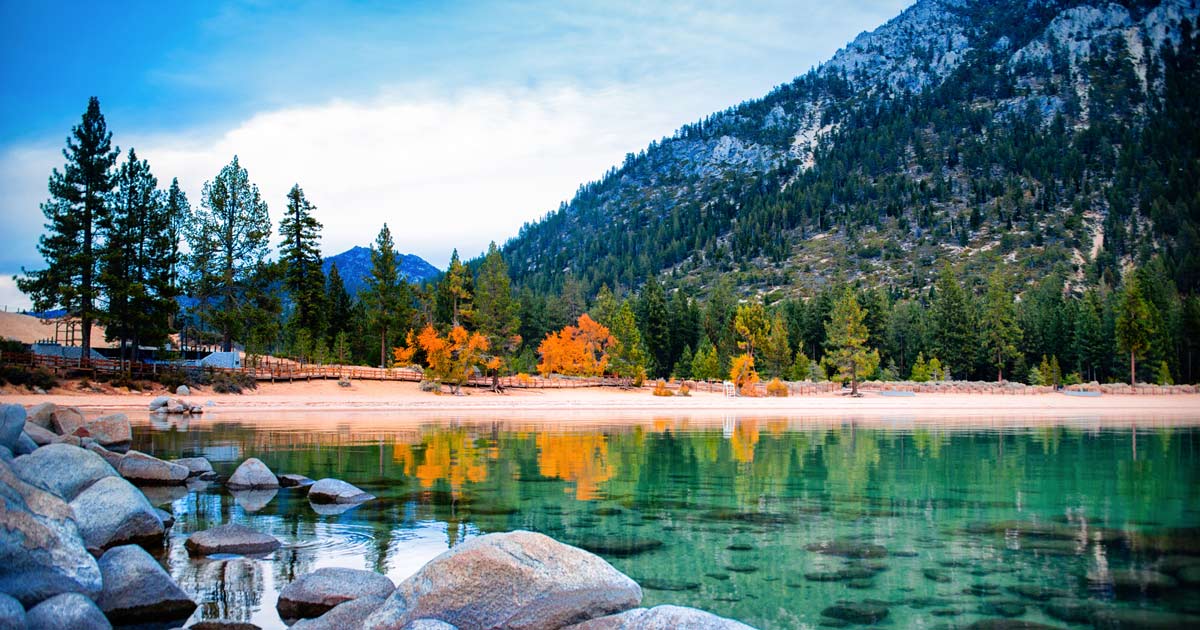 This is where local SoCals go to get some snow – this obviously had to be 1st on my list!
Lake Tahoe is a real-life winter wonderland with stunning snow-covered landscapes and ski resorts at every turn. The lake is a popular destination in the Sierra Nevada Mountains. There are so many things to do in Lake Tahoe, from skiing, snowboarding, other winter activities, and even casinos for late-night shows and more.
The lake is separated between north and south, with North Lake Tahoe being more popular in the winter with ski areas like Alpine Meadows, Squaw Valley, Diamond Peak, Mount Rose, Sugarbowl, and more. You can also find more cross-country skiing opportunities here versus South Lake Tahoe.
The south side of the lake offers more mellow, back-country skiing options and a fantastic nightlife almost comparable to Vegas – casinos, bars, and clubs galore!
If you're staying in South Lake Tahoe, check out the cozy Cedar Glen Lodge – it's the cutest lodge, and you'll feel like you're in a stand-alone cabin out in the wilderness. The excellent customer service here is also worth noting. Plus, they make your stay more convenient with a charging point if you drive an electric vehicle.
HACK: The wintertime is always crowded, book your trip during the weekdays for fewer crowds and a better deal.
2. Plan a getaway at Yosemite National Park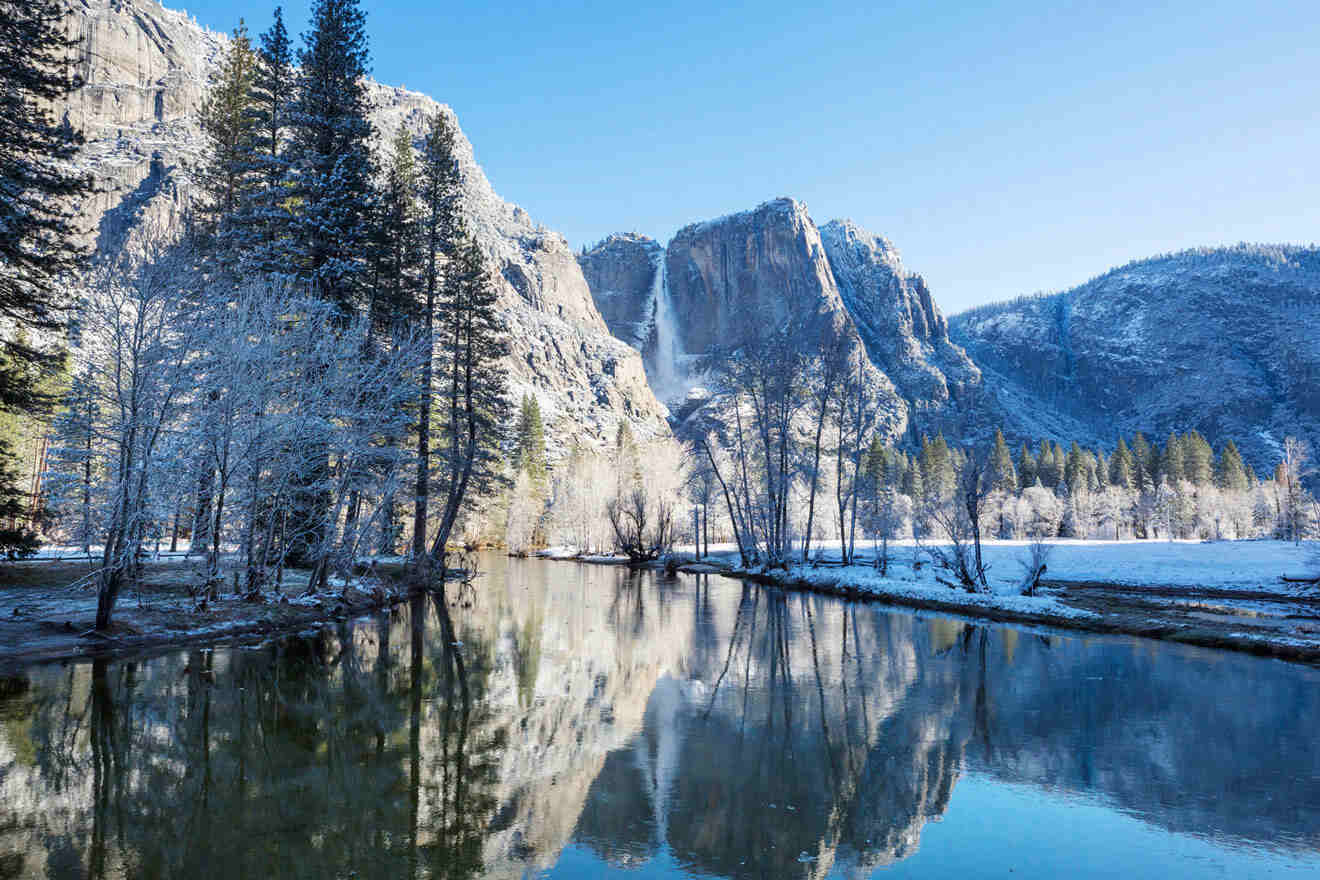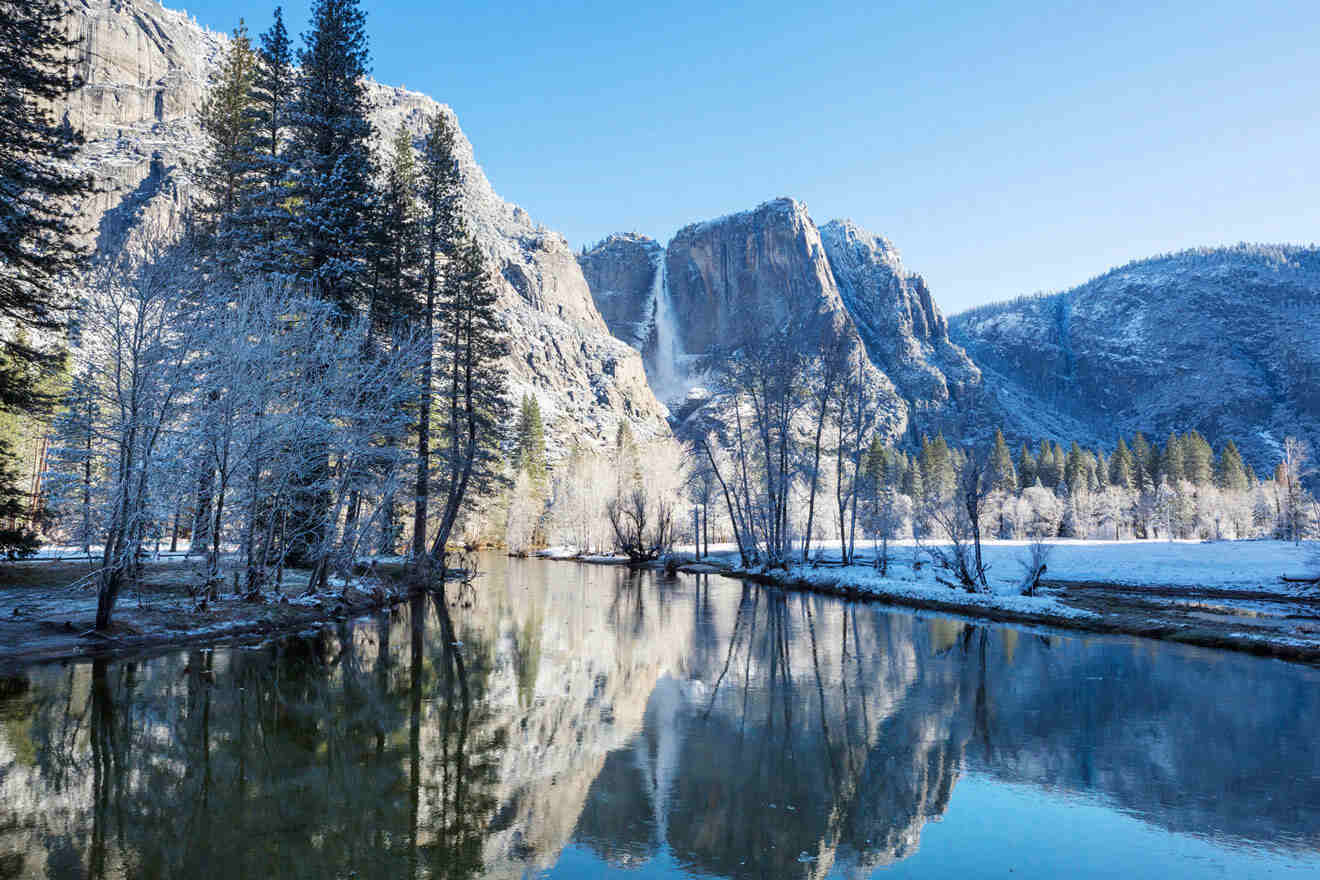 I visited Yosemite National Park in February 2023 and was in LOVE with the ice-covered trails, lively waterfalls, and crystal-clear lakes.
Yosemite National Park is a gorgeous natural wonder in California. But I gotta say – it's a whole different experience when you go in the winter. Because it's a huge park, it's easy to get lost and overwhelmed. I always book a group tour ahead of time so I can breeze through the park with a guide (basically holding my hand).
The Rush Creek Lodge at Yosemite is a cozy option for travelers looking for a quality experience and everything you need for a perfect weekend getaway. It's less than a mile away from the west gate entrance of Yosemite National Park and offers 2 hot tubs (one for families and one for adults) – ideal for both families and couples!
PRO TIP: I've done this 9-hour day tour, and it's so worth the price. They take you to the famous Half Dome, Yosemite Falls, and a few other major spots and hiking trails in Yosemite Valley. It's so easy to get lost at this park, I recommend booking a tour for some guidance!
3. Discover the winter months in San Diego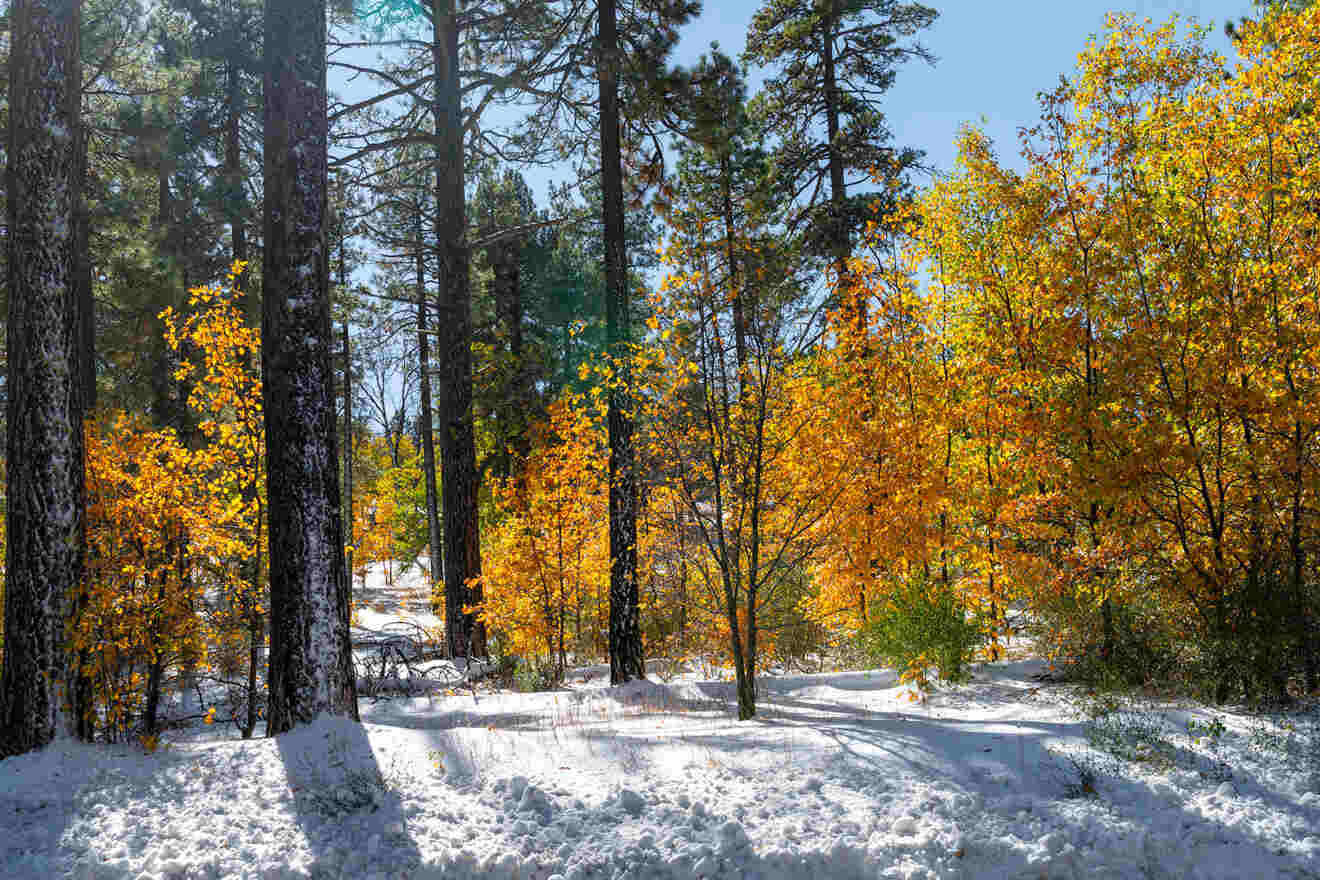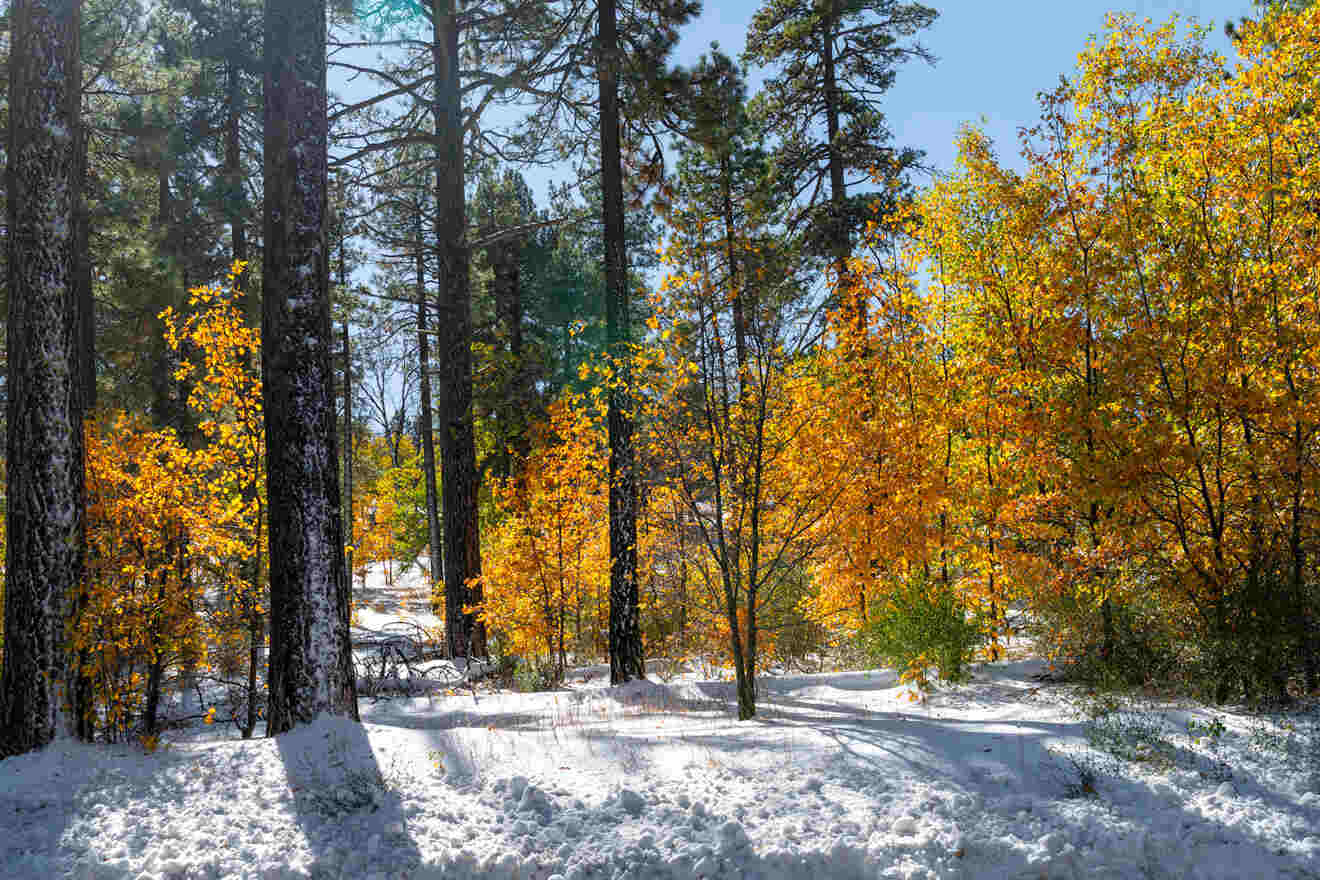 I'm a San Diego native, so I might be a little biased, but it's the finest (and sunniest) city on Earth!
If you're looking to escape the cold weather wherever you're from, San Diego is one of the sunniest cities in the Golden State (seriously, all year round).
Staying in San Diego can get really expensive, so I recommend staying in the Mission Valley or Hotel Circle area, a great central area that is about a 15-minute drive to downtown San Diego. You can find some great hotels here and will end up saving a pretty penny in the end.
Besides being able to visit the sea lions in La Jolla any time of the year, there are a plethora of outdoor activities happening throughout the winter months and holiday season that I absolutely love:
December Nights in Balboa Park: offers a holiday-themed event bringing food trucks, vendors, and drinks to the park over the course of 3 days.
Ice Skating: at the iconic Hotel Del Coronado (where Marilyn Monroes famously stayed)
The San Diego Bay Parade of Lights: over 80 boats decorated with holiday-themed decorations, creating a beautiful display of lights on the bay.
Whale Watching: grab a cup of coffee and spot whales, dolphins, and other marine animals along the Pacific Ocean on this fairly priced tour.
4. Take a trip to Los Angeles for endless winter activities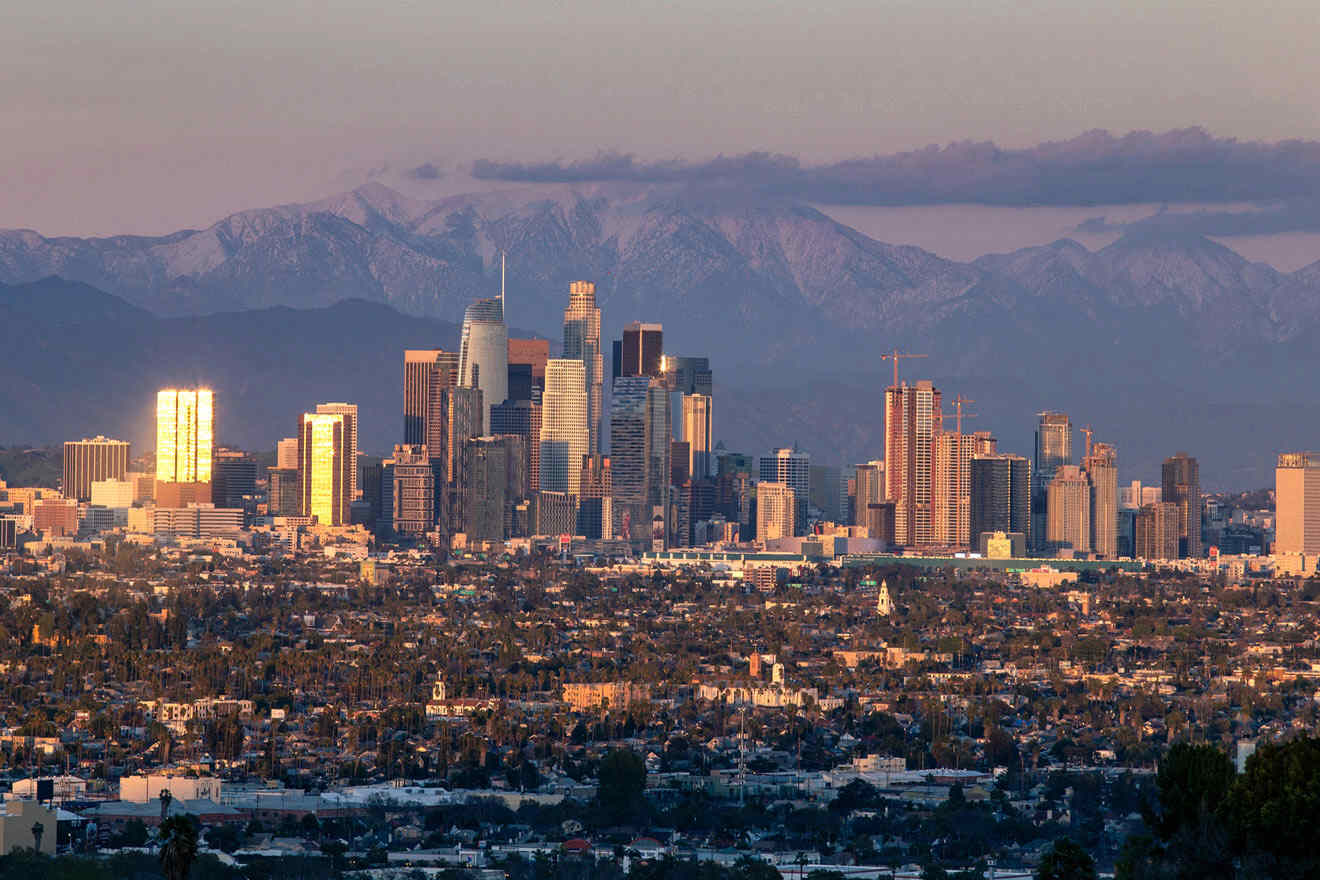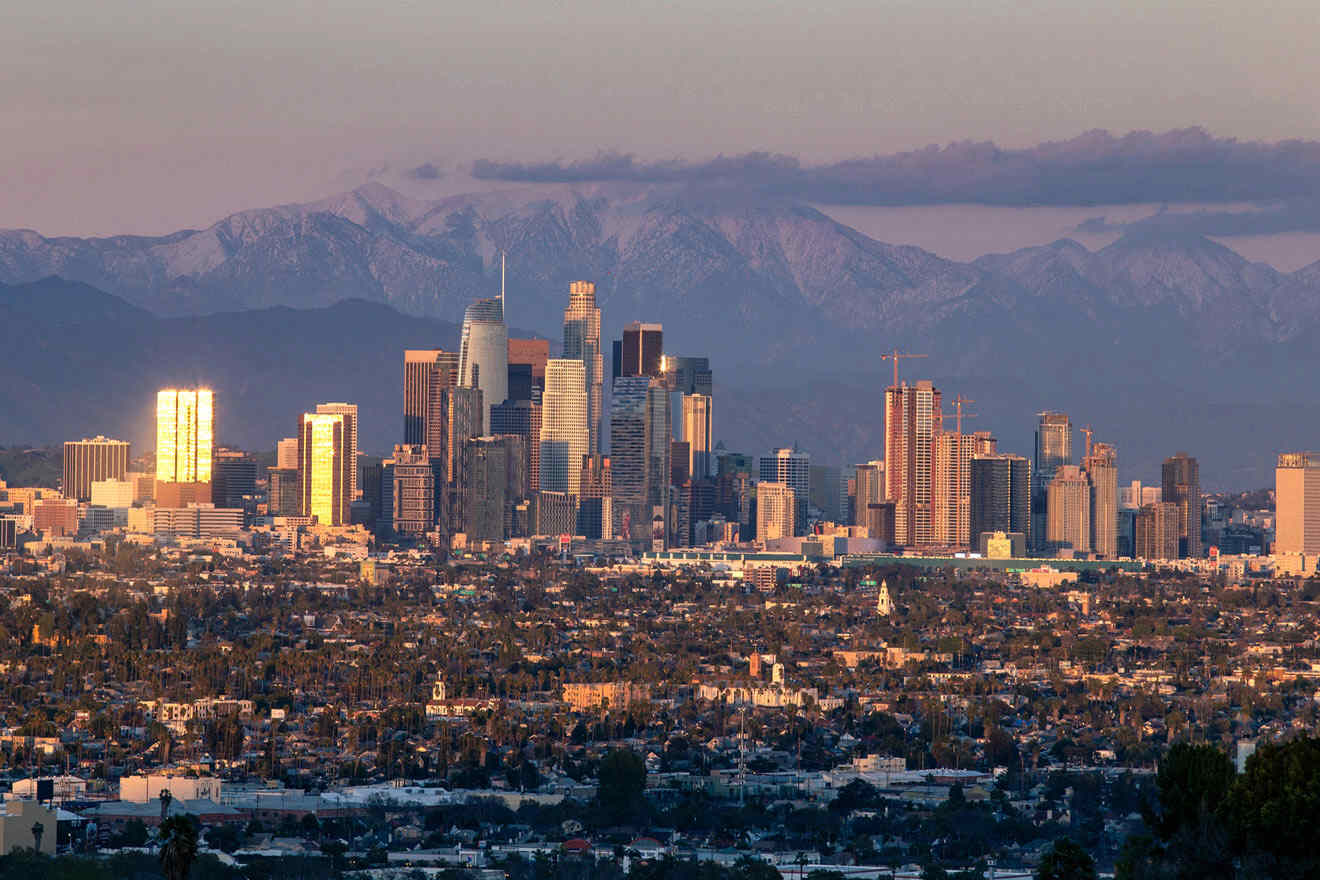 I've been to LA so many times, and I gotta say, there's always something new to do here.
If you haven't figured it out yet – the Southern California coast in the winter season is generally pretty warm, and Los Angeles is no exception! I recommend staying outside of the touristy areas.
Downtown Los Angeles, Venice, or Hollywood aren't the safest areas to stay overnight. If you have a car, owned or rented, and you're able to drive to your LA destinations, check out Glendale Hotel for an affordable stay that won't leave you worrying too much about your safety. But you should always take precautions wherever you are!
There are a couple of things I recommend checking out in the winter months:
Take a trolley through a historical central coast town: I recommend taking a trolley tour first to explore the city and check out the historic Santa Barbara Mission. Santa Barbara Harbor is home to organic farms serving seasonal ingredients during the winter, so you can end your day at the harbor with a cup of coffee and fresh ingredients to take home.
Surf City in winter: Huntington Beach has an ice skating rink every year called Surf City Winter Wonderland. If you're in the area, I recommend checking it out in the evening after exploring the beach on this segway tour adventure. If you've never ridden a segway, you don't want to miss this one!
Santa Monica Pier: In December, this park offers free holiday musical performances, ice skating by the beach, and their annual Polar Bear Plunge.
Whale-watching in Newport Beach: The winter season just so happens to be the best time to go whale-watching in Newport Beach, and you can do this on a guided tour.
5. Discover sand dunes in Death Valley National Park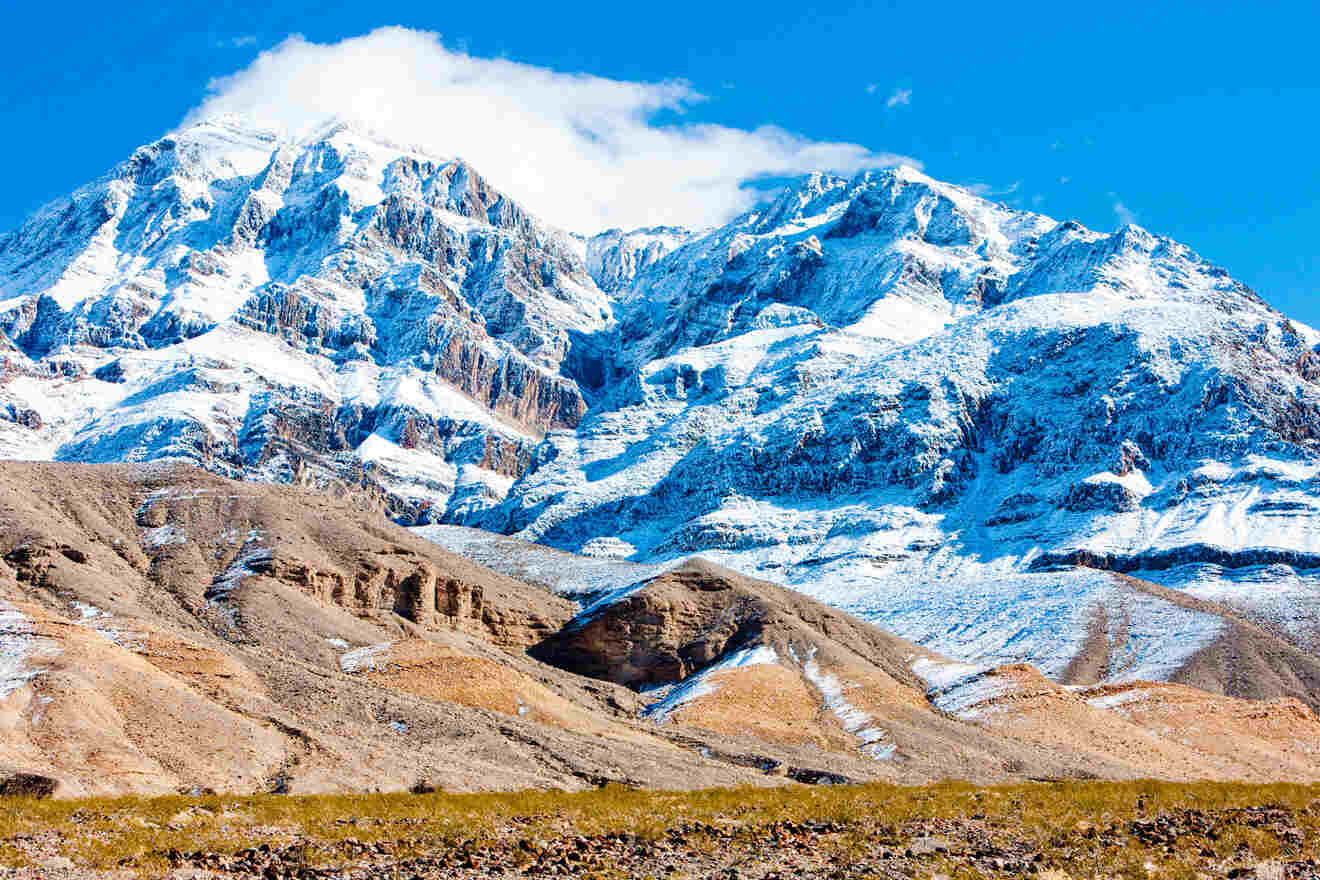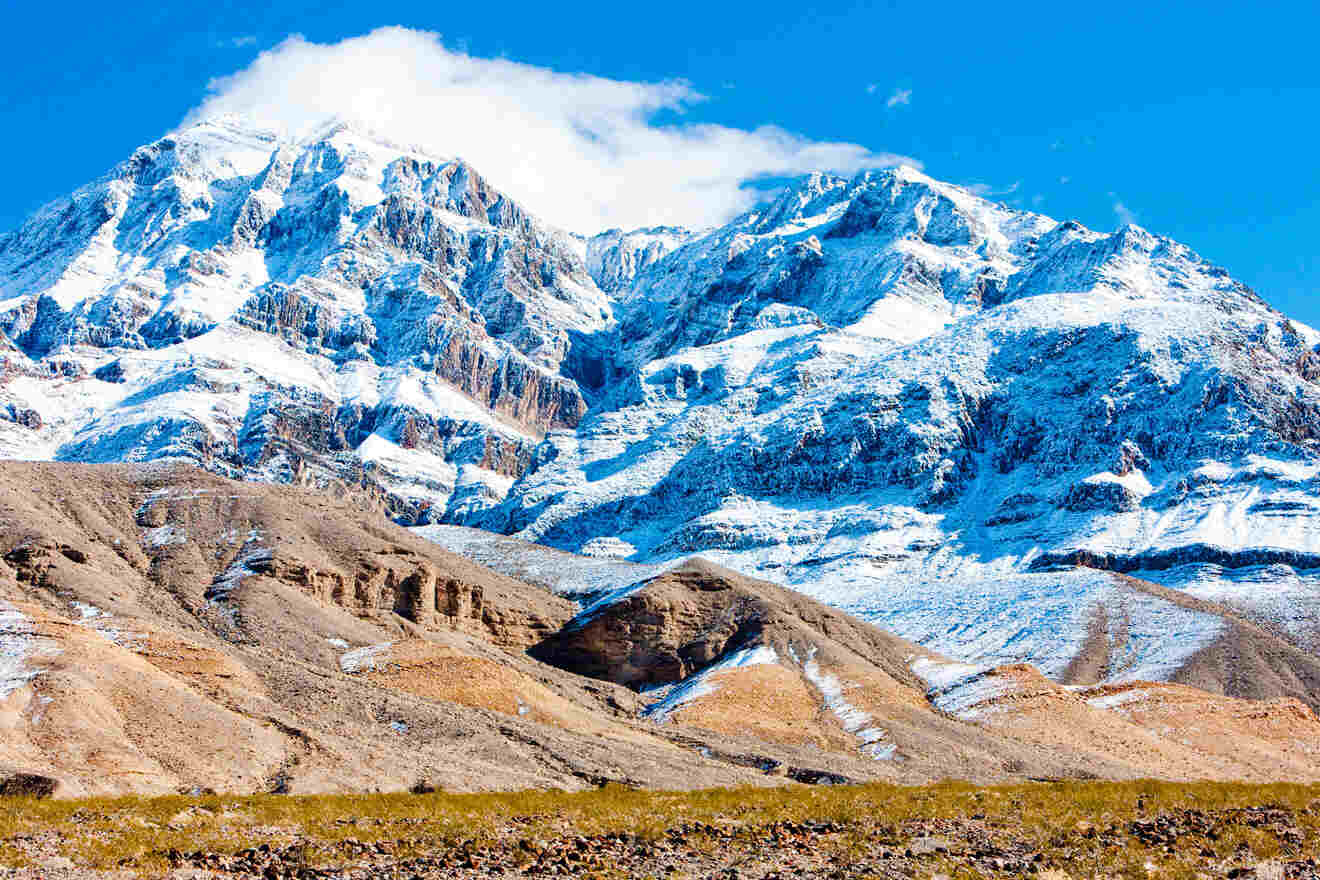 In the summer, Death Valley National Park (admission is US$15 per person) is known to have the hottest and driest climate in North America. If you visit in the winter, you're more likely to enjoy your time there (and not get a heat stroke).
The desert is filled with tons of unique geological formations, stunning views, and my favorite – the Mesquite Flat Sand Dunes. The sand feels great under your feet during the winter, and there's an incredible sense of calmness being there.
I've stayed at The Ranch at Death Valley and had a positive experience. It is a family-friendly, charming desert oasis, perfect for the entire family during the winter and all year long. There aren't a ton of hotel options in Death Valley, so this hotel is always quickly booked. Make sure to book ahead of time!
PRO TIP: I don't recommend going sandboarding at the Mesquite Flat Sand Dunes in the winter because it can get windy and dangerous. Instead, plan on enjoying the sand on your feet, bring your camera and drone for a photography session! You hardly get to sand dunes like these in California, so make the memory count.
6. Visit San Francisco with the fam for the ultimate holiday deal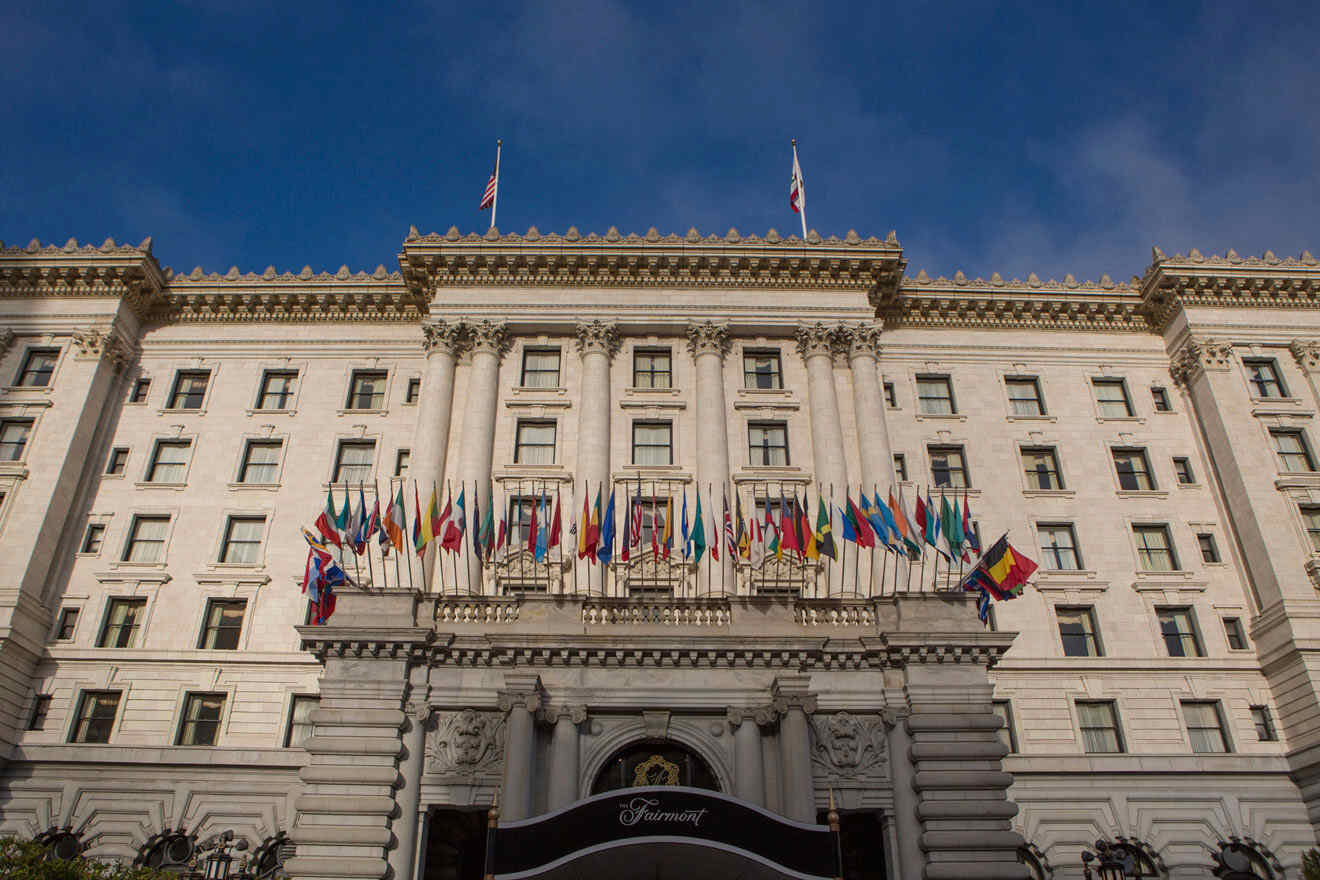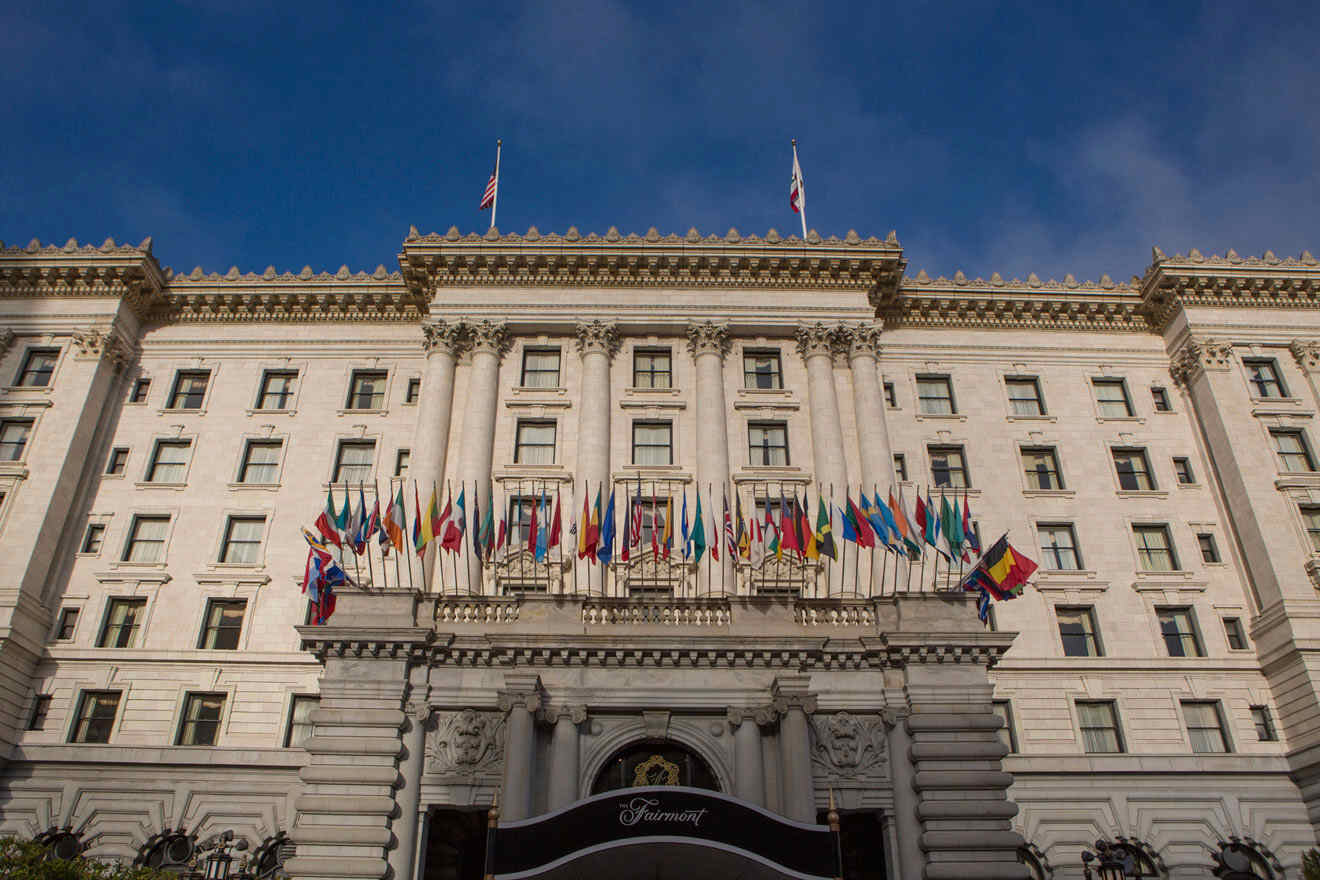 Fairmont San Francisco is known as "Santa's home away from home" during the winter in San Francisco. It's one of the more luxurious options, centrally located in Knob Hill, making it easy to commute to any event the city holds over the holidays.
Santa's Suite Package is one of the coolest experiences for families during the holiday season. You can stay in a family-friendly luxury suite featuring festive holiday decor, breakfast, a "Candy and Hot Chocolate Bar" with adult beverages, a gingerbread house kit for the kids, and a complimentary holiday movie with parking included. Truly the best package in all of Northern California for families during the holidays.
While you're in San Francisco, you can join this festive 1.5-hour tour aboard a vintage open-back Mack fire engine. Relax in the back with a cup of coffee as you watch glowing light displays centered around Downtown San Francisco and the Golden Gate Bridge! You can also easily stroll around the city watching the light displays since everything here is within walking distance from each other.
But that's not all! Every year, San Francisco also holds multiple tree lighting ceremonies all throughout the city: Golden Gate Park, Union Square, Pier 39, Presidio, and more. There's so much to see during the holidays in San Francisco!
7. Plan a winter wonderland vacation at Mammoth Lakes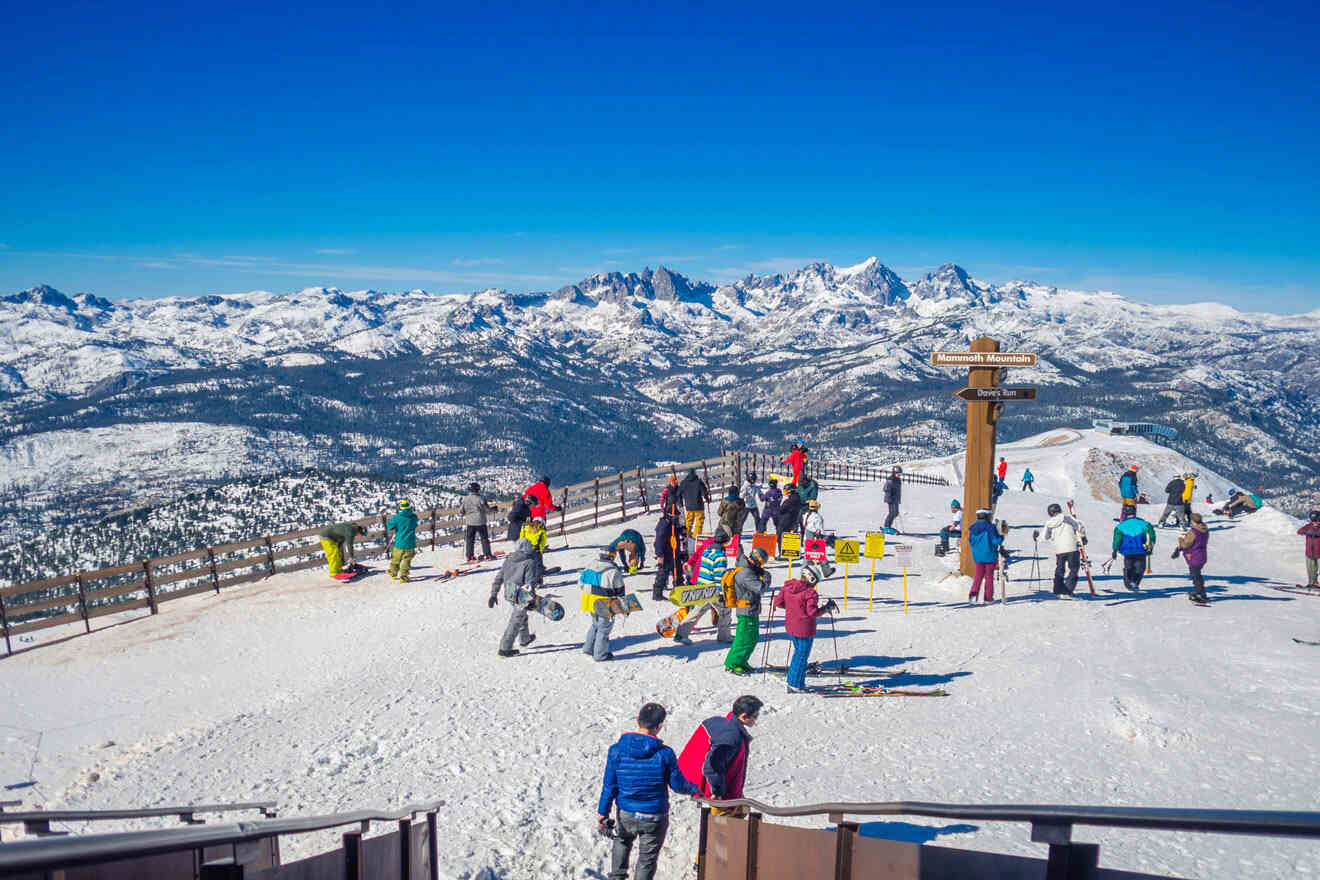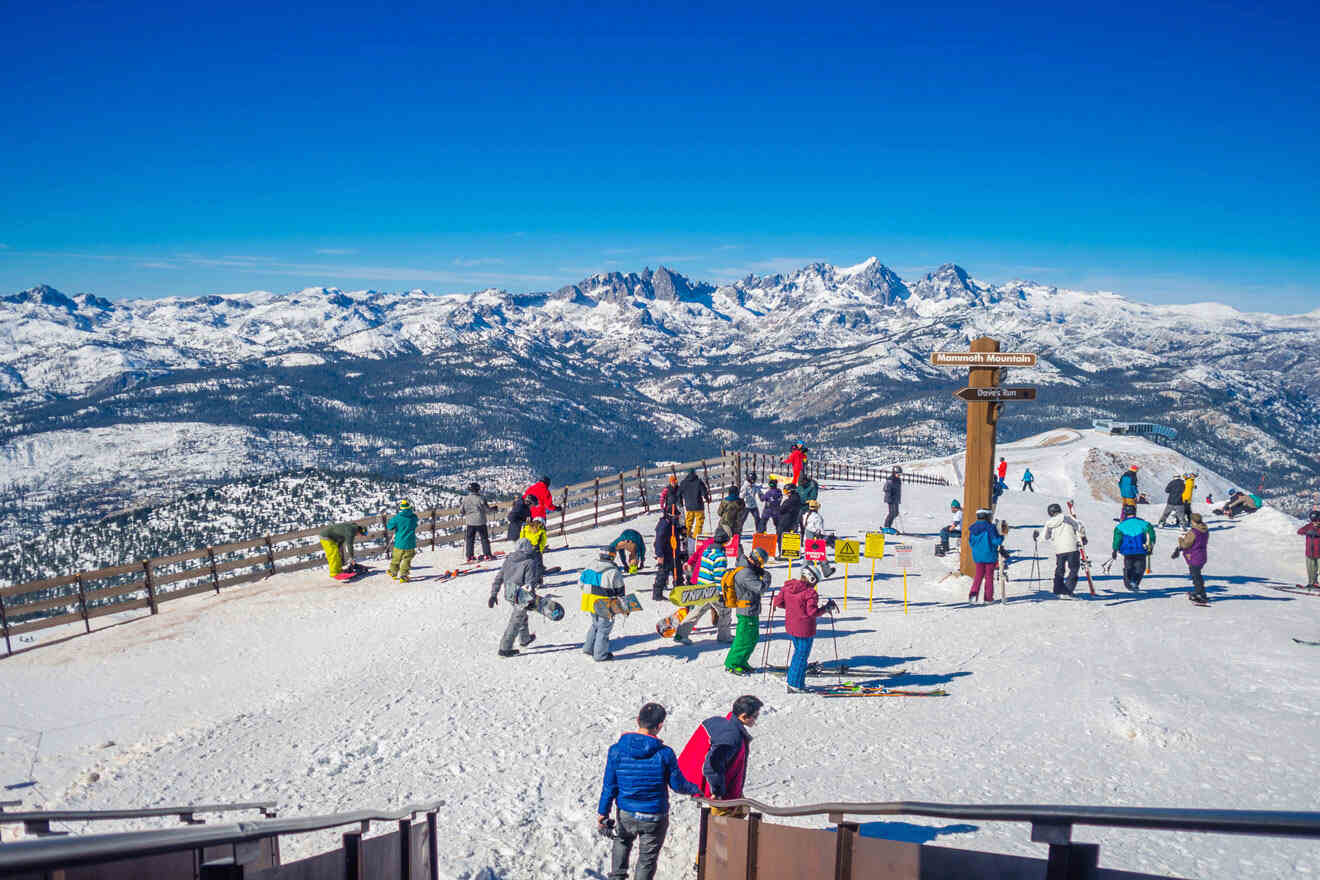 Mammoth Lakes (also known as Lake Mammoth) is one of the best California winter vacation ideas for families! The lake offers opportunities for outdoor adventure combined with relaxing activities.
The biggest difference between Mammoth Lakes and Lake Tahoe is that the Mammoth Mountain ski area sits on a higher elevation, and the slopes are a bit steeper. Mammoth is also quite smaller and more condensed, making it great for a more intimate family trip.
The small town is also known for its nationwide well-known craft brewery, Mammoth Brewing Co. They serve their best microbrews and some of the best burgers in town. Give it a try, you won't regret it!
The Cinnamon Bear Inn is a wonderful hotel for couples, families, or friends looking for a real lodging experience. It's right in the heart of downtown Mammoth and a short walk away from all the major spots. There's even a Bear Lounge for guests who just want to relax indoors with a board game and a cup of coffee!
NOTE: The weather gets as low as 11°F (-12°C), so you want to be prepared with all the proper snow gear.
8. Get cozy under the stars at Joshua Tree National Park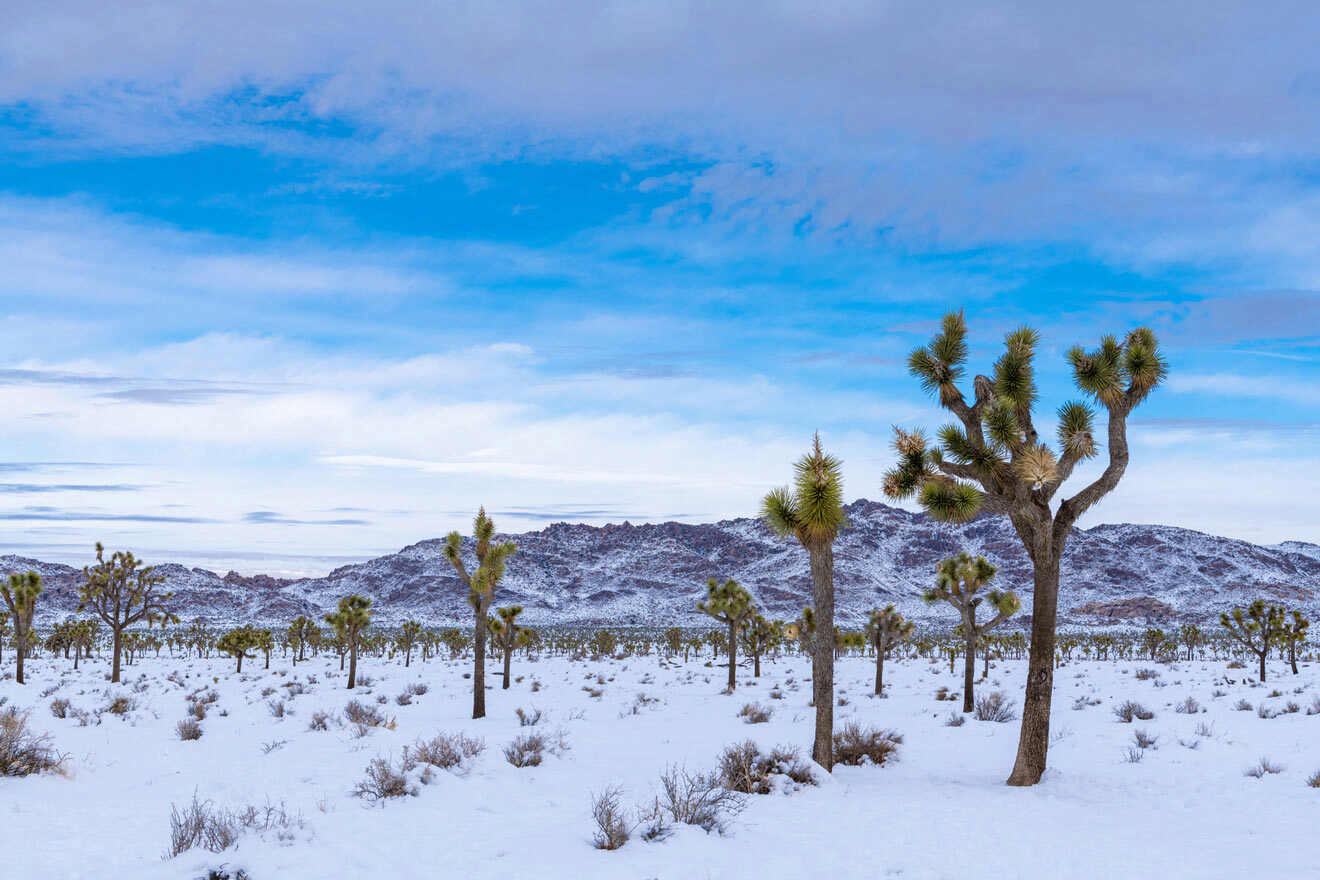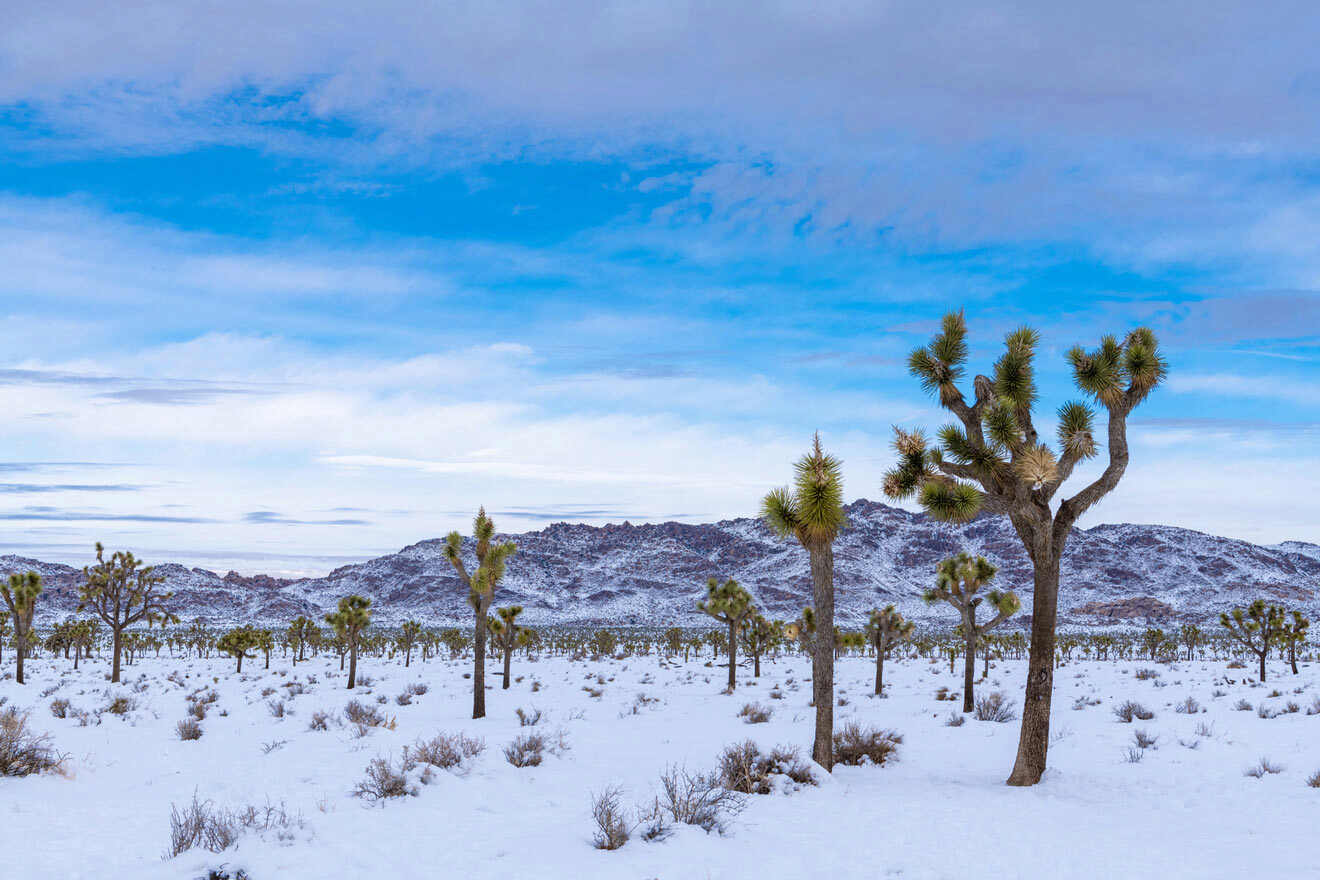 Joshua Tree National Park is a must-see desert about a 2-hour drive from downtown Los Angeles, being the perfect day or weekend trip for locals looking to be in the desert during the winter. It's particularly popular with people who like to hike, as there are quite a few beautiful hiking trails.
In addition, it's actually quite cold at night in the winter months. The last time I went (in mid-December), my Airbnb host told me it was snowing the night before I arrived. Be sure to keep that in mind when planning your trip!
I'm a huge rock collector, and this is my absolute favorite place to find hidden gems!
The Full Moon in Joshua Tree is a stunning villa with 2 bedrooms and 2 baths starting at a reasonable price of US$119 per night. You get the entire home to yourself (great for a staycation), a jacuzzi, and a fireplace for those colder nights. There's even a washer, a fully-equipped kitchen, and everything you need to make yourself nice and comfortable.
If you're traveling with your significant other, I would recommend staying at a more intimate place like Sacred Sands.
PRO TIP: Wear long pants and heavy outerwear when you're at the park! It also gets dark outside pretty early in the winter, so plan to leave the park by 4 PM.
If you're visiting Joshua Tree coming from Los Angeles or San Diego, make sure to make a pit stop at Salvation Mountain! It's definitely a bucket list place.
PRICE: The park entrance fee is USD$30 for 7 days per vehicle
9. Relax and unwind in Napa Valley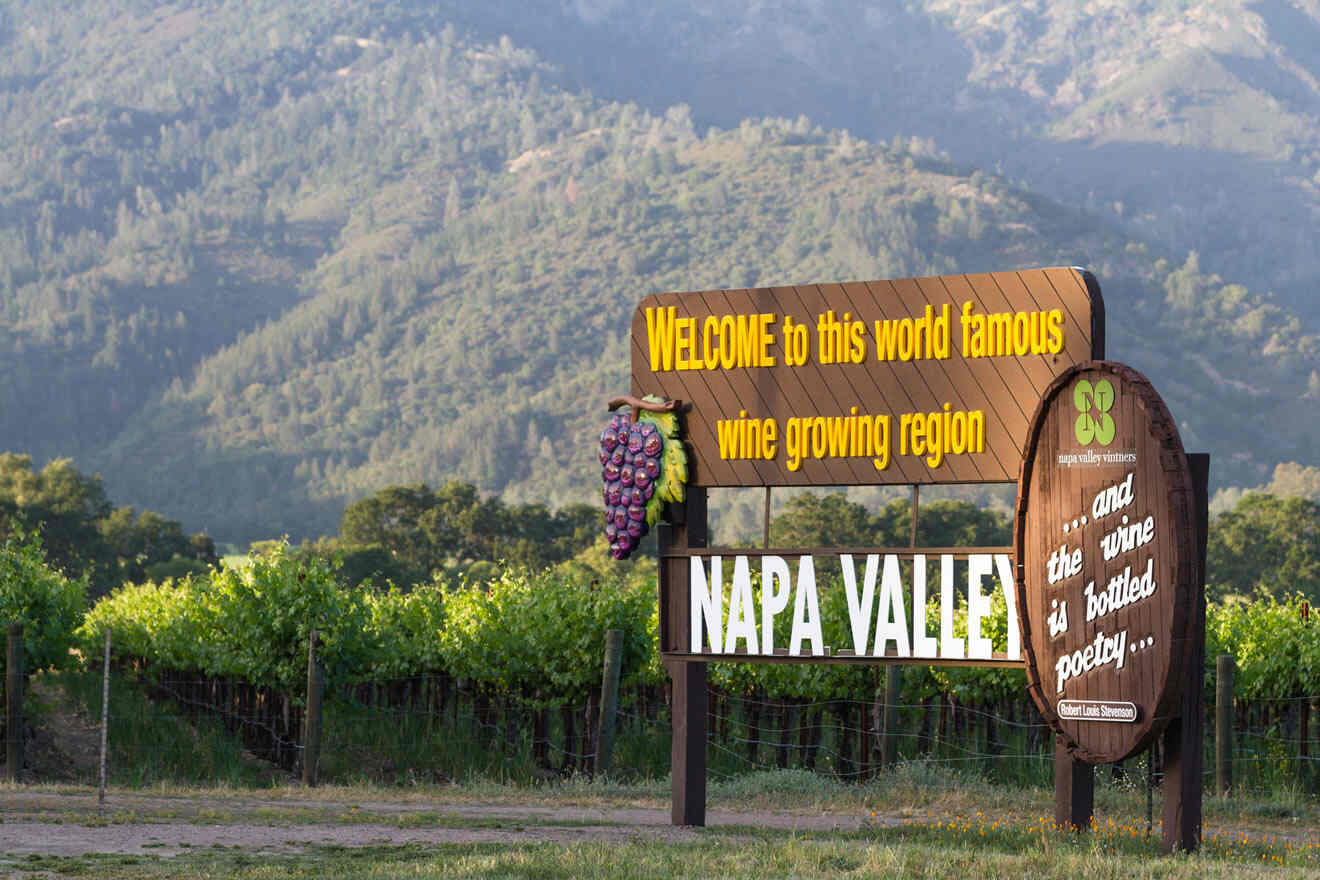 Napa Valley is another one of those places to escape when you're avoiding the extreme cold weather. It's also considered "off-season" in the winter, meaning you score the best deal wherever you stay. (Win and win!) Based on my experience, it does get chilly, but it's not an unbearable kind of cold.
The Calistoga Motor Lodge is my top pick during the Napa Valley winters. They have an Italian and Mediterranean restaurant where wood-fired fine foods are served in their cozy dining room. Yes, please!
Their spa, MoonAcre Spa, is known to be a "hip and modern version of the classic Calistoga bathhouses of the 1880s". It's one of the most perfect winter destinations for couples looking for a relaxing, romantic getaway in California.
If you want to get out of the hotel and explore the wineries, this is an affordable tour that will take you around to 3 different wineries. It's a personalized experience for 6.5 hours with a small group and a picnic lunch in Napa Valley. SO worth the price!
10. Admire the snow and beauty of Sequoia National Park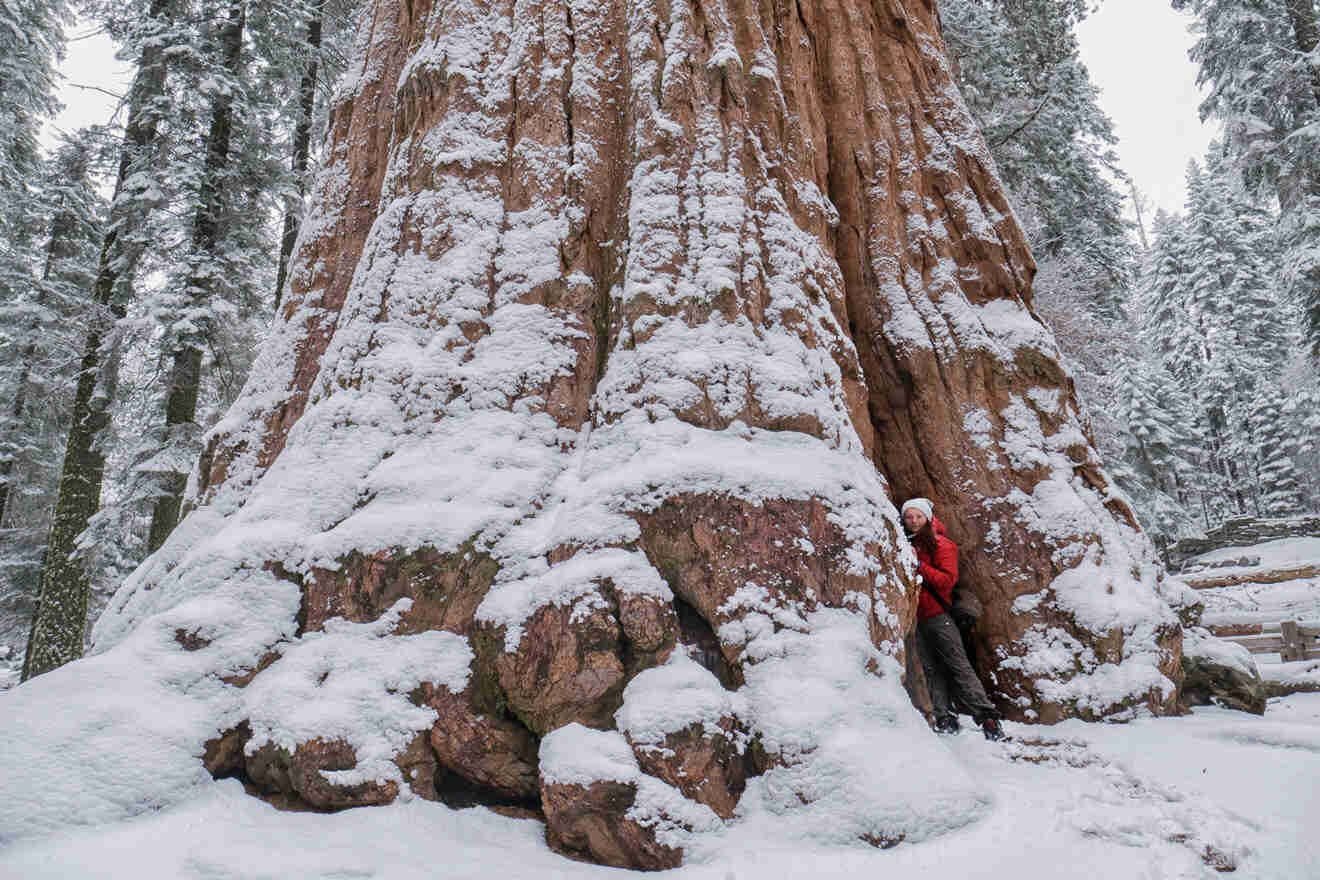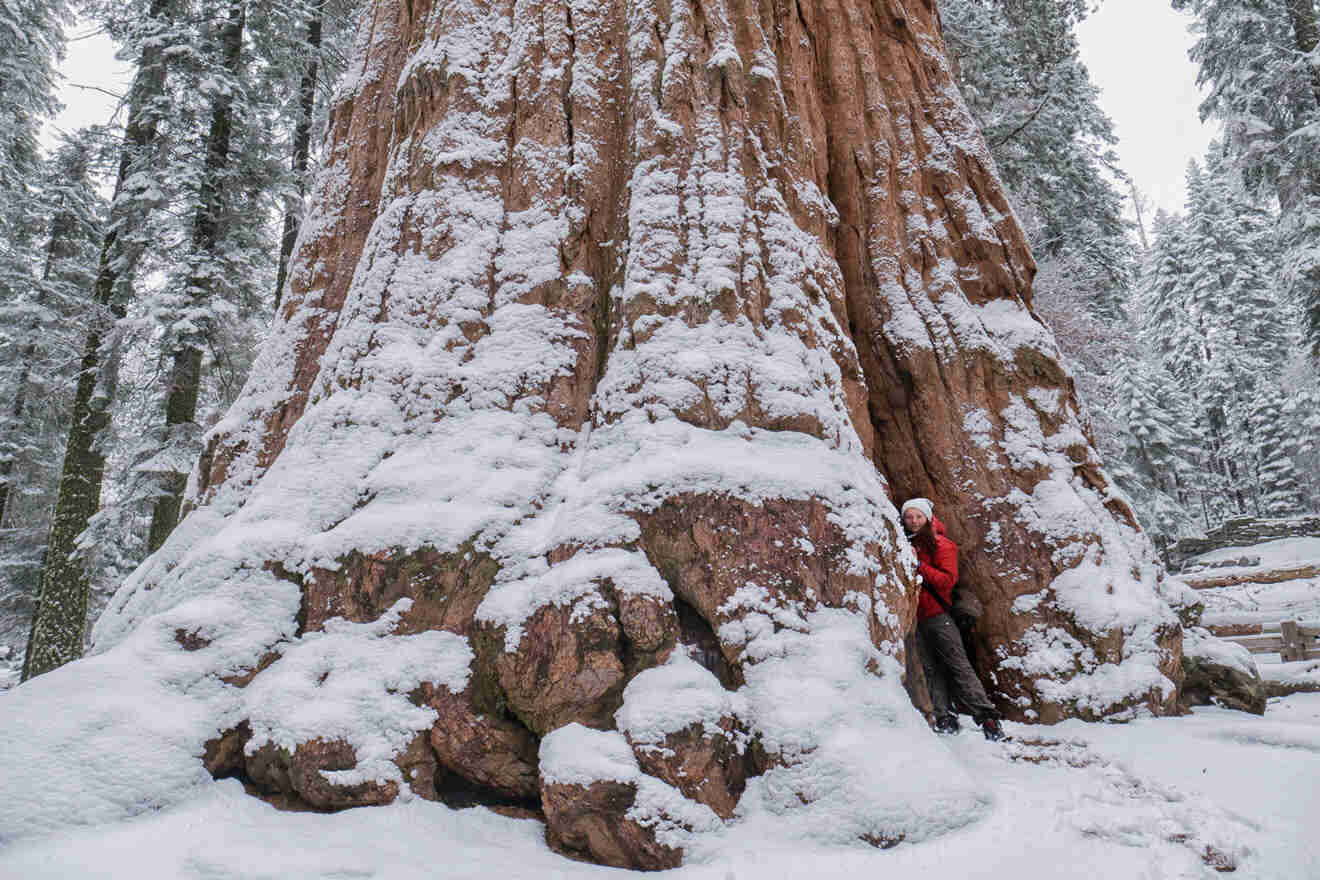 Walking among the tallest trees on Earth in Sequoia National Park has been one of my favorite experiences to date!
In the winter, Sequoia looks like a Disney Christmas movie – snow-covered pine trees, wildlife in the meadows, and kids playing in the snow!
I'm in love with this Quiet Mind Lodge, Spa & Retreat – it offers a serene atmosphere surrounded by nature. It's a nice cabin to keep you warm and still allow you to enjoy winter at the park. Some units even feature a balcony and/or a patio with mountain or river views, so stunning in the winter! I do a lot of solo traveling, and this is one of those places I bring my laptop and work from (using their free Wi-Fi, of course).
The serene atmosphere is also great for yogis who like to explore yoga retreats. I bring a foldable yoga mat everywhere I travel and really take advantage of the zen vibes. I recommend trying it out!
While you're in Sequoia, visit Kings Canyon National Park to see more canyons, waterfalls, valleys, and peaks. It's about a 2-hour drive, but worth it if you have time to spare!
11. Discover snow-capped mountains in Big Bear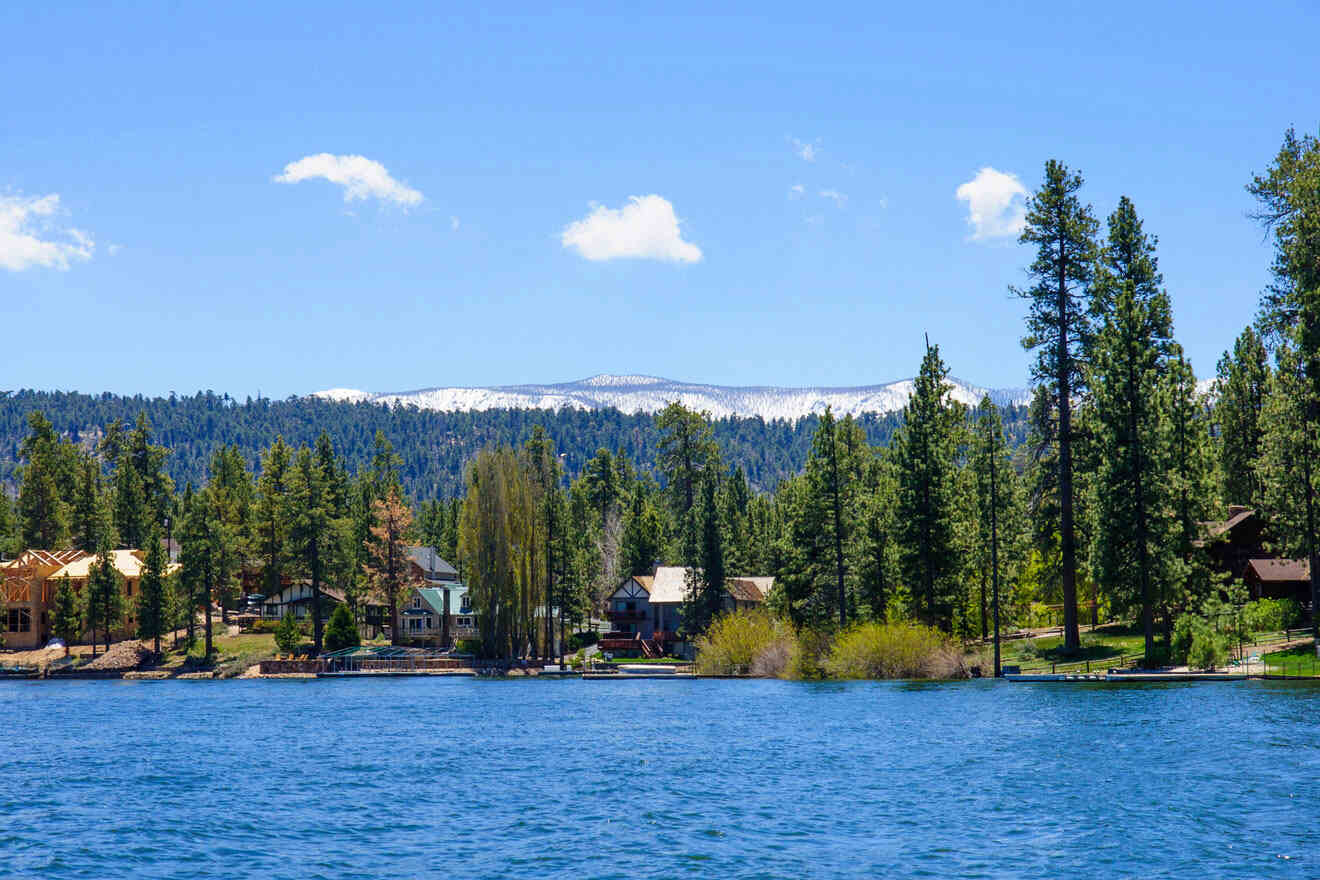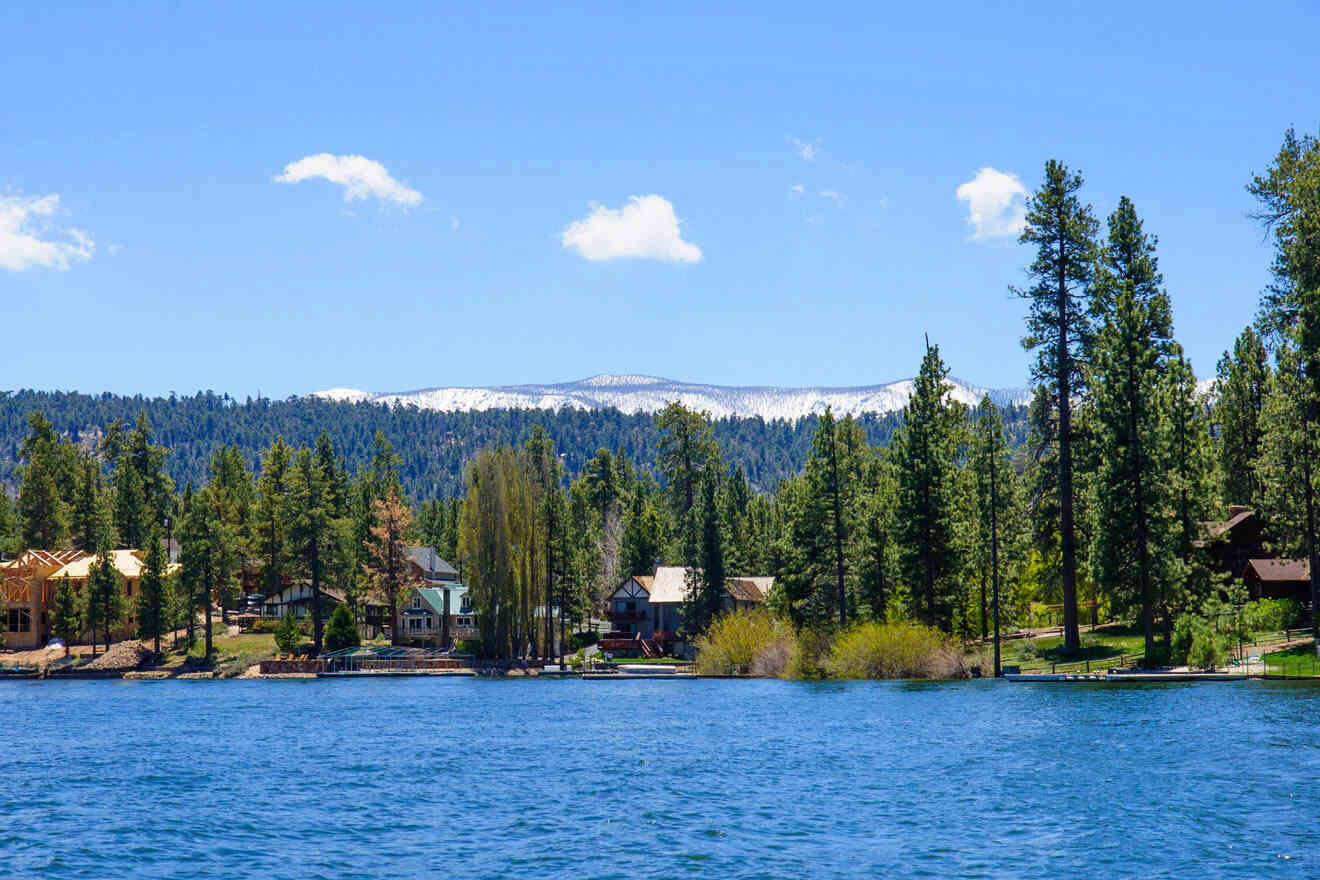 Similar to Lake Tahoe and Lake Mammoth, Big Bear is another snowy winter wonderland getaway. One key difference is that Big Bear is located in Southern California along the San Bernardino Mountains, making it more easily accessible if you're staying in Los Angeles or San Diego.
The Noon Lodge offers adorable cottages on the lake with full kitchens, fireplaces, and Wi-Fi – basically, everything you need for the ultimate staycation. There are also seasonal BBQ facilities and 2 gas fire pits for your convenience. On top of that, the hospitality and comfort of this place are exceptional because this lodge is so popular, book in advance to secure your room!
The lake is relatively small compared to Lake Tahoe and Lake Mammoth (being only 7 miles/11 km long), but there is so much to do on every corner! Cross-country skiing, snowboarding, sledding, etc. You name it, they have it! Oh, and being a California girl and not having pine trees or snow growing up, I'm in love with the change of scenery at Big Bear. Trust me, you'll love it, too!
As a tree hugger myself, my first reaction to Big Bear for the first time was, "The trees are sooo cool!" That's the day pine trees won my heart.
12. Experience a taste of holiday magic in Temecula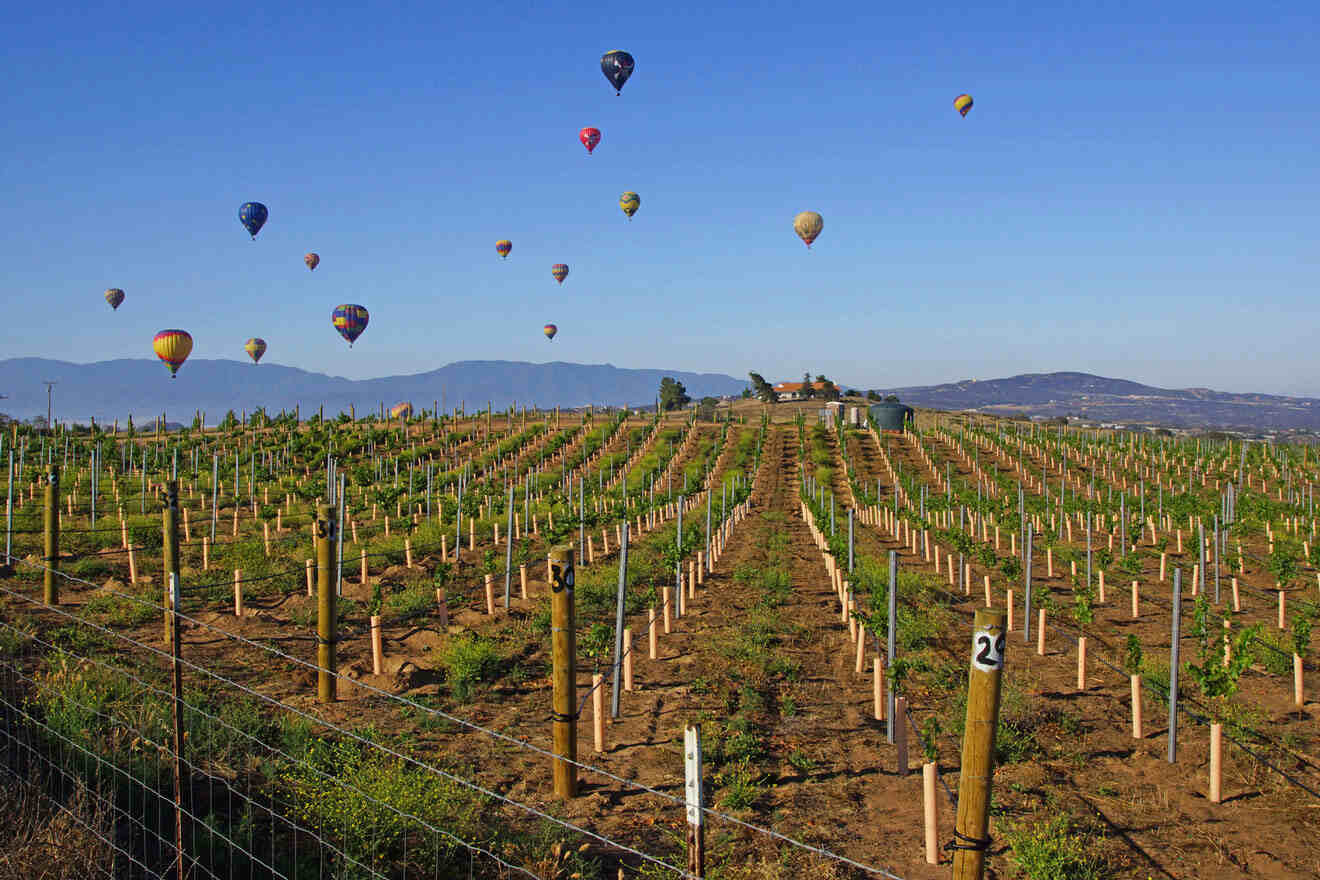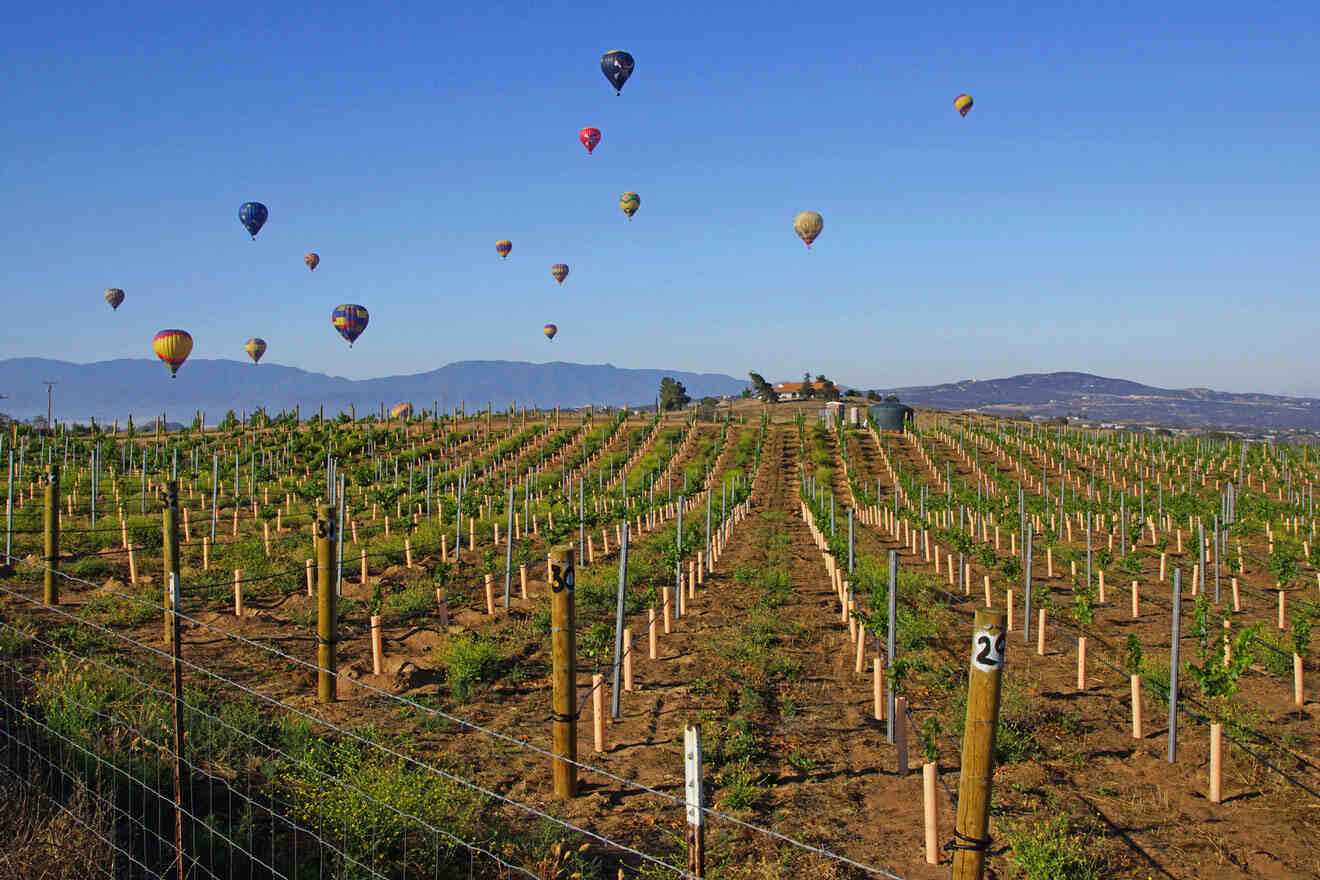 The small wine country city of Temecula is about a 1.5-hour drive from downtown San Diego, making this a perfect weekend trip for a taste of Temecula's holiday spirit. They have beautiful vineyards to explore, live performances, a variety of holiday-themed events, outdoor ice skating, and holiday shopping. There's seriously something for everyone in Temecula during the winter!
Staybridge Suites in Temecula has one of the best deals in Temecula (if you book on time!). The resort offers a casino, spa, dry cleaning services, free breakfast, and modern and spacious rooms while being conveniently located near Old Town Temecula.
PRO TIP: Many wineries will offer 2-for-1 deals during the week. I've gotten deals in the past by simply asking, don't be afraid to ask!
Temecula is blisteringly hot in the summer, with an average of 65°F (18°C), making the winter a perfect time to go.
13. Escape to Julian's snow-capped mountains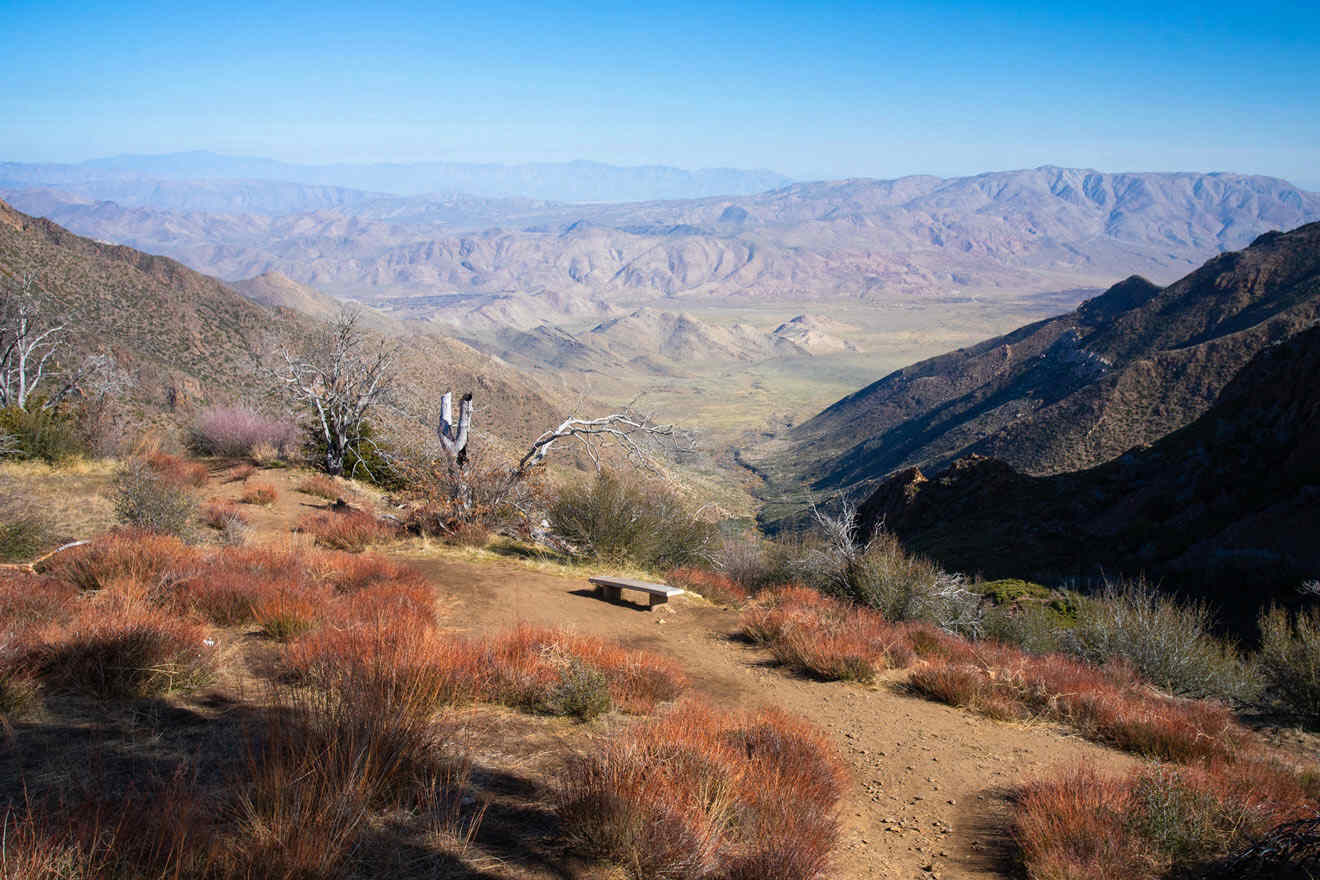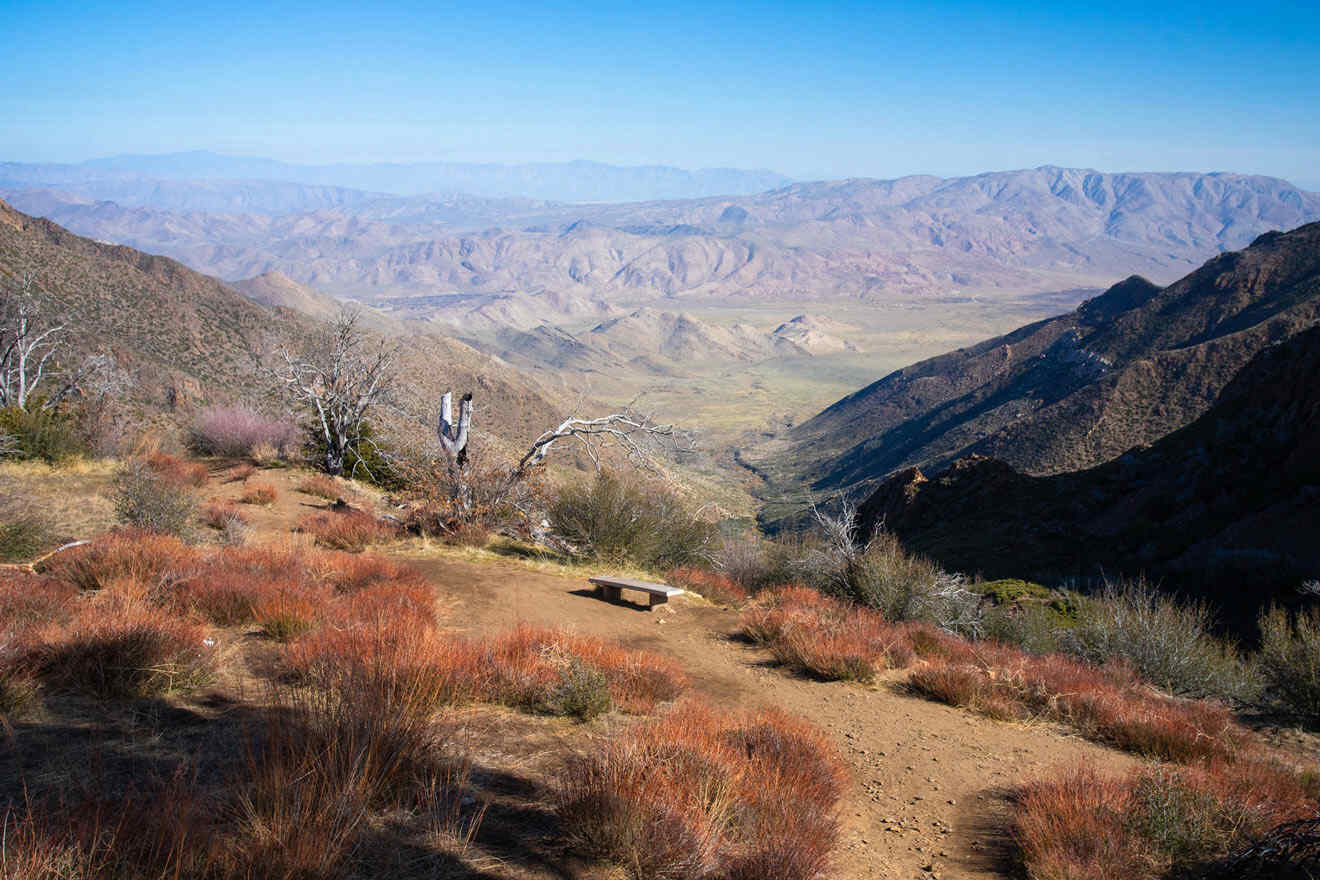 I have a soft spot for Julian – it's a cute little town that I regularly escape to!
Julian is a cute little town located in the Cuyamaca Mountains in San Diego. It's known for its delicious, homemade pies and country feel. It's a great escape in the winter for those living in the city who need a break from the hustle and bustle and want to step foot into an old, snow-covered town!
Mom's Pies is my favorite place to stop for a slice of pie (my favorite is the apple boysenberry crumb). You can even add a scoop of vanilla ice cream on top. So scrumptious!
Make sure to visit Mom's Pies early in the morning to beat the long lines. The lines wrap around outside in the cold, so you want to avoid it as much as you can!
The Pine Hills Cabin in Julian is the ultimate winter getaway. You get the entire cabin to yourself with a fully equipped kitchen, washing machine, and everything you need for a winter weekend in Julian. The villa also includes outdoor play equipment and a baby safety gate, perfect for families with babies. You can also unwind and warm up with the outdoor hot tub located on the property. Sounds like paradise, right?
14. Take a trip to the happiest city in America, San Luis Obispo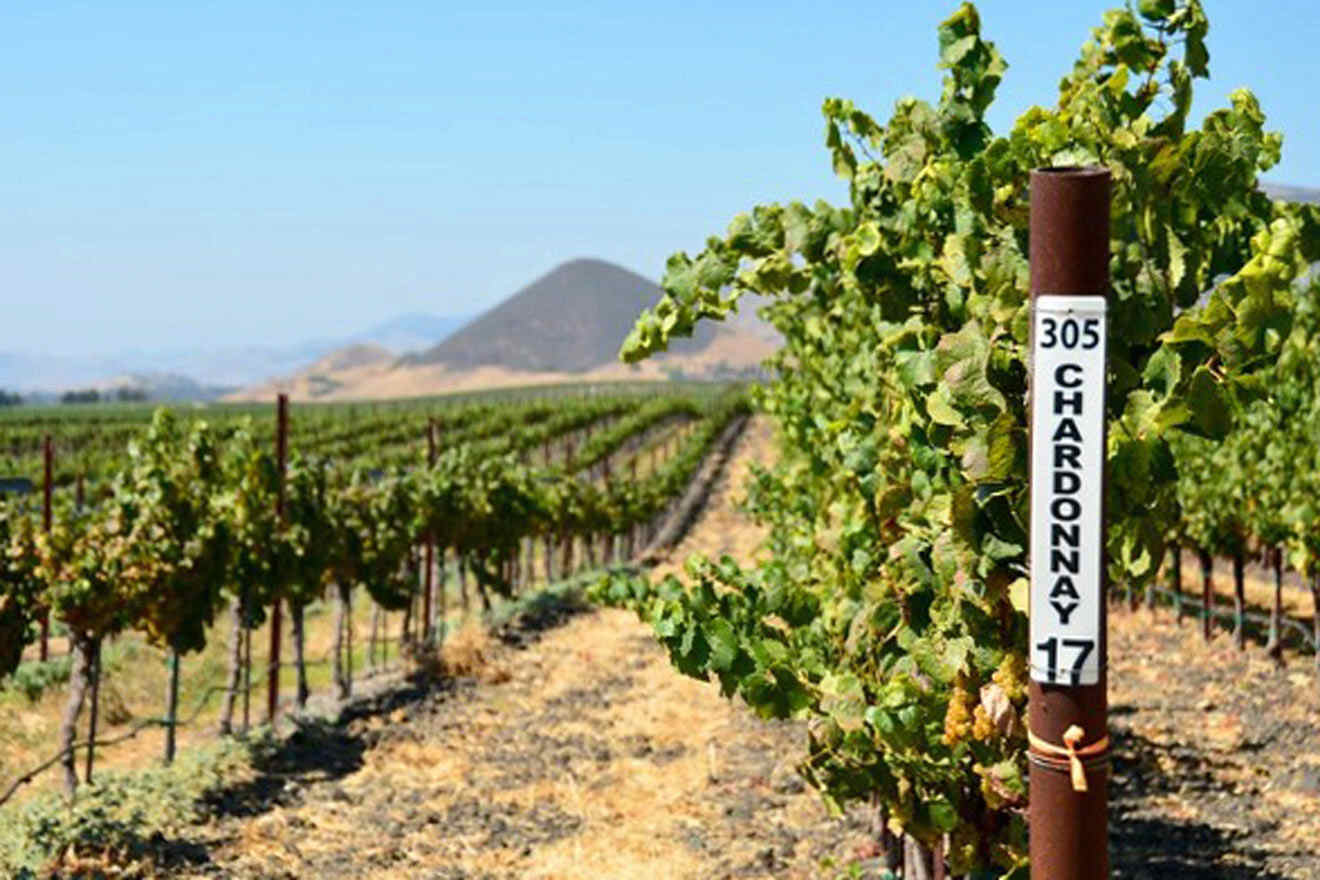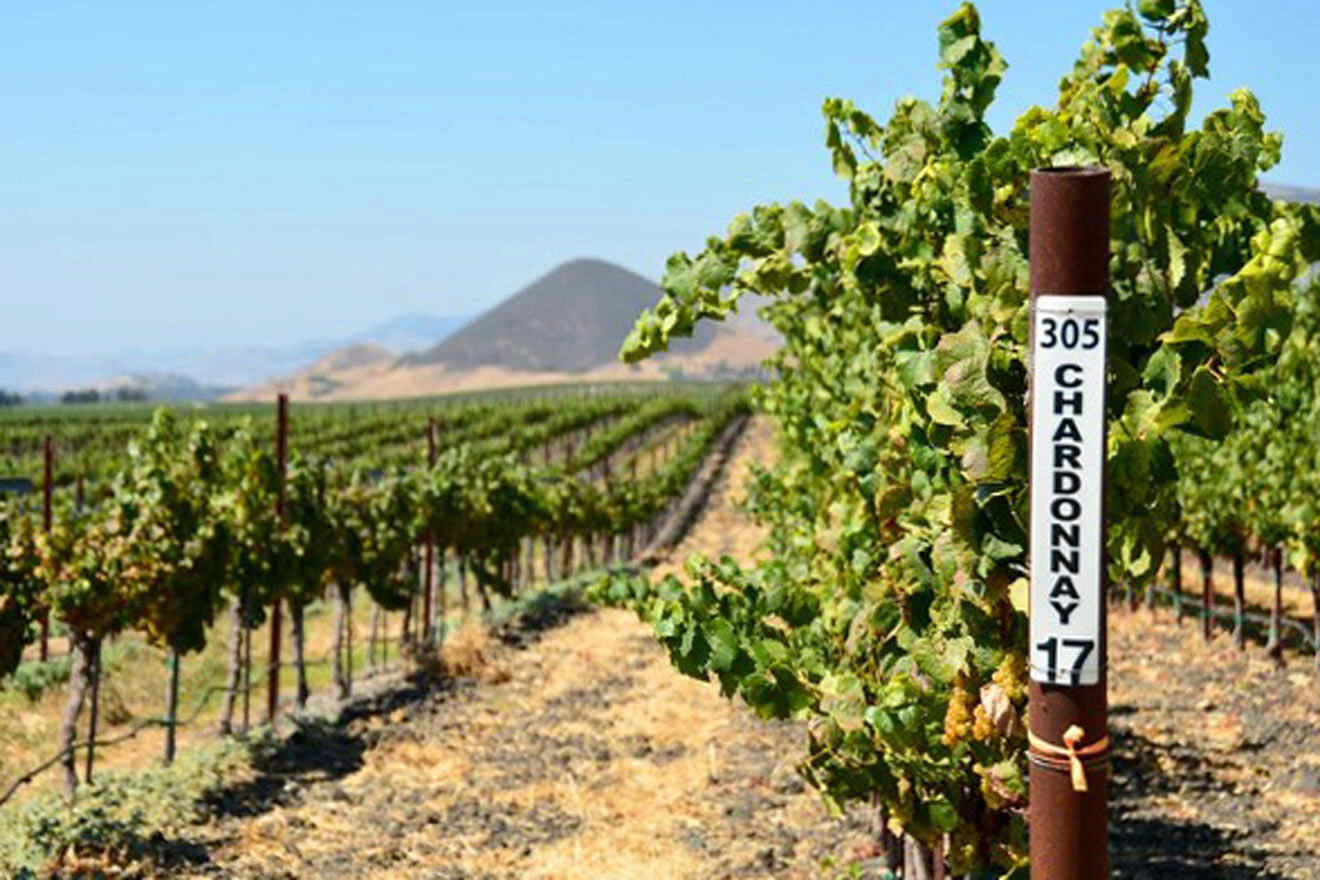 San Luis Obispo stays at an average of about 65°F (18°C) in the winter, making outdoor activities easy to access. The city is known for its wine country, Farmer's Market, art galleries, Bubblegum Alley, and so much more.
It is also known for being the happiest city in America! If you haven't been here before, experience the joy for yourself at the (popular and iconic) Madonna Inn! Each room in this hotel is uniquely decorated, featuring premium bedding, custom furniture, plush bathrobes, free spa toiletries, and more. This is the most unique and well-known stay in the entire city!
While staying in San Luis Obispo, consider taking a drive down the Pacific Coast Highway and visiting Hearst Castle, about 1 hour from the town. During winter, there's a special holiday twilight tour offered for a limited amount of time. It changes every year, so be sure to check beforehand if you want to check it out.
The castle is decorated with numerous holiday decorations, lights, and a giant Christmas tree. The European-inspired castle stands out in this list because we don't have anything in the state that looks quite like it. This is definitely worth your time!
15. Sit back and relax in Palm Springs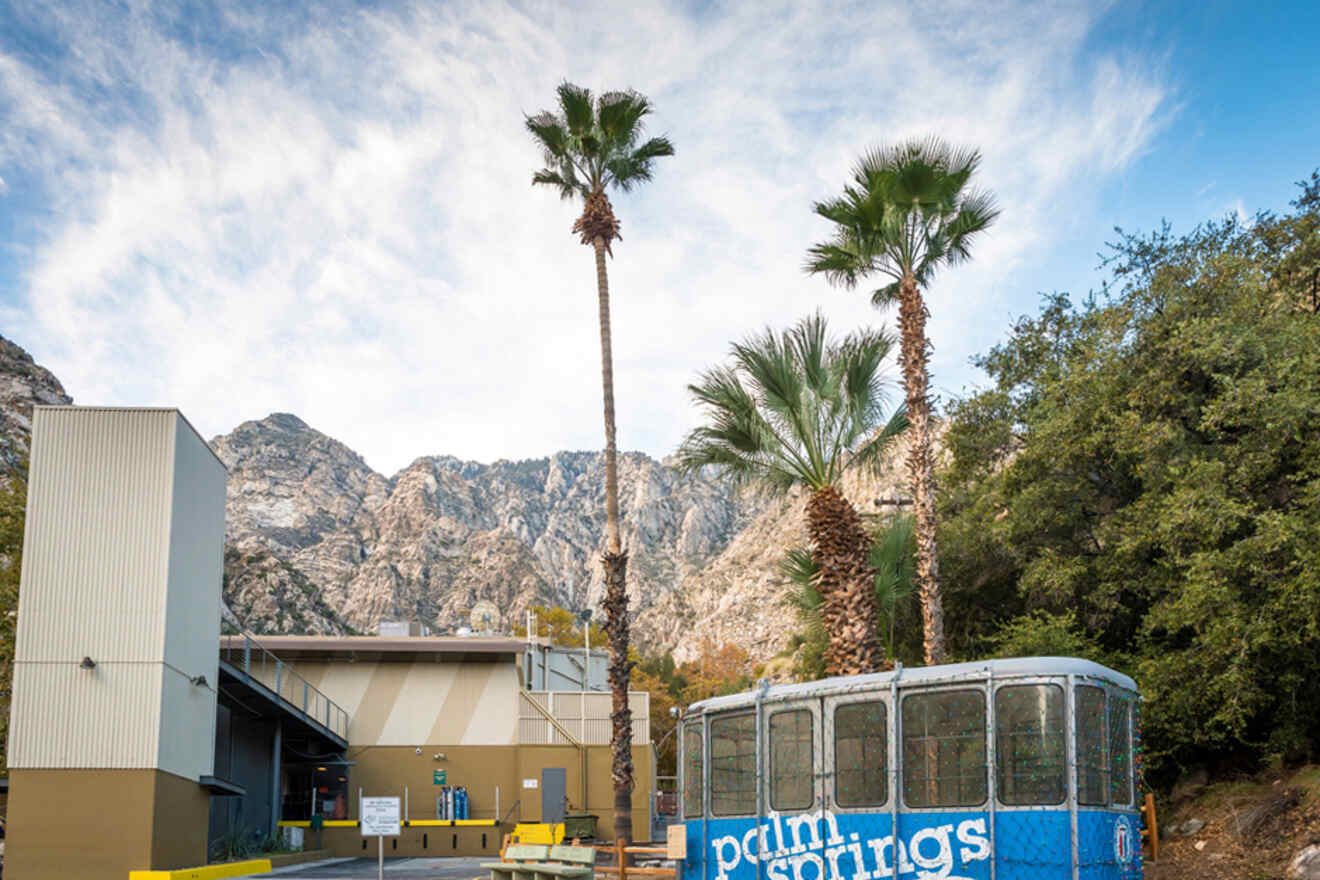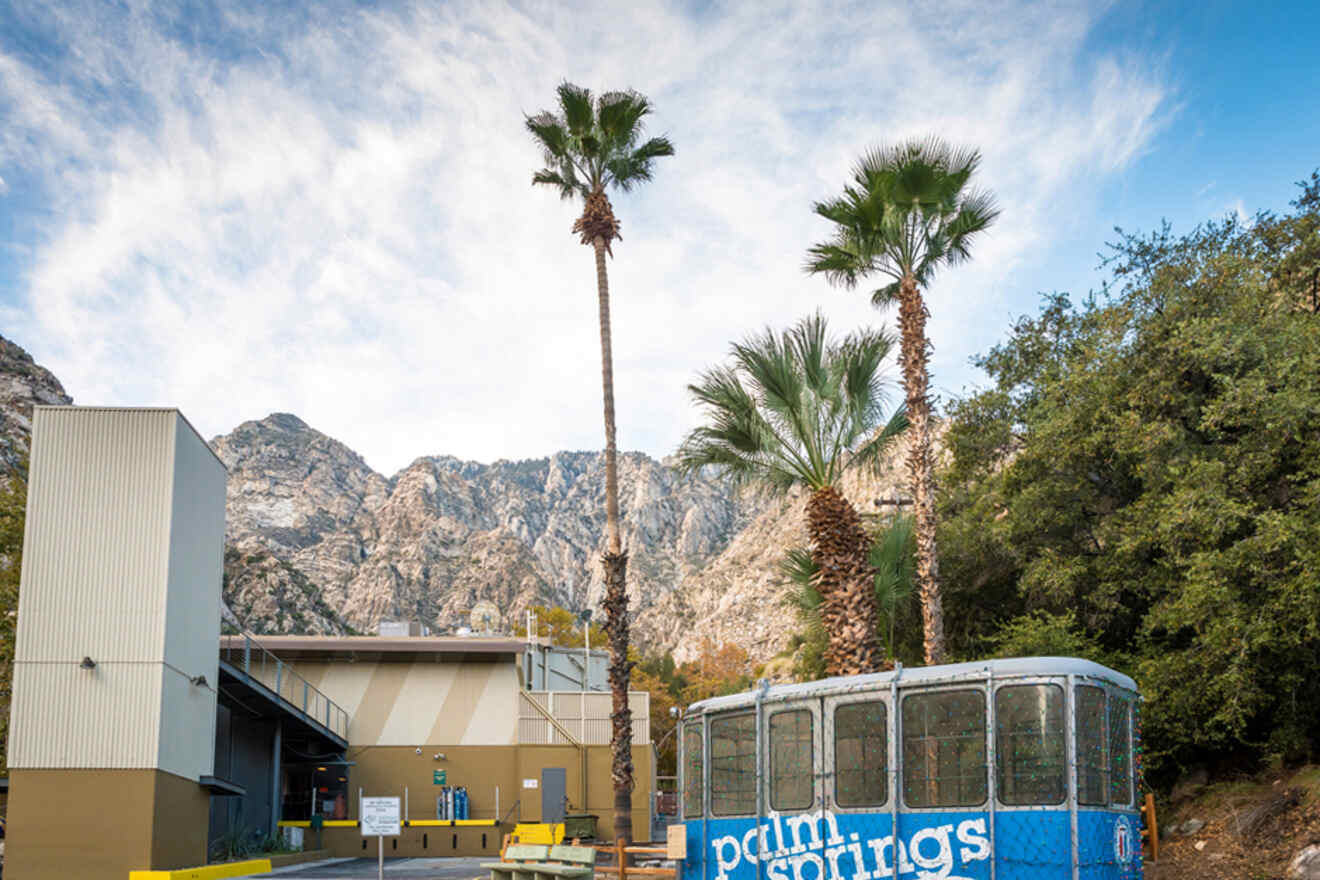 Palm Springs is the ideal escape in winter. In fact, it's even better to visit in winter than in summer!
A few popular things to do in Palm Springs are sunbathing by the pool, shopping, and dining downtown. I recommend trying out something a bit different than the average tourist. The Palm Springs Drag Brunch is an award-winning show that will make you both laugh and cry with the hilarious performance on top of the unlimited champagne, mimosas, and 3-course menu. What more can you ask for?
I also recommend checking out the most well-known hot springs spa in Palm Springs, Two Bunch Palms. If you haven't experienced the healing effects of hot springs before, I 100% recommend checking this one out in Palm Springs. The wintertime is the perfect time to go because the water is nice and warm!
For families, check out the Palm Springs Aerial Tramway. The tramway takes you over the cool winter desert, offering stunning views that you can enjoy with a cup of coffee or cocktail in your hand. It's relaxing and a unique way to get a view of the San Jacinto Mountains (over 5,800 feet/1770 meters in the air)!
FAQs about places to visit in California during winter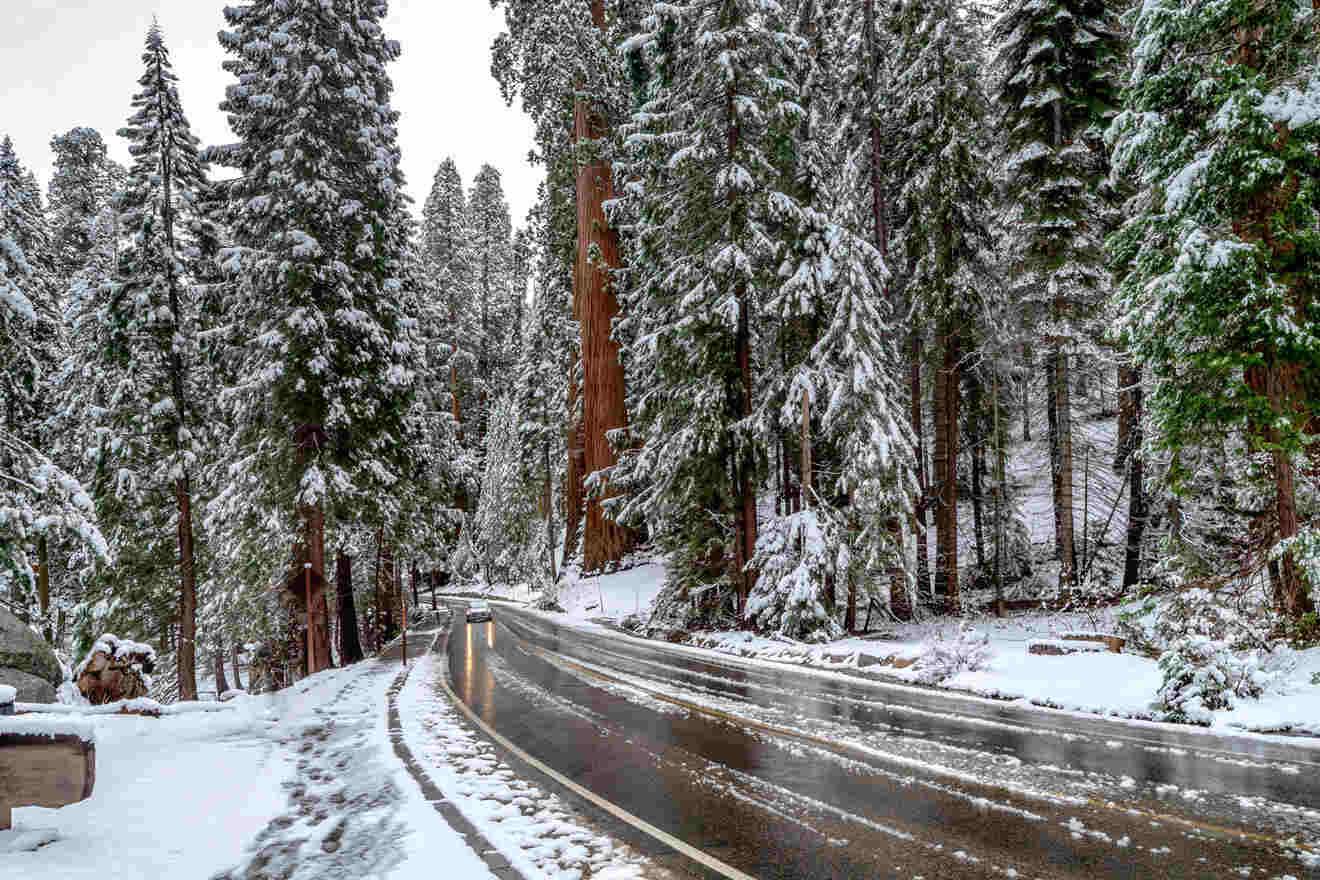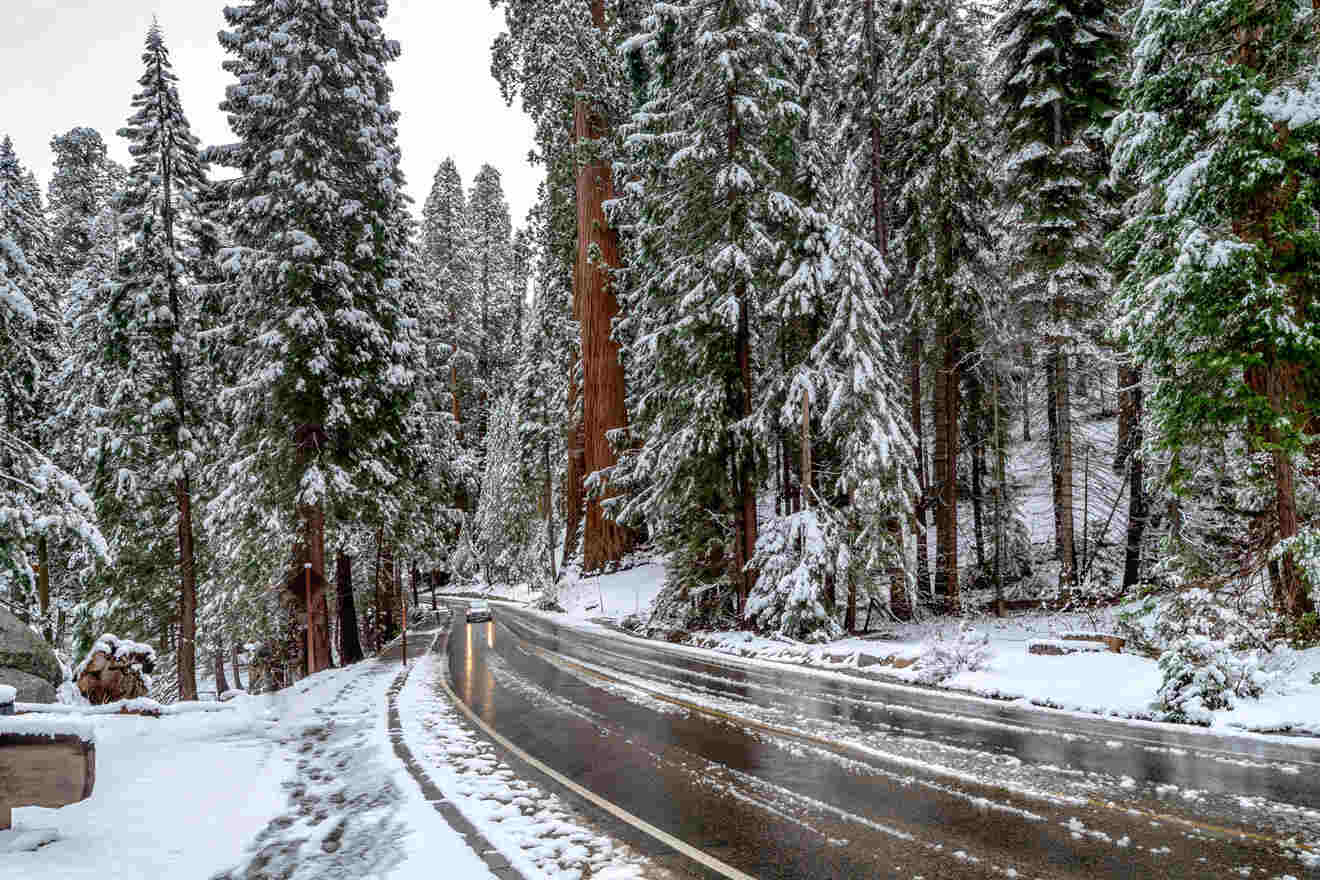 🦋 Where are the most beautiful places to visit in California during winter?
The most beautiful places to visit are Lake Tahoe, Lake Mammoth, Big Bear, and Julian!
📍 Where are the best cheap places to visit in California during winter?
☀️ What are the warmest places to visit in California during winter?
The warmest places to visit are San Diego, Los Angeles, Death Valley National Park, Palm Springs, and Temecula!
❄️ Where are the best places to visit in California during winter for winter activities?
The best winter activities are cross-country, shoeboarding, and snowboarding. Lake Mammoth, Lake Tahoe, Big Bear, and Julian have all the winter activities for you to enjoy!
Conclusion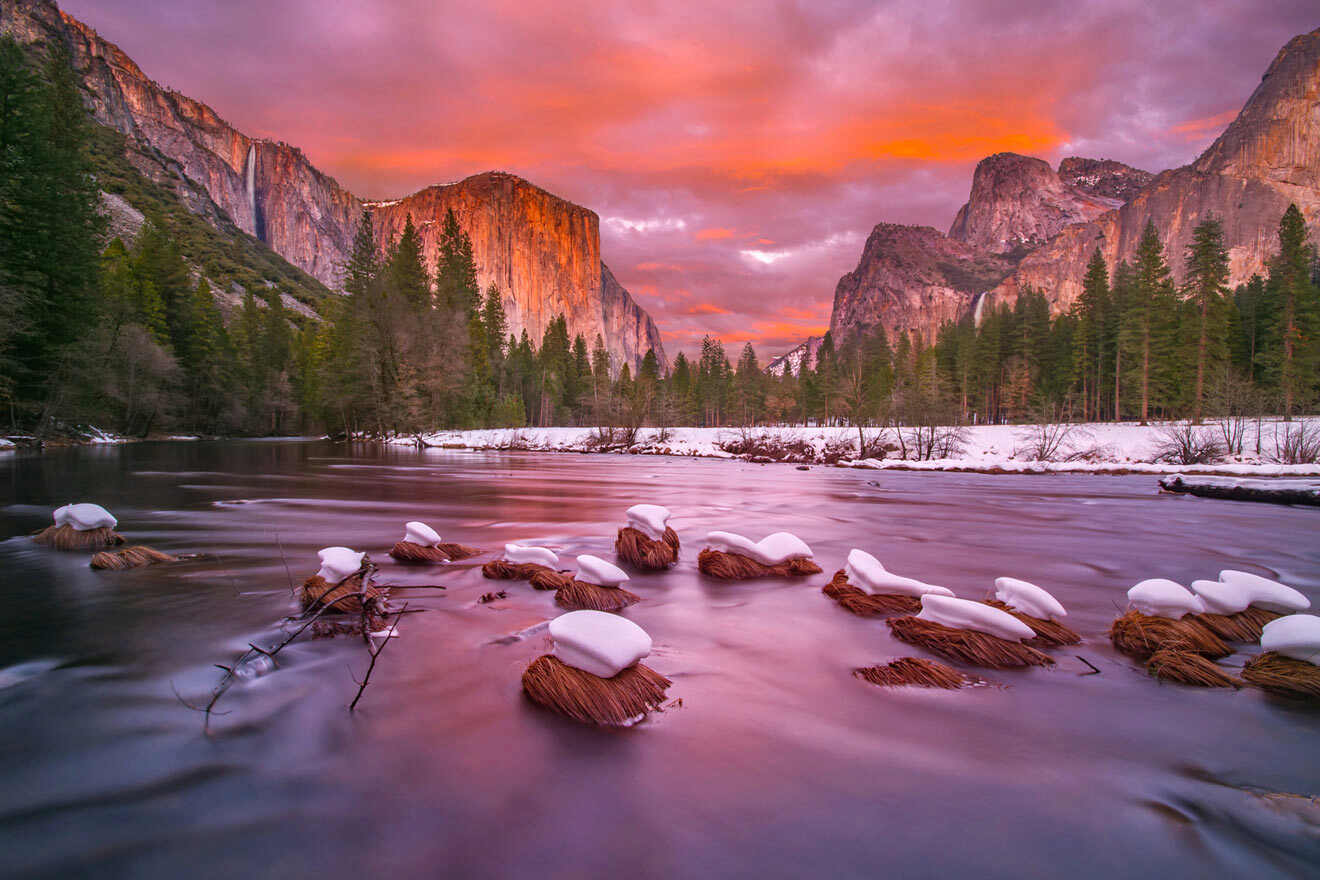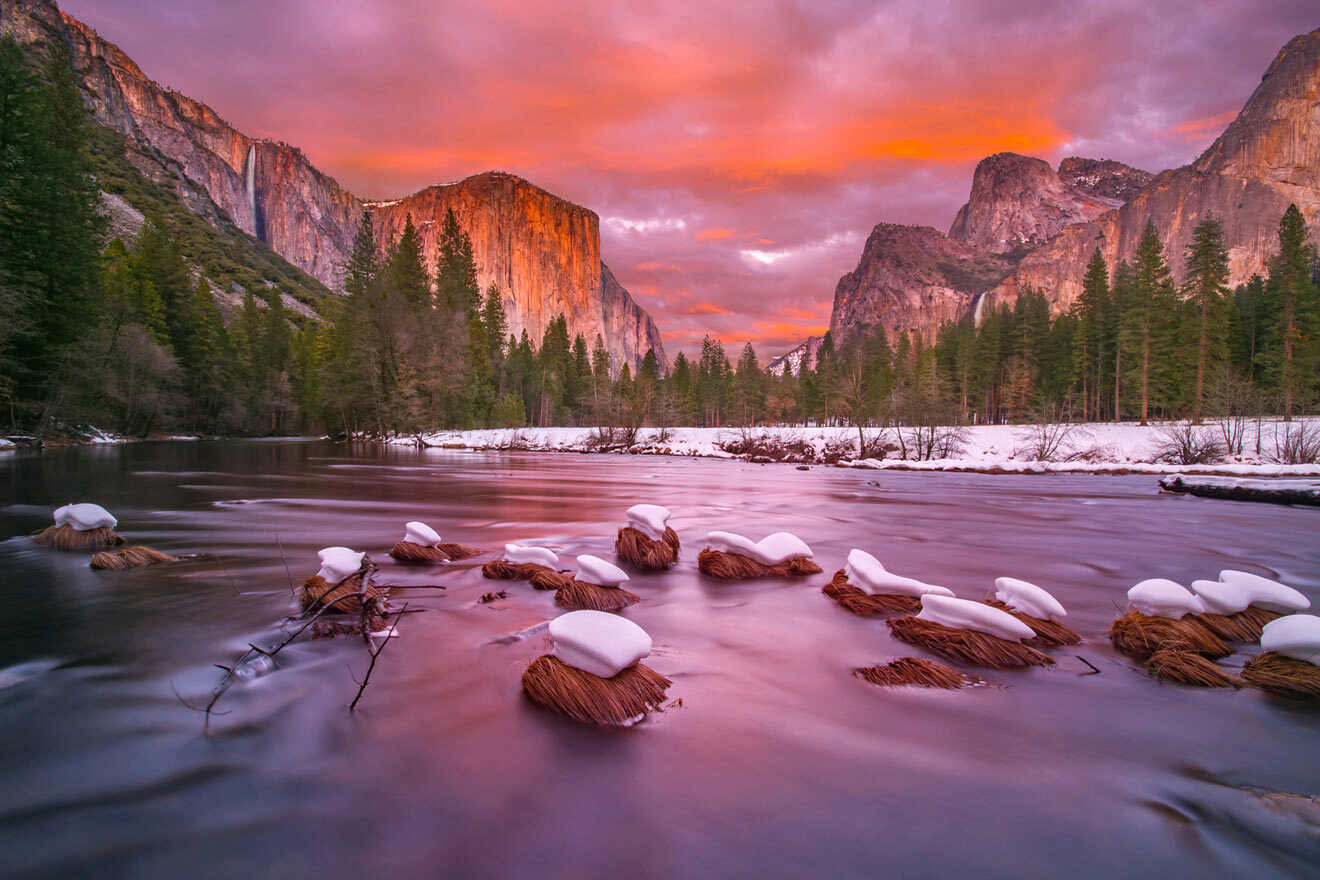 Well, there you have it! As you might know, the list of cozy winter getaways can go on and on with how diverse and large California is.
Out of these top 15 places to visit in California during winter, my absolute favorites have to be Julian and Big Bear, both offering amazing accommodation spots and things to do.
Being from San Diego means you never see snow in the city – the winter wonderland vibe in both these small getaway towns is beyond spectacular. Hope you love them as much as I do!
If you plan on visiting any of these, consider booking in advance to ensure your spot and get the best deals! If you have any suggestions or end up staying at any of these places, leave me a comment! I'd LOVE to hear about it!
Safe travels,
Esabel S.
---
Pin it for later!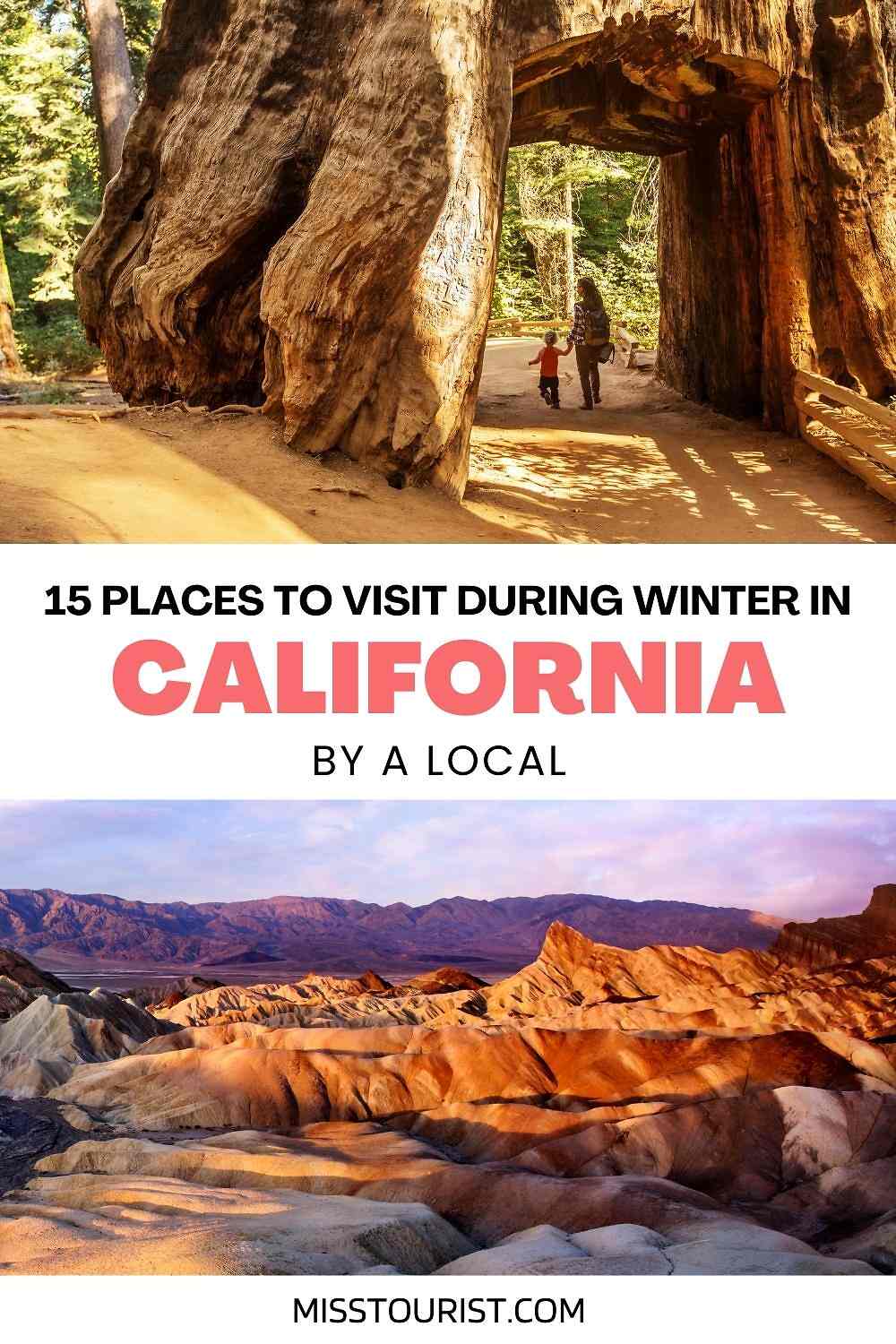 Pin it for later!