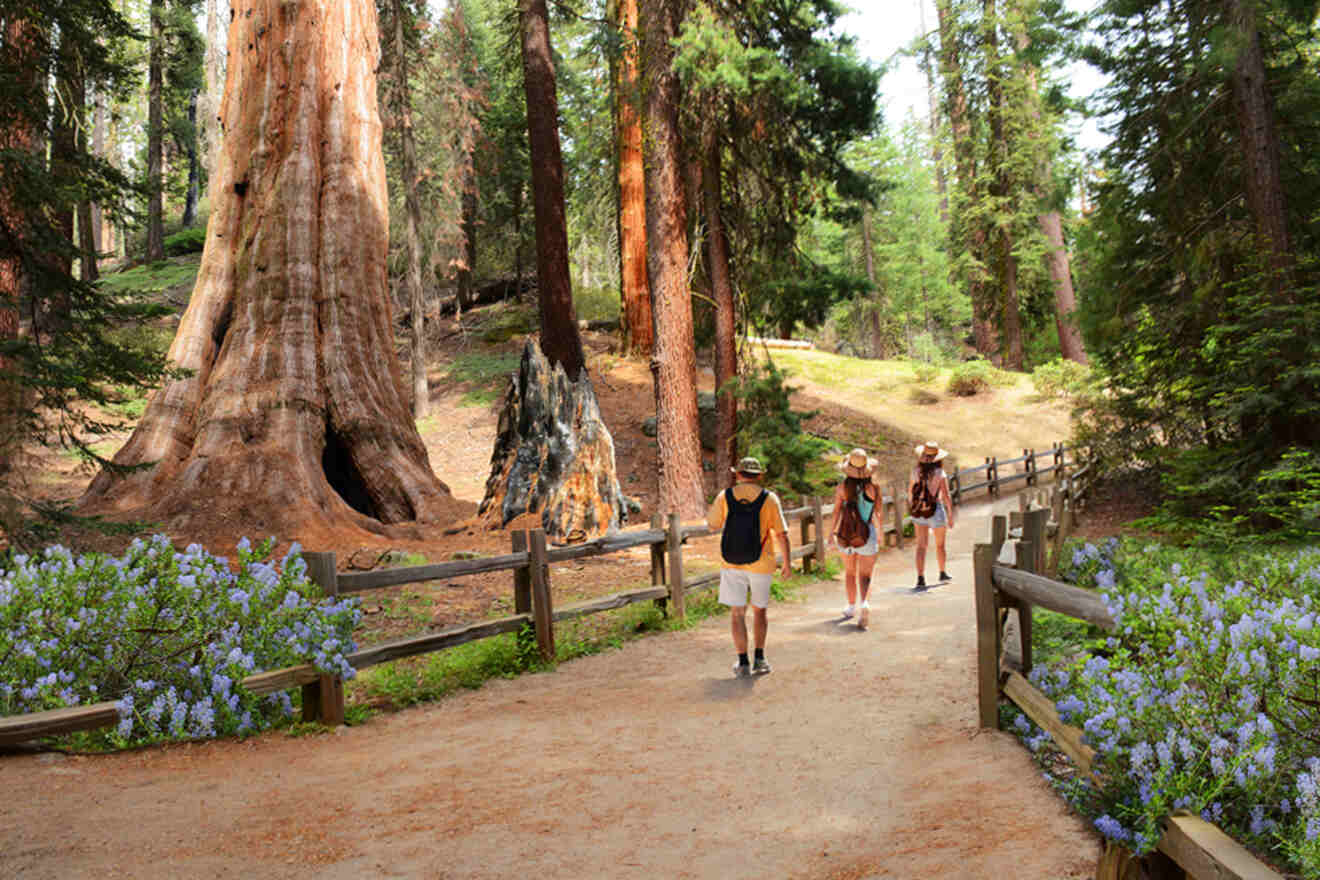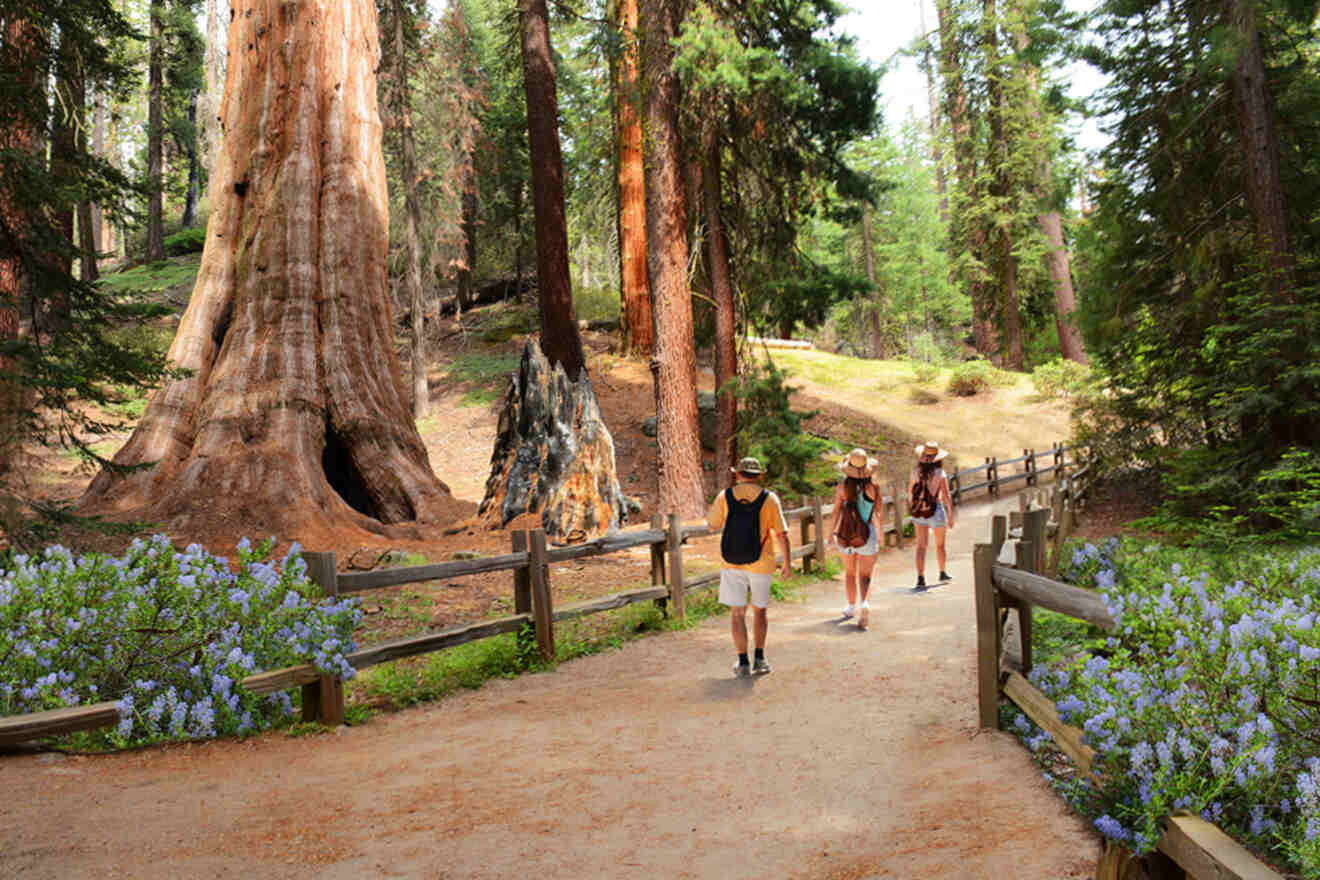 Living in Southern California, one of the best benefits is access to the dynamite national parks. I feel so fortunate to be able to hop in my car and head out to this breathtaking area of the Sierra Nevadas!
As I write this, I am also packing up for yet another trip out to Sequoia National Park. Nestled between Yosemite National Park & Kings Canyon National Park, this stunning natural reserve is what dreams of the great outdoors are made of!
Picture towering sequoias, massive rock formations, crystal clear streams, and umpteen scenic trails – this place is a nature lover's heaven! And with helpful visitor centers around every bend in the road, you'll be sure to enjoy navigating this great adventure!
So, grab your Sequoia National Park map & your hiking shoes, and let's hit the trails and find out the absolute best things to do in Sequoia National Park.
Before we start our climb, just one quick thing: the most popular things to do in Sequoia National Park tend to be really crowded, so book your tour reservations and hotel accommodations in advance!
It's the worst when you're excited to do something and get shut out. So plan ahead, so you can enjoy every second while you're in Sequoia National Park!
NOTE: Redwood Canyon is excluded from this list because it is closed indefinitely.
If you are in a hurry
When you finally make it to Sequoia National Park, you'll want to get lost in nature, not book reservations. It's best to book your hotels and activities in advance:
And here are the best hotels: Pebble Creek in Three Rivers (luxury), Plantation Bed & Breakfast, The Park Inn (mid-range), Corral Creek Lodge, Kernsville (budget)
1. Marvel at the massive General Sherman tree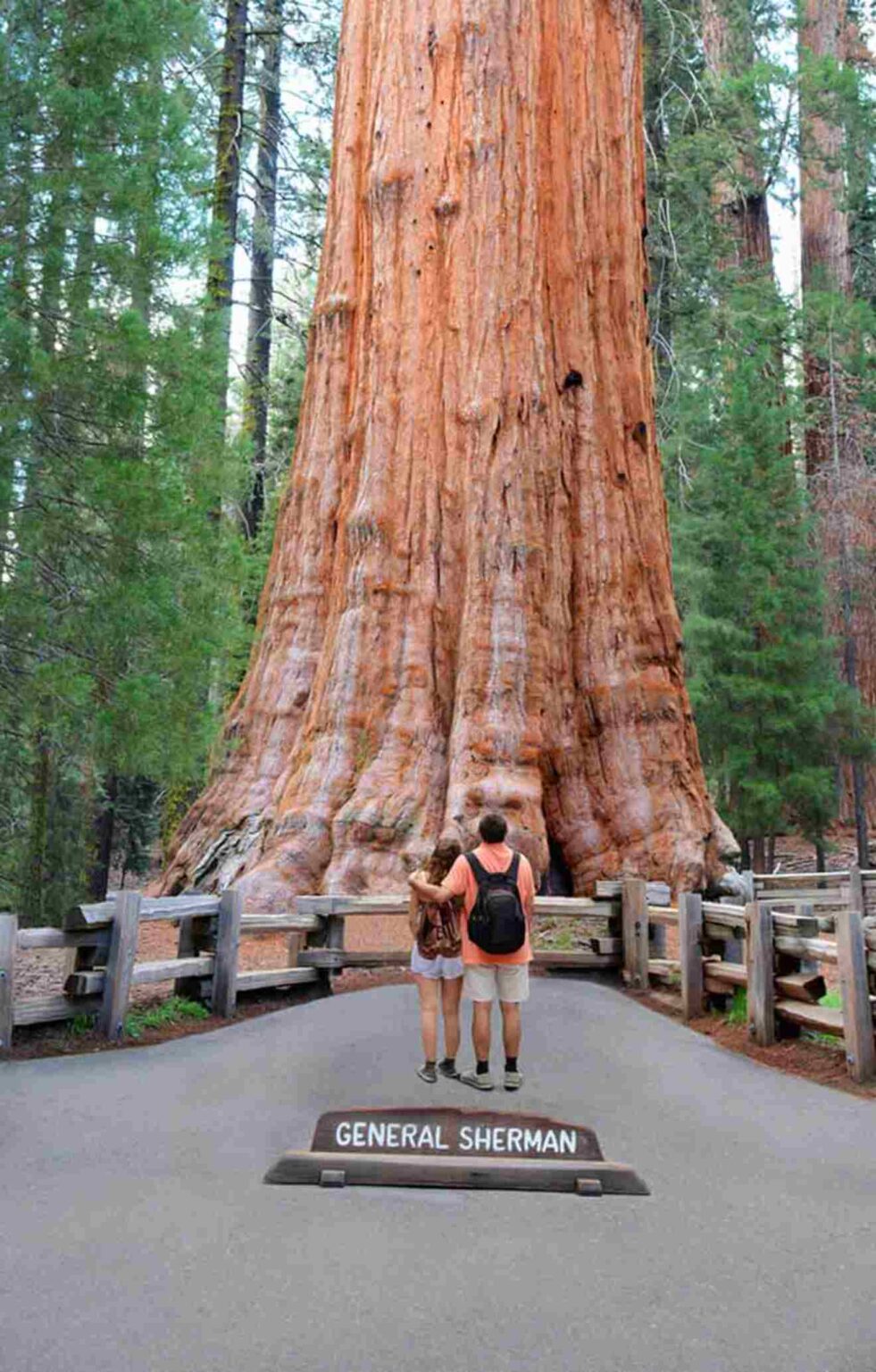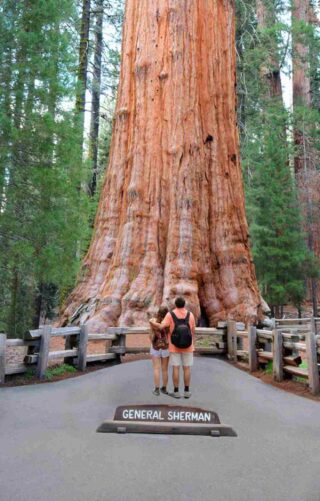 Far and away, the most popular thing to see in Sequoia National Park is the enormous General Sherman Tree – a giant sequoia.
This massive 275-foot (84-meter) sequoia is the world's largest tree!
To get down to view the tree trunk up close, park in the general public parking lot and take the 0.5-mile (1 km) paved hike down to the main attraction. Just keep in mind the climb back up is a steep one.
No matter how many times I see this national treasure up close, it's still hard to believe that the General Sherman Tree is over 36 ft (11 m) in diameter!
I was fortunate to visit General Sherman for the first time during a slow day, but you'll want to be prepared for large crowds down by the tree.
NOTE: Entrance to Sequoia and Kings Canyon National Parks is $20 per vehicle, which gives you a pass valid for 7 days, for either park.
2. Spend the day at Kings Canyon National Park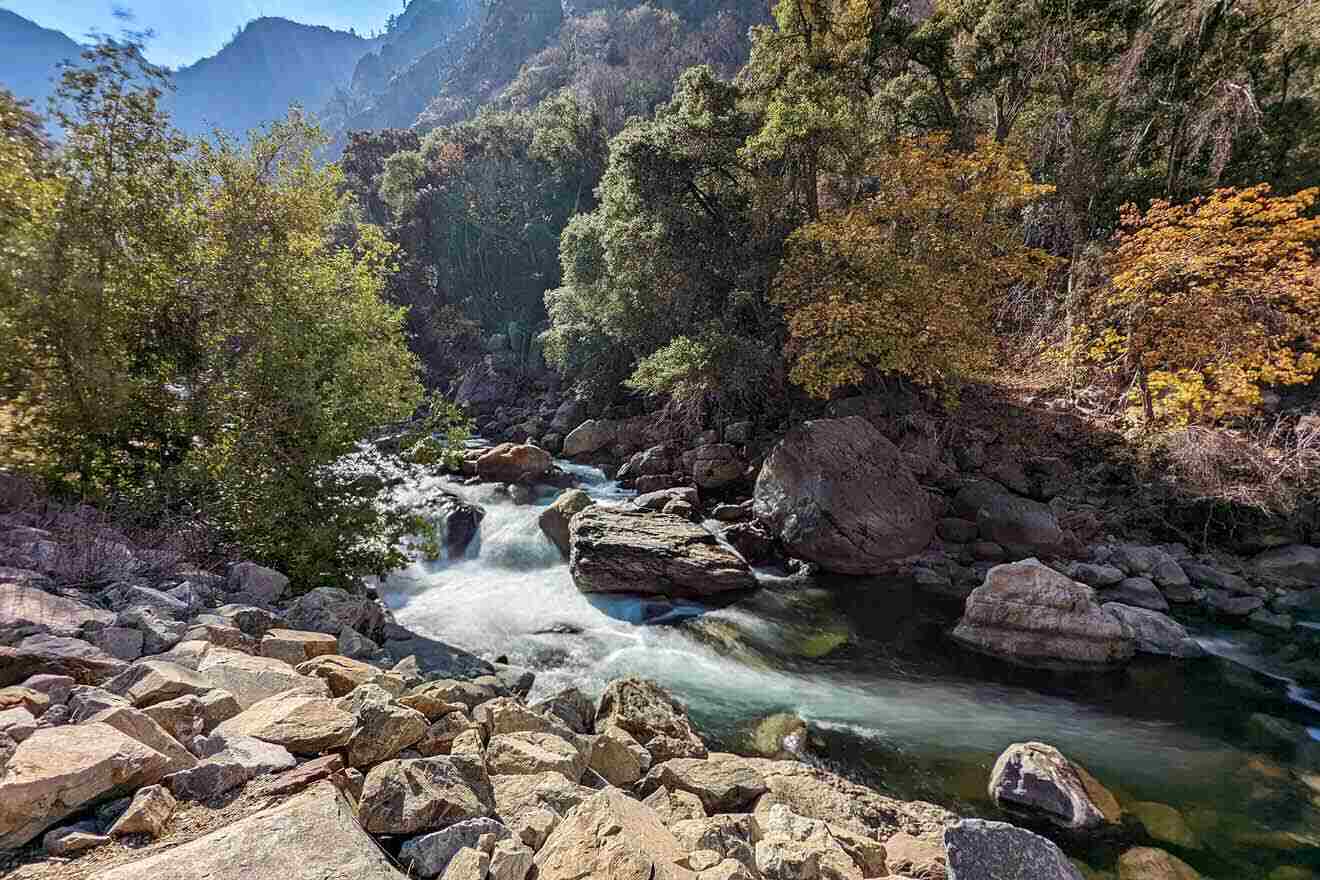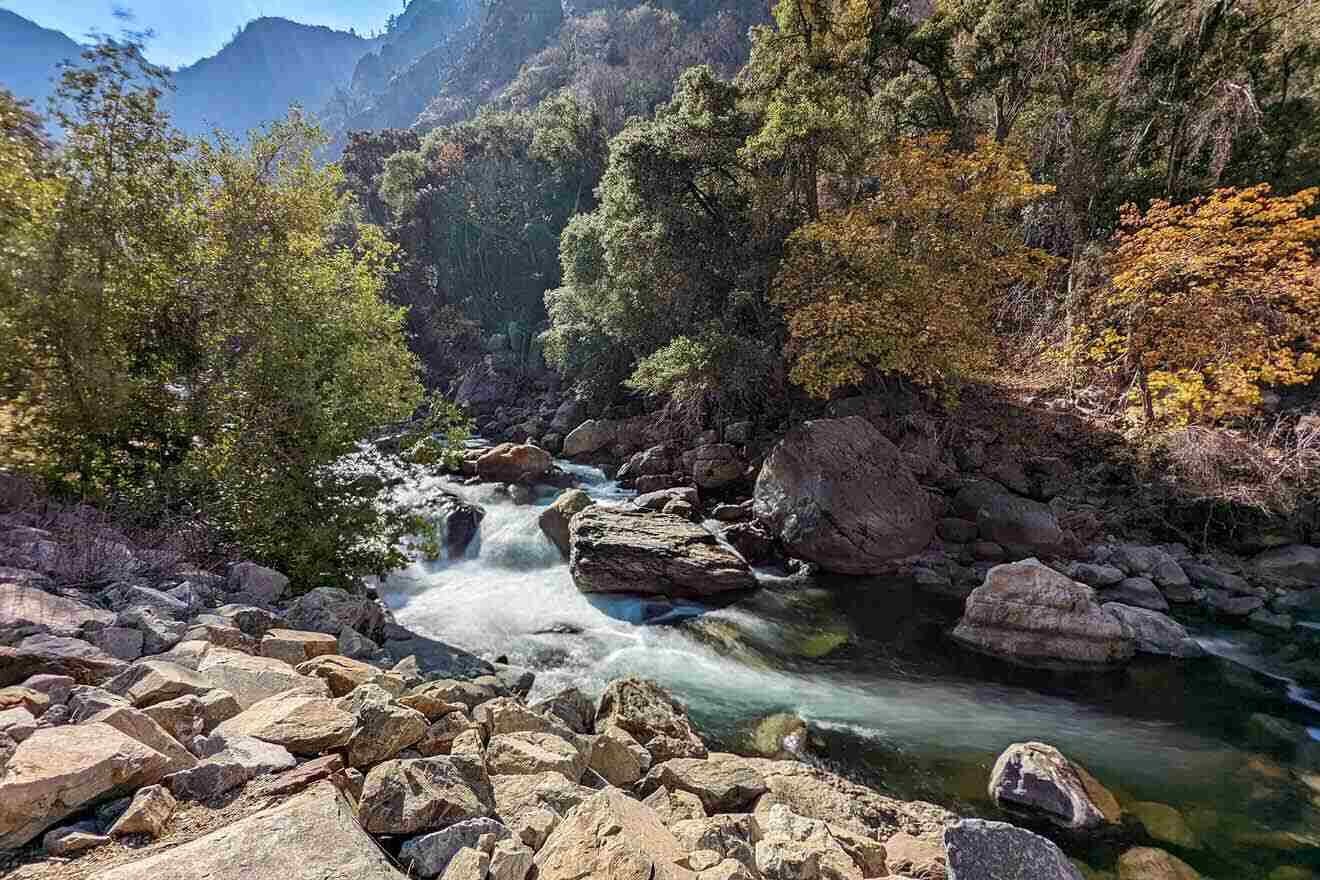 Known as the quieter Yosemite, Kings Canyon National Park is a stunning nature reserve not far from Sequoia National Park. Sequoia and Kings Canyon go hand in hand, you'll likely want to do both national parks during your trip to the area.
The best way to navigate Kings Canyon and make the most of your time is to grab this self-guided driving audio tour through the park.
What I love about Kings Canyon is that you get a whole new perspective of the Sierra Nevadas. You'll find yourself down below in the belly of the canyon.
Stop at the Kings Canyon Visitor Center to get a Sequoia & Kings Canyon National Park map, which will help you navigate both national parks. One of the main trails they're sure to point out is the Crescent Meadow Loop Trail, off Crescent Meadow Road. A lovely, easy hike through the giant sequoia trees of this high Sierra trail.
Take a drive on Kings Canyon Scenic Byway to really appreciate the overwhelming beauty of your surroundings.
Imagine crystal clear and quite chilly rivers and streams cutting through the natural terrain of lush forest and rocky cliffs and peaks – every moment in Kings Canyon National Park is like a postcard scene.
On my last trip, on a dare, I jumped off a boulder into the ice-cold river water – take it from me, it's refreshing but frigid!
Do you wish you could stay in the forest all night? Kings Canyon has an awesome, first-come, first-served campground that gets you access to the park 24/7.
AUDIO GUIDE PRICE: from US$15 per person
3. Drive your car through Tunnel Log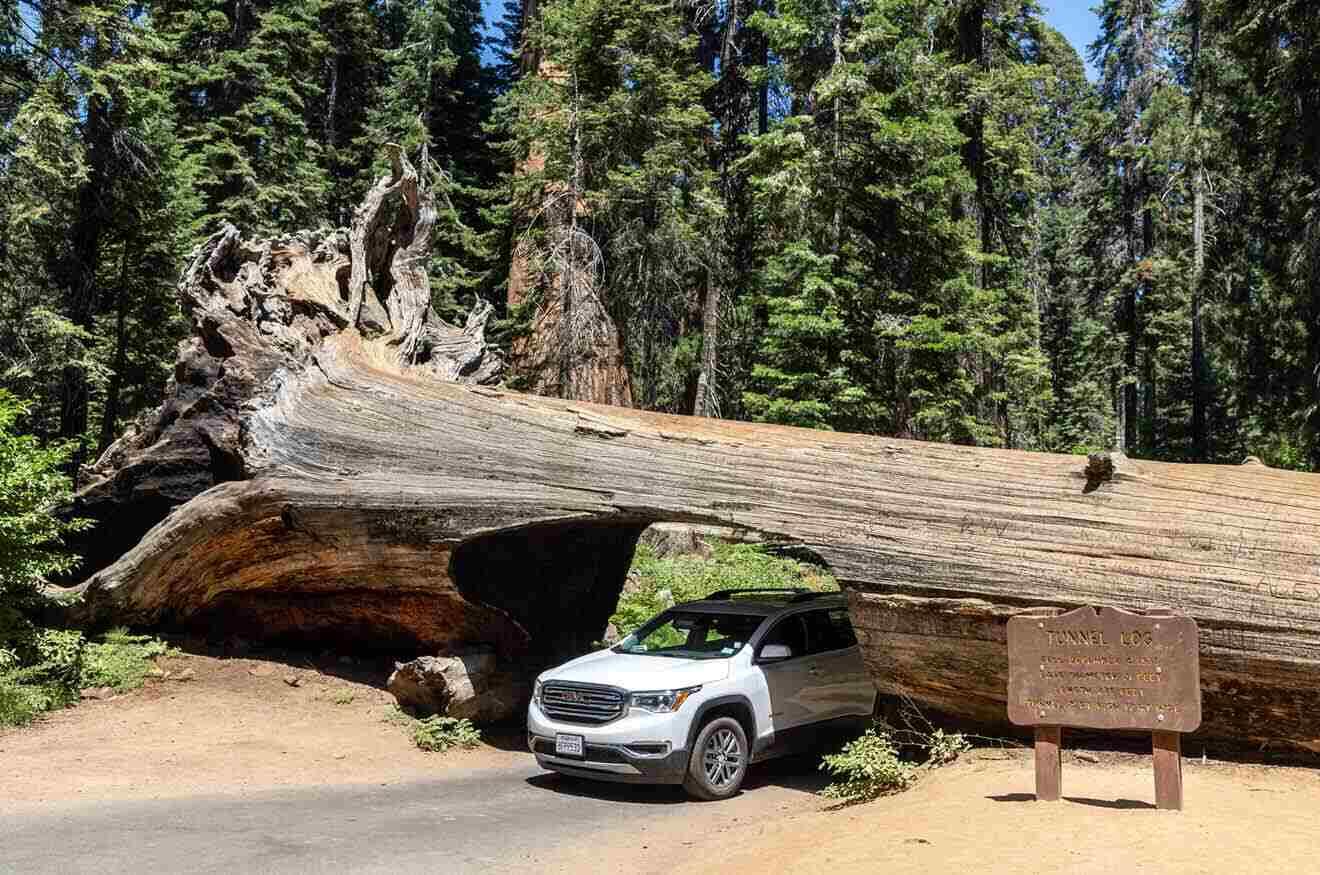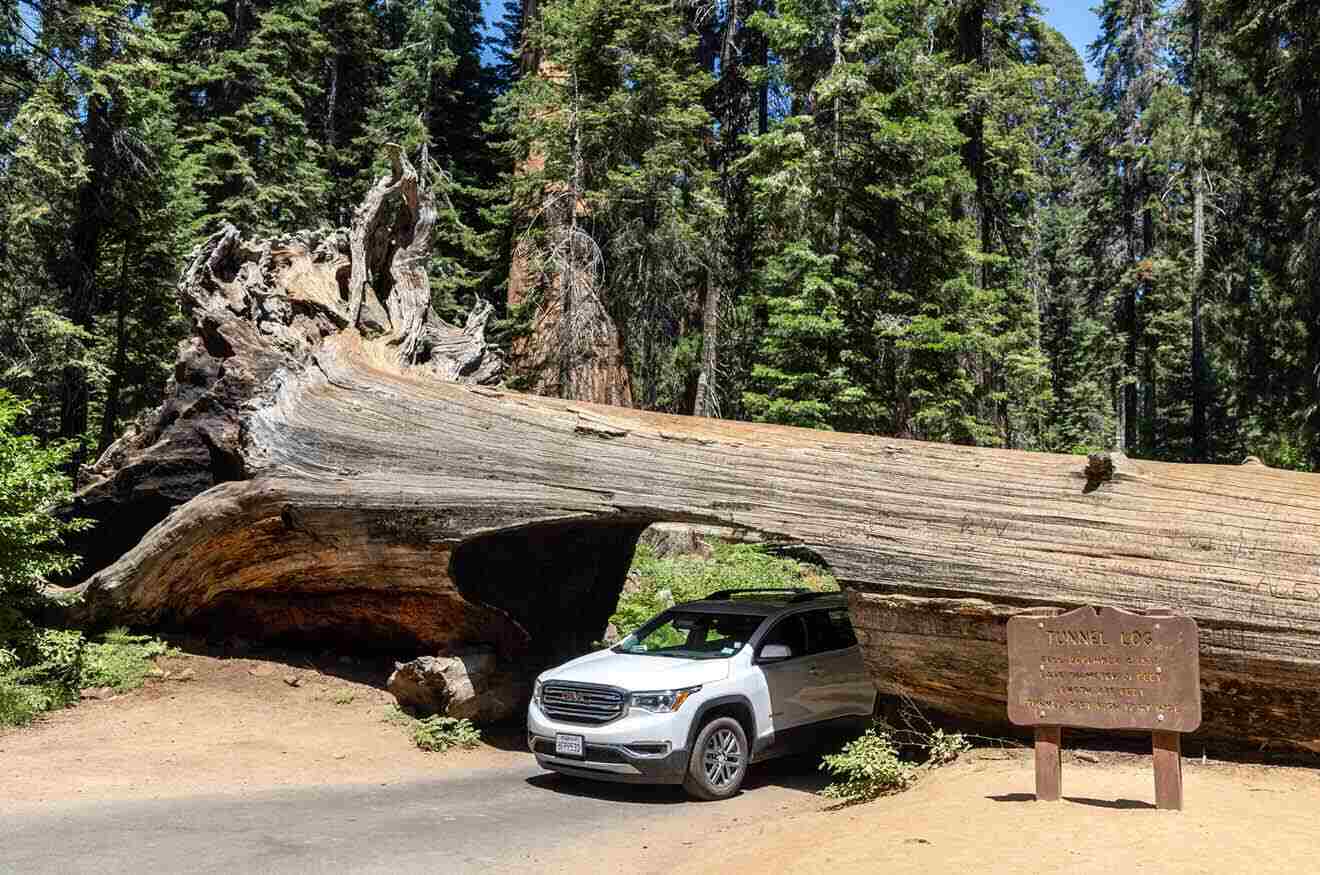 Okay, for some reason, Tunnel Log always leaves me in awe, no matter how many times I see it. I love the history behind it!
In 1937, after a storm, a towering sequoia toppled down onto Crescent Meadow Road. Instead of paying to remove it, a tunnel was cut out through the center of the tree to become the tourist attraction we know today.
Many of today's modern vehicles can't fit through Tunnel Log, but not to worry, there's also a bypass road to get through.
4. Take time to visit the Giant Forest Museum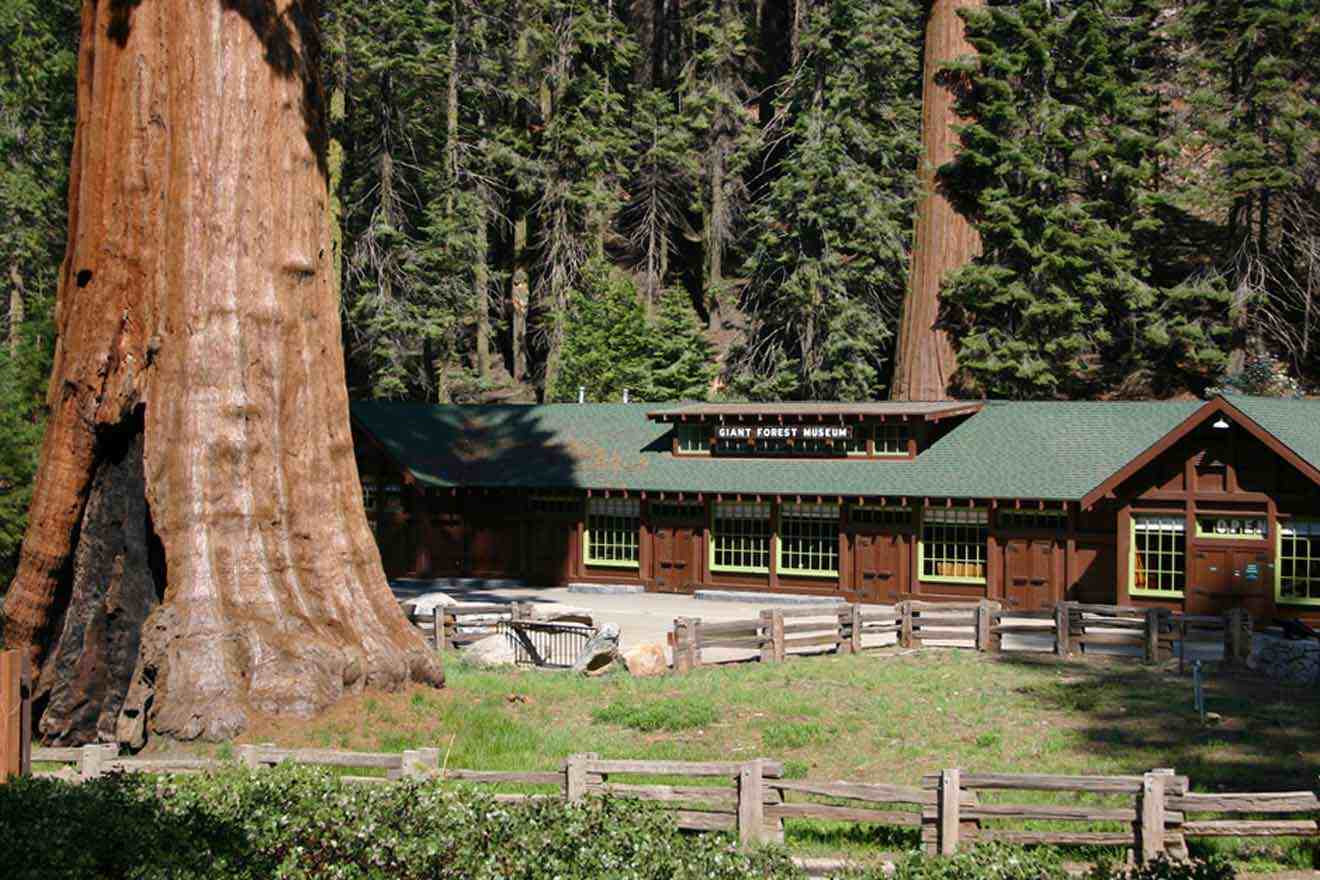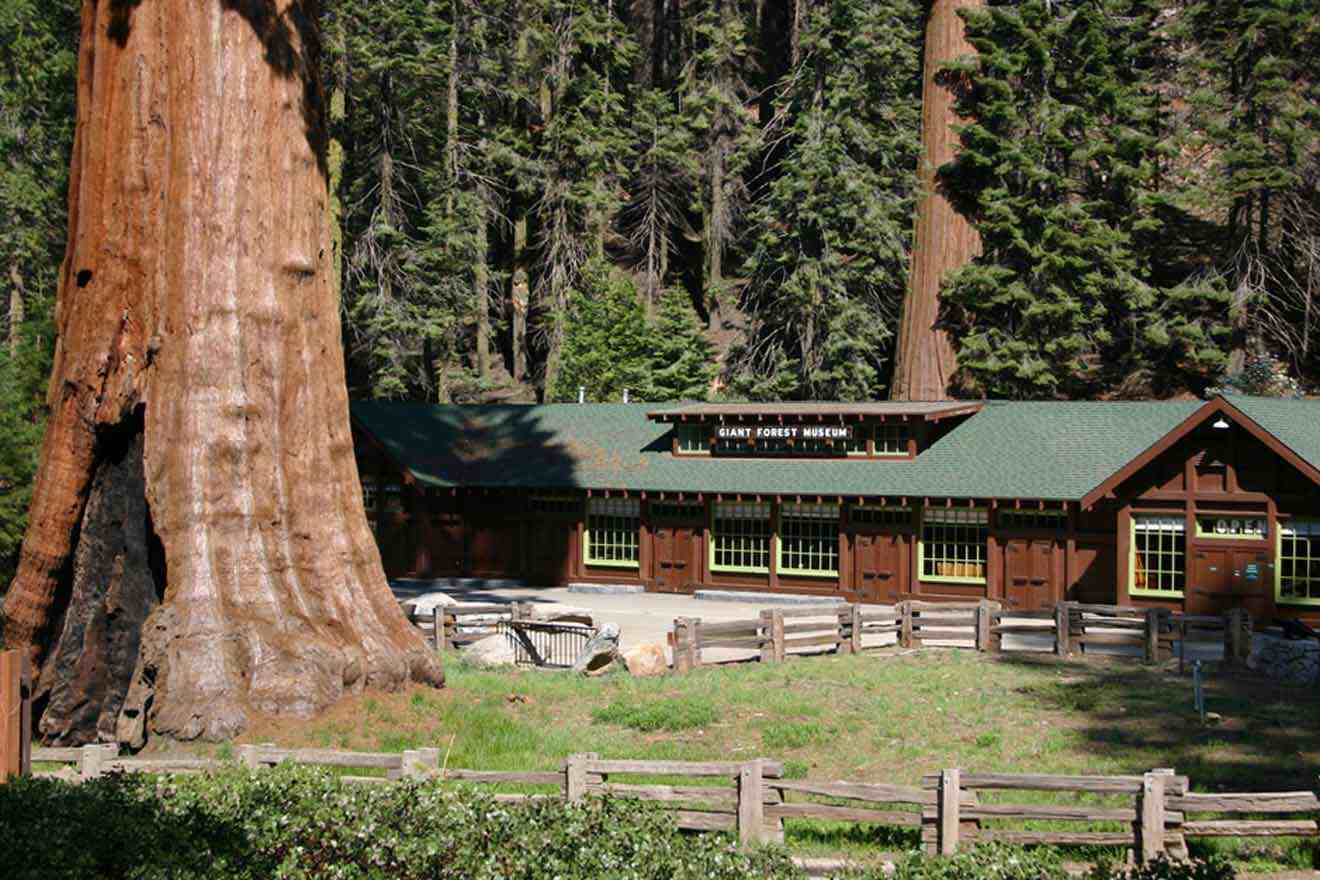 This beautiful museum dedicated to California's natural beauty and all the giant sequoias of the area is absolutely one of the best things to do in Sequoia National Park.
The Giant Forest Museum is lovely to look at, with beautiful wood paneling reminiscent of logging cabins and a wealth of information.
This is also where all of the in-park shuttles leave from, as well as a jumping-off point for many of the popular hikes in the area. We'll get to the details of those later! 😉
5. Forge your way on the Marble Falls Trail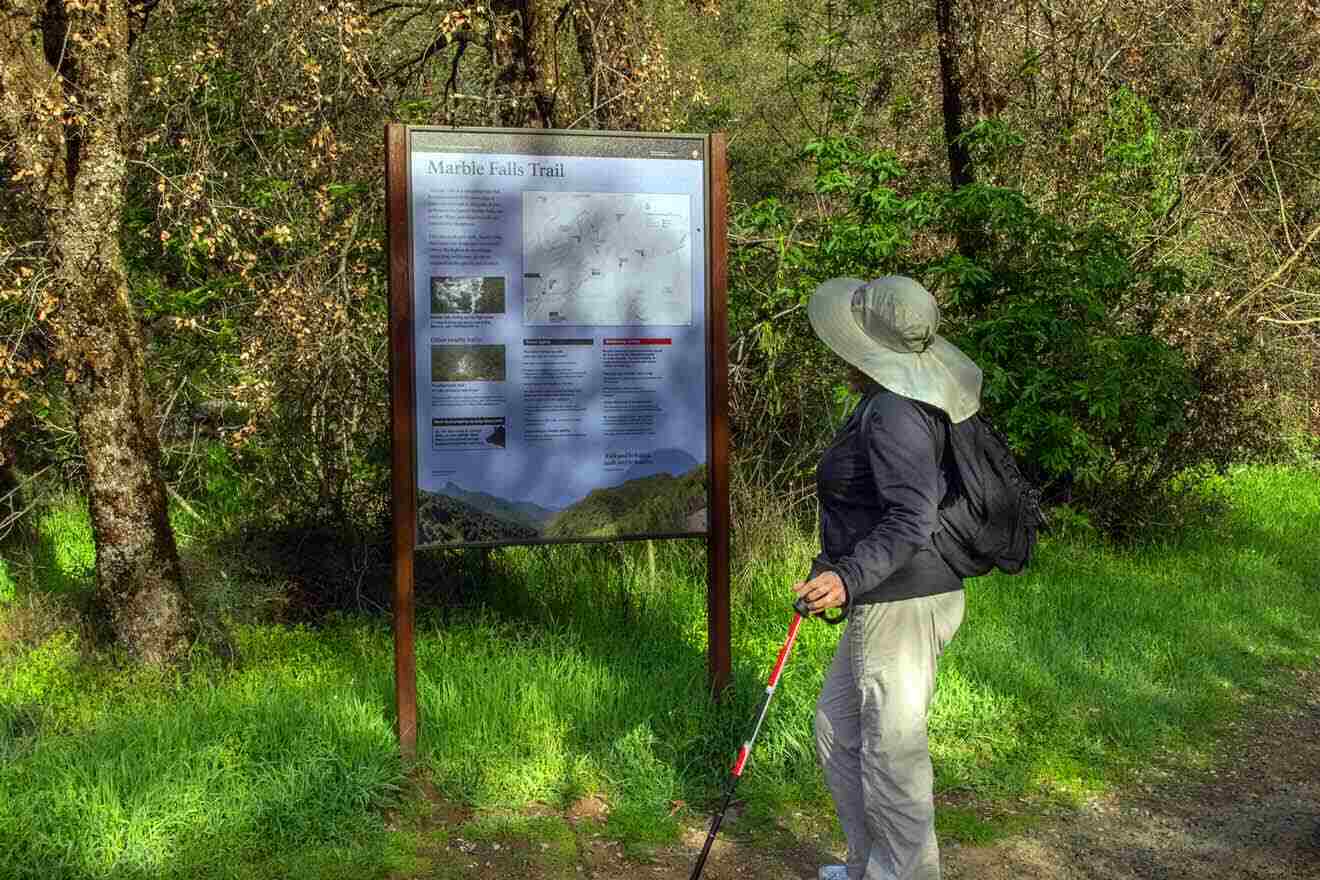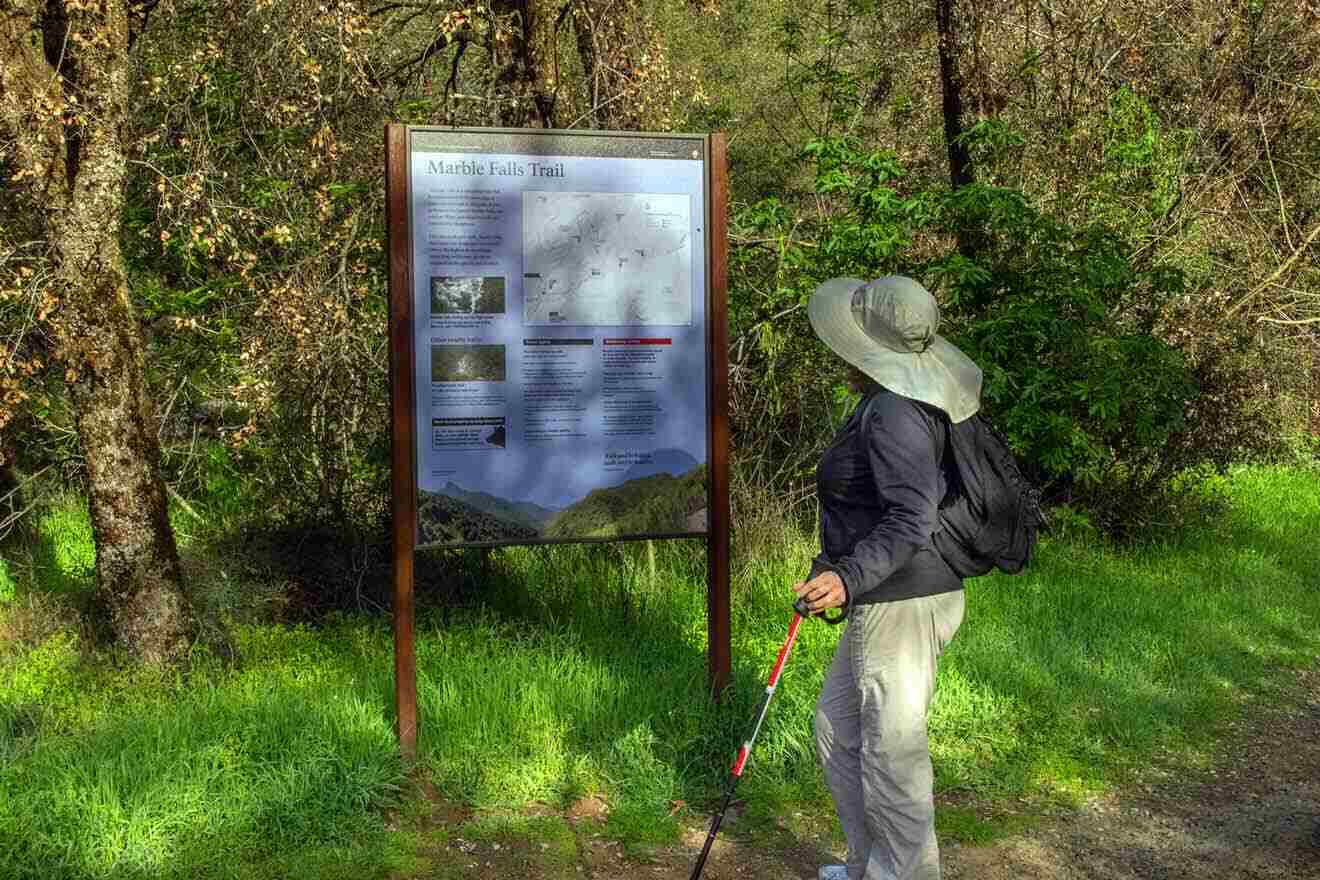 Marble Falls Trail is an app. 6 mile (10 km) hike out and back, moderate in difficulty but definitely brings water, endurance, and patience.
It's a popular trail in Sequoia, so be prepared to share the pathway. Along the way, enjoy the beautiful trees, rolling mountain hills, and incredible wildlife sightings.
PRO TIP: Need an easier option with equal beauty? Try the gorgeous High Sierra Trail of Grizzly Falls – less than a 1-minute walk from your car to the waterfall!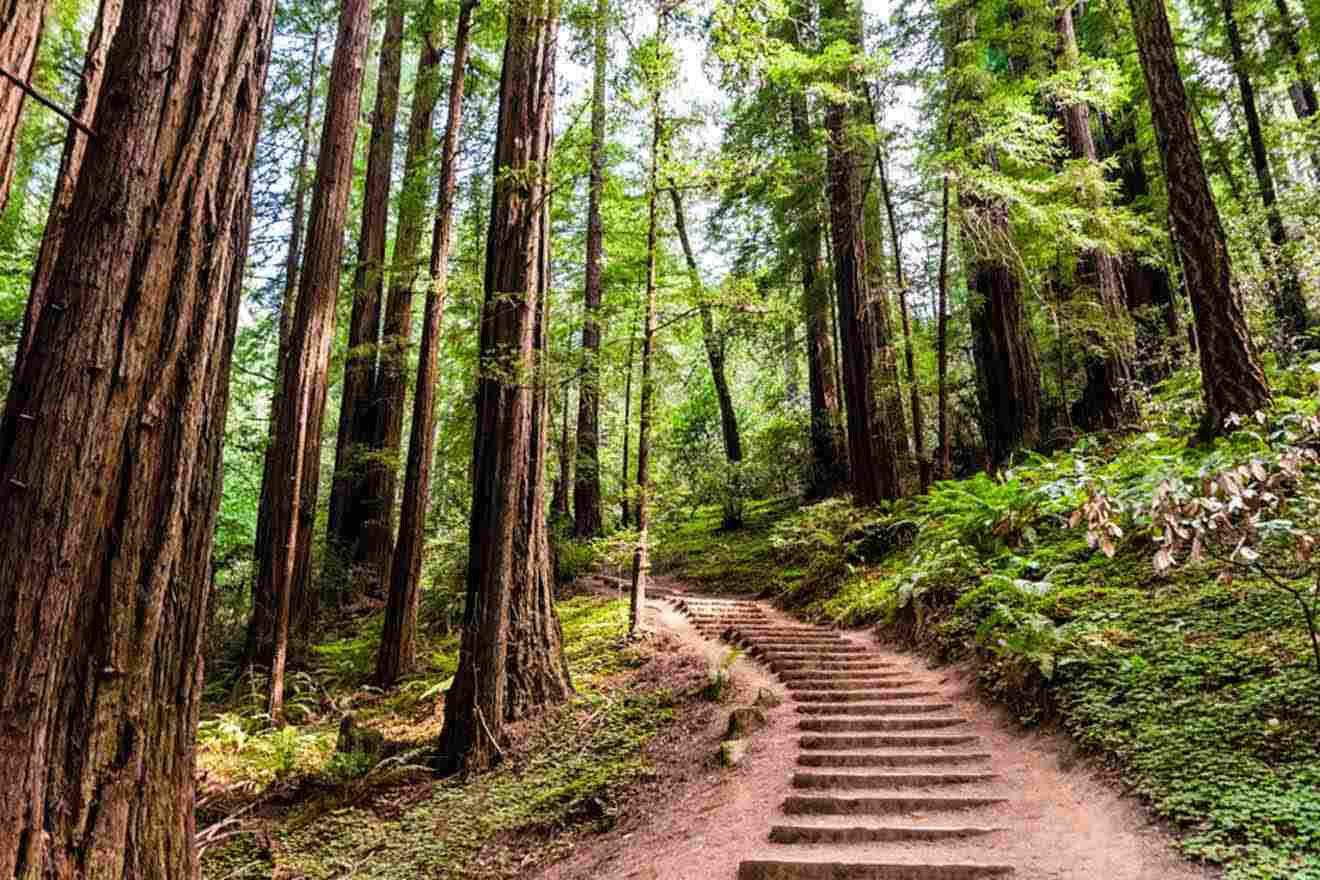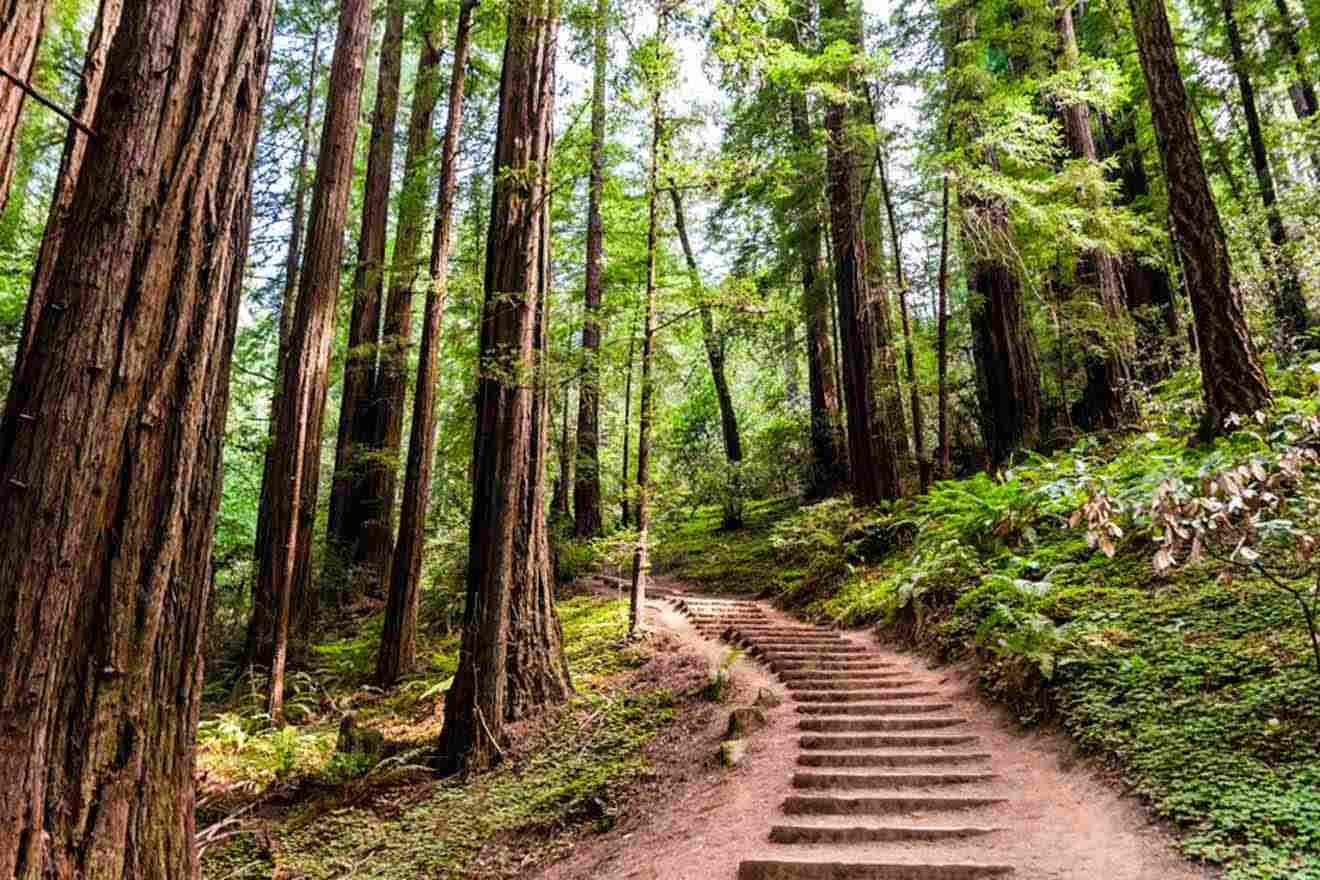 I love finding hidden treasures! Muir Grove is a hidden sequoia grove in Sequoia National Park that leads to incredible vistas. Hike 4 miles (c. 7 km) round-trip through dense trees, brush, and Sierra Nevada terrain.
When you make it about halfway there, you'll find a granite dome at the trail's edge that provides views of Big Baldy and Chimney Rocks out below.
7. Explore all there is to see at Crystal Cave
Crystal Cave is a really neat attraction and definitely one of the coolest things to do in Sequoia National Park.
Formed by stalactites and stalagmites, the cave sparkles and glistens as you walk around the half-mile (1 km) trail within its hallowed out walls. It's dark, cool, and wildly fascinating to go down within the earth's surface like this.
The only way to access the cave is by guided tour, and you must book those tours online, so plan ahead!
You'll find the cave at the end of a 7-mile (11 km) narrow and curvy Crystal Cave Road, off Generals Highway. Heading out from the parking lot, you'll make the steep half-mile (1 km) walk down to the cave entrance.
NOTE: At the time of writing, Crystal Cave is closed for the 2023 season due to weather damage.
8. Enjoy outrageous views from Alta Peak
The Alta Peak Trail in Sequoia National Park is a beautiful yet strenuous and challenging 14-mile (23 km) round-trip hike.
From the top of Alta Peak, you're rewarded with epic views of Mount Whitney, the Great Western Divide, and the Sierra Nevadas.
Keep in mind, because you're gaining more than 4,500 ft (1,370 m) of elevation during your climb, there could possibly be snow or rain meeting you at the top. Check conditions at the Visitor Center and be prepared.
Speaking of snow, this area of Sequoia National Park is epic in the wintertime, so if you find yourself in Sequoia at the right time, don't miss this Sequoia snowshoe adventure. It's scenic, fun, and unforgettable!
TOUR PRICE: US$300 per group up to 14
9. Don't miss a hike on the Congress Trail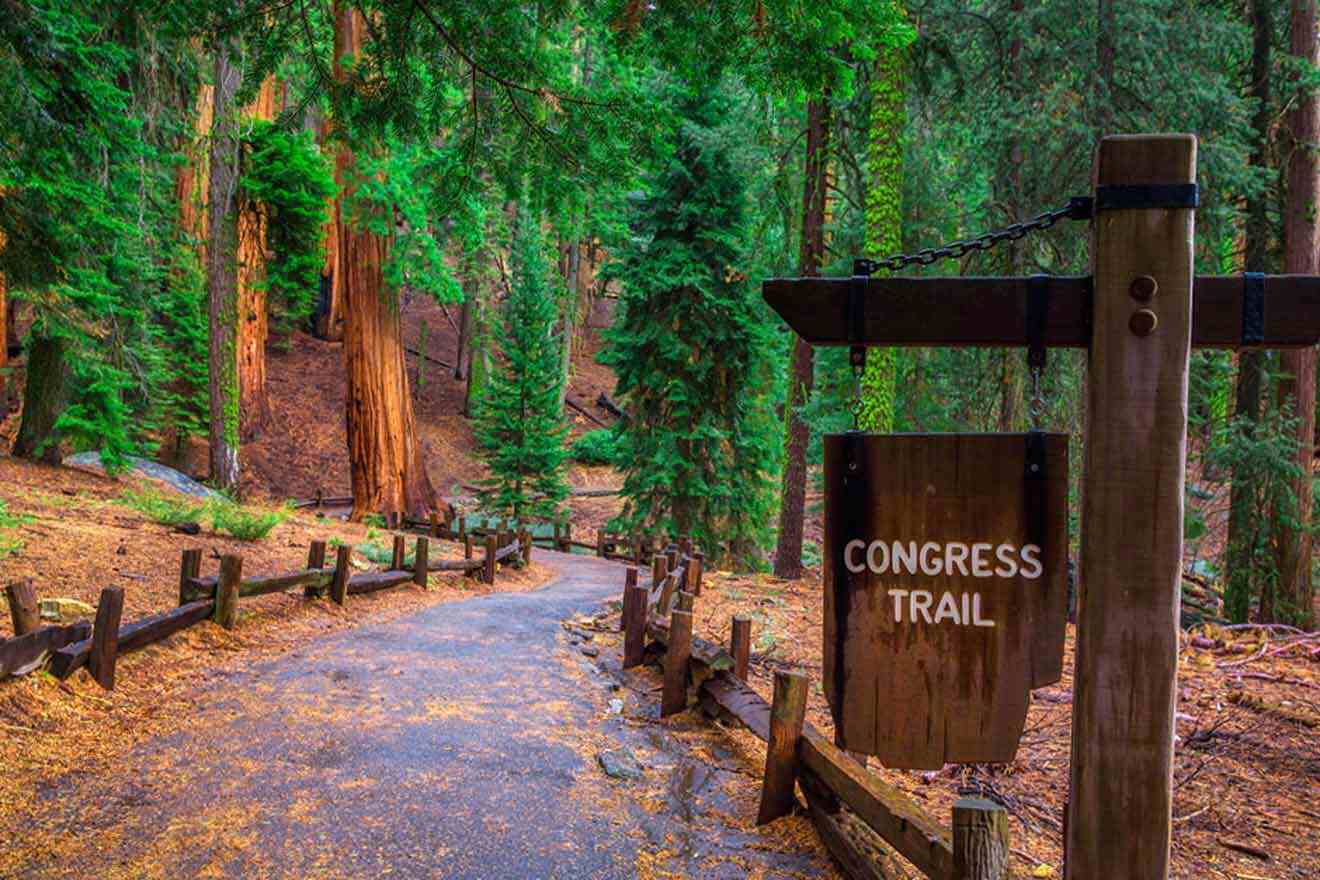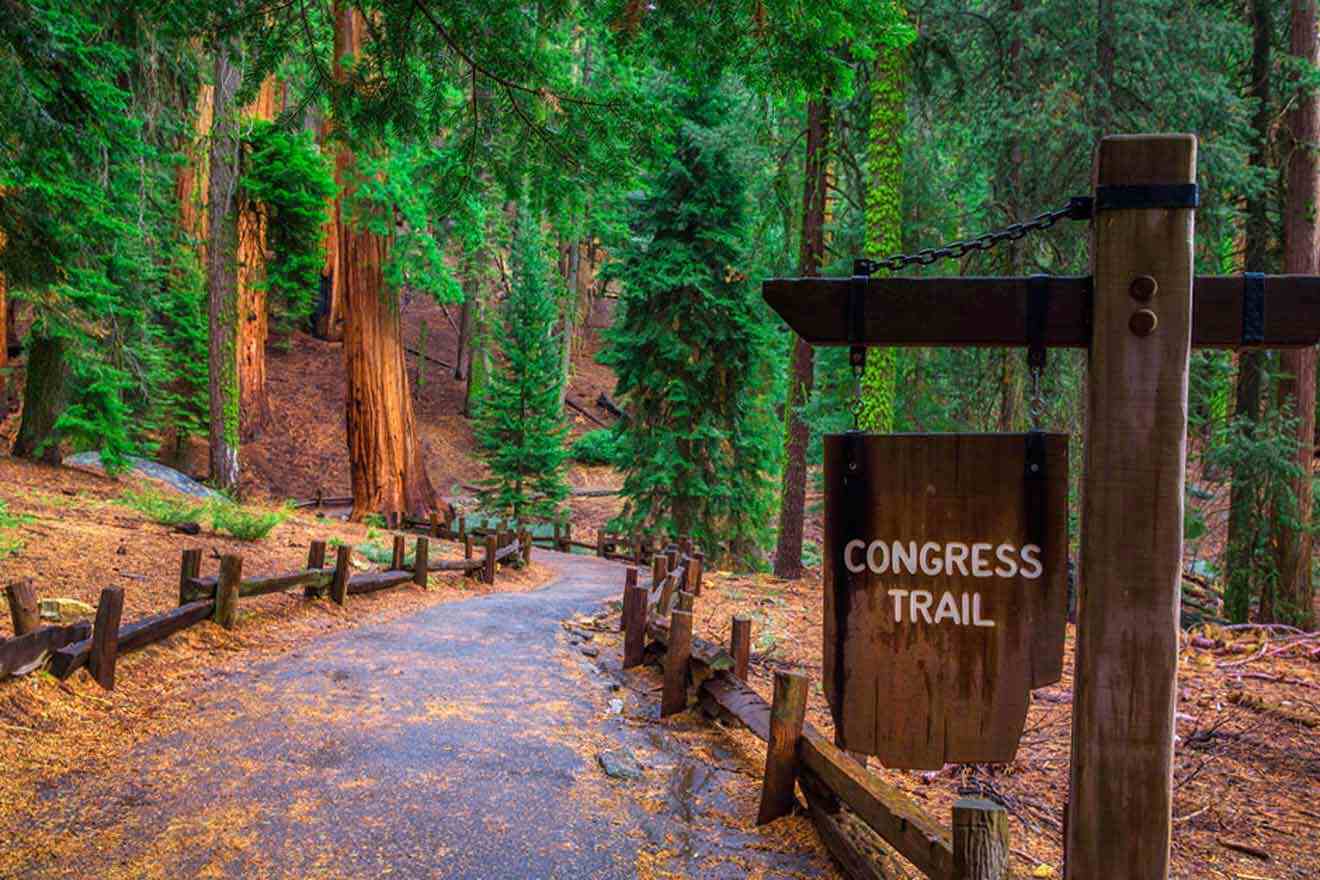 Within the Giant Forest, and among the giant sequoias, you'll find tons of hiking trails for all different skill levels.
Congress Trail is a great option for sightseeing and proximity to the natural beauty this serene park provides. It is an app. 3 miles (5 km) long, starting at General Sherman, and leading you through the dense trees of Sequoia National Forest, until you come upon the famous ones at the south end: the McKinley Tree, the General Lee Tree, and the President Tree.
I often find there is so much to see and learn while I'm in the national parks. It's usually better to get on at least a few guided tours if you have the time and budget, of course. I love this full-day, expertly guided private hiking tour that will take you through Sequoia and Kings Canyon National Parks.
TOUR PRICE: US$400 per group
10. Check out the beauty of Tokopah Falls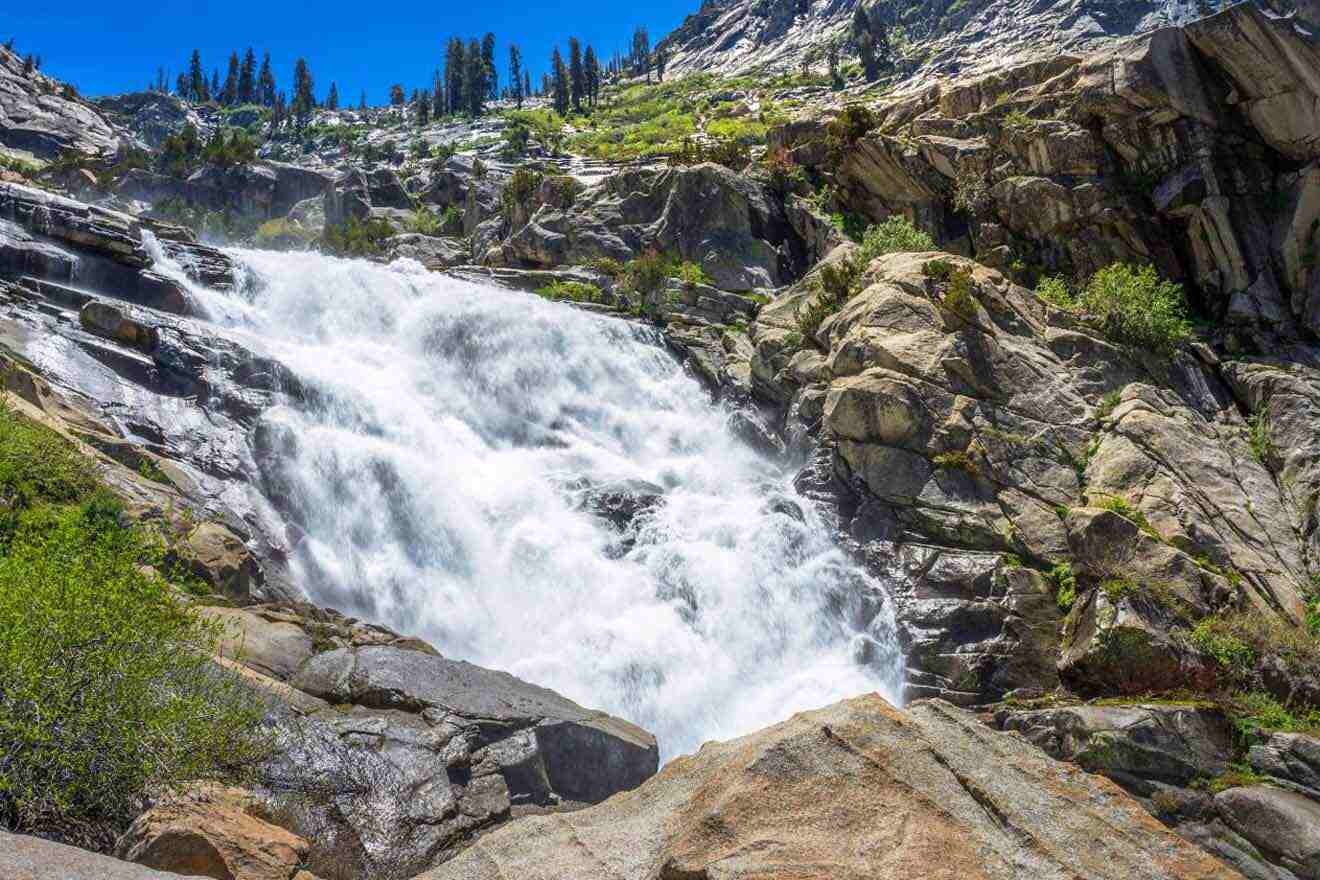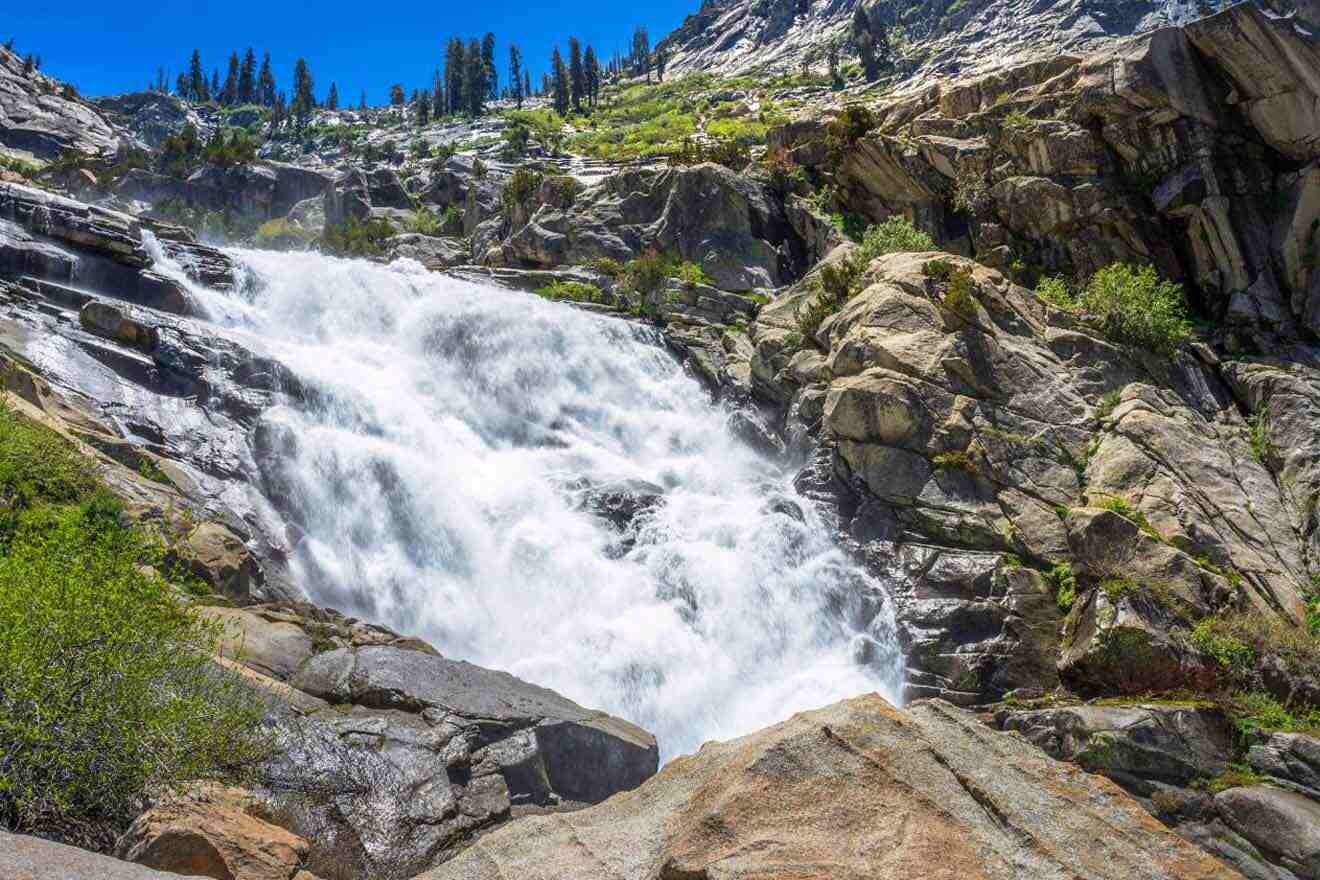 Who doesn't love a waterfall?!
Tokopah Falls sits at the top of Tokopah Trail, a moderate 4-mile (6-km) hike round-trip that leaves from Lodgepole Campground and begins to climb gradually.
I love the juxtaposition of the rugged rocks sloping down the mountainside, with stunning waterfalls cascading down to the bottom.
PRO TIP: Never underestimate how powerful mother nature is – especially waterfalls! Don't obstruct the flow of water, you could get hurt.
NOTE: If you're planning to stop at Lodgepole Visitor Center for hiking information, know it's only open seasonally from May through October.
11. Gaze up at the stars in Sequoia National Park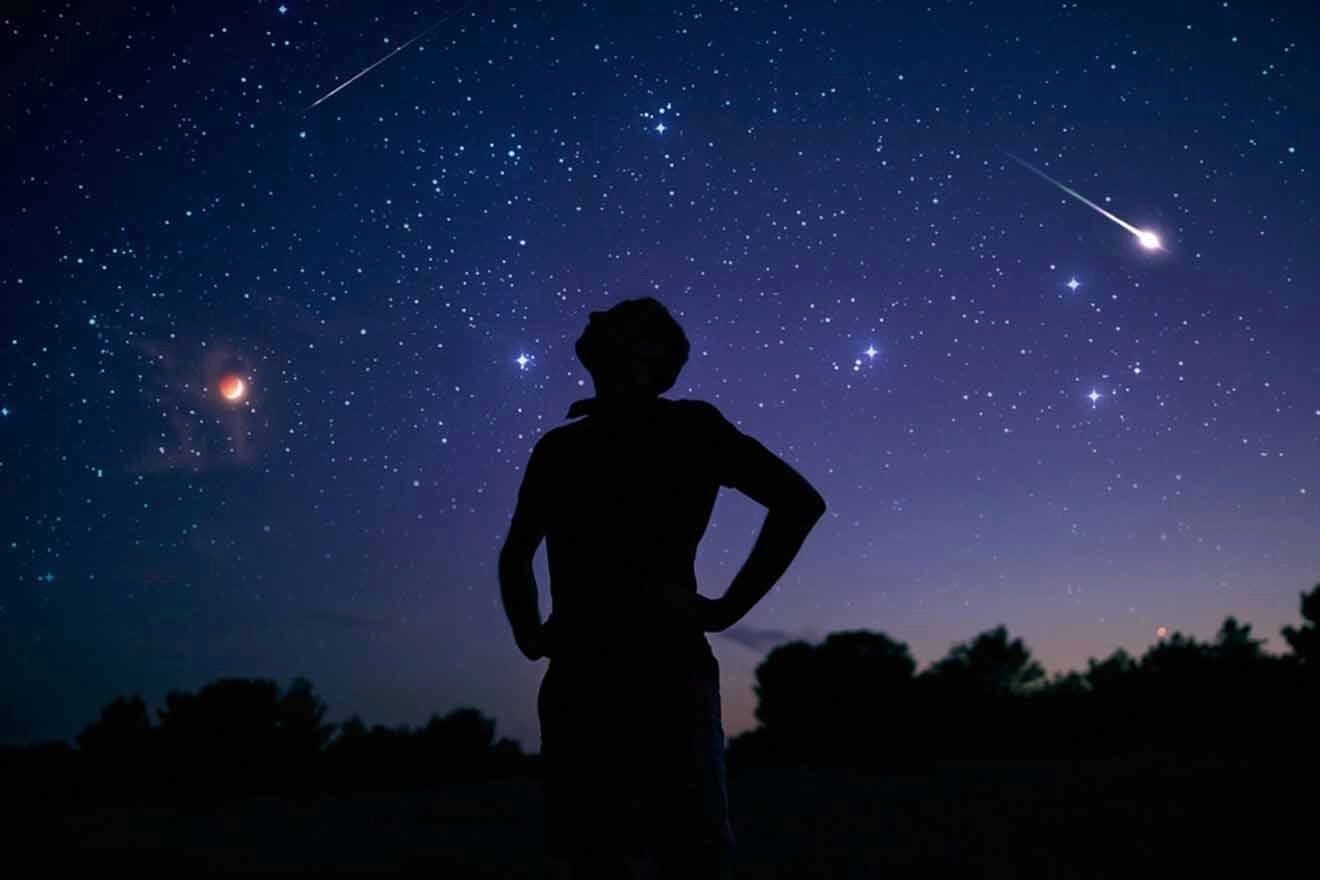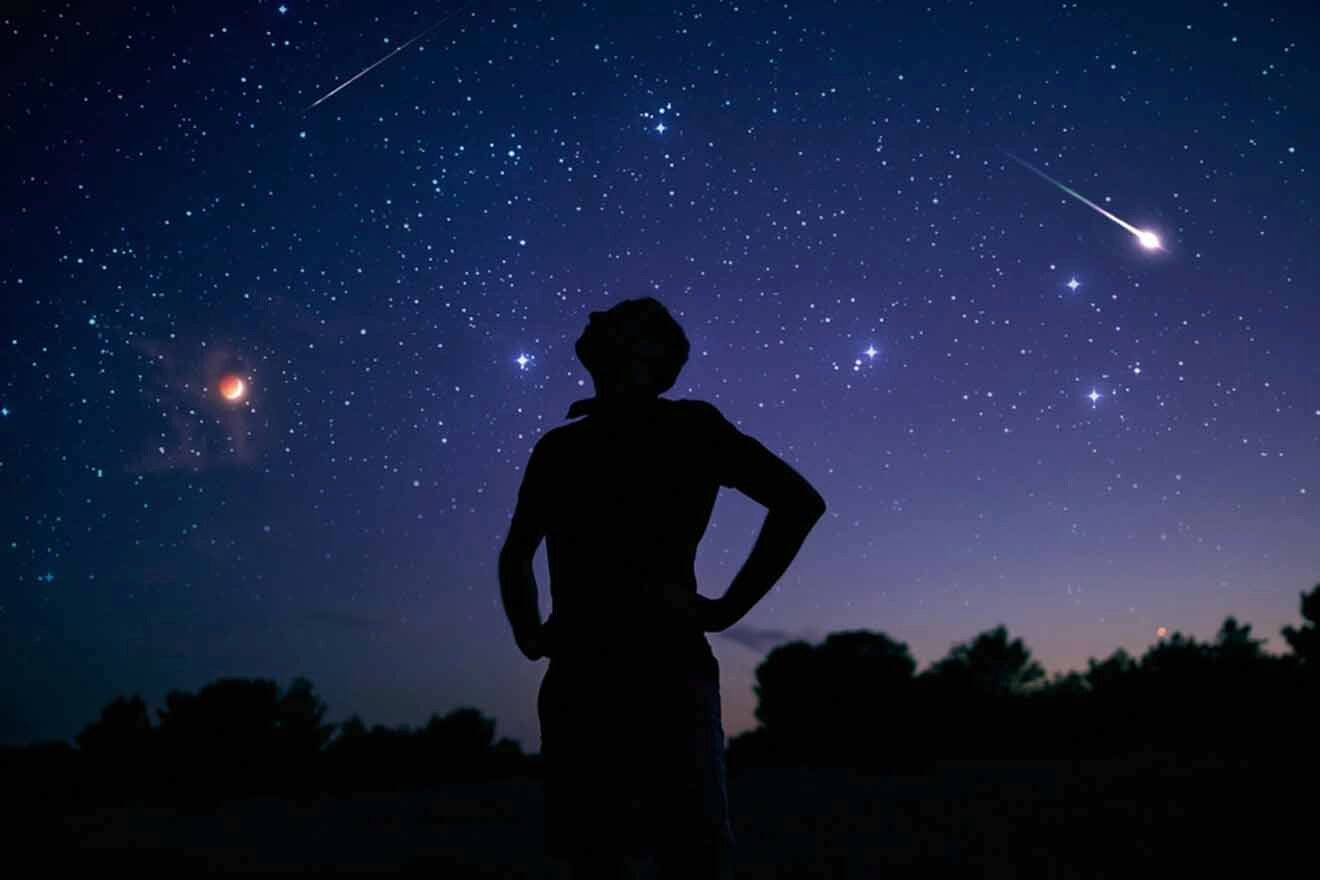 Can you imagine anything more magical than experiencing the beauty of Sequoia National Park at night? Witness pitch black, dark skies and the twinkling stars above this stargazing experience in Sequoia National Park. The ambiance is incredible and the guides are wonderful at teaching you all about the solar system!
TOUR PRICE: US$200 per person
12. Grab your hiking boots and hit Moro Rock Trail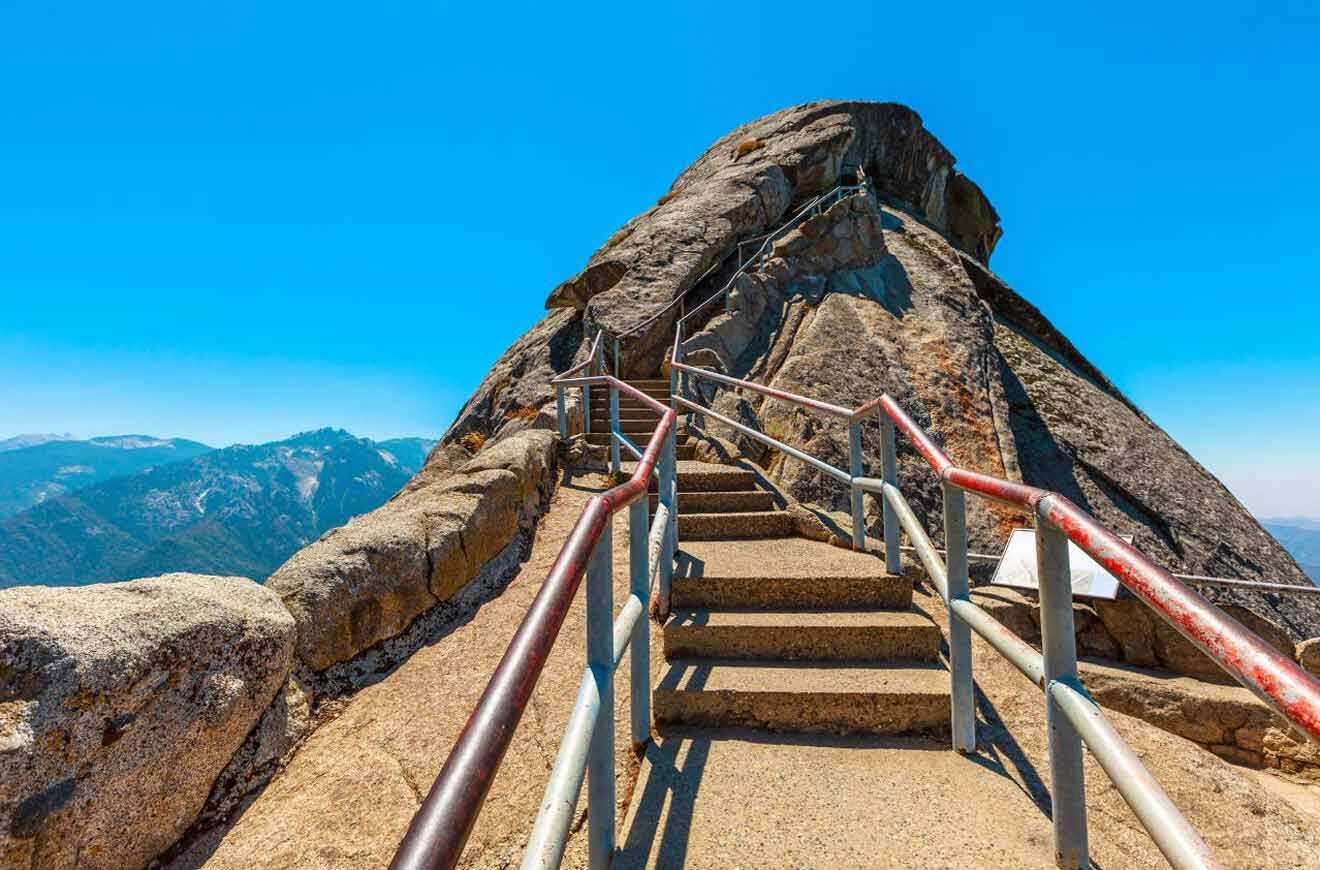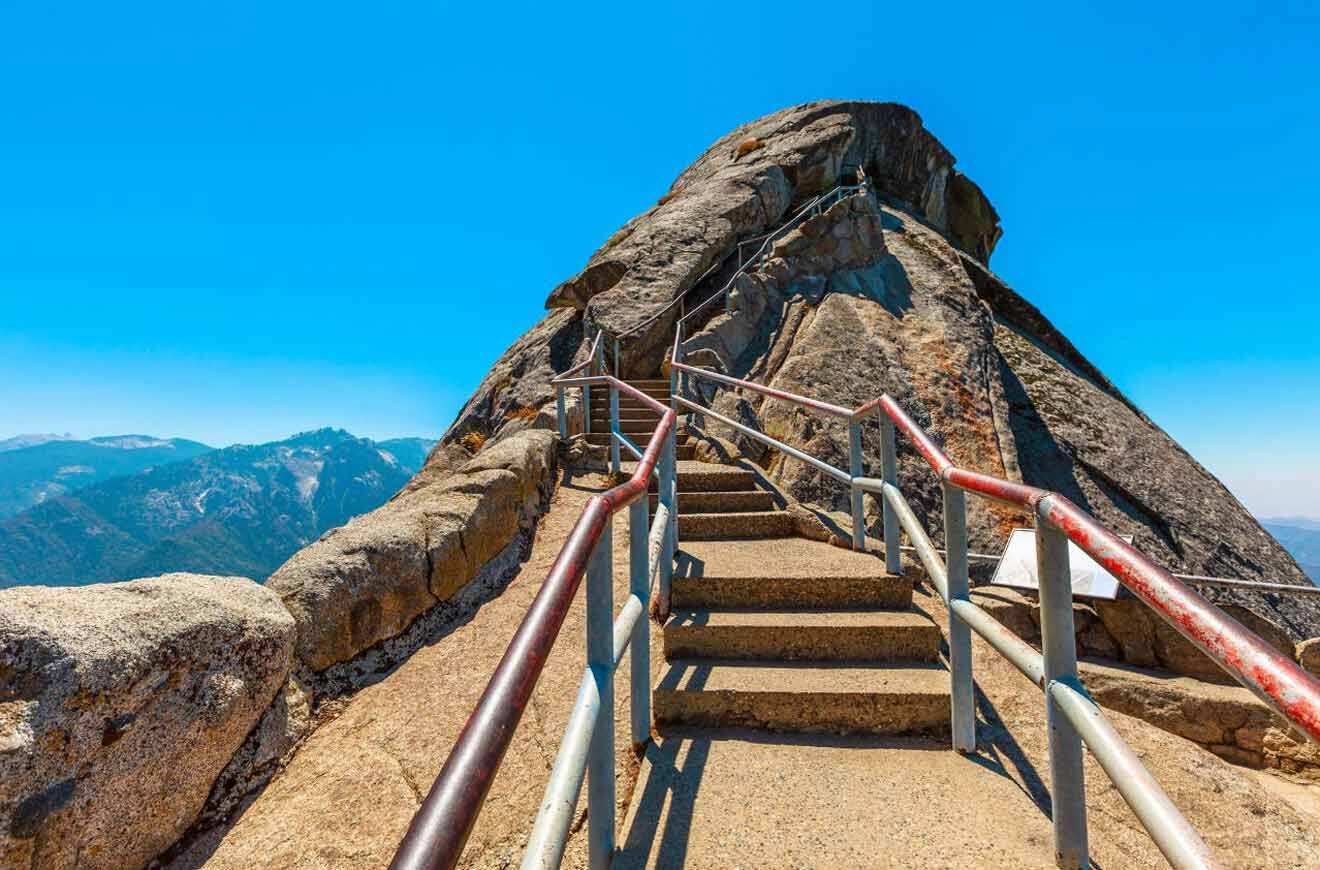 If you're looking for cool things to do in Sequoia National Park, Moro Rock always makes my list!
Park at the Giant Forest Museum and walk your way past the public restrooms and up the stairs toward the trail marked for Moro Rock.
Moro Rock Trail itself is a moderate, 3-mile (5 km) round-trip, paved hike and should only take you about 30 minutes to reach the top. Make note: this hike is mostly up a staircase, so be ready to get your workout in!
As you make your way to the top of this viewpoint, the access gets very narrow, and you will begin climbing a winding staircase up to the top.
If you are afraid of heights like I am, this might not be the best activity for you! But, if you can brave it, the views of Three Rivers, Kaweah River, and Sierra Nevada Mountains are spectacular.
13. Discover the beauty of General Grant Tree Trail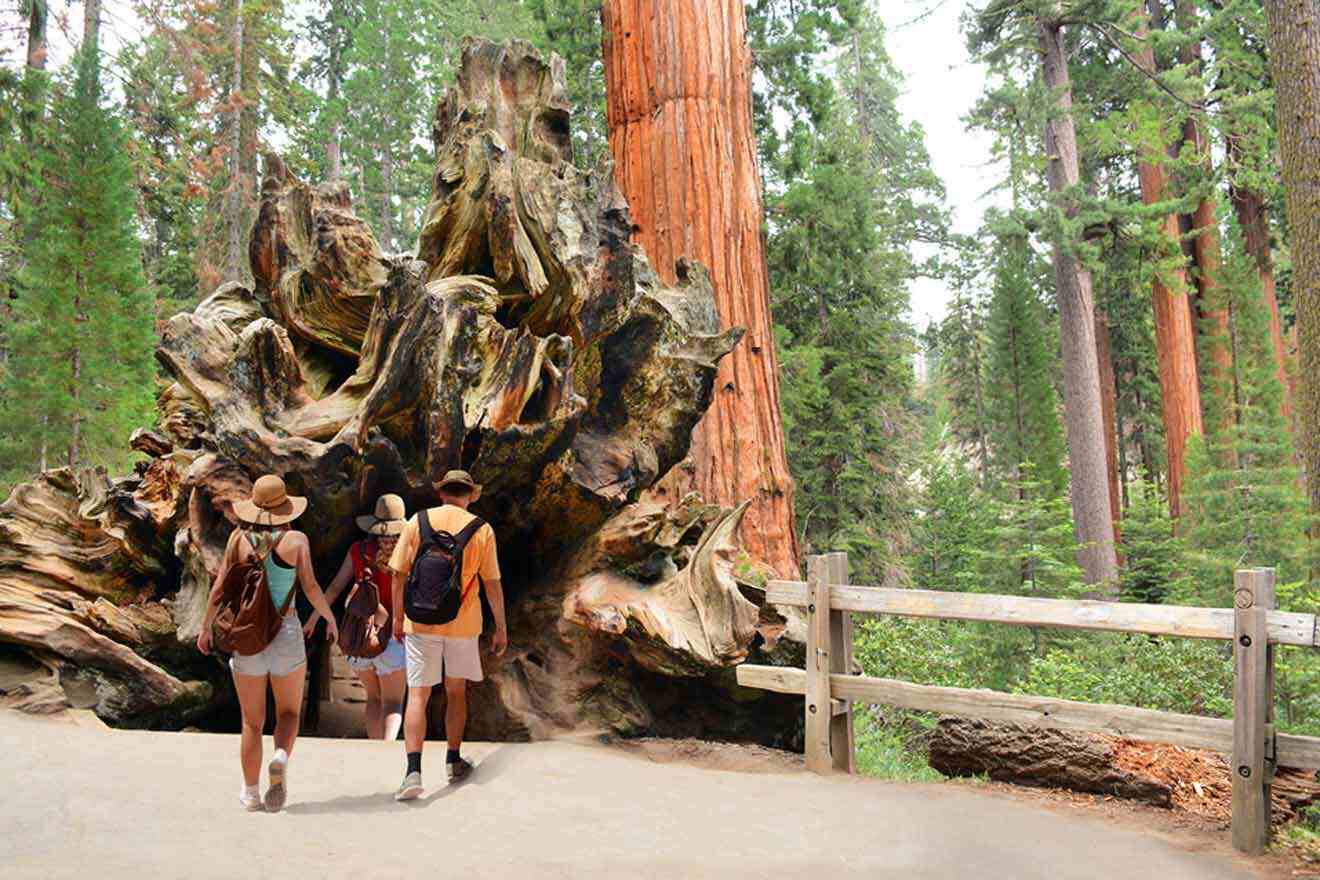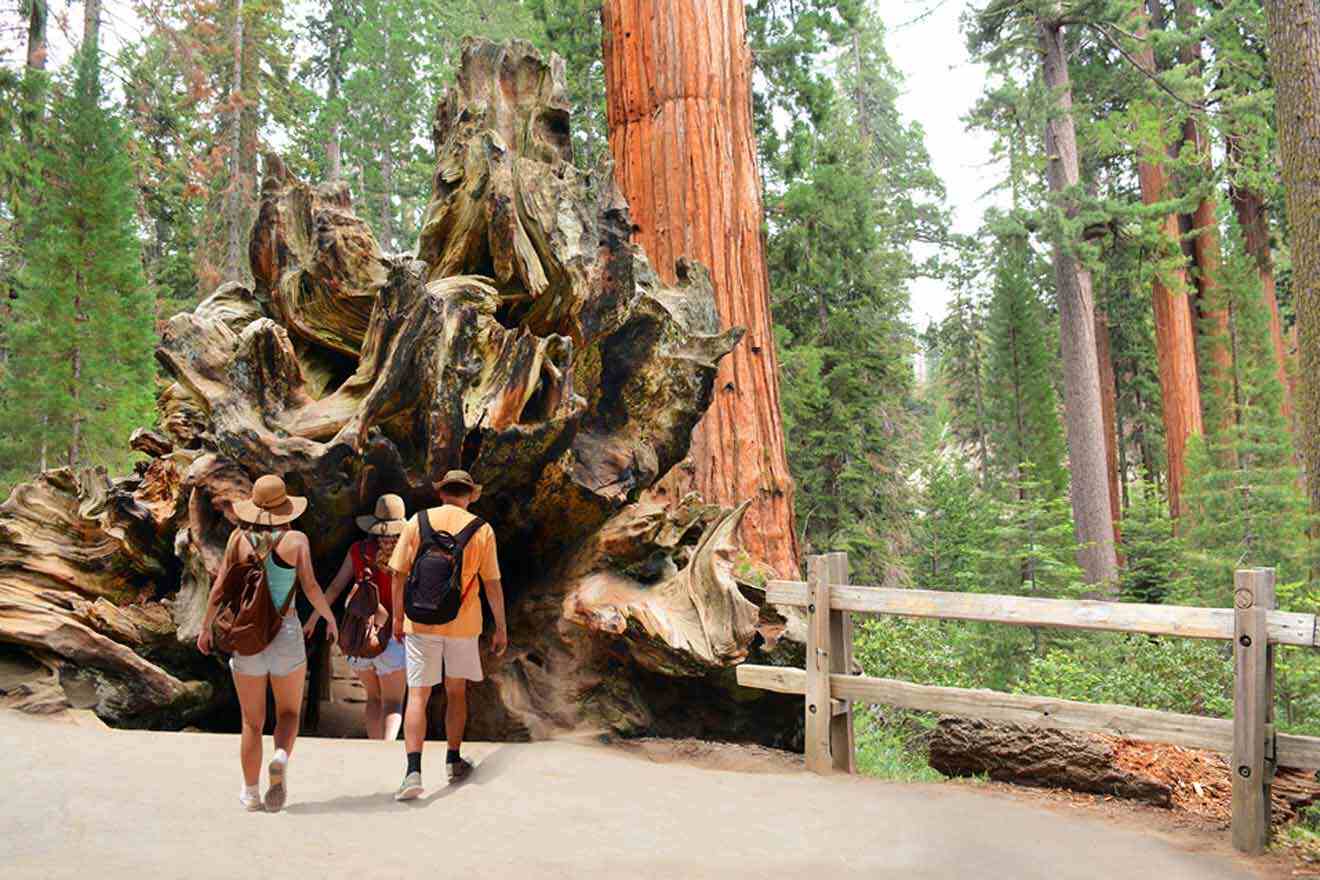 President Coolidge proclaimed General Grant Tree the Nation's Christmas Tree in 1926.
Located within King Canyon National Park, you'll find the General Grant Tree Trail leading to General Grant Grove.
This trail takes you on a ⅓ mile (0.5 km) hike out to the General Grant Tree – the 2nd-largest tree in the entire world.
Much like the impressive stats of its big brother General Sherman, General Grant stands at 267 ft (81 m) tall and 29 ft (9 m) wide at the base.
Along the trail, you'll find other notable trees and sights, like the Gamlin Cabin, the Fallen Monarch, and the Centennial Stump, before you make it to General Grant Grove.
PRO TIP: Stop at Grant Grove Village on your way out for a bite to eat at one of the eateries, or grab a souvenir at the local shop.
14. Explore the nature of Inyo National Forest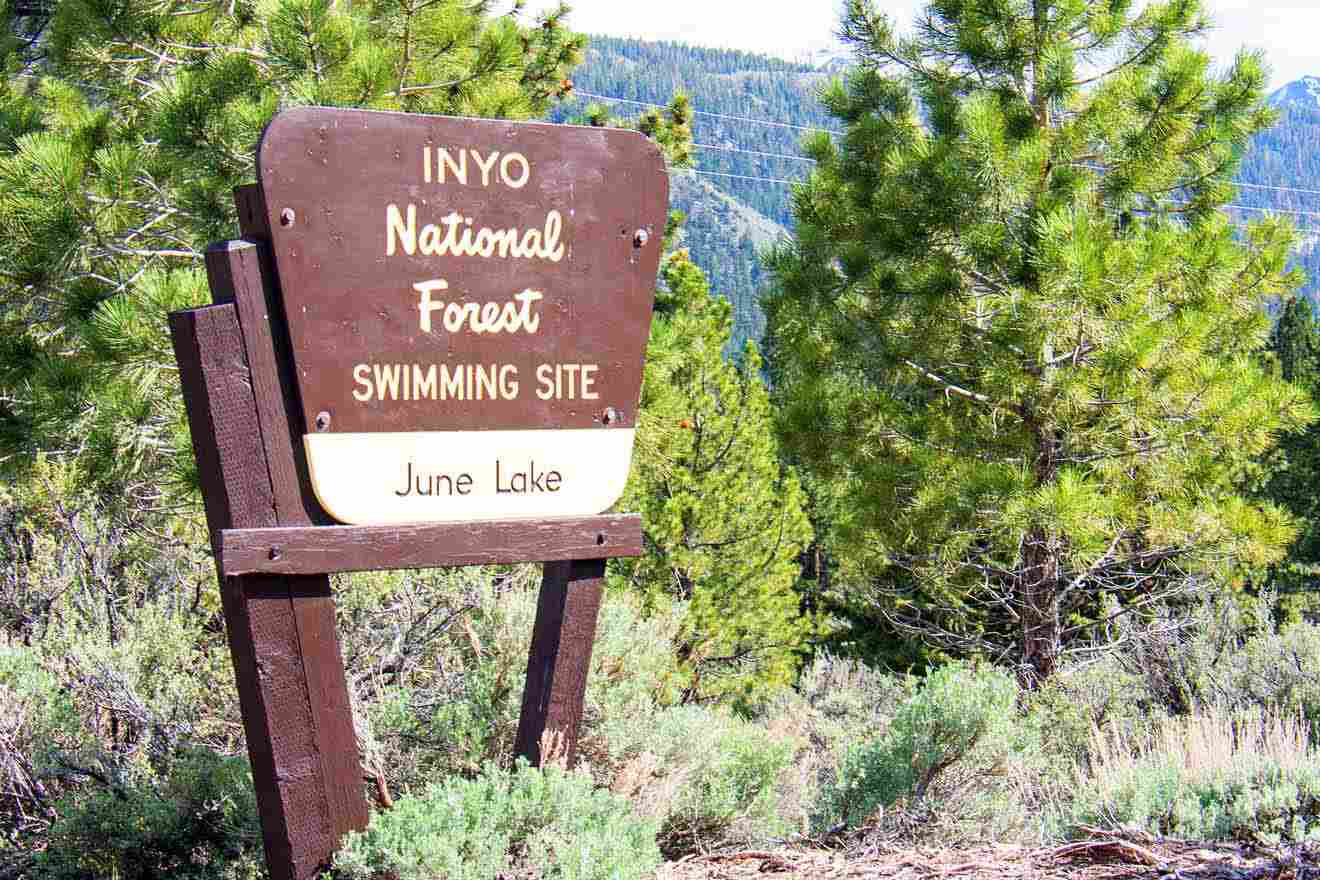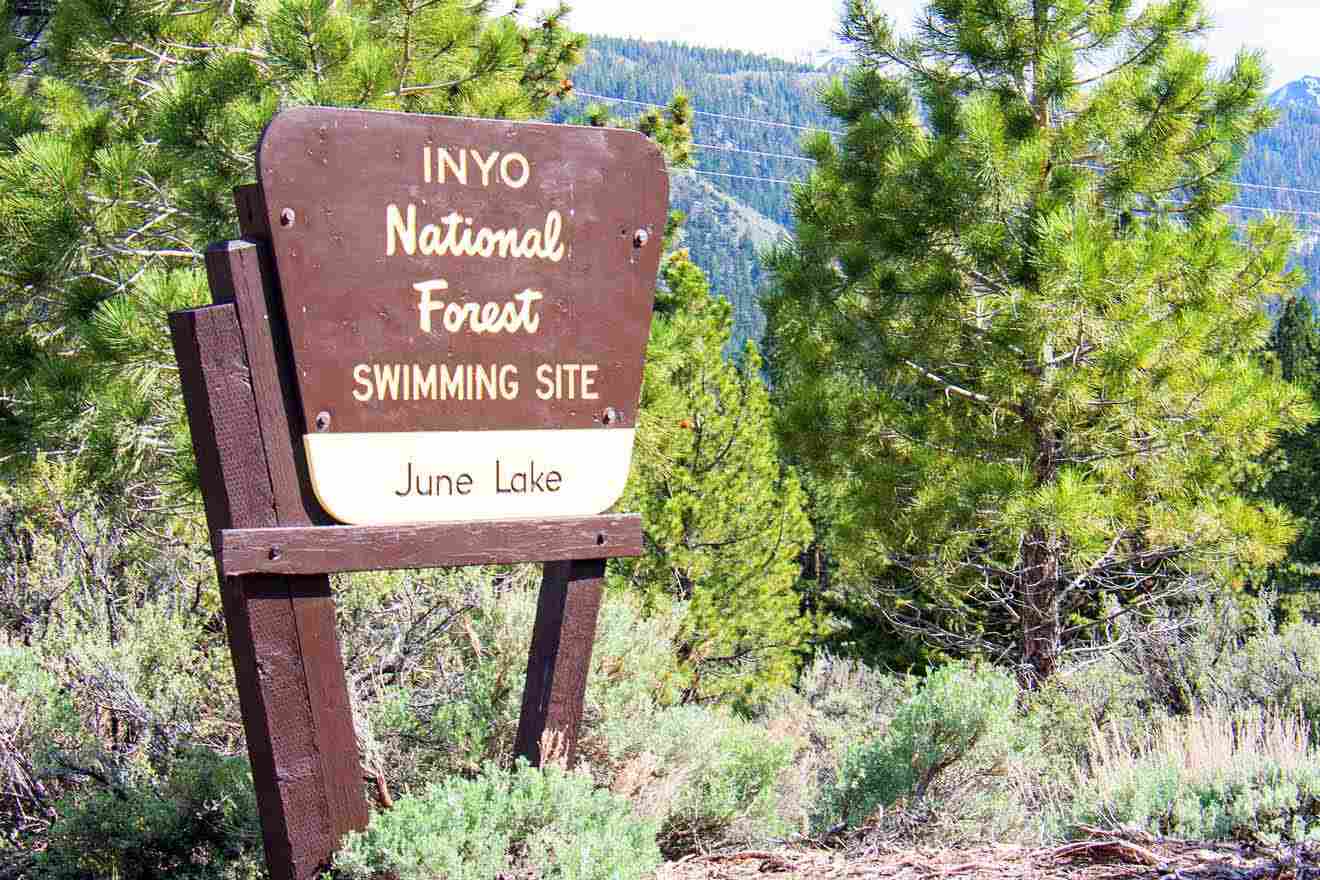 Inyo National Forest is such a special stop and worth making it to your list. It is home to Mount Whitney, the tallest mountain in the contiguous United States, reaching 14,505 ft (4,421 m) above sea level!
This park is known for its ancient bristlecone pines and incredible wildlife spotting opportunities: bighorn sheep, black bears, golden eagles, & more!
There is just so much to do and see in Inyo National Forest, with more than 1,100 lakes and 1,000 miles (1,610 km) of rivers and streams, there are amazing opportunities for fishing, kayaking, and other water activities.
PRICE: US$5 per vehicle to enter the park
15. Check out the Giant Forest Loop Trail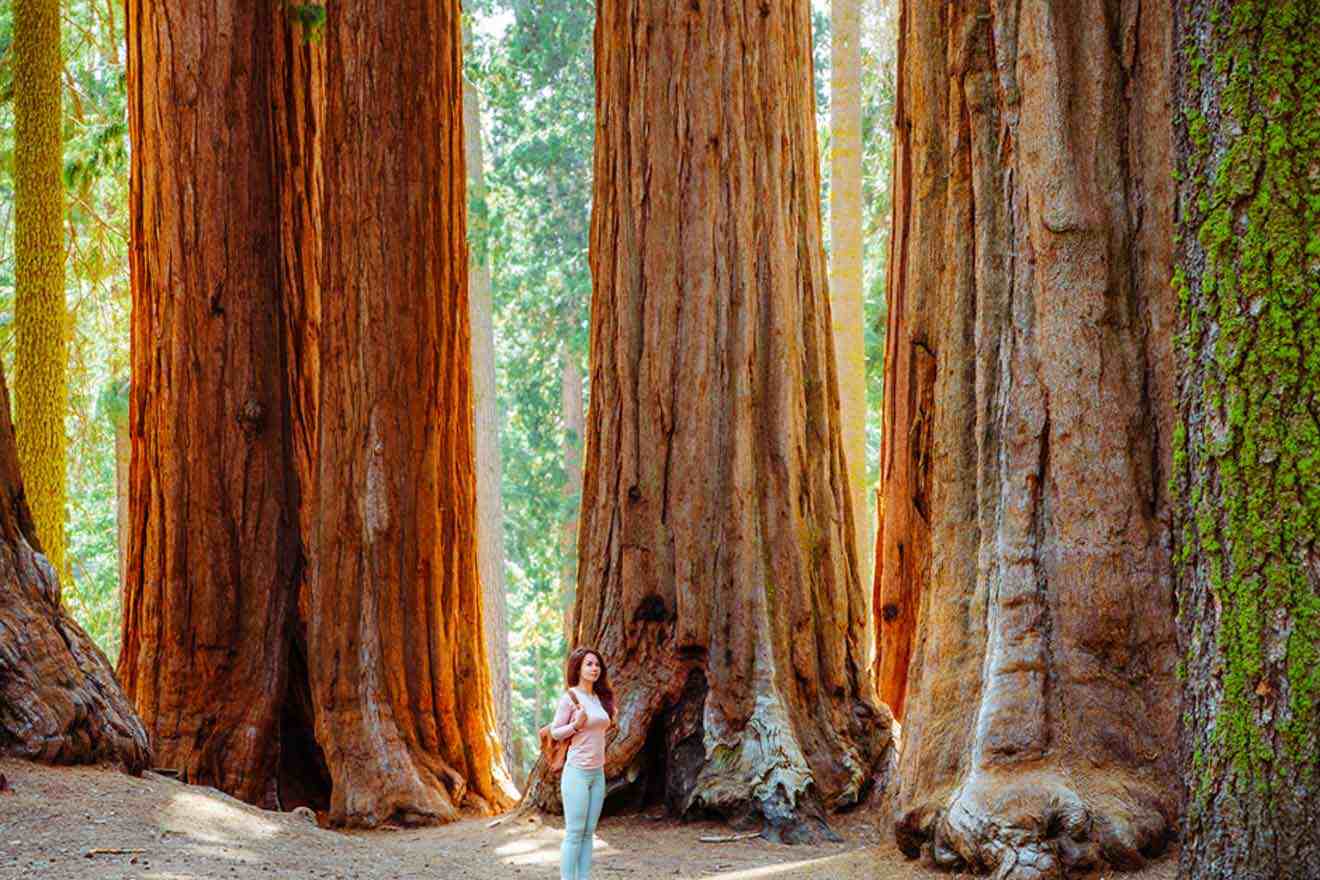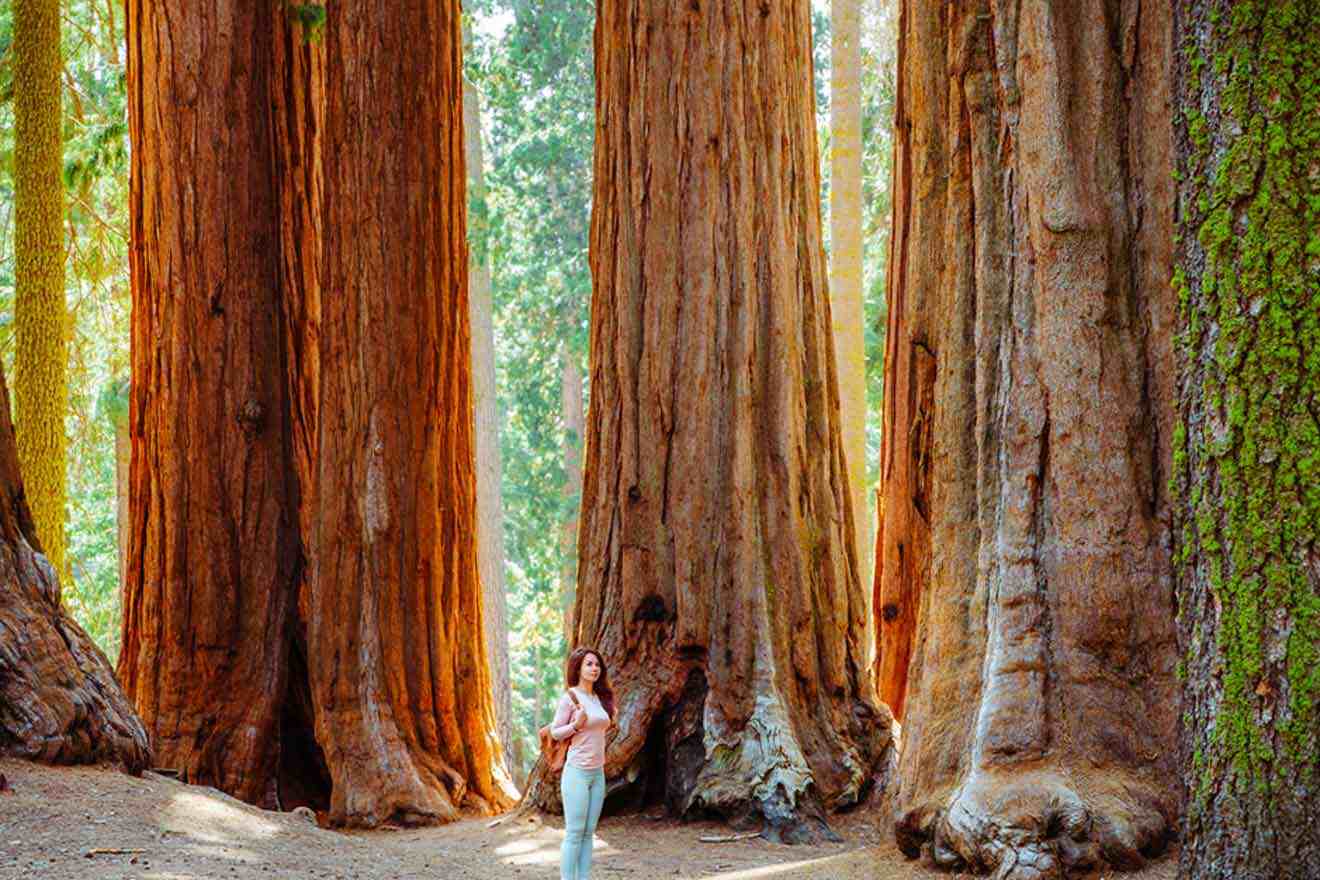 Giant Forest Loop Trail within Giant Forest is the perfect hiking trail to immerse yourself in the grandeur of the towering sequoia trees without trekking too far!
Along the Giant Forest Loop is where you will find the top attraction, General Sherman, the largest tree in the world! It's an easy to moderate hike down the paved road but a bit more challenging on the way back up.
16. Make memories at Tunnel Rock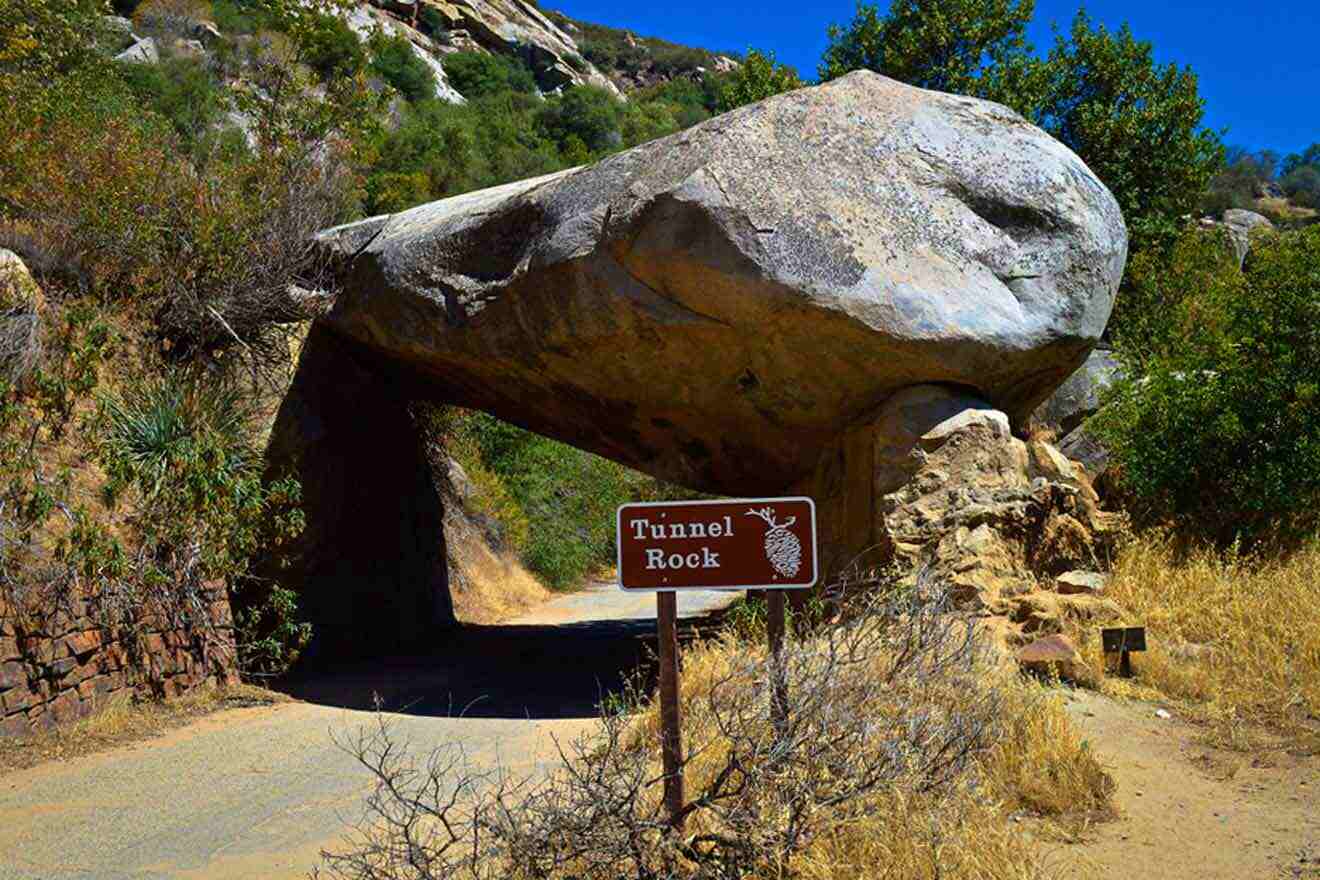 Along Generals Highway, not far from Foothills Visitor Center in Sequoia National Park, you'll find another awesome sight to stop and behold – the famous Tunnel Rock.
Much like Tunnel Log, Tunnel Rock is formed by a big boulder leaning against the mountainside.
Visitors can stand on top of the rock or take photographs below it. It's really something cool to see and one of the best things to do in Sequoia National Park.
PRO TIP: Don't pull over on the side of the road, it's super dangerous! Instead, head across the street to the big pull-out parking lot, where you can get out for a quick photo op.
17. Cruise down Generals Highway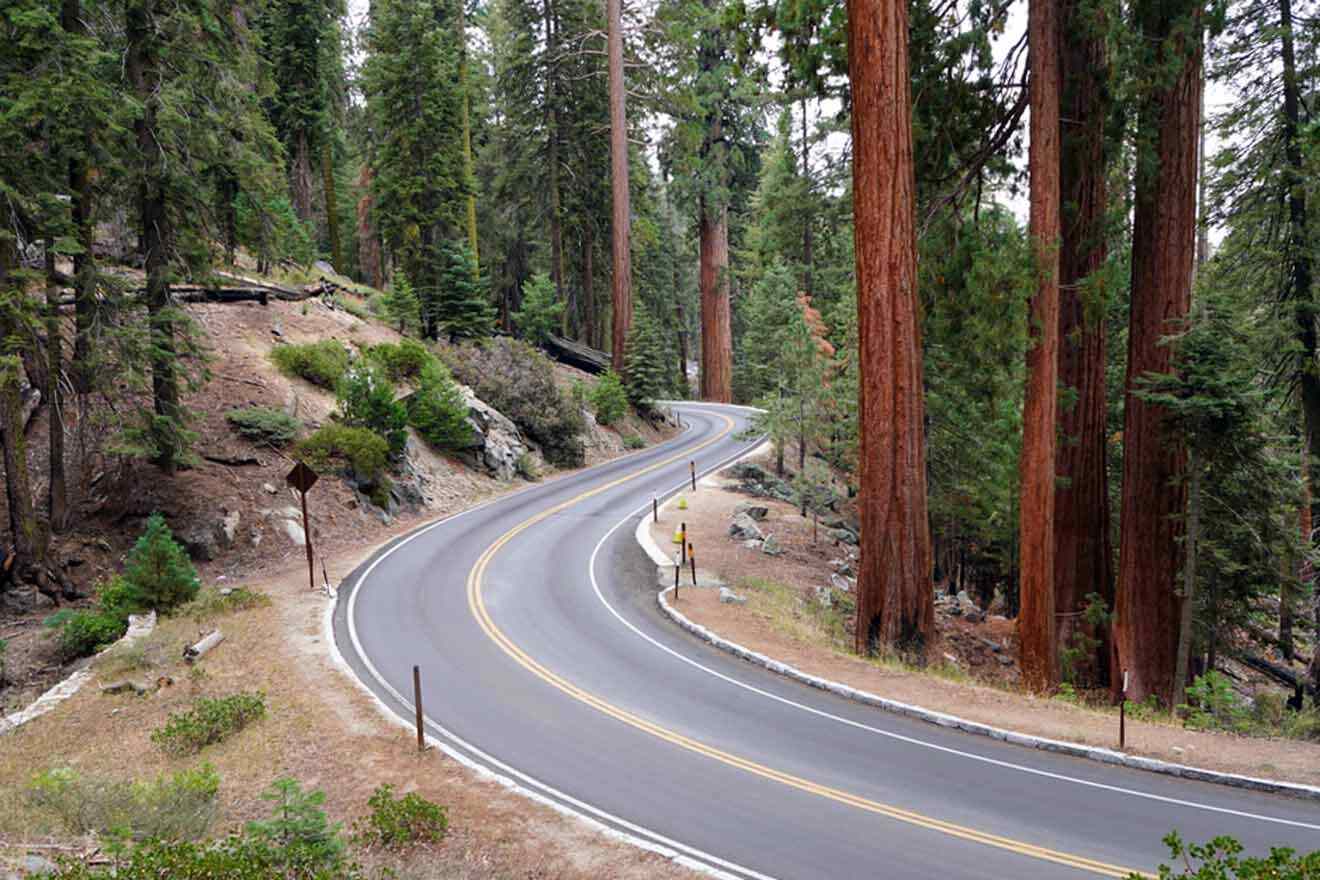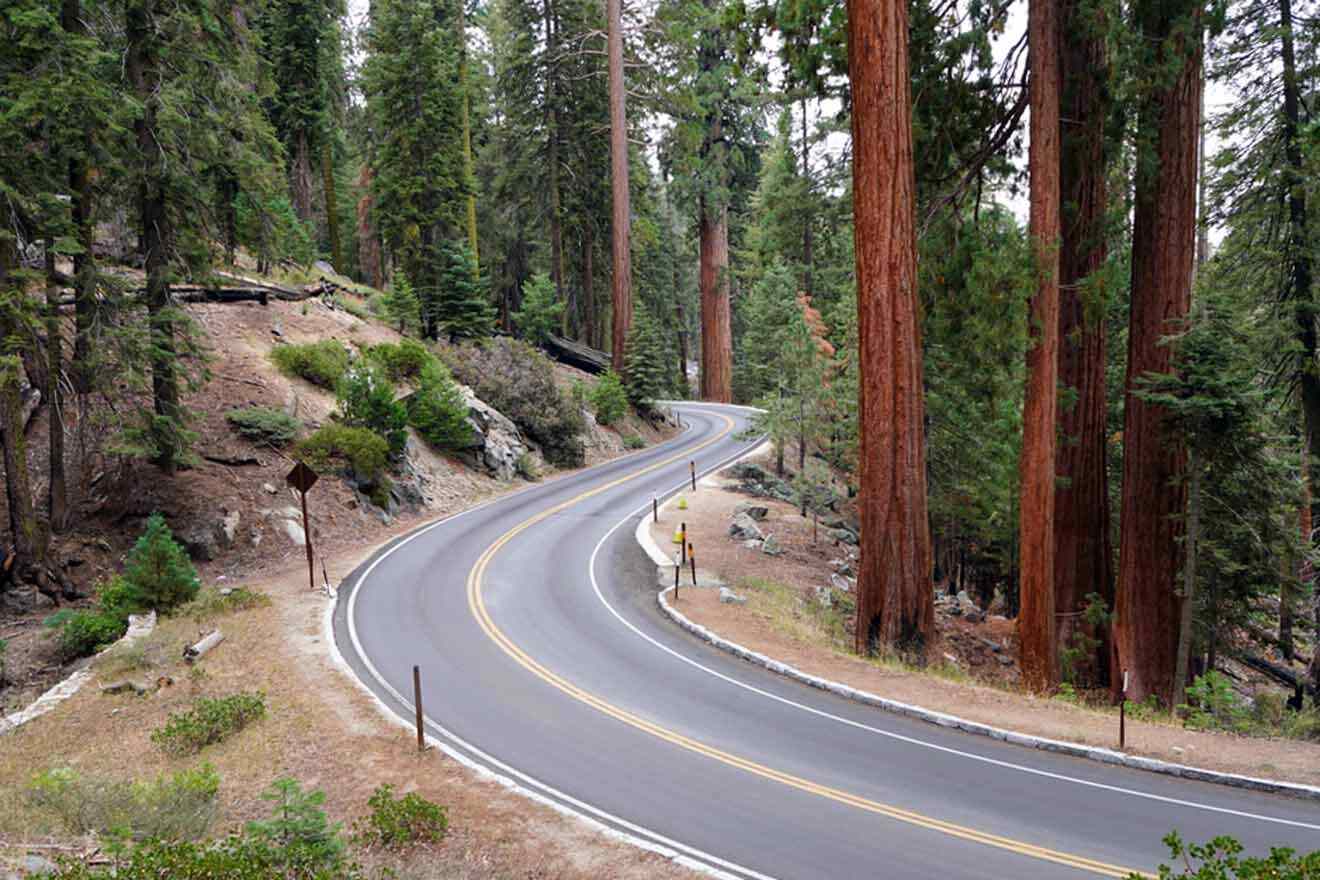 If you'd rather take in the sights by car than by foot, I recommend cruising Generals Highway when visiting Sequoia National Park.
You'll wind through the Sierra Mountains, spotting breathtaking waterfalls, steep cliffs, and sensational wildlife.
Take the opportunity to combine this drive with some of your other activities, such as General Sherman Tree and Kings Canyon National Park, which are also along the route.
PRO TIP: Nature lovers are slow and kind. Be patient and respectful while driving in the parks, and heed the speed limit.
18. Head out on an adventure on Big Trees Trail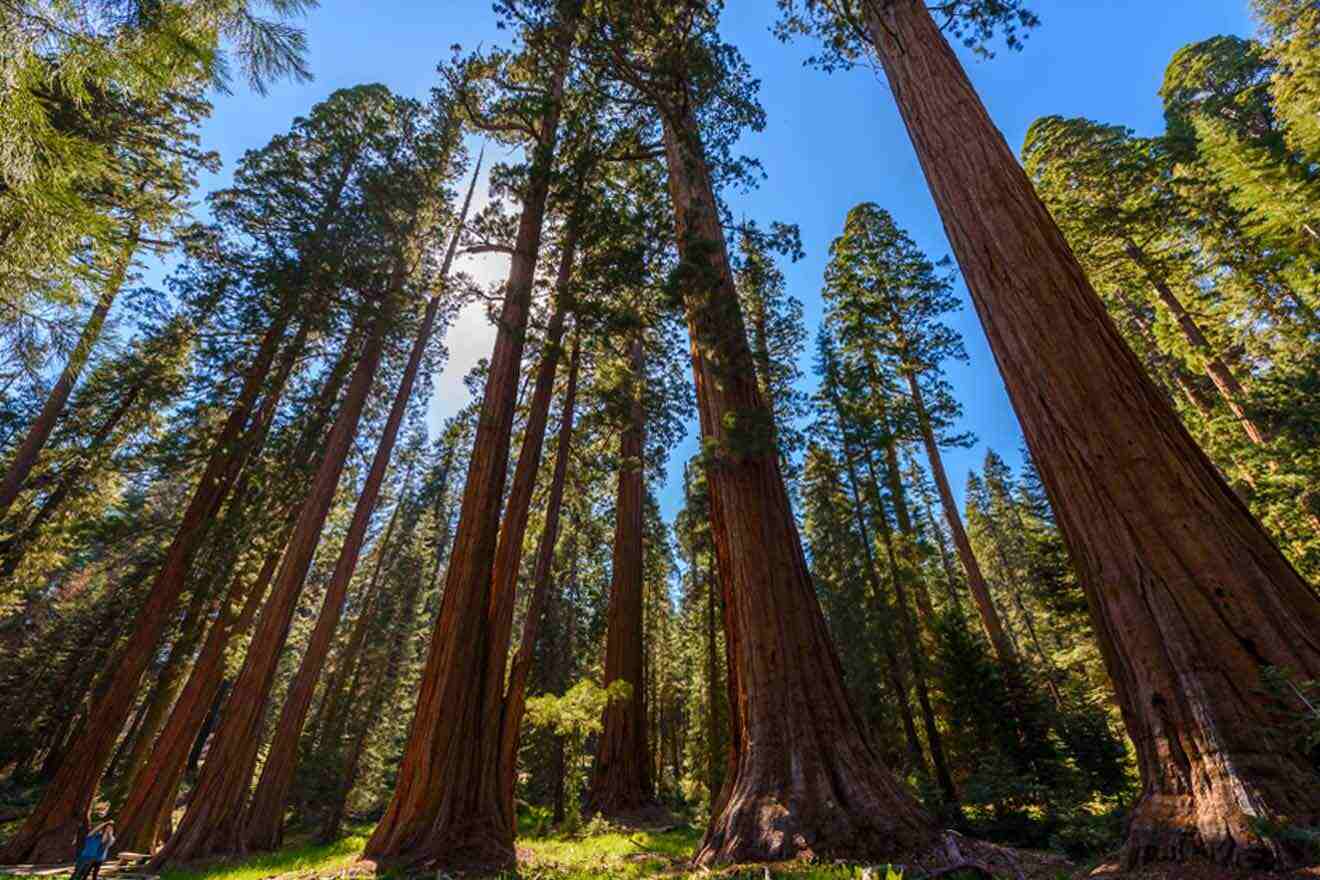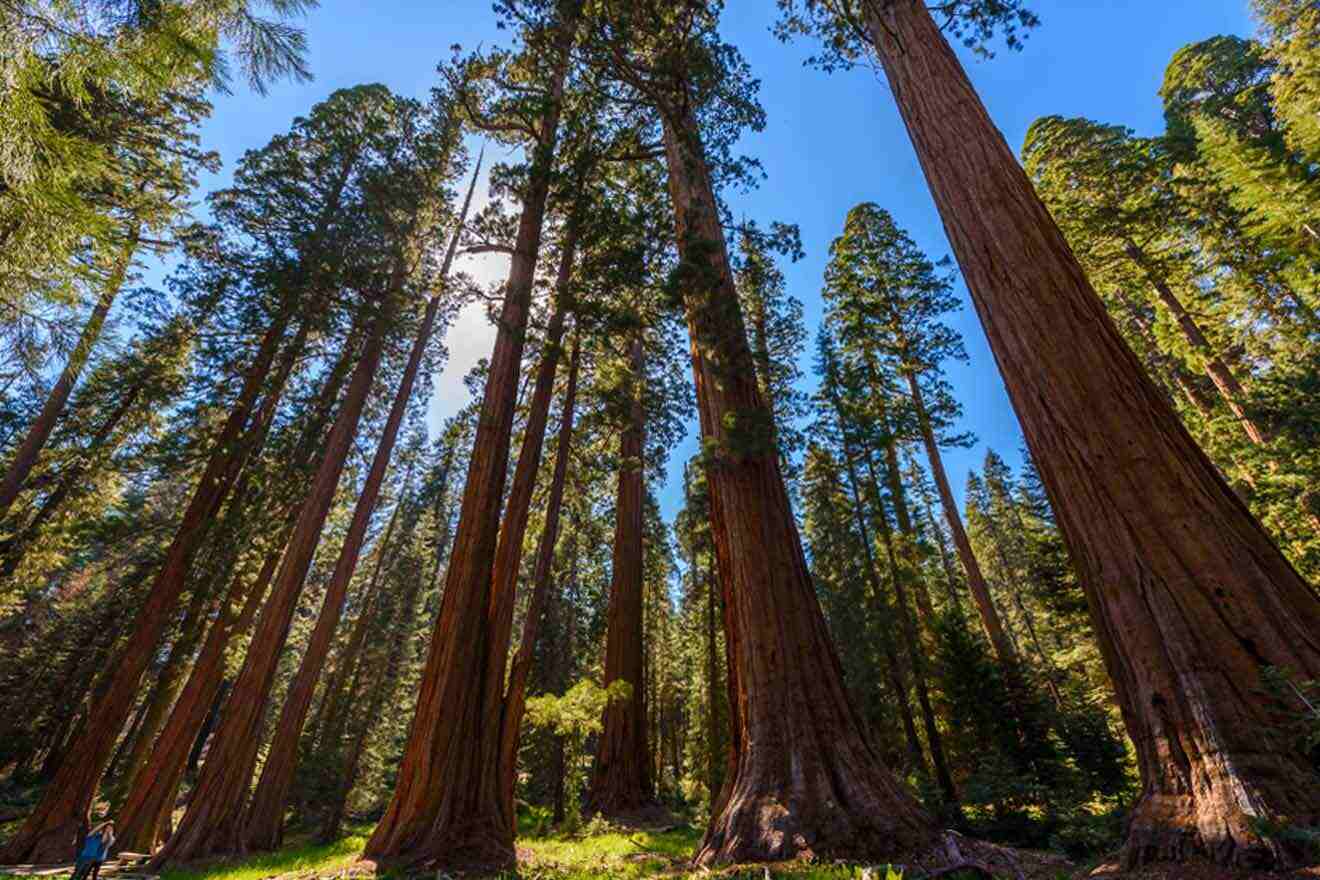 A great choice and one of the most scenic things to do in Sequoia National Park is Big Trees Trail. This easy hike will give you access to the colossal sequoia trees that dot the park, with a simple 1-mile (1.6 km) loop.
The trail is level, simple, and man-made for the most part, so you'll have an easy time navigating through the dense Giant Forest.
19. Enjoy the amazing views at Roaring River Falls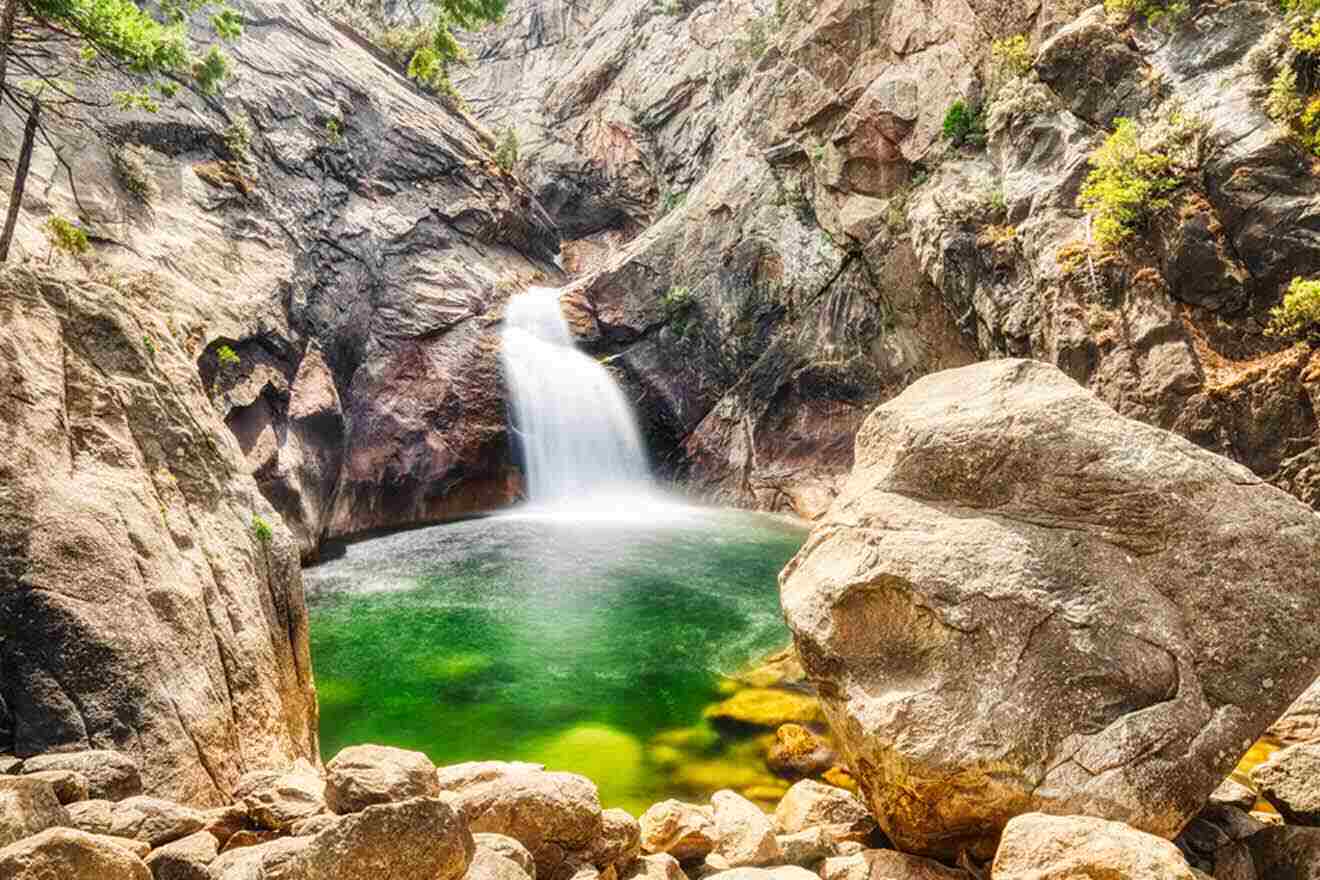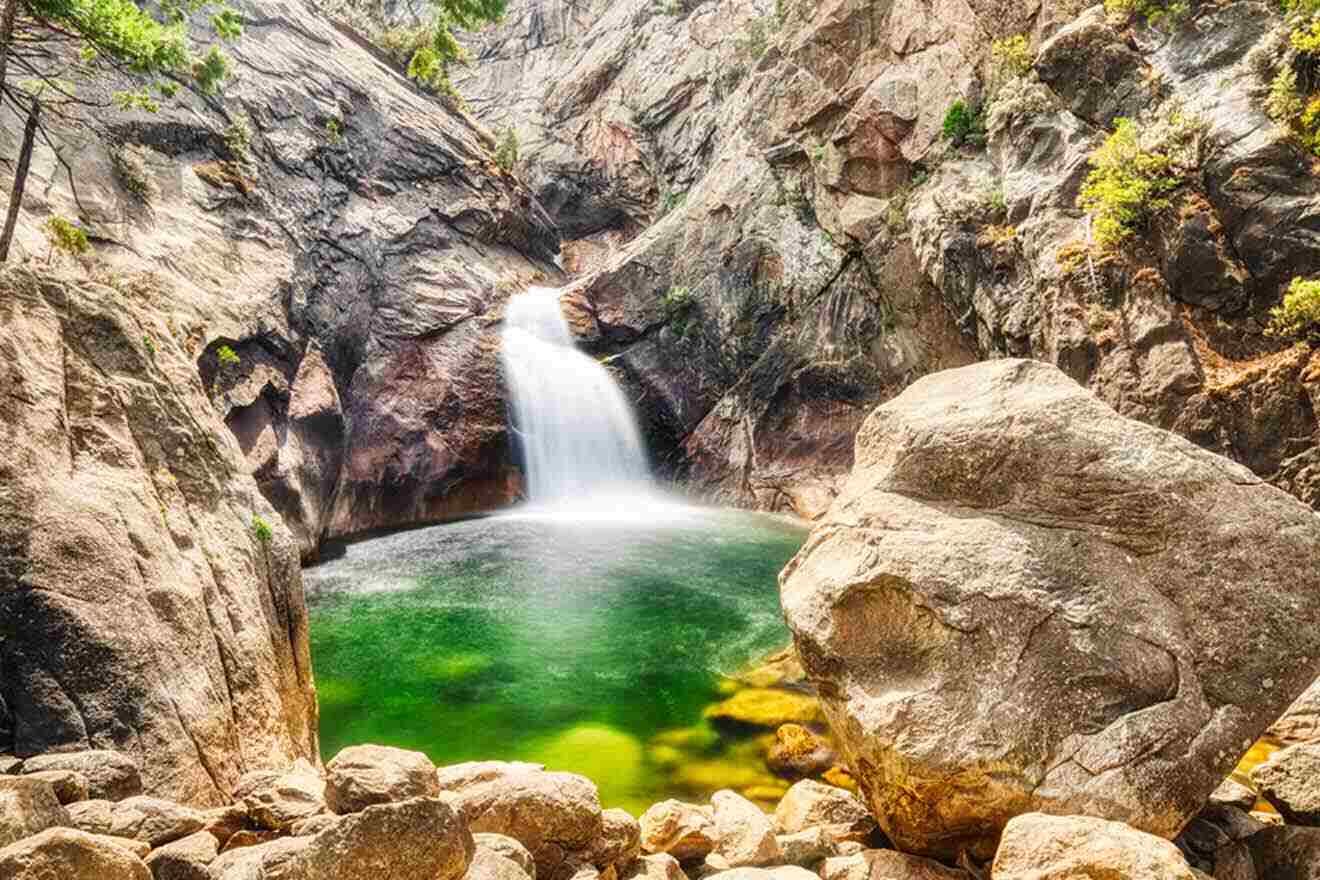 Located in Kings Canyon National Park, Roaring River Falls is a short, scenic trail that will take you to a beautiful cascading waterfall.
My favorite part of this fairly easy 4-mile (6 km) hike is that you have incredible scenery along the route, so you make it out to the falls before you know it.
Once you're there, it's so breathtaking to hear the rhythm and strength of the falls up above and even climb some of the rocks and boulders to get a better view at the top.
20. Play the day away at Hume Lake State Recreation Area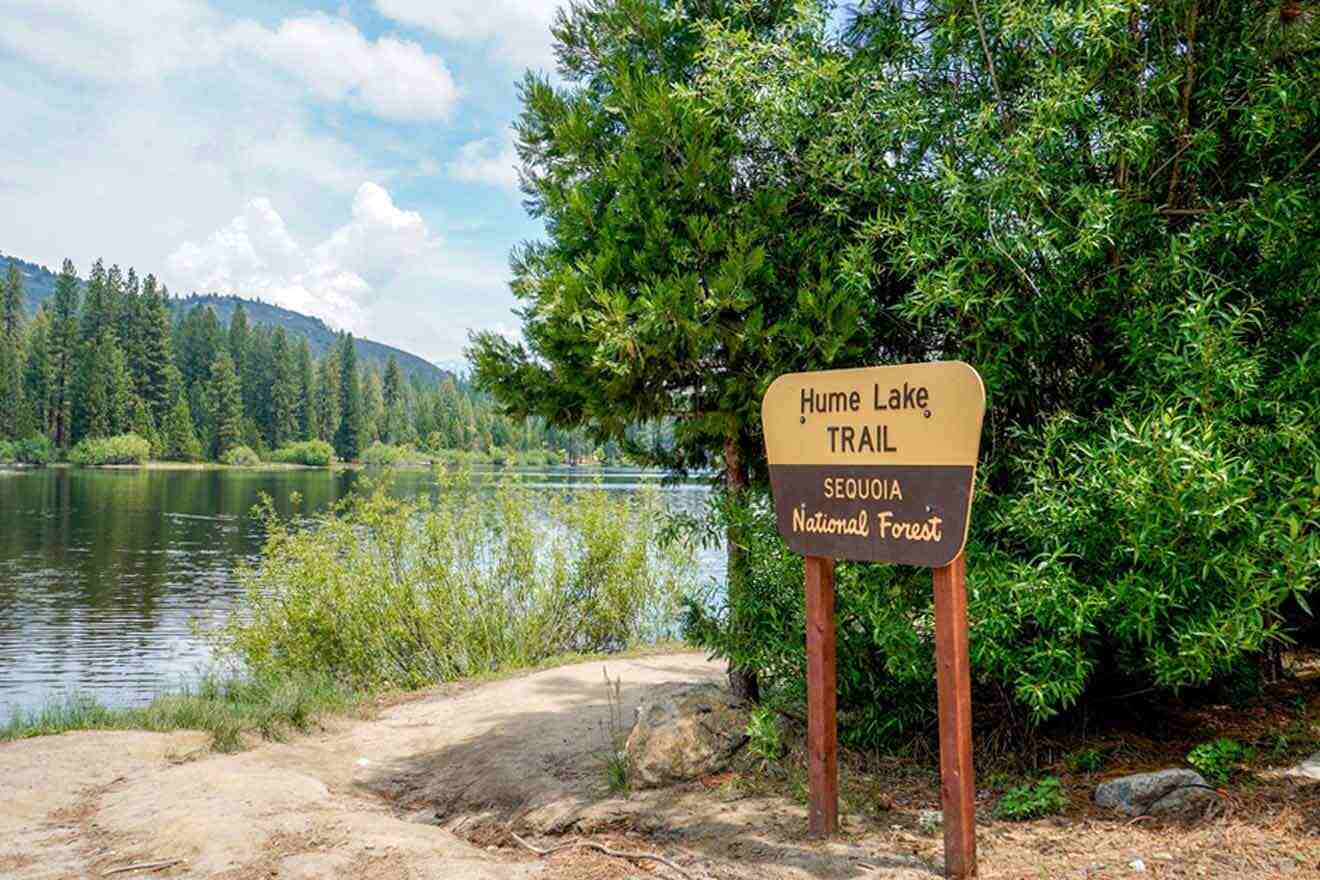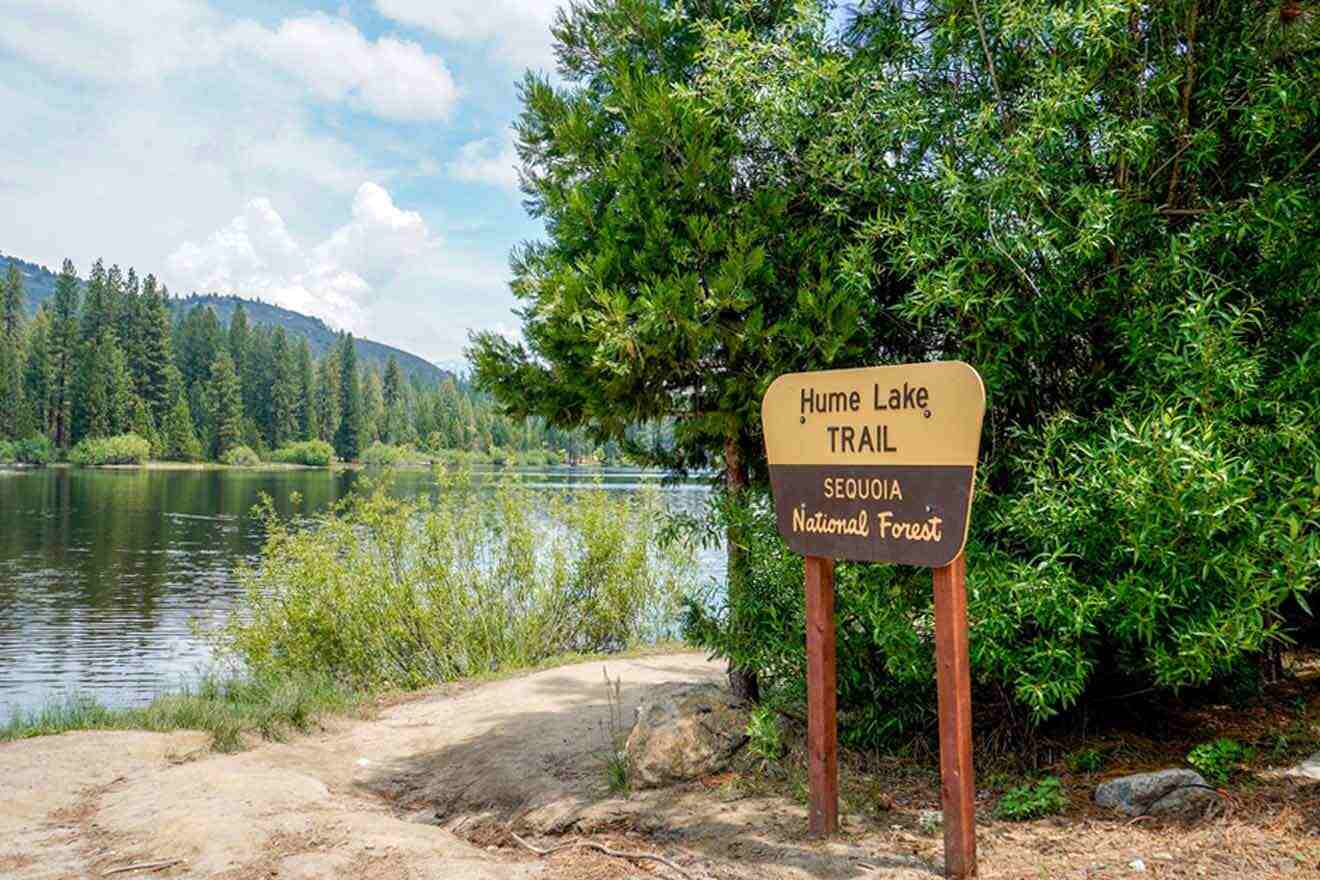 Scenic Hume Lake is part of the United States Forest Service land and is easily reached by either Generals Highway from Sequoia or Highway 180 from Kings Canyon.
The Hume Lake area is filled with tons of fun outdoor, lakeside activities. Enjoy canoeing, paddleboarding, water skiing, or just lying on the sandy beaches – this place has so many fun options!
FAQs about things to do in Sequoia National Park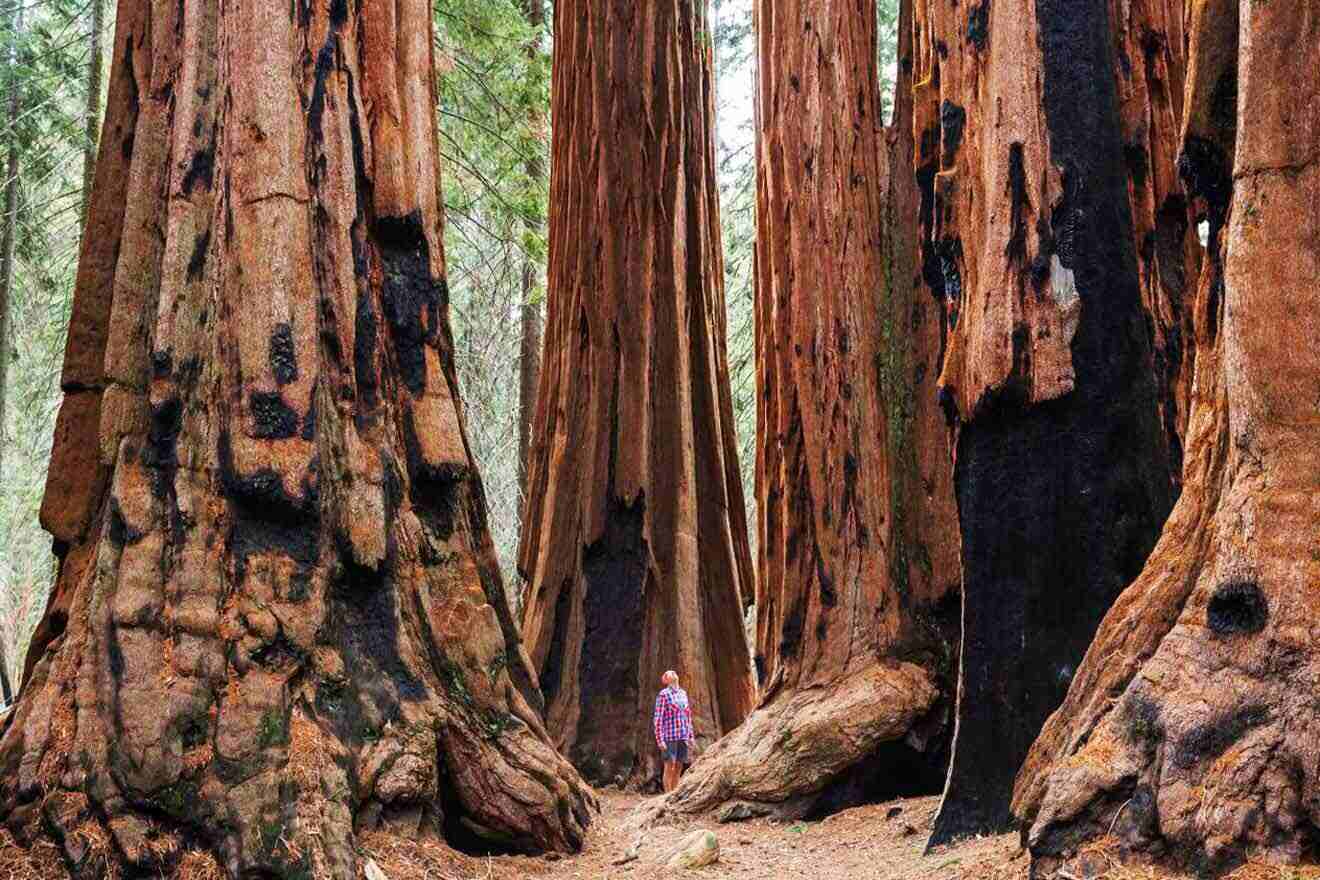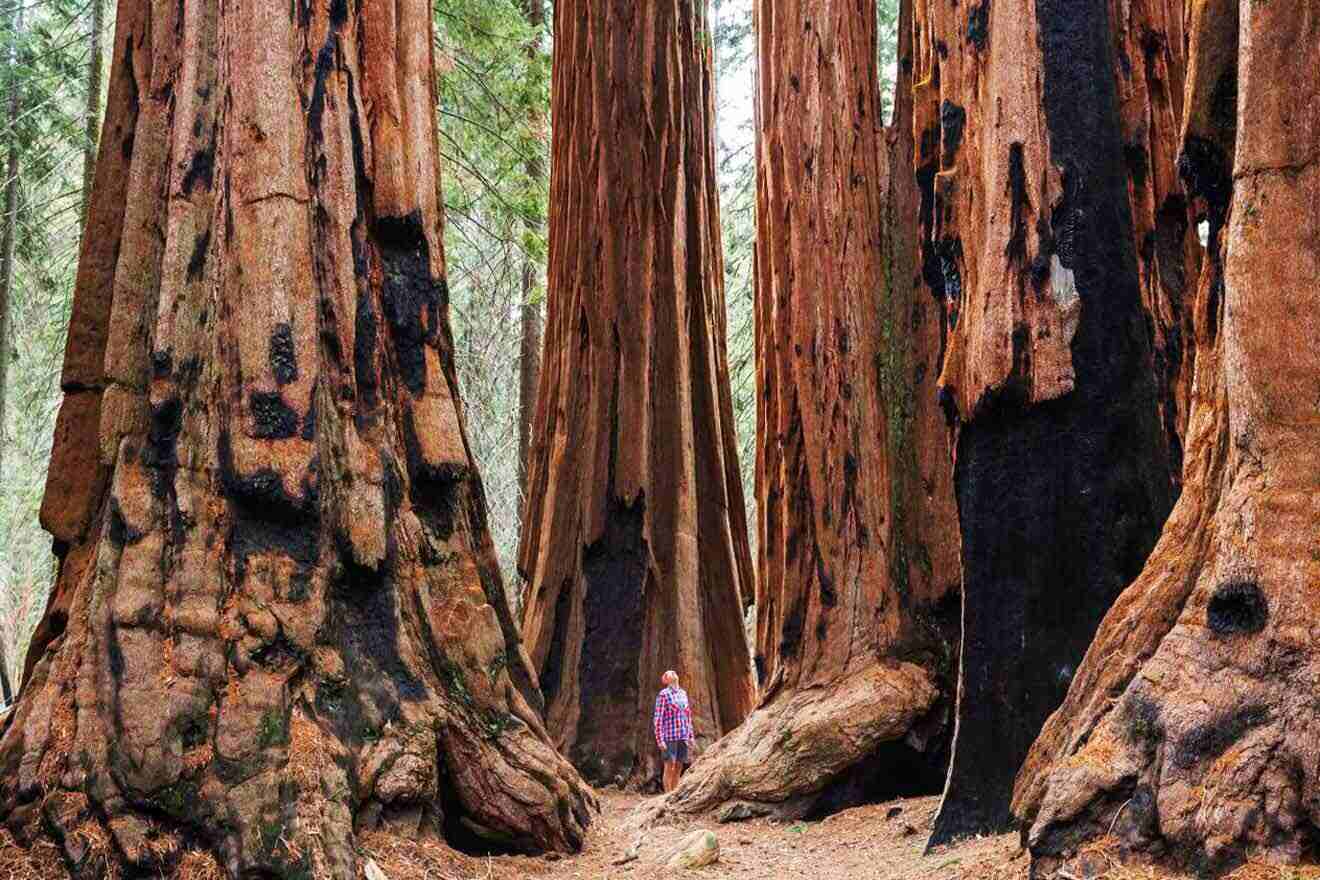 ✔️ What not to miss at Sequoia National Park?
You don't want to miss General Sherman, Tunnel Rock, or the Giant Forest Museum at Sequoia National Park.
⛺ What do people do at Sequoia National Park?
People love to hike, bike, camp, and marvel at the trees in Sequoia National Park.
🌳 What is the prime attraction of Sequoia National Park
The prime attraction of Sequoia National Park is General Sherman, the tallest tree in the world.
🌄 How many days do you need to see Sequoia National Park?
2 – 3 days is a good amount of time to explore Sequoia National Park, and its main attractions, and go on some tours, like the stargazing tour.
Conclusion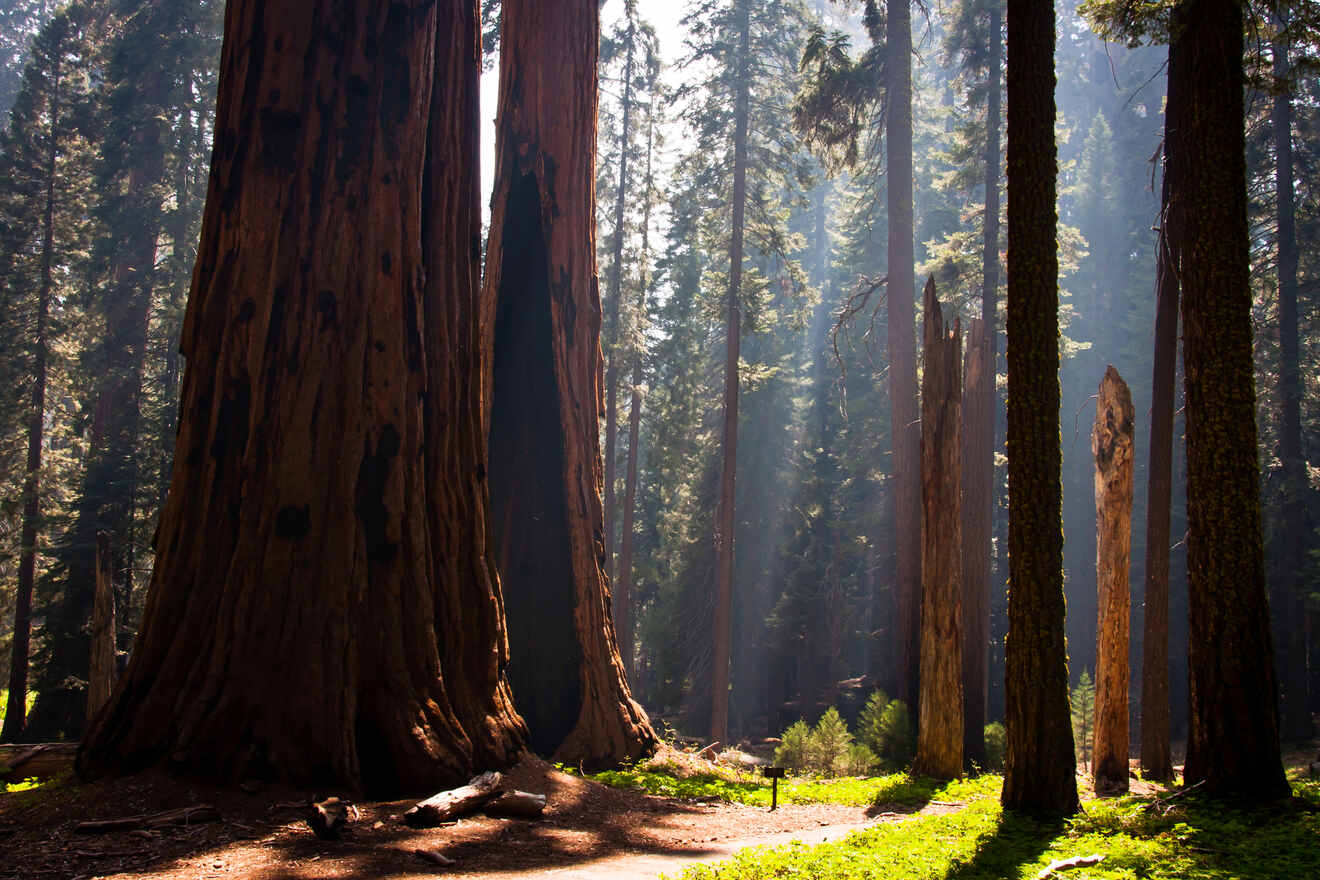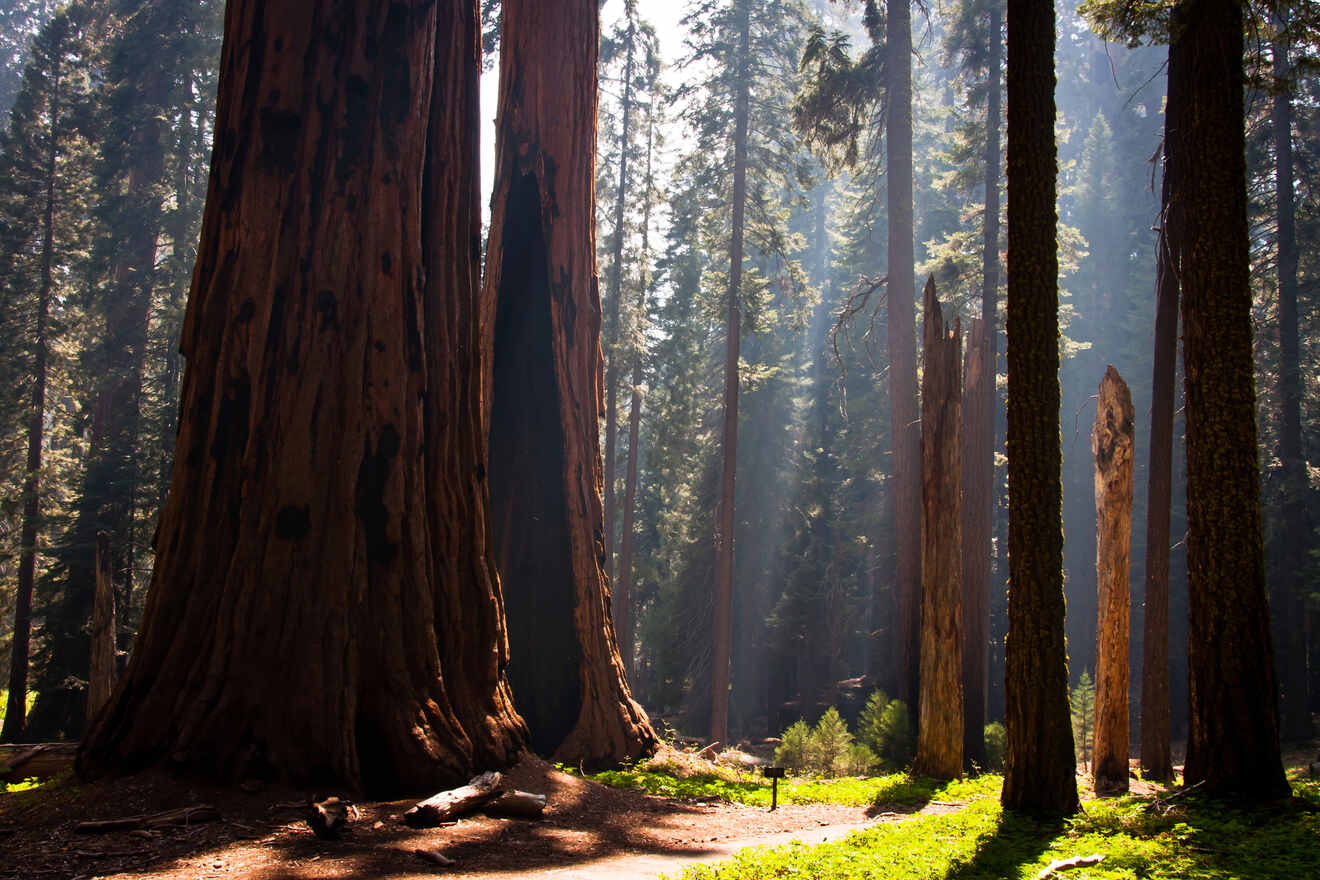 There's nothing better than the great outdoors! There are so many incredible things to do in Sequoia National Park you won't want to leave. Just remember, you can always come back!
If you're planning to visit Sequoia National Park, make sure to book in advance for your favorite activities and hotels!
I know you're going to love Sequoia National Park – feel free to drop me a line below with your favorite memories!
Aloha & safe travels,
Hayden G.
---
Pin it for later!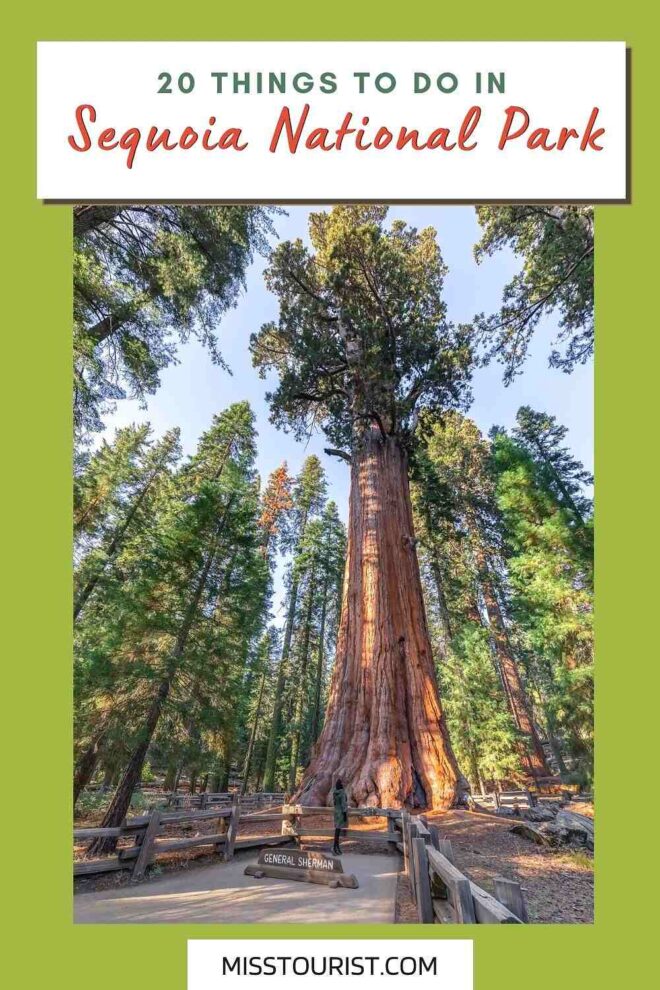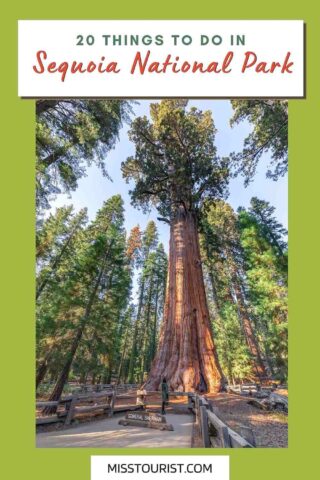 Pin it for later!