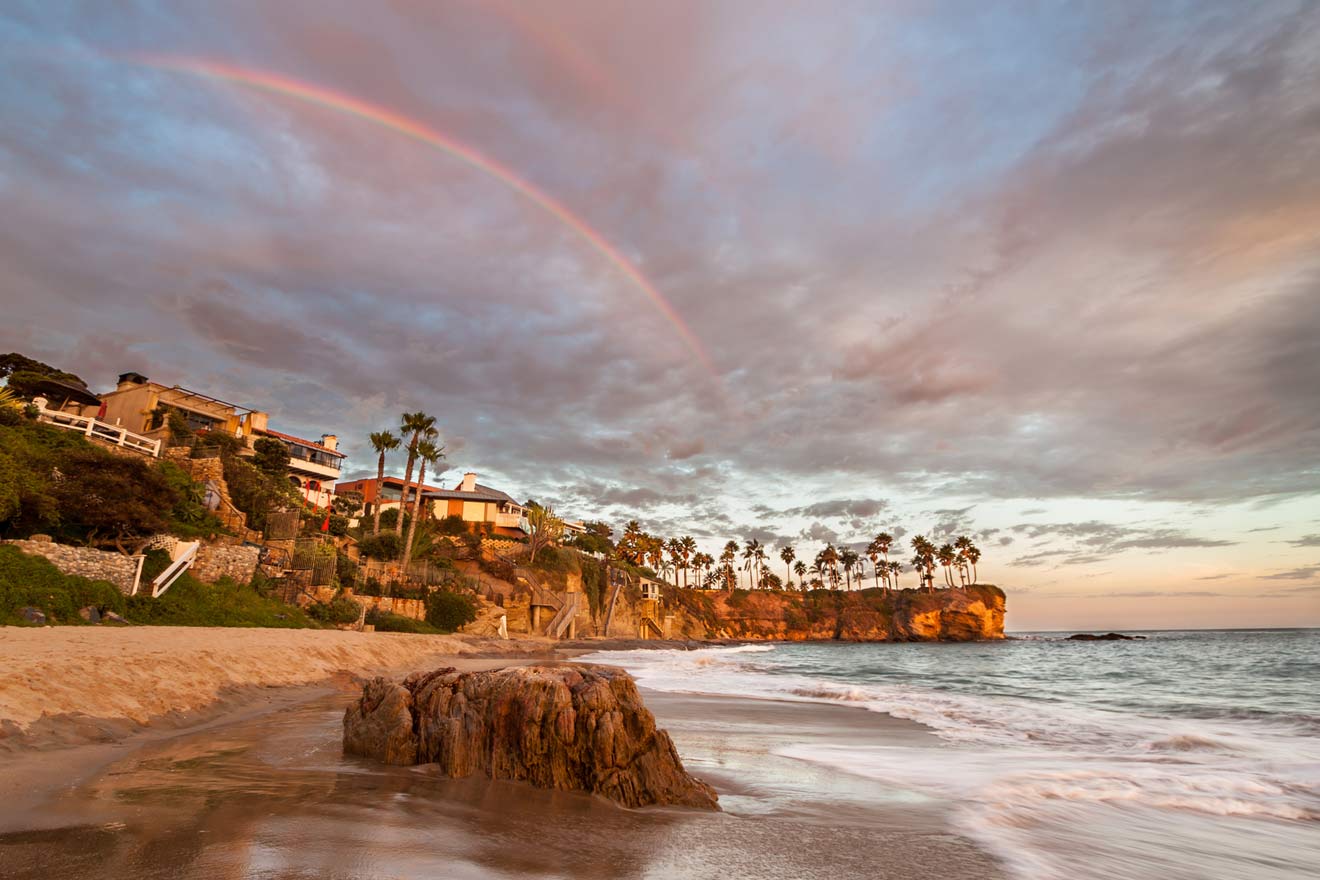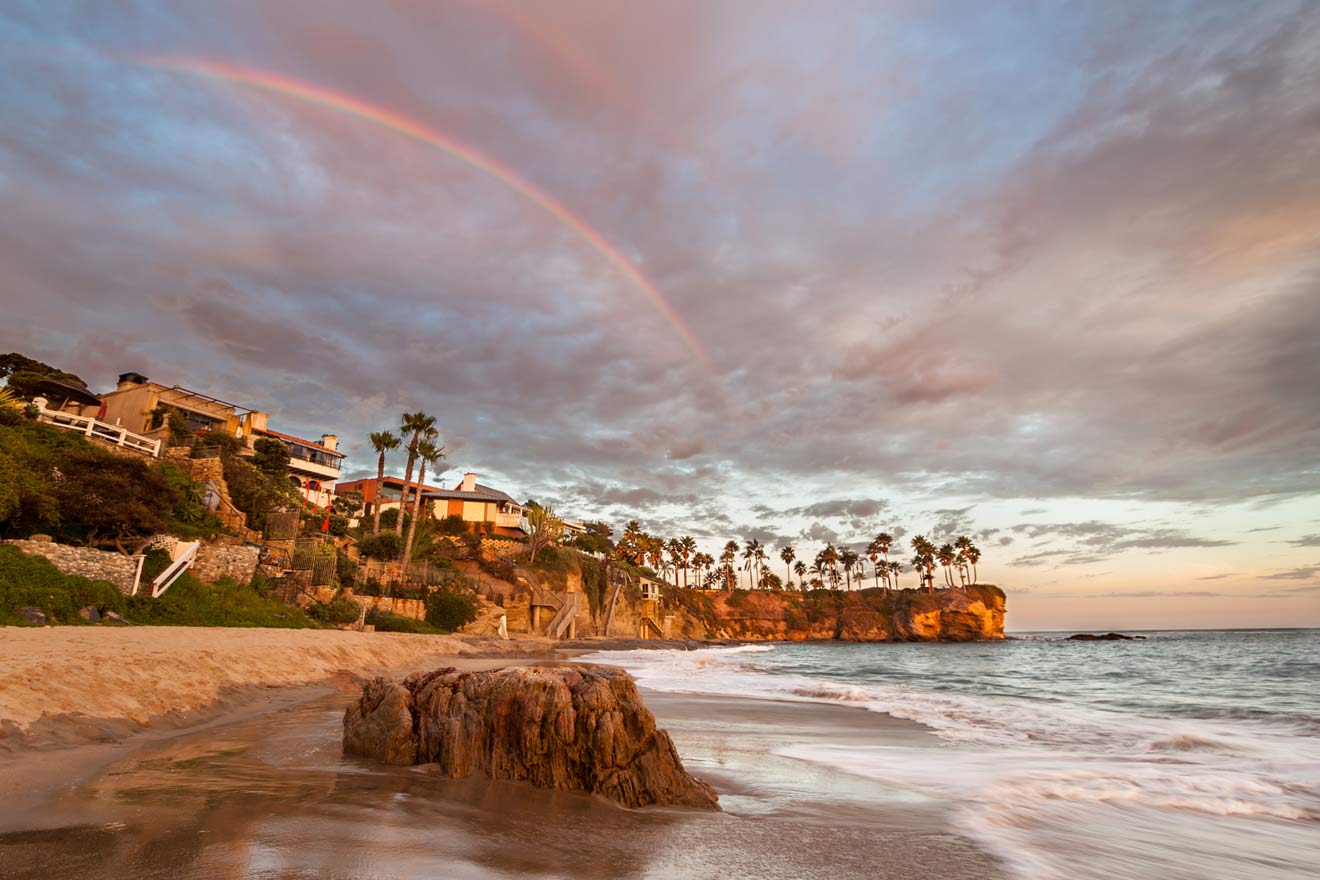 As you may or may not know, the best coast is the West Coast, but going even further than that, Southern California has to take the cake of the best places to be on the West Coast. There are so many things to do in Southern California! We have world-famous attractions and tourist destinations, and the list of outdoor activities is truly endless.
I've had the opportunity to explore the ins and outs of Southern California my entire life and have come across some of the most beautiful places to see and top-tier things to do.
And I'm here to share them all with you! The most important thing to keep in mind as you're reading this list is that booking your trips and tours ahead of time is going to save you so much money in the long term, so book ASAP!
Alright, here are the 16 bucket list things to do in Southern California!
If you are in a hurry
Traveling to a place like Southern California can get overwhelming when you only have a few days to explore. I totally get it.
So, here are the main things to book in advance:
And here are the best hotels: Malibu Beach Inn (luxury), Scripps Inn (mid-range), IHG Continental (budget)
Here's a map as well showing where each attraction is located:
1. Go offroading in Joshua Tree National Park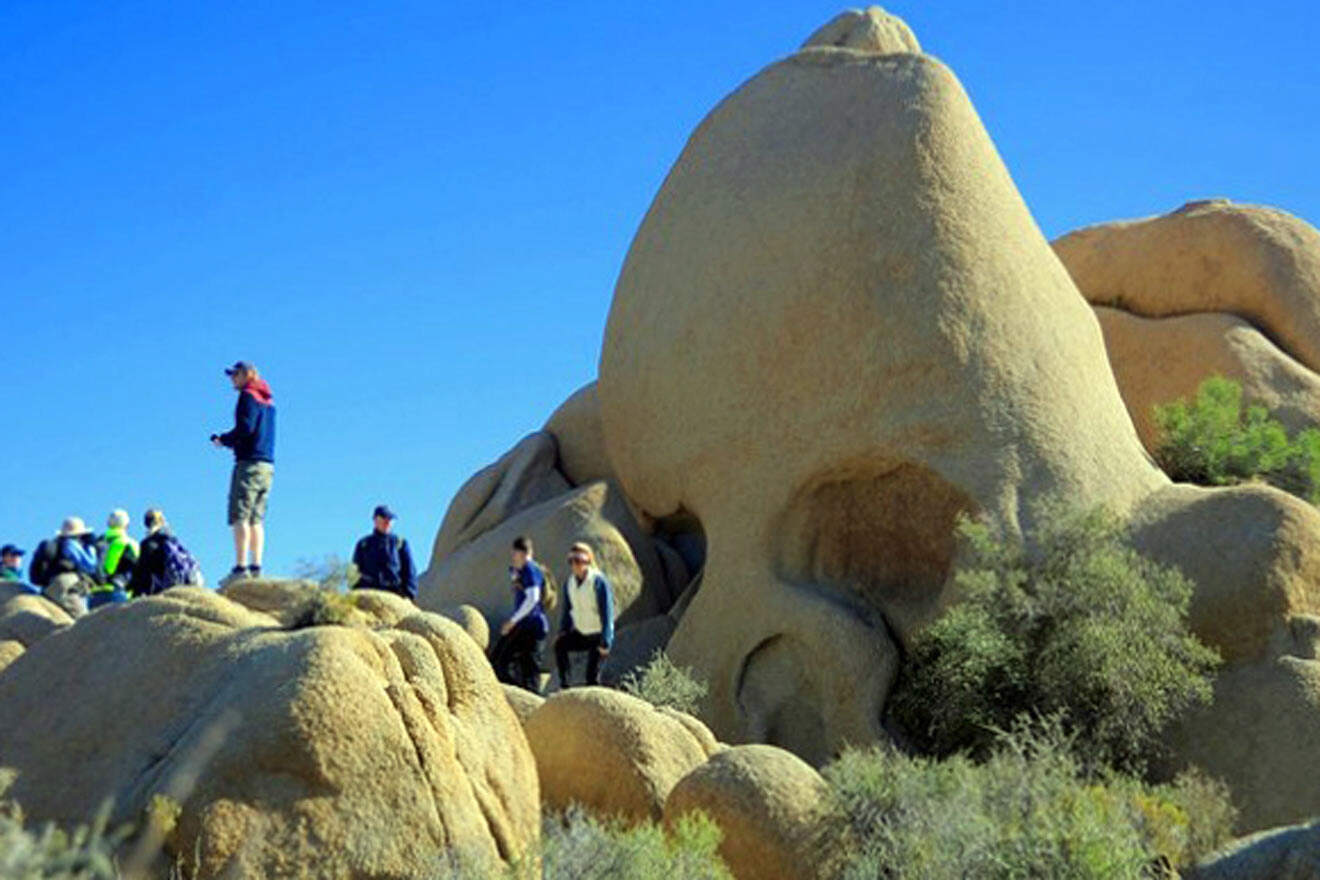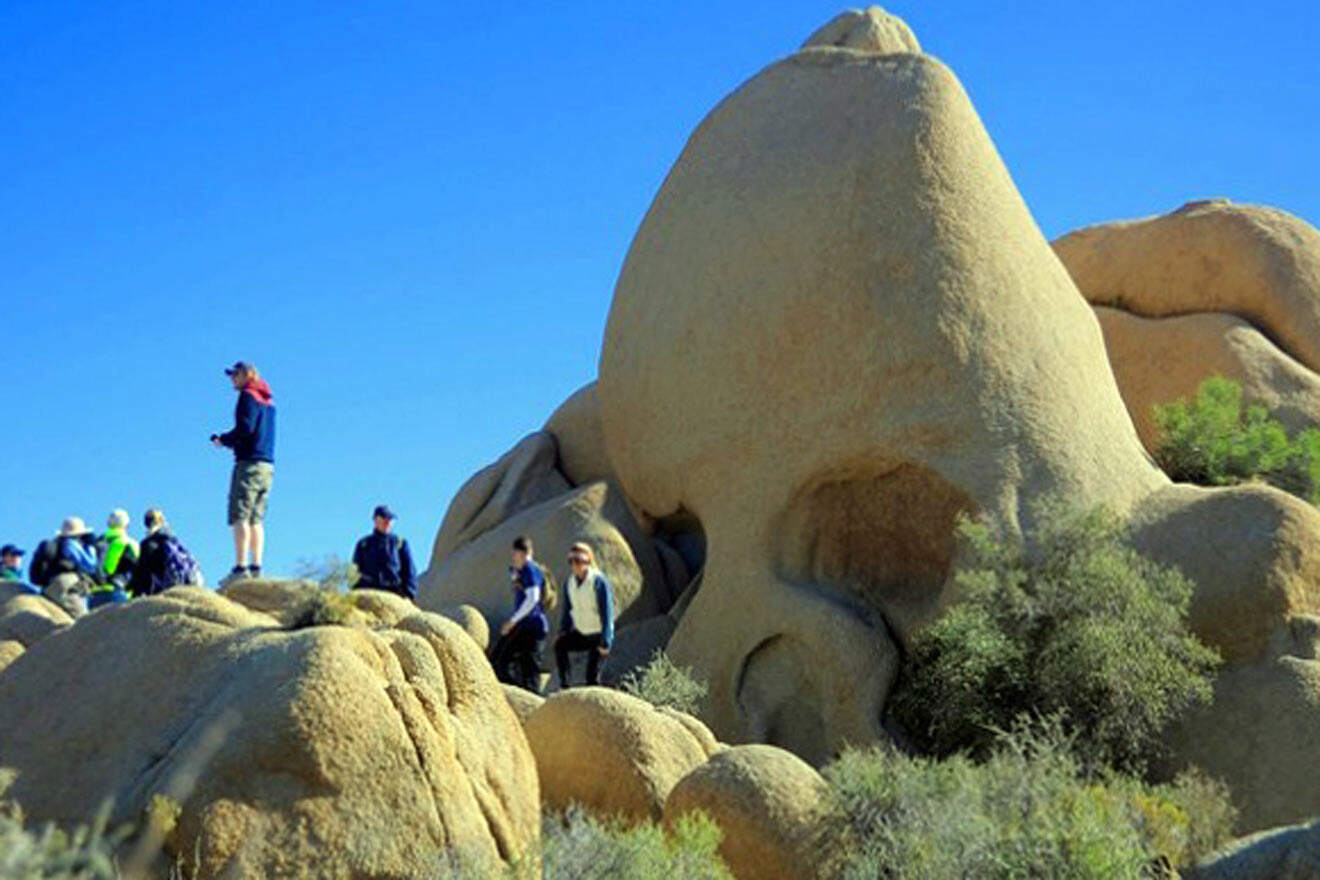 Joshua Tree National Park is every local's favorite place to go for a quick weekend desert getaway. There's a variety of hiking trails to choose from, cool shops, aliens to hunt (yes, seriously), and stars to gaze up at during those clear (and pollution-free) nights.
It's impossible to hike the entire park with over 800,000 acres (323,748 hectares) to explore. That's why offroading on a 4×4 is the next best thing! Especially if you want to get deep into the wilderness. You'll get to explore the depths of the Mojave Desert and admire the amazing Joshua Trees everywhere you turn.
I recommend booking a private tour where you'll head towards the deep backcountry with a professional guide who will be able to educate you on the ins and outs of Joshua Tree National Park along the way. The cost of the park admission is covered, and they'll provide you with tons of water and snacks to keep you satisfied during the whole 3-hour journey.
The tour is great for families with children ages 5 or older!
Make sure to come prepared with a sun hat, sunglasses, and plenty of sunscreen! I've also been bringing this balm around anywhere I go – just in case I do get sunburned!
PRICE: US$210/person for adults and kids
2. See your favorite animal at the San Diego Zoo's Safari Park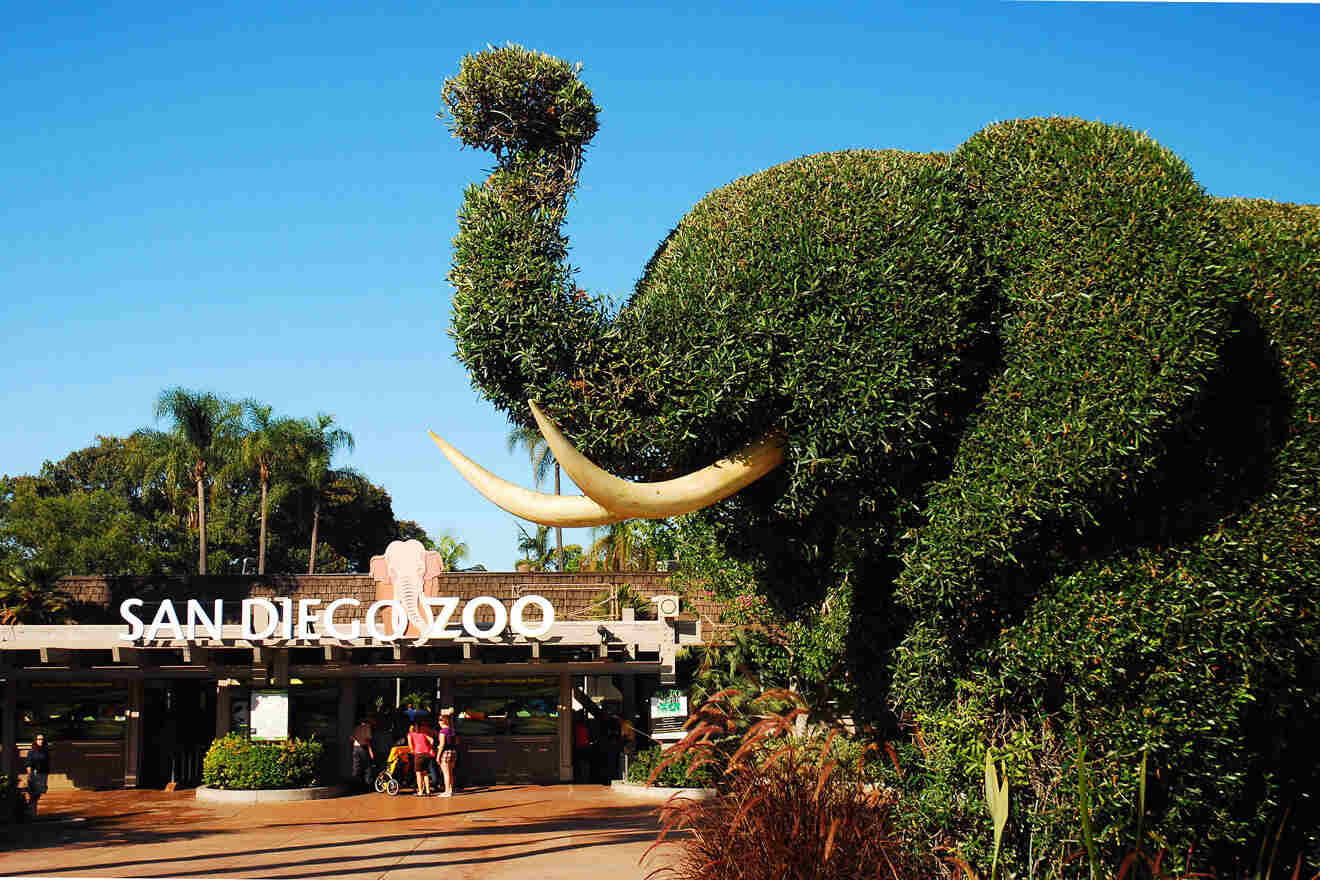 San Diego Zoo is home to over 14,000 endangered and rare animals, with over 700 species, and it's over 100 years old. It covers over 100 acres (40 hectares) of land! Their Safari Park is an excellent Southern California bucket list activity for those of you looking for a bit more adventure!
The Safari Park has over 3,500 animals roaming the park with exhibits inspired by the African Serengeti and the Asian savanna. The experience is unlike anything you've ever seen in California (and absolutely had to be at the top of my list here)!
TIP: San Diego Zoo is about a 5-minute drive away from downtown San Diego, so if you're not traveling with kids, I recommend exploring the Gaslamp District for an excellent nightlife experience. The Gaslamp District is known for its bars and clubs, but my go-to place is the Altitude Sky Lounge for the best rooftop bar in San Diego!
PRICE: from US$69 for adults (12+), US$59 for kids ages 3 – 11
3. Explore the amusement parks in Southern California
There are SO many amusement parks that people from all over the world come to visit in Southern California. Here are a few notable parks I recommend checking out!
3.1 Disneyland Park and California Adventure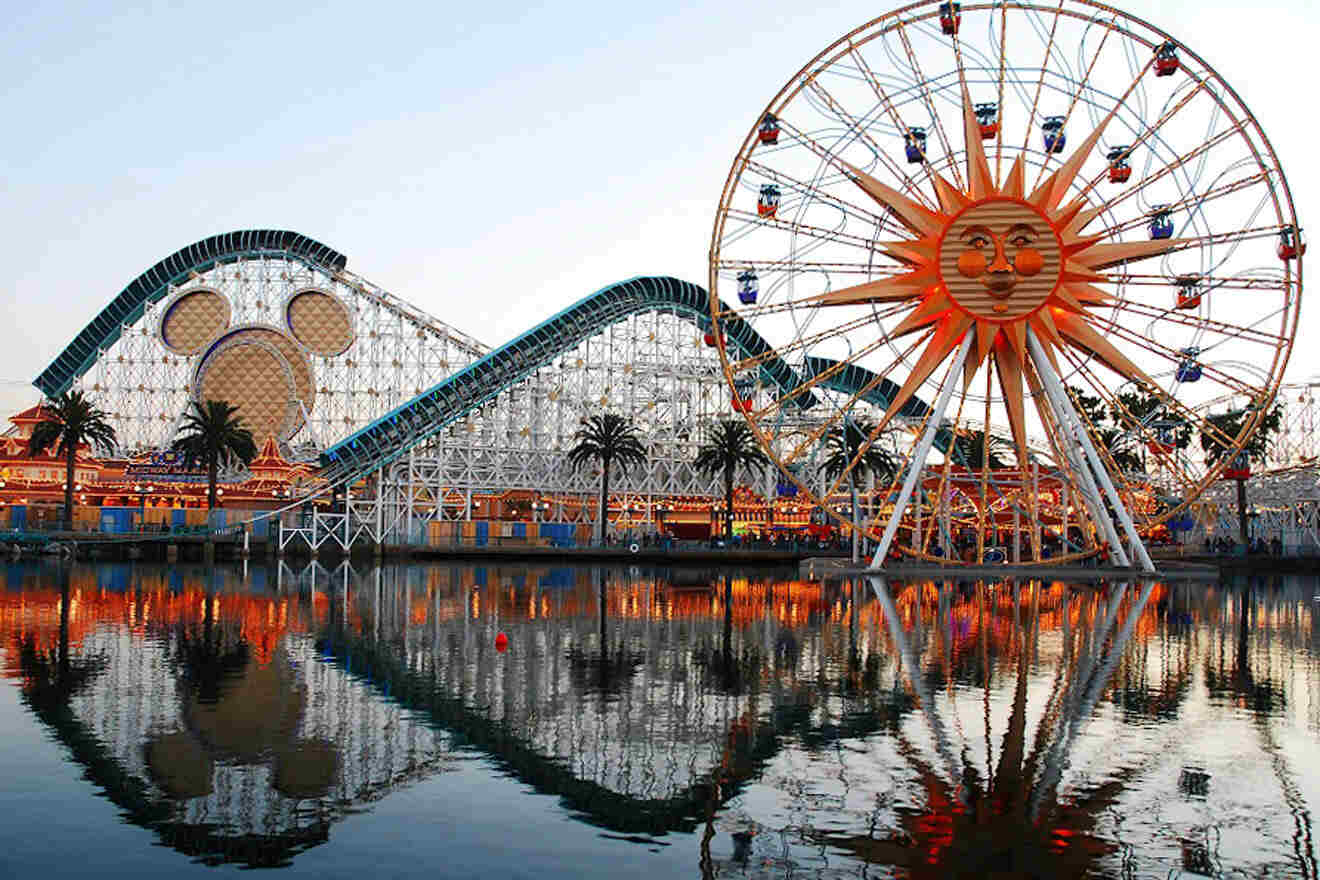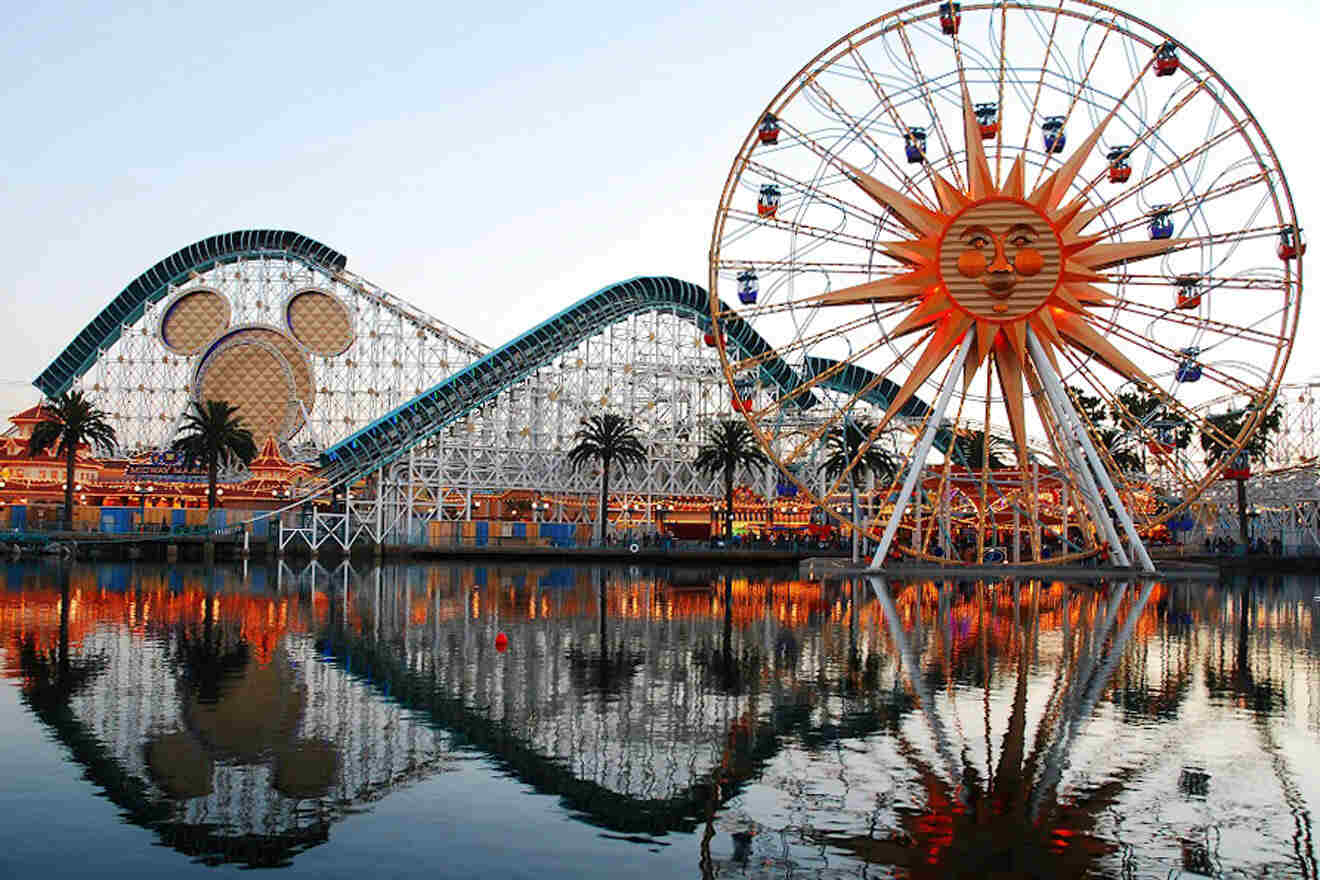 Easily the most attractive and popular amusement parks in the world, Disneyland Park and Disney California Adventure Park (commonly referred to as California Adventure) in Orange County are absolute must-sees and Southern California bucket list activities!
Because each Walt Disney theme park is located directly across from each other, it's easy to get a Park Hopper ticket and visit both theme parks on the same day.
If you're a HUGE Disney fan, I recommend staying at a hotel (like this one) at the Disneyland Resort – it's definitely a splurge, but you get the whole luxurious Disney experience with in-room celebrations and direct-to-room service.
HACK: Use a crowd calendar to check when it will be busiest (I like this one!) and buy Lightening Lane passes to avoid waiting in long lines.
PRICE: from US$104 for adults; Park Hopper tickets are + US$65/ticket
3.2 Universal Studios Hollywood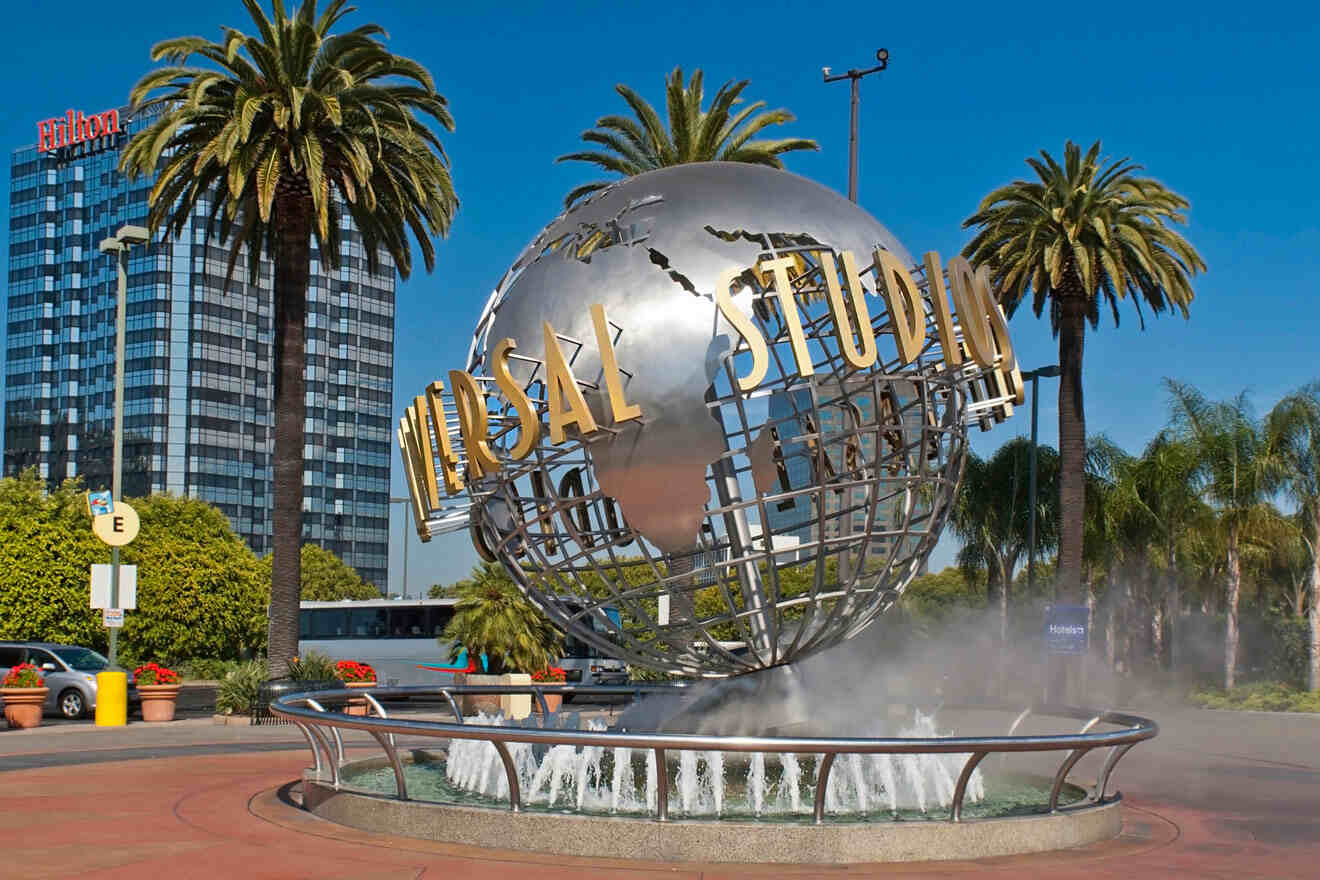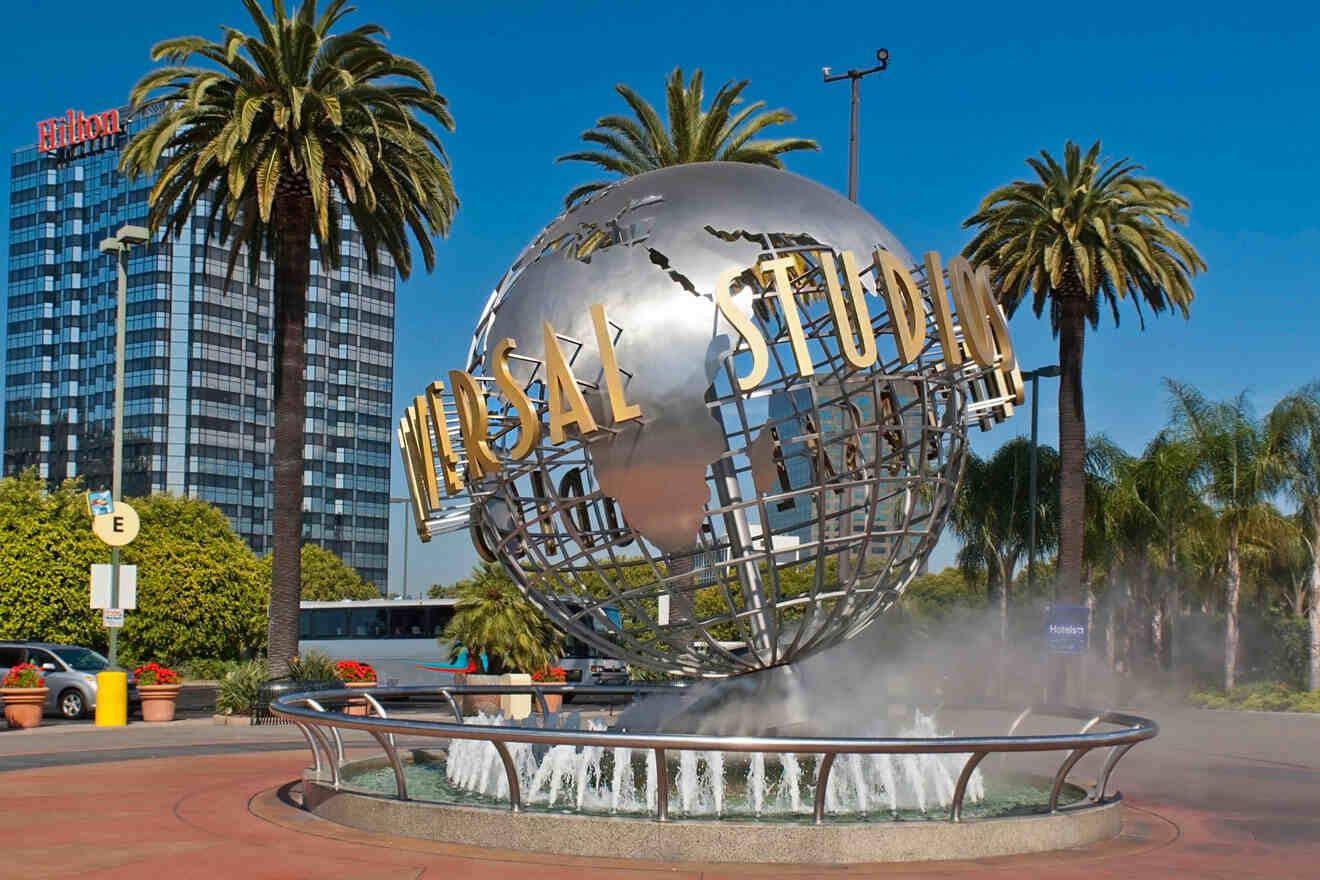 The second on my list of amusement parks is Universal Studios Hollywood! This world-famous park makes Hollywood's most influential movies and television shows come to life with its immersive theme parks, rides, attractions, and more. Super Nintendo World is my favorite attraction here!
Don't miss out on their popular Studio Tour, which is included with your admission. It's my absolute must-see tour at Universal Studios, where you'll see how some of Hollywood's classic movies came to be and see original sets.
PRICE: from US$108 for adults. Prices vary depending on the date and add-ons.
3.3 Six Flags Magic Mountain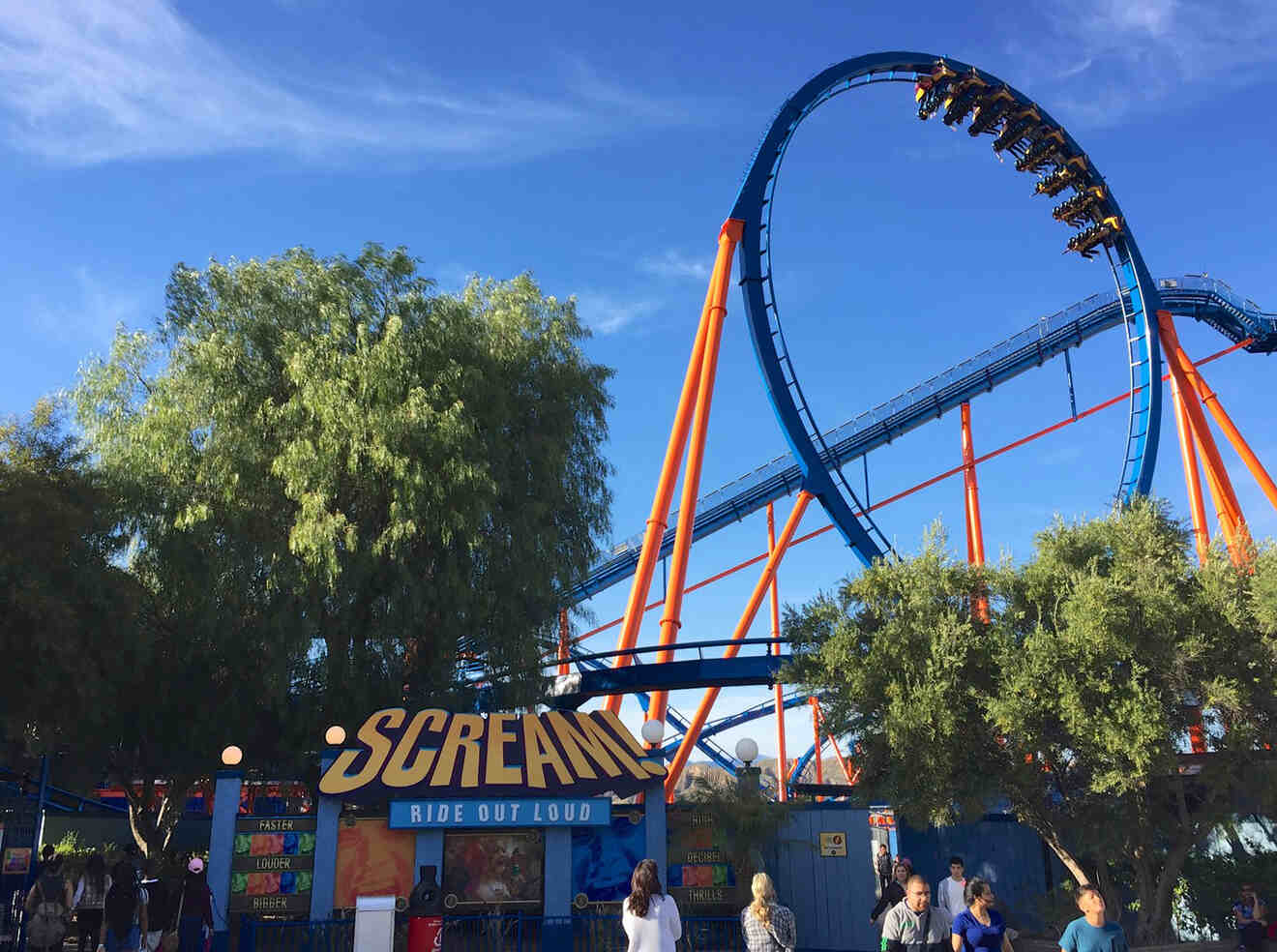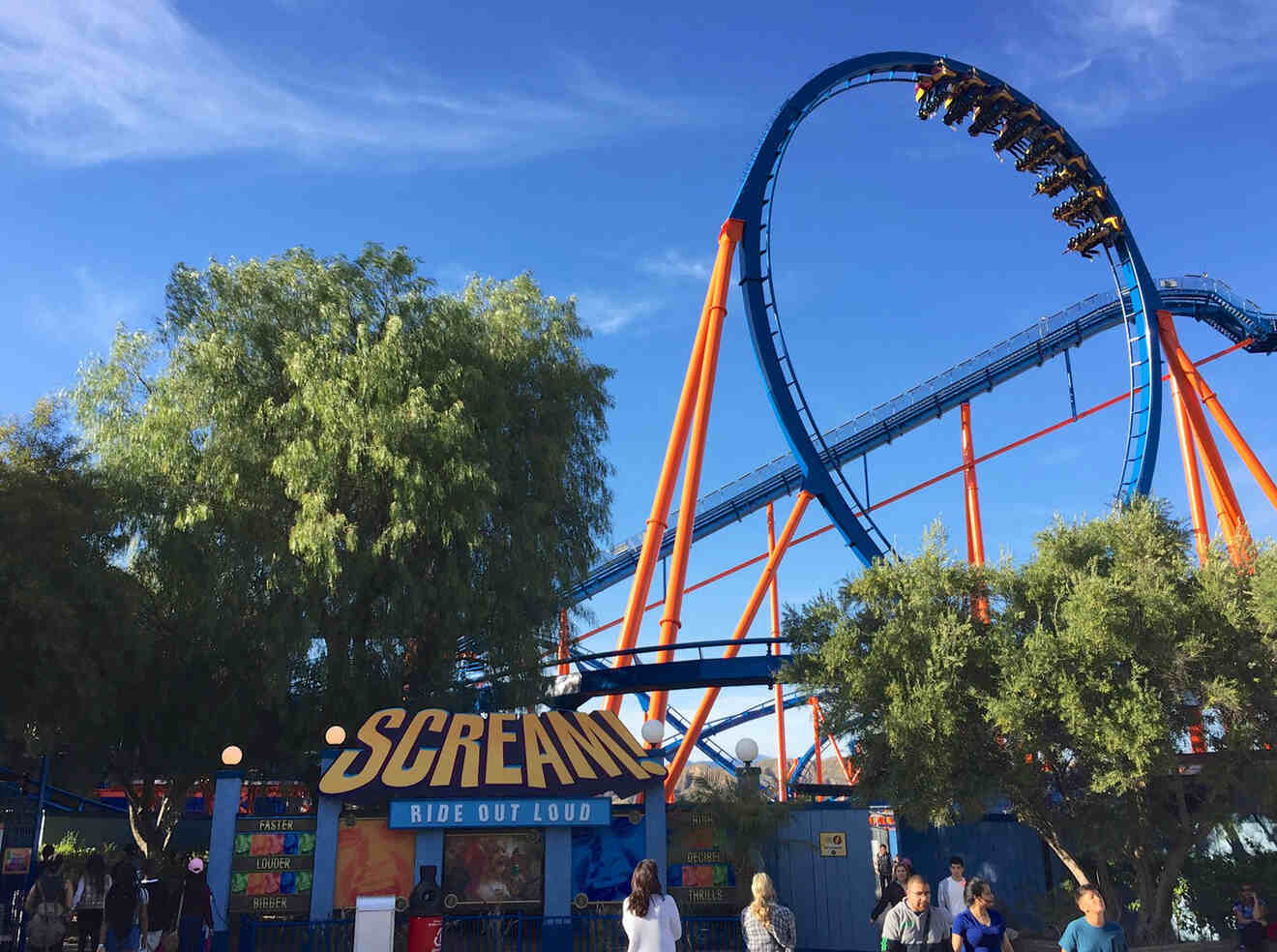 Six Flags Magic Mountain is for the thrill-seekers visiting Orange County, known for its 20 world-class roller coasters (holding more than any theme park in the world)!
If you're looking for the craziest roller coaster here, X2 is where you'll find it. Have fun and good luck!
HACK: Buy your tickets in advance to save yourself a pretty penny, and download the Six Flags app to stay updated on all the latest information. I also recommend using their mobile food ordering service to avoid waiting in those long lines!
PRICE: from US$108 for adults
3.4 Knott's Berry Farm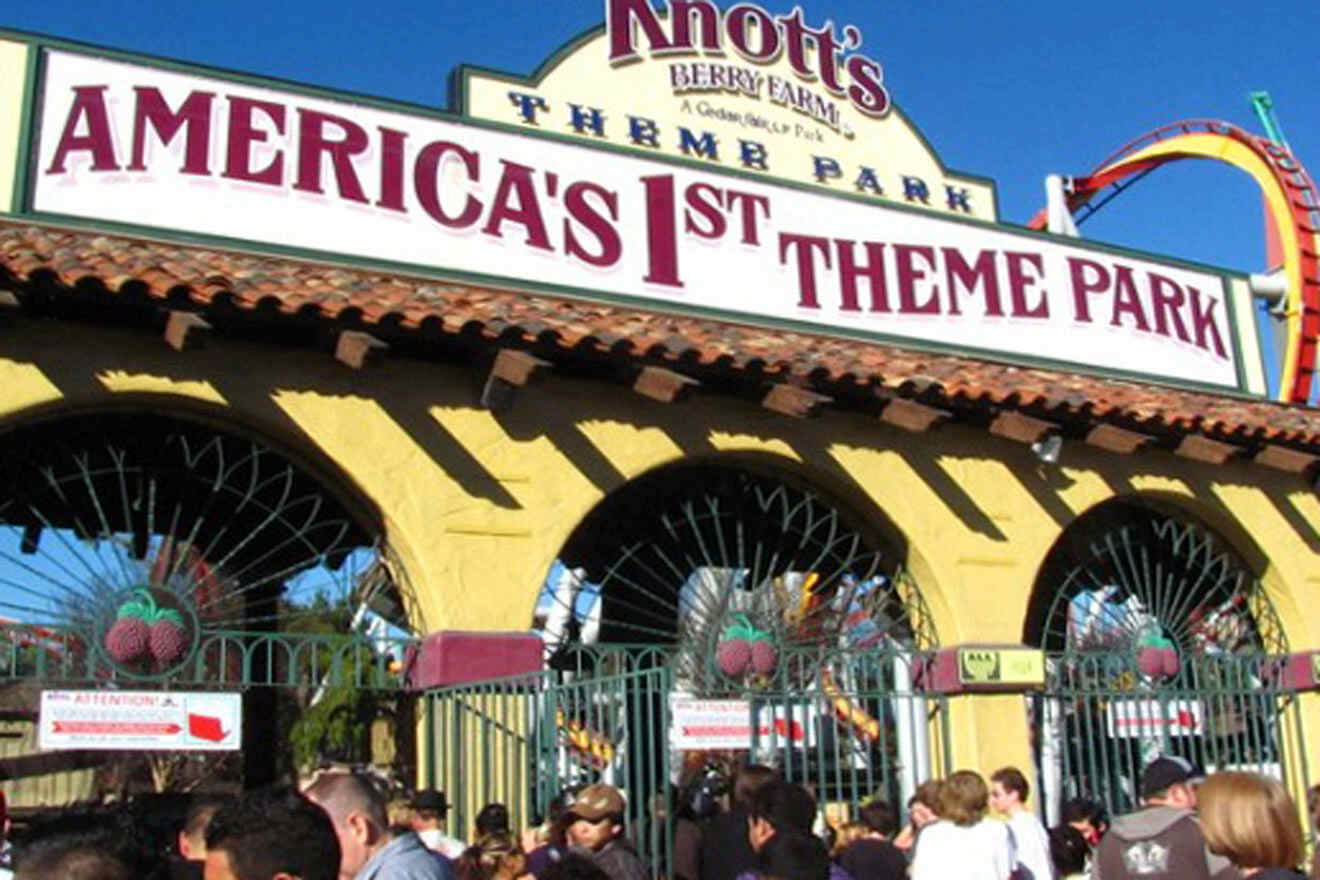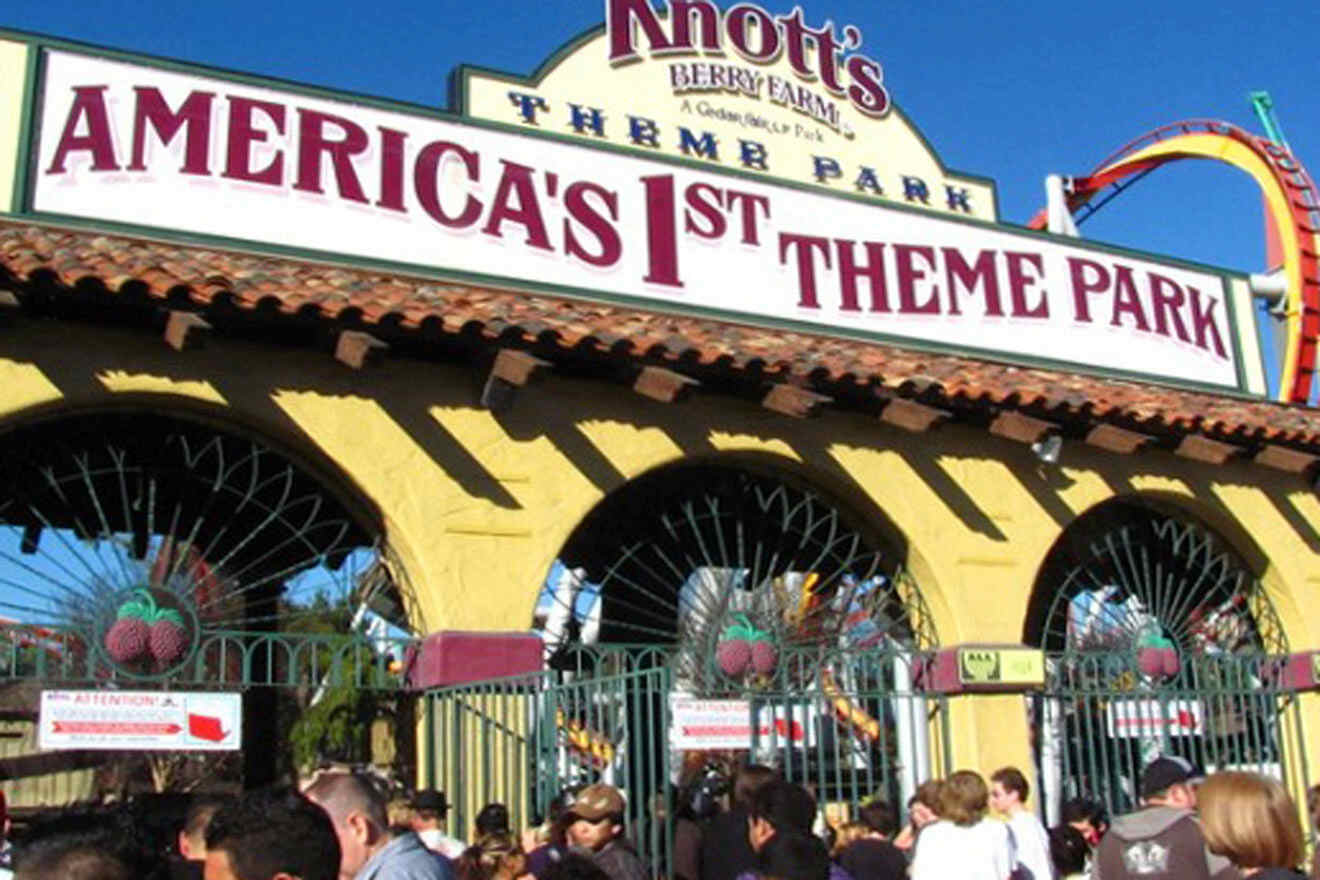 Take a ride down California's roots with Knott's Berry Farm's theme parks Old West Ghost Town, Fiesta Village, The Boardwalk, and Camp Snoopy!
This amusement park is a more diverse experience for families who are looking for fun entertainment! There's a good mix of thrilling rides and calmer rides for those looking to lay back and relax.
HACK: While you're staying at a nearby Los Angeles hotel, avoid spending money on Ubers and the headache of LA traffic! Use the Metrolink Train instead – it conveniently stops a few steps away from Knott's Berry Farm. If you're staying at a hotel nearby, you can also take a shuttle.
In terms of tickets, you can either opt for the Knott's Berry Farm ticket (US$75) or for the Go Los Angeles All-Inclusive Pass (US$100), which includes the farm and other famous attractions + other perks on top of saving money by bundling.
PASS PRICE: from US$100 per person
3.5 LEGOLAND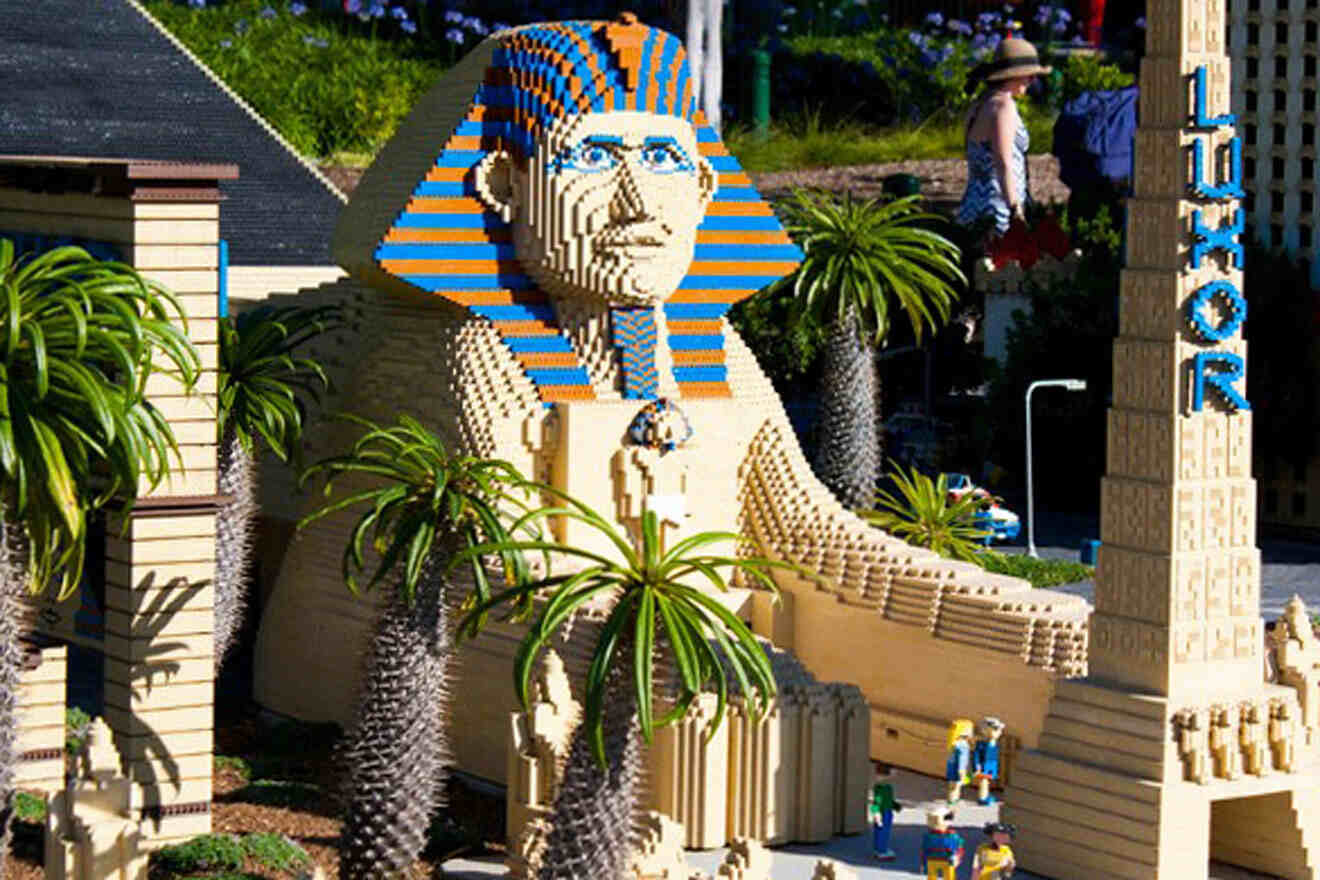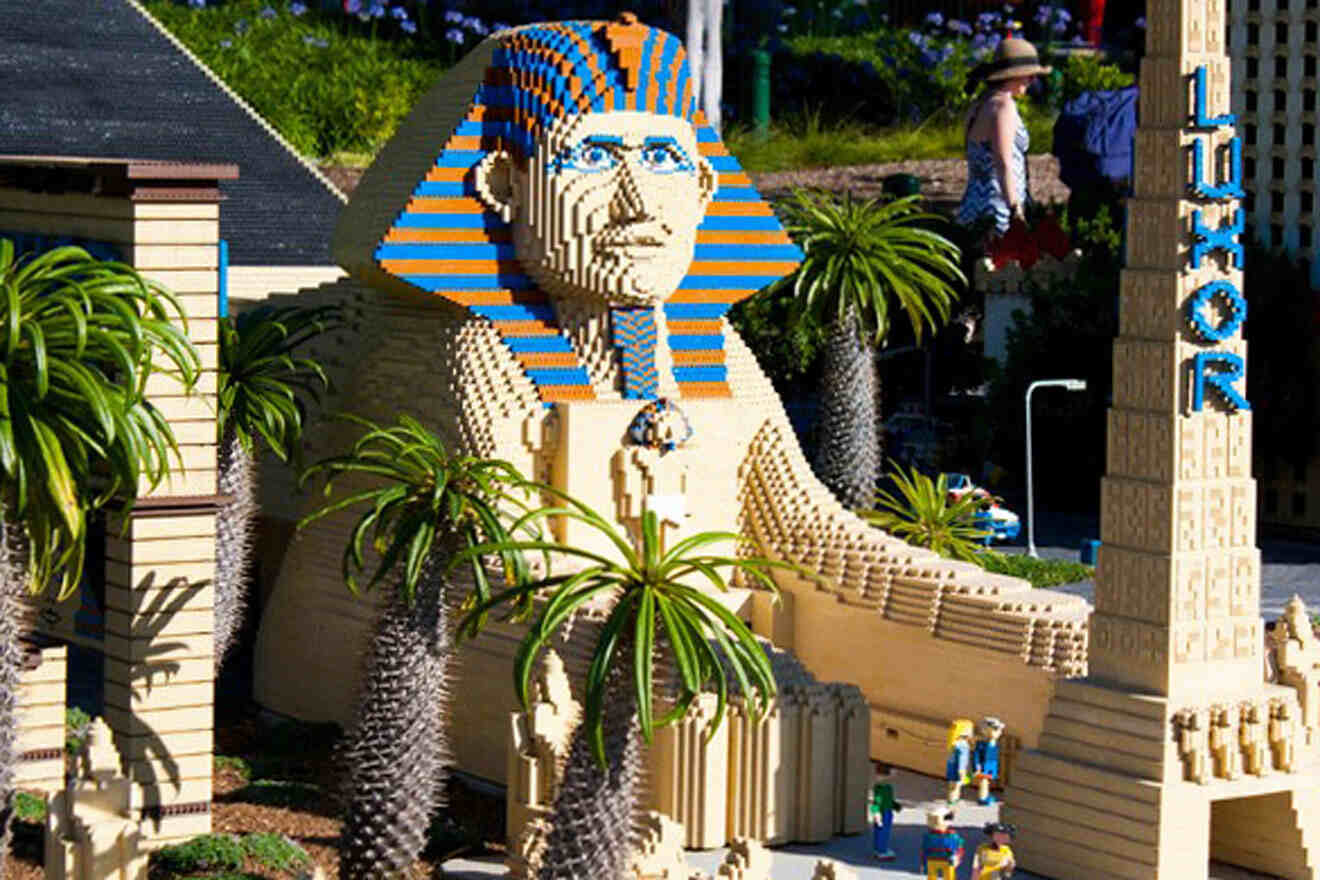 LEGOLAND California in Carlsbad has over 60 rides and attractions built for families with children ages 2 to 12 years old. The well-known Southern California amusement park is famous for its child-proof rides and games.
Here is a list of all the rides and attractions that you can take advantage of. I recommend every single one of these!
For the entire family to enjoy, I recommend riding the Coast Cruise. It's a fun little cruise passing by mini replicas of some of the world's most famous attractions, i.e., the Taj Mahal, the Eiffel Tower, and more.
PRICE: from US$90 per person
3.6 SeaWorld San Diego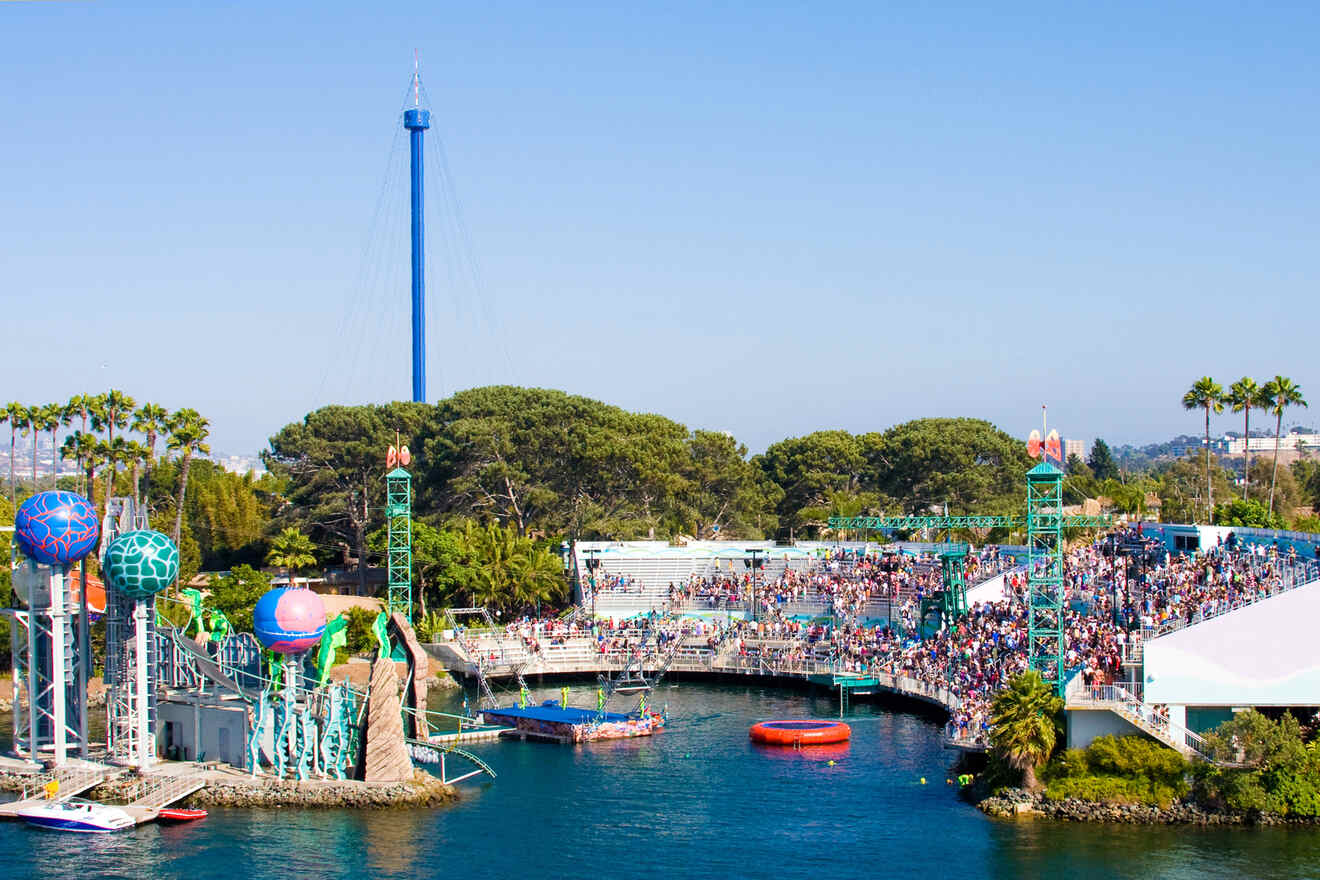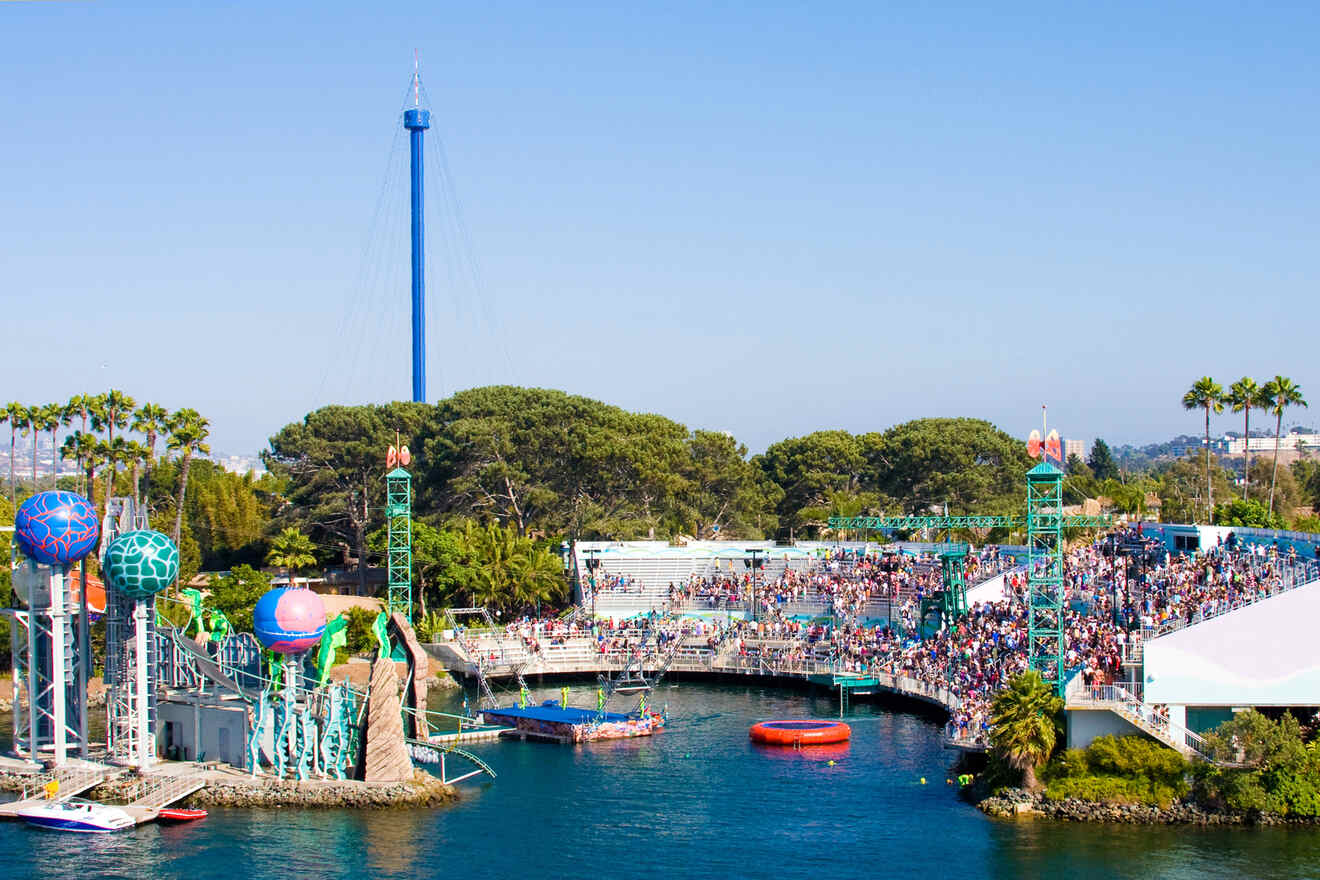 SeaWorld San Diego is another major amusement park in Southern California worth visiting. I spent many summers here watching the "Shamu" shows and enjoying every minute of it!
While you're here, I recommend the Journey to Atlantis ride… I can't even tell you how many times I used to ride this one back-to-back!
NOTE: No outside food or drinks are allowed inside the park except for bottled water! I recommend eating a hefty meal before getting to the park to avoid having to spend too much money on full-on meals.
PRICE: from US$72 per person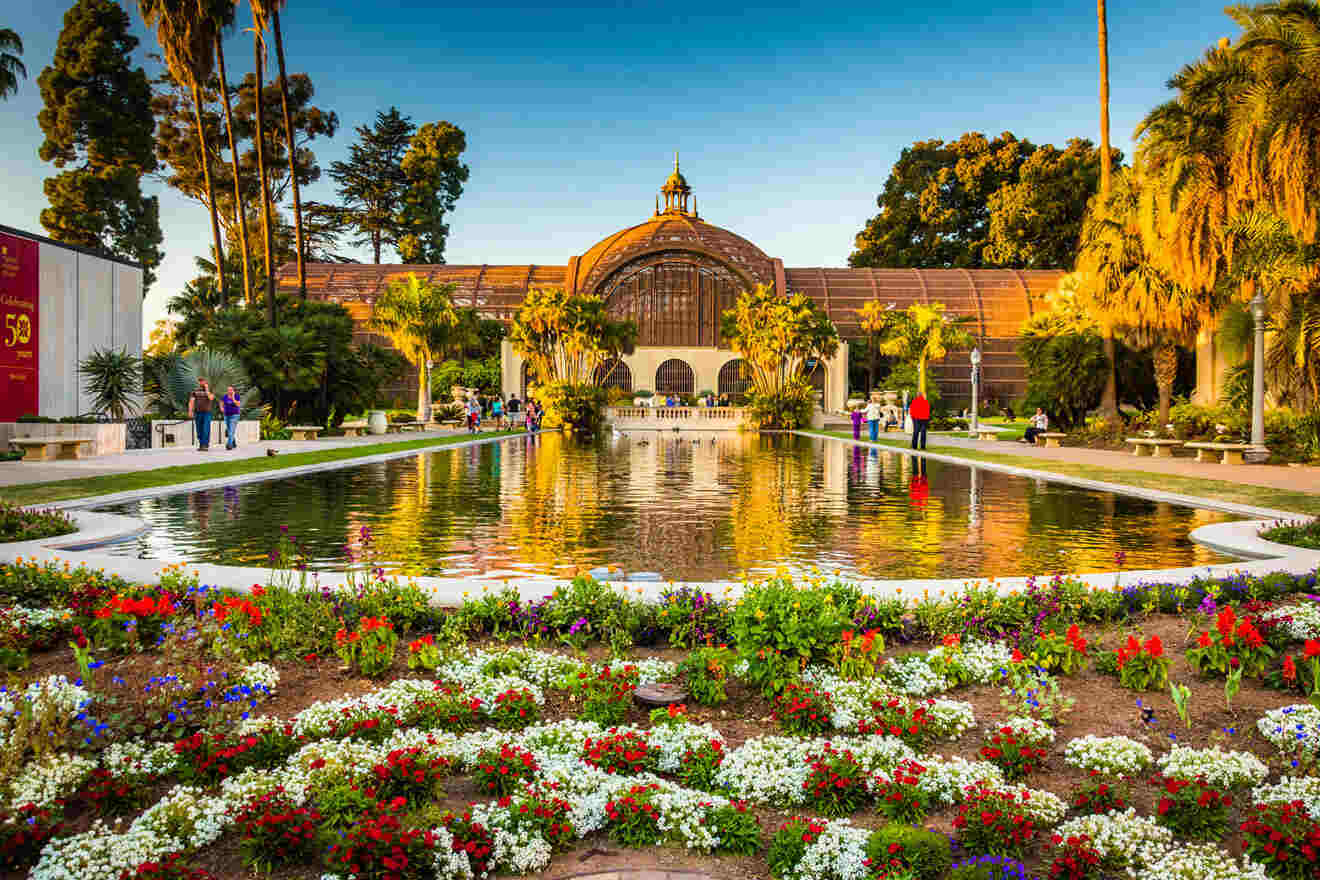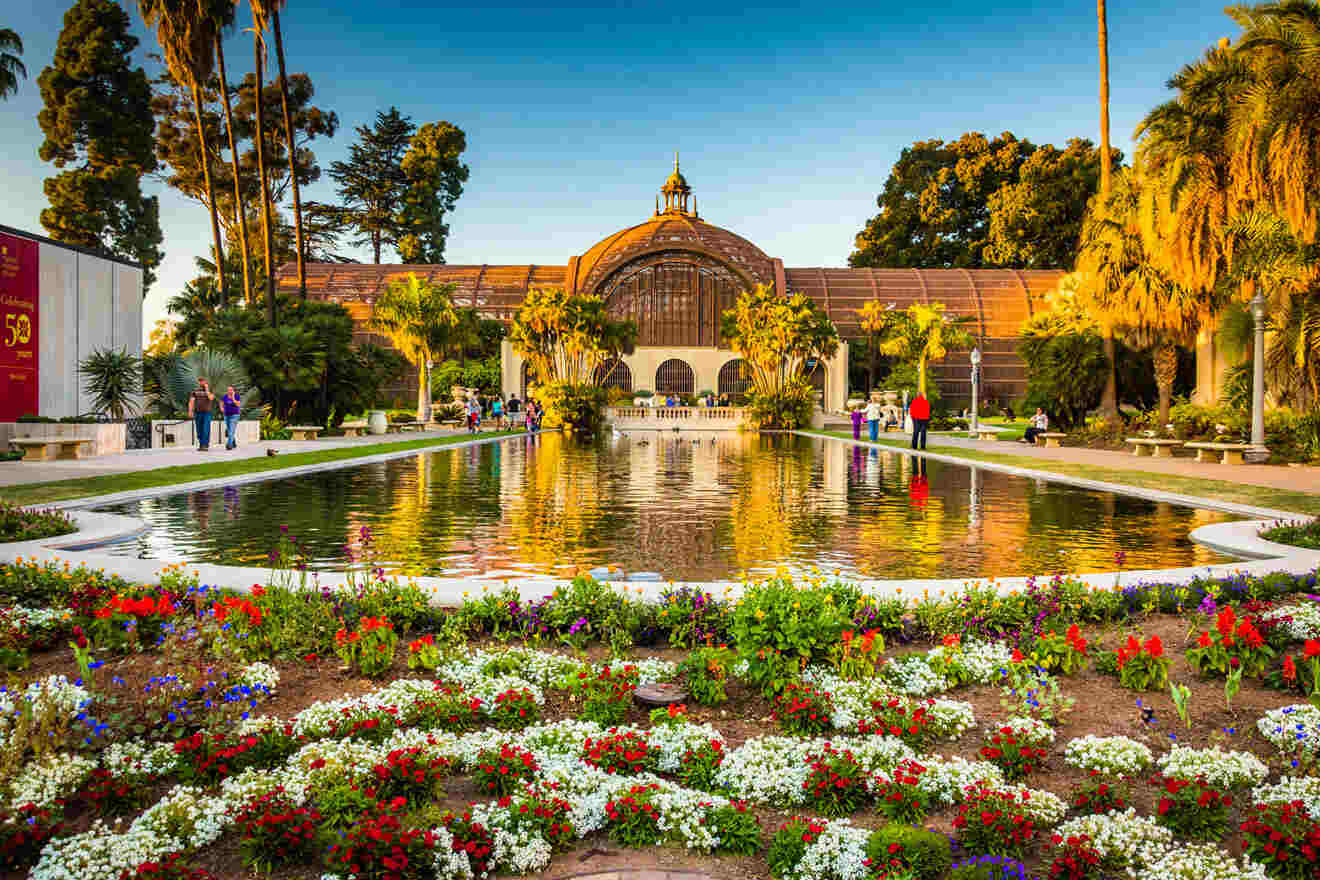 Balboa Park is known to be a cultural oasis filled with museums, gardens, stunning architecture, and history to uncover. I've been here many, many times, and I feel like I find something new to explore each time I go!
There are a few things to do here that I recommend doing!
There are so many great spots around Balboa Park to take beautiful photos! I recommend standing by the Botanical Building and Lily Pond & Lagoon to snap a photo that will last a lifetime.
TIP: After you're finished exploring the park, head over to the USS Midway Museum. It's only an 8-minute drive away, and it's another famous attraction here in San Diego that you'll get to cross off your bucket list and enjoy with the family!
5. Take a hike up to the famous Hollywood sign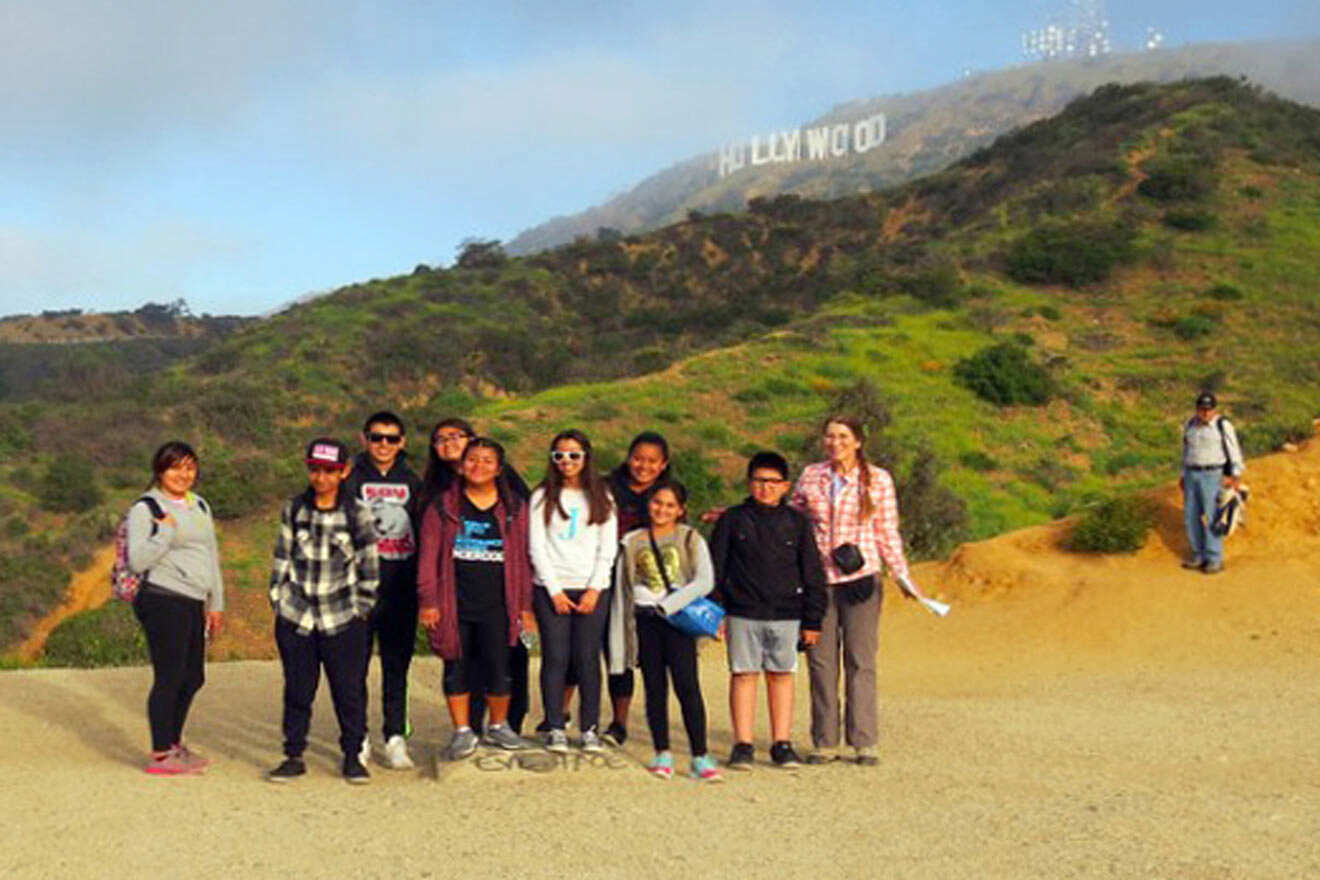 The Hollywood Sign is arguably the most famous landmark in all of Southern California! The entire world has seen it at least once in their lives, and it's an absolute must-see destination for those coming to Southern California.
There are so many ways to make the most out of your experience, but hiking up one of the best trails in LA at Griffith Park is a memorable experience, great for families, friends, couples, and even avid solo travelers like myself! The park is open every day from 5 AM to 10:30 PM, so you can take your time while you're here.
Griffith Park has over 4,000 acres (c. 1,620 hectares) to explore by yourself or on a tour and a plethora of California's most iconic native plants and species, like oak trees, lilac shrubs, mountain mahoganies, and more. If you're a nature lover, you're going to enjoy this hike.
There are a couple of trail routes that offer a satisfying view of the Hollywood Sign:
Head over to Santa Monica Boulevard after your hike for a drink and explore the heart of LA's LGBTQ+ community!
The park is free to enter, but parking near the Griffith Observatory is between US$4 an hour and US$20 per day.
TOUR PRICE: US$35 per person
6. Hunt down ghosts at the Santa Monica Pier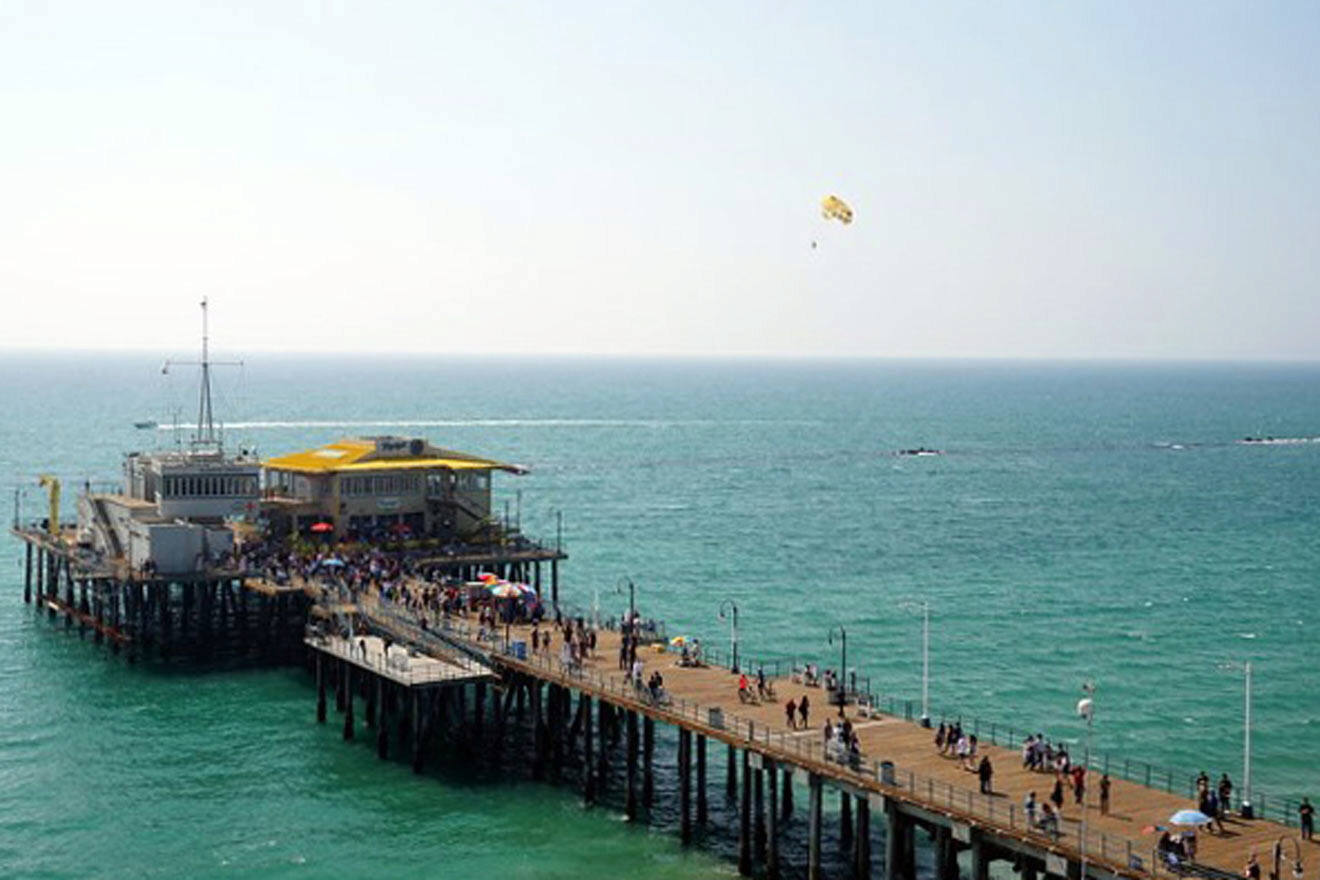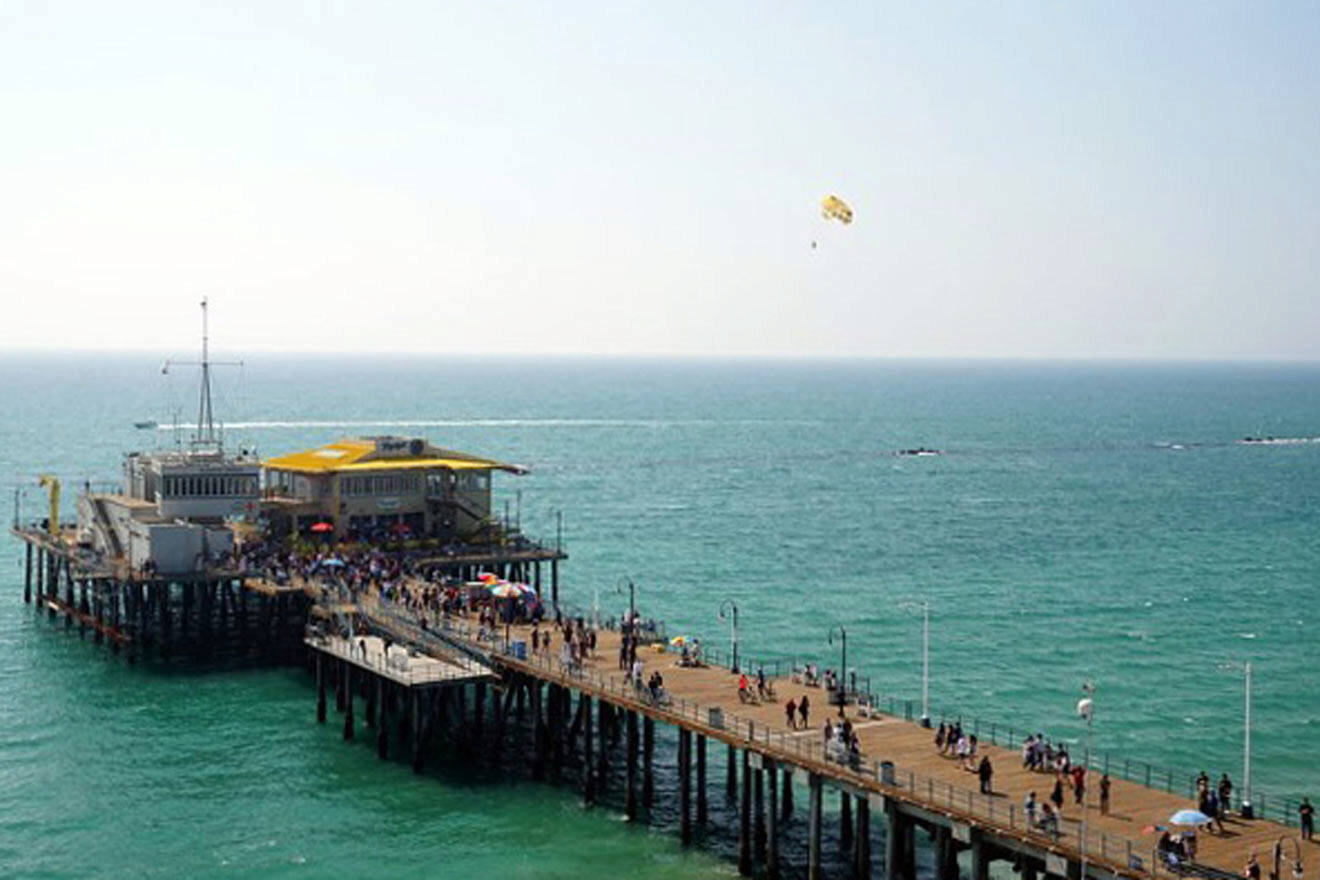 Santa Monica Pier is well known for its roller-coaster-filled theme park, along with dozens of carnival rides & arcade games, street performers, ocean views, and more. Millions of people visit the area each year, and it's well worth the trip!
Aside from being an awesome place in California to visit with kids or the entire family, there are also untold stories to behold here. Santa Monica Pier is where Route 66, aka America's Mother Road, ends, carrying plenty of ghost stories.
Because this is such an underrated topic of discussion at the Santa Monica Pier, you don't find too many related tours. Fortunately, I found this amazing ghost tour, where they'll uncover the mysterious history that is Santa Monica while also taking you around a few Santa Monica landmarks like the Pier and Carousel, Ocean Avenue, the legendary Pacific Coast Highway, and more.
Since the tour is only about 1.5 hours, I recommend making the most out of your time here by relaxing on Santa Monica Beach and exploring Santa Monica Bay for some of the best tide pools in Southern California!
TOUR PRICE: from US$30 per person
7. Walk your dog in LA's most popular park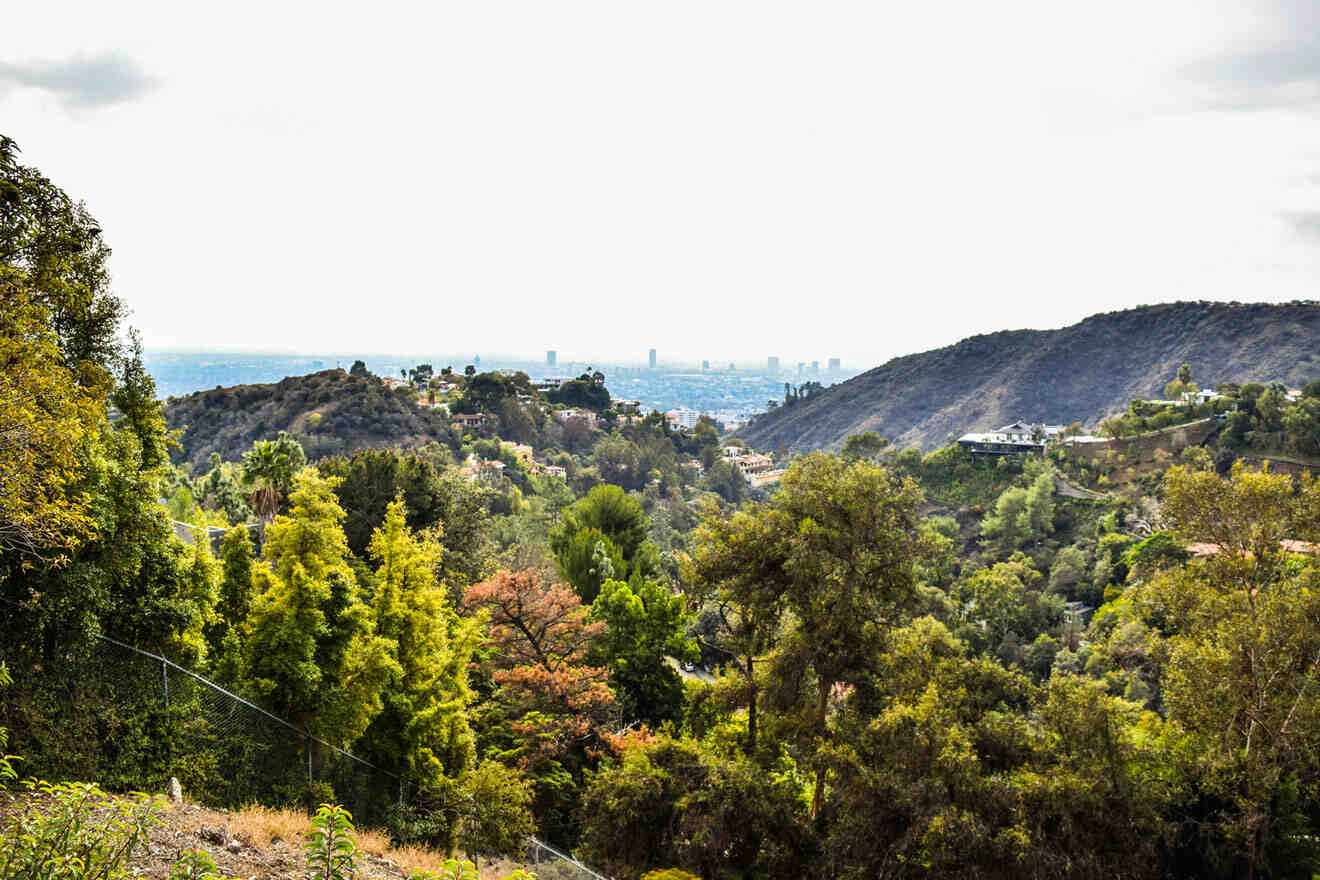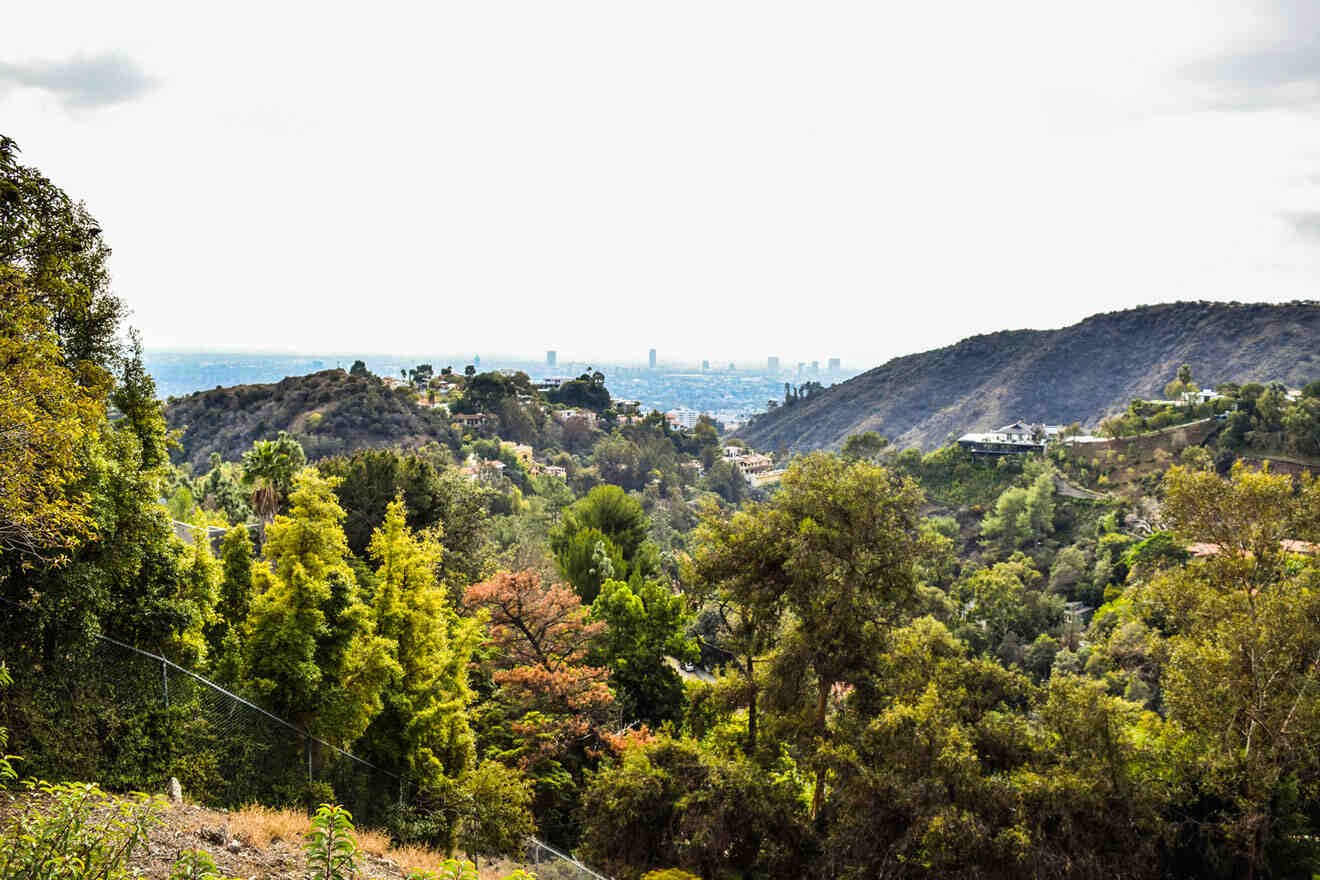 Runyon Canyon Park is one of the most popular parks in the city of Los Angeles! If you're looking for a nice stroll (and you enjoy people-watching), this is a beautiful hike to consider. It covers about 130 acres (53 hectares) of land located on the East of Santa Monica Mountains with hikes up to 3 miles (5 km).
It's conveniently located in Central Los Angeles, where you get the most stunning view of the city from Santa Monica to downtown LA. Here, you can go mountain biking, hiking, running, walking, etc.
Besides being a breath of fresh air and an amazing break from the city, one of the coolest parts of this park is that it's dog-friendly and even has a leash-off policy!
There are a couple of trail routes that I recommend:
PRO TIP: It gets very slippery and steep on the way up, so wear shoes with a tight grip! The heat can also strike quickly in Los Angeles, so bring water lots of water to avoid getting dehydrated.
PRICE: Free
8. Admire art at the West Coast's largest art museum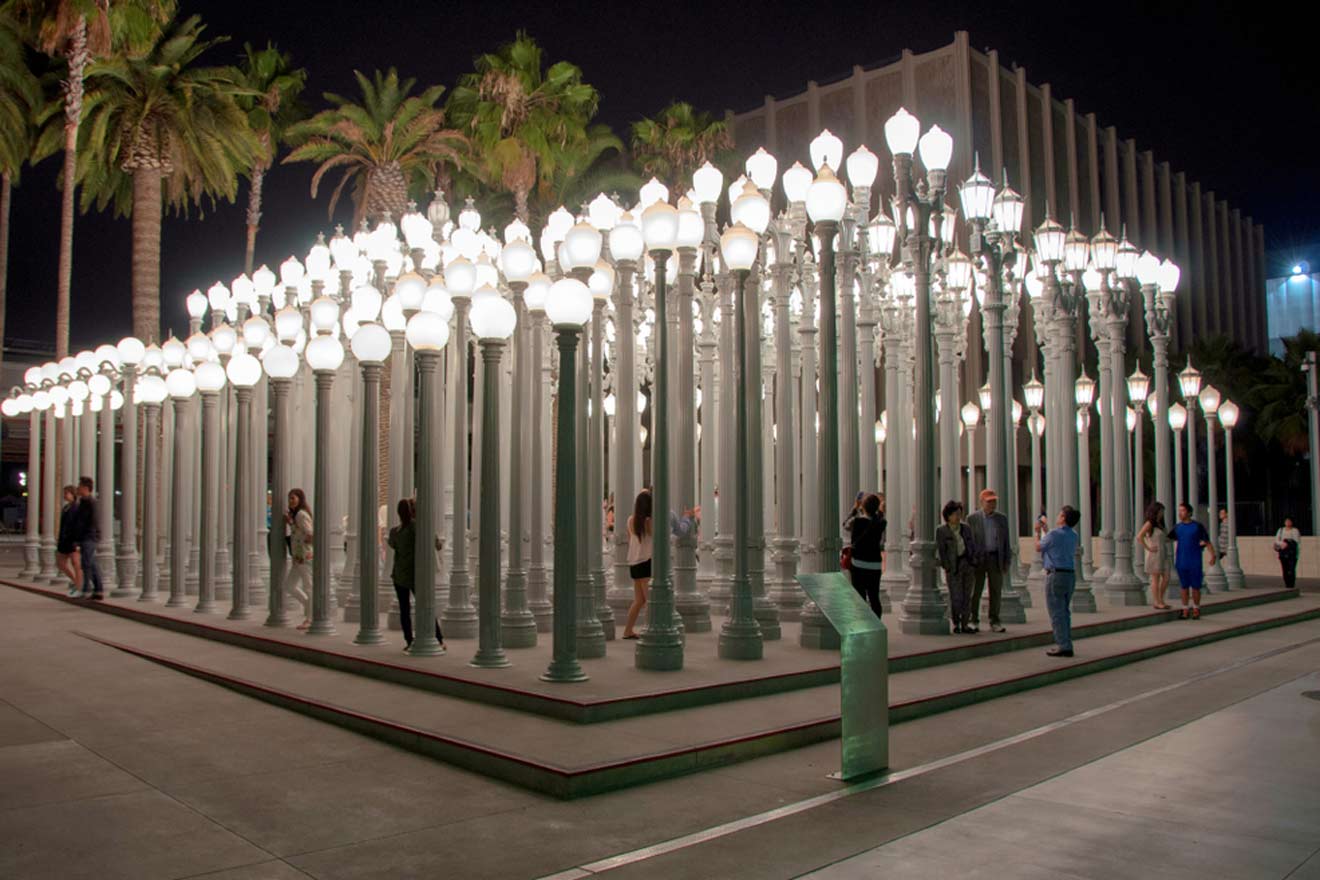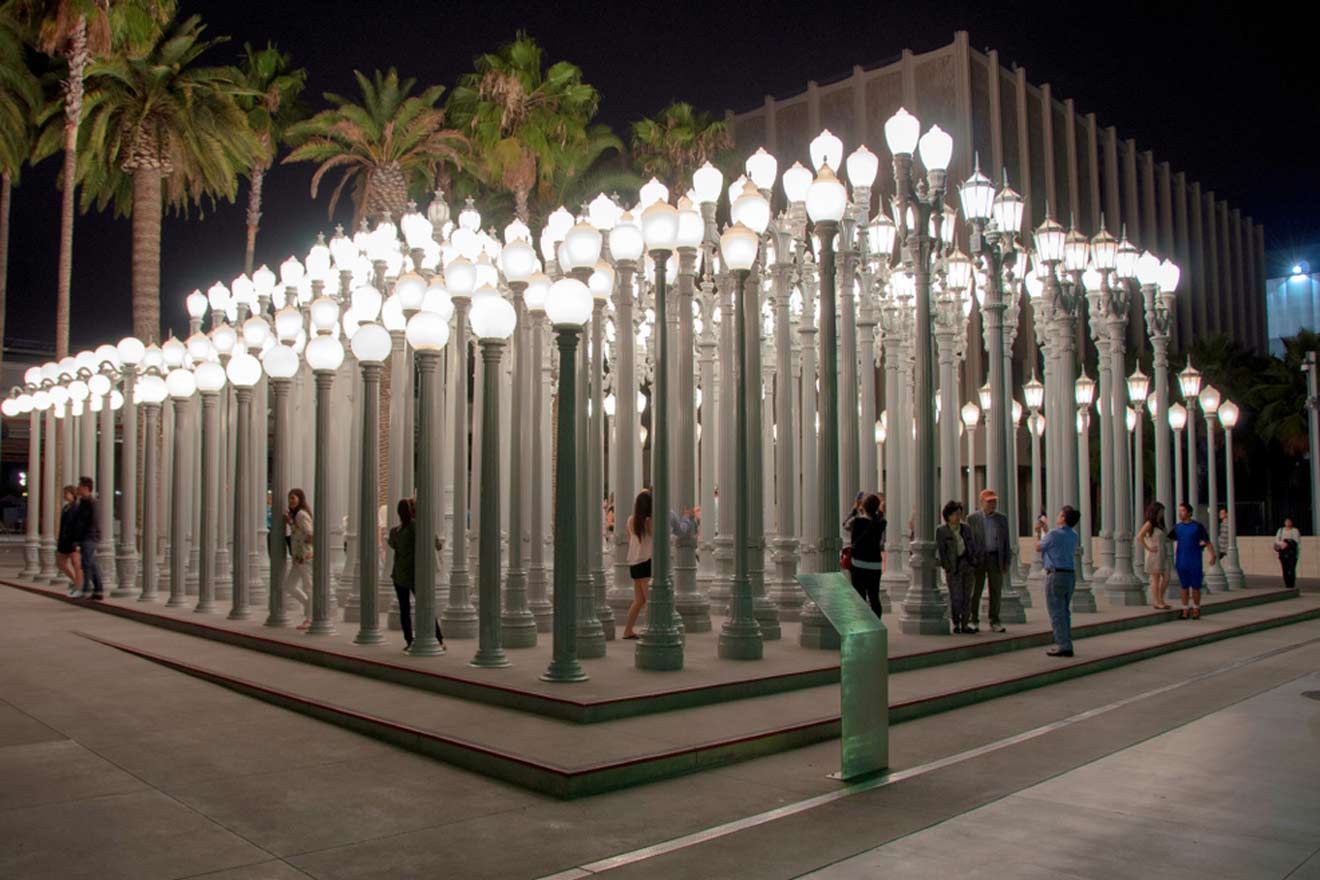 The Los Angeles County Museum of Art is home to over 150,000 works of art spanning from the ancient world to the present, 21st-century world. You can really spend an entire day roaming around the isles here and never get bored. Not only is it known to be the largest museum in Los Angeles, but it's also the largest museum in the western United States!
The richness and diversity in culture are seen through the art galleries here and presented through different historical periods (up to 6,000 years). It's truly a magnificent place to be if you're a lover of the arts!
Some of the world's most legendary art pieces are here:
Diego Rivera's portrait of Frida Khalo
Pablo Picasso's Weeping Woman with Handkerchief
Andy Warhol's Campbell's Soup Can
TIP: Visit the Academy Museum while you're here! It's attached to the LACMA, making it convenient and a nice little detour!
For more art, I recommend heading outside of downtown Los Angeles to The Getty Villa Museum – it's a beautiful place to be, and it's completely free to visit. You just need to make reservations ahead of time here.
9. Catch waves at SoCal's most famous surf cities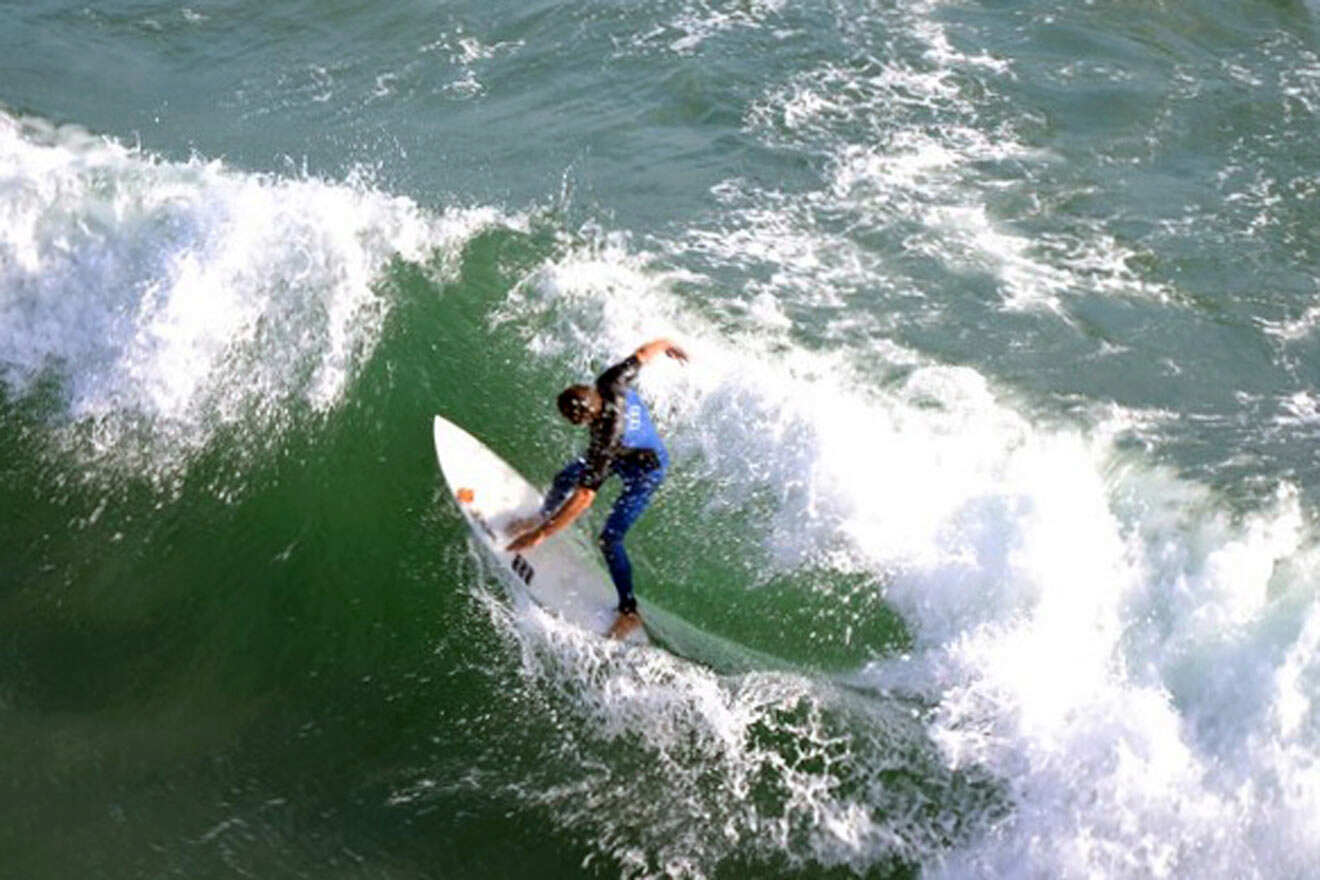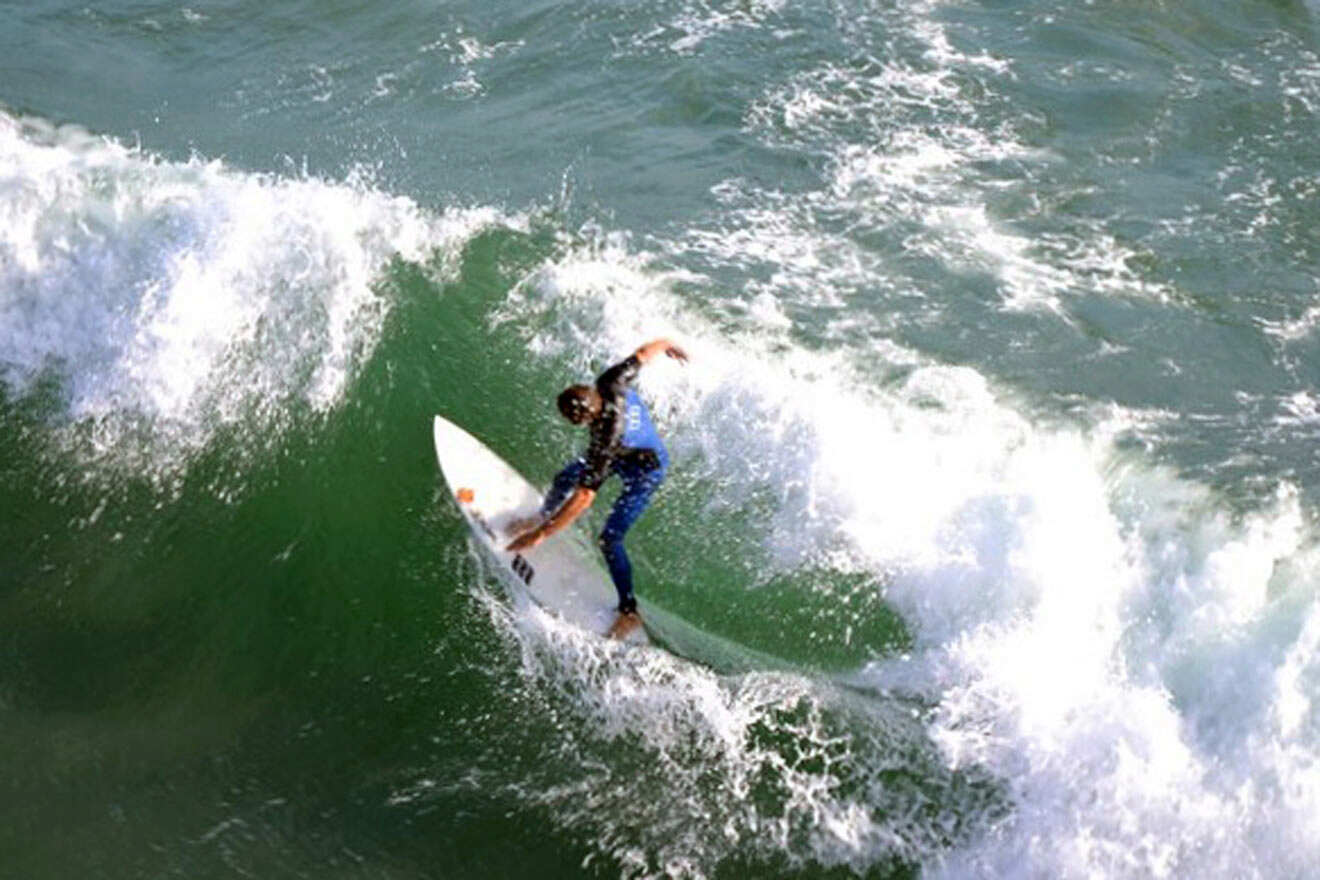 Southern California has some of the best spots in the world for surfers looking to leap at the opportunity of surf-friendly waves. A few famous spots where locals go surfing include the following:
NOTE: I don't recommend going surfing alone on your first try. Here is an excellent 3-hour surfing lesson in Santa Cruz. Once you're settled and comfortable in the water, take a leap and try again on your own!
10. Watch the sea lions in their natural habitat at La Jolla Cove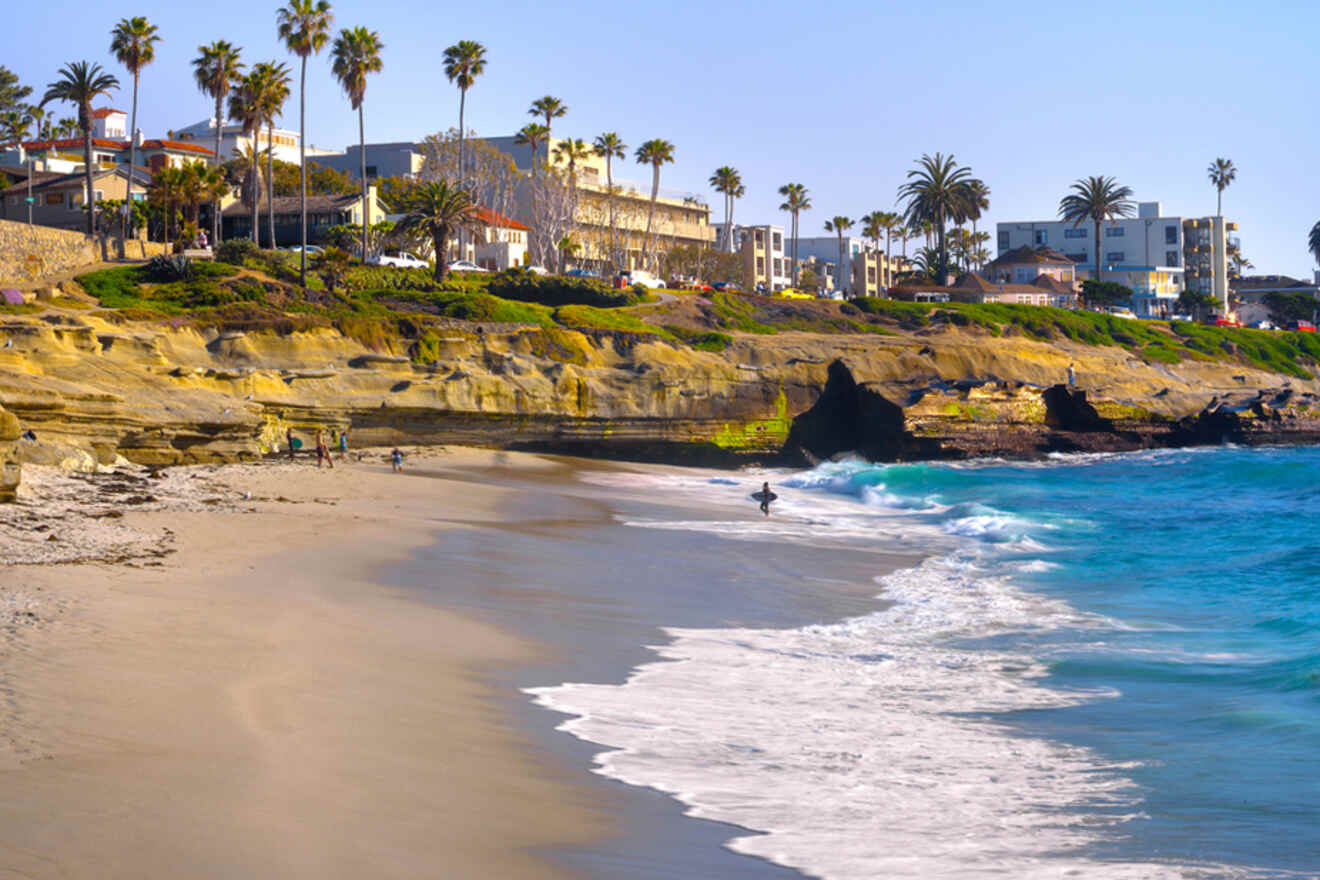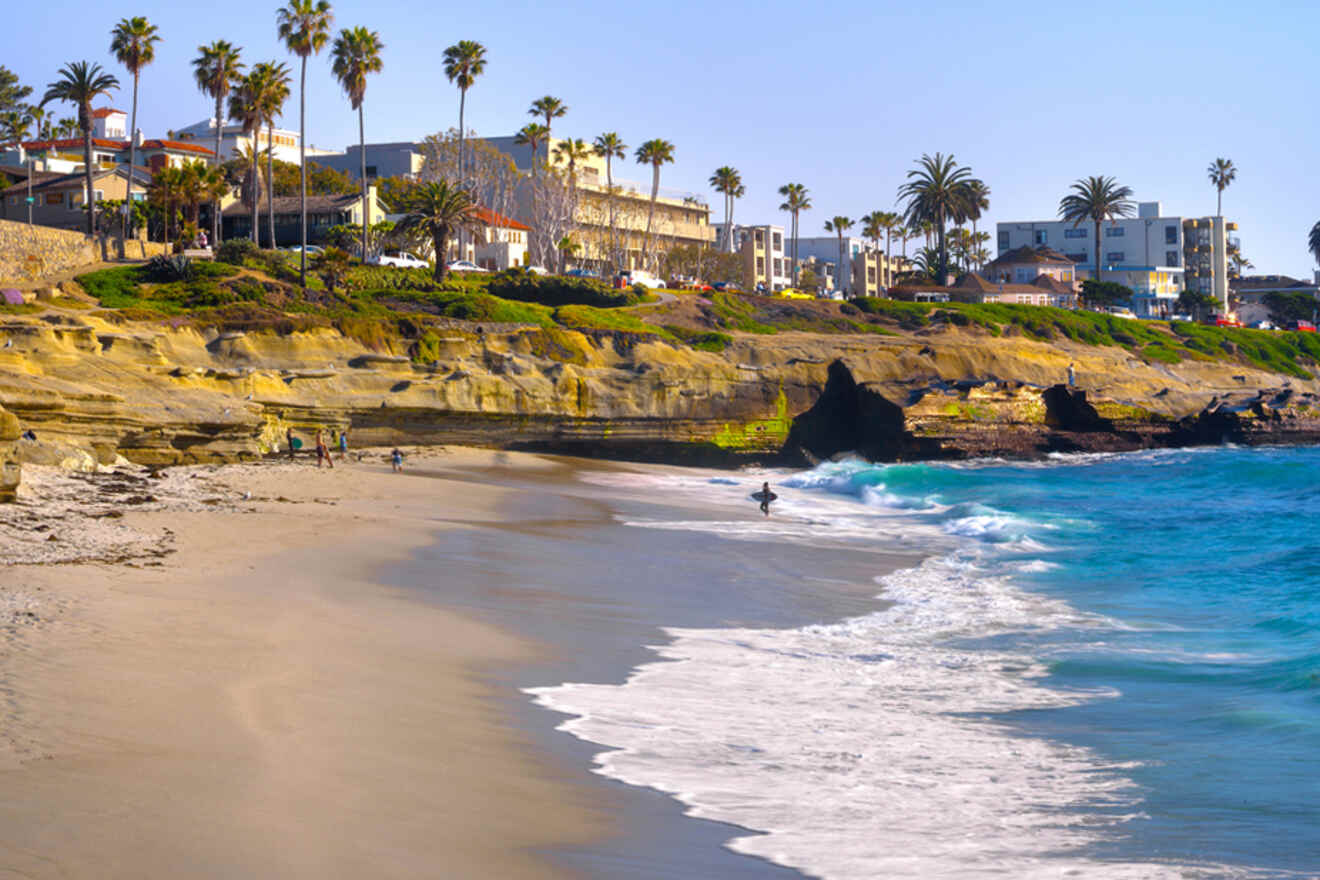 La Jolla is known for being a tourist's paradise! The picturesque Pacific Ocean views, amazing restaurants, relaxing vibes – everything about being in La Jolla is a delight! I've been here many times and have had nothing but good experiences.
The most famous attraction in La Jolla is the sea lions that sit along the rocky bluffs and sea caves at La Jolla Cove. Here, you get a glimpse of marine life in their natural habitat! I also recommend checking out the La Jolla Tide Pools for a further glimpse into the fish and crabs' natural habitat.
A super cool experience that I've done before in La Jolla is the La Jolla Sea Cave kayak tour, where you get to explore La Jolla's seven caves, home to one of the highest concentrations of sea life in California.
PRO TIP: Avoid getting too close to the sea lions! We're definitely lucky to be able to see the marine life up close and personal, so do your part by making sure it's a safe space for you and the sea lions you're visiting.
11. Hit up local food spots in Venice Beach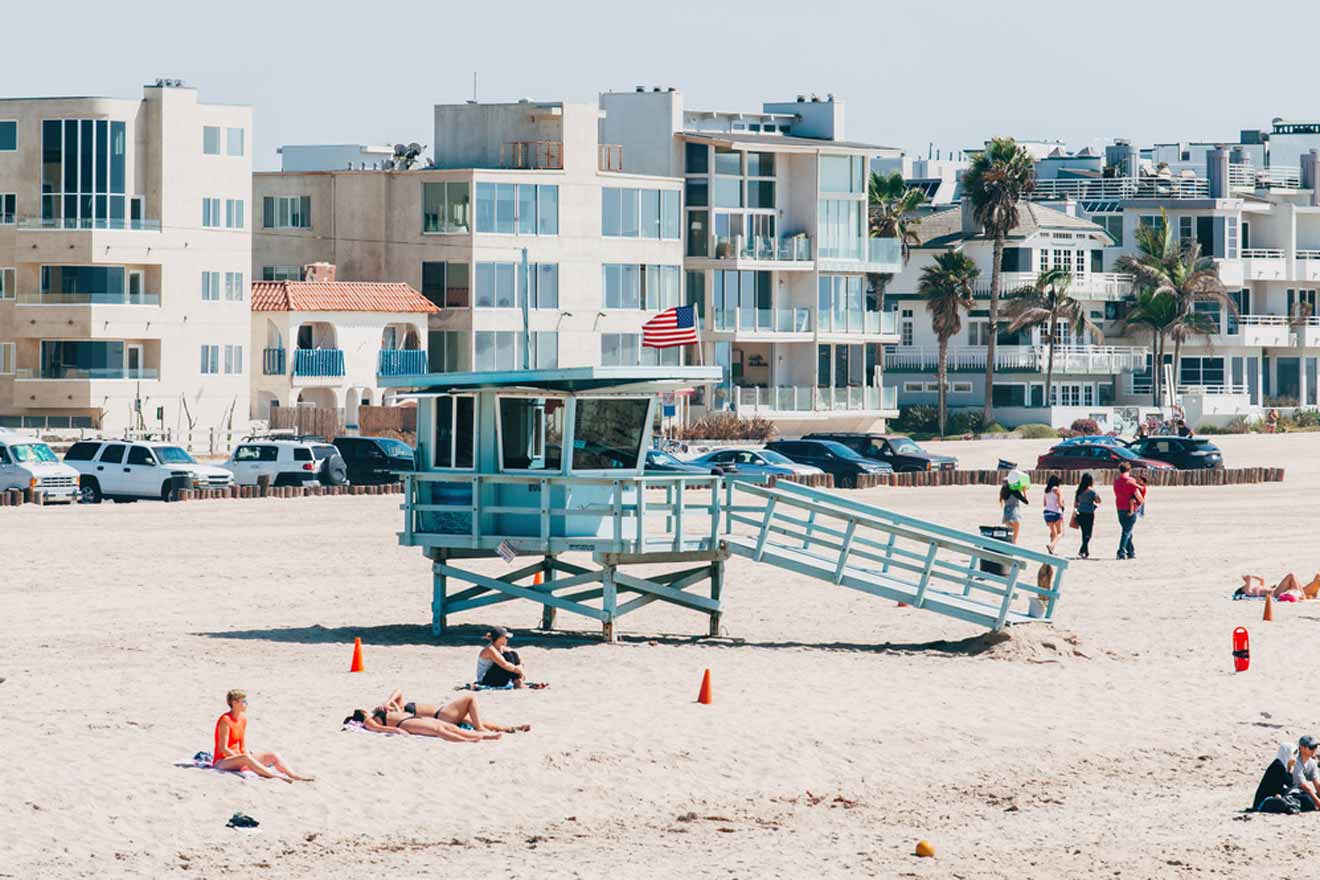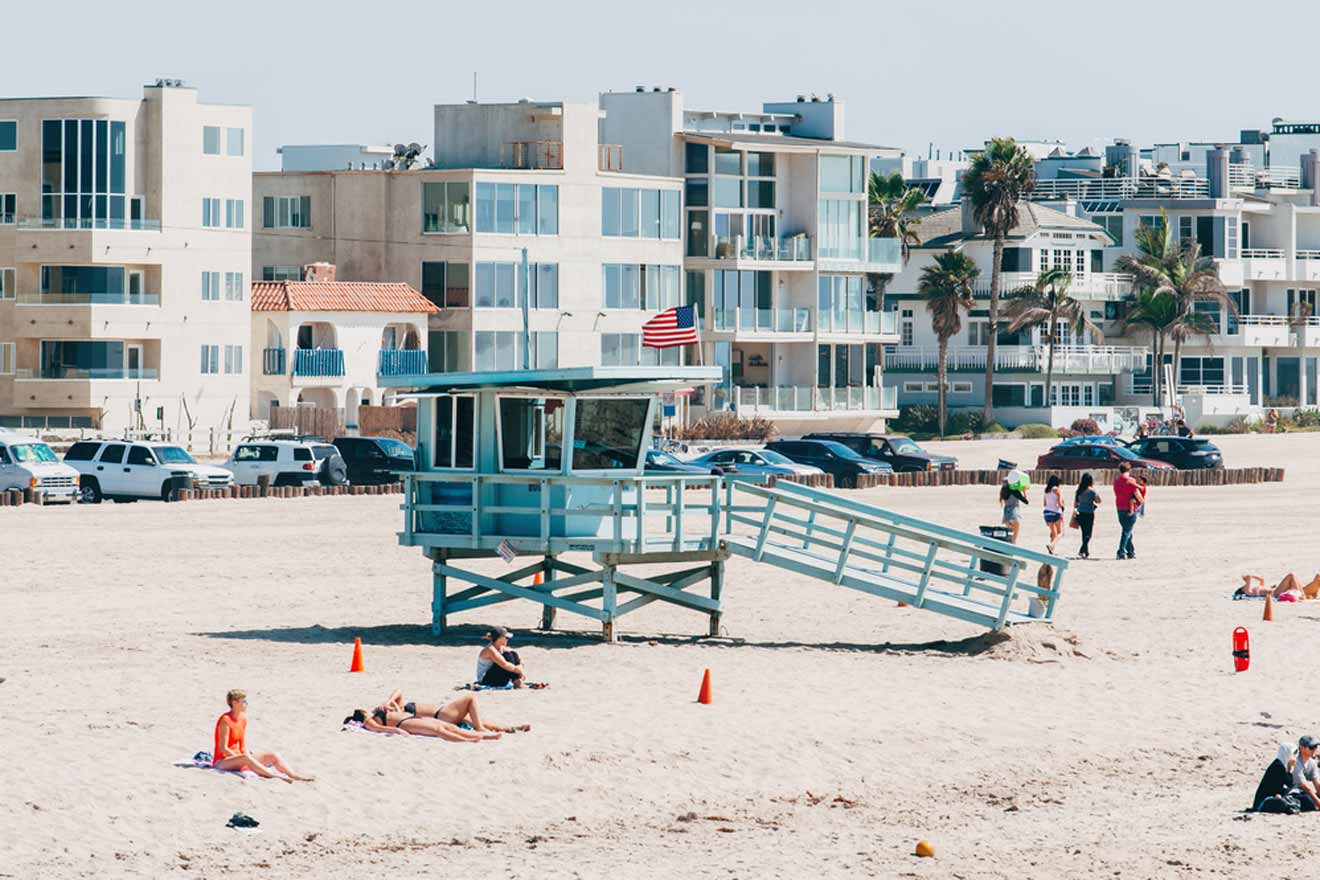 Aside from being known for its sandy beaches and excellent views of the Pacific Ocean waters, Venice Beach is also home to some of the best authentic food stands and small cafés that you probably would never think twice about trying if you pass by them.
As a local SoCal girl, some of my favorite spots throughout Southern California happen to be the little mom-and-pop shops that make the best carne asada fries or California burritos (yes, that's a local specialty and a must).
This tour gives you the full experience around Venice Beach, taking you to all the secret local gems! They'll also take you back in time with a little Venice Beach history storytelling throughout the 3.5-hour tour.
If you plan to stay in Venice Beach for a few days, I recommend booking this tour on your first day so you know where to eat while you're staying here! I always book food tours on my first day anywhere I am, and it's really helped guide what and where I want to eat throughout the trip.
TOUR PRICE: from US$85
12. Get tipsy in Santa Barbara's wine country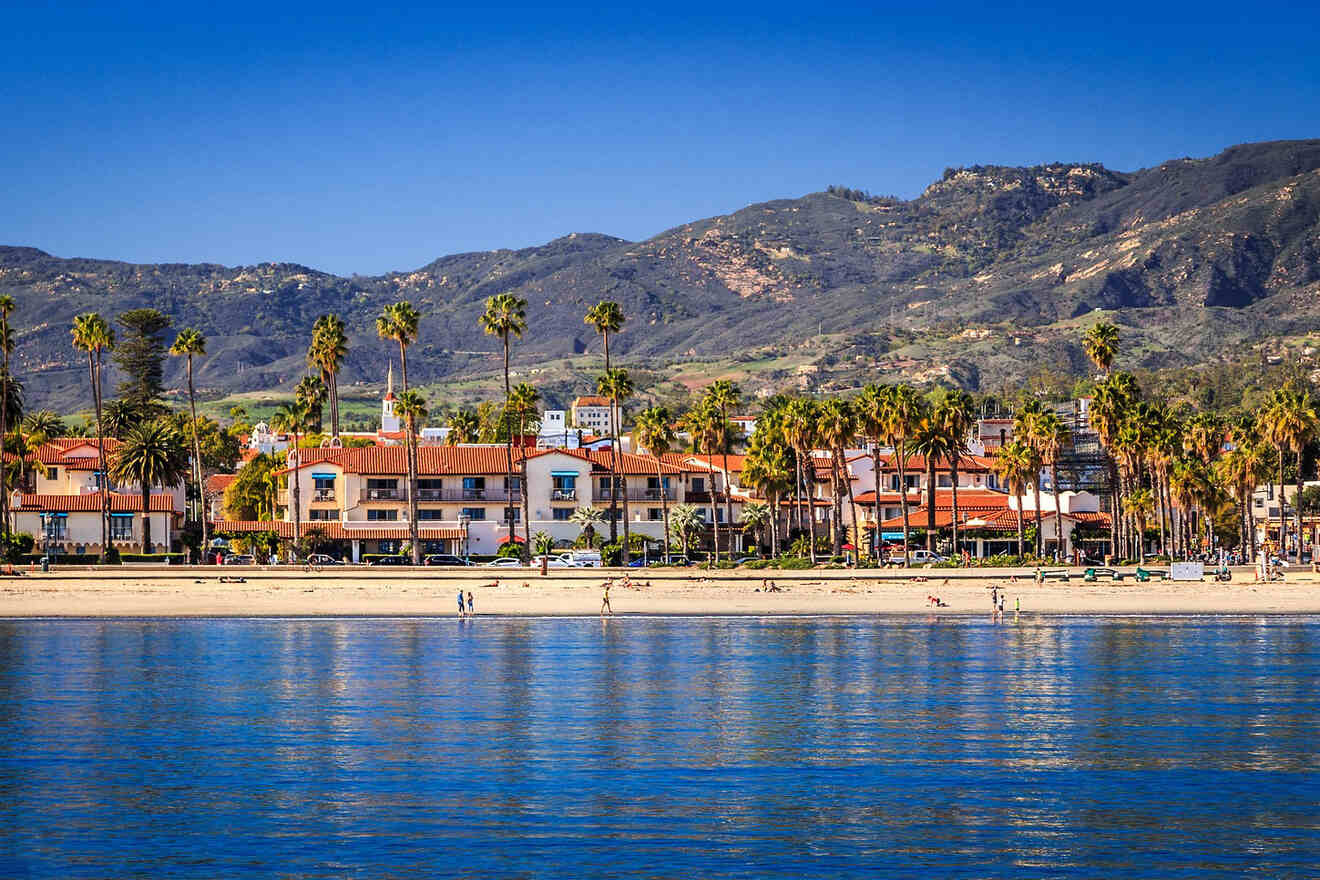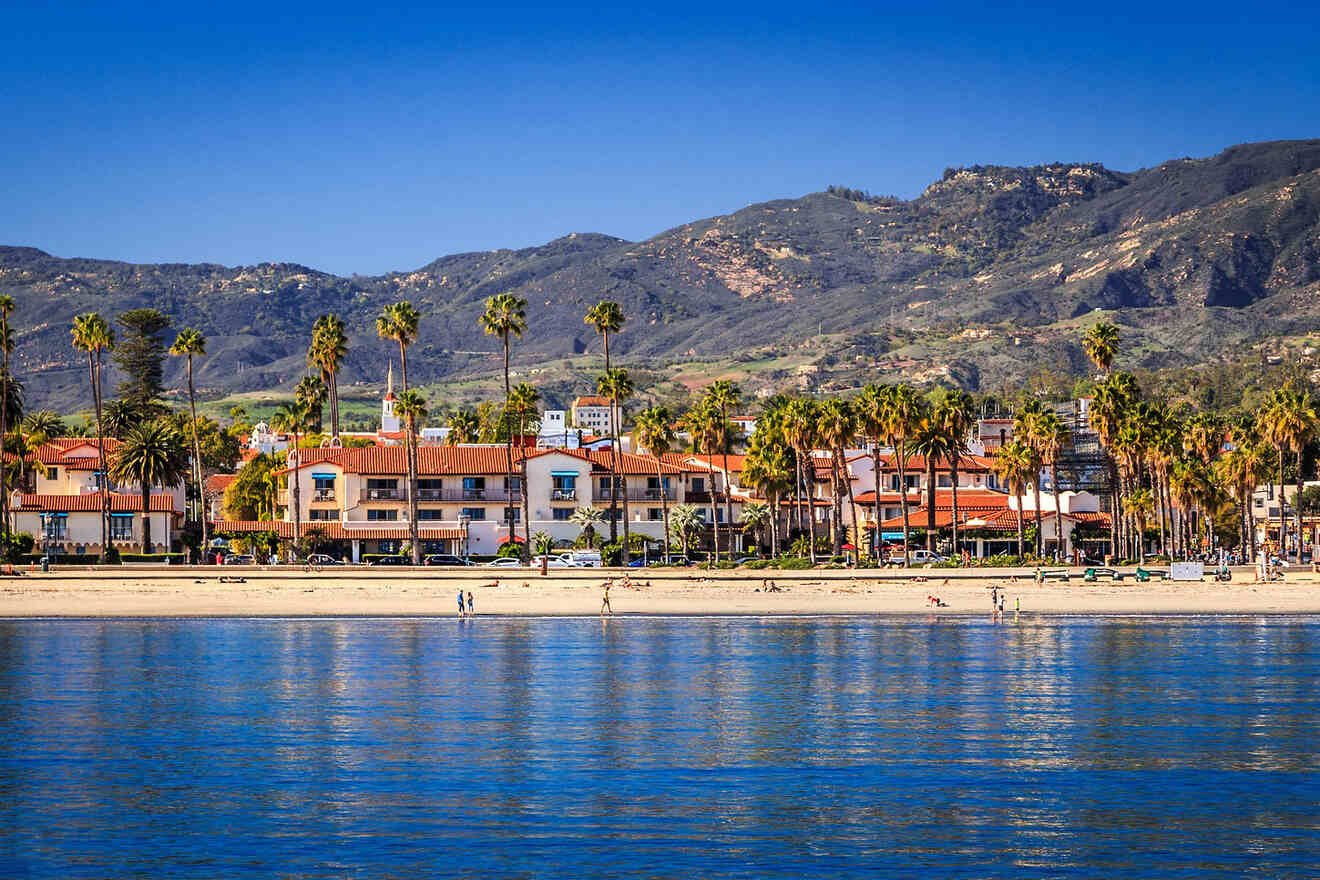 Lucky for you, you don't need to head to Northern California for a good glass of California wine! Southern California has a few wine countries, from Ventura County to San Diego County and extending all the way to the border of Mexico, that are worth checking out.
With that said, there is SO much amazing wine to be tasted here! The Santa Ynez Valley, just north of Santa Barbara County, is an area that many locals and visitors from all over the world tour daily.
There are a couple of different ways to explore the 120+ wineries in the Santa Barbara wine country, but I recommend going on a wine-tasting tour across the entire valley and letting a professional guide the way! It's the easiest option and most convenient since you won't have to drive yourself and worry at all.
After you finish your wine-tasting excursion, stop by Old Mission Santa Barbara for one of the primary tourist attractions in Santa Barbara! The architecture and history here are absolutely stunning and must-see!
TIP: The area is well-known for producing some of California's best Chardonnay and Pinot Noir varietals, so I recommend sticking to either/or for the best experience!
TOUR PRICE: from US$235 per person
13. Go snorkeling in Southern California's clear blue waters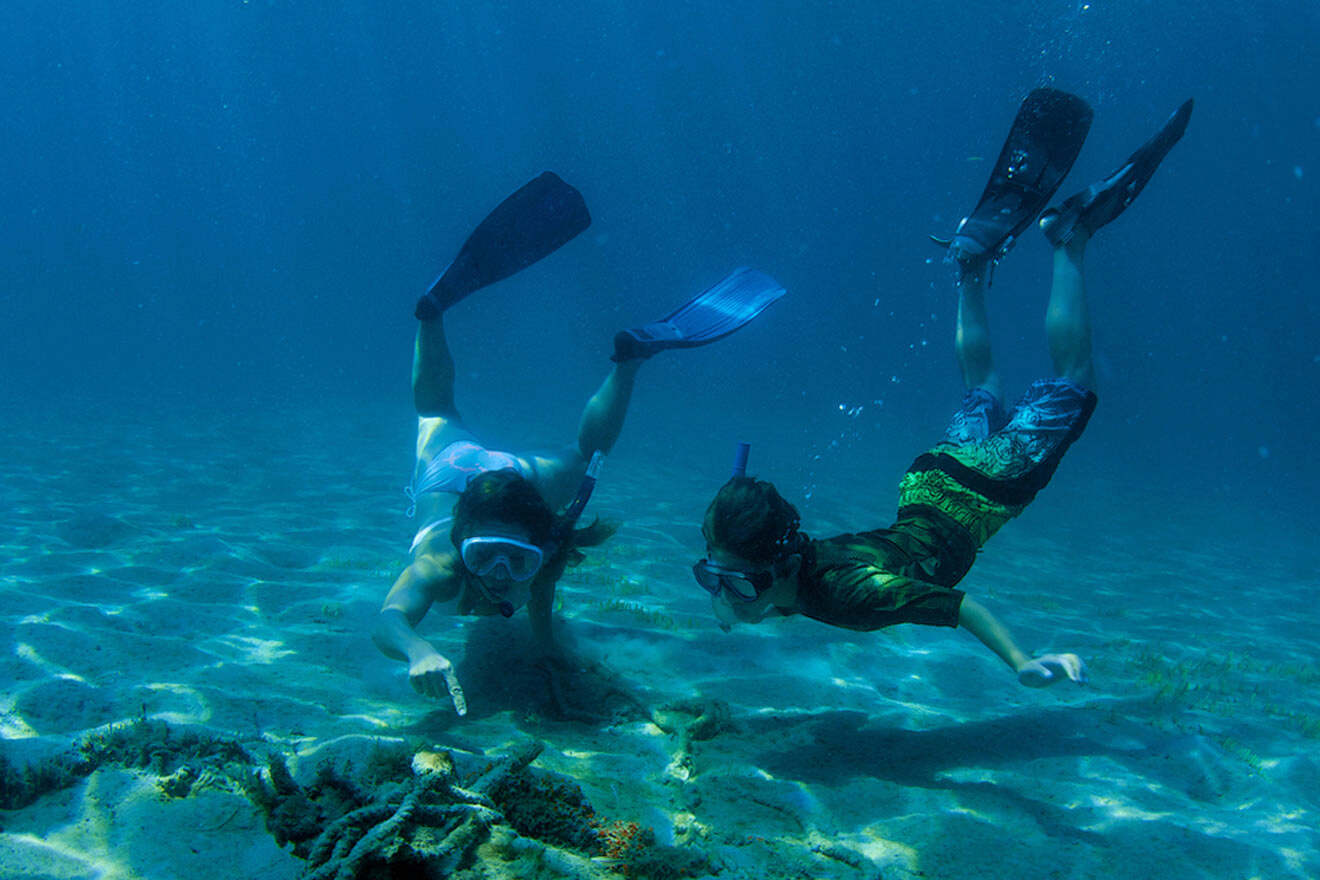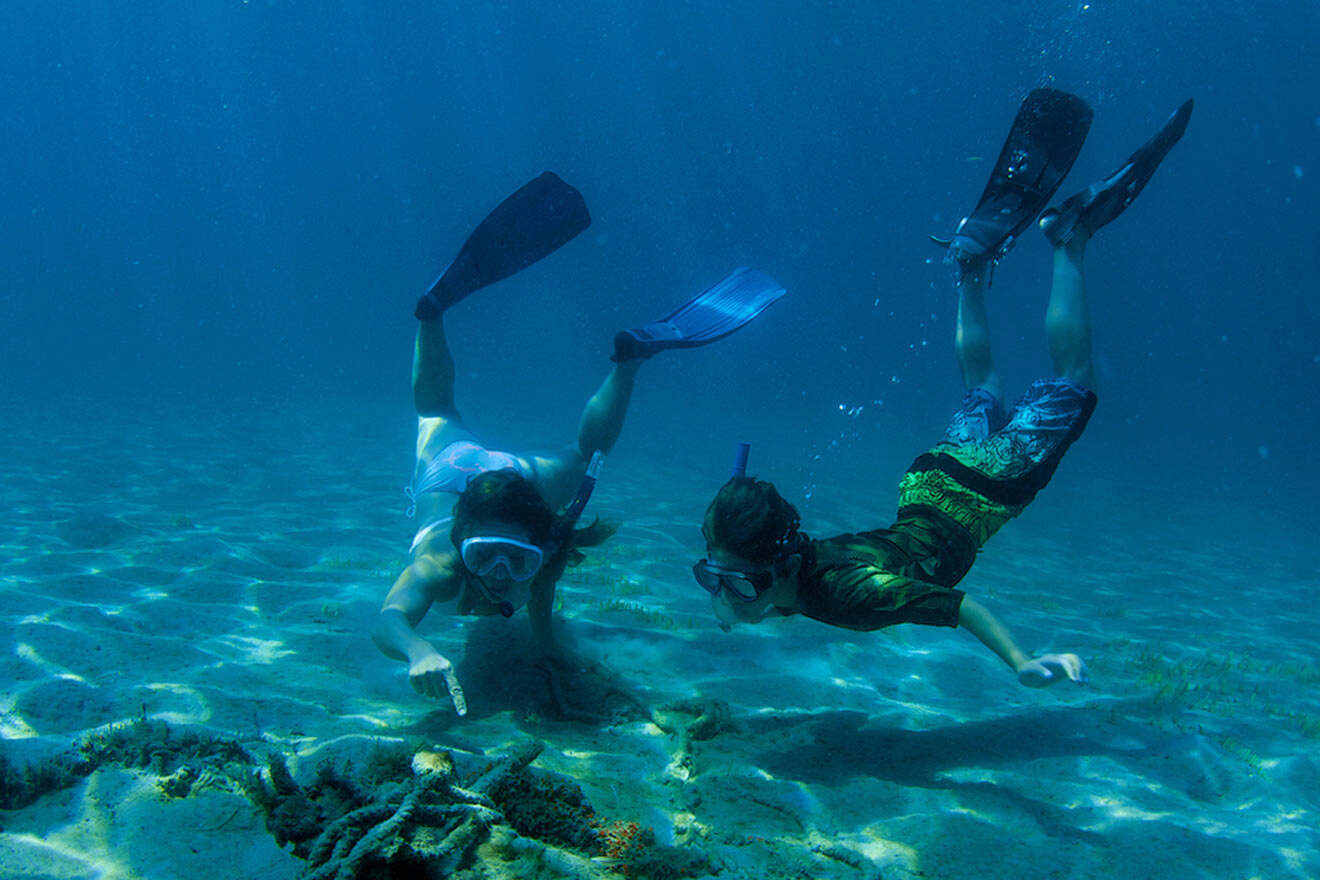 Southern California's blue waters and diverse sea life make for an excellent day for a snorkeling adventure! From curious sea turtles, kelp forests, beautiful islands, and endless species of fish – there's so much to see here. Here are a few snorkeling spots I recommend checking out:
Santa Catalina Island: Lover's Cove in Catalina Island is a hotspot for all things sea life, including a massive kelp forest. Here, you'll find tons of starfish, sea cucumbers, sea urchins, and more.
Laguna Beach: Diver's Cove is a semi-secluded bay that's ideal for beginner snorkelers. Here, you'll see tons of eelgrass, rockfish, and more.
Channel Islands National Park: Scorpion Anchorage in Santa Cruz Island is bursting with marine life! The Channel Islands National Park is a bucket-list destination for all kinds of snorkelers, but Santa Cruz Island is where I recommend heading to first!
14. Explore sand dunes at Death Valley National Park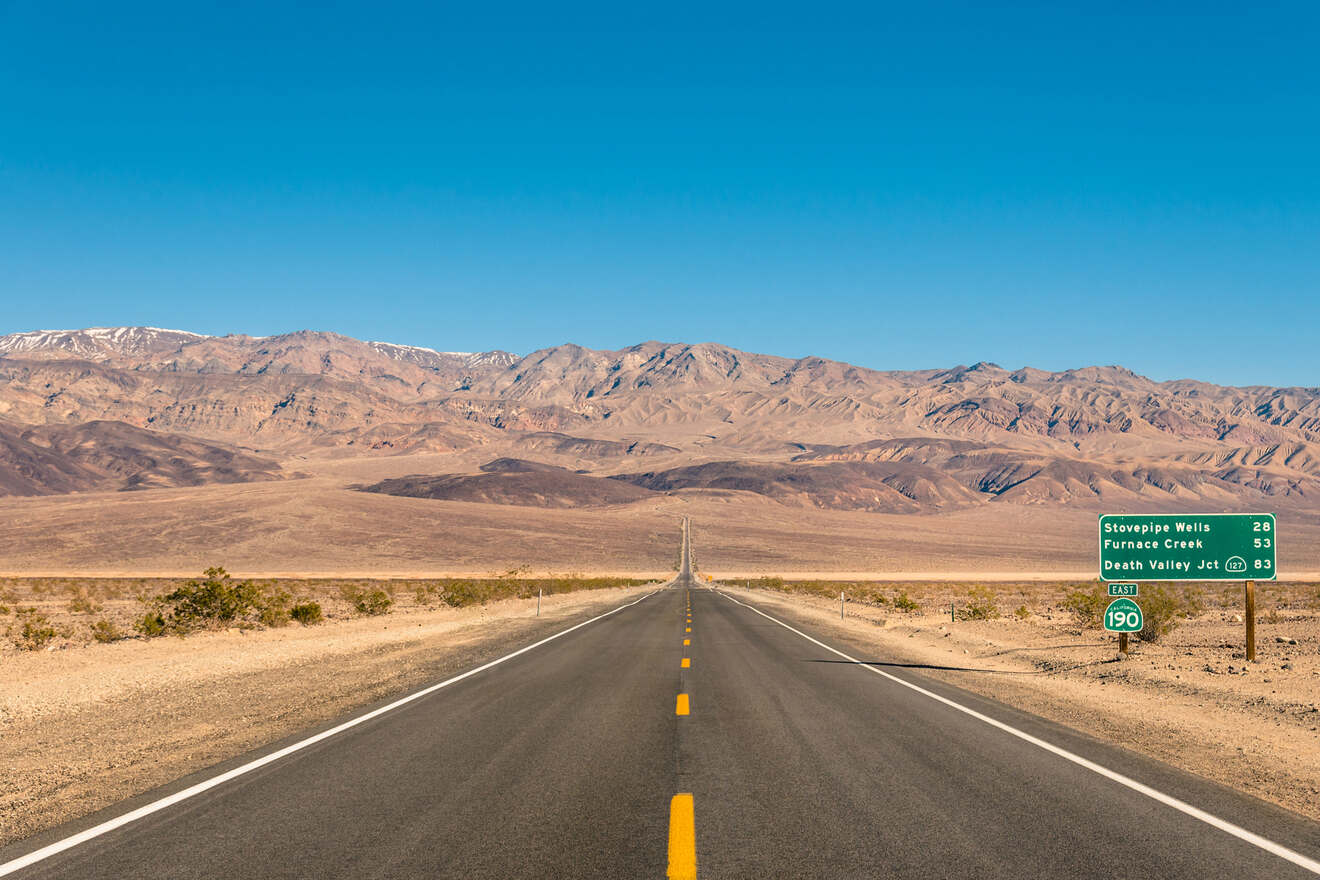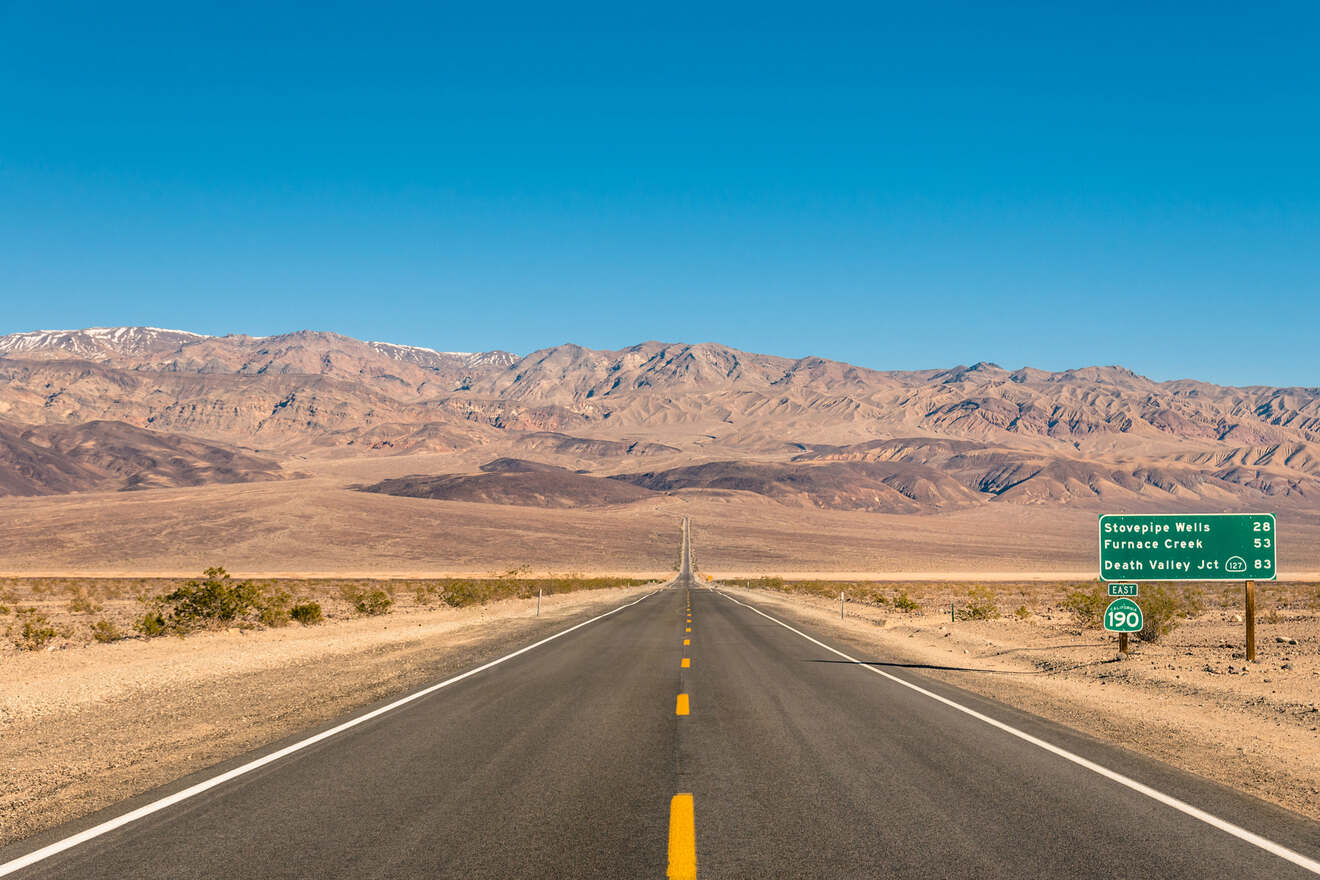 Death Valley National Park is known to be a land of "extremes" – quite contrary to the name itself, Death Valley National Park thrives with a diversity of life all throughout the year: wildflowers in the spring, snow-capped peaks in the winter, and other phases of life throughout the year.
With that said, the one attraction that is consistent and beautiful all year long is the Mesquite Flat Sand Dunes! This is the most unique Southern California attraction for visitors, given the fact that there isn't anything quite like it in all of the Golden State. I recommend going during wintertime to avoid extreme heat and prepare to take lots of scenic photos!
DO NOT hike the dunes anytime past 10 AM! I only recommend hiking in the early morning, it gets very hot and dangerous during peak-sunny hours.
15. Visit out-of-the-ordinary attractions in Palm Springs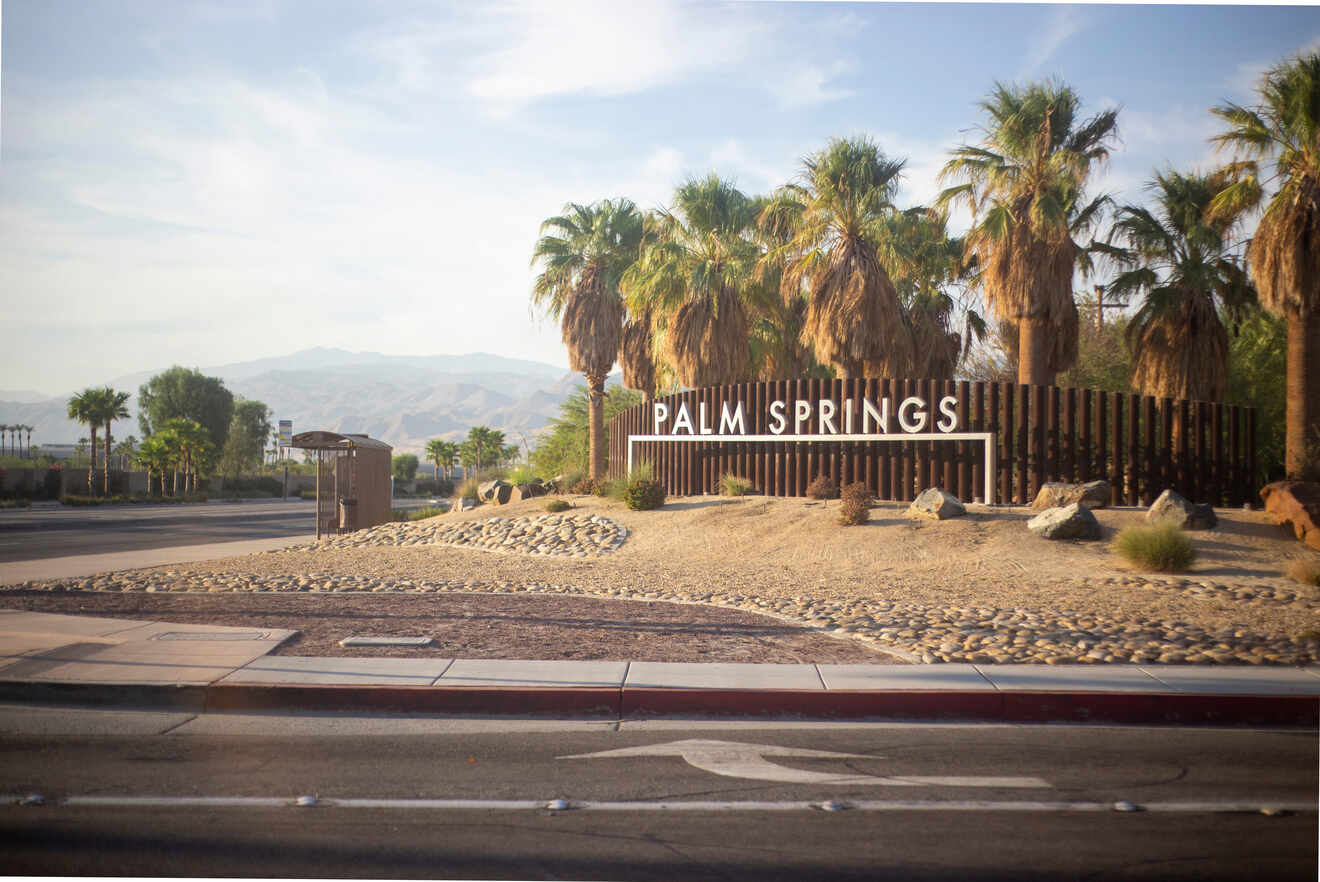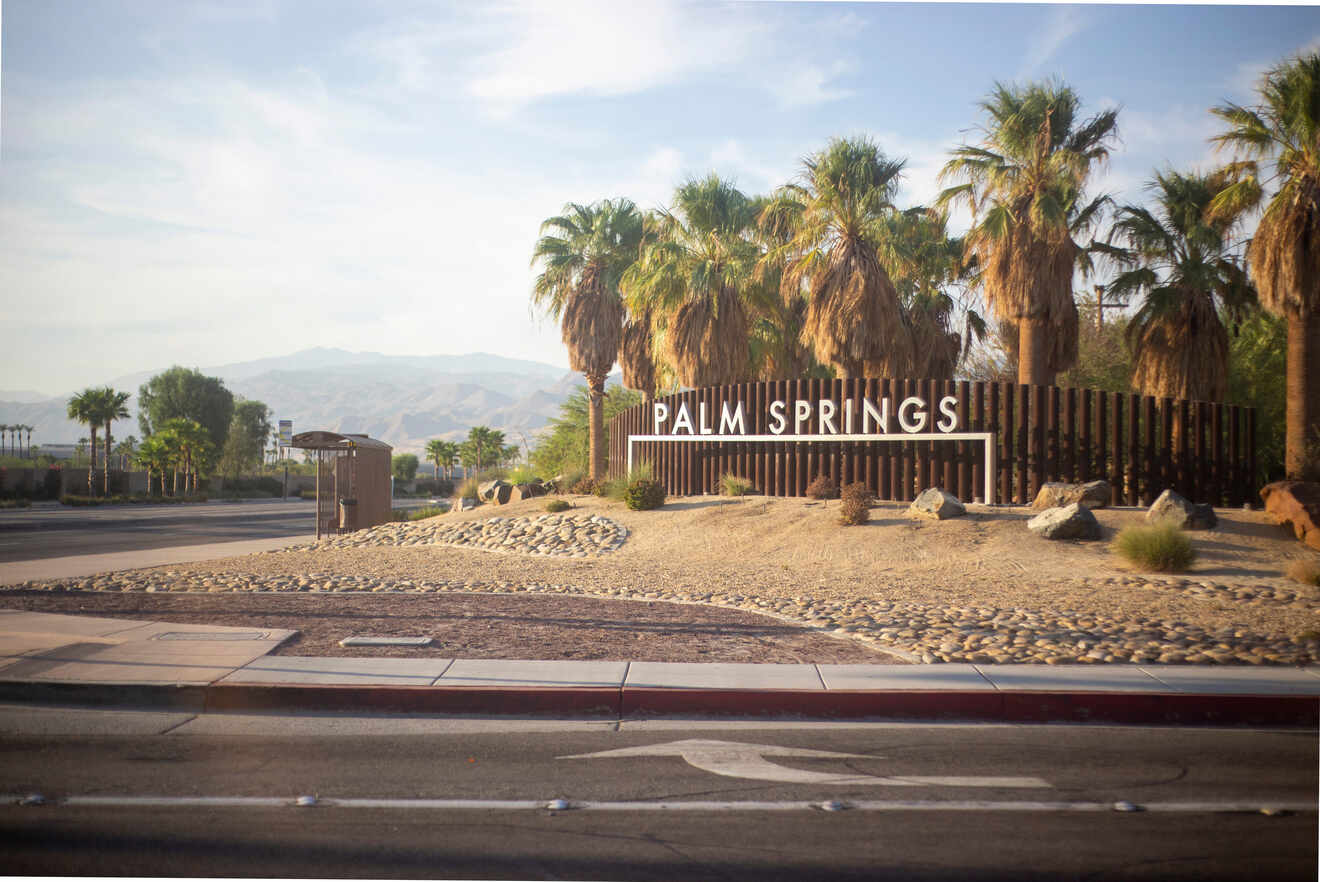 Palm Springs is SoCal locals' go-to weekend getaway, where we unwind under the sun, lay in the pool all day, and walk along the downtown area where we shop and eat. It's honestly the best lazy-weekend type of vibe here).
If you're looking for a bit of adventure while you're here, there are a few out-of-the-ordinary things you can do:
Volkswagen Spider Sculpture: A giant metal sculpture made of a Volkswagen's classic Beetle car – a giant pun that's worth taking a look at!
Ruddy's General Store Museum: A recreation of a classic 1930s store – truly exhibiting the details of American history and culture.
'The Babies' Sculpture: Located across the street from the Palm Springs Art Museum, these baby structures, with barcodes as faces, appear to be crawling in the sand. (Feel free to leave me a comment and let me know what you interpret that as!
You also don't want to miss out on the aerial tramway, which takes you up to the San Jacinto Mountains for the most spectacular views of the desert below.
16. Go shopping at Rodeo Drive in Beverly Hills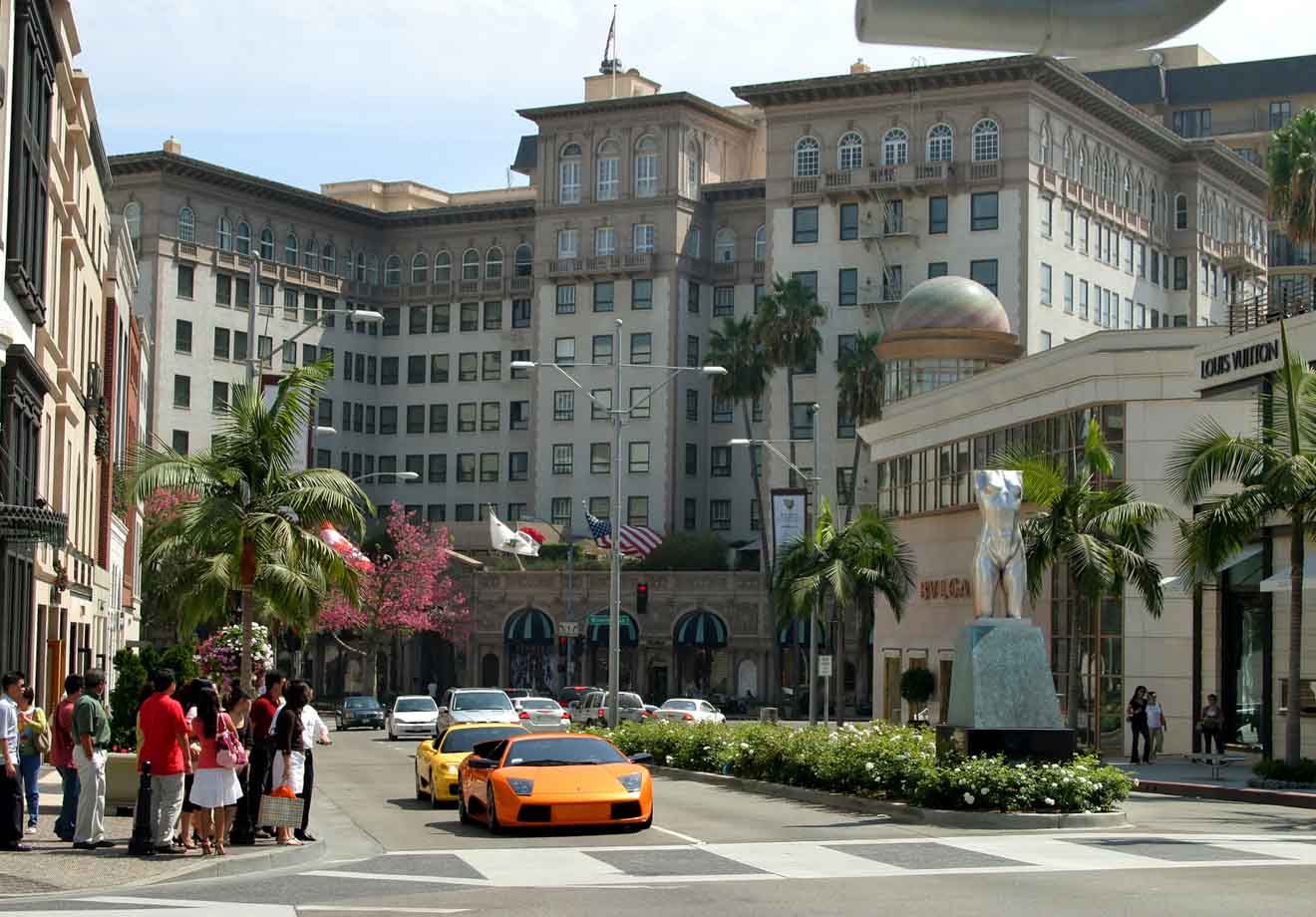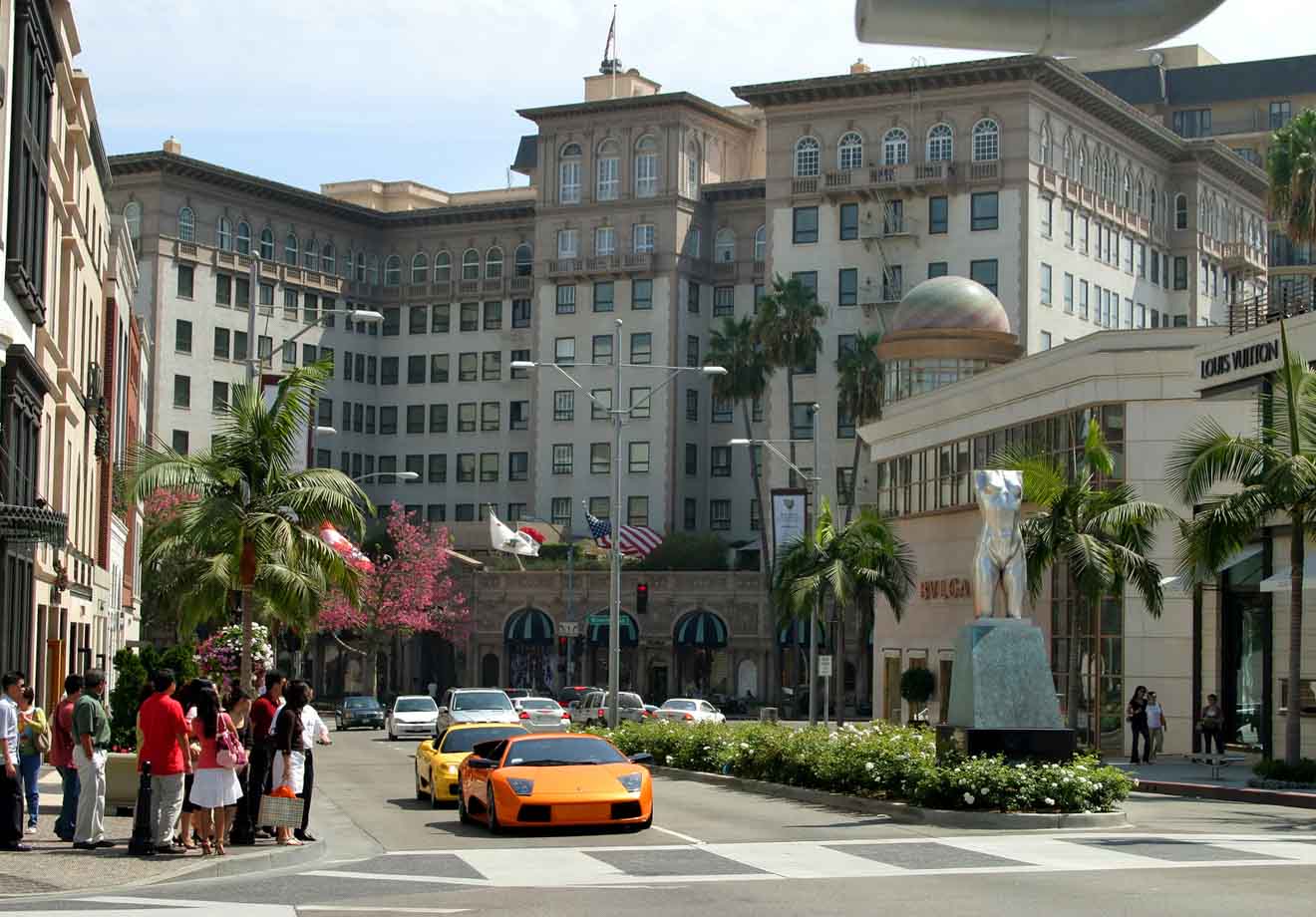 Beverly Hills' famous shopping district Rodeo Drive is famously known as a glamorous shopping center destination in the Los Angeles County area. There, you'll find the latest in fashion, the arts, entertainment, and so much more.
I recommend taking a look at this flyer for all the free parking areas around the Rodeo Drive area. Being a highly sought-after area, parking fees can get pricey! Avoid it by planning ahead!
NOTE: If you're looking for a luxurious stay here, I recommend The Beverly Hills Hotel – it's truly the epitome of luxury! You really get the celebrity treatment here with private cabanas, private personal staff, and more.
FAQs about things to do in Southern California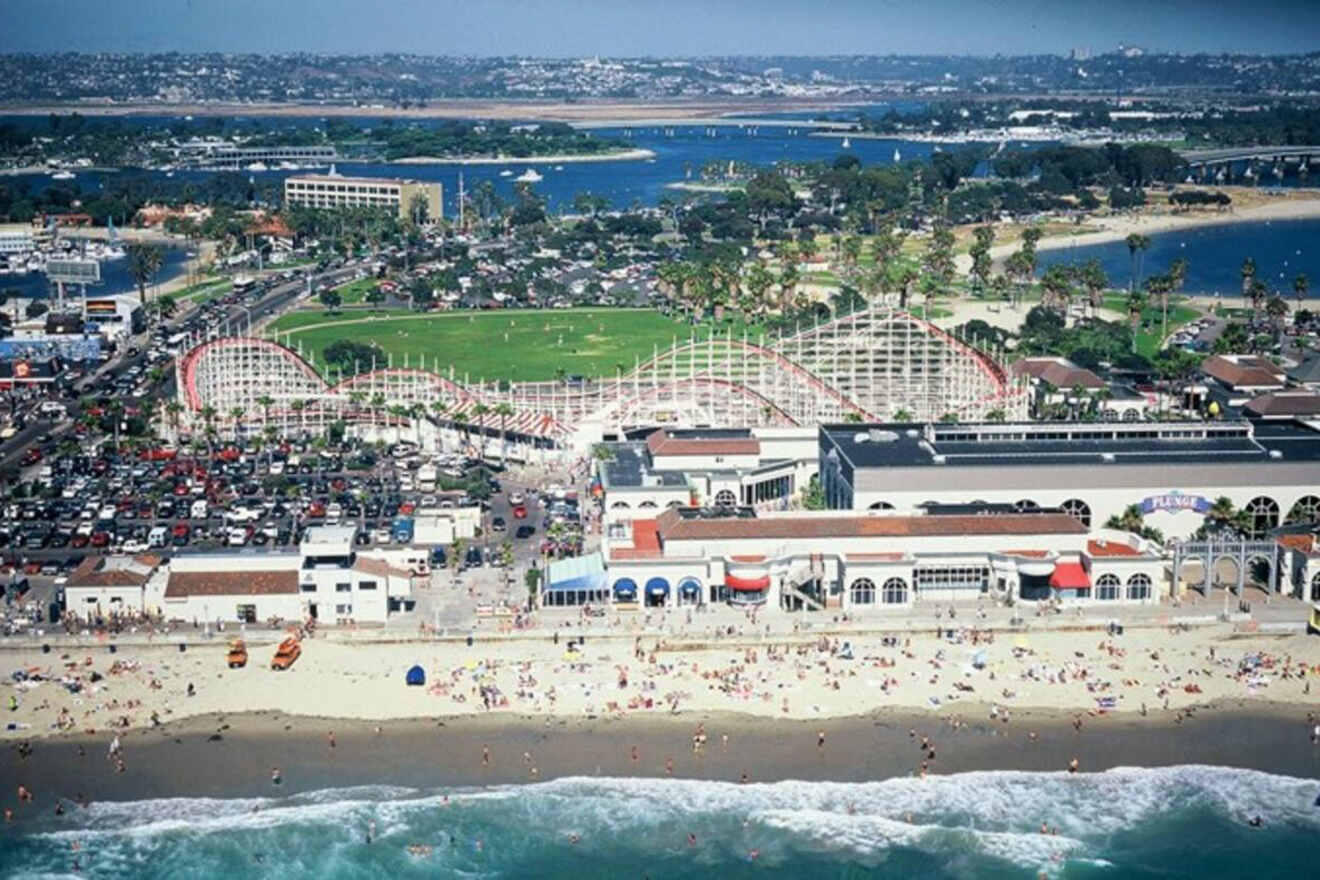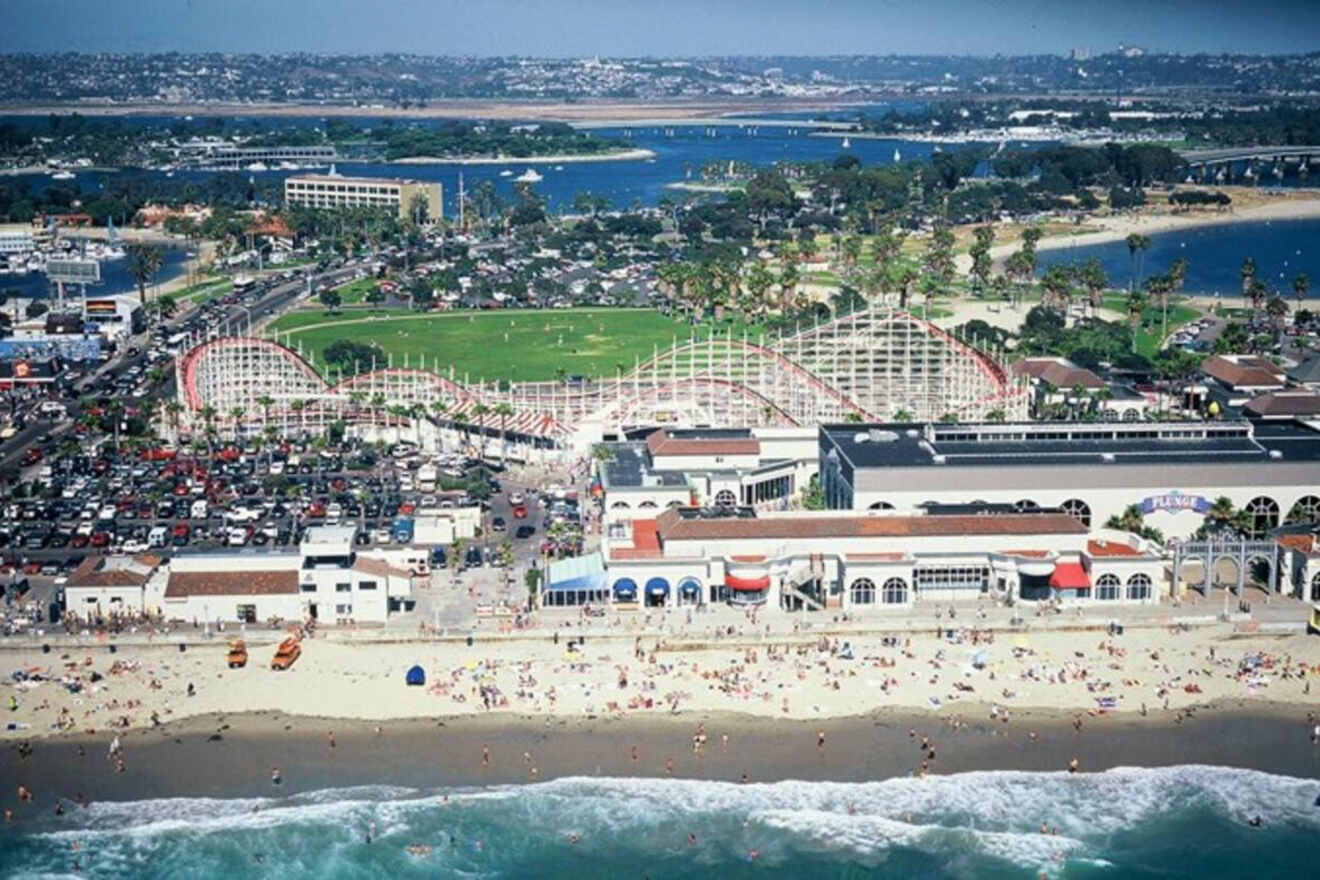 💸 What are some free things to do in Southern California?
A couple of free things to do in Southern California are hiking up to the Hollywood Sign, exploring Runyon Canyon Park, and visiting the world-famous museum, The Getty (just remember to make your reservation here!)
😛 What are the most fun things to do in Southern California?
The most fun things to do in Southern California are all our thrilling amusement parks! Disneyland and Six Flags are my favs!
👫 What are the best things to do in Southern California for couples?
The best things to do in Southern California for couples are uncovering Balboa Park's hidden gems on a tour and surfing at all of California's best surf cities (book a surfing lesson in Santa Cruz)! They offer great experiences and memories to have with a significant other.
🦄 What are the more unique things to do in Southern California?
The most unique things to do in Southern California are exploring Death Valley National Park's sand dunes and going snorkeling on the Southern California coast. Both experiences and natural wonders are unlike anything else in the world!
Conclusion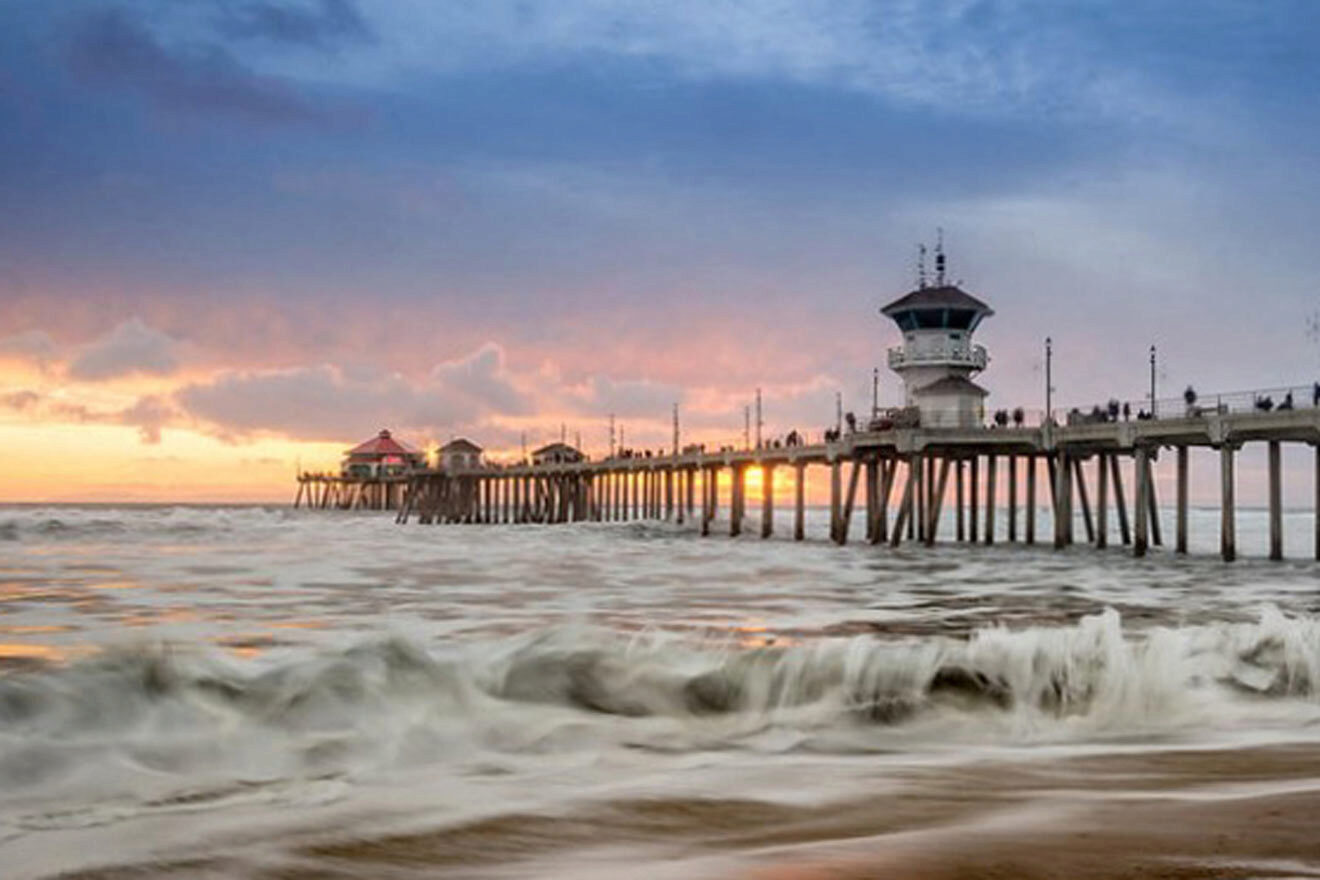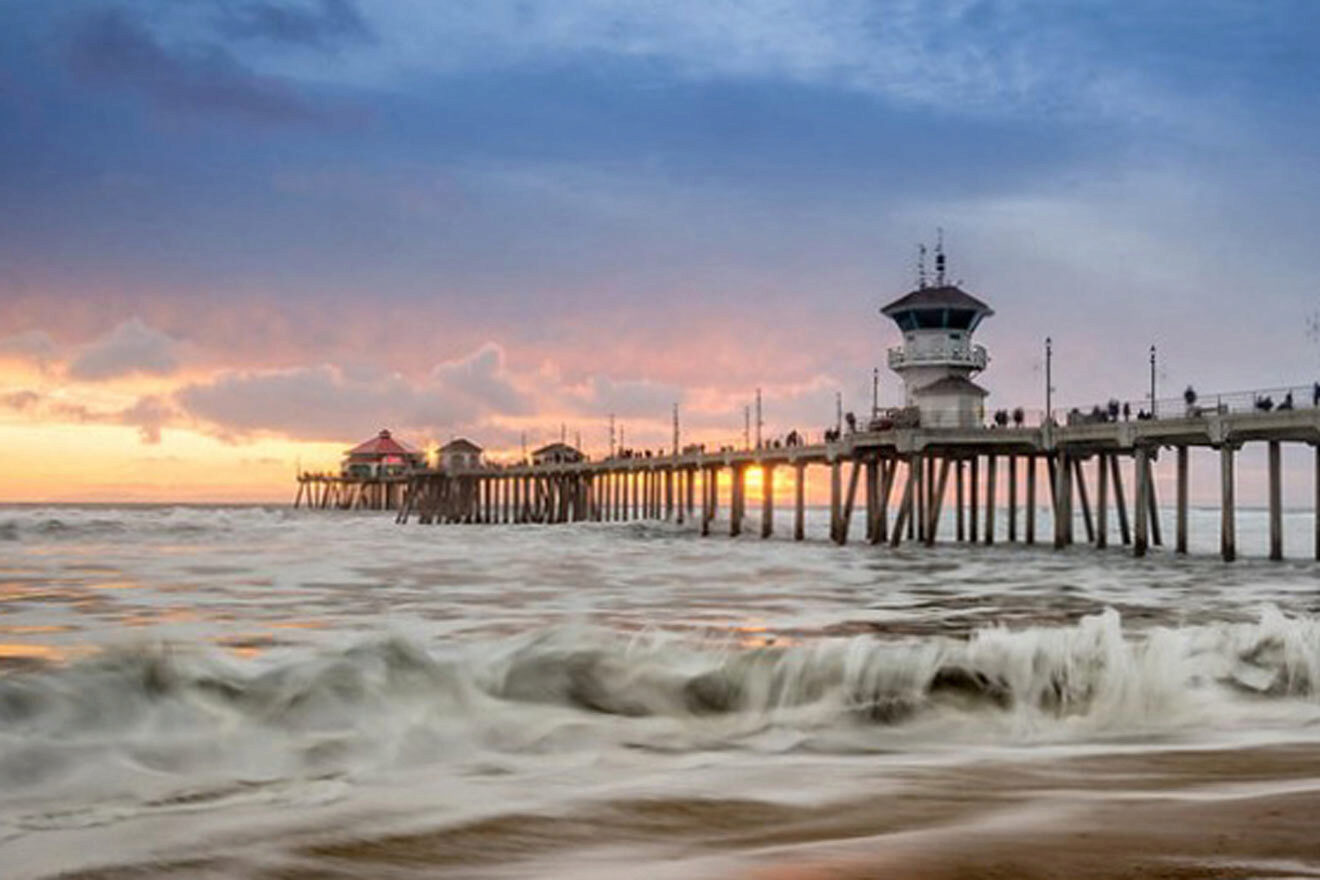 As you can tell, there are SO many things to do in Southern California. From snorkeling in San Diego and exploring the waters of Huntington Beach, Catalina Island, and Crystal Cove State Park to walking through the Santa Monica Mountains and all our breathtaking national parks, the possibilities are endless!
My 2 favorite Southern California things are strolling through Balboa Park in San Diego and visiting the sea lions at La Jolla Cove. They're both near and dear to my heart, and I still do them every chance I get!
I happened to mention a few tours here that I think are well worth checking out, but you'd want to book them in advance.
Leave me a comment if you do any of these activities next time you visit Southern California! I'd love to hear all about it.
Safe travels!
Xoxo,
Esabel S.
---
Pin it for later!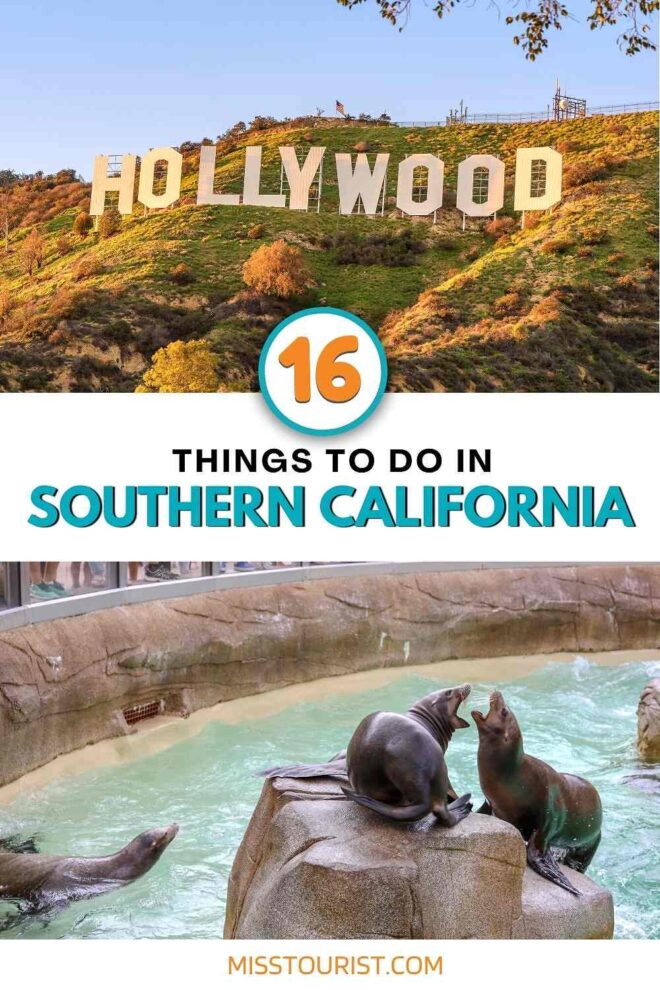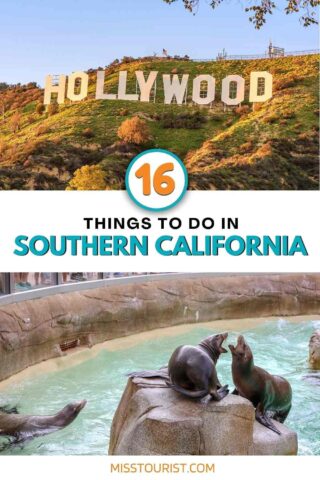 Pin it for later!