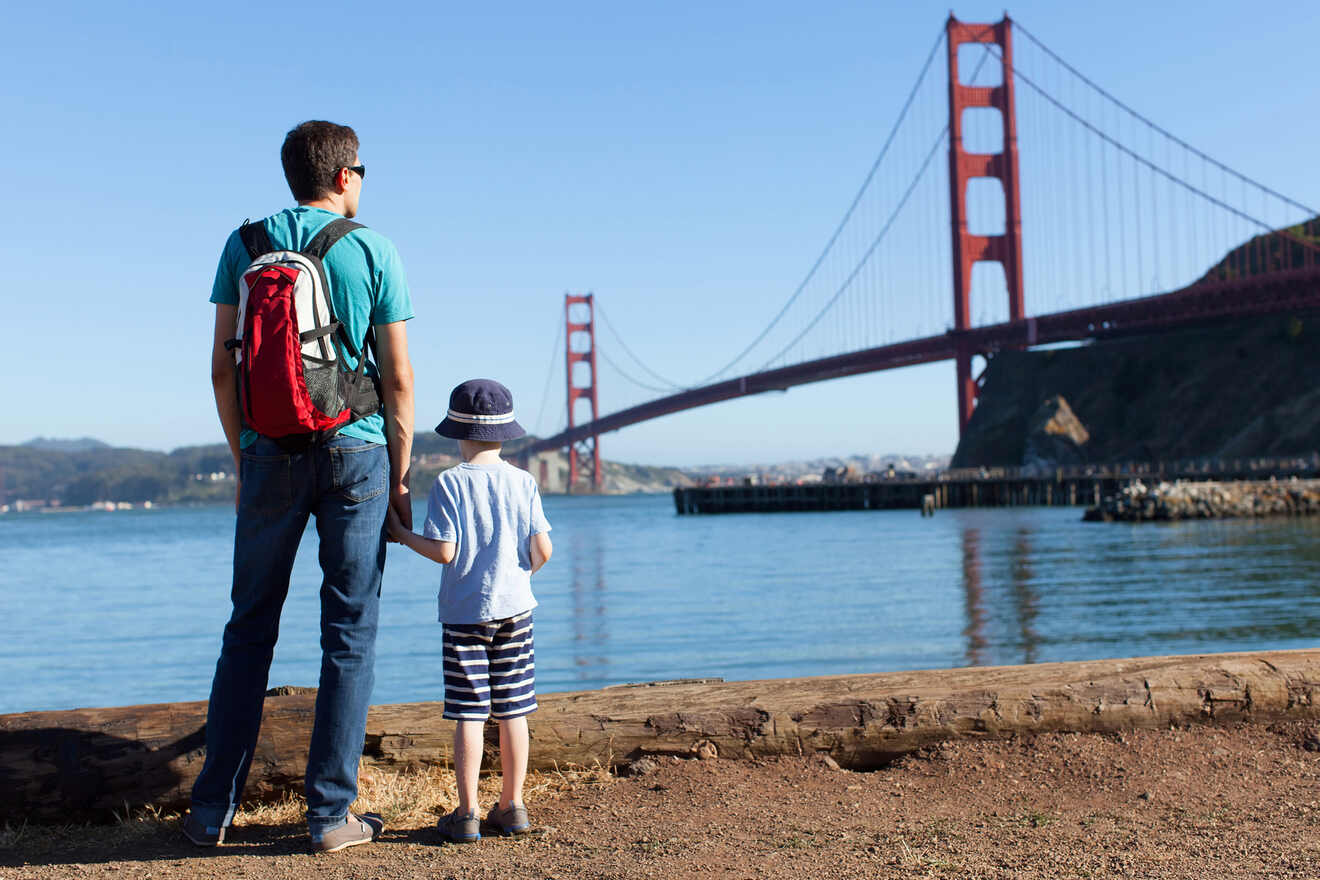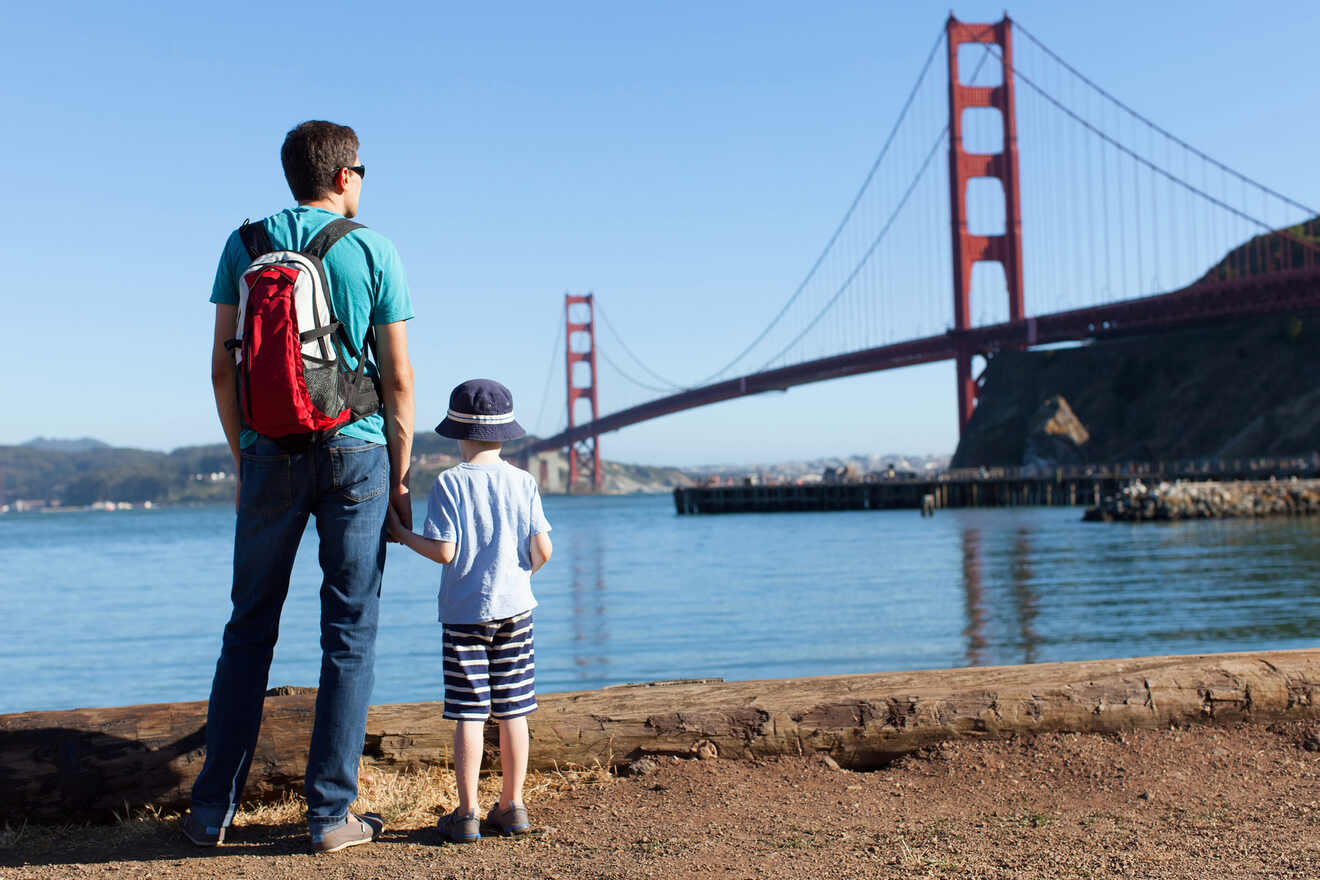 Making sure your kids are entertained when you're traveling in California isn't as hard as you might think. From interactive museums and parks to amusement parks in every big city, there's no shortage of things to do here! In fact, California is the ultimate vacation destination for kid-friendly fun!
As a native California girl, I know there's so much more to the state than your usual tourist attractions. In this article, I'm going to share with you the top 17 things to do in California with kids, along with bits of advice on how to make the most out of your experience along the way.
Ready to get started? Let's go!
If you are in a hurry
If you only have a day or 2 to explore with the kids, avoid the hassle and join unique must-see tours that will make the most out of your time!
Here are the main things to book in advance:
And here are the best hotels: Fairmont Century Plaza Los Angeles (luxury), Ravens Nest Ranch (mid-range), Hotel Mission De Oro (budget)
Here's a map of all the family-friendly places you'll visit in California!
1. Take a trip to the world-famous San Diego Zoo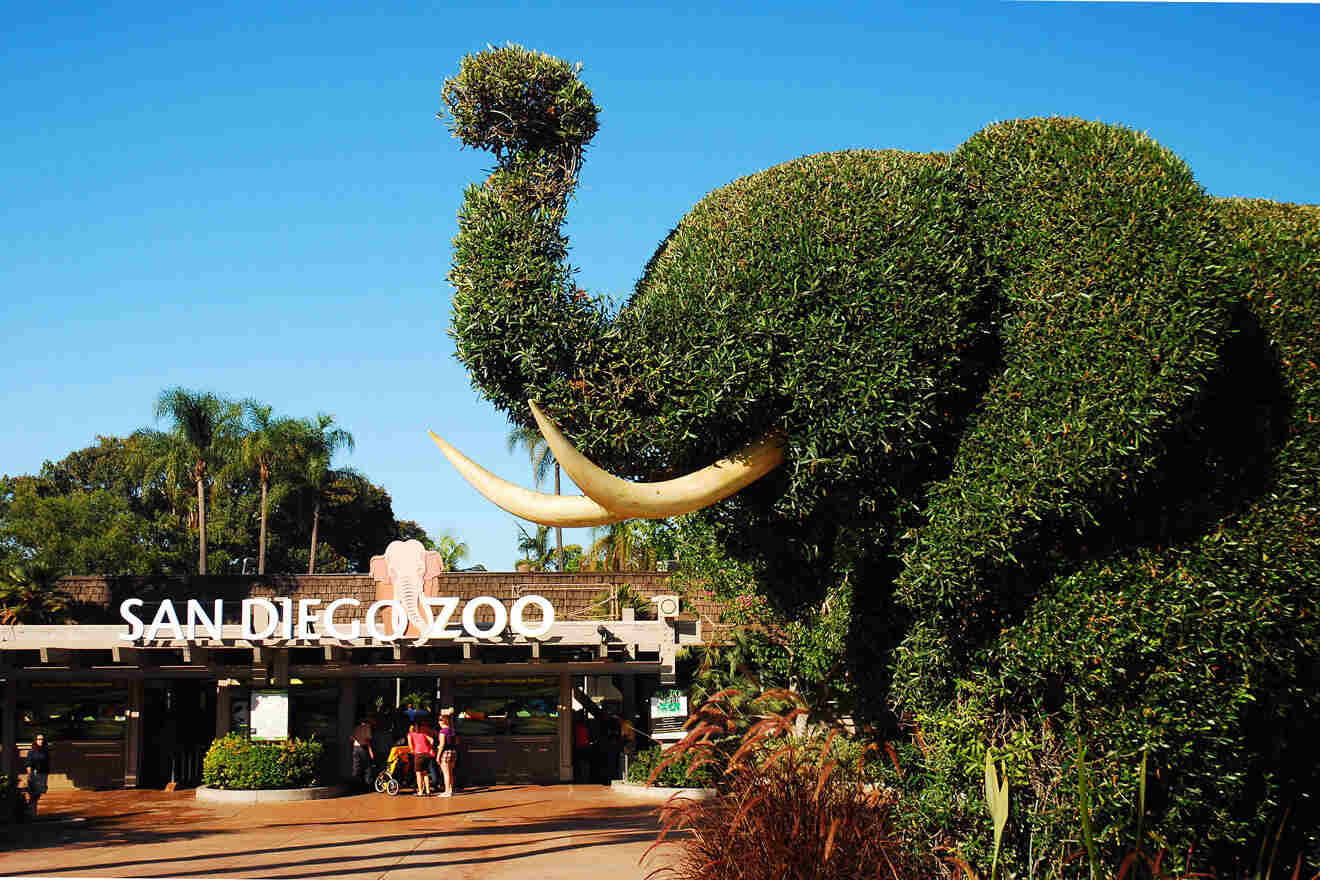 The San Diego Zoo is my favorite family-friendly amusement park in California. Not only is it fun, but kids are also learning new things and seeing over 14,000 endangered and rare animals, with over 700 species that you otherwise would never see!
The San Diego Zoo is now over 100 years old, covering over 100 acres (40 hectares) of land. If it's your first time visiting it, I recommend taking the bus tour. The bus takes you to the most popular exhibits in the park, giving you a feel of what to expect with the layout.
The Elephant Odyssey is one of my favorite habitats to explore, showcasing the animals and ecosystems that existed in California during the last Ice Age! You can also find unique animals specific to different regions of the world in The Lost Forest, Africa Rocks, Asian Passage, and Northern Frontier (where kids get to see real-life polar bears).
For an even more fun family adventure, join their Safari Park excursion! This is a once-in-a-lifetime experience that I definitely recommend!
PRO TIP: Utilize the Kangaroo Express Bus. The bus lets you hop on and off different areas of the park. It'll save you and the kids after a long day of walking!
NOTE: While you're in the downtown San Diego area, it's worth checking out the USS Midway Museum! The kids are going to LOVE this interactive aircraft museum!
2. Make memories at Disneyland & California Adventure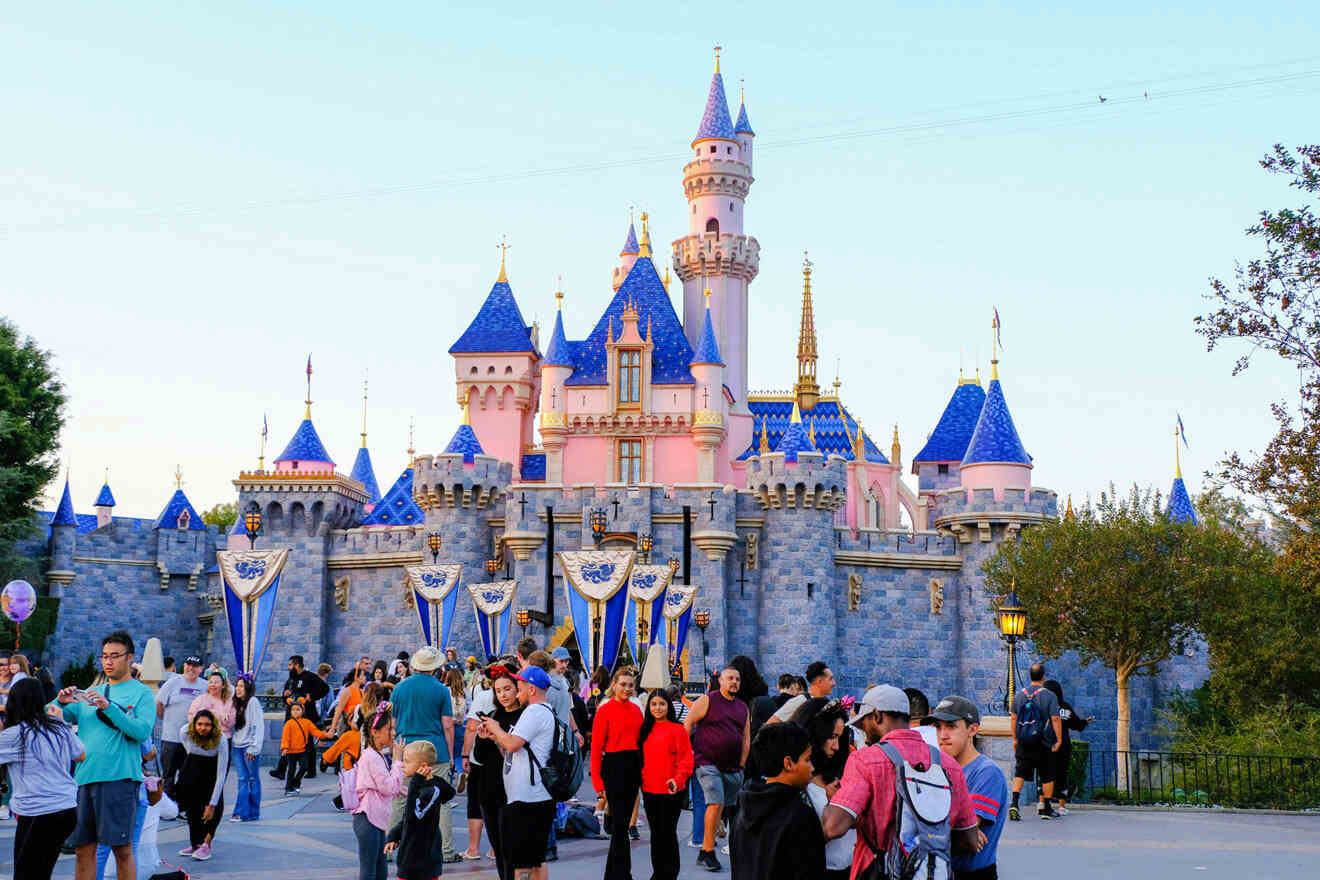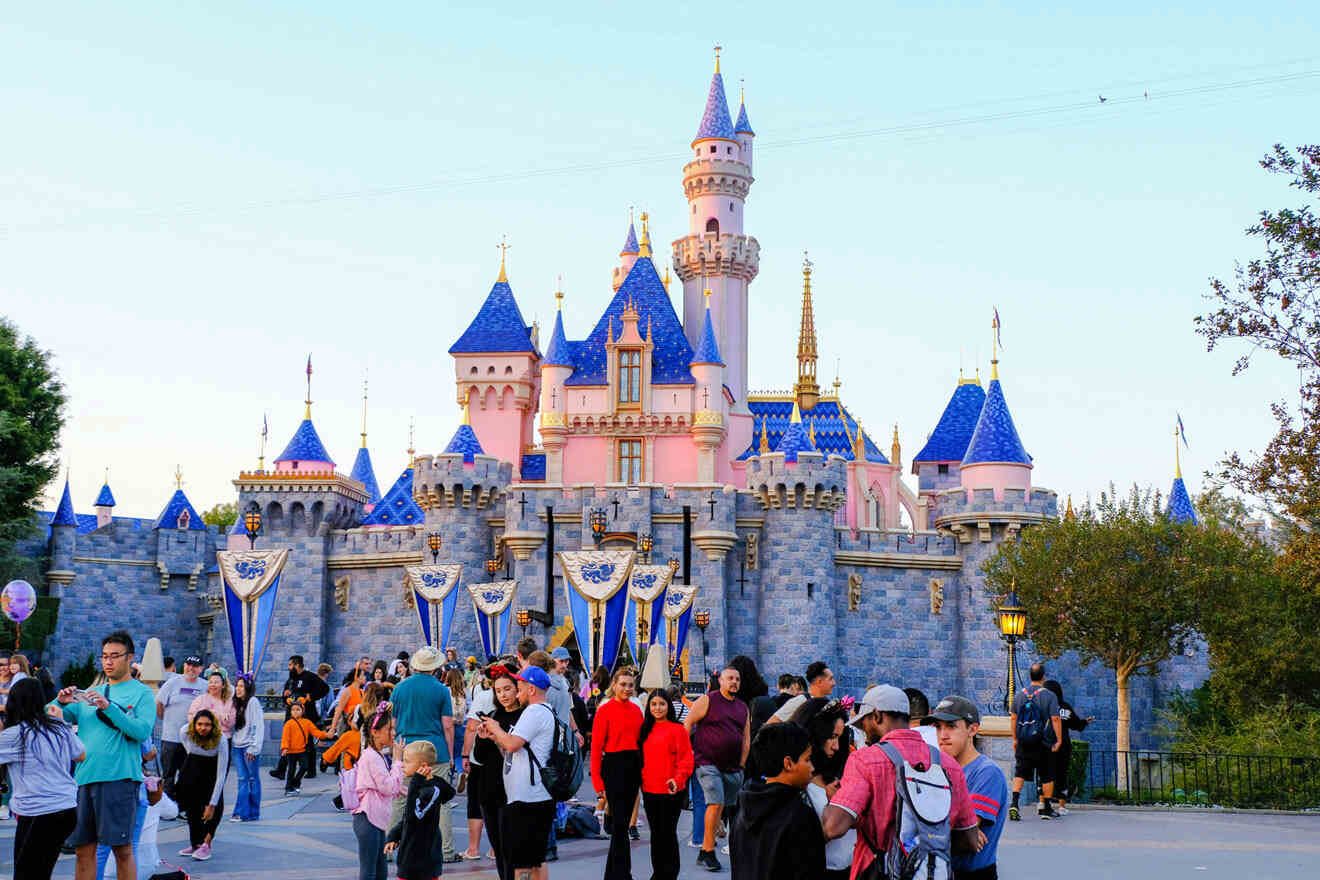 One of my best memories as a child is visiting Disneyland for the first time! It truly is a magical place for kids!
Disneyland and California Adventure are where families come from all over the world to experience the magic that is Disney. The 2 parks are located directly across from each other, and it's worth getting a Park Hopper ticket to visit both attractions on the same day!
The parks are home to various theme parks, rides, and dozens of must-see attractions that will blow you away. The Sleeping Beauty Castle and Star Wars: Galaxy's Edge Park are 2 you don't want to miss.
If you like to stay in close proximity to the parks, then The Westin Anaheim Resort is a family-friendly option that I recommend checking out! It's a short 10-minute walk to the entrance, making it so easy for families to walk and avoid parking fees.
Also, be sure to use a crowd calendar to check when it will be busiest (I like this one!) and buy Lightening Lane passes to avoid waiting in long lines.
PRICE: From US$104 for adults and kids ages 3+; Park Hopper tickets are + US$65/ticket
3. Try the rides, games, & segway at Santa Monica Pier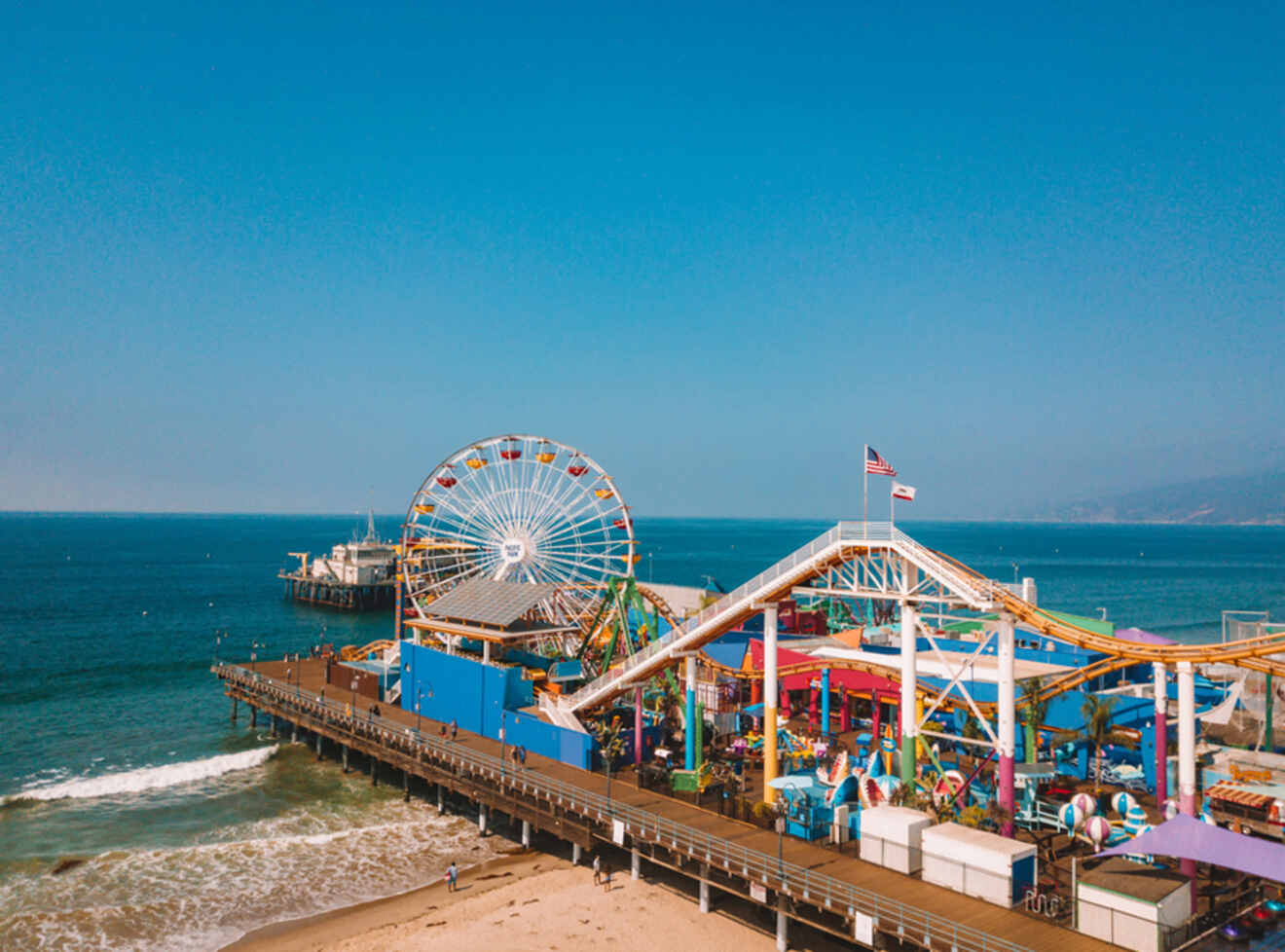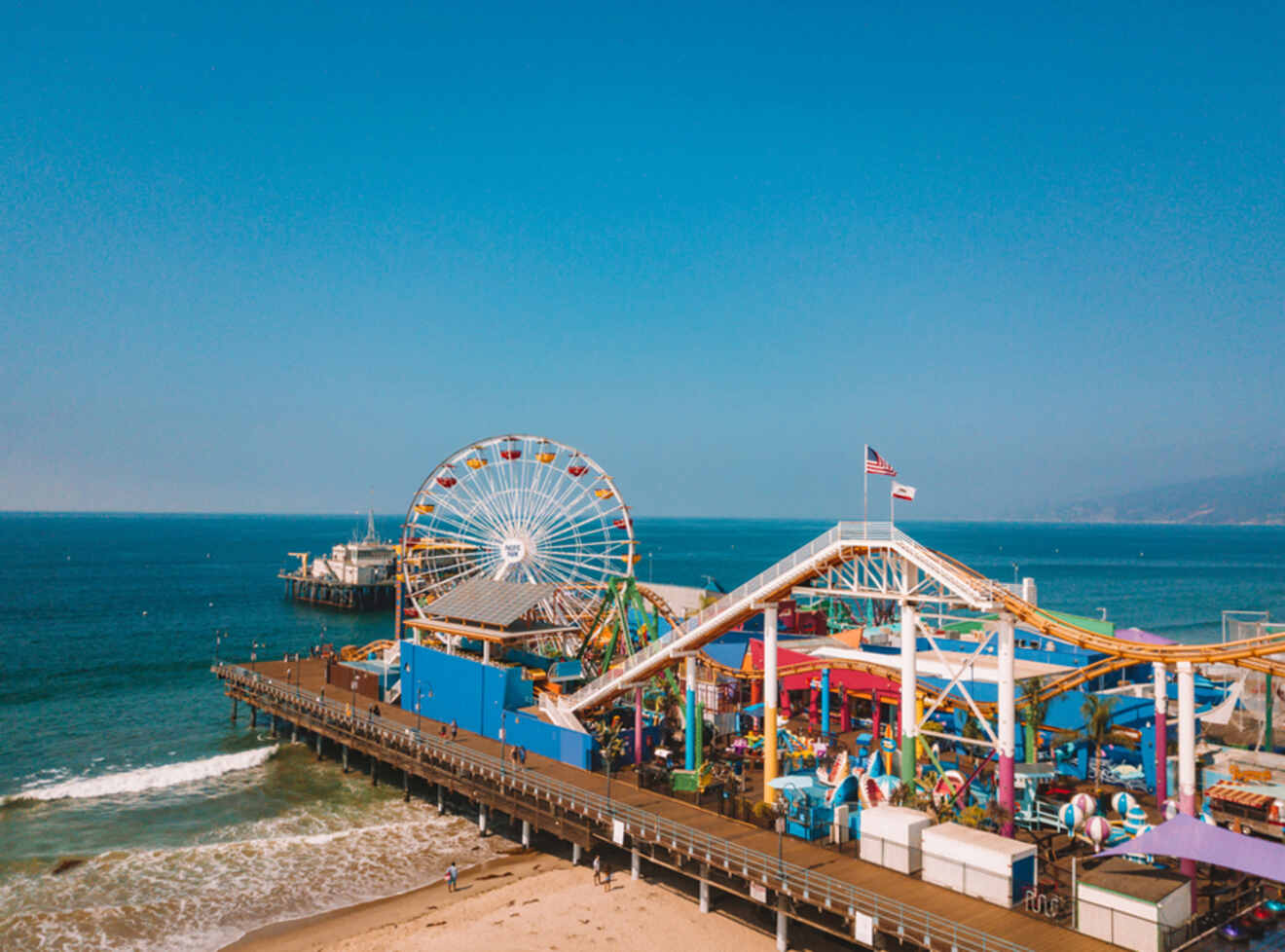 The world-famous Santa Monica Pier has the 1st solar-powered Ferris wheel!!
The Santa Monica Pier has 12 thrilling rides to enjoy with the family, along with dozens of carnival rides & arcade games, street performers, seaside views, and so much more. Millions of people around the world come every year to be a part of the fun here (including myself)!
You can easily enjoy the entire day on the Santa Monica beach with the kids, building sand castles and just rolling around in the sand. I recommend even bringing a football or soccer ball to throw around on the beach for some good ol' family bonding time!
If you want to have a fun adventure in Santa Monica, I recommend checking out a Santa Monica Beach Segway tour! It's a new, thrilling experience for the whole family and a fun way to explore the area. (Don't worry, they'll teach you how to use the Segway beforehand!)
NOTE: The Segway tour is only available for older kids, ages 8 and above, and needs to have a party of 3 or more! Keep that in mind and book ahead of time for the best price!
TOUR PRICE: Starting at US$220 for a family of 3
4. Visit the Monterey Bay Aquarium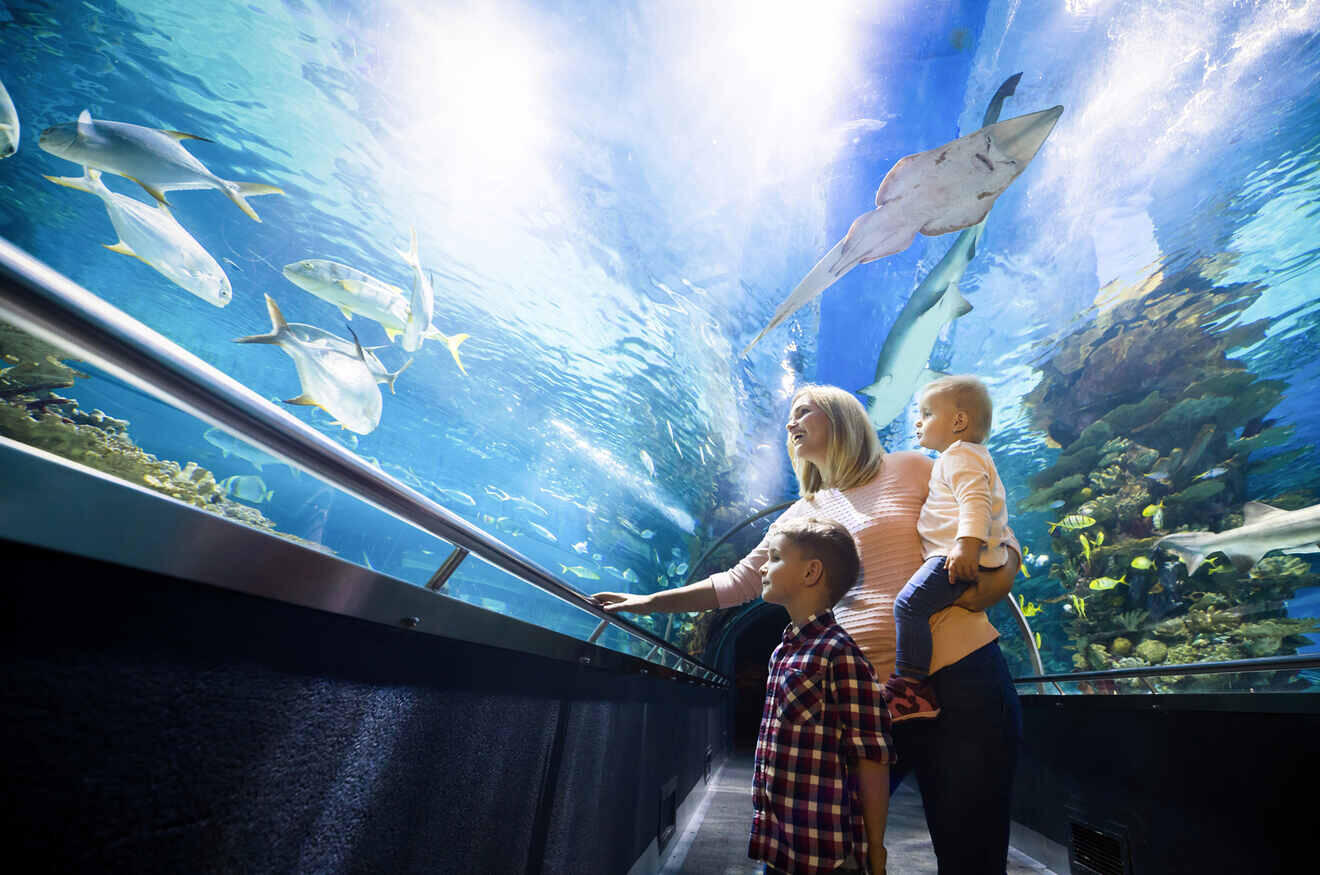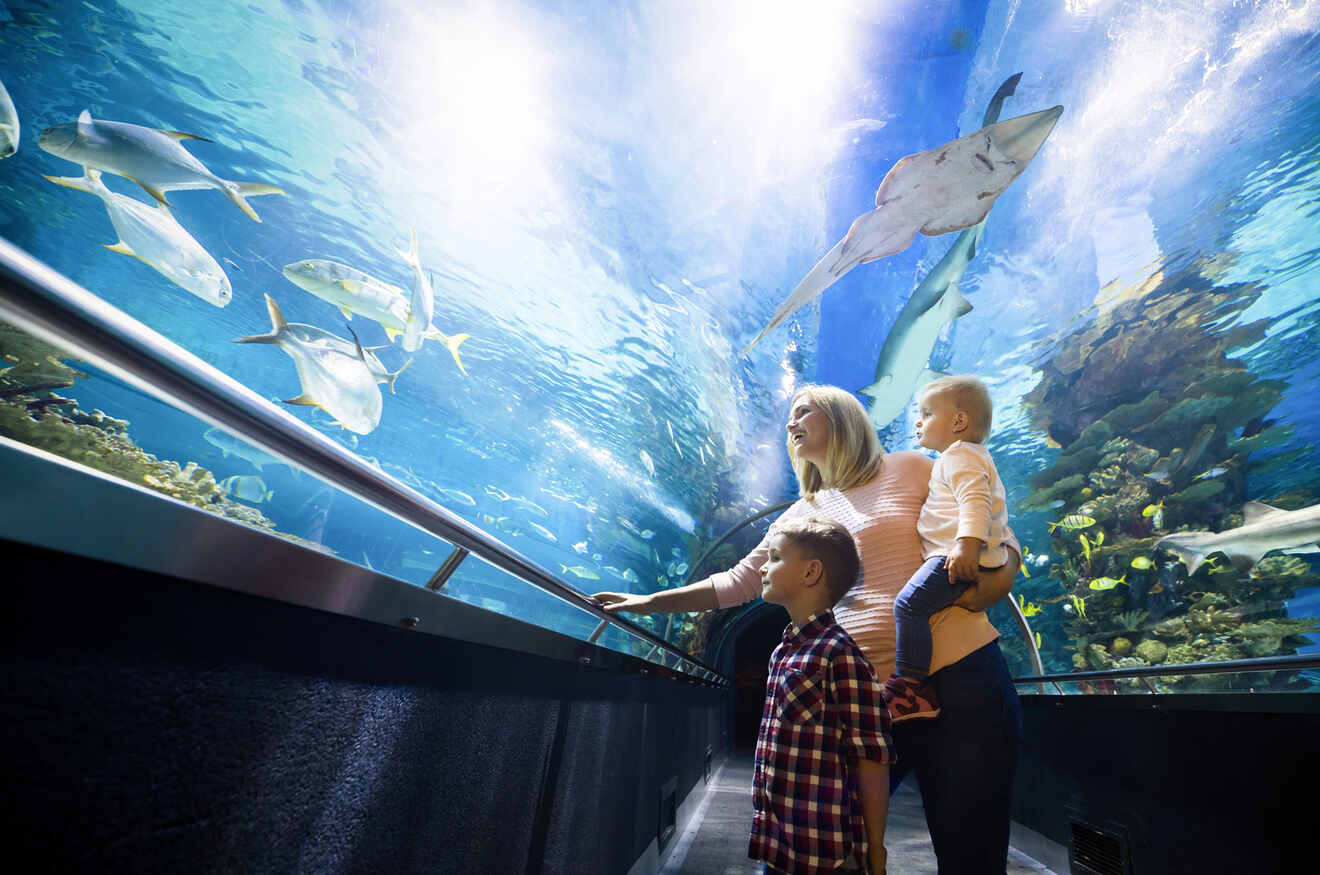 The Monterey Bay Aquarium is well known for being a window to the wonders of the ocean!
The Monterey Bay Aquarium offers fun exhibits with breathtaking scenery and unique marine life to discover (over 200 exhibits and 80,000 plants and animals)! It's especially fun for curious kids who are fascinated by the ocean.
The aquarium partners with various efforts to help care for the ocean, reduce plastic pollution, and educate others on clean energy. Not only will you leave this place feeling ecstatic about all the marine life you got to see, but your kids will also feel inspired and encouraged to be the change!
The Monterey Bay Aquarium is separated by 2 buildings – one building is filled with animals found in the sea, while the other building features animals closer to the ocean's edge. The Ocean's Edge wing features unique marine life, like the giant octopus, sheep crab, skeleton shrimp, bufflehead duck, and so much more. Your kids are going to love it!
You can even book a behind-the-scenes tour for the whole family or a diving exploration tour for kids aged 13 or under to get a sneak into the underwater world!
PRICE: US$60 per person for adults, US$50 for youth (13 – 17), US$45 for children (5 – 12)
5. Bring the kids to Lake Tahoe for endless water activities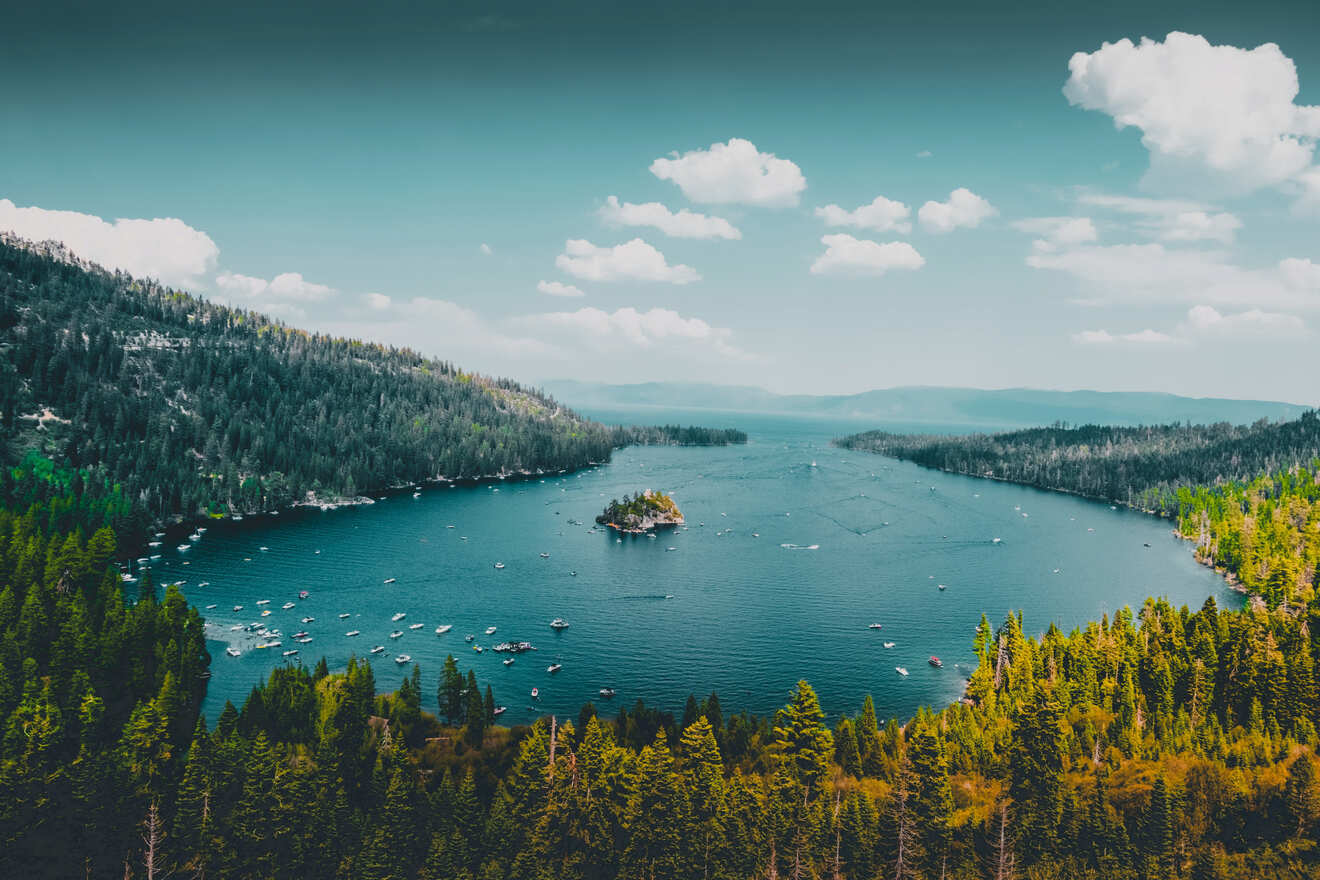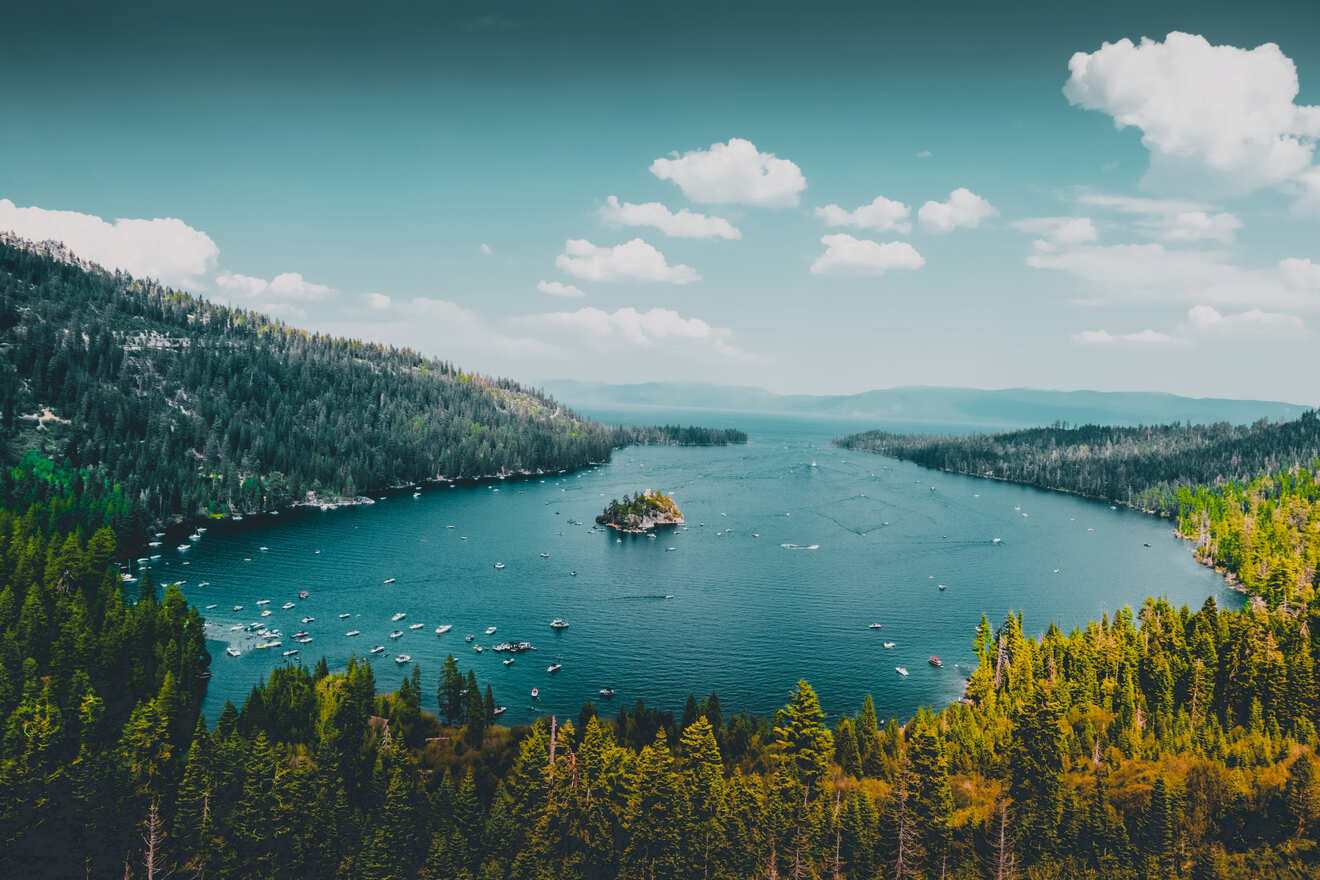 Lake Tahoe is one of the best places to visit in California for water activities during both the winter and the summer. I've been there during both seasons, and each time was a new experience! The massive lake gives you views of the Sierra Nevada Mountains, and it's great for kayaking, jet skiing, paddleboarding, and so much more.
I recommend checking out this tour for a family-friendly kayaking and paddleboarding experience. The tour is meant for people with little-to-no experience, so it's perfect for kids to learn.
Taking a private guided boat tour from South Lake Tahoe by Design is another option for families who want to explore the lake in a comfortable boat and a professional guide to lead the way. Both are great options, it just depends on what you and your family's leisurely preferences are!
For your stay, I recommend staying at Tahoe Valley Cottage in South Lake Tahoe. It's the perfect little cottage for families, both during the summer and winter. There's also a family room and outdoor swimming pool for the kids to splash around in!
NOTE: Lake Tahoe is the 2nd deepest freshwater lake in the country. The deepest point is over 1,600 feet (488 km), so make sure to wear life vests to keep your kids safe and sound.
6. Explore the underwater park at Crystal Cove State Park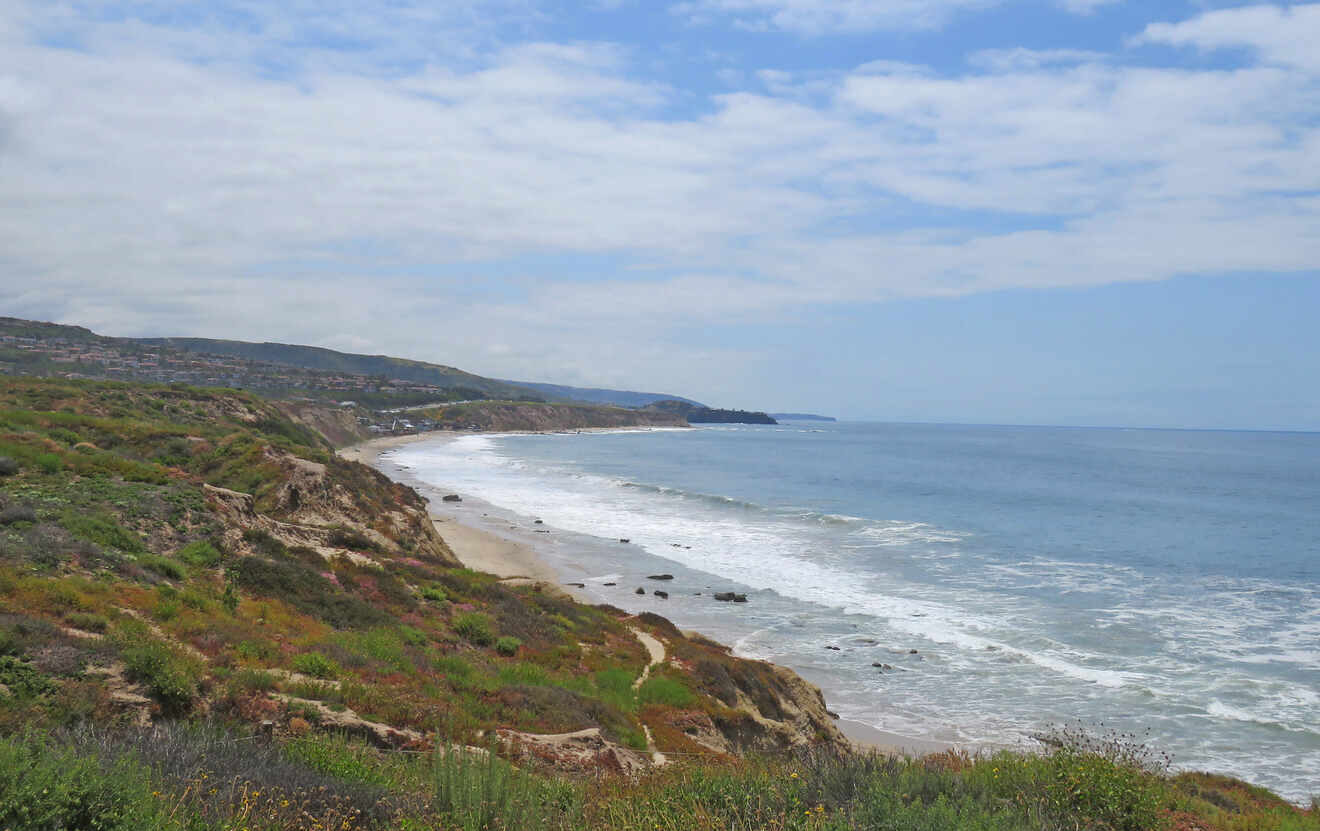 Crystal Cove State Park is a beautiful place for kids to enjoy the outdoors in Orange County. There are about 3 miles (5 km) of the beach and 2,400 acres (970 hectares) of wilderness to explore – perfect for endless outdoor activities! One of the most unique activities that kids will love is Crystal Cove's underwater forest!
The underwater forest is an offshore park with one of the most diverse marine ecosystems in the world, made up of giant kelp. The kelp forest is found near the park's tidepools, along with various shell and mollusk species! This park is so much fun for kids to explore and learn about.
There are a few different tidepools to explore in the underwater park: Reef Point, Rocky Bight, Pelican Point, and Treasure Cove. Take a look at this visual map for reference!)
NOTE: The underwater park is completely natural and untouched, so make sure to keep the seashore clean by not littering. Also, refrain from touching the critters anyone along the park (as interesting as they might be)!
PRICE: Parking at the park is US$15
7. Uncover California's history in Calico Ghost Town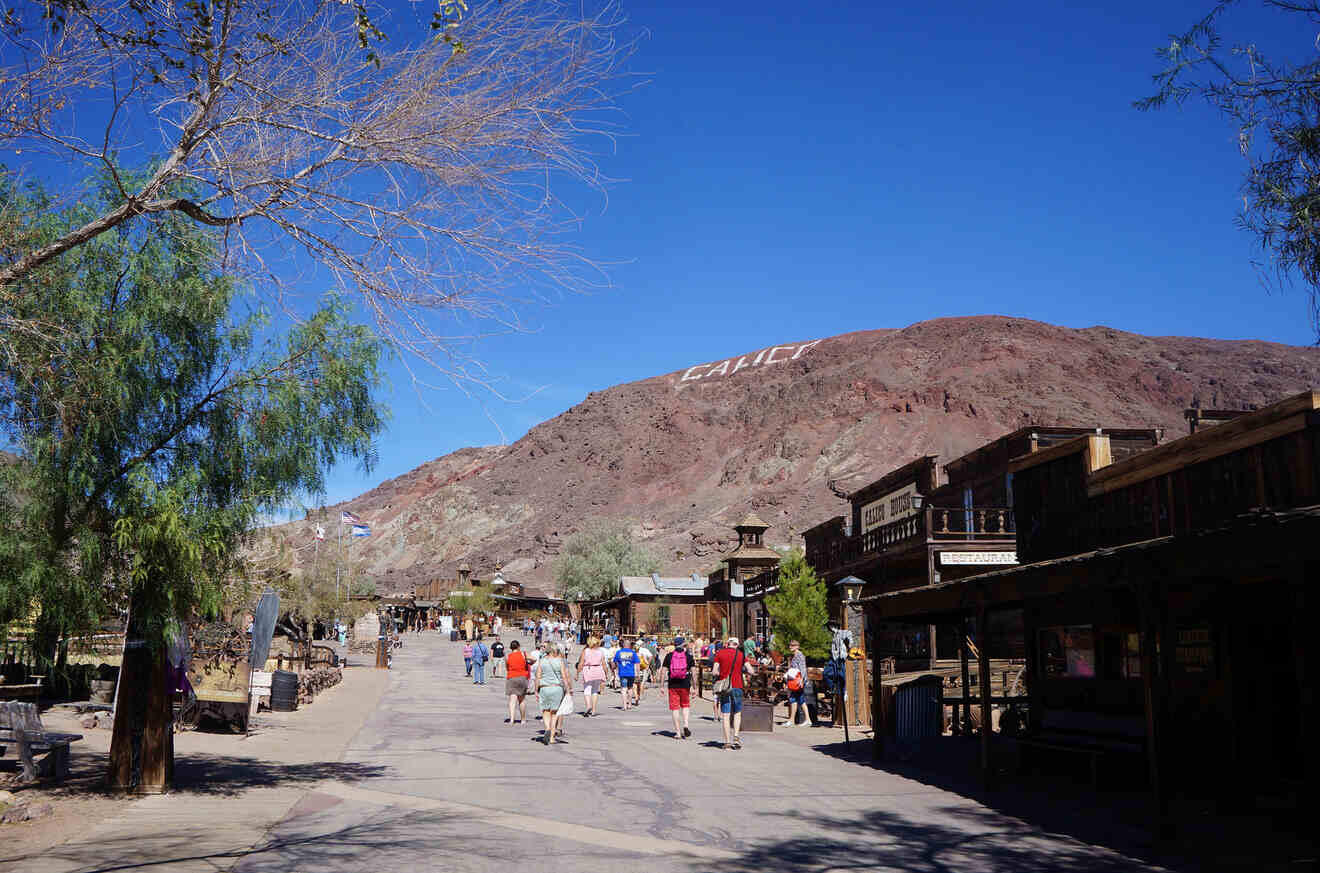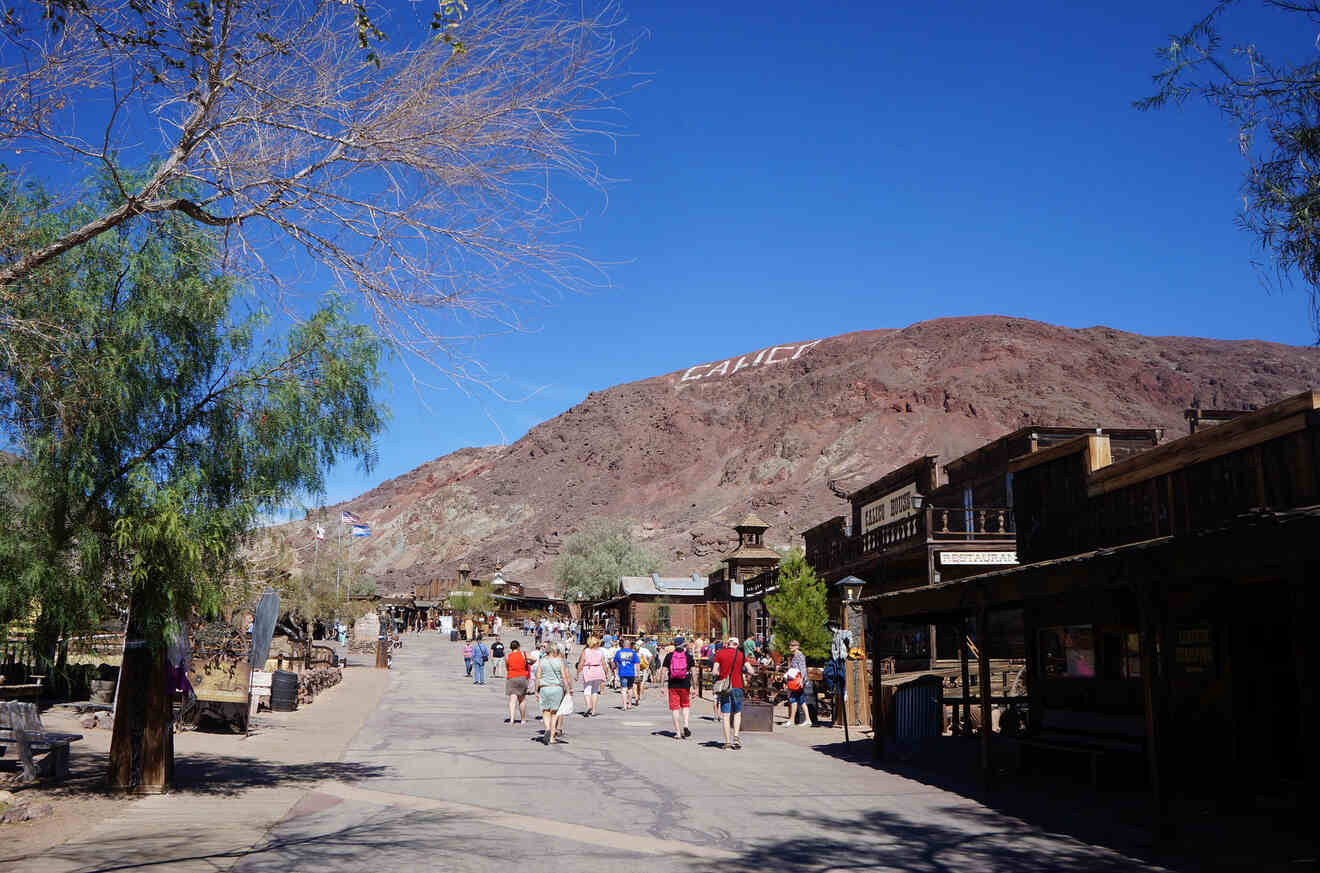 Calico Ghost Town in San Bernardino County was once a bustling town in the 1880s. Today, it's a ghost town where tourists from around the country come to visit the remnants of what used to be California's hotspot for silver mining.
With so many recreational attractions and activities to do here, this is one of California's most underrated spots for kids to explore. I'm personally fascinated by history and the Wild West, so this spot is one of my favorites!
You really only need a few hours to explore the fun town, so if you're exploring anywhere near Los Angeles or San Diego County, I would recommend taking a day trip out here. The following are the most interesting attractions that you need to check out:
Lucy Lane Museum: This history museum is filled with artifacts and photographs from Calico's olden days. This is a good option for older kids.
Maggy Mine: Kids can explore a real-life silver mine from the 1800s!
Calico Odessa Railroad: Take a family tour on a train similar to those used in the mining days.
Gold Panning: Put yourself in the shoes of miners in the wild west and pan for gold. So fun for the whole family!
If you can't get enough, you can also enjoy a camping trip in their mini-bunkhouses or cabins for a comfortable stay that the whole family would love. (You can book here!)
PRICE: Admission fee is US$8/person for adults, $5/person for youth (ages 4 – 11), and free for children ages 3 or younger. Check out the attraction prices here.
8. Experience thrilling rides in Six Flags Magic Mountain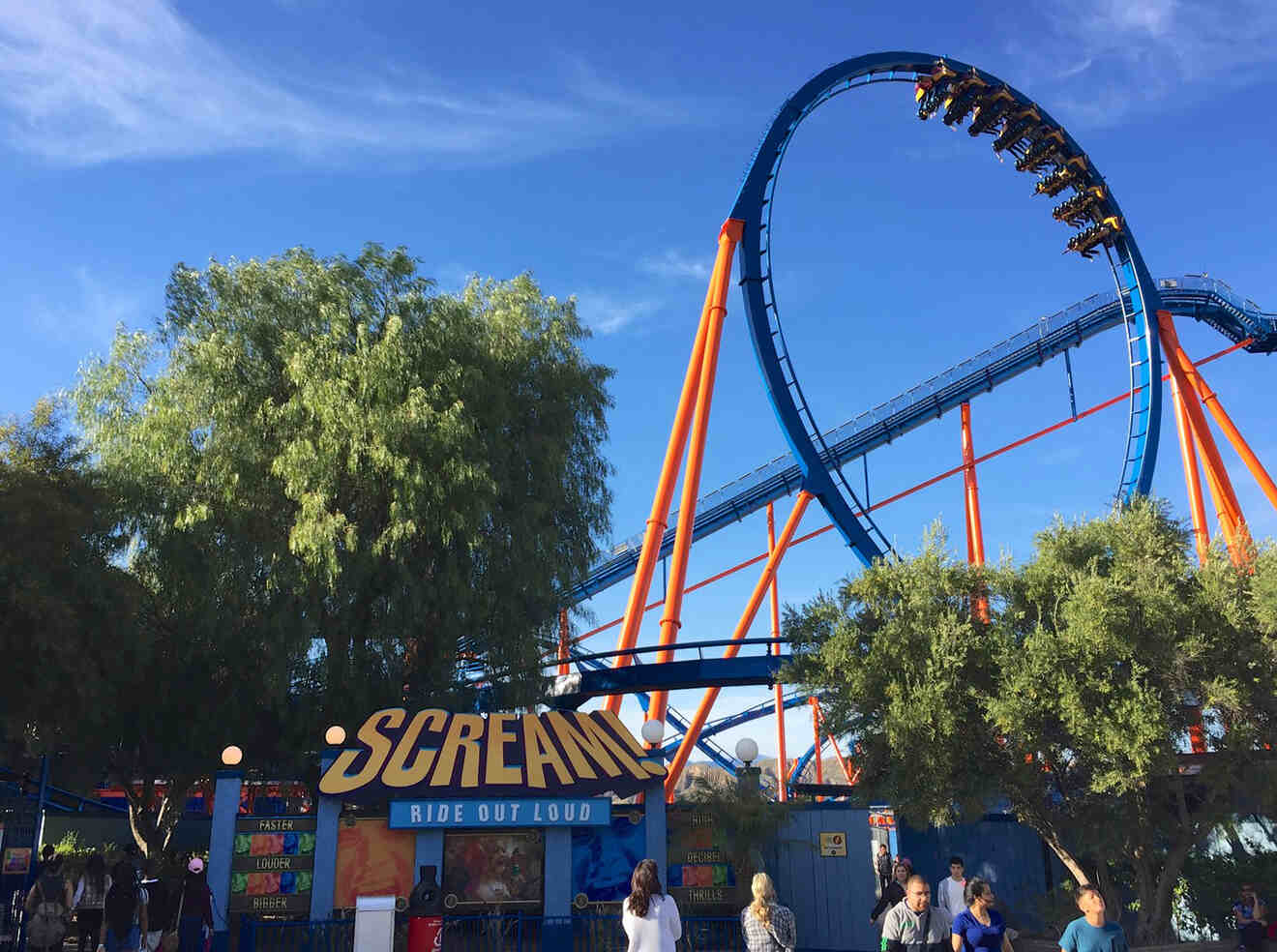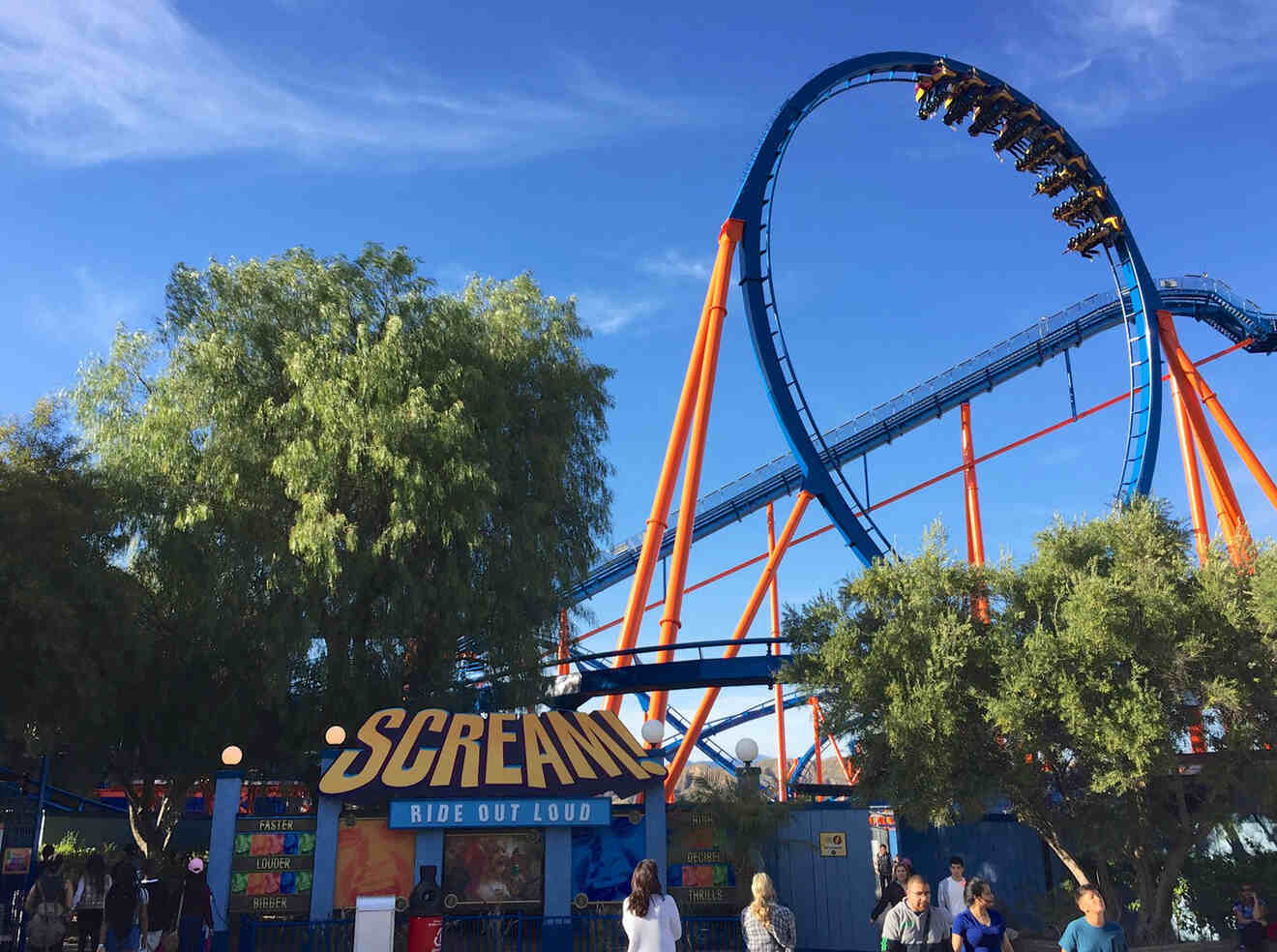 I've been to Six Flags with my little cousins before, and I must say – I've never seen them more excited!
Six Flags Magic Mountain is the best amusement park for kids to enjoy roller coasters! This California theme park is known as the "Thrill Capital of the World" for its 20 world-class roller coasters, more than any theme park in the world.
Buy your tickets in advance to save money and download the Six Flags app and stay updated on all the latest information and use mobile food ordering to avoid waiting in those long lines!
Here are the most fun rides for kids:
Canyon Blaster: This is for the little ones looking for a thrill but who don't want anything too extreme.
Pepe LePew's Tea Party: The spinning tea cup is a classic ride for children to get a good laugh and a dizzy feeling afterward that won't be too overwhelming. This type of ride was one of my favorites as a kid!
Whistlestop Train: This kid-sized train is a mild ride for kids of all ages in a playground with its own train lines, depot, and gift shop for kids to explore.
PRO TIP: It gets incredibly hot in the summer, and there is hardly any shade anywhere in the park! Make sure to bring a hat, sunglasses, and extra sunscreen to avoid the kids burning. I also recommend bringing a balm just in case the kids get insect bites or hurt themselves. It's super easy to use and fits in any purse.
9. Take a stroll around Universal Studios Hollywood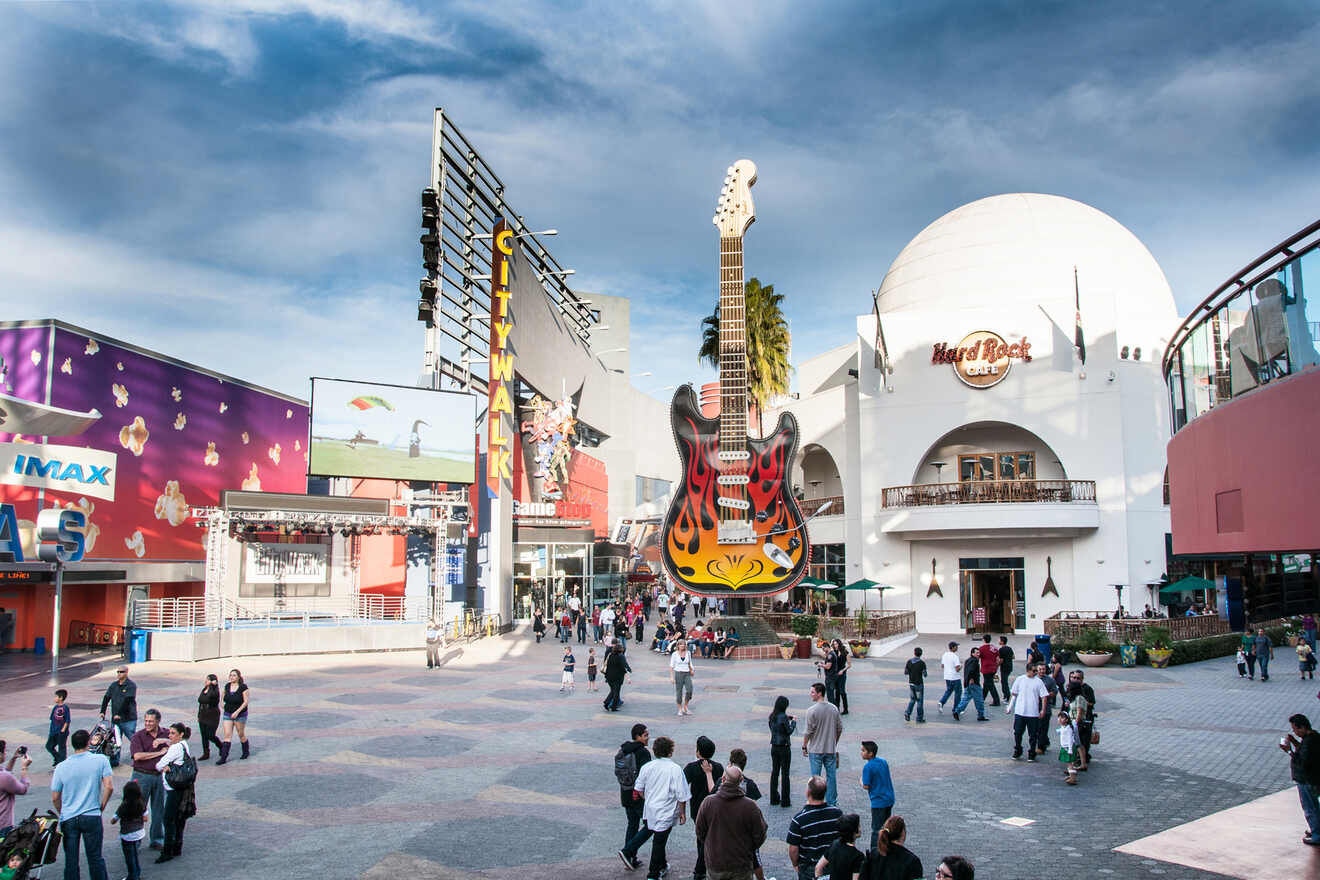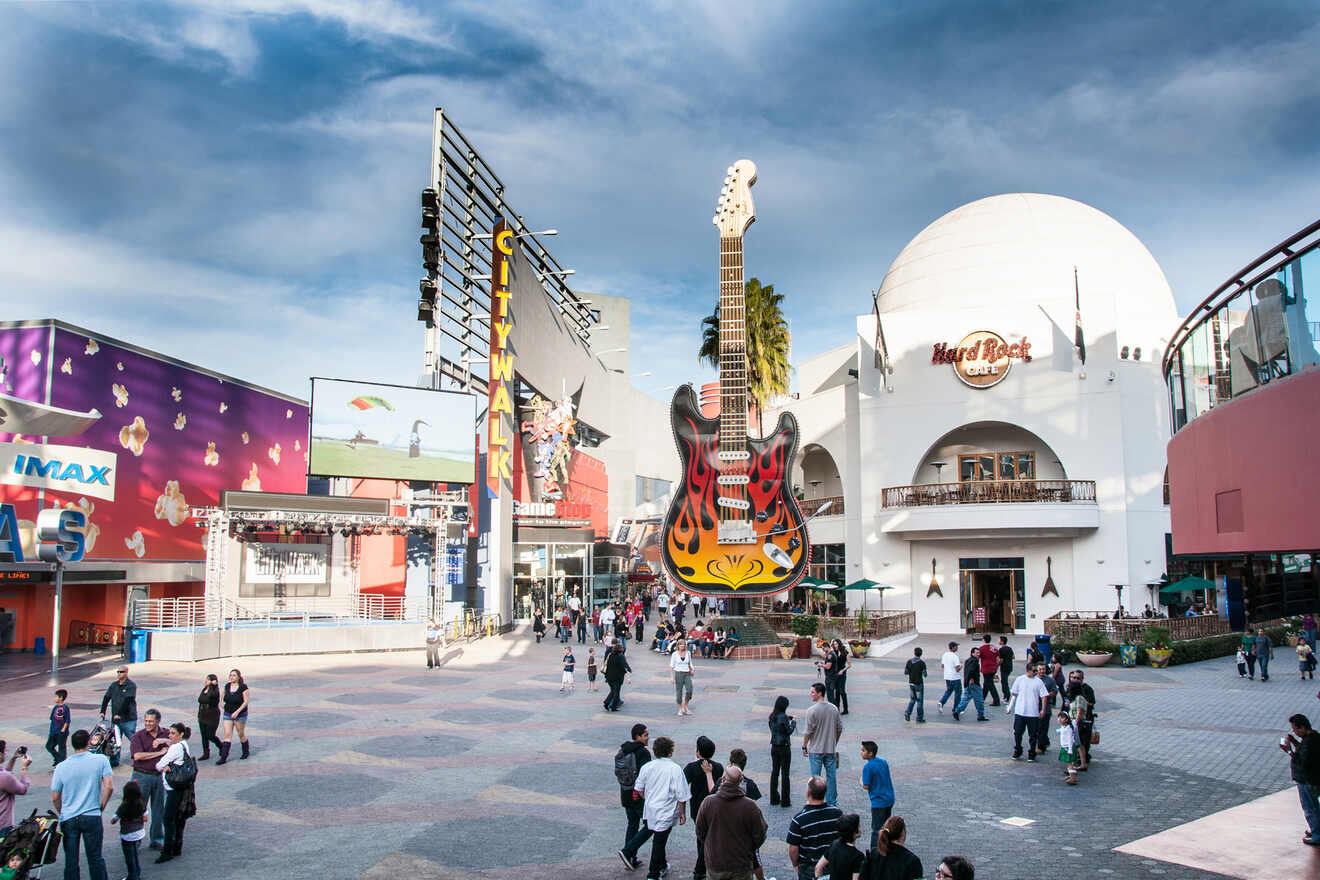 Universal Studios attractions and rides make for one of the best amusement parks to stroll around with the kids.
Universal Studios Hollywood makes Hollywood's most famous movies and television shows come to life! Kids are going to recognize all of Hollywood's most popular characters, like Scooby-Doo and Shaggy, the Minions, SpongeBob, Spider-Man, Hello Kitty, Barney, and more. (If you go around the holidays, you'll find the Grinch, too!)
Here are a few popular, note-worthy theme parks for kids to enjoy:
Super Nintendo World: Being the newest addition to the park, this one is fairly popular among both adults to experience nostalgia and kids who have a love for the Nintendo World video games!
Jurassic World: Kids can walk through an elaborately-made jungle inspired by the Jurassic World movies and come face-to-face with dinosaurs!
The Wizarding World of Harry Potter: This park is great for the older Hufflepuff and Gryffindor kids who are fans of the Harry Potter series (or even the parents who nerd out on the books and movies).
Don't miss out on the King Kong ride and The World-Famous Studio Tour – it's my absolute favorite tour in Universal Studios and is included with your admission!
PRICE: From US$127/person for adults, US$122/person for ages 3 – 17, free for kids (ages 0 – 3).
10. Bring the kids to LEGOLAND California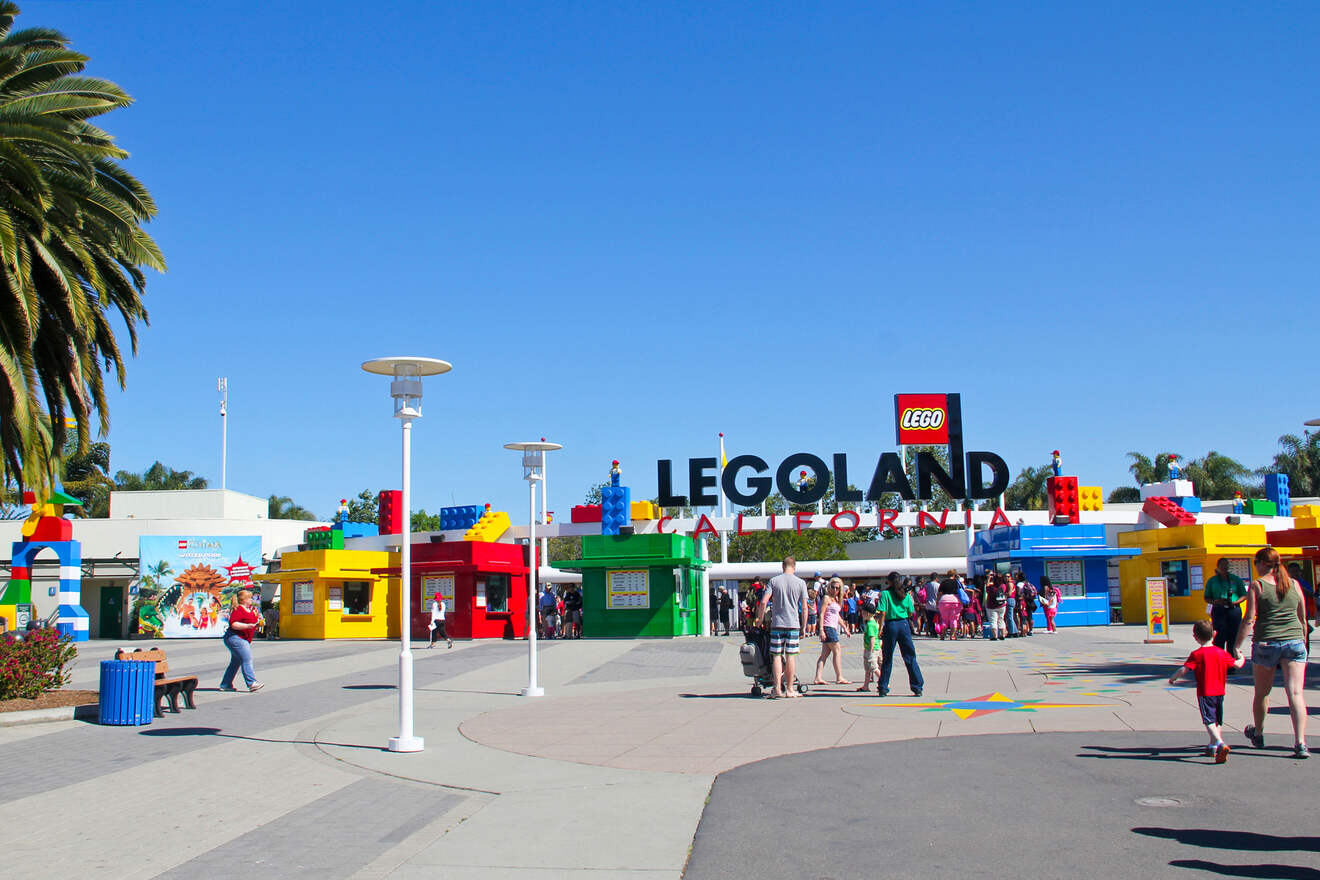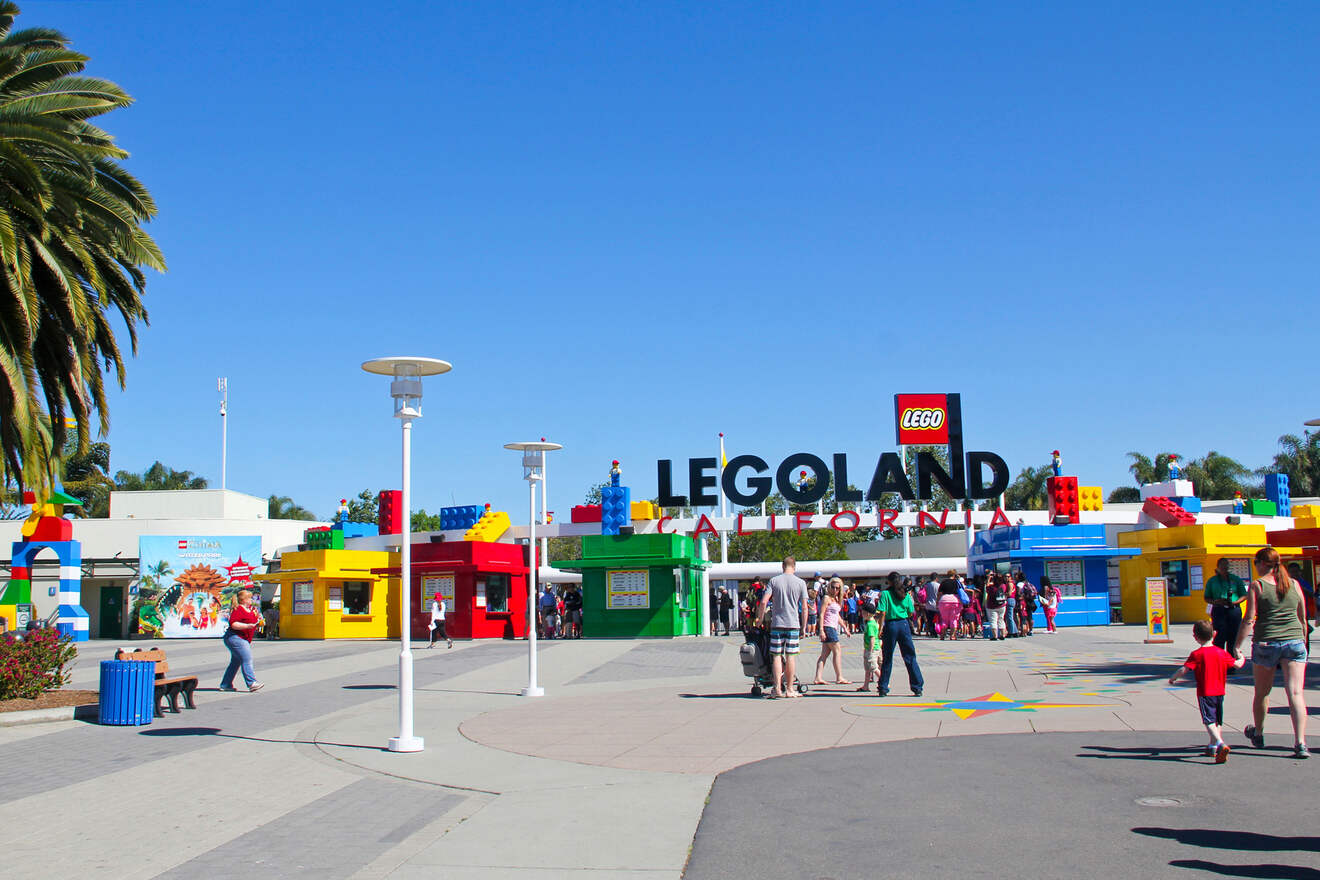 LEGOLAND California in Carlsbad has over 60 rides and attractions built for children ages 2 to 12 years old. Here, all the rides are child-proof and safe, so there's no need to worry about a thing.
Here is a list of all the rides and attractions that you can take advantage of. I recommend every single one of these! My favorites are Dig The Dinos and the Coast Cruise. The cruise is an excellent attraction for the entire family (including the older kids) to enjoy.
If you're staying near the park (in Carlsbad), I recommend taking a visit to the Carlsbad Strawberry Co. during the U-Pick season (February – July).
You get to stroll the fields with a small bucket and pick strawberries to take home! This is a fun way to spend quality time outside with the kids and the whole family.
The Grand Pacific Palisades Resort is a family-friendly hotel conveniently right across the street from LEGOLAND, California, and features an interactive pool for the kids to enjoy! The kids are basically guaranteed fun 100% of the time!
11. Hang out with Elmo and the crew at Sesame Place San Diego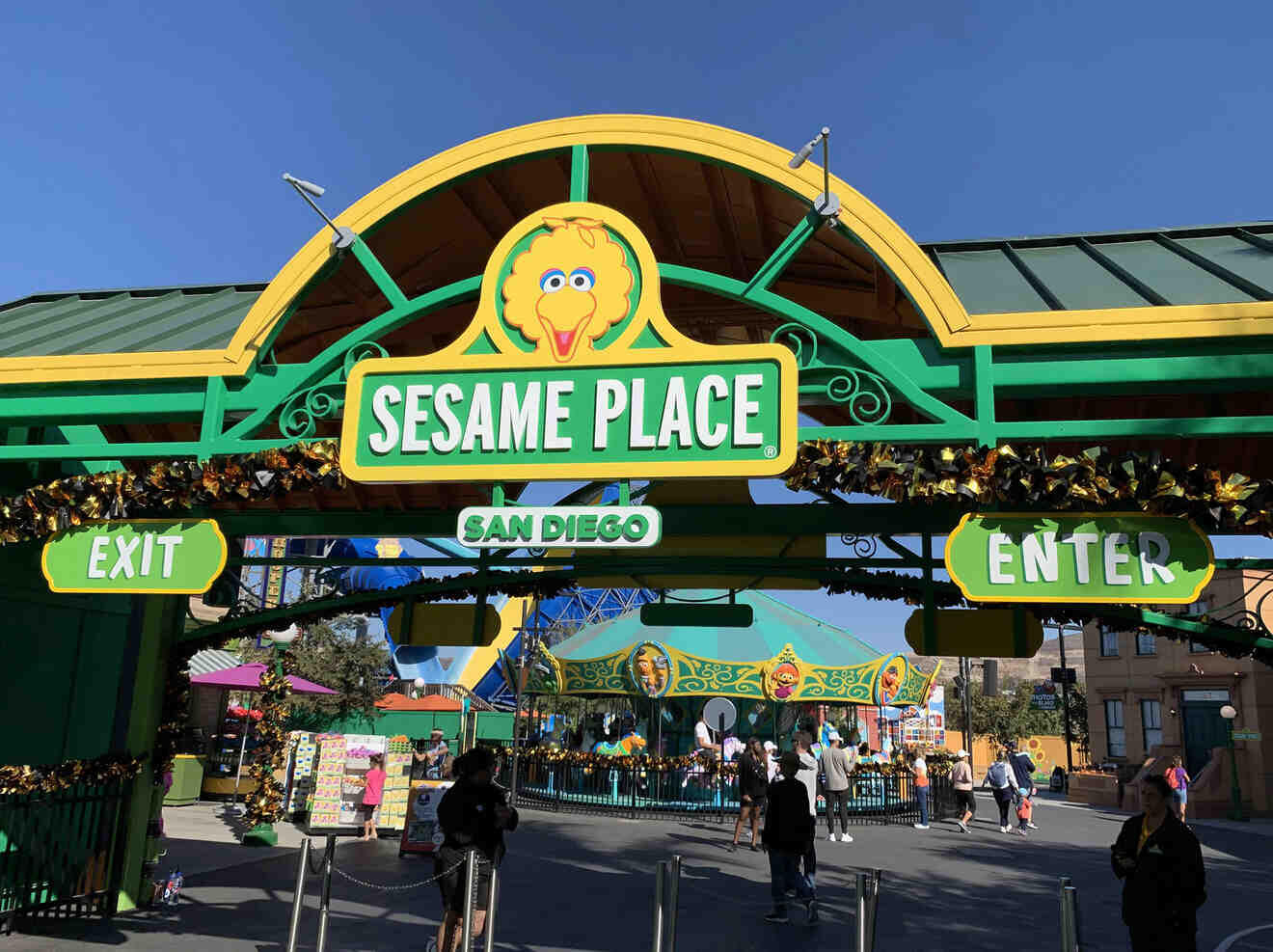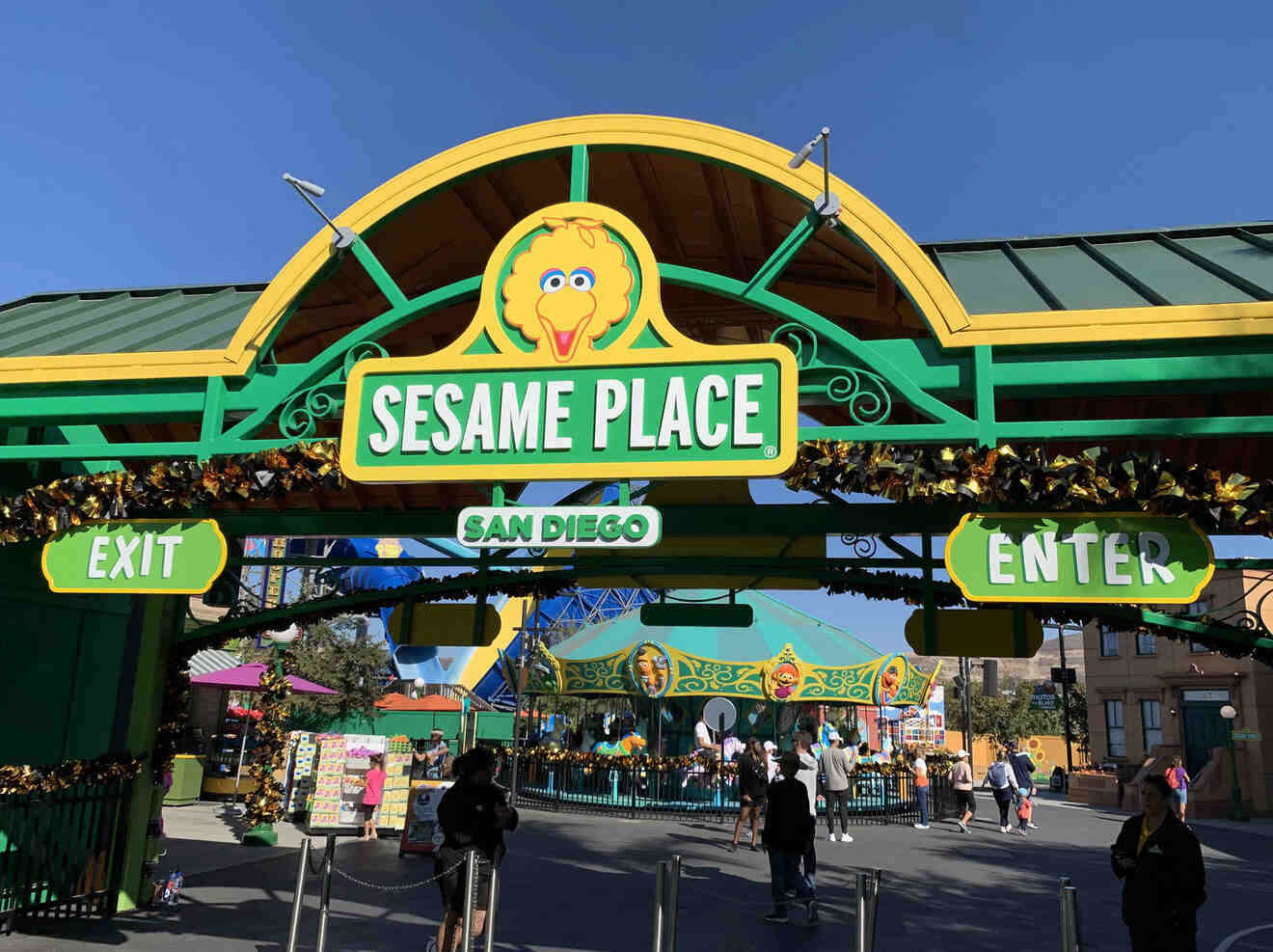 Sesame Place San Diego is another family theme park and water park also built for younger kids. Here, kids get the chance to meet their favorite Sesame Street characters and twirl around in family-friendly roller coasters that are sure to put a smile on the kids' faces.
Along with the family-friendly rides, Sesame Place San Diego offers shows and parades all throughout the day, featuring popular characters like the Cookie Monster, Big Bird, and Elmo. Below are a few shows and parades I recommend checking out!
Furry Friends Dance Party: Dance and sing along with Sesame Street's furry friends at a dance party! Children love this one!
Storytime with Big Bird: Kids are going to love spending quality time in this interactive experience with Big Bird (Check for show times here).
Sesame Street Party Parade: This is an award-winning show for the entire family to enjoy, sing and dance along. This is a must-see for the entire family!
The best hotel to stay at while you're visiting Sesame Place is Homewood Suites in Eastlake, Chula Vista. It's a family-friendly property in a safe neighborhood near the park. It's only about a 15-minute drive away from the park so no need for a long car ride with the kids from the center of San Diego.
12. Explore curious minds at the Exploratorium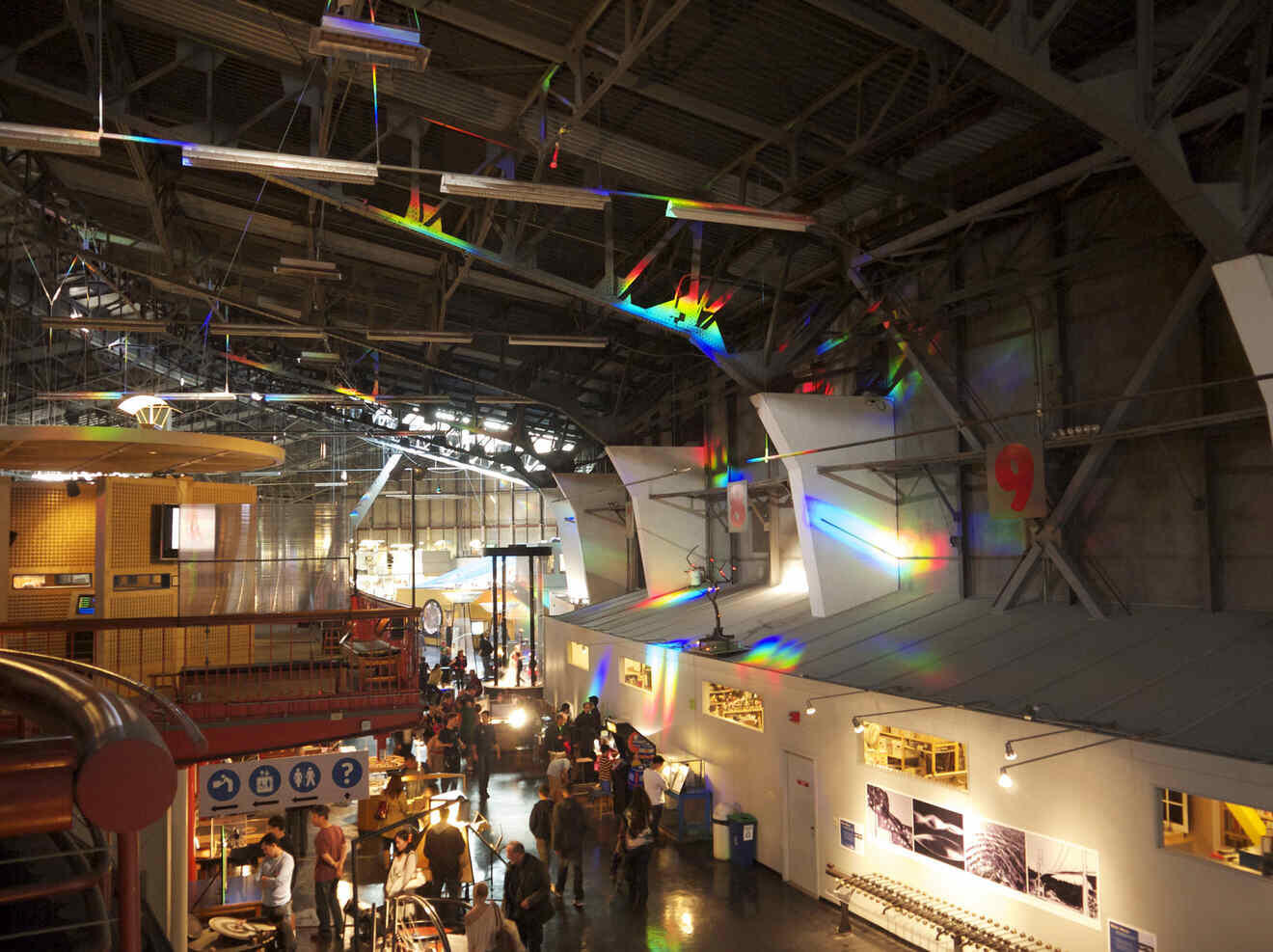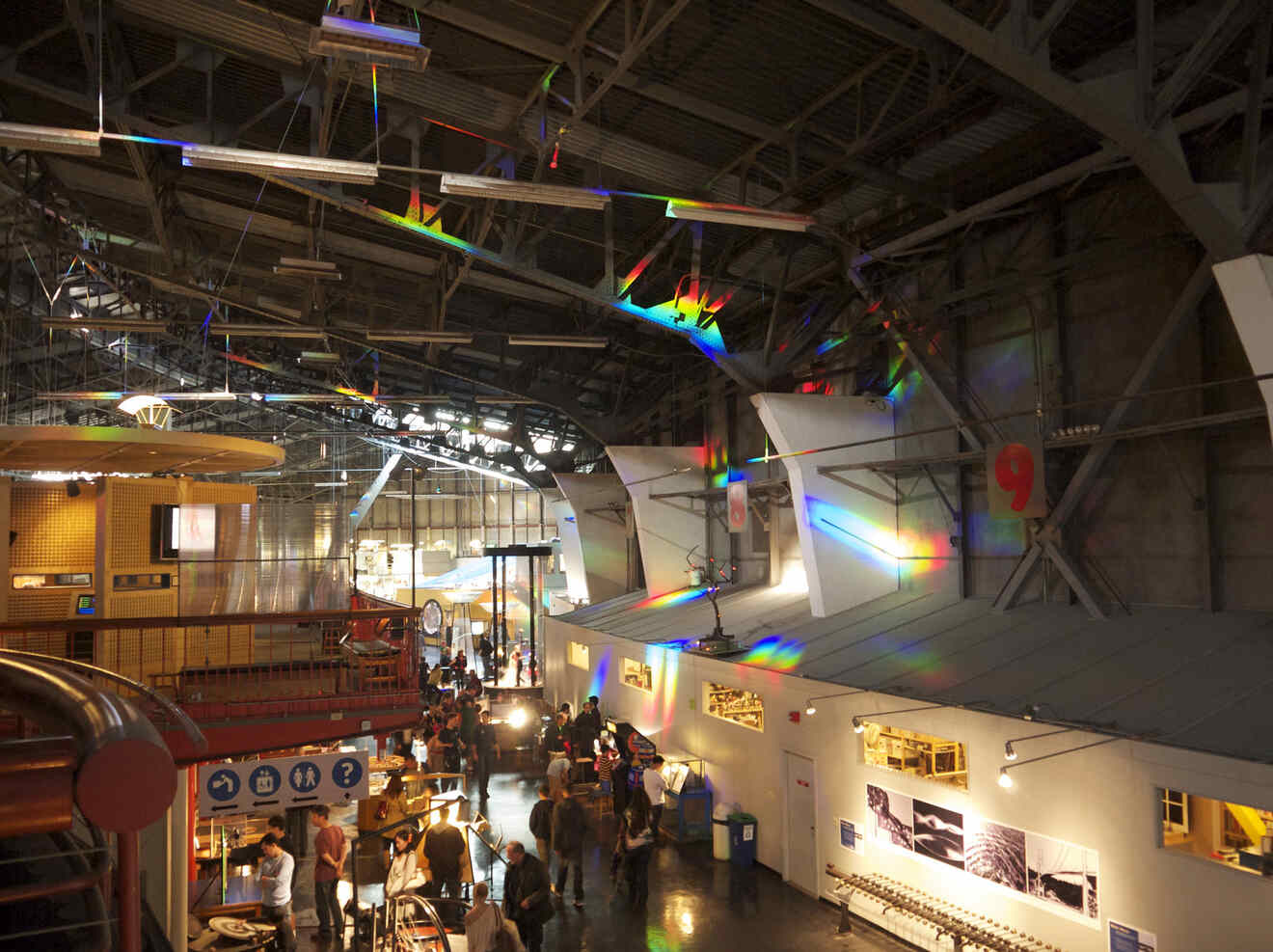 The Exploratorium is an excellent museum for the entire family to explore! I personally love this place and recommend it for families with kids of all ages.
The Exploratorium is a science museum in Castle Hill (about a 30-minute drive away from downtown San Francisco and 45 minutes away from San Jose) made for curious minds who want to explore the world through the lens of science, art, and human perception.
There are exhibits located indoors and outdoors for children and parents to explore. A few mind-blowing, kid-friendly exhibits I recommend checking out are the following:
Soap Film Painting: Watch beautiful colors shift in a thin window of soap in a phenomenon called interference. This is an interactive exhibit perfect for toddlers!
Anti-Gravity Mirror: This is a gravity-defying illusion mirror that children (and even adults) are going to love interacting with.
Recollections: The science of motion, time, and color are explored here when multiple rainbow-colored images of yourself are made as you move around in the exhibit. This one is a blast for children of all ages.
There are hundreds of exhibits to choose from that are great for the whole family to enjoy! Kids are discovering the world of science while also enjoying themselves when interacting with the exhibit. It's a double win for parents who want to promote learning through play!
PRO TIP: While you're in San Francisco visiting the Exploratorium, take a day trip to Baker Beach, San Francisco Bay, and bike through the Golden Gate Bridge for the ultimate trip with the kids in San Francisco.
PRICE: Tickets are US$40/person for adults (ages 18 – 64), US$30 for youth (ages 4 – 17), and free for younger children (ages 0 – 3).
13. Spend the day at Turtle Bay Exploration Park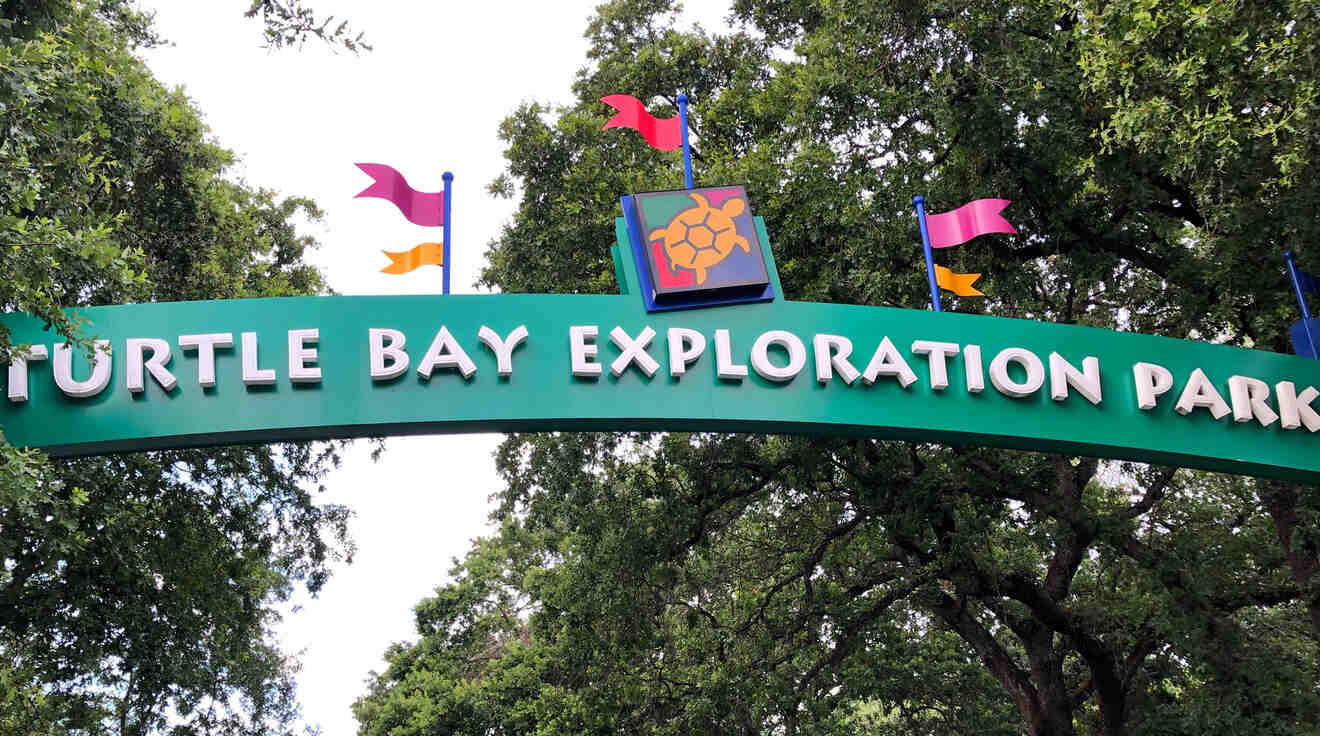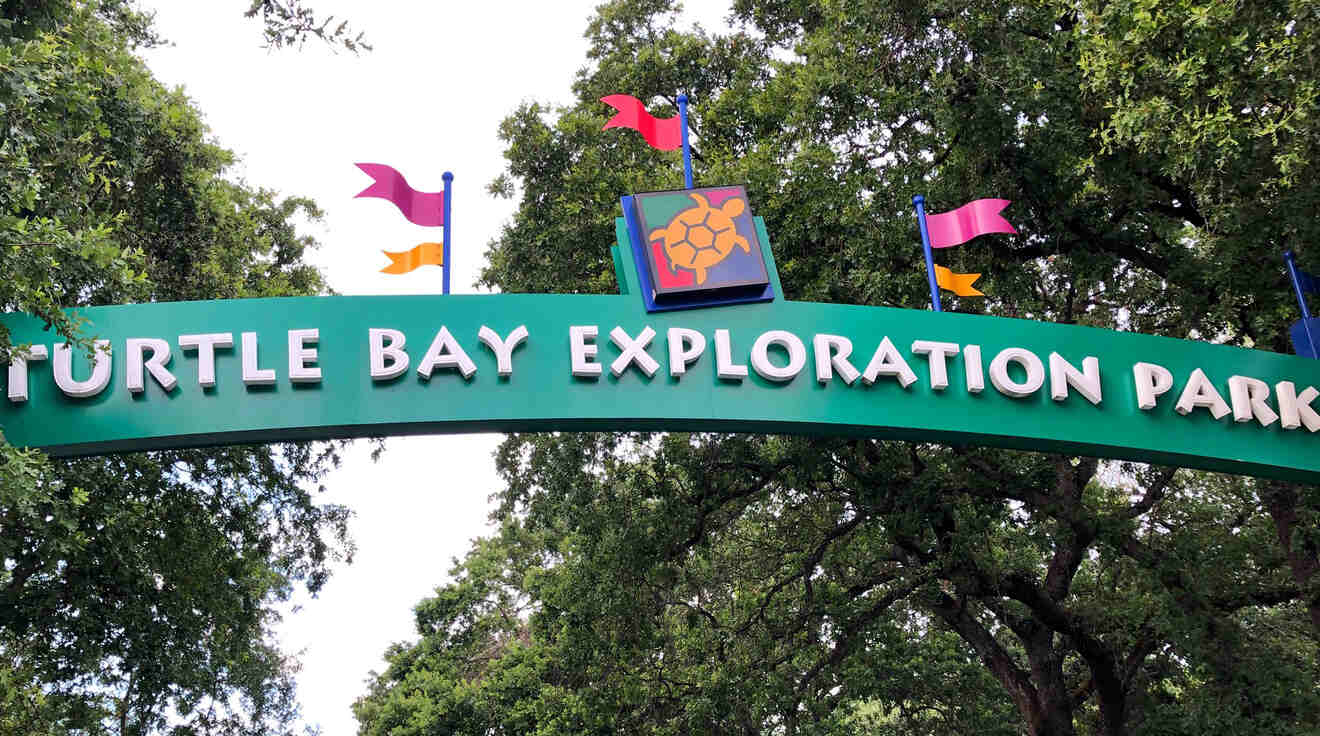 Turtle Bay Exploration Park is a 300-acre (120 hectares) museum in Redding for kids to explore the different events and exhibits dedicated to all different kinds of animals. Redding is about 2.5 hours north of Sacramento, making this option more accessible if you're vacationing in Mt. Shasta or anywhere in the vicinity rather than the coast.
Here are a few note-worthy things to check out while you're at Turtle Bay Exploration Park:
McConnell Arboretum & Botanical Gardens: This is a beautiful spot for the entire family to admire the native plants and trees! There's also a children's garden that features a play structure for kids to enjoy.
Water Wonders: Learn all about marine life from an expert at the museum!
The park also offers family learning classes available every 2nd Saturday of the month with hands-on activities and demonstrations. If you sign up for the year-round membership, you can save more $$ in the long term. This will only work if you plan on coming more than once a year!
NOTE: Tickets are only valid for the date you choose when you buy!
PRICE: Tickets are US$18/person for adults (ages 16 – 64), US$14/person for children (ages 4 – 15), and free for younger children (ages 0-3)
14. Uncover natural beauty in California's National Parks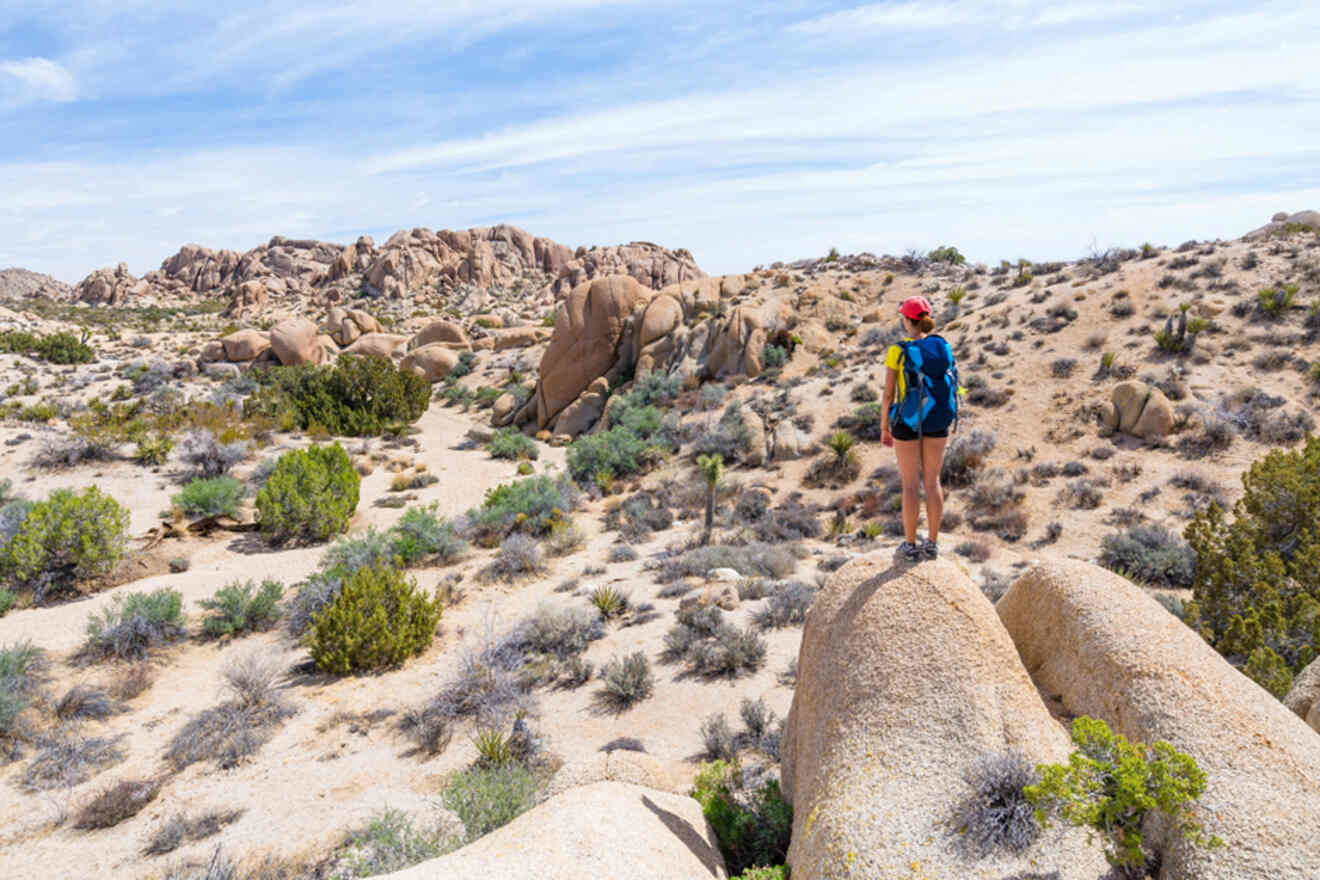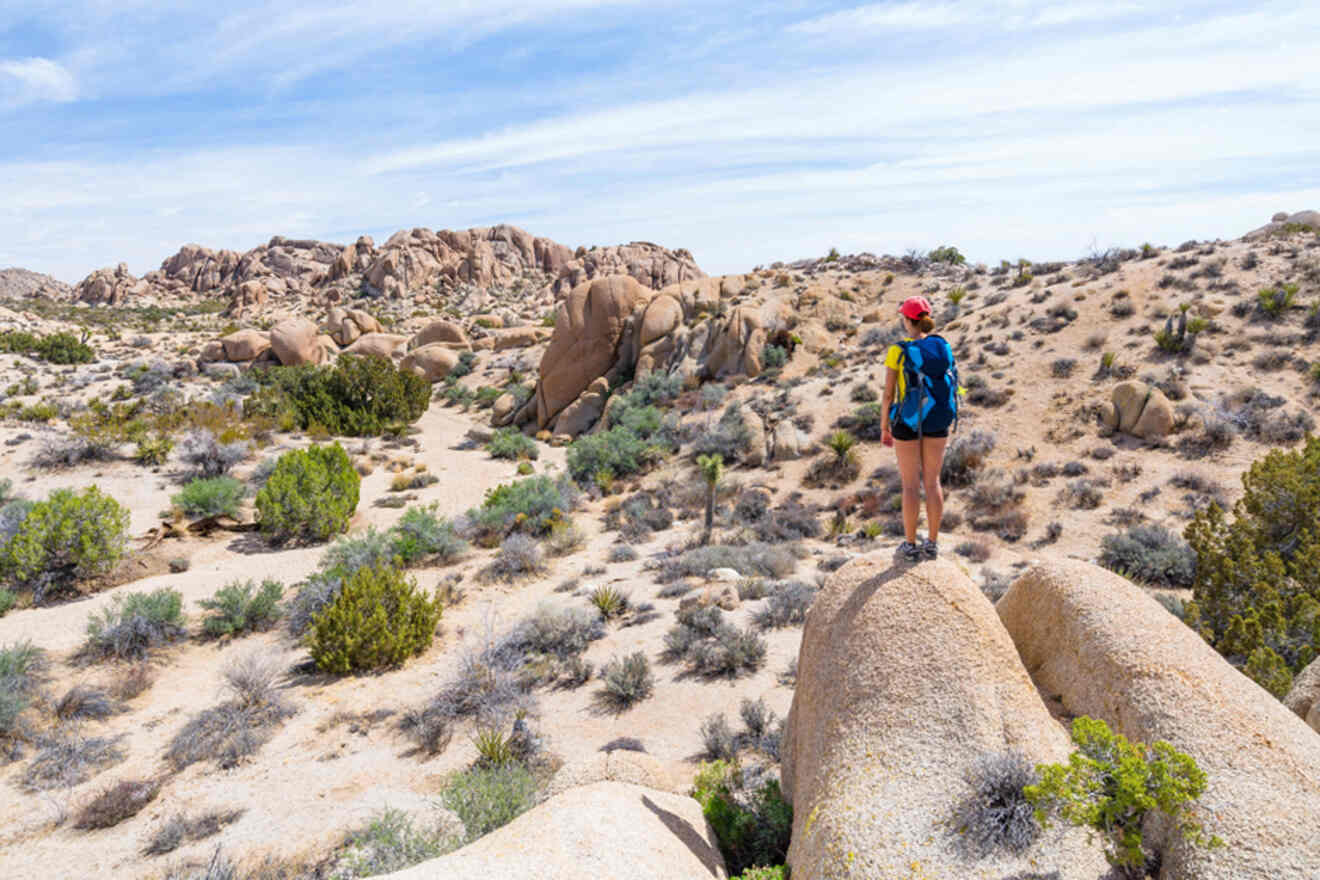 If your kids are the type to be fascinated by rocks and insects, I recommend checking out our stunning national parks. California has dozens of national parks that are a treat to explore for families with children of all ages.
The following are my favorites that you must check out:
HACK: If you're traveling with a 4th grader in California, they get into all national parks for free! They just need to visit this website, play the game and print out their pass at the end!
15. Have a good ol' family day at the beach!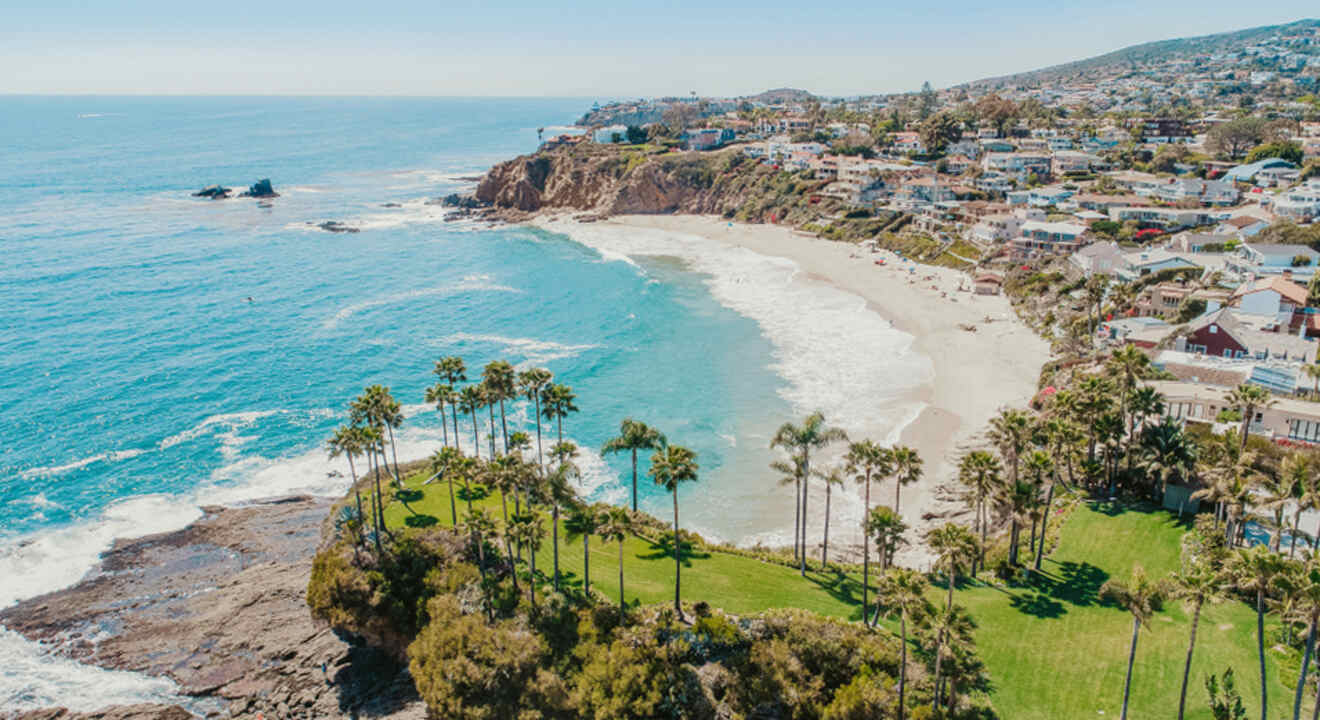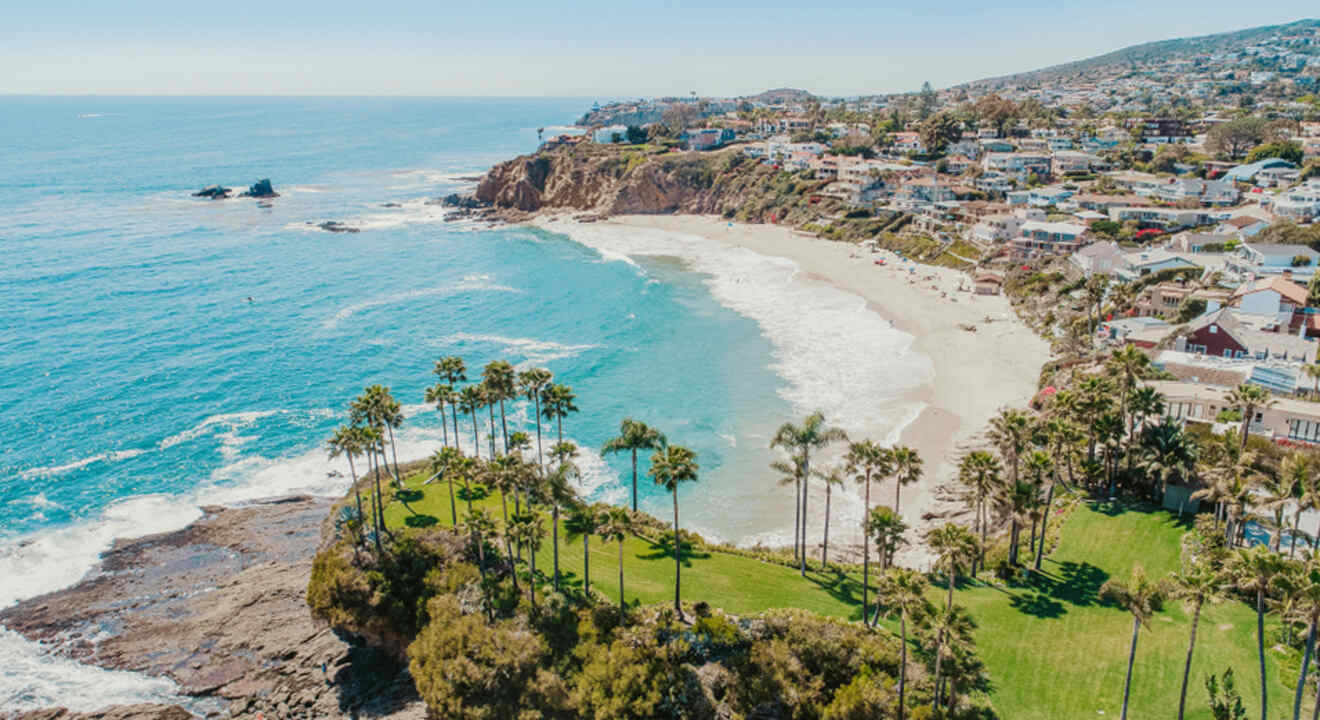 The California Coast is arguably one of the most stunning destinations in the country. We're right next to the Pacific Ocean, and there are plenty of beaches to explore and things to do within each beach.
Whether your kids want to play around in the sand and build sand castles for fun, or they're swimming in the water searching for marine life along the way, there are so many beaches to pick from.
Here are a few of my top beach picks for kids:
PRICE: FREE!
16. Take a trip to Knott's Berry Farm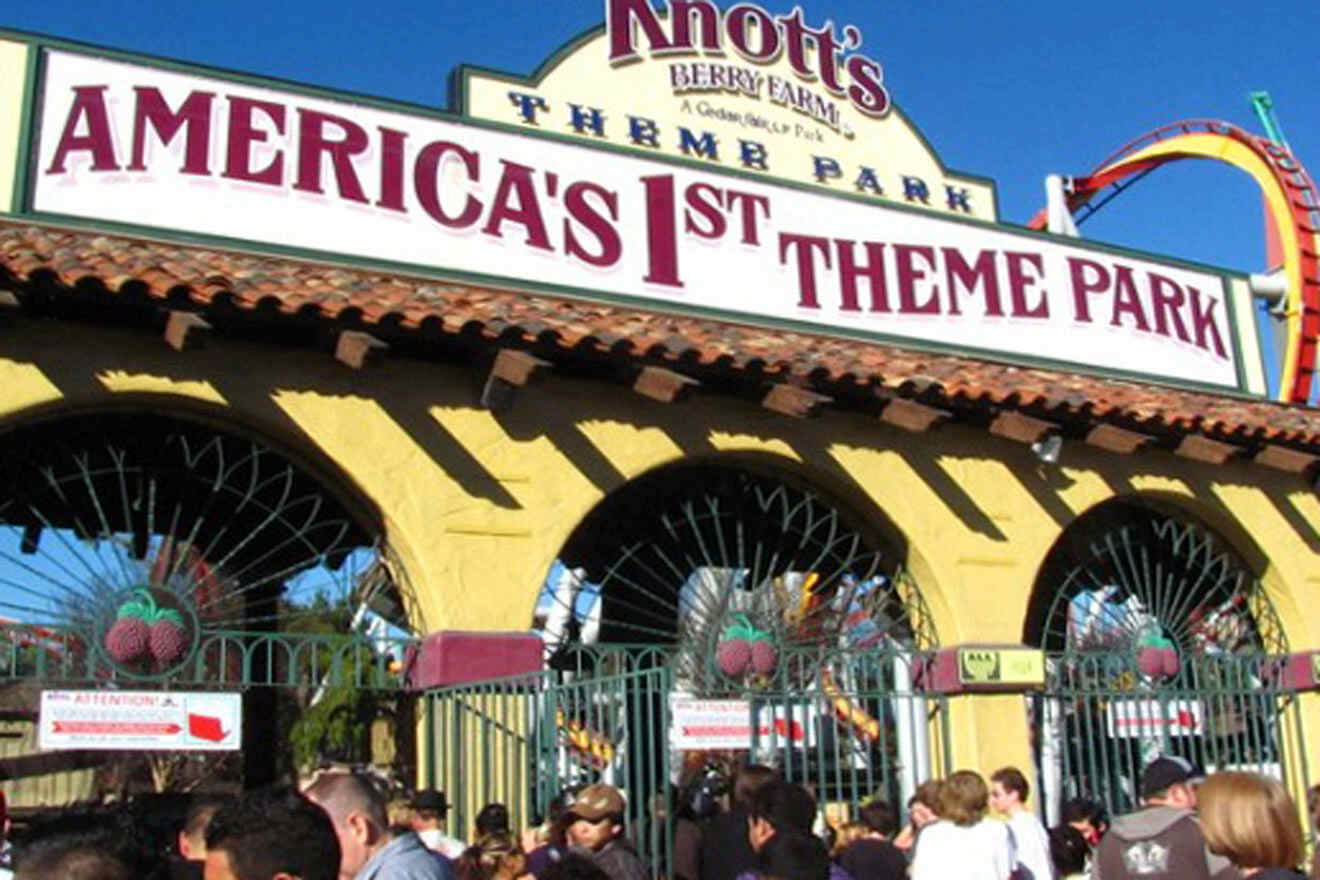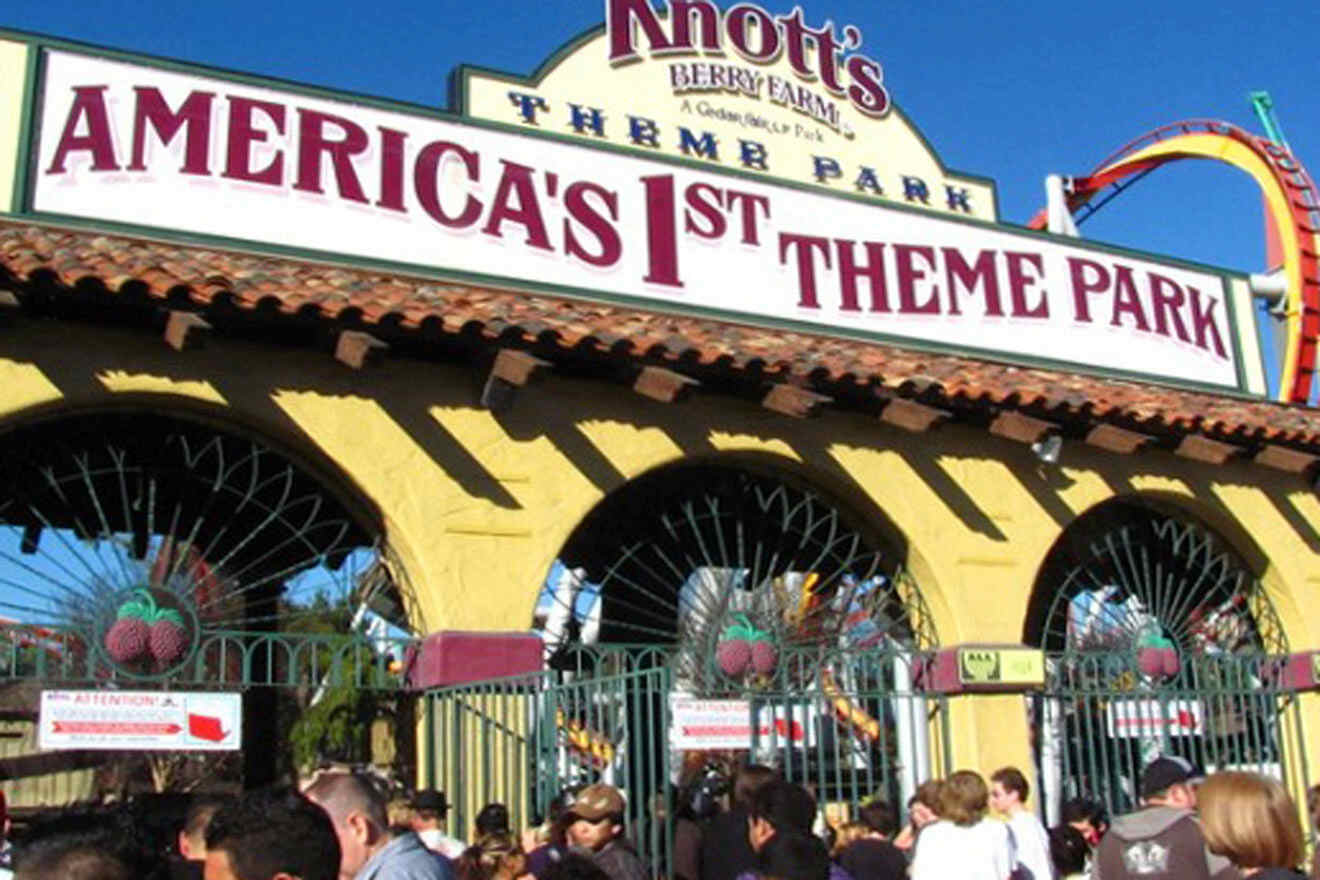 I remember taking a field trip to Knott's Berry Farm when I was in grade school… I had the best time with my friends, which formed some of my best memories of that school year!
If you or the kids have yet ever to visit California, this is a fun park to explore California's culture.
Knott's Berry Farm began in the 1920s as a small roadside berry stand and grew into one of the most famous theme parks in California today. Now, you can experience every part of California's roots with its theme parks Old West Ghost Town, Fiesta Village, The Boardwalk, and Camp Snoopy.
Don't let the kids miss out on The Calico River Rapids ride – it's so fun (even for the whole family), but you might get a little wet, so bring an extra pair of clothes!
HACK: Avoid the headache of LA traffic and use the Metrolink Train! It stops a few steps away from Knott's Berry Farm. If you're staying at a hotel nearby, you can also take a shuttle.
PRICE: US$83 per person
17. Discover fossils at the La Brea Tar Pits Museum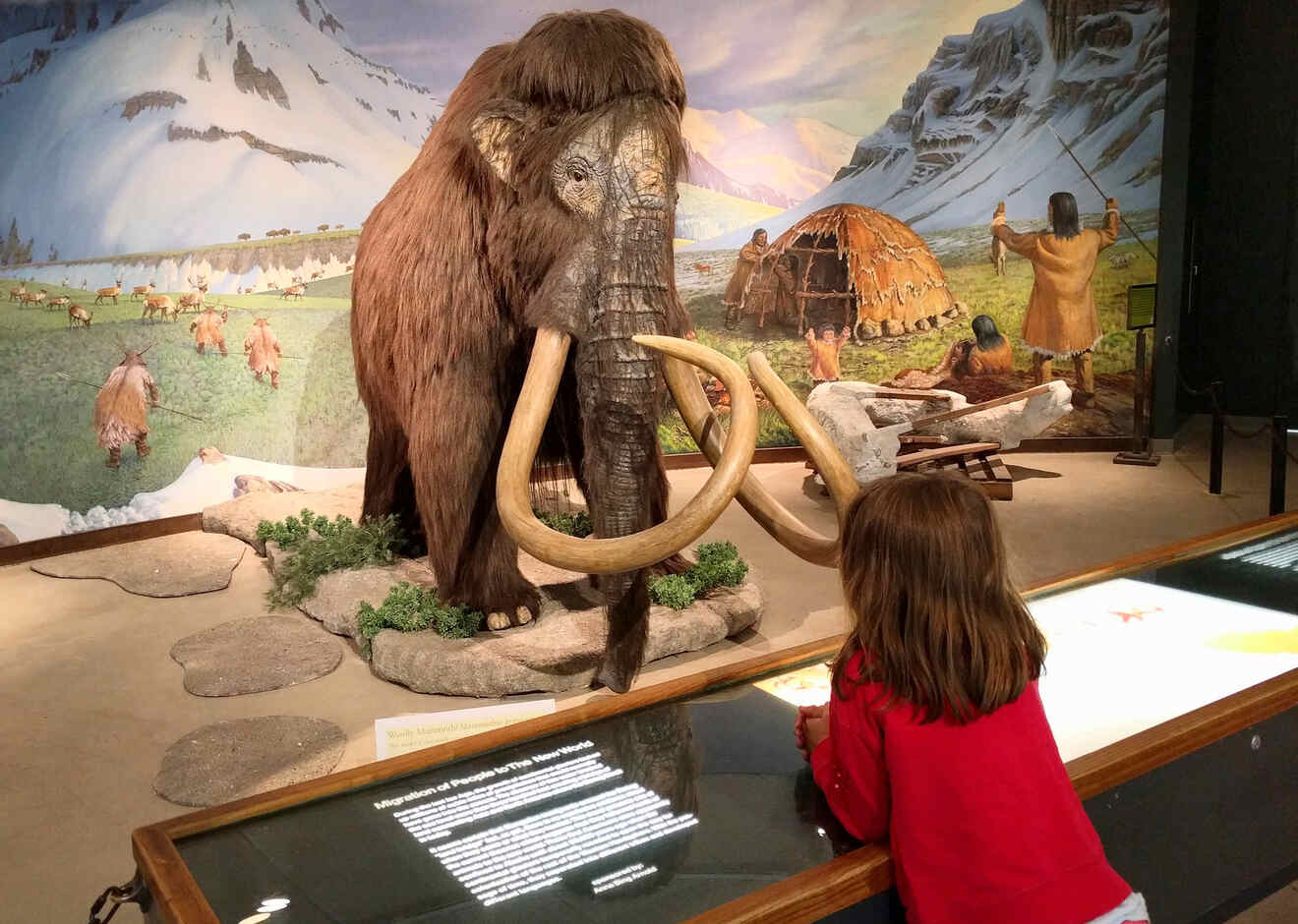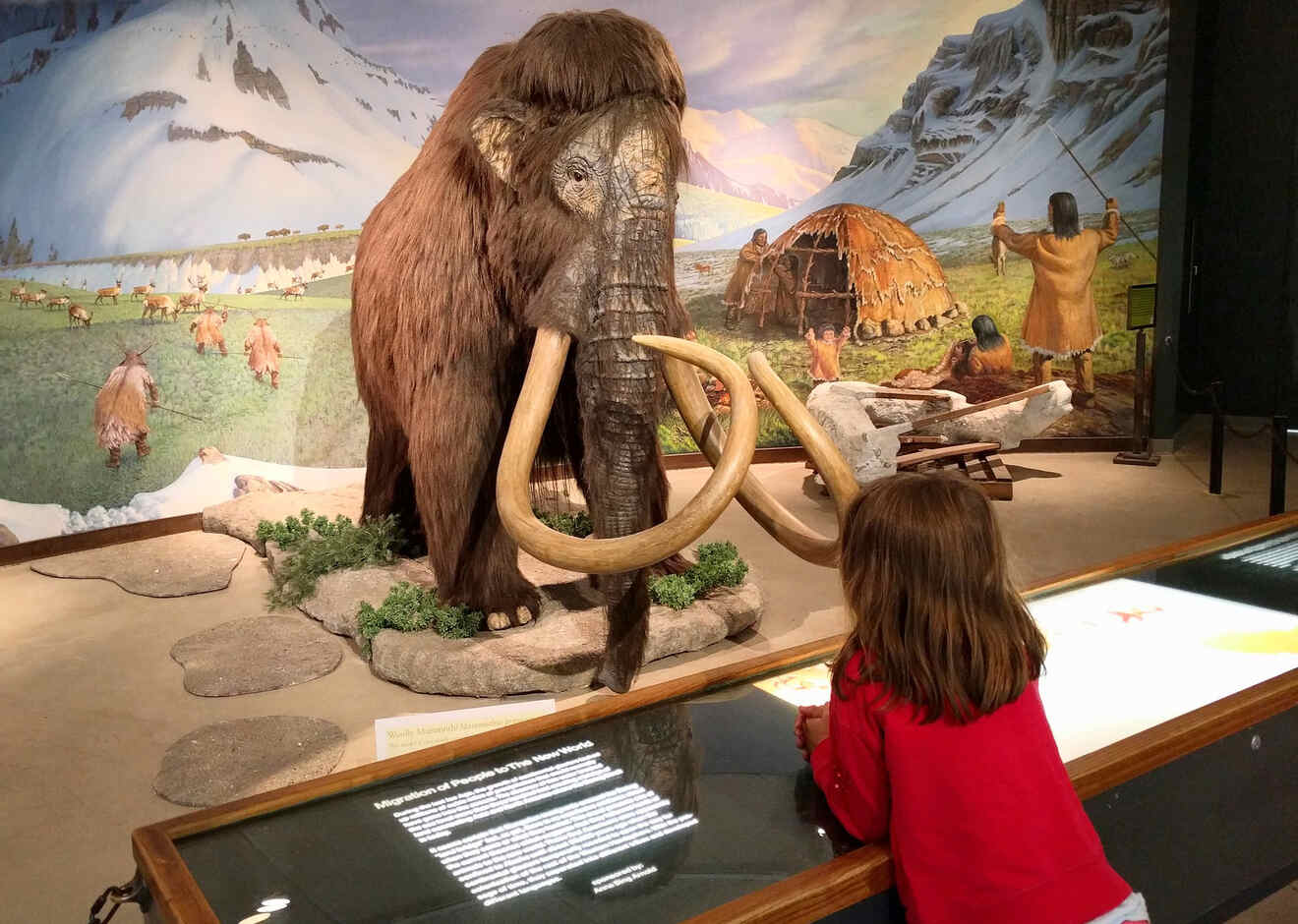 Calling all future archeologists! This one's for you! The La Brea Tar Pits Museum is located in the heart of Los Angeles, perfect for families who might be staying in the city. It's also one of the most kid-friendly activities in Los Angeles, besides the recreational outdoor activities. Kids even get to watch scientists uncover fossils in real-time at the museum!
The museum offers a couple of shows at La Brea Tar Pits museum that kids will love:
Ice Age Encounters: Uncover the past and watch it come to life with this 15-minute show starring a life-size adult saber-toothed cat puppet in a live performance that will help kids better understand the way this creature roamed around during the Ice Age. The show is both educational and fascinating!
3D Theater: Watch extinct animals come to life with the museum's 3D Theater! One movie plays at a time, and the movie is always interchanging. See here for the latest movie playing.
NOTE: Avoid the LA traffic and go between 11 AM and 2 PM. Traffic generally starts around 7 AM to 10 AM and 3 PM to 7 PM.
FAQs about things to do in California with kids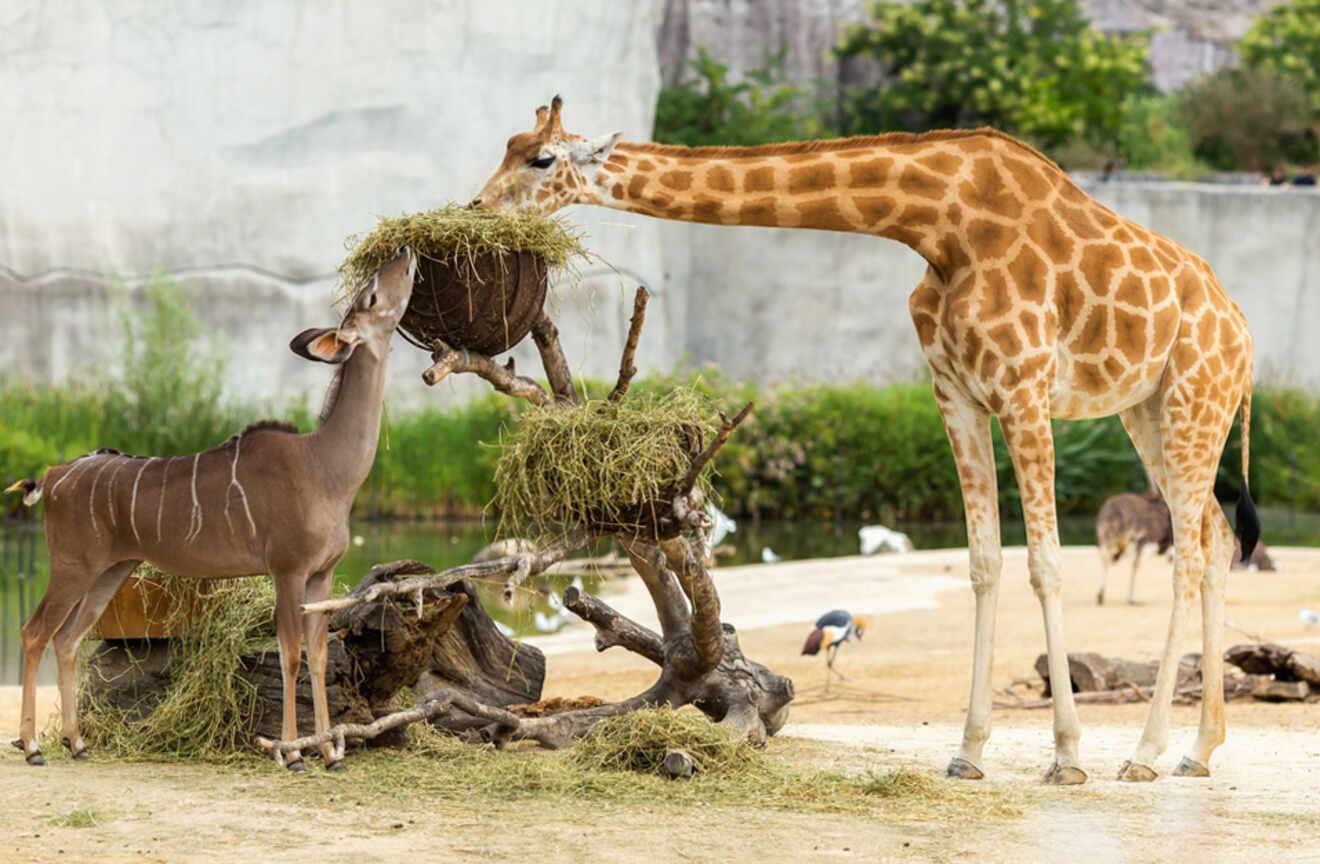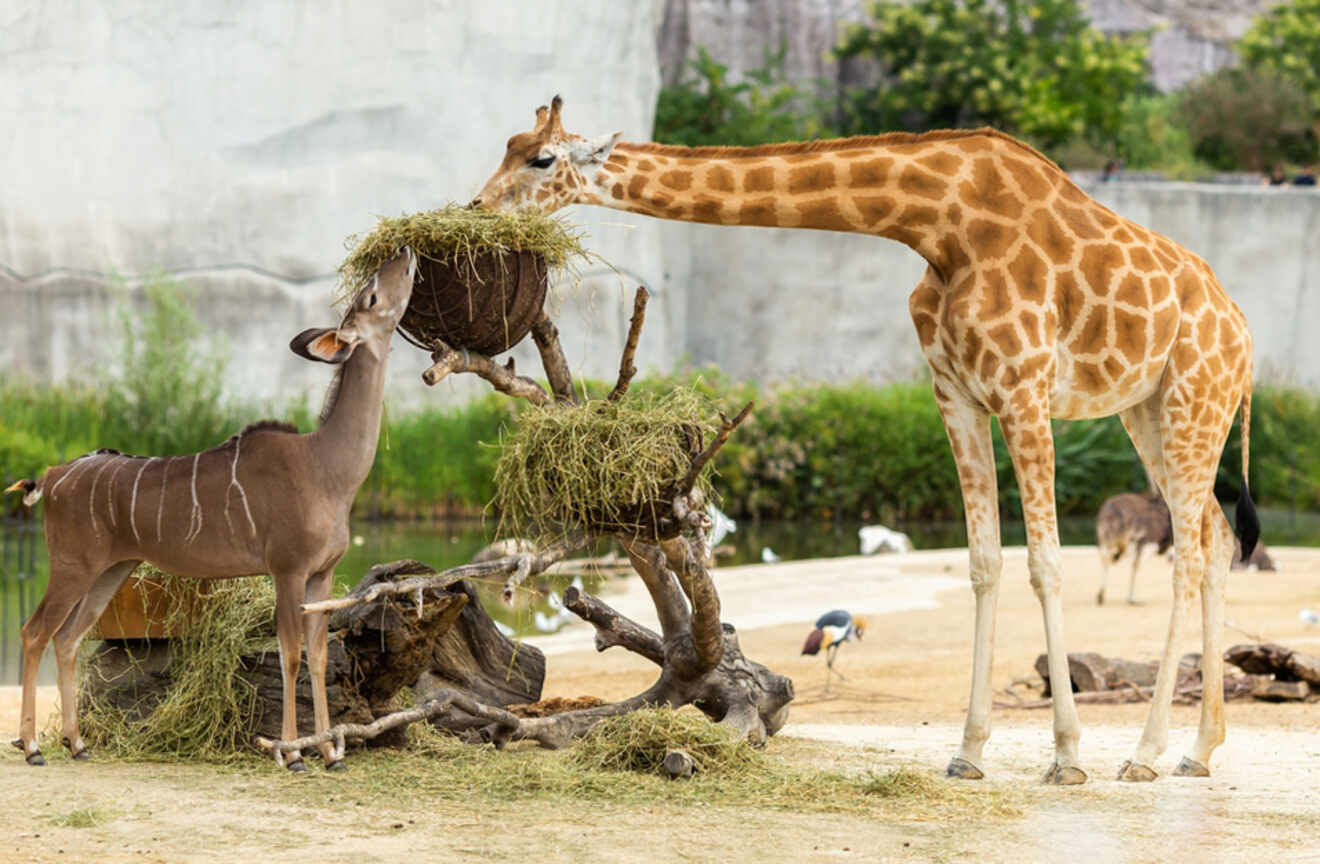 🎢 What are the most fun things to do in California with kids?
The amusement parks in California are the most fun things to do in California with kids! You're almost guaranteed a good time at any of the amusement parks. My top pick is Six Flags Magic Mountain!
💰 What are some budget-friendly things to do in California with kids?
Exploring California's beaches! You can never go wrong with having a beach day playing in the sand. Core memories are made at the beach!
🦄 What is the most unique thing to do in California with kids?
Taking a visit to Calico Ghost Town – there are so many unique attractions and activities you can't do anywhere else, and it's incredibly underrated!
🔝 What are the best things to do in California with kids?
Learning through play and all our amazing national parks! My favorite museums are the La Brea Tar Pits, Exploratorium, and Monterey Bay Aquarium in Northern California. In contrast, my favorite national parks are Joshua Tree National Park, Yosemite National Park, and Lassen Volcanic National Park.
Conclusion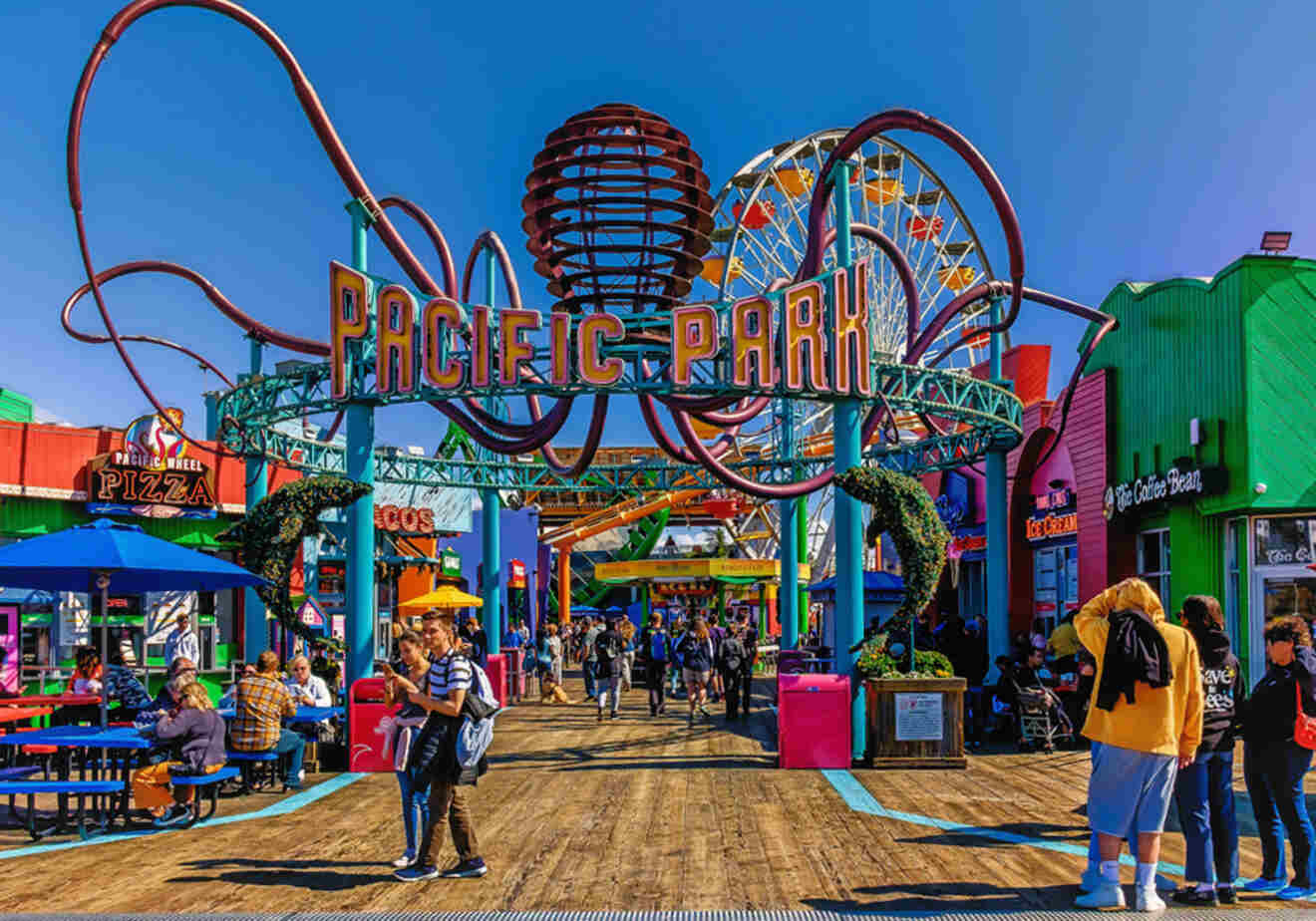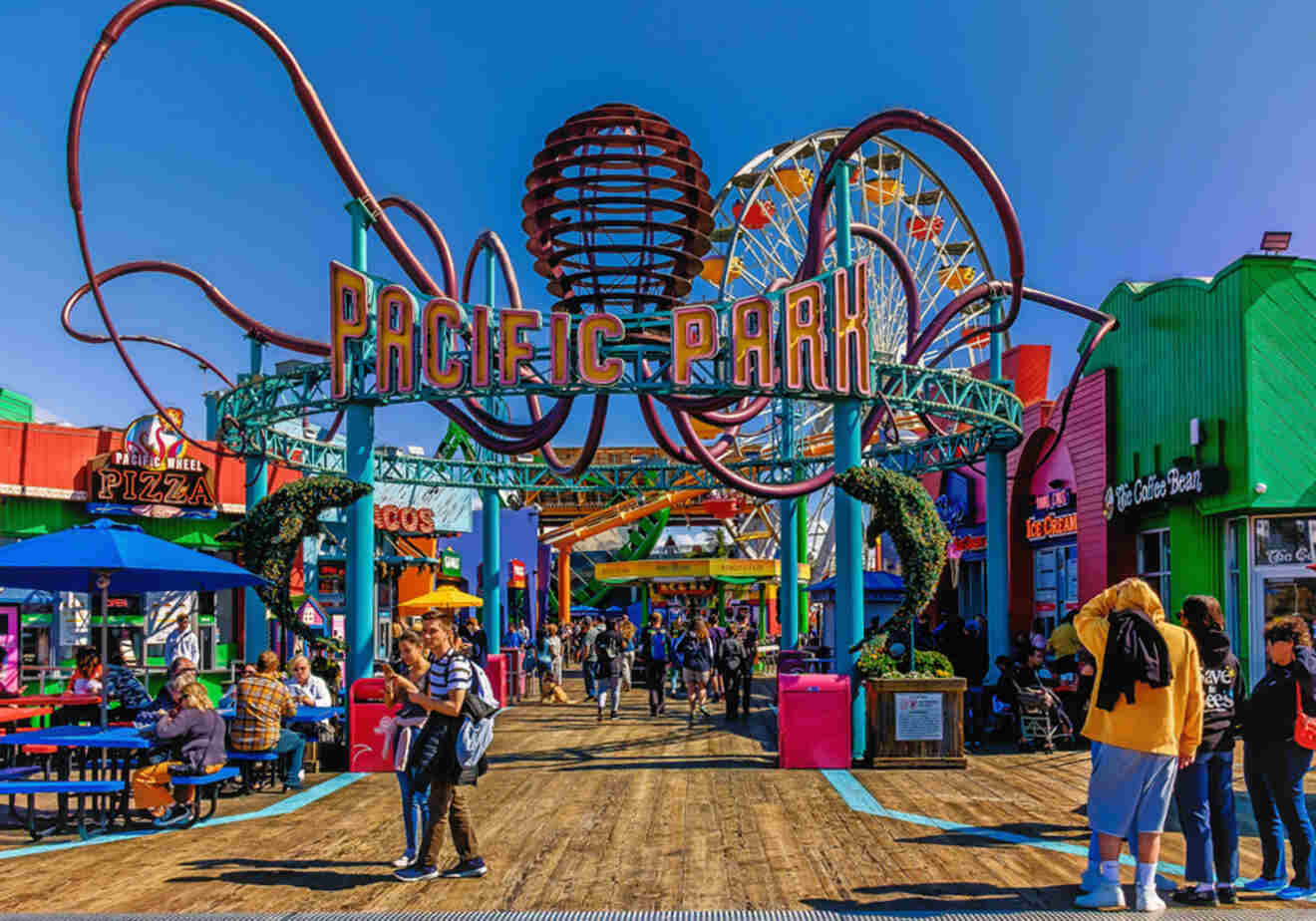 Now that you have a list of the top 17 things to do in California with kids, you're ready to pack your bags and go on a vacay with the whole fam!
It's hard to choose favorites since they're all that good, but I have to go with the San Diego Zoo and Universal Studios Hollywood. Both places are absolute must-sees that not only every kid is going to love, but parents too. They're known worldwide for a reason!
I know traveling with the kids can get pricey, so just don't forget to book your tickets and reservations in advance to score the best deals!
Have a safe trip, and if you have any questions about anything on this list, you can leave a comment below, and I'm happy to help!
Xoxo,
Esabel S.
---
Pin it for later!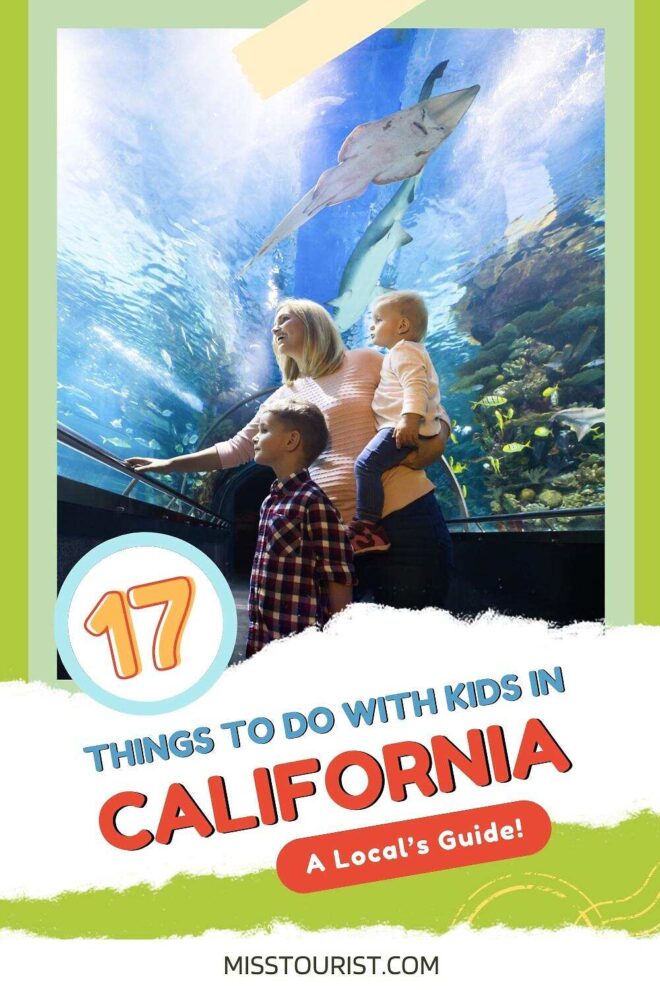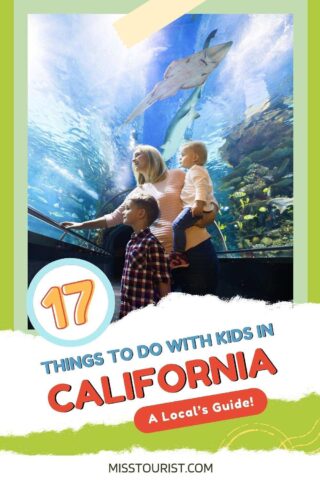 Pin it for later!