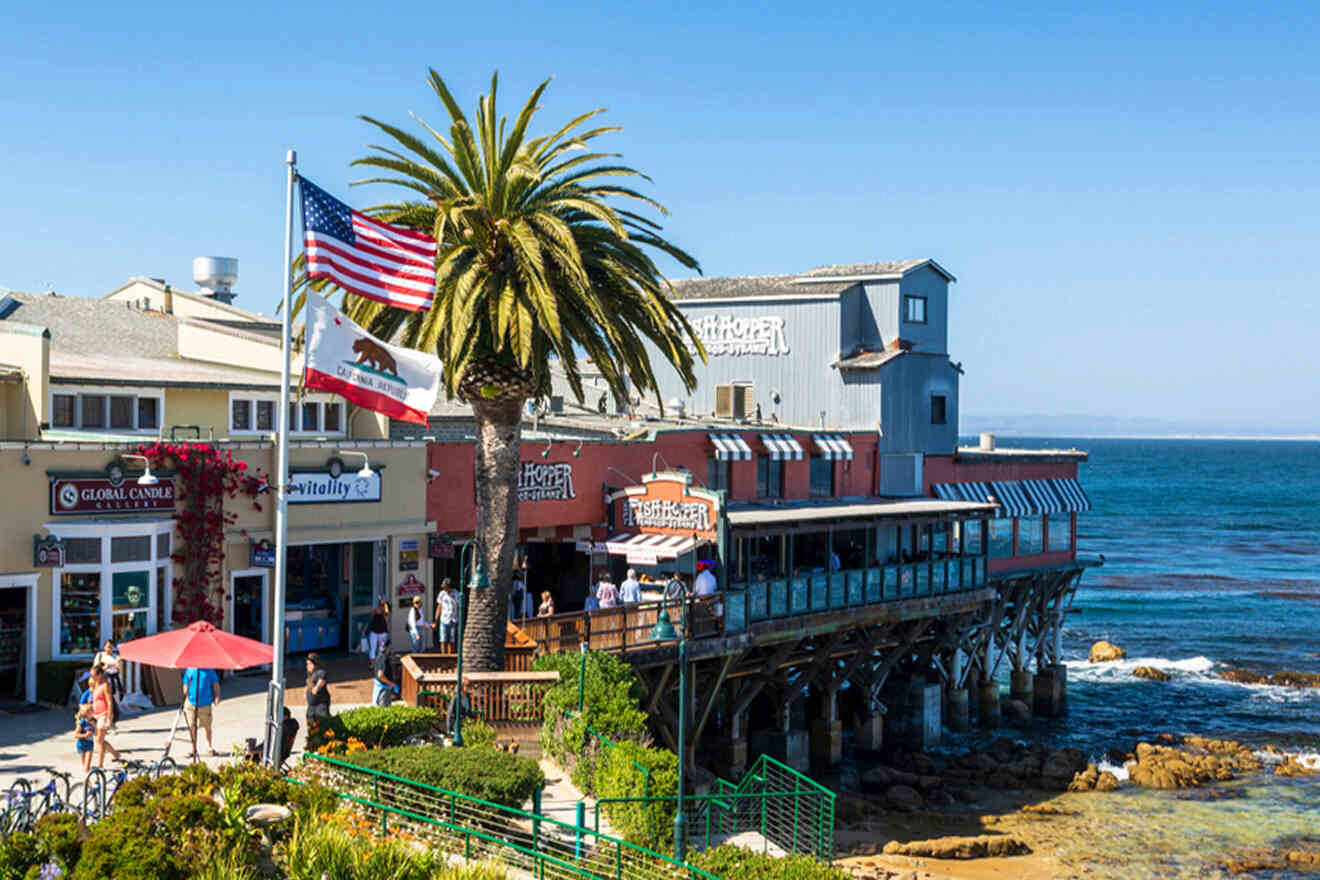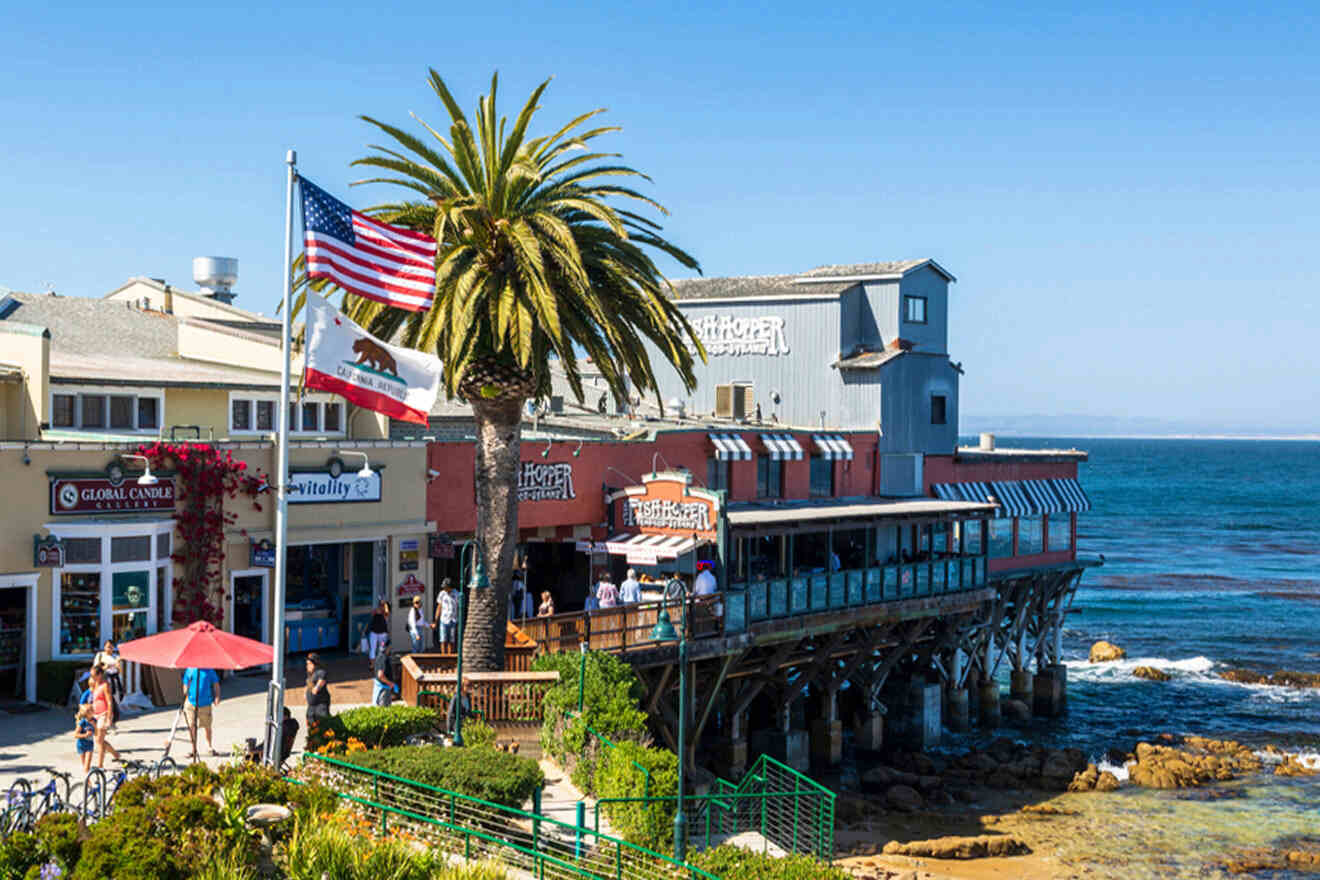 Monterey County is the most scenic city in California, being home to the world-renowned 17 Mile Drive, the most popular beaches in the country, famous American author John Steinbeck, and the largest ocean sanctuary in the world.
If you're visiting the central coastal city of Monterey, you're in for a real treat because it's a fine place to be, and there are endless things to do in Monterey.
As a California native, I've spent my entire life in awe of the beauty that Northern California has to offer. (Specifically, California's central coast.) The Monterey Peninsula lies right in the middle of the phenomenal beauty, and lucky for you, I'm here to share with you allll the ways you can enjoy every second of it.
The most important thing to keep in mind as you read this post is that tours and hotels get booked out SO quickly in Monterey. Make sure you book everything ahead of time!
Let's get started!
If you are in a hurry
If you don't have enough time to explore everything on this list, there is a handful of experiences that you absolutely NEED to check out!
Here are the main things to book in advance:
And here are the best hotels: Gosby House Inn, A Four Sisters Inn (luxury), Spindrift Inn (mid-range), Victoria Inn (budget)
1. Visit marine life at the Monterey Bay Aquarium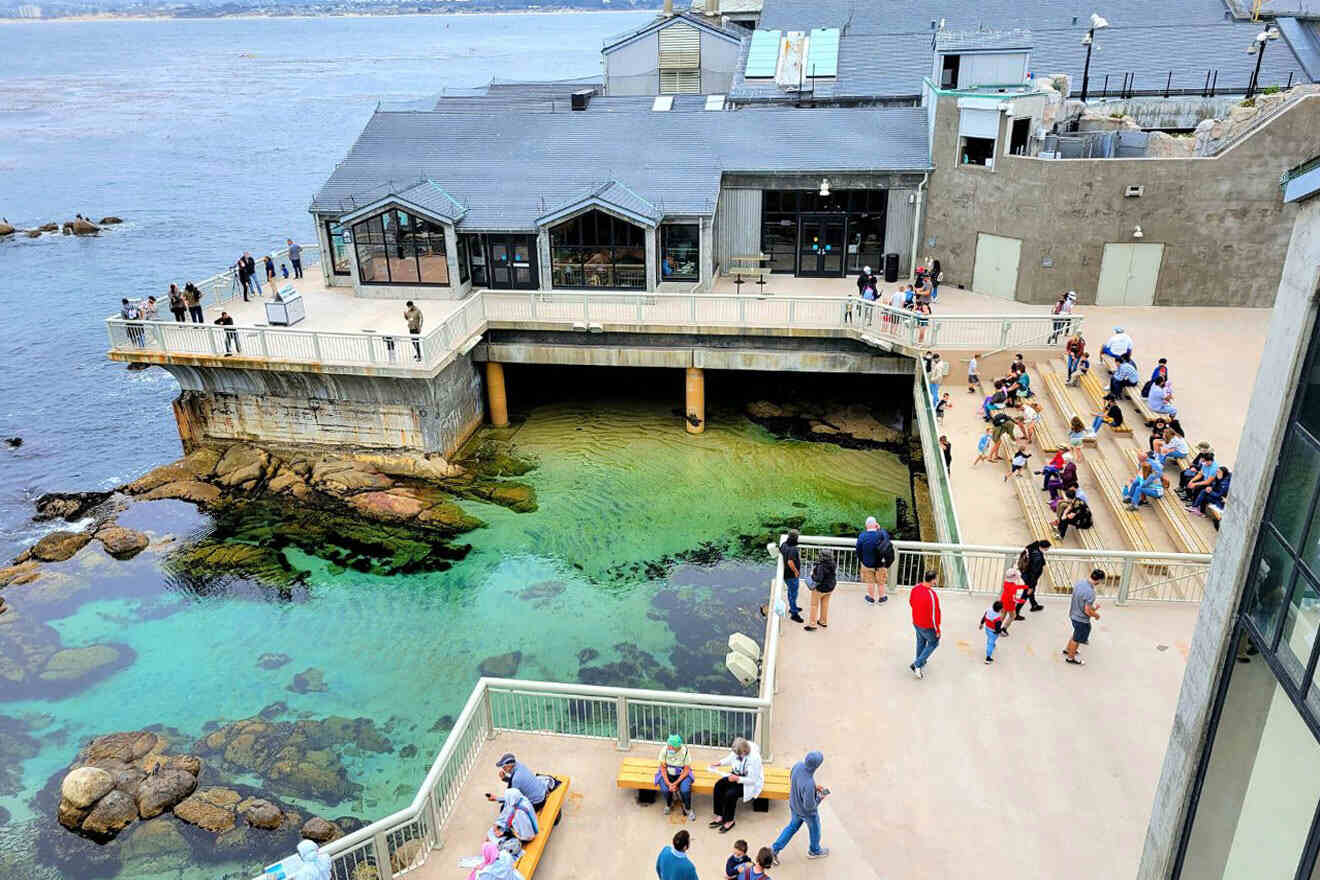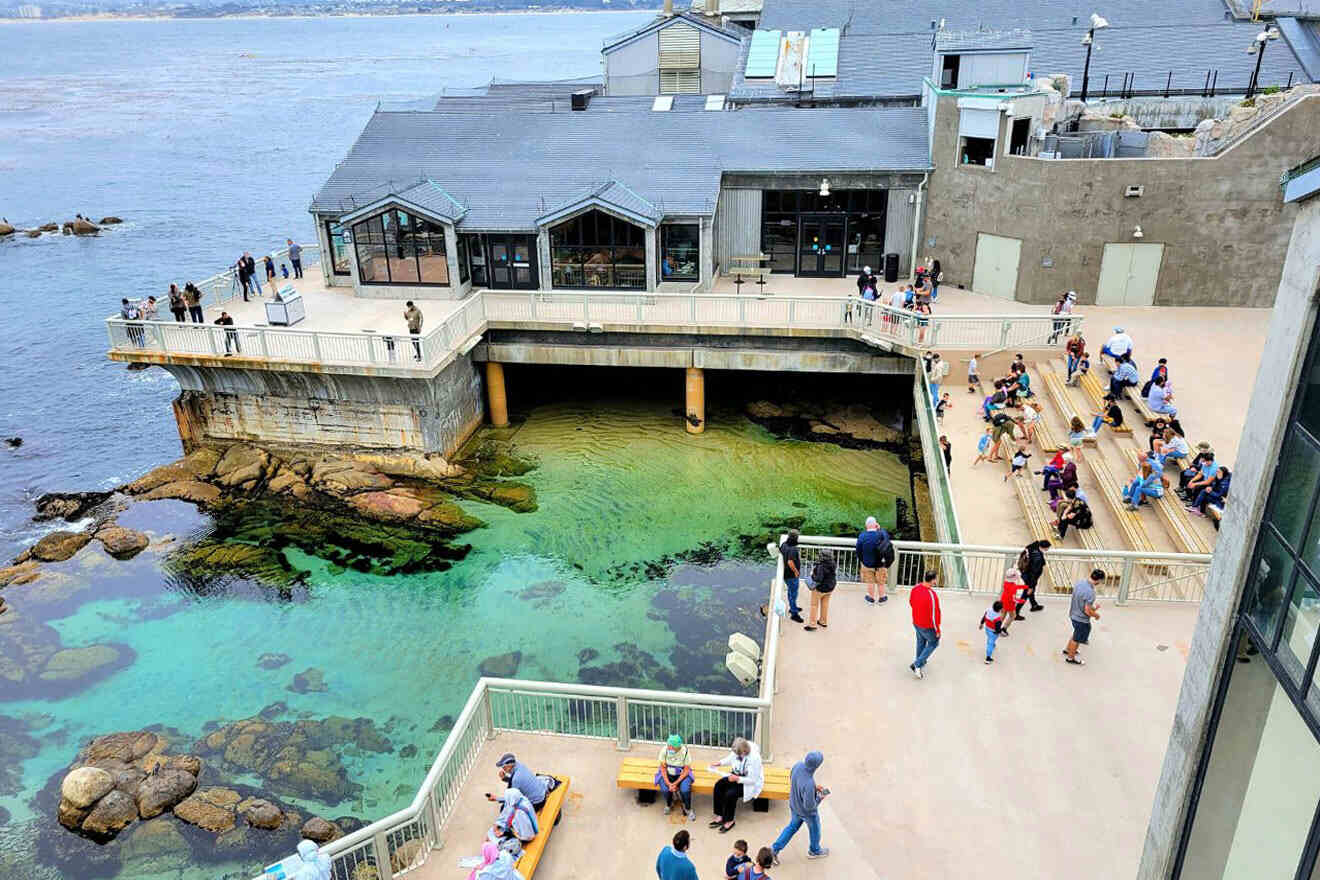 Monterey is home to one of the most famous aquariums in California: The Monterey Bay Aquarium!
The aquarium offers fun exhibits with unique marine life to discover, with 80,000 varieties of plants and animals. The aquarium is quite large, so you can easily spend half your day here. Bring the entire family, as this is an excellent place for curious children to learn!
You can even book a behind-the-scenes tour for the whole family or a diving exploration tour for kids aged 13 or under to get a sneak into the underwater world!
PRICE: US$60 for adults, US$50 for youth (13 – 17), US$45 for children (5 – 12)
2. Eat a bowl of clam chowder at Old Fisherman's Wharf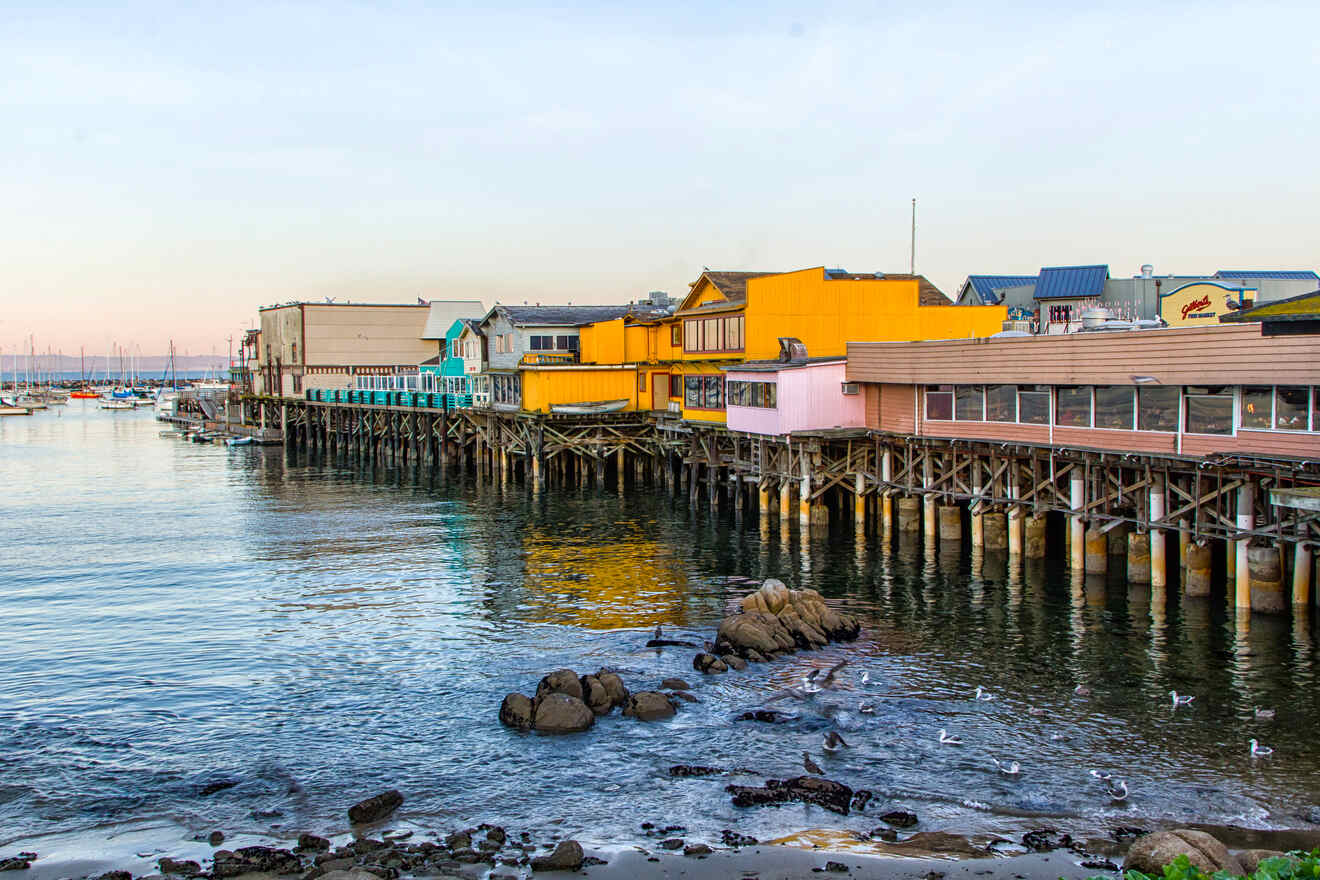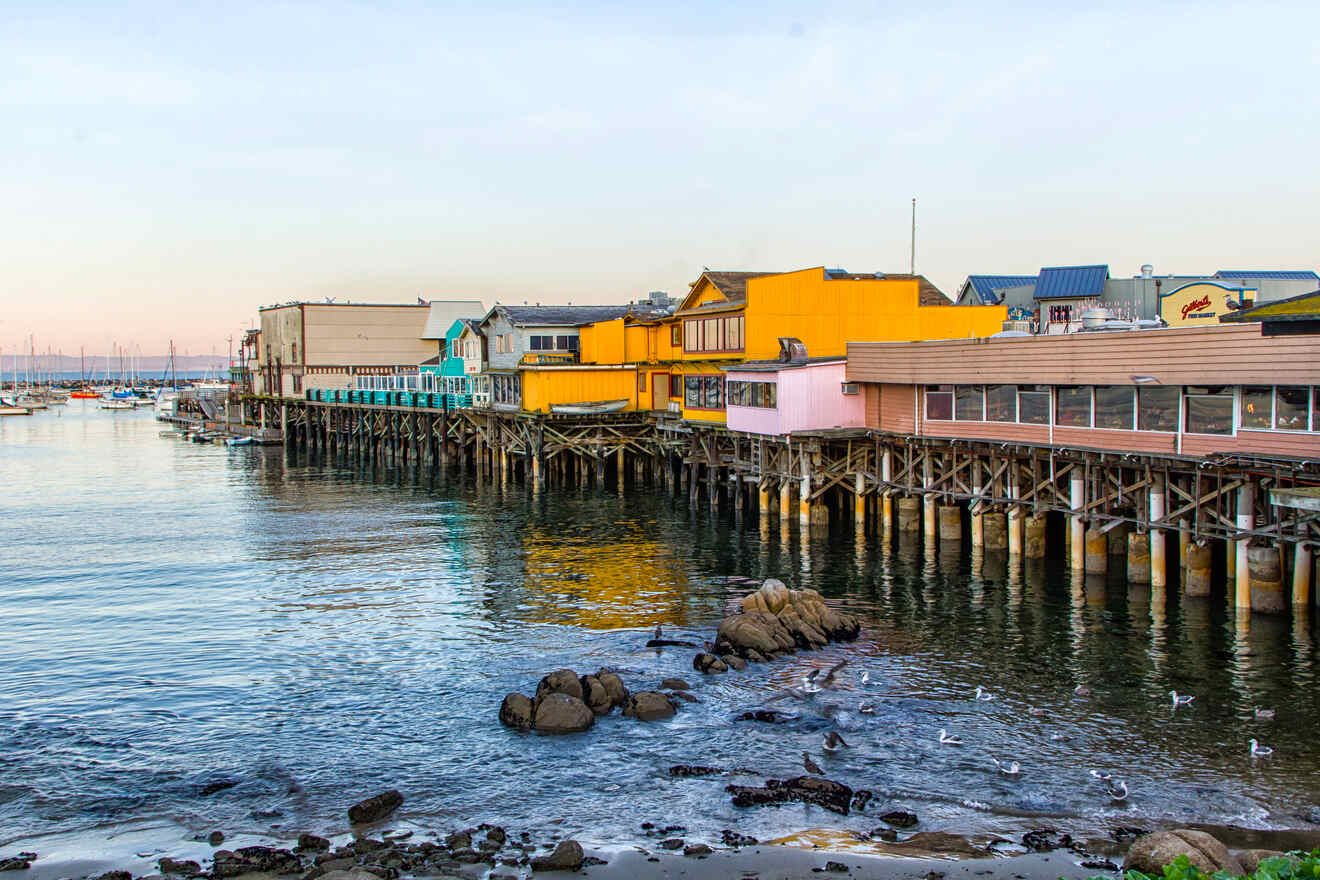 The Old Fisherman's Wharf in Monterey was built in 1845 and used to be an active wholesale fish market back in the 1960s. Today, it's become one of the most sought-after tourist attractions.
There are plenty of shops, award-winning eateries, events, fishing opportunities, boating, and whale watching along the water overlooking the Old Fisherman's Wharf, the famous Monterey Bay.
Aside from the obvious water activities that you can embark on, there's a handful of amazing restaurants that you might also want to check out. The Old Fisherman's Grotto is a local family-owned and operated business that has left a lasting impression on locals and visitors around the world with its famous clam chowder and locally caught seafood. There's an old-school feel here to go along with the Old Fisherman's Wharf original vintage charm!
As for dessert, head over to Carousel Candies for delicious brittle treats, sea salt taffy, and homemade chocolates that'll blow you away (seriously, unlike anything I've ever tried before).
3. Admire the historic Cannery Row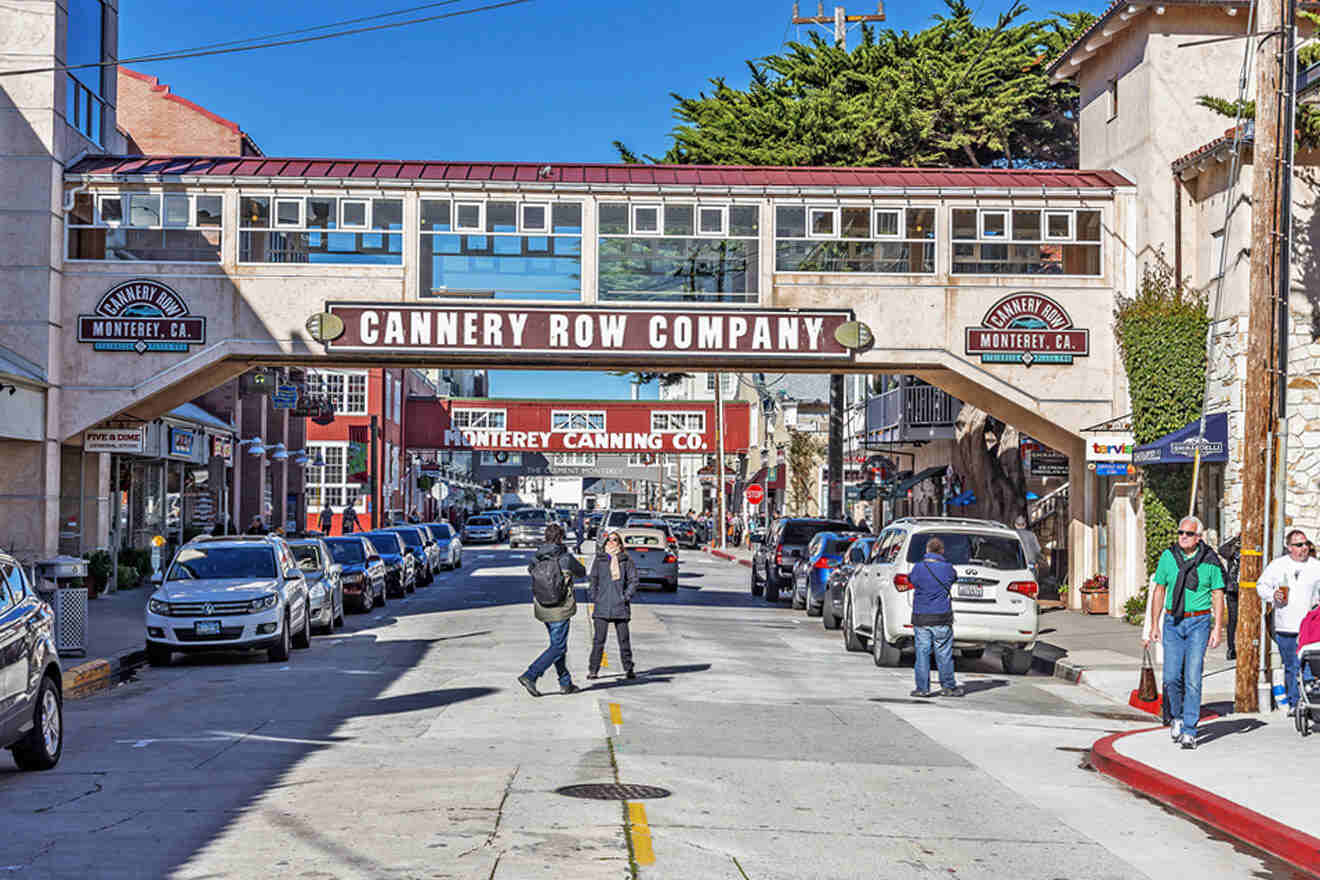 Cannery Row is another district in Monterey, a short 17-minute walk or a 6-minute drive away from Old Fisherman's Wharf. Whether you're interested in learning more about Monterey history, looking to unwind near the bay, or up for an adventure, here are the best experiences around Cannery Row:
Hop in the car and drive through the old streets of Cannery Row following this self-guided audio tour! Monterey County is saturated with history and a literary landmark being home and the inspiration of the famous American author John Steinbeck. Learn all about it at your pace with this audio tour.
Bring the family to the Treasure Hunt: The Ride for a thrilling ride built beneath Cannery Row!
Take a GPS-guided independent sea car tour with your partner and explore Cannery Row and the surrounding area for an hour of fun! Enjoy the cool breeze and cruise at your own pace.
NOTE: For a quick shopping trip around Cannery Row, I suggest visiting the Cannery Row Antique Mall for antiques you most likely won't find anywhere else in the world.
4. Find Cypress trees in Point Lobos State Natural Park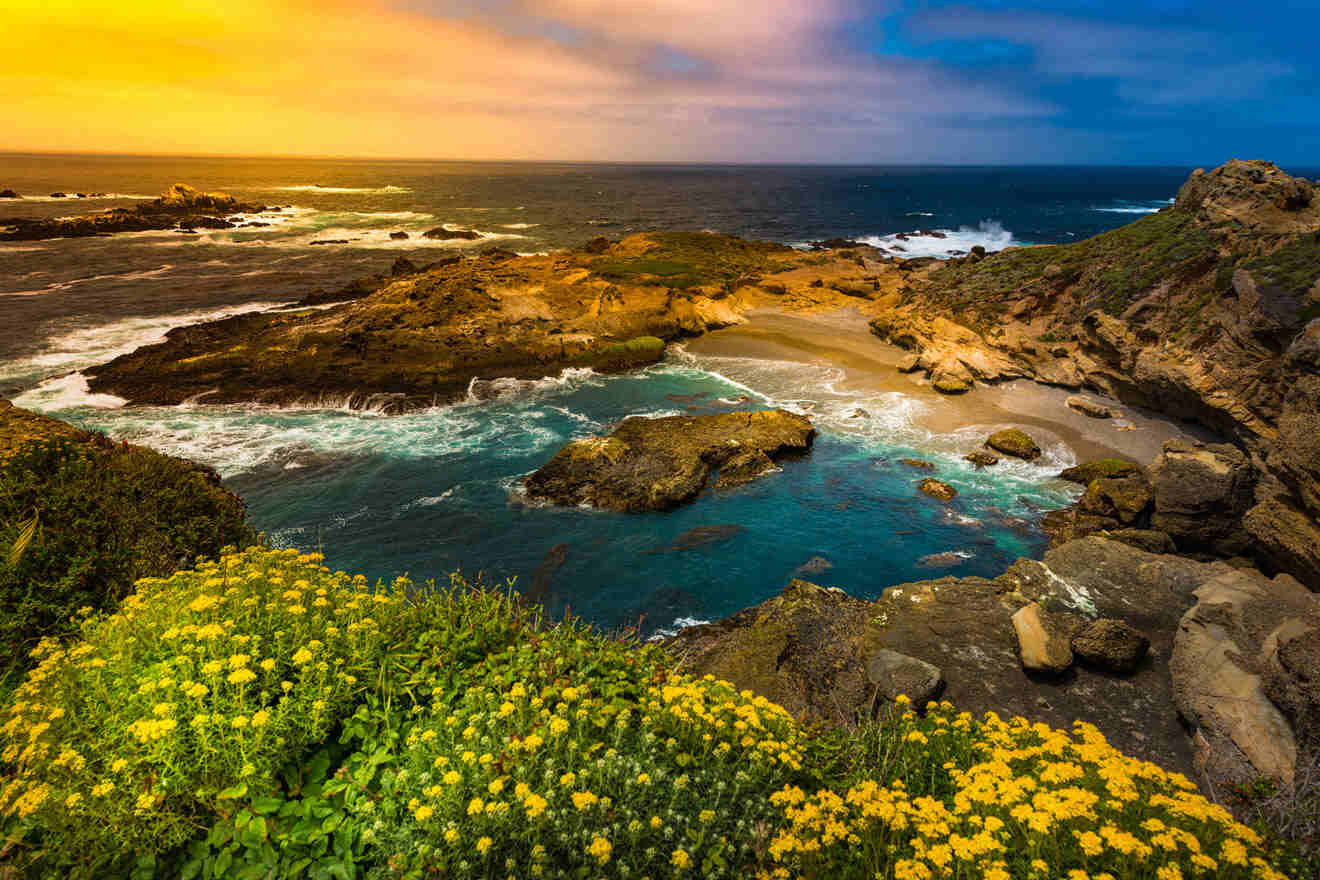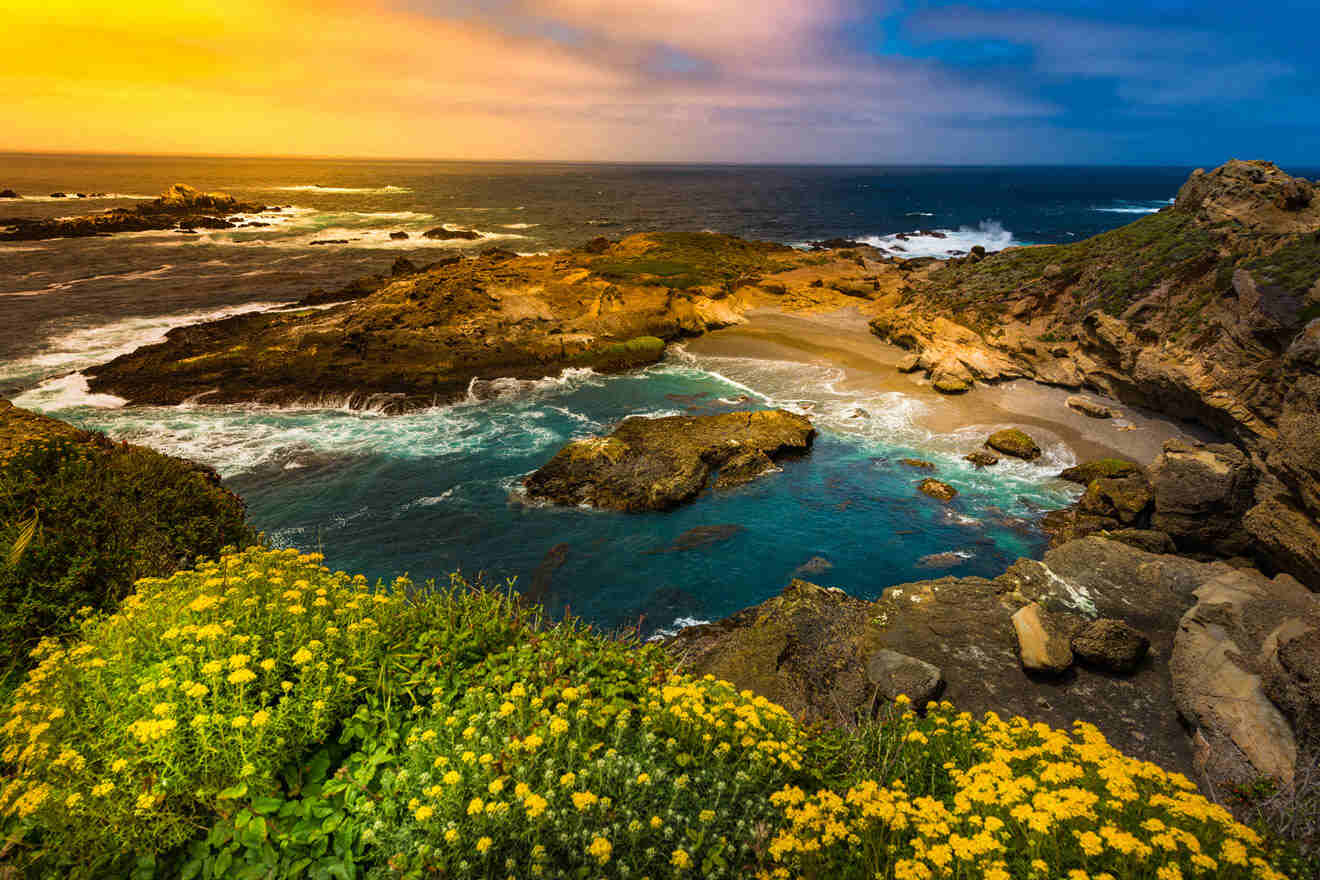 Point Lobos State Natural Reserve is one of the most scenic areas to visit in Monterey and an absolute must-see anytime you're in Northern California. It's a 12-minute drive from Monterey to Carmel-by-the-Sea, making it easily attainable by car.
I suggest booking a walking tour to have a professional walk you through the park and point out attractions. This is also a great walking tour option if you're traveling with older family members since it's an easy stroll and not a strenuous activity.
Visitors come from everywhere to take a peak at the scenery at Point Lobos State Natural Park. There are also outdoor recreational activities available for you to enjoy like hiking and snorkeling at the beaches. And don't forget your camera! You'll want to capture the memories forever.
PRO TIP: If you decide to go hiking, I suggest the Cypress Grove Trail! It's less than 2 miles (3 km) round-trip, and you get to see a couple of the only naturally-grown Cypress trees in the world. It's super unique and fascinating!
NOTE: Gibson Beach and China Cove are forbidden for snorkeling! If you do scuba dive, you'll need to make a snorkeling or scuba diving reservation in advance for Whalers and Bluefish Coves.
TOUR PRICE: from US$50 per person
5. Visit all types of whales in Monterey Bay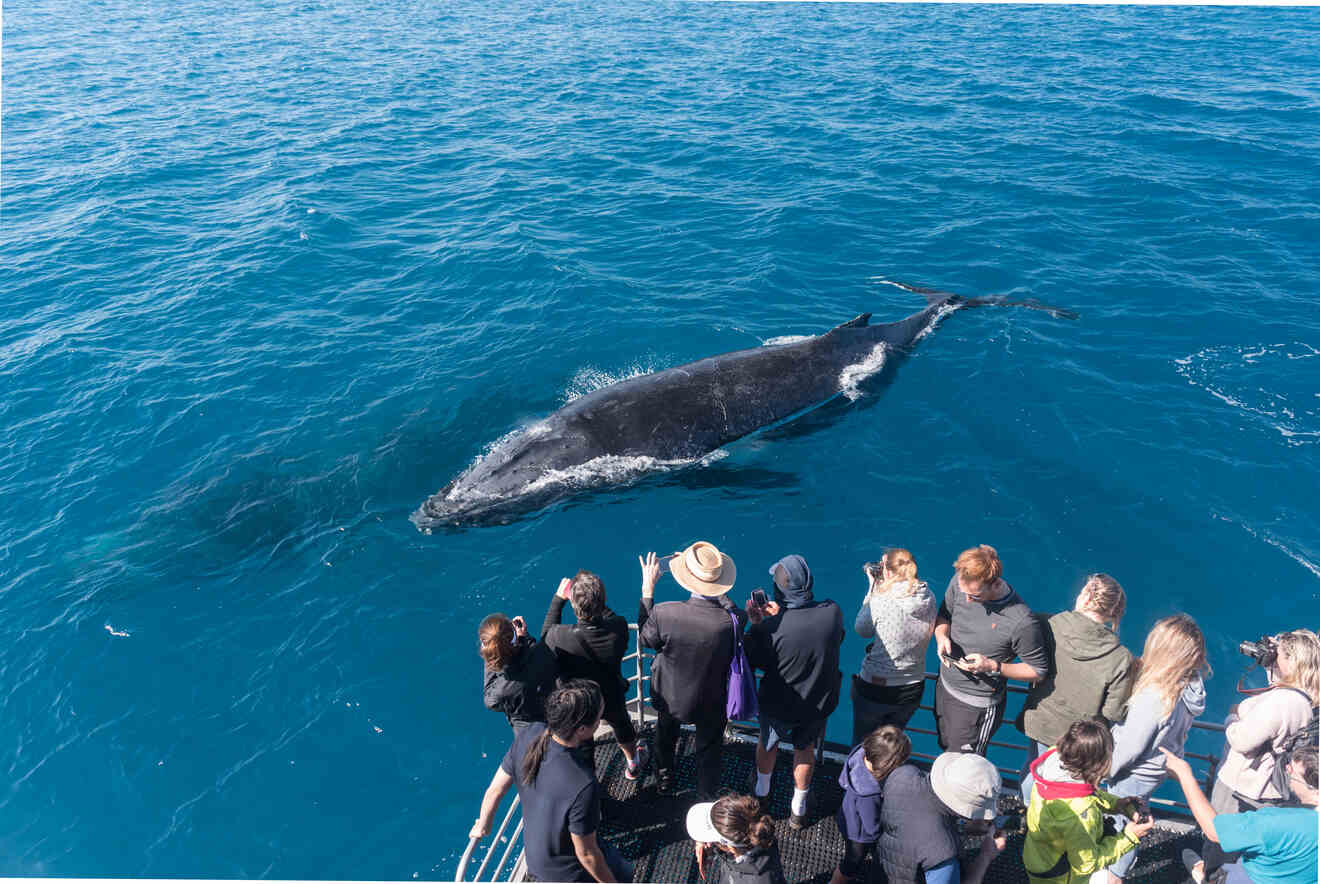 Monterey County is most well-known for the saturation of wildlife in its waters. That's why whale watching in Monterey Bay is one of the most popular activities and my personal favorite thing to experience. There's something so magical about seeing the most intelligent, largest, and most mysterious creatures in the world.
You'll want to visit anytime between January and March to see gray whales migrating. If you want to spot blue whales, come anytime between June and October. For humpback whales, visit between April to December! Many people come to see the gray whales in January through March because there's a larger concentration and you're basically guaranteed to see at least one!
I suggest booking a whale-watching tour for an experience of a lifetime. I did this tour the last time I was in Monterey and absolutely loved it. My only tip for you is to bring ginger mints to help calm down your stomach and avoid seasickness. I definitely learned my lesson last time!
PRICE: From US$70 per person
Book Your Whale Watching Adventure
6. Take a car ride through the 17 Mile Drive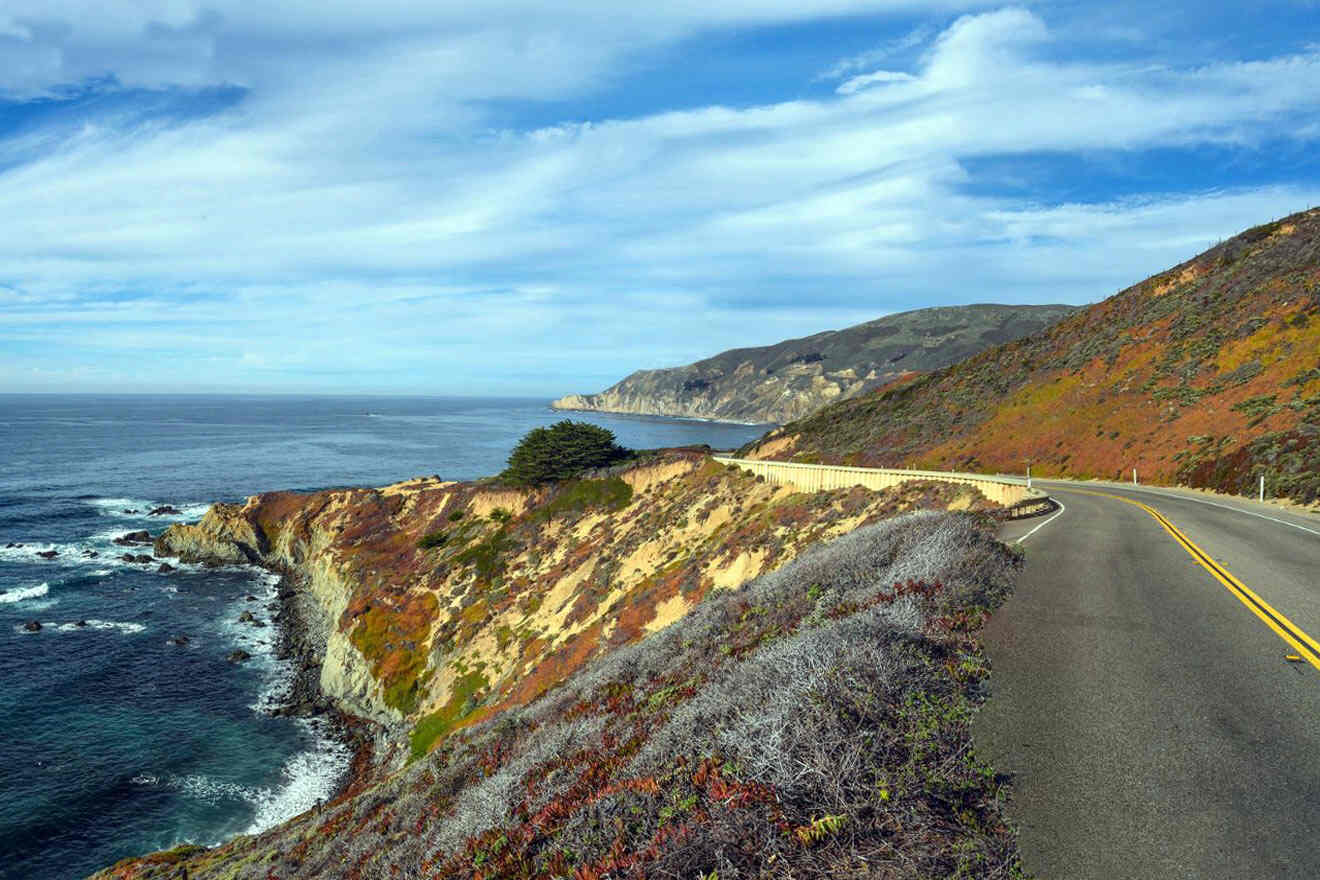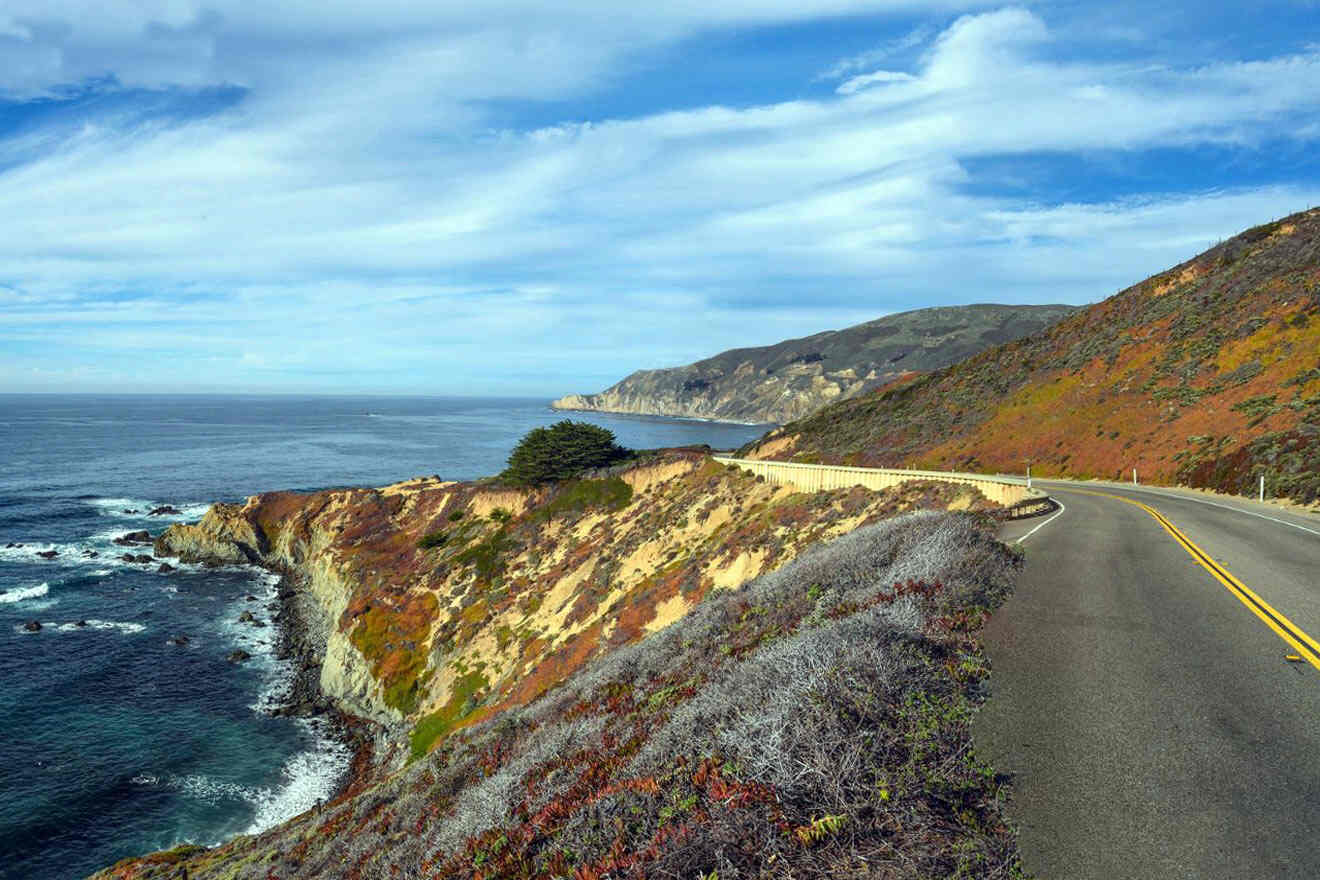 The Pacific Coast Highway is popularly one of the most scenic routes in the world. You pass by scenic Pacific Ocean views, rocky cliffsides, coastal bluffs, and unthinkable views you would have to experience and see for yourself to believe. It is hands down the most popular road trip route in the country, with thousands of people taking this route every day.
The car ride through the 17 Mile Drive takes about 3 hours to complete. There are dozens of stops along the way, so it can easily turn into an entire day trip depending on how long you spend in each place.
If you don't have too much time in Monterey, I suggest taking no longer than 5 hours (or half the day). You can listen to a self-guided audio tour to find the most worthwhile attractions and stops in case you don't know where to stop.
If you decide the self-guided audio tour isn't for you and you'd rather make your own 17 Mile Drive itinerary, make sure you stop by the must-see Lone Cypress Tree, Del Monte Forest, and Spanish Bay Beach. Check out this map for your reference.
NOTE: The Pacific Grove Gate is the nearest gate from Monterey! I suggest starting here. The route is US$11.25 per vehicle, but you can get this reimbursed if you decide to stop at Pebble Beach Resorts and spend at least US$35 at one of their amazing restaurants.
TOUR PRICE: from US$10 per group of 4
Get Your Self-Guided Audio Tour
7. Admire 19th – 21st century art at the Monterey Museum of Art
Monterey Museum of Art is a museum in the heart of the Monterey Peninsula with the goal of cultivating curiosity with all types of California art ranging from a collection of about 10,000 pieces from the 19th century to today, the 21st century.
There are 2 facilities that you can visit, one on Pacific Street and the other one on Via Mirada. La Mirada is the newest facility that opened in the 1980s with a mission to expand its collection. I suggest checking them both out if you're an art fanatic. Plus, you get a chance to admire local artists' work!
Want to visit another museum (with the kids this time)? Monterey County Youth Museum is catered for children to play and learn while parents learn to play. Admission is US$10 per person for adults and kids 2+.
PRICE: US$15 per person
8. Visit the serene San Carlos Cathedral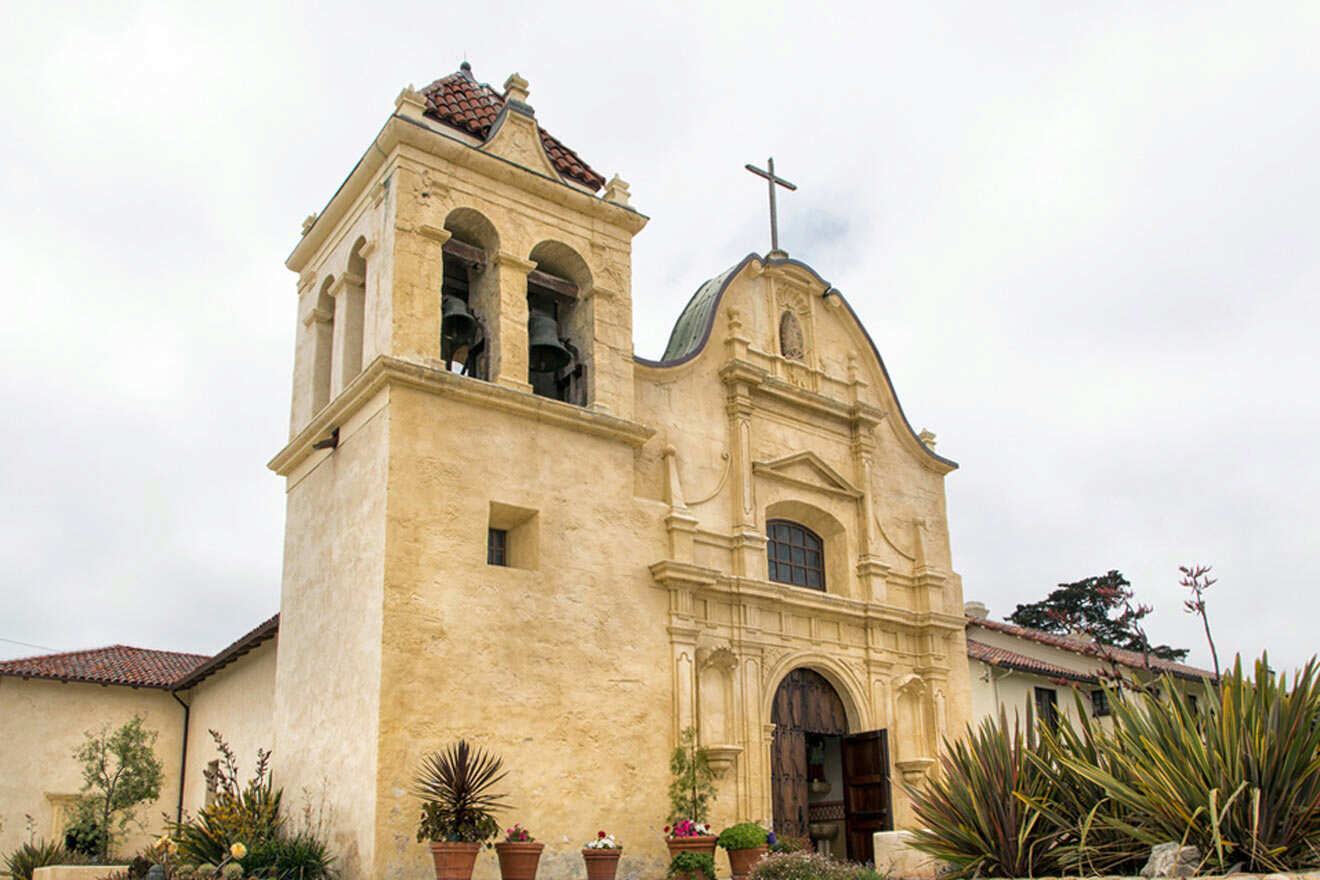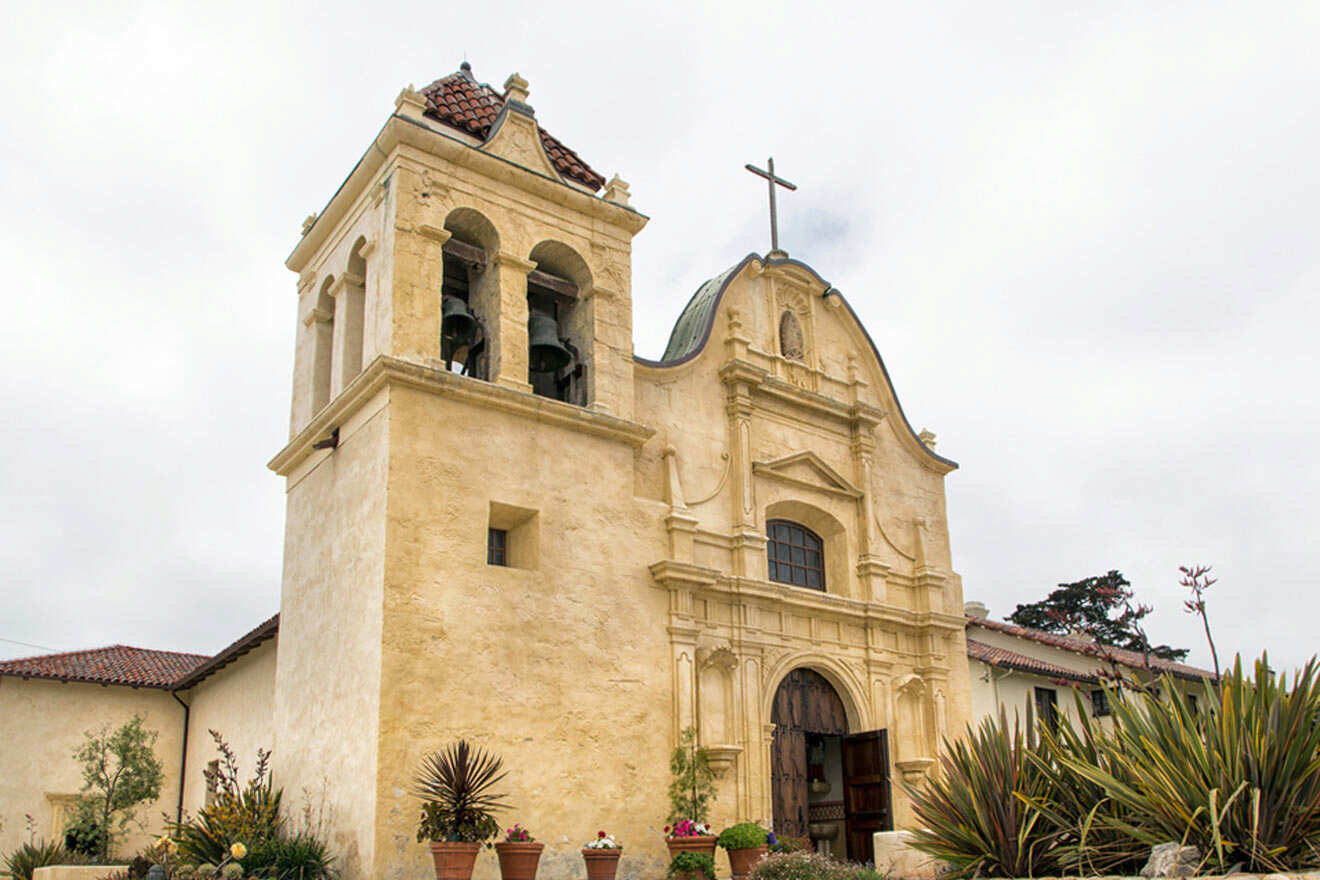 San Carlos Cathedral, also known as the Royal Presidio Chapel of San Carlo Borromeo, is the oldest building in Monterey County and a National Historic Landmark!
It's also the only original chapel that still stands out of the 4 Spanish Presidios and the longest-running church in the state, first opening its doors in 1770. There's a long history to be admired here, and I suggest taking a visit next time you visit Monterey!
It's only a short walk from Fisherman's Wharf, so it's easy to squeeze this attraction into your itinerary if you have an hour to spare. They have daily mass, and all visitors are welcome to join. See the schedule here!
If history fascinates you, I suggest taking a 5-minute drive to the free Presidio of Monterey Museum for a peek into the various stages of military development from the indigenous period to present-day Monterey. Then, head to San Carlos Beach for an easy, laid-back evening by the bay!
9. Step into Monterey history at Colton Hall Museum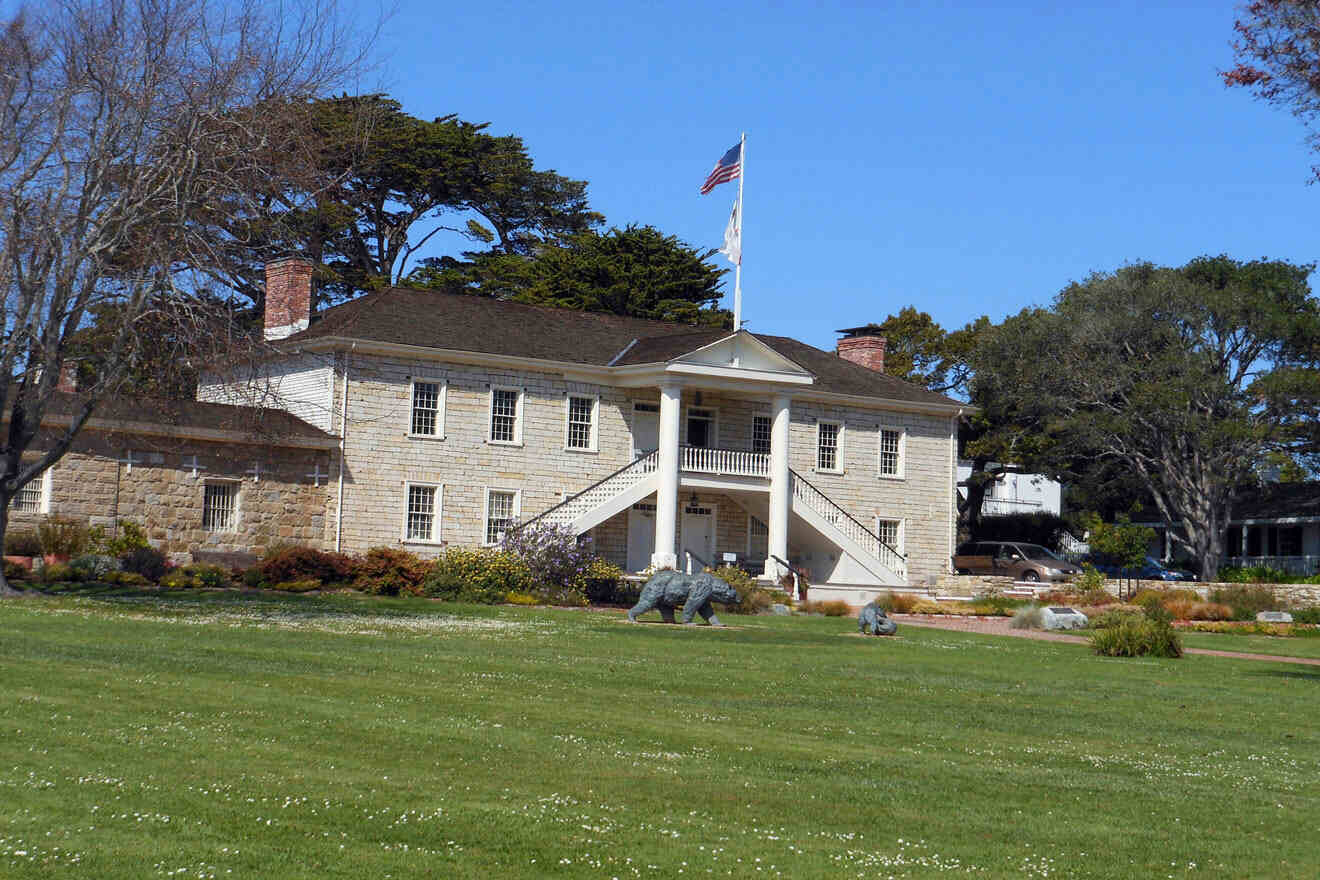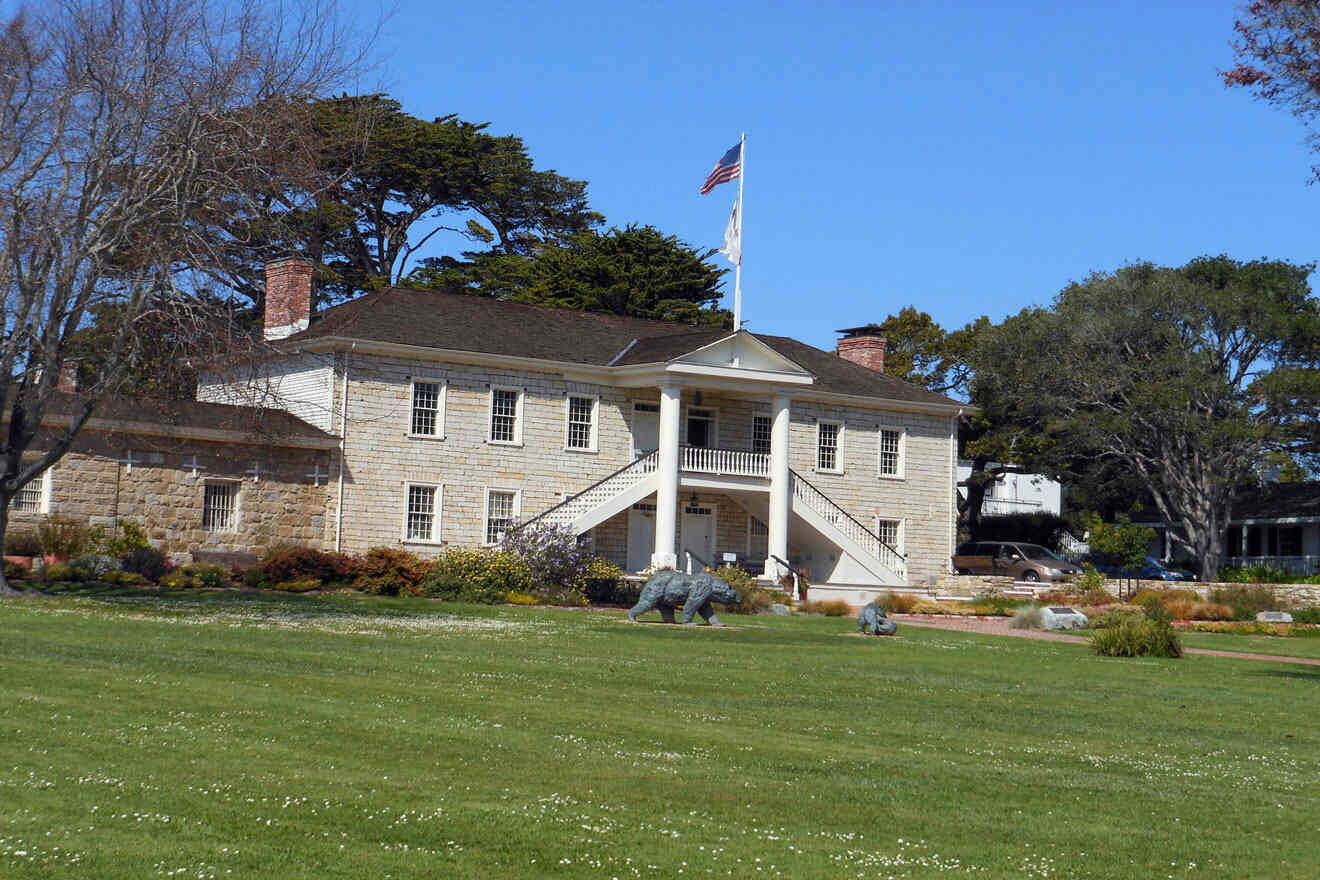 Welcome to the building where the state of California was born!
Colton Hall Museum, in downtown Monterey, was first built as a town meeting hall and public school and now serves as a re-creation of the original building where the first California Constitution was written in 1849 and a museum offering visitors information on the early stages of the old seaside community of Monterey.
The museum is a landmark in the city, being a popular tourist attraction for history fanatics and families with young children. The museum is also a venue for public events during the holidays and special concerts
Right across the museum is the Old Monterey Jail, located on Pacific Street between Madison and Jefferson Street. It was first constructed in 1854 and ran as the local jail until 1956. It's no Alcatraz, but it's an interesting part of Monterey's history that's worth checking out.
TIP: I suggest stopping at Old Monterey Café nearby, picking up lunch to-go, and having a picnic at the picnic area located at the park.
10. Visit the Monterey State Historic Park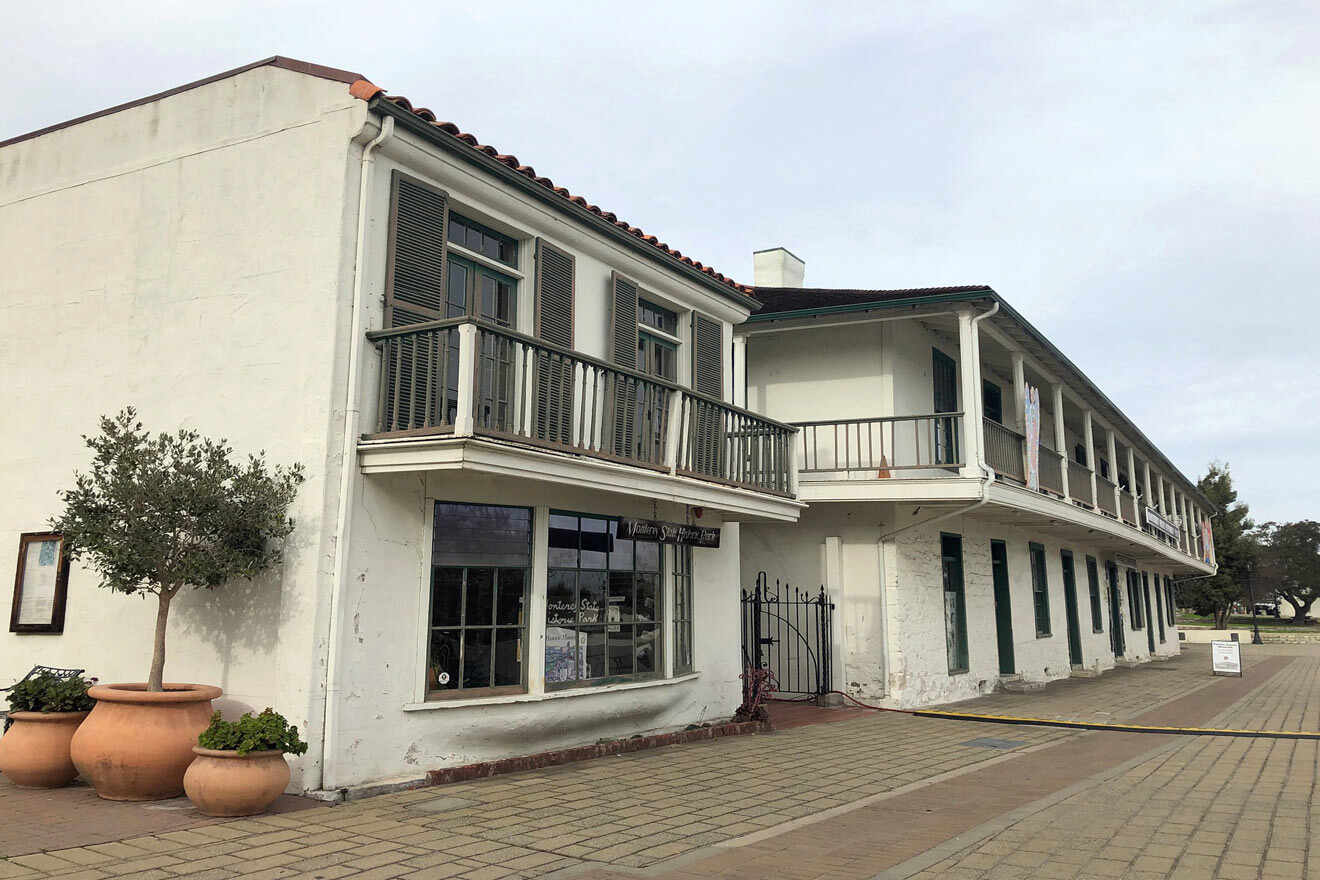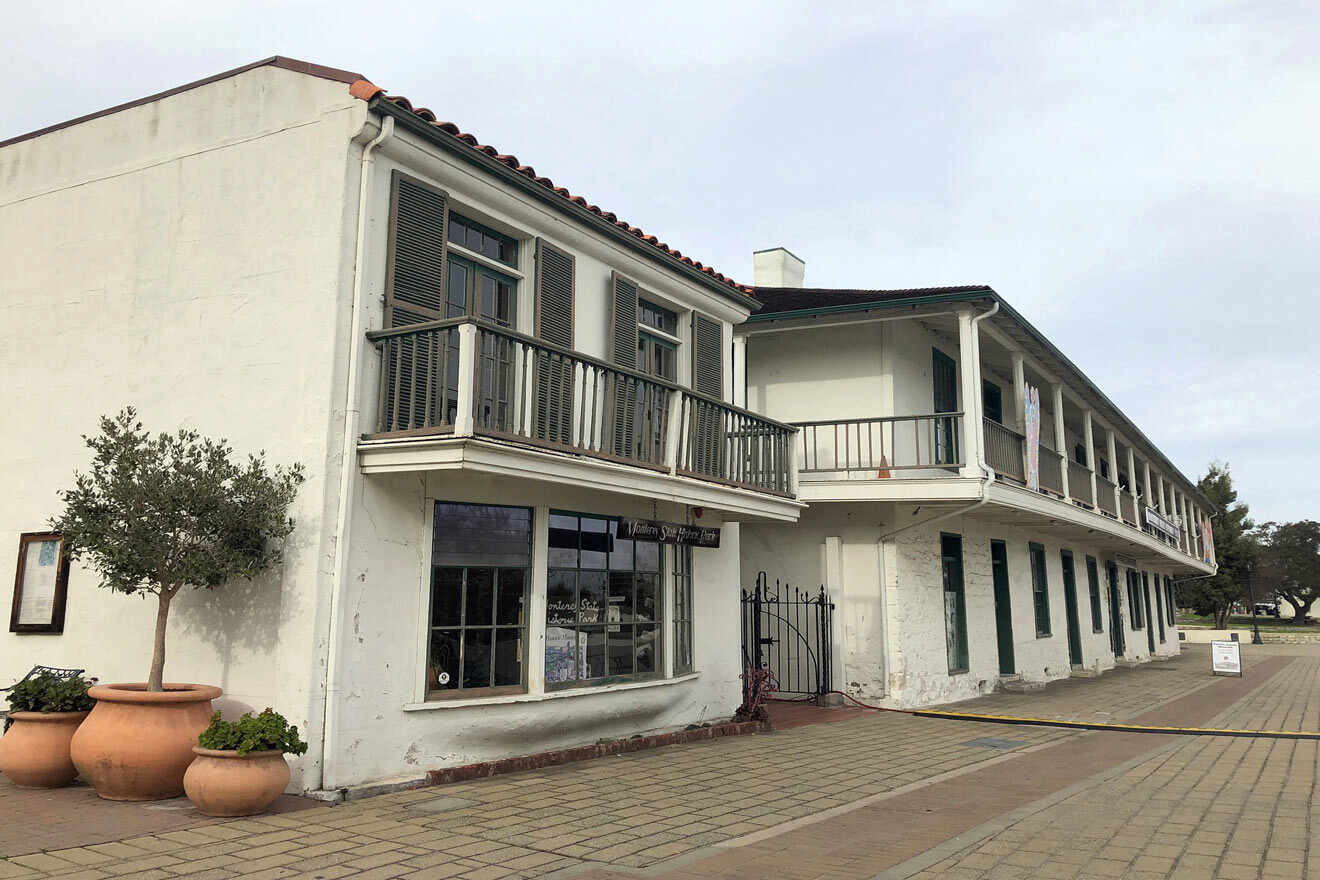 Monterey State Historic Park holds a collection of significant and historic buildings scattered throughout Old Monterey/Downtown Monterey.
Monterey is the most historic city in all of California, so you can bet there's quite a lot of history to explore. There are guided tours available regularly that I suggest taking advantage of.
You can find those tickets at the Custom House Plaza (next to the Old Fisherman's Wharf). The tours are US$10 per person for adults and free for youth 17 and under. I suggest taking a look at the schedule here and planning your visit in advance!
While you're at the Monterey State Historic Park, you'll also walk past the Monterey Walking Path of History and see the exact location where the Spanish first landed in Monterey in 1602 and walk the same streets that famous authors walked, and see the most beautiful gardens and buildings along the way.
I suggest visiting the Pacific House Museum to see amazing Native American artifacts. You can also go on a self-guided mobile tour through this area. Oh, and it's completely free! Ask about it at the Custom House!
The guided tour takes you through the old Larkin House and Stevenson House. Tickets are bought on a first-come, first-served basis, so I suggest coming in early to save your spot!
11. Walk through the caves of Pinnacles National Park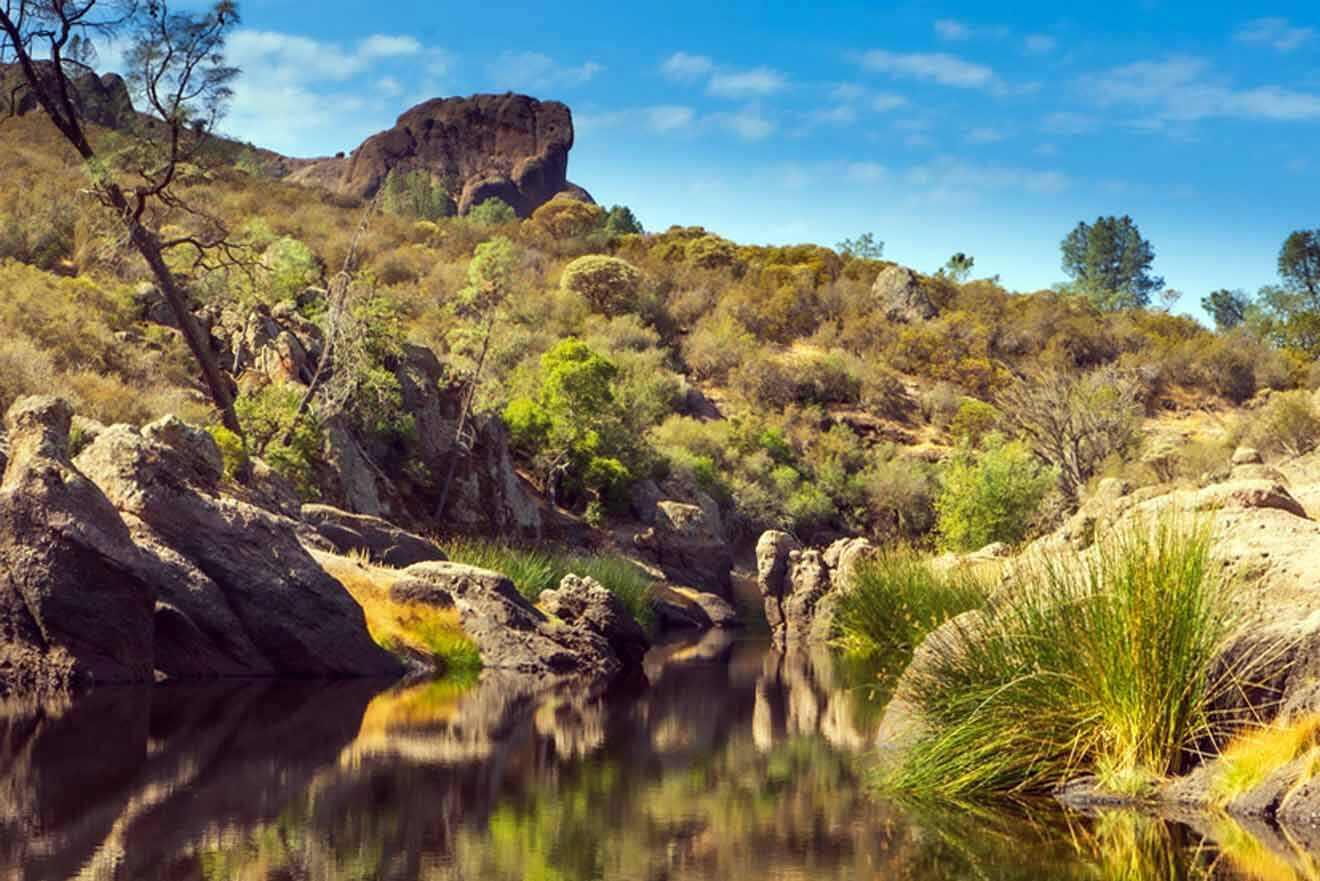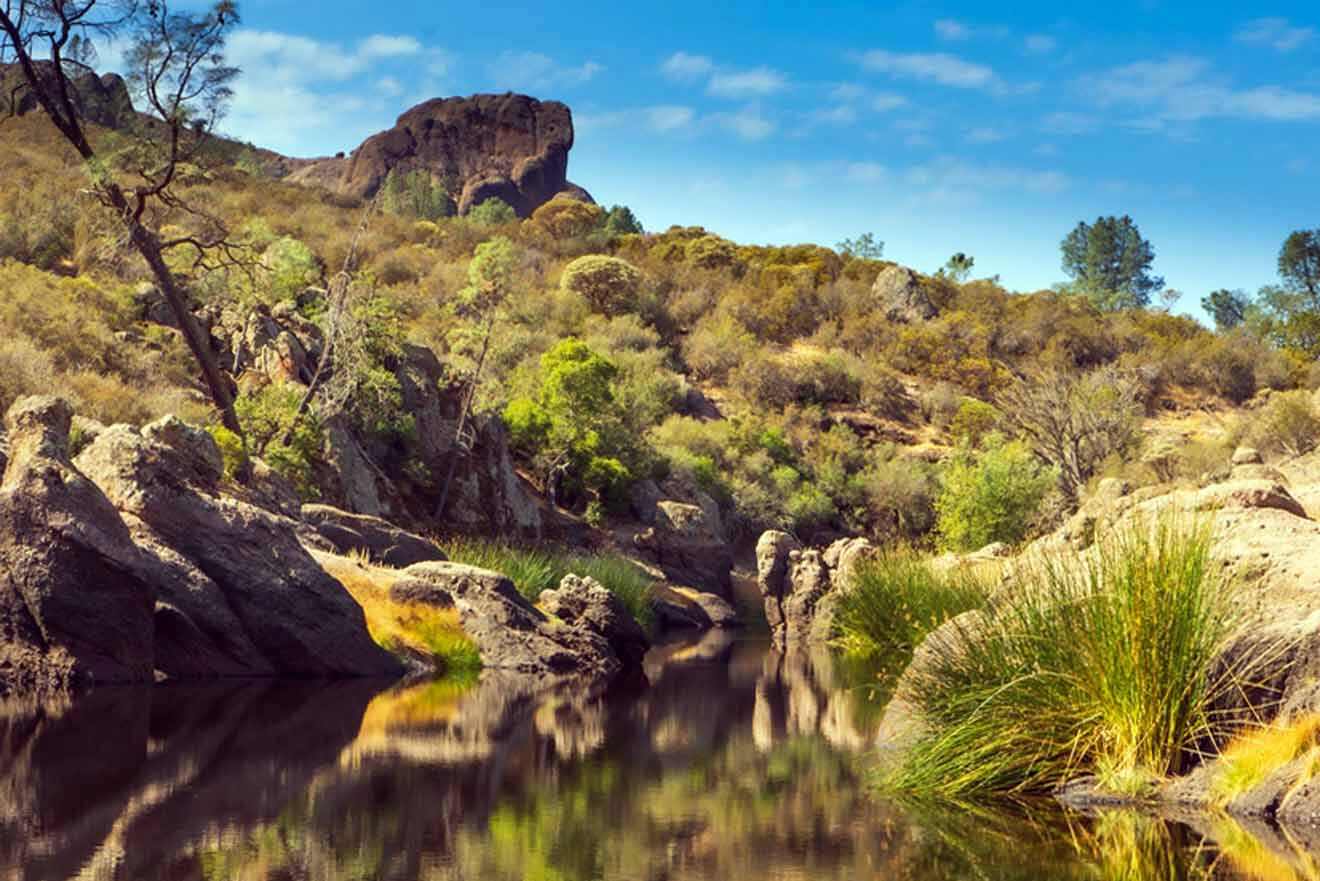 Monterey's Pinnacles National Park came to be about 23 million years ago when volcanoes erupted and flowed onto a piece of land, creating a unique landscape that, today, people from around the world come to admire. There are canyons, oak woodlands, rare caves, and other nature forms that are unique to Pinnacles National Park.
One of the best ways to experience this national park is by immersing yourself in a full-on camping trip! The Pinnacles Campground offers RV sites, tents, and group camping, with a scenic sight, picnic tables, and oak trees to provide a shaded area for campers.
There are also convenient coin-operated showers and a swimming pool from April through September. The best time to visit is outside of the super hot summer months, so April, May, and September. You can reserve your camping/RV location up to 6 months in advance here.
PRO TIP: Bring your binoculars and keep an eye out for golden eagles, peregrine falcons, and California condors!
12. Visit the Monarch Butterflies in Pacific Grove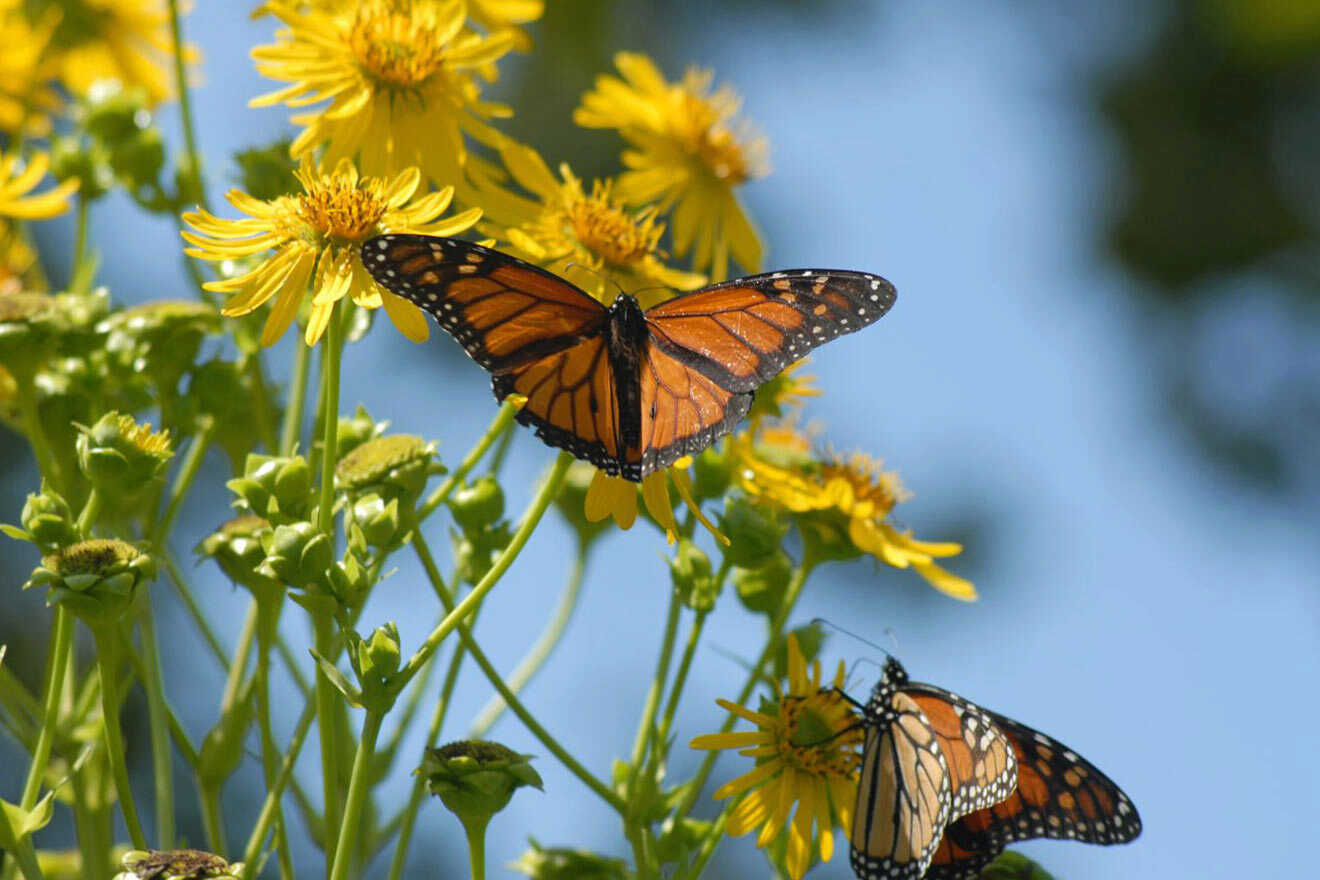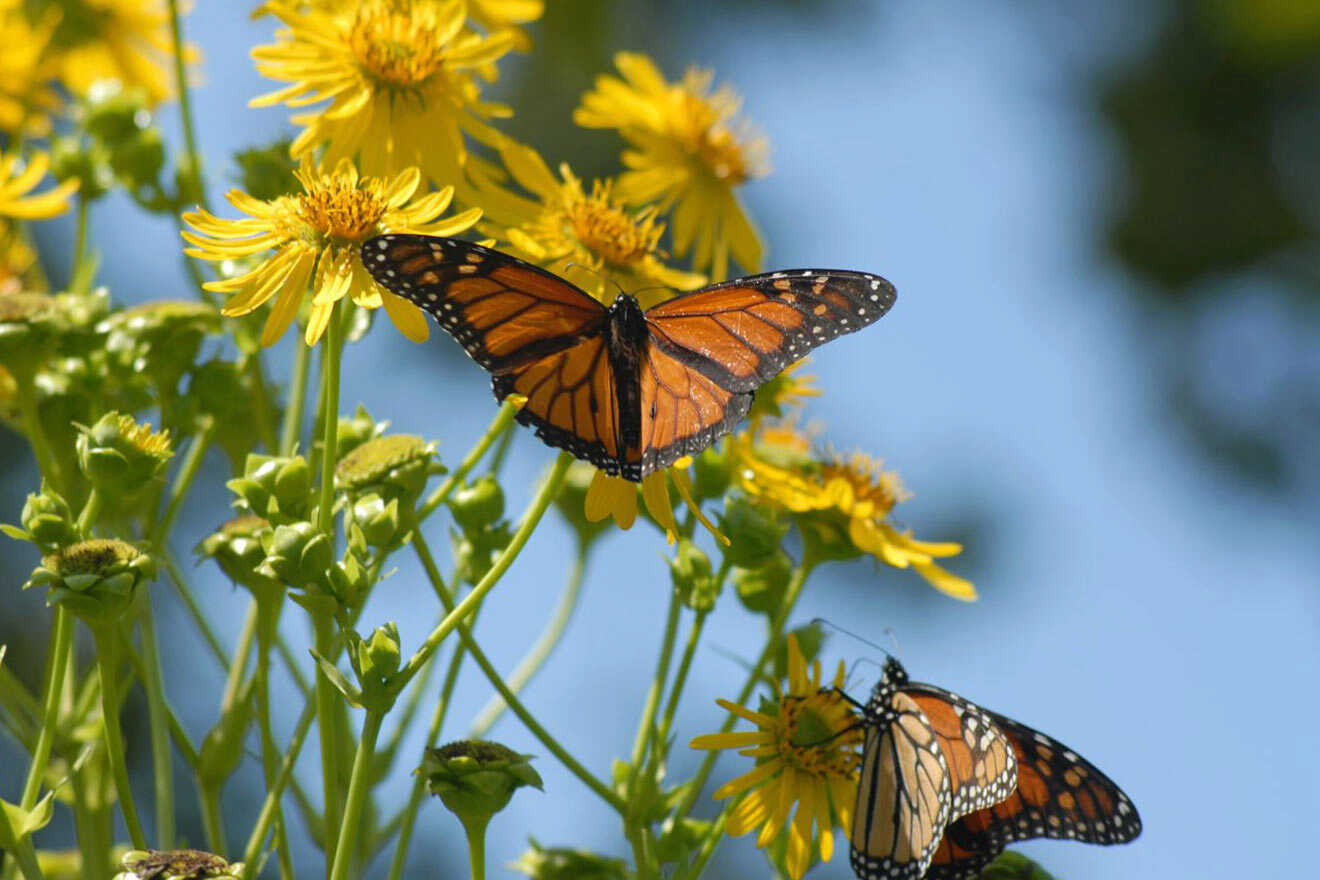 One of my favorite things in Monterey, CA, is the scenic community of Pacific Grove. Pacific Grove is well-known for its long rocky coastline, scenic views, and, my personal favorite – the Pacific Grove Monarch Sanctuary. The butterflies come through Pacific Grove from mid-October through mid-March and then again for a few months between November and January.
I suggest visiting in the early morning (before 11 AM) or during the cloudy, cooler days. That's when you'll find a larger concentration of butterflies at the sanctuary. They cluster together around pine, Monterey cypress trees, and eucalyptus trees to stay warm, forming a muddled shape that's incredible to see.
The sanctuary is open year-round, but it's best to visit during the butterfly migration season I mentioned above.
PRO TIP: Head to Lovers Point Beach nearby afterward for a dip in the ocean and watch the sunset!
NOTE: Monarch Butterflies are an endangered species, so be sure to do your part in making sure they're in a safe environment. There's even a fine of US$1,000 if you touch them, so make sure you're respecting them and their boundaries!
PRICE: FREE!
13. Discover the famous attractions at Pebble Beach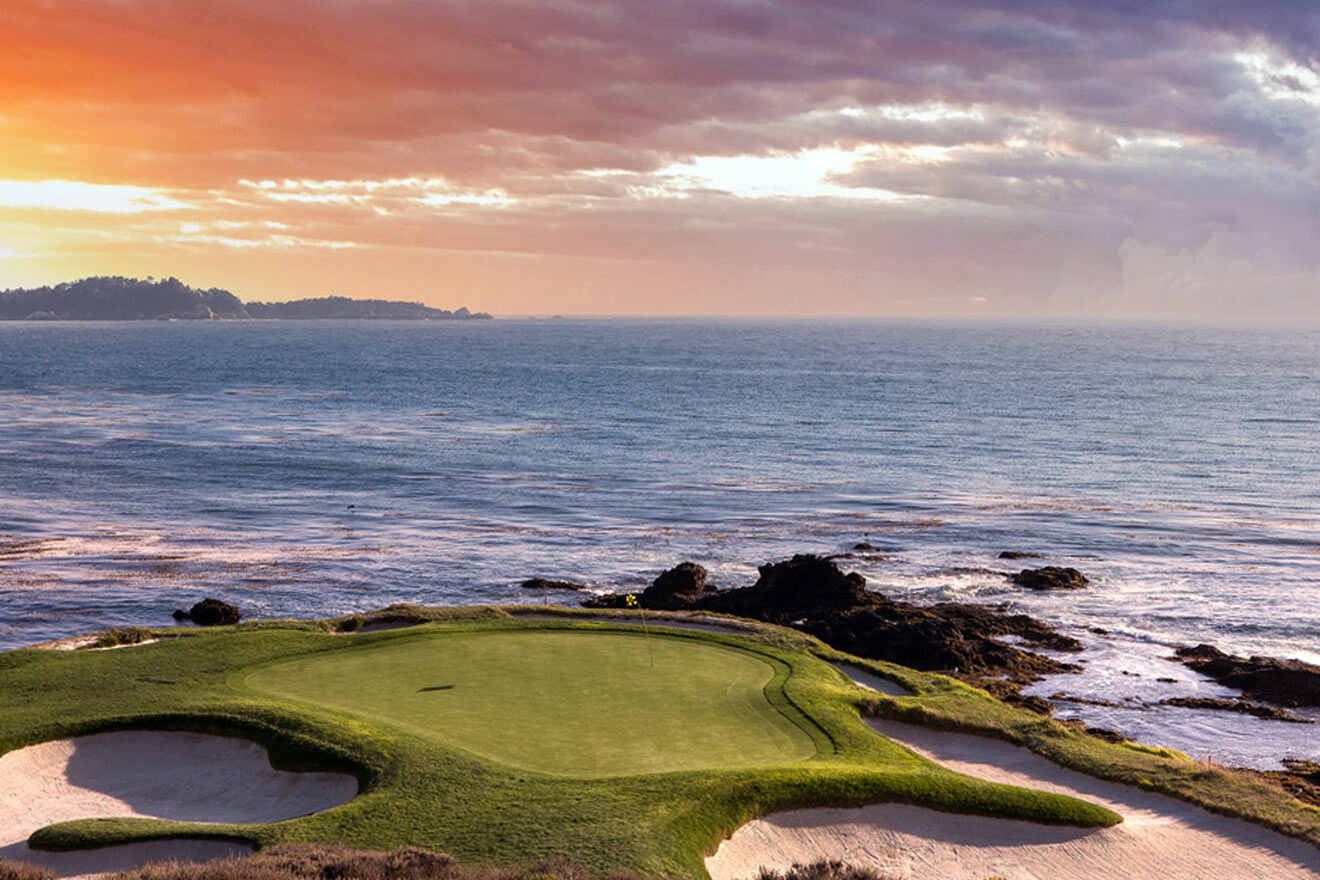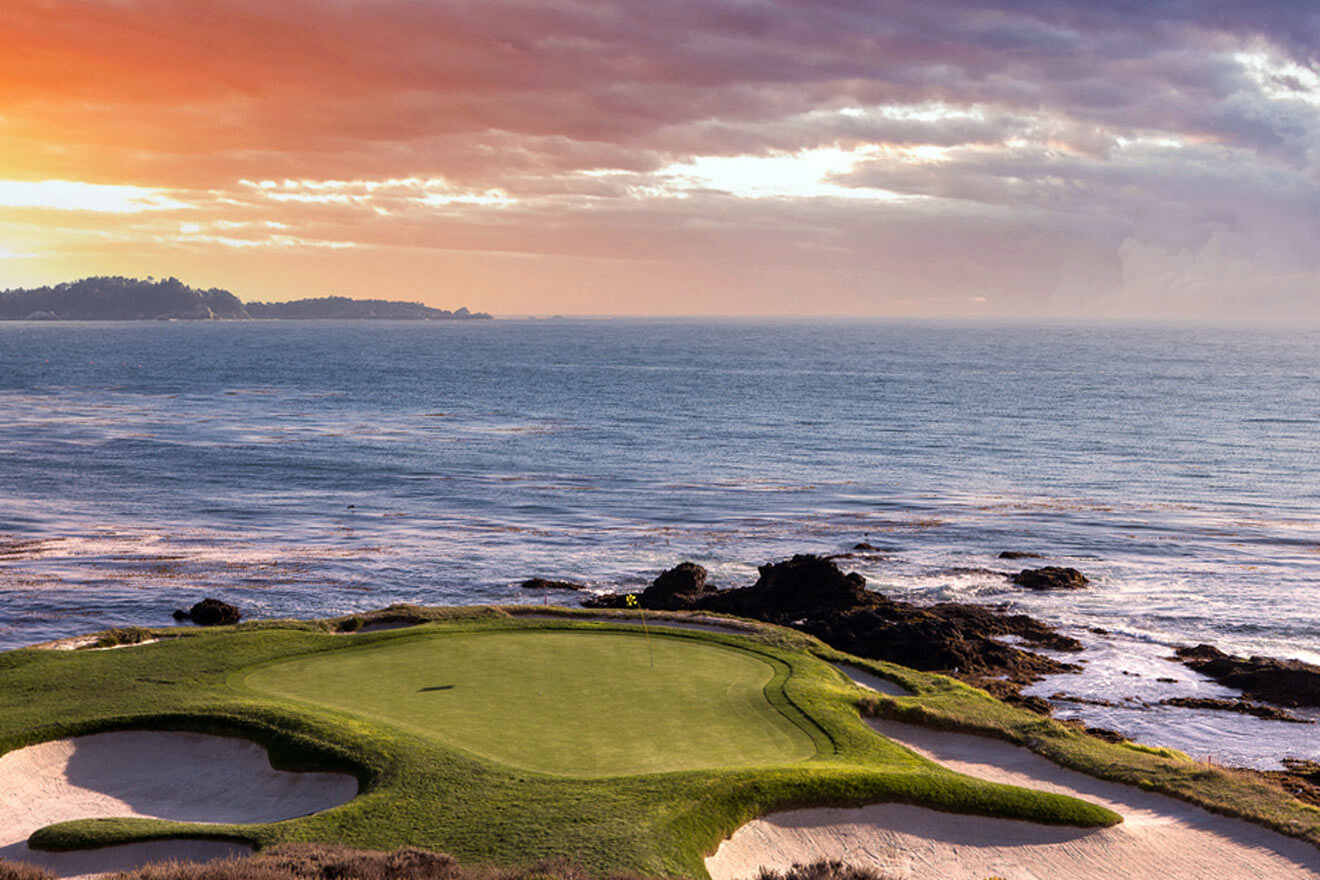 Pebble Beach is a stop along the Pacific Coast Highway and 17 Mile Drive, but I absolutely had to add it to this list in case you didn't have time to drive through the famous route on your stay in Monterey.
Pebble Beach is a small community located right between Monterey and Carmel-by-the-Sea, filled with attractions that you need to see. It's also a must-visit spot on our list of things to do in Carmel, CA.
Here are a couple of attractions I recommend stopping by while you're here:
Lone Cypress Tree: This is the world-famous lone cypress tree that has fought against all of nature's odds for the last 250 years and stands as the most photographed tree in the US.
Seal Rock Creek Beach: This is a small sandy beach near Bird Rock. I suggest visiting this beach and going up to the vista point after!
Spanish Bay Beach: White sand beach, sand dune, backed with a popular golf course and sits along the Pacific Coast Highway… What more can you ask for?
14. Go golfing in Del Monte Beach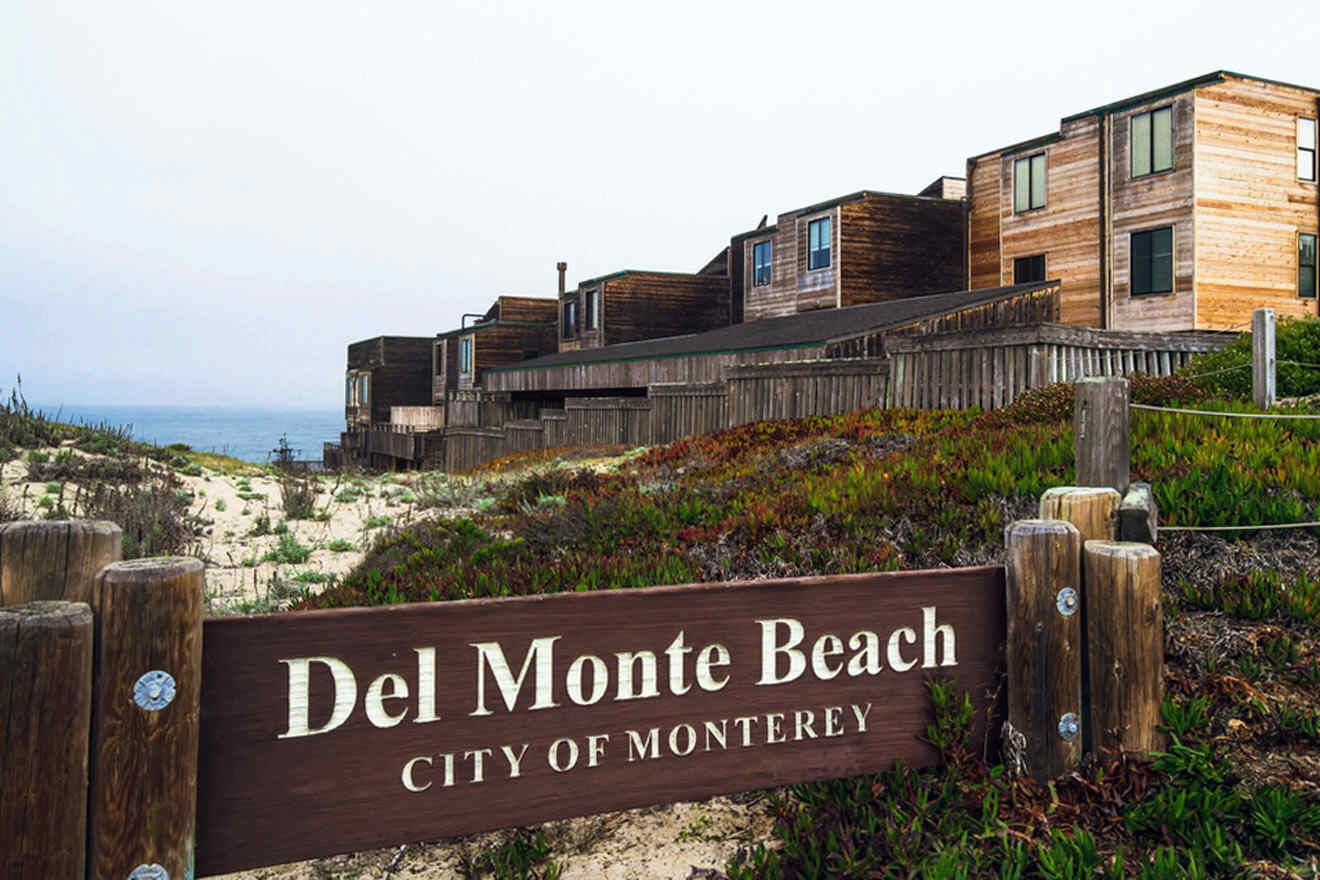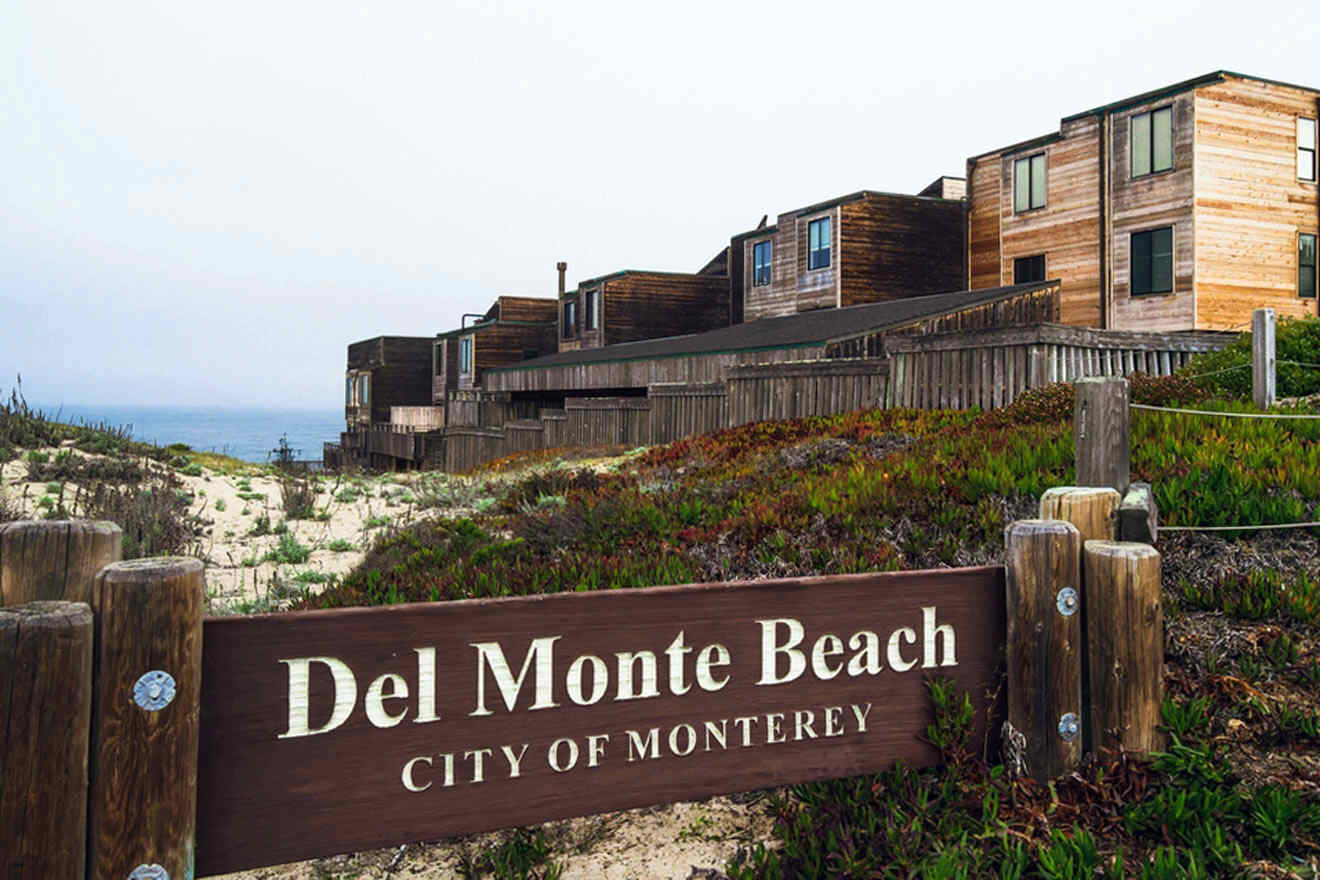 Del Monte Golf Course is one of the oldest golf courses on the West Coast and an iconic destination for professional golfers in Monterey, California. It's a popular course that still holds the same charm that it held when it first opened in 1897. It's located on Pebble Beach, giving you easy access to the world-famous attractions.
If you're a pro golfer, I 100% recommend checking it out. If you're golfing for the first time, I suggest checking out other golf courses that aren't quite as pricey and beginner-friendly. The Monterey Pines Golf Club is a good alternative.
Talking about golf, Pebble Beach Golf Links is another must-visit course in Monterey! It is one of the highest-ranking golf courses in the country, making for 2 mega-popular courses in Monterey.
15. Head over to Carmel-by-the-Sea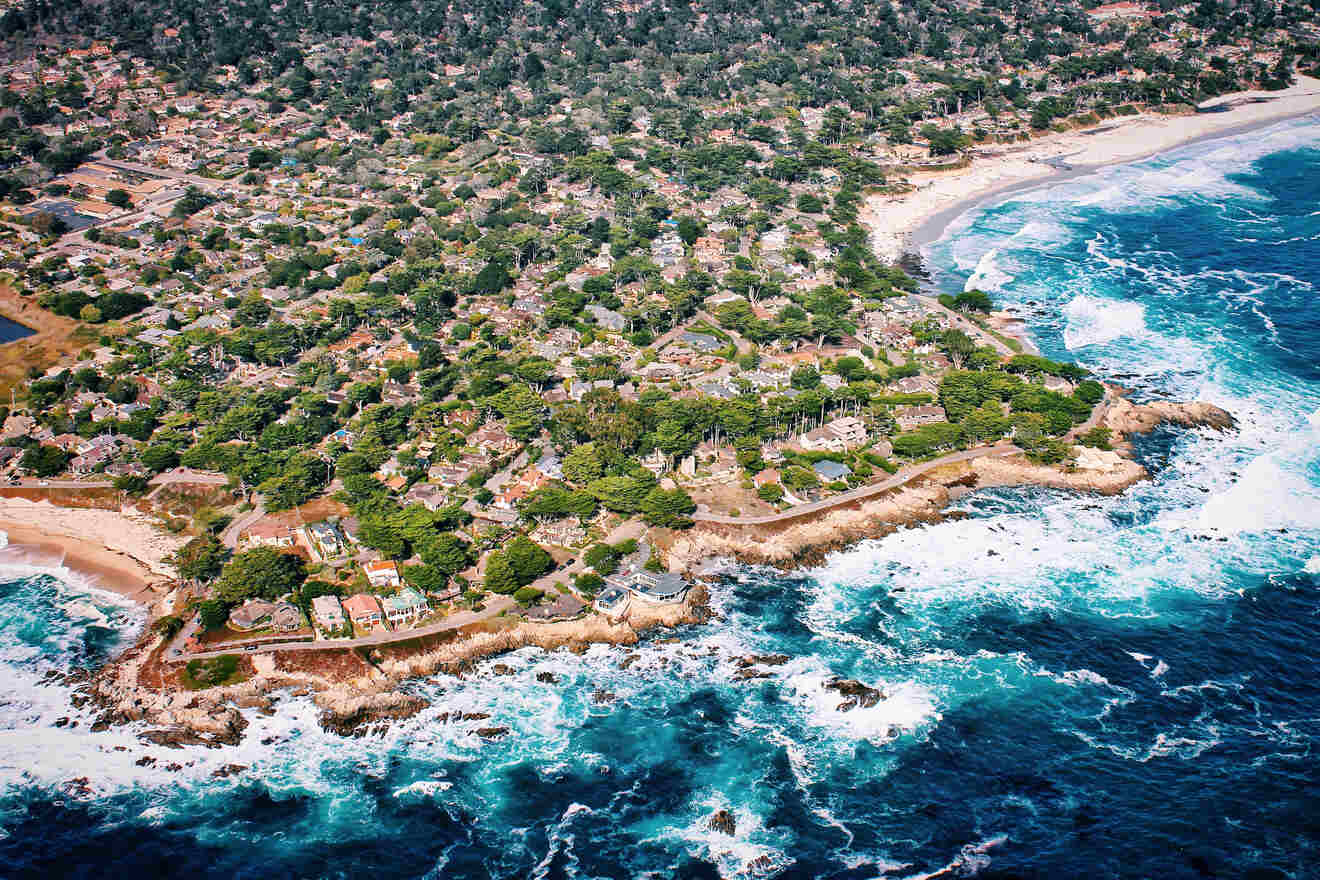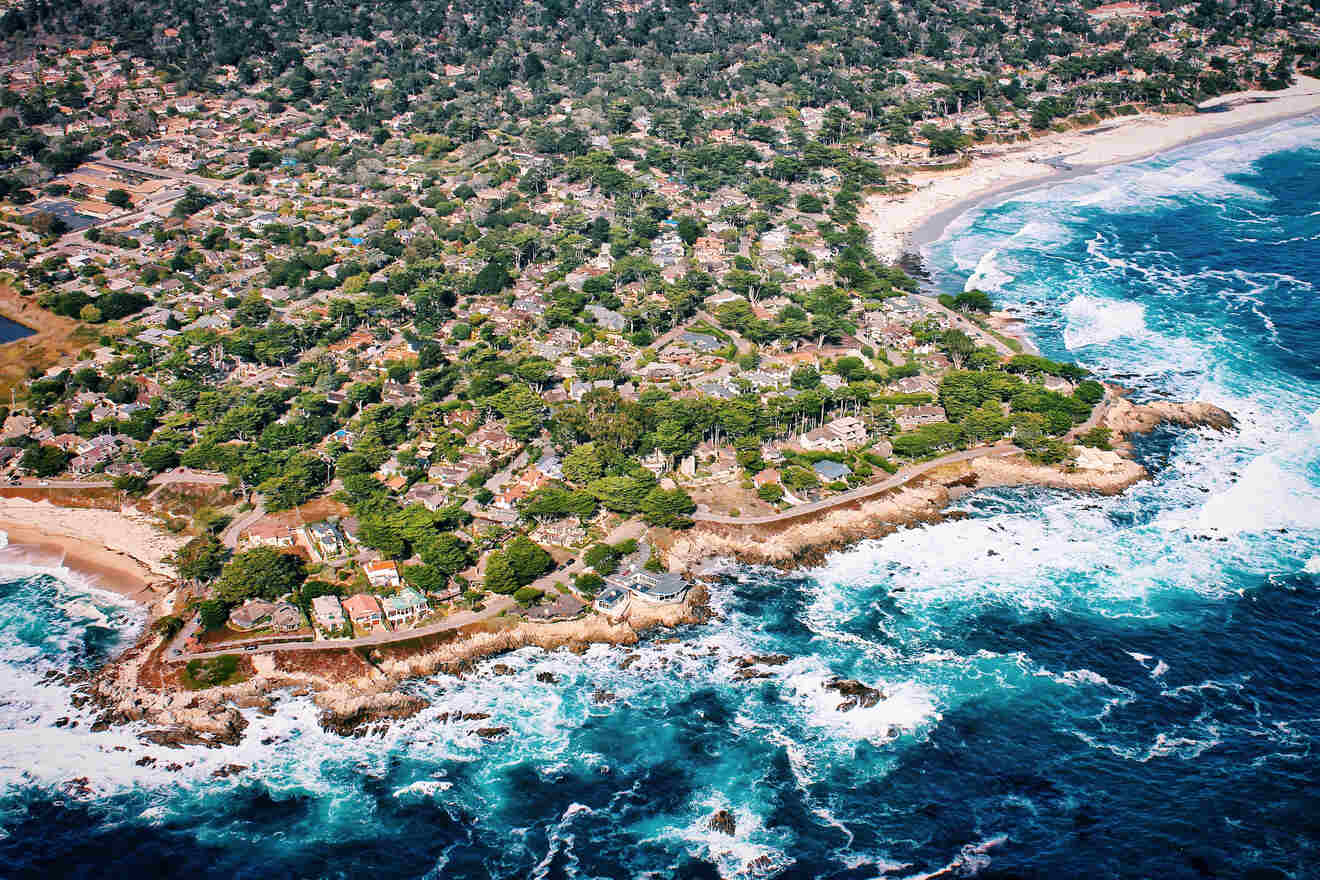 Carmel-by-the-Sea is the neighboring seaside town of Monterey, only a short 10-minute drive away. I absolutely love Carmel-by-the-Sea because you find amazing 1920s-inspired fairytale architecture that will enchant you, making you feel like you belong in a Disney movie.
The community is known as the writers' and artists' mecca, with over 100 art galleries featuring local artists and fine artists from around the world. There are also a ton of local boutiques, wineries, and high-end restaurants to explore. It's the perfect location for couples looking for a little getaway for a few hours, but you can even extend your trip and stay in the best areas & hotels in Carmel.
I really like taking a walking tour anytime I'm in a new city. This tour will walk you through the best attractions like the Tux Box, Hog's Breath Inn, First Murphy House, and more. Book in advance to save your spot!!
PRO TIP: Carmel Beach is located a short walk away from Carmel Village. I suggest stopping by for the most jaw-dropping white-sand beach I've ever seen.
TOUR PRICE: US$35 per person
16. Ride your bike through the Monterey Coastal Recreation Trail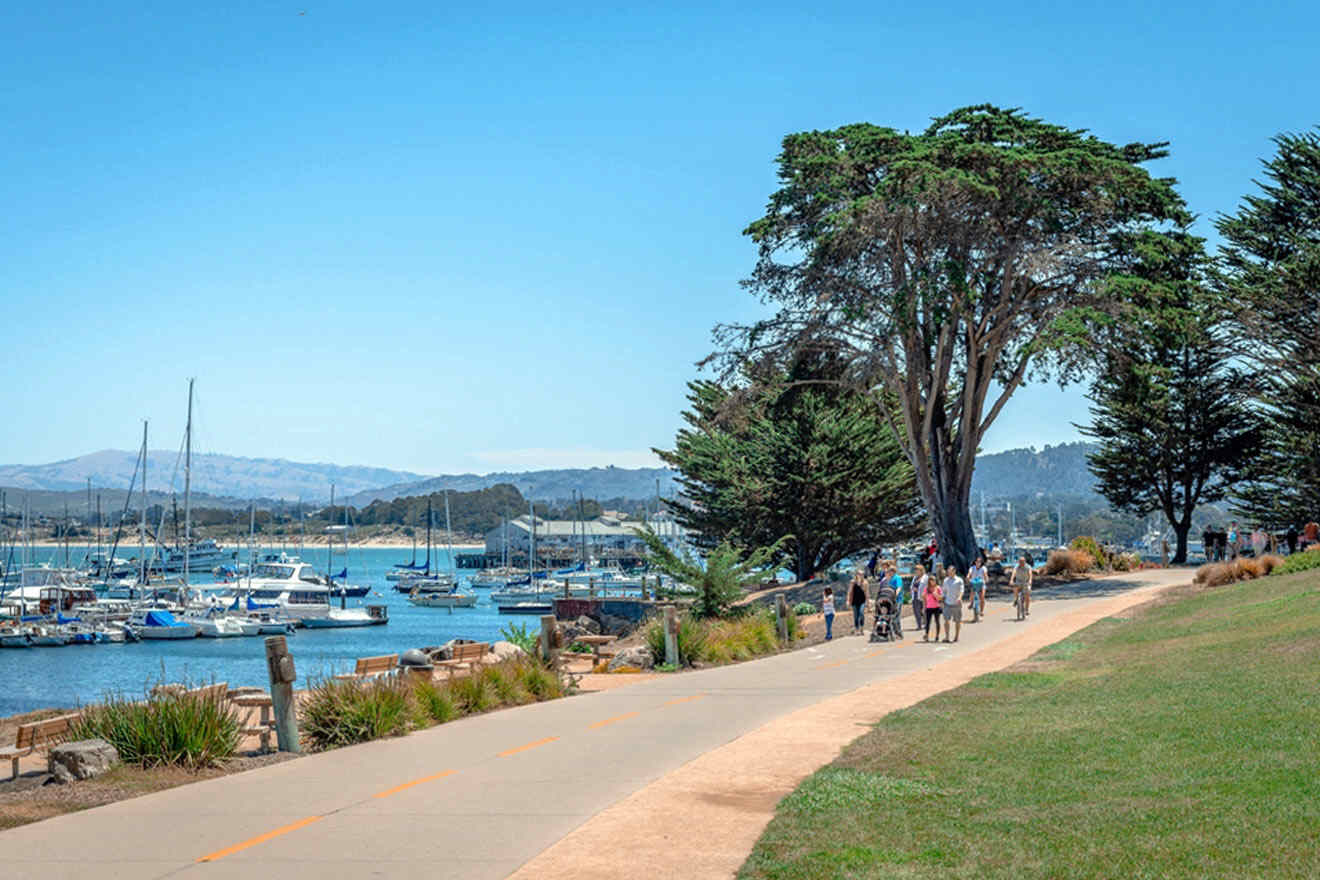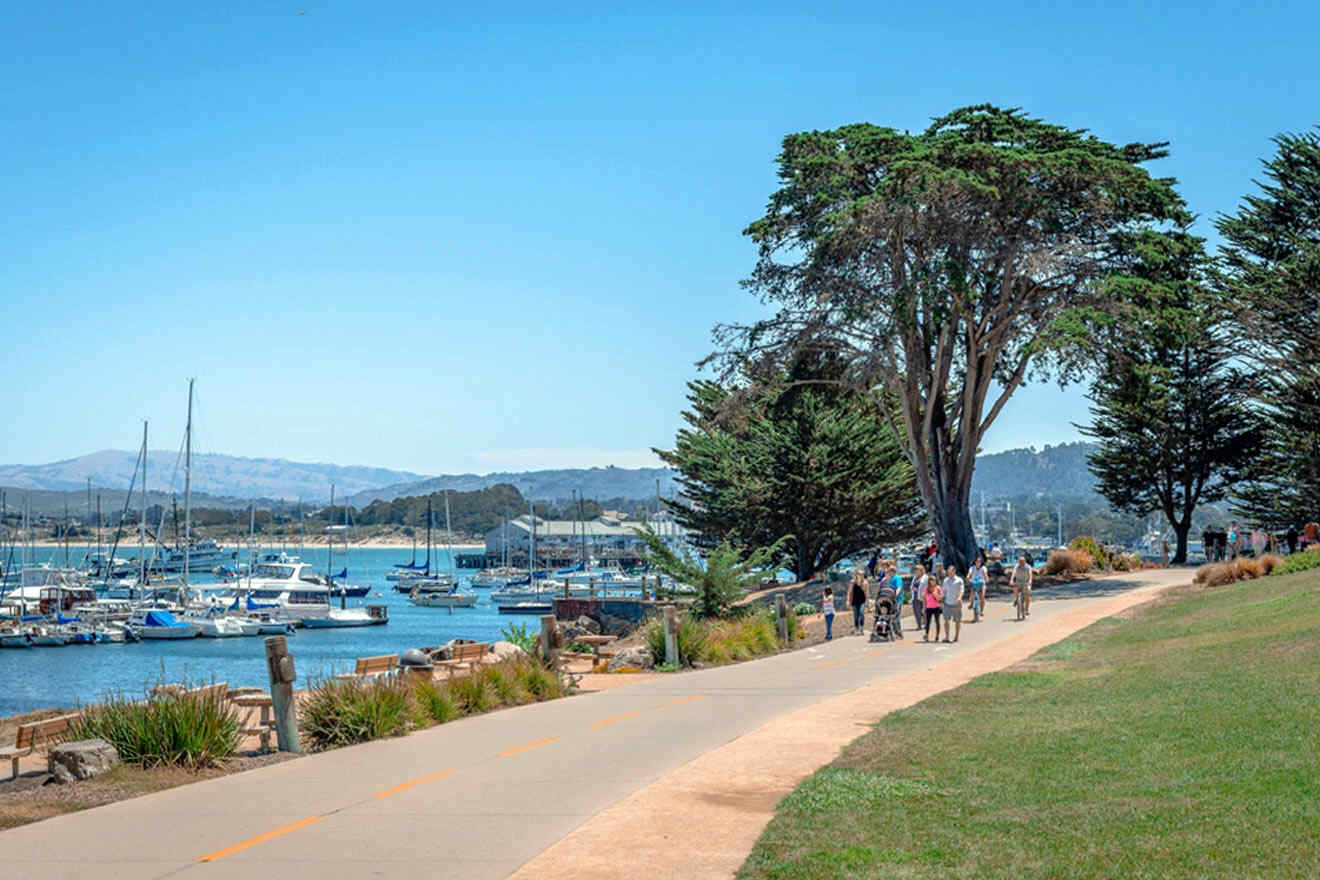 The Monterey Coastal Recreation Trail is an 18-mile-long stretch from Castroville to Pacific Grove, less than a 10-minute walk from the Old Fisherman's Wharf. It's the ultimate path to ride your bike and enjoy the coastal views!
It's also a great way to get to and from the most famous places in Monterey, like Monterey Bay Aquarium, Cannery Row, and other locations. You can easily avoid the traffic by riding your bike everywhere using this trail.
I suggest booking a road bike at Adventures by the Sea Cannery Row and using that bike to explore the entire seaside community in a day. They have fair prices and even offer e-bikes or surreys for your convenience if you prefer. If you also happen to be looking for kayak rentals or tours in Cannery Row, they even have those options available.
If you'd rather join a guided tour to explore the best of Monterey and ditch the Monterey Coastal Recreation Trail, I suggest booking a tour like this one! A guide will take you through the 17 Mile Drive for 2.5 hours on an e-bike, where you'll just cruise behind and not have to worry about where you're going or getting lost.
This experience is also great for families because you have the option to ride tandem with your child (up to 120 pounds or 54 kg).
TOUR PRICE: from US$75 per person
17. Head to the most protected ocean area in Monterey State Beach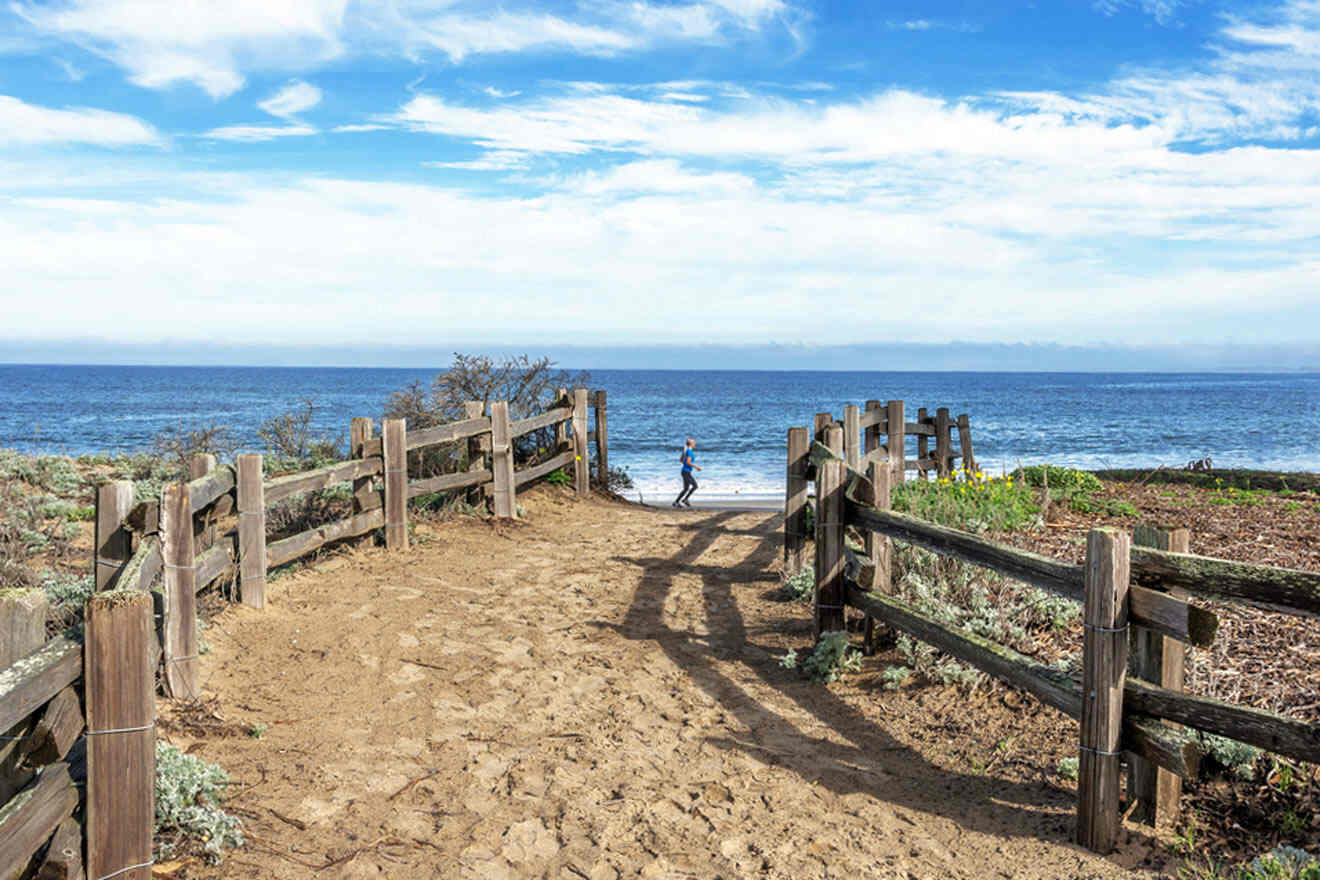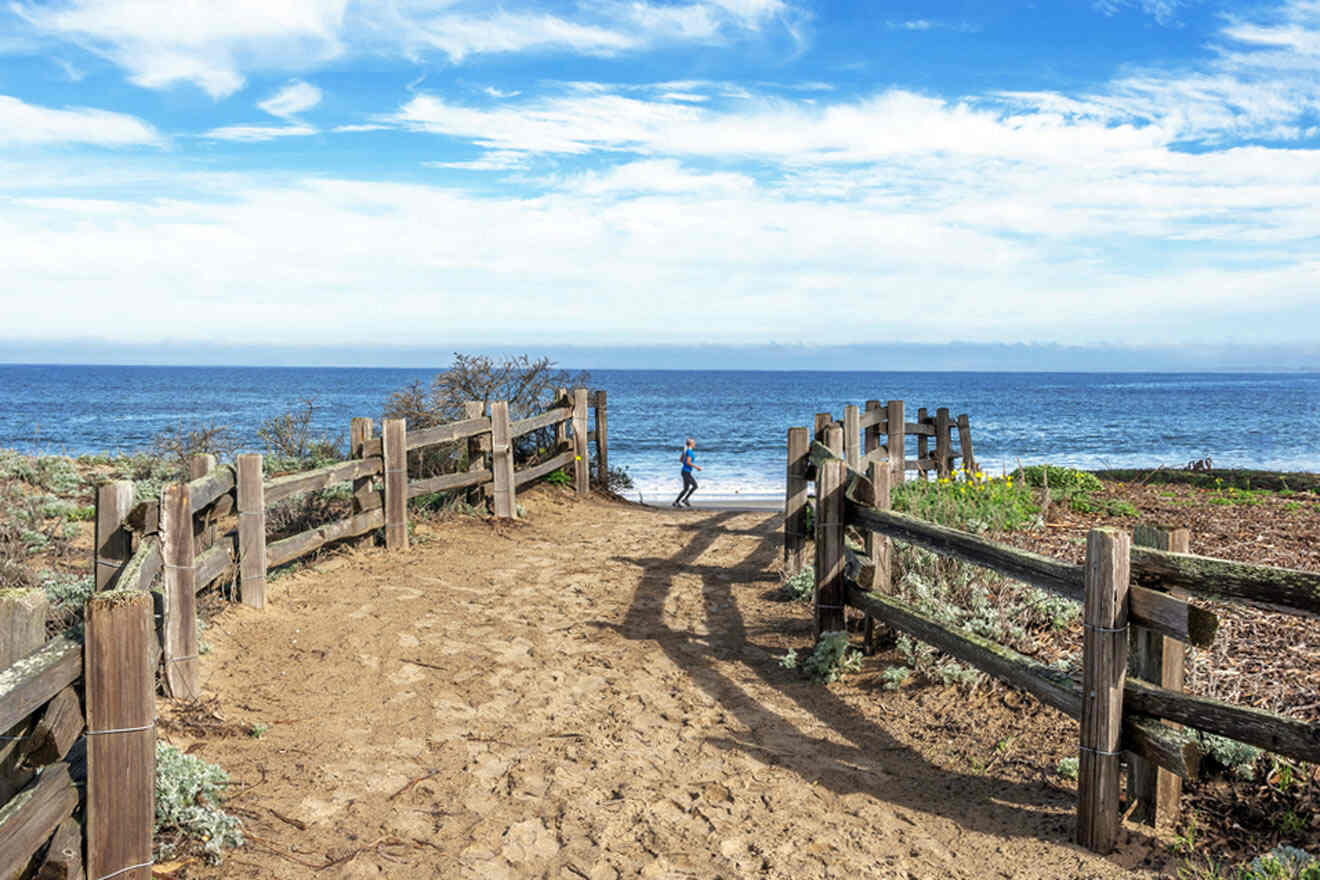 Monterey State Beach is a flat, sandy beach in Monterey providing a variety of outdoor activities, from relaxing or sunbathing by the ocean water to fishing, boating, surfing, and more. It's separated by 3 beaches: Seaside Beach, Houghton M. Roberts Beach, and Wind on the Bay Beach.
Seaside Beach is the northernmost beach with an awesome hidden sand-dune nude beach that I recommend checking out (The Crater). The Houghton M. Roberts Beach is an excellent place to relax but not swim since the currents can get pretty dangerous. Lastly, the Wind on the Bay Beach is the best place for adventurous activities like fishing, boating, and surfing.
The beaches here are all part of the Monterey Bay National Marine Sanctuary, which is the largest protected ocean area in the country, starting from the waters of San Francisco to the coastal cliffs of Big Sur. The ecosystem is completely filled with active marine life, unlike anywhere else in the world. You can come here to visit sea lions, harbor seals, cute sea otters, and more all year round.
PRO TIP: Visit the tide pools at this beach and see all kinds of miniature forms of life during low tide!
NOTE: There is no campground here, so you'll have to come for a day trip or a few hours during your stay in Monterey.
18. Explore the Carmel Valley wine country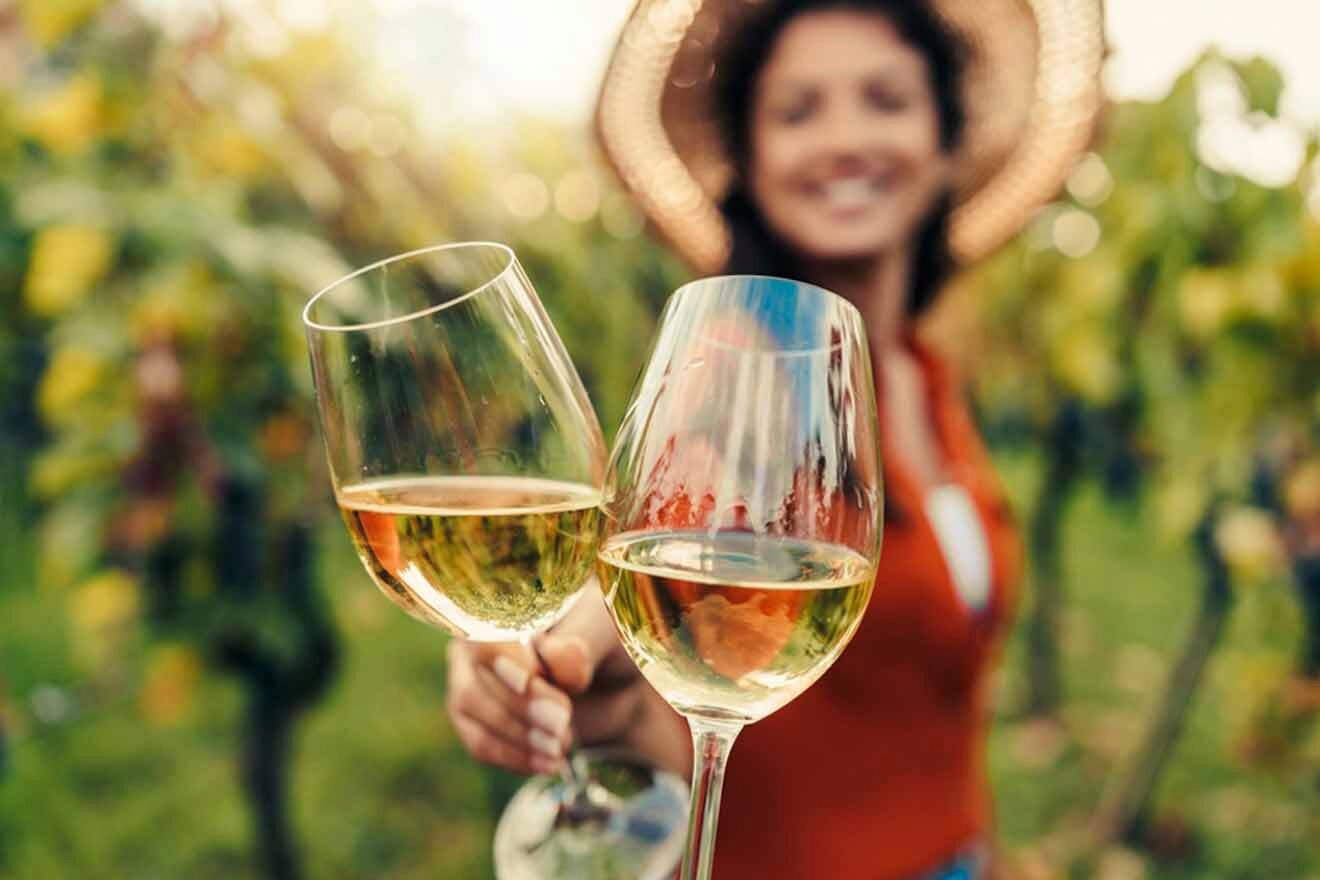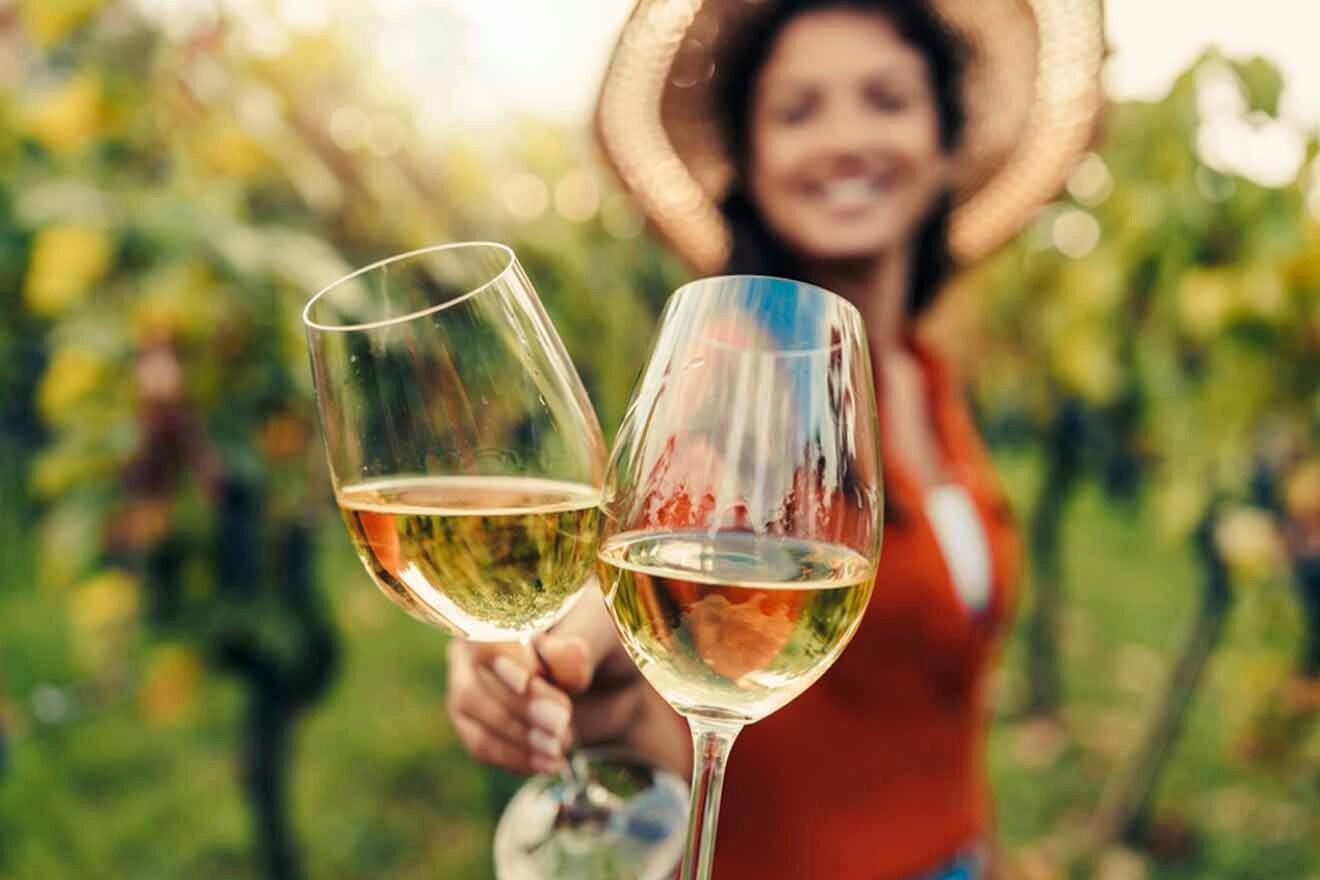 One major thing that Monterey is well-known for is its rolling hills and countryside located in Carmel Valley. I suggest booking a wine-tasting tour for an experience different than anything in Monterey. You'll get a chance to see one of the largest premium grape producers in California, learn more about the local wine production, and get a taste at their tasting rooms, too.
Wine tasting anywhere in Northern California is an absolute must-do since some of the world's most prestigious bottles are sourced from this land. Make sure to take full advantage while you're in Monterey and visit the rolling hills and vineyards of Carmel Valley.
PRO TIP: Don't drink on an empty stomach! This can lead to alcohol poisoning, nausea, and hangovers. The last thing you want on your vacay is to feel hungover. Аlso make sure you drink tons of water! The tour guide will pick up and drop you off at your accommodations, so they have that part taken care of for you!
NOTE: If you're looking for a more authentic wine-tasting experience, visit the Pierce Ranch Vineyards for a more in-depth experience and the River Road Wine Trail to hop from tasting room to tasting room. Almost like bar hopping, but better.
PRICE: from US$160 per adult (21+)
FAQs about things to do in Monterey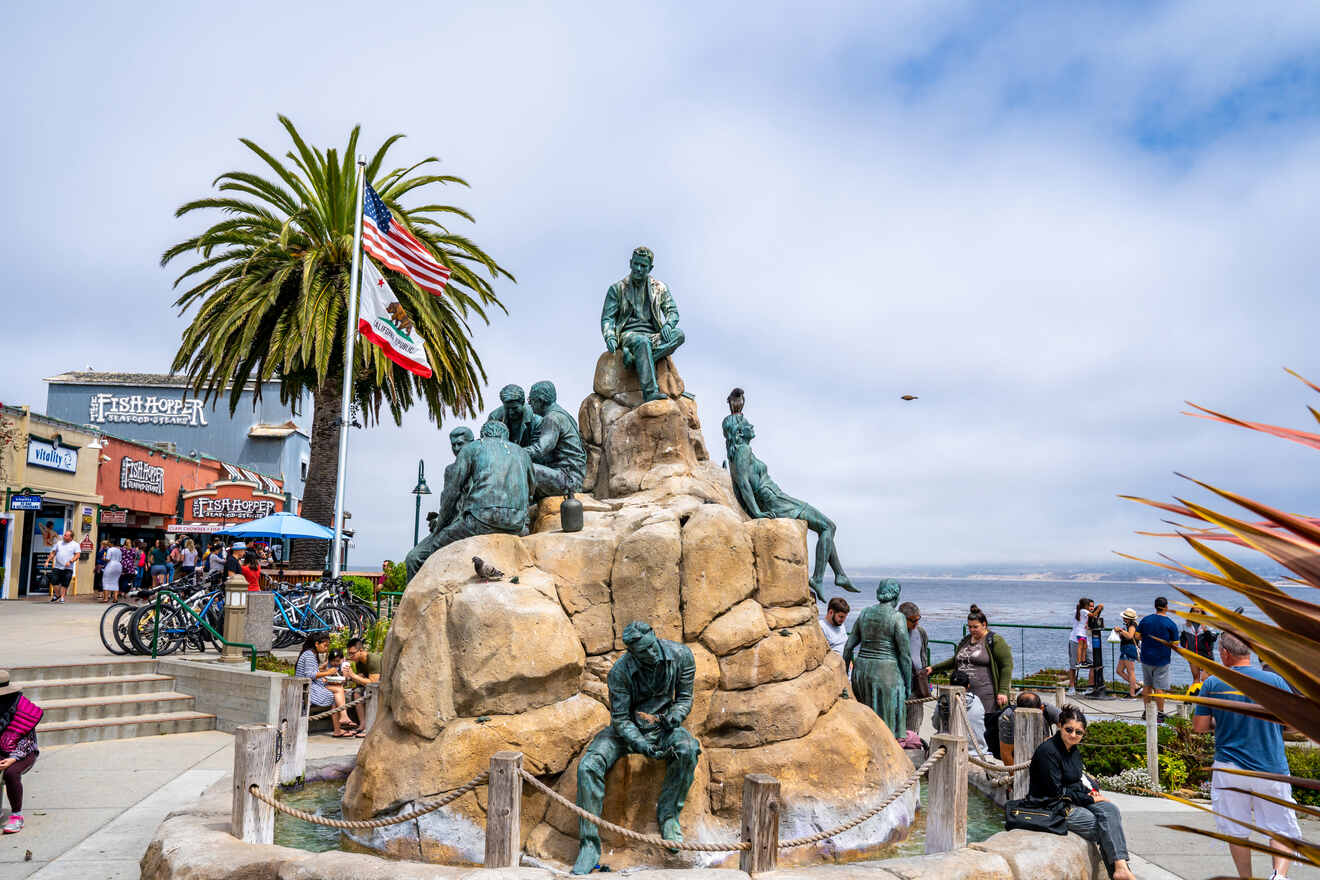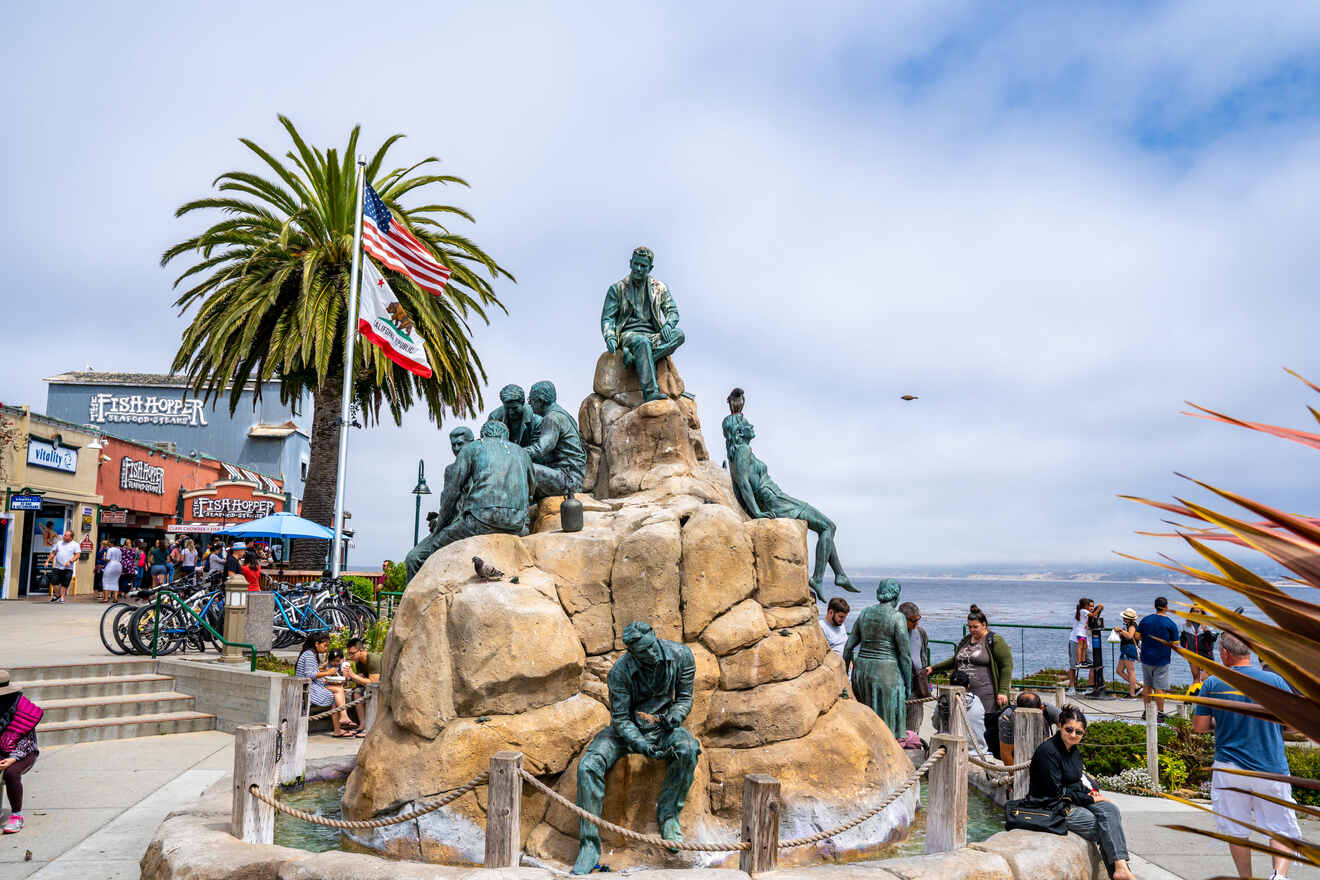 🐚 How do you spend a day in Monterey?
You can spend a day in Monterey walking through the Old Fisherman's Wharf, exploring the Cannery Row, shopping at the Cannery Row Antique Mall, and, of course, whale watching at the bay.
👨‍👩‍👧 What are the best things to do in Monterey for kids?
The best things to do in Monterey for kids are to visit the Monterey Bay Aquarium and the Monterey County Youth Museum! Both are interactive and fun, catering to families with young children.
🐳 What are the best free things to do in Monterey?
The best free things to do in Monterey are visiting the butterflies in Pacific Grove, visiting San Carlos Cathedral, exploring the Monterey Bay National Marine Sanctuary, and the Monterey State Historic Park.
🦞 What's the best food in Monterey?
There is a ton of fresh seafood everywhere you go in Monterey. The Old Fisherman's Grotto is my favorite for clam chowder!
Conclusion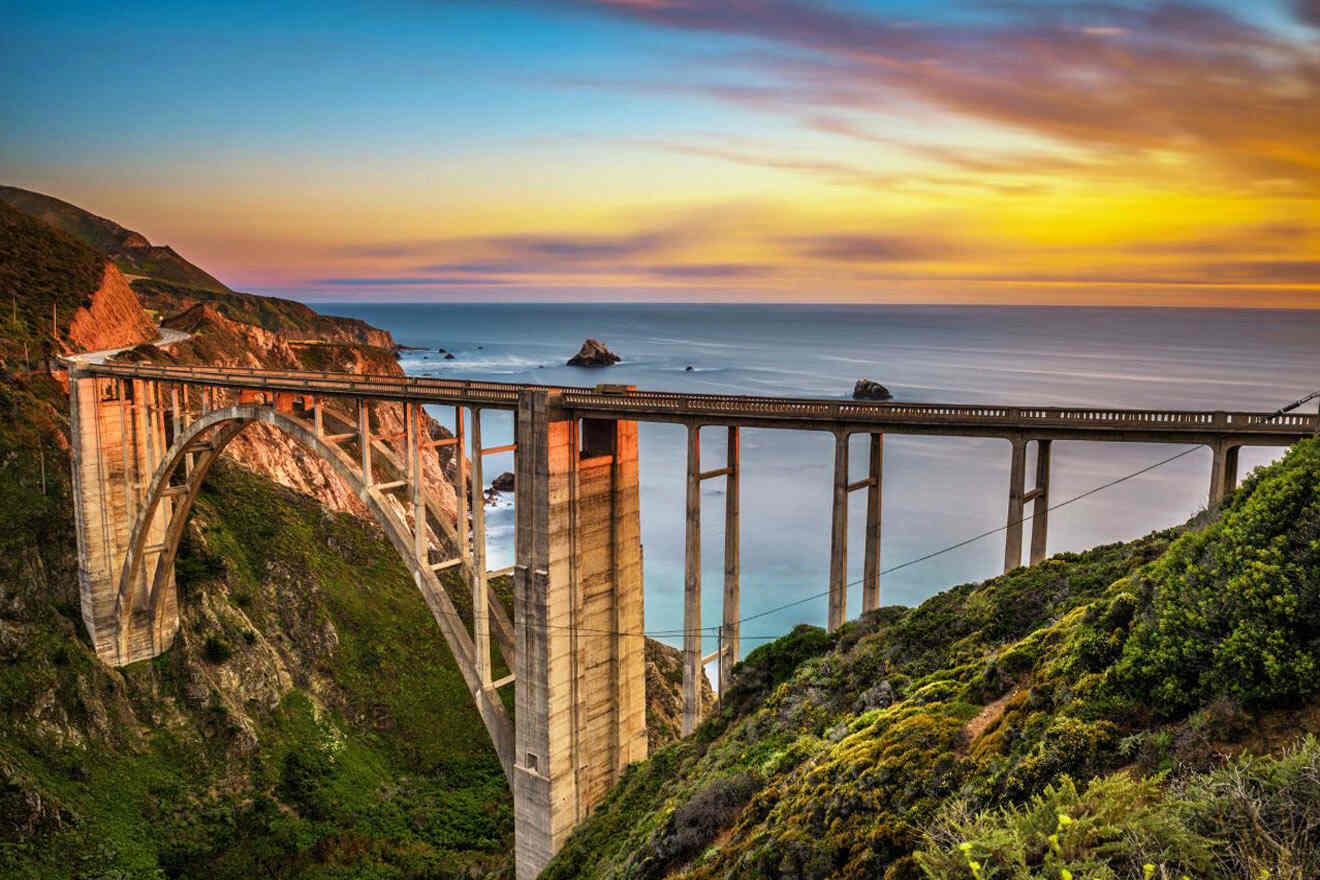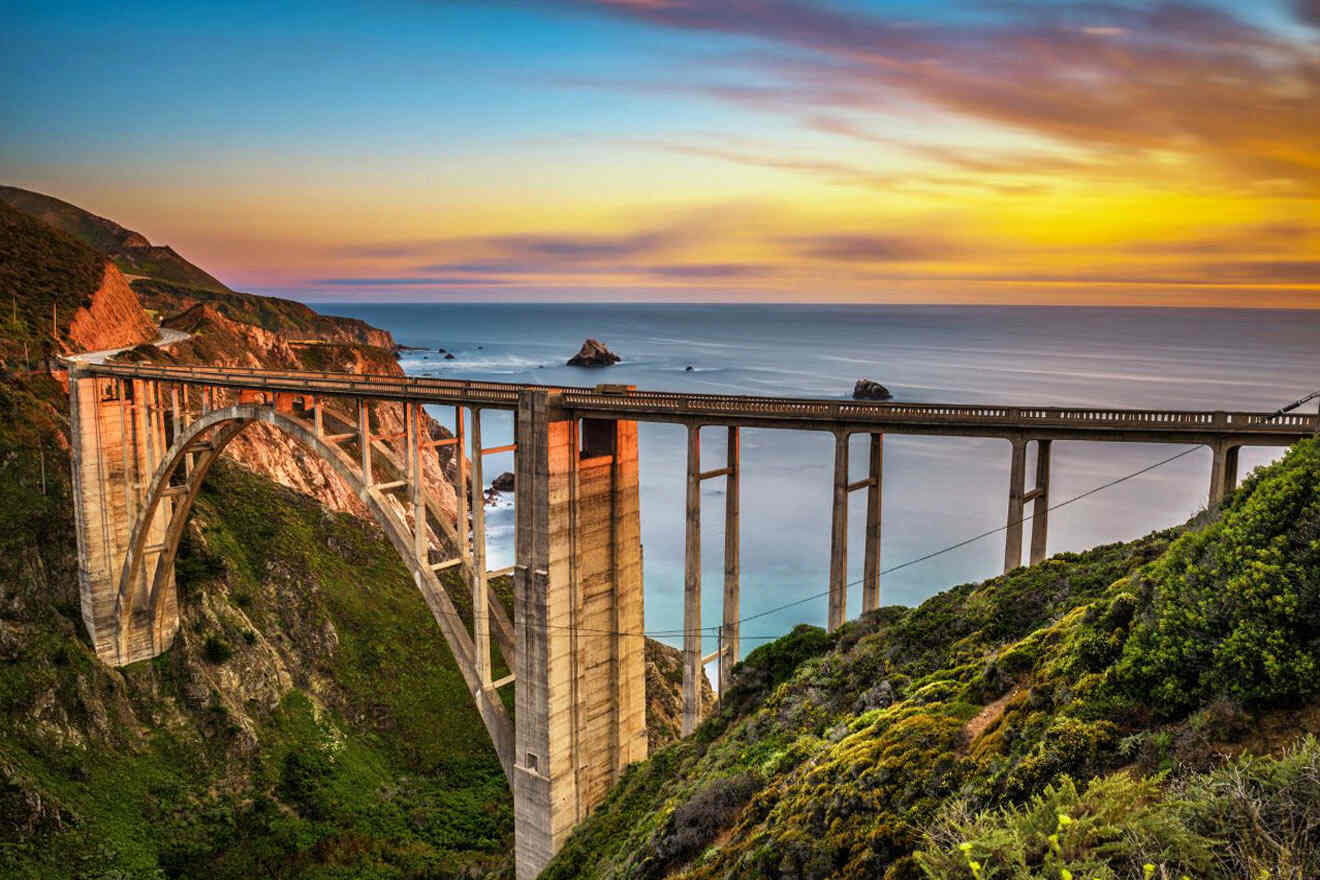 Ready to book your trip to Monterey? I'm ready to go back, too!
This curated list of things to do in Monterey is just a drop in the bucket – there are plenty of things to do in Monterey, and I'm confident that wherever you go and whichever activities you choose, you'll have a blast.
My favorite things to do when I'm visiting Monterey are whale watching along Monterey Bay and watching the Monarch Butterflies migrate through Pacific Grove. These 2 are my favorites because they're both all-natural occurrences (migration) that aren't controlled by humans. It's fascinating to see how the world works!
I hope you enjoyed reading this post as much as I enjoyed writing it. Don't forget to book your tours in advance, and leave a comment below to tell me how you liked this post.
Xoxo,
Esabel S.
---
Pin it for later!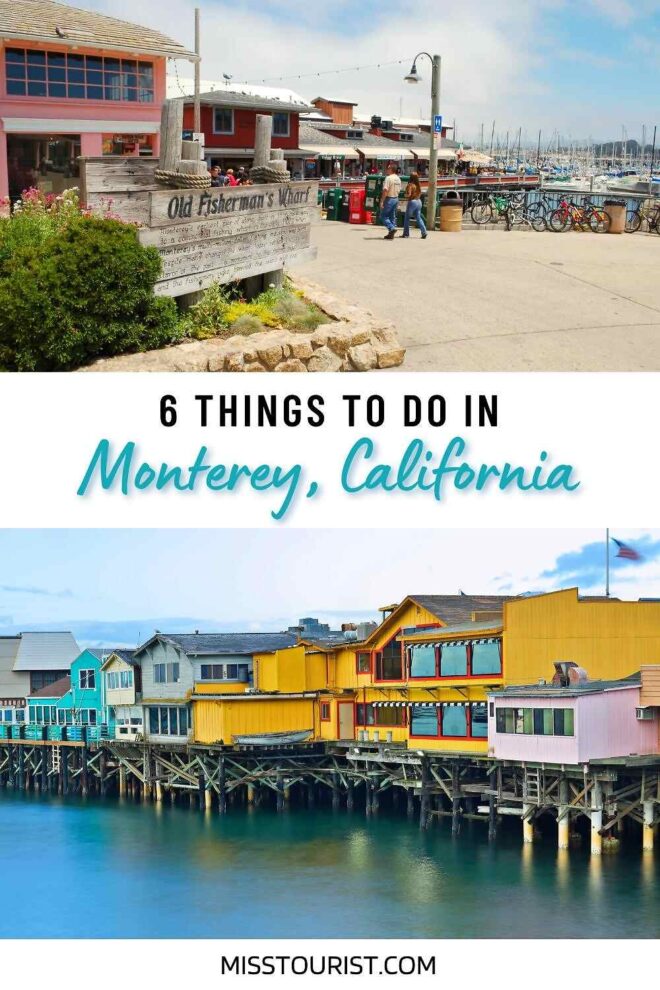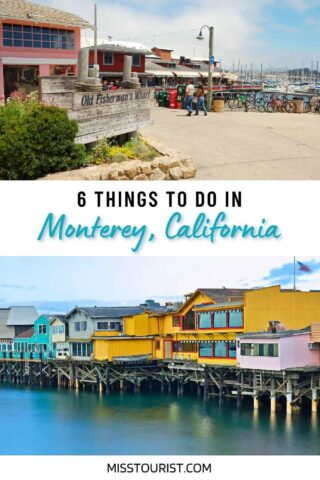 Pin it for later!