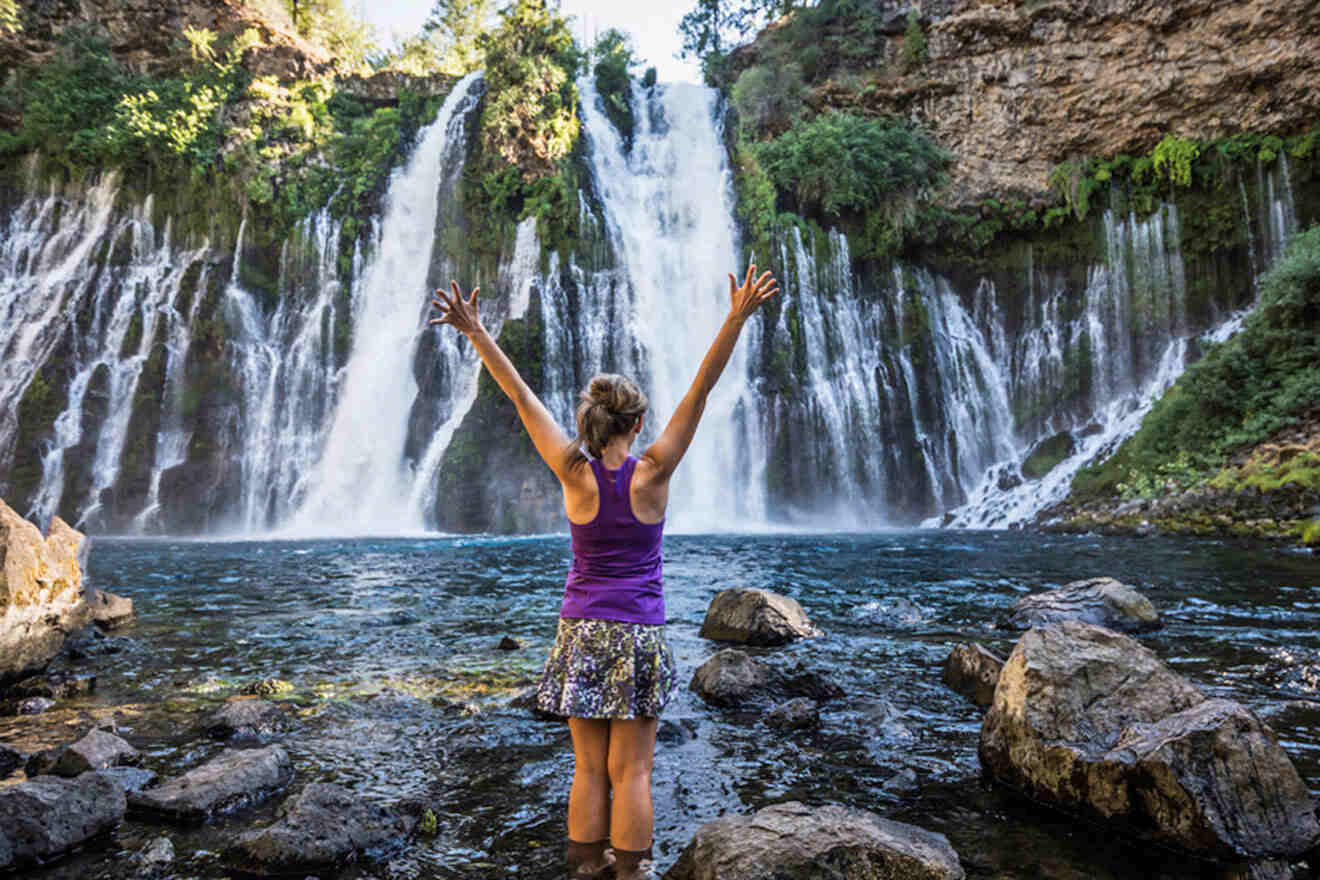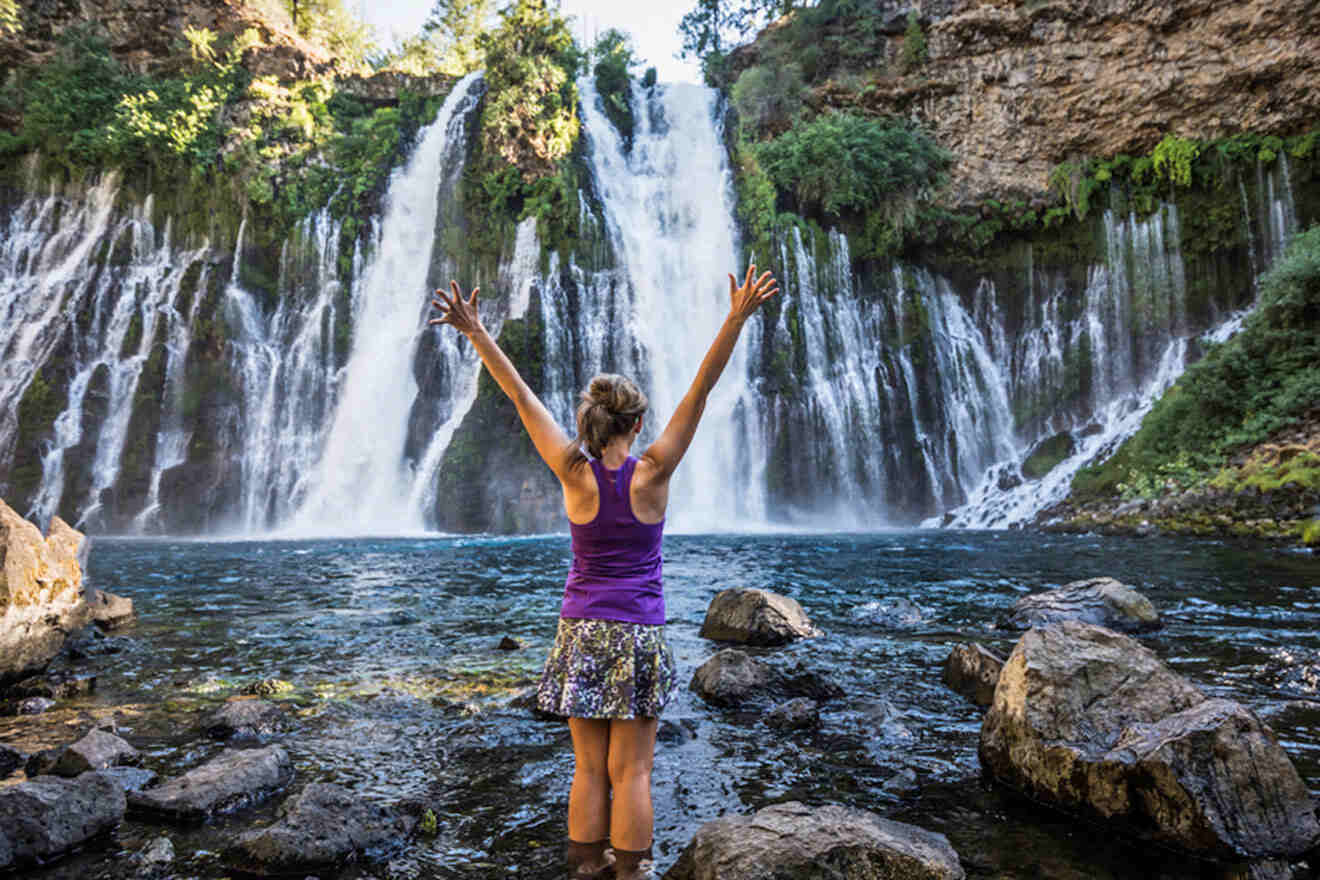 Welcome to NorCal! Northern California is home to the iconic Golden Gate Bridge, the tech capital Silicon Valley, the world-famous cable cars, and the rolling hills and vineyards of Napa and Sonoma Valley. It's a place where the beaches meet the forests and a completely different world in comparison to SoCal that I can't wait to share with you.
As a SoCal gal, I've grown up knowing the ins and outs of the southernmost part of the state. However, if you ask me now what I think of SoCal to NorCal, I'd probably pick NorCal! I'm absolutely in love with all the natural beauty, culture, wine country, and even just the slower lifestyle that Northern California offers.
In this post, I'm going to give you a list of the best things to do in Northern California, all the most helpful tips and tricks, the most important being that it's SO easy to overspend, underplan, and end up missing out on opportunities if you don't plan in advance. Book and reserve your spot everywhere beforehand to avoid that!
Alright, ready to get started? Here we go!
If you are in a hurry
Traveling through Northern California can get overwhelming when you only have a few days to explore. There's a handful of activities I recommend checking out if you're limited to one time!
Here are the main things to book in advance:
And here are the best hotels: The Fairmont Heritage Place Ghiradelli Square (luxury), Spindrift Inn (mid-range), Hampton Inn & Suites (budget)
And here's a map of all the places you'll be visiting!
1. Plan a weekend at Yosemite National Park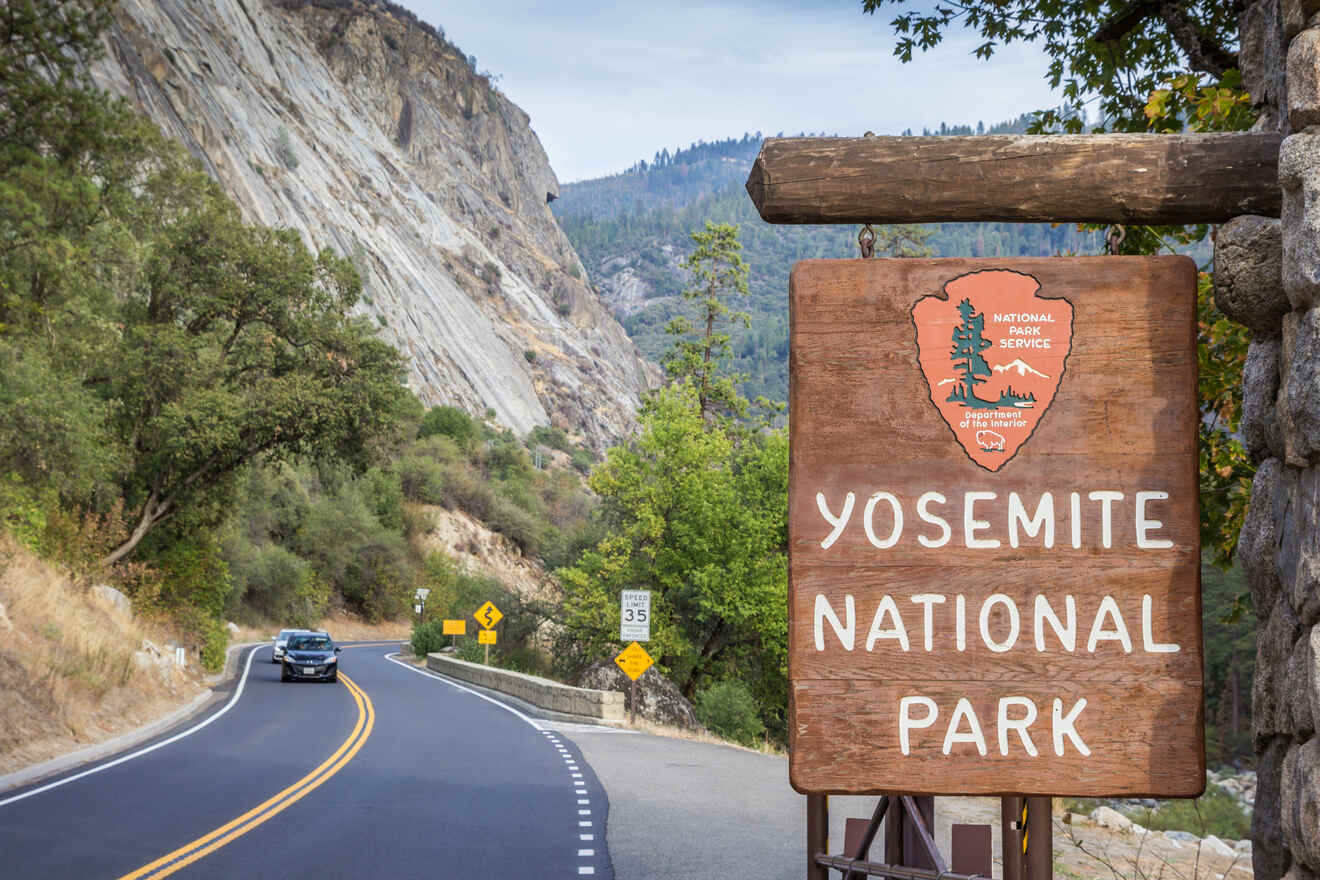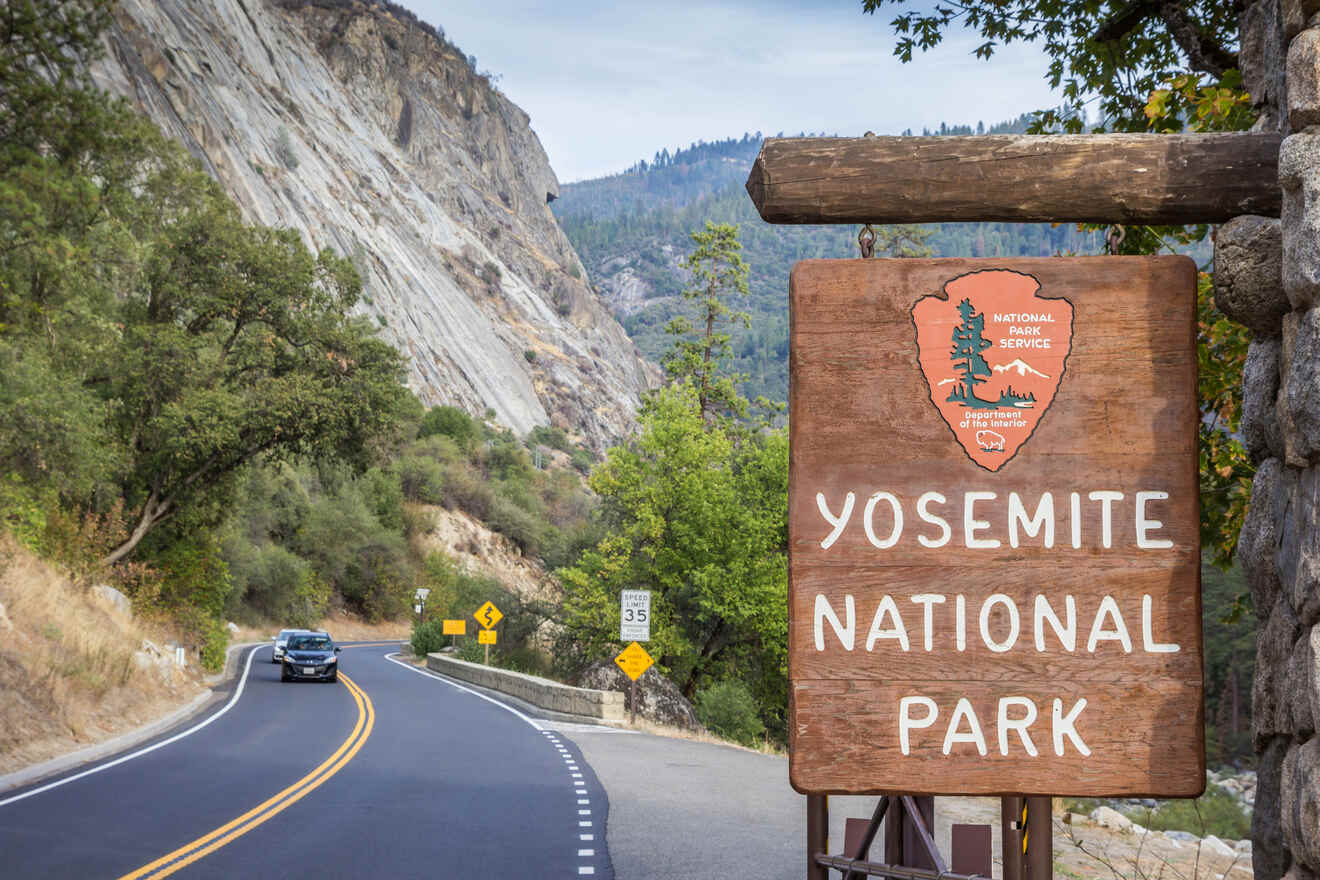 Yosemite National Park is one of the most iconic natural wonders in the US, and, lucky for you, it's located right on the Sierra Nevada Mountain Range in Northern California! There are plenty of hiking trails to explore here and campsites for adventurers who want to spend the night amidst the natural beauty of Yosemite Valley.
My favorite time to visit Yosemite National Park is during the spring and late winter (so anytime between March-May). You really get a glimpse of the most beautiful ice-covered trails and crystal-clear waters without it being overwhelming and/or too cold or too hot.
Take a look at Yosemite Falls, Half Dome, and Glacier Point, all must-see attractions any time of the year and the most beautiful spots to capture lifelong photographs with your loved ones.
Because Yosemite National Park is so large and there's SO much to see, I recommend booking a tour with a professional guide who can *metaphorically* hold your hand along the way. It's so much easier to lean on someone when you're in a foreign environment for the first time, and it's also impossible to see everything in a day or 2 if you don't know where to go!
There are a TON of hot springs in Northern California and near this area, too, which makes for an absolutely zen experience. If you can, definitely try this 3-day meditation + hot springs retreat in Yosemite – you'll have a blast!
PRO TIP: Wear the proper footwear anytime you're walking through any national park in California. You're spending long days walking, hiking, camping, etc., so wearing the right shoes will take you a long way and ensure you stay comfortable.
TOUR PRICE: from US$150 per person
2. Admire the world-famous Golden Gate Bridge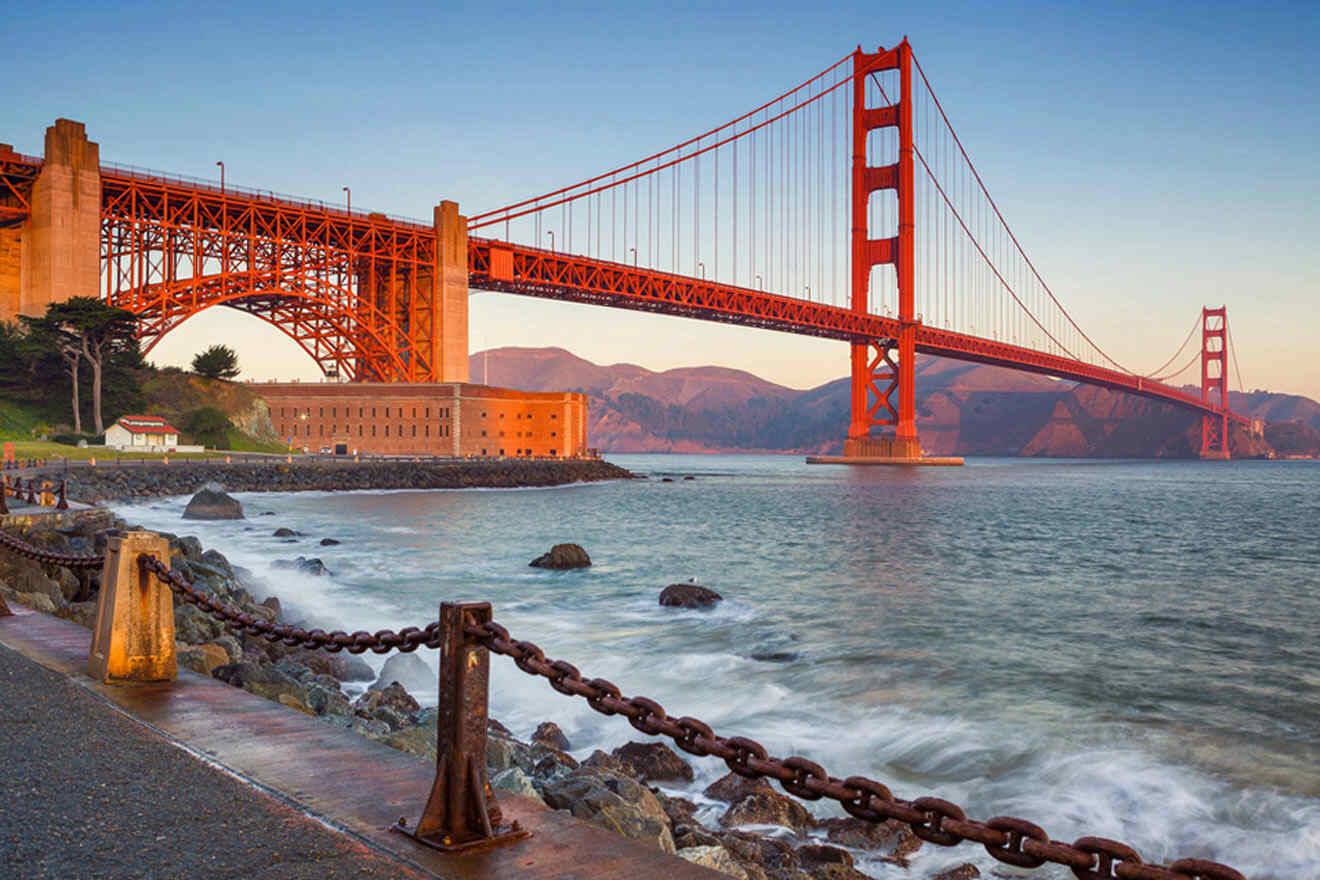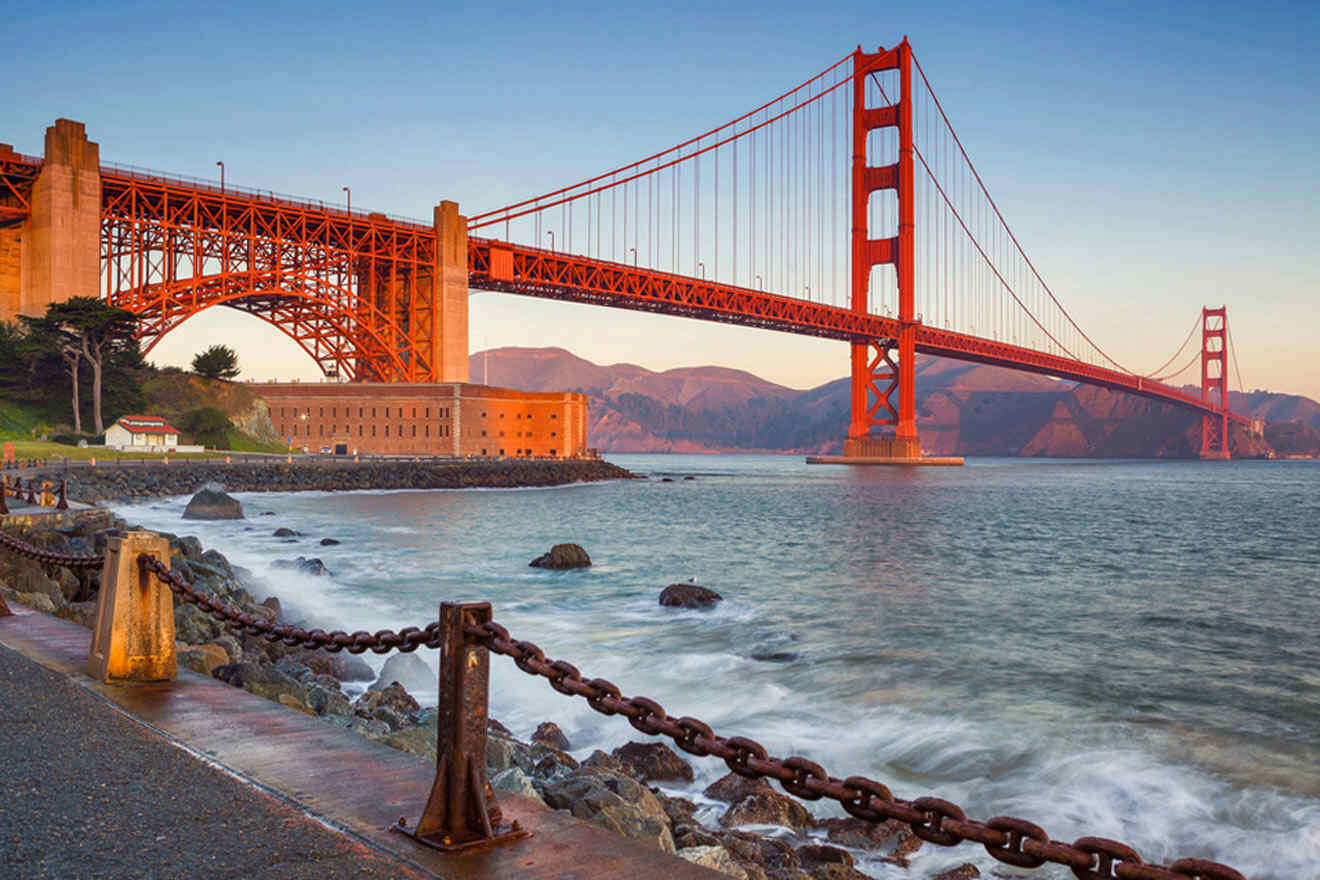 Golden Gate Bridge is one of the most famous bridges in the world! Its unique rustic orange color and beauty overlooking San Francisco Bay is admired around the world. Millions of visitors come to San Francisco every year just to take a look at the bridge, and it's an absolute must whenever you're in Northern California!
Here are a few ways to admire the Golden Gate Bridge:
3. Visit the infamous Alcatraz Island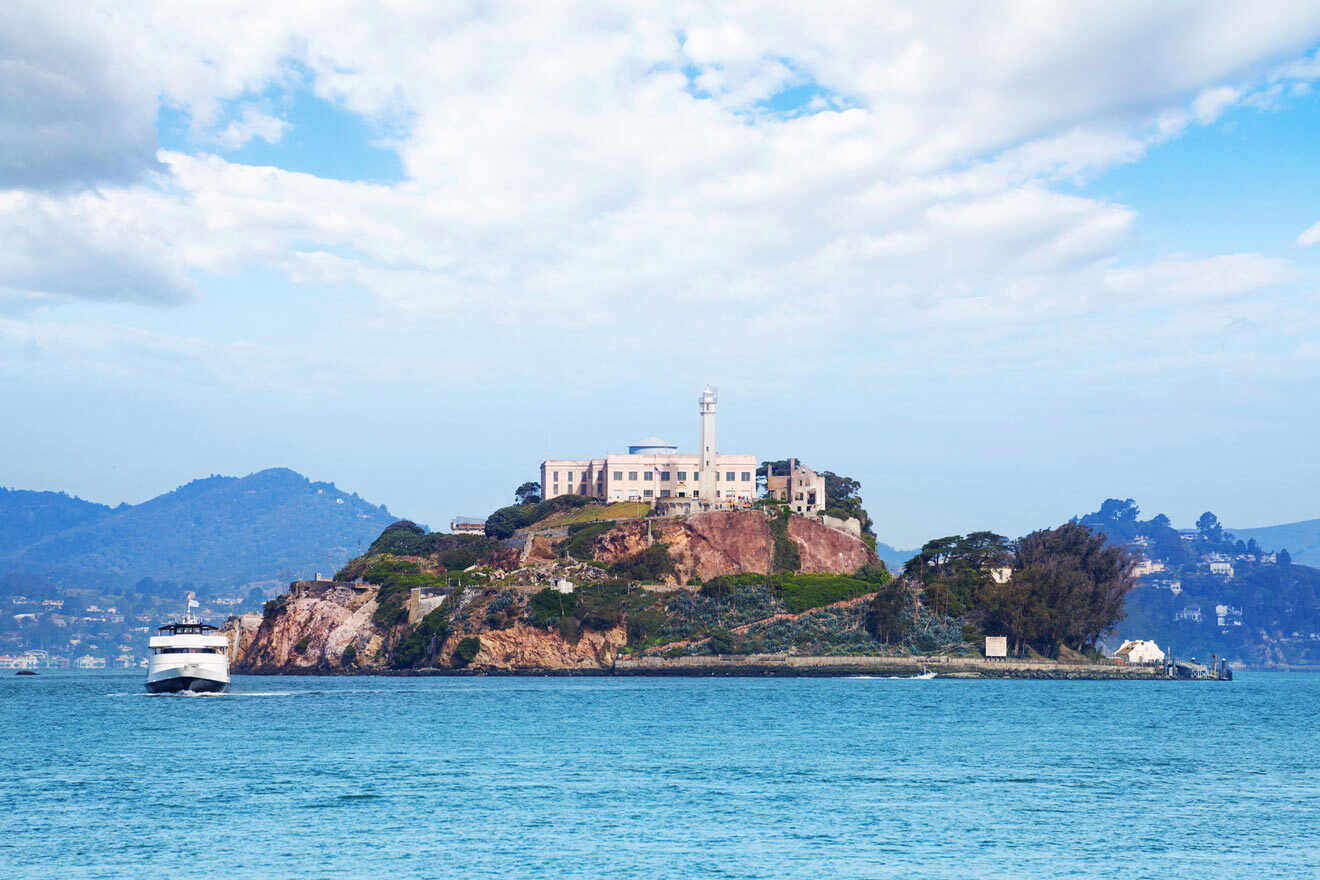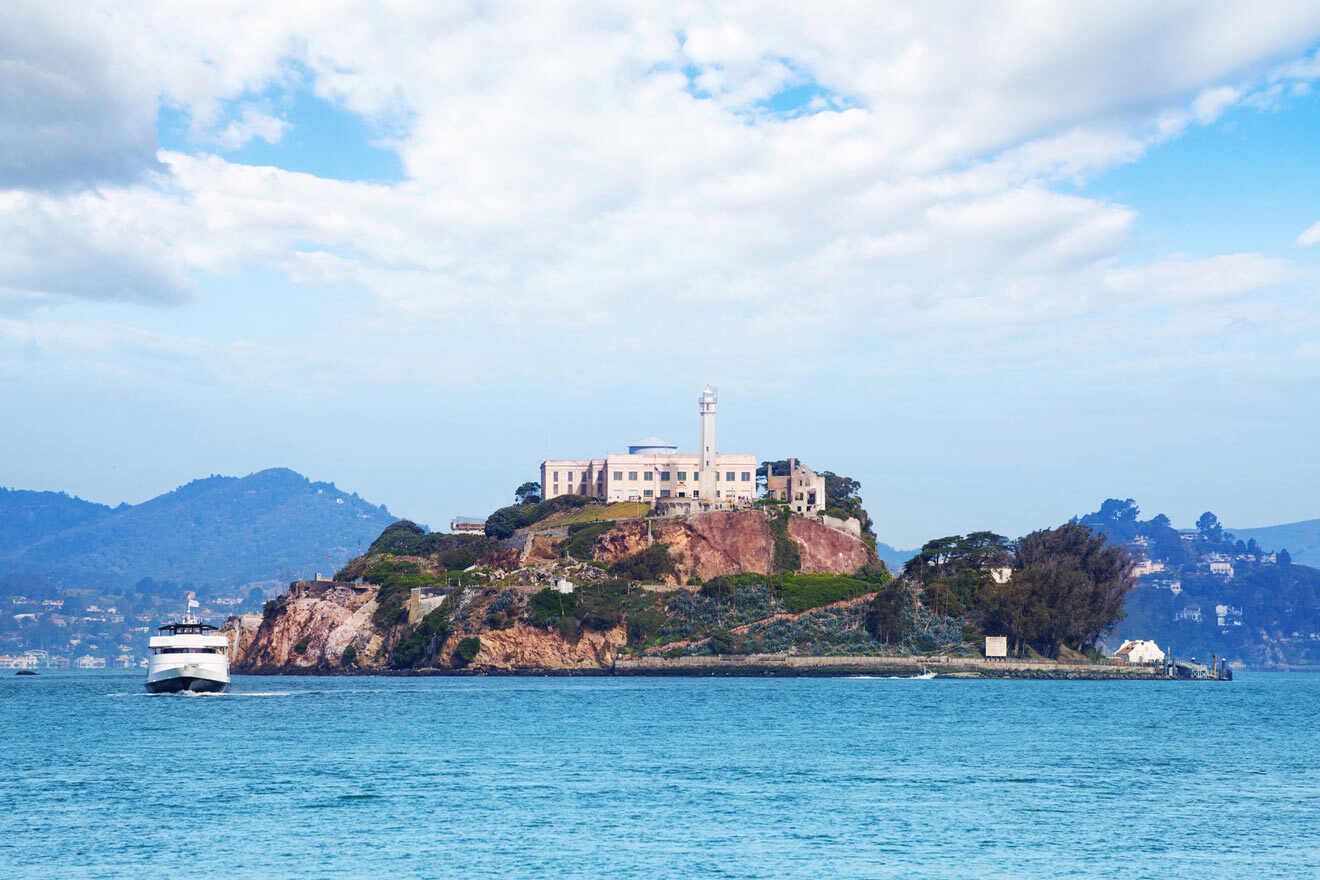 Alcatraz Island in San Francisco takes you through the gates of the 1930s maximum-security federal prison, once home to famous names like Al Capone (aka Scarface) and Robert Franklin Stroud.
The island is now a museum for visitors to stroll around, taking in the history and understanding what it was like living behind the prison walls. Touring Alcatraz Island is one of the coolest experiences you can have in all of San Francisco (and arguably in all of California, too).
The award-winning audio tour is included with every Alcatraz ticket, so no need to worry about getting yours when you arrive. There are plenty of options to choose from when you book your Alcatraz Island tour, however, keep in mind, they are all the same!
The only difference is the experience you choose to have before or after. Here are some examples:
The 3-in-1 tour – Like I mentioned above, this is the most valuable tour that I've done in San Francisco. The package comes with the original ferry ride to/from Alcatraz, a tour of Alcatraz, Muir Woods National Monument, and viewpoints of San Franciso's Golden Gate Bridge.
The Alcatraz Island and Golden Gate Bridge Cruise – This tour takes you on the original ferry ride to/from the island, on the tour of the island, and on an unforgettable cruise through the San Francisco Bay, under the iconic Golden Gate Bridge.
TOUR PRICE: from US$123 per person
4. Drive the 30-miles highway in Lassen Volcanic National Park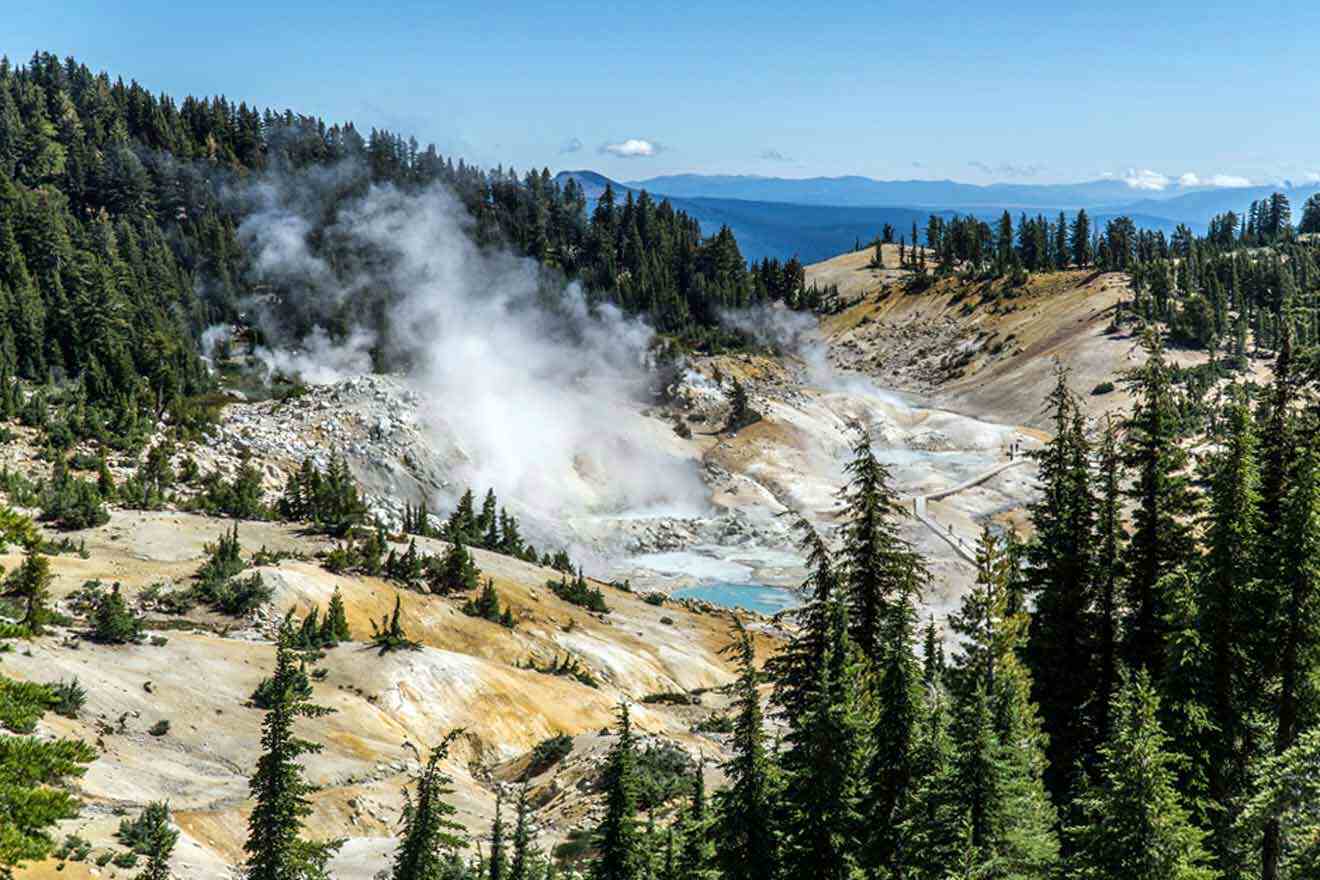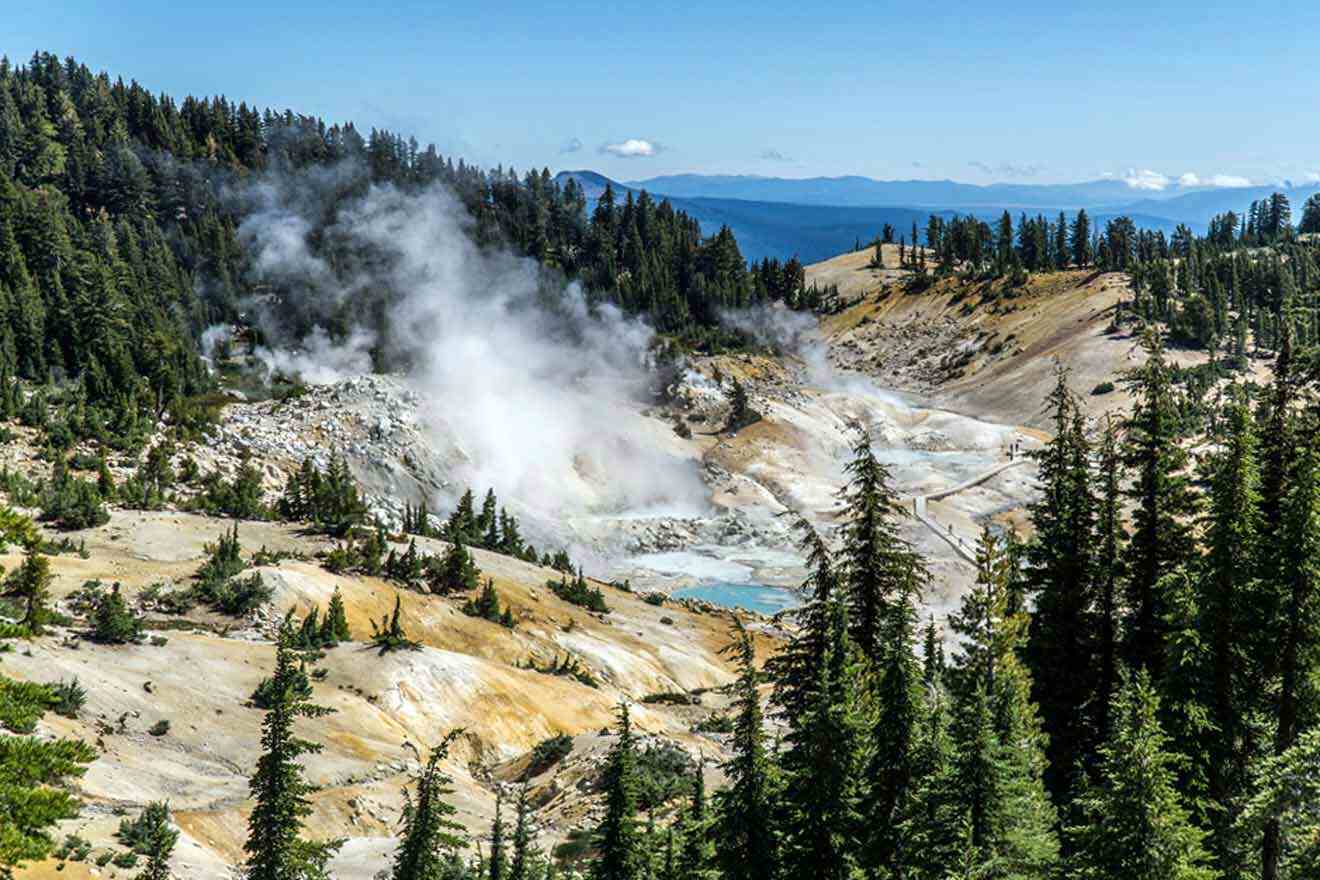 Lassen Volcanic National Park is a more low-key national park in Northern California that doesn't get as much attention as it deserves. It's home to numerous volcanoes, wildlife, mountain lakes, and stunning viewpoints that are great for the entire family to enjoy.
There are snow activities in the winter and spring (like snowboarding and skiing) and water activities in the summer and fall (like fishing and boating) that are tons of fun things to explore.
My personal favorite thing about this national park is seeing all the volcanoes! Lassen Volcanic National Park is home to the largest plug dome volcano in the world! It's also one of the few areas in the world where you can find every type of volcano: the plug dome, shield, cinder cone, and stratovolcano.
There aren't many guided tours at Lassen Volcanic National Park, so I suggest auto touring. You'll have to download the NPS App before visiting, select Lassen Volcanic NP Highway under self-guided tours, and then you'll get access to audio files that last about 1 hour altogether, guiding you through the 30-mile (48 km) highway. It's a pretty cool, free way to tour the area in your car.
5. Explore the city of San Francisco for the day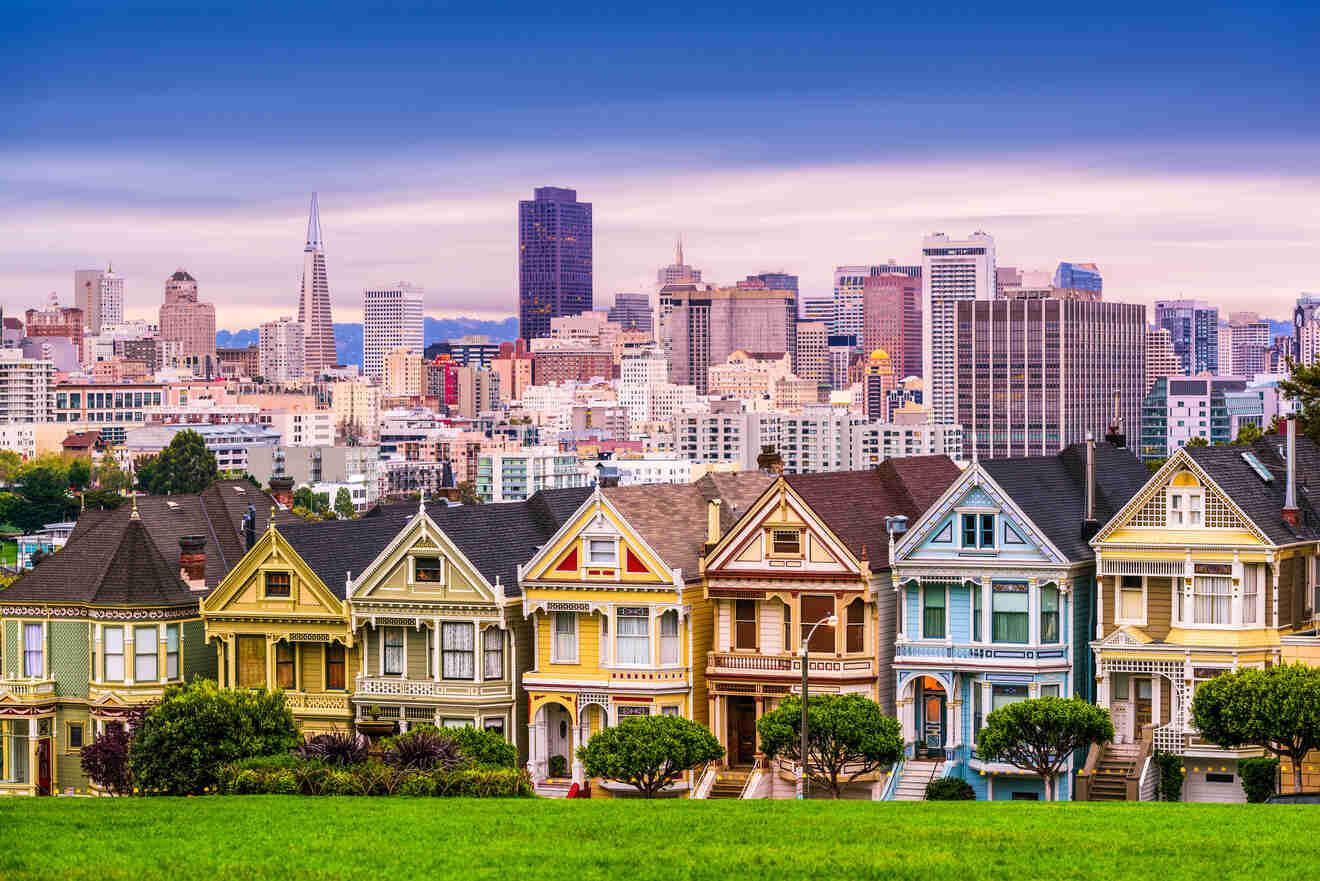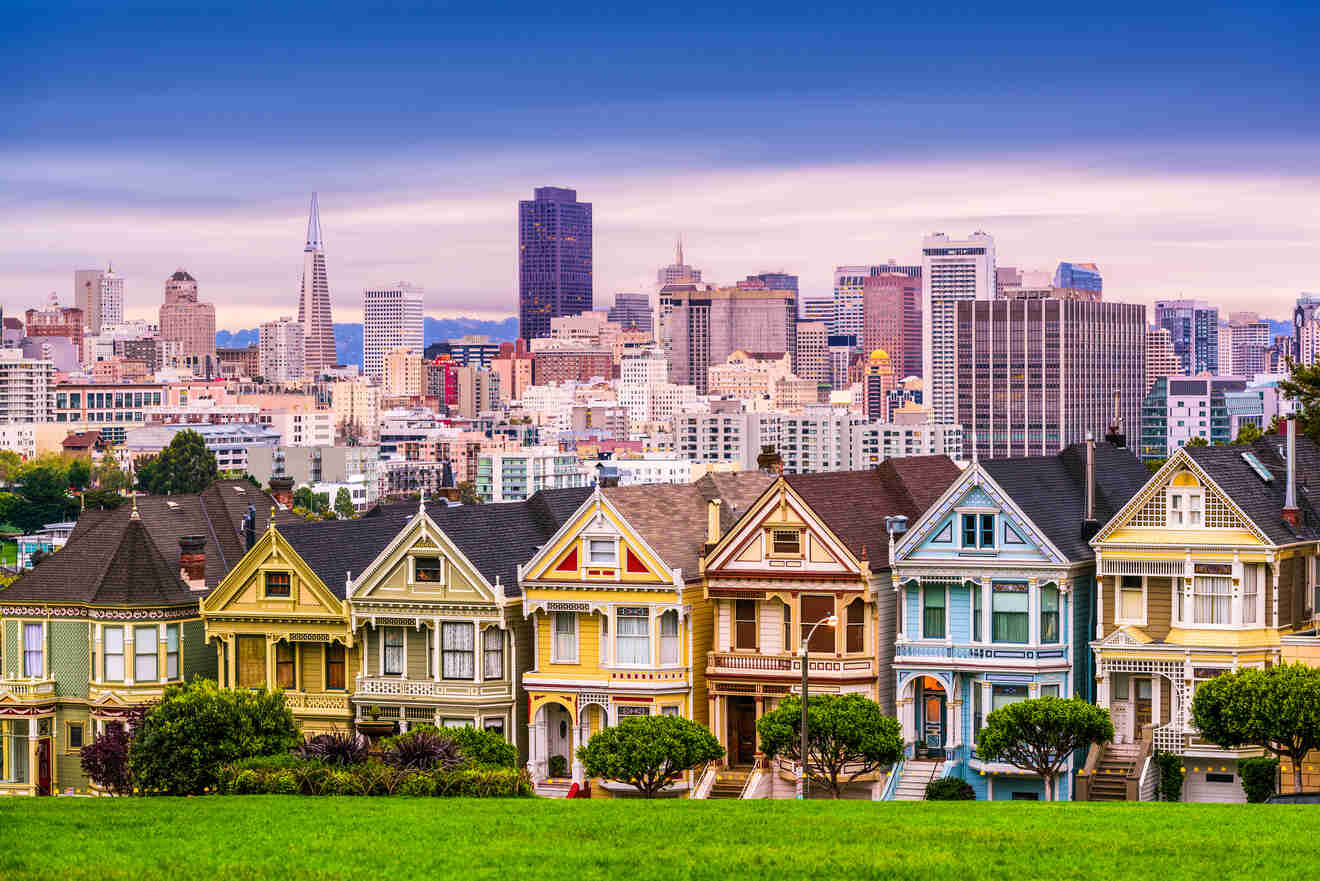 Outside of Alcatraz Island and the Golden Gate Bridge, San Francisco is well-known for its wide array of activities that are well worth visiting whenever you're in Northern California. I suggest hopping on a 70's VW van with a tour to experience the best of San Francisco.
Here are a few things you'll pass by on your tour with your professional guide:
Haight-Ashbury – You'll drive through the famous home of Jimi Hendrix, Janis, and Joplin and uncover the famous hippie movement of San Francisco!
Fisherman's Wharf – If you're visiting San Francisco (whether on a tour or not), you absolutely need to stop at the Fisherman's Wharf. Lucky for you, this tour takes you through the area! If you're here for a few days, come back for the sea lions at the famous Pier 39!
Golden Gate Park – The Golden Gate Park is a park with tons of San Francisco attractions that you're going to love! Stop by after the tour for the best views of the bridge.
PRO TIP: This tour doesn't take you through any museums, so make sure you stop by the de Young Museum and Exploratorium for the best art and science museum in the Bay Area. Here's a rundown of all the places to visit in the San Francisco Bay area while we're at it.
6. Admire the tallest trees in the world at Muir Woods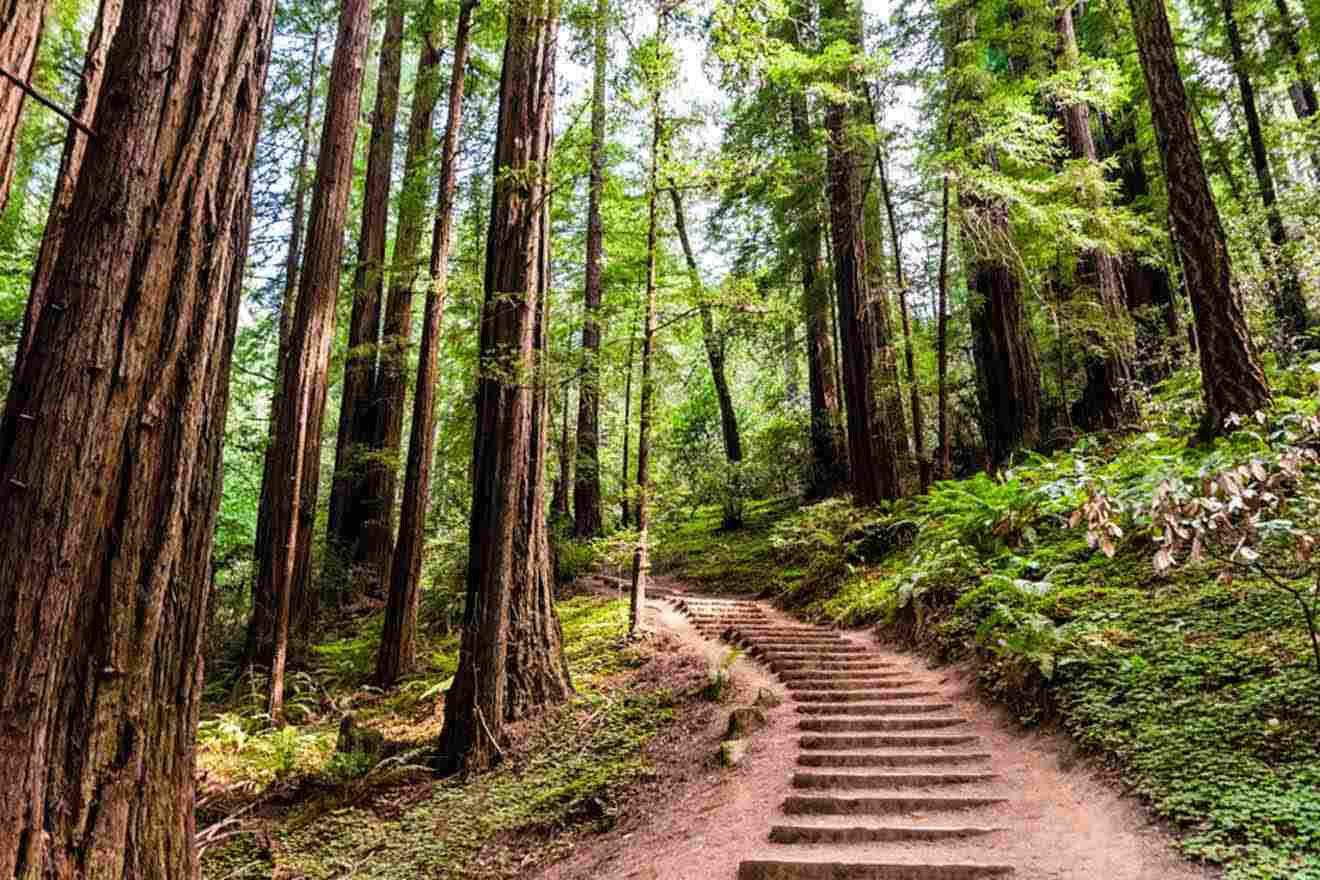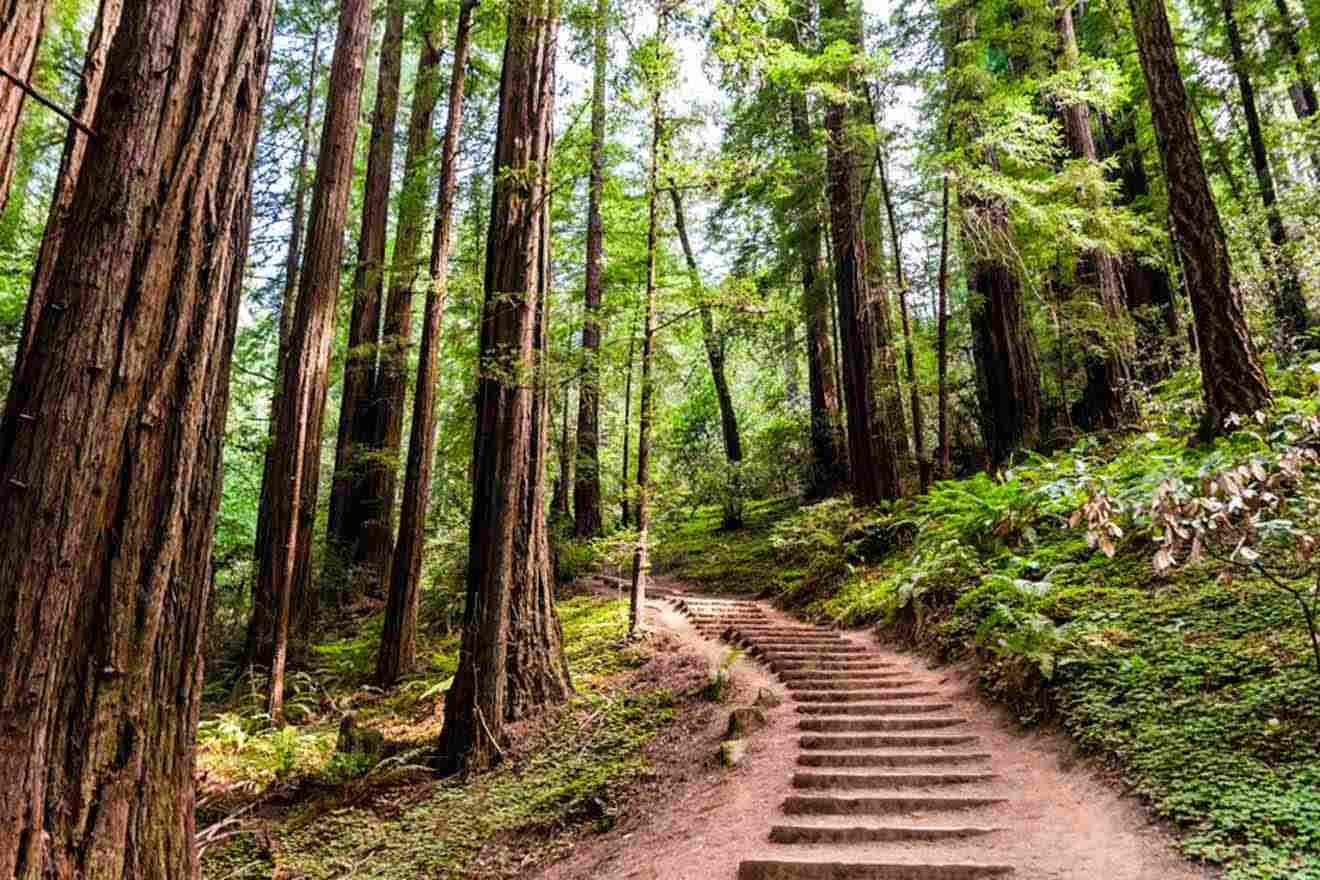 Muir Woods is a forest located a bit over 10 miles (less than 20 km) north of the Golden Gate Bridge. It's home to the majestic redwood trees, aka the tallest trees in the world, and it's honestly one of the coolest sights I've ever seen – as a tree hugger myself.
They reach up to 300 ft (90 m) high – they're so high that you can't even see the tops of the trees, especially on a foggy day.
My favorite time to go is the late winter and early springtime since the majestic forest gets more rain around that time, and it looks even greener than usual. You'll find a variety of hiking trails in the shade as you walk through the woods and admire the famous redwoods.
Again, the 3-in-1 tour is a great choice if you're trying to make the most out of your day in the area. I loved my experience last time and couldn't recommend it enough!
If you want to spend a longer day in the woods and save Alcatraz Island and the Golden Gate Bridge for another day, this immersive tour of Muir Woods is well worth your time. The local guide takes his time through the woods, you learn about the history, and you get a chance to really become one with nature!
TOUR PRICE: from US$90 per person
7. Watch whales passing by the Point Reyes Lighthouse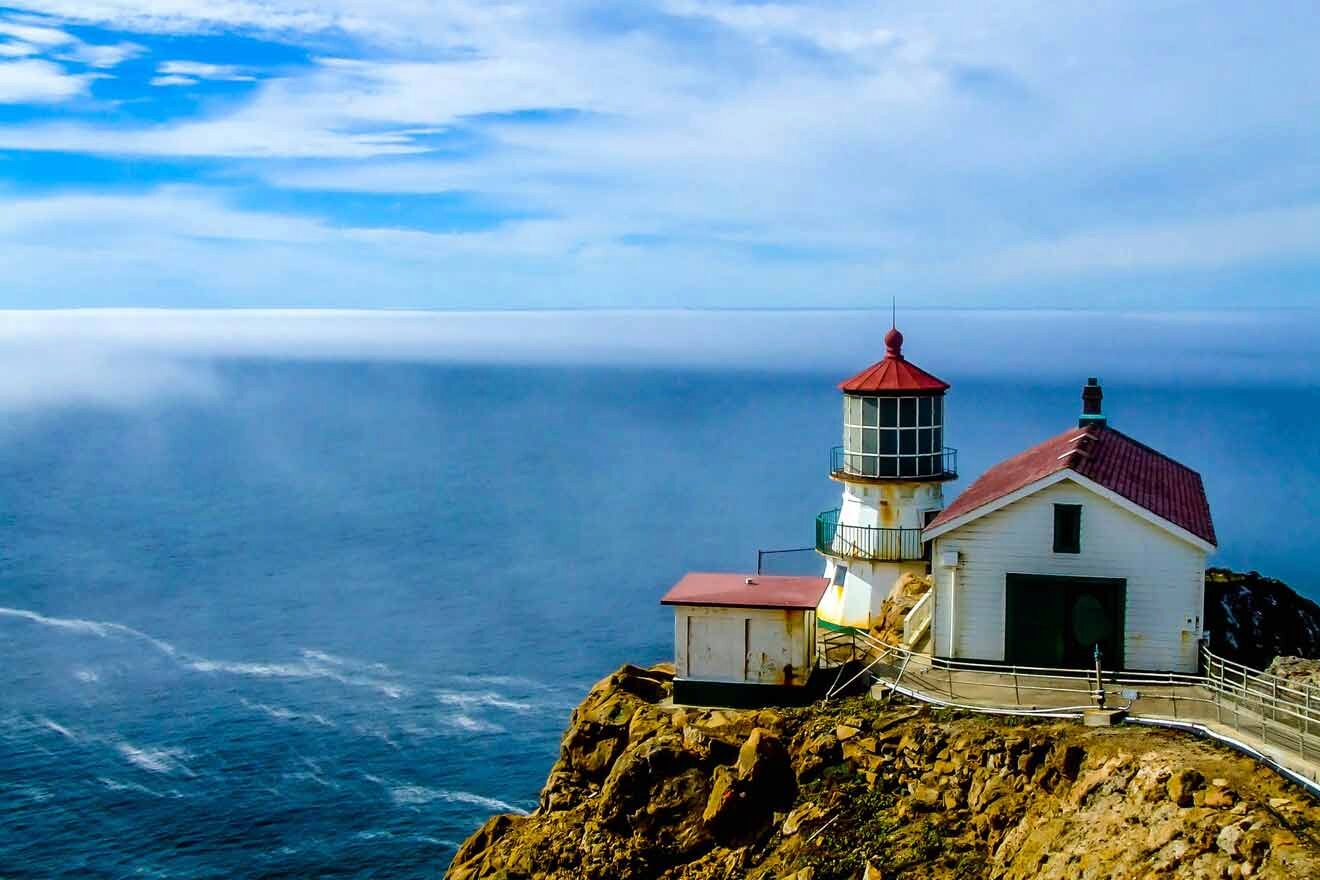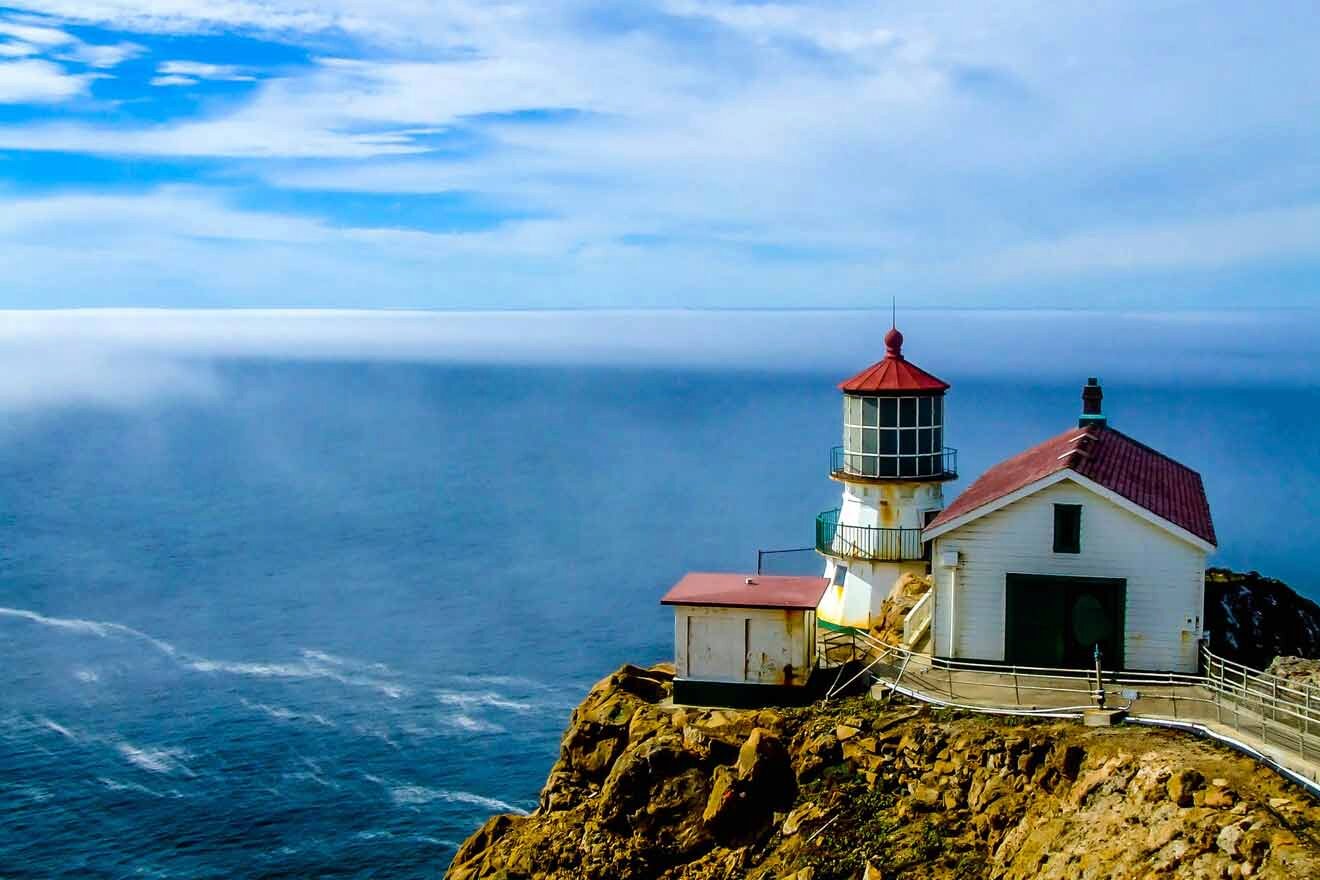 Point Reyes National Seashore in Marin County is home to over 1,500 species of plants and animals with a long history and culture of Native Americans engraved in the seashore. It's one of the most protected seashores in Northern California, with about 80 miles (130 km) to explore.
The best part of the Point Reyes National Seashore is the famous 1870 Point Reyes Lighthouse, where you can watch gray whales passing by during migration season from January to March. You'll also see dolphins, sea lions, and other marine life year-round if you happen to visit outside of the migration season!
Once you're at the top of the lighthouse, you'll be in awe of the endless Pacific Ocean views and dramatic cliffs. It also gets pretty chilly up there, so remember to bring a jacket (regardless of the season)!
PRICE: FREE
8. Visit all kinds of marine life at Monterey Bay Aquarium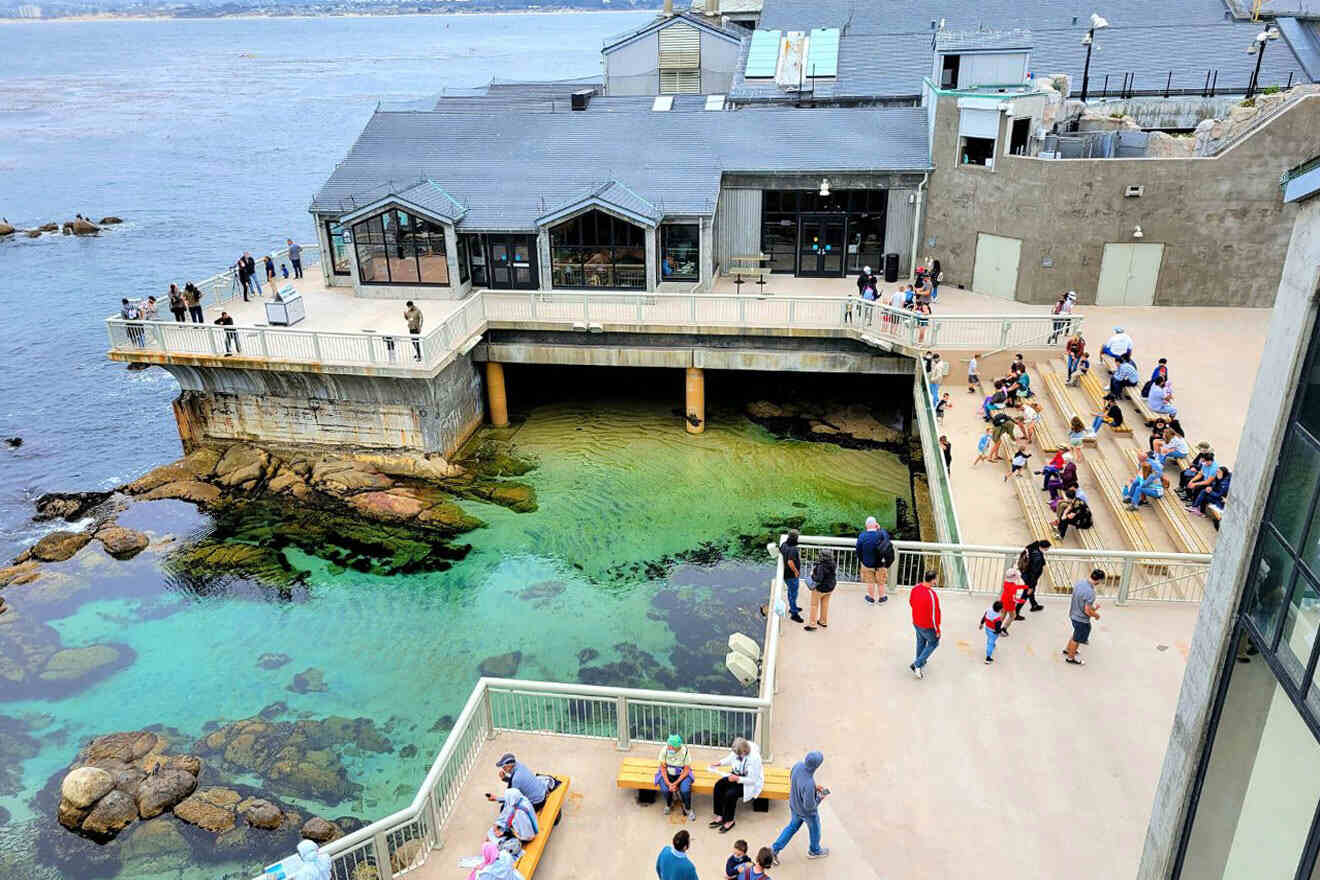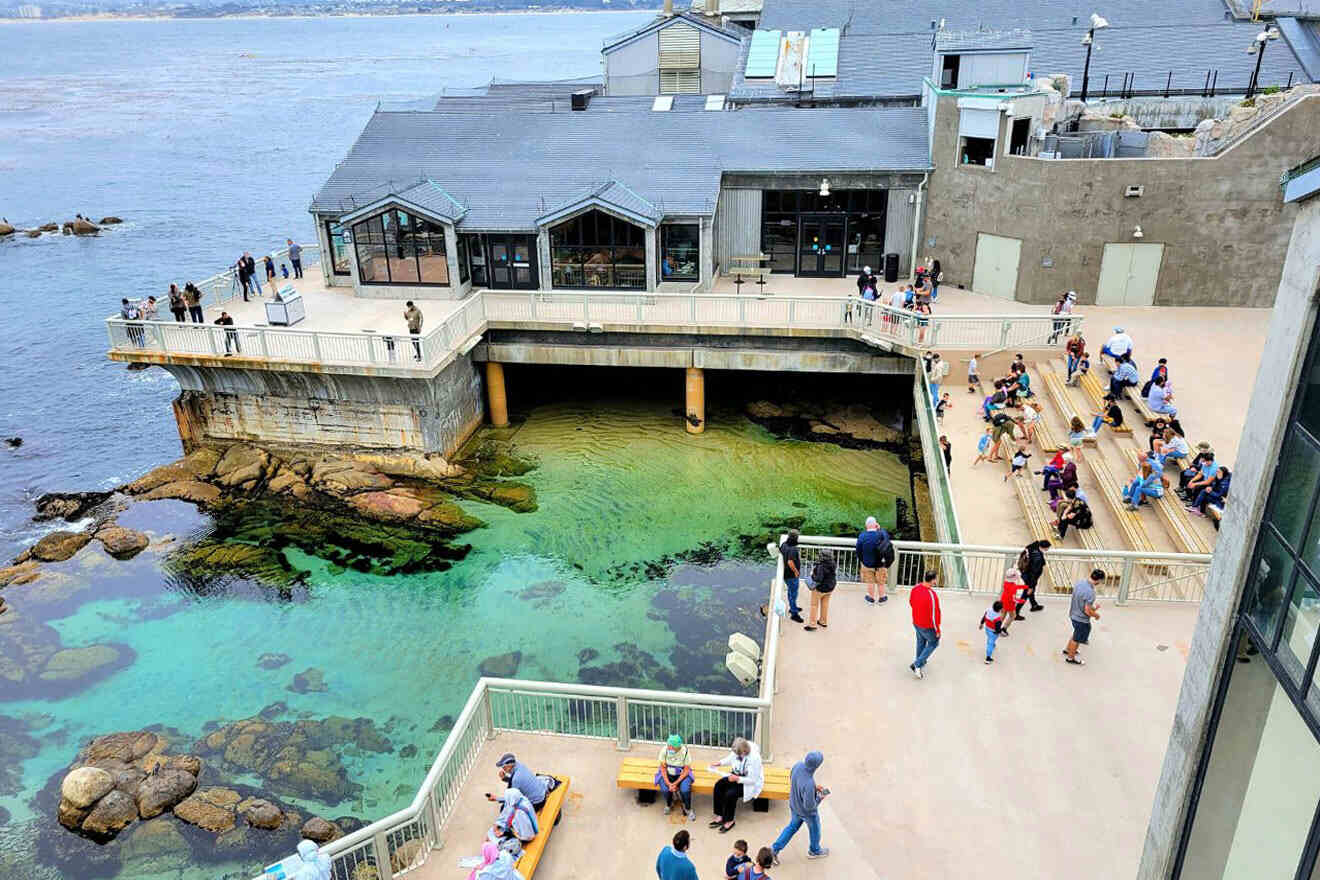 Monterey Bay Aquarium in Monterey is a huge theme park with over 200 exhibits and 80,000 types of plants and animals. The aquarium is super popular, with a ton of interactive exhibits that are excellent for families with younger children.
There are a few exhibits I suggest checking out:
Into The Deep – This is their newest exhibit with a collection of deep-sea animals that you otherwise would never see.
Giant Pacific Octopus – One of my favorite marine animals! The octopus is a super complex and intelligent animal with its own exhibit at Monterey Bay Aquarium (one of the most fascinating exhibits by far)!
You can even book a behind-the-scenes tour for the whole family or an all-about-the-animals tour to learn how the staff takes care of the animals.
PRICE: US$60 per person for adults, US$50 for youth (13 – 17), US$45 for children (5 – 12)
9. Camp out at Redwood National Park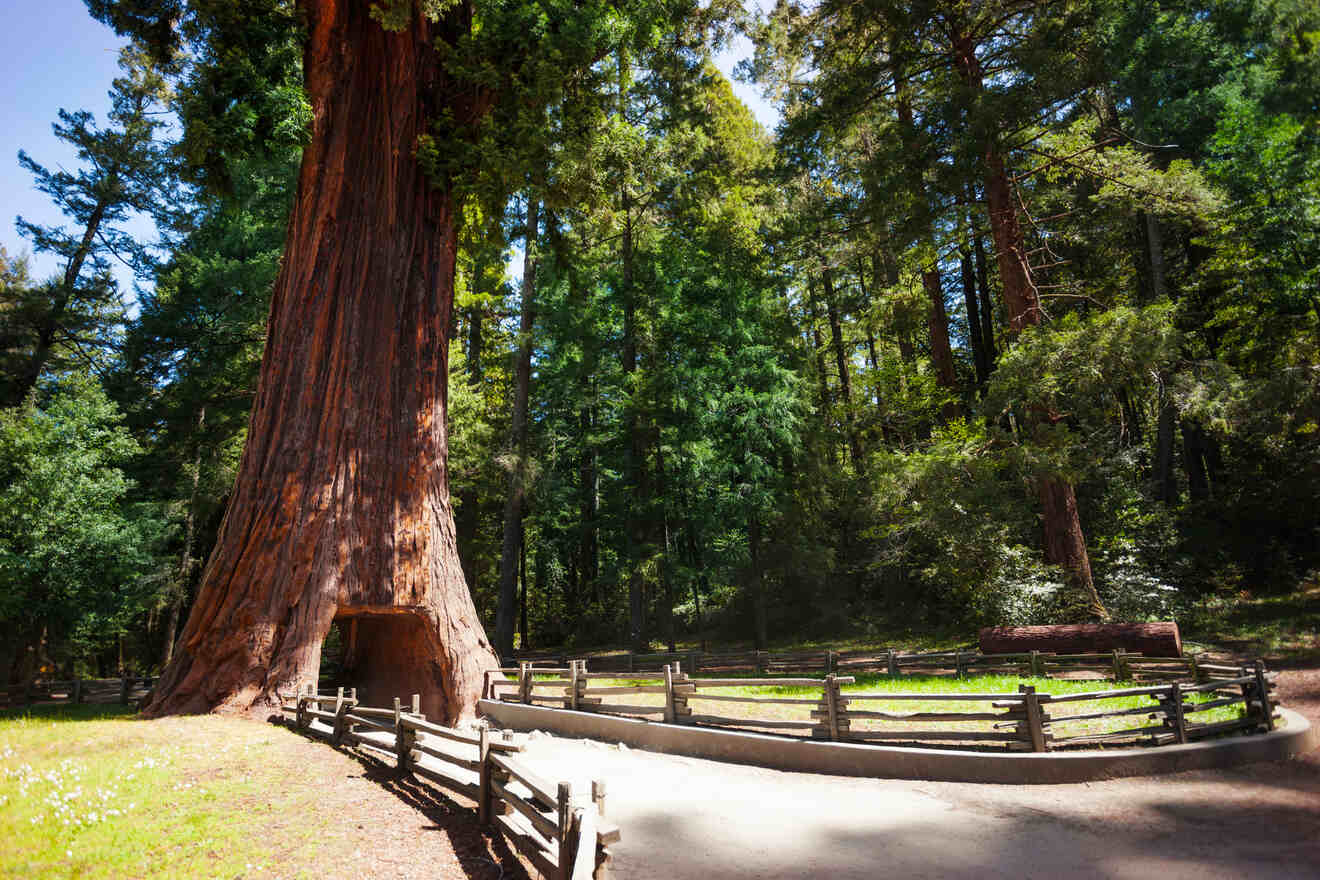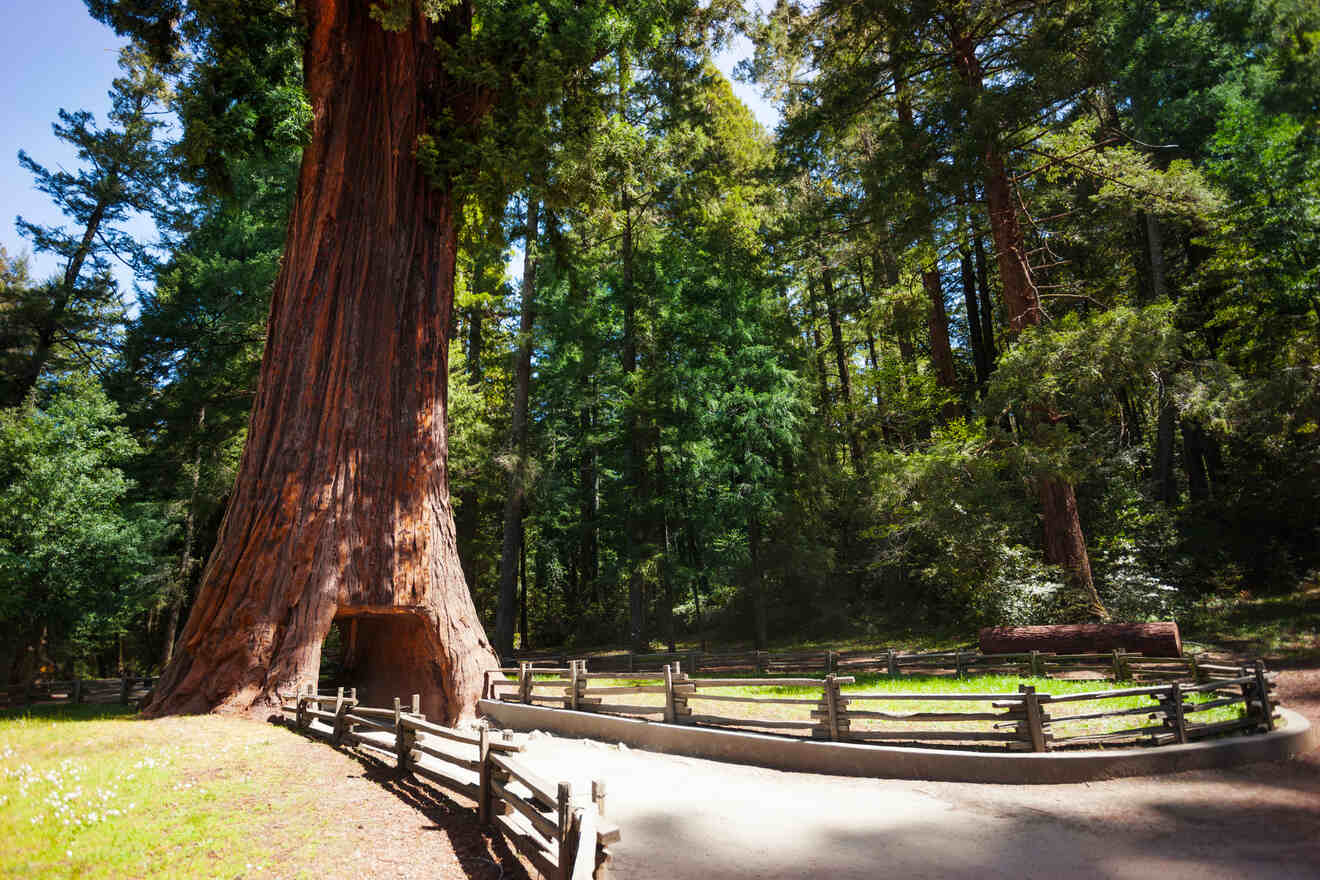 If you're a fan of Muir Woods, I suggest taking your experience up another notch at Redwood National Park near Eureka and Crescent City!
This national park holds a few protected forests, beaches, and grasslands along the coast, being home to dense woods, plant-covered walls, an Elk Prairie, and most famously, clusters of redwood trees.
Redwood National and State Parks are located at the very northernmost part of California (almost on the Oregon border) and a 6 – 7 hour drive from north San Francisco.
It's free to enter the park, but you'll need reservations and permits for special uses like camping or going on specific hikes. Yet, the best way to experience the park is by camping, so reserve online ahead of time to secure your spot.
If camping doesn't sound like fun to you, there are lodging accommodations in nearby cities, such as this cute cabin if you're traveling with family!
Apart from the trees, don't miss out on visiting Fern Canyon, Tall Trees Grove, hiking through Trillium Falls Trail (for waterfalls), and going off the beaten path with the 8-mile (13 km) Coastal Drive. For even more trees, Humboldt Redwoods State Park has the world's most majestic and ancient redwood groves!
10. Go skiing or cruising on Lake Tahoe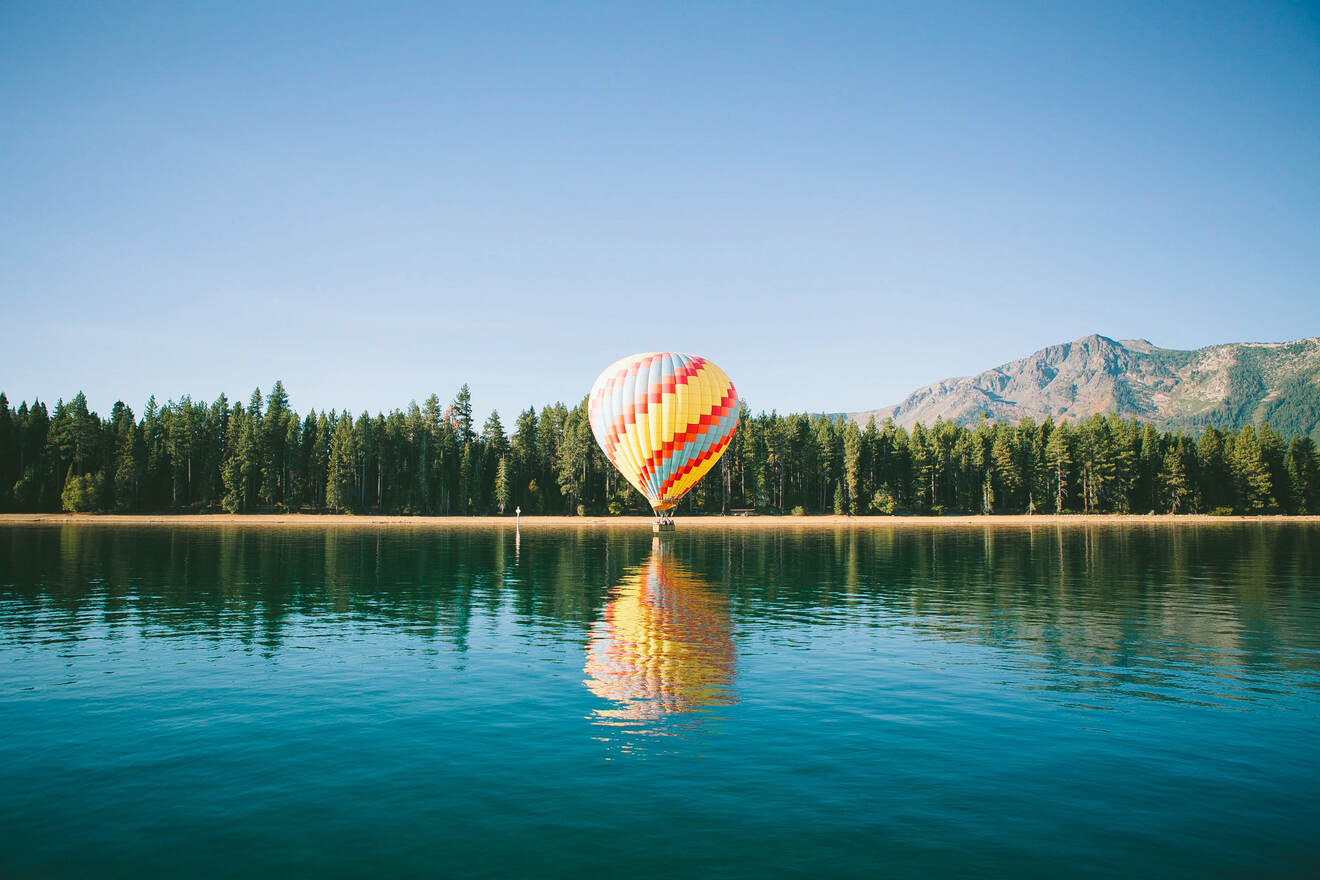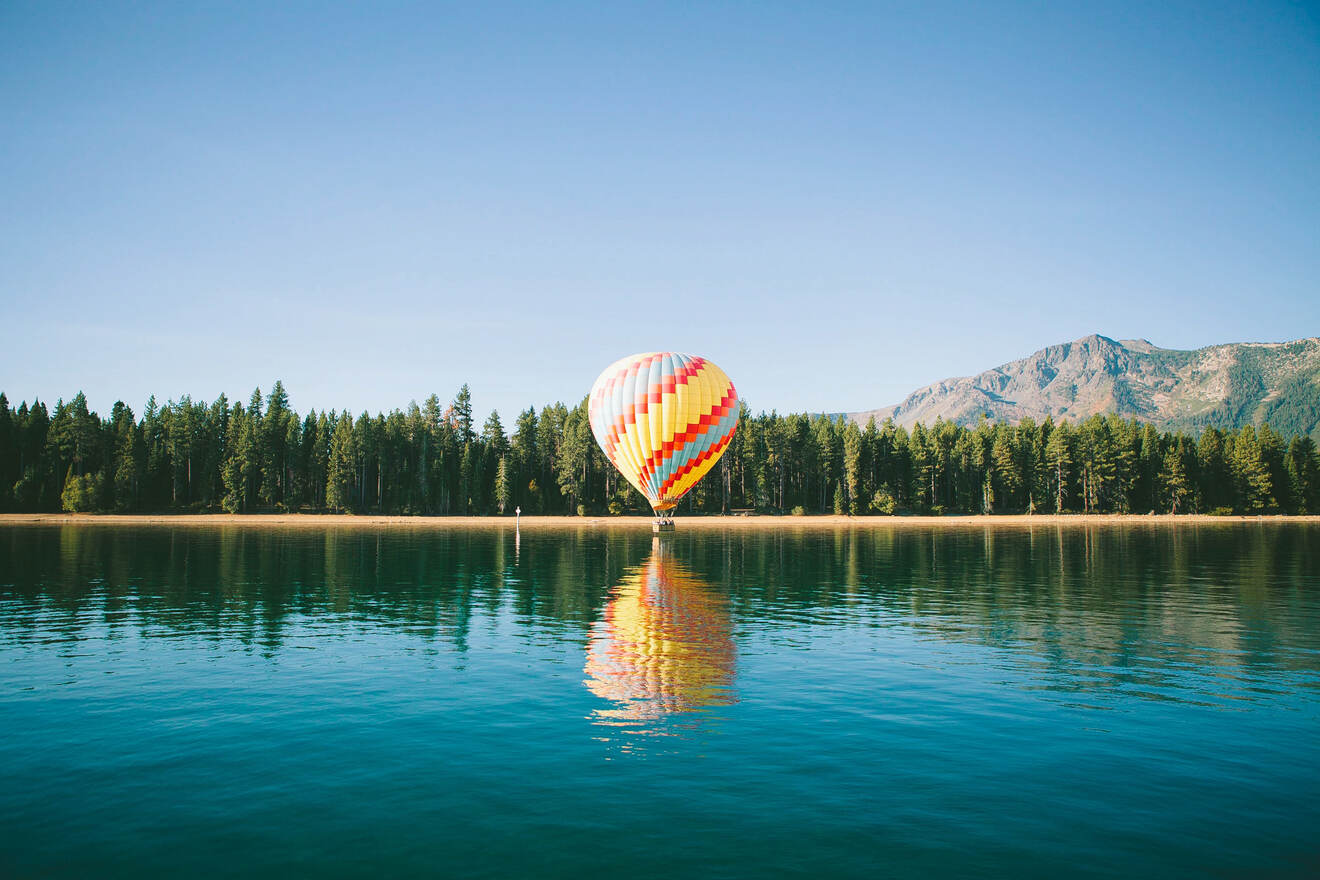 Lake Tahoe is a must-visit destination during the California winters! Located in the Sierra Nevada Mountains, the crystal-blue lake has many things to offer. It is mostly known for its skiing opportunities during the winter months and other water sports in the summer.
Most California locals come here in winter to admire the white snow (since we don't get that so often on the coast).
The most famous mountain resort is the Heavenly Mountain Resort in South Lake Tahoe. It's one of the best skiing resorts in California for visitors who want to spend a day in the snow-capped mountains or anyone who's also looking for accommodation for their weekend in Lake Tahoe. Check out our post on Lake Tahoe accommodation if you want to explore all your options.
If you choose to visit in the summer or fall, I recommend booking a boat tour ideal for the daytime or sunset hour, making it great for families or couples looking for a romantic date at the lake. Either way, it's a 10/10 during the warmer months!
TOUR PRICE: from US$120 per person
11. Visit the oldest theme park in California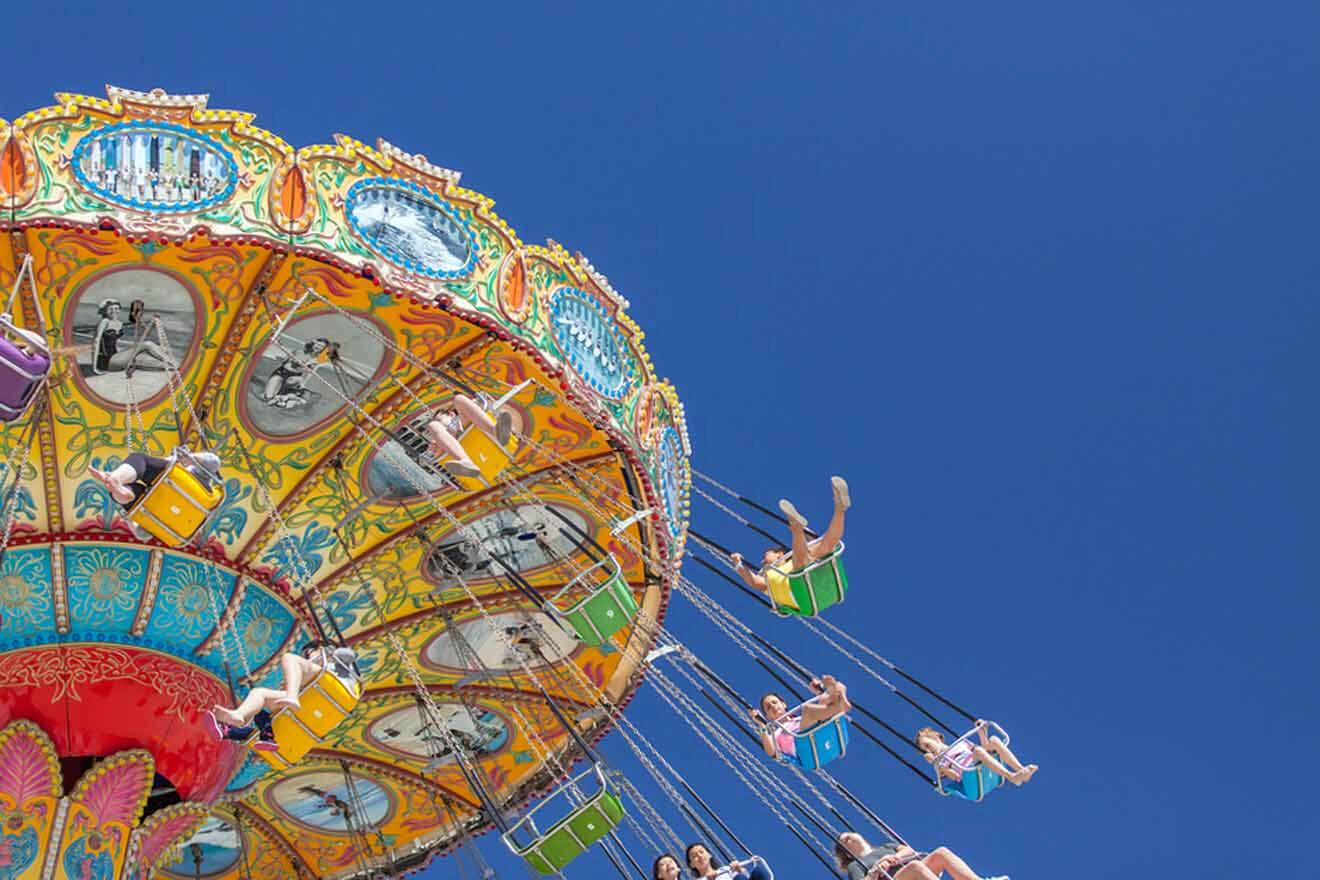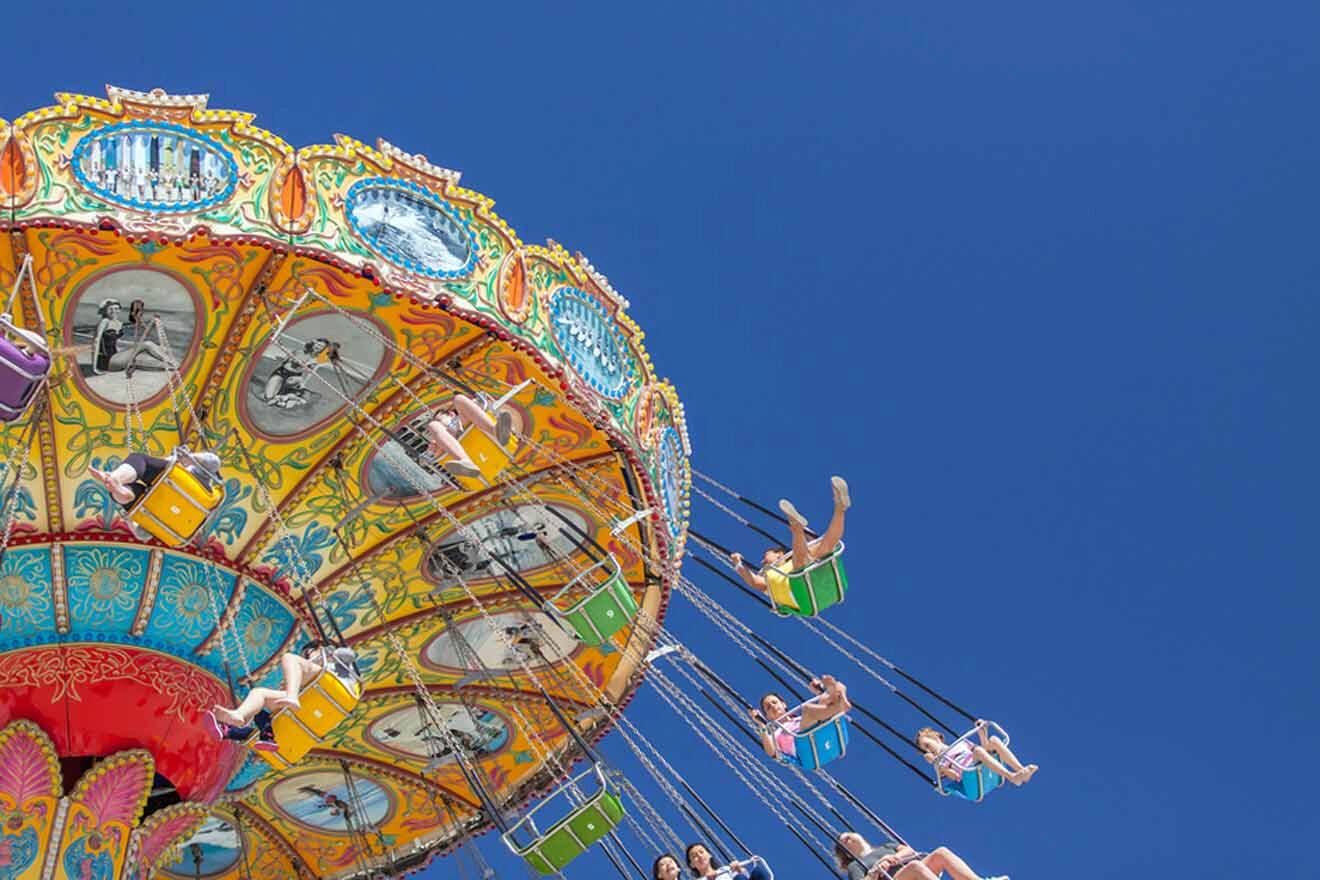 Next up, Santa Cruz! Santa Cruz is 1.5 hours south of San Francisco and the most laid-back beach town with stunning coastal views everywhere you turn and home to the oldest amusement park in California, the Santa Cruz Beach Boardwalk!
Santa Cruz Beach Boardwalk is a classic seaside family theme park located directly on the sandy beach, with about 40 rides and attractions to enjoy with the whole family.
The best part of the theme park is the world-famous wood roller, the Giant Dipper, built in 1924 and running as the oldest ride in all of California. Don't worry they maintain it regularly to make sure it's running smoothly and safe for visitors.
The 1911 Looff Carousel is also a ride worth checking since it's a historic figure at the park and another old ride.
Besides the 2 historic rides, there are tons of fun things for the entire family to enjoy: arcade games, laser tag, bowling, mini golf, and even more thrilling and kiddie rides for children of all ages, so it's no wonder this is one of the best theme parks in California.
There are also free events held every single day! From outdoor movies to live concerts and entertainment, the park offers it all. See the event schedule before visiting!
PRICE: Unlimited-ride wristbands from US$40 per person
12. Get lost in caves at Lava Beds National Monument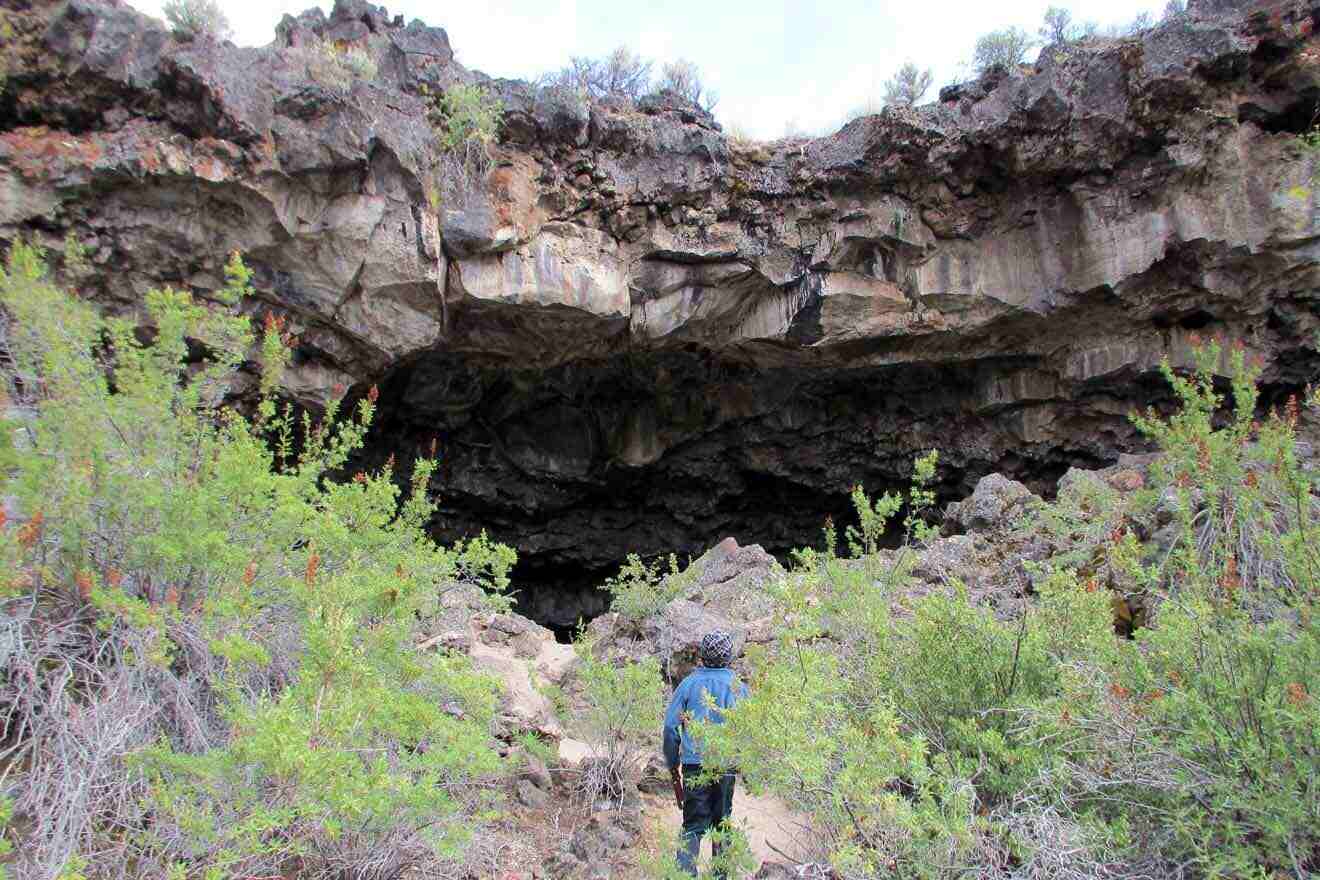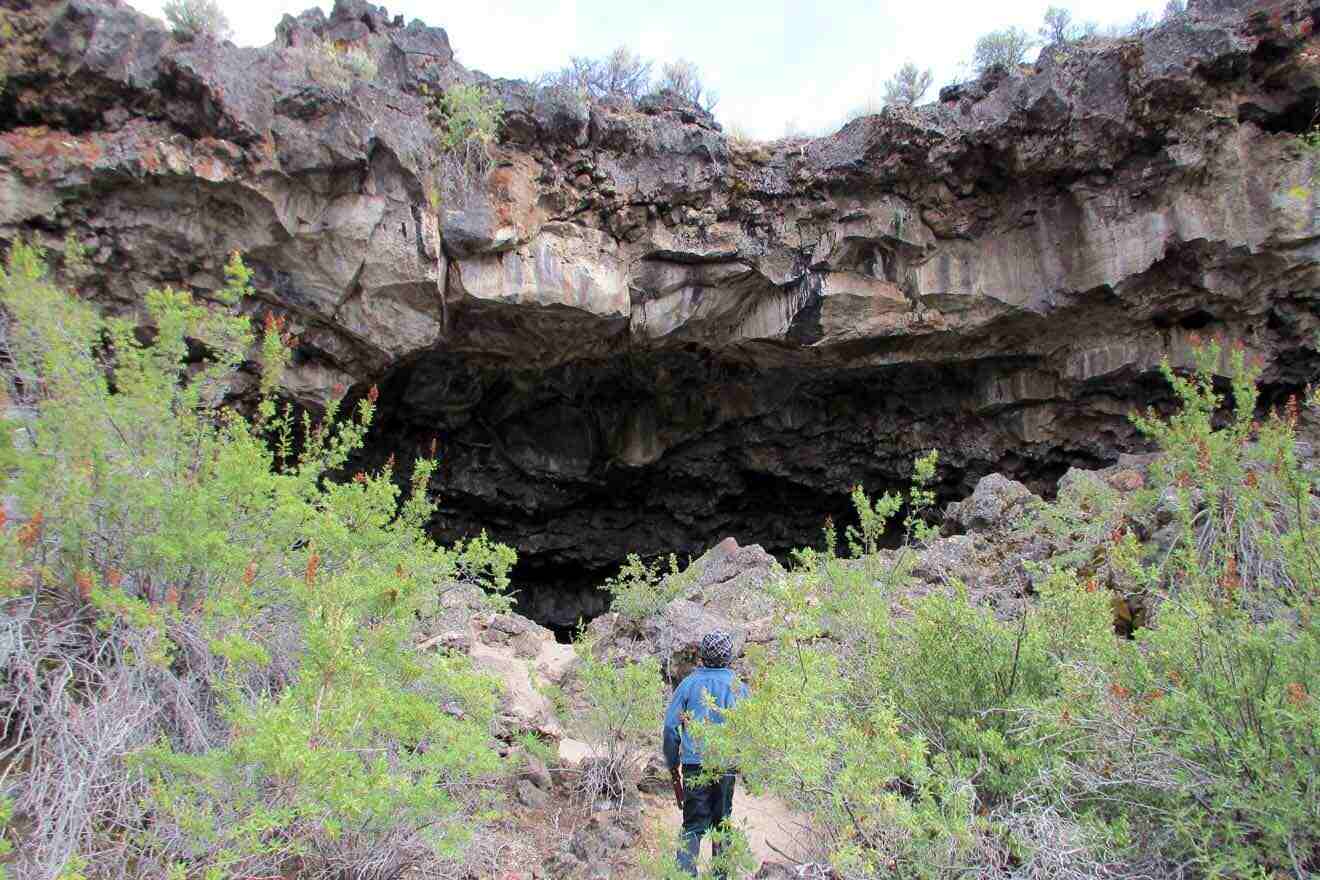 Lava Beds National Monument is the most unique area of land you'll find in California. It's made up of turmoil caused by volcanic eruptions over the last 500,000 years, giving the area a unique, rugged landscape with over 800 caves and tons of fascinating history to explore.
There's a long list of activities that I suggest doing here. A few include taking advantage of the free guided ranger tours (see the calendar beforehand), hiking out into the Lava Beds wilderness, and caving. You can get a caving permit at the Visitor Center nearby for free!
NOTE: If you choose to go caving, make sure you read all the safety measures to avoid anything from going wrong.
PRICE: Entrance fee is US$25 per vehicle and US$15 per person
13. Take a walk through the weirdest house in California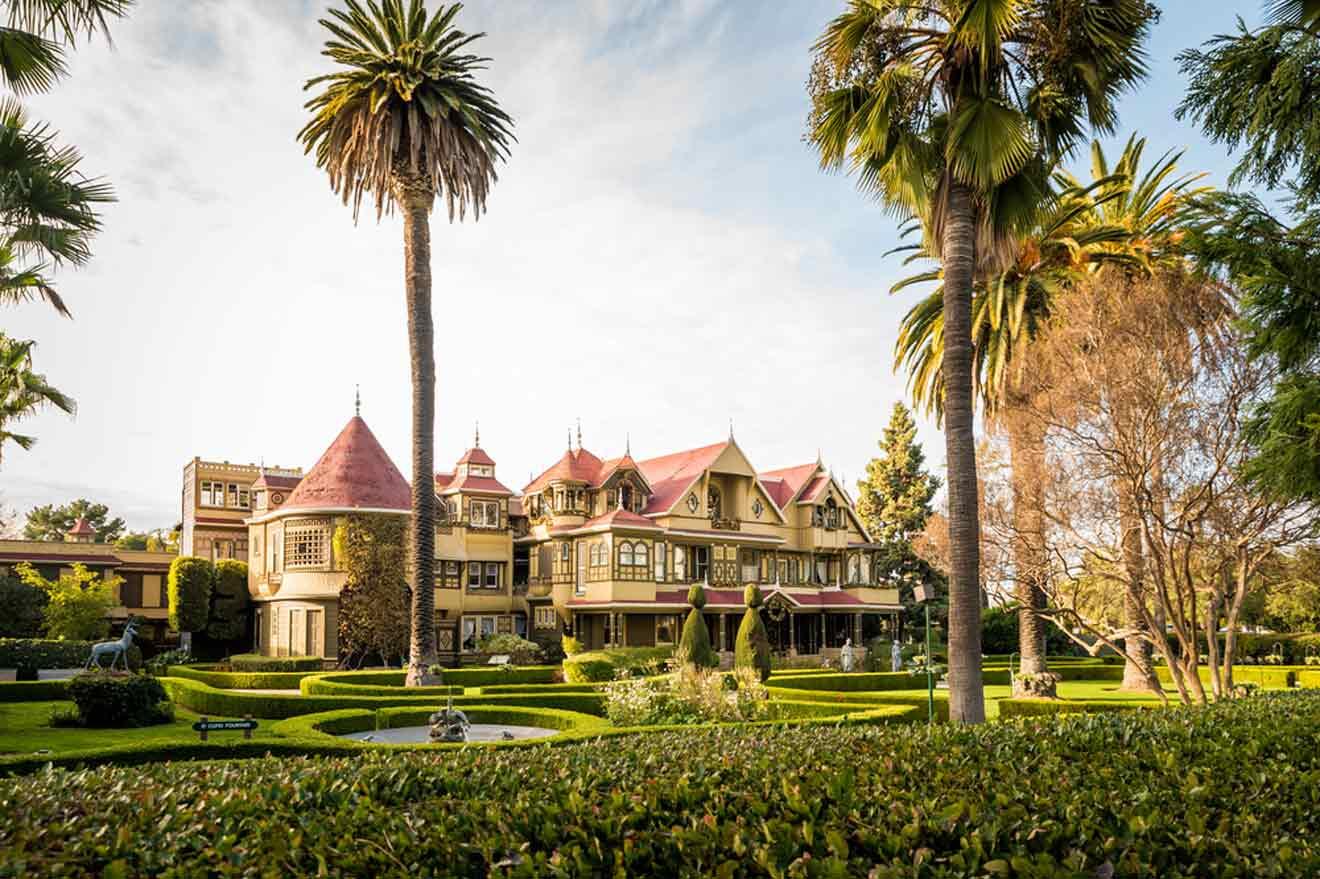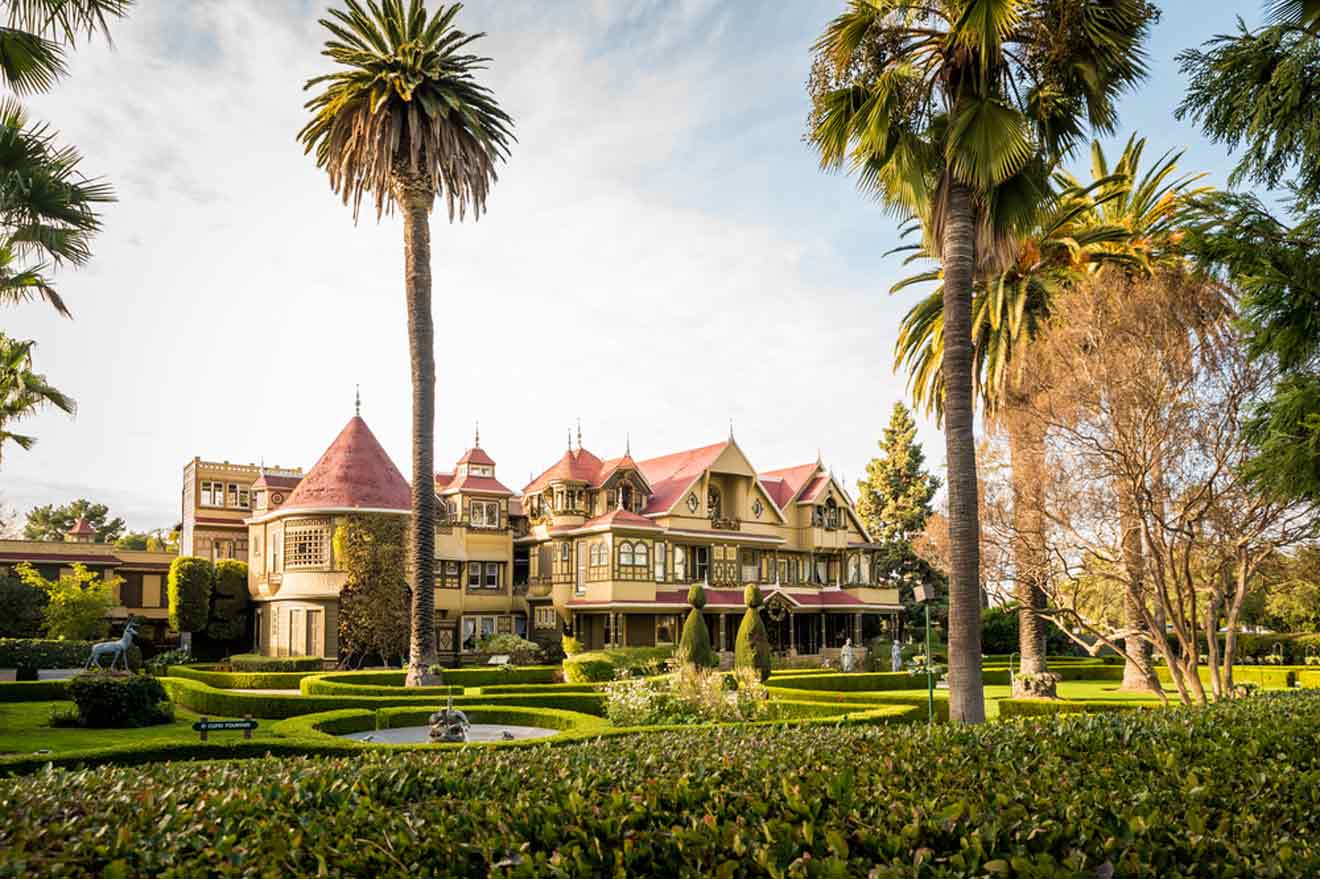 Winchester Mystery House is the most fascinating architectural phenomenon in San Jose, California. The house belonged to widow Sarah Winchester for a few decades, turning her 8-bedroom farmhouse into the most mysterious mansion you'll ever see in a duration of 38 years.
This San Jose house is about 24,000 ft² (2,230 m²), featuring 10,000 windows and 2,000 doors, some of which can't be walked through, 160 rooms, 17 chimneys, 13 bathrooms, a staircase leading up to the roof, and so much more. The list of bizarre features goes on and on!
There are plenty of theories as to why she chose to design the home the way she did. Some people say she might have had paranormal dreams, or it might be related to ghosts or spirits. Nobody really knows or understands, but millions of visitors have come to visit the house ever since the doors opened to the public in 1923.
PRICE: US$42 for adults, US$20 for kids
14. Marvel at the trees in Sequoia National Park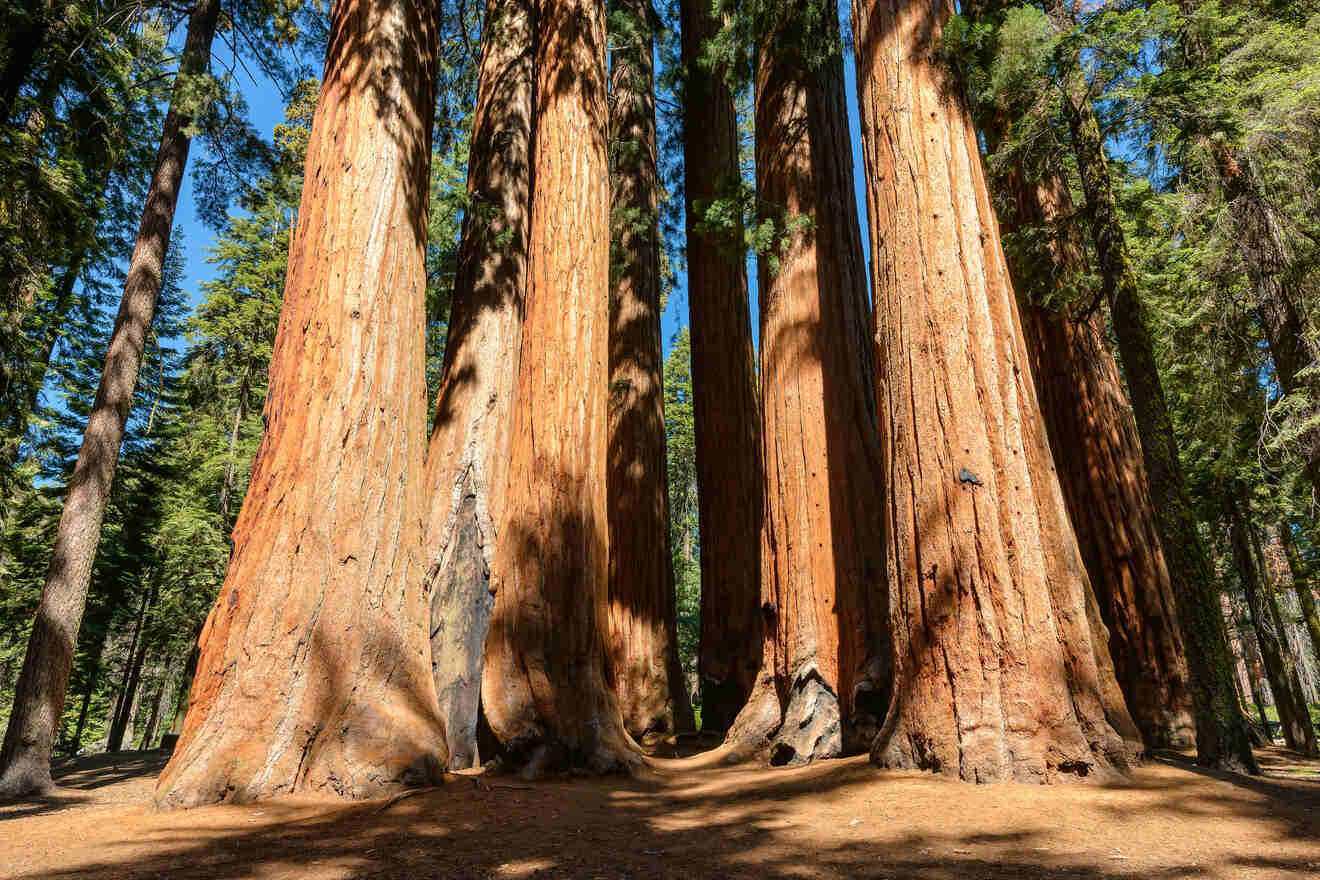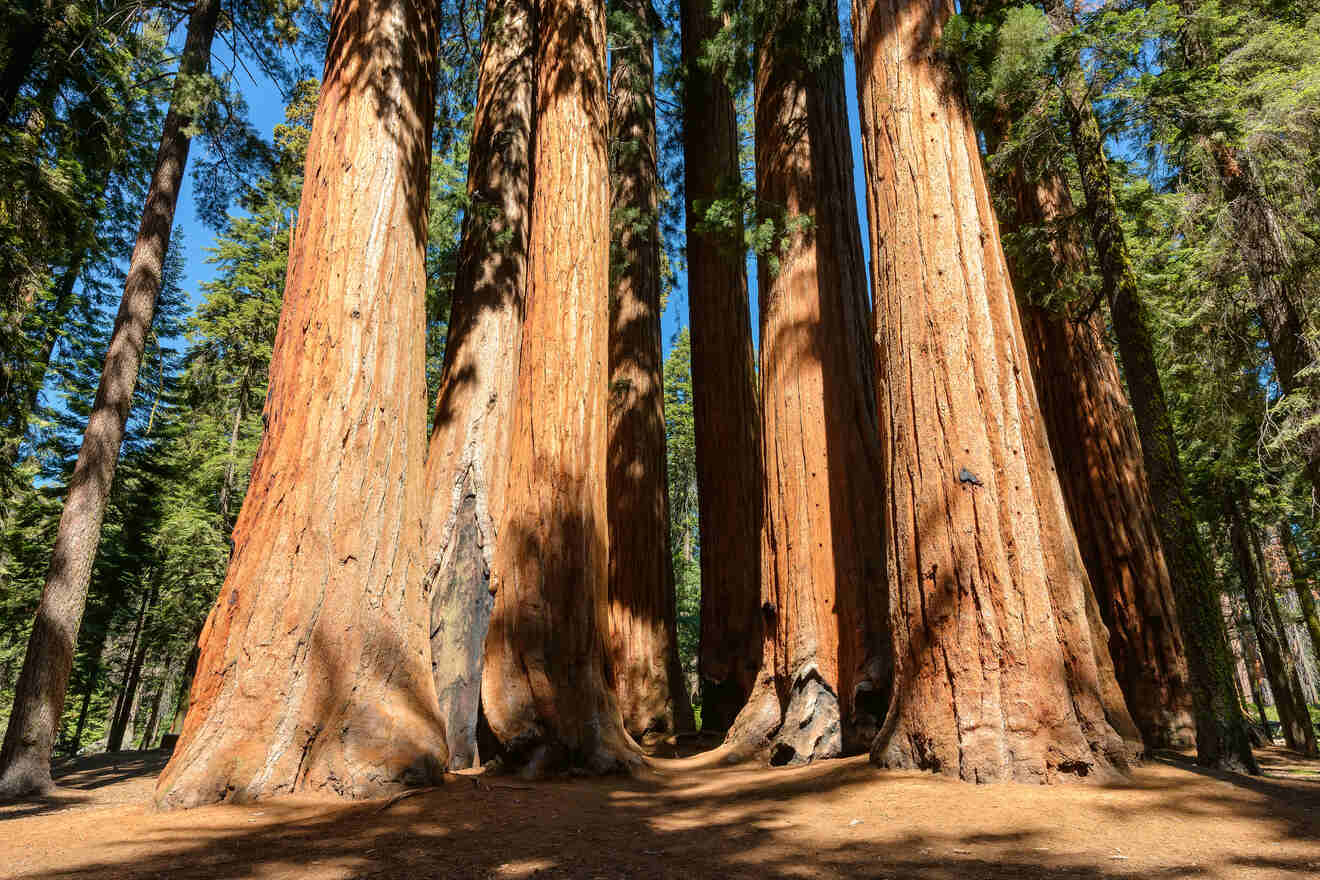 Want to see more amazing trees? Sequoia National Park is home to the largest trees in the world (by volume). There's a huge difference between sequoias and redwood trees, and both are well worth a visit anytime you're in Northern California.
I recommend visiting each national park separately to see the difference (plus, if you guys are nature lovers like me, you're going to appreciate both).
Here are a few hiking trails in Sequoia National Park that I suggest trekking:
Paradise Creek Trail: This is an app. 2-mile (3 km) round-trip hike that takes you on a journey through a quiet stream. It's serene, beautiful, and super easy if you're not a big hiker. Be careful of the poisonous oak here, and wear long sleeve tops and long pants.
Marble Falls Trail – This 8-mile (10 km) round-trip hike starts near the 14 Potwisha Campground and ends with a stunning waterfall cascade. Get ready to see the most beautiful scenic views in Sequoia on your way.
Kings Canyon National Park is a short drive away! I suggest visiting if you're interested in more hiking trails and state park adventures!
PRO TIP: Sequoia National Park can get overwhelming to explore on your first trip. I got lost my first time here (not fun), so I recommend booking an audio tour that will take you to all the hotspots around the park, including General Sherman, the most massive living thing on the planet.
TOUR PRICE: from US$15 per group up to 4
15. Cruise down the famous 17-Mile Drive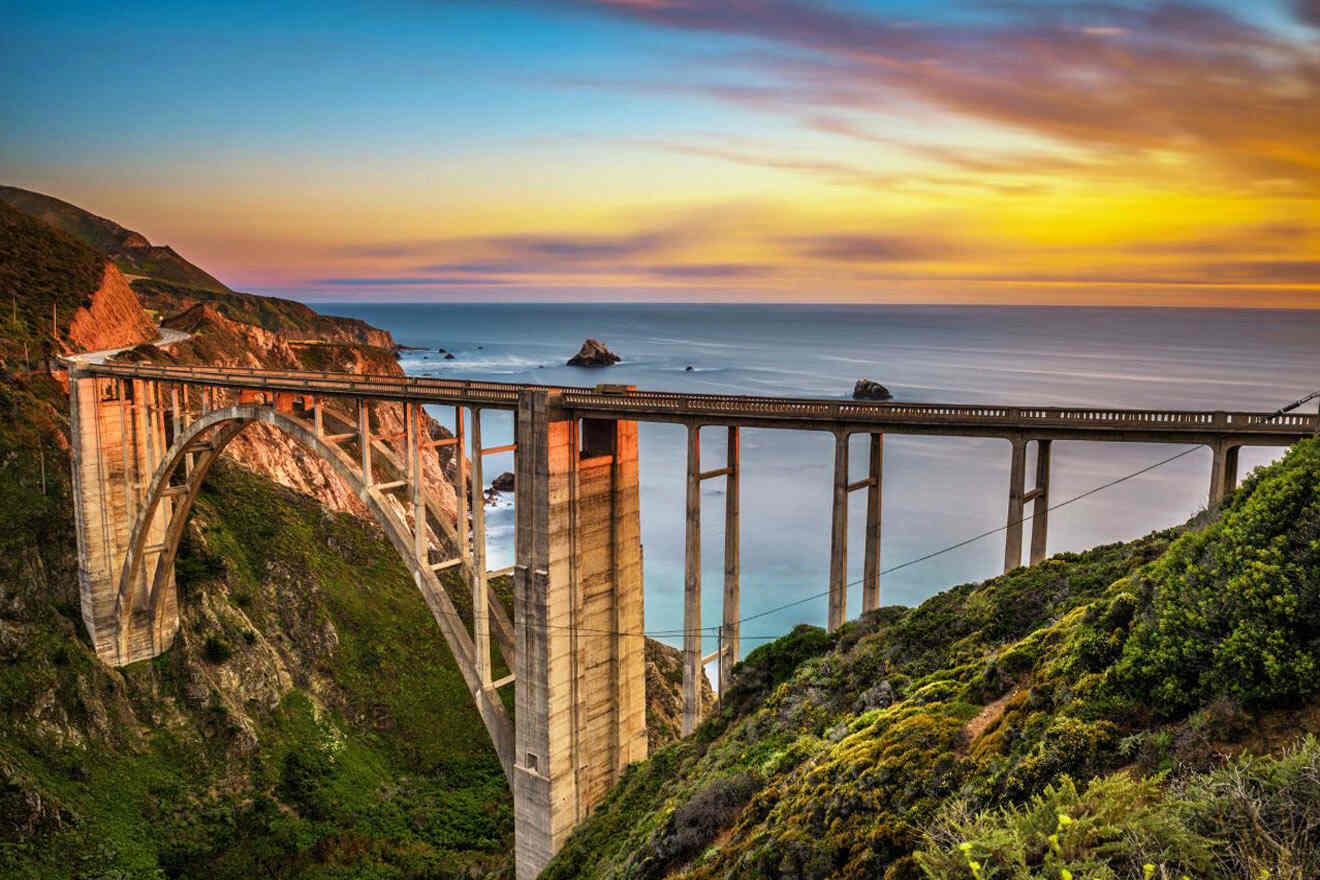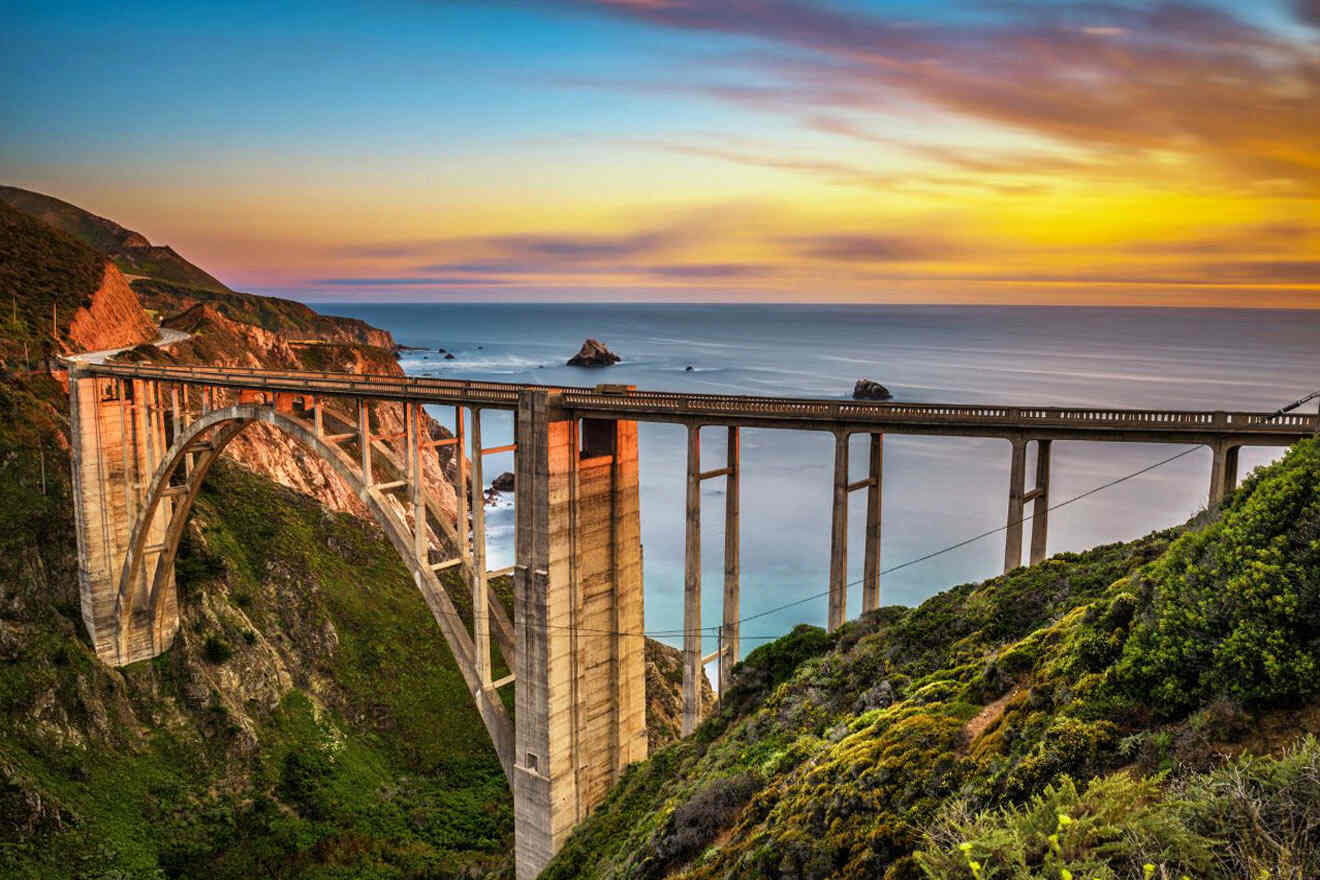 One of the most popular things Northern California is known for is the scenic 17 Mile Drive along the Pacific Coast Highway.
Visitors from around the world go on a Northern California road trip just so they can see the rugged coastline, dramatic cliffs, endless Pacific Ocean views, unique native plants and animals, the most photographed viewpoints in North America, and so much more.
The cruise down the Pacific Coast Highway on the 17-Mile Drive takes a total of about 3 hours, with dozens of stops along the way. You can easily spend up to 6 hours taking your time driving down the coast and stopping by each and every major attraction. I suggest listening to a self-guided audio tour so you can have a better understanding of where to stop and what's worth checking out.
If you're not following along with the self-guided audio tour, I suggest stopping by Spanish Bay, Point Joe, the Lone Cypress Tree, Del Monte Forest, and Fanshell Overlook. These are some of the most breathtaking natural wonders in California. Here's a map for your reference!
NOTE: The gate to enter the 17-Mile Drive Route is US$11.25 per vehicle. You can get this reimbursed if you stop at Pebble Beach Resorts and spend at least US$35 or more at one of their restaurants!
TOUR PRICE: from US$10 per group of 4
16. Get a glimpse of us US tech capital: Silicon Valley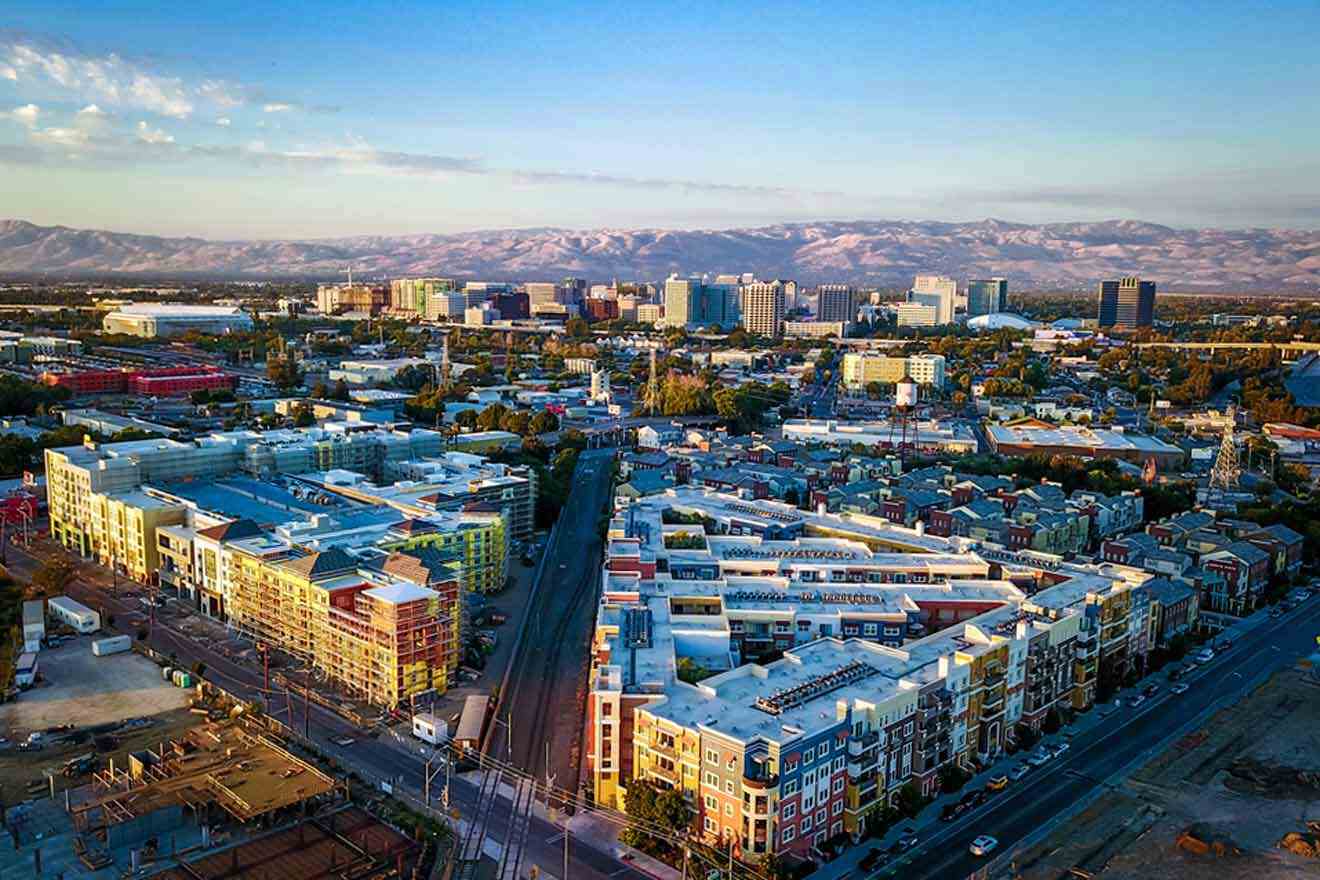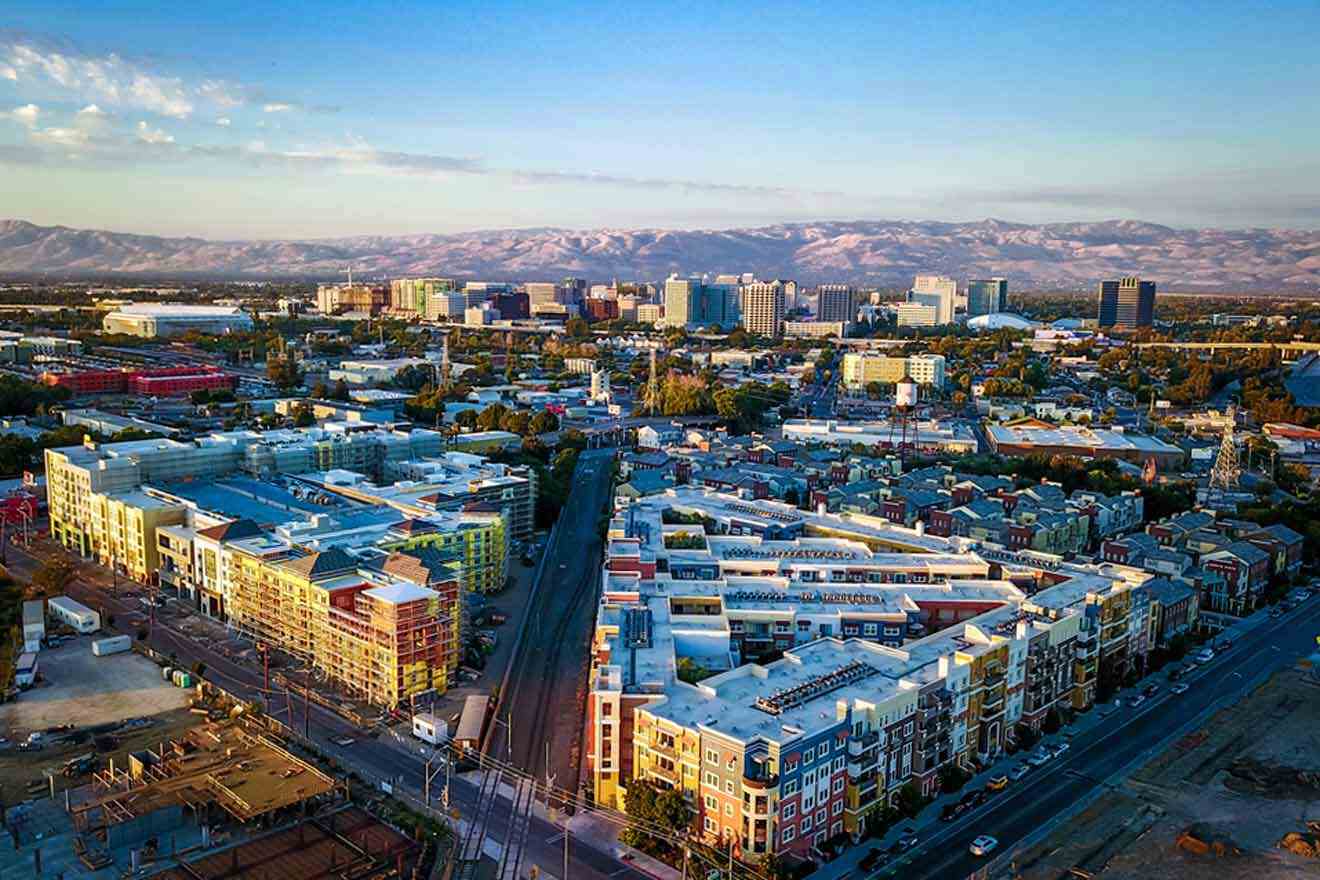 The prominent Silicon Valley is home to the world's most influential tech companies: Apple, Google, Meta, and Uber, just to name a few!
The tech hub is located just northwest of San Jose in Mountain View and a 40-minute drive from San Francisco. It's the epicenter of all things tech, with a ton of office parks. It's not as exciting as you might imagine (like New York building-esque), but it's quite fascinating to see the birthplace of all the most famous tech companies in the world.
None of the offices are open to the public (except for Googleplex), so you can't tour them. You can only drive by, admiring the buildings and taking a photo in front of the Meta sign outside the Meta (Facebook) headquarters.
You can only walk around the famous Googleplex, which is open to the public but doesn't offer tours. Feel free to roam and explore at your own leisure!
17. Stroll around the Bodie State Historic Park ghost town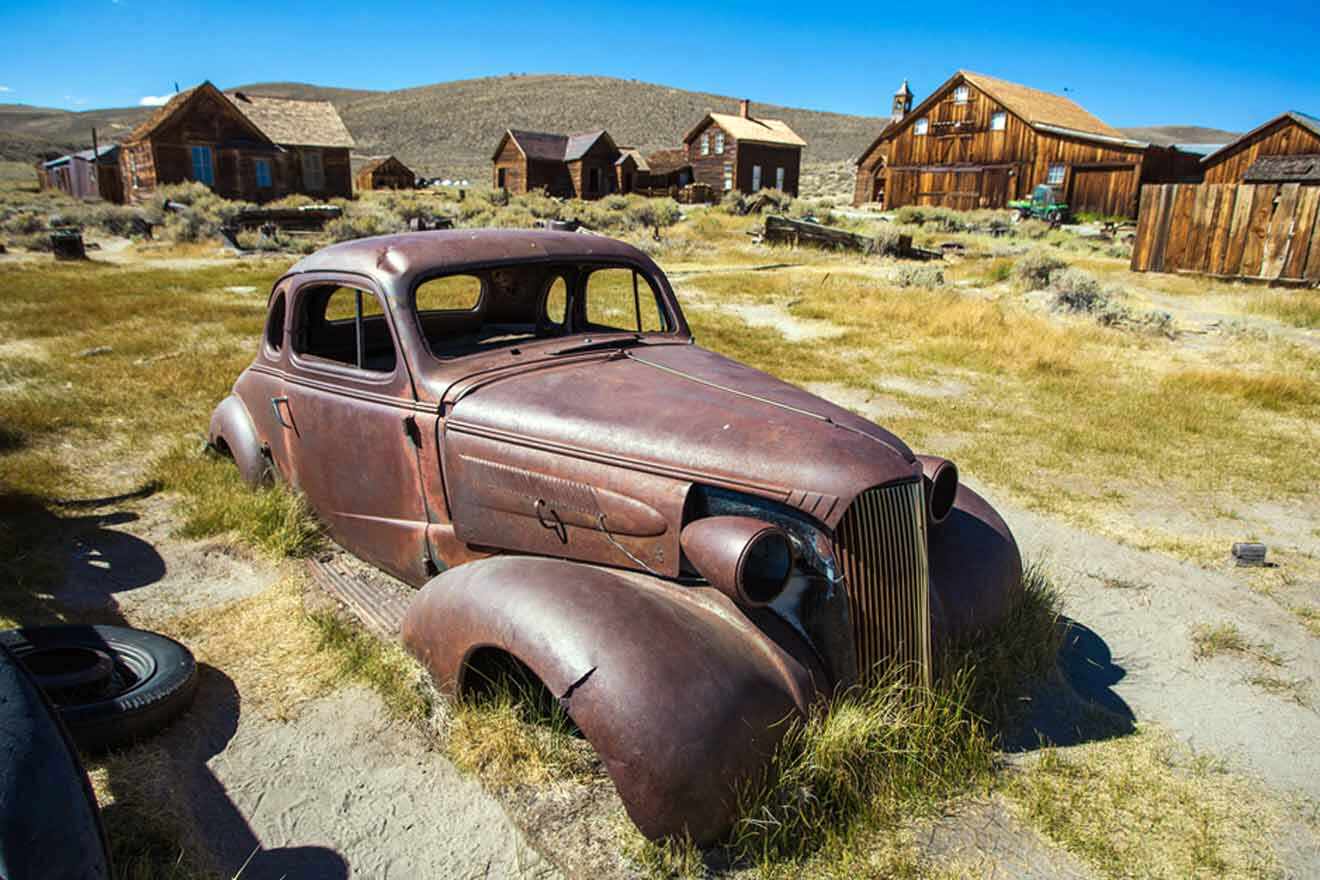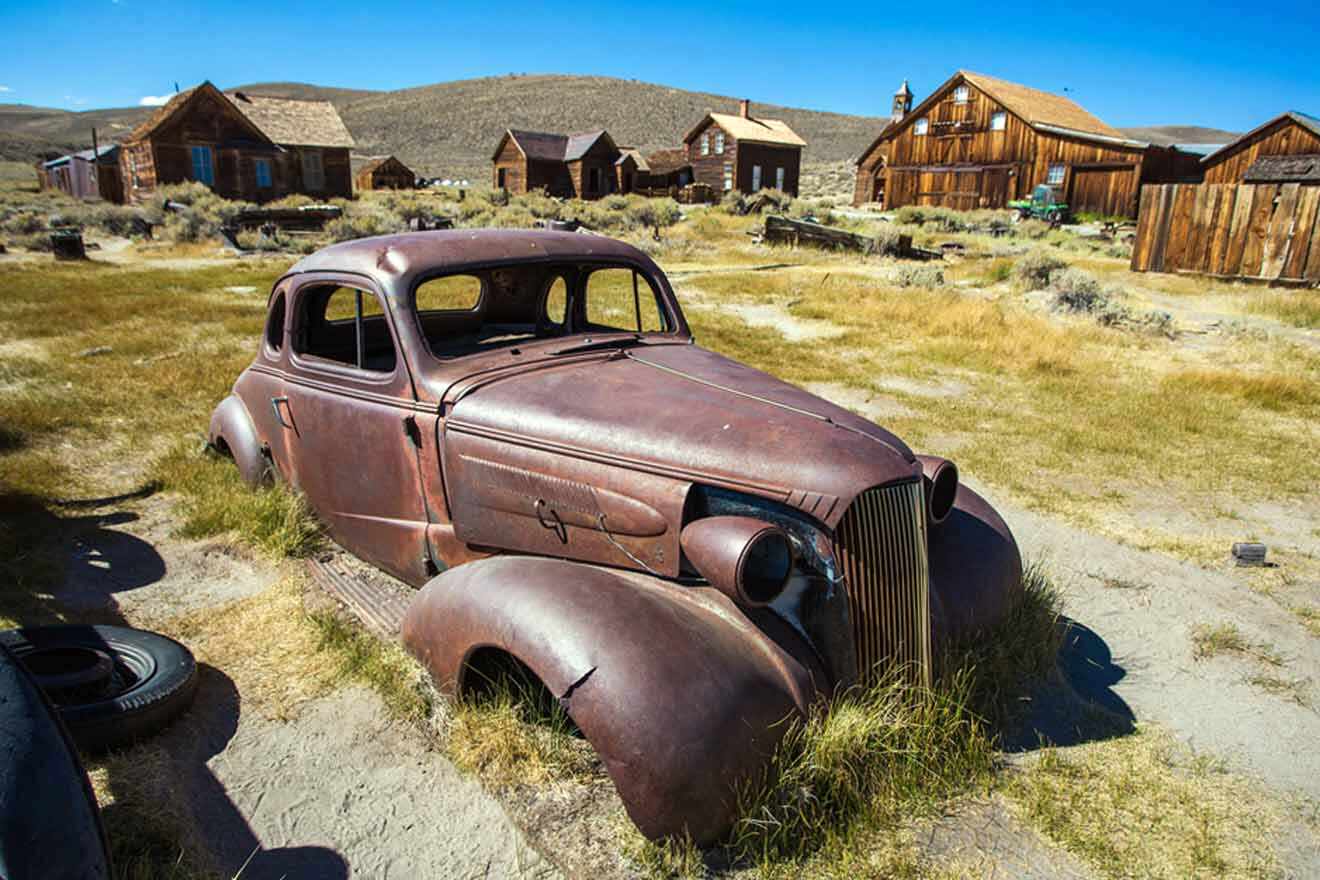 Want to get away from the crowds? Take a visit to Bodie State Historic Park! This empty historical park is an old ghost town once home to 10,000 people and was named after the man who first discovered gold nearby at Mono Lake.
To preserve the ghost town, there aren't any commercial facilities like gas stations or restaurants, so come prepared with a full tank of gas. There are daily tours provided by the rangers at the park, which you can book there inside the museum.
NOTE: Nothing is allowed to be picked up from the premises, so if you're a rock or sand collector, leave your jars at home! Metal detectors are also prohibited here, but you can visit the souvenir shop for memorabilia to take home instead.
PRO TIP: Head over to the 1 million-year-old saltwater Mono Lake after or before your trip to Bodie State Park for a memorable experience with the family.
PRICE: US$8 per person for adults, US$5 for kids
18. Take a ride down the Napa Valley Wine Train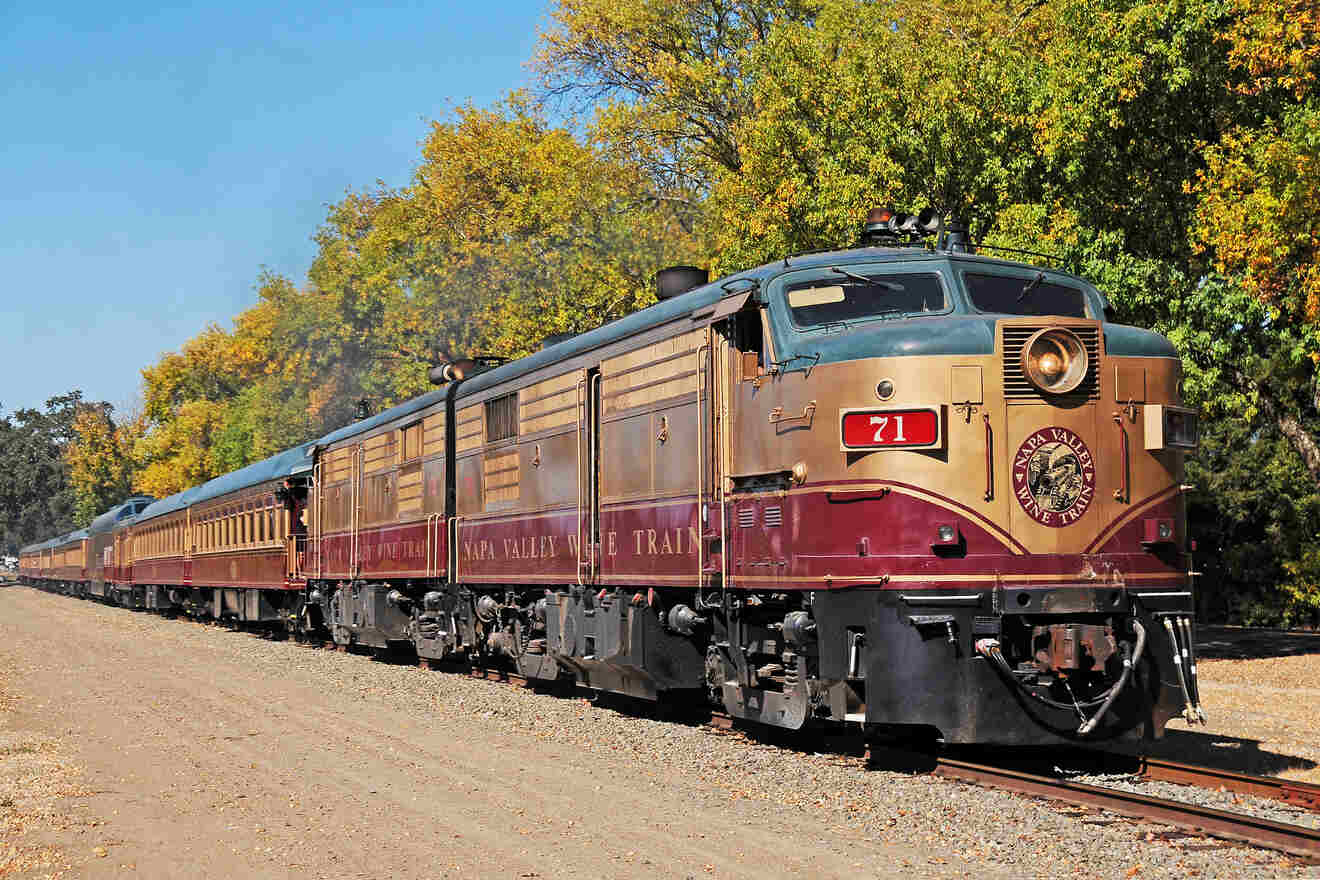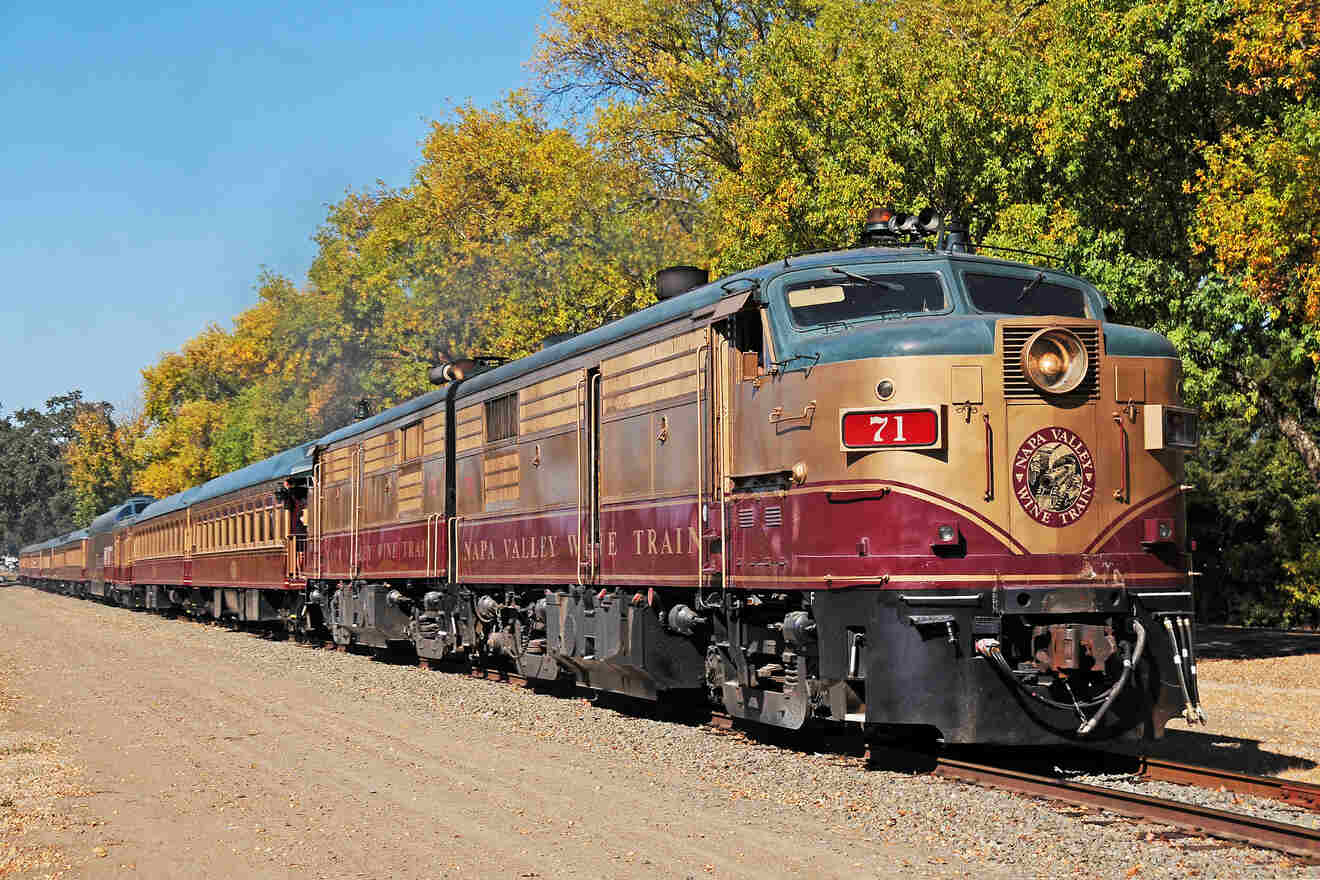 Let's not forget one of the most famous wine countries in California: Napa Valley!
The picturesque town is known for its rolling hills of vineyards and exquisite wine-tasting rooms while offering an experience of a lifetime. People from around the world come here to get a taste of California's delectable wines and admire the most beautiful Napa wineries. It's one of my personal favorite places to visit as a California local!
When in Napa, I suggest taking the Napa Valley Wine Train, an old-fashioned train that has an appeal unlike anything else in Northern California, with an antique-vintage-feel passing by endless hills. You'll be taken on a 25-mile (40 km) journey through the valley with plenty of food on board and wine, of course.
PRICE: from US$165 per person
19. Wine down at the Russian River in Sonoma County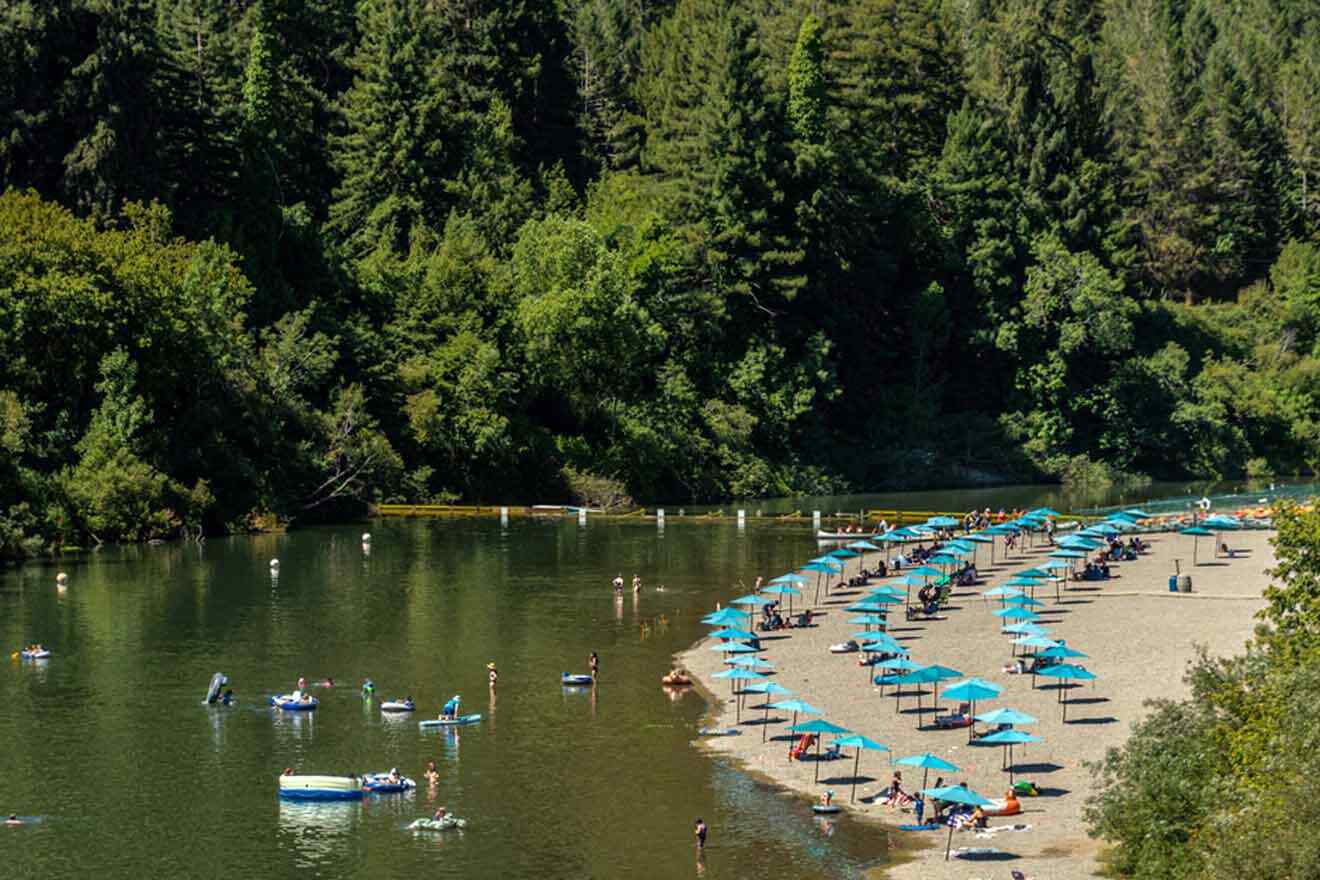 Sonoma County is another renowned wine country in the Northern California region, known for its breathtaking views, delectable wines, and magical wineries. The Russian River region, in particular, is known to be one of the best areas to visit and stay at and sip a glass of wine in Sonoma County.
Located near the Russian Gulch State Park, this area is ideal for growing Chardonnays and Pinot Noir grape varietals. The weather within the area of the Russian River makes for a unique flavor profile for the grapes. It's unlike anything you'll find in all of Northern California, so I couldn't recommend it enough!
The best way to experience Sonoma County is certainly through wine tours. This guided wine tour is awesome because not only do you get to explore the Russian River Wine Country, but you also get a chance to visit the giant sequoias all on the same day.
This is a great tour if you don't have too much time in Northern California and prefer a guide to show you the way. It's a 10-hour day trip, so buckle up and get ready for a long day!
TOUR PRICE: US$190 per person
20. Visit the California State Railroad Museum in Sacramento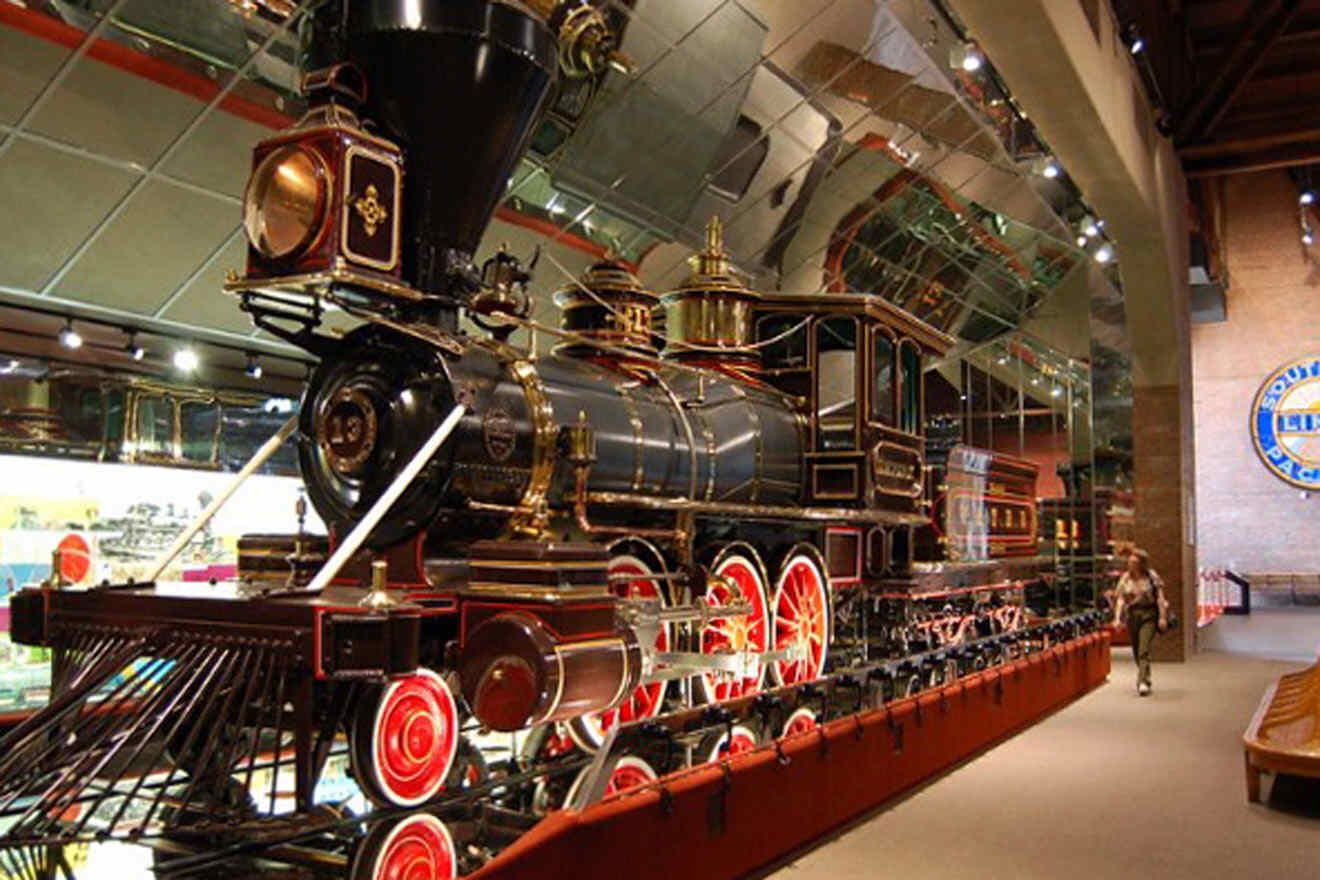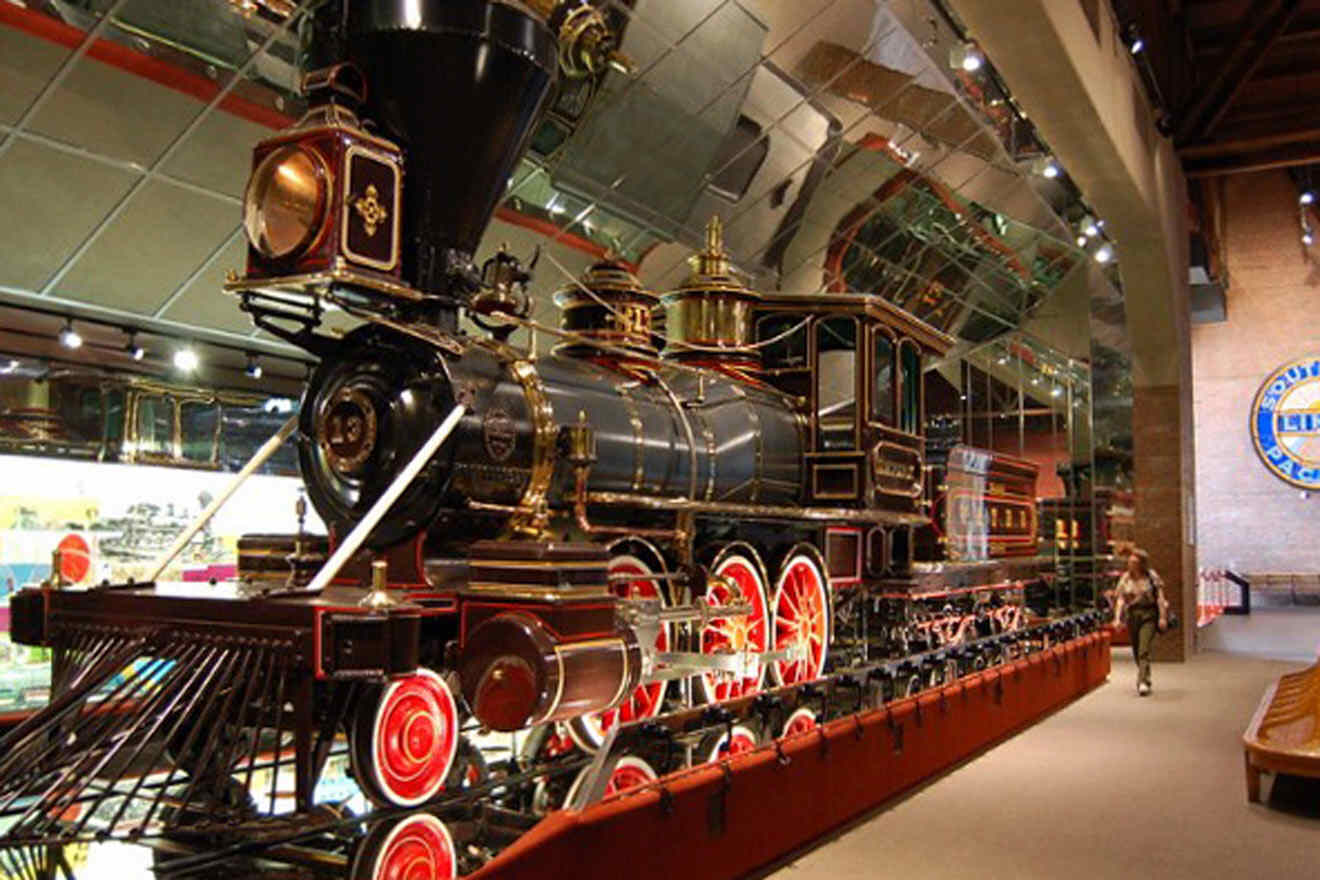 California State Railroad Museum near the Sacramento River has an incredible amount of history, being the capital of California and where the Gold Rush first began. It first opened in 1976 and runs as the largest and must-see tourist attraction in Sacramento. People from all around the world come to discover the history of where the first transcontinental railroad began!
You'll find interactive exhibits and restored railroad cars that accurately represent the lifestyle of California West, the economy, and the culture of the early, humble beginnings of California. Kids and adults of all ages would find this museum quite interesting!
The museum is open from 10 AM to 5 PM daily.
PRICE: from US$12 for adults, US$6 for kids
21. Check out Glass Beach at Fort Bragg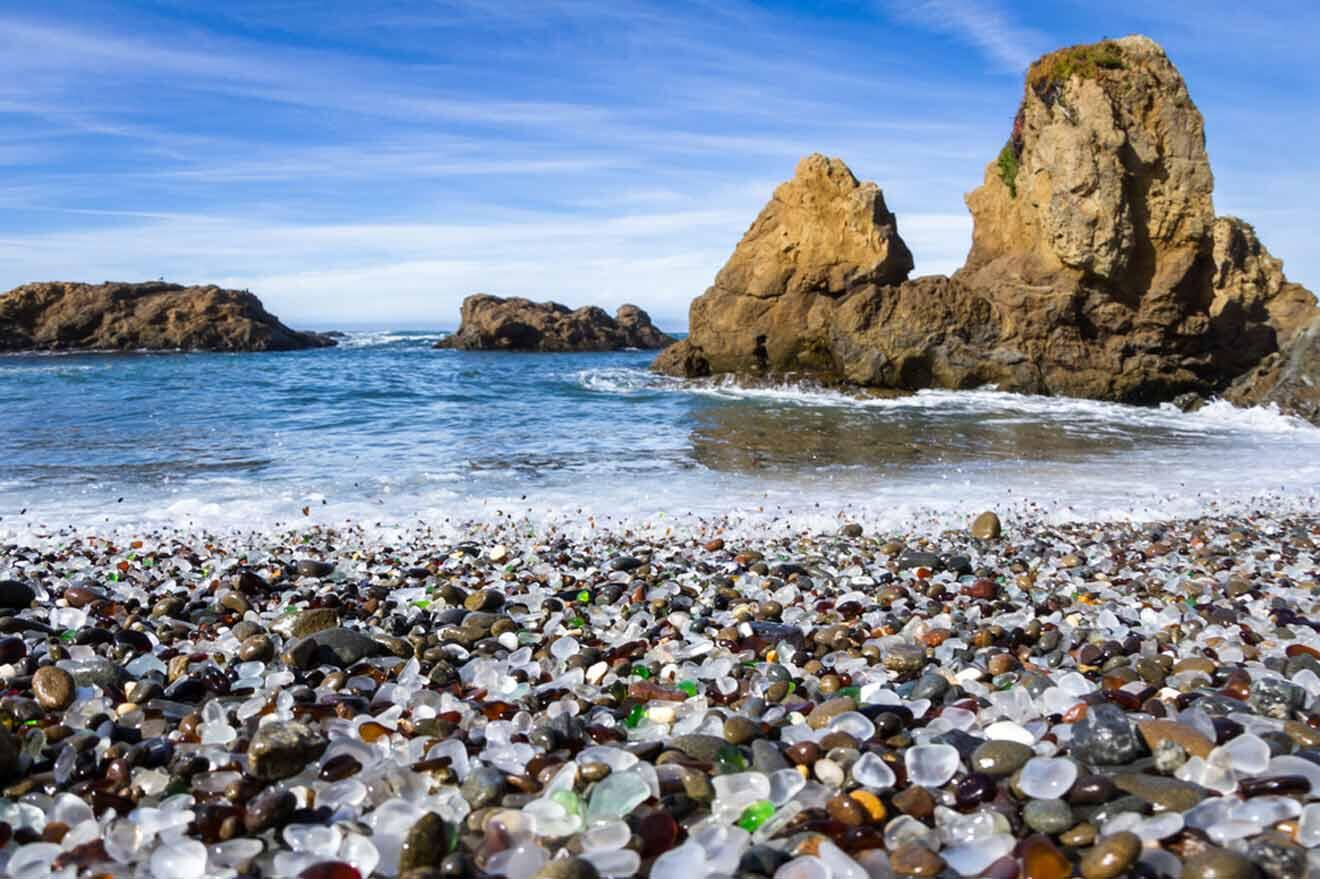 Glass Beach is a unique beach I absolutely had to mention in this list of things to do in Northern California. Located in Fort Bragg, this beach happens to be one of the most-searched beaches in California.
It gets its name from the small pieces of glass found here mixed with the pebbles on the beach. The area was once a trash dump and remains of glass bottles can still be found here (It's illegal to take the glass, so keep that in mind)!
The Noyo Headlands Trail is less than 1 mile long (c. 1 km) and ends up at a point with a compass rose and wooden benches for you to sit and admire the glass sitting along the coastline ahead. You can even walk ahead for less than 3 miles (5 km) to Noyo Bay Beach for a different beach if you so please!
Access to Glass Beach starts from the free parking area, a couple blocks west of West Elm Street and Pacific Coast Highway 1.
NOTE: Keep your shoes on as you walk through Glass Beach! For obvious reasons, it's not safe to walk around barefoot!
22. Take a stroll down the romantic Carmel-by-the-Sea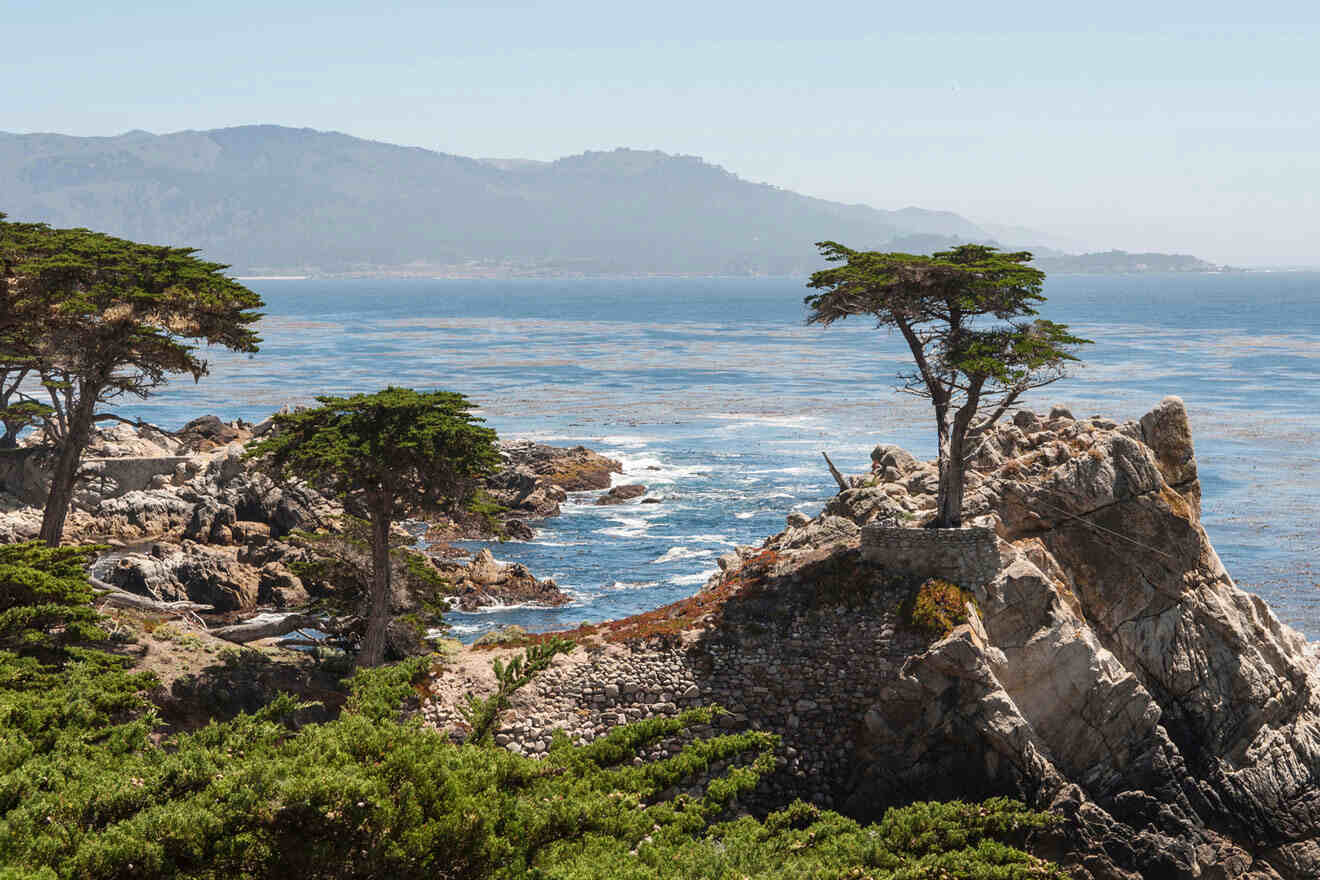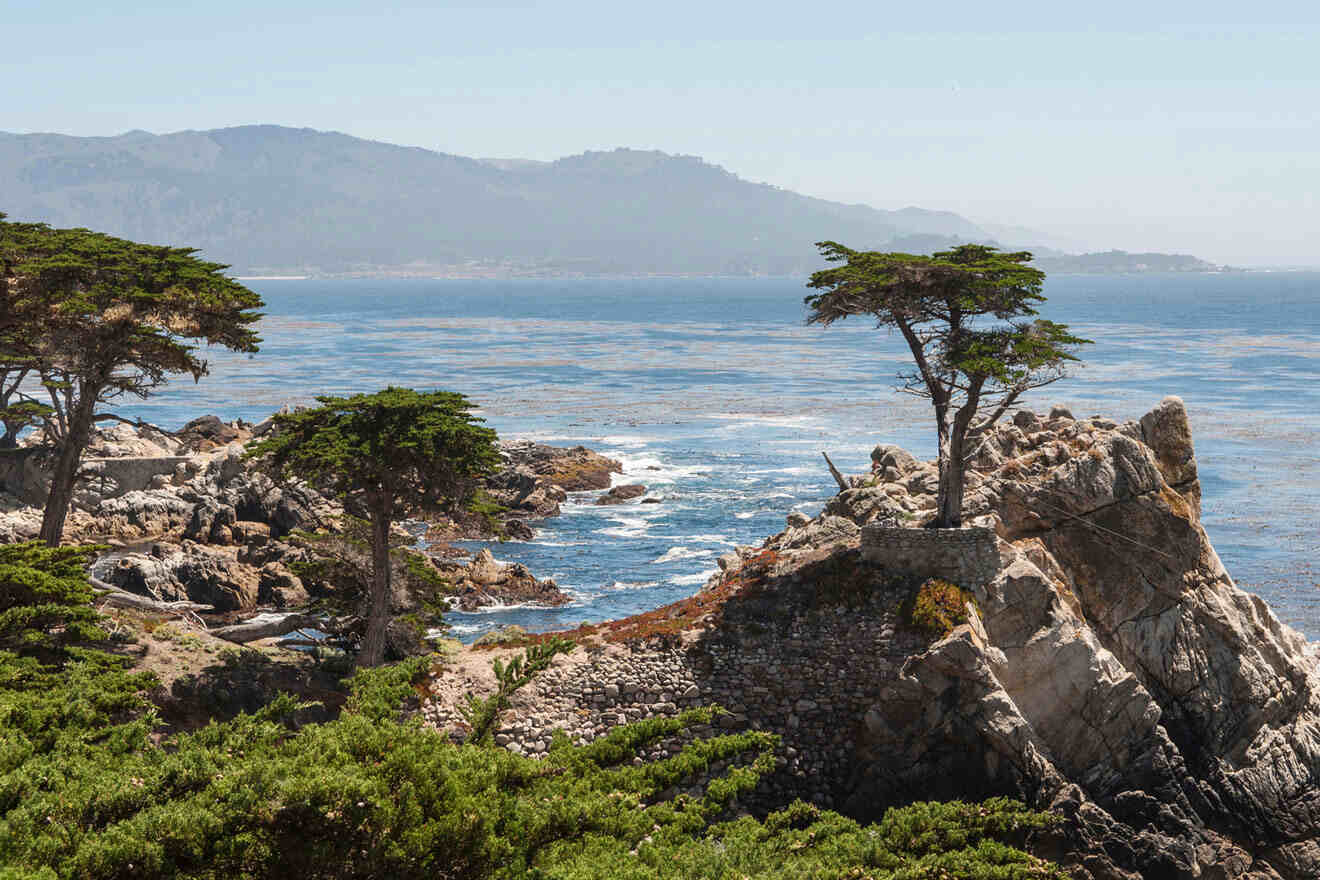 Carmel-by-the-Sea is the most mystical, fairytale-like beach town in Northern California! I absolutely love the 1920s architecture, art galleries, wineries, local boutiques, and bits and pieces of American poets' and writers' history scattered throughout the town. This town is truly a writers' and artists' mecca, with a long list of things to see & do.
If it's your first time here, take a walking tour that will lead you through the best local attractions like the First Murphy House, Tuck Box, Church or the Wayfarer, and more. The walkable downtown Carmel Village area is ideal for couples because it's a step back from the big city life and gives you an opportunity to slow down and enjoy the stroll.
PRO TIP: For a romantic dinner, make reservations at the Flying Fish Grill – the seaside views and high-end ambiance are sure to impress your special someone.
TOUR PRICE: from US$35 per person
FAQs about things to do in Northern California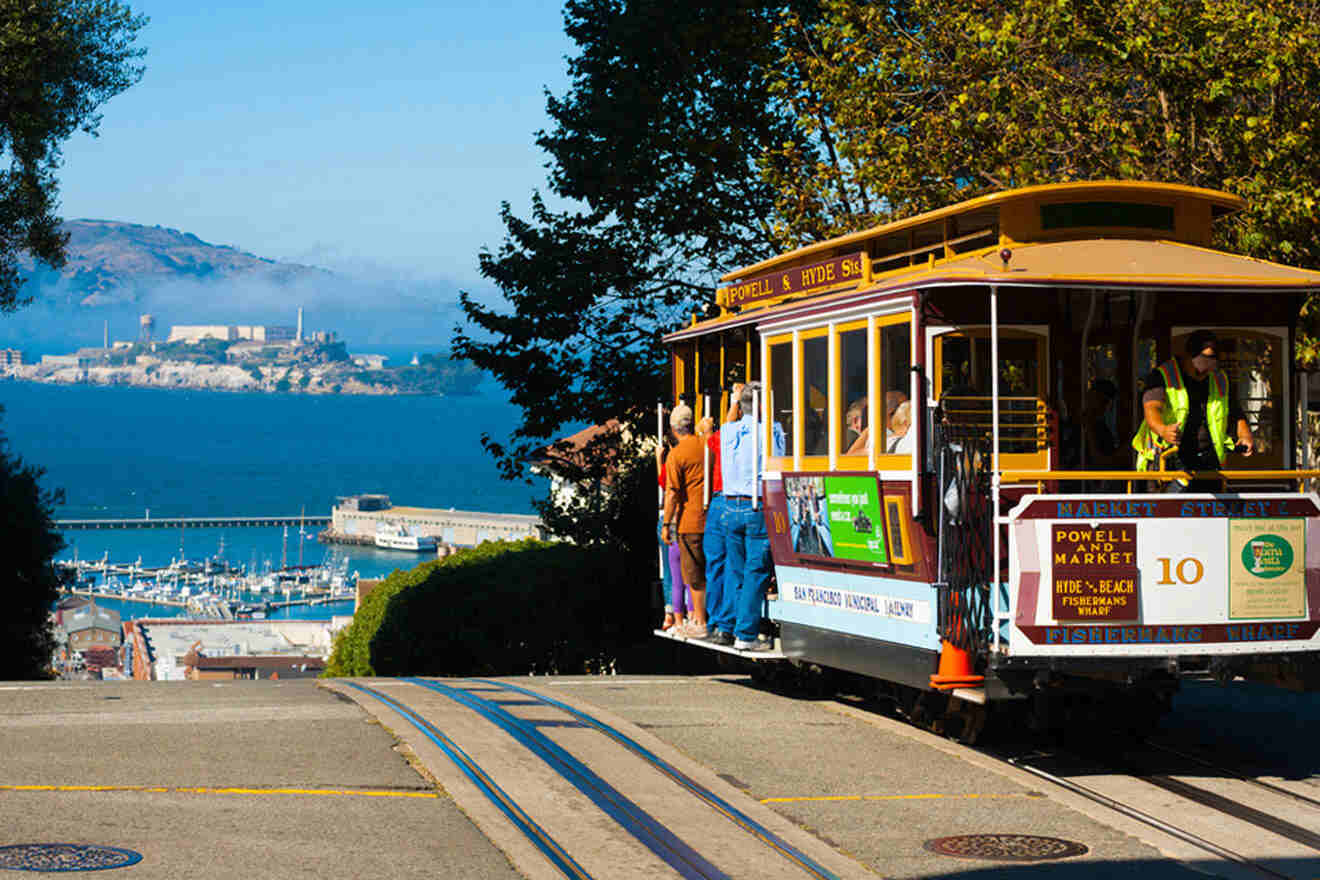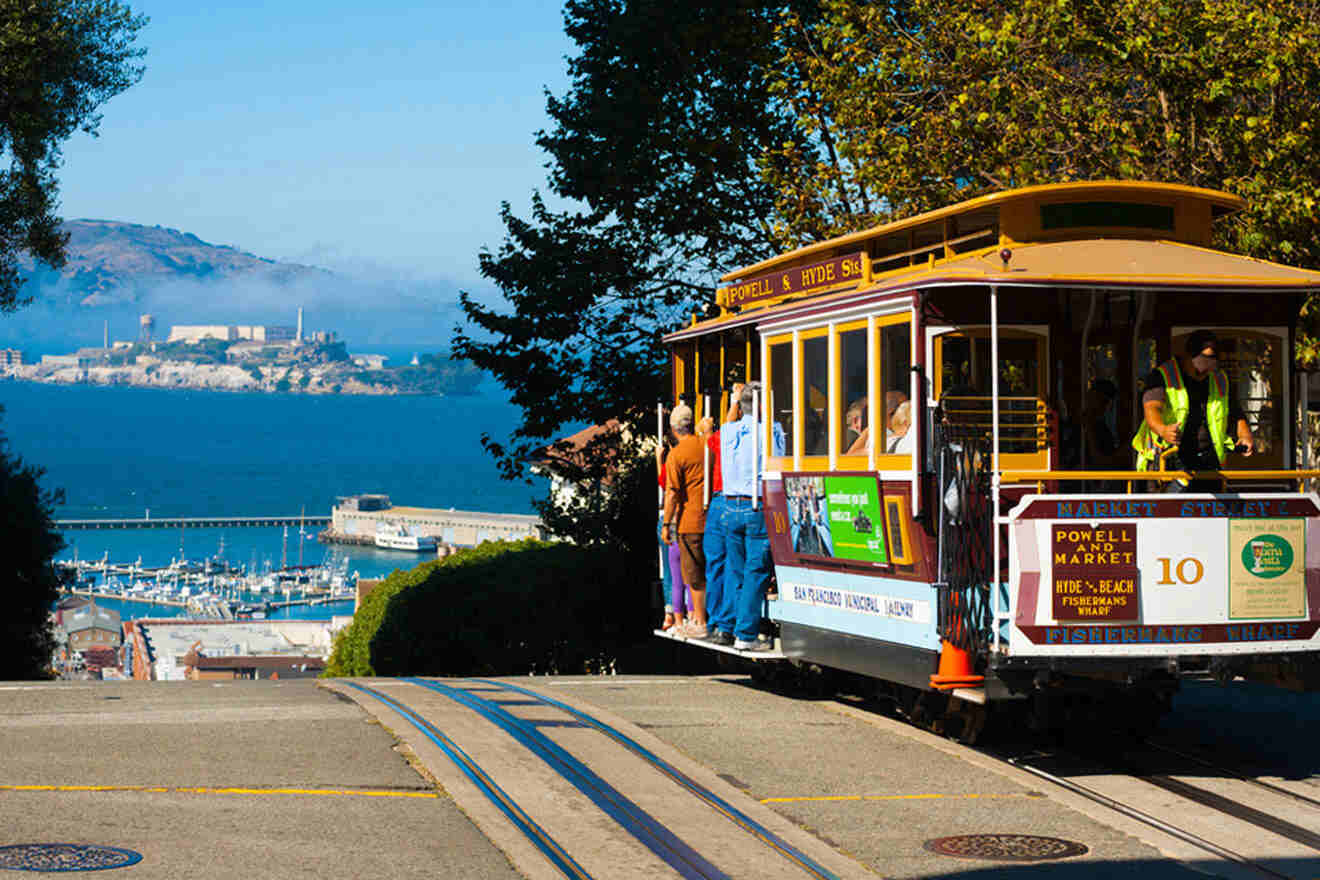 🍷 What is Northern California known for?
Northern California is most known for its dramatic coastal views on 17 Mile Drive, the redwood and sequoia trees, world-renowned Silicon Valley, and the famous attractions in San Francisco.
📅 When is the best time to visit Northern California?
The best time to visit Northern California is during the late summer or fall. It tends to get colder during the early spring and early summer, so if you're here around that time of year, come prepared with layers!
👨‍👩‍👧 What are the best things to do in Northern California for kids?
The best things to do in Northern California for kids are to visit the Monterey Bay Aquarium and the California State Railroad Museum and embark on the hundreds of hiking trails and outdoor activities throughout Lake Tahoe, Yosemite National Park, and others.
❤️ What are the most romantic things to do in Northern California?
The most romantic things to do in Northern California are riding the Napa Valley Wine Train in Napa Valley, exploring Sonoma County, and strolling the streets of Carmel-by-the-Sea. All of these towns offer experiences that are sure to make you and your partner relax and really enjoy each other's company.
Conclusion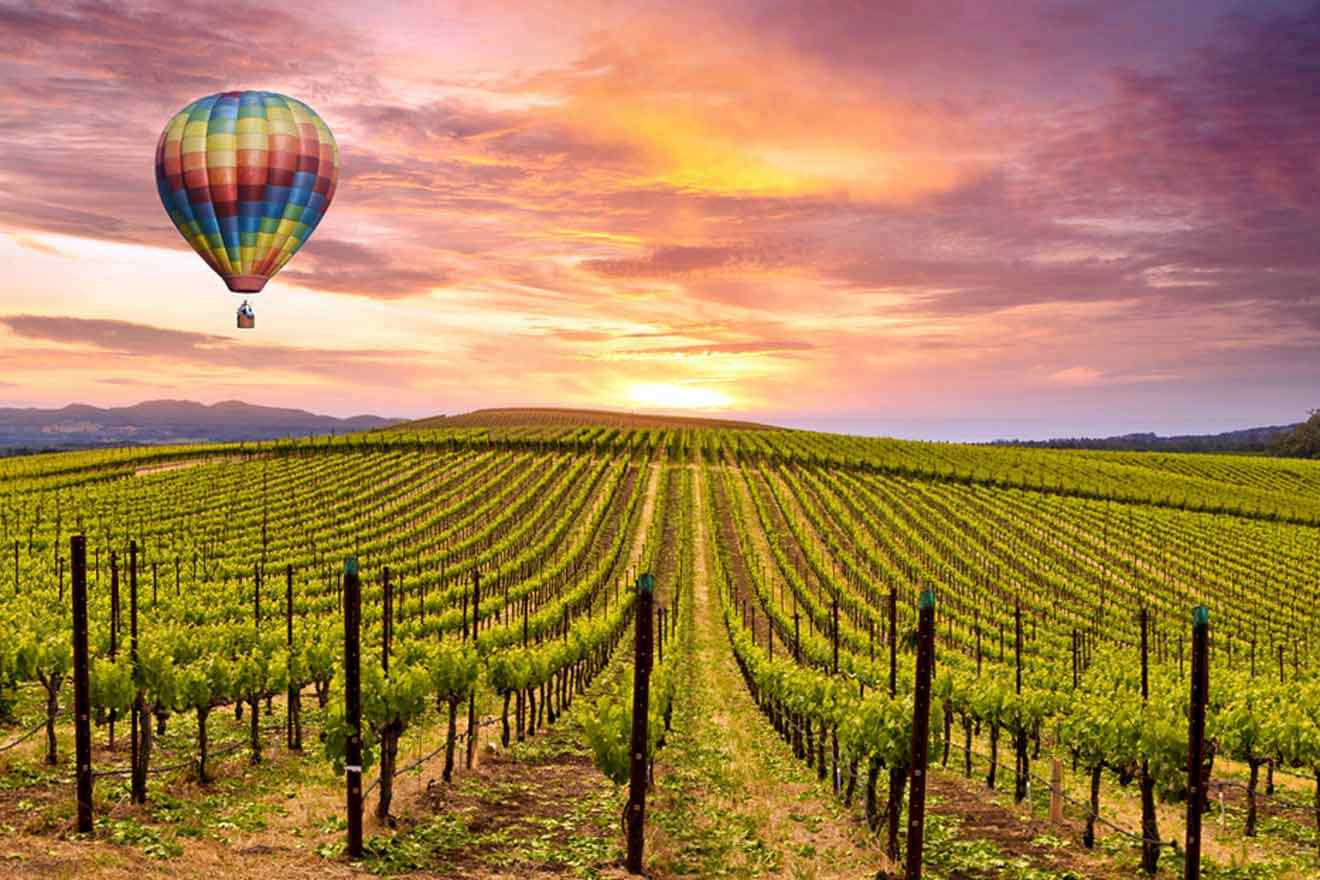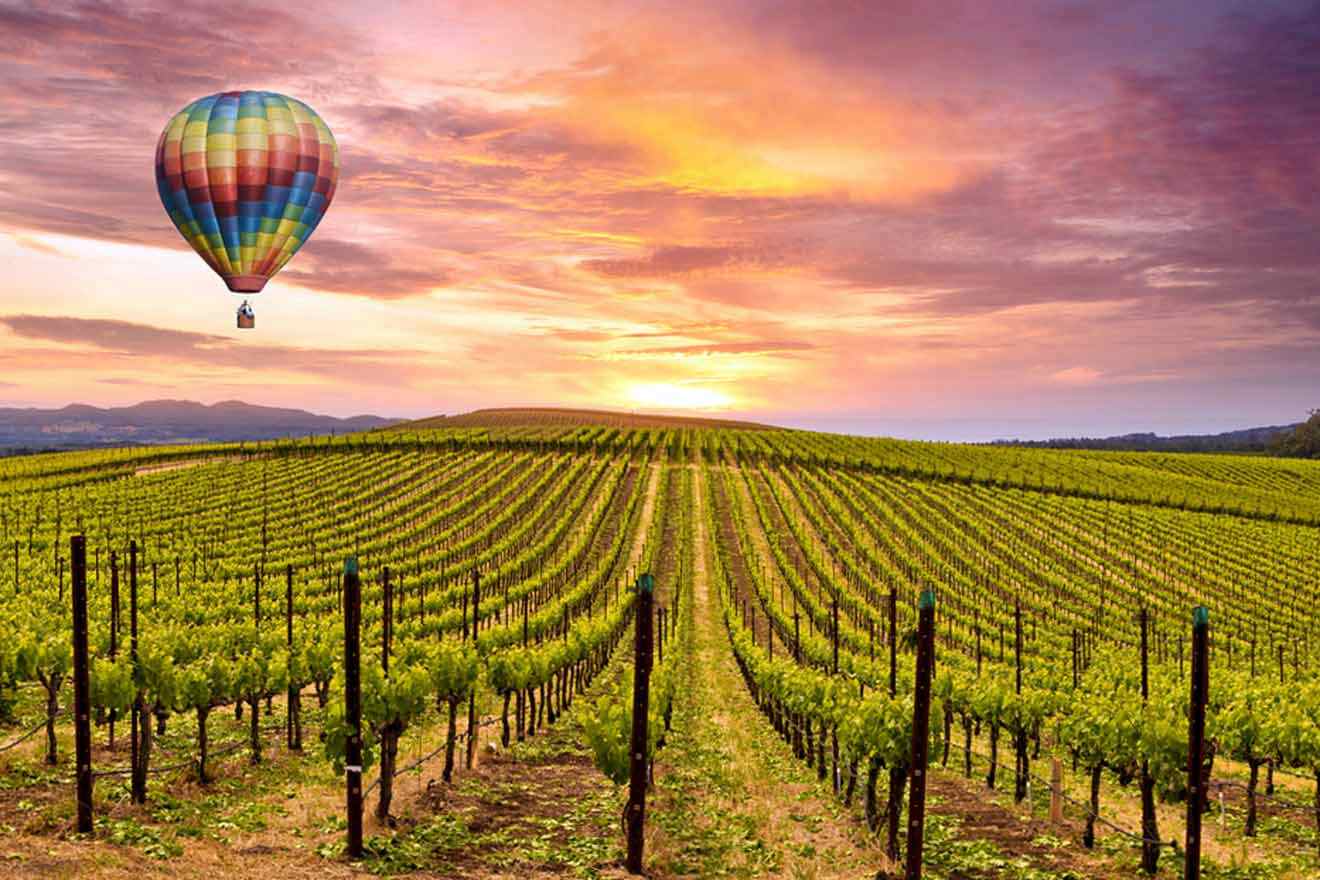 Phew! That was quite the journey through Northern California! Honestly, this list could go on even longer. California is a humongous state, and it's so hard to choose the best of the best things to do in every city, let alone a vast area such as Northern California.
My personal favorite things to do in Northern California are exploring national parks like Yosemite State Park and Sequoia National Park and taking the popular Napa Valley Wine Train down the rolling hills of Napa Valley. They're both so unique to NorCal, and I've made the best memories doing both of these activities.
A friendly reminder to you that tours tend to fill fast, so make sure to book your favorites in advance on your visit to Northern California!
As always, let me know how your trip went in the comments below!
Xoxo,
Esabel S.
---
Pin it for later!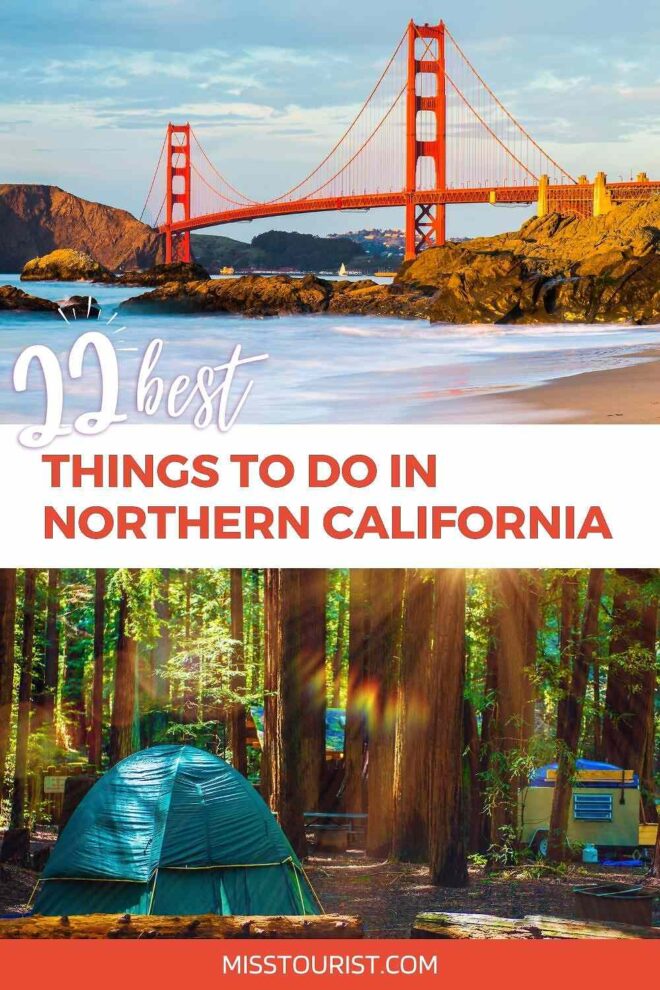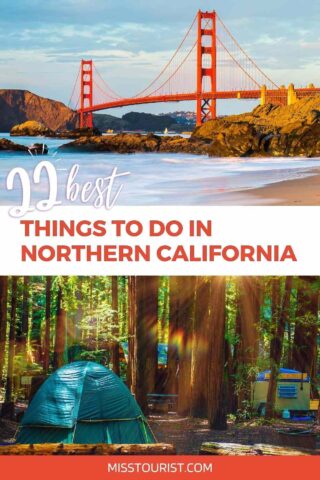 Pin it for later!