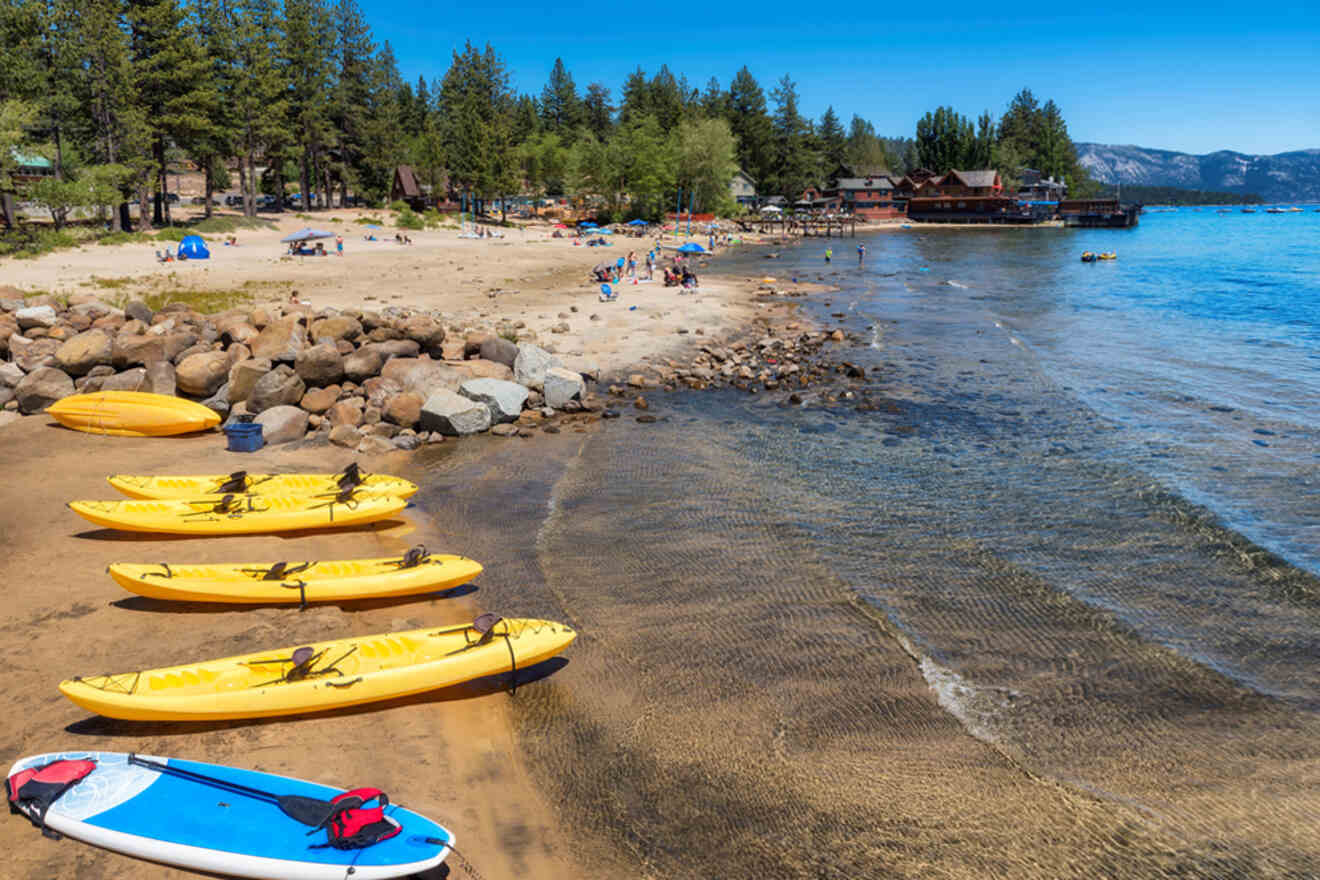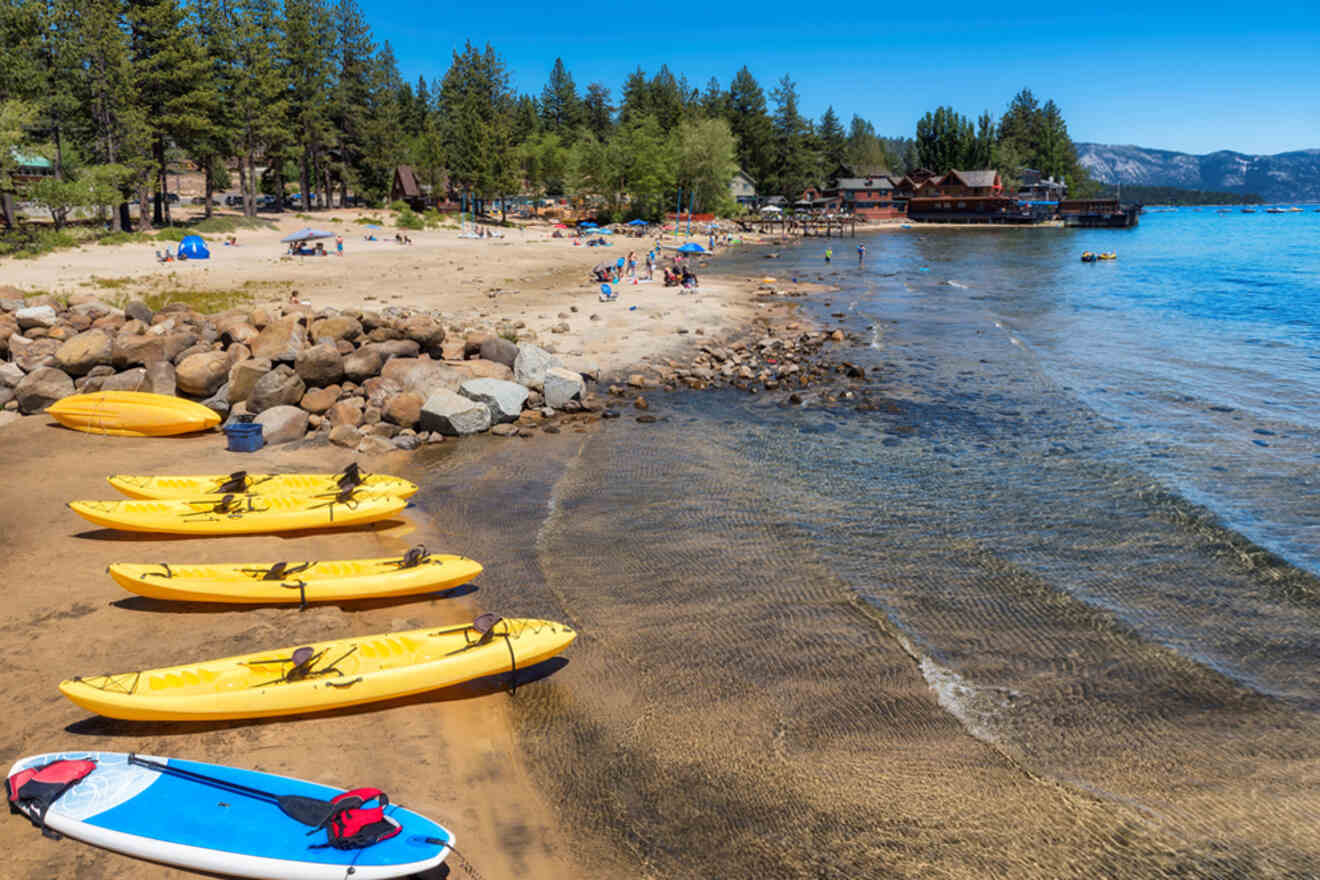 As a San Diego-based travel writer, I'm always itching to check out the best natural opportunities in my great state of California. So I'll be telling you all about my adventures and things to do in Lake Tahoe! The first time I visited Lake Tahoe 5 years ago, I fell in love, and I have been back numerous times since.
Then, I was introduced to the divine beauty of Lake Tahoe, California, nestled in the Sierra Mountain Range shimmering aqua blue waters, crystal clear to the bottom, sandy beaches, and an ambiance of fun and adventure!
Before we hit the slopes and the shores, I can't stress enough that Lake Tahoe is always busy, as it's not limited by seasonal activities, so be sure to secure tour reservations and hotel accommodations by booking in advance!
I'd hate for you to miss out on the coolest activities or on saving a few dollars. So plan ahead, and visit Lake Tahoe fully prepared for ultimate fun!
If you are in a hurry
When you arrive in Lake Tahoe, you'll be eager to hit the slopes or the shores, not spend hours indoors securing reservations. It's definitely wise to book your hotels and activities in advance:
And here are the best hotels: The Ritz Carlton Lake Tahoe (luxury), Hyatt Regency Lake Tahoe Resort, Spa & Casino (mid-range), Heavenly Village Condos (budget)
Are you all about choices when you're planning a trip? Me too! Check out our post on the top places to stay in Lake Tahoe for a full list of the best options.
Lake Tahoe has many surrounding areas, so I'll include a map here for you to properly navigate this giant alpine lake!
1. Take in the stunning views at Emerald Bay State Park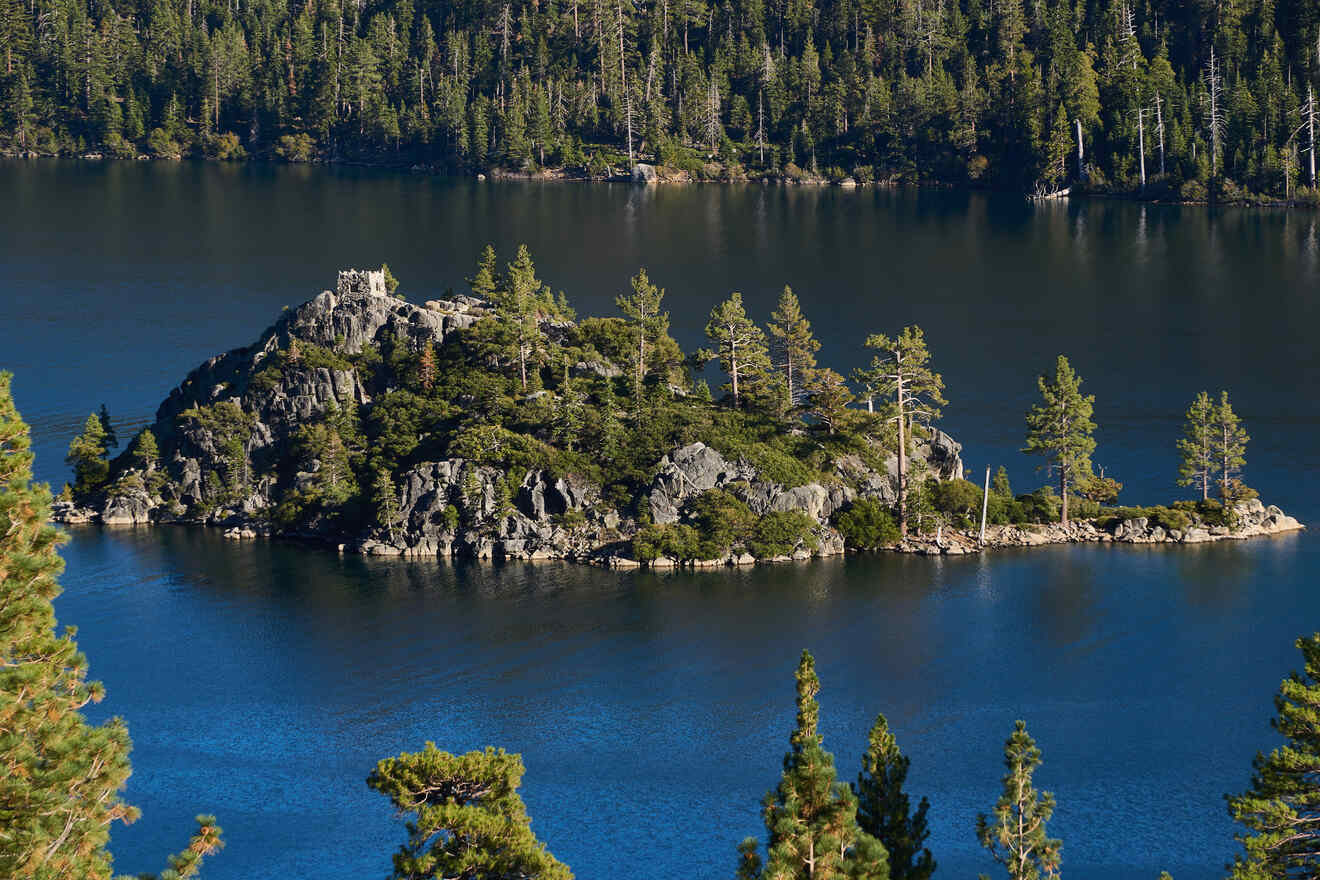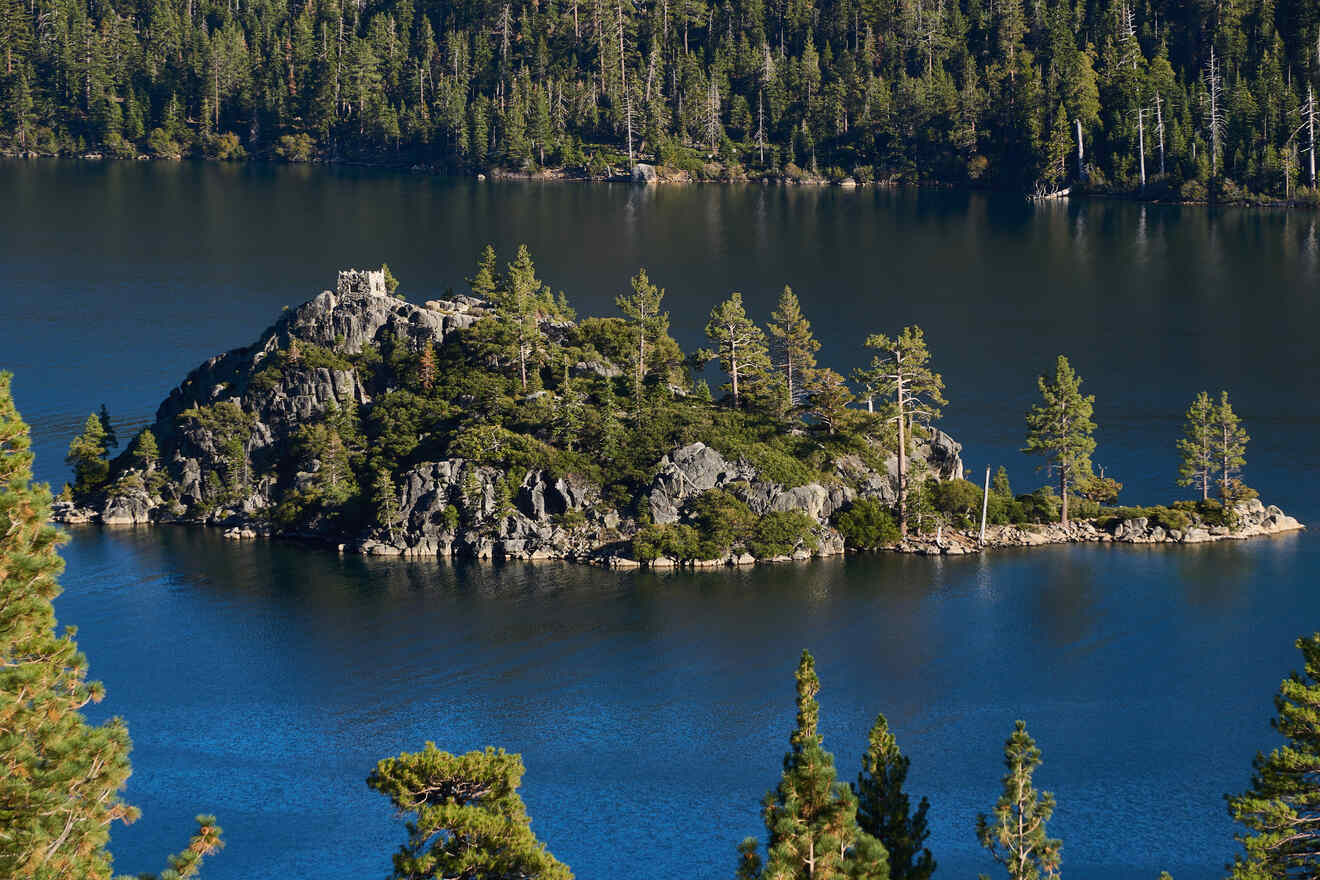 If you have a picture of Lake Tahoe in your mind, bright blue and turquoise waters with rugged, lush mountains surrounding its border, it's likely a photograph from this stunning state park known as the jewel of Lake Tahoe.
This is the quintessential place to breathe in all the beauty that visiting Lake Tahoe has to offer. There are countless beaches with sandy shores, Emerald Bay lookout points, a multitude of hiking and water sports activities, as well as unforgettable views of the lake.
I love Tahoe in the summer, with its warm weather and vibrant energy – there's nothing like it!
Don't miss the view of Fannette Island, the only island in Lake Tahoe, a stunning rock formation jutting out of the bay.
Want to up the ante with the ultimate Emerald Bay experience? Check out this Emerald Bay helicopter tour that will catapult you up to the skies to gaze down at the natural beauty of Lake Tahoe and Emerald Bay on a 10 – 12 minute tour.
TOUR PRICE: US$110 per person
2. Visit the historic Vikingsholm Castle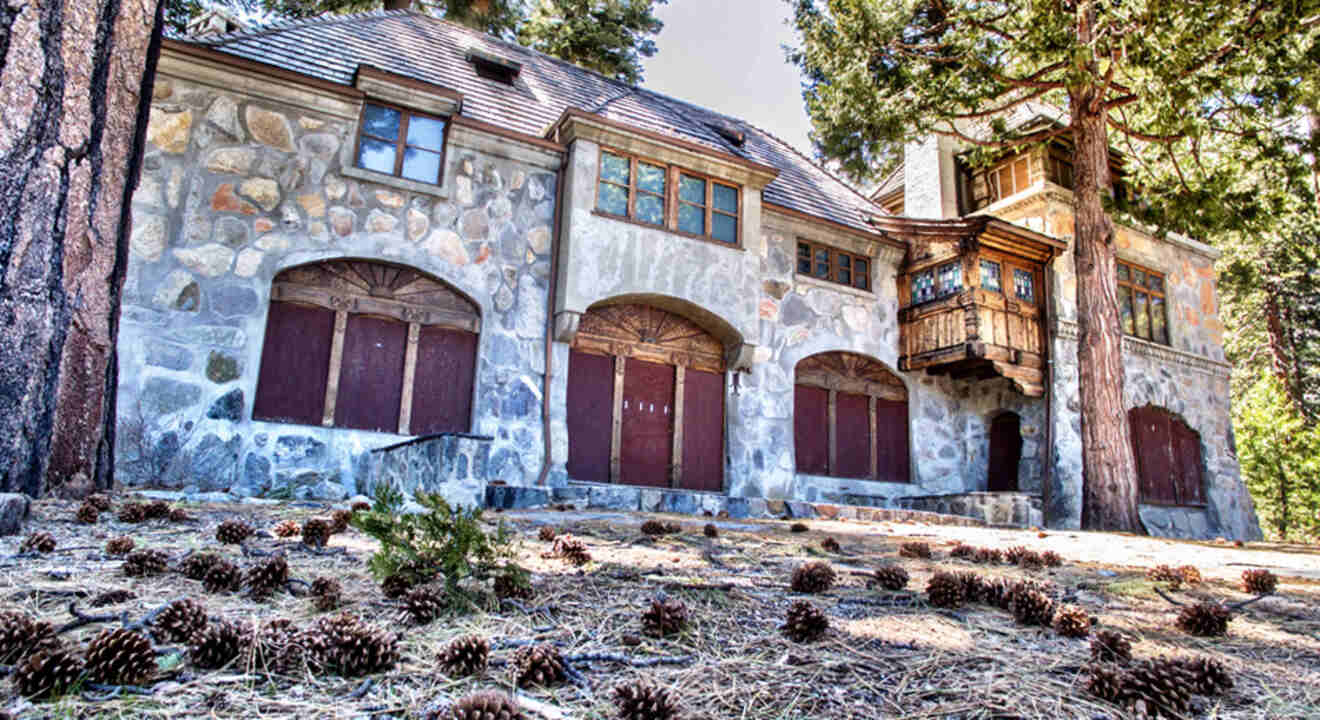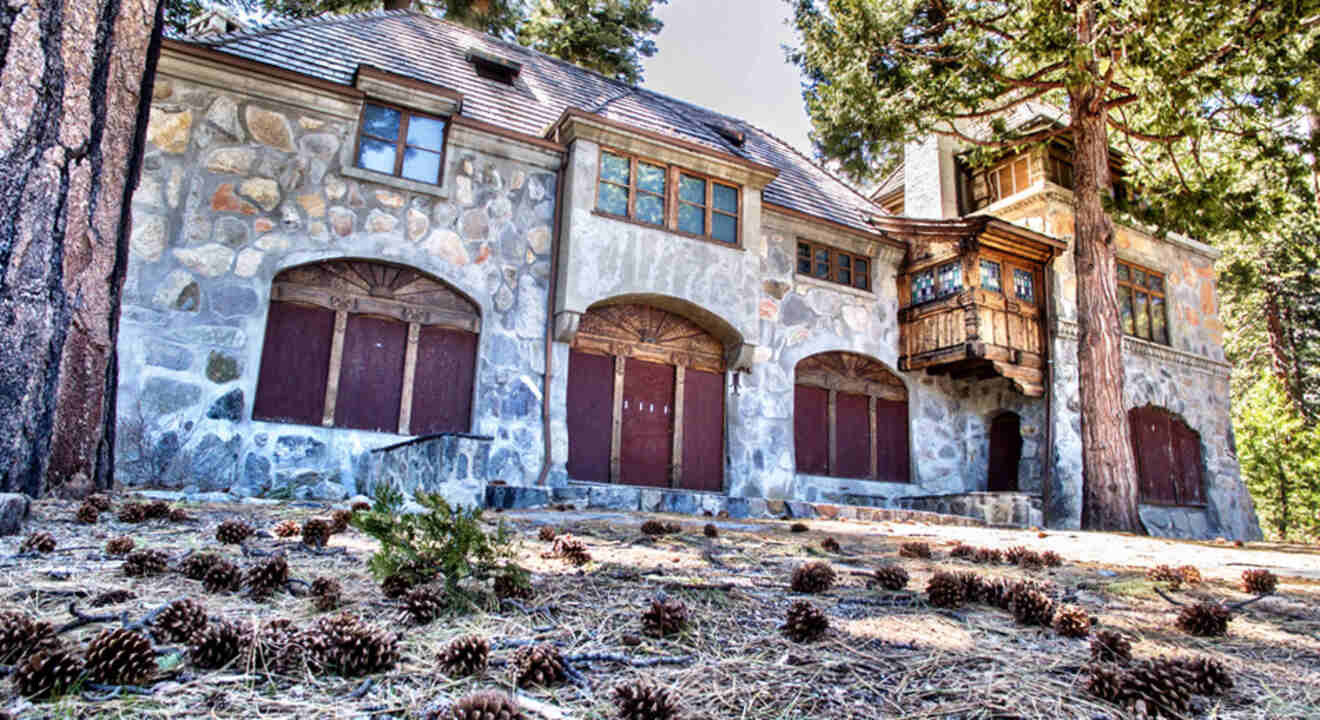 The most popular activity within Emerald Bay State Park is a visit to Vikingsholm Castle.
You have some options for getting here: Vikingsholm can be reached by walking a 1-mile (less than 2 km) trail from the parking lot on Highway 89 or by boat on a guided tour. The admission to the house is US$15 per person.
The 38-room mansion is modeled after Scandinavian architecture and is the best example we have of this style in the United States
One of the coolest things to do in Lake Tahoe, and recognized as a national and California historic landmark, I think this is one of the better historic sites to see in the region.
You'll love the experience of touring through this incredible estate, filled with beautiful decor and a window into our country's past, sitting right on the shores of Lake Tahoe.
If you enjoy your boat tour to VIkingsholm, it might be worth it to extend your time on the gorgeous waters of Emerald Bay and go on a private cruise on a vintage 1950s boat.
TOUR PRICE: from US$750 per group of 6
3. Explore Sand Harbor State Park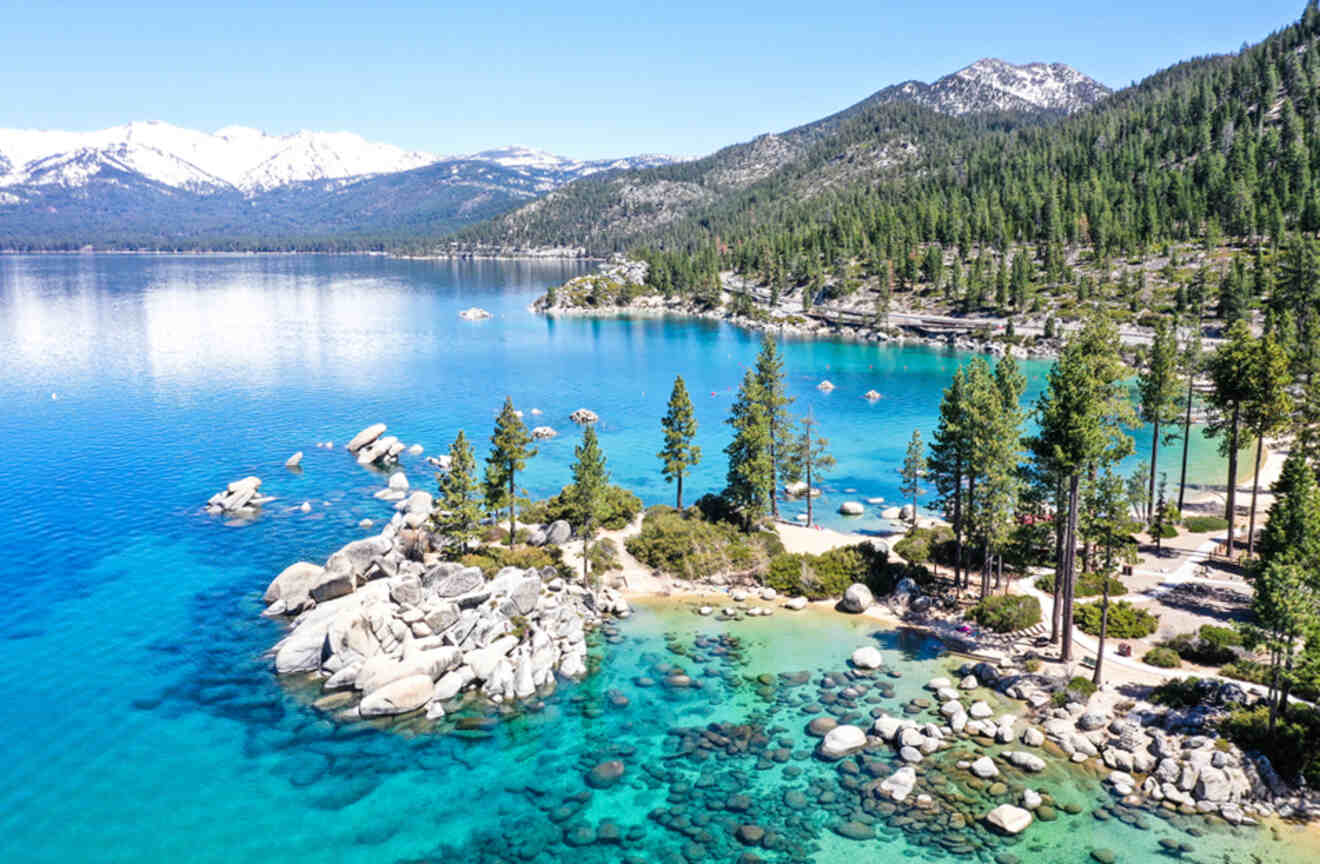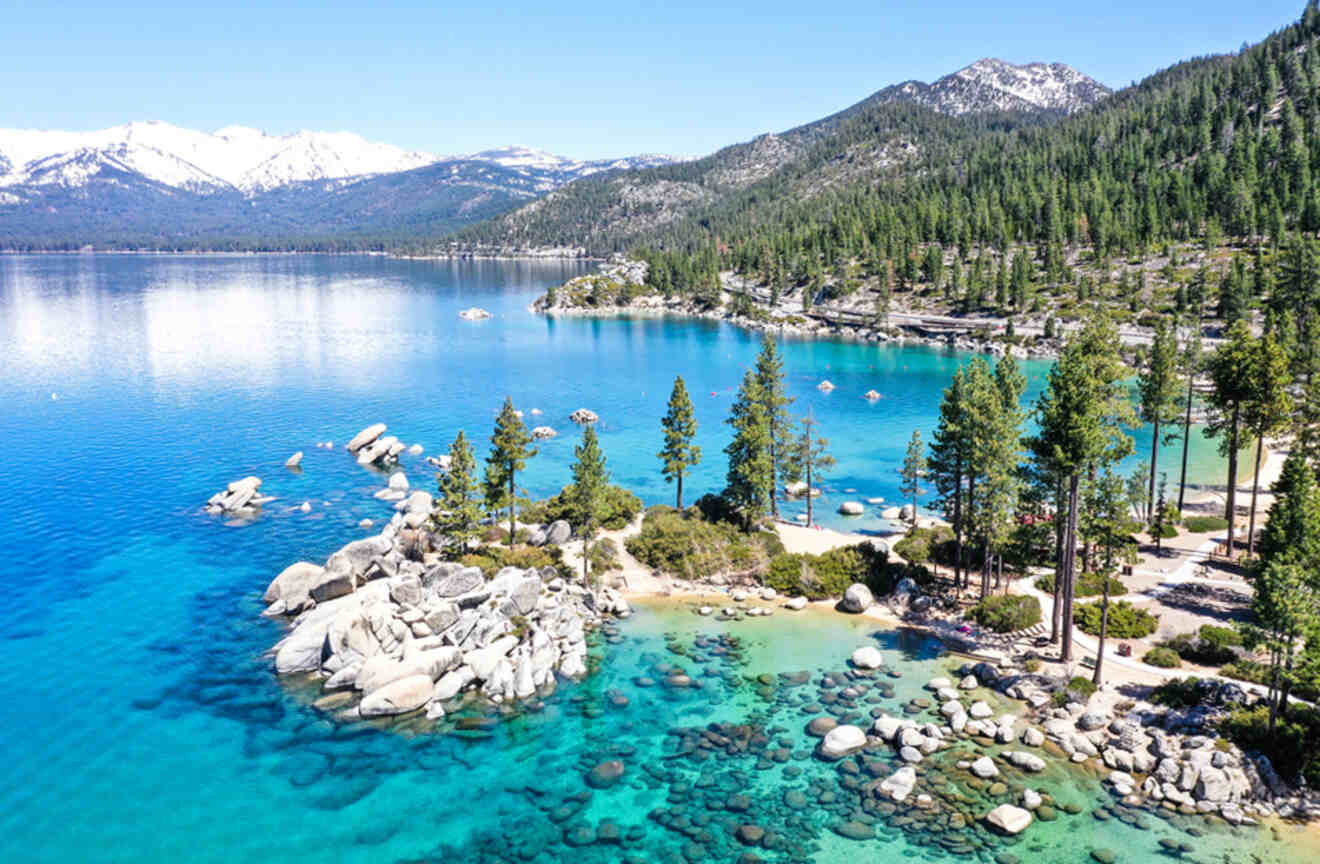 Sand Harbor State Park is a place with amazing swimming, kayaking, and even scuba-diving opportunities.
You'll be amazed at the crystal clear waters of Lake Tahoe state parks, providing some of the best conditions possible for viewing underwater marine life.
Sand Harbor State Beach was my first-ever stop in the area, located on the northeast shore, with a white sandy beach and shallow waters. I immediately fell in love with the region and all the things to do in Lake Tahoe.
Keep in mind Lake Tahoe can be rough and even produce large waves in the winter time, so make sure to always check lake conditions before entering with the local visitor center or your resort.
If you're in Lake Tahoe in summer, be sure to check out the Shakespeare Festival that takes place at Sand Harbor.
4. Hit the slopes at Heavenly Ski Resort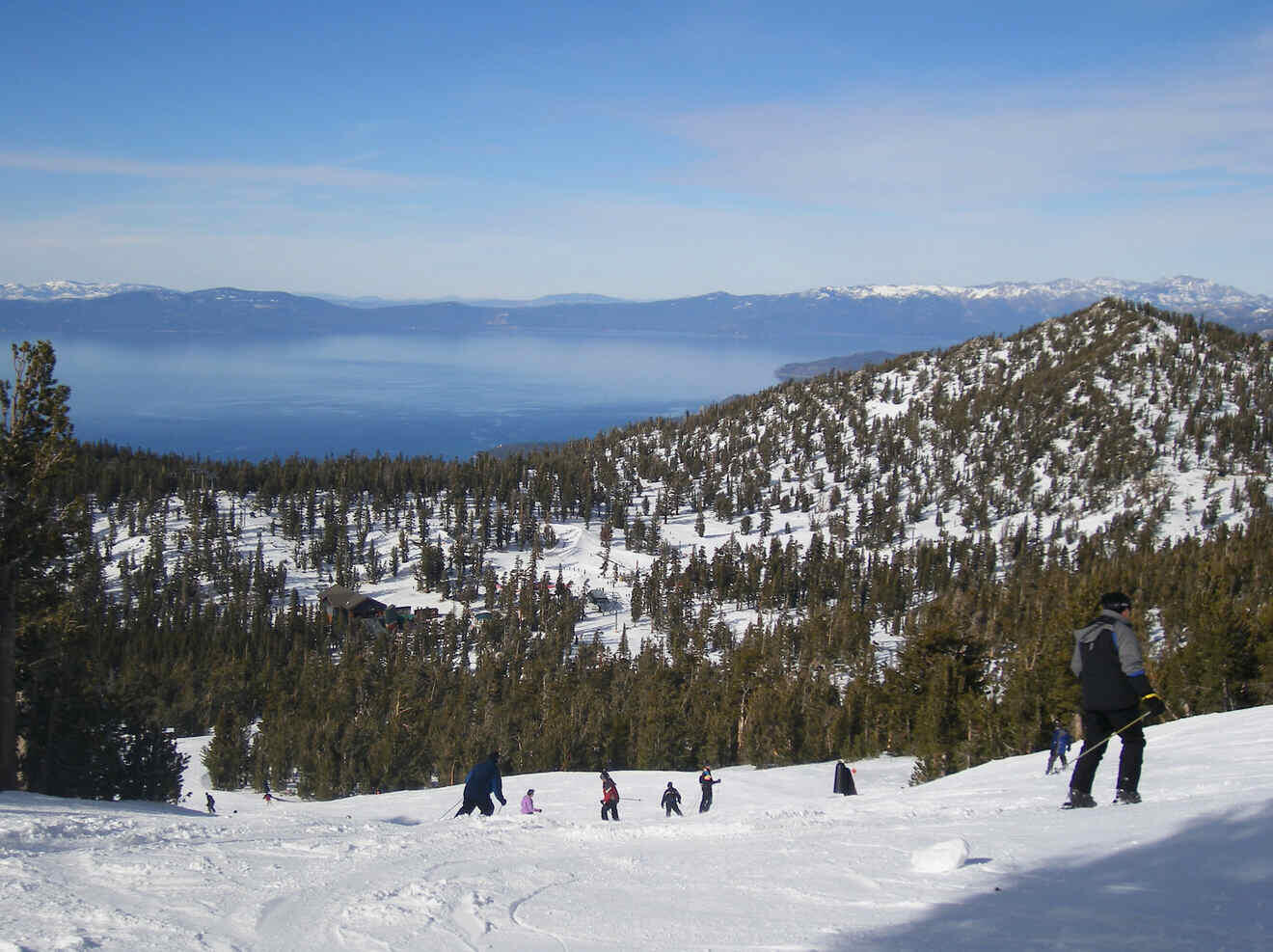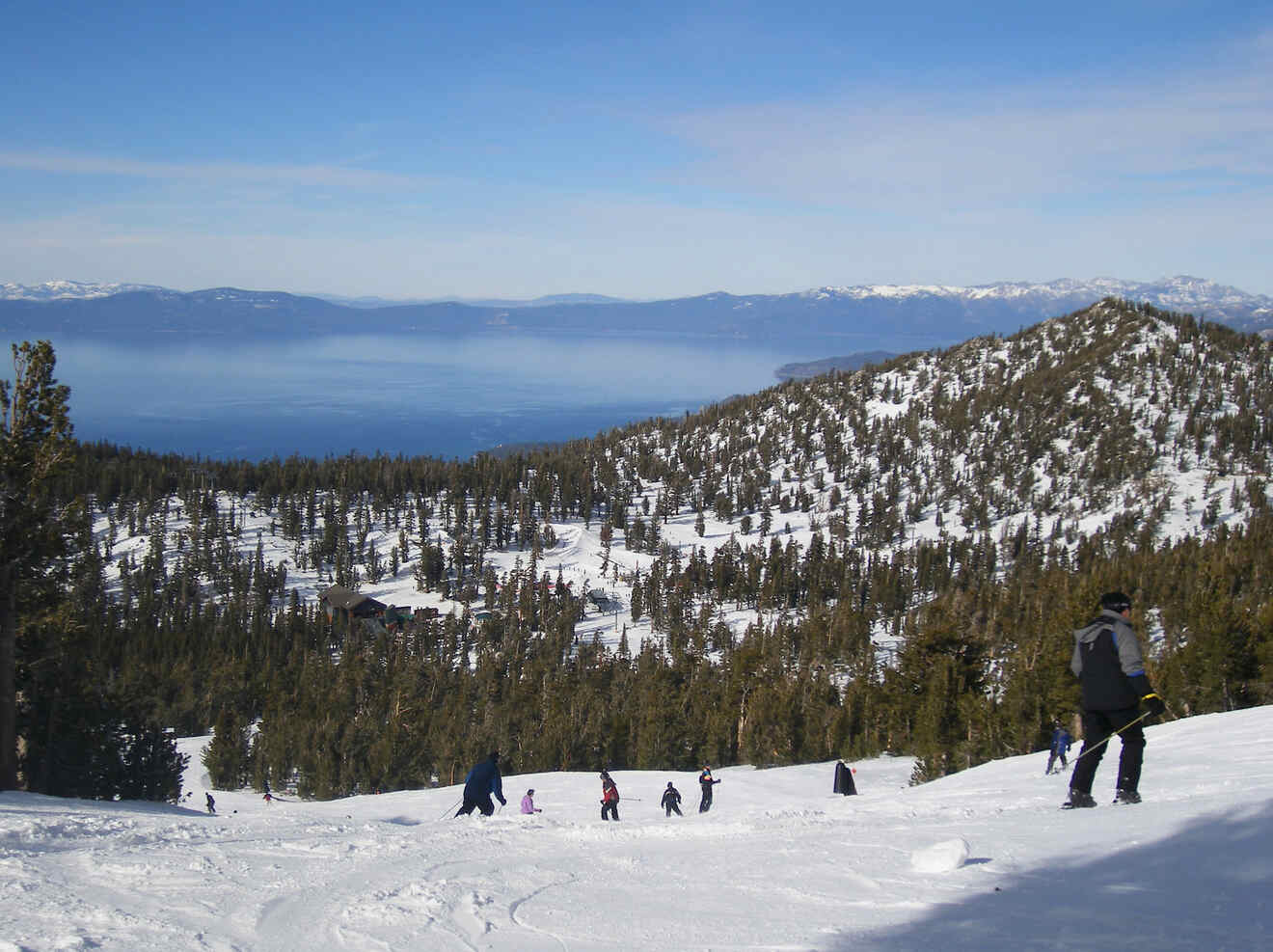 Heavenly Ski Resort is known worldwide as one of the best places to hit powder and take advantage of Lake Tahoe's winter wonderland.
With over 4,800 skiable acres (over 1,940 hectares) at Heavenly Ski Resort, you can spend year after year coming back and not touching every inch of the mountain.
Try snowboarding or skiing at this stunning resort overlooking the lake that welcomes returning Tahoe City visitors often.
Don't worry if you're not visiting Lake Tahoe during the wintertime, Lake Tahoe in summer activities are still amazing and memorable, too. I'll give you an example just below!
PRICE: Heavenly Ski Lift starting at US$124 for adults
5. Hop on the sky-high Mountain Gondola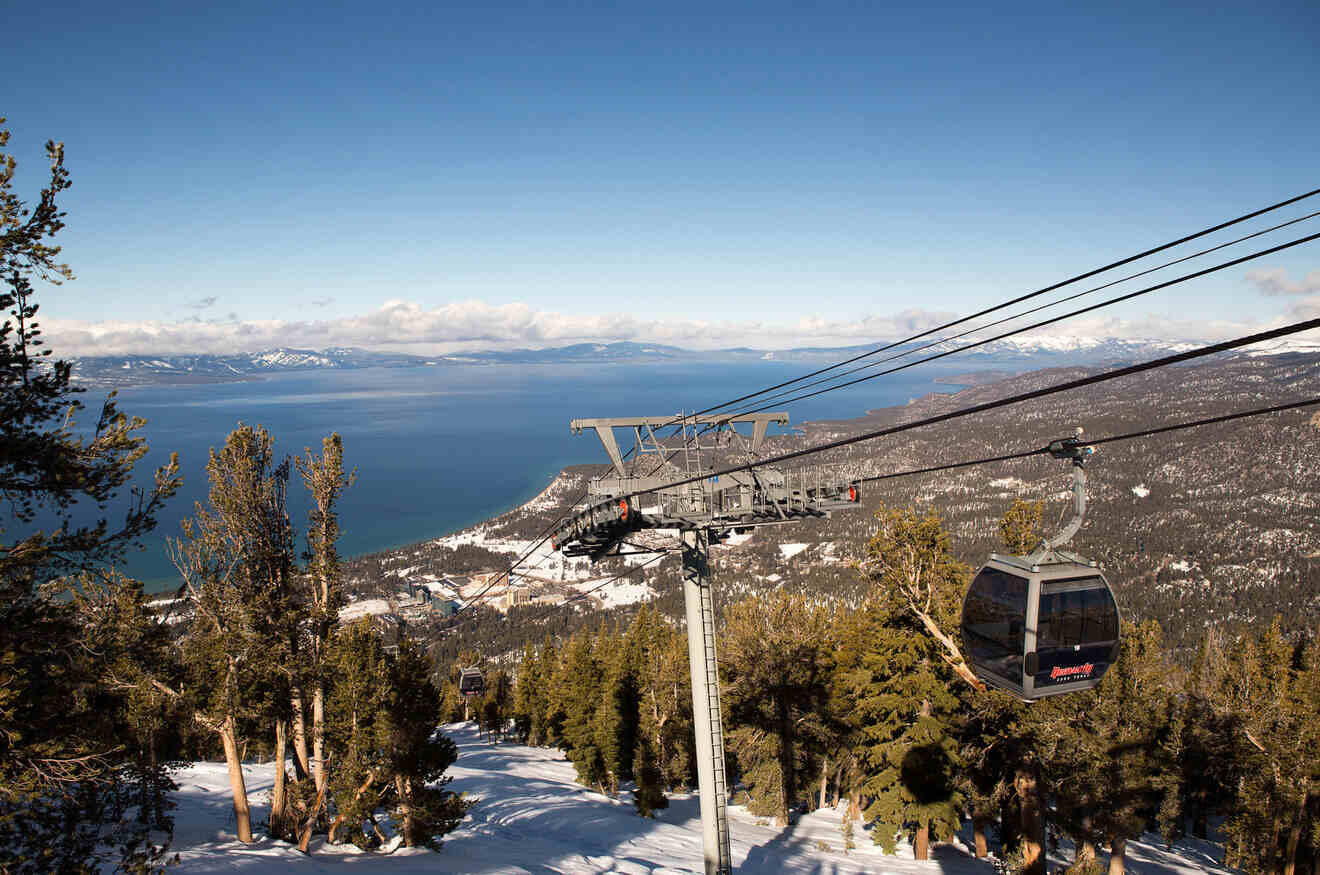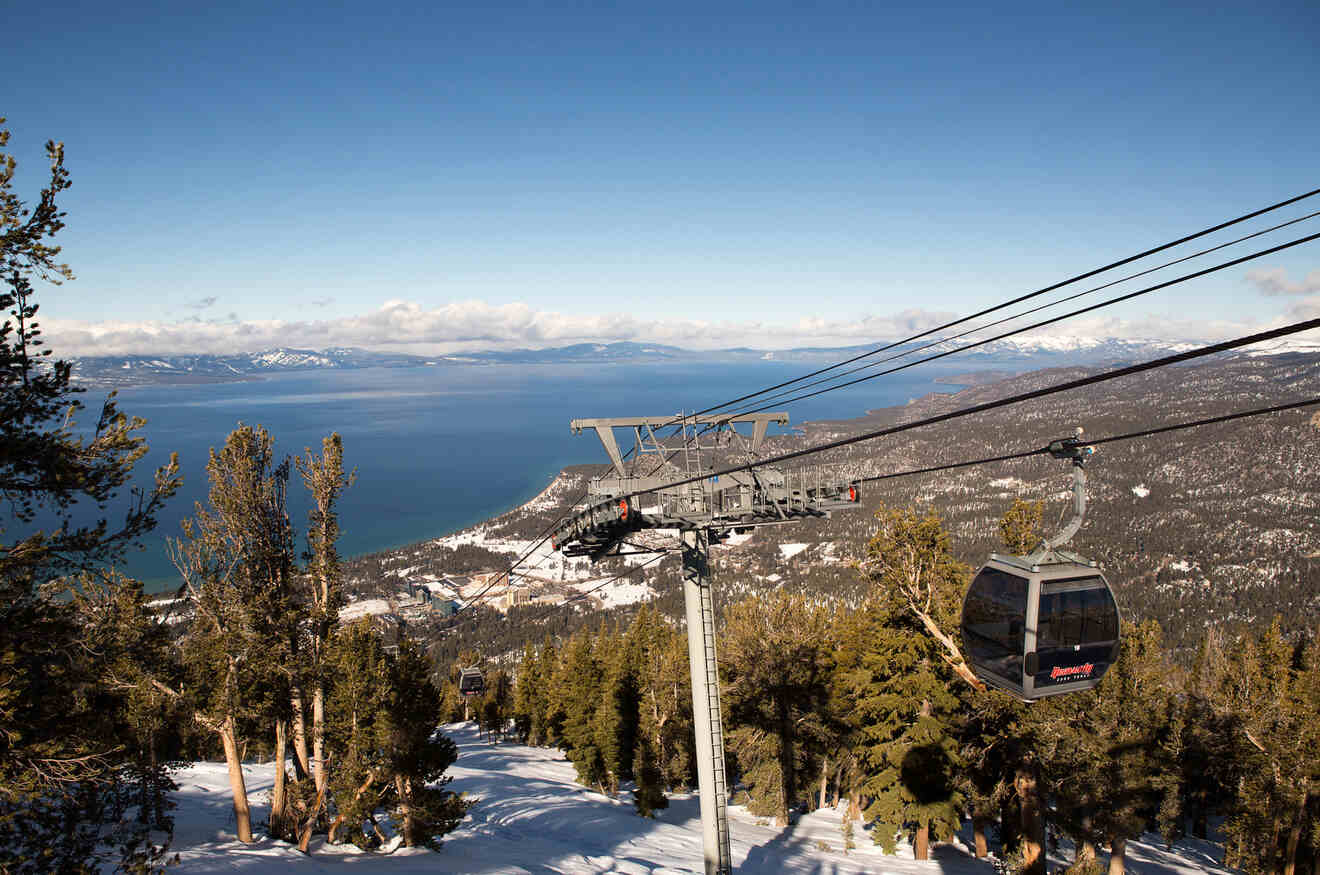 Try the popular Mountain Gondola ride, also known as Heavenly Mountain Gondola, that takes you up over 2 miles (c. 4 km) to the top of Heavenly to see panoramic views of Lake Tahoe, grab a bite to eat at the café, or marvel in awe from the observation deck.
This is absolutely a top Lake Tahoe summer activity and a great way to get a view of Tahoe City!
PRICE: US$69 per person
6. Discover the fascinating past of Tallac Historic Site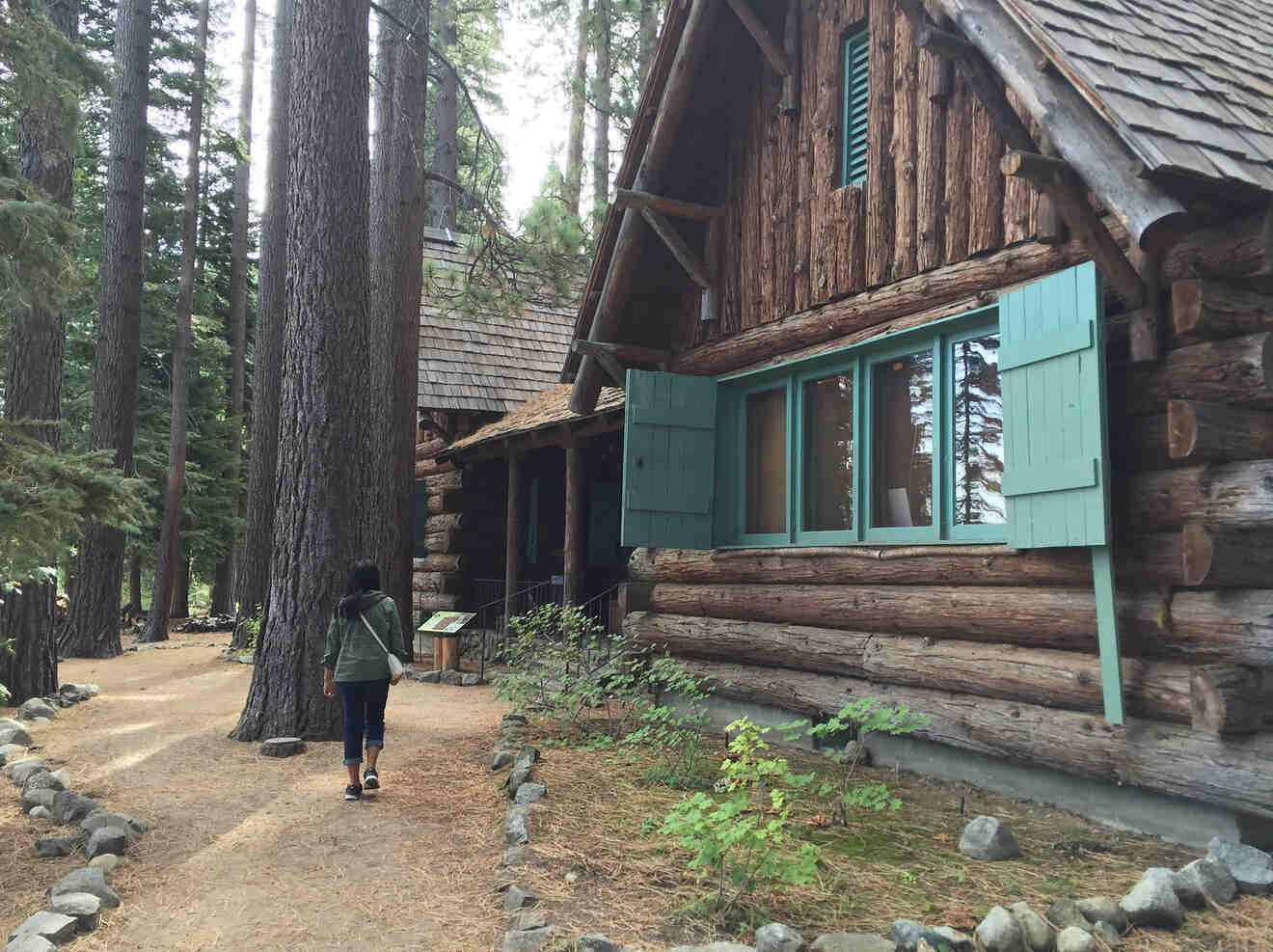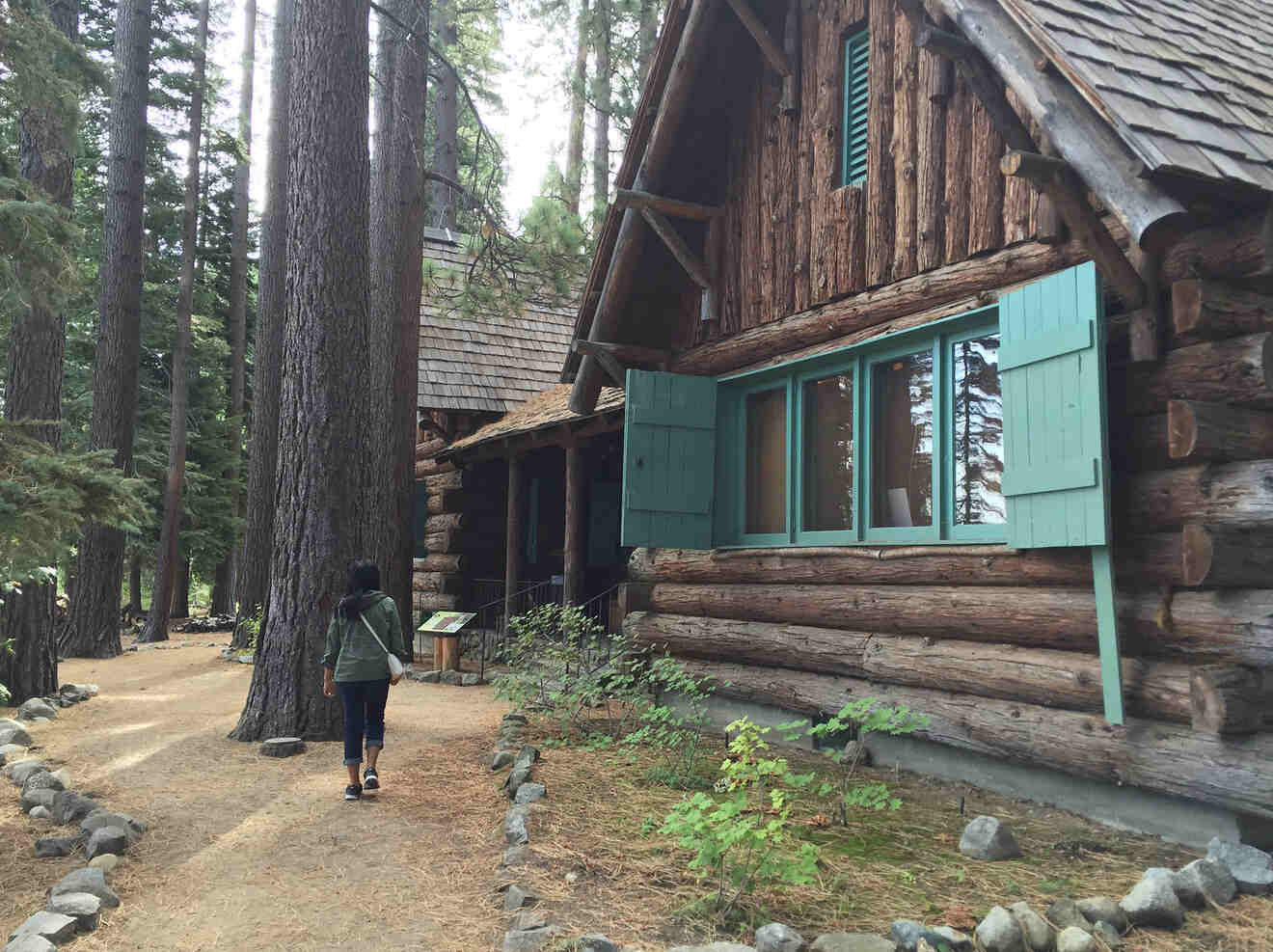 I love taking time out from adventuring to take in some history and culture. Would you believe a little over a century ago, this charming log cabin recreation area was known as the "Grandest Resort in the World"?!
When visiting the Tallac Historic Site, there are heritage programs that protect the foundation, guided walks around the property, and building tours of the historic site.
NOTE: Visiting this historical site is a Lake Tahoe summertime activity, as it's closed to tours in the winter.
PRICE: US$15 for adults
7. Go skiing at Northstar California Resort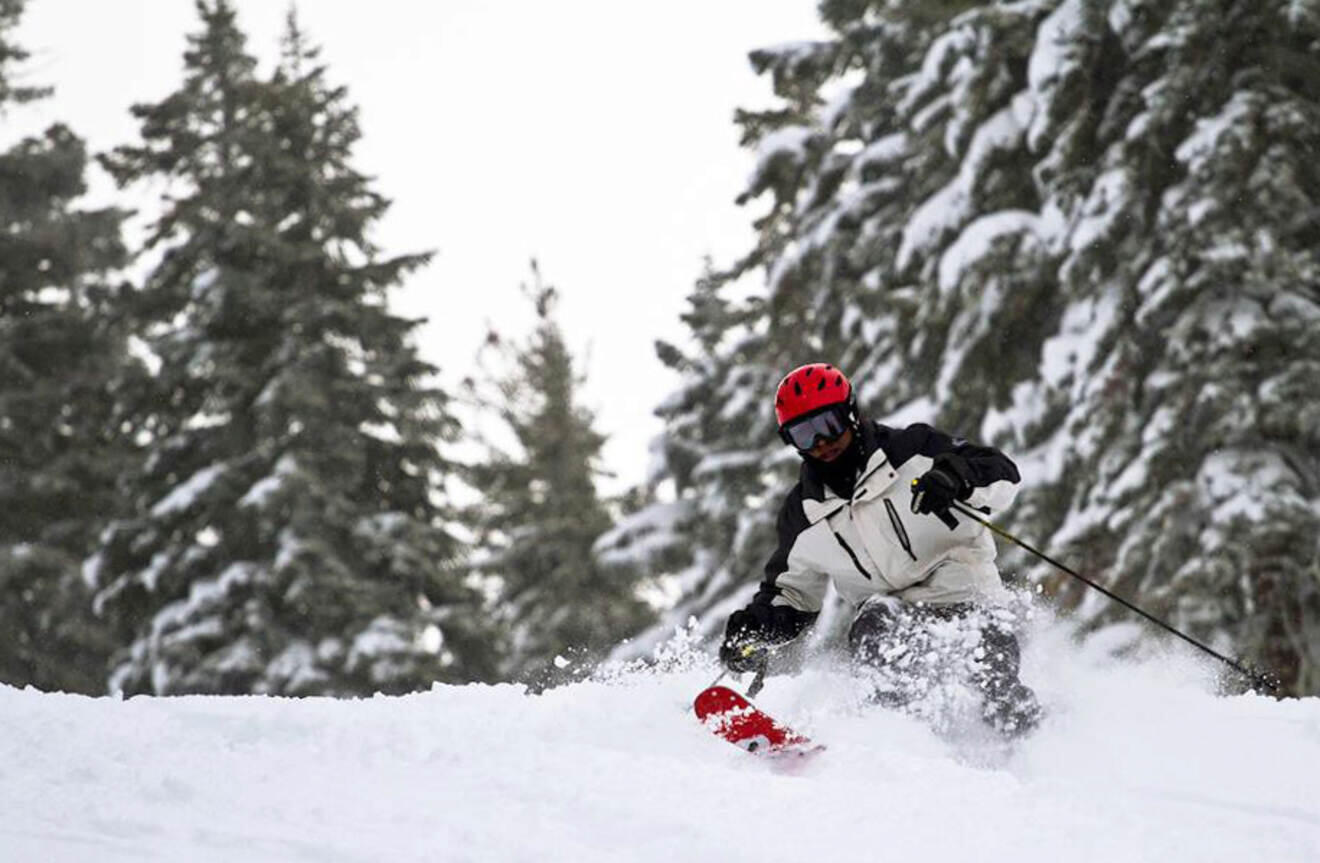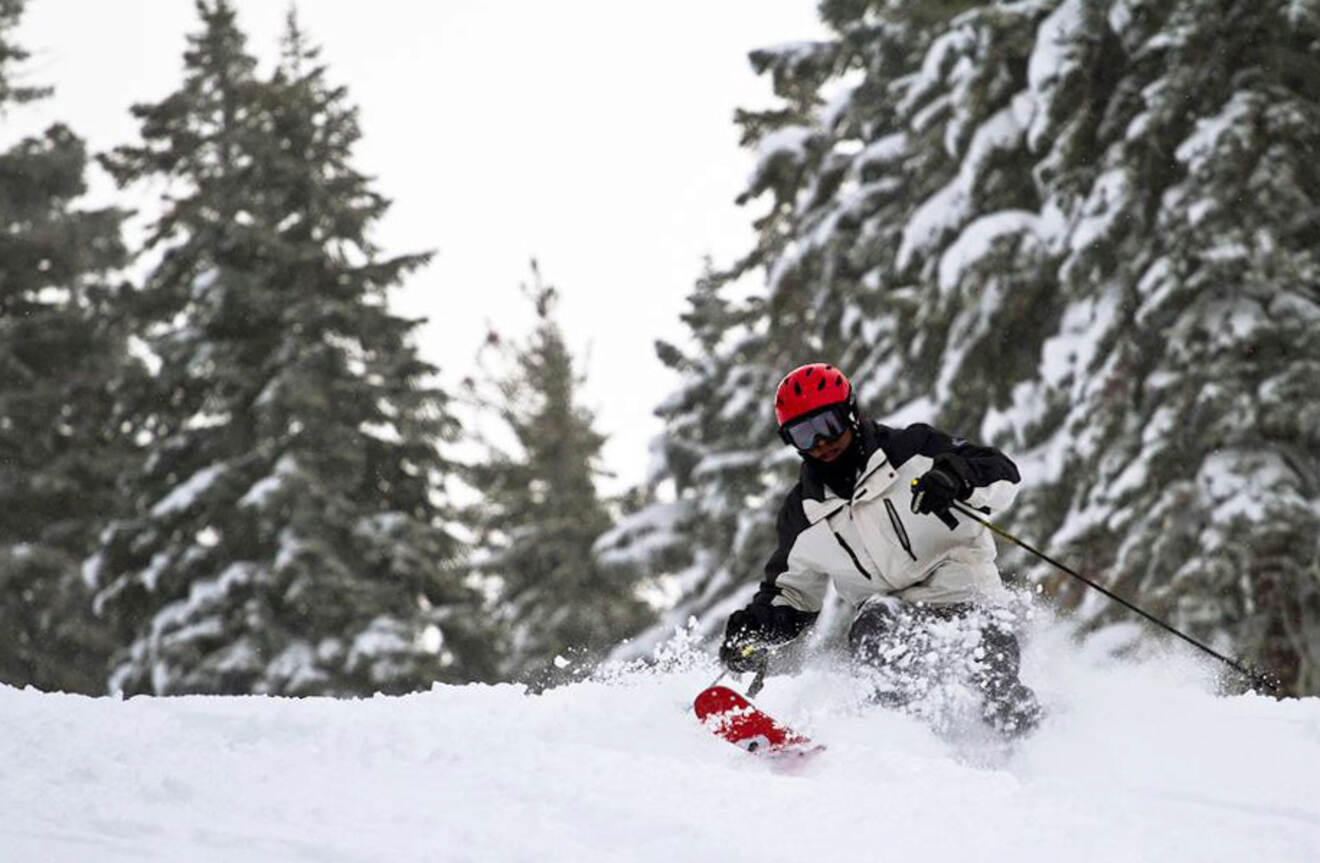 Known for being one of the prettiest resorts in the area and a must-do on your things to do in Lake Tahoe list, Northstar California Resort has tons to offer the outdoor enthusiast.
If you find yourself on a visit to Lake Tahoe during the winter, Northstar California Resort provides you with 240 miles (97 km) of untouched mountain slopes.
For summertime visitors, the resort is a great jumping-off point for hiking, mountain biking, and adventuring in the area.
PASS PRICE: from US$390 per person
8. An easy hike up to Lower Eagle Falls Trail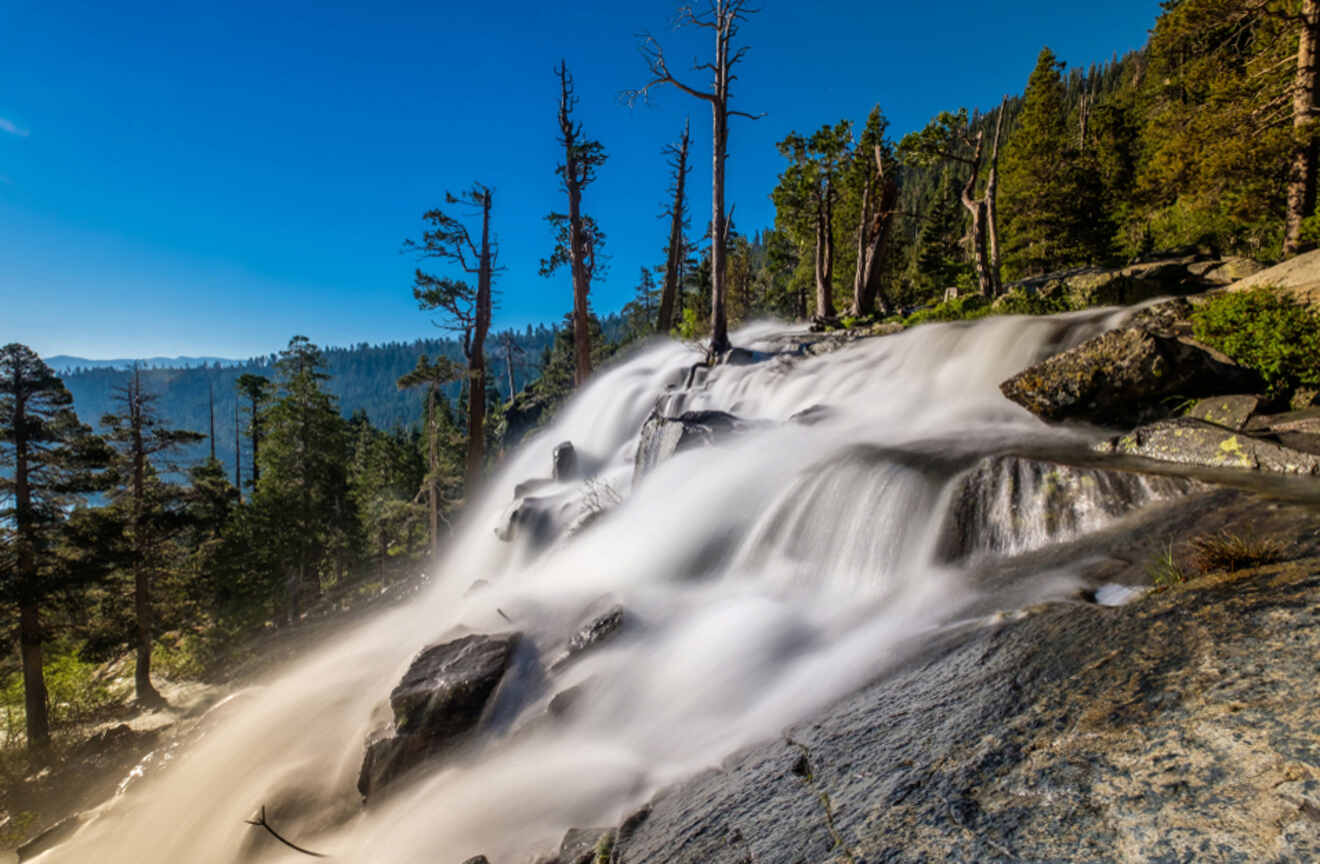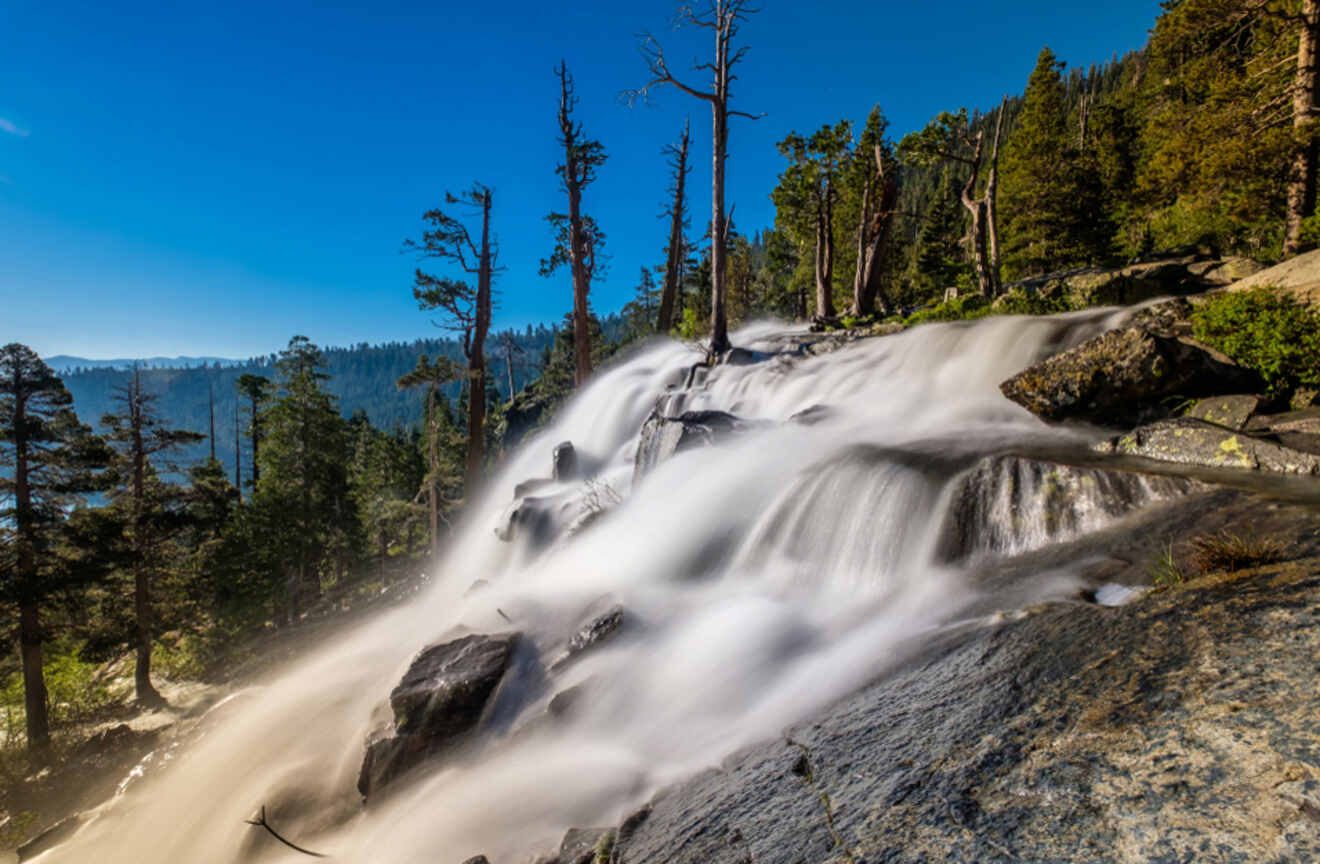 Sometimes, I just want to see tons of natural beauty without a huge time or effort commitment! 😭
Located in El Dorado National Forest, flanked by the Sierra Nevada Mountains, Lower Eagle Falls Trail is the perfect place in Lake Tahoe to explore without breaking too much of a sweat.
This trail actually leaves from the visitor center, and you'll climb up a reasonable amount of stone steps until you reach the falls, 0.6 miles (1 km) up.
The hike isn't difficult at all, but the steps can often get slippery with people's wet feet traipsing around, so just be careful, please!
It's not a long hike, but it's fun to spend a half day here to really enjoy the ambiance of the falls.
PRICE: FREE
9. Straddle the state lines at Van Sickle Bi-State Park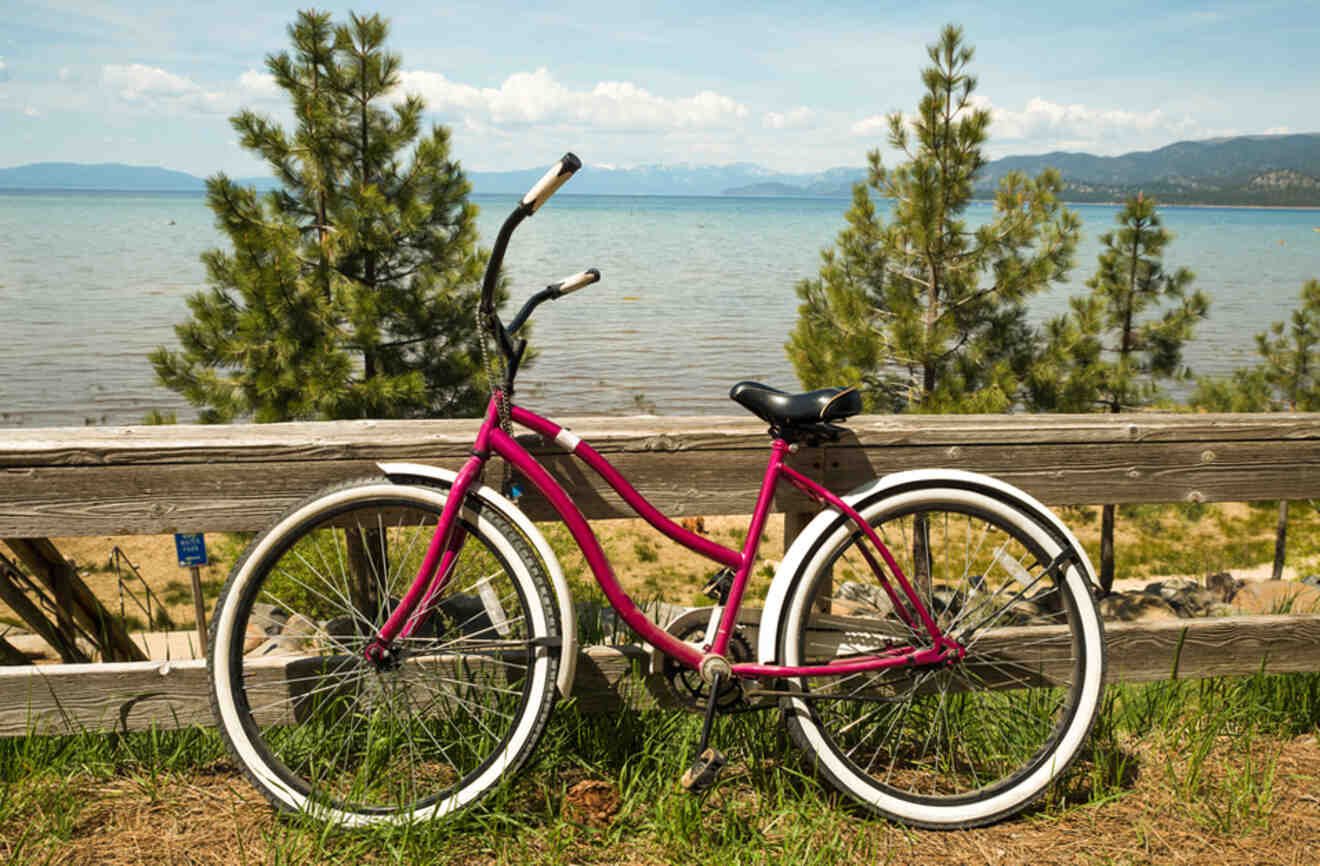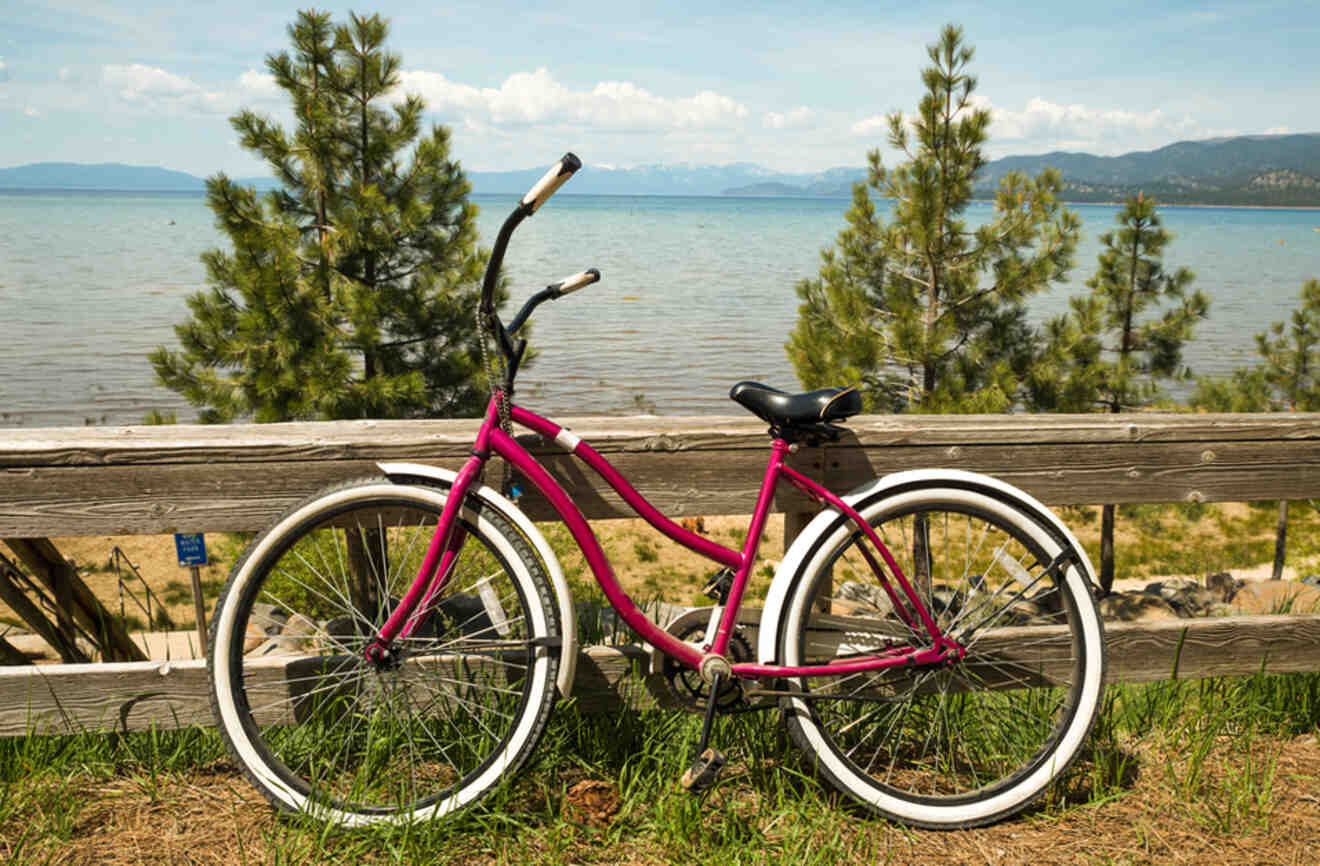 One of my favorite things about visiting Lake Tahoe is the unique fact that you are straddling both Nevada and California state lines during your visit.
What's cool about Van Sickle Bi-State Park is it's literally located just along the sidewalk in South Lake Tahoe, not far from the casinos, and is well-marked. It's right near the largest bed base in the Lake Tahoe Basin, offering you a taste of this area's wildlife and natural beauty right along the happening street.
A great way to explore both sides of the border is by e-Bike, allowing you to travel around the circumference of Lake Tahoe on bike paths and stop at all the most interesting spots. I highly recommend this self-guided half-day e-Bike tour to maximize your time.
TOUR PRICE: US$110 per person
10. Feel the power of Inspiration Point at Emerald Bay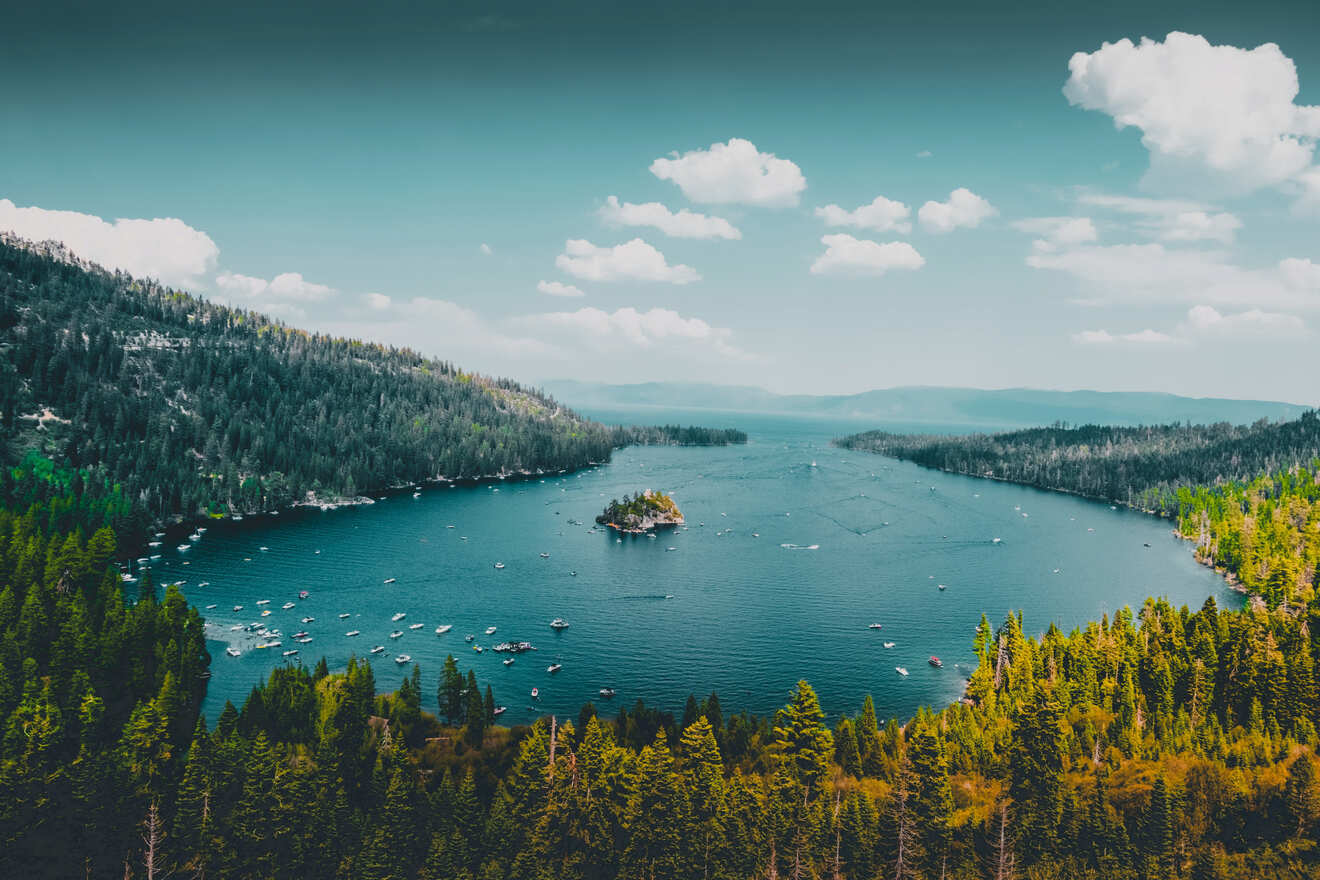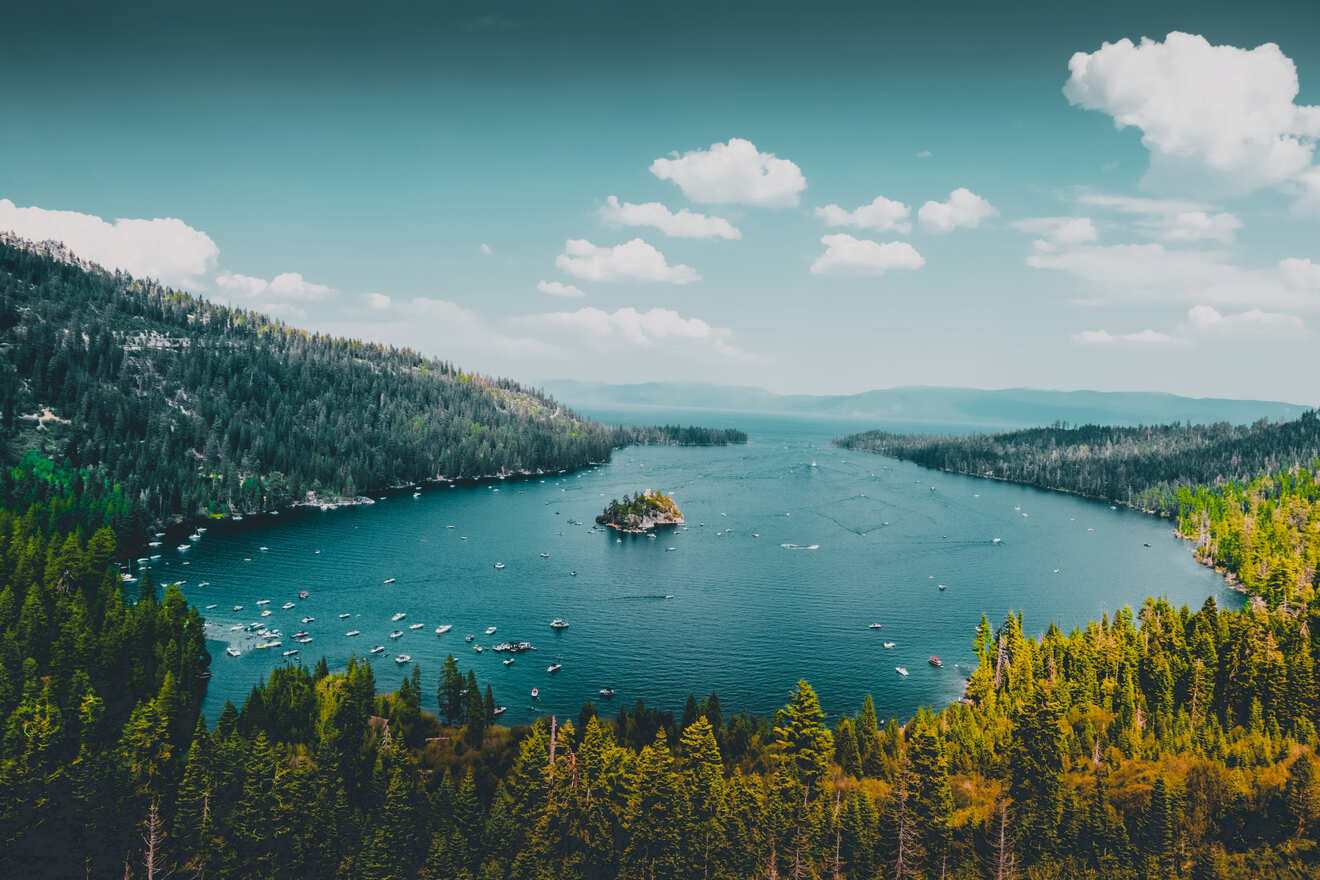 Without a doubt, one of the coolest things you can do in Lake Tahoe is to find local gems and lookouts to see the best angles of the largest alpine lake in our country.
Whenever you visit Lake Tahoe, Inspiration Point provides unbridled views of the lake, the surrounding area, evergreens, and wildlife.
Sitting 600 ft (182 m) above Lake Tahoe, it's hard to get a better viewpoint to snap your photos or a better way to spend a beautiful half day in Lake Tahoe.
11. Hit the trails from Taylor Creek Visitor Center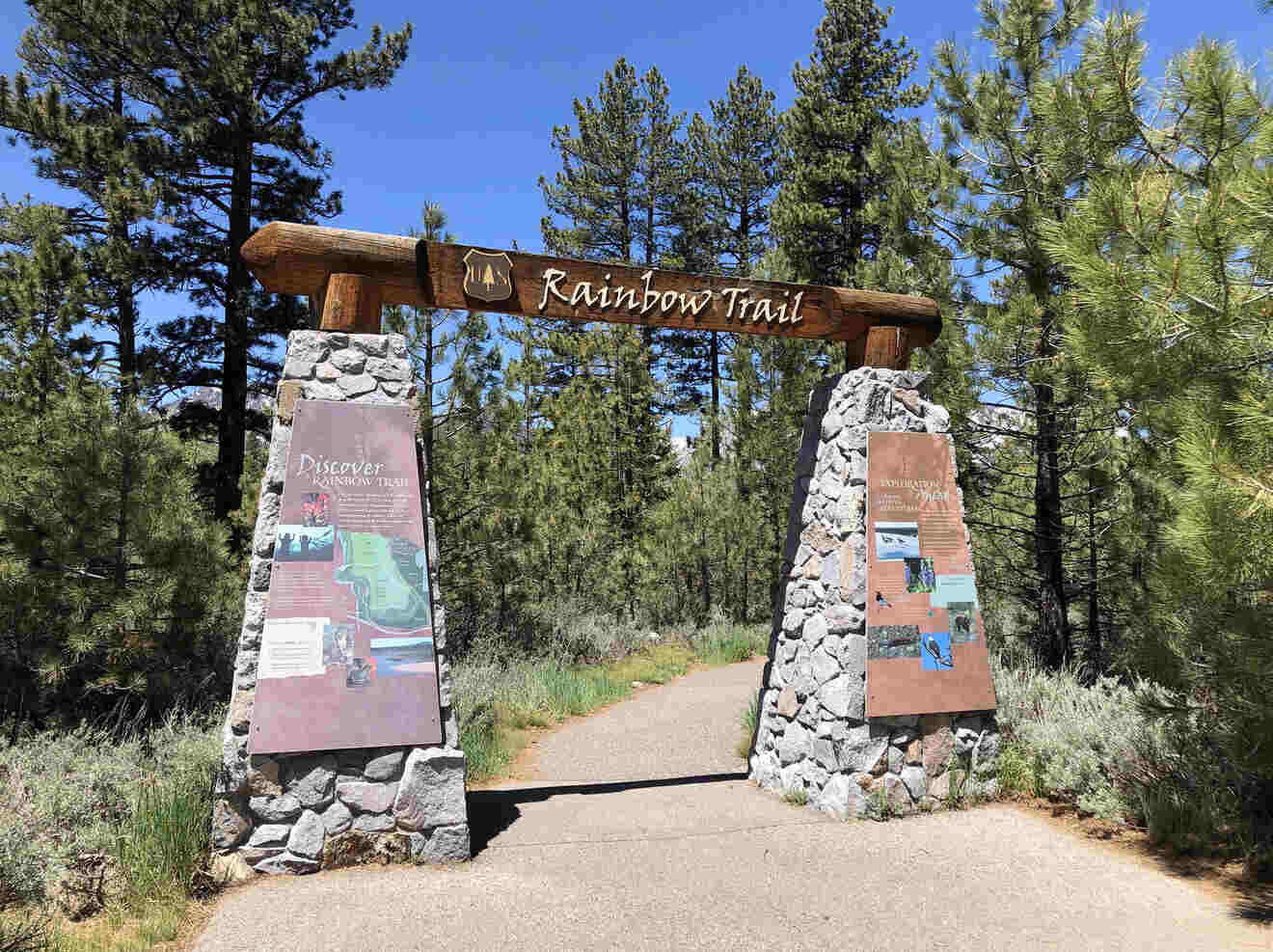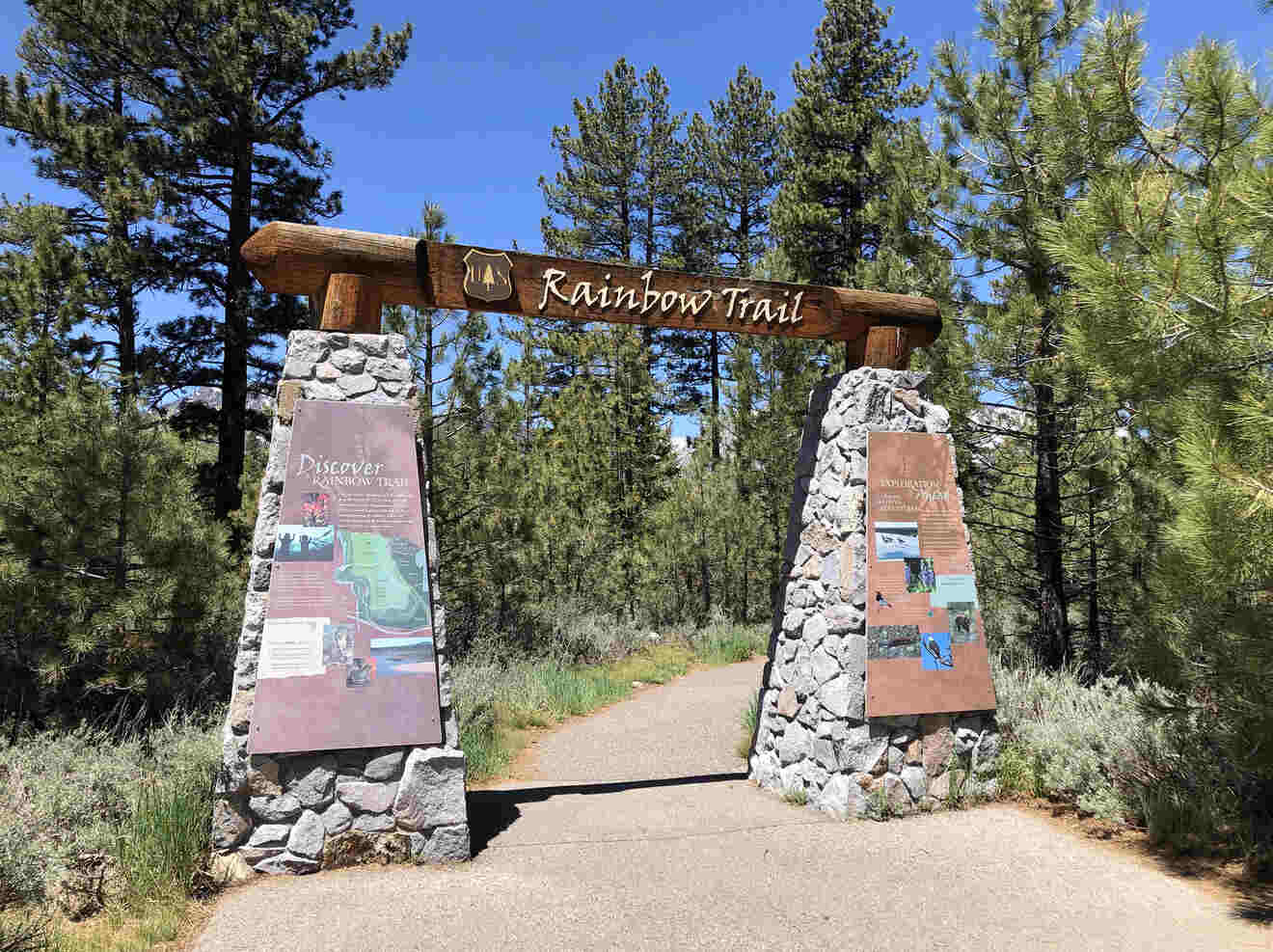 The USDA Forest Service Taylor Creek Visitor Center is located in South Lake and is where 4 popular self-guided tours leave from during the summer and fall months.
11.1 Rainbow Trail
Rainbow Trail is a beautiful wooden boardwalk trail that leads through the Taylor Marshland. It's an app. 0.5 miles (1 km) one-way and a rather easy stroll.
11.2 Steam Profile Chamber Trail
I love this trail because of its unique underground area that allows visitors to see the underwater habitat of Taylor Creek.
Through the windows, witness the trout and other aquatic life swimming in their natural environment. At only approximately 0.3 miles (0.5 km) one-way, this is an easy hiking trail as well.
11.3 Kiva Beach Trail
You know I love a beach! This easy 1-mile (1.6 km) one-way trail will take you down to the sandy shores of Kiva Beach.
11.4 Tallac Historic Site Trail
We've talked about the Tallac Historical Site already, but this trail is a great way to combine multiple activities during your Lake Tahoe itinerary. Only 1 mile (1.6 kilometers) one-way, it's worth checking out!
12. Hang at the shores of Pope Beach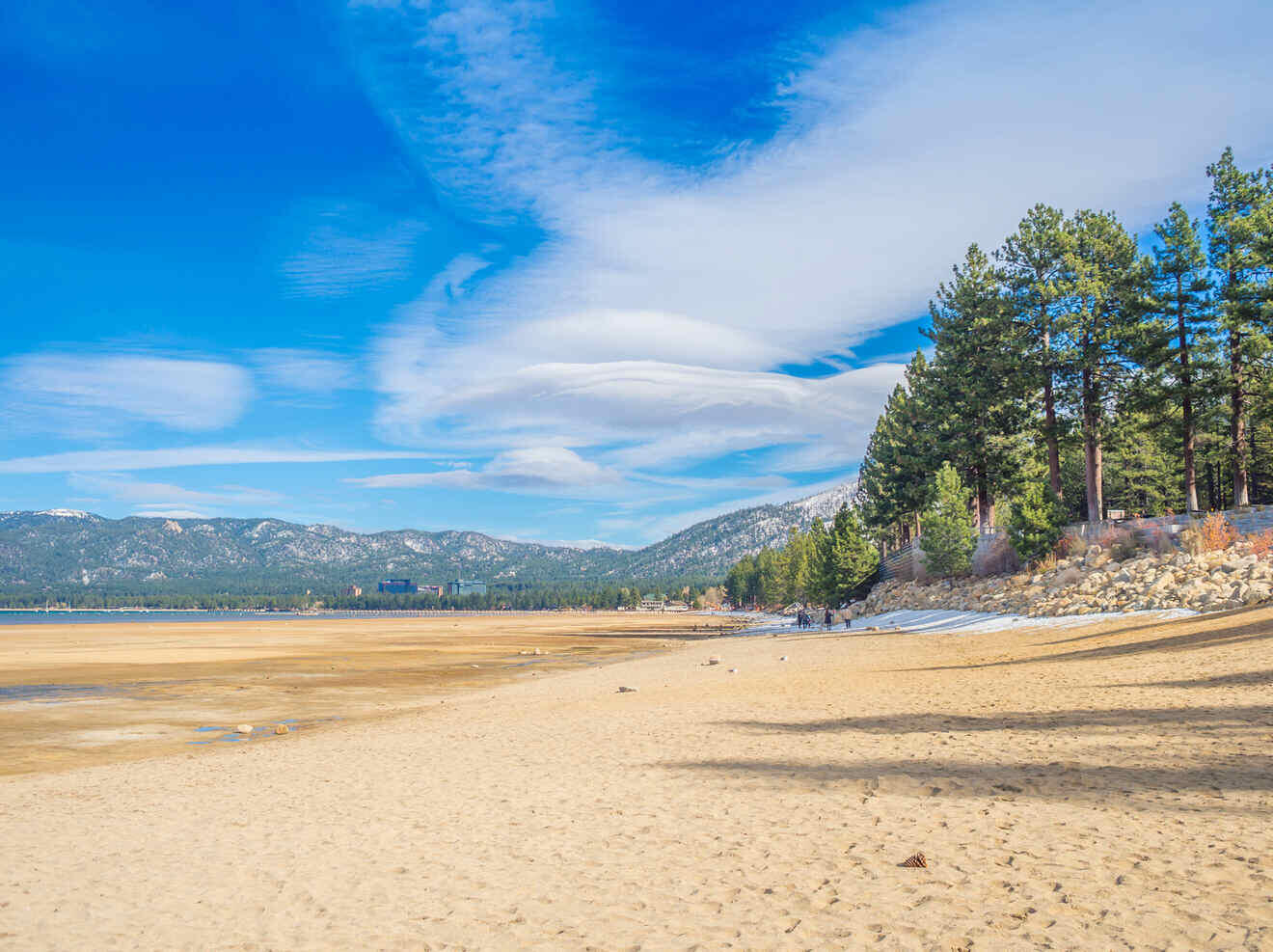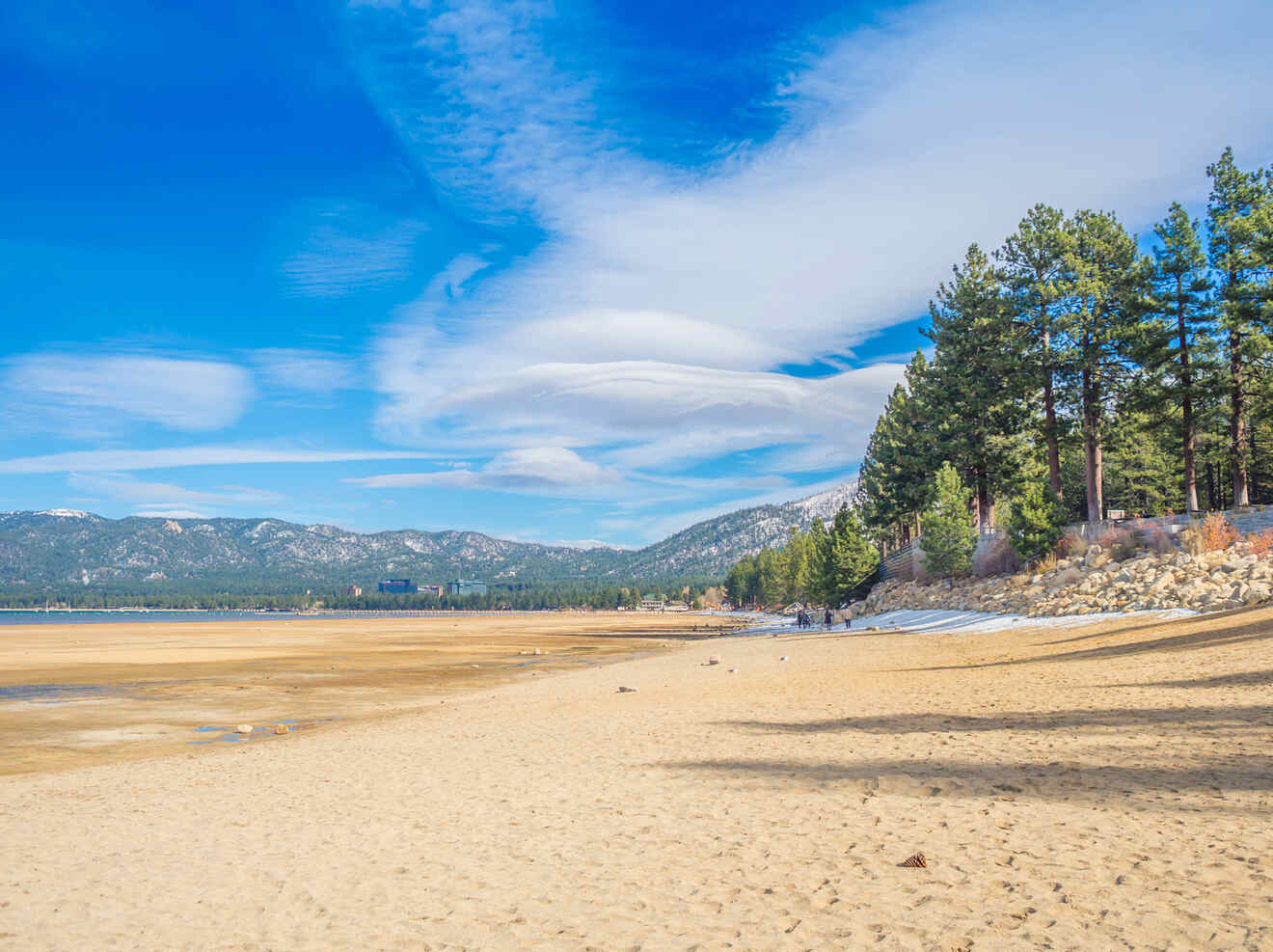 You'll find loads of people always enjoying the sandy shores of Pope Beach, popular for swimming, kayaking, and paddle boarding. It's a great place to relax and take in the serene landscape of South Lake Tahoe.
Pope Beach is located off Highway 89, less than 2 miles (3.2 km) east of the Tallac Historic Site, so it's smart to combine both activities.
PRICE: Parking is $10 per vehicle
13. Learn the interesting history at Emigrant Trail Museum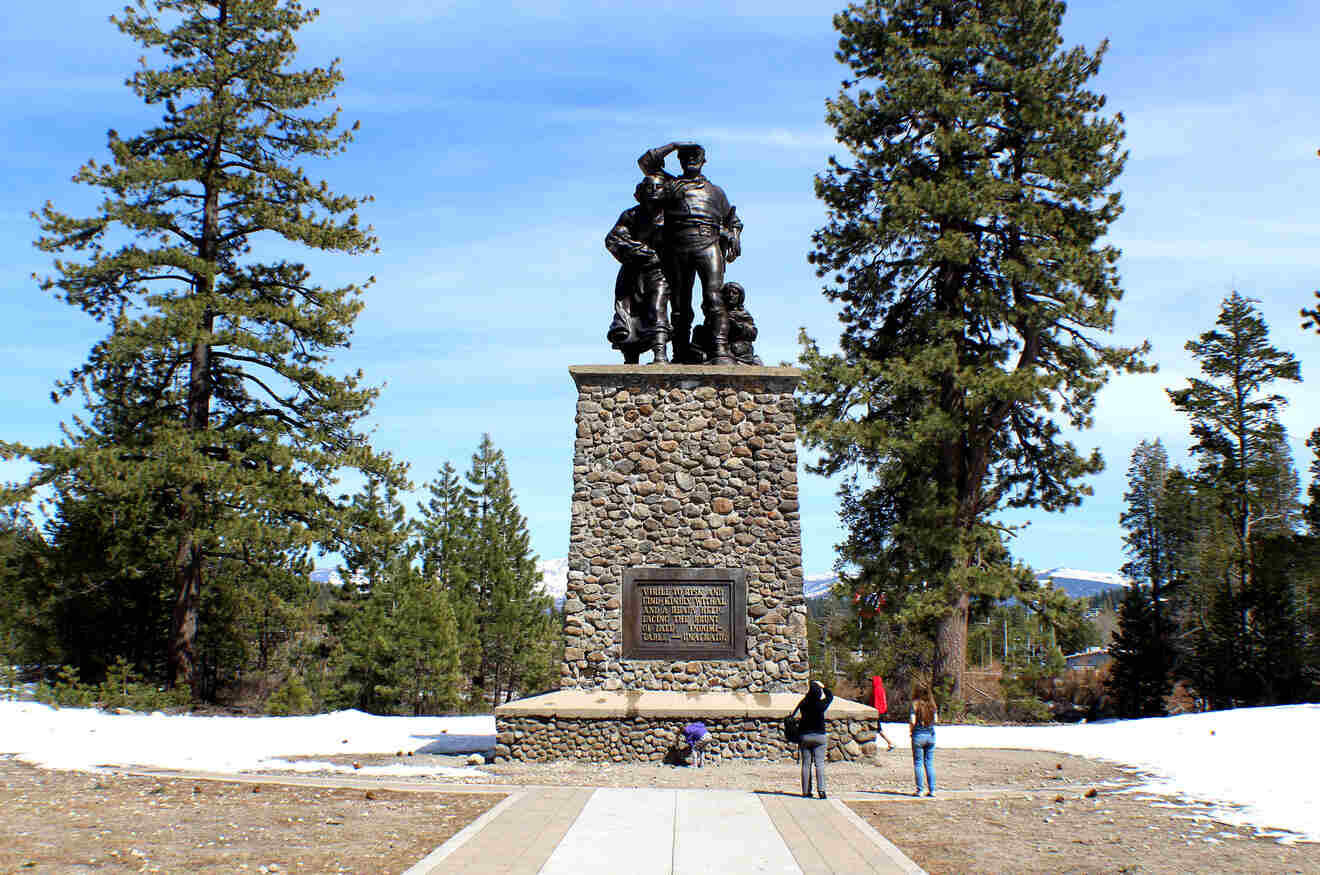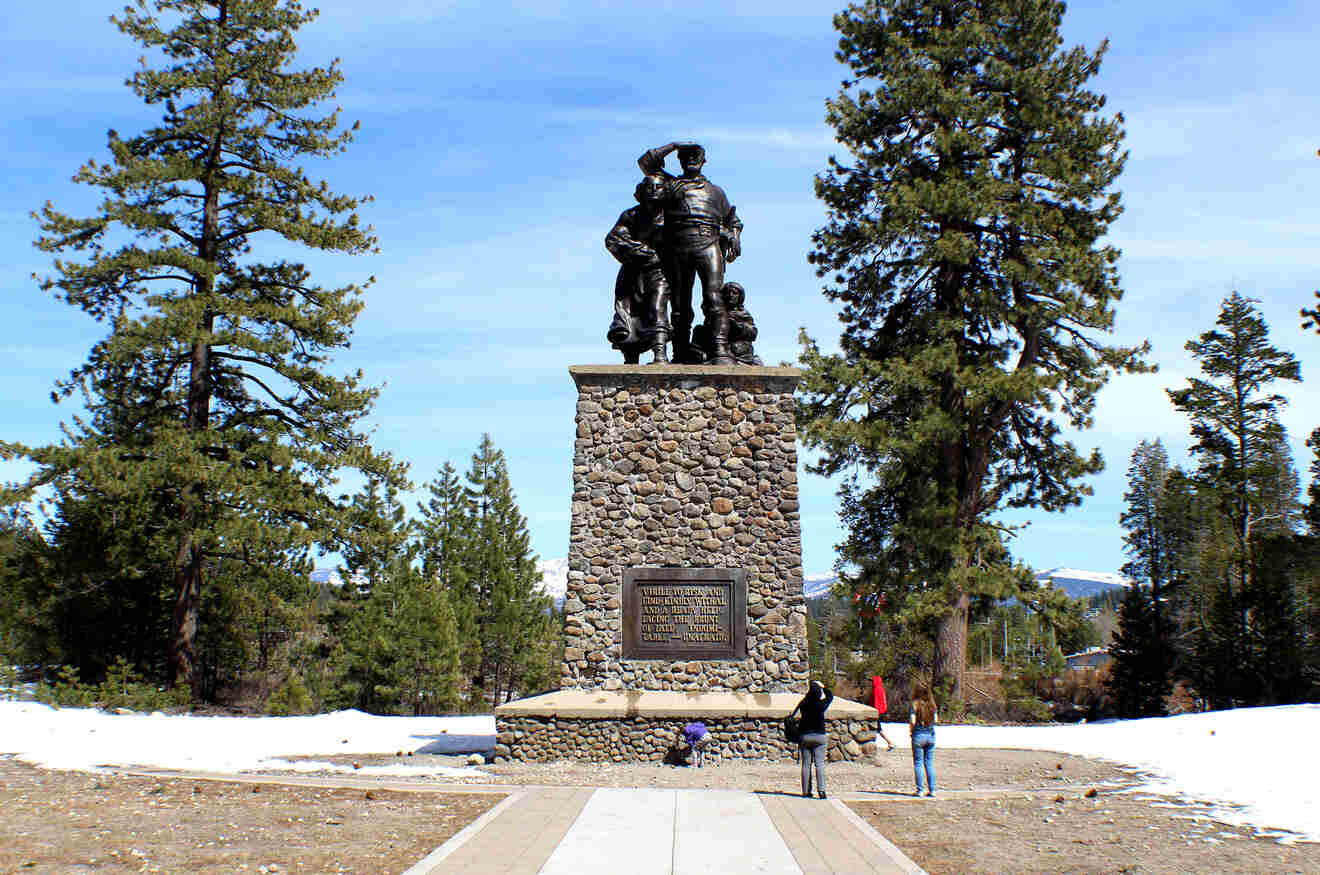 Located near the Truckee River, the Donner Memorial State Park is a living tribute to the mid-19th century Donner Party pioneers who perished in the rough winters of the Sierra Nevada Mountains.
At the Donner Memorial Visitor Center, you'll find exhibits about their journey and the challenges they faced during the winters of 1846 – 1847.
Walk on the Emigrant Trail and stroll the circumference of Donner Lake, surrounded by stunning evergreens and mountain scenery.
14. Ski on the slopes of Palisades Tahoe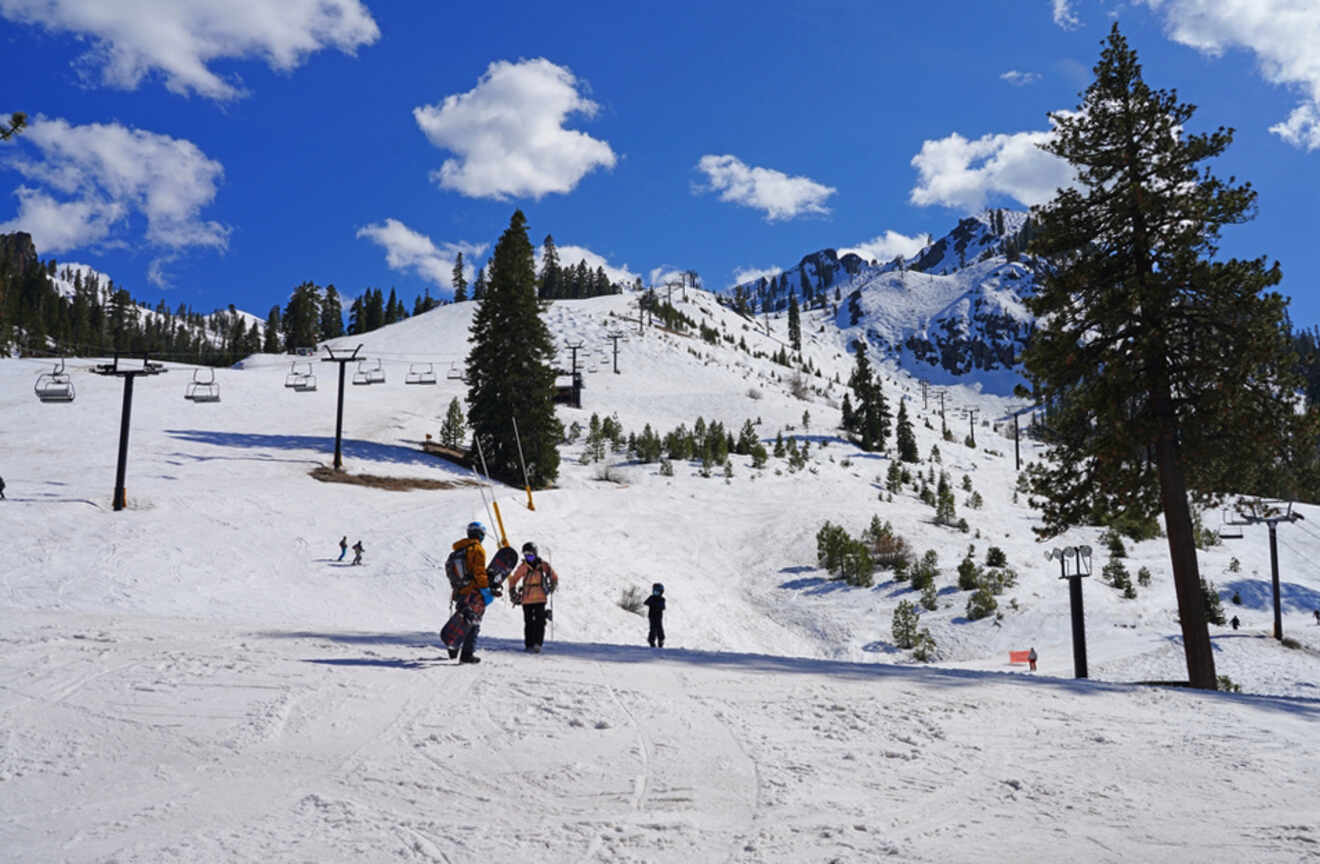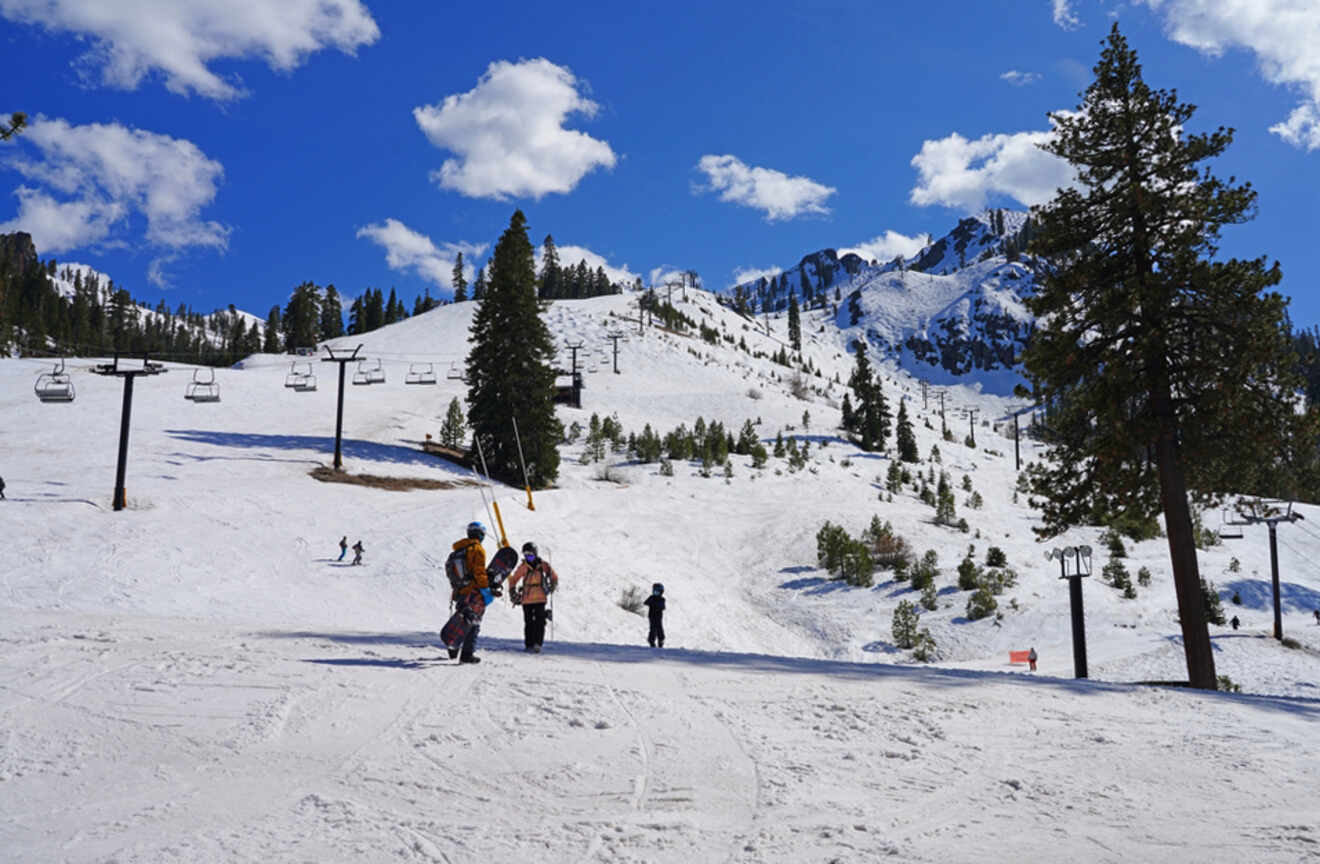 A great choice for resorts in Lake Tahoe, Palisades Tahoe provides visitors with an unparalleled experience on the mountains of Tahoe.
Once called Squaw Valley Alpine Meadows, Palisades in the valley was the location for the 1960 Olympics, covered with incredible athletic history.
Palisades actually stays open longer than any other ski resort during the season due to its perfect elevation providing fresh powder all winter long.
PRICE: Lift tickets start at US$229 for adults
15. Hit the hiking trails of DL Bliss State Park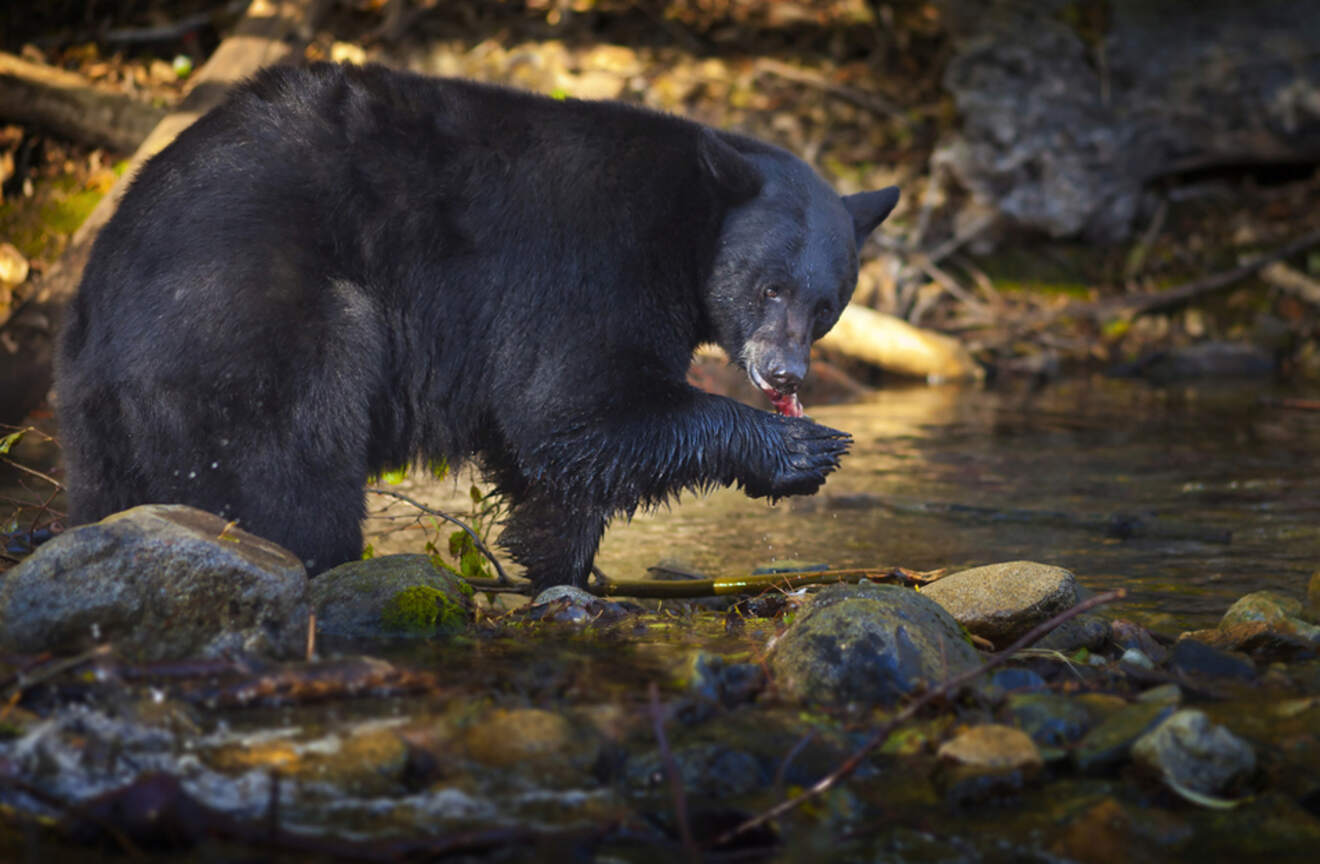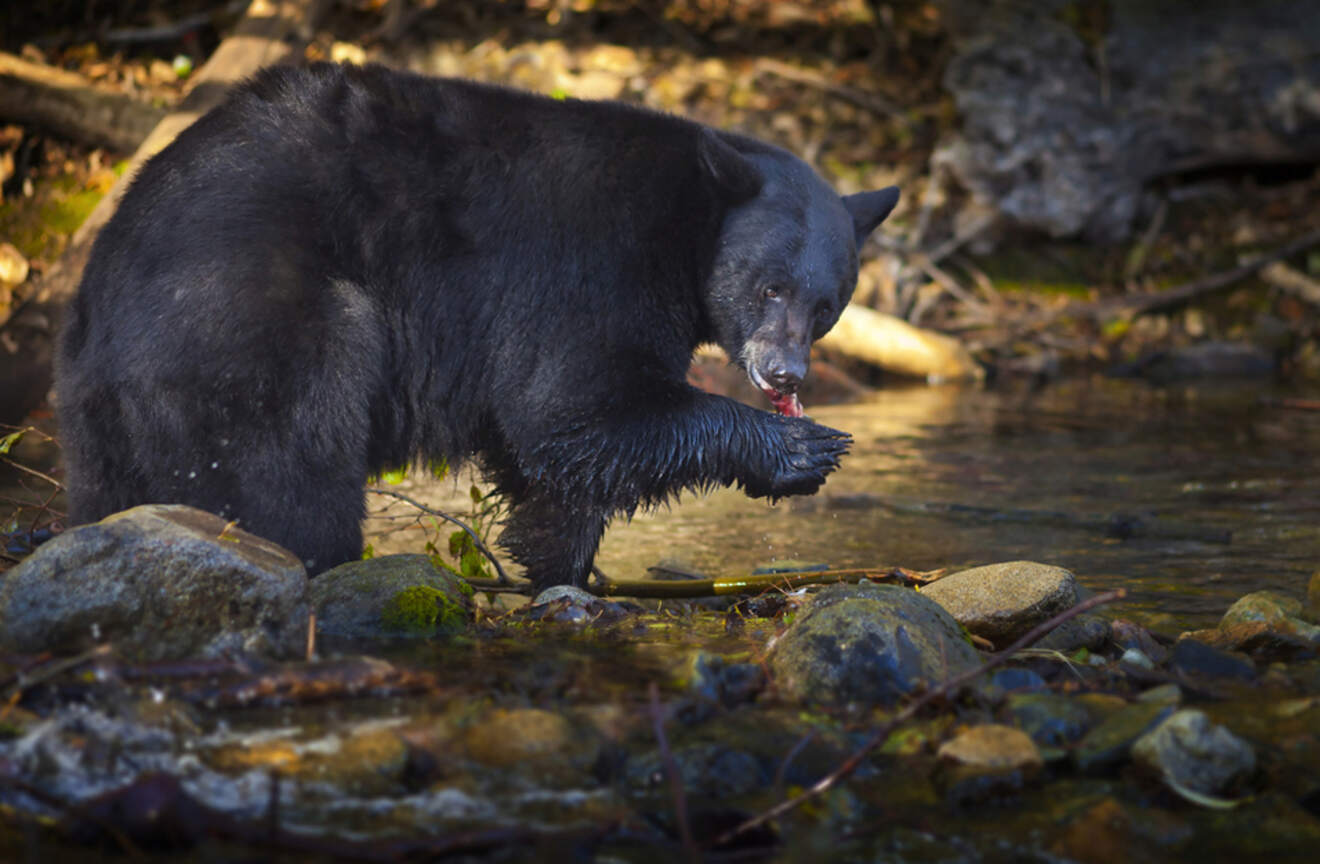 Connecting to Emerald Bay State Park via the insanely challenging Rubicon Trail, DL Bliss State Park has so much to offer. While the Rubicon Trail is not for most, it is a famous and difficult hike worth mentioning.
My favorite thing about visiting DL Bliss State Park is the wildlife viewing opportunities.The last time I was there, I saw a beautiful black bear and countless stunning bird species.
You'll be able to access trails, kayak, and swim at this awesome state park on the western shores of Lake Tahoe.
16. Enjoy the peaceful ambiance of Fallen Leaf Lake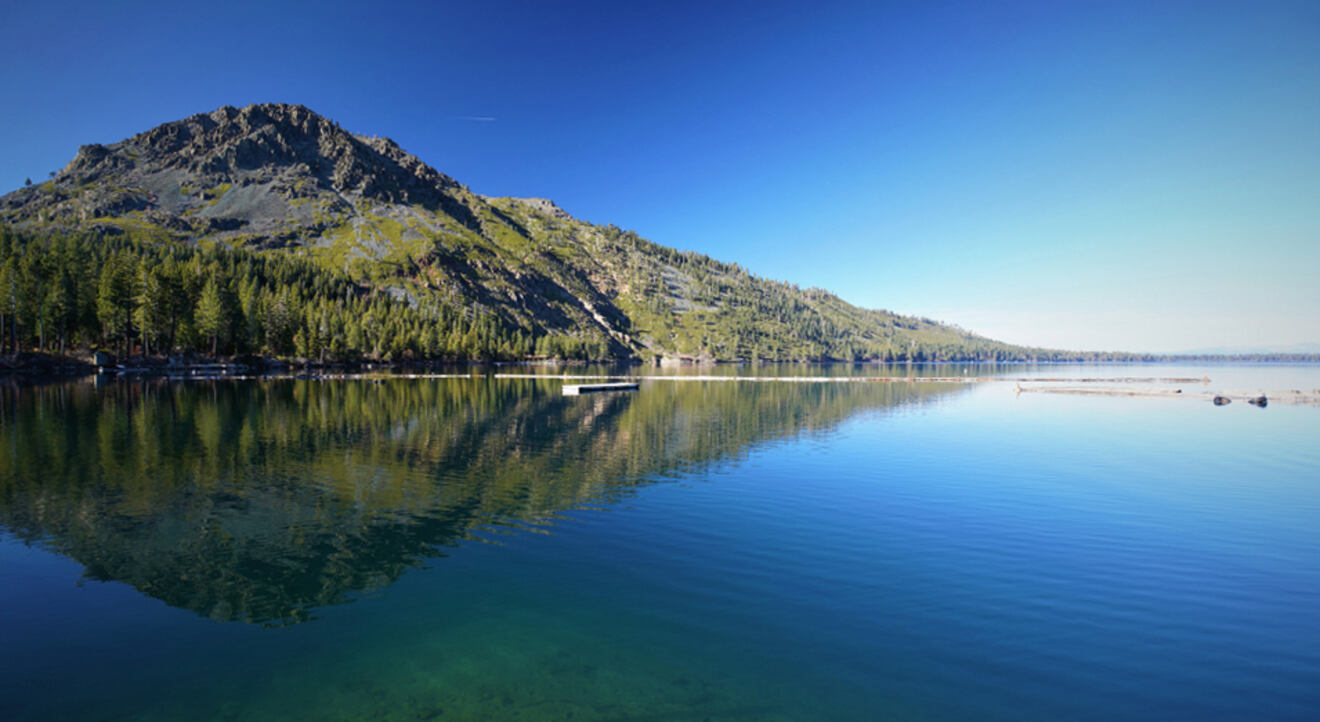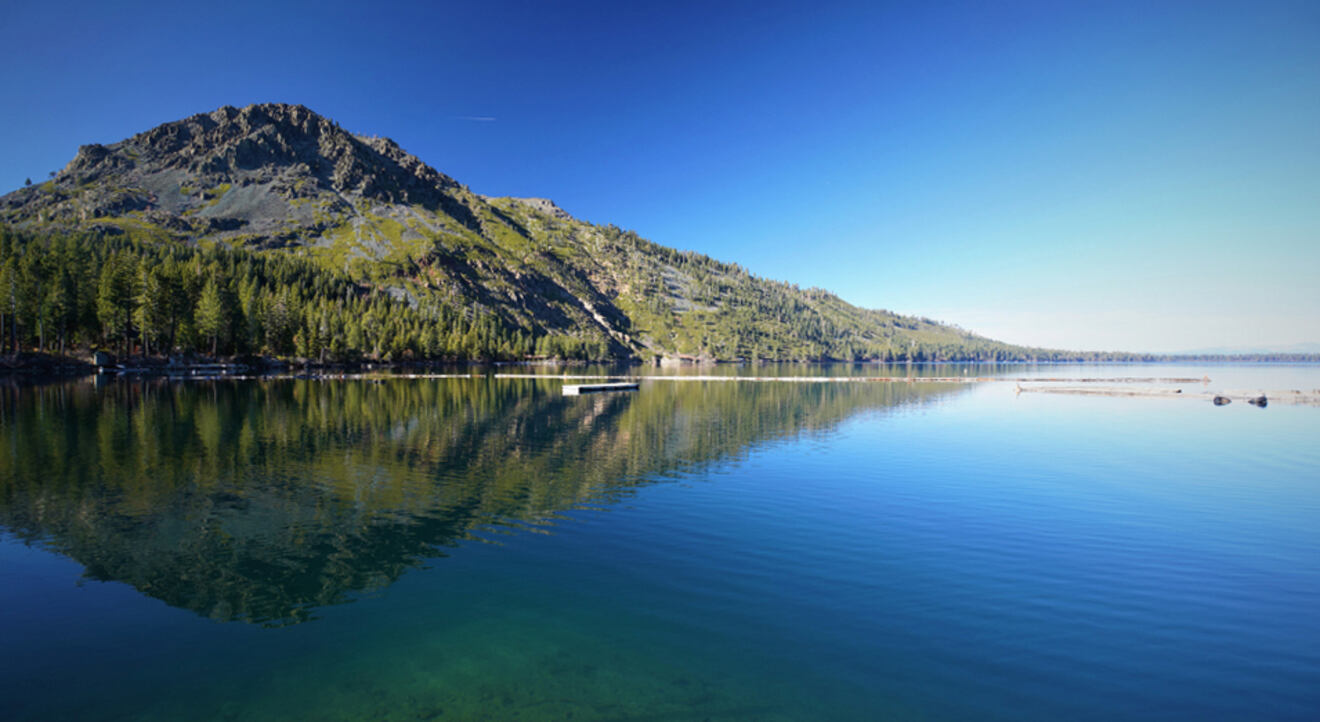 Located in South Lake Tahoe, Fallen Leaf Lake is a stunning alpine lake. I love the emerald green waters and majestic mountain backdrop – it's one of the best places for kayaking, jet skiing, and paddle boarding when you visit Lake Tahoe.
The Fallen Leaf Lake Trail is a challenging one, so make sure you're up for it before you set out – 3.5 miles (5.6 km) out and back. It will reward you with beautiful scenery surrounding the lake and incredible vista outlook points.
17. Explore Olympic Valley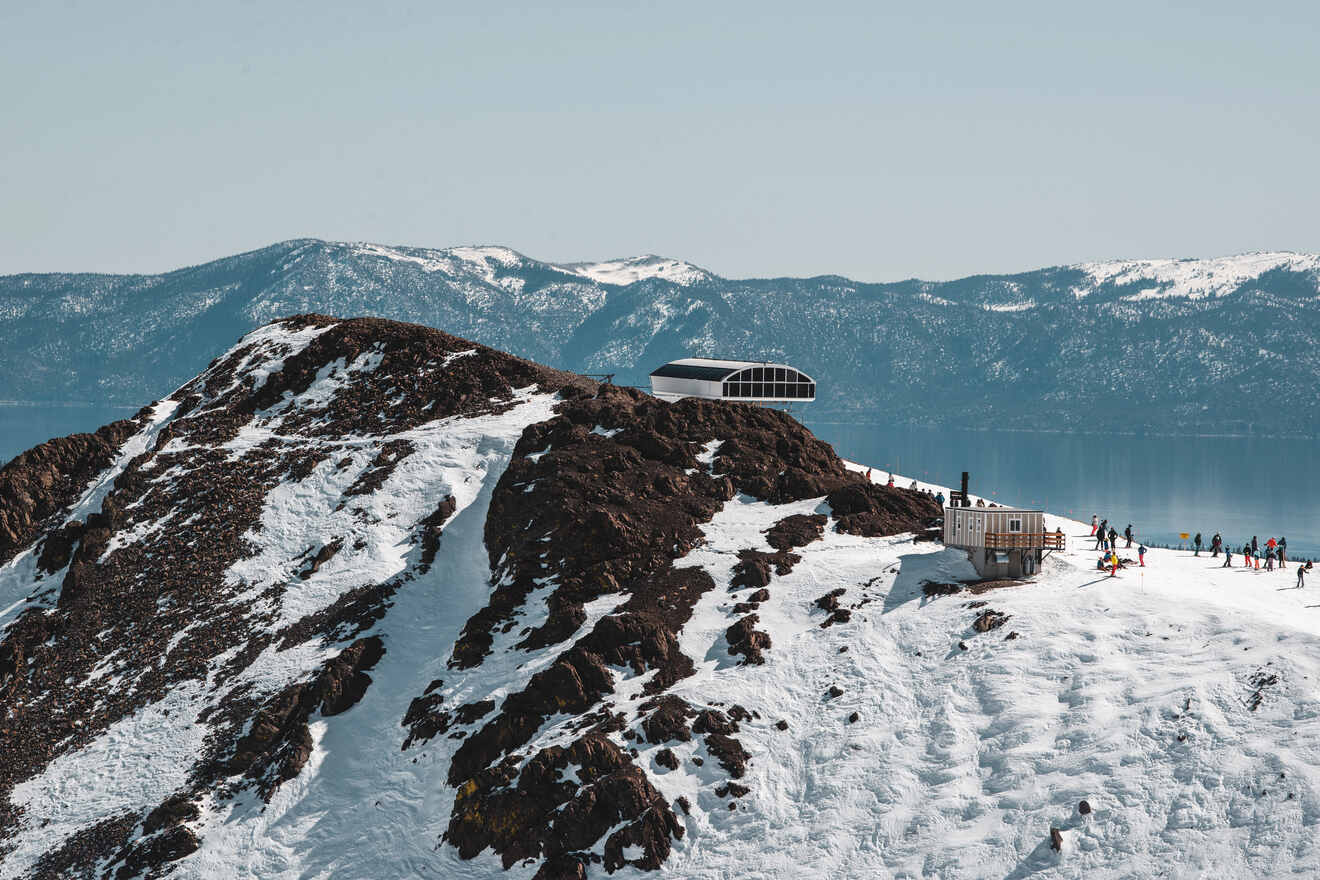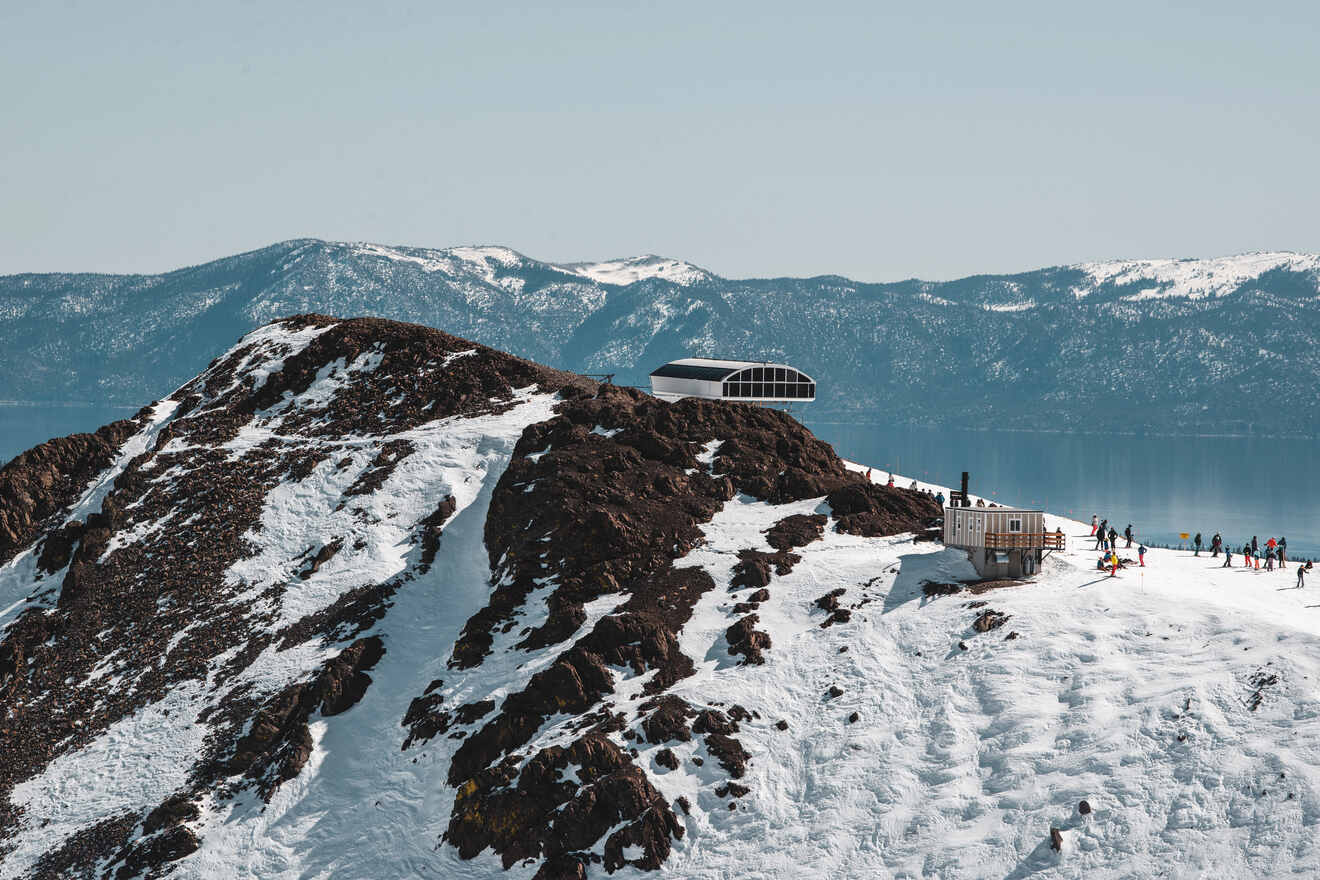 Also referred to as Squaw Valley, the Olympic Valley has been home to the 1960 Olympic Games and is now Palisades' charming resort village.
The village at Olympic Valley has a European ambiance, featuring quaint shops, restaurants, and après-ski spots. You'll love shopping in the village and observing all the cool ski lodges and mountain vistas.
If you're looking for a great hike, try Five Lakes Trail. a 4.8 mile (7.8 km) out-and-back hike taking you through gorgeous nature, with a steep incline at the beginning adding to the challenge.
18. Get your thrills on the Ridge Rider Mountain Coaster
One of the most fun things to do in Lake Tahoe is the Ridge Rider Mountain Coaster in Olympic Valley.
I think it's unbelievable that this alpine mountain coaster powers its twists and turns completely gravity-operated! You can actually completely control the speed of your ride depending on your preferred thrill level – it's so cool and fun for all ages.
NOTE: Closed for summer 2023. Check the website for updates.
PRICE: US$93 for adults, US$63 for children
19. Stare in awe at the ski lodges of Incline Village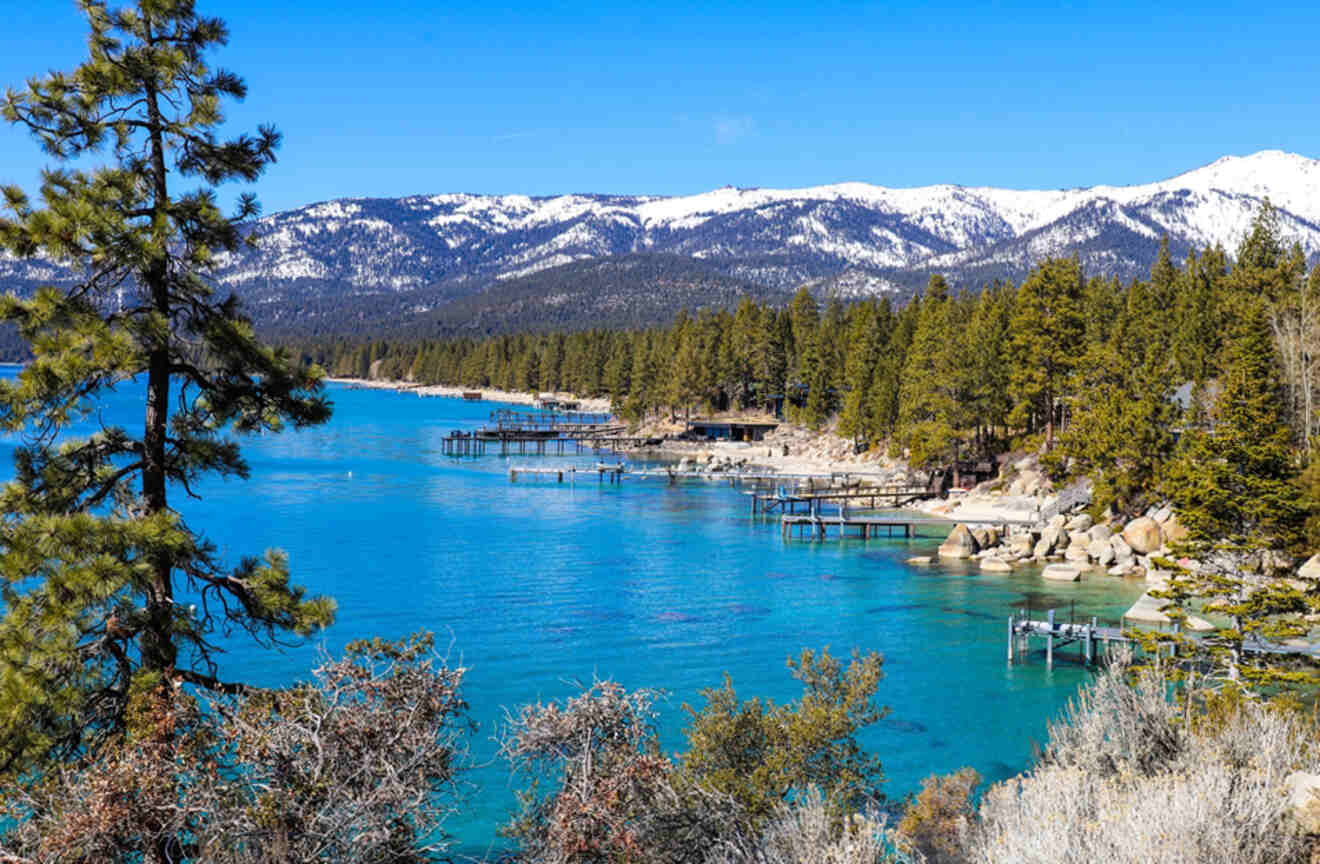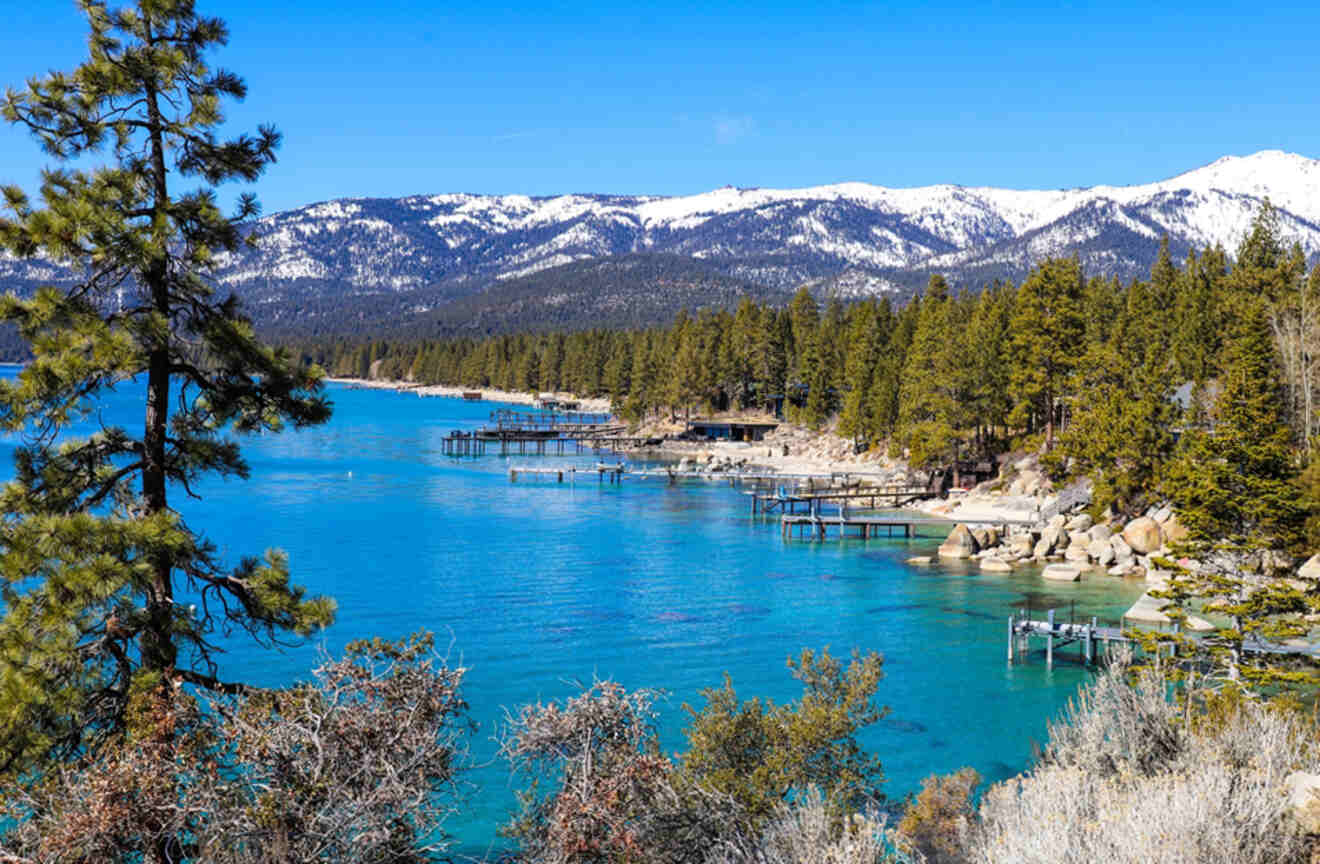 Located in North Lake Tahoe, Incline Village is a charming community on the Nevada side.
This north shore village has tons of ski resorts, hiking trails, and activities to fill your days in Lake Tahoe in summer or wintertime.
Looking for a stunning beach to enjoy on the north shore? Try Kings Beach, which is great for swimming and water sports in the summer, and has free parking as an added bonus!
If you love to golf, you'll find some of the best and most picturesque golf courses in the country – check out the Tahoe City Golf Course, too!
20. See the famous Cave Rock State Park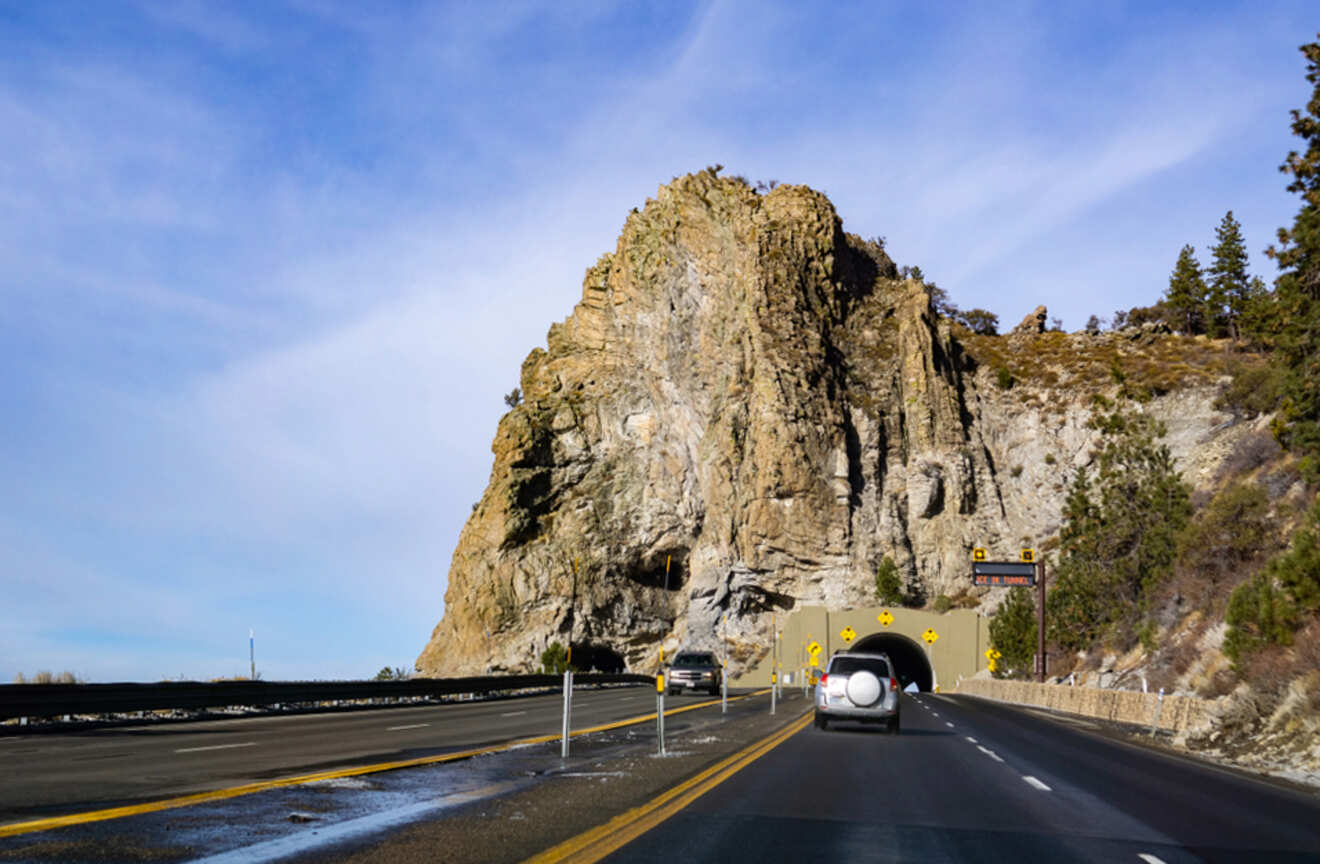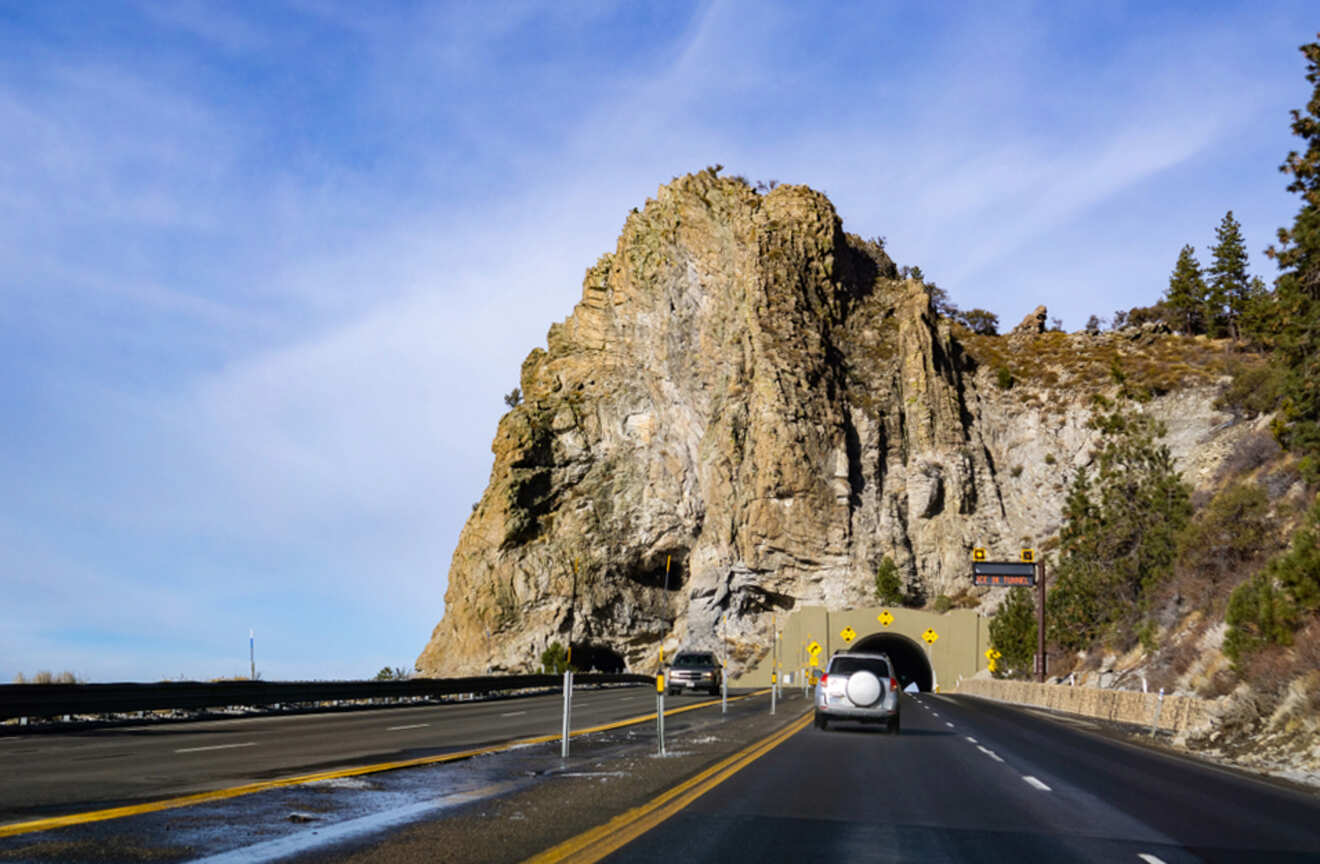 Cave Rock is a volcanic rock formation jutting out from the shoreline of Lake Tahoe.
Cave Rock is really fascinating – with tons of carved-out caves and tunnels, this area was actually used by Native American tribes as sacrificial sites and safety shelters during routine travels in the Lake Tahoe area.
I highly recommend taking the Cave Rock Trail, a 0.8-mile (1.3 km) out-and-back hike that gets you to an epic viewpoint of Lake Tahoe down below.
21. Enjoy the Edgewood Golf Resort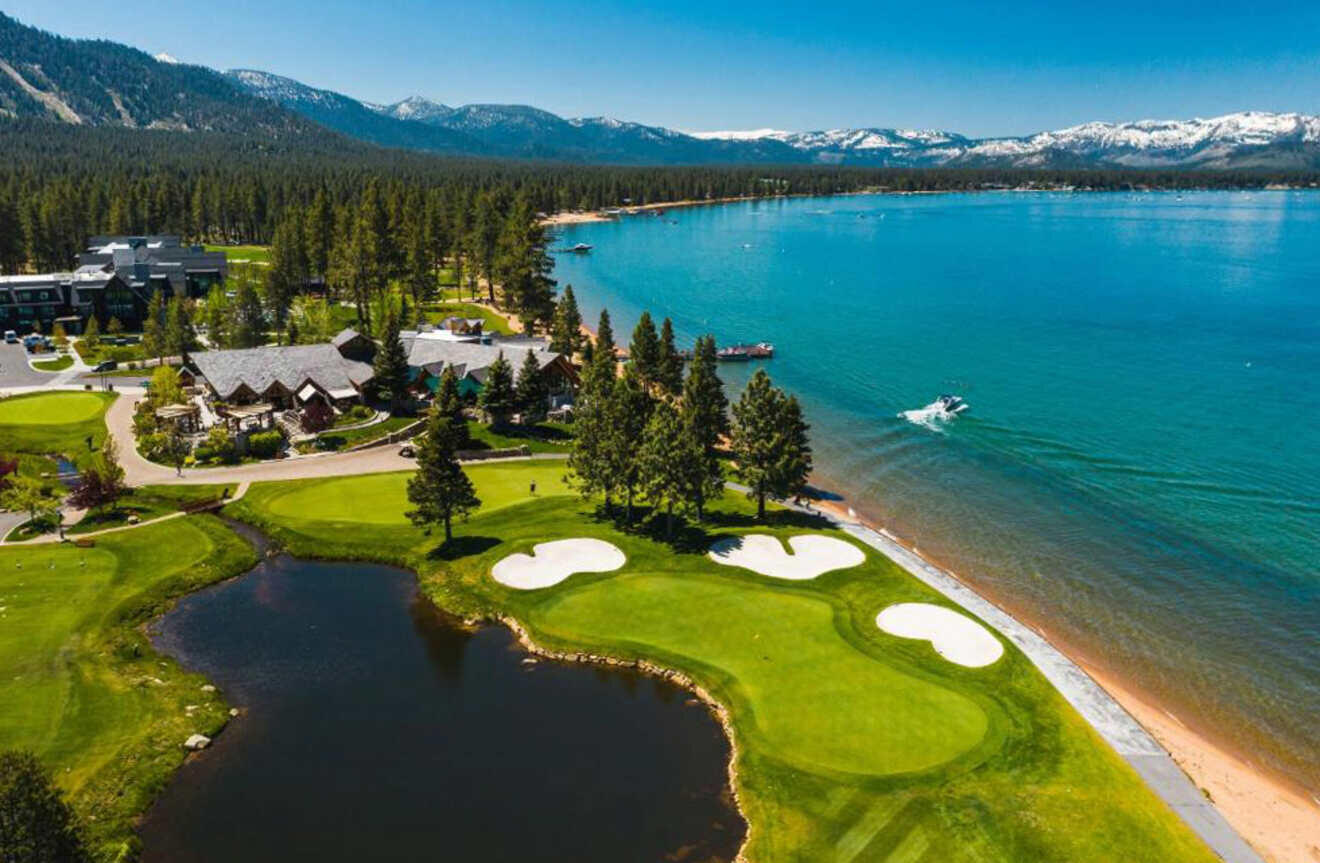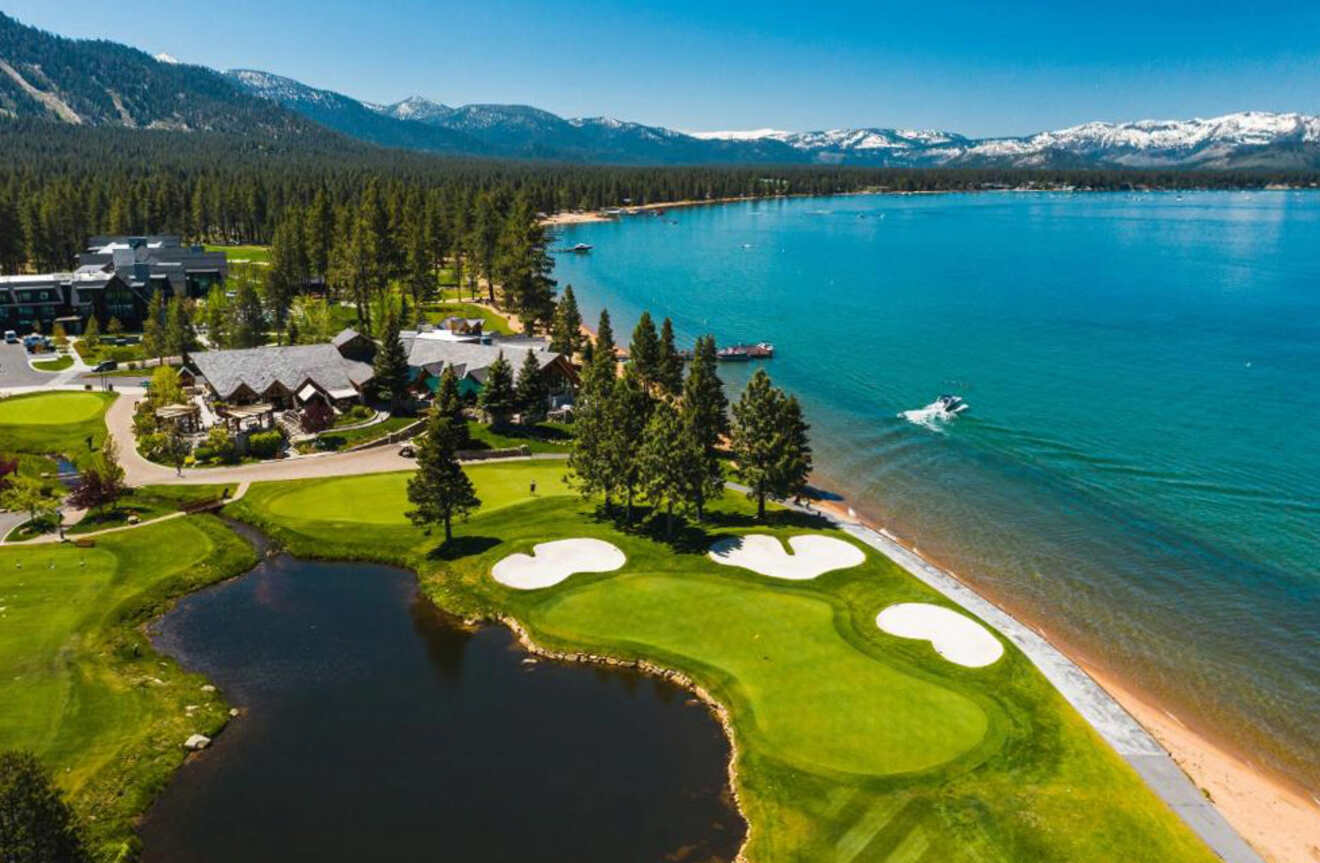 Edgewood Tahoe Resort is a popular place to stay and play on the Nevada side of Lake Tahoe.
Most famous for its course and location, Edgewood Tahoe Resort is actually the only lakefront golf resort in Lake Tahoe!
Golfers love to play here, as it's home to the American Century Celebrity Championship, bringing a special prestige to the course.
PRICE: Green fees start at US$250
22. Visit River Ranch Resort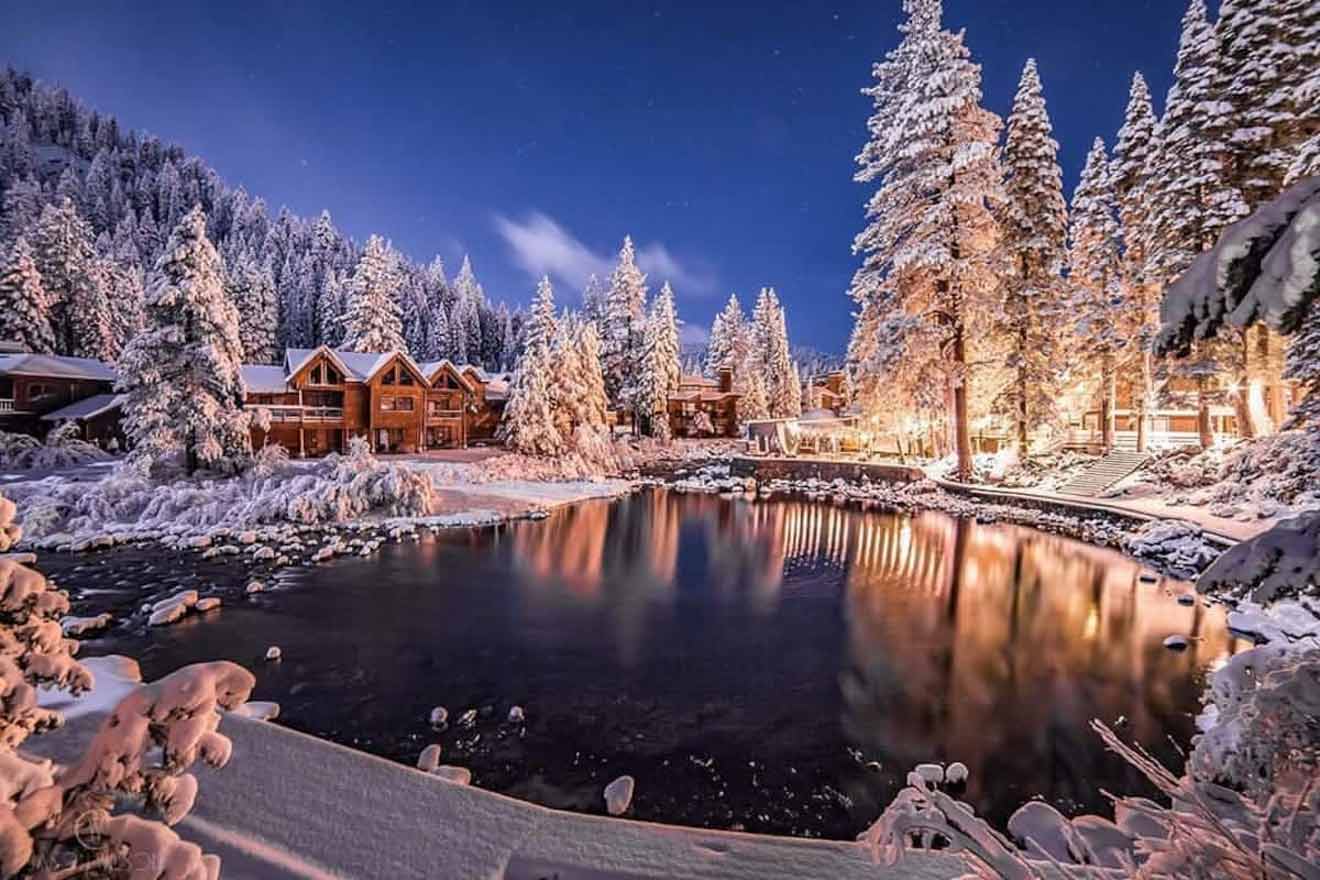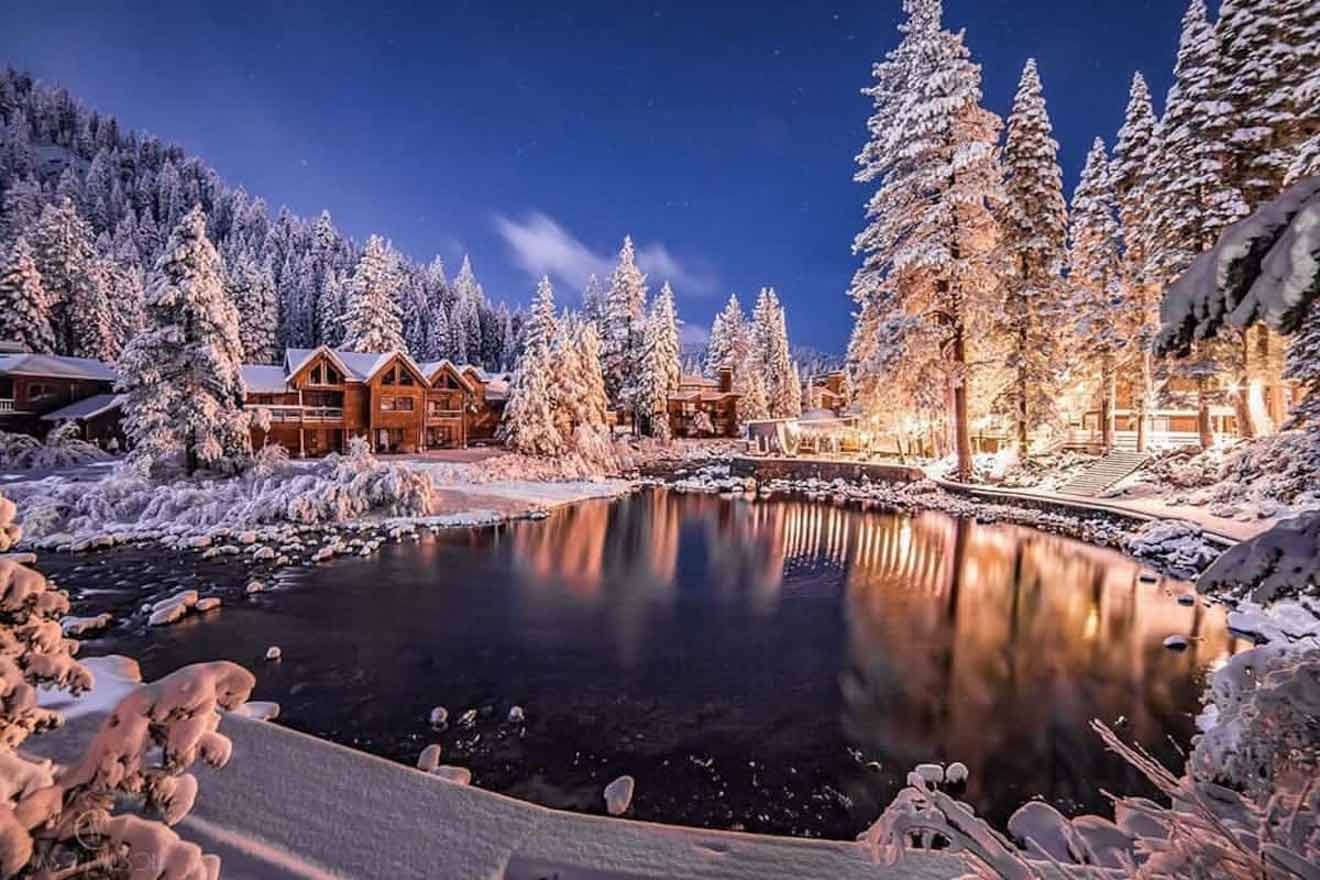 Along the banks of Truckee River sits the River Ranch Resort, located on the north shore of Lake Tahoe.
The resort itself has rustic charm and a plethora of activities available, featuring 19 boutique rooms, each with its own historic flair, a picturesque balcony, and river views, perfect for a charming stay when visiting Lake Tahoe.
23. Learn the history of Virginia City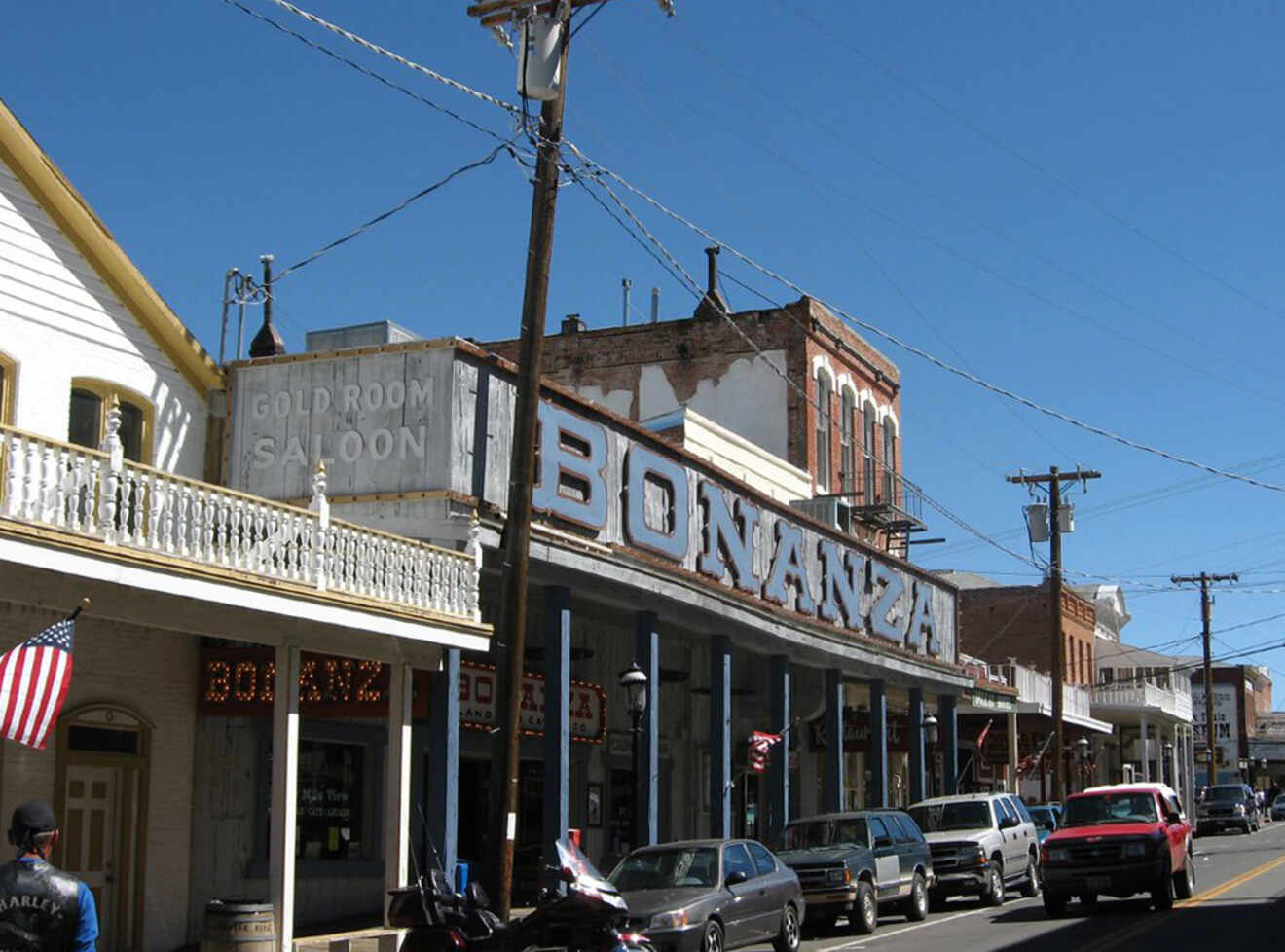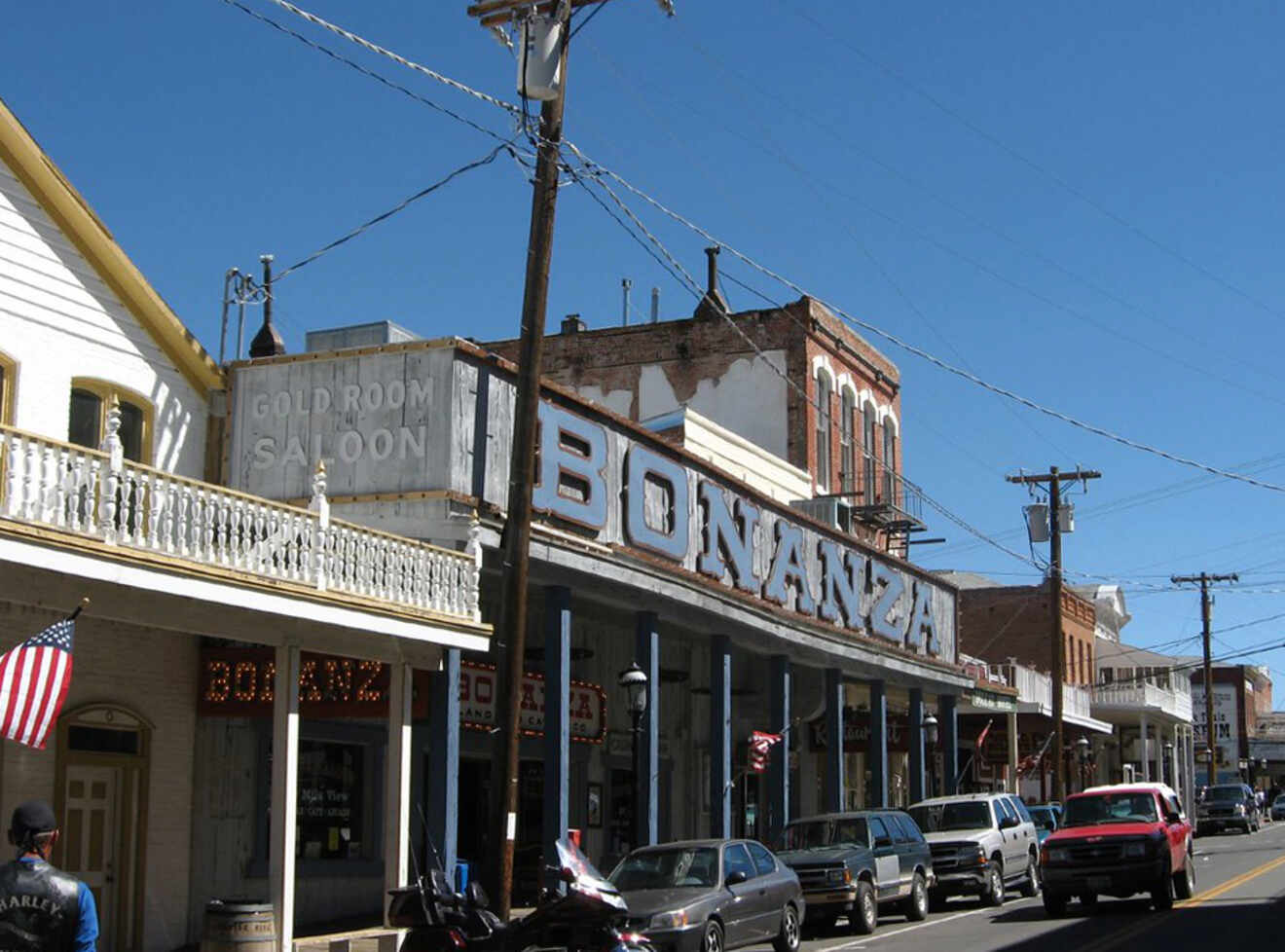 Located high in the Sierra Nevada Mountains, Virginia City is a captivating historical town that acts as a living museum filled with 19th-century mining history and artifacts from the Comstock
I love this adorable Old West town, offering perfect recreations of the era's saloons, quaint shops, as well as period reenactments.
24. Play a round at Tahoe City Golf Course
This family-friendly golf course is a great place to spend the day on the green.
Known for its historical past, Tahoe City Golf Course hosted big-money games in the 1950s, with famous stars attending, like Bing Crosby, Bobe Hope, and the like.
PRICE: Green fees start at US$90
Where to stay in Lake Tahoe
There is no shortage of places to stay in Lake Tahoe, see all of them in our detailed post, and for a quick peek, check below for my top picks in every budget range.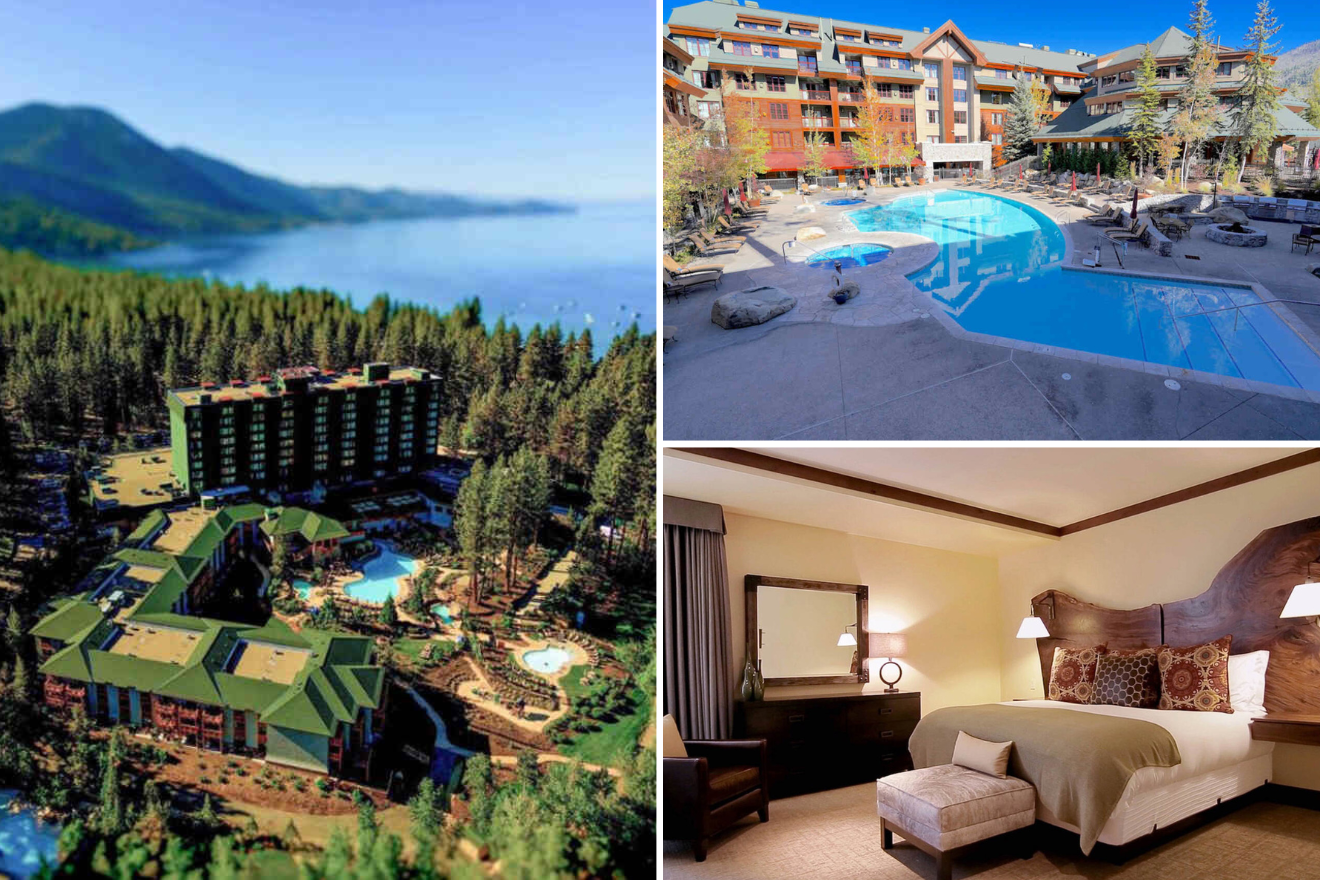 Luxury (US$500 and up)
The Ritz Carlton Lake Tahoe – You'll love this luxury option from the ultimate brand in hotel accommodations, including a beautiful fireplace in every room and spacious suites that accommodate the whole family or multiple friends.
Mid-Range (US$150 – US$300)
Hyatt Regency Lake Tahoe Resort, Spa, and Casino – I love the location of this Hyatt Resort. On the shores of Incline Village on the Nevada side, you'll have beautiful views of the lake and full kitchens in most suites.
Budget (up to US$150)
Heavenly Village Condos – This condo is a wonderful budget option in South Lake Tahoe with big rooms and a fun, on-site activity center.
FAQs about things to do in Lake Tahoe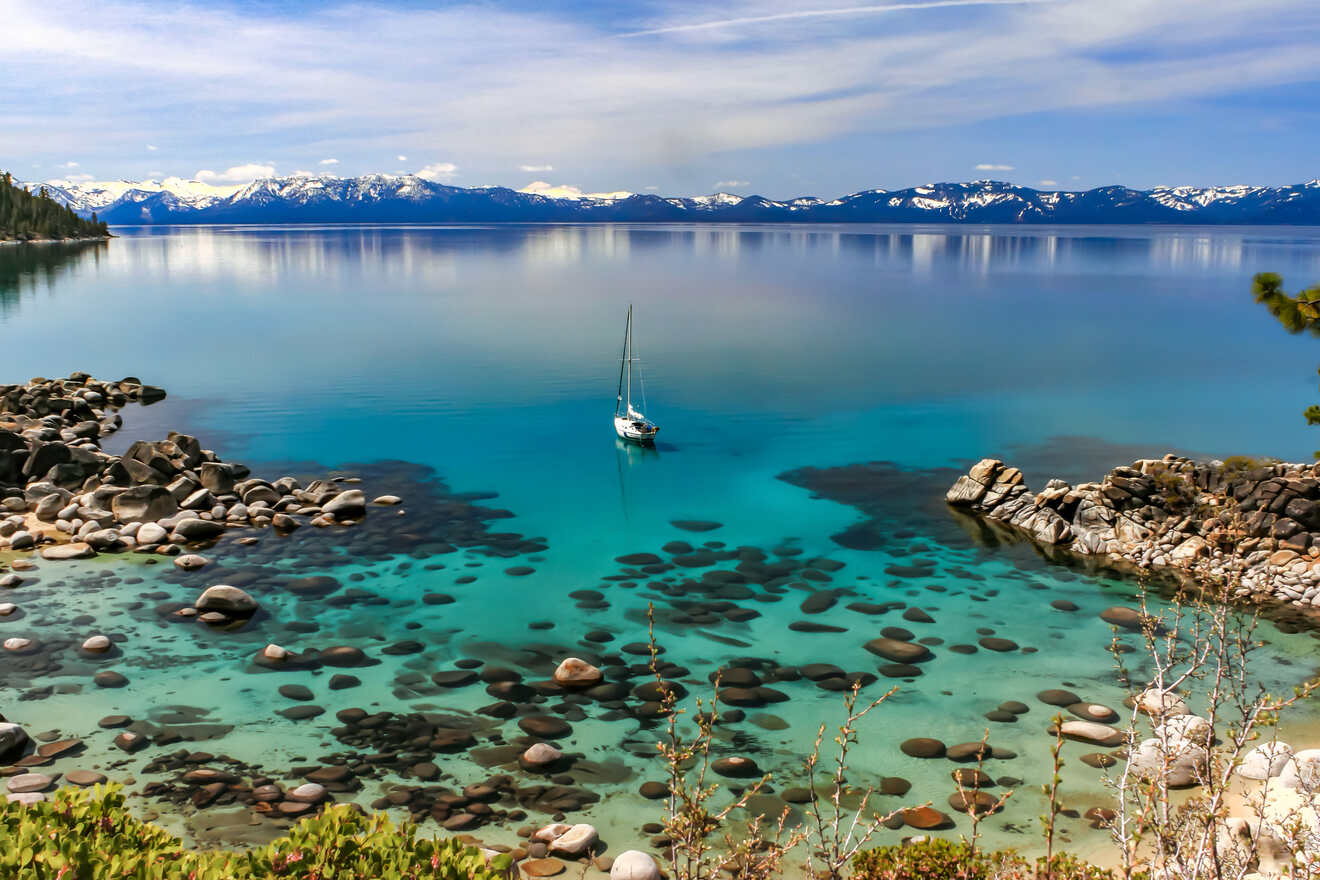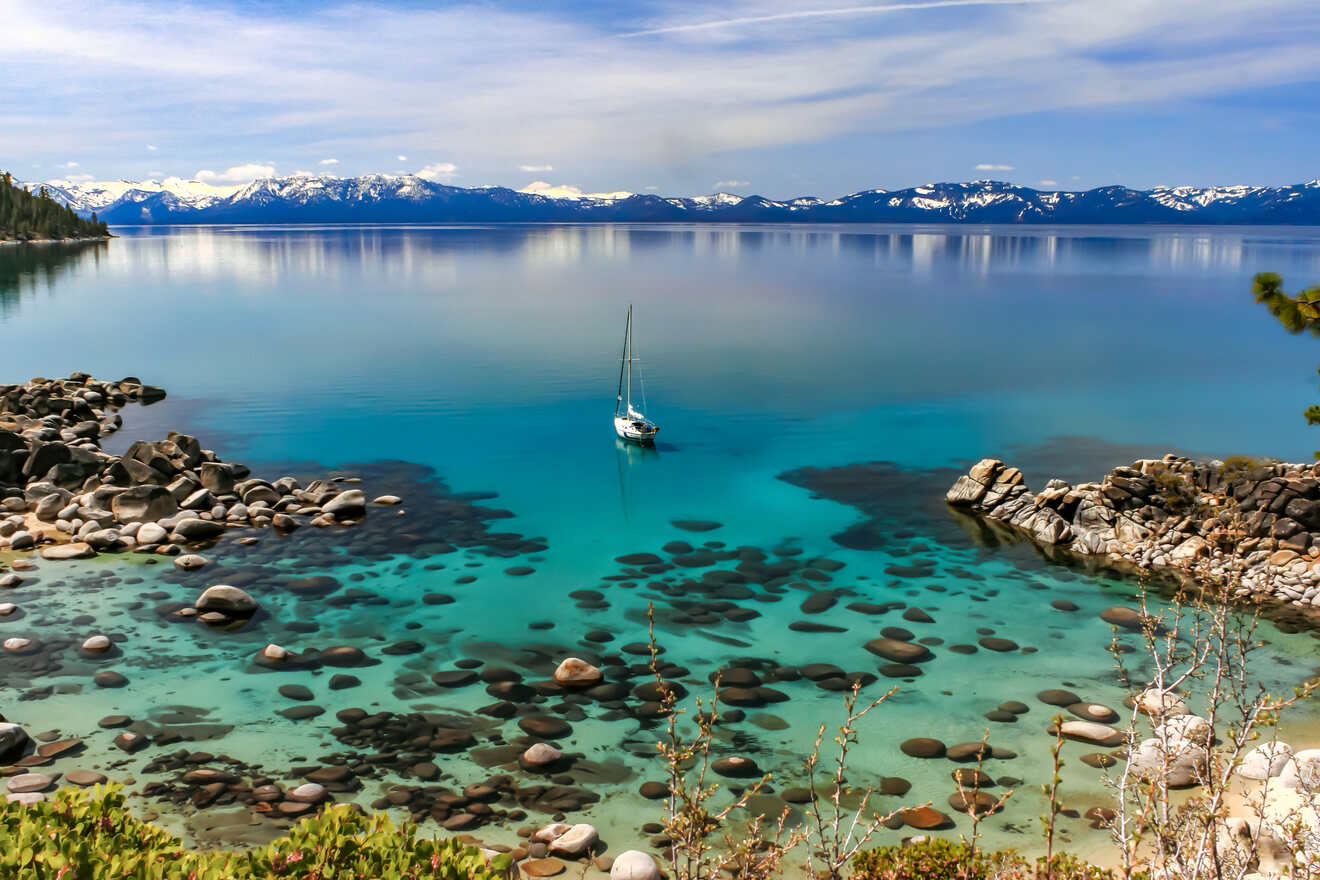 🌊 What do people do on Lake Tahoe?
There are plenty of things to do on Lake Tahoe, but the most fun ones are the mountain gondola at Heavenly Ski Resort, taking a helicopter ride over Emerald Bay, or going e-biking around Lake Tahoe's perimeter.
☀️ How do you spend a day in Lake Tahoe?
A great way to spend a day in Lake Tahoe is to visit the Scandinavian Vikingsholm Castle, explore the beaches of Sand Harbor State Park, or hit the slopes at Heavenly Ski Resort.
📆 What is the best month to go to Lake Tahoe?
Lake Tahoe is a great place to visit during any month, as there are amazing things to do in Lake Tahoe in summer and winter.
🏂 How many days can you spend in Lake Tahoe?
You'll want to spend 3 – 4 days in Lake Tahoe to be able to take advantage of all of its incredible activities.
Conclusion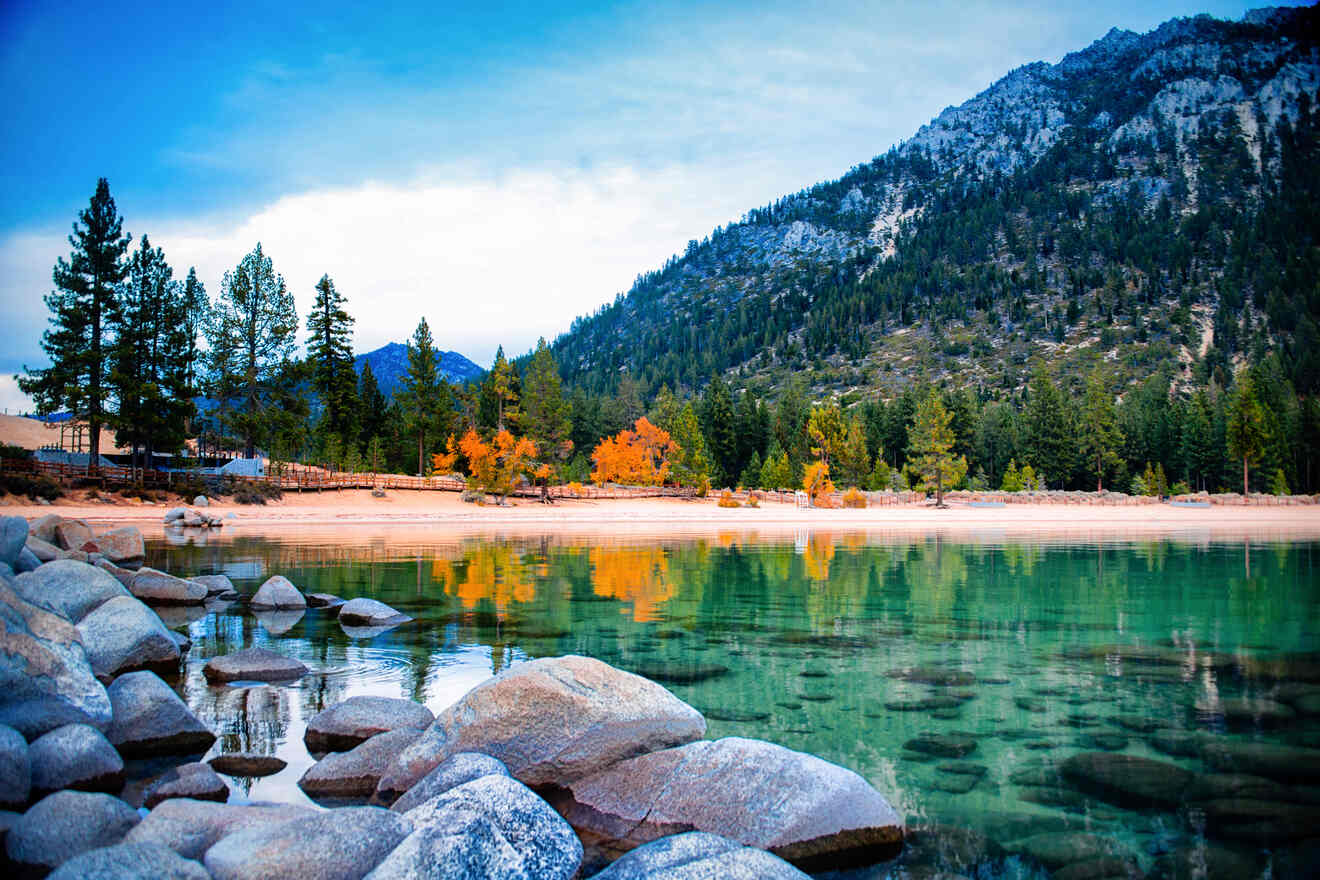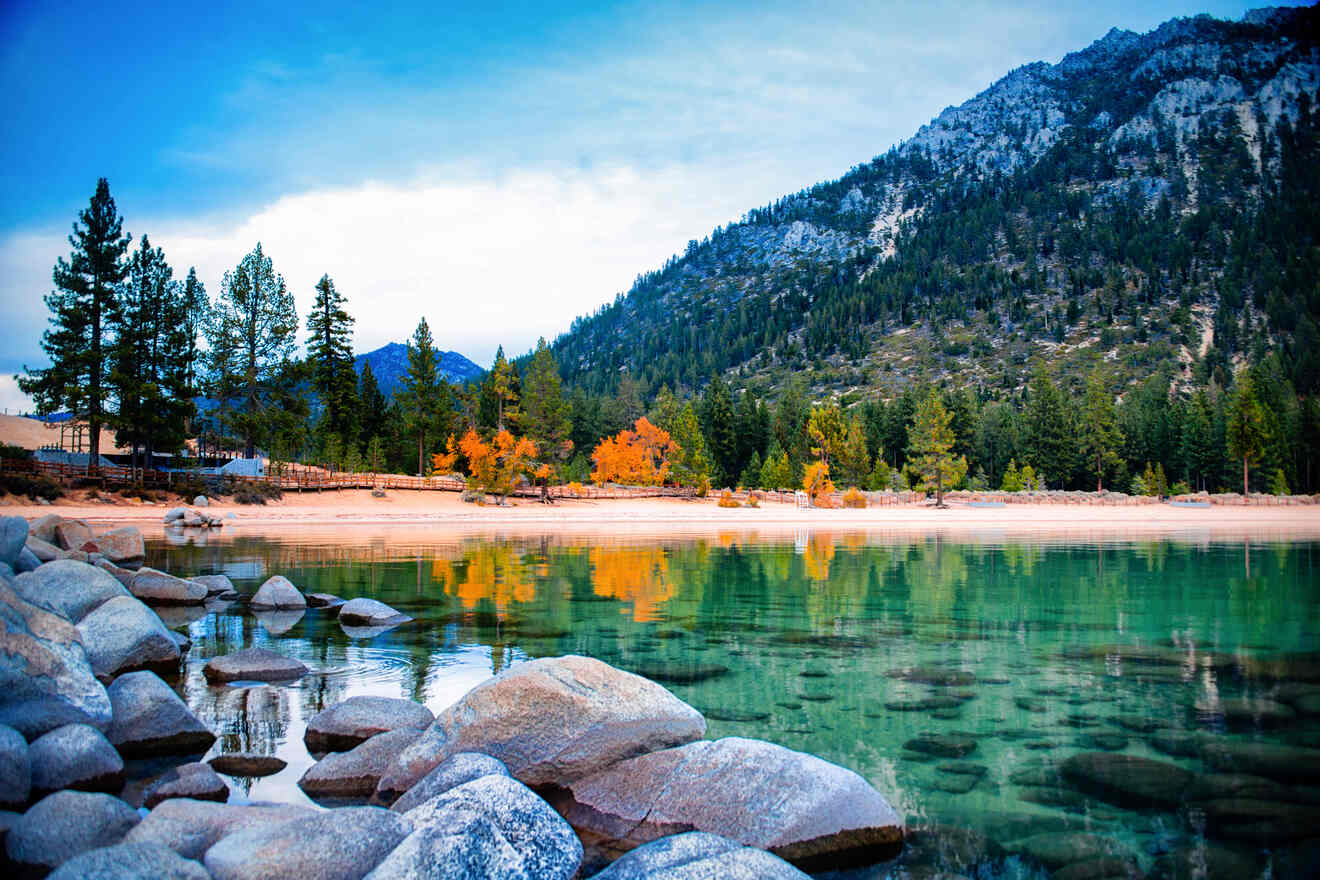 Lake Tahoe is such a unique place to visit – in the summer months, it provides the ambiance of a beautiful beach town, and in the winter months, it becomes a snowy wonderland!
Lake Tahoe offers activities in the great outdoors all year long, there are so many possibilities for cool things to do in Lake Tahoe.
If you are gearing up for a trip out to Lake Tahoe, book in advance for your favorite activities and hotels so you don't miss out!
I love Lake Tahoe, and I savor your travel stories – let me know how your trip goes below!
Aloha & safe travels,
Hayden G.
---
Pin it for later!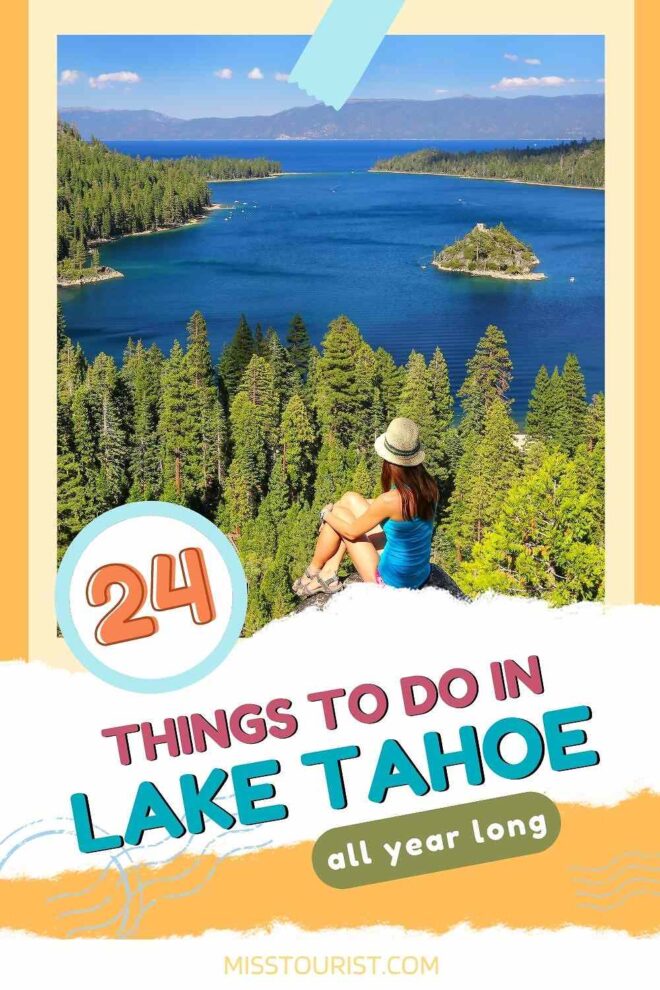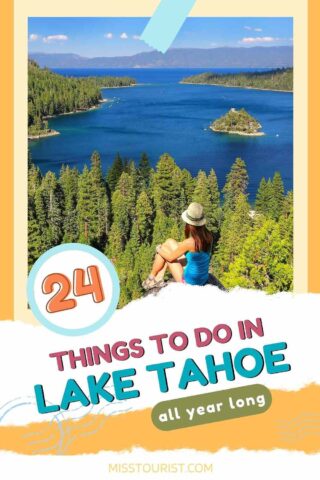 Pin it for later!