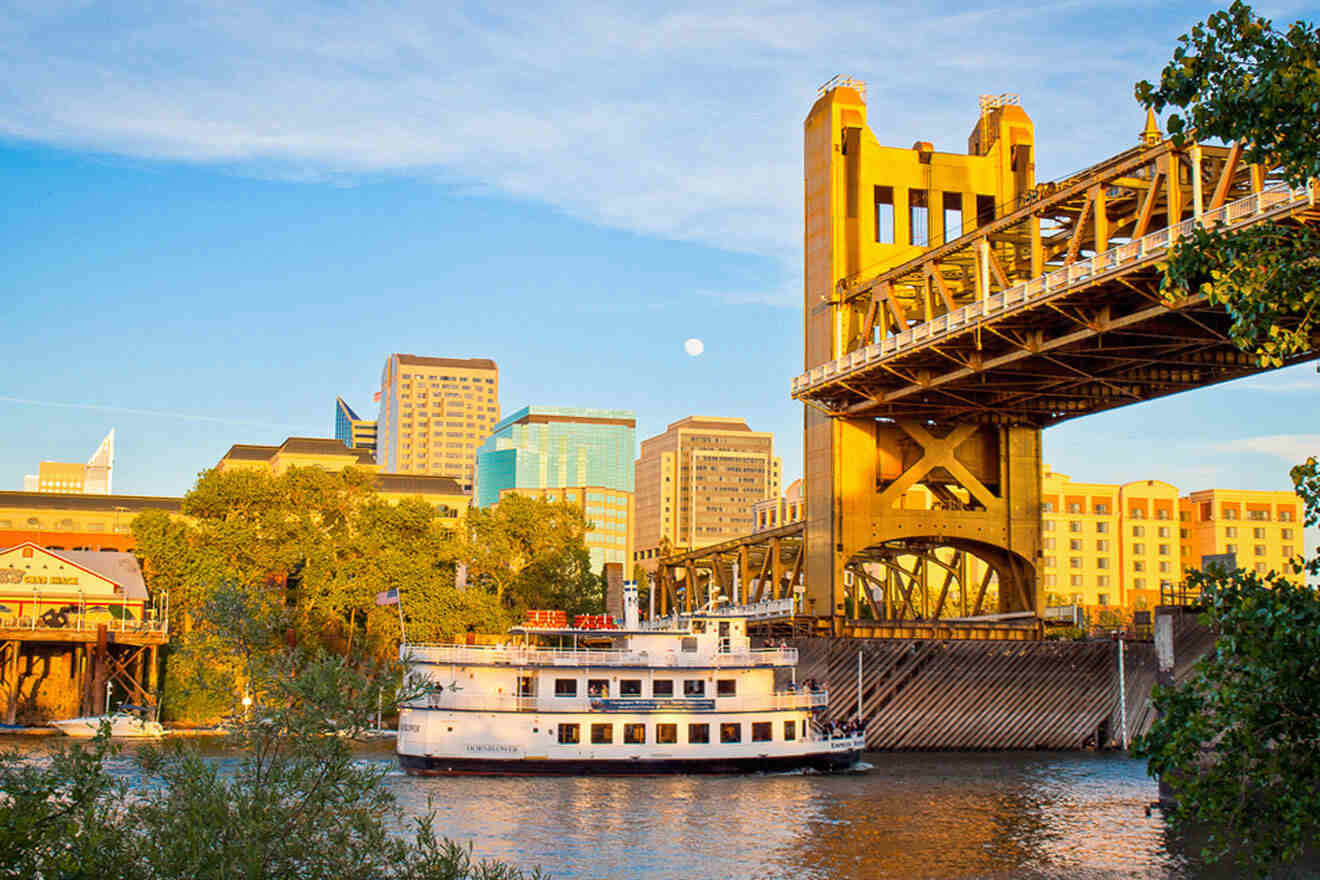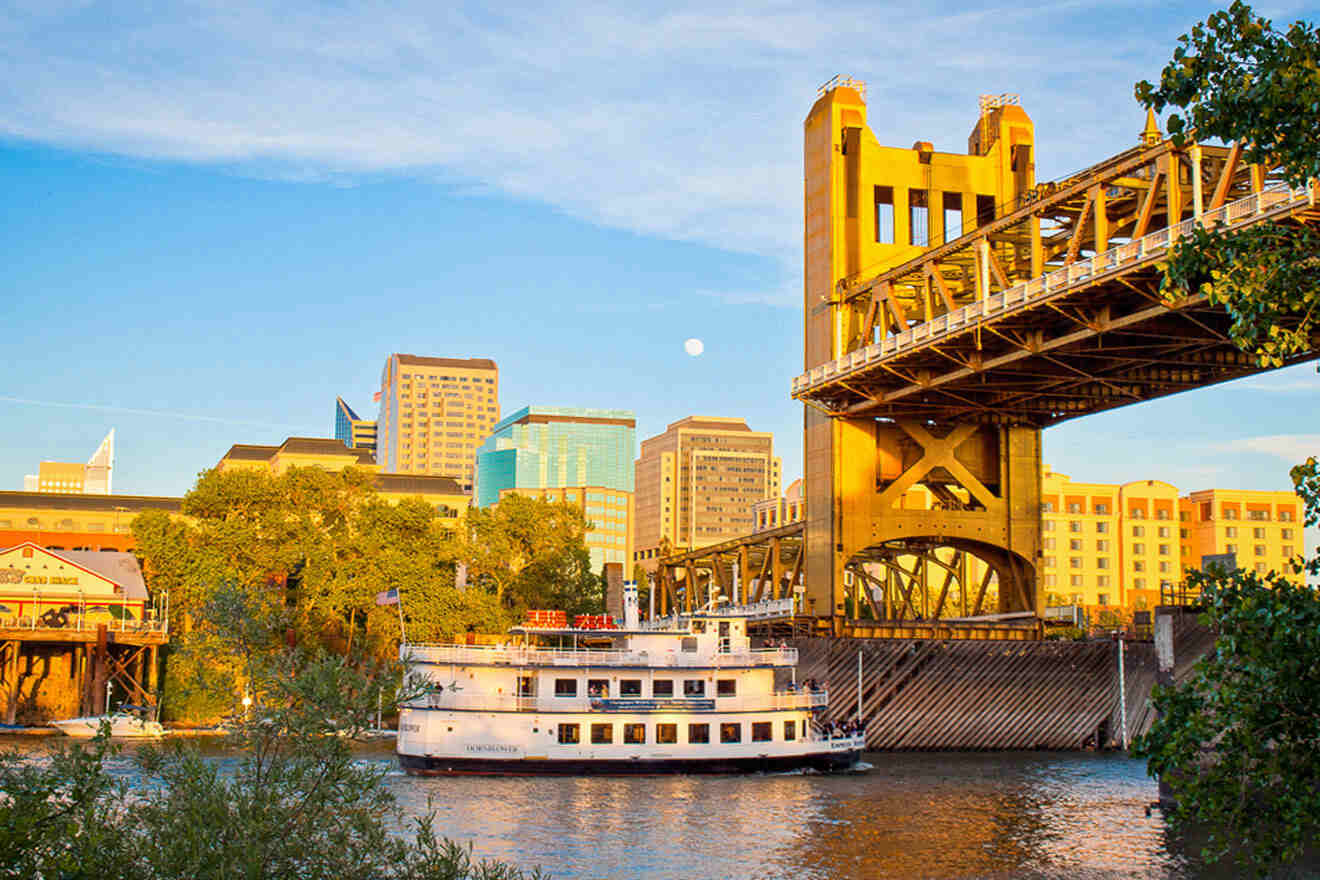 The first time I visited the vibrant city of Sacramento, California's capital city, I was on my way from the urban mecca that is San Francisco to the northern Sierra Nevada Mountains of Lake Tahoe. While that first trip was just a quick stopover, I've returned many times to enjoy the beauty of this Northern California city.
Sacramento, once a crossroads for the California Gold Rush era of the USA and now the capital of California, is brimming with the history of industries past and present.
But it's not all about history, there are tons of things to do in Sacramento, CA, to keep you busy for your entire stay: museums, art galleries, breweries, dining, attractions, and amazing opportunities out in nature.
So let's start this journey and explore all of the Sacramento attractions together!
Before we leave, a friendly reminder: secure your tour reservations and hotel accommodations by booking in advance! I'd hate for you to miss out on saving $ or, worse, on missing all the fun. So definitely plan ahead!
If you are in a hurry
Once you arrive in Sacramento, CA, you will want to hit the ground running, not worry about securing reservations for all the best Sacramento attractions. Do yourself a favor and book at least these activities in advance:
And here are the best hotels: Kimpton Sawyer Hotel, An IHG Hotel (luxury), Inn Off Capitol Park, Ascend Collection (mid-range), The Vine Inn at Davis (budget)
1. Have a blast at the California State Railroad Museum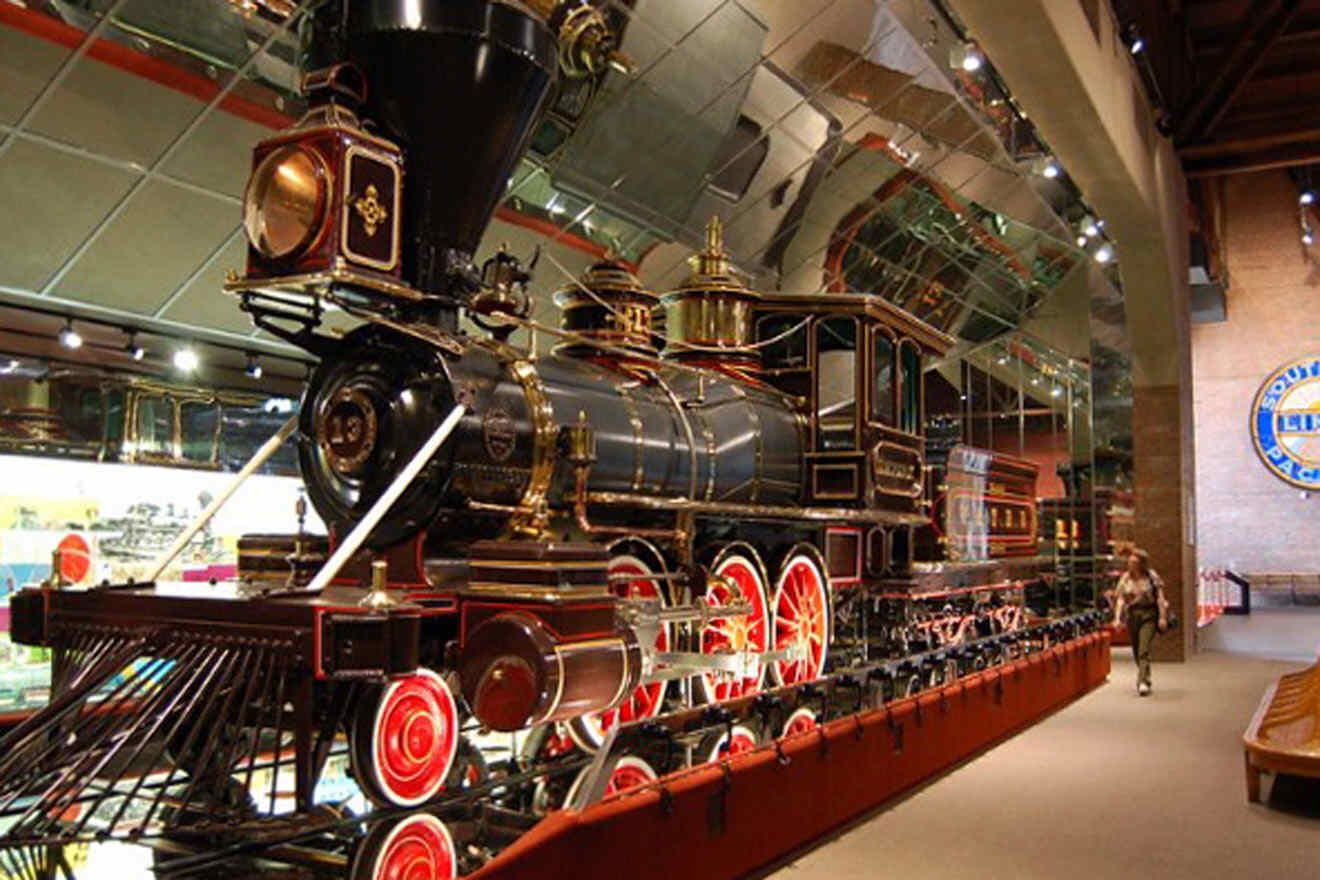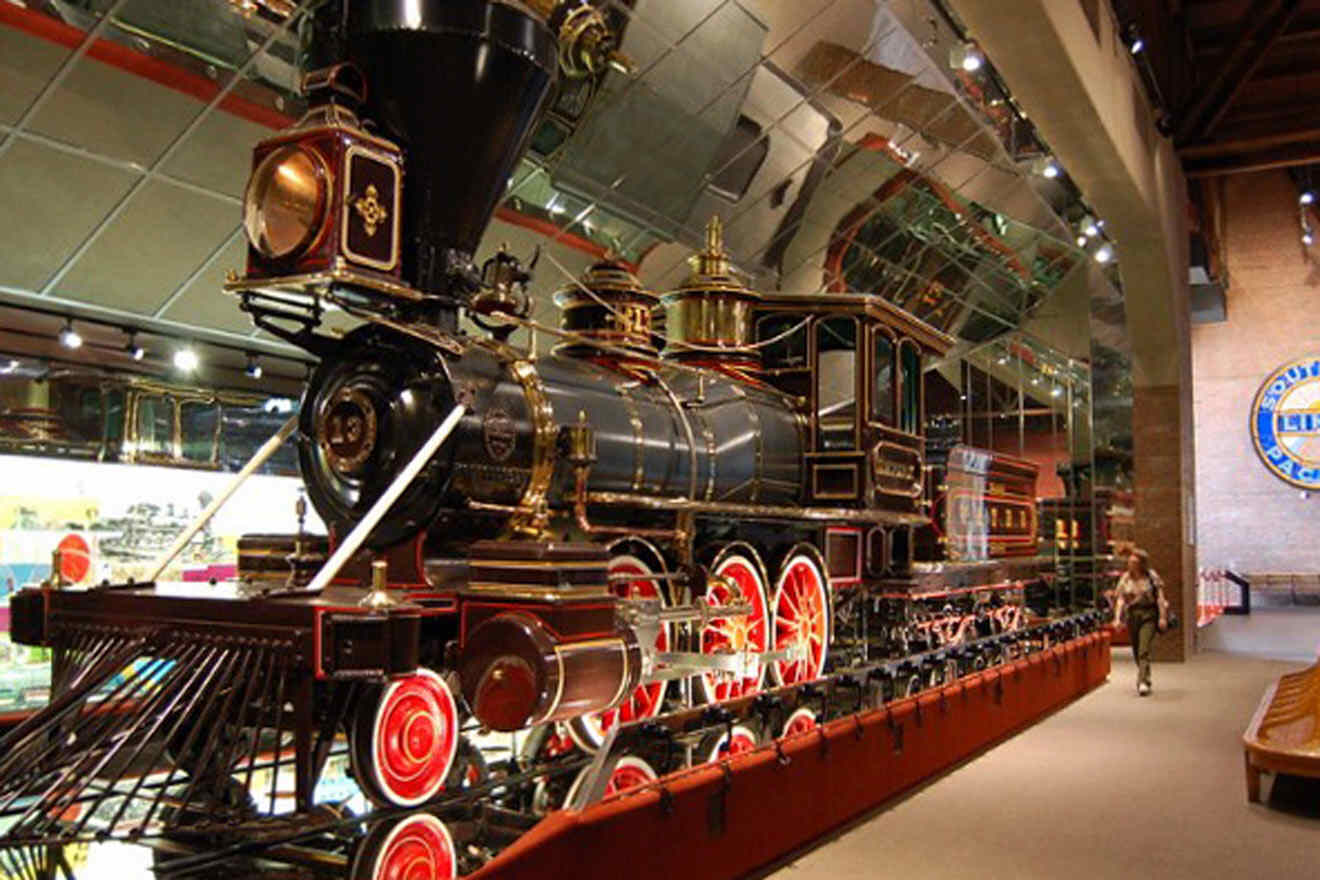 Whether or not you're in Sacramento, CA, with kids, make time to stop and explore the California State Railroad Museum – a fun and interactive museum filled with the history of Sacramento's Gold Rush past.
You won't believe how expansive the indoor and outdoor areas of the museum are, full of incredible train cars from throughout the decades, recreated historical buildings, fun train rides, and loads of interesting information.
Don't miss the Central Pacific Passenger Station, constructed as a recreation of the original west terminal of America's first continental railroad, the station is so neat to explore.
It truly feels like you're transported back in time to the 19th-century Gold Rush – the scurrying of pioneers, engines blowing in the background, and trains chugging along the tracks.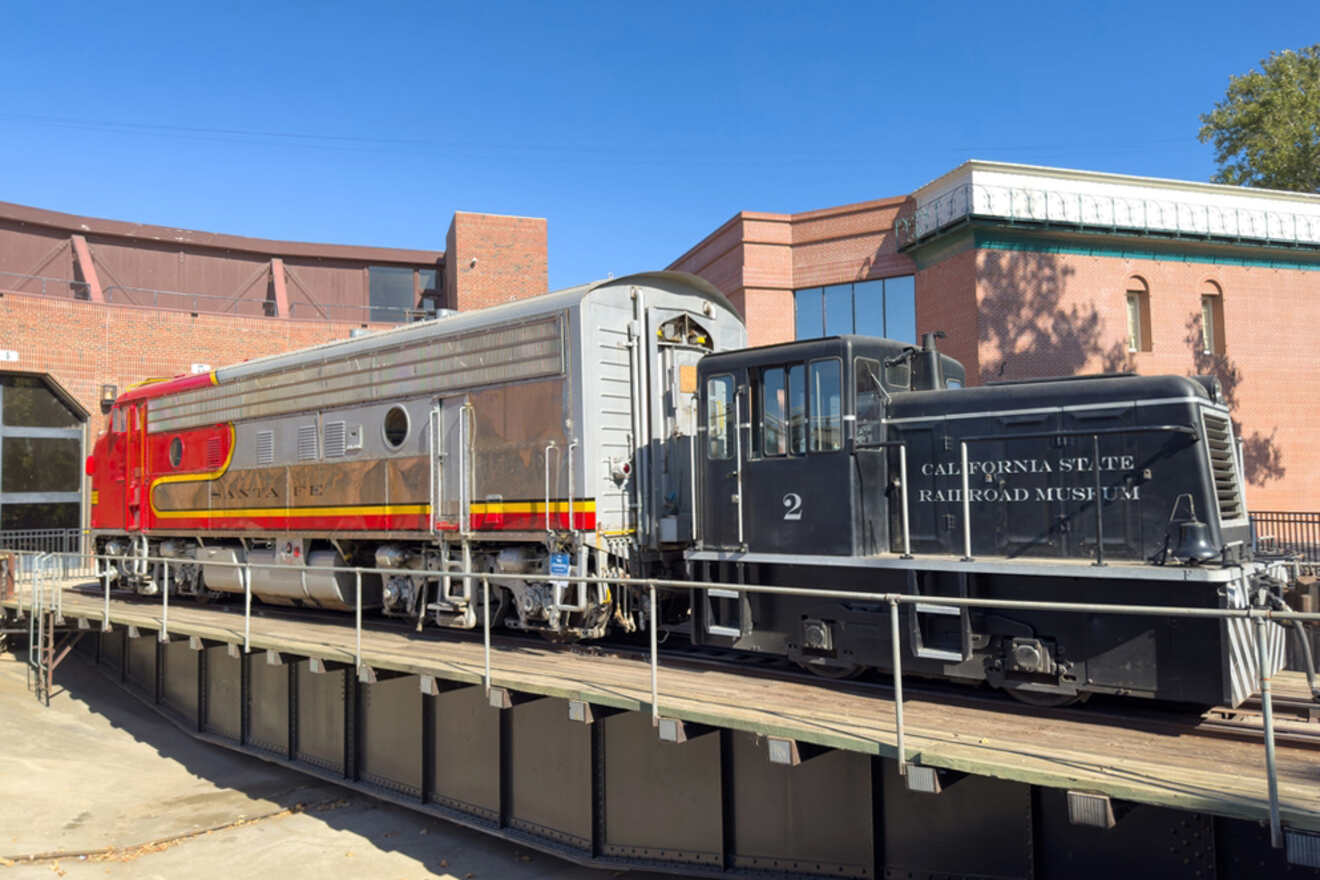 With vintage train cars to marvel at and life-like recreations, like the old baggage rooms and ticket offices, the Central Pacific Passenger Station is definitely worth the visit.
A highly sought-after ticket during the holidays, you can't miss the famous Polar Express at the California State Railroad Museum, which we've all come to know from the popular children's movie of the same name.
This is a really fun ride that offers yummy hot chocolates, live-action characters in costume, and all the cozy holiday feelings to keep you warm aboard the locomotive. The Polar Express runs November 25 through December 21 and sells out really fast, so make sure to book well in advance.
For the adults who may want to lean into the history of this railroad region, try this awesome and unique rail-bike tour!
PRICE: Museum entrance US$5 for adults, US$3 for children
2. Explore the history of the California State Capitol Museum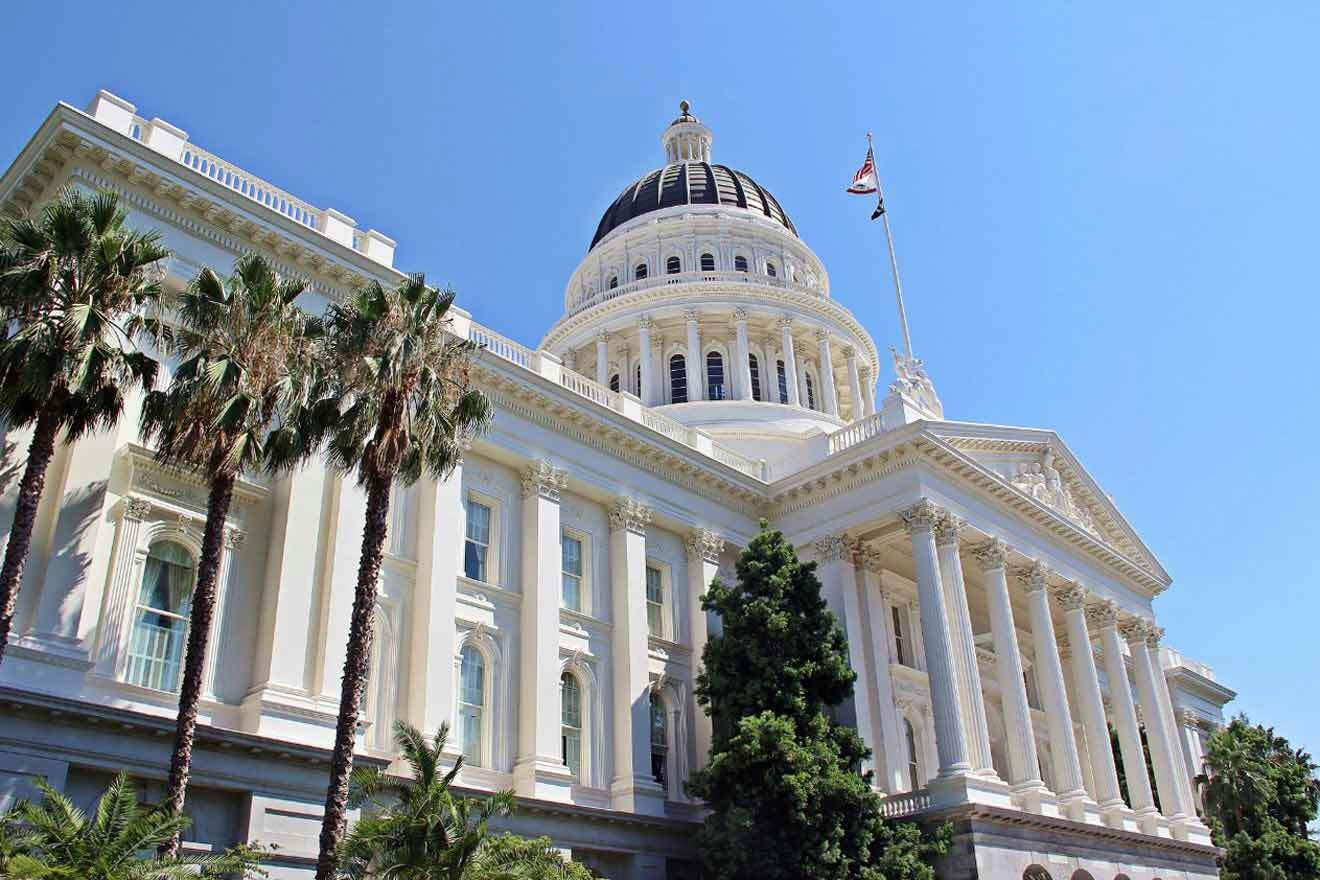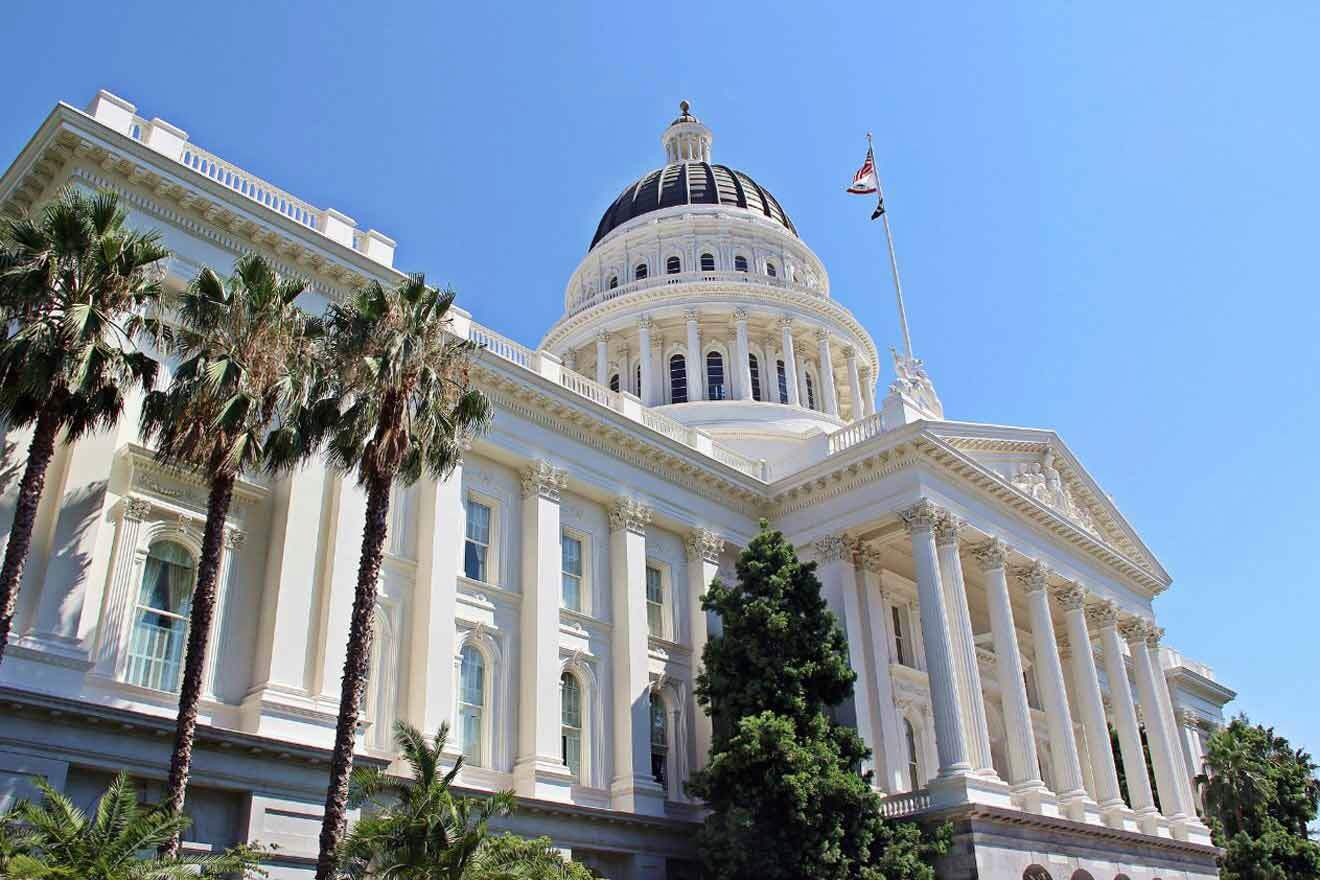 Designed as a 19th-century neoclassical state capitol building, the California State Capitol Museum is now a stunning site to visit, steeped in rich political history.
As the main place where gold miners, Native Americans, cowboys, and townspeople would go to pay up and air their grievances, the California State Capitol holds so much historical significance to our state and country.
One of the best parts of visiting this building is taking advantage of the stunning and expansive Capitol Park next door.
Check ahead on the website to learn times for free docent-led guided tours of the State Capitol building
NOTE: Closed Sat & Sun, and holidays
PRICE: FREE
3. Go play in Sutter's Fort State Historic Park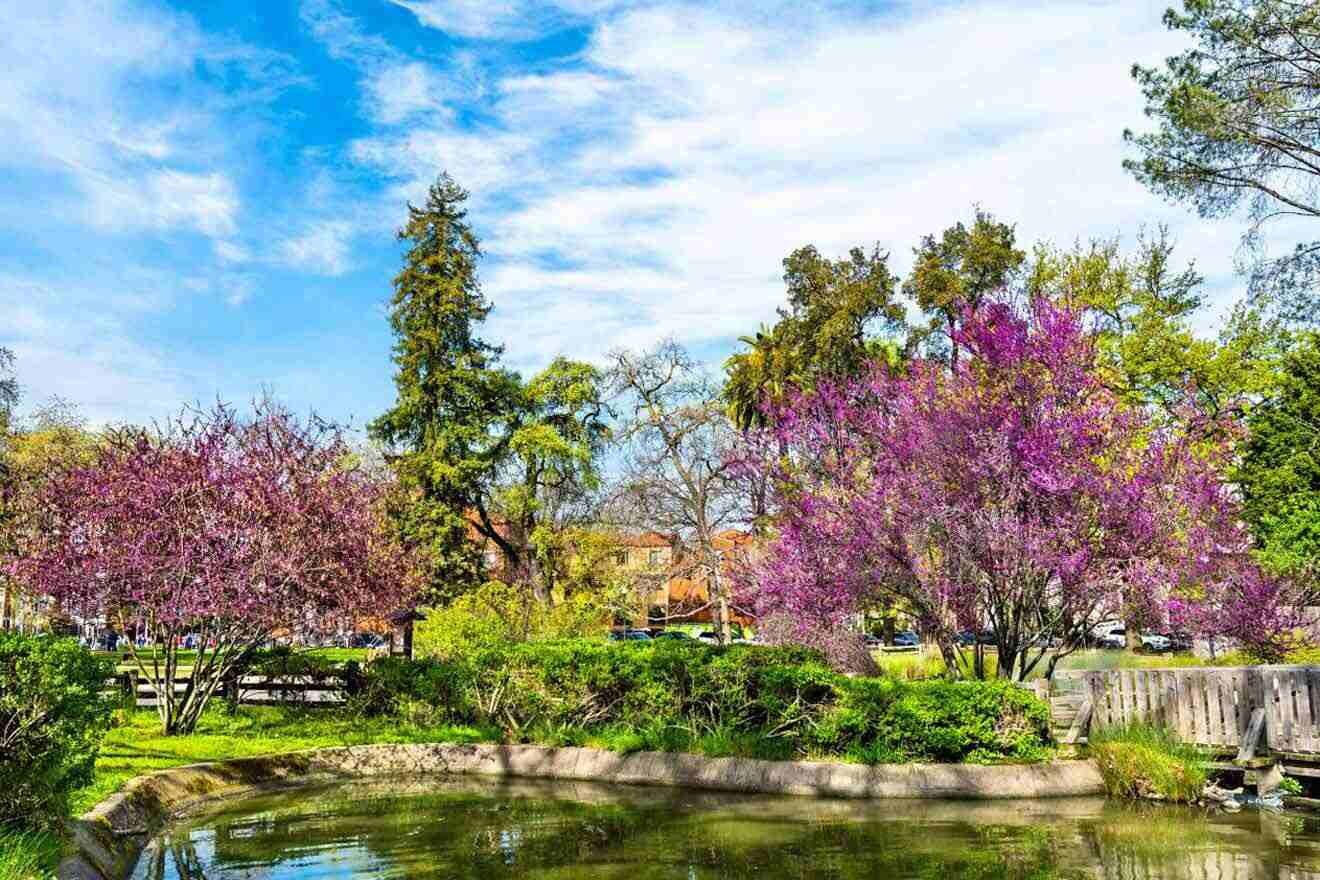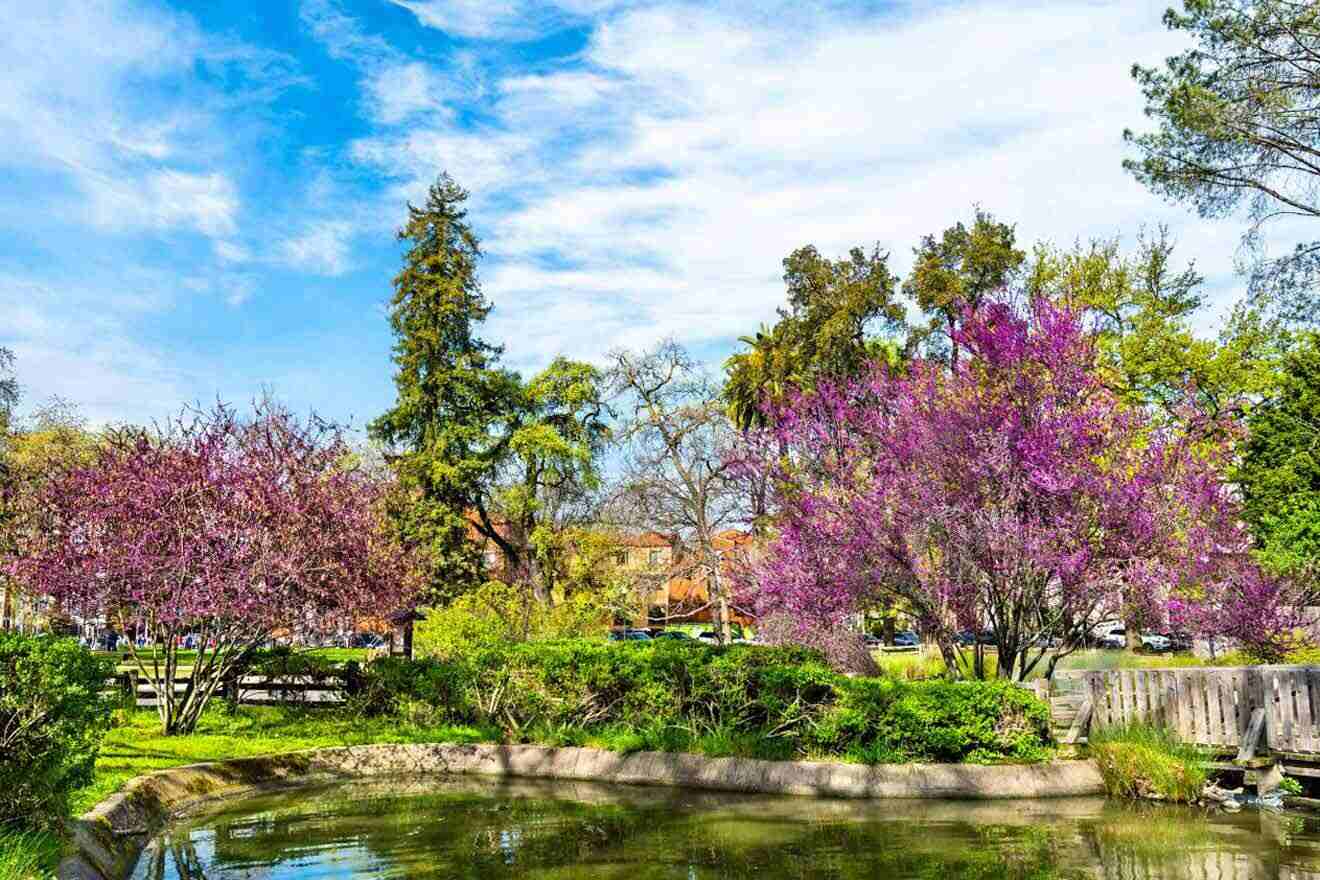 This site was originally settled by one of the late pioneers, John Augustus Sutter Jr., who built his fort here in 1839.
I don't care who you are or where you're from, I'm certain you will love Sutter's Fort State Historic Park!
This incredible life-sized museum and park brings the history of the 19th century to life and has been adopted as both a California Historical Landmark and a National Historic Landmark.
Sutter's Fort State Historic Park has 5 acres (2 hectares) of land to explore and countless neat buildings like the old blacksmith quarters or the sewing stations, you can spend hours enjoying this unique attraction.
When I was visiting, there was a strong mix of families and couples without children, so don't think this one is just for the little ones.
My favorite part of this experience? I love the actors and their historical garb at Sutter's Fort, it brings the history to life!
PRICE: US$5 for adults, US$3 for children
4. Enjoy a live theater performance at the B Street Theatre
This place is one of the best spots I've ever caught a live theater performance, and I'm from New York originally, so that's saying a lot!
The B Street Theatre started as a traveling children's theater group and morphed into the great establishment we know today.
From "theater for grownups" that has adult-friendly and specific themes to family-friendly children's shows, there's always something great to see at B Street Theatre.
NOTE: Ironically, B Street Theatre is not on B Street. It's located right next to Sutter's Fort State Historic Park!
PRICE: Varies by show
5. Pop into the stunning Crocker Art Museum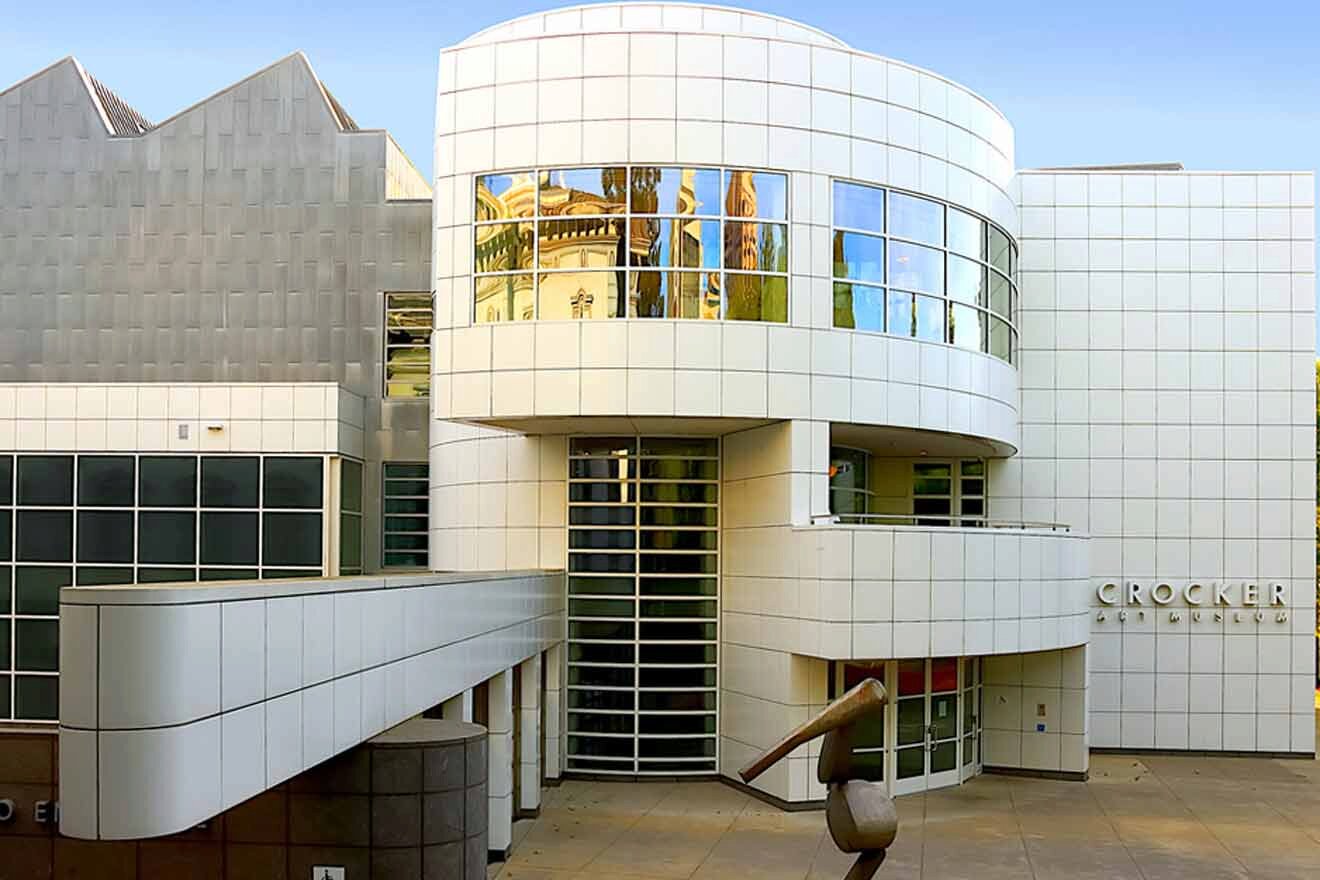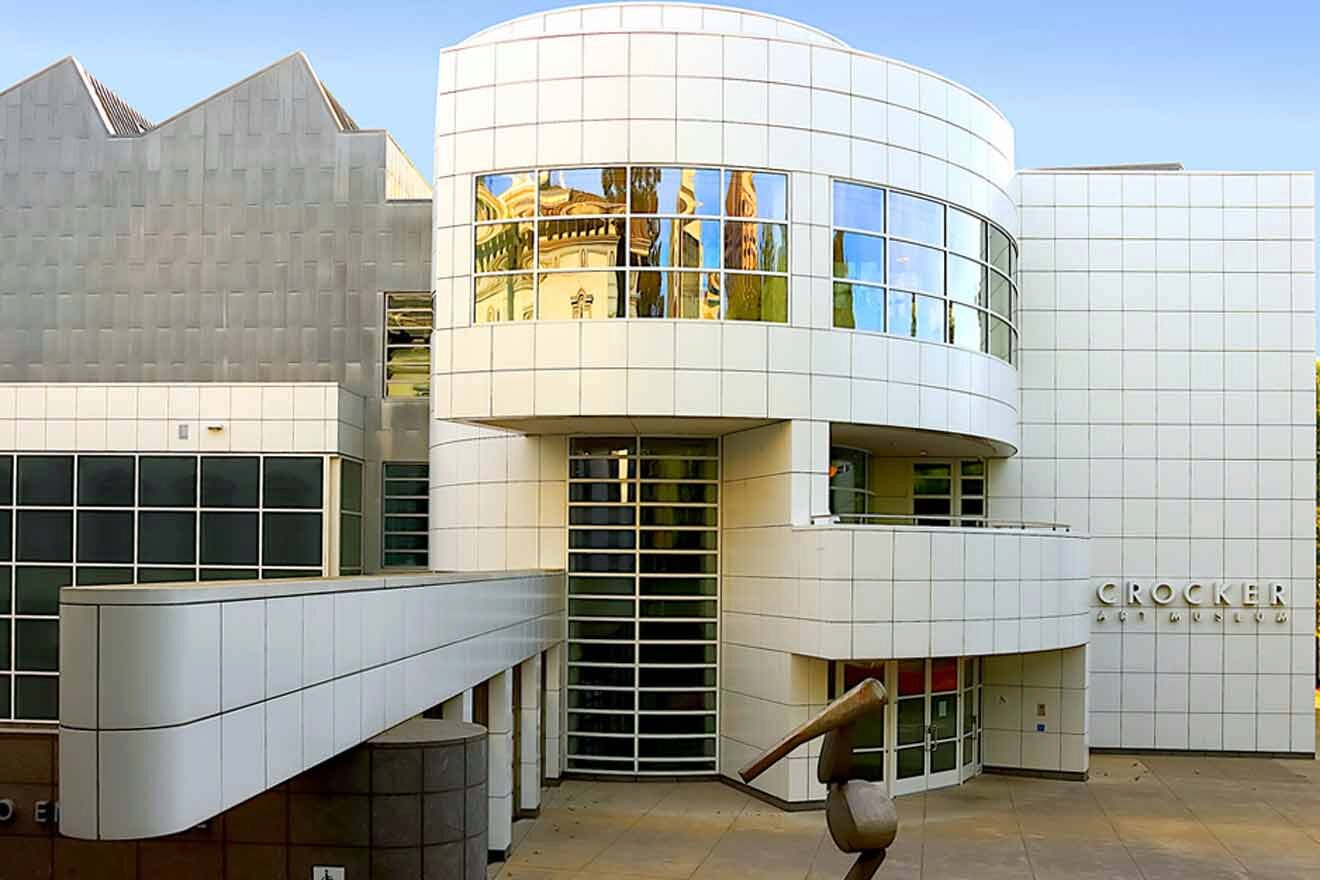 Definitely one of the best things to do in Sacramento, head to the Crocker Art Museum in downtown Sacramento. It is the longest-standing and oldest art museum west of the Mississippi River! How cool is that?
Once you step inside the historical walls of the museum, you're presented with exquisite European, Asian, and African art. The statues are particularly remarkable to me – just imagining the ingenuity, creativity, and talent it took to create these masterpieces so long ago.
Don't miss the extensive collection of California ceramic art. It's the most popular exhibit and also tends to be the most crowded.
NOTE: Closed Mondays and Tuesdays.
PRICE: US$15 for adults
6. Go for a stroll along Old Sacramento Waterfront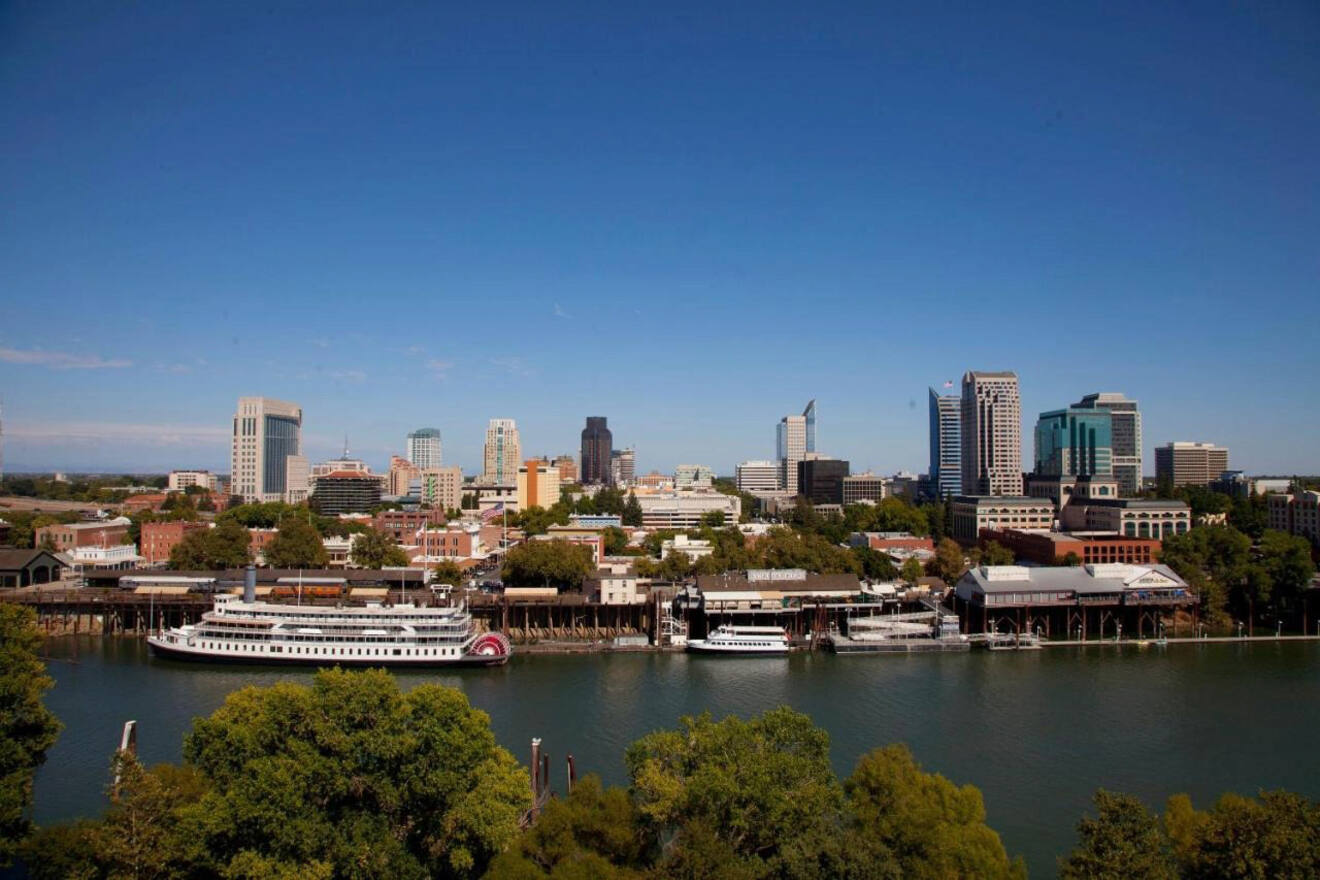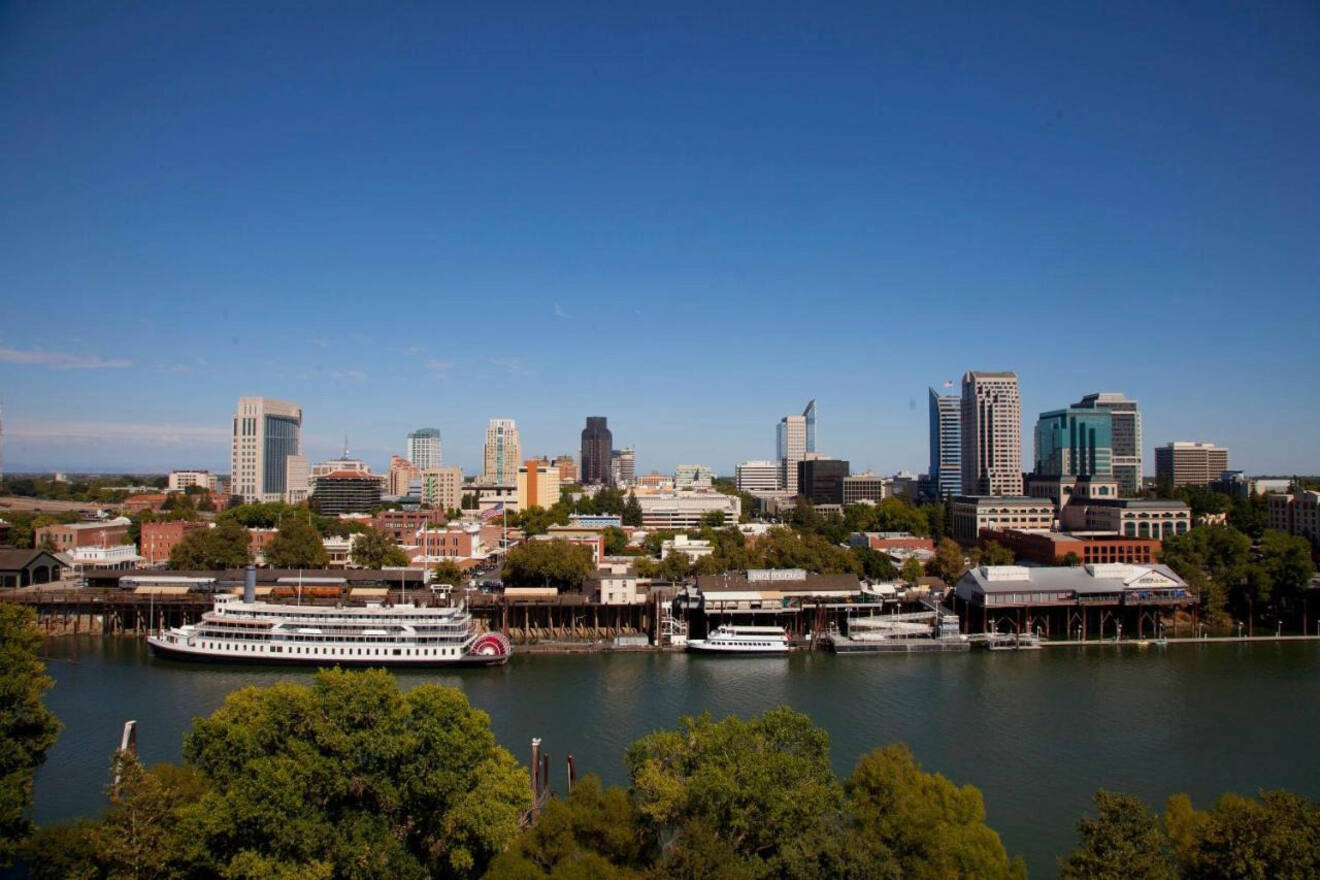 I'm such a sucker for a charming, quaint downtown district, and Old Sacramento State Historic Park, or the Old Sacramento Waterfront, is totally my jam!
Previously referred to simply as Old Sacramento, this national historic landmark has gone through a rebranding and a bit of a facelift: new shops, restaurants, and amenities.
Within the larger Old Sacramento Waterfront District lies the Old Sacramento State Historic Park – imagine old Victorian architecture and historical buildings lining the main street along the river, filled with adorable shops, delicious dining options, and tons of history.
One of my favorite ways to explore Old Sacramento has been by eating my way through it! If you'd like to pair some food with sightseeing, I highly recommend this Old Sacramento food tour.
Alternatively, for the more adventurous among you, I promise you won't regret this incredible whitewater rafting excursion down the American River.
TOUR PRICE: from US$85 per person
7. Rock out at the Aftershock Music Festival
This Sacramento music festival held in October brings in huge crowds of rock, alternative, metal, and punk fans.
Aftershock Music Festival is famous for the big headliners that they secure every year, like old favorites Incubus and Korn, so you can be sure you're in for a killer show.
If you are going to be visiting this October and you want to catch this Sacramento music festival, I highly suggest getting tickets as soon as possible! They sell out.
PRICE: from US$400 per adult for 4-day passes.
8. Marvel at the Cathedral of the Blessed Sacrament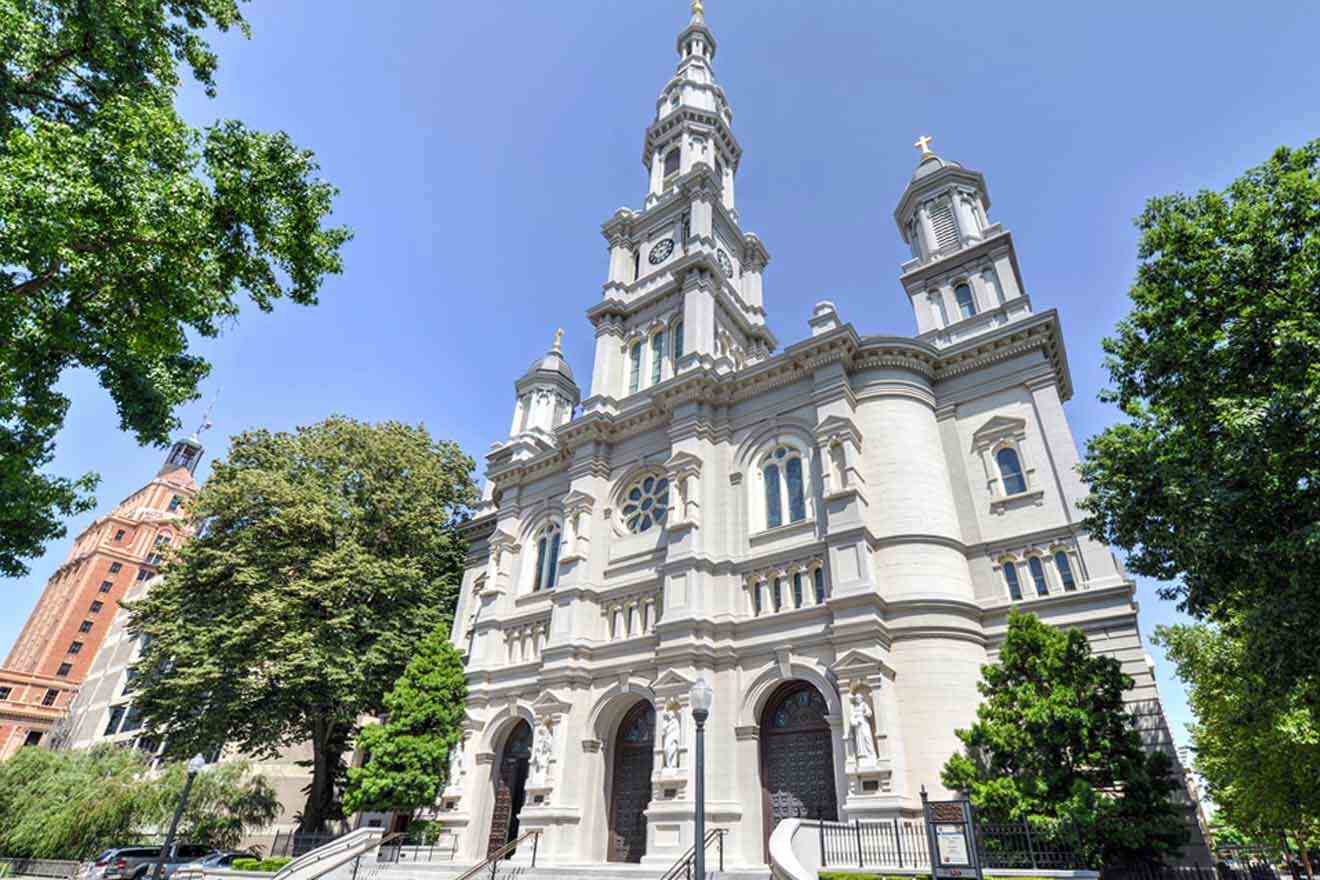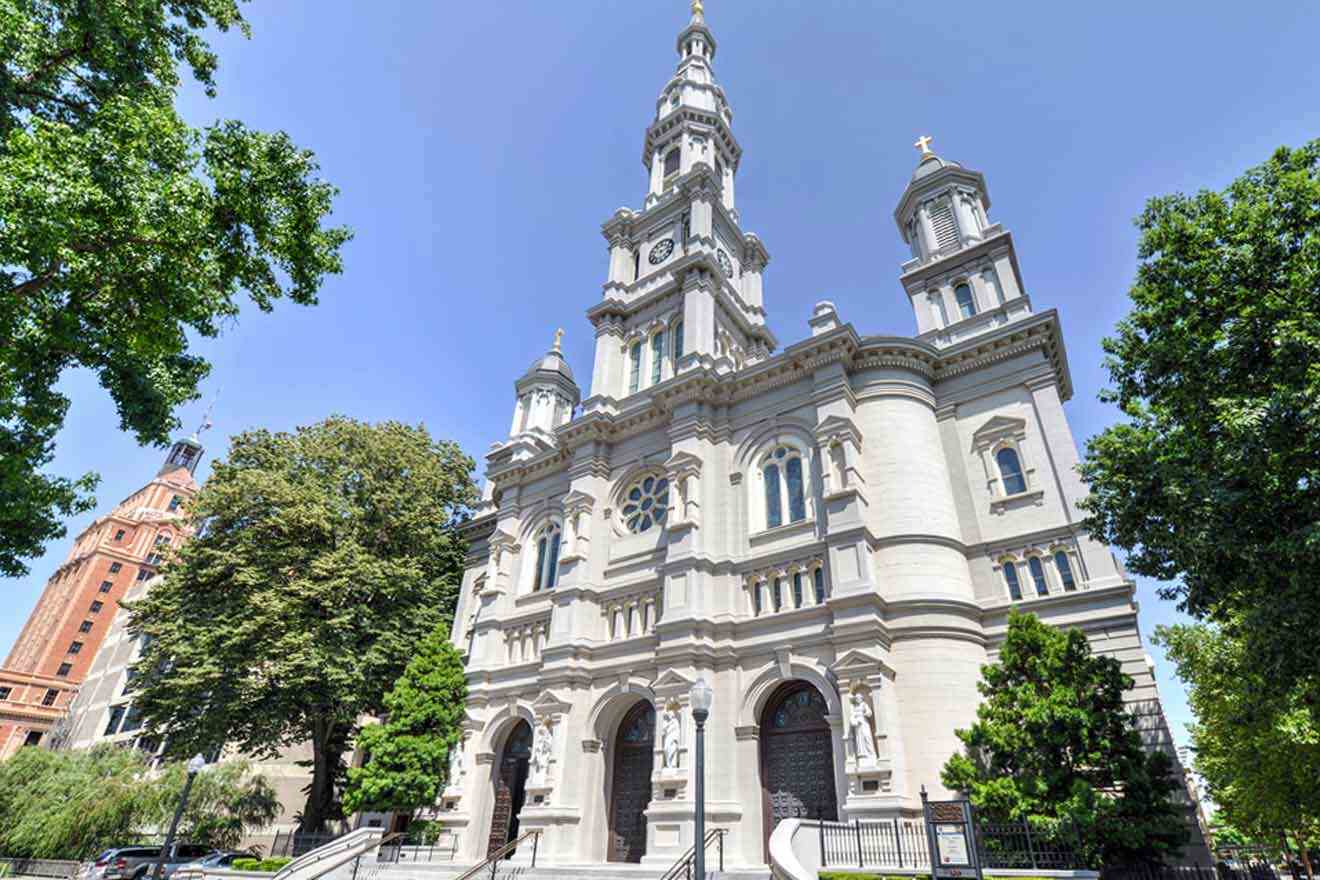 The Cathedral of the Blessed Sacrament is definitely one of the top activities in Sacramento, CA – with its stunning Italian Renaissance facade and Victorian-era interior, you'll love touring around its beautiful walls.
Located in Downtown Sacramento near Capitol Park, this is a great place to combine with other sightseeing in the area.
Built at the end of the 19th century, the Cathedral of the Blessed Sacrament is a gorgeous work of art that was constructed just as Sacramento was turning from a mining town to the capital city.
Hone in on the intricacies of the design throughout the cathedral, ornate and breathtaking, you'll love spending time discovering the beauty of this place.
If you can, hop onto one of the docent-led tours held throughout the day to learn more about the true details of this spectacular site.
NOTE: Cathedral of the Blessed Sacrament conducts mass in English, Chinese, and Spanish.
9. Get swept away in the Fairytale Town at William Land Park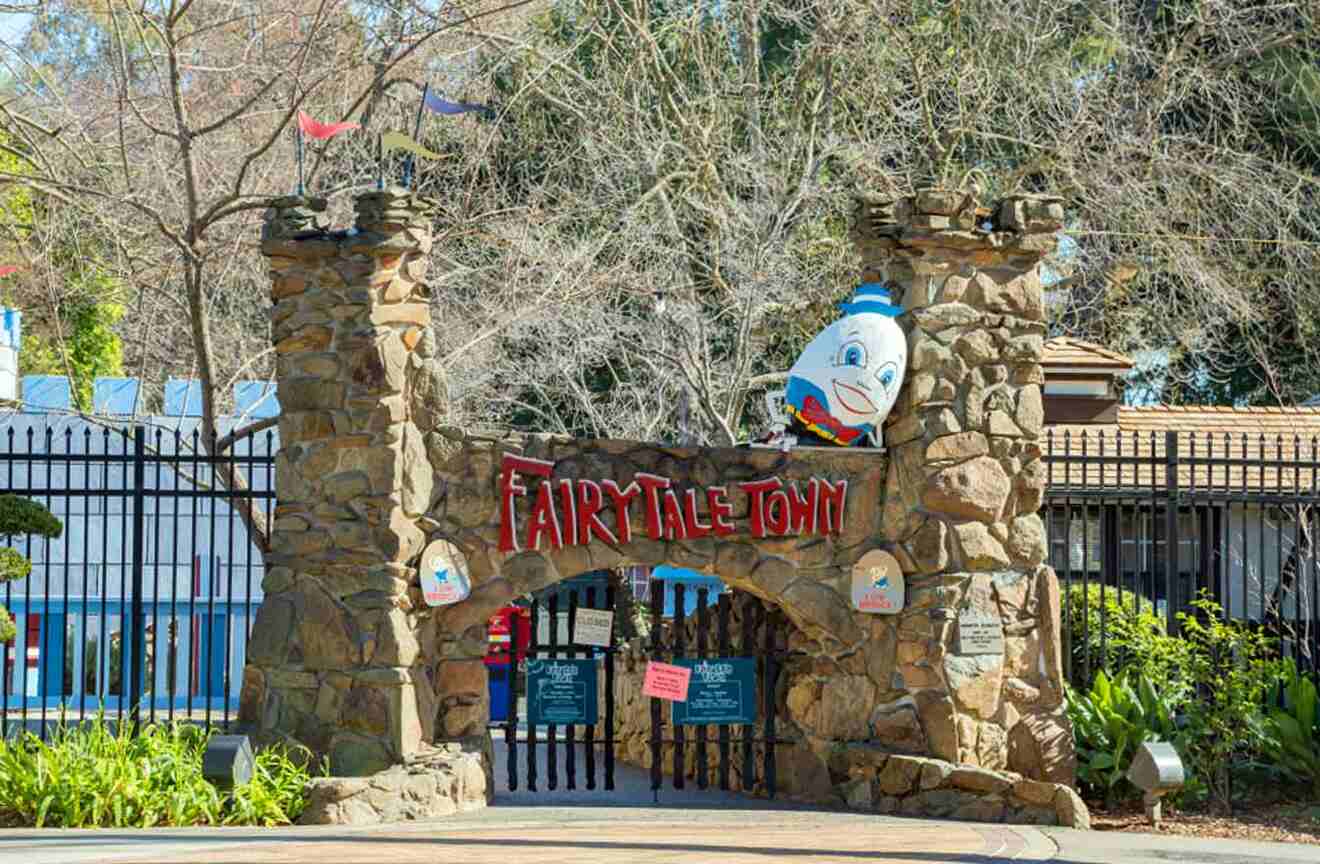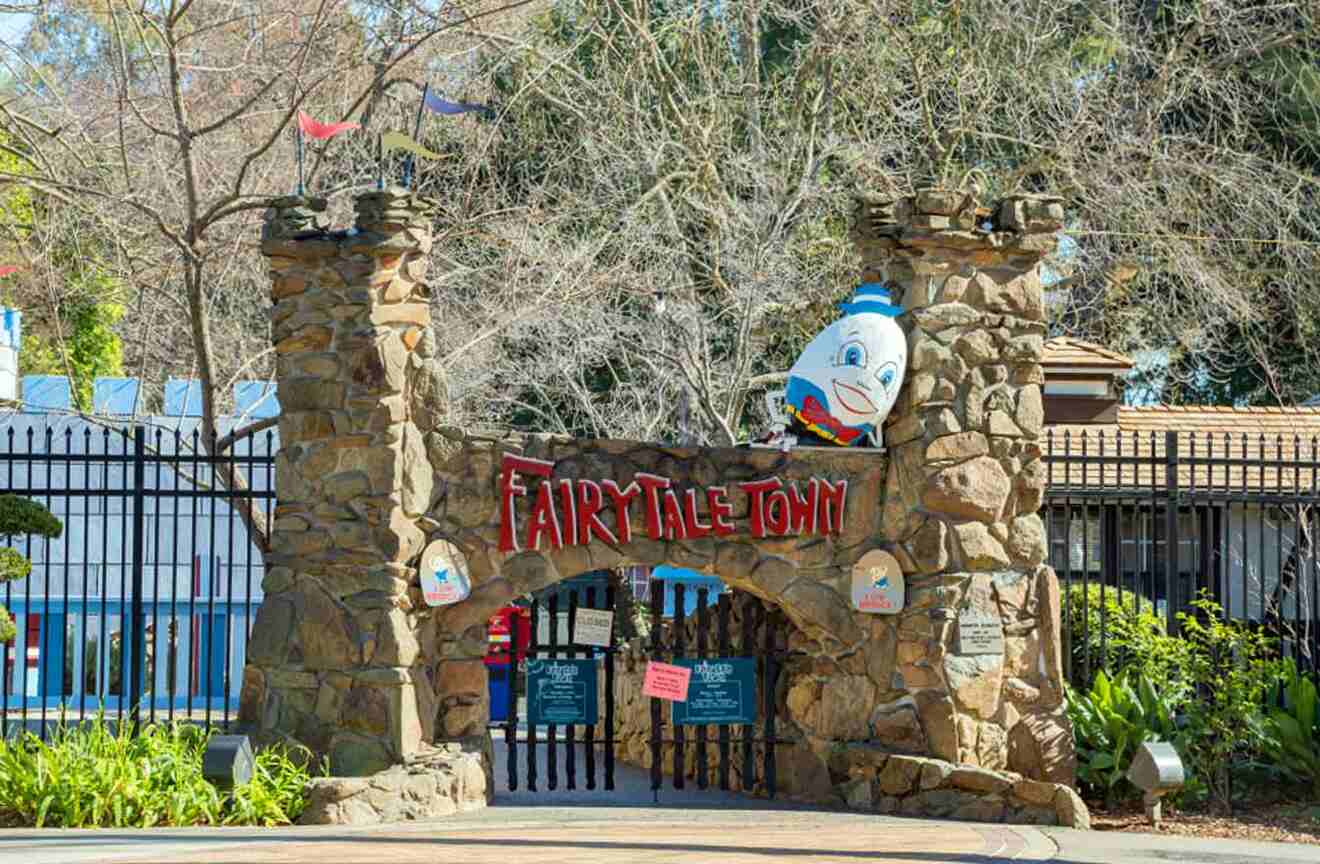 Fairytale Town at William Land Park is a must-stop if you have children traveling with you.
It is an outdoor space that is family-friendly, easy to navigate, and filled with countless play exhibits of classic children's fairy tales.
It's so cute to see all the little ones playing in the ornate playgrounds like King Arthur's castle, Jack and the Beanstalk, and The Woman Who Lived in the Shoe!
Save yourself the time waiting in line at the gate, and book ahead here.
NOTE: Adults must be accompanied by a child aged 0 – 12 years to enter.
PRICE: US$7 for adults, US$7 for children
10. Check out the sweet rides at California Automobile Museum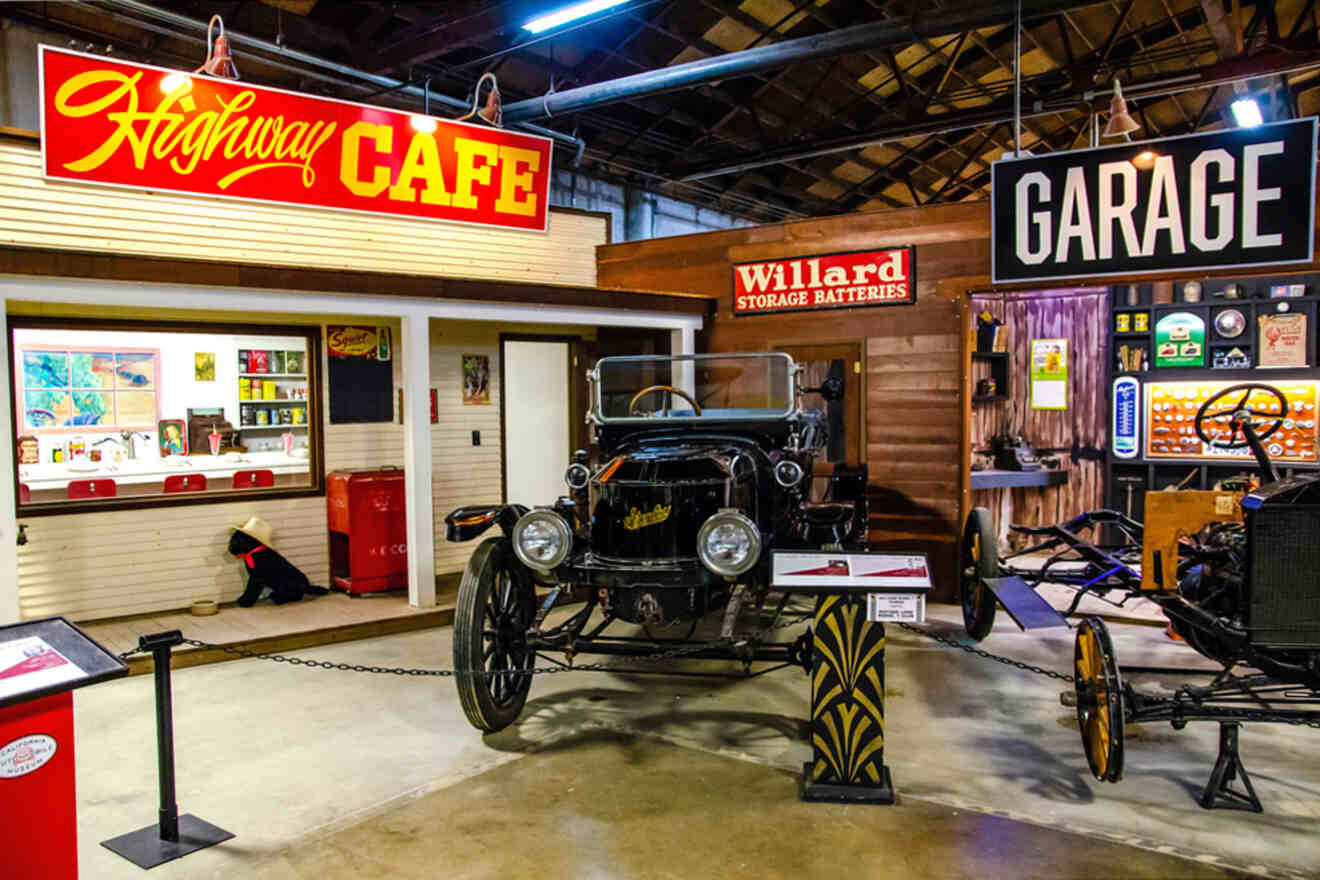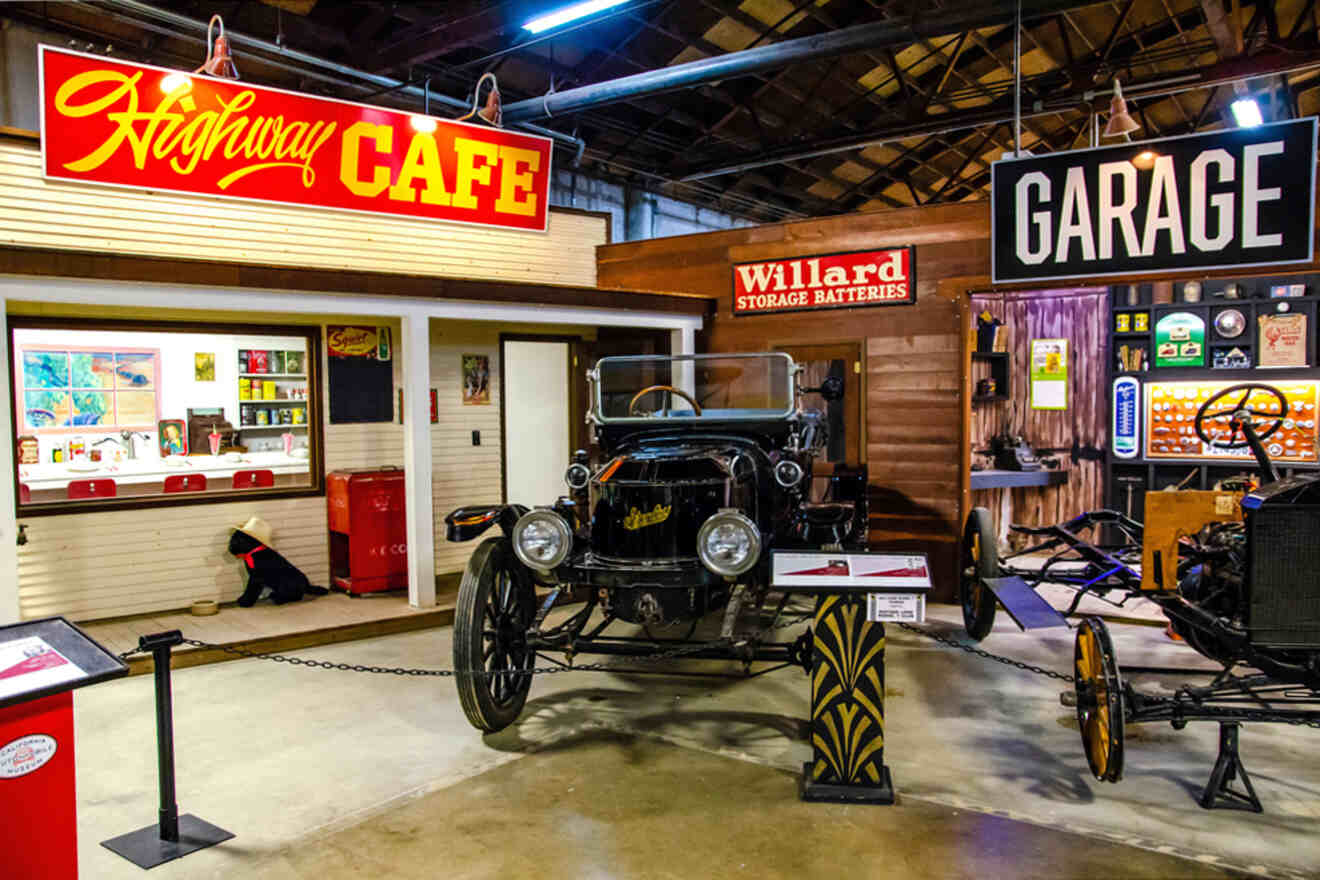 Believe it or not, I'm a total car gal, and the California Automobile Museum does not disappoint!
Filled with over 130 classic and unique makes and models, their inventory dates back to cars of the 1880s all the way up to the present.
Drool over automobile classics like the Ford Model T – it's really incredible and special to see these old vehicles up close!
NOTE: Open Wed-Sun only
PRICE: US$12 for adults
11. Stare in awe at the architecture of Leland Stanford Mansion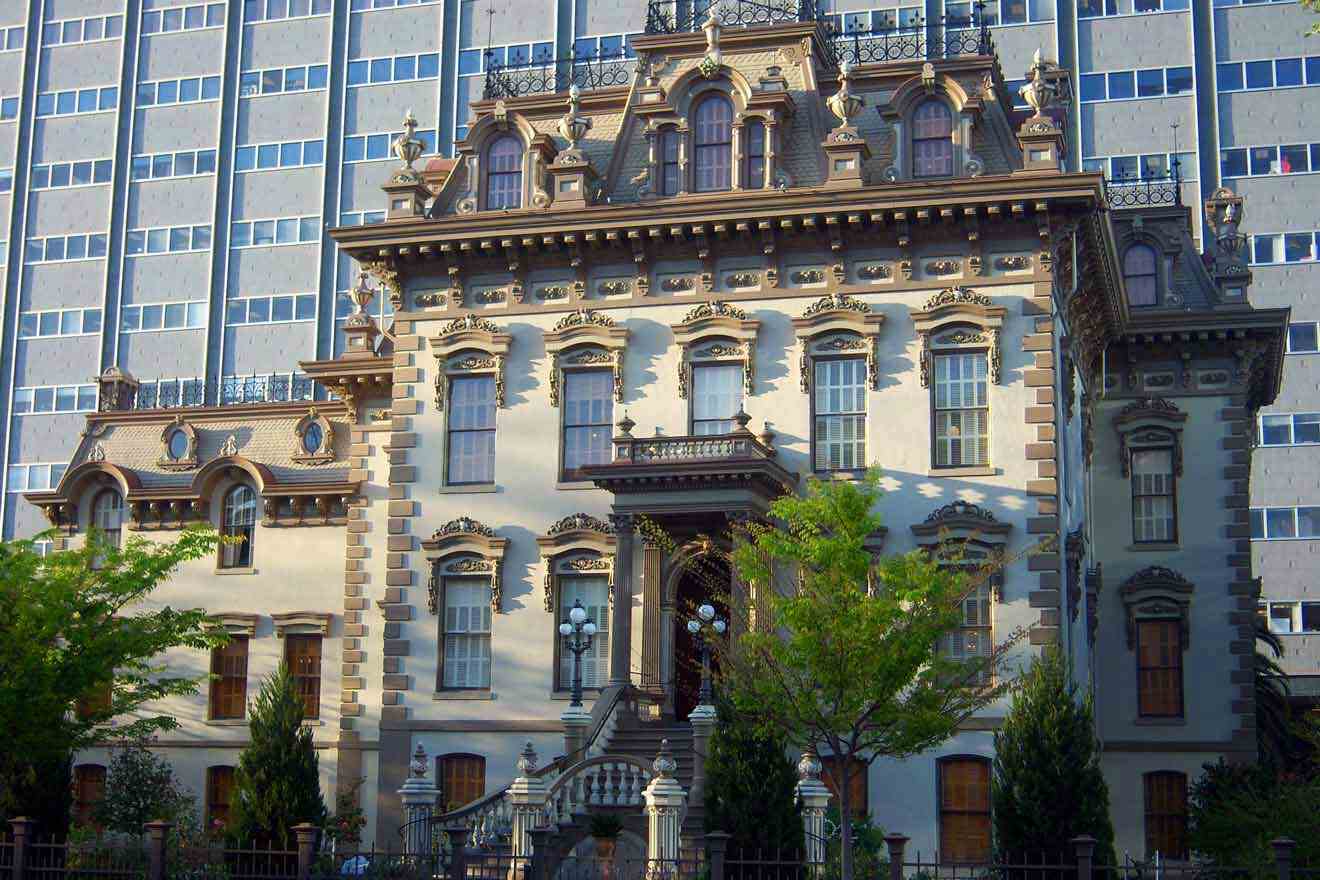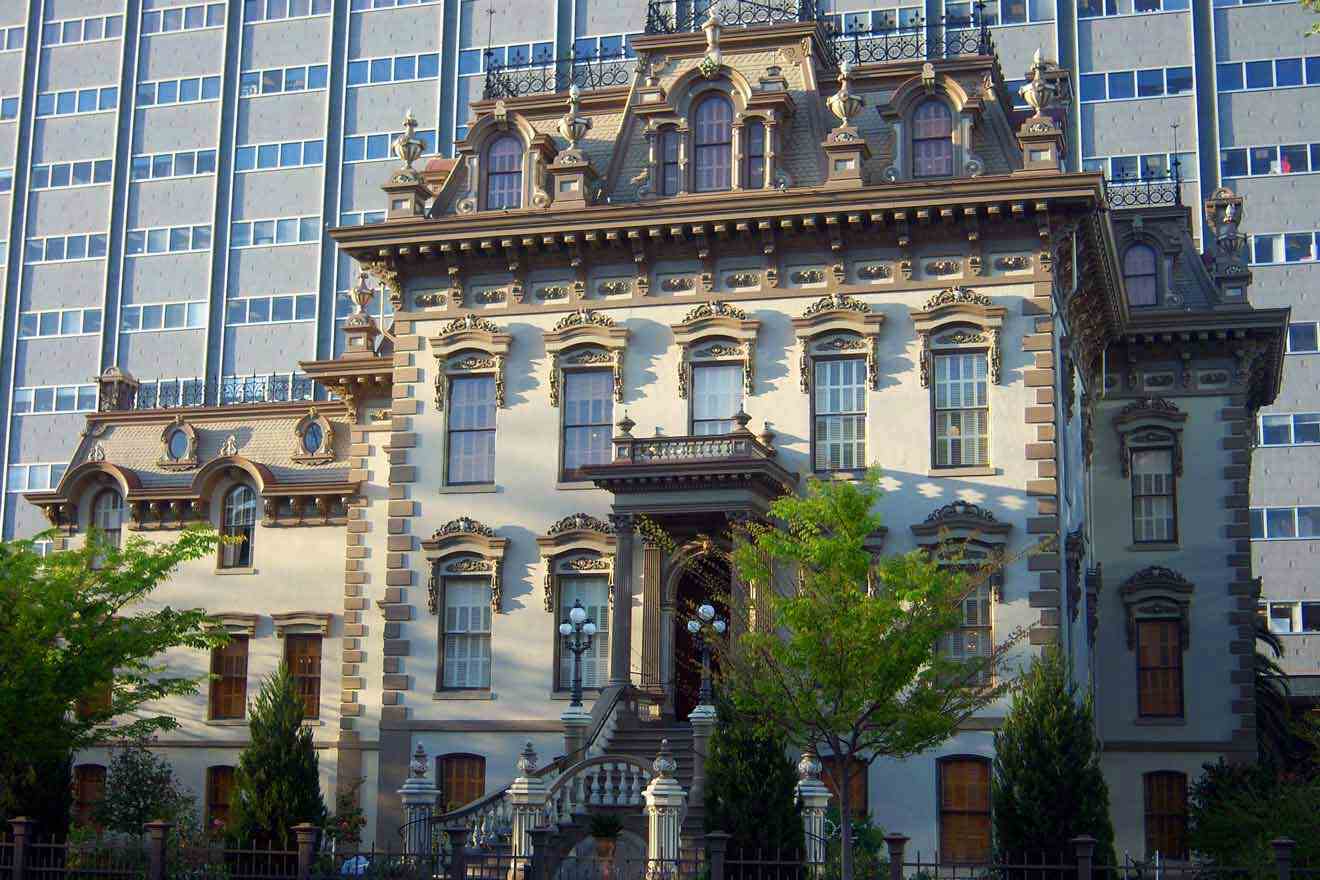 Originally built by a Gold-Rush-Era entrepreneur by the name of Sheldon Fogus, today it stands as a historic site with free admission!
Leland Stanford Mansion is one of the best things to do in Sacramento, CA, for anyone interested in architecture and design.
Sitting at a mere 19,000 ft² (1,765 m²), the mansion has so many nooks and crannies to explore. The impressive mansion houses exquisite paintings, 19th-century gardens, and stunning interior design, making any trip here memorable.
I highly recommend one of the docent-led tours to soak up all the history and information on this beauty. Check visitor information here.
PRICE: FREE
12. Run around at California State Capitol Park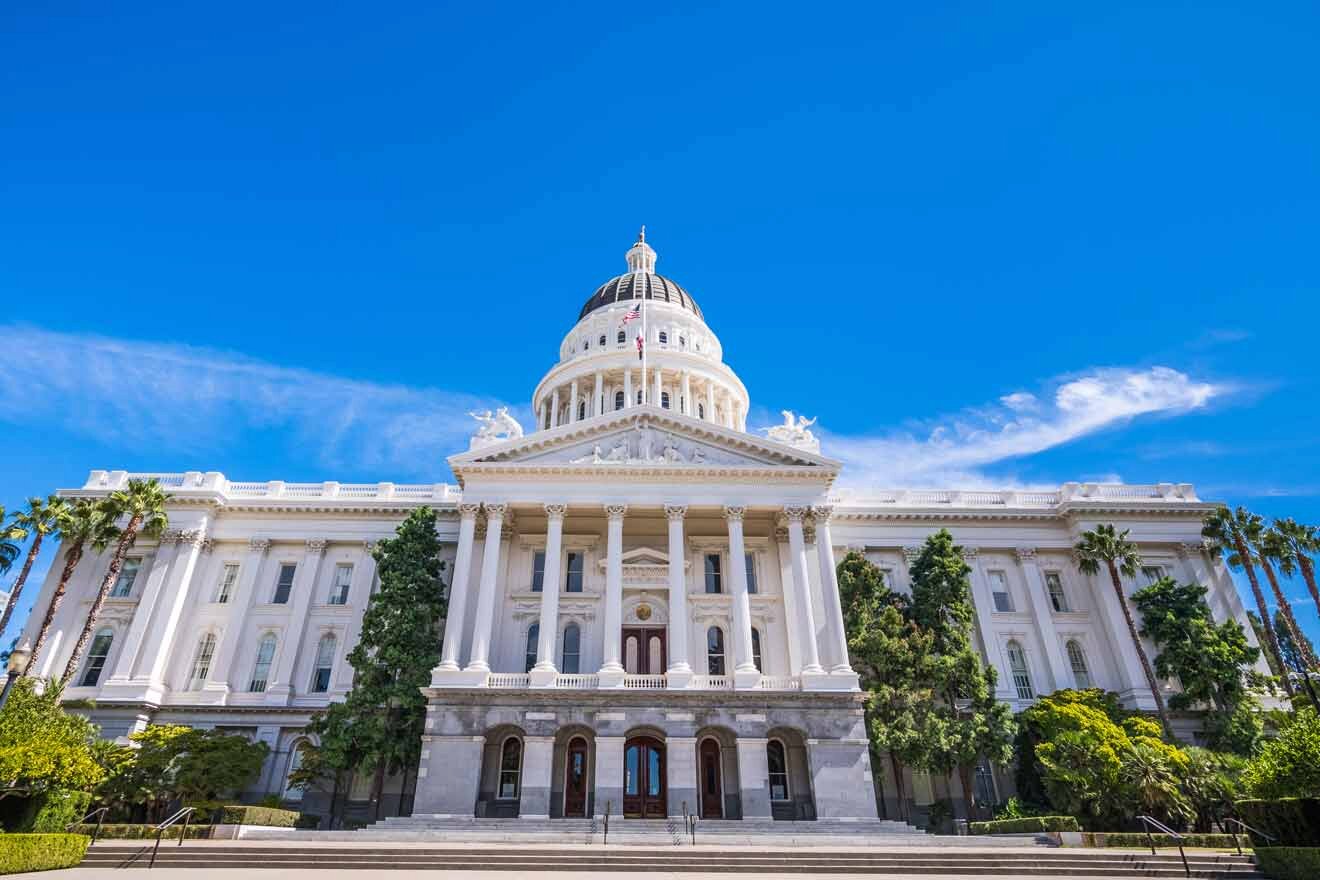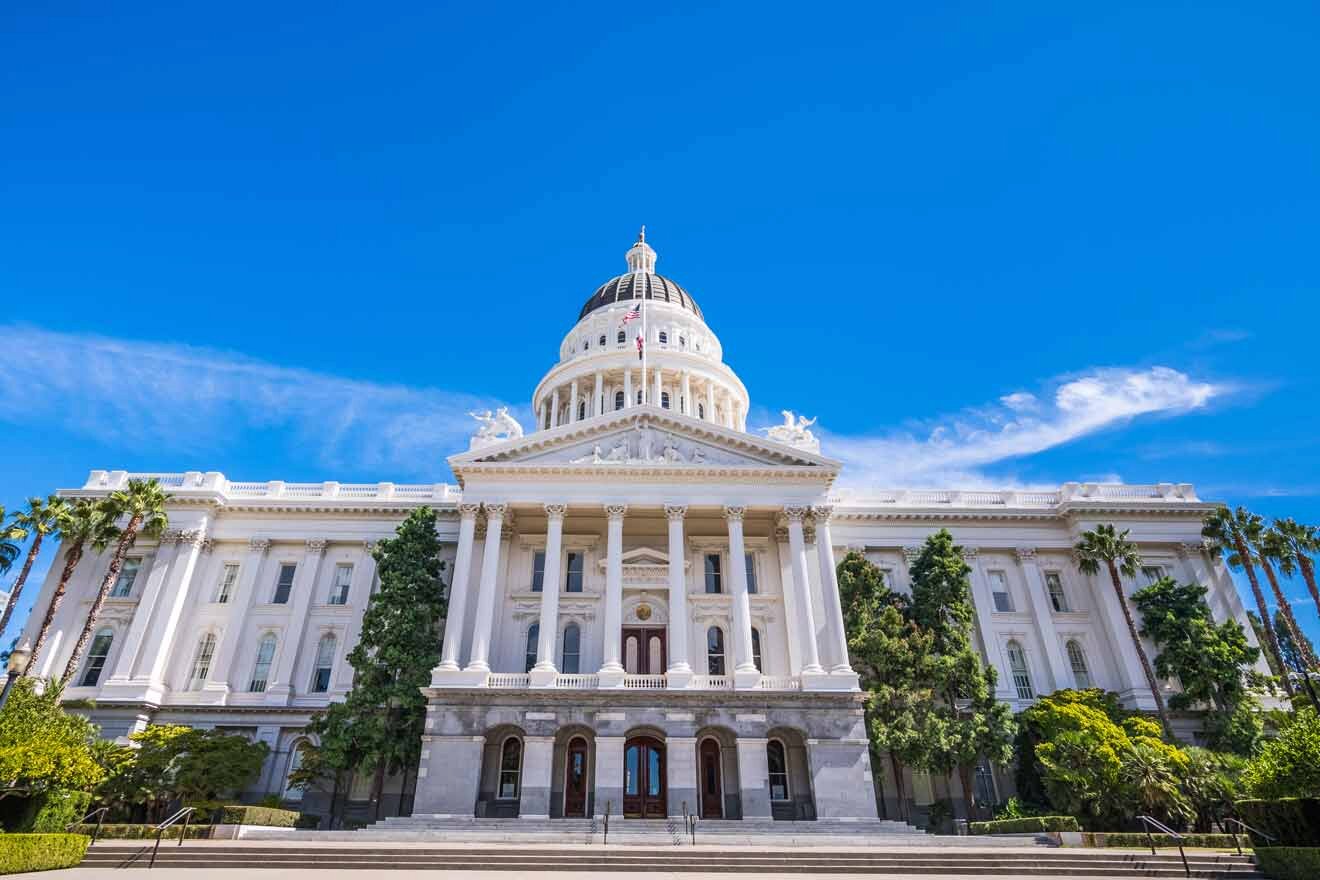 Sacramento, CA, is brimming with beautiful parks and green spaces. Just across from the California State Capitol Museum, you'll find this gorgeous park with tons of trails and open space.
One of my favorites, stop at the World Peace Rose Garden, lined with some of the most inspirational and award-winning sentiments engraved on beautiful plaques.
13. Get pumped up at the Golden 1 Center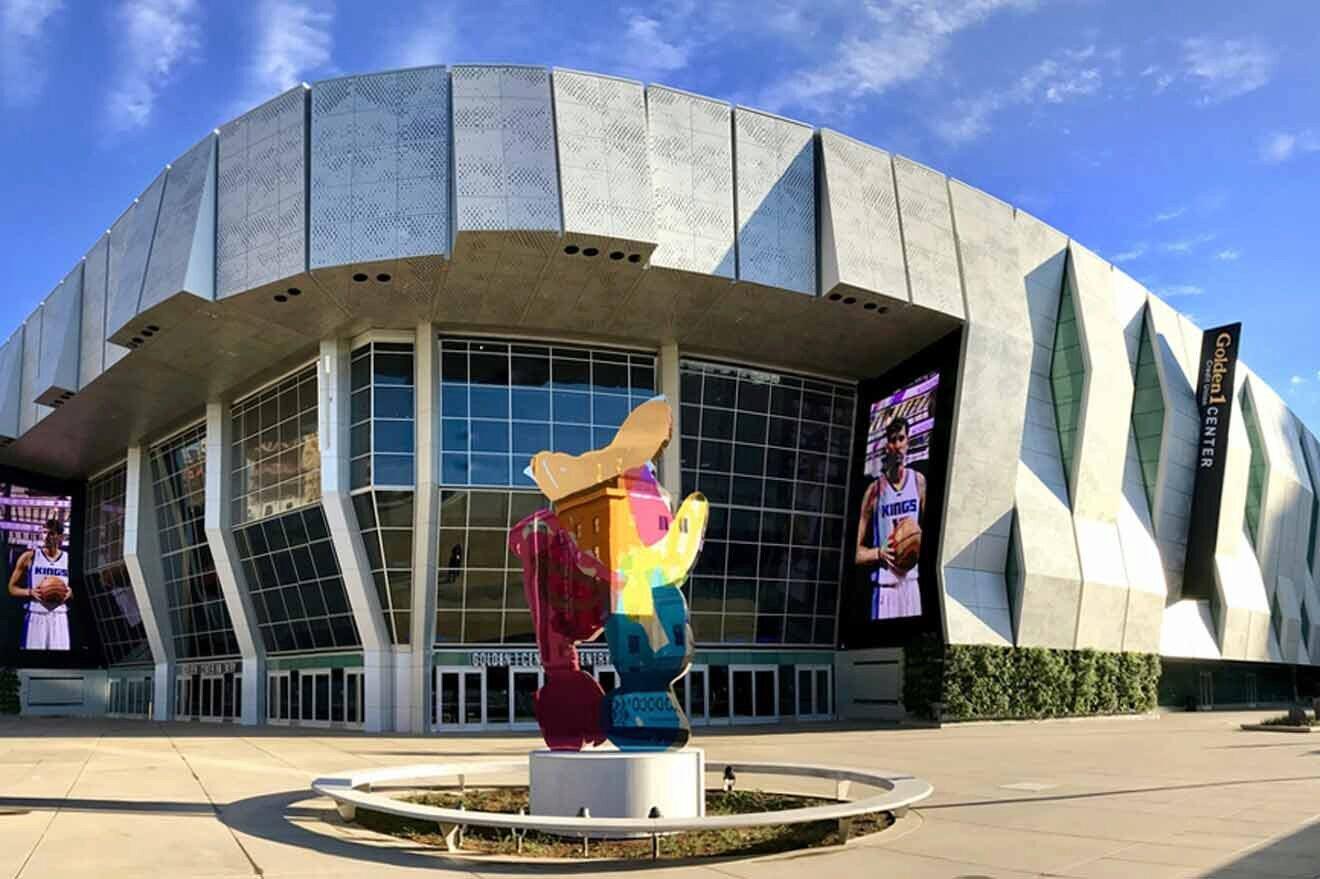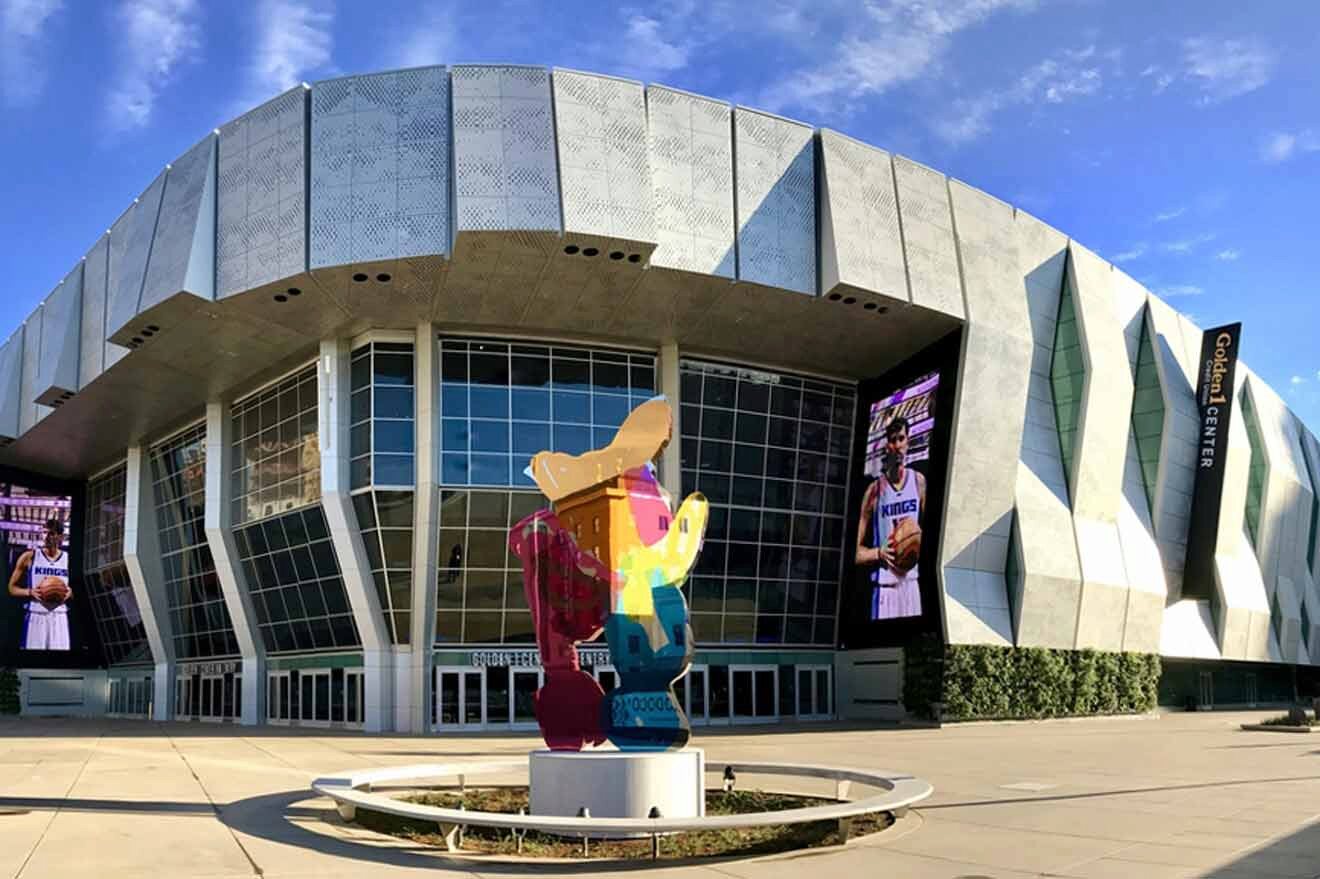 Are you a sports fan? Golden 1 Center is home to the Sacramento Kings, the city's NBA basketball team.
This state-of-the-art facility is multi-tiered, modern, and sleek, with VIP lounges and suites available in addition to regular seating.
Californians are serious about their home sports teams, and the Sacramento Kings are no different. If you want to catch tickets to a game, make sure you book in advance.
PRICE: Varies by seat, section, and game
14. Brush up on your knowledge at the Sacramento History Museum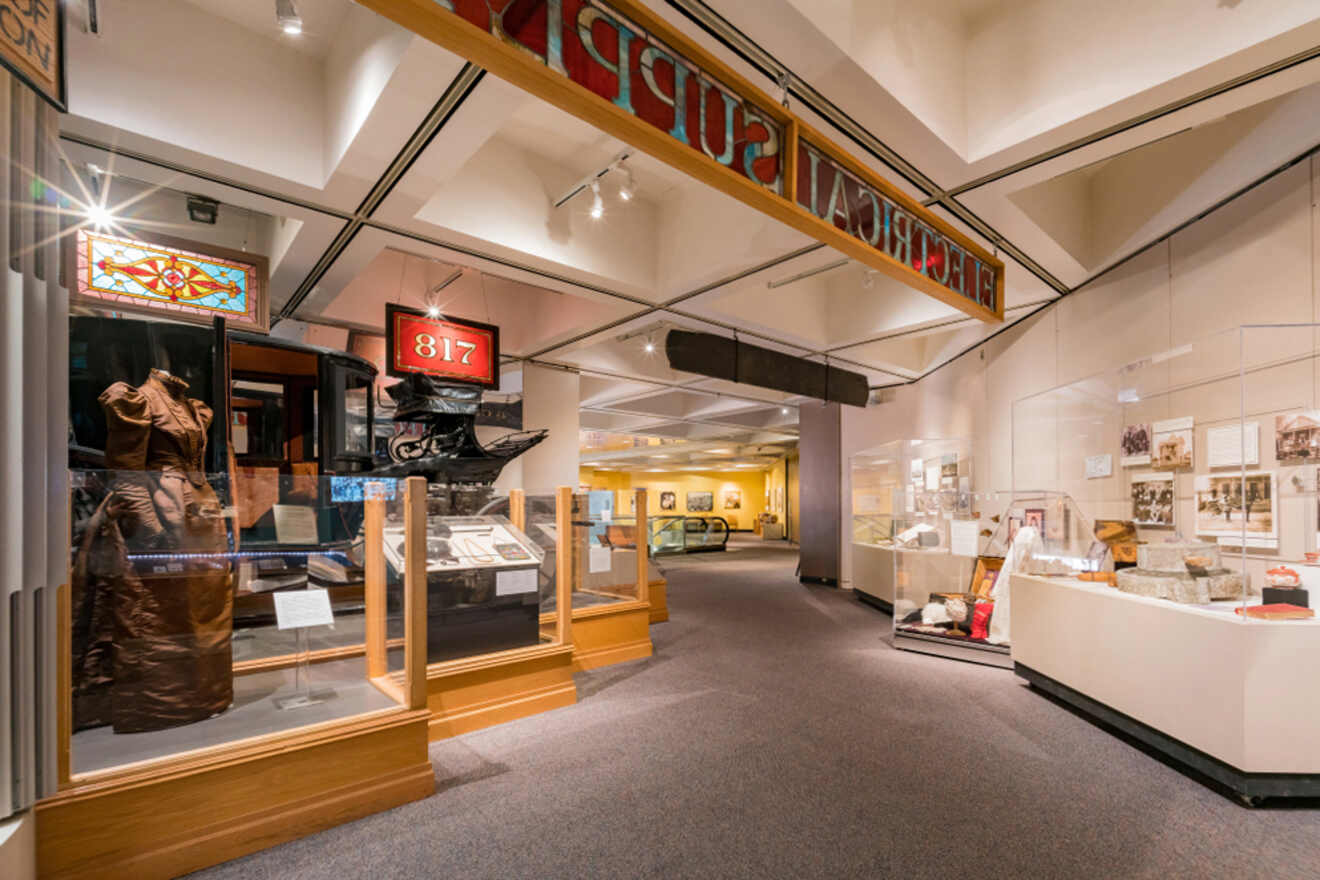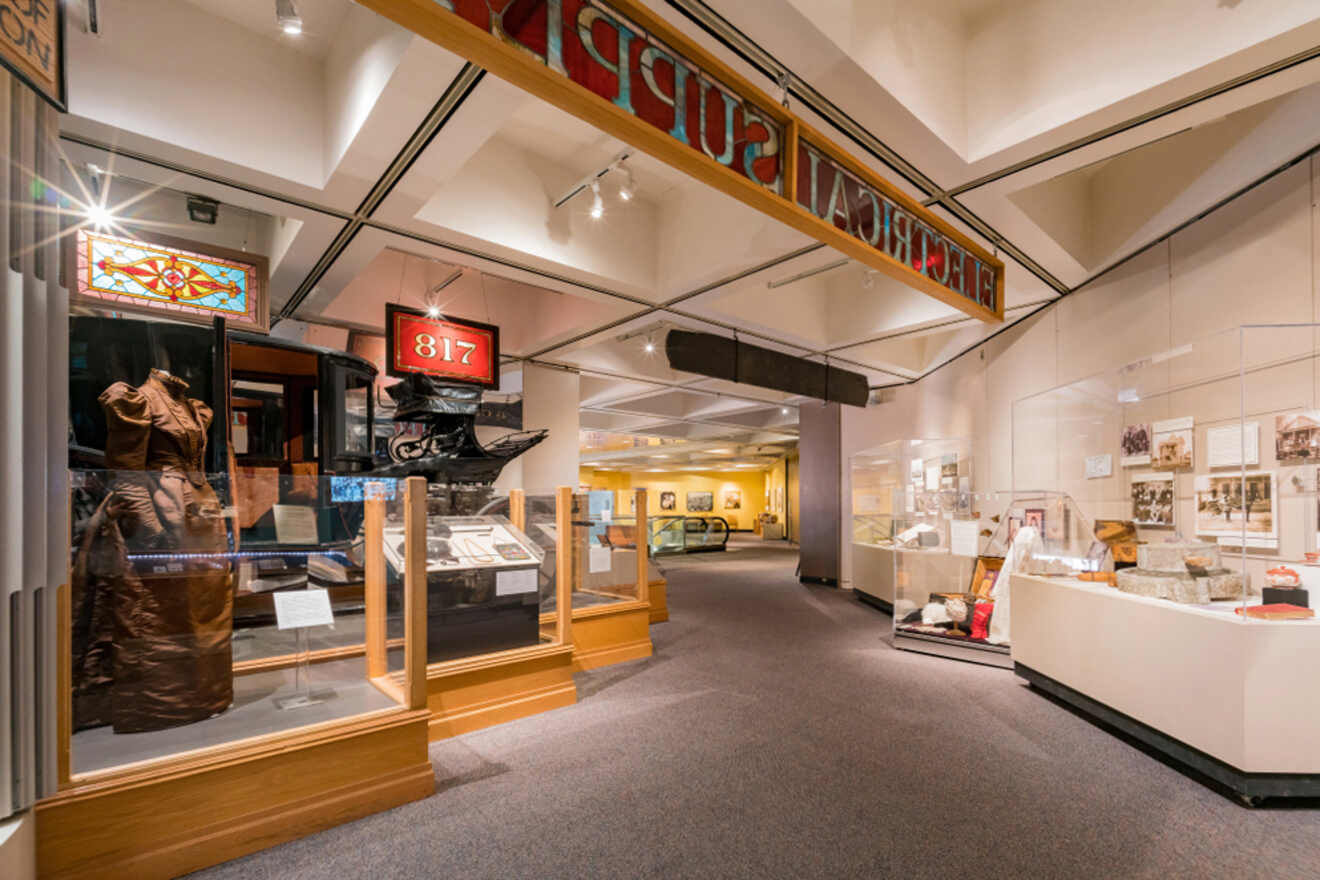 If you're looking to really understand the storied past of Sacramento, you need to add the Sacramento History Museum to your list.
This California museum is home to huge collections of old industry equipment, Gold Rush Era memorabilia and history, as well as incredible Victorian-era tools, crafts, and lifestyle pieces.
PRICE: US$10 per adult
15. Romp around McKinley Park in East Sacramento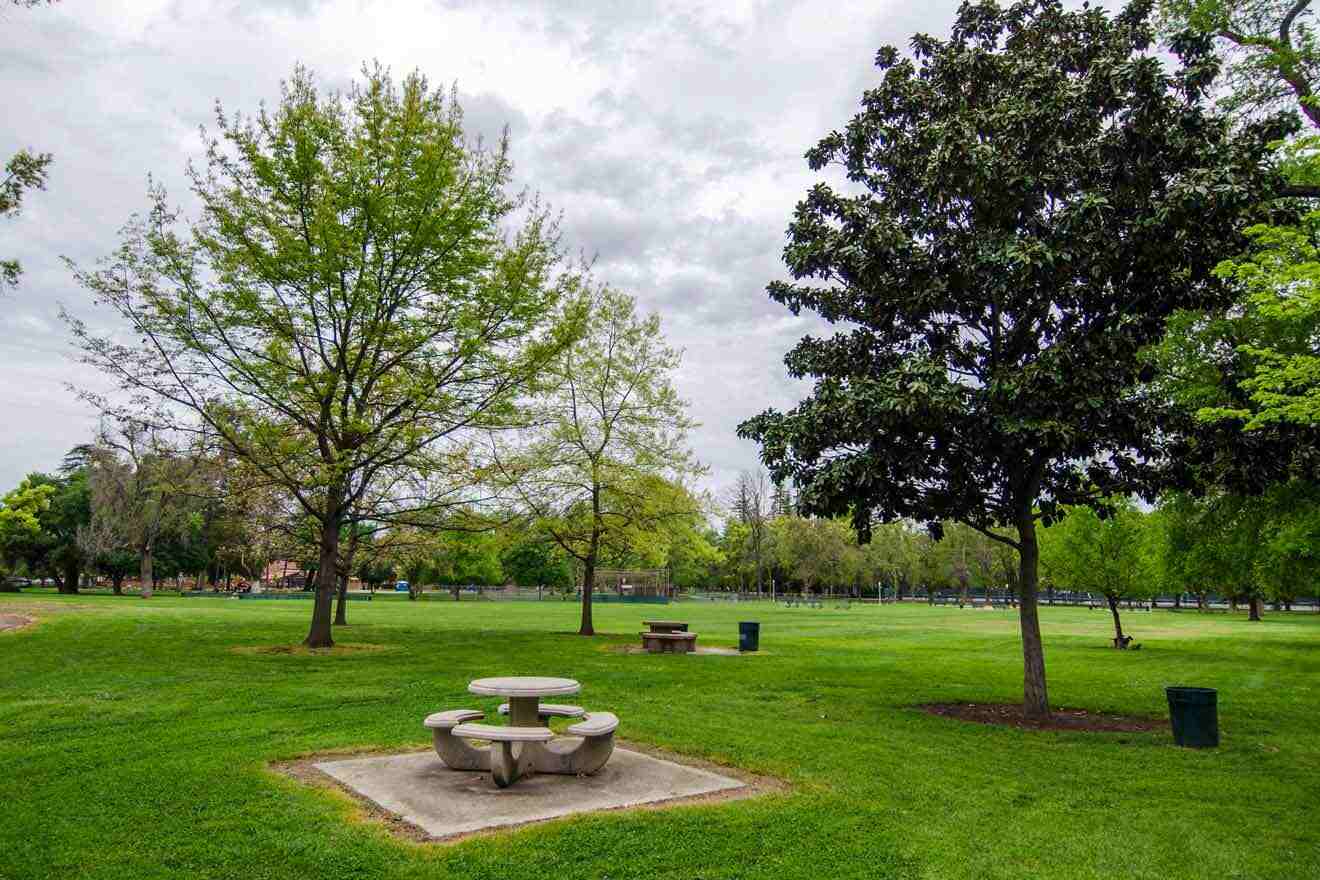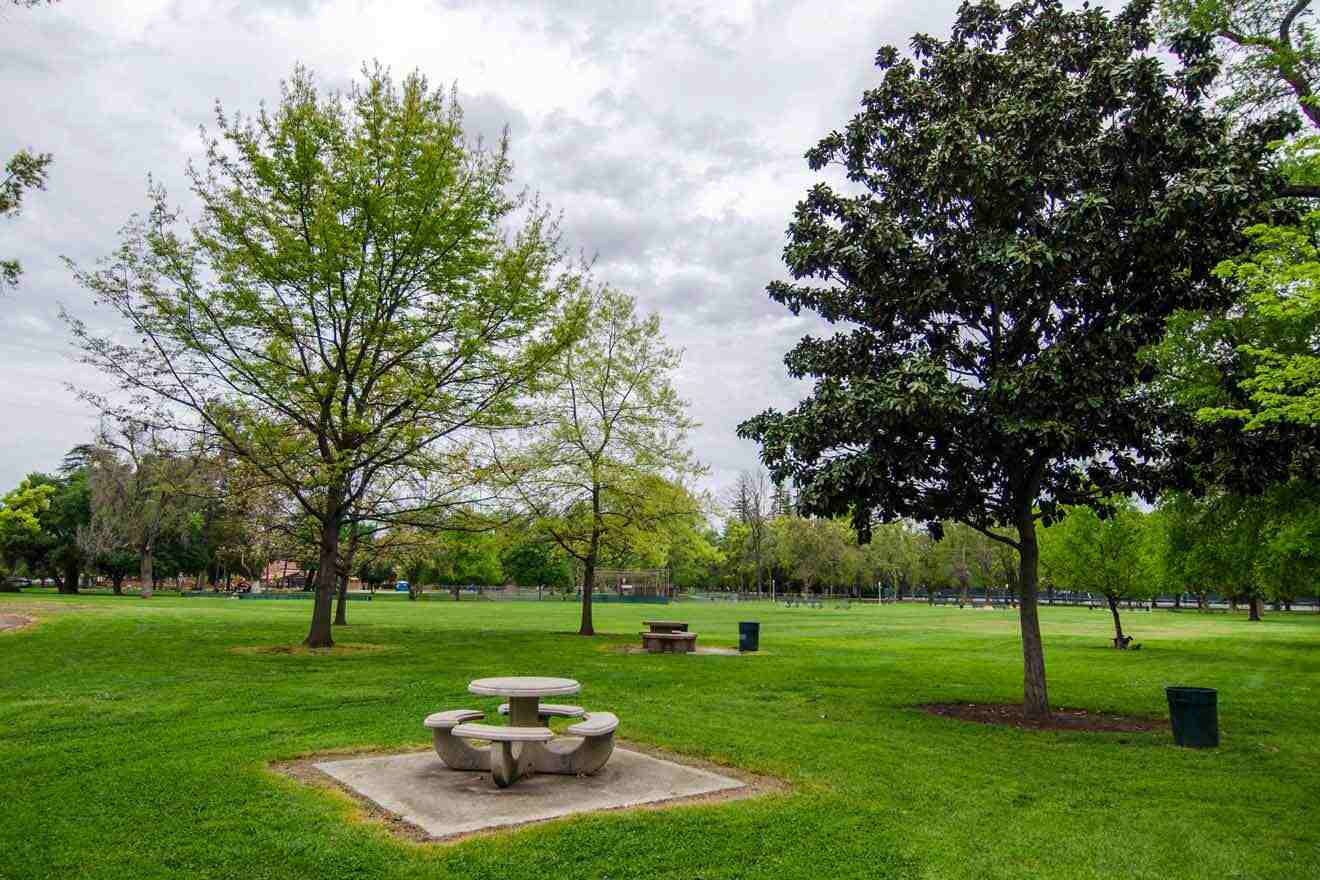 If you have kids along for your trip, this is a great choice of things to do in Sacramento.
McKinley Park just recently reopened and now offers tons of play areas for the kiddos, swimming pools to take a dip, and even climbing walls to test their skills.
When you're in Sacramento with kids, you don't want to miss this chance to let them run wild and free.
16. Take a visit to the Old Sugar Mill
Did someone say wine? The Old Sugar Mill is an old beet sugar refinery from the early 1900s that has been repurposed to house 15 local wineries. Yes, you read that right – 15! 😲
If you have the time, I definitely suggest heading 15 minutes south of Sacramento for a journey to another world of grapes and glasses. My best suggestion is to hop on a tour for this one and ease everyone's worries – no one wants to be the designated driver for the wine tasting!
Need more wine in your Sacramento adventure? Try this awesome wine-tasting tour to Capay Valley Farm.
17. Monkey around at the Sacramento Zoo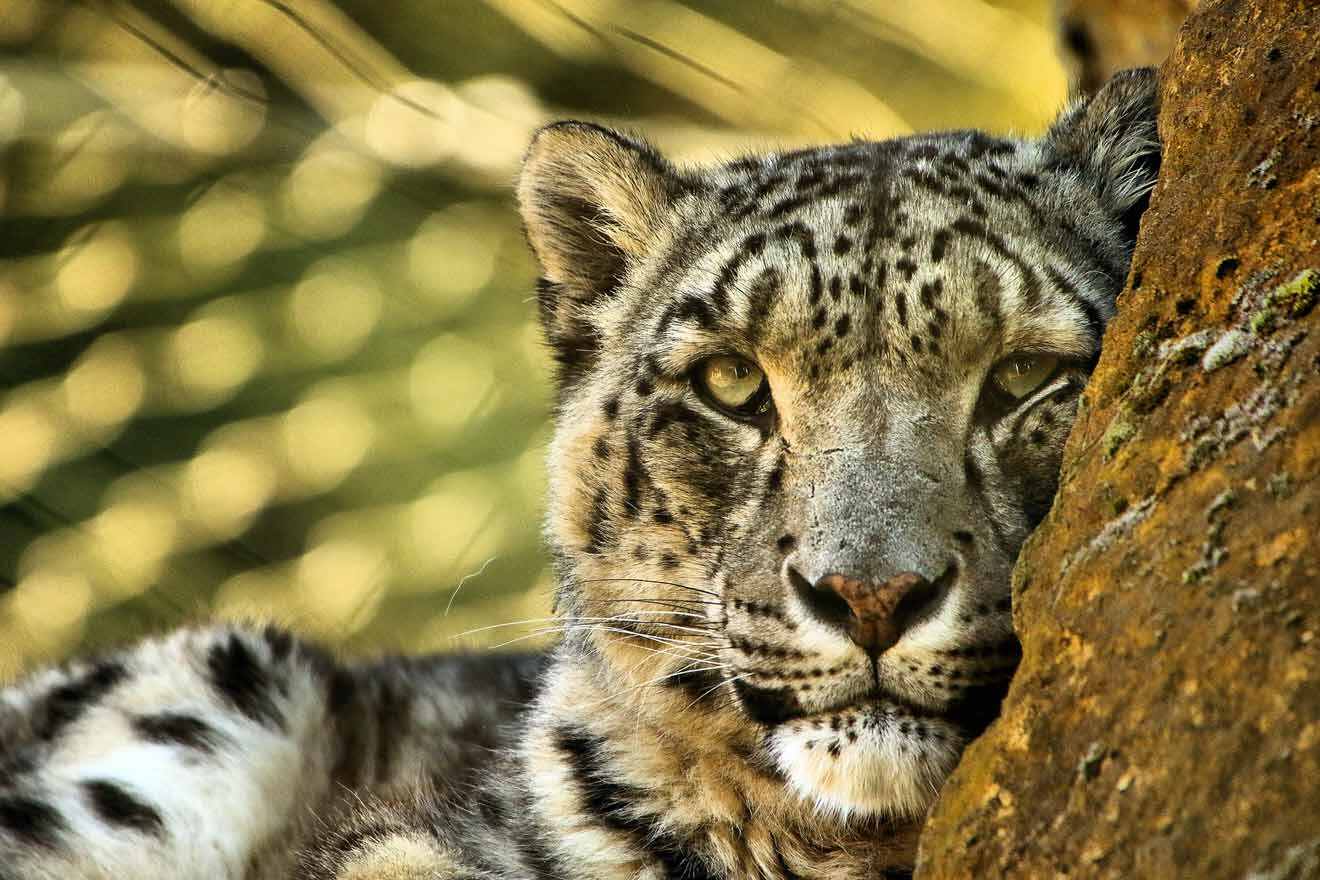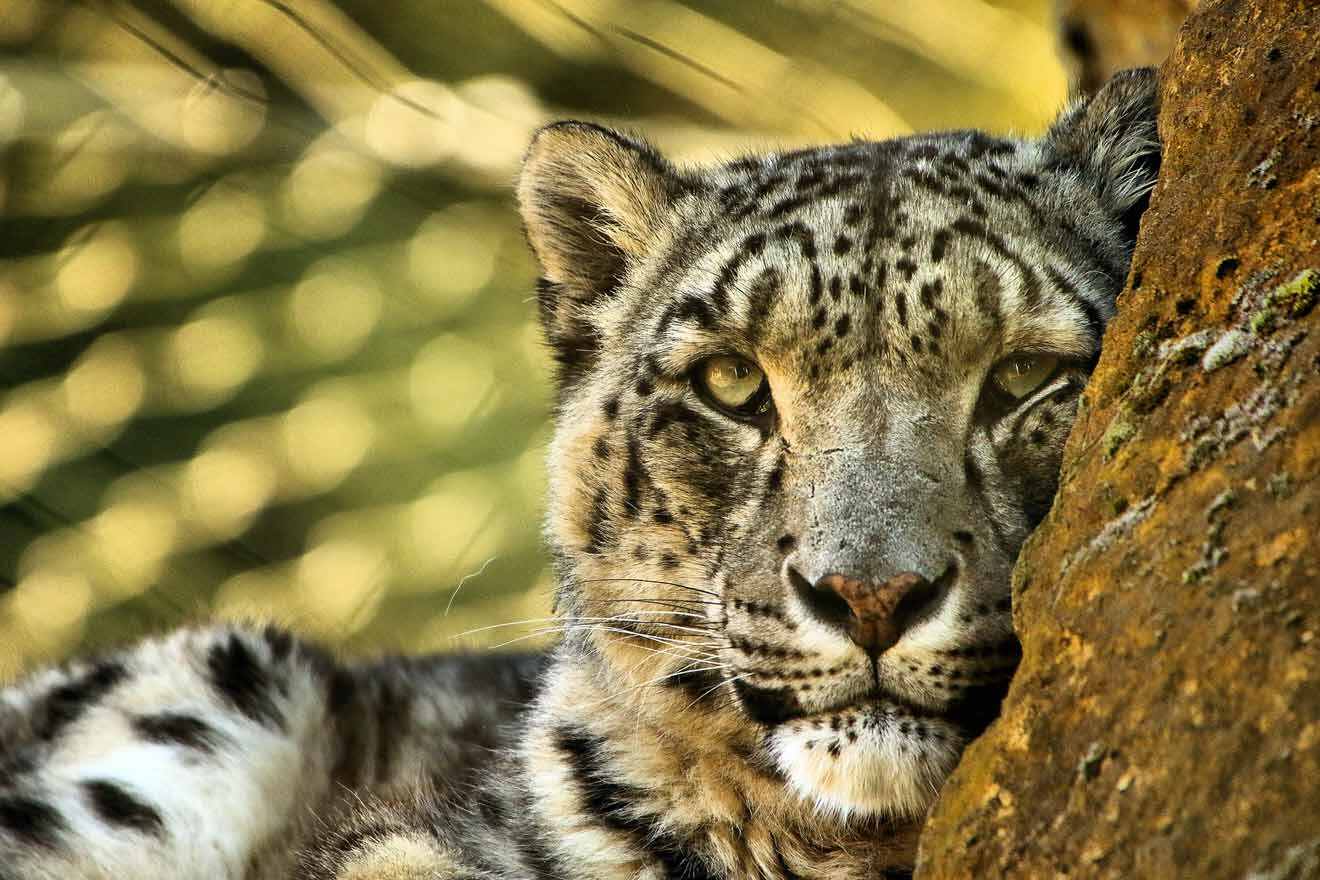 It's always fun to stroll around the wildlife at the Sacramento Zoo, especially since they dedicate much of their resources to conservation and preservation.
It's a small zoo, but mighty, with personable staff that invites you to get involved and learn more.
I particularly love the snow leopards – they are absolutely breathtaking to see up close!
PRICE: from US$22 per person
18. Check out all that Downtown Sacramento has to offer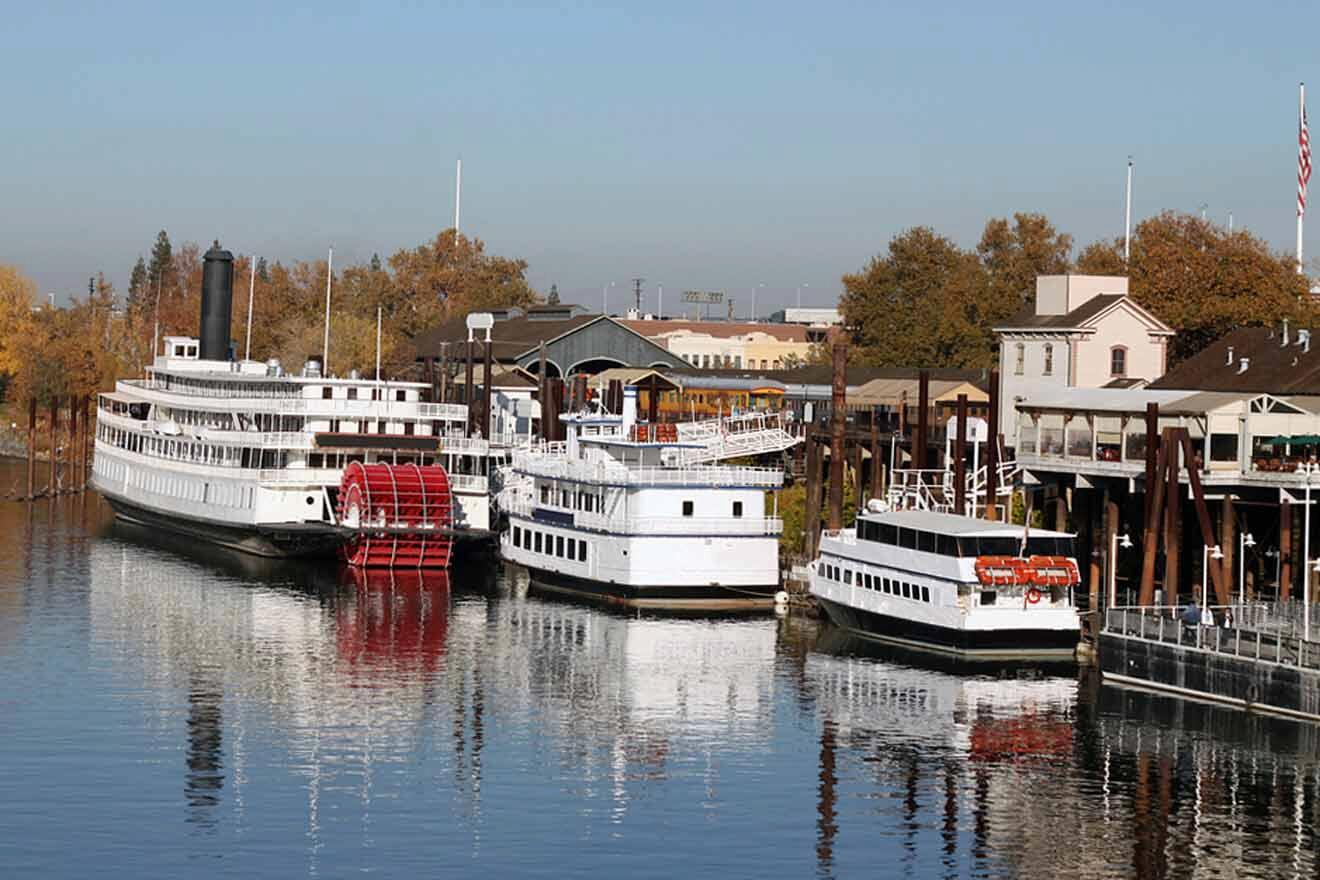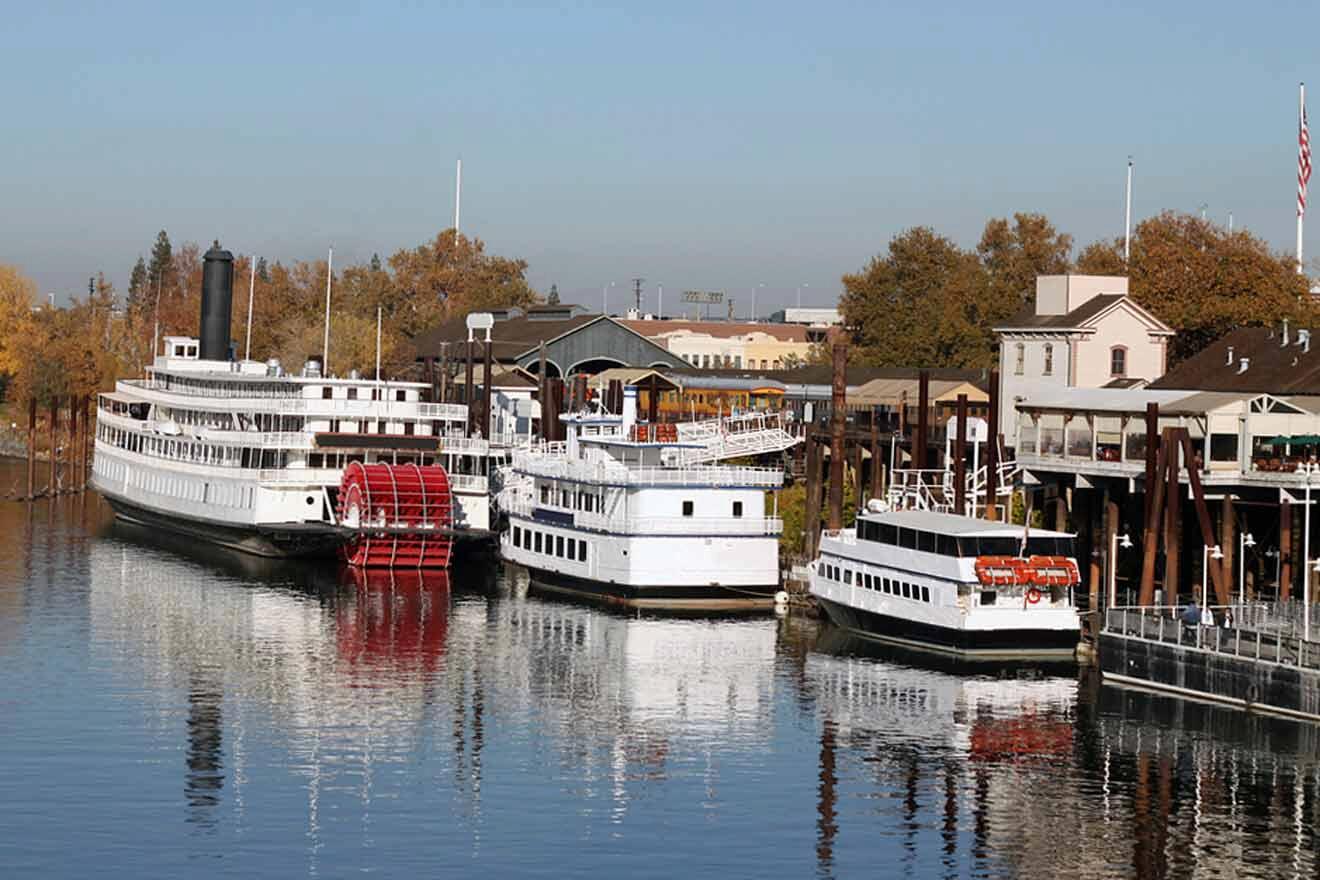 You might have noticed that many of the best things to do in Sacramento, CA, are located in the downtown area. For the most part, this region is where all the action and attractions take place.
Visit the Crocker Art Museum for some culture, cheer on a game at the Golden 1 Center, or just grab a bite to eat at one of downtown's many famed eateries.
If you have the time, I highly suggest taking a tour to really immerse in the downtown vibe. Here are 2 of my favorites:
19. Climb aboard the impressive Delta King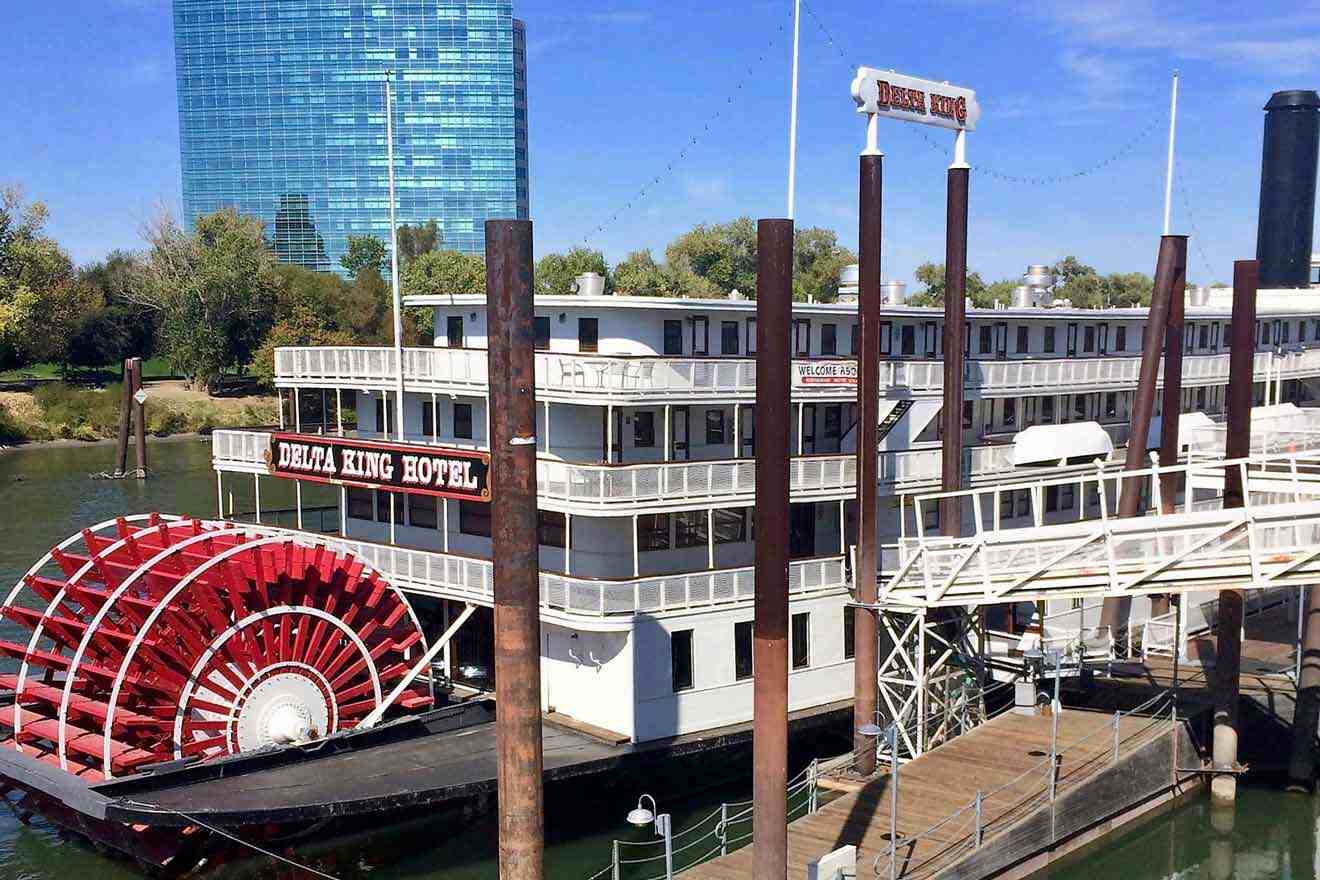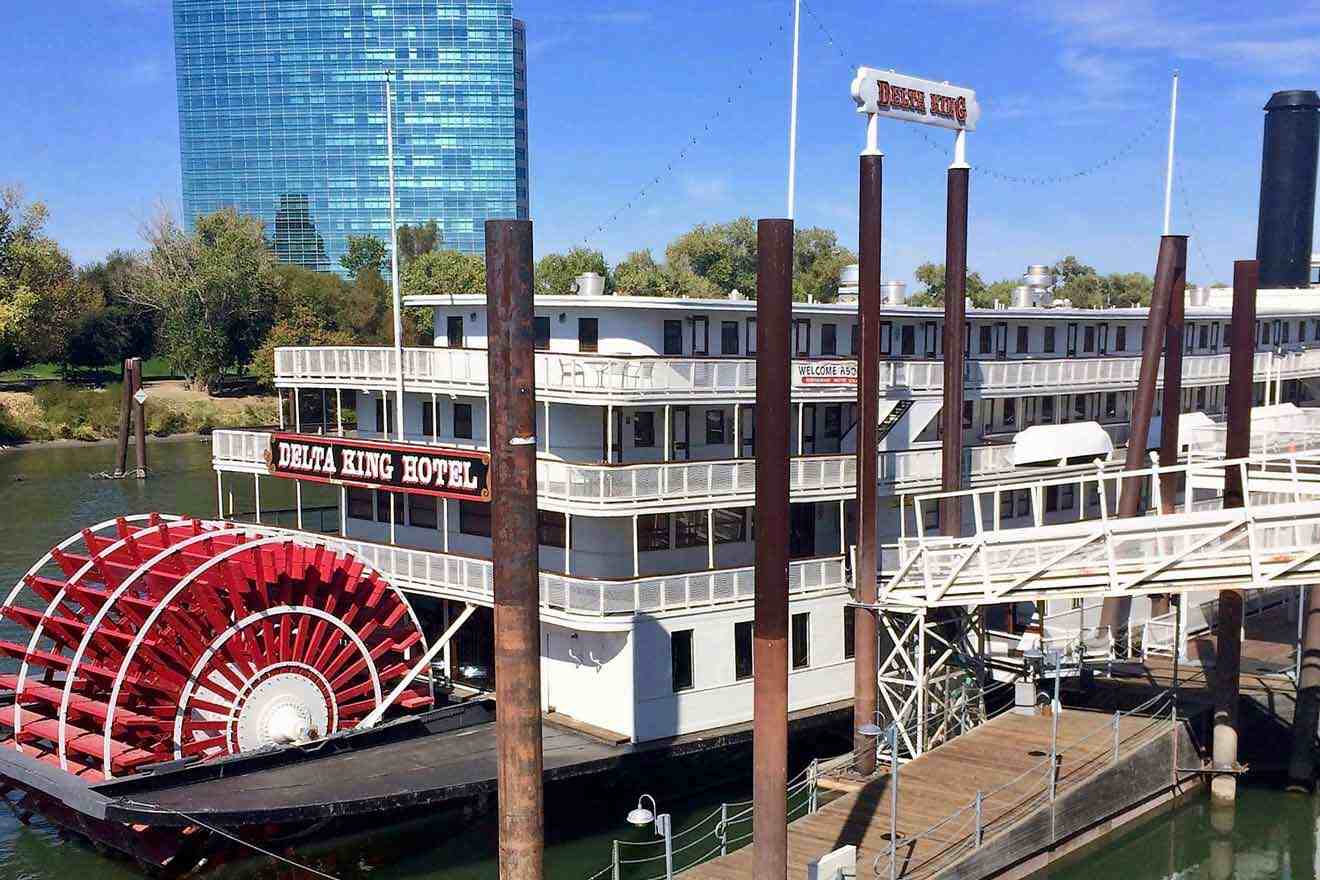 If you are down in Old Sacramento Waterfront, you'll be hard-pressed to miss the lights and grandeur of the Delta King.
The Delta King is an iconic and historic riverboat moored on the Sacramento River in Downtown Sacramento. On board, you have 2 award-winning dining options, as well as stately accommodations to enjoy if you wish to stay overnight.
Come to eat, play, or stay – the Delta King is definitely worth checking out on your next trip to Sacramento.
20. Cheer on the team at Sutter Health Park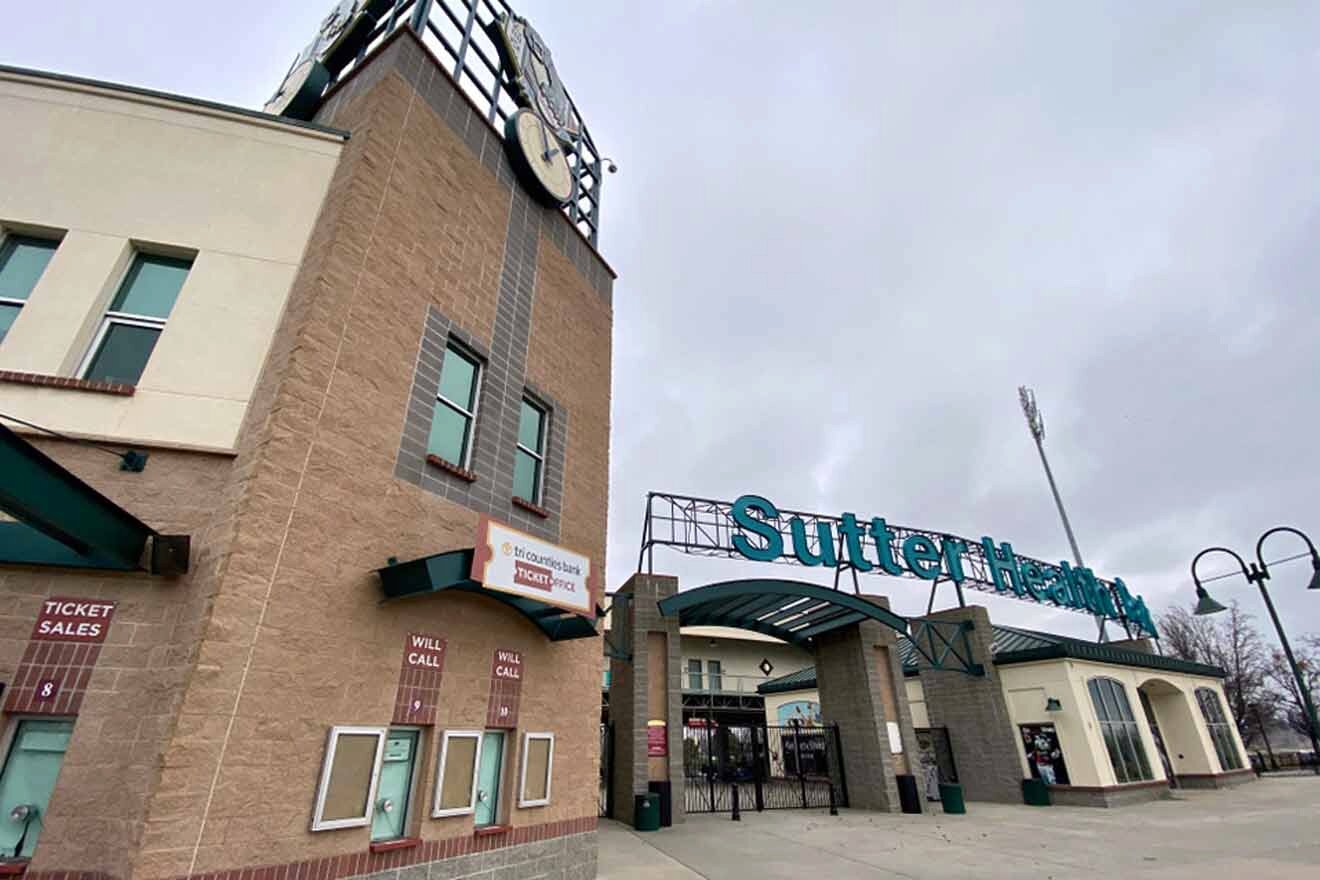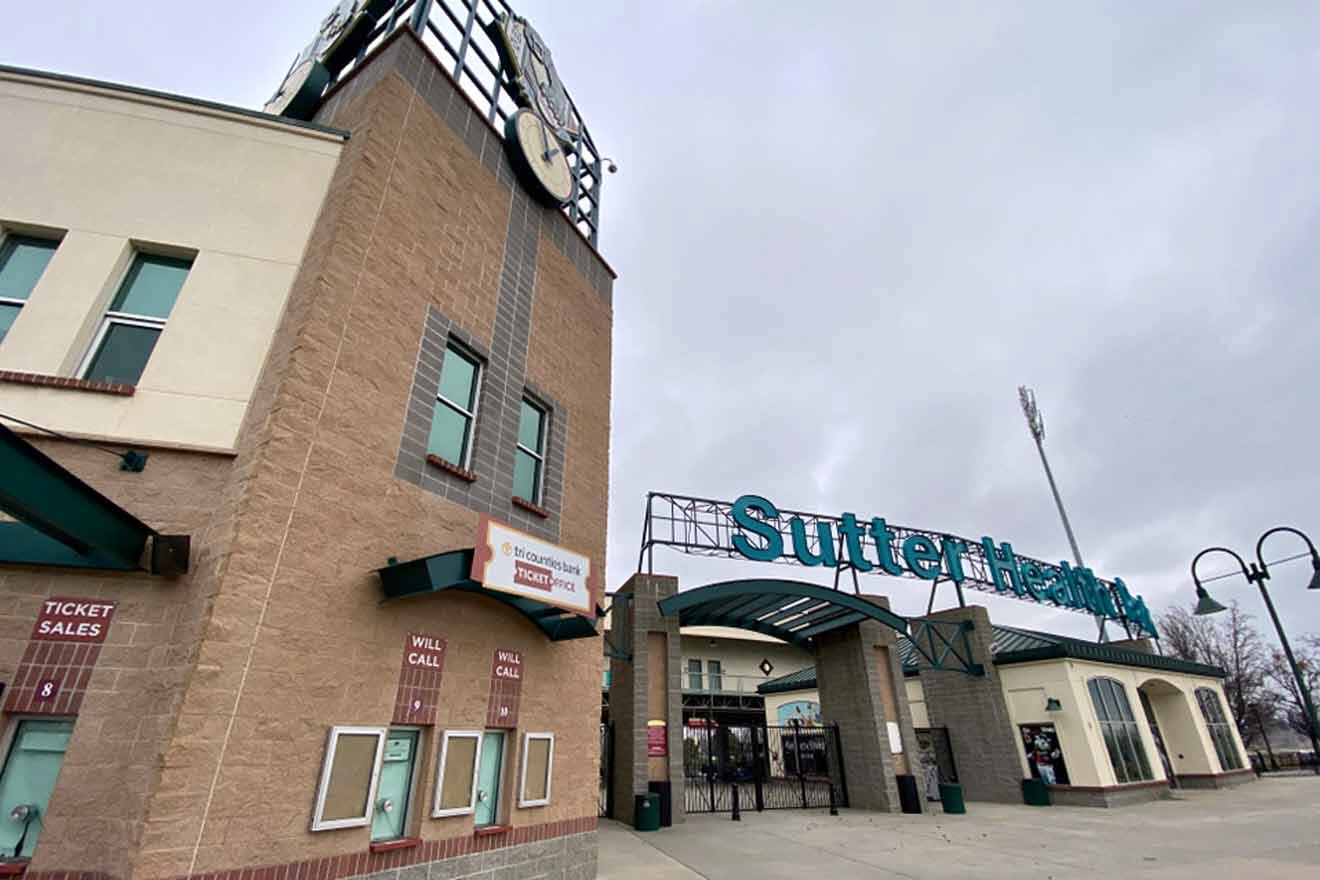 The Sacramento River Cats are a Triple-A baseball team for the San Francisco Giants, and fans absolutely love packing the stands at this modern and fun ballpark.
The great thing is tickets tend to be quite a bit cheaper than in the major leagues, so head out to a game for an incredible event you won't want to miss.
21. Have a blast at the Scandia Family Fun Center
Oh, I love this place! Scandia Family Fun Center is reminiscent of mini theme parks from the 1980s and 1990s, with simple attractions, carnival games, batting cages, mini golf, and more.
If your kids love games and prizes, this is the place to spend the afternoon. Jump on the go-karts or bumper boats and challenge your family members to a duel!
Save time at the gates, and purchase tickets here.
22. Eat and play the day away at the California State Fair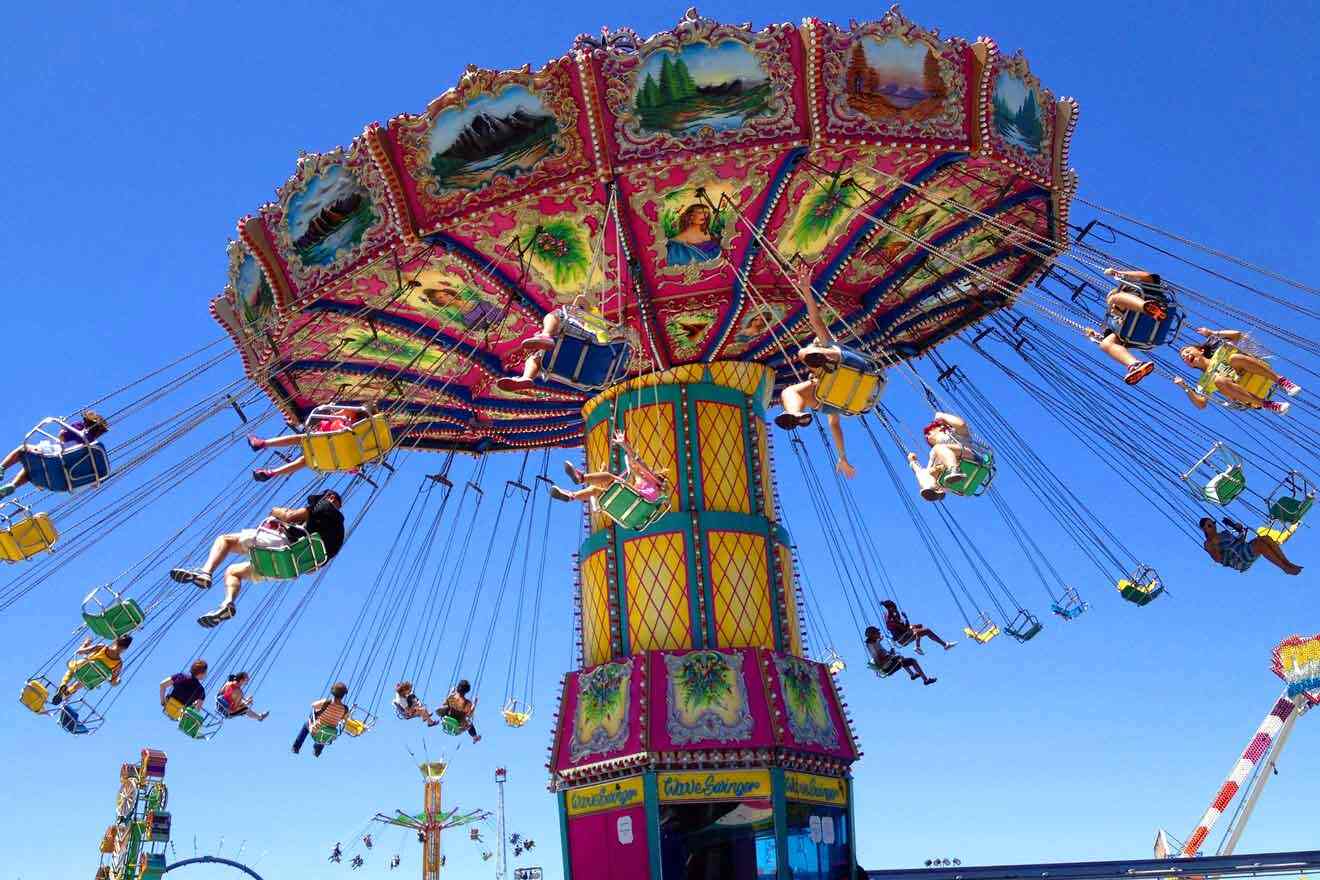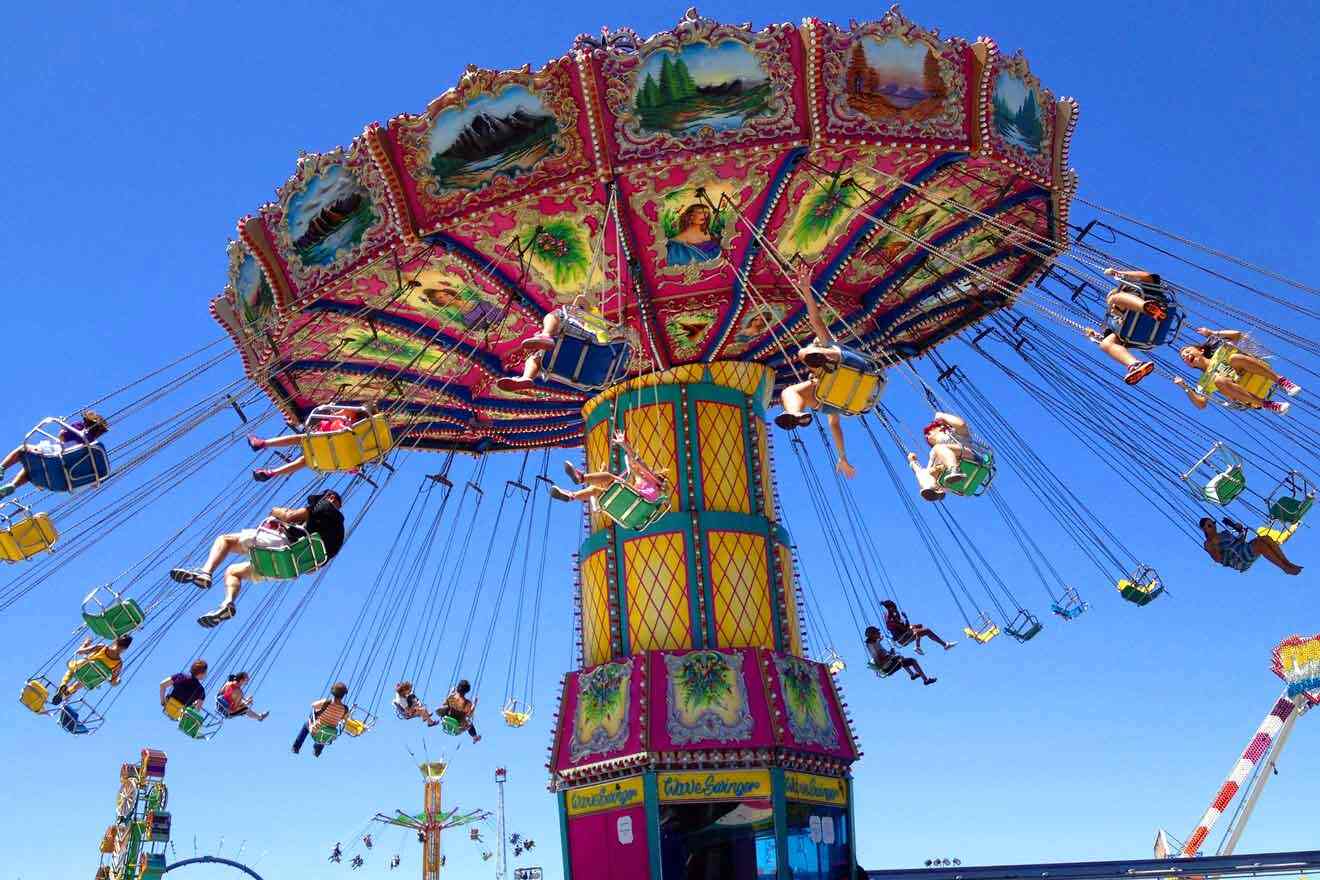 July in Sacramento means one thing – it's time for the California State Fair. This goliath of a fair started back in 1854, originally as a means to draw up interest in the agriculture industry, but it's grown to so much more.
Carnival rides & games, delicious food, live music and entertainment, and even gigantic exhibition halls with companies selling items like hot tubs, pools, and patios at a severe discount!
NOTE: Only occurs once a year in July; check back for updated information each year.
PRICE: US$16 for adults, US$12 for children, plus tickets for rides
23. Enjoy a hayride and some apple picking at Apple Hill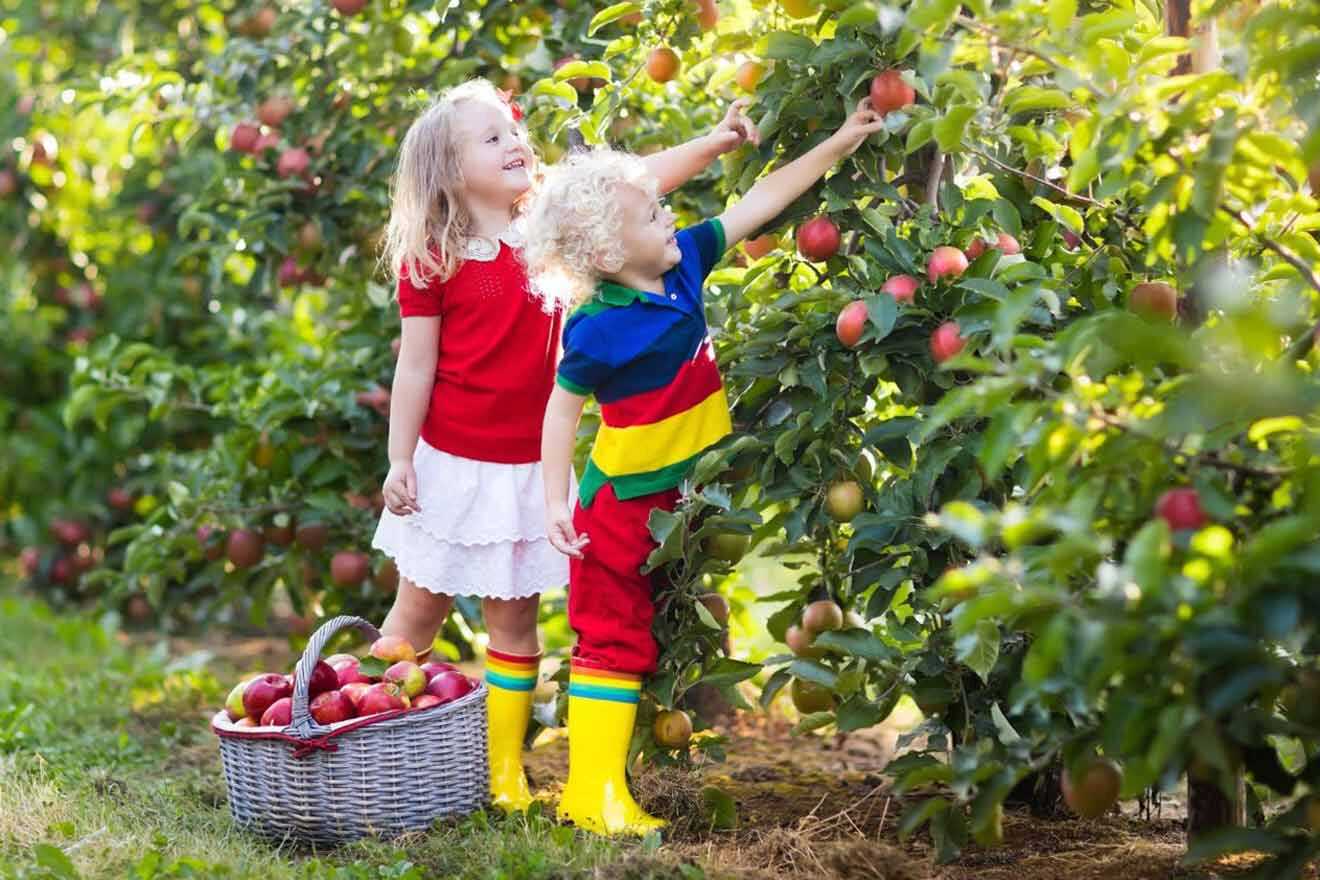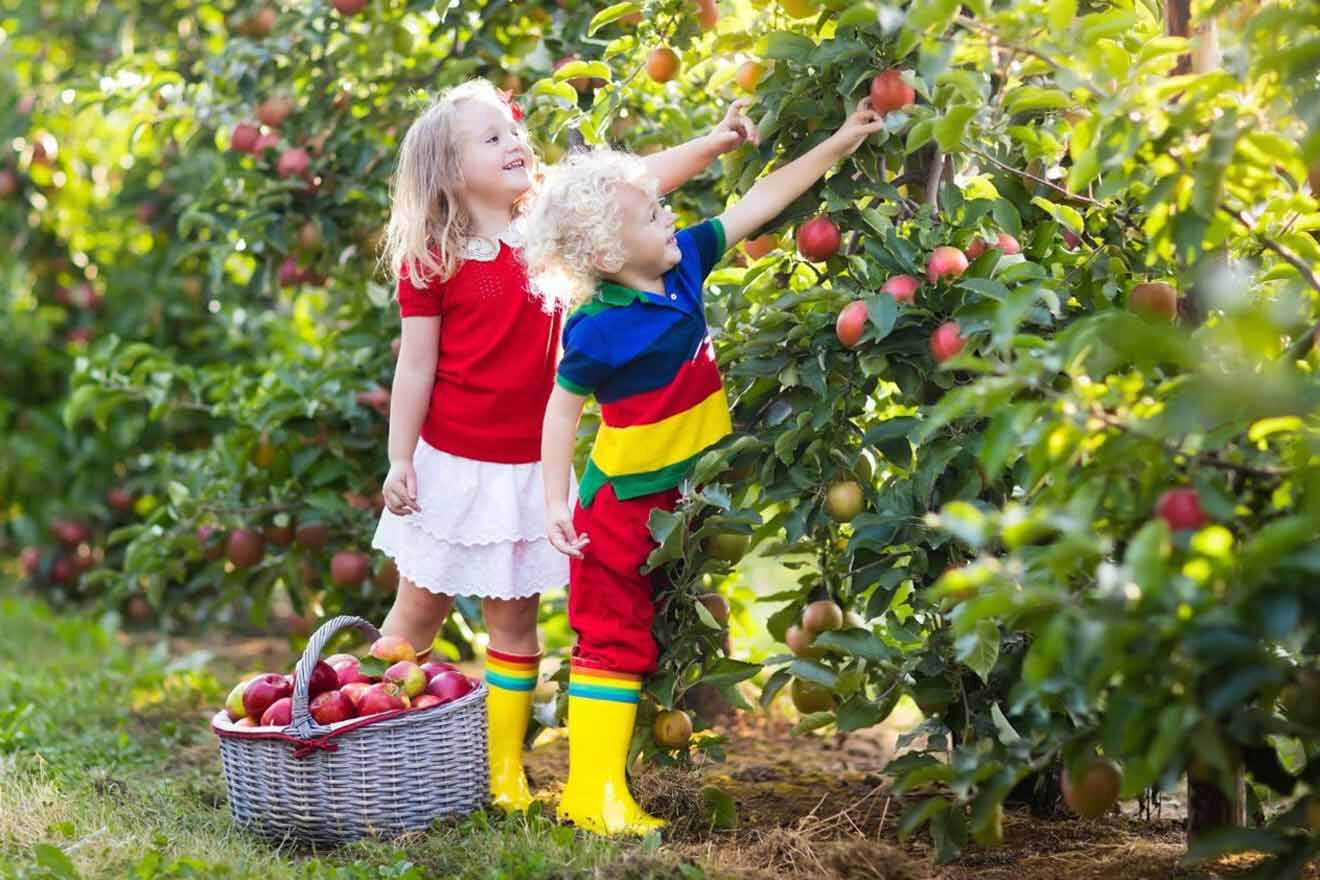 A fall favorite for the whole family, Apple Hill, just outside of Sacramento, is famous for great apple picking and fun fall rides.
Apple Hill also happens to be the largest density of apple farms in California, so it becomes very busy during picking season!
PRICE: FREE entrance and parking, rides, and apple-picking are an additional fee
24. Make time for the Sacramento County Fair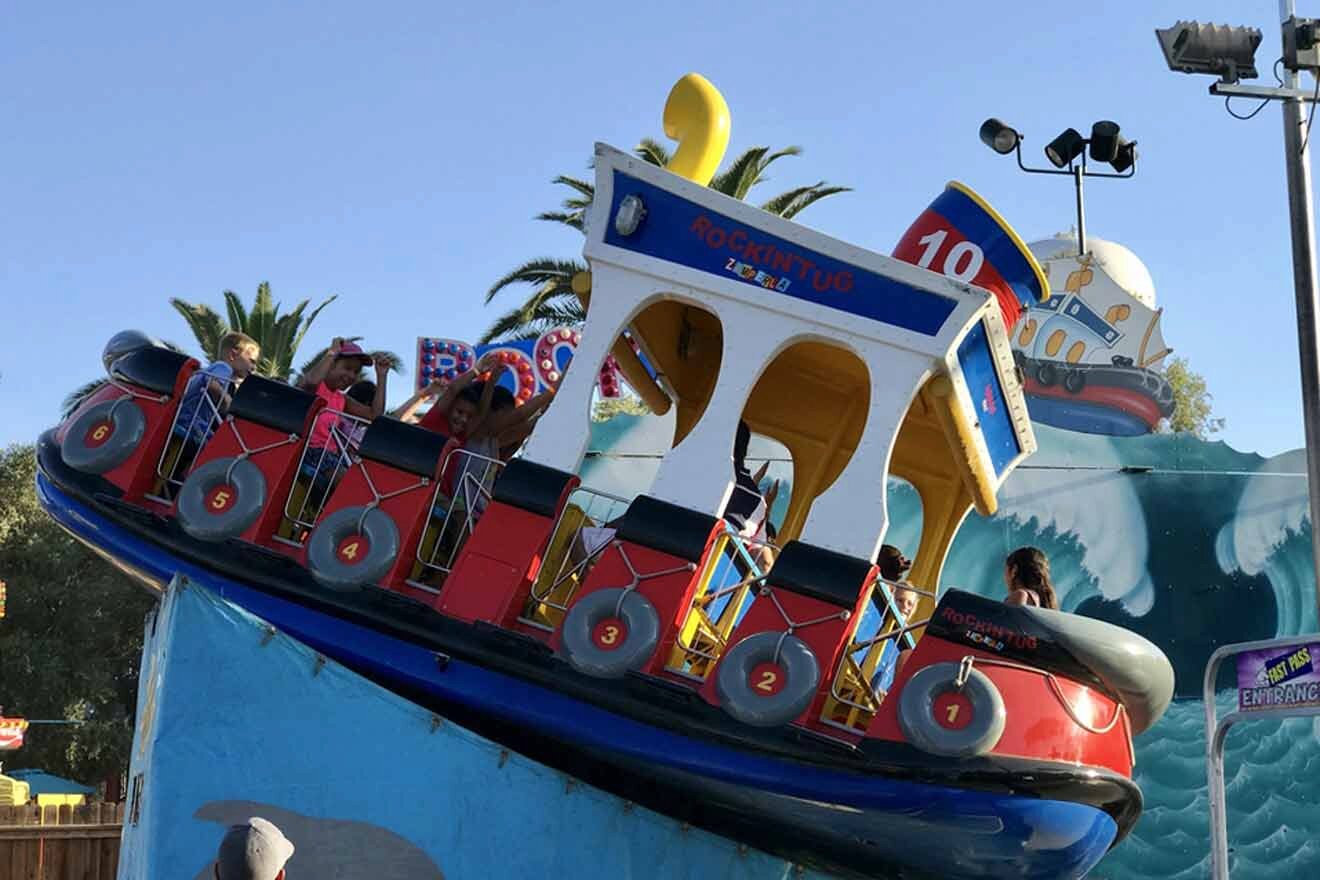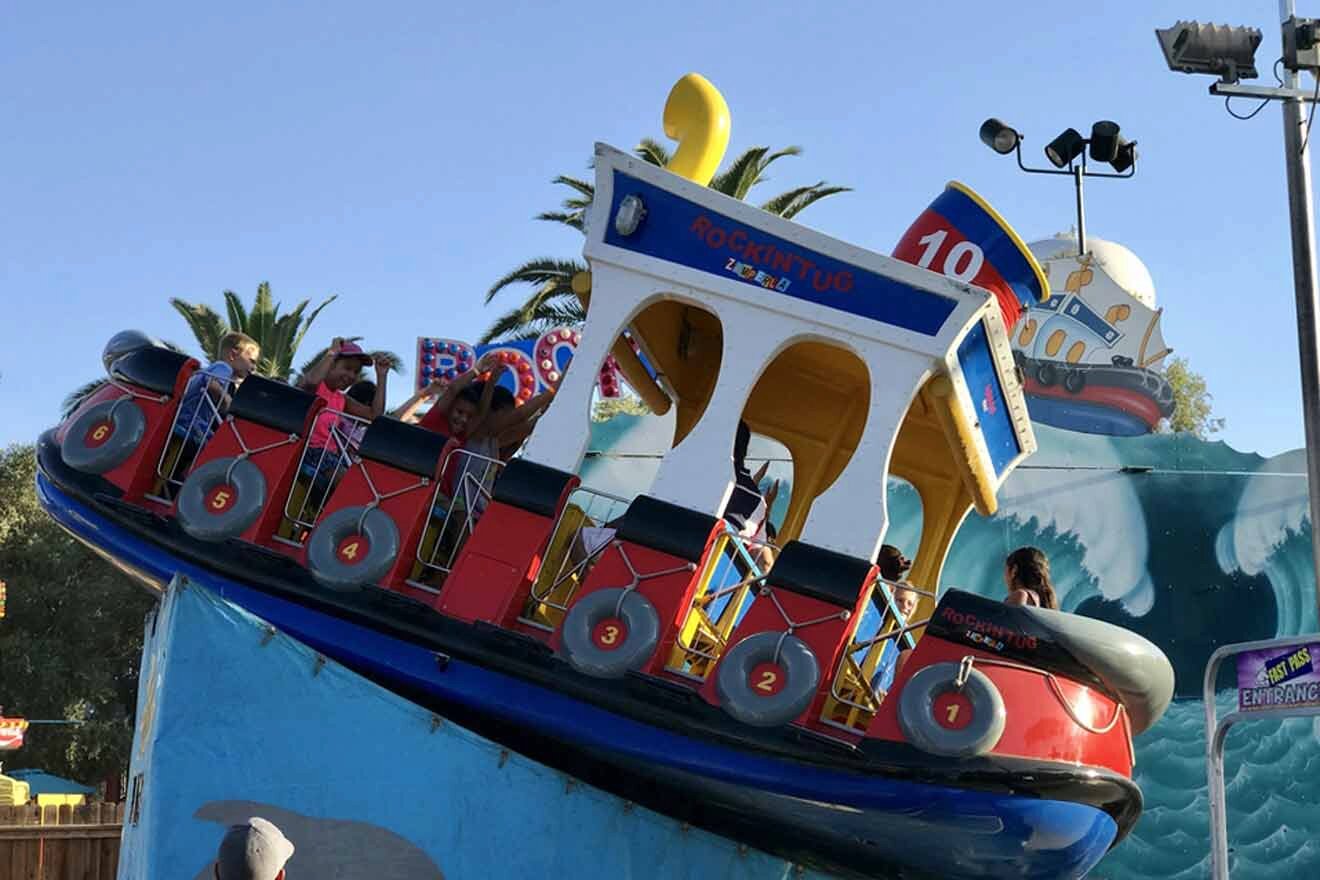 If you happen to be visiting Sacramento in the month of May, make some time to play at the Sacramento County Fair.
Stocked with yummy food vendors, exciting games, and scream-worthy rides, the fair is fun for all ages.
PRICE: US$10 for adults, US$8 for children
25. Discover the wildlife at Folsom City Zoo Sanctuary
Whenever I'm visiting a new place, I'm always interested in what efforts they put forth to protect our environment and wildlife.
At the Folsom City Zoo Sanctuary, just 30 minutes northeast of Sacramento, they work tirelessly to rehabilitate hurt wildlife, research ways we can help sustain our ecosystems, as well as trying to repopulate our endangered species.
This sanctuary is a great stop with or without children in tow – there's so much to learn, and your money goes to a great cause!
PRICE: US$7 per person
26. Relax on the shores of Folsom Lake State Recreation Area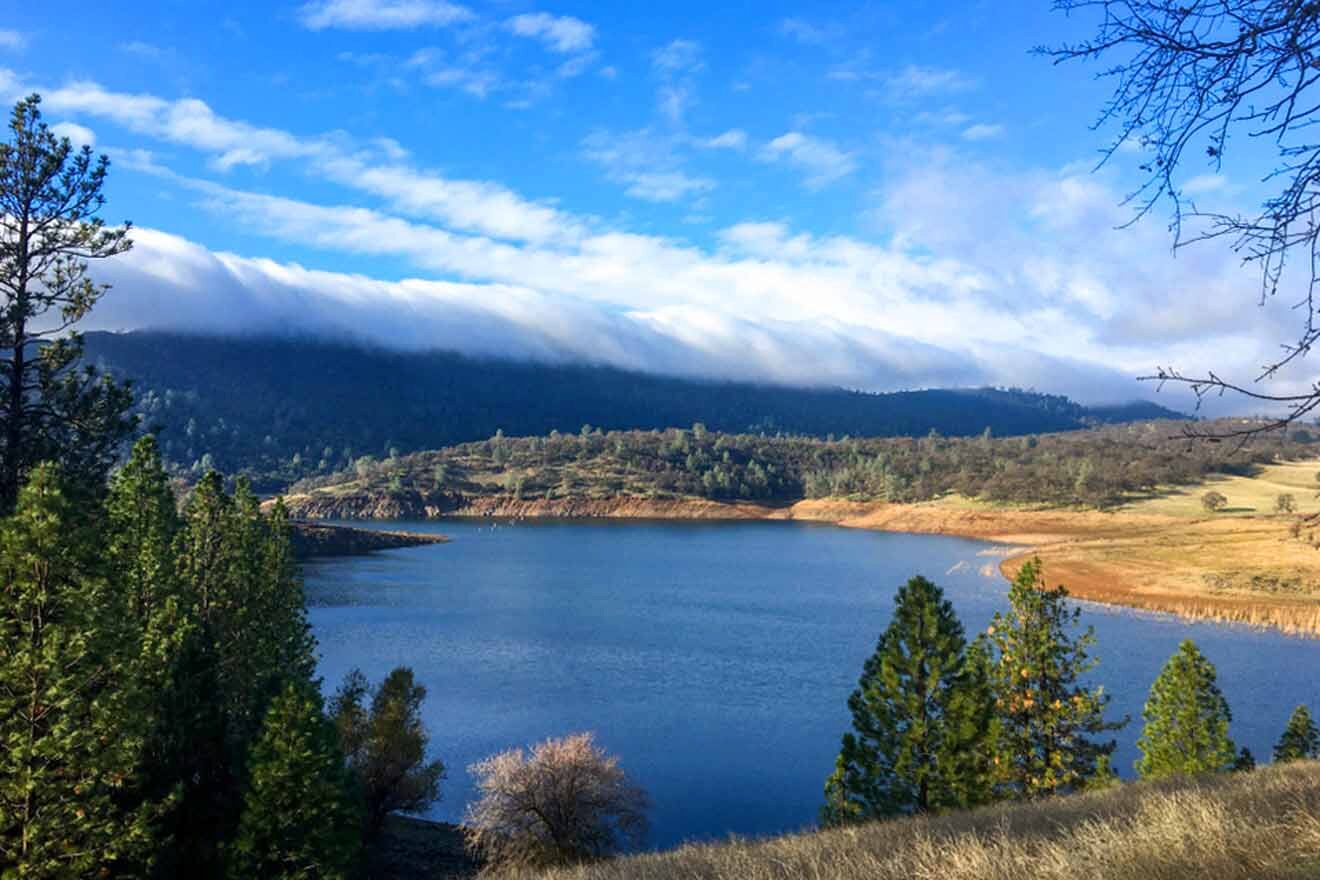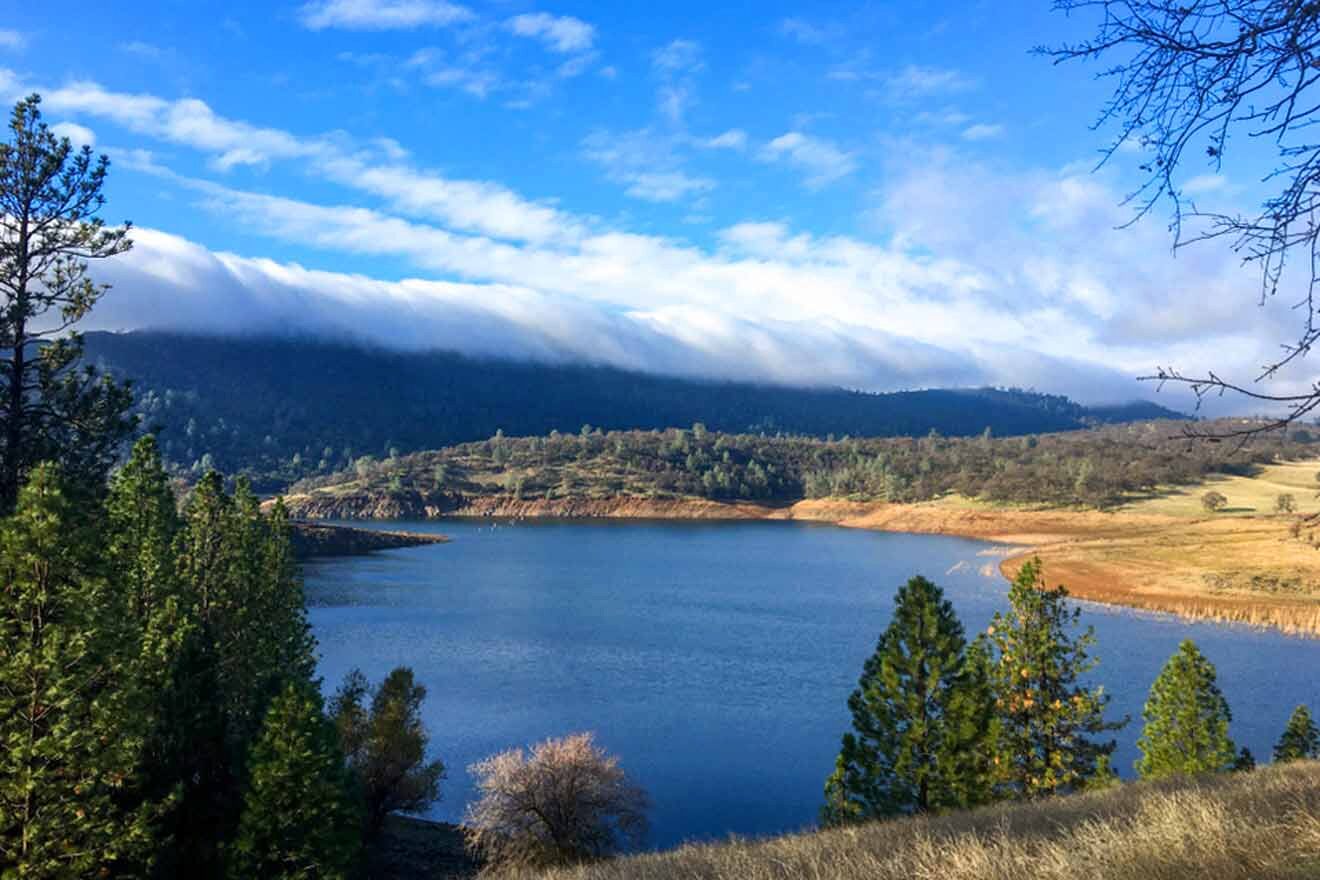 While you are in the area visiting the Folsom City Zoo Sanctuary, it's worth stopping by Folsom Lake and enjoying the peaceful nature it provides.
This expansive outdoor recreation space allows you to paddleboard, kayak, hike, bike, or boat for some fun in the sun on the lake.
You can even book a campsite if you'd like to stay overnight to experience more of the park.
PRICE: US$12 per adult
27. 'Run to Feed the Hungry' with the Sacramento Food Bank
Are you into running or walking and love a good cause? The 'Run to Feed the Hungry' takes place on Thanksgiving Day for the last 30 years, and all proceeds go to help the Sacramento Food Bank and Family Services.
Don't worry if you're not a tri-athlete, this run is all about the cause and the fun.
So, just lace up your tennis shoes and choose between the 5K or 10K – and then hit the streets of Downtown Sacramento. Sign up here.
28. Explore and learn at the Sacramento Children's Museum
Your children are going to absolutely love the ambiance and vibrant aesthetics that awaits them at the Sacramento Children's Museum.
With so much to learn and play, this Sacramento museum provides hours of fun for little ones.
Want to come back a few times during your visit? Inquire about the memberships, as you save tons of $ on your admission.
PRICE: US$9.50 per person
29. Take a bike ride on the Jedediah Smith Memorial Trail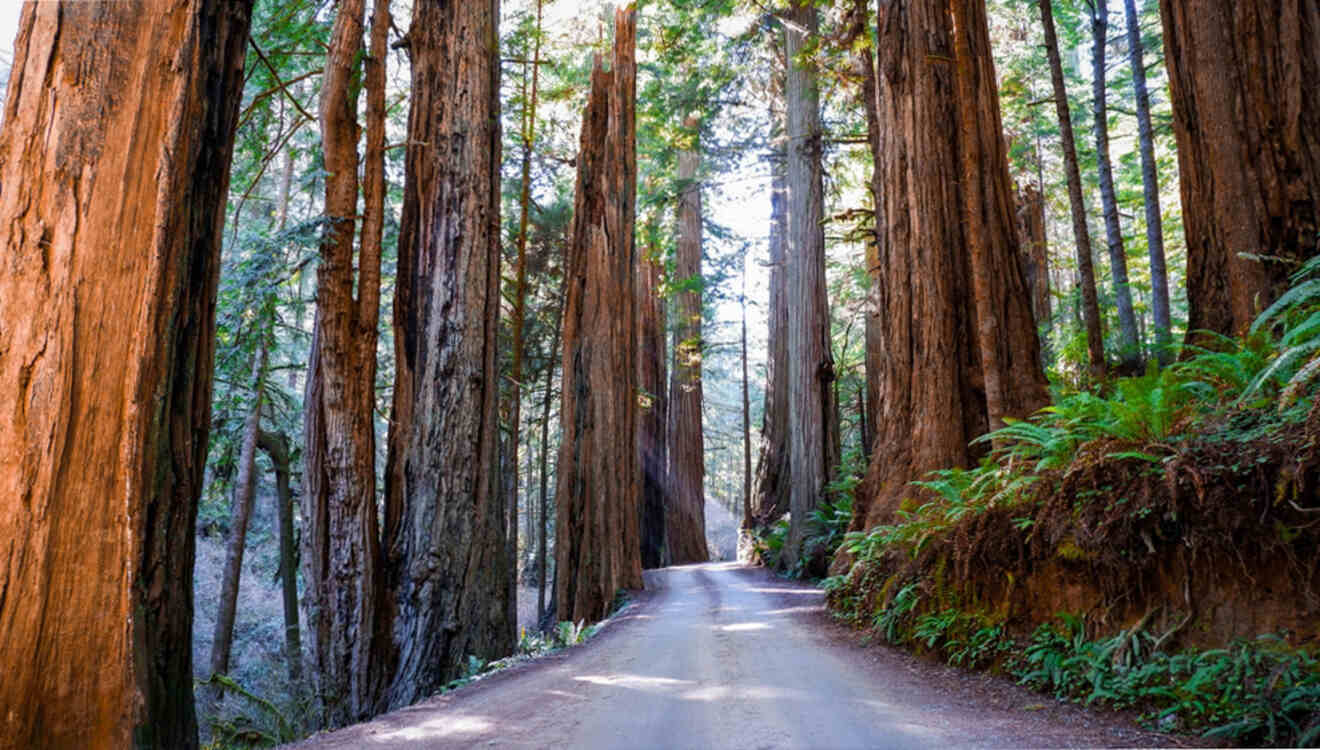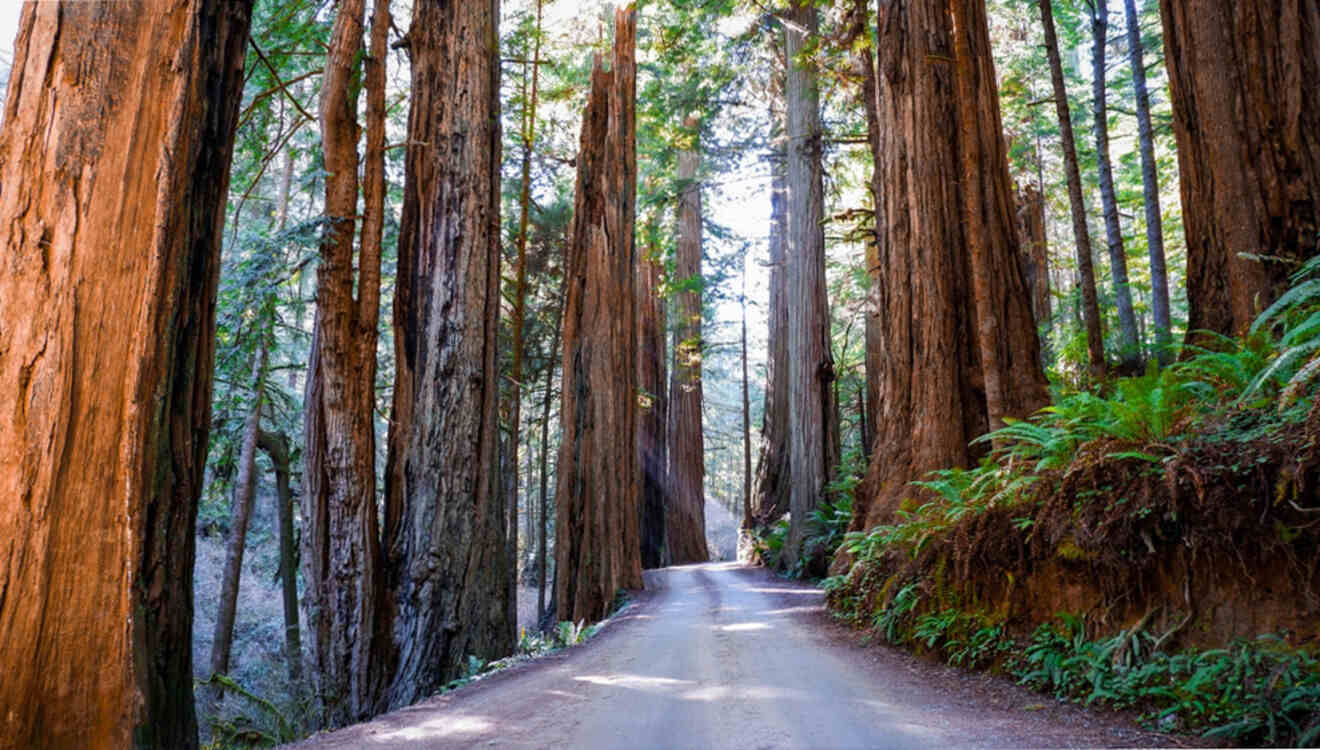 Jedediah Smith Memorial Trail is an infamous American River bike trail stretching 32 miles (51 km) from Discovery Park at the American River Parkway all the way to Old Sacramento.
Known for the trail winds the path enjoys, road bikers absolutely love to take advantage of this beautiful stretch in the Sacramento region.
30. Discover the history of the California State Indian Museum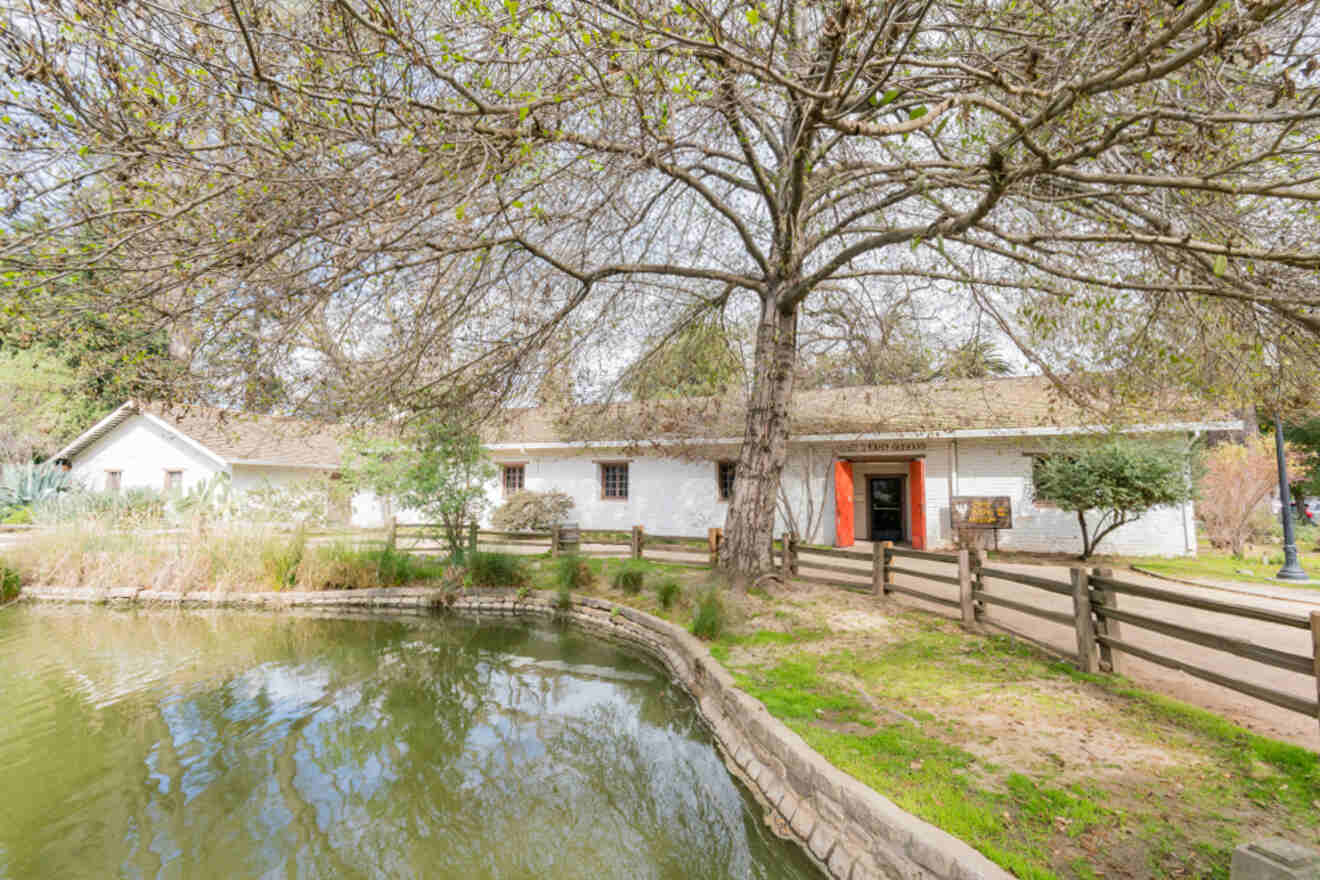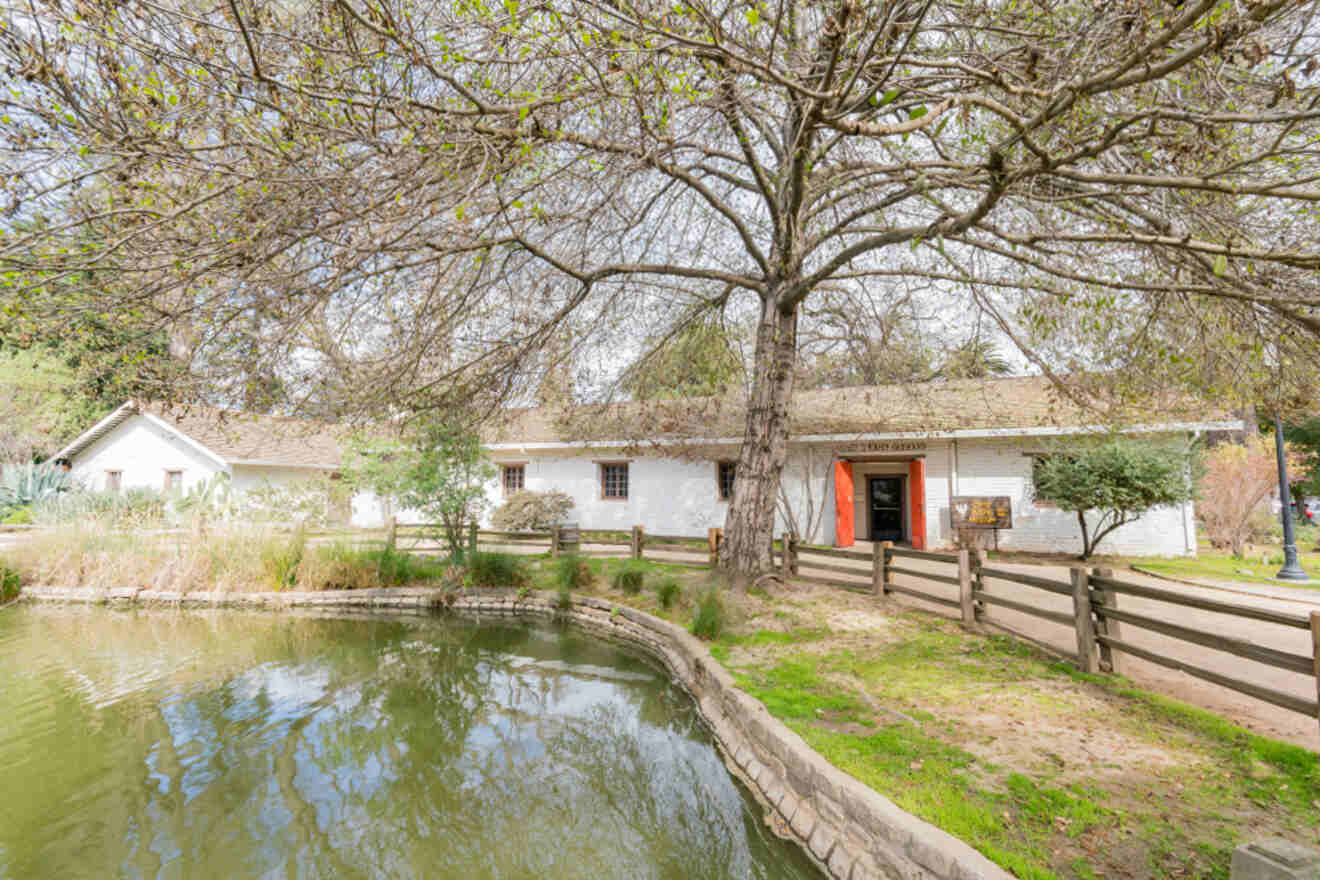 A special option when it comes to Sacramento museums to visit, the California State Indian Museum has been open to the public since 1940 and displays some incredible artifacts and history of the Native Americans that lived on these lands.
Discover such intimate and personal items as traditional baskets, art, beadwork, and fishing tools that are so important to preserving our California history.
Don't miss the adorable gift shop on the way out, where you can find Native-made artisan goods, jewelry, art, and more.
PRICE: US$5 per adult
31. Explore the Effie Yeaw Nature Center
Oh my goodness, I love the Effie Yeaw Nature Center and highly recommend you stop here if you love wildlife and wonderful causes.
This natural wildlife center in Sacramento provides relief to over 30 non-releasable animals that are native to the American River region, and that mission continues to drive the Effie Yeaw Nature Center.
Open on weekends to visitors, this wildlife center also runs educational programming and summer camps for kids to get them involved in the importance of conservation and preservation.
NOTE: Closed Mondays
PRICE: FREE, US$2 donation per adult accepted
32. Discover the historical past of the Sacramento Jazz Jubilee
You may not be aware, but Sacramento was a hub for Jazz musicians and artists of all kinds.
The Sacramento Music Festival (formerly the Old Sacramento Dixieland Jazz Jubilee) was held every Memorial Day weekend each year in Sacramento, CA.
The festival was a huge hit – beginning in 1974 and closing its doors in 2017. However, the good news is that Sacramento Jazz Jubilee is coming back from the ashes in September 2023, so make sure to buy your tickets and book your accommodation ASAP!
PRO TIP: Don't run around searching for the best accommodation – check out our list of the best areas & hotels to stay in Sacramento.
33. Walk across the Tower Bridge on the Sacramento River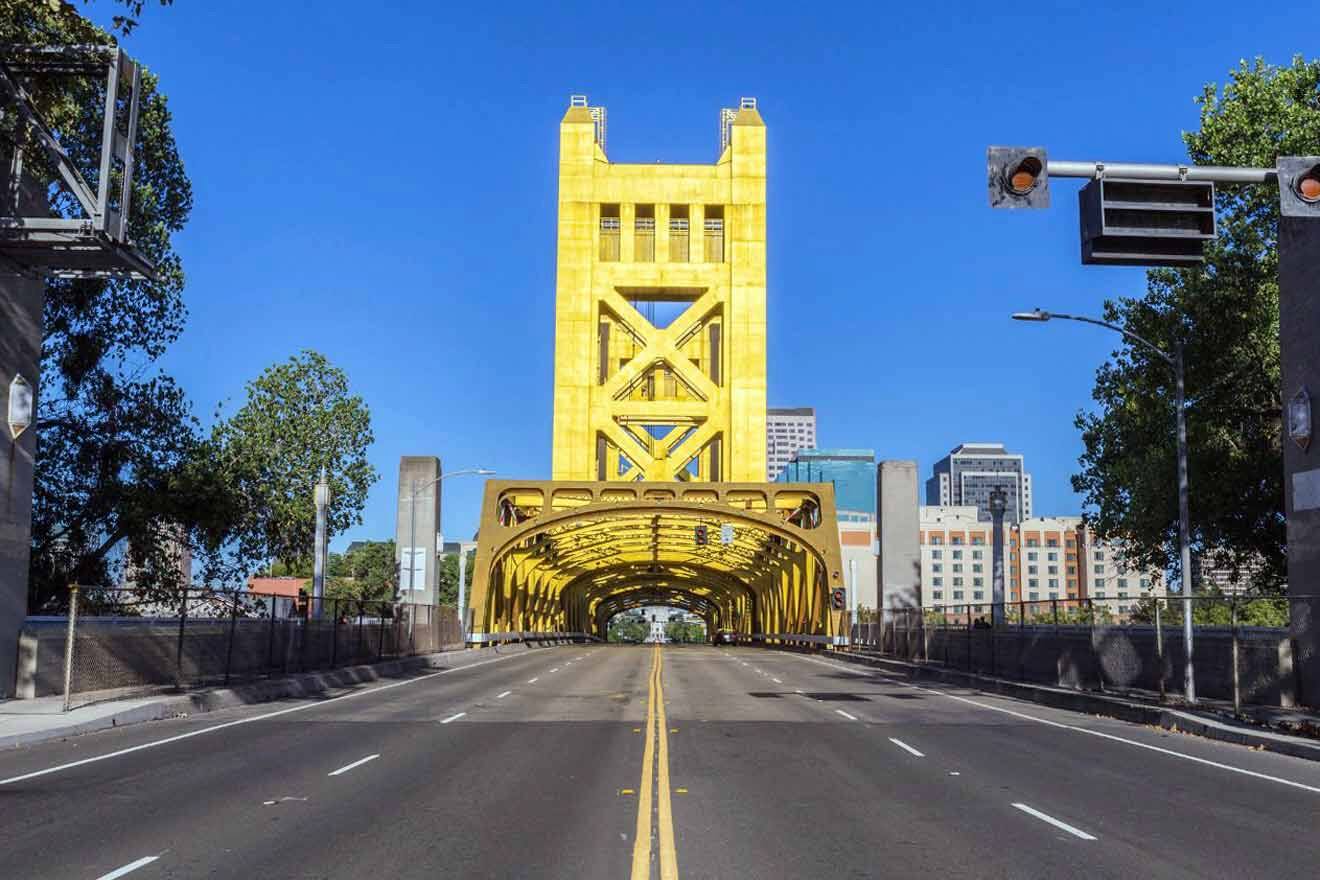 This beautiful, iconic replica of London's site of the same name, the historic Tower Bridge, is worth a stop by for a photo op and perhaps to walk across to west Sacramento.
A popular place for photo backdrops, Tower Bridge, perched above the Sacramento River, is particularly beautiful at night when it is all lit up and glowing above the water.
34. Breathe in the fresh air at UC Davis Arboretum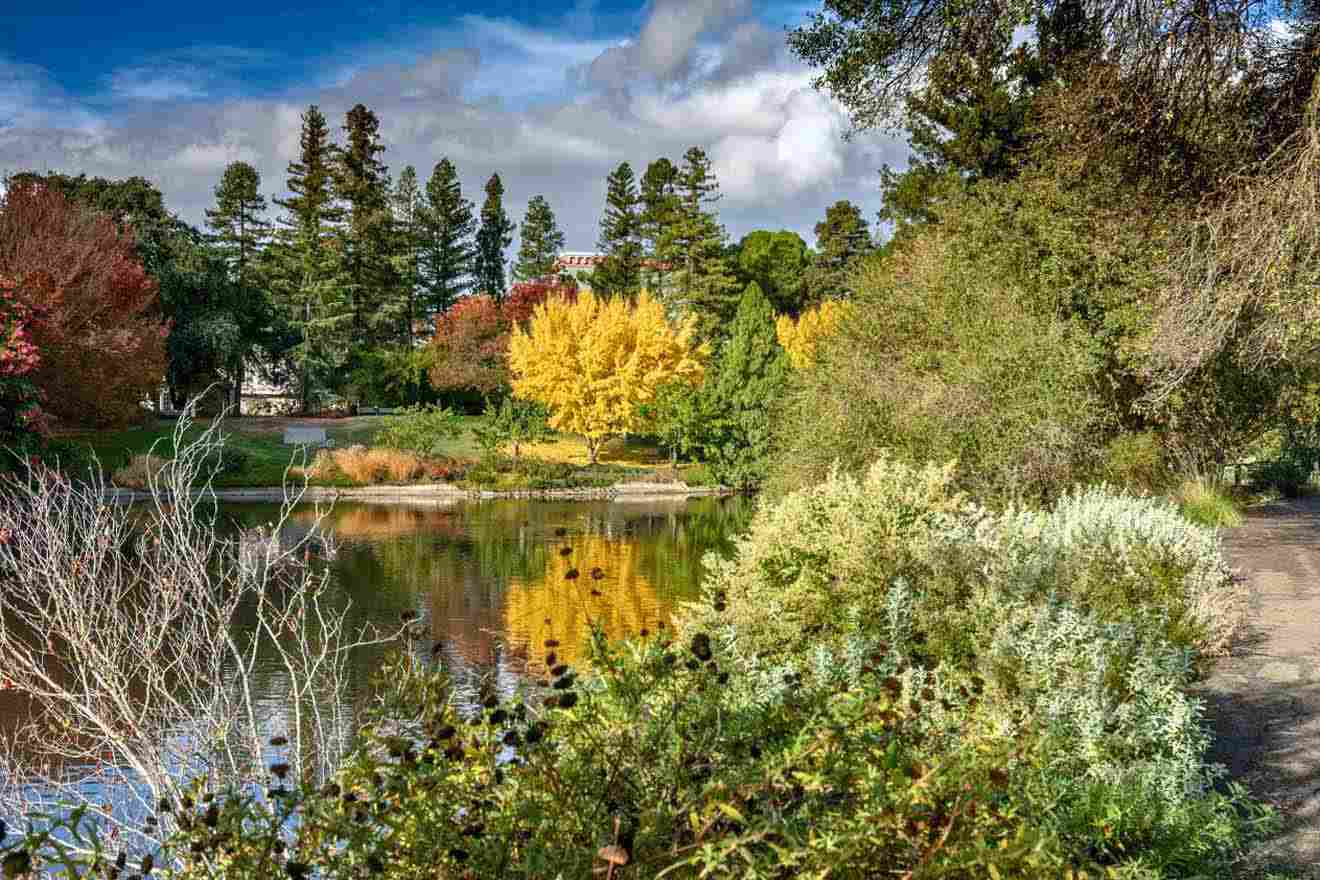 The beautiful gardens of UC Davis Arboretum span over 100 acres (about 40 hectares), including the impressive Putah Creek Riparian Reserve.
The reserve is a really unique ecosystem with streams and grasslands, often used as a teaching tool for students, research, and protecting wildlife and habitats.
The arboretum is the perfect pairing for the university's expertise in environmental science. You can tell how important it is for this to be a place where students can get hands-on experience and be inspired to become environmental leaders.
PRICE: FREE
35. Explore the dining options in Midtown Sacramento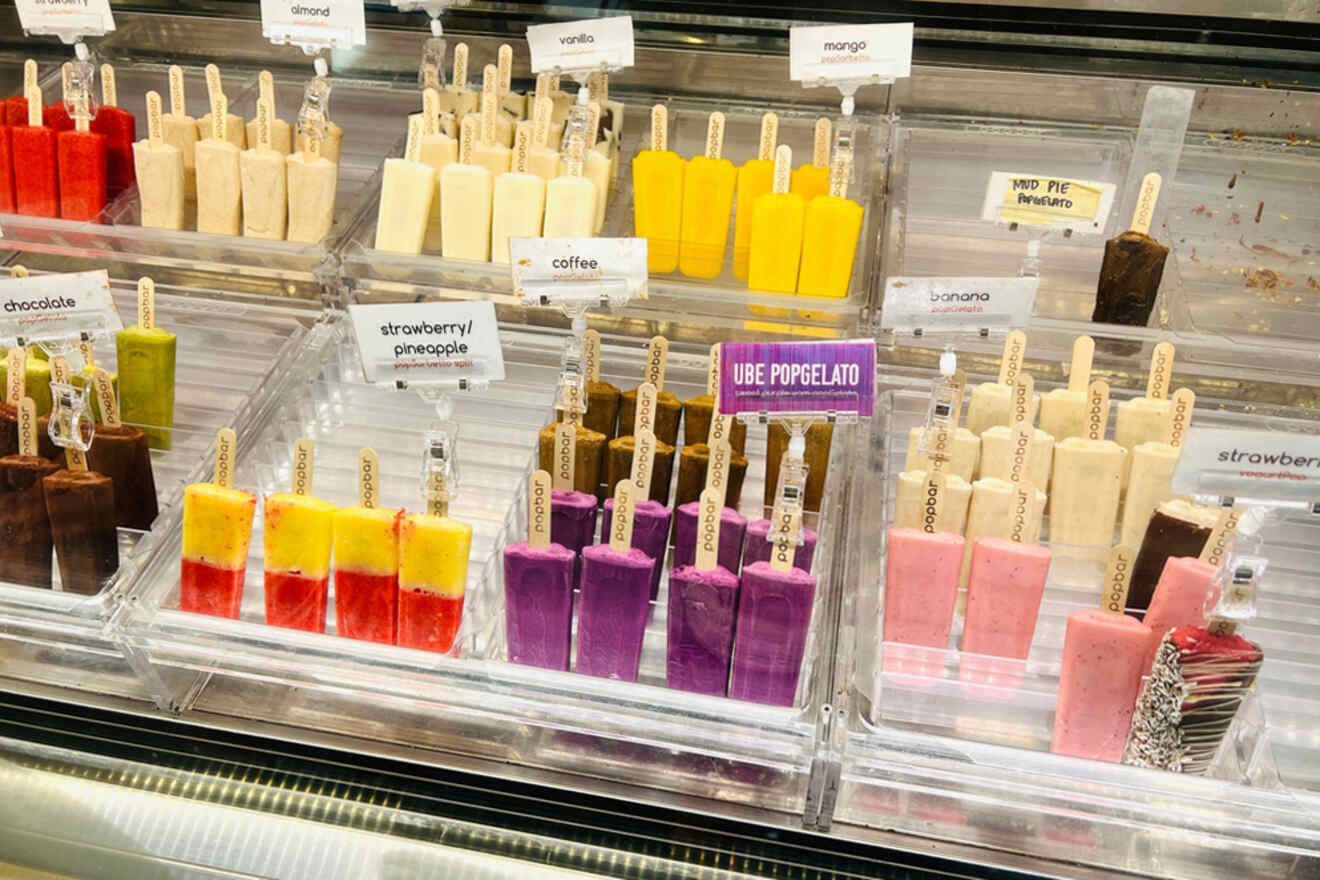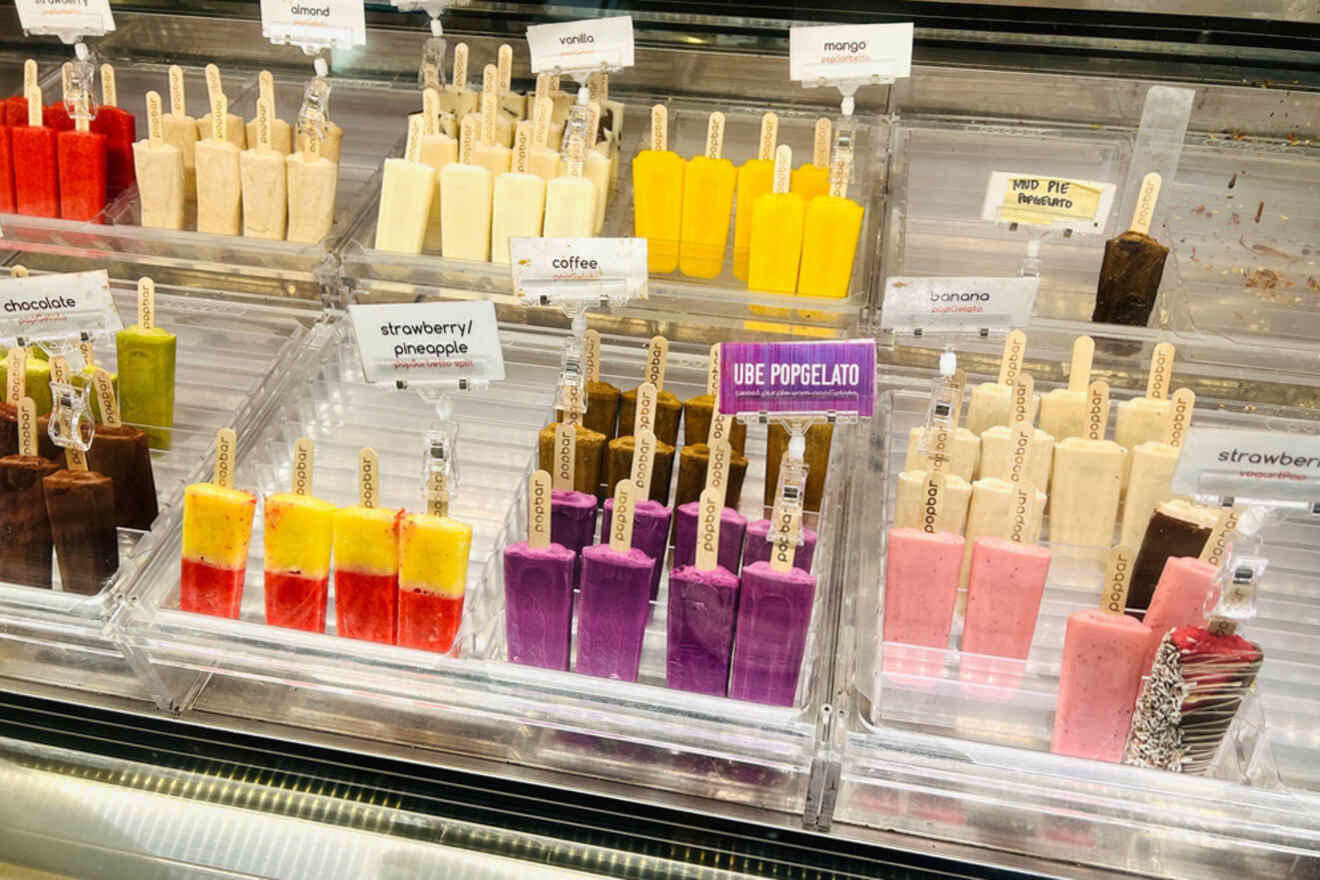 One of the greatest opportunities in Midtown Sacramento is enjoying the incredible cafés and eateries spread throughout the area. If you feel overwhelmed or up for the challenge, try this awesome, convenient, and super memorable arts and food tour!
PRICE: from US$100 per person
36. Sample the local produce at Capitol Mall Farmers Market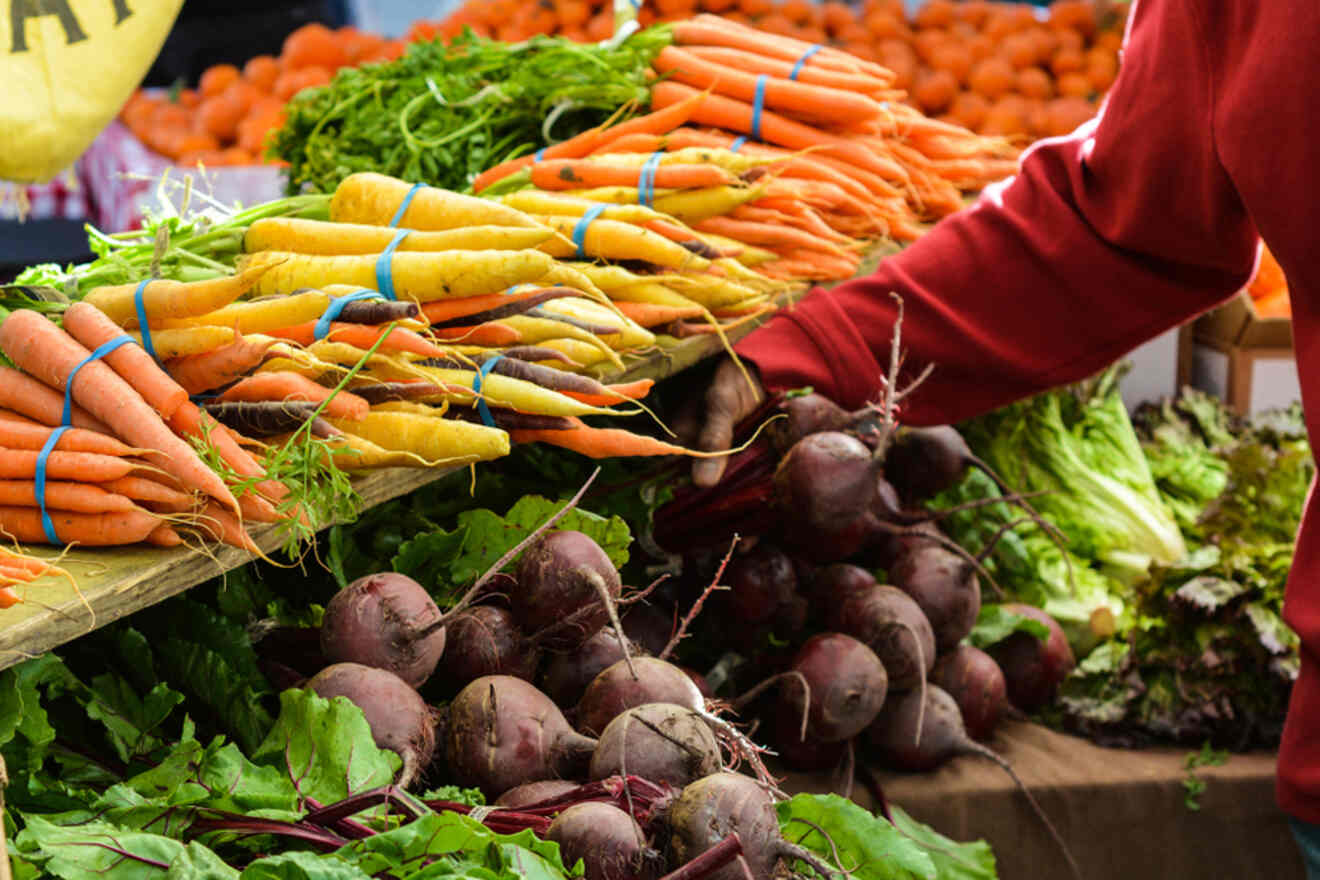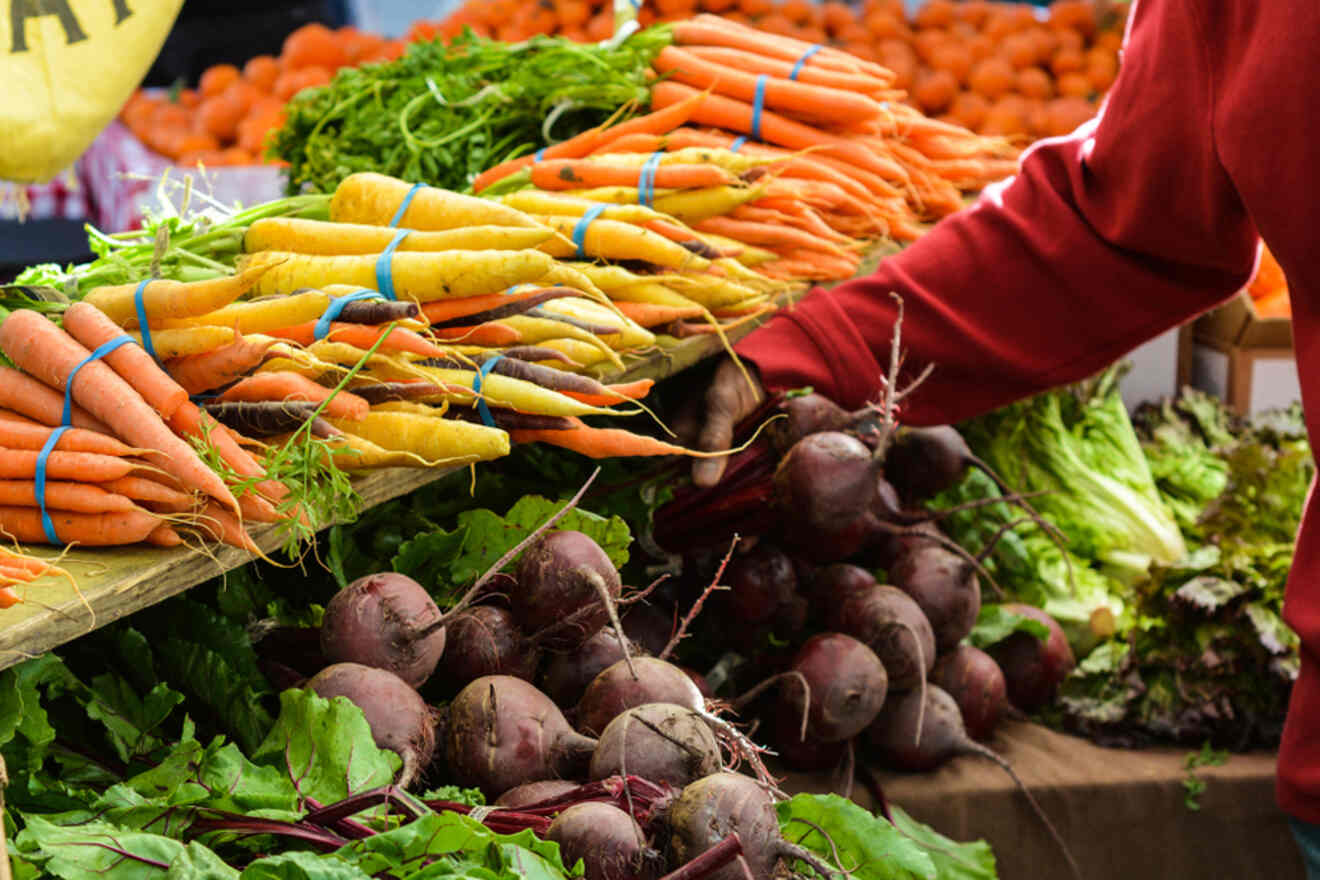 I can't tell you how much I love a good farmer's market!
There is something so special about sampling the local produce from the region's farmers themselves, and Capitol Mall Farmers Market is the place to do just that.
This incredible event in downtown Sacramento brings together tons of fresh produce farmers and tantalizing hot food vendors so you can spend the day strolling and sampling to your heart's desire.
Open Wednesdays from 10 AM – 1 PM.
37. Enjoy the history and art at the California Museum
The California Museum has so much to offer on your visit to Sacramento. Here you'll find the most extensive history, art, artifacts, and information on the great state of California and all of its different eras.
In my opinion, the California Hall of Fame is one of the best attractions within the museum. As a movie buff, I love all the movie memorabilia showcasing the big films that used Hollywood, California, as their backdrop.
Don't miss the exhibits on the horrible internment of Japanese Americans in WWII or the Women's Landmark showcasing the inspirational women of this great state over the centuries.
PRICE: US$10 for adults
Where to stay in Sacramento
There are tons of hotel options when visiting Sacramento. See below for my top picks for every budget.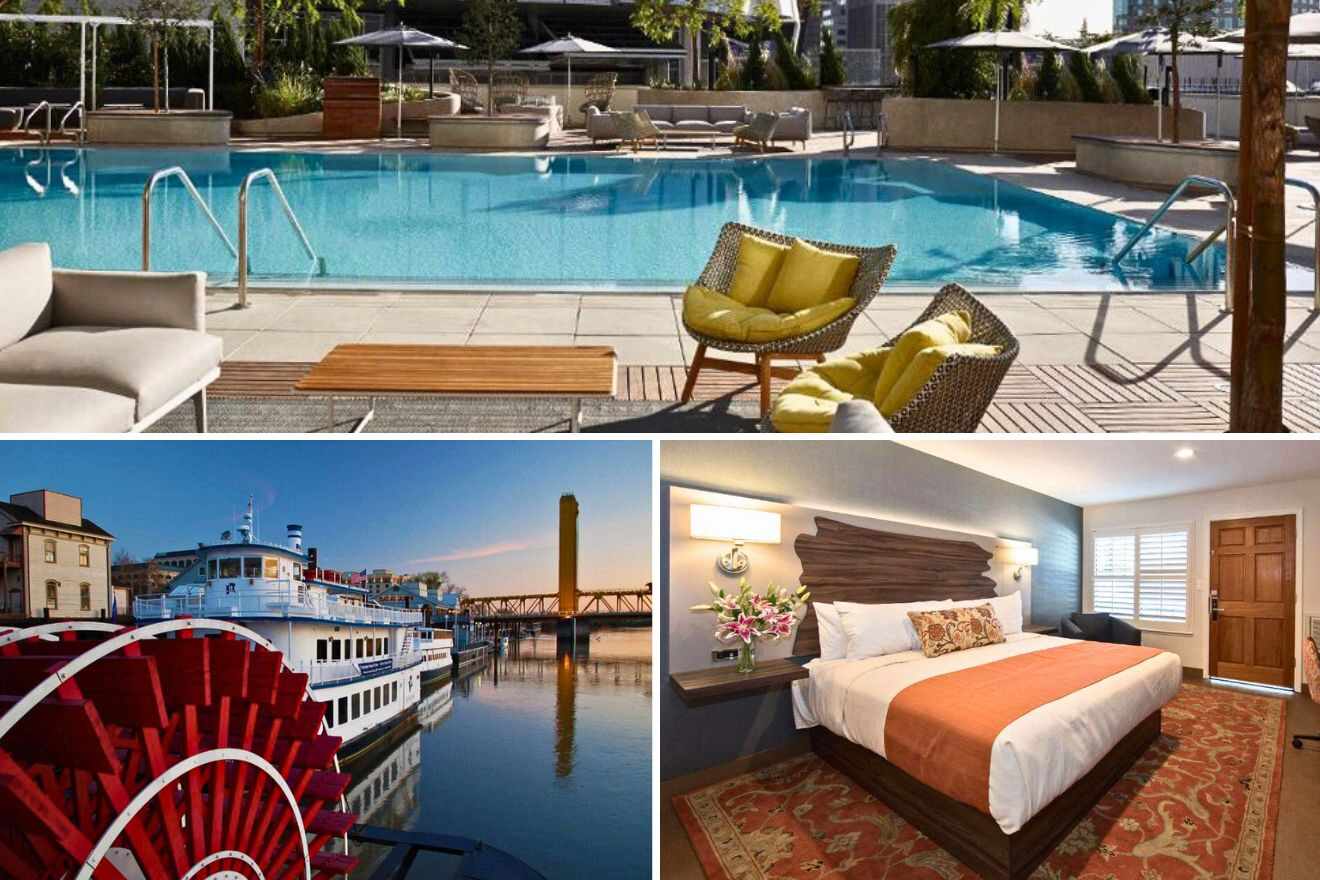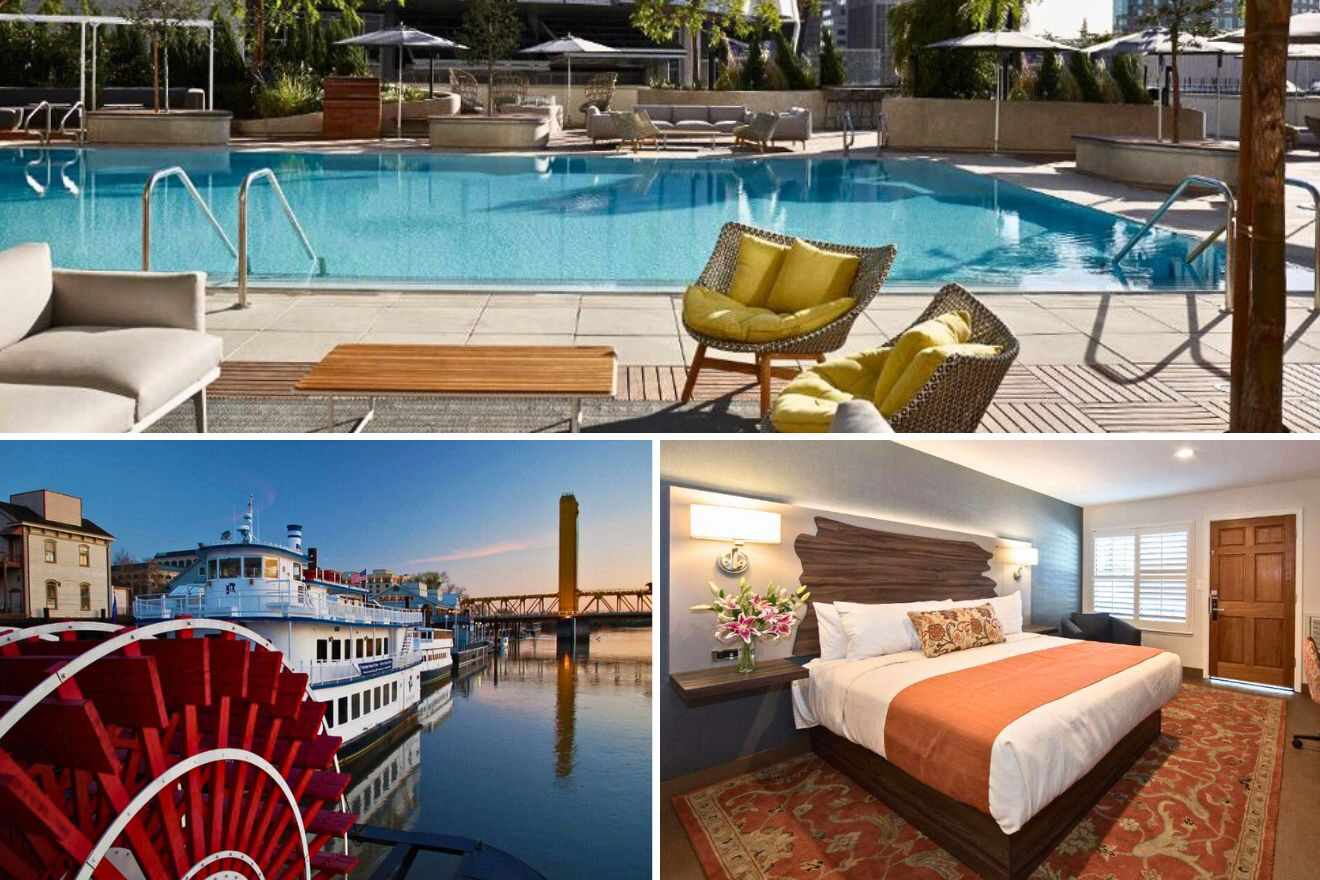 Luxury (US$300 and up)
Mid-Range (US$150 – US$300)
Budget (up to US$150)
FAQs about things to do in Sacramento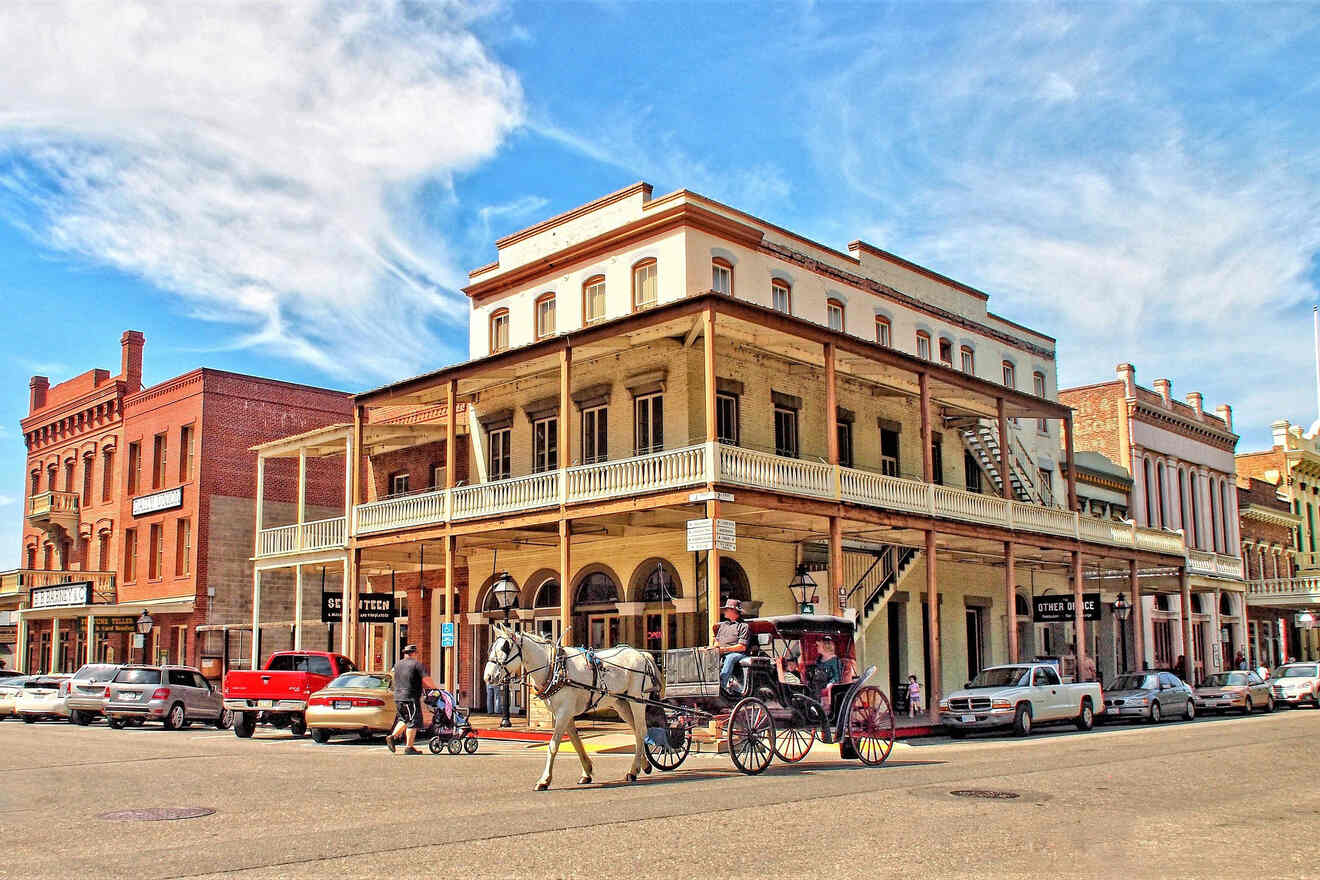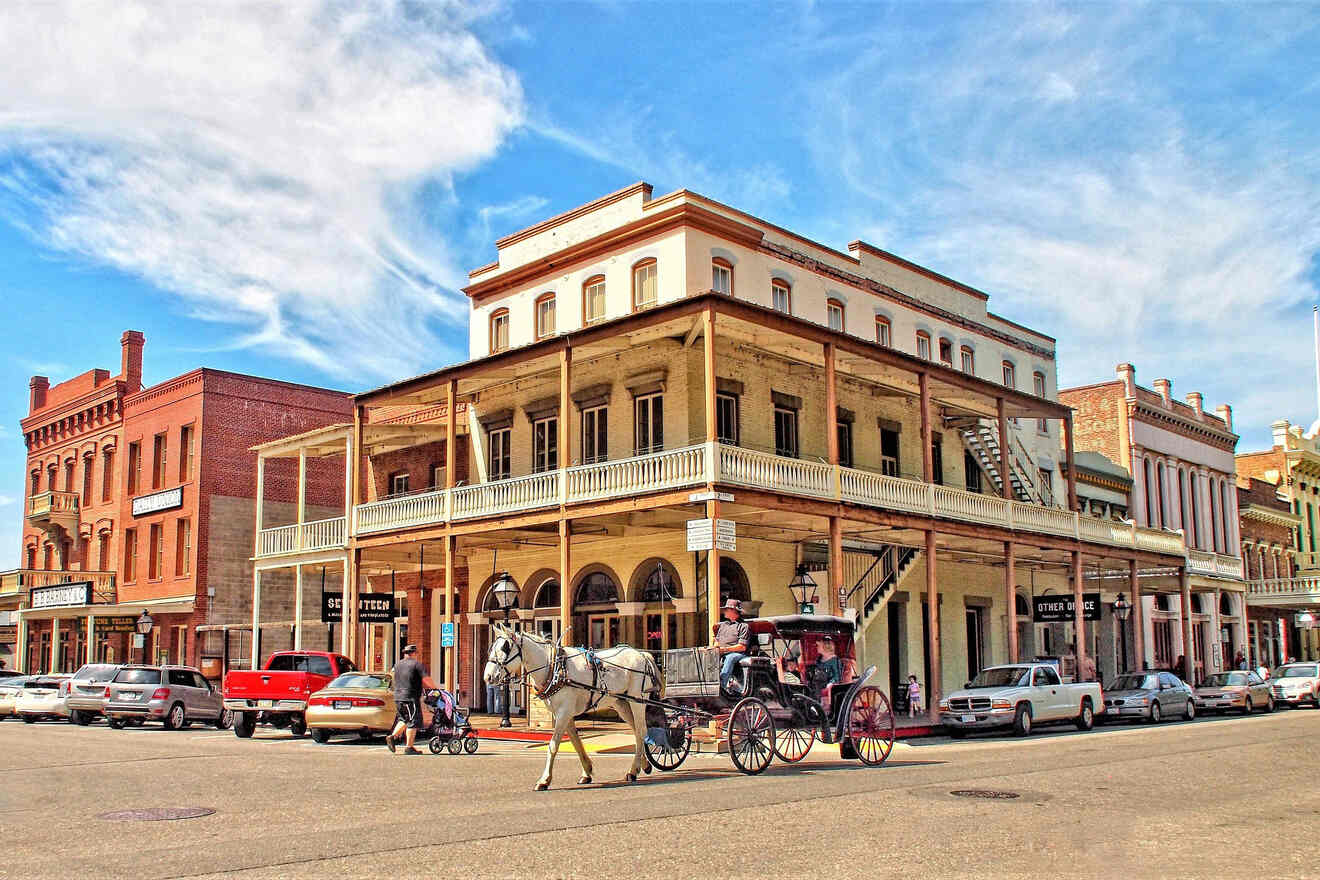 🎉 How can I spend a day in Sacramento?
A great way to spend a day in Sacramento is visiting Sutter's Fort State Historic Park, exploring California State Railroad Museum, or getting adventurous on this full-day whitewater rafting tour.
💰 What is Sacramento famous for?
Sacramento is famous for its Gold Rush history, incredible museums like California State Railroad Museum, and glorious, unique parks like Sutter's Fort State Historic Park.
📸 Is Sacramento good for tourists?
📅 What is the best month to visit Sacramento?
The best months to visit Sacramento are April, May, September, and October.
Conclusion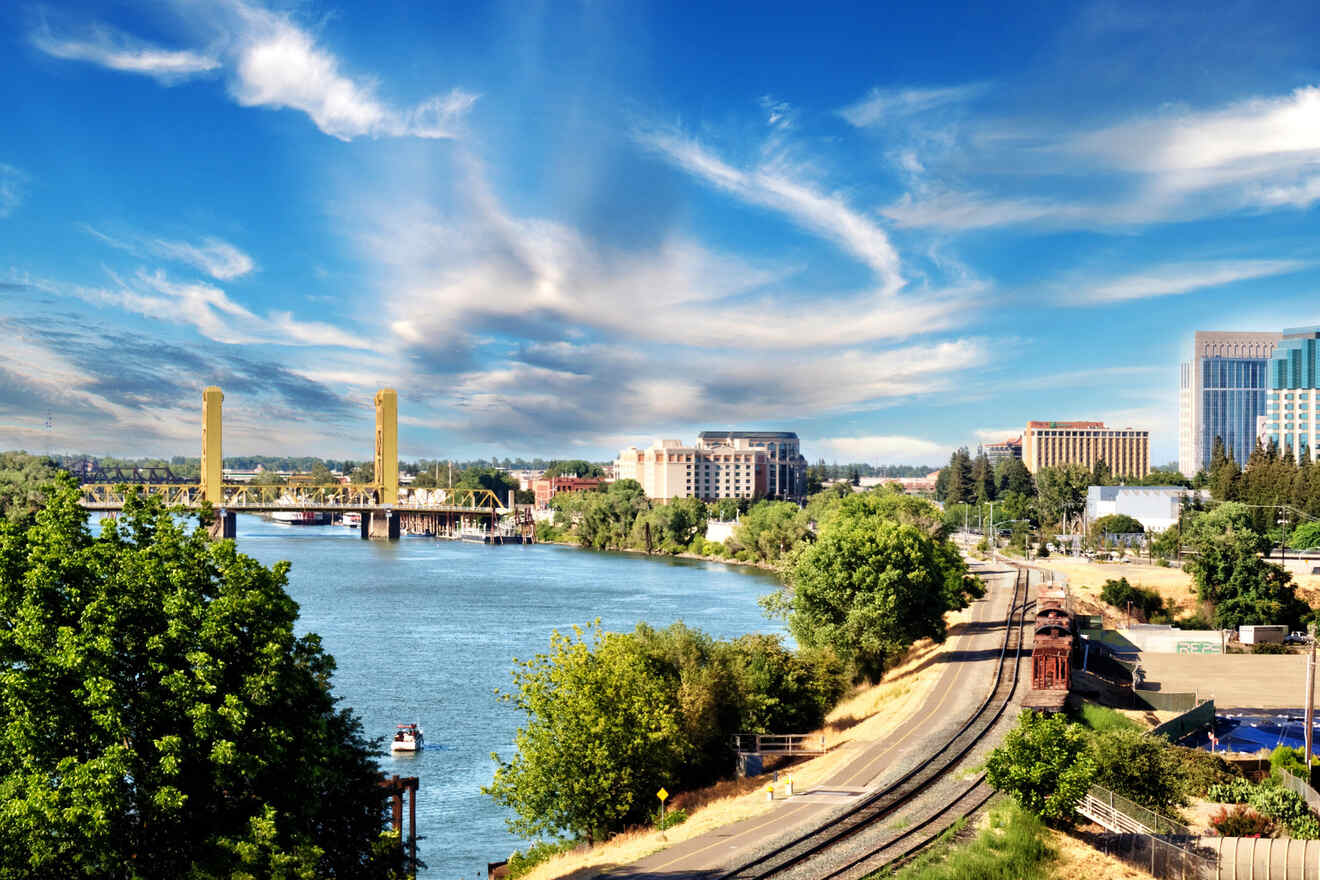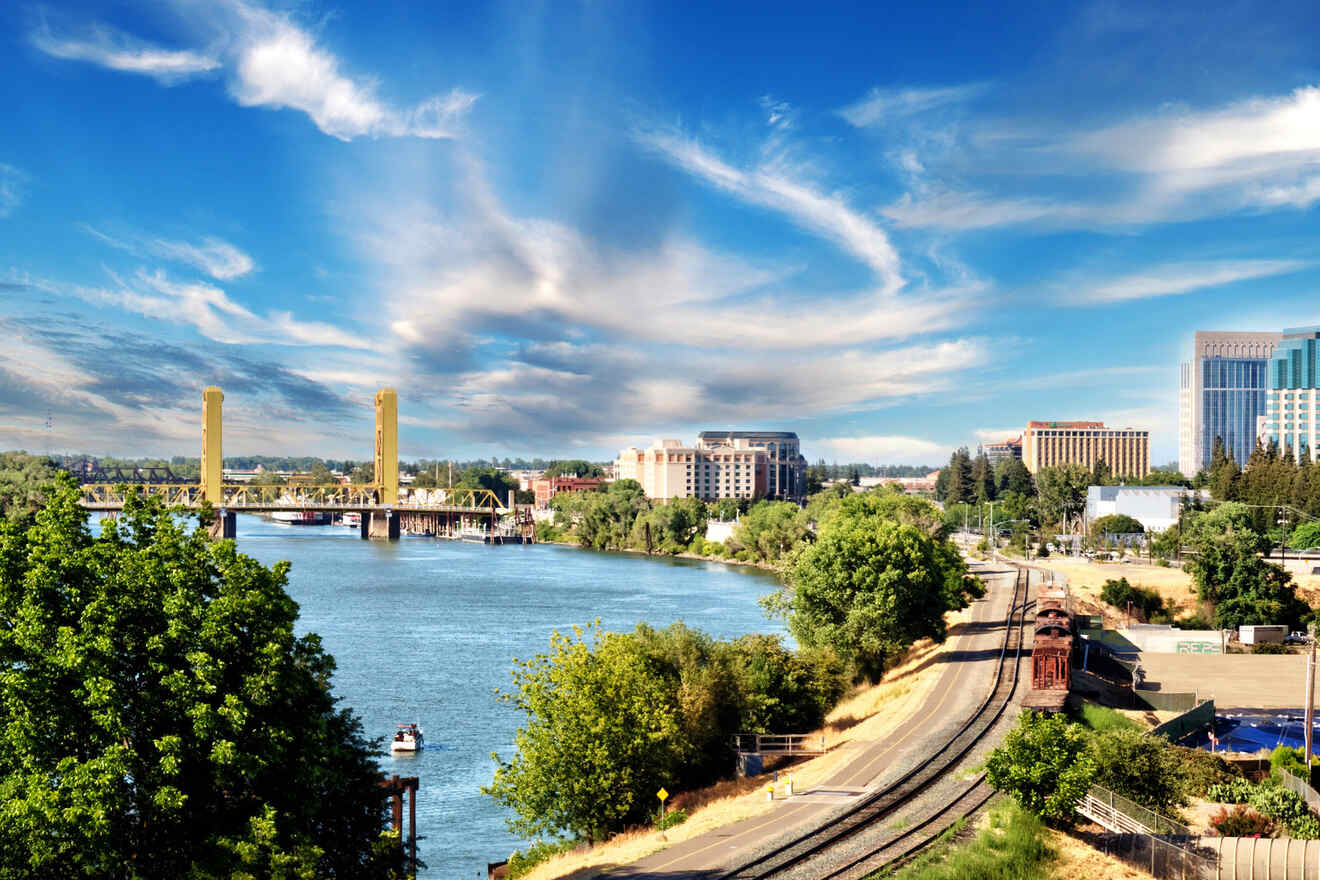 Phew!😅 As you can tell, there are so many incredible things to do in Sacramento you won't have any trouble filling your time in this electric city. From nature to fine dining, Sacramento has something suitable for every interest and flavor.
If you're planning a trip to Sacramento, make sure to book in advance for your favorite activities and hotels! This region stays very busy!
You know I always love to hear about your trip. Please comment below and tell me your favorite things to do!
Aloha & safe travels,
Hayden G.
---
Pin it for later!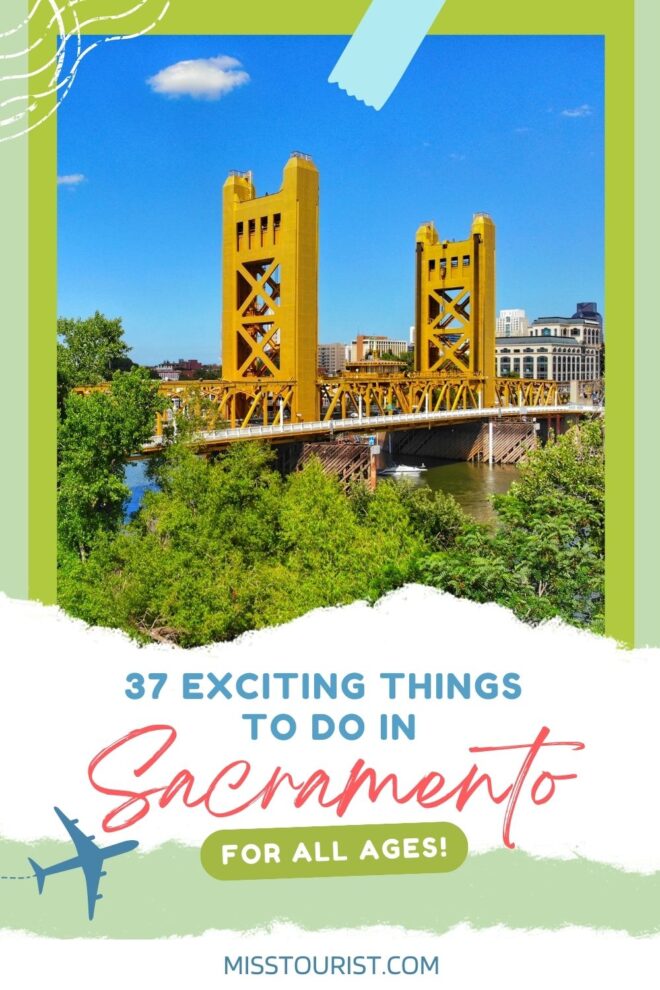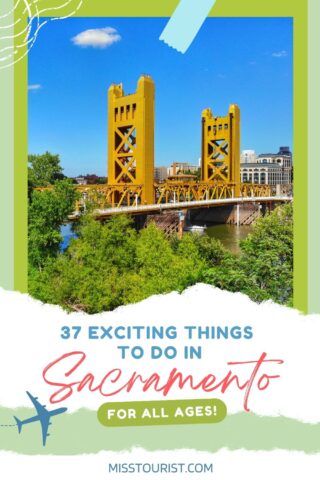 Pin it for later!