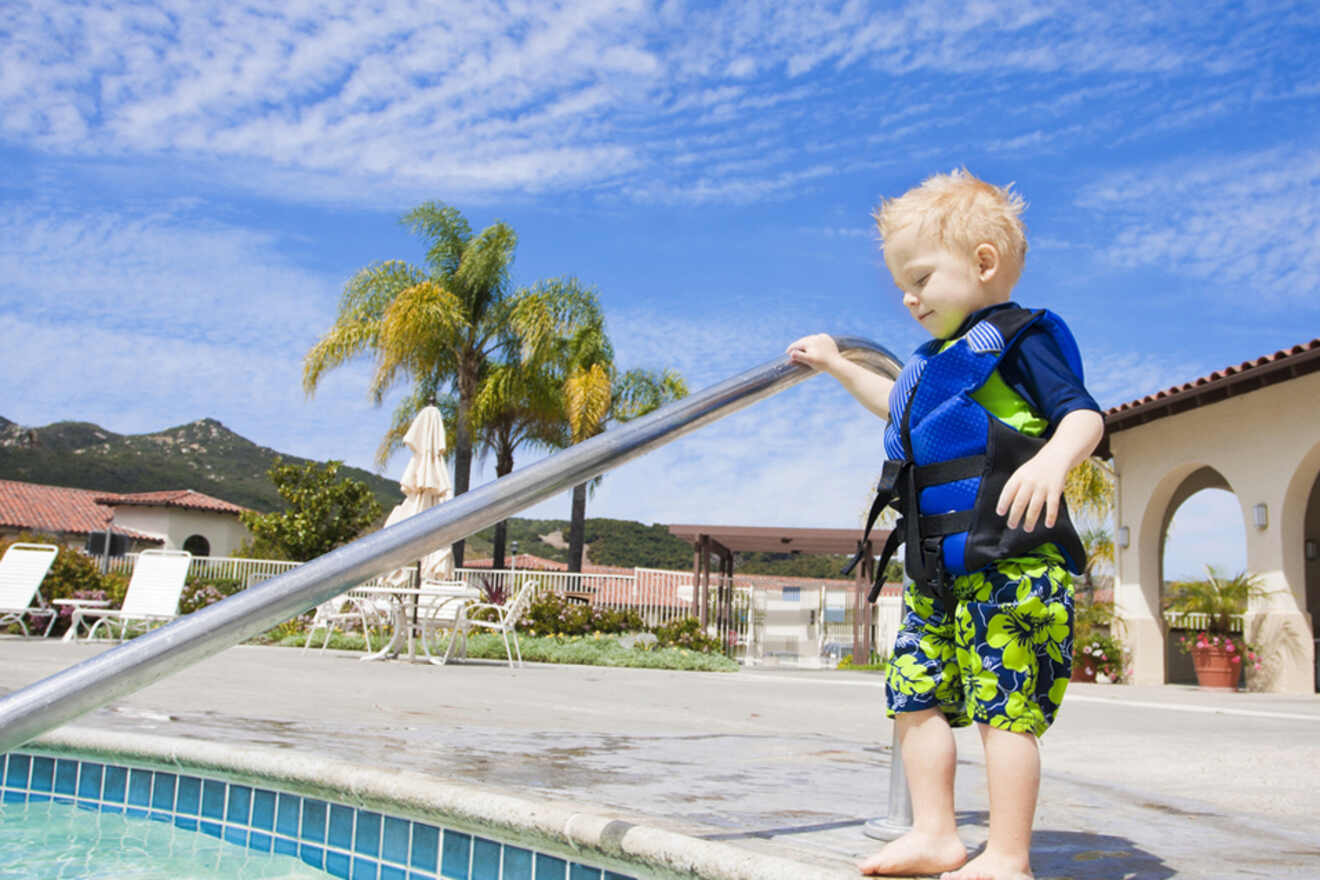 Beach bonfires, incredible theme parks, and lots of attractions! No wonder San Diego is considered America's finest city, this place has it all! If you're headed there with your family, then follow me!
In this post, you'll find the best kid-friendly hotels in San Diego! Oh yes, I did all the research, went on all the websites, and came up with a list that I ordered from most to least expensive.
Since the city is so big and features so many cool places to stay, I also made 2 bonus sections, with the best hotels near Legoland, California, and some great vacation rentals in San Diego.
Although there's a wide variety of accommodations, I still recommend booking your favorite hotel or vacation rental in advance. This city is super touristic, and most likely, everything will sell out fast!
Ready to start?
Vamonos!
If you are in a hurry
Don't worry if you can read the whole post! Just check out the list below, it has the top San Diego family hotels in the post:
Luxury (US$500 and up)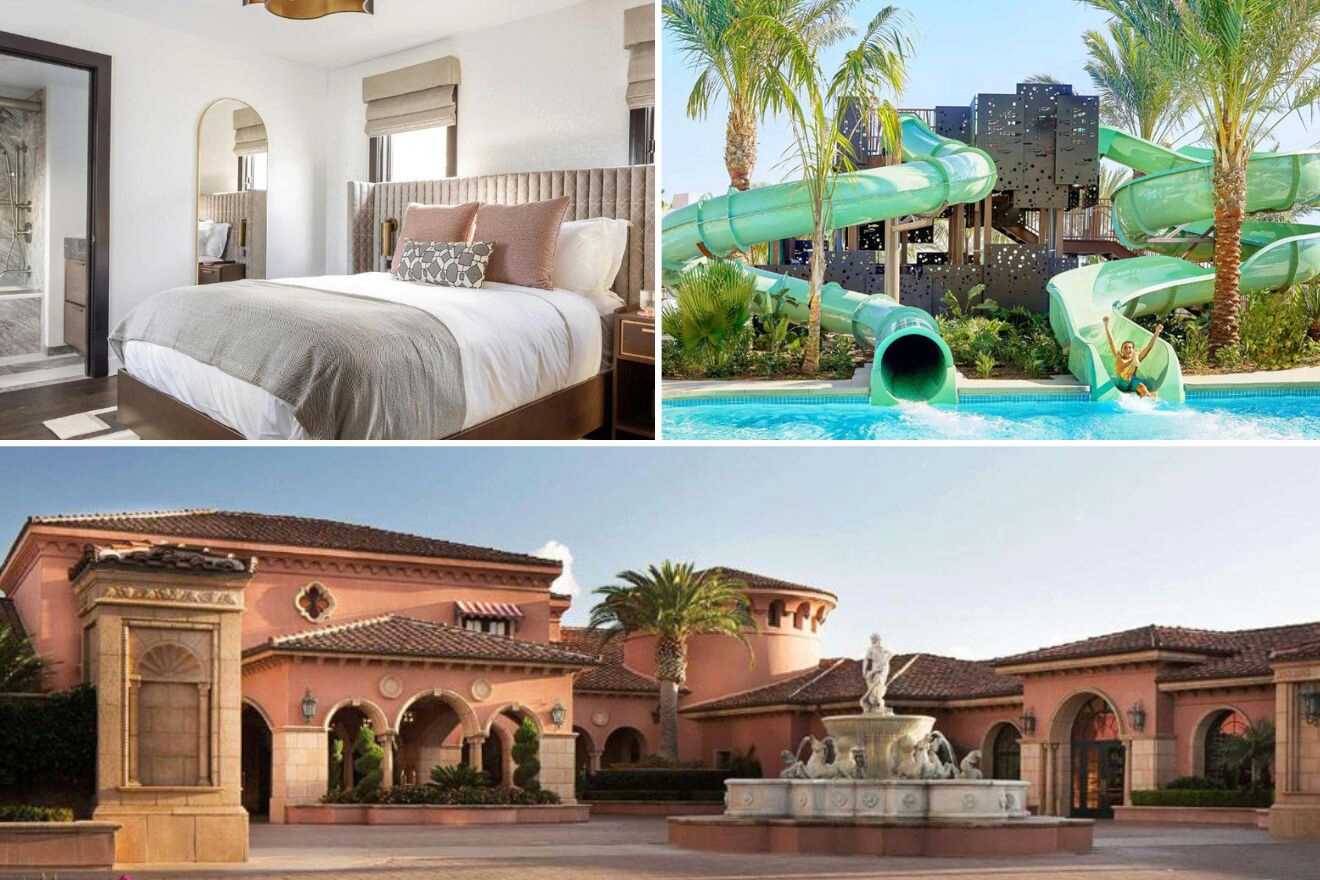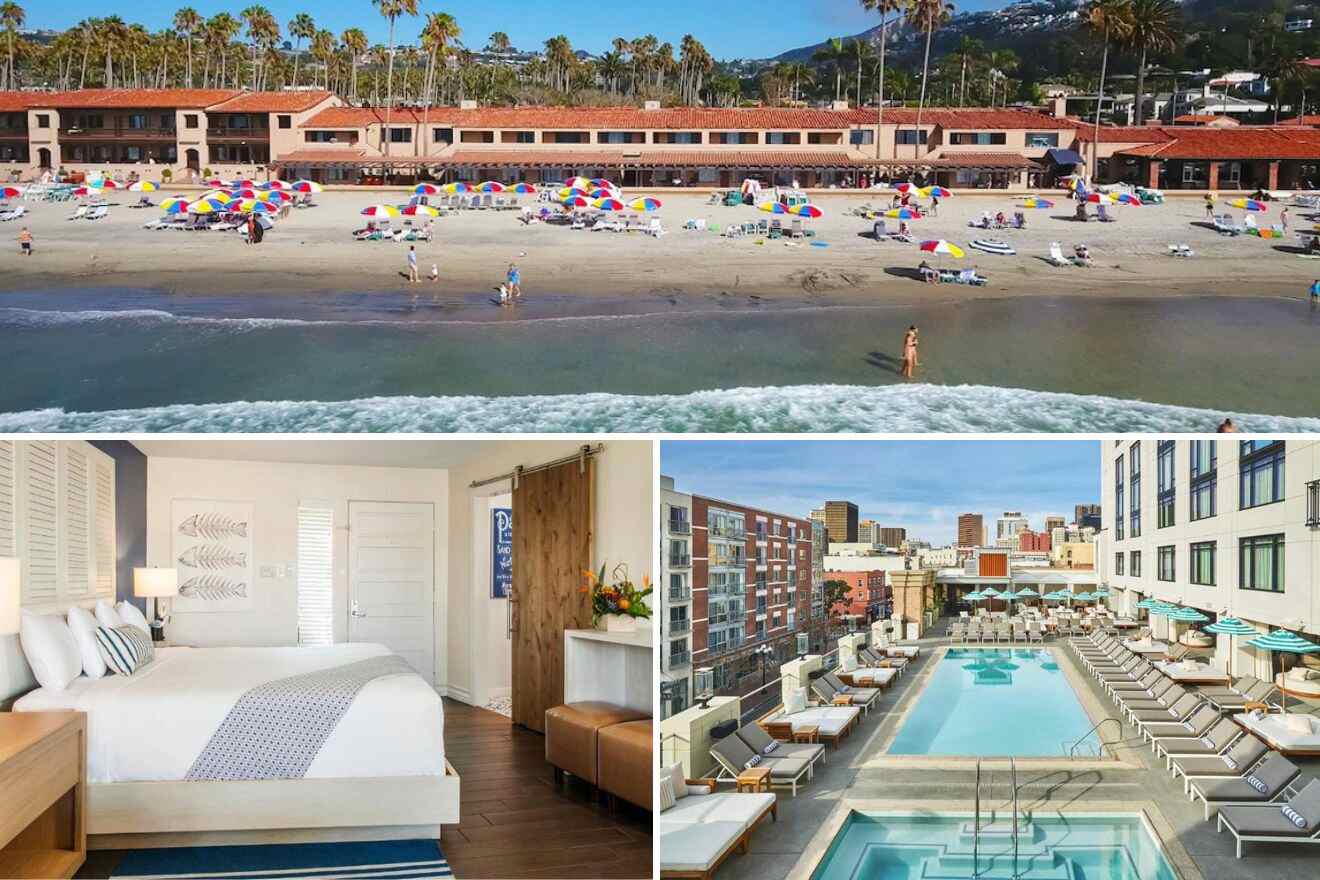 Pendry San Diego – Looking for some family suites in downtown San Diego? Then check out this hotel that's set within walking distance of the USS Midway Museum. The accommodation offers spacious rooms, a free breakfast, and an amazing rooftop pool where you can enjoy the Californian sun!
La Jolla Beach and Tennis Club – Beach lovers, you'll never want to leave this incredible hotel set on La Jolla Beach! The accommodation has some great guest rooms for families that have a kitchen and overlook the ocean. You'll also find a private beach area, a free parking space, an outdoor pool, and a children's pool, plus many other cool facilities like a golf course and a playground.
Paradise Point Resort – Set in Mission Bay, this accommodation is perfect for families who love spending time in nature! This is certainly one of the best San Diego family resorts, set on a lush private island, and it comes with a spa center, swimming pools, and 4 restaurants.
Mid-Range (from US$320 to US$500)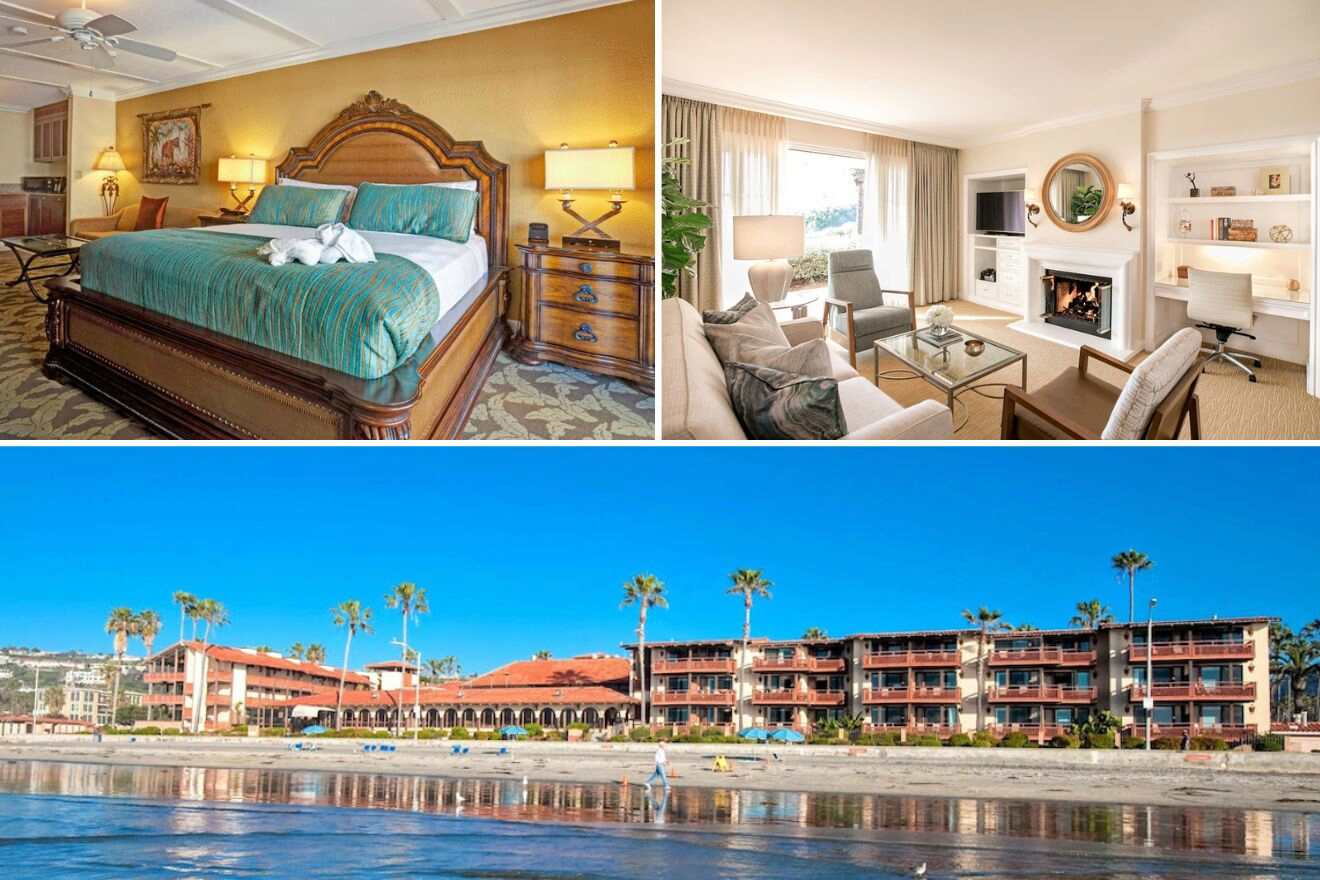 Pacific Terrace Hotel – Another one among the best San Diego hotels for families set on the sandy Pacific Beach! As you can imagine, the accommodation offers some incredible ocean views, especially from the outdoor pool, which the kids are going to love! Guests can borrow some board games from the hotel to play, rent out bikes and go hiking! At the end of the day, you can relax with your family by the outdoor fireplace!
La Jolla Shores Hotel – Enjoy some family mornings on the balcony of this amazing hotel on La Jolla Beach that offers an ocean view! The rooms offer so much space, the outdoor pool is perfect for a bit of family fun, and there's even a sauna and a hot tub where the parents can relax. Birch Aquarium and La Jolla Cove are only a short walk away.
Four Seasons Residence Club Aviara – This family trip in San Diego will be unforgettable! Especially after staying in a hotel that feels like home! Offering guest rooms with lots of space, this Carlsbad accommodation has 2 swimming pools and a restaurant that specializes in farm-to-table cuisine featuring local ingredients, yum! During your stay, you can play at the kids club or hike around the area.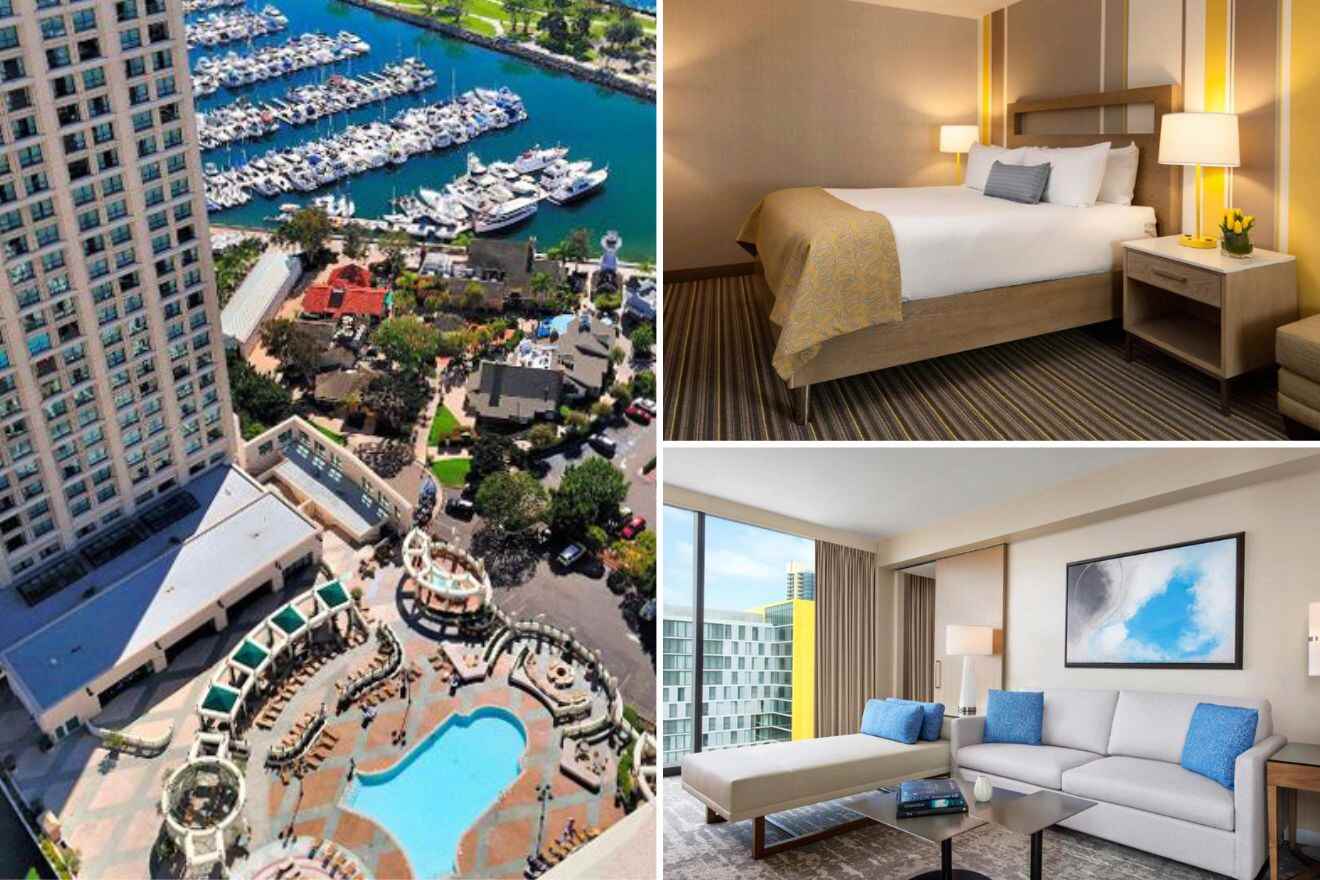 The Wayfarer San Diego – Set not too far from San Diego's Mission Bay, this lovely hotel is perfect for families who want a holiday by the beach! Here you can jump from your bed straight into the ocean, that's how close it is! The accommodation has family rooms with a balcony and in-room video games. Guests can enjoy some relaxing time by the outdoor pool and try some of the water sports.
Manchester Grand Hyatt San Diego – A great family-friendly hotel that's set in downtown San Diego, not too far from many major attractions like the San Diego Zoo and Balboa Park. The hotel has everything you need for your stay, including 2 swimming pools, 4 restaurants where you can indulge in some yummy dishes, a fitness center, and a hot tub.
InterContinental San Diego, an IHG Hotel – Wake up to a stunning view of the San Diego Bay while staying at this amazing hotel! Their spacious family rooms come with ceiling-to-floor windows, a flat-screen TV, and a coffee maker, which I'm sure every parent will appreciate in the morning! During your stay, you can rent bikes to explore the city and spend cozy nights by the outdoor fireplace, planning your future adventures!
Budget (up to US$300)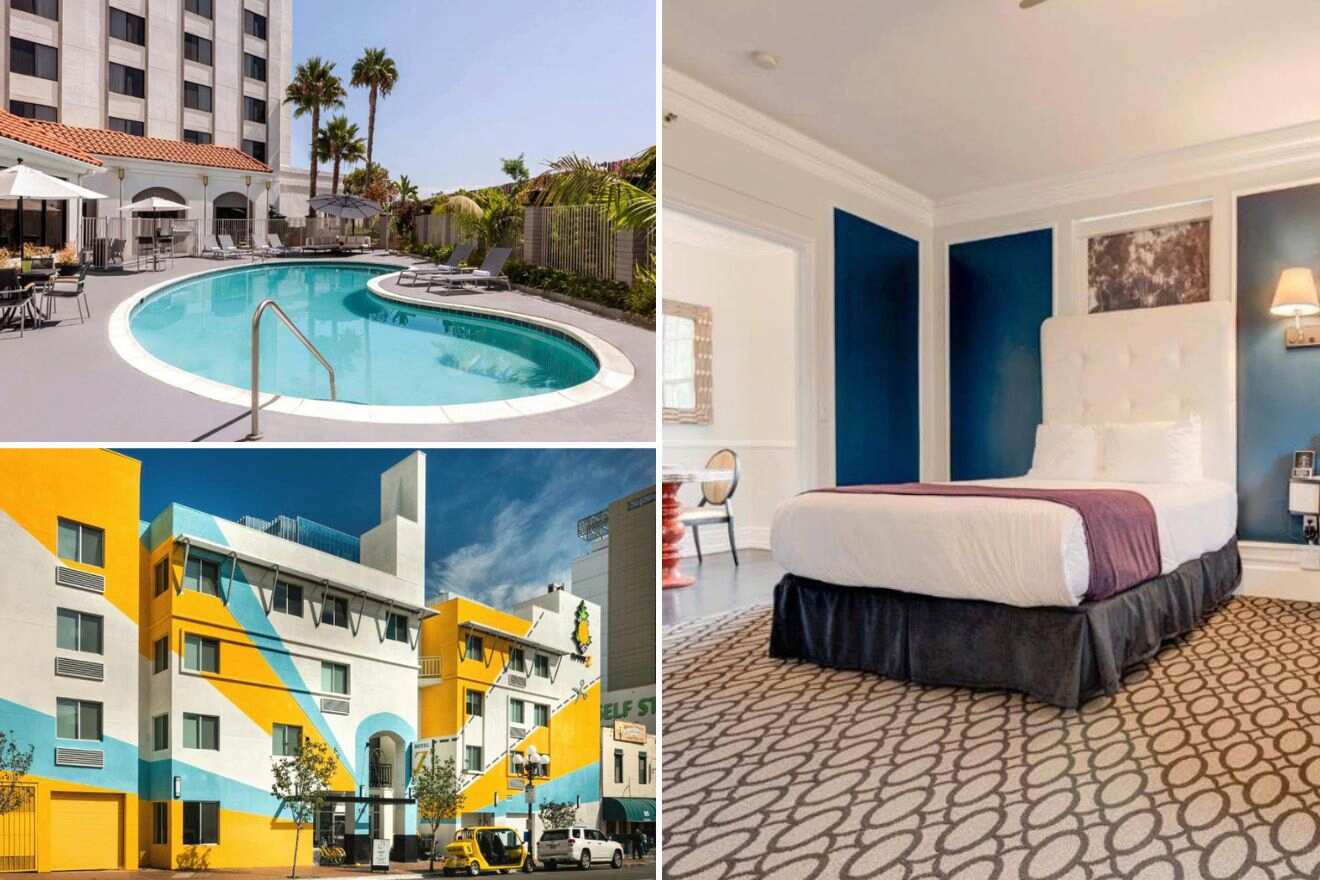 Staypineapple, Hotel Z – If you or your kids like pineapple, then this hotel in downtown San Diego is surely for you! As you might've guessed, the accommodation's main theme is pineapples, and that includes a lot of yellows in the family rooms, which have a flat-screen TV and a seating area. Start your mornings with some coffee or tea, and then head out to visit San Diego's attractions, like Balboa Park and Mission Bay.
Courtyard by Marriott San Diego Miramar – Looking for an affordable family hotel in San Diego County? Then this one next to Miramar Marine Corps Air Station may be for you! Although simple, the accommodation provides guests with everything they need for their stay, like comfortable rooms, an outdoor heated pool, a delicious breakfast, and a fitness center!
Inn at the Park – Are you finally visiting San Diego with the family? Then you'll need the best San Diego hotel! And this one is pretty great as it's set right near Balboa Park, one of the main attractions in town. The accommodation has spacious family rooms with an elegant decor and a kitchen. You'll also find an outdoor terrace where you can enjoy the San Diego skyline and a fitness center.
Hampton Inn by Hilton San Diego – This family-friendly San Diego hotel in Kearny Mesa is super affordable, although it's set a bit further away from the main attractions. Enjoy your holiday here by playing in the outdoor pool with your kids, watching some TV together in your spacious suites, and eating your family (free) breakfast in the morning together!
Old Town Inn – Still looking for some family hotels in San Diego County? I think you'll really like this one in the Old Town as it has this homie vibe, comfy rooms with a flat-screen TV and a kitchenette, and many other cool features. You can start your morning with some free breakfast at the hotel, a bit of sunbathing by the pool, and then you can head out to visit all those cool attractions!
Legacy Resort Hotel & Spa – We're wrapping up this amazing list of family-friendly San Diego hotels with this great resort in Mission Valley that's super modern and which has some fabulous rooms which every member of the family will love as they have lots of space and TV. The accommodation also offers an outdoor swimming pool, a spa center (parents, this one's for you) and 2 restaurants!
BONUS 1: Top hotels near Legoland California
Your family trip to San Diego can't be complete without a 1-day adventure to one of the best theme parks in California: Legoland! Since I know many of you will want to head there, I decided to make a whole section with some amazing San Diego hotels near the park!
I've already ordered them from most to least expensive, and the prices start from US$170 to US$300: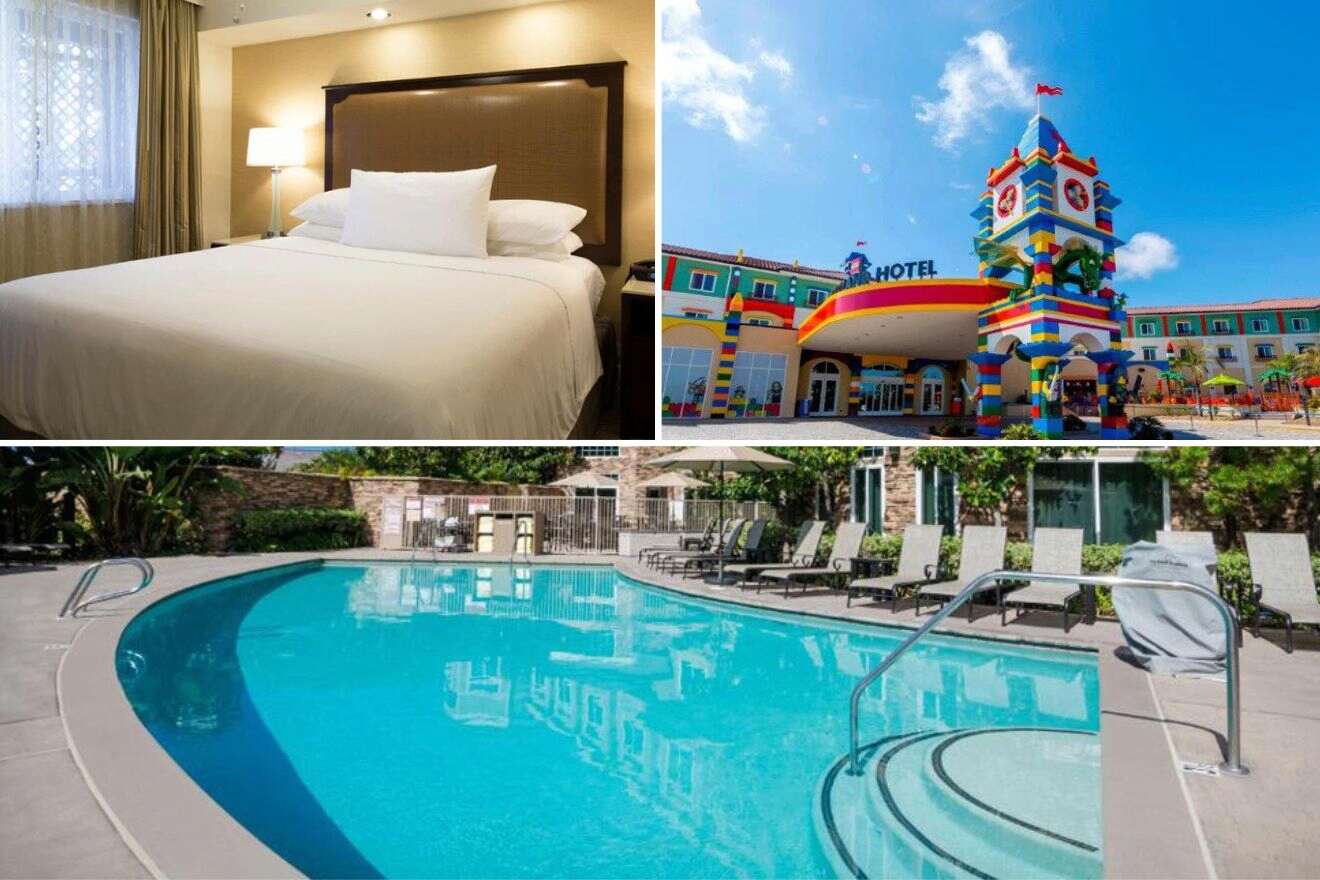 Carlsbad Seapointe Resort – Set just a 10 min drive away from Legoland, California, and right near the beach, this amazing hotel offers outdoor pools, 2 hot tubs, tennis courts, and spacious condos, which have a kitchen and a balcony where you can relax after a day of exploring the theme park.
LEGOLAND Castle Hotel – Located just at the theme park entrance, this Legoland hotel is perfect for everyone who wants to stay as close as possible to the fun! The accommodation offers rooms that have themed decor, a water park, and a game room!
West Inn & Suites – Relax by the outdoor pool of one of the best family hotels near Legoland, California (only a 30 min walk away), which comes with spacious family rooms, a picnic area, and a fitness center.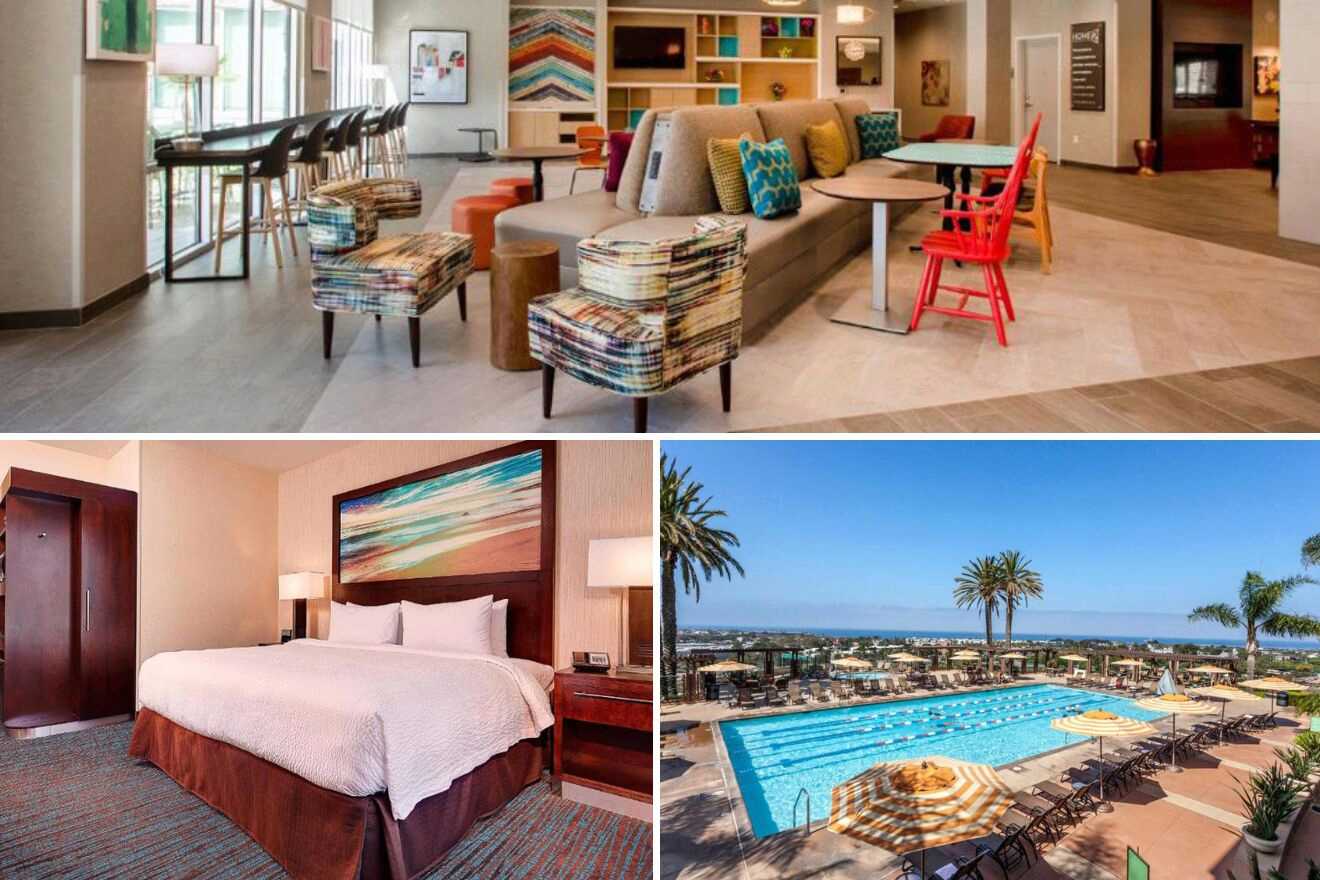 Grand Pacific Palisades Resort – When you're not having the best time ever at Legoland California (which is set a 10 min walk away), play with the little ones in the game room or by the outdoor swimming pool of this hotel! The accommodation offers a restaurant, a fitness center, and a bar!
Home2 Suites By Hilton Carlsbad – This simple yet super modern hotel which is set a 35 min walk away from Legoland, California, offers family rooms with a flat-screen TV, and some even come with a small kitchen. During your stay, you can swim in the pool and relax in the hot tub.
Fairfield Inn & Suites by Marriott San Diego Carlsbad – Start your morning with a nourishing breakfast before heading out to spend an unforgettable day at Legoland California, which is set only 30 min walk from the hotel. The accommodation offers board games, bikes, and an outdoor fireplace.
BONUS 2: Best VRBOs for families
If these family hotels in San Diego are not really your piece of cake, or maybe they're too expensive, then I might've found the solution for you! I've found some amazing vacation rentals in San Diego which offer lots of space and all the facilities you'll need for your stay!
As always, I've ordered them from most to least expensive, and the prices start from US$230 to US$1,880: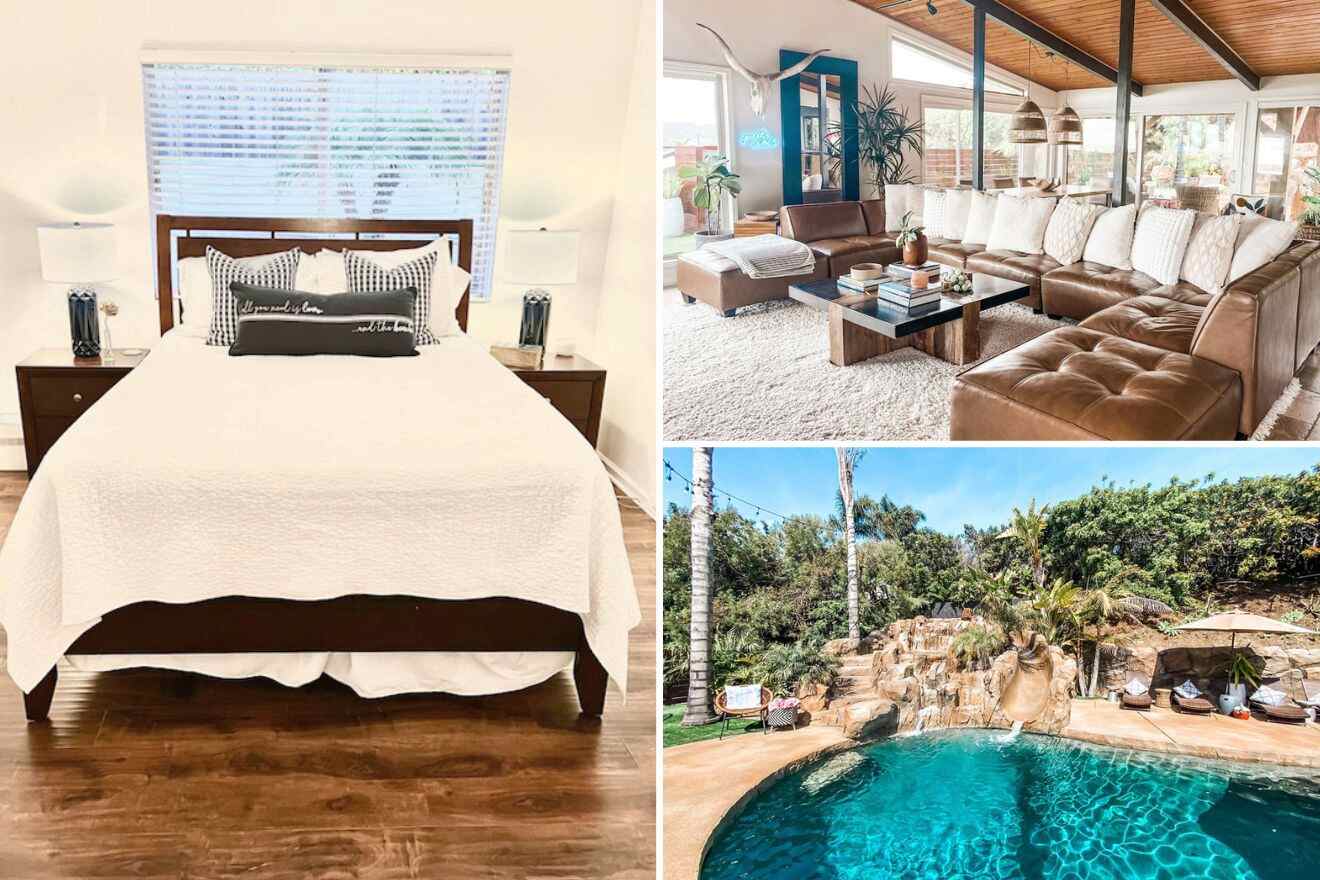 La Jolla Home – You're going to love this fabulous vacation rental that can fit up to 10 people! The La Jolla accommodation has an outdoor pool with sun loungers where you can relax when you're not exploring San Diego, a little patio, and a game room that the kids will love!
Casa de Solis – Catch a scenic sunset by the swimming pool of this amazing home in San Diego North Pacific Beach that has space for 12 people! The accommodation has a modern design, and it offers some great city views! It also offers beach chairs, outdoor furniture, and games.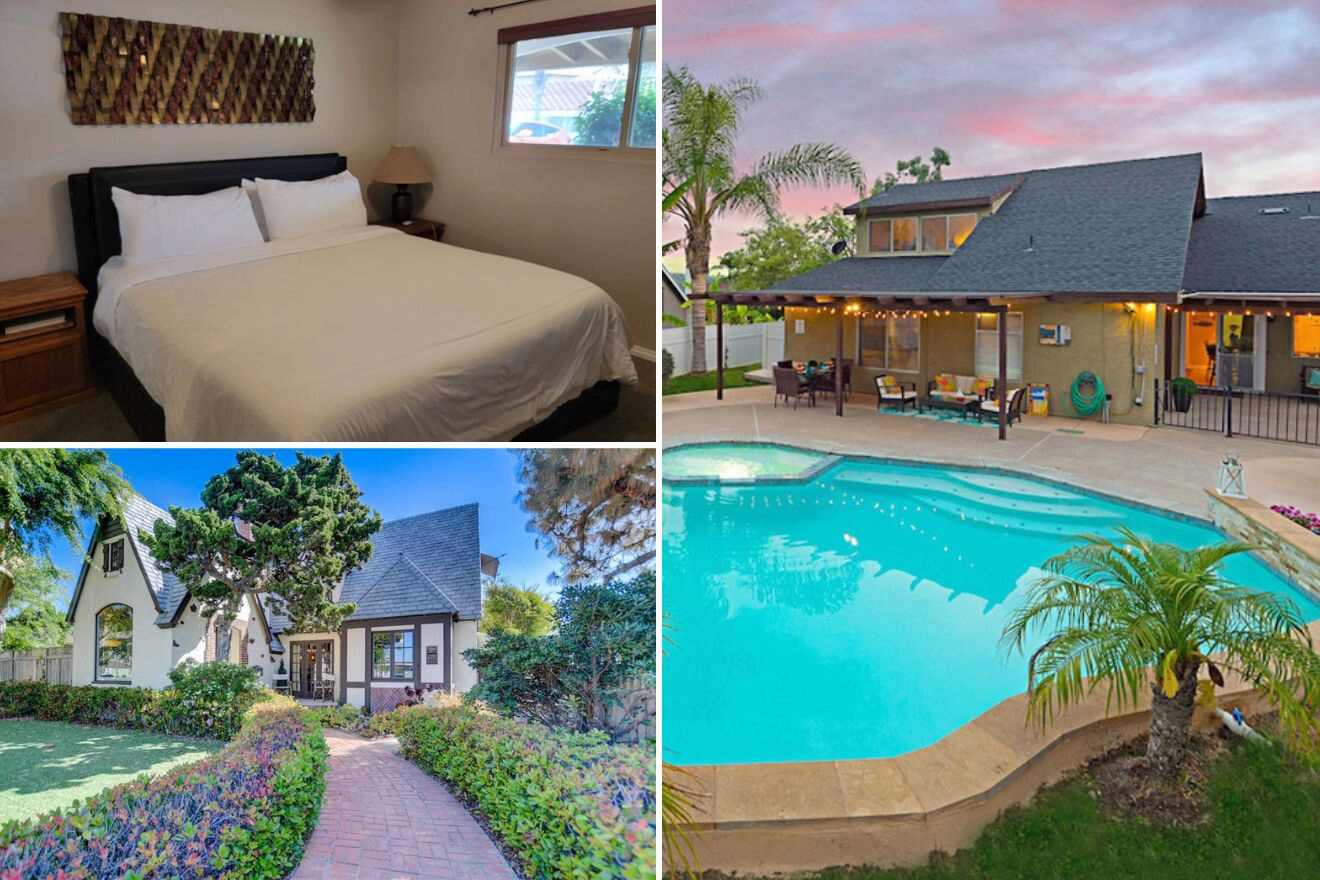 Storybook House – What a cute vacation rental near Mission Bay! It looks like a home from a fairytale! The accommodation has space for 14 people and a really cute interior design! You'll find here all the facilities you need for your stay, like a kitchen, a heated pool and a smart TV.
Family Home – What an amazing place to stay in San Diego! This home can fit up to 10 people, and it comes with lots of space, a billiards table, and a hot tub. During your stay in La Vista, you can relax by the fire pit and play in the game room.
Cool Pool House – Boasting a big backyard where the kids can play, and you relax or swim in the pool, this amazing Carlsbad accommodation offers space for 9 people and lots of cool facilities like a fire pit, a game room, and a ping pong table.
FAQs about kid-friendly hotels in San Diego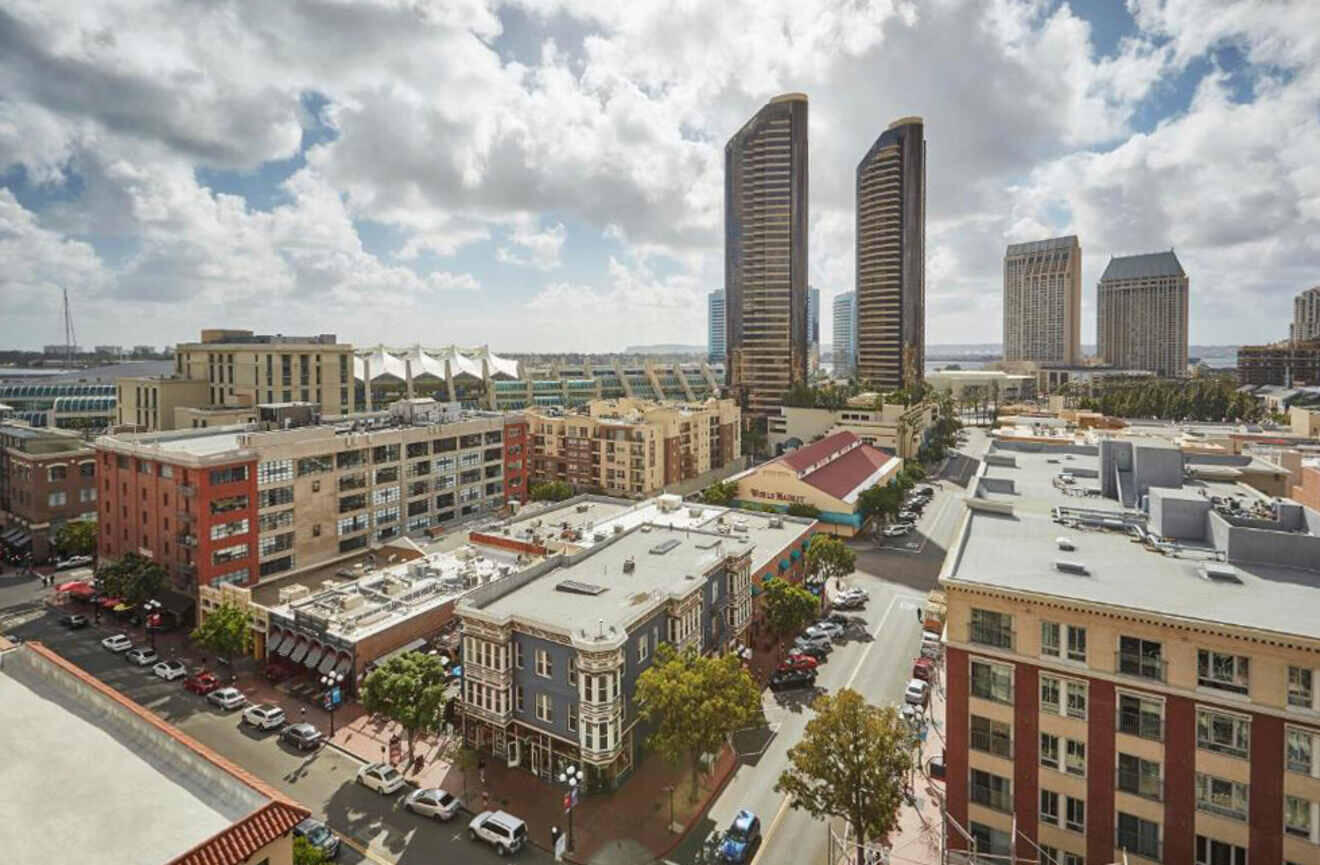 Conclusion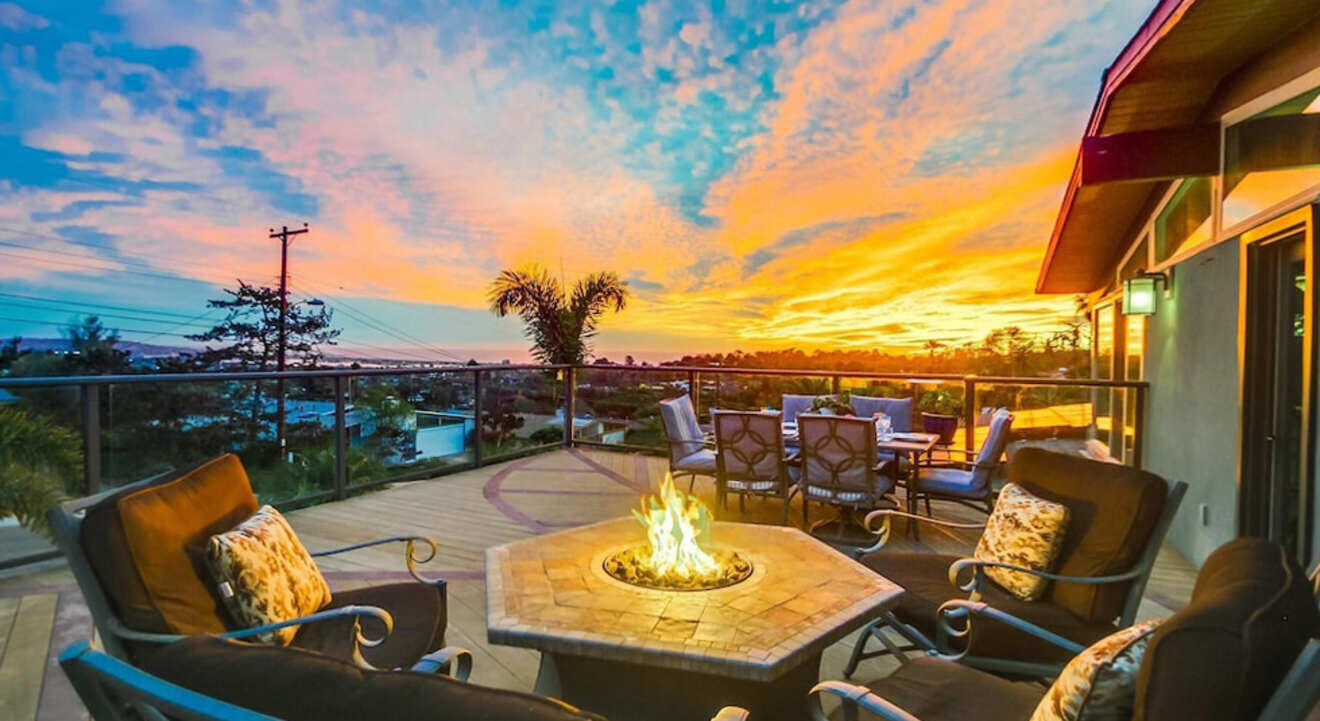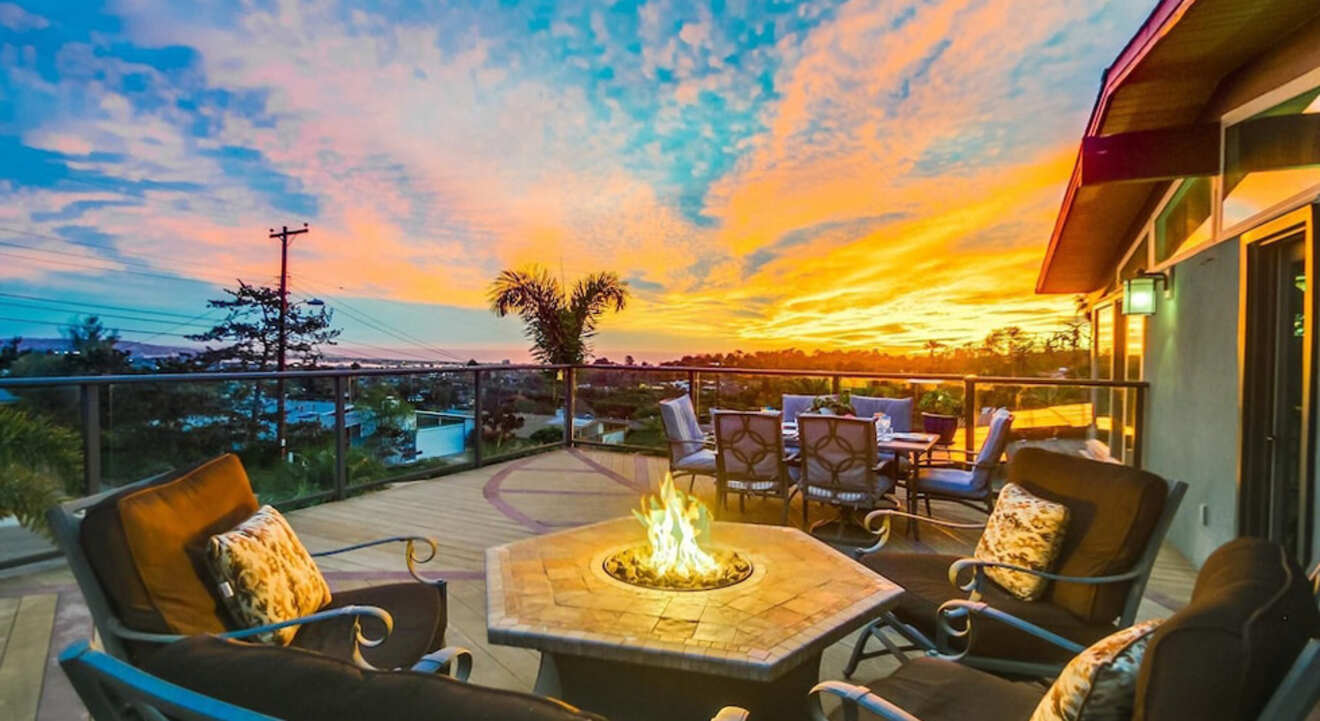 Can you ever get tired of San Diego? I think not! This place is filled with surprises!
And today, we got to see some of the best kid-friendly hotels in San Diego, plus 2 bonus sections with the top hotels near Legoland and some great vacation rentals in the city!
That may seem like a lot but trust me, it's better to have a wide range of options, especially when traveling with the whole family.
However, if you're feeling a bit overwhelmed by all the options, you can check out my 2 favorite options below, maybe it will help you make a decision:
Fairmont Grand Del Mar – One of the best luxury hotels that comes with 4 outdoor pools, tennis courts, and a restaurant.
Pacific Terrace Hotel – The best family hotel for the mid-range that offers some great ocean views, an outdoor pool, and family rooms.
Such amazing places!
I'm super happy you stayed until the very end! Now I'm sure you're more than ready to start planning your trip to Southern California! And if you've got any questions along the way, you can always drop me a comment below, and I'll make sure to answer them ASAP!
Safe travels,
Victoria
---
Pin it for later!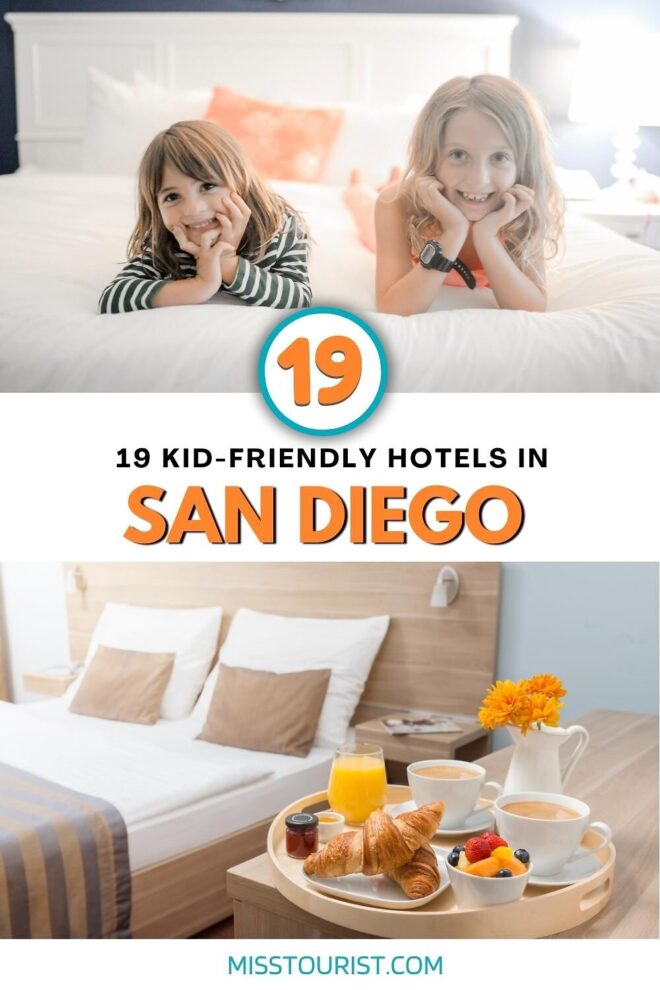 Pin it for later!