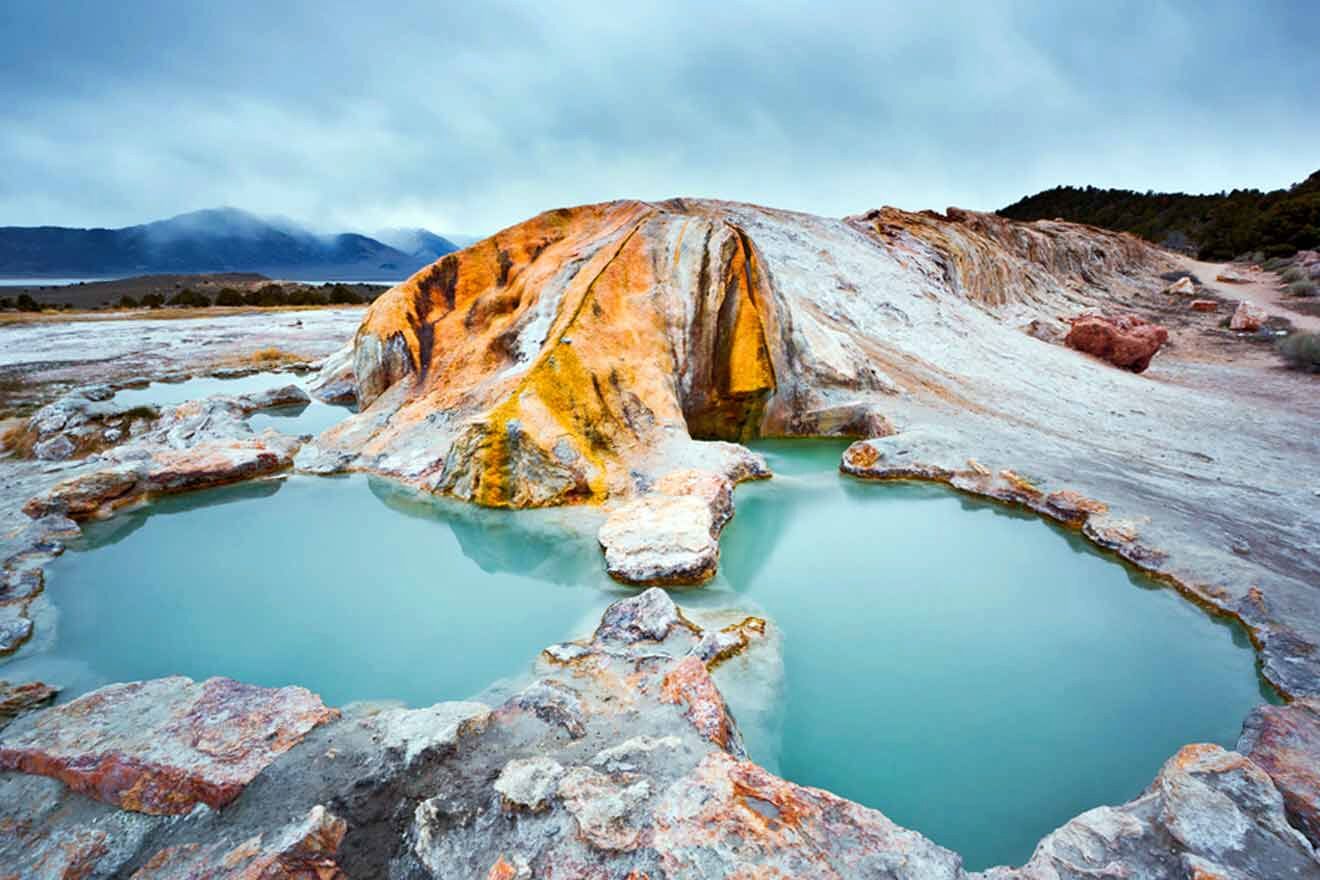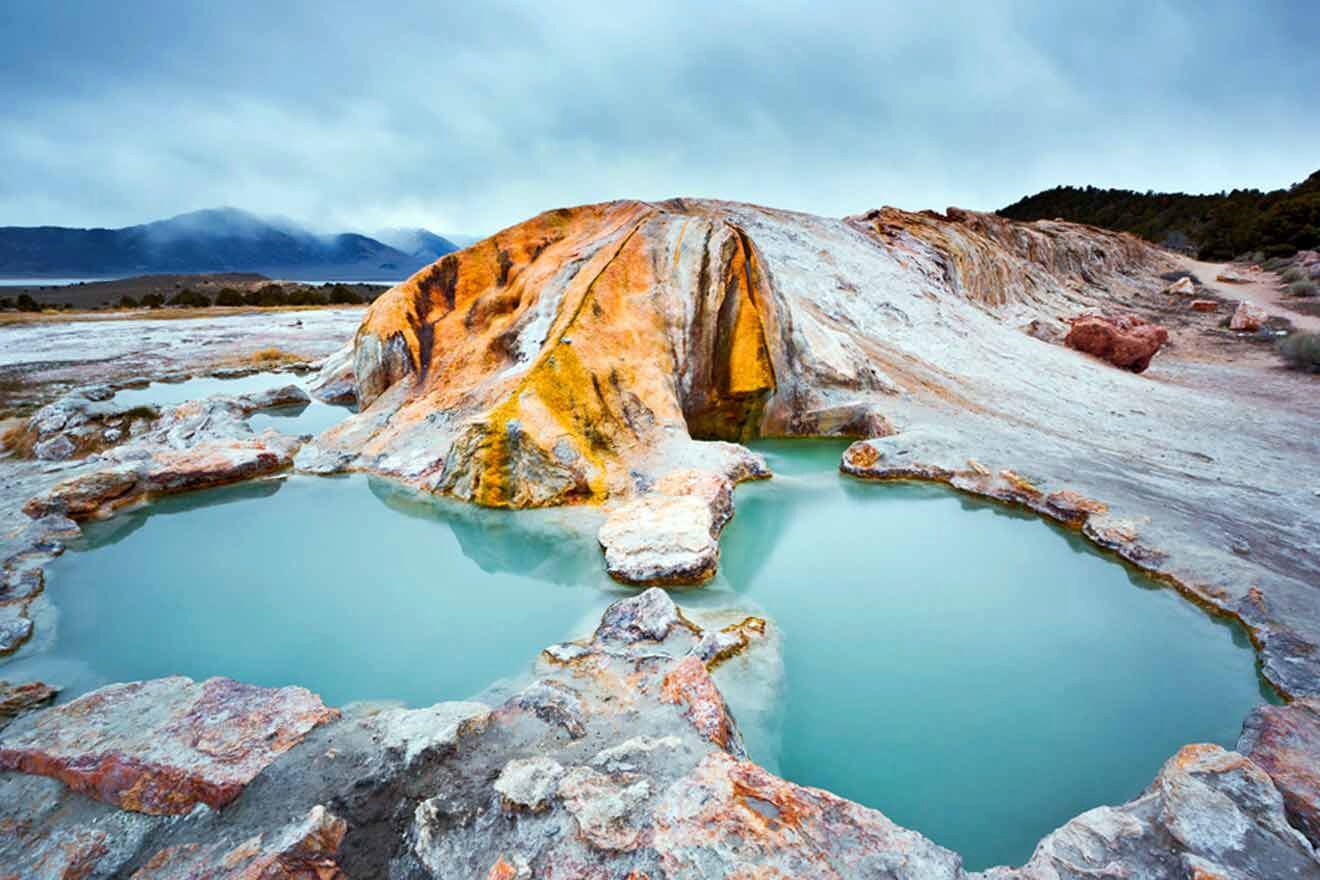 Have you ever plunged into a natural hot spring? Well, now you can on your next trip to Northern California because we're lucky enough to see them everywhere here!
As a native California girl and holistic health enthusiast, I love finding all the best hot springs near me and taking a plunge.
Whether you're looking for a hidden natural hot spring in a remote setting or going to a spa offering man-made hot springs using locally sourced mineral water, I'm going to share some of the best hot springs in Northern California.
If you are in a hurry
Spending the weekend in Northern California and want an all-inclusive healing experience in nature? I recommend checking out these wellness retreats for the best experiences.
Here are the main things to book in advance:
And here are the best hotels: The Fairmont Heritage Place Ghirardelli Square (luxury), The Ritz-Carlton, San Francisco (mid-range), Club Donatello (budget)
And here's a map of all the hot springs you'll visit in Northern California!
1. Relax for the day at Wilbur Hot Springs
Wilbur Hot Springs is a tranquil getaway from the city lights and allows you to embrace nature and the positive effects of natural mineral waters! The mineral waters are the main attraction of the resort. The rare mixture of minerals in the waters makes this resort stand out differently than other hot spring resorts in Northern California.
Whether you're looking to relax during the daytime or nighttime, you can sit back and relax in the waters under the stars or listen to the sound of birds chirping in the early mornings.
Wilbur Hot Springs Nature Preserve is another notable aspect of the resort, with the notable Fountain of Life Geyser which is naturally carbonated, eventually forcing water through the geyser vent. It's quite a natural phenomenon and worth checking out.
While you're here for the day, I recommend staying at Hampton Inn & Suites in the Santa Rosa wine country. It's a 2-hour drive from Wilbur Hot Springs and a quieter, more tranquil experience to match the relaxed energy you'll feel at the hot springs. If you're staying for the weekend, visit Indian Springs Calistoga for its highly popular mud bath rituals!
Wilbur Hot Springs have private tubs, a clothing-optional policy, and a phone-free policy. Due to the location being quite remote, I recommend booking and confirming your reservations in advance to avoid any inconveniences. Walk-ins are not available!
PRICE: Resort day use is US$59/person on weekdays and US$65/person on weekends and holidays.
2. Visit the charming Orr Hot Springs Resort
Orr Hot Springs Resort is located in Mendocino country near Ukiah. The springs flourish on c. 30 acres (over 10 hectares) at the headwaters of Big River.
There is a long history here which makes this resort quite interesting! The history is said to be between Prodo Native Americans and unfriendly neighboring tribes, where they agreed to co-exist peacefully on the land (that Orr Hot Springs rest on) and stop at the old Northern California hot springs every once in a while whenever the tribes would pass through treks and trading expeditions.
Turned into the charming resort it is today, people can come to relax in the waters as many did long ago. It features locally milled redwood cabins from the 1930s, surrounded by the forest, lush gardens, and a calm atmosphere.
PRICE: Rooms start at US$260/night
3. Uncover pristine mineral pools at Wild Willy's Hot Springs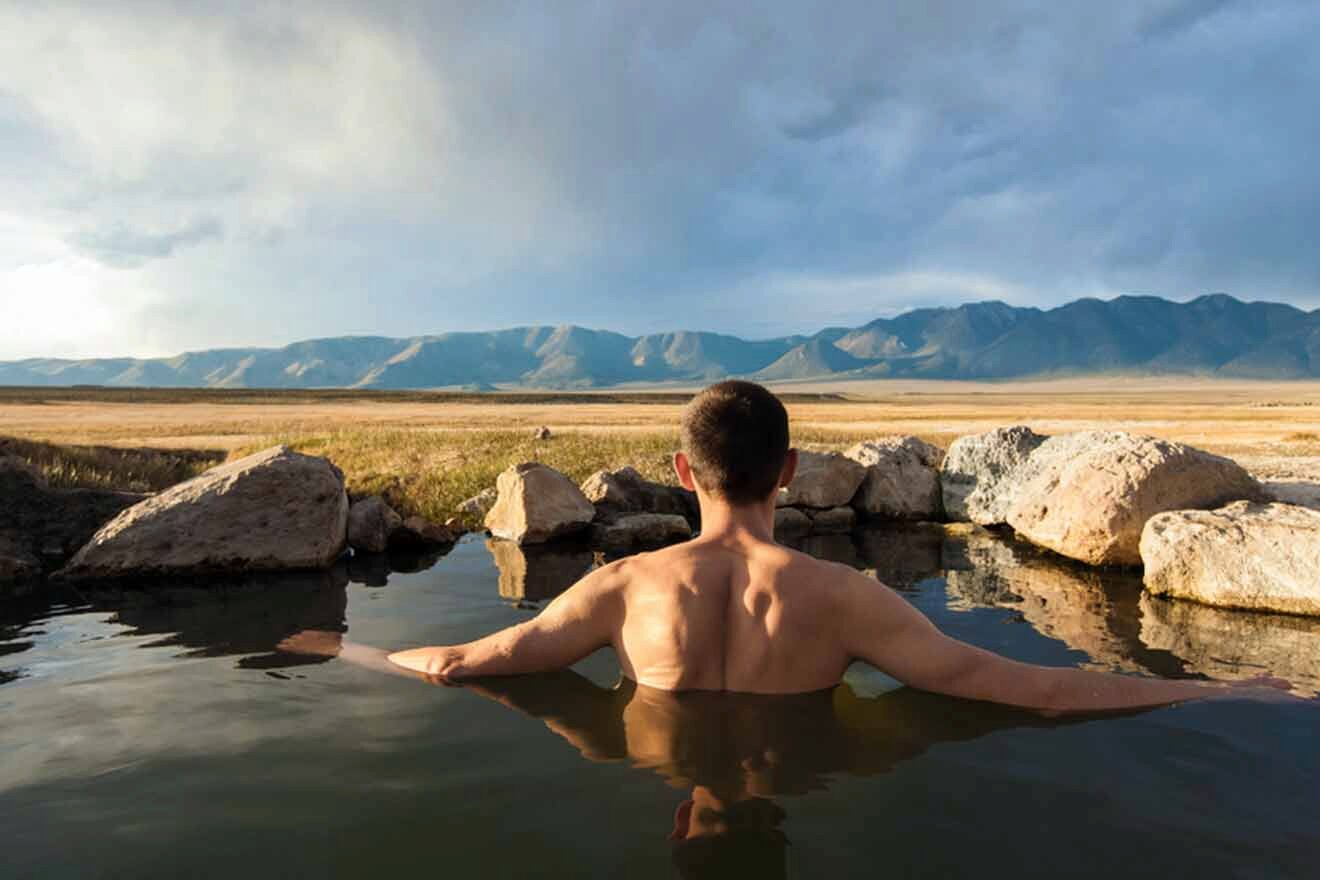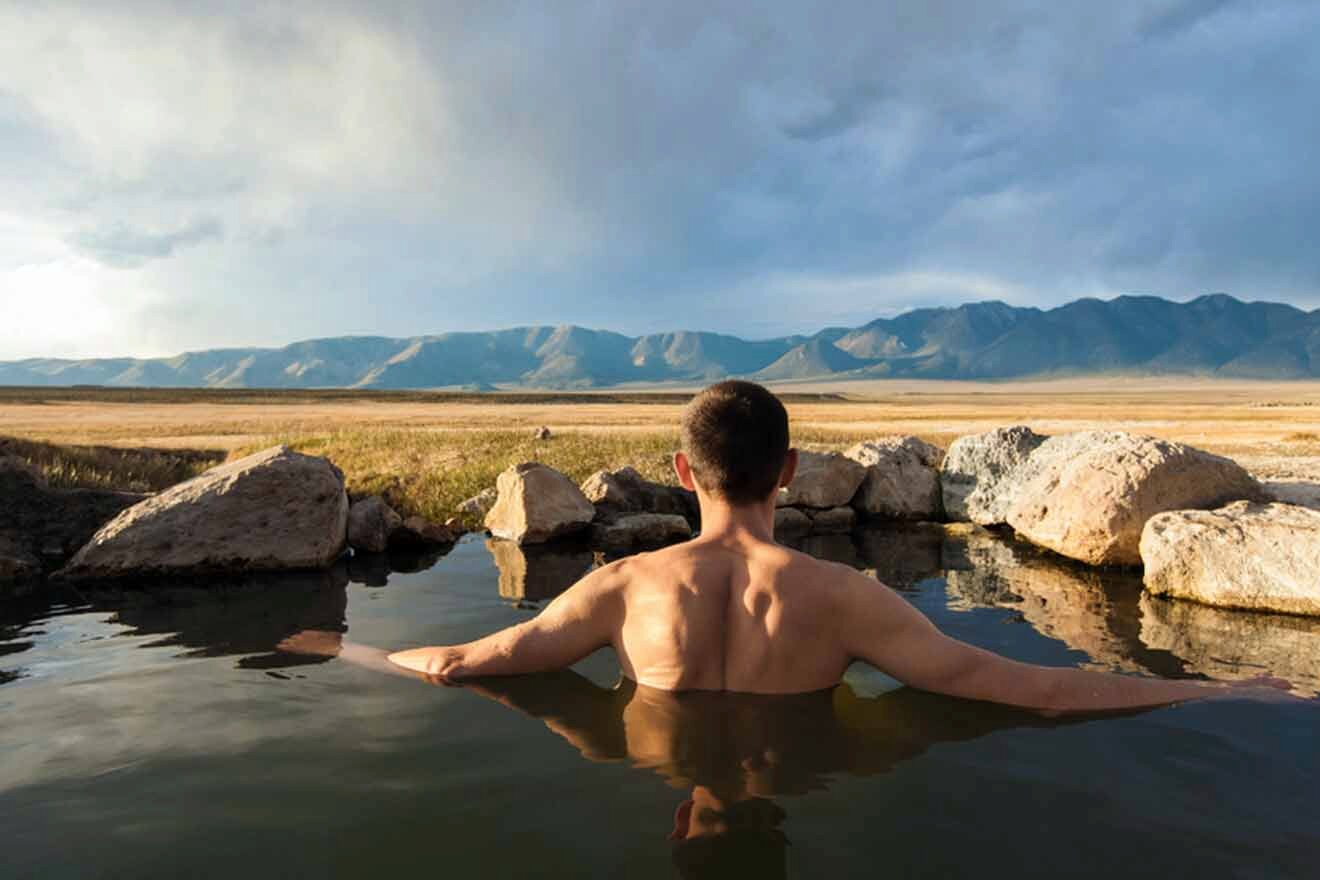 Wild Willy's Hot Springs has 3 private pools that are about 1 – 2 feet (less than 1 m) deep and are surrounded by the picturesque views of Mammoth Mountain! It's free to visit and very popular, so I recommend going early in the morning to avoid the crowds.
Wild Willy's Hot Springs has a clothing-optional policy, so keep in mind that there will be nude bathers. There is a cold pool, too, which is great if you're more sensitive to the steaming hot waters. Dispersed camping is also allowed, so hop in your RV and make a weekend out of this experience!
The management will frequently lock the front gate if it's too snowy outside, so be sure to check the weather beforehand and avoid coming during snowstorms.
NOTE: Be considerate of others! There's a huge chance you'll be sharing the pool, so be aware of your surroundings, and don't play loud music or take up too much room or time in the pools.
Slowly drive through here for a little over a mile (c. 2 km), and you'll find a small parking lot. Once you make it to the front parking lot, take a short walk along a gravel road and wooden boardwalk path straight to the hot spring.
PRICE: Free
4. Take the easy way to Travertine Hot Springs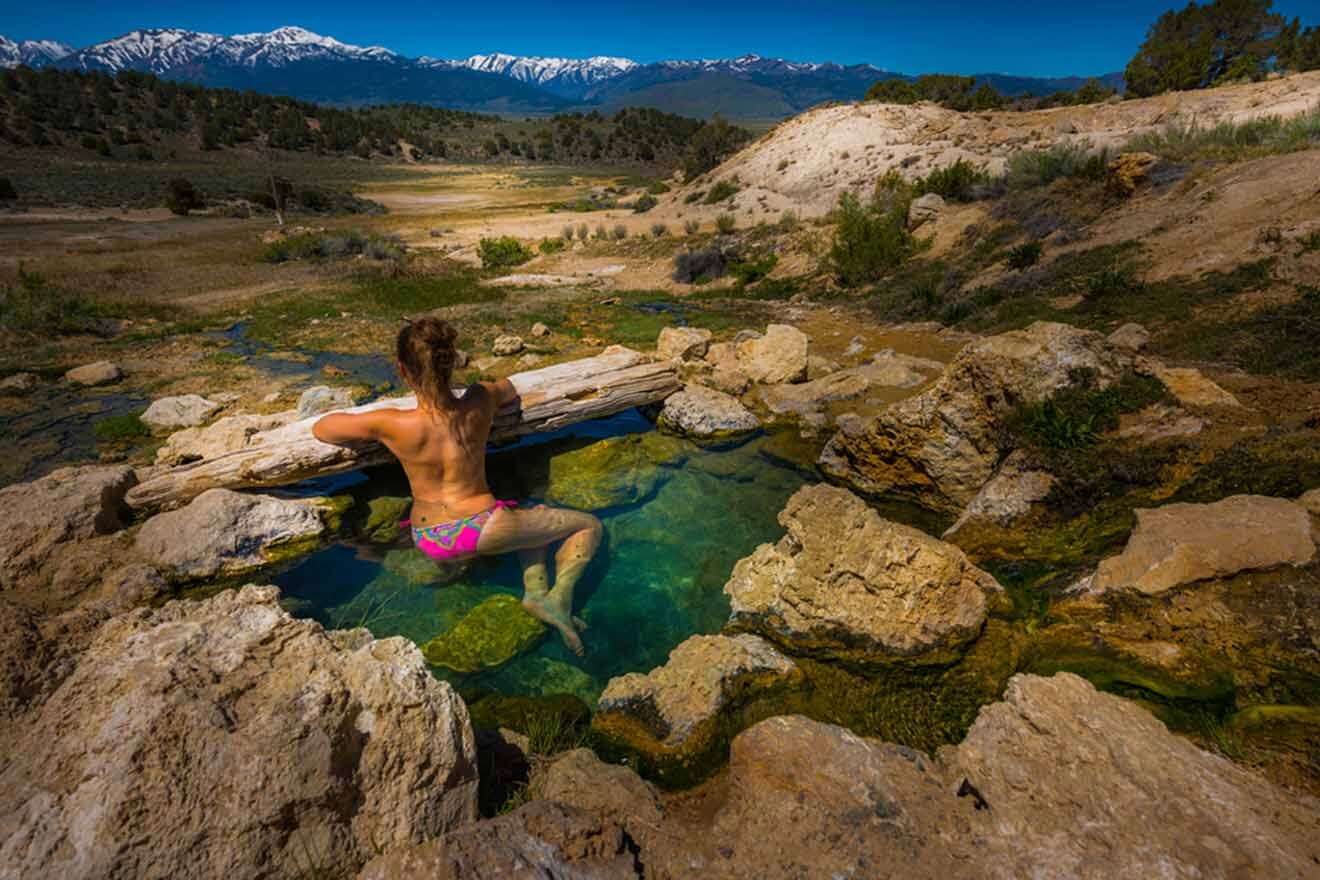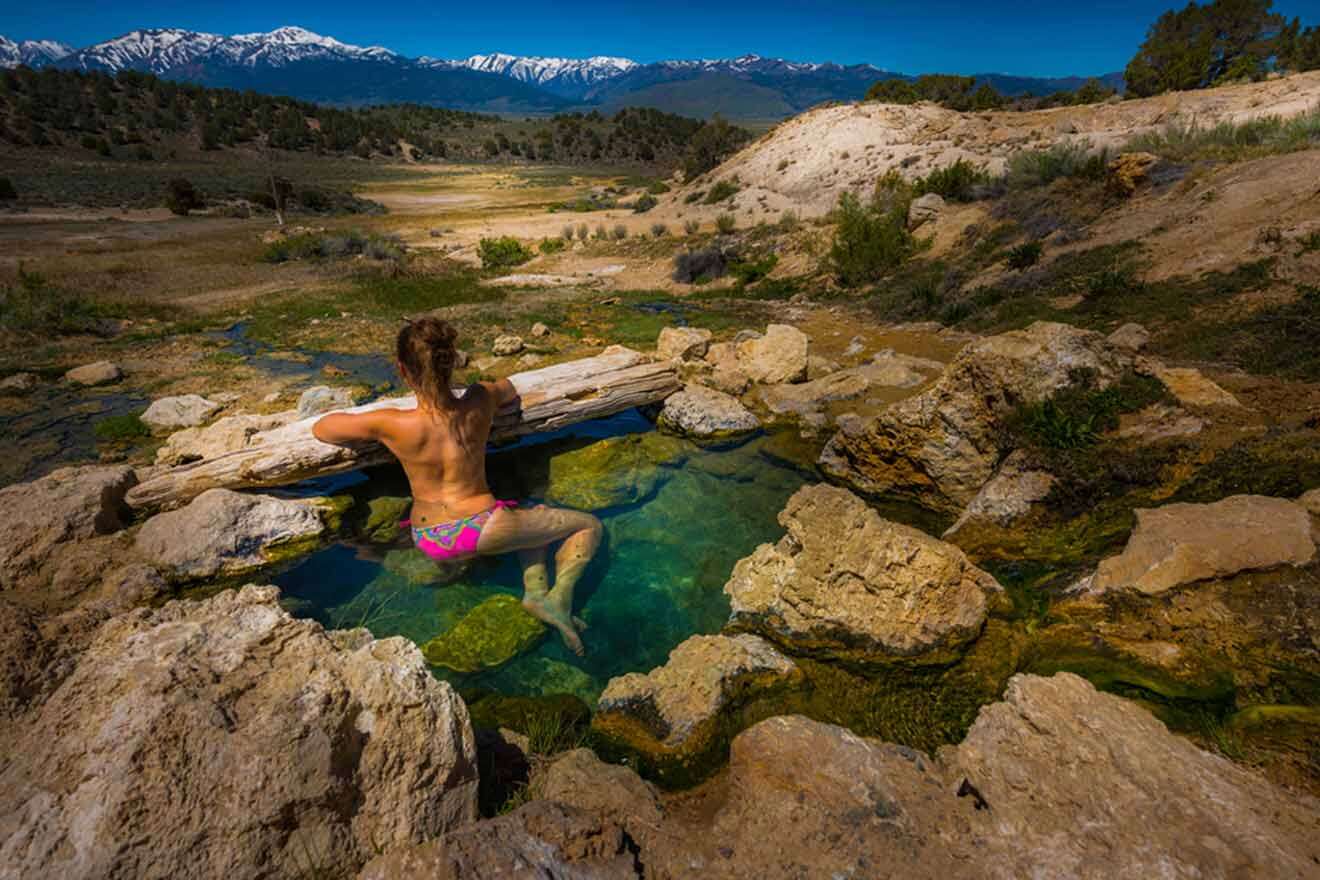 Travertine Hot Springs is another must-visit hot spring located right on Highway 395 and has a "clothing optional" policy, just like Wild Willy's.
These are all-natural hot springs, but the water is sourced a bit differently (similar to Buckeye Hot Springs, #7 on our list). The source flows down the rock formations and makes its way down the pools below at over 100° F (38° C). The biggest difference between this one and Buckeye is instead of having a relaxing creek, you have panoramic views of the Eastern Sierra Nevada Mountains!
NOTE: The water has a brownish tint and a strong sulfur odor that will stain your clothes and leave a smell that's difficult to wash off, so I recommend wearing something you don't mind tossing afterward.
PRICE: FREE
5. Dip into Champagne Baths at Vichy Hot Springs
Located 2 hours north of San Francisco in Mendocino County is Vichy Springs! It is another historic, charming 167-year-old resort offering cute cottages for accommodations, their famous "Champagne Baths" (which are essentially carbonated mineral pools), an Olympic-sized swimming pool, and lots of open green space to enjoy.
Many famous names have stayed here since the discovery of their natural springs over a century ago. Their mineral baths are available to guests who are staying at the resort and hotel or to day guests who are looking for a relaxing spa day without the accommodations.
You can spend the entire day exploring their 700-acre property (c. 280 hectares), with their day passes which include access to the Champagne Baths, swimming pool, walking and hiking trails, and picnic tables. For day use, they are open from 9 AM to 5 PM.
DAY USE PRICE: US$35 per person for 2 hours or less, US$55 per person for 3 hours or less. See their website here for all their rates!
6. Get the ultimate luxurious experience at Esalen Institute
The Esalen Institute is located right on Pacific Coast Highway 1, where the land and the Pacific Ocean meet. The Big Sur Campus is one of the most beautiful hot spring resorts on this list. Unlike many others, it's located on the coast with stunning ocean views while you soak in the pristine mineral waters.
Anyone can come to this institute for workshops, massages, cliffside natural hot springs, and an overall serene experience. I recommend checking out their Healing Arts Day Pass – Massage to access their coastal mineral pools and a 75-minute massage. The pass gives you access to their facility from 8:30 AM to 8 PM. Limited passes are available every day, so make sure to plan ahead and book your spot.
This is quite a luxurious experience, so it's great for couples or solo travelers looking to spoil themselves a bit (because you deserve it).
DAY PASS + MASSAGE PRICE: US$357 per person
7. Chill by a creek and hot springs at Buckeye Hot Springs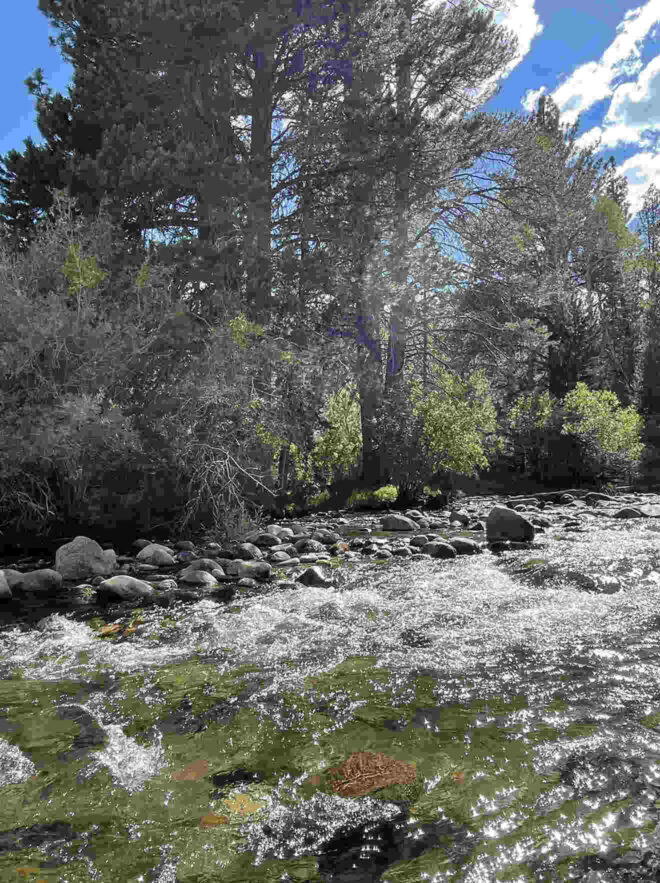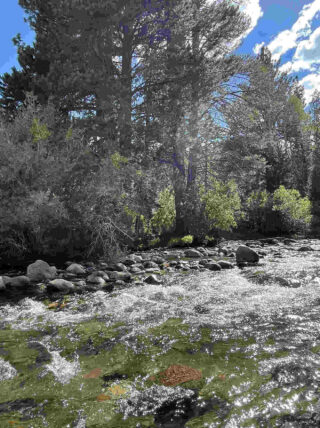 Buckeye Hot Springs is a hidden treasure in Humboldt Toiyabe National Forest! The best and most unique part of this hot spring is the warm water curtain that flows over a hanging cliff over California hot springs.
It's fun to sit under the water and enjoy the warm dribble, although it can get hot, about 100 – 110° F (38 – 43° C). So make sure to test the water on your hands before thinking about submerging your head under the cascade!
Once you enter the parking area, you'll find the 2 "Upper Pools" hot springs down a steep hill. These are pretty warm and offer some of the best views. If you go further down and reach the creek at the bottom of the hill, you'll find 4 more beautiful California hot springs to lay in, soaking in the sacred mineral waters. The 1st pool is the largest and warmest, and the temperature decreases as you move downstream.
This hot spring is open year-round, but I recommend going in the spring and fall for the best experience. With 6 pools, the Buckeye Hot Springs can hold about 30 people in total. Each pool is about 2 feet (less than 1 m) deep making it easy to sit in. This area also has a clothing-optional policy, so I don't advise bringing the kids.
TIP: If you're looking for a longer wellness experience rather than a short day at the pools, look into this wellness retreat in Mt. Shasta. This retreat is for ladies only (sorry, guys) and offers the most healing exercises and experiences led by an expert (yoga, meditation, journaling, etc.).
If you need more time or want to go more toward the Yosemite Valley area, you can check out this experience, too.
PRICE: FREE
8. Get pampered at Sierra Hot Springs
Sierra Hot Springs is a resort and retreat center that takes pride in its hot springs! For about 150 years or so, this area has been home to spring water that has been a healing force in the community time and time again.
Here are all the hot springs available here:
The Temple Dome Area is the main hot spring pool, with water being 105º F (41º C). The area is beautifully decorated inside an enclosed dome with stained glass and skylight views of the sky (beautiful at night, too)! There's also a dry sauna where you can jump in right after the mineral soak.
The Meditation Pool is about 98º F (37º C) in an outdoor pool! If you liked the skylight views at night in the Temple Dome Area, consider jumping in here for an unreal view of the starry skies.
The Phoenix Baths are private tubs that are changed out with fresh water between every person that uses them (the only place I've ever heard of doing this)! This is a first come, first served experience, so expect to wait a bit at the other pools before jumping in.
Sierra Hot Springs is a clothing-optional resort, so keep that in mind and bring your children at your own risk!
NOTE: Children are allowed in the Phoenix Baths at any time during the day (24 hours), only between 11 AM – 6 PM. Click here for more information regarding child policies.
9. Take a hike to Deep Creek Hot Springs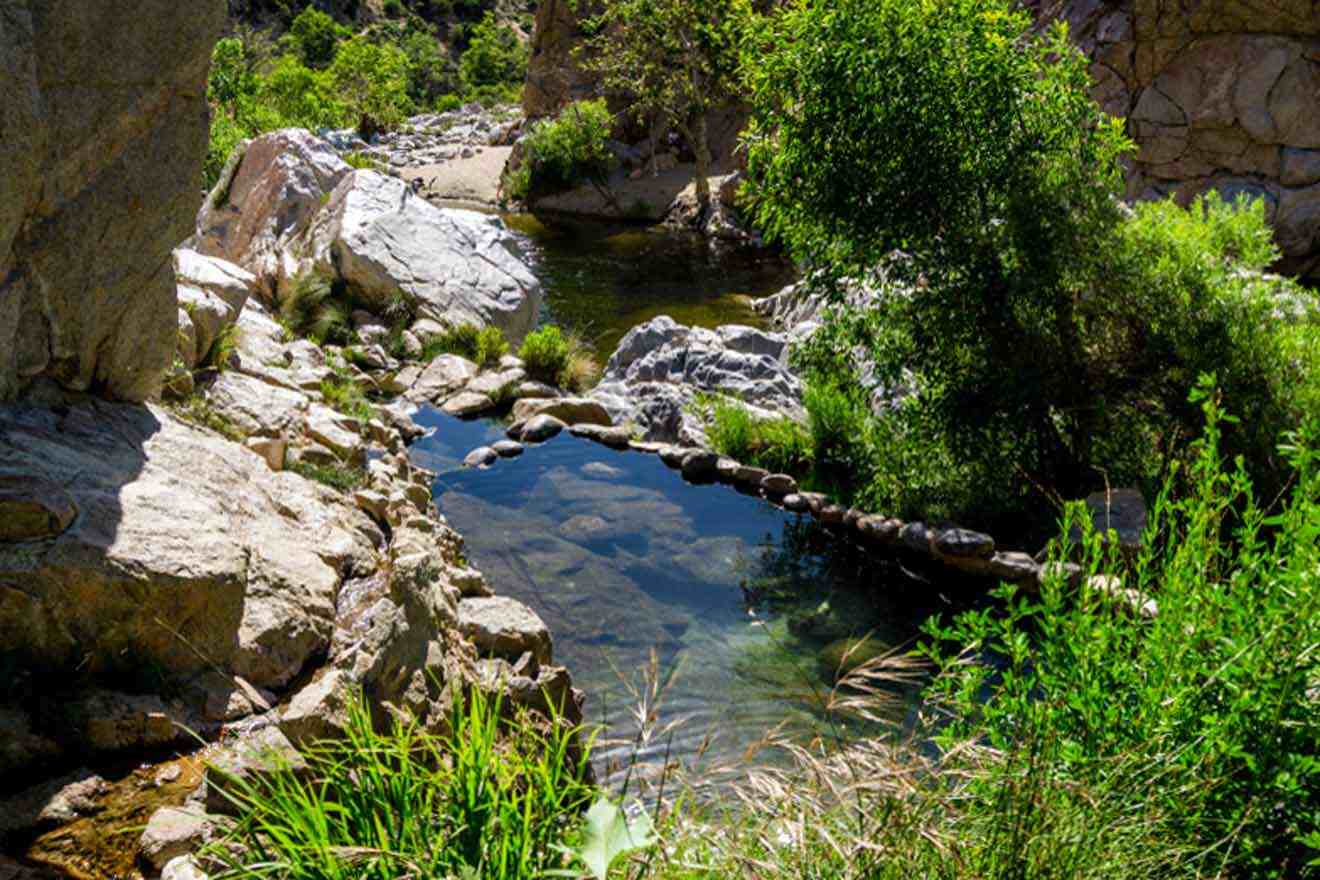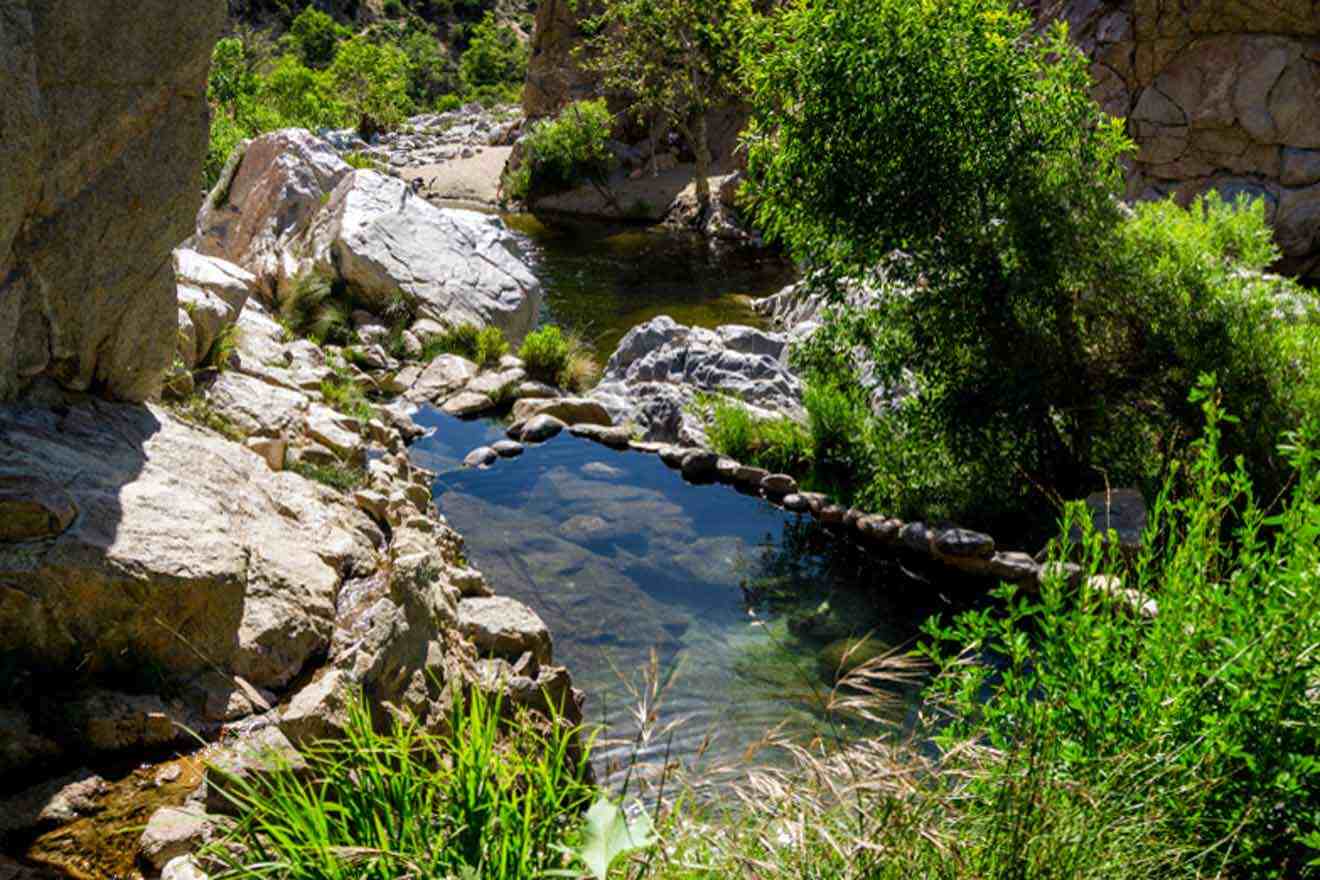 The Deep Creek Hot Springs is considered valuable at a national level due to the diversity of wildlife habitats and flora in this area within the San Bernardino National Forest. The famous Pacific Crest Trail passes through the Deep Creek Hot Springs, where hikers can experience this unique landscape for themselves!
The actual hot spring itself is accessible from the Deep Creek Hot Springs Trail, a short 4-mile (6 km) round trip hike. Clothing is optional, so be prepared to see nudity (or visit a resort for more privacy).
PRO TIP: Bring plenty of snacks and water because the nearest town isn't for several miles! I also recommend bringing trash bags to take your trash with you when you leave.
PRICE: US$10 entry fee per person
10. Uncover family-owned pools at Benton Hot Springs
Benton Hot Springs in the Old House and Inn at Benton Station is where tranquility and hospitality meet! They claim to have the purest hot springs in the world, with their natural mineral waters hitting about 140° F (60° C).
The family-owned and operated business has 12 private tub sites that you are welcome to use overnight while you soak under the starry skies in their remote location. Their 1,255-acre (c. 510 hectares) property has created lifetime memories for guests who stayed in their "historic miners" cabins for over 95 years.
I'm sure you know this by now, but all these resorts offer mineral pools fed by natural hot springs nearby. Although they aren't directly at the source, you still get the same amazing effects (just a more luxurious experience).
TIP: Visit in the springtime for the most beautiful views of snow-capped mountains and fewer insects in the surrounding area.
I recommend making use of the entire area and stunning views outside by staying at their camping site next to their hot tubs. Hot tub site rentals for camping options start at US$85/night. RV hookups are available.
FAQs about hot springs in Northern California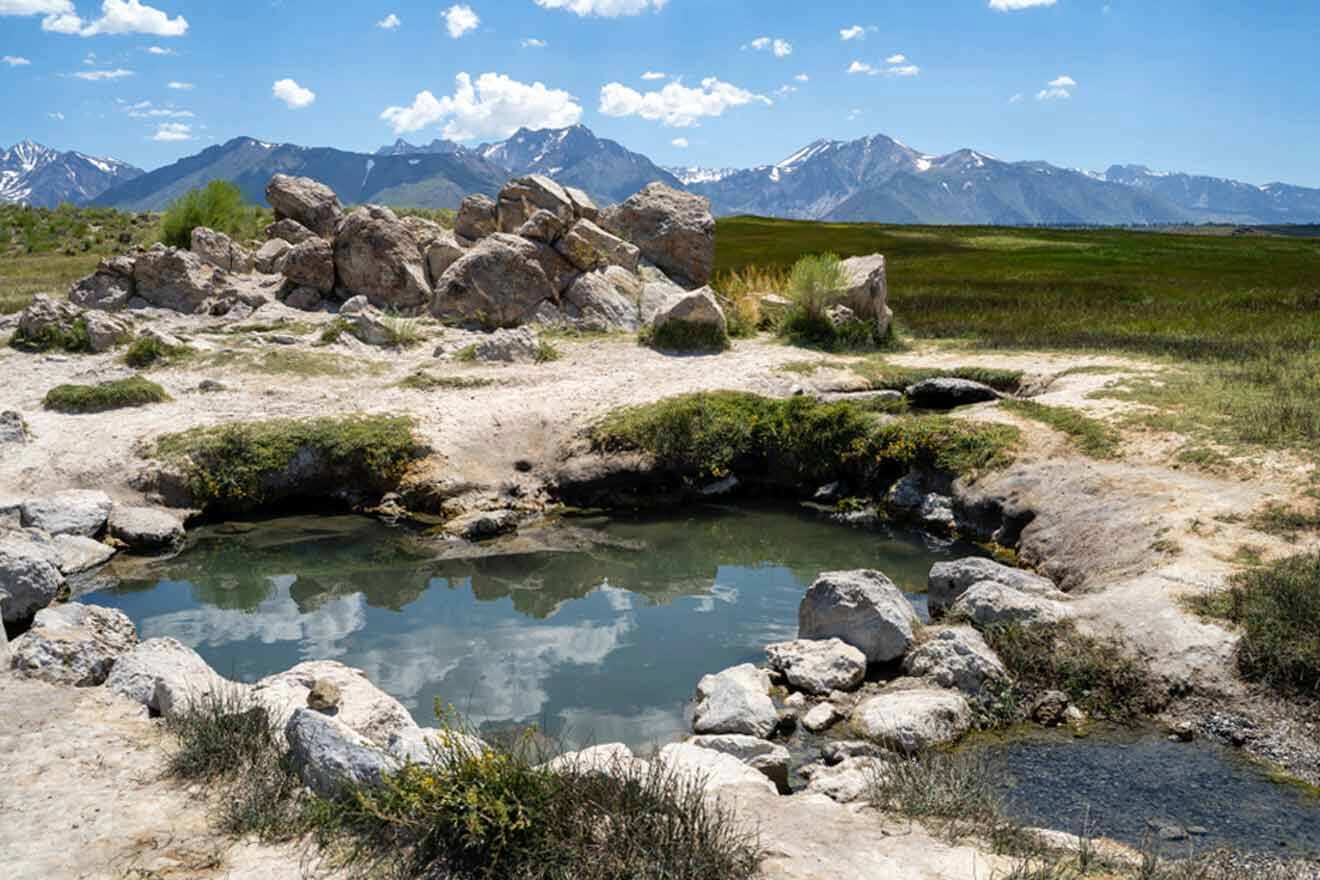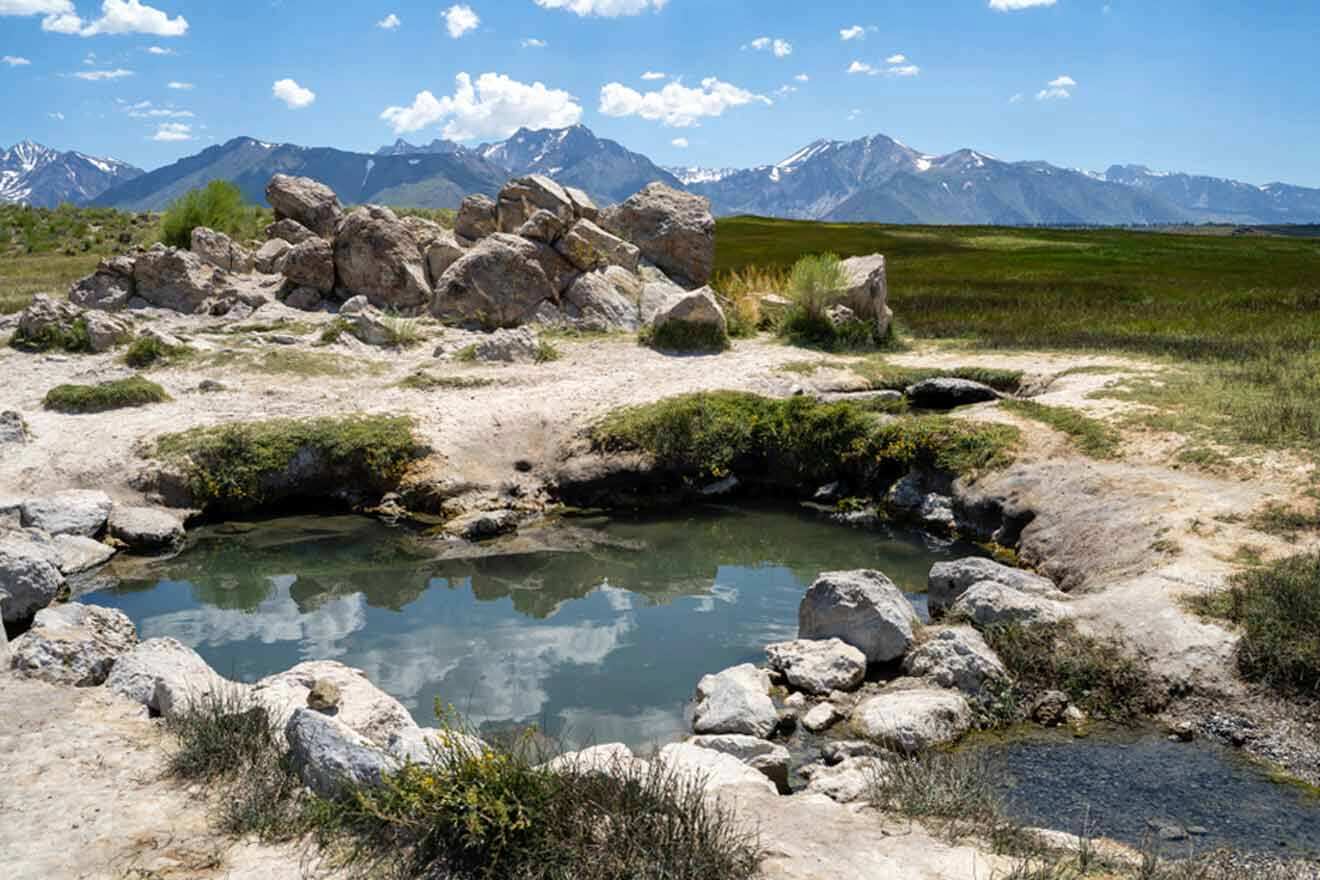 Conclusion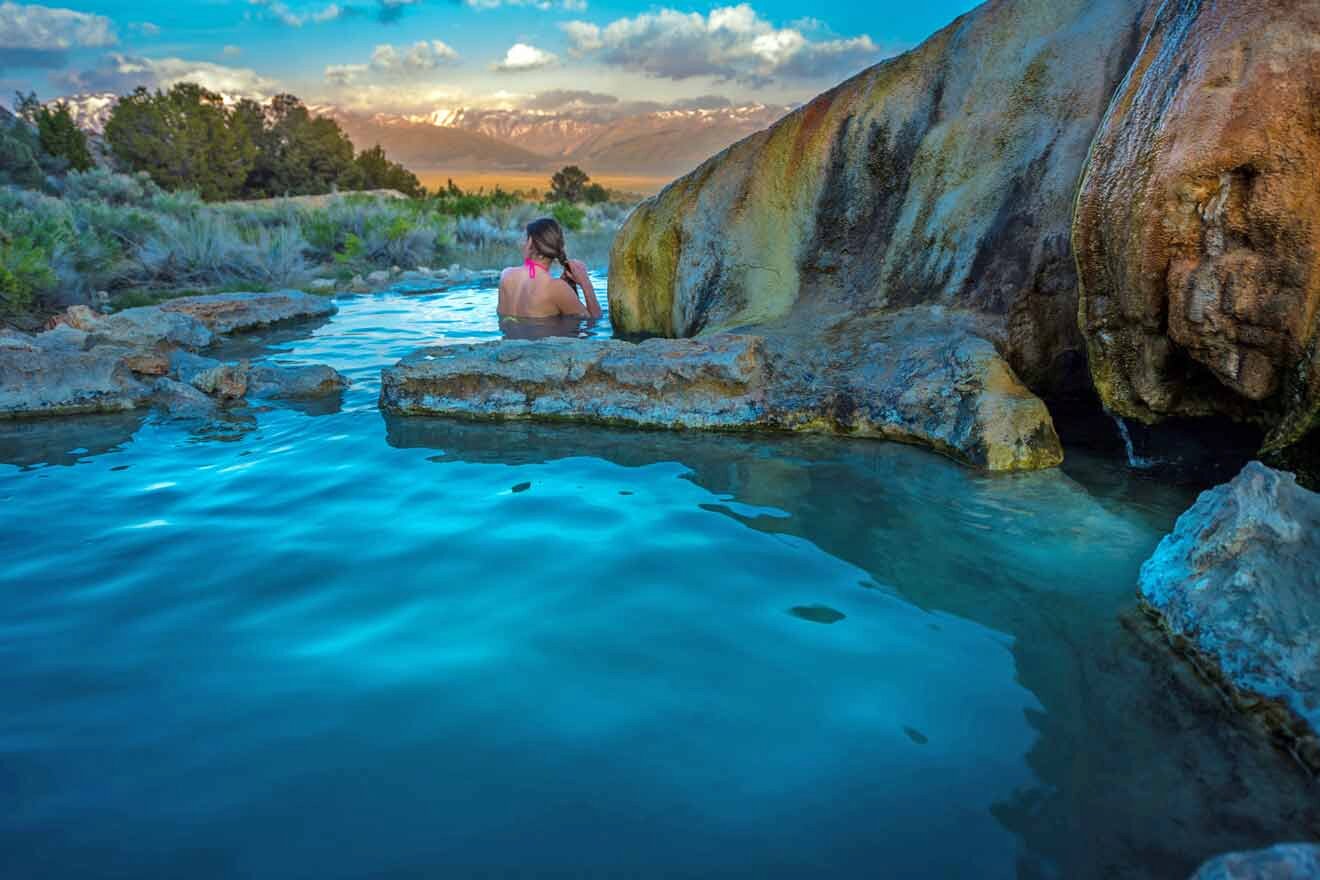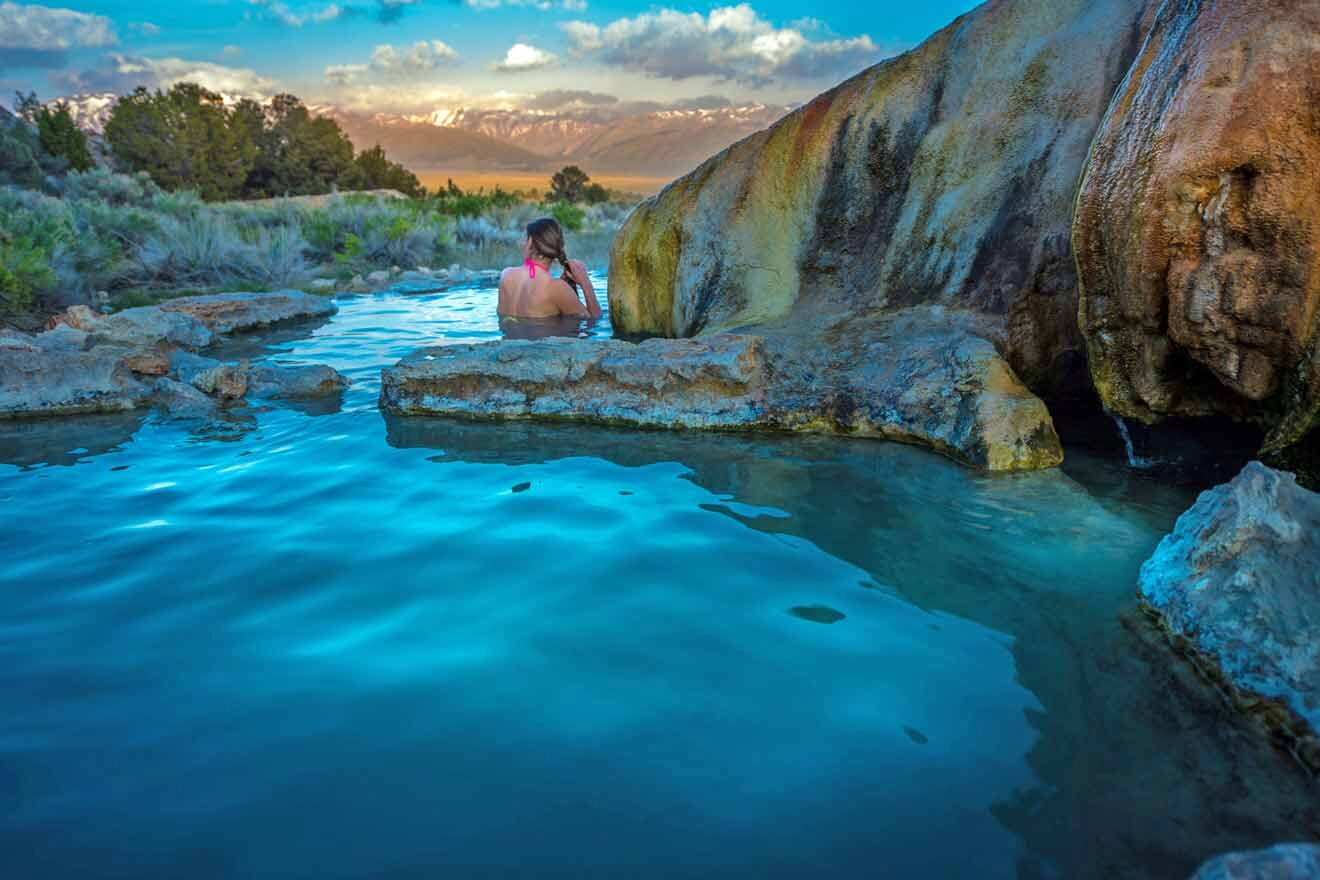 Convinced yet? I don't know about you, but I'm ready to plunge into a hot spring ASAP!
My personal favorites from this list are Wilbur Hot Springs and Deep Creek Hot Springs because I'm a fan of the beautiful forest views (Mammoth Lakes) that Wilbur Hot Springs offers and the hike that takes me to the pools at Deep Creek Hot Springs. A mix of luxury, nature, and tranquility is all I need to have the perfect hot spring experience!
Do you prefer a natural hot spring or a hot spring resort? Let me know what your favorite hot springs are in the comments below!
P.S. If you plan on visiting a hot spring in Northern California anytime soon, don't forget to plan your excursions in advance, stay safe, and come prepared!
Xoxo,
Esabel S.
---
Pin it for later!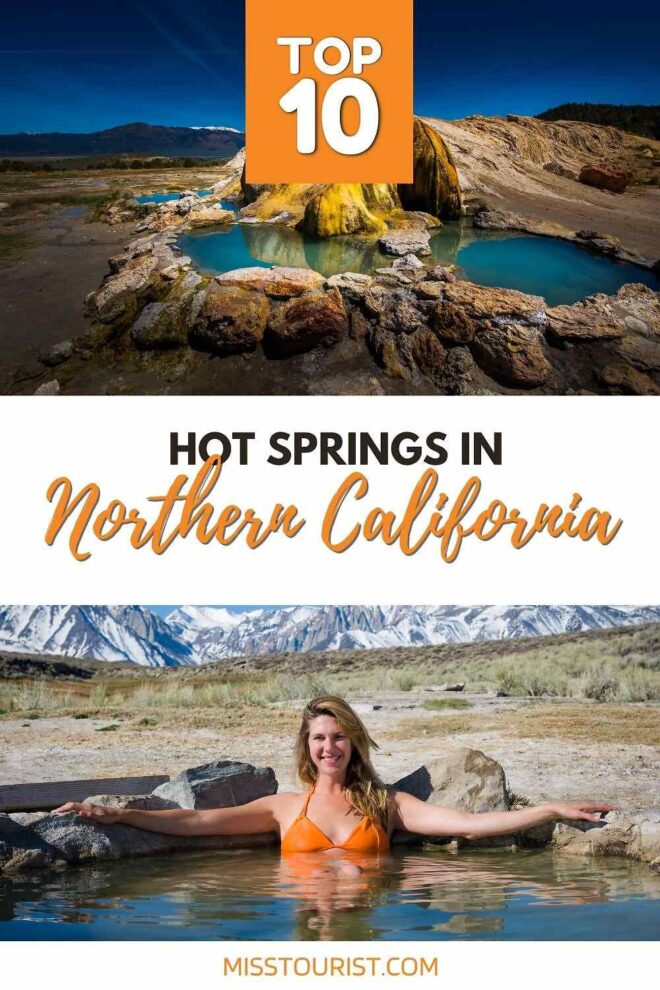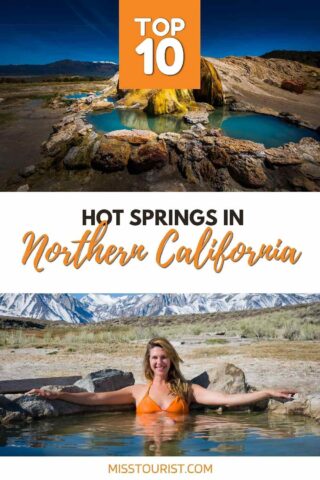 Pin it for later!