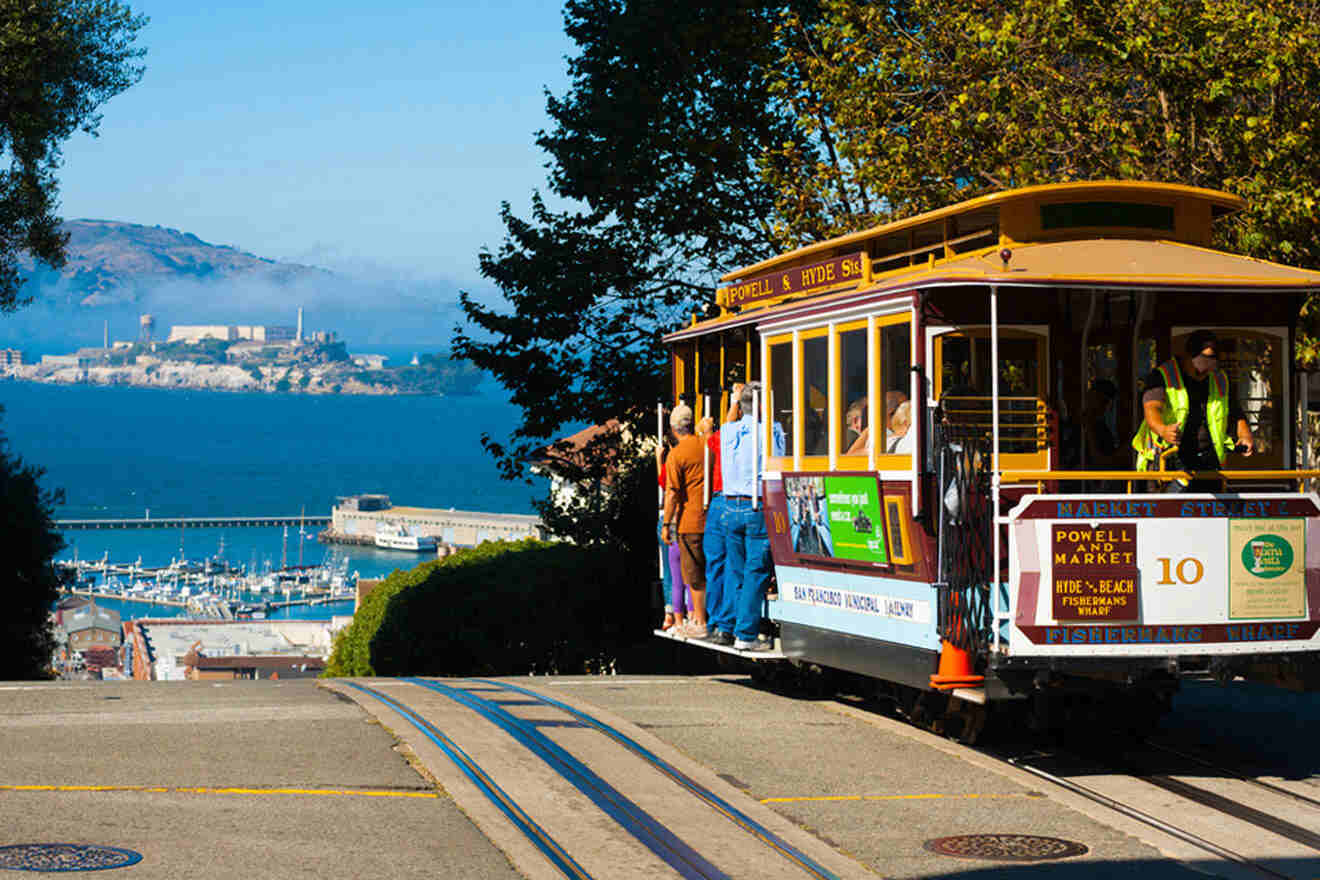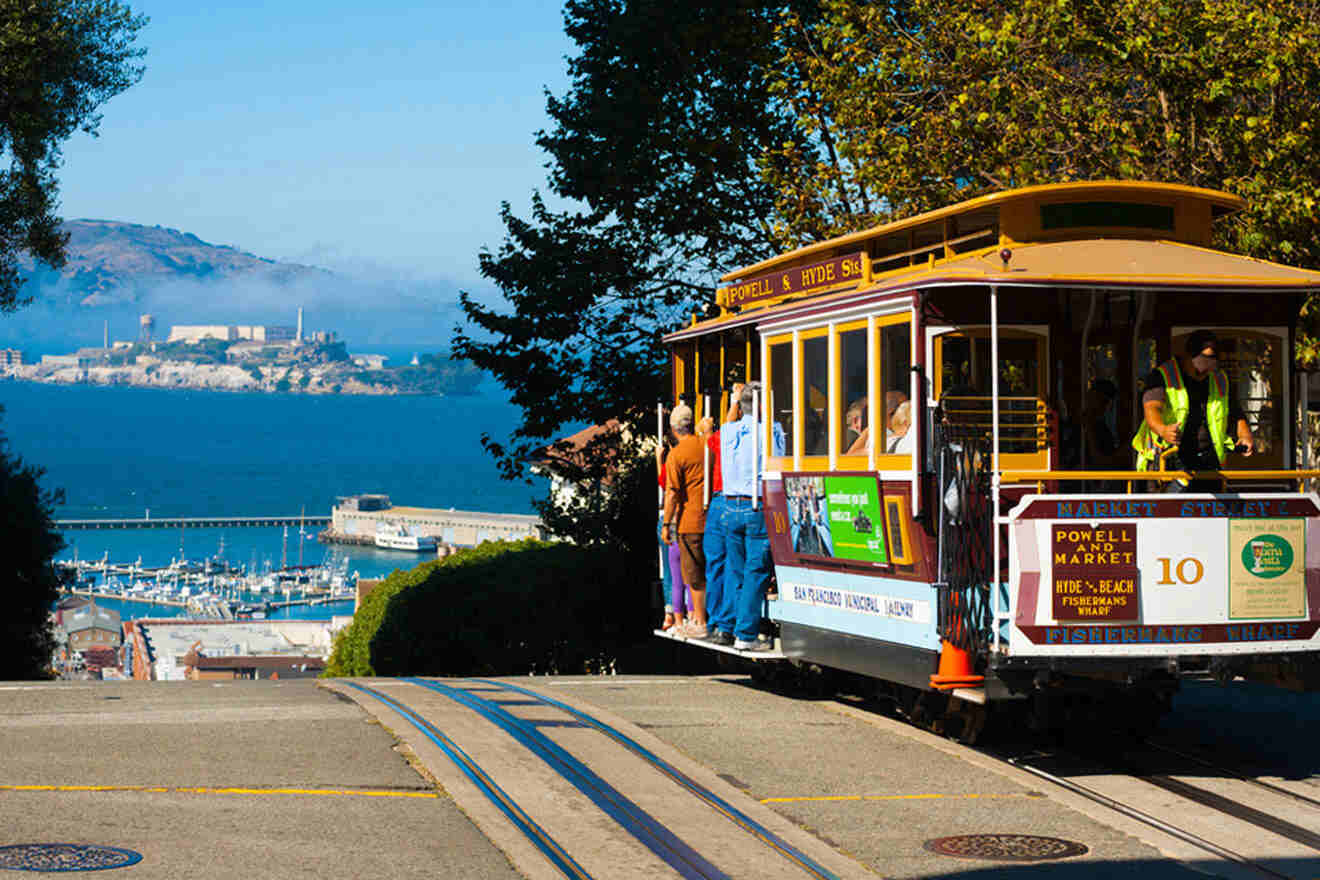 San Francisco is one of California's most popular tourist destinations with a plethora of cultural attractions, historical significance, the infamous Alcatraz Island, and one of the world's most beautiful bridges, the Golden Gate Bridge!
With that said, there's SO much to do when you visit San Francisco. In fact, if you only have 2 days in San Francisco, it can get quite overwhelming, but it's completely doable!
Growing up in California, I've been to San Fran multiple times on an extremely limited time crunch and have learned a thing or two about how to manage my time in the city. The good news is I'm here to help, so you don't have to struggle. I'll also be making note of some of my own tips and tricks that will add even more value to your trip along the way.
P.S. Pack some comfortable walking shoes because we're going to be doing a TON of walking during your stay in San Francisco! You can thank me later in the comments 😉
Let's get started!
If you are in a hurry
Because you only have 2 days in San Francisco, it's completely understandable if you choose to explore the city with a tour guide rather than risk anything going wrong and losing time along the way.
Here are the main things to book in advance:
And here are the best hotels: The Fairmont Heritage Place Ghirardelli Square (luxury), The Ritz-Carlton, San Francisco (mid-range), Club Donatello (budget)
Day 1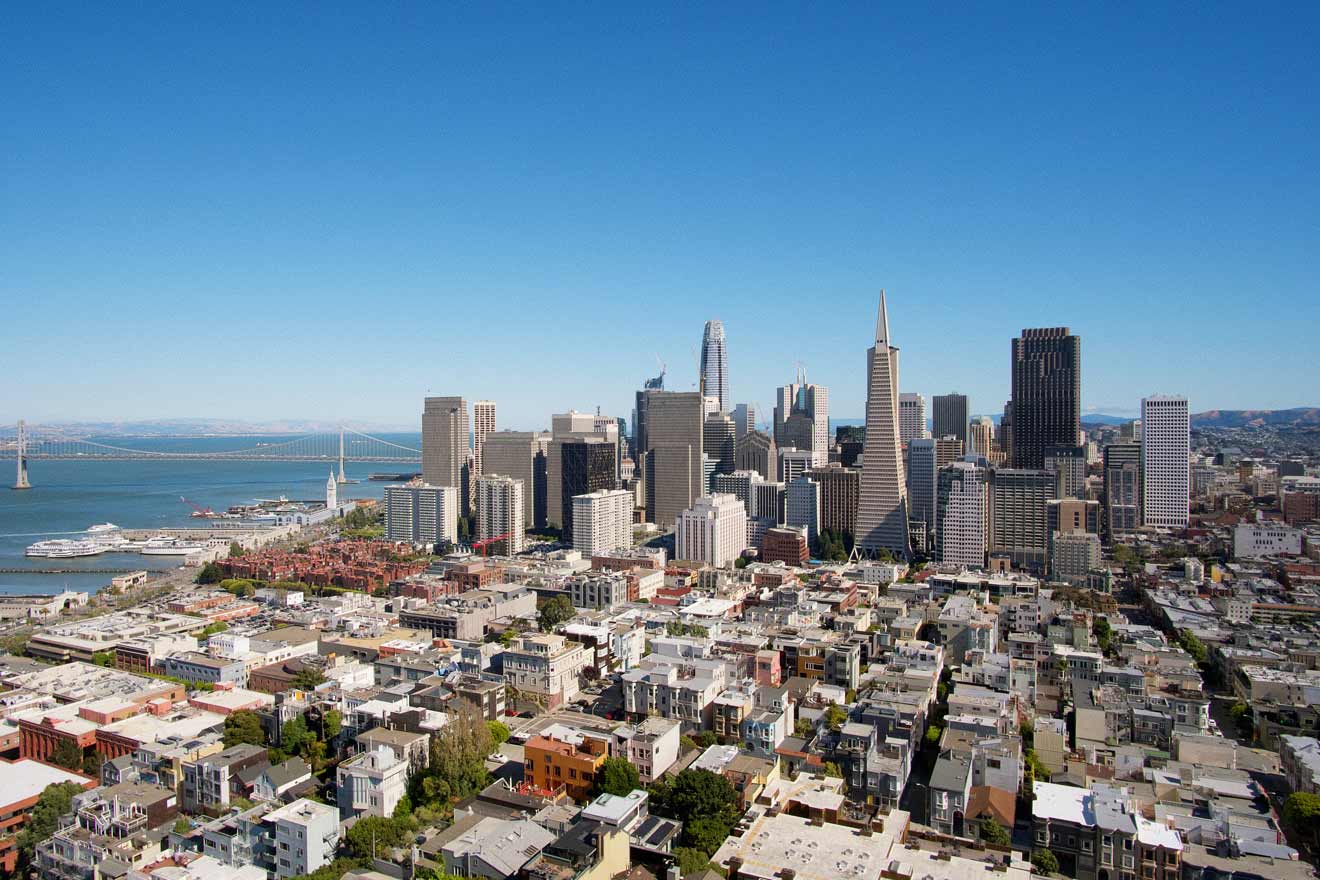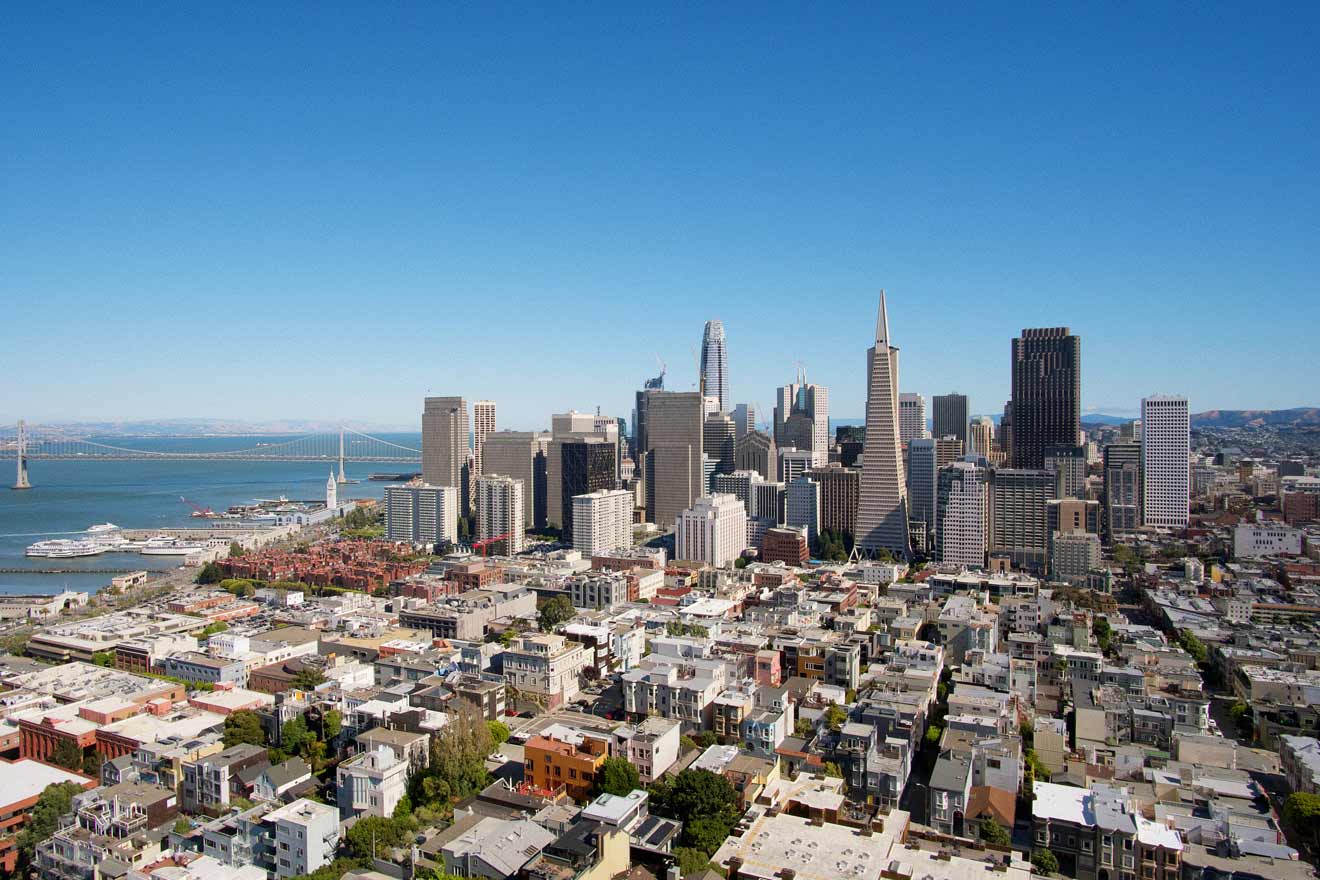 Your first-day itinerary in San Francisco is going to be filled with sightseeing, exploring the city's best food, taking a walk by the iconic Golden Gate Bridge, and option detours to San Francisco's best museums for kids.
I intentionally made the first day filled with the easiest and most relaxing activities since you just arrived in San Francisco and might not have the energy to go full-force head-on quite yet.
Here's your first-day San Francisco itinerary and a map of all places you'll visit:
1. Ride San Francisco's cable cars toward Fisherman's Wharf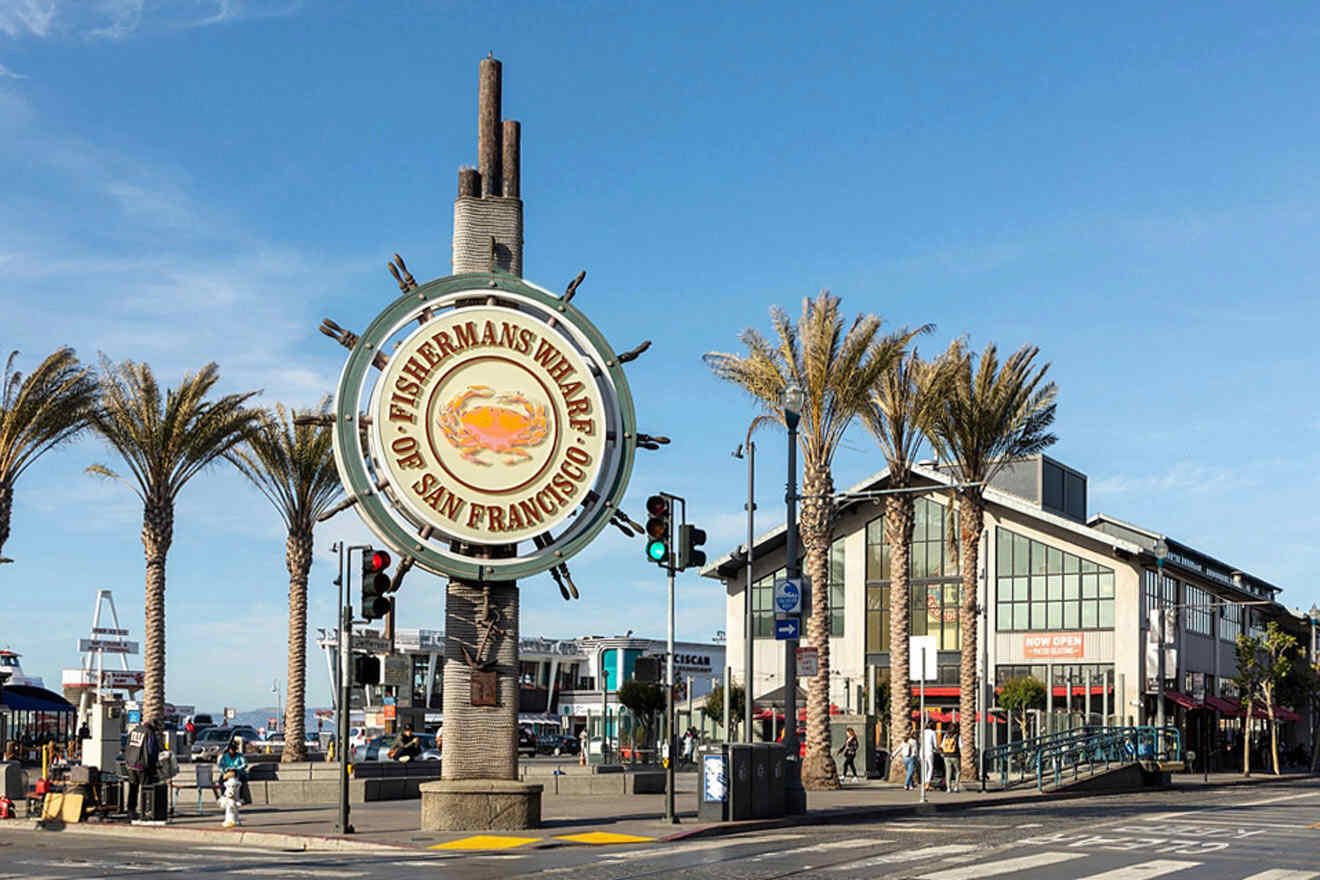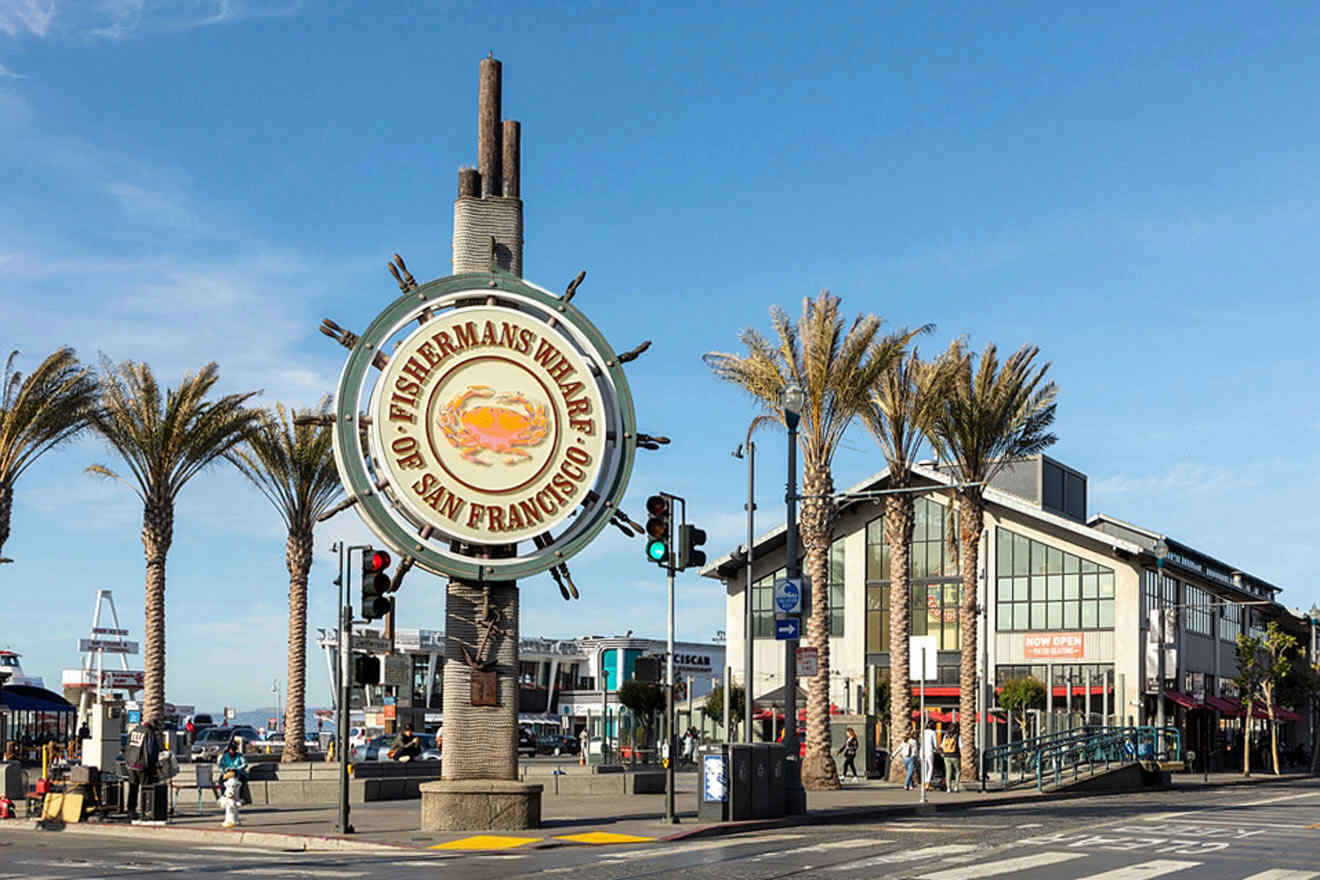 First things first: ride San Francisco's world-renowned cable cars! These cable cars are the last manually operated cable car system in the world and one of San Francisco's most iconic landmarks. Now, they're considered a National Historic Landmark and kept in tip-top shape for visitors like you to visit and ride through the city.
It's super easy to find and book tickets to ride cable cars through the MuniMobile app. It's important to keep in mind that the app won't allow purchases to be made from credit cards outside of the United States, so if you're traveling internationally to San Francisco, you will need to use PayPal, Apple, or Google Pay. You'll use this app for every public transit service in San Francisco, so it's super important you download and check this beforehand!
Because it's such a famous attraction in the city, the queues to onboard can get quite long. The cable car service opens at 7 AM and closes at 10:30 PM, but I recommend getting there right at 7 AM or even 30 minutes beforehand to get ahead of the queue.
There are 3 cable car routes around the city: Powell Hyde, Powell-Mason, and California Van Ness. Powell Hyde and Powell Mason run from downtown San Francisco to Fisherman's Wharf, while California Van Ness runs through California Street, the Financial District, and into the luxurious Nob Hill neighborhood. For this route, you're going to take the Powell Hyde or Powell-Mason route because they both end at the Fisherman's Wharf area.
NOTE: All cable car tickets purchased on the app are one-way tickets! You'll need to purchase another ticket if you plan on getting off or returning to the starting point.
PRICE: from US$8 per person
2. Start your museum and seafood journey down Pier 39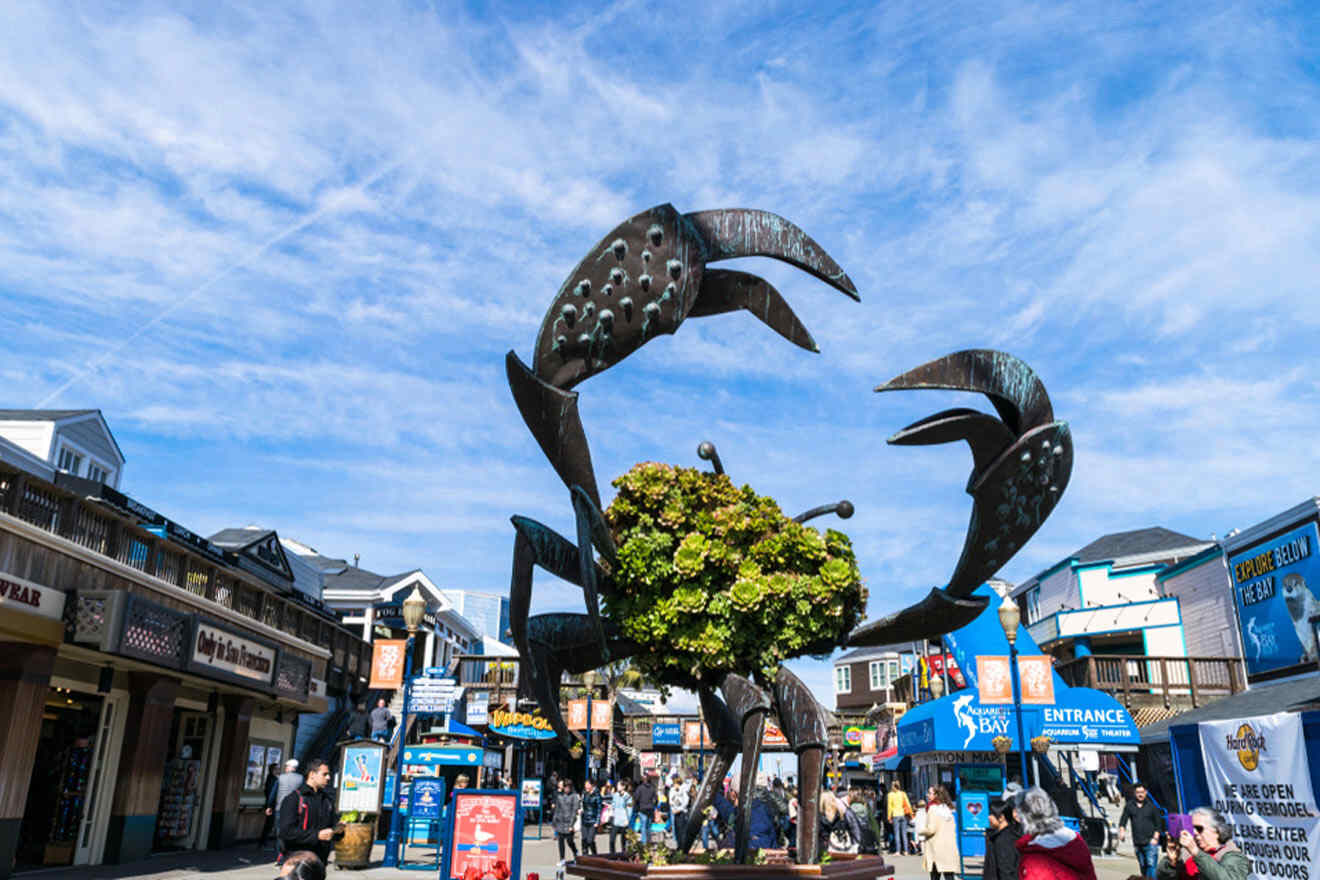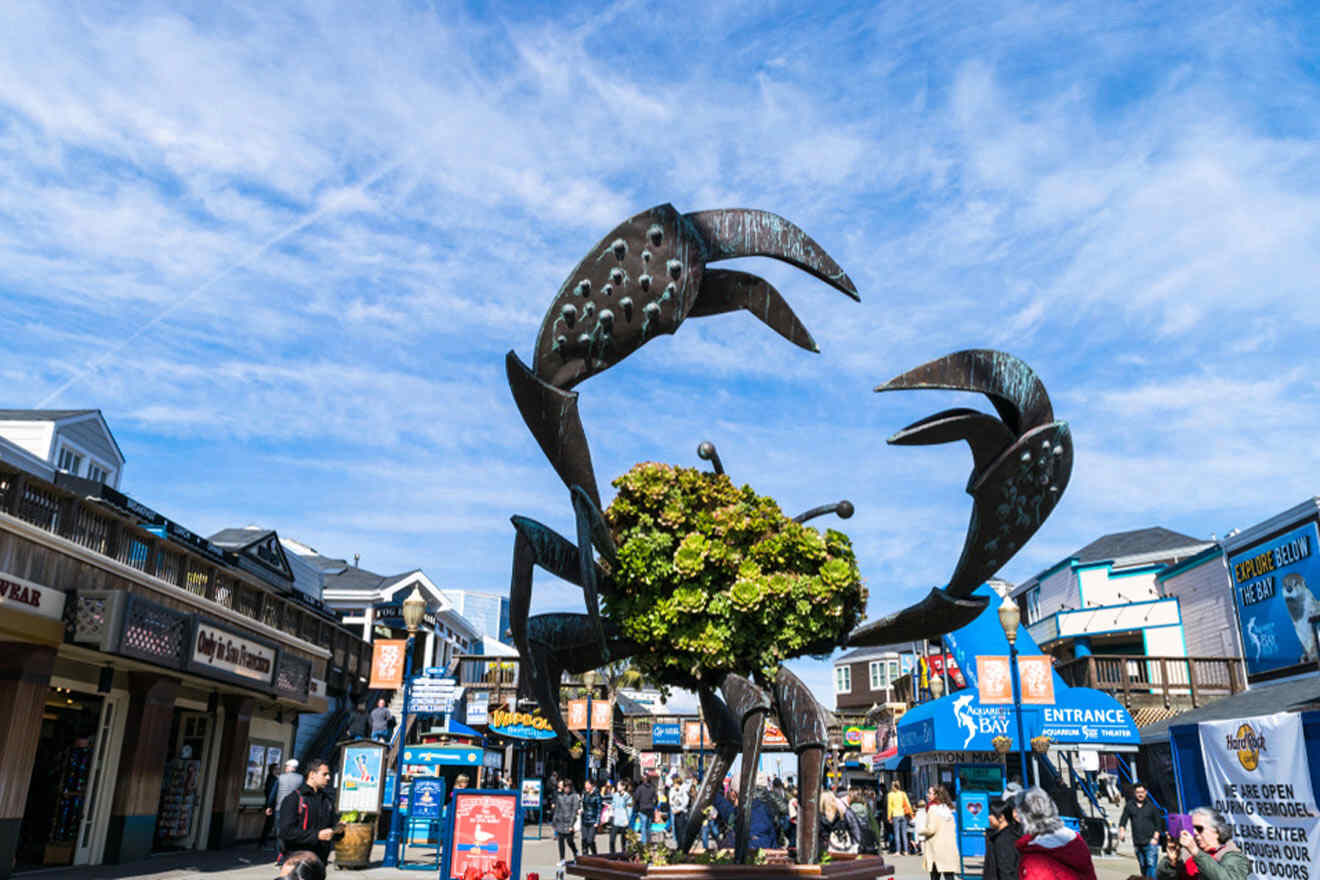 Once you get off the 20-minute cable car ride to Fisherman's Wharf, you'll see a crowd of people exploring the famous Pier 39 and Biscoff Coffee Corner nearby!
This is a famous coffee shop in San Francisco offering specialty coffee drinks (and a free Biscoff cookie with every coffee purchase) to start off your morning. Because, yes, coffee always comes first anywhere you go on the West Coast! They open at 8 AM, so I recommend strolling and taking a look at the sea lions hanging out on the dock a few steps away.
As you walk along the Fisherman's Wharf with coffee in hand, you'll notice dozens of amazing seafood restaurants, food vendors, attractions, shops, and more – don't worry, we'll come back for lunch!
Now first, walk over to the Aquarium of the Bay for a day at the exhibit! Home to over 20,000 marine life animals, the aquarium is a famous attraction in San Francisco and a great way to start your day. Even better if you're here with the kids.
Not interested in sea life or want more museums to explore? The Exploratorium is also a museum to explore human perception, perfect for both adults and kids. This one is a long walk away, but being in San Francisco, everyone is always walking, and that's honestly the best way to sightsee.
After visiting either/both museums, you have 2 options:
Walk through Ferry Building Marketplace and indulge in the finest and freshest foods in all of San Francisco. Here, you can get a taste of food from vendors' international foods and a little shopping spree for San Francisco memorabilia.
Head back over to your starting point at Fisherman's Wharf and enjoy a classic bread bowl of clam chowder at Pier Market Seafood Restaurant, where they serve arguably the best clam chowder in San Francisco.
If you're not a fan of museums and aquariums, go on a mini day-drinking adventure instead! I recommend checking out this 4-hour craft beer walking tour for San Francisco's top-rated beer bars and learning about the San Francisco beer scene, brewing techniques, and beer styles. The tour starts at 2 PM, so there's plenty of time to explore Pier 39 before embarking on this adventure.
3. Head over towards the main attraction: Golden Gate Bridge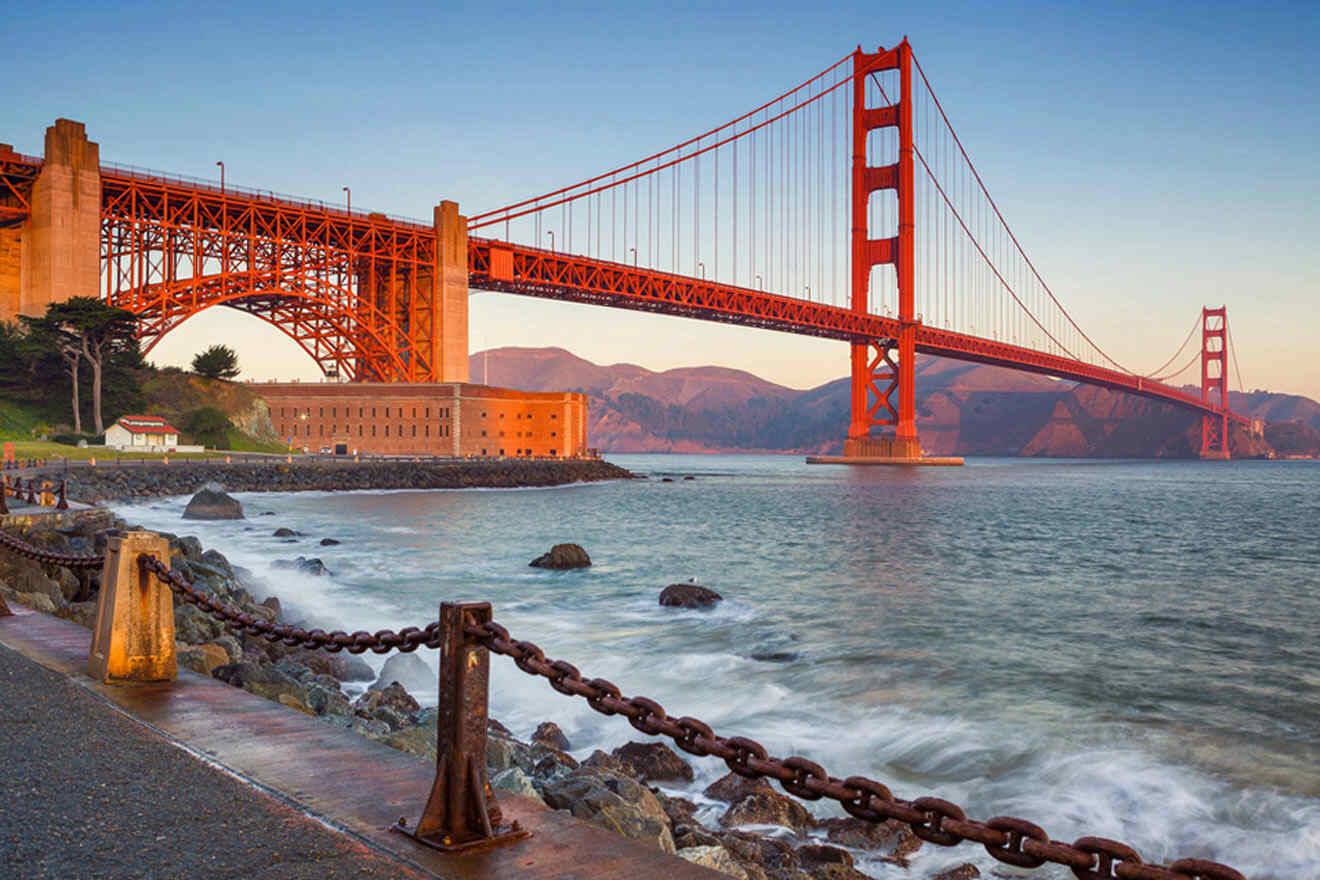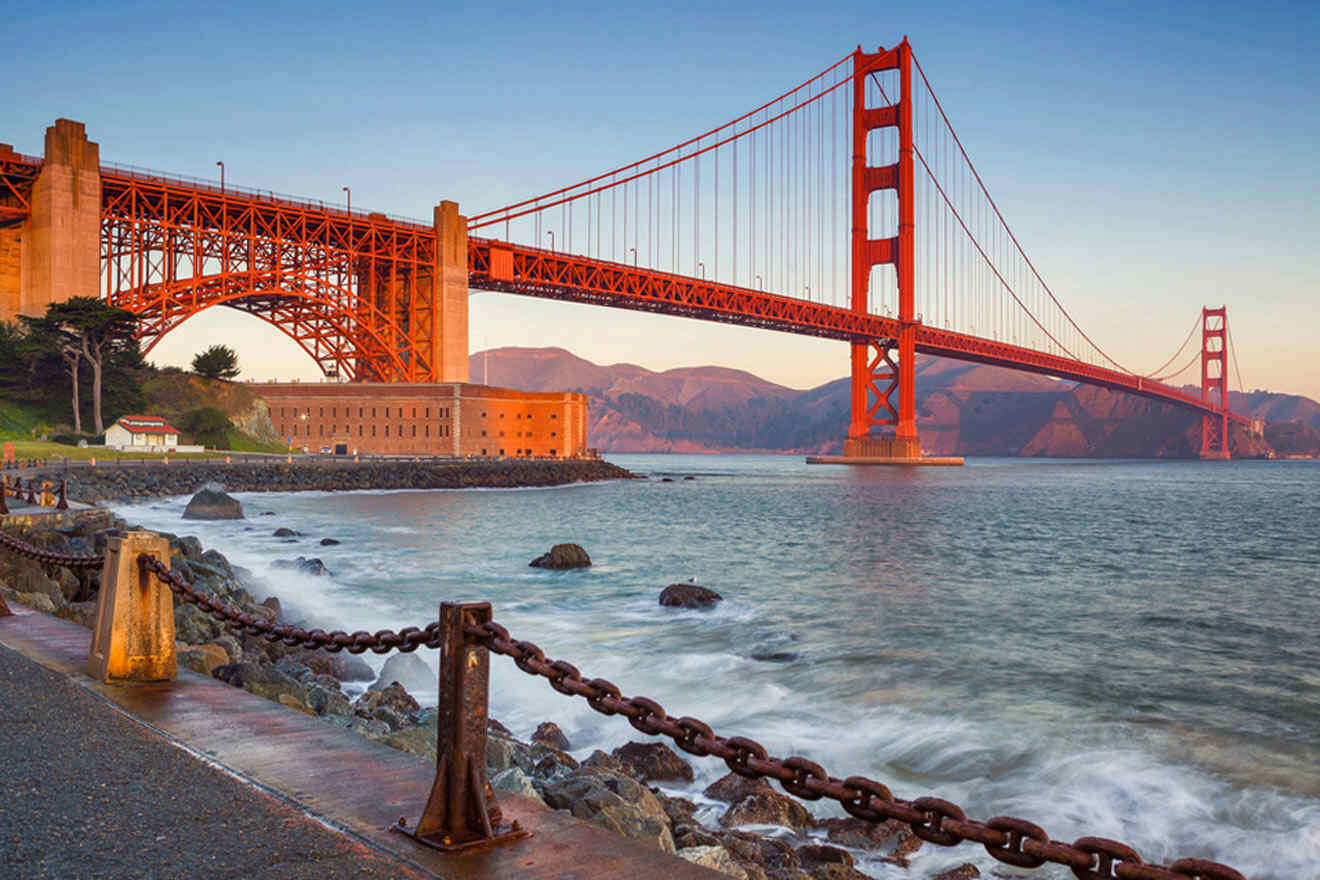 Obviously, you can't end your first day in San Francisco without seeing San Francisco's main attraction: the Golden Gate Bridge! Millions of tourists come from around the world to visit the famous bridge each year, and about 100,000 cars drive through it every single day. So, you can say it's pretty iconic.
Getting to the Golden Gate Bridge from Fisherman's Wharf is quite easy using public transport. You will need to use the MuniMobile app again to buy tickets. You can buy a Day Pass for only US$5 and use that ticket for all your bus needs for the whole day!
It's about a 45-minute bus ride from Fisherman's Wharf to Golden Gate Park and a 25-minute ride from the Ferry Building. I always use Google Maps on my smartphone to find out where my stop is and which bus to take. I 100% recommend doing the same.
Another option is taking a traditional bike tour, starting at Fisherman's Wharf, going through the city towards the Golden Gate Bridge, and even passing through the beautiful town of Sausalito.
Here are a few other bike tours I recommend taking, starting from Fisherman's Wharf:
All of these options will take you through the Golden Gate Bridge, where you can really take in views of the San Francisco skyline and San Francisco Bay!
PRO TIP: If you decide to take a bus to Golden Gate Park and not take these tours, I recommend walking around the historic Fort Point or hiking the Presidio for the most unbeatable views of the bridge.
4. End your first day in San Francisco at Chinatown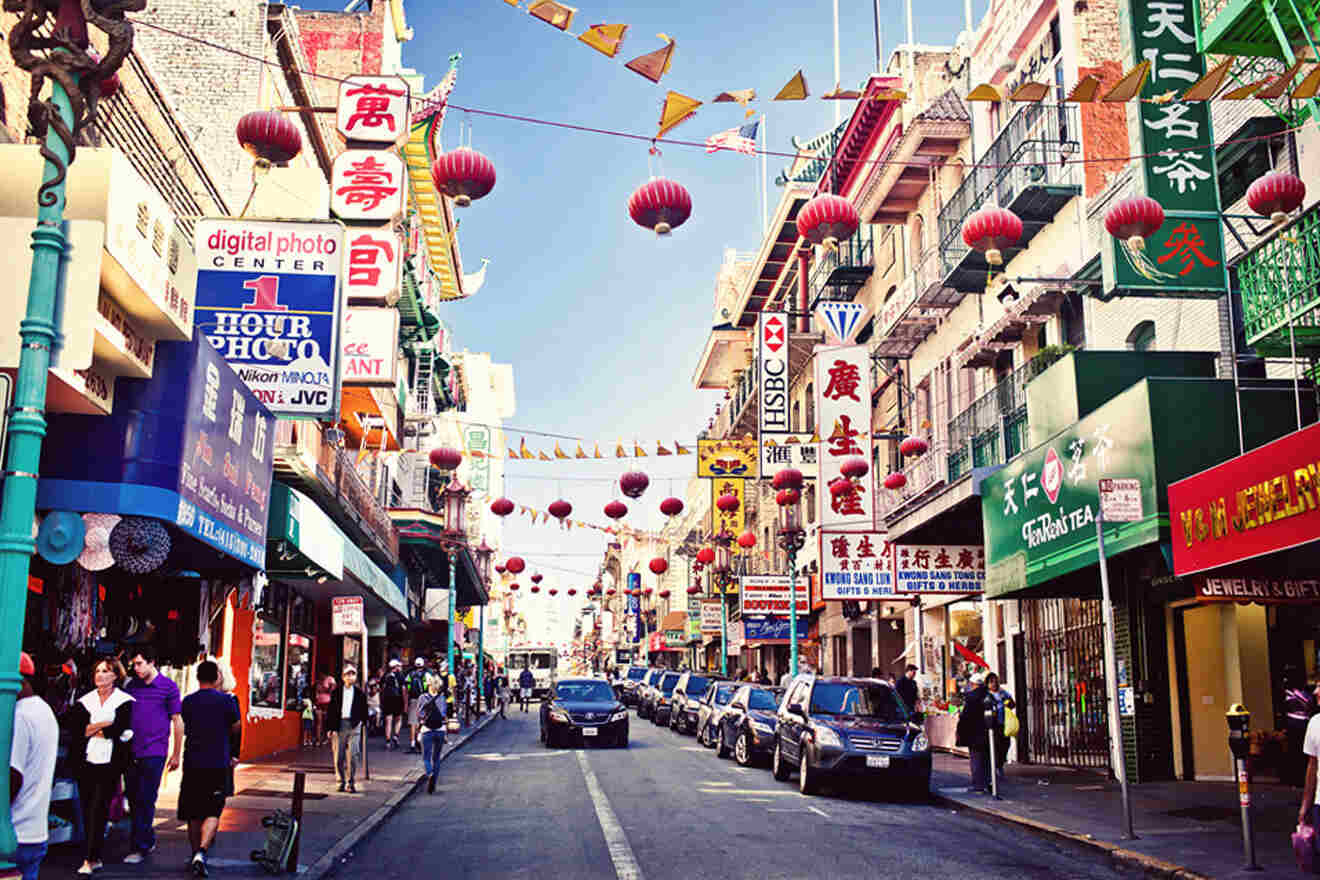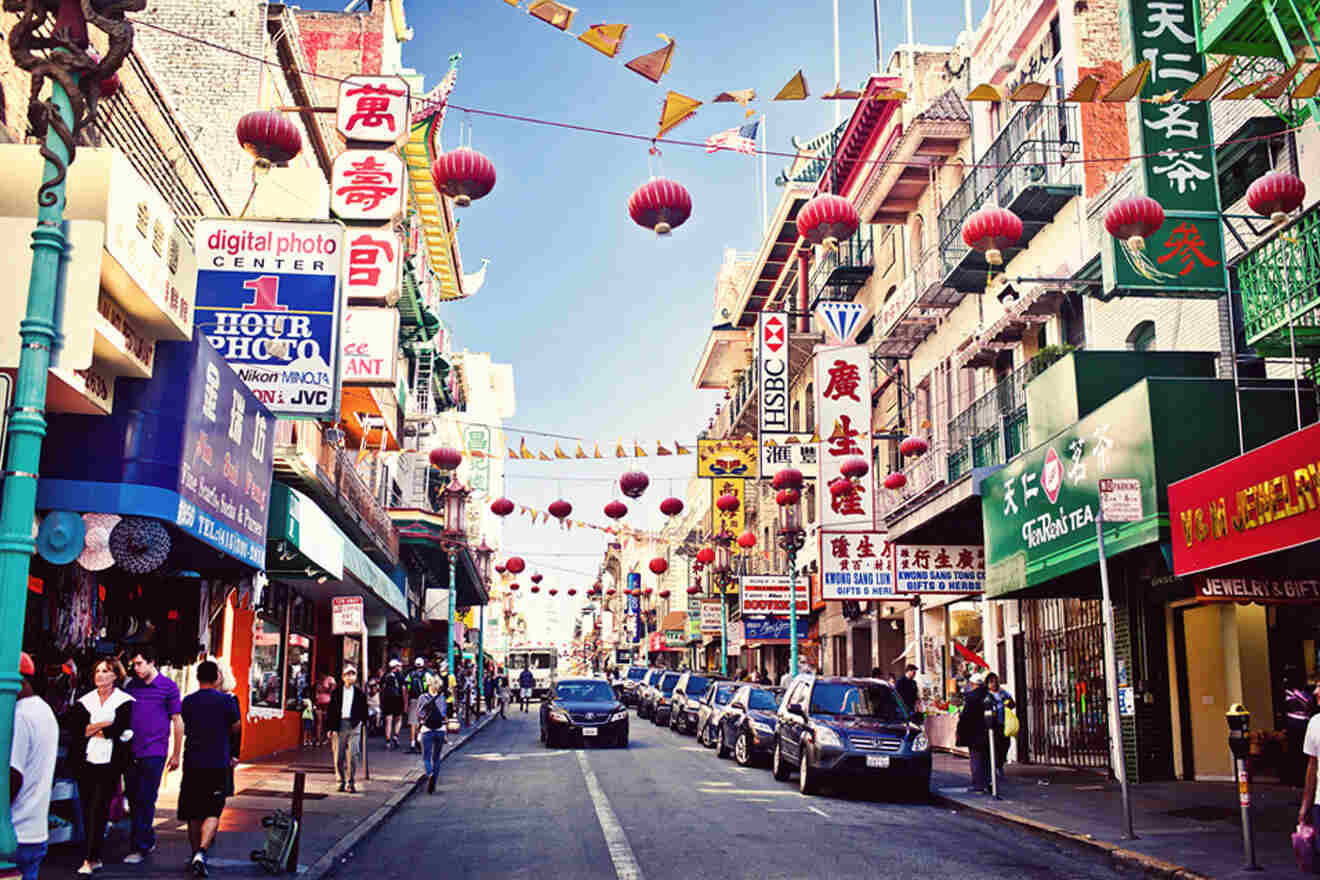 Last but not least, I recommend ending your first day in San Francisco in Chinatown! Chinatown has the largest community of individuals of Chinese descent in the WORLD (outside of China), so you can only imagine the delicious, authentic foods available at our fingertips!
Here are a few spots I recommend trying out while you're here for dinner:
There are fun events going on all year long in Chinatown! I recommend checking them out here and planning accordingly if you want to immerse yourself more in Chinese culture while you're here.
Day 2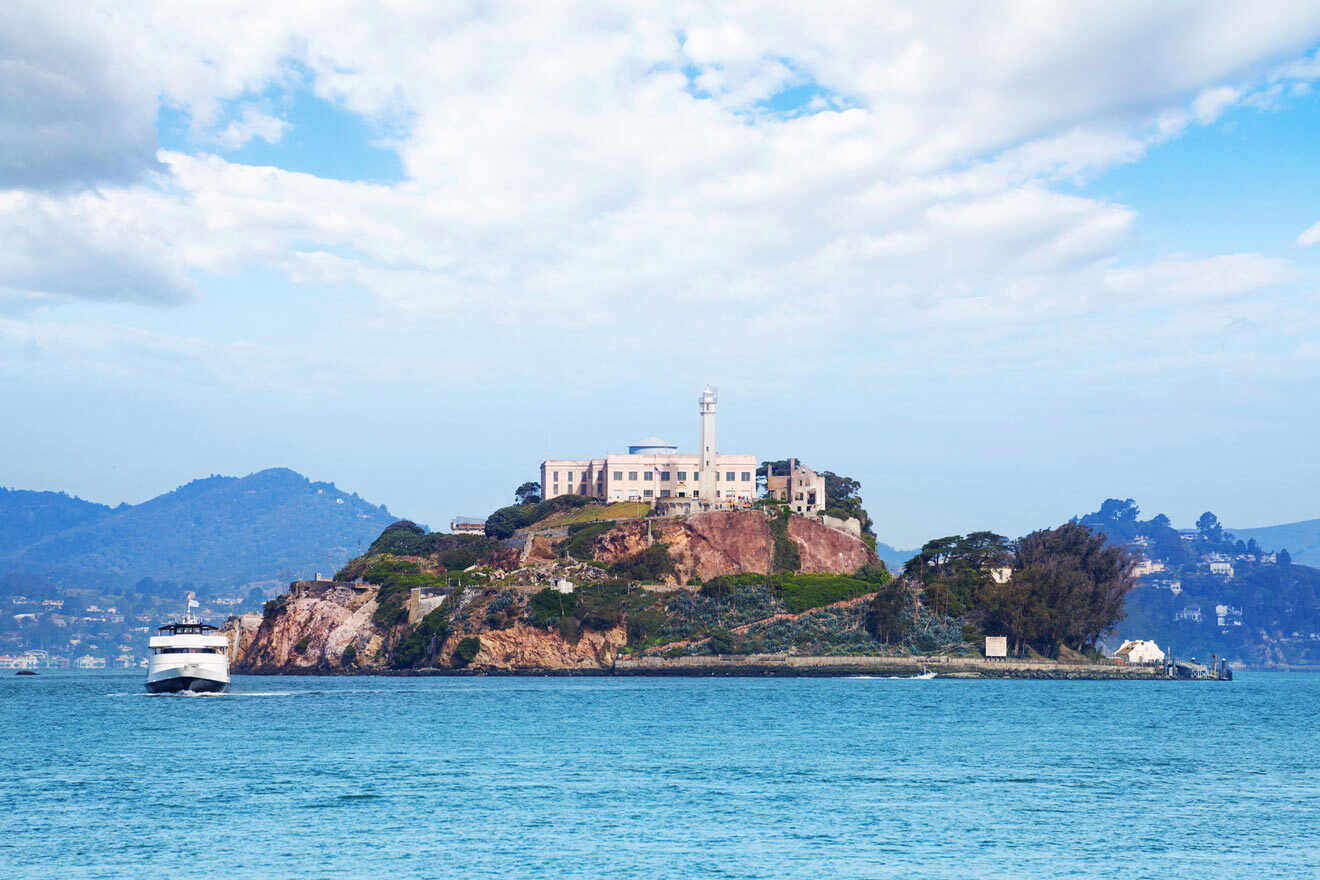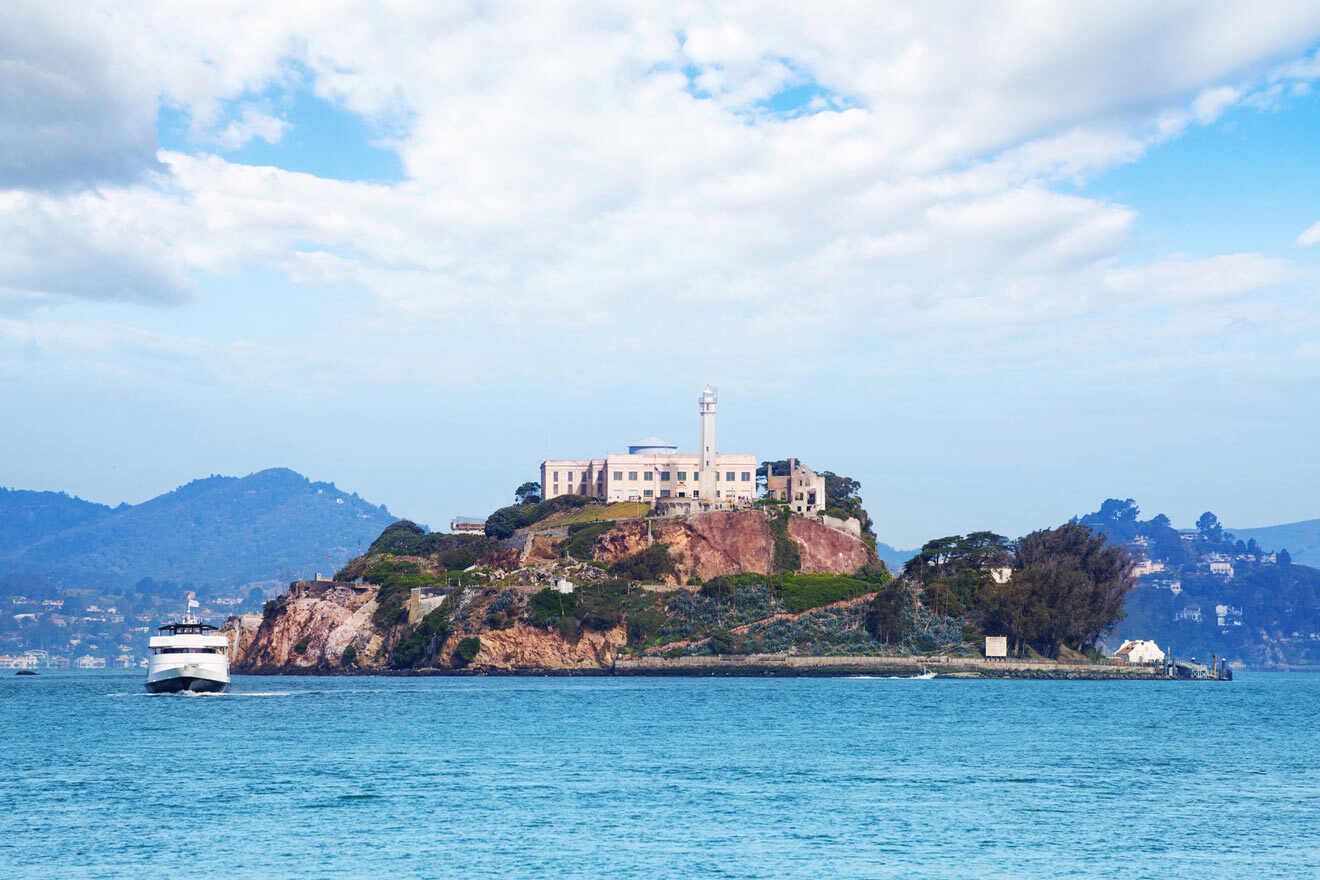 Your second-day itinerary is going to be focused on more sightseeing and, obviously, the other most popular tourist attraction in the world (let alone San Francisco): Alcatraz Island!
Here's your second-day San Francisco itinerary and a map, too:
1. Walk through the infamous prison cells of Alcatraz Island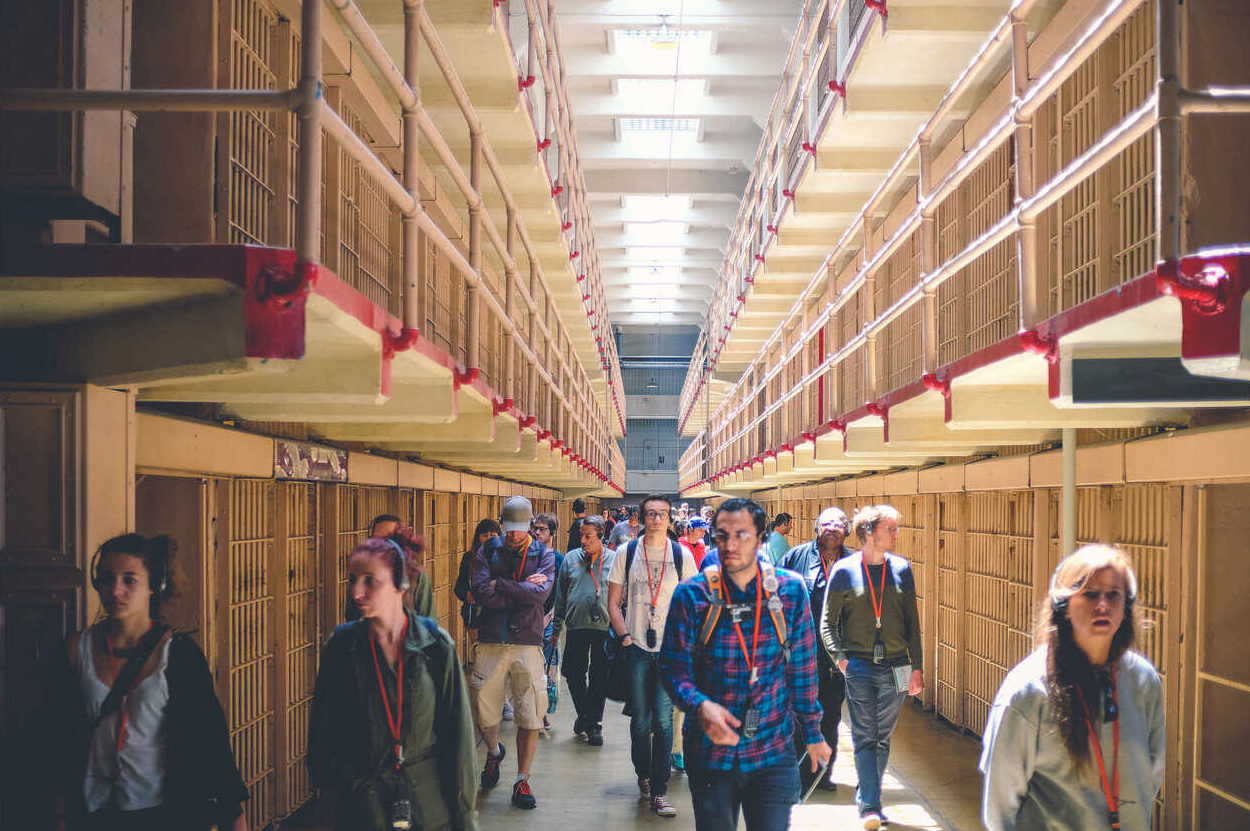 Alcatraz Island is a small island that was once a maximum-security federal prison and now has an award-winning audio tour that takes you back through the gates of the legendary prison (where the famous Al Capone once stayed). It's one of the most famous attractions in the world, with over 1.7 million visitors coming each year!
There are so many great package tours that offer a trip to Alcatraz with their award-winning self-guided tour and other fun activities after your Alcatraz experience catered for different types of travelers.
I was personally overwhelmed when I first learned about all the different Alcatraz tickets and packages available, so here are my top 3 picks that I recommend checking out:
NOTE: Alcatraz Island is a self-guided tour! So, once you head to Pier 33, catch your ferry, and arrive on the island, you will be led by volunteers and workers on the island, and you're left alone to guide yourself with their audio tour. So your tour guide, that is with you throughout the other experiences in the packages, will not be there! I was confused about this the first time, too, don't worry!
2. Cruise through the hotspots on a hop-on/hop-off bus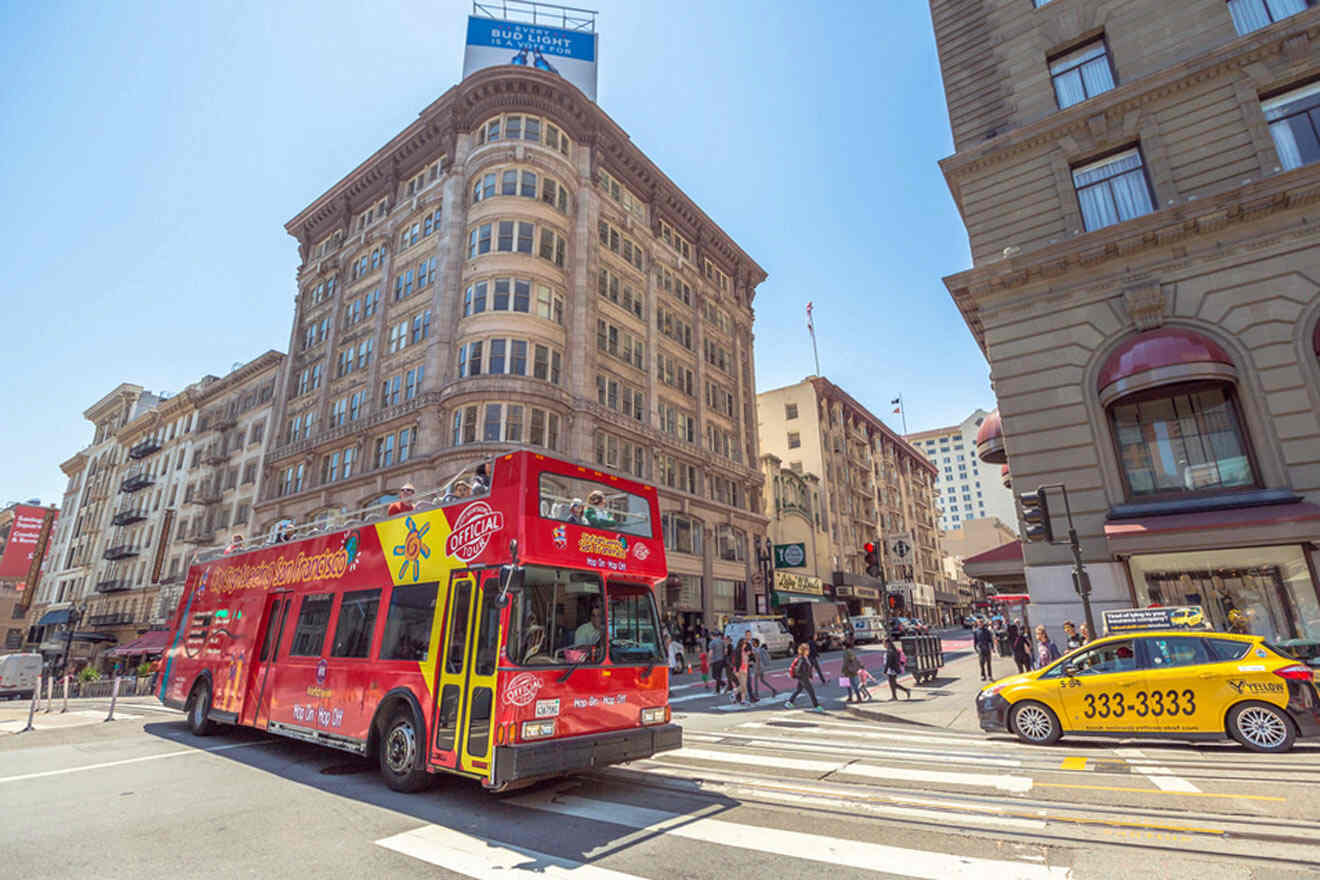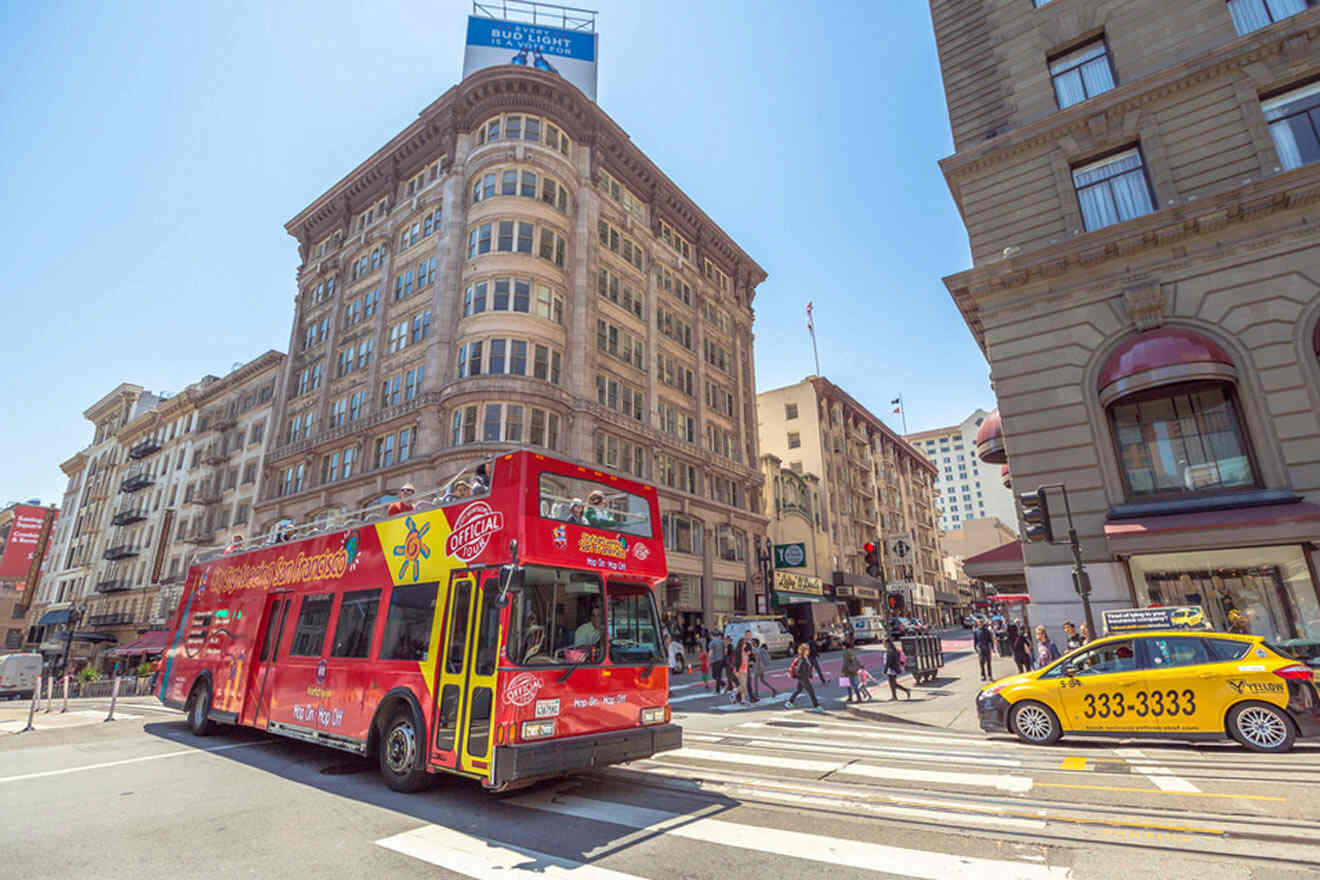 Depending on whichever Alcatraz package deal you choose, there will be plenty of time afterward to keep exploring the big city! There's still so much to be seen that you didn't see yesterday, so now is the time to do it.
I recommend taking advantage of the city's hop-on/hop-off buses, which take you through all the major attractions! This is great and super convenient because walking to every single attraction isn't the most efficient when you're in a time crunch, and the bus isn't as quick either. There's always a guide on these buses pointing out every important landmark that is passing by too, so you're not missing a thing!
Another great thing about this bus is that you can (obviously) hop on and hop off whenever you like for the whole day! If you want to spend extra time somewhere, you can absolutely do so!
Here are a few things you should pay attention to while you're on the bus:
PRO TIP: In every major American city, unfortunately, there are going to be homeless people partnered with drug use in the city. I've noticed it mainly occurring on Market Street and The Tenderloin District, so I recommend staying away from that area (especially if you're traveling with kids).
NOTE: The famous "Painted Ladies" Victorian houses are NOT a sight that you pass by on this tour! The laws actually prohibit big tour buses from going down that street now (sadly), so I recommend getting down at Haight-Ashbury District and walking over to the Painted Ladies, about a 20-minute walk away. You'll also pass by tons of other colorful Victorian houses!
3. End your day with a drink at San Francisco's coolest bars
You made it to the end of your action-packed San Francisco 2-day itinerary! It's time to unwind a little with a glass of wine, cocktail, beer, or whatever your cup of tea is. Here are some of my favorite bars to check out during your last night in the city:
FAQs about 2 days in San Francisco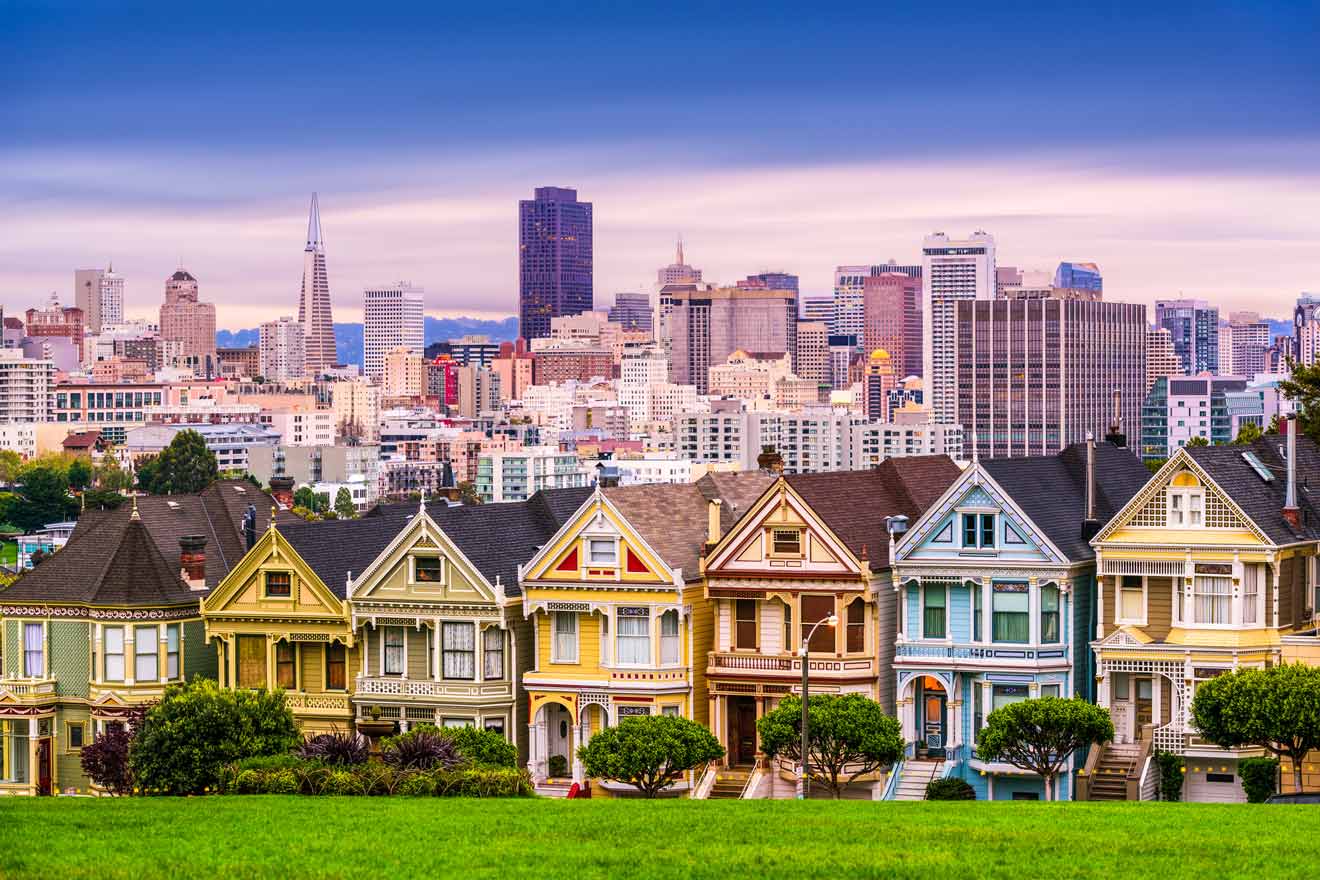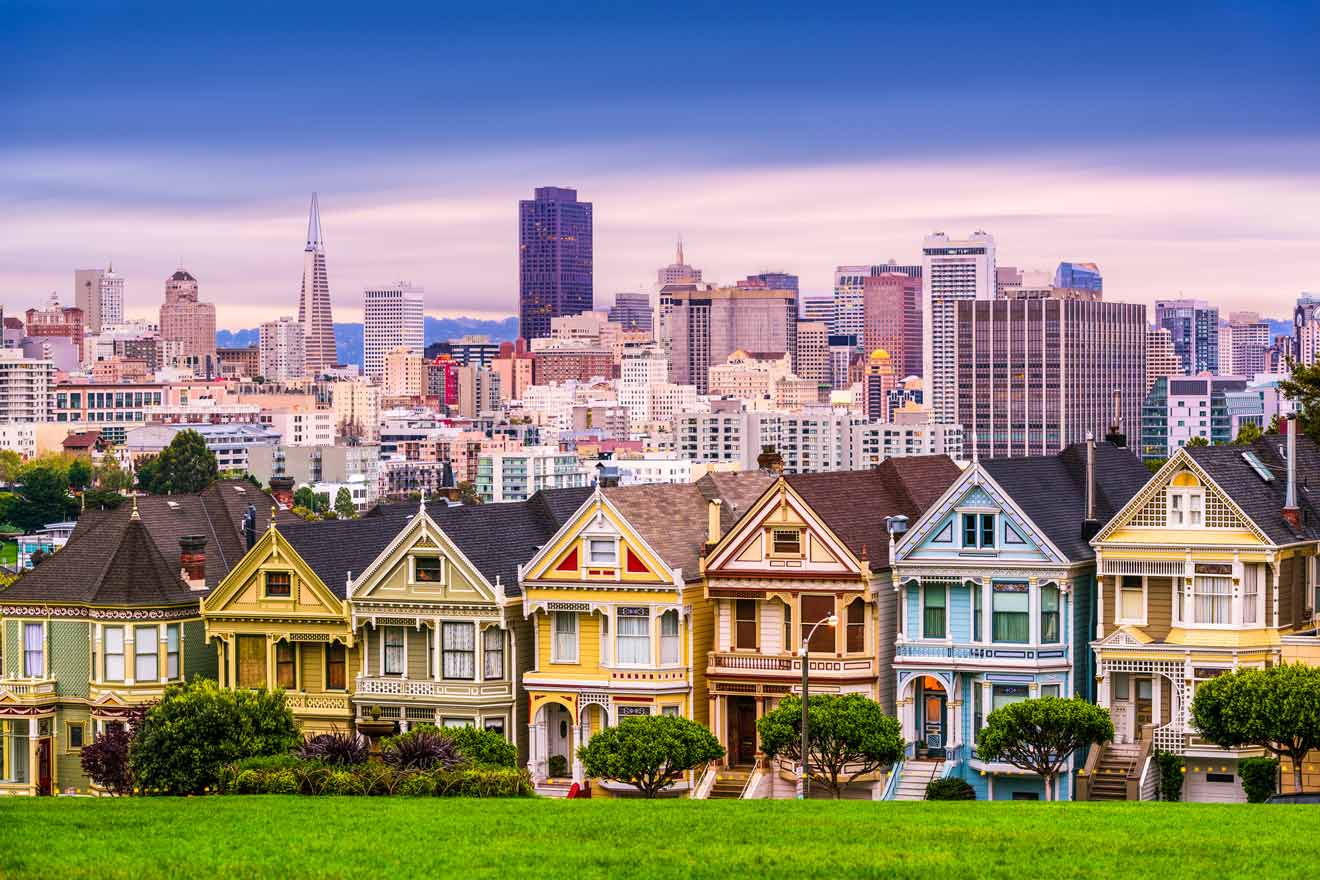 ⏱️ Is 2 days in San Francisco enough?
Spending 2 days in San Francisco is completely attainable if you plan ahead and book your tickets in advance!
🌁 How to spend 2 days in San Francisco?
The best way to spend 2 days in San Francisco is by separating the days by visiting the top 2 attractions, the Golden Gate Bridge and Alcatraz Island, and then sightseeing for the rest of the time.
👨‍👩‍👧 What are the best museums to visit if I have 2 days in San Francisco with kids?
🤑 What are the best areas to eat when spending 2 days in San Francisco?
The best areas to eat are Mission District for Mexican Food, Chinatown for Chinese Food, and North Park for Italian Food.
Conclusion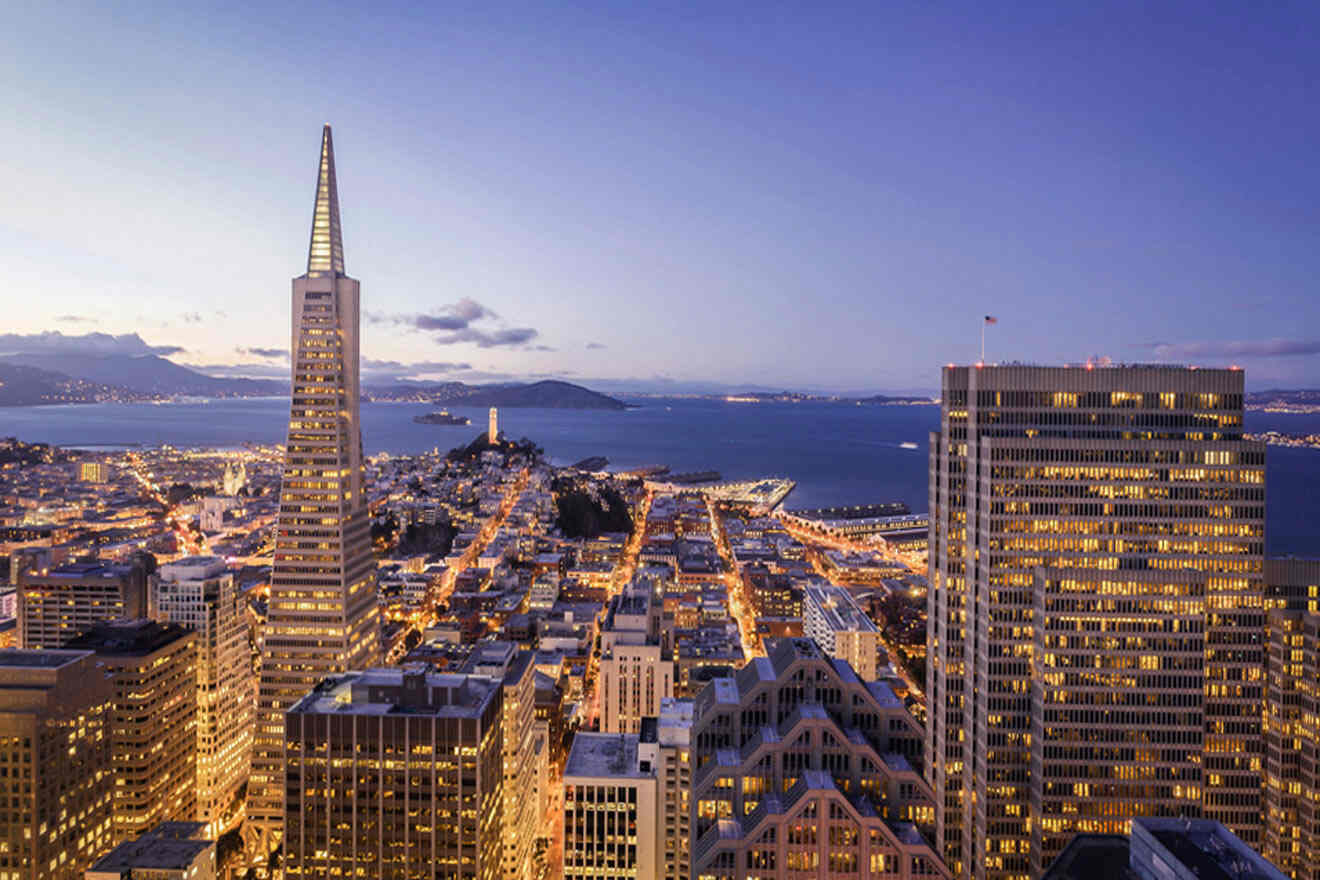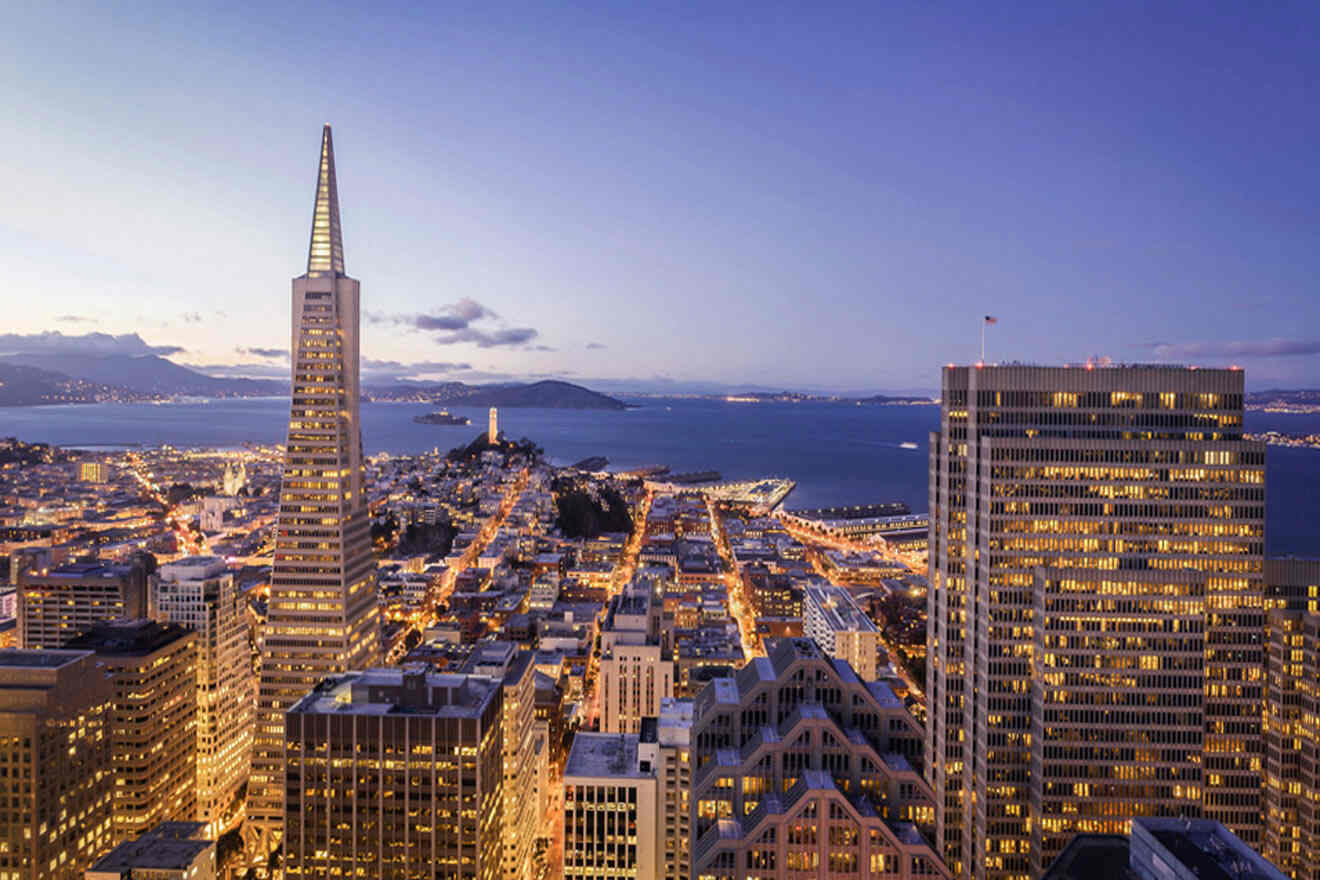 Phew! 😅That was a LOT to unpack for a 2-day trip to San Francisco! But you did it, and now you're more than ready to take this trip head-on!
San Francisco is such a fun city to explore, and it's hard to choose my favorite activities from this list, BUT if I had to pick, my top 2 would be the following
Whenever I travel, I try to make the most out of my experiences in any city I travel to! I found the most value and California inspiration with both of these tours, taking me around some of San Francisco's must-see hotspots while also hitting spots that I didn't even know I wanted to see in San Francisco! And those are always the best memories in the end.
Leave me a comment the next time you visit San Francisco, and let me know what your favorite memory of your trip was! I'd love to hear all about it.
And don't forget to book your tours, tickets, and hotels in advance to save the most $$ because San Fran can get quite pricey!
Have a safe trip, and enjoy! ✈️
Xoxo,
Esabel S.
---
Pin it for later!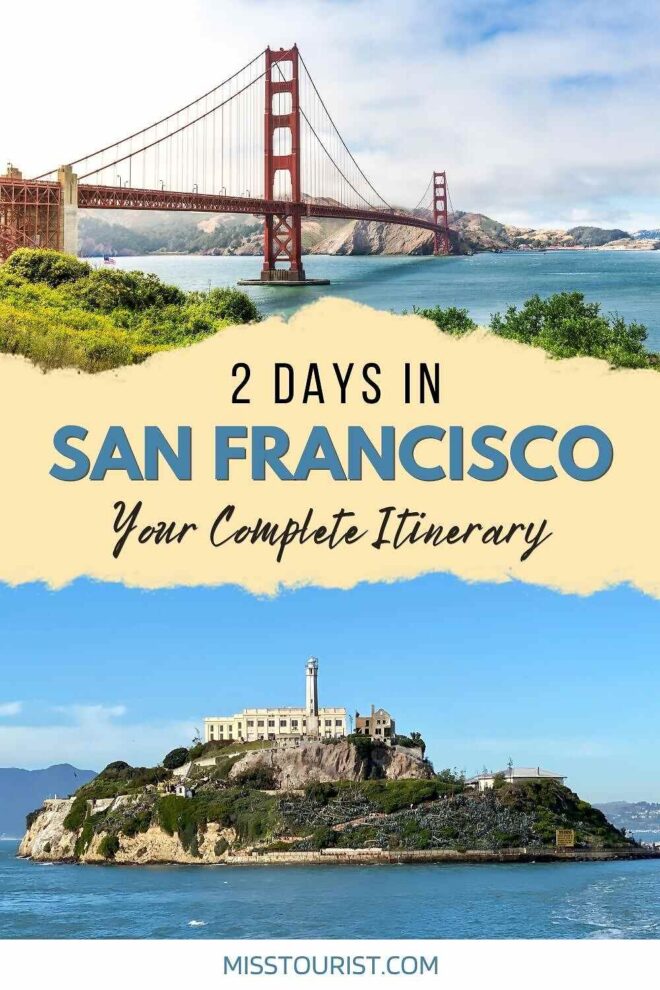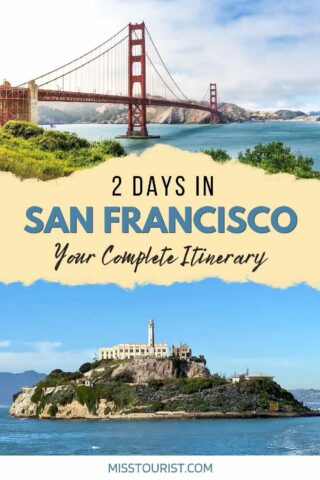 Pin it for later!