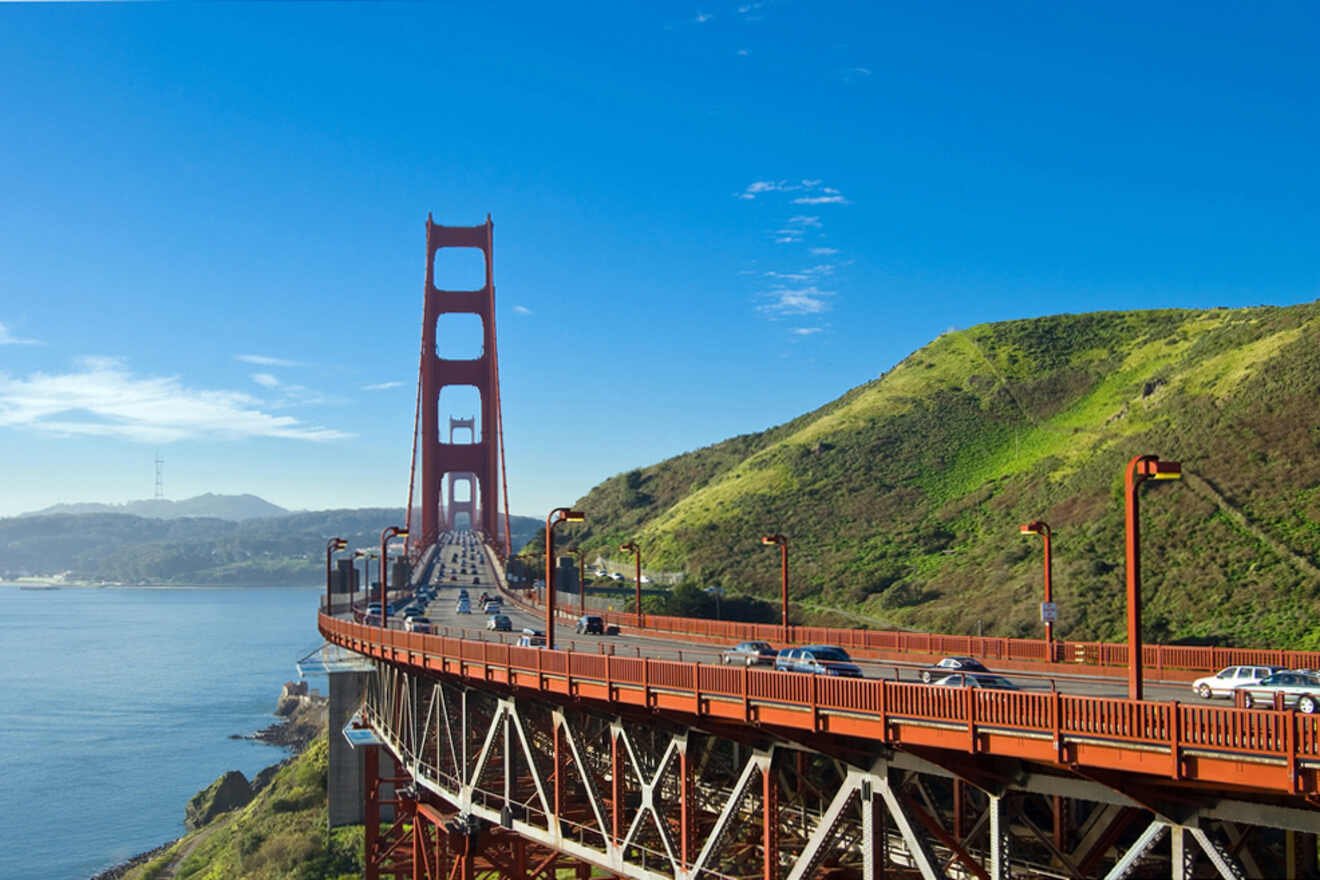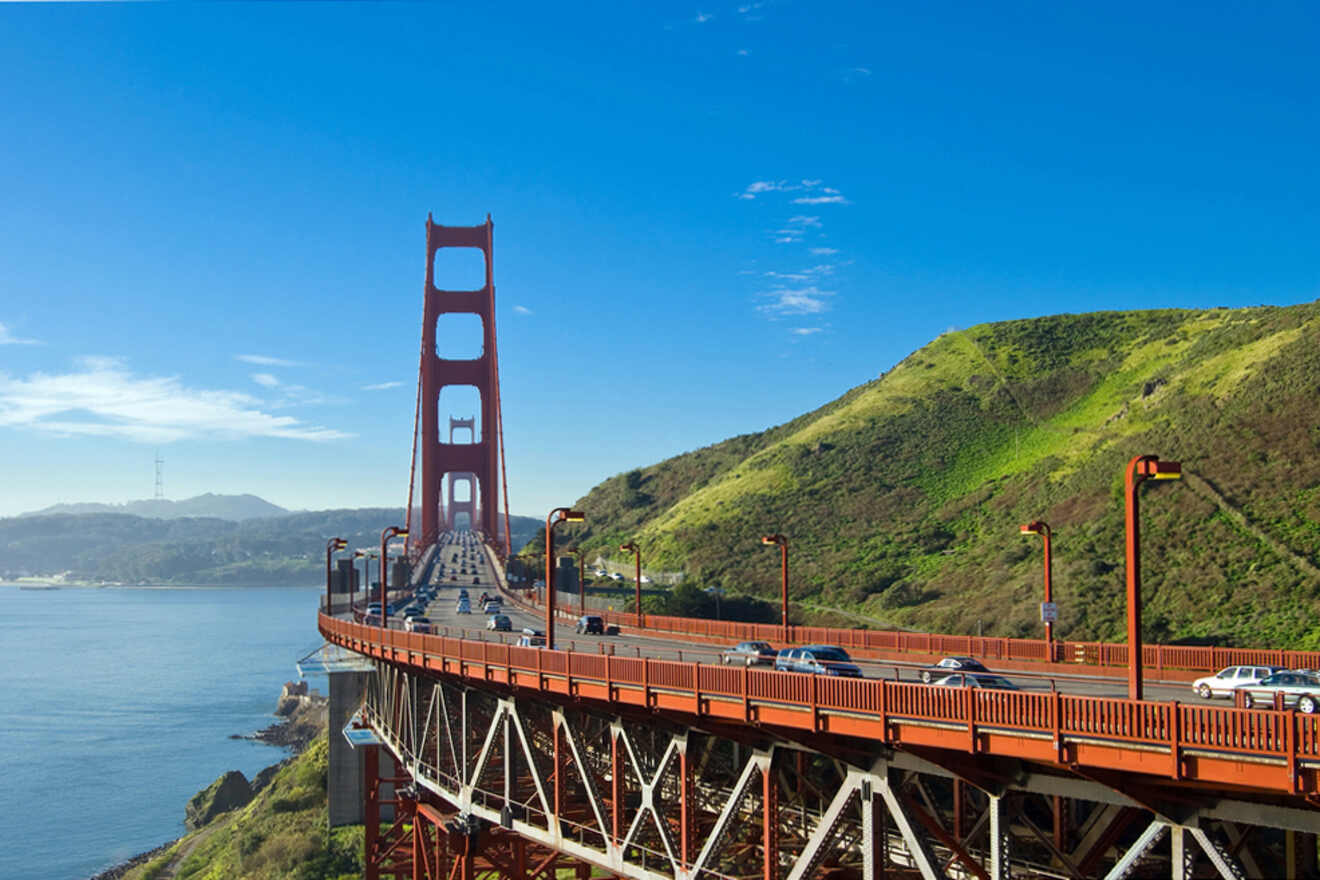 One of the most exciting things to do in California is embark on a road trip down the iconic Pacific Coast Highway. It's personally one of my favorite things to do as a Southern California native who has driven down this highway many, many times over the past 20-something years.
A classic LA to San Francisco road trip, i.e., Pacific Coast Highway road trip, is an experience that everyone visiting California absolutely needs to try!
As you read through this post, you'll find stops I recommend along the way, how to prepare for your road trip, all the essentials you need for a smooth ride, and more.
The most important part of road-tripping up the coast of California is that you plan your trip in advance. You'll be driving long hours, and coming unprepared is one of the many ways you can sabotage your trip. Avoid it as much as possible by following this road trip itinerary!
Here we go! 🚗💨
If you are in a hurry
There are many things to see on this Pacific Coast Highway road trip, but there are some you wouldn't want to miss for sure.
Here are the main things to book in advance:
And here are the best hotels: The Fairmont Heritage Place Ghiradelli Square (luxury), Spindrift Inn (mid-range), Hampton Inn & Suites (budget)
The Pacific Coast Highway road trip takes about 8 – 9 hours to complete without stopping. I suggest making this experience a weekend trip if you plan on stopping at a handful of these destinations!
Here's a map of all the stops!
First things first: prepare for your road trip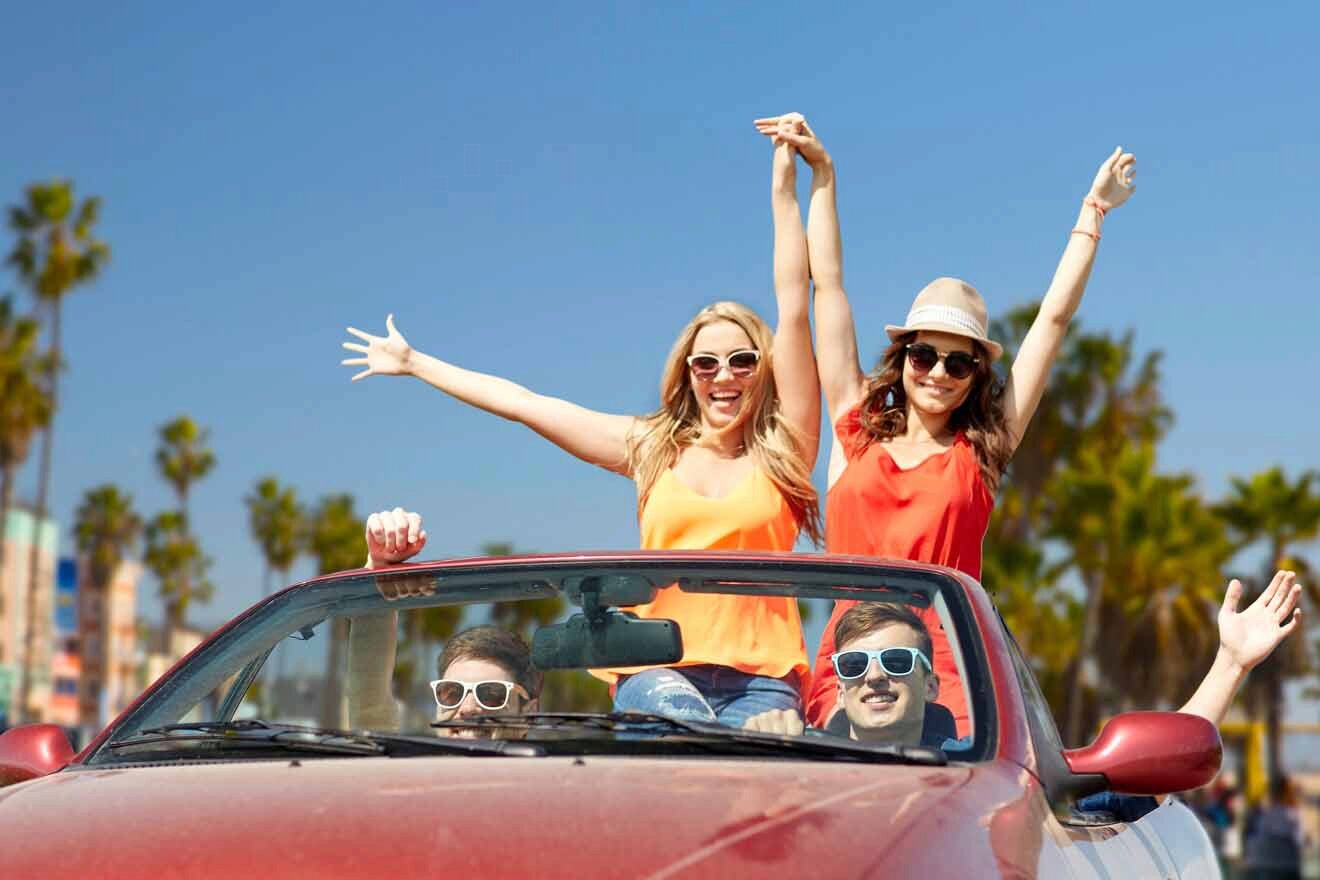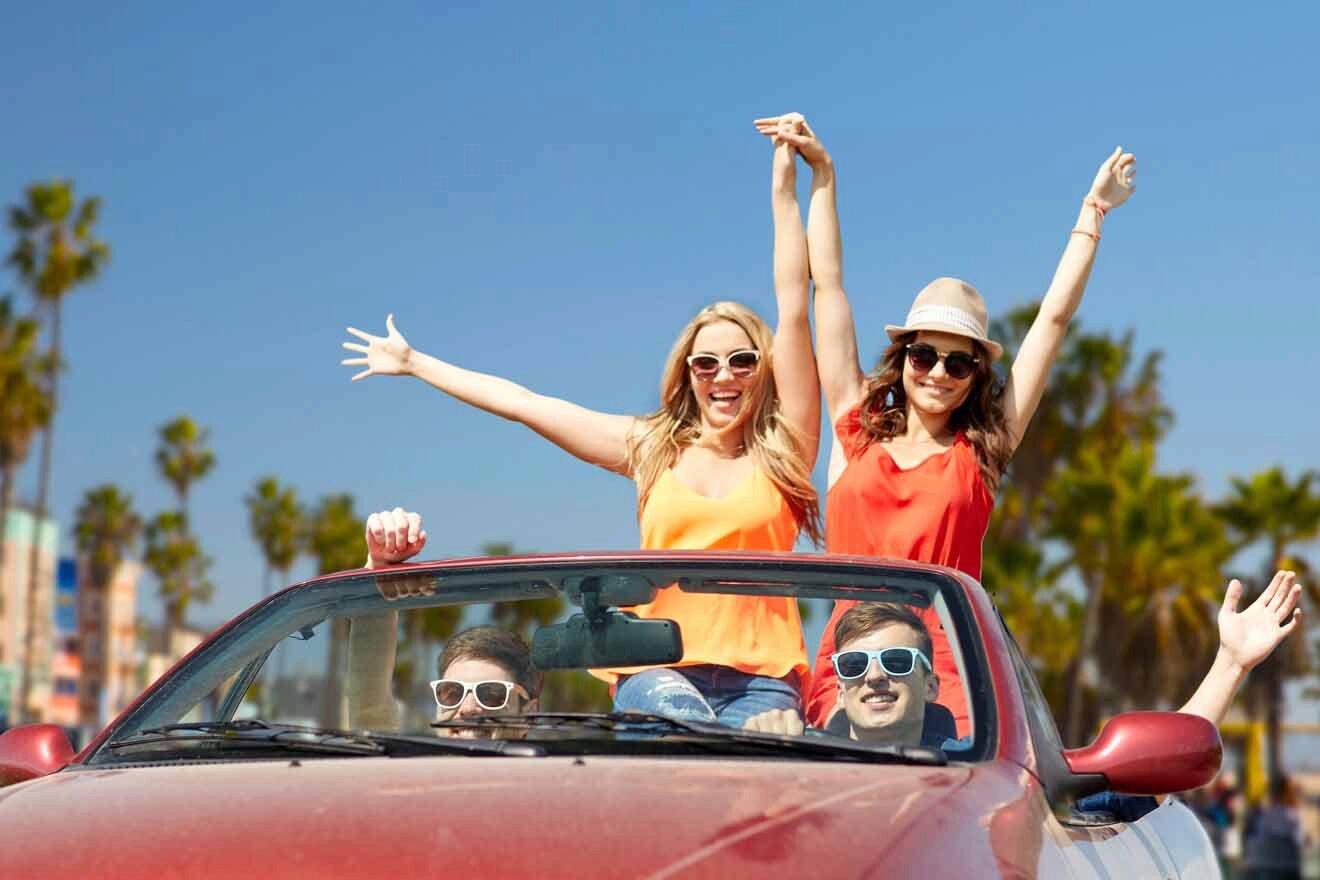 Prior to embarking on the ultimate West Coast adventure, aka your Pacific Coast Highway road trip to San Francisco, you need to book your car.
I suggest you ensure your rental car's maintenance is up to date, the tank is full, and you have plenty of snacks for the journey to munch on.
It's also important to inspect for any pre-existing damage in case any damages occur during the trip. Knowing what damage you caused versus the damage that was already on the car could result in significant expenses on your part.
Here are a few other things you should consider bringing on your California Coast road trip:
Pack a reusable water bottle you don't have to feel guilty throwing away. I've been using the H2O Capsule water bottle lately and love it!
Ensure passengers and individuals in the backseat enjoy a cozy and comfortable ride by bringing along pillows, blankets, and headphones. This pillow is made just for travelers to get comfy, so I suggest getting one for your road trip!
Snacks all day, every day! I recommend packing fiber and protein-packed snacks that will keep you filled up for long periods of time. Protein bars and nuts are my go-to favorite snacks that won't leave you feeling icky.
1. Begin your road trip in the best of Los Angeles
Now that your car is ready to go and you've packed all the essentials, you're ready to hit the road! But before we officially start heading up north, there are a few spots near Los Angeles that are worth checking out.
1. Venice Beach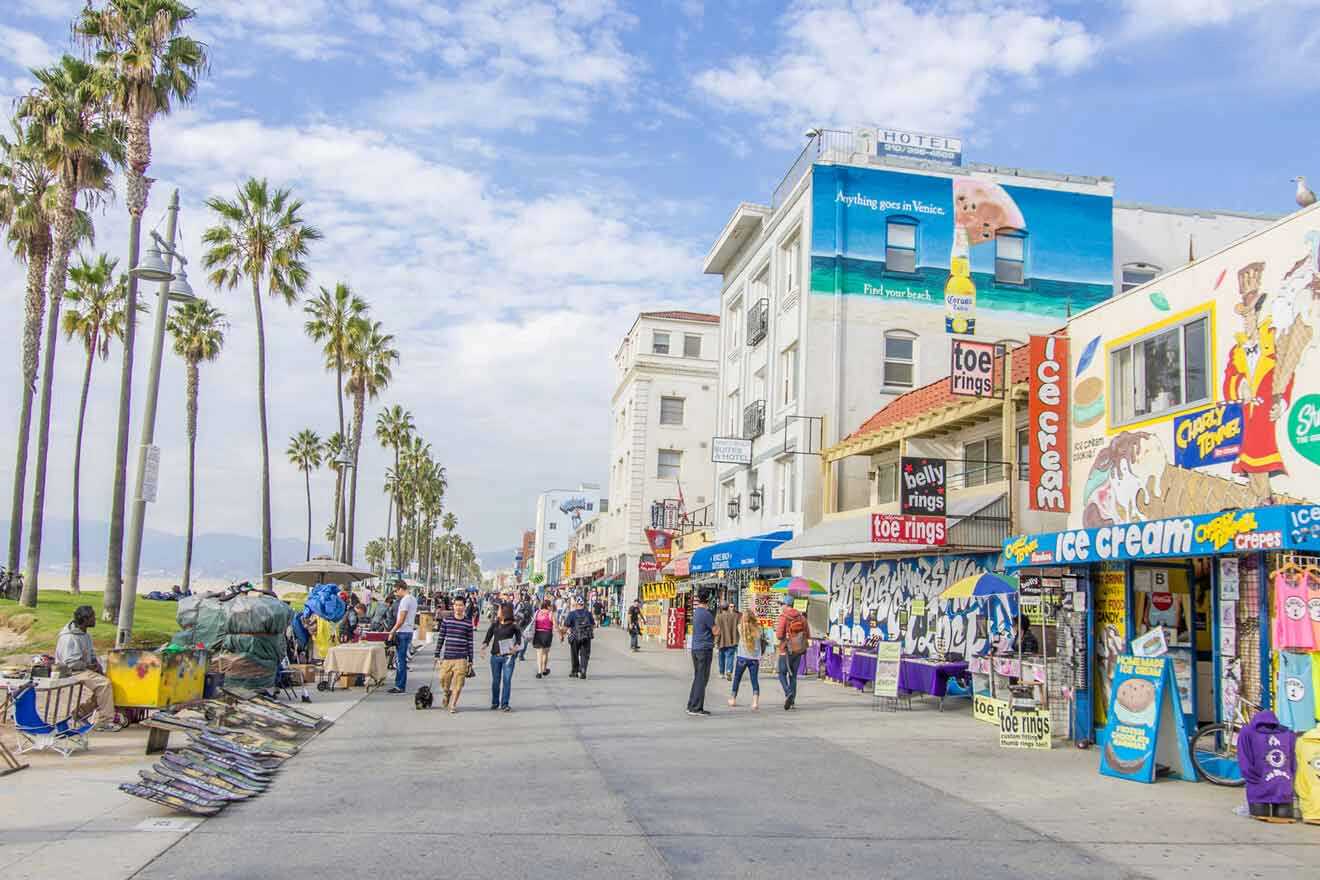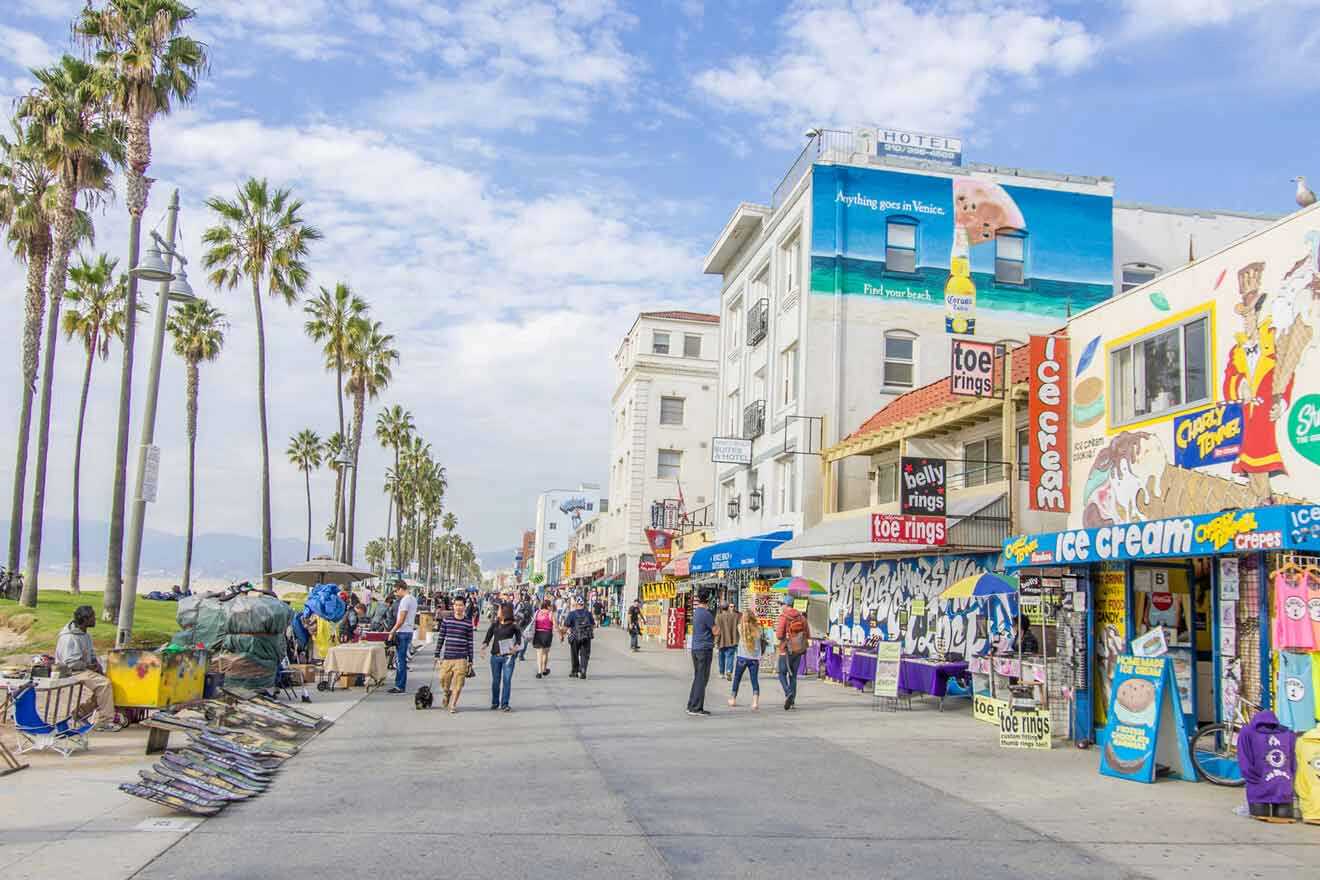 Make a stop by the Venice Canal Historic District in Venice Beach! You'll feel like you're in a dream with the beautiful Monarch butterfly garden, charming bridges and architecture, duck pond, Venice canals, and more.
When in Venice Beach, you absolutely need to check out the Venice Beach Boardwalk, the nearby skate park, Muscle Beach, and the beach volleyball courts right on Venice Beach. Maybe grab some ice cream at Salt & Straw (my favorite) before heading back on the road!
2. Santa Monica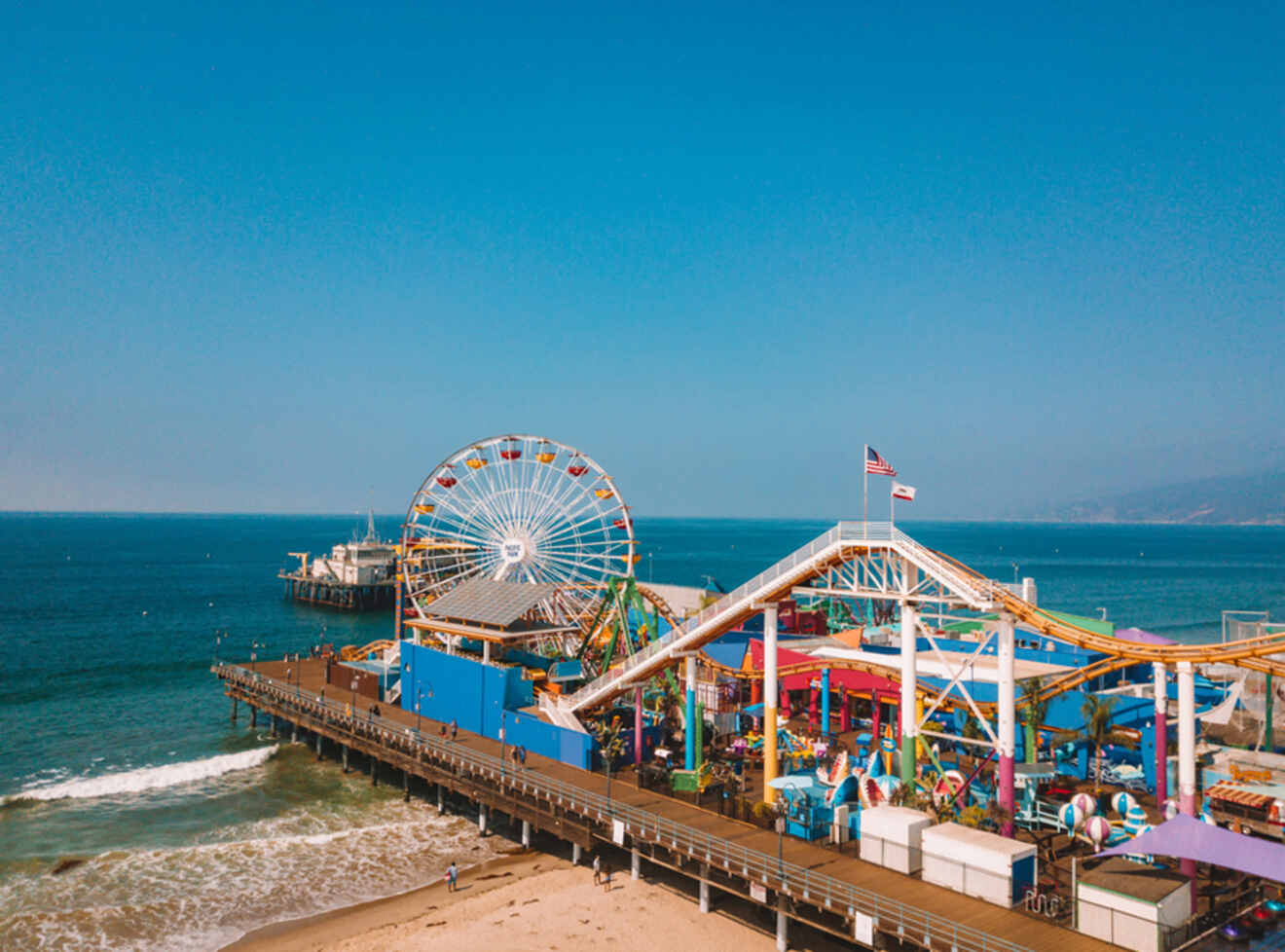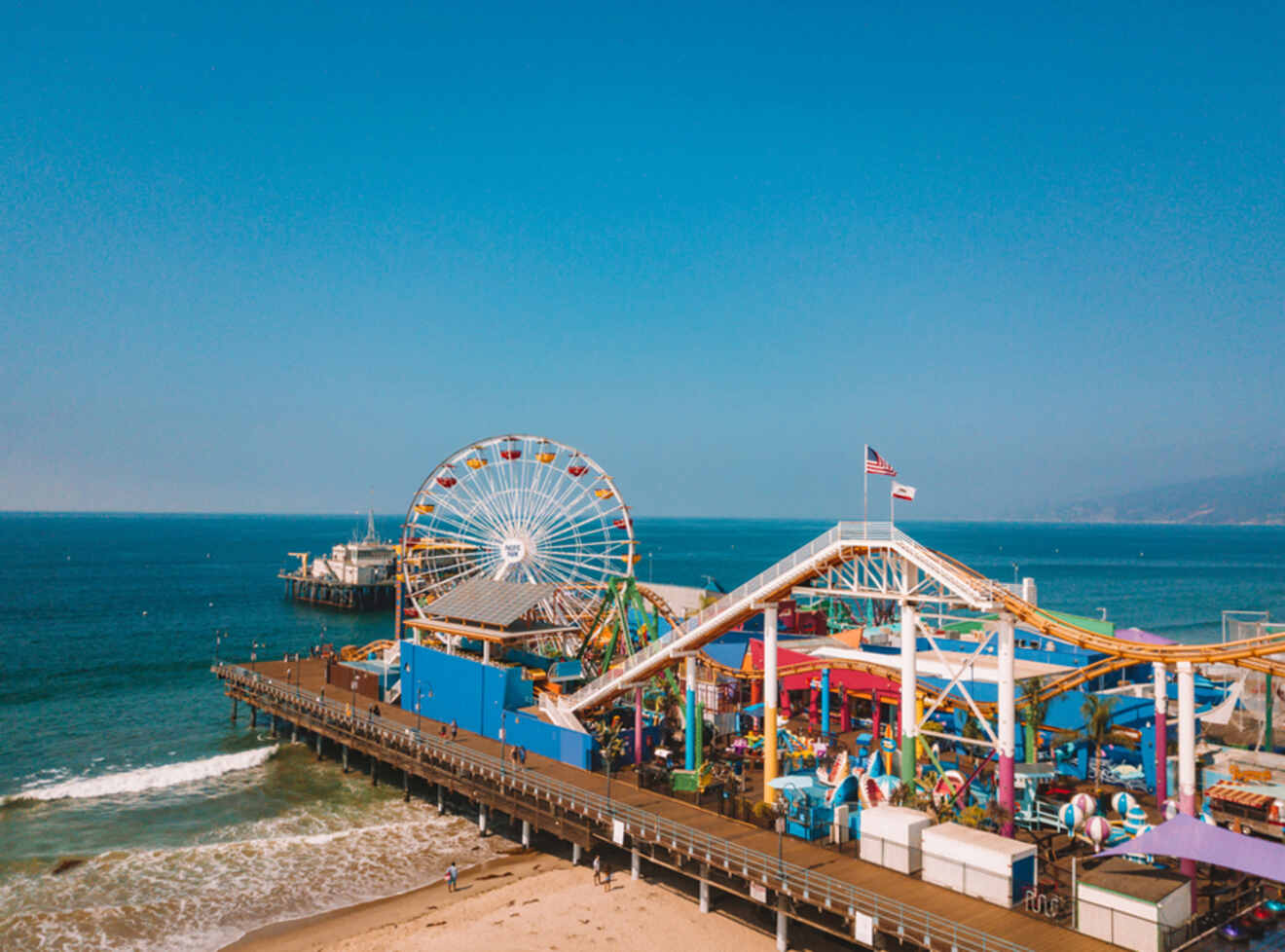 Santa Monica is most well-known for the iconic Santa Monica Pier – the only theme park in the world sitting on the pier itself! From carnival games to roller coasters and carnival food, performers, attractions, and more, there is plenty to enjoy here. If this is just a short stop, I suggest walking the pier and riding the iconic Ferris wheel.
If you're planning to stay near the famous Santa Monica Pier for a few hours or more, I suggest this electronic bike tour from Santa Monica to Venice Beach. It's a fun activity that'll get you out of your seat for a bit before heading back on the road.
TOUR PRICE: from US$90 per person
Ride eBikes Through Santa Monica
3. Malibu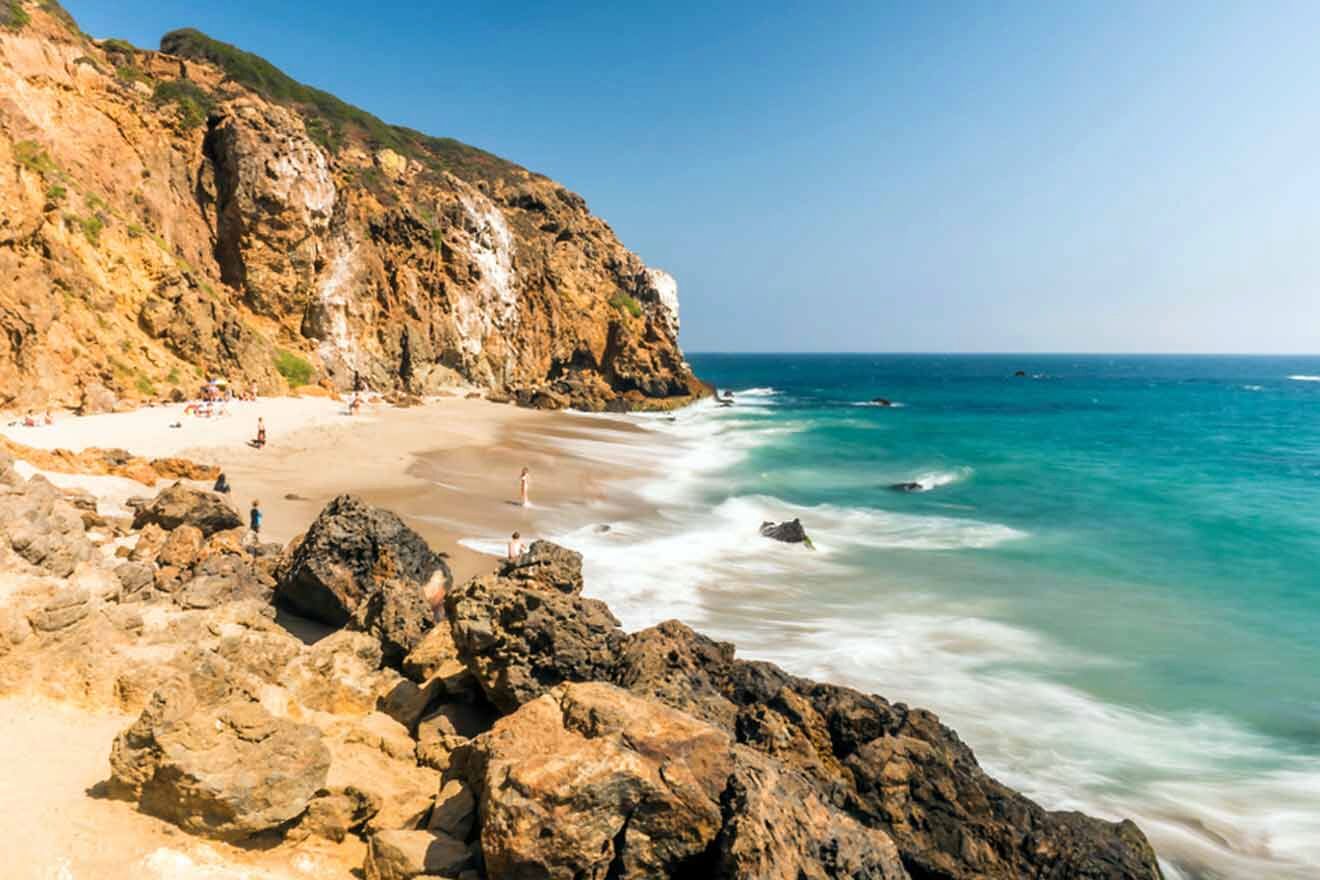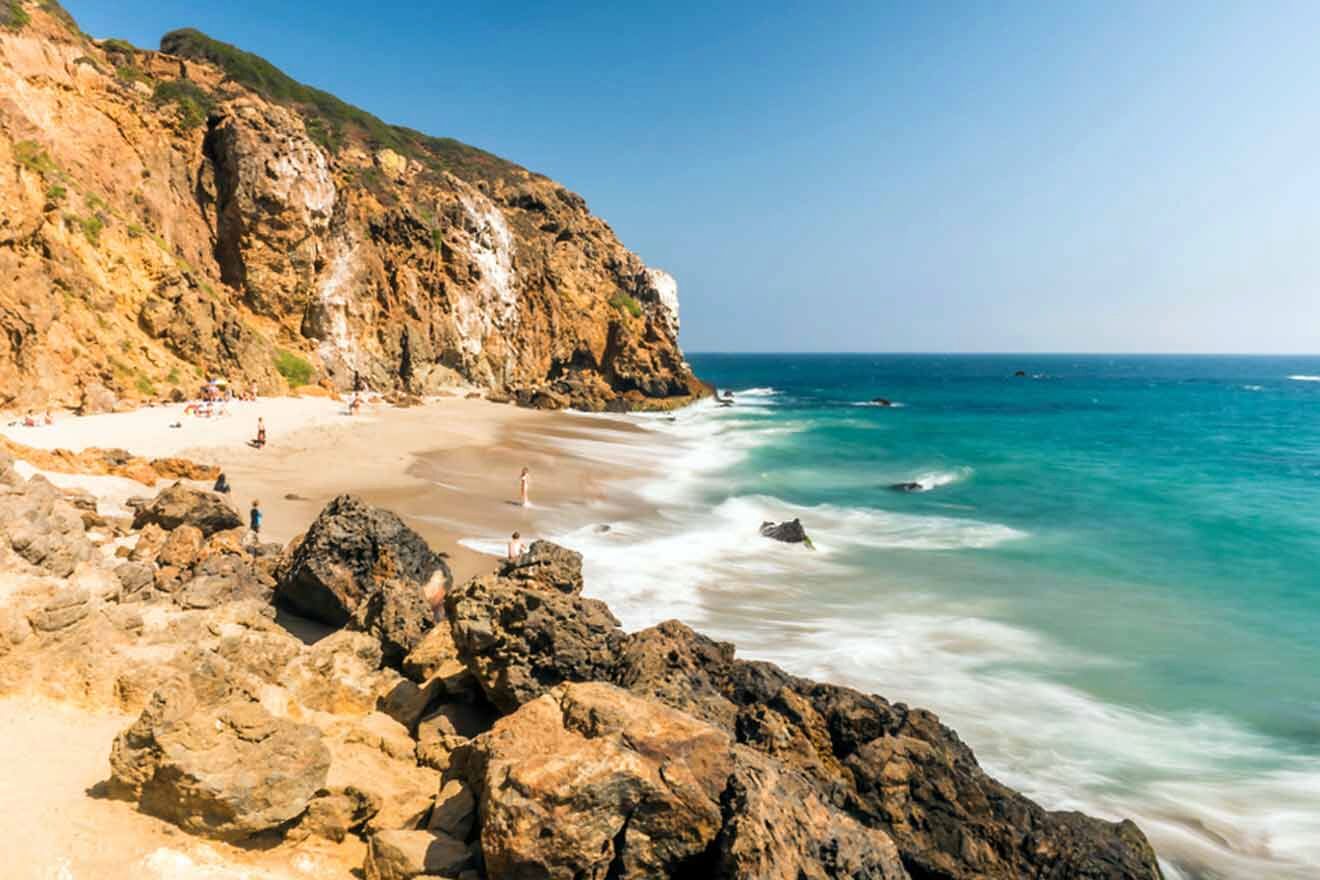 Take another pit stop in Malibu! Zuma Beach in Malibu Lagoon State Beach sits right on the Pacific Coast Highway, so it's incredibly convenient, and you don't have to drive too far off when exiting the freeway. I suggest coming here for a nice walk along the 2 miles (3 km) of sandy beach protected by lifeguard stations.
I don't suggest swimming since this place is known for its strong currents. Instead, pull out a blanket from the trunk and lay on the beach for a bit before heading back.
NOTE: Don't pay for parking! Free parking is available on the southbound lanes of the Pacific Coast Highway.
2. Head north towards Central California
After driving for almost 2 hours from Los Angeles (depending on where you stopped in LA), you'll make it to Central California, home to some of the most pristine wine countries in the world, most underrated beaches in California, and rolling hills of greenery everywhere you turn.
There are a couple of stops I suggest while you're in the area.
1. Santa Barbara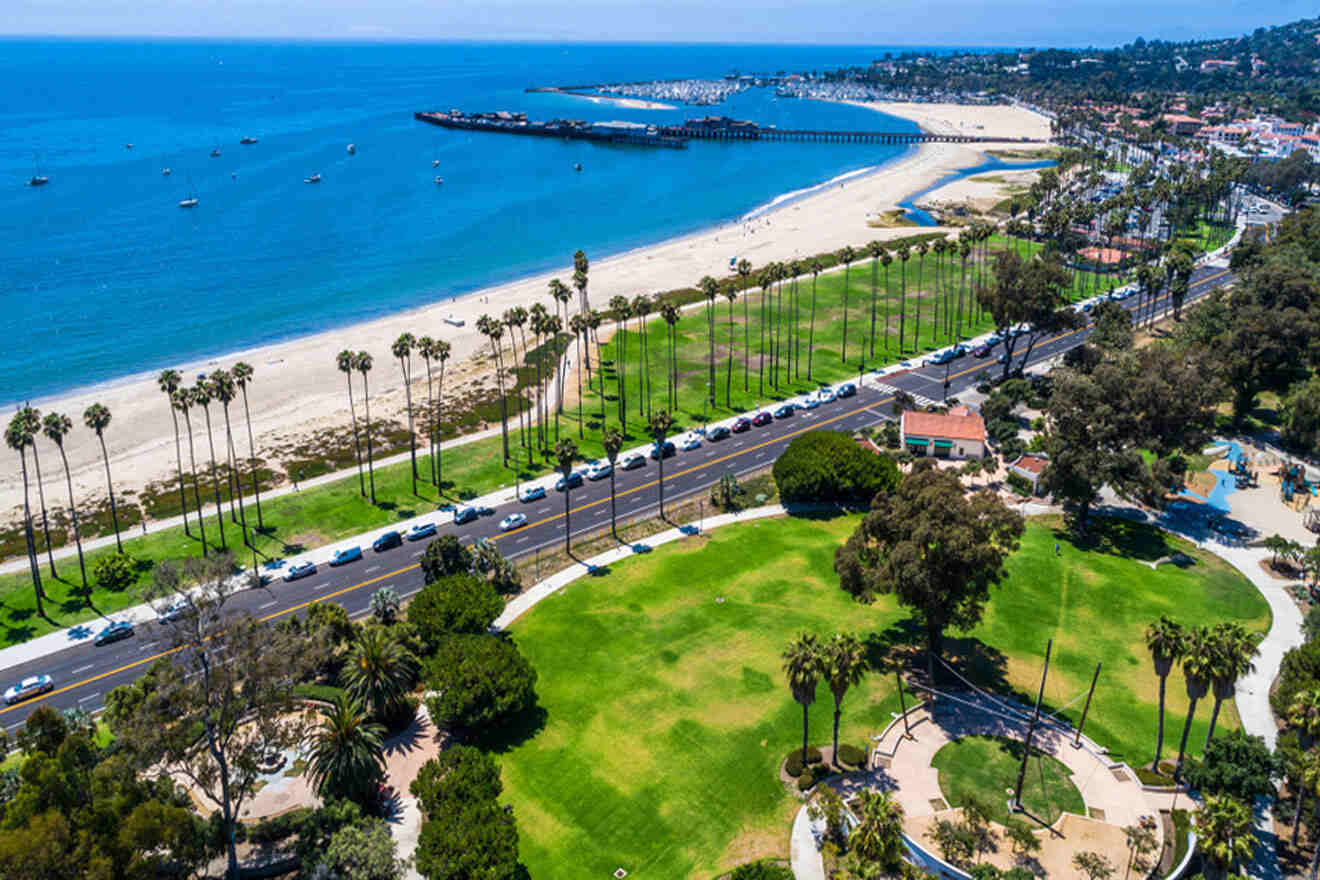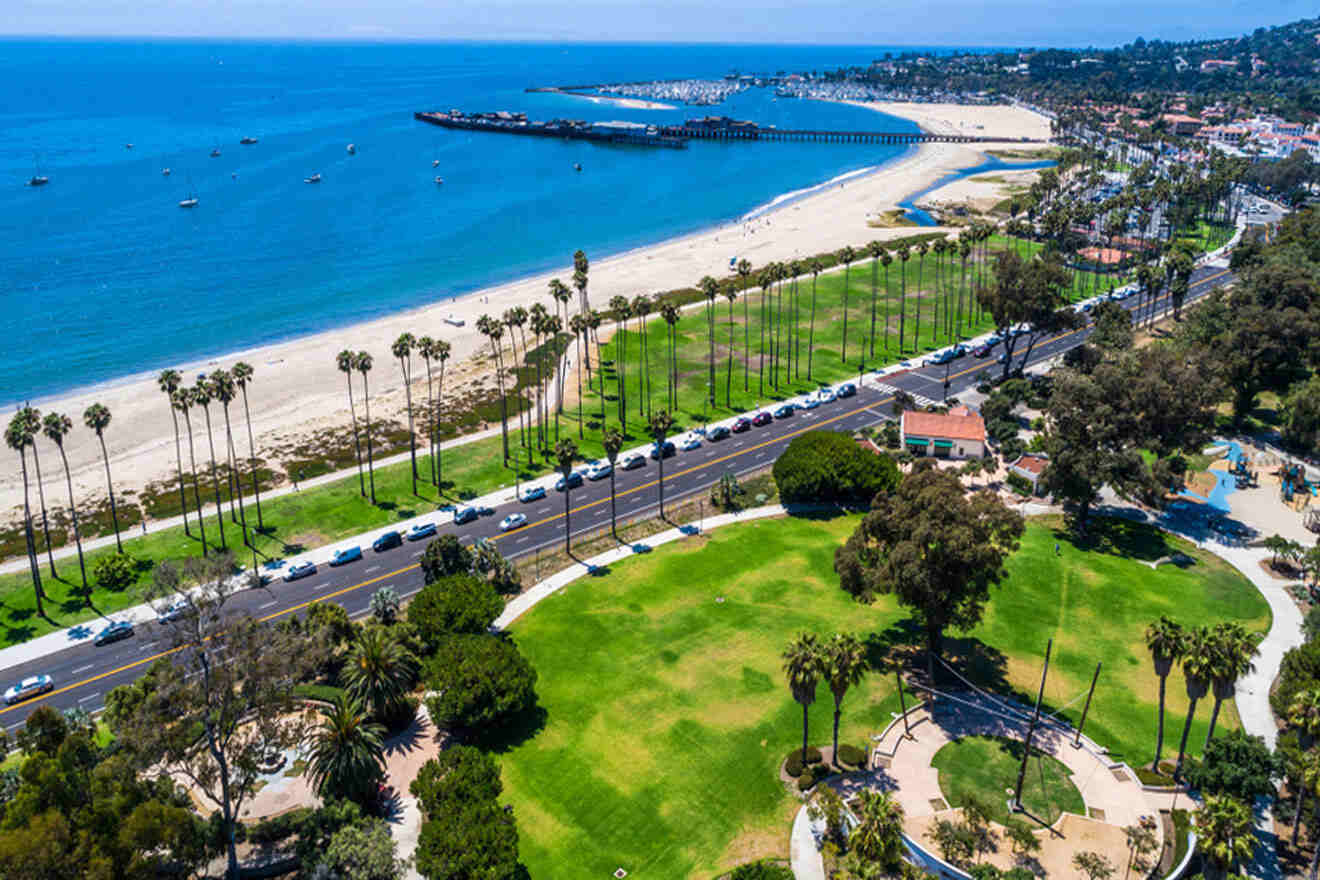 Santa Barbara is a 2-hour drive from downtown Los Angeles and 6 hours away from San Francisco. It's an exceptionally diverse city, offering a plethora of activities such as wine tasting, visits to museums, and a vibrant zoo.
I suggest planning a dedicated day trip (or staying in Santa Barbara) from San Diego or Los Angeles to fully explore all that Santa Barbara has to offer, such as wine-tastings in Santa Barbara wine country.
On this stop, I suggest shopping and strolling down Downtown Santa Barbara! It's one of America's most pedestrian-friendly streets (that's pretty rare, so take full advantage)! There's so much to do here, but for a shortstop, I suggest grabbing lunch or dinner at Opal and admiring the architecture. Afterward, head to Santa Barbara County Courthouse for one of the city's most famous landmarks.
If you want to stop here for a night of camping in the Los Padres National Forest before heading back out on the road, read more here (it's first-come, first-served)!
2. San Luis Obispo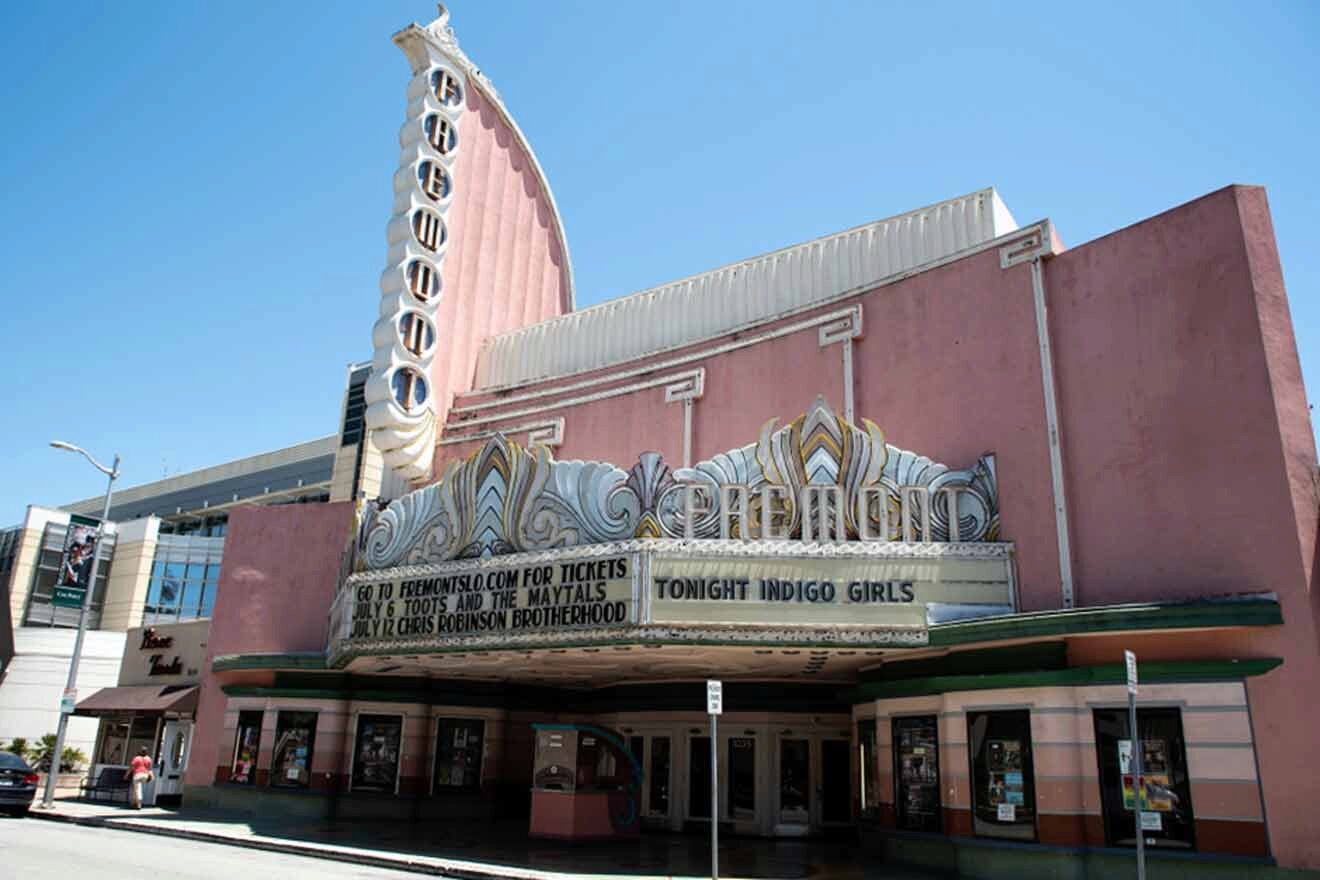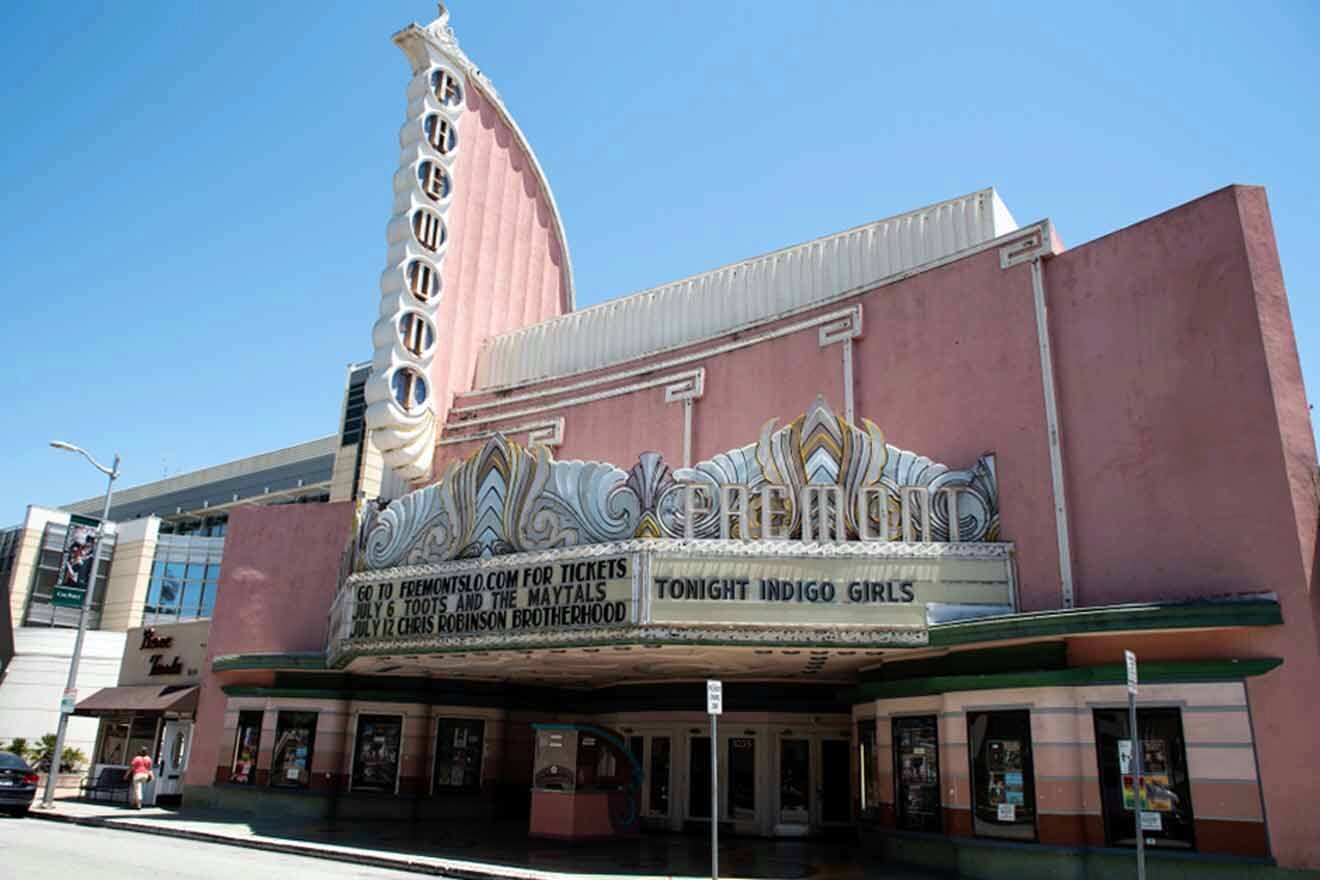 San Luis Obispo is a vibrant city with a rich history, a lively cultural scene, and an appreciation for its stunning surroundings. It offers a perfect blend of small-town charm and natural beauty that continues to attract people from all over the world. San Luis Obispo is about a 4-hour drive away from downtown San Francisco and very close to Pismo Beach (next up on this list).
I recommend stopping by the Copper Café at the Madonna Inn for their world-famous cakes (and take a look at the uniquely decorated hotel while you're here)!
3. Pismo Beach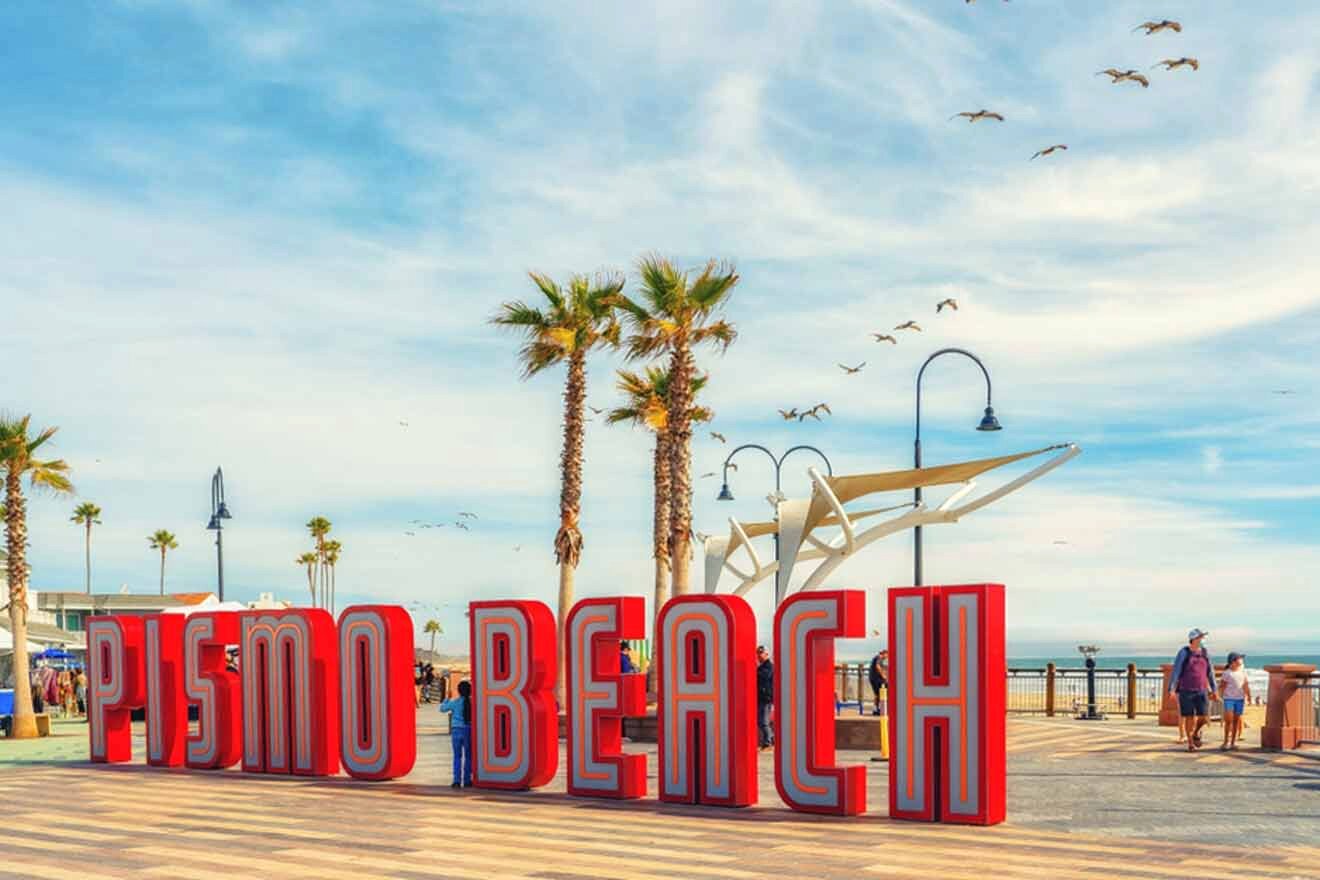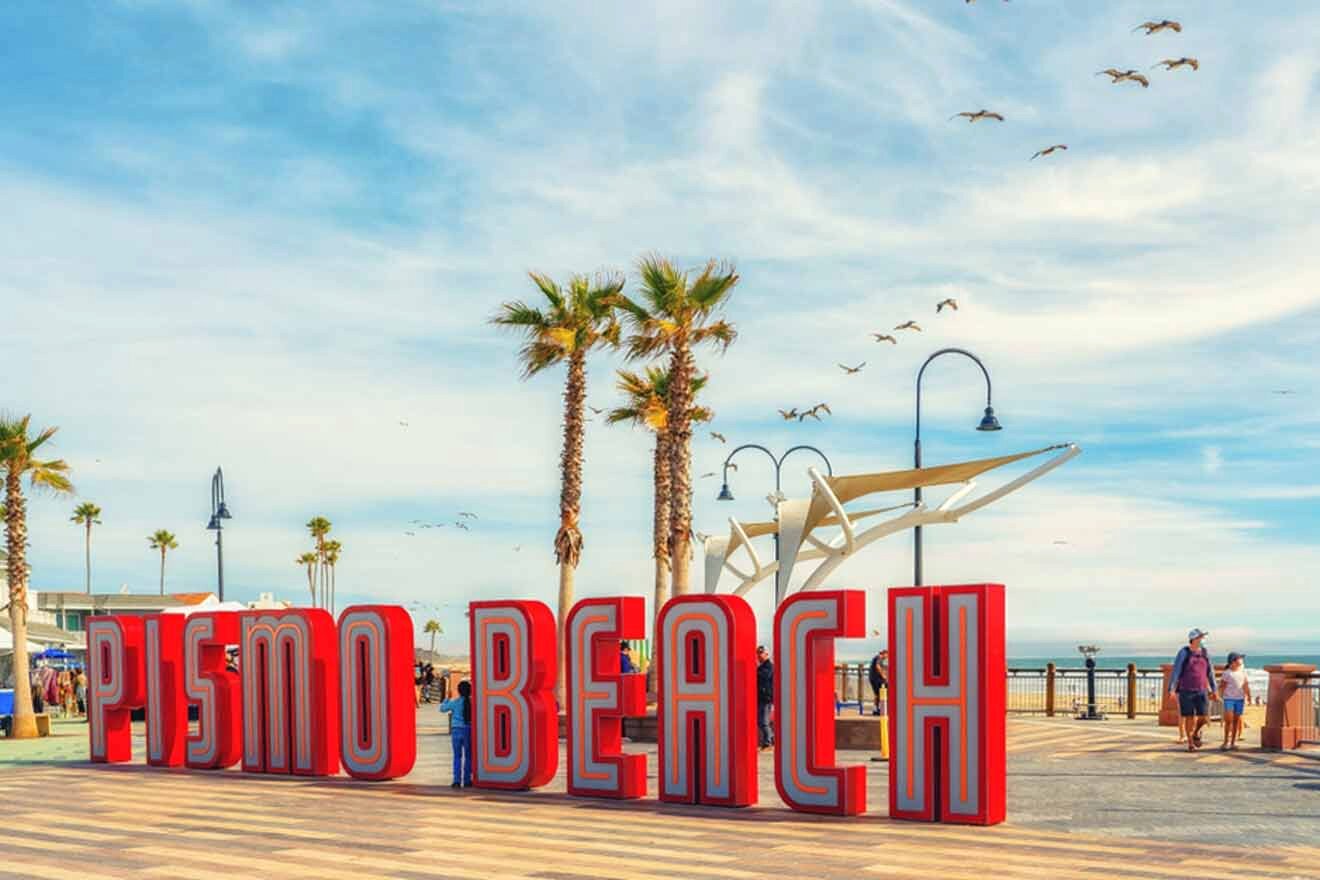 Stop by Pismo Beach to admire the butterfly garden! The Monarch Butterfly Grove is open every year from November through February. If you happen to be road-tripping around that time of year, I couldn't suggest it more! Over 10,000 Monarch butterflies flock around the area of Pismo Beach – trust me, it's a sight worth checking out.
Pismo Beach is right about halfway between Los Angeles and San Francisco. If you haven't stopped anywhere already and want to slowly make your way up the coast, I suggest spending the night at the Inn at the Cove and starting back up on your road trip adventure again in the morning. Getting rest is important to stay safe during this trip, so don't rush!
TIP: Walk over to the Pismo Beach Pier and dig up some clams to take home!
4. San Simeon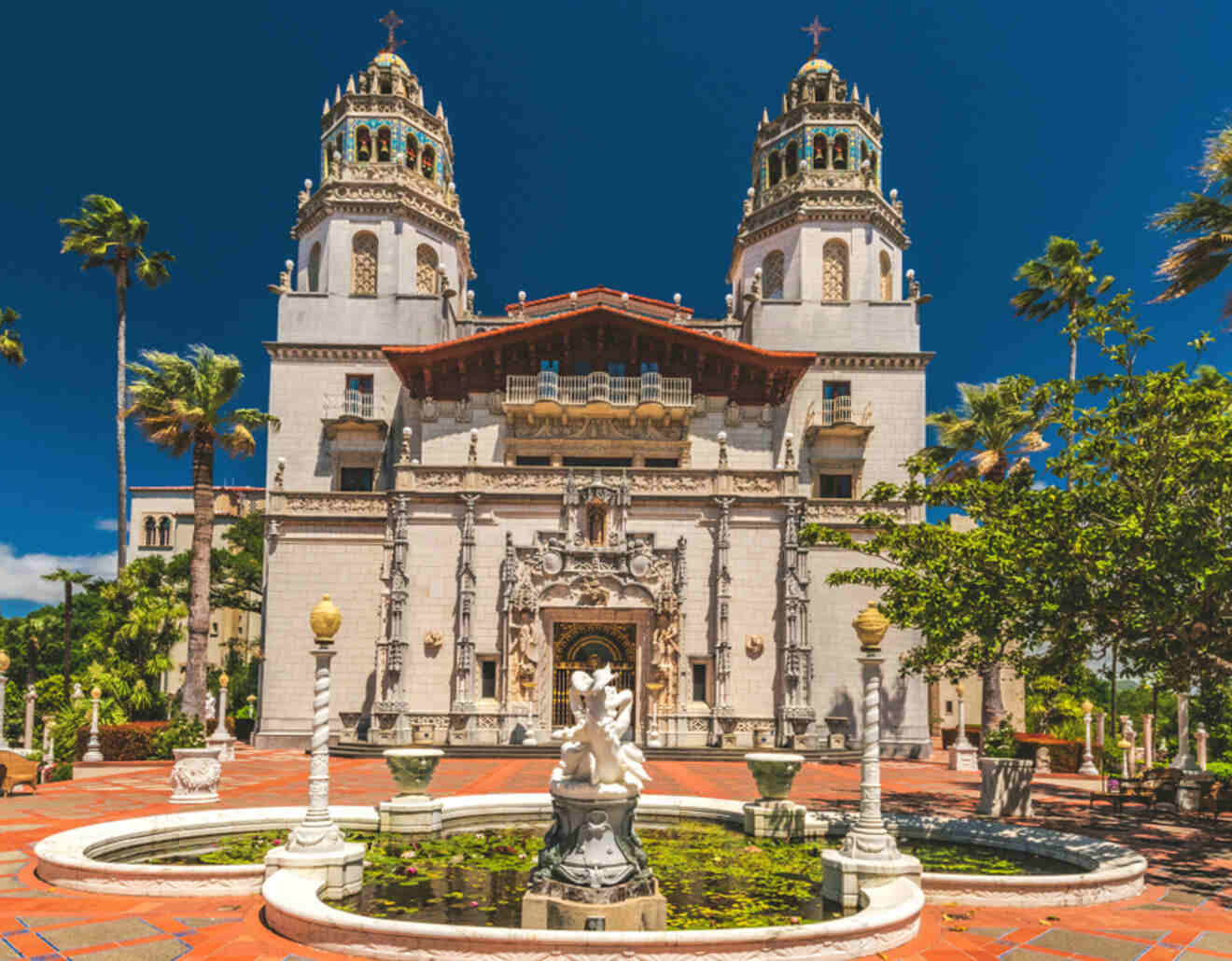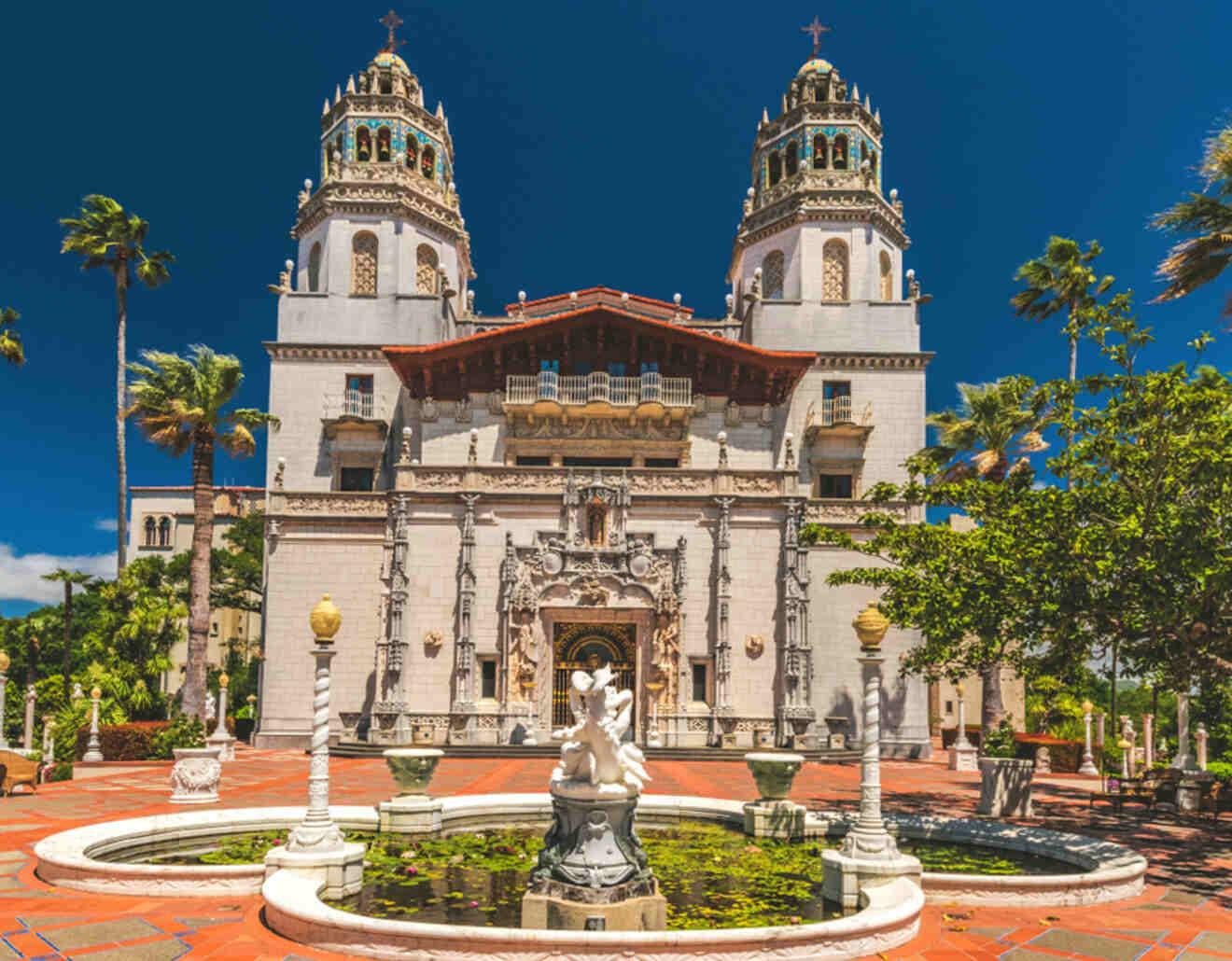 The world-famous Hearst Castle is located in San Simeon, a small village off the coast of San Luis Obispo. Since the castle is only a short drive away from Pismo Beach, you're still about halfway through the road trip heading from Los Angeles to San Francisco!
The Hearst Castle is a captivating attraction for travelers driving through the coast. It deserves a spot on your must-visit list, being one of California's most extraordinary national historic landmarks.
Originally owned by William Randolph Hearst and architect Julia Morgan, they worked together to craft the beautiful mansion known as "The Enchanted Hill" on over 250,000 acres (around 101,170 hectares) of land.
Within the guesthouses, you'll find a collection of 46 rooms, including a beauty salon, library, and theater, among other fascinating spaces. I highly recommend exploring this iconic castle and immersing yourself in its rich history and architectural wonders!
TIP: If you're not in a rush to get anywhere, continue your way to the Elephant Seal Vista Point nearby for a fascinating observation deck of elephant seals in their natural habitat!
5. Morro Bay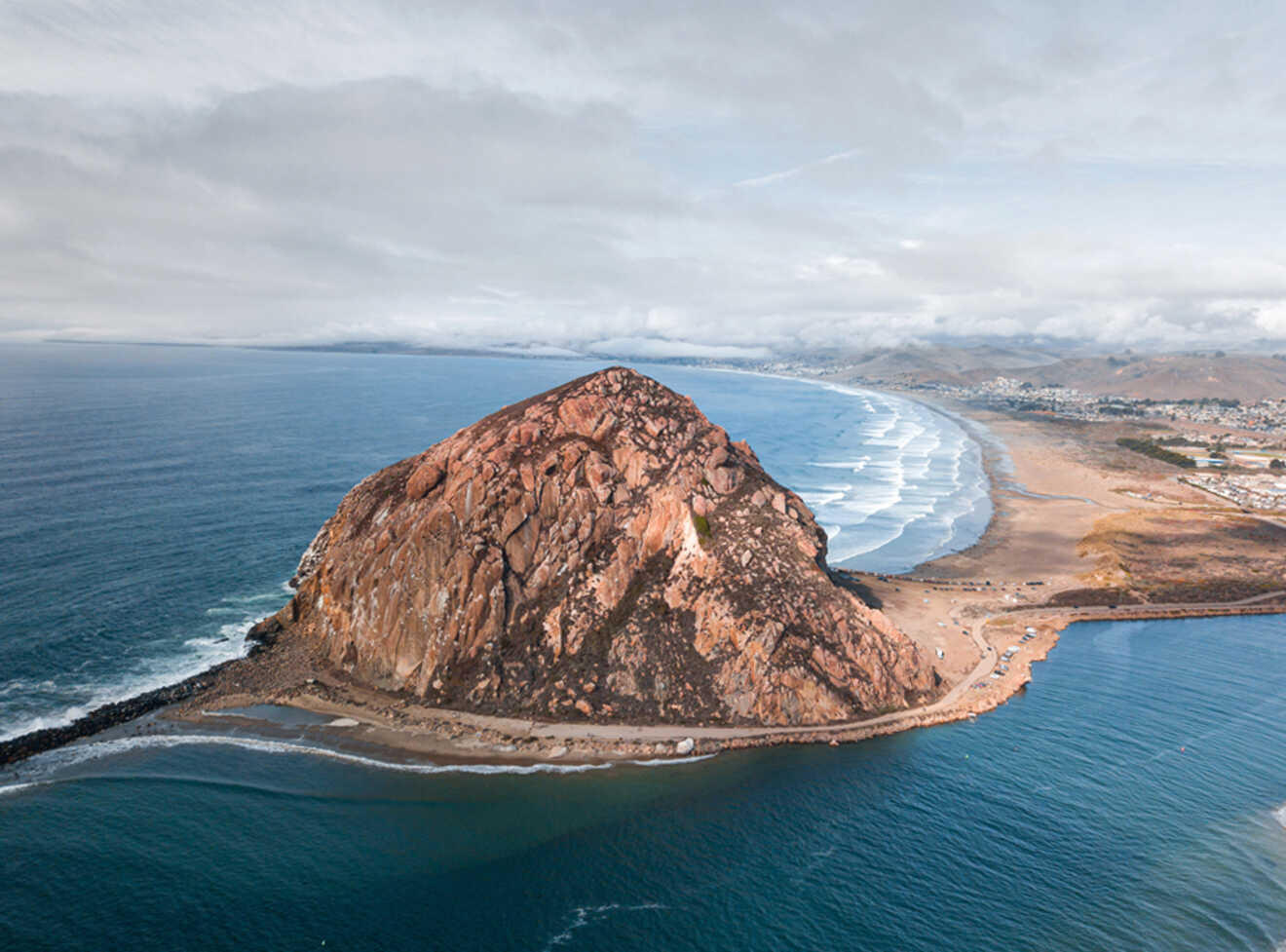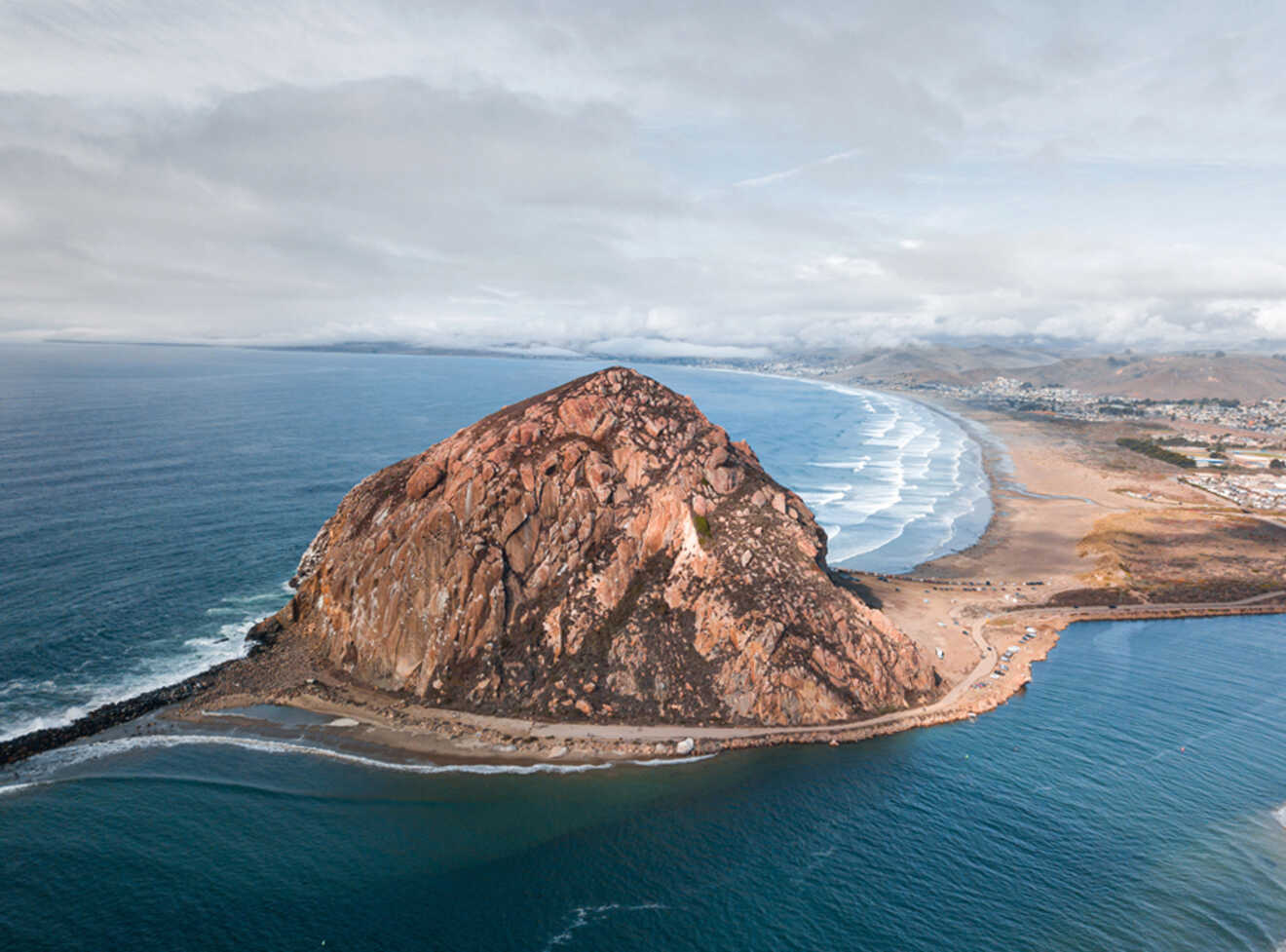 Just a 30-minute drive from Hearst Castle, Morro Bay is a captivating stop on your journey from Los Angeles to San Francisco.
The highlight of Morro Bay has to be Morro Rock, an impressive 576-foot-tall (176 m) volcanic plug standing majestically on the shore of Morro Beach. This geological form holds a significant cultural value for Native Americans, leading the state to protect and preserve it as a sacred site. Climbing the rock isn't allowed, so look but don't touch!
Don't forget to bring down your jacket from the car! The Central Coast beaches tend to be cooler than the beaches of Southern California, so it's wise to bring blankets and jackets from the car before heading down to the beach!
3. Make your way towards the 17-Mile Drive
The highlight of the Pacific Coast Highway road trip is the iconic 17-Mile Drive. This is the part of the California Coast that makes the entire trip worthwhile. There are a few spots I suggest stopping by for photos and taking in the serene views of coastal bluffs and the shimmering Pacific Ocean.
1. Monterey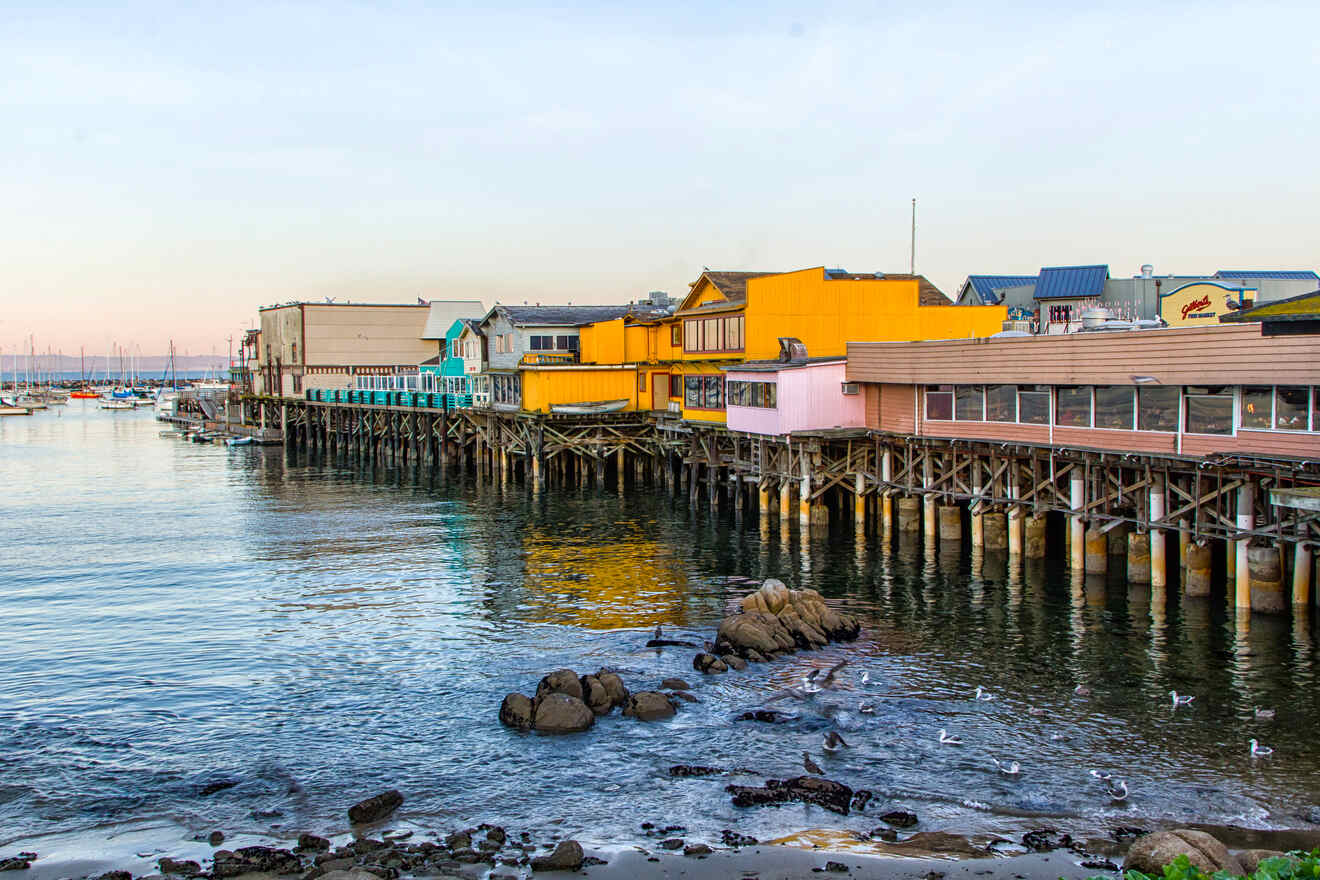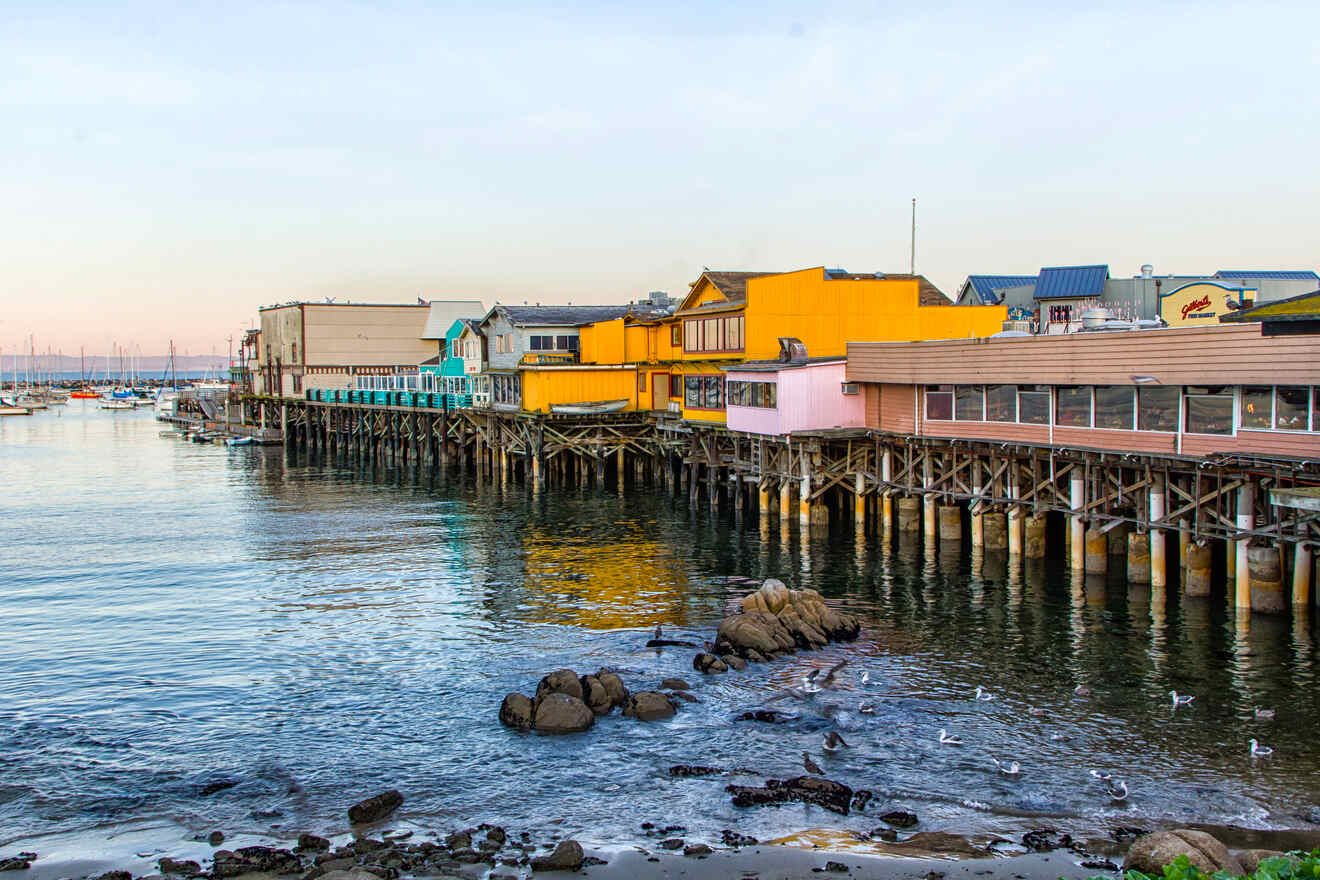 First things first – Monterey! Monterey is located about an hour south of Santa Cruz on the California Pacific Coast Highway 1, offering another perfect stop on your journey if you're hungry for some good ol' fashioned fish and chips.
Monterey is renowned for the Old Fisherman's Wharf, where I suggest grabbing some delectable fish and chips. Check out these places:
Old Fisherman's Grotto – A classic waterfront joint serving delicious fish & chips and clam chowder.
Sandbar & Grill – A charming restaurant with fresh clams and marina views, a hidden gem away from the tourist crowds.
PRO TIP: Before continuing towards Carmel and the 17-Mile Drive, book a self-guided tour to enjoy the scenic drive and take note of the attractions along the way.
If you decide to stop here and stay the night, I suggest taking your time exploring the city! There's a TON to see in Monterey (see our full article on things to do in Monterey for the real lowdown), but you should start at the Monterey Bay Aquarium and book a whale-watching tour.
PRICE: from US$10 for the audio tour; from US$80 for the whale-watching tour
2. Big Sur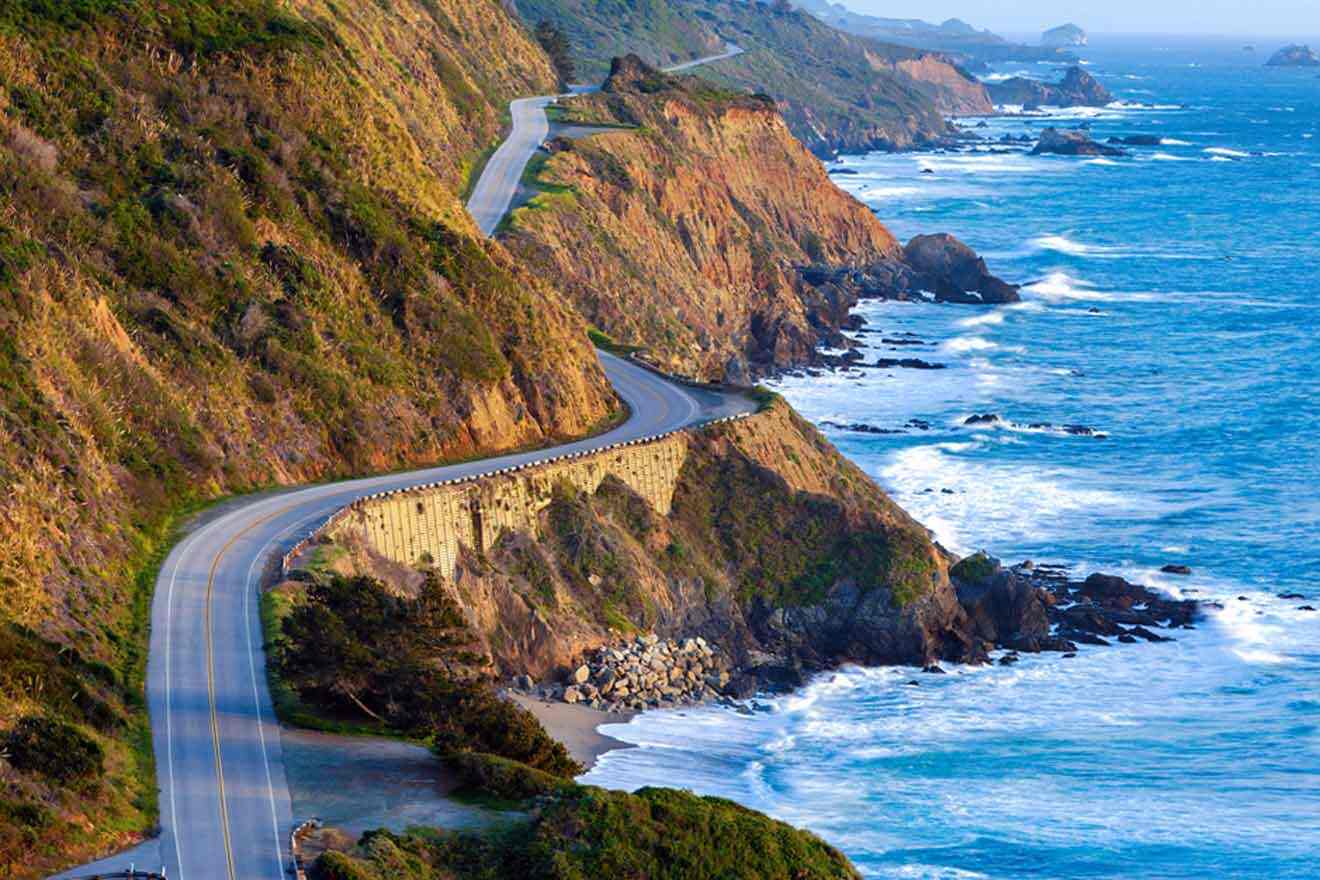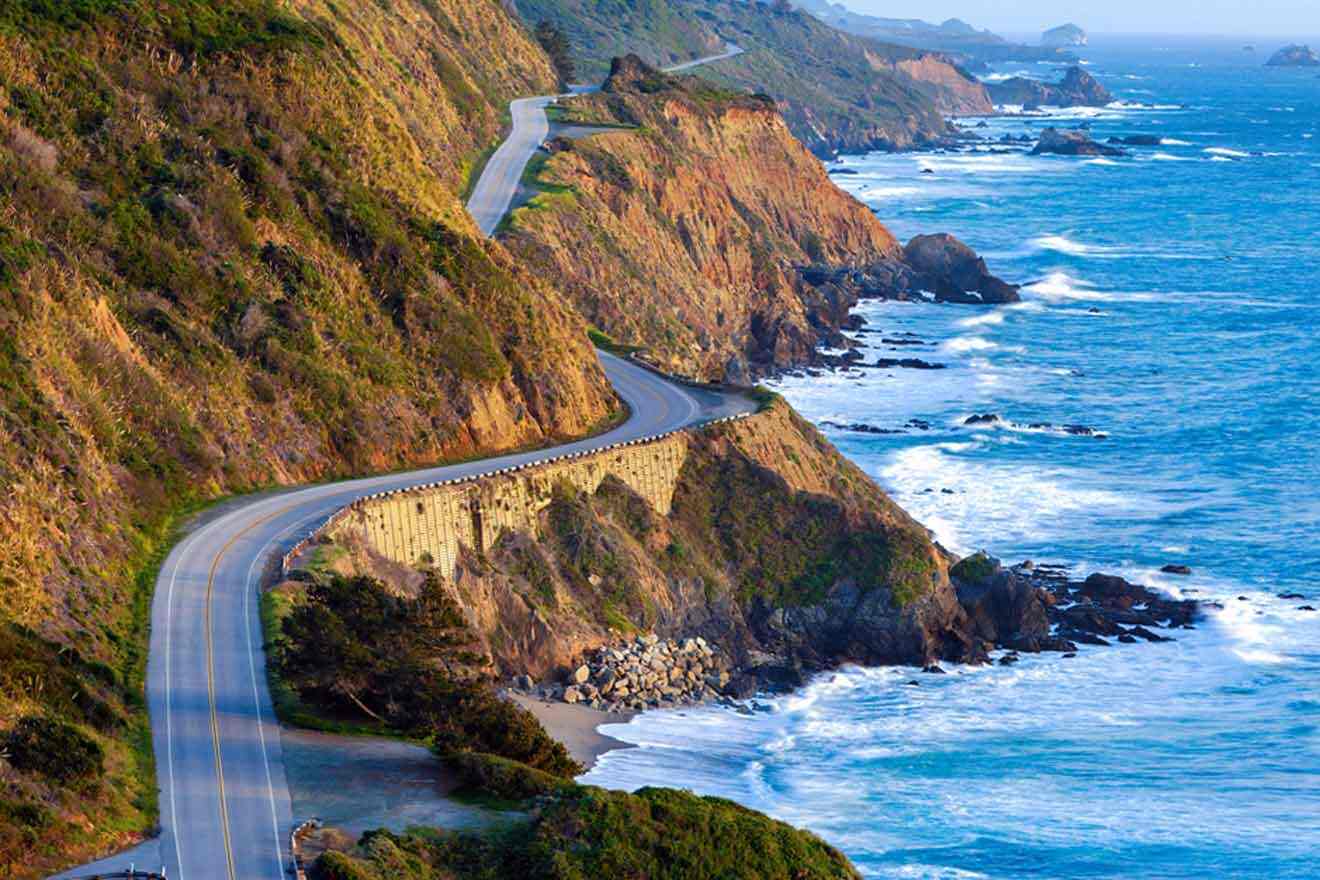 Congratulations! You've reached Big Sur, situated directly on the Pacific Coast Highway, just a 45-minute drive from Carmel-by-the-Sea and a 3-hour distance from San Francisco. You're so close! But take your time in Big Sur – it's one of the most jaw-dropping natural wonders in all of California and deserves the time.
There is an incredible amount of marine life, coastal bluffs, and a variety of natural reserves that will blow you away. There are a few popular attractions I suggest visiting while you're in Big Sur. If you don't have too much time, don't miss out on these!
Pfeiffer Beach – Ever seen a purple sand beach? Now you can! This is one of the most unique beaches in California. (Also, pay attention to the Keyhole Arch nearby for a crazy rock formation.)
Bixby Creek Bridge – This iconic bridge is popular among tourists and easily accessed from the Pacific Coast Highway, so you can easily stop by and take photos without going too far outside the coastal route.
Sand Dollar Beach – This less-populated beach is the perfect place to put your feet in the water and unwind after sitting in the car for hours on end.
3. Pebble Beach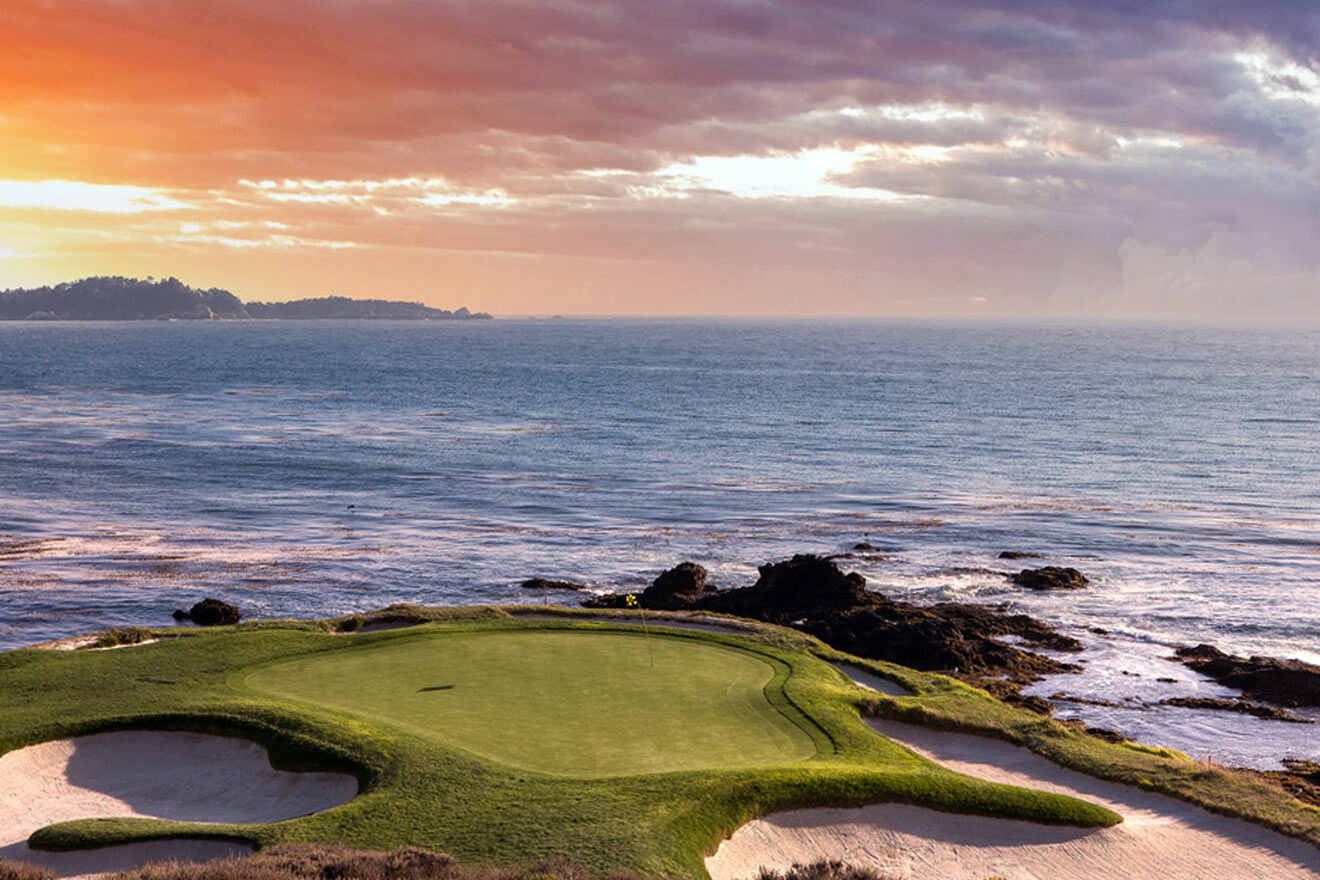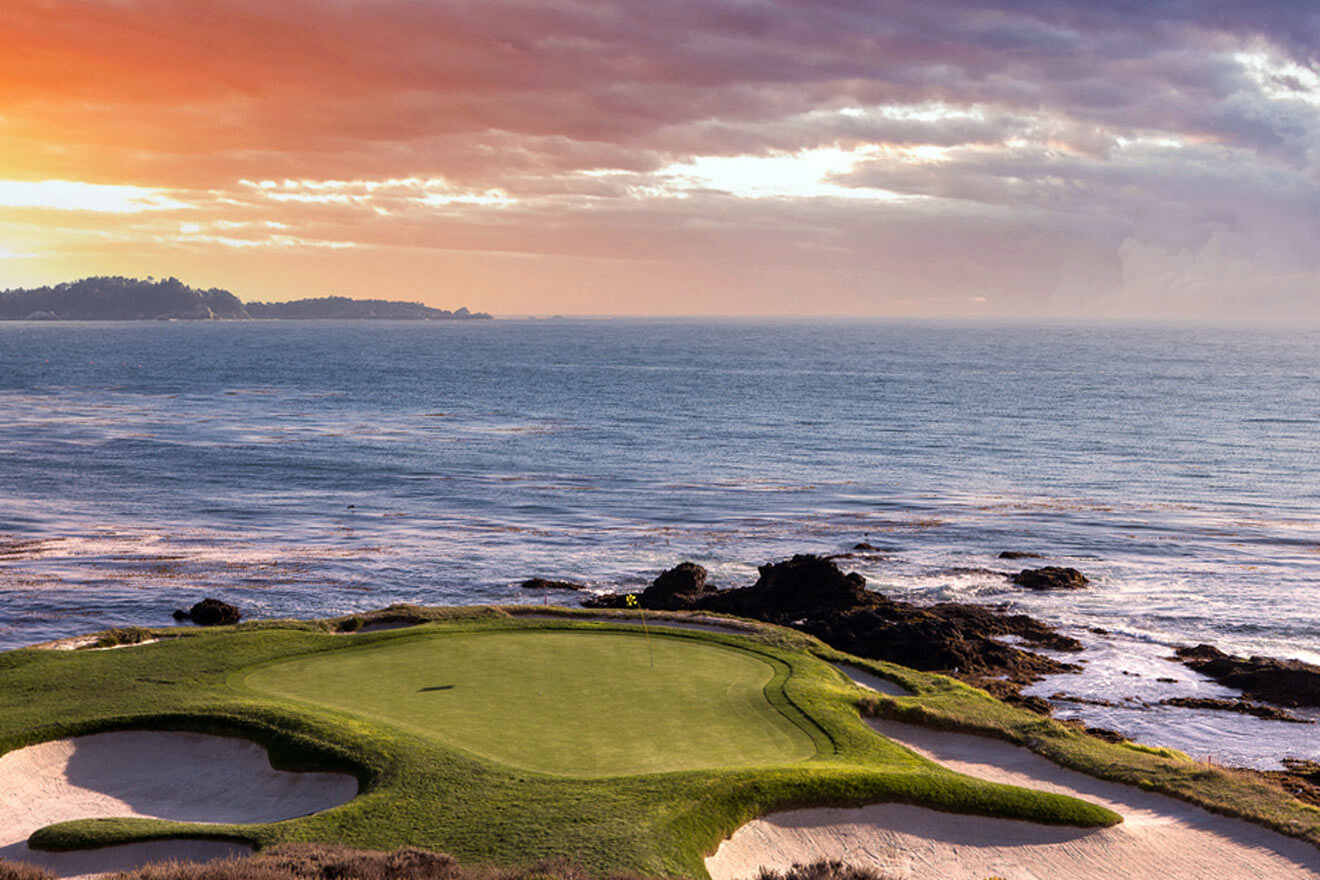 Pebble Beach is home to some of the most iconic landmarks on the 17-Mile Drive. Here are a few I suggest visiting:
Lone Cypress Tree – For the past 250 years, the world-renowned standing cypress tree has stood its ground. It's also one of the most highly photographed trees in the world.
Bird Rock Vista Point – This vista point has sweeping views of the coastal bluffs and stunning natural wonders of the Big Sur area.
Seal Rock Creek Beach – This is a small sandy beach near Bird Rock. I suggest visiting this beach and going up to Vista Point after if you're up for a longer adventure!
4. Carmel-by-the-Sea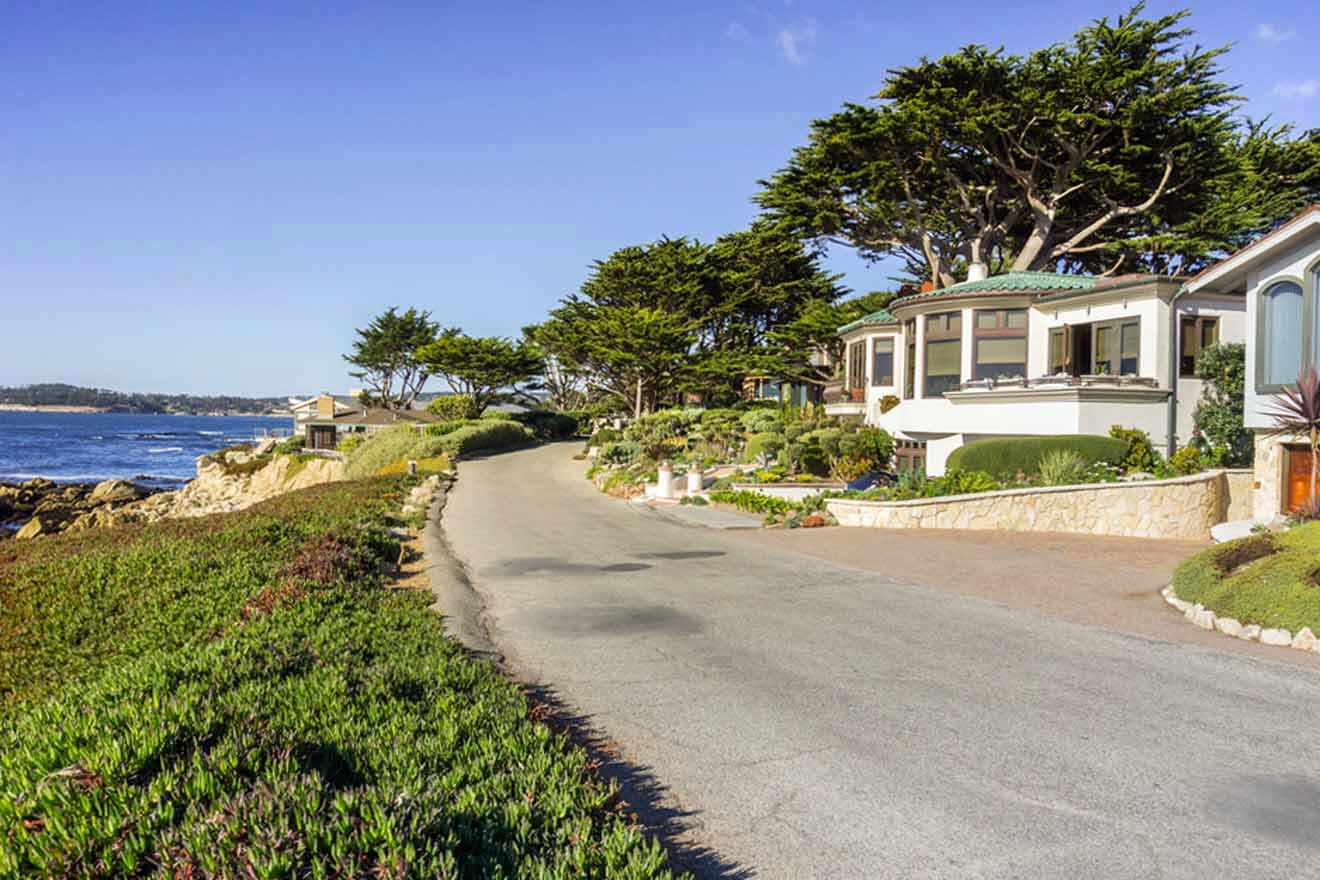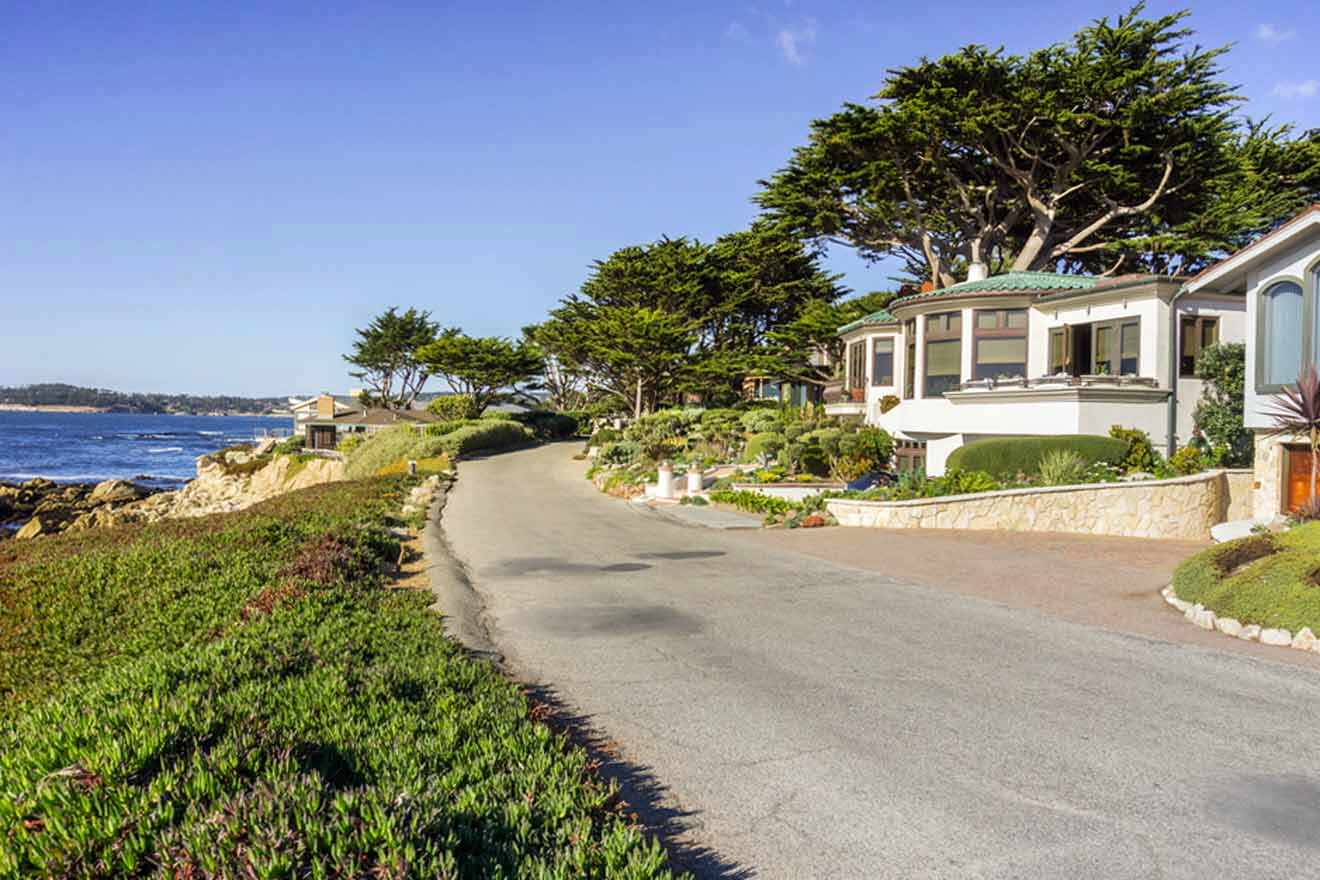 Welcome to my favorite seaside community in Northern California, Carmel-by-the-Sea! This charming town is filled with fairytale-inspired 1920s architecture, art galleries on every corner, and stunning white-sand beaches (that are also dog-friendly)!
I suggest stopping by to walk around Carmel Village for a relaxing stroll and check out all the fairytale vibes. It's completely different from what you'll see in San Francisco. You can also explore them on a 2-hour guided walking tour!
The Tuck Box, Storybook Cottage, and The "Hansel" & "Gretel" Cottages are 3 that you'll want to pull your camera out for.
PRICE: from US$35 per person
4. Go further up north and continue exploring
Located 70 miles (113 km) south of San Francisco and 35 miles (56 km) north of Monterey, downtown Santa Cruz and Half Moon Bay lie so close yet so far away from your final destination. The good news is, there's still more to see before you get there.
Here are a few things to do while you're here:
1. Santa Cruz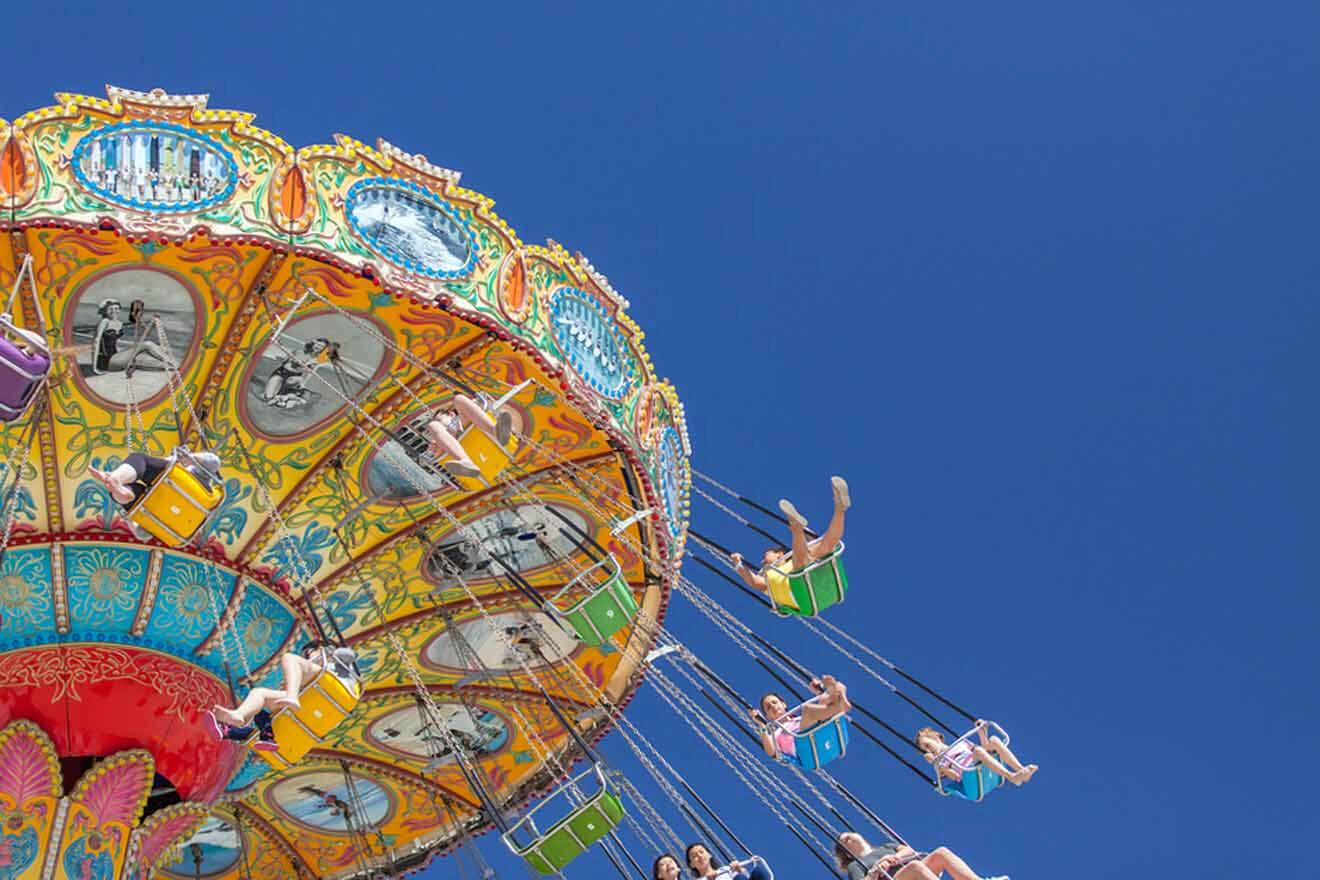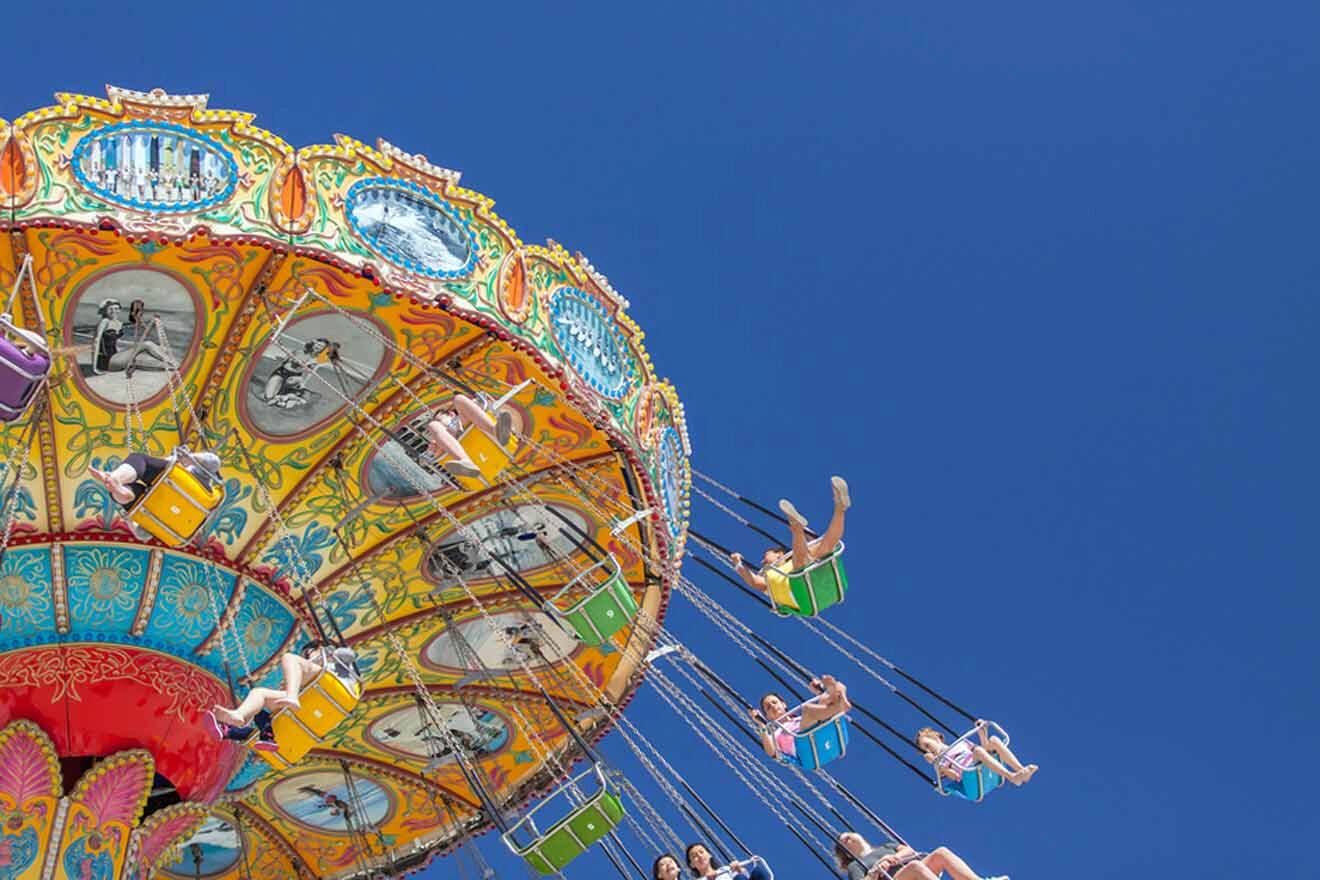 Santa Cruz is a small beach town in California known for its oldest amusement park, the Santa Cruz Beach Boardwalk. If you've been driving through your California road trip for a little too long and need a break, I suggest trying out the wooden 90-year-old ride, the Giant Dipper, to wake you up.
While you're in Santa Cruz, don't miss the chance to visit Natural Bridges State Beach. It's a beautiful beach with fascinating marine life like sea stars, crabs, and sea anemones and home to the State Monarch Preserve, where thousands of Monarch butterflies migrate annually. If you missed the butterflies in Pismo Beach, you'll get a second chance here!
You can find the entrance to the state park at the end of West Cliff Drive near Swanton Boulevard. There's a free car park available for a quick 20-minute stop, but if you plan on staying longer, the day parking fee is US$10 per vehicle.
PRO TIP: Enjoy the breathtaking views of Natural Bridges State Beach without disturbing the environment by leaving your mason jars in the car. It's illegal to pick up anything here!
2. Half Moon Bay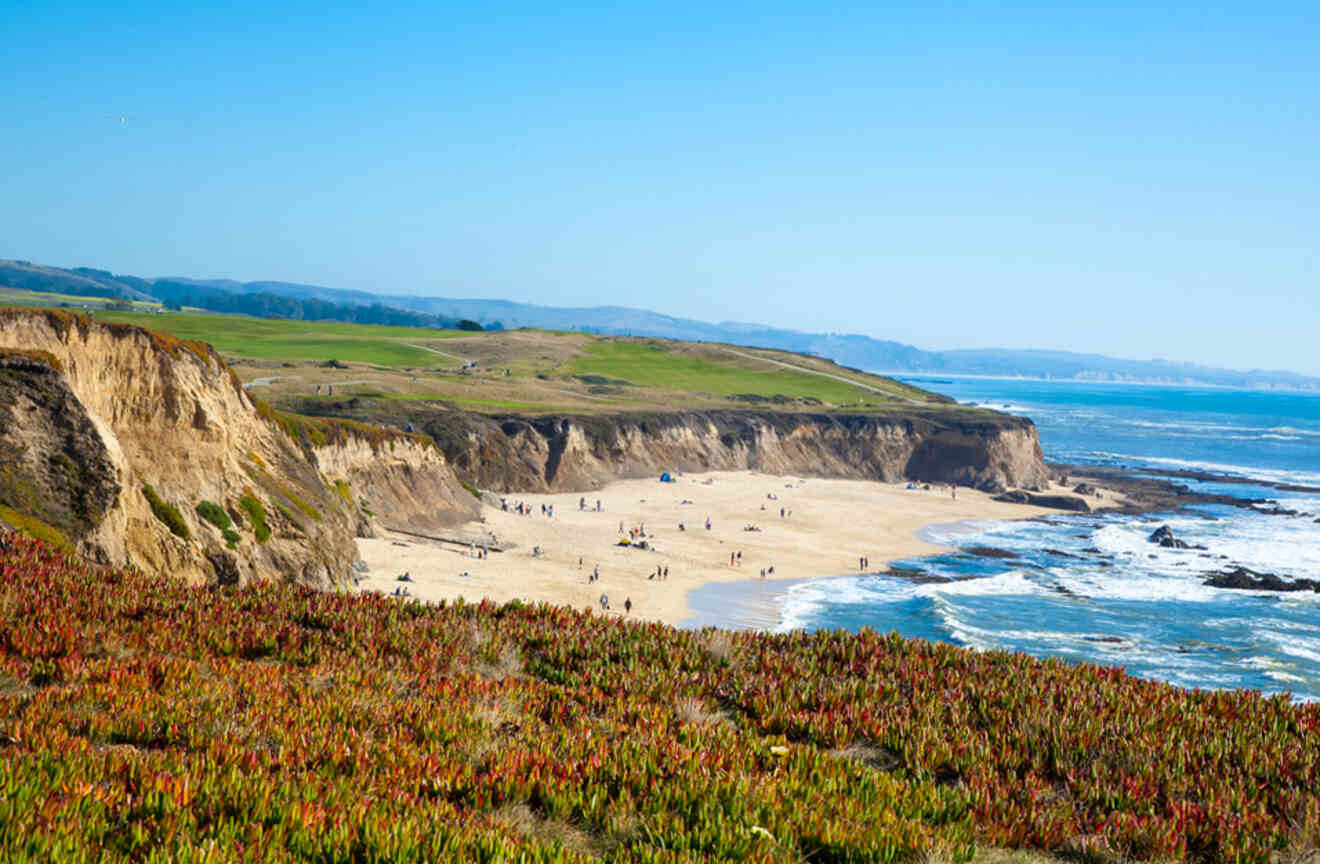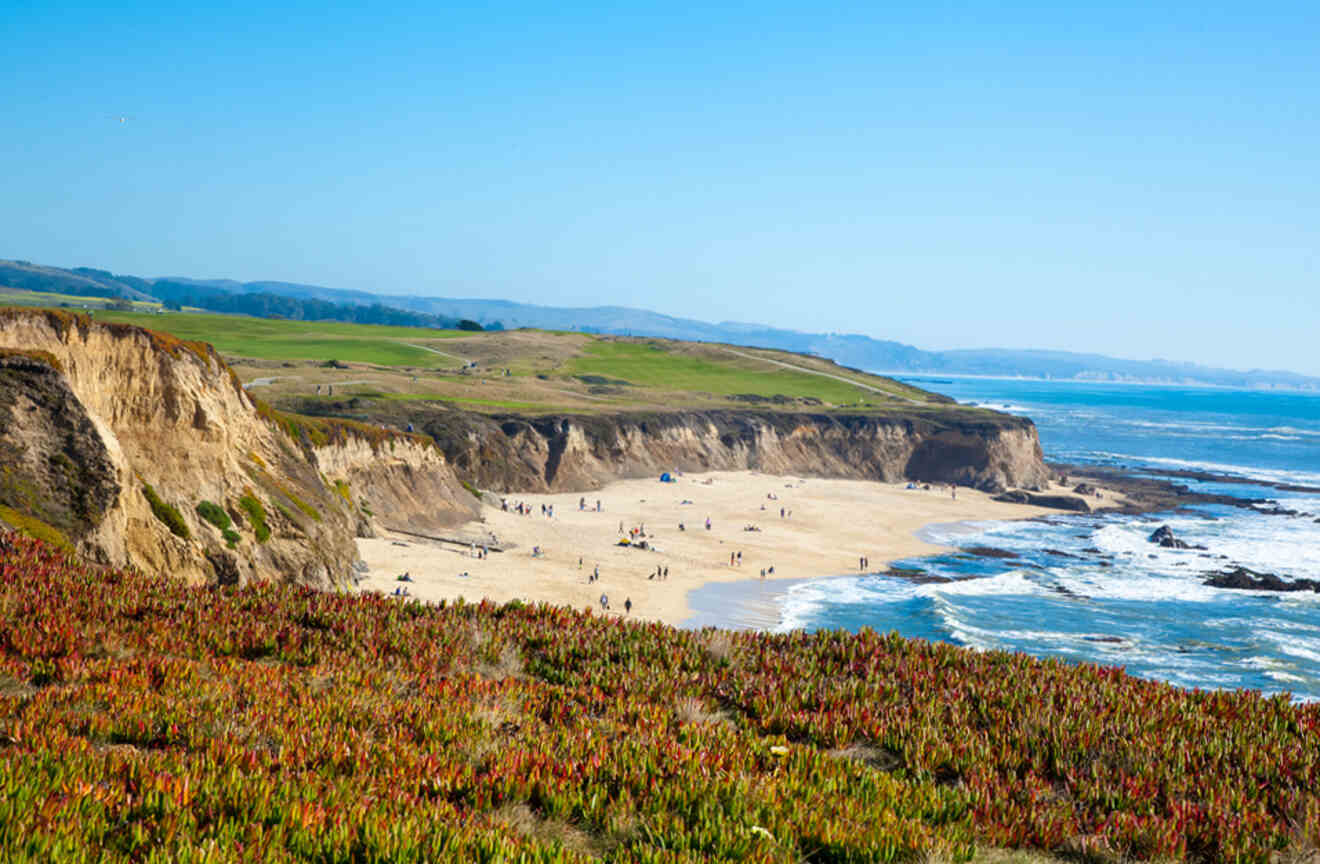 You're officially 45-min away from San Francisco and have hit most of the scenic spots in your road trip. Last one to make this list is the historic Half Moon Bay! Half Moon Bay is an old settlement with pieces of history dating back to the early 1800s. The park has 4 beaches to explore, but I suggest stopping by Dunes Beach for the easiest access from the Pacific Coast Highway.
At Dune Beach, you can expect sweeping views of the California coast, sandy dunes, and plenty of room to take stunning photos. It's a relatively quiet beach so I recommend respecting that by not bringing the kids down to play in the sand.
5. San Francisco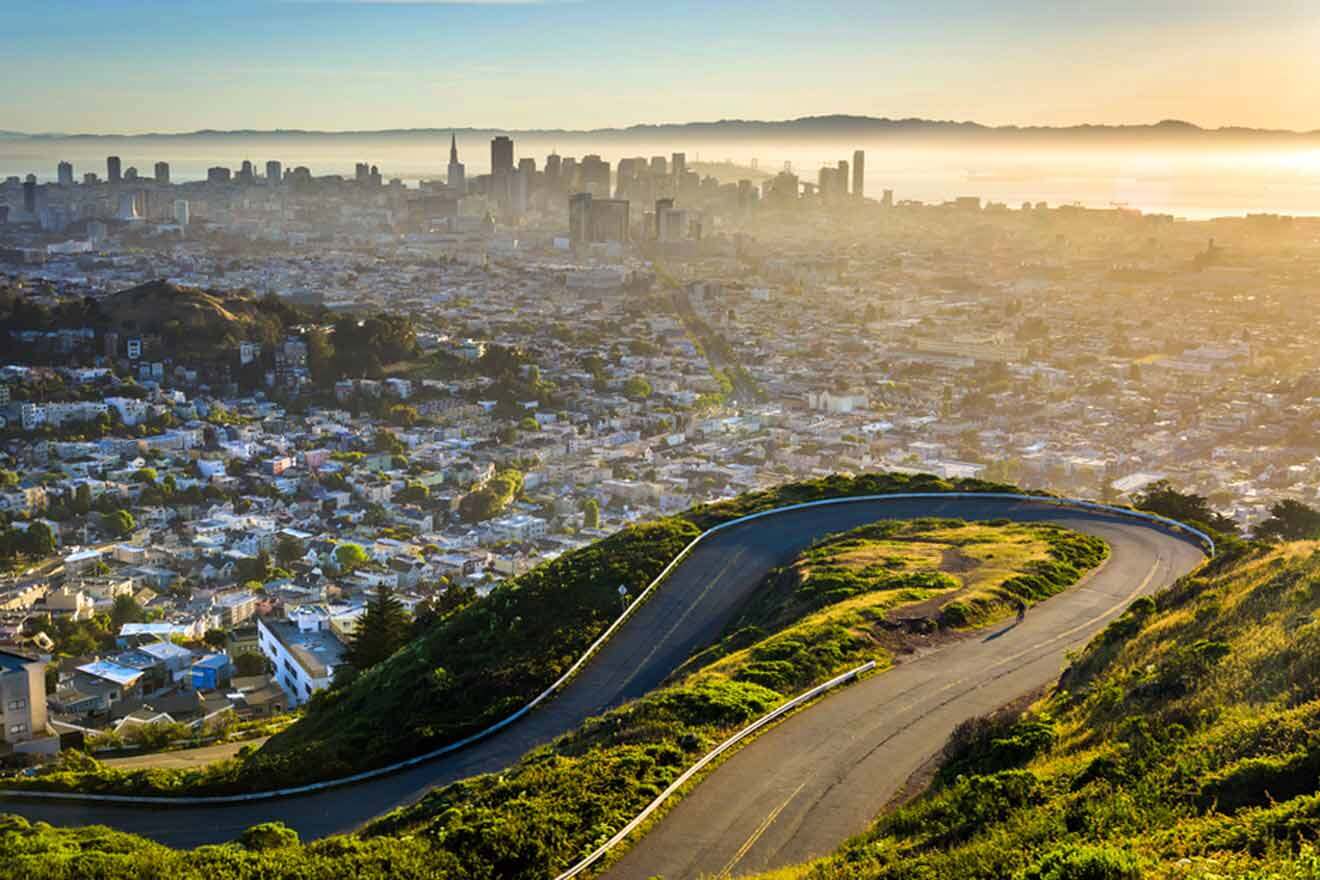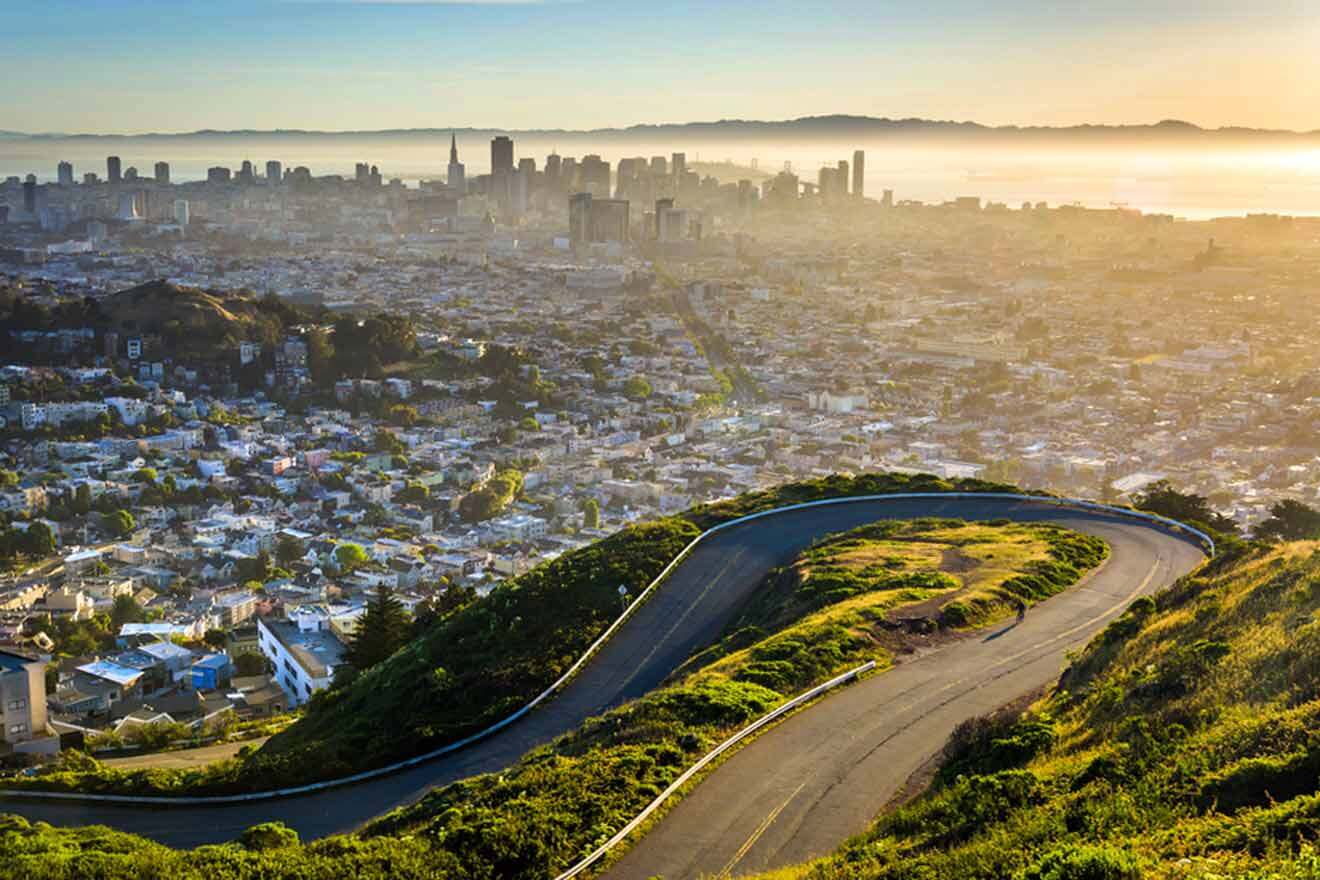 Welcome to the golden city of San Francisco! This beautiful city is well-known for its wide array of activities, destinations, historic landmarks, and more.
Just to name a few – the famous Golden Gate Bridge, Alcatraz Island, and Fisherman's Wharf… are all on every traveler's bucket list. As soon as you get there, I recommend hopping on a 70's VW van with a tour to experience the best of San Francisco.
Here are a few things you'll pass by on your tour with your professional guide:
Haight-Ashbury – Embark on a drive through the renowned abodes of Jimi Hendrix, Janis Joplin, and other iconic figures as you delve into the historic hippie movement of San Francisco!
Fisherman's Wharf – When in San Francisco, visiting Fisherman's Wharf is a must, whether on tour or exploring independently. This tour includes a delightful journey through the area, and if you have a few days to spare, make sure to return to witness the charming sea lions at the renowned Pier 39!
Golden Gate Park – You'll adore Golden Gate Park, a place filled with numerous San Francisco attractions to enjoy! Don't forget to visit after the tour for the most stunning views of the iconic bridge and San Francisco Bay.
Staying in San Francisco for the weekend? Check out my entire 2-Day San Francisco itinerary.
Where to stay on your LA to San Francisco road trip
As I already said in the beginning, the whole road trip will take 8 – 9 hours without stopping, so it's a good idea to have some options for staying overnight. I added picks from luxury to budget, with prices ranging from US$200 to US$500 and over.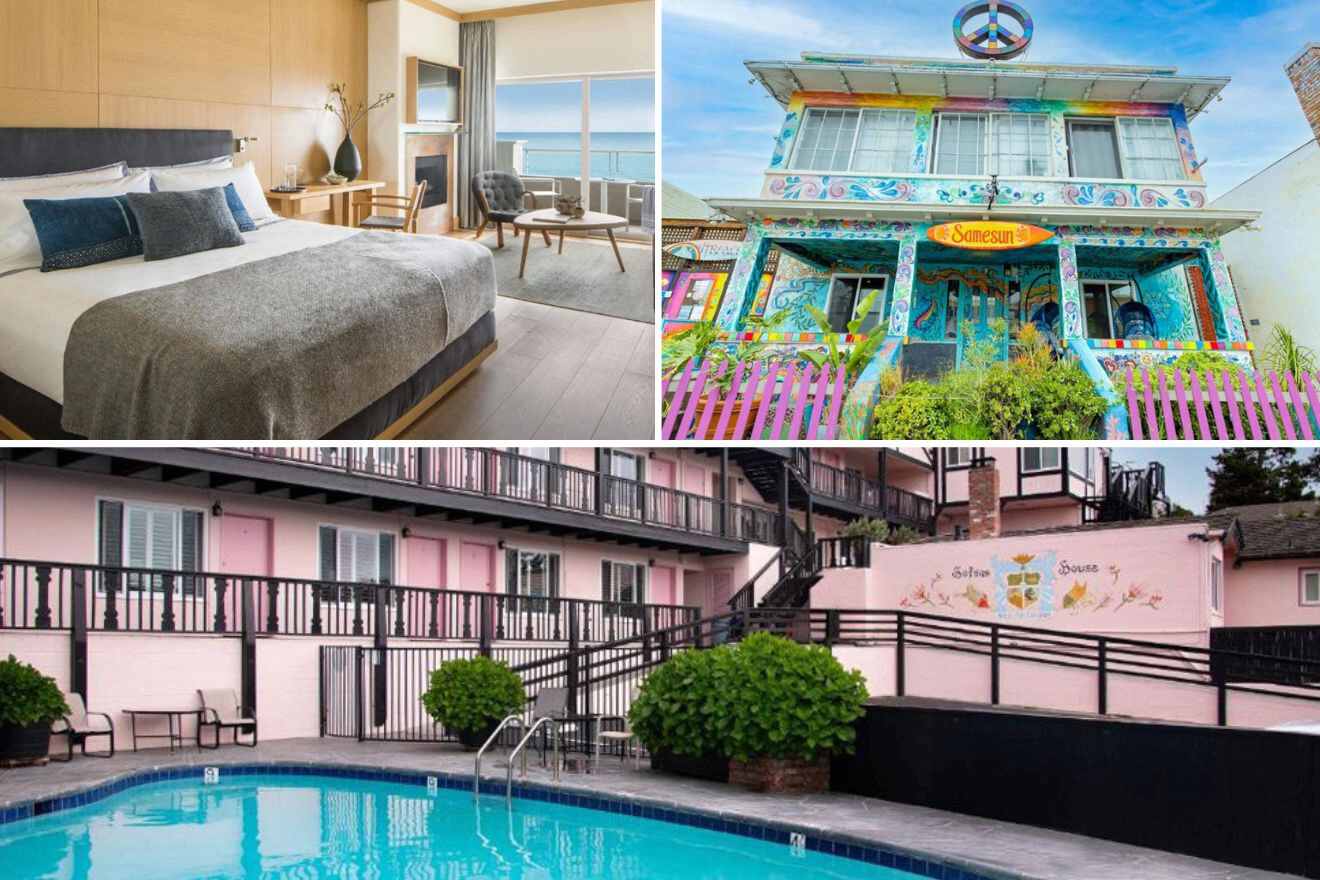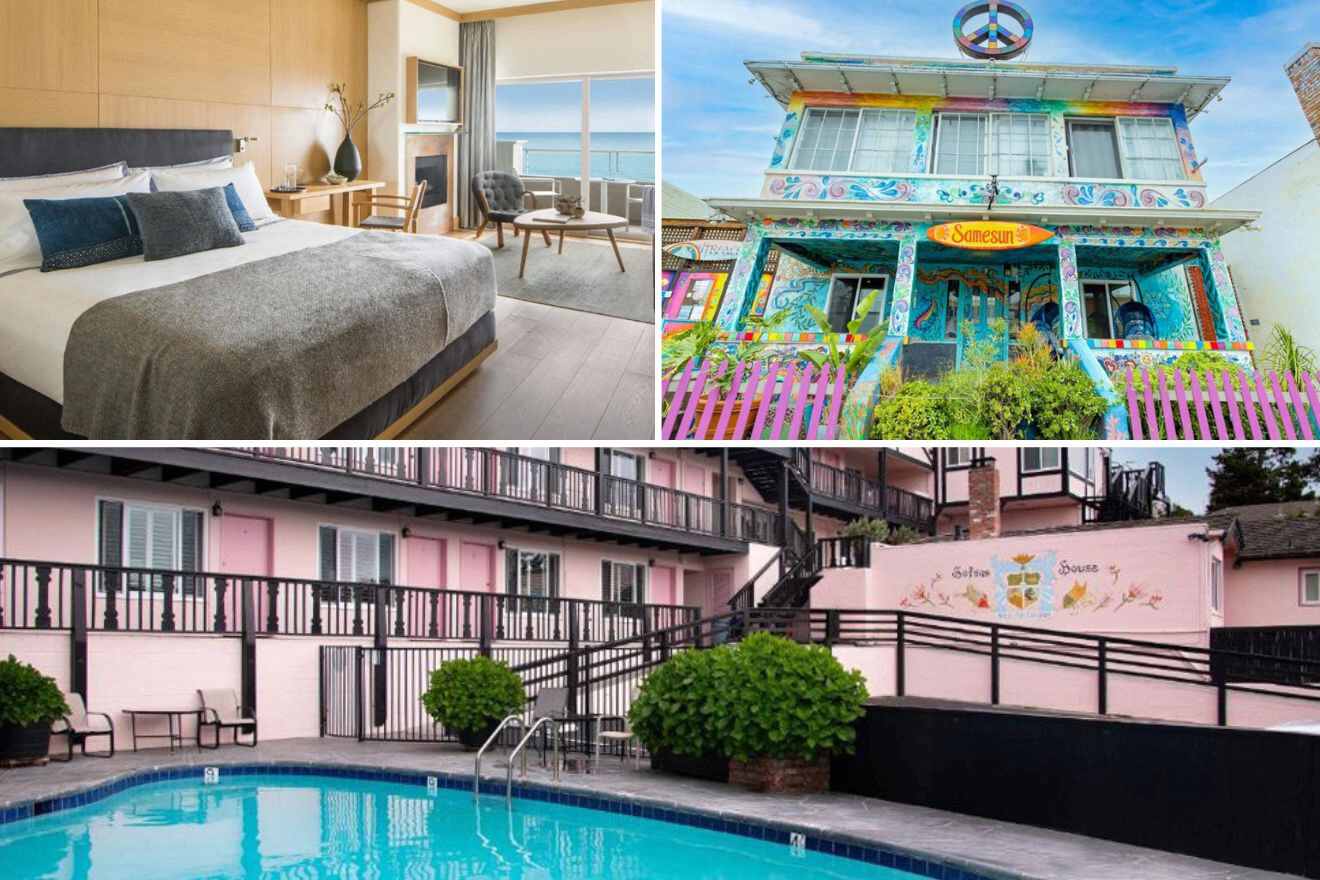 Luxury (US$500 and up)
Malibu Beach Inn – At the Malibu Beach Inn, guests enjoy private beach access and ocean-view balconies, along with the convenience of spa services offering in-room massages.
Hotel Californian – This 5-star Santa Barbara hotel offers all the amenities for a pampered stay, including a steam room, salon, outdoor pool, and gym, ensuring you're refreshed for your next day's journey.
Mid-Range (US$350 – US$500)
Hofsas House Hotel – Discover the most charming boutique hotel in Carmel-by-the-Sea, where each guest enjoys a complimentary breakfast, a relaxing dry sauna, and breathtaking ocean views from their balcony. With its convenient location, it's just a short distance from Pebble Beach and Carmel Mission, making it the perfect choice for your stay.
West Cliff Inn, A Four Sisters Inn – Located just steps away from Santa Cruz Beach and Santa Cruz Boardwalk, West Cliff Inn is a charming Victorian home. Guests can indulge in complimentary breakfast in the mornings and a delightful wine hour in the evenings while also making use of bike rentals to explore the area during the day.
Budget (up to US$350)
Laguna Beach Lodge – Designed for convenience-seeking guests, Laguna Beach Lodge offers rooms with microwaves, fridges, coffee machines, and captivating seaside views. Plus, being just 3 miles (5 km) from the Laguna Beach Playhouse, it ensures easy access to attractions.
Samesun Ocean Beach – Ideal for backpackers and solo travelers, this hostel provides daily breakfast, free Wi-Fi, and all the essentials for a comfortable stay. It's a great opportunity to meet fellow solo travelers and explore Ocean Beach, just a 3-minute walk from the hostel.
FAQs about the Pacific Coast Highway road trip itinerary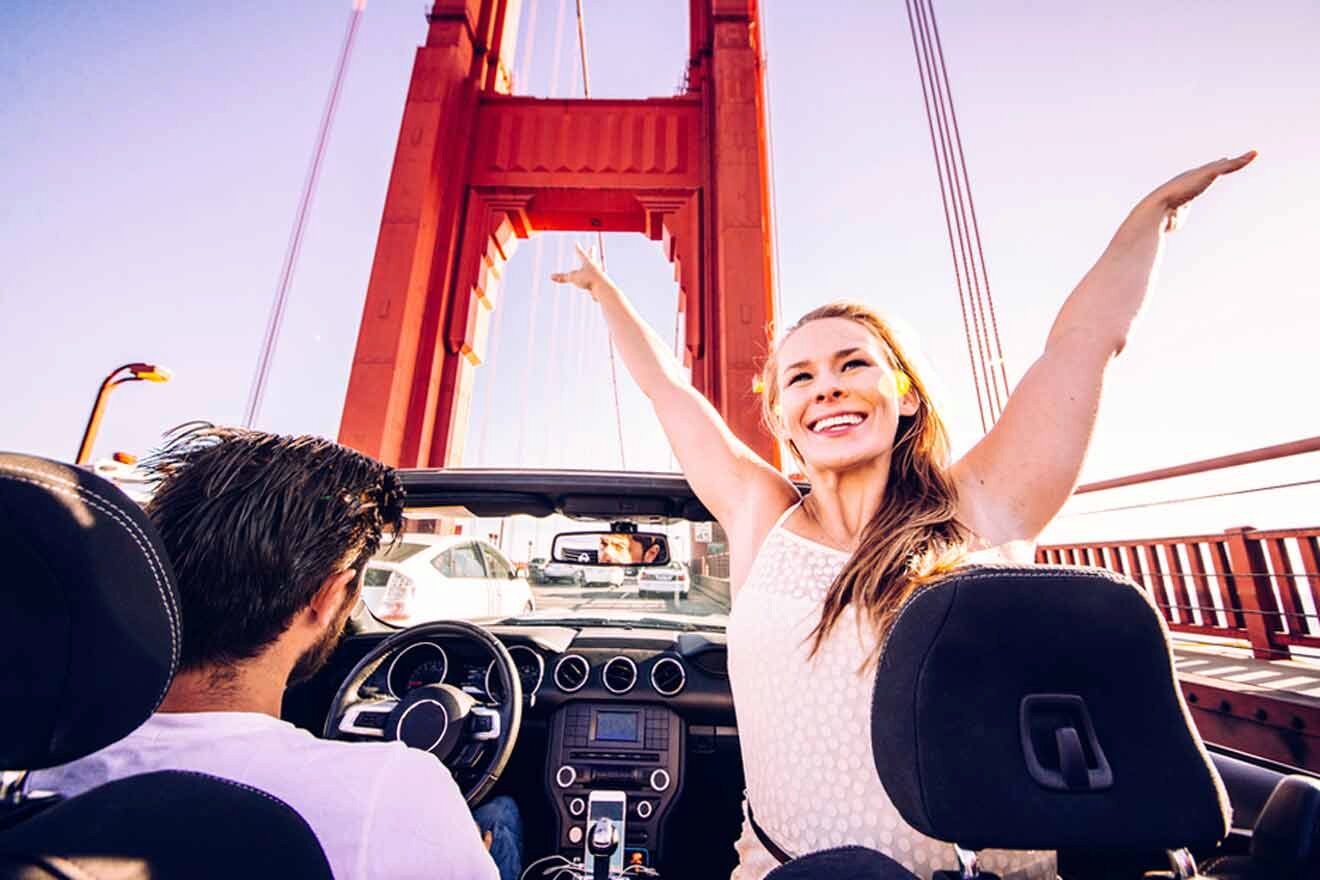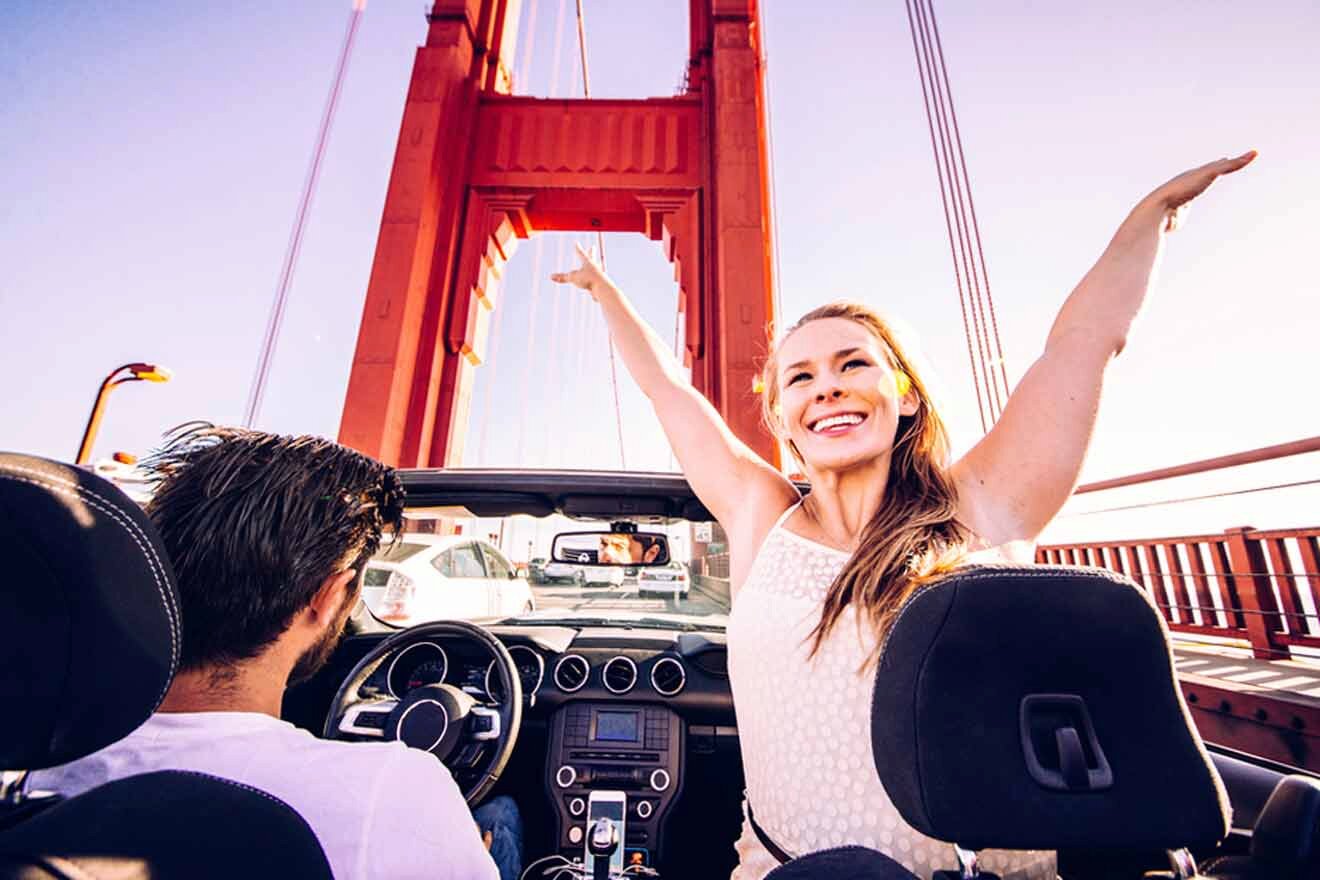 ⏰ How long does the Pacific Coast Highway road trip from LA to San Francisco take?
The Los Angeles to San Francisco drive via the Pacific Coast Highway takes about 8 – 9 hours nonstop.
🚗 Is it worth driving from LA to San Francisco?
Absolutely! The scenery and Pacific Coast Highway stops along the way make the journey that much more worth it. In fact, I recommend driving over flying.
🧰 What are some things I should bring on my road trip from LA to San Francisco?
A few things you should bring on your LA to San Francisco drive are snacks, a refillable water bottle, and a comfy pillow to use in the backseat.
🚞 What are the best stops on the LA to San Francisco road trip?
The best stops are anywhere in between the 17 Mile Drive towards Northern California! This includes Big Sur, Monterey, and Carmel-by-the-Sea.
Conclusion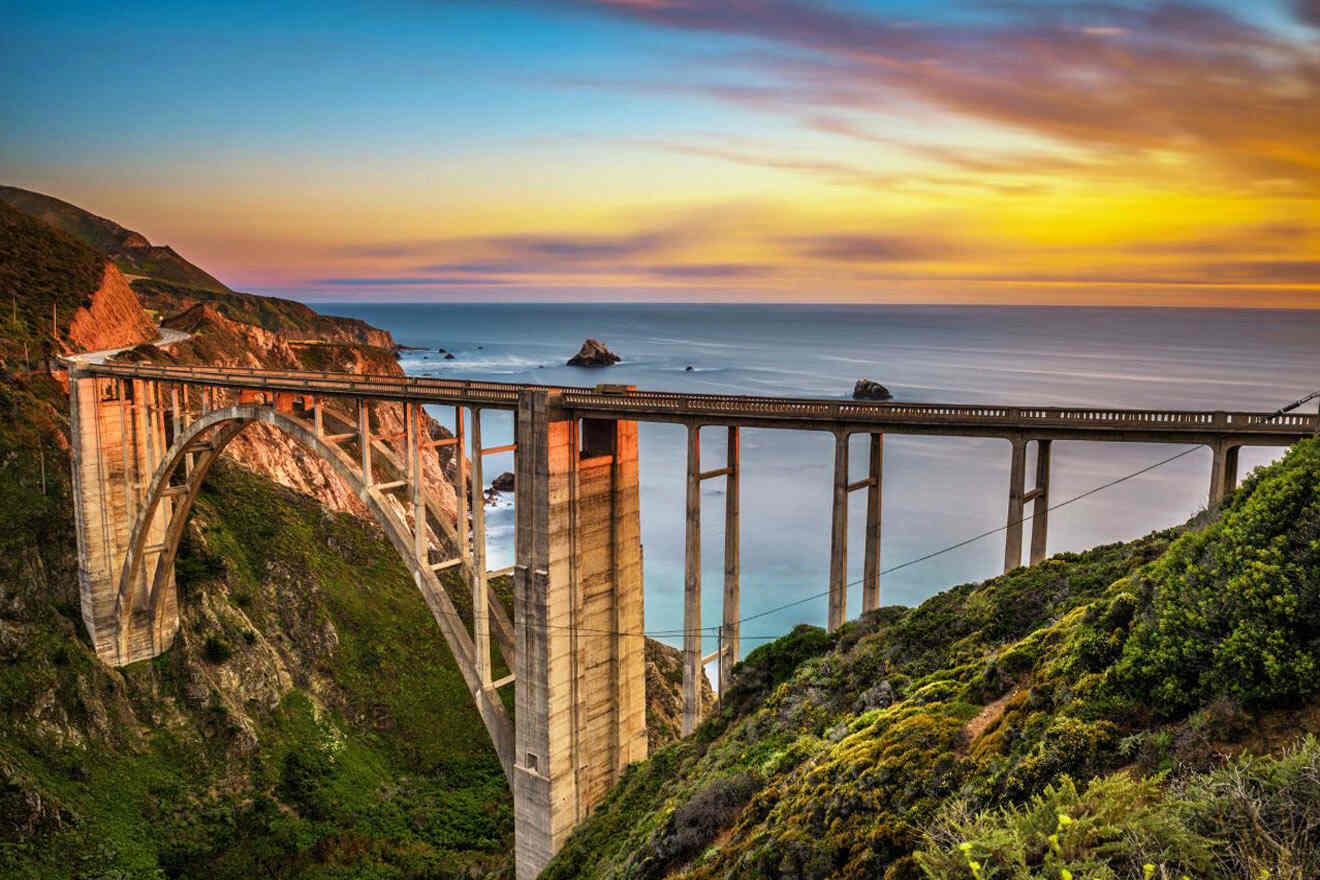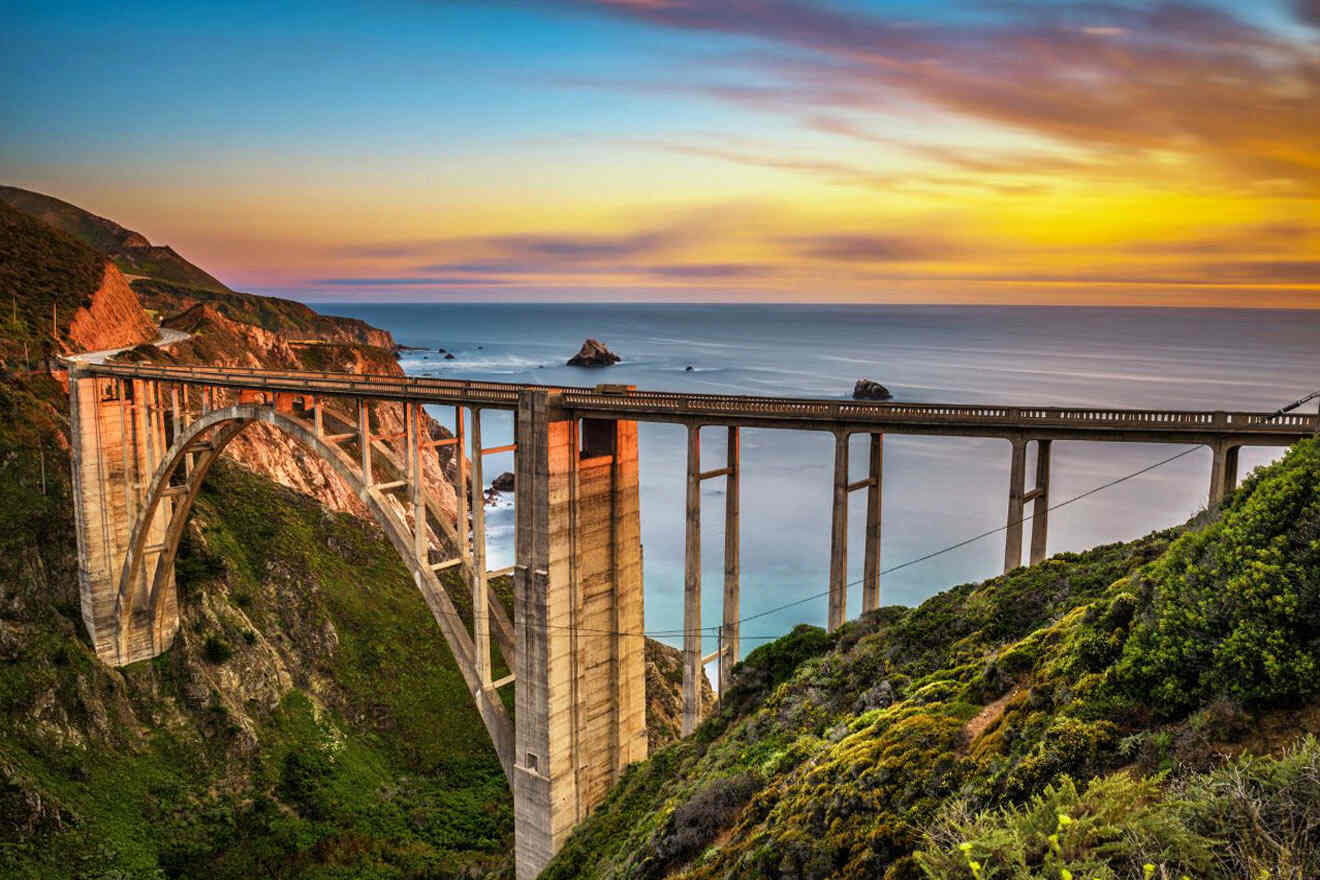 Well, there you have it! Your Pacific Coast Highway road trip up the California coast is officially complete. Give yourself a pat on the back because that's not an easy breezy drive whatsoever.
A few of my favorite spots I mentioned here are Hearst Castle (San Simeon) and admiring the views of the infamous Big Sur.
The castle is unlike anything I've seen before here in California, making it quite unique for both locals and tourists. Big Sur National Park is one of my favorite natural wonders in California, and I can never get enough of the sweeping views.
The entire drive is incredibly scenic and quick to pass by, but I recommend getting down and taking your time at those 2 destinations.
I hope you enjoyed reading this Pacific Coast Highway itinerary as much as I enjoyed writing it! Remember to plan your road trip in advance, book your tours and hotels ahead, and drive safely! Feel free to leave me a comment or question below – always happy to help.
Xoxo,
Esabel S.
---
Pin it for later!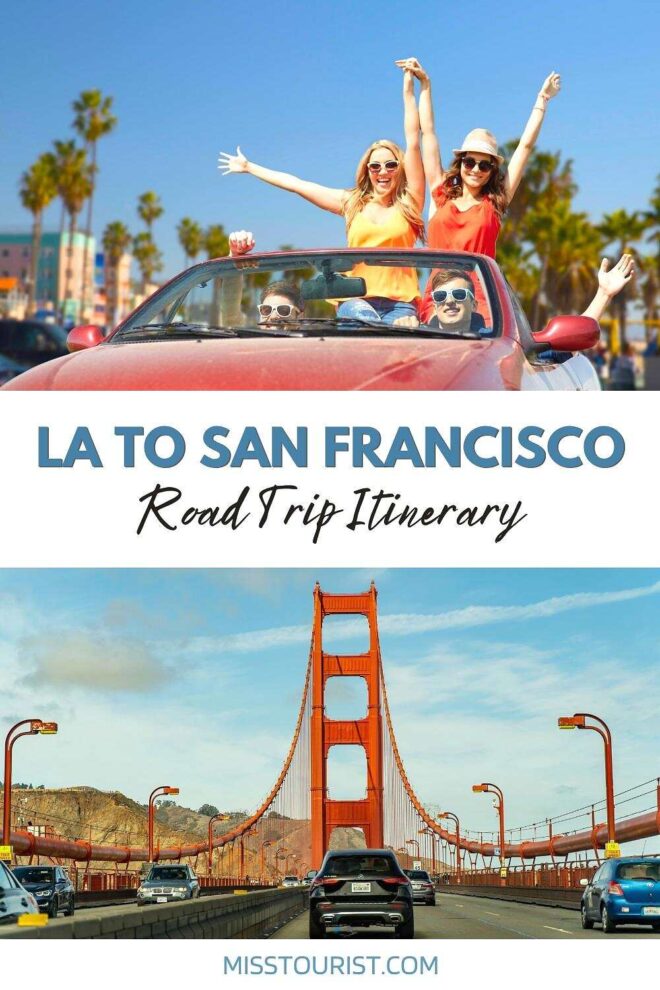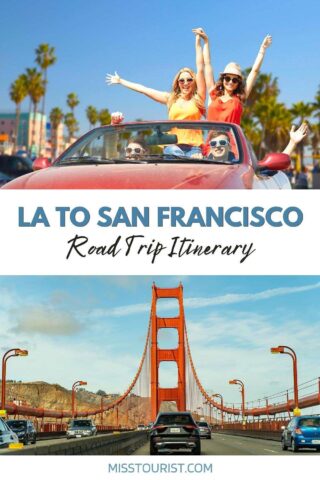 Pin it for later!