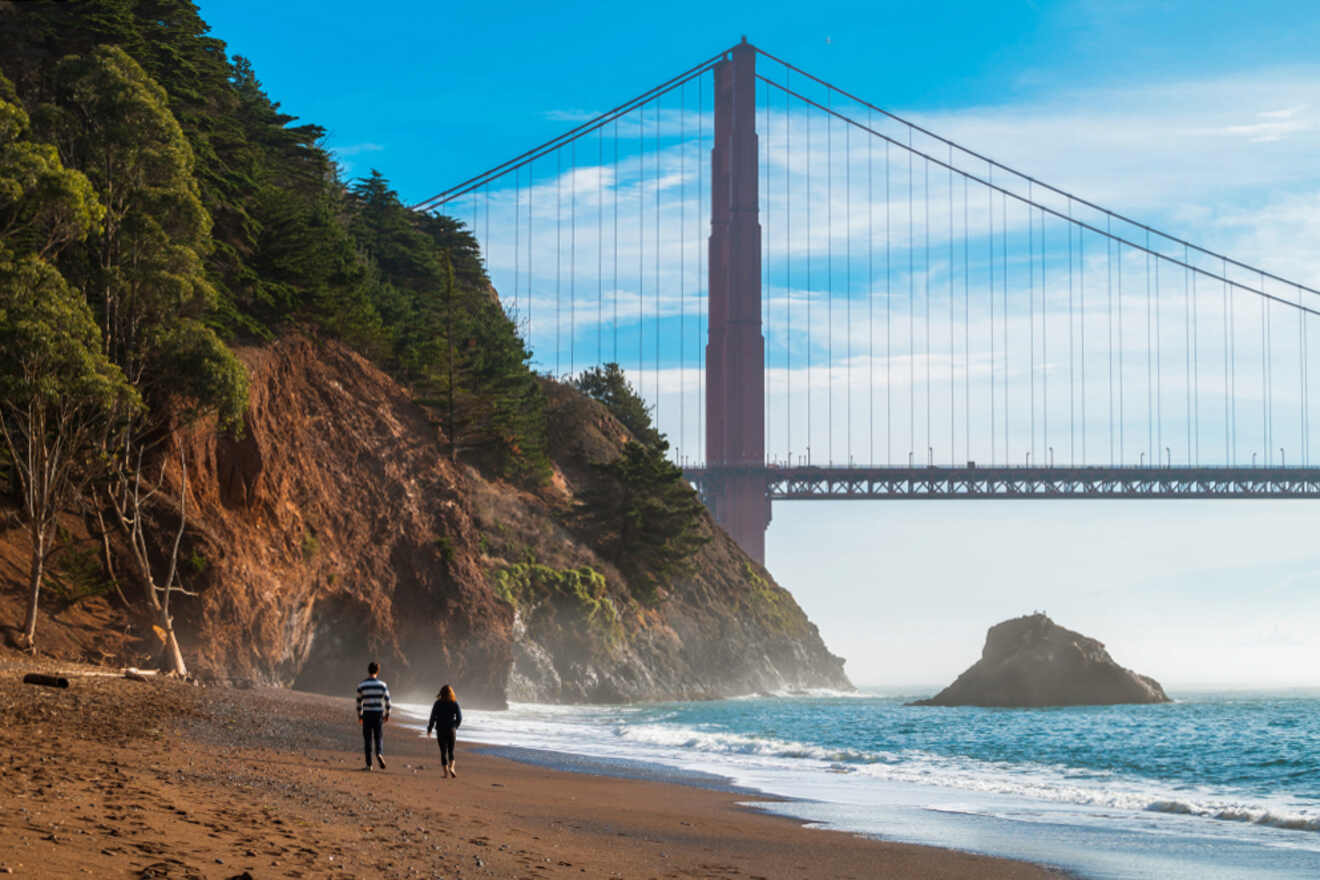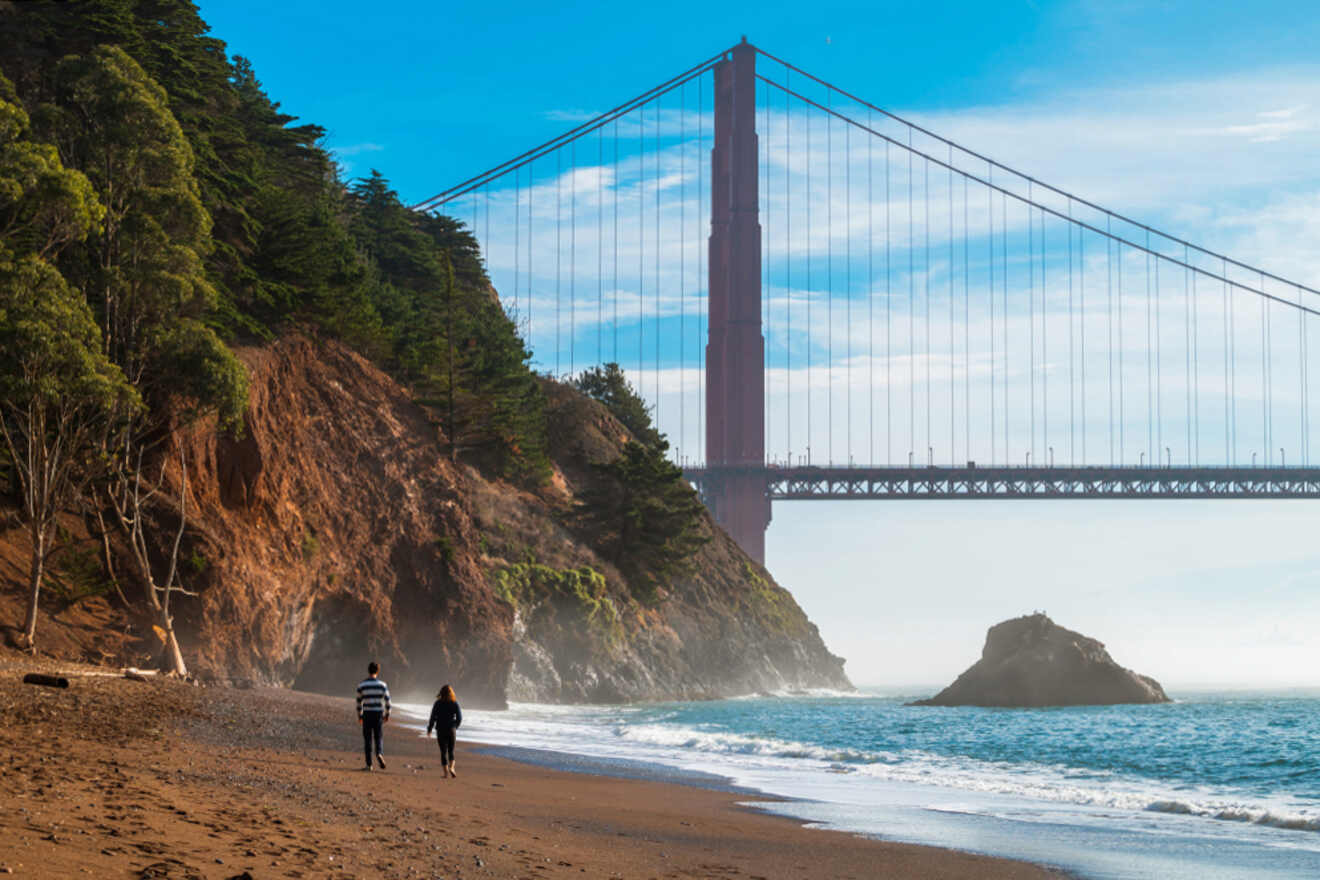 When I think of the San Francisco Bay Area, it pulls up memories of the iconic Golden Gate Bridge, burnt red, stretching across the bay, and trolleys singing down the hilly city streets, framed by the picturesque Santa Cruz mountains.
Being from Southern California, it's so refreshing to head up north and experience a completely different environment.
This wonderfully charming Northern California area, chock full of thrilling outdoor adventures, delectable wines, and loads of history, is the perfect jumping-off point for so many incredible Bay Area day trips.
Whether you love the national parks, prefer the beaches, or feel your most vacation-y vibes while traipsing around sightseeing, you'll have tons of awesome Bay Area trips to choose from.
So, let's not waste any more time! Grab your bag, get on the road, and let's check out some of the best Bay Area Day trips you can book.
Oh, before we head out, remember that Northern California can get really crowded, especially with all the amazing places that everyone wants to visit. Be smart, and book in advance for your hotels and activities.
If you are in a hurry
When you get to the Bay Area, you'll want to explore, not take care of chores. So, be strategic and book your hotels and activities in advance:
And here are the best hotels: Hyatt Regency San Francisco (luxury), Hotel Nikko San Francisco (mid-range), Axiom Hotel (budget)
If this is your first time in the Bay Area, a map will be helpful to get you situated quickly. Don't worry, I'll include one here!
Since the Bay Area is quite large, I'll be talking about day trips in terms of distance from San Francisco, specifically. I hope this helps!
1. Go wine tasting in stunning Napa Valley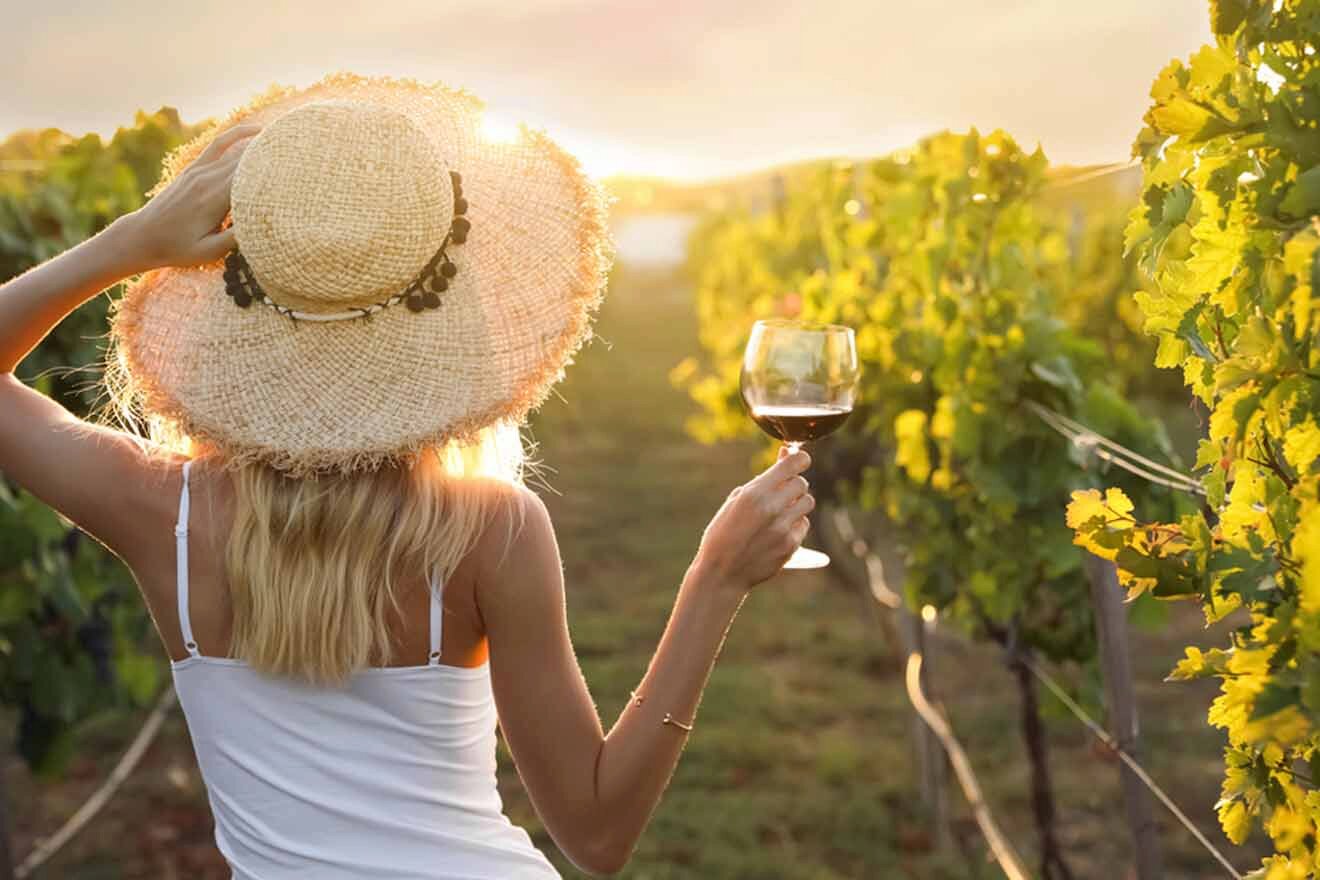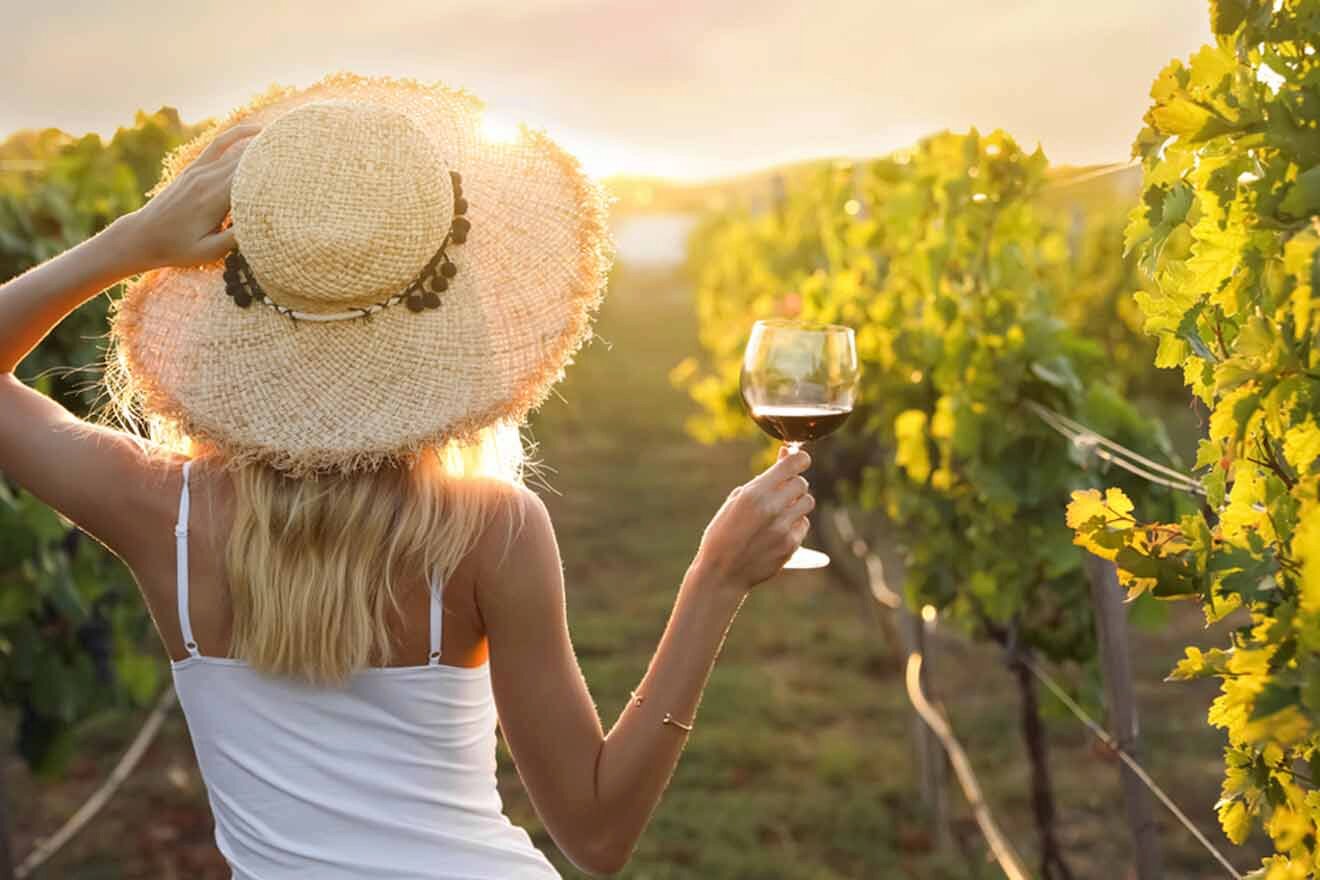 Oh my goodness, has there ever been a more perfect destination for sipping the most delicious wines in the world? Napa Valley is an absolute must and one of my favorite Bay Area day trips!
Just 1 hour north of San Francisco you'll find picturesque green hills, rows and rows of grapes, chateaus lining the horizon – this world-renowned wine region is what dreams are made of.
If you have the time, I highly recommend taking a full day to explore the Napa Valley area. Even better if you hop on a guided wine-tasting tour. Here are 3 of my favorites:
Want a wildly unique and fun way to see the region? Try this unforgettable Napa Valley hot-air balloon ride.
You already sense it's going to eat up at least 1 day of your time, right? Napa Valley is so magical you'll want to move there permanently. So, permanently or not, I got you covered. These are the best areas to stay in Napa Valley – with accommodation, of course! 😉
WINE TOUR PRICE: from US$125 per person
2. Bike around the enchanted village of Carmel-by-the-Sea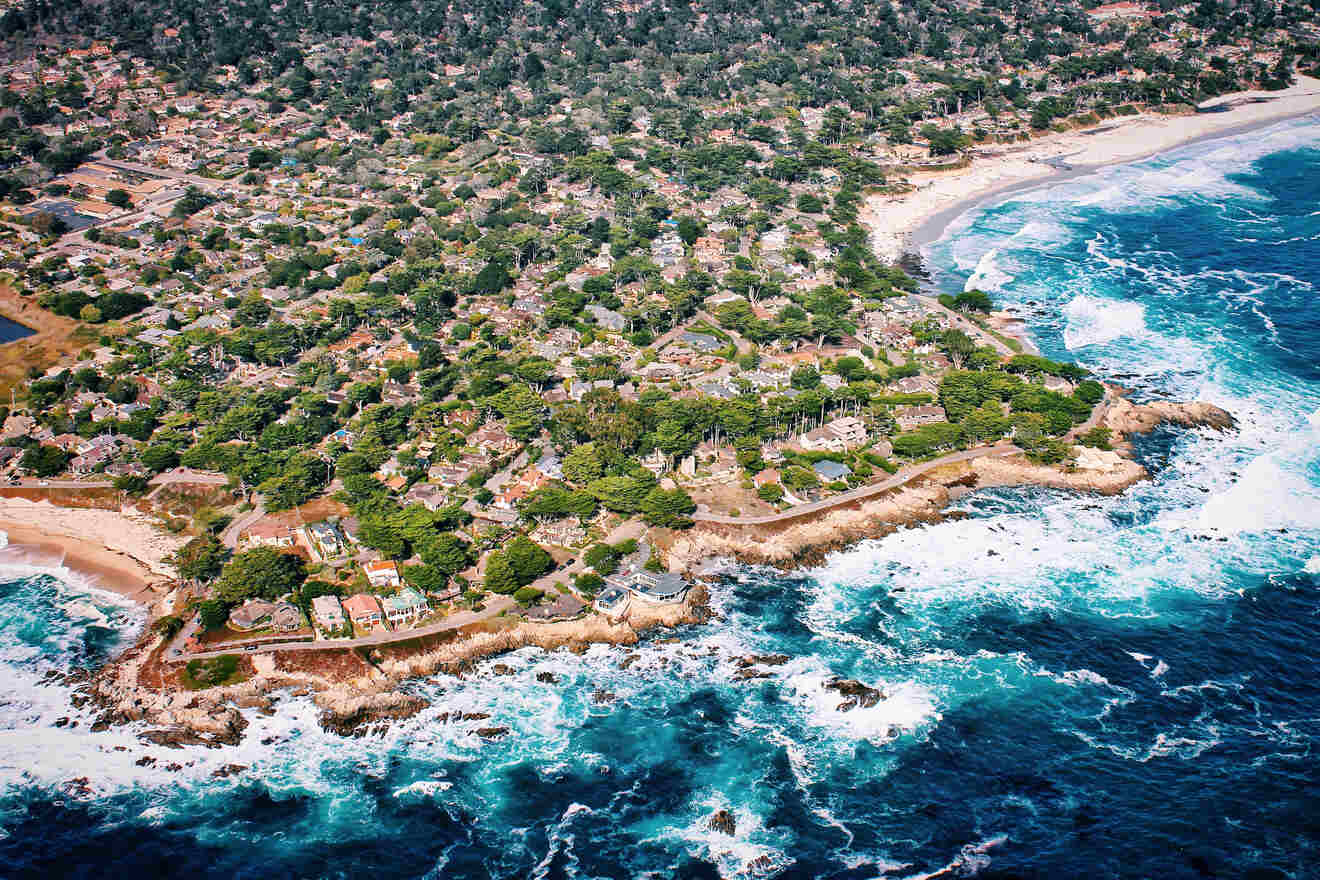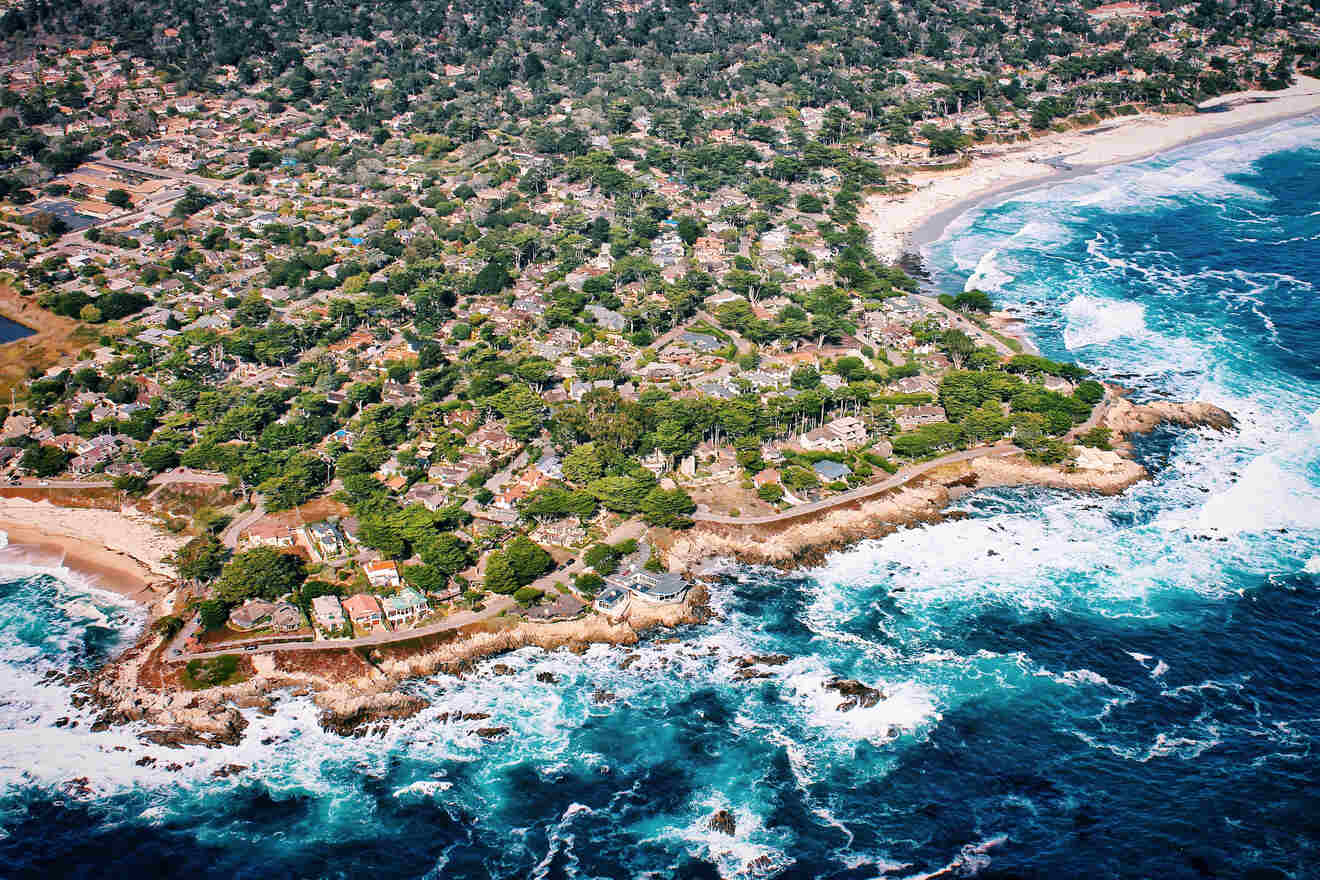 The first time I visited Carmel-by-the-Sea, it was like stepping into a European fairytale with the crystal blue Pacific Ocean, enchanting architecture, and cobblestone streets. I swear, you won't want to leave this seaside town once you arrive.
Carmel sits just 2 hours south of San Francisco's Bay Area, and it's easy to spend a full day here or even decide to extend your stay in the best Carmel areas). With tons of cute cafés, unique shops, art galleries, and historical sites to see, you'll love wandering the pages of this real-life storybook town.
If you want a great way to tour the town, rent e-bikes – it makes it so easy to cruise the shoreline, as well as the town.
TOUR PRICE: from US$75 per person
3. Take in the beauty of Point Reyes National Seashore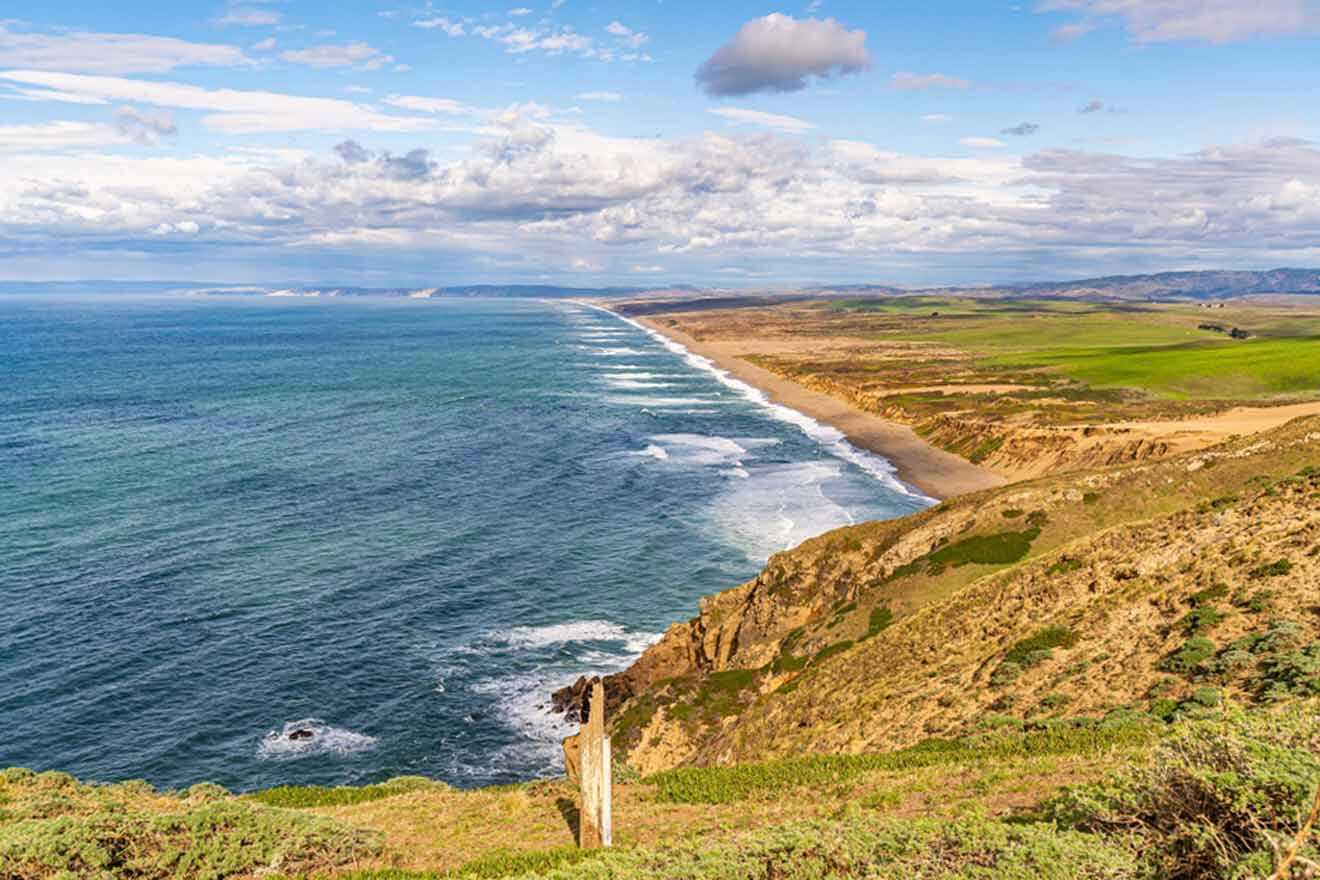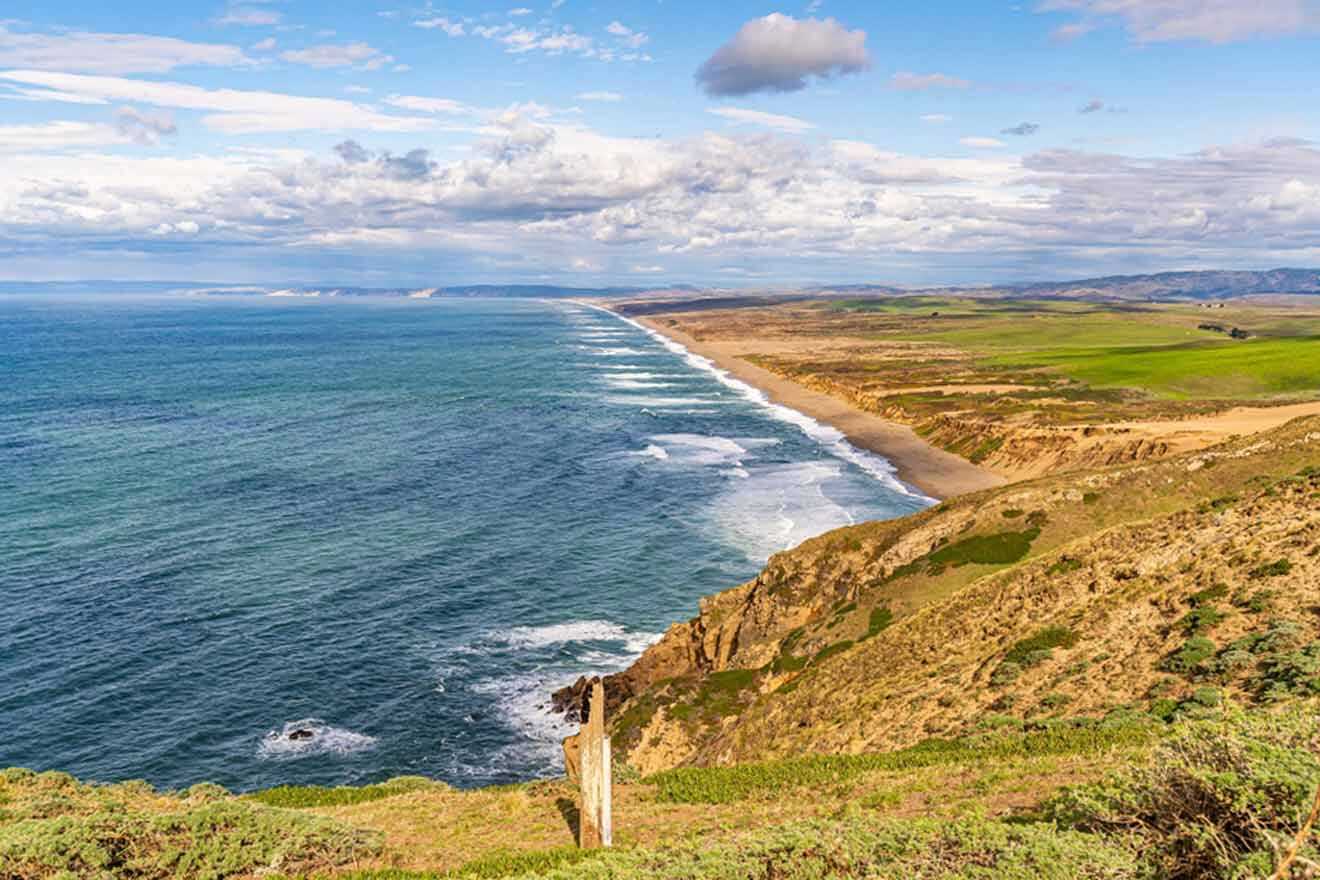 If you head just about 1 hour north, over the iconic Golden State Bridge, you'll find yourself in Marin County at Point Reyes National Seashore.
Whenever I'm in NorCal, I make sure to carve out at least half a day to explore this area. There's so much to choose from.
Head out to Point Reyes Lighthouse to spot whales down below in Tomales Bay, take on the challenging hike out to the 40-foot (12 meters) waterfall that lands on Wildcat Beach, or maybe just head down to the famous Tomales Bay Shipwreck for some photo ops – you'll love exploring this place.
PRO TIP: I always have the best luck parking in the Point Reyes South parking lot.
4. Leave the city behind for sleepy Sausalito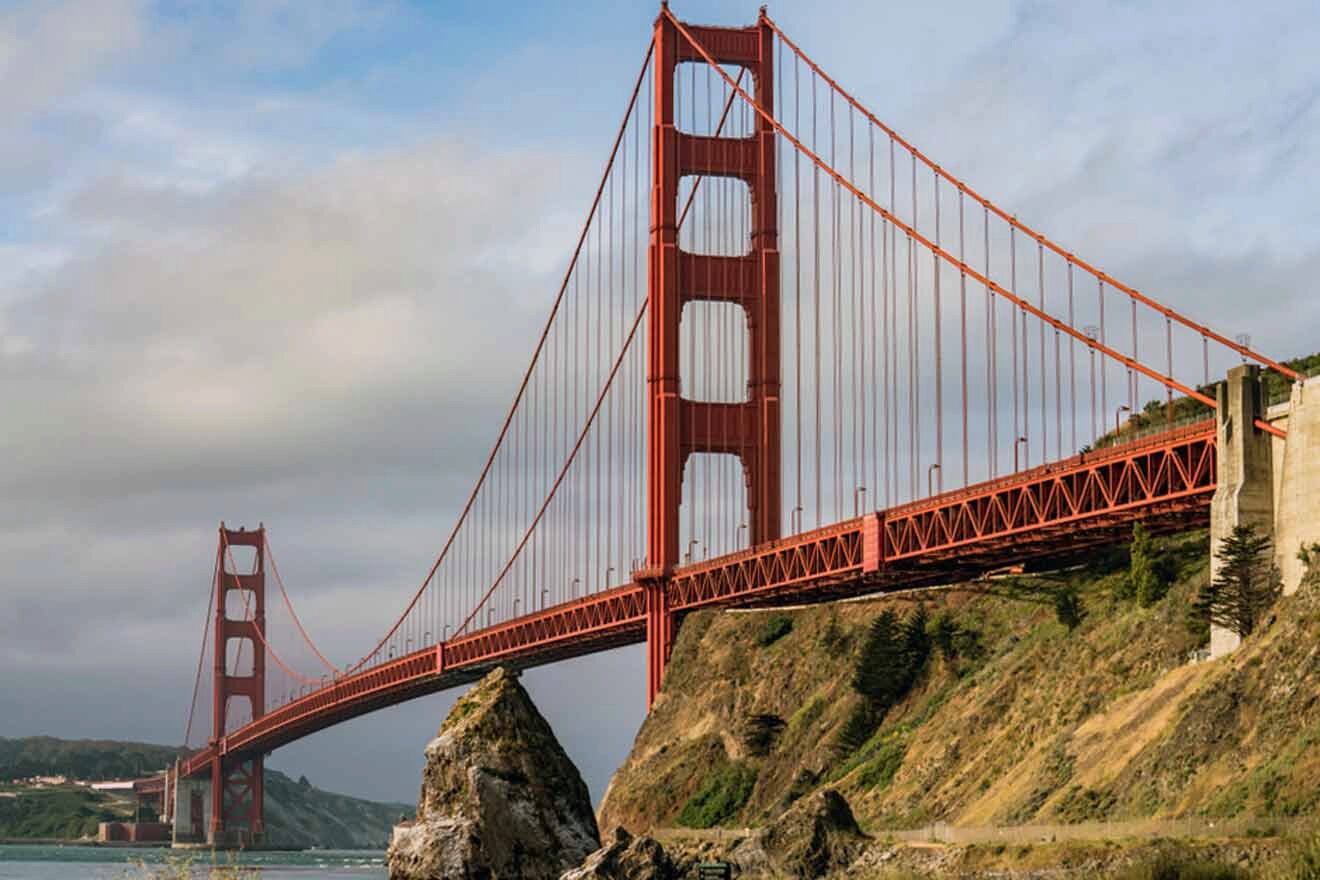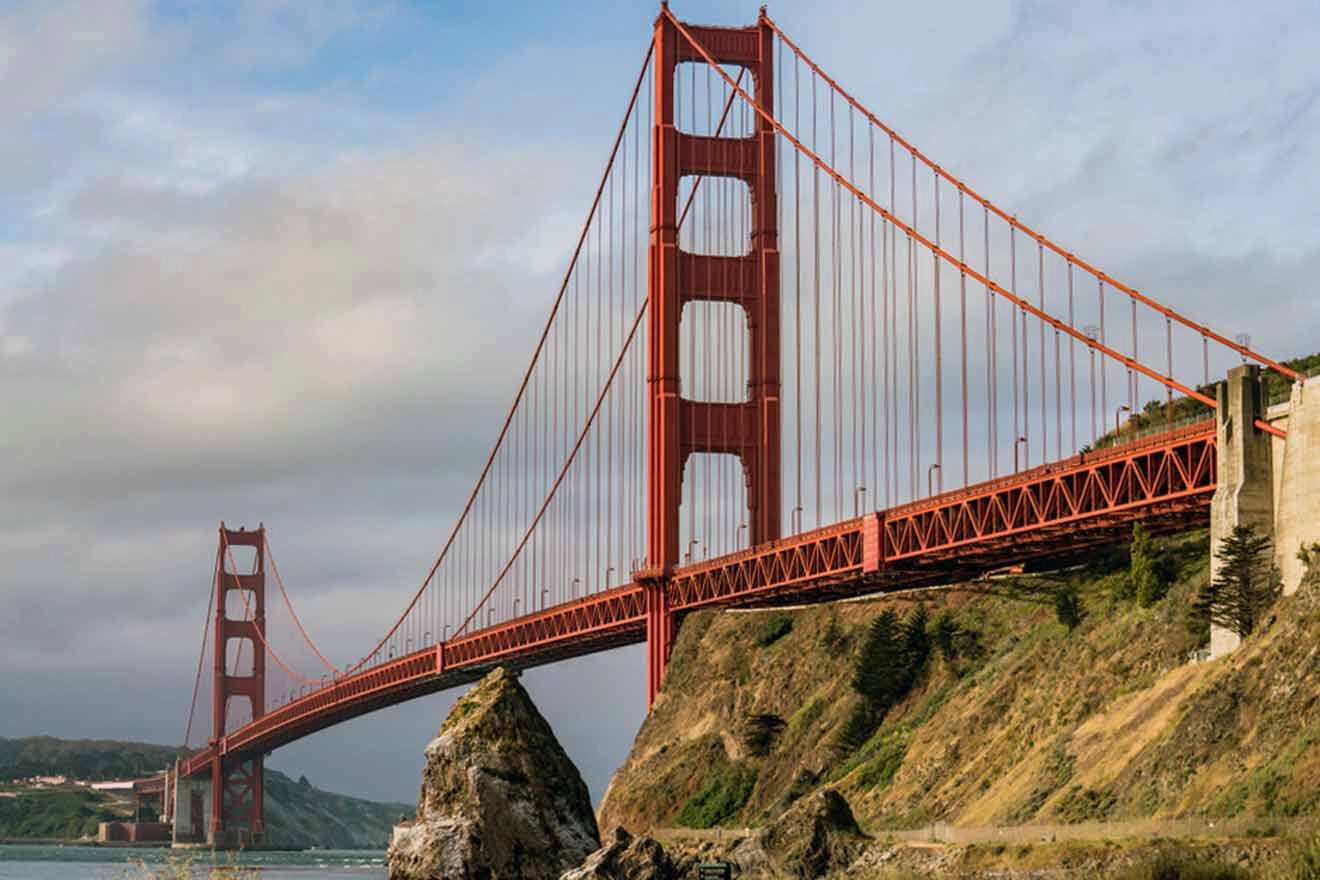 Oh, the beauty of Sausalito! This stunning, sleepy coastal town is the perfect escape from San Francisco and only a 25-minute drive north over the Golden Gate Bridge.
The perfect way to spend the morning is to head over to Sausalito early in the day for some peace and quiet, breakfast along the water, and some carefree shopping.
Grab a coffee, omelet, and a million-dollar view at Fred's – it's such a casual and relaxing atmosphere overlooking the water.
PRO TIP: While I highly recommend renting a car for most of your Bay Area day trips, it's also super fun to hop on the ferry from Fisherman's Wharf across the bay to Sausalito.
5. Explore Muir Woods National Monument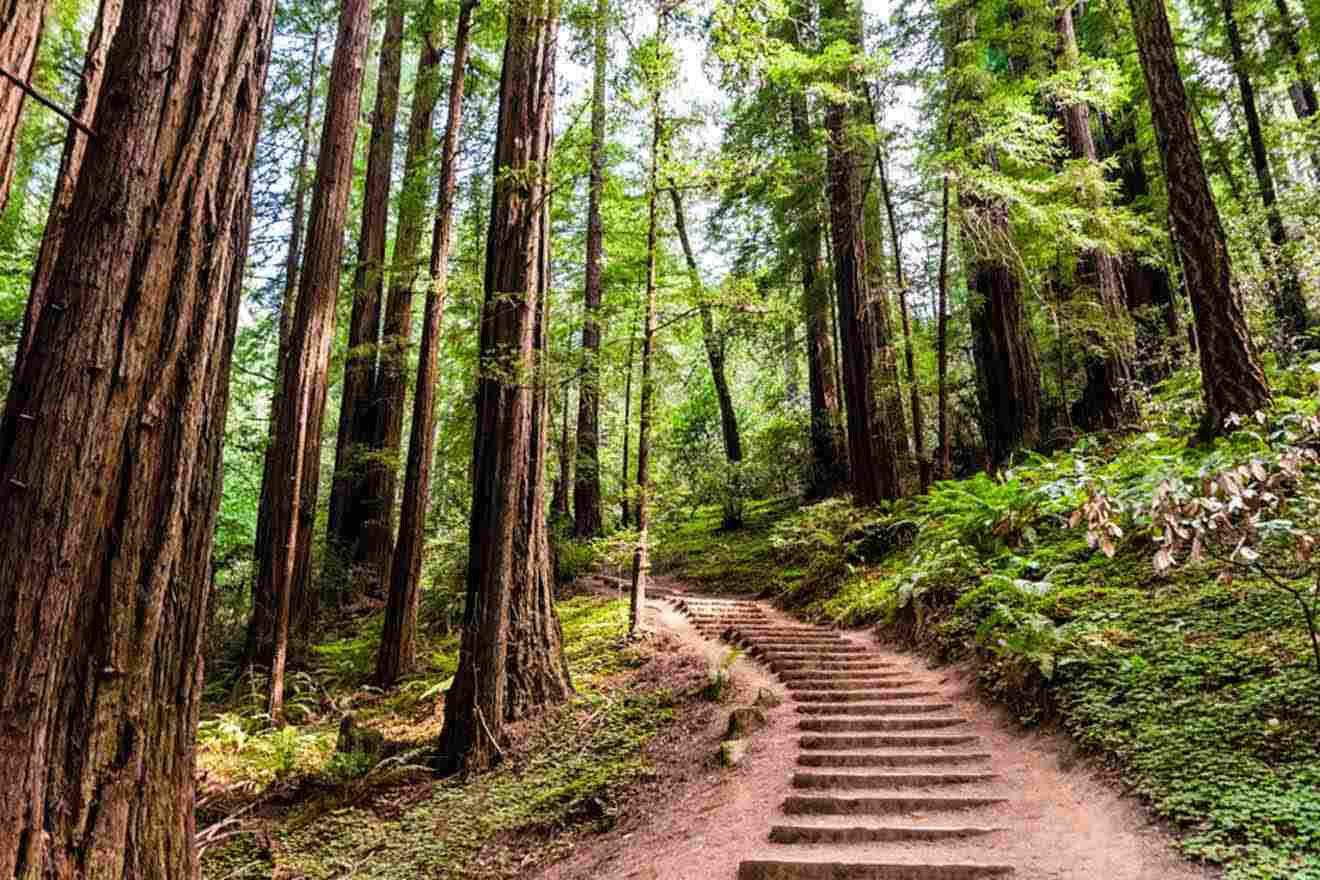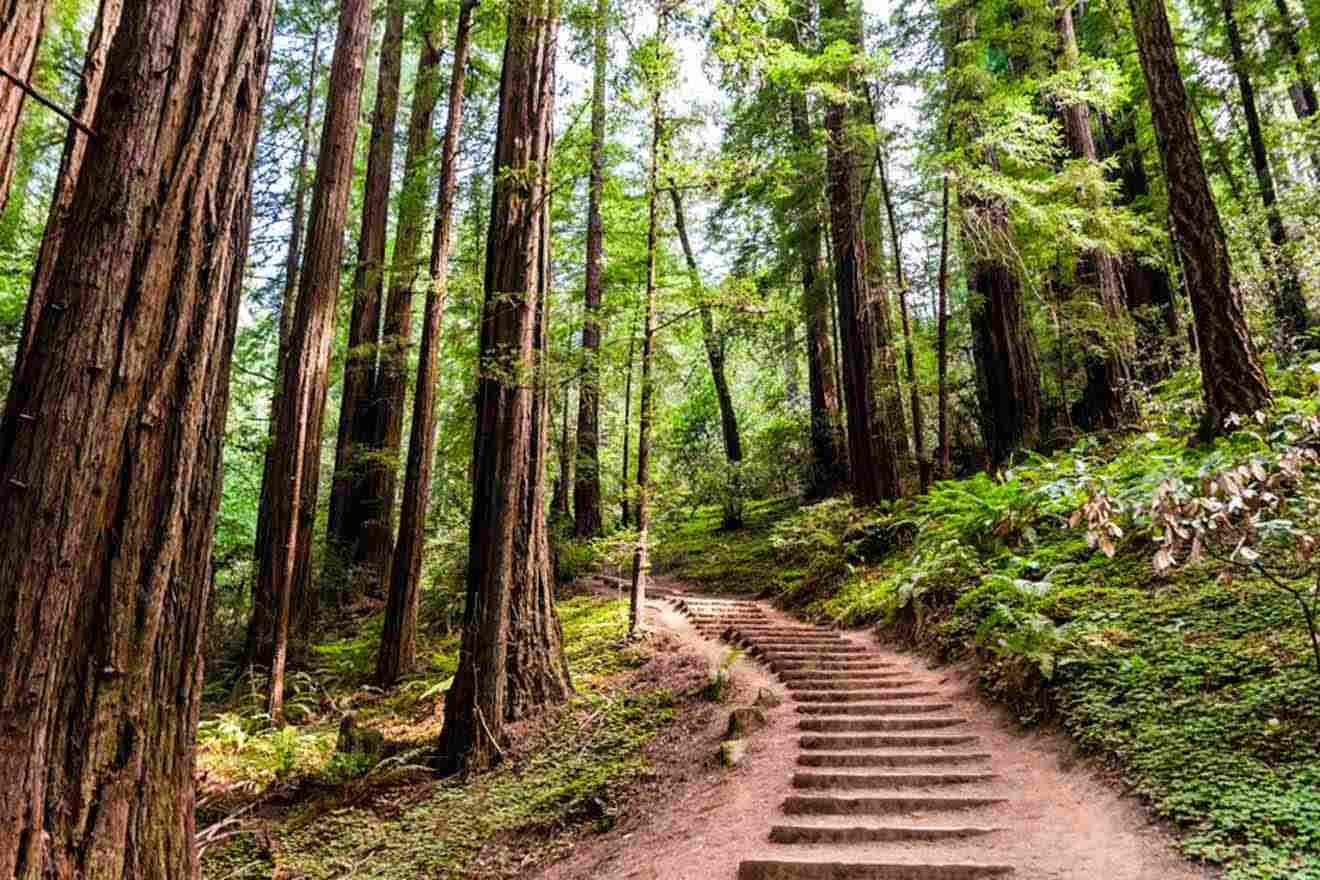 Just a short 30-minute drive north over Golden Gate Bridge, you'll find Muir Woods National Monument, one of my favorite examples of old-growth redwood forests in Northern California.
The redwood trees are breathtaking, towering above you as you enjoy hiking in the shade and coolness of the forest floor down below. Truly one of the best and most fitting day trips from San Francisco, checking out the giant redwood trees encapsulates the magic of NorCal.
I like sticking to the main loop hiking trails when I'm visiting, only because they tend to be pretty mellow, and I like to make it a 2 – 3 adventure. If you're looking for more challenging hiking trails to make a full day of it, head further into the hills.
If you're craving a more in-depth experience, I highly suggest booking a guided tour through the area. You get so much knowledge and personal attention, and it's a freaking blast!
Pressed for time and want to combo your Sausalito, Muir Woods, and San Francisco sightseeing? Jump on this awesome full-day tour.
TOUR PRICE: from US$120 per person
6. Discover the majesty of Yosemite National Park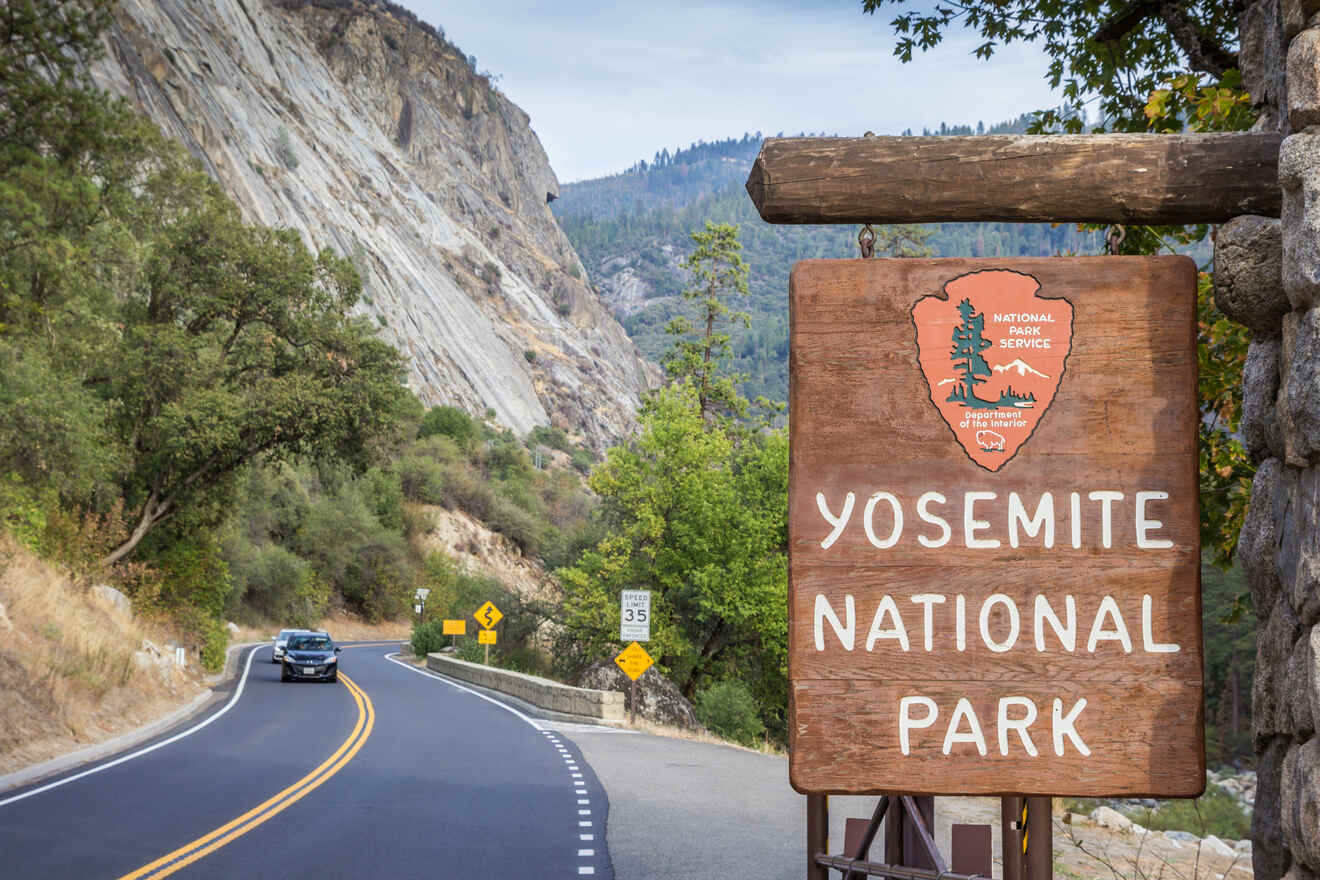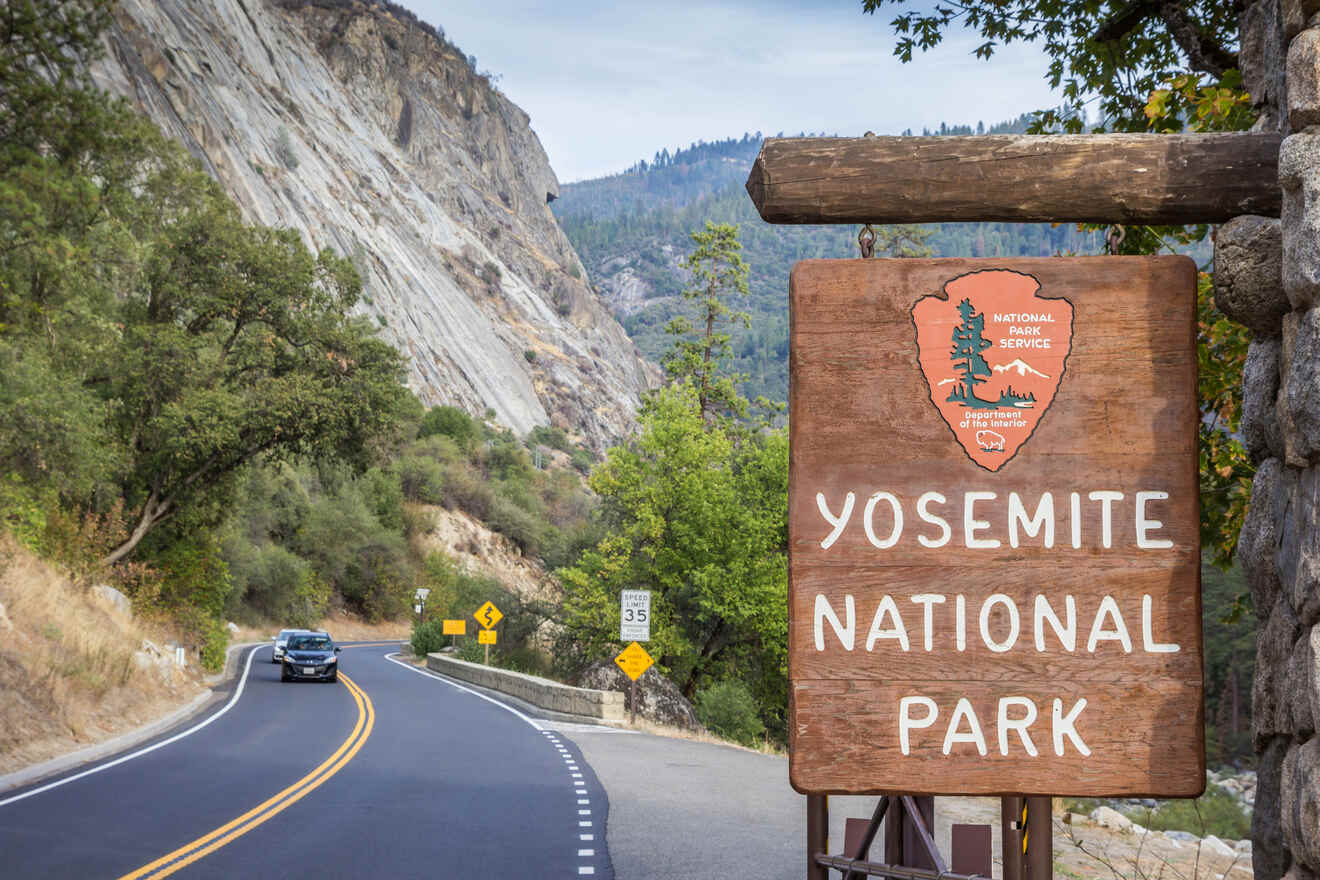 I have such a special place in my heart for Yosemite National Park since it was the first national park I visited in California on one of my trips from San Francisco!
Flanked by the incredible Sierra Nevada Mountains, Yosemite is a wonderland for outdoor enthusiasts with hiking trails, rock climbing, mountain biking, camping, fishing, and so much more!
If you're an experienced hiker, I would recommend Half Dome, as it's one of the most famous hikes in Yosemite. Keep in mind, though, you need a permit for this one, and it goes by lottery.
For those of us who prefer a more mellow hike, try Glacier Point, only 1 mi (1.6 km) and filled with natural beauty.
If you prefer not to drive the 3 hours south from San Francisco, try this really fun guided hiking tour that includes your transportation, entrance to the park, and built-in friends to hike with! 😉
Need more time in the park? Stay a night or 2 at this comfy cabin with a funny name.
TOUR PRICE: from US$200 per person
7. Hang loose on the beaches of Santa Cruz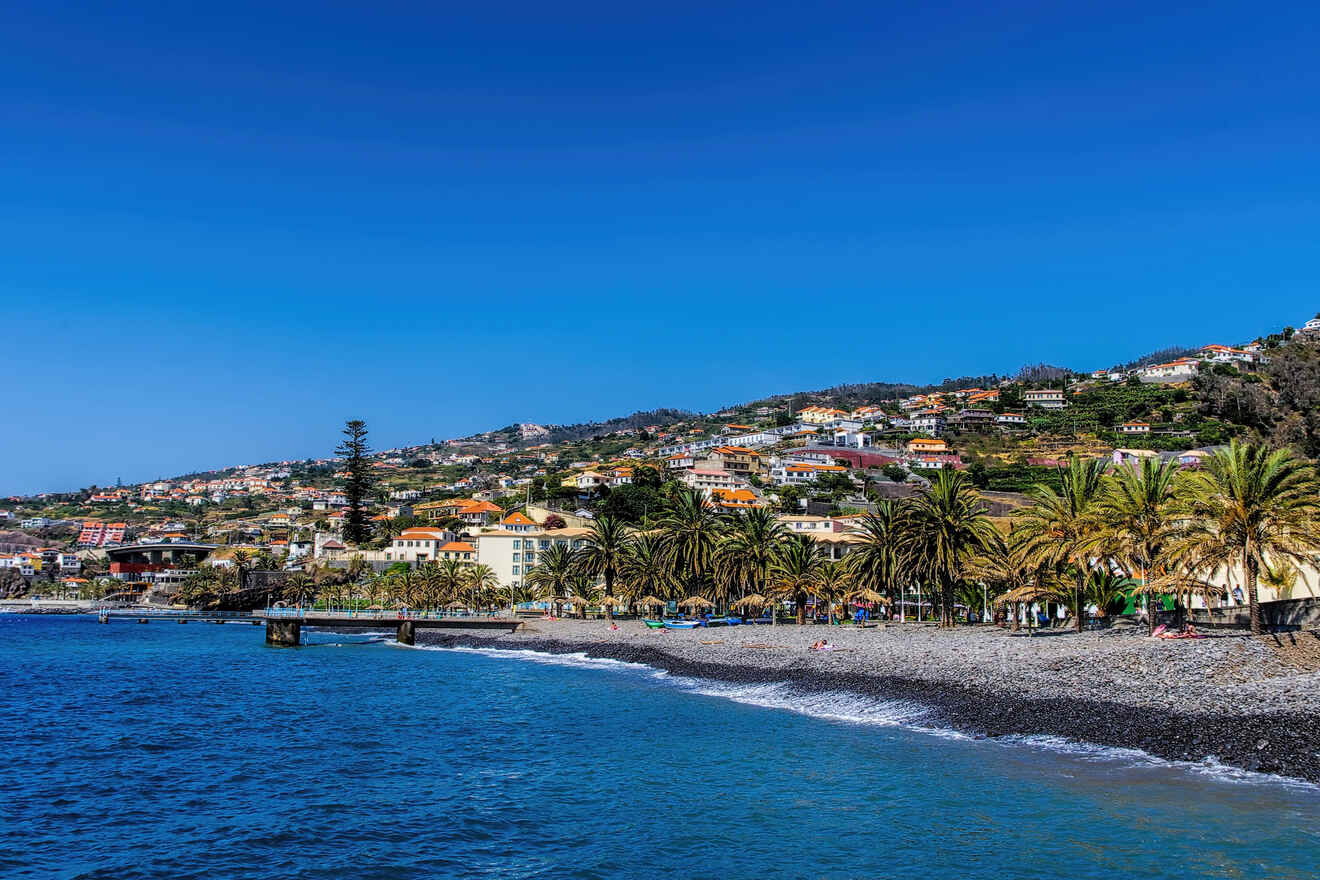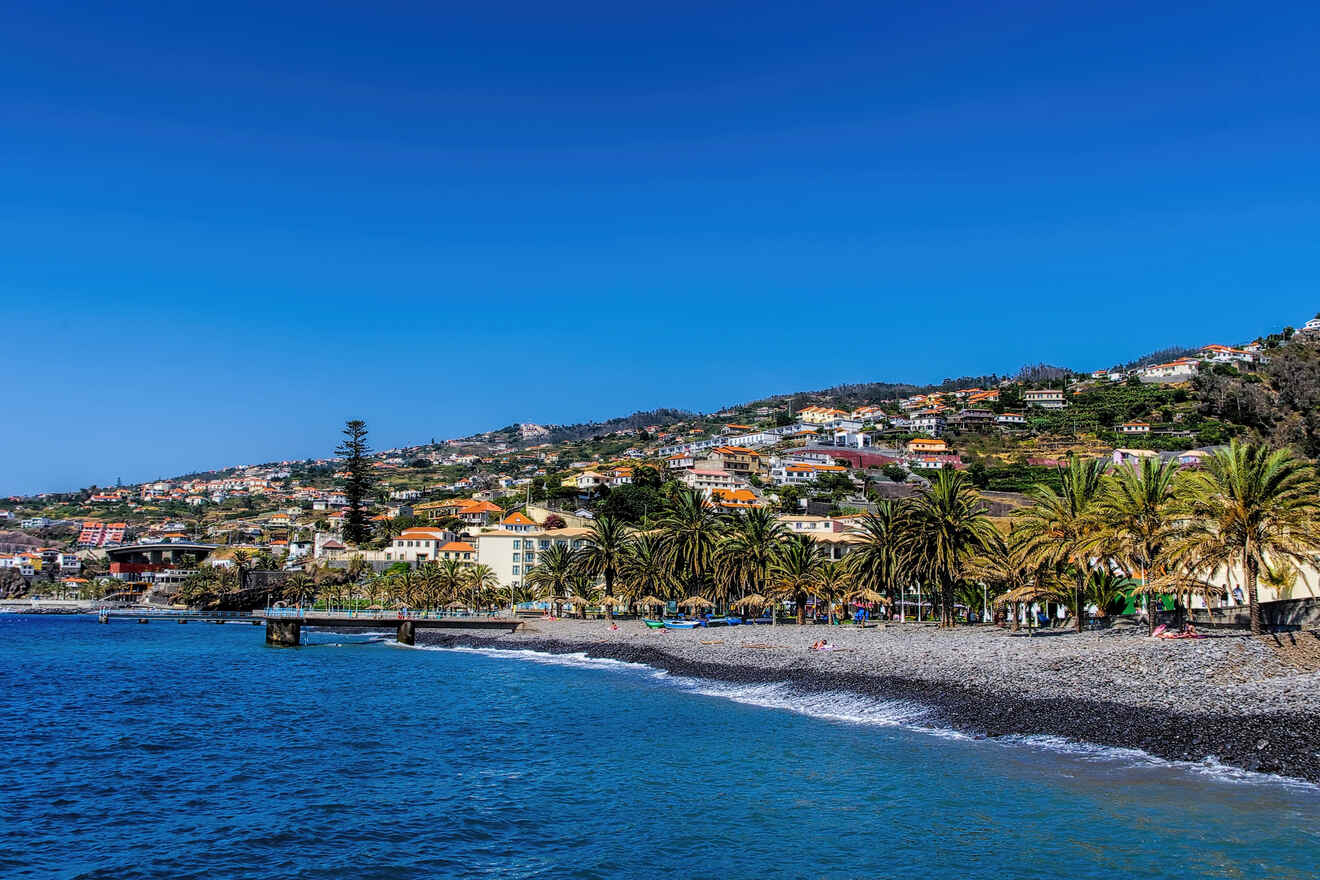 Santa Cruz is such a great choice for day trips in the area, located about 1.5 hours drive south, I'd suggest having a rental car for this one.
When you arrive in Santa Cruz County, you'll immediately feel the laid-back vibe of this perfect, sunny, Northern California beach town. A good mix of hippies, college students, and tourists, Santa Cruz has a welcoming feel and no pretense about it.
Check out the Santa Cruz Boardwalk and Pier with a Ferris wheel, beach boardwalk, carnival food, and games. It's such a fun way to spend the afternoon beside the Pacific Ocean.
Santa Cruz is also known for its great wine. If you want to combine some sightseeing and wine tasting, try this fun and unique Sidecar wine-tasting tour that takes you through Santa Cruz's vineyards for 3 wine tastings.
TOUR PRICE: from US$200 per person
8. Play the day away at Half Moon Bay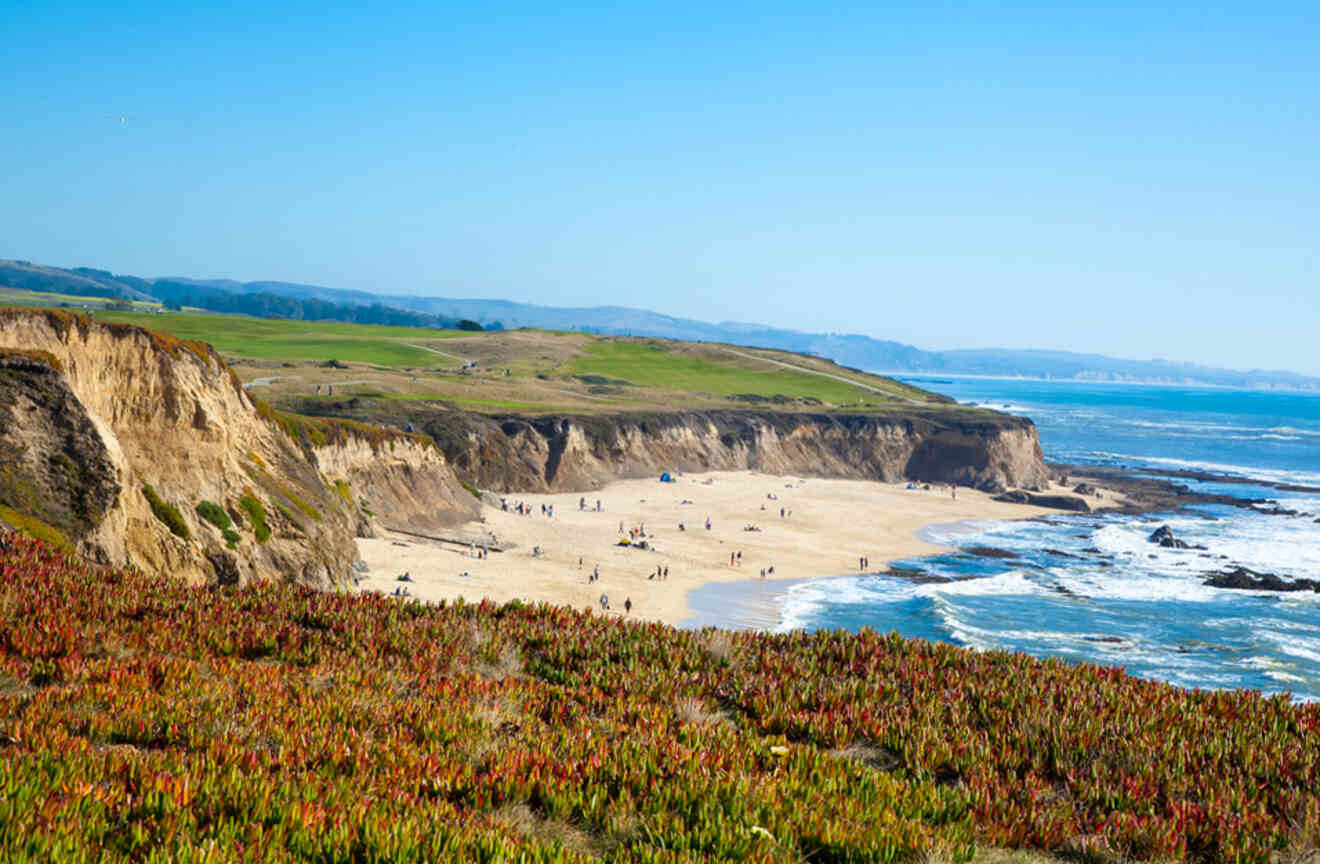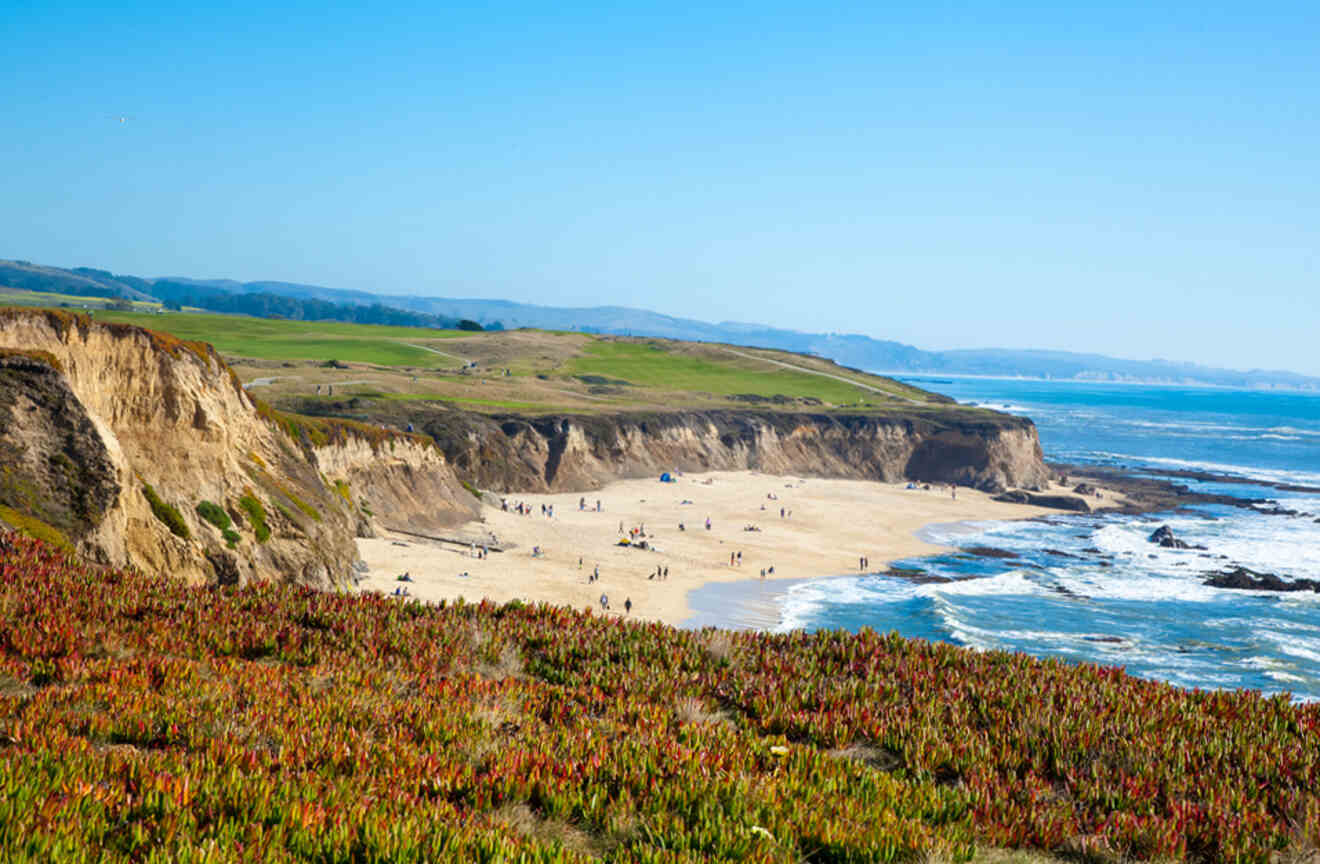 This stunning coastal city is located about 45 minutes drive south of San Francisco and is defined by its dramatic, rugged, rocky cliffs that fall steeply into the Pacific.
When you visit Half Moon Bay, you'll see the area is filled with stunning beaches, adorable shops & cafés, and plenty of great activities to do.
Half Moon Bay Beach is always my first stop in the area to stroll the picturesque coastline and take in the beauty of the vast Pacific Ocean.
After a quick breakfast and a yummy latte at Granola's Coffee House, I usually shop around at the eclectic mom-and-pop shops, like Garden Apothecary, which has the best skin care & garden treasures I've ever found!
While a close-by-day trip, Half Moon Bay could easily turn into a full-day affair!
9. Fall in love with the countryside of Sonoma County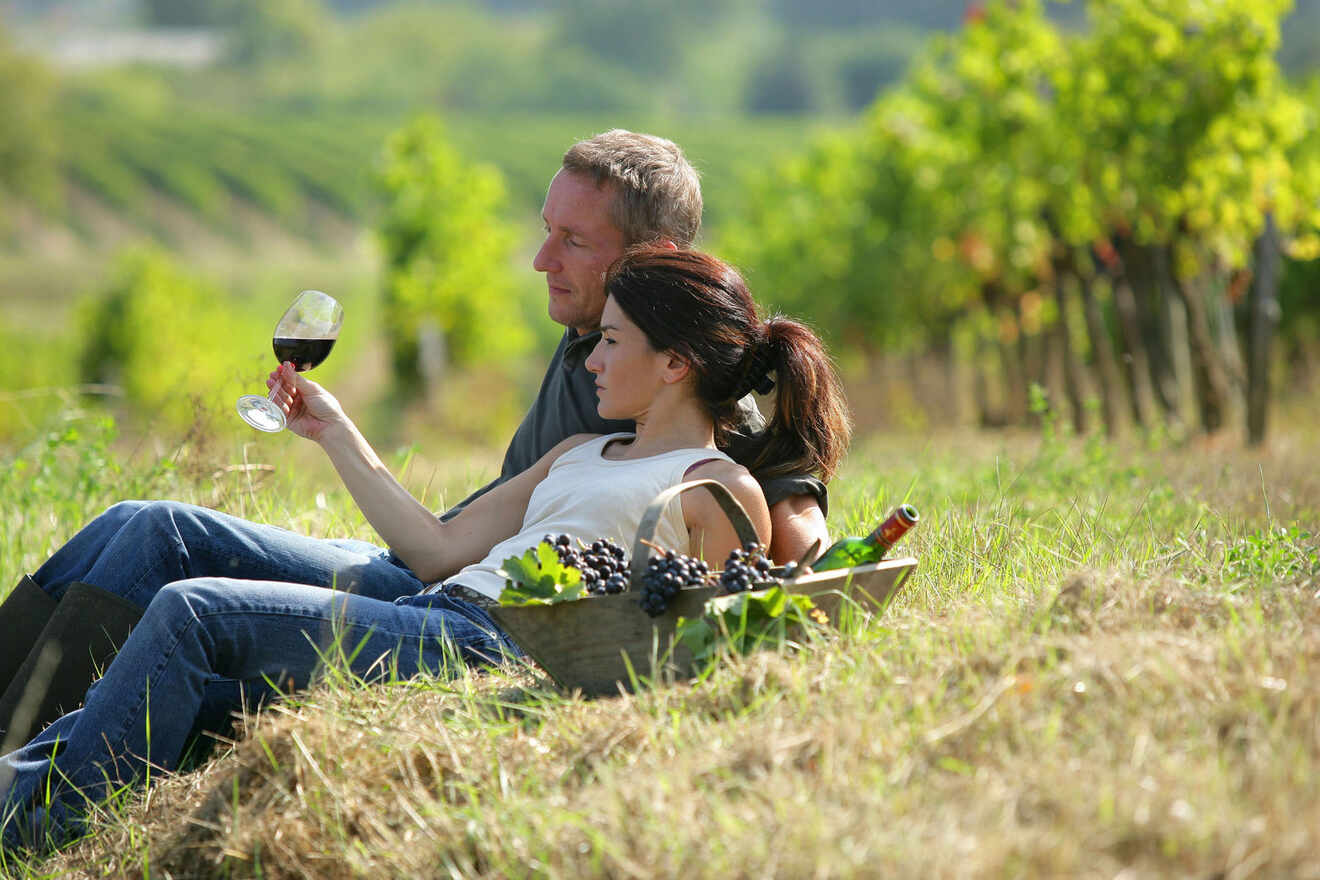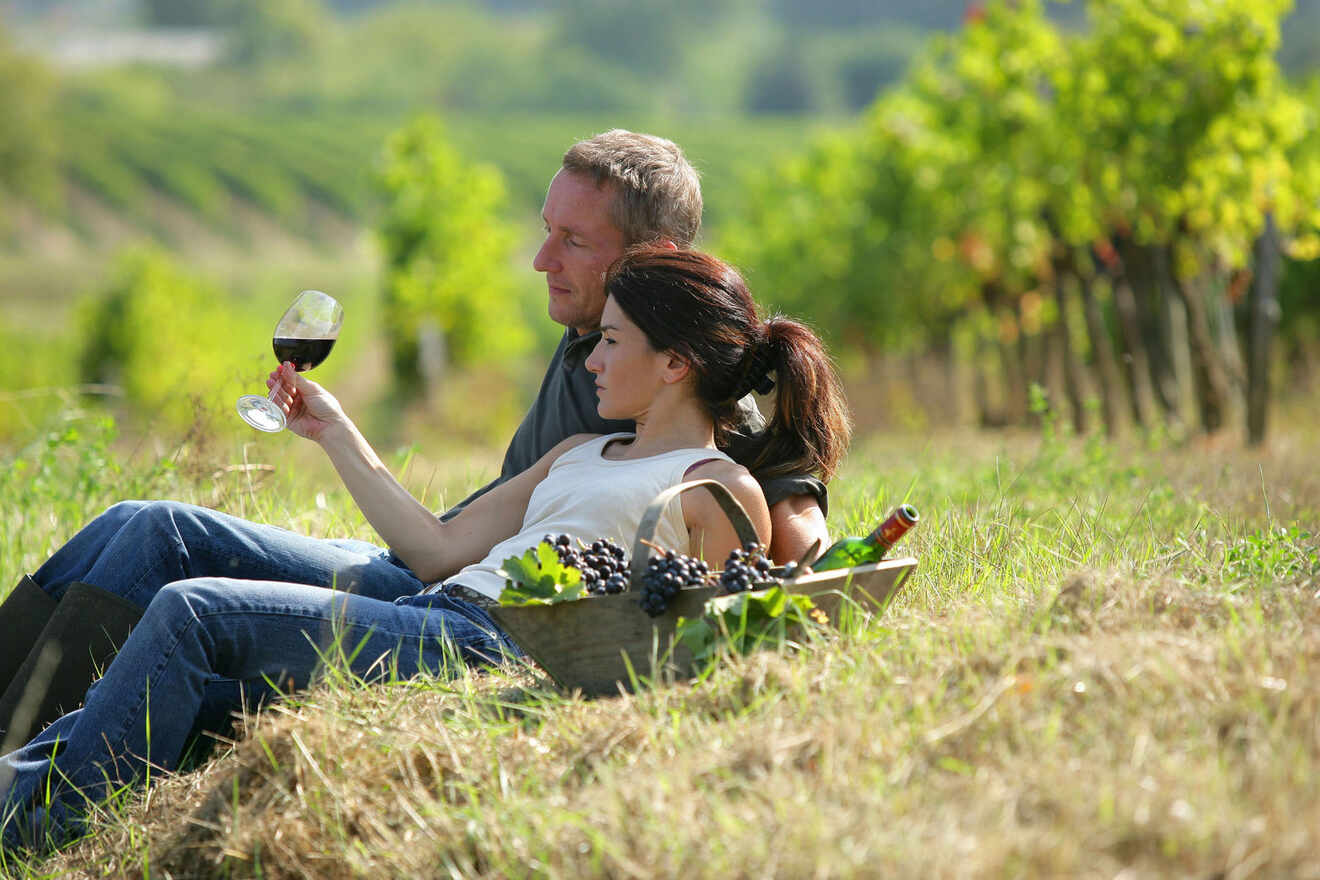 If you drive about 1 hour north of San Francisco across the Golden Gate Bridge, you'll find yourself in the exquisite natural beauty of Sonoma County.
Known worldwide as a destination for brilliant wine tasting in picturesque settings, Sonoma's wine region has a long and rich history.
This fun day trip will take you through the rolling hills of wine country, sampling Sonoma's varietals, like its delicious Chardonnay or Pinot Noir.
Wine tours in Sonoma are the main experience, and you're coming in vain if you don't go for one, and we have the scoop on the very best Sonoma wine tours in a separate article. Check it out and pick your tour.
An unbeatable activity you can do here is to take a hot air balloon ride over the rolling vineyard hills and sip on champagne. It truly is the ultimate experience!
If you are dying to fit Napa Valley and Sonoma County into one experience, why not take an epic full-day guided tour? Sit back, relax, and un-wine-d. 😉
PRO TIP: To enjoy your wine tasting to the fullest without worrying about who's going to drive, I recommend staying overnight. Here's where to stay in Sonoma.
TOUR PRICE: from US$160 per person
10. Take in the rugged splendor of Stinson Beach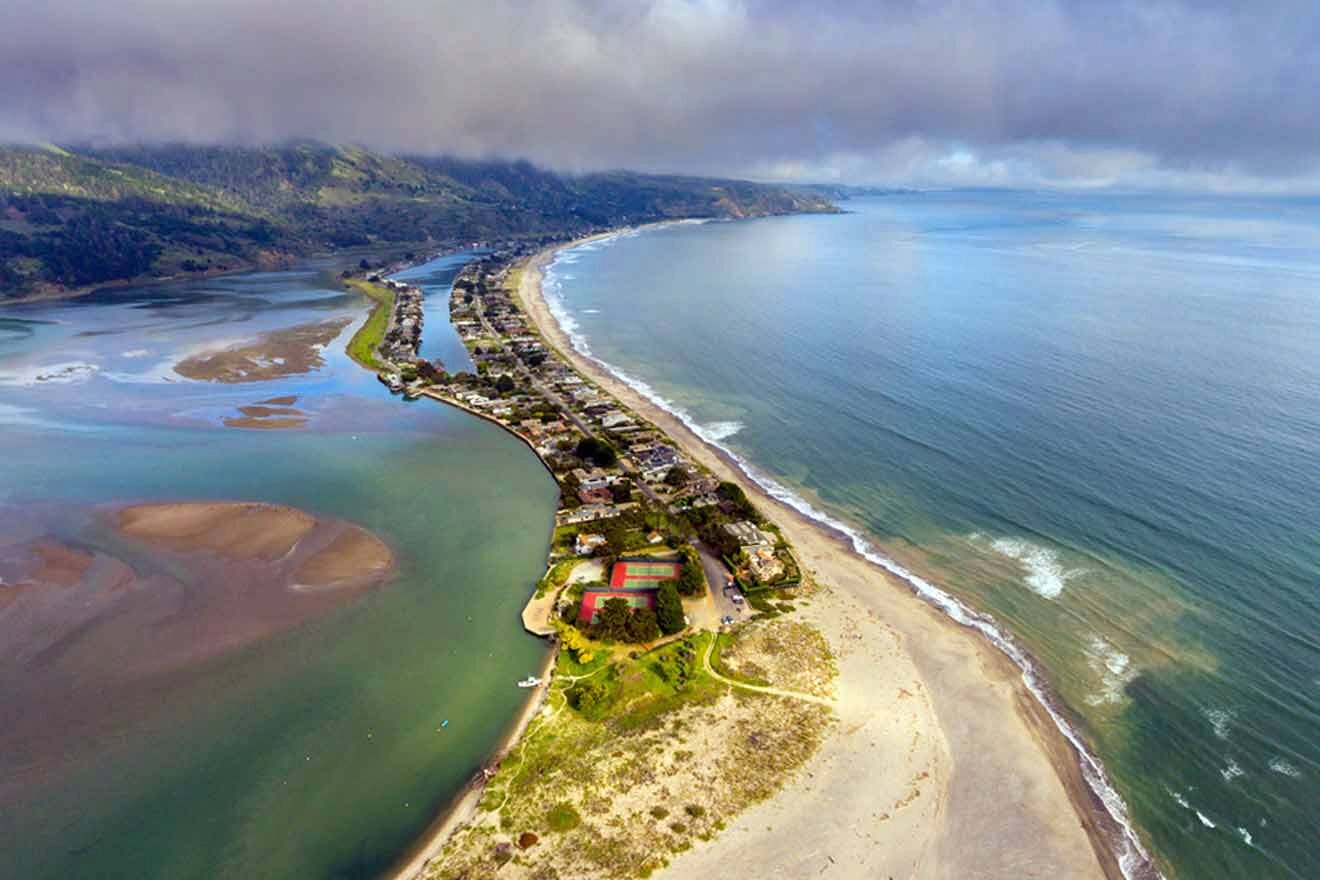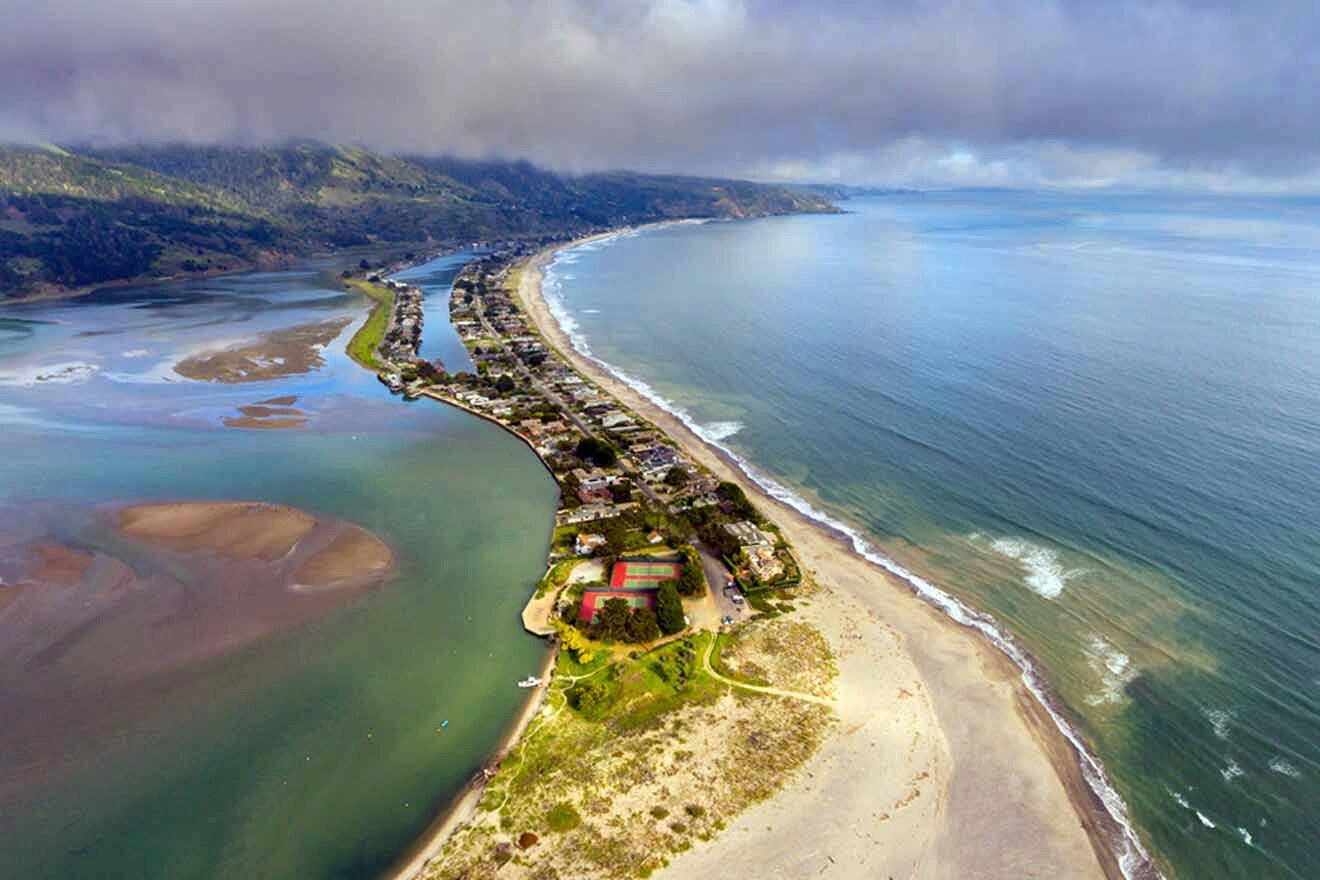 Arguably one of the most stunning beaches in Northern California, Stinson Beach in Marin County is absolutely worth breaking free of San Francisco for an escape to the sandy beaches of the shore.
The distance from San Francisco is only 1 hour north, so Stinson Beach is the perfect unique day trip combining the majesty of the redwood forest with the beauty of the sandy beach down below.
Enjoy great hiking, relaxation, or phenomenal photo opportunities around this natural gem.
This area of Marin is stunning, and if you have the opportunity, I recommend taking it all in from high above in one of these private seaplane tours of the greater Bay Area!
PRO TIP: If you have the time to spare, I highly suggest you make a whole day of your time in Marin County and visit Mount Tamalpais State Park for some hiking and Muir Beach for some relaxation since they are in the same area as Stinson Beach.
TOUR PRICE: from US$340 per person
11. Ferry to Angel Island State Park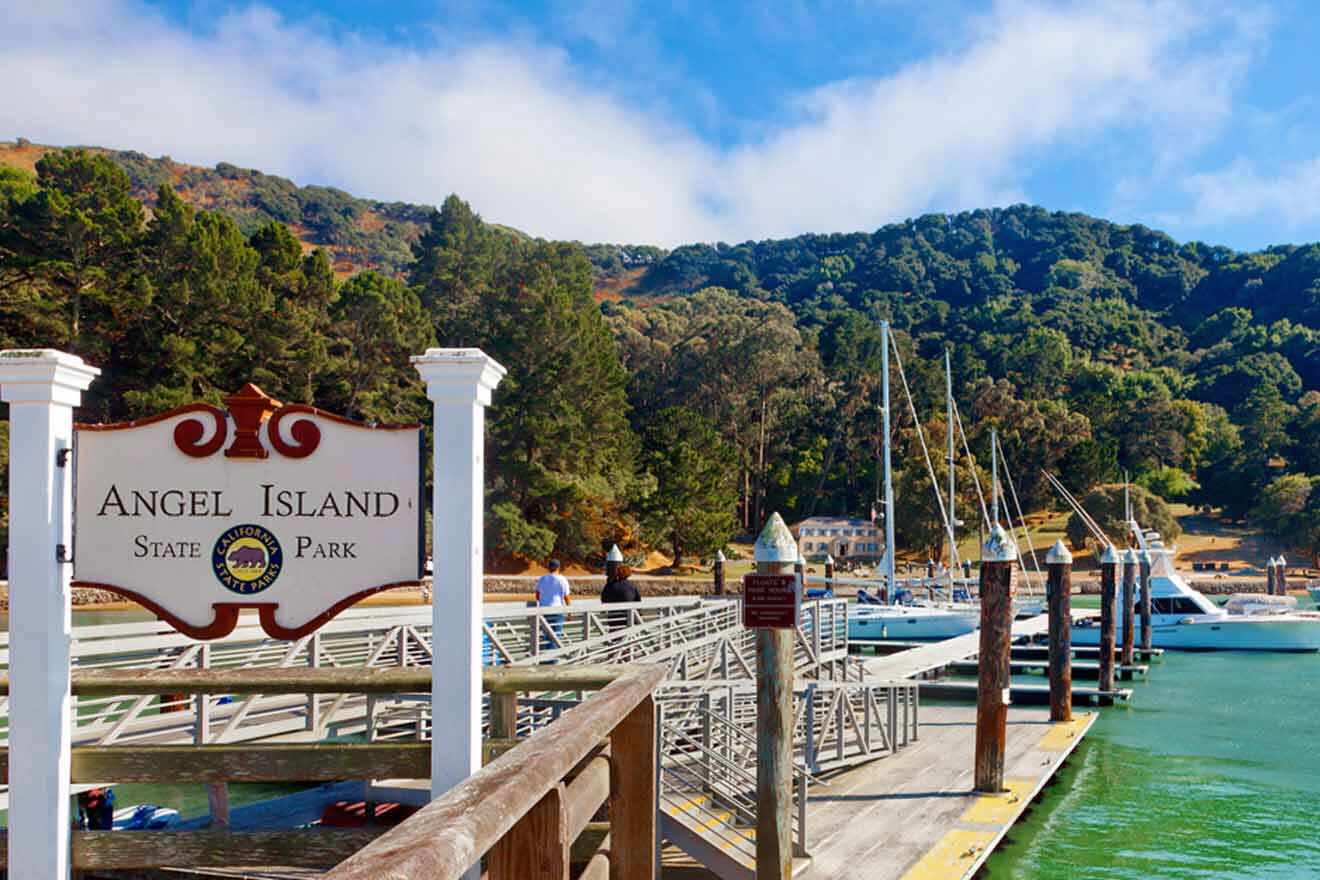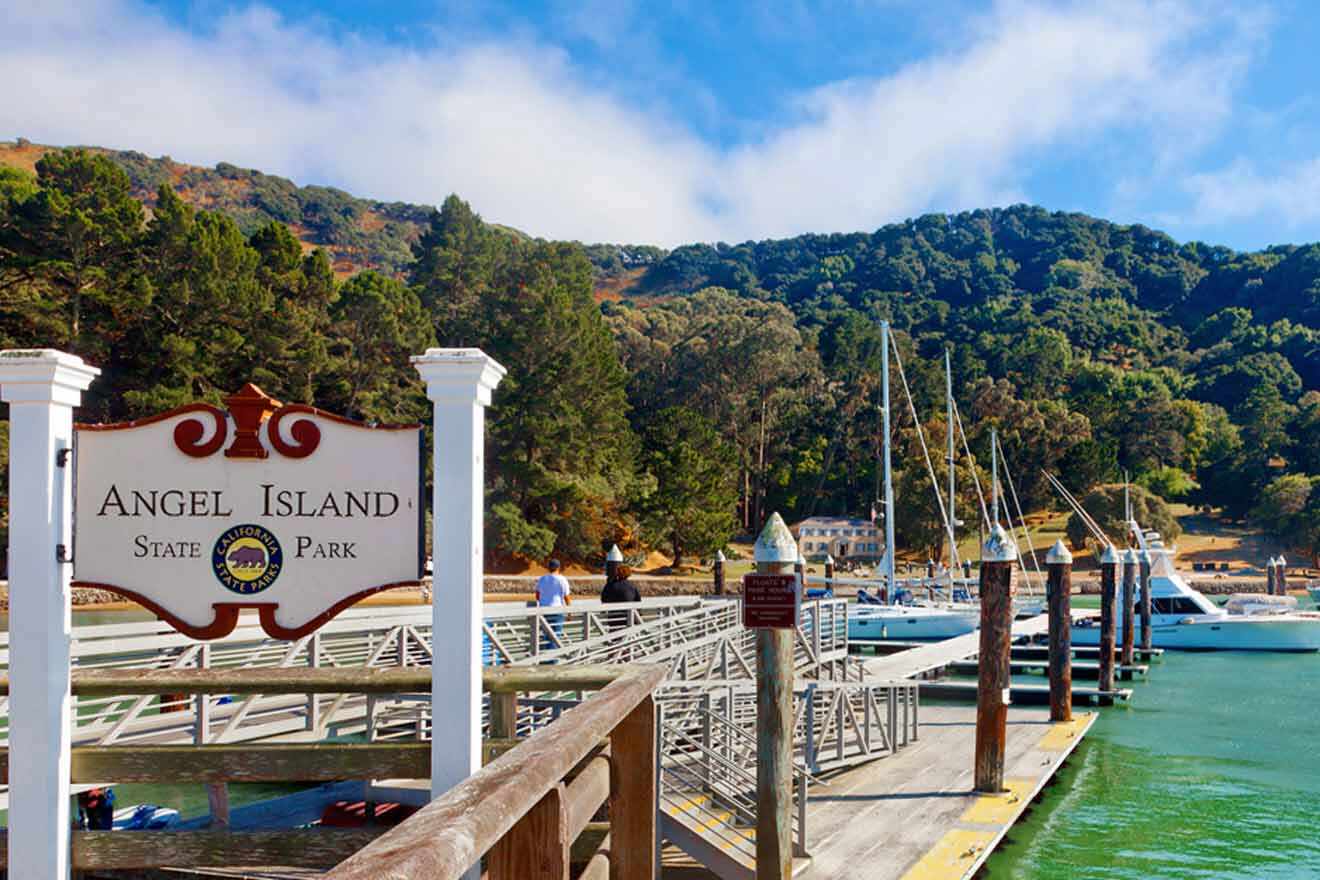 I was made for island life, so this awesome opportunity to ferry from mainland San Francisco over to Angel Island State Park was right up my alley.
Angel Island State Park is a short 10-minute ferry ride away and provides you with so many stunning hiking trails, beaches, chances to spot sea lions, and views that you cannot get anywhere else in NorCal.
If you're an avid camper, this is such a fun place to camp out for a few nights close to the city! Check out the camping availability here.
PRO TIP: There are a couple of food options on-island, but I highly suggest packing lunch and snacks with you to make a half-day of this experience.
NOTE: Ferry schedules change often; always check the schedule.
PRICE: US$15.50 per adult one-way
12. Drive down to stunning Monterey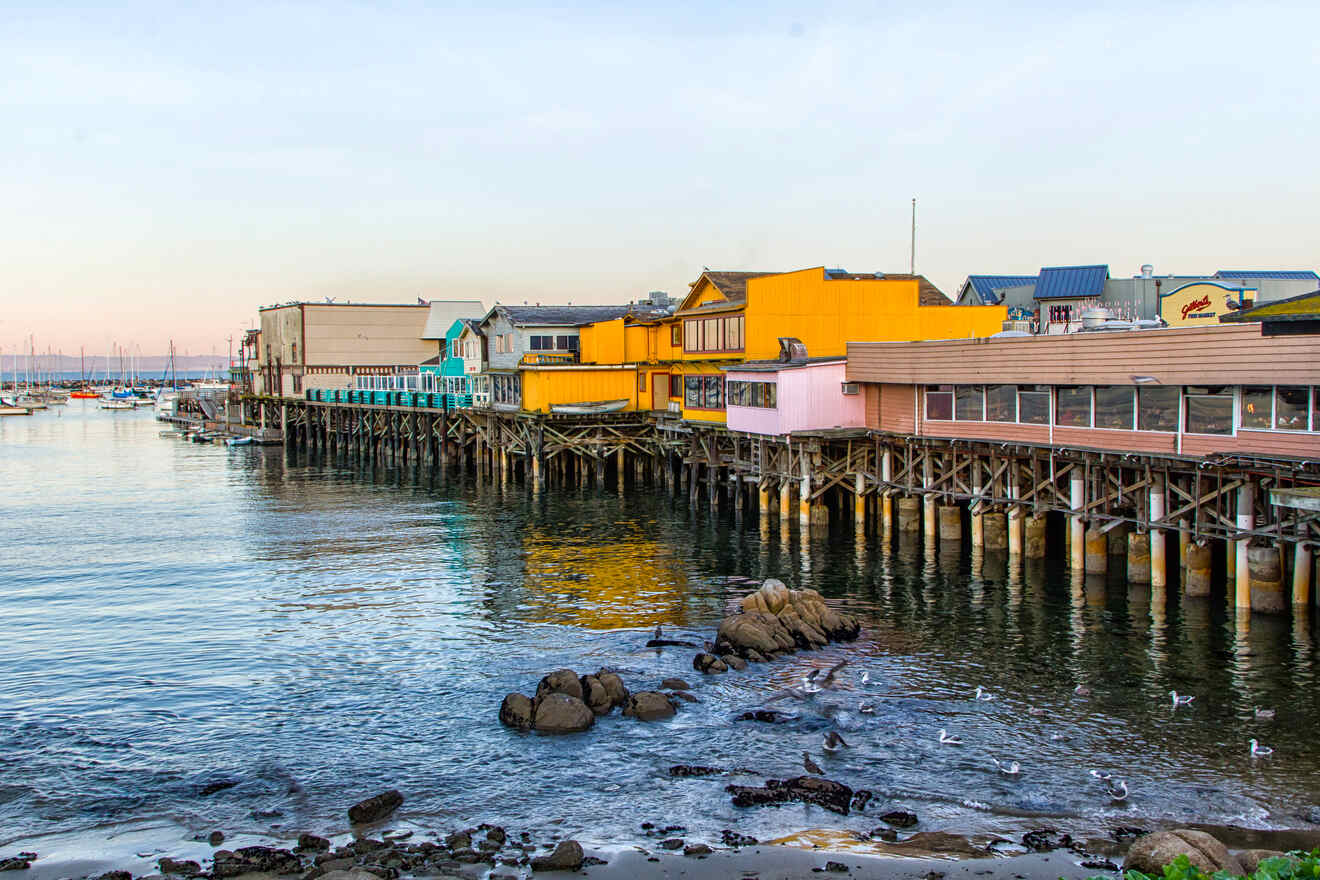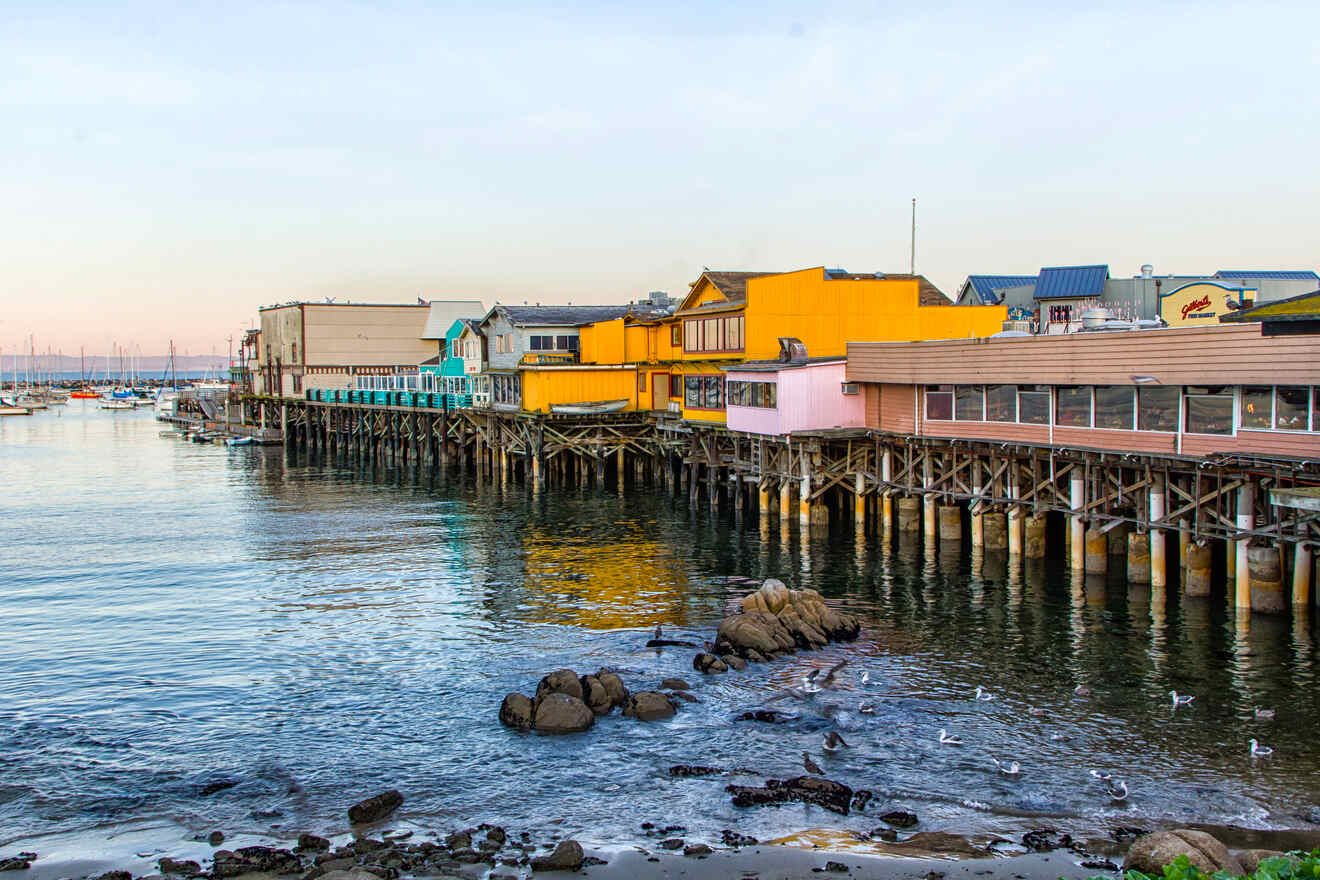 For one of the most gorgeous coastal drives, head 2 hours south along the Pacific Coast Highway to the shores of Monterey.
Monterey is defined by rugged seacliffs and blue-green waters, dotting the mountains with mansions and exquisite scenery.
If you're traveling with kids, this is a great day trip to visit Monterey Bay Aquarium, one of the most famous aquariums in the country.
Prefer to make it an overnight trip? Try the stunning InterContinental Hotel overlooking the ocean and within walking distance of all the major attractions.
13. Explore the hip and lively Berkeley area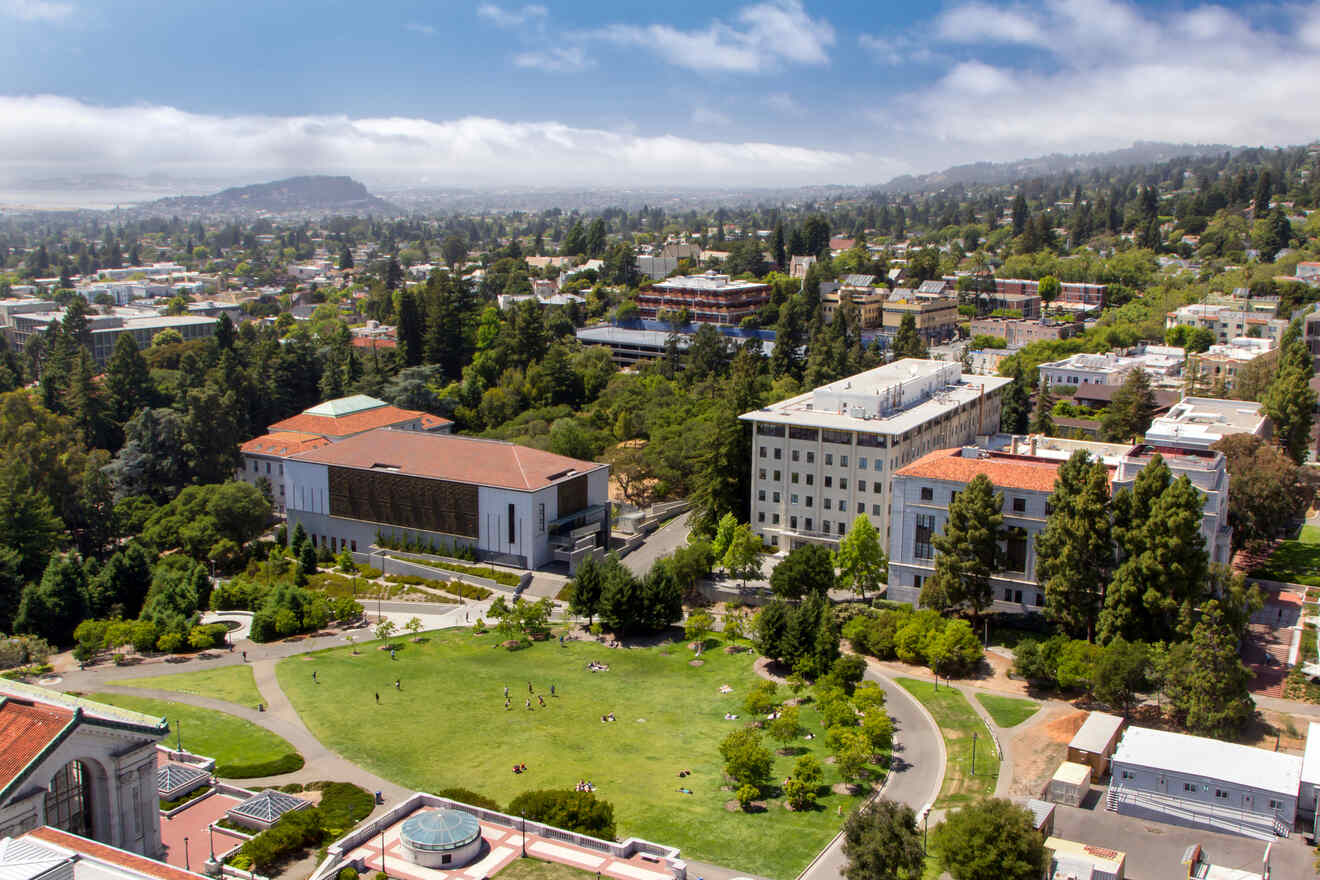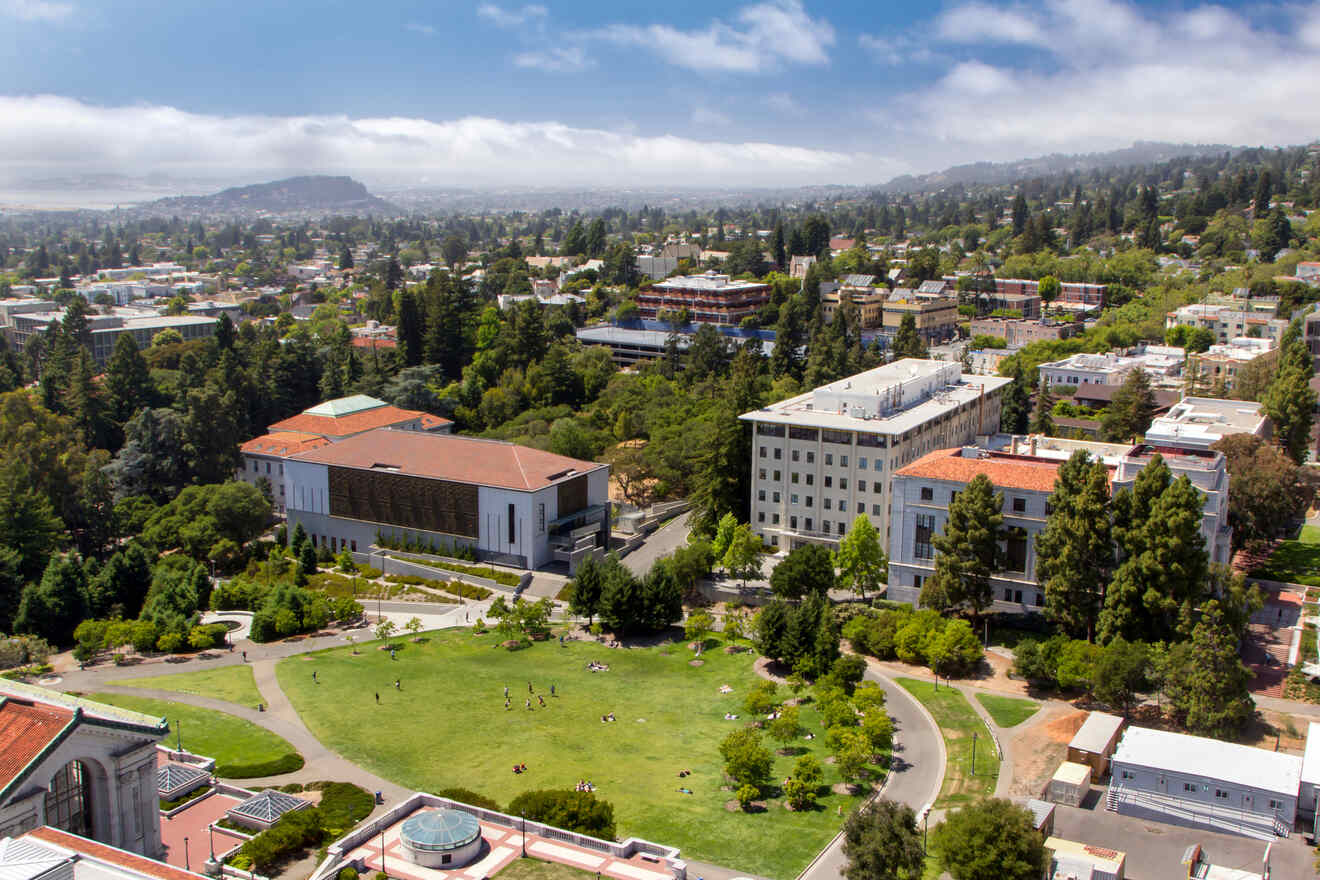 The distance from San Francisco is just a short drive of 30 minutes, and you'll discover the vibrant university town of Berkeley and the many things to do there.
Full-day trips from San Francisco can quickly fill up your itinerary, so it's nice to have this option just a short distance away.
Explore this lively and eclectic college district, grab an amazing latte at one of the multitude of coffee shops, check out the modern art galleries, or even better, pop into the Berkeley Art Museum for a dose of artistic culture.
14. Swing down to South Bay for a visit to San Jose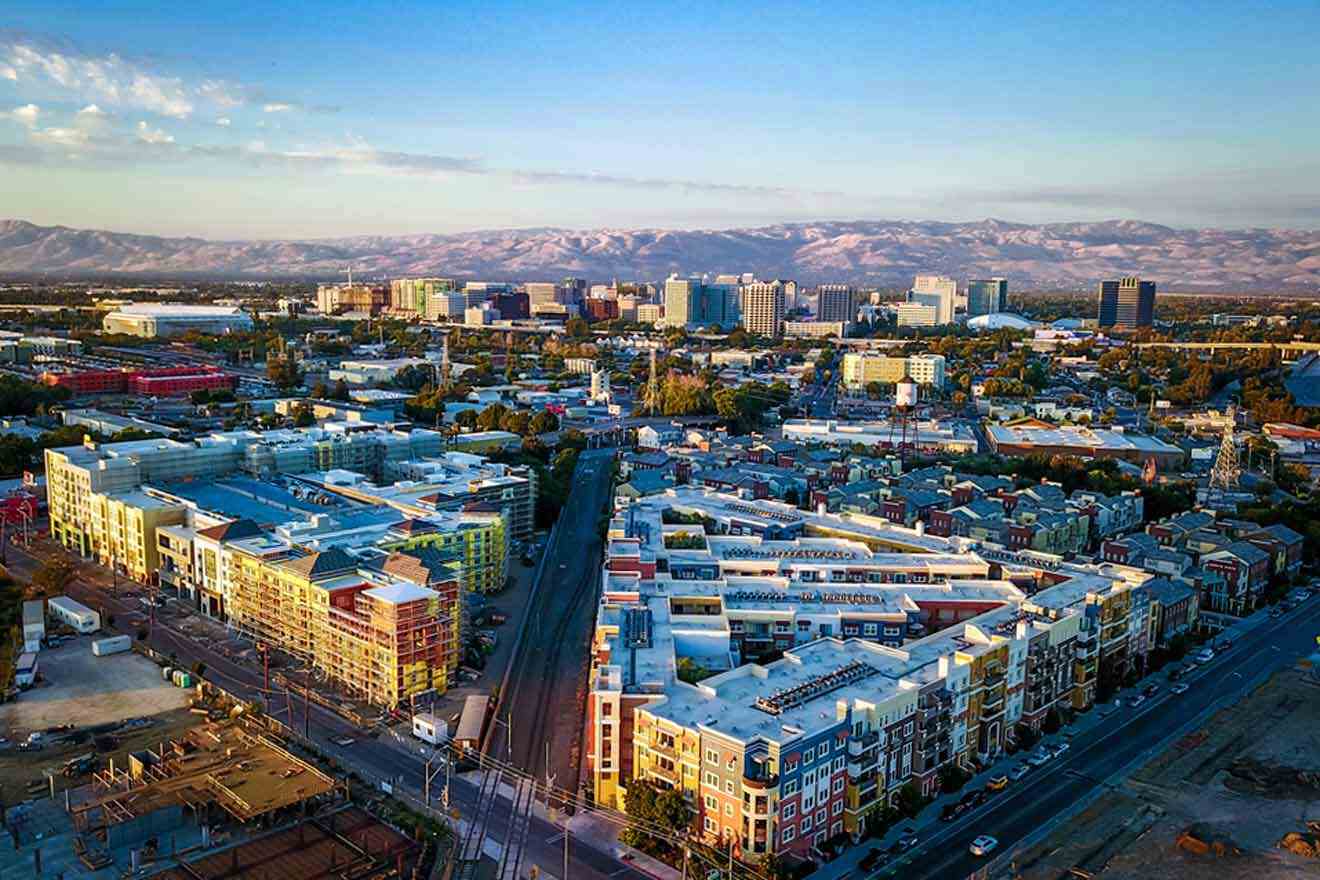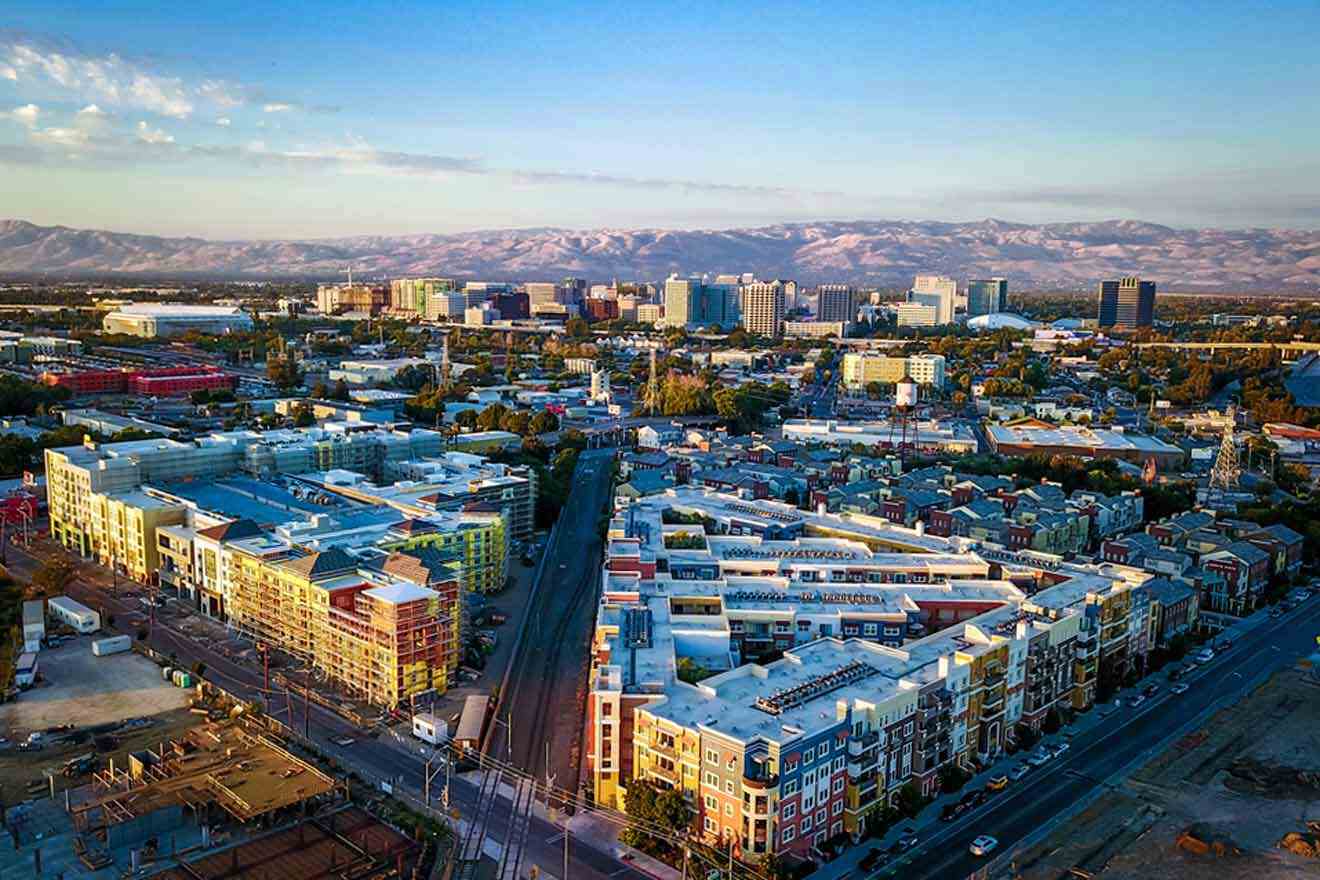 While you're in the Bay Area, a great day trip suggestion is only 1-hour drive south to the city of San Jose. This is an exciting metropolis with urban amenities, shopping, dining, and fun activities to do on a day trip.
One of my absolute favorite don't-miss activities is the Winchester Mystery House, filled with quirky twists and turns, funky hallways that lead to nowhere, and a whole lot of scratching your head. Take the guided tour to add to the fun at this unique attraction.
TOUR PRICE: from US$42 per person
15. Explore the trails of Castle Rock State Park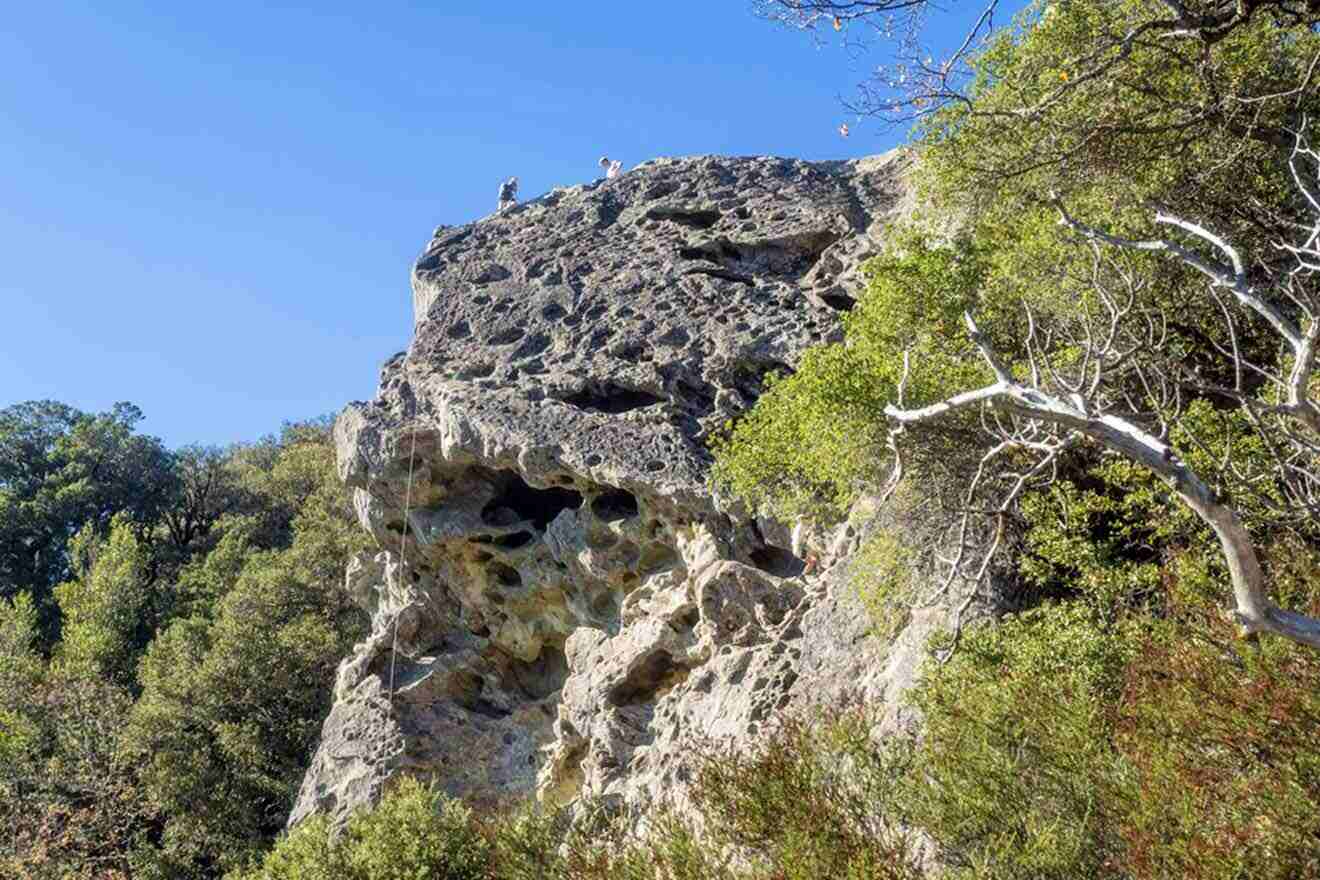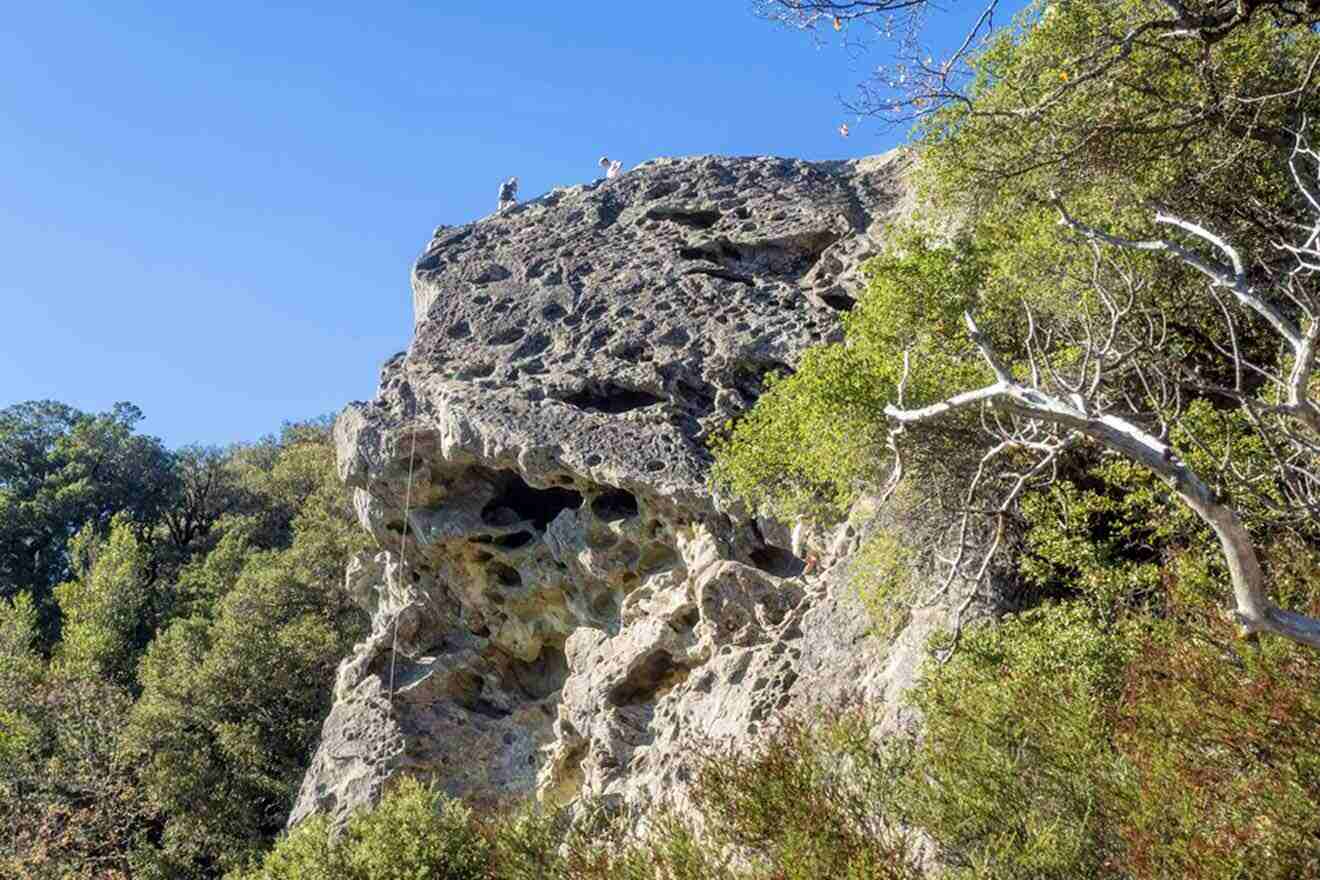 Head south, 1-hour distance from San Francisco, and you'll reach the expansive nature that is Castle Rock State Park.
The park is defined by its sandstone rock, stunning forest, and beautiful scenery. With over 5,000 acres (over 2,000 hectares) of nature preserve, the park features scenic hiking trails, horseback riding opportunities, and birdwatching.
When you're visiting San Francisco, it's definitely worth carving out the time for nature, and this park has it proudly on display!
PRICE: US$10 per vehicle
16. Experience coastal California with a visit to Big Sur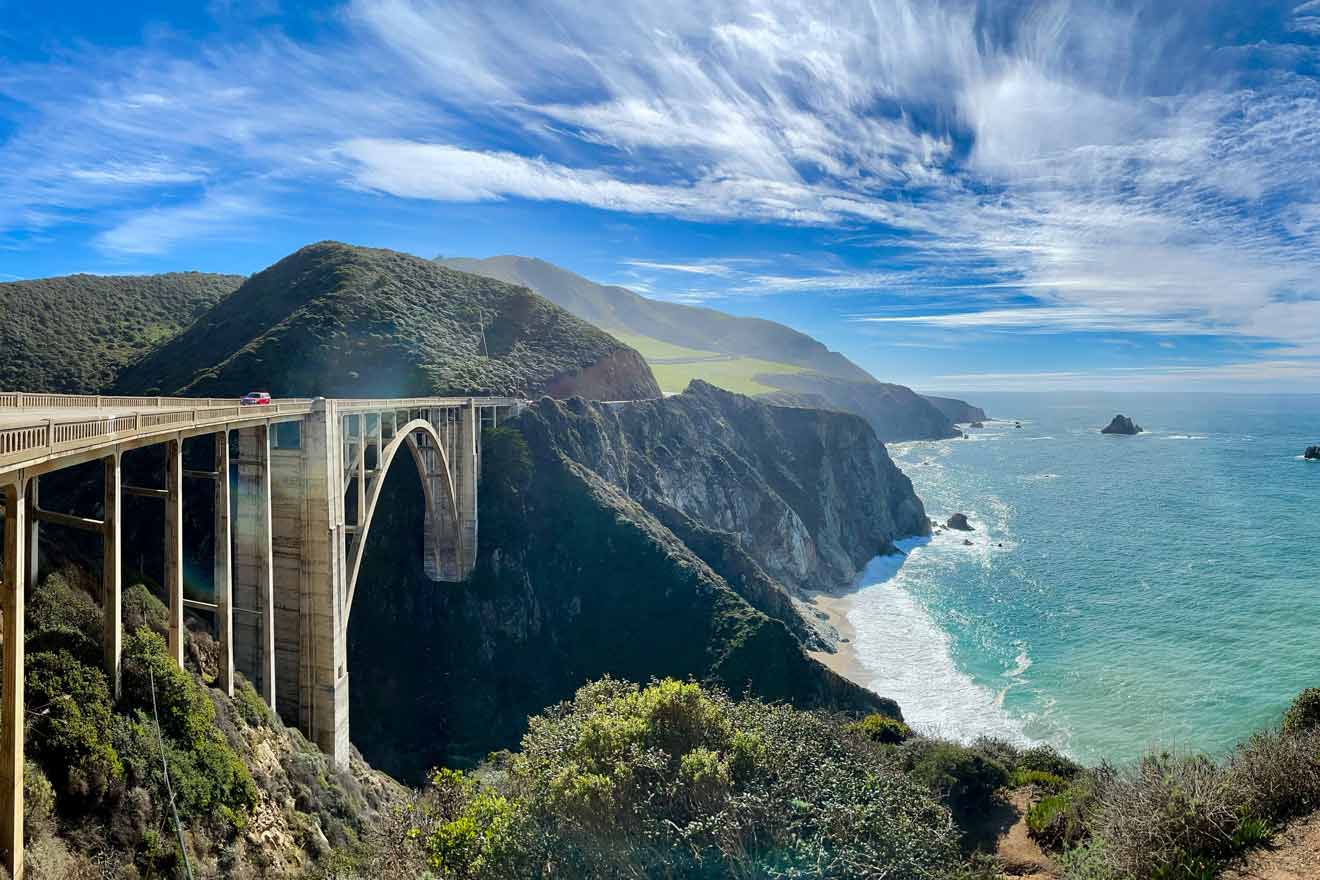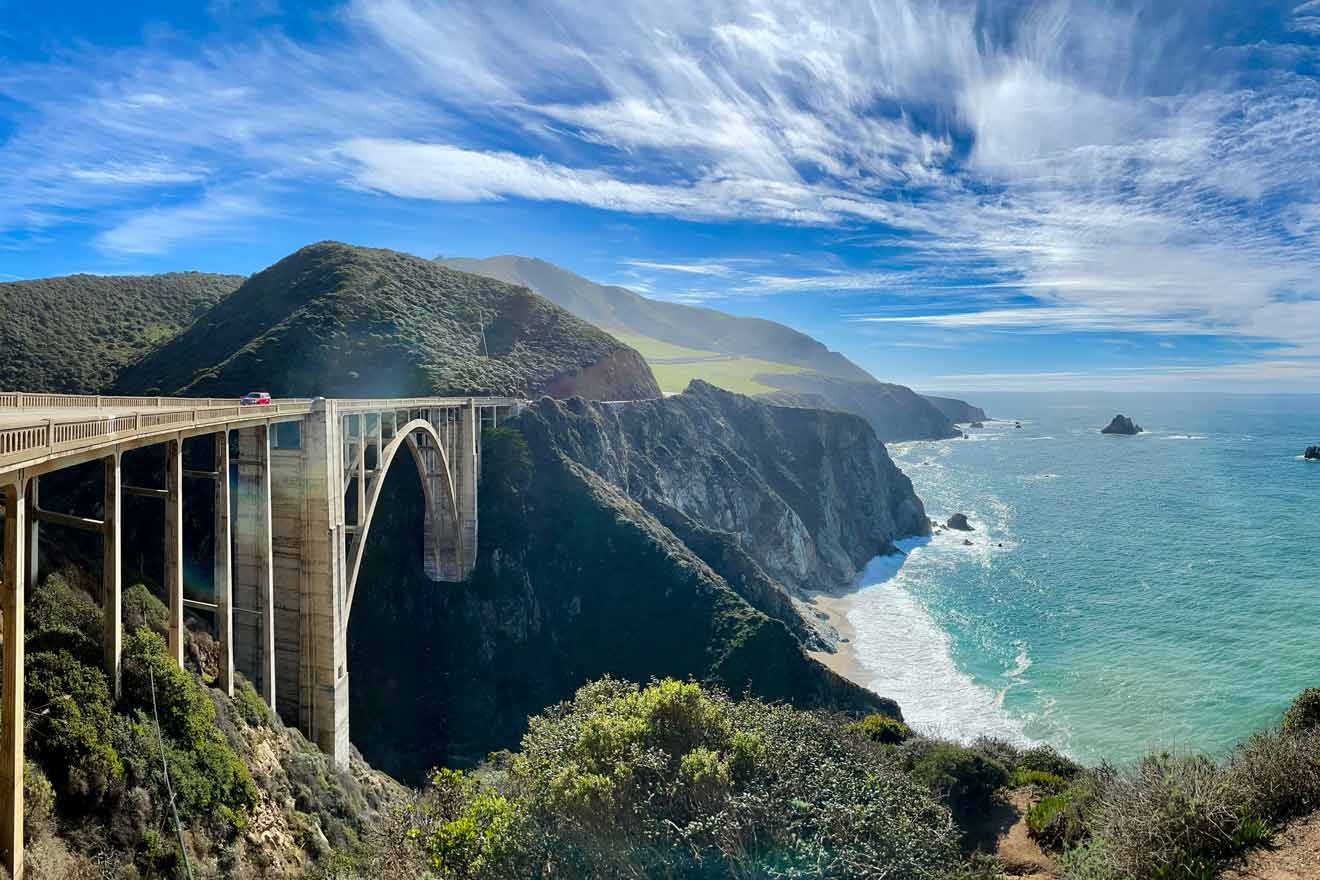 When you visit the Bay Area, take the time to visit this epic area 2.5 hours south called Big Sur.
Big Sur conjures up images of steep, massive sea cliffs dropping dramatically into the Pacific Ocean as beautiful luxury convertibles zoom around the twists and turns of this picturesque Pacific Coast Highway stretch of land.
Stop by Pfeiffer Big Sur State Park for incredible vistas and exhilarating hiking trails. Don't forget to stop at the Visitor Center to check on local conditions and find out if they've spotted any black bears in the area because they're quite common!
If you'd rather kick back and relax on a guided tour of the area, I highly suggest this Big Sur sightseeing tour – you get to see and learn so much about the area! And in case you'd like to extend your stay, see our recommendations on Big Sur areas & accommodations.
TOUR PRICE: US$125 per person
17. Take a day to visit the incredible Lake Tahoe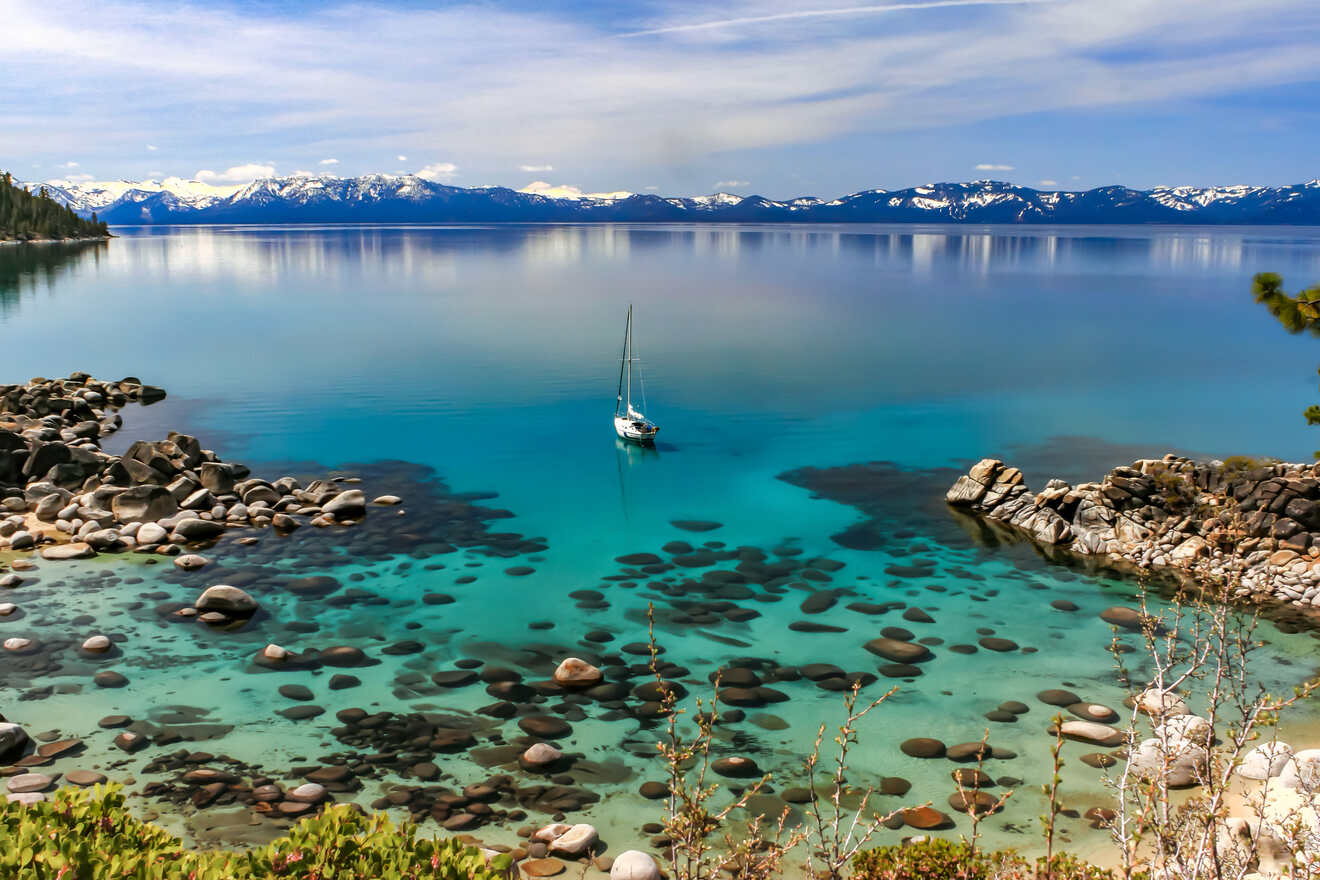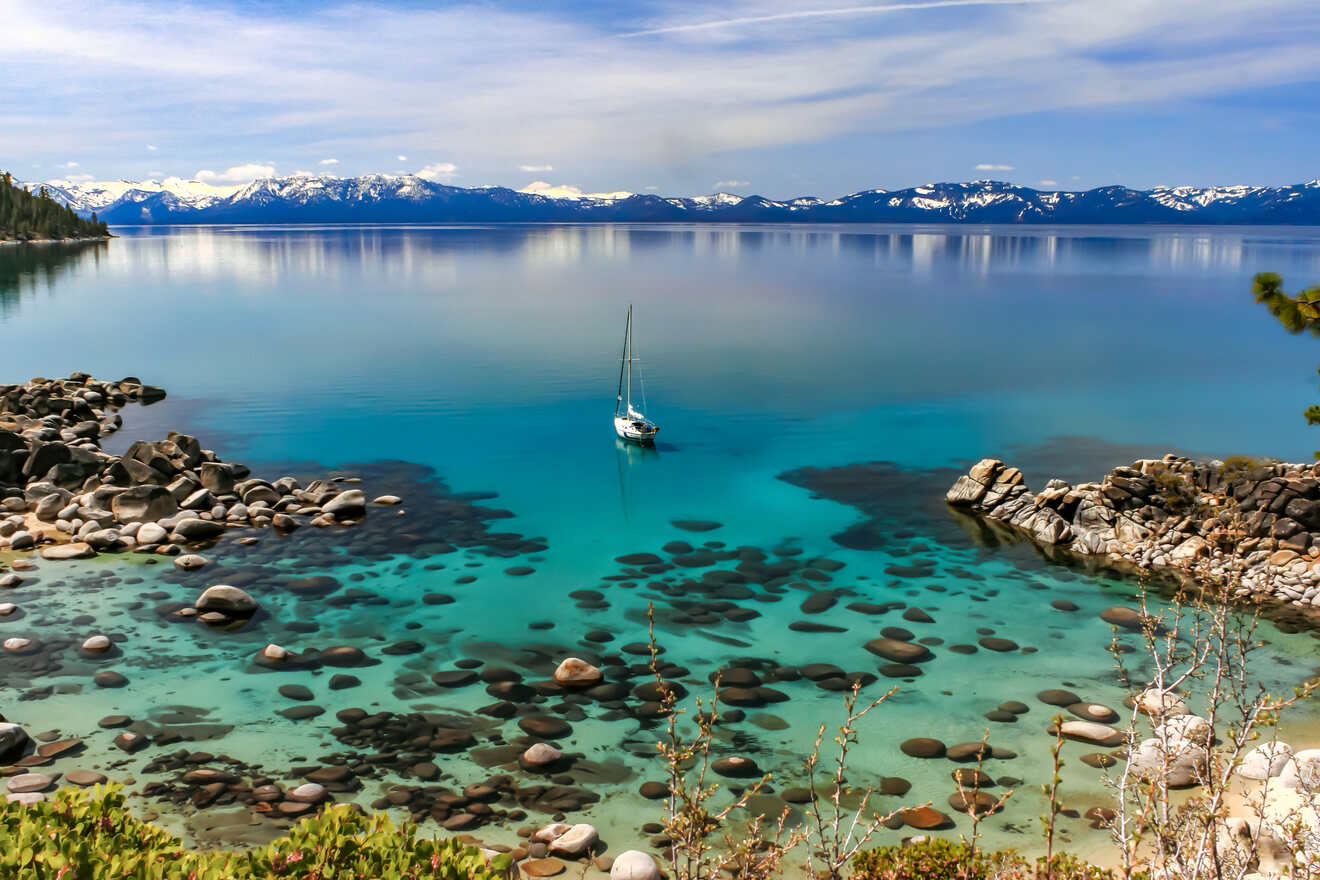 Okay, my friends, I'm going to let you in on a little secret – I'm a lake snob! I've been to oh-so-many, and I typically refuse even to touch the water. But then I met Lake Tahoe.
Oh my, Lake Tahoe is like an exotic escape, but it's nestled in the Sierra Mountains of California. The lake itself looks like the aqua-blue waters of Tahiti, but don't let it fool you; it's very, very cold! Opt for a guided kayaking tour and stay above the water. 😉
If you have the time, I suggest booking an overnight hotel, like this charming mountain lodge, to really maximize your time and what you can see in this incredible wooded wonderland.
TOUR PRICE: from US$165 per person
18. Take in the wildlife at Pinnacles National Park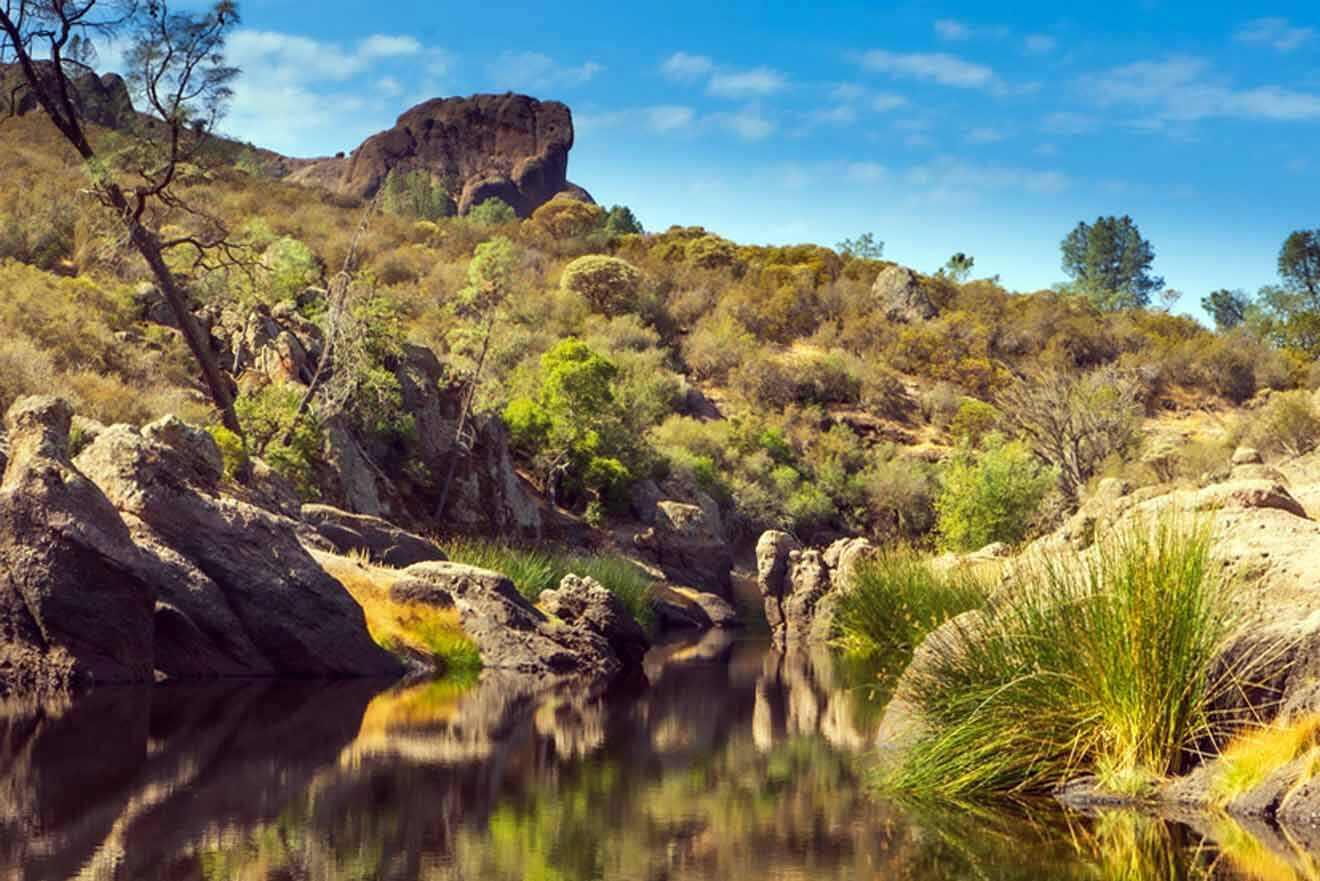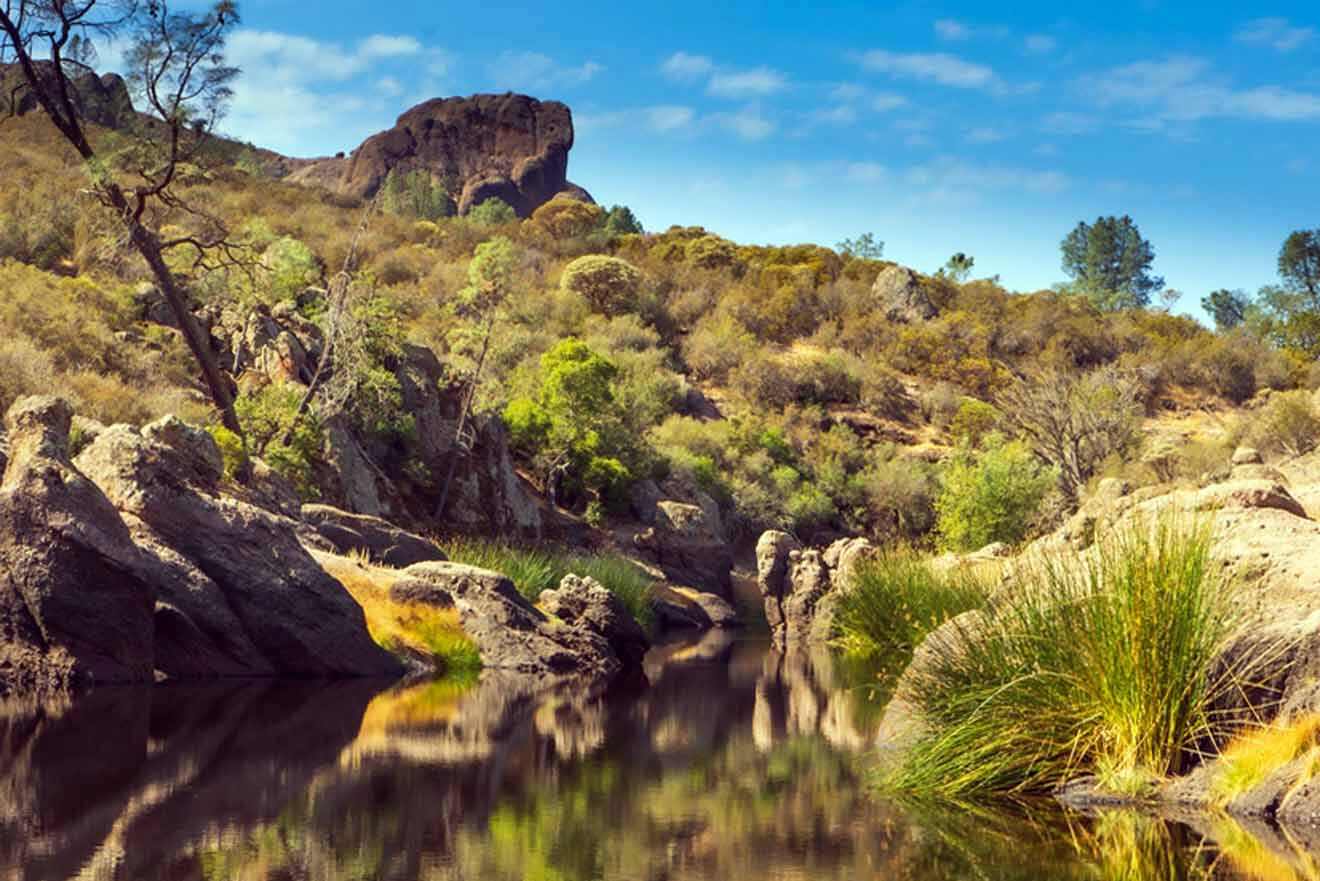 If you want to escape for a day trip out in nature but would prefer to avoid the crowds, I would suggest visiting Pinnacles National Park.
The distance from San Francisco is just 2 hours south, providing solace from the always busy NorCal region.
If you're a lover of birds, you're in luck! This national park is known for its amazing birdwatching opportunities, like spotting the famous California condor.
Don't forget to stop at the convenient Visitor Center to check for local conditions and updated information before you set out on the trails.
PRO TIP: Do your best to visit here on the weekdays because the weekends are crazy busy!
PRICE: US$30 per vehicle
Where to stay in the San Francisco & Bay Area
There are amazing options when looking for accommodations in the Bay Area. I highly recommend staying in San Francisco for the best vantage point. See below for my top picks for every budget.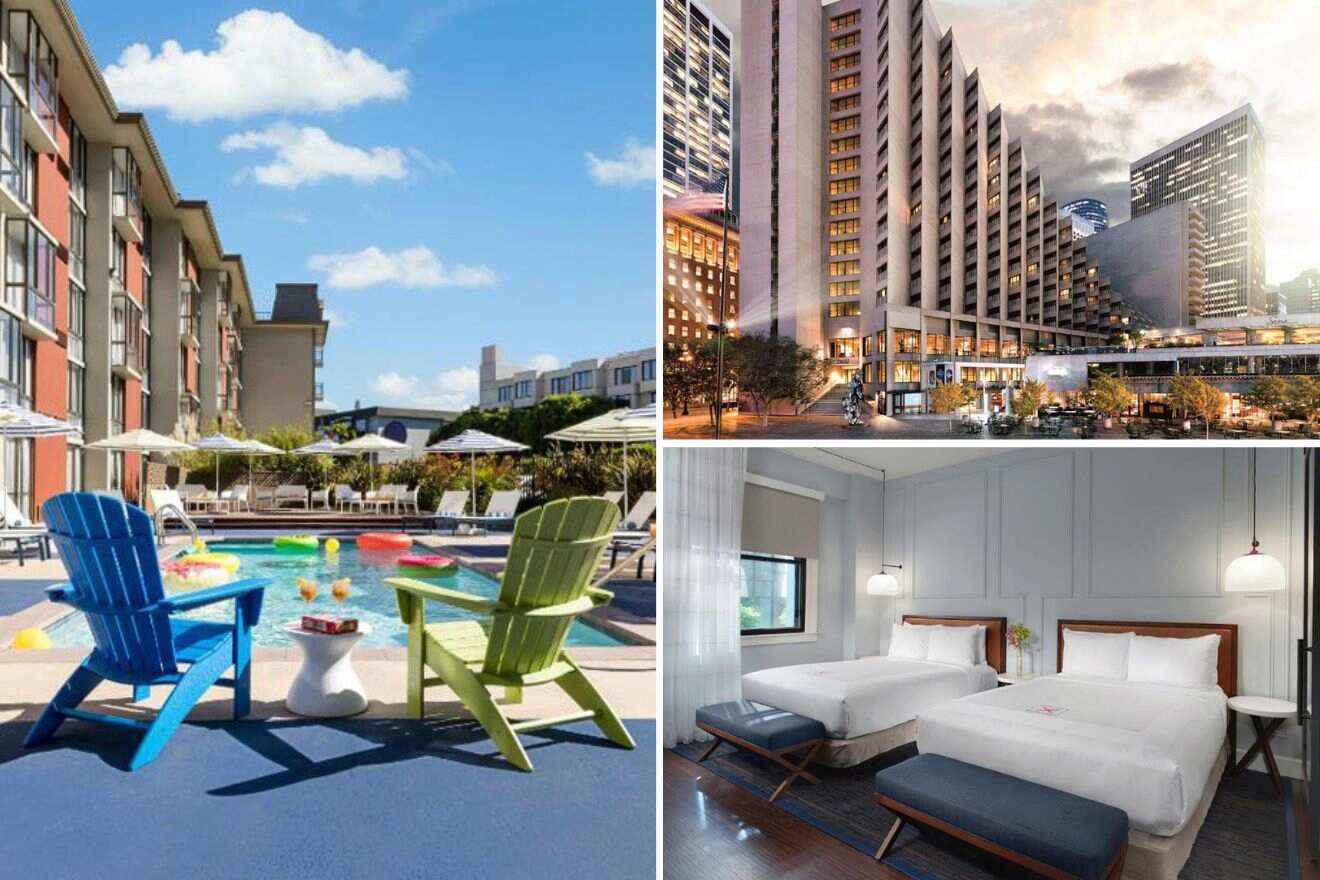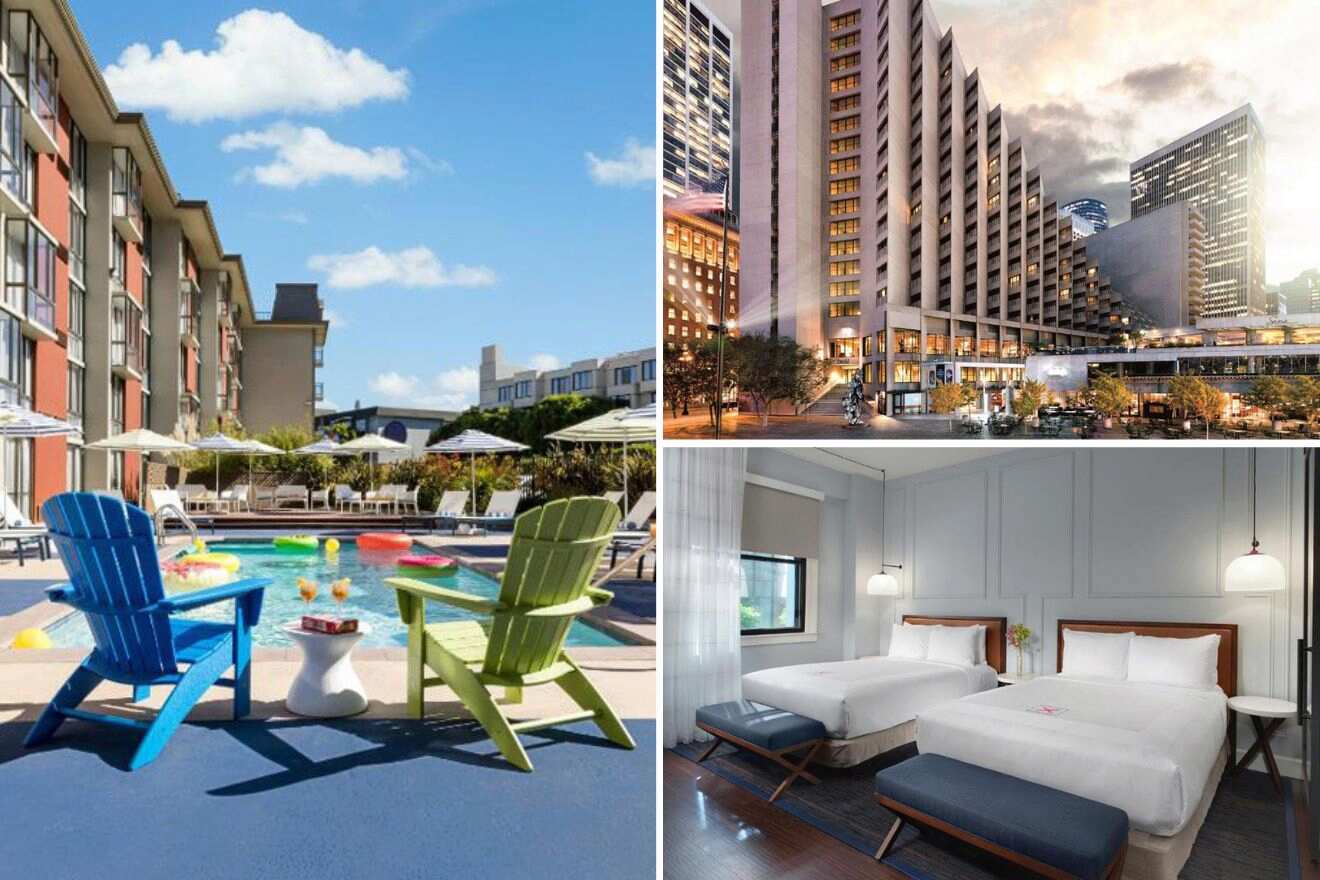 Luxury (US$350 and up)
Mid-Range (US$200 – US$350)
Budget (up to US$200)
FAQs about Bay Area day trips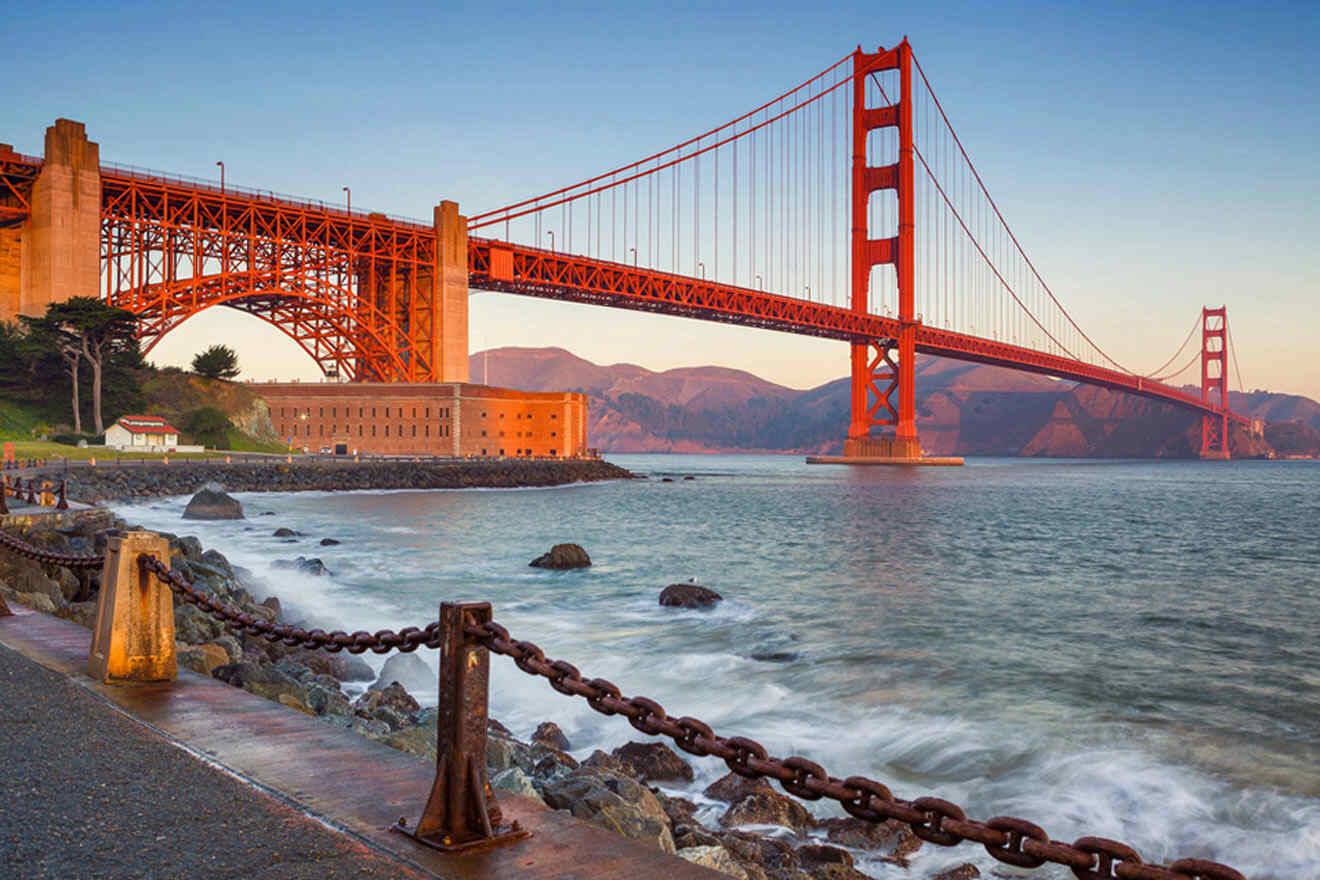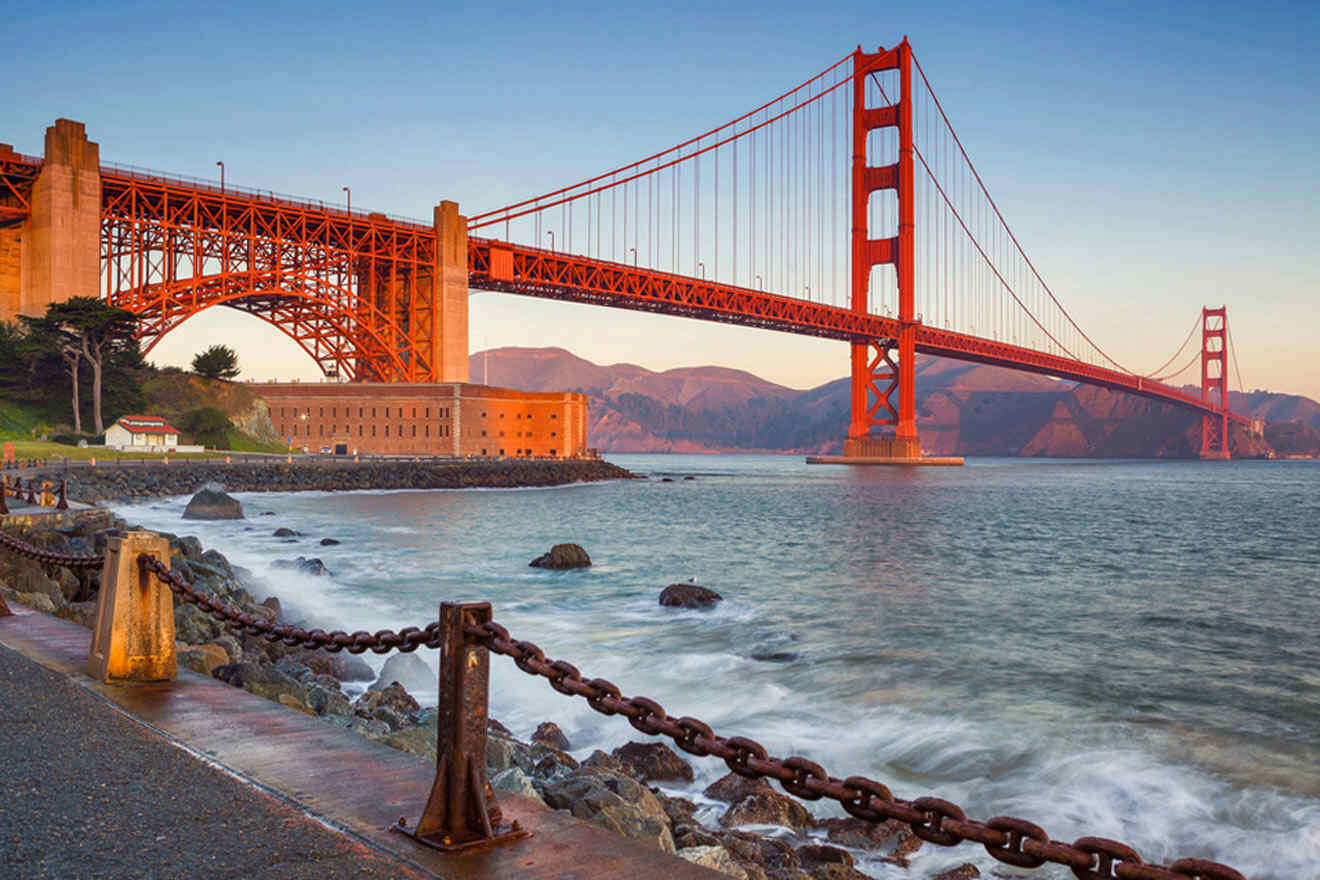 Conclusion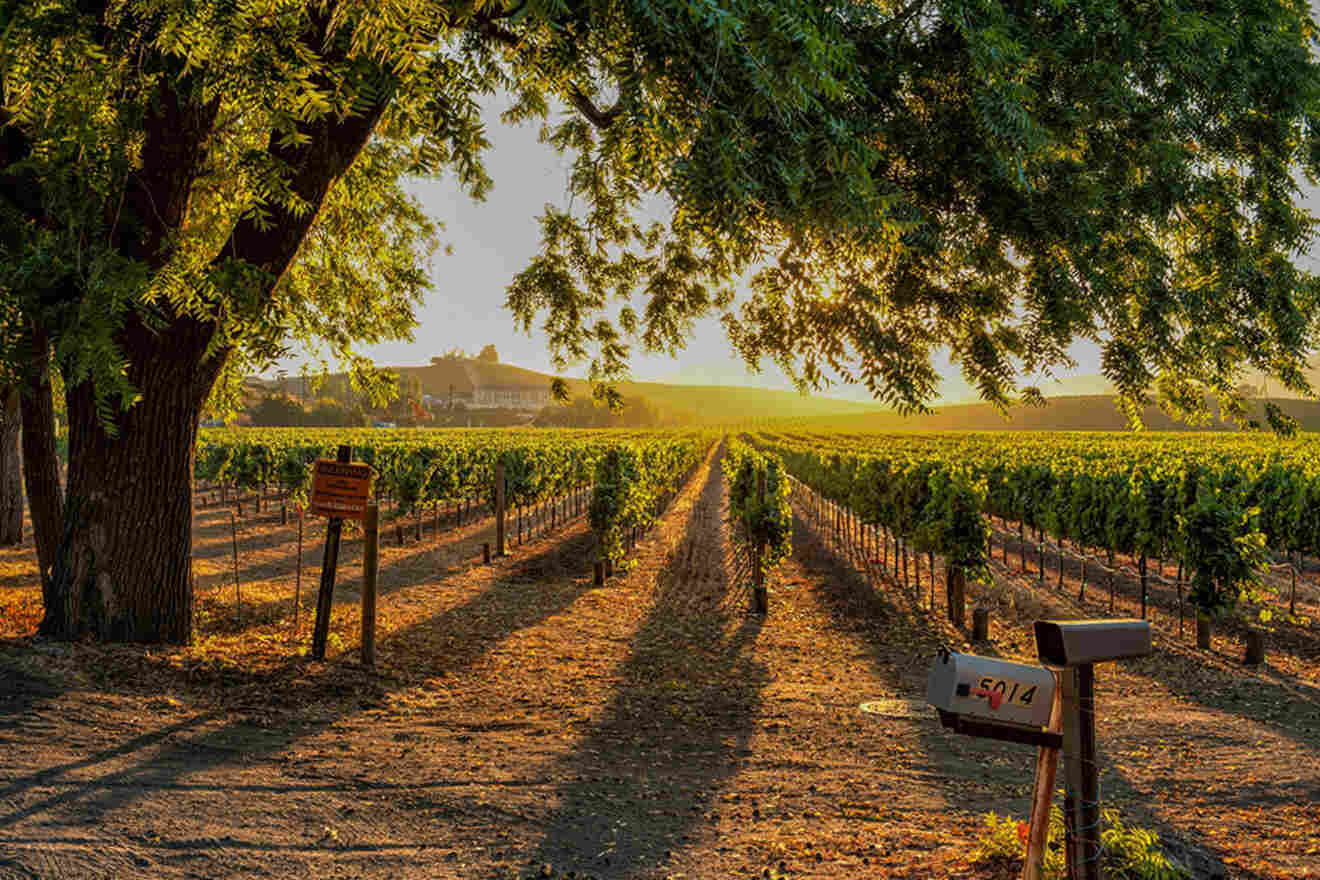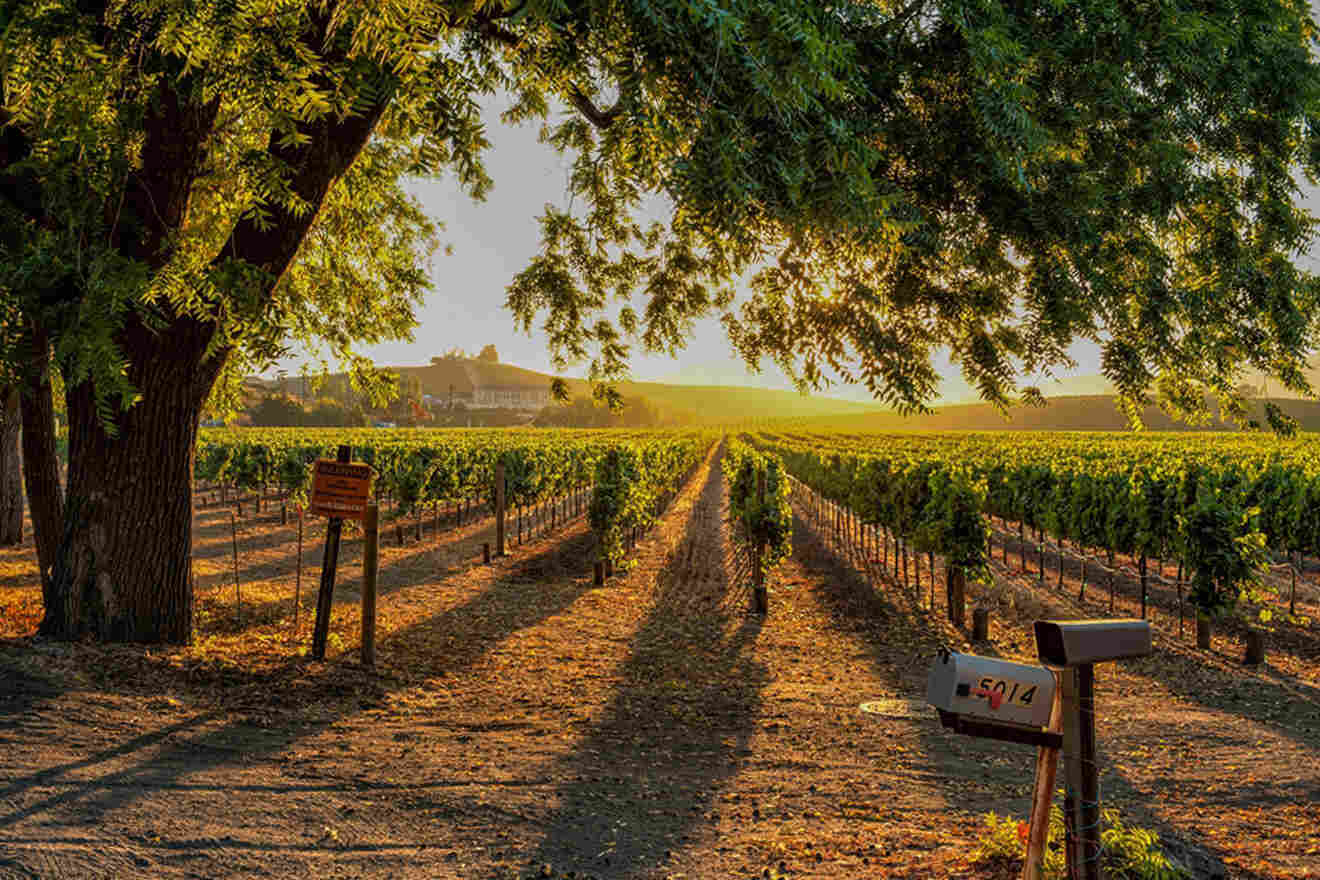 The San Francisco Bay Area has so much to offer when it comes to amazing day trips! Truly one of the best jumping-off points for adventure on the West Coast, the Bay Area is an incredible region to explore.
If you're planning to go on Bay Area day trips soon, please remember to book in advance for the top hotels and activities!
After you get back, I'd love to hear which Bay Area day trip was your favorite! Feel free to comment below.
Aloha & safe travels,
Hayden G.
---
Pin it for later!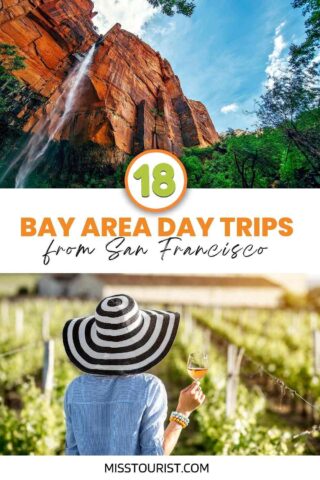 Pin it for later!