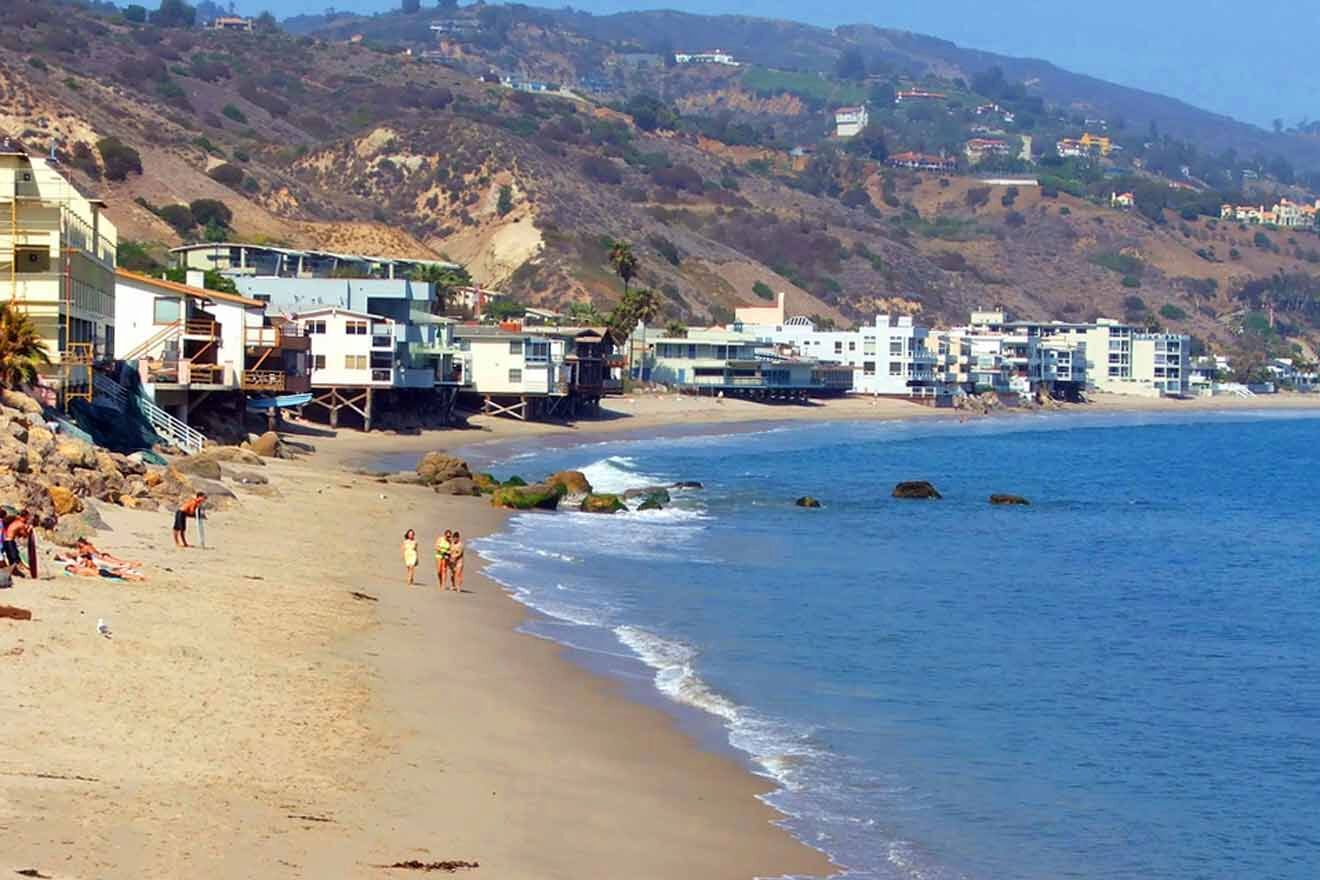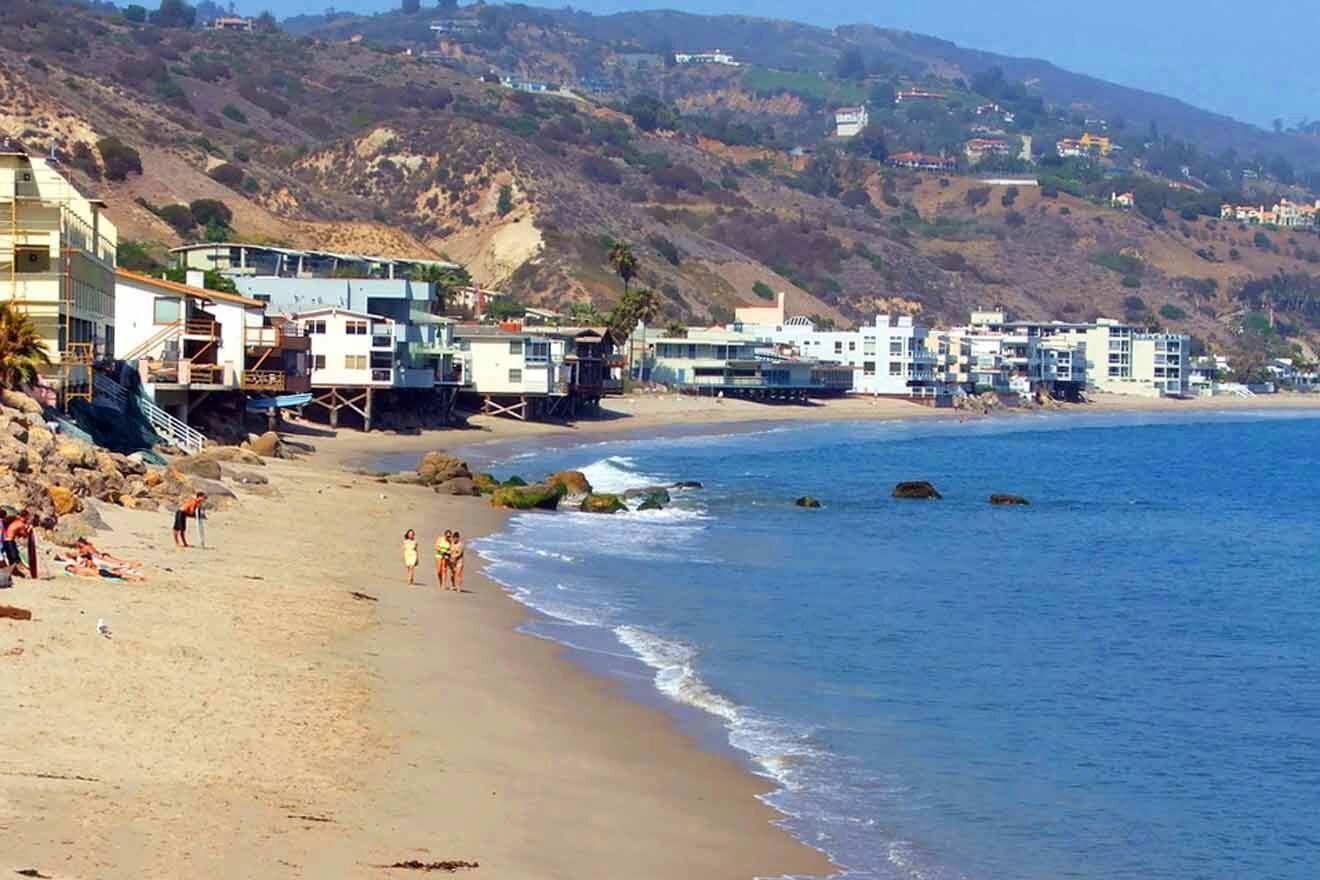 Attention all beach lovers! Welcome to Malibu, California! This California beach town is best known for its iconic surfing spots, sandy beaches, and relaxing vibe stretching over 30 miles (c. 50 km) of the Pacific Coast and famous Highway 1.
It's a magical town for visitors to explore, with a TON of activities, beaches, hiking trails, and more to uncover. As a San Diego, California, local, I've gotten a chance to visit it quite a few times & I'm excited to share the best things to do in Malibu, California!
This post is going to be a guidebook of useful information next time you visit, with pro tips and how to save the most $$ along the way.
One key point to remember as you're reading this post is that, like every other Southern California beach town, Malibu is incredibly popular among tourists and visitors like you! So plan ahead and book all your tickets, hotels, and reservations in advance to save your spot! 🎟️
Let's get into it!
If you are in a hurry
Only have a few days in Malibu? There's a handful of amazing tours that will walk you down the best spots.
Here are the main things to book in advance:
And here are the best hotels: Malibu Beach Inn (luxury), Mar Vista Fabulous (mid-range), Westlake Village Inn (budget)
1. Walk through the Getty Villa art exhibits and gardens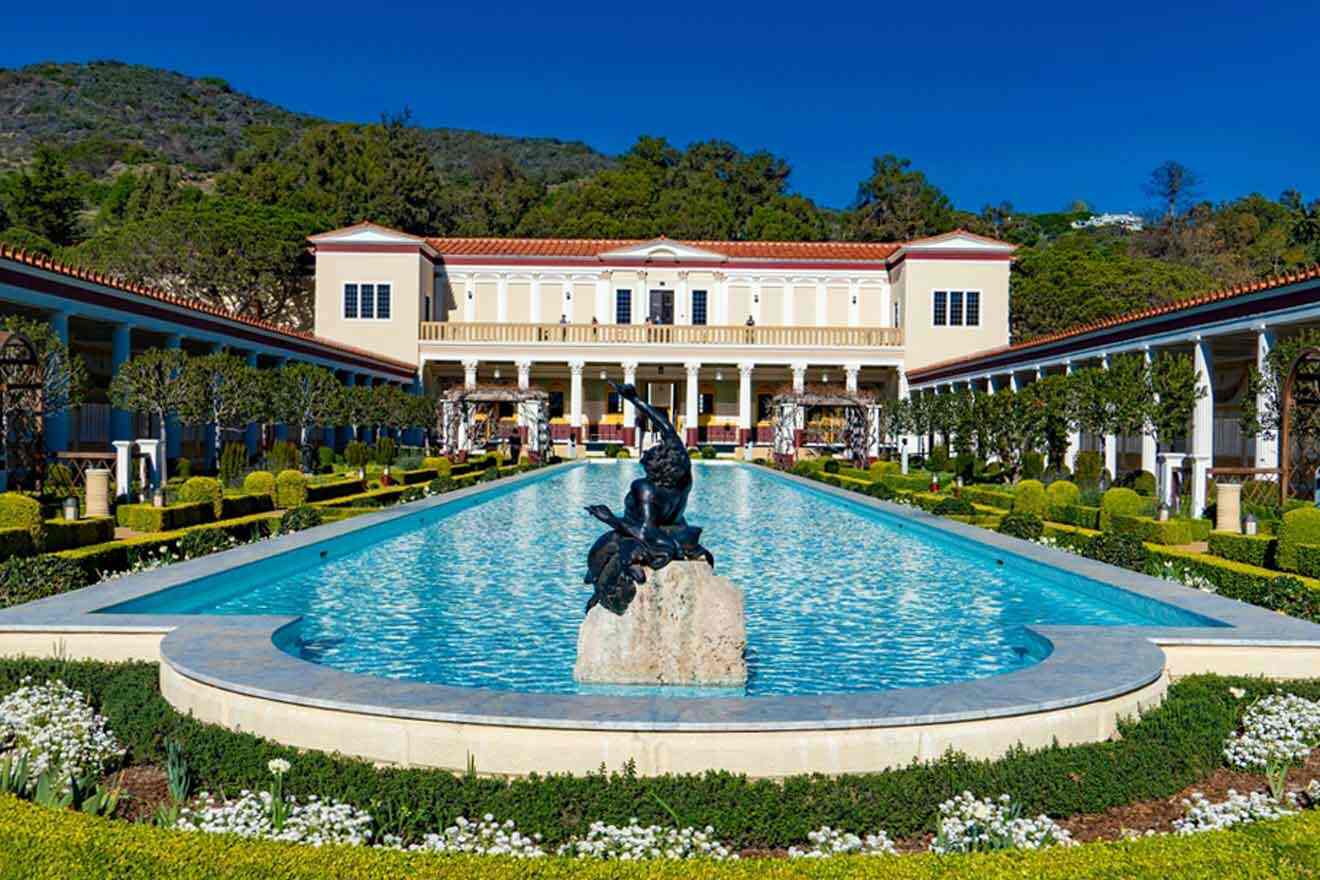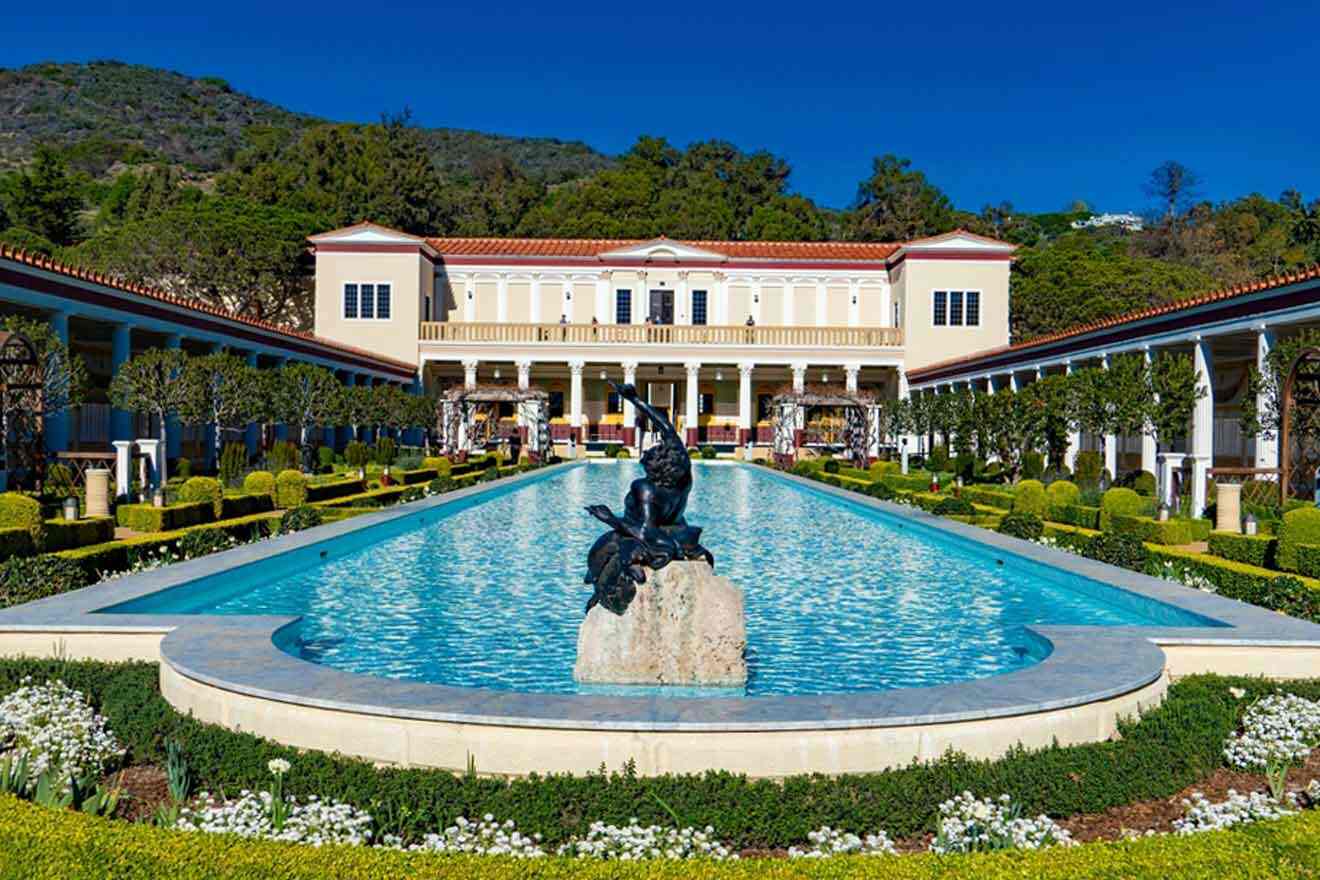 Malibu is home to one of the largest cultural and philanthropic organizations, The Getty Villa! The art museum is right on the coast, a short drive away from the Pacific Coast Highway 1. It's filled with art and antiques from ancient Greek and Roman heritages in a modern architecture building and peaceful gardens.
As you might imagine, The Getty Villa is quite a popular place among art enthusiasts and Malibu tourists in general! It's completely free to visit, which makes it even more appealing, so make sure to save your spot in advance.
If you're traveling with a bigger group, I recommend following a tour guide that will walk you through every corner of the museum. This private tour does just that, with a group of up to 6 people!
TOUR PRICE: from US$200 per group of 6
Book Your Getty Group Experience
2. Take a hike by Point Dume State Beach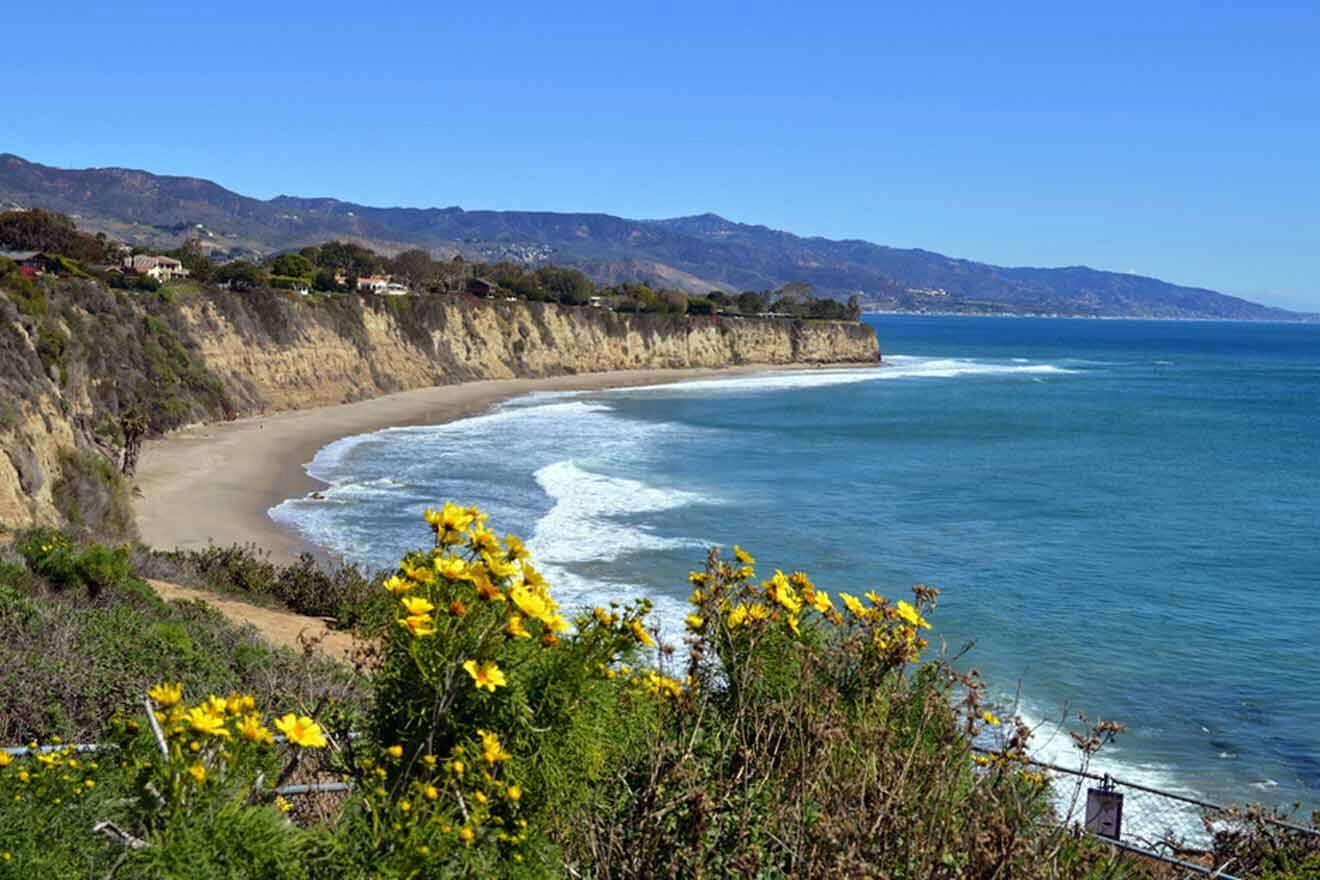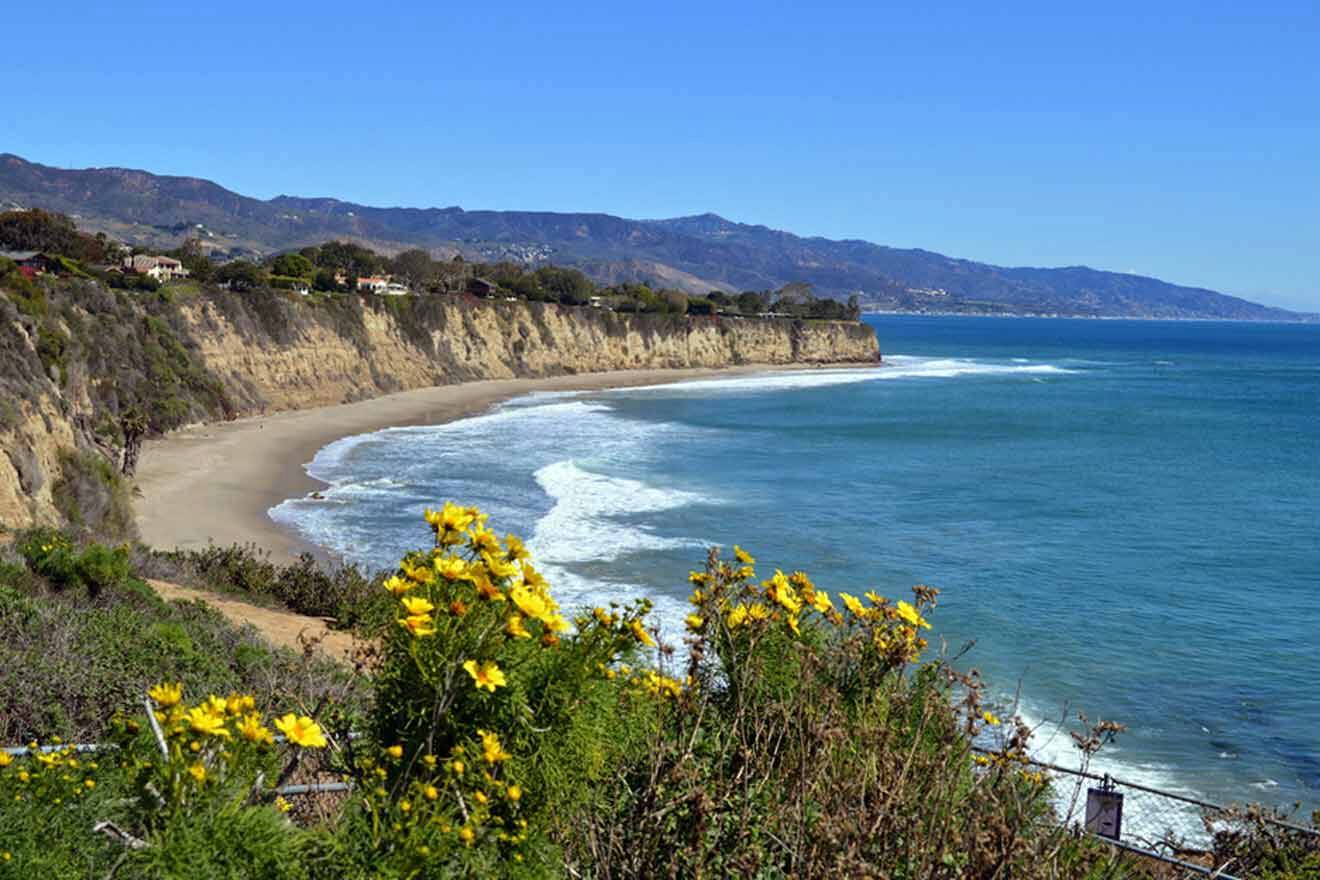 Point Dume Beach is a classic California beach on the coast of Malibu, surrounded by bluffs, coves, cliffs, and golden sand dunes, with vast beach access. It's located 2 miles (3 km) away from the Pacific Coast Highway, making this a great spot if you're heading up north to San Francisco or down south to San Diego on a road trip.
On a clear day, I recommend going on a hike for views of the coastal bluffs, the entire Santa Monica Bay, and Santa Catalina Island in the distance, and maybe even catch sea lions and other marine life playing in the water. If you're feeling adventurous, bring your gear and go scuba diving or snorkeling in the crystal-clear water!
PRICE: Parking is US$8 per vehicle
3. Visit the historic Adamson House and Lagoon Museum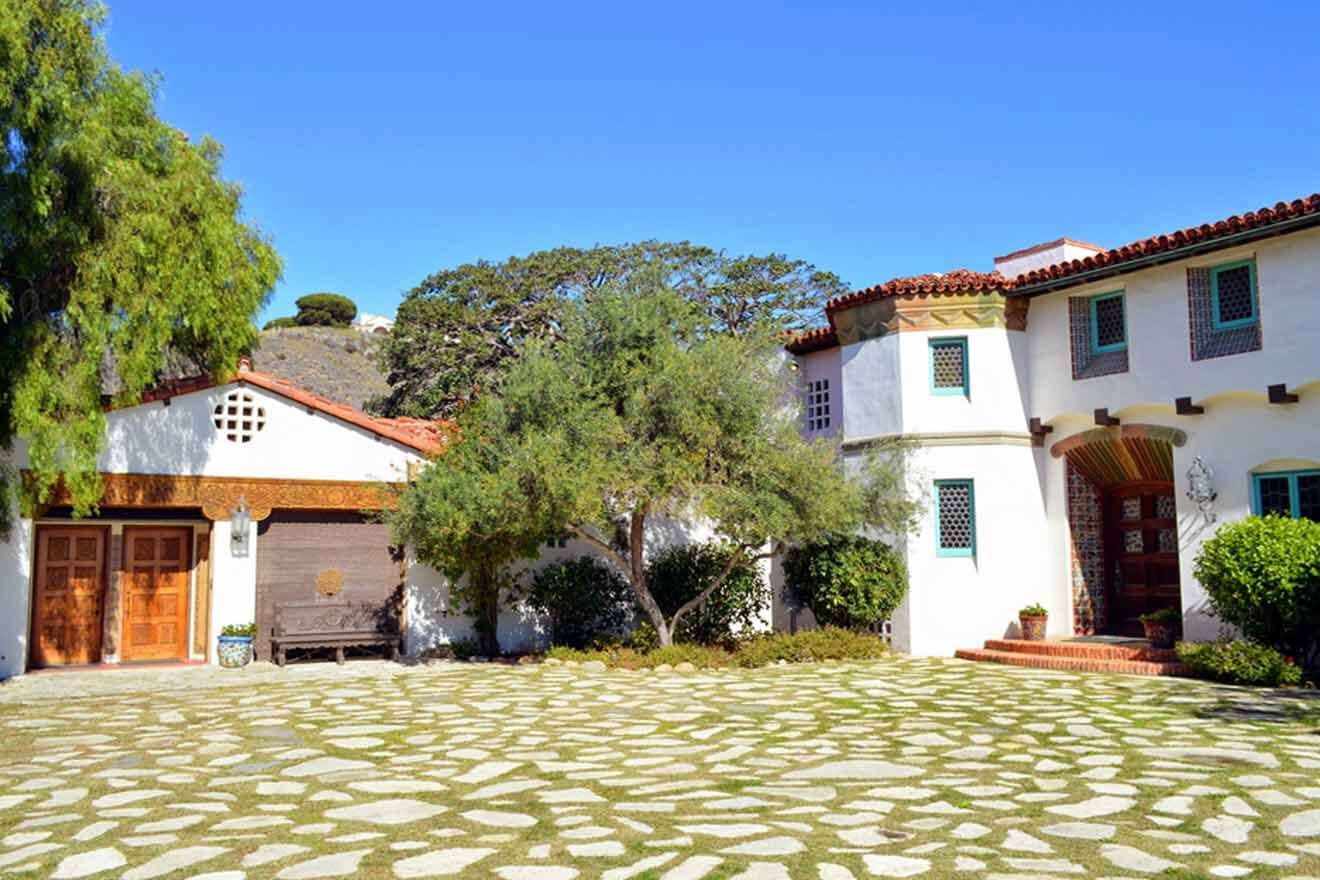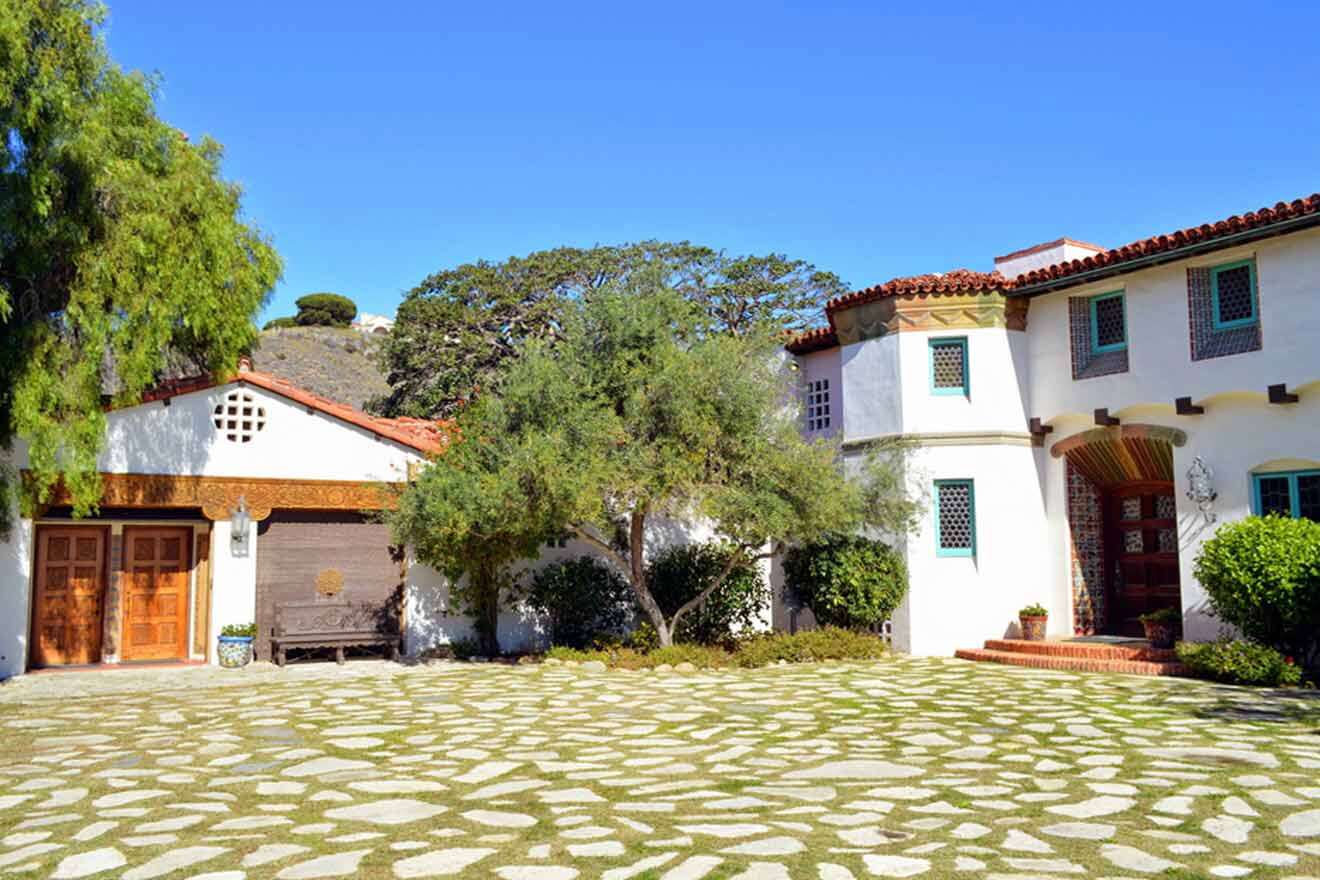 Adamson House and Malibu Lagoon Museum was once a site belonging to the Chumash Indians and later turned into the historical Spanish Colonial Revival style museum and National Landmark that we know today!
The museum is located right in between the Pacific Ocean and Malibu Creek and near the Malibu Pier, so it's a perfect spot to stop while you're strolling the Malibu Pier.
The Adamson House Museum is open daily from 8 AM to sunset. They have tours Thursday – Saturday between 11 AM and 3 PM (the last tour starts at 2 PM). The Malibu Lagoon Museum is open to the public on Wednesday and Thursday from 11 AM to 2 PM for non-tour days and Thursday – Saturday from 11 AM to 3 PM for tours. Tours are cash only!
TOUR PRICE: US$7 per person for adults, US$2 per person for kids
4. Sunbathe and surf at Zuma Beach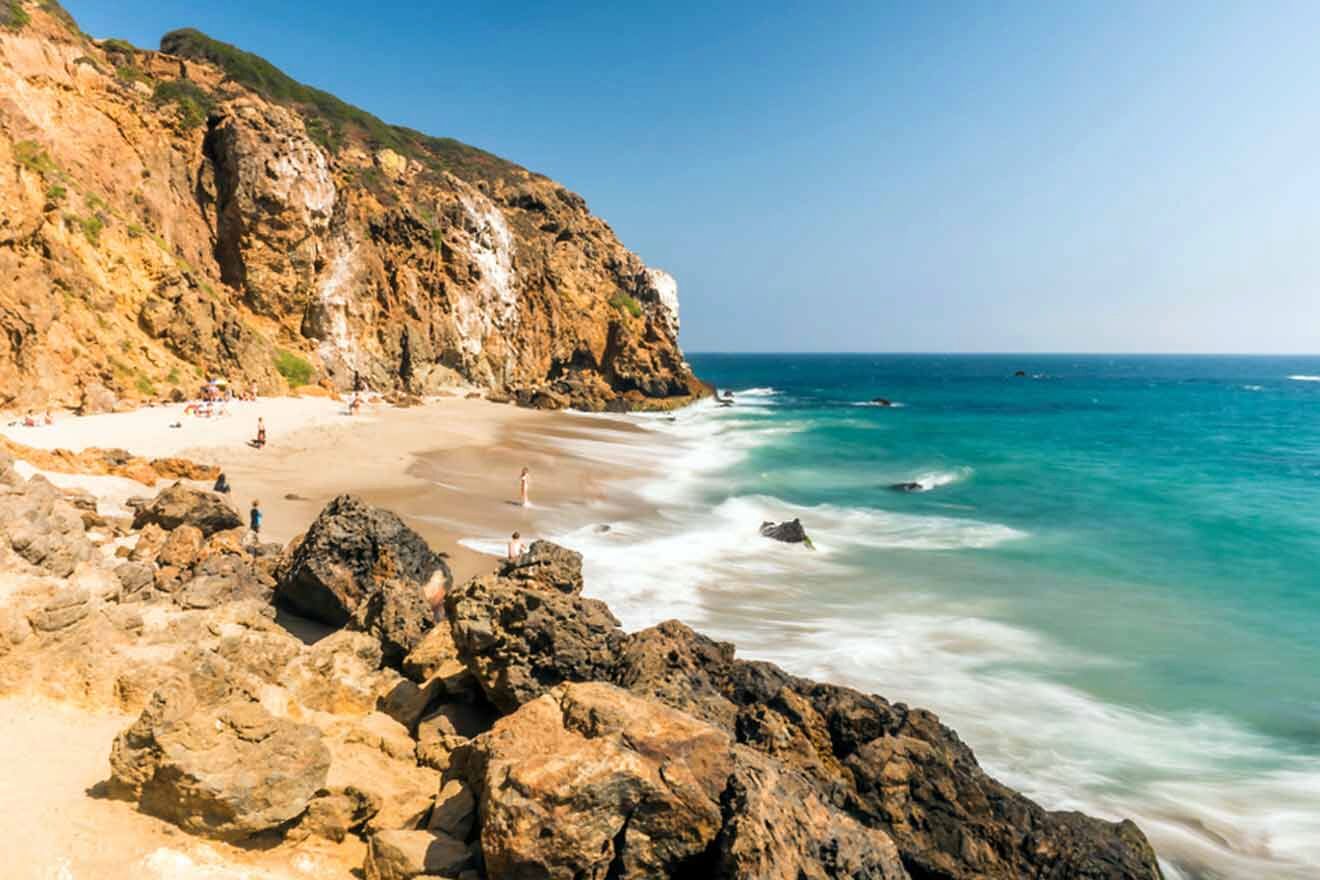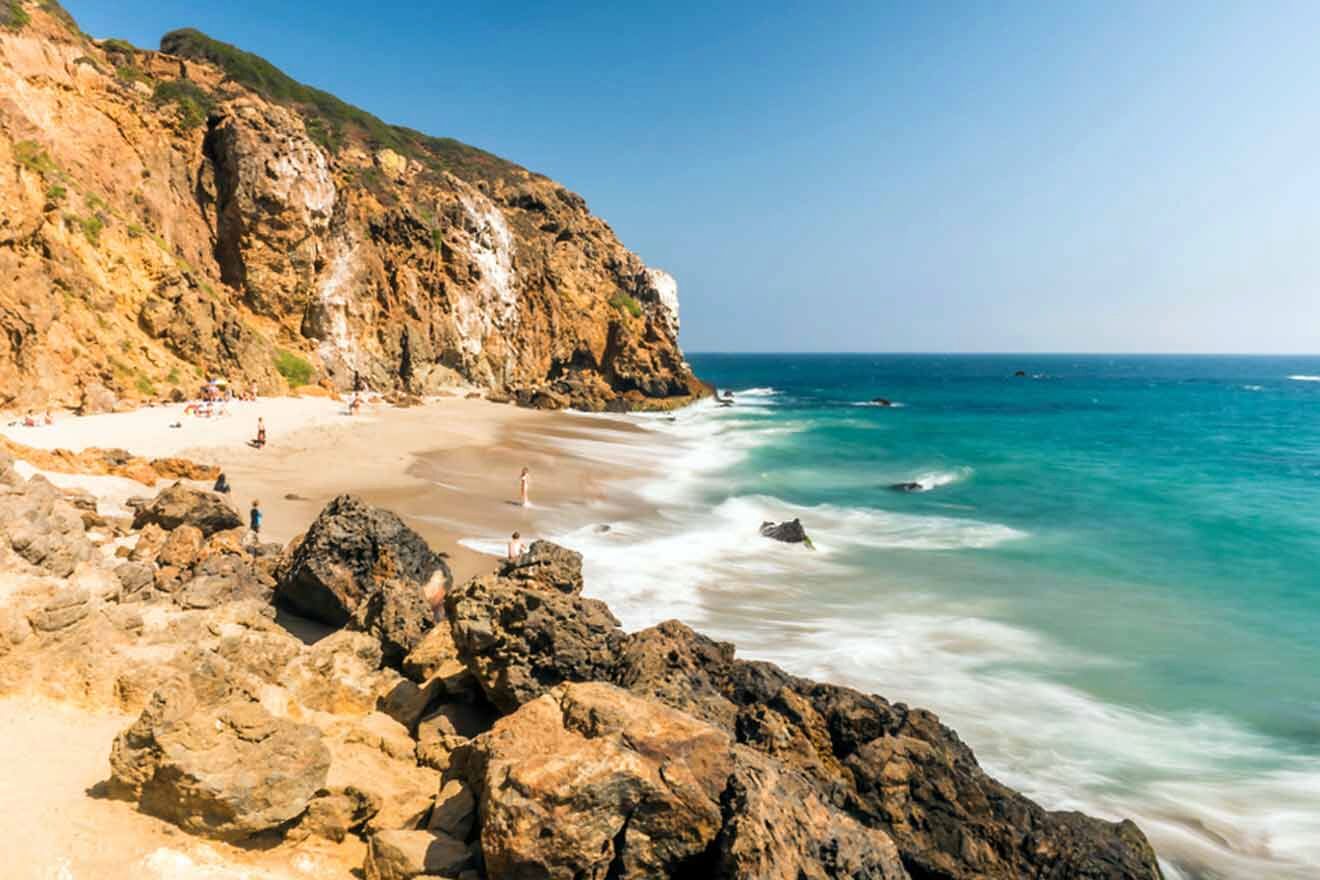 Zuma Beach in Malibu Lagoon State Beach sits right along the Pacific Coast Highway with 2 miles (3 km) of sand protected by lifeguard stations watching visitors swim, surf, and walk along the seashore. It's a gradually sloping beach, so it's pretty safe to walk directly into the water, but Zuma Beach is prone to strong currents, so be careful swimming here!
Surfing is a popular activity here for both intermediate and advanced professionals. It's also a very private spot, so I recommend bringing a blanket, a cooler with your favorite beverages and cold snacks (I've been using this a ton lately and LOVE it), and sunbathing on the beach. You can also play volleyball on their volleyball courts if you want a bit more fun!
NOTE: Don't pay for parking! Free parking is available on the southbound lanes of the Pacific Coast Highway.
5. Take a walk down the beautiful Malibu Pier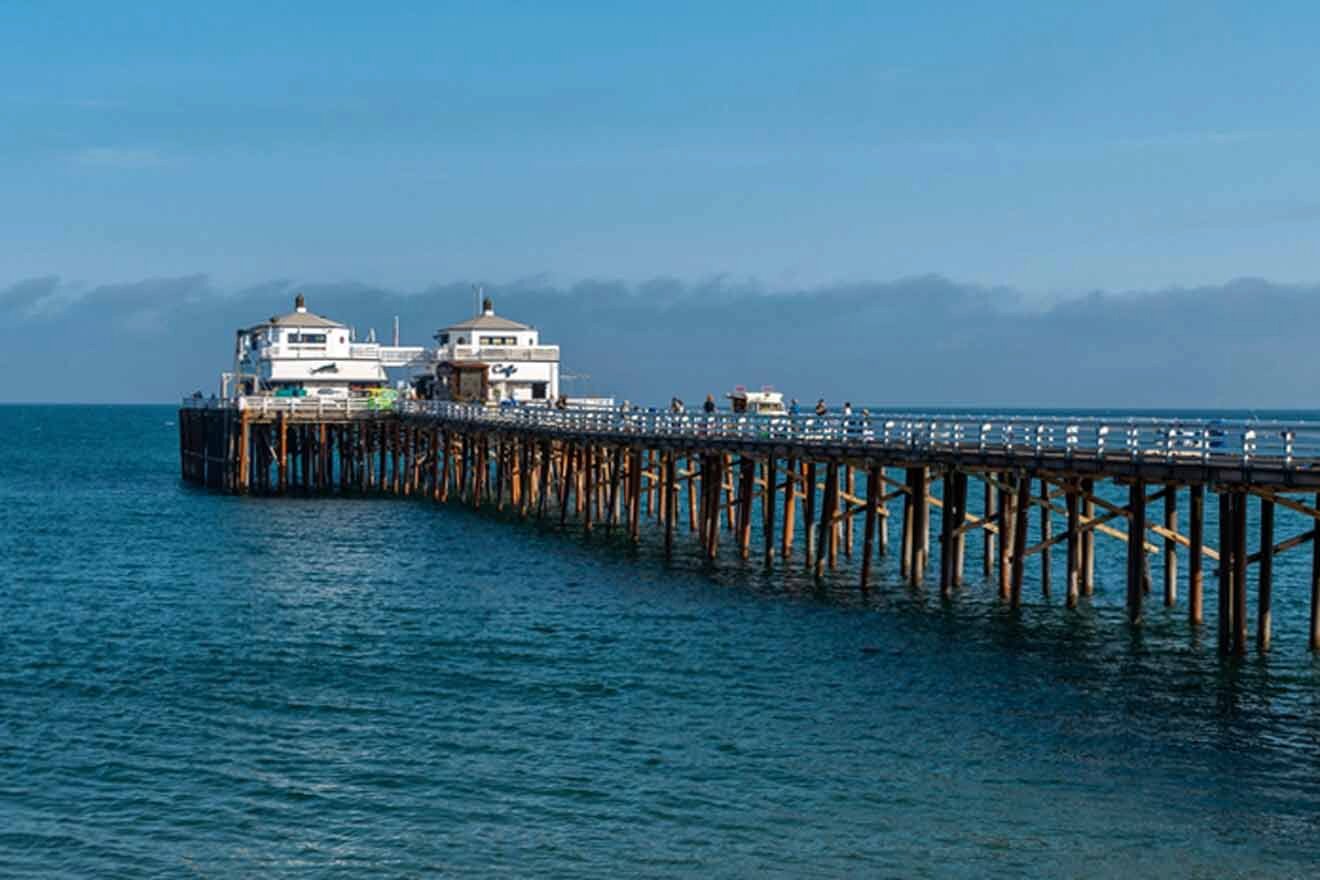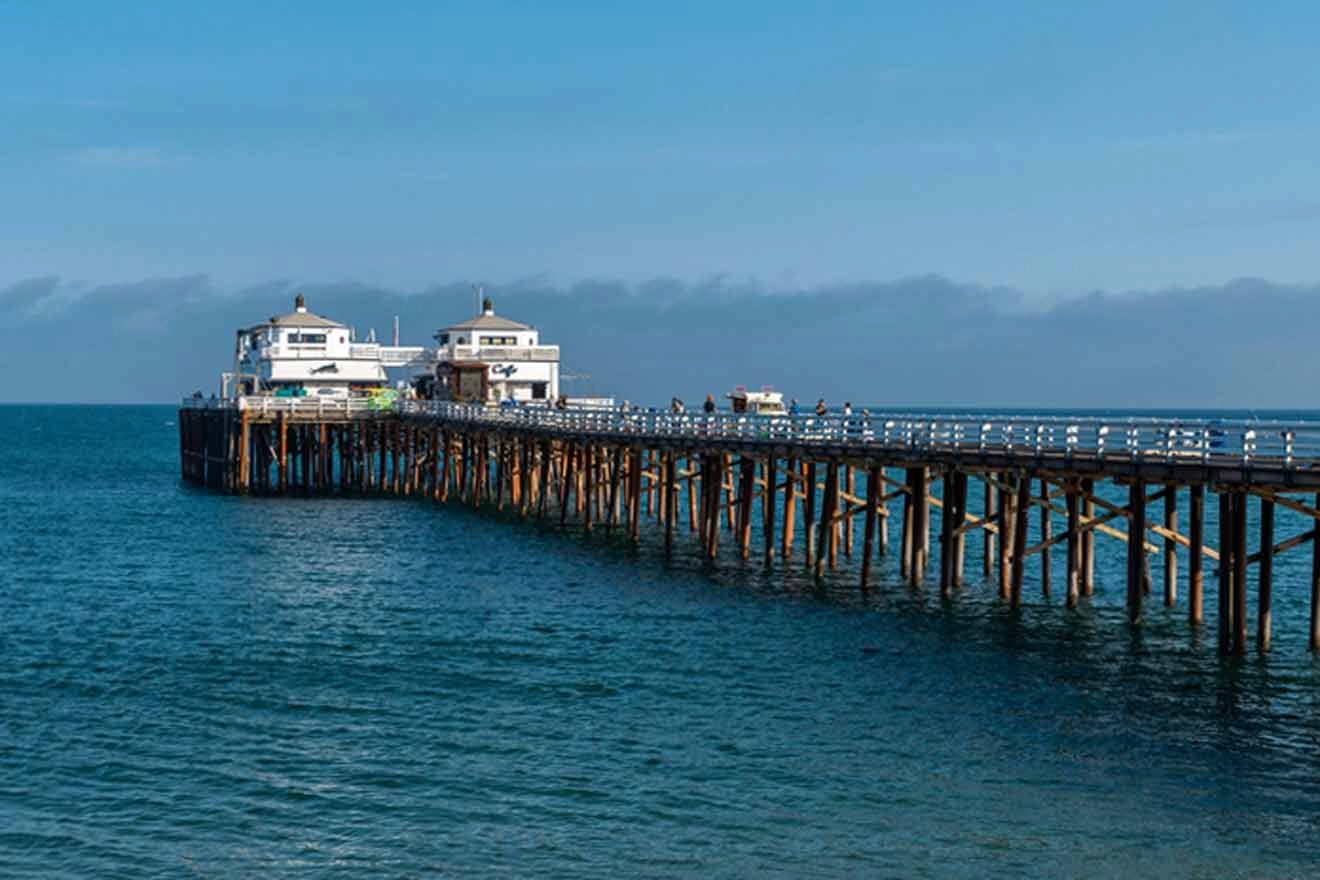 The Malibu Pier is located app. 10 miles (less than 20 km) west of Santa Monica, on the Pacific Coast Highway (I'll be referring to that as PCH from here on out)! It's one of Malibu's most famous attractions with a long history and a classic surfing location as the world's first surf reserve.
You can shop, eat, fish, surf and enjoy the stunning ocean view as you walk along the pier. If you want to surf and didn't come prepared, you can rent a rod with Ranch at the Pier, and they will set you up with all the essentials!
For brunch, I recommend checking out Malibu Farm Cafe. It's right on the pier, and the views are amazing. It's super popular, so make sure to make your reservations ahead of time.
6. Shop sustainably at Malibu Country Mart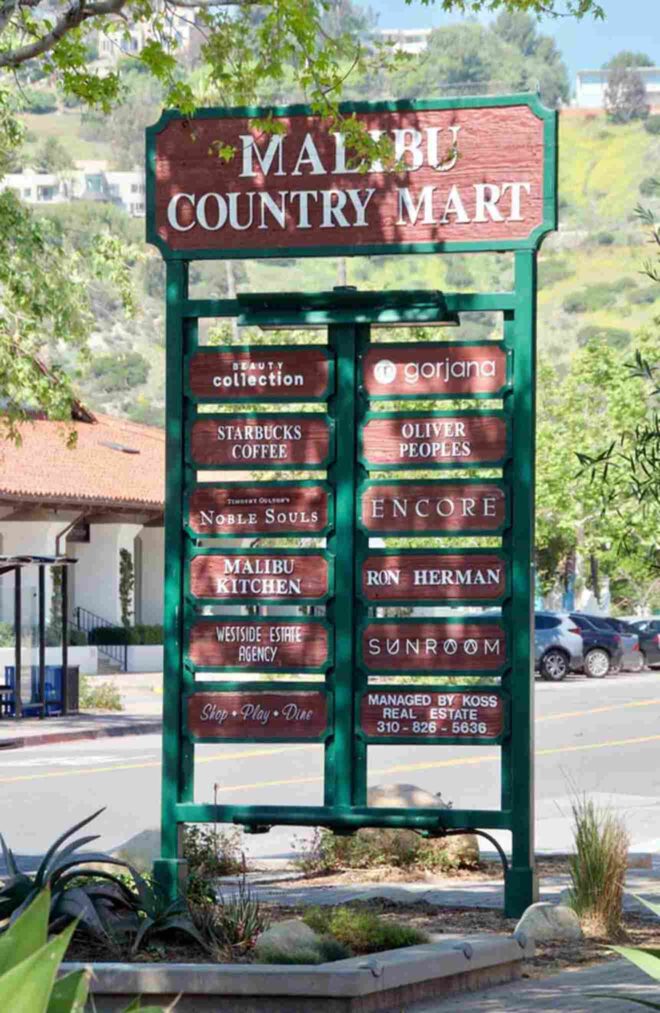 Malibu Country Mart is a large outdoor shopping center located a short walk from the beach! Unlike many other high-end shopping centers in the area, the Malibu Country Mart offers smaller boutiques with a world-class feel and do their part to leave a small carbon footprint by using sustainable, eco-friendly resources within the mart.
I recommend checking out SunLife Organics for a refreshing, healthy smoothie and Tra Di Noi for the most delicious comfort Italian food in Malibu.
NOTE: I recommend walking over here after visiting the Malibu Lagoon State Beach! It's only a 10-minute walk and a great way to end a day in Malibu.
7. Hike through Malibu Lake Trail at Malibu Creek State Park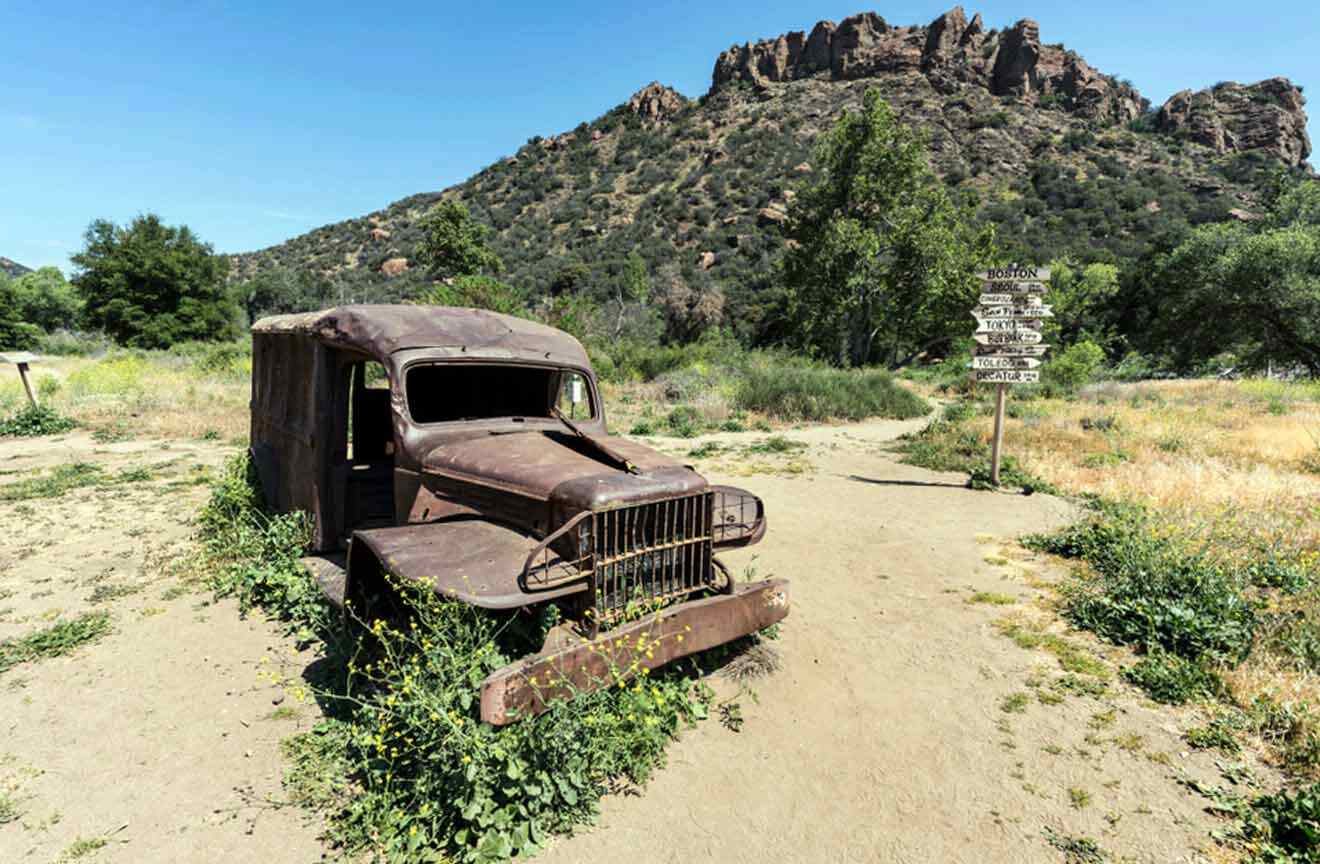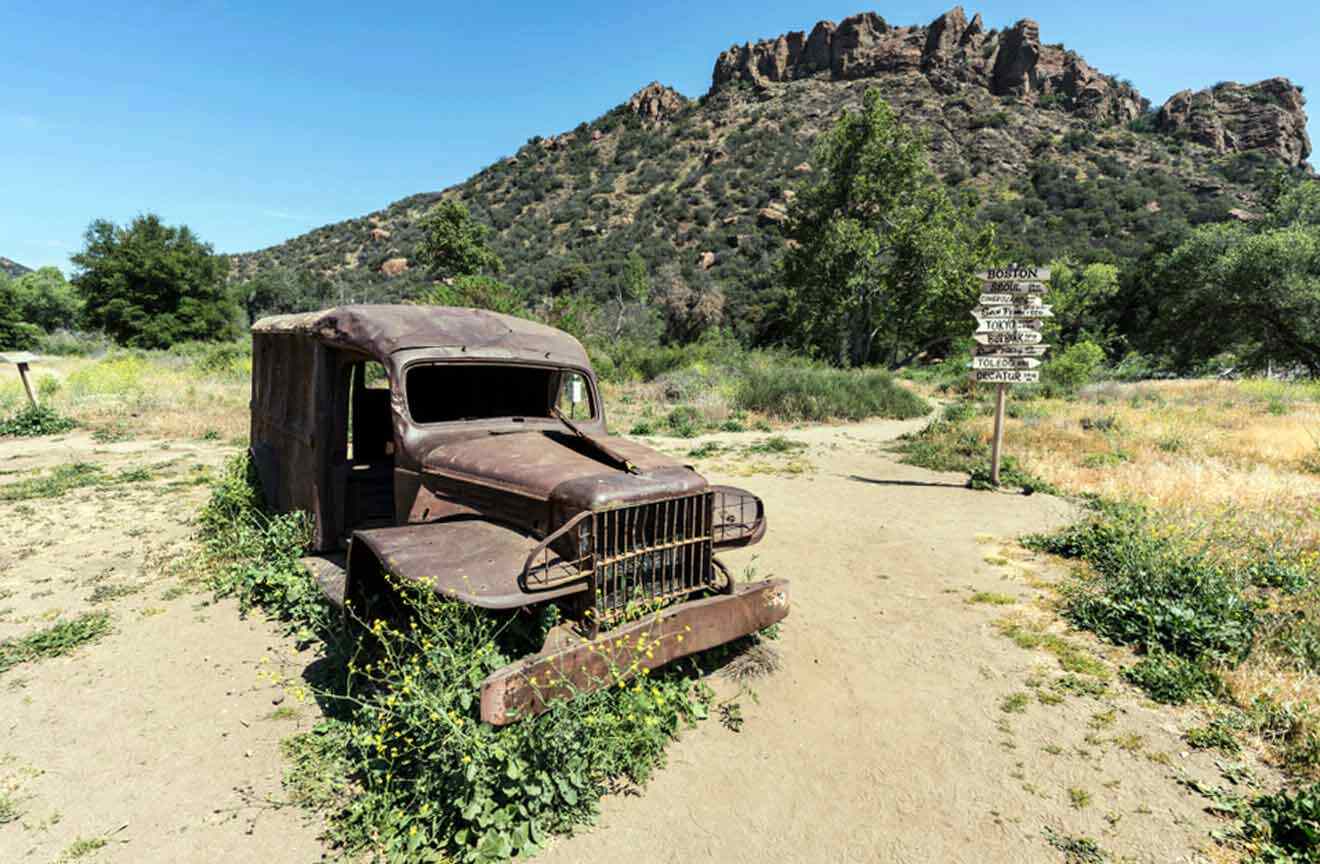 Malibu Creek State Park has 15 miles (24 km) of nature trails to explore! There are plenty of sycamore trees, oak trees, and vistas in the park. It even tells the story of the Native Americans that once lived here with the Mott Adobe ruins!
The park reserves the Malibu Creek Canyon in the majestic Santa Monica Mountains. It's one of the best places to hike on the Malibu coast if you're interested in getting out of the beach and up in the mountains.
Malibu Lake Trail is about 6.6 miles (11 km) round-trip, taking you about 3 – 4 hours to finish. For most of the hike, you'll be passing through fields of wildflowers and ending with a stunning panoramic view of the entire lake.
NOTE: If you'd rather experience Malibu's hiking trails with a glass of wine in one hand, I recommend checking out this small group wine & hike experience!
8. Visit the astonishing Malibu Hindu Temple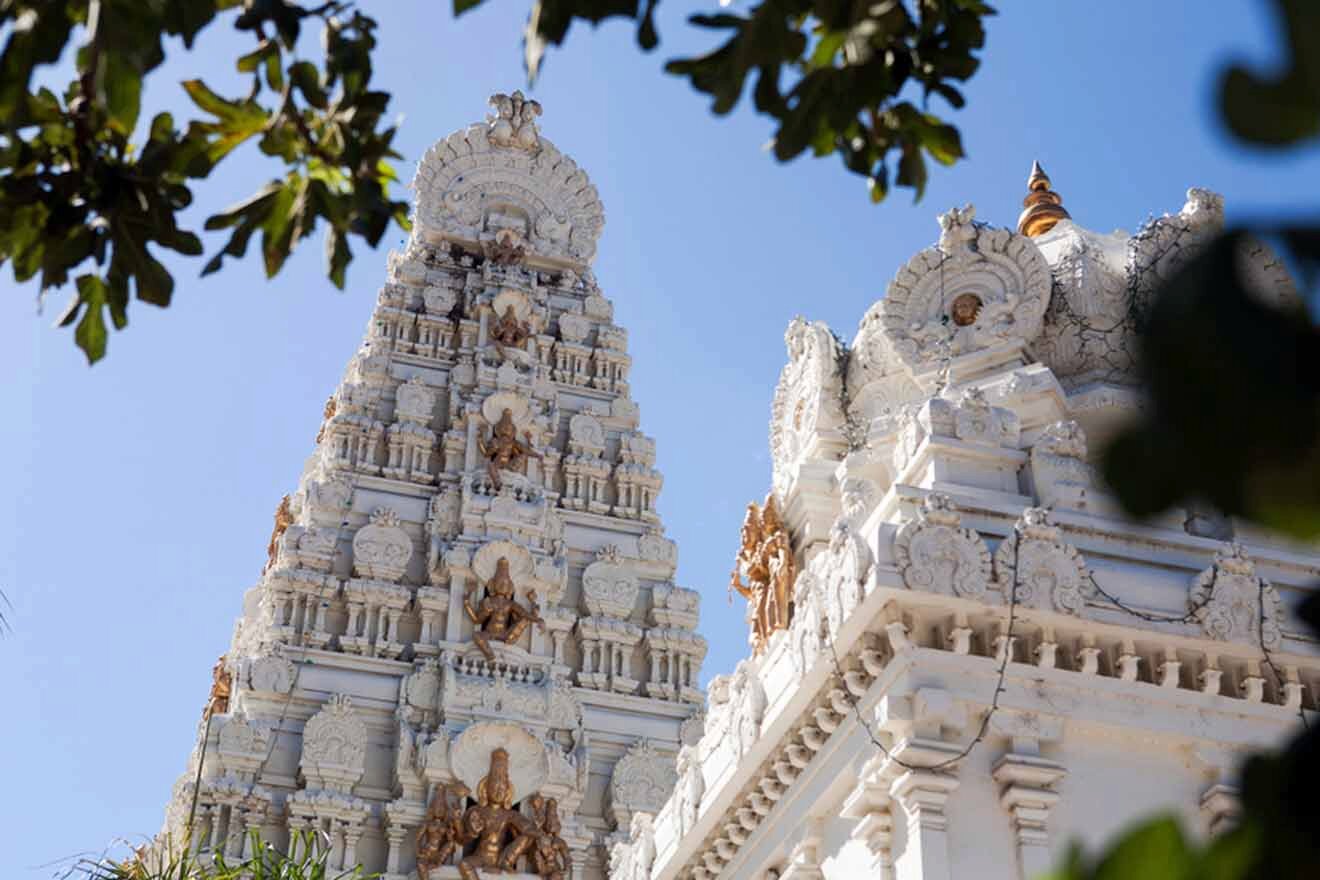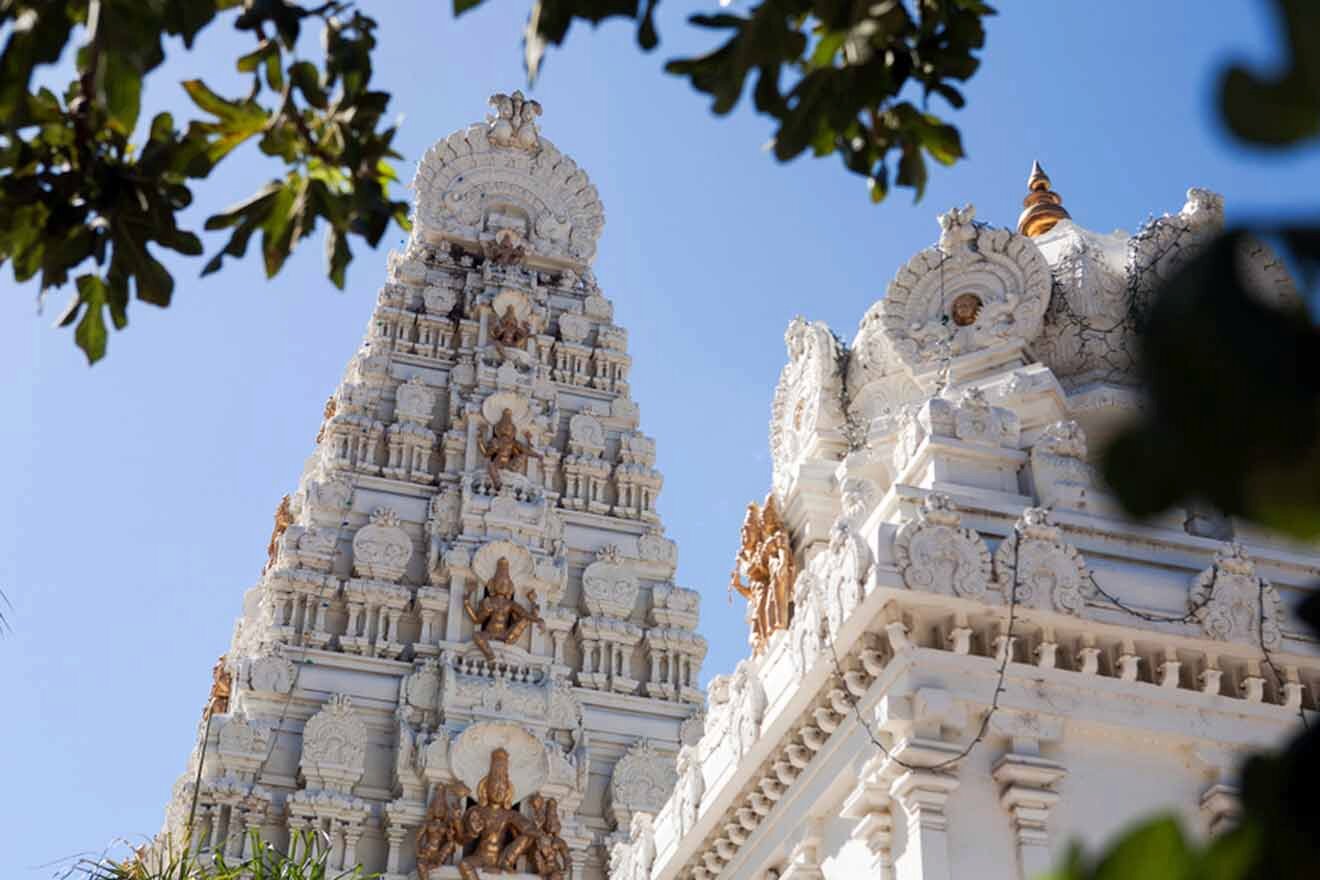 Malibu Hindu Temple is a Hindu temple in Calabasas, about a 15-minute drive away from Malibu Lagoon State Park. It's a beautiful site with stunning architecture and a serene feel the moment you walk in. Being one of the largest Hindu temples in the Western hemisphere, it's worth taking a look.
The temple is open to the general public! Just be sure to dress appropriately and take off your shoes before entering the temple (business casual is usually a safe way to go). There are also priests living on the temple grounds, and ceremonies, meditation, and other Hindu practices are held every day. Be respectful, and don't disturb the priests while you're here!
NOTE: It's open to the public on weekends from 9:30 AM to 8 PM.
PRICE: FREE
9. Uncover a cascading waterfall at Escondido Canyon Falls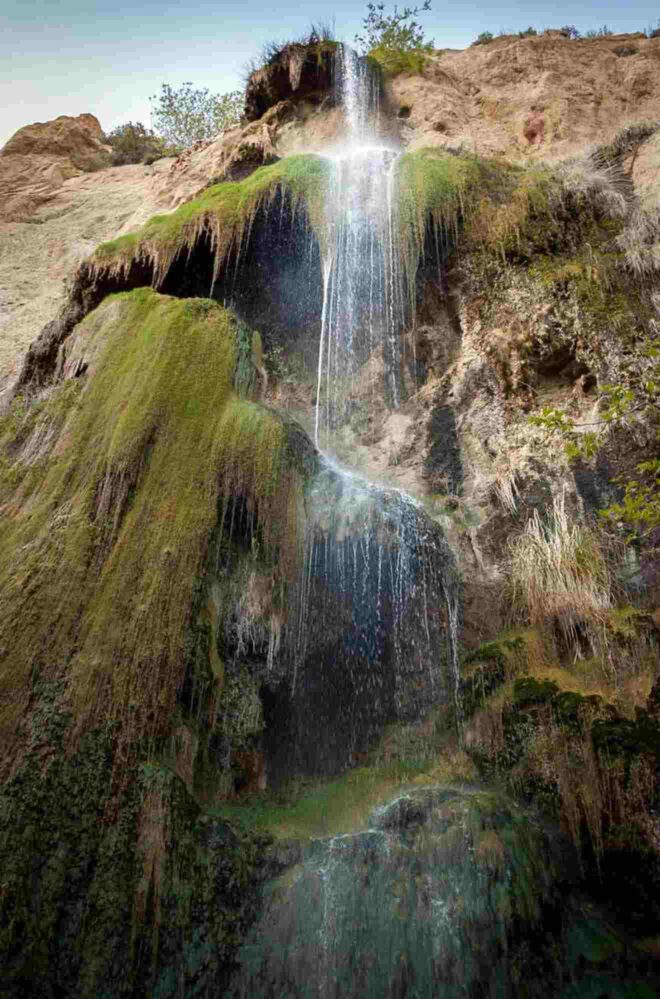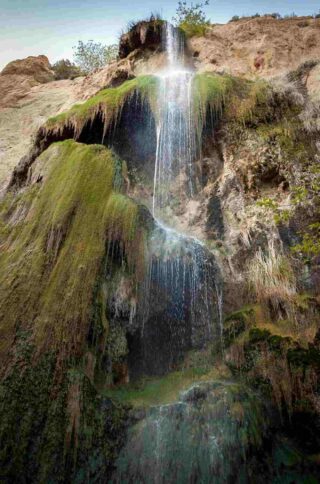 Escondido Canyon Falls is an easy hiking trail about 4 miles (6 km) going through Escondido Canyon Park. The park features one of Southern California's biggest waterfalls! It takes about 1.5 hours before you see the 150-foot (45 m) waterfall cascading down the limestone rock blanketed with moss. (Seriously, so beautiful!)
Before you get to the biggest waterfall, you'll pass the lower Escondido Falls, about 1 mile (less than 2 km). It's about a 50-foot waterfall (15 meters) and totally worth checking out.
Getting there: Take the I-10 west to the Pacific Coast Highway. Head toward Malibu and turn right onto Winding Way. Park in the lot (US$8) and follow the signs for the trail.
10. Explore the reefs at Leo Carrillo State Beach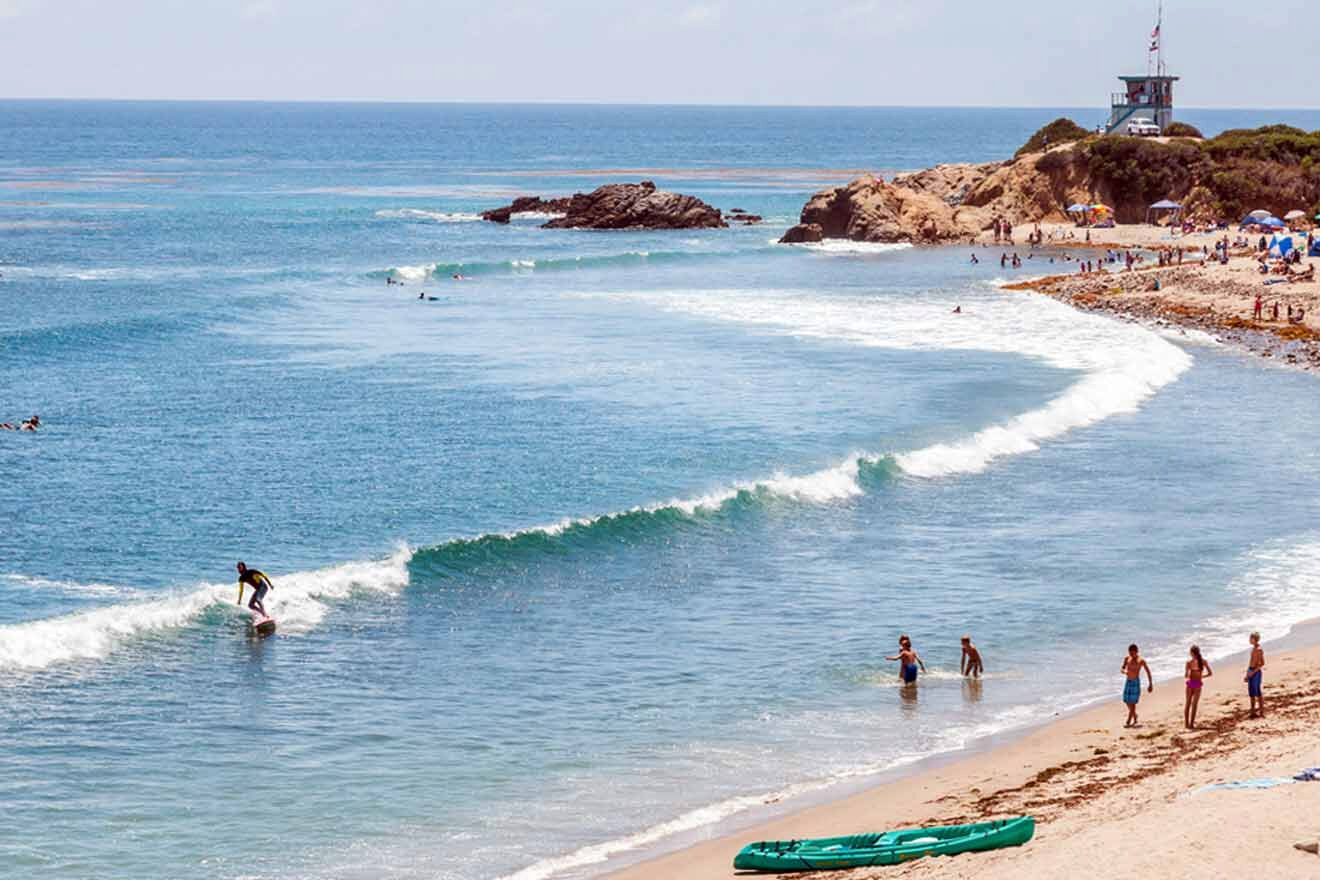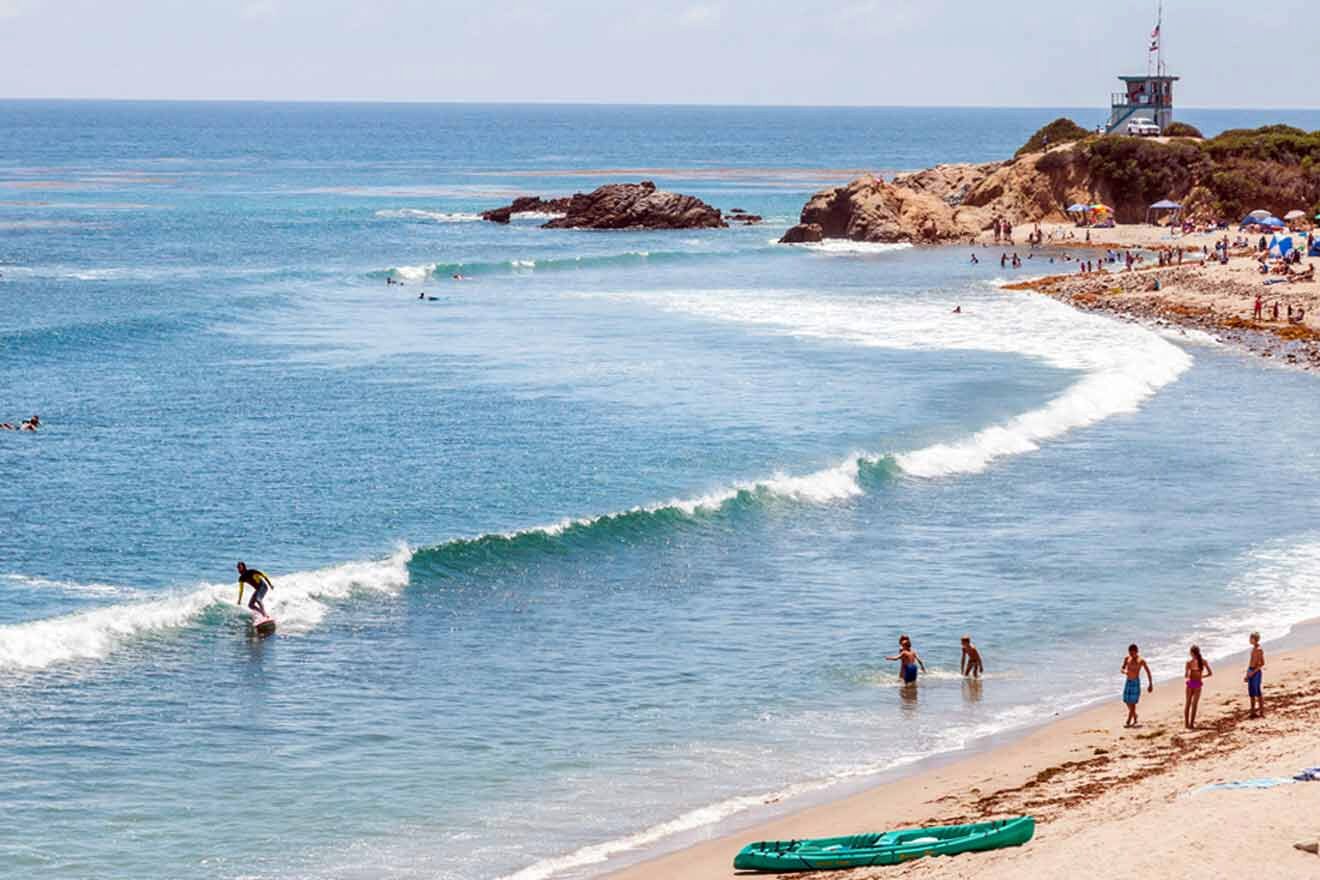 Leo Carrillo State Beach is located app. 30 miles (c. 45 km) northwest of Santa Monica, covering more than 1.5 miles (2 km) of sandy beaches. One of the most beautiful parts of this beach is the kelp forest! It's a huge, substantial reef extending as deep as 50 feet (15 m) underwater. It's a beautiful area to go snorkeling, diving, and admiring the unique marine life!
Leo Carrillo State Beach is also beautiful to explore for the coastal scenery, coastal caves, coves, and even seeing views of the Channel Islands ahead on a clear day. It is a popular location for Hollywood films and TV shows, like Inception, Grease, and Karate Kid.
PRO TIP: Take a drive to Corral Beach nearby for low-lying reefs, where you can find even more unique marine life, like lobsters, octopuses, and more.
11. Ride through the backcountry on this 4×4 vineyard tour
Switch up the Malibu scenery and experience this private ATV adventure of Malibu's Saddlerock Ranch Vineyards. Here, you get a chance to explore the backcountry of the popular family-owned vineyard while snacking and enjoying complimentary beverages along the way.
You'll stop at their organic vegetable garden, the mountain lookout for a Chumash Native American archaeological site, and end the tour with a bottle of wine to take home.
NOTE: The 2-hour tour is valid for 1 – 5 guests. I recommend booking this tour for a bigger group of 4 or 5 to get the most value for the experience!
PRICE: US$425 per group of 1 – 5 people
12. Go surfing at Surfrider Beach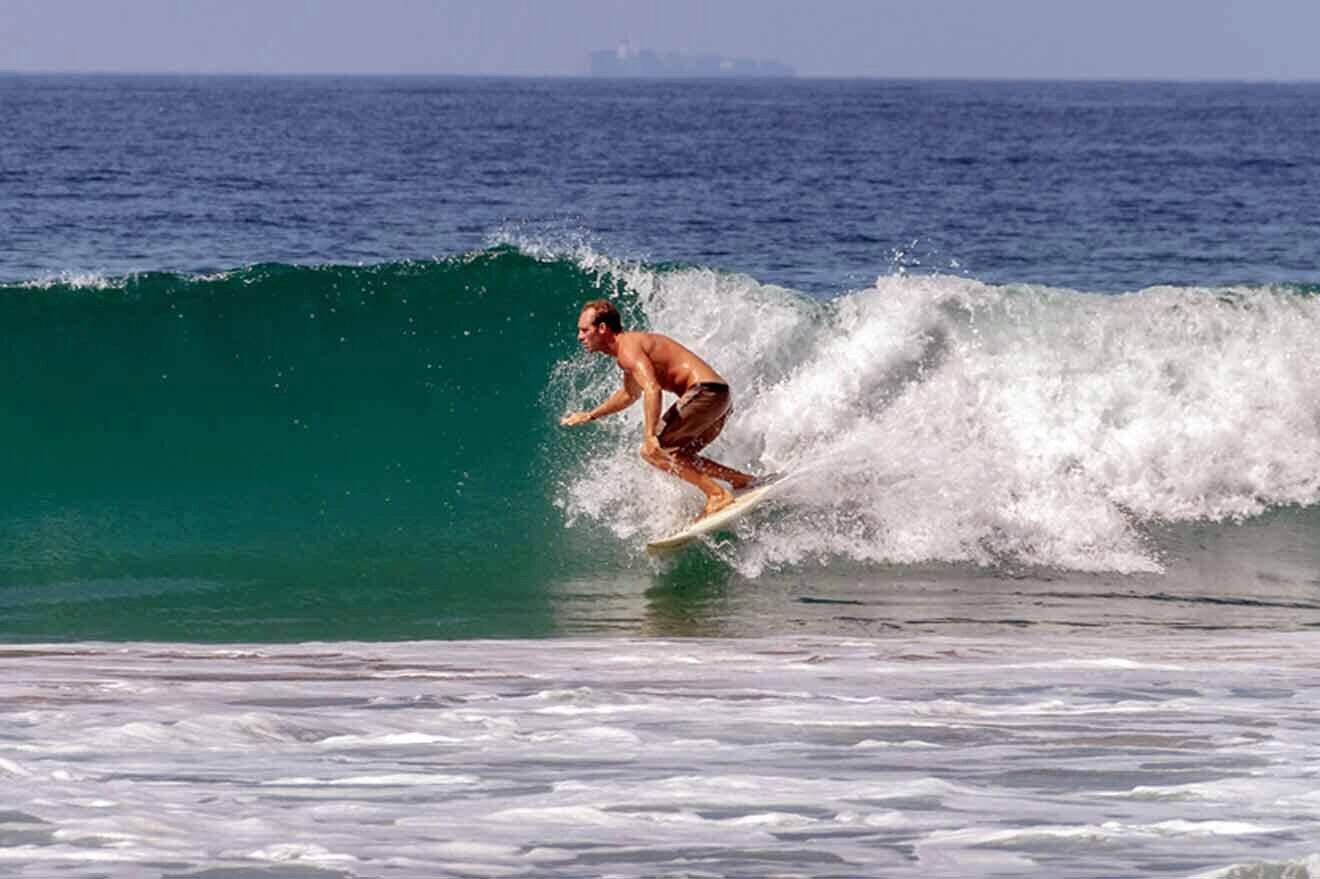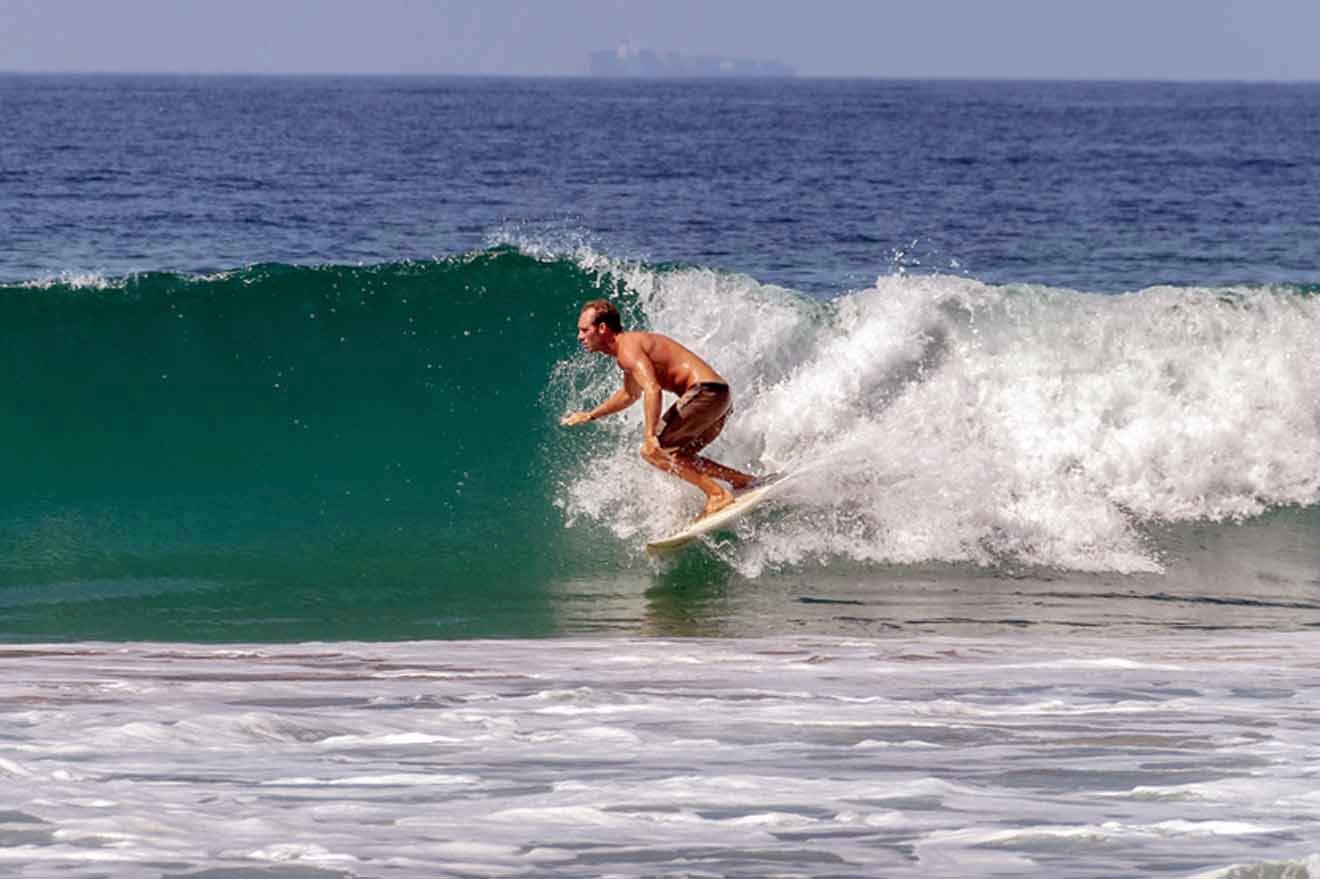 Surfrider Beach is part of Malibu Lagoon State Beach, located right between Malibu Lagoon and Malibu Pier. There are quite a few beaches in Malibu. However, you'll find that each Malibu beach is different in its own way and offers visitors a unique experience.
The sandy beach is great for surfing (as the name accurately suggests). It's an ideal spot whether you're a beginner learning for the first time or an advanced surfer looking to catch some waves in Malibu.
If you're seriously thinking about learning how to surf in one of the best surfing beach towns in the world, book a private tour like this one! You get a chance to learn from the best local Malibu surfers. They'll even give you personalized travel tips for the best of Malibu.
The beach is conveniently located a short walk from the Adamson House and Malibu Lagoon Museum! You can easily walk from the museum to the beach so I suggest doing both back-to-back.
SURFING LESSON PRICE: US$125 per person
13. Enjoy the views and amenities at Malibu Bluffs Park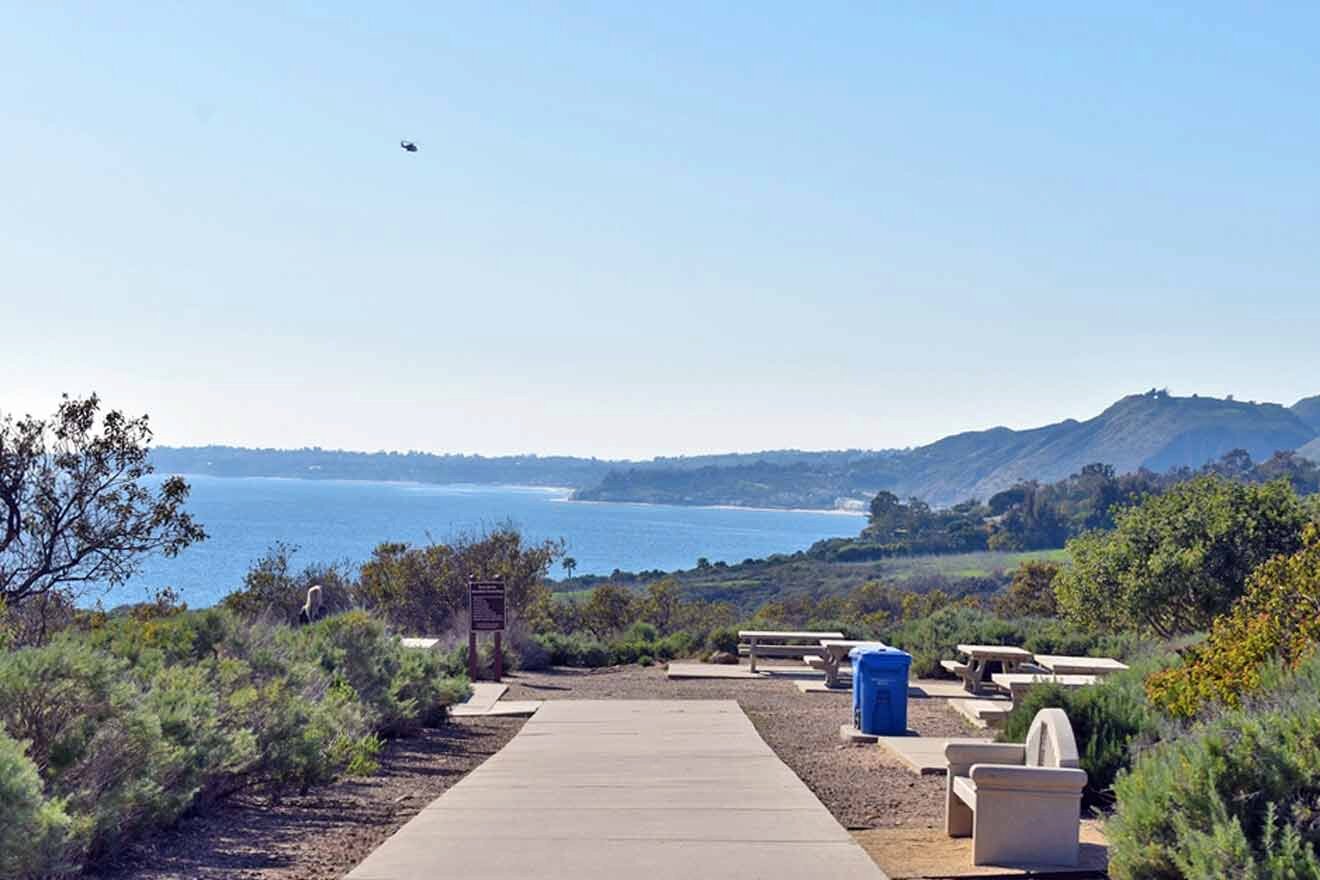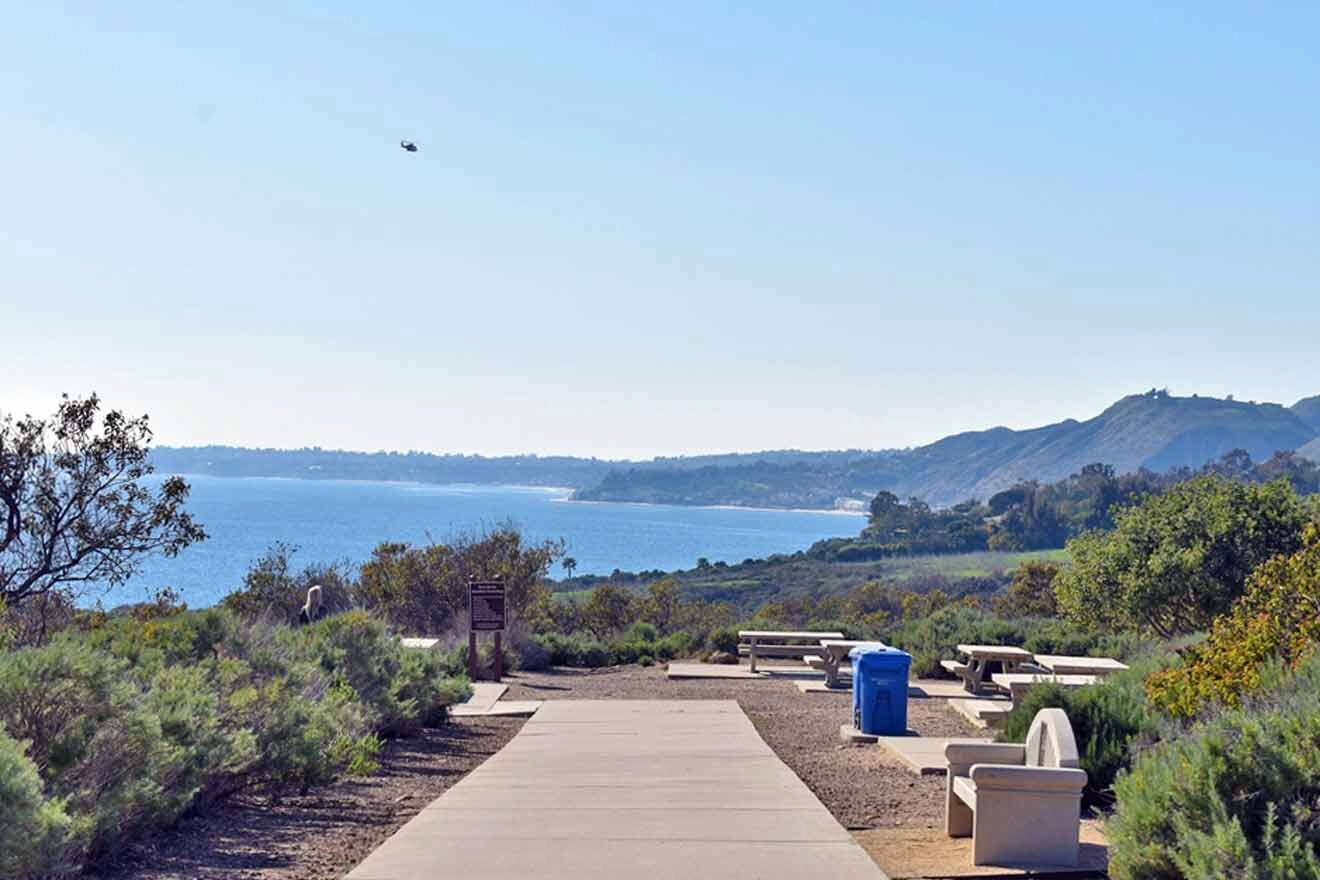 Malibu Bluffs Park is a 10-acre (4 hectares) park overlooking the Southern California coast, located in the heart of Malibu! It's a beautiful open area with a huge soccer field, playground for the kids, skate park, trails for joggers and walkers, picnic tables, and more.
Plus, it's dog-friendly, and they even have free Wi-Fi at the park (which is quite unique). I like to bring my laptop to parks like these and work from there. It's a great work/study location, and it totally beats your local coffee shop or home office.
If you'd rather relax, bring a blanket, lunch, and your loved one for a cute little picnic date on the bluffs, and keep an eye out for California gray whales passing by (from February to April)!
14. Grab lunch and beer at Neptune's Net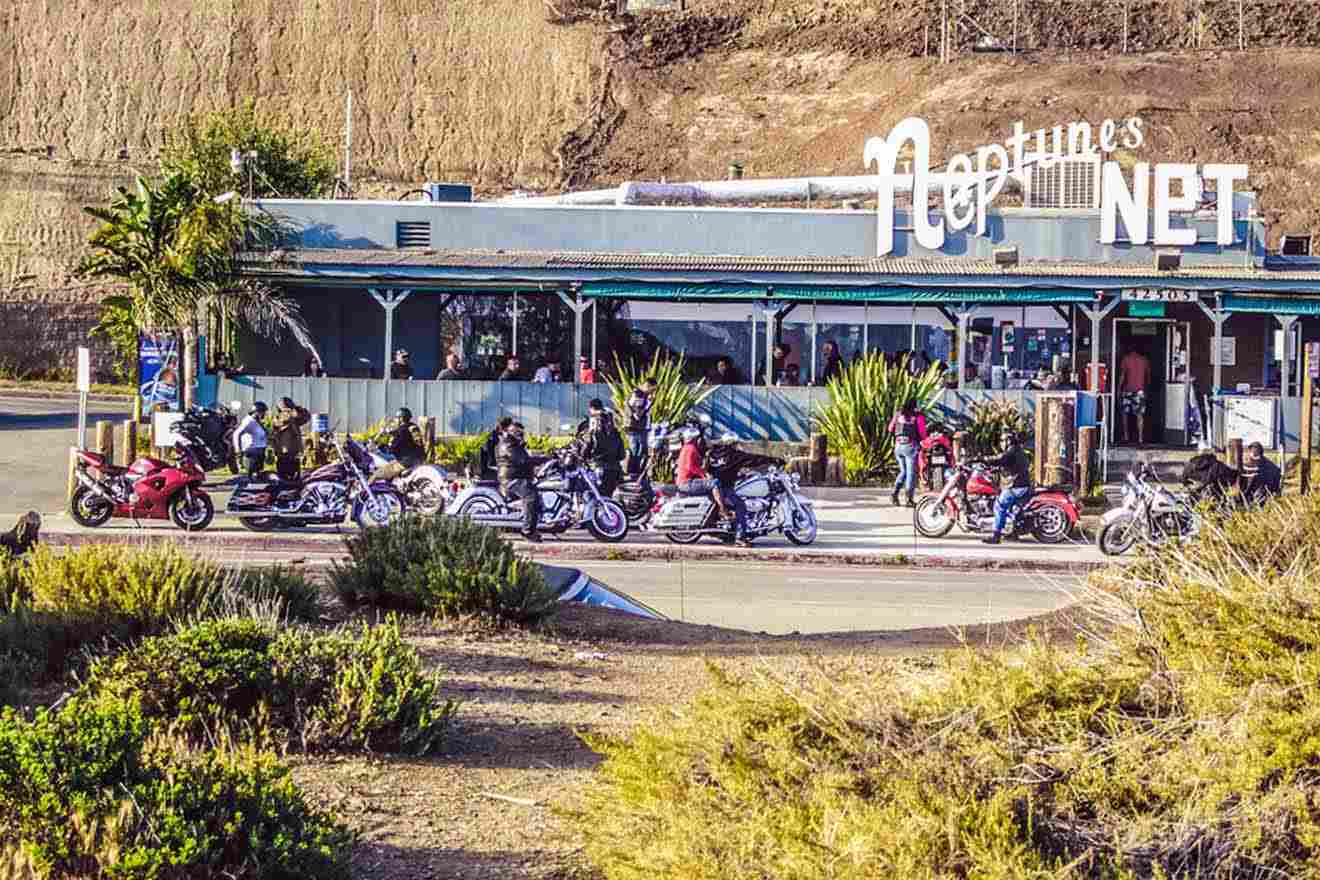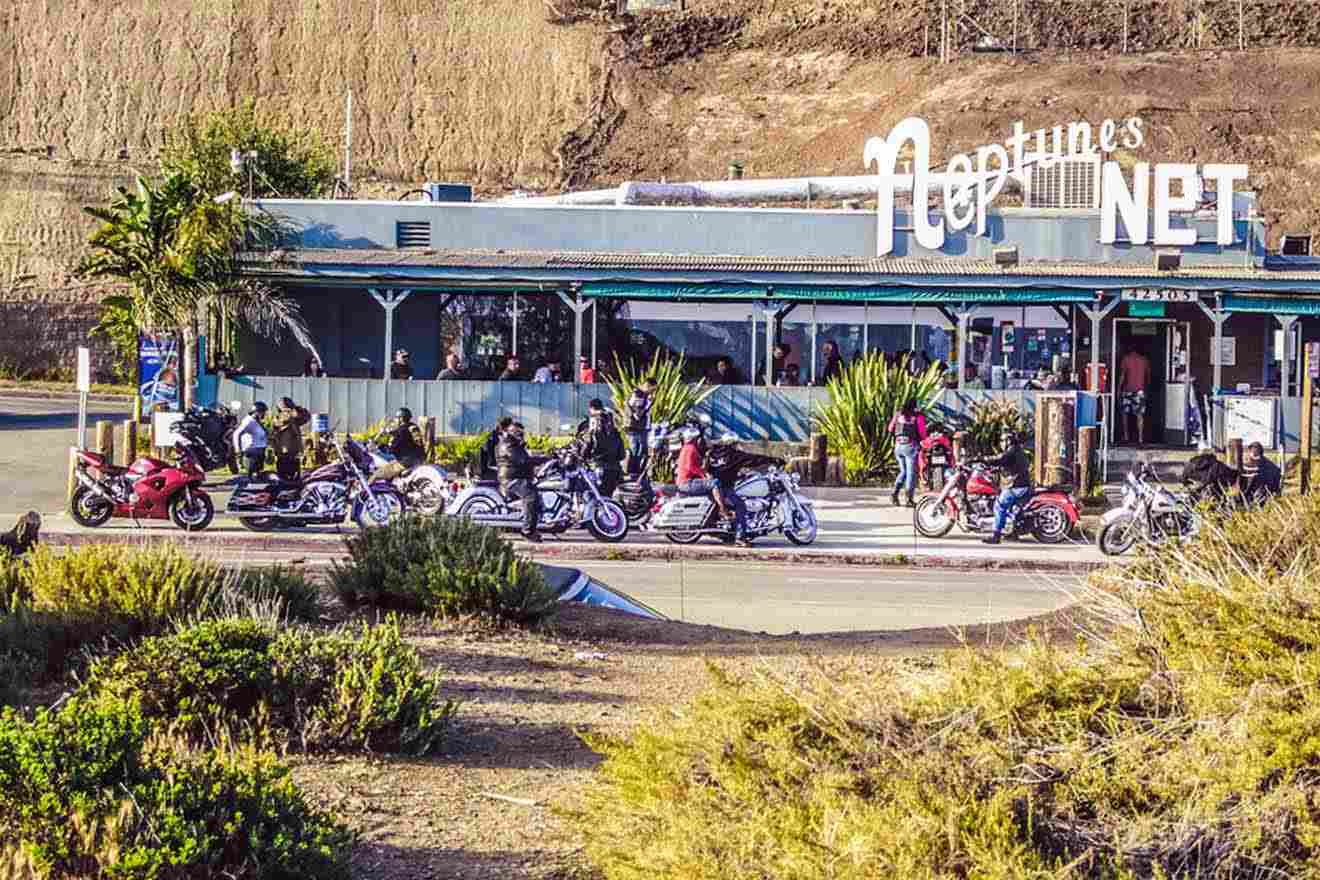 Neptune's Net has been a popular oceanfront restaurant in Malibu, CA, for over 50 years! It was initially opened by a former/retired NASA aerodynamicist and has become the go-to spot for locals, celebrities, tourists, and everyone looking for some fish and chips with a refreshing glass of beer.
There are 2 sides to this restaurant: the "Restaurant Side" with fried foods and beer, and the "Seafood Side" with fresh seafood and draft beer. They are a first-come, first-served restaurant, so no reservations are allowed! You'll have to walk in to get a spot. I suggest coming in as early as possible to avoid waiting on a list.
They are open 7 days a week, Monday – Thursday, 10:30 AM to 8 PM, Friday from 10:30 AM to 9 PM, and Saturday – Sunday, from 10 AM to 8:30 PM.
15. Bring the family to Nicholas Canyon Beach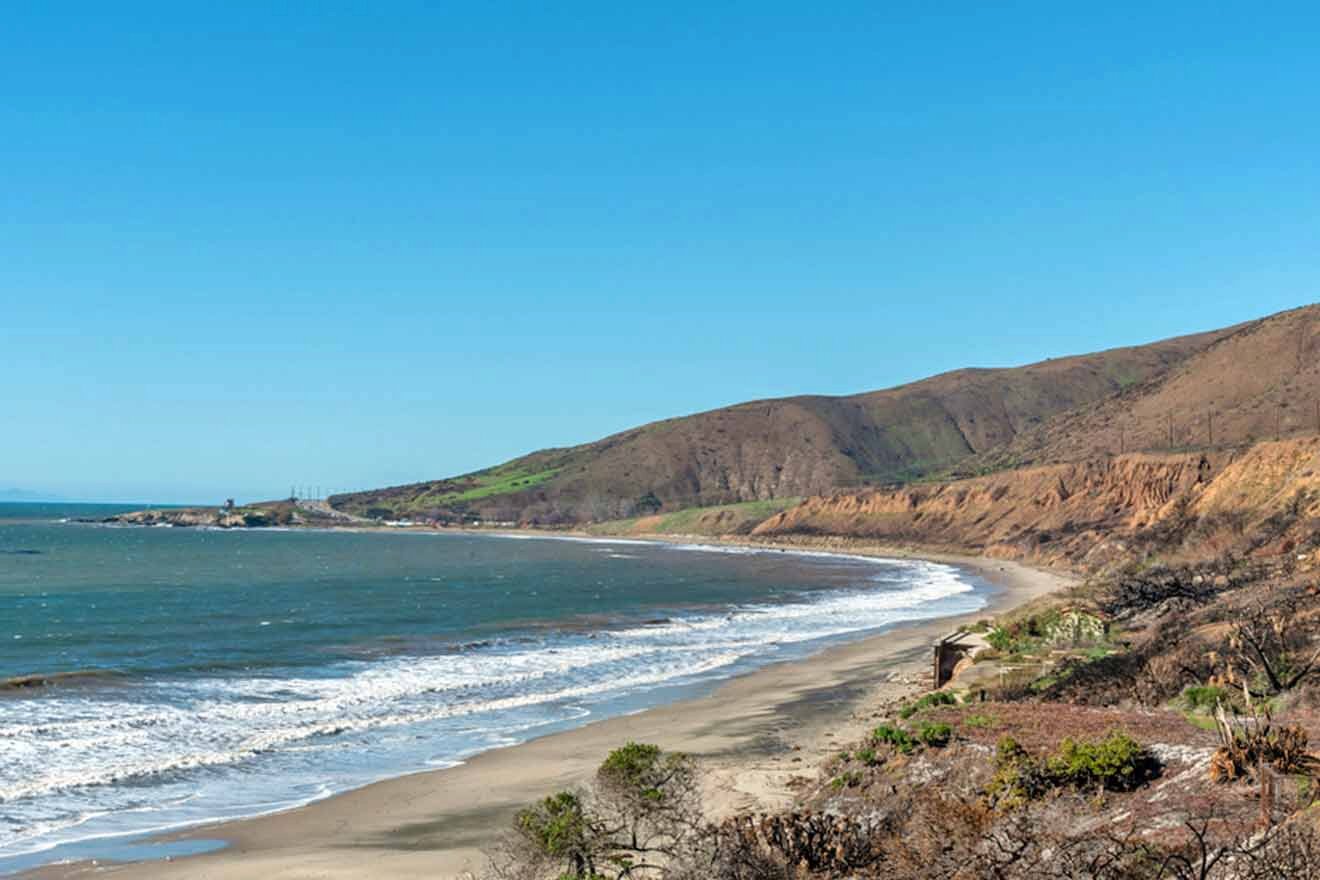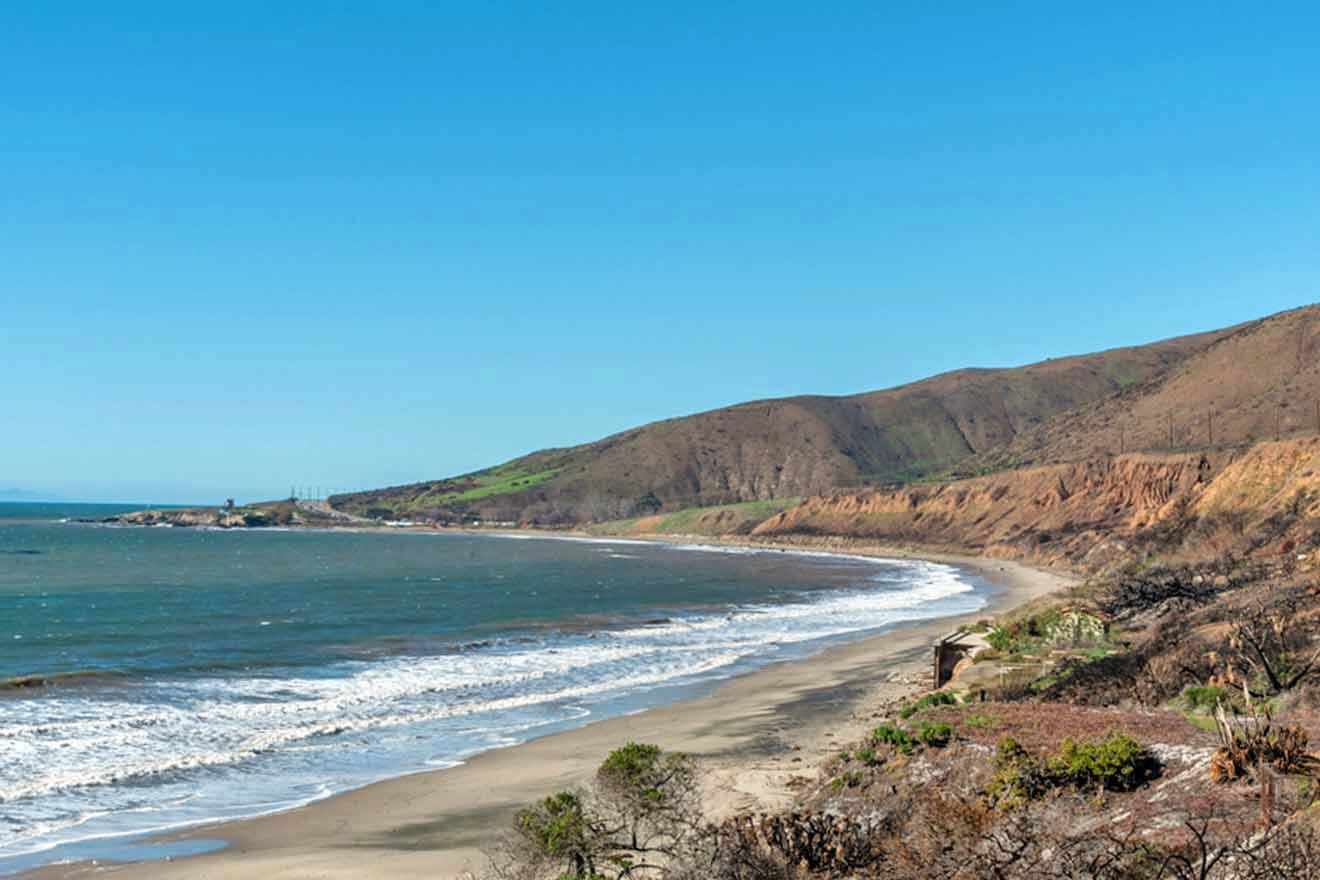 Nicholas Canyon Beach, otherwise known as Point Zero, is a beach in western Malibu known for the waves that break at a point where San Nicolas Canyon meets the shore. It's considered one of the few perfect point breaks in Los Angeles County, so it's the place to be if you're an avid surfer!
There are also picnic tables located all throughout the park, lifeguards out during the summer, and hiking trails nearby at Leo Carrillo State Park, just about 1 mile (less than 2 km) away.
Because there are lifeguards here, it's a safe space for families to lay out and enjoy the sun during the summer!
16. Have a beach day at Robert H. Meyer Memorial State Beach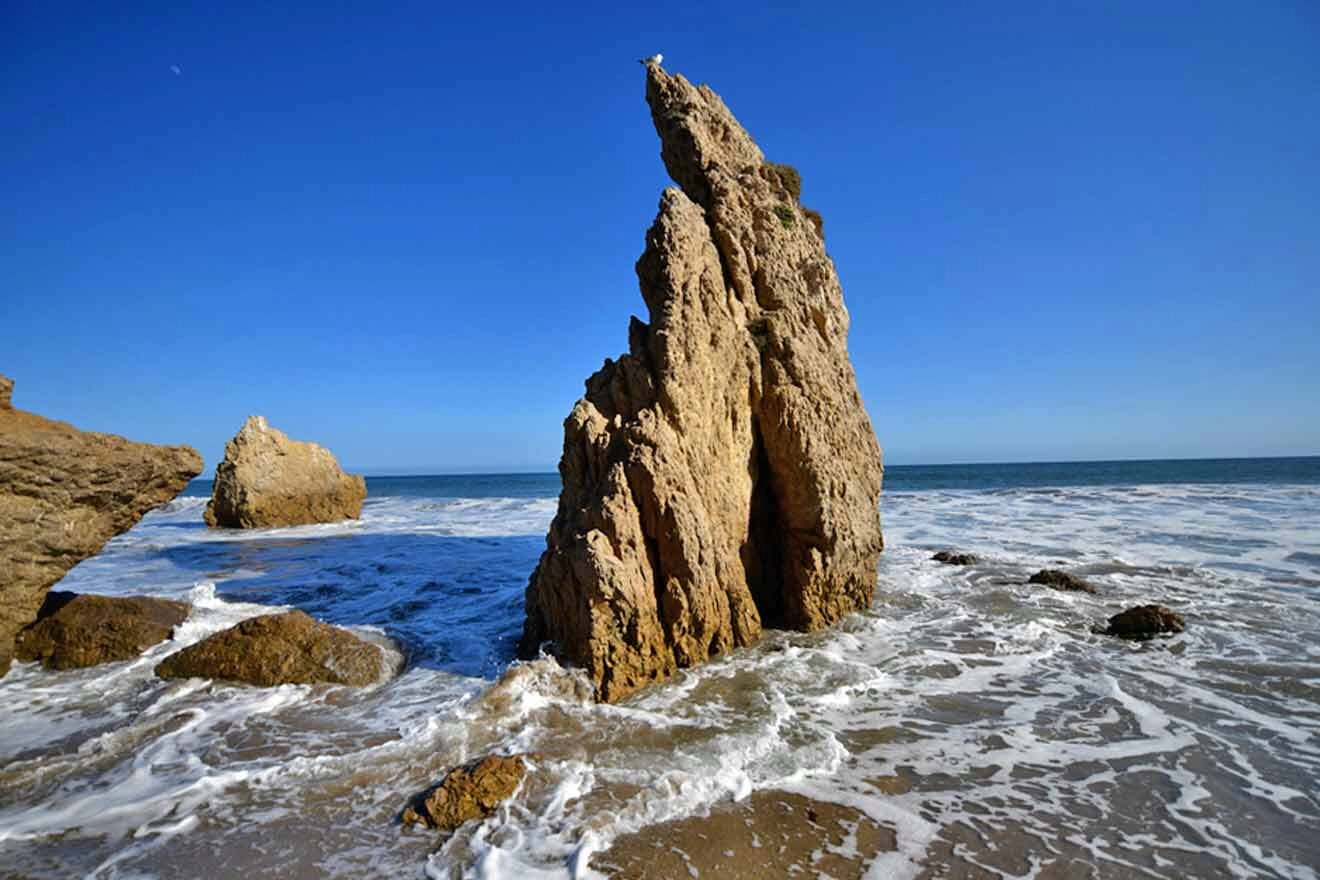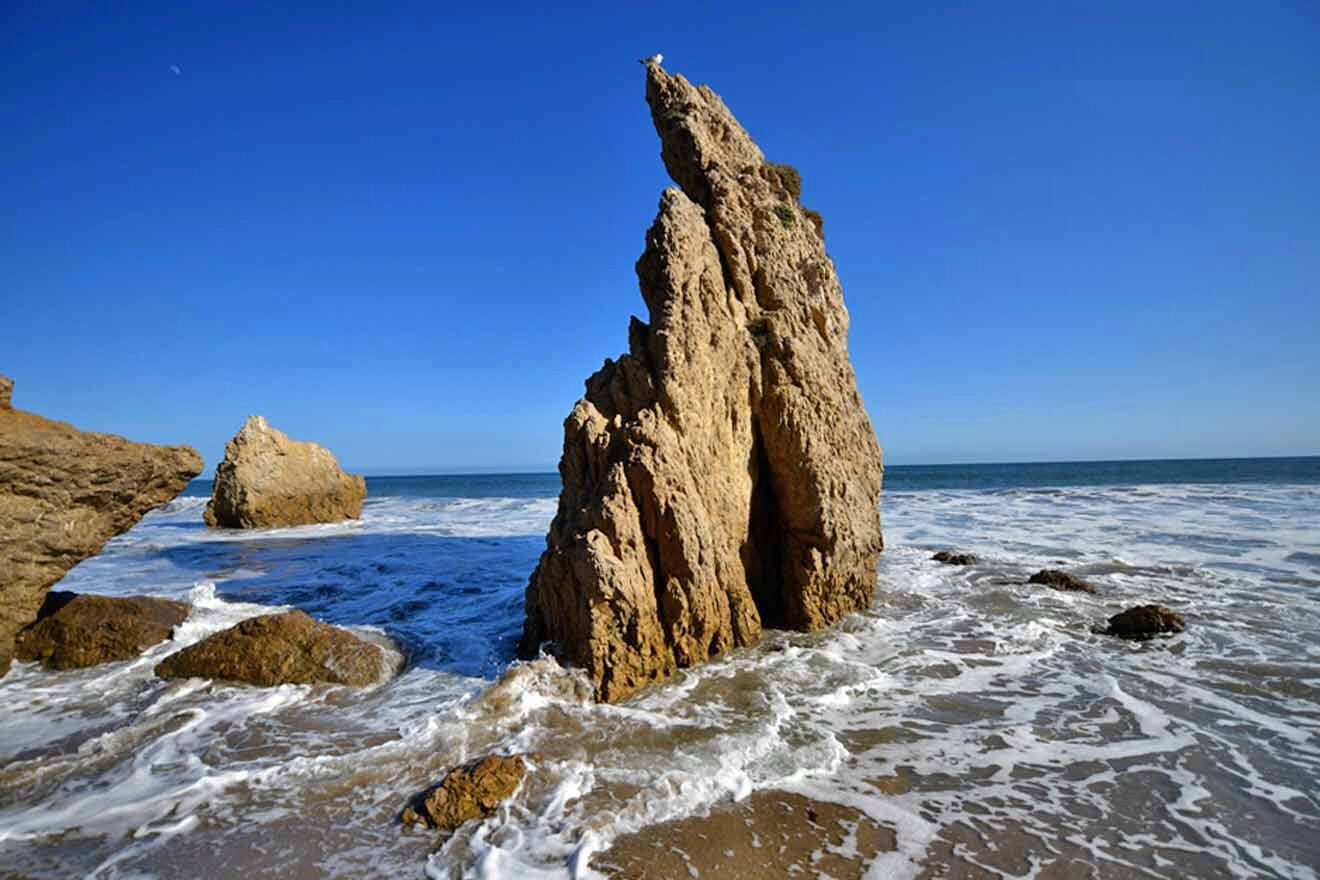 Robert H. Memorial State Beach is made up of smaller pocket beaches in western Malibu, right in between the Leo Carrillo State Park and Point Dume State Beaches.
You'll find 3 beautiful beaches surrounded by Malibu mansions: El Matador, La Piedra, and El Pescador. Signs are posted on the PCH, so if you're traveling via road trip, the beaches are easy to spot.
They can get pretty crowded during the summer, but when they're not crowded by tourists and visitors, these beaches are incredibly peaceful and relaxing.
I suggest bringing sunscreen, drinks, lunch, and closed-toe shoes for a hike down to the beach. There are toilets on each beach parking lot, but it's quite a hike back up the stairway once you're at the beach. Plan ahead and go beforehand!
17. Catch the sunset at El Matador State Beach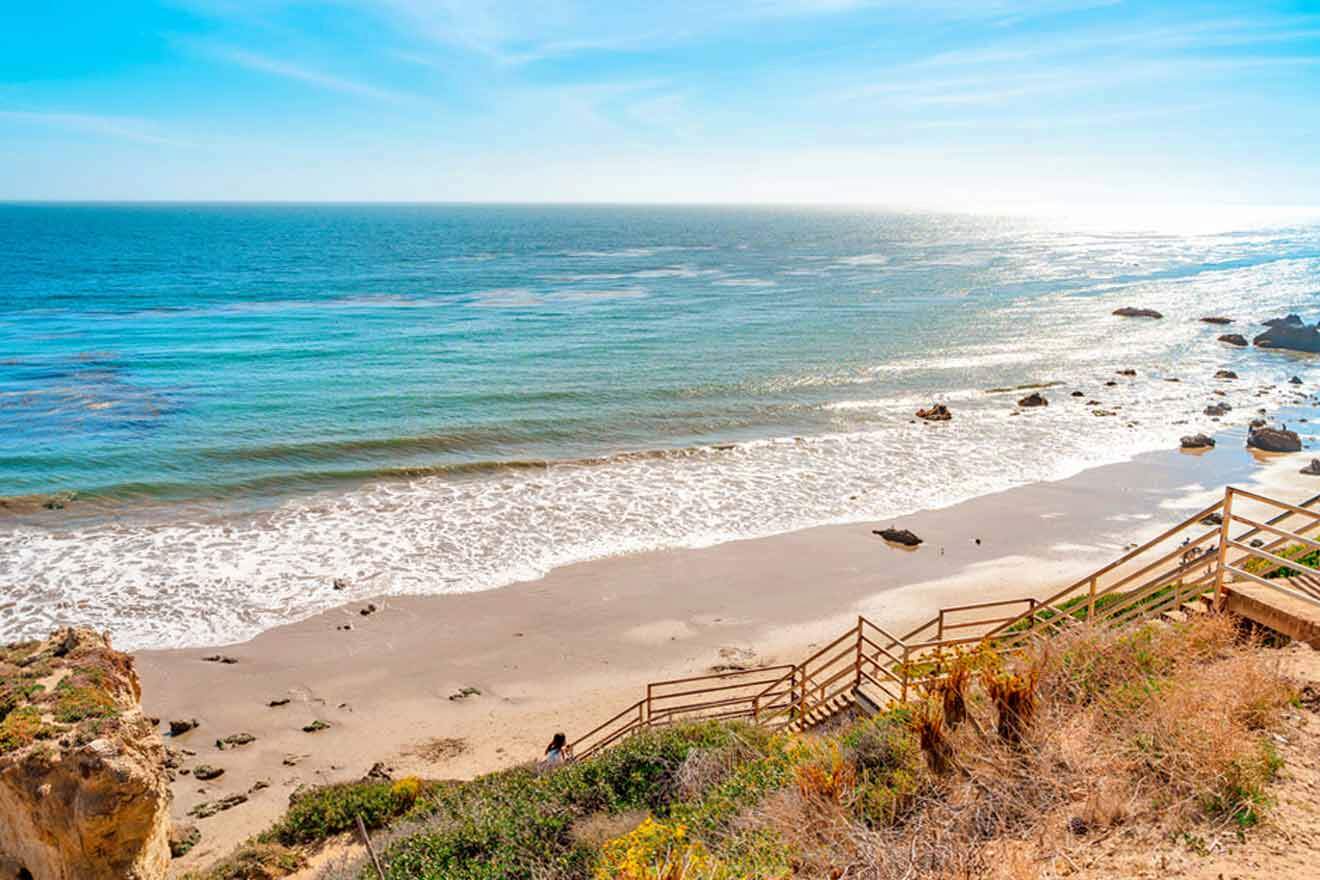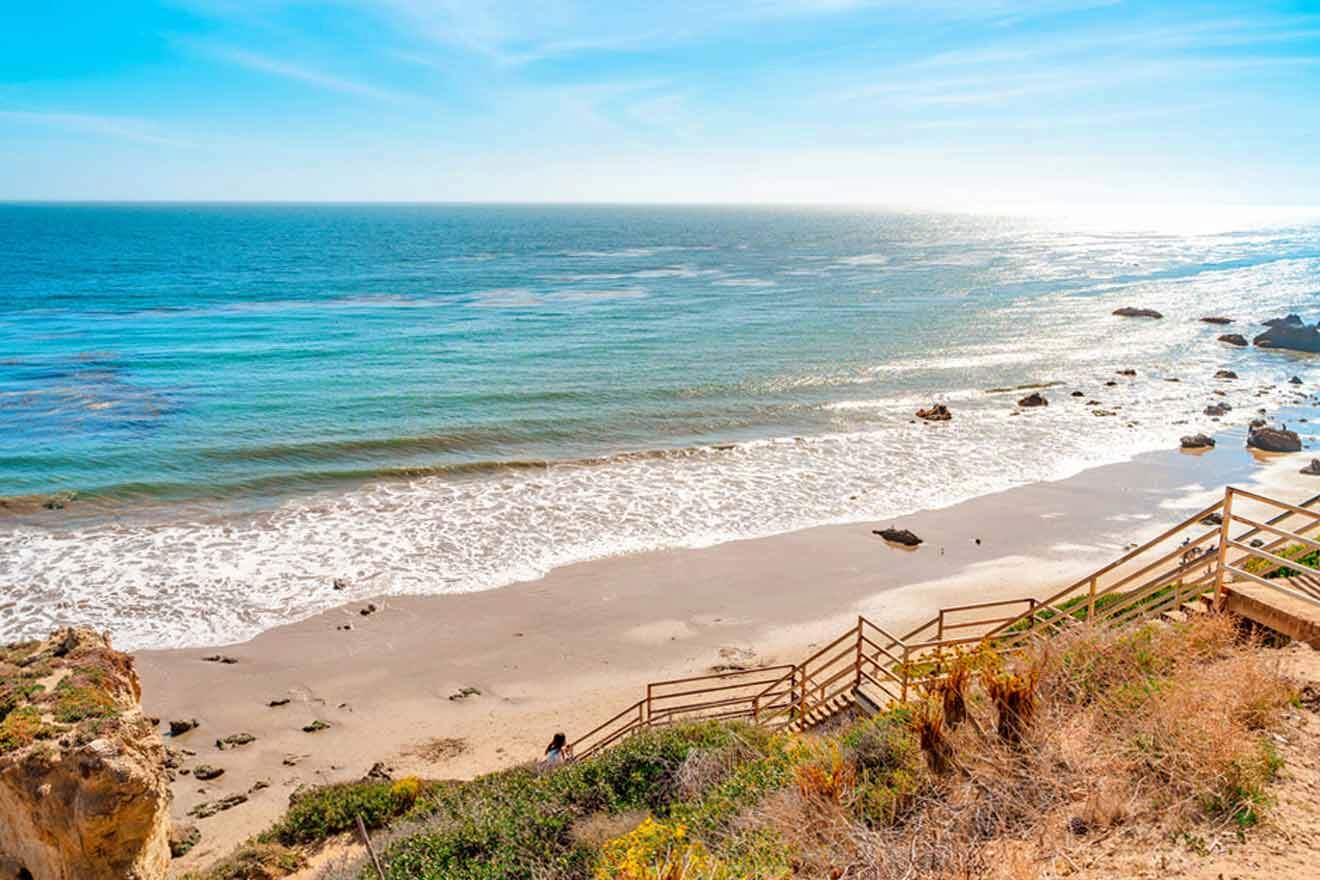 If you're not catching waves, catch the sunset at El Matador Beach for the most beautiful sunset views in all of Malibu. The beach also has picnic tables overlooking the ocean and a trail descending through the bluffs with stairs taking you down through the entire beach.
El Matador Beach is a really popular setting for professional photographers to capture photos during sunset hours, so expect tons of photographers while you're here. I recommend bringing a camera and taking your own photos along the beach!
PRO TIP: This beach isn't safe for swimmers! I only recommend watching and enjoying the beautiful Pacific Ocean waves from a distance!
18. Explore water activities with Malibu Coastal Adventures
Go on a boat ride with Malibu Coastal Adventures! This company offers a few different experiences that are so much fun for families and couples visiting Malibu. They have kayaking and paddleboarding tours where you can uncover sea caves and hidden coves that you otherwise wouldn't be able to see on land.
They also have whale-watching tours where you can watch all sorts of marine life, including dolphins, whales, and sea lions all in their natural habitat. The tour guides are professionals who will guide the way and teach you a thing or two about marine life along the way.
NOTE: Malibu Coastal Adventures also offers surf lessons and rentals – there's something for everyone here!
19. Go camping at Point Mugu State Park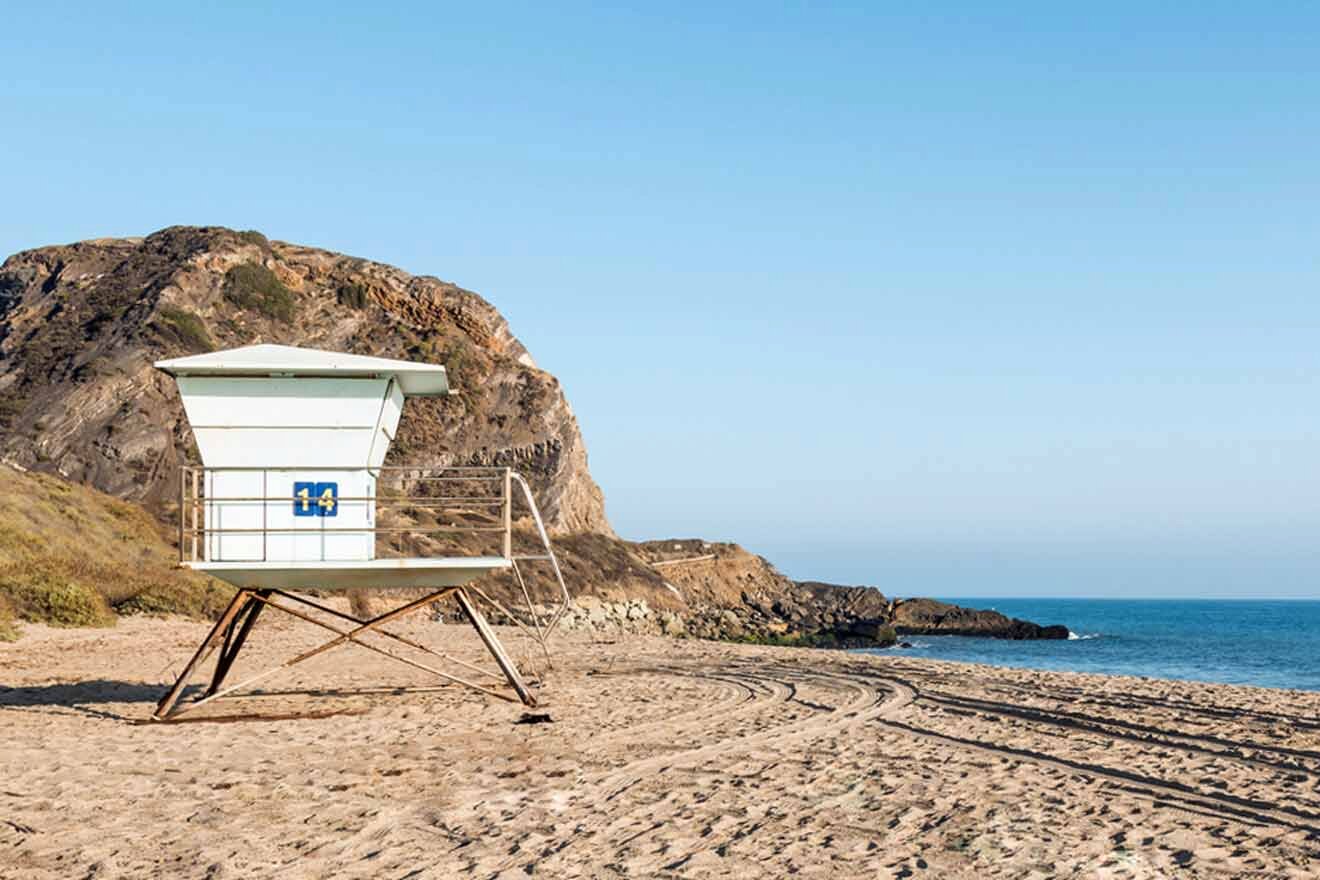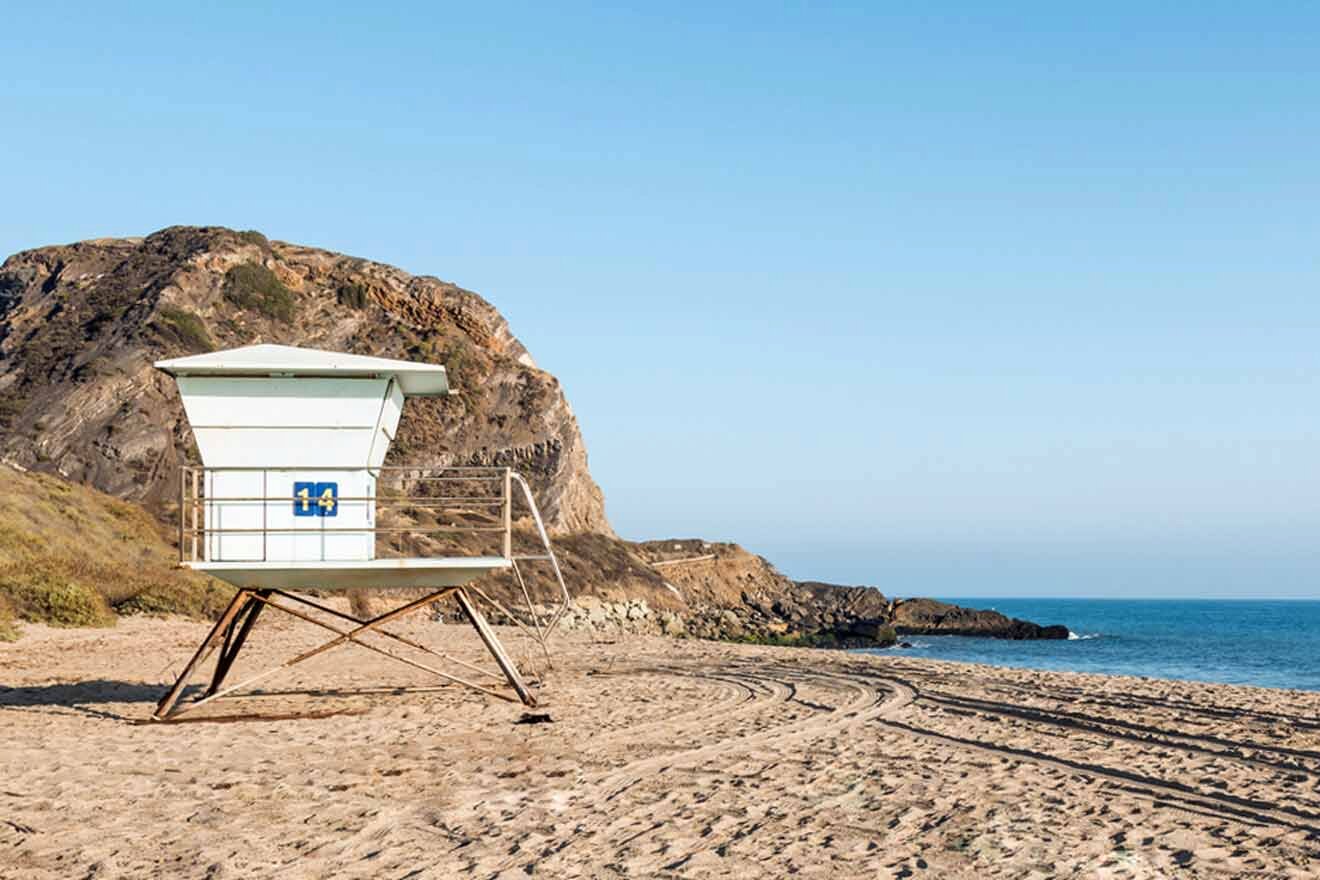 Located in the Santa Monica Mountains range, Point Mugu State Park is filled with over 70 miles (113 km) of hiking trails, stunning scenery, and, luckily, 2 beautiful campgrounds to engulf yourself for as long as you please! The 2 campgrounds are the Sycamore Canyon Campground and Thornhill Broome Campground.
While you're here, expect to see 5 miles (8 km) of shorelines, sandy beaches, rocky hills and bluffs, river canyons, sycamore and oak trees, and so much more.
PRICE: Sycamore Campground reservations start at US$10/night, and Thornhill Broome Campground starts at US$35/night. Book your reservations in advance here!
20. Eat at an oceanfront restaurant at Westward Beach
Westward Beach is a part of Zuma County Beach, being a quiet, 3-mile-long (c. 5 km) stretch. There are lifeguards everywhere on this beach and soft sand to walk on, so it's the perfect place to take a stroll along the shore, swim, or play in the sand with the kiddos.
The Sunset Restaurant is conveniently located right next to Westward Beach, so I suggest grabbing a cocktail, lunch, or dinner while you're here! It's a beautiful oceanfront restaurant offering Mediterranean and American food every single day from 11:30 AM to 9 PM. (Amazing, right?) Book your reservations in advance on OpenTable.
PRO TIP: Get the Pistachio Tres Leches for dessert and thank me later 😉
21. Hike Solstice Canyon in Santa Monica Mountains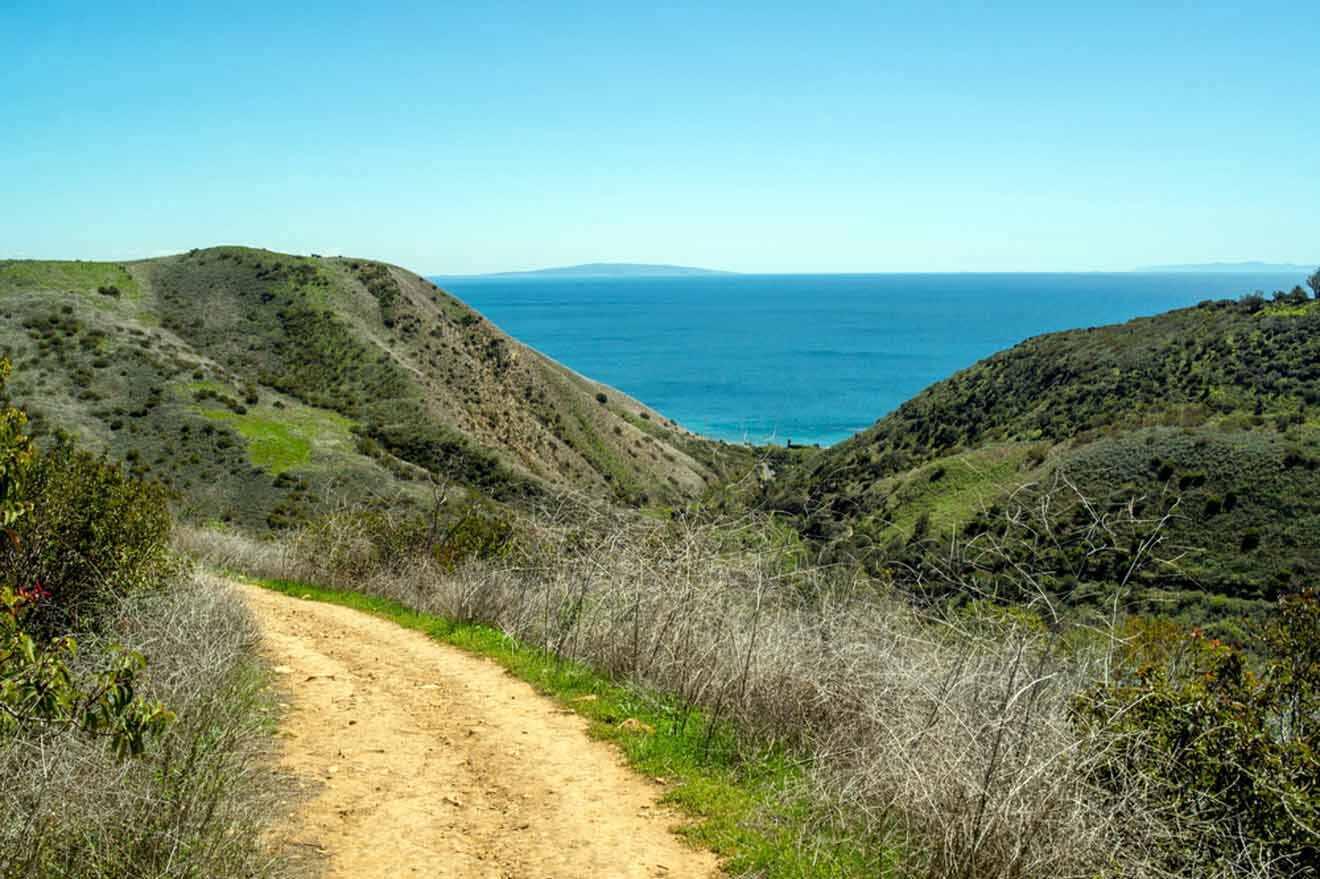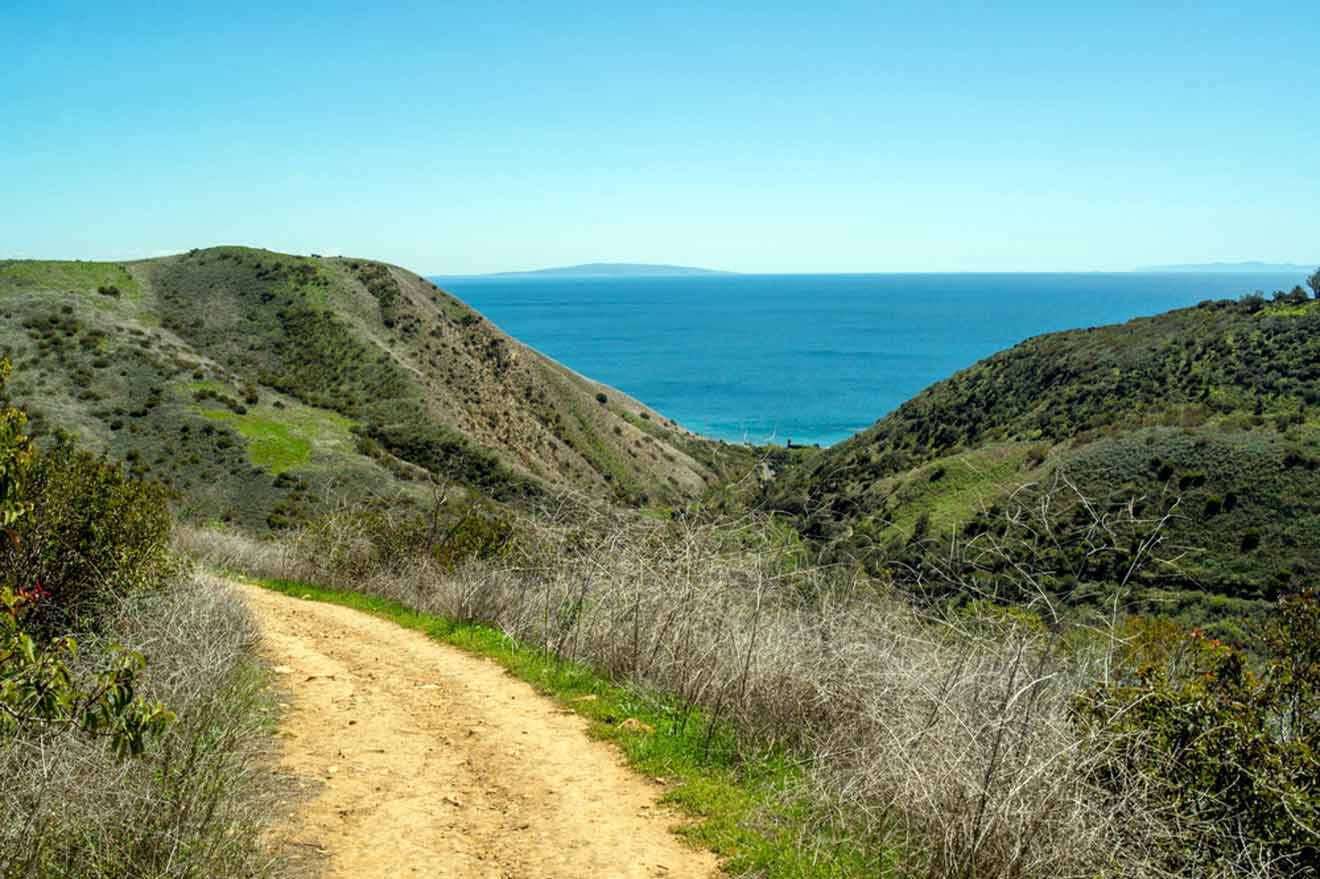 Solstice Canyon in Malibu, CA, is a semi-moderate 3-mile (5 km) hike leading to a panoramic viewpoint of the beautiful Santa Monica Mountains. The shaded canyon is a super popular route that branches through different trails if you want to explore other trails along the way.
Besides the viewpoint, the best thing about this hike is that you'll find artifacts and pieces of history on your way up, such as the oldest stone building in Malibu and the ruins of an old mansion, Roberts Ranch House.
TIP: Take the Rising Sun Trail heading up to the ridge, giving you beautiful ocean views. This is where you'll find the mansion ruins, exotic plants, and even a hidden statue of the Virgin Mary.
22. Spot celebs at the "Billionaire's Beach": Carbon Beach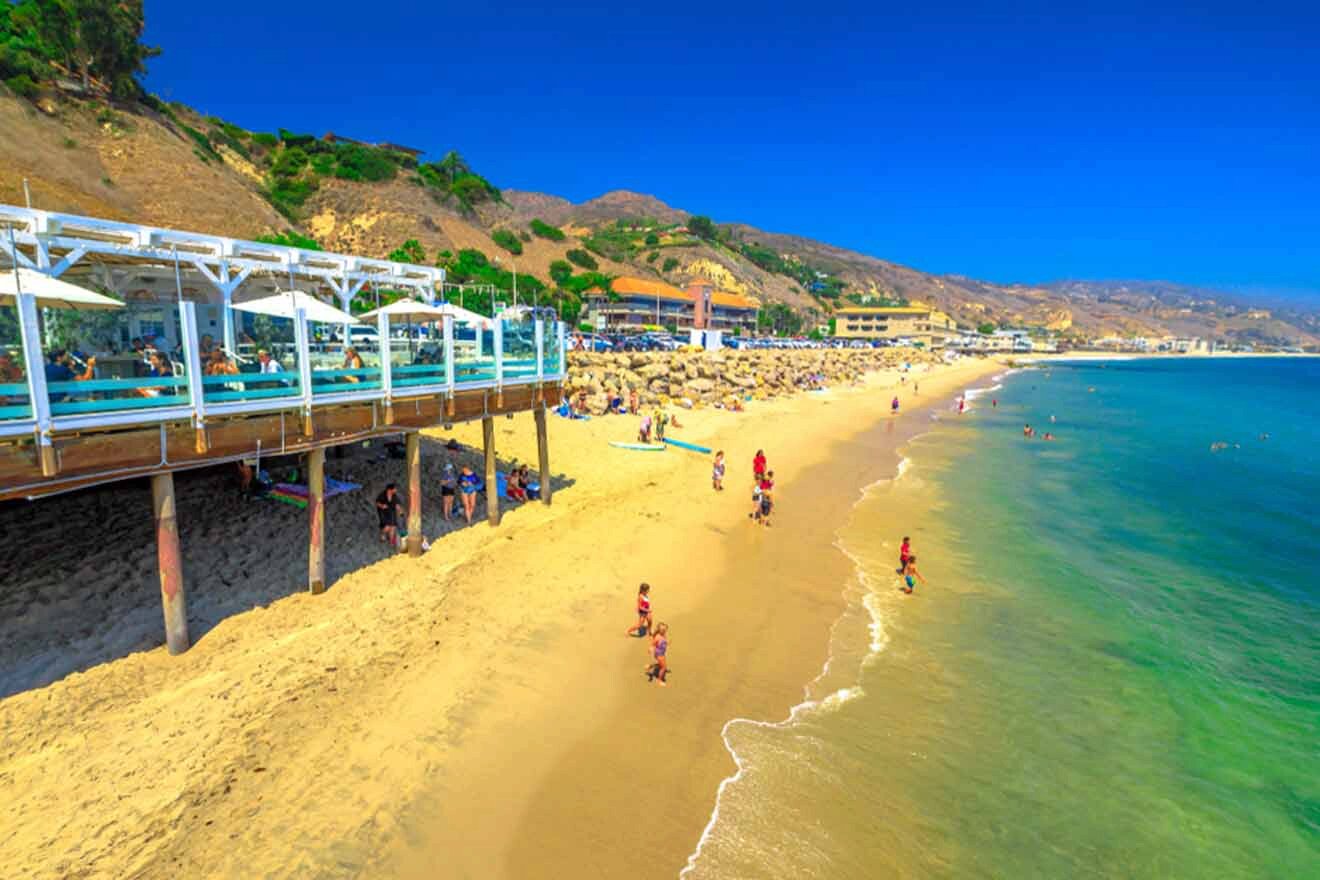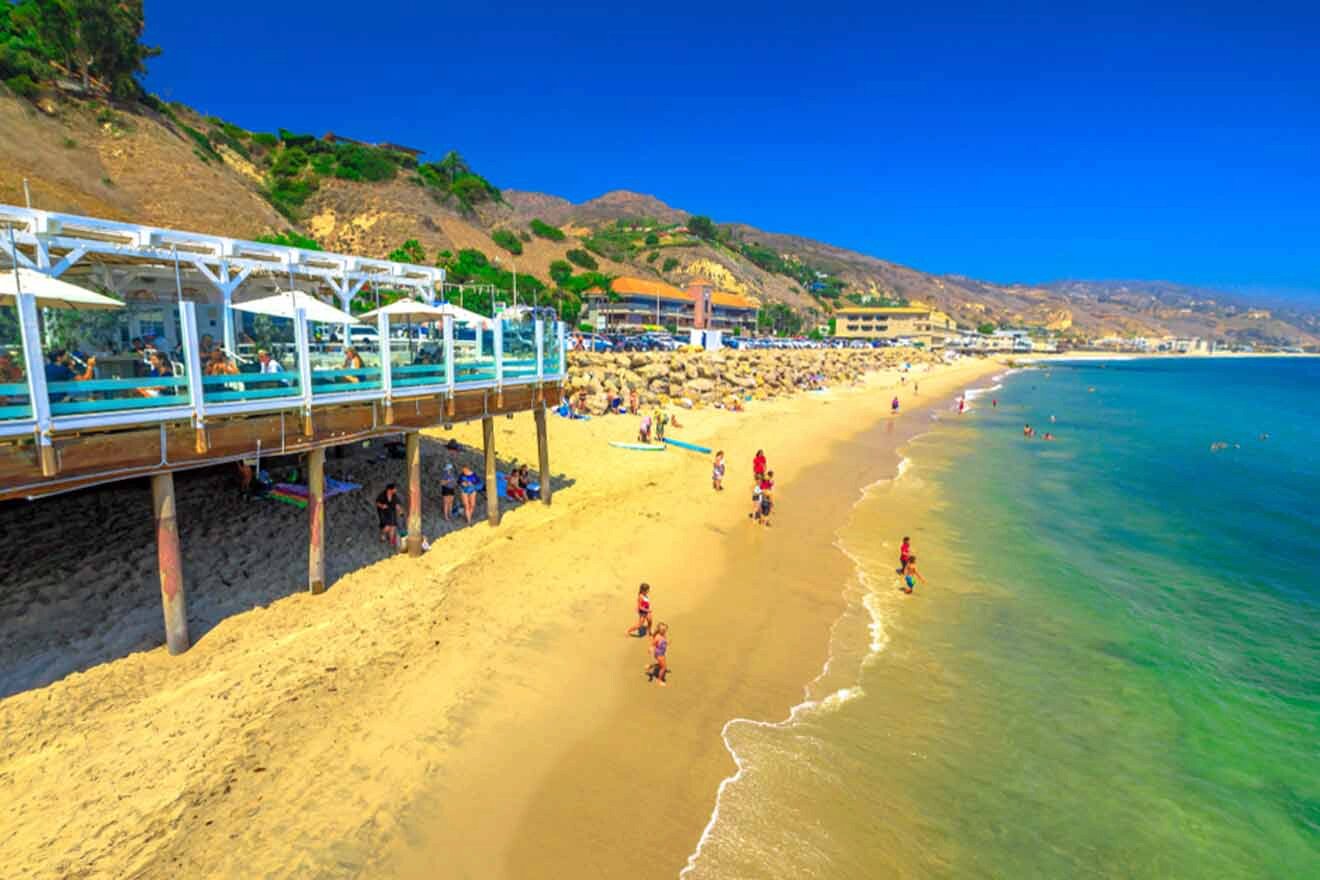 Carbon Beach is in Eastern Malibu, sitting in between the Malibu Pier, the popular Surfrider Beach, and Carbon Canyon Road! It faces south in front of stunning beachfront houses and has been called the "Billionaire's Beach" because these beachfront Malibu mansions belong to famous celebrities and CEOs.
Carbon Beach is a nice, laid-back beach if you're looking for a little private getaway, but come earlier in the day to avoid a busier crowd.
If you want to come just to take a peak at the celebrity mansions, you can book a tour like this one instead! This 5.5-hour tour shows you around the homes of big names like Leonardo DiCaprio, Robert Downey Jr., Mel Brooks, Simon Cowell, and more. It's truly the ultimate Malibu experience.
NOTE: Be careful about parking along the driveways or blocking entryways/garages of any
houses. Look for parking along the highway instead to avoid getting towed!
TOUR PRICE: US$85 per person
23. Unwind in your own mini paradise: Paradise Cove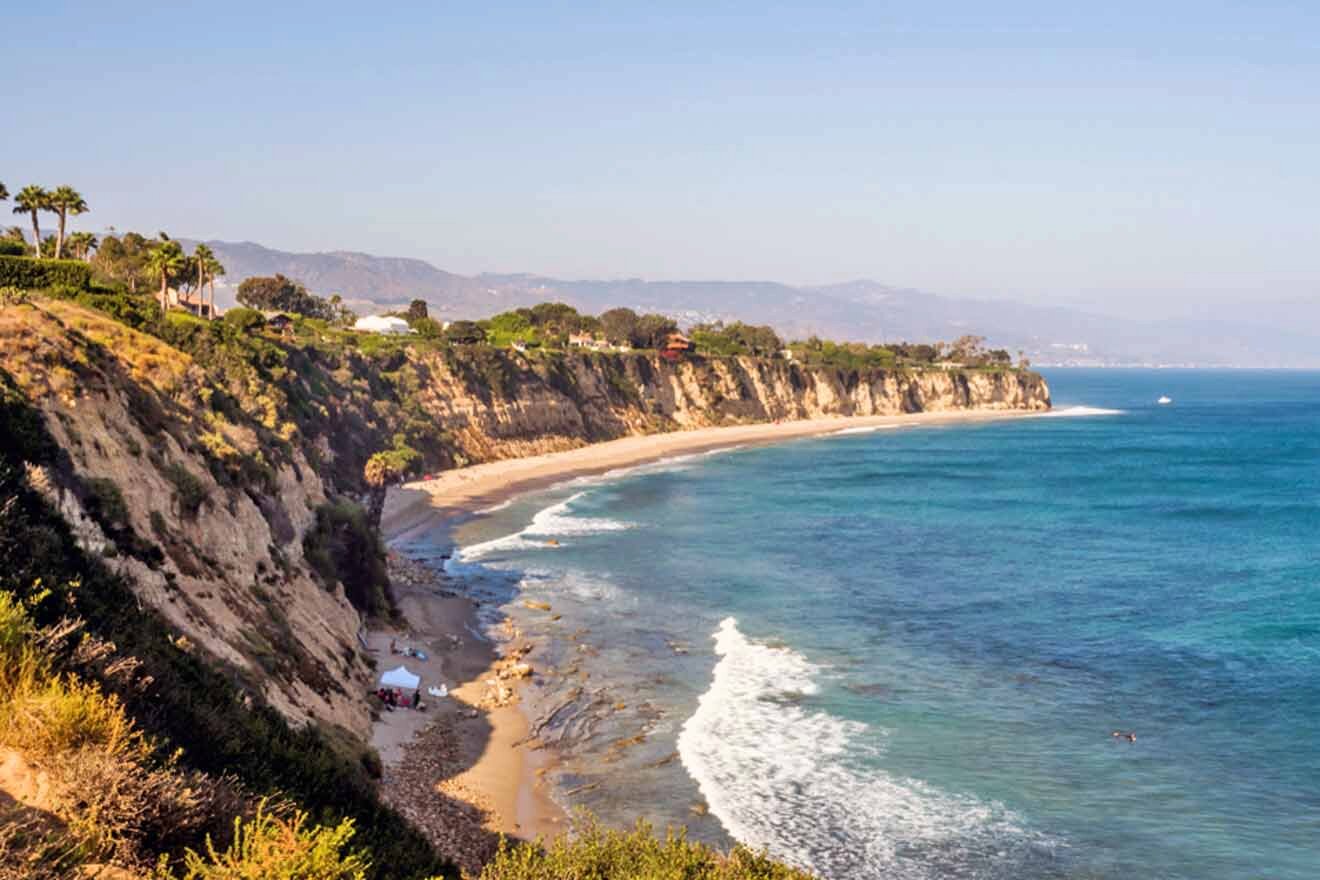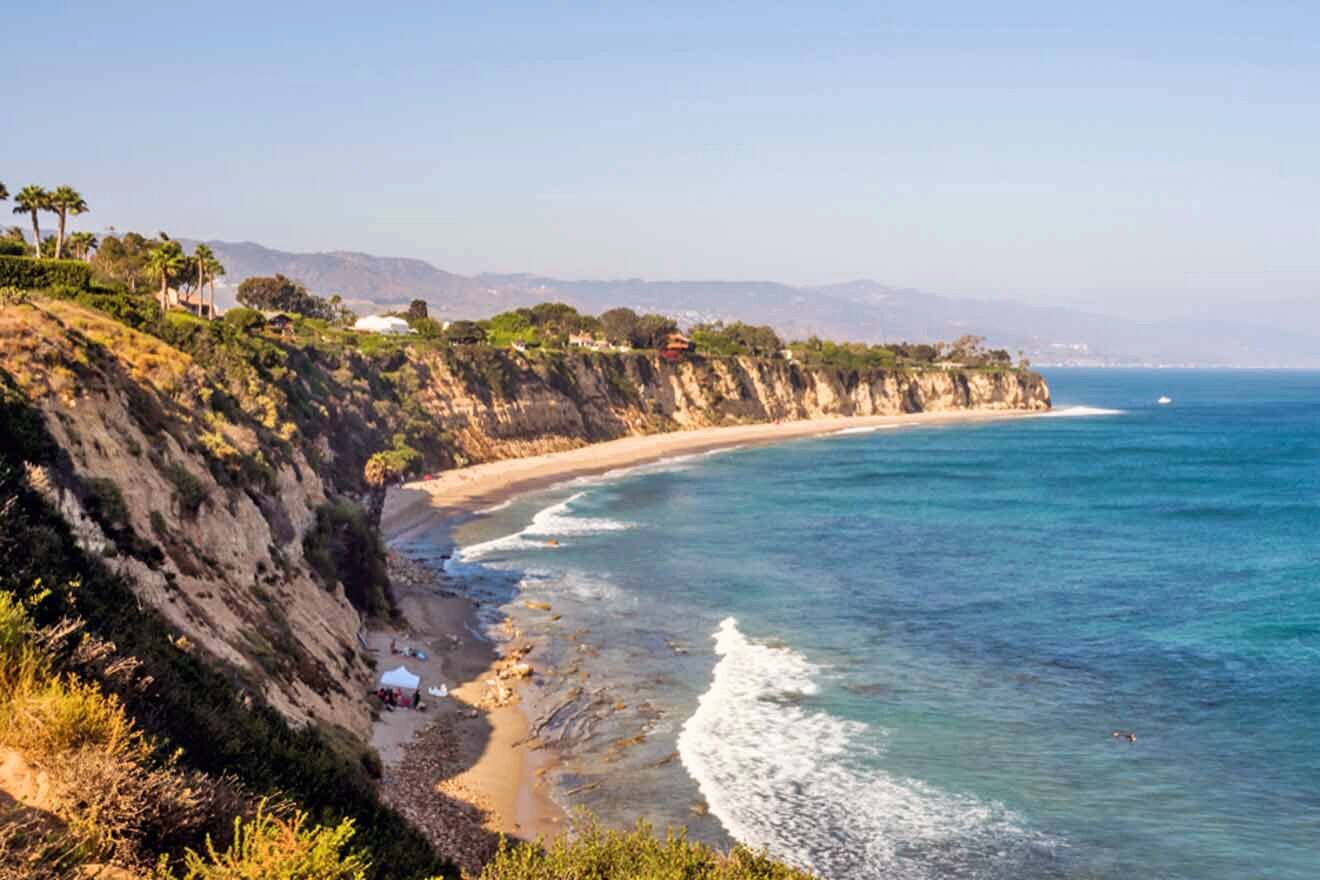 Paradise Cove in Malibu is another secluded beach located in front of a private residential community. This residential community is famously known to be the most glamorous trailer park you'll probably ever see!
You can rent lounge chairs and private spaces at the Paradise Cove Café every day starting at 10 AM. They aren't the most affordable prices at US$250 per 2-person lounge chair, so I suggest bringing your own or bringing a blanket instead to lay on for a more affordable beach day.
NOTE: If you park here for under 4 hours and have a bite at the Paradise Cove Café, the parking is either free or cheaper, depending on the day you visit. See the website for more information.
FAQs about things to do in Malibu, California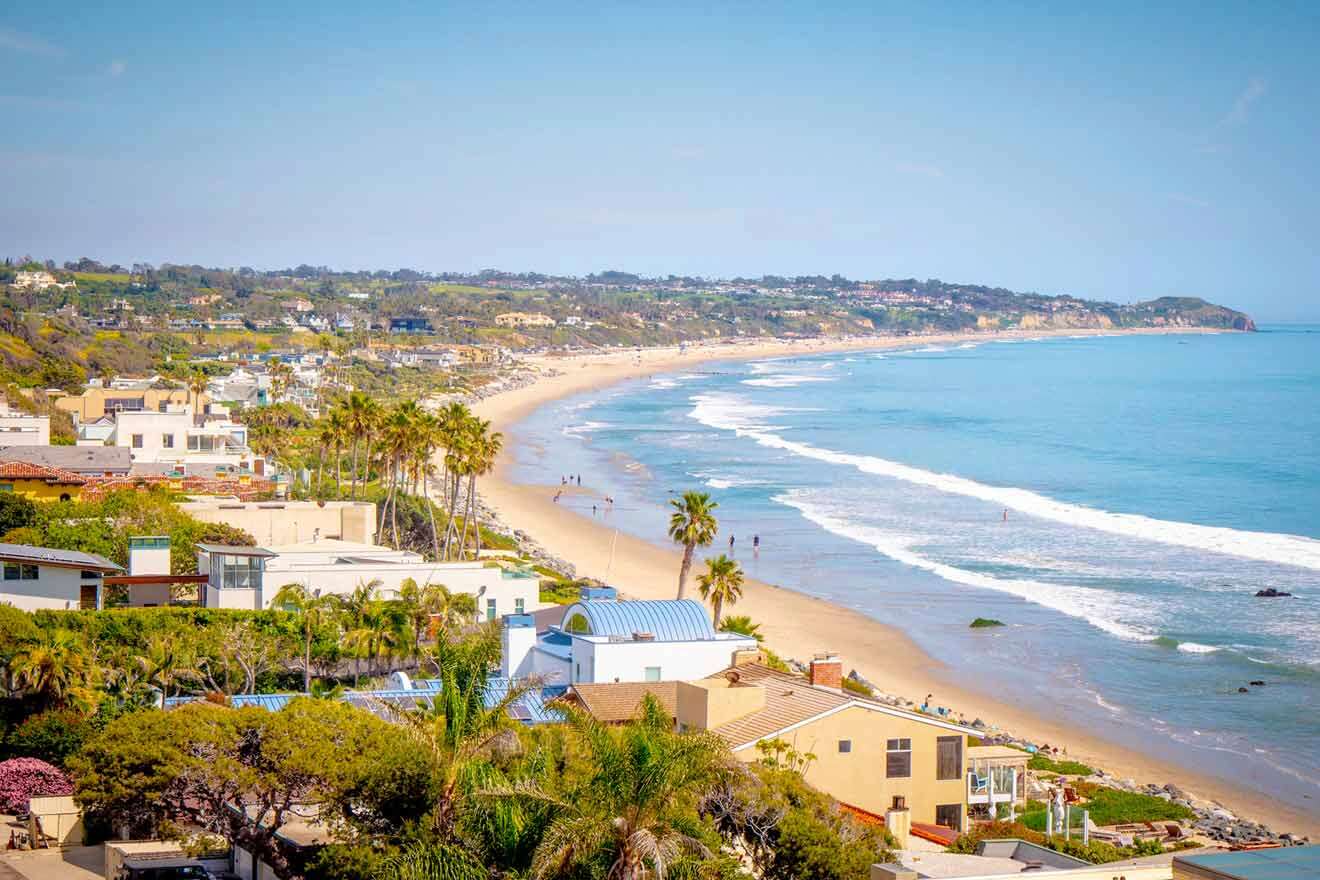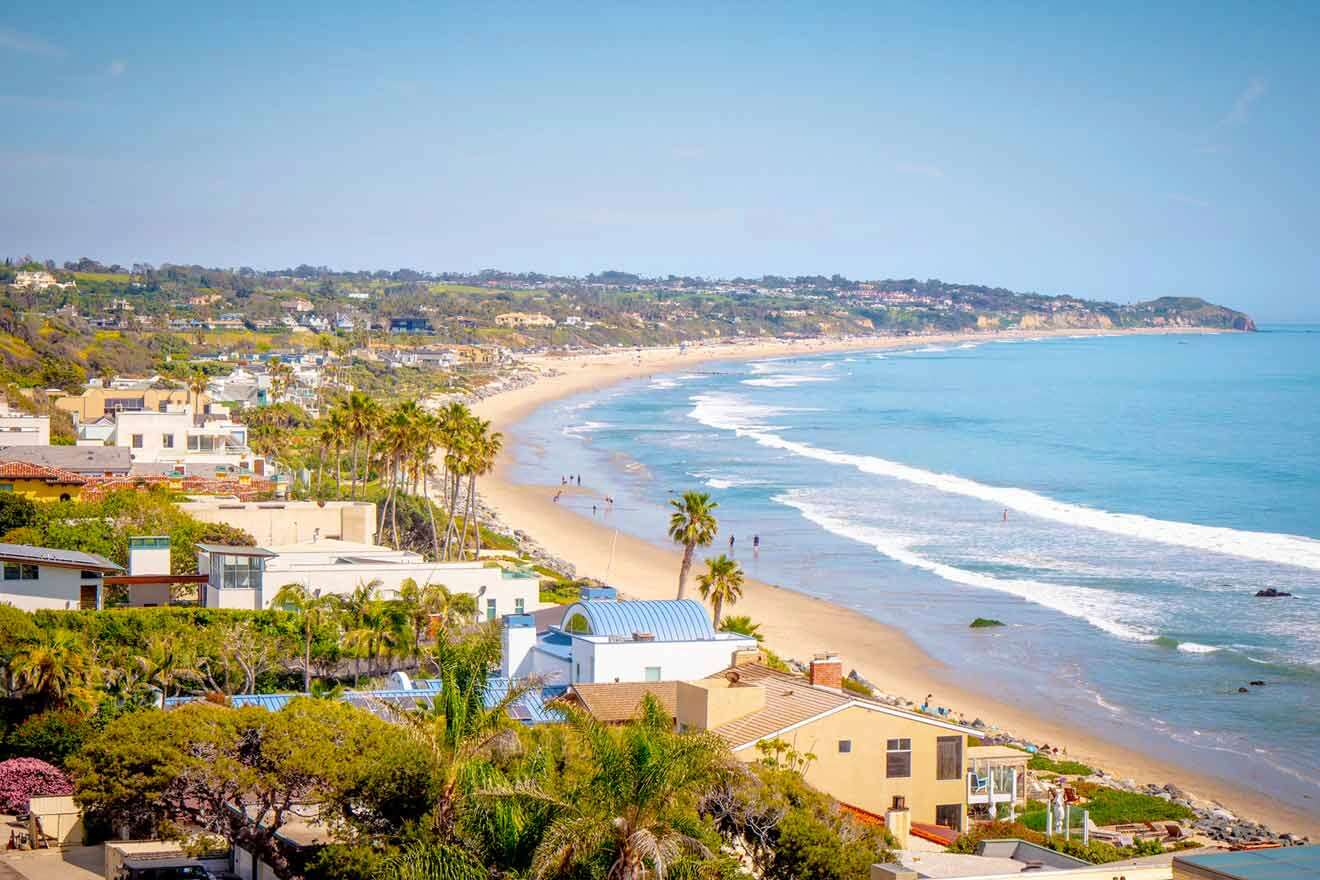 ☀️ How do you spend a day in Malibu?
You can spend a day in Malibu at the beach! As you know by now, there are a plethora of Malibu beaches that are unique to every type of traveler. Whether you want a day of surfing or lounging on the sand, there's something here for you!
🏖️ What is Malibu best known for?
Malibu is best known for its luxurious mansions, celebrities that live nearby, surfing opportunities and history, and a plethora of beaches to visit!
📅 What is the best month to visit Malibu?
The best month to visit Malibu is September. It's less crowded, and the weather is still perfect for laying out in the sun.
😎 Is Malibu worth visiting?
Malibu is definitely worth visiting! Thousands of visitors come to Malibu every single day to experience all the beauty that you can't find anywhere else!
Conclusion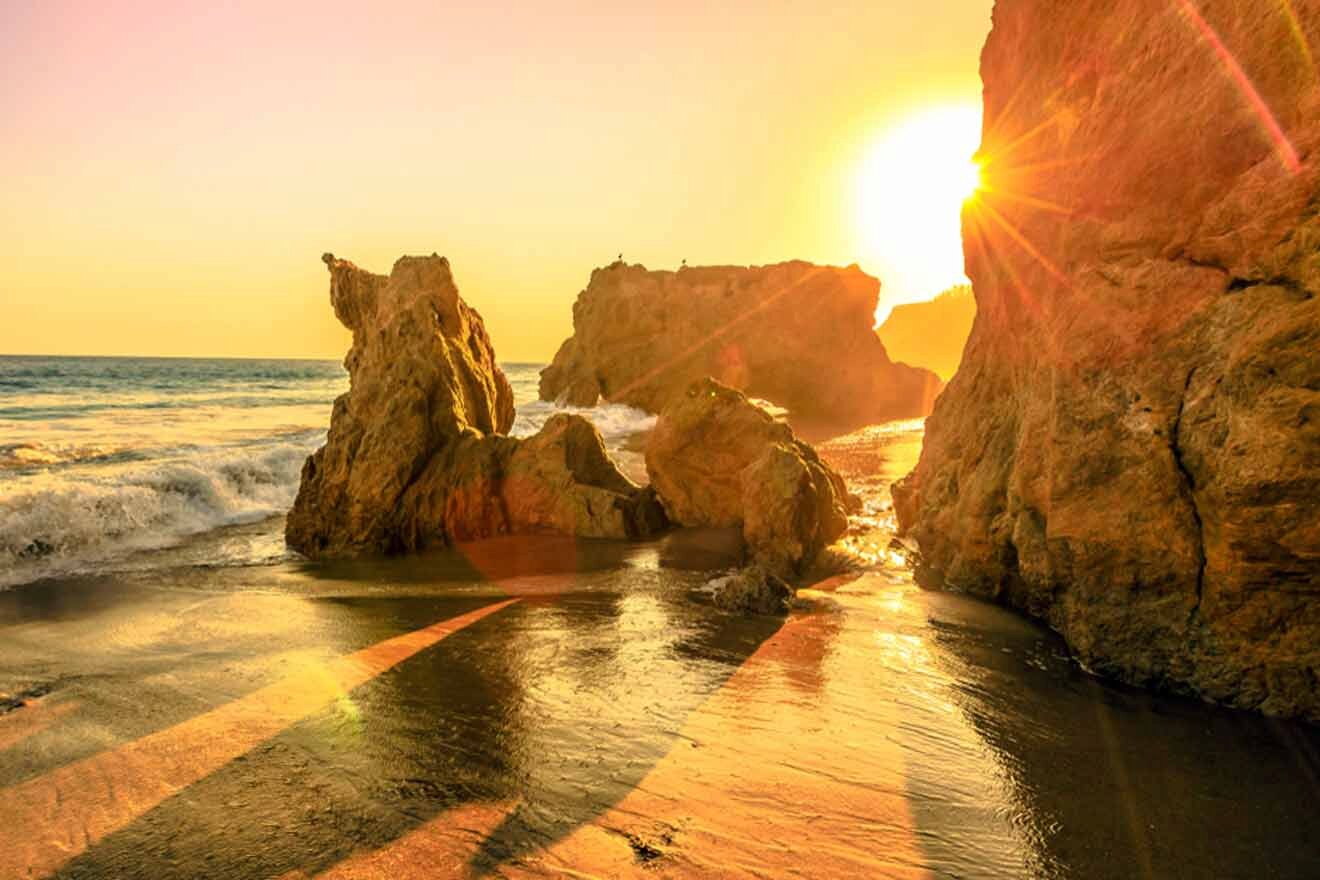 Ready to book a trip to Malibu now?!
Some of my favorite things to do in all of Southern California is explore the serene nature that is right in our backyard. Lucky for you, Malibu is overflowing with that natural beauty. Here are a few of my favorite things from this list of things to do in Malibu, California:
Wine down in the Malibu hills with a glass of wine in one hand and a camera in the other, taking photos of the rocky peaks and native oaks! Wine and hikes are some of my favorite things. Sooo this tour is obviously a no-brainer for me!
I mean, where else in the world do you get to drive past all these A-list celebs' homes? The 5.5-hour celeb house-spotting tour is my second favorite here because it's a unique experience you'll never get anywhere else!
What were your favorite things from this list? Leave me a comment below! And don't forget to book your tours and hotels in advance – it's the best way to save money in the long run and a safe way to secure your spot in one of the most highly sought-after cities in California.
Have a safe flight, and enjoy your trip!
Xoxo,
Esabel S.
---
Pin it for later!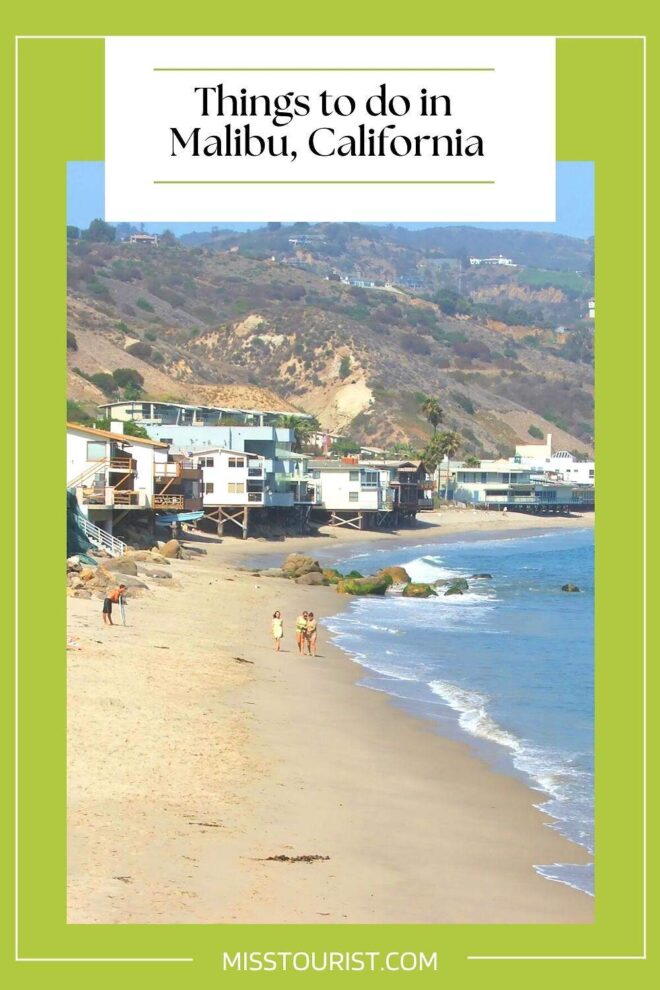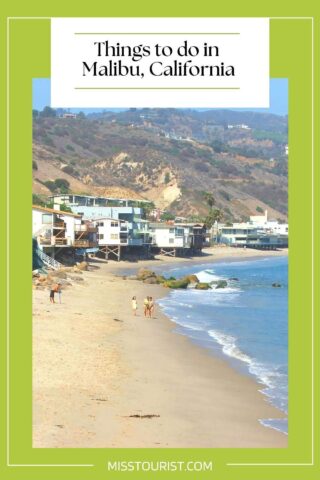 Pin it for later!