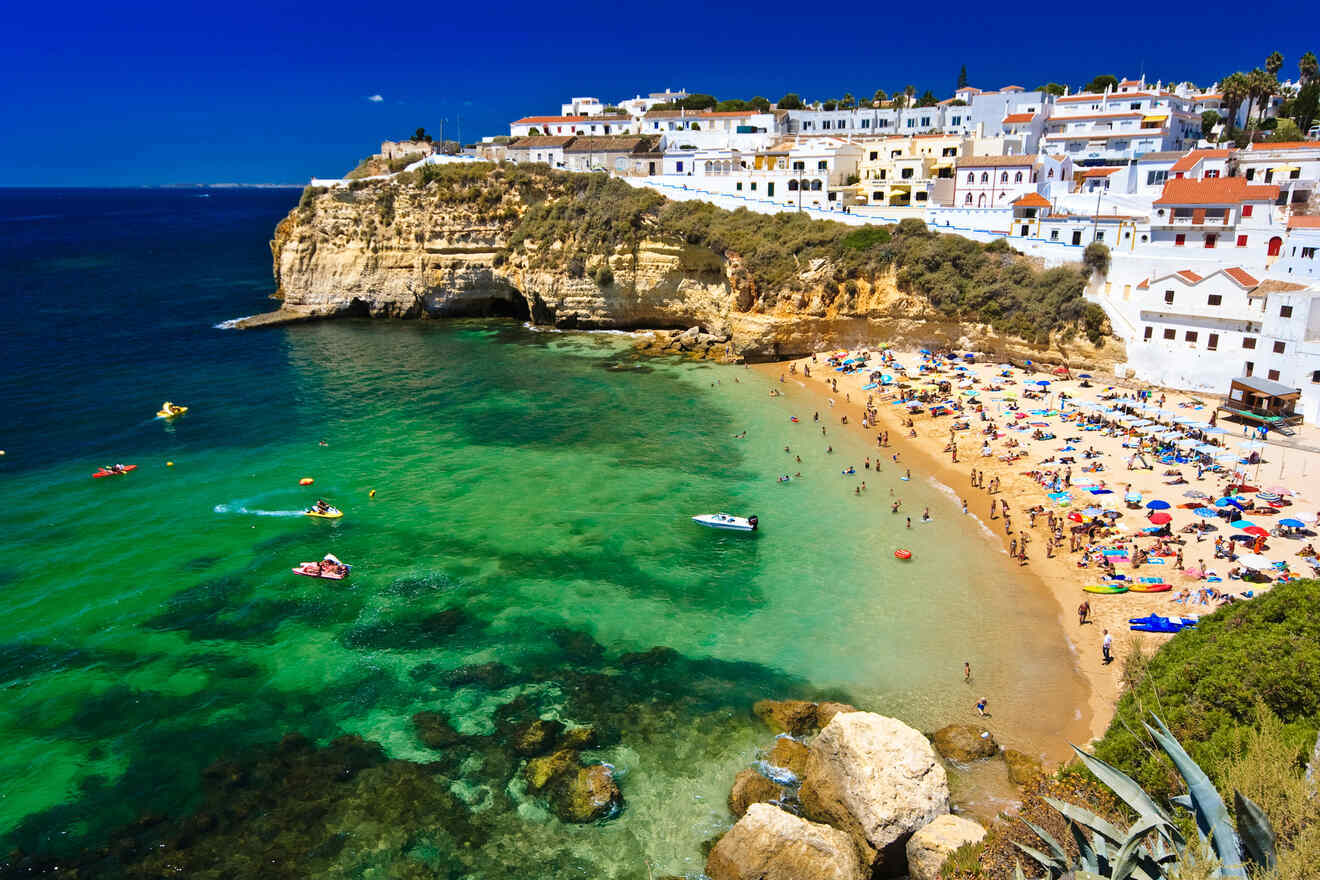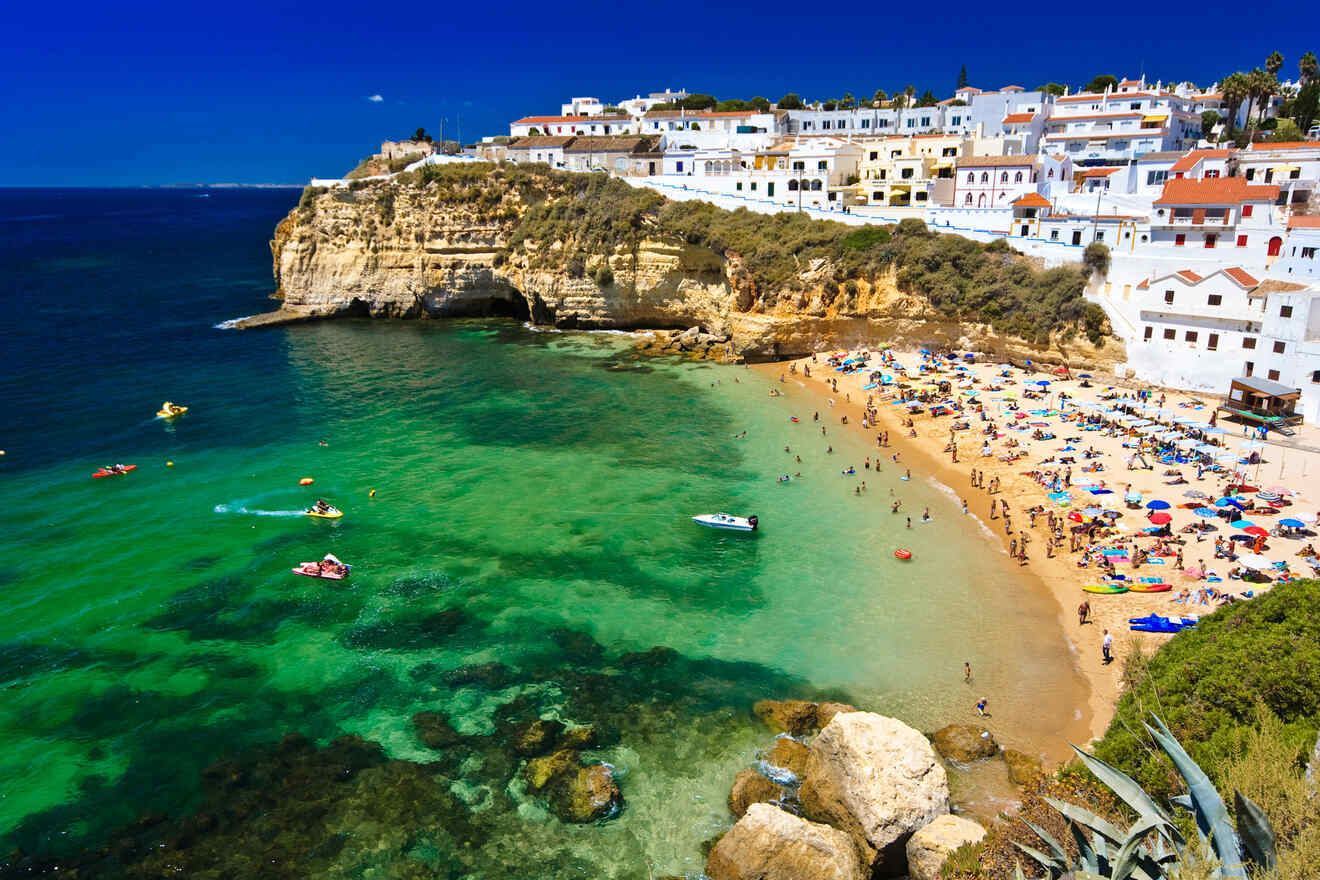 You are about to go on a magical holiday in one of the most beautiful coasts in Portugal, the Algarve. Get ready to see numerous beaches surrounded by epic cliffs and turquoise water at the very southern edge of the country.
Algarve is a very popular holiday destination in Portugal offering great activities such as hiking, dolphin watching, surfing and also has a great food and nightlife scene. For those into history and architecture, you will find more than enough museums, beautiful old towns, and historic sites too so as you see, Algarve is a very nice holiday destination for all kinds of travelers!
In this blog post, I will talk about 5 top areas where to stay in Algarve. Each of these areas are located quite close to each other on the southern coast of Portugal so no matter which one you pick, you can easily take a day trip to the others. Being a very popular holiday destination in Portugal, Algarve offers a great selection of hotels for all budgets. Just for you, dear travelers, I went through tons of hotels and chose the best ones where you could have a memorable holiday.
As these are the best places to stay, you have to be quick and make a reservation in advance if you don't want to miss them. Many of the hotels have a free cancelation, so don't worry if you change your mind. I also highly recommend you to rent a car in advance too, to get around easily in the Algarve region.
If you are ready like me, let's get started on our Algarve Portugal tour!
If you are in a hurry
Here are the best places to stay in Algarve with hotels from luxury to budget. They all have great reviews and great locations!
Here is a map about where to stay in Algarve with the best 5 areas I will be talking about in this travel guide so you can easily visualize them:
1. Faro – where to stay in Algarve for the first time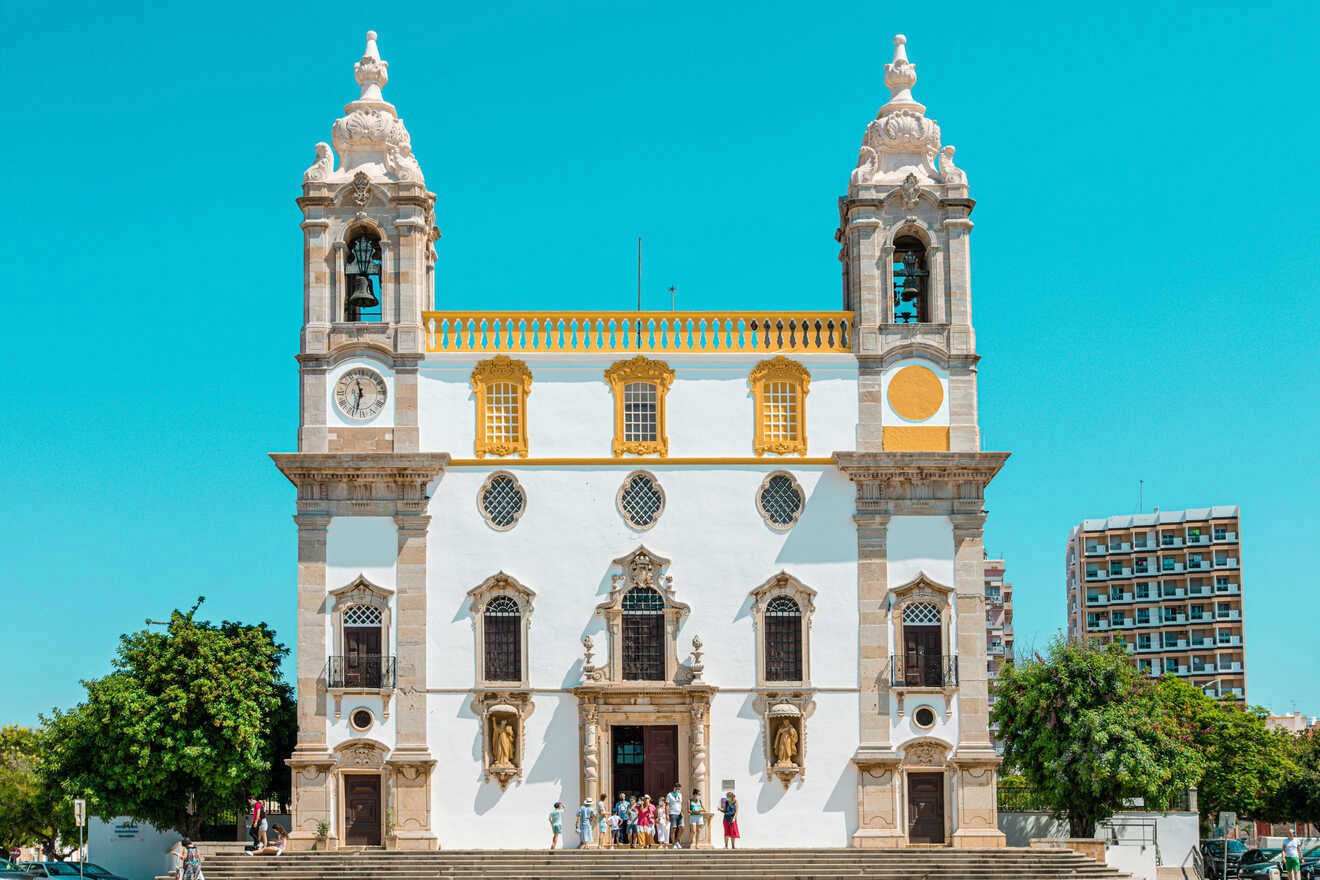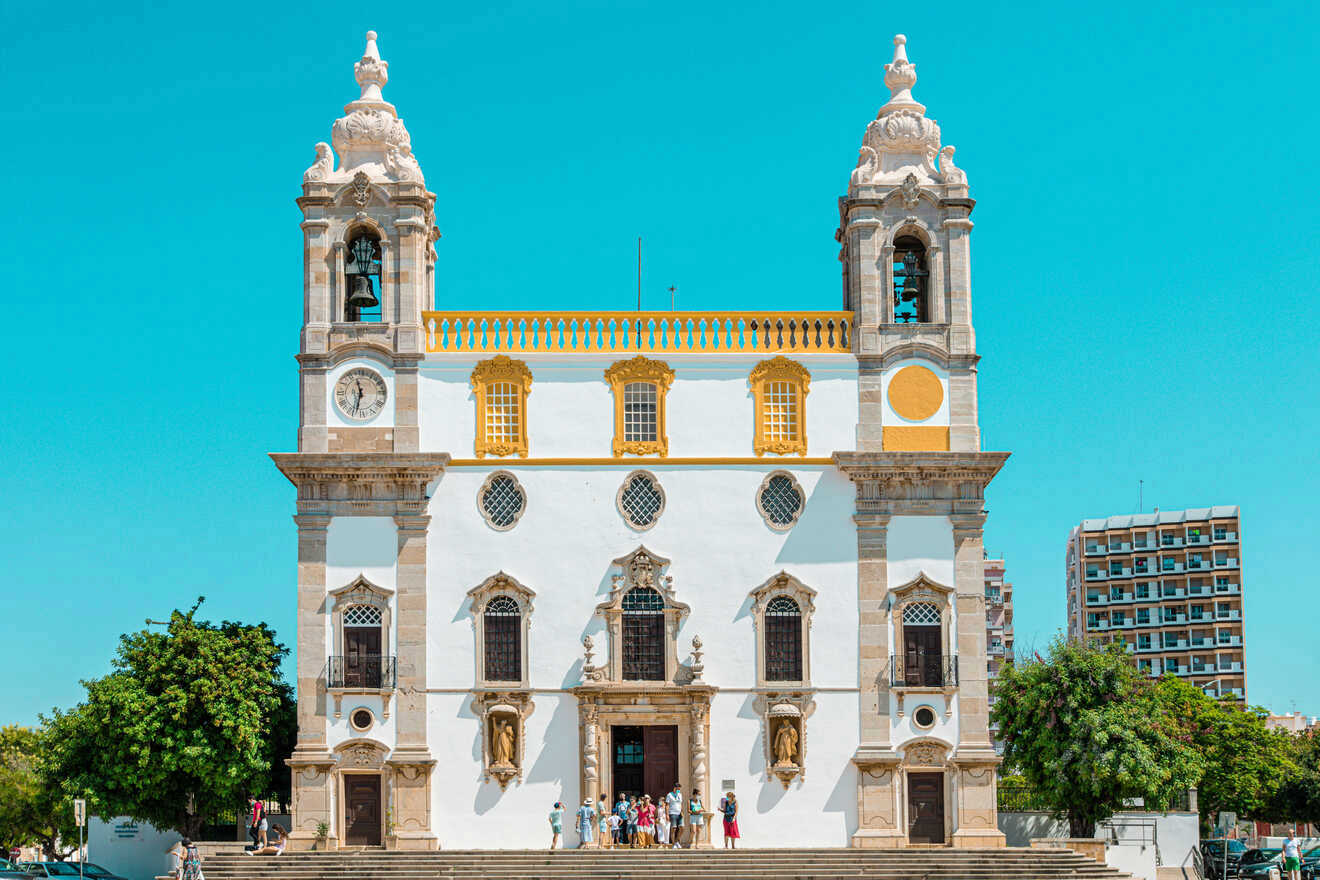 At the center of the Algarve, Faro is the largest city in the district. This beautiful town offers spectacular historic buildings, beautiful churches, and plenty of museums. In Faro, you will also find amazing shops, bars, and restaurants so Faro really has everything for you to feel the Portuguese charm.
Start your day in Faro by having a stroll to the Old Town and see the Faro Cathedral and the Arco da Vila. Then head to Ria Formosa Natural Park to experience wildlife and beautiful nature. After a fun sightseeing day, it is time to have some mouthwatering Portuguese food but be warned, you won't find it easy to decide between the many nice restaurants in Faro!
If you are still not tired you can check out the vibrant bars in the town center and enjoy a pint or two. Lastly, don't let me forget to mention that you certainly shouldn't skip spending time on the beautiful beaches of Faro, maybe even give surfing a try!
You will be able to find a great selection of hotels in Faro. I've already picked the best of the best for you but in order not to miss these incredible hotels, don't forget to make a reservation in advance. If you are already in love with Portuguese cities you might want to add the beautiful capital city Lisbon to your travel plan.
Let's check out the best places to stay in Faro:
Other accommodation options in Faro
Things to do in Faro
2. Lagos – best on Algarve coast for the beaches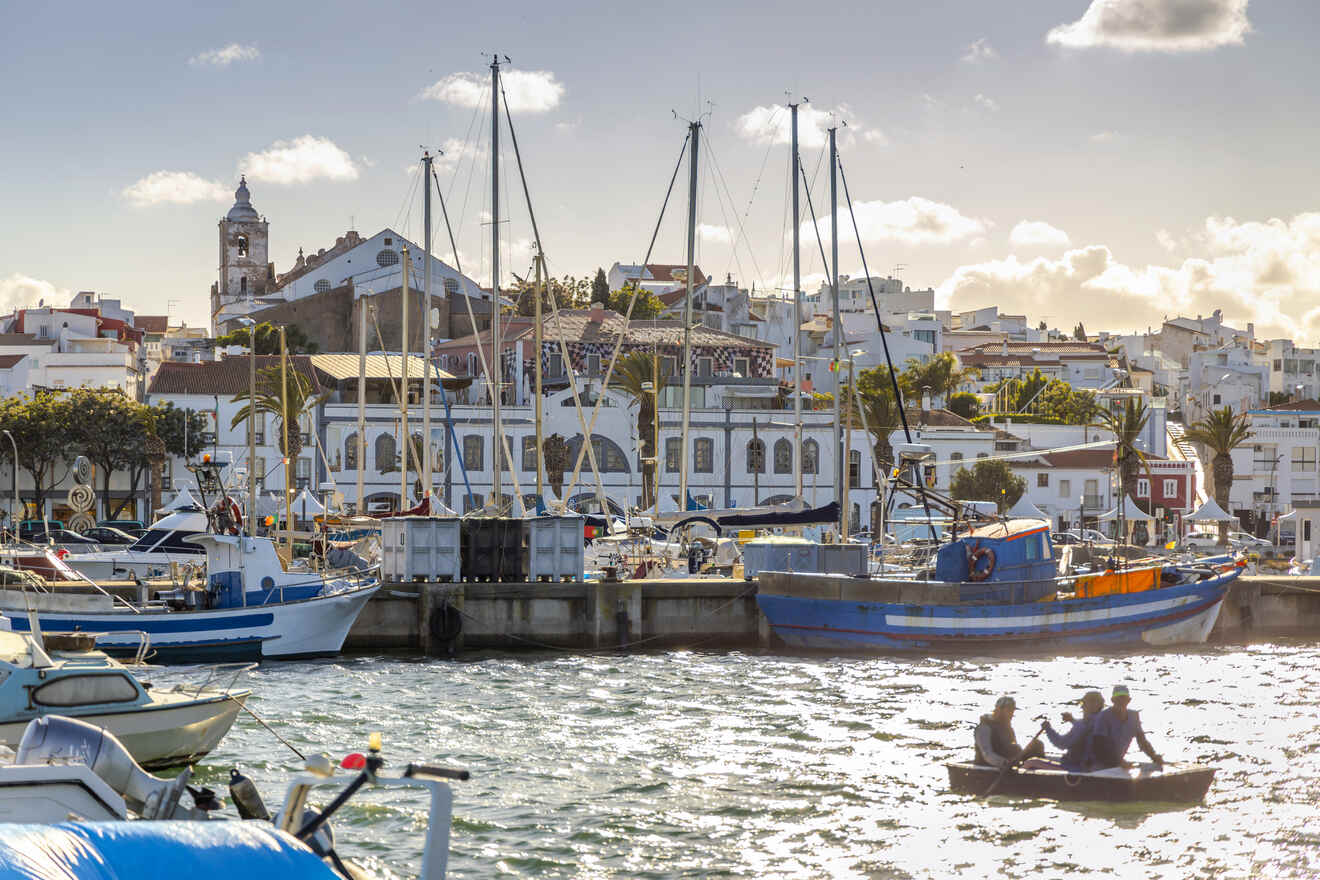 Lagos is located on the western part of Algarve and an hour's drive from Faro. It is the town where you will find the most impressive beaches with cliffs and rock formations! If you want a beach stay in the Algarve, you should definitely choose Lagos.
Some of the most beautiful beaches you should definitely visit in Lagos are Praia Dona Ana and Praia do Camilo. You can simply enjoy laying on the powdery sand and swimming in the turquoise water or if you are feeling adventurous, the beaches in Lagos are great for water sports activities such as kayaking, sailing, and surfing.
Lagos actually offers one of the best surfing spots for all levels. I am sure you will spend a quality of time on the beautiful beaches of Lagos and you never know, you might just spot some dolphins!
Here are the best hotels with a convenient location to the stunning beaches but if these are booked out or you're looking for more options, we actually have a whole post dedicated to where to stay in Lagos for you to check out!
Other accommodation options in Lagos
Things to do in Lagos
Join a kayaking tour to explore impressive caves in Lagos
Go for surfing to Praia da Luz, Meia Praia and Porto do Mos
Attend a dolphin watching tour
Visit the Église de Saint Antoine church
Visit the Castle of Lagos
Have fun at ​​adventure park, Parque Aventura Lagos
Spend time at the beautiful beaches, Ponta da Piedade Lighthouse, Praia Dona Ana, and Praia do Camilo
3. Tavira – best town in Algarve for families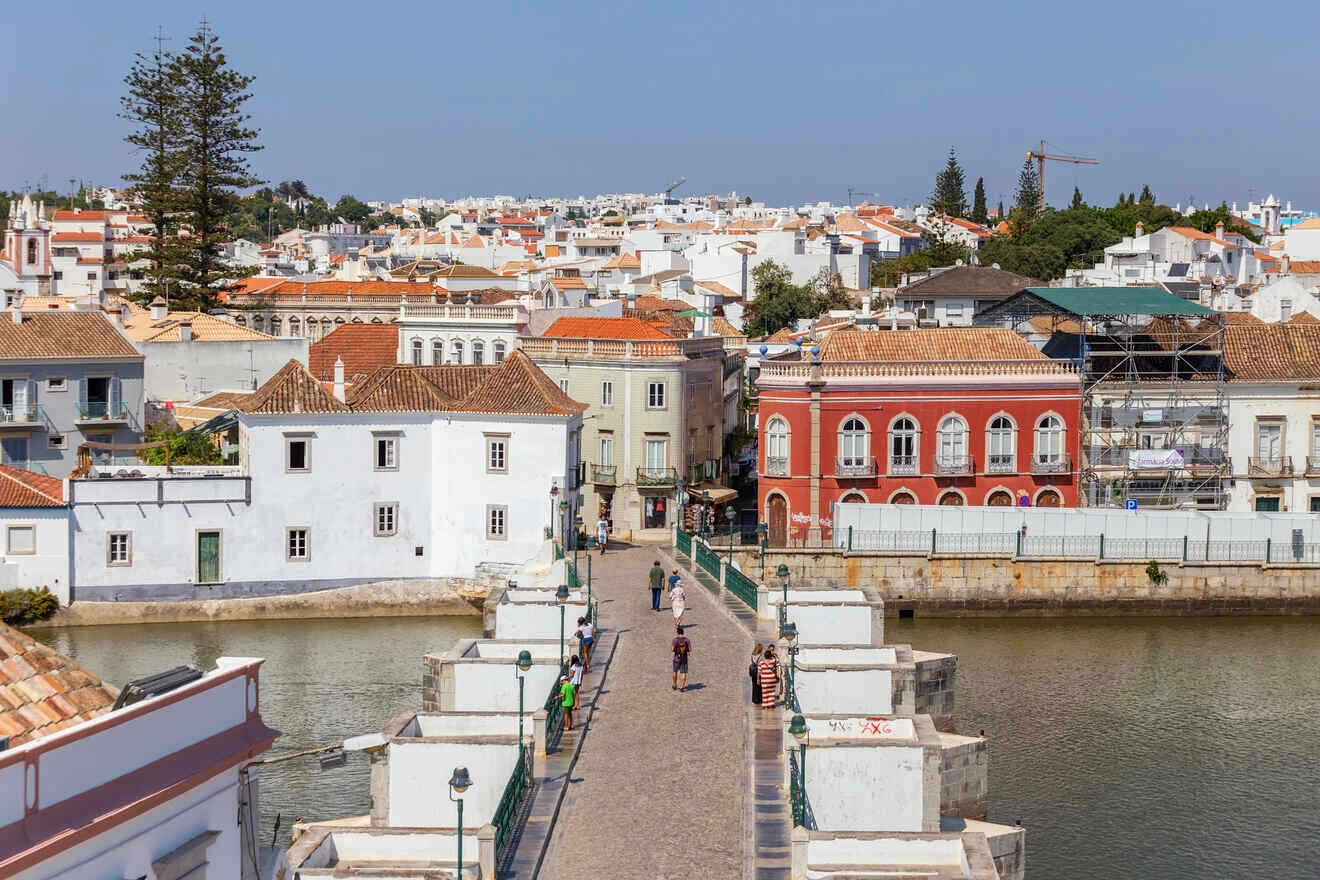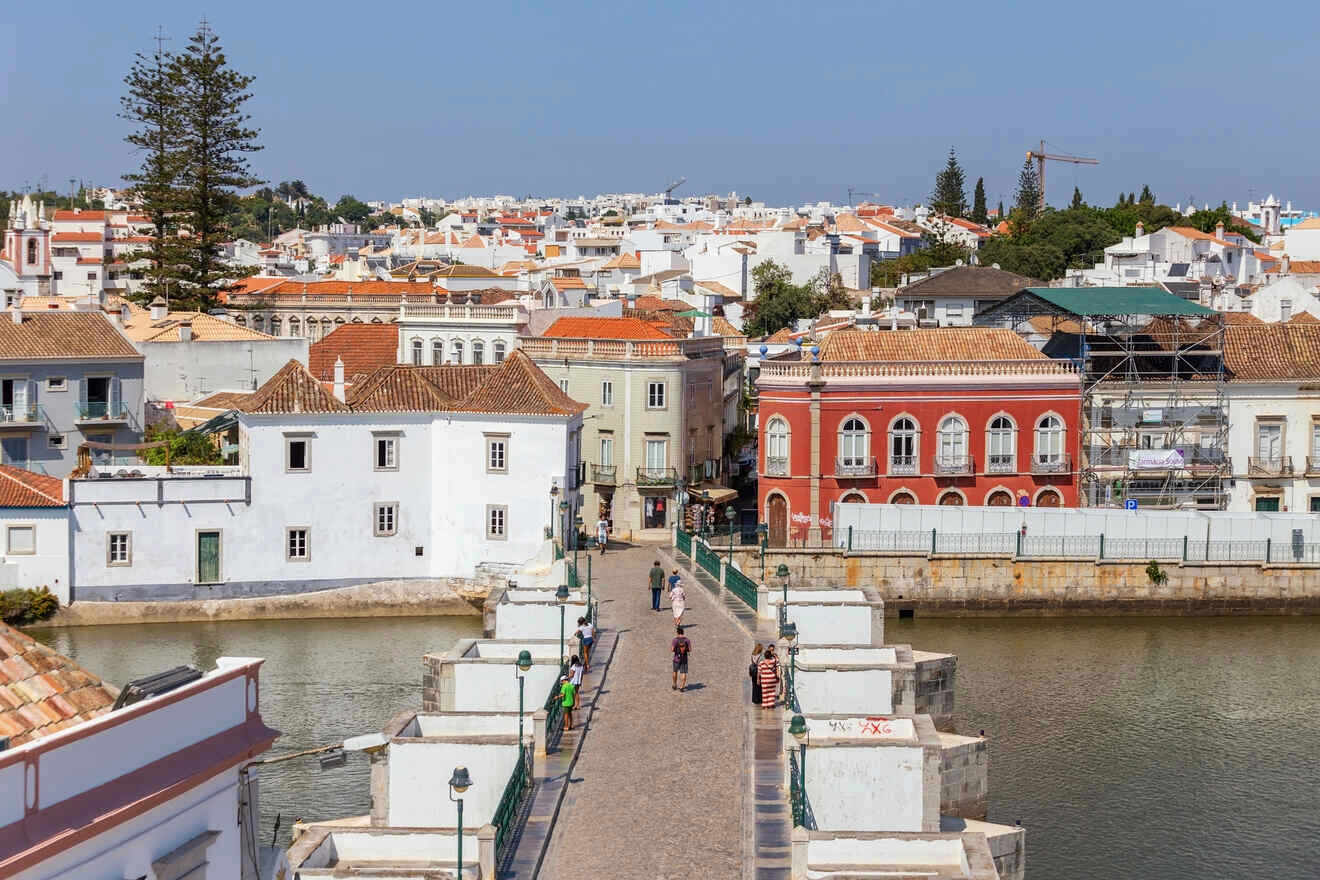 Tavira is located in the eastern part of Algarve and half an hour drive from Faro. It is a very cute town offering picturesque views. From the first second you step into Tavira, I guarantee you will fall in love with this town!
Tavira is a relaxed town with no nightclubs and is rarely crowded with tourists making it one of the best places to stay in the Algarve for families. You can let the little ones wander without being worried they will get lost in the crowds, take life in the slow down, and enjoy the number of cafes to sit in and pretty streets to stroll.
Take a walk along the coast before moving inland to follow the cobbled streets that will lead you to reach Tavira Castle. Once you are impressed enough with the beautiful town views, it is time to head to the beach which is a fun ferry ride from the center.
Enjoy chilling on the warm sand and swimming in the turquoise water until you are hungry. You will have many nice options to dine in so pick a cute restaurant with sea views and enjoy your time in Tavira.
Tavira is one of the most popular places to stay in Algarve so I highly suggest you make your booking in advance to not miss your favorite hotel.
Other accommodation options in Tavira
Things to do in Tavira
Have a walk along the cobbled streets to Tavira Castle
Visit the 16th century church Igreja da Misericórdia
Take a day trip to Castro Marim
Go for a stroll and have a picnic by the beautiful Gilão River
Try local drinks at Arcada Cocktail & Wine Bar
Listen to some local music at Fado com História

Take a day trip to Monte Gordo beach

Check out the great views from Camera Obscura Tavira
Take the kids on a fun town tour by tourist train
Enjoy beach time at Playa Verde, Praia da Ilha de Tavira, and Praia de Cabana
4. Albufeira – where to stay for nightlife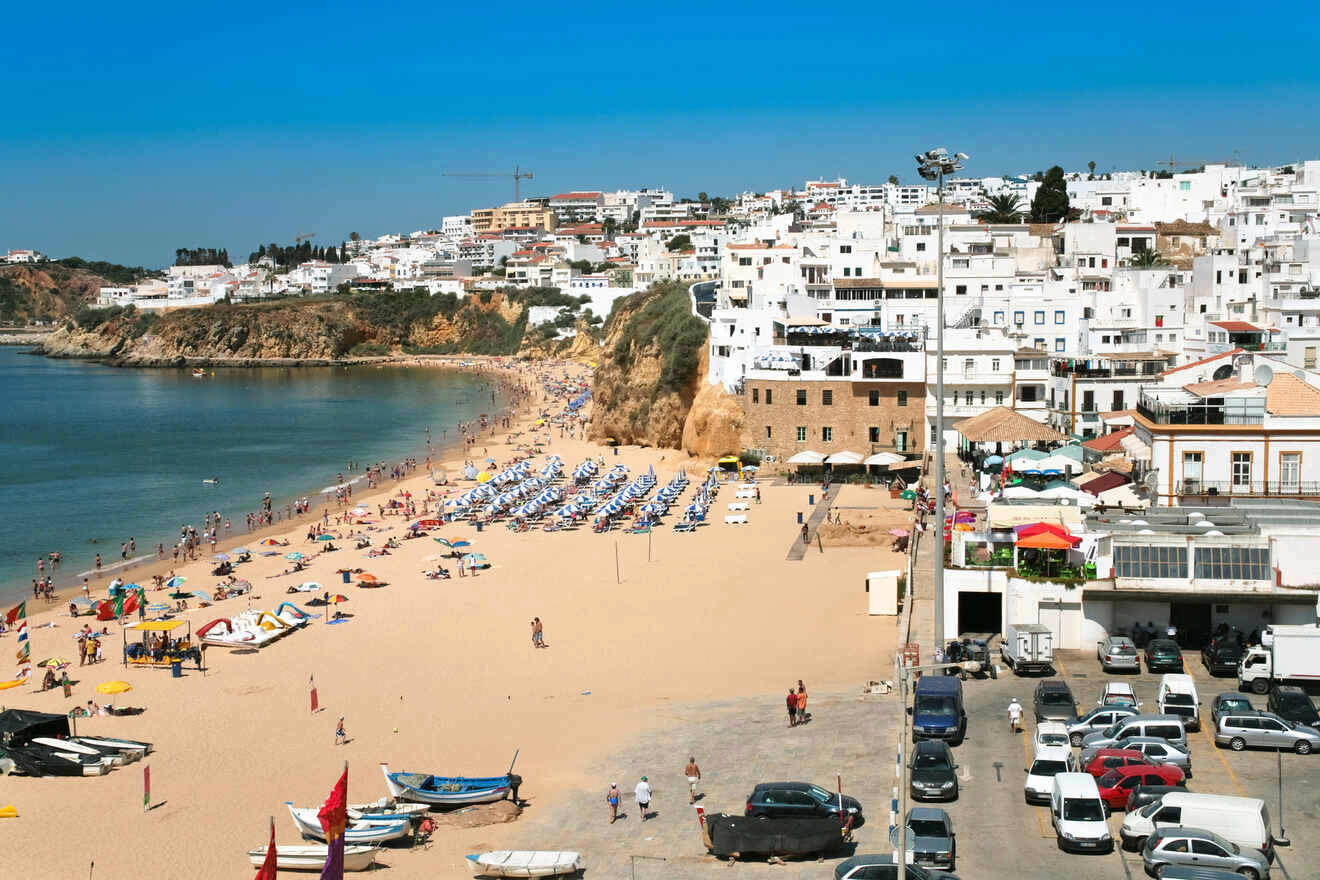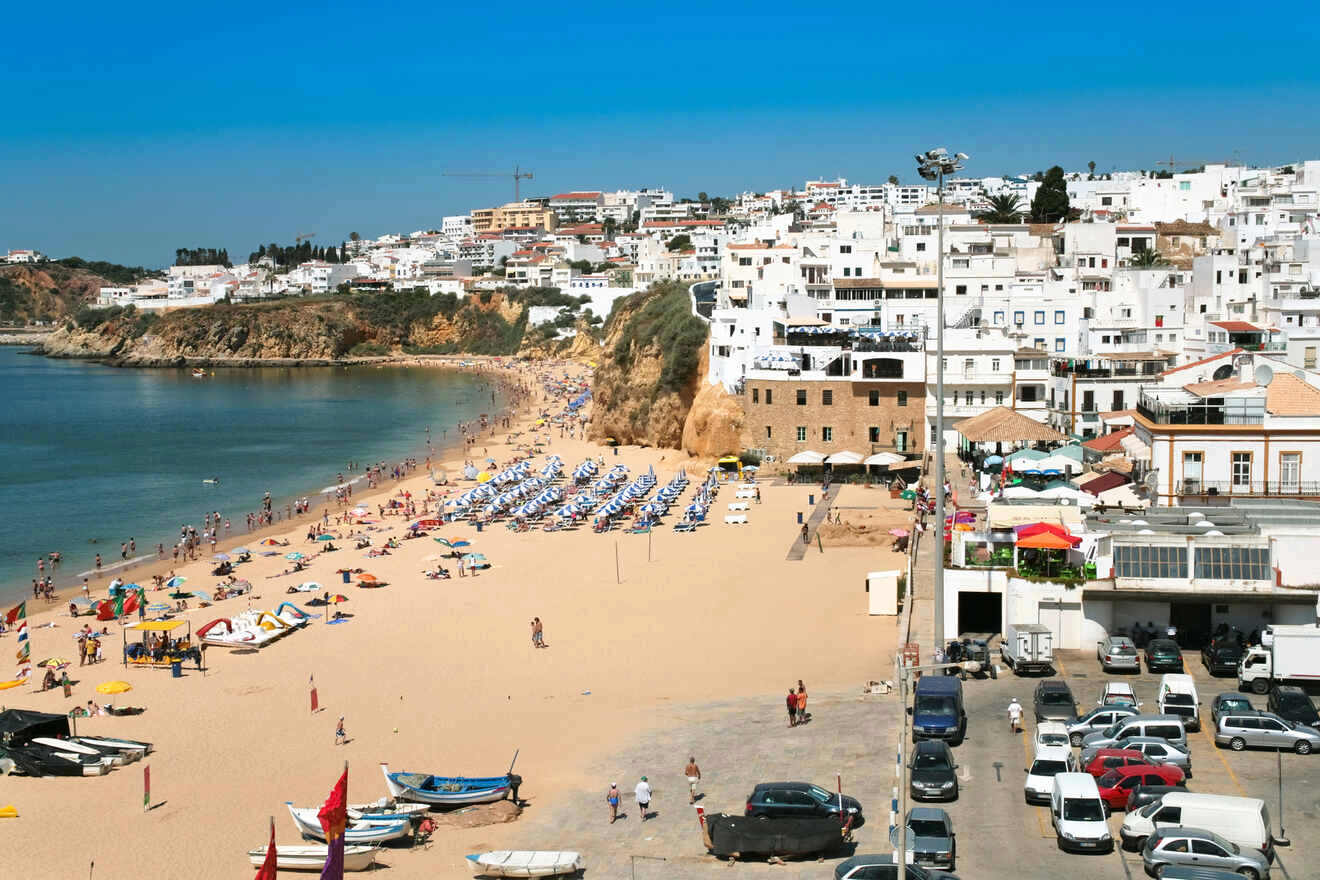 Albufeira is located in the western part of the Algarve and is a 40-minute drive from Faro. It is a very cute fishing town known for its beautiful long stretch of beaches, scenic views, and lively nightlife. So, yes you can start to get excited as this town has a lot to offer!
In Albufeira, you will find so many charming sandy beaches along the coast offering beautiful views and crystal clear water. You can simply enjoy chilling on the beach and charge yourself for the night or, you can go on whale watching and diving tours.
After a day on the beach, it is time to discover the vibrant nightlife of the town. The area you need to go to is the Strip Albufeira and Montechoro. Here you will find numerous clubs, bars, and restaurants. Get ready to try beautiful cocktails, delicious wines, and to dance all night! Albufeira certainly has enough places to make the party animals amongst you happy.
Other accommodation options in Albufeira
Things to do in Albufeira
Check out the lively bars at the Strip Albufeira and Montechoro
Go bird watching from Salgados Lagoon
Have fun with theme parks at Zoomarine Algarve
Visit the Museu Municipal de Arqueologia
Go for a stroll at the old town
Go on a parasailing adventure at Albufeira Marina
Take golf lesons at Pestana Golf Academy
Get a suntan at sandy beaches like Praia dos Pescadores, Praia dos Olhos d' Agua, Praia de Santa Eulália and Praia dos Salgados
5. Portimao – the best in Algarve coast for local experiences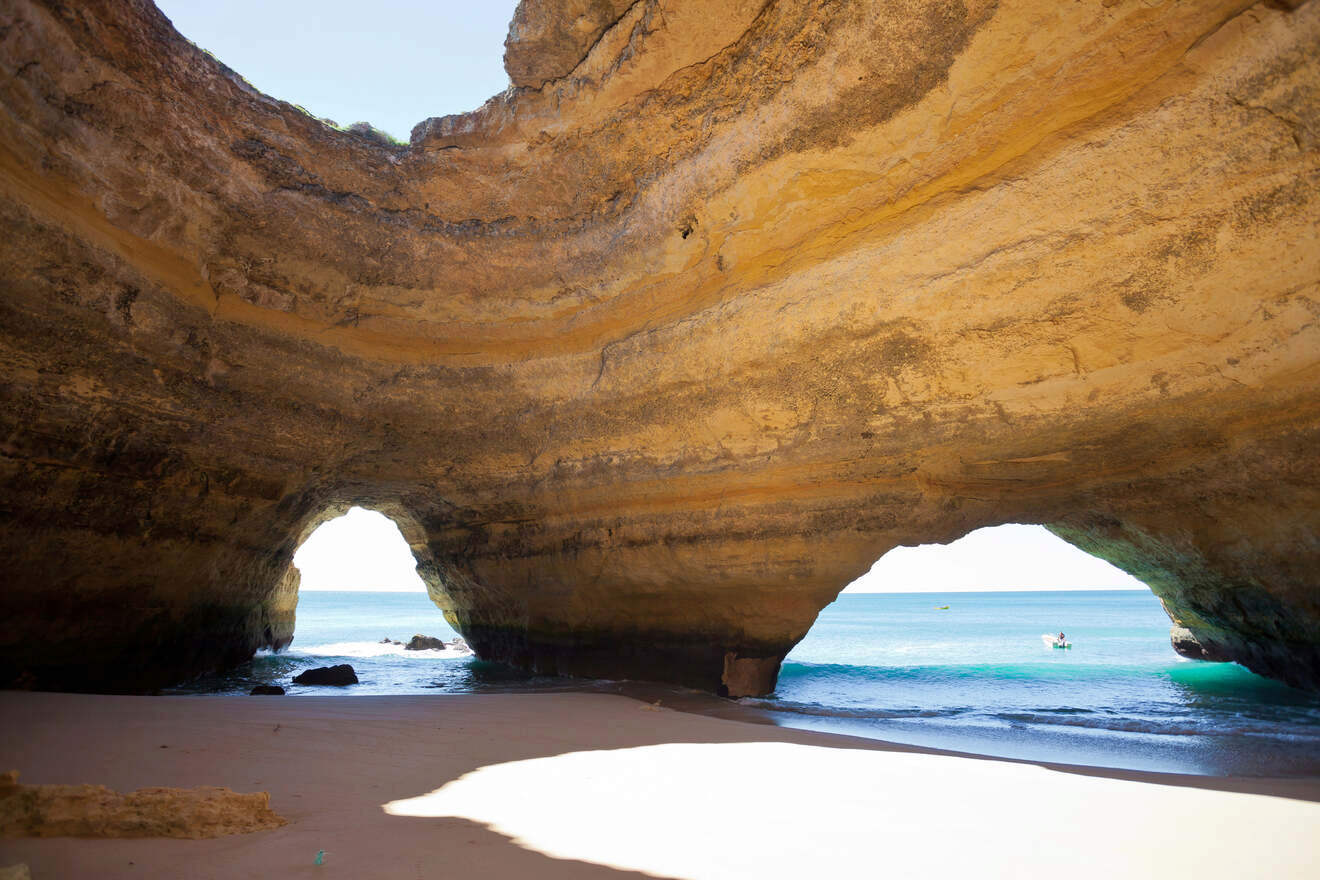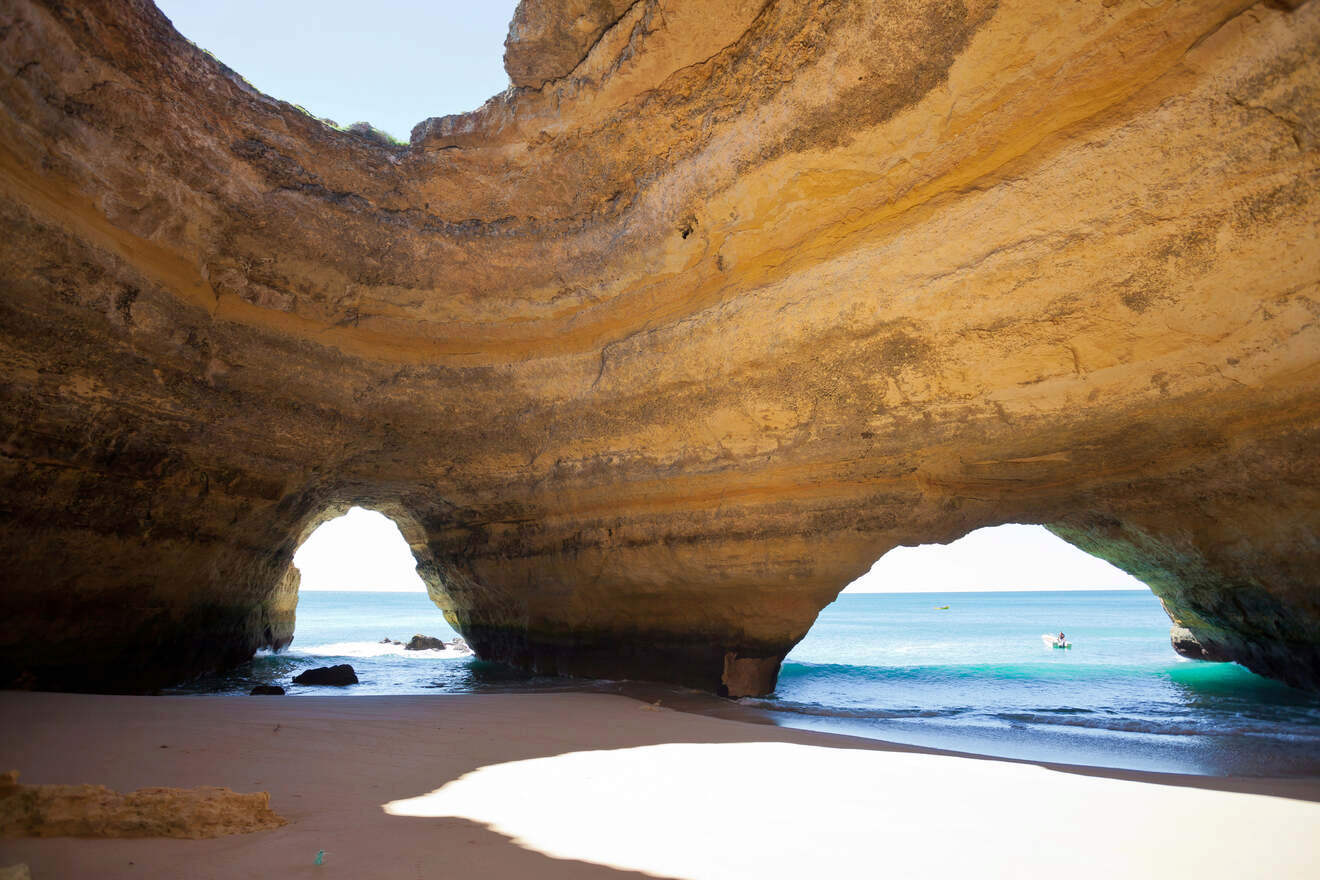 Portimao is located 70 km (40 mi) west of Faro and is a very nice fishing village. If you want to stay in a less touristy area with an authentic vibe where you can find local shops, restaurants, and bars you will love Portimao.
In Portimao, you will find a scenic fishing port, the famous beach Praia da Rocha with incredible rock formations, a lot of historic churches, and lively nightlife. Here you will also be able to see impressive Benagil Caves where you can have the best Instagram photos so don't forget your camera!
Portimao town has a bit of everything to make every kind of travel happy with its local vibe. It also offers a great selection of accommodation from luxury to boutique hotels. I handpicked the best ones for you for all budgets and here they are:
Other accommodation options in Portimao
Things to do in Portimao
Take a tour to the natural beauty, Benagil Caves
Go to the fortress at Fortaleza de Santa Catarina
Enjoy a sunset stroll by the fishing port
Learn about the history at the Museu de Portimao
Visit the Megalithic Monuments of Alcalar
Spend time at the stunning beaches, Praia dos Caneiros, Praia da Rocha, Praia do Vau and Praia dos Três Irmãos
Go hiking at the Percurso dos Sete Vales Suspensos hiking trail
BONUS 1: Top 5 things to do in Algarve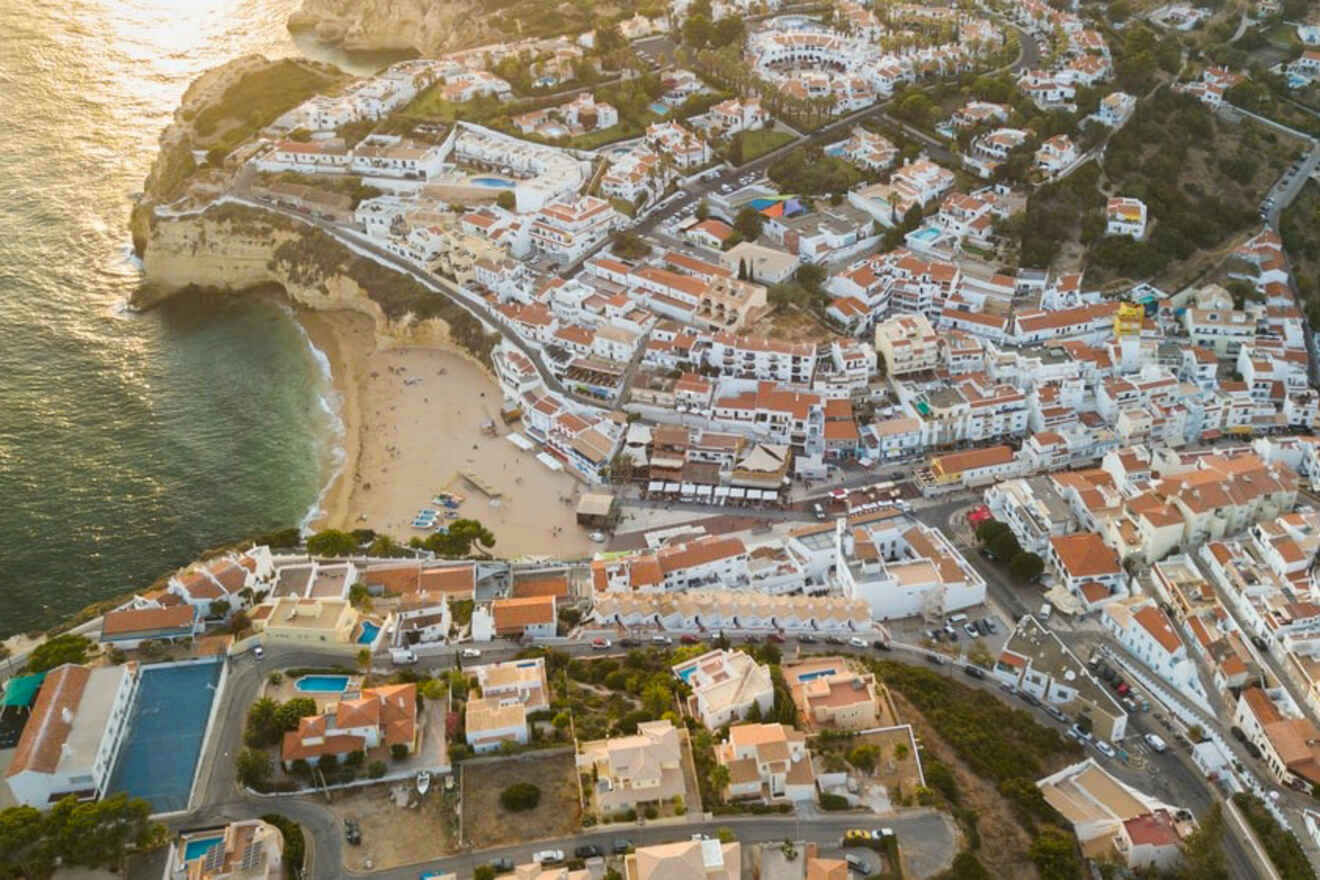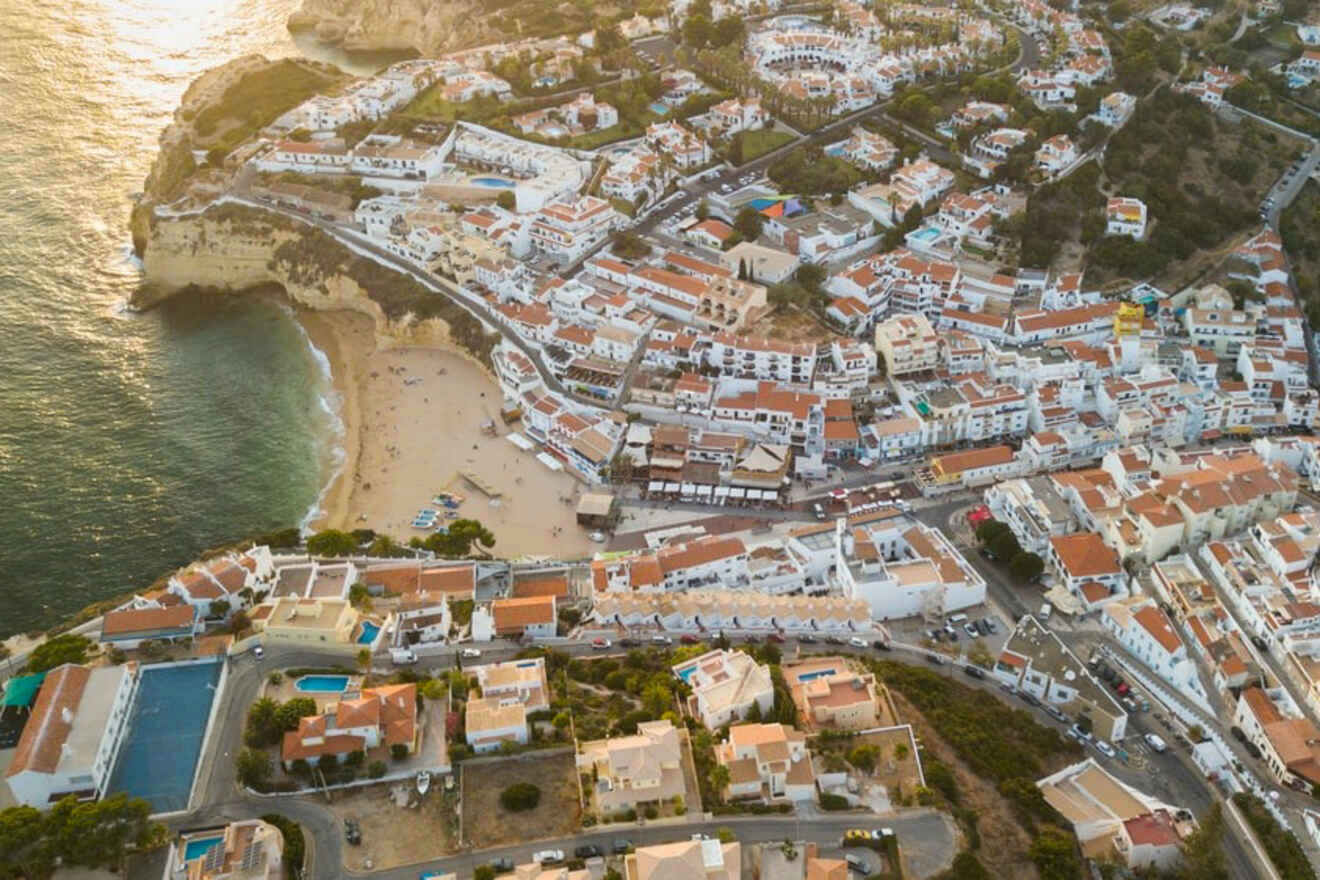 Algarve is a large district and every part of it offers different activities. Whether you are an adventurer or a beach bum I picked the best activities that I highly recommend you to add to your to-do list in Algarve.
Luckily it's only around 1.5 hours across the whole region so no matter where you are staying, you can still check out each of these top spots. For the easiest convenience, I highly recommend you rent a car to get around so you won't be restricted by scheduling. Now let's check out the top things to do in the region…
1. Sunbath on the beaches of Monte Gordo
Monte Gardo is 20 km (12 miles) from Tavira and is one of the best beach towns located in the eastern Algarve. You will enjoy a very long stretch of sandy bays with your choice of Praia do Cabeço, Praia Verde or Praia d'Alagoa beach.
Here you will find many nice oceanfront bars and restaurants that are live all day long. There are great facilities on the beach for sunbathing, and if you want to do some water sports it is a perfect spot for kayaking, surfing, and windsurfing. Monte Gordo is a very nice town to spend the whole day for all kinds of travelers so don't forget to add it to your Algarve itinerary!
2. Go surfing in Lagos
Algarve has many good surf spots preferred by surfers whether you are a beginner or an advanced surfer. The Meia Praia Beach in Lagos is one of the best surfing spots for beginner surfers. You can easily rent surfboards here or take your first surf lesson and many people travel from all over the world for just that! So why not give it a go?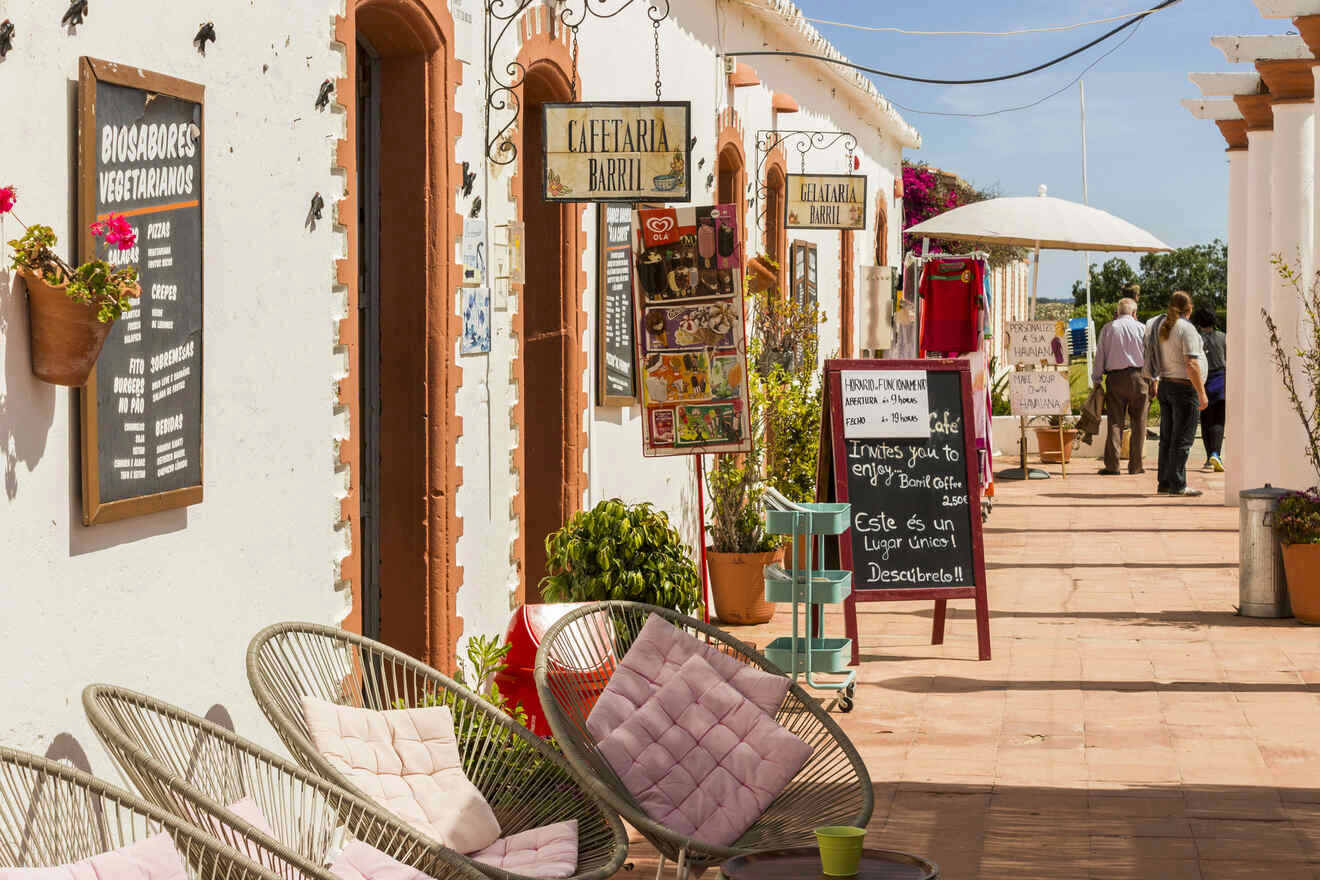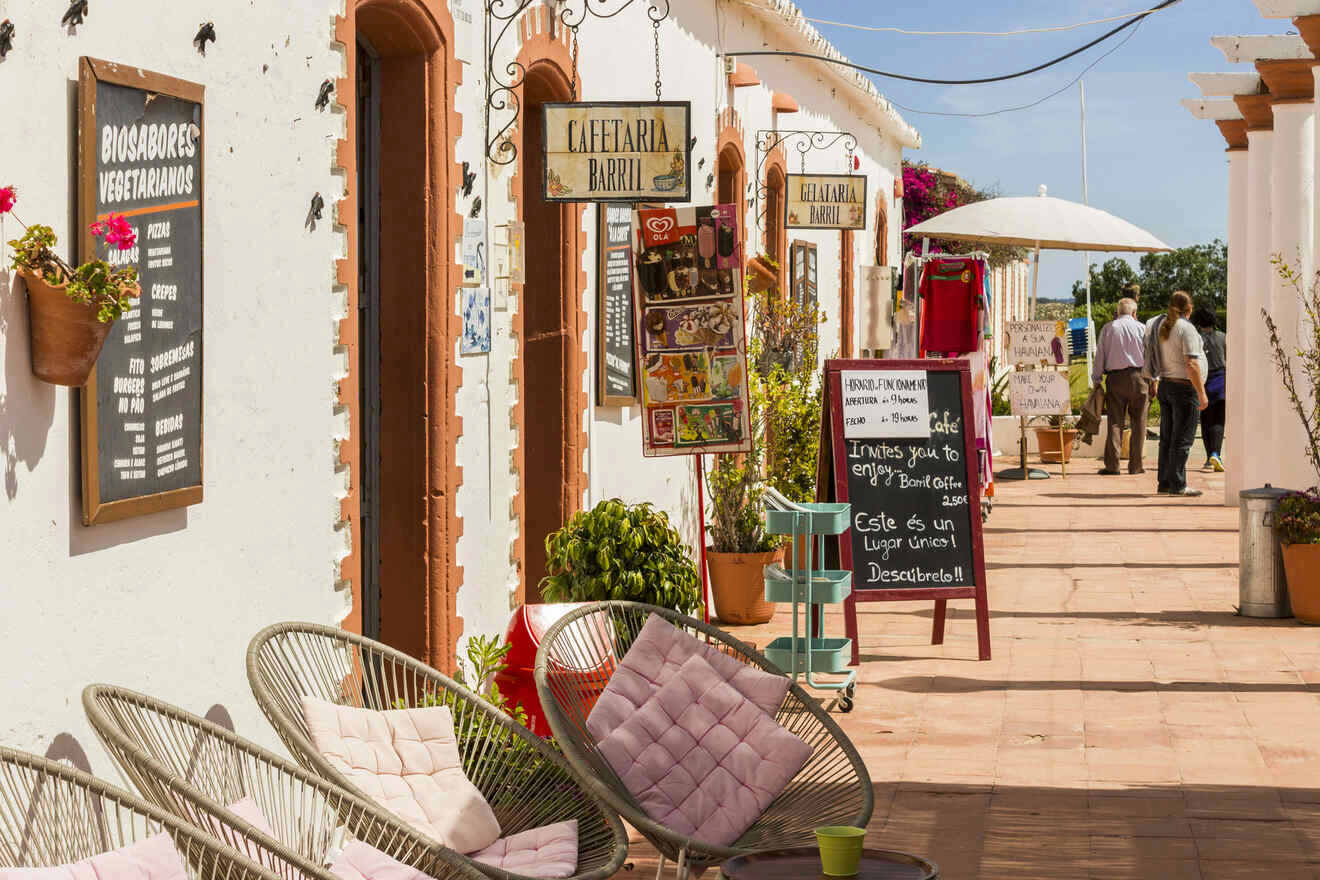 3. Visit Ria Formosa Natural Park for bird watching
Ria Formosa Natural Park is located in Faro between the beaches of Manta Rota and Garrão. It is a huge natural park that was awarded as one of the 7 Natural Wonders of Portugal. The Ria Formosa Natural Park covers an area of 17,000 hectares and gives the opportunity to discover the amazing world of the fauna and flora of the Algarve coast.
This awesome place is full of tiny islands, stunning peninsulas and tidal lagoons. So each time you visit it could be different! The area is home to a tonne of different bird species and they can be pretty easy to spot if you're lucky. You can easily reach Ria Formosa Natural Park by car or attend a guided tour.
4. Go hiking with spectacular views!
With its cliffs and rock-formed beaches, Algarve offers amazing hiking trails for all levels. And guess what? It's all over the region. So even if you don't want to go far from your hotel I'm sure you can find a great trail to suit your preferences.
Here you can find some of the best coastal hiking trails in the country. I highly recommend you to allow at least one day to go hiking and experience the impressive landscapes up close and personal.
5. Ponta da Piedade, Lagos
Ponta da Piedade is an extremely unique place with its turquoise color water, interesting rock formations, and caves scattered along the shore.
In order to reach Ponta da Piedade you can walk along the shore but the best way to see the caves and cool rock formations is to take a boat trip. If you are visiting this spot during the summer make sure to go early to avoid crowds as this is a super popular spot amongst travellers to Portugal.
BONUS 2: The 4 most beautiful beaches in Algarve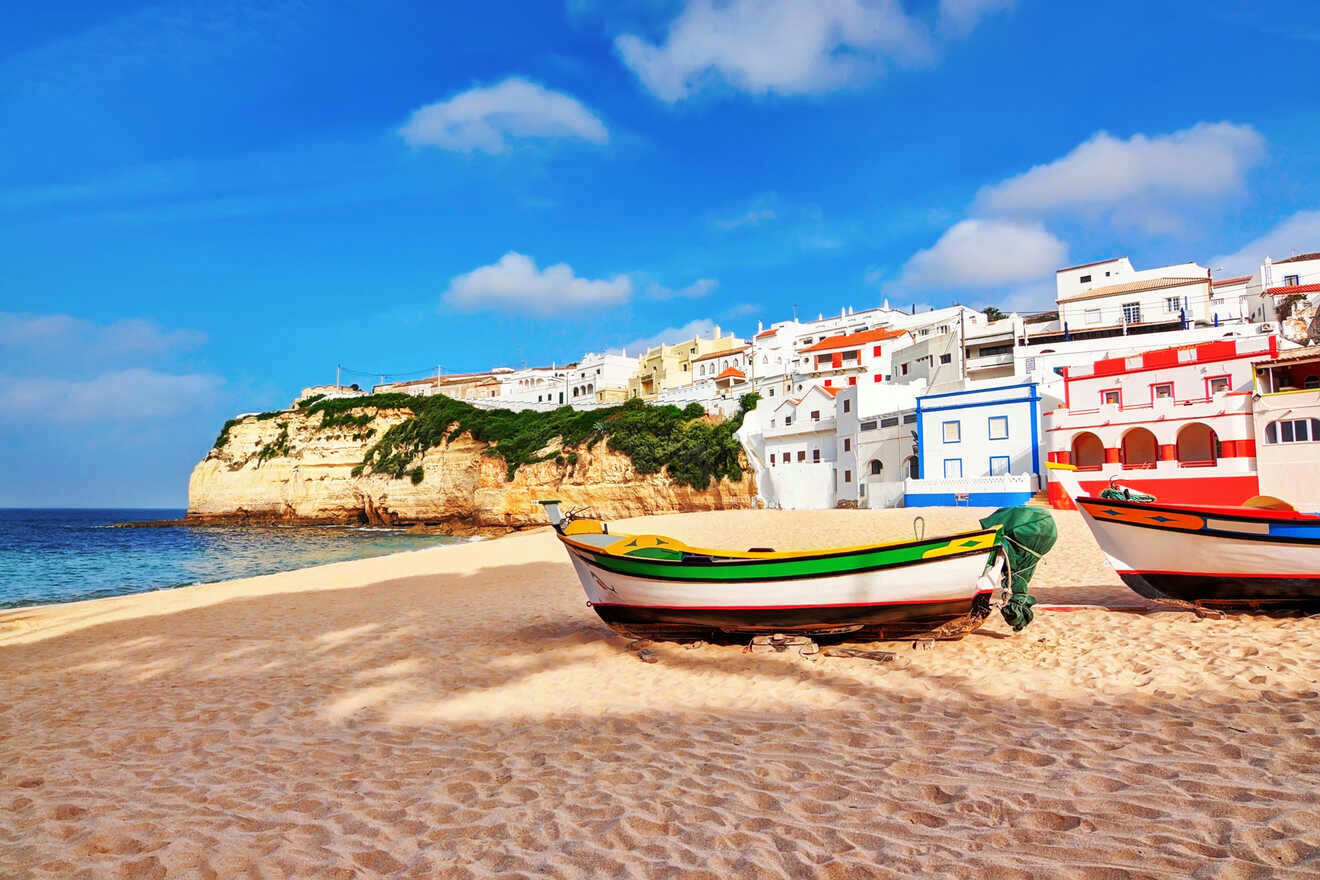 I've already mentioned the best beach resorts and the beaches in each area but I would like to give a mention to the top 4 beaches in Algarve.
Same deal with my list of the top things to do, no matter where you stay you can easily make day trips to reach each of these but in order to make it easy on yourself, I highly recommend you rent a car to gain time and be more flexible.
1. Praia dos Três Irmãos (Prainha), Alvor
Praia dos Três Irmãos is 30 mins drive from Lagos and is one of the most impressive beaches in Algarve. It offers crystal clear water, golden sand, and spectacular cliff views. At low tide you can even walk to another small beach with cool rock formations!
The beach itself has a Blue flag cleanness certificate and there are restaurants, toilets, seasonal lifeguards, and also very nice viewpoints on the beach. The closest parking lot is at Praia do Alvor and then all you need to do is walk a bit to the beach.
2. Praia de Benagil, Carvoeiro
Praia de Benagil is a 30 mins drive from Lagos or Albufeira. The hidden part of the beach is in a stunning cave just around the corner to the left side of Benagil Beach.
You can check it out from above or you can even swim there! The Benagil Cave is listed as top 10 coolest caves around the world by Huffington Post and I'm sure you might have already seen photos of it on Instagram.
Since it is so famous, you definitely want to get here early if you want to secure a spot or get that perfect photo in the cave. Whatever your reasons, you should definitely visit this picturesque cave during your Algarve trip!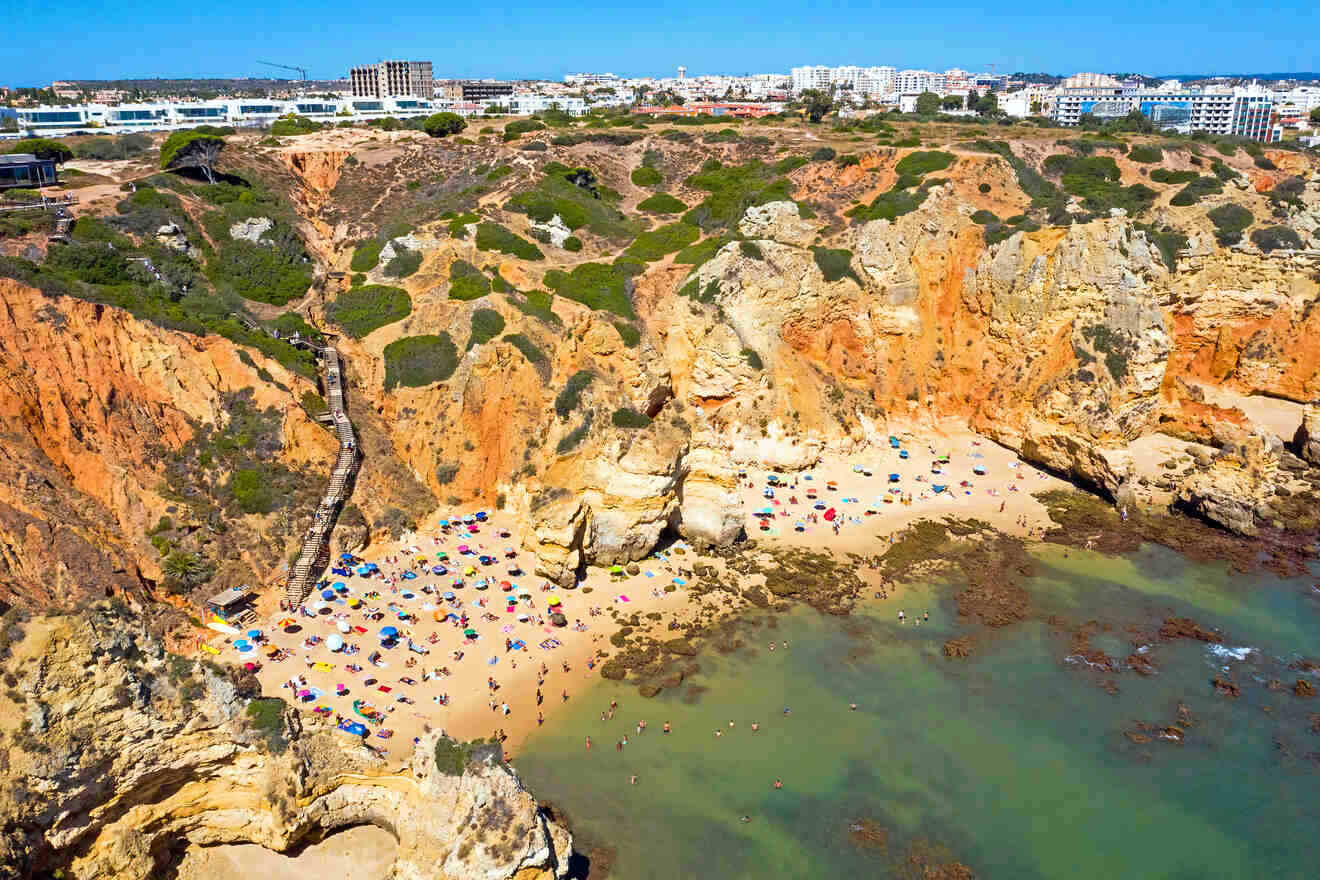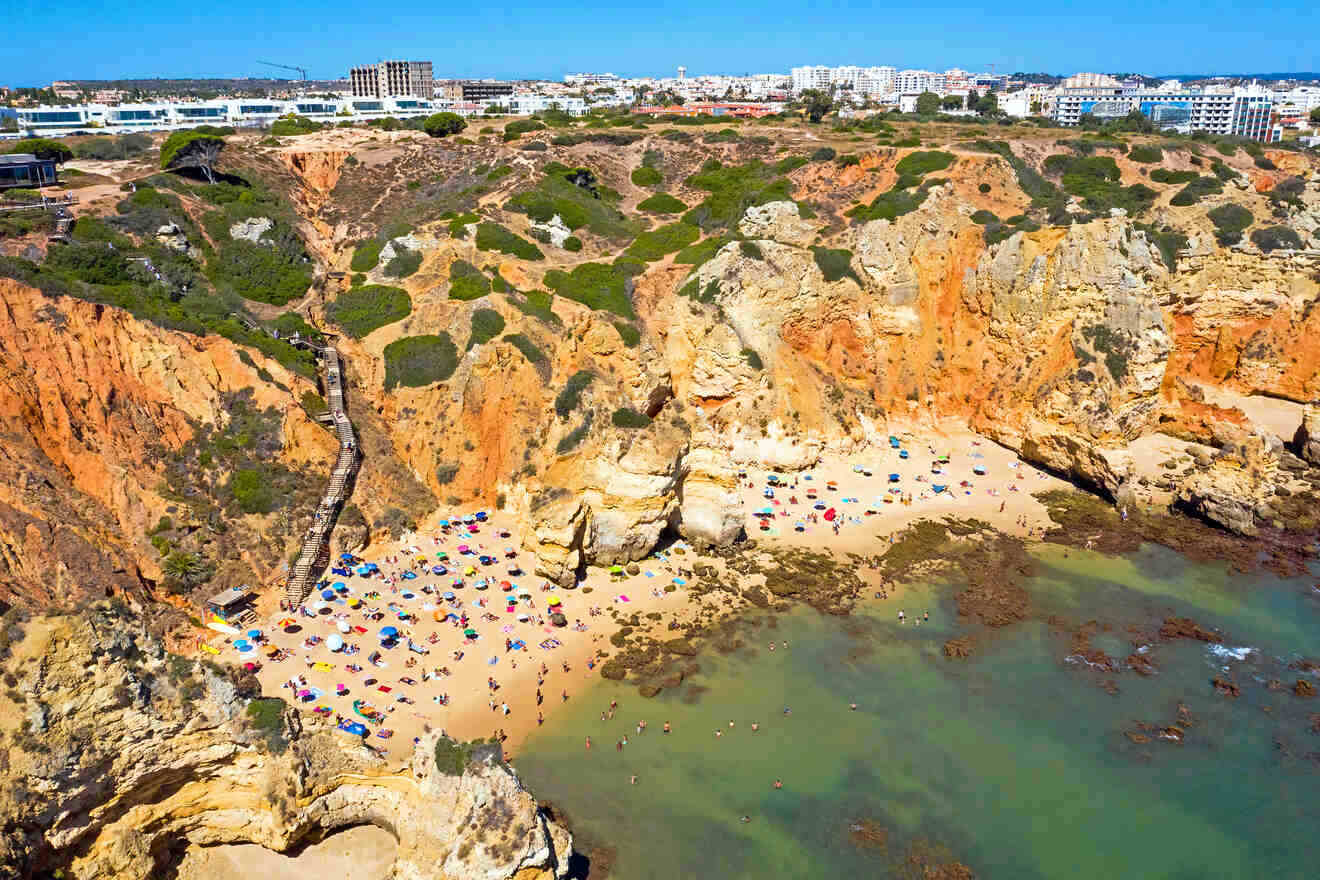 3. Praia do Camilo, Lagos
Praia do Camilo is just 3 km (~2 mi) from Lagos town center and it is one of the best beaches in the Algarve. Before reaching the beach you will first see a breathtaking view from the cliff.
Take a photo and then go down the stairs to reach the beach area. There is one restaurant before the stairs and umbrellas can be rented on the beach. You can also rent a kayak and SUP here to have even more fun on the water.
4. Praia da Marinha, Lagoa
Praia da Marinha is 30 mins drive from Albufeira town. With its scenic cliff views, golden sand, and amazing watercolor it is also listed as one of the best beaches in Europe. The contrast between the turquoise water and the cliffs is just unbelievable!
There are no facilities on the beach so make sure to bring your umbrella and snacks with you. However, if you get really hungry, there is a restaurant before entering the beach.
Frequently asked questions about Algarve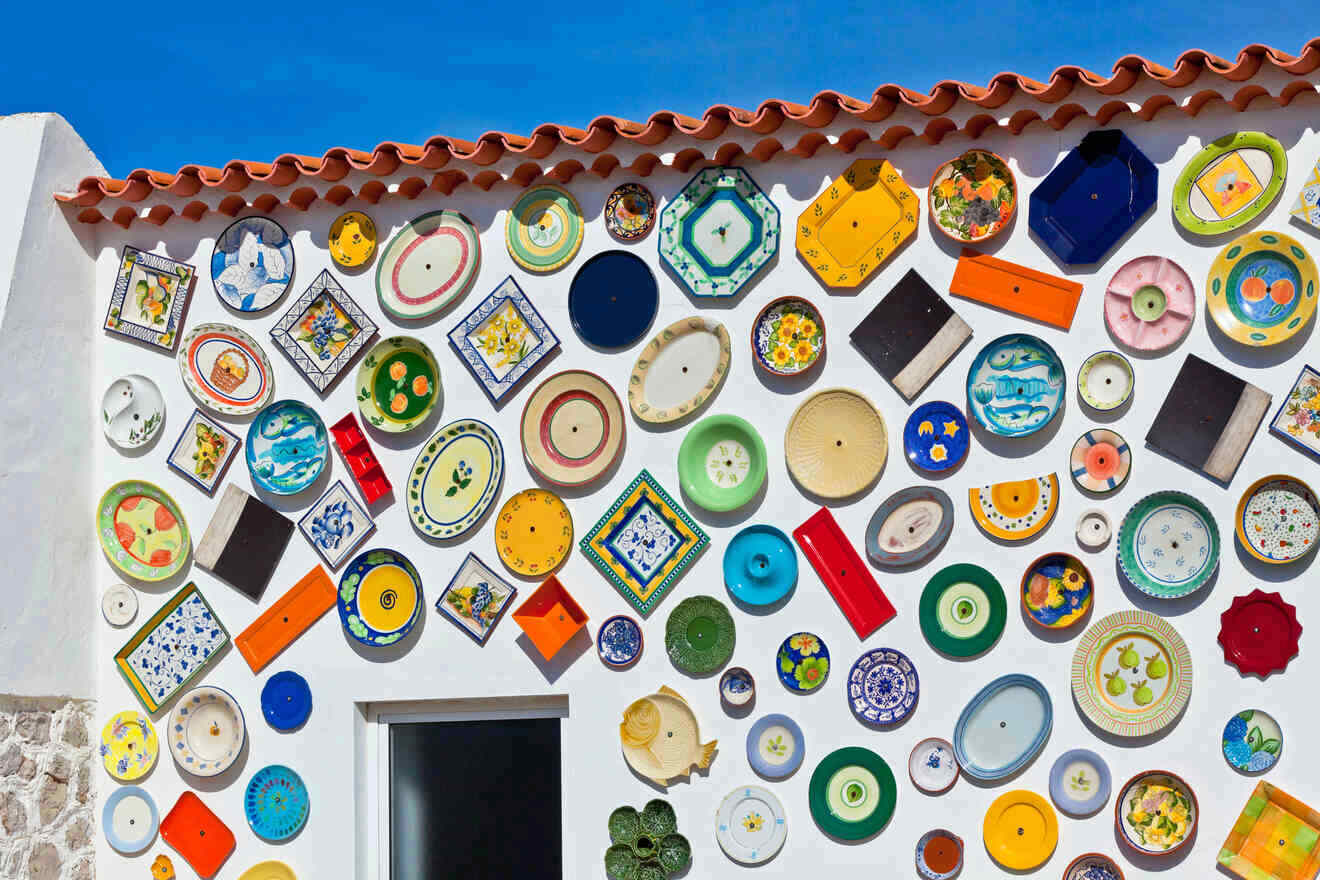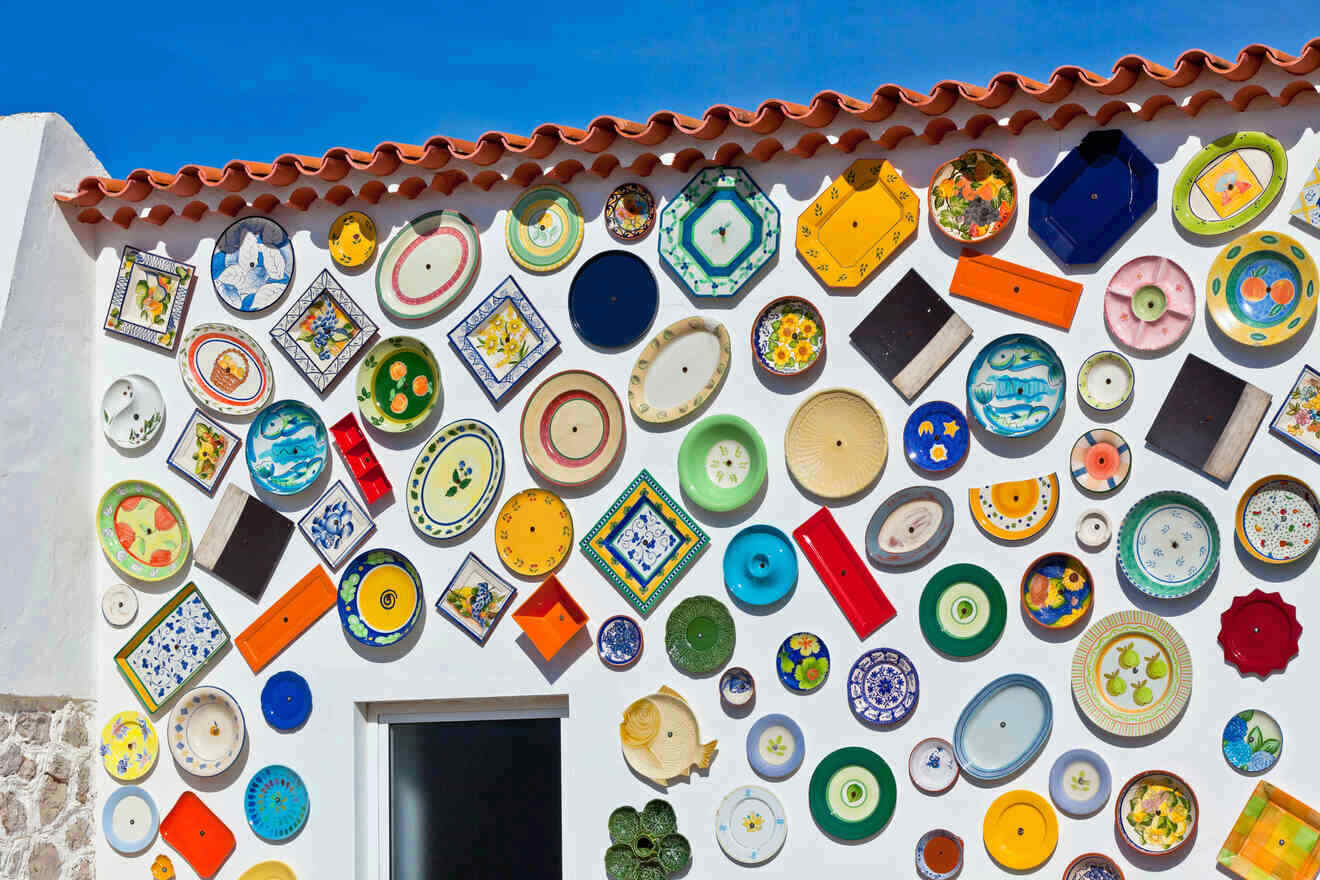 Conclusion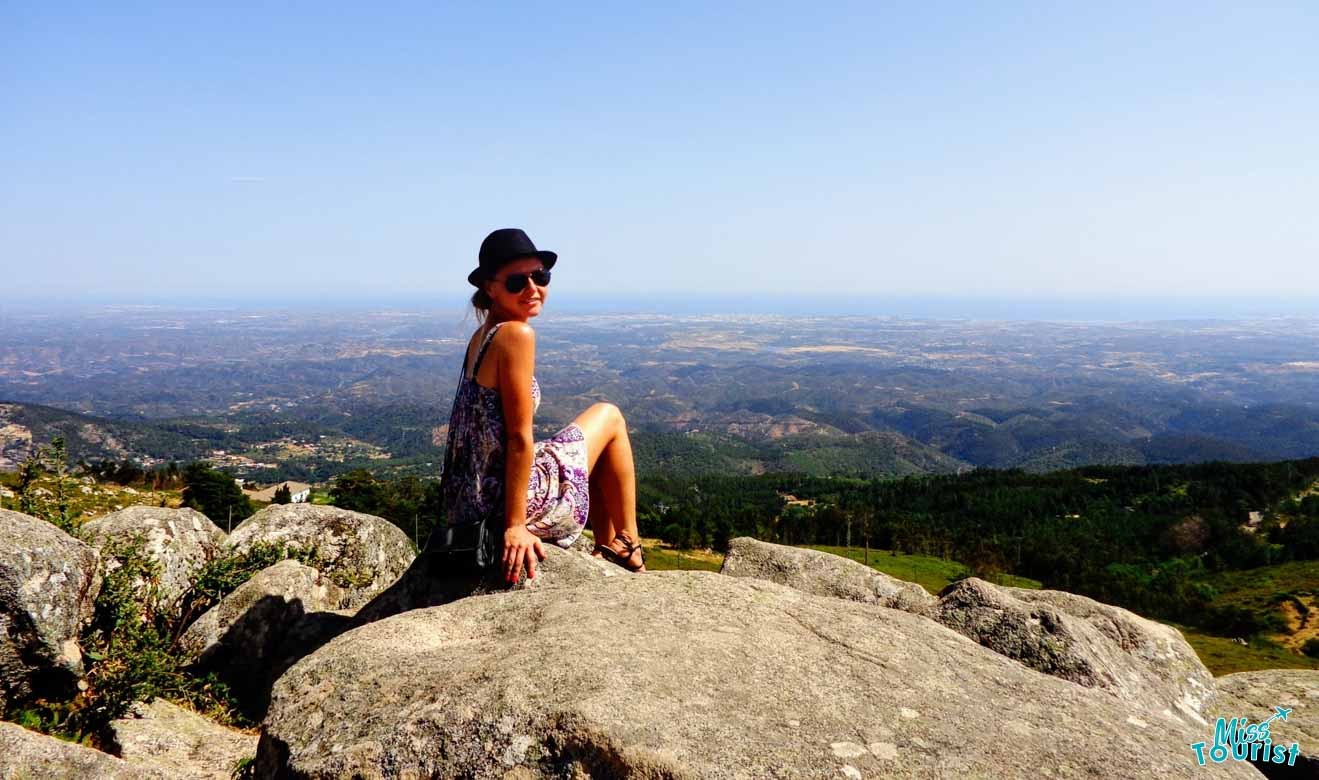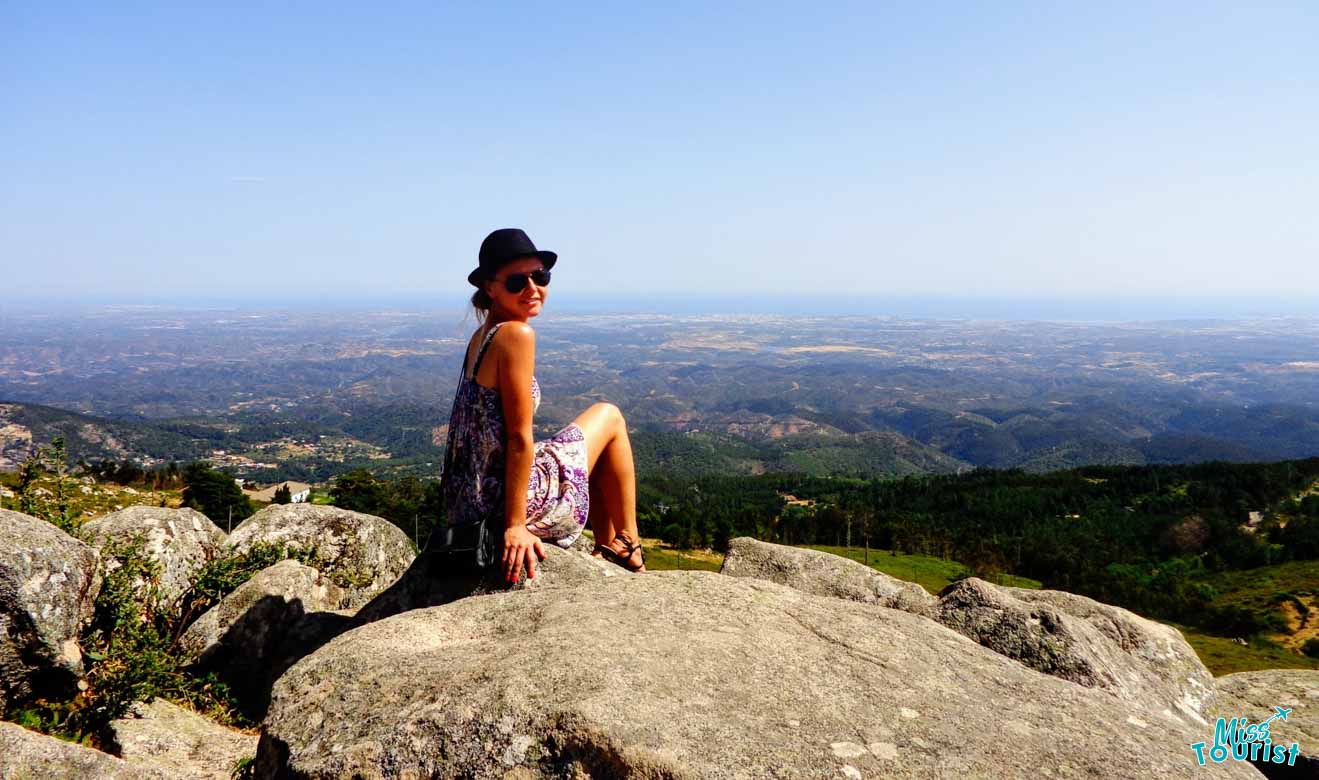 Here we came to the end of our tour along the Atlantic Ocean in Algarve. I hope you enjoyed the journey as much as I did and this blog post helped you understand the best places to stay in the Algarve as well as find your ideal hotel!
In this post, I covered the best places for where to stay in Algarve and mentioned the top hotels as well as Airbnbs in each area from luxury to budget. As I said earlier, Faro is the best town to stay in for first-timers with a vibe that can make all kinds of travelers happy. But, as all towns have a unique atmosphere in Algarve, you can pick the most suitable one for your taste and rent a car to make day trips between them.
I would also like to remind you of the importance of making a booking in advance as Algarve is a very popular holiday destination. This will help you to get better deals on hotels and guarantee to stay in your favorite hotel.
I know I've already given so many hotels in each area but to sum up, here are the 2 best hotels in the Algarve with great locations and reviews that I definitely recommend you to stay in for an unforgettable holiday.
If you have any other suggestions or questions about Algarve Portugal please leave a comment below. I'll be happy to leave a reply to them!
Have an amazing holiday,
Eylul