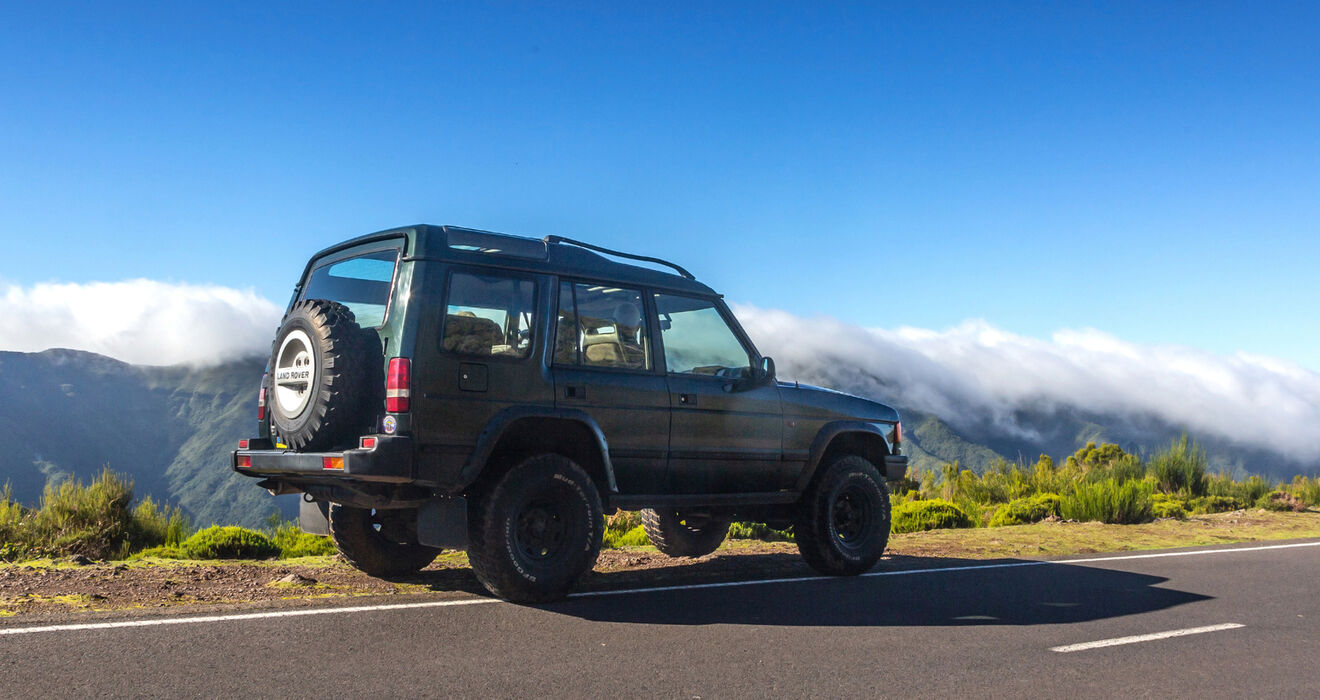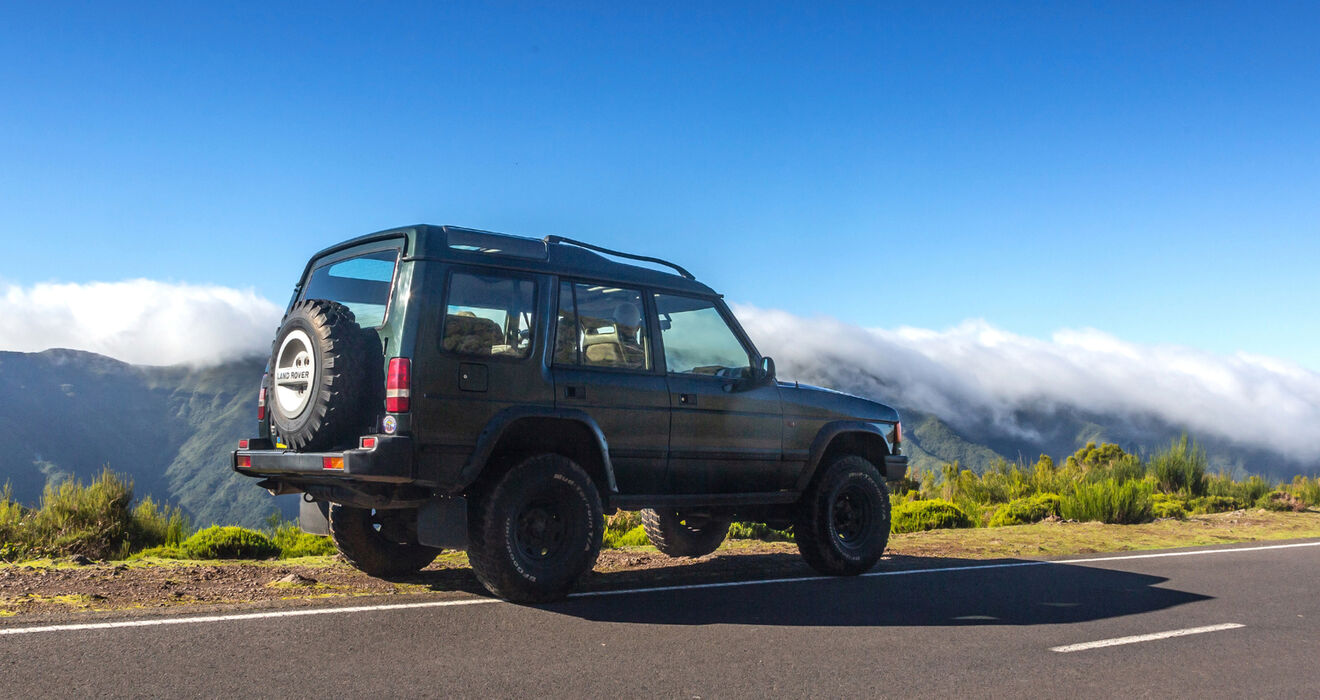 Madeira is an extremely beautiful island in the middle of the Atlantic Ocean. About a 2-hour flight from Portugal Mainland, Madeira is the biggest island in the Madeira Archipelago (which includes Porto Santo and the Desertas)!
Since I travelled solo and did not feel like renting a car just for me, I decided to take tours to each of the attractions – this way I could not only get all the info on the place, but also meet some people! There are countless choices for any kind of taste, from walking tours to shore excursions, day trips, and much more, so you are sure to find something you'll love.
I personally had a lot of fun and to help you narrow down the choices, I gathered here the best excursions and tours in Madeira – I also made some extra research on tours I missed. By the way, all of them leave from Funchal, the island's capital, that is just the way it is organized there.
Dolphin watching in the Atlantic ocean, walking through natural Levada walks, green forests, and high peaks, relaxing in natural pools, are you ready to discover the best Madeira tours and interesting things to do?
So… let's start checking them all!
If you are in a hurry
If you don't have time to read the whole post, here is a quick summary of the top Madeira Island Tours:
Here are the best Madeira Island tours to give you a taste of everything:
Here's a map with all the best Madeira Island tours to show you where they're located:
1. See the west of Madeira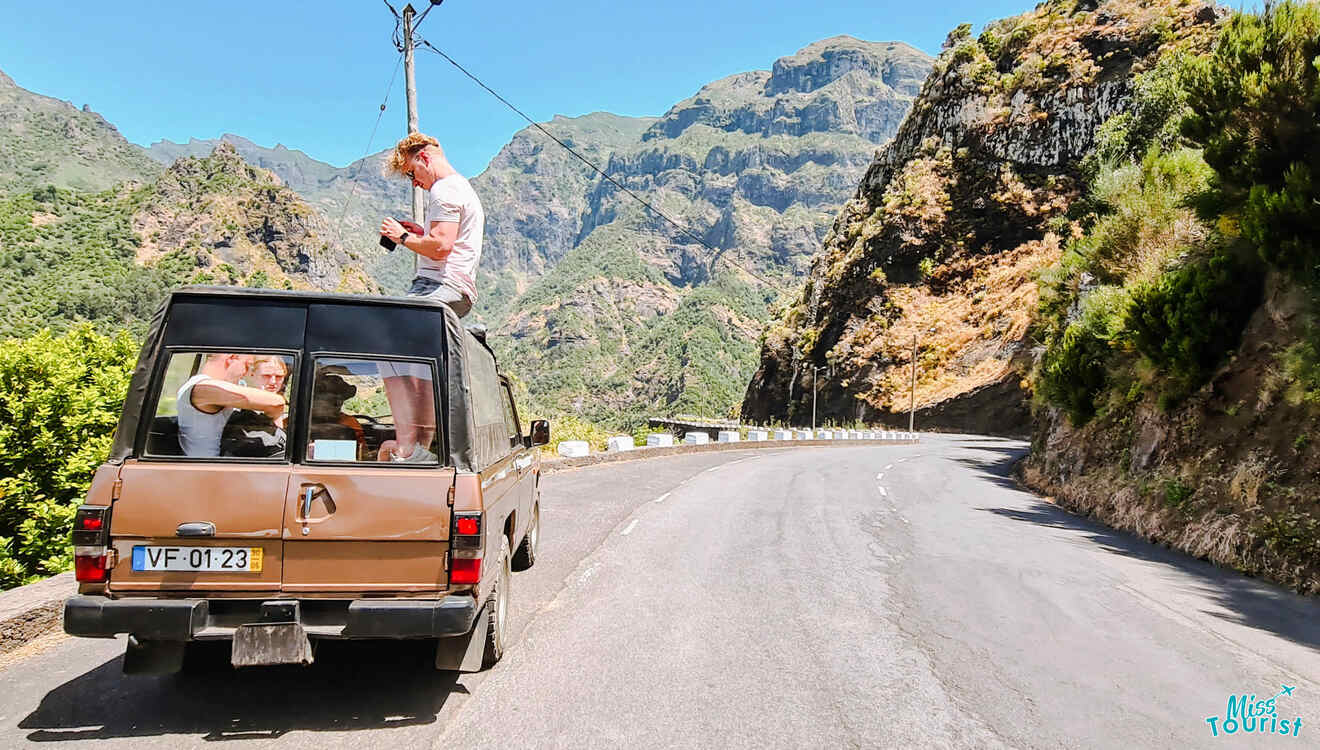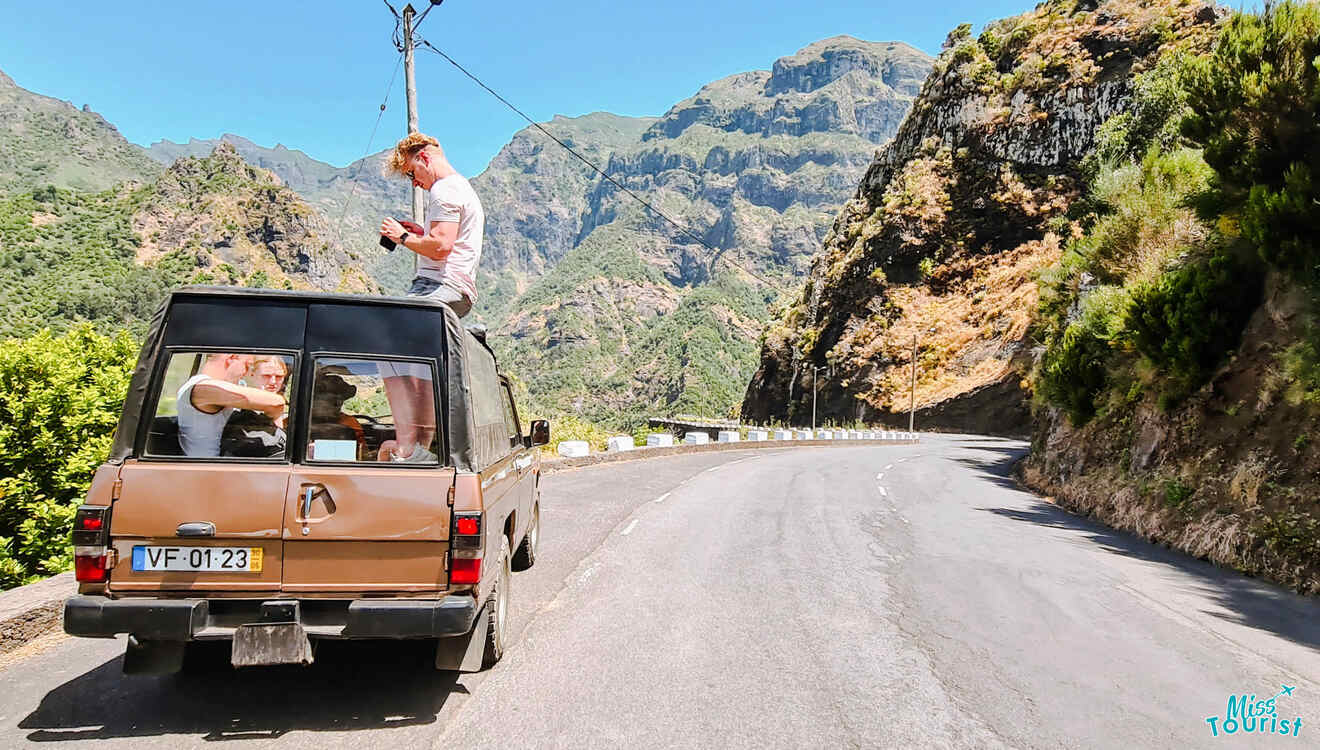 As I said in the intro, Madeira Island is huge, so you should dedicate one whole day to explore the west half of the island and the other day for the east part, and that's what I did, starting with a tour of the west side of Madeira.
On this day trip, they'll pick you up in a jeep and take you to all the main attractions in West Madeira. They're supposed to call you, and while they didn't call me, the driver was waiting for me on time at the entrance of my hotel.
For the morning portion of the tour, the guide will take you to see the Bride's veil waterfall and the stunning Porto Moniz Natural pools, where you can swim and gaze at the best views of the Atlantic Ocean.
I didn't swim because it was too cold and windy for me (but some people from the group did and they seem to have enjoyed it!). The price to enter is €3, wether you swim or not (the views are worth it in any way!), but you can always just look at it from up (view on the pic below). And make sure you bring your swimming suit and a towel – who knows, maybe it will be sunny for you! 🙂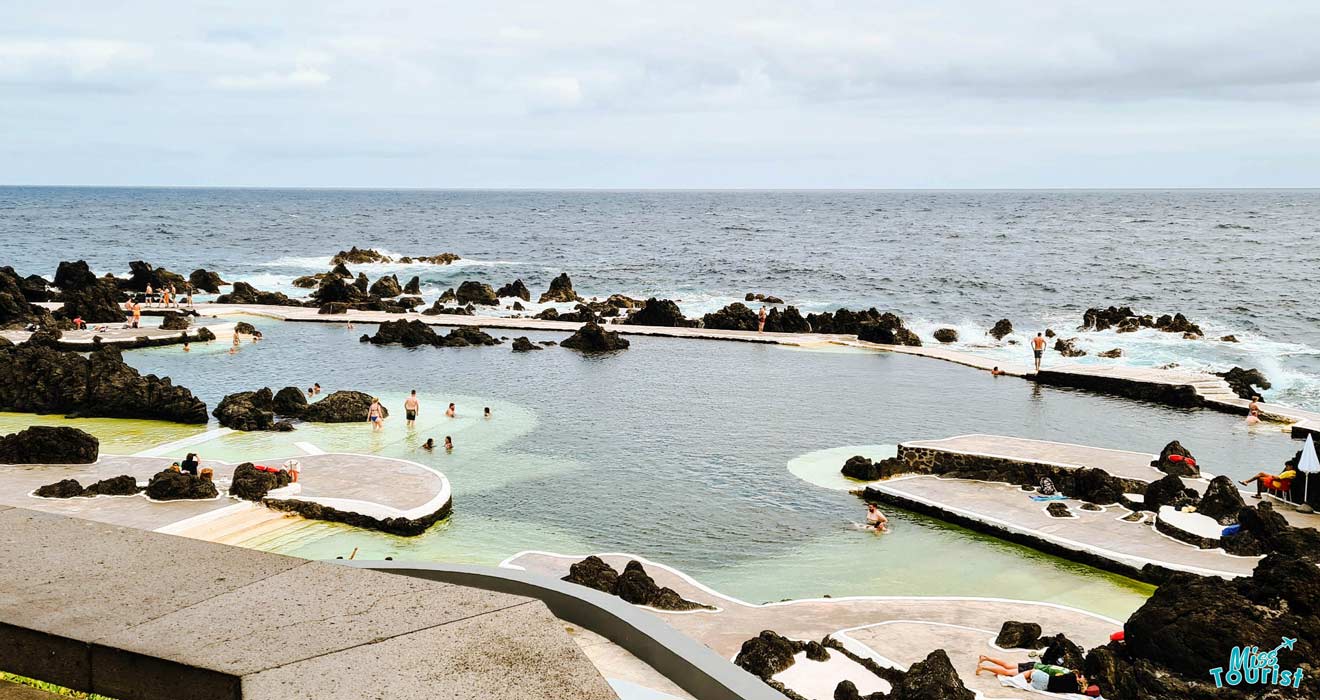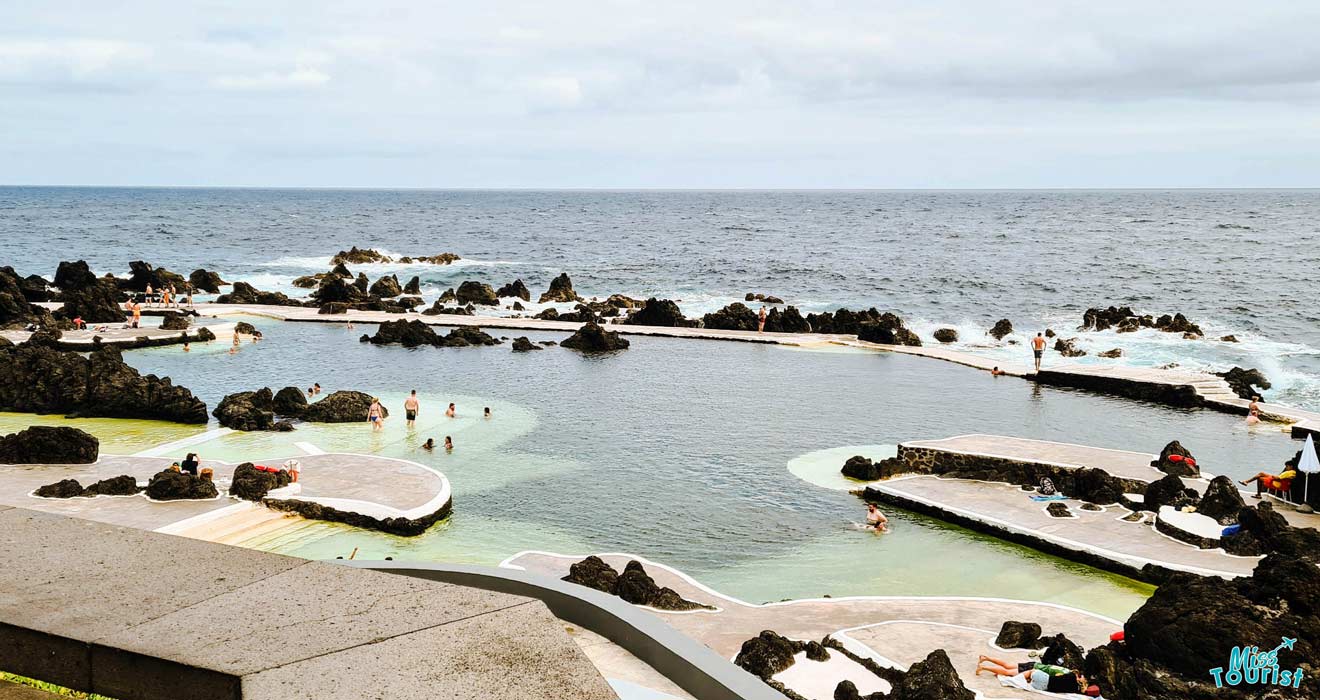 The next stop will be the Fanal Forest which is where you start to be really thankful you're in a Jeep, as the driver is able to continue the drive on bumpy roads in the middle of the jungle! If the weather is good, they'll open the roof of the car to let you stand and gaze at the natural surroundings, which was a really fun experience!
Finally, it's lunch time! You'll make a stop to eat in a restaurant, but remember that the lunch is paid for separately. I had some fish and a drink and it was about €17. The restaurant choice was provided by the tour and I feel like there aren't any other options than the chosen restaurant as it is in the middle of nowhere.
The tour ends with a visit to Cabo Girao: one of the highest cliffs in Europe (it has an elevation of 580m / 1,900ft), from where you'll get incredible views of Funchal city. This place also hosts a super cool skywalk.
Essentially a glass walkway where you can see what you have beneath your feet!
The tour was great, and I had a lot of fun, however, while he was a great driver, my guide didn't really provide any information or stories about the locations we were visiting. I know from many great reviews that Diogo and Rui are very good, so I suggest you book the tours with them!
P.S.: If for any reason you don't like the idea of traveling in a Jeep, this tour follows exactly the same route but in an air-conditioned van, which can be more comfortable! Or, if you want to join a tour with just your travel companions, here is a private tour I found which visits the same landmarks.
Price: €74
2. Explore Madeira East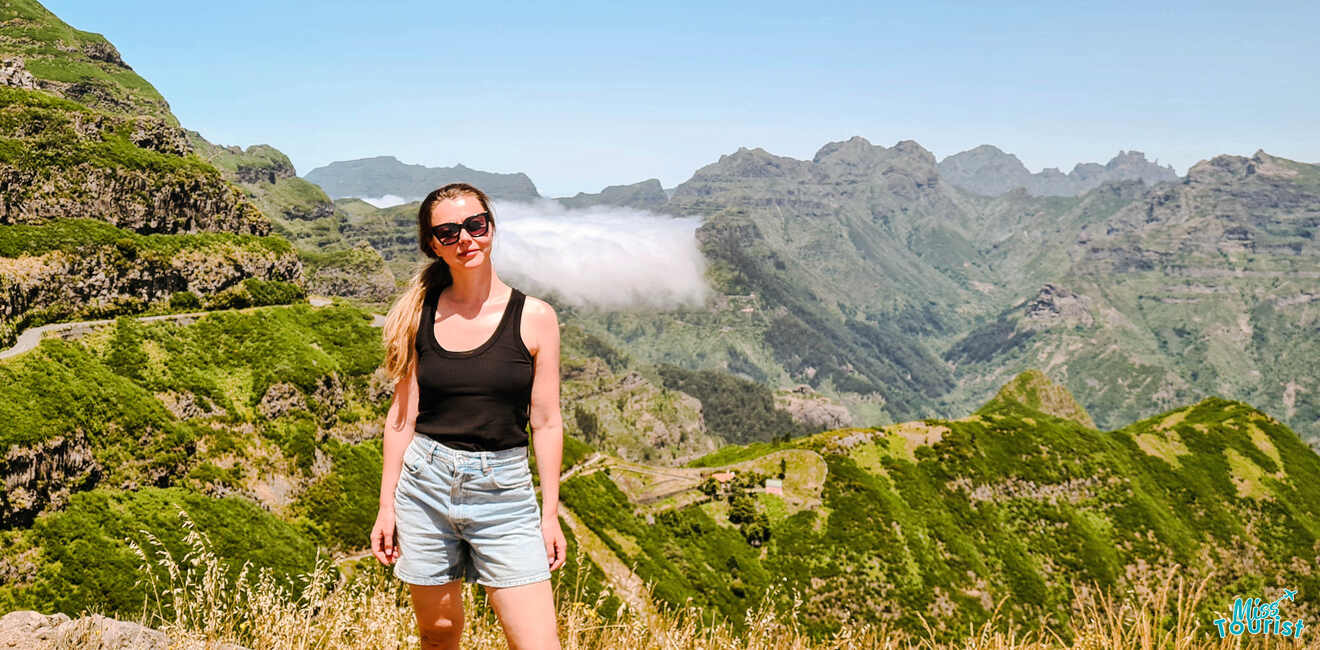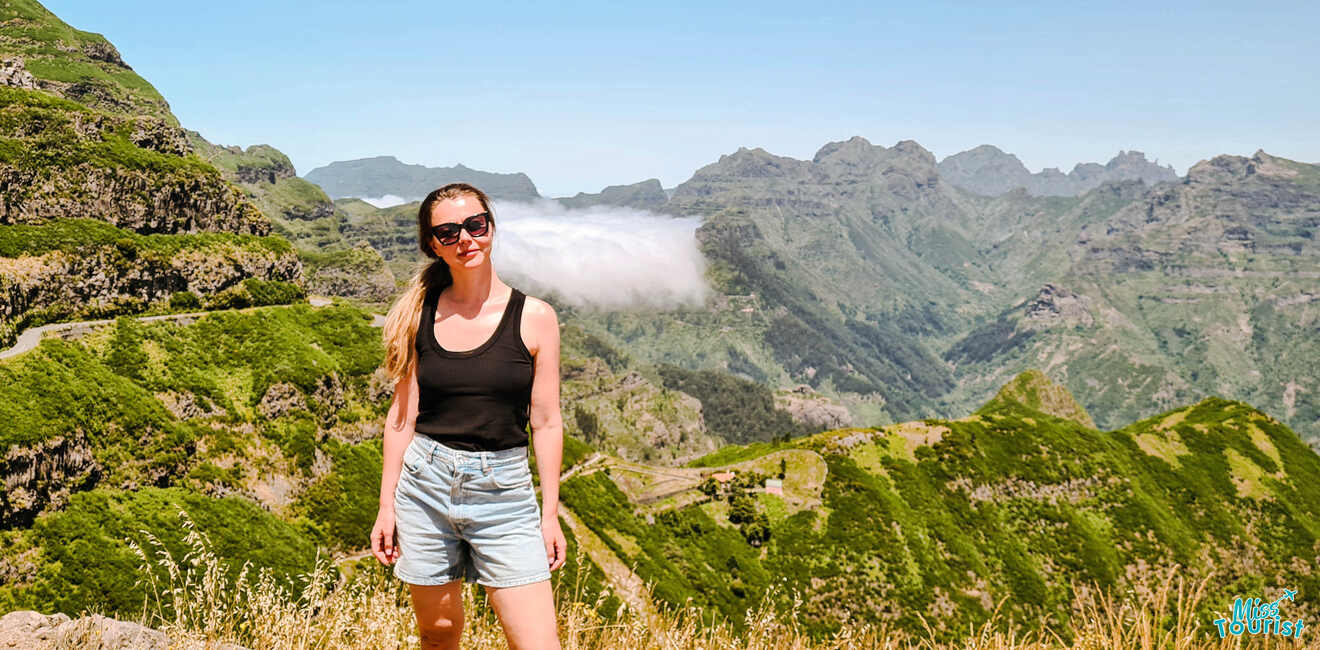 This guided tour explores the other part of the island, the east side, which is bigger than the one we just saw. The tour I took around the east was on a small bus with up to around 20 people (so a bit bigger than the previous Jeep). The guide will pick you up from your hotel again and give you info in 2 languages – Portuguese and English.
NOTE: Be aware that the tour will follow windy, uphill roads with a lot of turns, so it could not be the best choice if you're sensitive to curvy driving! If that's the case, make sure you sit in the front, or you take a motion sickness pill before the tour.
The first stop is at a panoramic viewpoint where you'll get incredible views of Funchal, but it gets even better when they next take you to the highest peak on the island, Pico Arieiro. At 1,818 meters (5,965 feet), the views are pretty incredible!
After that, you'll go to Ribeiro Frio, from where you can see the famous Levadas, a system of channels to bring water from the north of the island, where it is particularly abundant, to the south… Basically an aqueduct!
PRO TIP: In Madeira Island, there are many "Levada Walks" which are walking trails following the maintenance paths right beside the Levadas. If you are looking for an interesting hike to do, they are inaccessible by cars, so it's a perfect chance to enjoy the outdoors and nature!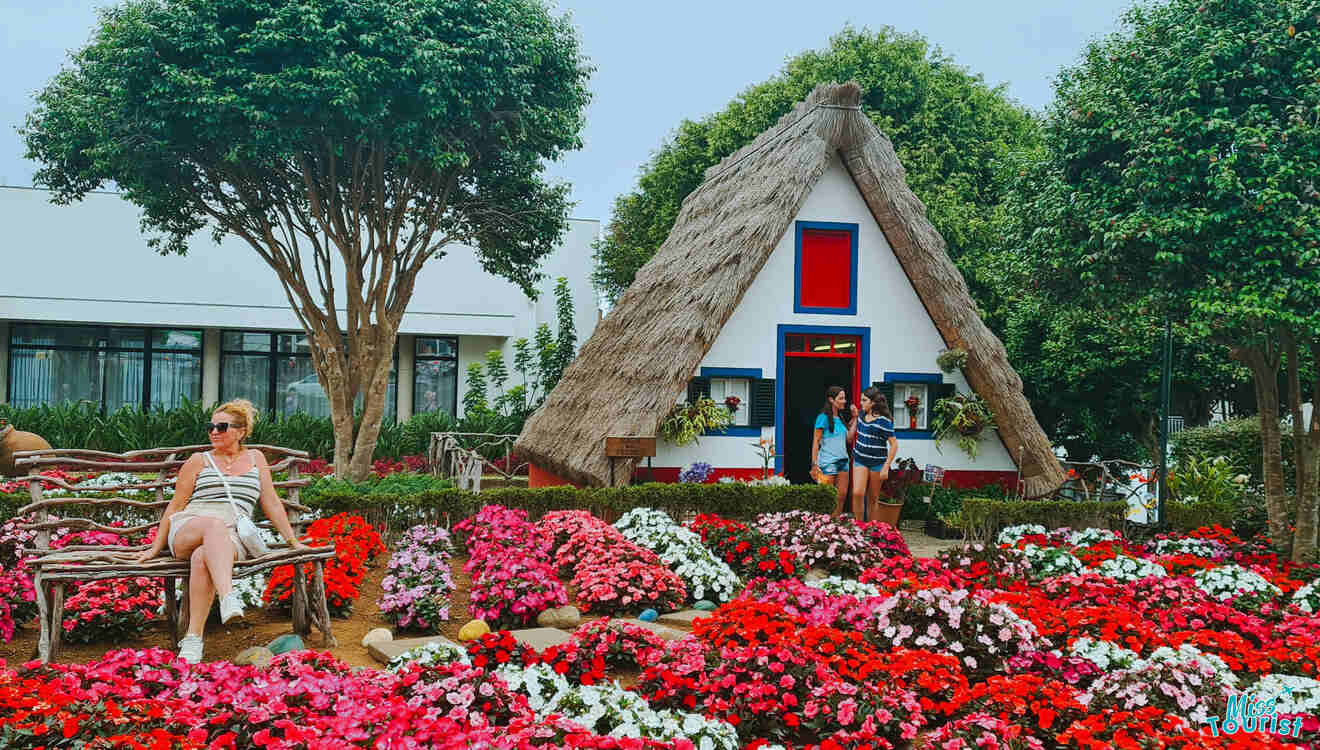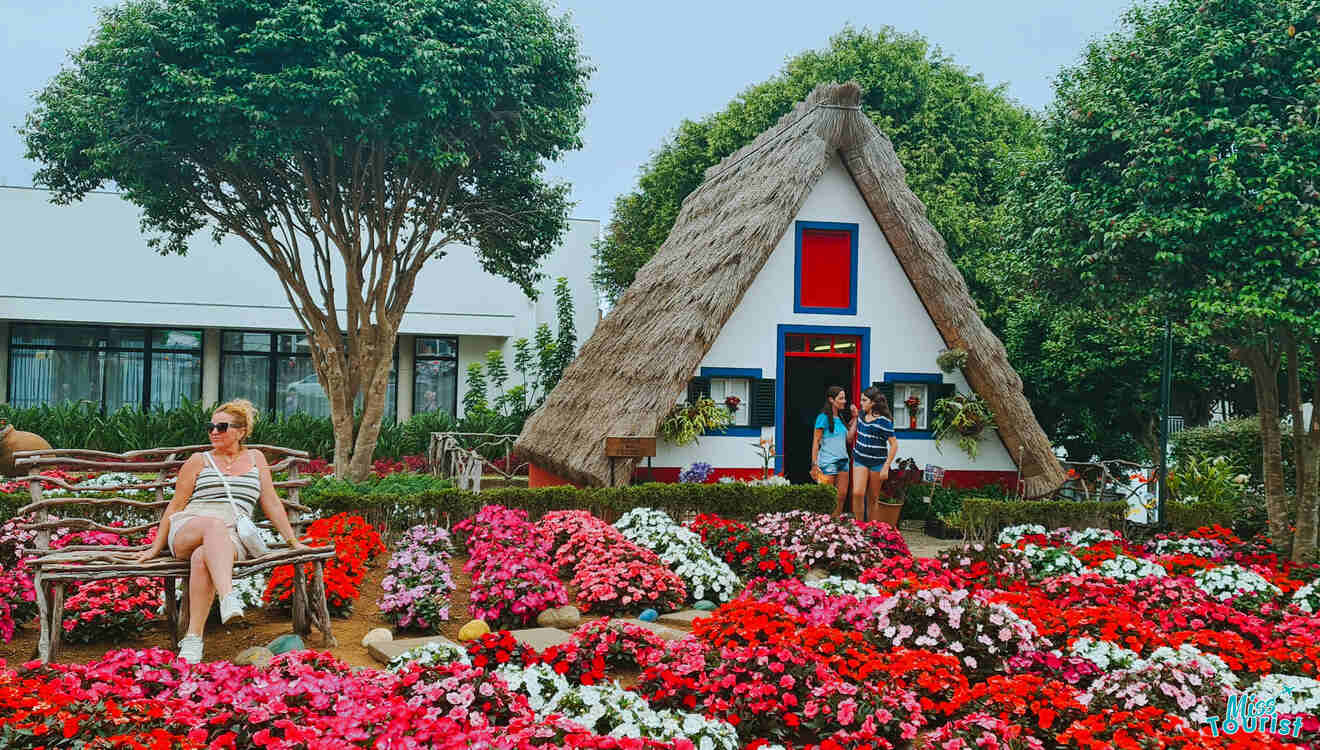 The next stop will be Santana, a town in the North East of Madeira. Here you can see Sanata's typical historical houses where they preserved the traditional straw roof.
FUN FACT: People don't live in these native houses anymore as it costs around €4,000 to replace the roof, which is not really sustainable for the average person. So these houses are just for tourists, but it's cool to see how they once lived.
Here you'll also have 1.5hrs of free time to have lunch and see the place. While the guide did recommend somewhere to eat, you don't have to take the recommendation and I found something different on my own.
The last 2 panoramic stops of this very complete guided tour are Pico de Facho, a viewpoint from where you can see the planes taking off, and São Laurenco, the most eastern point in Madeira Island (and the windiest, I would say!)
FUN FACT: Madeira Island's airport used to be one of the most dangerous airports in Europe because it has a very short landing strip! But don't worry, they recently made it longer, so now planes have plenty of space to land and take off.
P.S.: If you prefer doing the same tour in a Jeep, check out this option, while if you want to combine a visit to the east and west sides of Madeira, book this two-day trip around the island!
Price: €34
3. Swim with dolphins on a tour in Madeira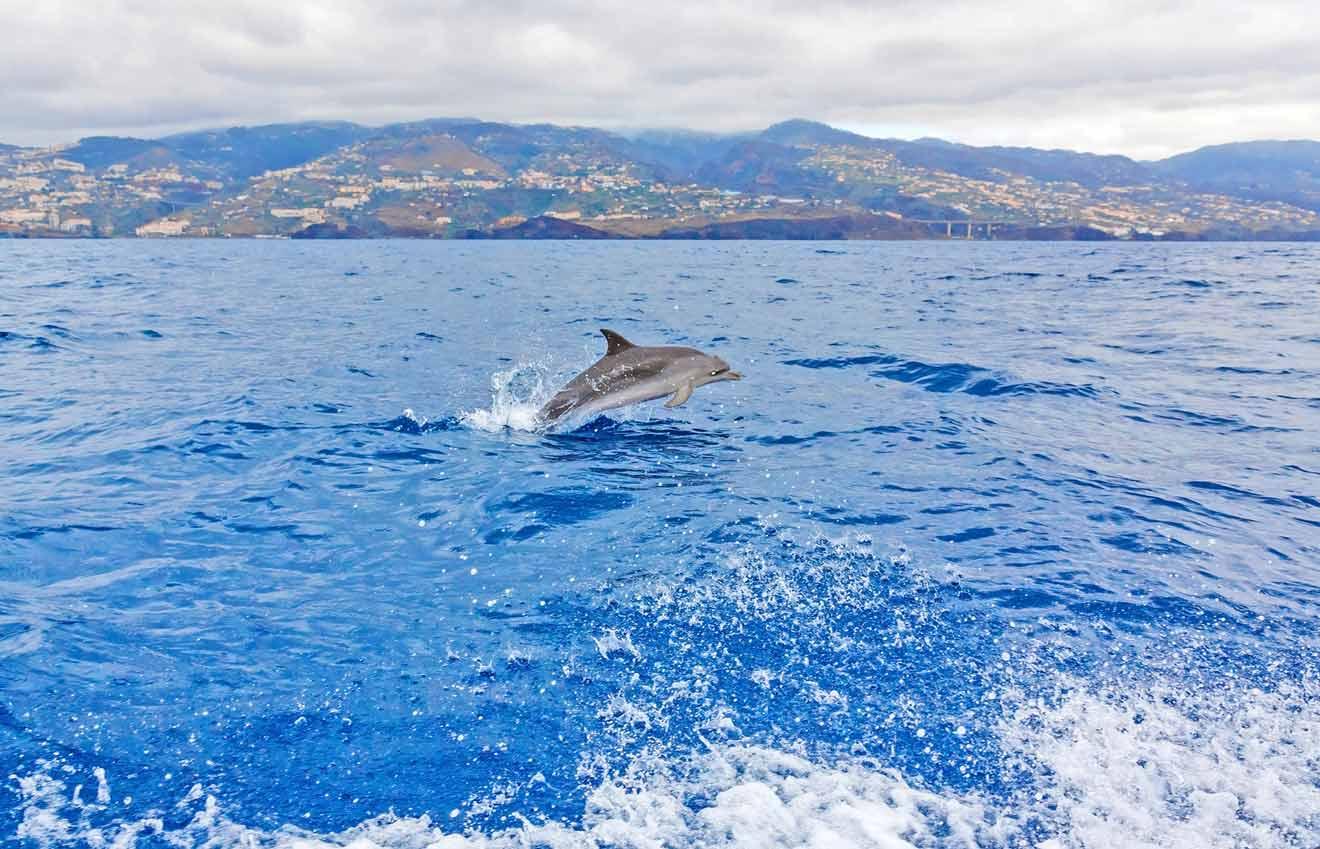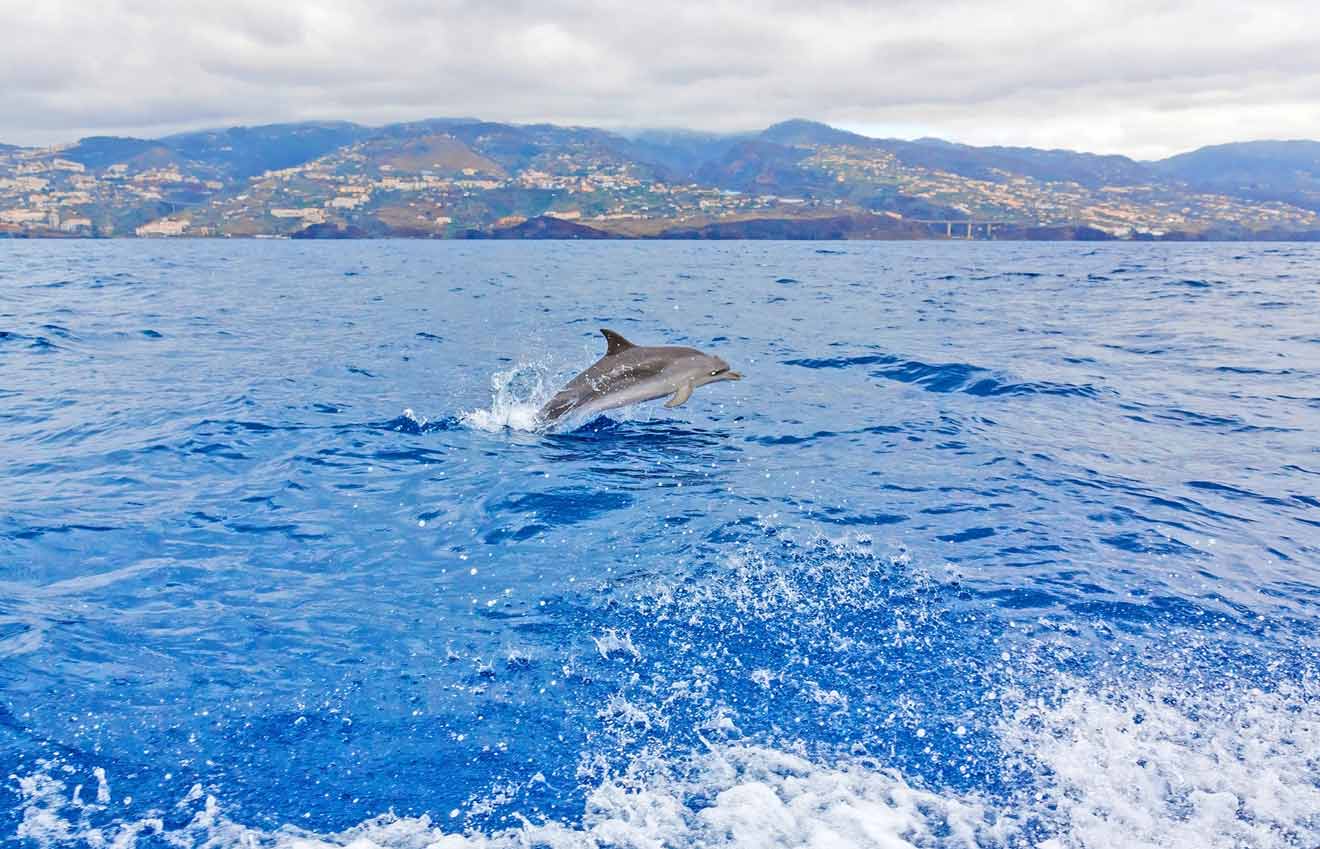 Actually swimming with dolphins in the natural habitat – his tour was the highlight of my whole trip (or my whole life?)!
It has always been my dream to swim with dolphins, and I always skipped this dubious experience before in different water parks – the dolphins are in captivity there and it just did not fee right to me. But this one is different – they actually swim in the ocean and obviously they are not forced to interact with humans.
NOTE: It is not guaranteed that you will get to swim with dolphins on this tour if the conditions aren't right, like if the sea is too rough, if there aren't any dolphins (of course), or if the animals are not behaving friendly.
For this tour, they don't pick you up, so you will need to go directly to the Funchal Marina (don't be late as they don't wait!). I suggest you wear your swimming suit right away, since there is no place to change, while when you arrive at the boat, they will give you a wetsuit to put on top if you wish. The water is always quite cold, so I put it on, but you don't have to!
It took as about 15 minutes to see a flock of dolphins in the ocean (there is a whole team of "spotters" working from the shore, they gave the coordinates to our boat driver). Once there, you'll jump on the rib boat (this tour takes you on a smaller boat as opposed to the dolphin watching cruises, which are on bigger catamarans) and start heading towards the spot where the dolphins (supposedly) are. When I did the tour the water was a bit bumpy, it's not always like that, it depends on the sea conditions, but I don't recommend it for seasick people.
When you finally get to the spot with the dolphins, they let 4 people (one one each side of the boat) be in the water at one time however you cannot just swim by yourself. They will give you a rope to hold onto, so you can let yourself be dragged by the boat while looking at the dolphins swimming around you!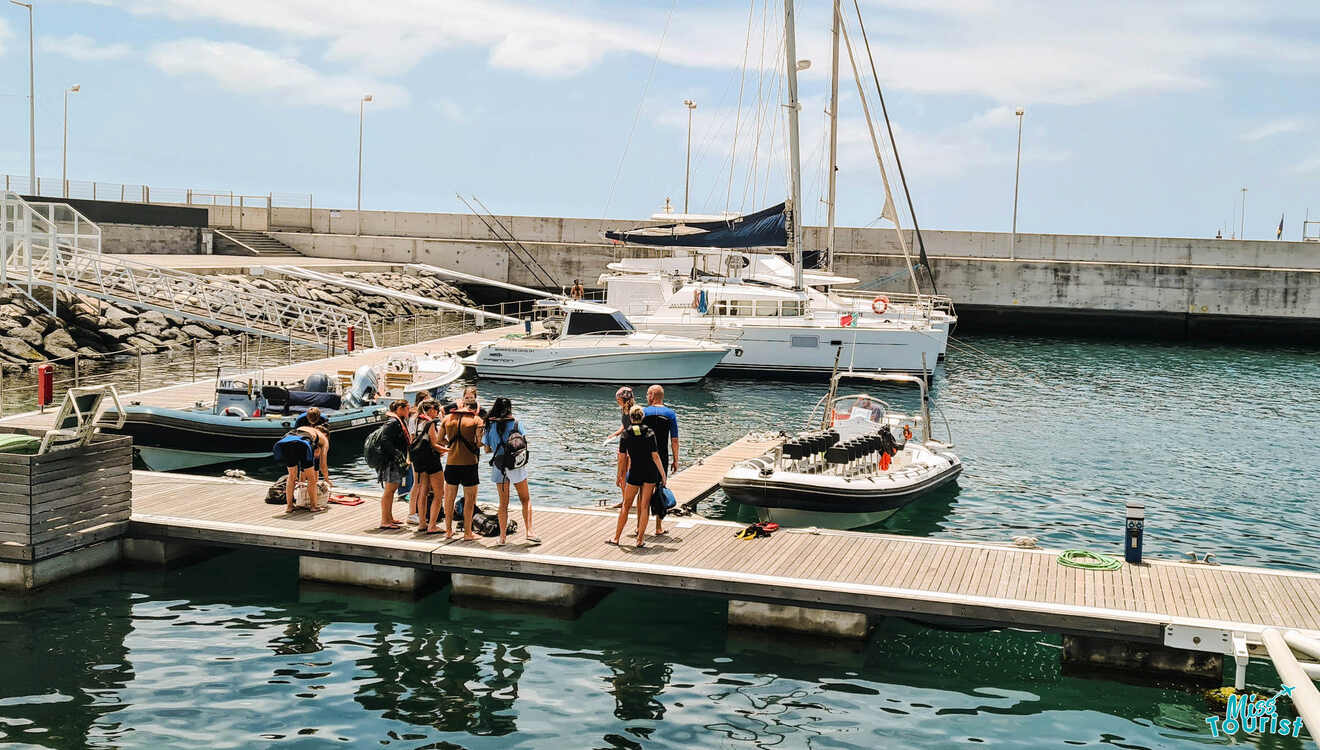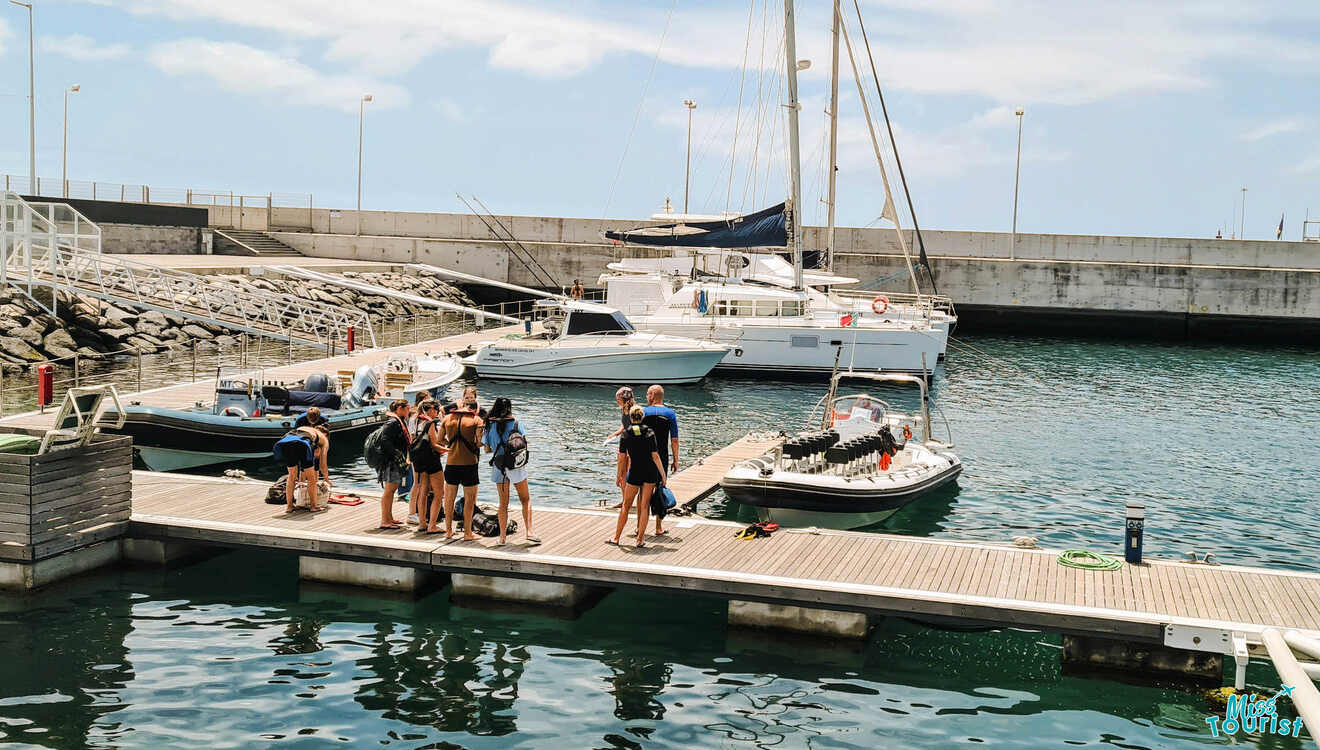 PRO TIP: They will also give you a mask when it's your turn to swim. I went in twice and the first time, the mask wasn't very good quality as it was foggy, and I got water inside right away. The second time I enjoyed the dive much more because the new mask fit my face much better, and I had no problems with the mask, So if you have your own (good) mask, bring it with you!
It was my first time seeing dolphins underwater, and it was just great! The tour lasted around 2h, and as I said, my experience was amazing! We even saw whales and maaaany dolphins, maybe about 30 altogether from different sides… They are very curious and swim around you but don't get super close.
The best part is that you really get to see and interact with wild animals in their natural habitat. It was such an unforgettable experience, and I think it is one of the best tours for families!
Half of the people on my tour actually didn't go swimming, probably because of the cold water. If you feel like this would be your case, you can join this tour instead, where you can go dolphin and whale watching on a catamaran (a bit less bumpy) without having to swim.
And if you want to have a more exclusive experience, there are other great tours for you too. This luxury dolphin and whale watching tour offers an open bar and VIP service, or this private boat tour (for small groups) during sunset is a magical trip where you might not see sea life, but enjoy incredible views of the Madeira island from the water!
Price: €54
4. Join a walking tour of Funchal, Madeira's capital city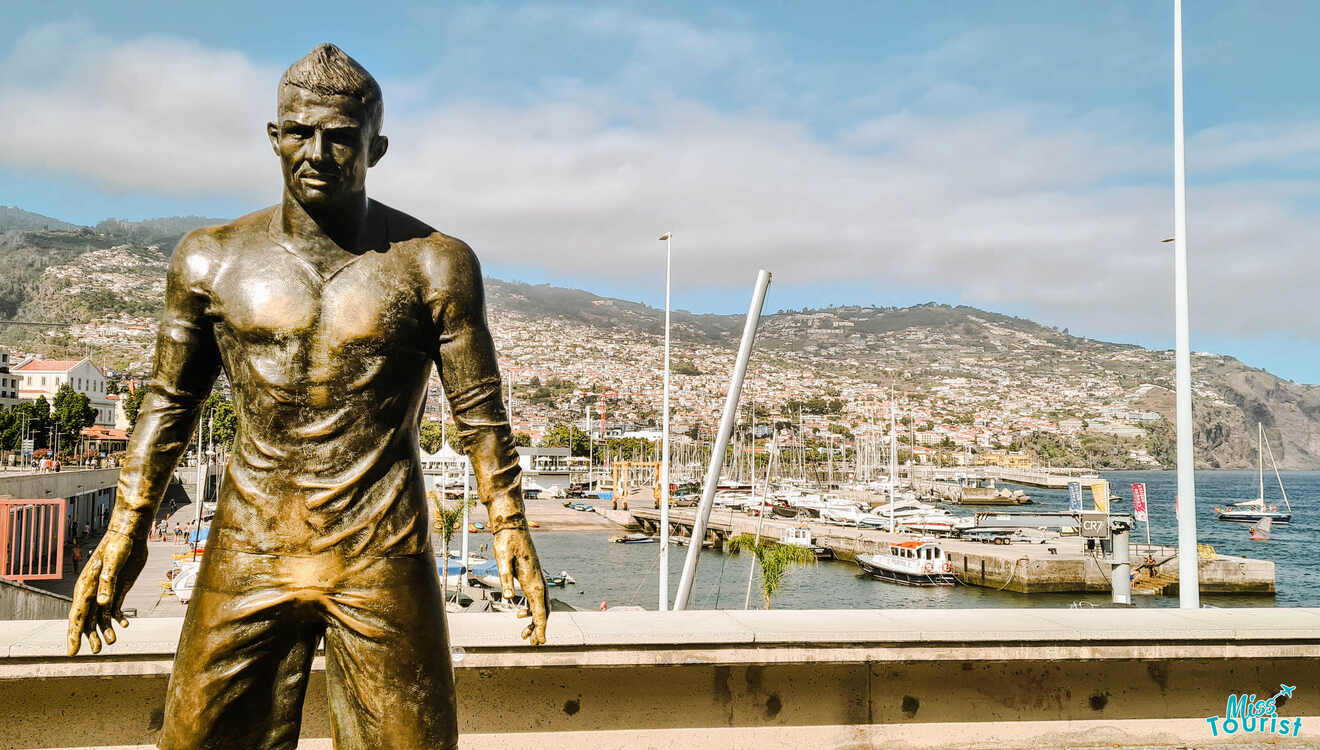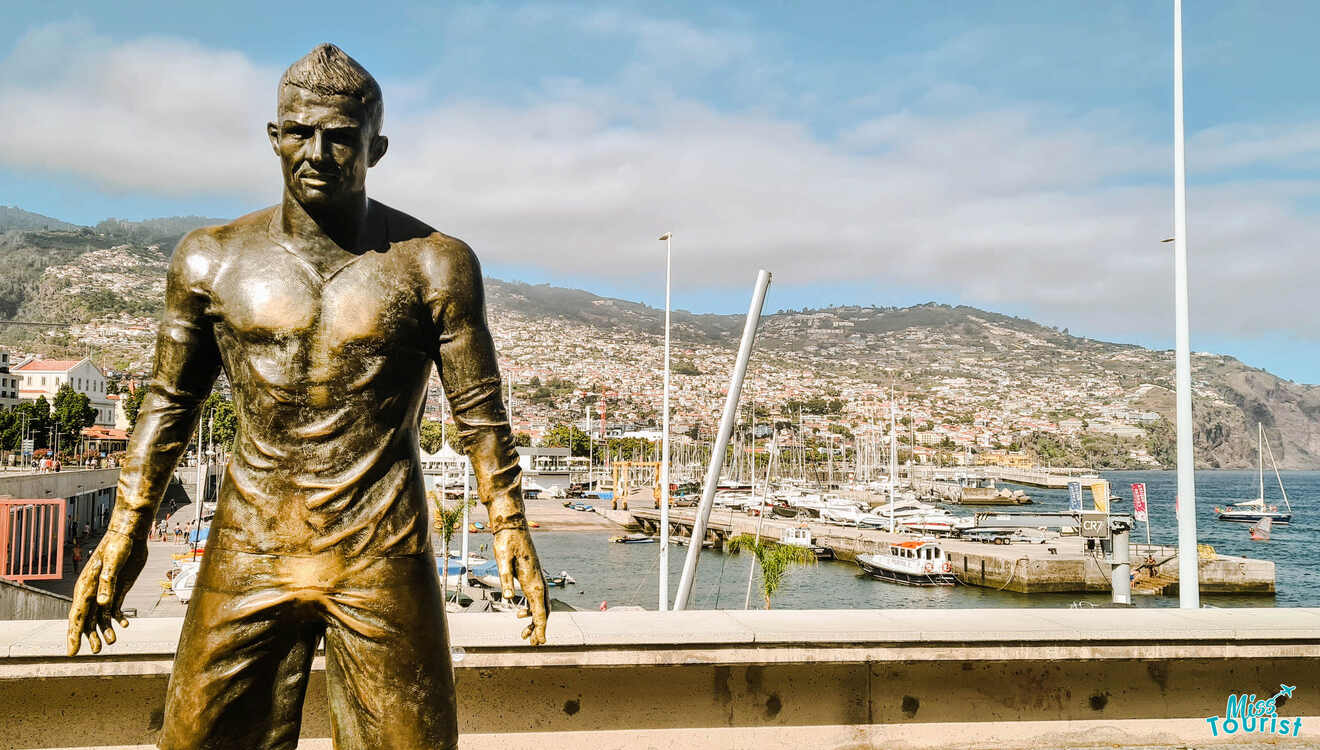 If you want to learn about the history of Madeira's capital city and of the island itself, you should definitely join this free walking tour, during which you will explore Funchal with a local guide!
It was a great way to discover the city with a local, and I learned many new things as we explored the city by foot.
Did you know that Madeira Island was the first place the Portuguese settled overseas (in the Age of Discoveries)? And that Funchal is the hometown of the Football superstar Cristiano Ronaldo? Well, you'll get to know much more during the tour, which lasts about 3 hours.
And if you are a big fan of Ronaldo, check out this tour where you'll learn about his impressive life story and visit important places about this legend's life and career, as well as the CR7 museum.
If you don't find availability for the free walking tour I took, there are many Madeira tours of this kind. You can also join this 2-hour tour through the streets of Funchal's Old Town, during which the tour guide will tell you everything about the history of the city, for €13.
Funchal is the starting point of all the incredible tours you'll find on this blog (and on the island), which makes it one of the best areas to stay in Madeira and definitely a place you should explore in detail!
5. Hike from Pico Arieiro to Pico Ruivo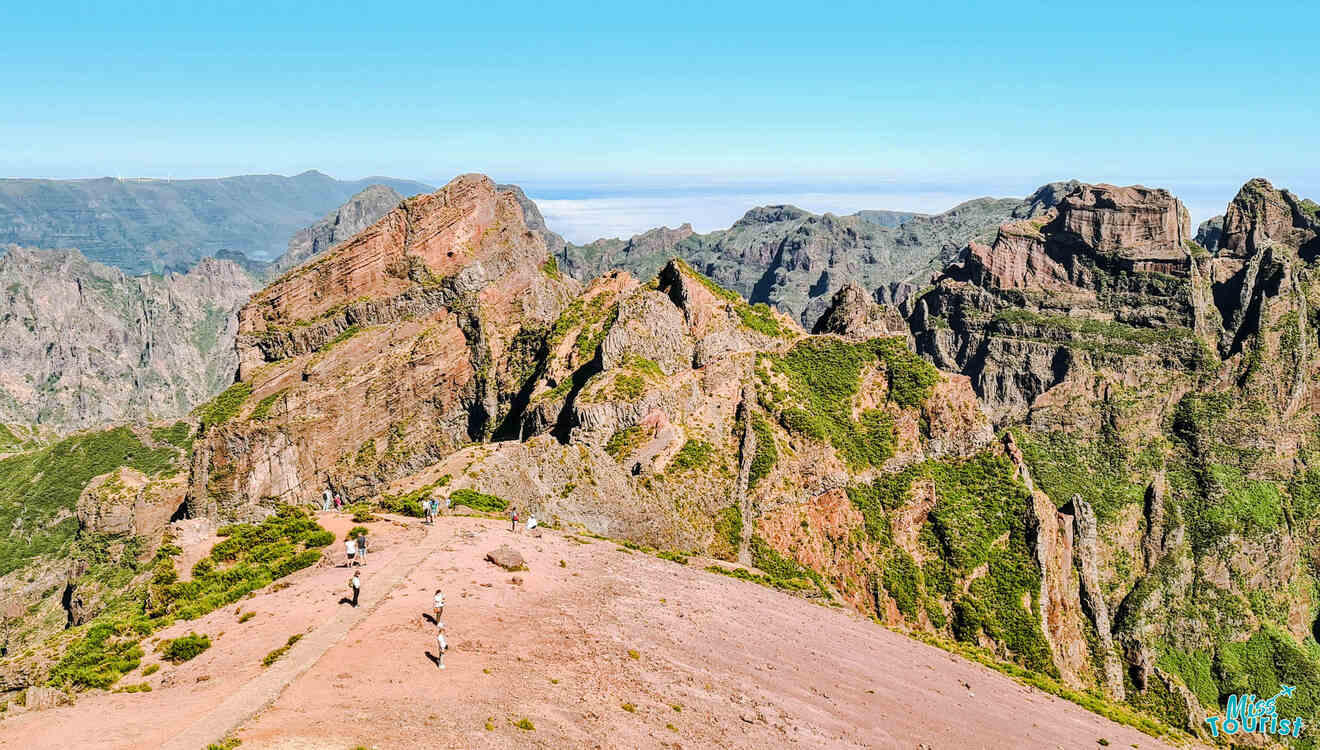 Are you an avid hiker always looking for challenging paths to follow? Then this is one of the best tours you can join on Madeira Island for you. It will bring you along the jagged peaks between the Pico do Arieiro and Pico Ruivo, the highest point (and one of the most beautiful places) on the whole island!
They will pick you up at your hotel and drive you to the third highest peak in Madeira, the Pico Arieiro (1,818m), where you'll have a coffee or drink while enjoying the stunning views. From there, you'll begin the mighty walk up to Pico Ruivo peak (1,862m).
Once you'll finally get there (you will also need to climb many stairs in the second part of the hike), I promise you the views will reward all your efforts! The whole tour lasts about 8h and ends with a drink at a traditional bar, the perfect way to finish your day!
Price: €42
6. Join a delicious food and wine tour in Madeira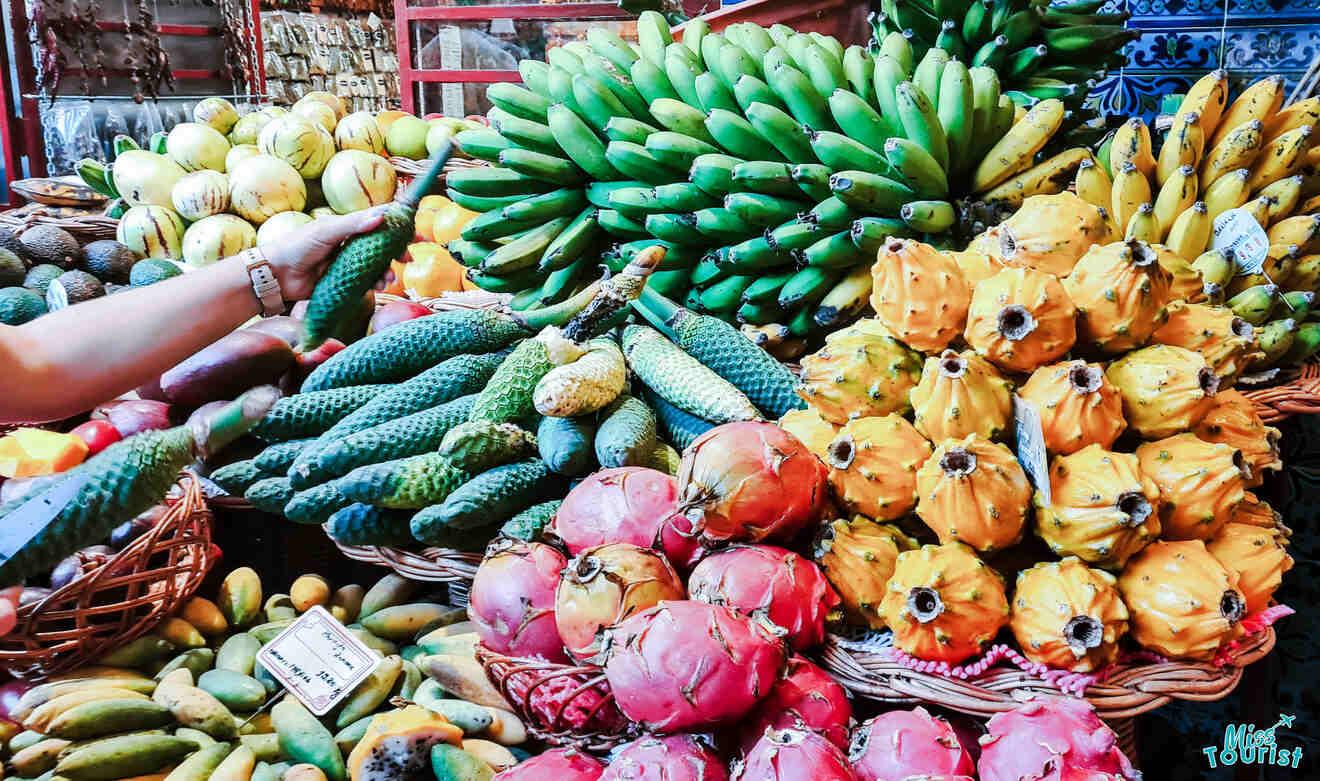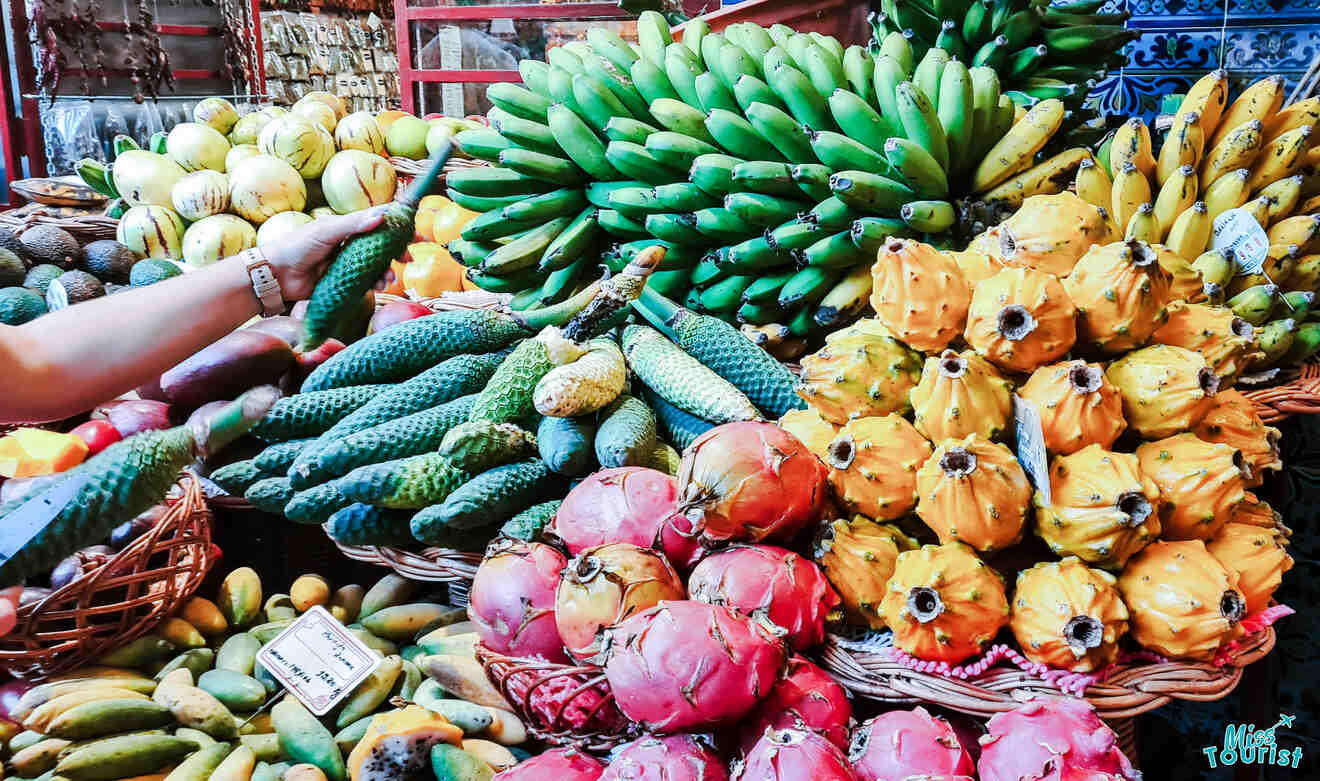 A trip is not complete if you don't try the traditional food of the place, right? And what better way to do that than by joining one of the many food tours on Madeira Island?
During this 3-hour food and wine walking tour in Funchal, you will taste many typical and delicious Portuguese dishes and authentic Madeira wine. Your guide will take you to producers, bars, and a local market and tell you everything there is to know about local gastronomy!
Madeira wine is one of the few wines which has not changed since it was created around 300 years ago! So while you will get a taste of it on the combined food and wine tour above, if you're interested in learning more about the island's wine industry and food, check out this 8-hour wine tasting tour from Funchal. You will spend the whole day visiting the vineyards and sampling the fine wines of Madeira Island for €150.
Price: €75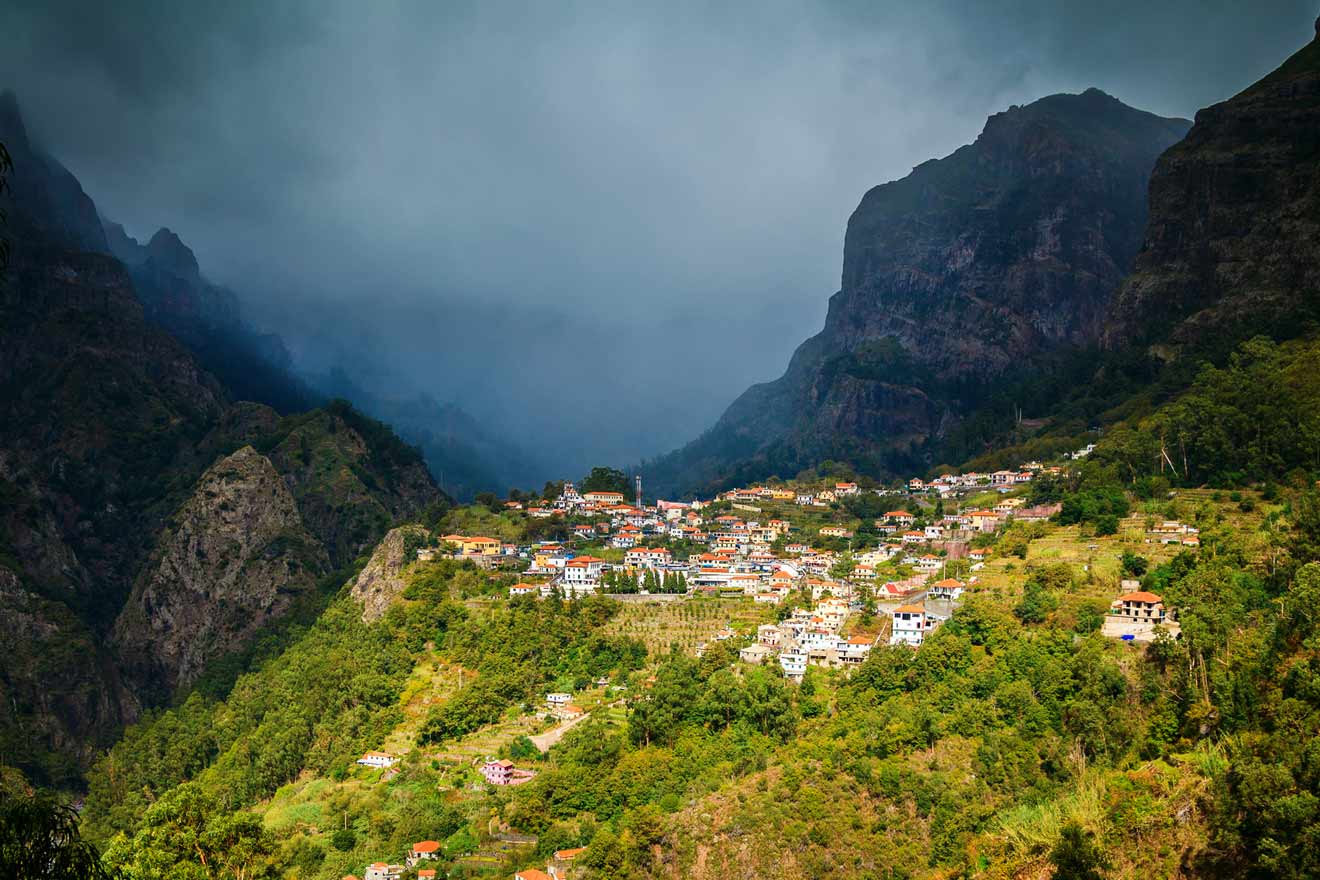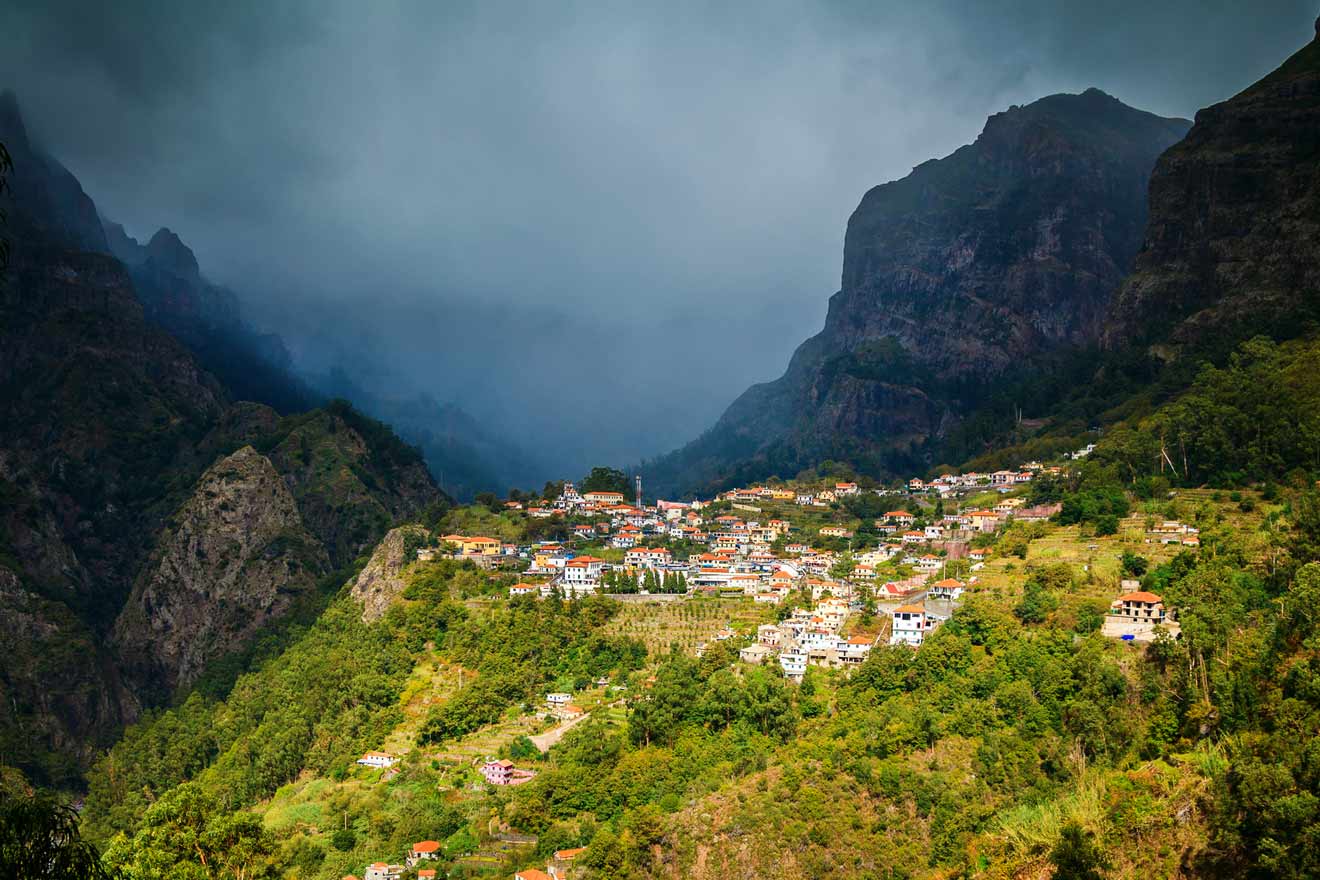 The Nuns Valley is a small village situated in a hidden valley on the south coast of Madeira, which is rich in history, flora, and fauna, and is one of the hidden gems of the island!
The Nuns Valley got its name because this is where nuns used to hide from French pirate attacks on Madeira Island during the 16th century. The Santa Clara Convent, where they hid, is still there, and you will see it and hear the stories of survival!
To visit it, I suggest you join this Nuns Valley half-day tour, one of the most complete Madeira Island tours.
In fact, in just half-day, you will hop on a minibus and go to the center of Madeira Island, through majestic mountains and verdant valleys, and arrive in the small village of Nuns Valley, where locals live completely isolated from the rest of Madeira Island.
On your way back, you'll also stop at the charming village of Camara de Lobos, with its colorful fishing port, and have a glass of the traditional Poncha: an alcoholic drink typical of Madeira, made of aguardiente, honey, lemon, and juice.
Price: €22
8. Chase the waterfalls in Madeira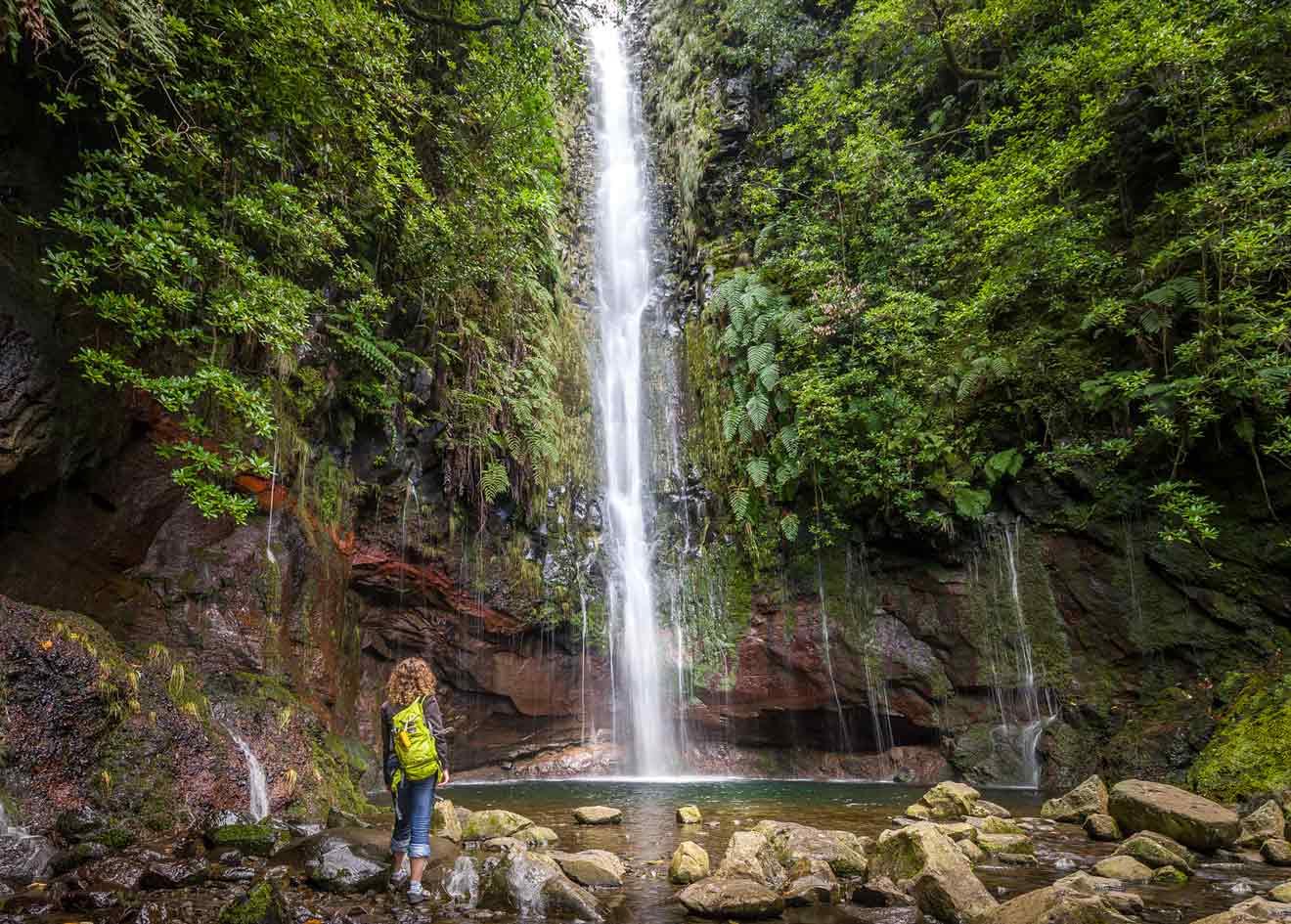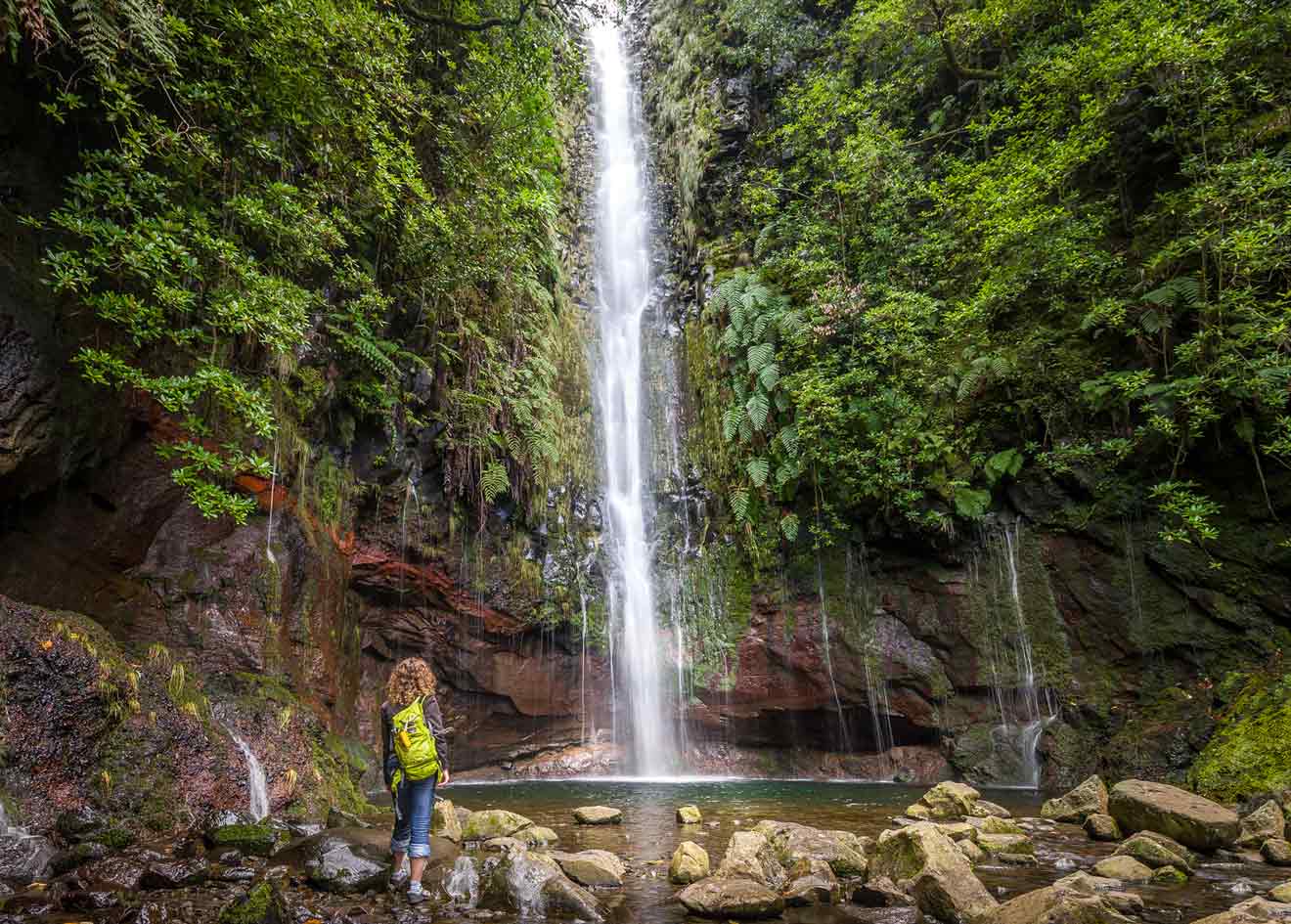 This is definitely one of the best Madeira Island tours, during which you will take an enchanting walk through the Laurissilva forest and explore all the waterfalls of the evergreen Rabaçal valley!
The guide will pick you up at your hotel in Madeira and drop you off in many spots of the island, where you'll follow some of the Levada walks and pass by 25 natural springs falling into a small crystal clear lake surrounded by dense vegetation!

If fairy's lived in Madeira, this is where they would live!
The tour lasts 8 hours and is also the perfect chance to disconnect from everything and connect with nature, you will love it!
Price: €42
Other fun Madeira island tours: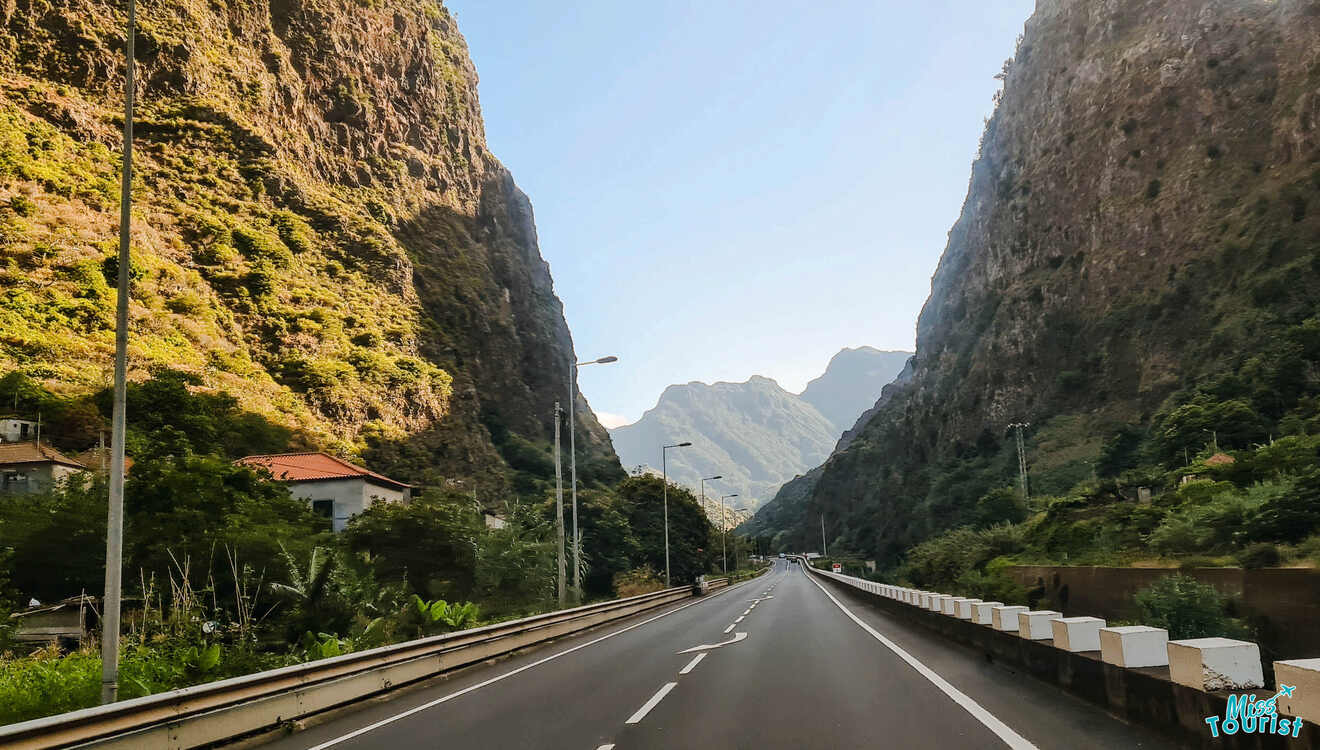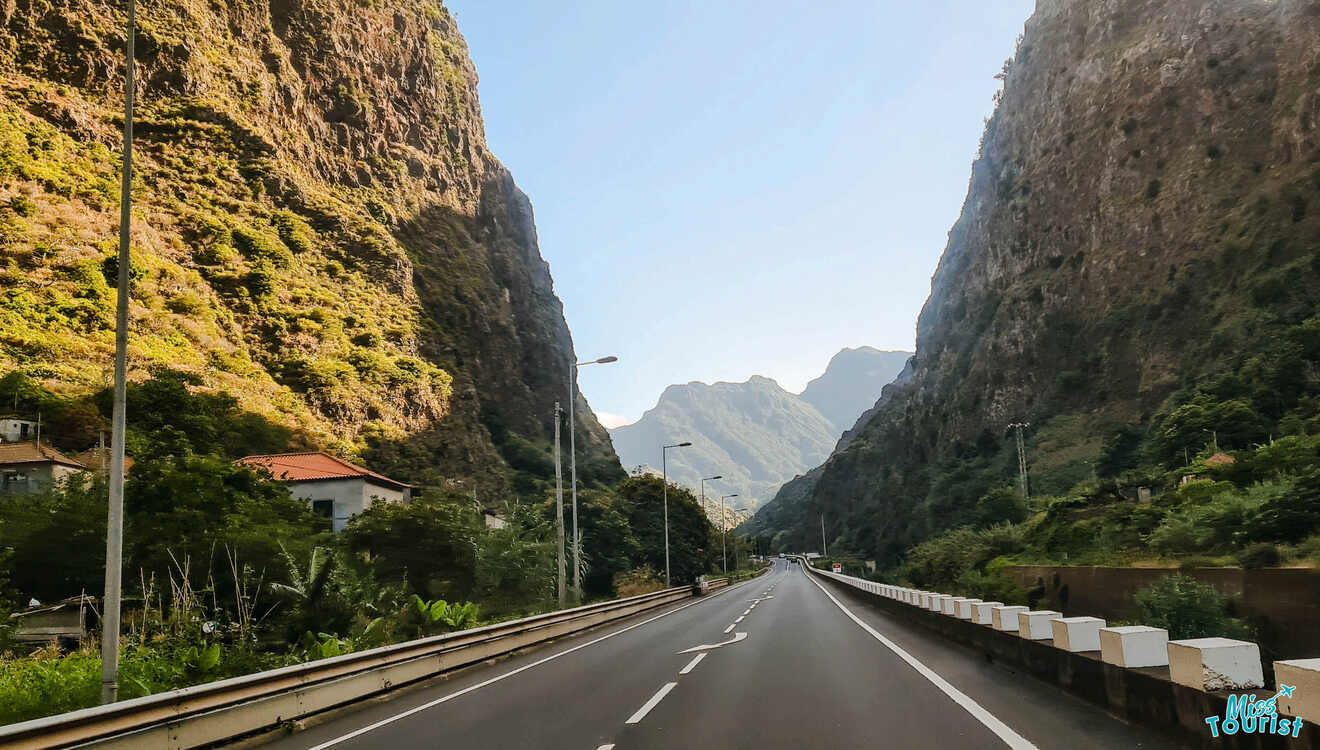 The tours I have talked about above are the most popular tours to explore the Island of Madeira, but there are plenty more tours to take to enjoy the amazing nature here.
Here are some other tours that I selected for you based on your interest – all of them have amazing reviews too! I would totally go for them if I'd have more time on the island.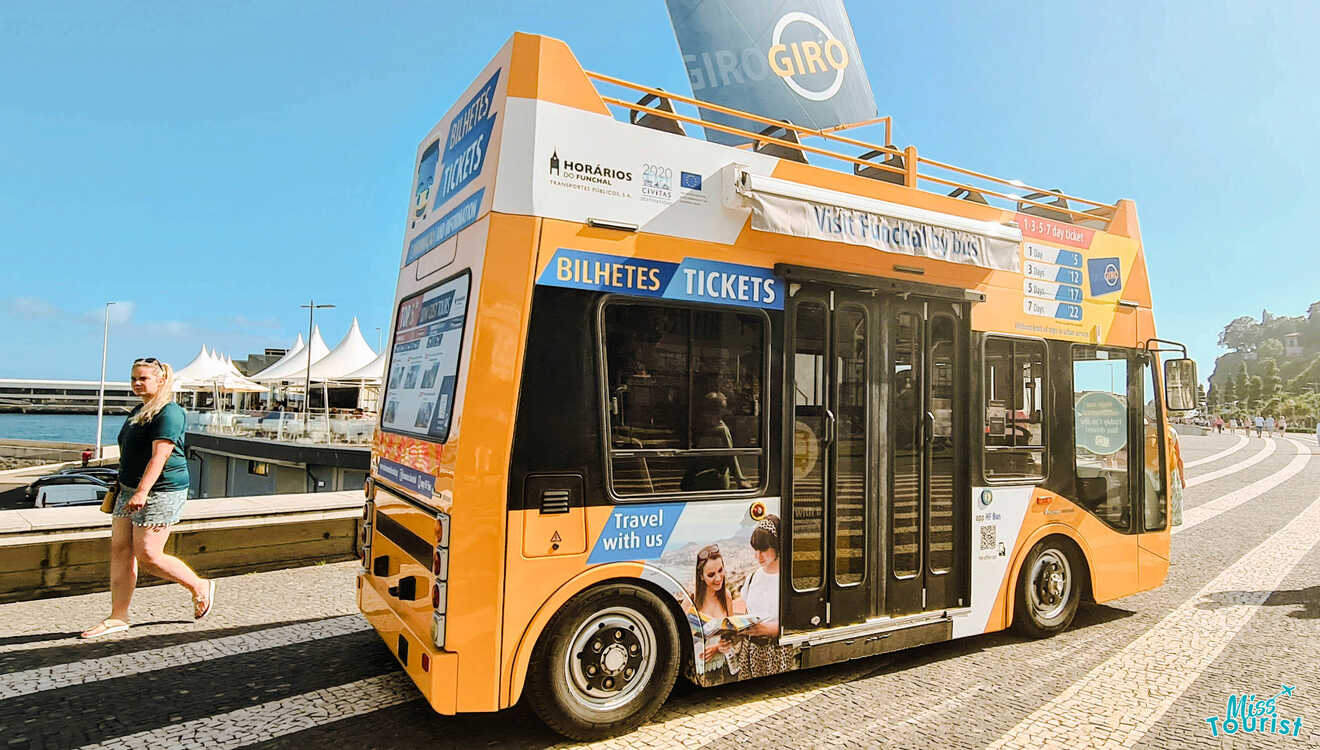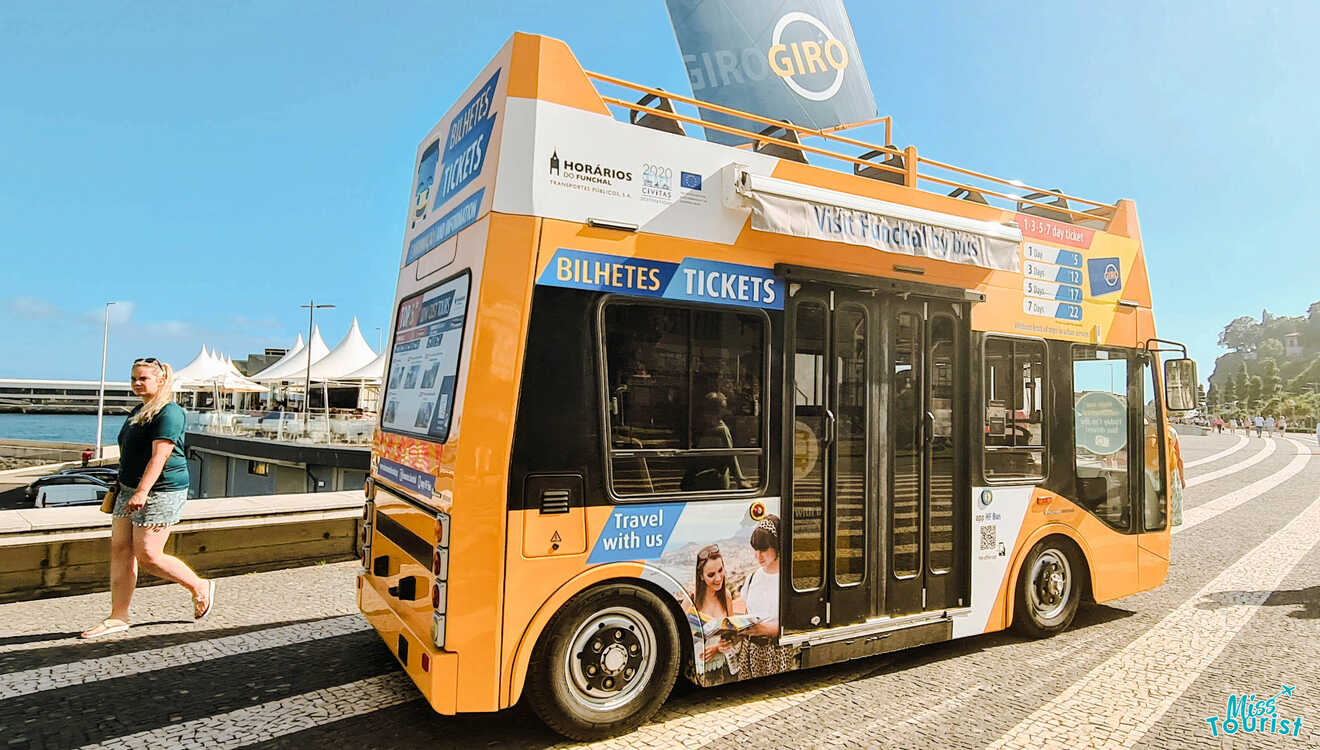 FAQs about Madeira Island Tours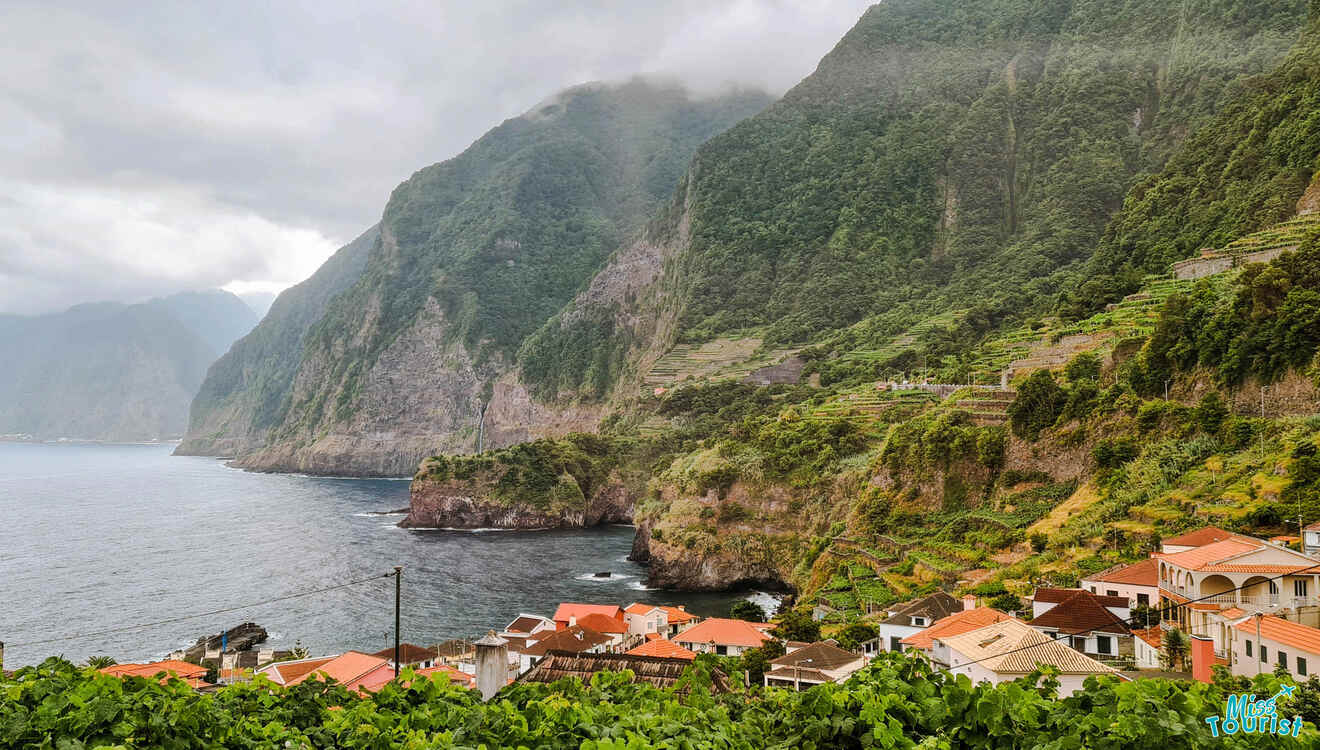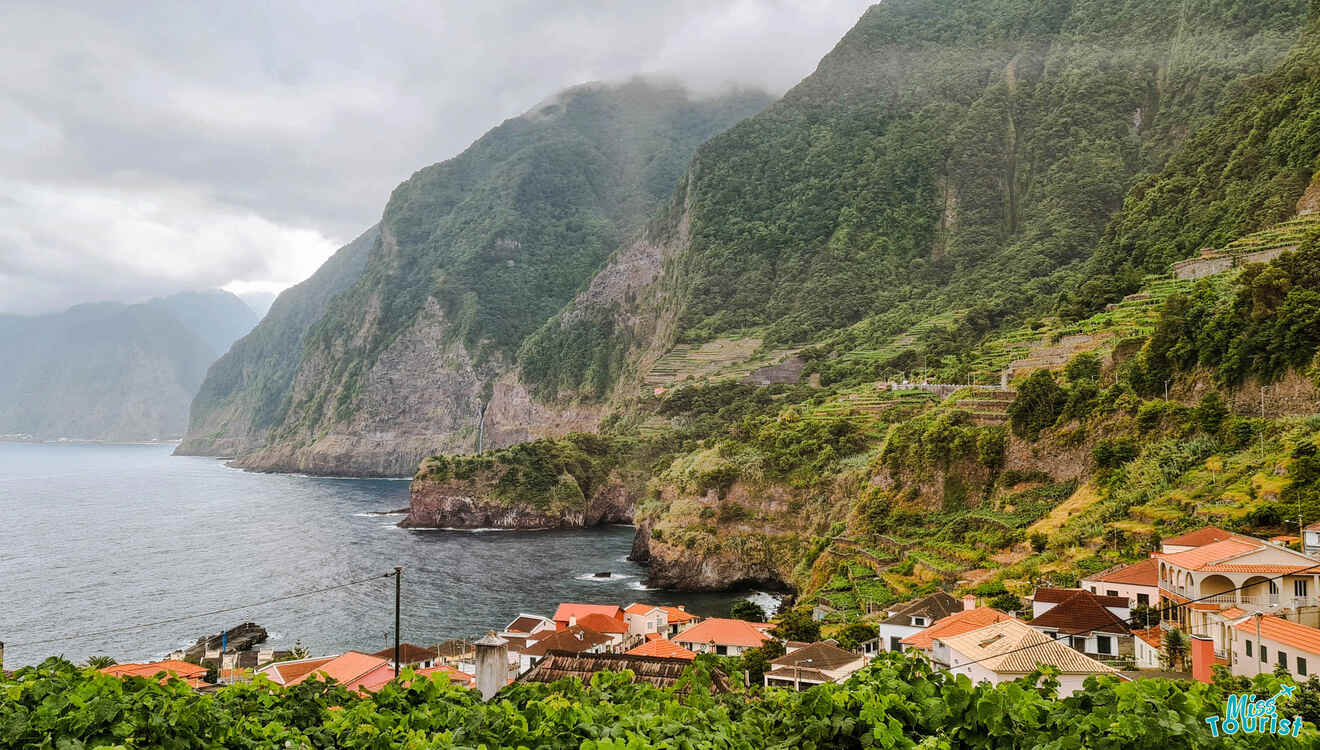 🤩 Which are the best Madeira Island tours?
The best Madeira tours are the Madeira West-Side Tour, including a visit to Porto Moniz natural pools, and this tour through Madeira's Levada Walks, the Laurissilva forest, and the 25 Waterfalls.
🌳 Is there a lot to do on Madeira Island?
Yes, Madeira offers many Madeira excursions and island tours to the jungle, villages like the Nuns Valley and Camara de Lobos, amazing viewpoints and hiking paths (like the Levada Walks) but also jeep tours, dolphin watching excursions, food, and wine tours, etc.
🍷 What is Madeira Island known for?
Madeira Island is mainly known for its traditional wine, but it has much more to offer, from beautiful natural sceneries, pebble beaches, high peaks like Eagle Rock, and breathtaking viewpoints like Cabo Girao. You'll find many tours on the Island to explore all this!
📅 How many days should I spend in Madeira?
If you can, I recommend you stay around 1 week in Madeira, so you'll have all the time to explore the island's nature, join the many tours available, hike through the famous Levada walks, and also enjoy some relaxing beach time!
👪 What are the best tours in Madeira Island for families?
Conclusion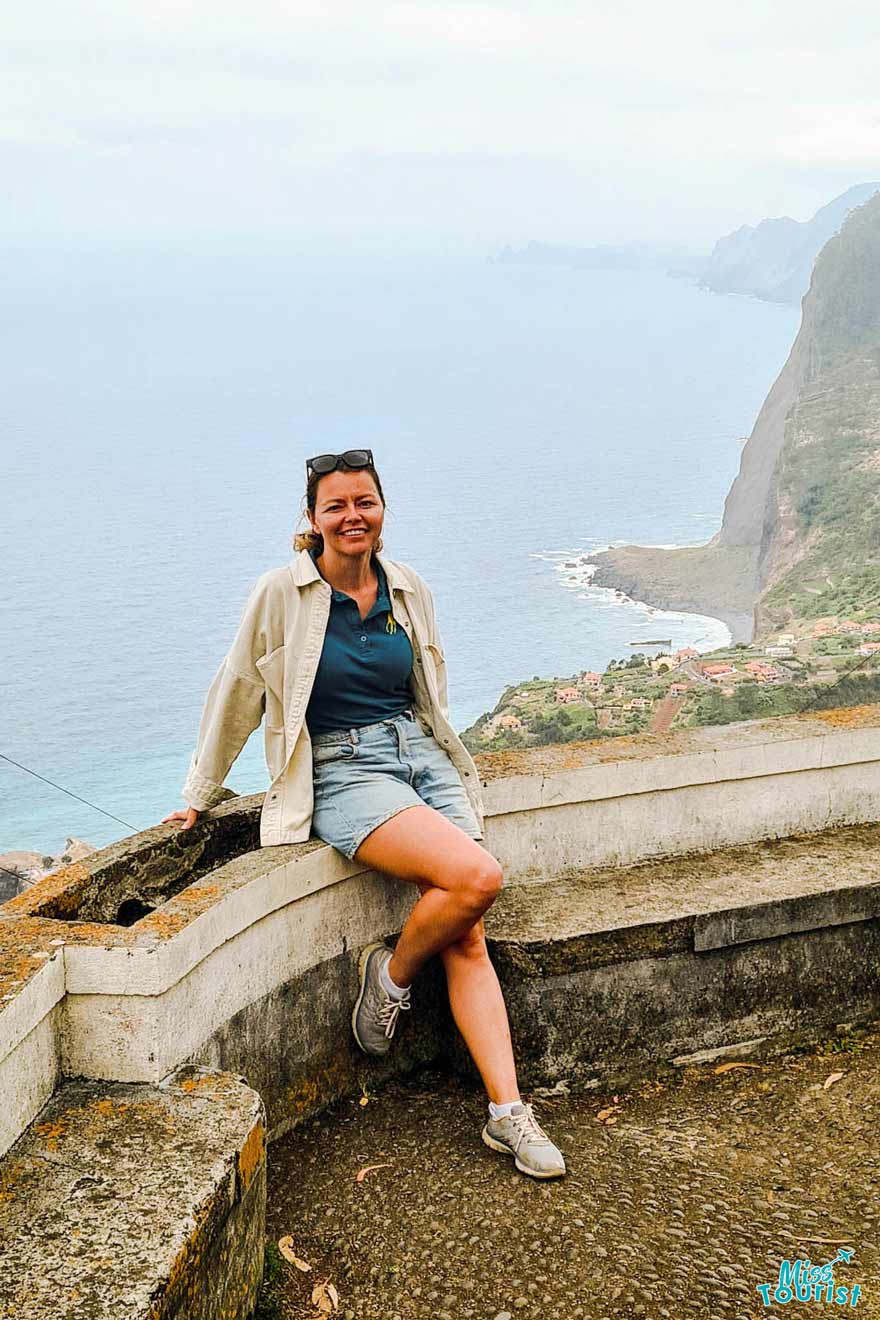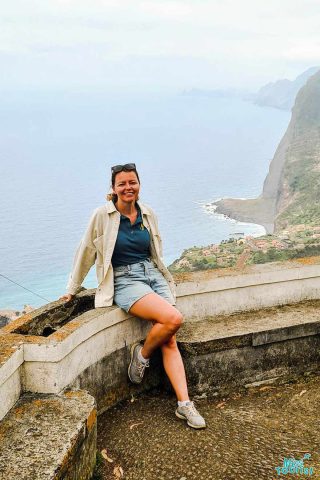 We're finally at the end of this guide to the best tours in the stunning Madeira Island, where you'll swim with dolphins, enjoy the best panoramic views, and explore untouched natural sceneries!

We saw all the best Madeira Island tours, from Madeira excursions through the Atlantic Ocean waters to day trips on different sides of Madeira, all of them starting from Funchal Old Town, so there's something for any taste here!

So what are you waiting for? Book some tours, and If you haven't already, check out the best places to stay on the island!

I hope you will enjoy Madeira as much as I did, and you liked my tour suggestions, but if you have any questions or tour suggestions for me, please leave them in the comments below, I'm looking forward to reading them all!

Enjoy your amazing tours in Madeira!

Yulia
---
Pin it for later!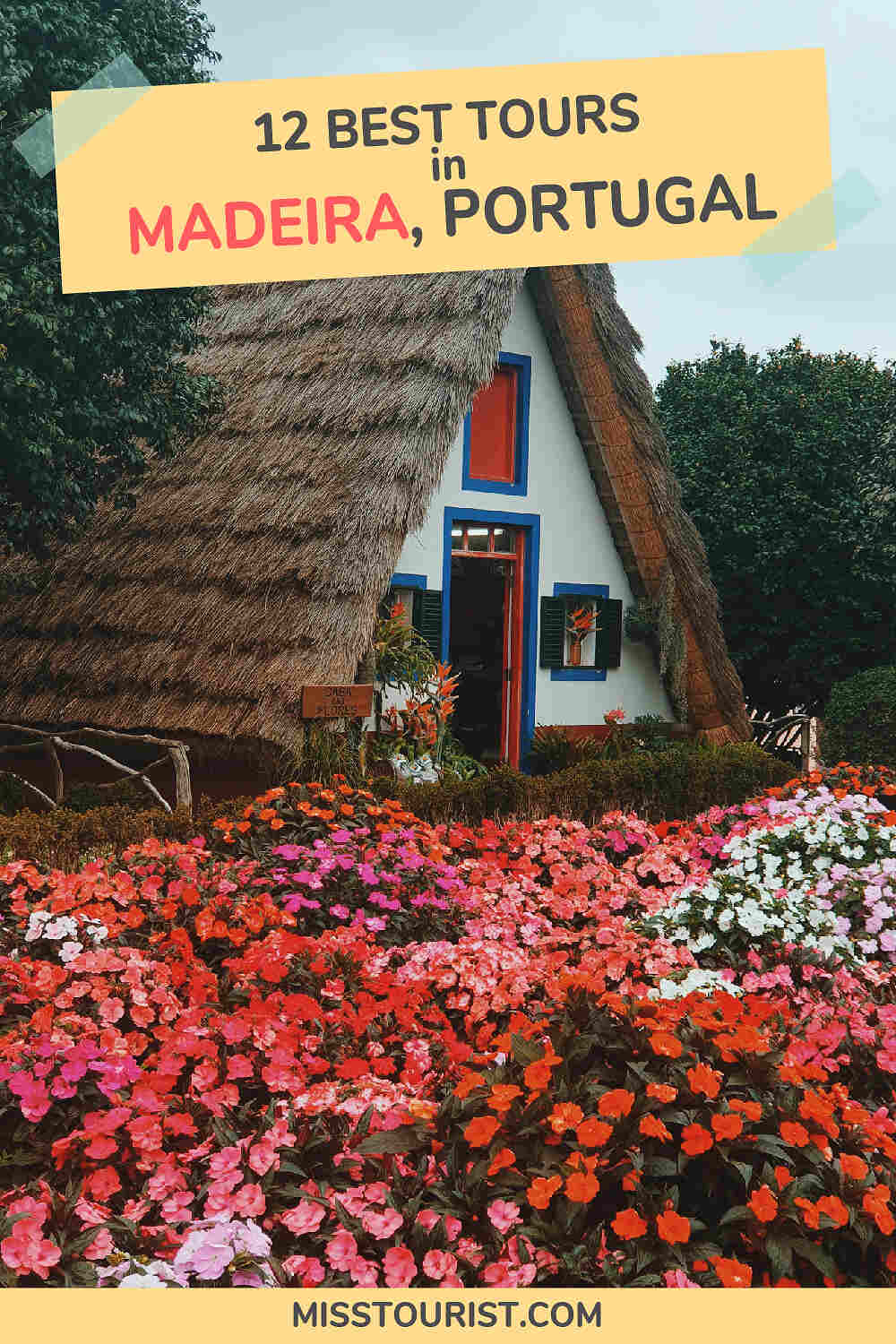 Pin it for later!