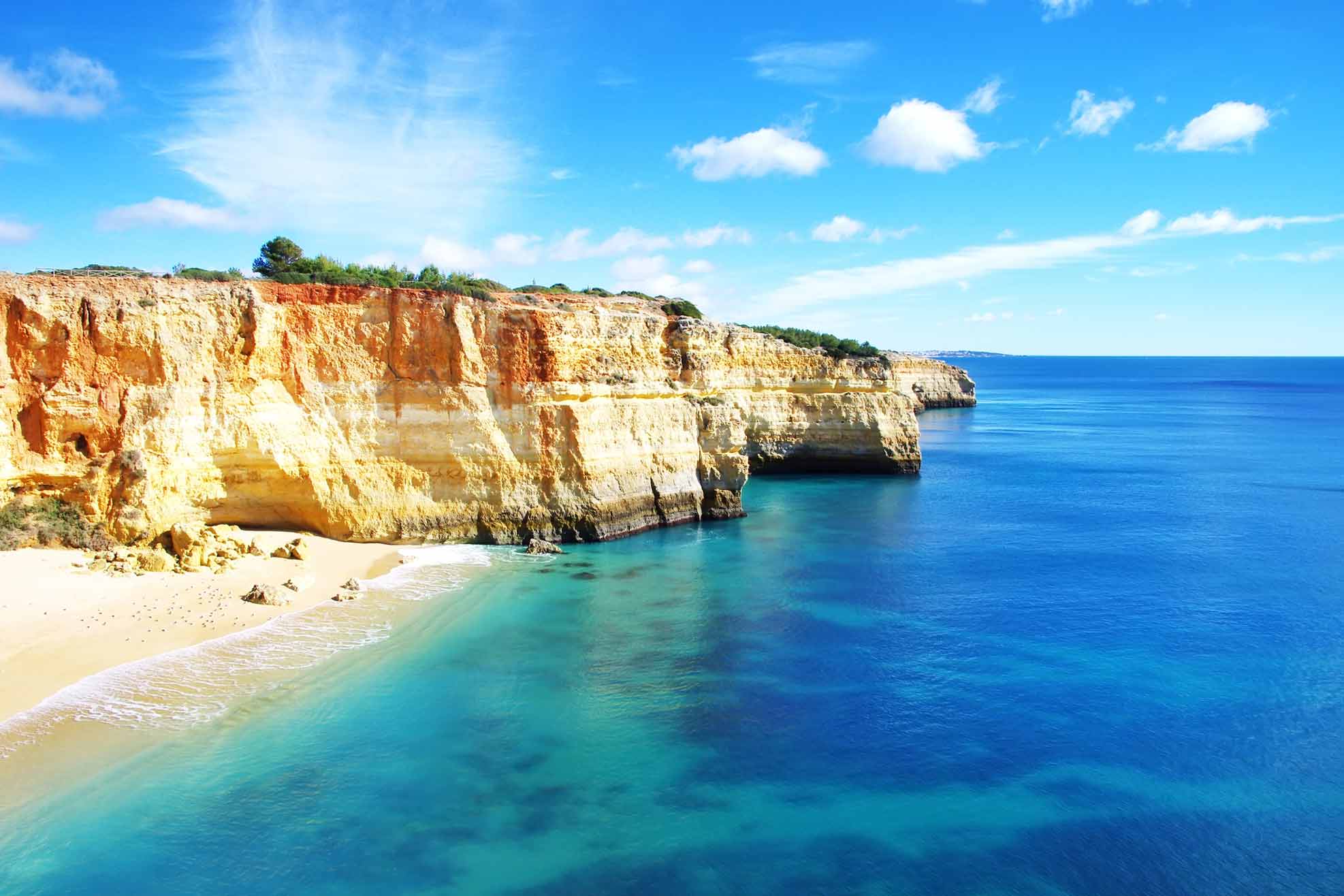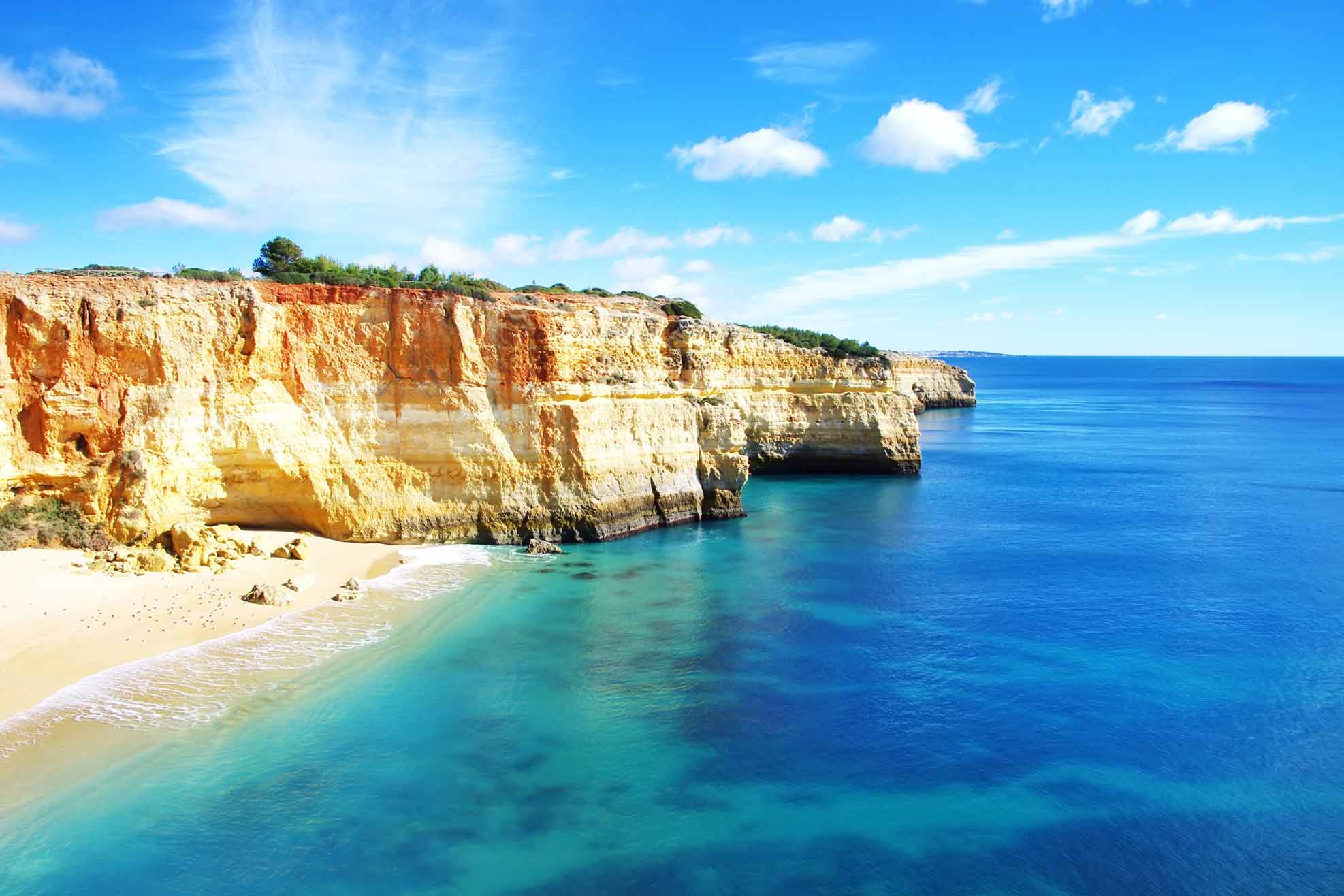 Portugal is one of my favorite countries ever! Having lived there for 9 months, I was lucky enough to experience much of its rich culture, delicious food, great waves, ancient history…And I still have so much to see and do!
If you're planning your holidays to Portugal, you should take into consideration that each city in every different part of the country is unique and has something different to offer you. So choosing where to stay can really make the difference as it is all about what you're looking for!
That's why I made this guide with the best places to stay in Portugal, including a destination for any taste!
The best place where to stay in Portugal is Lisbon if you are looking for a well rounded experience. But that is not all, Porto is a great choice if you want to try its famous wine, Lagos is perfect if you love the outdoors, Madeira Island for a tranquil gateway, Sao Miguel (in the Azores) for couples, Sintra if you love history, Costa da Caparica is the perfect surf destination and the students in Coimbra really know how to party!
For each city in this post I have also included accommodation options for different budgets, from luxury hotels to cozy guest houses and affordable hostels. But remember to book them some months in advance if you want to be sure to find a spot, especially in the summer months as hotels in Portugal book so fast!
Are you ready to see them all with me? Let's go!
If you are in a hurry
If you don't have time to read the whole post, here are the top hotels where to stay in Portugal's capital, Lisbon:
Here's a map for you, so you can visualize where all the best cities where to stay in Portugal are located:
1. Lisbon – where to stay in Portugal for the first time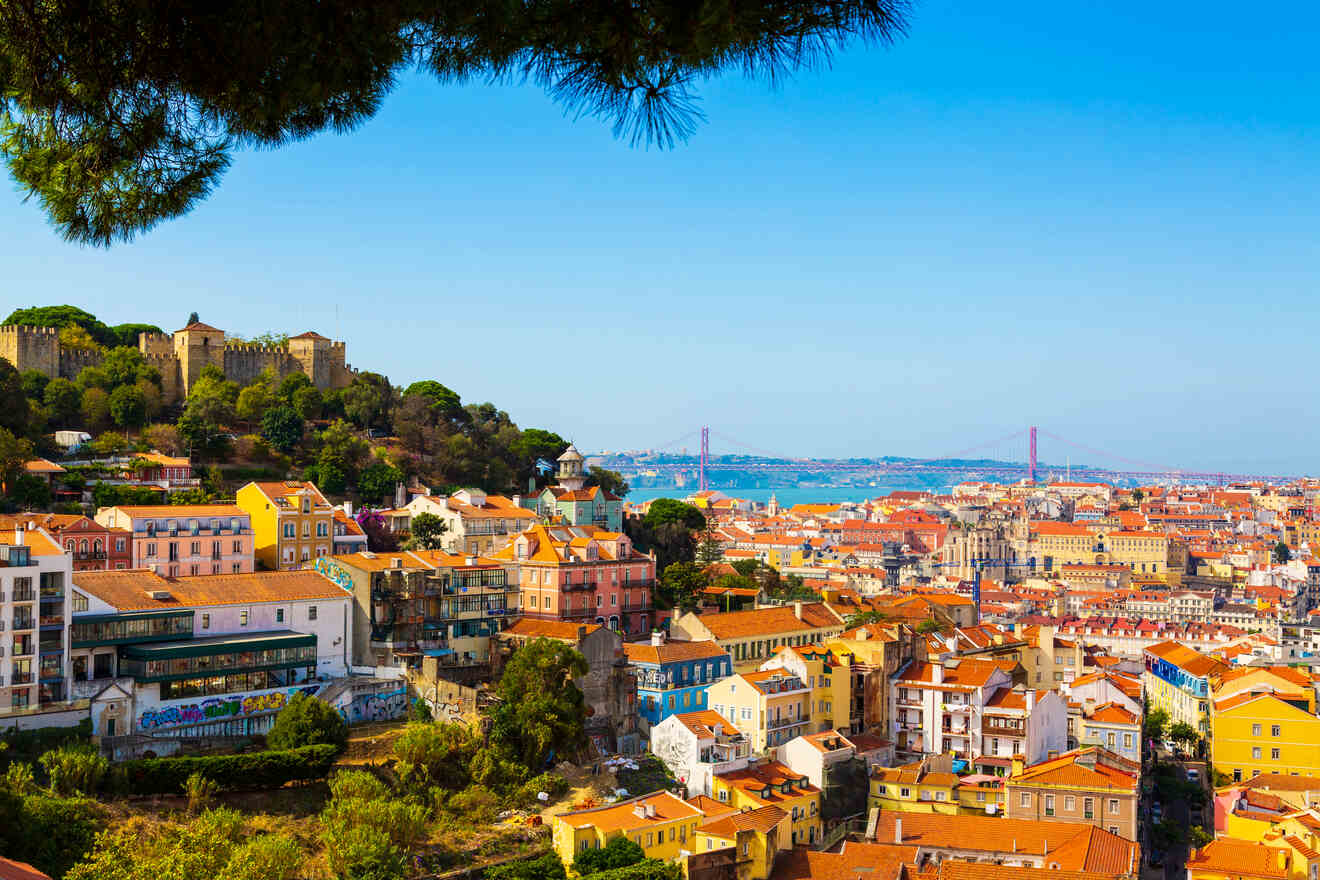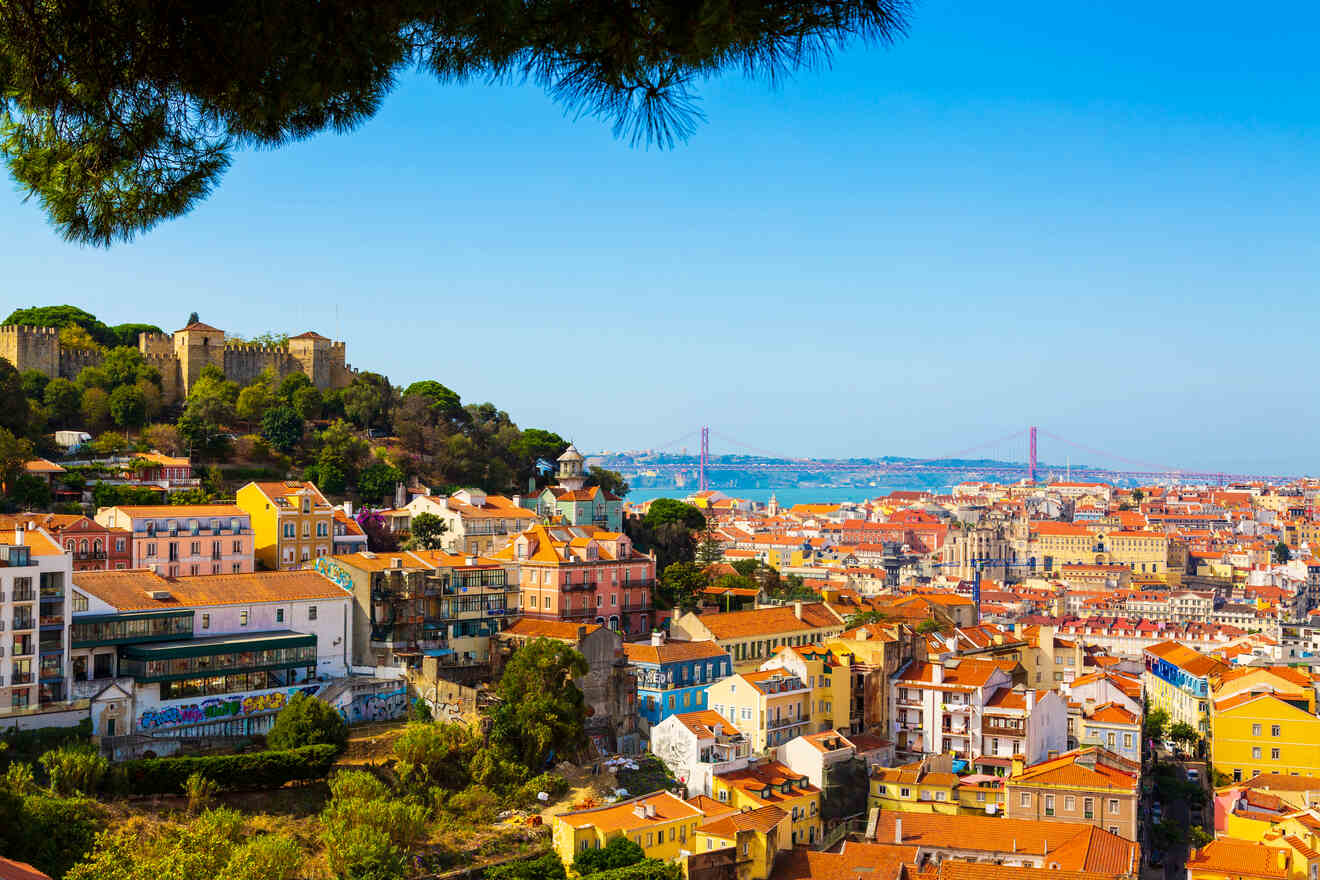 Well if it's your first time in the country, what better place to stay in Portugal than its capital?
Located on the edge of the Atlantic Ocean, Lisbon is one of the most complete cities in terms of what it has to offer that I've ever been to in my life… And it's so charming at the same time.
Here you will find a lot of urban art (which makes the city super colorful!) countless museums, world-class nightlife, historical buildings, shopping options and panoramic viewpoints… There are so many things to do in Lisbon!
Among the things that I love the most about this city is the ancient tower of Belem, the Miradouro Graça Viewpoint, the Alfama district where you can attend a traditional Fado show (check out the best places to see Fado!) and drink the Ginjinha liqueur, or the Bairro Alto to dance the night away.
This is also THE place to try the delicious local cuisine. From the sweet pastries pasteis de nata, to the typical baccalao (codfish) prepared in any kind of way, and the petiscos, the portuguese version of the spanish tapas. All should be accompanied with a glass of green wine!
And if you love walking, this is definitely the place for you. Lisbon is built on seven hills, so even if everything is relatively close, you will walk kilometers up and down!
Other accommodation options in Lisbon
Things to do in Lisbon
2. Porto – for the best wine in Portugal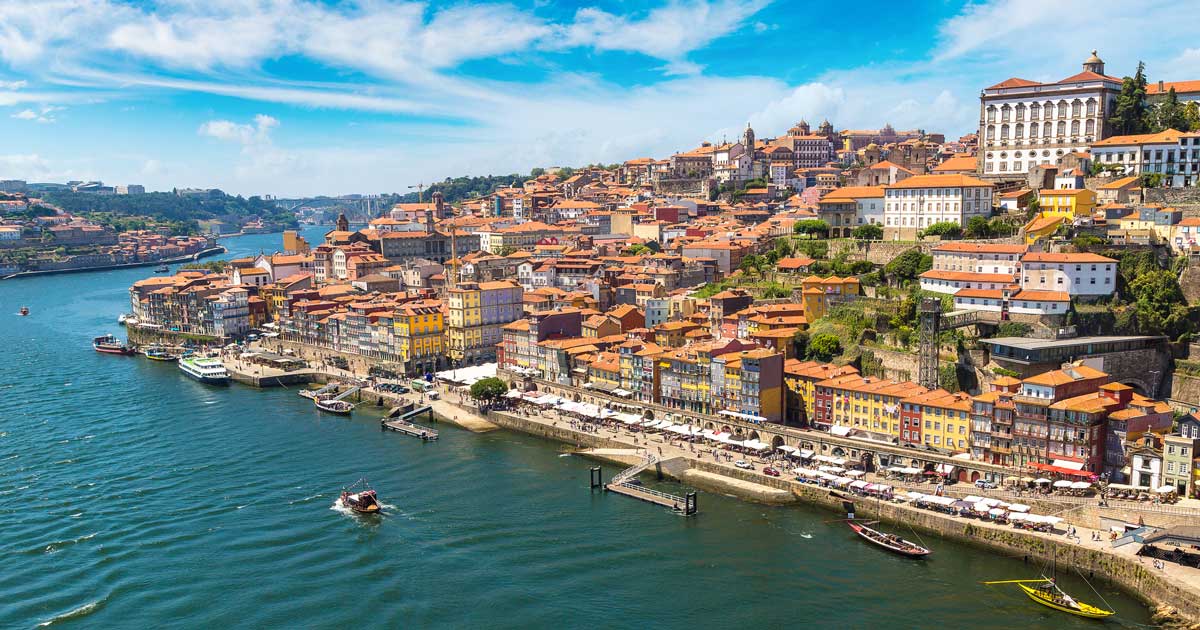 Located on Portugal's northwest coast, the ancient city of Porto is perfect for a tranquil city break, offering as many attractions as Lisbon but with a smaller and more laid-back vibe. Here all the interesting sights are within walking distance of each other!
And, needless to say, this is where the delicious port wine was invented (if you don't know it already, it is a strong red sweet wine), so you cannot leave the city without trying it. Check out the Calem Cellar, where you can do tastings in their port wine cellars and learn about their ancestral traditions.
Other than its traditional wine, there are plenty of other attractions and activities in Porto. Get ready for beautiful and ancient buildings like the iconic Livraria Lello bookshop or the neoclassical Bolsa Palace, gothic architecture, sandy beaches in the surrounding area, and much more.
But honestly, just strolling around the historic center itself is one of the best things you can do in Porto. I suggest you walk by the tranquil waters of the Douro River, reflecting the lights at night, and the historical district of Riberia with its winding streets and historical buildings!
Other accommodation options in Porto
Things to do in Porto
3. Lagos, Algarve – where to stay for the outdoors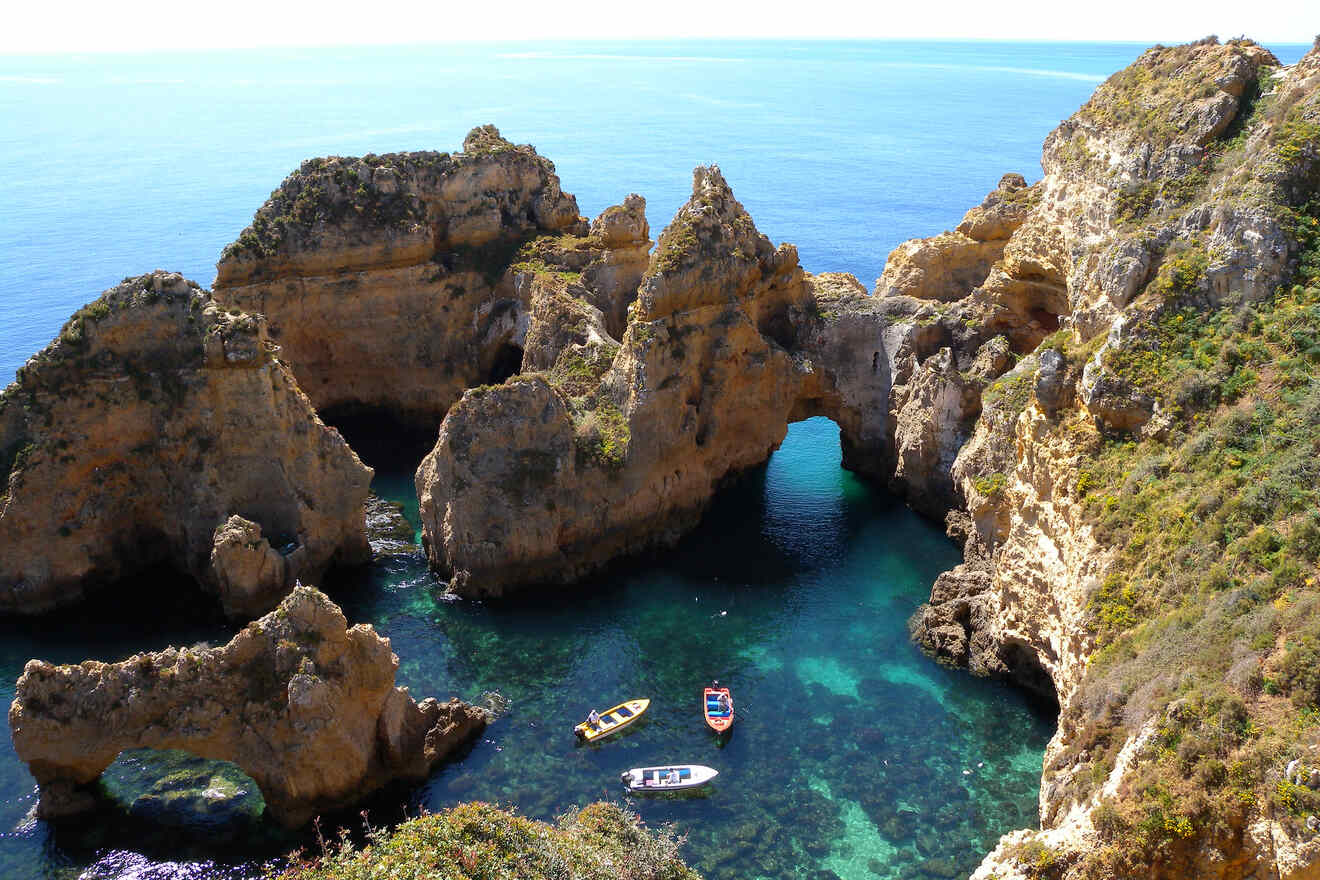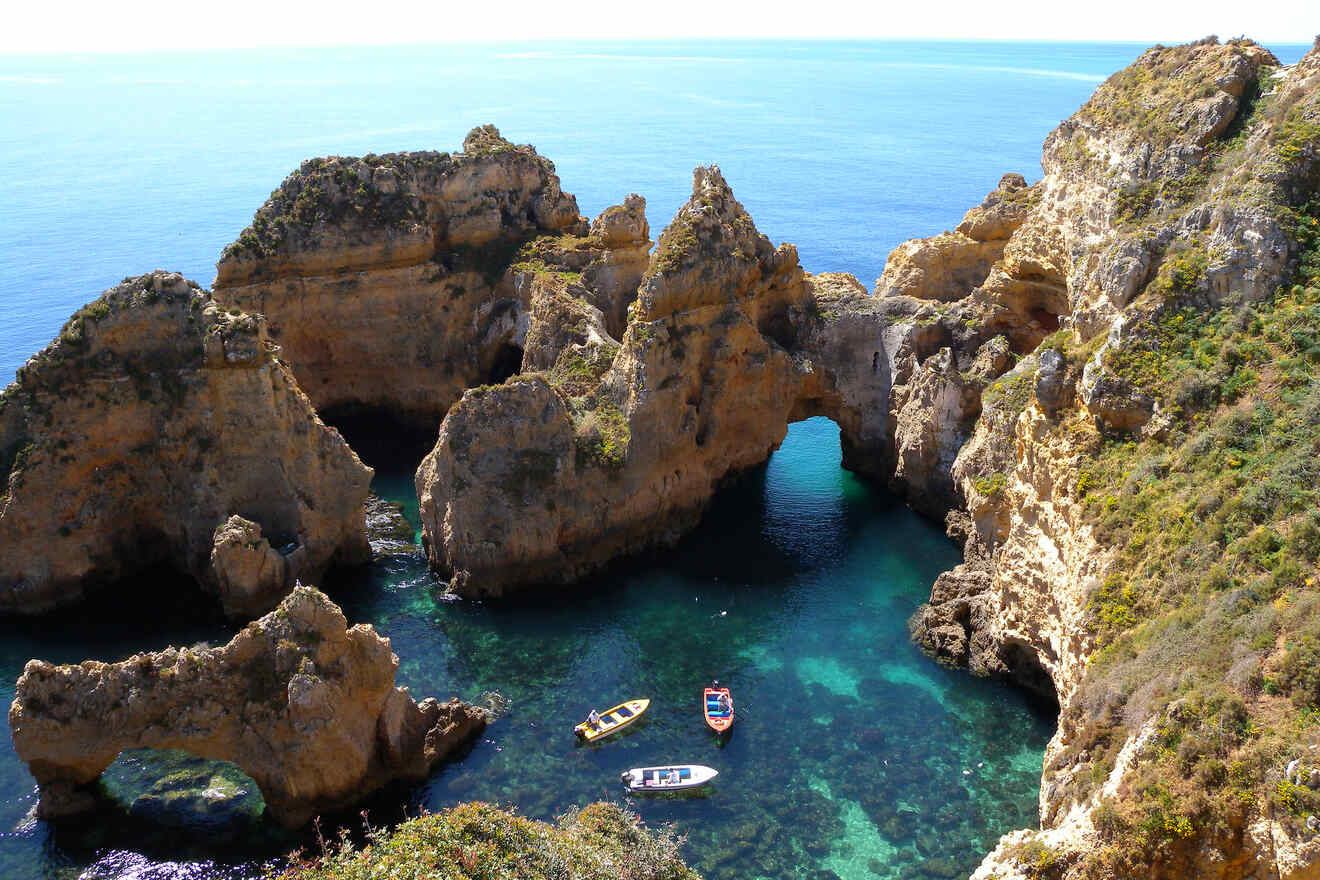 Lagos is a coastal city located along the Western Algarve Coast in southern Portugal. Its historical city center is full of shops, restaurants, and bars, plus sandy beaches, and buzzing nightlife. But there are also many other cool areas to stay in Lagos with different attractions and accommodation options!
Anyways, the best thing you can do here is definitely to try some adventurous sports! In fact, its position facing the Atlantic Ocean makes it perfect for kayaking, scuba diving, and surfing if you're into watersports or hiking in the beautiful green area just nearby!
And in only a 20 minute drive, you'll find the Southwest Alentejo and Vicentine Coast Natural Park, one of the largest parks in Portugal, rich in wildlife, green forests, pristine wind-blown sand dunes, hiking trails, and much more… This is THE place for nature lovers!
Other natural spots you should definitely check out are the scenic rock formations at the Ponta da Piedade, the spectacular Praia do Camilo beach (one of the most beautiful beaches in Portugal), and the legendary Bengali Caves, reachable on one of the many boat tours.
Other accommodation options in Lagos
Things to do in Lagos
4. Madeira – for a tranquil getaway in nature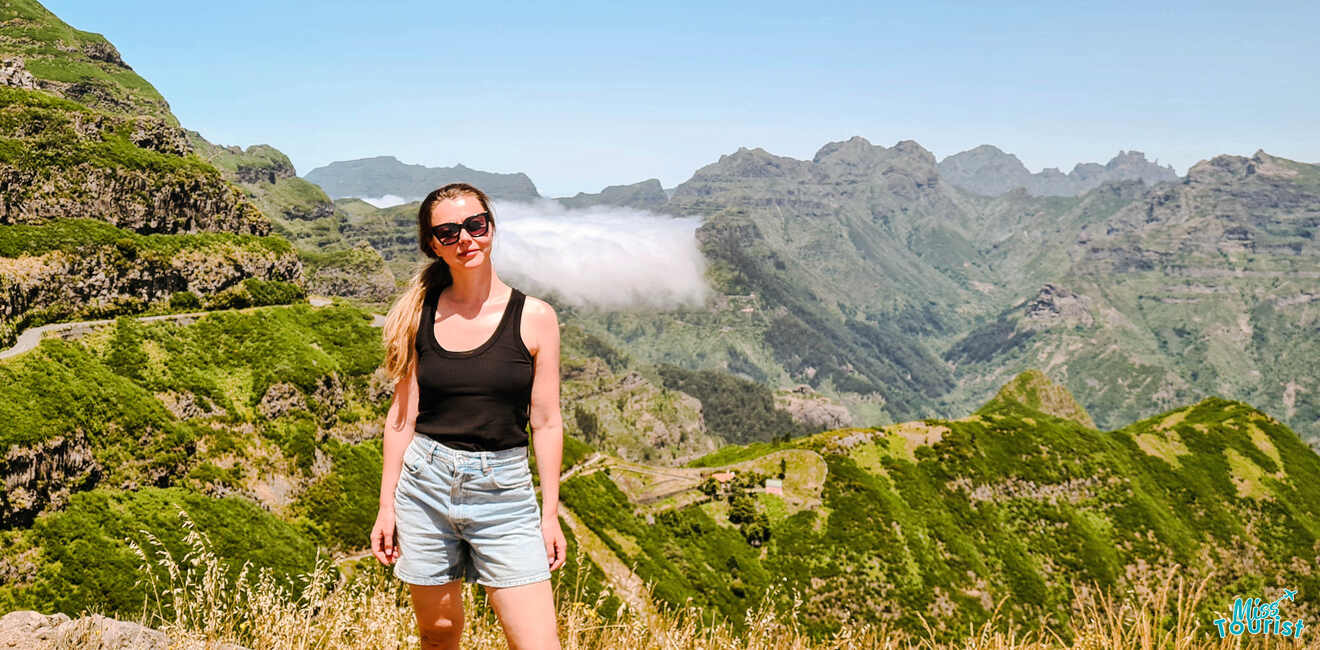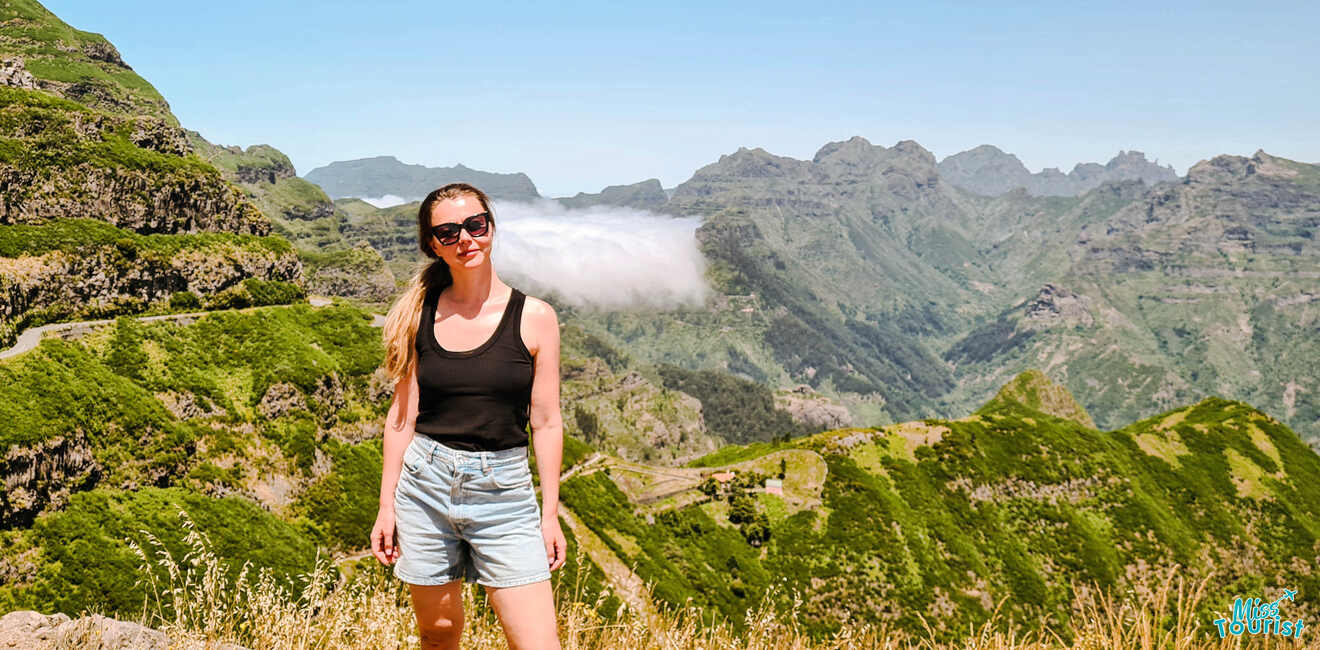 Madeira is a beautiful island in the middle of the Atlantic Ocean, near the coast of Morocco just a 2-hour flight from Portugal.
Being the biggest island in the Madeira Archipelago, this magical place offers a lot of biodiversity, marine life, dramatic cliffs, panoramic points, forests, and a rocky coastline… If you want to connect with nature, there's no better place to stay in Portugal than this one!
The things to do and tours in Madeira are countless, but some of the best ones are for sure exploring the Laurisilva forest, swimming with dolphins, and hiking from Pico Arieiro to Pico Ruivo!
FUN FACT: Thanks to the beautiful weather of the island, Madeira grows unique (and weird) fruits that you won't find anywhere else in the world, like passion fruit with a tomato taste, banana passion fruit, and many more. Don't miss the chance to try them at the Farmer's Market!
And if you feel like having a city break, you can visit the capital Funchal, one of the best areas to stay in Madeira, brimming with cobbled streets, traditional houses, historical buildings, and delicious restaurants where you can try the local cuisine!
Other accommodation options in Madeira
Things to do in Madeira
5. Sao Miguel, Azores – best island in Portugal for couples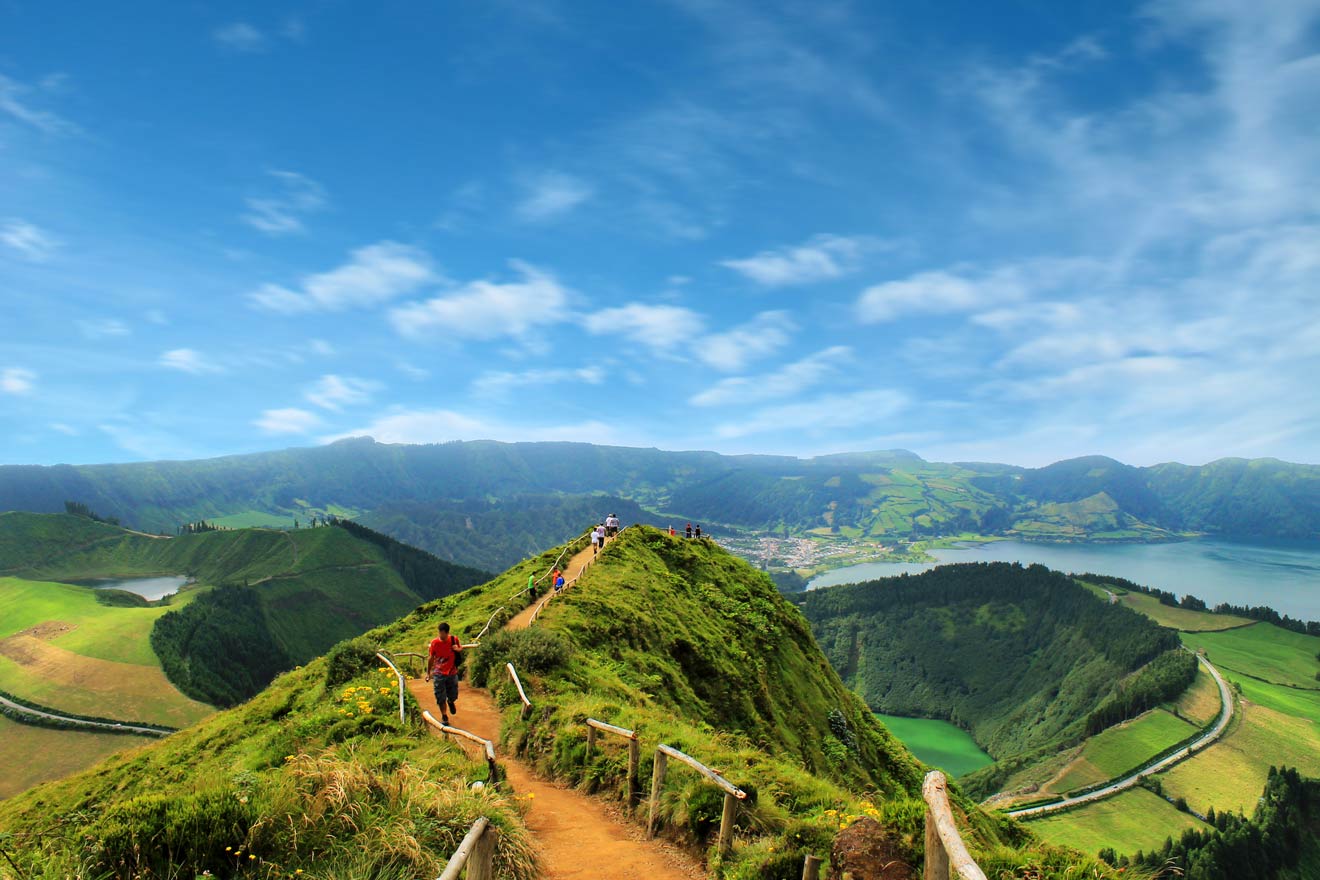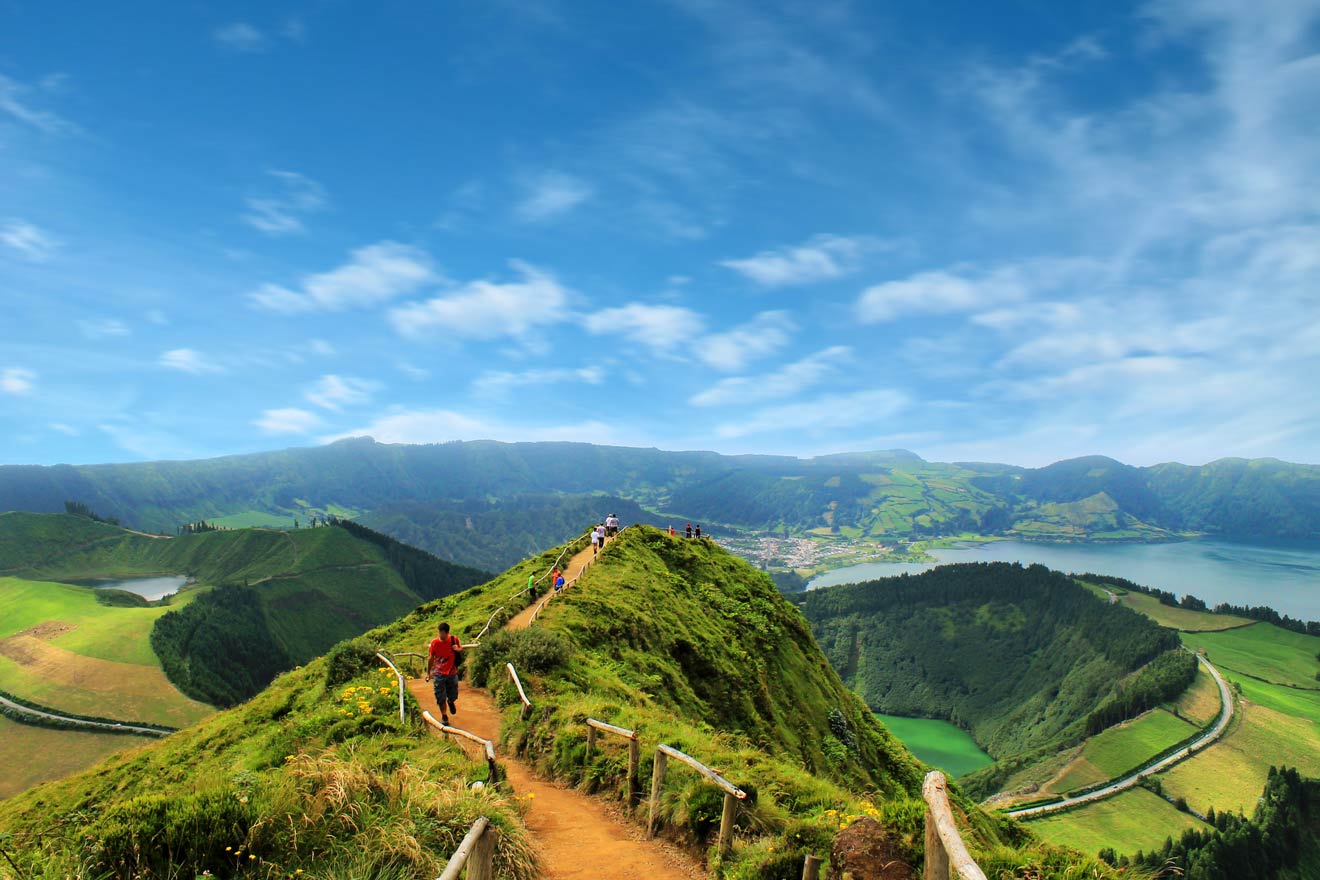 Azores is another archipelago in the mid-Atlantic Ocean, of which the main island is Sao Miguel. This is one of the greenest places you'll ever see in your life, which makes it the perfect setting for a romantic holiday with your special one!
In fact, it's not by chance that they call Sao Miguel "The Green Island" (in Portoghese Ilha Verde), and when you get here you'll understand why. You won't see anything other than green hills, mountains, and verdant fields.
Compared to Madeira, Sao Miguel is way more tranquil and less crowded, so you won't find big resorts but beautiful guest houses and cozy hotels overlooking the Atlantic ocean… Ideal for couples that want to enjoy some privacy and escape the real world!
And you can already imagine the kind of activities you'll do there, all connected to nature. You can follow off-the-beaten-path hikes, immerse yourself in natural hot springs, go scuba diving or whale watching… And you can even surf on some beaches.
P.S. If you want a more detailed post on best places to stay in Sao Miguel in Azores, we have one right here!
So, in a few words, Sao Miguel is a real dream!
Other accommodation in Sao Miguel Island, Azores
Things to do in Sao Miguel Island in the Azores
6. Sintra – where to stay in Portugal for history buffs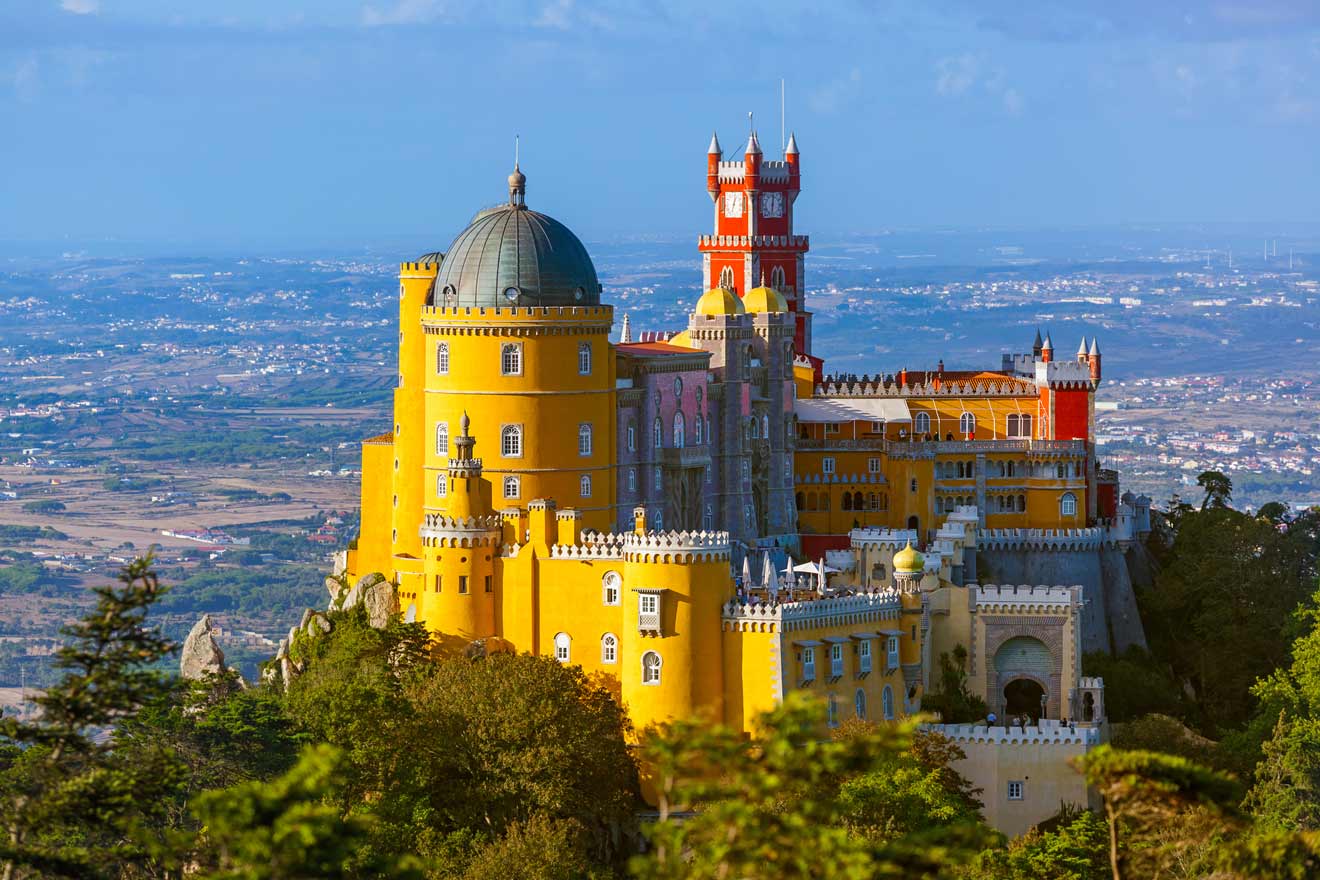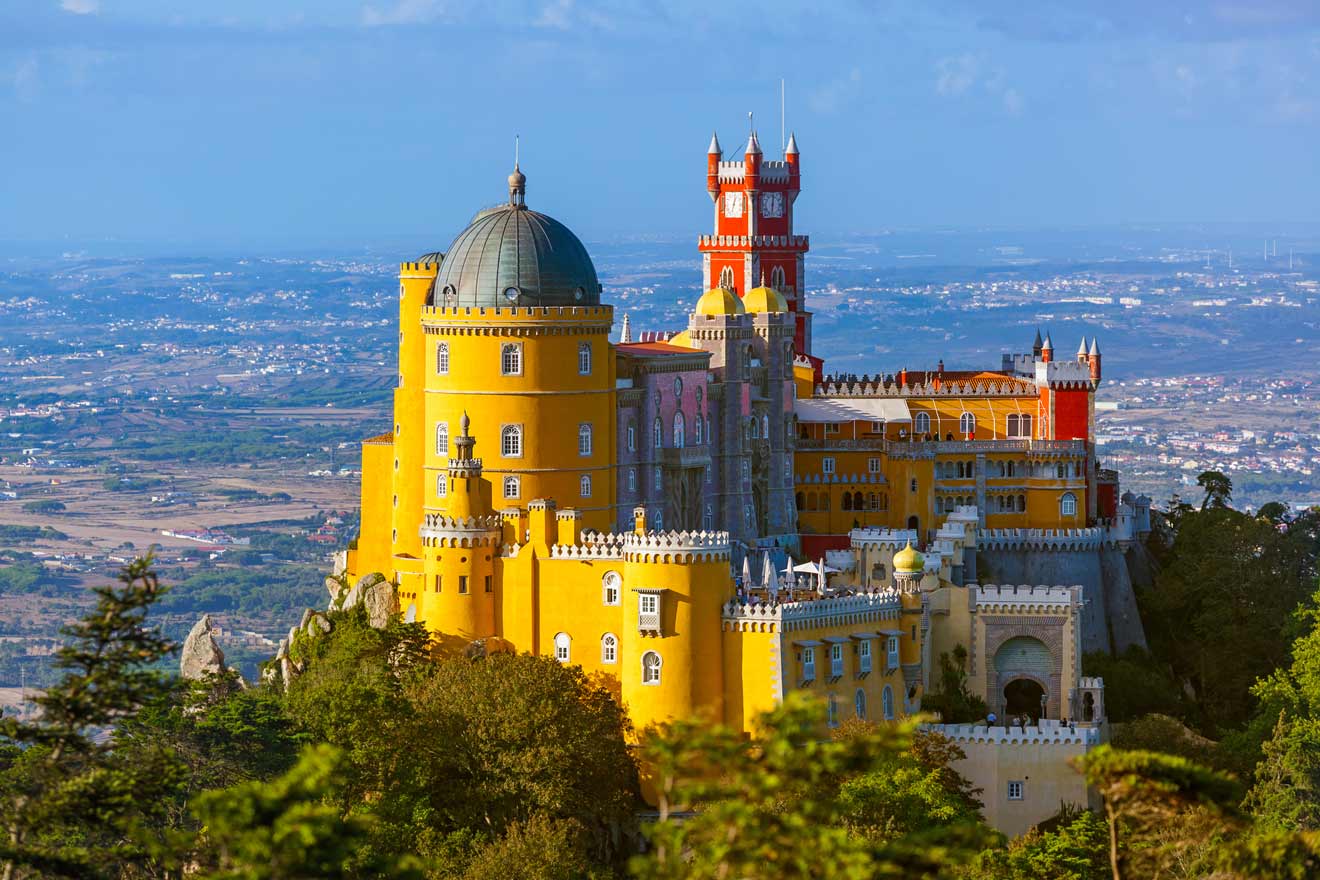 The old town of Sintra, located just a 30-minute drive from Lisbon, is one of the most unique and eccentric cities in all of Europe. Nestled in lush greenery, Sintra hosts historical palaces winning UNESCO world heritage status, like the Pena Palace and the Quinta de la Regaleira palace!
Even if a lot of people visit it just as a day trip from Lisbon, I believe it is definitely worth it to stay here if you really want to experience its unique vibe and visit all its ancient attractions without being in a hurry.
Also, the green hills surrounding Sintra are ideal if you want to spend some time in nature. If that's the case, you should definitely check out the Sintra Natural Park, rich in vegetation, hiking, rock climbing trails, and caves!
Last but not least, here you'll be just a short drive from some incredible beaches for surfing, like Praia Grande or Guincho, and to Cabo da Roca, the westernmost point in all of Europe (you probably know it for its famous lighthouse) where you can enjoy a breathtaking panorama!
Other accommodation options in Sintra
Things to do in Sintra
7. Coimbra – where to stay in Portugal for nightlife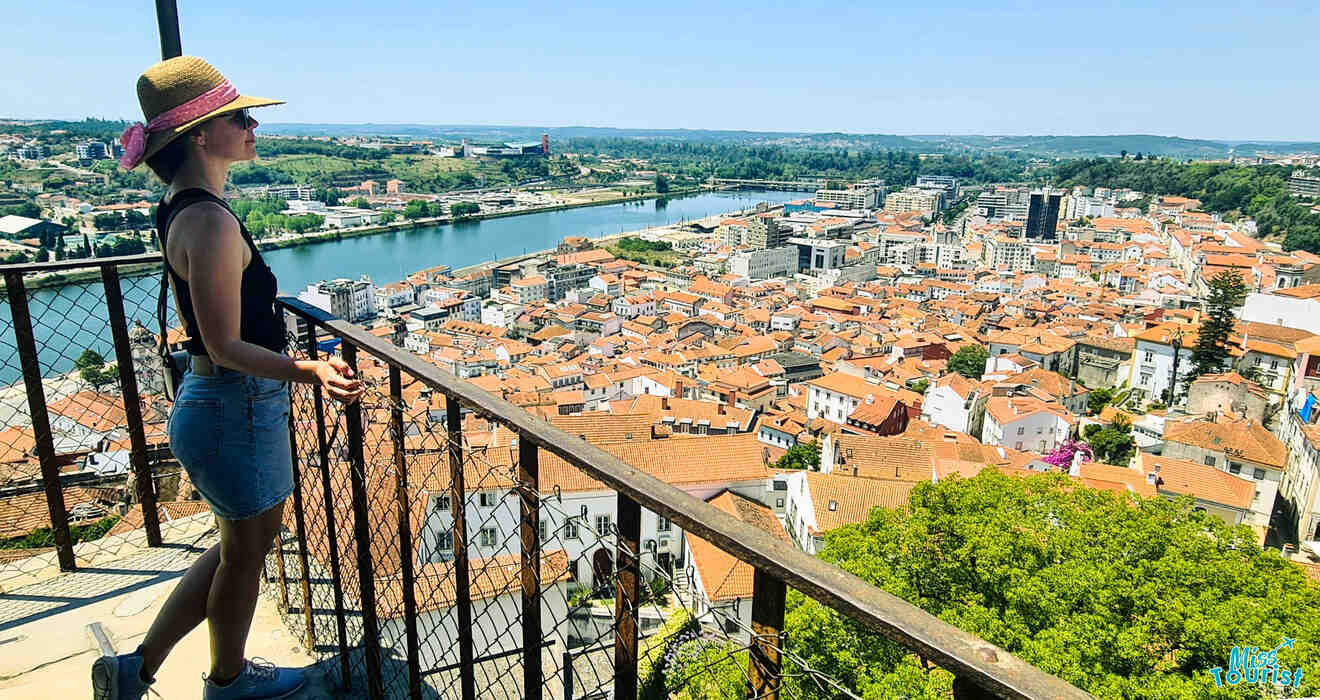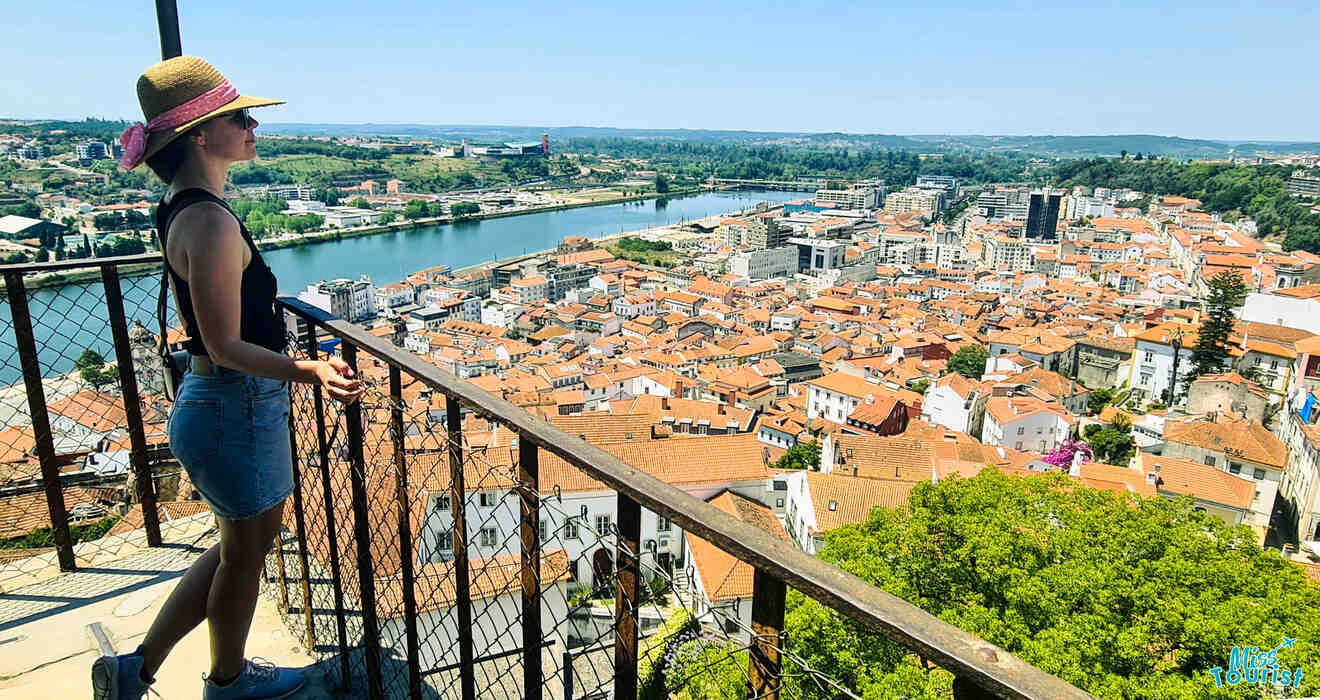 The picturesque city of Coimbra, located right between Porto and Lisbon, is actually the former Portuguese capital, with rich history, culture, and beautiful buildings. While this may not immediately sound like somewhere to go if you want to party, hear me out!
Hosting one of the oldest universities in Europe (make sure you visit it!), Coimbra attracts A LOT of students and young people, which makes it very lively at any time of the day, but especially at night. Everyone knows that students know how to party and since this entire city revolves around the university, there are countless bars where you can have fun and meet a lot of people!
Plus, if you happen to be in Coimbra during spring, make sure you don't miss its crazy festivals, like the one on the 2nd Sunday of May, when senior students celebrate the end of academic life with colorful parades and sponsor the whole city to get drunk! Yep! This is just one of the cool things you can do in Coimbra, check them out on this post!
Other accommodation options in Coimbra
Things to do in Coimbra
8. Costa da Caparica – where to stay in Portugal for surfing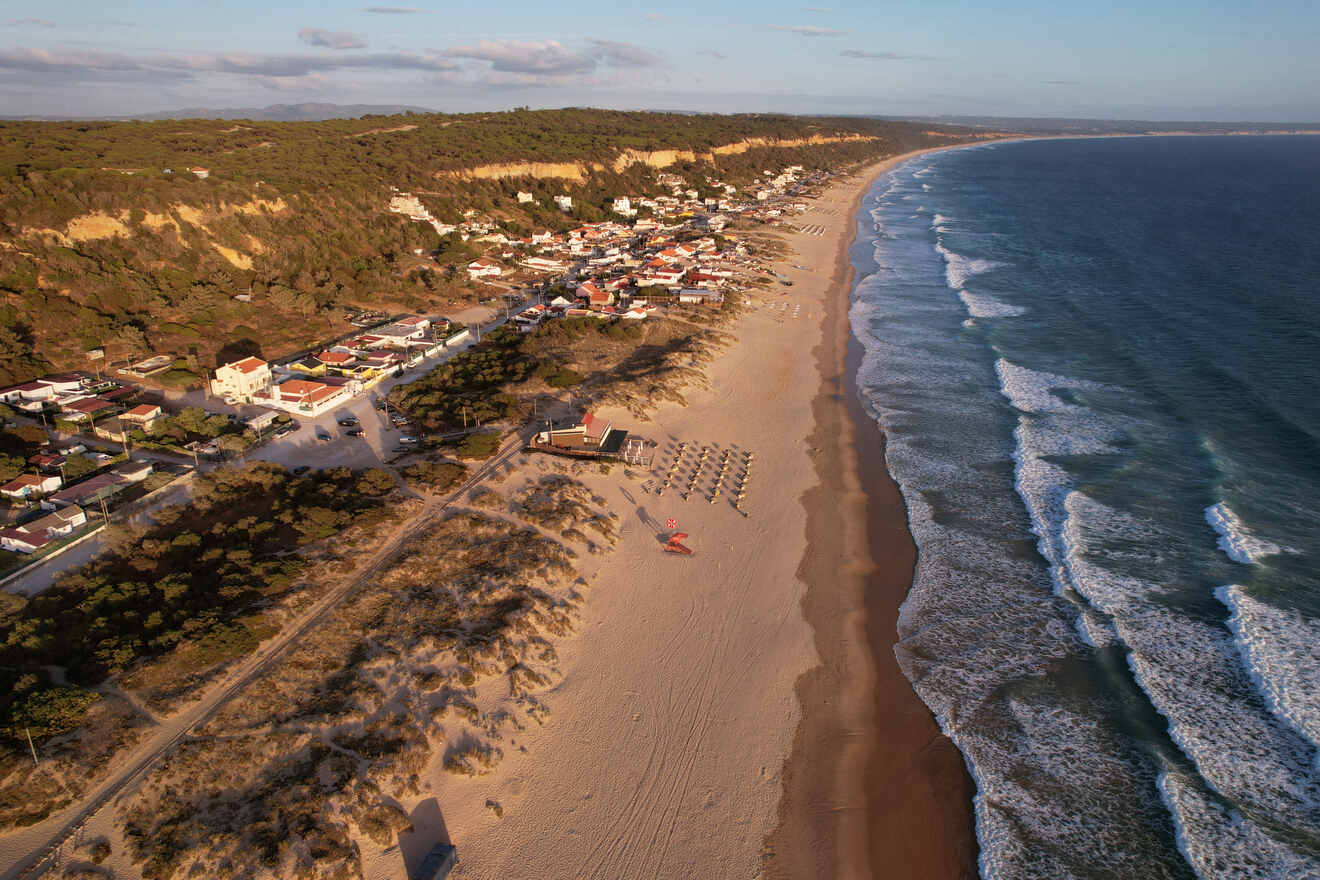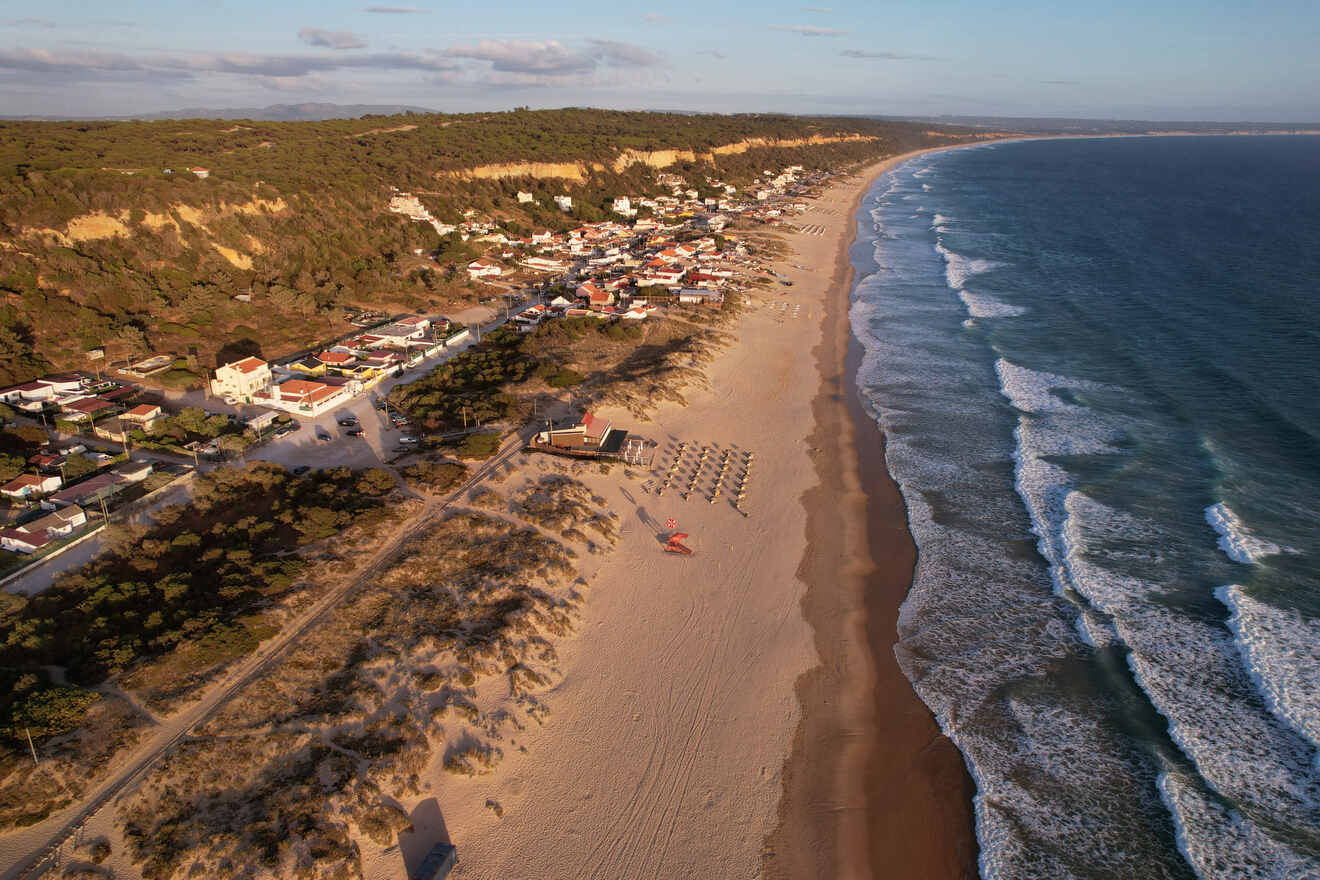 If you are a surf junkie like me, you'll fall in love with the rural village of Costa da Caparica. Located on the coast only 20 minutes drive from Lisbon, it offers 30 km (19 miles) of sandy beaches overlooking the Atlantic Ocean.
Here you can literally surf on a different beach every day, and if you are a beginner, there are countless surf schools open in the summer, the best period to practice your skills!
If you're not into sports, no worries. In the area there are countless beautiful and untouched beaches to just chill, swim, and enjoy a sunny day, like Fonte de Telha or Lagoa de Albufeira. If you want to discover more, check my travel guide to Costa da Caparica!
Last but not least, here you'll enjoy some of the best sunsets you will ever see. I lived in Costa da Caparica for 9 months and every day was precious!
Other accommodation options in Caparica
Things to do in Caparica
FAQs about where to stay in Portugal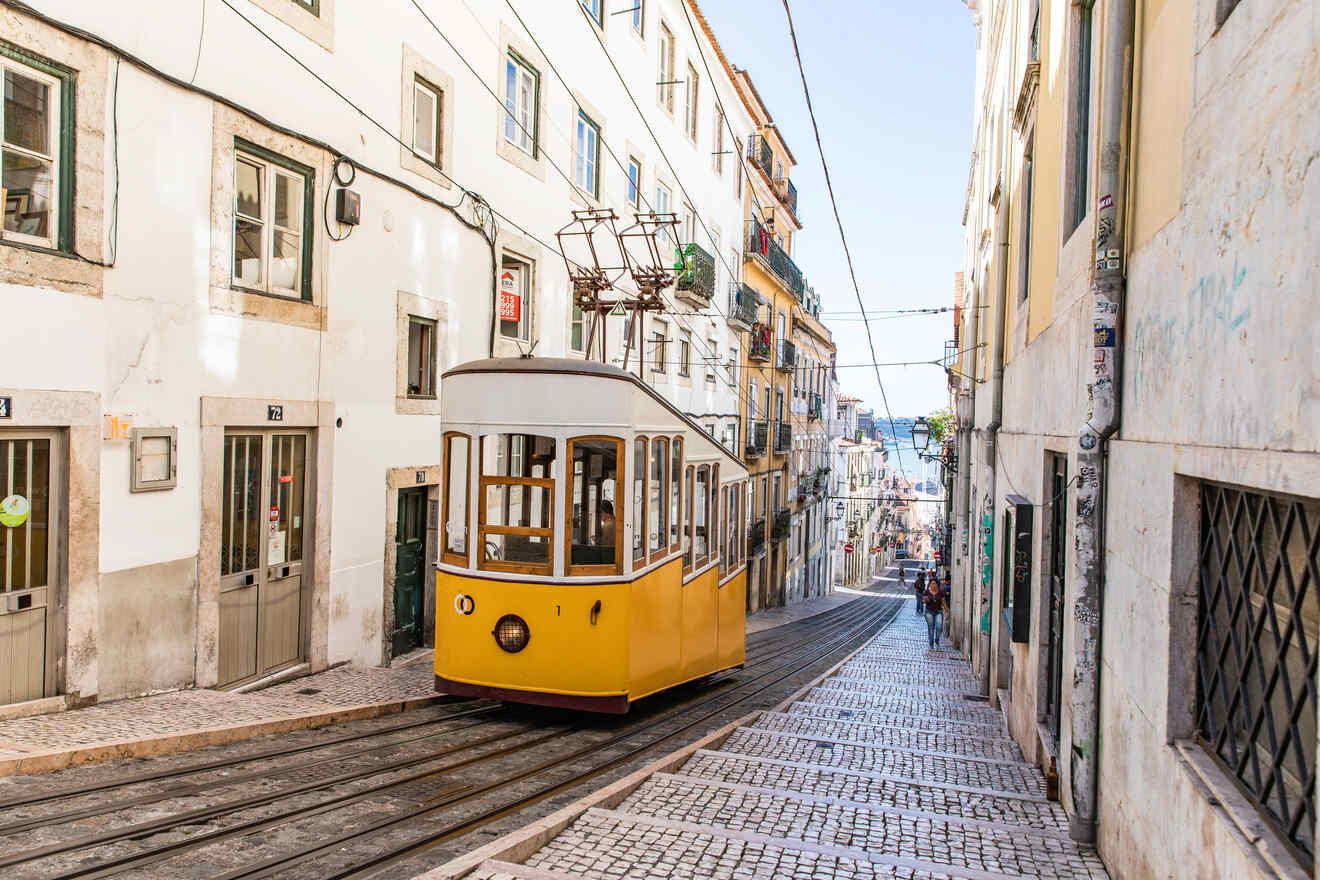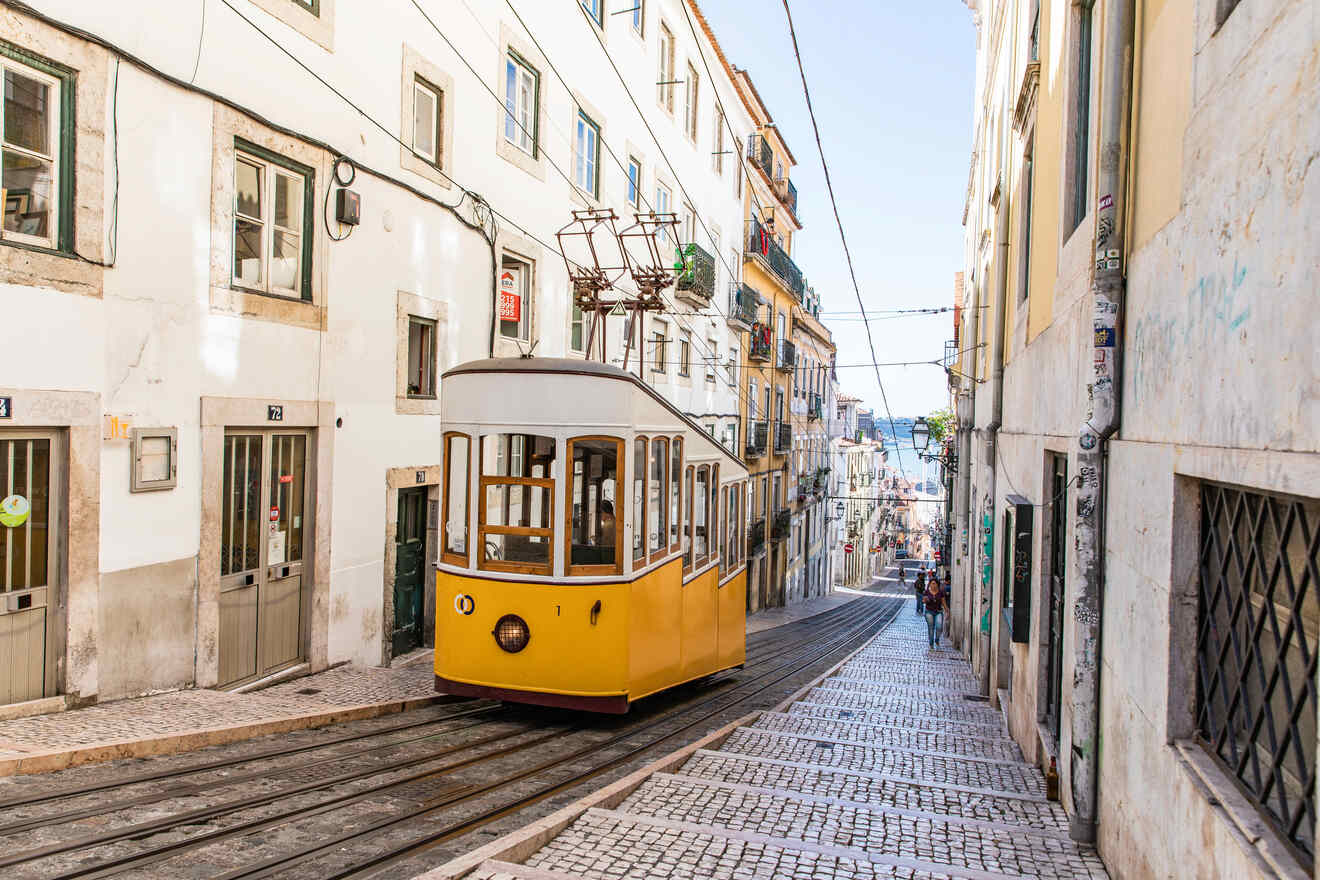 Conclusion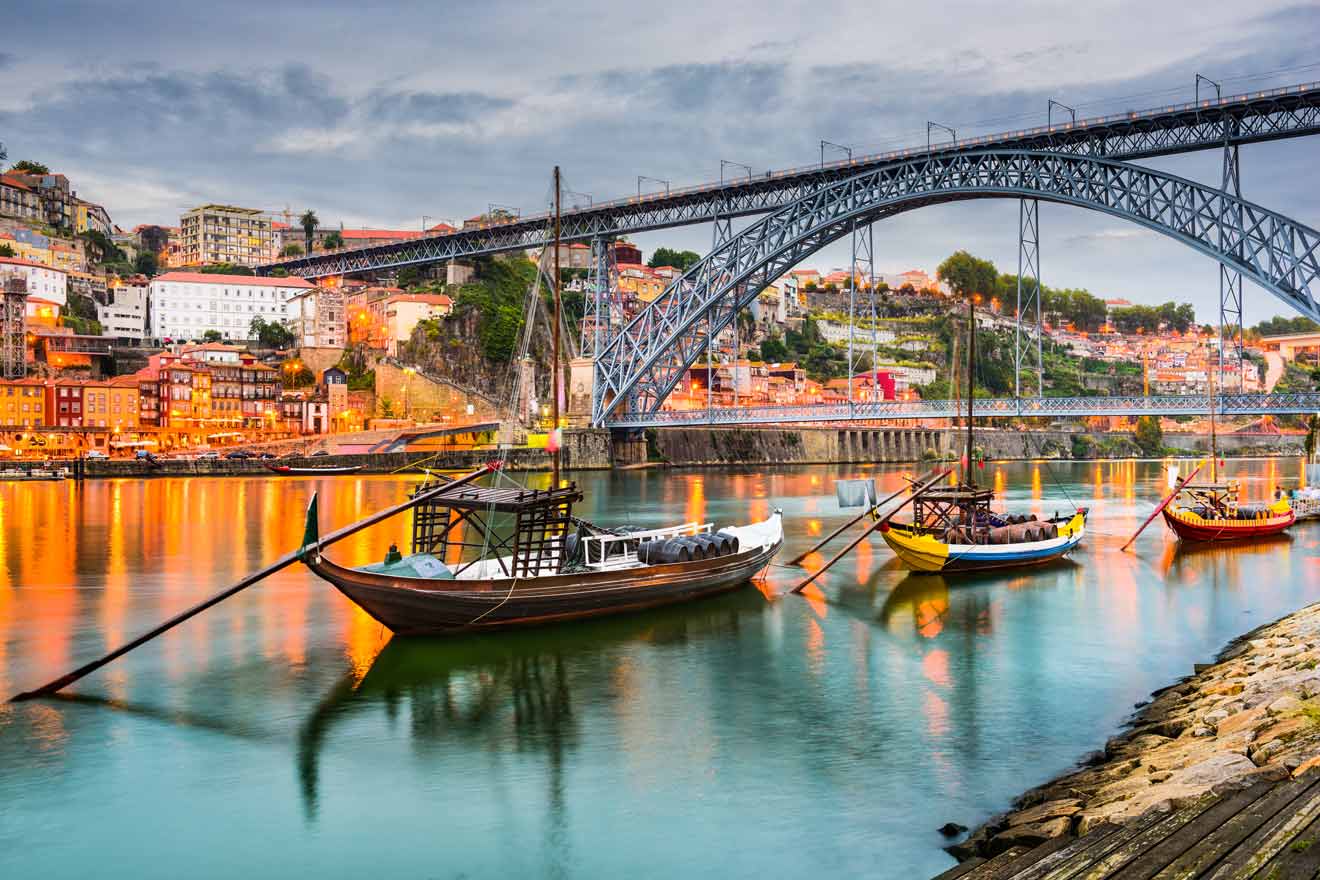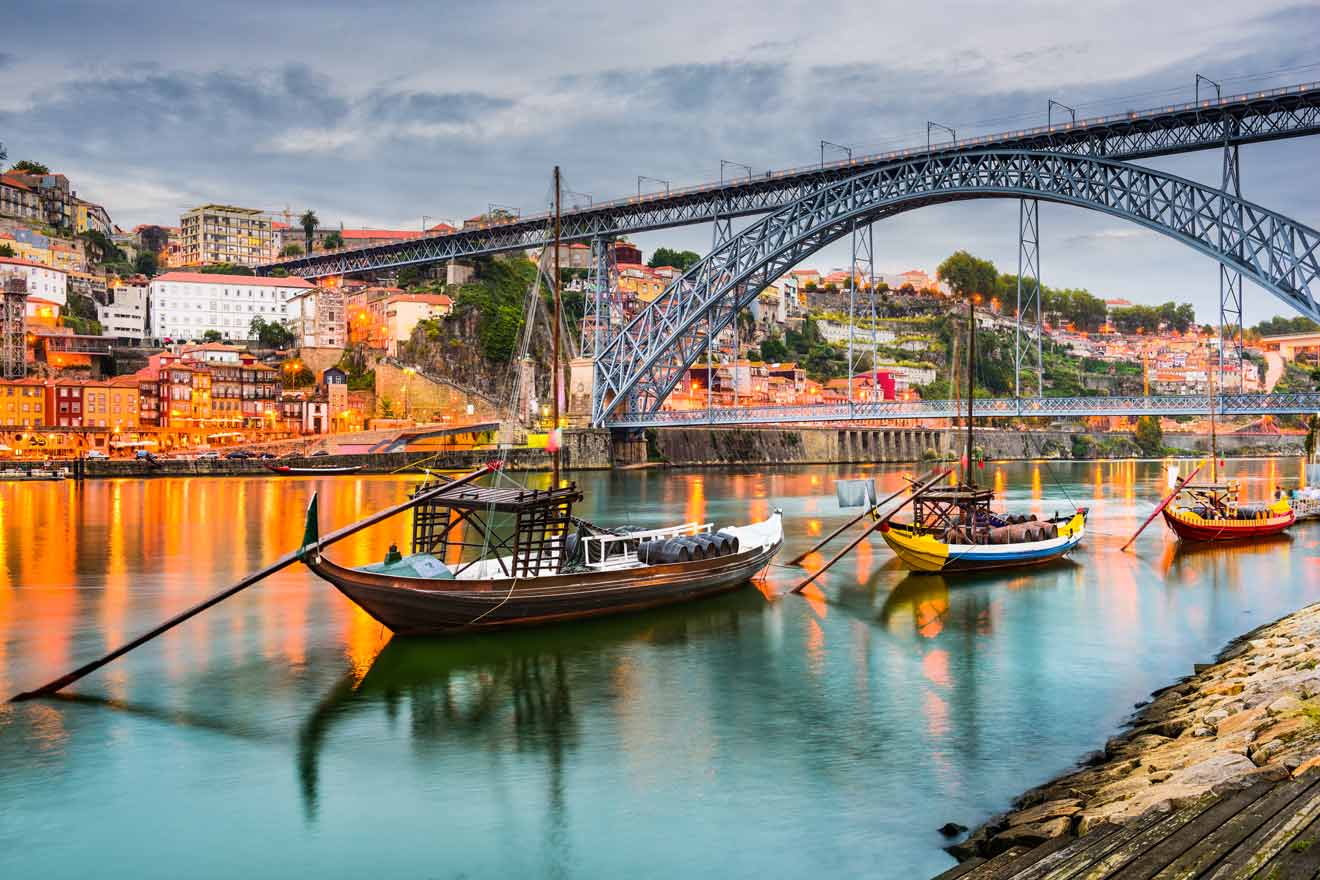 So, have you decided where to stay in Portugal between the capital Lisbon, the laid-back Porto, Lagos with its outdoor activities, the natural Madeira, the romantic Sao Miguel Island, or the historical Sintra?
We have just been through all the best cities to stay in Portugal, each one offering different attractions, vibes, and hotel options, so by now, you should have made your choice!
But if you are still undecided, check out my 2 favorite hotels in Lisbon, the capital of Portugal and one of the best places where to stay in the country:
If you like these hotels as much as I do, book something right now or at least some months in advance, so you're sure you'll find availability and maybe also some good offers!
I hope my guide will help you find what you are looking for, and if you have any questions for me, please drop them in the comments below. I will answer you in a blink of an eye!
Have an amazing holiday in Portugal!
Elena
---