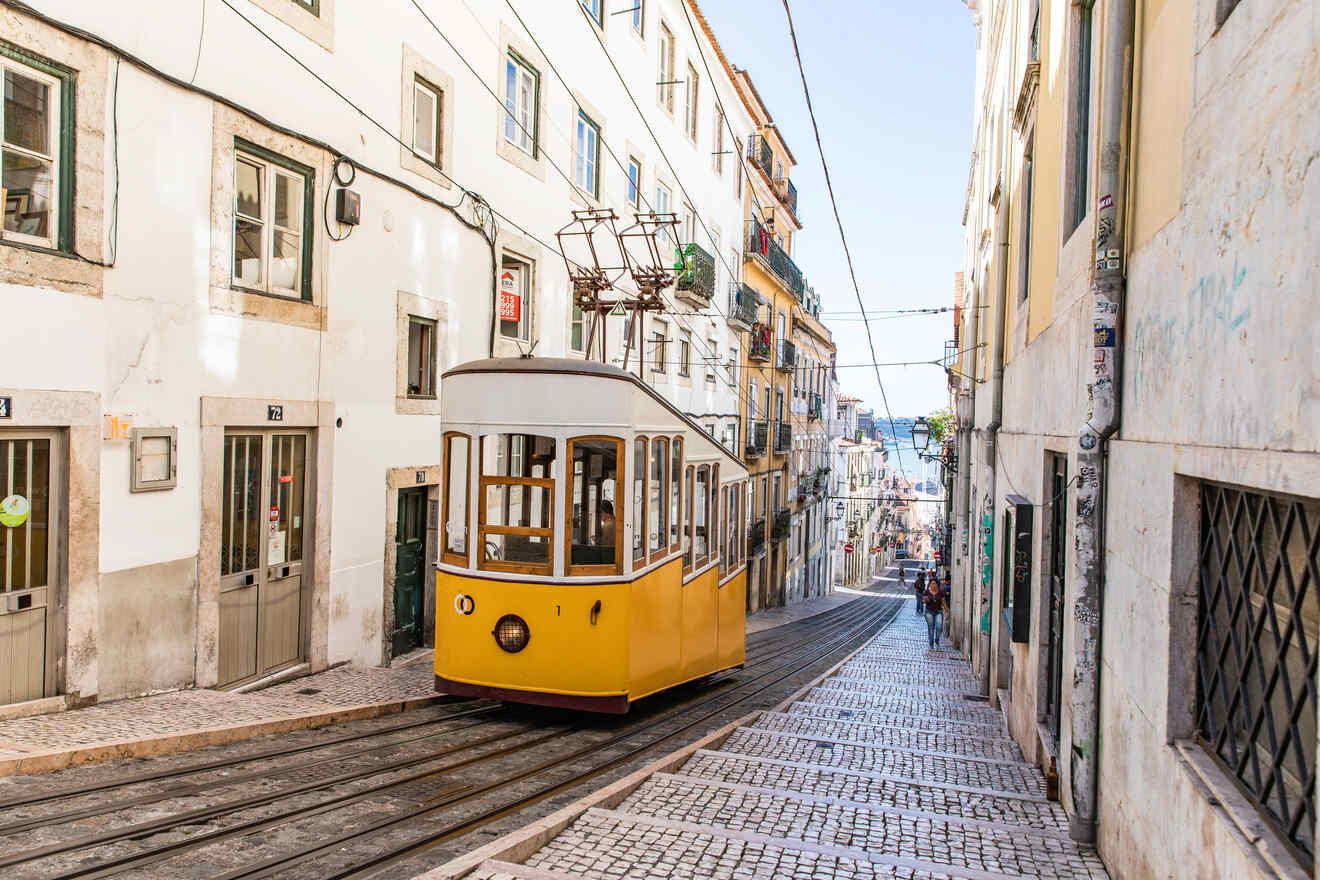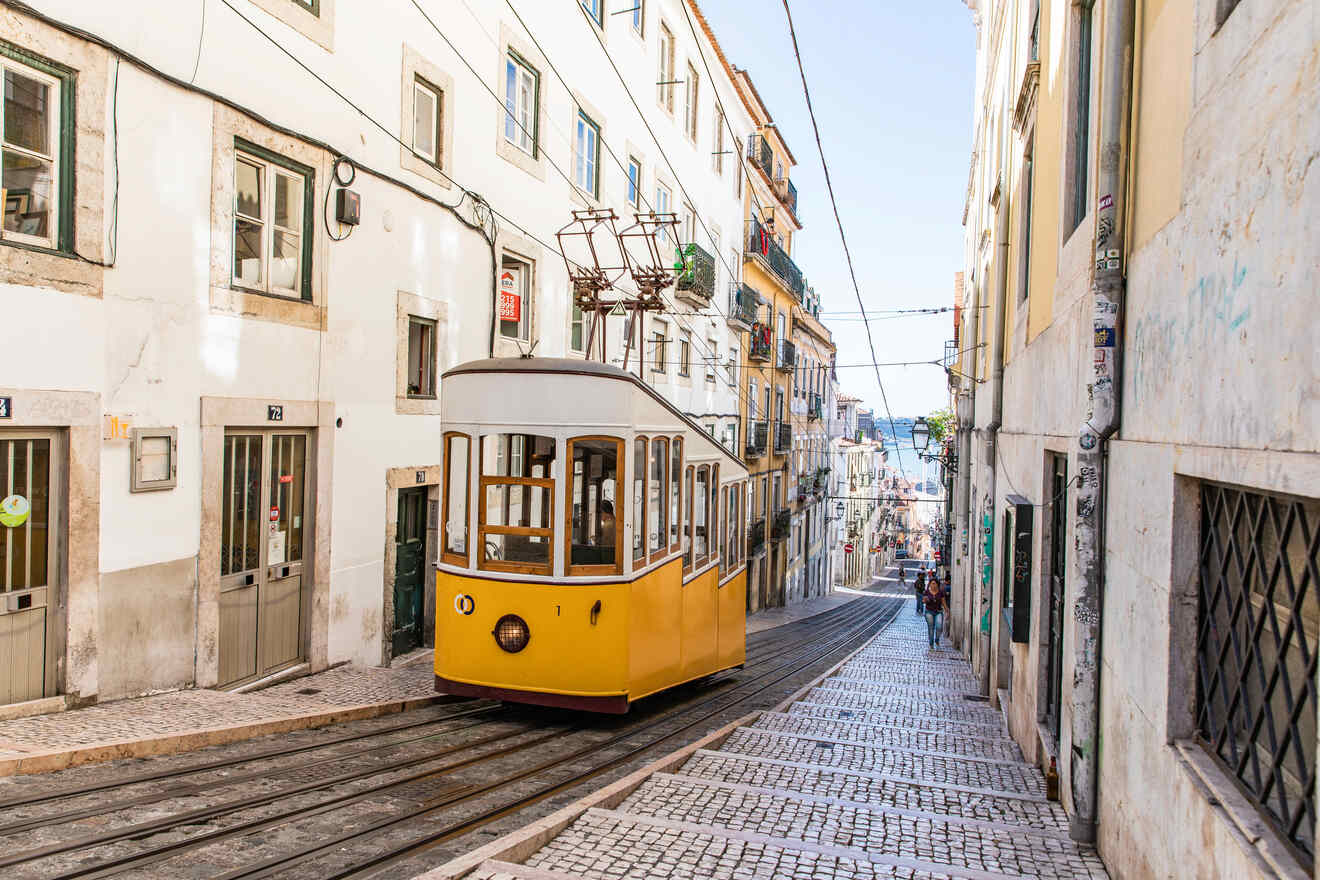 Portugal's capital, Lisbon is one of the most photogenic cities in Europe and a city I currently call home (lucky me!).
Lisbon has many beautiful districts that might get a bit confusing for a first-time visitor. In this article, I will answer your question about where to stay in Lisbon and talk about the 5 best areas from budget to luxury.
Keep in mind that Lisbon is one of the most visited cities in Europe and the hotels might fill up quicker than you think and prices go up. That's why you need to make sure to book your place in advance. Most of the hotels have a free cancellation policy, so do not worry if you change your mind!
Let's get started!
If you are in a hurry
Here are some amazing hotels in the city center sorted by prices (all of them have fabulous reviews, too!):
Here is a Lisbon map with all the 5 areas I will be talking about in this post, so you can easily visualize them: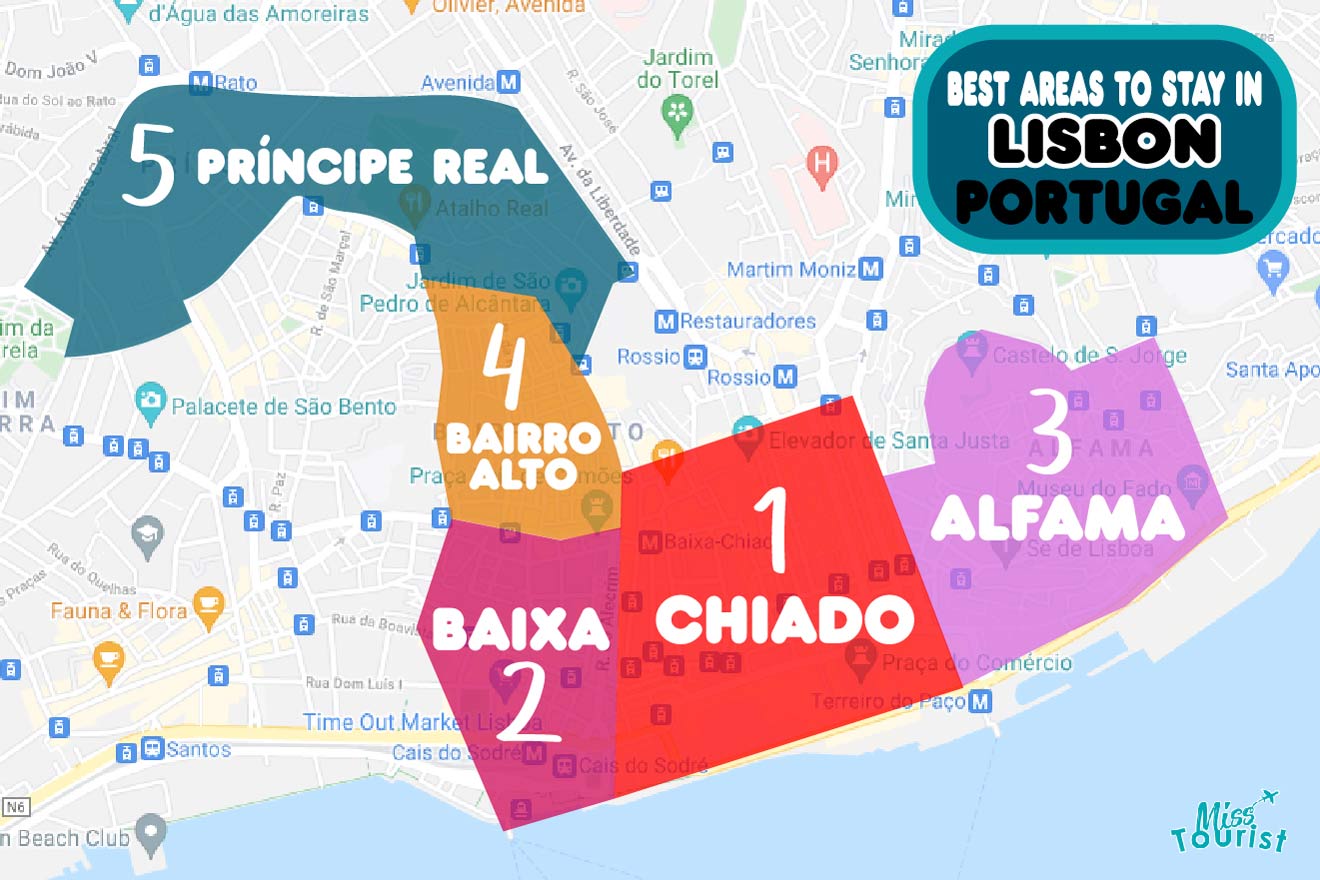 1. Chiado – where to stay in Lisbon for the first time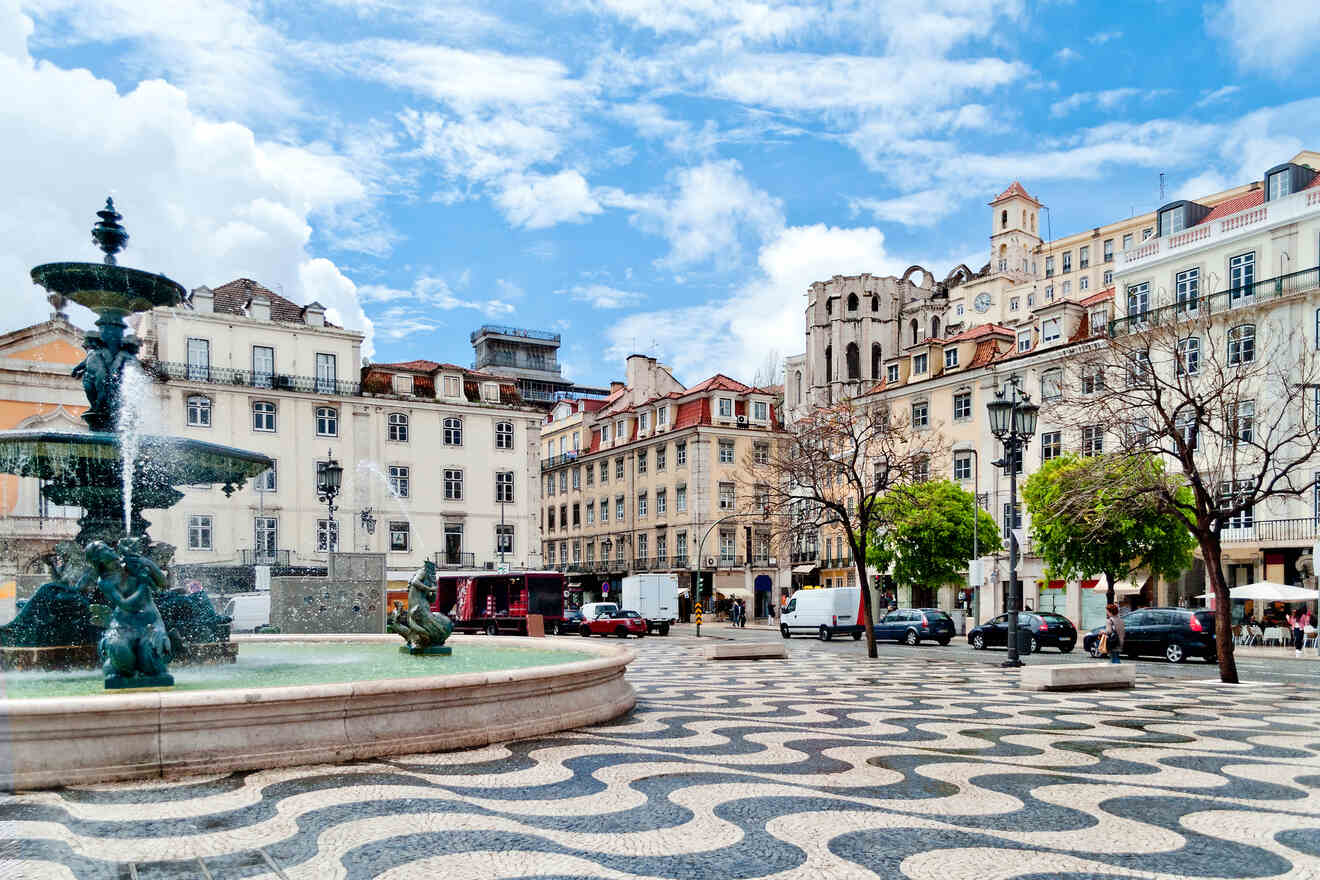 Chiado is located in heart of the city, that is why it is a good idea to base yourself there! So, whether you are a foodie, shopping lover, museum enthusiast, or city gazer, Chiado will fulfill your taste! Actually, if you are a foodie, you will also appreciate the famous Time Out Market (and, well, tons of other nice restaurants and cafes in the area!).
In Chiado, many of the city's major attractions are within walking distance and easy to discover. You can start your sightseeing from Lisbon's amazing main boulevard – Avenida da Liberdade, then I also highly recommend you to take one of the famous Lisbon trams which are the cheapest and most fun way of sightseeing in Lisbon!
The only downside of Chiado is, thanks to its popularity, it is a very desired area to stay in Lisbon. Whilst there are many hotels, they fill up very quickly. That's why I highly recommend you make your booking MONTHS in advance.
UPDATE: We actually have a special article dedicated only to the best hotels in Lisbon City center – be sure to check it out if you want more options (all with great reviews and sorted by price as usual!).
Luxury hotel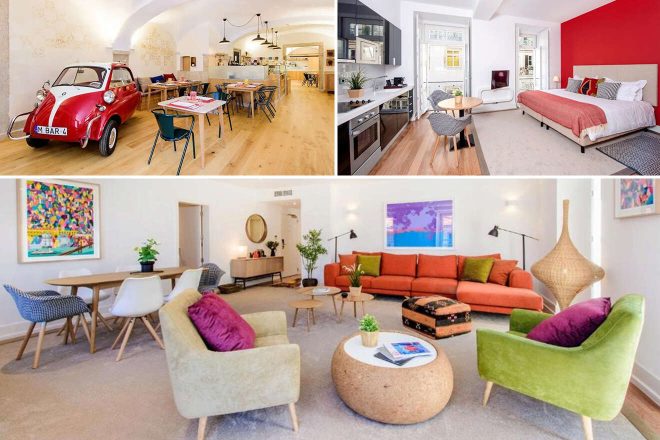 A centrally located luxury hotel that has an amazing rooftop terrace with a view of Tagus River on one side, and the Castelo de São Jorge on the other side. This 5-star hotel offers a fabulous spa, fitness centre, and a bar – a very nice place to stay in Lisbon
Other accommodation options in Chiado
Mid-range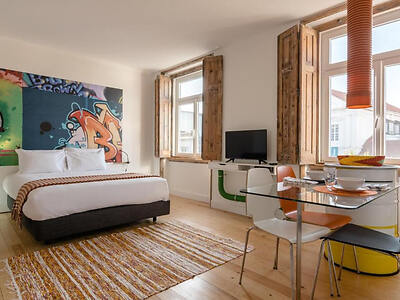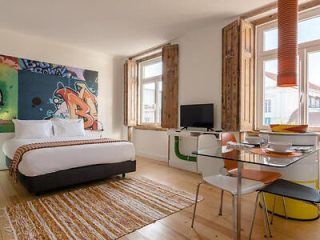 The nice boutique hotel has award-winning decor. A great place to stay with an artsy atmosphere
budget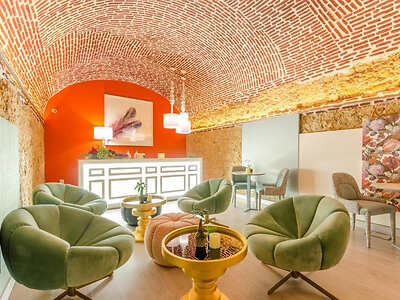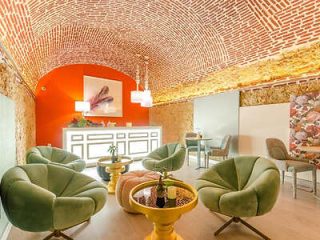 The centrally located hotel has a great terrace and a fitness center. The main sights are just a short walk
airbnb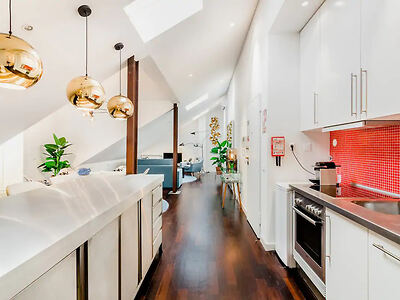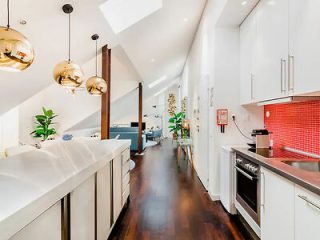 A modern loft with charming interior design and spacious rooms at Chiado Baixa with good prices
Things to do in Chiado
2. Baixa – where to stay in Lisbon for sightseeing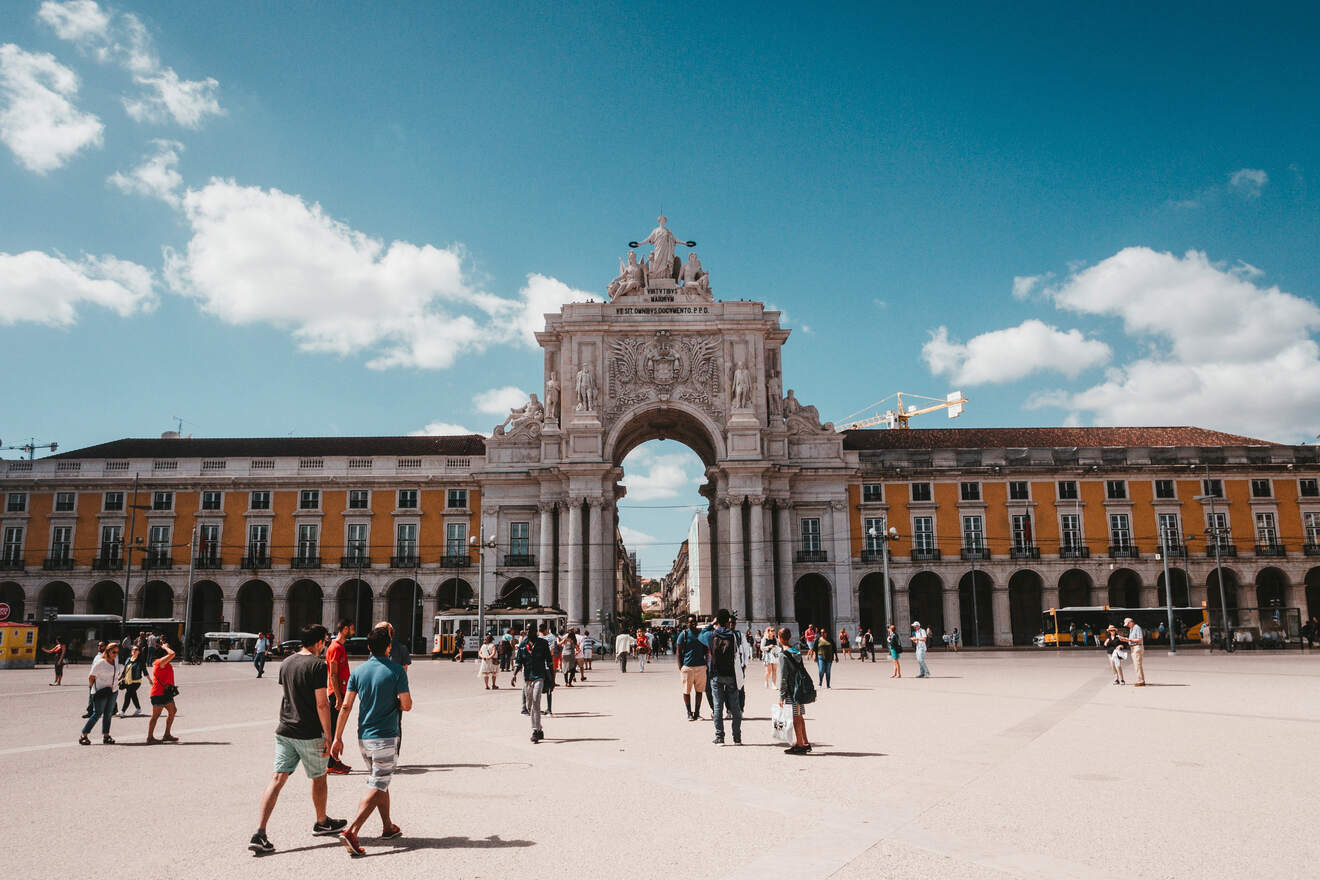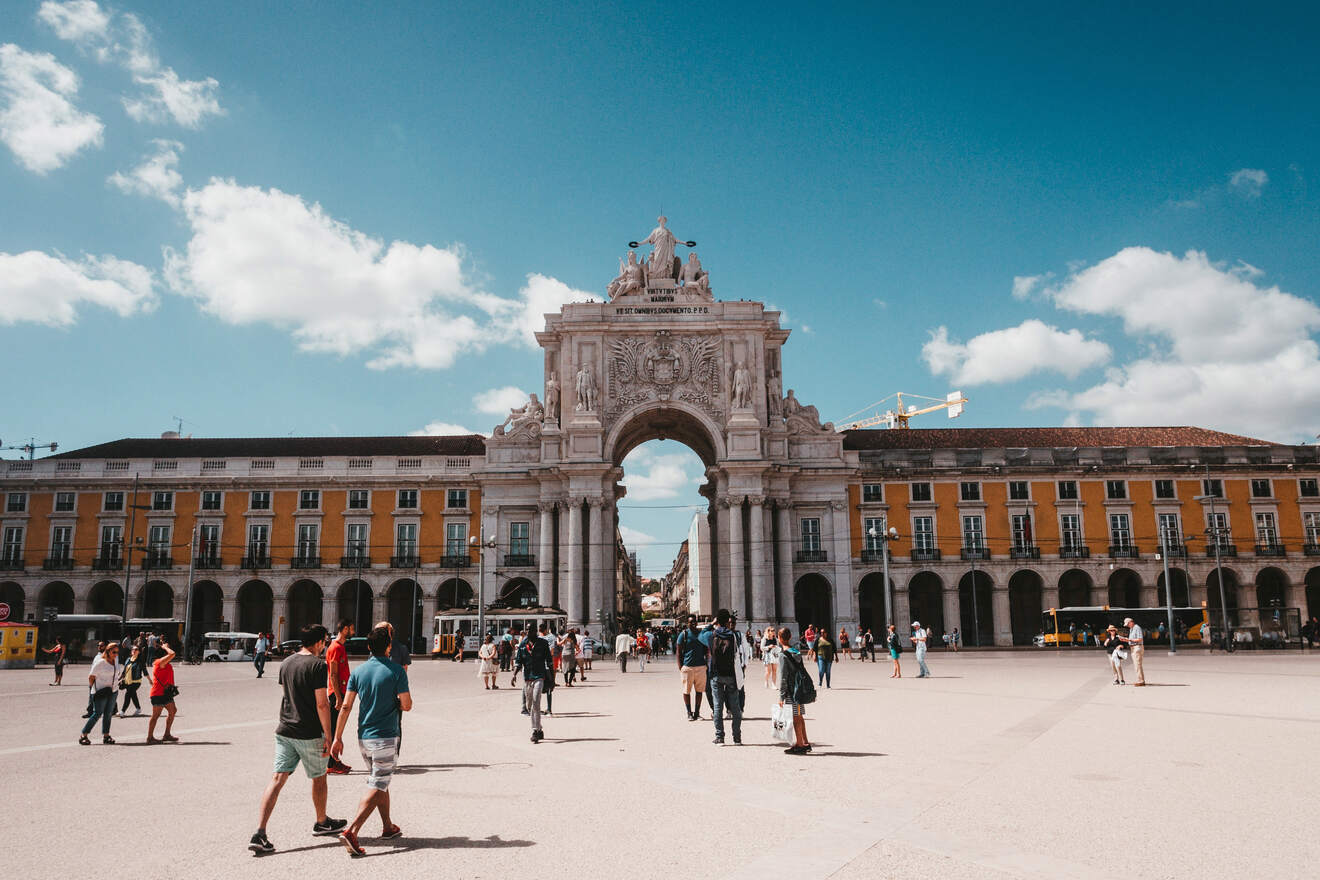 Baixa is located just next to Chiado and they share the same metro line called Baixa Chiado.
Even though Baixa and Chiado are very close neighborhoods, the Baixa district has a bit of a different pattern due to its history. In the 18th century, Baxia was affected very severely by an earthquake and then the whole area was rebuilt according to European city planning trends. Now you will see unique neoclassical architecture in the Baixa district.
In Lisbon, many areas are inland, but in Baxia, you can stroll by the bay and watch quirky street performers on the streets. To start your sightseeing in Lisbon, Baixa is a great location. You can reach many of the main sightseeing areas such as the Castelo, the Alfama, and Bairro Alto by foot.
Start your stroll from Praça do Comércio and just spontaneously walk along with the apartments with stunning architecture, have a coffee in one of the elegant cafes, and try amazing Portuguese savors in the nice restaurants and bars that line the streets. If you are planning to continue your holiday in Portugal you should definitely check out these fun things to do in Porto!
Baxia and Chiado are the most demanded areas by tourists. Before jumping to the best places to stay in Baixa I would like to remind you of the importance of making a booking in advance. Many hotels have free cancellations so it is better to be safe than sorry!
Luxury hotel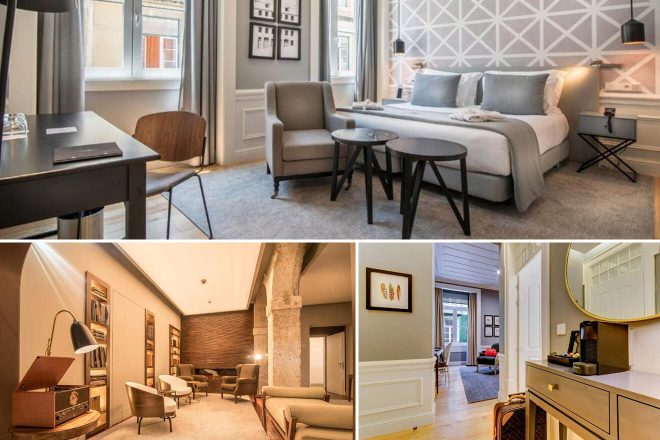 Located within walking distance of the Baixa Chiado metro stop, the charming hotel is a very nice place to stay at the heart of Lisbon. Hotel de Baixa features rooms with a smartphone with free unlimited data provided, 4K TV with internet access, and modern furniture
Other accommodation options in Baixa
mid-range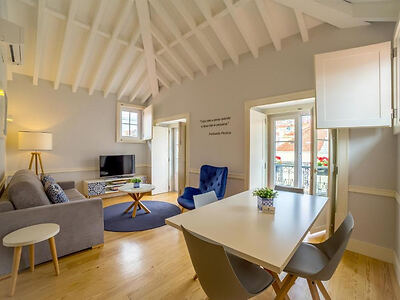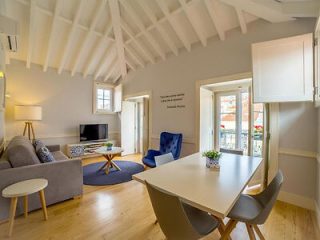 Located near to Baixa Chiado metro stop, this boutique hotel has easy access to main attractions, restaurants, and shopping centers
budget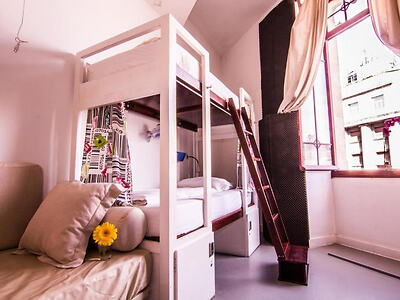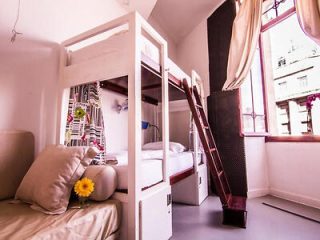 The hotel is located inside the historic train station. Popular sights and restaurants are within walking distance
airbnb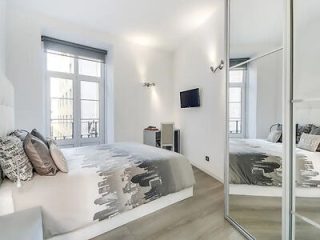 Situated at Baixa Chiado, this Airbnb has modern rooms with a balcony overlooking the city. Very close to the main attractions
Things to do in Baixa
3. Alfama – a historic neighborhood to travel back in time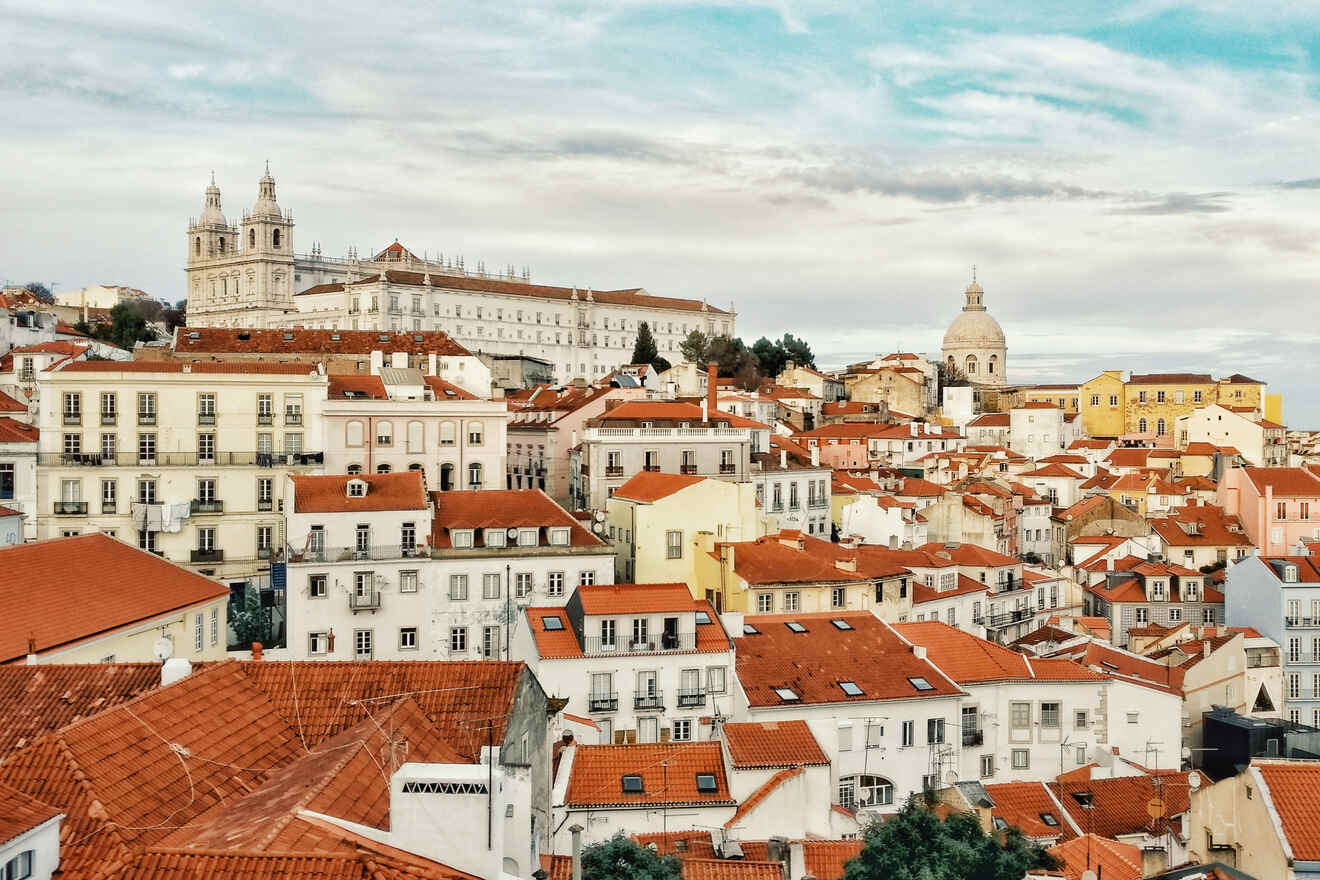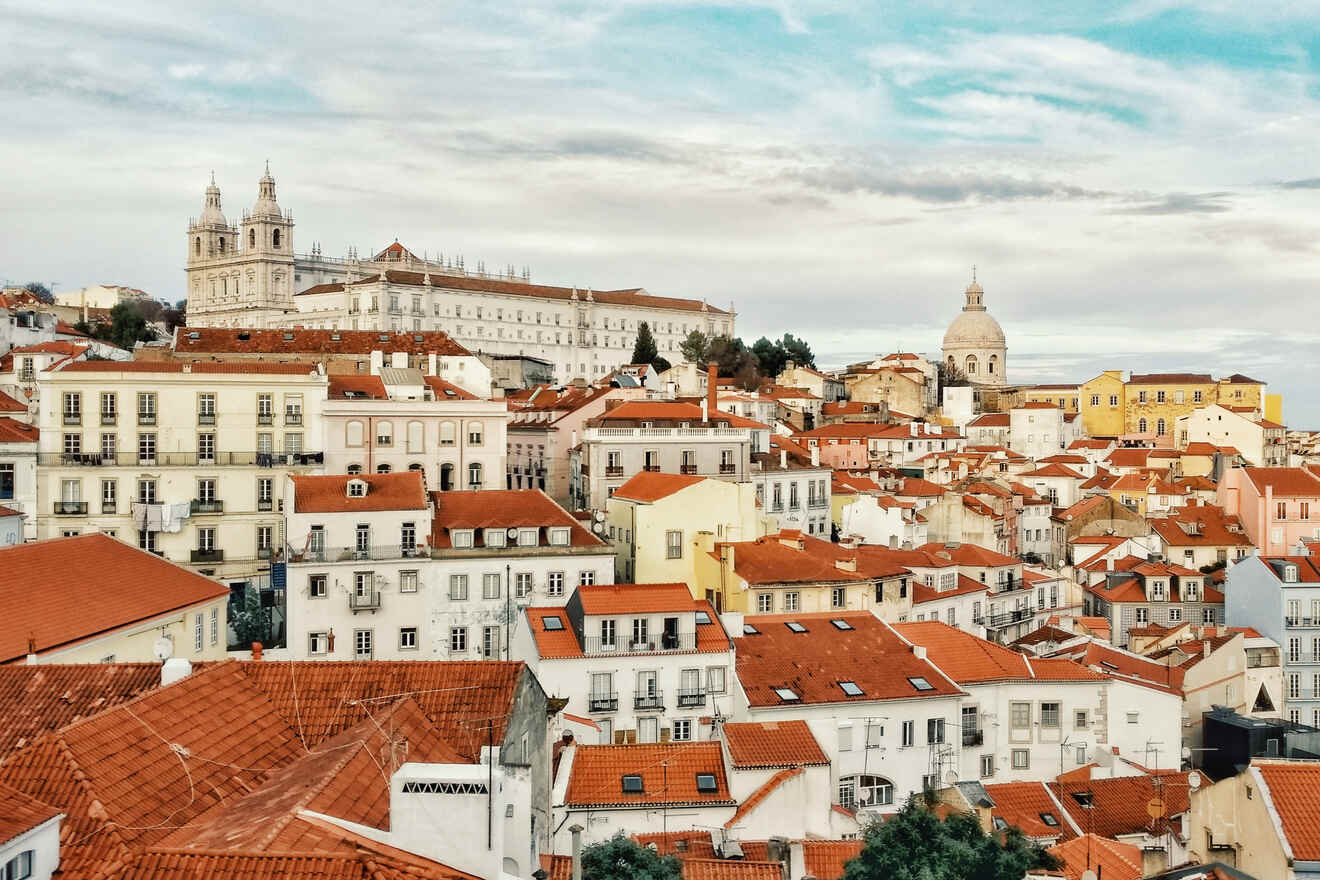 Located just on the east of the downtown, Alfama is the most romantic and historic part of the city. The best way to enjoy Alfama is by foot, simply get lost in the labyrinth of cobbled streets, check out amazing the Portugues style colorful apartments decorated with incredible tiles, and stop at viewpoints to enjoy the beautiful city views with a glass of local wine along the way.
Alfama is the neighborhood where you will feel the historic essence of Lisbon. Thanks to its picturesque architecture it is also the most Instagrammable area in the city! The nice thing about Alfama is even though it is a very popular tourist area, all hotels are adapted in line with the texture of the area's soul. Many apartments in Alfama are transformed into boutique hotels and homestays. That's why by staying in this area you will feel like you are traveling back to the olden days.
If you want to feel like the locals on your Lisbon trip, my recommendation is 100% to stay in Alfama.
Here are the best places to stay in these lovely parts of the city:
Luxury hotel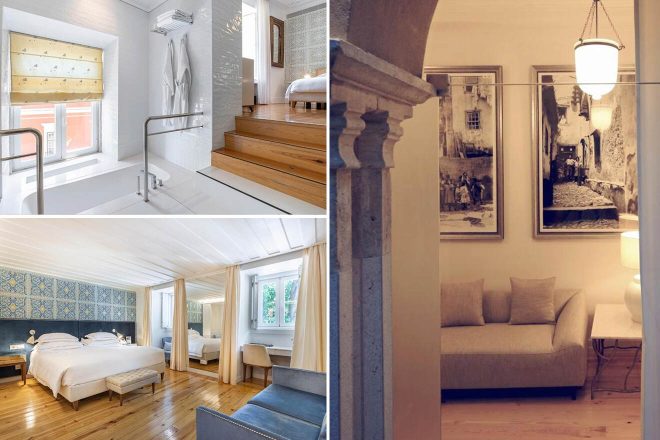 5-star boutique hotel that is located at the historical center of Lisbon. These spacious hotel rooms have great city and Tagus River views and are set in a historic building. This charming hotel has an on-site restaurant and easy access to the main sights of the city
Other accommodation options in Alfama
mid-range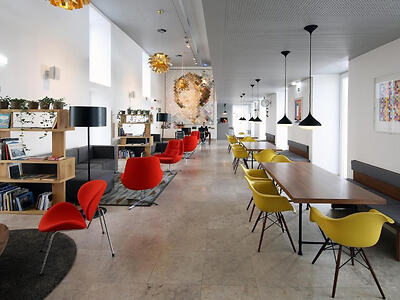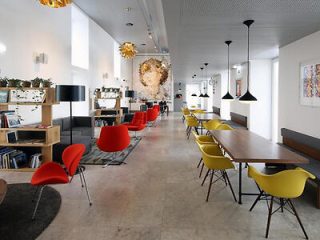 Located in the historical center, the hotel with mid-range prices has rooms with panoramic river views
budget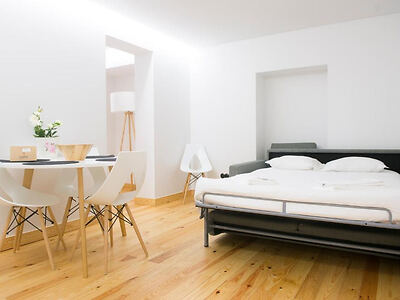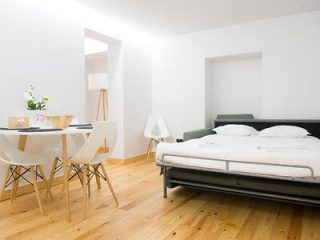 In the historic parts of the city, the hotel with affordable prices has easy access to the main sights
airbnb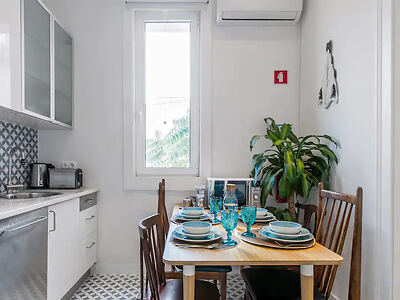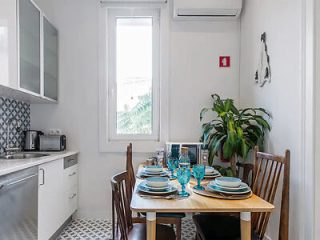 Set in a historic building, this Airbnb has spacious rooms with garden views. Great value for money
Things to do in Alfama
4. Bairro Alto – neighborhood with the best night scene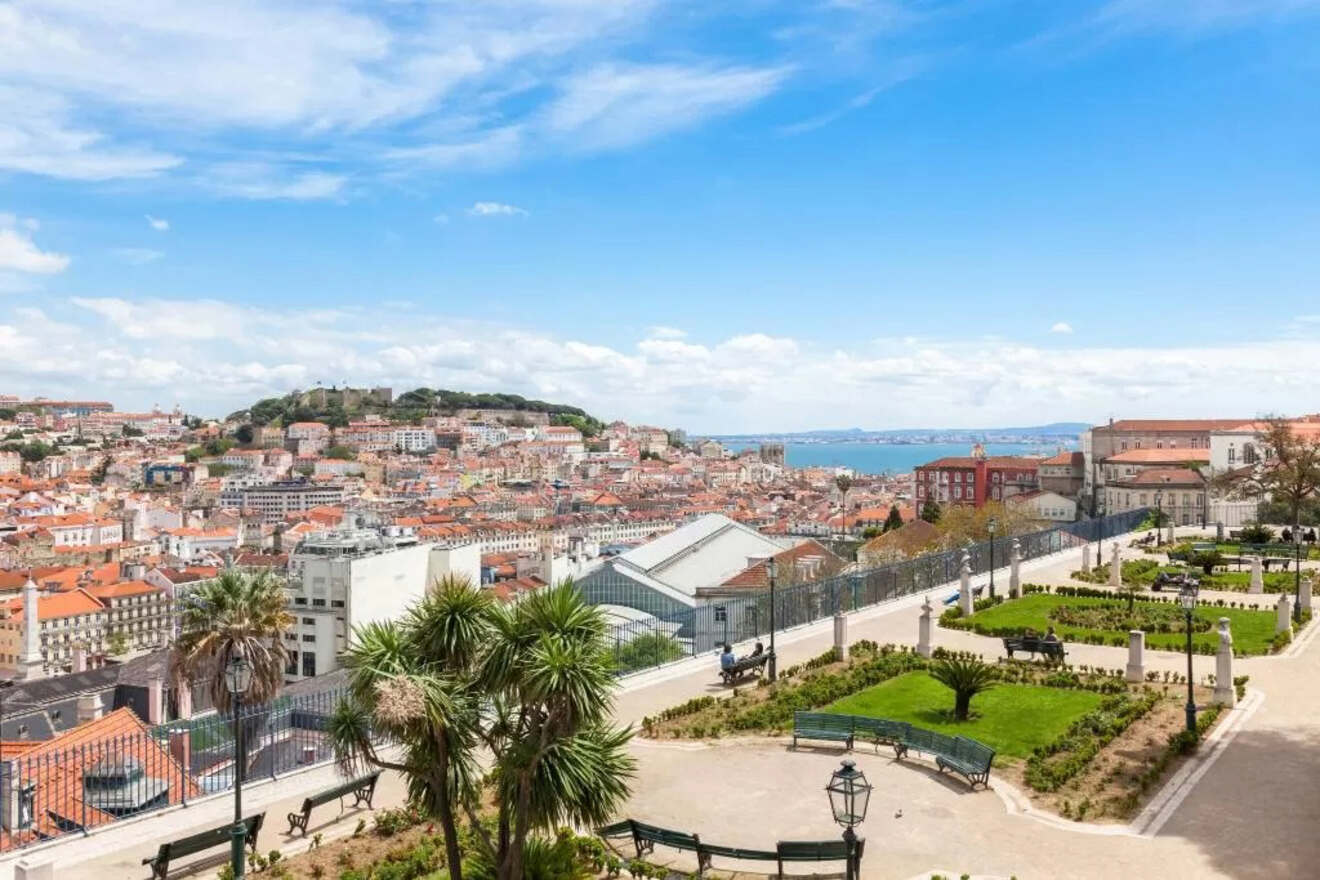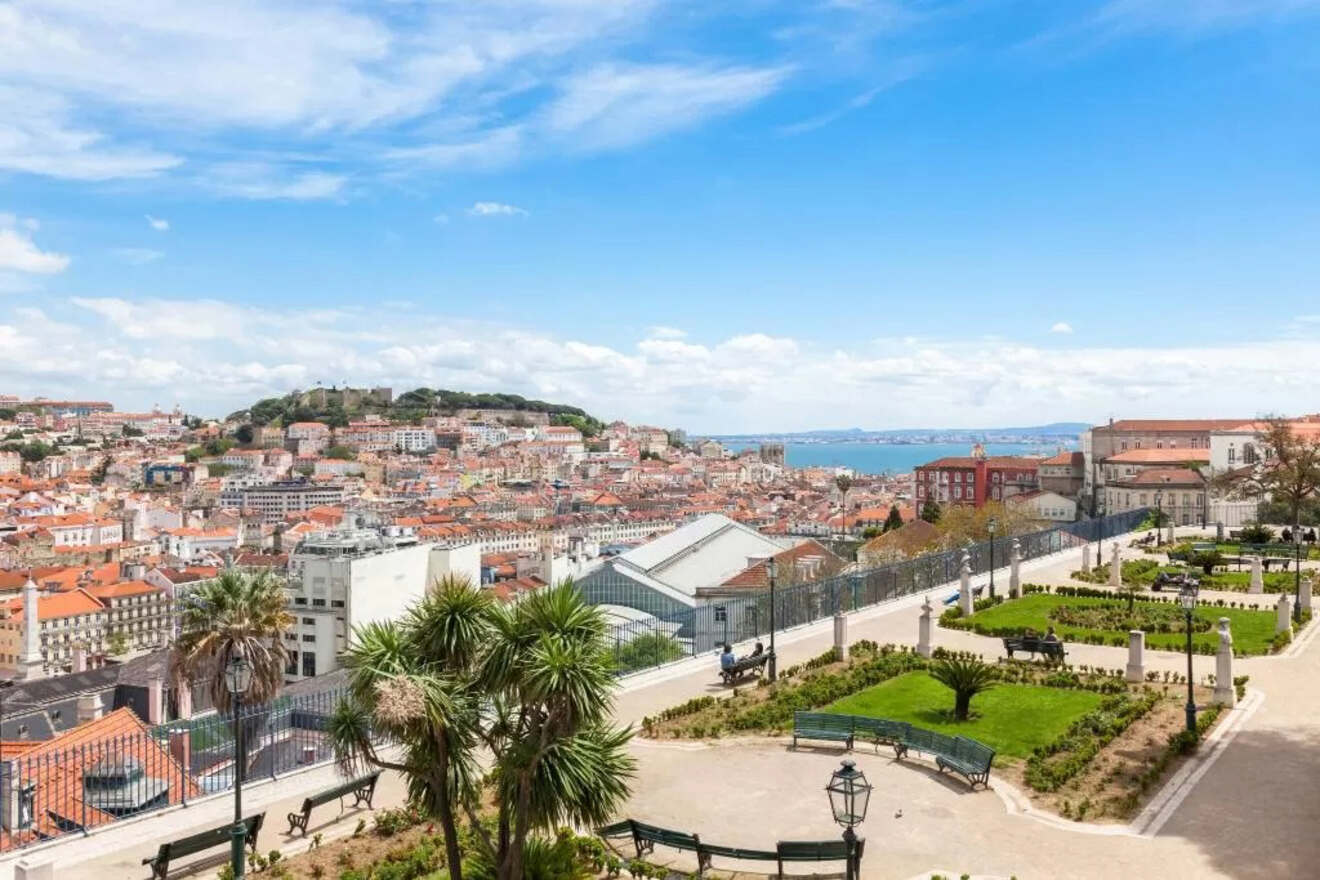 Yes, Lisbon has amazing architecture and culture, the foods are amazing but… It also has great nightlife! Bairro Alto is the party district of Lisbon, so it is not a surprise to find many nice restaurants, bars, and clubs here. The main bar street, Cais do Sodré, is not only busy on the weekends but also very much alive every single day! You will certainly witness a very colorful night scene here!
During the daytime in Bairro Alto, you can discover quirky shops in Parque das Nacoes, visit museums and explore Portuguese snacks and desserts. This area is located just 2km (1mi) north of the city center and has easy access to other areas of Lisbon. The only downside of Bairro Alto is, it is a hilly area. Even though some areas can be reached on foot you might need to use public transport here.
But hey, picture opportunities are amazing from there too! 🙂
Also, if you are into nightlife and want to experience Lisbon's famous night scene, this area is where you should stay for sure.
Luxury hotel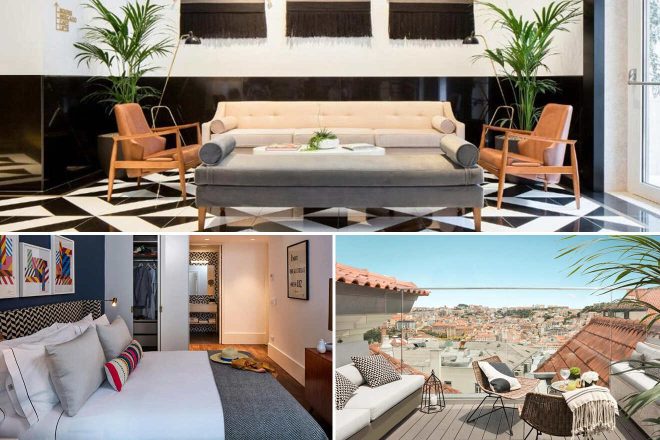 The Lumiares Hotel is definitely the best luxury place to stay in Bairro Alto. This 5-star hotel has a garden terrace with river views, a spa, a fabulous fitness center, and a rooftop bar where you can enjoy Portuguese wines. The main sights are within walking distance and family-friendly rooms are available too
Other accommodation options in Bairro Alto
mid-range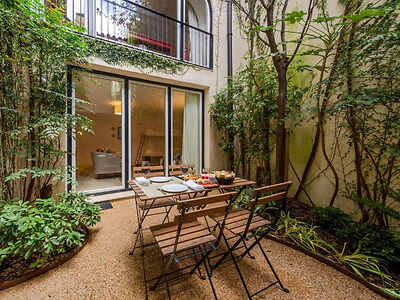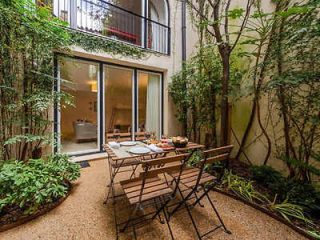 The hotel has a chic terrace and is located in a great area of Bairro Alto to discover sights and go out at night 
budget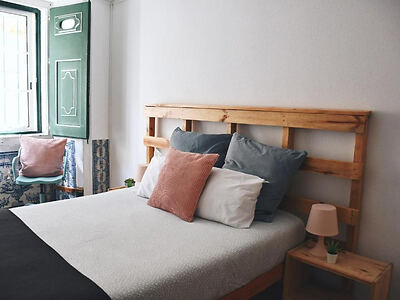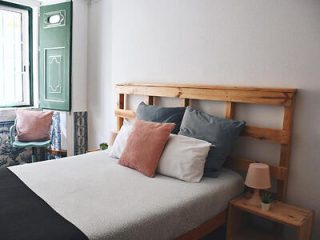 Very nicely decorated place to stay in the lively neighbourhood and enjoy night outs with good prices
airbnb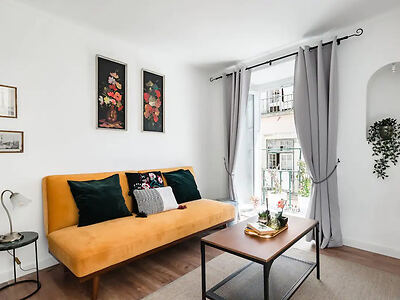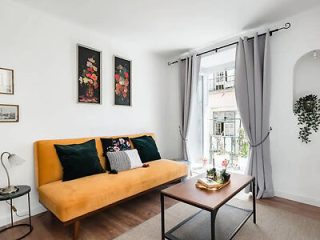 Set in a nice building, this Airbnb has beautifully decorated rooms and easy access to restaurants and the night scene
Things to do in Bairro Alto
5. Príncipe Real – the coolest neighborhood of Lisbon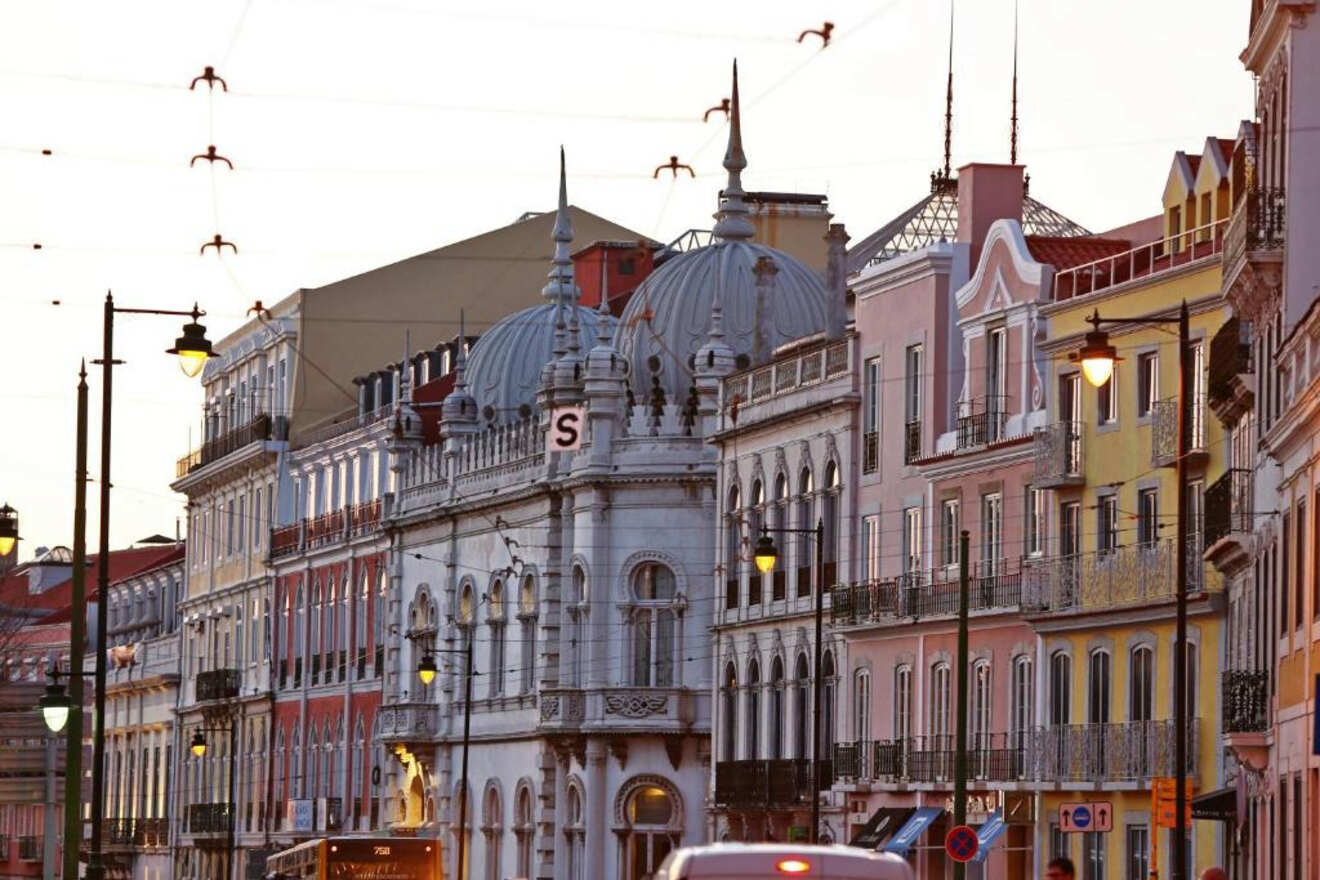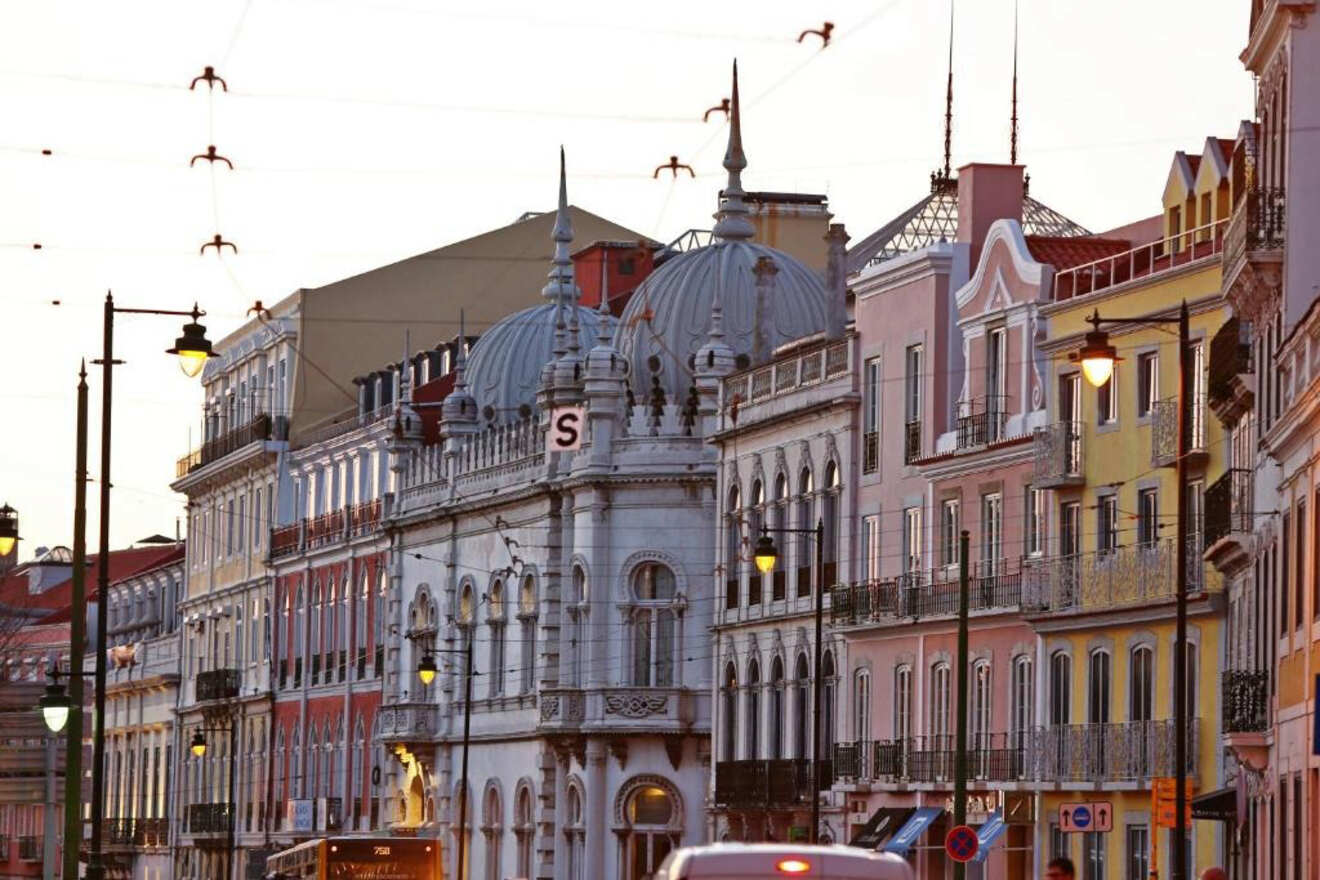 Principe Real is located north of Bairro Alto and a 10 minutes metro ride from the city centre. It is a modern and residential area with cool coffee shops, unique restaurants, funky bars, and nice shopping areas. Principe Real is also great to escape from tourist crowds and discover new places rather than the popular sites of Lisbon. But don't worry, you can also easily access downtown when you want to by following the gorgeous Avenida da Liberdade.
Strolling through Principe Real's streets you will see many gardens, nice terrace views, and creatively designed places. If you want to stay in an alternative and quieter area, Príncipe Real is a very great option. Also here you will get better prices on hotels and be able to find more budget accommodation options.
Luxury hotel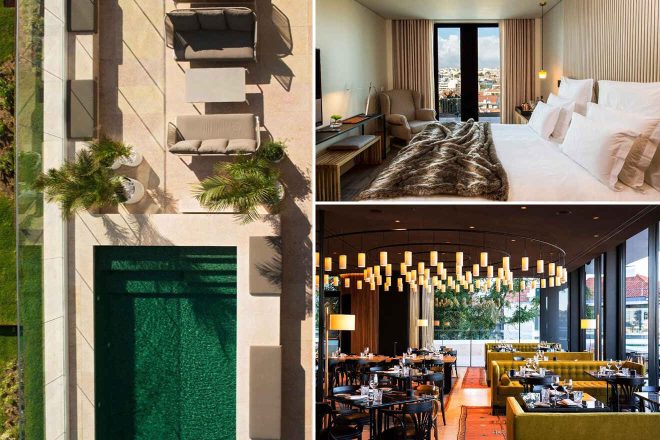 One of the best boutique hotels located in the Príncipe Real neighbourhood within 10 minutes walk to Avenida da Liberdade. The luxury hotel features a rooftop swimming pool with a river view, a restaurant, and a bar. The hotel rooms are decorated with premium products and equipped with a modern TV. Family-friendly rooms are available too!
Other accommodation options in Príncipe Real
mid-range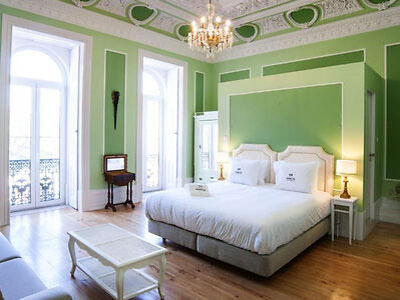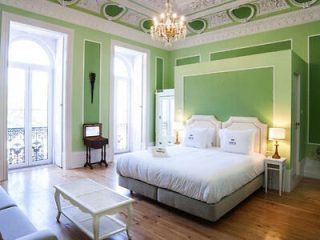 A very nicely decorated 4 star place in Lisbon's trendy district with quick access to downtown
budget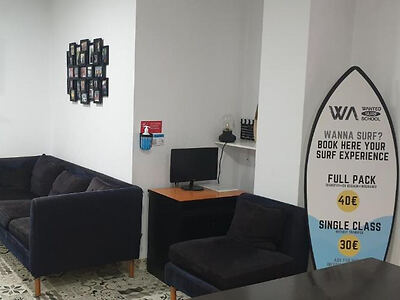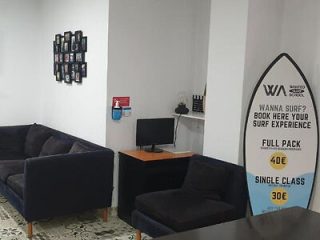 Located in Lisbon's Príncipe Real district, the hostel has easy access to public transport and main sights
airbnb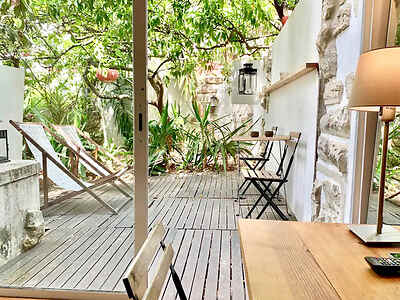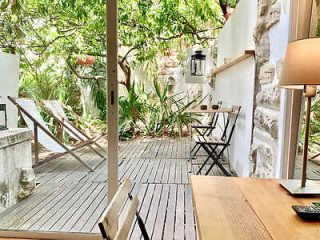 Charming Airbnb located in Lisbon's residential area. The place has a nice terrace with great amenities
Things to do in Príncipe Real
| | |
| --- | --- |
| 👑 Luxury price: | €150 |
| 💵 Mid-range hotel: | €100 |
| 🛏️ Budget: | €50 |
| 🏠 Airbnb: | €60 |
| 💰 Accommodation prices: | Low |
| 📍 Best Area: | Chiado |
| 🛎️ Best luxury hotel: | Hotel da Baixa |
| 👛 Best budget hotel: | Páteo Saudade Lofts |
BONUS: Top 3 day trips from Lisbon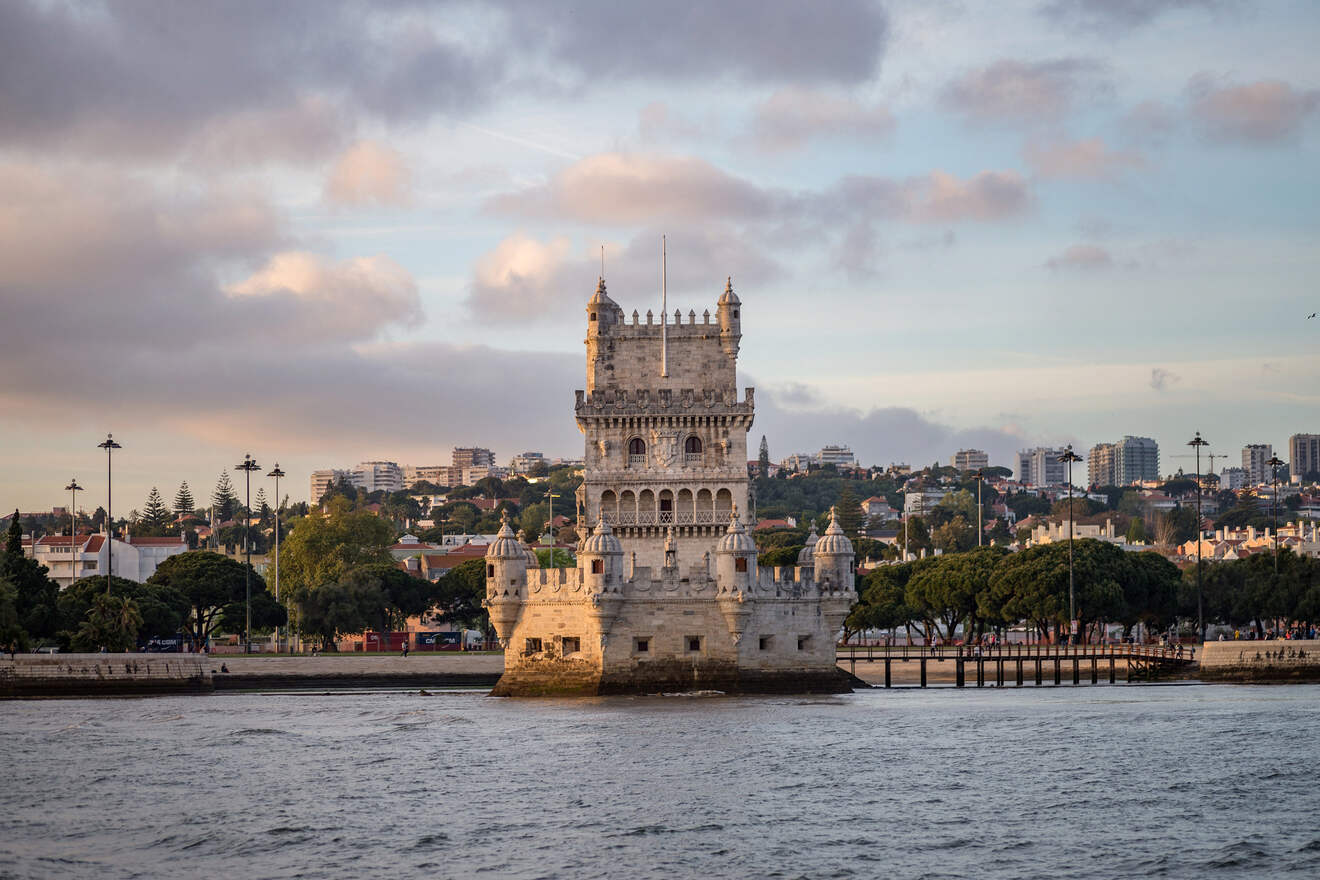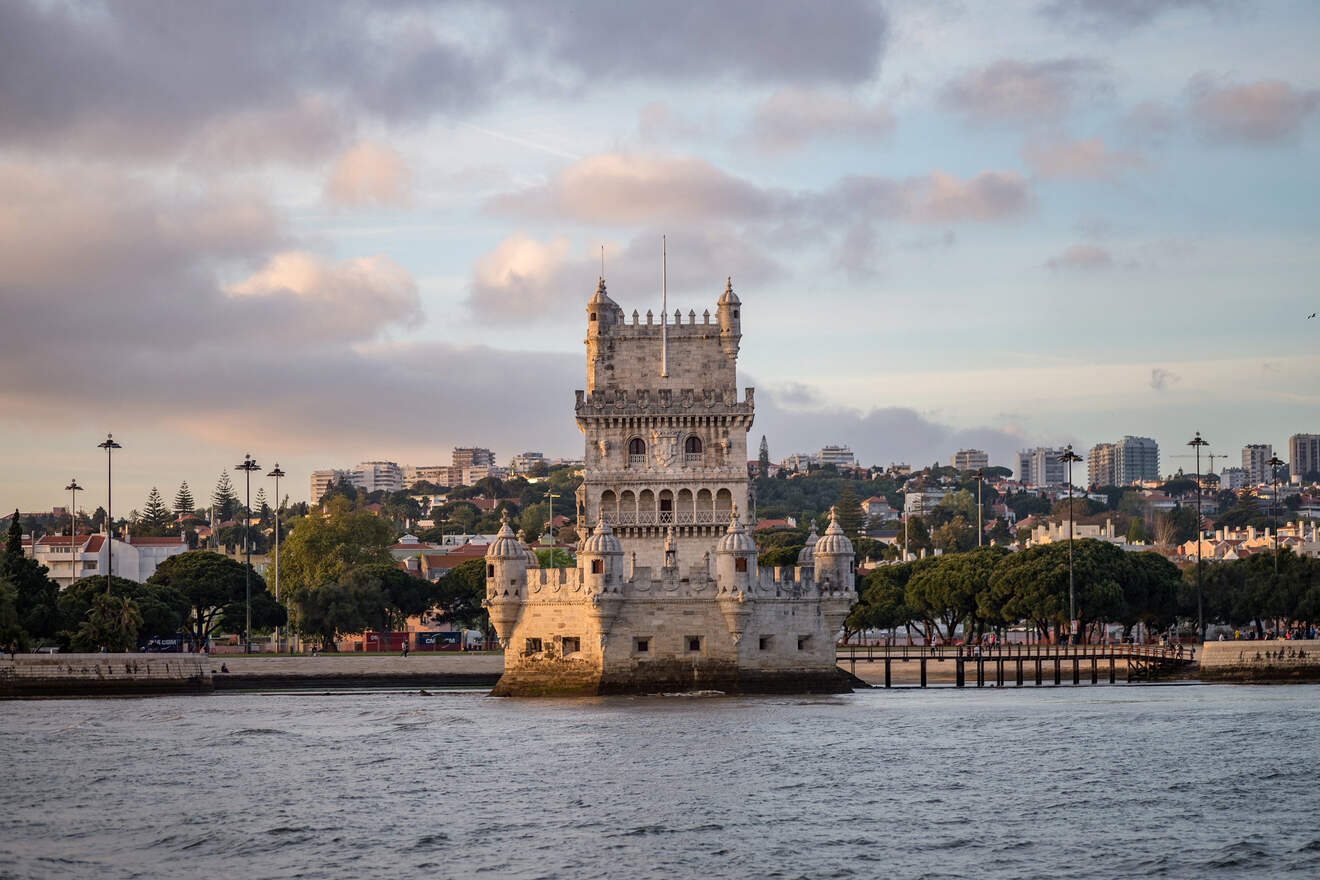 If you have more time or if you would like to extend your Lisbon trip, you should definitely check out these 3 day trips. Even though you don't need a car in the city center in Lisbon you might want to rent a car for these locations as it is also so much fun to drive along the Atlantic Coast!
1. Belém
Belém, also called the museum district, is 7 km (5 miles) away from the city center and can be easily reached by a 20 minutes tram ride. Although it is technically in the city, this area in itself deserves an entire day.
In Belém, you will find spacious gardens, incredible monuments, and amazing river views. Being called a museum district, there are many things to keep you busy in Belém. Some of the main attractions you will find here are, Belém Tower, the Ajuda Palace, the Monument of Discoveries, the National Coach Museum, and Jerónimos Monastery. Also, the famous Pasteis de Belém pastry shop known to be the original makers of the egg custard tarts are here. You should definitely stop there to eat delicious tarts and you will see that even for that Belém is worth a visit.
As it is a bit far from downtown I don't recommend you to stay in this district unless the museums are the main thing you want to see, but either way, I highly recommend you to make a day trip!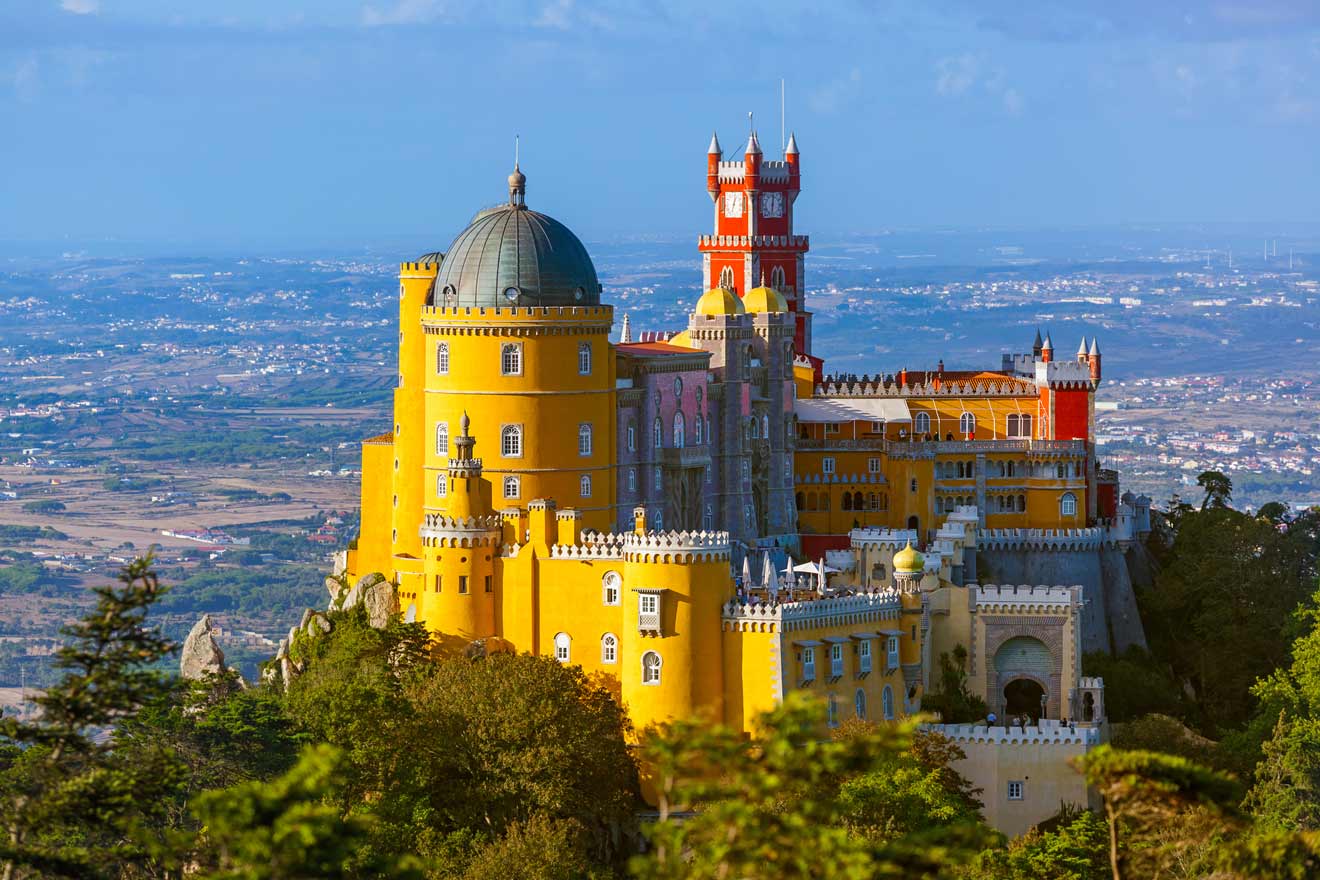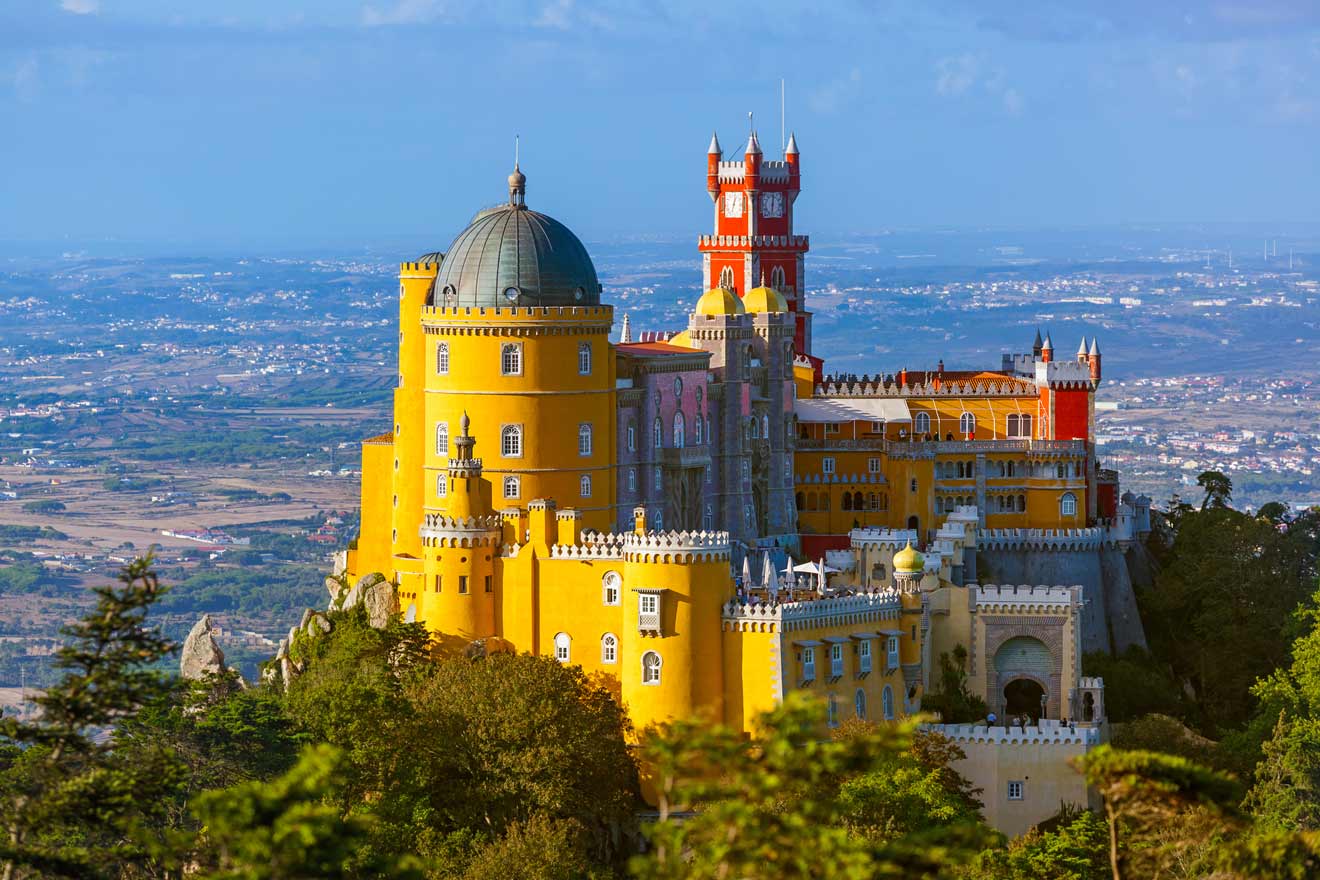 2. Sintra
Located northwest of Lisbon, Sintra is the most popular day trip route from Lisbon and you will understand its fame once you arrive at the medieval castle – Castelo dos Mouros and the amazing park – Palácio Nacional de Sintra. It is like a fairy tale town and you will be amazed to discover the colorful castles. Since Sintra has so much amazing history, I highly recommend taking a guided tour to hear all of this town's incredible stories.
Sintra takes 30 minutes from Lisbon by train and 30 minutes by car. Trains depart every 15–20 minutes on weekdays and every half-hour on weekends. You can check out the train prices and timetables here. If you want to drive, make sure you arrive early and leave your car at the parking lots at the edge of the town, before the entrance to the historic site.
3. Peniche
Peniche is a great beach destination in summer and also a great surfing spot all year round which neighbors the world-famous big wave spot, Nazaré. Whether you surf or not you can still enjoy the nice shore and amazing views and although the beaches are the main attractions in Peniche, there is also a nice historic center with a background of the Atlantic Ocean that can be easily explored on foot.
You can reach Peniche by taking a bus from Lisbon's Sete Rio bus station, tickets are available at Rede Expressos. For those who want to drive a car for more flexibility, Peniche is 100km (60 miles) north of Lisbon.
Frequently asked questions about Lisbon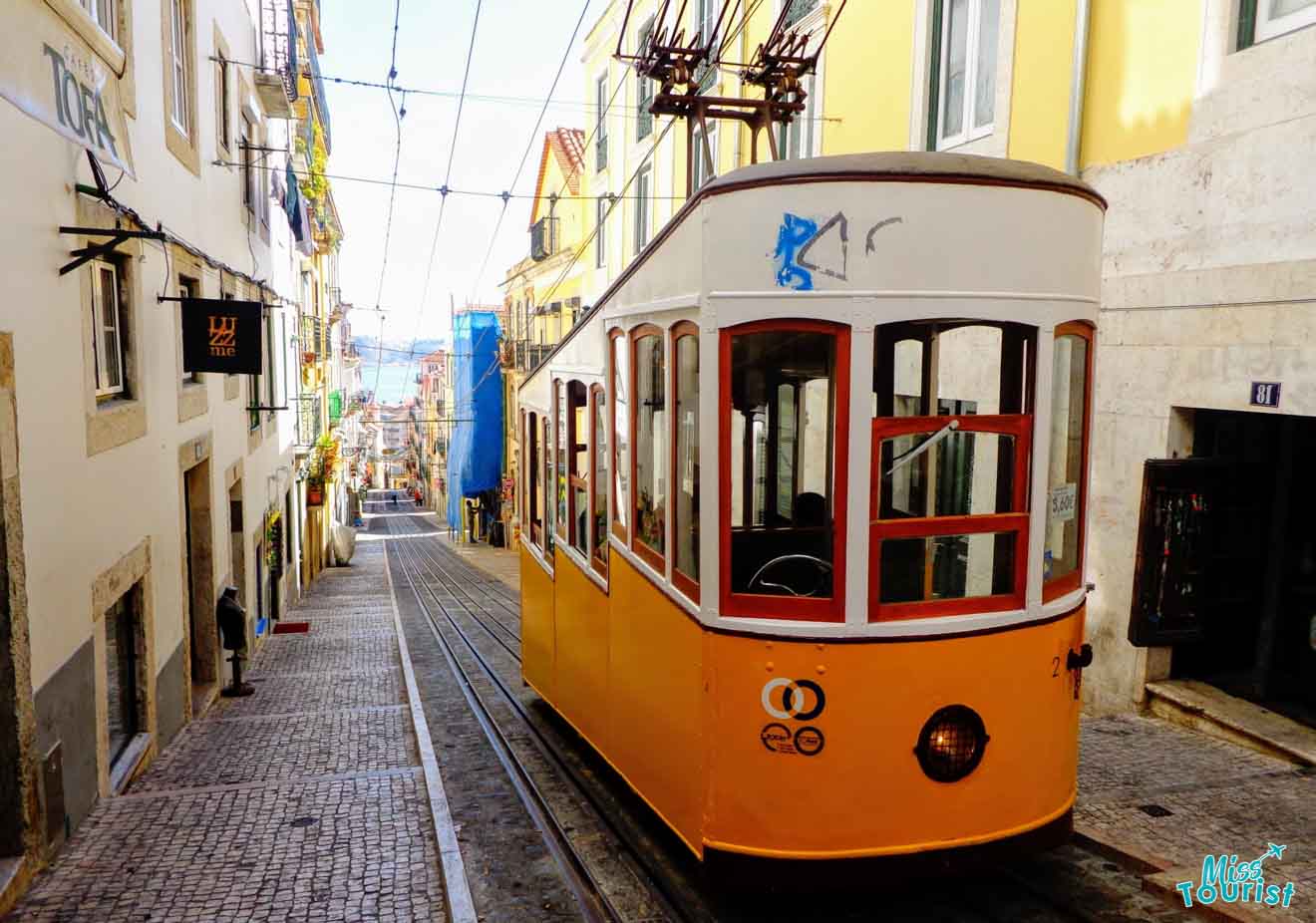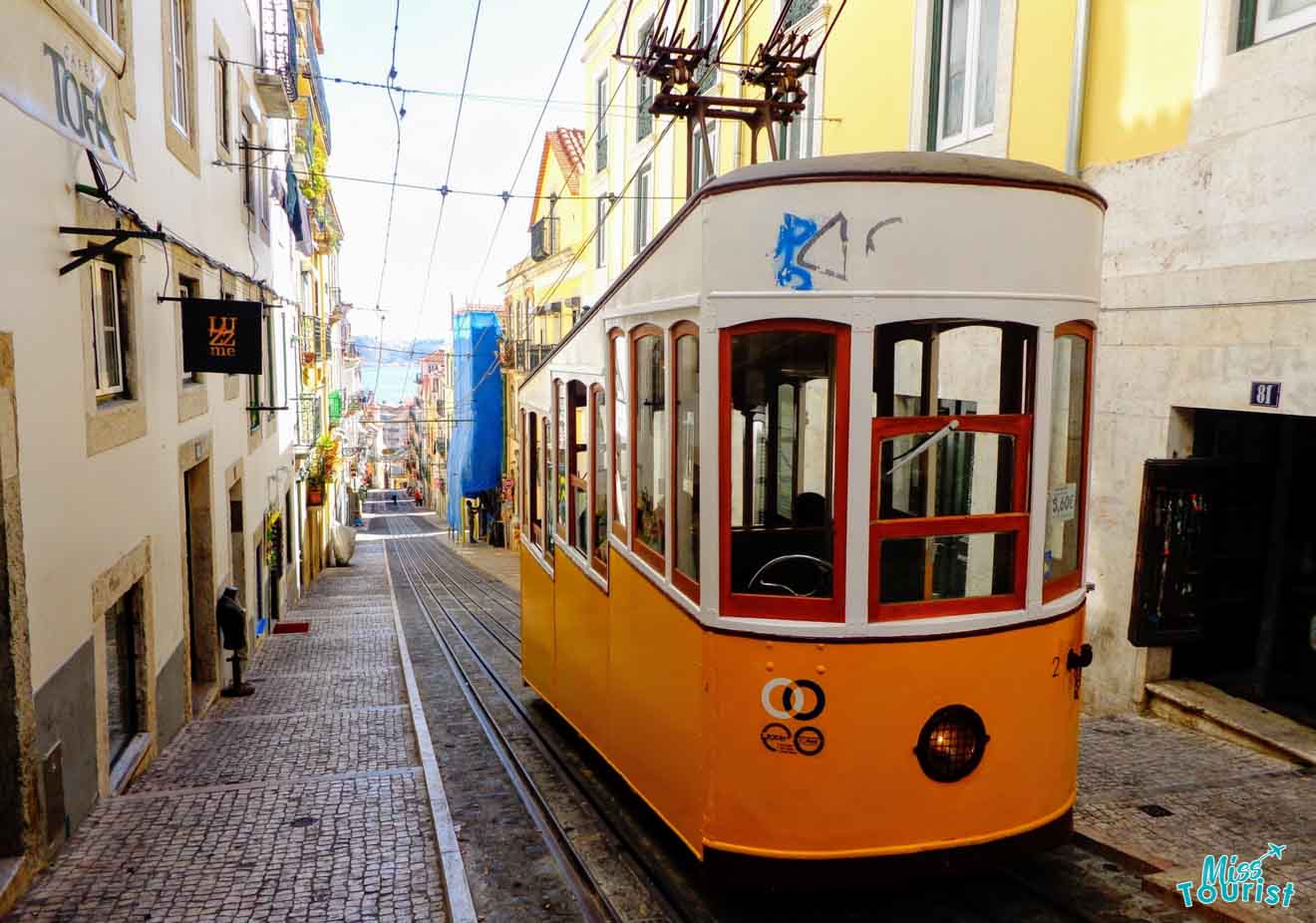 🗺️ Which is the best area to stay in Lisbon?
Baixa and Chiado are the best areas to stay in Lisbon for the first time. Just next to them Alfama is another alternative to stay in Lisbon with its historical texture.
🚶‍♂️ Is Lisbon a walkable city?
Yes, Lisbon is a walkable city. However, there are lots of hills so taking public transportation will help you to get around. Also, it is fun to take vintage trolleys!
🤔 Is Lisbon safe at night?
The main tourist areas of Lisbon are very safe and alive at night.
⏱️ How many days do you need in Lisbon?
Three days would be enough to explore the main districts of Lisbon including sightseeing, experiencing the nightlife, and attending some nice activities.
🗓️ What is the best month to visit Lisbon?
The best time to visit Lisbon is either from March to May or September to October. In these periods the weather is still warm, accommodation prices are lower and you can avoid the tourist crowds.
💰 Is Lisbon expensive to travel to?
Lisbon is one of the least expensive capital cities in Europe to travel to. So compared to other European cities, hotels, and market prices are cheaper in Lisbon.
📷  What should I not miss in Lisbon?
Avenida da Liberdade, Castelo de São Jorge, Cais do Sodré, Praça do Comércio and Elevador de Santa Justa are some of the major landmark that you should not miss in Lisbon.
Conclusion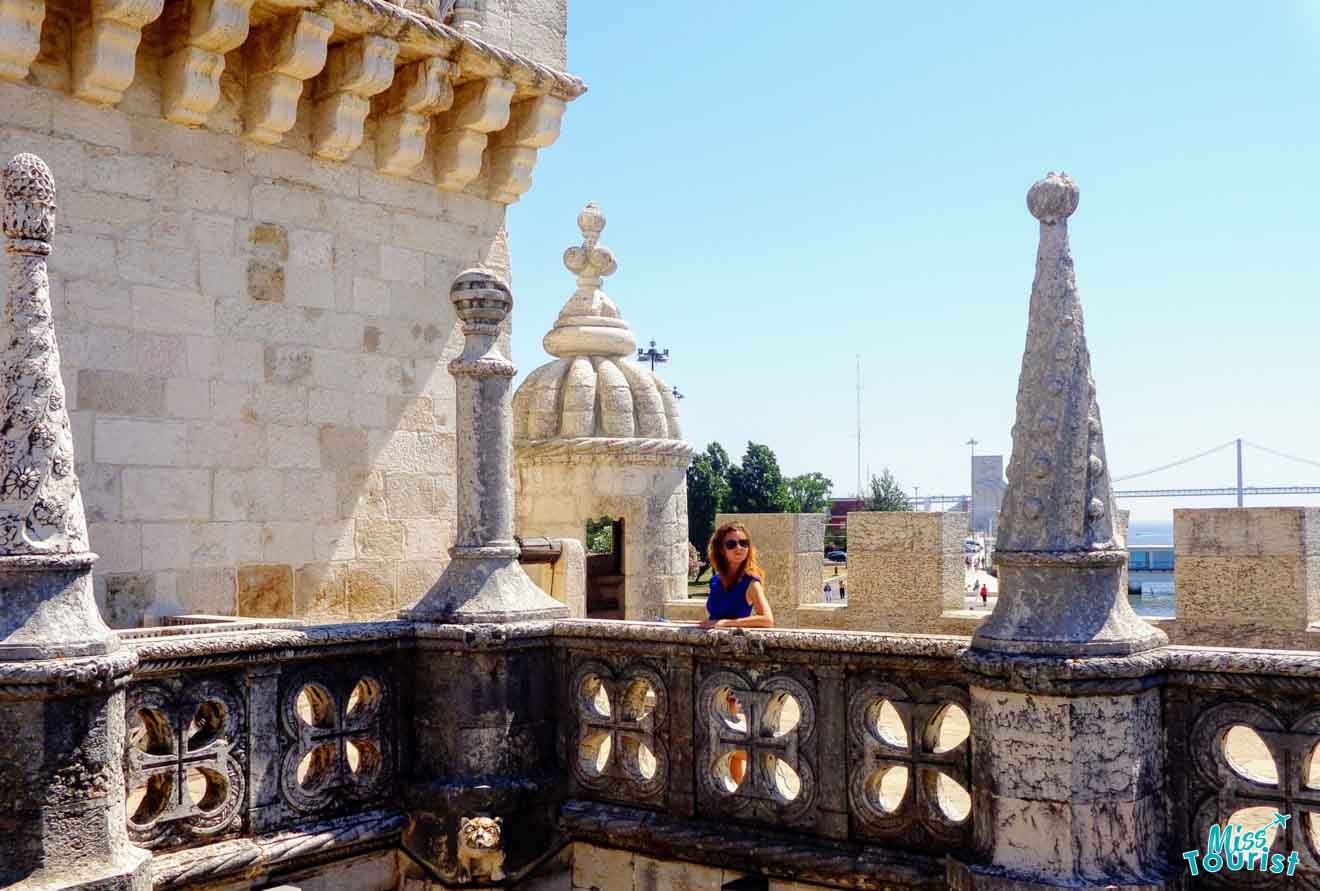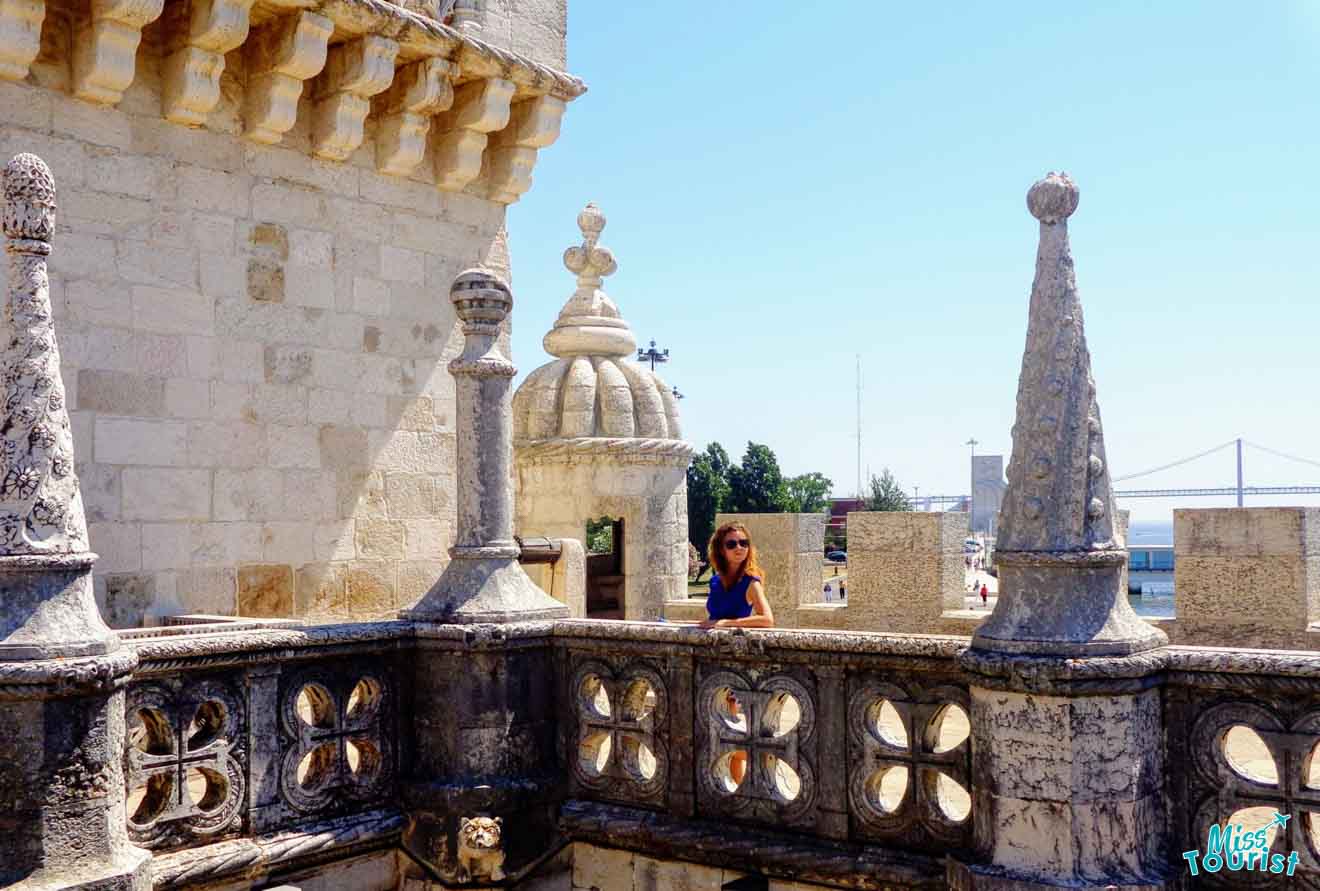 I hope that this post has already helped you in finding where to stay in Lisbon and you enjoy Lisboa as much as I did!
In this blog post, I covered the best areas to stay in Lisbon, with the nicest hotels and Airbnbs in each district. As the districts are very close to each other in Lisbon, even if you found a great hotel in a place other than your favorite area, I suggest you book it now so it doesn't get away from you! You can always enjoy a walk to tourist attractions and public transport is very good as well in the city.
To sum up, here are the best 2 resorts to stay in Tenerife where I would definitely recommend you to stay. They both have good locations and great reviews too!
Lisbon is one of the most famous holiday destinations in Europe, so, if you don't want to miss your perfect place or the great prices, make a reservation now!
Don't forget to leave a comment below if you have any other suggestions or questions about Lisbon, where to stay, or Portugal in general! I'll be happy to reply to them!
Enjoy your time in Portugal,
Eylul
---
Pin it for later!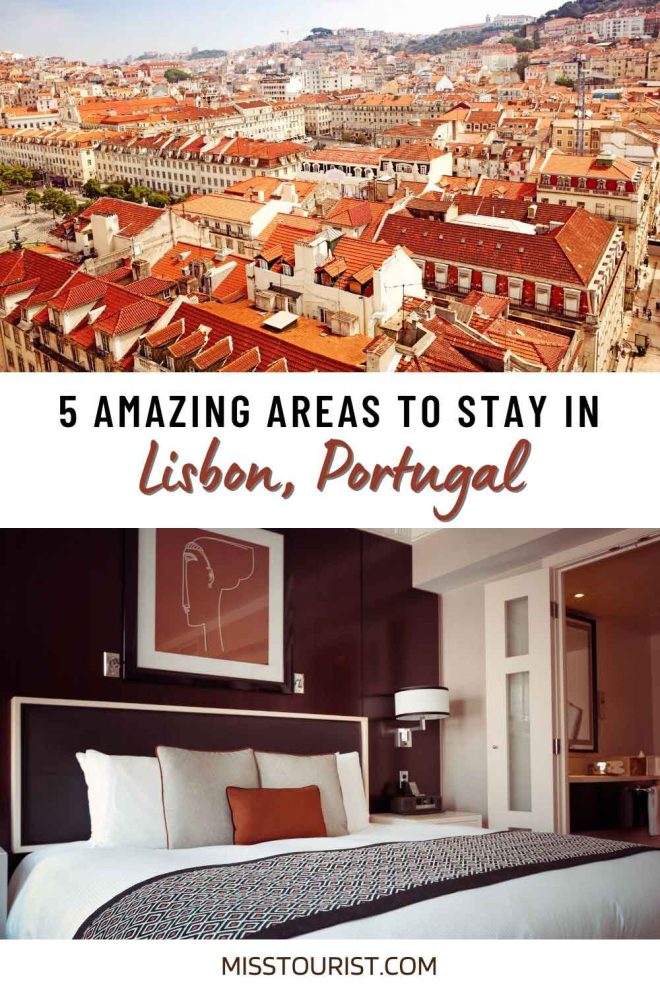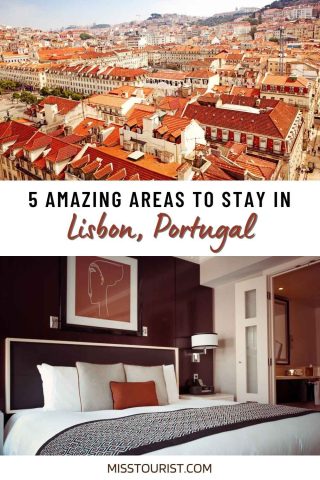 Pin it for later!