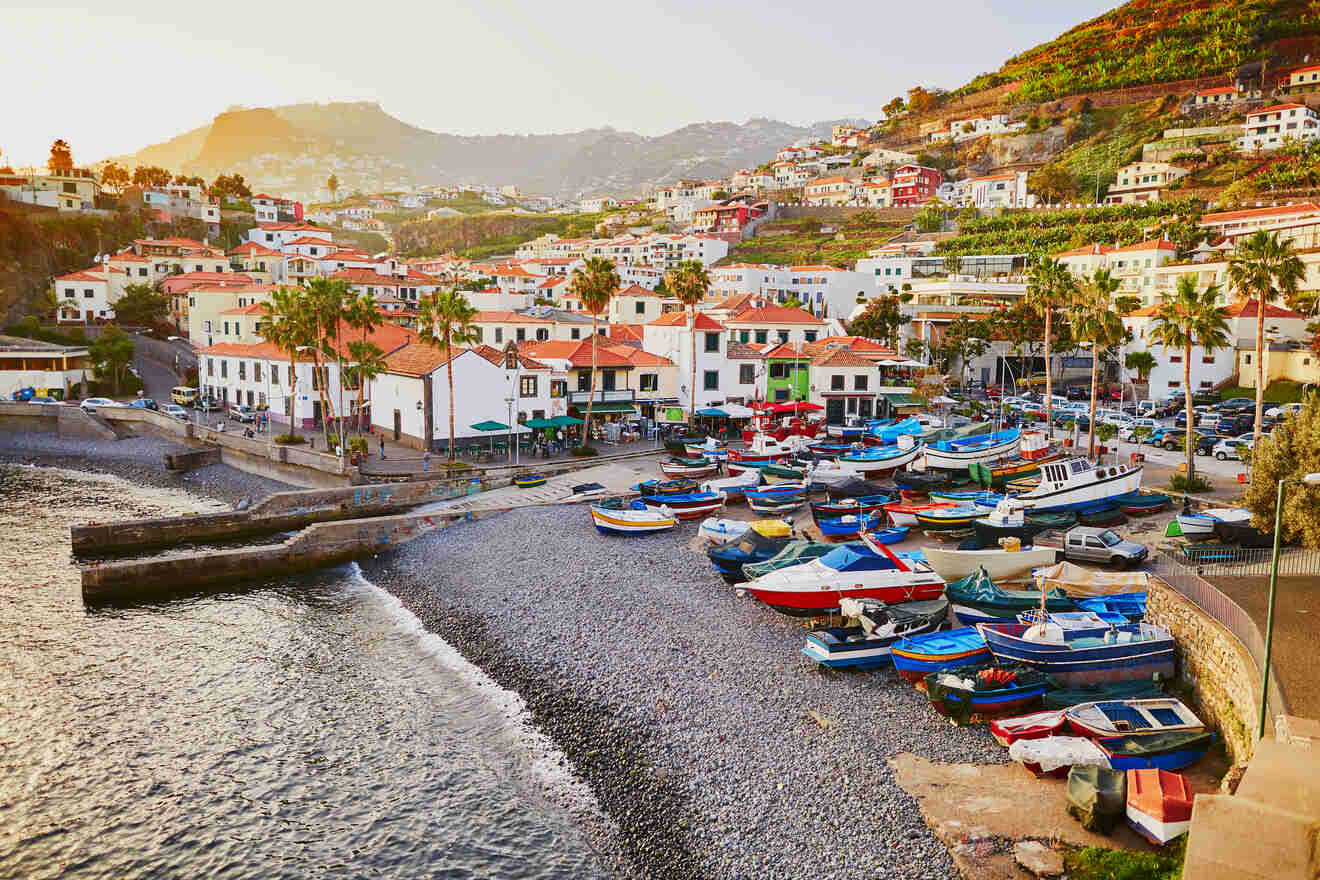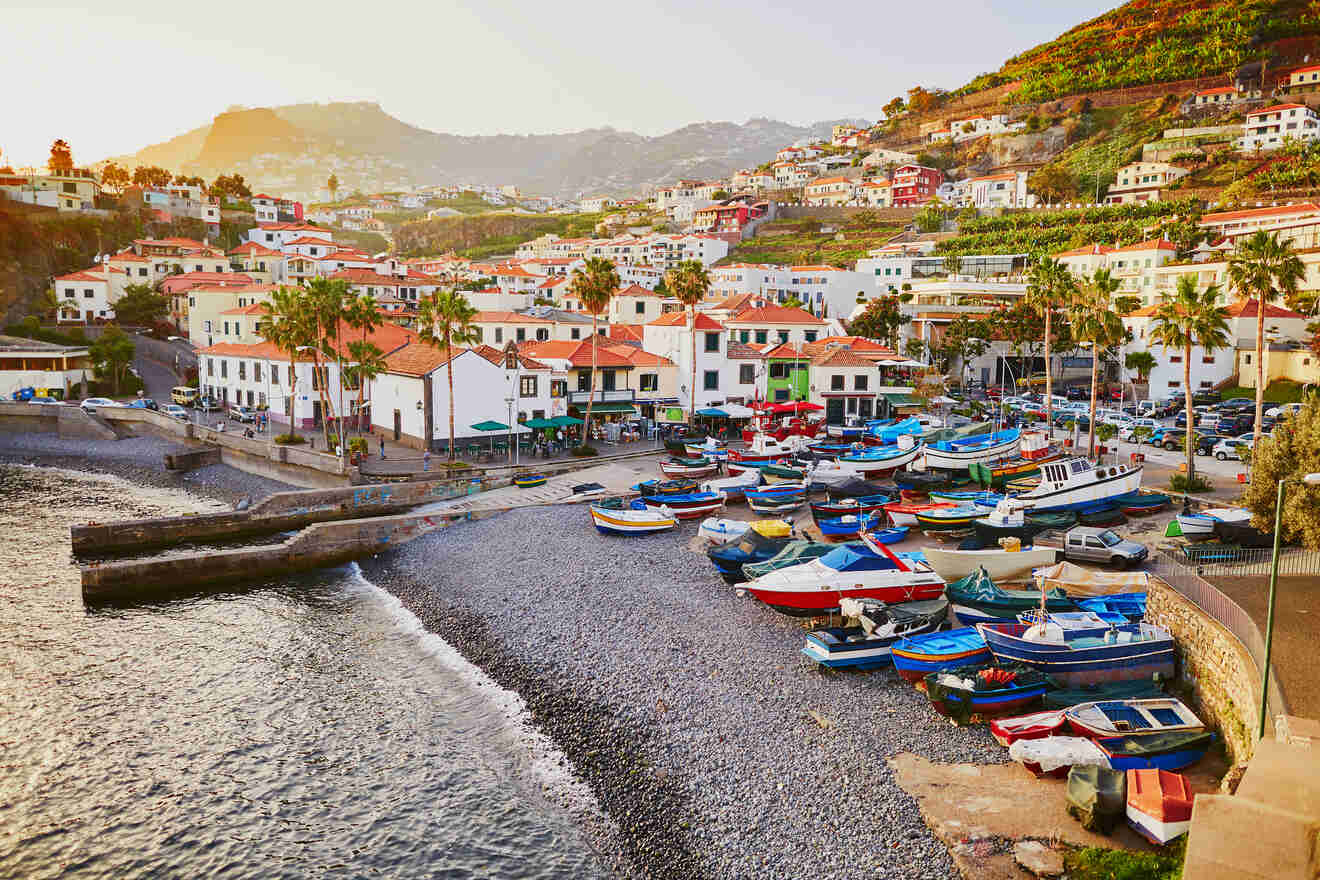 Are you looking for an authentic travel destination where you can enjoy stunning beaches, go hiking with spectacular ocean views, and have incredible foods and wines? Well, you're in the right place! Get ready to discover this uniquely beautiful island of Portugal called Madeira.
Located off the northwest coast of Africa in the Atlantic Ocean, Madeira has nicely stable temperatures throughout the year making the volcanic island a dream destination for many travelers.
In this blog post on where to stay in Madeira, I will talk about 7 top areas and list some great hotels and Airbnbs in each town for every budget. Being a very popular holiday destination in Portugal all year round, Madeira offers a great selection of hotels for all budgets. Just for you dear travelers, I went through tons of hotels and chose the best ones for you to have a memorable holiday.
As these are the best places to stay, you have to be quick and make a reservation in advance if you don't want to miss them. Many of the hotels have a free cancelation, so don't worry if you change your mind. I also highly recommend you rent a car in advance too so you can have more freedom and flexibility to get around on the island.
Shall we start our journey on the beautiful Madeira island?
If you are in a hurry
Here are the best hotels in Madeira from luxury to budget if you don't have time to read the whole post. They all have great reviews and perfect locations!
Here is a map for where to stay in Madeira with the 7 best areas I will be talking about in this blog post so you can easily visualize them:
1. Funchal – where to stay in Madeira for the first time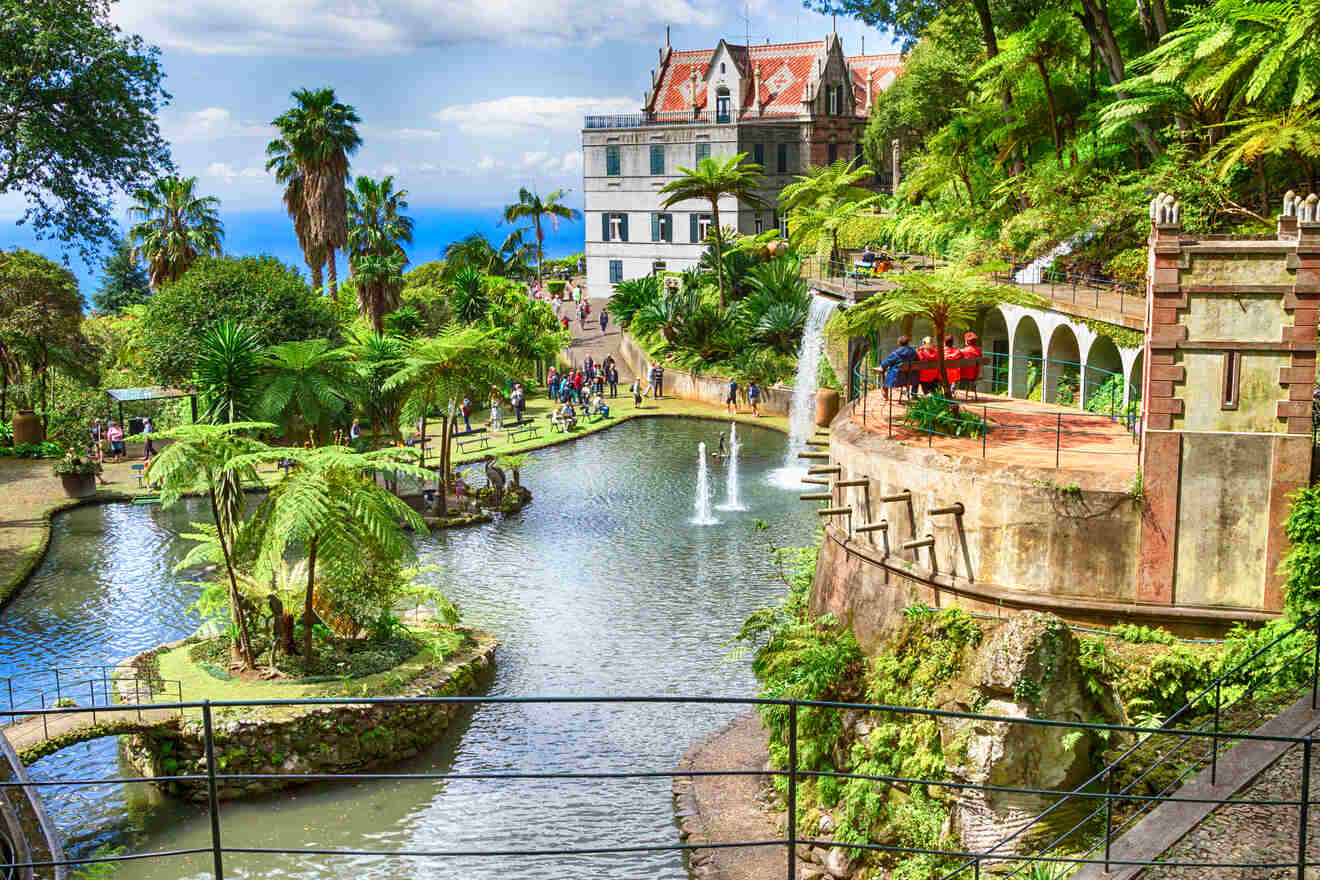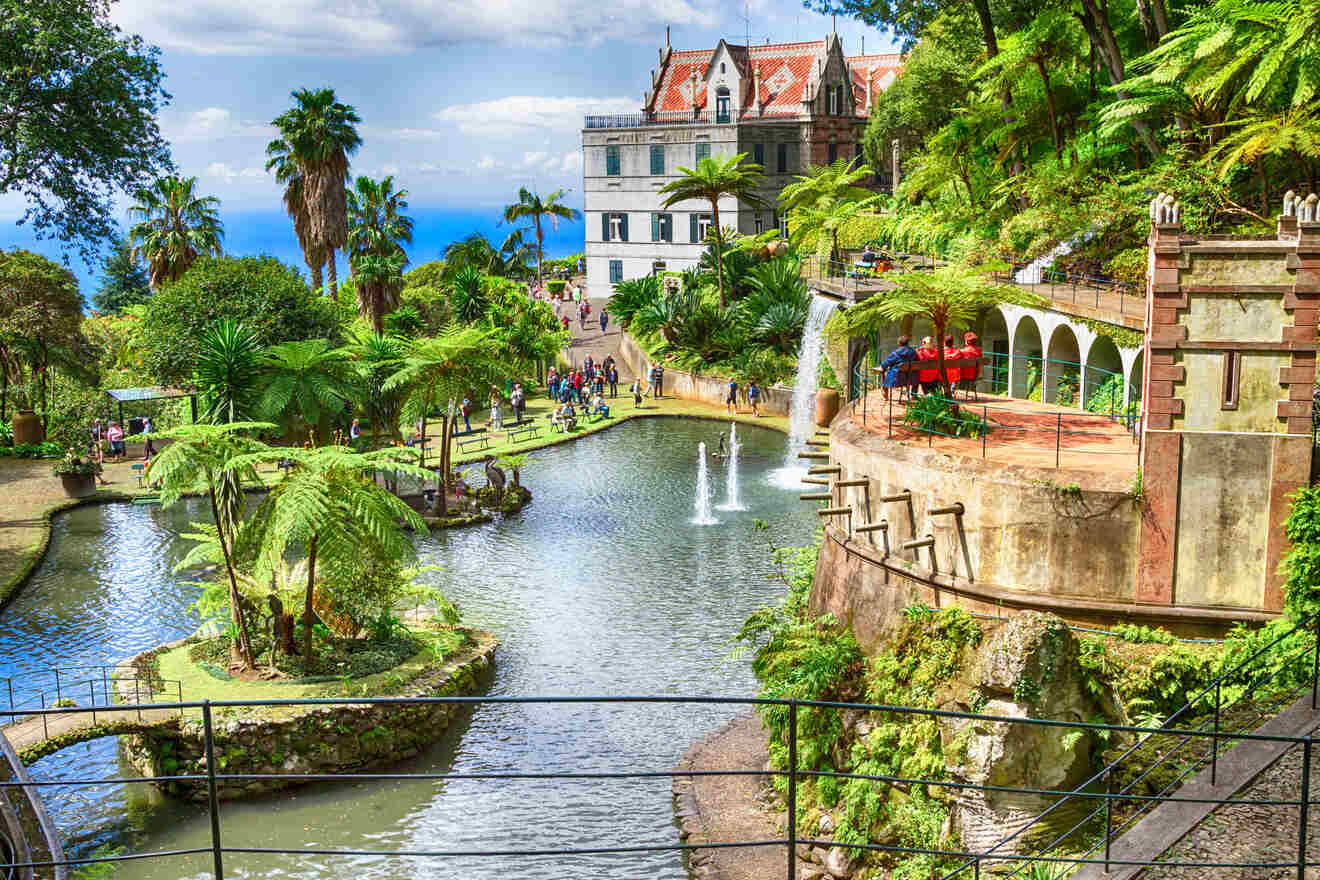 Located on the south coast of the island, Funchal Madeira is the capital of Madeira and offers more than enough activities for all kinds of travelers. By staying here you will have access to the main attractions and since the main tour companies are also located in the area, you can easily arrange tours based on your interest without a hassle.
Start your day in Funchal, Madeira with a stroll through the town center. Check out the beautiful buildings with colonial architecture, impressive churches, and museums, and make sure to take the cable car to Monte for some stunning views of the island!
Now it is time to pick a beautiful restaurant and have some amazing traditional food with Madeira wine. If you are into nightlife you can even have a pint in one of the lively bars by the beach. You see, history, fun, nature – something for everything in this town.
If you're still undecided about which island to visit, I highly recommend also checking out Gran Canaria if you're looking for somewhere that has a little bit of everything!
Funchal also offers a great selection of hotels for all budgets. Before talking about the best ones I picked for you, please do not forget to make a reservation in advance. Funchal is the most popular town in Madeira and I don't want you to miss out on your dream spot!
Let's have a look at the best places to stay in Funchal:
Other accommodation options in Funchal
Since this is the most popular town where to stay in Madeira, plus the hotels I gave you above are the best of the best, they may book out quickly. For those of you who are like me and aren't quite so organized, here are some other great options in the Funchal town:
Things to do in Funchal
2. Santa Cruz – the best place to stay in Madeira for families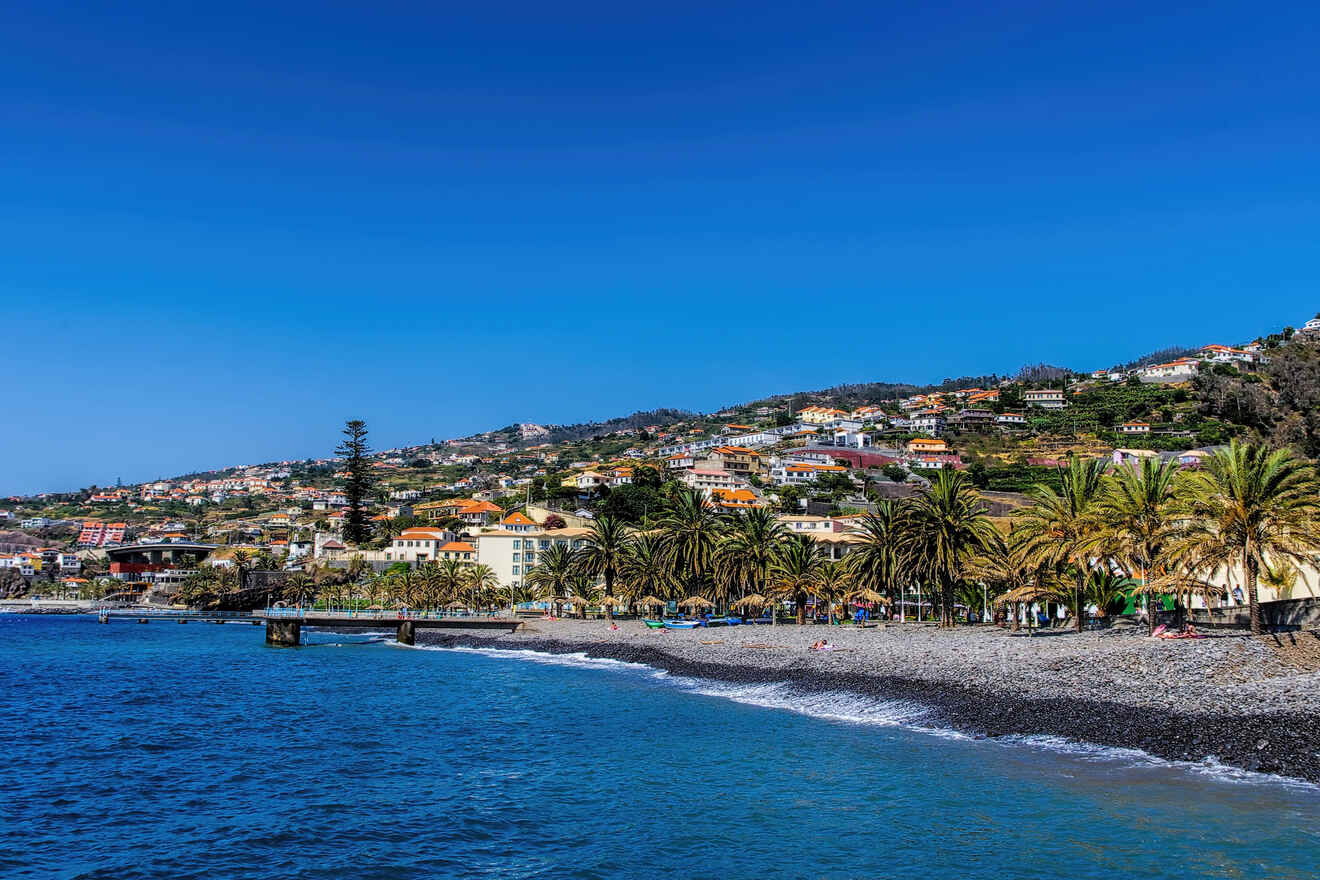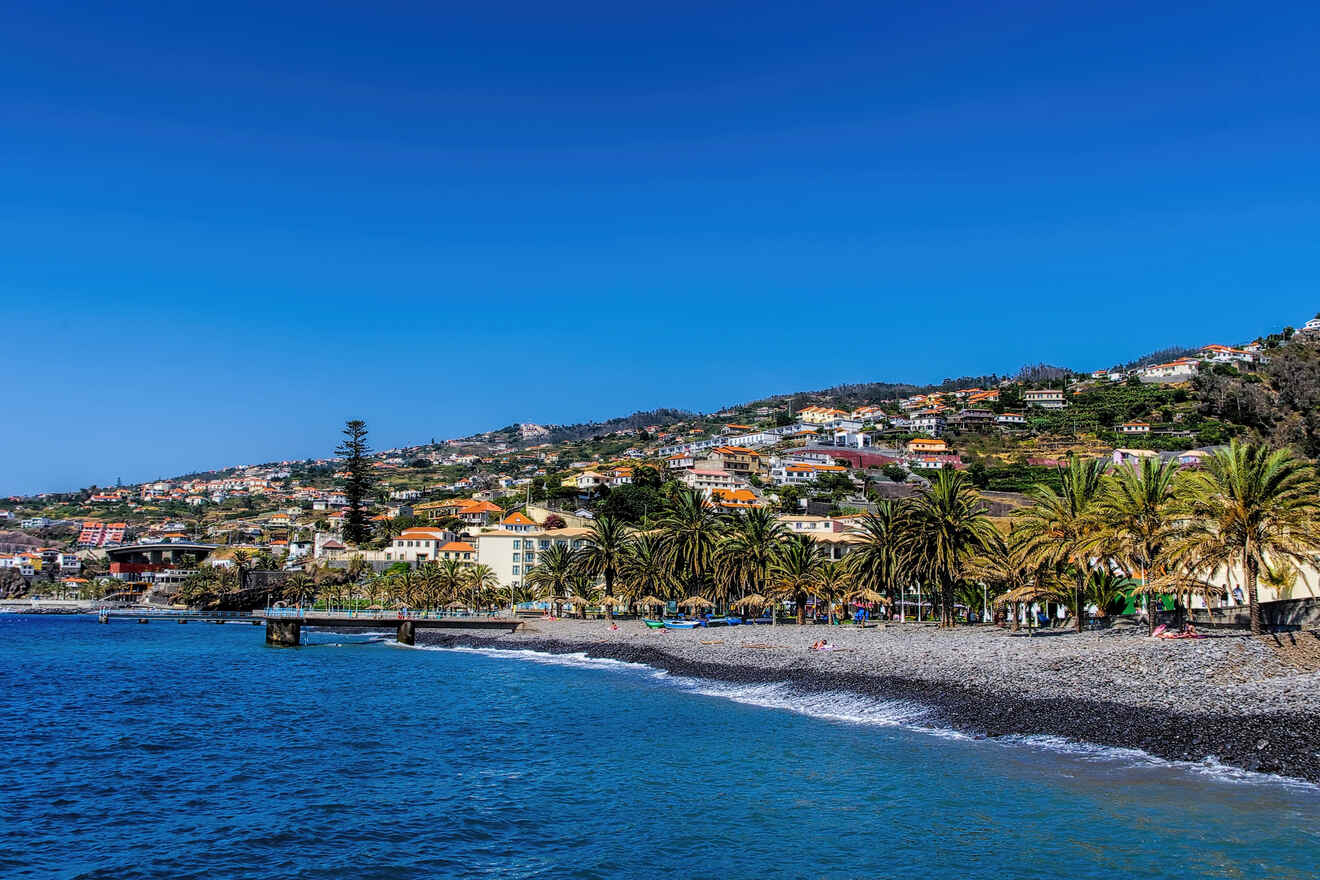 Santa Cruz is a coastal village located on the east coast and 20 km (12 mi) from Funchal. It is also the closest town to the airport with a 2 km (1 mi) distance. This beautiful village offers picturesque views, cobbled stone streets, and amazing beaches.
Thanks to its sandy beach, family-friendly attractions, and hotels, Santa Cruz is the best place to stay in Madeira for those traveling with children.
Start your trip to Santa Cruz with a small sightseeing tour to familiarise yourself with the town. Check out the beautiful churches, local shops, restaurants, and cafes, then it's time to head to the beautiful sandy beach to chill and swim in the turquoise water!
For those who are looking for fun family activities, there are plenty of options to keep the kids busy in and around Santa Cruz such as go-karting, Aquaparque Madeira, and Madeira Theme Park just to name a few. Do you see why I picked this area for families? You will have a great time in this lovely village!
Having a convenient location between Madeira Airport and Funchal, hotels in this town are selling faster than you think and I don't want you to miss this best of the best hotels so, make sure to book your hotel in advance. Also, if you are already looking for a new island destination for your next holiday with your families, I highly suggest you check out our where to stay in Tenerife post.
Other accommodation options in Santa Cruz
Things to do in Santa Cruz
3. Machico – the coolest town to stay in Madeira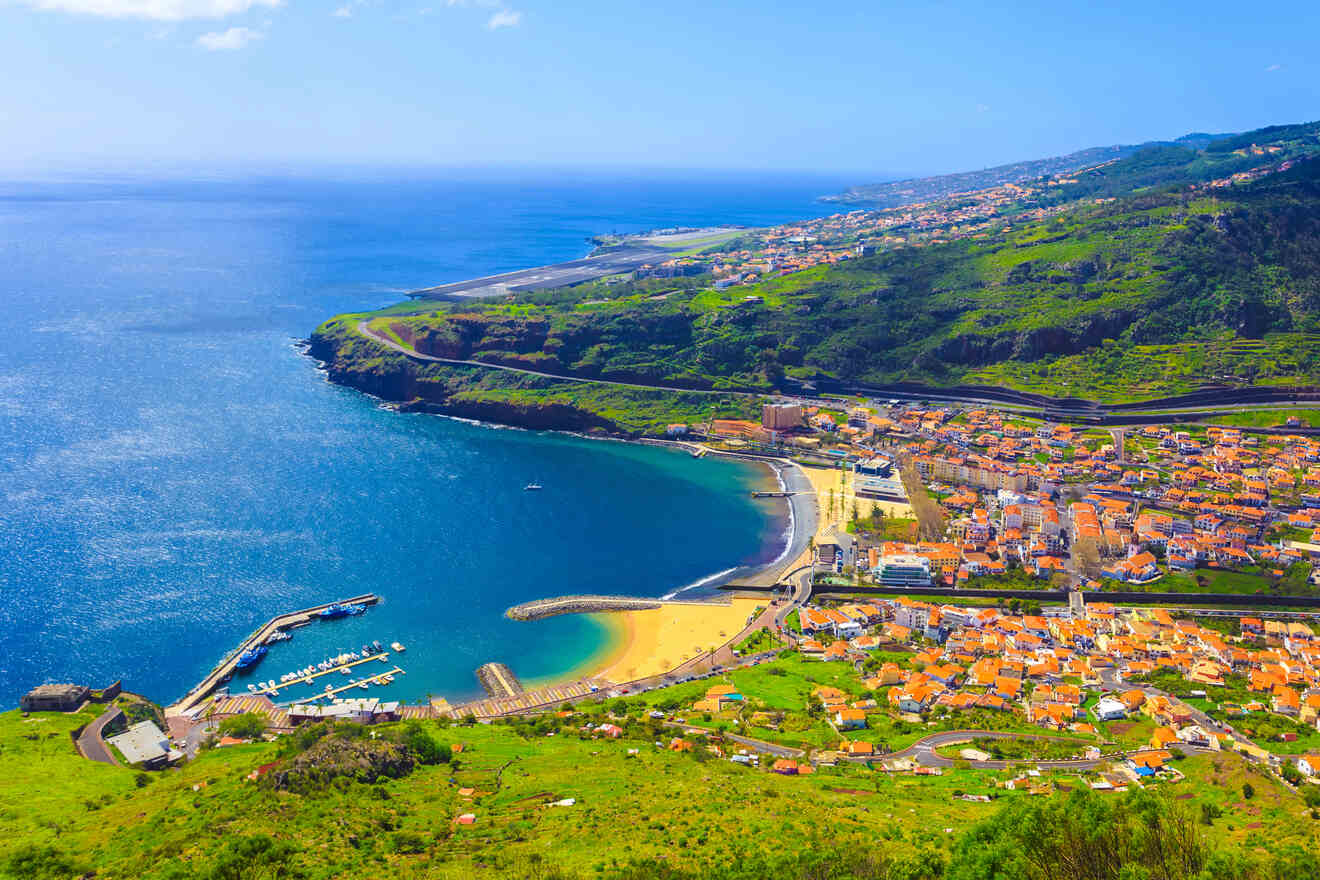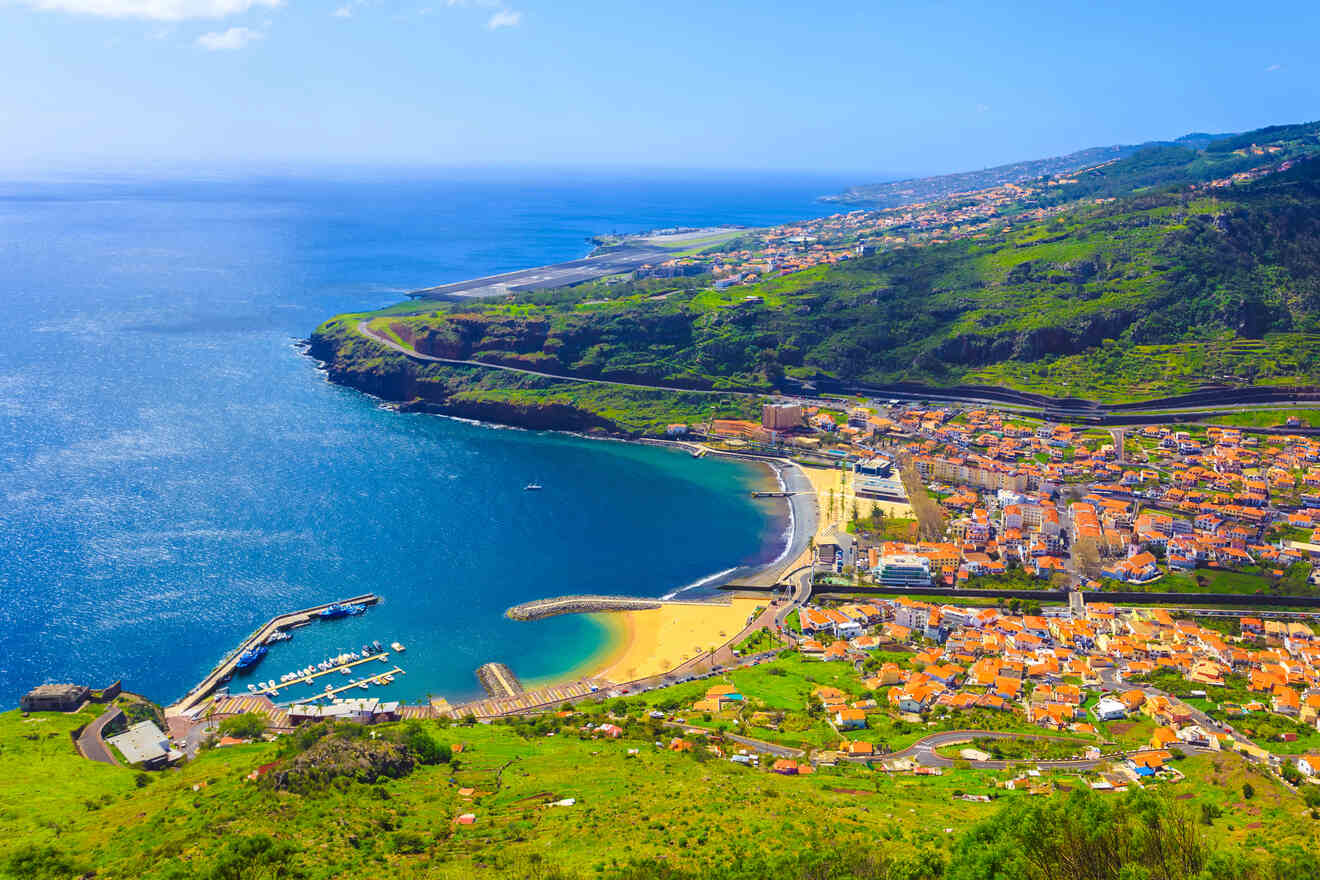 Machico is located on the eastern coast of the island, just above Santa Cruz, and is a half an hour drive from Funchal. This lovely town offers the best hiking trails, a beautiful sand beach, historic churches, amazing traditional seafood restaurants, and cool bars. If you like towns that offer a bit of everything with a cool vibe then I'm sure you will love Machico!
In Machico, you won't believe your eyes when you see the amazing sea views from the cliffs surrounded by lush green areas. I highly recommend you allow some time for hiking to enjoy this beautiful scenery, then hit the beach to chill on the golden sand.
For history lovers, there are more than enough churches, historic buildings, and museums that are waiting to be discovered and at night you can have drinks in trendy bars and enjoy mouth-watering food in local restaurants. You see there is a bit of everything for all tastes in this town!
Unfortunately, there are no luxury hotels in this cool town and I never want to give you a hotel recommendation that is not good enough. I highly recommend Savoy Palace in Funchal if you really want to stay in a glamorous hotel. However, if you're not particularly looking for 5-star quality, I do have good hotel recommendations for other price ranges in Machico.
Here are the best places to stay in this lovely town:
Other accommodation options in Machico
Things to do in Machico
4. Calheta – a town with beautiful sandy beaches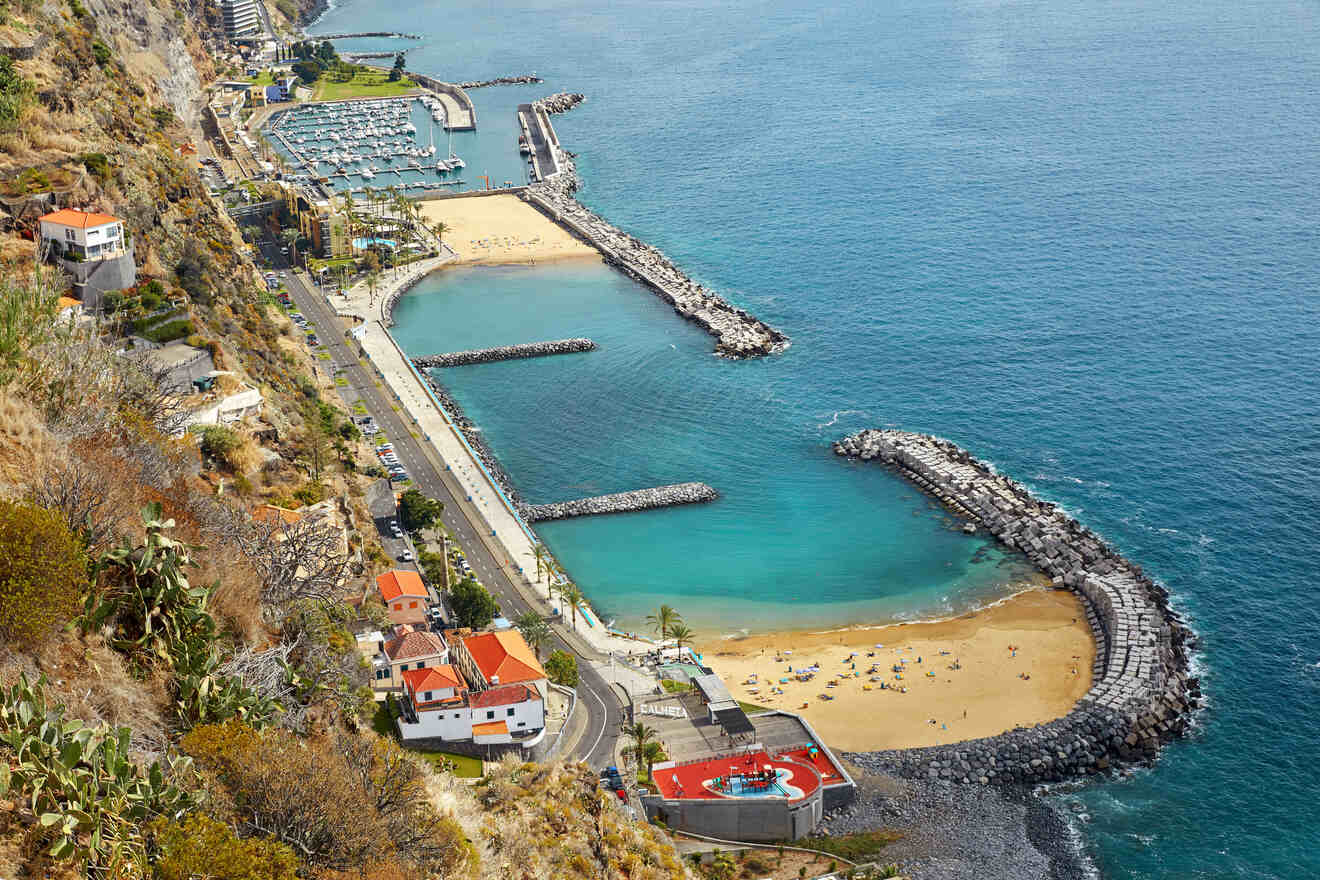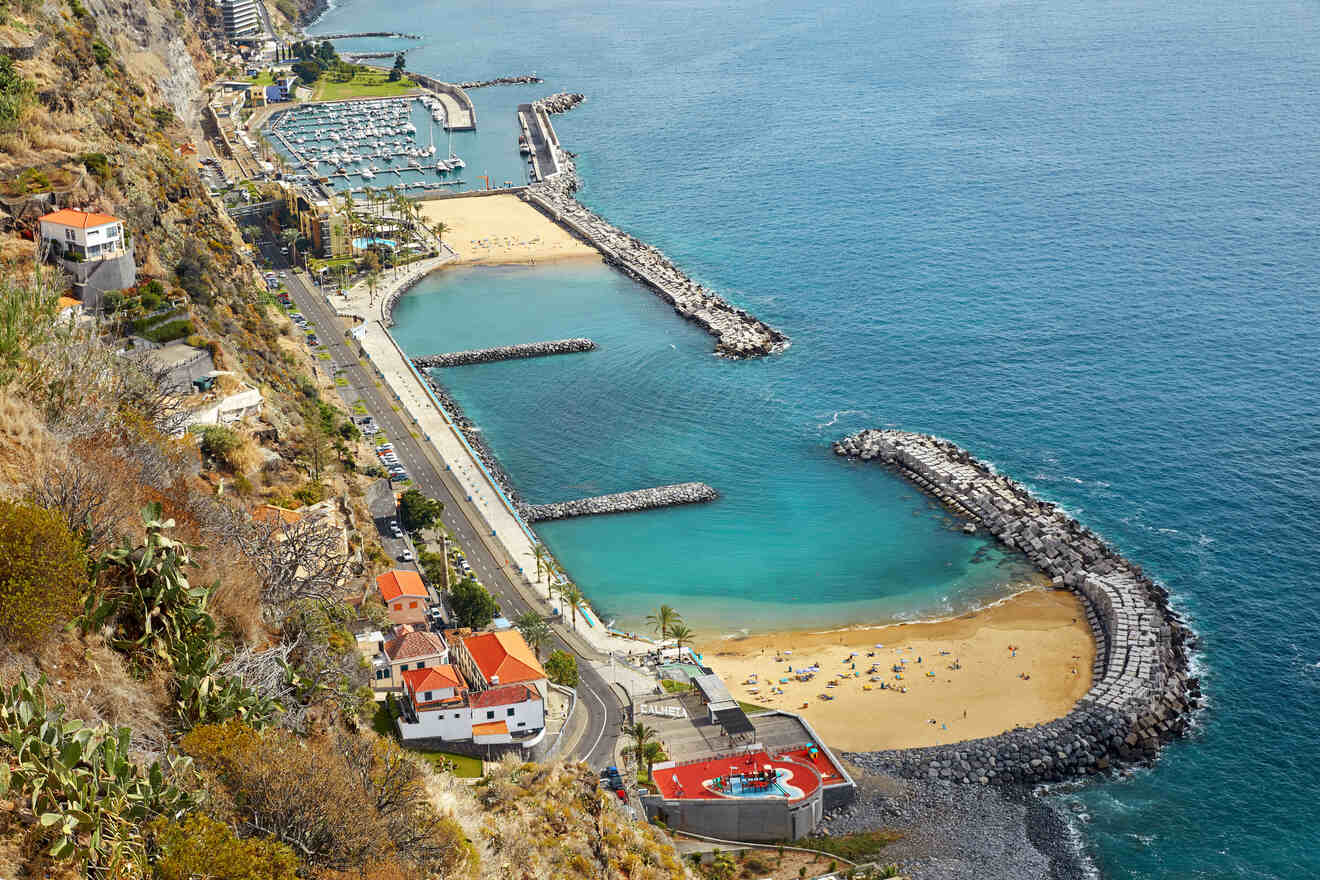 Calheta is located on the southwest coast of the island and is 40 minutes drive from Funchal. Calheta Beach is one of the best beaches in Madeira that has amazing golden sand and turquoise water. Once you arrive here you will see how tempting it is to spend the entire day chilling on the beach or doing water sports.
Calheta offers amazing coastal views of high volcanic cliffs and lush green gardens with beautiful waterfalls. After a relaxing day on the beach, you can go on afternoon walks to explore stunning landscapes, and when you are tired enough you can have delicious traditional foods in the town center while watching the beautiful coastal view. Sounds pretty perfect, doesn't it?
Calheta has a great selection of beachfront hotels for all budgets. Let's check out the best places to stay in this adorable town.
Other accommodation options in Calheta
Things to do in Calheta
Get a suntan and swim in the crystal clear water at Calheta Beach
Marvel at contemporary artworks at ​​Galeria dos Prazeres
Go for a walk at the beautiful PR20 Vereda do Jardim do Mar
See ​​Capela de Nossa Senhora do Loreto
Go hiking at ​​Levada da Rocha Vermelha
Go for a stroll at the beautiful gardens, School Farm dos Prazeres
Check out the Sugar Cane Factory Museum
5. Ponta do Sol – best place to stay in Madeira for couples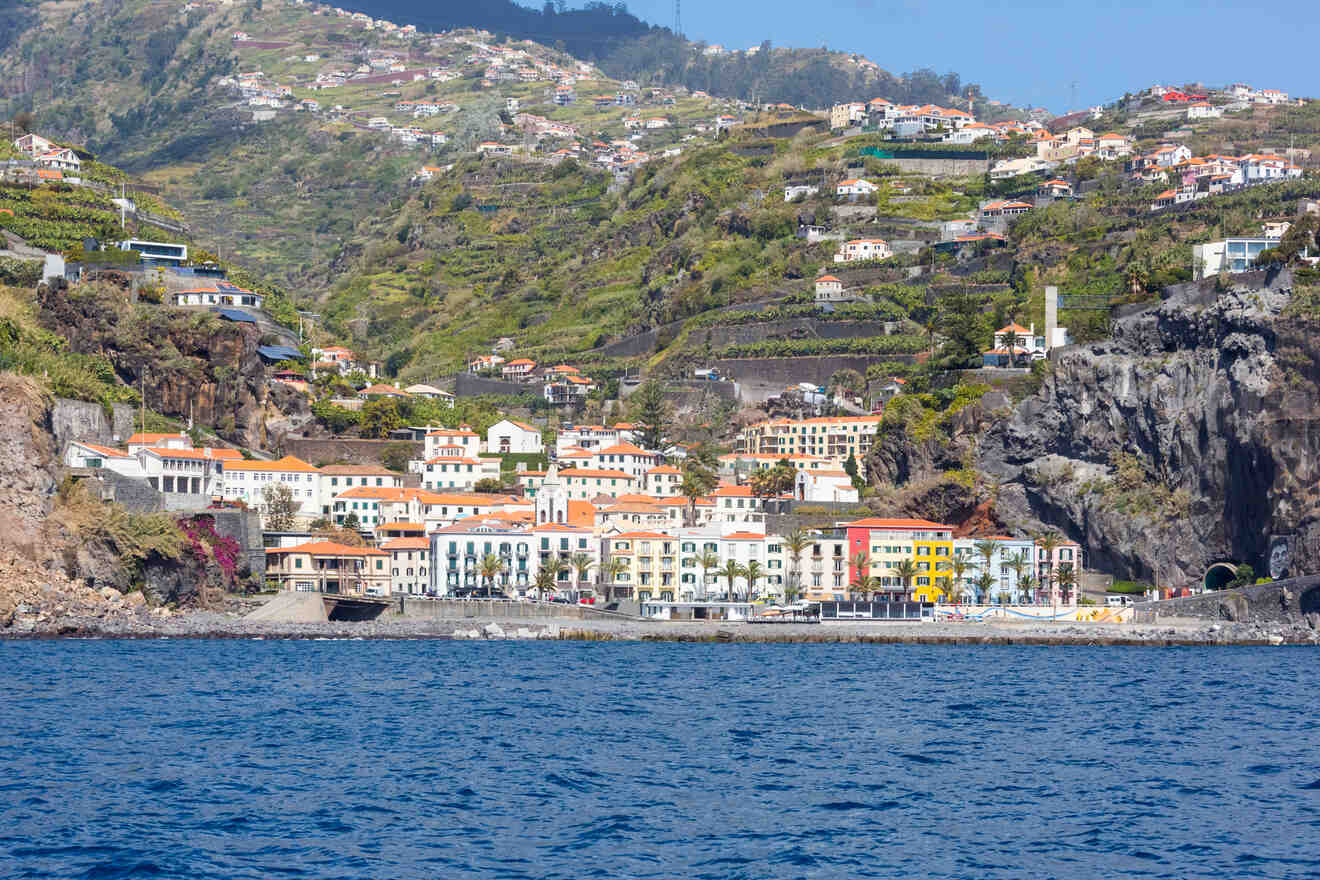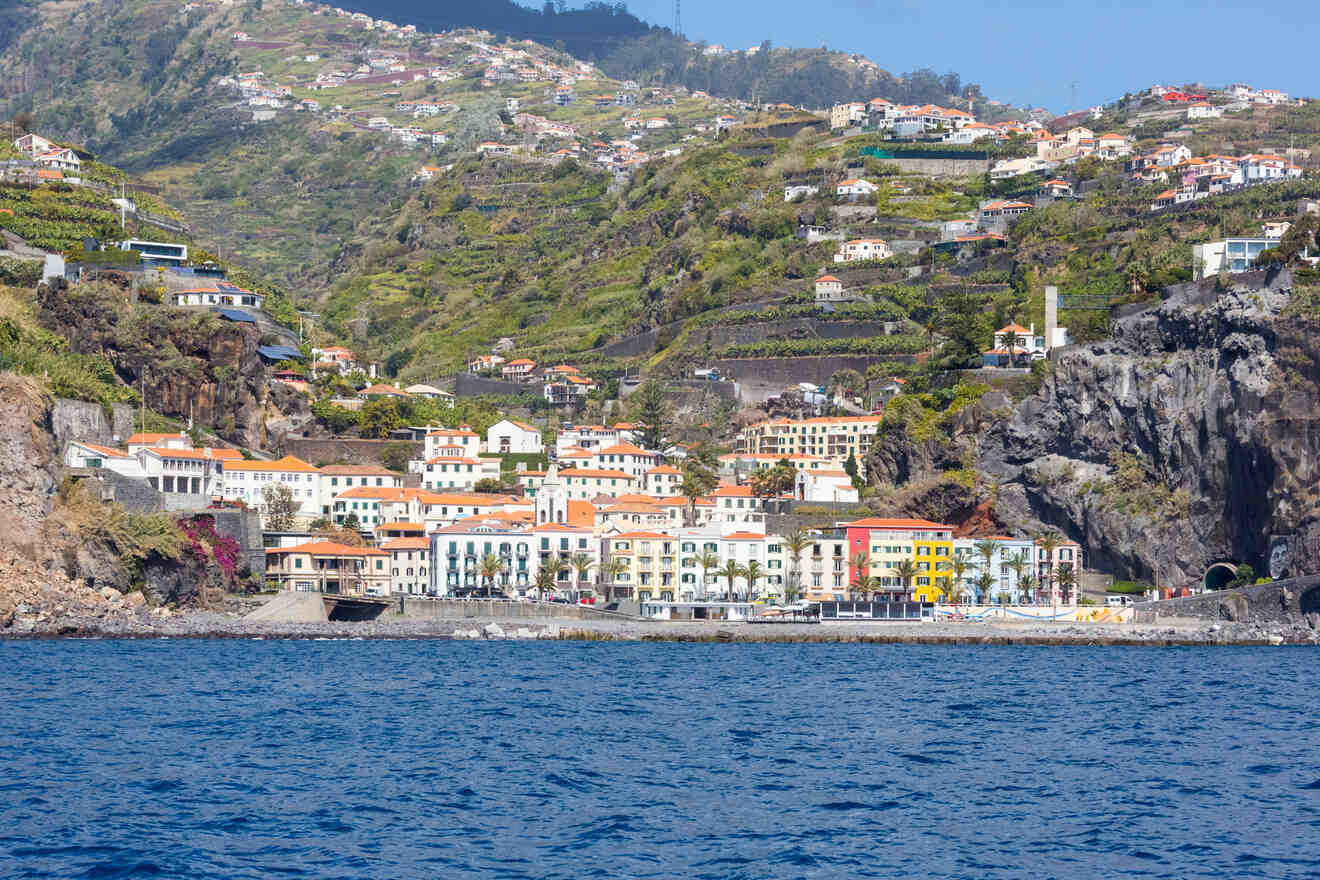 Ponta do Sol is located on the south coast, a 25min drive from Funchal. This coastal village offers charming beaches with palm trees and picturesque views. If you want to have a chilled holiday by the beach, Ponta do Sol is calling you!
In Porto do Sol you will find pristine pebble beaches surrounded by lush green areas. There are 4 charming beaches in the town which are Anjos, Lugar de Baixo, Madalena do Mar, and Ponta do Sol. So get ready to go beach hopping!
Apart from relaxed beaches, Ponta do Sol offers also amazing parks and hiking trails that will make outdoors lovers happy. You can go on waterfall hunts, hike Madeira's highest plateau, Paul da Serra, or just simply enjoy a stroll along the cute streets of Ponta do Sol and try out some traditional foods.
Other accommodation options in Ponta do Sol
Things to do in Ponta do Sol
Spend time swimming and chilling at Ponta do Sol Beach
Go hiking to see the gorgeous waterfall Mill Levada
See the Church of Nossa Senhora da Luz
Check out the stunning views from Cascalho Viewpoint
Have a drink at Lugar de Baixo Palace
Take a day trip to hike at Madeira's highest plateau, Paul da Serra
6. Sao Vicente – the best town to stay in Madeira for nature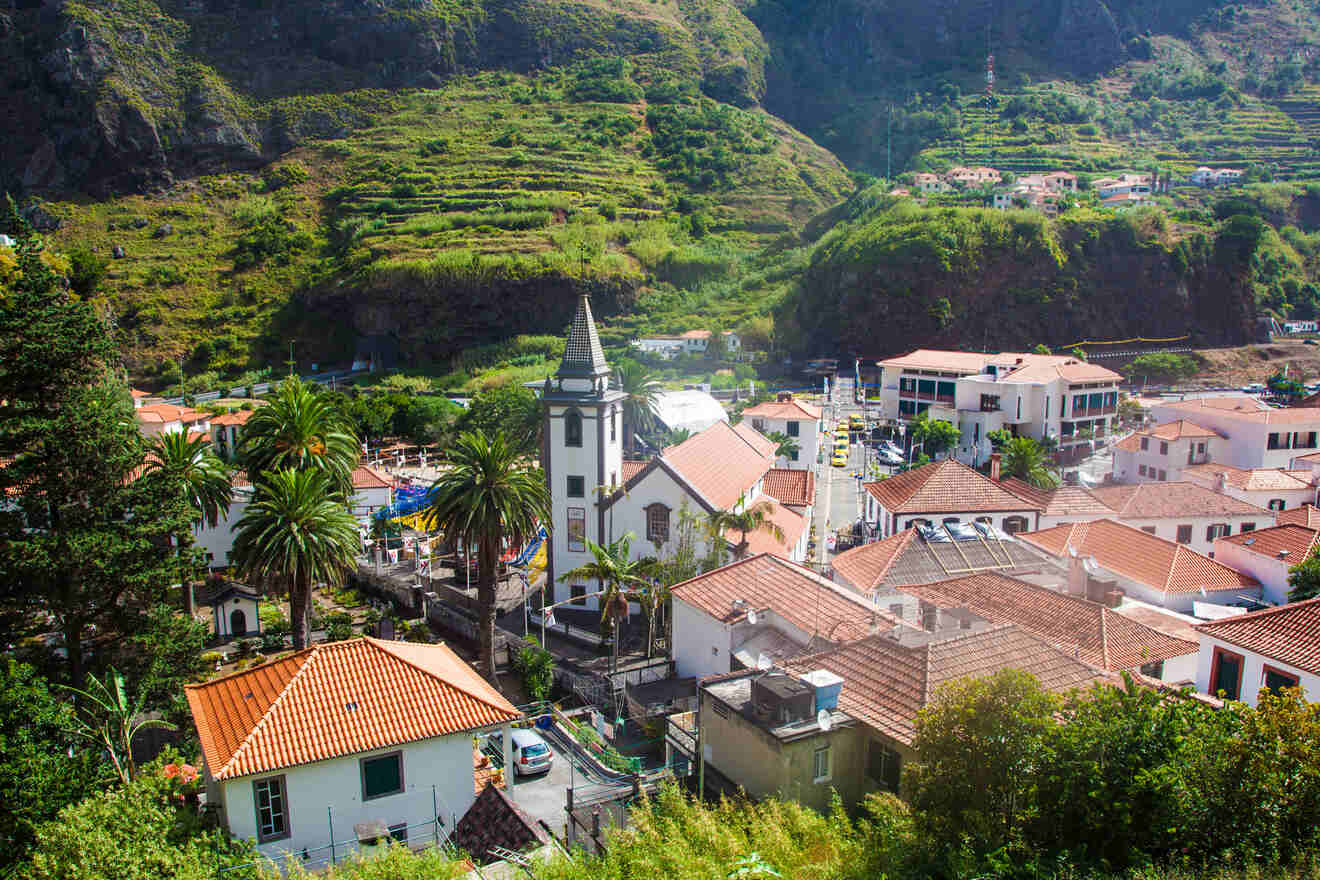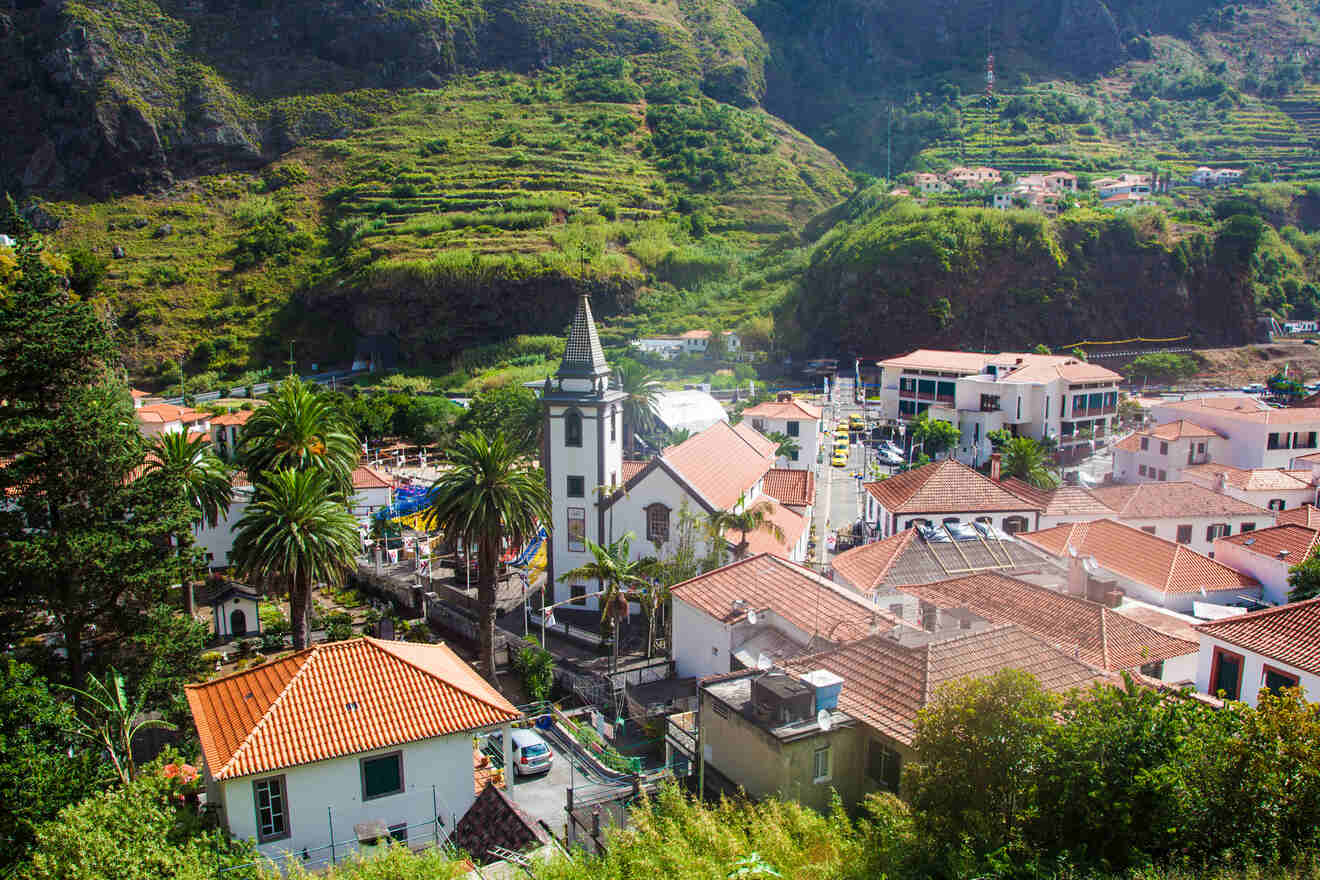 Sao Vicente is located on the north coast of the island, a 35 min drive from Funchal. It is a very beautiful town offering spectacular landscapes such as Soa Vincente lava caves, epic hiking on the trail PR16 Levada Fajã do Rodrigues, and city parks like the Jardim de plantas indígenas.
So, if you are into outdoor activities and want to stay in nature, São Vicente is definitely my pick for you.
Once you step into this charming village you will be amazed by the cute buildings nestled between lush green mountains. Wear your hiking boots and start discovering spectacular cliffs views, beautiful botanical gardens, historical buildings, and churches.
Those who cannot do without a beach day can head to Praia do Porto do Seixal and enjoy swimming in the turquoise water. You will be able to find local shops, cute restaurants and bars, and nice accommodation options in São Vicente.
Other accommodation options in Sao Vicente
Things to do in Sao Vicente
Visit the ​​gorgeous Sao Vicente Caves
Go hiking along the PR16 Levada Fajã do Rodrigues
See the São Vicente Chapel
Enjoy beach time at Praia do Porto do Seixal up the coast
See impressive Capelinha de Nossa Senhora de Fátima
Go for a walk at the beautiful Jardim de plantas indígenas
Try local wines at Quinta do Barbusano
7. Ribeira Brava – for those looking for a local vibe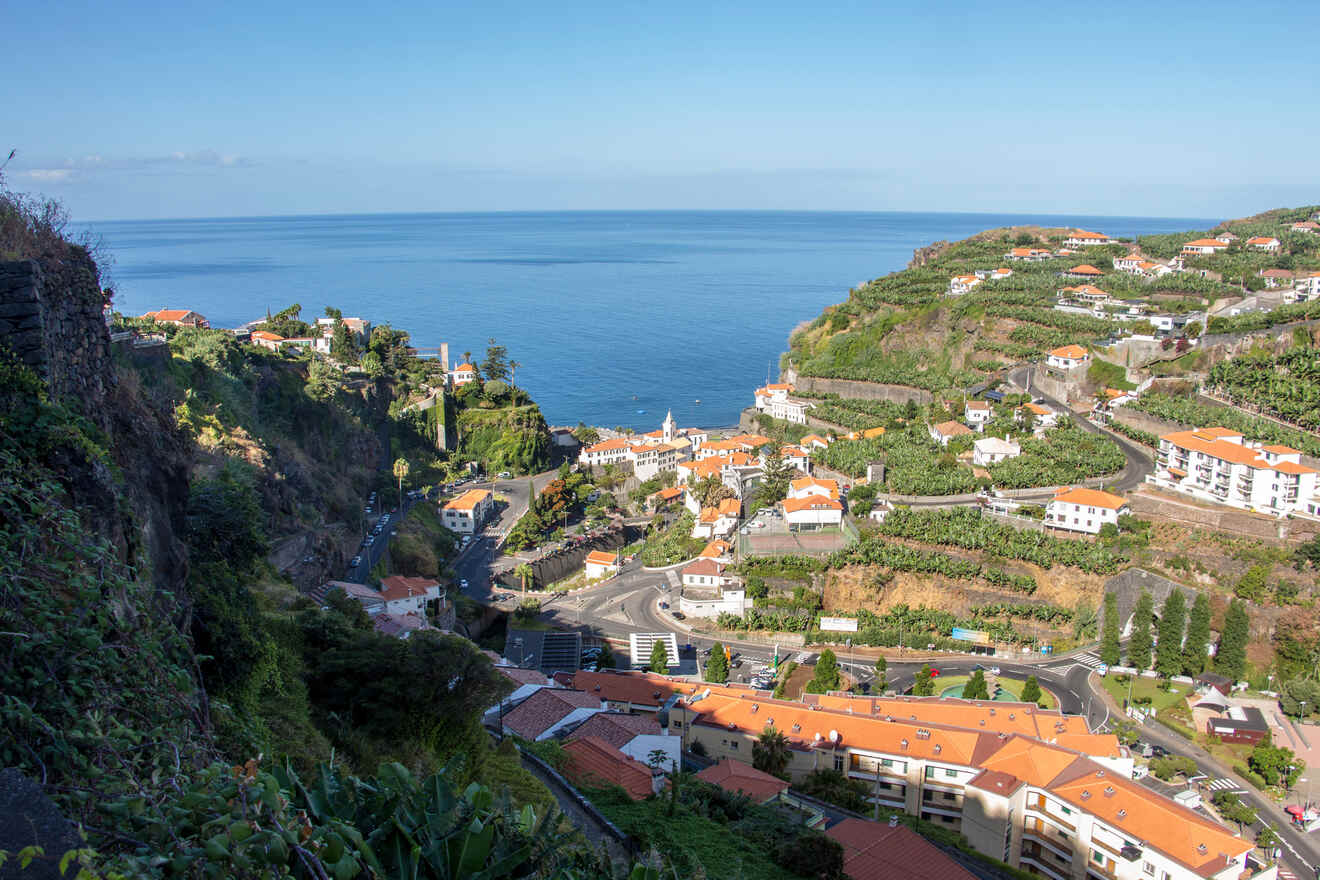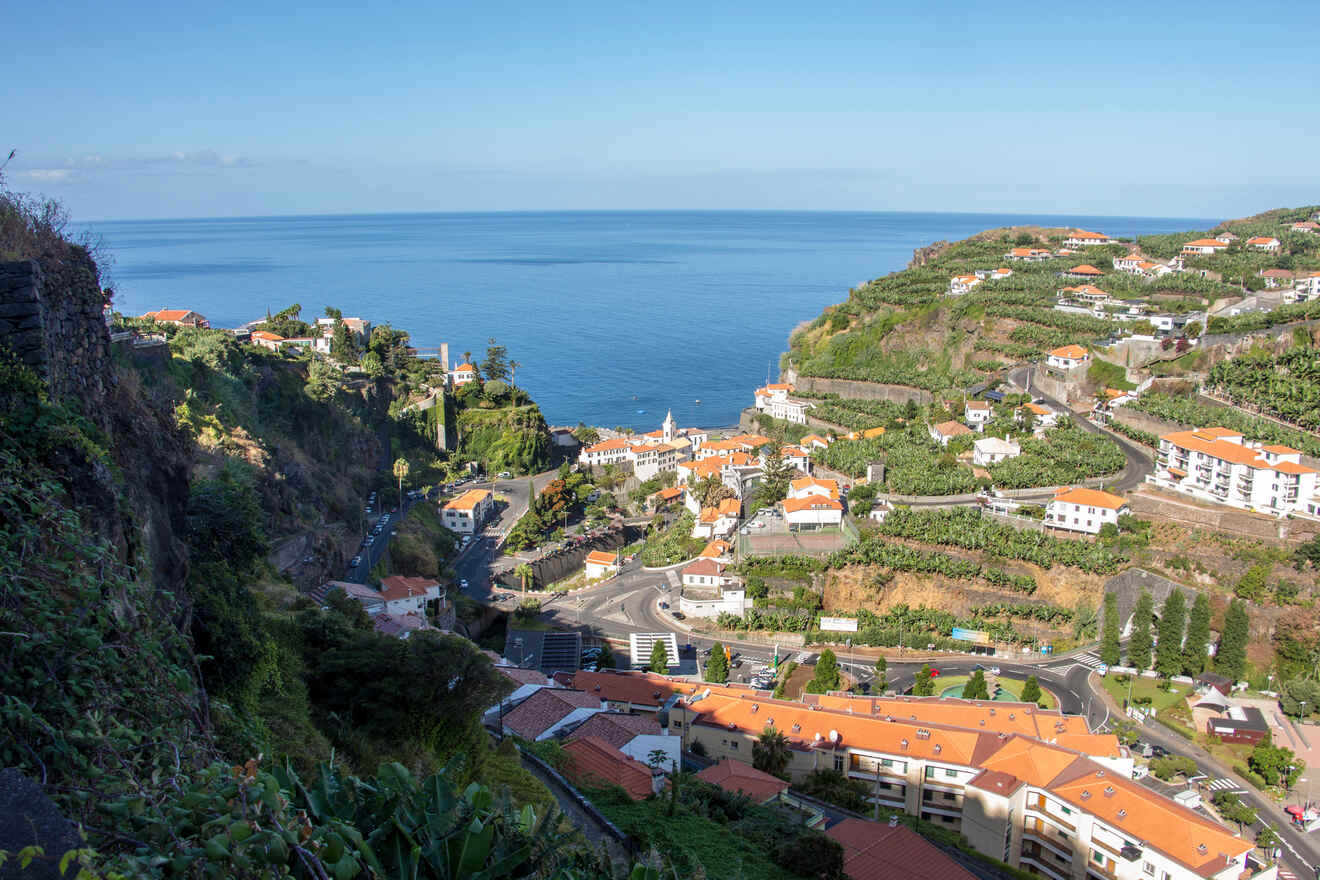 Ribeira Brava is a charming coastal village located 20 km (12 miles) west of Funchal. If you are looking for an attractive town where you can have local experiences, Ribeira Brava will definitely suit your taste.  This is a great area where to sleep in Madeira if you want to experience the local vibe.
The most interesting landmark in this village is the black sand beach, Praia Da Ribeira Brava. I am sure you'll have many impressive Instagram photos here to make your friends jealous.
Make sure to allow enough time to enjoy this unique beach. Go swimming and take in the epic scenery, then simply have a walk in the old town to see beautiful churches and local shops. After watching the sunset by the beach, have a local wine in the lively bars with a friendly atmosphere.
There are no luxury hotels in this village that I thought were good enough to recommend to you. If you really want a luxurious stay I definitely suggest staying at 1905 Zino's Palace in Ponta do Sol which is the next town over and close enough to enjoy both by car.
For those who would like to stay in a less touristy area, here are the best accommodations that I handpicked for you.
Other accommodation options in Ribeira Brava
Things to do in Ribeira Brava
Visit the Museu Etnográfico da Madeira
See the Forte de São Bento
Have a photo at the famous black sand beach, Praia Da Ribeira Brava
See the beautiful church Igreja Matriz da Ribeira Brava
Have a sunset stroll at Farol da Ribeira Brava
BONUS 1: Top 5 things to do in Madeira Island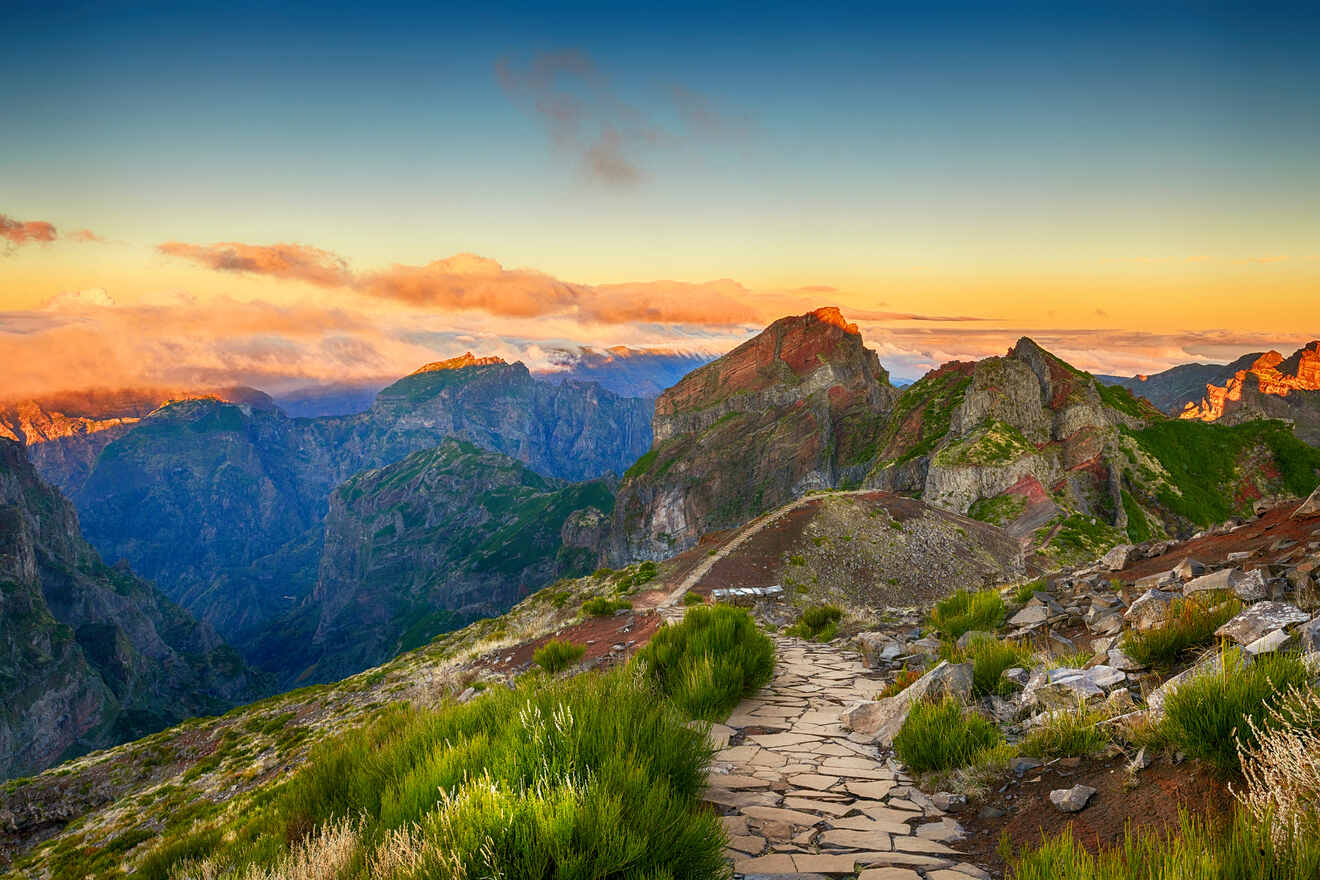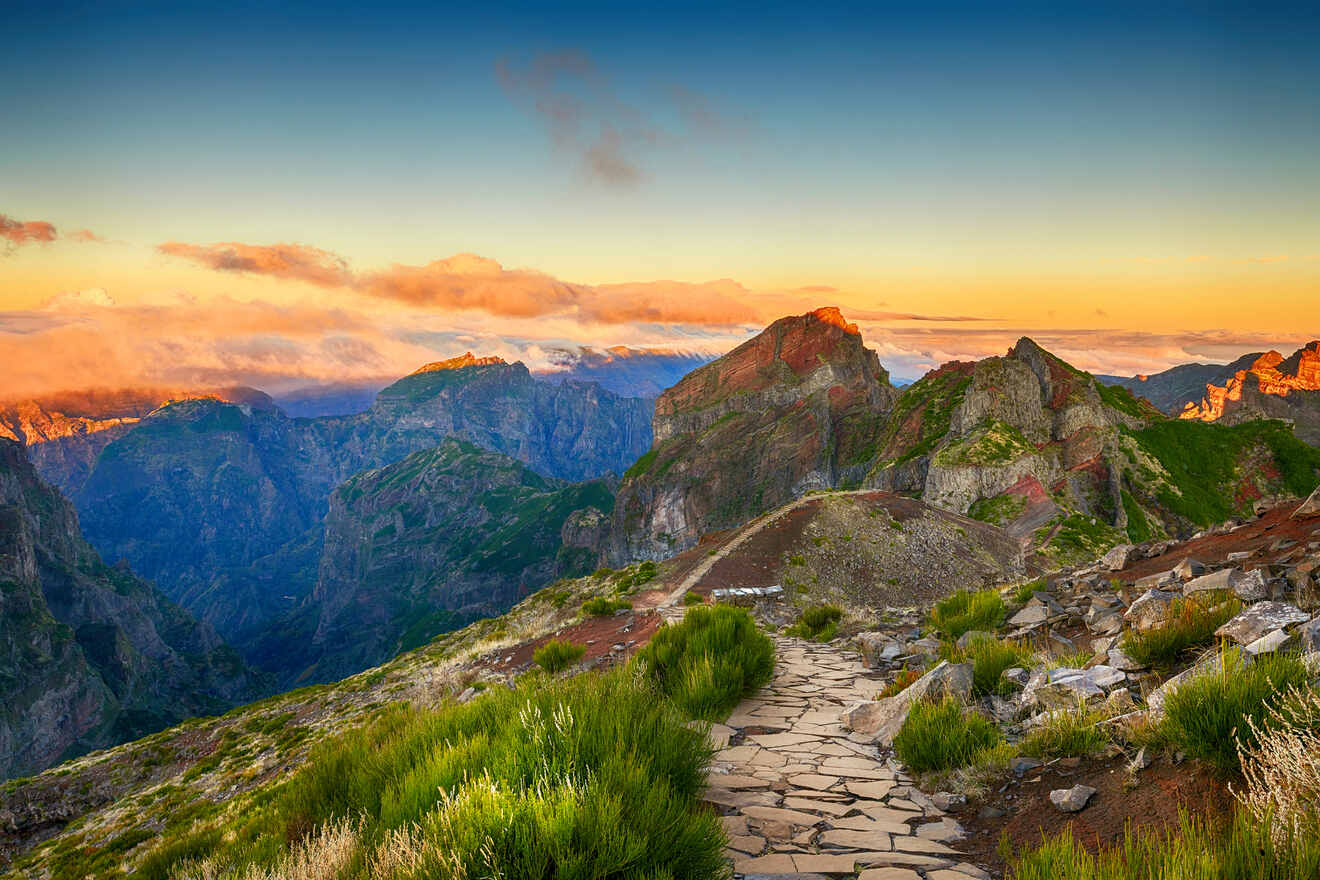 I have already talked about the best areas to stay in Madeira with the activities you can do in each. However, every corner of this beautiful island is full of surprises and there are plenty more amazing things to do outside of the towns I have already mentioned on this list.
As it takes just an hour to cross the entire island, these day trips can be done from any starting point but in order to visit these places, I highly suggest you rent a car. There is no good public transportation and believe me, you won't regret allowing time for these activities!
1. Hike at Pico do Arieiro
Pico de Arieiro is located 20km (12 mi) north of Funchal and is the 3rd highest peak in Madeira. It is a 10 km (6 mi) trail that offers spectacular views of the surrounding mountains. The hike takes about 4 hours and often you will literally be above the clouds!

The difficulty level of the hike is moderate but when you reach the summit it will be totally worth the effort. In order to reach Pico do Arieiro you can drive or join daily tours from the major towns.
2. Check out the breathtaking views from Europe's highest sea cliff at Cape Girão
Cape Girão is located 15 km (8 mi) west of Funchal and is a must-see place in Madeira. It is the highest sea cliff in Europe with 580 meters of height, and the second-highest in the world so you can imagine how impressive the view is!
There's an awesome glass bottom platform which sticks out over the cliff face allowing you to see straight down below your feet, this awesome experience is also called SkyWalk. You will see an epic view of the Atlantic Ocean surrounded by impressive rocks and landscapes. If you don't want to drive you can easily take a tour here, but don't forget to take your camera with you!
3. Go surfing in the beautiful village, Jardim do Mar
Jardim do Mar is a very cute village located on the western coast and a 1-hour drive from Funchal. Jardim do Mar is the best surfing spot in Madeira so whether you are a beginner surfer or want to improve your surfing skills, Jardim do Mar is the perfect place!
Even if the surf isn't for you, this beautiful village has a lot more to offer. You can have a walk along cobbled stone streets, see the Church of Nossa Senhora do Rosário and the beautiful Chapel of Nossa Senhora da Piedade. You can even visit vineyards, sugar cane, and banana plantations so you really should add Jardim do Mar to your Madeira itinerary!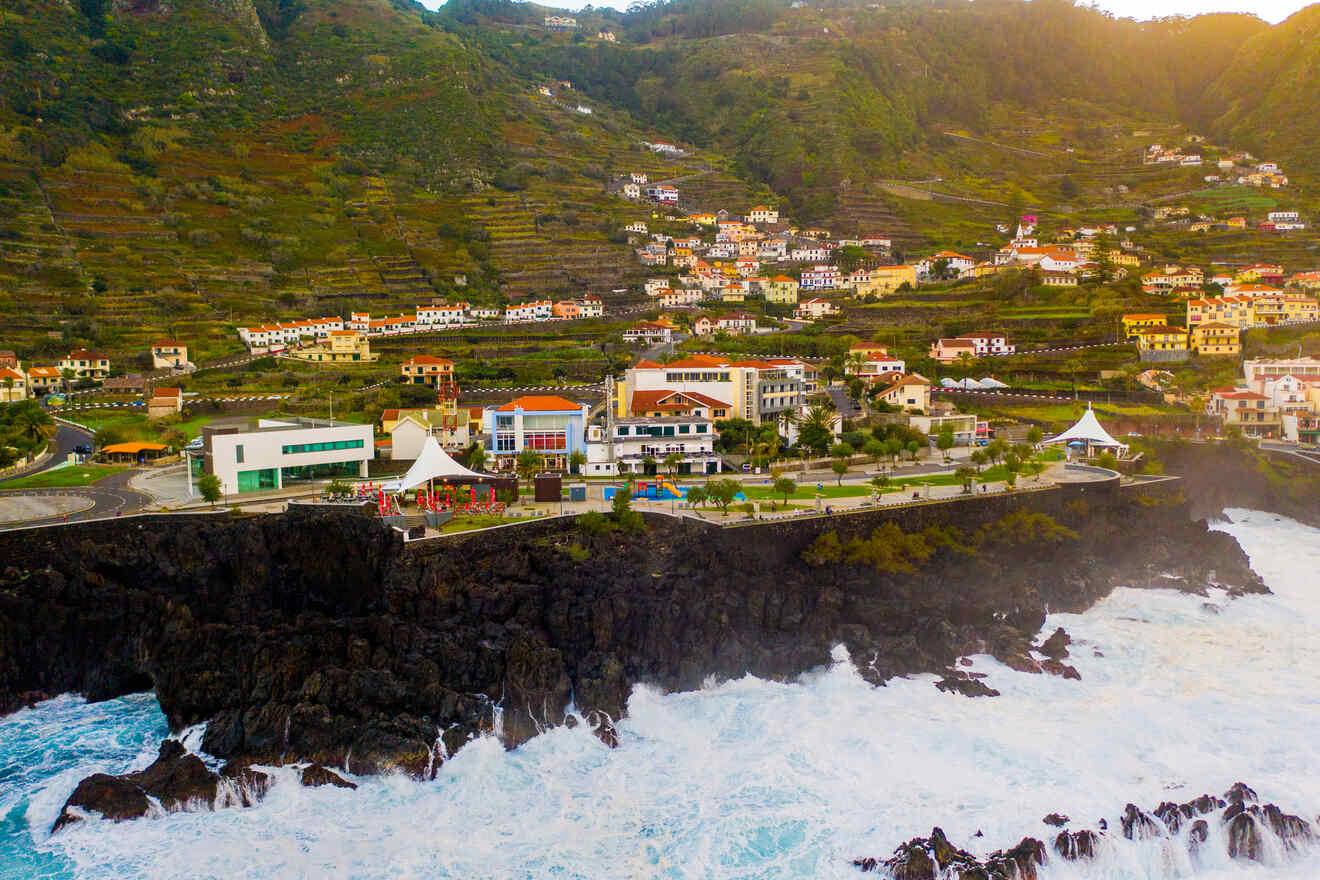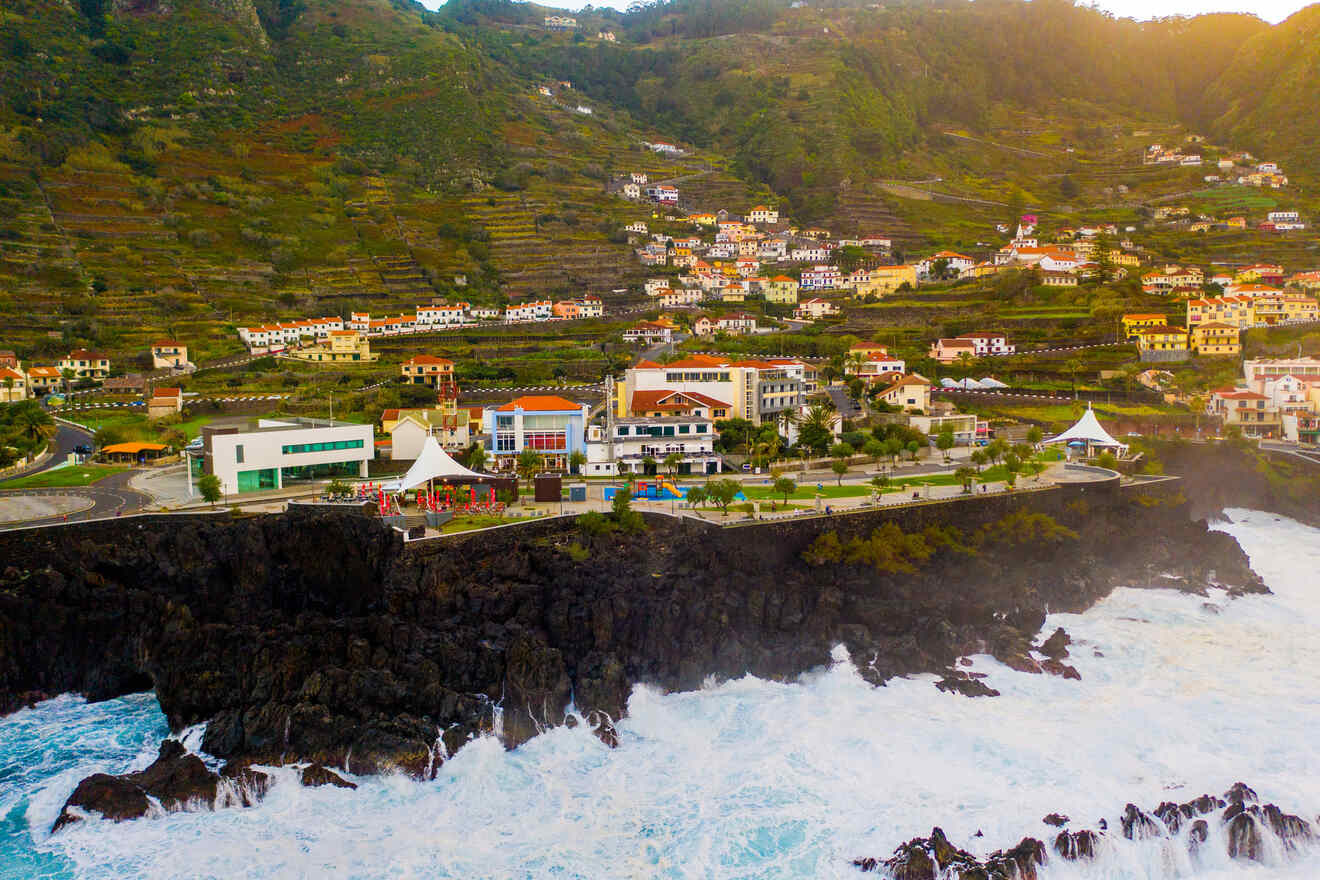 4. Go swimming in lava pools in Porto Moniz
Porto Moniz is located on the most north-western point of Madeira and is a 50 minutes drive from Funchal. Here you will find the island's most scenic and impressive natural swimming pools formed by volcanic lava! You can swim in the crystal clear water of these natural pools and take some epic Instagram photos.
The beach area has a car park, changing rooms, and bathrooms with lockers for storing personal items. There are very nice restaurants and bars where you can have food and drinks while watching the amazing views. Either rent a car or take a tour to get to these epic pools!
For those who are into hiking The Ribeira da Janela trail is one of the most popular walks near Porto Moniz. The hike is around 12 km (8 mi) long and includes steps through tunnels and alongside rocks as you make your way to the top. The challenging hike definitely worth it for the amazing scenery.
5. See black sand beaches at Caniçal
Located on the eastern coast, Caniçal is just a half an hour drive from Funchal. It is a small fishing town where you will be able to see unique natural black sand beaches and pools. These volcanic beaches can be only seen in Caniçal and Ribeira Brava.
Since you are in Madeira you definitely need to have photos with this incredible natural beauty. There are also very nice seafood restaurants, local cafes, and historic churches in Caniçal. Moreover, you can also join the whale watching tours here and visit the History of Whaling Museum.
BONUS 2: How to get around on the Madeira Island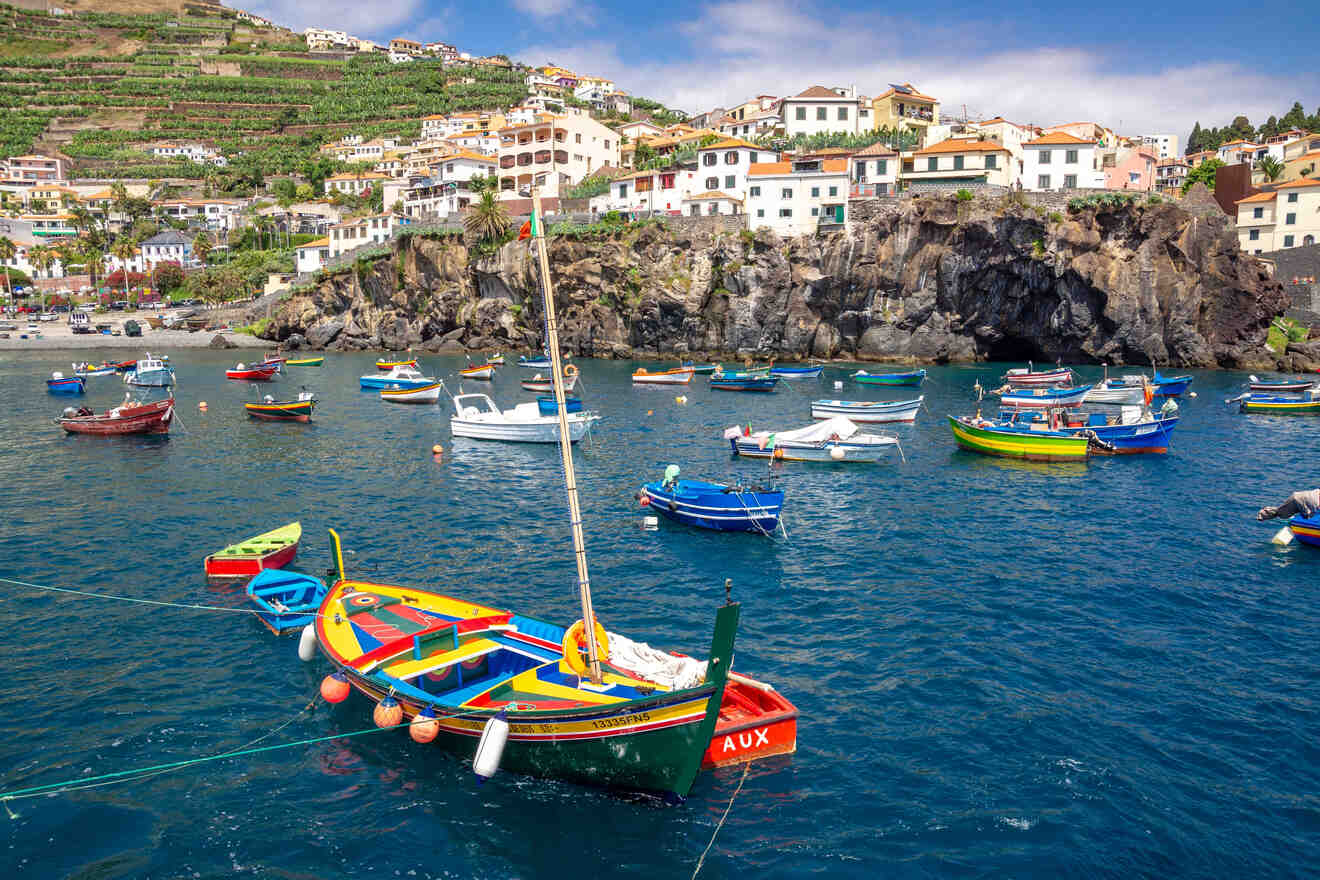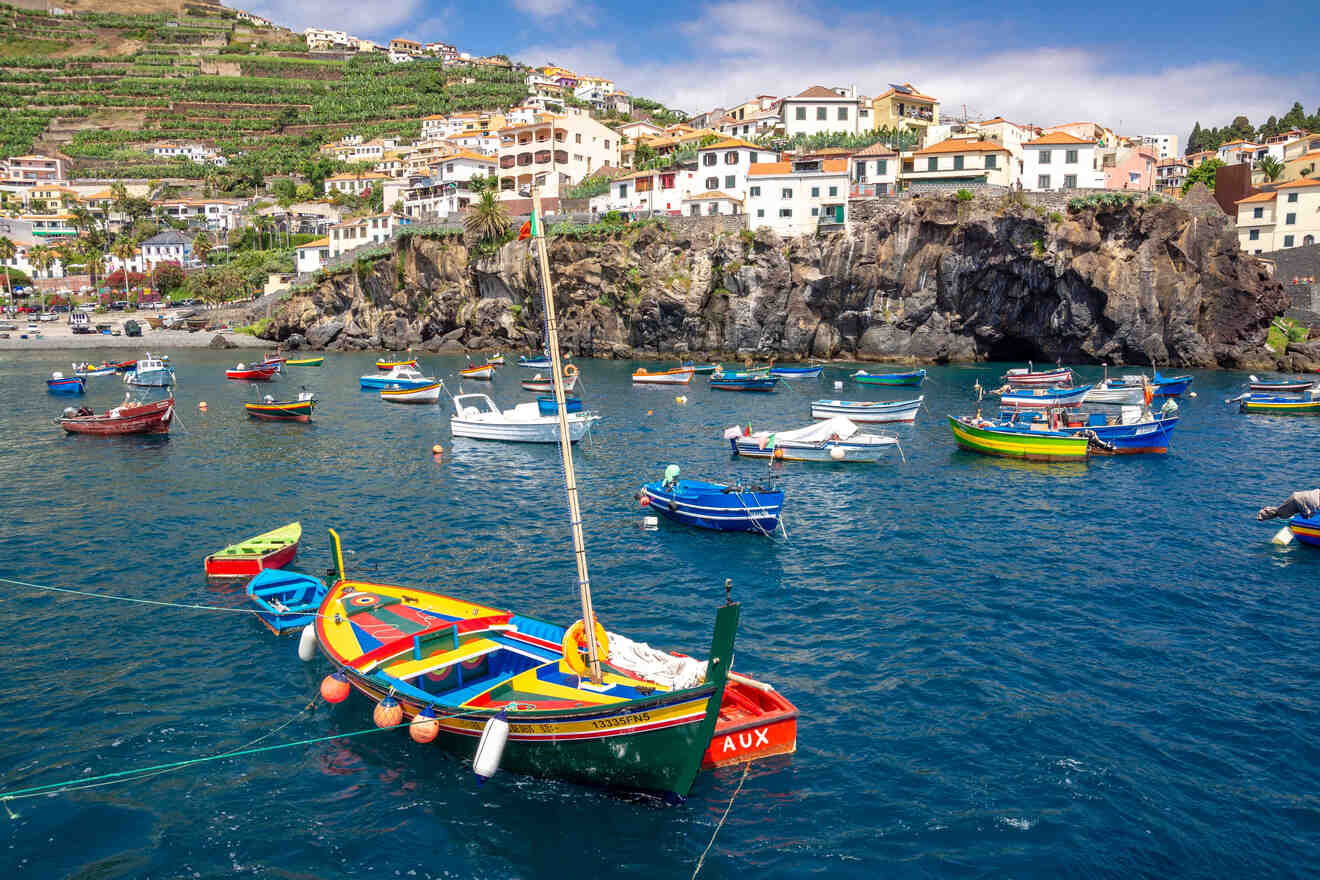 You can easily reach Madeira by taking the ferry from Portugal or a flight to Madeira Airport. Madeira Airport is 20 km (12 miles) to the capital city of Funchal and not too far from the other towns on my list.
Now that you know there are so many incredible things to do no matter where you stay, I'm sure you're probably wanting to find out how to get around on the island. That's why I would like to give you some information about all the transportation options in Madeira.
Renting a car
Renting a car is the most convenient way to get around in Madeira and if you like driving a car I highly recommend this option as it will give more freedom and flexibility. You can easily rent a car from Madeira Airport or the city center and begin your island exploration.
As Madeira is part of the EU, European driving licenses are accepted to rent a car. Otherwise, you need to have an international driving license. As Madeira has a mountainous territory, you will encounter many tunnels and narrow roads but the epic scenery is definitely worth it.
Taking the bus
From Madeira Airport to Funchal you can take the airport buses operated by SAM and a one-way ticket costs €5 ($6 USD). In the capital city of Funchal you will find a great connection of buses within the city and nearby towns. For routes 1 and 2 you can hail them from anywhere on the street but for route 3 you need to use the designated bus stops.
Buses are not however very frequent in other towns so if you don't want to drive a car I recommend you to stay in Funchal.
If you plan to stay in the northern and western parts of Madeira you will need to use bus services operated by Rodoeste. Tickets cost between €1-6 ($1-7) depending on how far you are traveling. For the eastern part of the island, you need to use bus companies SAM and EACL and the tickets cost between €1-7 ($1-8).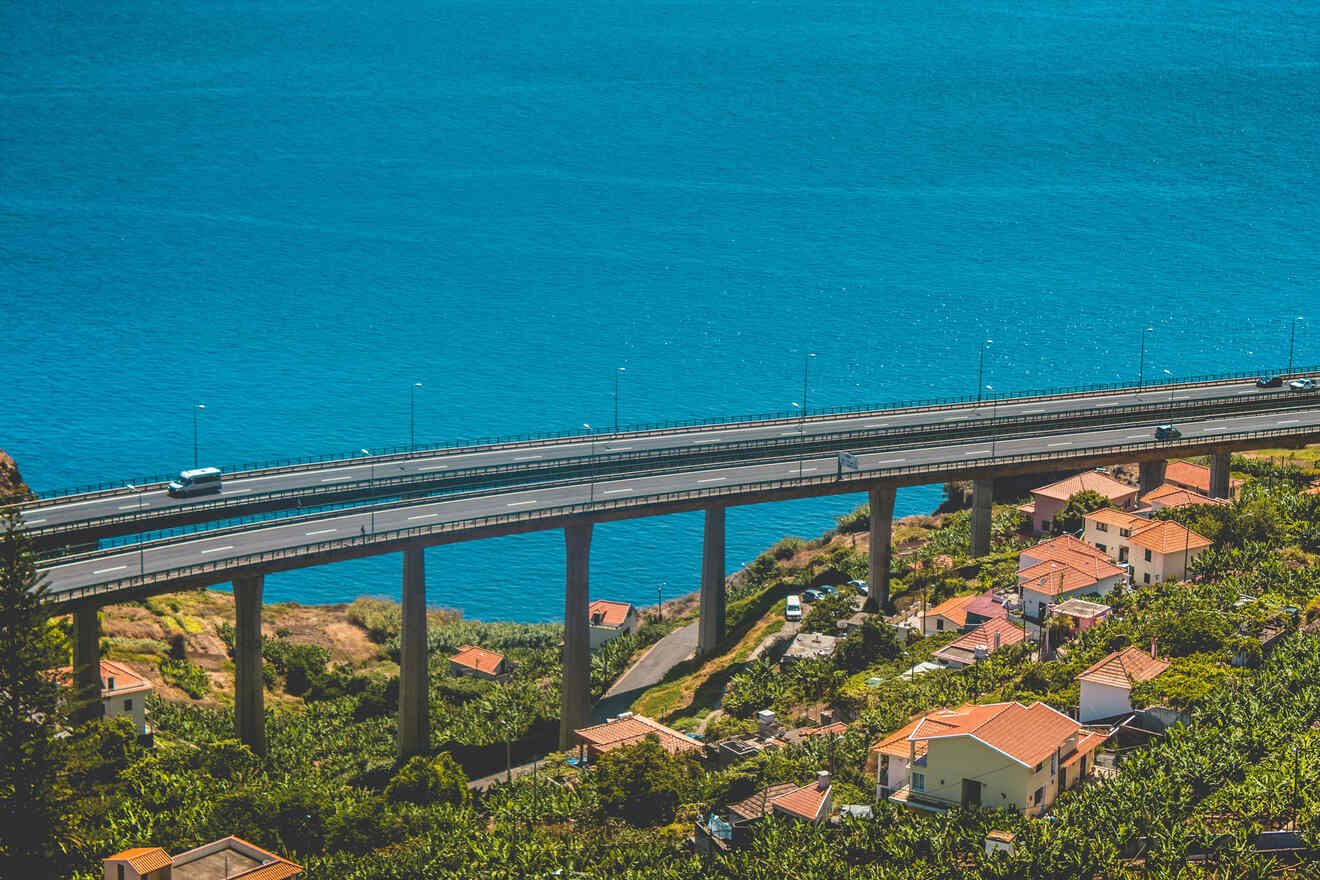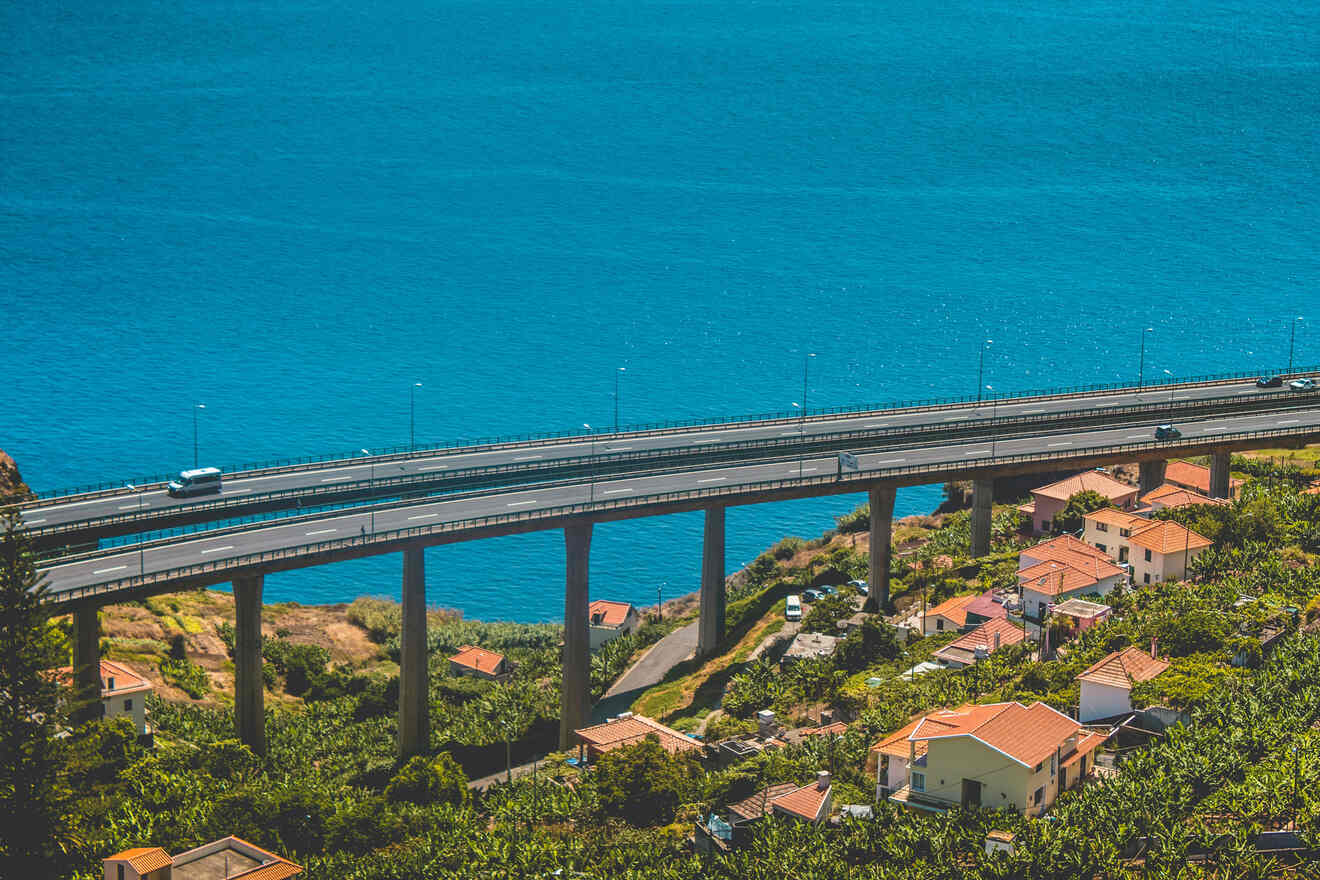 Taking a taxi
Taxis in Madeira island are not very expensive and offer reliable service 24 hours a day. You can easily take a taxi from the airport and in the city centers. All taxis have a meter and the cost for day tariff per km is €0.47 + €0.25 per min with an initial charge of €3.25. At night (21:00 to 6:00) you will pay €0.56 per km + €0.25 per min with a €3.90 starting fee..
For those who don't drive a car, there is also the possibility to rent a daily or half-day taxi. Taxi rates for a half-day tour are around €60 (70 USD) and €100 (120 USD) for a full-day tour. You can easily stop a taxi by waving on the road or call one from the taxi company.
Ride Apps
Although Uber was available in Madeira for a short period, at the time of writing it has been suspended. However, Bolt is a great app that is available in Madeira if you are looking for something similar and is often cheaper than regular taxis.
Frequently asked questions about Madeira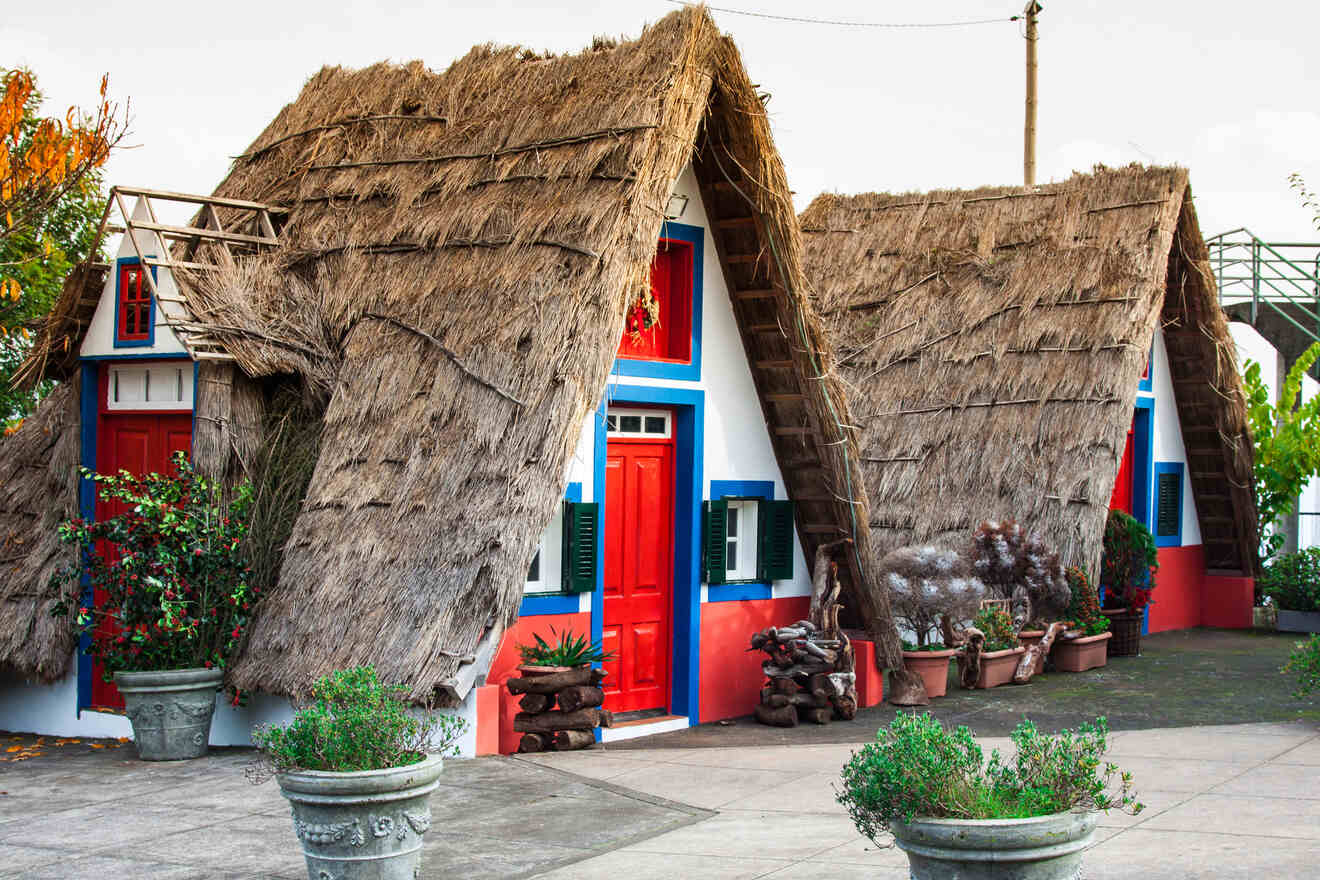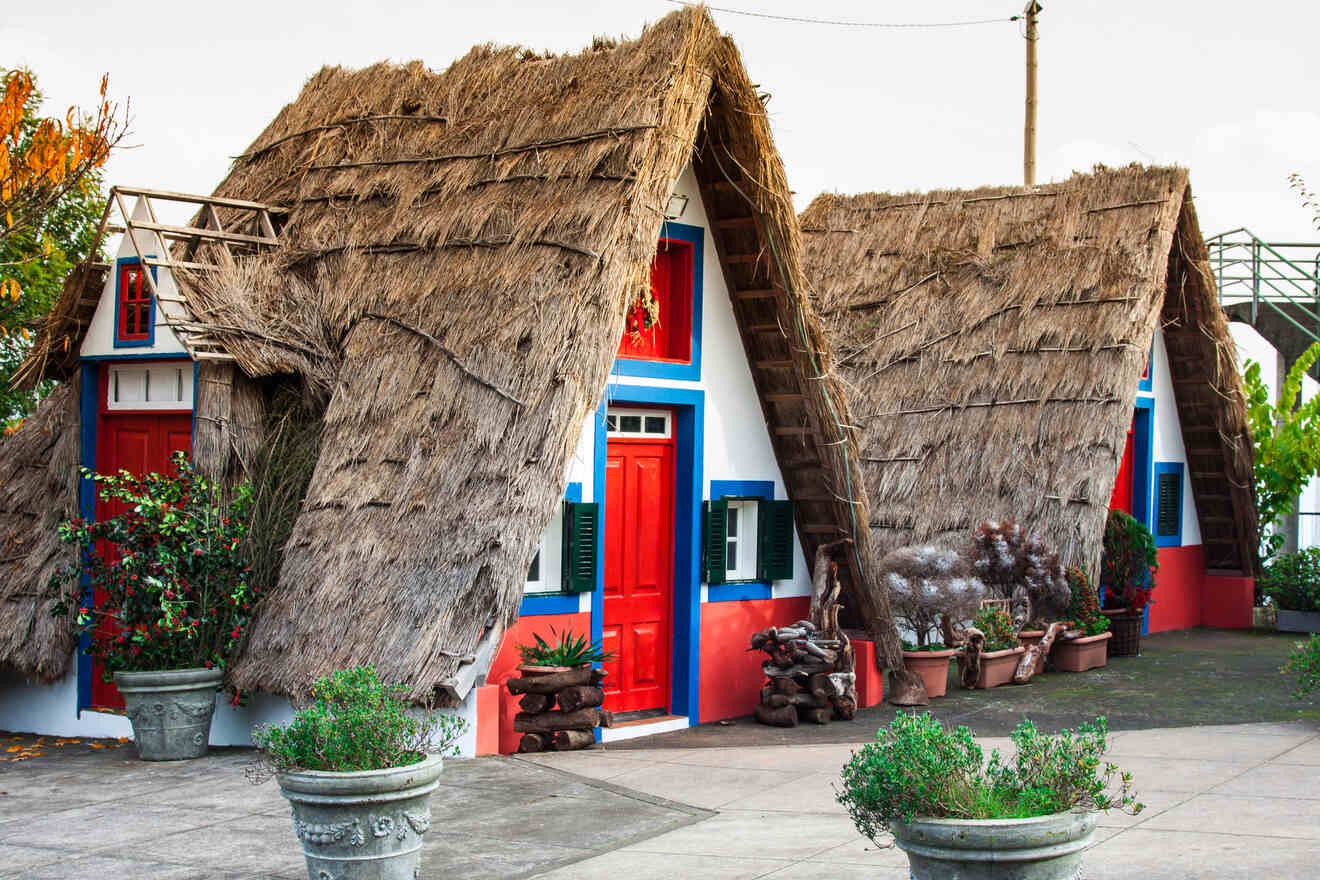 Conclusion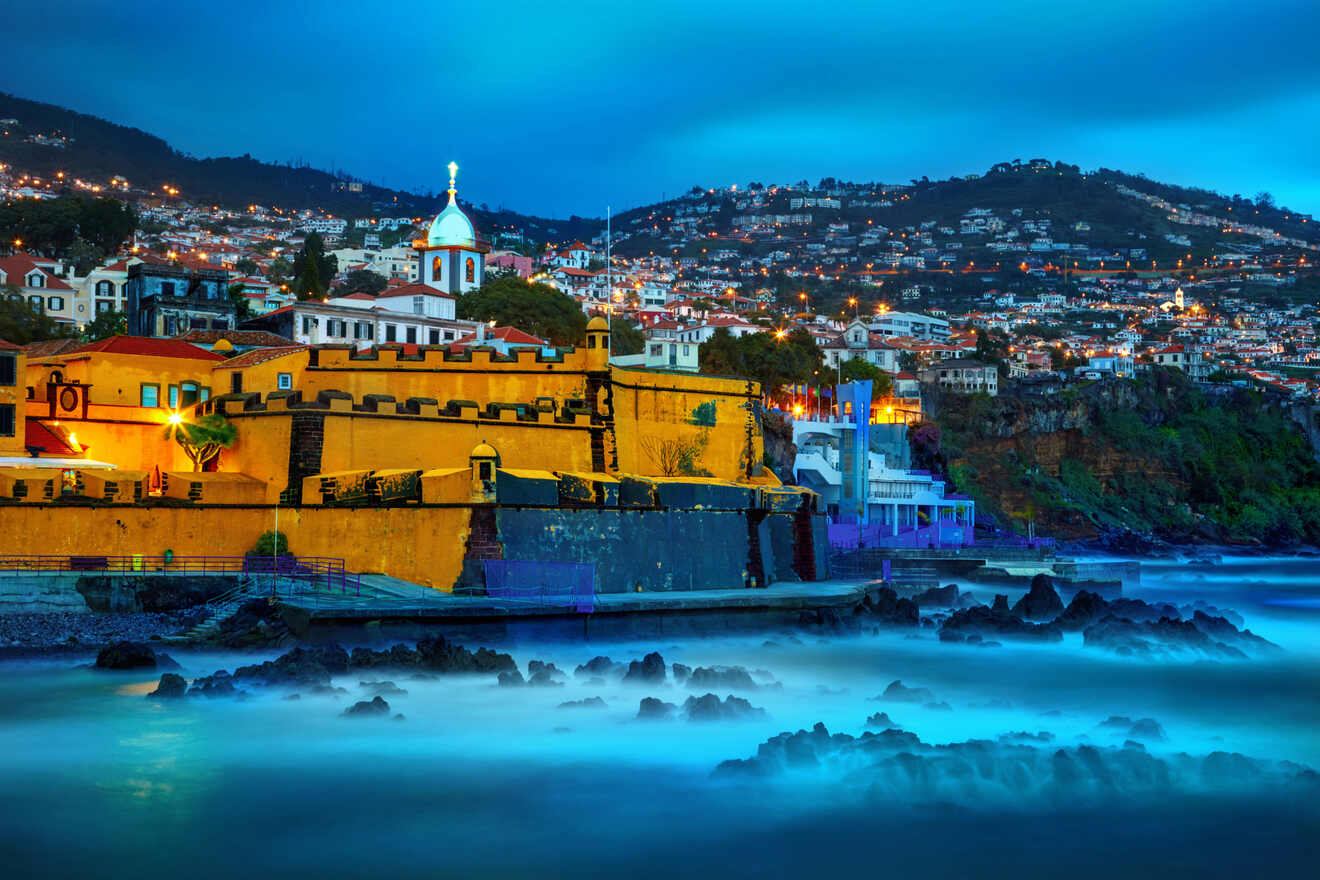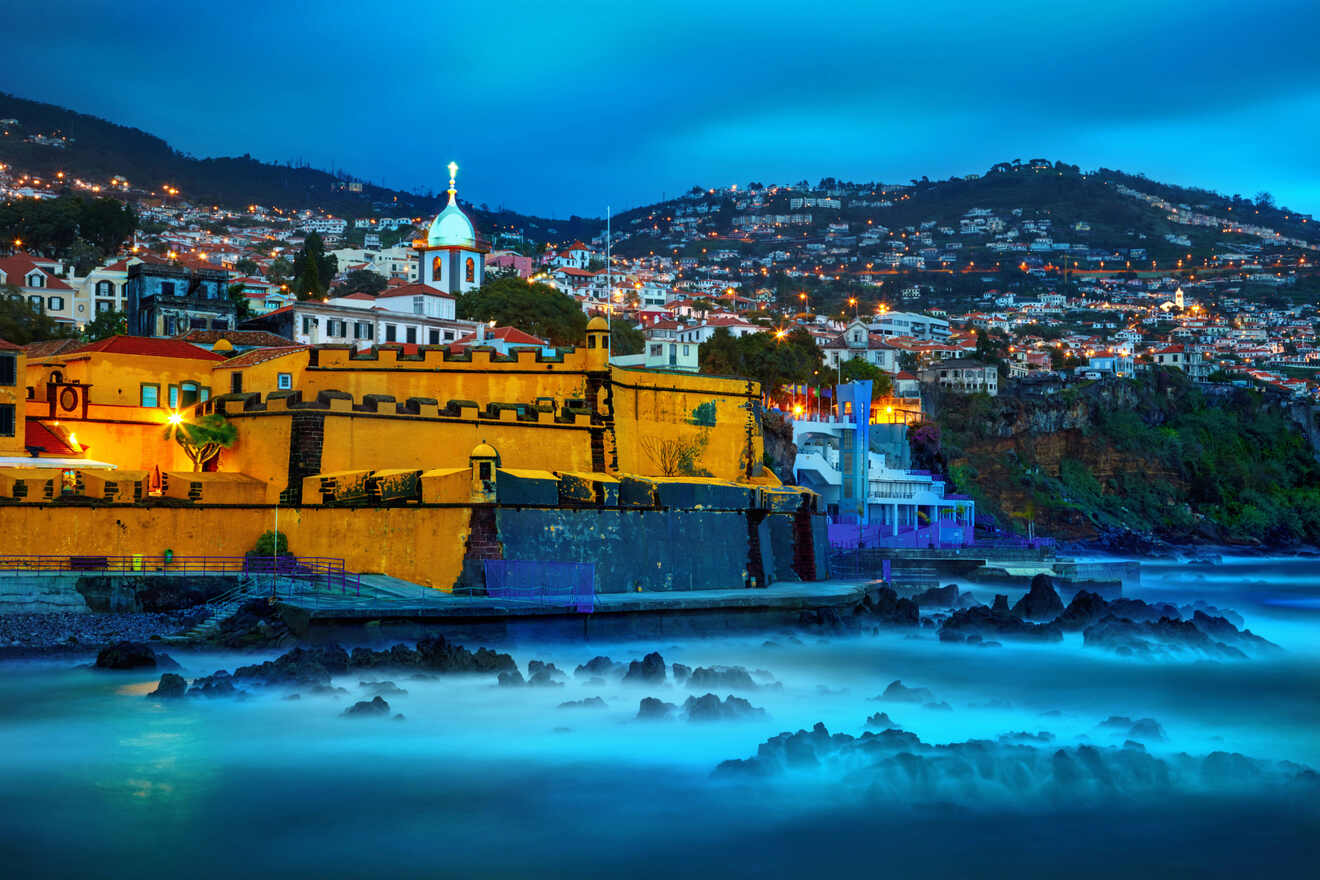 Here we've come to an end of our coastal journey on Madeira island. I hope this blog post helped you to understand the atmosphere of each village and you've already found your dream place to stay in Madeira.

In Madeira, each town offers amazing landscapes and beaches. As I said earlier I highly recommend staying in Funchal for first-timers due to its proximity to the main attractions and great selection of hotels.
However, if you've already fancied another town or hotel I suggest you book it and rent a car to get around the island as it's not so big, and this will give you more flexibility and freedom. I would also like to remind you of the importance of making a booking in advance in order to secure your favorite hotel and get better deals.
I've already mentioned the best hotels in each area but to wrap up, here are the top 2 hotels in Madeira with a convenient location and good reviews that I definitely recommend you to stay in.
If you have any other suggestions or questions about Madeira Portugal, do not hesitate to leave a comment below. I'll be happy to leave a reply to them!
Have an amazing time in Madeira,
Eylul
---