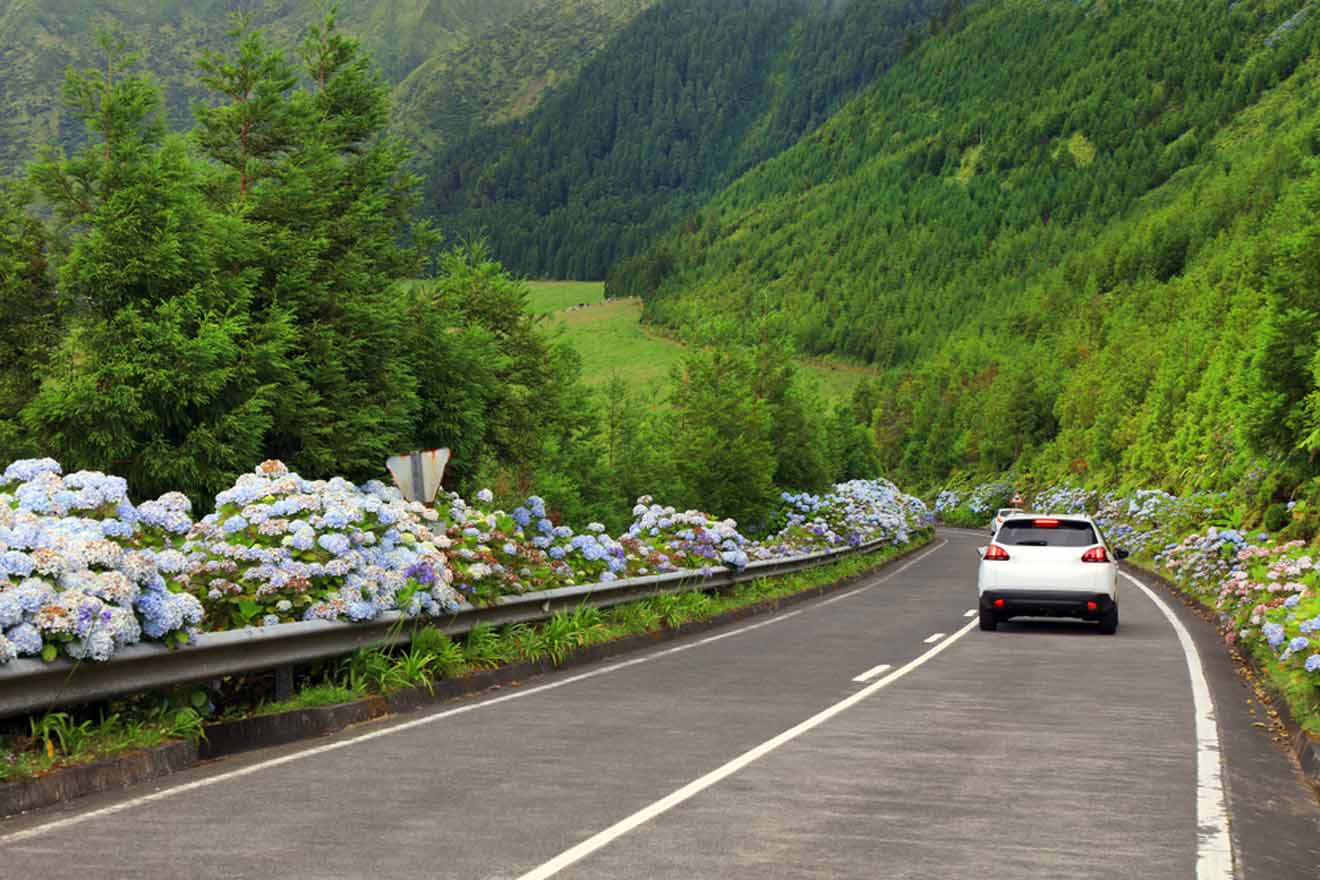 Olá, my adventurous friends! Put on your seatbelts, we're heading to the Azores!
It's a place with the greenest of greens, the bluest of blues, and the most exciting volcanoes around. Now, to really get the most out of this fantastic spot, you need to rent a car there. Trust me, I would not have seen even a half of the things I saw if I would only take organized tours from Ponta Delgada, the main city.
In this blog post, we're going to dive deep into the ins and outs of renting a car in the Azores, arming you with all the knowledge you need for a seamless and enjoyable vacation.
From where and when to book your car, mistakes I made and ways to avoid them for you, the rules of the road, to practical tips to navigate the scenic Azorean roads – I've got you covered!
Let's get started!
| | |
| --- | --- |
| Information | Details |
| Age | 18 – 80 (some companies might charge extra for drivers 18 – 25 and over 80 y.o.) |
| Documents needed | Passport, driving license |
| Driving license requirements | In Roman alphabet, IDP recommended |
| Speed limit | 90 kph on highways, 50 kph in cities |
| Children rules | Car seat/booster seat mandatory for 12 y.o. and under or 36 kg/79 lbs and less |
| Alcohol allowed | BAC less than 0.05% |
| Toll roads | No toll roads in the Azores |
| Where to book | Click here for the lowest rate |
1. Car prices & choosing the best car type for you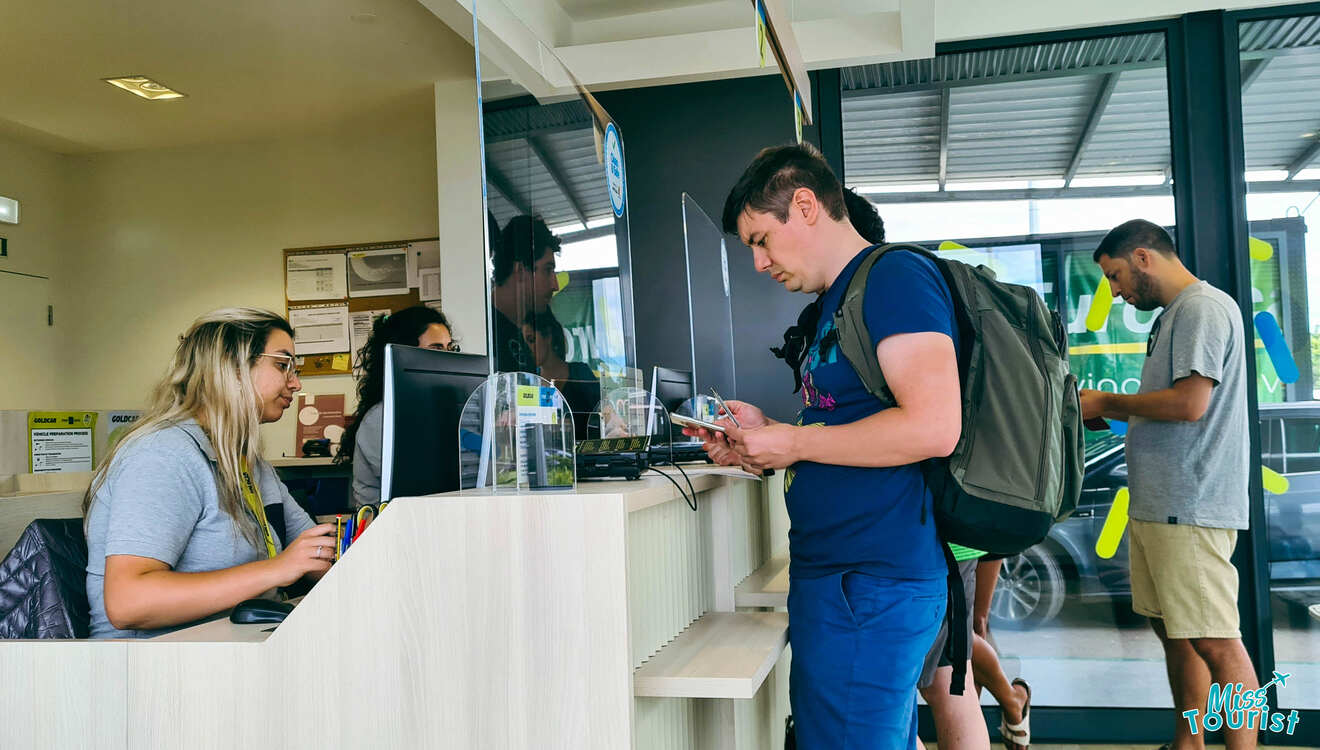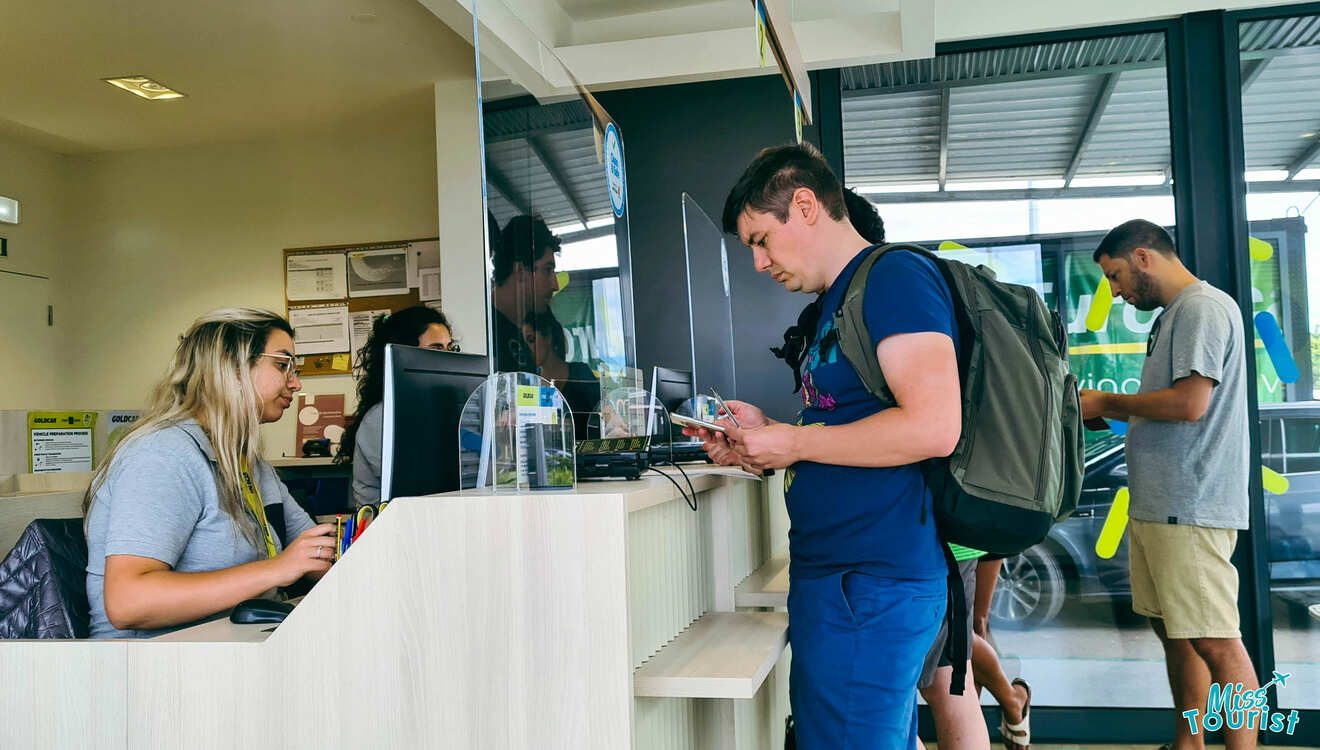 | | | |
| --- | --- | --- |
| Type (price per day) | Low season | High season (June to mid Sept) |
| Compact | 25€ | 85 – 90€ |
| Sedan | 40€ | 90-100€ |
| 4×4 | 65€ | 140-150€ |
| Minivan | 80€ | 200-240€ |
NOTE: Please note that the prices can differ as much as 2.5times in a course of 1-2 months. High season by itself has a lot of price variability, August being the most expensive month to rent.
1.1 Prices by car type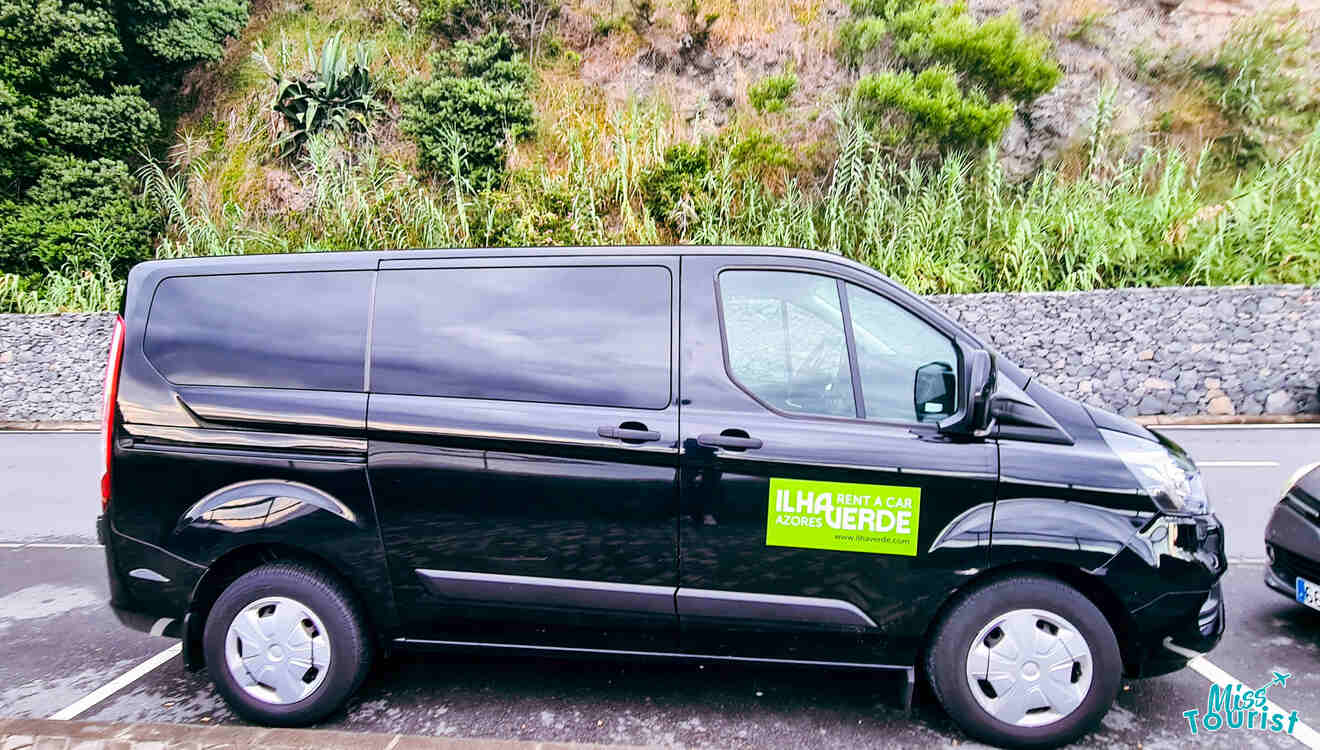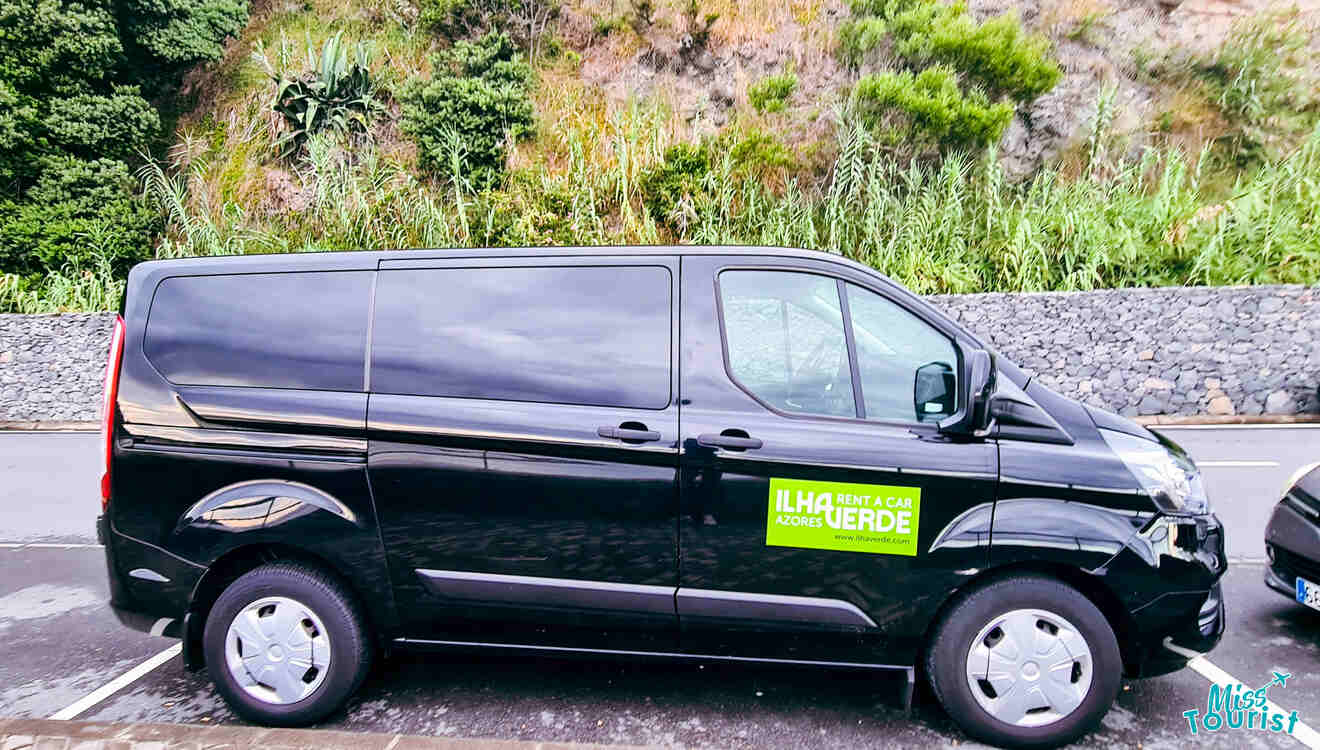 Let's talk about the heart of the matter right away, shall we?
Now, onto the types of cars:
Compact cars – perfect for zipping around the islands and maneuvering through the narrow, winding streets of Azorean towns. 
PRICE: from €25 per day
Sedans – these cars offer a smooth ride and decent fuel efficiency, making them perfect for longer drives around the islands. They're a bit roomier than compact cars, so they're a good option if you're traveling with a small group or have more luggage. 
PRICE: from €40 per day
SUVs – If you're planning to explore beyond the beaten path and go off-road, an SUV might be what you need. These vehicles offer greater ground clearance, making them suitable for rugged landscapes.
PRICE: from €55 per day
Vans – with plenty of room for both passengers and baggage, it is an ideal choice for family trips or large group outings. They're also great if you're planning to do activities that require a lot of gear, like surfing or hiking. 
PRICE: from €70 per day
Campervan – I did not find many options for it (they should really have more!), but you may find some options here but only if you book waaay in advance. So far, the information I could gather is that it is about 150€ per day for a family campervan of 6 (low season). 
PRICE: from 150€ per day
Electric cars – they are not only kind to the environment but also whisper-quiet, providing a smooth and serene driving experience. Plus, the Azores are making great progress in electric vehicle infrastructure, with more and more charging stations popping up across the islands.
PRICE: from €70 per day (remember that you will save on fuel cost though)
Which car type to choose?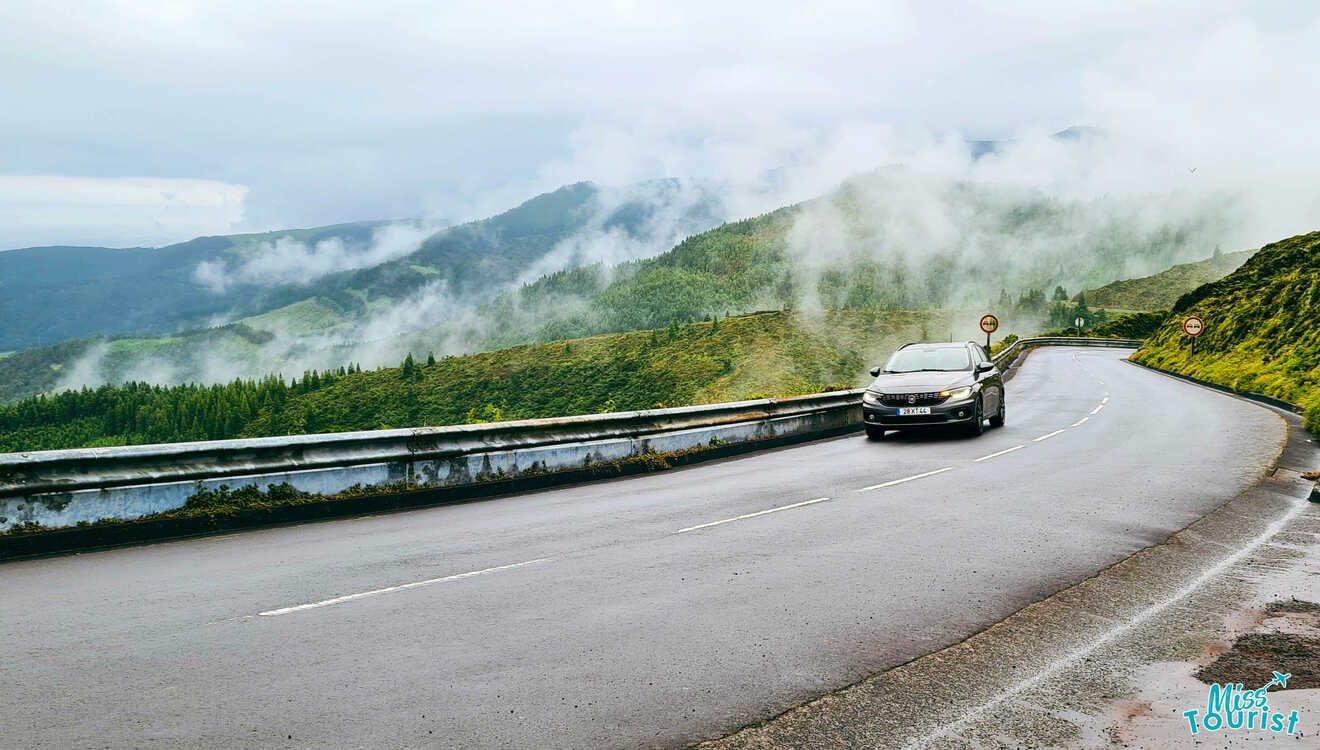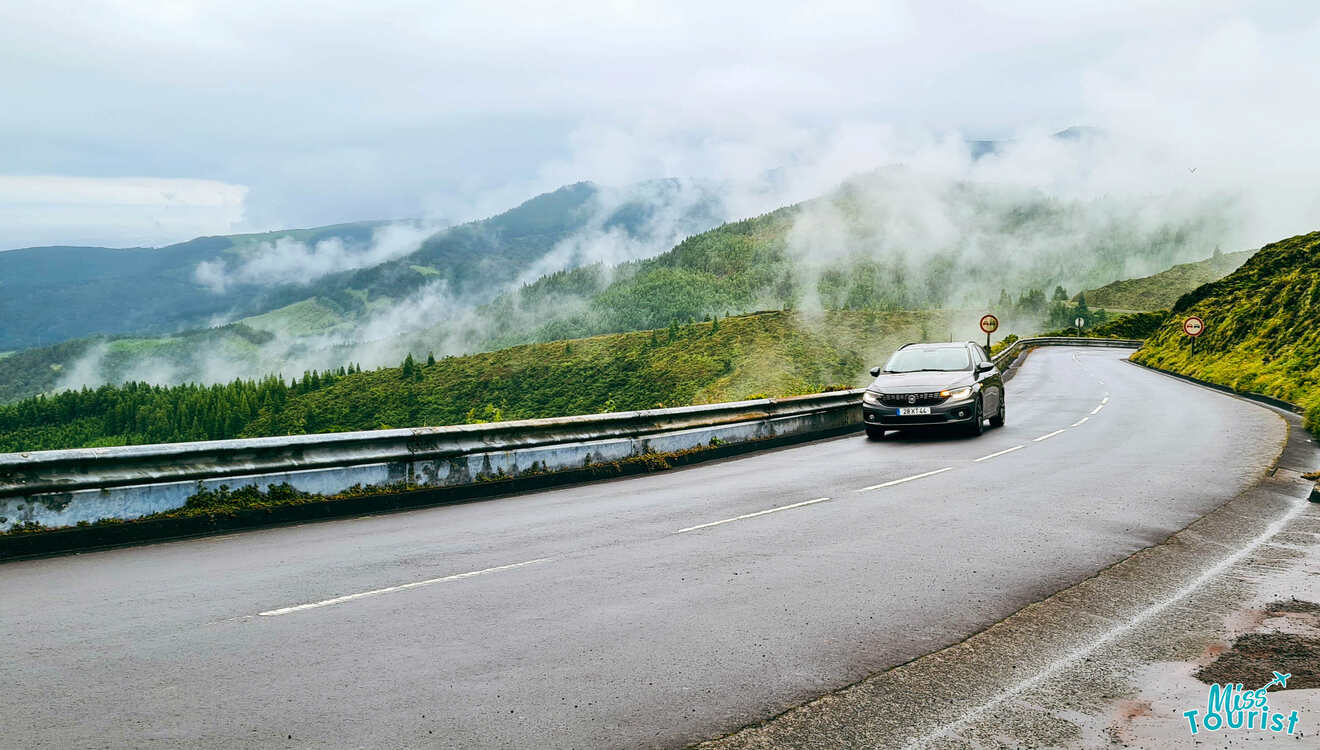 Most people recommend taking a small car because of the narrow streets of Sao Miguel, the capital. Please note that this is only a problem if your accommodation in Ponta Delgada does not have parking included. If it does, I would personally go for a bit more spacious car.
Of course, it also depends on how many people are in the car and whether you will be traveling around with all the luggage or it will be in the hotel most of the time.
I had a Toyota Aygo and I liked it – it was pretty good for 2 people. 
PRO TIP: if you're comfortable with a manual transmission, then you're in luck! Manual cars are generally cheaper to rent in the Azores than their automatic counterparts. If you are set on an automatic car, book it FAST, they tend to sell out way in advance because of lower inventory.
1.2 Best companies to rent a car in the Azores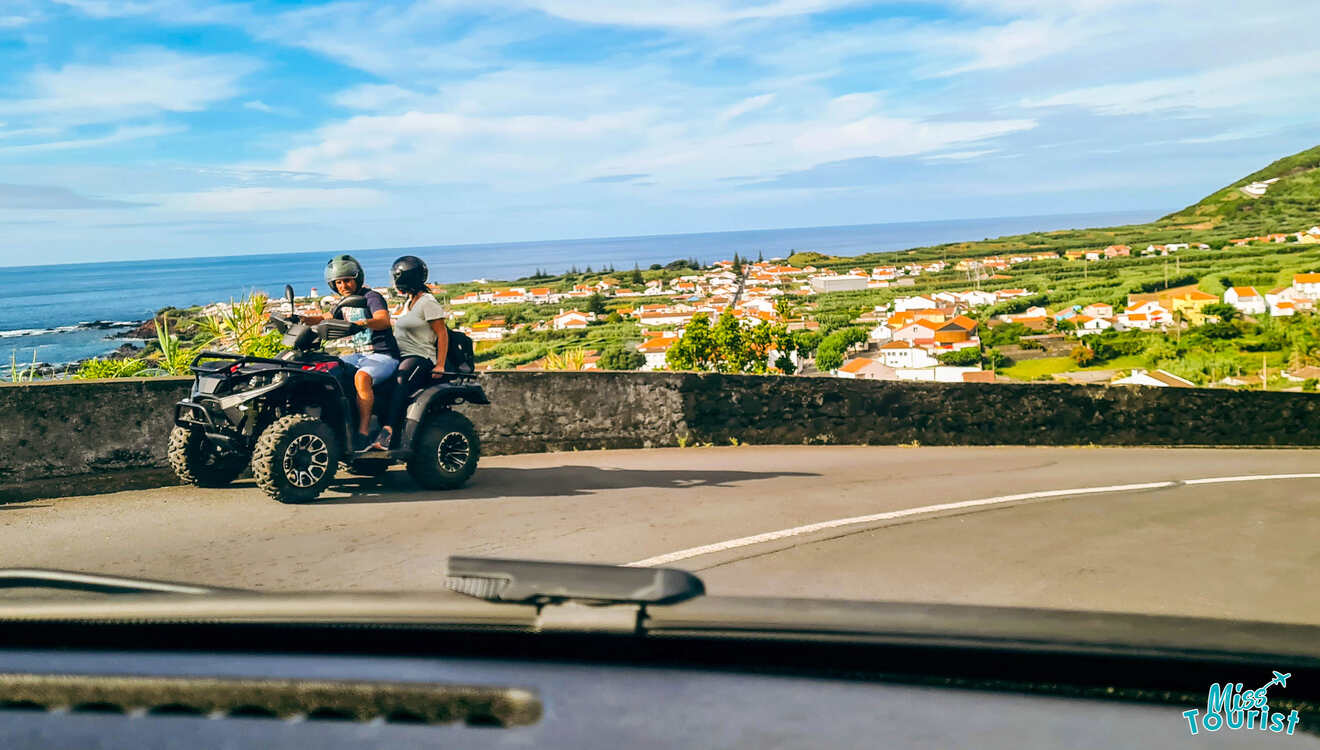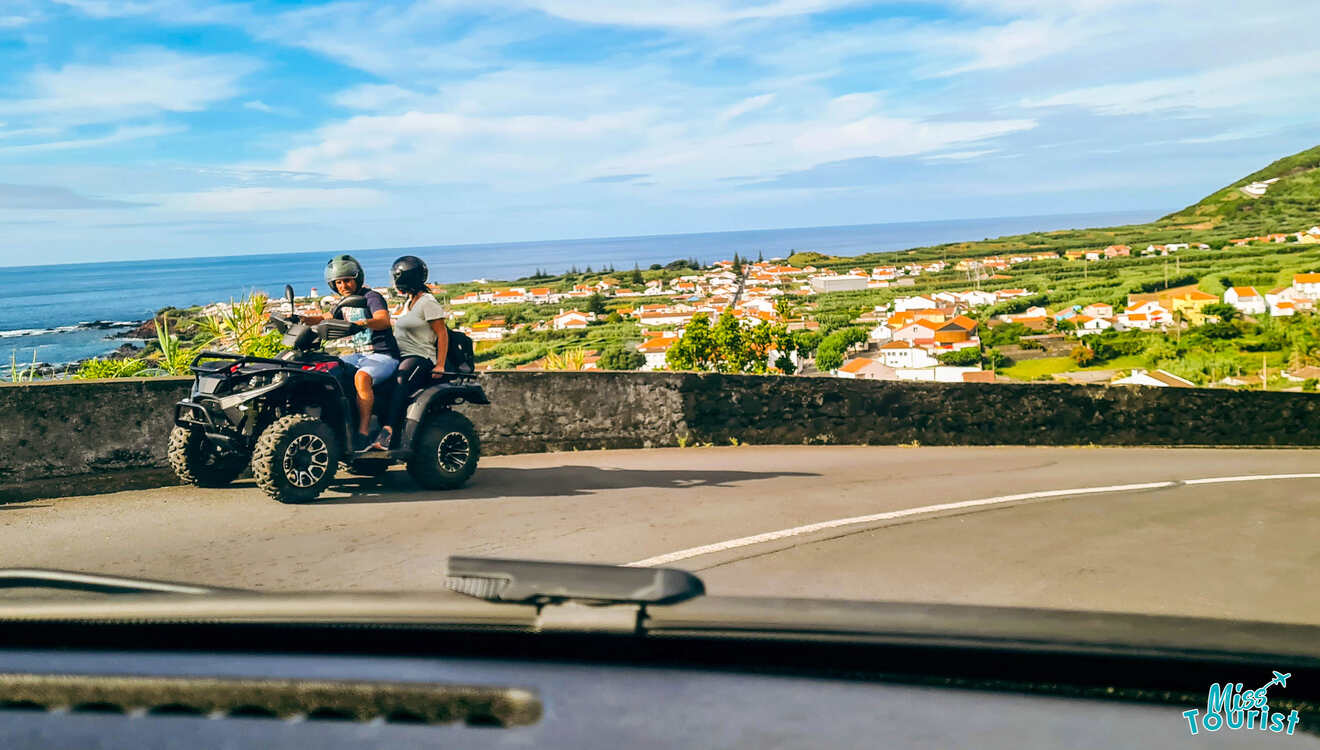 First of all, I will recommend 2 sites I love and use pretty much on all my trips. Then I'll tell you about a bad experience I had renting a car (or should I say trying to rent) from a local company so you are aware of some unwanted surprises.
Rentalcars – This website is your fast lane to compare the prices of different rental companies. What I love about it is that you can see all the important details at a glance: the car details, the number of miles included (usually unlimited – yay!), the insurance, and even the cancellation conditions. It's like your personal car rental genie!
DiscoverCars – Another great platform for your car hire needs. What's great about this site is that all rates include Collision Damage Waiver (CDW) and that they clearly show the deductible on the comparison page – no hidden surprises! The fuel policy, included mileage, and cancellation policy are also clearly stated. Most cars can be canceled up to 2 days in advance without any fees, which is pretty convenient! Aaaand, they have a wide range of convertible and luxury cars, too!
How far in advance to book?
If you are going to visit in the summer – book as much in advance as possible. Azores are islands, the supply of cars is limited and it can happen that you simply cannot find available cars to hire in the summer.
If you are going to go off season (mid September to mid May), try to book a couple of months in advance, those prices are not going to get any cheaper in any way!
MY EXPERIENCE: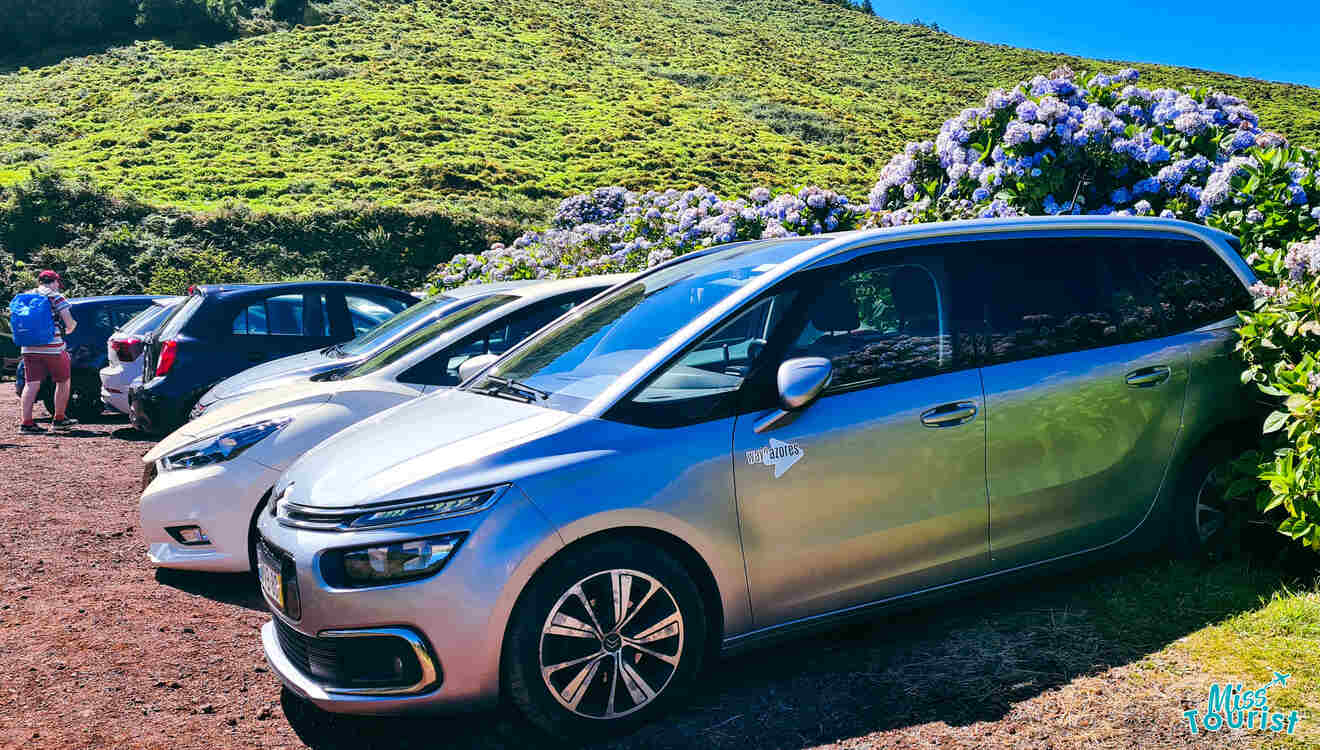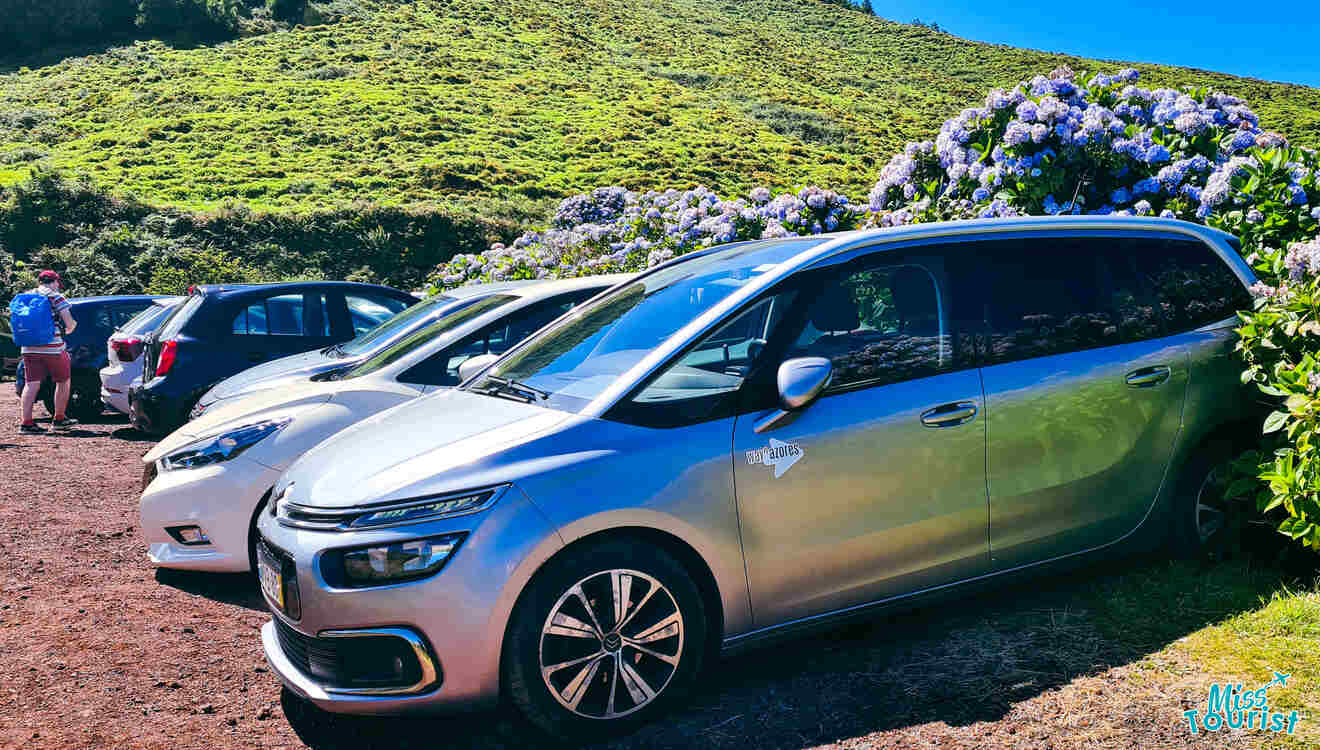 We had pre-booked a car through a company, which I'd rather not name, the price was 100EUR per day with mandatory insurance.
Upon our arrival at the rental office, we were informed that they needed to block a deposit on a credit card. The snag? We only had a debit card. This usually isn't a problem in most car rentals worldwide as they just block the whole sum from the debit instead, but this company was adamant. Their solution? They insisted that we opt for full insurance at a staggering 80 EUR per day.
We were taken aback, 80 EUR a day for insurance, on top of the 100 EUR we were already paying for the car rental! It was preposterous. We declined to pay this ridiculous insurance fee and decided to walk away. As we were leaving, we noticed another couple in the exact same situation – they were desperate and they actually went for it. I can't blame them – it was high season time (beginning of September) and it was not clear where to get another car last minute now.
Thankfully, we came back to our accommodation and found a more affordable option on Rentalcars, without any ridiculous requirements.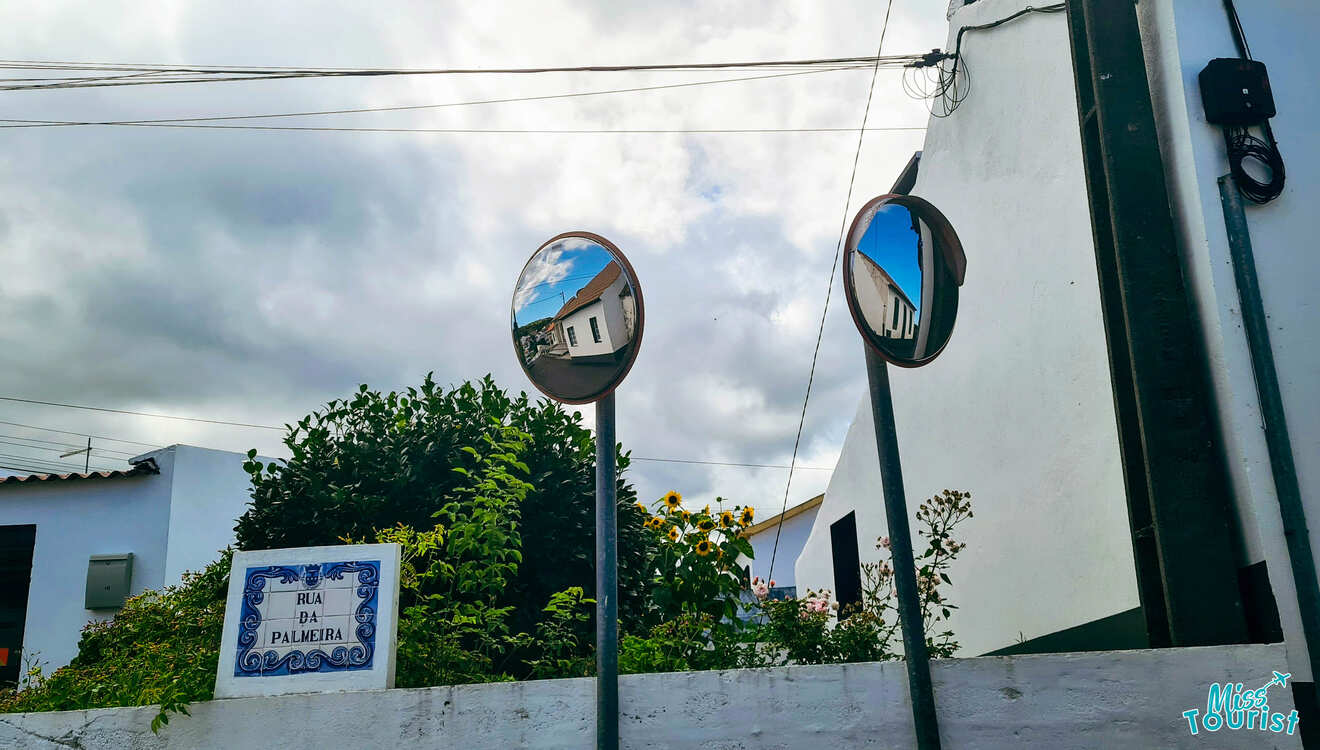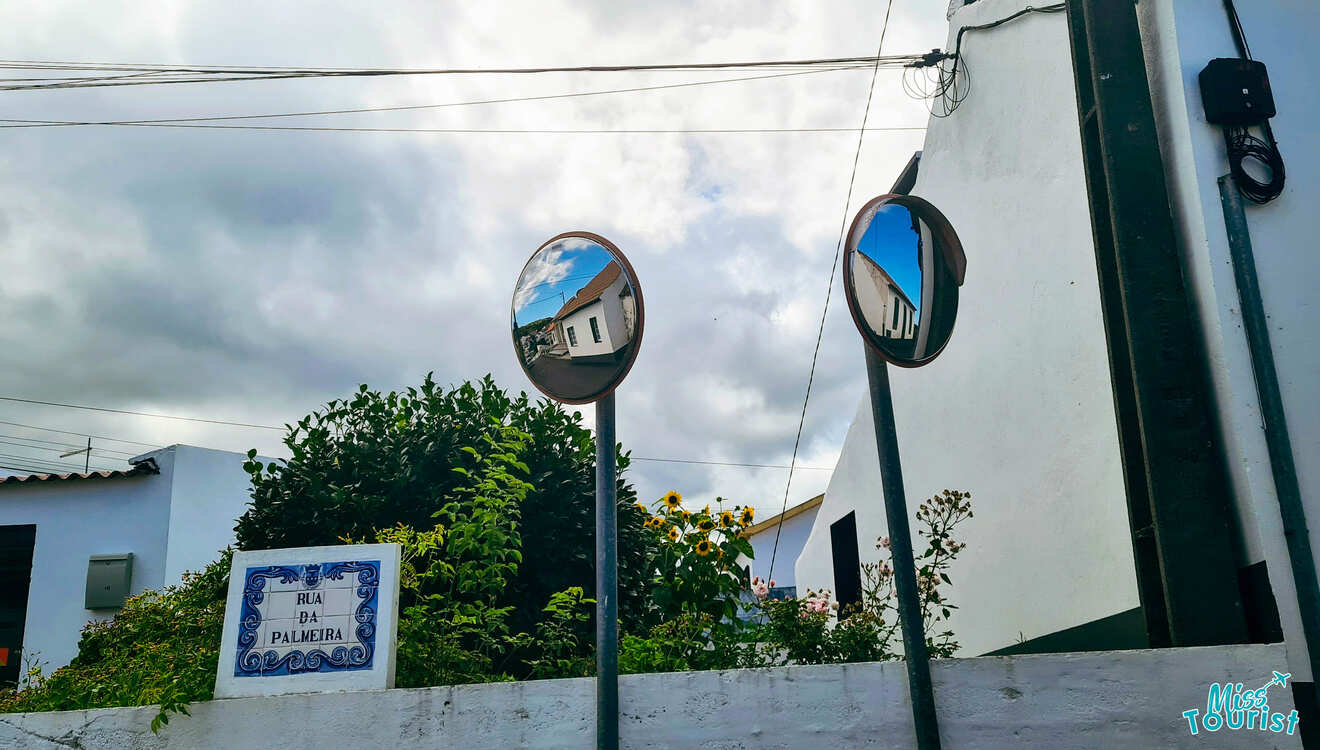 This is apparently a known scam/upsell technique some companies are using, and here are some other ones:
If your car has just a bit less fuel than it had when you picked it up, there is a €25 charge.
If you book your car at a specific time but then only come later that day, they will set it as a no-show and will only offer you a more expensive option which is €140 per day instead.
Stay away from companies like that, read reviews in advance, or go for a price comparison platform like Rentalcars or DiscoverCars. They will protect you in case there is some obvious scam happening from the car provider side.
2. Other prices: insurance and gas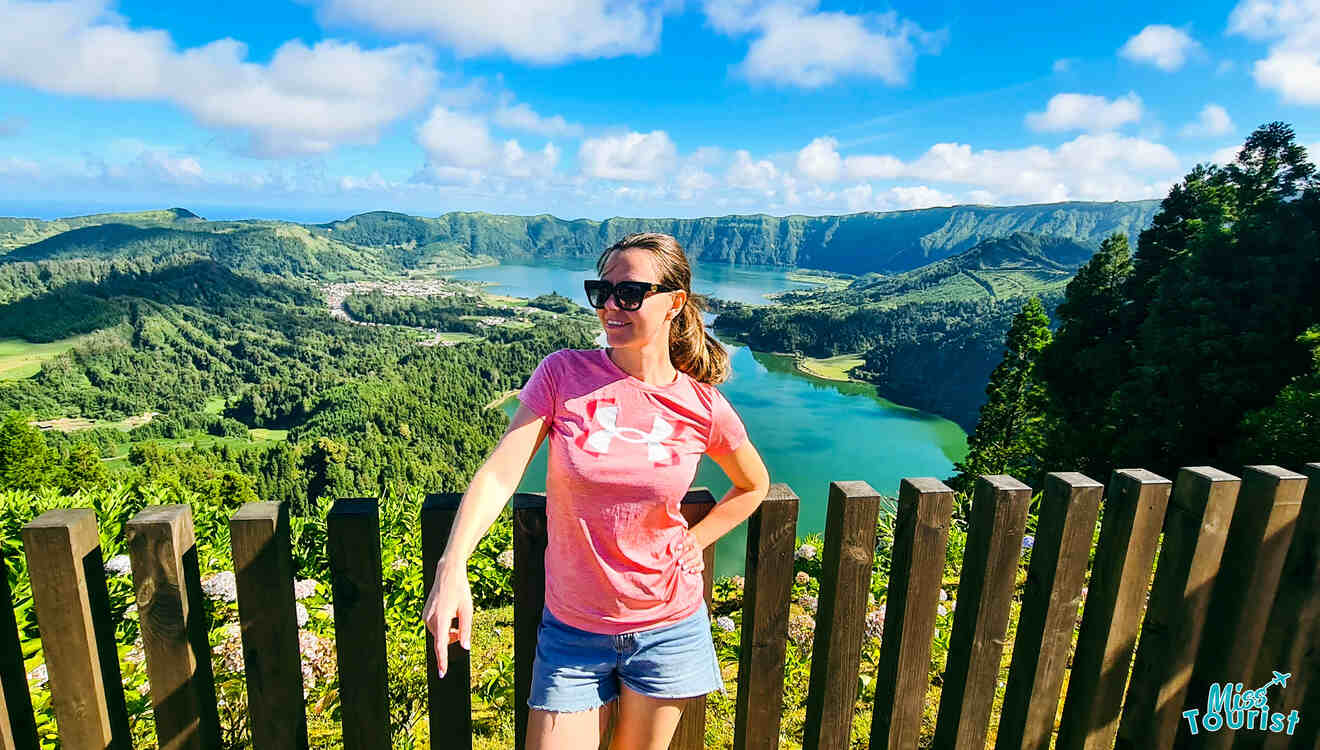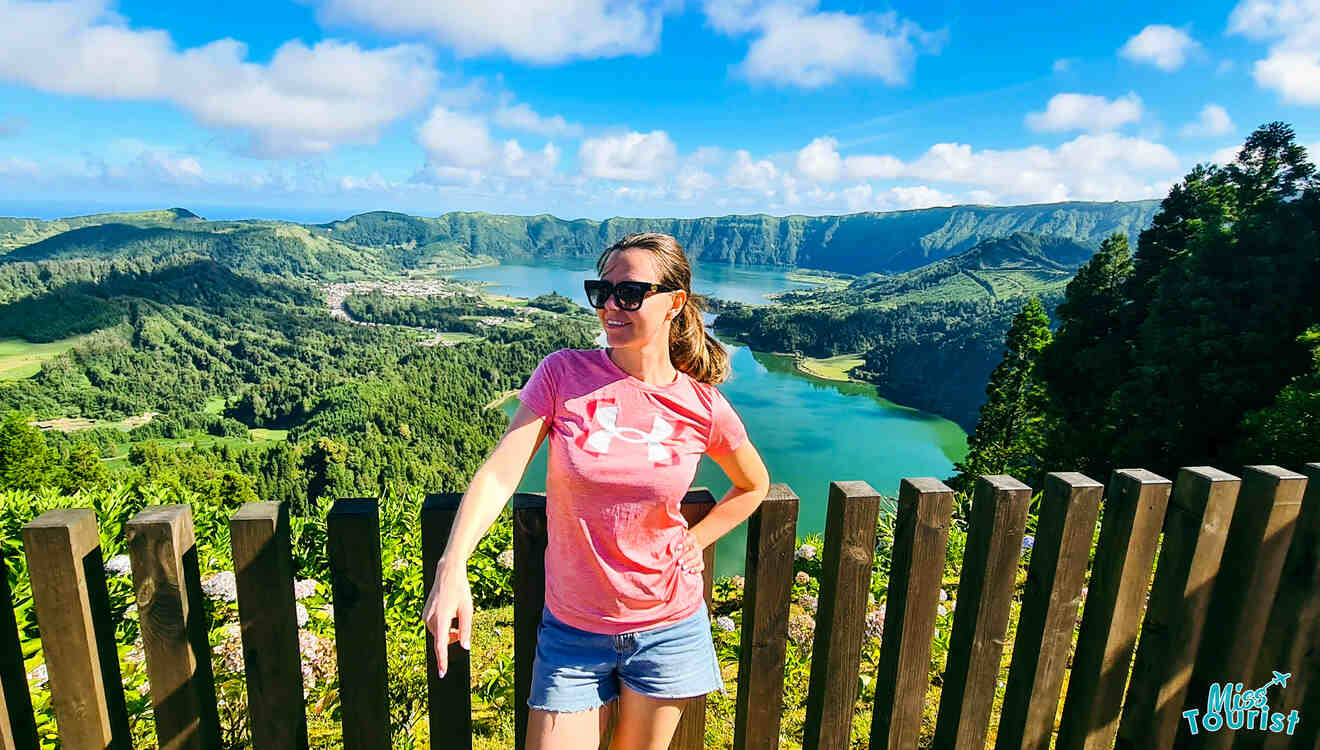 Here is my detailed breakdown for all other costs associated with hiring a car in the Azores:
2.1 Car insurance
This is not the most exciting topic, I know, but trust me, understanding your insurance options can save you a heap of trouble down the road (pun totally intended!).
Collision Damage Waiver (CDW) – this limits your financial liability for damage to the rental vehicle. It's usually included in the rental price in the Azores, but keep an eye out for the deductible – that's the amount you'll have to pay out of pocket if any damage occurs.
Super Collision Damage Waiver (SCDW) – it's like CDW on steroids, reducing your deductible amount and sometimes even bringing it to zero. It usually costs an additional €10-€20 per day, depending on the rental company.
Full insurance – in short, it covers (almost) everything – third party damage, your car damage, such as theft, vandalism, fire, natural disasters like floods and earthquakes, or damage caused by animals. It's important to note that while "full" insurance doesn't cover absolutely everything. For example, it typically won't cover personal belongings in the car, so always read the fine print. 
PRICE: ~5-6€ a day
I'm a big fan of peace of mind, so I'd suggest getting full insurance, especially since it does not cost an arm and a leg. It gives you an extra layer of protection and could save you from some hefty costs if you're involved in an accident.
Check the Rates for Your Dates
2.1 Gas prices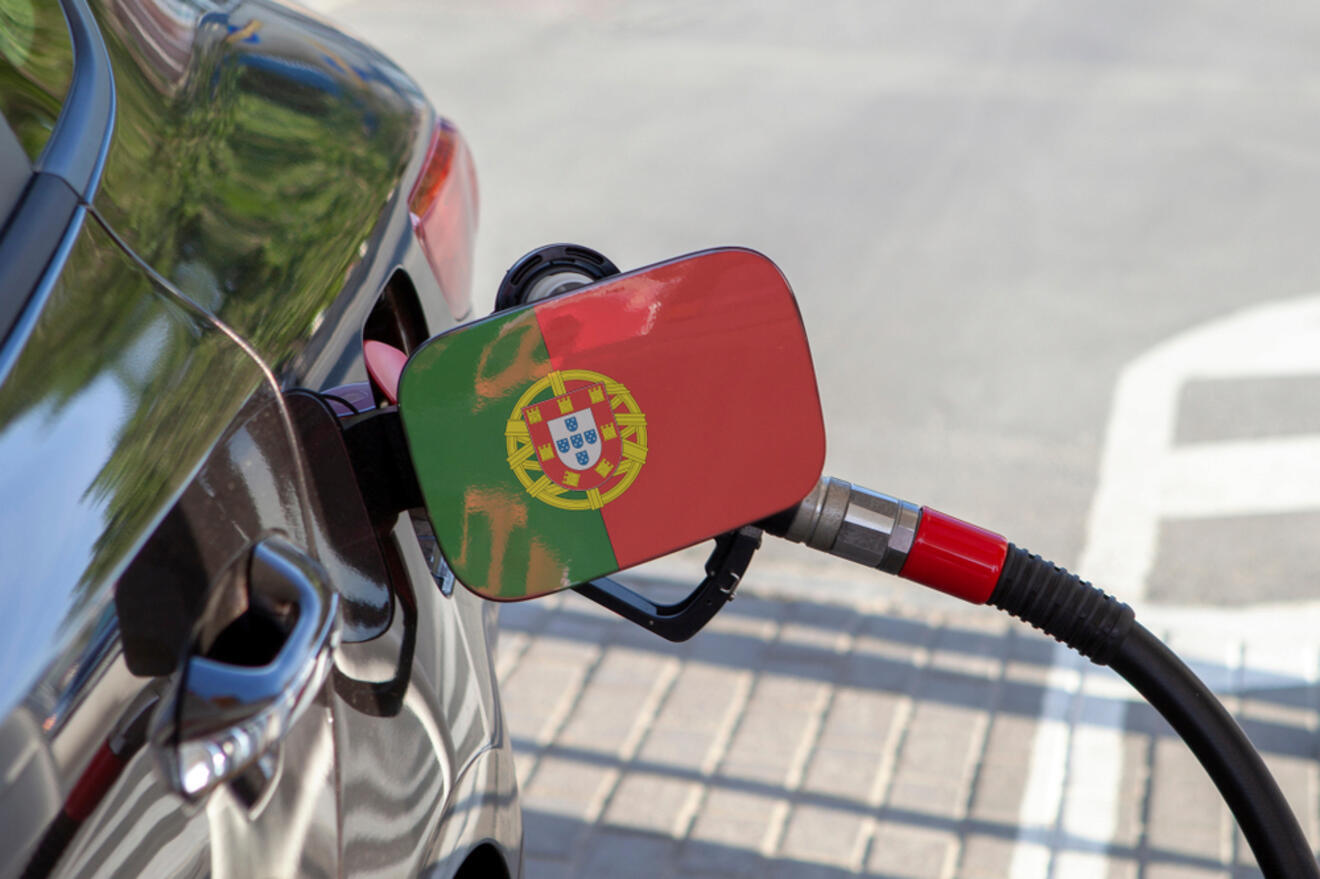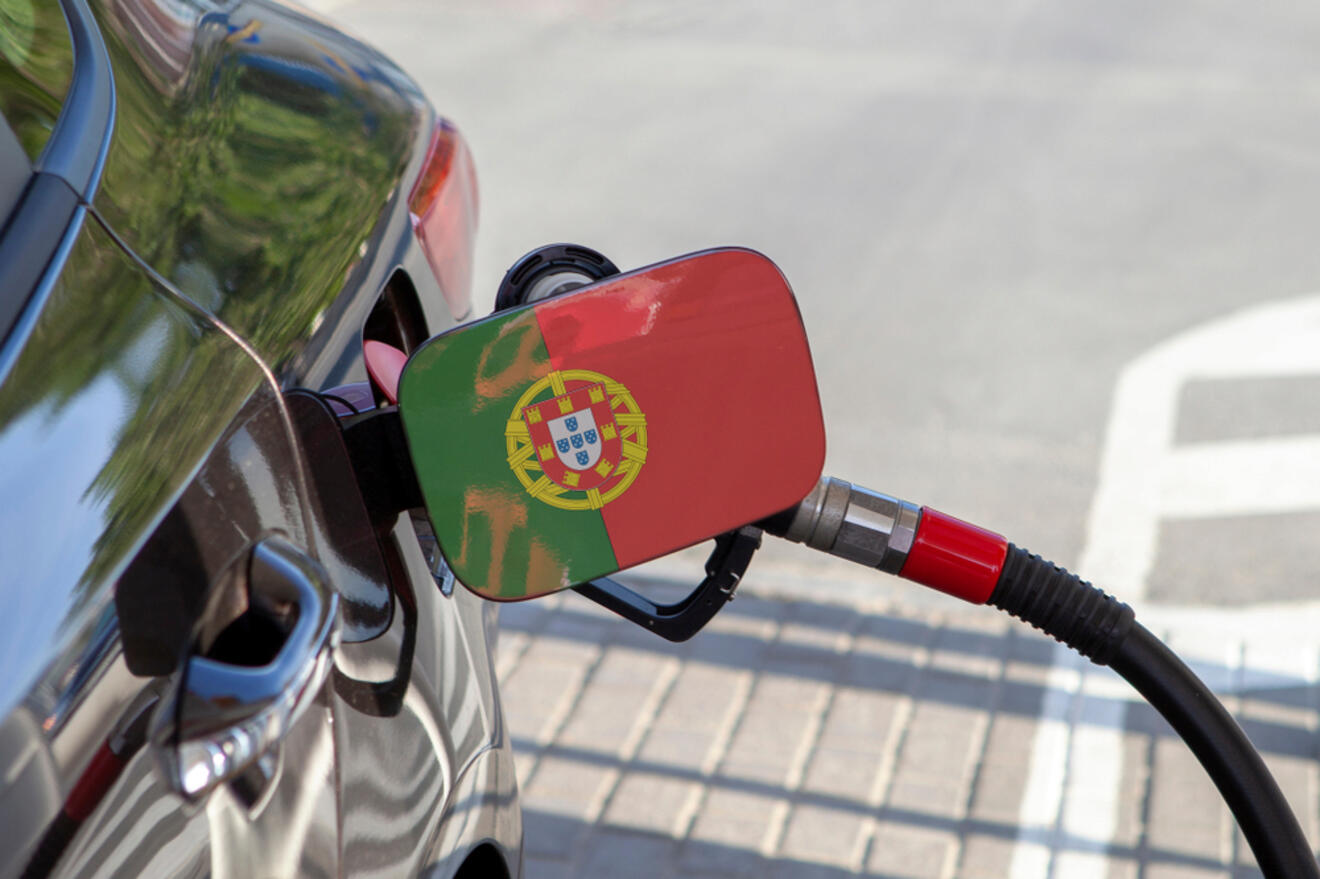 The current gas price is (check the updated price here):
€1,7 per lt or
€6.4 per gallon
And the best part? All gas stations in the Azores will charge you exactly the same price, so no need to compare!
How much will you spend?
Given the average tourist drives about 500 km (310 mi) in a week, you can expect to spend approximately €75 to €100 per week on gas. This, of course, depends on the fuel efficiency of your rental car and the routes you take.
PRO TIP: Google Maps is your friend for finding the nearest gas stations. The Azores are fairly well covered, so you're never too far from a fill-up.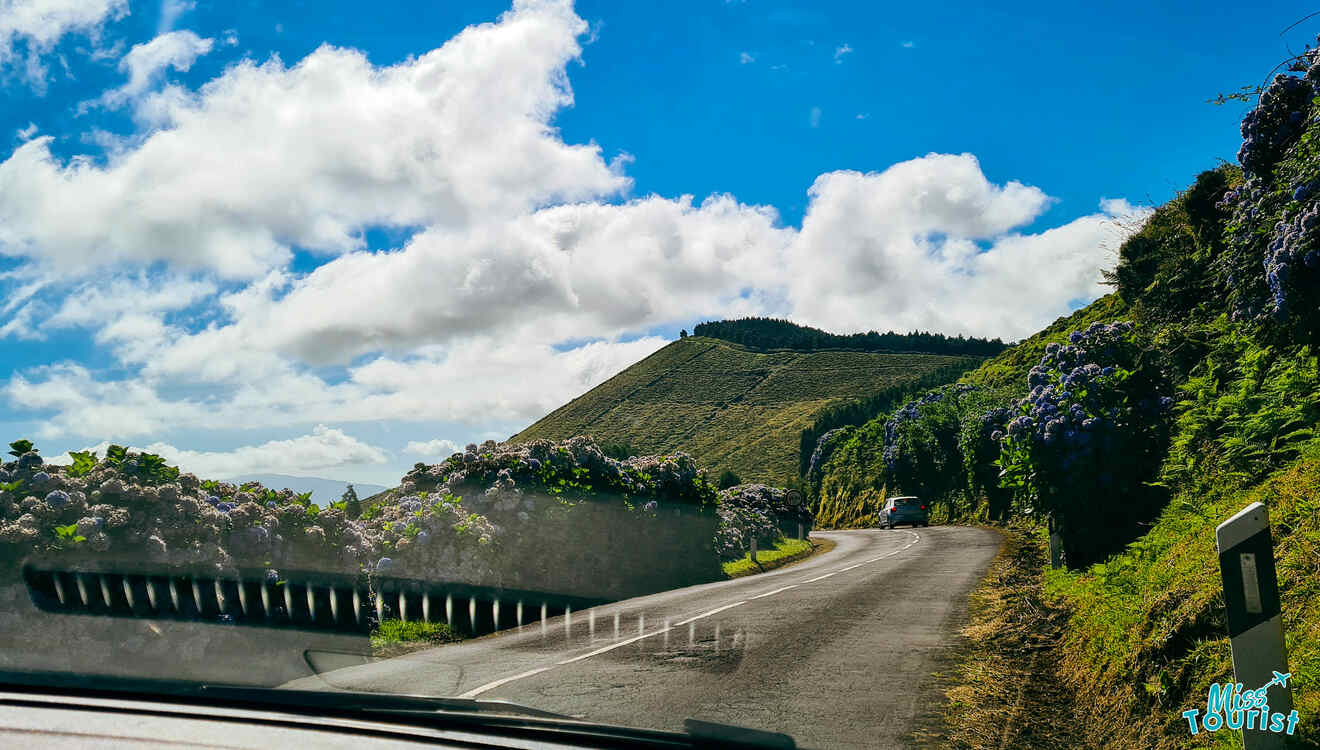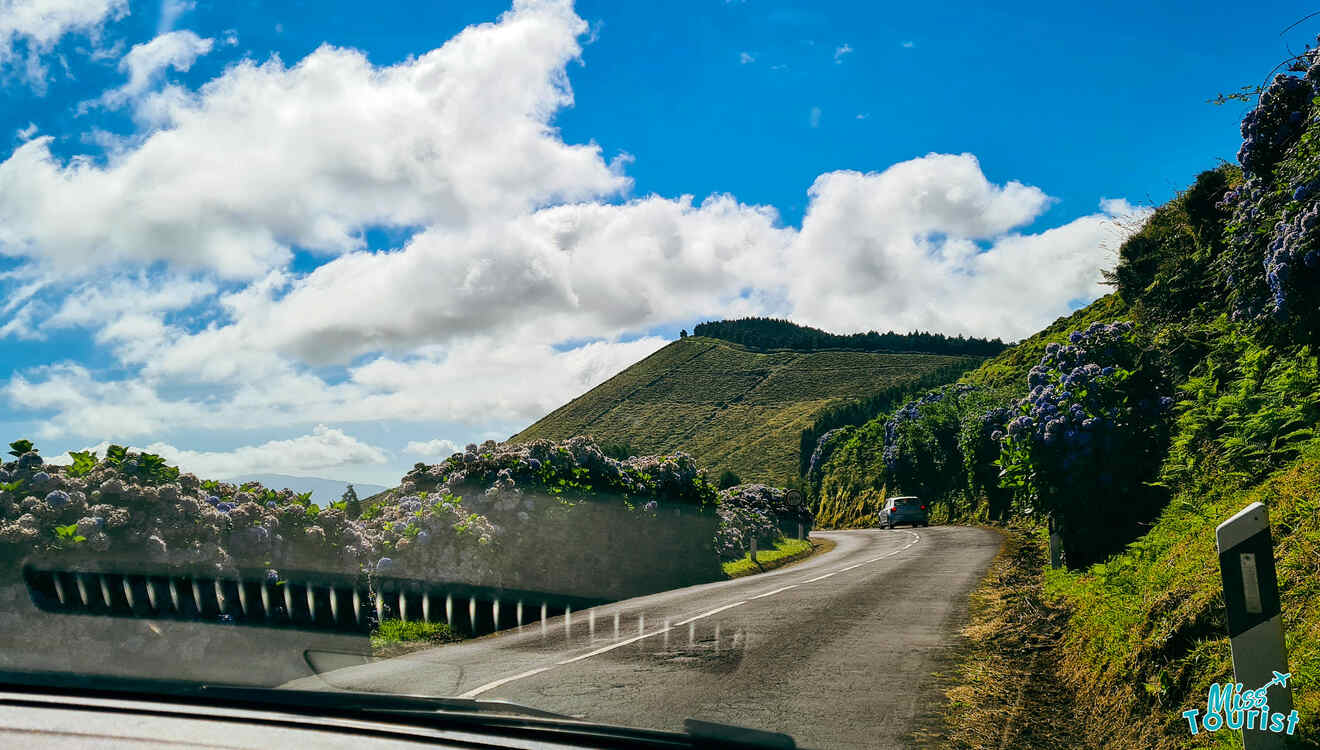 Types of gas:
Regular unleaded – Standard fuel for most vehicles, also the most affordable
Diesel – Common for larger vehicles or specialty cars. It's a bit pricier than regular unleaded but offers better fuel economy, which can save you money over a longer trip.
LPG (Liquefied Petroleum Gas) – While not as commonly used as the others, some cars do run on LPG. It's cheaper than both diesel and unleaded fuel (€0,8 per lt), but do make sure your rental vehicle is equipped to handle LPG before filling up with it.
NOTE: Some gas stations will only accept Portuguese credit/debit cards, so you might want to have some cash just in case that happens.
3. Parking in the Azores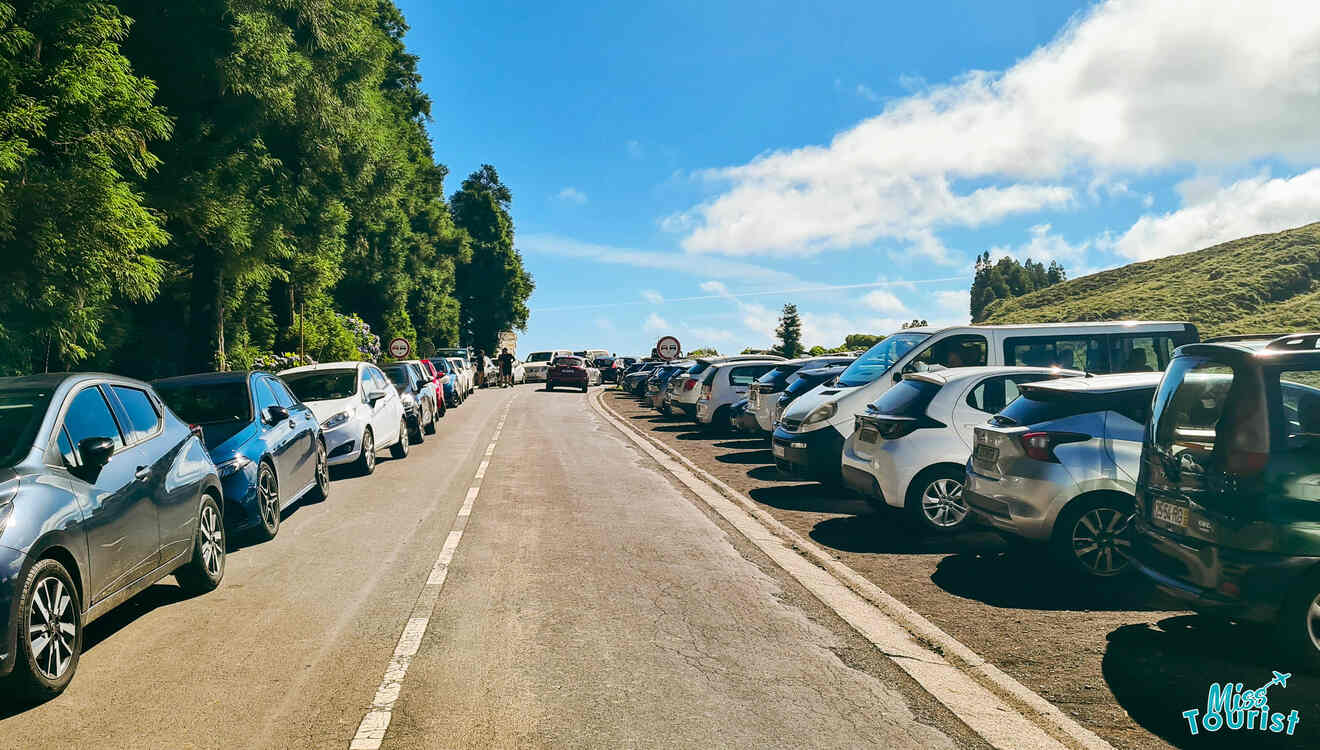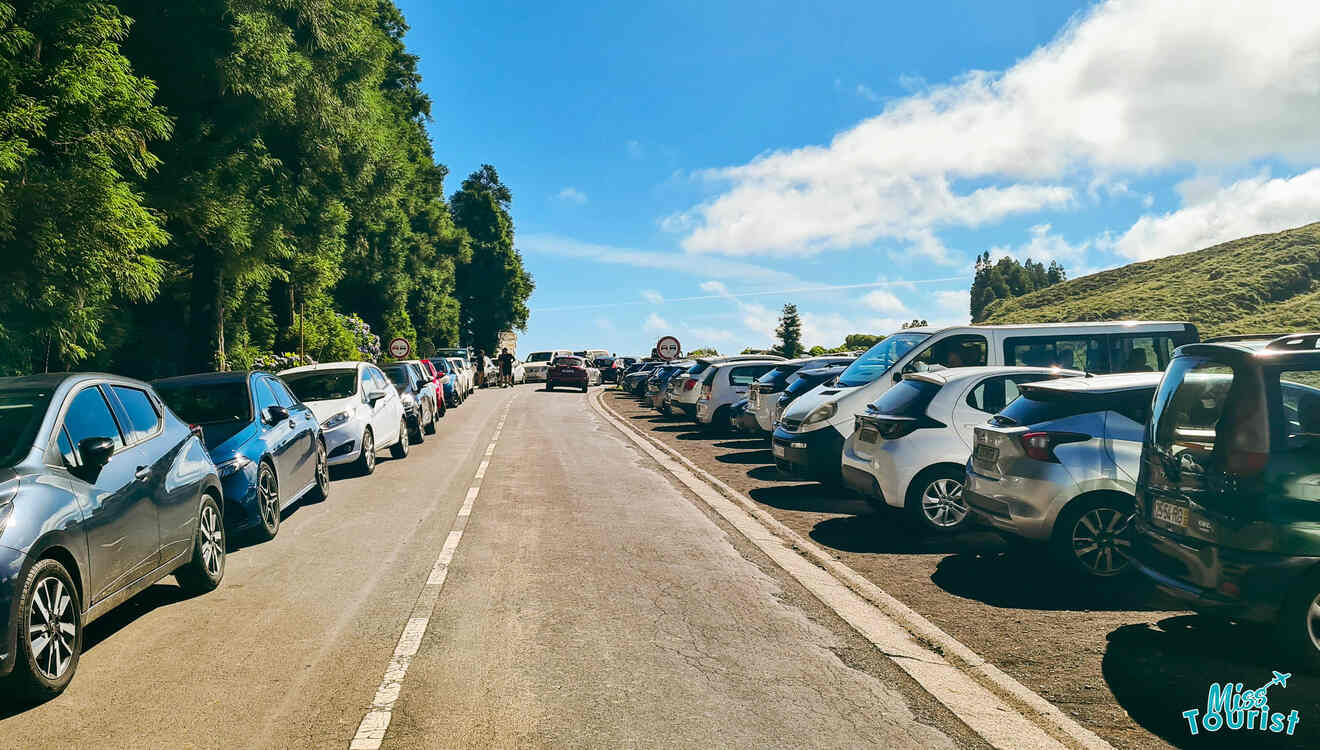 You can pay at the meter machines using coins, and remember to place your parking ticket on the dashboard where it's visible. Parking meters in Ponta Delgada are not exactly user-friendly, but essentially you will need to input the number of your car and select how long you are going to stay (max 4 hours).
Keep an eye on the signs for any time limits. Unless it is not clearly indicated, parking on the side of the road is not allowed in Ponta Delgada, but it is usually free after 7 PM on workdays and on weekends.
PRICE: ~ €0,6 per hour, but it depends on each place.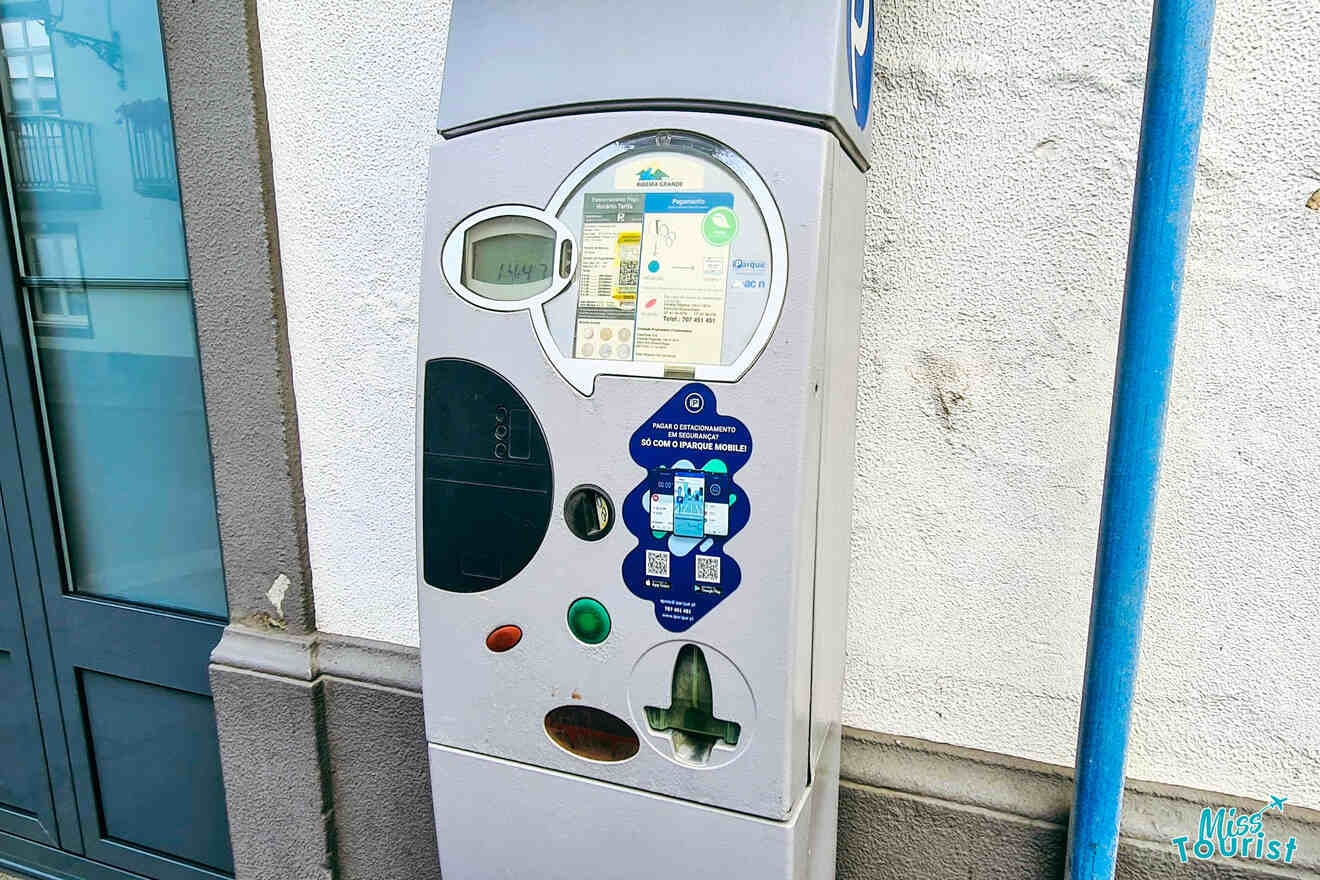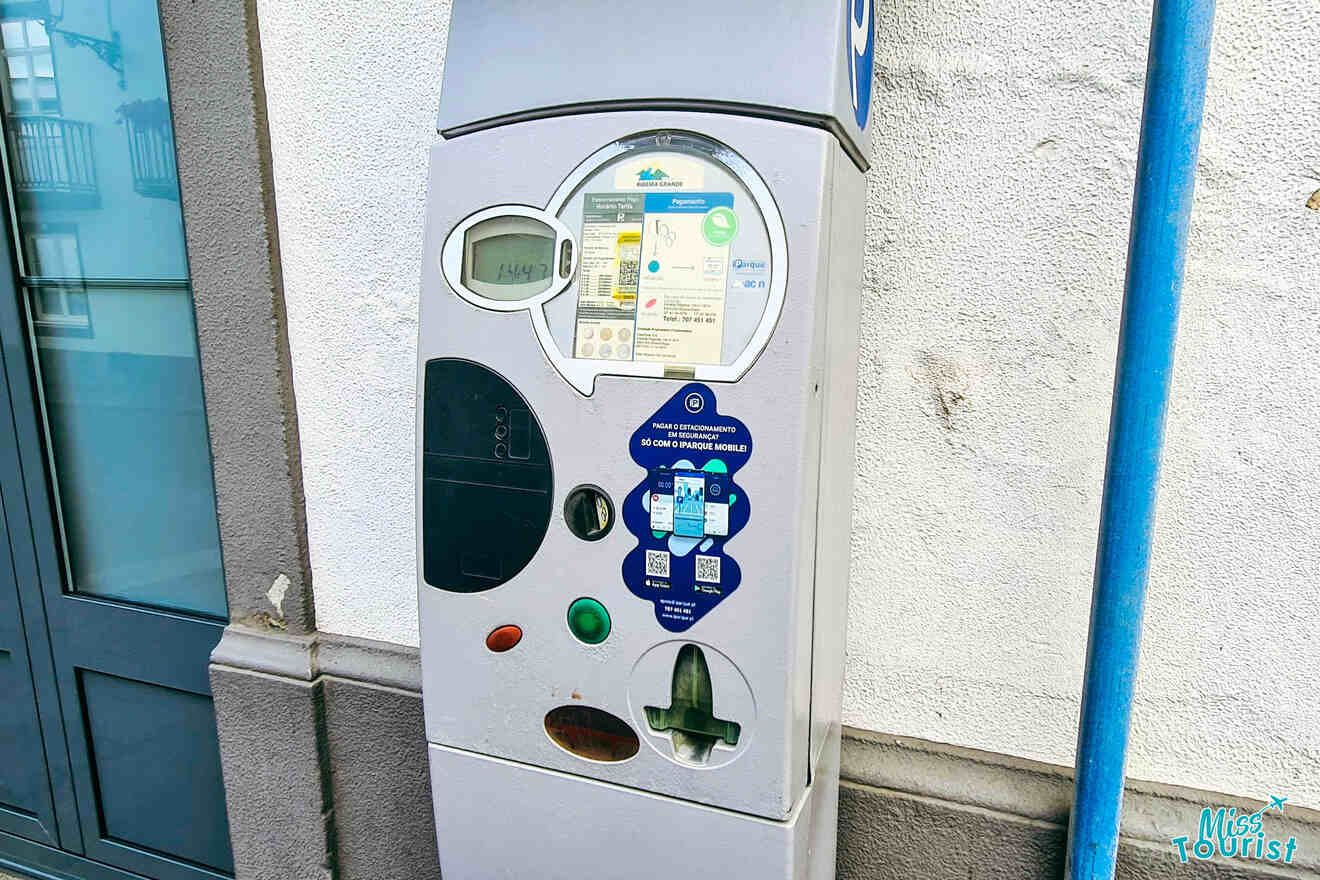 Now, when you're out exploring the natural beauty of the Azores, parking becomes muuuch easier. Most natural sights, like Lagoa das Sete Cidades or the thermal springs at Furnas, have designated parking areas nearby, and they're usually free of charge.
All the miradouros (lookouts) I visited have great (and free) parking facilities.
The only place outside of Ponta Delgada where I saw paid parking was in Fumarolas da Lagoa (I believe it is a private facility?). The entrance was €1 or €2.
PRO TIP: Book accommodation that offers free parking. Not only does it save you the hassle of finding a spot, but it can also save you a good chunk of change!
4. Moving in between islands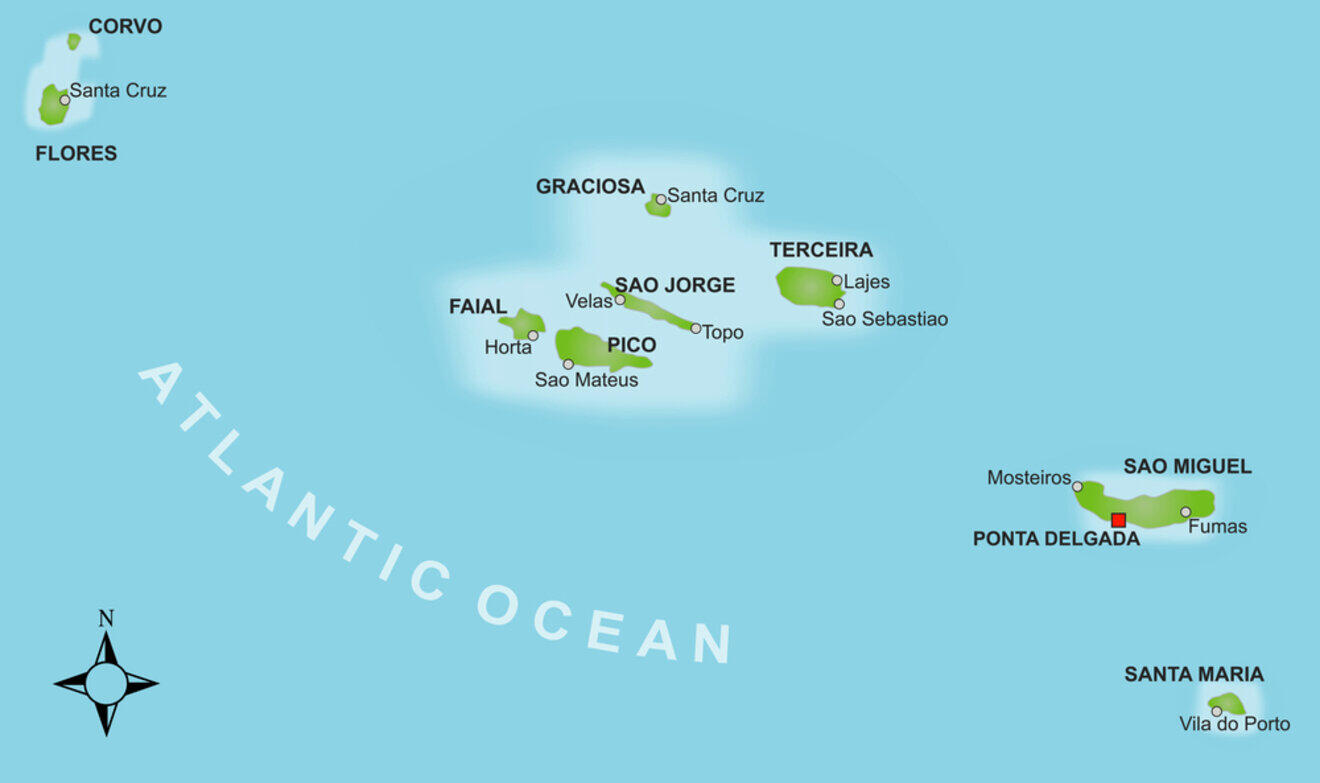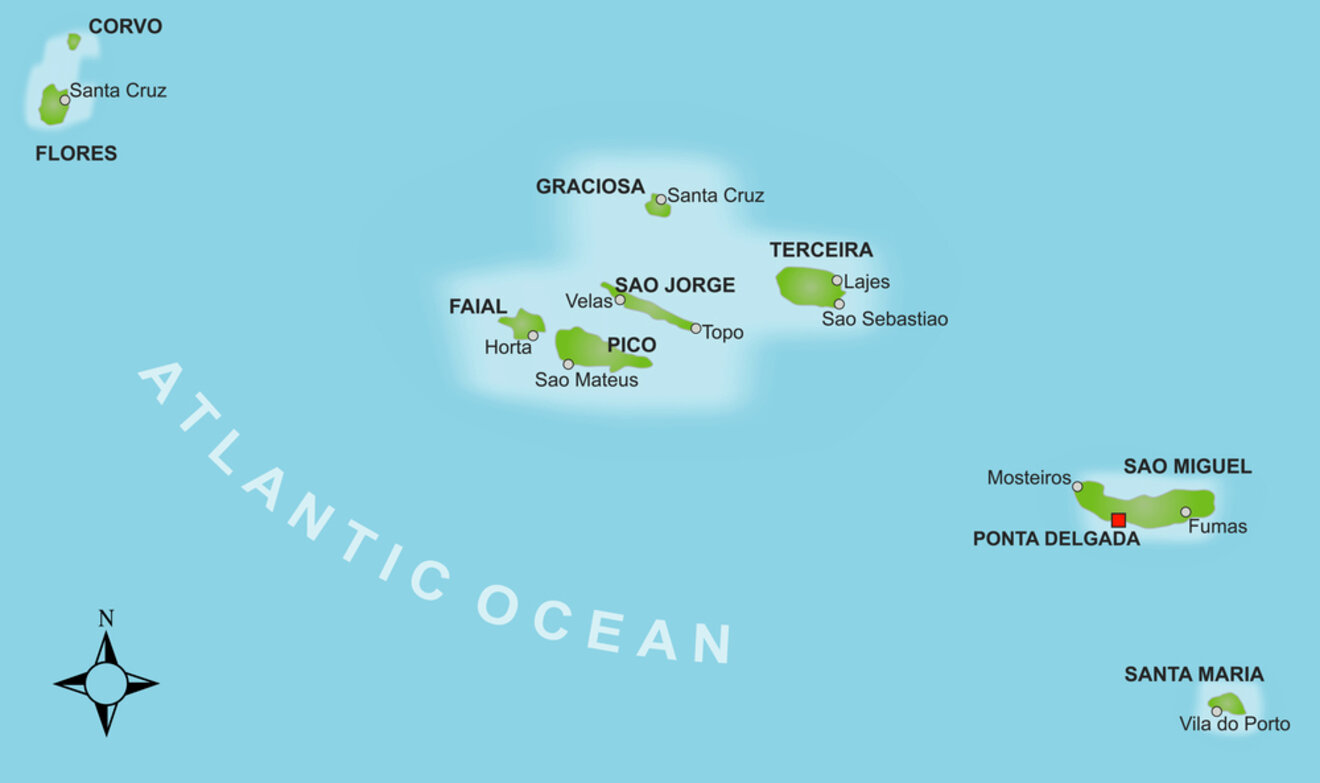 There are 9 islands in the Azores and I know some of you are going to visit at least a couple of them as a part of the same trip.
What about your rental car you may ask me? In short, it is complicated.
There are a couple of options:
4.1 Ferry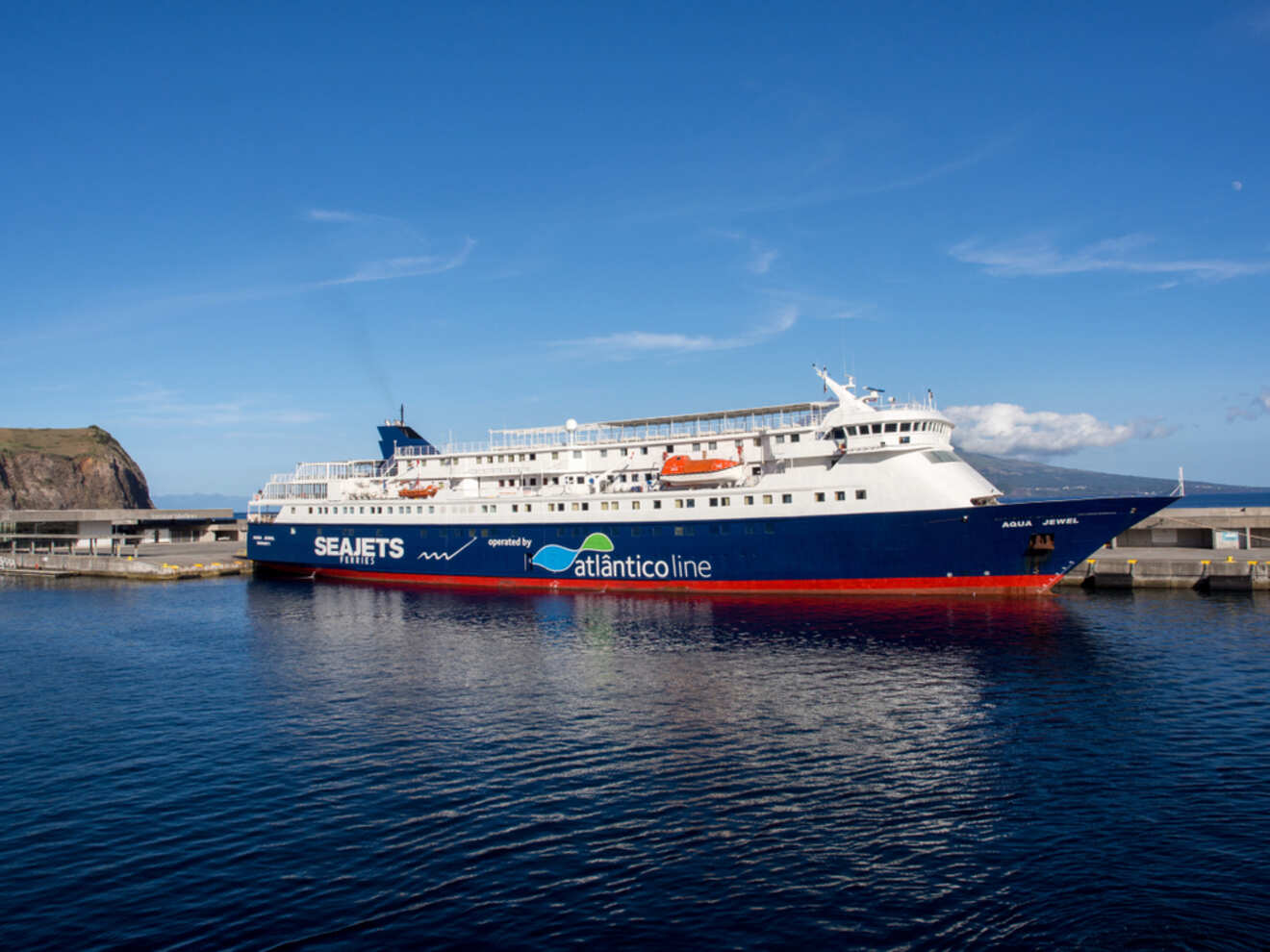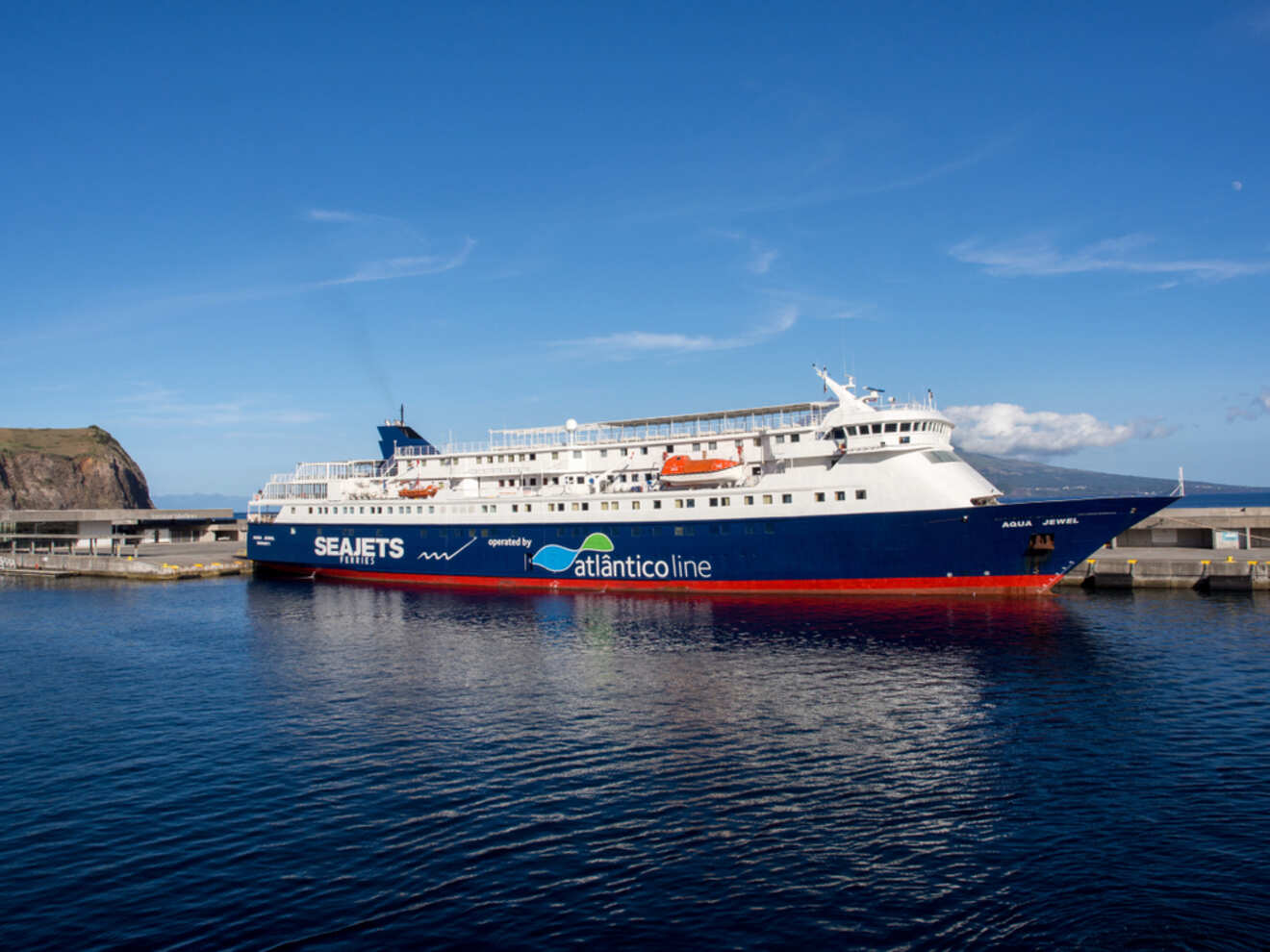 It is possible to transport your car between islands with a ferry service called Atlantico Line that provides regular ferry services between the islands. They operate between Terceira, Graciosa, Sao Jorge, Pico, Faial, Flores, and Corvo (7 out of 9 islands).
Do try to book in advance because the ferry service is not every day and doesn't go everywhere, so you'll probably need to plan your route according to its schedule.
The price and time depend on the route, but I checked for a sample route Terceira to Pico, for 2 people. The trip will take 6 hours and cost €30 per person if you go without a car (sometimes they run some promos, too). If you go with a car, it will be up to €110 (altogether).
Please note that some car rental companies may not allow their vehicles to be taken on ferries, while others might require additional insurance or fees. Remember that you will also need to return it to the same island, and I never saw one-way rentals between different islands.
4.2 Multi-island car hire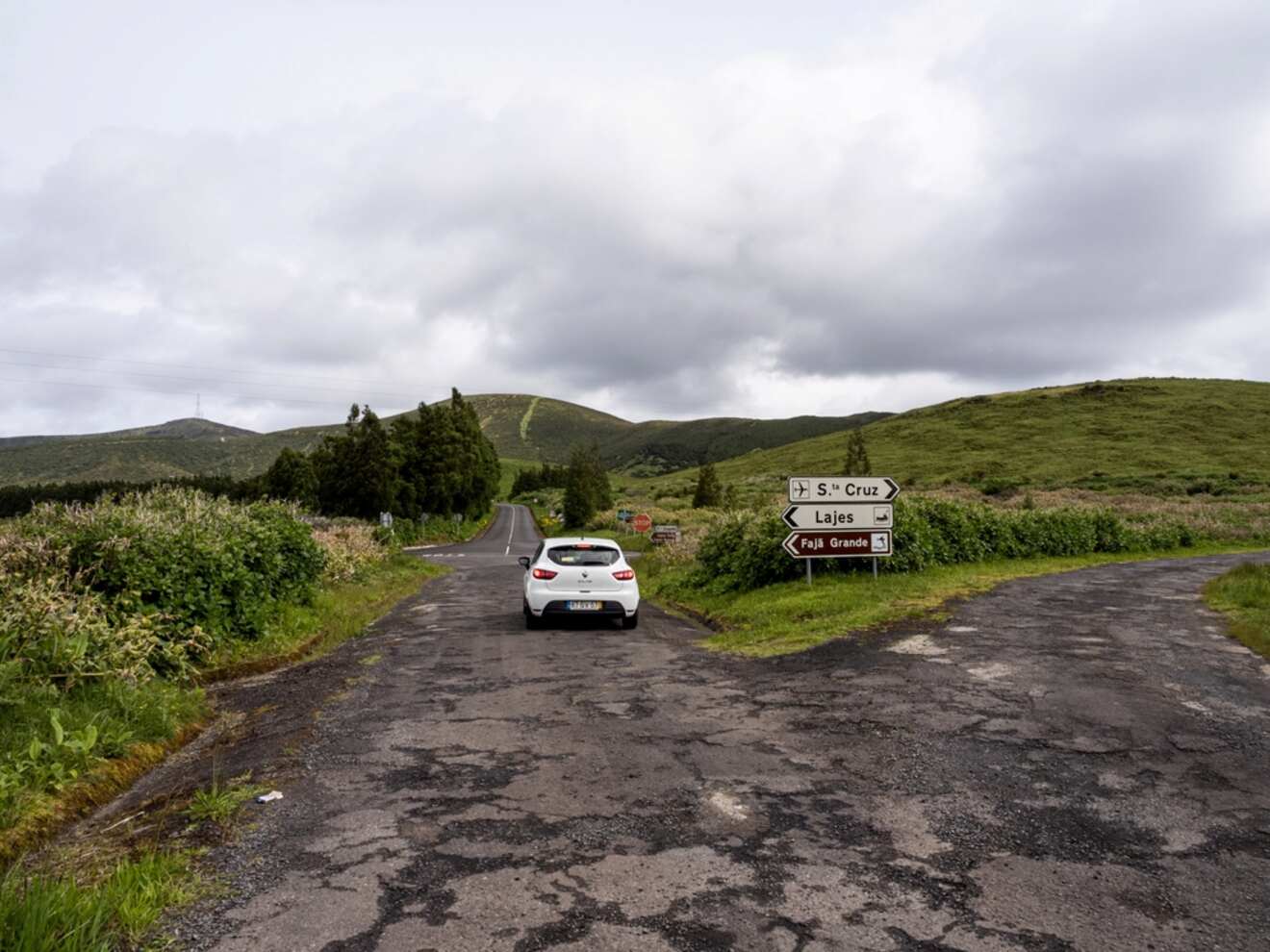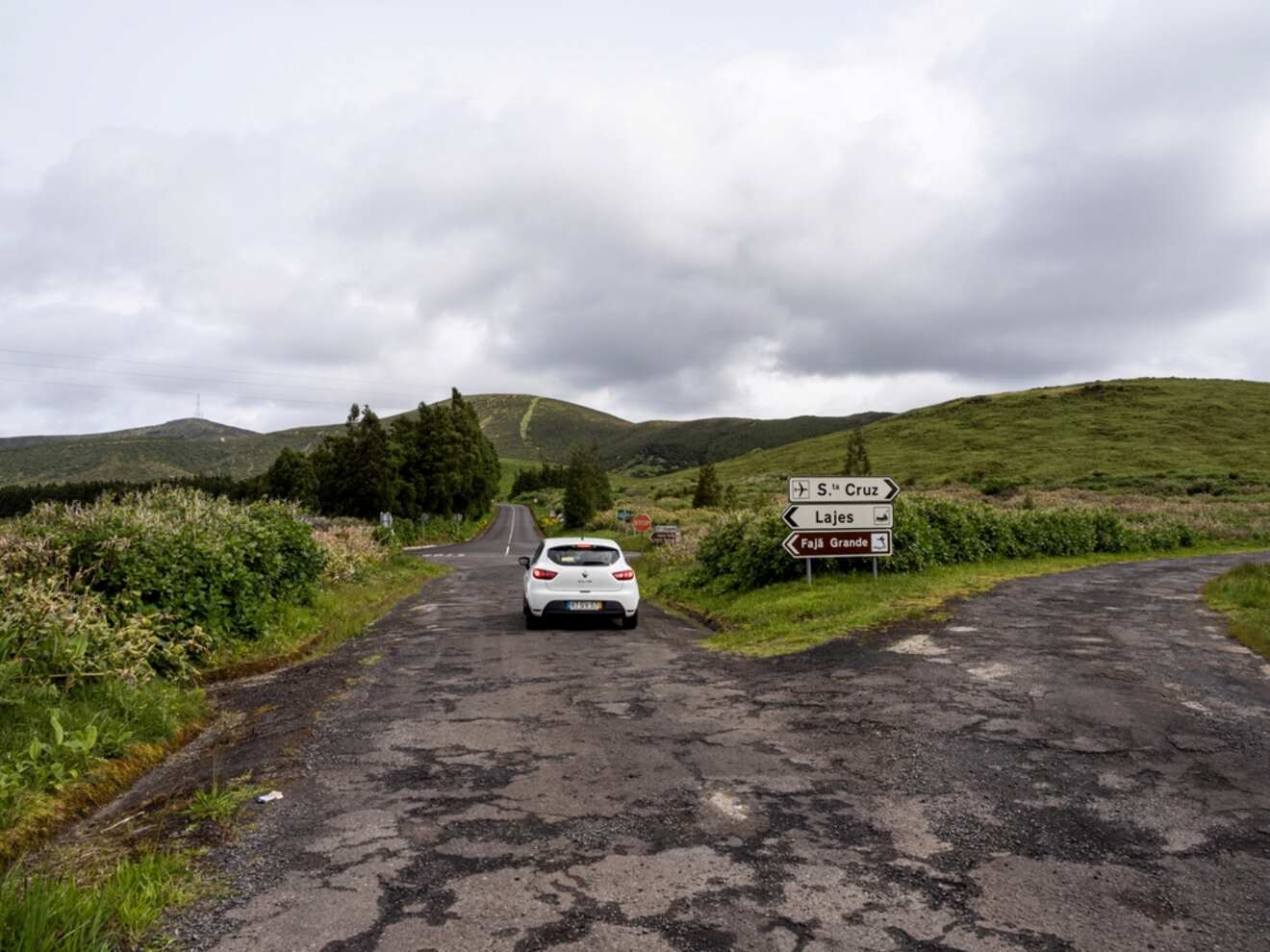 I am not a fan of the ferry option because it takes so long to transfer between the islands, but if you are really keen on the idea of skipping the paperwork each time you rent a car in the Azores, another great option for you can be a so-called "multi-island hire."
This basically means you would use the same company in different destinations. Advantages? You don't need to do paperwork over and over again, and you will not have millions in deposits blocked from your bank account.
Again, please note that not all companies allow it, and if they do, you definitely need to mention it each time you pick up/drop off your car.
5. Rules and fines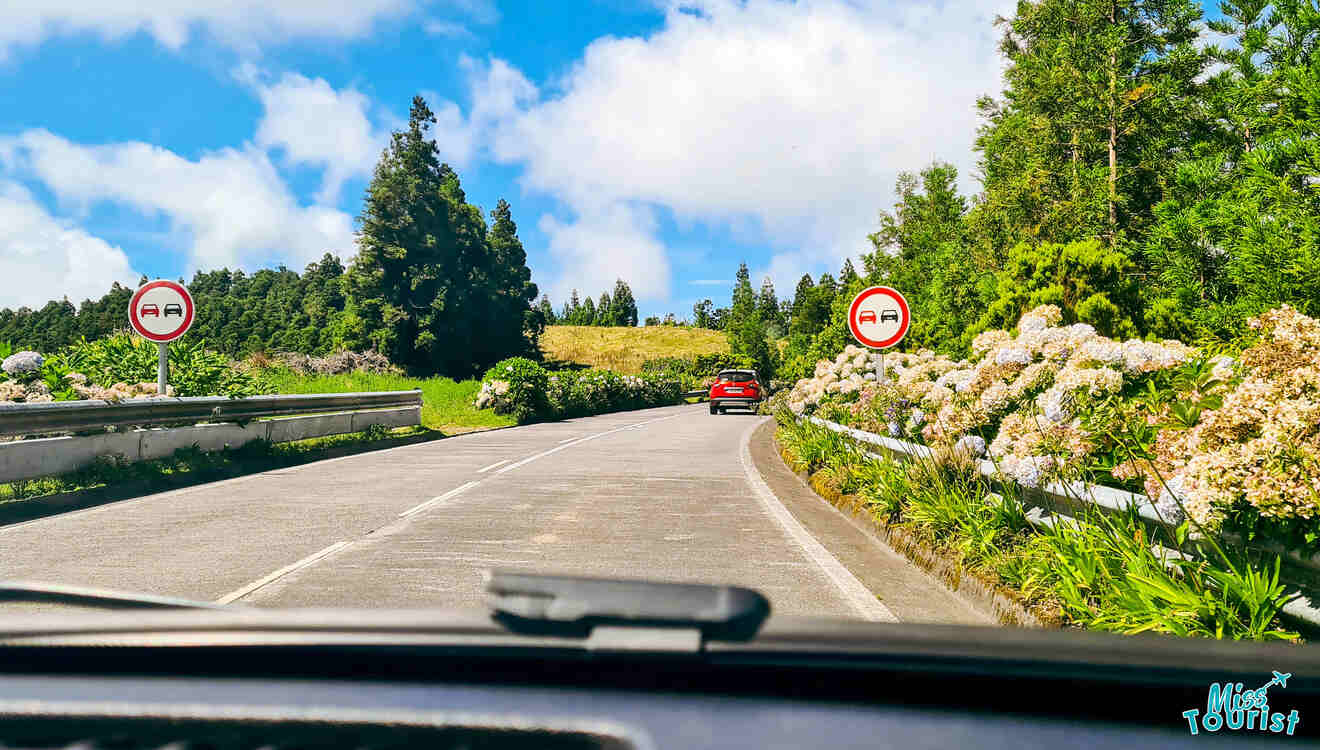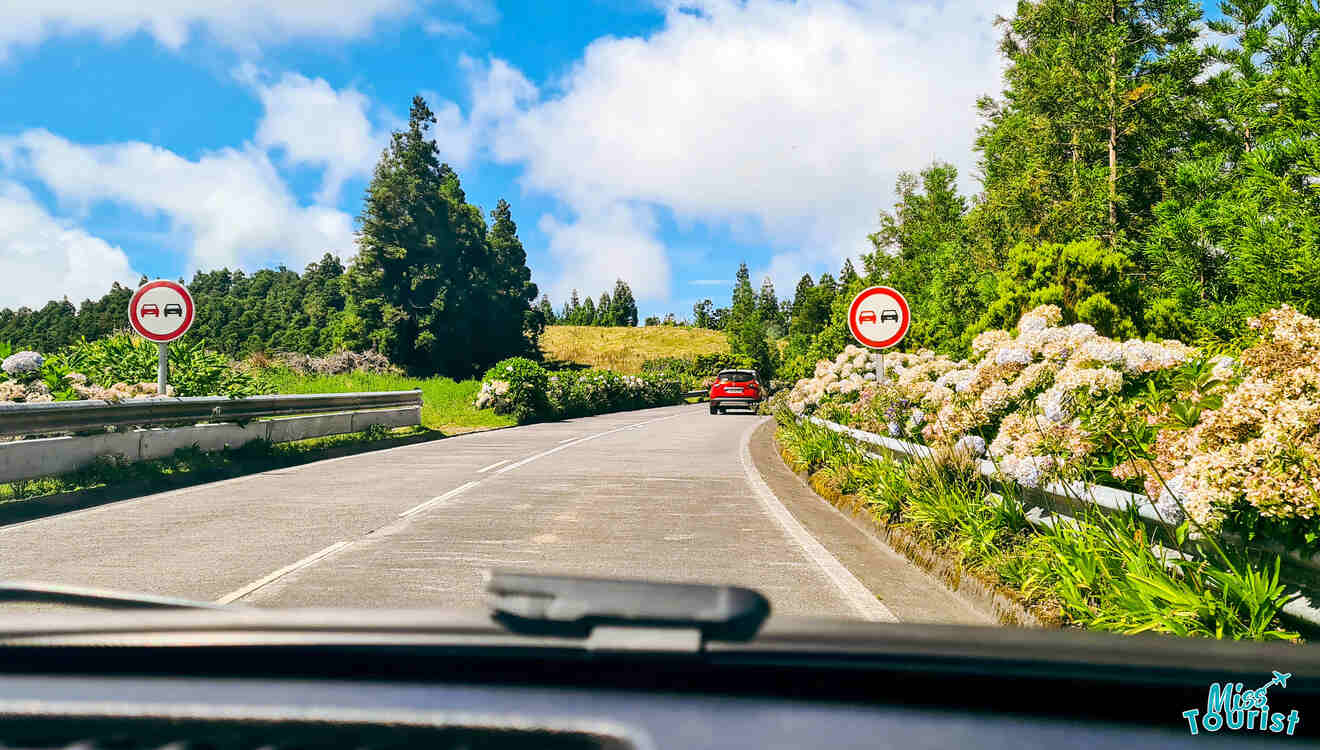 The speed limits are pretty straightforward: 50 kph in residential areas, 90 kph on rural (open) roads, and 120 kph on motorways.
Keep an eye out for signs, as limits can change, especially in school zones or construction areas (NOTE: if you use Waze app, it actually tells you the speed limit on that particular part of the road).
Here is the "price list" on the fines you will have to pay depending on how much you speed (don't!):
​​If you exceed up to 20 km/h – from 60 to 300€
20 km/h to 40 km/h – 120 to 600€
40 km/h up to 60 km/h over the limit – 300€
more than 60 km/h – fine of 500€
Now, about alcohol. Portugal has strict drink-driving laws, and the Azores is no exception. The legal limit is 0.5 g/l in blood, which is roughly equivalent to one small beer. But let me put it this way – NEVER drink and drive, even if it is a little. Firstly, you never know how much the machine will actually show if you are stopped and secondly, you really don't want to get in a car accident in a foreign country, why risk it? And guess what, if you do and they check your alcohol level, no car insurance company will cover the damage.
Fines for drink-driving start at €250 for a blood alcohol level of 0.5 g/l to 0.8 g/l, and go up to €1250. If your level is 0.8 g/l to 1.2 g/l, fines range from €500 to €2500. And if you're over 1.2 g/l, you could be looking at jail time.
When it comes to child safety, no child under the age of 12 may sit in the front. When in the rear of the car, children must have a suitable restraint system that complies with EU regulations. When renting your car, you can ask for chairs and safety seats for children.
6. Road conditions and weather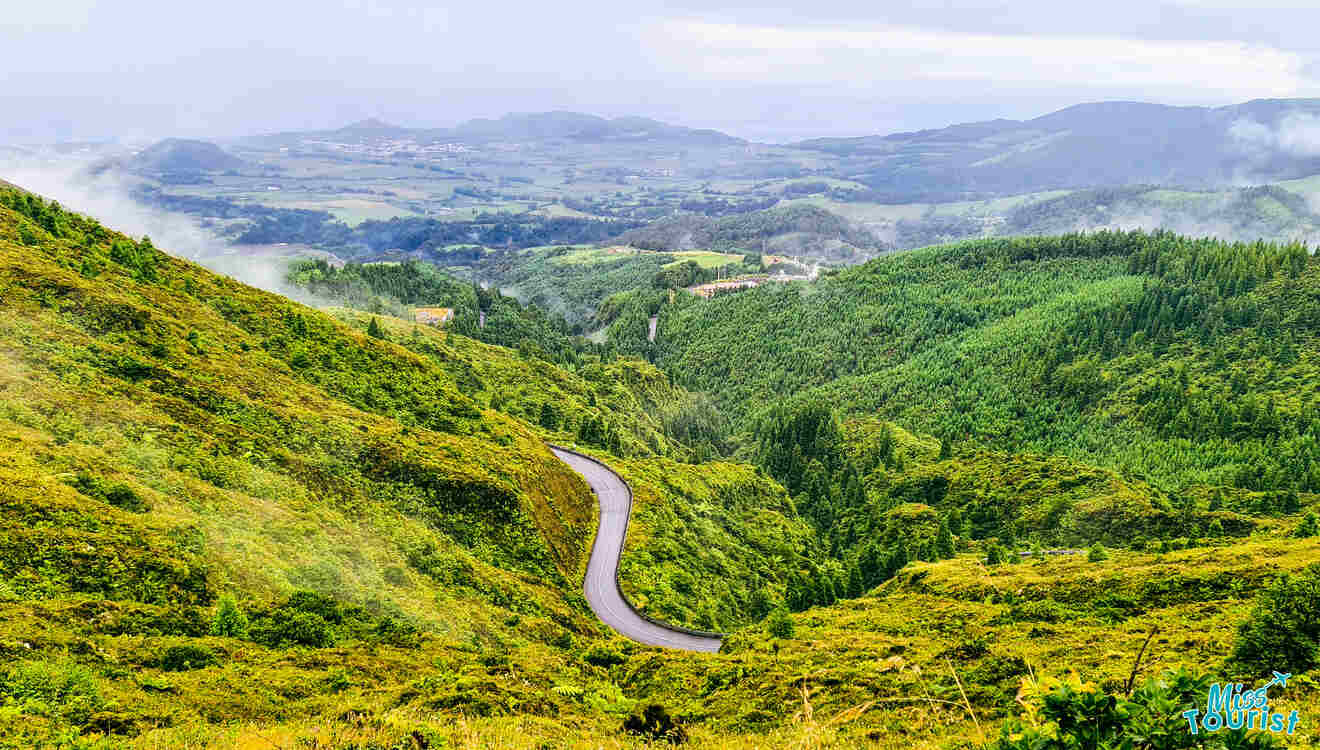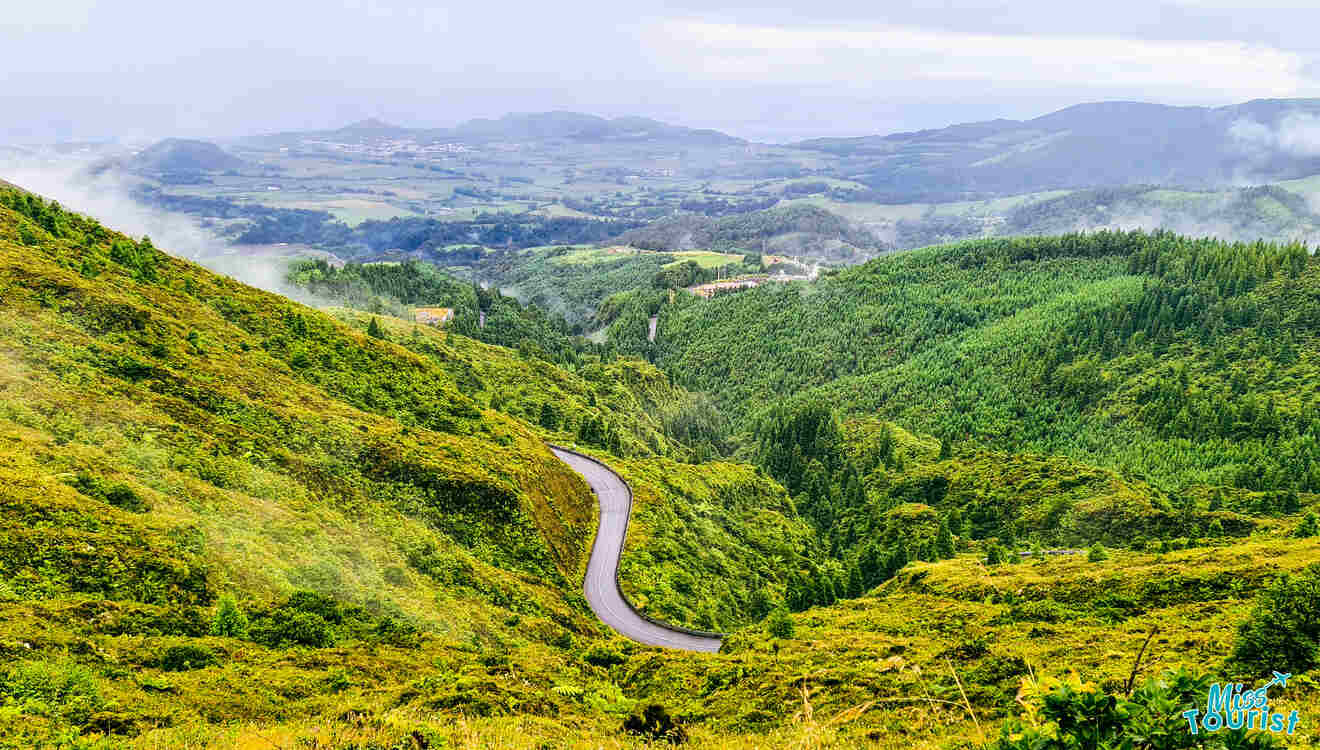 I found Azorean road quality to be absolutely fantastic! I think the Portuguese government invested an enormous amount of money into the infrastructure of both Madeira and the Azores just recently, and it really shows.
The roads are a pleasure to drive, suuuuper beautiful (I visited in September which I guess is the season for hortensias – the roads look like they are from a fairy tale!)
I remember being pleasantly surprised about super-organized picnic spots. Not only are they equipped with BBQ, tables, garbage bins, and wood (!) for fire, but they are also absolutely free of charge to use, and there are many spots like these throughout the island.
As for the weather, the Azorean weather changes constantly. It's like experiencing all 4 seasons in a day (сough, cough, Iceland's little brother), so be prepared for sudden shifts in driving conditions. Rain can appear as quickly as it disappears, so always keep an eye on the sky!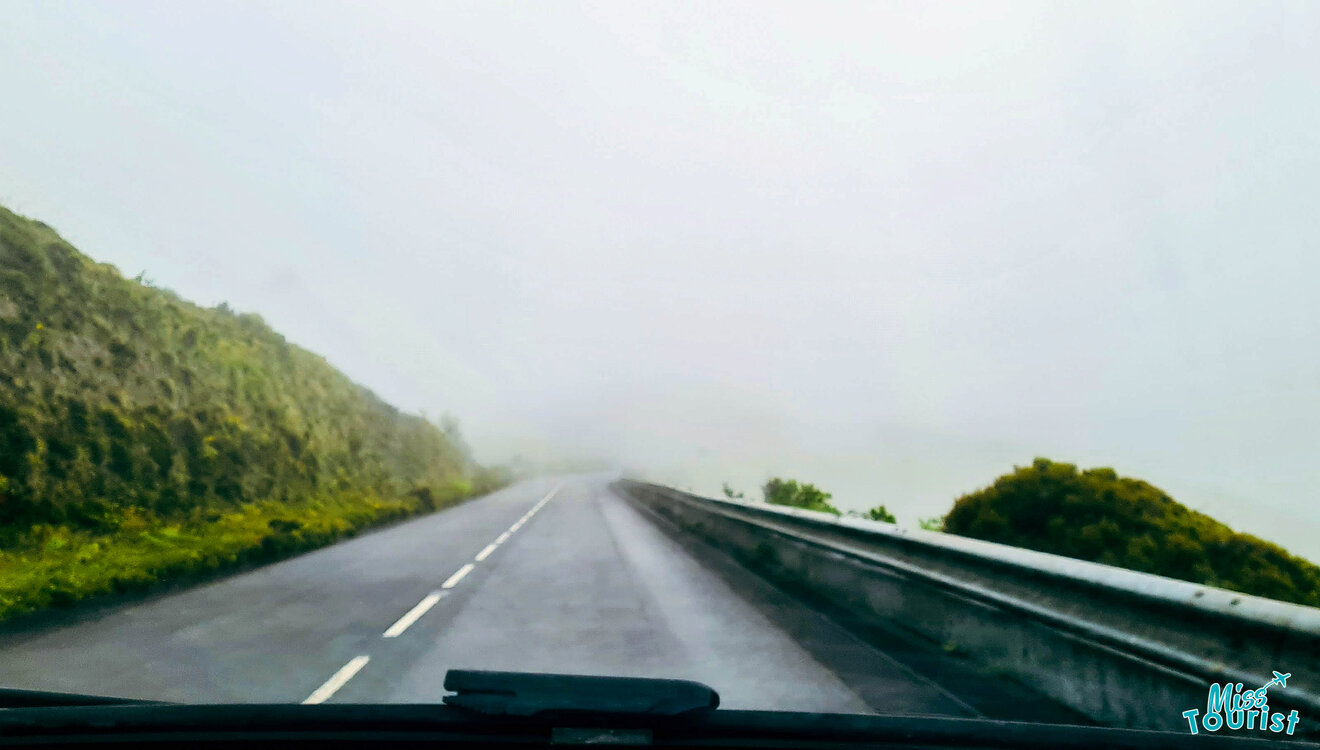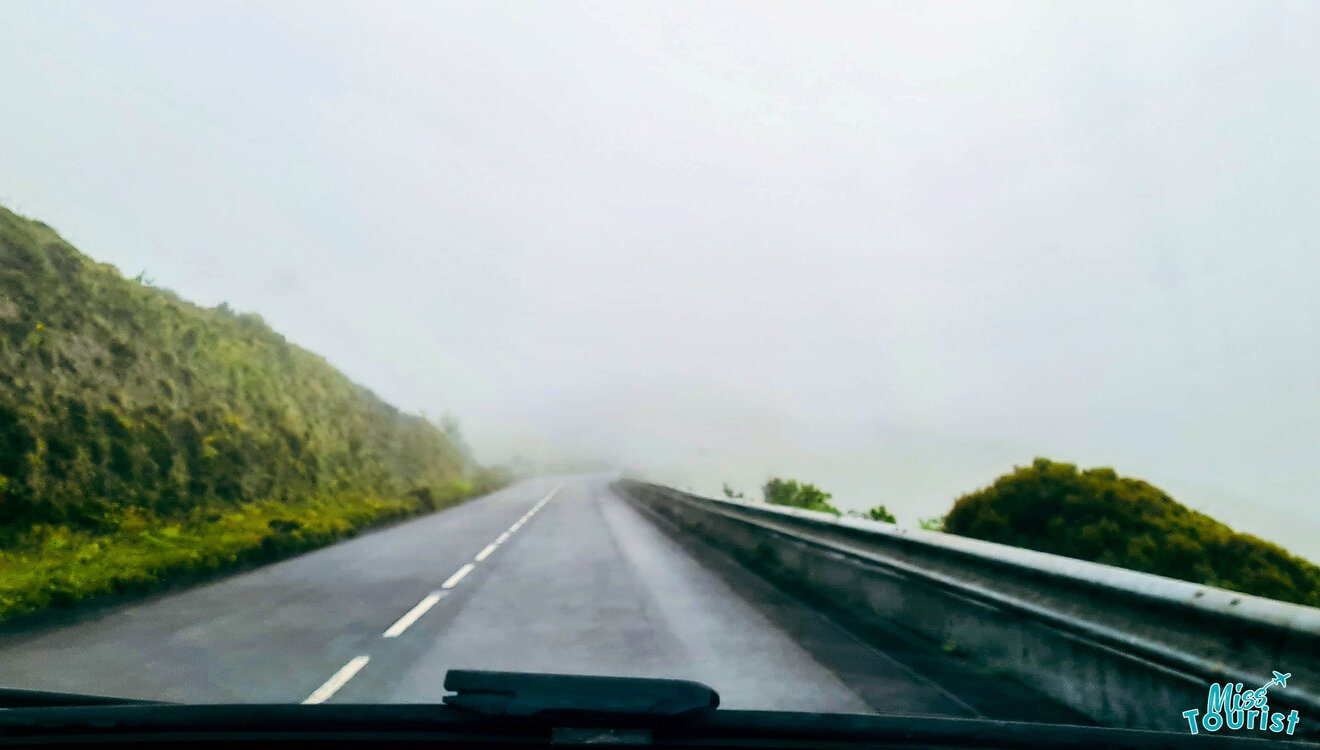 Fog is also pretty common, especially in higher altitudes and cooler months. It reduces visibility, so if you encounter it, slow down, use your fog lights, and maintain a safe distance from other vehicles.
Lastly, watch out for local wildlife. We did not have any problems with that, but I heard that you should keep an eye out for cows, goats, and birds that might be on or near the roads.
7. Optional extra charges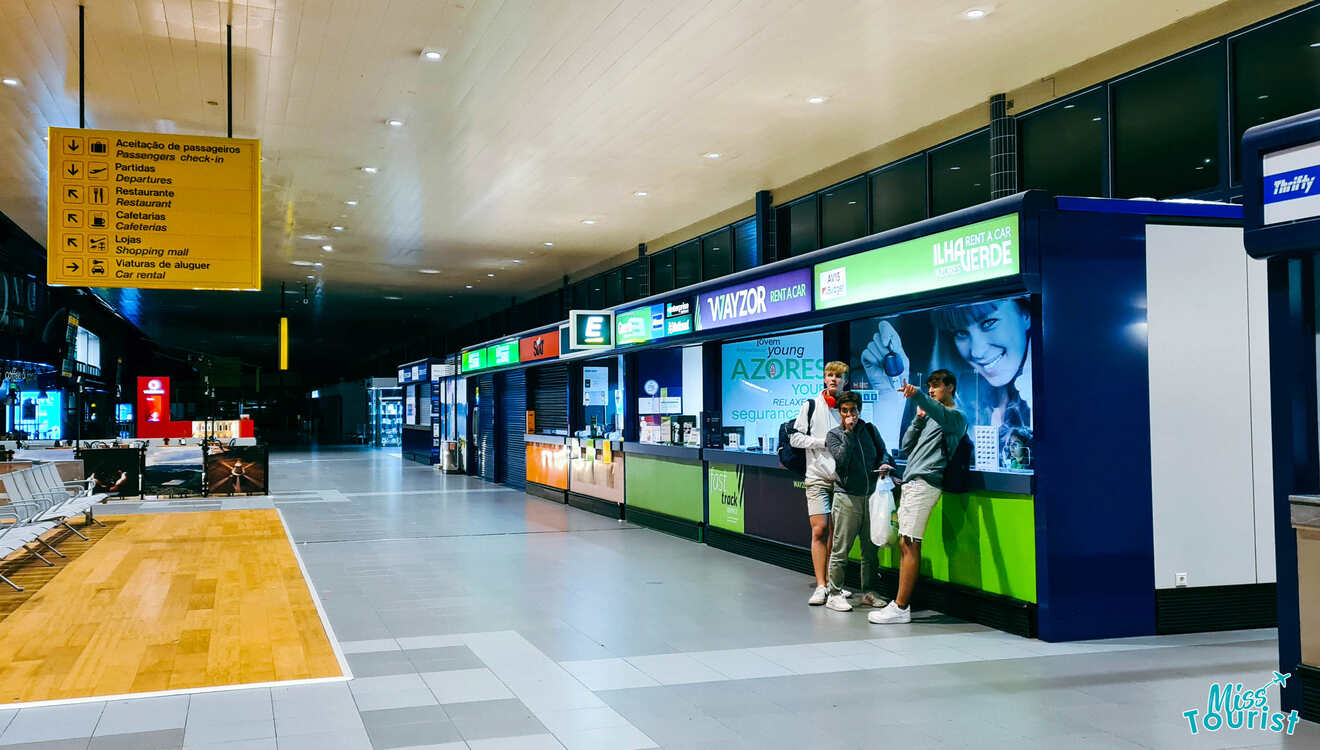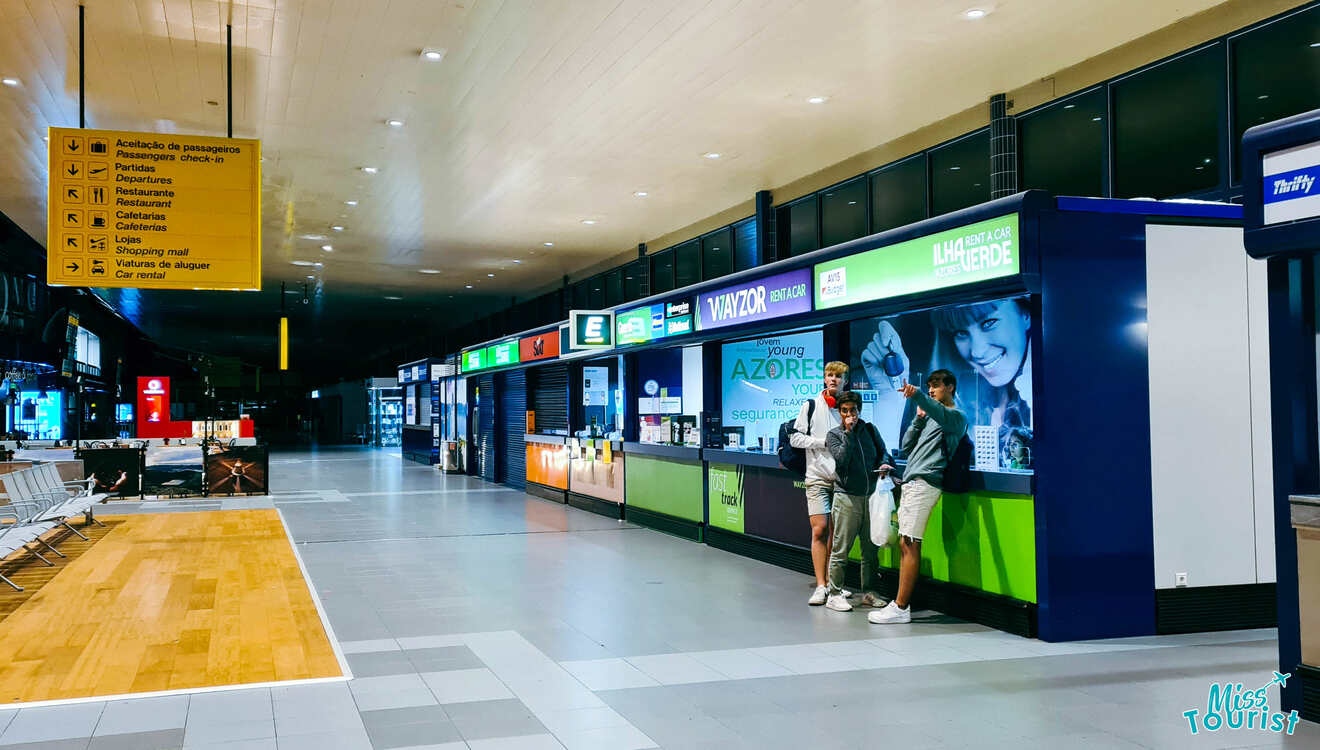 There are a number of additional fees and considerations that might come up when you're renting a car in the Azores. Here's a list of potential extra costs you should be aware of:
GPS – Most newer cars come with built-in GPS nowadays, but this is not always the case. If you need one, you might have to pay an additional fee to rent it. PRO TIP: You can just use your mobile data in this case. If you do not have a local SIM card, I recommend the AirAlo eSIM that you can use at any time, and no need to go anywhere.
Wi-Fi routers – These are a pretty cool idea if there are many people in the car, and you can share. However, please check the price beforehand. Perhaps getting an eSIM might actually be cheaper.
One-way rental – If you're planning to pick up your car at the airport and drop it off at the port (or the other way around), look closely at this info. Keep in mind that only some companies offer this service. We already discussed multi-island car rental in section 4 of this post.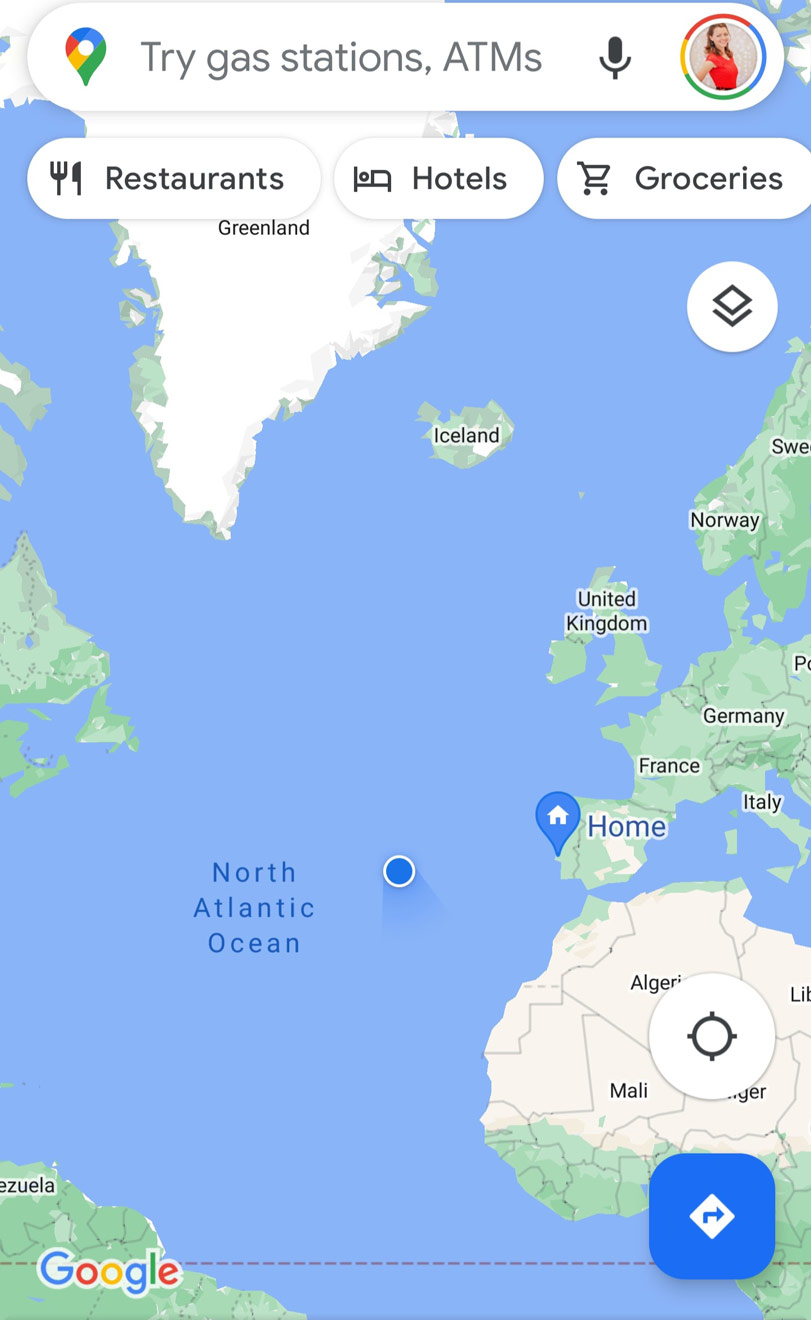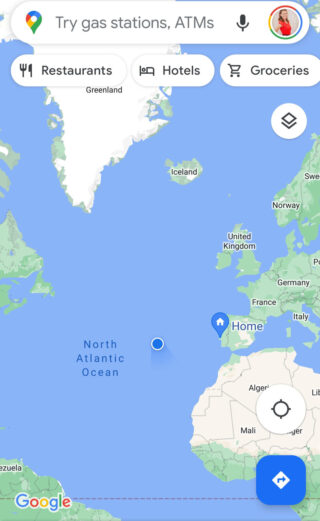 Young/Senior driver fee – If you're under a certain age or over a certain age, some companies might charge an additional fee. The terms and conditions vary by company.
Child seat – If you're traveling with a child, you may need to rent a child seat/booster seat, which costs around €3 per day. If possible, consider bringing your own to save some money.
Car cleaning – If you return the car in a particularly dirty state, you may be charged a cleaning fee. To avoid this, clean the car yourself before returning it.
Second driver – There may be an extra charge (around €5 per day) for an additional driver to your rental agreement. If you are going to take turns, ask if this is allowed.
Extra mileage – While I haven't heard of Azores rentals that would have that in their rental agreements, it is always worth checking. You definitely don't want to be constrained on how many km you are allowed to drive per day.
8. Tips for when you receive/return the car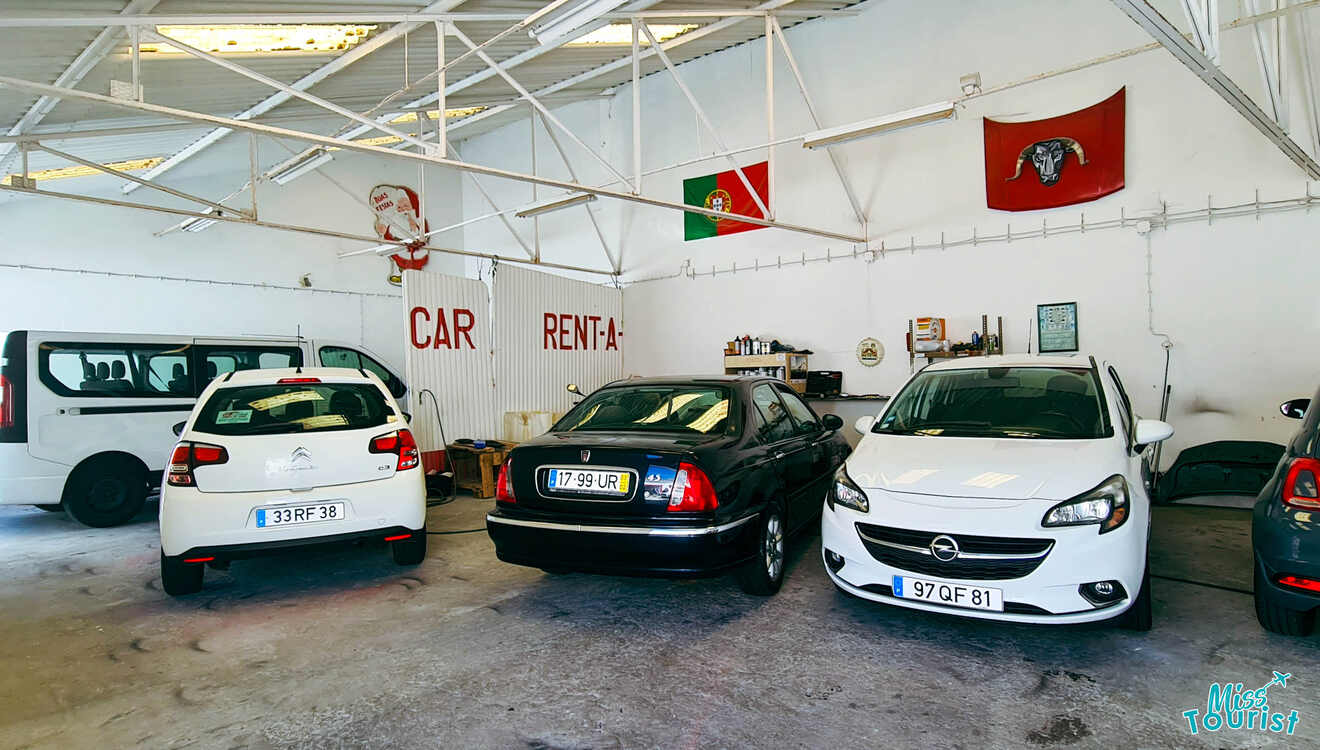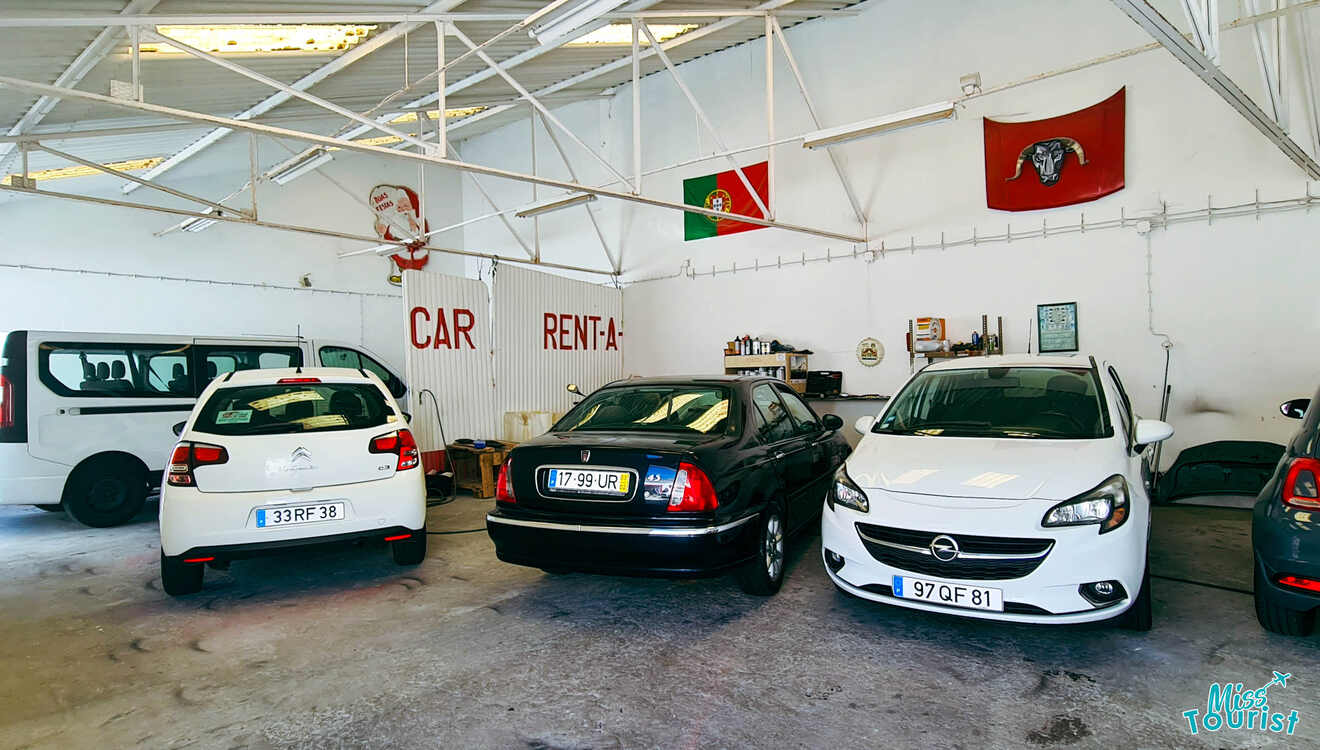 Here are the things you need to check before you take your rental car from the rental office:
Check for damages and take pictures/videos of the car. Use a flashlight if it's dark or if the lighting is bad. Some small companies MIGHT want to charge you for some damages you didn't do, but it will be much harder if you have proof it was done before you started driving it.
Check that you have all the necessary car documents in the car and that you know the number to call in case of an accident.
Check the condition of the car from the inside. Some things to check are whether the A/C is working, if your phone is connecting to the car (for music), if there is enough gasoline, etc.
Check your GPS, A/C, and cruise control features. If you don't understand how to use them, ask the company representative before you leave.
What to do in case of an accident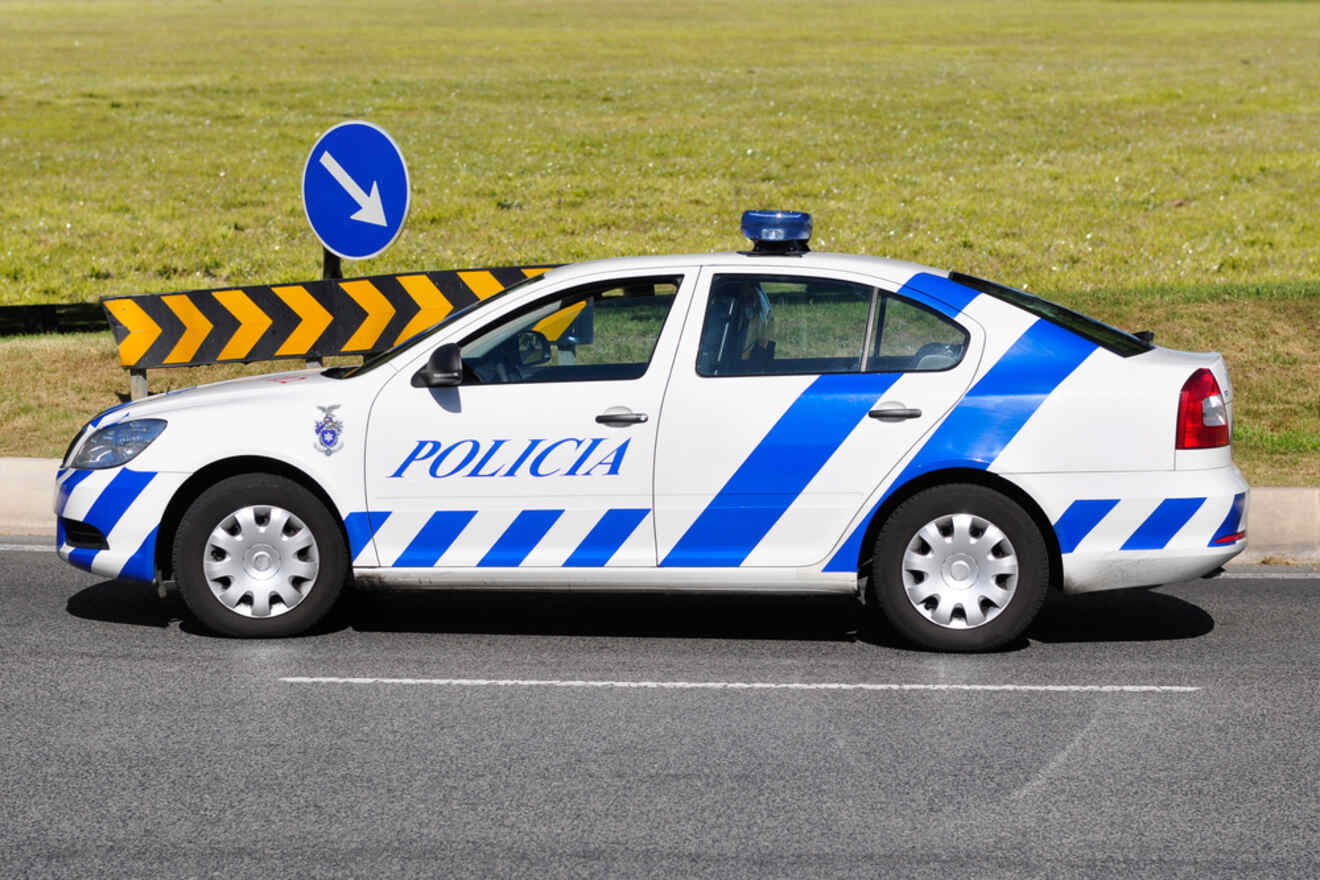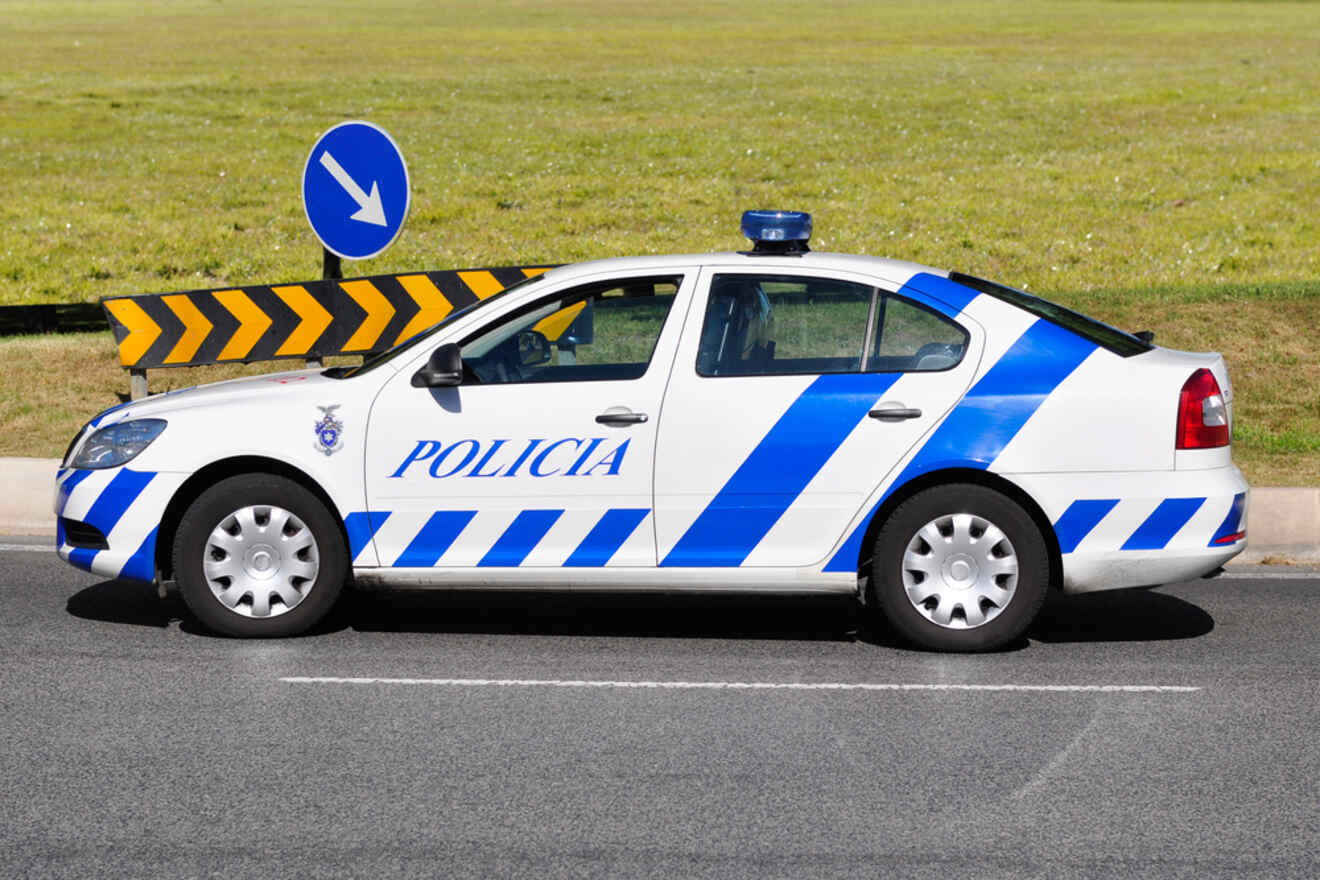 If there are any injuries, immediately call the emergency number in Portugal, which is 112 (operators also speak English). Then call your rental company's emergency contact number, and they will guide you on what to do next.
If nobody is injured and it's safe to do so, you can move your car from the road to prevent blocking traffic.
If you have a flat tire and it's not too severe, you might want to try inflating it at the nearest gas station. However, if the tire is significantly damaged, you may need to use the spare tire or contact your rental company for assistance.
9. Useful mobile apps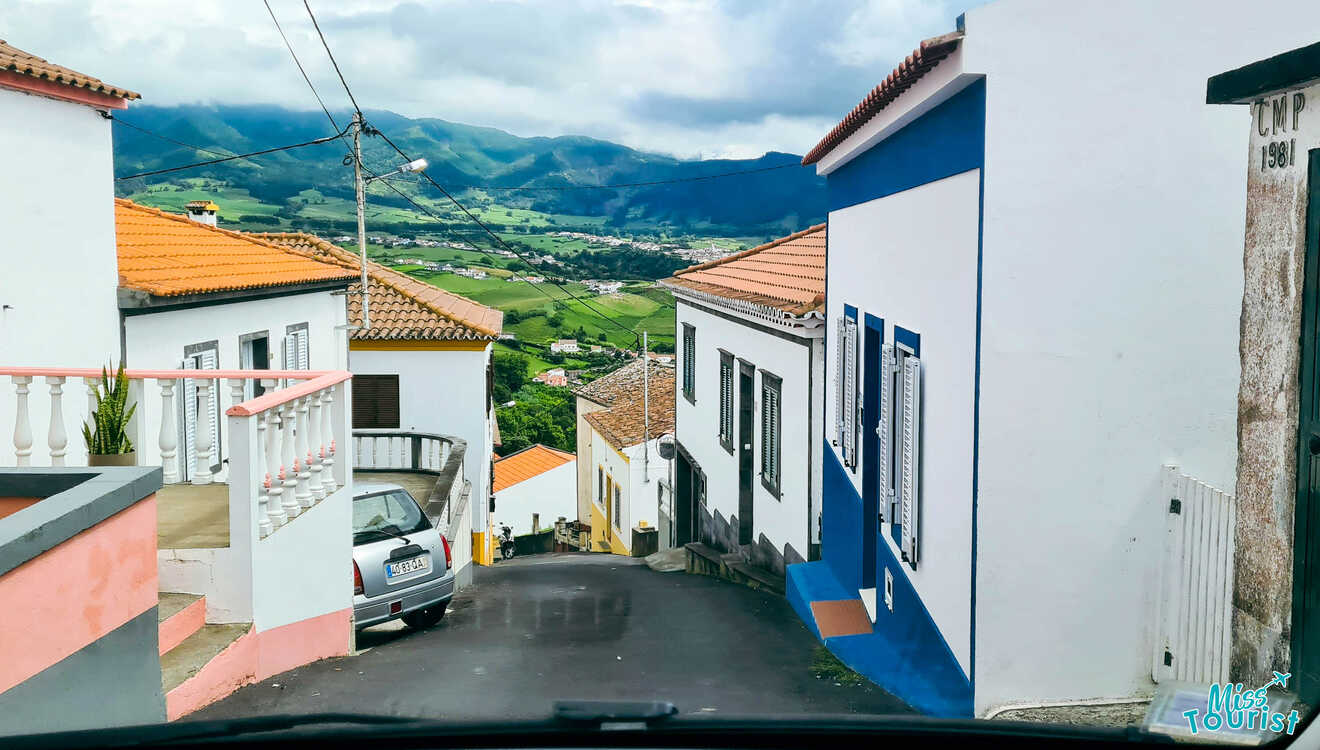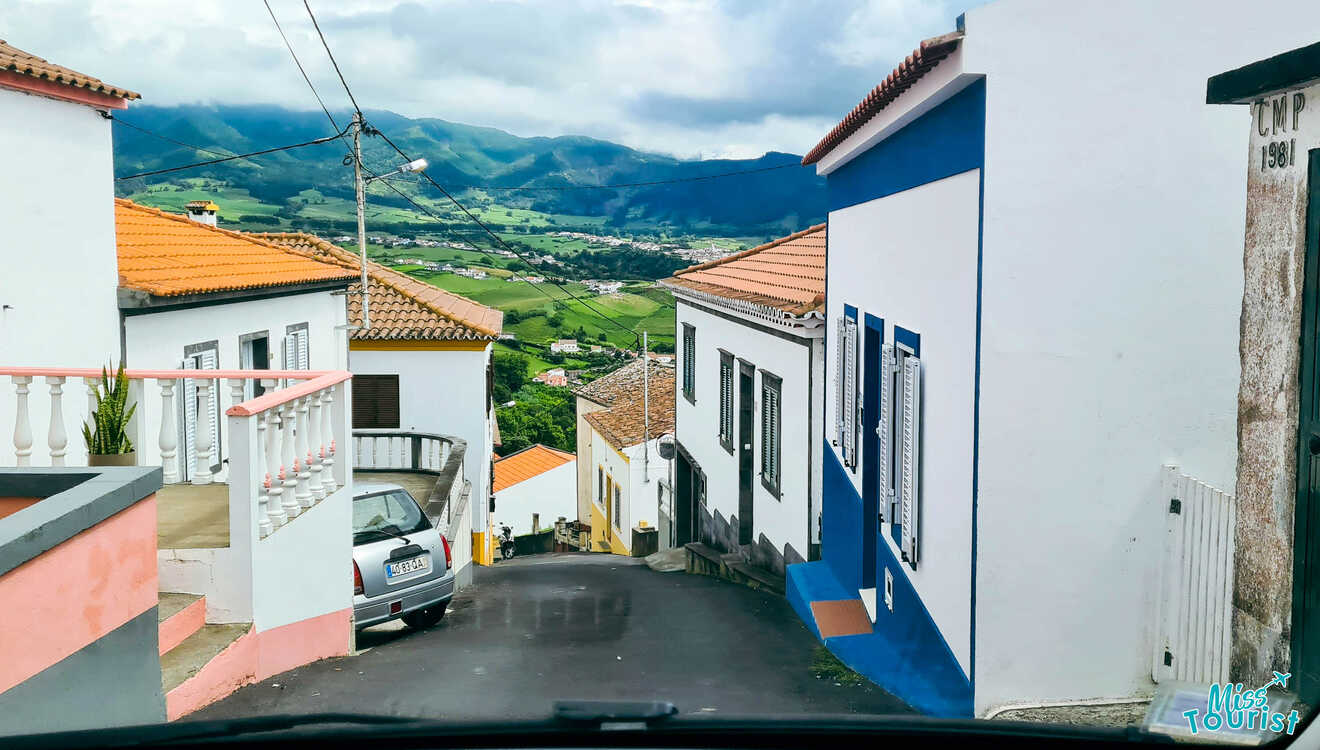 Here are some mobile apps that I found useful in the Azores and in Portugal:
1. VisitAzores
The official tourism app of the Azores, VisitAzores, provides a wealth of information for travelers. You can find information on attractions, restaurants, events, transportation between the islands, and more. It also provides detailed maps and guides, which can be downloaded for offline use.
Android| iOS
2. SpotAzores
Web-based platform and an app that provides real-time images of several locations in the Azores via a network of webcams. It allows you to check the current weather conditions and enjoy beautiful landscapes before heading out. It's a great tool for planning your day trips and making sure the weather is good at the destination you are about to go to!
Android| iOS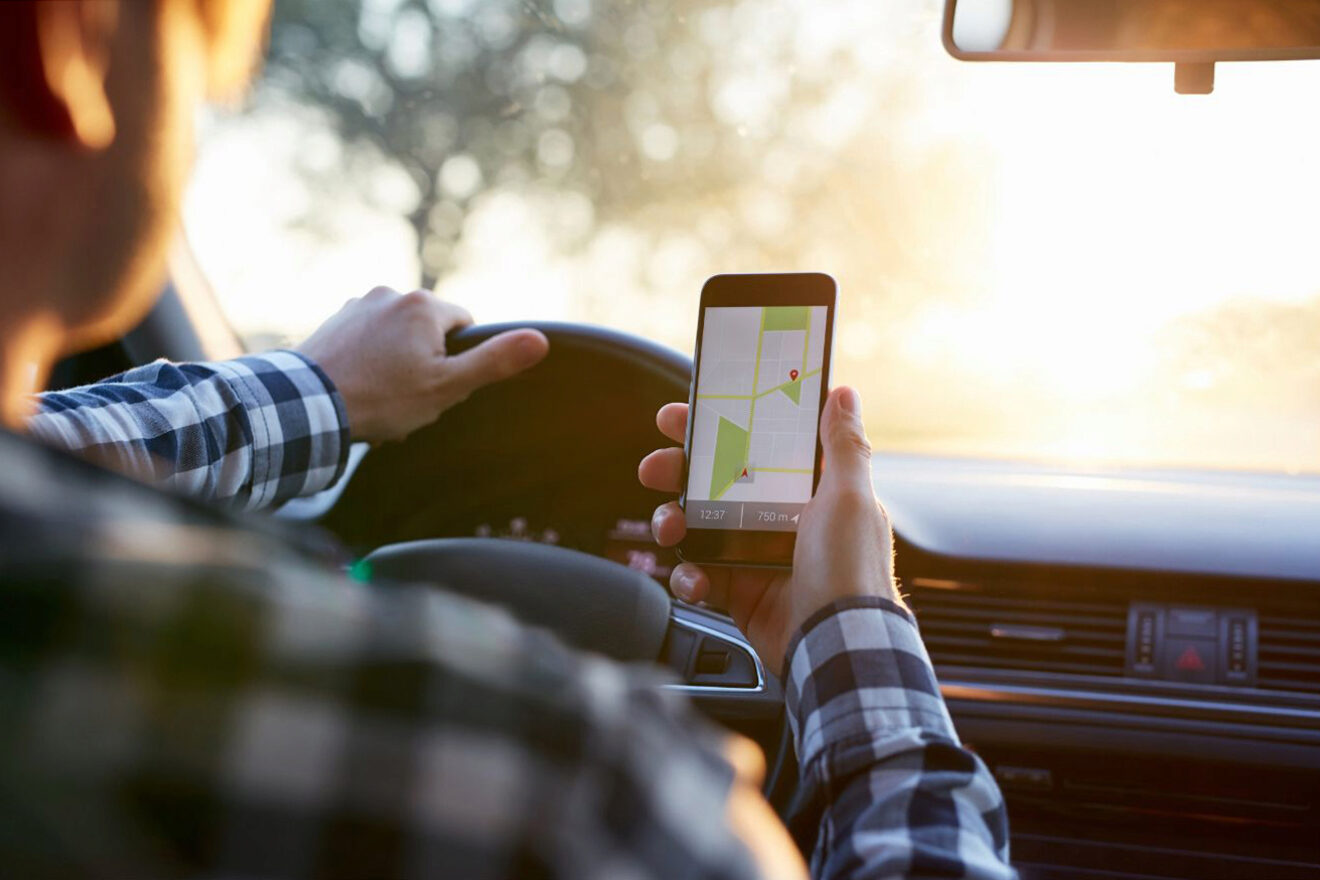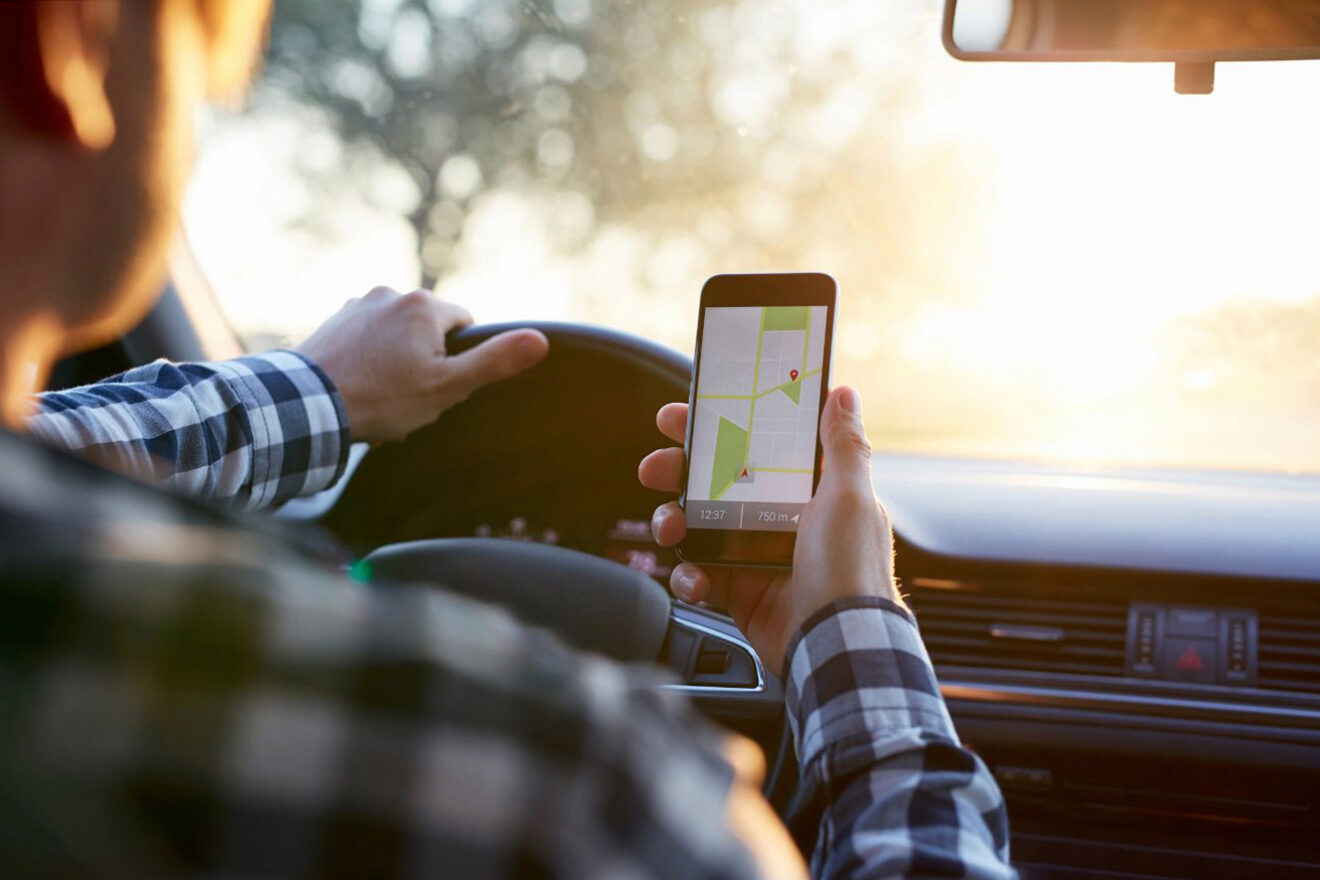 3. Google Maps (Offline)
Did you know that you actually don't need an internet connection to use Google Maps in absolutely the same way you would online (searching, building the fastest route, etc.)?
Before you go to the Azores, you can download the maps of the areas you plan to visit (or the whole island!). This way, you'll have access to reliable navigation and location information even when you're offline. It might take some space on your phone, but it is worth the convenience (and you can always delete it after the trip!).
Android| iOS
4. Waze
As I already mentioned, Waze is a reliable satellite navigation software that gives you real-time information on the road conditions, speed limit, and other important road information at your destination.
Android| iOS
| | |
| --- | --- |
| 🚗 Best car type: | Ford Focus, Citroen C1 |
| 💰 Avg. price in high season: | €90 |
| 💸 Avg. price in low season: | €40 |
| 📑 Documents needed: | Passport, driving license |
BONUS: Best routes in Azores
Here are some of the must-visit places depending on the island you are visiting:
Sao Miguel Island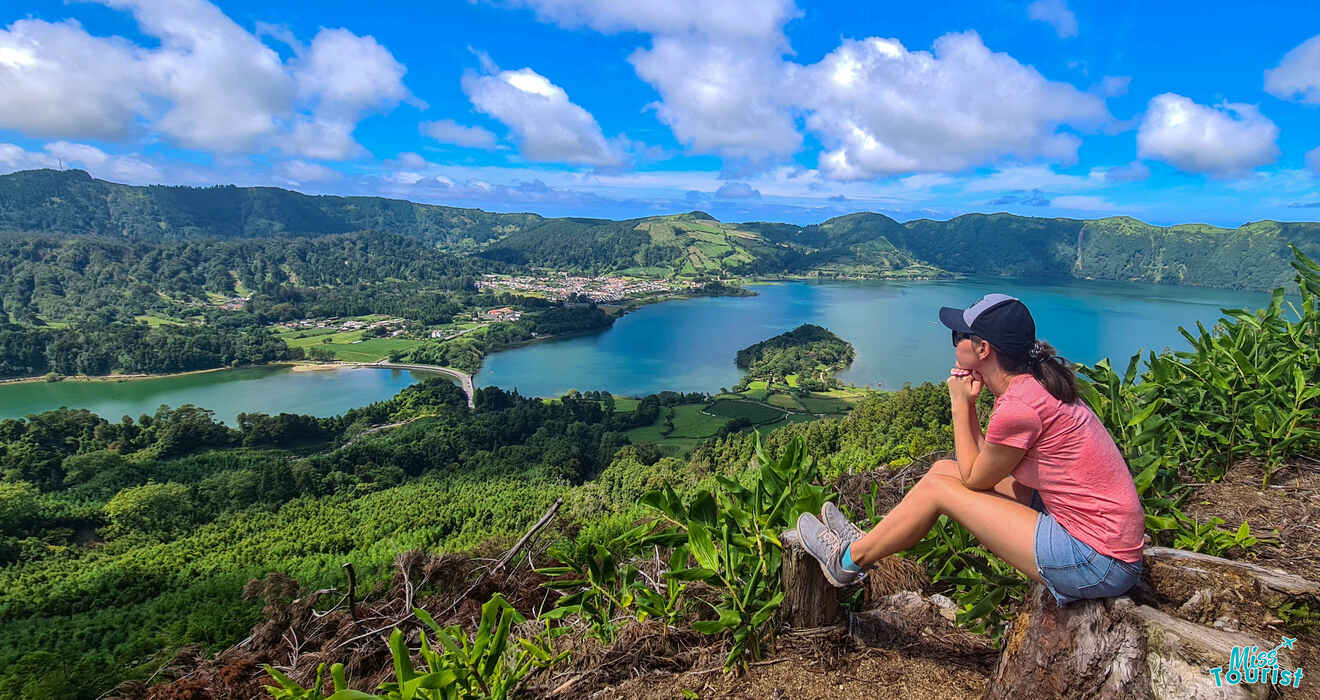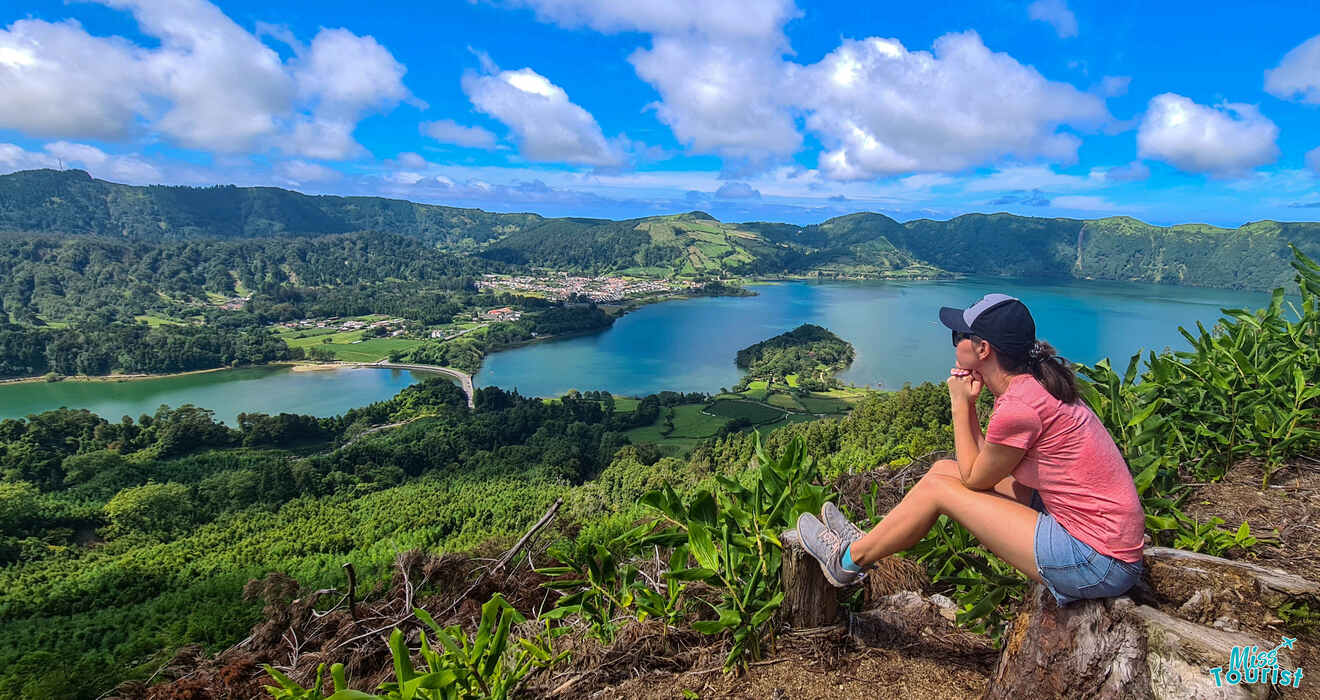 Ponta Delgada: The capital and gateway to the Azores with beautiful architecture and lively atmosphere.
Sete Cidades and Lagoa do Fogo: Stunning twin lakes located in the craters of dormant volcanoes.
Furnas: Known for its hot springs, botanical garden, and Cozido das Furnas, a meal cooked by the heat of volcanic steam.
Terceira Island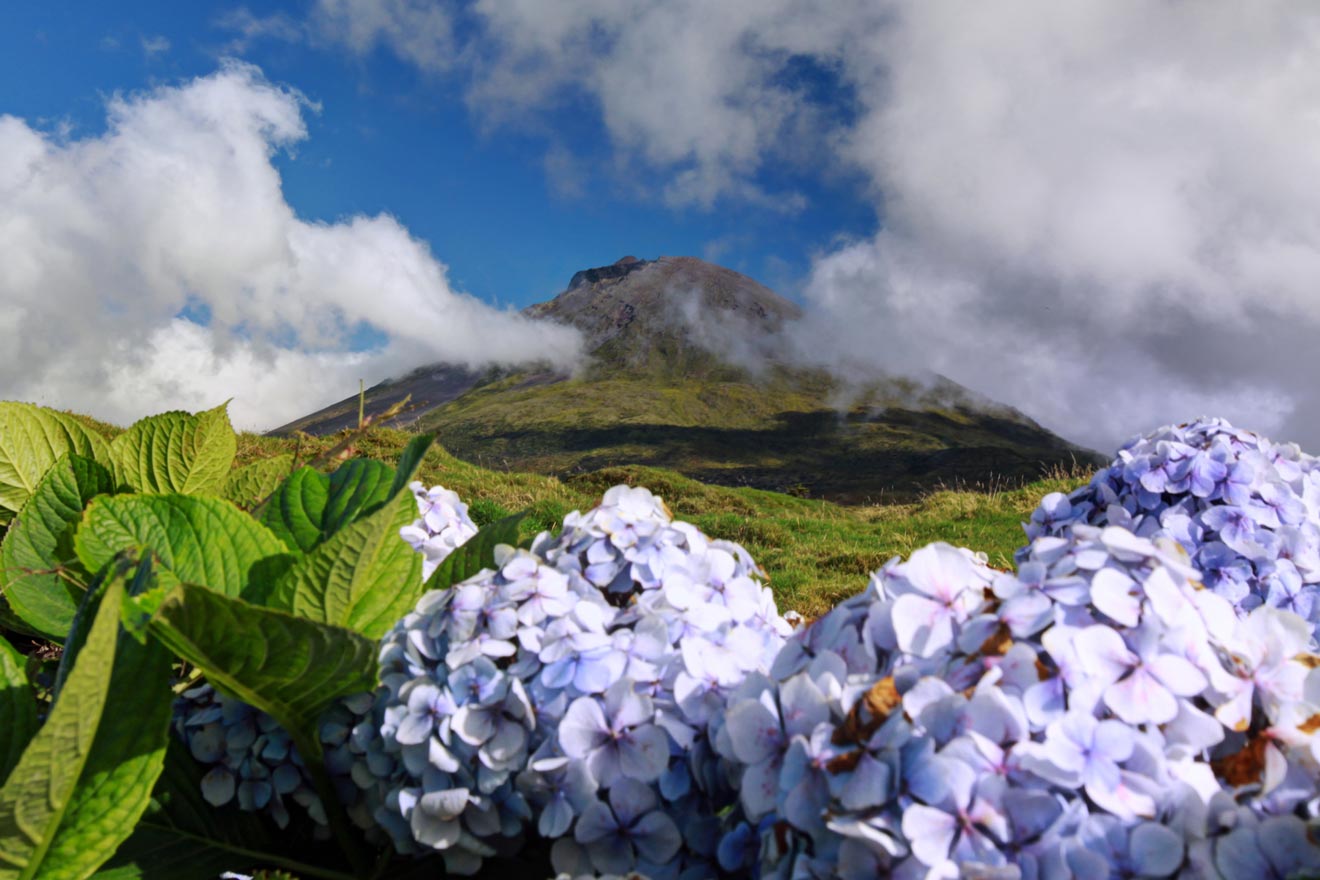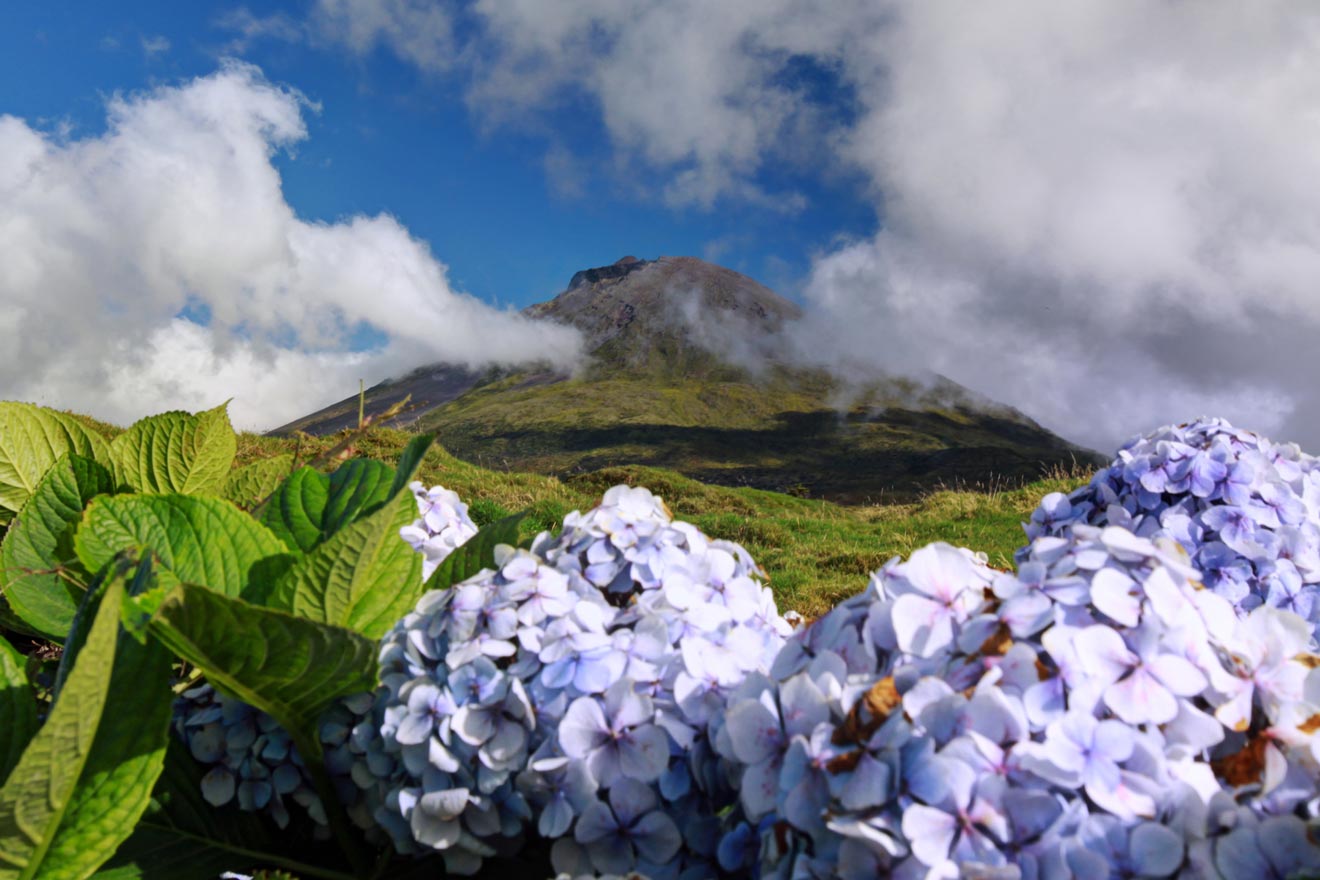 Angra do Heroismo: A UNESCO World Heritage site known for its historical buildings.
Algar do Carvao: An ancient lava tube that you can explore.
Serra de Santa Bárbara: The highest point on the island with panoramic views.
Faial Island
Horta: A charming town known for its marina filled with yachts crossing the Atlantic.
Capelinhos: A lunar-like landscape created by a volcanic eruption in the 1950s.
Caldeira: A huge crater at the center of the island offering beautiful hikes.
FAQs about renting a car in the Azores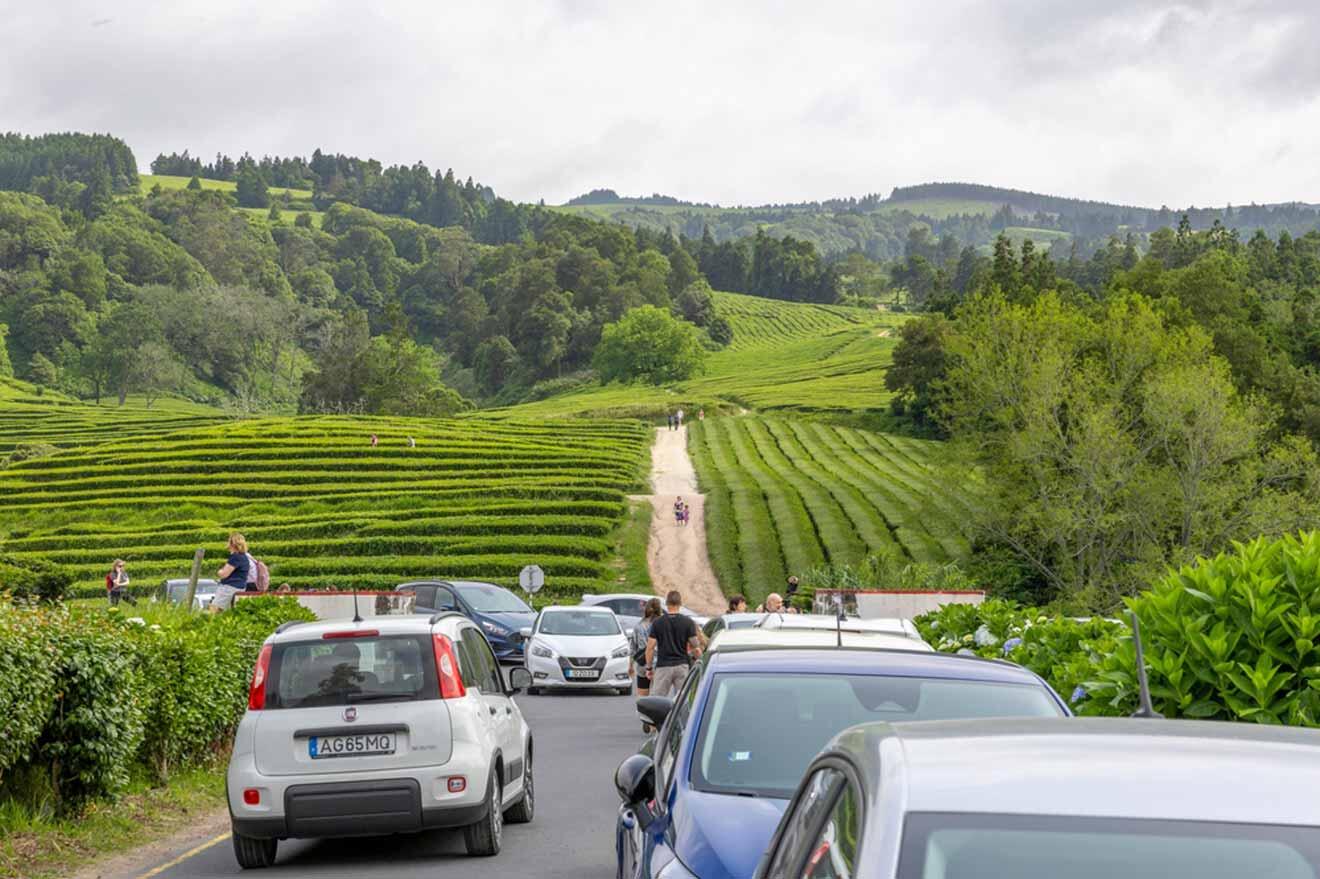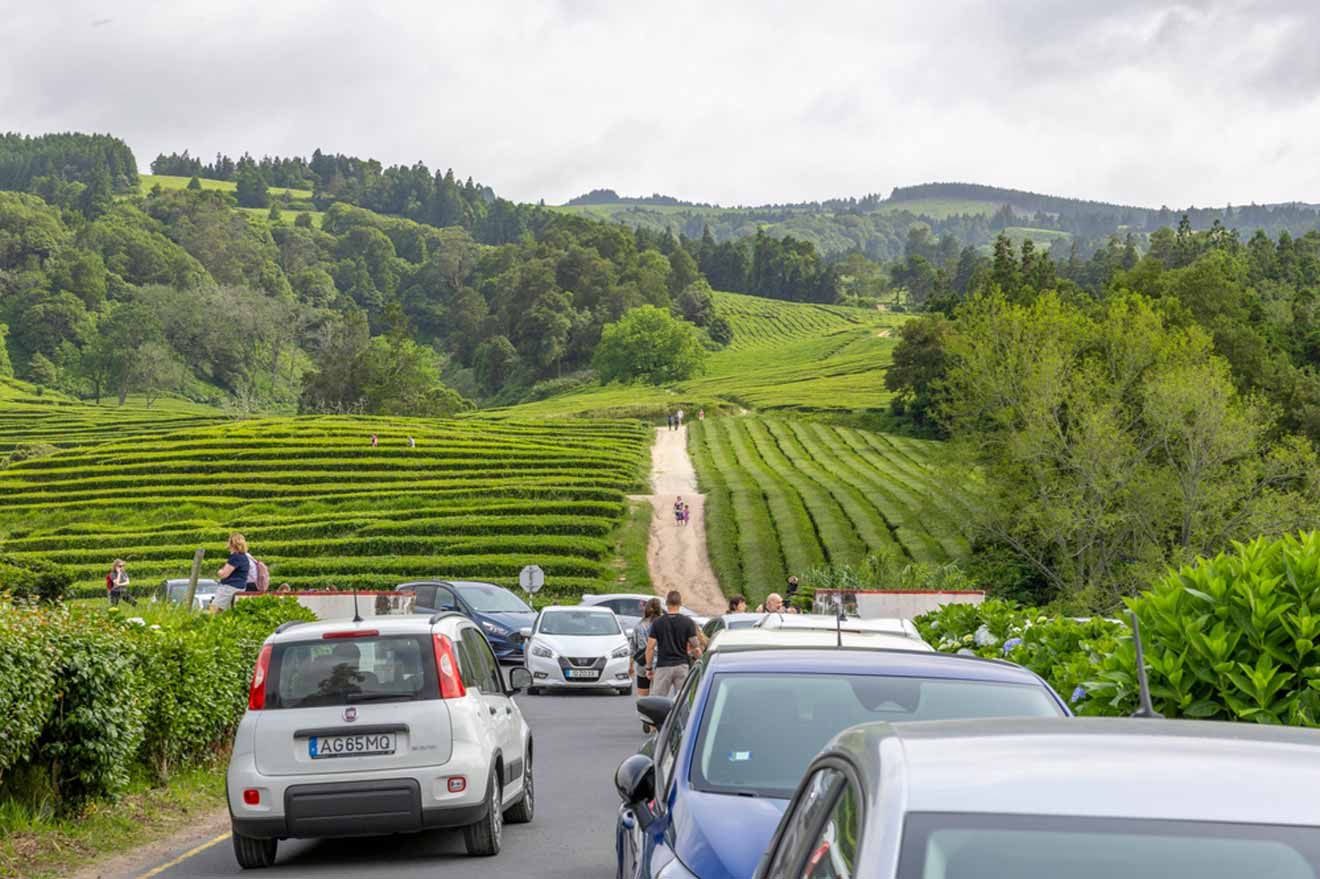 📑 Do I need an International driving permit to rent a car in the Azores?
It is rarely or never enforced, but yes, you are required to have an IDP (International Driving Permit) if you are from a non-EU country.
🚗 What are the best car rental companies in the Azores?
There are several reputable car rental companies in the Azores, including local agencies (like Ilha Verde) and international chains like Hertz, Avis, and Europcar. However, I highly recommend renting a car through resellers such as Rentalcars or DiscoverCars for the best conditions and to avoid any potential scams. 
💸 How much does it cost to rent a car in the Azores?
The cost of renting a car in the Azores greatly varies depending on the type of car and rental period but typically ranges from €20 to €100 per day.
👍 What type of car is best for driving in the Azores?
Compact cars are ideal for driving in the Azores, given the narrow roads, but an SUV might be preferable if you're planning to explore more rugged terrains.
🤔 Do I need to rent a car in the Azores?
Yes, renting a car in the Azores is essential for the best experience. The islands have amazing roads that are fun to navigate, and public transportation is sparse and not tourist-friendly.
🚙 Do you need an SUV to drive in the Azores? 
While an SUV can handle the Azores' varied terrains well, it is not strictly necessary; a compact car is usually sufficient for most visitors, especially if sticking to main roads and towns.
📅 When is the best time to visit the Azores? 
The best time to visit the Azores is typically between April and October when the weather is most favorable, and you can fully enjoy outdoor activities, but keep in mind that the islands have their unique charm in all seasons.
Conclusion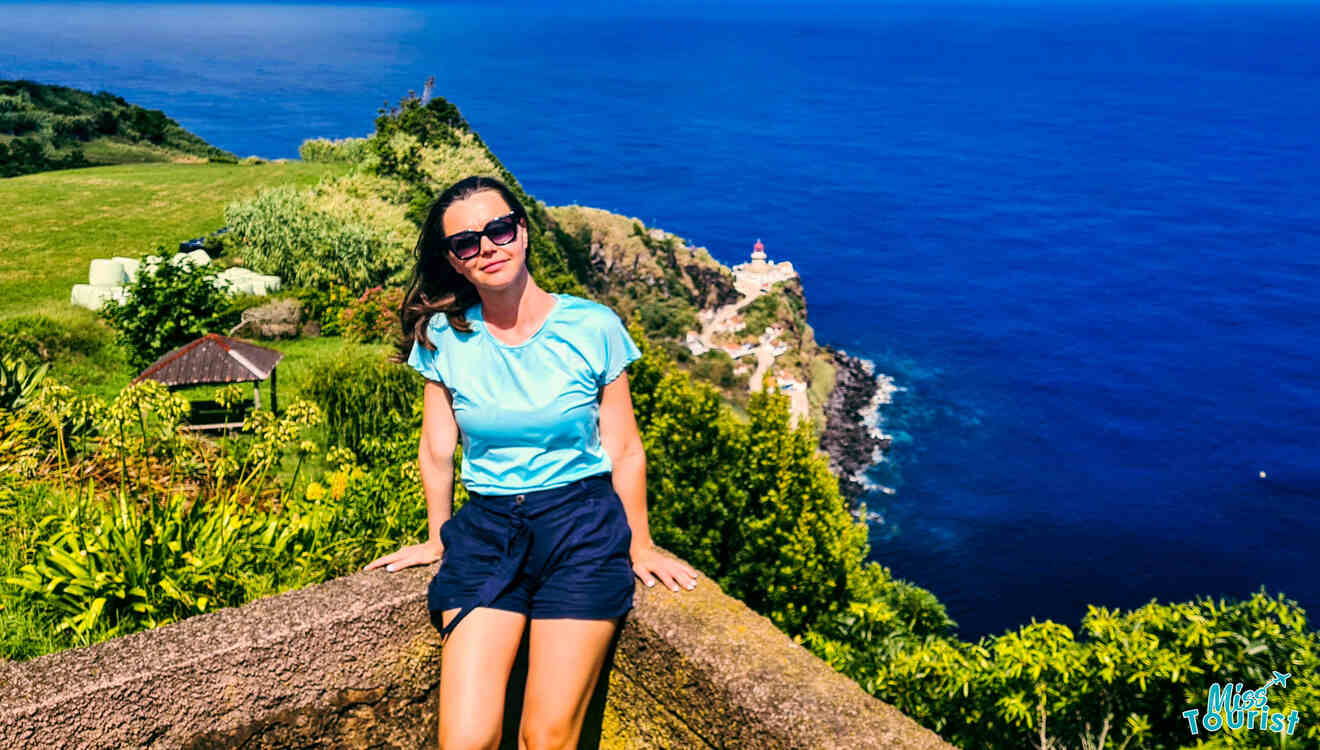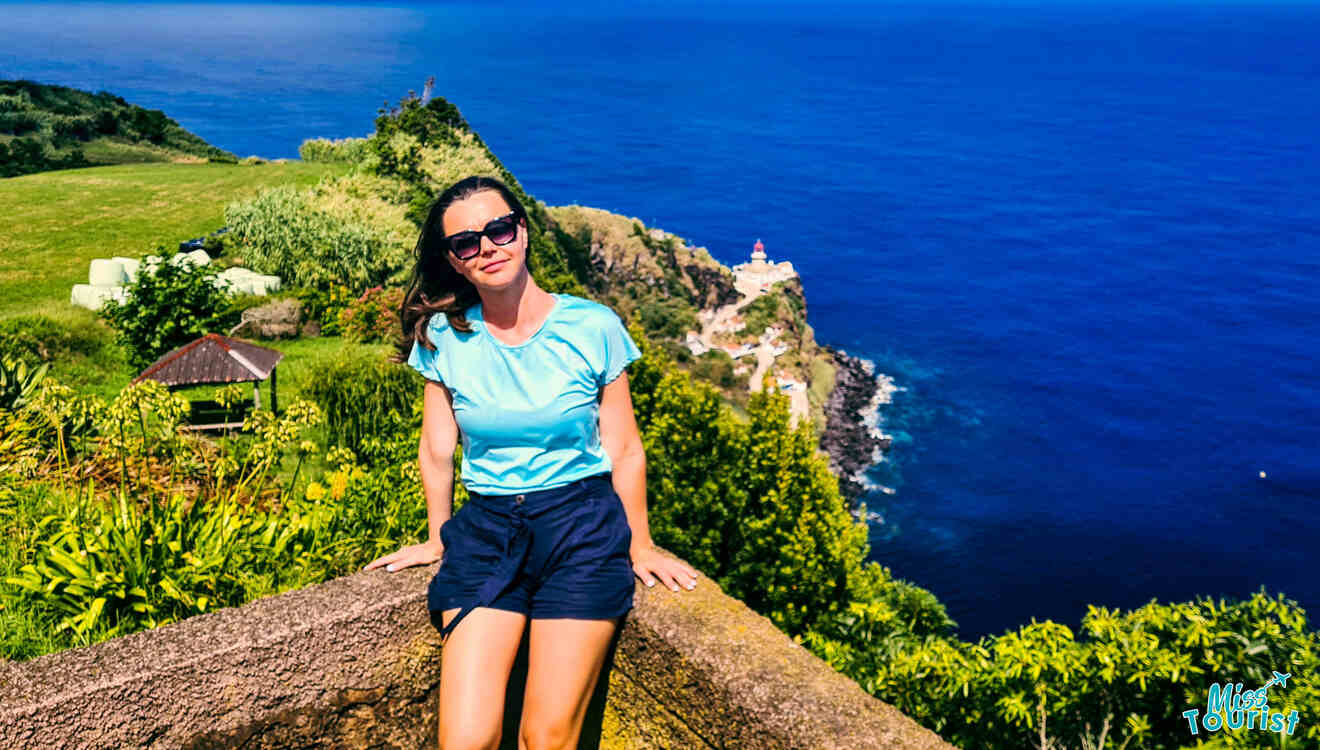 Well, there you have it – my best tips on renting a car in the Azores! It's a small place with big surprises, and having a car is like holding a golden ticket to explore it all.
I hope the information proves useful as you chart your own course through this breathtaking place.
So, whether it's choosing the right rental company, understanding the local driving rules, or knowing what to look out for when returning your car, you're now equipped with the knowledge to navigate it all! Just don't forget the most important – book your car well in advance because they rent out fast!
Safe travels, my friends. The Azores awaits, and I can't wait for you to discover all its wonders, just as I did. Enjoy every moment of your journey, and don't forget to drop me a line in the comments if you have any questions!
Yulia
---
Pin it for later!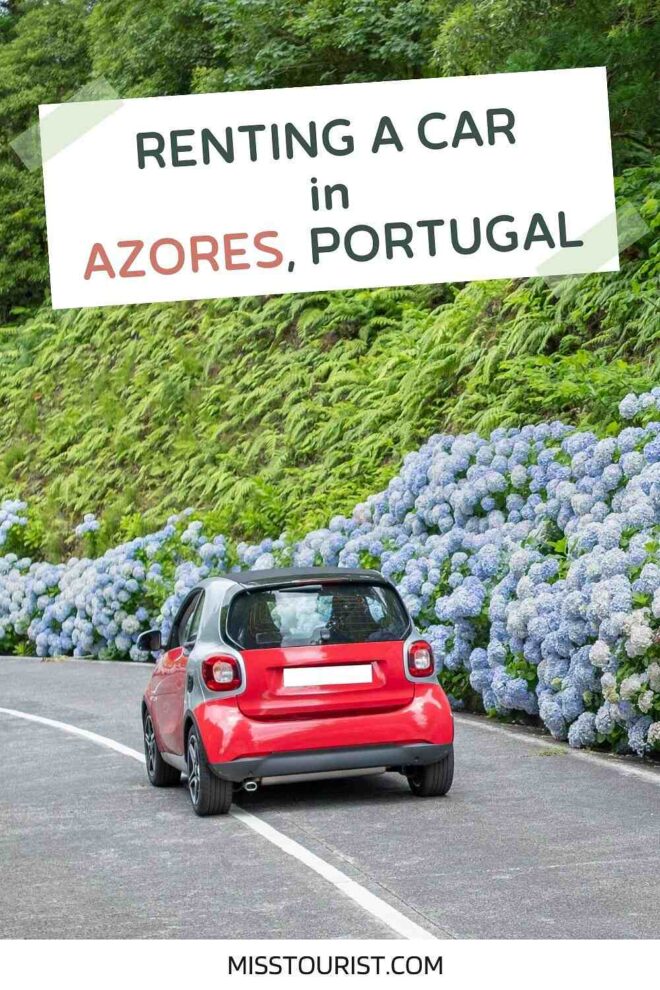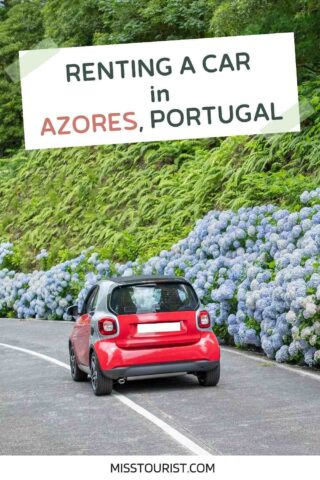 Pin it for later!