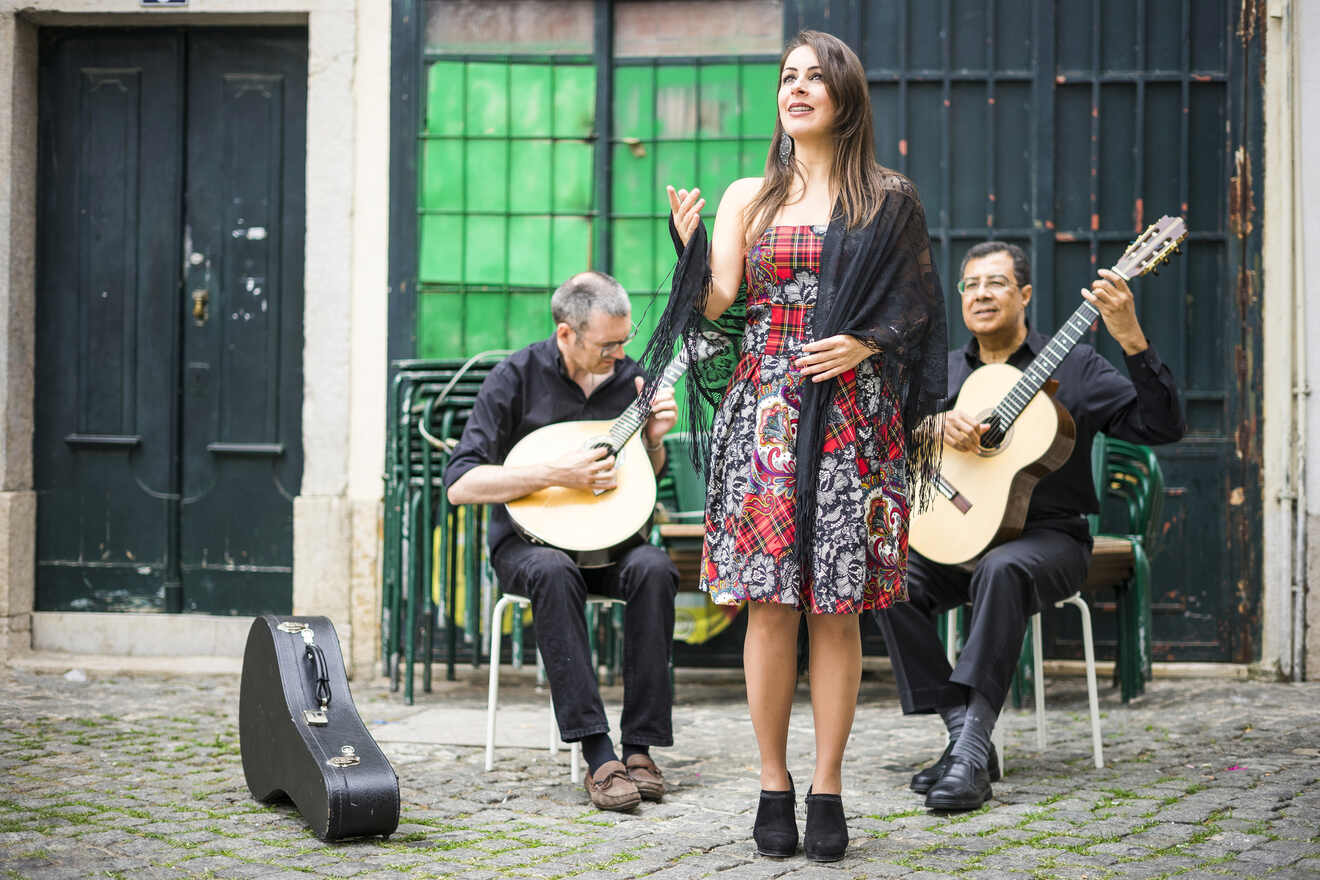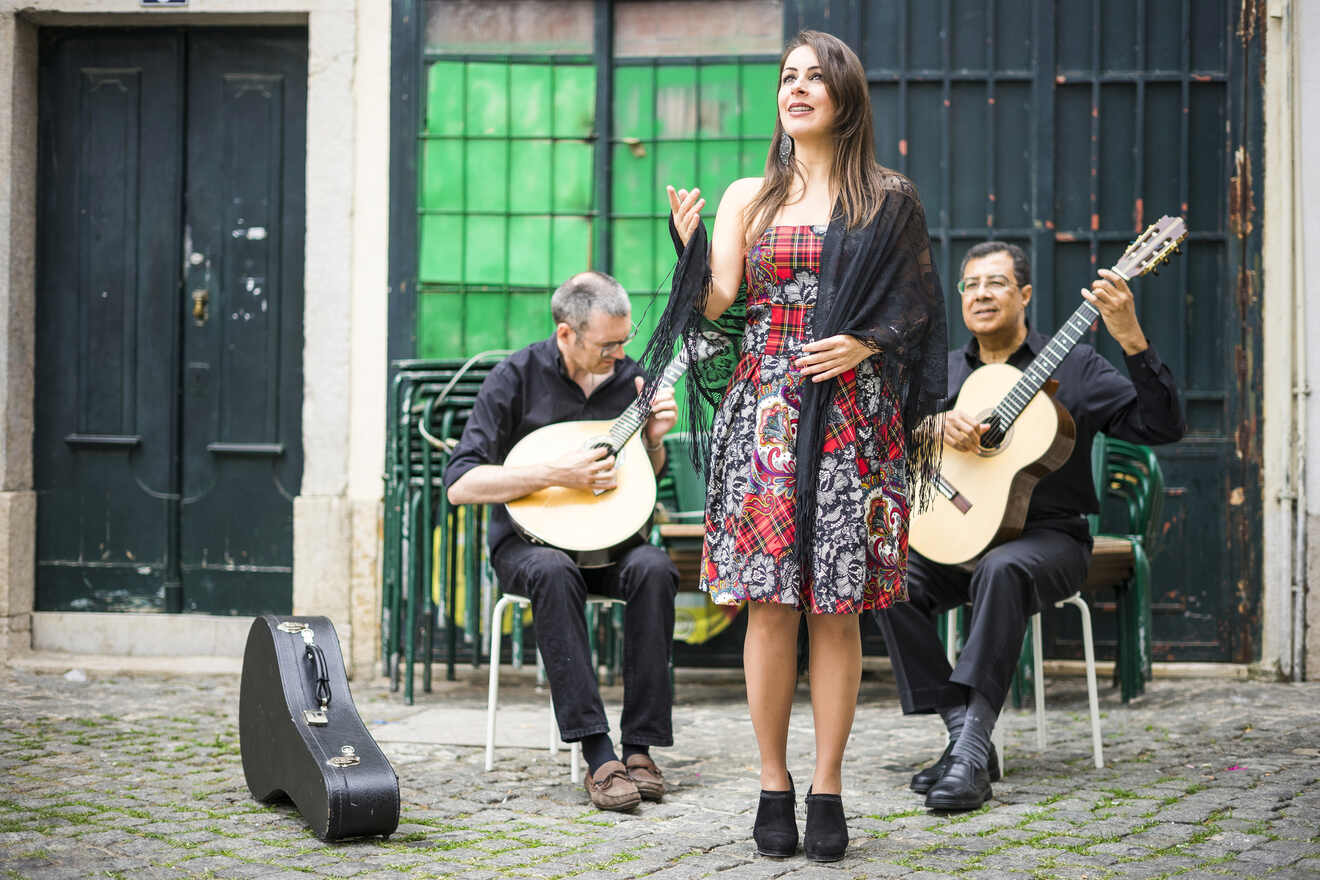 If you really want to experience Portuguese culture, you cannot leave the city without listening to some authentic Fado in Lisbon. This music genre is so special that it has been proclaimed part of the Intangible Cultural Heritage of Humanity by UNESCO!
I live in Lisbon, and I have attended numerous Fado shows – there are countless Casas de Fado which are restaurants where you can listen to the soulful voice of famous Fado singers while enjoying some traditional Portuguese dishes.
Most of Lisbon's Fado happens in the oldest and more traditional neighborhoods of the city like Alfama, Bairro Alto and Baixa. But there are so many that it can be super hard to choose which one to visit. To save you some time, I made this guide with the top places where you can experience Fado so you can easily find the best Fado in Lisbon for your tastes. I even added a bonus with a little history about Fado to get you in the mood!
NOTE: For most of these places you will need to make a reservation in advance to secure your spot.
Are you ready to attend the best Fado show of your life?
1. Lisboa em Fado – intimate atmosphere and Port wine
Lisboa em Fado is located in the heart of Downtown Lisboa, offering the perfect location to discover Portugal's soul.
This concert hall offers daily fado shows, showcasing local artists. The place is not too crowded, so the atmosphere is pretty intimate and relaxing.
What's unique about their fado show is that the artists do not use microphones. Therefore, you'll be able to hear pure and unique music sung by two fadistas (singers), one classic guitarist, and a Portuguese guitarist.
For the price of 19 euros, you can enjoy the show with a glass of fine-selected Port wine.
Price: 19€ for a ticket to the show and a glass of Port wine
Location: R. do Crucifixo 84 Baixa
2. Mesa de Frades – with a unique Fado ambiance
If you are looking for something fancy without being overwhelmed by the tourist crowds, you will love this Fado restaurant which is very well-known and loved by Portuguese locals.
And once there you will understand why, Mesa de Frades is located in an 18th-century former chapel, so you will see parts of the old walls filled with ceramic tiles while listening to renowned Fado singers like Ricardo Ribeiro, Ana Sofia Varela or Pedro Moutinho live.
You will pay around 50-60 euros for a 3-course dinner and the concert. The dinner starts at 8 pm and the actual concert at 11 pm, lasting for 3 hours with a break every 3 or 4 songs.
PRO TIP: You need to knock/ring the bell to be let into this initiate restaurant!
NOTE: You can also come at 11 pm just for a show and drinks, but since the place is small and there are limited tables, you might have to wait until people leave, so taking the combo dinner + show might be the best option!
Price: 50-60€ for 3-course dinner & concert
Location: R. dos Remédios 139
3. Senhor Vinho – the finest Portuguese cuisine
This Fado restaurant offers some of the finest traditional dishes accompanied by an amazing wine list (Senhor Vinho actually means "Mr. Wine")!
Prices are a little high in Senhor Vinho (about 50 euros for a dinner excluding wine), but its definitely worth it! Here you'll try delicious food like lamb stew or monkfish cooked the "Sr. Vinho's way", sublime desserts, and the best wines.
And what about the Fado singing? Well, it only gets better! The restaurant hosts incredible, well-known artists like Maria da Fe, Aldina Duarte, Francisco Salvacao Barreto, and Joana Amendoeira.
PRO TIP: Senhor Vinho is particularly geared towards groups, so it gets booked quite fast. If you want to find a spot, make sure you book it in advance!
Price: 50€ for 3-course dinner & concert
Location: R. do Meio à Lapa 18
4. Tasca do Chico – best Fado for those on a budget
If you love the combo cheap and traditional, this Fado house is definitely what you're looking for. Offering traditional "petiscos" (small bites, like the Spanish tapas), there are many must try dishes here including the chouriço assado: flame-grilled pork sausage served on a clay dish with rustic bread.
But the food is not the main attraction in Tasca do Chico! This tiny bar/restaurant offers incredible Fado shows from well-known singers like Jorge Fernando, Ana Moura, Pedro Moutinho, and Angelo Freire.
PRO TIP: I suggest you come here on Mondays and Wednesdays for Fado Vadio nights when the Portuguese locals and amateurs take the stage… They are the best shows!
NOTE: There are two locations of Tasca do Chico, one in the bustling Bairro Alto and the other in the traditional Alfama district, attracting both locals and tourists.
Price: À la cart menu (€€) with complimentary concert
Location: R. do Diário de Notícias 39, Bairro Alto or 451, R. dos Remédios 83, Alfama
5. Adega Machado – an intimate and charming restaurant 
Located in Bairro Alto (one of the best areas to stay in Lisbon) since its opening in 1937, this antique high-end restaurant is perfect if you want to have a unique experience far from the crowds.
Adega Machado offers an intimate and charming setting with antique furniture and traditional tile work, which will make you travel back in time!
Today this Fado restaurant offers incredible traditional Portuguese cuisine (expect to spend at around 50 euros per person for a dinner) and hosts resident singers like Marco Rodrigues, Joana Veiga, and Isabel Noronha… You won't see a bad show here!
Concerts are usually from 5 pm – 6 pm, the perfect time for families who want to experience this passionate historic music!
Price: 50€ for 6 course dinner & concert
Location: R. do Norte 91
6. Clube de Fado – the best Fado artists in Lisbon
Set in a historic building right next to Sé de Lisboa, this Fado club is one of the best restaurants in Lisbon to hear professional Fado, attracting Portugal's most celebrated fadistas such as Cuca Roseta, Rodrigo Costa Félix and Maria Ana Bobon.
In this charming restaurant in Barrio de Alfama, you'll dine surrounded by stone columns, portraits of the performers, and photographs of VIP guests shaking hands with the owner.
You can imagine that Clube de Fado is pricier than the average restaurants in Portugal, but the service performances and food you get are definitely worth it. Don't leave the place without trying the famous bacalhau!
NOTE: If you want to attend a Fado show here, you can book on the website. Time slots are from 7:30 pm to 11:30 pm.
Price: À la cart menu (€€€) with complimentary concert
Location: R. de São João da Praça 94
7. Museu do Fado (Fado Museum) – best place to learn about Fado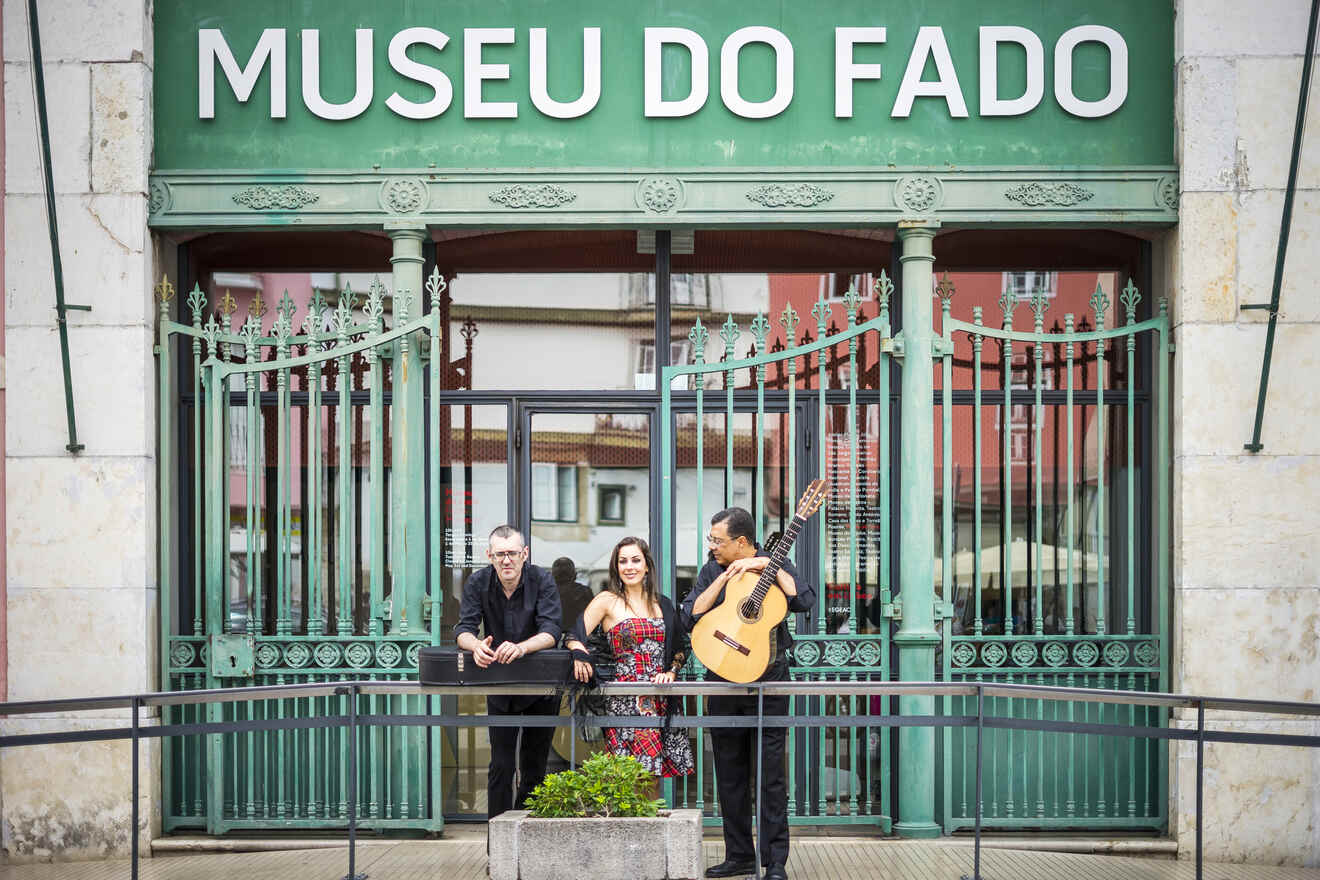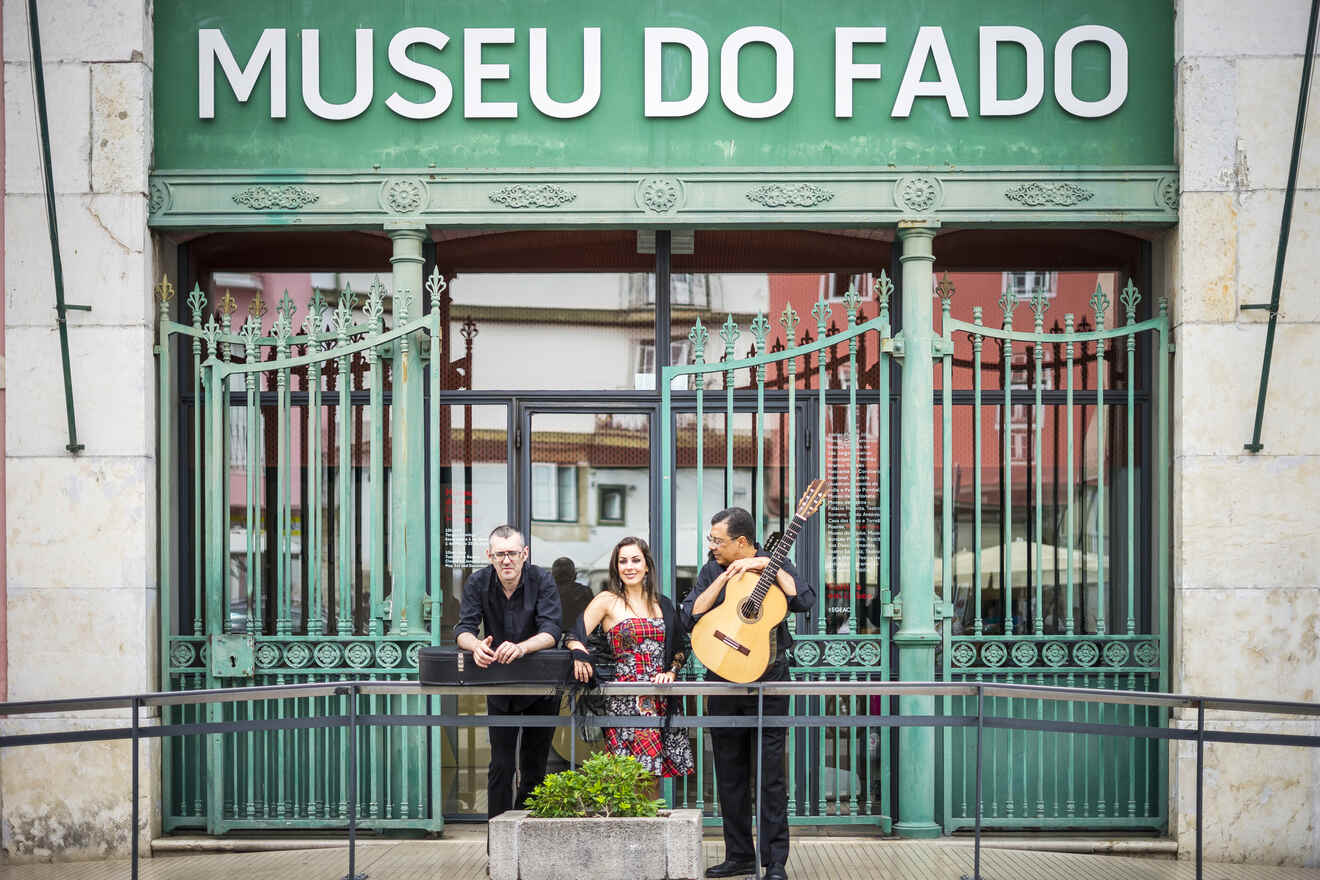 If you want to get a good overall perspective on Fado music tradition right before seeing it live, the Fado museum is the perfect place. This museum also hosts a cafe with amazing Fado concerts where you can enjoy a drink and small bites, located right in the front yard of the Alfama neighborhood.
Before you enjoy the Fado show, you can learn about the musical aspect of the Fado and see paintings, displays, media, and other cultural expressions as means to understand this ancient phenomenon in the museum.
The museum is aimed at the general public and not at a more specialized crowd, so anyone can understand it! The museum is open from Tuesday to Sunday, from 10 am to 6 pm and you can check the concert schedule here.
PRO TIP: Visit the museum with an audio guide as the exhibits show numbers that connect with sound and voice explanations, so you can decide what to focus on during the visit.
This is definitely one of the top things to do in Lisbon, check out this post to see the other ones!

NOTE: Most of the Fado concerts are free but you must reserve a ticket in advance.
Price: 5€ museum entry, concerts free
Location: Alfama, Largo do Chafariz de Dentro 1
8. Fado na Morgadinha – most authentic Fado place in Lisbon
Fado na Morgadinha is a small cute Fado restaurant, hidden in the historic and famous Alfama district. You will love it because it is very authentic, not the typical tourist trap, offering a lovely terrace where you can enjoy good food and even better Fado music.
Here the food consists mainly of tapas-style dishes (petiscos), from excellent Portuguese sausage to cheese plates, Portuguese chicken casserole, and codfish… and don't forget to end your meal with the Ginjinha liquor, super typical of the area!
And the best thing is that you'll get all this at very reasonable prices… What else can you ask for?
Price: À la cart menu (€) with complimentary concert
Location: Largo Peneireiro 5
9. Café Luso – one of Lisbon's oldest Fado houses
Located in a historic horse stable in Bairro Alto, Café Luso will make you travel back in time as soon as you step inside thanks to the old cellars and stables of the former building which are featured throughout.
In fact, this Fado house is one of the most prestigious and impressive restaurants in Lisbon, having hosted performances of the renowned Amália Rodrigues (the most famous Fado singer), among other great names.
Another plus of the place is that the vaulted ceiling provides unique acoustics, so you'll be able to enjoy this incredible music even more!
Talking about that, shows in Cafe Luso run from 8 p.m. until 2 a.m. every night with breaks, so you can take the occasion to order one of the delicious national wines offered!
Price: À la cart menu (€€€) with complimentary concert
Location: Travessa da Queimada 10
10. Casa de Linhares – elegant award-wining restaurant
Located in the authentic Bairro de Alfama, in what was once the residence of the Counts of Linhares, this elegant Fado house not only hosts some of the city's best singers but also a Michelin restaurant with awarding-winning chefs!
Here you'll be able to try traditional cuisine with a fancy touch. A must-try is definitely the delicious Bacalhau de Molho, a traditional cod fish dish garnished with potato and garden vegetables… you'll fall in love!
Among the well-known performers singing at Casa de Linhares there are Jorge Fernando, Vânia Duarte, Celeste Rodrigues, Silvana Peres, and many more, accompanied by young guitarists like Bruno Chaveiro and André Dias… they won't let you down!
Price: À la cart menu (€€€) + 15€ tax for the Fado show
Location: Beco dos Armazéns do Linho 2
11. A Severa in Bairro Alto – for a romantic date
Located in Bairro Alto, this historic Fado restaurant opened in 1955 and has been owned by the same family since that time. The owners gave Casa da Severa this name from the famous young Fado singer Maria Severa, who lived in Lisbon during the 1800s.
With its dark wood furnishings, azulejos panels, wood-beamed ceiling, and intimate space, A Severa is one of the best restaurants in Lisbon to have a romantic candlelit dinner with melancholic Fado music in the background!
In fact, despite becoming very famous over the years, and attracting VIP guests like US President Richard Nixon in the 1970s, the restaurant maintains a low profile and discrete atmosphere, which makes Casa de Severa a very special place.
Price: À la cart menu (€€) with complimentary concert
Location: R. das Gáveas 51
Bonus: A bit of history of Fado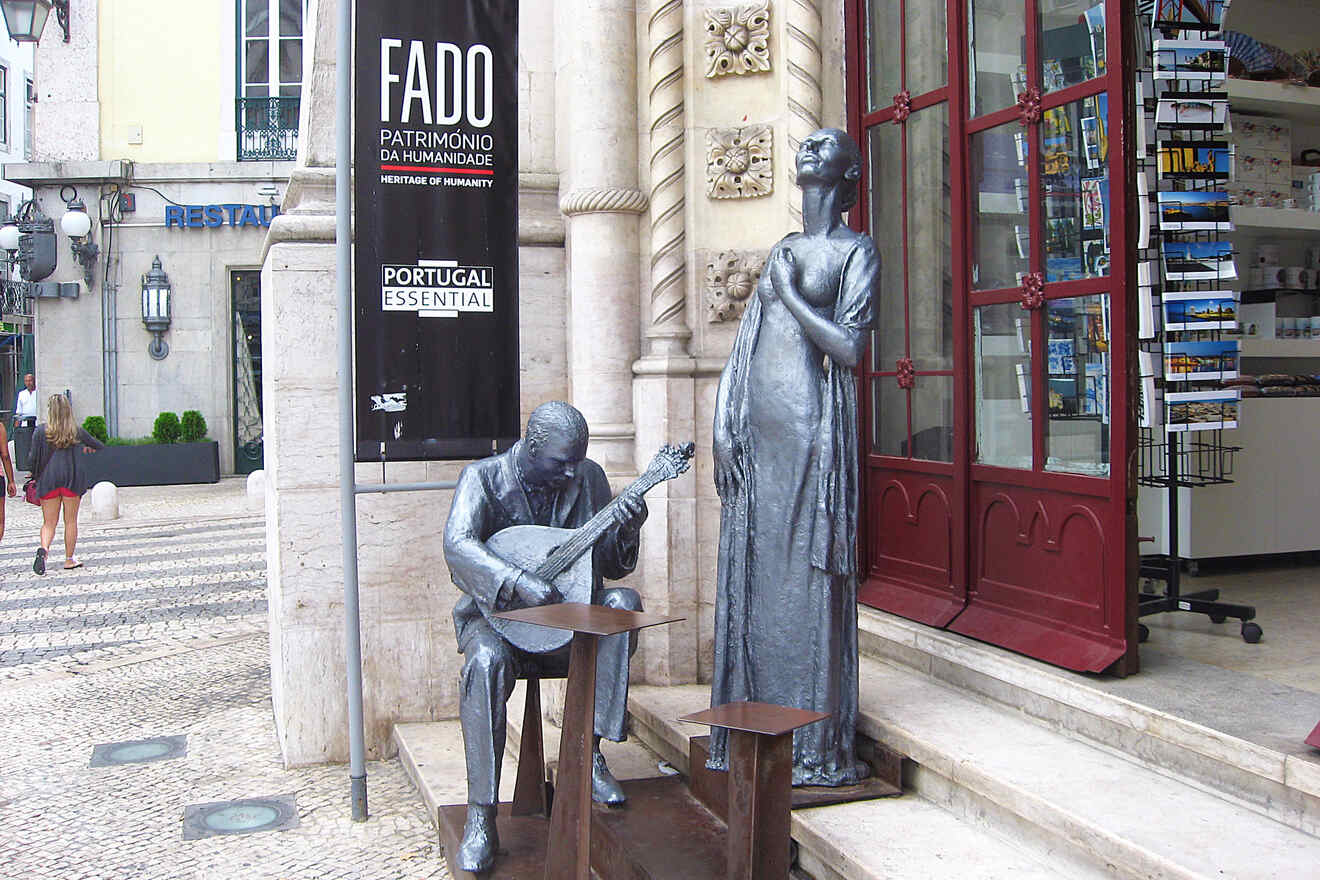 Fado is a Portuguese traditional music style characterized by melancholic and nostalgic sounds, played in the Lisbon neighborhoods of Bairro Alto or Alfama, from where its roots come. A Fado show consists of a solo singer accompanied by a classical Portuguese guitar.
Fado songs are connected to the feeling of "saudade", a state of nostalgia and yearning for someone or something in the past, so most of the lyrics are about broken hearts and lost sailors.
One of Lisbon's most famous Fado singers was Amália Rodrigues ("a Rainha do Fado"), who began her career in a typical Fado house and took Fado outside of Portuguese borders, but there are still many incredible artists playing in Lisbon!
Nowadays, in Lisbon, you can listen to Fado every night in the typical Fado houses (restaurants serving traditional food) of the areas, many of them with dinner included.
If you want to know more about Fado music, I suggest you visit the Fado Museum in Alfama, and in the meantime, listen to this Spotify playlist to get in the mood!
FAQs about Fado in Lisbon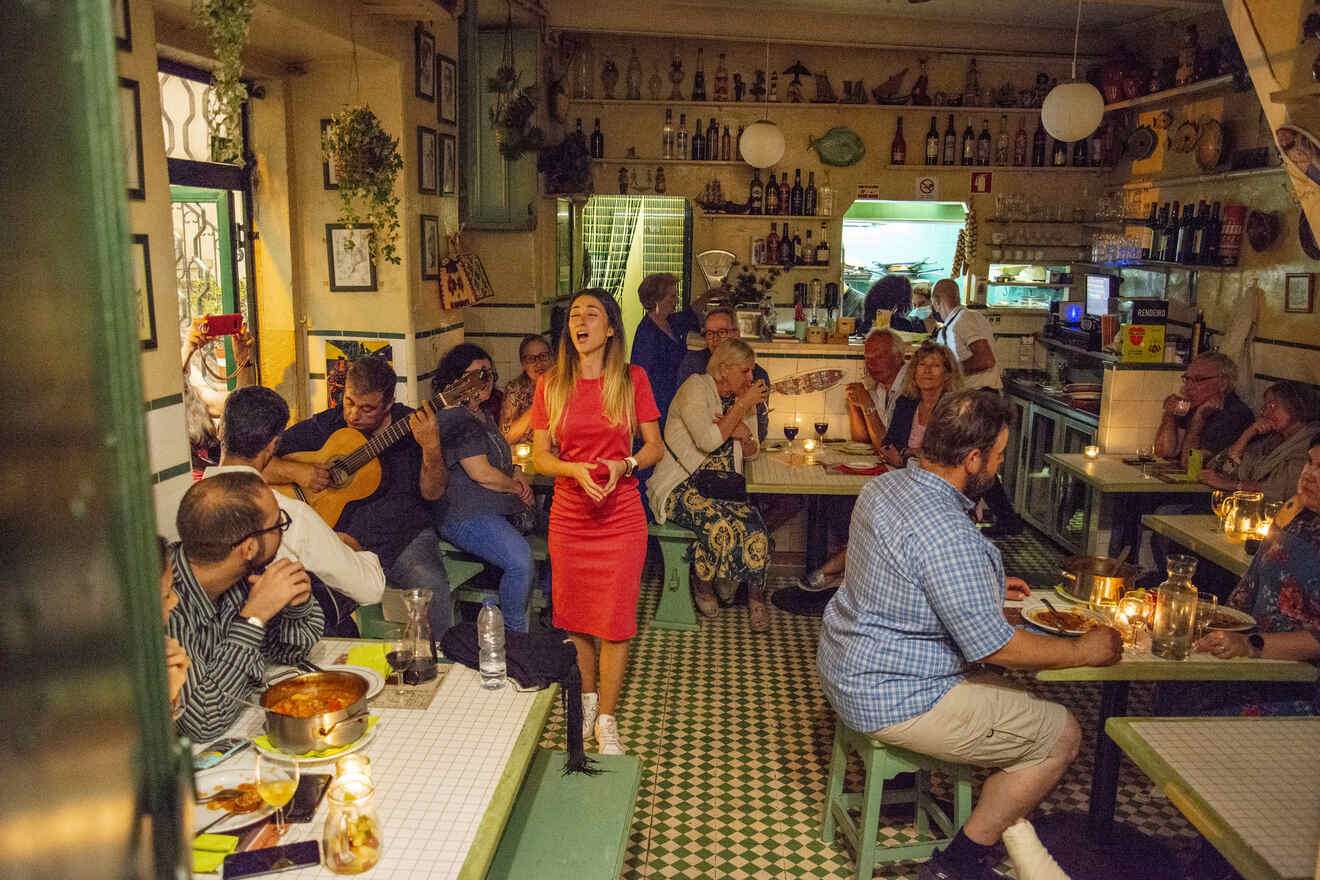 ❓What is Fado?
Fado is a typical Portuguese music genre played in small bars of the Bairro Alto and Alfama districts of Lisbon. A Fado performance consists of a solo artist singing melancholic music, accompanied by a classical Portuguese guitar.
🍽️ Which are the best Fado restaurants in Lisbon? 
The best Fado restaurants in Lisbon, also called Fado houses, are Casa de Linhares, the former residence of the Counts of Linhares or Tasca do Chico, for the best Fado Vadio nights!
🎤 Where can I see the best Fado singers perform?
🕗 What time does Fado start in Lisbon?
In Lisbon, Fado starts around 8 p.m., but it depends on the Fado restaurant. Some of them start later in the night. While you wait, you can order a drink or some petiscos (small bites of traditional Portuguese dishes). 
Conclusion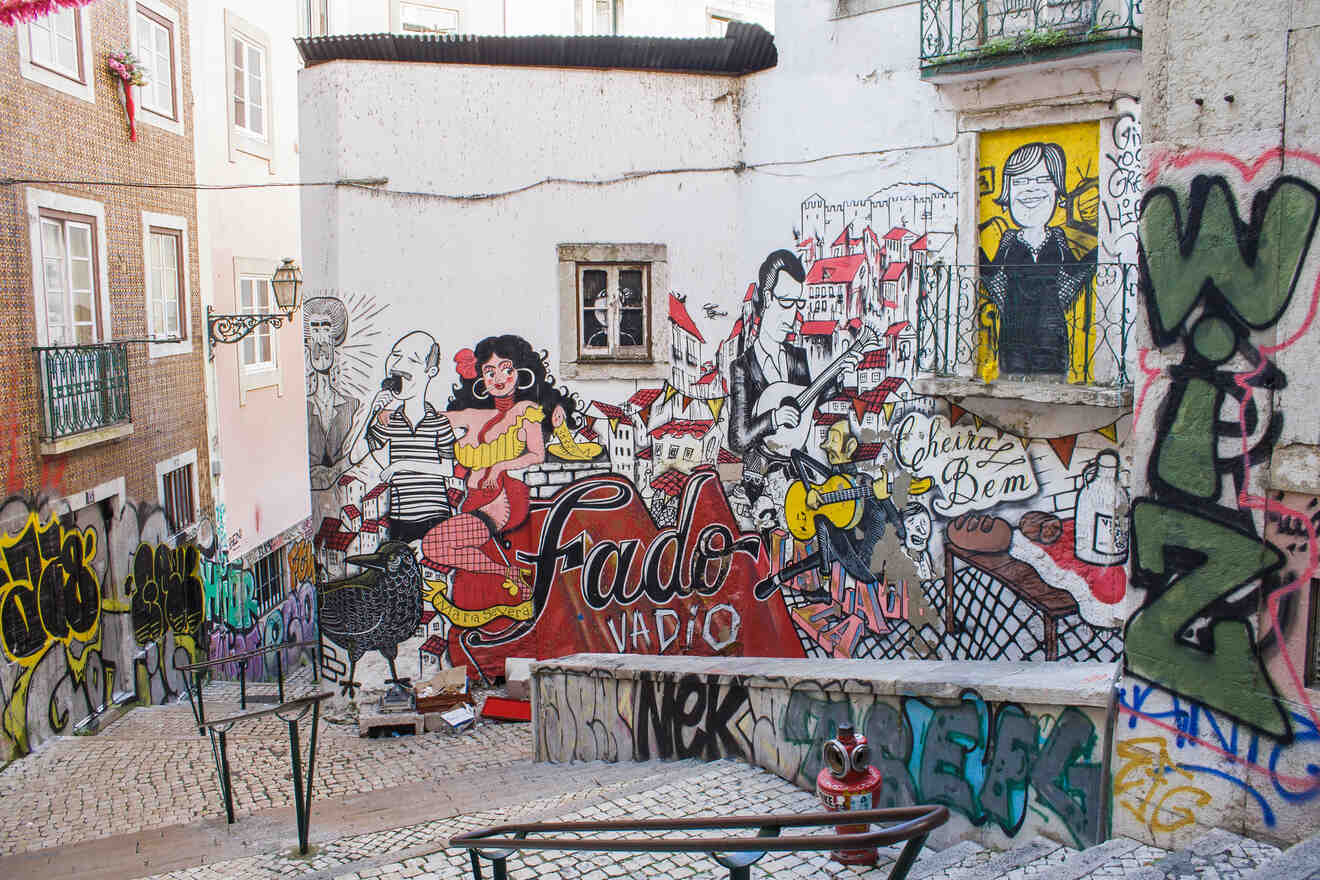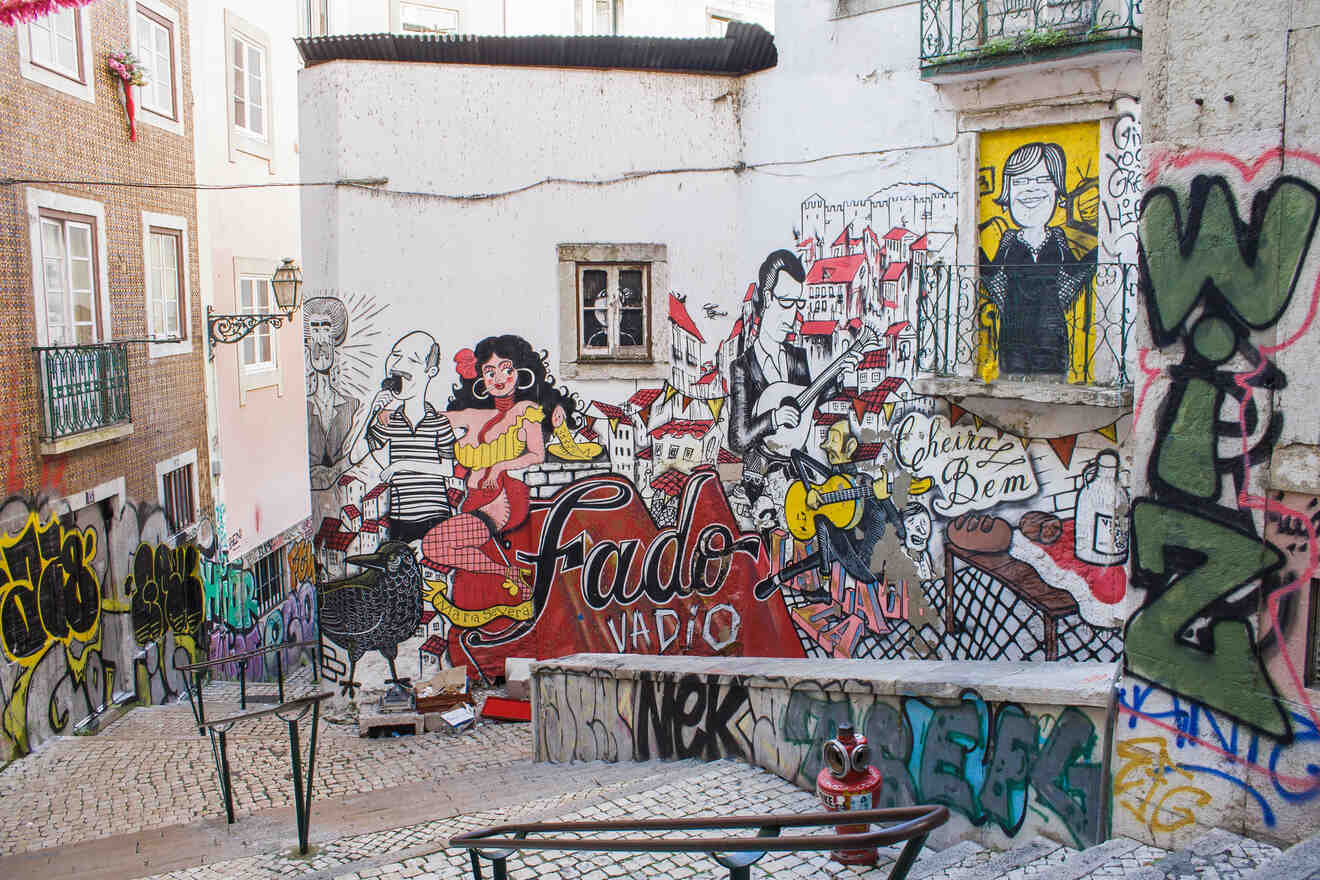 Here we are at the end of this cool guide with the best Fado houses (restaurants) in Lisbon, where you can experience one of the most typical and ancient traditions in Portugal.
We saw Fado restaurants for any taste, so you can go to a different one every night of your stay in the capital… but you cannot leave Lisbon without trying at least one!
I am sure you will enjoy the experience, and if you still have any questions for me or you want to share your experience in a Fado house in Lisbon, please do so in the comments below!
Have a lot of fun!
Elena
---
Pin it for later!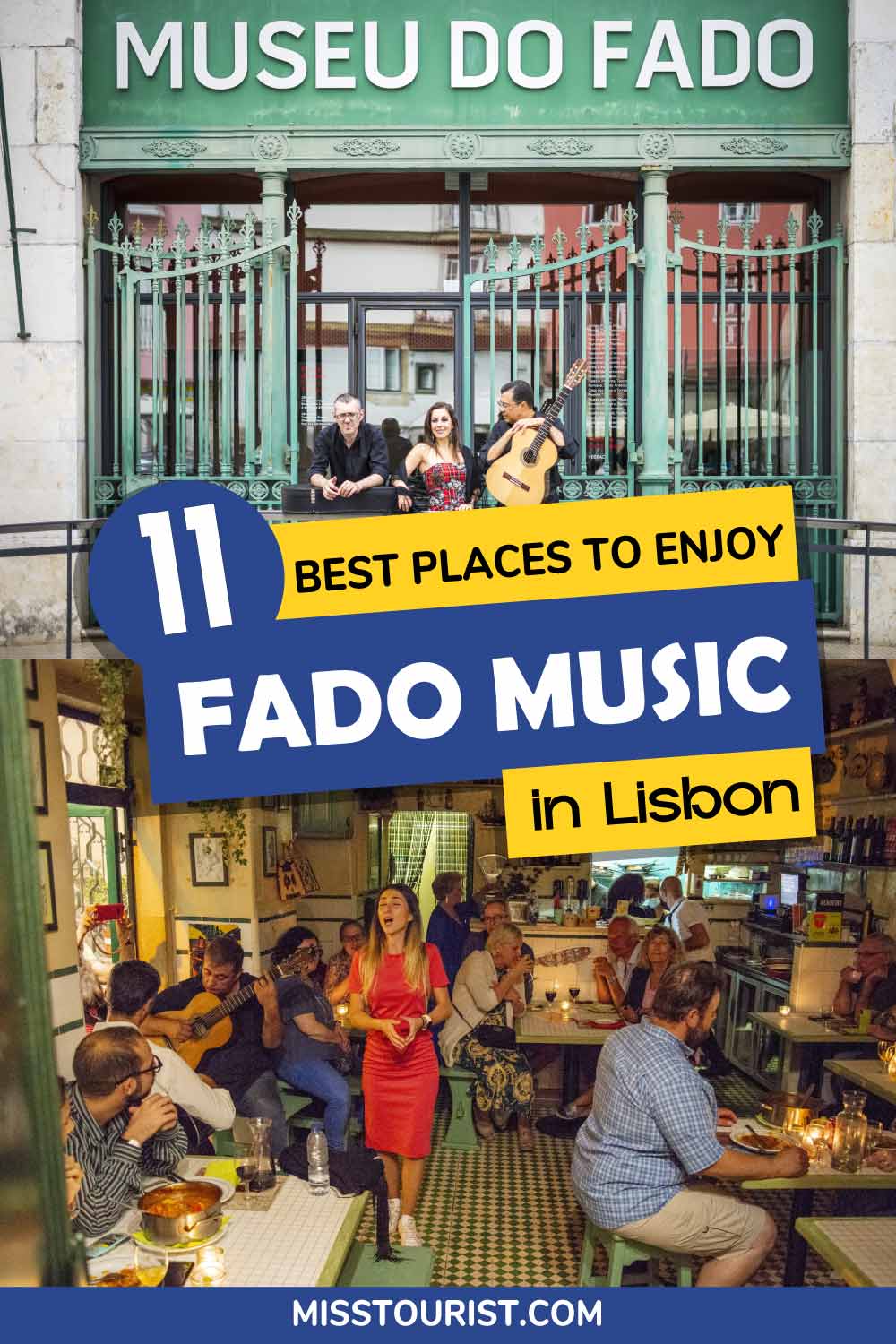 Pin it for later!