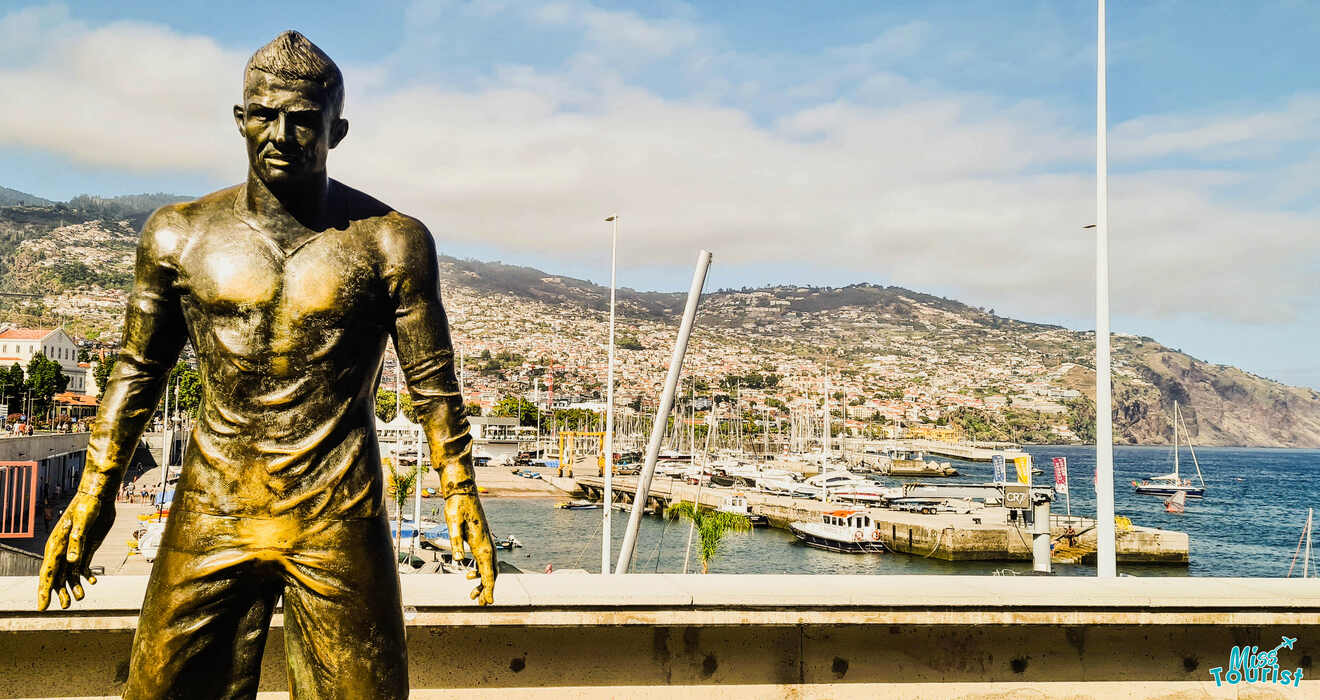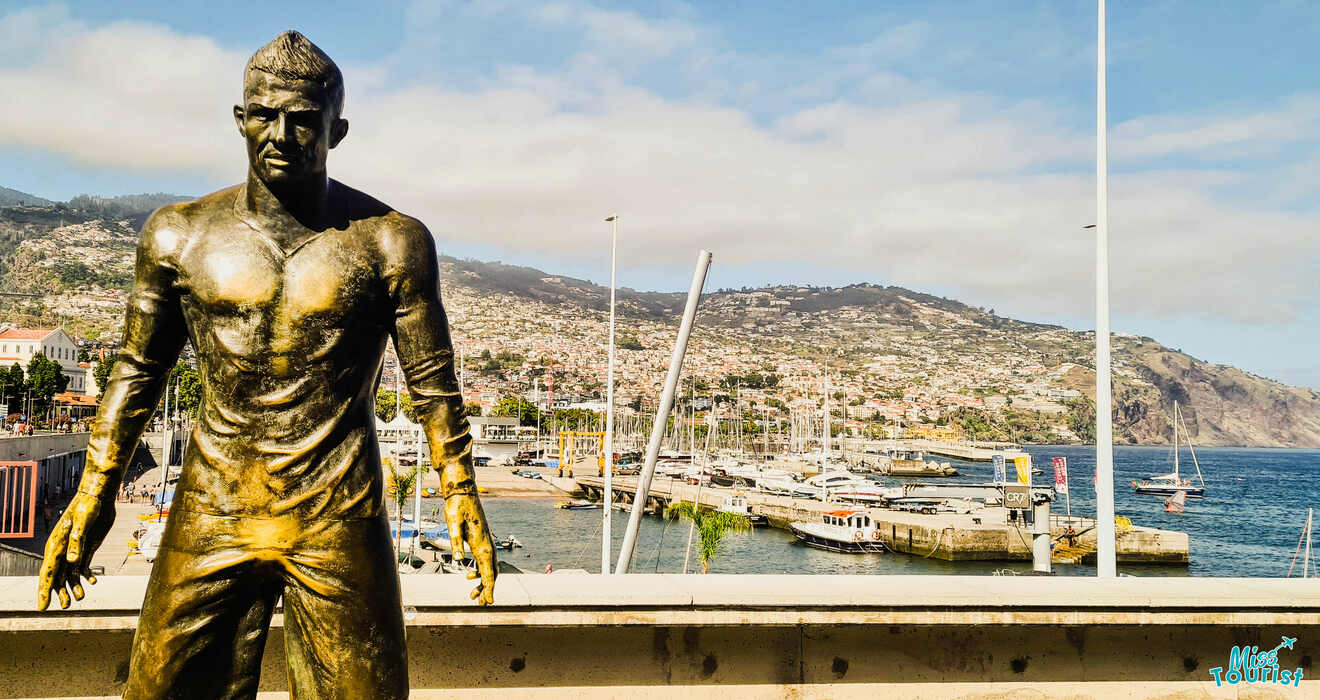 Funchal is the capital city of Madeira Island and where half of the Madeira population lives. This may be for many reasons but I can tell you that because it is situated on the south coast of the island, the weather there is way better than in the north!
Plus, Madeira is also home to many historical sites, interesting museums, and delicious restaurants, and the best activities are concentrated here, so there really isn't a better place to start your adventure.
I was lucky enough to visit recently, so I decided to write this guide to show you all the unmissable things to do in Funchal, Madeira, including visiting an exotic botanical garden, taking the Funchal Cable car for the best views, having a walking tour and much more, there's something for any taste here!
Apart from all the amazing Funchal attractions, I also included some practical information for you such as good hotels for your stay (for any budget) and how to get around the island, so you have everything ready… You just need to start reading!
Let's jump right in!
If you are in a hurry
Here are the best tours to book right now in Funchal, Madeira, if you don't have the time to read the whole post:
Here are the main things to book in advance:
And here are the best hotels in Funchal, Madeira: Belmond Reid's Palace (Luxury), Golden Residence Hotel (Mid-range), Santa Maria Hostel (Budget)
1. Take the Funchal cable car to the Botanical Gardens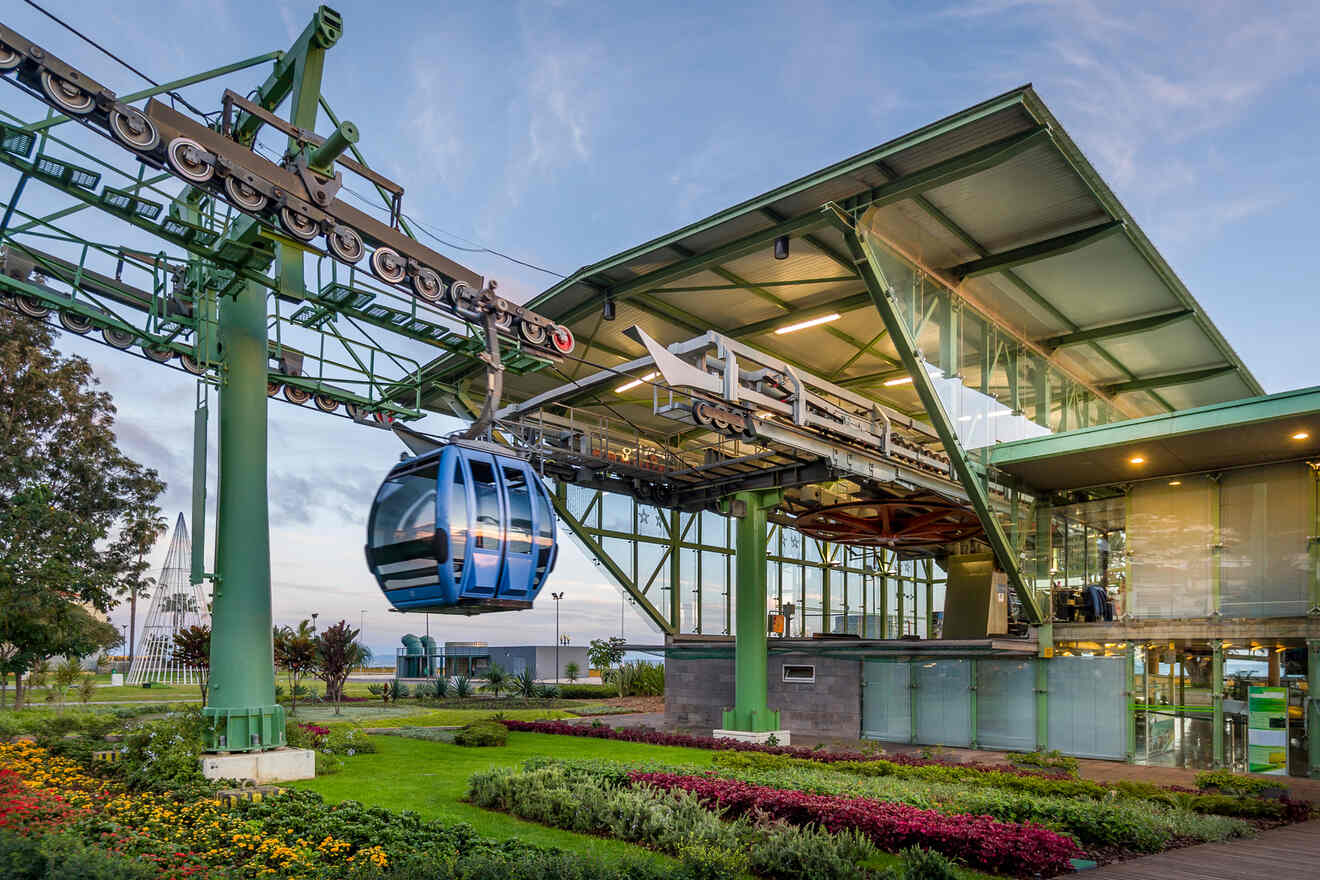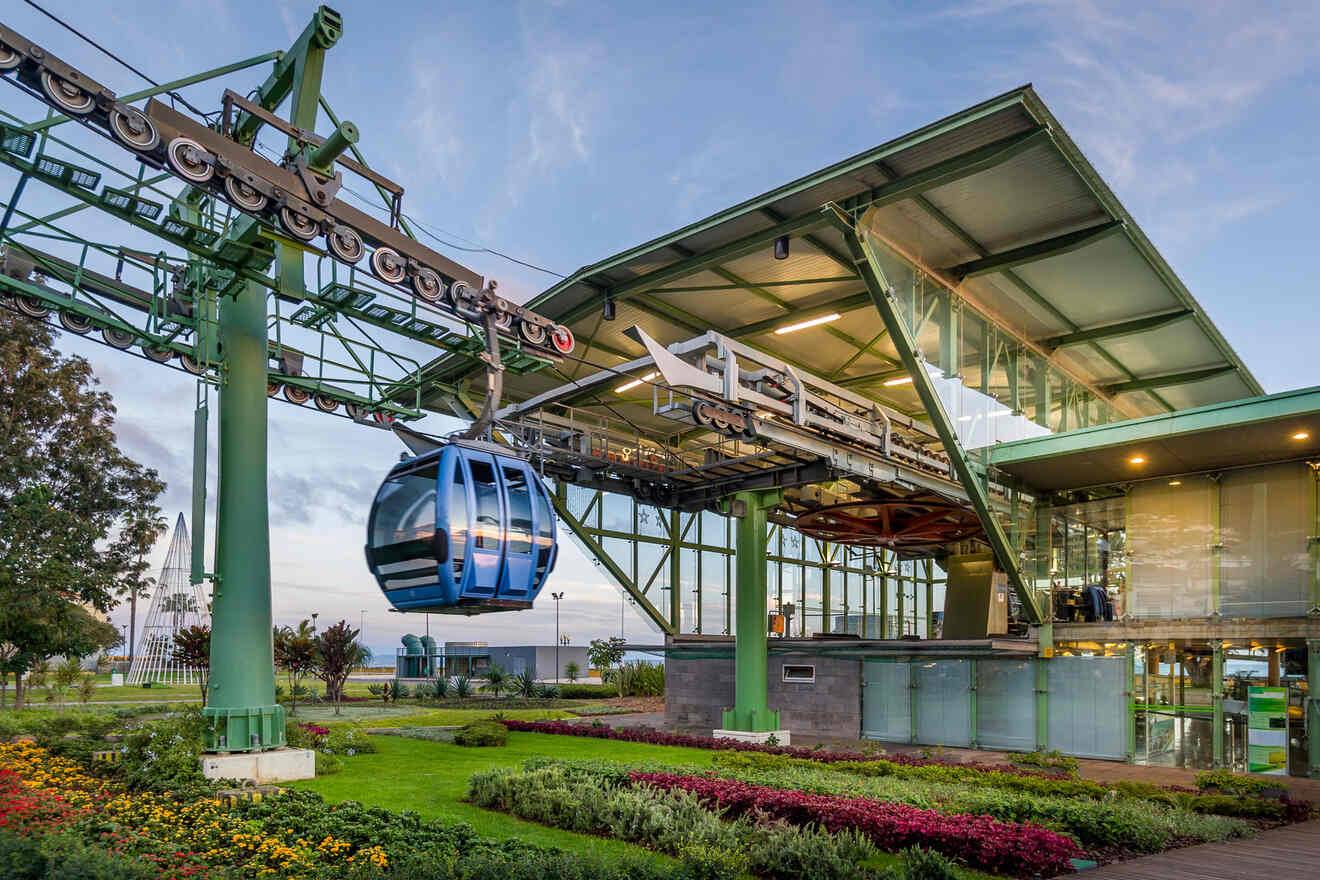 One of the best and most popular things to do in Funchal is taking the panoramic cable car from the cable car station in Funchal city center to the village of Monte, lying 580 meters above sea level.
During the 15-minute ride, you will gaze at incredible views over the city, the Funchal marina, and the Atlantic Ocean. Once in Monte, there are 2 beautiful gardens you can visit, and if you want to see them both, all this could actually convert into a half-a-day trip!
The price for the main gondola is 12€ for a single ride and 18€ for a round trip, however, there is a second gondola which is paid separately and takes you to the botanical gardens. Don't worry, I will give you the details in just a minute.
First, let's check out the two gardens you can visit:
1.1 Monte Palace Museum & Monte Palace Tropical Gardens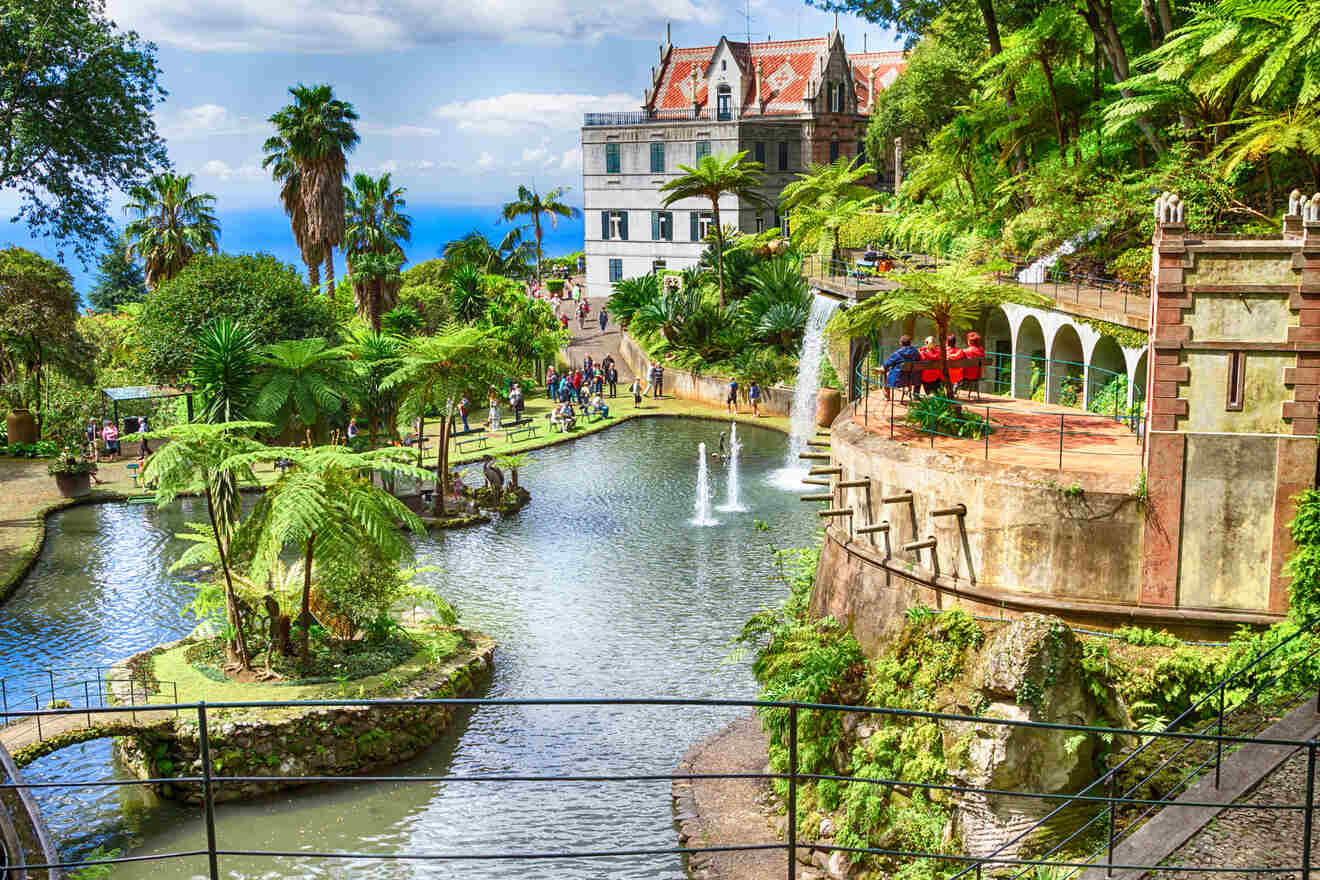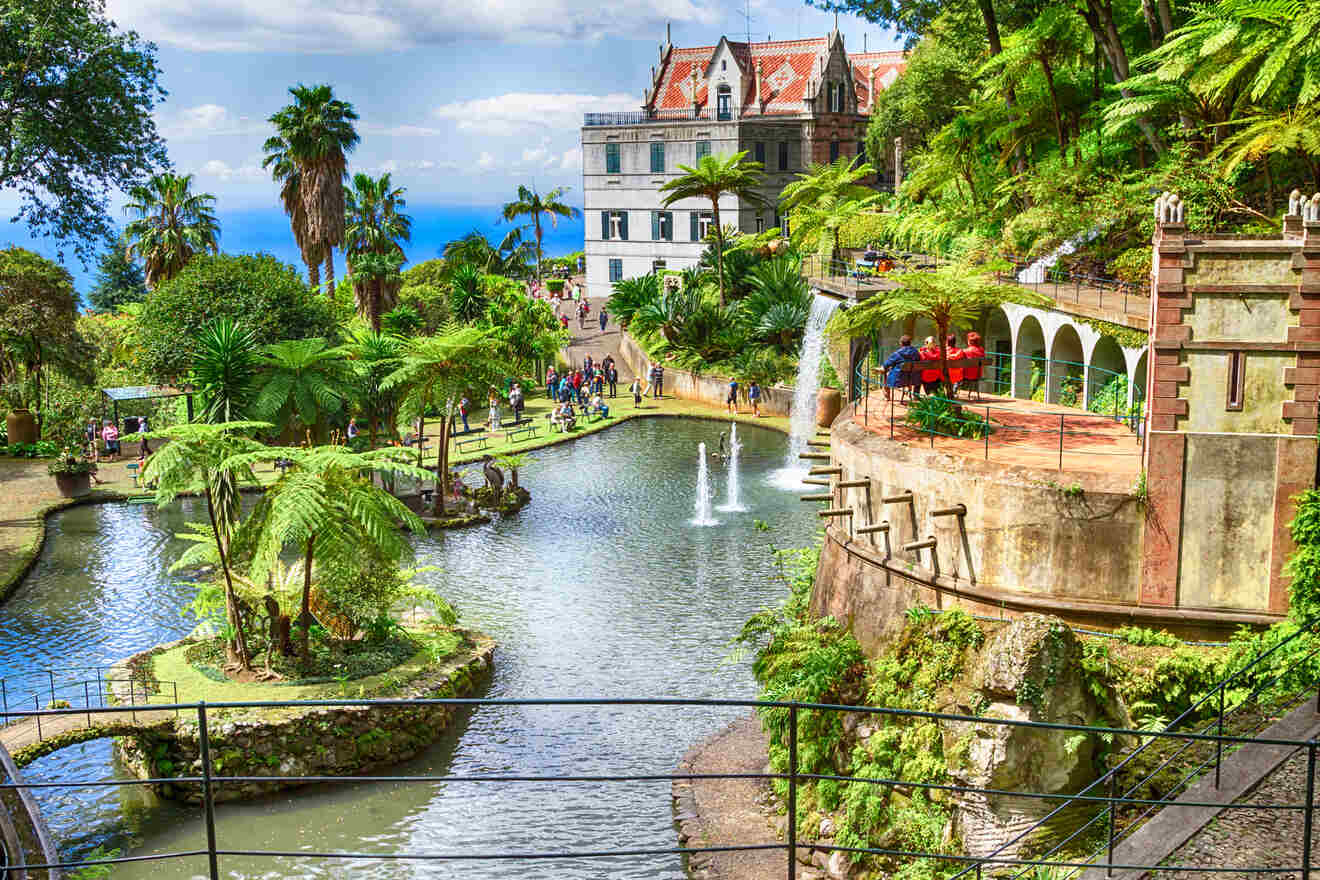 Located literally a few steps from the cable car landing station, you'll find the Monte Palace of Madeira. What used to be a cemetery, now houses the Monte Palace Museum & Monte Palace Tropical Garden.
The Monte Palace Tropical Garden hosts 100,000 exotic plants from all over the world, together with waterfalls, lakes, decorative bridges, and miniature islands, along with swans and Koi fishes… The perfect place to just relax and enjoy some peace.
Nestled inside the Monte Palace Tropical Garden, you'll find the Monte Palace Museum, featuring 2 exhibition spaces: one showing African art (on the upper floors), while the other one is a mineral collection gathered from Portugal, North and South America, and Africa.
PRICE: Adults – €12, Children (under 15 years old) – free
1.2 Madeira Botanical Garden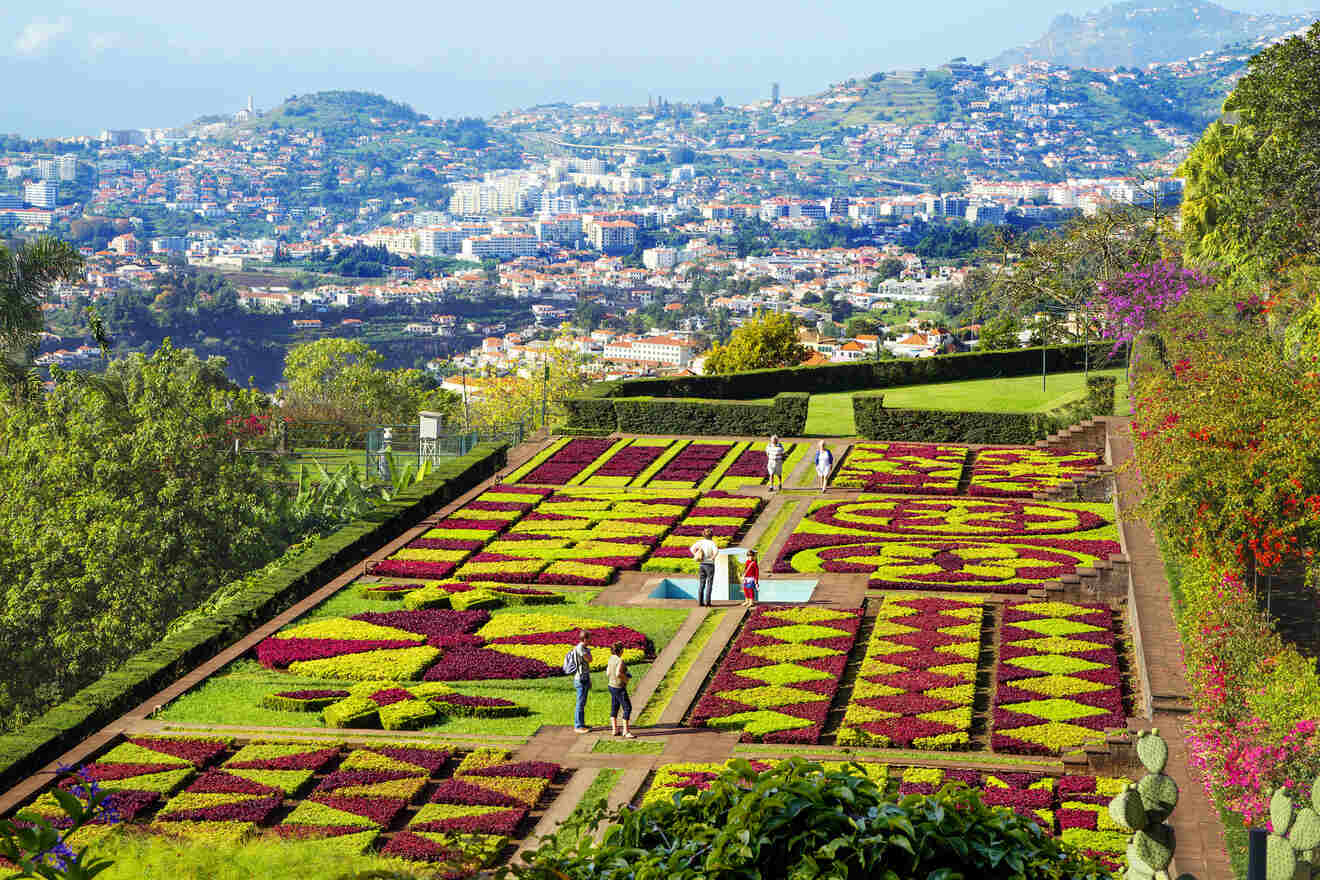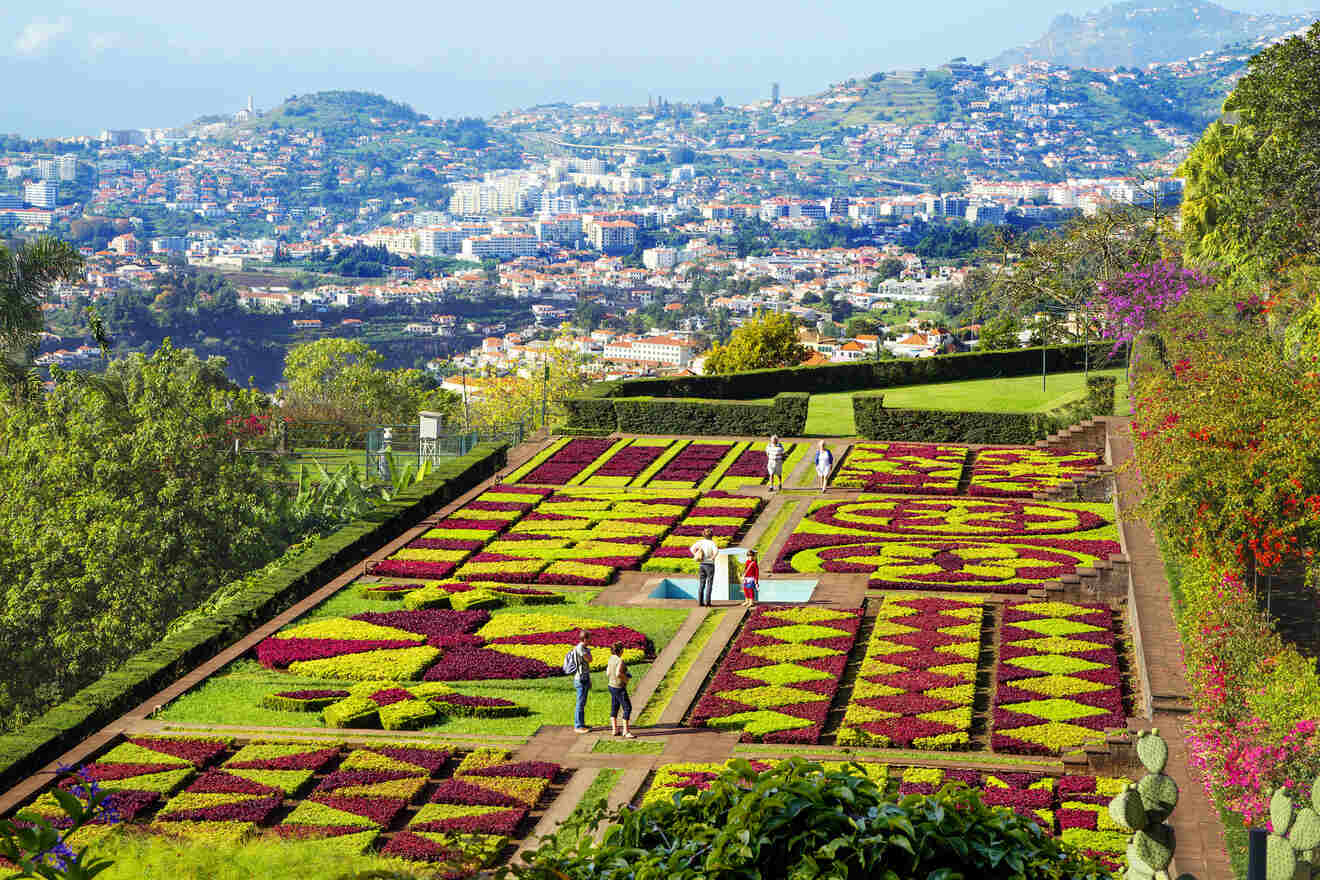 When you're done visiting the Monte Palace Tropical Garden and Museum, you can move on to another beautiful green space, the Madeira Botanical Garden.
To get there, you have two choices, a thrilling toboggan ride (which I will explain in section 2) or another cable car.
If you choose the cable car, you will have to go back to the cable car terminal and walk past it a few steps until you get to a smaller cable car station, right where the hillside starts. This second gondola takes you part of the way downhill to the site of the Botanical Gardens. You can buy the ticket for €9 (one way) or €13.50 (return) and you'll arrive at the attraction in just a few minutes.
The Madeira Botanical Gardens are very peculiar because they host a wide variety of garden styles with everything from French to Japanese gardens, as well as tropical plants and fruits and breathtaking views of Funchal!
Entrance Price: €5
Gondola Price: €9 one way / €13.50 return
How to get around Monte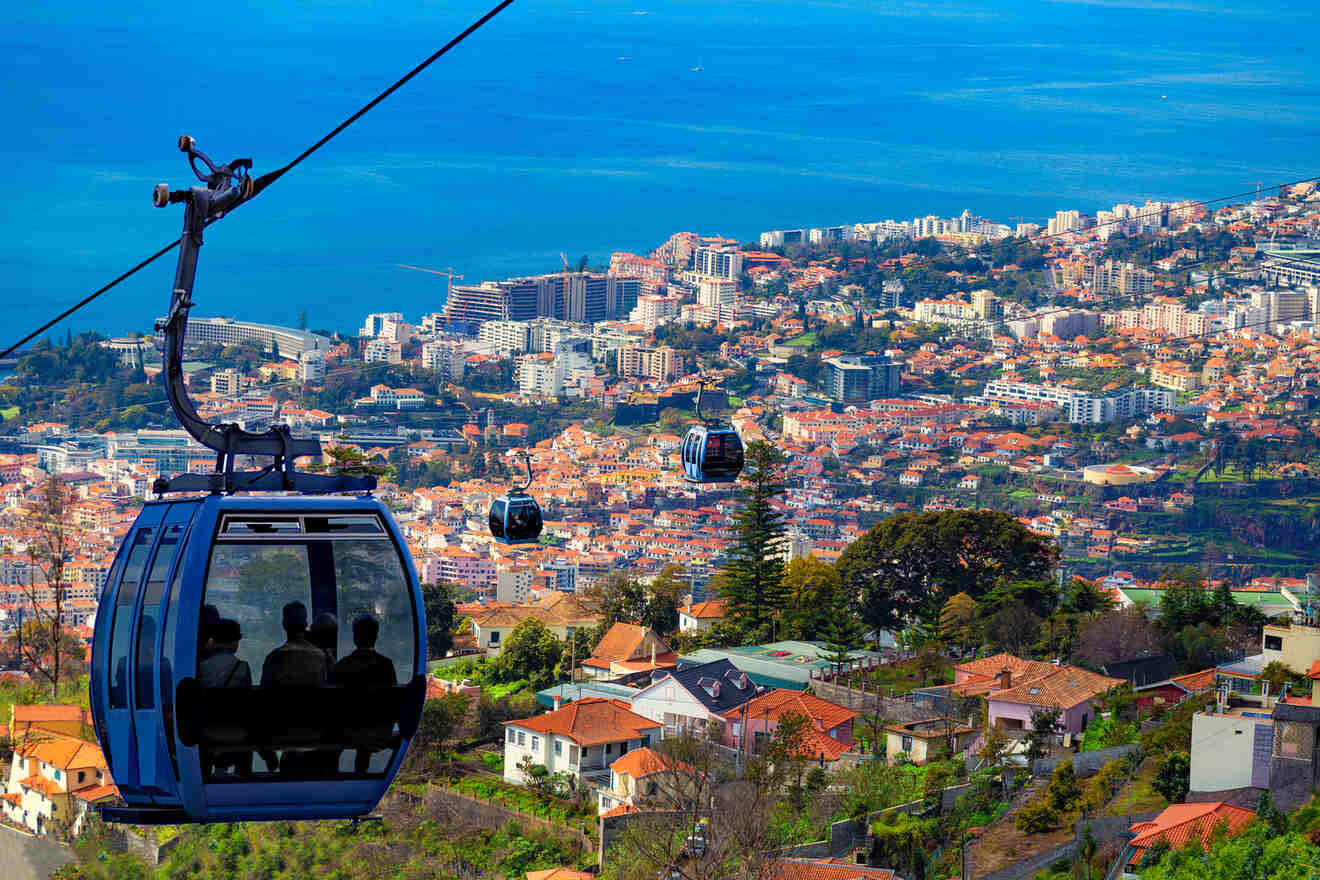 Since there are two cable cars, hiking trails, and even toboggan rides (I will talk about that next in section #2), there are many different combinations of transportation you can take to get around the different attractions in Monte. So you can really build your own adventure here!

To help you out a little I decided to list all the price combos here so you can decide for yourself what attractions you want to visit and how you wish to get around:
All cable cars on a round trip (Return Funchal cable car + return Botanical gardens cable car) = €32
Return Funchal cable car + toboggan ride down + one-way Botanical gardens up cable car = €42
One-way Funchal cable car + one-way Botanical gardens cable car + hike down = €21
One-way Funchal Cable car + toboggan ride + hike down = €27
To help you visualize this, I made a little map to show you all the options so you can pick the best combo for you: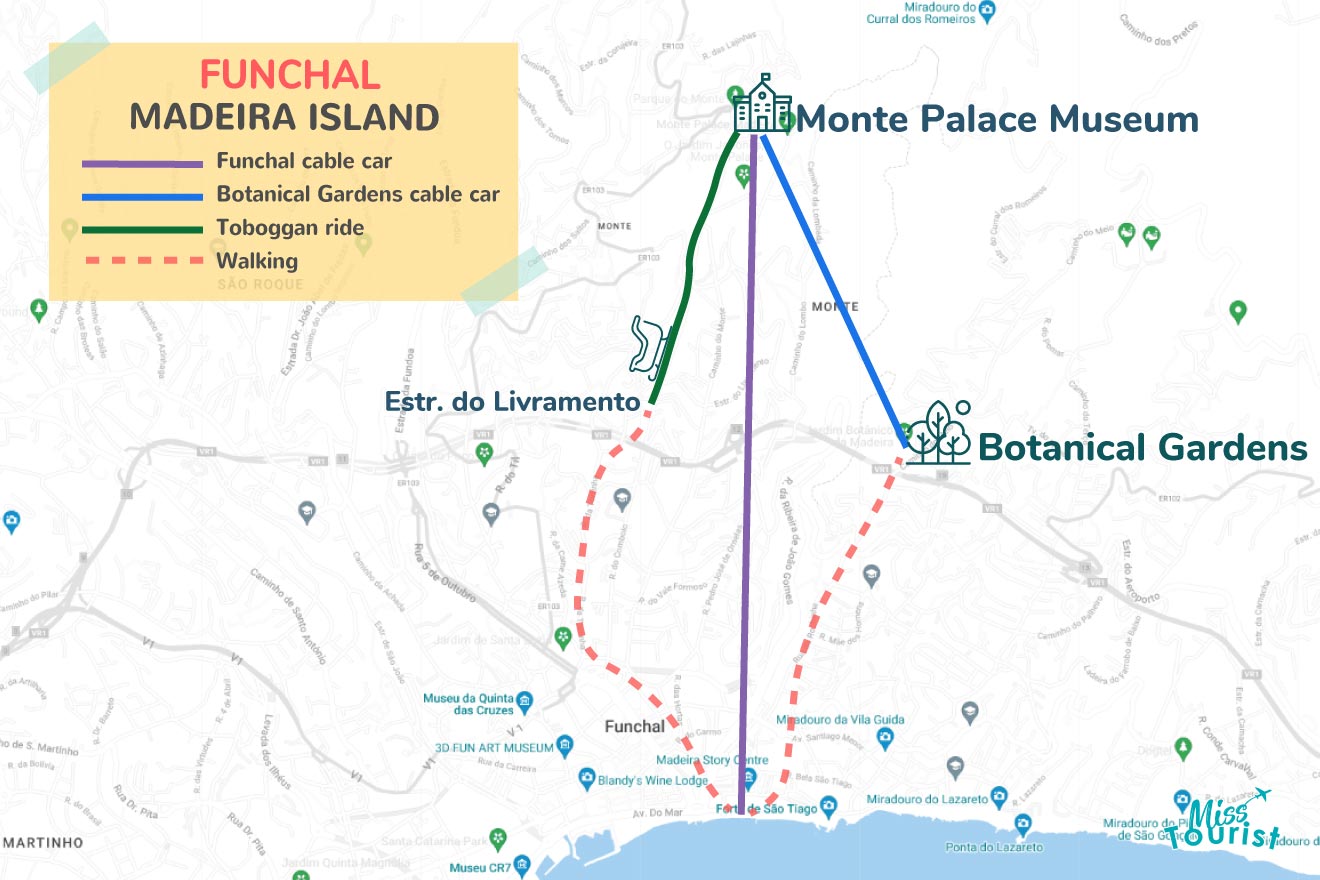 NOTE: If all that sounds like too much coordination for you while you're on holiday (I don't blame you), I suggest you join this tour, including a cable car one-way ticket, a visit to the Botanical Garden of Madeira, and a Monte Toboggan Ride back for €55.
Or, if you're interested ONLY in the gardens, this half-day tour will pick you up by car and take you to visit the Monte Palace Tropical Garden, transfer to the Madeira Botanical Garden, and bring you back to your hotel for €80.
2. Take an adventurous wicker toboggan ride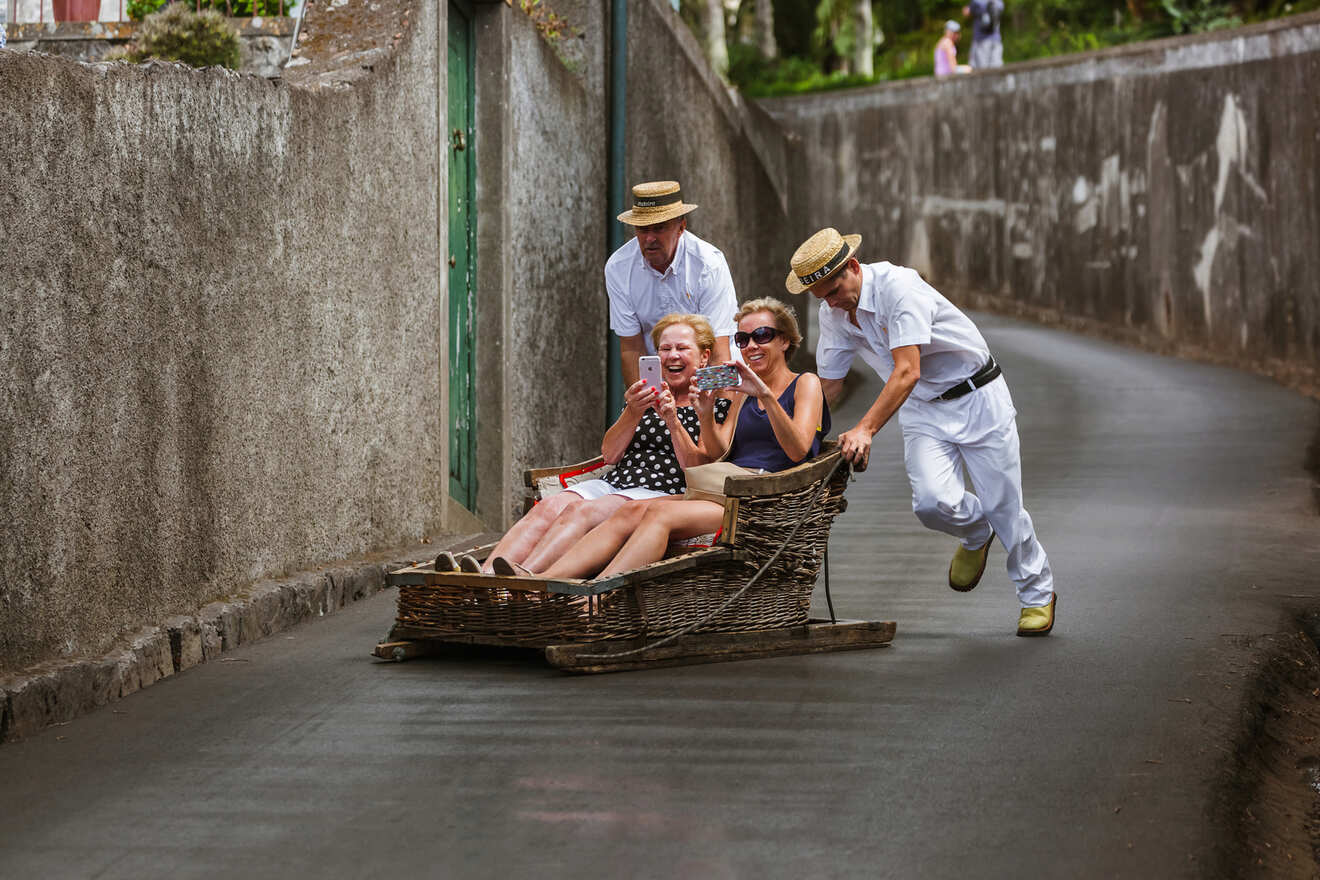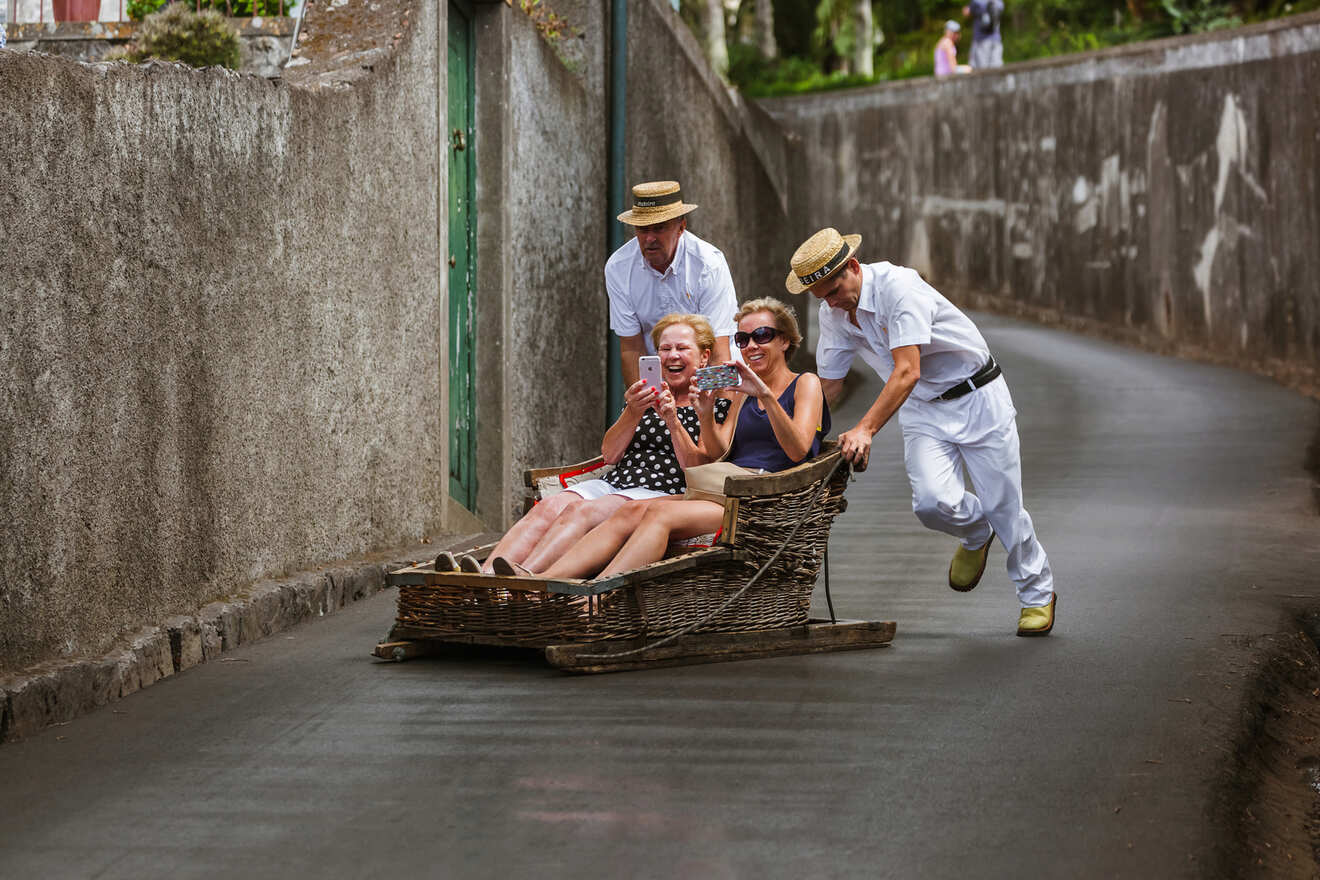 As I said in the previous section, one way of getting back after you have taken the Funchal cable car and reached the Monte village is by taking a ride on the famous Funchal wicker toboggans, better known as 'Monte sleds'.
But what is a wicker toboggan? Well, it is a sled for 2 people, made from wood and wicker, carried and pushed by sled drivers dressed up in traditional white uniforms and straw hats.
Locals started using the Monte Toboggans Sledges in the early 19th century, as means of "downhill" public transportation in Madeira as it was the quickest way to travel from the village of Monte to the city of Funchal!
If you decide to take a ride with them, they will push you down the hill and make you spin along the way, using their boots as brakes… And you will go quite fast!
The ride starts at Nossa Senhora do Monte Church and ends at Estr. do Livramento, taking about 10 minutes and costing €30 for two people (€25 for one). It is quite expensive for its length but is definitely one of the most fun and thrilling things to do in Funchal! Once you have finished your ride, you can return down to Funchal center via taxi, bus, or on foot.
P.S.: If you are planning on taking a tour to the Nuns Valley, I recommend you choose this 4-hour tour which includes a journey to the Nuns Valley, time to explore Monte with its breathtaking views, and a 2-kilometer toboggan ride back!
3. Take a walking tour of Funchal City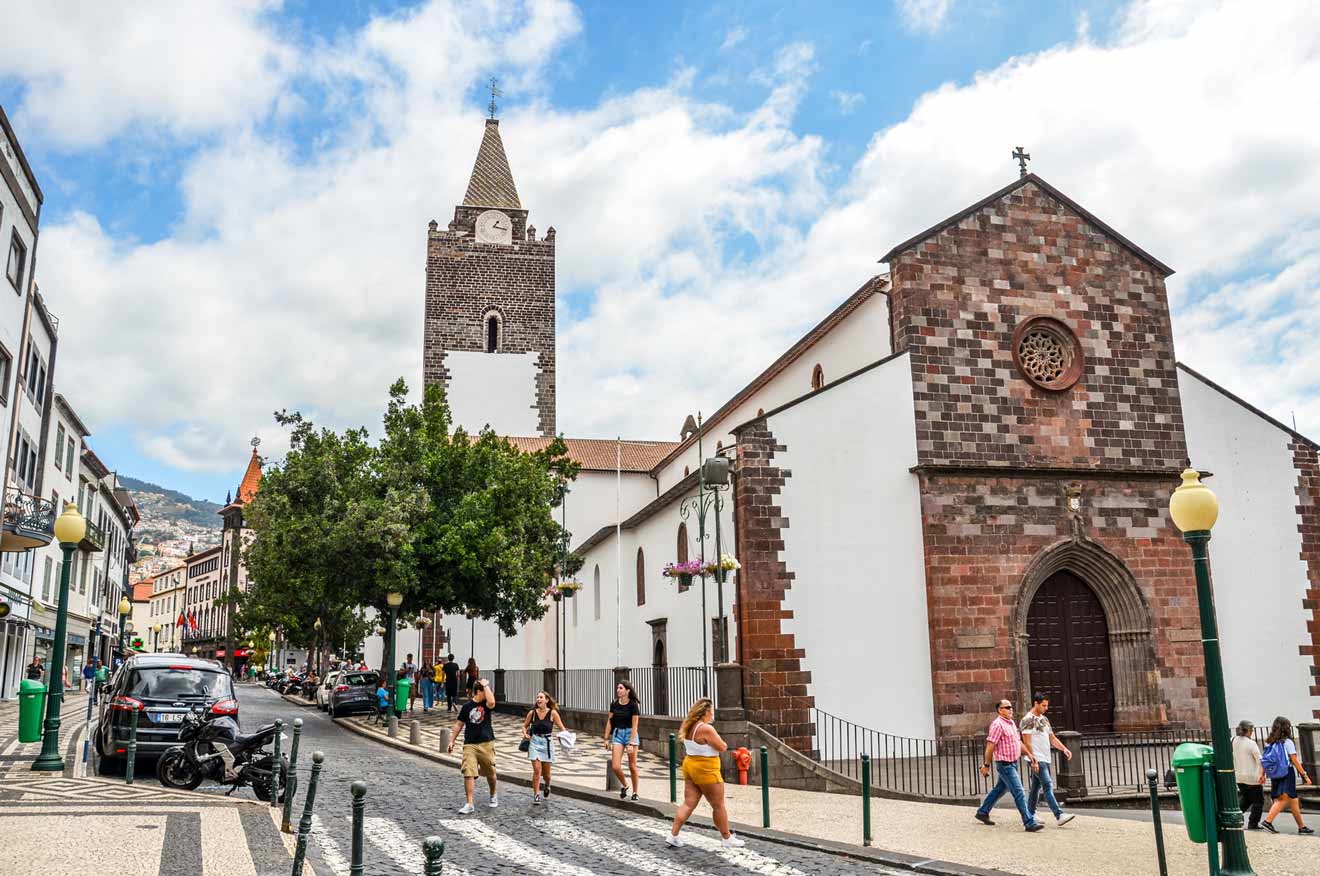 There's no better way to explore Funchal than taking a walking tour through its cobbled streets, traditional houses, and Funchal Bay, while you learn about the history of the Island's capital city and Madeira itself.
When I was there, I joined this free walking tour through Funchal's old town, which I can personally recommend as I discovered so many interesting things!
For example, did you know that Funchal hosted the biggest fireworks in the world in 2008? And even if it's not the biggest anymore (now it is in Dubai), it's still a huge celebration there for New Years' eve, so you should stay to see it if you go there at this time of the year!
Another option you have is to join this 2-hour guided tour through the Funchal Old Town, during which the guide will explain the history of the city, and show you some important attractions like the Municipal Gardens, for €13.
If after the walking tour you want to keep strolling around, in Funchal city center there is also the huge Santa Catarina Park, one of the main meeting points and THE dog walking place in the city!
By the way, if you want to know more about the cool tours that are not only in Funchal but in the whole island of Madeira, I have a recommended list just for you here!
Guided tour price: €13
4. Learn about Cristiano Ronaldo's life at his museum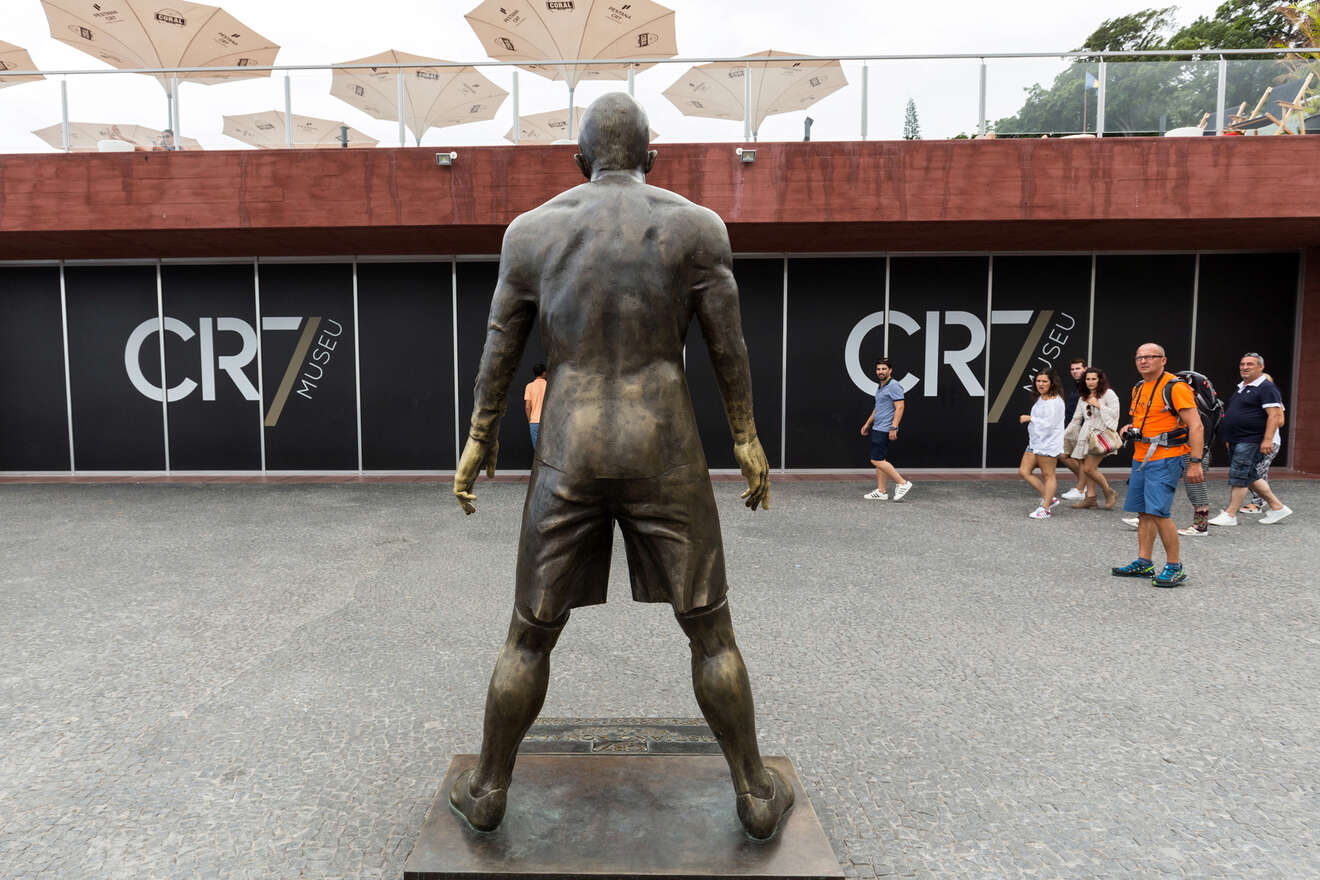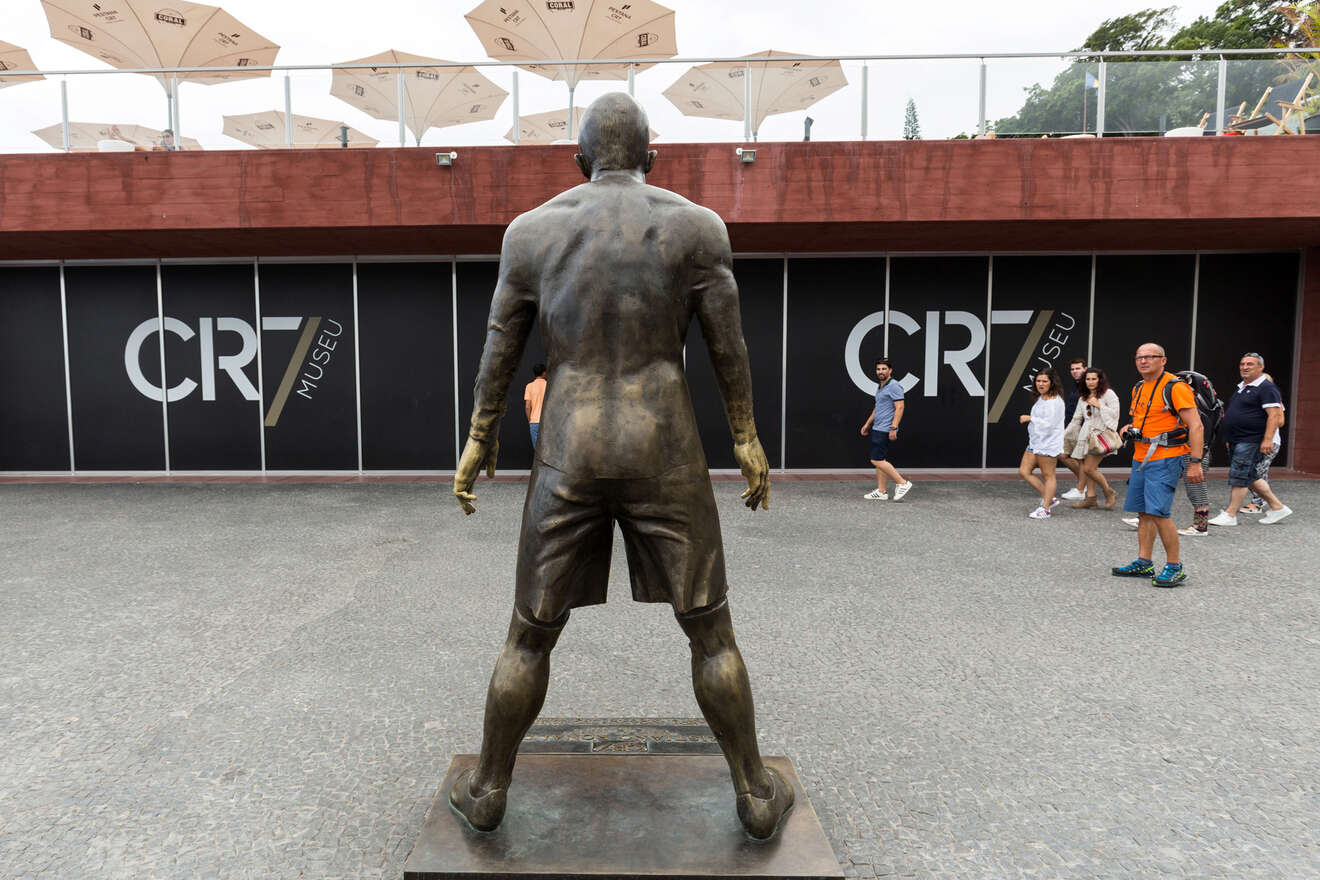 If you are a huge fan of the football legend Cristiano Ronaldo, you probably already know that Funchal is his hometown, so this is your chance to visit the CR7 Museum, where you'll learn about his life story, achievements, and see memorabilia, trophies and more!
You can also visit the stadium for kids that he made after becoming a legendary footballer. It's right in the area where his original house is and his family still lives there!
I spoke to some locals about their opinion on Ronaldo and they say different things – some praise him for contributing so much to the island's development (especially football for youngsters!), some think of him as super arrogant and they are happy he doesn't live there anymore.
PRO TIP: Even if you don't want to visit the museum, you can just take a picture with its statue, just outside of the entrance!
Alternatively, you can even join this private tour where you'll get to know impressive facts about his life story (he is from a very poor family and his mom even wanted to abort!), check out important places for his career, as well as visit the CR7 museum with a guide!.
Museum ticket price: €5
5. Try all the delicious food of Madeira Island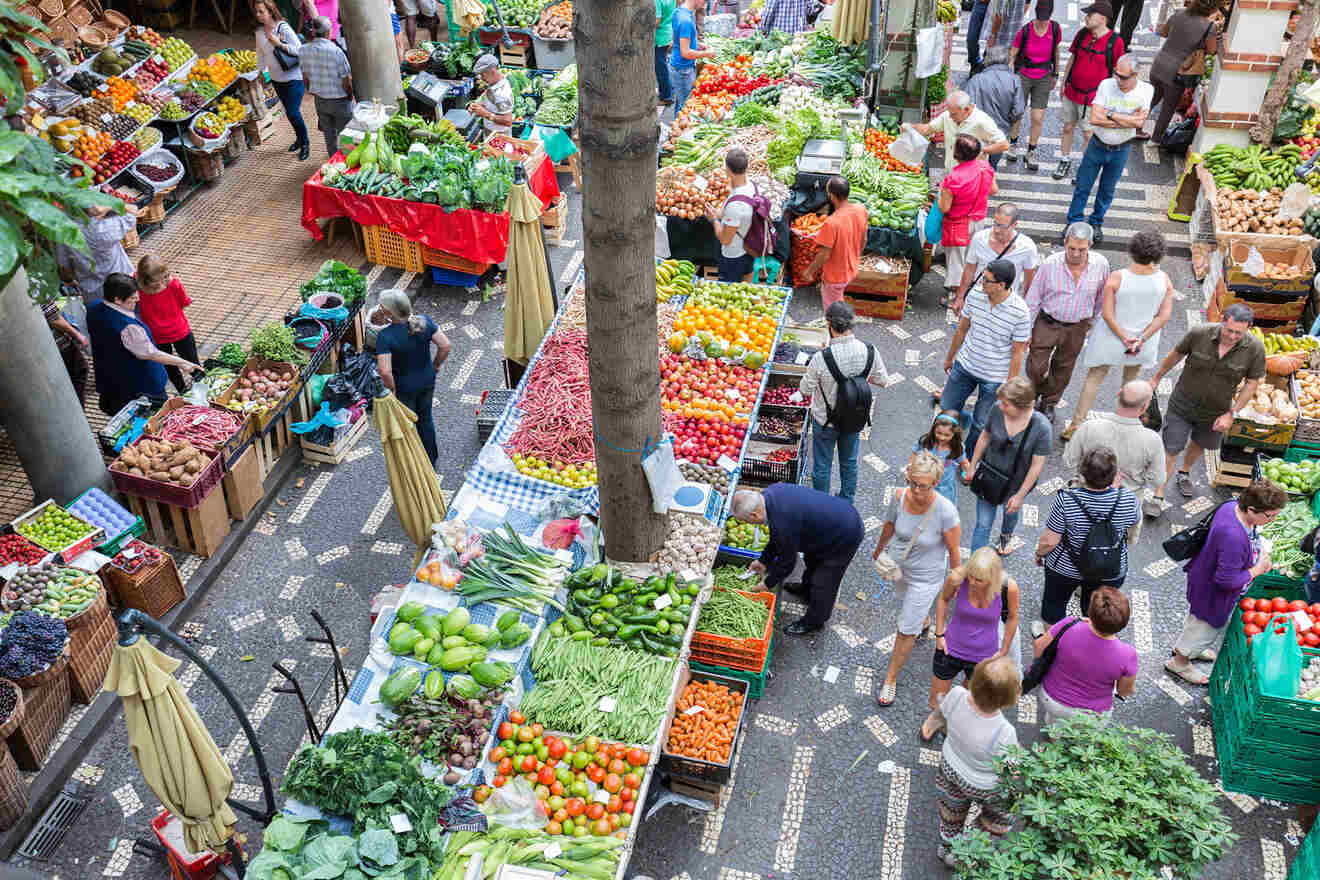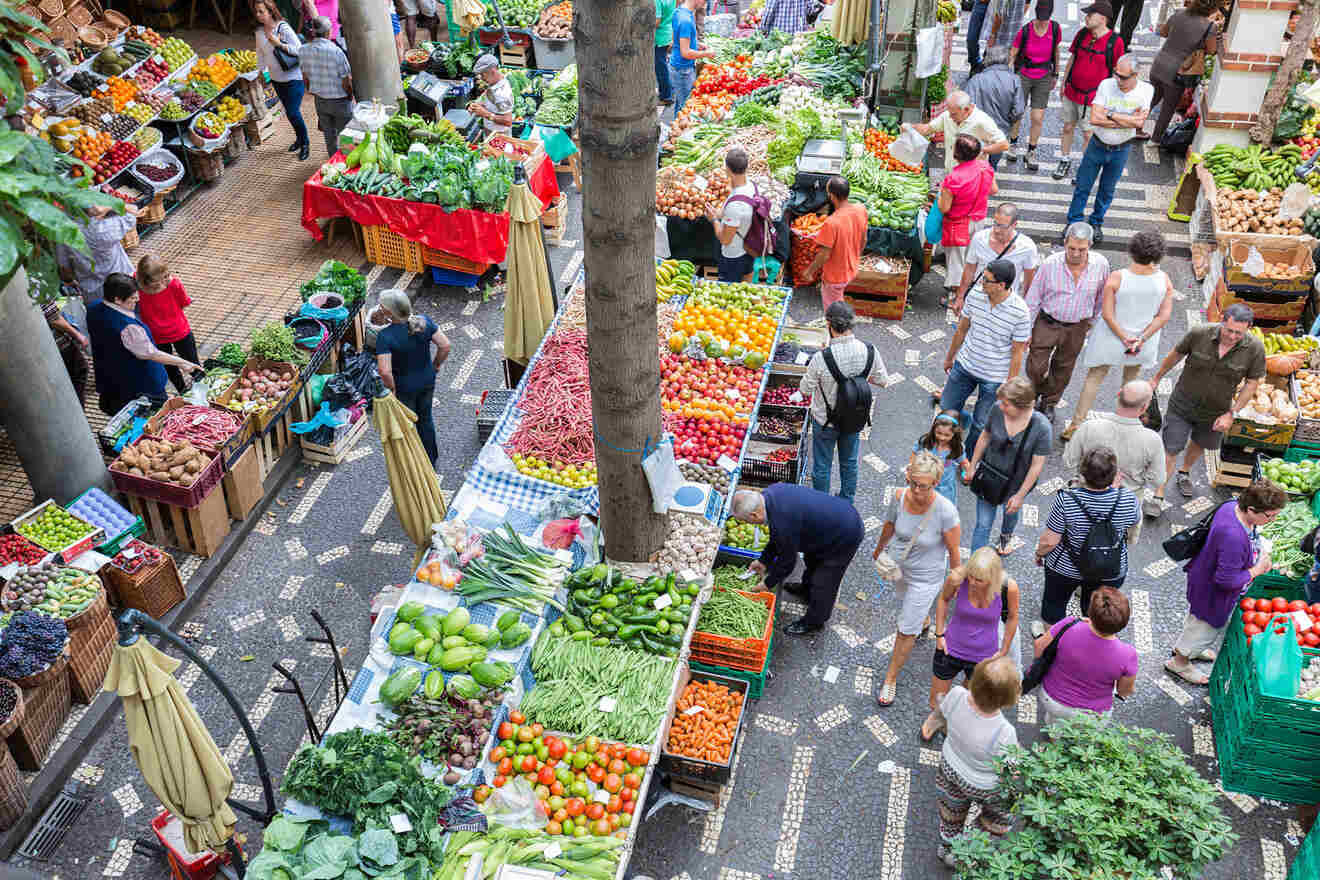 Funchal (pronounced as "foon-shal") means "fennel" in Portuguese – that's what Portuguese people saw first when they arrived on the shores of the island!
A trip to Funchal is not complete if you don't try all the delicious food the island has to offer, which is pretty unique thanks to its sub-tropical climate and isolated location.
To get the best understanding of the food you're trying, I recommend you take a food and wine walking tour. Along the way, you'll get to try several typical Portuguese dishes and authentic Madeira wine. Your guide will take you to producers, bars, and the local market to truly experience the local food to the fullest. All this for just €75!
If you prefer a DIY tour, I put together this list with some must-try foods and drinks in Funchal, Madeira. Including where to try them: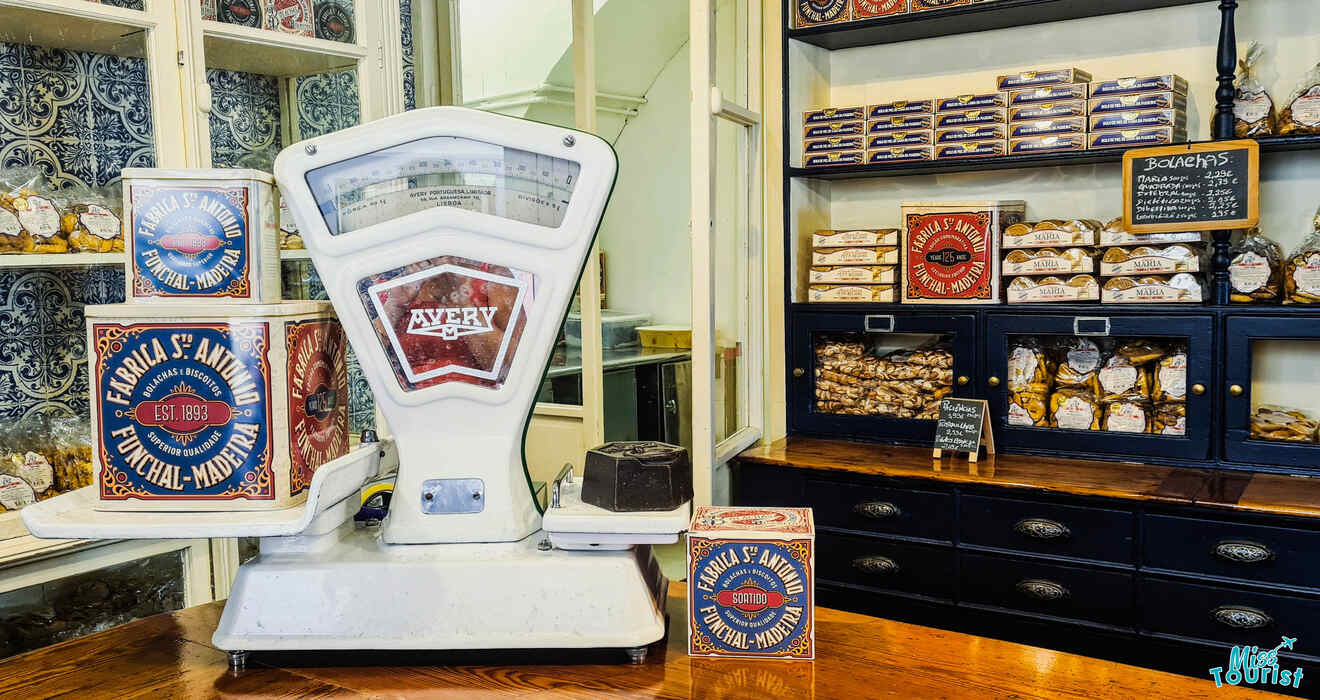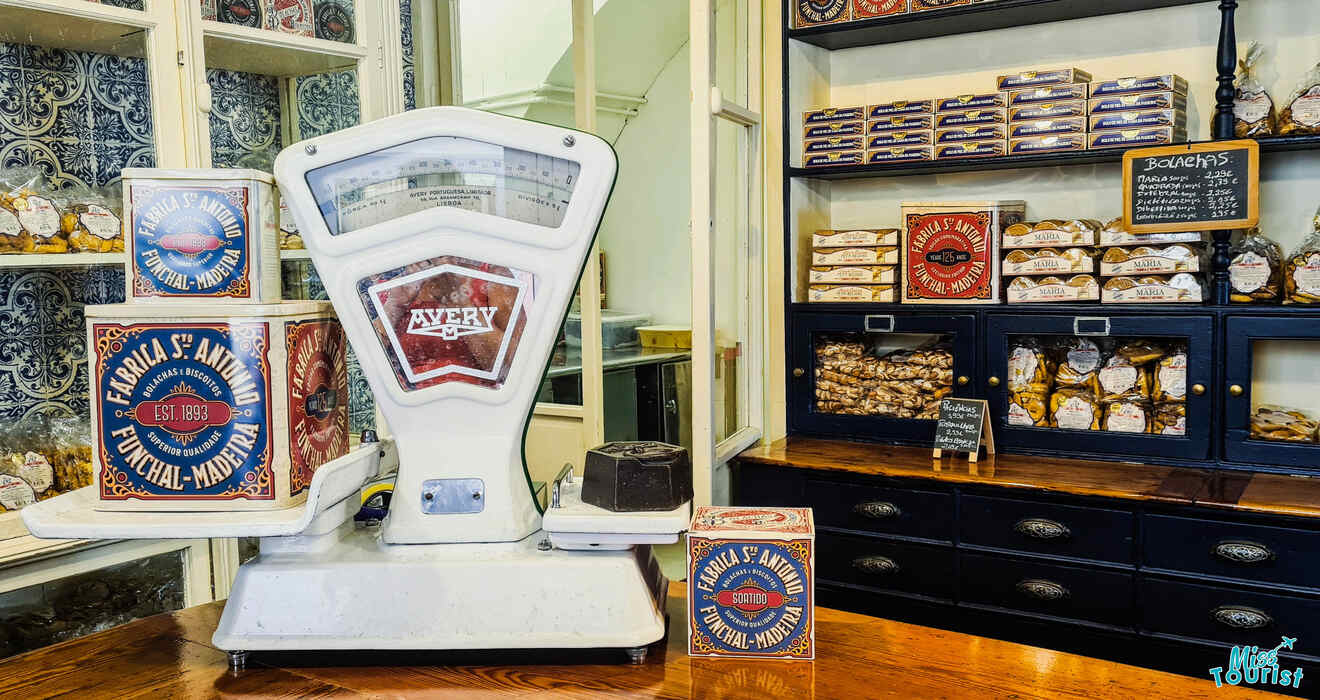 Madeira wine -This sweet wine, traditional of the island, is the longest-lasting quality wine in the world, and you can find many different types in Madeira, try them all at the Madeira Wine Museum, in Blandy's Wine Lodge.
Poncha – This is a traditional alcoholic drink from Madeira, made of Rum, lime/lemon juice, and honey. Fun fact – the stick they mix it with is called caralhinho (which means little cock in Portuguese!). Try it at Taberna da Poncha!
Cortado – Do you like both coffee and wine? So why not mix them? Cortado is a sweet Madeira wine with coffee and a slice of lemon (different from Spanish coffee), and you can order it in any cafeteria, but Barreirinha Bar Café also offers incredible views!
Bolo do Caco bread – This delicious and typical Madeiran bread has a circular and flat shape and a slightly sweet flavor due to its ingredients: flour, sweet potatoes, yeast, water, and salt. This is the perfect snack and you'll find it in any bakery in the city!
Scabbard fish – You'll find this fish very ugly, and this is because it swims VERY deep (so deep that no one has actually ever seen it alive!). When they catch it and bring it to the surface, the eyes come out from their sockets due to the pressure change. But it is actually super good (it tastes like haddock). Try it at Restaurante Gavião Novo fried with a banana, a very traditional way of cooking in Madeira!
Tomato soup – Another typical island dish is its delicious tomato soup, usually served with a slice of good bread and a poached egg. Try the best one in Funchal at Casa de Abrigo do Poiso!
Nikita – This is a traditional drink of Madeira, made of pineapple ice cream (can also be of other flavors), pineapple, pineapple juice, and white beer or white wine… It may sound weird, but it actually works!
Cookies from Fabrica San Antonio – These delicious biscuits are cooked with the same recipe they used centuries ago when the British were living in Madeira and wanted something to eat with their 5 o'clock tea. Talking about that, if you want to have a fancy afternoon tea, check out Reid's Palace!
6. Try fruits you never tried in Mercado dos Lavradores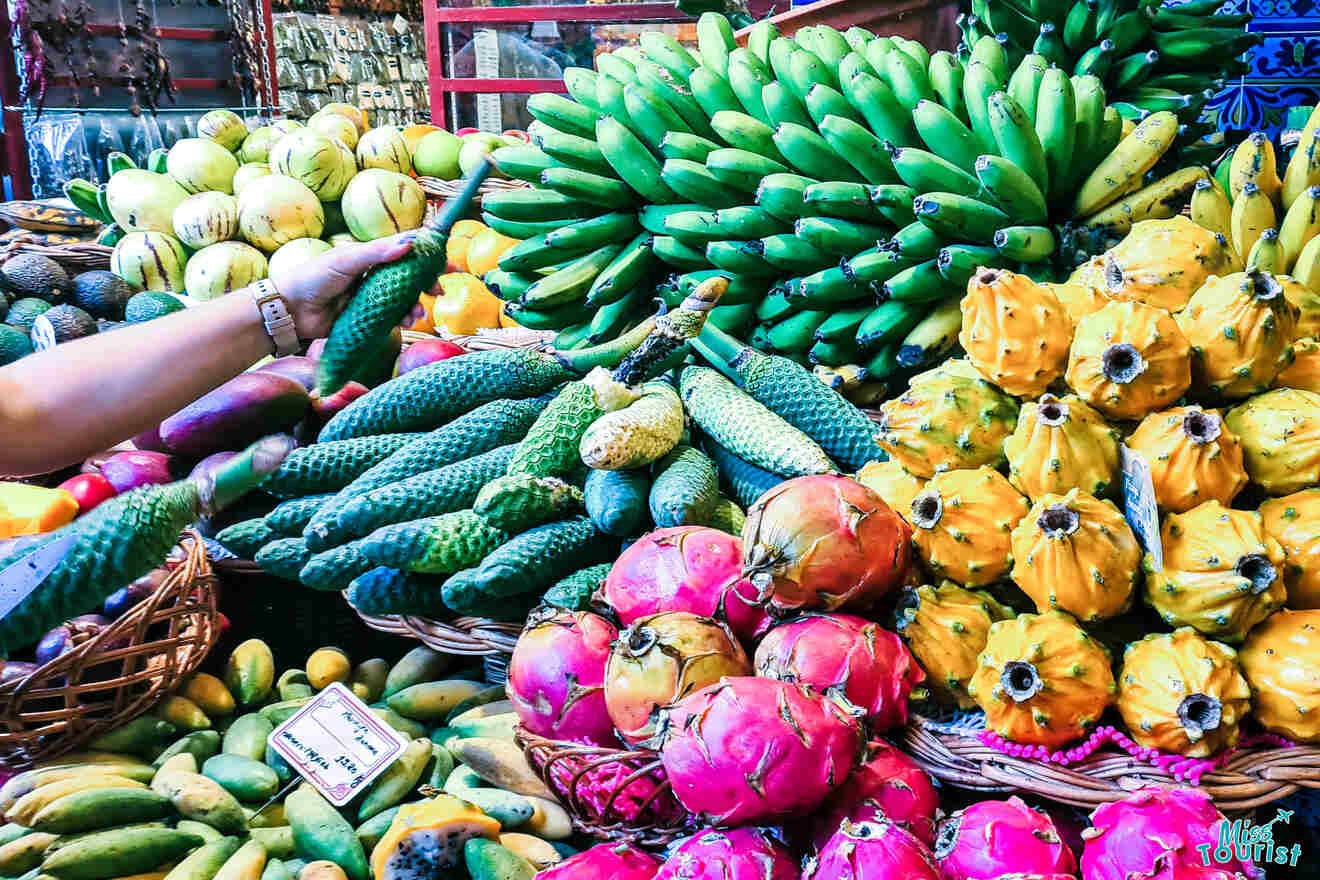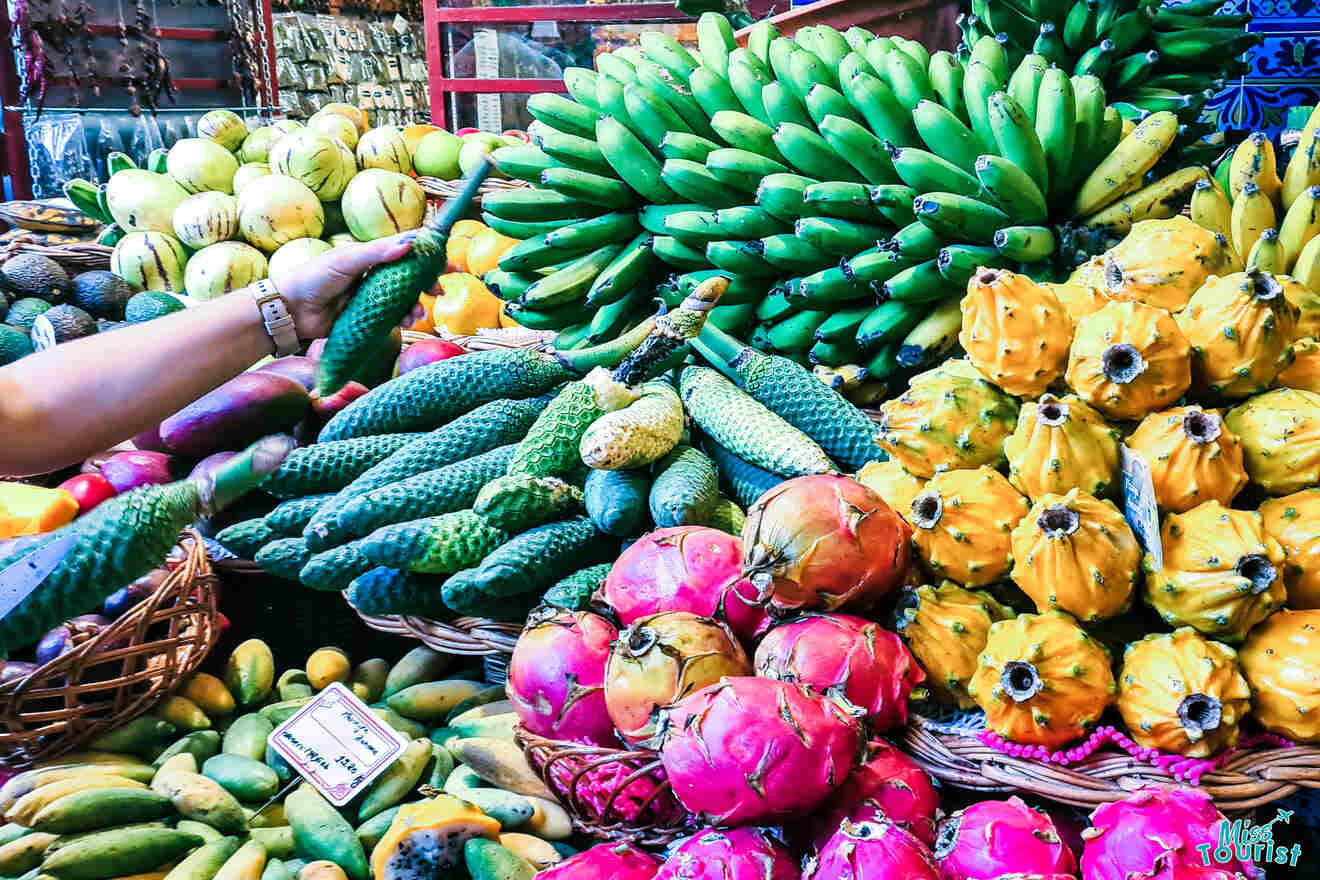 I decided to make this a separate section from the other foods because fruits are a very special thing in Madeira. In fact, thanks to the particular temperatures and soil on the island, Madeira grows many unique (and weird) fruits that you won't find anywhere else!
Have you ever heard of passion fruit with a tomato taste, banana passion fruit, passion fruit with orange or melon flavor? I guess not, and there are many more, so this is your chance to try!
And the best place to do that is the Mercado do Lavradores (the Farmer's Market), where apart from vegetables, flowers, and fish they sell all the possible fruit you can think of.
Make sure you go there from Monday to Friday, as they close on weekends, and that you bring enough money with you: fruits are really expensive there!
In my case, I definitely overpaid (€60 for a small-ish bag) because I was in a rush and I let the seller choose the fruits for me (he also put way more than I asked, so choose your fruits yourself and put them in your bag yourself!). They let you taste the fruits too, so, unless you want to bring some souvenirs home, you don't need to buy anything. And if you do, it can definitely be €20-€30, just watch the seller, don't be like me. 🙂
PRO TIP: I also found some fruits that were not in very good condition in my bag since I let the seller choose for me – don't repeat my mistakes!
7. Visit the Funchal Cathedral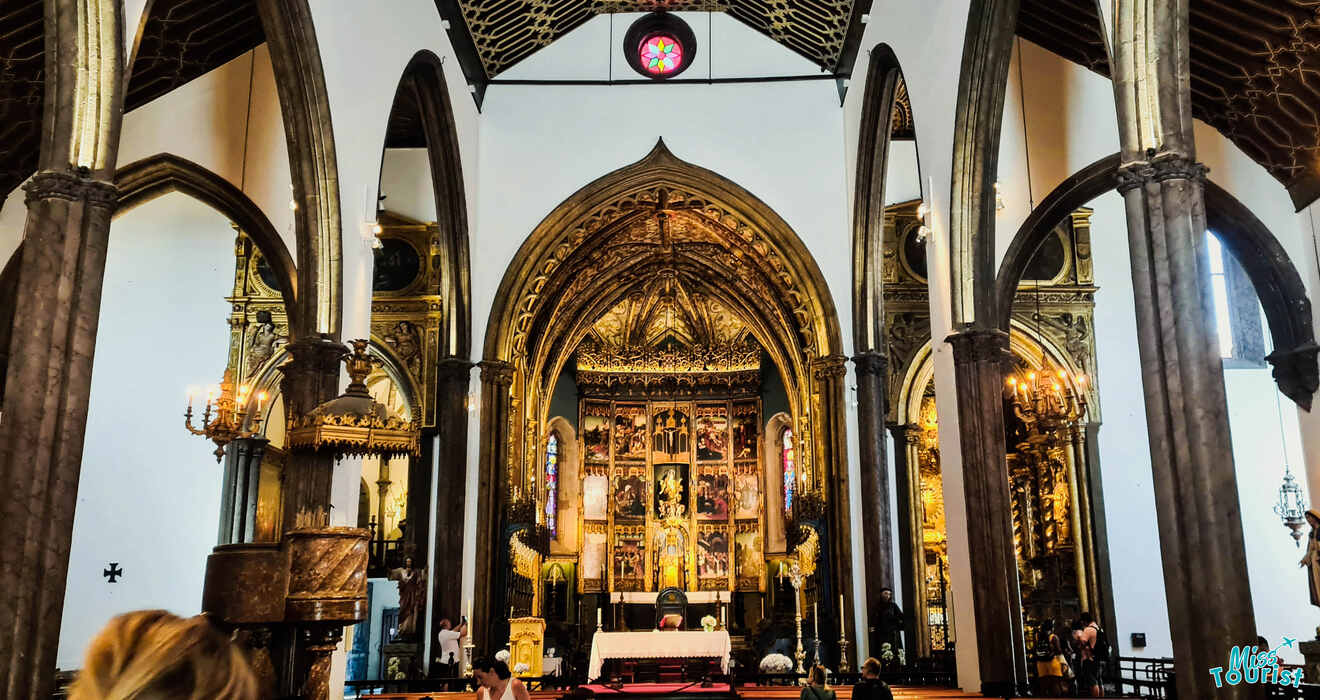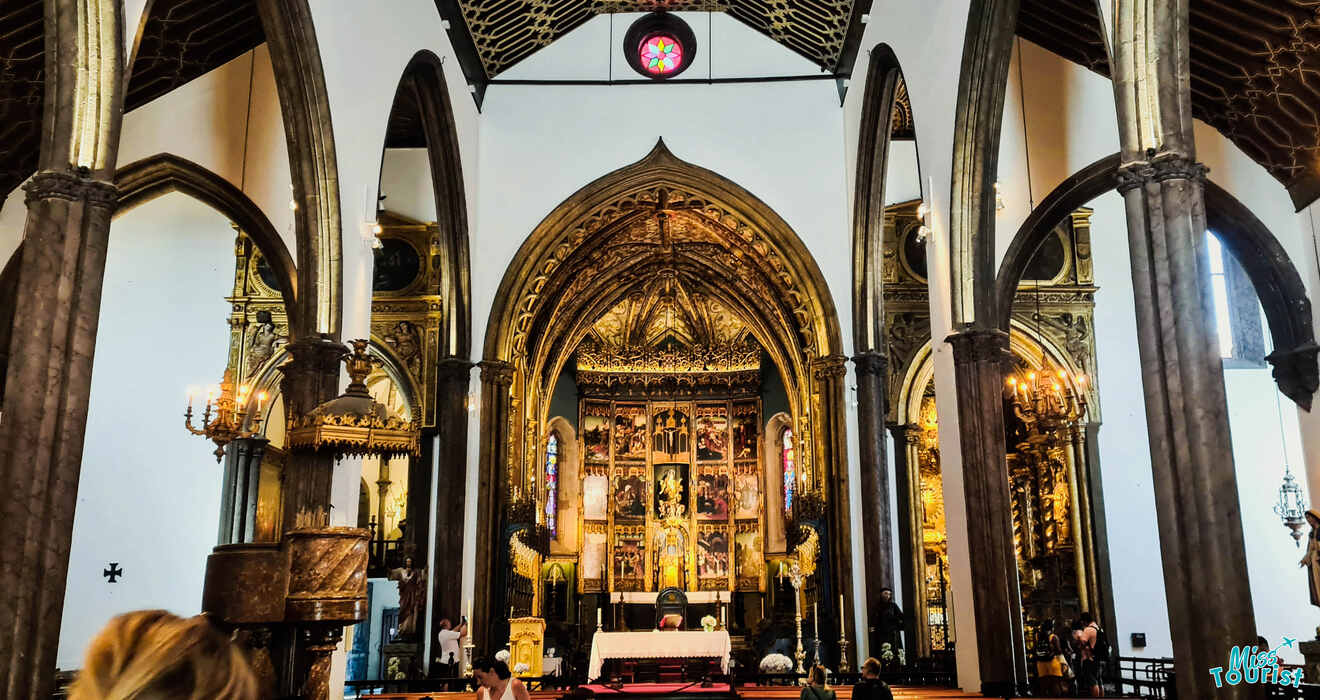 The Funchal Cathedral is one of the most important historic landmarks in Funchal, dating back to the 16th century. This was the Portuguese Age of Discovery, when the church was a real symbol of prosperity and power!
When you step inside, you will gaze at the wooden ceiling covered with glazed tiles and ivory elements, as well as beautiful sculptures, oil paintings, and a gothic altar. Another unique thing you'll see here is the wooden choir depicting saints and apostles!
The entrance to the cathedral is completely free and is open every day from 7 am to 7 pm.
8. Check out the street art in Rua de Santa Maria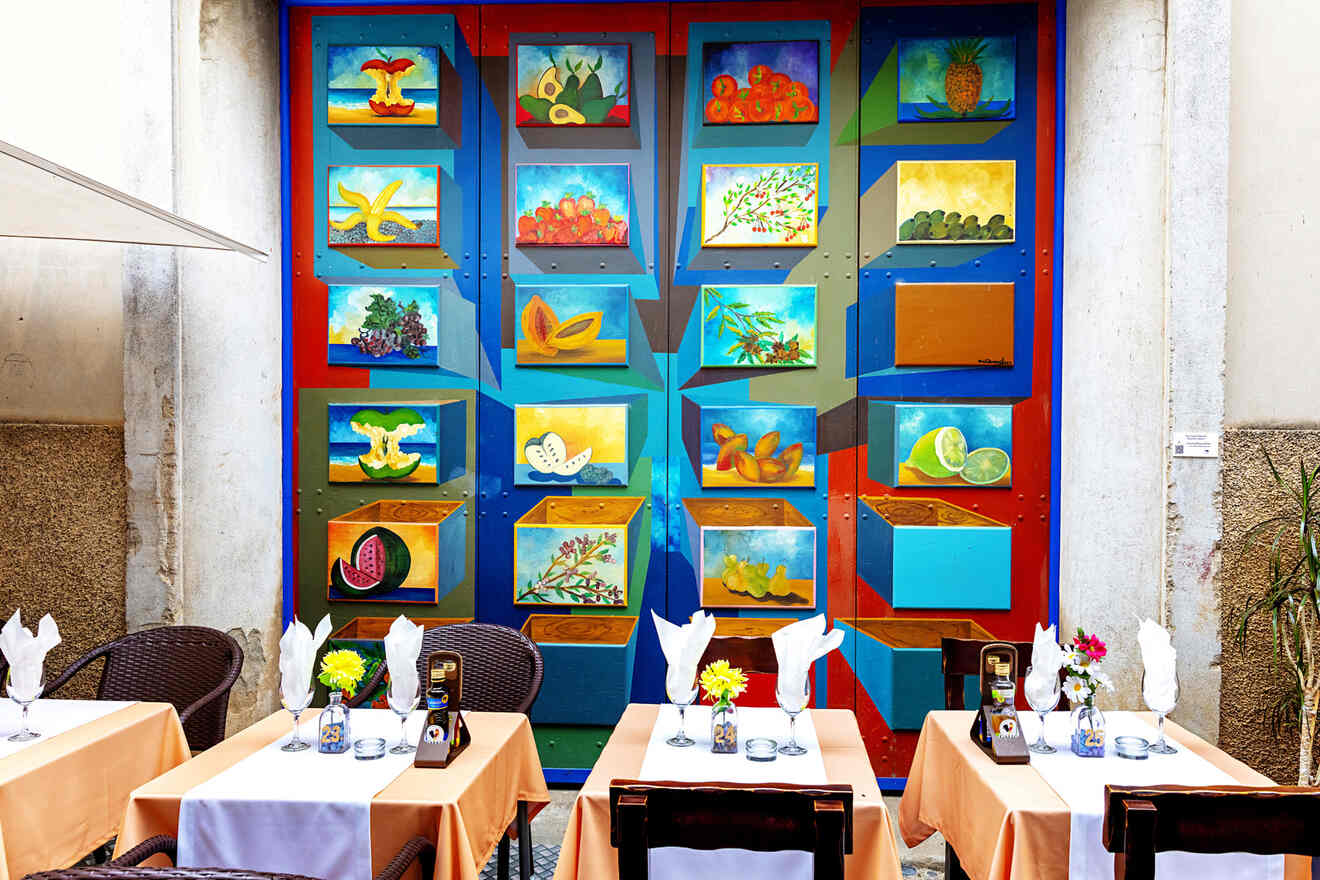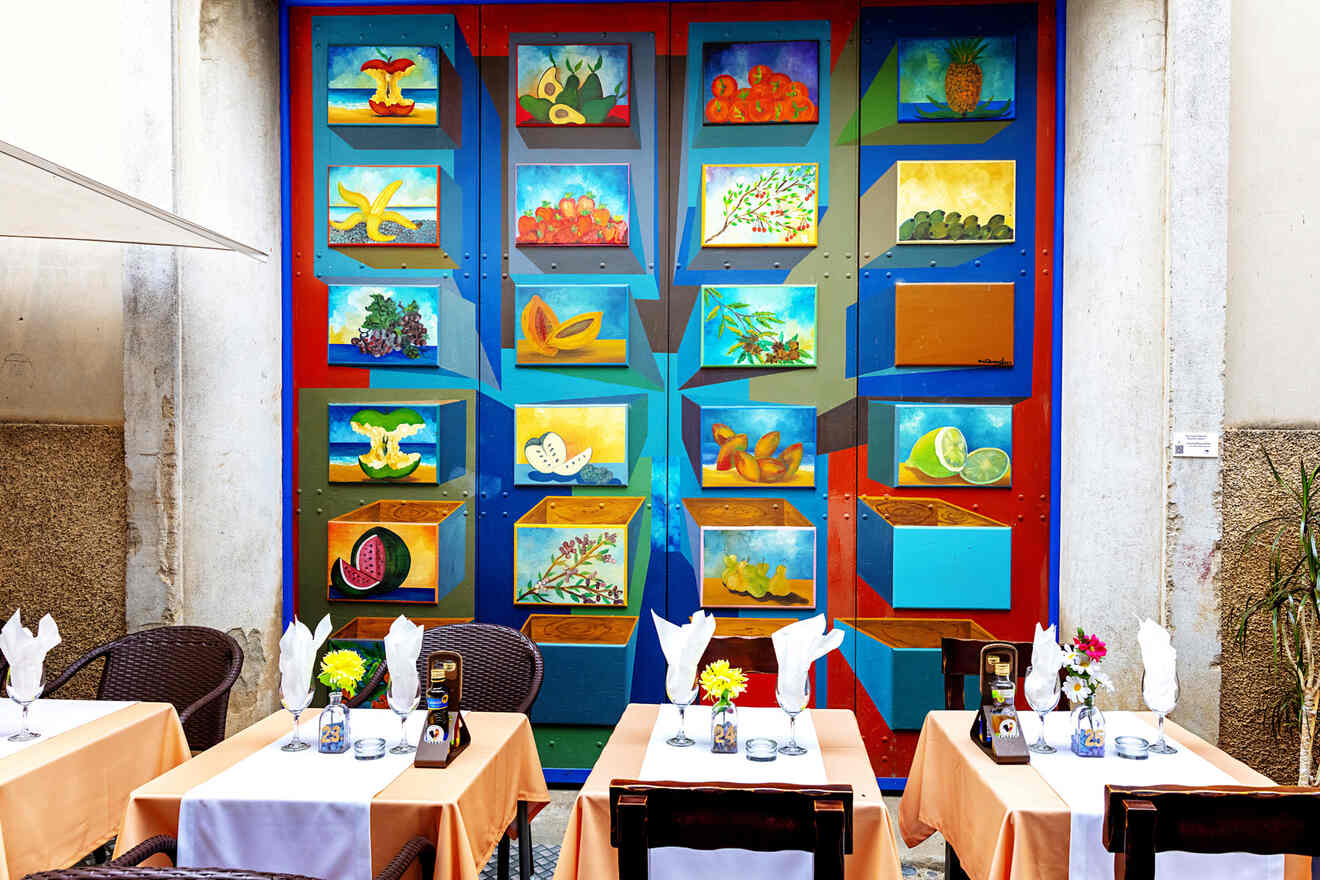 If you just want to spend a leisurely evening during your holiday, you should stroll around the beautiful street Rua de Santa Maria (Santa Maria Street), where all the dining and shopping options are concentrated.
Located west of Funchal's Zona Velha, Rua da Santa Maria cobblestone street hosts many houses with brightly-colored painted doors painted with modern art techniques.
In fact, even though it's the oldest street in Funchal, Rua da Santa Maria was renovated in 2014 thanks to the local arts movement (Art of Open Doors project). There you'll find more than 200 pieces of work. So if you are obsessed with street art, you will love this place!
9. Drink the traditional Madeira wine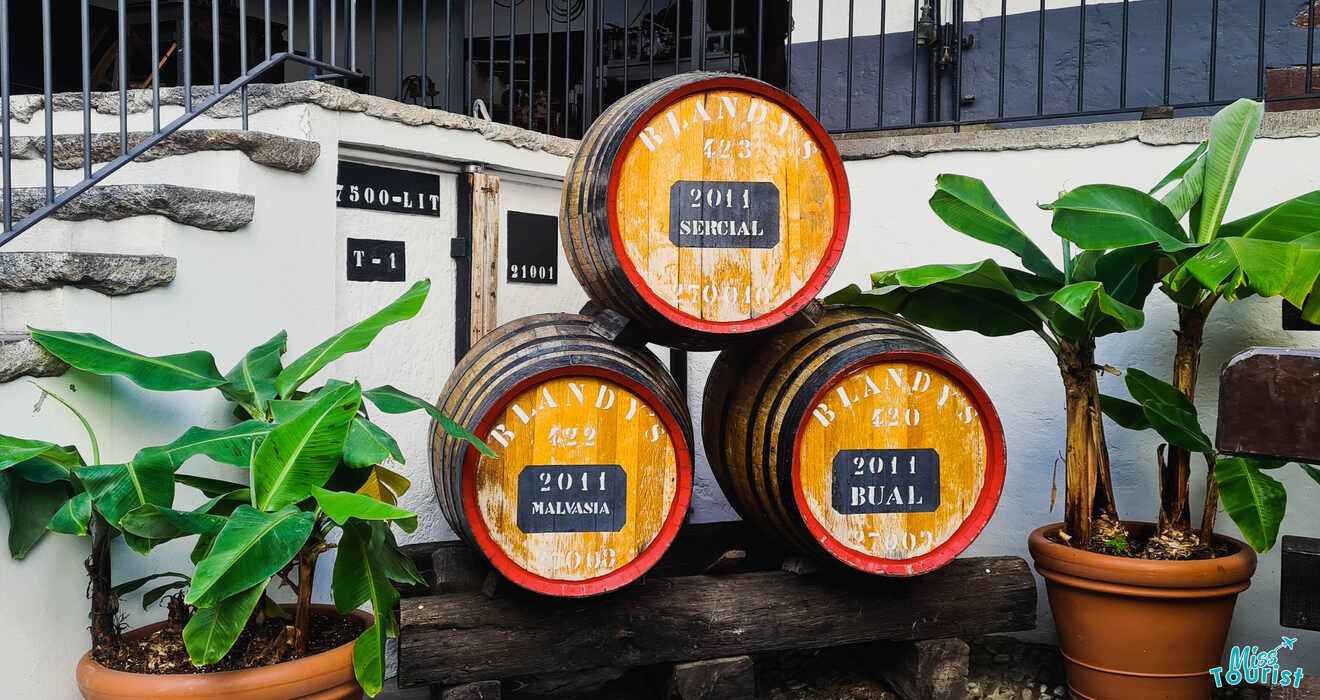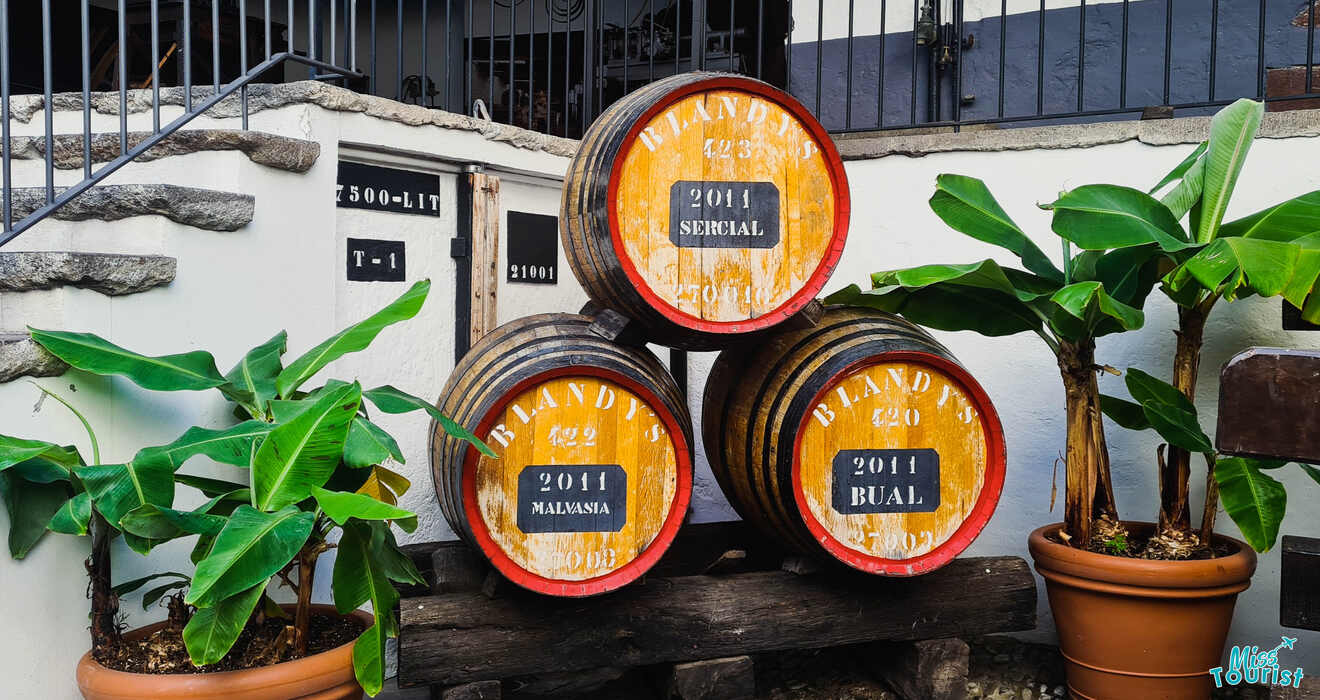 Madeira wine is a delicious, sweet, fortified wine and one of the longest-lasting quality wines produced in the world!
The wine originated in the 18th century on the island somewhat as a coincidence. When they were exporting it to the rest of the world, they realized that the wine which was not old, and eventually returned home was way more flavourful than when it left the island… Interesting, right?
If you want to learn more about the island's wine industry when in Funchal, join this 8-hour wine-tasting tour through Câmara de Lobos, Madeira's wine region. You'll stop at many wineries to meet the producers and sample their fine wines for €150!
But if you are mainly interested in the history of Madeira wine, there are some wine museums in the city, the most important of which is the free Madeira wine museum, spread out in many baroque buildings and hosting the oldest Madeira wine cellars from the 17th/18th century.
In one of these buildings, you will find the super popular Old Blandy Wine Lodge, where you can do tastings of all the different kinds of Madeira wines either by yourself or with a guided tour offered on-site (check out the official website for more info).
10. Relax on Praia São Tiago (a local's beach)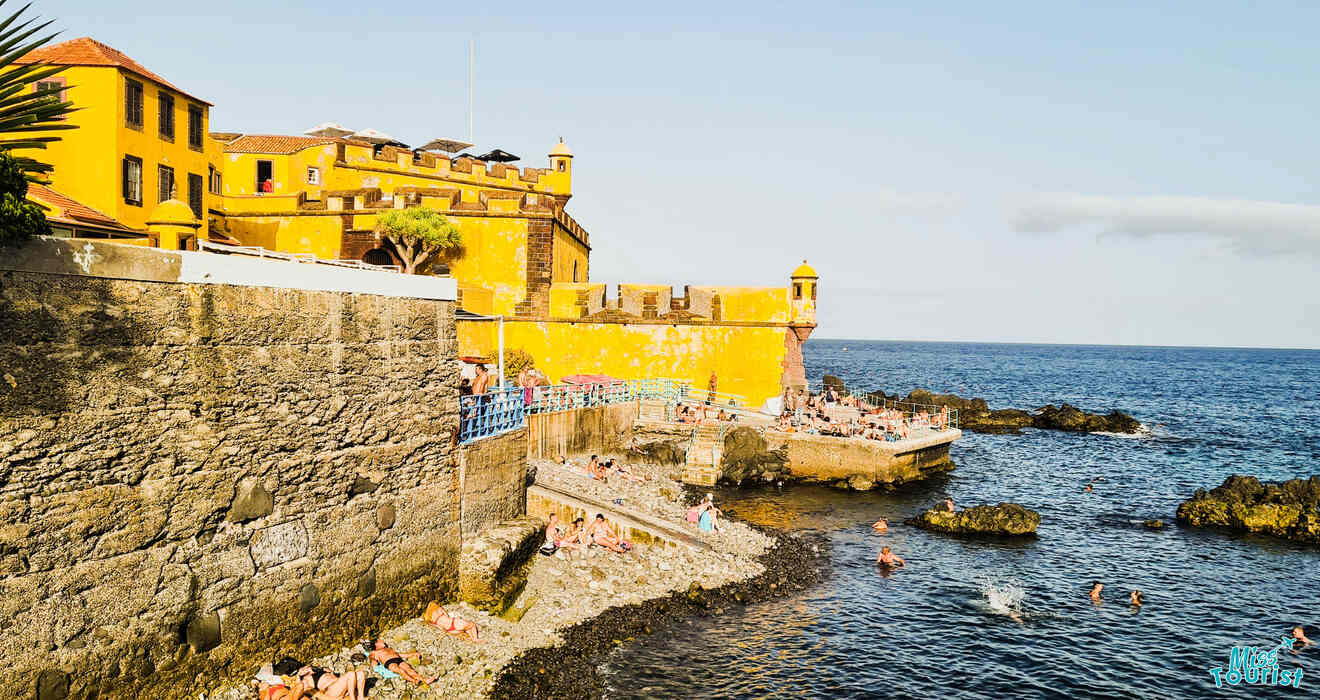 In this list of best things to do in Funchal, you cannot miss the beach… After all, we're talking about an island, right?
If you want to just chill far from the crowds, you can spend a day in Praia São Tiago, a local and tiny beach made of pebbles, perfect for enjoying some quietness and a relaxed swim. It is equipped with some facilities like showers, and is free to visit!
Just a few steps from the beach you will find the beautiful Forte de São Tiago (Sao Tiago Fort), a yellow fortress built in the 1600s to protect the island from Pirates attacks. Today it hosts a delicious restaurant where you can have a fancy dinner – the Restaurante do Forte, right inside the building.
You can even visit the fort as a historic landmark, although the ticket is quite cheap (around €3) there isn't much information provided, so if you want to learn more about its history, I recommend doing some research online before visiting. But either way you can still gaze at the amazing ocean views from the top of it!
11. Take a hop-on hop-off bus tour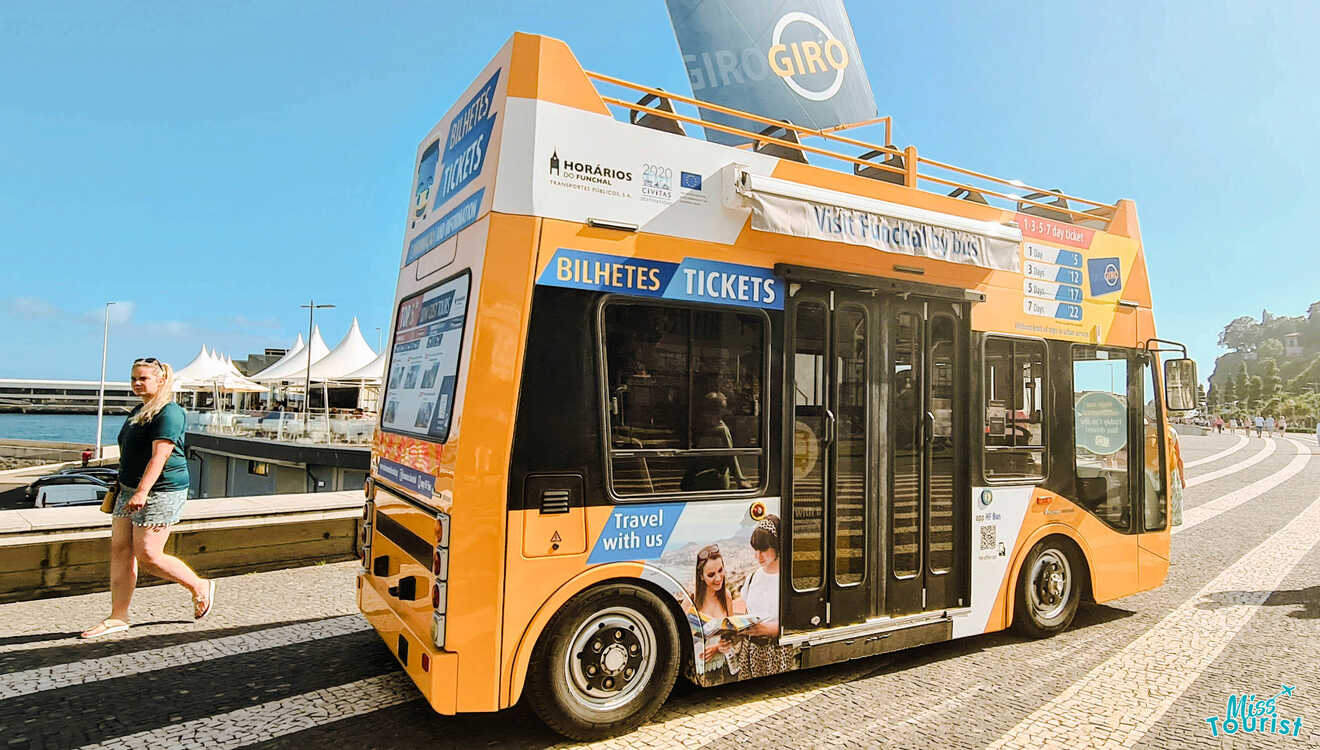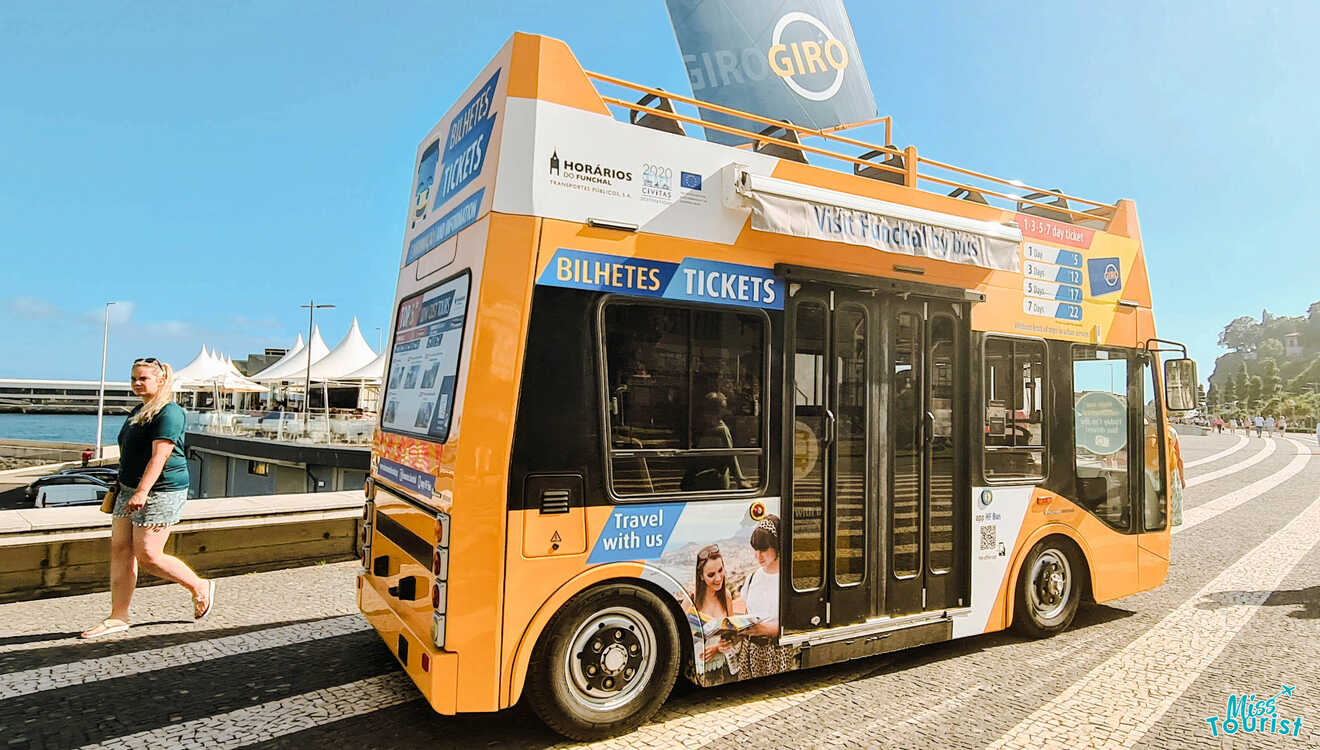 If you want to combine the flexibility of independent sightseeing with the benefits of a guided visit, check out this hop-on hop-off bus ticket, with passes from 48 hours to 5 days… Perfect also if you are short on time!
With this option, you'll have access to three amazing routes on the island: the highlights of Funchal (Town Hall, Cathedral, and Worker's Market), the village of Câmara de Lobos, and the Skywalk of Cabo Girão.
This is a super easy way to get around the island as it takes you directly to all the places tourists want to see, without the restrictions of a fully guided tour!
Price: From €22
12. Swim with dolphins on a boat tour!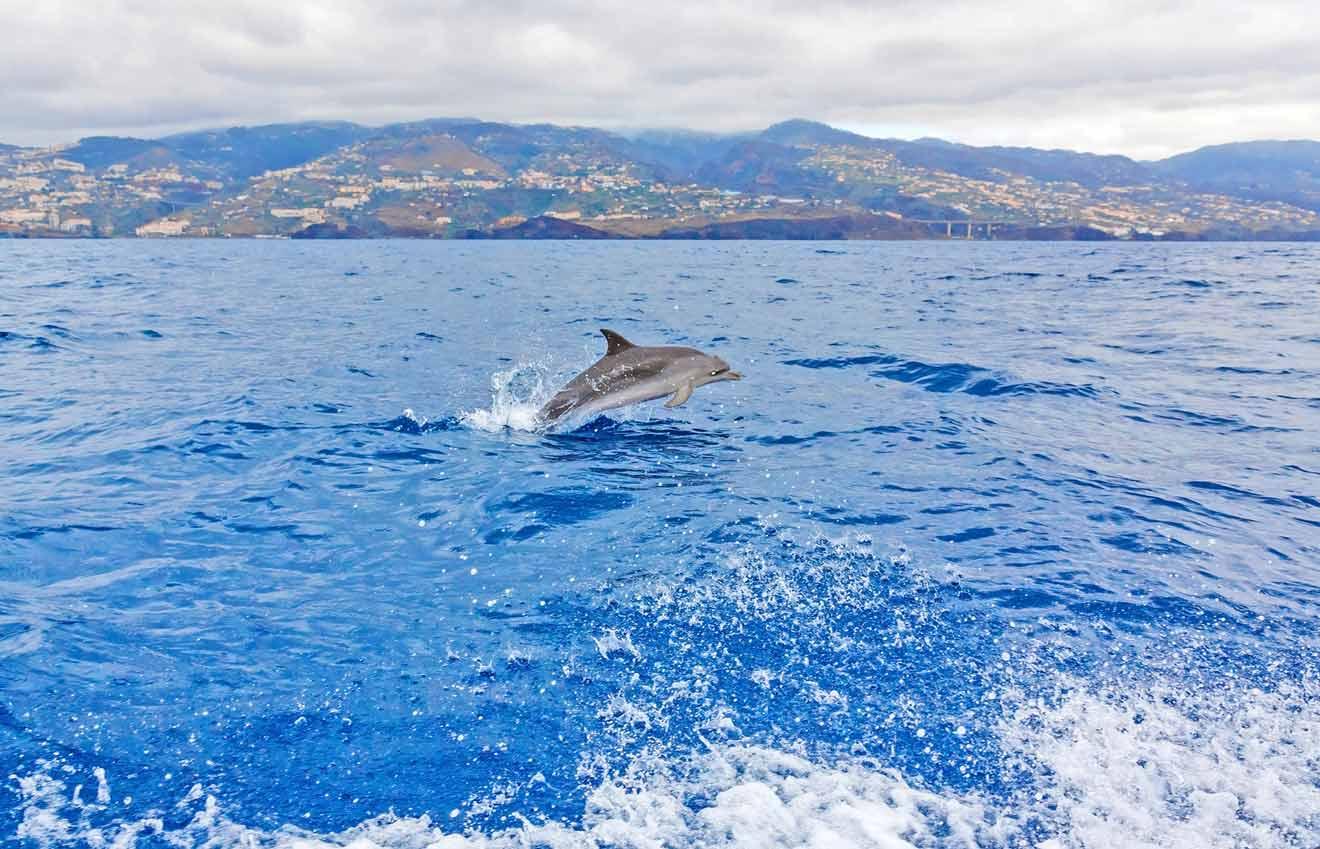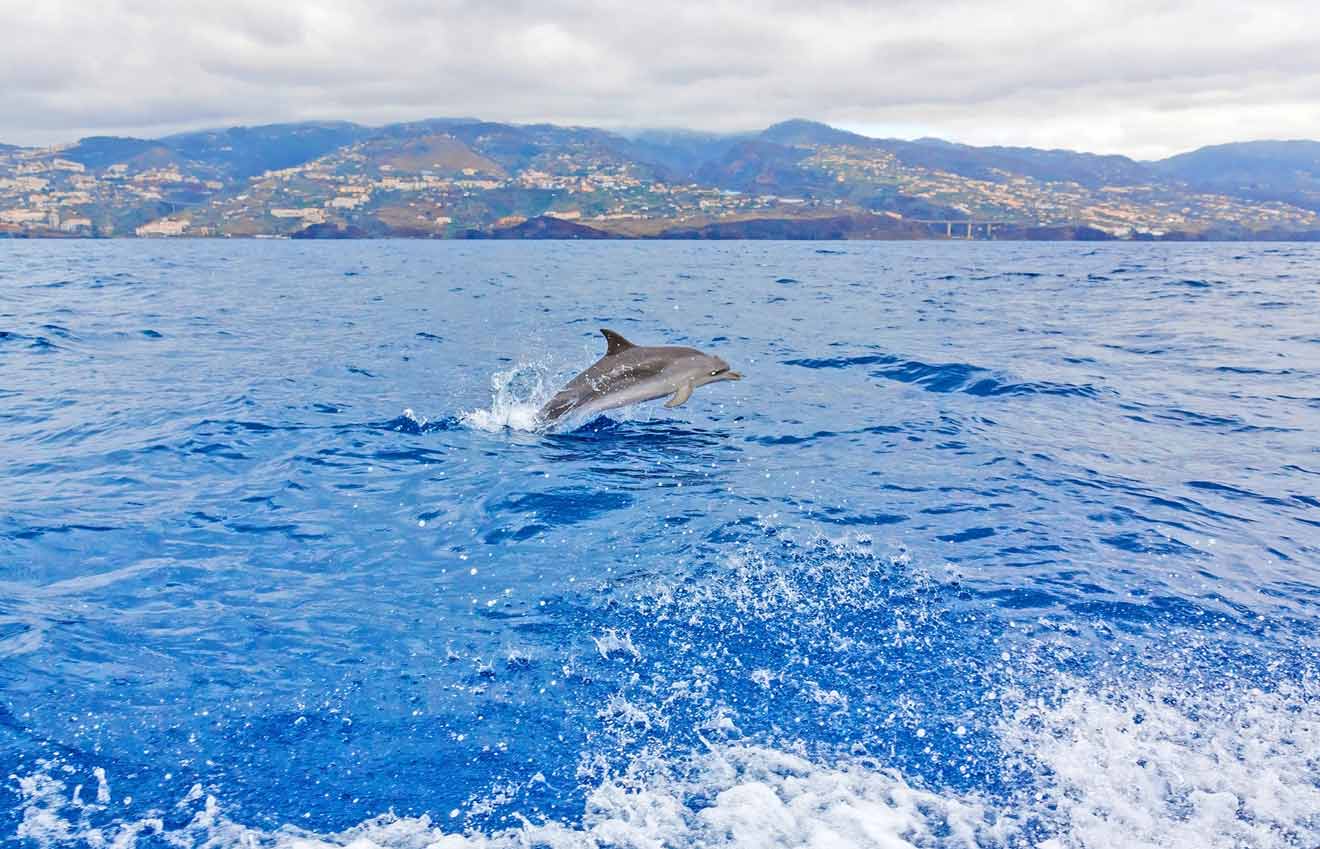 Have you, like me, always wanted to swim with dolphins? Then this 2-hour tour will make your dream come true, and is actually the best thing I did in Madeira!
You will meet at the Funchal Marina, put on your wetsuit (provided), and then jump on the small boat, heading towards the spot where the dolphins (supposedly) are. Once you've found the dolphins, 4 people at a time are allowed to jump into the water, where you'll be dragged behind the boat with a rope, while the dolphins swim around you!
This was my first time seeing dolphins underwater, and it was magical! I saw about 30 dolphins altogether from different sides and even whales!
If you prefer not to swim, there are plenty of dolphin-watching tours which will suit you better. I recommend this 3-hour dolphin and whale watching tour instead as you will get more time and be on a bigger, more comfortable boat for €30.
I talk about taking this tour in much more detail in this post.
Price: €60
13. Stroll the Funchal marina at sunset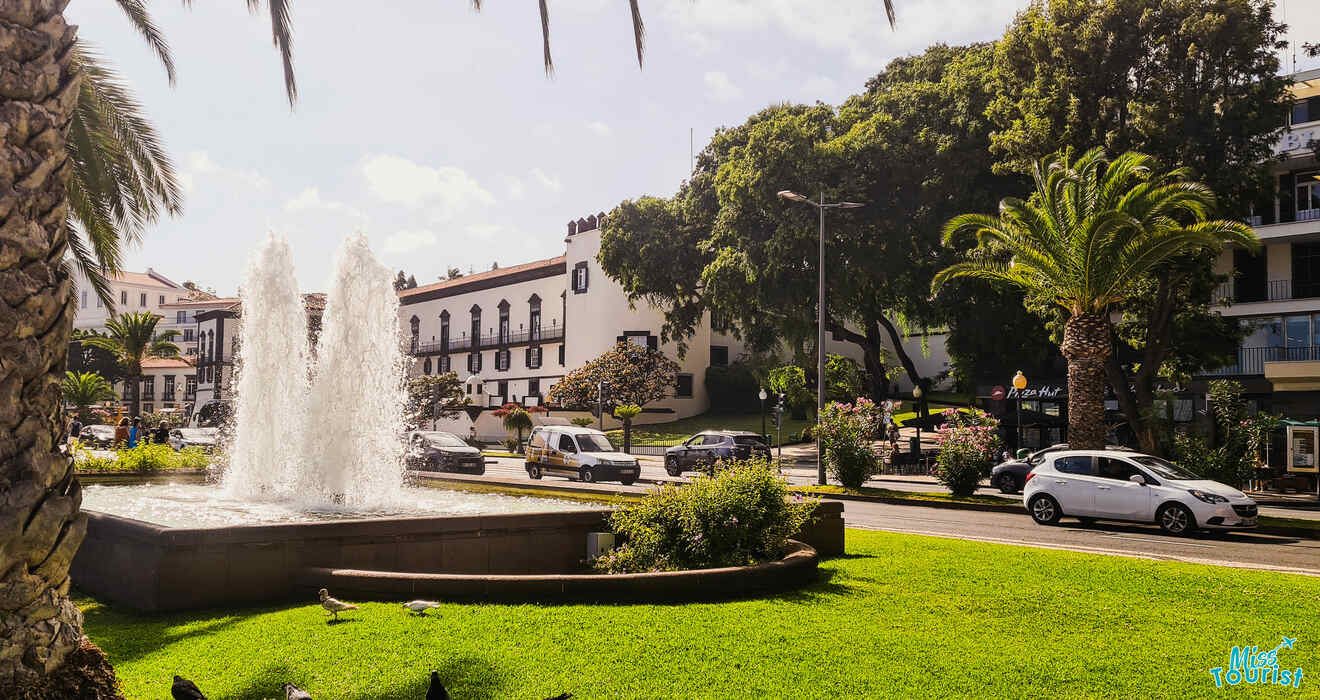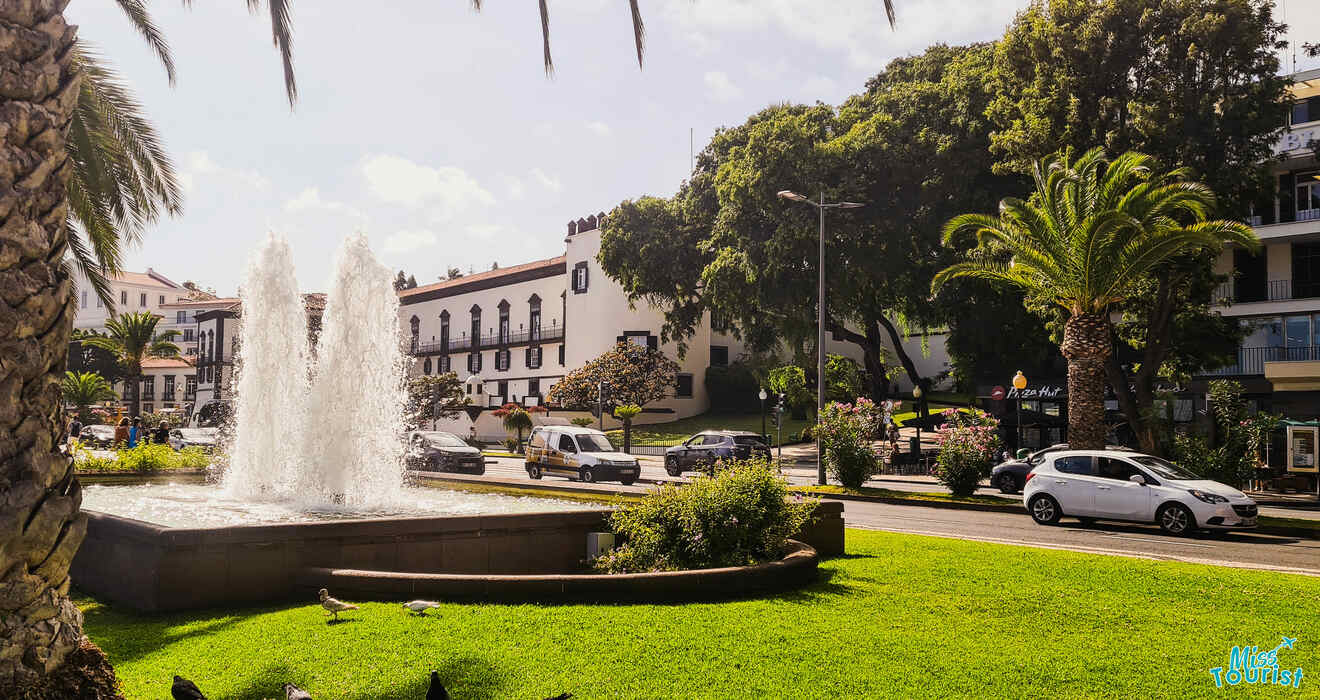 A cool thing to do after an intense day of visiting is to just stroll around the Marina, hosting luxury yachts and local boats on one side, while facing the steep mountains on the other side!
The Marina is within walking distance of Praca do Provo, the CR7 Museum, Christiano Ronaldo, and the Porto Funchal, so you can easily access it from many other Funchal top attractions that you may be visiting. There are also plenty of places to eat and drink here, perfect if you are looking to have an aperitif or a romantic dinner.
The best time to do this is at sunset time. Make sure to choose a bench where you can sit and simply admire the boats with the sun going down as a backdrop, or do some people-watching! It really is a magical way to end the day!
14. Visit some of the interesting museums in Funchal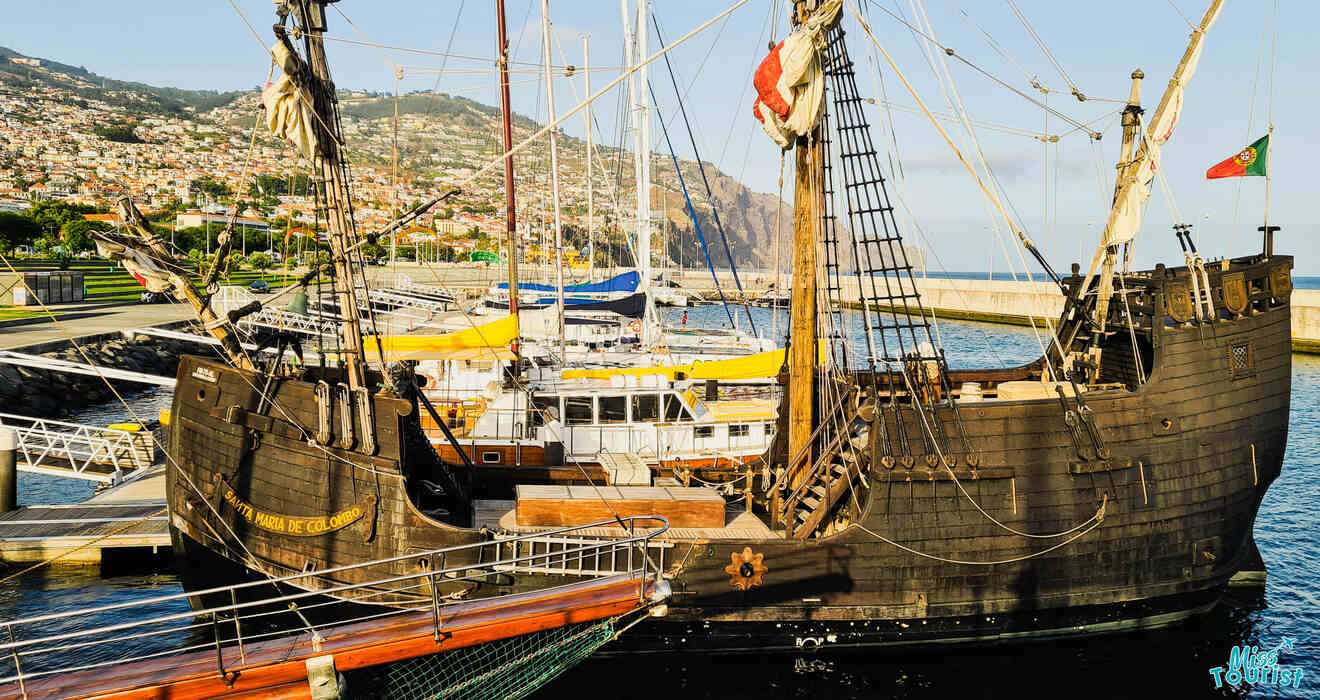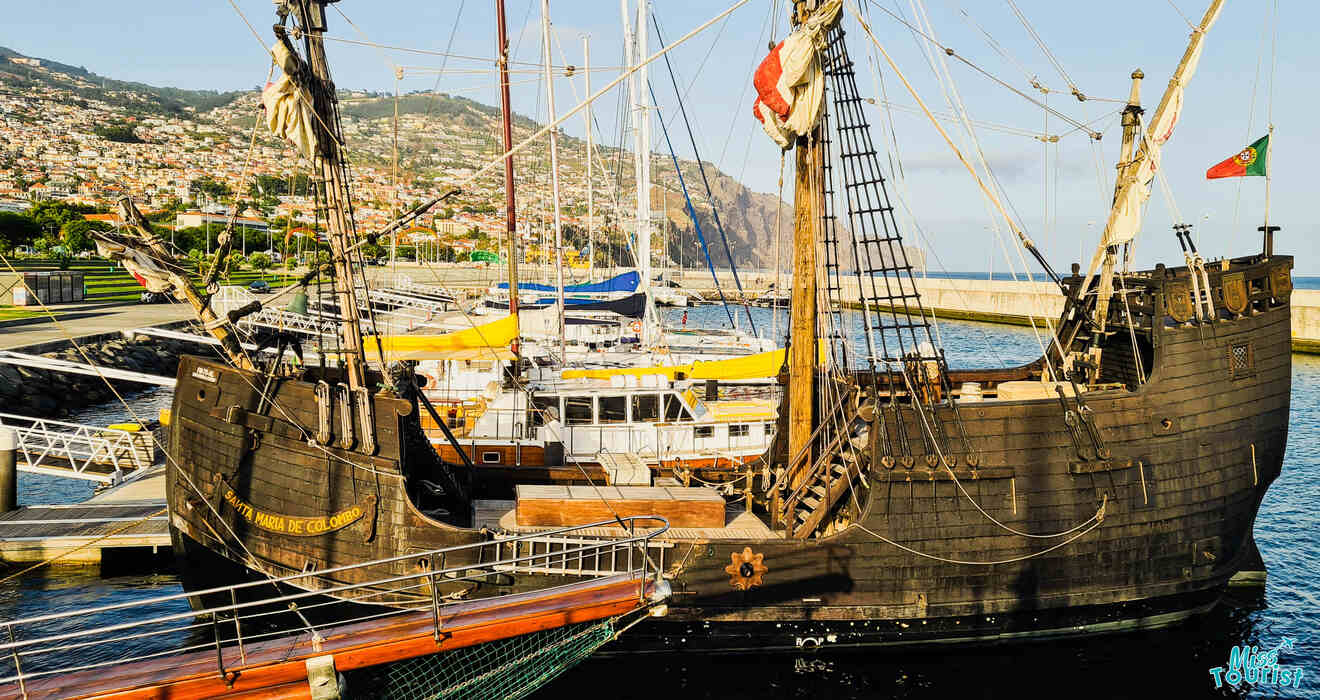 Even if Cristiano Ronaldo's CR7 Museum is the most famous one, Funchal is full of interesting Museums to visit. Check out the most important ones:
Did you know that there were no humans or animals in Madeira until the Portuguese discovered the island in 1490? After this date, only birds and see life inhabited Madeira!
| | |
| --- | --- |
| 🤩 Range of activities: | Large |
| 👪 Family-friendly score: | Medium |
| 🏛️ Best museum: | CR7 Museum |
| 🎢 Top paid attraction: | Monte Cable Car |
| 🚶🏽‍♂️ Best free activity: | Santa Catarina Park |
| 🌆 Best views of the town: | Botanical Gardens |
| 🚣‍♀️ Best day trip: | Porto Santo |
| 🥟 Must try food: | Exotic fruits at the Mercado dos Lavradores |
| 📅 How many days: | 4 – 8 |
| 📍 Best neighborhood: | Old Town |
| 🚕 Average taxi PRICE: | €10/ 10 minutes |
| 💵 Avg hotel PRICE: | €150 |
| ✈️ Cost of traveling: | Medium |
Where to stay in Funchal, Madeira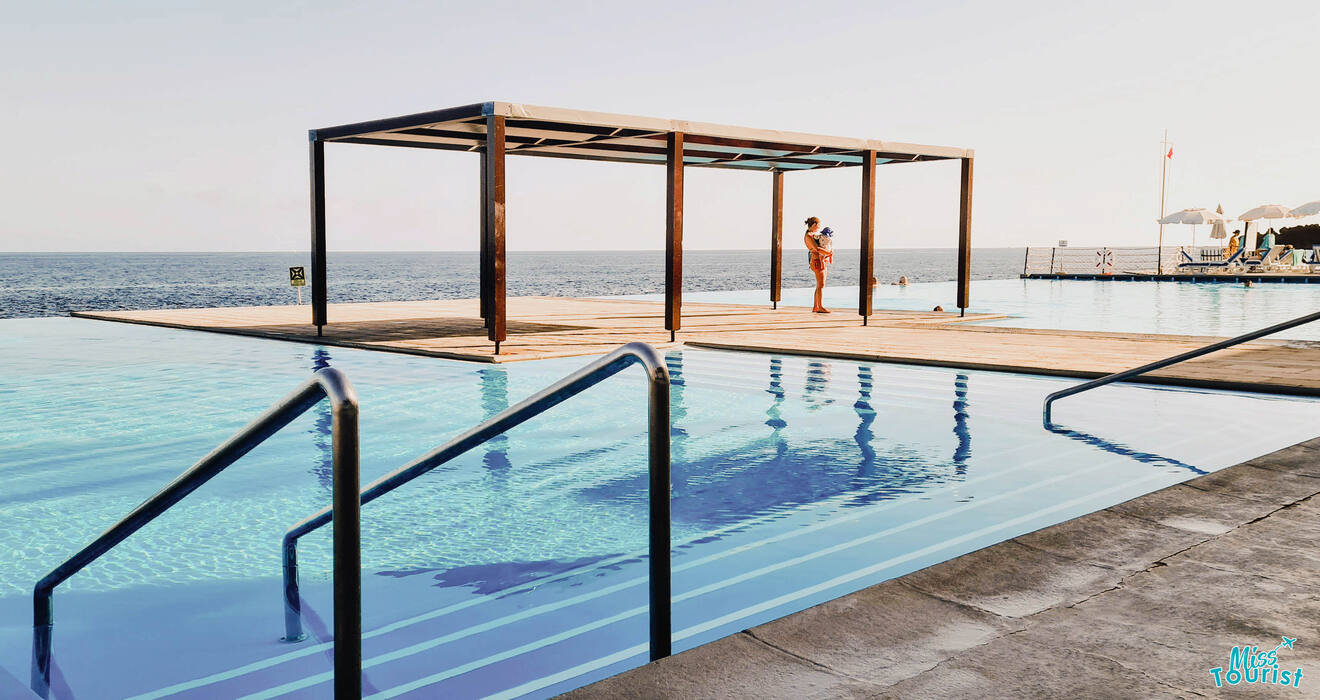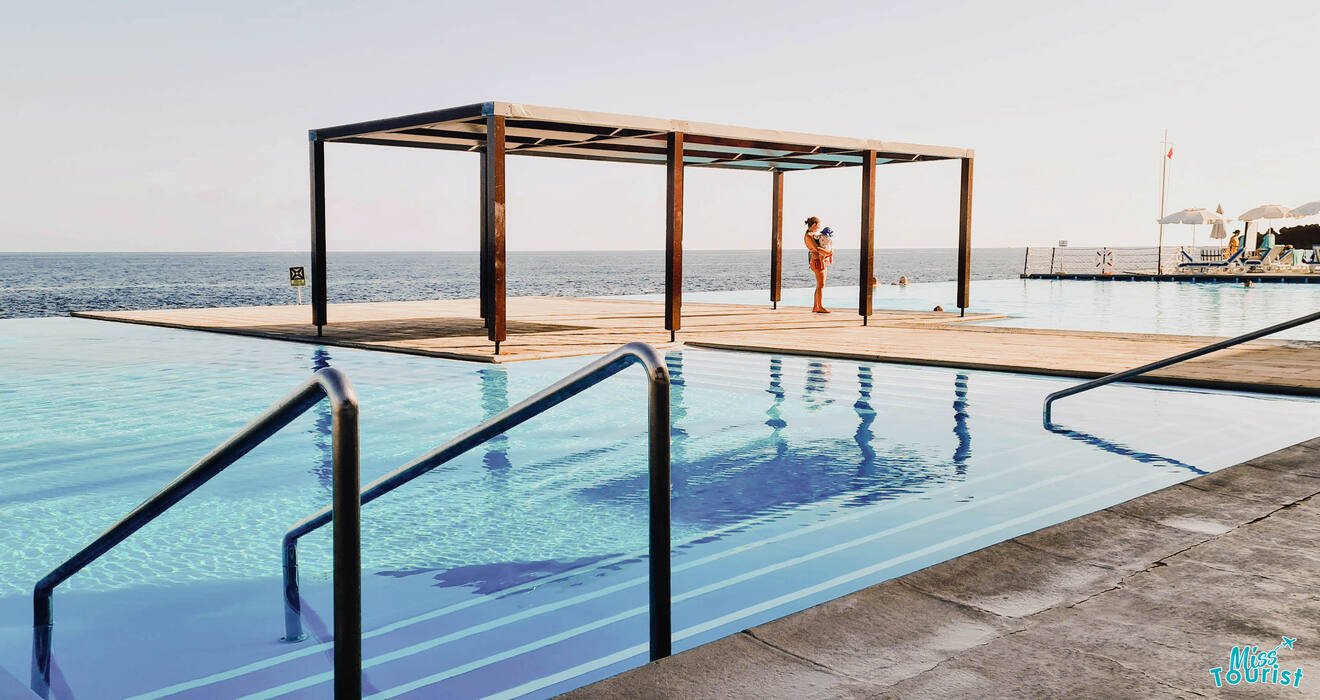 Even if you have all your great activities sorted, you still need a great hotel to complete your trip! Below you'll find the best hotels where to stay in Funchal, Madeira, divided by price range.
But if you want to check out all the other amazing places on the island, read this post with all the best areas and hotels to stay in Madeira!
Luxury (US$500 and up): Belmond Reid's Palace – This amazing 5-star resort is one of the most famous hotels in the world, having hosted guests like Sisi (Austrian Empress) and Winston Churchill. It offers an oceanfront spa, 3 swimming pools, and ocean views!
Mid Range (US$150 – US$250): Golden Residence Hotel – Check out this great hotel only 2 minutes walk from the beach, featuring amazing amenities like an outdoor pool, a wellness center, and modern accommodations with private balconies.
Budget (up to US$100): Santa Maria Hostel – Located only a short walk to Funchal Old Town, this hotel is perfect for those who are traveling on a budget, featuring rooms with free wifi, access to a restaurant, and a bar
How to get around Funchal & Madeira Island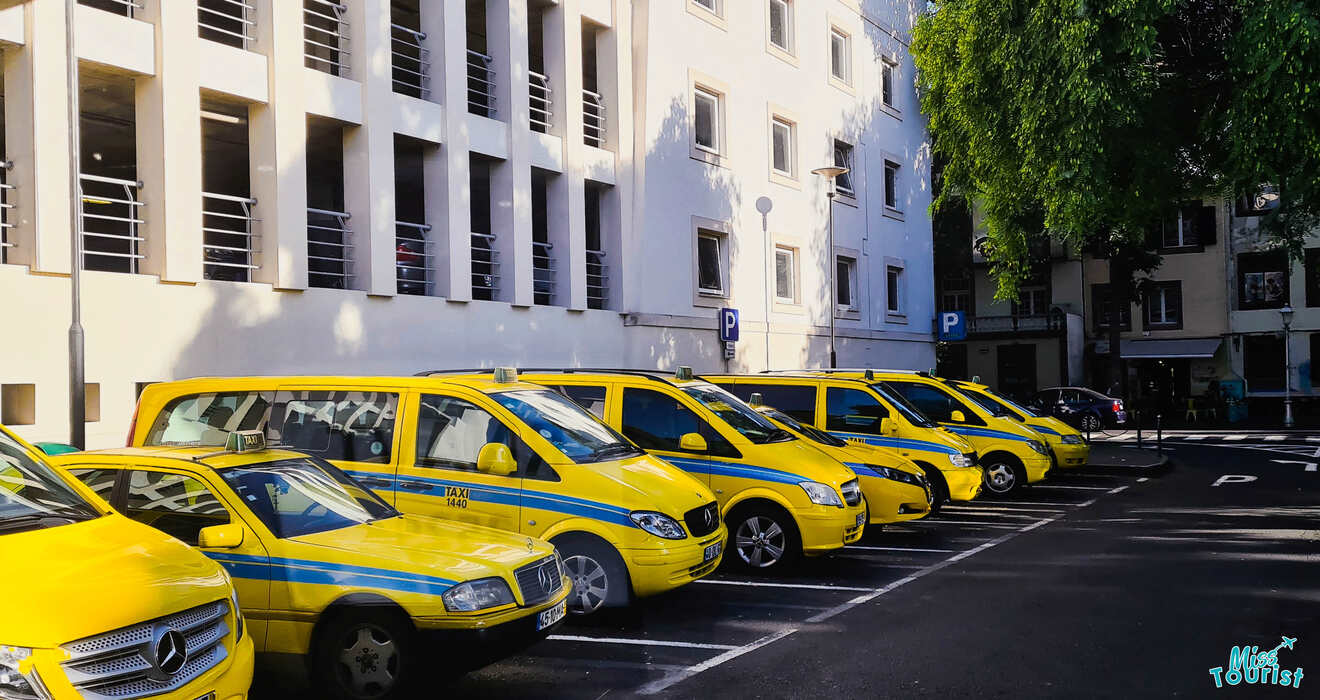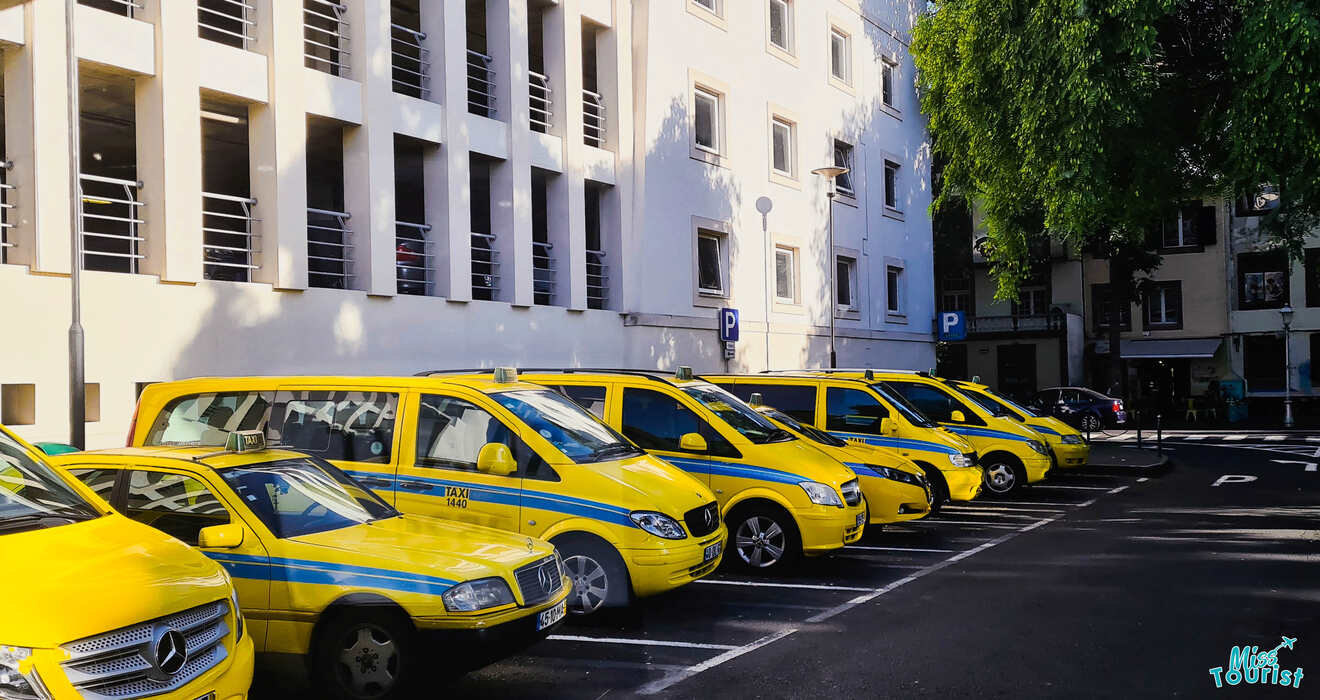 Madeira is pretty big, so the easiest way to get around the island is definitely by car because you can follow off-the-beaten paths where public transportation doesn't arrive and save some time.
But if you plan on just concentrating your holiday only in Funchal, most of the places there are within walking distance of each other, and there are also well-connected buses at very low prices.
Let's see the options more in detail:
Car: If you want to explore the island by yourself, renting a car in Funchal (for about €80 a day) is the best option, but take in consideration that there are lots of tunnels and uphills, so it is not the best choice if you easily get car sick! If you love the outdoors and you are more adventurous, you can also rent a scooter bike.
Public transport: Buses in Funchal are very efficient and cheap. You will need to buy a rechargeable GIRO bus card for €0.50 (from a GIRO machine) and then each one-way ticket costs €1.35. There are 3 main bus company sites in Madeira to check times and prices: Horarios, SAM, and Rodoeste.
Taxis: Taxis are also an option in Funchal (they're yellow, you won't miss them), but they're quite expensive, so often you'll have to negotiate the price with the driver. A 20-minute drive will cost you around €25 but if you want a cheaper option, check out Bolt, a ride-sharing app that is quick and convenient.
Walking: As I said earlier, most of the attractions in Funchal are within an easy walking distance from each other, so you can stay in the city center and then join one of the many tours and day trips from there!
Tours: All the tours in Madeira leave from Funchal to other parts of the island, so you can easily cover everything in one or two days. If you take these 2 tours to the West Side and East Coast of Madeira, you will cover most of the island's highlights. But if you have more time, we have a whole post dedicated to the best tours in Madeira if you want to know more!
How to get to Funchal from the airport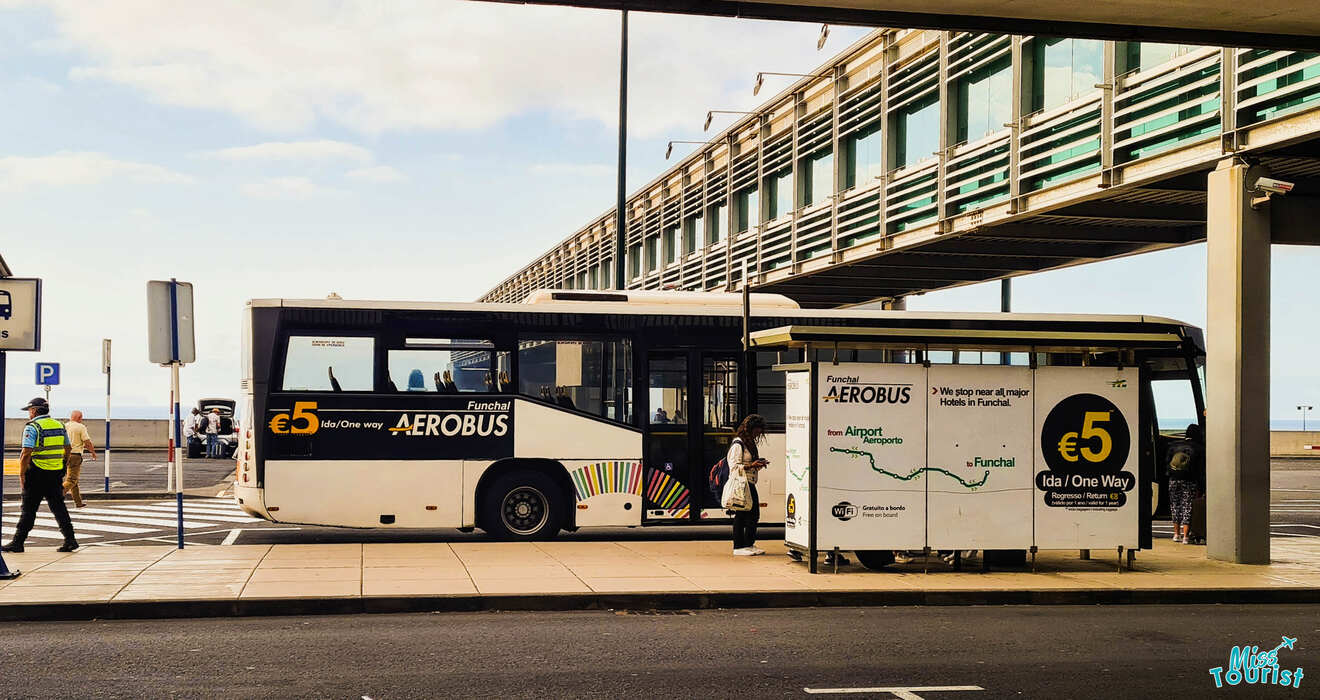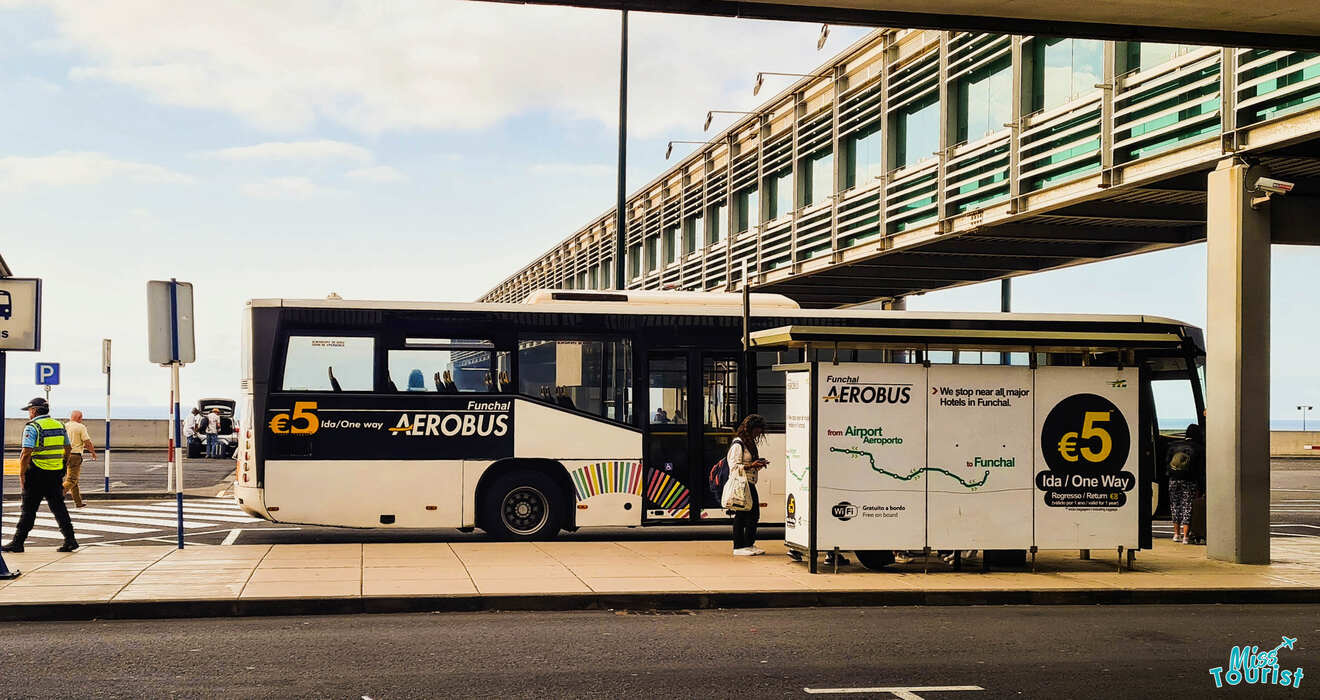 Even if you are not renting a car in Madeira, there are plenty of ways for you to easily get to Funchal from the airport.
When you land at Funchal airport, you can either take a Bolt (like Uber) to Funchal for €20-25, or a bus for €5. Both ways follow a very beautiful road and take about 30 minutes, so if I were you I would take the cheapest option!
FUN FACT: The Funchal airport used to have the most dangerous landing strip in Europe, because it was very short. But you don't have to worry because they extended it so nowadays planes have a lot of space to land and take off!
FAQs about things to do in Funchal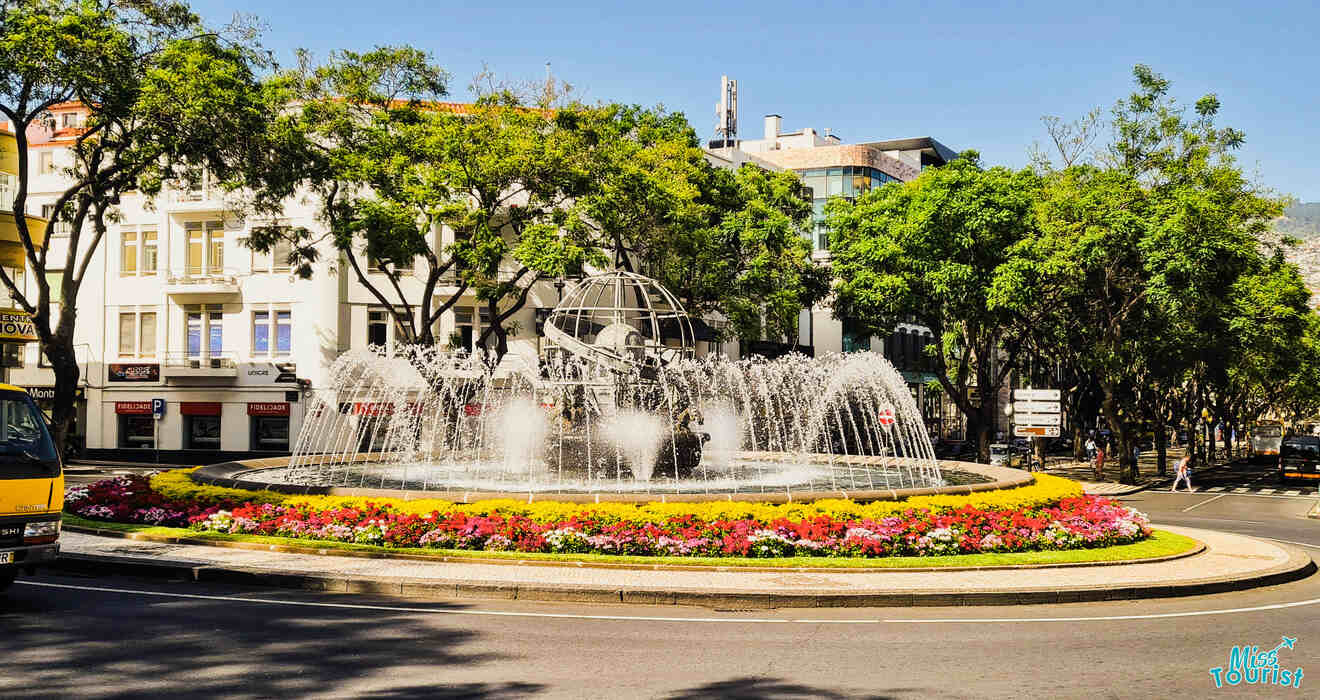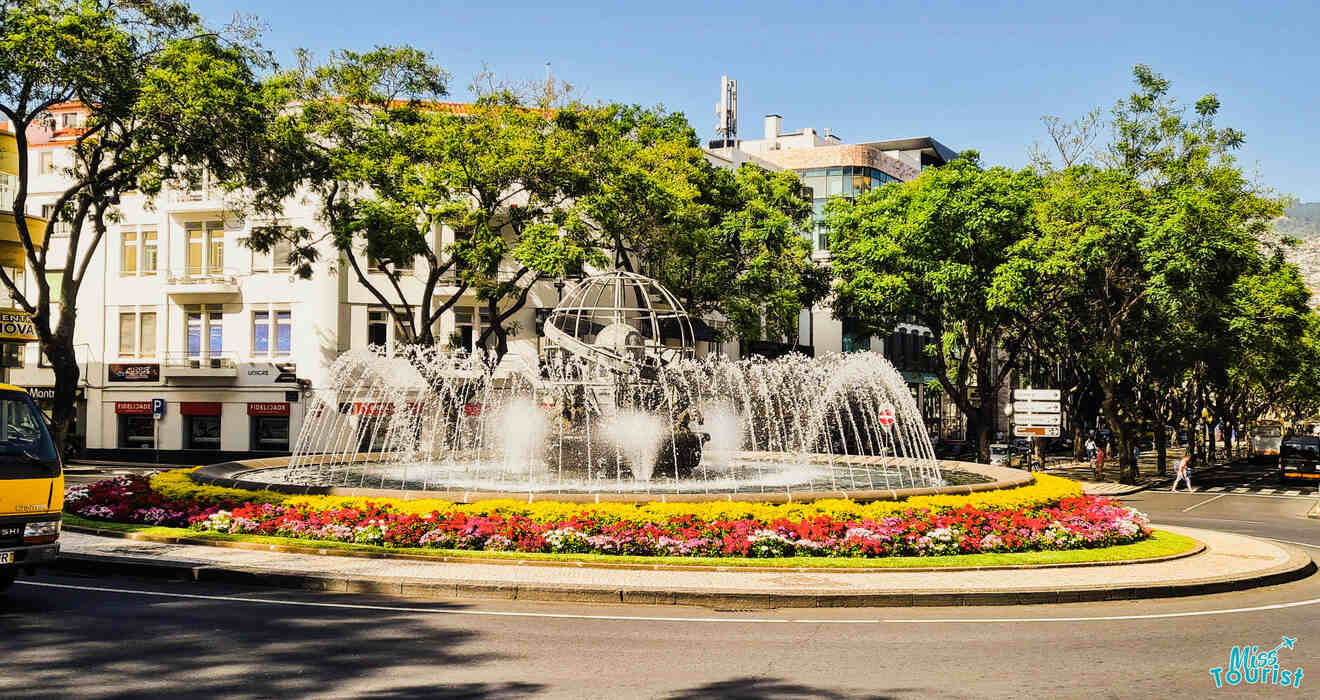 🤩 What are the best things to do in Funchal, Madeira Island?
The best things to do in Funchal are visiting the Botanical gardens or the Monte Palace Gardens with its beautiful exotic flowers, located within the grounds of the Quinta Monte Palace, and exploring Funchal's old town with a free walking tour. 
🎆 When is the best time to Visit Funchal, Madeira Island?
The best time to Visit Funchal is in summer when temperatures are warmer, or during new years when they do a huge fireworks celebration, but practically any time is good since the weather is really unpredictable!
📅 How many days should I spend in Funchal, Madeira Island?
Since Madeira is quite far from any place in Europe (the closest is Portugal, a 2 hours flight from it), you should spend a minimum of 4 days – one in the west, one in the east, one for Funchal, one to chill in your hotel. People usually spend 7-8 days.
👀 What are the most unusual things to do in Funchal, Madeira Island?
The most unusual things to do in Funchal are having a Toboggan Ride from the Nossa Senhora do Monte Church, trying all the weird fruits at Mercado dos Lavradores, and checking out the street art and colorfully painted doors in Rua da Santa Maria.
❓ What to do in Funchal on a Sunday?
On a Sunday in Funchal, you can explore the vibrant Mercado dos Lavradores, take a scenic cable car ride to Monte, and relax in the picturesque Santa Catarina Park.
🌃 What are some exciting things to do in Funchal at night?
You can enjoy vibrant nightlife by exploring local bars, trying Madeira's wines, or strolling along the scenic waterfront promenade.
Conclusion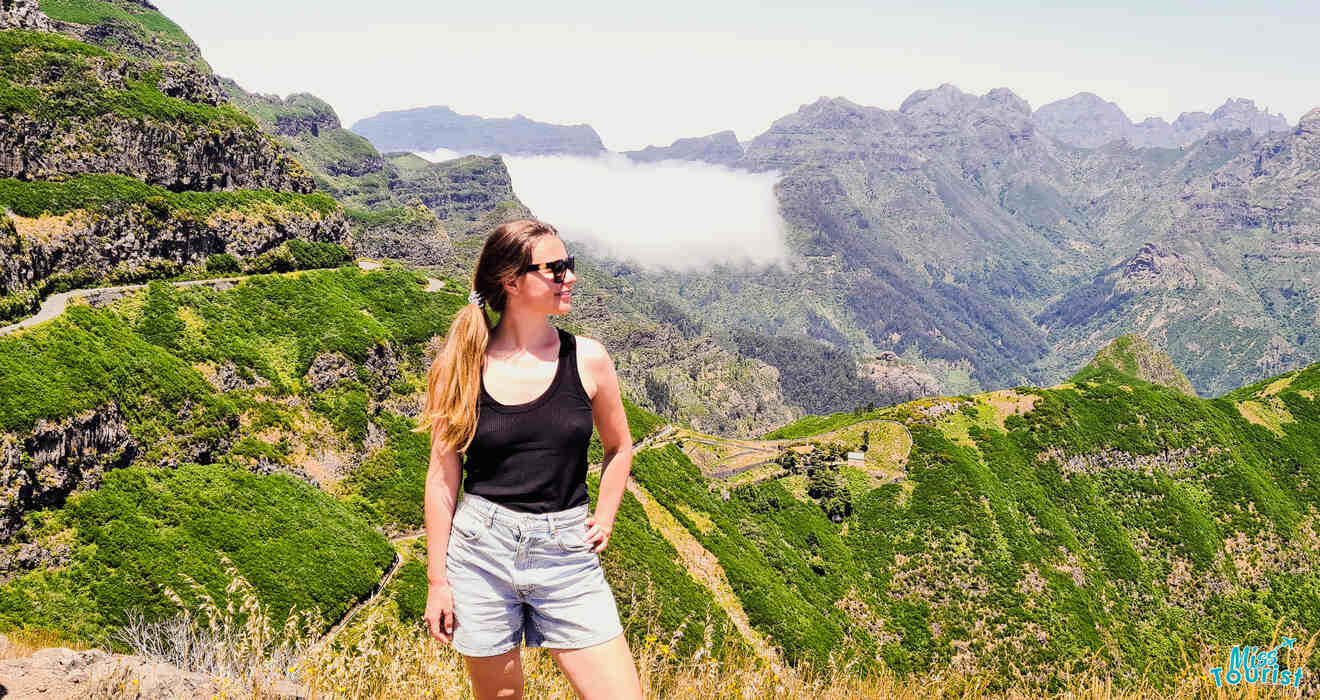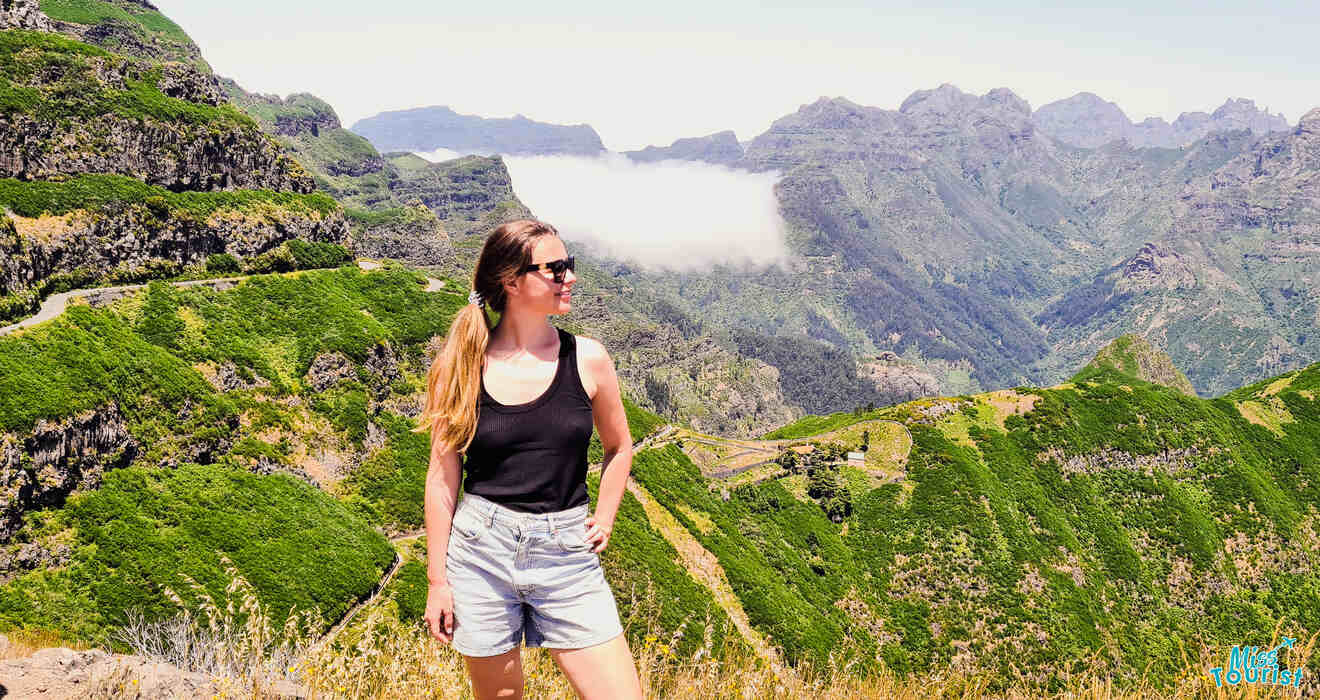 I think by now you got it: when visiting Madeira, the capital city Funchal is definitely a must! Hosting all the most popular tourist attractions on this Portuguese island and being the starting point of the best tours and day trips (and also where many cruise ships land), it just can't be beaten!
We just saw all the best things to do in Funchal from cable car rides to crazy Toboggan rides, delicious food and wine, interesting museums, walking tours, and much more… Which one will you do first?
To be honest with you, I was not even planning on writing this post when I planned my trip to Madeira, but Funchal impressed me so much, there are SO many things to do, and I could not stop myself as I think you should visit it properly too!
If you are already planning your holiday to the island, check out all the best areas and hotels to stay in Madeira and start booking to make sure you don't miss out!
I hope you enjoyed reading as much as I did sharing my tips and activities. If you have any questions or suggestions for me, please leave them in the comments below, I am looking forward to reading them all!
Have the best holiday!
Yulia
---
Pin it for later!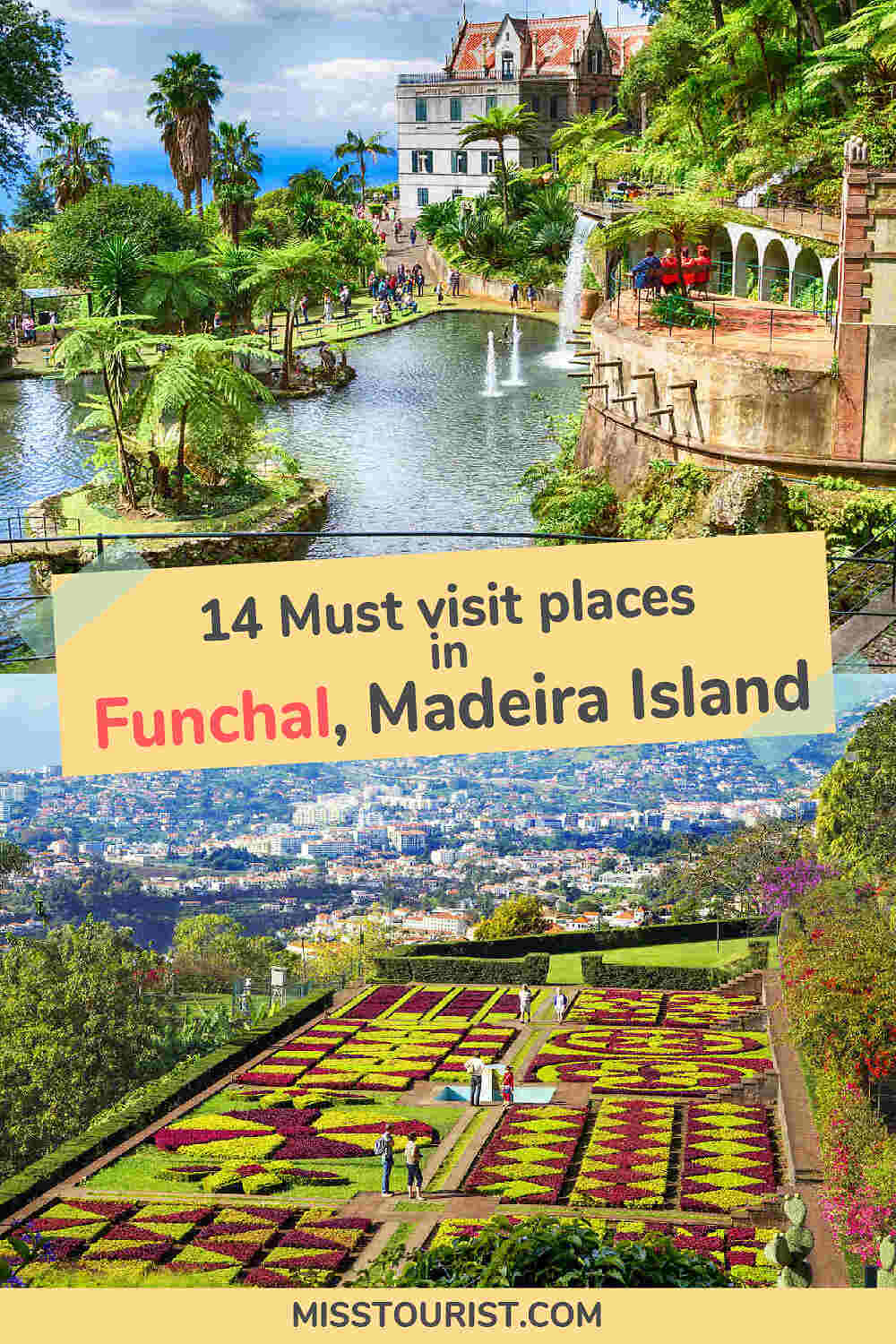 Pin it for later!