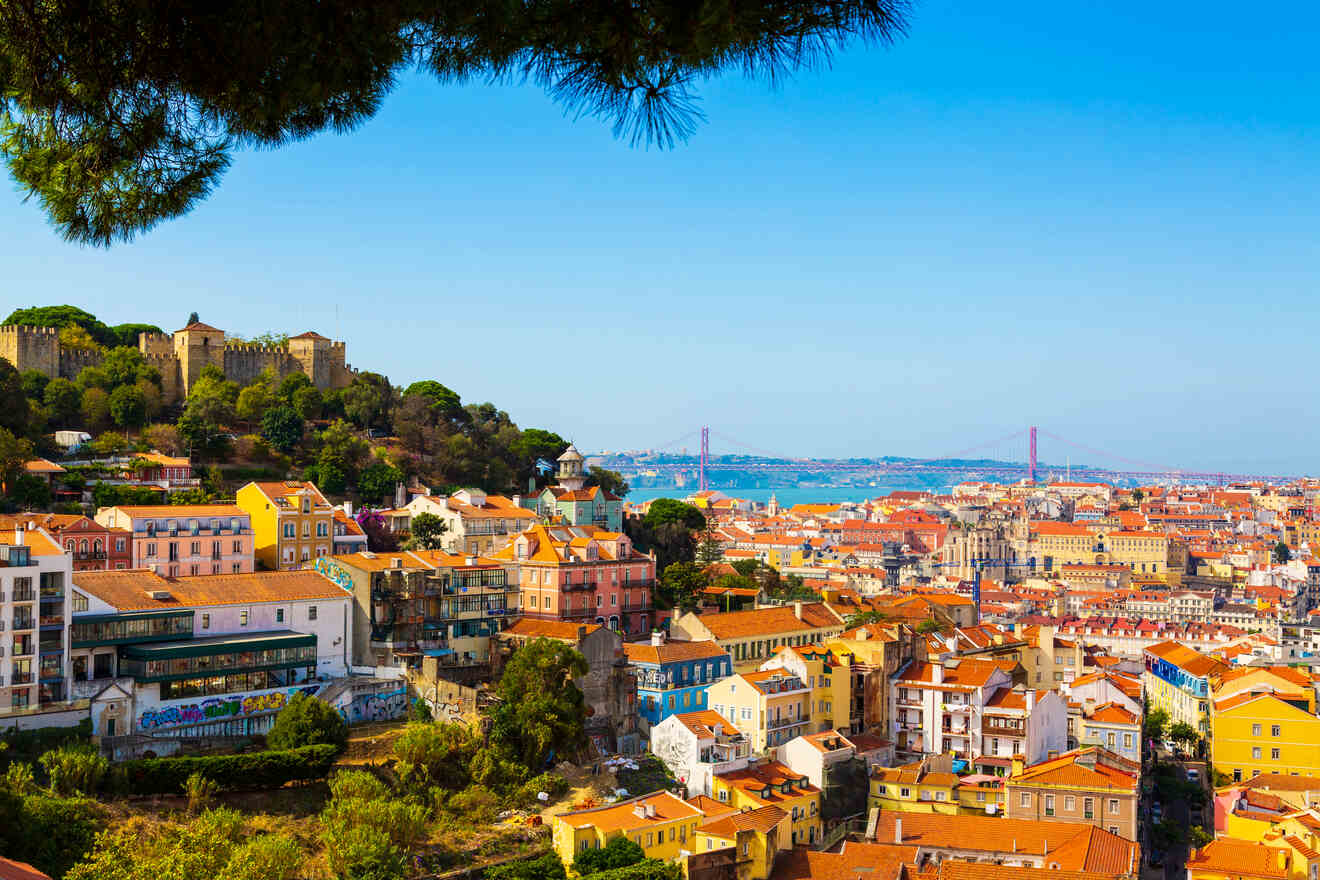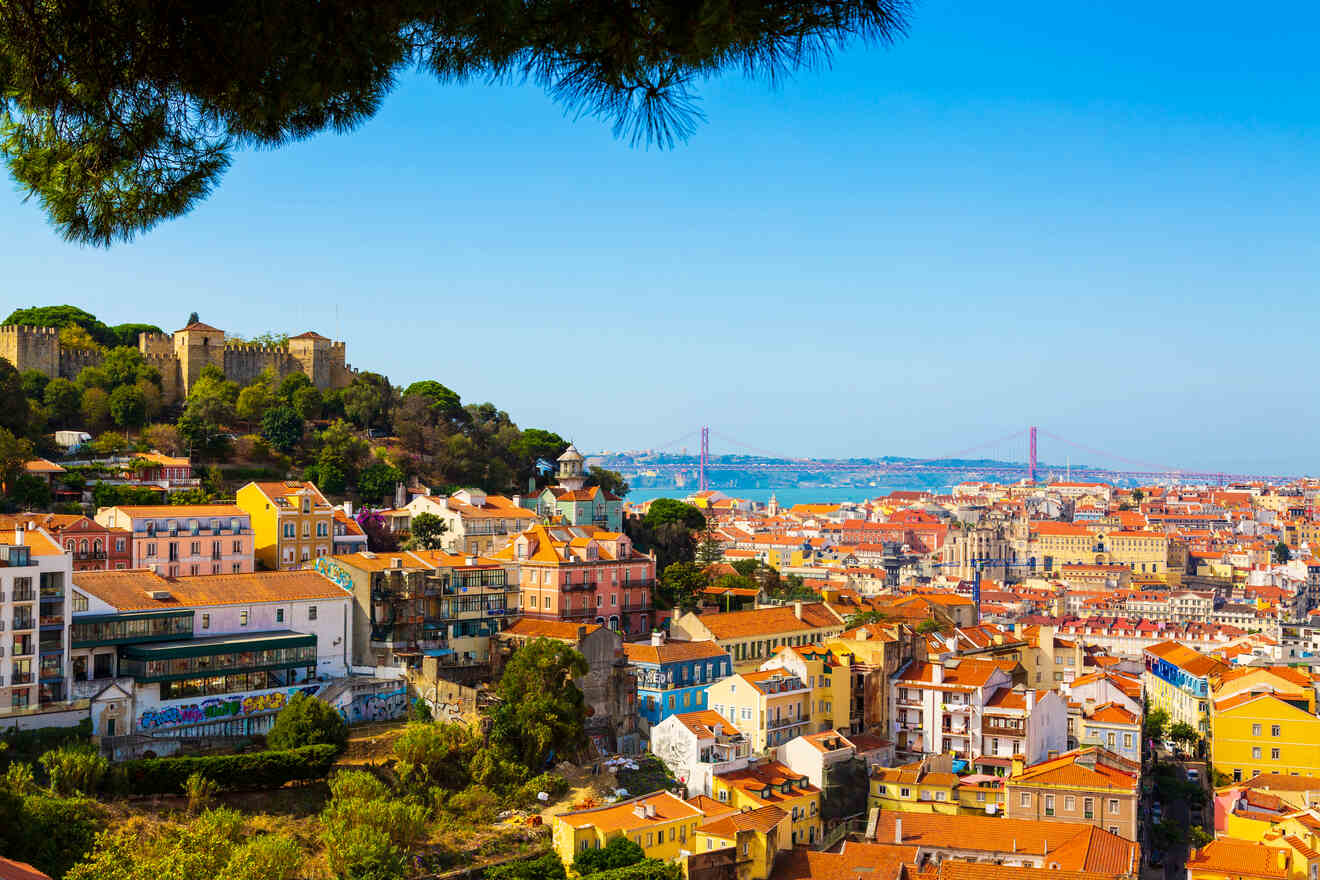 The capital of my beloved Portugal, Lisbon, has a vibe that you won't find anywhere in the whole world, that's for sure! It offers a mix of old and modern buildings, colorful street art and a lively (but slow at the same time) pace of life.
Lisbon will hypnotize you, or at least that's what happened with me. I lived in Costa da Caparica (just outside of Lisbon) for a year and whenever I had the chance I was visiting this charming capital, so I basically have visited and seen all the best attractions it has to offer!
That's why I decided to do this guide with the best things to do in Lisbon: I want you to have the same great experience and memories that I have, and after reading this article you will definitely have an idea of what to expect!
Get ready to learn about Portuguese history, try traditional Portuguese dishes, discover the hidden jews of the city center, gaze at ancient art… and to just LOVE Lisbon! Are you ready?
Let's start!
1. Visit the best cultural attractions in Lisbon
There are so many attractions in Lisbon that it is quite hard to decide where to start or to select the best ones if you don't have too much time in the city.
Although there are many walking and private tours (even a free walking tour!) that you can join to discover them, maybe you want to decide for yourself which ones to dedicate more time to… and that's where I come!
I made for you a list to the top cultural attraction you CANNOT miss in Lisbon, check them out:
1.1 Castelo de São Jorge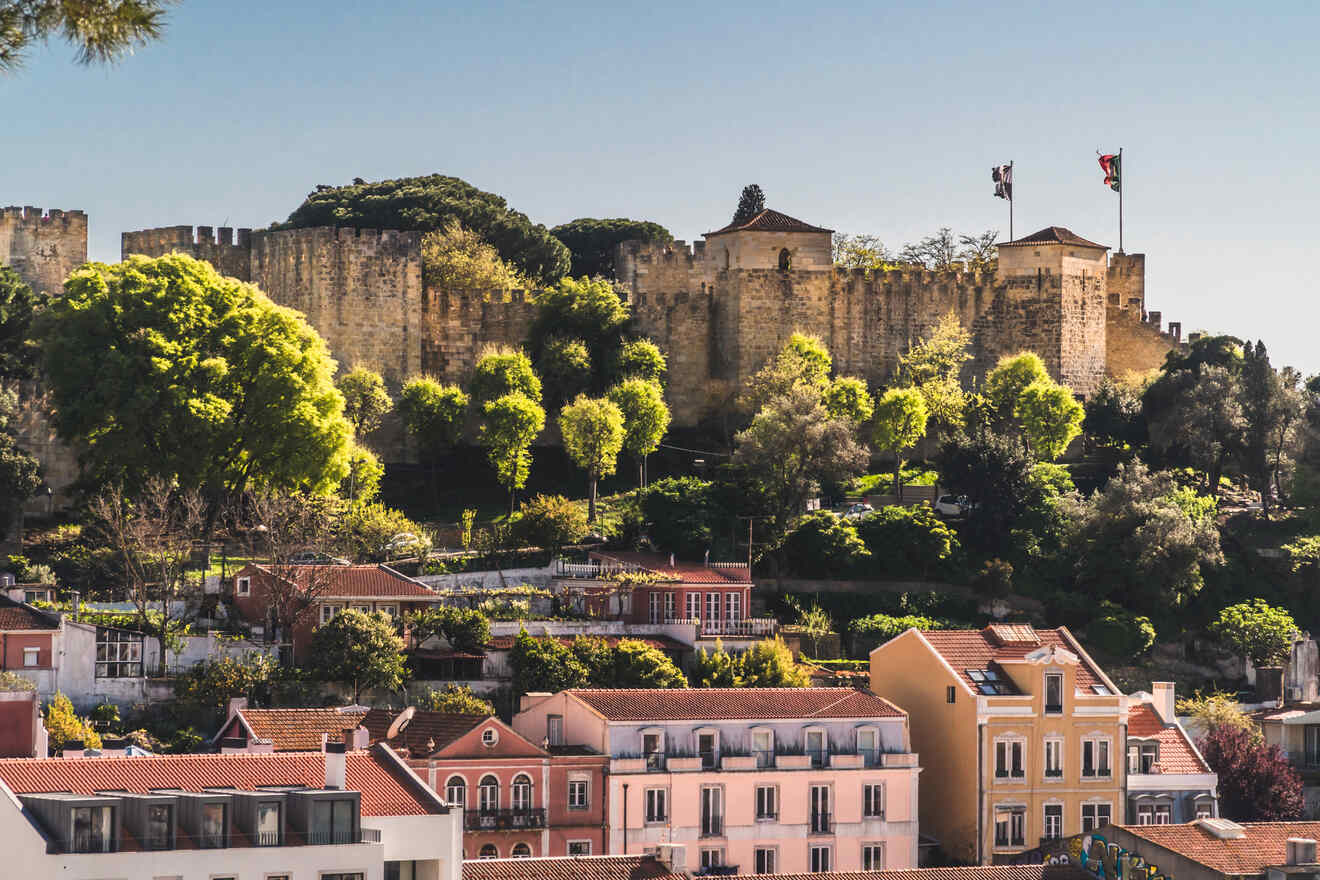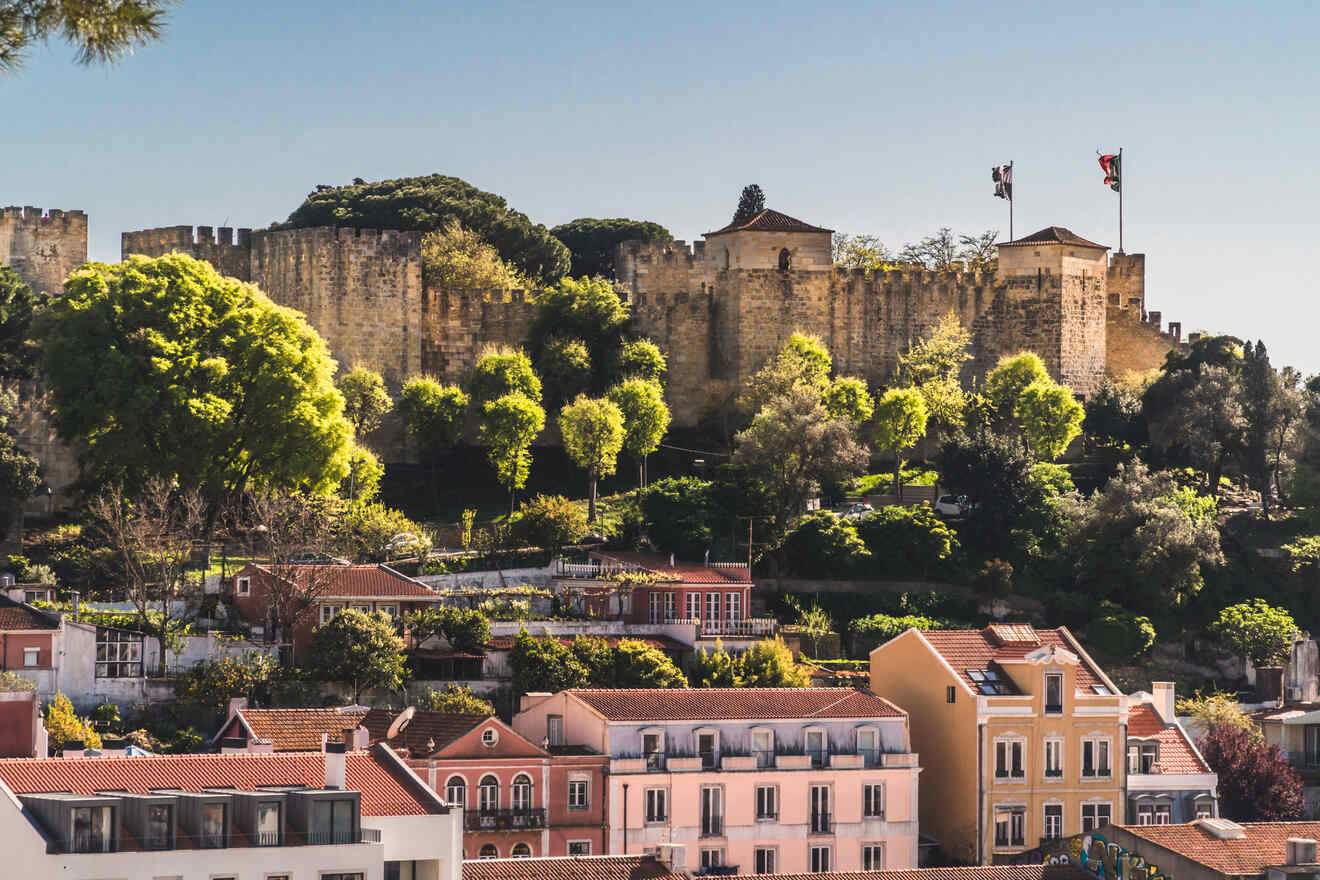 São Jorge Castle (St. George's Castle) is an ancient Moorish castle located on the top of a hill in the charming Alfama District (I will talk about this area later in the post).
When Moorish rule ended in Portugal, the Sao Jorge Castle was used as a royal Palace, and now is home to a museum with interesting archeological exhibits, as well as eleven castle towers and beautiful gardens that will bring you back in time!
But the best thing that Castelo de São Jorge will offer you is the breathtaking view of the Baixa area (literally on the other side), the city center and the Tagus River.
PRO TIP: You can reach the castle either by the city center or by the Alfama neighborhood. In both cases, you will have to climb a bit (this is Lisbon, baby!), but I personally suggest you do that from Alfama: this historic area is beautiful, and absolutely a MUST for your stay in Lisbon!
HACK: If you don't feel like walking, all scattered around the city you'll find many electric motorcycles. You can rent even just for a few minutes and then leave them where you'll park. To use them, you just need to download an app like Cooltra Motosharing Scooter‬‬!
PRICE: 10€ for adults, 5€ for youngsters (13-25 years), 0€ for kids <11 years old
1.2 Belém Tower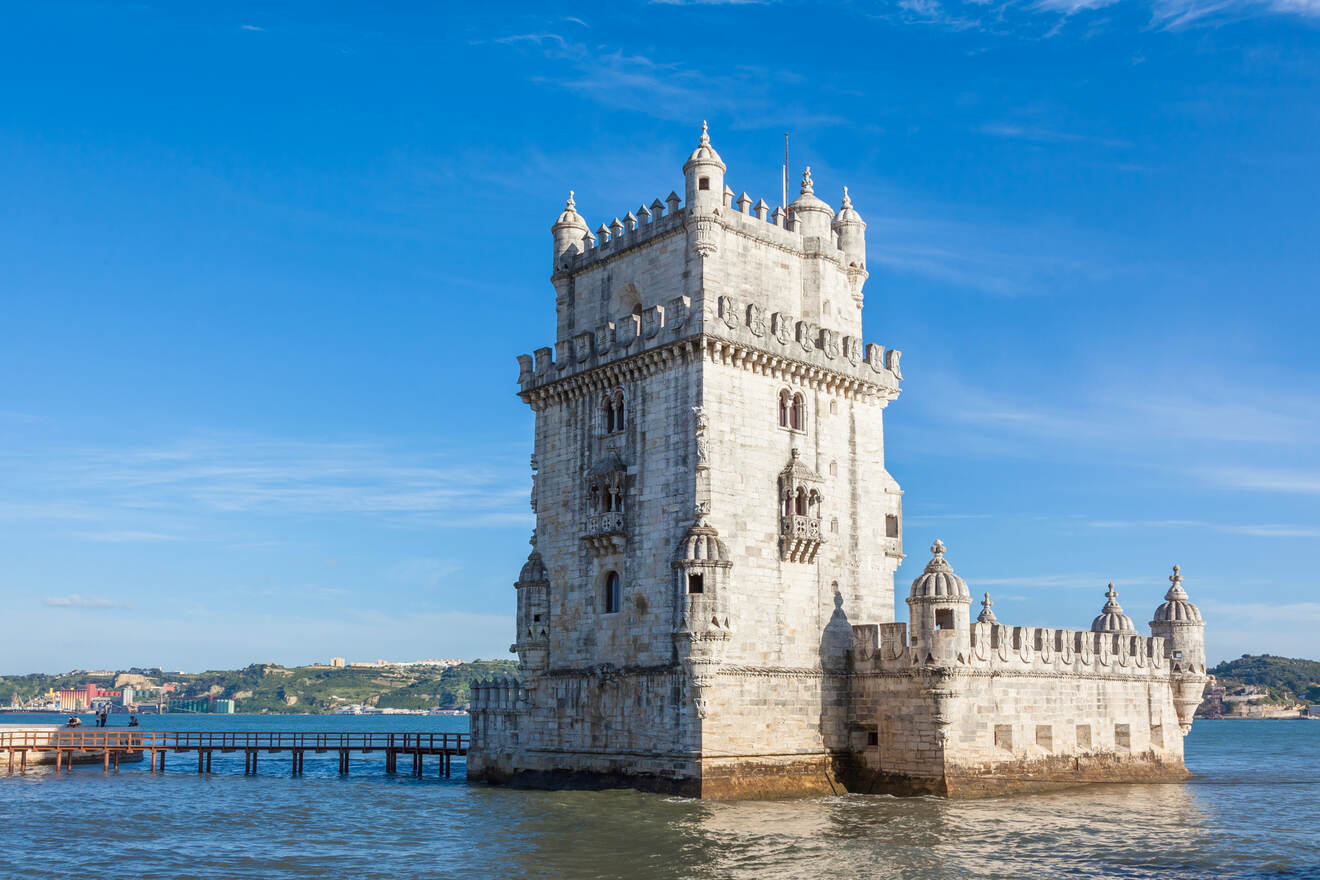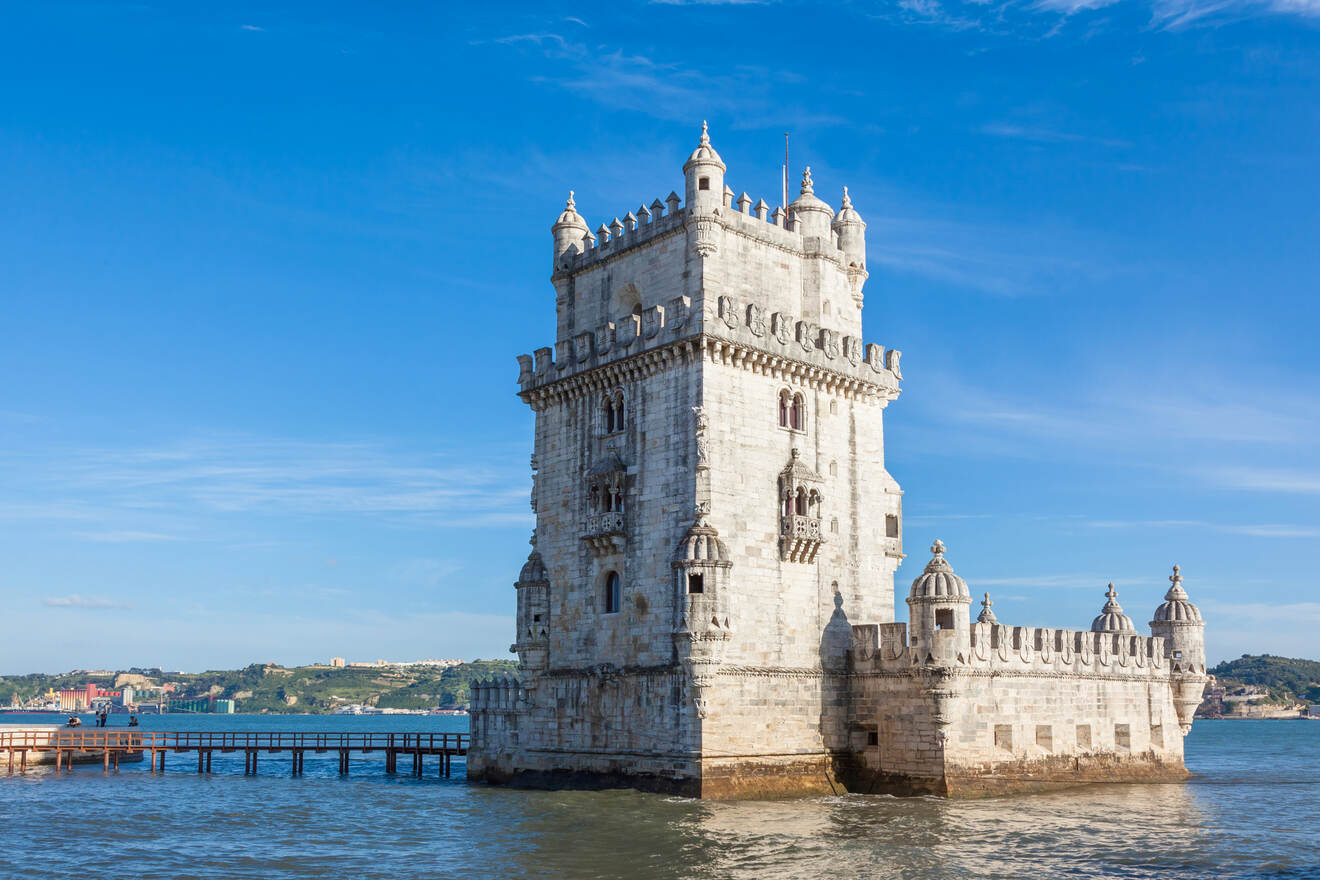 One of the most iconic symbols of Lisbon city is the famous Belém Tower, built from a mix of architectural styles: Mudejar, Moorish, Gothic and Romanesque, resulting in a beautiful fortified tower!
The tower was initially built to defend the city, so it watches where the Tagus River estuary meets the Atlantic Ocean. Supposedly this is the last thing adventurers like Vasco da Gama would have seen while entering the Atlantic Ocean, during Portugal's Age of Discovery.
To admire its greatness you don't have to enter the tower, but if you do so you will be able to climb its top and enjoy the stunning views over the River, the April 25 bridge, and the Christ Redeemer statue!
In the Belem area (it is actually a neighborhood of Lisbon) you'll also find the famous Monastery of St Jerome, another UNESCO World Heritage Site, and the The Padrão dos Descobrimentos (Monument to the Discoveries).
This monument, 170 Ft (52 m) tall, was designed to commemorate the Age of Discoveries in Portugal and commemorates the five hundredth anniversary of the death of Henry the Navigator, who discovered the beautiful islands of Azores, Madeira and Cape Verde.
PRICE: 6€ with this skip the line ticket!
1.3 Praça do Comércio Pedro IV Square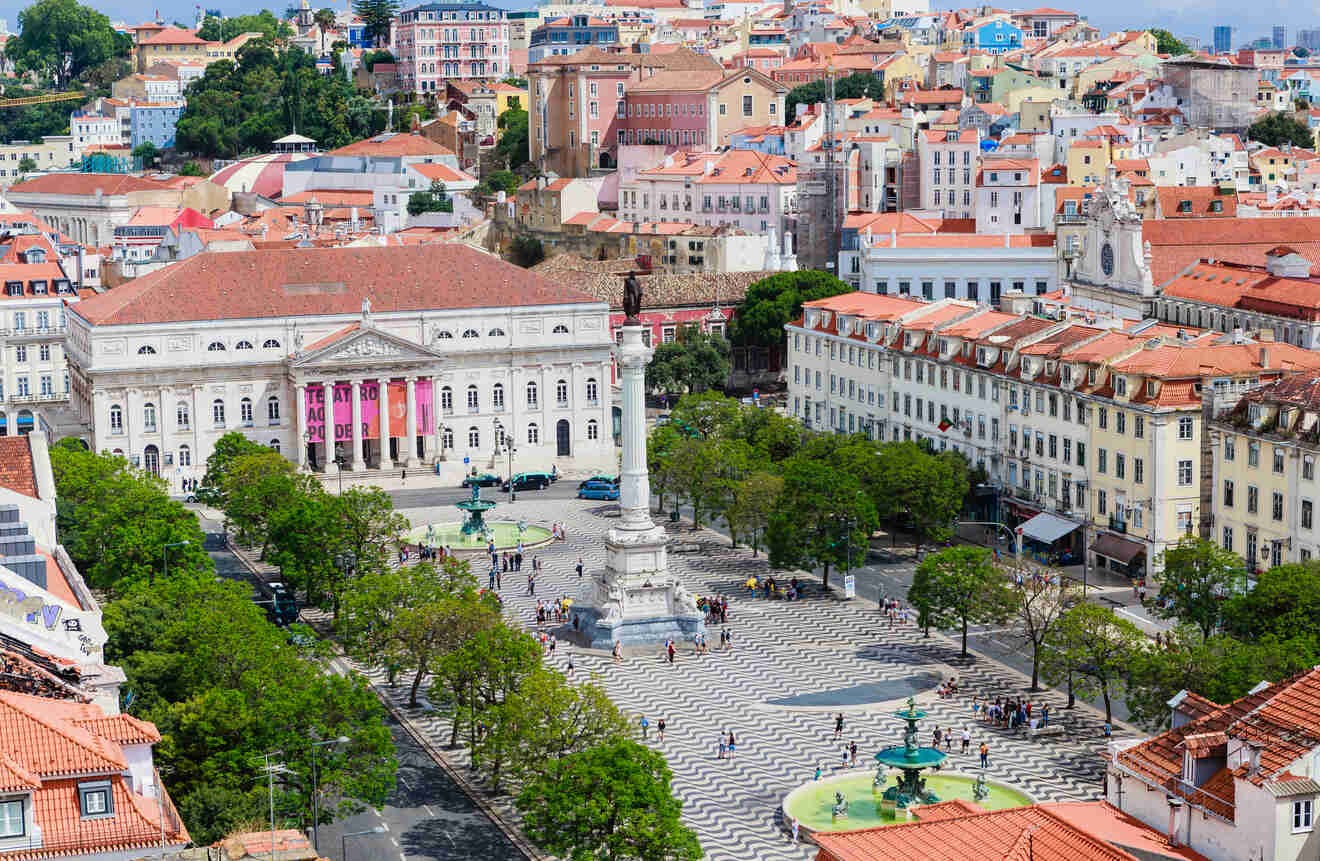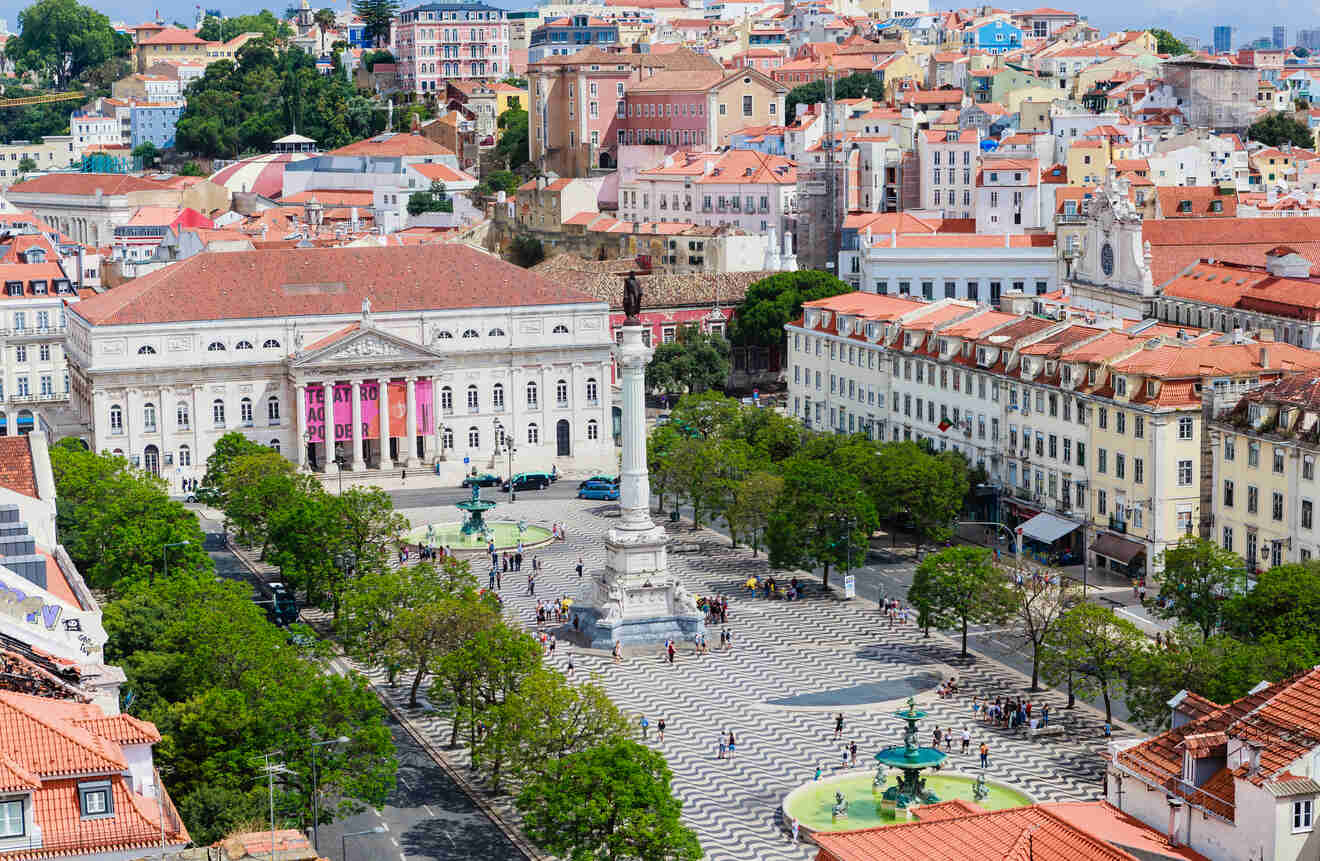 If you're walking around Lisbon city center, another must-see attraction of the city is the waterfront Praça do Comércio square!
From here you'll have the BEST views of both Lisbon's Tagus River and the elegant 18th-century buildings surrounding all the square.
Praça do Comércio is known as the yard of the royal palace ("Terreiro do Paço"), that's why you will find the famous statue of the king on horseback right in the middle of it!
This is actually a transition place, where you can have a walk or just sit in one of the many bars and restaurants and just enjoy the view!
1.4 Pedro IV Square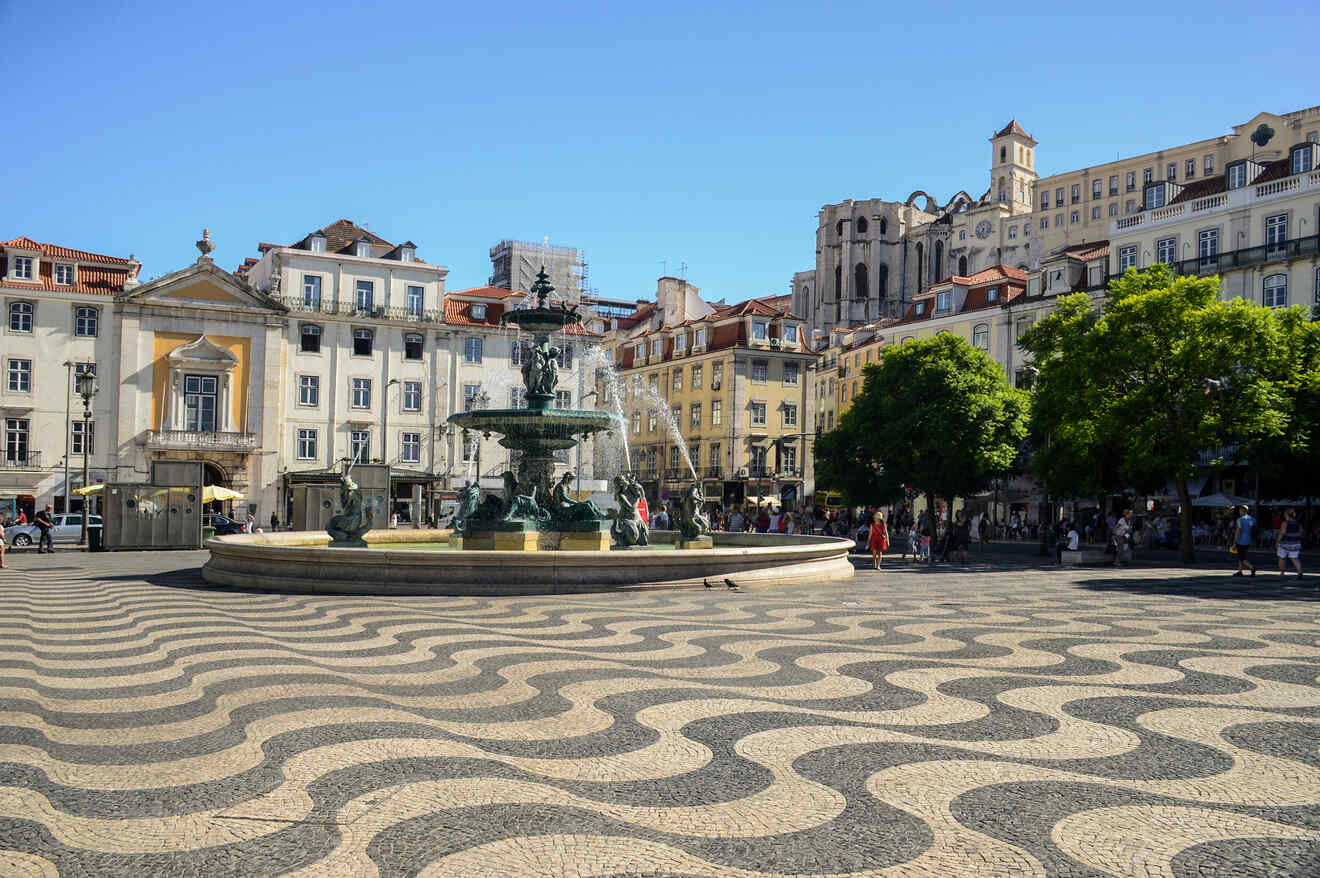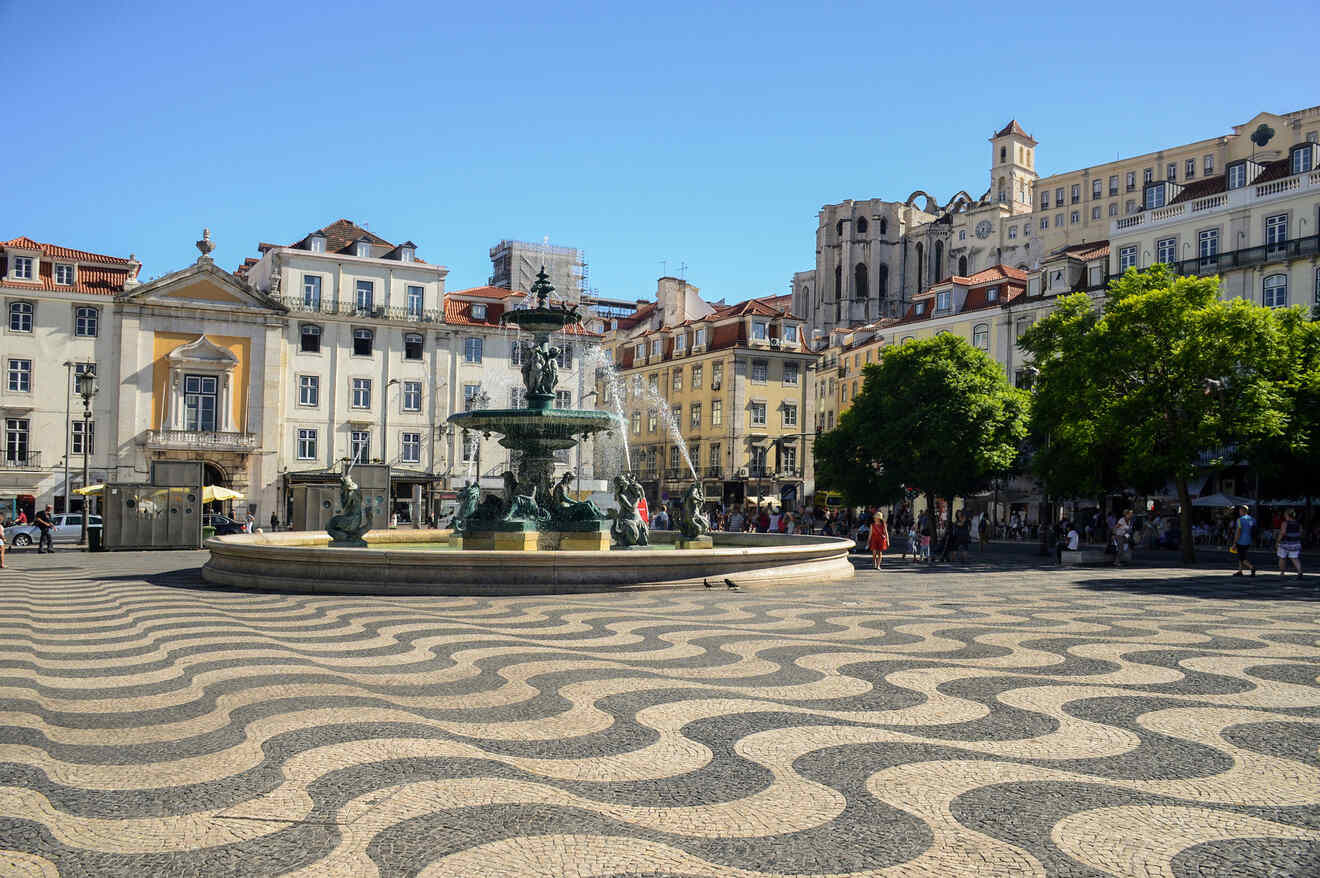 Right in the heart of Lisbon city center, in the Lower Town district, you will find its most famous plaza: Pedro IV Square, featuring beautiful Baroque fountains!
Here is where all the locals meet to hang out, take a coffee, or grab a beer after work, and it has been like this since the Middle Ages! For this reason, it's one of Lisbon's most lively areas, whose surroundings brim with bars and restaurants.
This square, also known as Rossio Square, is one of the best places if you want to soak up the real Lisbon atmosphere, have a relaxed stroll or do some people-watching!
NOTE: Here you'll find the Rossio Railway Station, from where you can catch the trains to the magical Sintra town (check it out later in the post)!
2. Have the best views from the Santa Justa Elevator!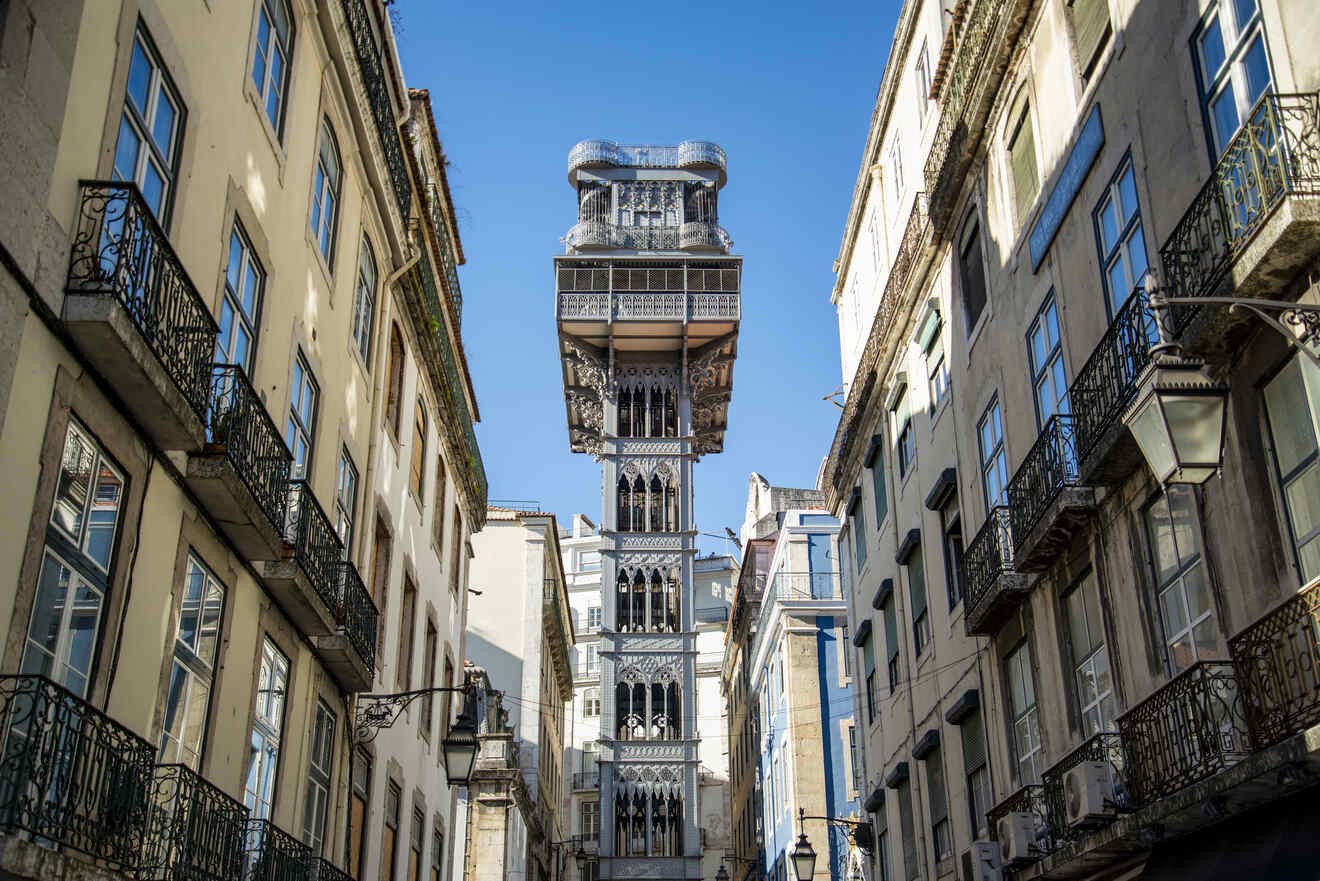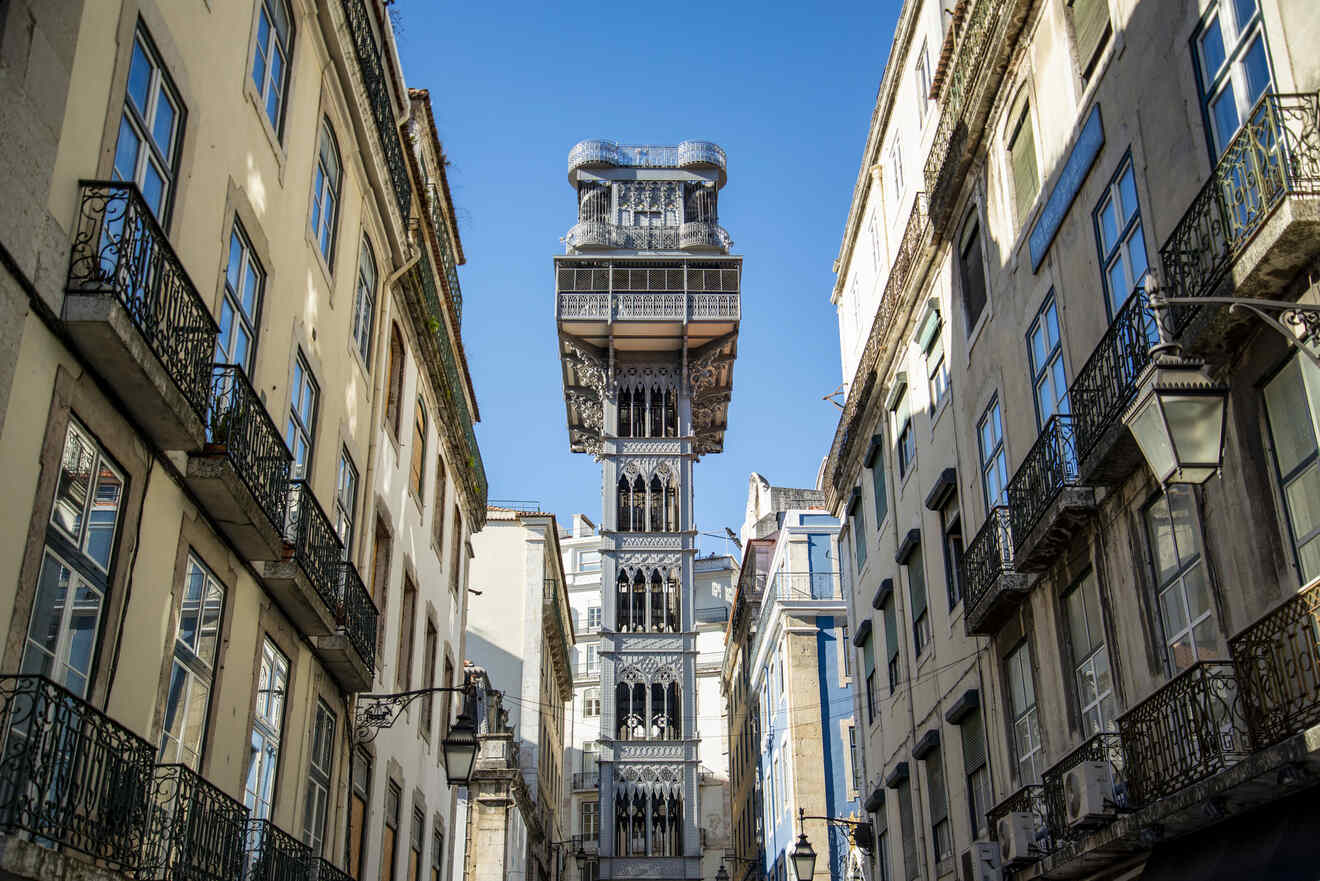 In the Baixa neighborhood of Lisbon, in the downtown district, you'll find the beautiful Santa Justa Elevator (I know, weird to say it, but it is actually beautiful!). In fact, the designer actually took inspiration from the famous Paris tower to build it.
If you take it, it will bring you to a platform, where you'll have to climb some other stairs to arrive at the real top of the structure: here you'll be blessed with some breathtaking views of Lisbon.
From this platform, you can even take a walkway that will lead you to the ruins of Carmo Convent, a Gothic atmospheric church!
PRO TIP: Santa Justa often gets super busy, with big lines waiting outside in the morning/afternoon. Try to arrive early (the attraction opens at 7 am so I would go around that time) and watch the city come alive!
PRO PRO TIP: You can access the observation deck at the top without waiting in the line and without having to use the lift (but just take it on the way back) by entering through the Largo do Carmo street.
Basically you just need to walk up a few steps past the long line of people behind the lift, and then turn left onto Rua do Carmo, until you reach a sign for Largo do Carmo.
At this point, just take the path to the right of the Carmo Convent ruins… the whole walk from the bottom of the Santa Justa lift to the platform doesn't take more than five minutes and is pretty easy! So you will also save money in the process! If you don't mind doing some steps, this is definitely the best option for you!
PRICE: Only the elevator is € 5.15. If you want to go till the viewpoint there is an extra admission fee of € 1.50!
3. Visit the National Azulejo Museum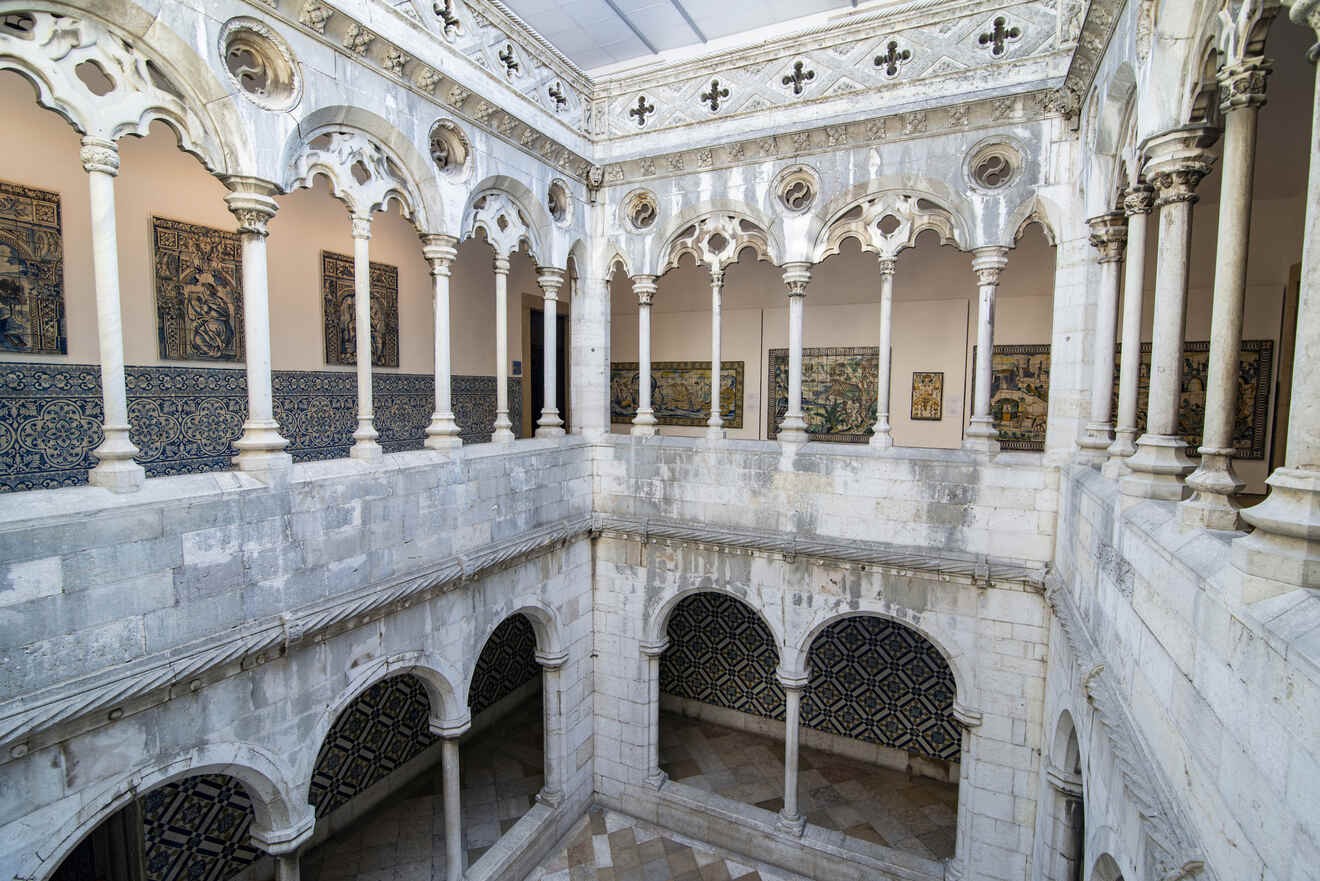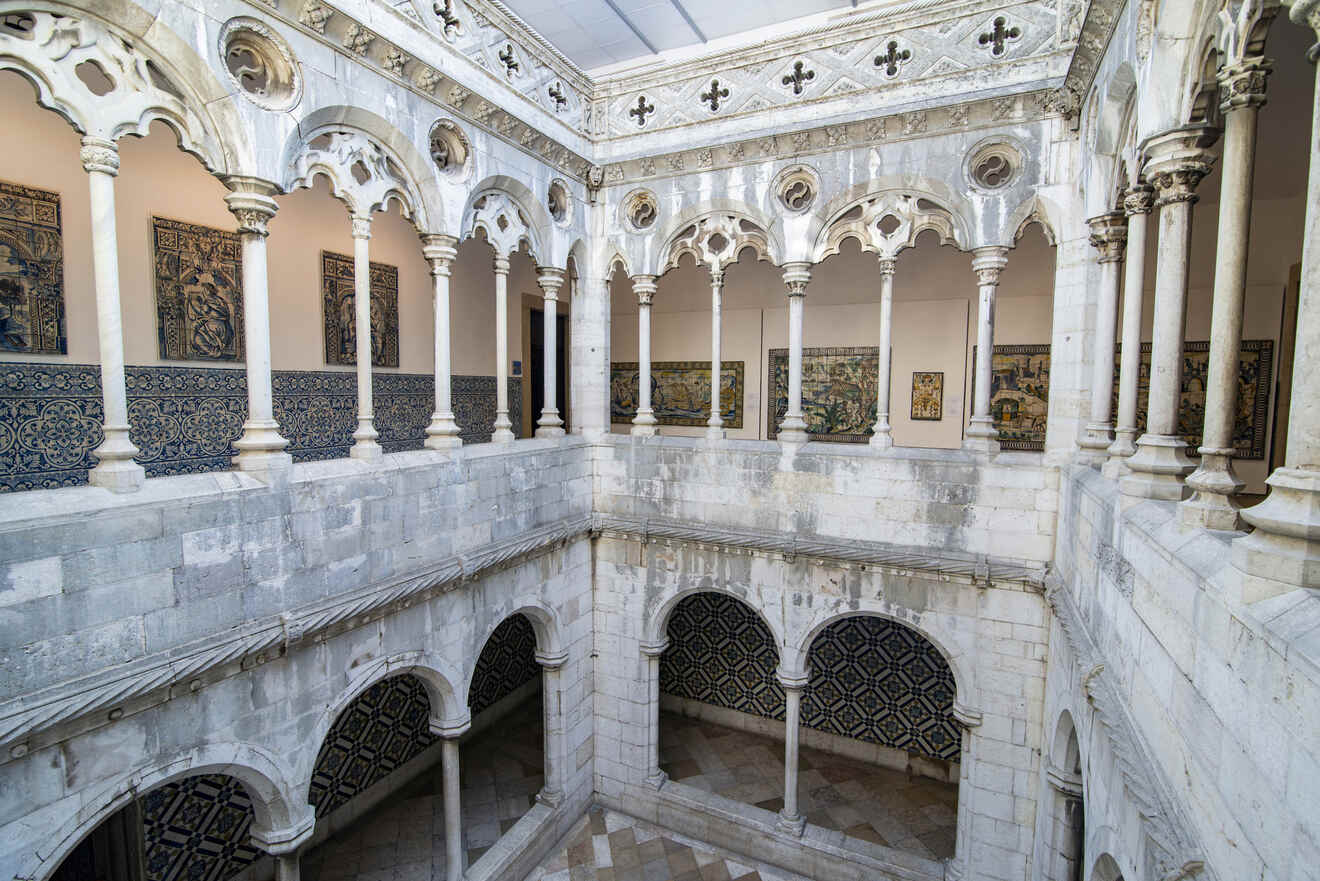 Walking around Lisbon, you will notice its iconic "azulejos", colorful ceramic tiles plastered everywhere, from churches, to shops and metro stations.
If you want to know more about them and their architectural and cultural significance, The National Azulejo Museum chronicles their long history in the city! The museum hosts individual tiles exhibits, elaborate wall panels and even a convent church with more complex forms of the azulejo art.
The Azulejos tradition is actually super interesting, dating back to the 8th century with the arrival of the Moors… but I don't want to spoil too much, go check it out!
PRICE: 5 € for a normal ticket, seniors and students get a 50% discount!
4. Try the delicious Pastel de Nata!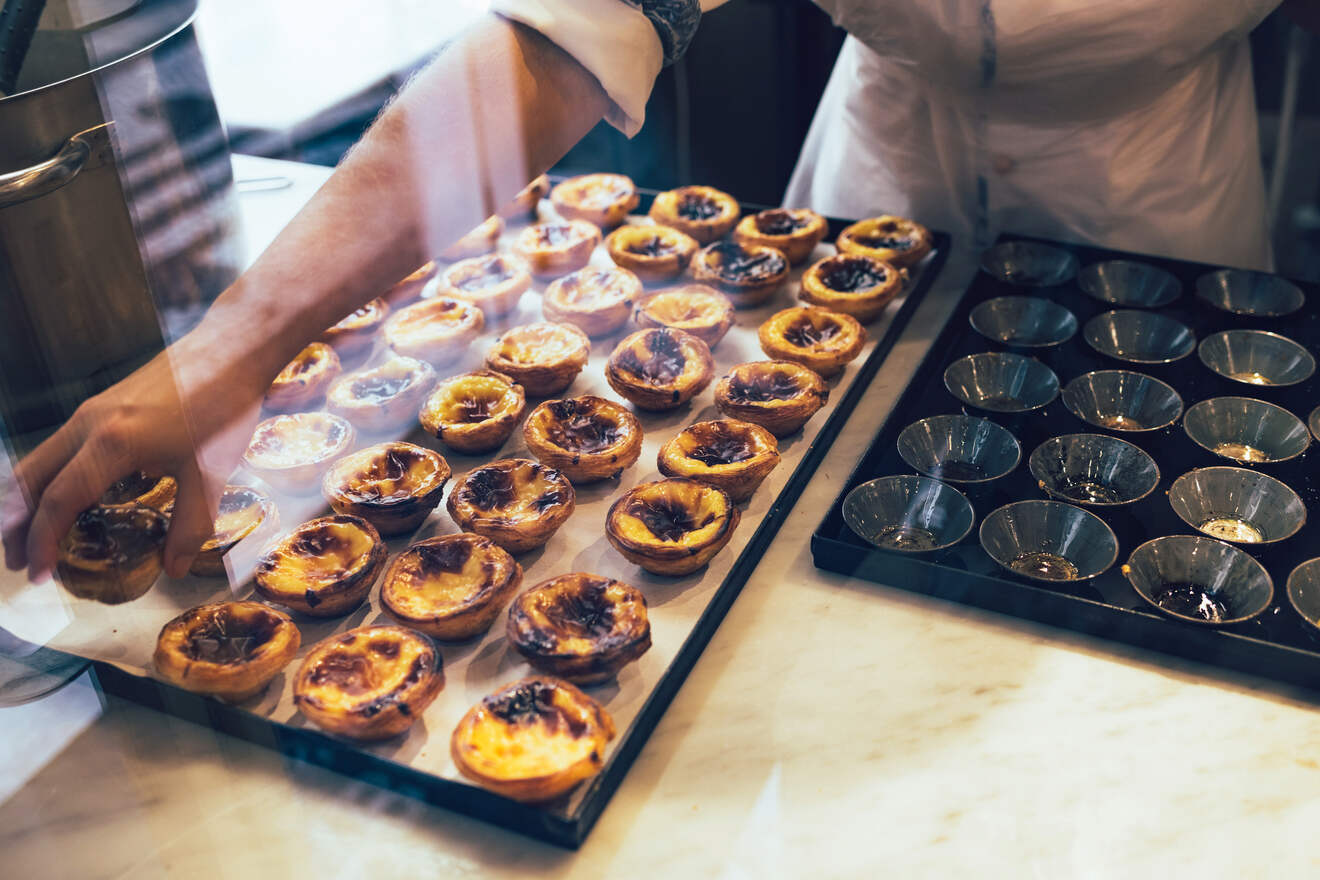 If you have a sweet tooth, you cannot leave Lisbon without trying its delicious Pastel de Nata, a Portuguese egg custard tart pastry usually sprinkled with cinnamon.
If you want to try the best one in the city (and probably in your life) you have to pass through the Pasteis de Belem bakery, in Belem. Here they have a special recipe and they take 20,000 pastéis de nata out of the oven every day, and serve them still hot!
PRO TIP: This bakery is over 150 years old and is the most famous one in Lisbon, so the lines are often super long! But if you're not in a rush, you actually don't have to wait in line: there are some tables at the back if you want to sit, so you can enjoy your sweet treat in complete tranquility!
They are indeed exquisite, but in my opinion, there are many other bakery goods that you have to try in Lisbon, as good as the pastel de nata, if not better.
My absolute favorite one is the coconut bread Pâo de Deus, meaning "the bread of God" (and there's a reason if it's called that).
But this is just one of the countless delicious options you can have breakfast or snack with, and you can try them all in the Padaria Portuguesa, a very popular bakery chain in Lisbon (you will literally find one in every corner!).
And if you want to try as many Portuguese dishes as possible, join this cool and delicious food tour around the city!
5. Ride Tram 28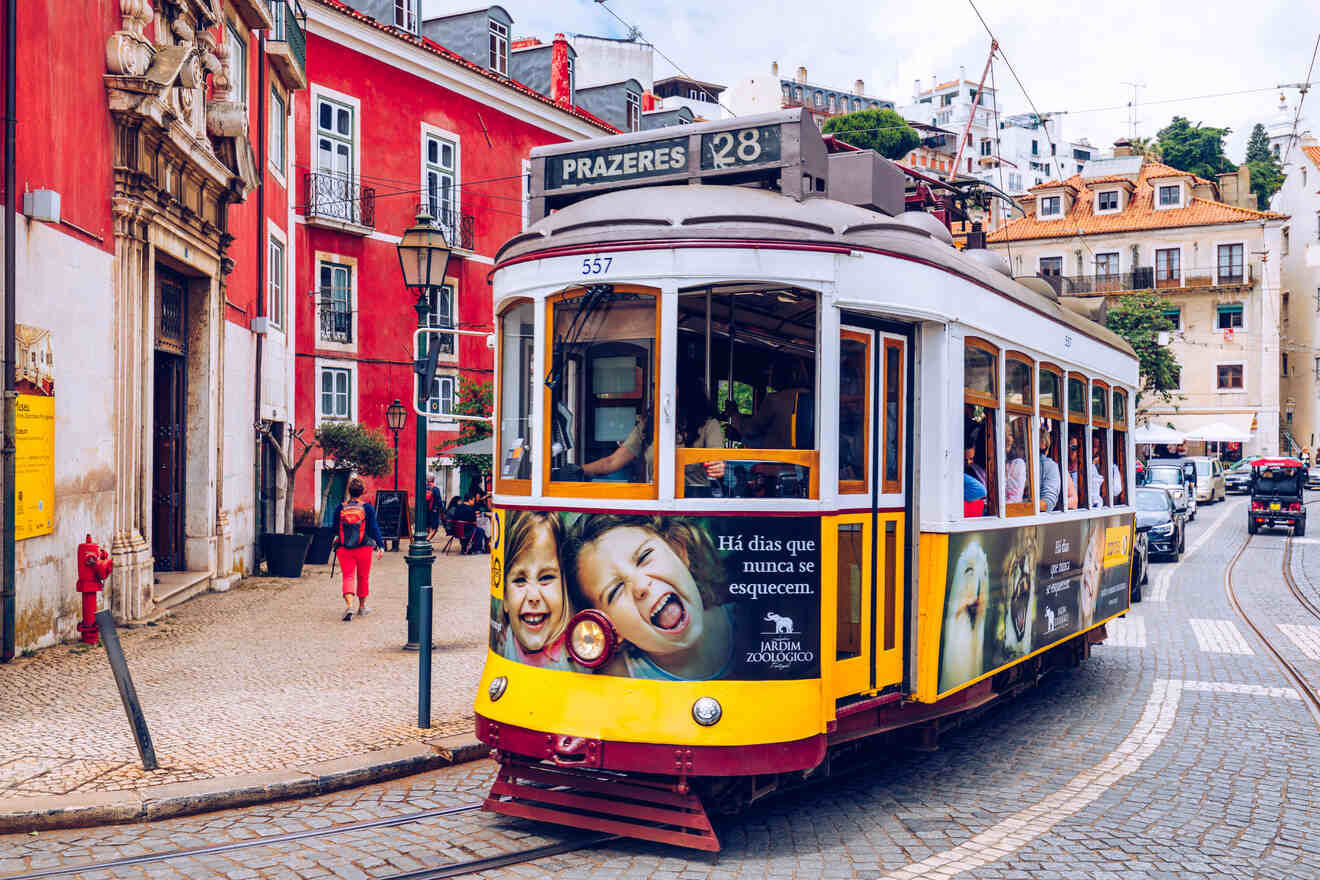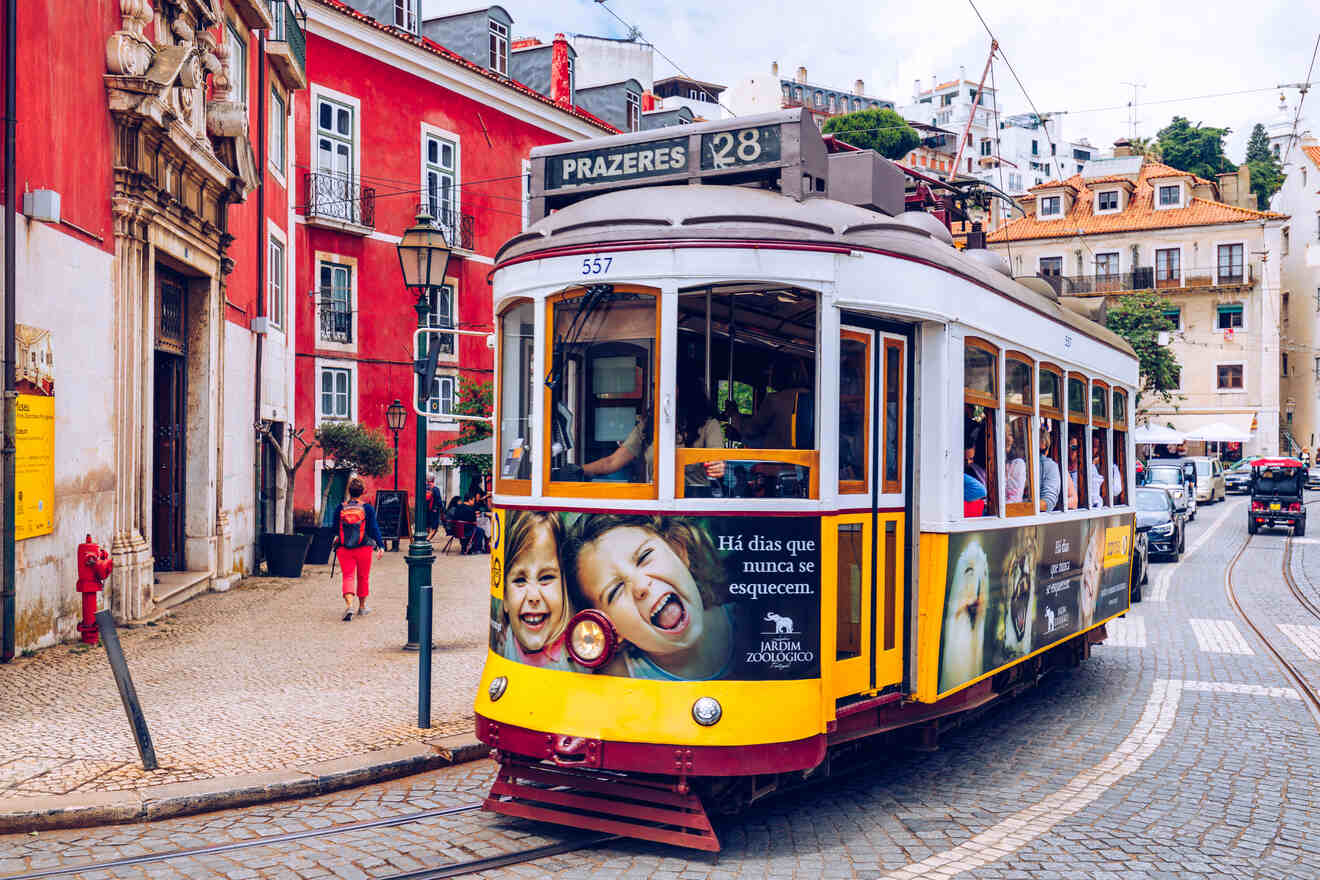 Apart from the famous red bridge, Lisbon has another big similarity with the US San Francisco: the historic tram lines running up and down the city!
If you want to take a break from all the walking you will do during your vacation, just hop on one of these suggestive trams and enjoy a panoramic ride over the city.
You can do like me and just take a random one and see where you end up, or go on the most iconic Tram 28, which leaves from Graça, and passes through Alfama, Escolas Gerais, and the Estrela Basilica.
Tram 28 is the most popular because it has the most scenic route, but if you just want to have an experience riding the tram, you can take any other route!
Just sit, relax, and watch people and the suggestive historical places from another perspective… This is definitely one of the best things to do in Lisbon!
NOTE: while you're enjoying the panoramic views don't forget to keep your pockets safe… in trams pickpockets can happen quite often!
PRICE: Single Ride: €3, 1-Day Ticket: €6.40.
6. Gaze at the Vasco da Gama Bridge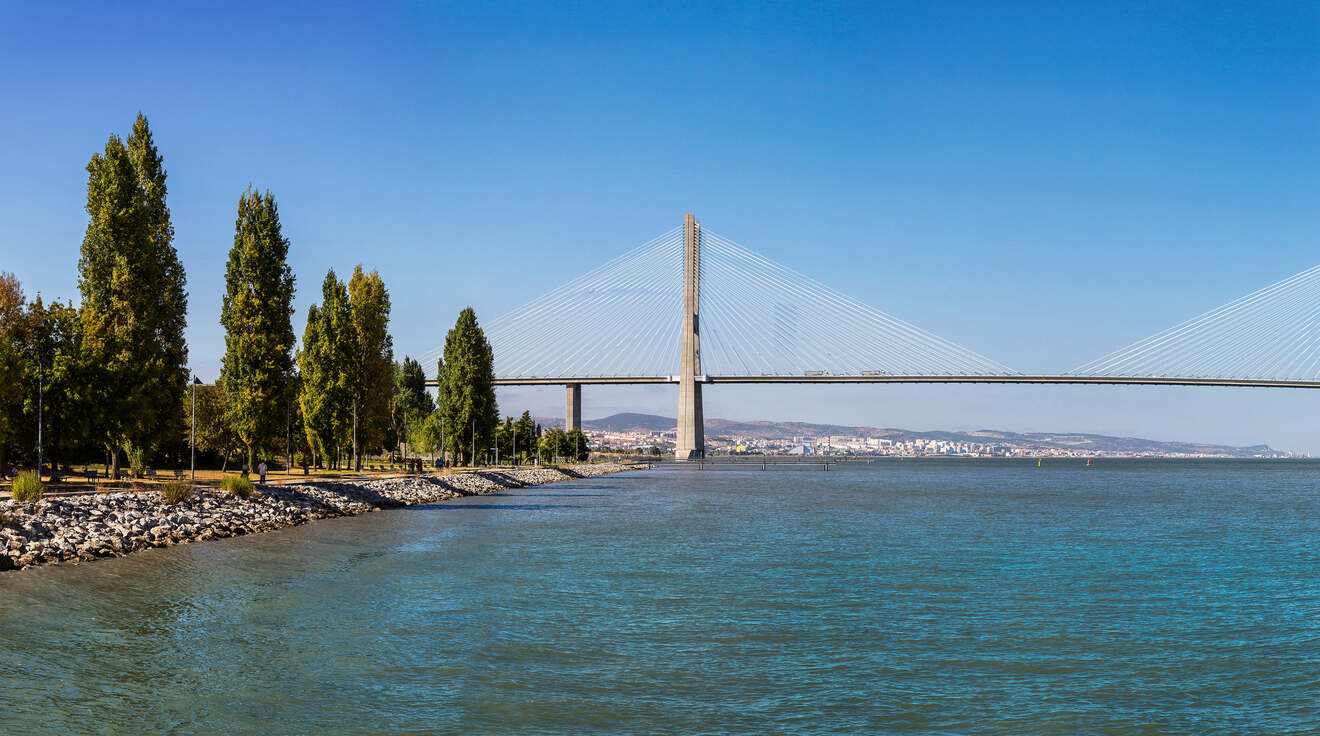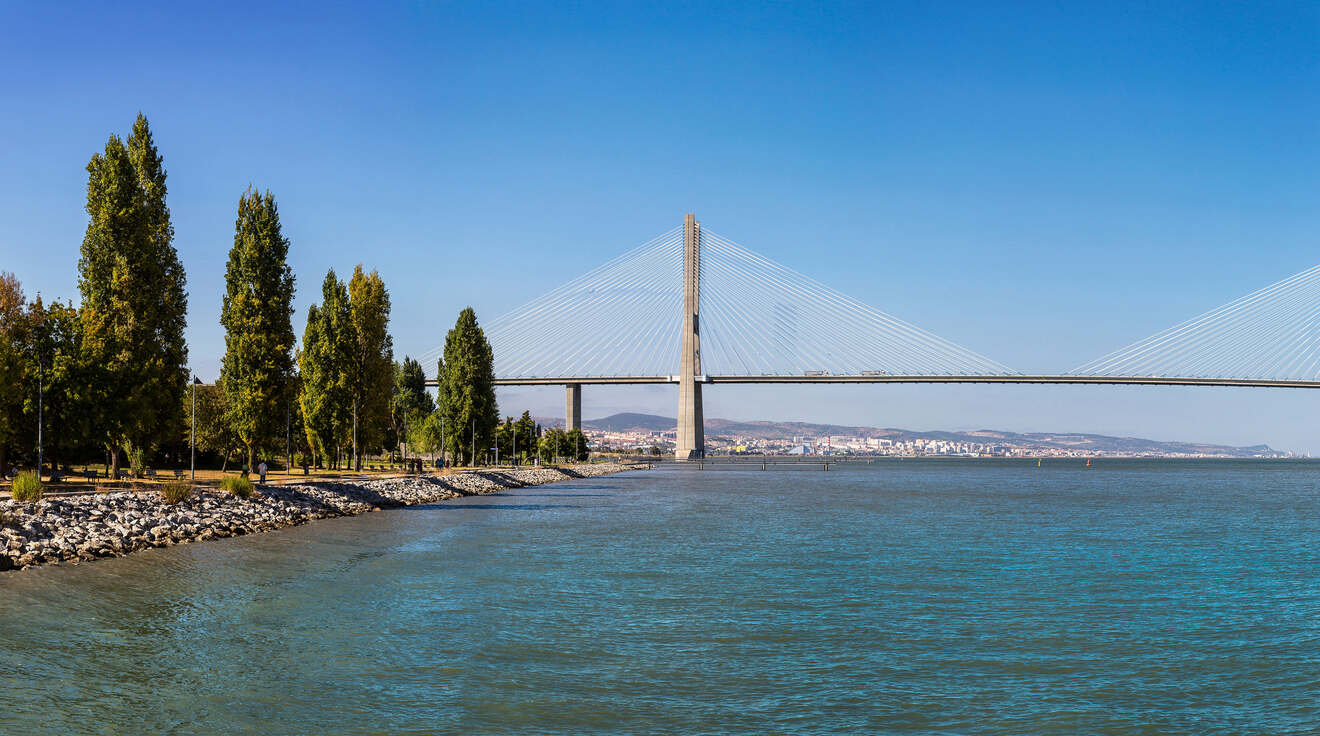 Even if Lisbon is mostly known for the San Francisco Golden Gate look-alike bridge, there's another significant bridge for the city: the Vasco da Gama bridge! Built just in 1998, this is a modern engineering masterpiece and the second-longest bridge in Europe!
The bridge is 17 km (11 miles) long, so long that in order to build it, they had to take in consideration the earth curve, so it is definitely worth your attention!
You can cross it by car (above the Tagus River) starting from Parque das Nações, a modern area in Lisbon with many green spaces, public art, contemporary buildings and the huge Lisbon Oceanarium, the largest indoor aquarium in Europe.
7. Have a crazy night out in Bairro Alto!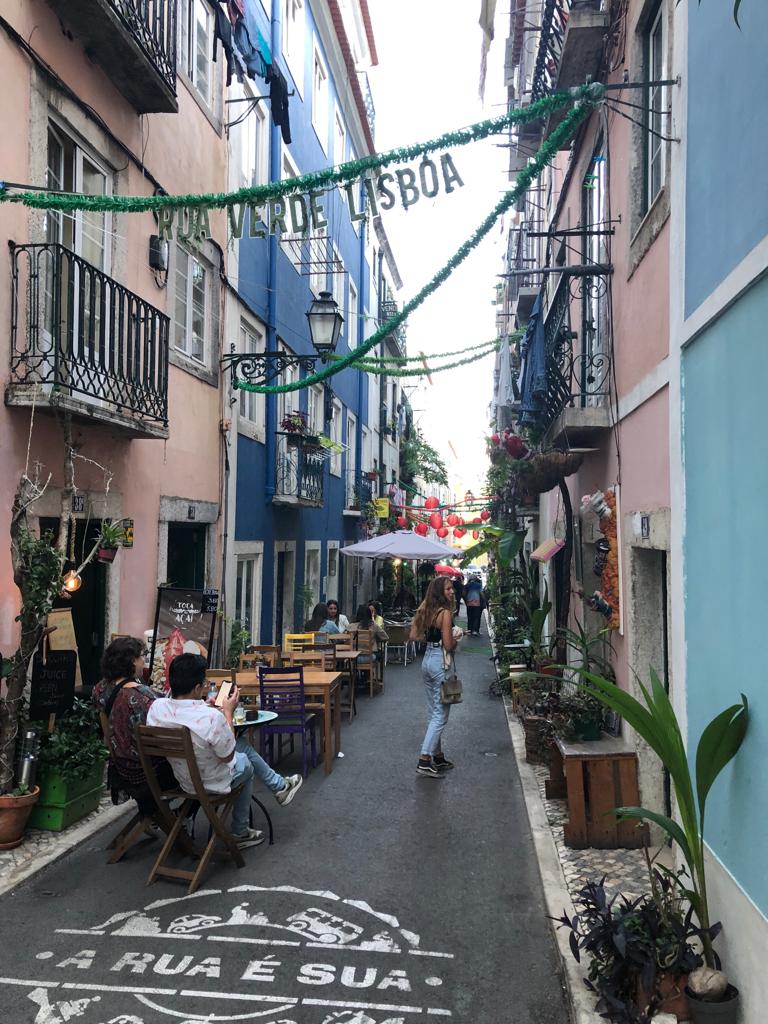 If you want to experience the real nightlife in Lisbon, there's no better place than Bairro Alto District, set on one of Lisbon's seven hills! The neighborhood brims with countless bars, clubs, and restaurants, offering music and drinks for any taste!
Very quiet during the day, this neighborhood lights up right in the early evening, right after the sunset! Talking about sunsets, you NEED to watch it from the Miradouro São Pedro de Alcântara viewpoint (also in Barrio Alto).
At night, Barrio Alto gets crowded with international and local people, walking around its tiny street and passing from a bar to the next one to end up dancing in a club (or in the street itself).
The atmosphere is super lively any day of the week, but it gets crazy (and packed) on the weekend, which is good if you want to meet new people from all over the world… Making friends here is very easy!
Although the area is the best place for partying, there are also plenty of art and history attractions to explore and food to sample. So I suggest you spend an afternoon in the neighborhood, watching the sunset at the miradouro, and then go for dinner and some drinks!
8. Get lost in the charming Alfama District!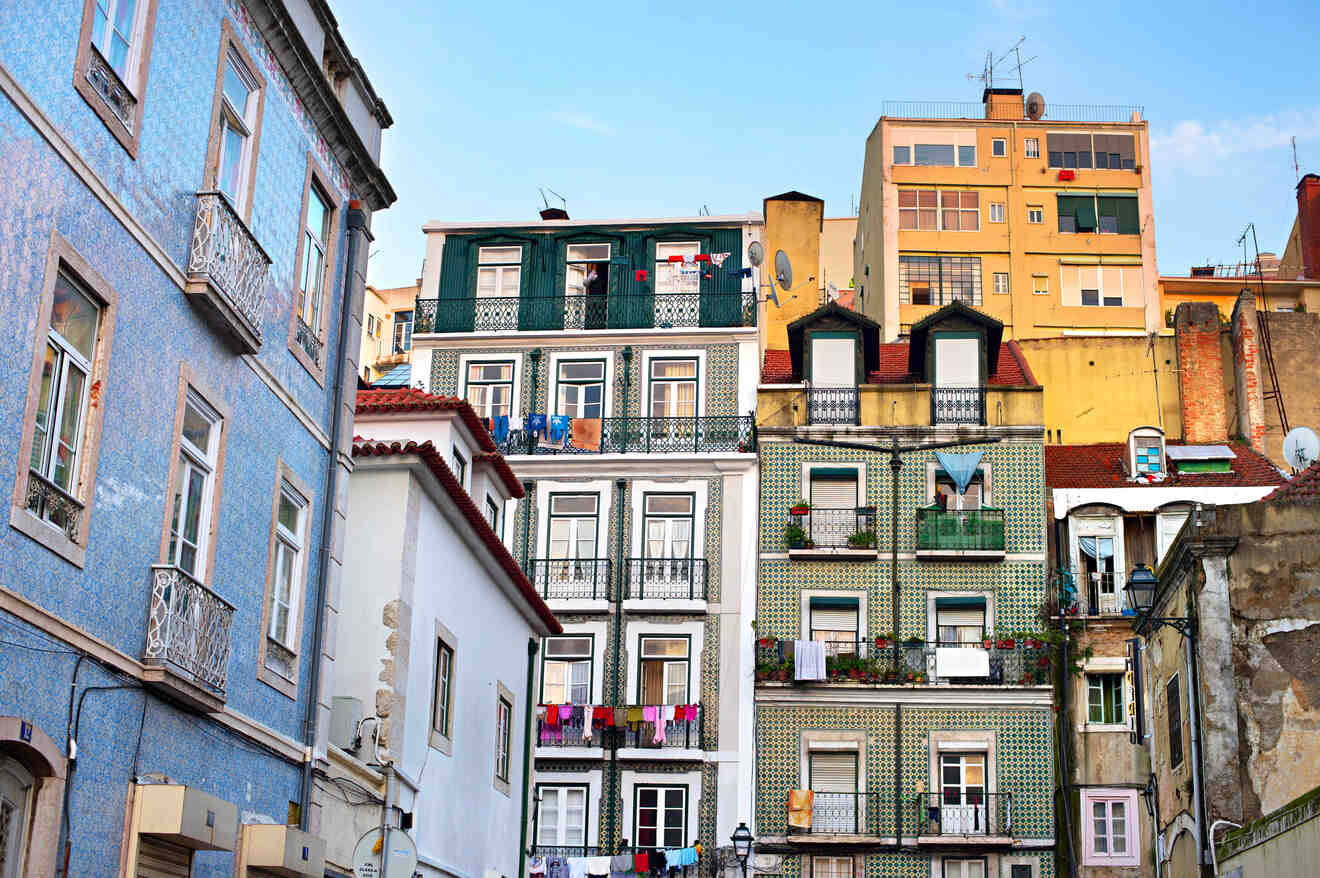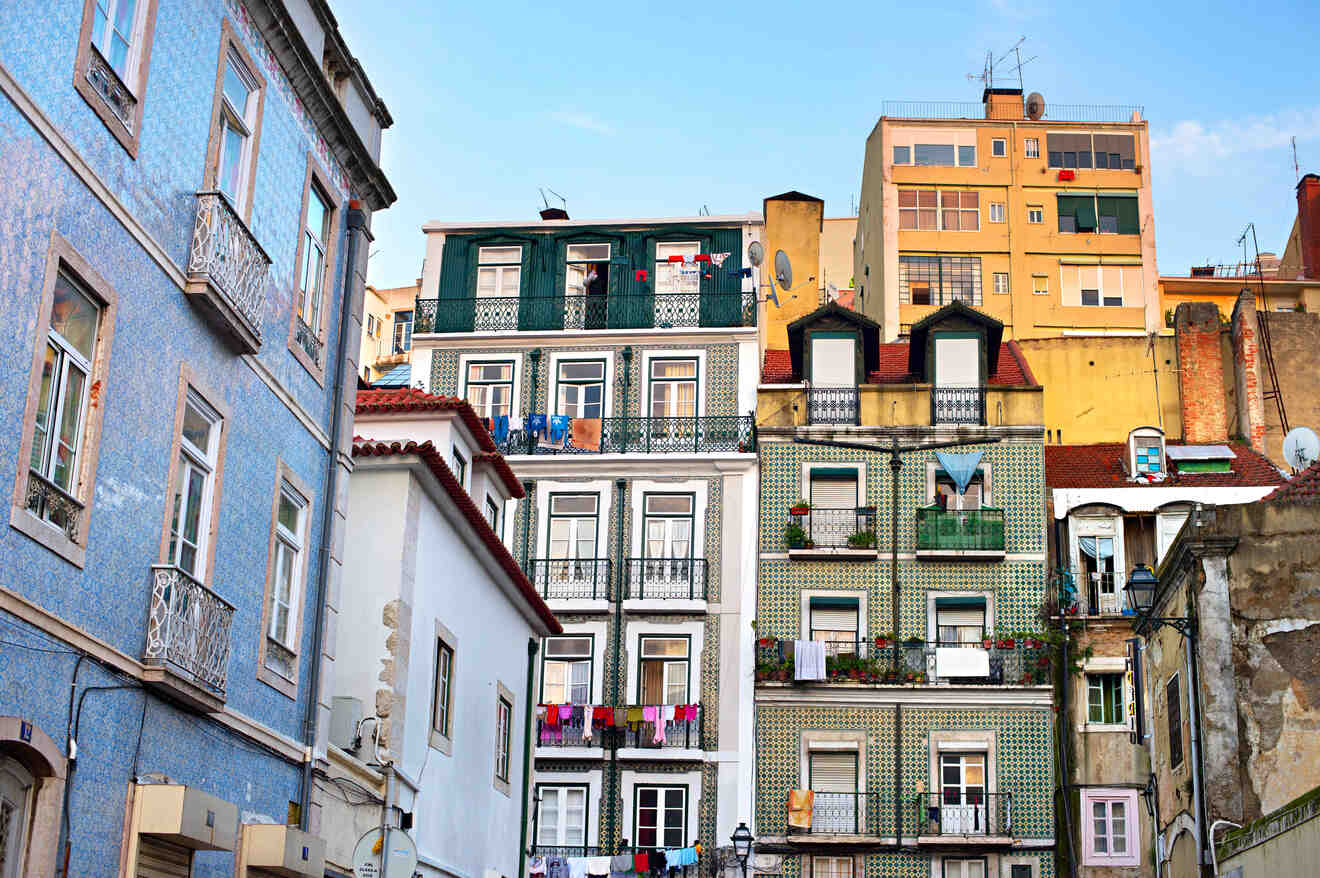 Here we are to my absolute favorite part of Lisbon: its oldest and most charming district set on a hill: the Alfama district! This area was actually outside the city walls 700 years ago.
Here you will be immediately brought back to the past: this neighborhood could actually survive the 1775 earthquake.
Alfama brims with old houses, some with Moorish architecture, typical "tascas" (Portuguese traditional restaurants) and Fado clubs where you can listen to the Lisbon original Fado music, characterized by a slow and melancholic rhythm!
Just wandering around its narrow streets, you'll encounter old ladies at the entrance of their houses selling you the typical Portuguese liquor Ginjinha (it tastes like berries… try it in a chocolate glass!)
If you pass through this area, don't miss one of Alabama's hidden gems: The Church of São Vicente de Fora, housing the tombs of many Portuguese Kings!
And if you happen to be in Alfama on Tuesdays and Saturdays, there is the Feira da Ladra, Lisbon's most famous flea market, where you'll find weird trinkets and antiques!
9. Surf in Costa da Caparica!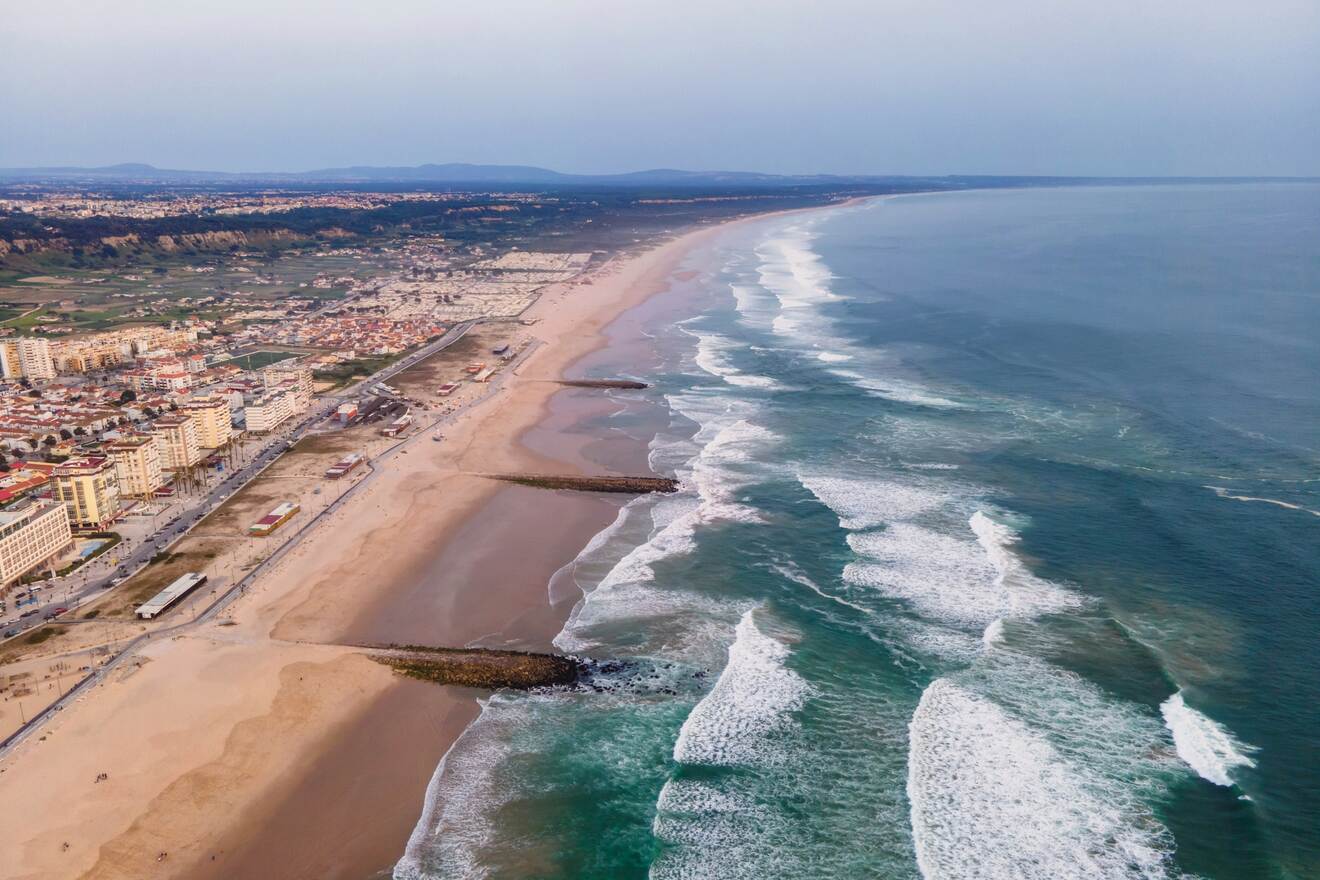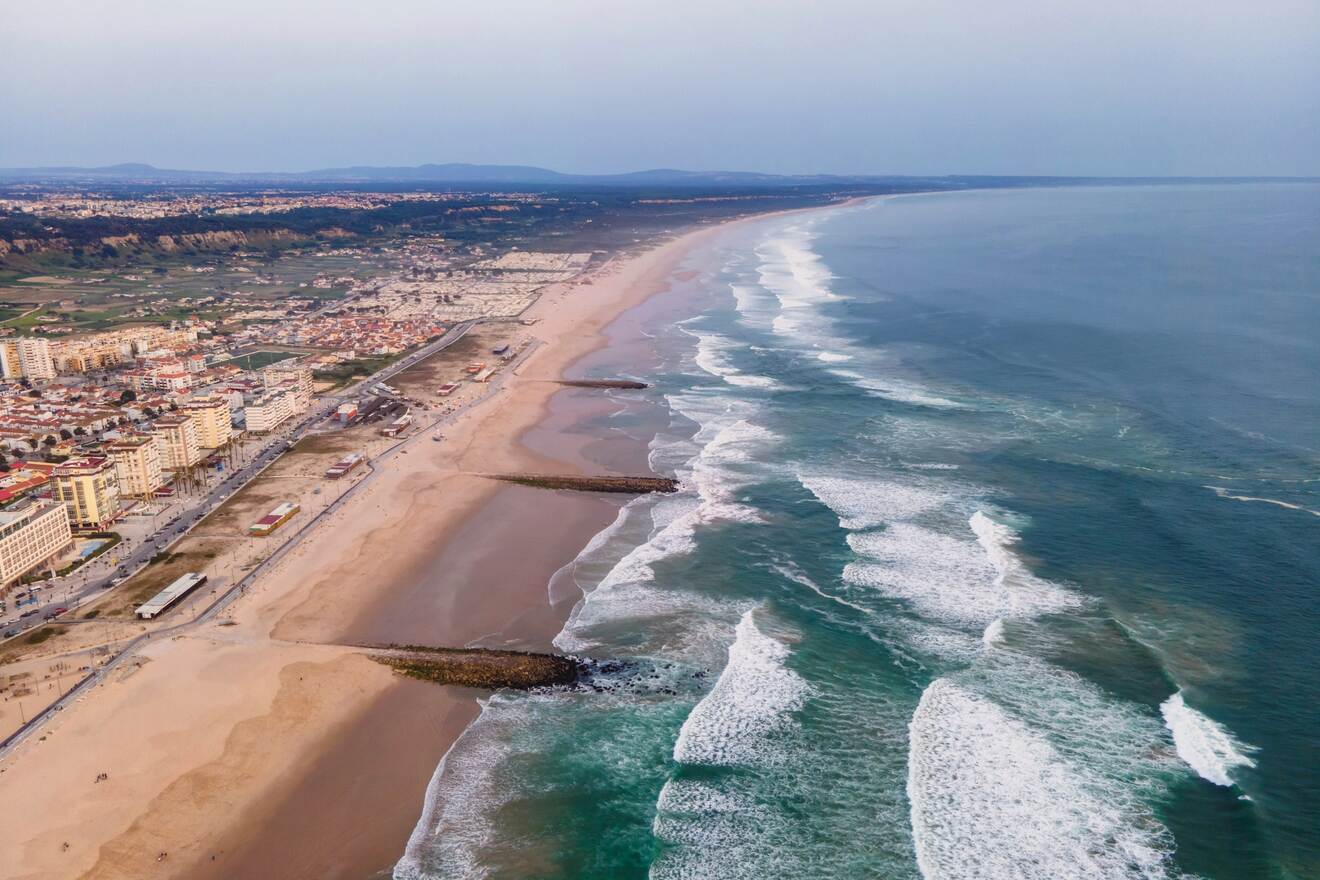 Ok, I lied before: my absolute favorite part of Lisbon (even if it is not a proper area in Lisbon) is the sunny Caparica (but Alfama definitely wins the second place)! Caparica is so close to the Portuguese Capital (at a 15/20 minutes ride) but so different from it, having its own pace of life!
This small town lies on the other side of the famous red bridge, overlooking the Pacific Ocean, and it hosts maany beaches, one after the other one, all good for surfing! In fact, the main (and only I would say) source of tourism here is surfing!
In summer, the peak season, this is the best place to practice your skills or take a lesson if you are a beginner, while in winter you can ride some big waves! In both cases, or even if you just want to chill on the beach for a day, you should definitely make a stop here!
Another great place where to go for a surf trip and enjoy the most stunning beaches in Portugal is the beautiful Algarve, check it out!
10. Take a day trip to Sintra!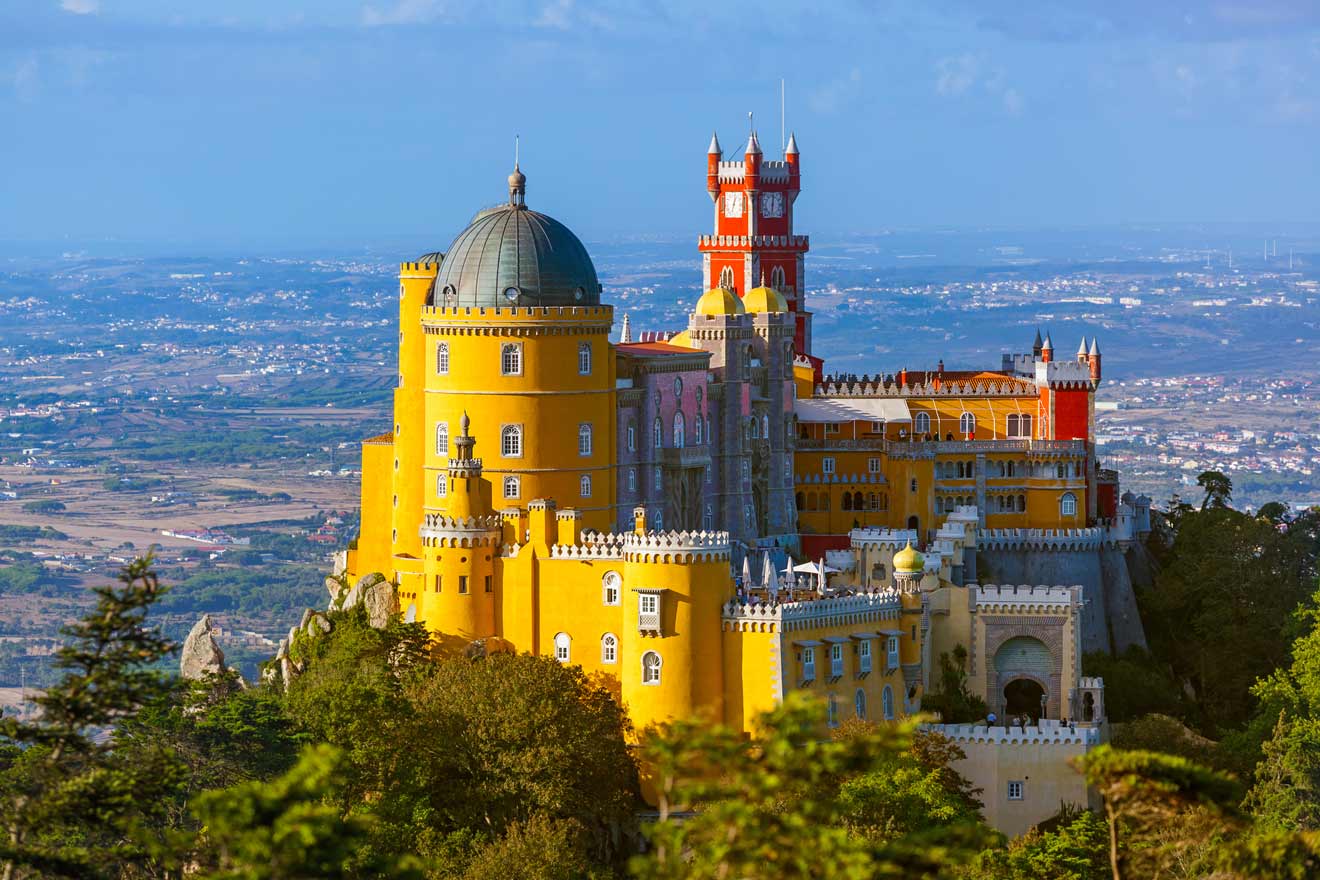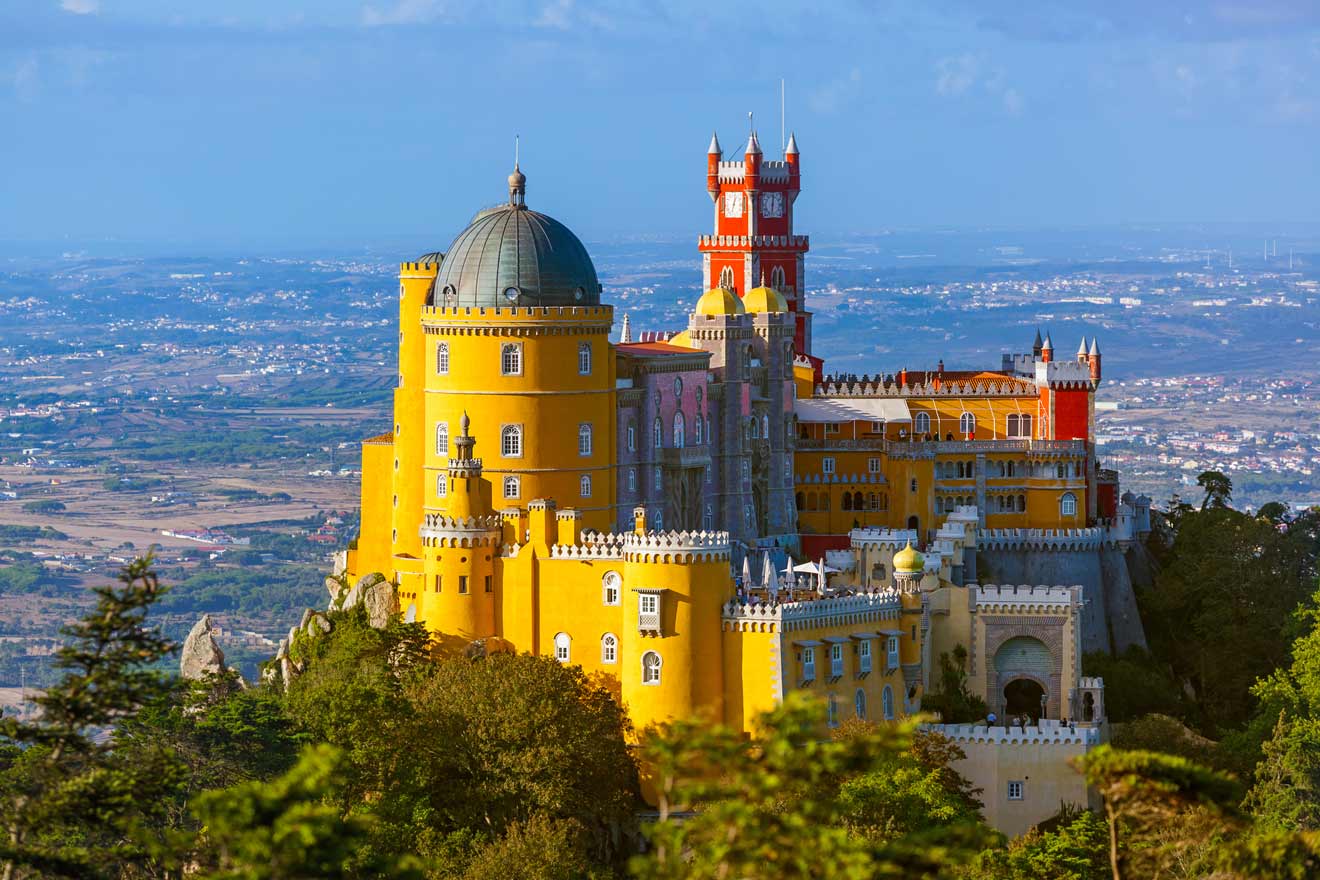 One of the best day trips you can do in Lisbon is to the magical town of Sintra, a UNESCO World Heritage Site nestled in the mythical Mountains of the Moon! In Sintra you will gaze at the stunning architecture, and soak up a history dating back to the Neolithic.
The town, apart from being absolutely beautiful, hosts imponent palaces of former Portuguese kings and queens, elegant baroque churches, and big colorful mansions!
If you can, PLEASE take a guide – there SO many little signs, mysteries and secret things that you would never be able to notice and understand by yourself!
You can visit all the castles from different historical eras, but the most significant one is the colorful Pena National Palace, once owned by king Ferdinand. Located on the top of a high hill, this is one of the most impressive examples of 19th century Romanticism in Europe!
This hilltop castle became iconic for its golden tower and red brick chapel steeple, but also for the eclectic mix of architectural styles, from neo-gothic to neo-Moorish and neo-renaissance… the Pena Palace has them all!
The cool thing about this place (and about Sintra in general) is that it is completely surrounded by lush, green hills and forests… I felt like I was in a fairy tale!
HOW TO GET THERE: You can easily get to Sintra from Lisbon by train, hiring a car, or even with organized tours from Lisbon itself.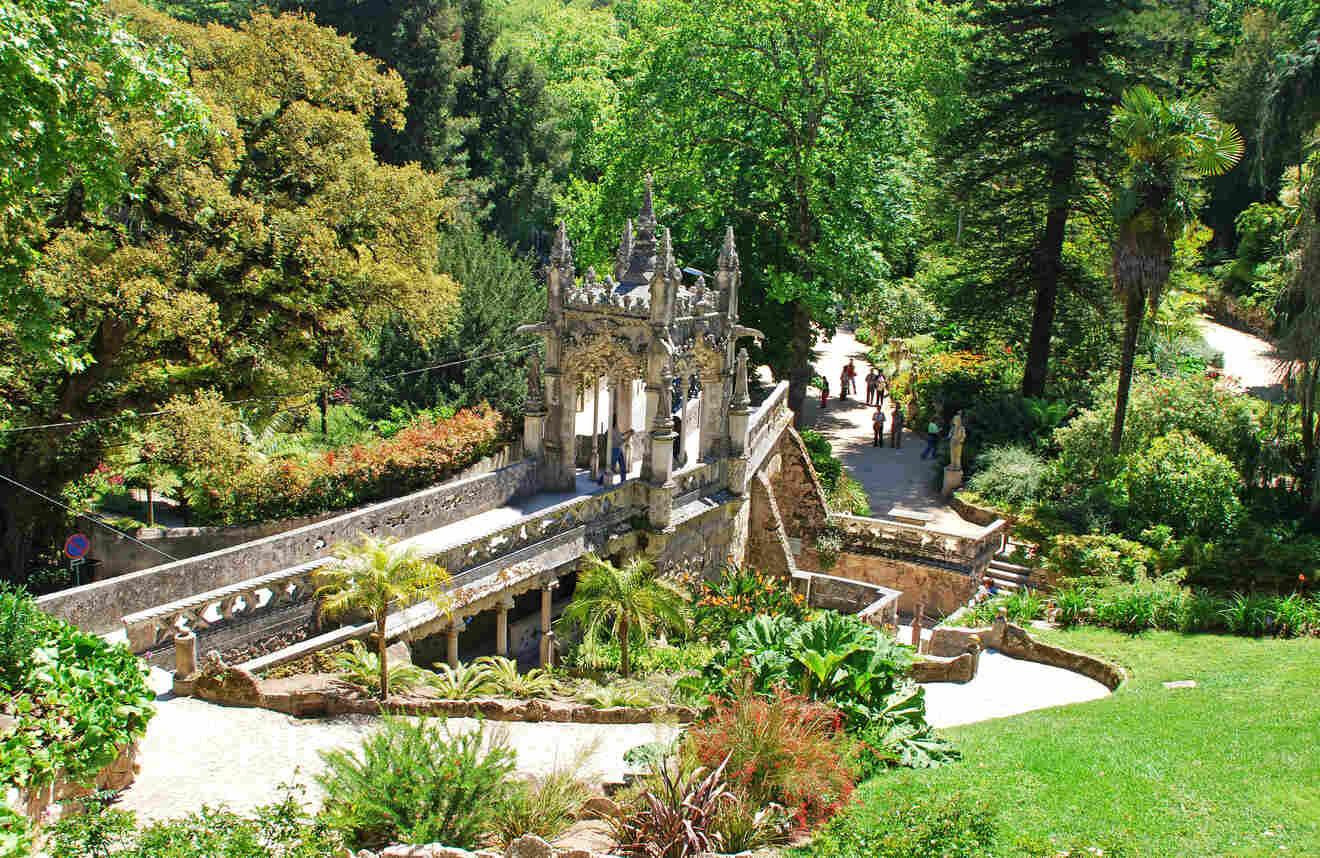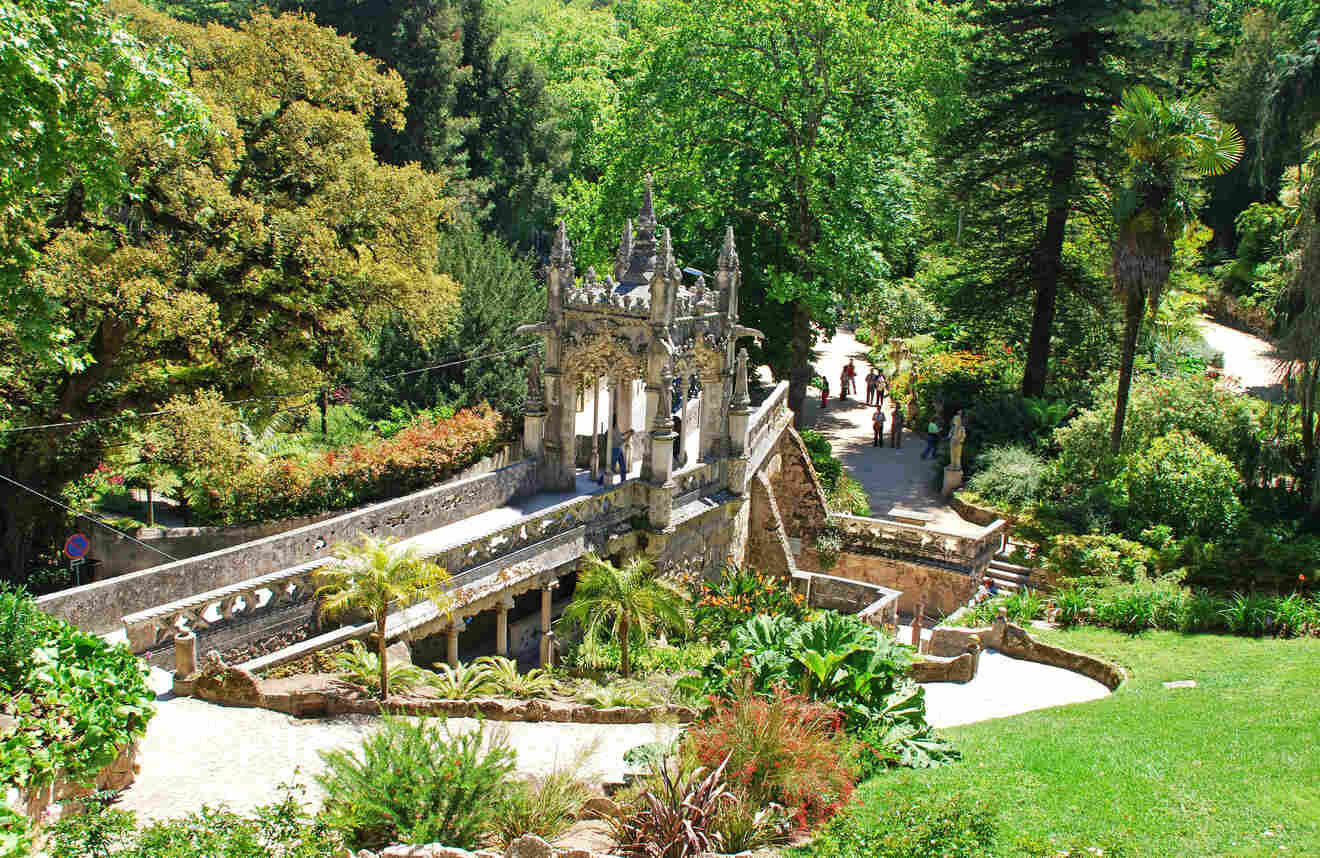 The train leaves from Lisbon's Rossio station, in the city center, every 30 minutes on weekdays and weekends. The journey will take you 39 minutes, and the round-trip ticket is €7.
PRICE: if you do a day trip in Sintra, it will cost you around 50€: the return train fare is €7, the admission ticket for the Pena National Palace is €14 (if you want to check other castles, usually you have time for 2, the entrance will be of around 10€), eating in the restaurant will cost you around €15 and the bus to go from one castle to the other one is €7.
If instead you choose to take a full guided tour, including Hotel or pick up and drop-off in Lisbon, informative driver/guide and entrance to Pena Park and Quinta da Regaleira, it will cost you around 75€.
11. Time Out Market Lisbon (mercado de Ribeira)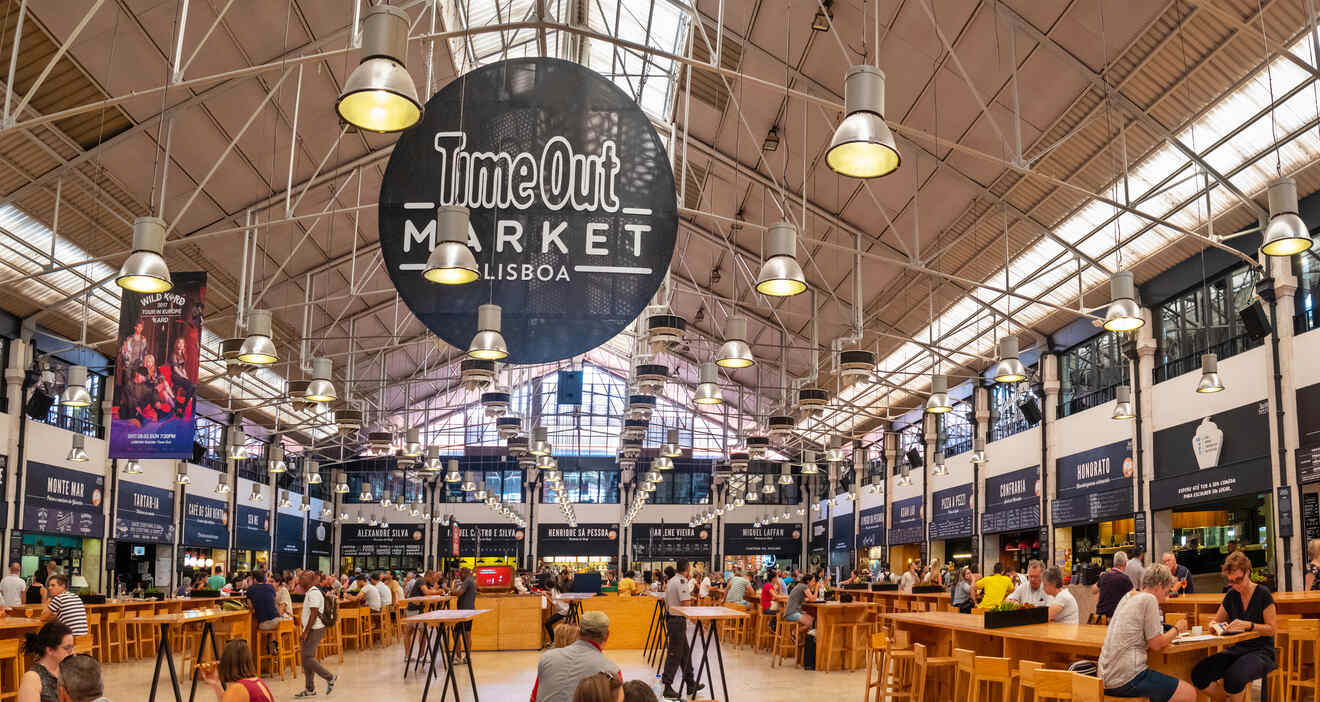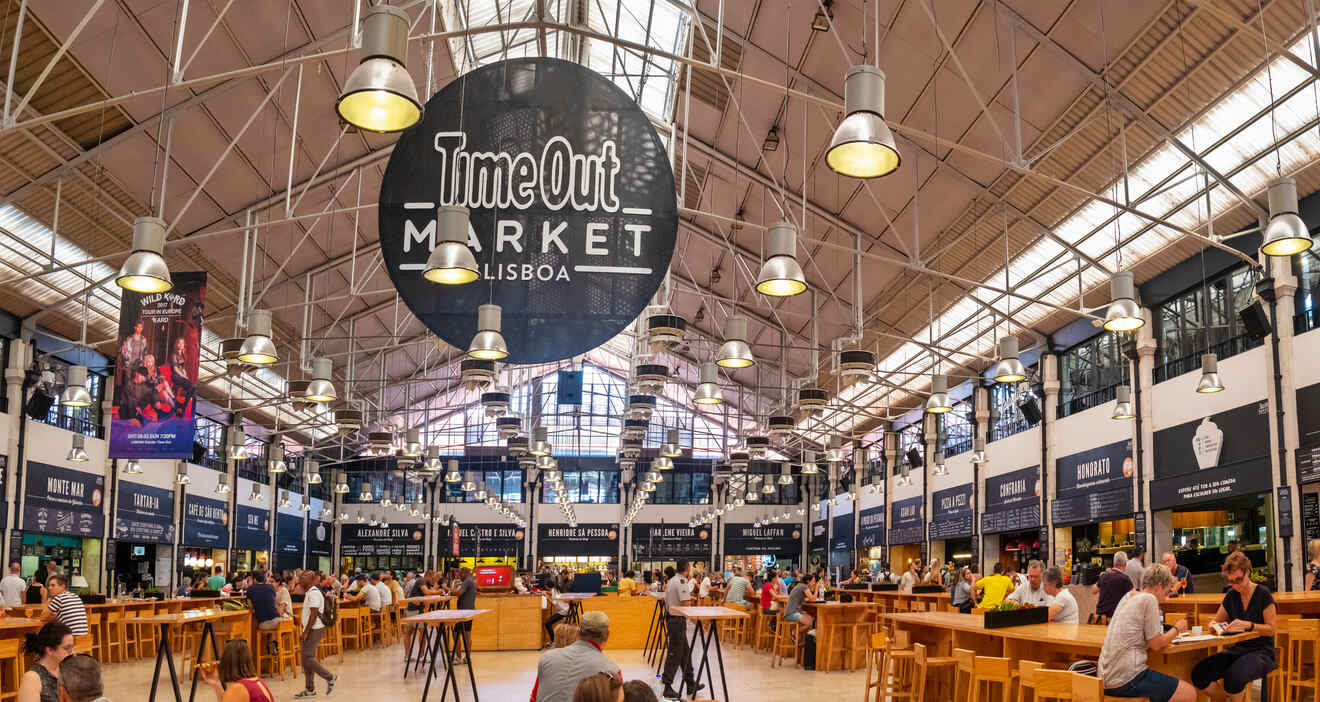 If you have a weakness for markets, you HAVE TO pass through Lisbon famous and historic market hall: the Time Out Market, nothing less than one of the world's largest gourmet food markets!
Here you can choose from 26 restaurants, 8 bars, many shops and high-end music venues, and you'll try some of the best food in Lisbon (the best steak, the best hamburger, the best sushi and so on), but also buy fresh meat, fish, fruit and flowers from local vendors!
From traditional Portuguese dishes, to vegetarian and healthy options, in this vibrant market you'll find absolutely everything! This is definitely the perfect place to take a break from all the walking you'll do through the city.
12. Take a panoramic cruise on the river!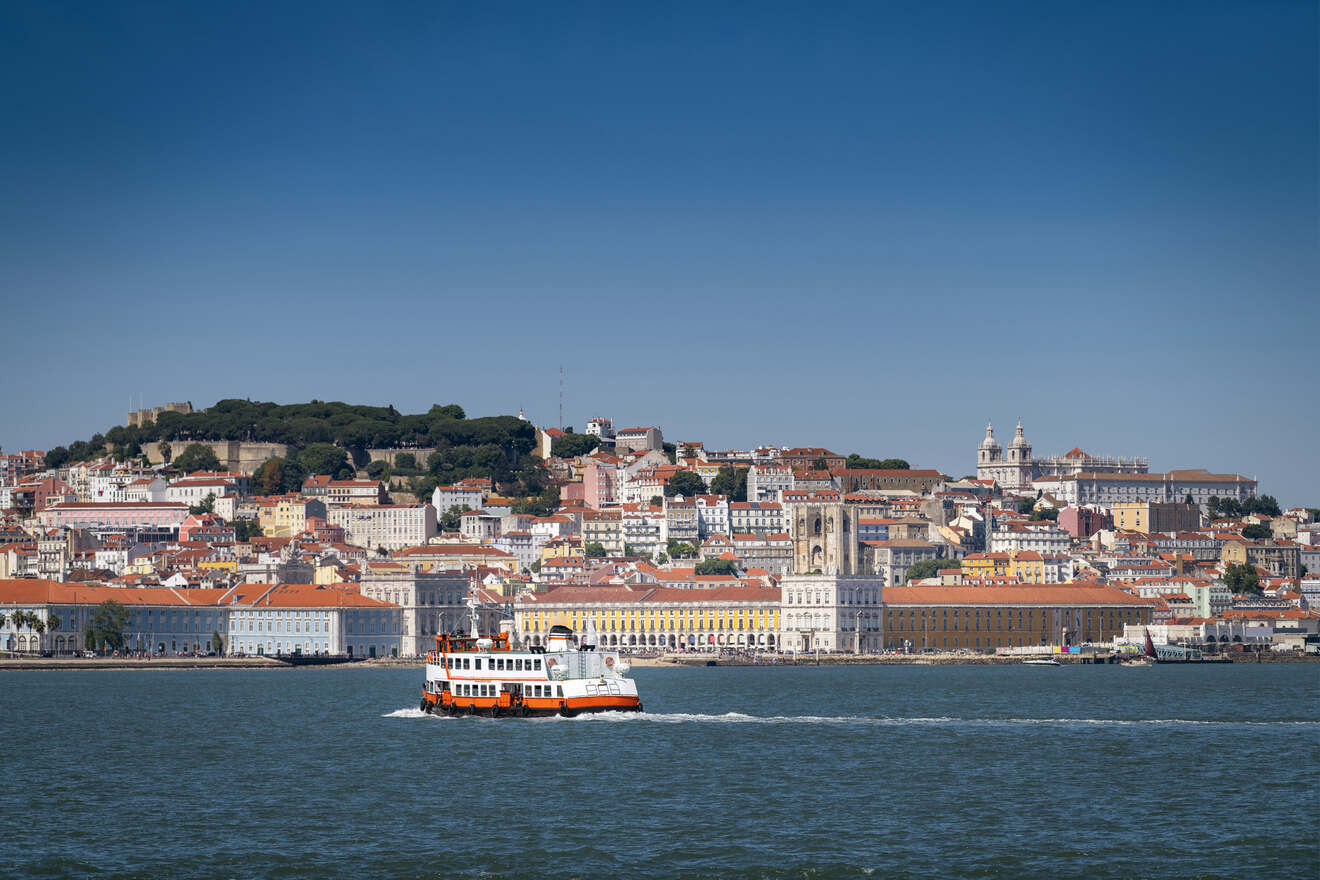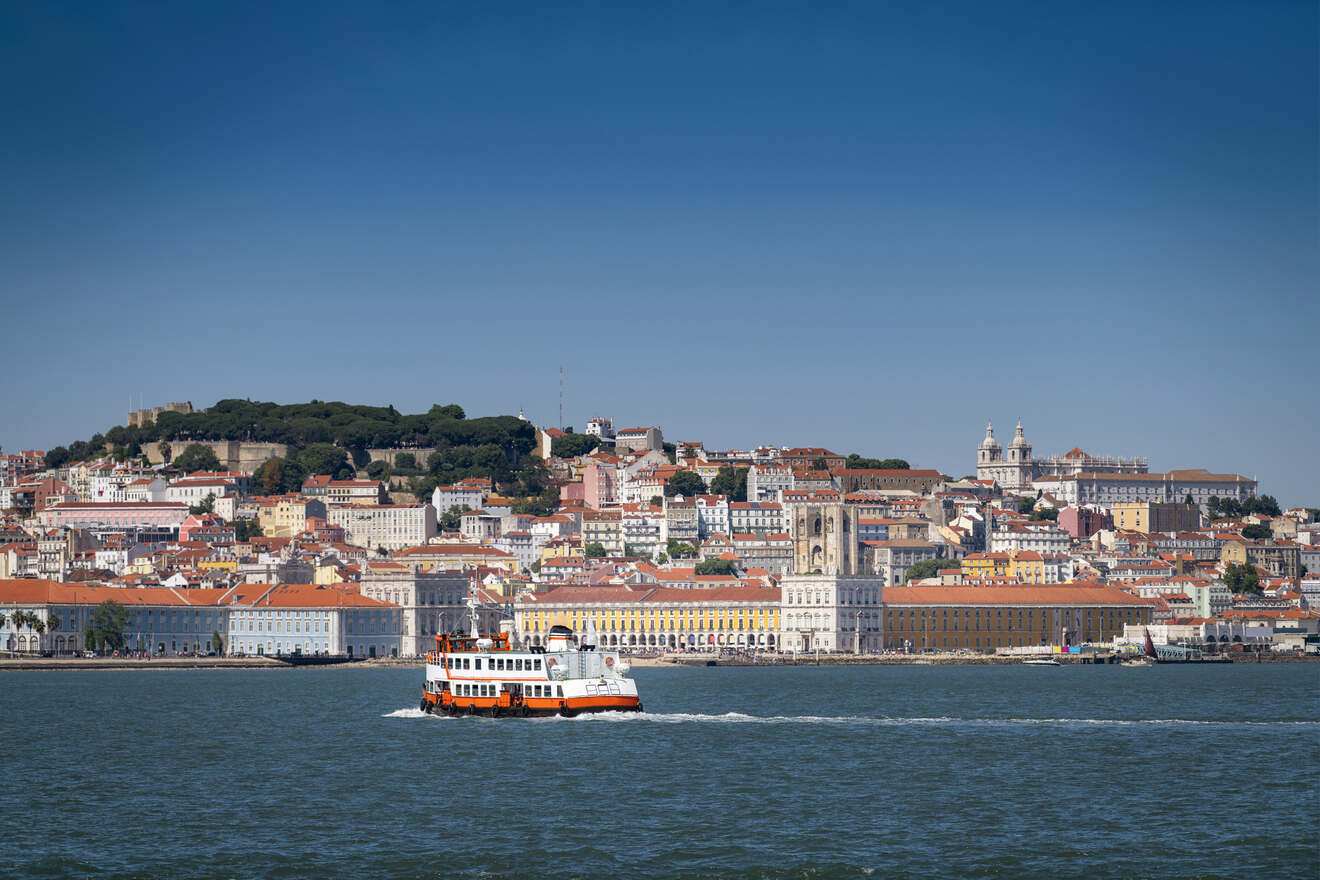 There's nothing better than seeing Lisbon from another perspective, on a boat cruise on the Tagus River! There are many cruises at any time of the day, but my favorite ones are at sunset, undoubtedly the most magical time to see the city, that takes a different color and looks even more beautiful!
From the boat, you'll enjoy stunning views of Lisbon's best attractions like the Belém Tower, Lisbon Cathedral and St. George's Castle, fresh breeze and most of the time even some white wine or beverages. Trust me, it is the best way of remembering the city! 🙂
13. Take a day tour to Cascais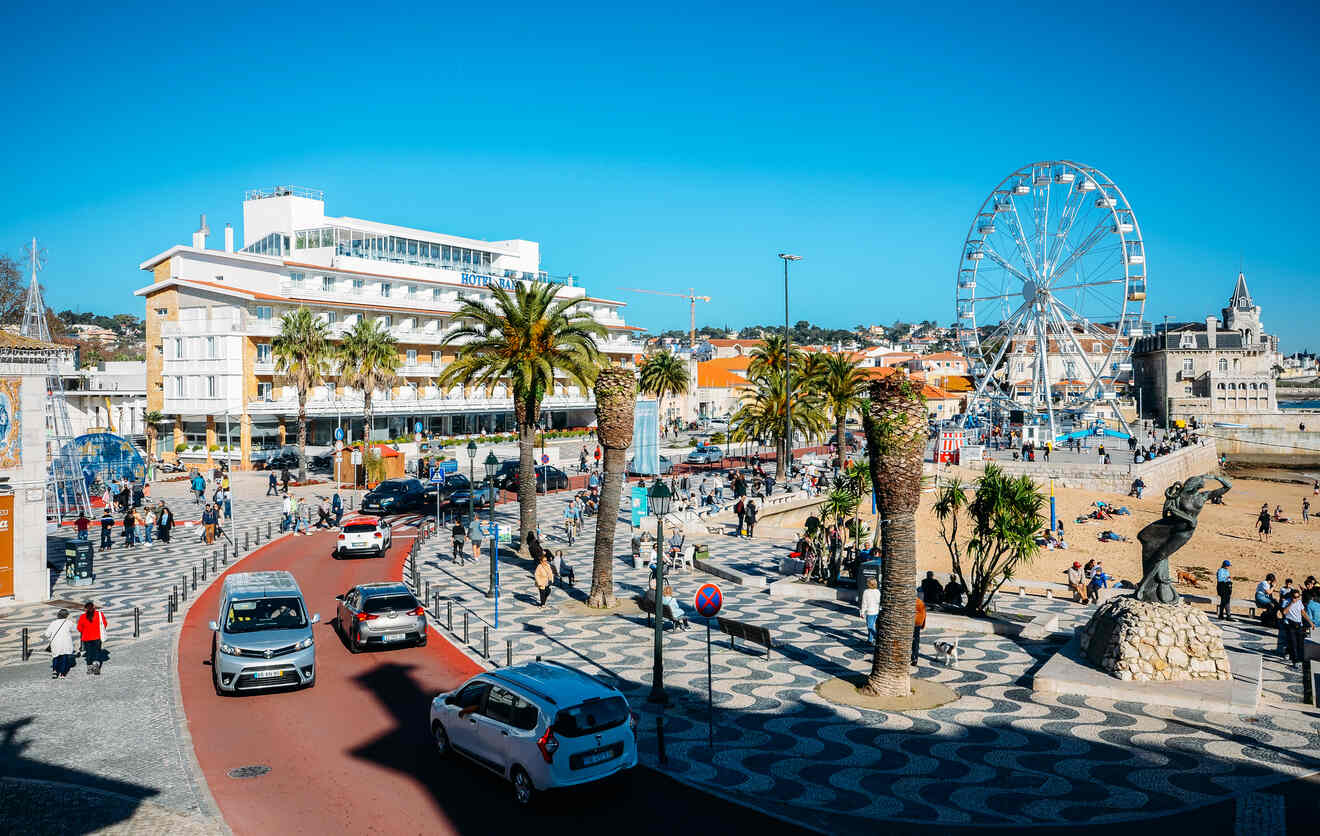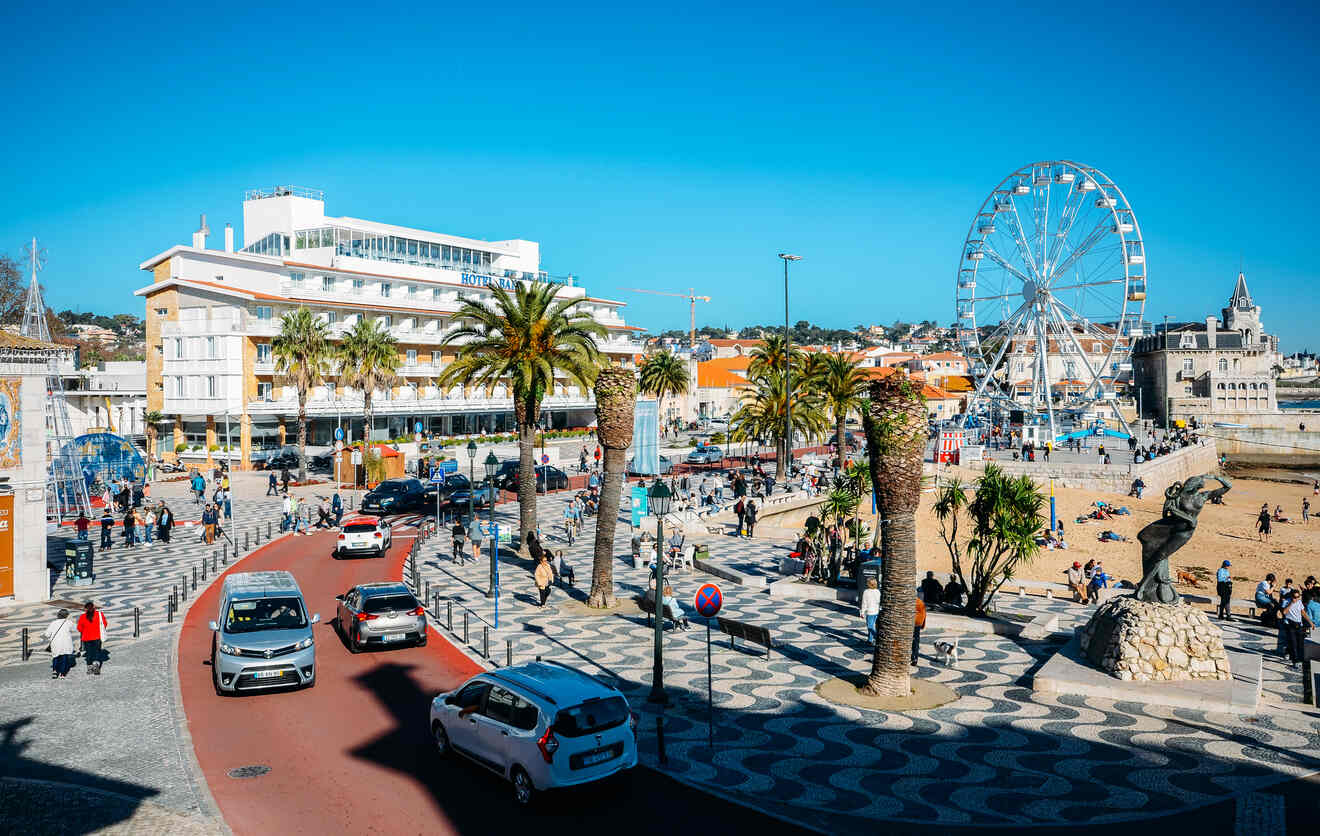 Cascais is a lovely beach town just west of Lisbon, on the Atlantic Ocean. Once an old fishing village, now it is an upscale destination, perfect if you want to enjoy some shopping and soaking some sun at the Praia de Ribeira beach.
This city has become particularly famous for its charming city center, with pastel-colored houses, and its coastline, but it has much more to offer!
Here you can try the best seafood restaurants in the region, but especially one of the best surf spots in the area, Guincho beach, where you can also do stand up paddling if you feel like something lighter.
And just 20 minutes walking from Cascais Marina, there is the magnificent Boca do Inferno (Hell's Mouth), a natural rock arch with a cave that is known for sucking in ocean waves and shooting water out the top: an incredible natural show to watch!
BONUS: Unusual Things to do in Lisbon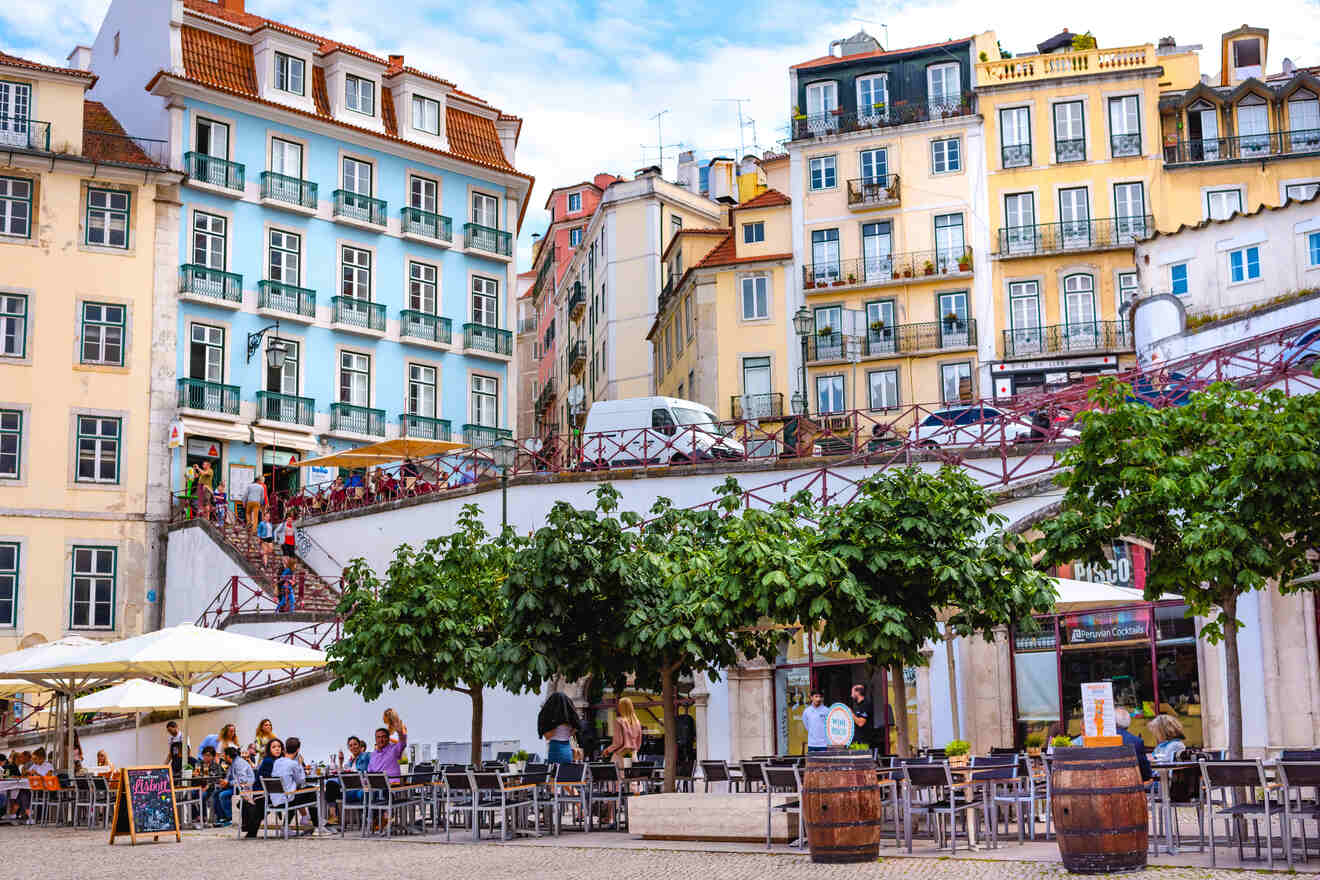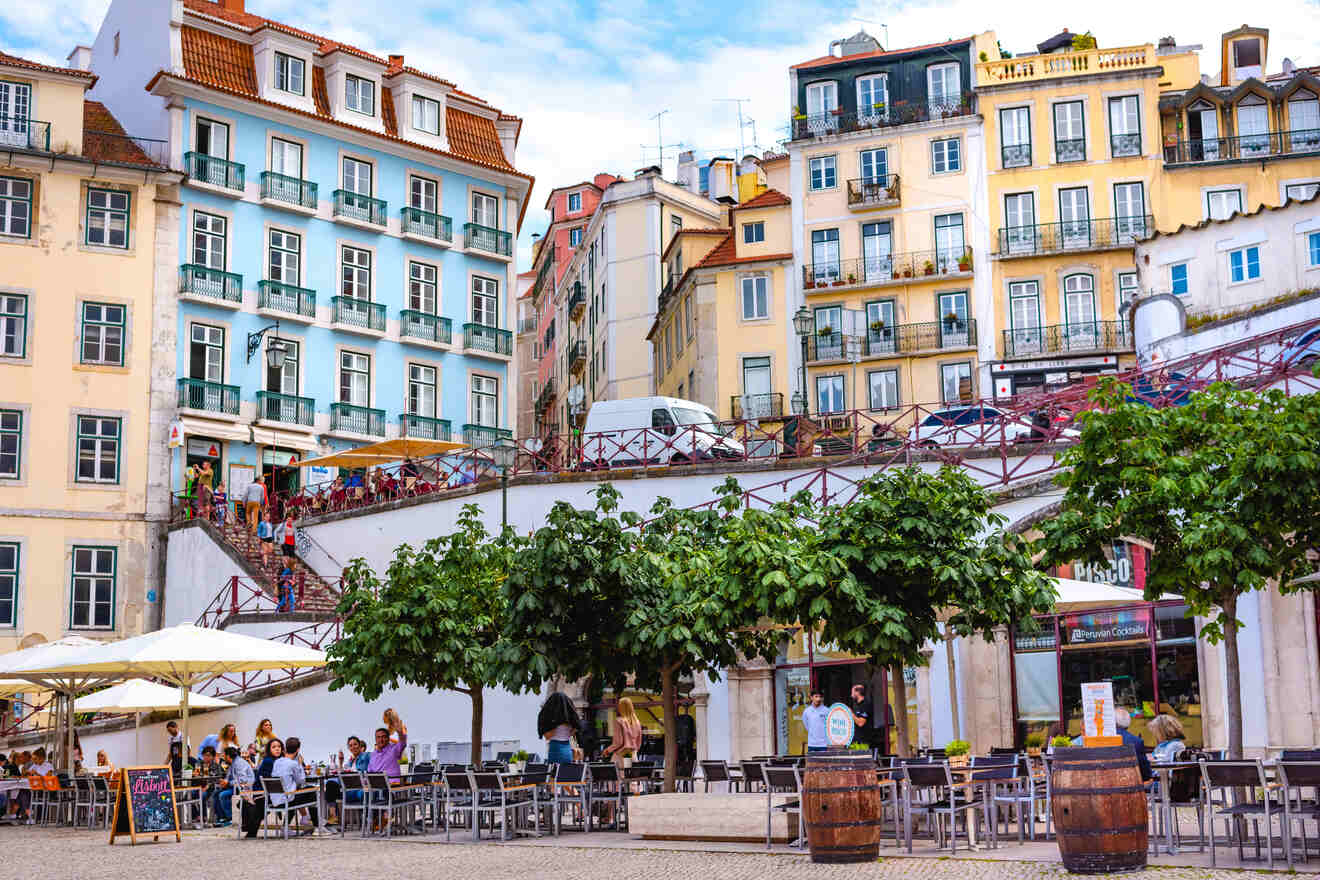 There are actually soo many things to do in Lisbon other than the usual touristic tours and attractions, so I grouped here some "unusual activities" to do in the Portuguese capital, which are usually the things I enjoy doing the most… let's check them out:
Street art tour – Lisbon is a super colorful city full of amazing graffiti and street art, and the best way to discover it all is through a cool tour with a local artist, who will explain to you the social aspects, the techniques, and codes behind this lively art scene!
Parc de Nações – if you want to gaze at some great contemporary architecture, delightful thematic gardens, exhibition centers, shows and events, check out the Parque das Nações, built on the heritage of EXPO 98 – the last world exposition of the 20h century!
Cristo Rei the Redeemer – if you want to have the best views of Lisbon, you can get to the top of a gigantic Cristo Rei (Jesus) statue, located in Almada, just across the River Tejo from Lisbon. This is one of Lisbon's most iconic statues, 92-foot-tall.
LX Factory – this is one of Lisbon's coolest spots, located in the quiet neighborhood of Alcântara, where you'll find alternative restaurants, rooftop bars, artisanal shops and street art studios showcasing and selling their work.
Pasteis cooking class – learn how to make Portugal's most iconic pastry: the delicious Pastel de Nata! At the end of this cooking class you will know how to prepare the world's tastiest tart and be ready to amaze all your family and friends!
Oceanário de Lisboa – The Lisbon Oceanarium is the largest indoor aquarium in Europe, where you will discover unique ocean habitats and see a lot of biomarine diversity, from sharks to sting rays, penguins, otters and much more!
Check out Red Frog Speakeasy – have an amazing cocktail at Red Frog Speakeasy, a secret hidden bar with no board displaying its name. This is a cozy place where to enjoy exceptional drinks and it's a must visit place when you are in Lisbon!
Balloon ride around Lisbon tour – fly over the beautiful Portuguese countryside in a hot air balloon on this super cool tour! you 'll take in breathtaking landscapes down below and enjoy a complimentary glass of Champagne when you land!
Learn to surf – as I already mentioned before, surfing is one of the main tourist reasons to come to Portugal. So if you're here, make sure you take a class either in Ericeira, Caparica, Cascais, Carcavelos, all close to Lisbon!
| | |
| --- | --- |
| 👪 Family-friendly score: | Medium |
| 💚 Best monument: | Castelo de São Jorge |
| 🕺 Nightlife: | Bairro Alto |
| 🥟 Must try food: | Pastel de Nata |
| 📅 How many days: | 3-4 |
| 🏨 Best hotel | Chiado Arty Flats |
| 📍 Best neighborhood: | Baixa Neighborhood |
Practical Information about visiting Lisbon
Now let's jump to some more practical information you should know when visiting Lisbon Portugal:
Where to stay in Lisbon
In order to visit Lisbon's best attractions and tick all the best things to do in Lisbon, it's important to stay in a central location, so you can be within walking distance to everything. I selected for you 3 amazing choices in the center, divided per price range, check them out:
UPDATE: if you want to know more about recommended areas in the city and accommodation recommendations for each of them, we have a post just for that!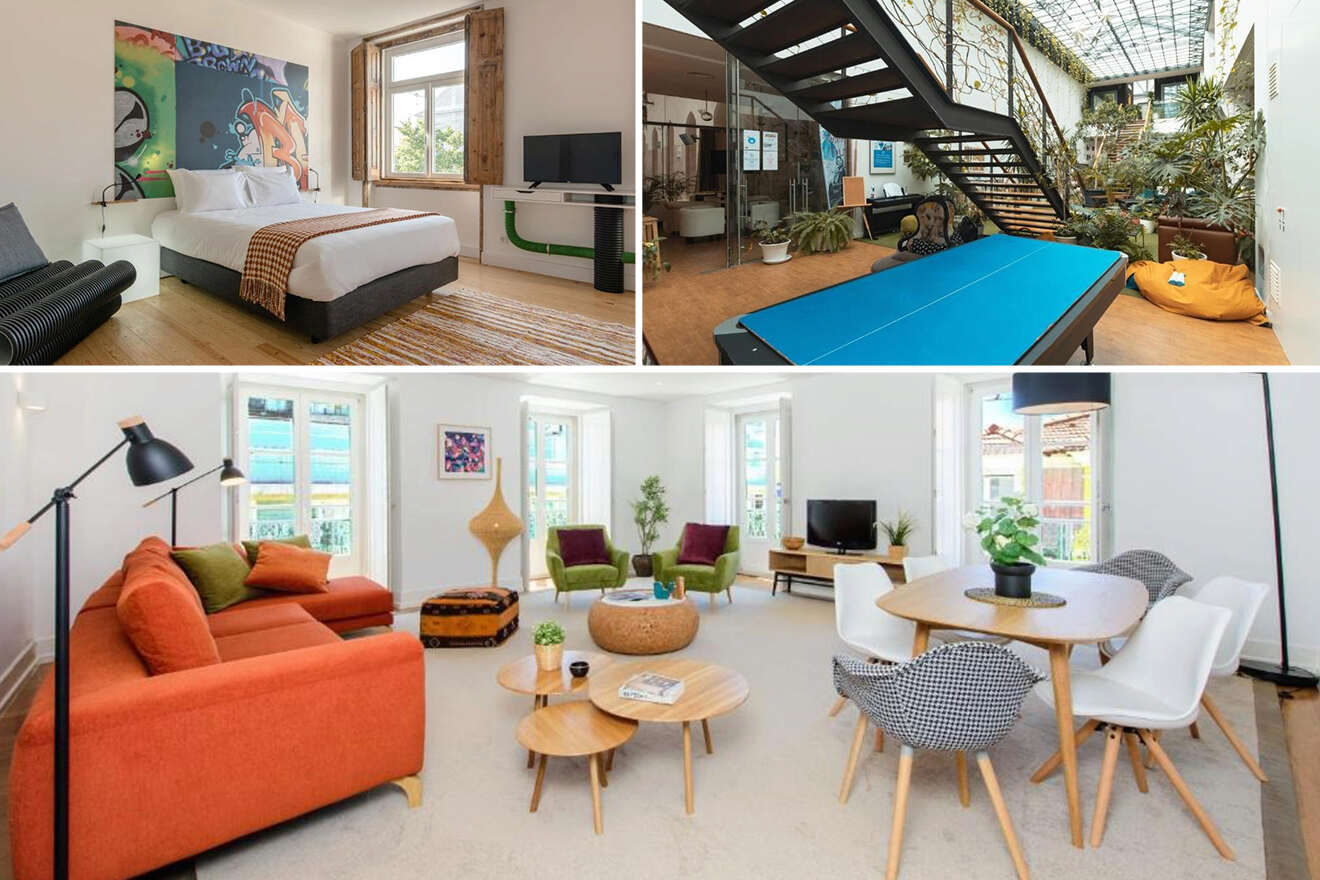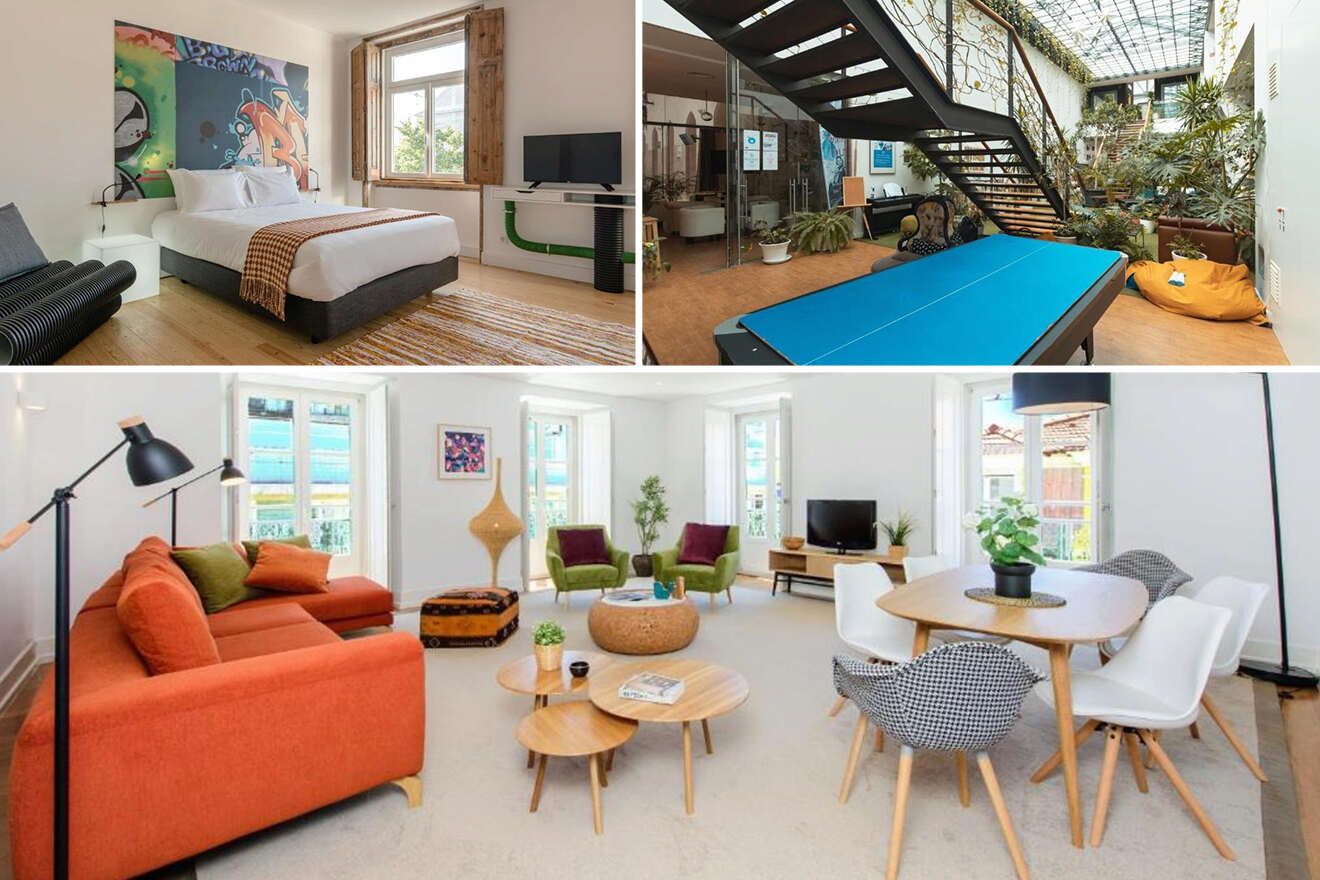 Luxury
Martinhal Lisbon Chiado – This 5-star luxury hotel offers an amazing rooftop terrace with a view of Tagus River on one side, and the Castelo de São Jorge on the other side. The best place to stay close to the top attractions in Lisbon and enjoy all the comforts!
Mid Range
Chiado Arty Flats – This nice boutique hotel offers a great location within the heart of Lisbon city center and at the same time close to the lively streets of trendy Bairro Alto. Here you'll find unique award-winning decor and an artsy atmosphere!
Budget
Lisbon Destination – If you're looking for cool accommodation where to stay on a budget, this is the place for you! Located in the historic train station central Rossio, it is a walking distance to the most popular sights and restaurants in Lisbon!
How to get around in Lisbon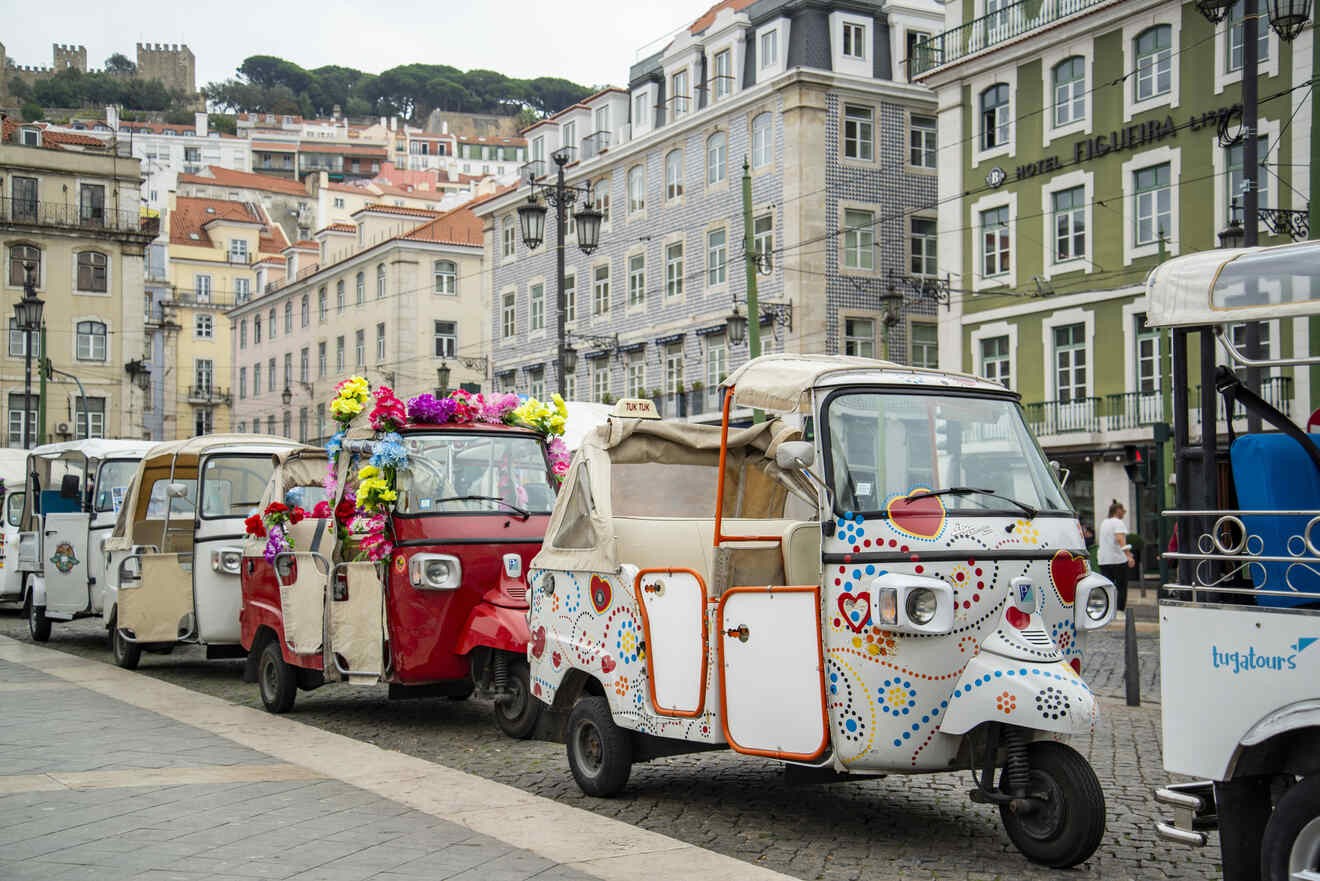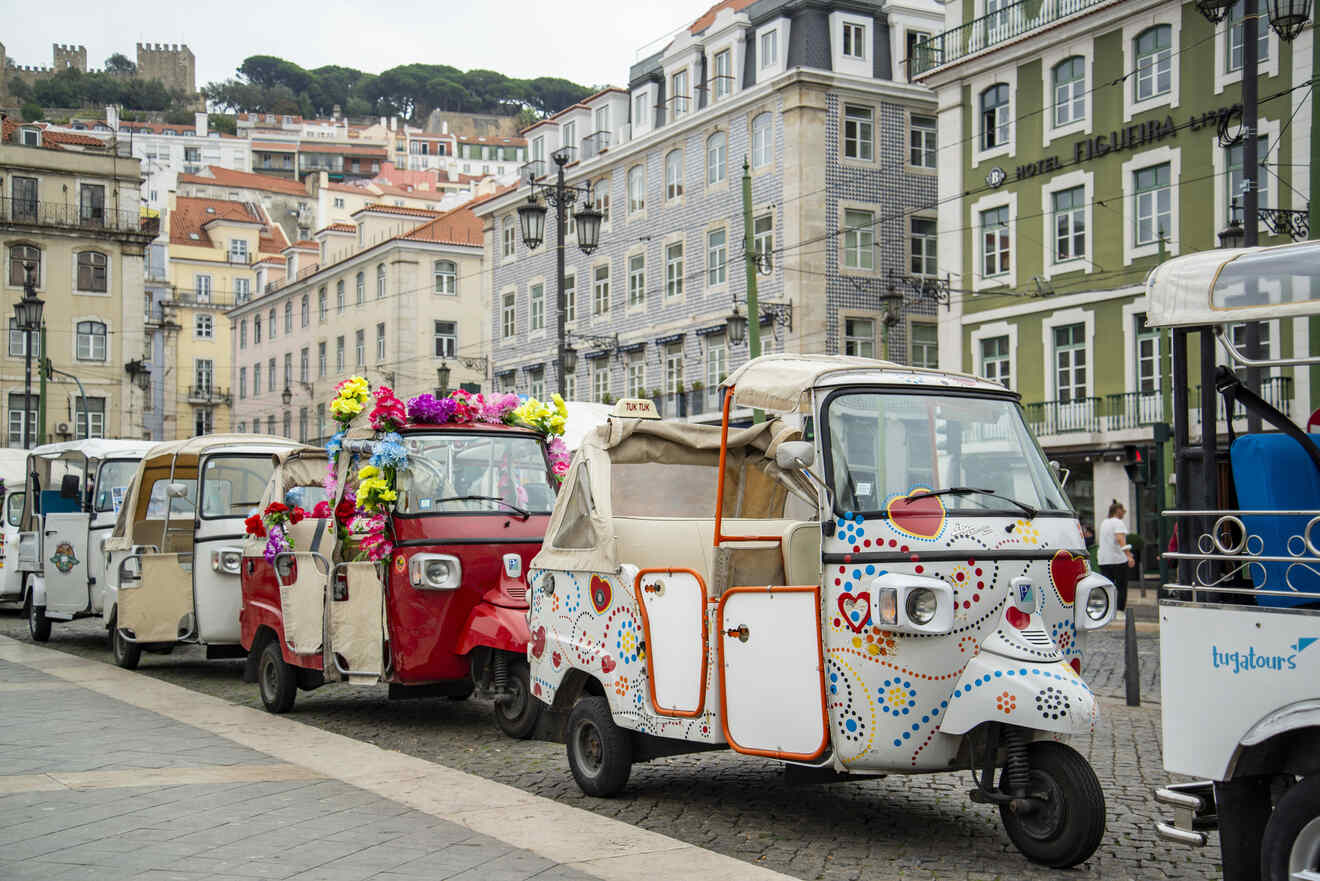 There are many different ways of transportation if you want to move around Lisbon, from metro to buses, car rentals, taxis etc. Lisbon is actually a super walkable city, so ideally you wouldn't even have to take one of these… but with all the hills and ups and downs, you'll probably need some rest at one point!
Public Transportation
If you want to have access to all the ways of public transportation (metro, bus, tram, funiculars) at a cheaper price, the Viva Viagem card is the easiest and cheapest way to get around Lisbon.
The card itself will cost you only 50 cents and it can be charged either with individual tickets (1.50€), a day pass (€6.40), or with a balance of up to €40 to use as pay as you go.
Car
I personally don't recommend renting a car if you want to access the city center attractions: you can reach them all by public transport, plus traffic and parking are a nightmare here!
If instead, you're planning on taking a day trip, you can rent cars from the airport and from offices in the city center.
Taxis/Ride Sharing
Lisbon taxis can be a good option to get around (especially after a night out) as they are quite cheap!
Fares start at 3.4€ and they increase by around .47 euros per kilometer (they get more expensive at night).
Anyways, I personally never took a taxi in Lisbon since the ride-hailing app Uber (or Bolt) works in the whole city, and always offers cheaper prices, so I recommend you to do the same!
NOTE: If you're getting a taxi from the Lisbon airport, be careful because some taxis try to scam tourists, especially at the arrival gates. So instead, grab a taxi at the departure gate or just order an Uber!
Is the Lisbon Card worth it?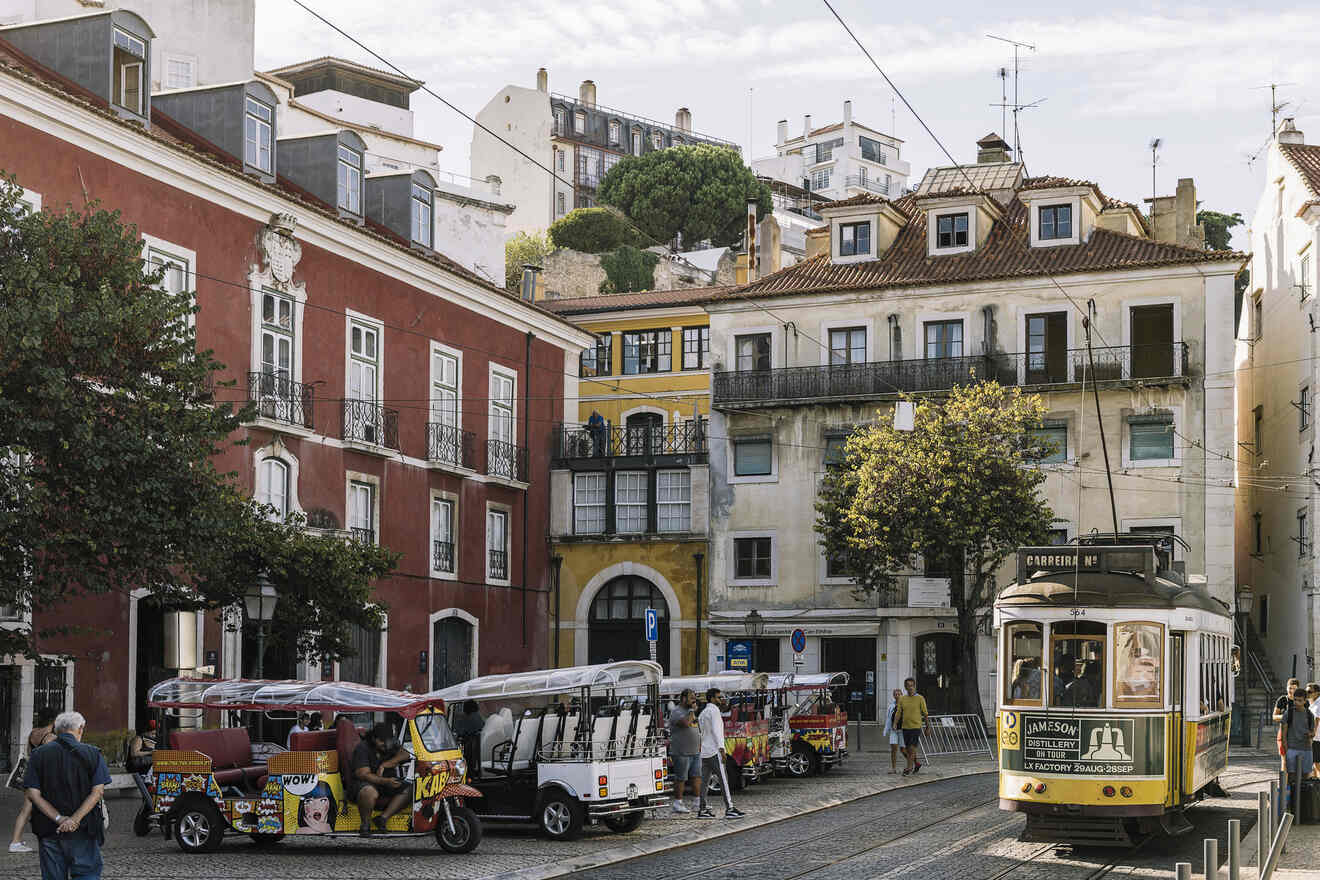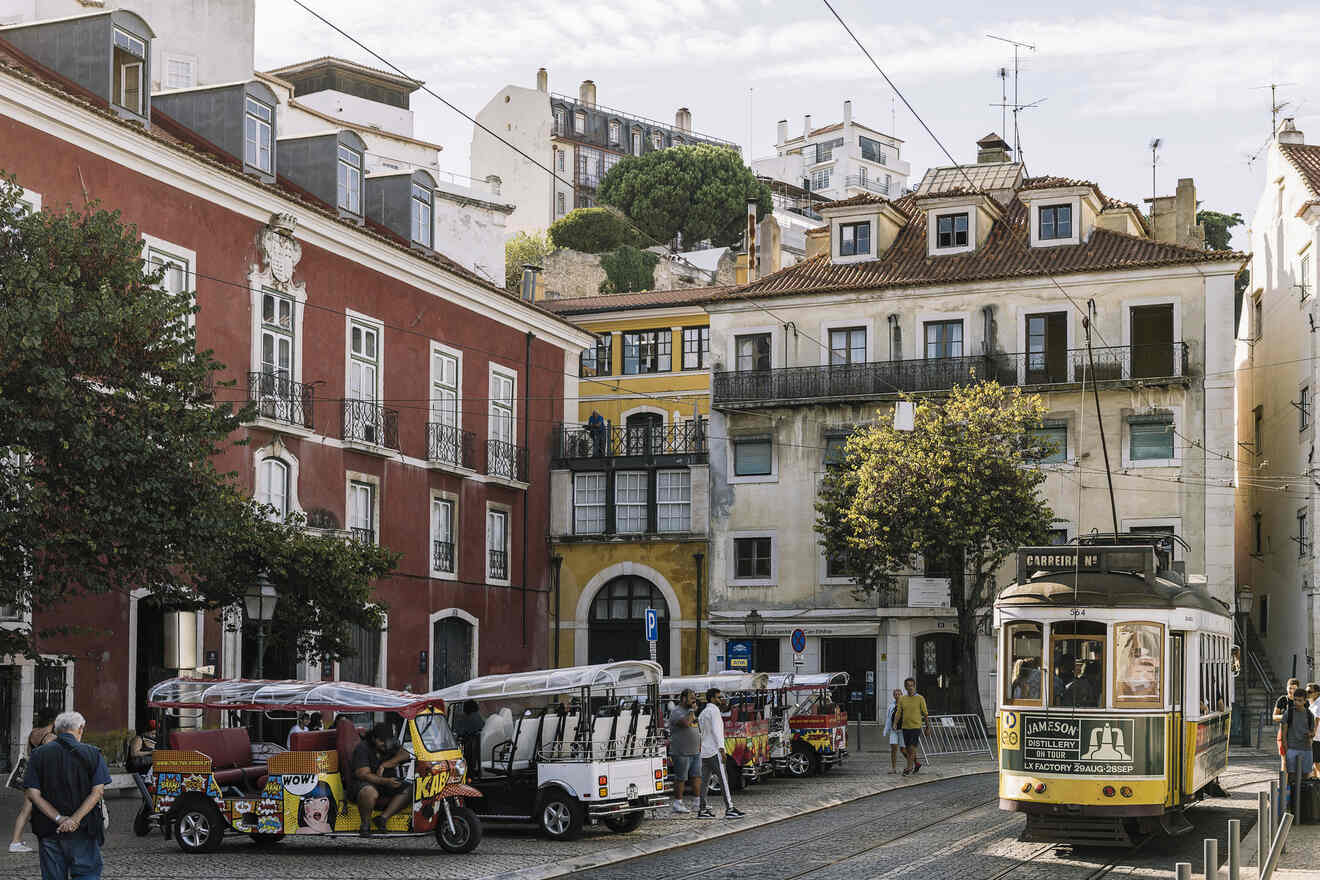 Giving you access to 23 museums and free tram passes, the official tourist Lisbon Card is the most affordable and easiest way to complete your list of things to do in Lisbon!
By buying it you will get free access to many sights in Lisbon, discounts to other attractions and free public transport for a defined period of time:
24 hours: €19 for an adult and €12 for a child.
48 hours: €32 for an adult and €18 for a child.
72 hours: €40 for an adult and €21 for a child.
Any fare you will choose, it will save you quite a lot of money: let's take as an example the 2 day Lisbon Card.
If you split your 2 days between Belém and the Baixa (city center) neighborhoods, you can visit most of the attractions included in the card and make the best out of your time!
The first day in Belém you can check out the Belém Tower (€6), Jerónimos Monastery (€10), the National Museum of Coaches (€8) and the MAAT(€9), all very close to each other!
The second day in Baixa I suggest you visit the Museum of Ancient Art (€6), the Lisboa Story Center (€7), and climb the Santa Justa Elevator (normally €5).
If you do all this, which is completely doable (it just sounds more than what it actually is) you would spend €51, while the 24 hours Lisboa Card is only €32.
In this way, you'll save €19 in two days (some good money to save for a meal at the restaurant)! And even if you won't be able to do all of this in one day, the final price will still be worth it.
CALCULATION: 6 +10 + 8 + 9 + 6 + 7 + 6 = 51€
YOU SAVE: 51€ – 32€ = 19€
Best food to try in Lisbon (and where)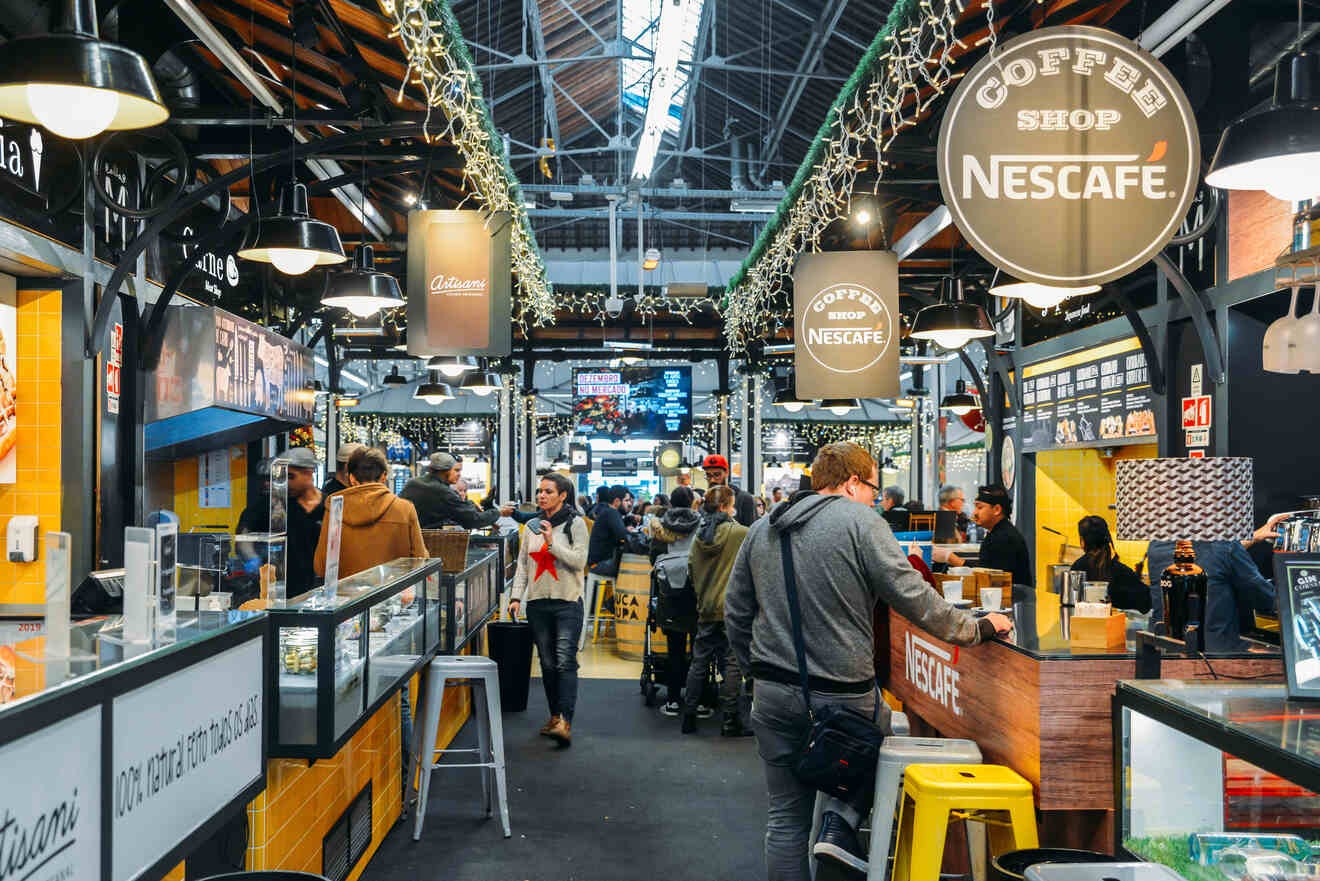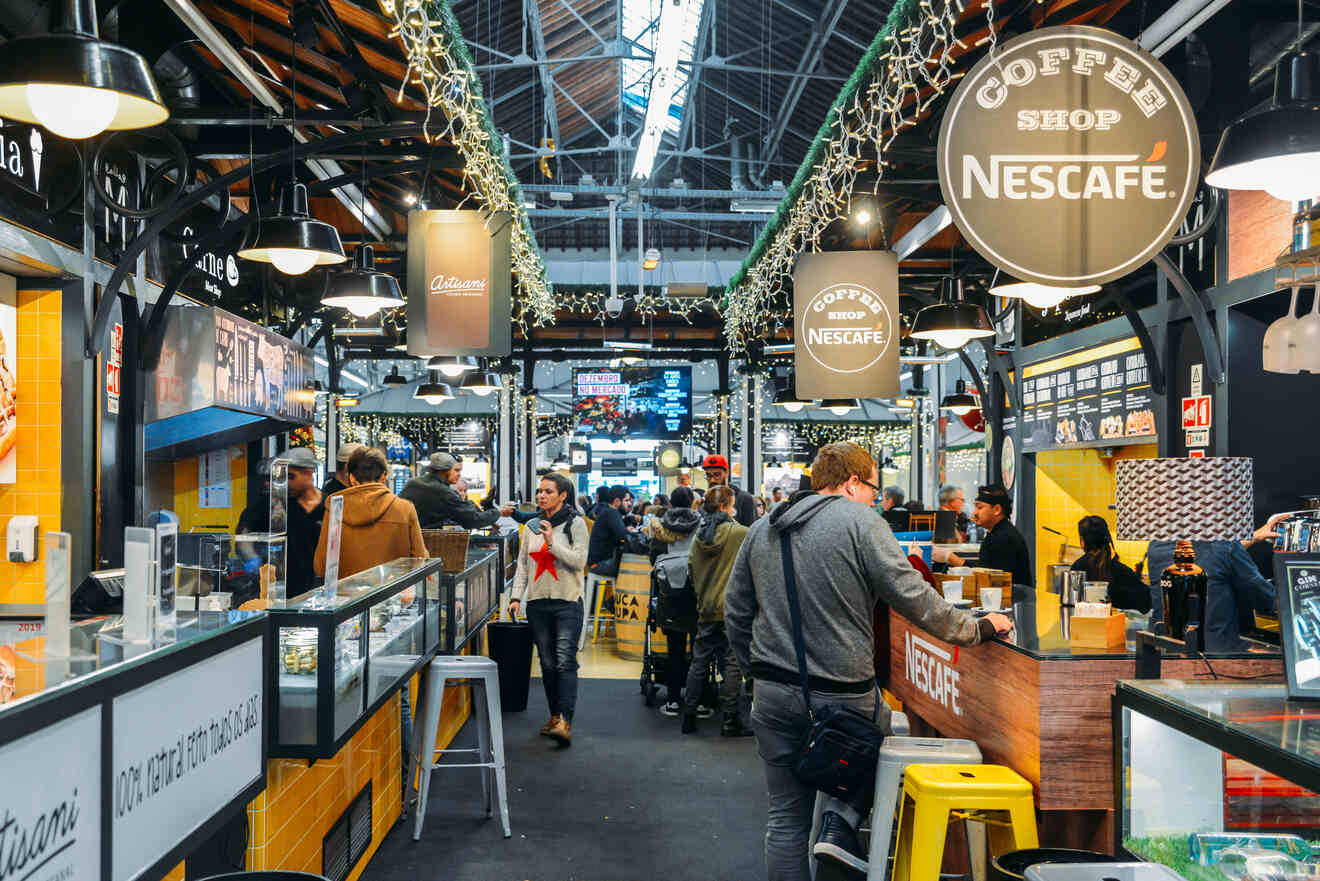 Intro to this section:
Bacalhau – in Lisbon, and in general everywhere in Portugal, you' ll have access to a lottt of amazing fresh seafood, but the most typical one is bacalhau, dried salted codfish. You can eat Bacalhau prepared in any kind of way: Bacalhau à Braz, scrambled eggs with olives and fried potatoes, Bacalhau con Nata (basically a lasagna made of cod fish, cream, potatoes and cheese.. Heavy but delicious!).
Pasteis de nata – well, we already talked about this: you cannot leave Lisbon without trying its most famous food: the Pasteis de Nata! This circled egg custard pastry is simply delicious, and you will love it even more sprinkled with some cinnamon. The Clarinha family, owning the famous Pasteis de Belem have a copyright on the recipe, which is centuries old!
Vinho Verde – produced in the far-north regions of Portugal, this is my favorite wine ever, very fresh and perfect to have it with a fish dish or as an aperitif right before dinner! Although it literally translates to "green wine", the name means that it is a "young wine" as it is usually not allowed much time to mature. It's usually a semi-sparkling white wine but you can find it even in red, white or rosé, late harvest or a brandy "versions" !
Petiscos – petiscos are the portuguese versions of the Spanish "tapas" so small traditional plates to eat either before dinner with a glass of wine, or for dinner (but you'll have to take several of them!). They can be everything from meat, fish or veggies, but the most famous ones are: Pastéis de Bacalhau (fried codfish nuggets), Presunto (typical smoked ham), Pica-Pau (marinated fried beef or pork) and much more!
Here are some great restaurants I can recommend: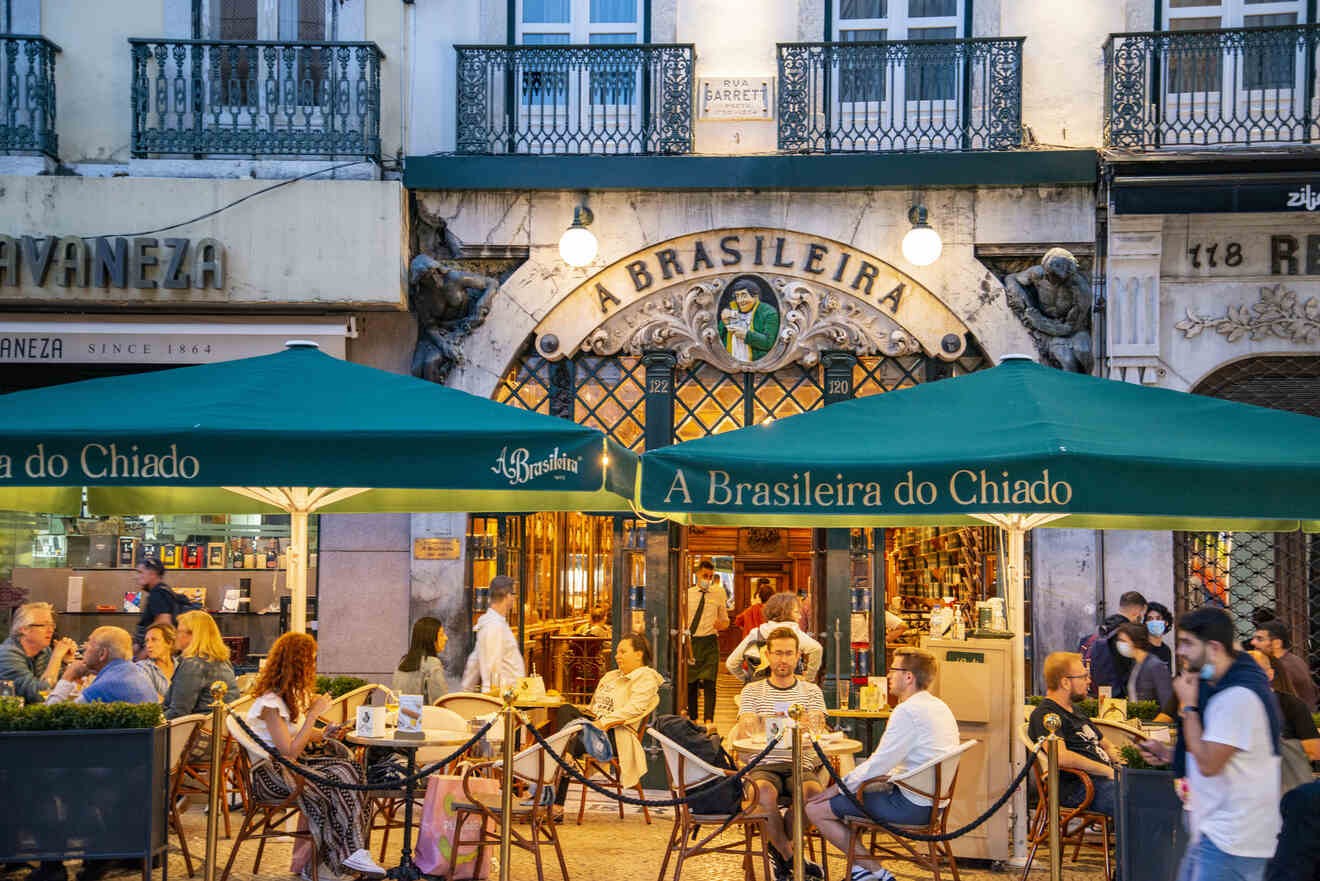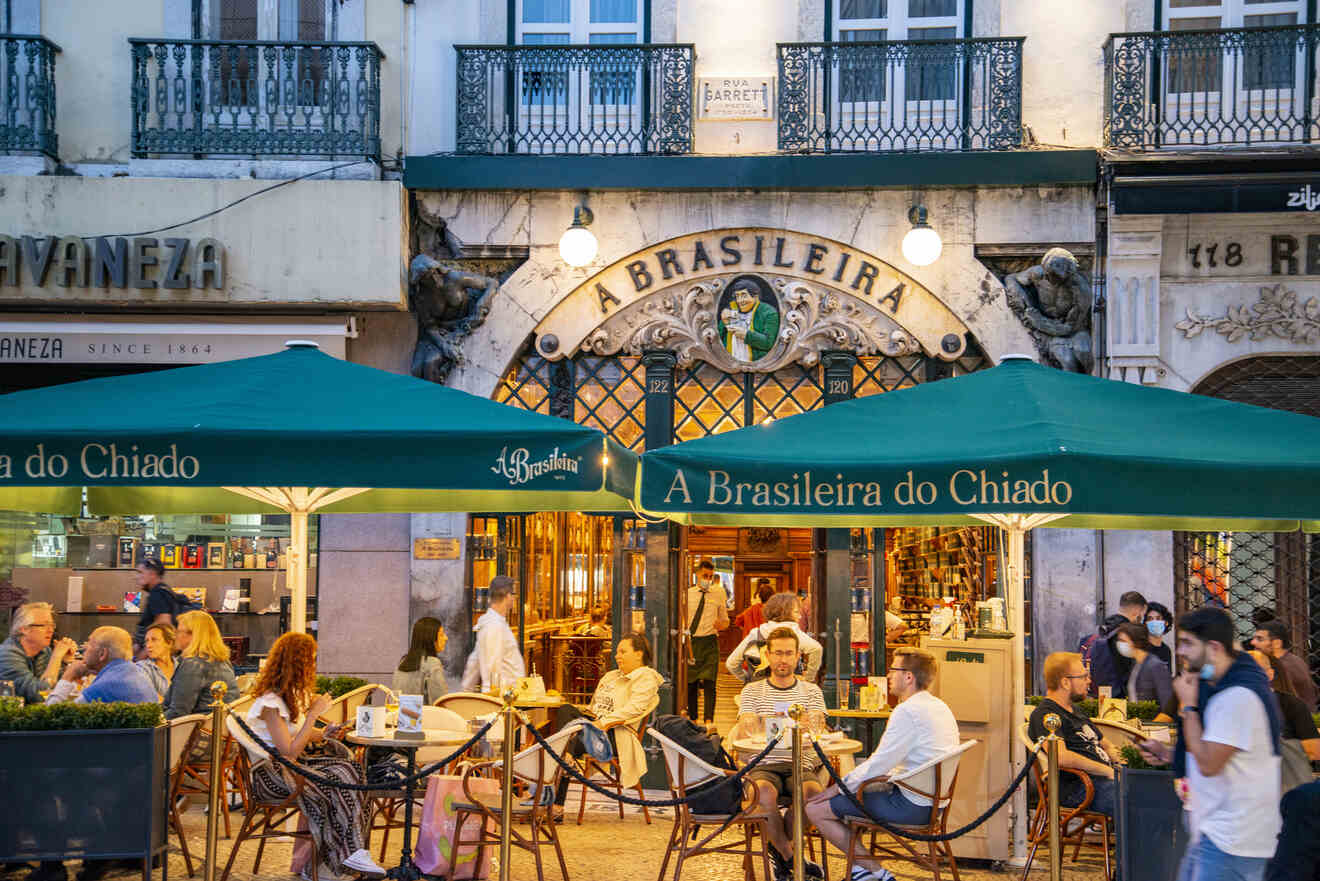 A Casa do Bacalhau – Try Bacalhau in all its forms (the menu has 25 different ways to enjoy cod!) and choose from more than a hundred brands of wines. The restaurant is a bit touristy, but pretty awesome if you want to taste a good codfish!
Da Prata – this is the best place if you want to try all the Portuguese traditional petiscos, like the chouriço assado (smoked sausage), ovos mexidos com farinheira (scrambled eggs with a traditional sausage), typical cheese, the famous portuguese sardines and much more!
Fares Lisbon – this is my favorite restaurant ever! It's a small and chill place with amazing music, serving the most delicious Middle East food I ever tried and some great cocktails too! If you go, I recommend the falafels, the seasonal hummus and the oven baked Cauliflower. Amazing place for both dinner and after dinner drinks!
Frequently asked questions about Lisbon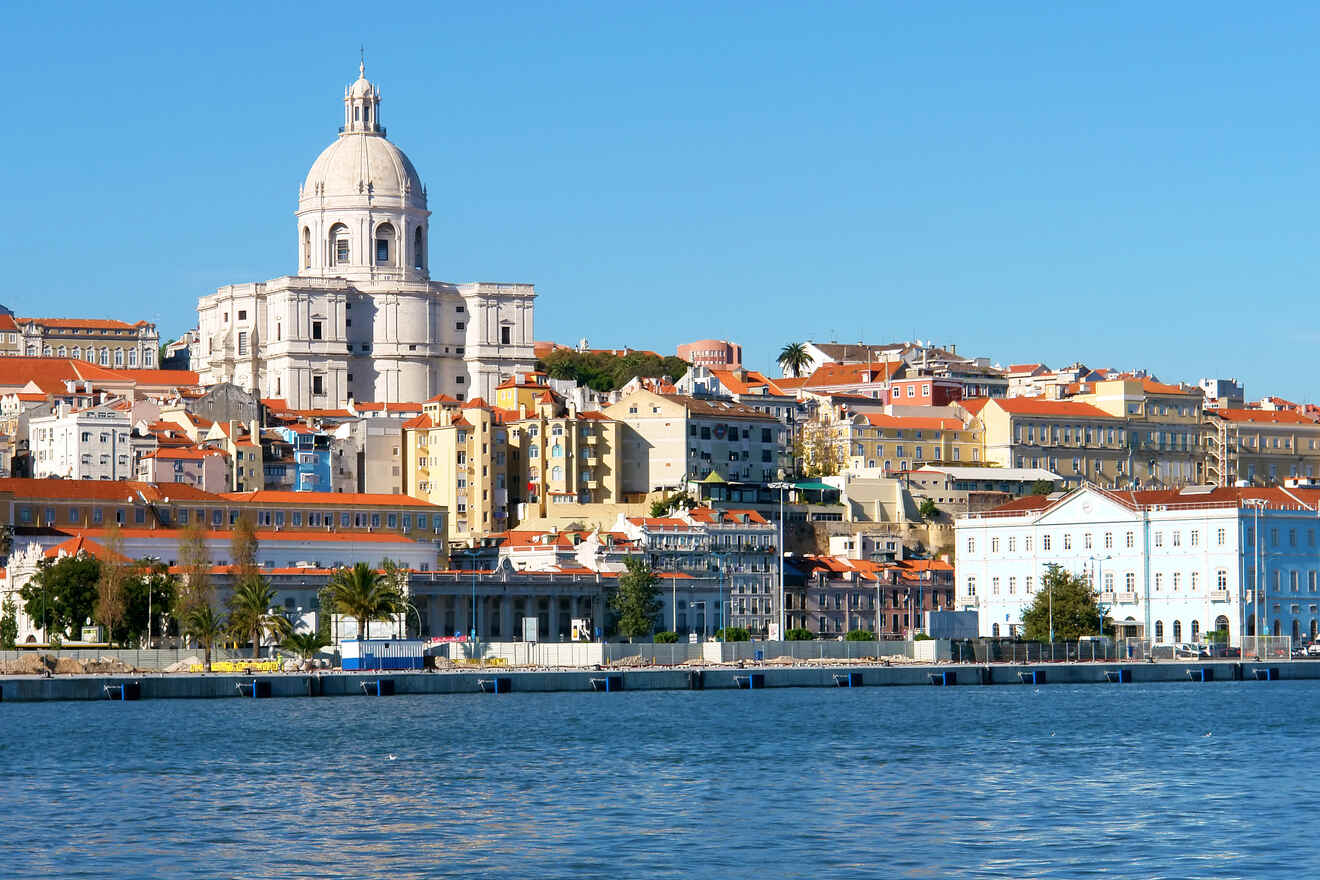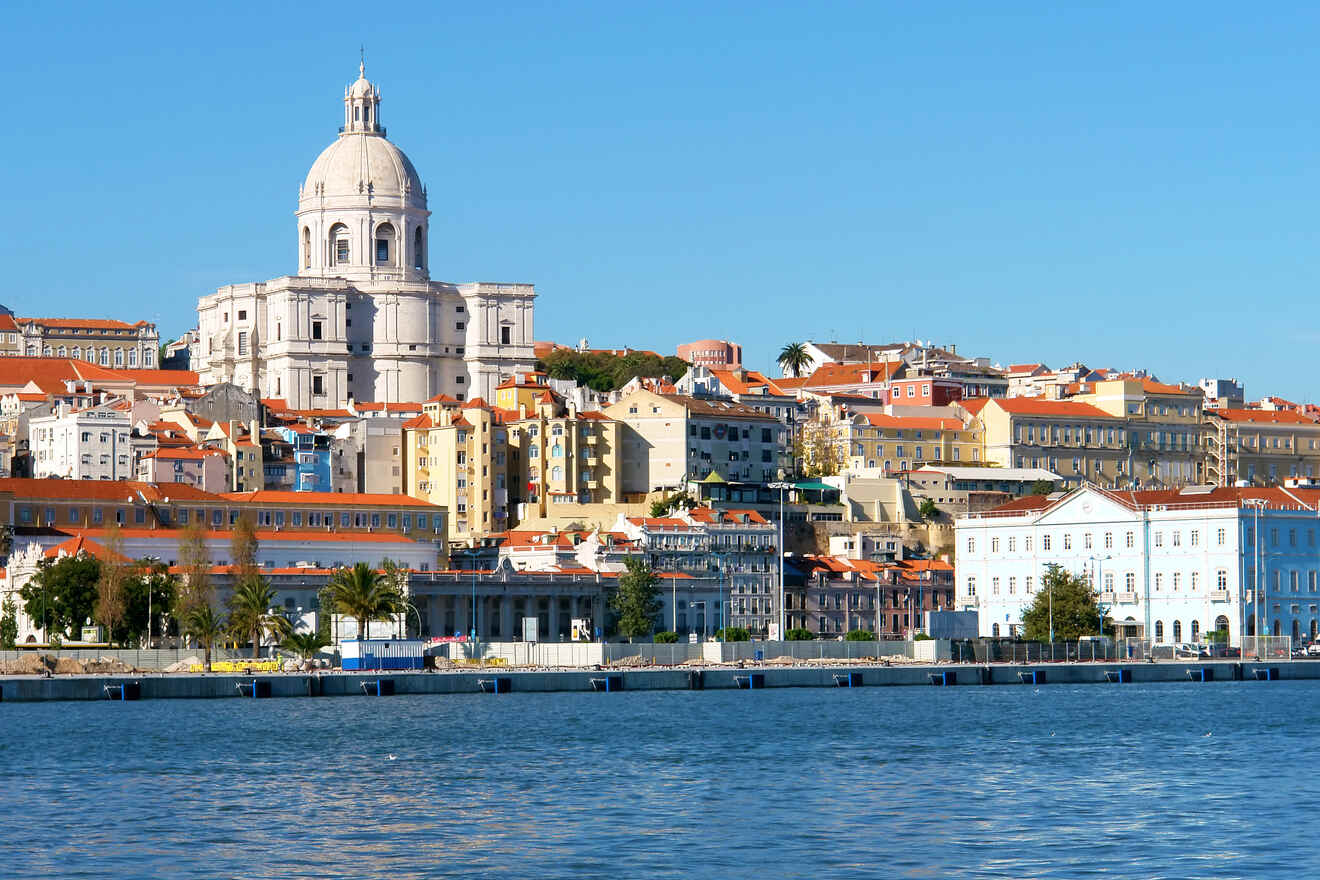 📸 What are the best things to do in Lisbon, Portugal?
The best things to do in Lisbon are gazing at the Vasco da Gama bridge, gaze at the city views from the São Jorge Castle, visiting the Roman catholic Lisbon Cathedral or the Lisbon Oceanarium.
📅 Is 2 days enough in Lisbon, Portugal?
Yes, 2 days are enough to visit Lisbon's main attractions, all located in the center, while if you also want to do some day-trips you would have to take a few more days!
🚶Is Lisbon walkable?
Yes, Lisbon is a very walkable city, offering also many free walking tours! But if you get tired there are lots of public transportation options to explore the city, all of the accessible with the Viva Viagem card
🏰 What are the best things to do in Lisbon, Portugal in 3 days?
The best things to do in Lisbon, Portugal if you have just a few days are visiting the Castelo de São Jorge (St. George's Castle), checking out the Feira da Ladra in Alfama ("thieves market"), and having a day trip in Sintra!
Conclusion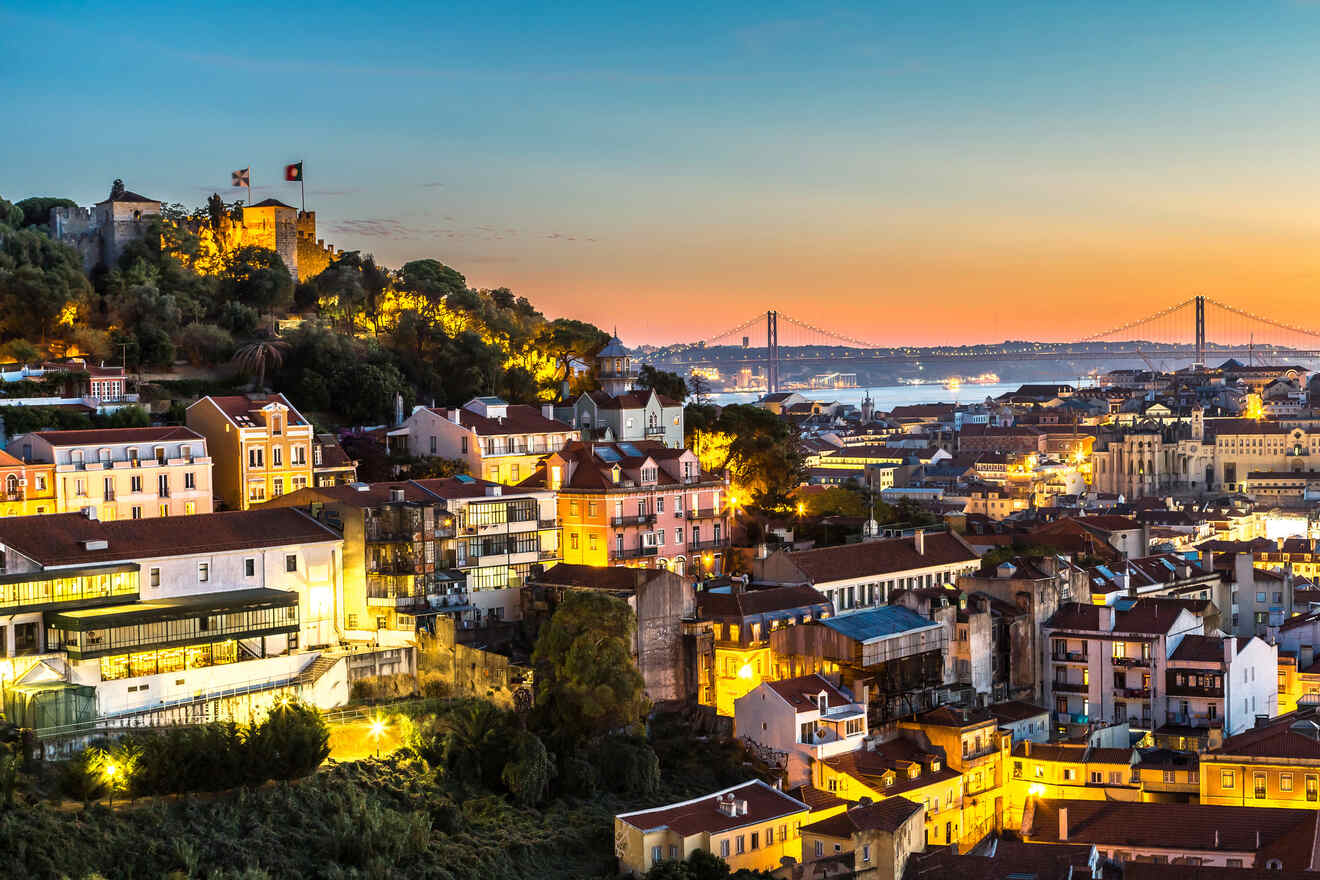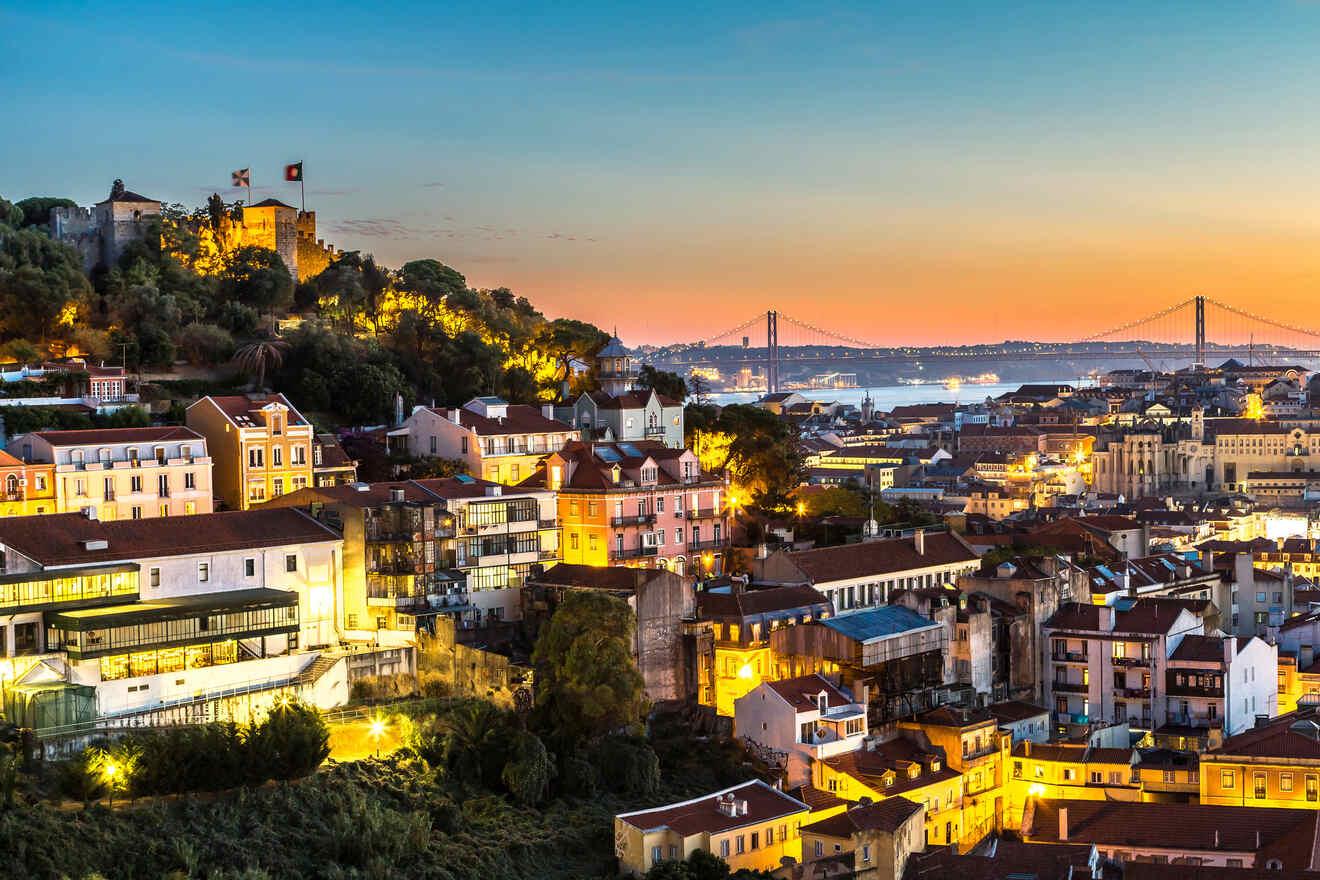 Now you know all the best things to do in Lisbon Portugal, a beautiful and special city with many many attractions to offer!
In this guide I gave you some great tips to make the most out of your stay when you visit Portugal. From museums to magic castles, good nightlife, fado clubs, view spots etc… in Lisbon you'll find everything you have imagined and more!
I hope you enjoyed reading my article as much as I enjoyed writing it, it brought back some good memories! If you want to suggest other things to do in Lisbon or you have any questions, please leave them in the comments!
Can't wait to read them and answer you!
Have a magical trip!
Elena
---
Pin it for later!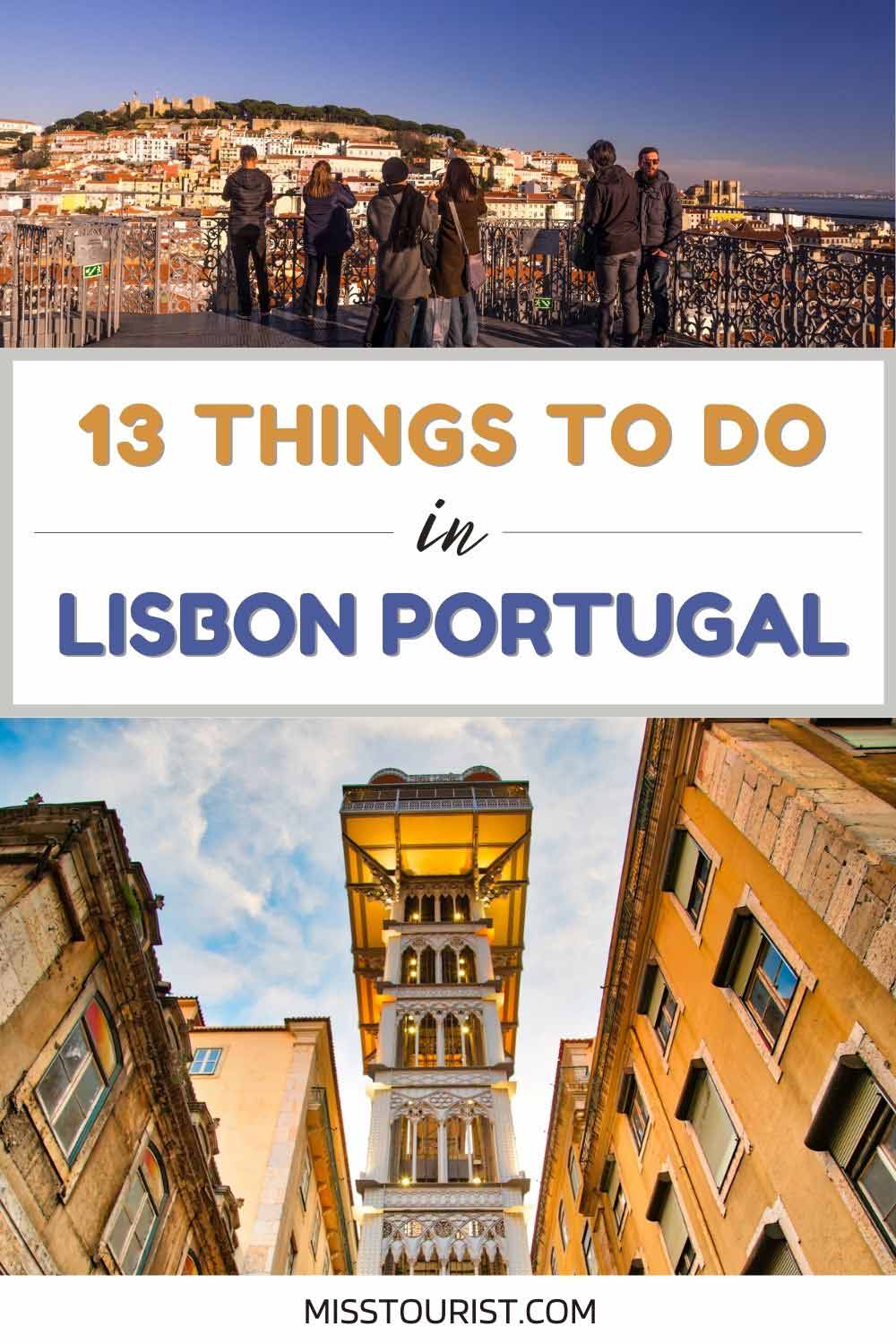 Pin it for later!