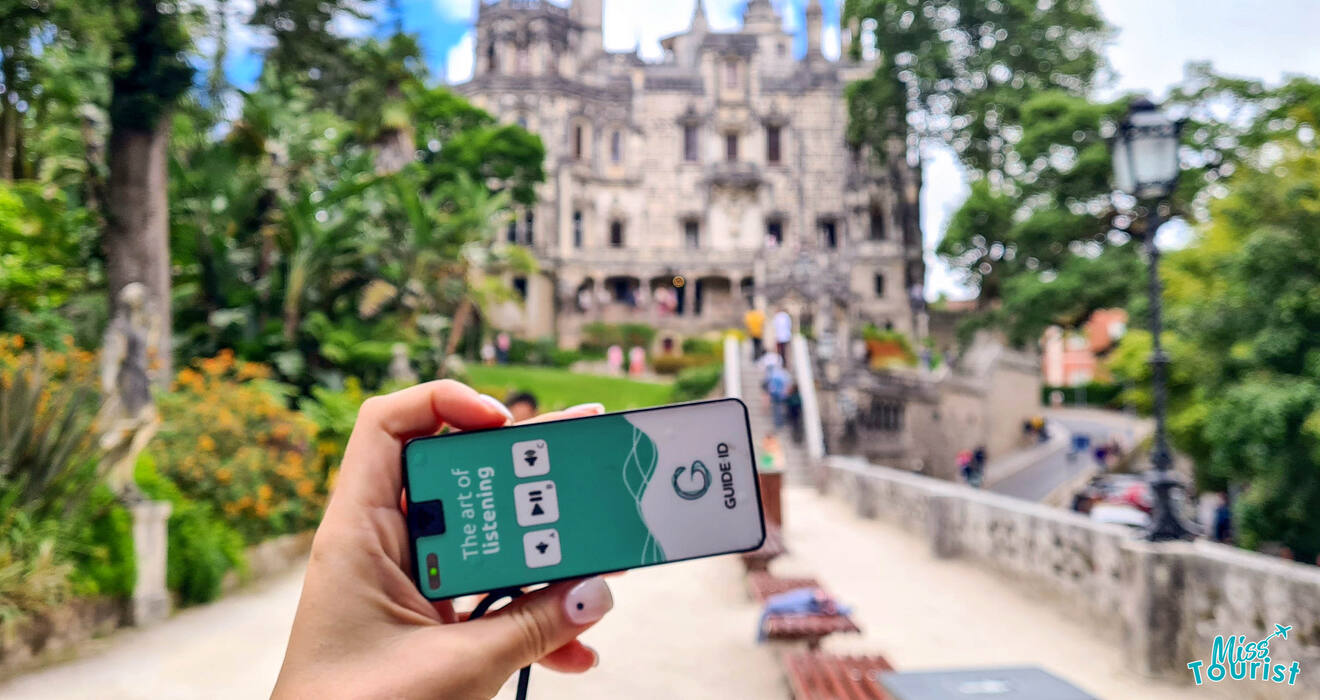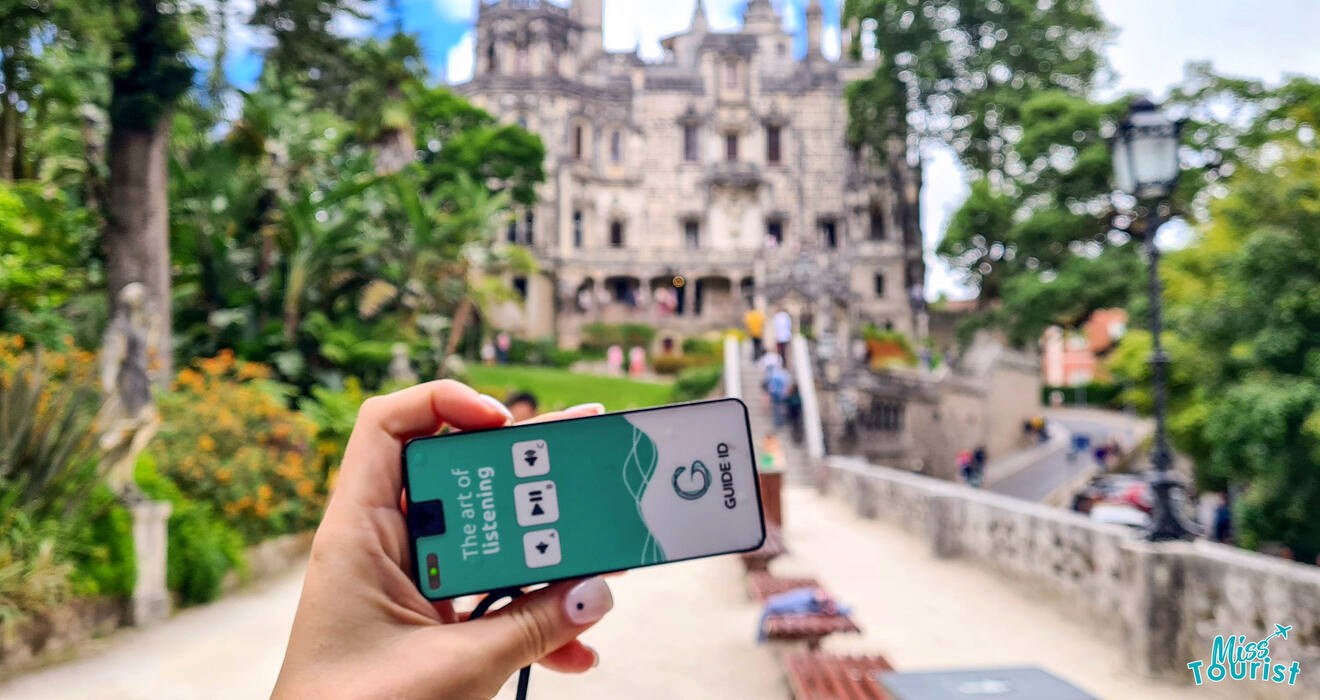 Both Pena Palace and Quinta da Regaleira (the most visited palaces in Sintra) were former homes of Portuguese kings, but today we will focus on my favorite of the two, Quinta da Regaleira!
Quinta da Regaleira is an amazing set of romantic buildings and lush gardens reflecting the philosophical interests, symbols, and metaphors of its original owner, António Augusto Carvalho Monteiro. It is also one of my favorite places in Portugal which I have visited 3(!) times by now.
You have many different options to visit this charming attraction: by yourself, with a guided tour, on a day trip from Lisbon, by night etc. So it could be hard to understand which one is the most convenient!
To help you not get lost in all the possible ticket options, I made this guide with all the different Quinta da Regaleira tickets and tours, plus I included some useful information about the museum layout, opening hours, transportation, facilities available, and much more!
Are you ready to explore them all with me?
Let's start!
If you are in a hurry
If you are here just to get your tickets, here are the best links to do so:
Entrance ticket – €10 (Official website) or €21 (Viator)
Guided Tour – €18 (Official Website), €25 (Tiqets)
Guided tour from Lisbon – €55 (GetYourGuide)
Discounted ticket – €5 for kids 6 – 17 y.o. (bring your ID with you), and €4 for people with disabilities (you need to go to the counter),
Free tickets – children under 6 and seniors over 80 years
| | | | | | | |
| --- | --- | --- | --- | --- | --- | --- |
| | Adult Entrance | Kids Entrance | Guided Tour | Tour from Lisbon | Cancelation Policy | |
| Official Website | €10 | Free | €18 | – | Not refundable | Book tickets |
| Viator | €21 | Free | – | €59 | >24 hours in advance | Book tickets |
| Tiquets | – | – | €25 | – | >24 hours in advance | Book tickets |
| GetYourGuide | – | – | – | €65 | >24 hours in advance | Book tickets |
Why buy in advance?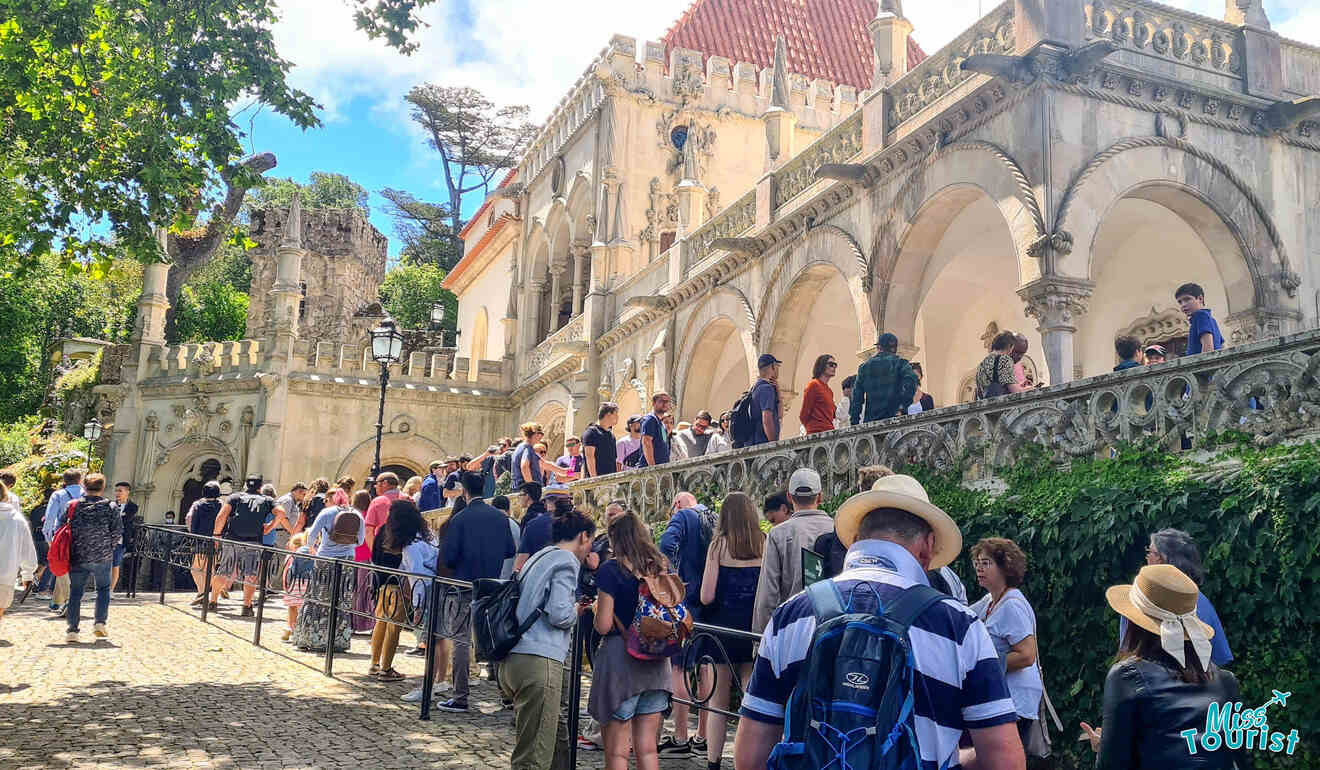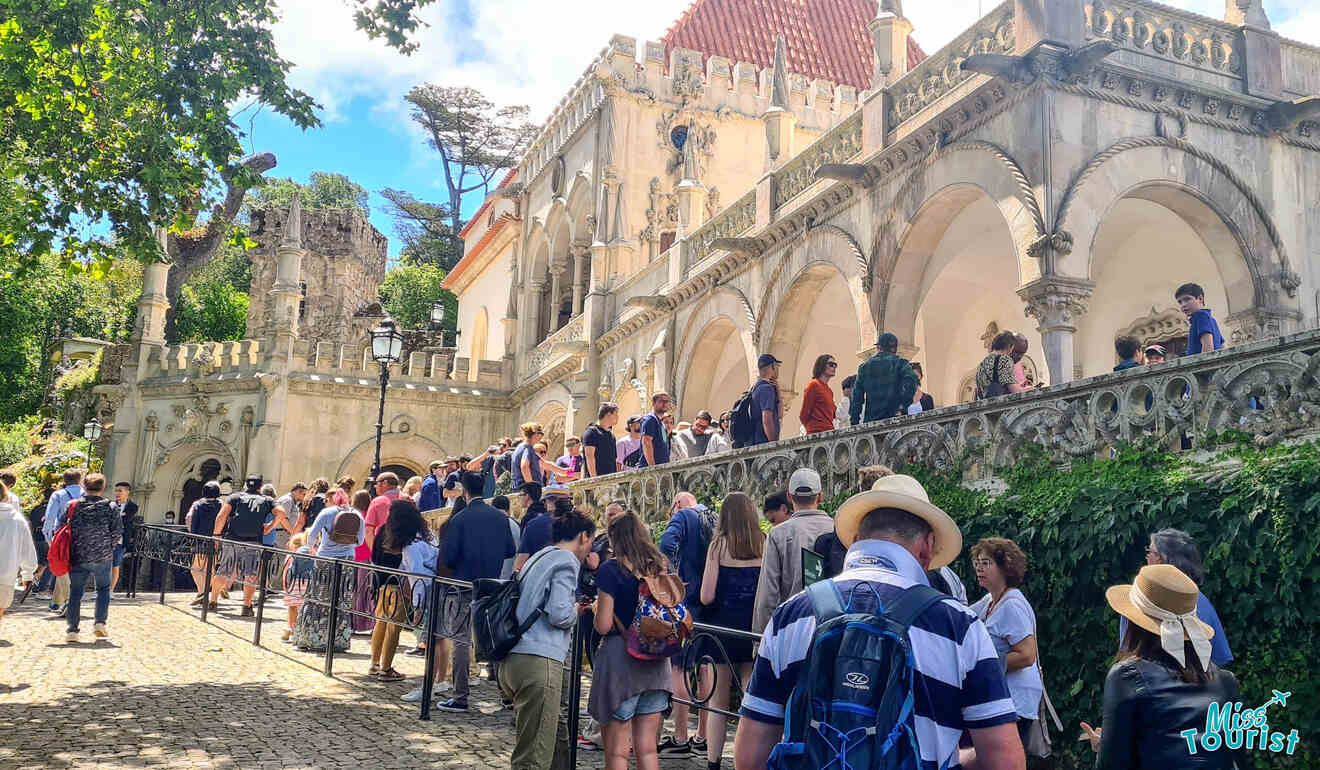 If you buy a guided tour, which I suggest you do (the palace is not only big, but there are so many details and facts you would miss if you buy only the normal ticket!), you really need to book online in advance because you cannot do that on-site!
Also, in case you want to buy a single entrance ticket, it is definitely better to do that online as well because of the very long lines at the entrance. On top of that, the palace is located up on the mountain far from the city so the phone signal will be very bad (meaning you won't be able to buy your tickets online right there).
But that being said, if instead, you are booking a self-guided ticket, you can just buy it online a few days before since they are valid for 120 days, and you won't be restricted when you can enter.
1. Self-guided Quinta da Regaleira tickets
If you want to visit the Quinta da Regaleira, there are basically 2 main options: booking a normal entrance ticket or a guided tour, which is definitely the best way of learning everything about the palace. In both cases, I suggest you book them online rather than on-site.
In case you want to buy a normal entrance ticket, you can do that through the official website or alternative ticket websites, let's see them in more detail:
1.1 Official website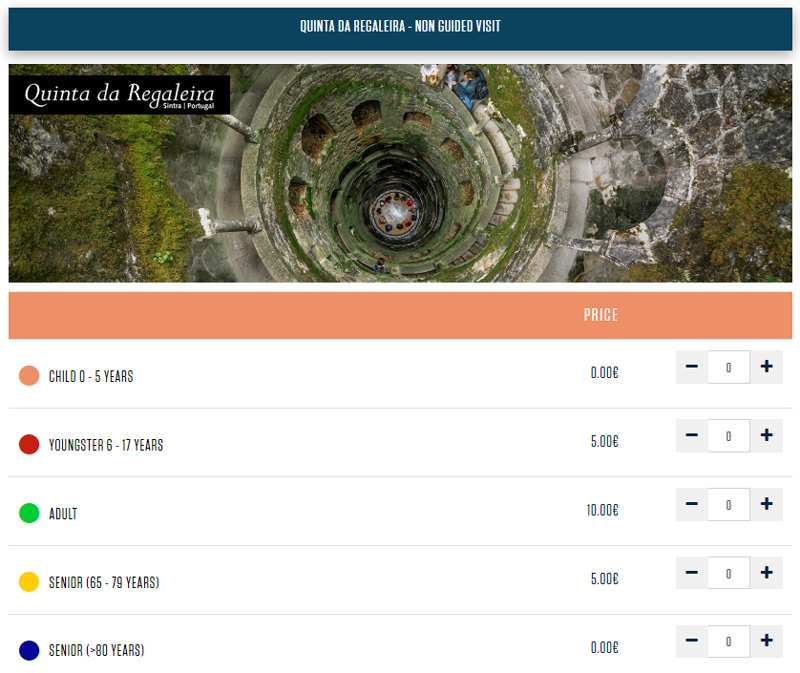 If you want to visit Quinta da Regaleira at your own pace or you already know everything about the palace, you can buy a self-guided tour ticket with a map. The price is currently €10 and the cheapest price is found on the official website.
The map is definitely a good plus because the place is huge (check out section 5 of "important things" to see the layout of the place!), and it will take you at least 3 to 4 hours if you want to see everything once.
With these tickets, you can visit the Palace anytime throughout the opening hours, from 10 am to 6.30 pm. The tickets are non-dated and valid for a single entry up to 120 days after the date of purchase, so they give you the flexibility to choose your day and time of visit until the very last minute!
Buying them online is definitely the best option since there is always a big line at the gate, and once you arrive in Sintra, the transport connection to the palace entrance is quite tricky, so it will be harder to buy them there… you would just lose some precious time!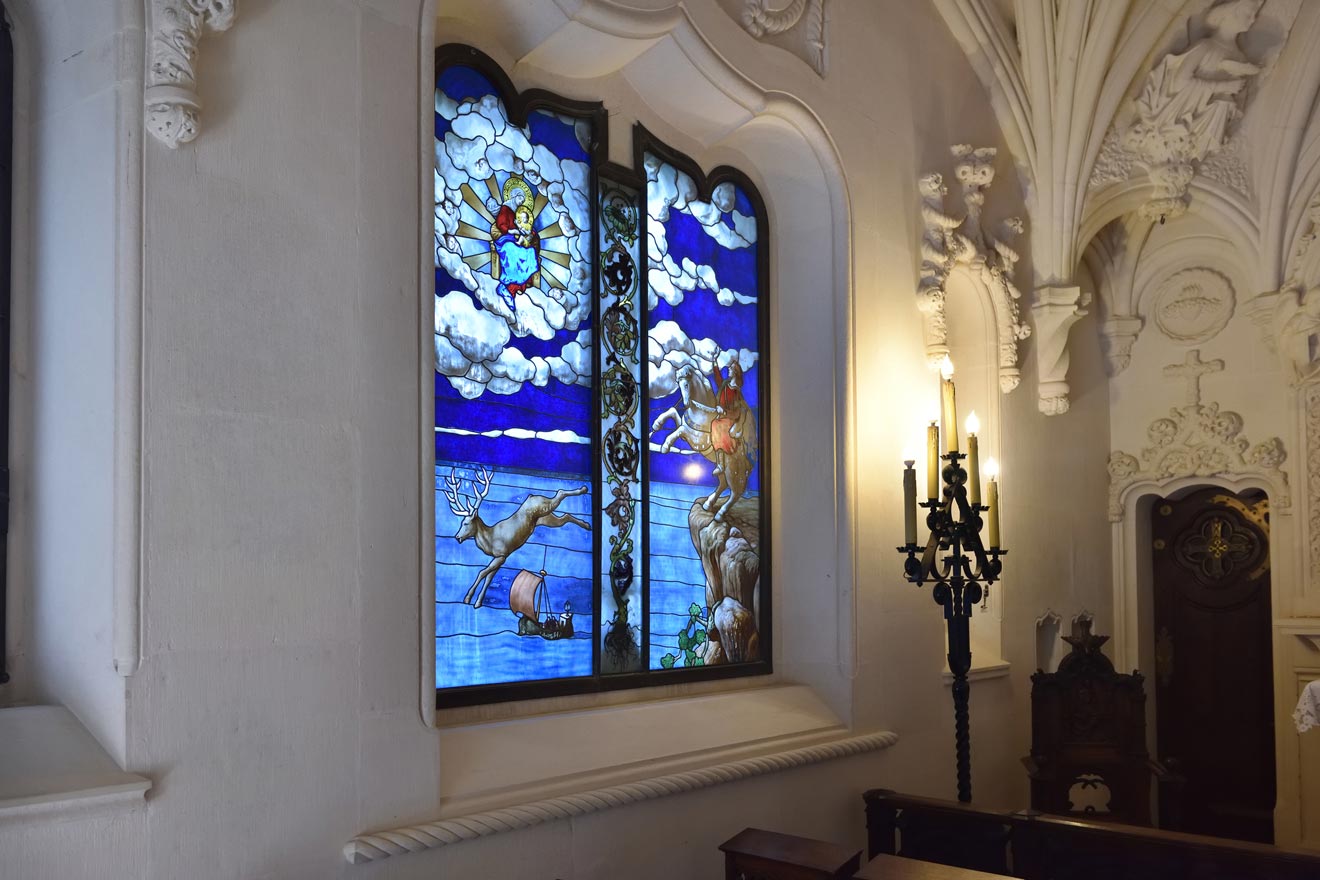 The only downside of buying the tickets online is that they will charge you 6% of the service fee: you can either pay with Visa, Mastercard, or Paypal. The site is quite terrible honestly, I personally spent about 20 mins to book them because it had technical mistakes, and it wasn't really working (hope they will make it more user friendly soon, but I am sharing my experience!).
Also, the official website says there is no refund, exchange, or validity extension policy for the purchased tickets, which would be another reason to buy a guided tour on an alternative ticket website.
NOTE: The ticket is personal and non-transferable, and you must keep it until the end of the visit to get out again!
P.S.: There is another self-guided tour you can do during the evening, I am going to talk about it in details in #5.
Audio Guide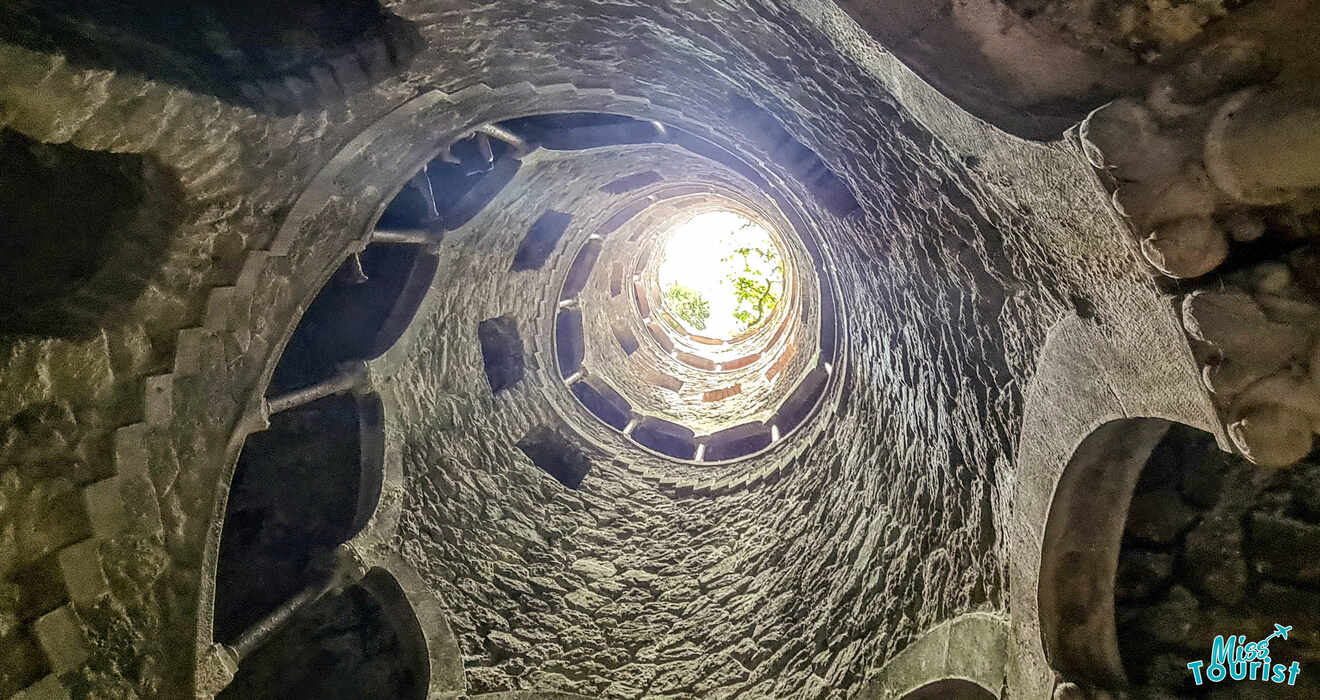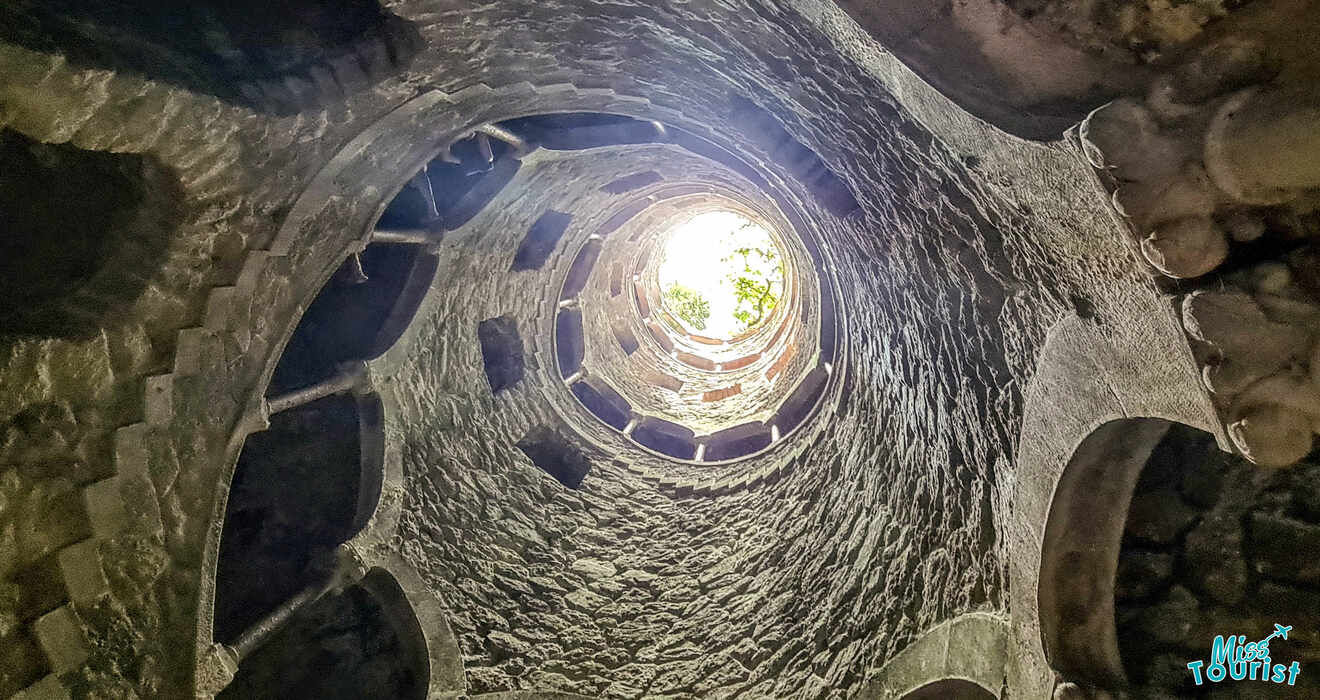 You also have the option to buy an audio guide for 3€. Honestly, I found it to be not super informative and/or interesting, but hey, it is still better than no info! But again, if you can, definitely take a tour! I've been to the place 3(!) times and the guided tour cannot be compared to anything.
PRO TIP: No need to stay in the line if you want to purchase the audio guide: just skip the line since you already have the tickets and ask the ticket controller about it (they will send you to the front of the line but from a different entrance).
Ticket Price: €10
1.2 Alternative ticket websites
If you want to have a better cancellation policy or an easier way to book your ticket online, you can buy this e-ticket for €11 more compared to the one on the official website, offering a self-guided audio tour on your smartphone, that you can use anytime, before or after your visit.
Once you download the audio tour on your phone, you can follow it directly from your phone, learning all the historical information, uncommon stories, and anecdotes of this palace.
Another plus? You can cancel up to 24 hours in advance and get a full refund.
Price: €21
2. Take a guided tour of Quinta da Regaleira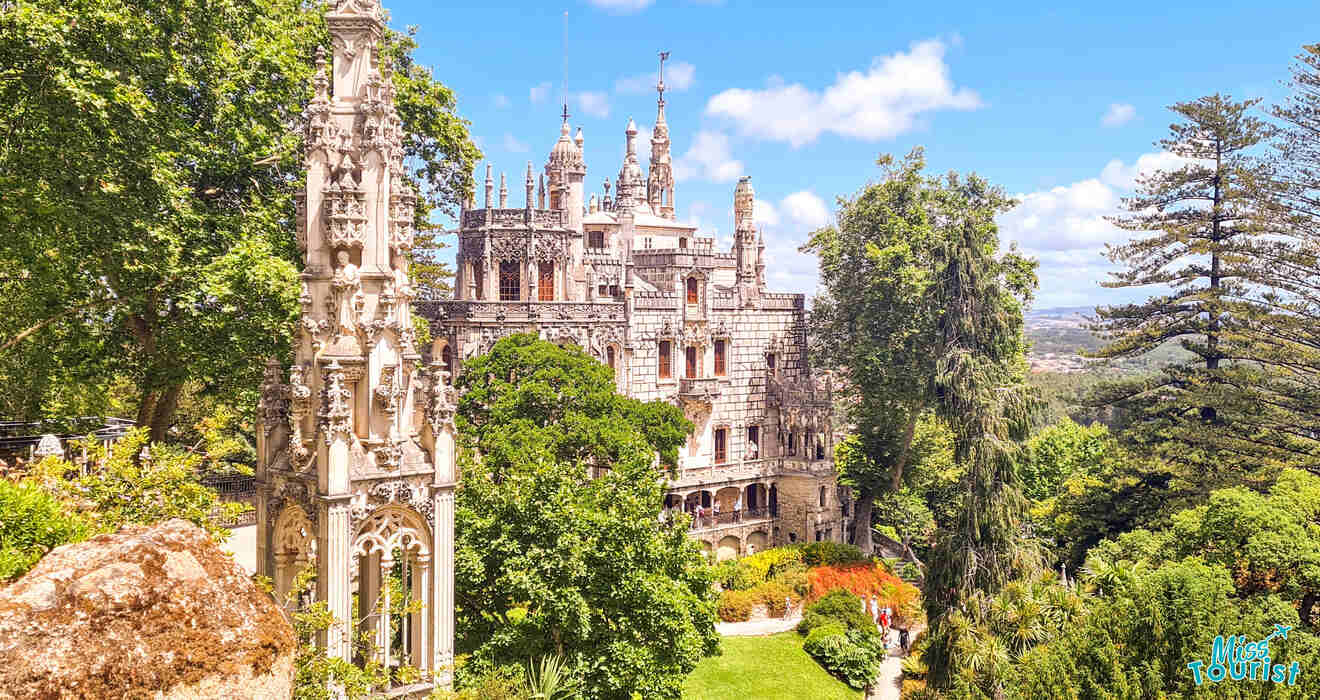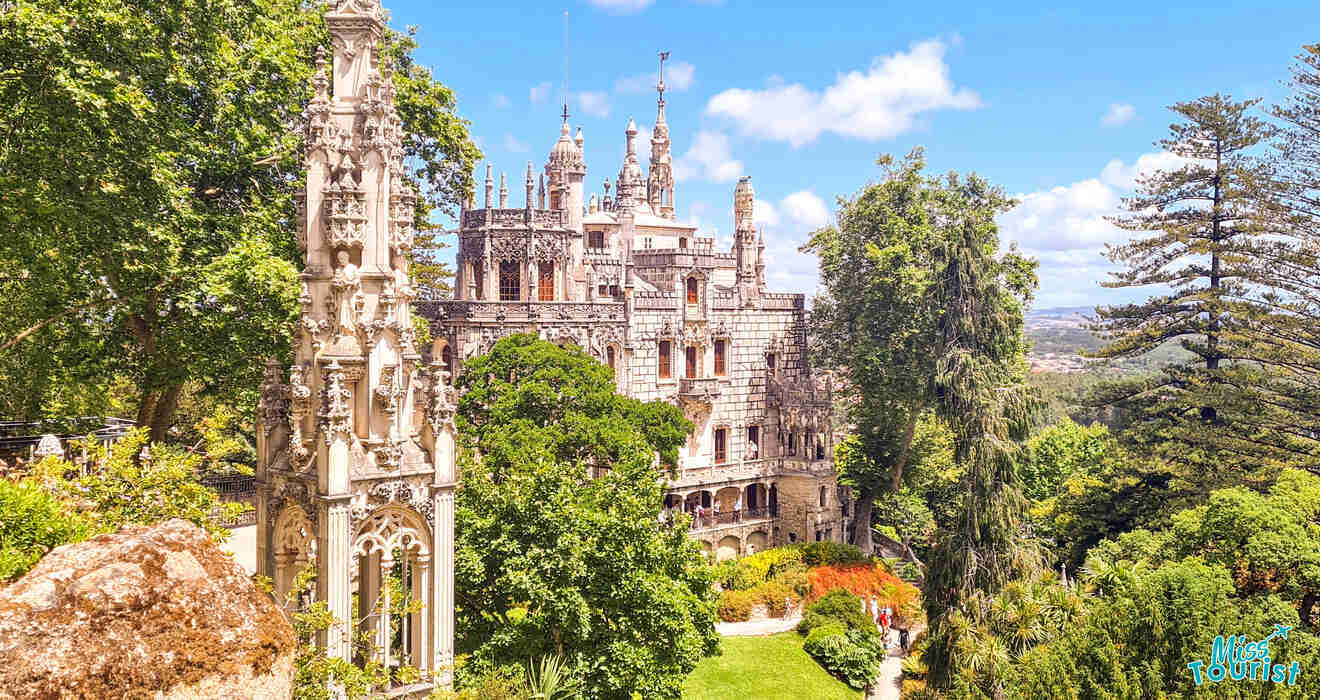 As I already mentioned a few times, taking a guided tour is definitely the best way to visit the Quinta da Regaleira Palace because there are so many details about its architecture, hidden meanings, and history that you will miss otherwise. It's these details that make this place so special!
There are many different guided tours you can book, such as the official tour, tours from alternative websites, or guided tours from Lisbon, including round-trip transportation.
I recommend the third option as it is the most convenient, but let's compare them all to see why:
2.1 Official tour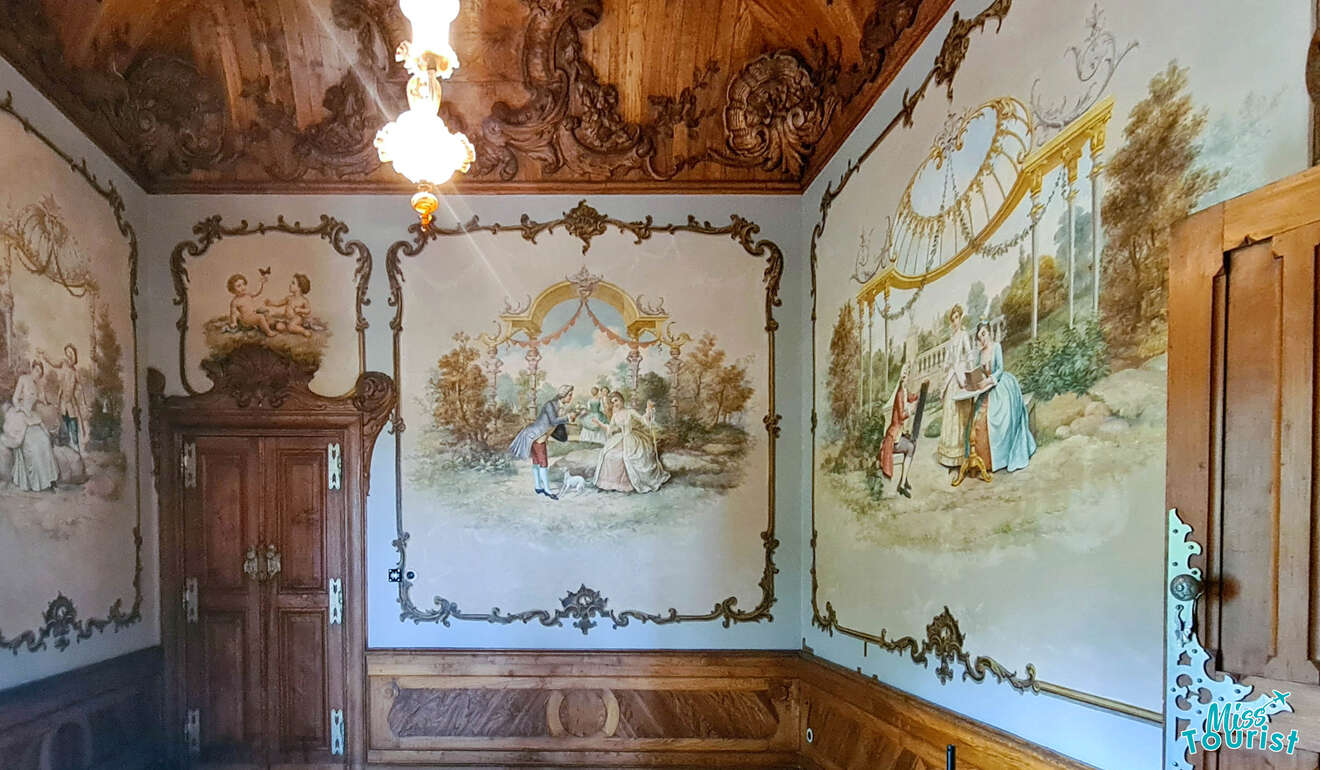 If you want to get to know Quinta da Regaleira more in-depth and have a contextualization of the peculiar characteristics of the palace, you can book a 1.5 hrs guided tour on the official website either in Portuguese and English.
The guided tours on the official website run only from the 5th of July to the 24th of September, and they are available every day except for Sunday and Monday. If you want to have a guided visit of the Quinta anytime outside summer, you can check out the tours in the following section, available all year round.
NOTE: you can't purchase guided tours on-site, so make sure you book them online at least 1 week in advance: for the language and time limitations, these tours get booked quite fast. Also, they are NOT refundable and only valid for the date and time indicated on the ticket!
Make sure you arrive 15 minutes before the start of the visit to allow time to find and join your group!
Even if this is a better option than the self-guided tour ticket, you still will have to go through the hassle of the complicated booking method on the official website (which is slow and not user-friendly). Plus, you still have to get to Sintra by train, which can get a bit tricky (check out the section about how to get to Sintra!).
If you want to avoid these necessary pains, check out the following guided tours:
Price: €18.
Group size: maximum of 20 people
2.2 Alternative tours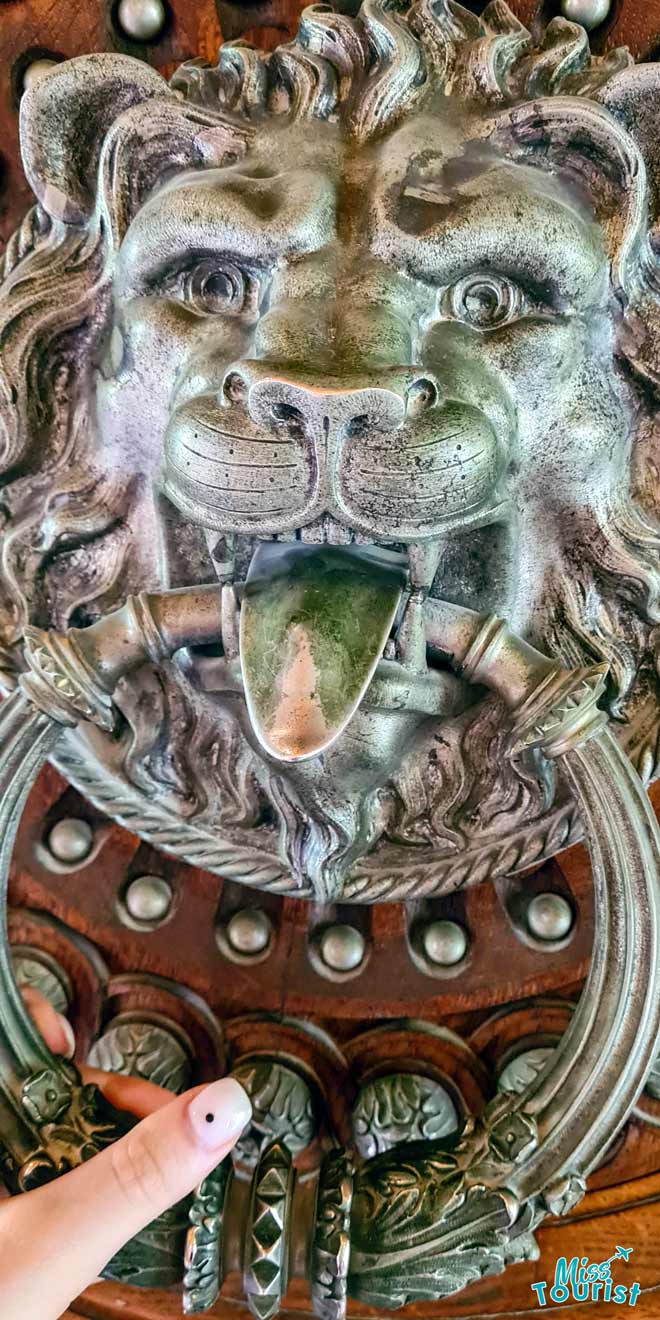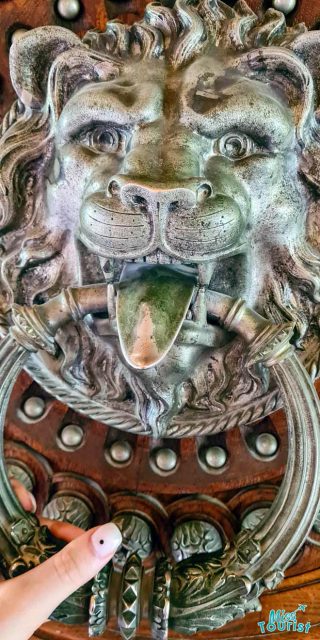 If there's an even better option to the guided tour on the official website, this is booking a tour through the alternative ticket website Tiquets, which is also more user-friendly!
In fact, the guided tour offered on Tiquets is available all year and every day of the week (Sunday and Monday included!), while official guided tours only run during summer from Tuesday to Saturday.
Other pluses? The tour has a better cancellation policy, through which you can cancel or reschedule up to 24h in advance… and you'll also enter the attraction on a fast track!
This small-group guided tour lasts 1.5 h and is given by a friendly live guide, either in English, Portuguese, or Spanish, so you have one more language option compared to the official website.
The meeting point is just outside Quinta da Regaleira: look out for the guide with a red flag and make sure you are on time, he/she will wait up to 5 minutes more until the meeting time.
Price: €25
3. Full-day tours from Lisbon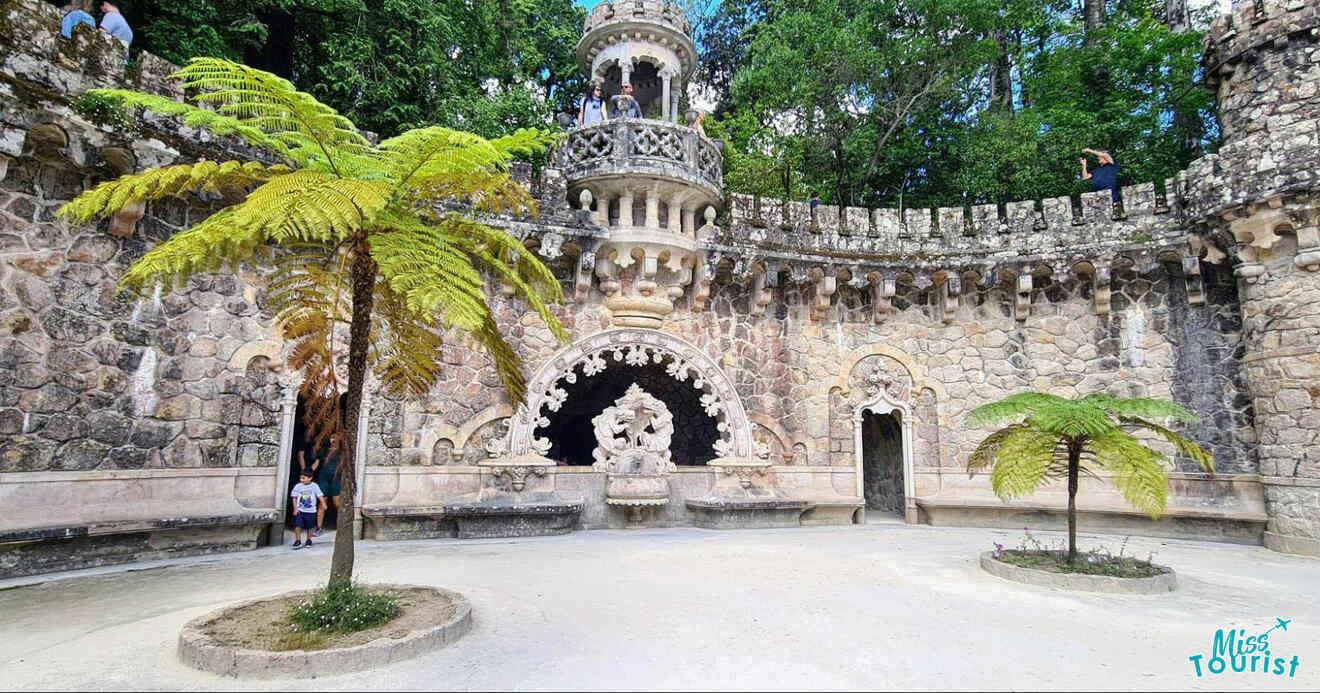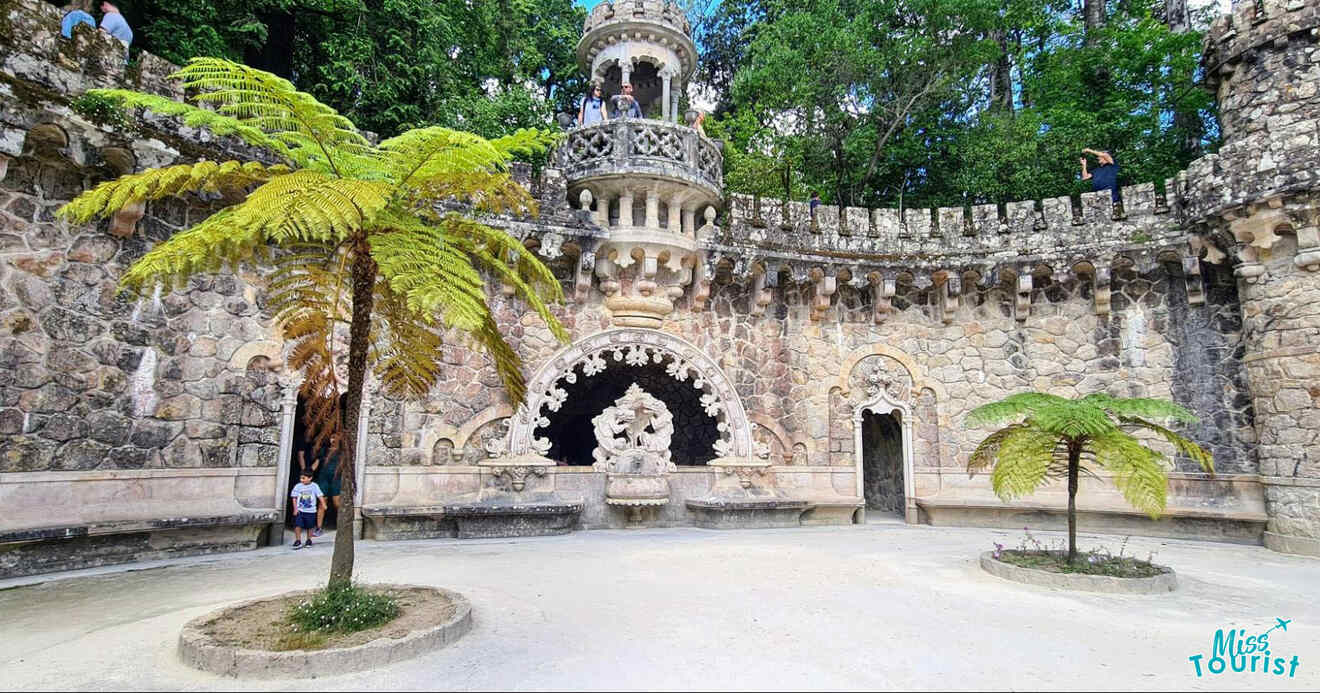 The most convenient option in terms of value and time is definitely taking a guided tour from Lisbon. Not only will you get to visit Quinta da Regaleira with a guide, but you won't have to think about transport as round-trip transportation (both from Lisbon to Sintra and from Sintra to the palace) is included. Yes, you'll pay a little more, but trust me, it is worth the hustle!
I included 1 option combining the 2 main attractions in Sintra: the Pena and Quinta Palaces, a must-visit in the city.
In fact, I highly recommend visiting both as they are wonderful! Plus, if you were to do it by yourself (like we planned to do originally) if will need to figure out how to get from one palace to another and trust me, it turns out it is not so easy – no taxies, no direct bus in between the two… with a tour this won't be a problem!
But there is definitely more to see in Sintra than just the castles: in its surroundings, you'll find incredible nature, beautiful beaches, the westernmost point of Europe (Cabo da Roca) and the resort town Cascais… So why not explore most of them on a day tour?
There are many good guided tours from Lisbon, so I selected the best options for you and put them on a list so you can easily compare them.
They all offer hotel pick up and drop off, which is very convenient in terms of time and money: if you were to rent a car and go to all these places alone, it would definitely cost you more, and you wouldn't have the expertise of a local guide.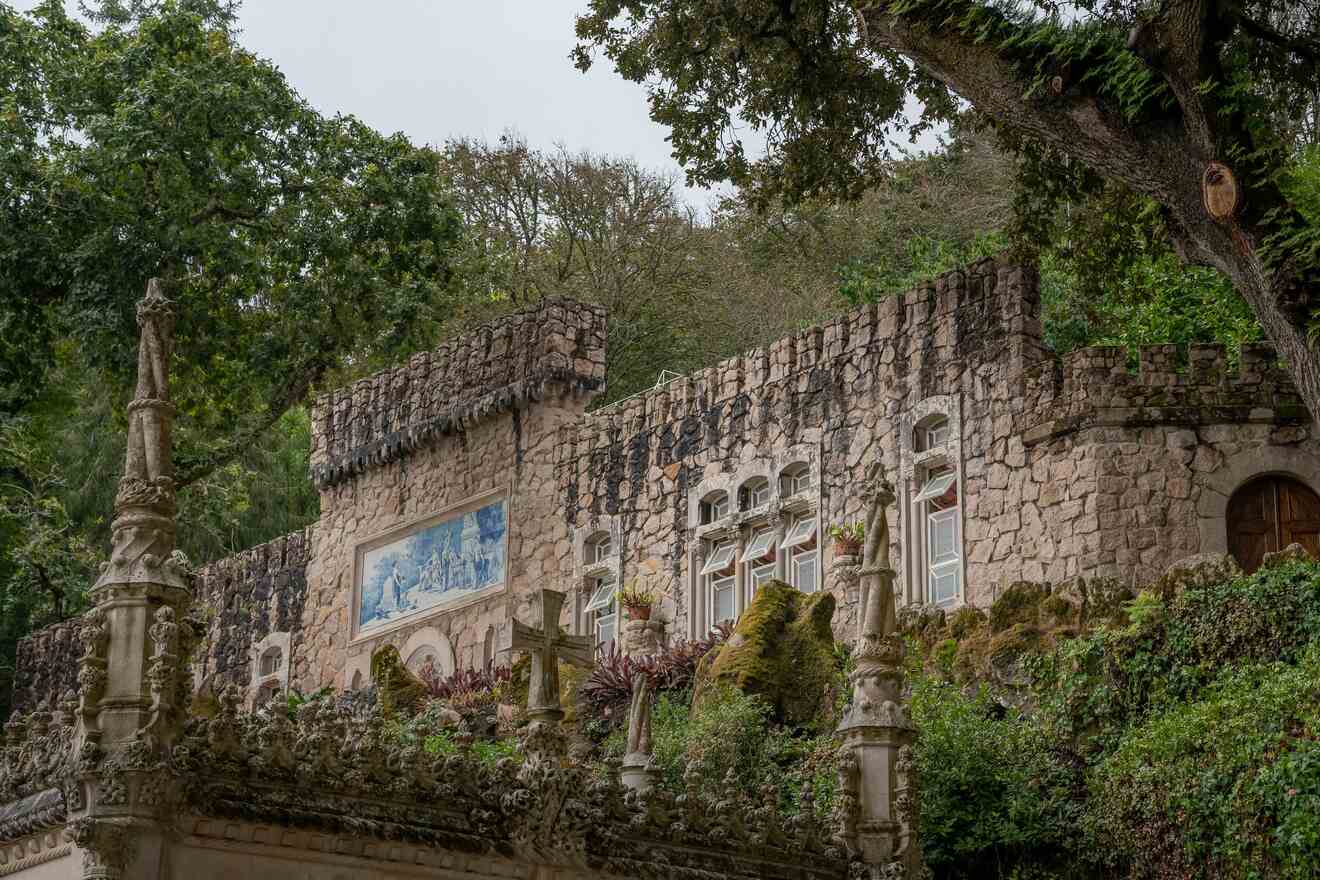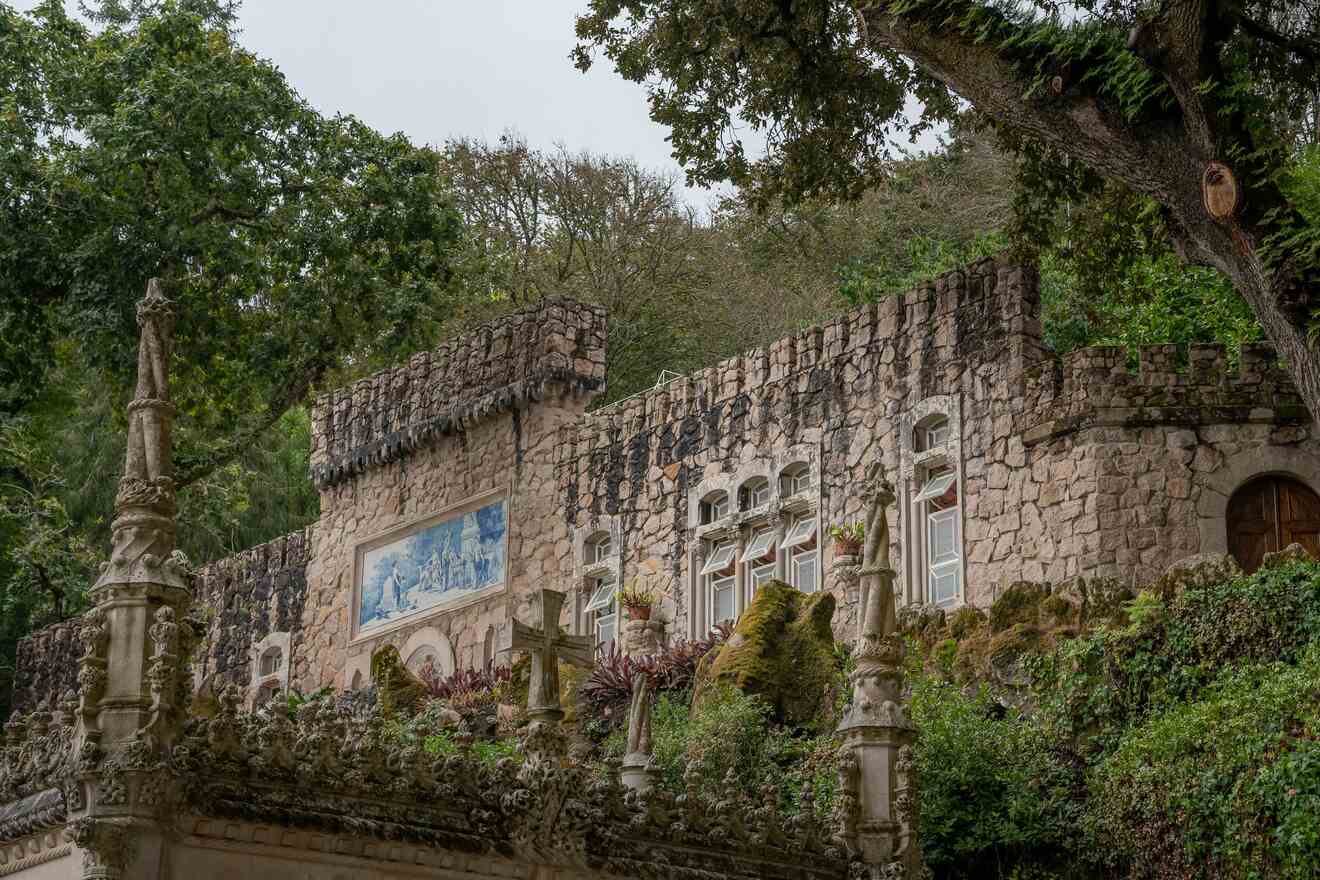 Let's check them out:
4. Regaleira Gardens themed tours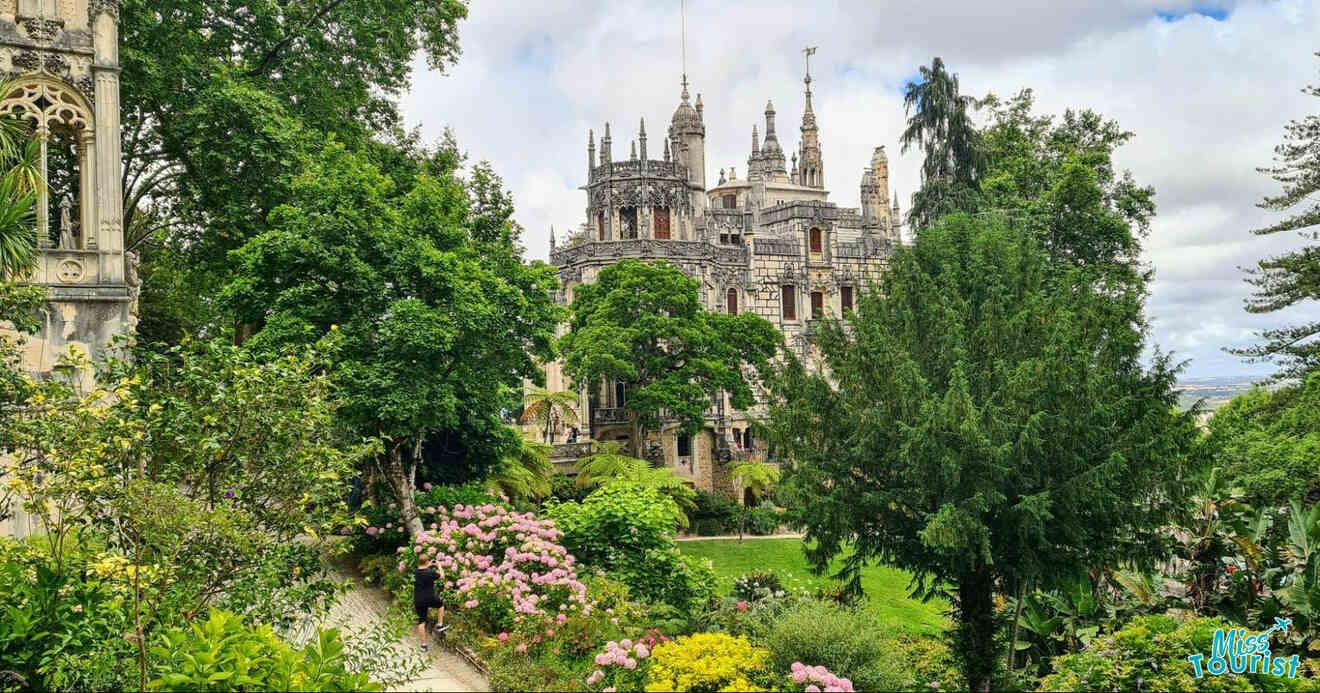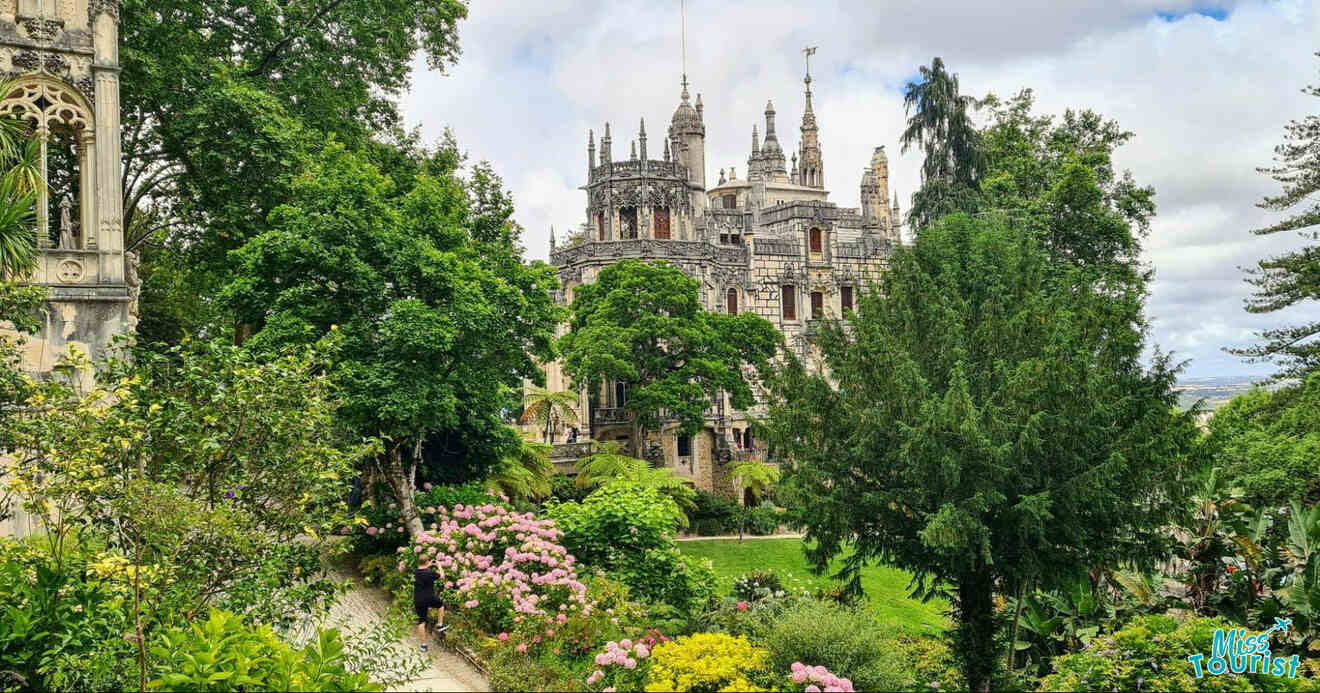 To recognize the importance of the classical Greco-Latin heritage in the Portuguese language and culture, a group of teachers organized some themed tours of the Quinta da Regaleira Gardens (see section 5 of the important information for their location).
The exhibitions in the gardens run only on specific days throughout the year, and they change every year so just check the website to be up to date. If you're in Sintra these days, it could be a great addition to your visit to the Quinta de Regaleira Palace!
There are various themed exhibitions throughout the year around different topics such as art, classic culture, wine, nature and more. But they do change each year so you can see what is on during your chosen dates here!
To see the exhibitions, you don't need to join a tour, but you'll need to buy a specific ticket online or onsite the day of the exhibition: the ticket office will open at the place where the visit takes place, one hour before its start.
NOTE: All the themed tours start at 11a.m., last 1.5 h, and take place with a minimum of 5 participants.
Price: €10
5. Night Visit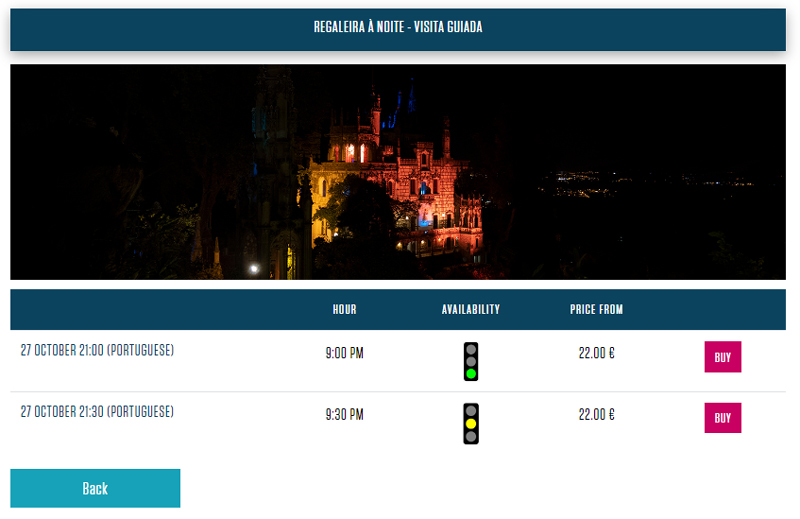 If you want to explore the palace under a different (and even more mysterious) light, you should join a guided night tour of Quinta da Regaleira, happening every day from April to October.
The tour lasts 1.5 hours and happens with a minimum of 5 people and a maximum of 25.
The only downside of the night tour is that it is exclusively in Portuguese, so if you don't know the language, I don't recommend you join this!
If you are interested in this option, I suggest you spend the night in Sintra, which could be a great occasion to explore the city and its surroundings the next day! Check out the section on where to stay in Sintra (sect. 9 of the important information), where I put some fantastic hotel options for different budgets.
Price: €10
6. Buying tickets at the entrance (not recommended)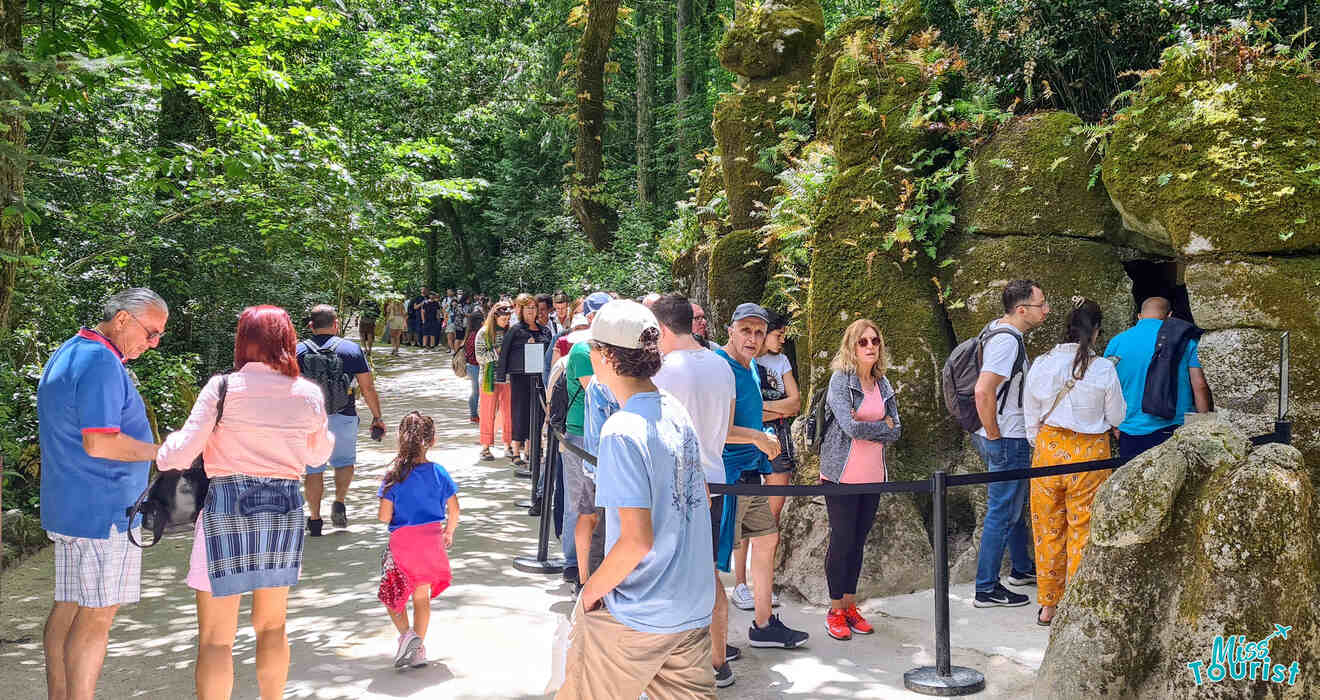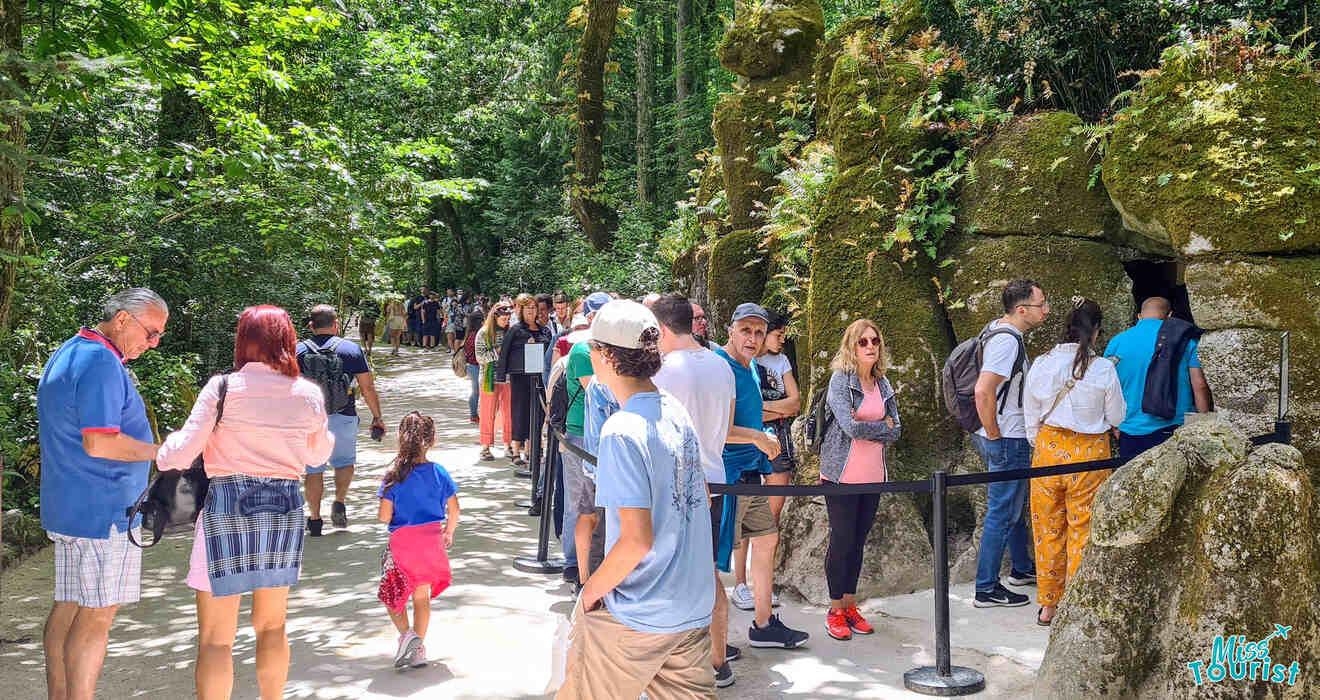 You also have the option to buy tickets to Quinta de Regaleira on-site at the ticket office located on the right-hand side inside the entrance. But, I don't really recommend it because of the long lines you can find.
There is no ticket vending machine, so you must line up at the window. I was there around 2 PM, and the waiting time was about 30 minutes, so in the morning (which is the peak time), it was probably way longer!
For a guided tour buying tixs at the entrance will not work because you have to book it in advance!
Important things to know about Quinta da Regaleira
1. How far in advance do you need to buy your tickets
This depends on which ticket you want to buy. If you want to join a guided tour, you really need to book in advance (at least 1 week before) as the tickets always sell out, both on the official website and on alternative ticket websites.
If, instead, you are booking a self-guided ticket, you can just buy it online a few days before since they are valid for 120 days, making them unlimited.
2. Opening hours / Best time to visit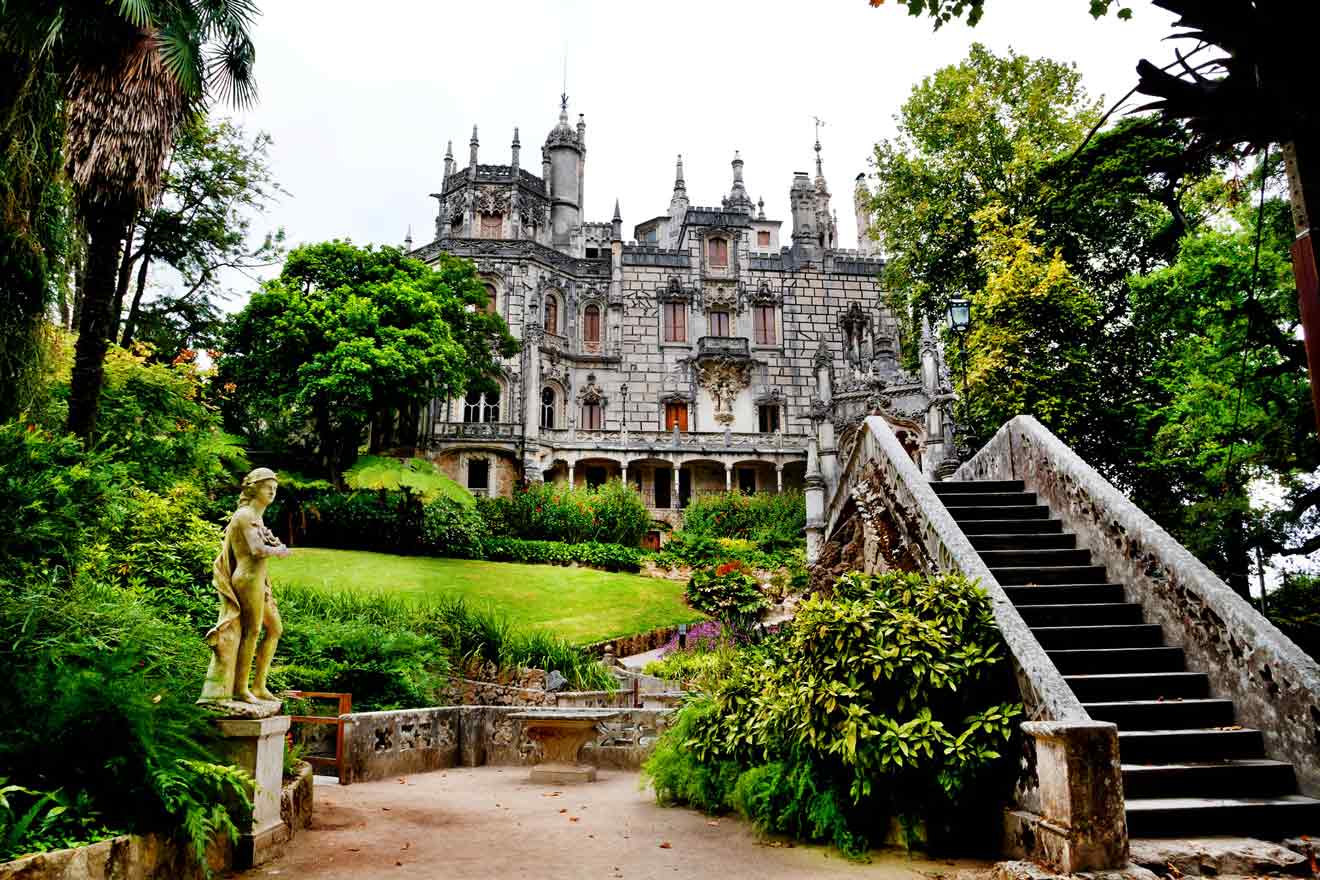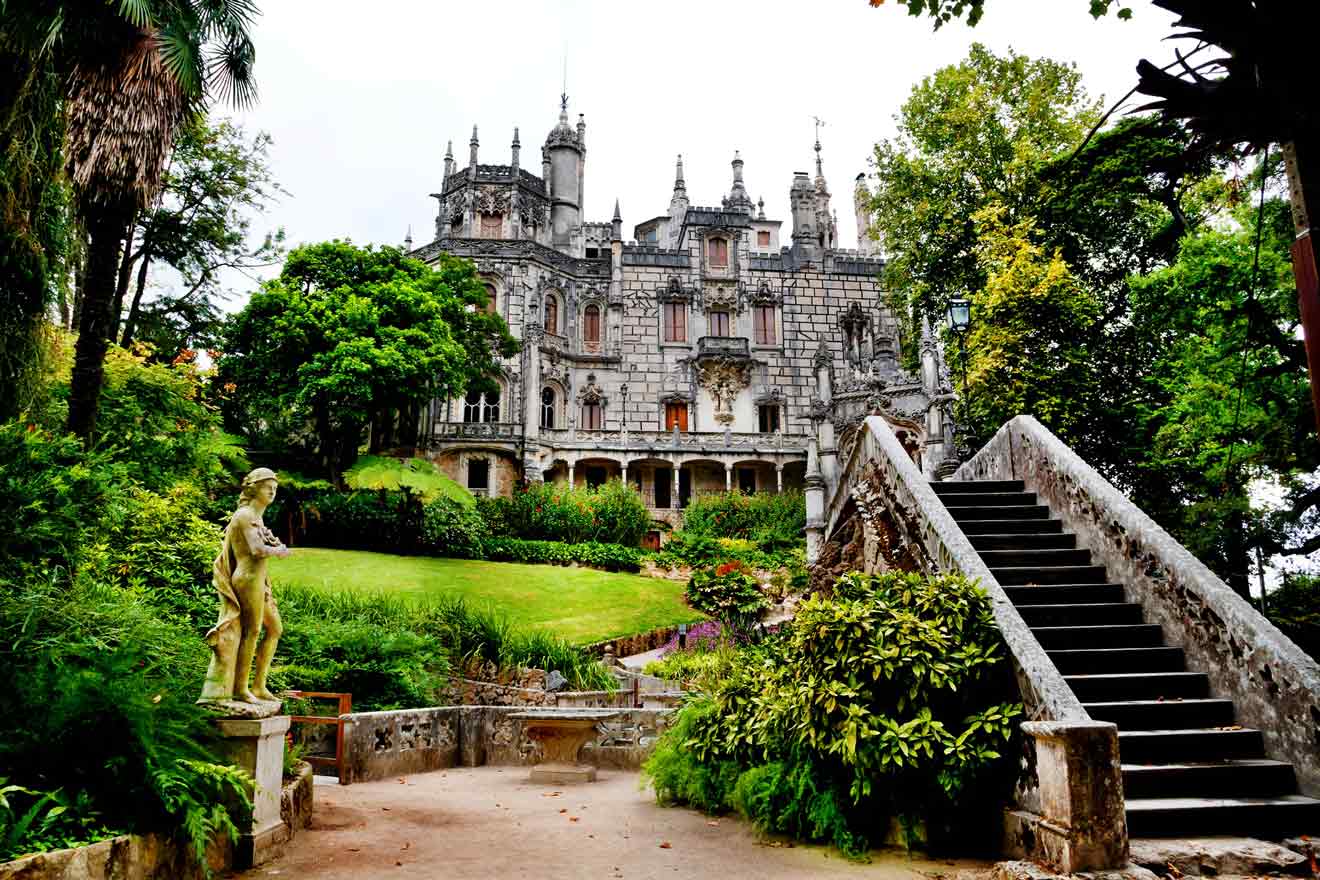 Quinta da Regaleira is open all year from Tuesday to Saturday from 10 am to 6.30 pm, with the last entrance at 5.30 pm.
The palace is closed only on the following festivities: January 1st, December 24th, 25th, and 31st.
Visit length: Expect to spend at least 3 to 4 hours at Quinta da Regaleira if you want to see everything, the palace is so big that you could actually spend a whole day visiting its ground, park, palace, and chapel. If you are in a rush, you can do it in 2 hours.
Best time to visit: I strongly suggest you visit as early in the day as possible, when the site is less crowded and more tranquil. The peak hours are from 11 am to 3 pm, where the queues can be very long and make you lose some precious time!
3. How to get to Quinta da Regaleira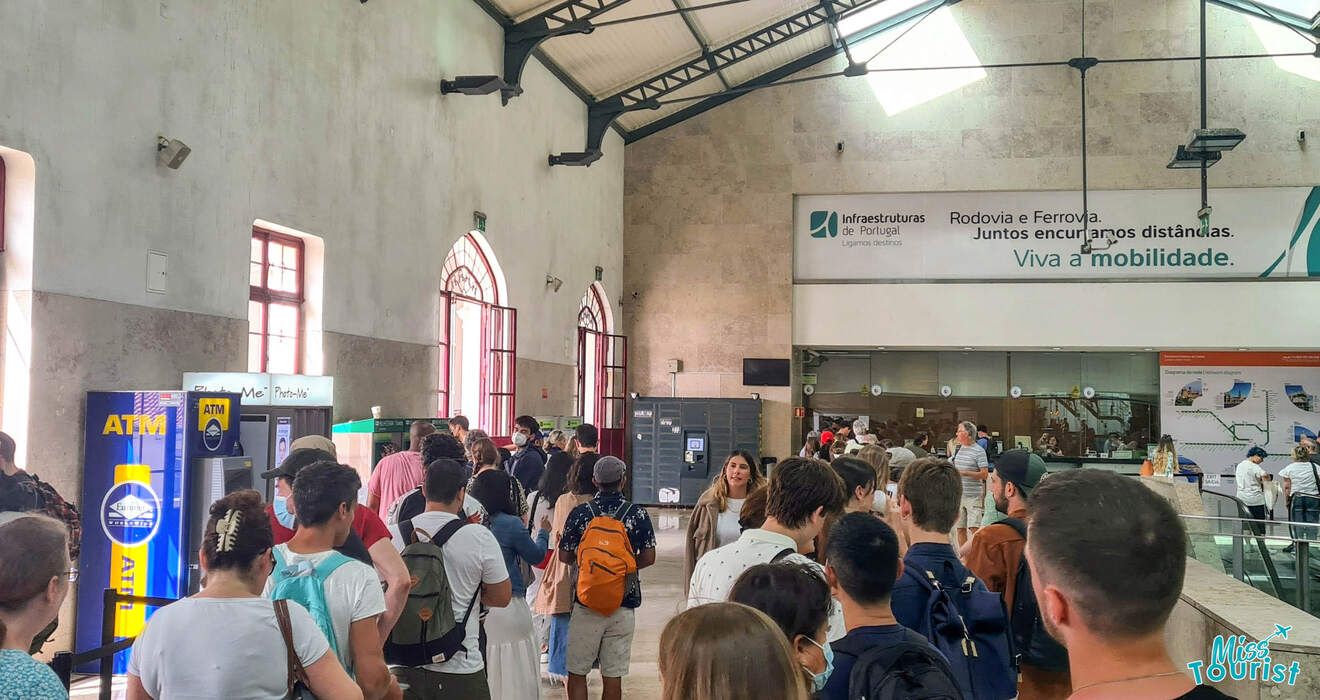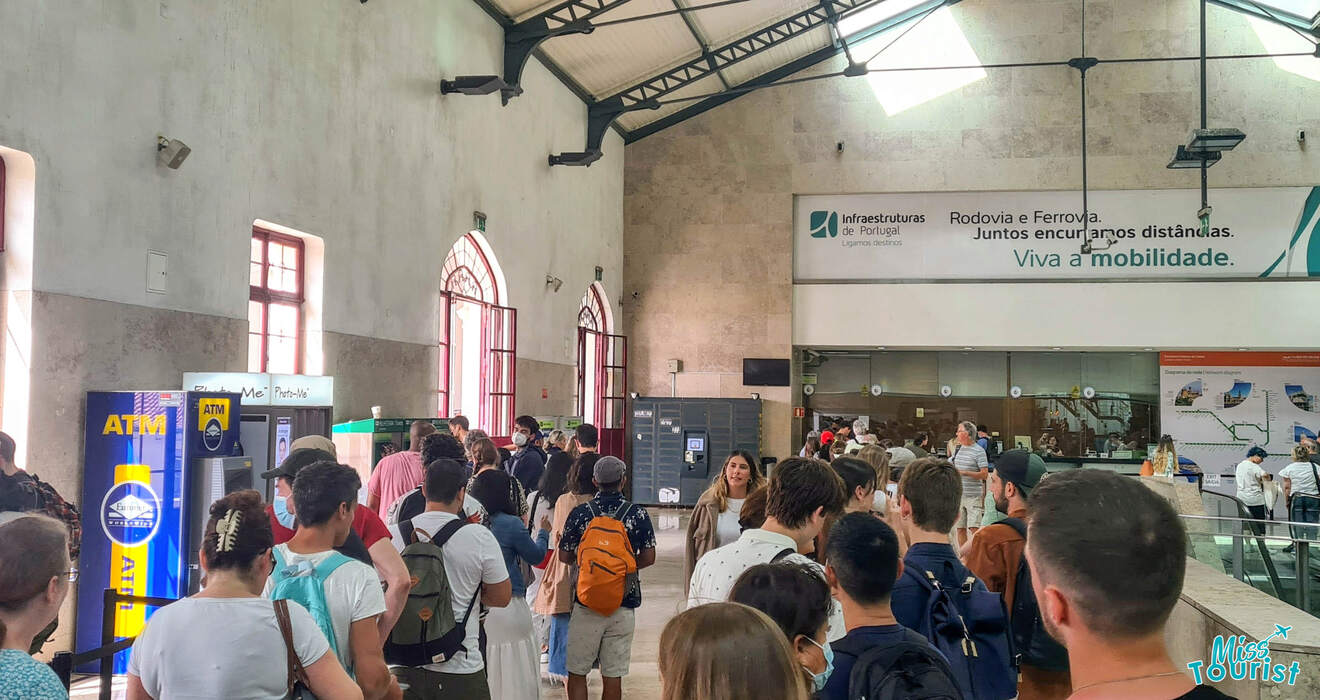 Getting from Lisbon to Quinta da Regaleira is kind of a hassle because the public transport connections don't really work efficiently. Public transport won't take you directly to the palace but to Sintra, where you'll have to take a bus or walk… Unless you book a guided tour from Lisbon!
Here below I put all the possible ways of transport available, so you can choose based on your travel needs:
Join a tour:
The best way to get directly from Lisbon to the palace is by joining a guided tour from Lisbon, including round trip transportation and a guided visit both to Quinta da Regaleira and other attractions.
Train:
If you take a train to Sintra, please estimate that the whole journey will take you around 2 hours. The train ride itself takes 40 minutes but you cannot buy tickets online, so you'll need to get to the train station in advance, and there are always lines there (yay, we use that word a lot in this post!).
At the train station, you can either buy tickets at the machine or at the cash register, the lines were equally long in my experience – about 15-20 minutes. The price is €7. In my case, I was there on Monday, so on weekends waiting in line takes longer for sure.
PRO TIP: Come at least 20-25 mins before the train departure to make sure you catch your train!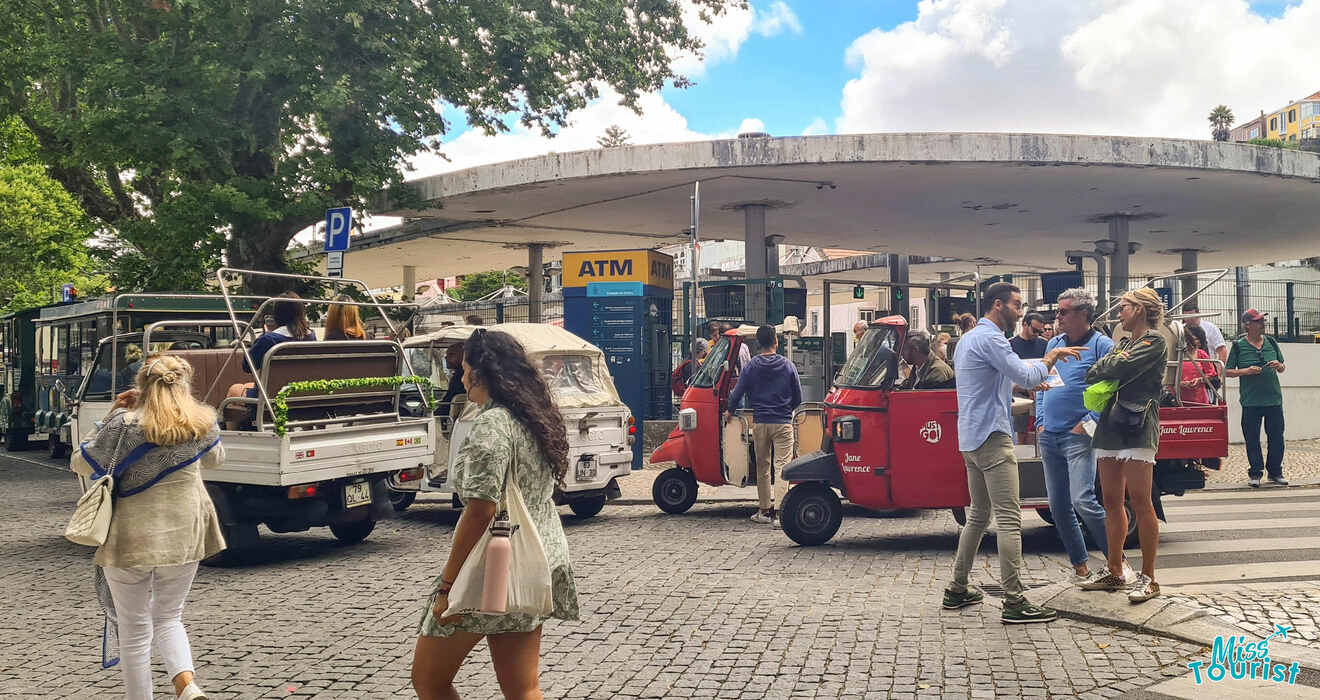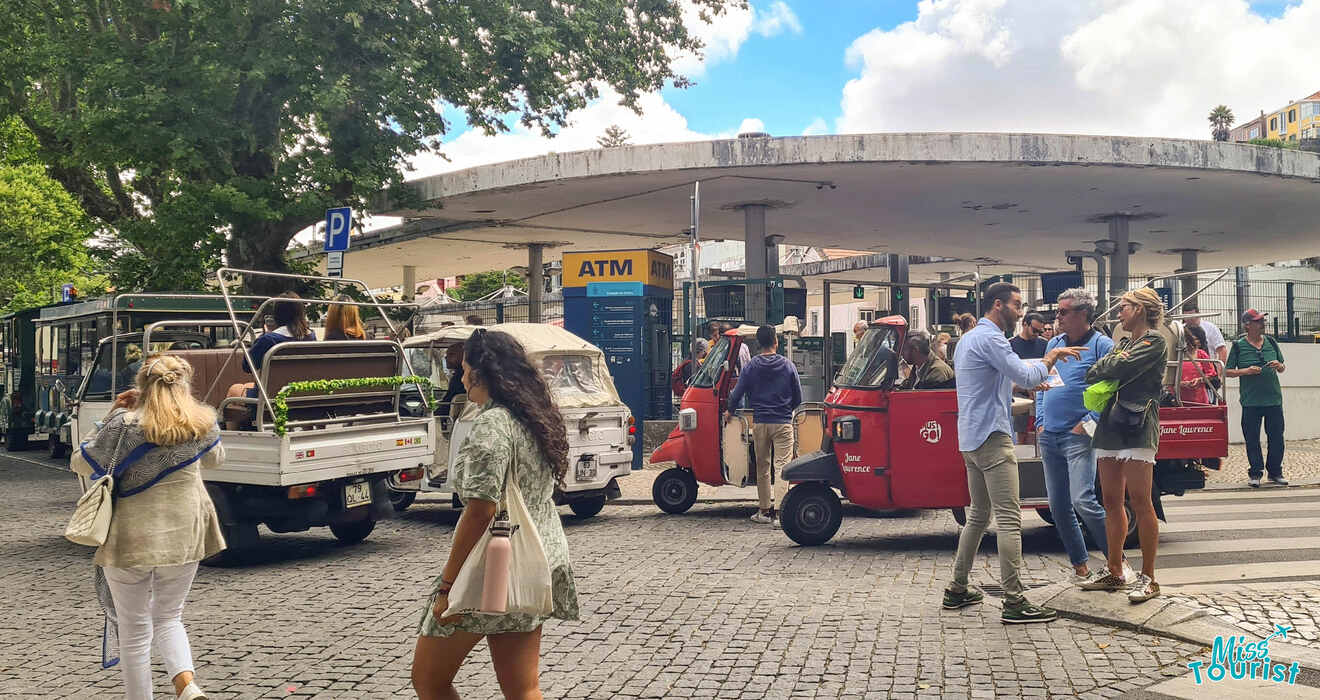 Once in Sintra, the walk to Quinta da Regaleira is about a 25-minutes from the train station (all uphill). Alternatively, you can take the following transport options:
Bus – Take bus 434/435, they both depart a few feet from the train station, leave every 15 minutes, take 15 minutes to reach the castle and cost €7 for a round trip.
Hop On Hop Off Bus 24 Hours ticket – It allows unlimited rides on all Scotturb buses in Sintra and Cascais for that day for €15.
TukTuk – Hop on a Tuk tuk and join a small tour on the way to the palace. The ride should be about €15 per person (can be higher as well depending on who you are asking) and it lasts about 20 minutes
Taxi – A taxi ride will take you about 10 minutes and cost you €5, I always recommend using Bolt, or Uber, the apps. Otherwise there are taxis right there too, but it will probably be more expensive
Car:
Driving from Lisbon to Sintra on the quickest route will take you around 40 minutes following the A37. But, if you have a rented car, I suggest you take the road N6 on the coast, which is a little bit longer but it will give you panoramic views of the Atlantic ocean… You could even spot dolphins!
Once in Sintra, follow the signs for Quinta da Regaleira (on Maps: R. Barbosa do Bocage 5, 2710-567 Sintra) and try to park the car in one of the few spots available close to the entrance.
It is quite hard to find parking there, so if there's nothing available I suggest these options:
Leave your car in a free car park at the entrance to the town, and then take the bus or just walk there.
Park the car at the private parking lot Quinta dos Lobos, a 10-minute walk from the Palace, but it is quite expensive (€4/h).
4. What to bring to Quinta da Regaleira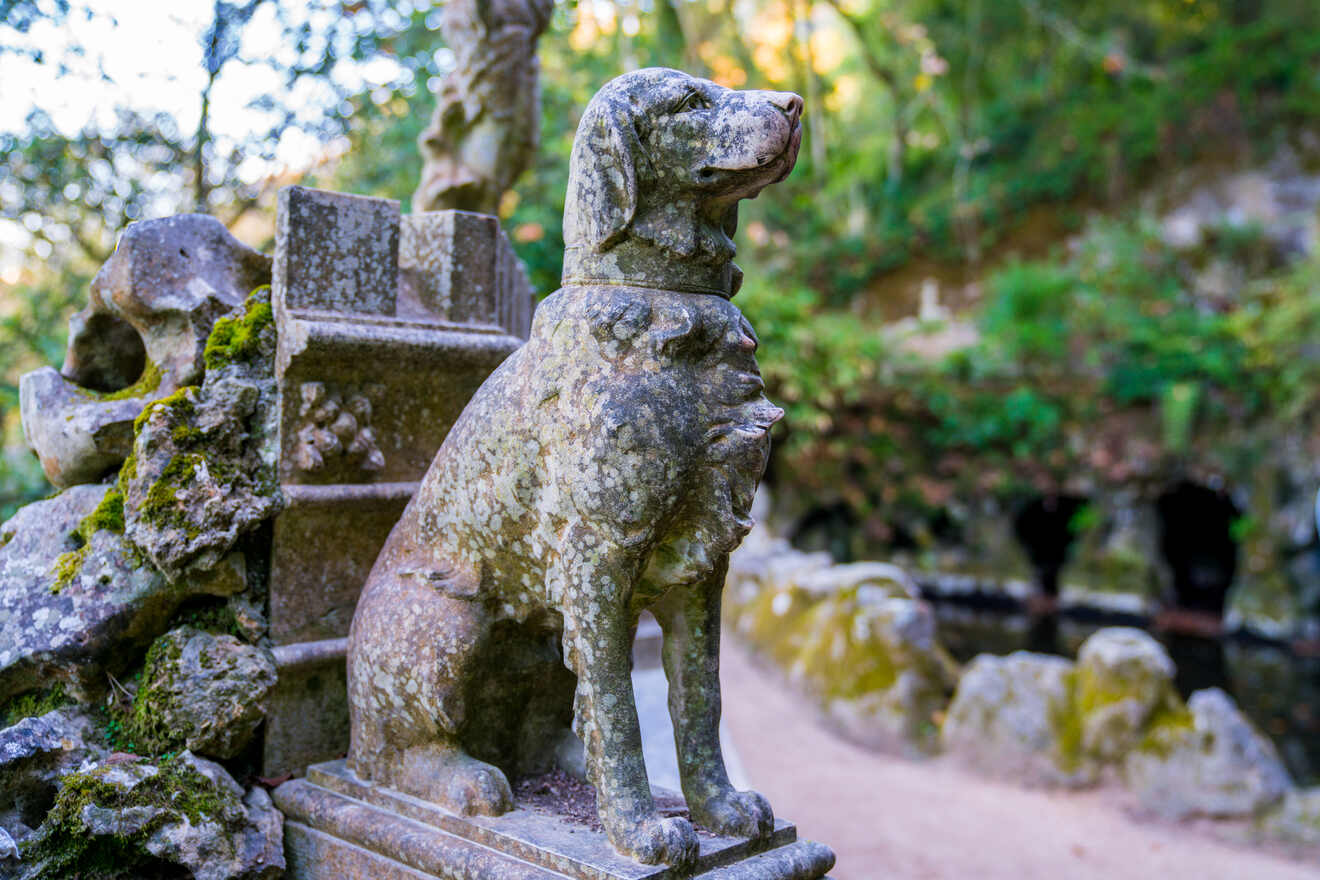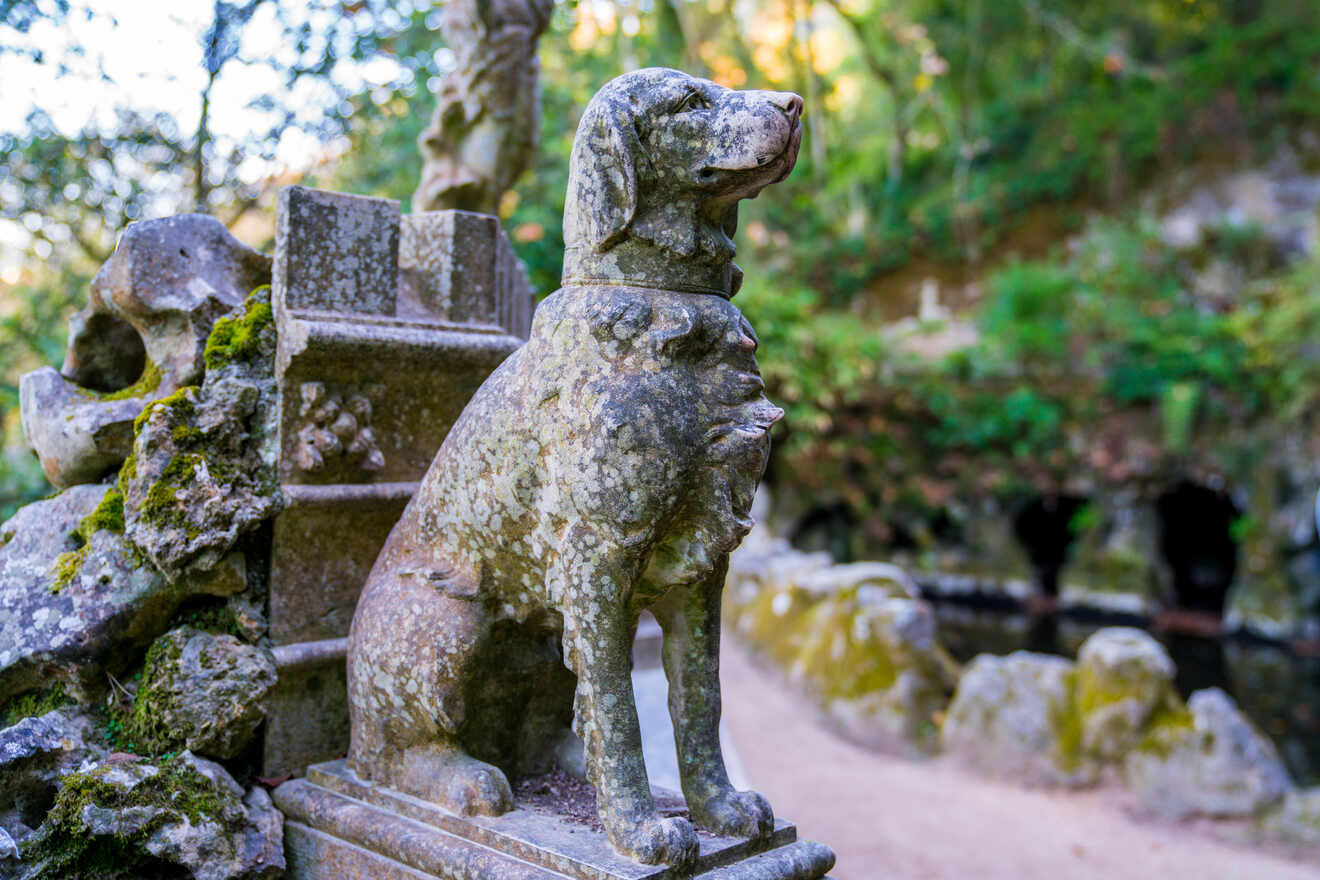 BRING:
✅ Tickets – electronic tickets on your phone are enough
✅ ID – The might ask you to show your ID (they did not for us tho)
✅ Comfortable footwear – You will have to walk a lot, so better be comfortable!
✅ Water & Snacks – The restaurant is quite expensive and is located at the entrance, so it might be far when you're inside the complex and you are hungry, refillable water bottle would be a great solution too, there are fountains with drinkable water!
✅ Sweater – located on a hill, Sintra has peculiar weather. It is nearly always covered by clouds and a bit colder than Lisbon
✅ Cameras – Only if you don't use flash
DON'T BRING:
❌ Large suitcases, trolleys, and backpacks – you can leave them in lockers at the entrance
❌ Lunch (just bring small snacks)
❌ Animals are not allowed, except for guided dogs
❌ Tripods
❌ Drones both inside and outside the palace
5. Quinta da Galeria Layout
The Quinta da Regaleira complex is quite big, featuring a 5-floor palace, the famous initiation well (an octagonal tower), a chapel, and an enchanting garden of 4 acres… No wonder why they took 6 years to build everything!
Let's see them one by one:
The Initiation Well
The initiation well is an octagonal and circular tower with a mysterious design and structure. They say it was used for initiation rites, but no one knows its real purpose!
You probably know it for its spiral staircase of nine floors, corresponding to the 9 circles of hell from Dante Alighieri's Divine Comedy (9 circles of Hell, Paradise, and Purgatory)!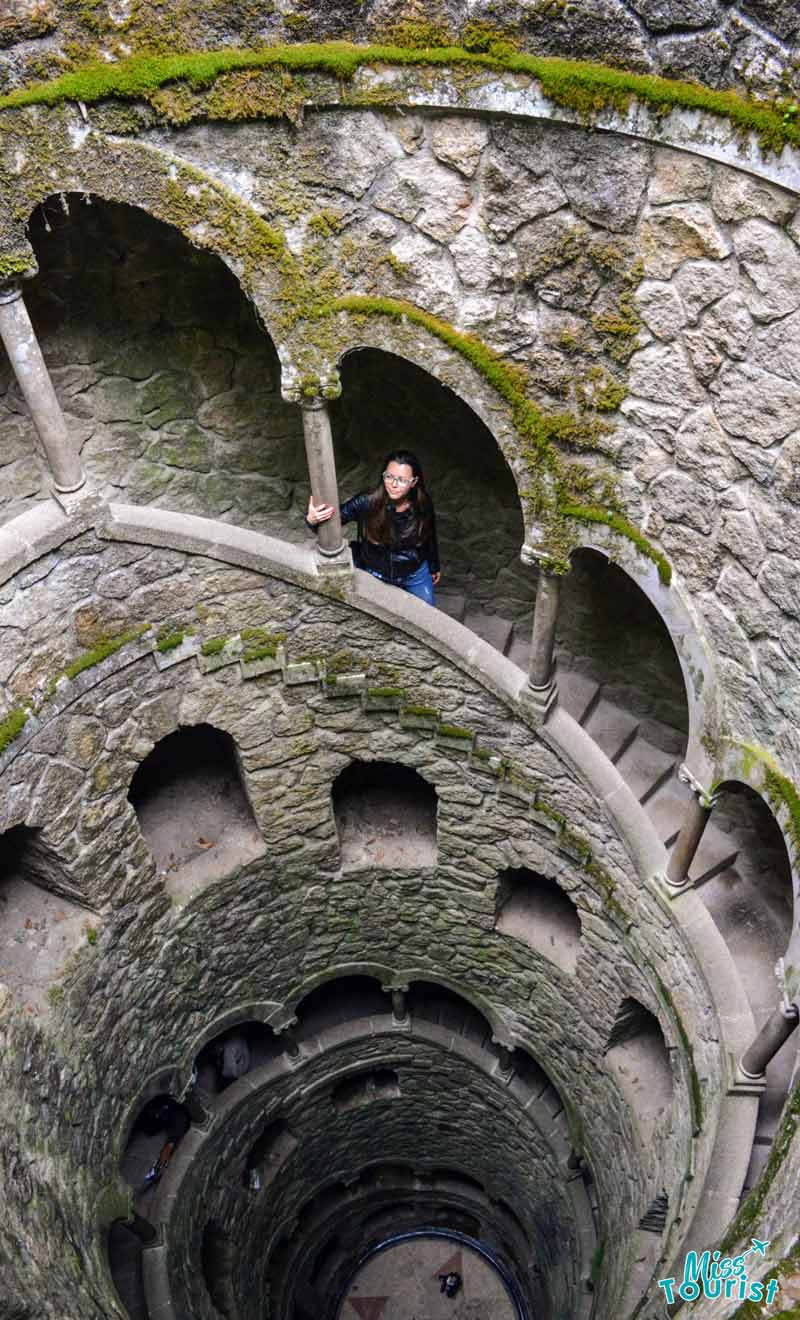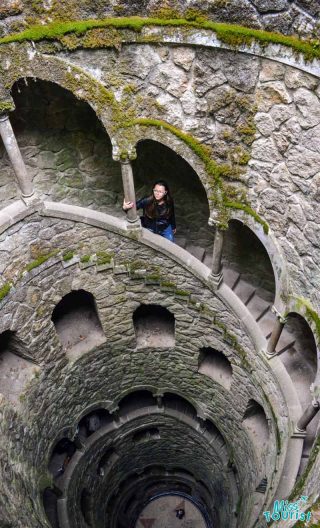 When you enter the well, you will walk down all the stairs until the very bottom, which is a circular floor decorated with colored tiles. Here, if you look at the circular patch of sky above, it looks like the tower is built into the ground… The optical effect is just amazing!
Since it is the most famous attraction in the complex and one of the most popular ones in the whole of Sintra, there is an internal line to access it (I had to wait about 10-15 min). There is also a person making sure you don't stay too long inside taking pics, otherwise, the line would be at least 30 min.
To exit the Well, you'll follow a magical natural path on stepping stones in the water, and once out, you'll stroll the Promenade of the Gods, featuring stone statues of Greek gods and goddesses, until the beautiful Chapel of the Quinta da Regaleira.
Regaleira Main Palace
Just underneath the chapel, you'll find a "secret" tunnel that will lead you straight to the main palace.
The main palace was built between 1892 and 1910 by the Italian creative genius Luigi Manini, a stage designer who specialized in theatrical set pieces, for the Portuguese businessman António Augusto de Carvalho Monteiro, who was also an art collector, entomologist, and philanthropist.
FUN FACT: António Augusto Carvalho Monteiro was the most popular castle owner, the reason why the building is also called "The Palace of Monteiro the Millionaire".
Quinta da Regaleira is one of Manini's most amazing works, merging mystical elements from various ages and Manueline, Renaissance, and Classical styles.
You will notice just gazing at its exteriors, adorned with gargoyles, turrets, carved details, ornate columns, and battlements, while the interiors are made of period furniture, frescoes, painted ceilings, and an ornate fireplace.
After Monteiro died, many cultural men, attracted to the Palace's creative energy, went to live in the Quinta da Regaleira, like the literary legend Sir Arthur Conan Doyle, creator of Sherlock Holmes.
The palace is divided into five floors, each one hosting magnificent rooms:
Gardens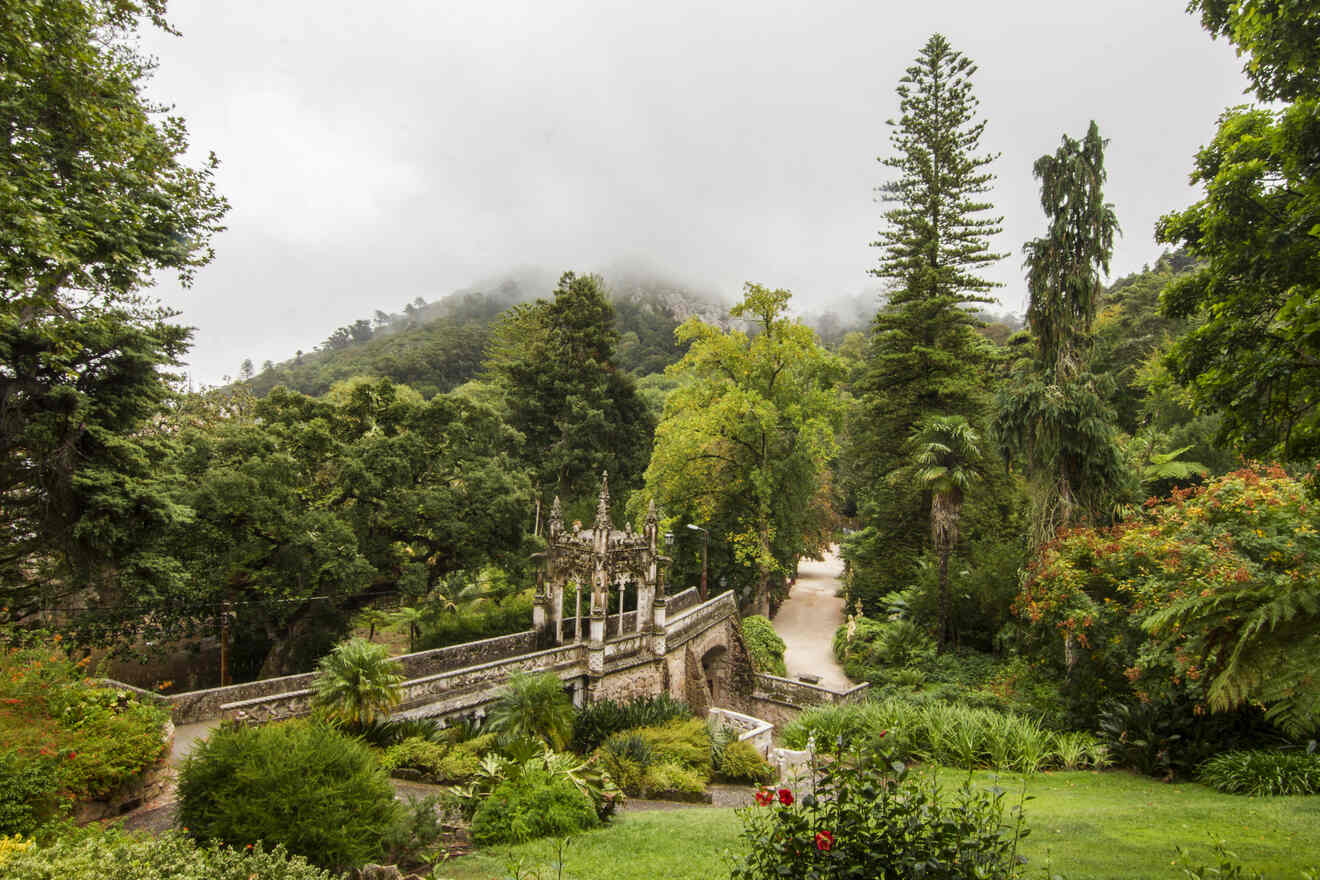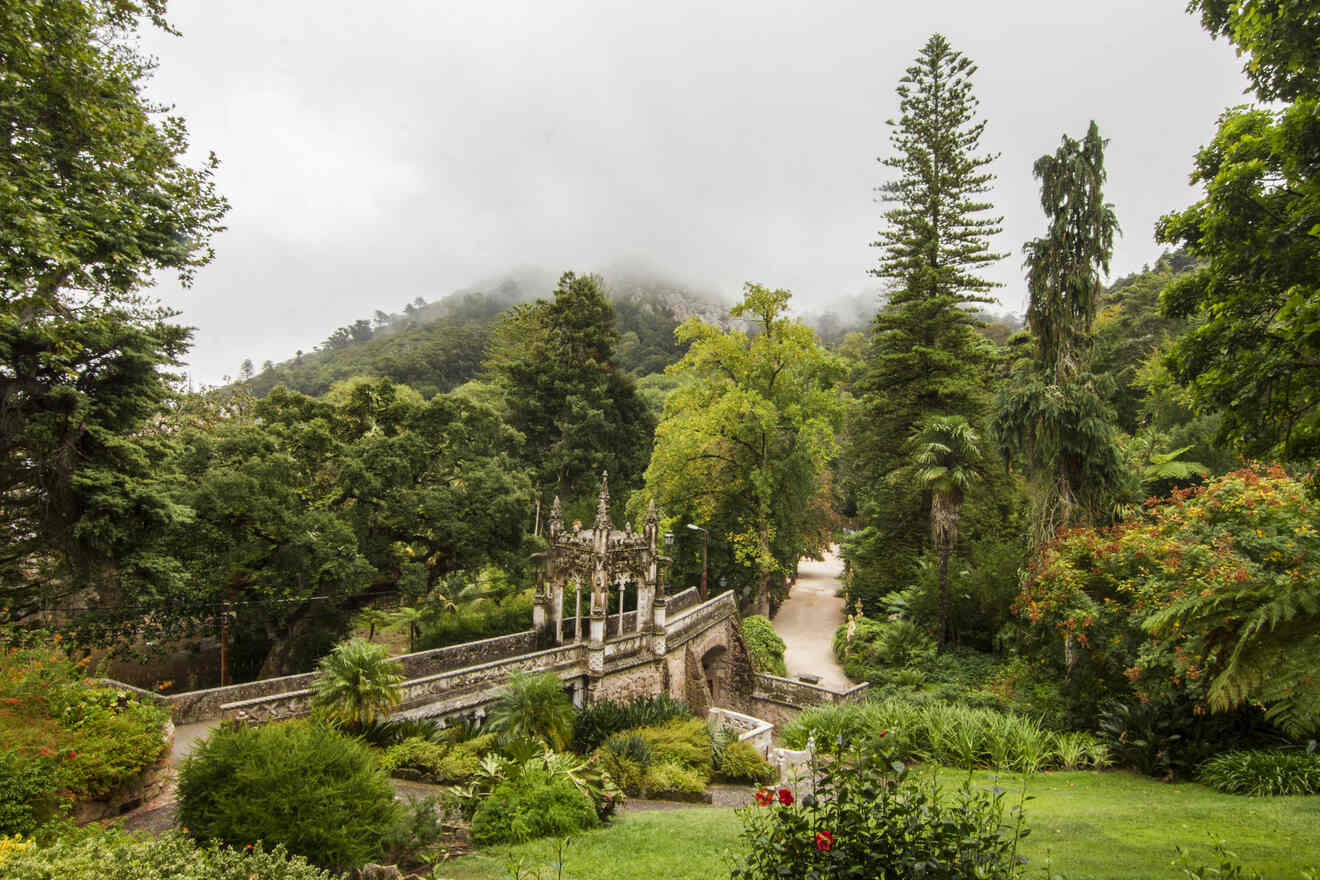 Quinta da Regaleira is nestled in beautiful gardens/forest, one of the most impressive parts of the complex. Located on the slopes of the Sintra Mountains, the gardens also feature a very mystic and mysterious atmosphere!
The gardens extend on no less than 4 hectares of land (you better wear some comfy shoes!) with statues of mythological figures, esoteric symbols, grottoes, and more.
Here you'll find tree species from all over the world: sequoias from North America, Magnolias from South East Asia, and Norfolk Island Pine from Australia.. Monteiro was an avid traveler and managed to bring the world into his garden!
There are 30 points of interest in the whole area, but one of the most important ones is definitely a monument built in the late 18th Century to express the golden age of discovery… Make sure you don't miss it!
6. Audio guides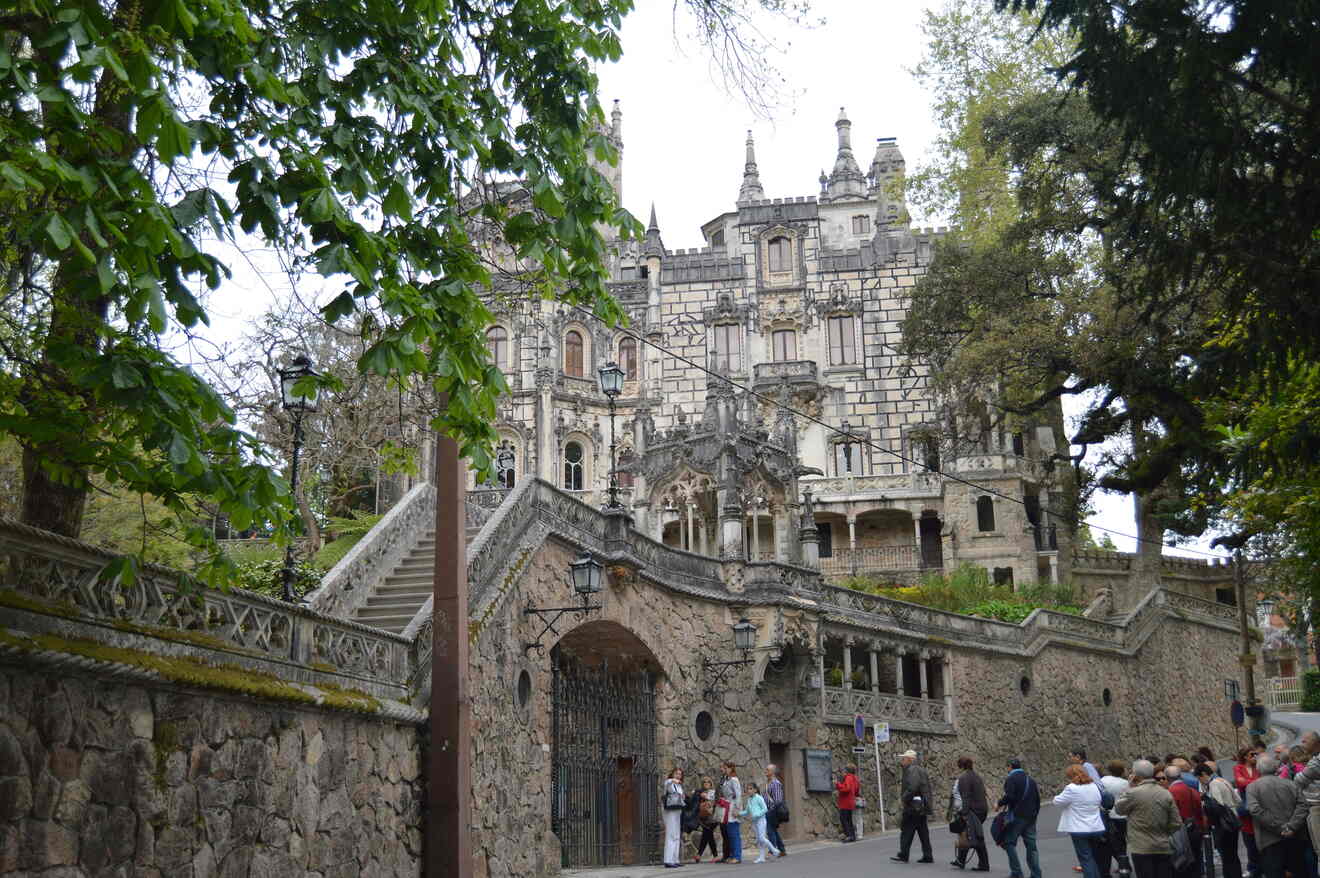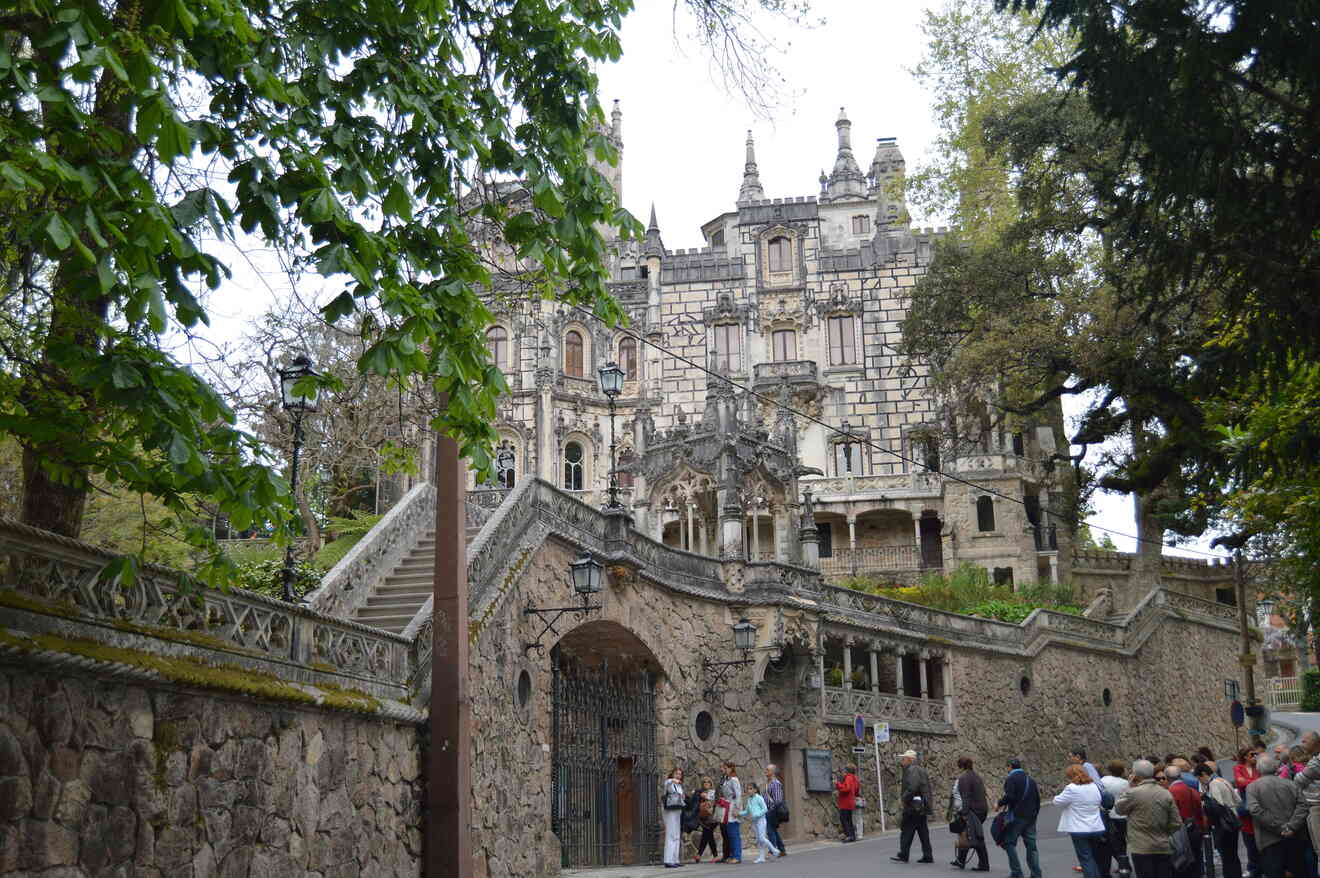 You can buy the audio guides for Quinta da Regaleira only at the ticket office onsite. They are available in Portuguese, English, Spanish, French, German, Italian, and Russian. As I said, I did not find them to be particularly engaging, but you will still get to know the history and symbolism of the Palace better.
Scattered around the complex (the Palace, Chapel, and Gardens) you will find 30 listening points, once you get to each one, just press the black button on the audio guide, and it will start playing. You don't need headphones!
P.S.: They even offer a children's version in Portuguese, with both audio descriptions and Portuguese sign language!
Price: €3
7. Facilities inside/nearby the attraction
Food – There's a cafeteria/restaurant with a pleasant terrace at the entrance, but it is quite expensive (€15-17 per dish).
Gift shop – Inside the place, open from 10 am to 12 pm, and from 1 pm to 6 pm every visiting day
Coin lockers – Around the ticket office, there are lockers that can even fit a large suitcase
Parking – Quinta da Regaleira doesn't have parking, but you can leave your car at the Quinta dos Lobos private park, at 10 minutes walking from the Palace
Toilets – There are only 3 toilets in the whole complex (1 at the entrance, 1 close to the palace and 1 within the gardens) and receiving many tourists there is always a lot of line
Attractions Nearby – Seteais Palace, at only 10 minutes walking from Quinta da Regaleira and, of course, Pena Palace, is absolutely worth your time! 🙂
8. Hikes in Sintra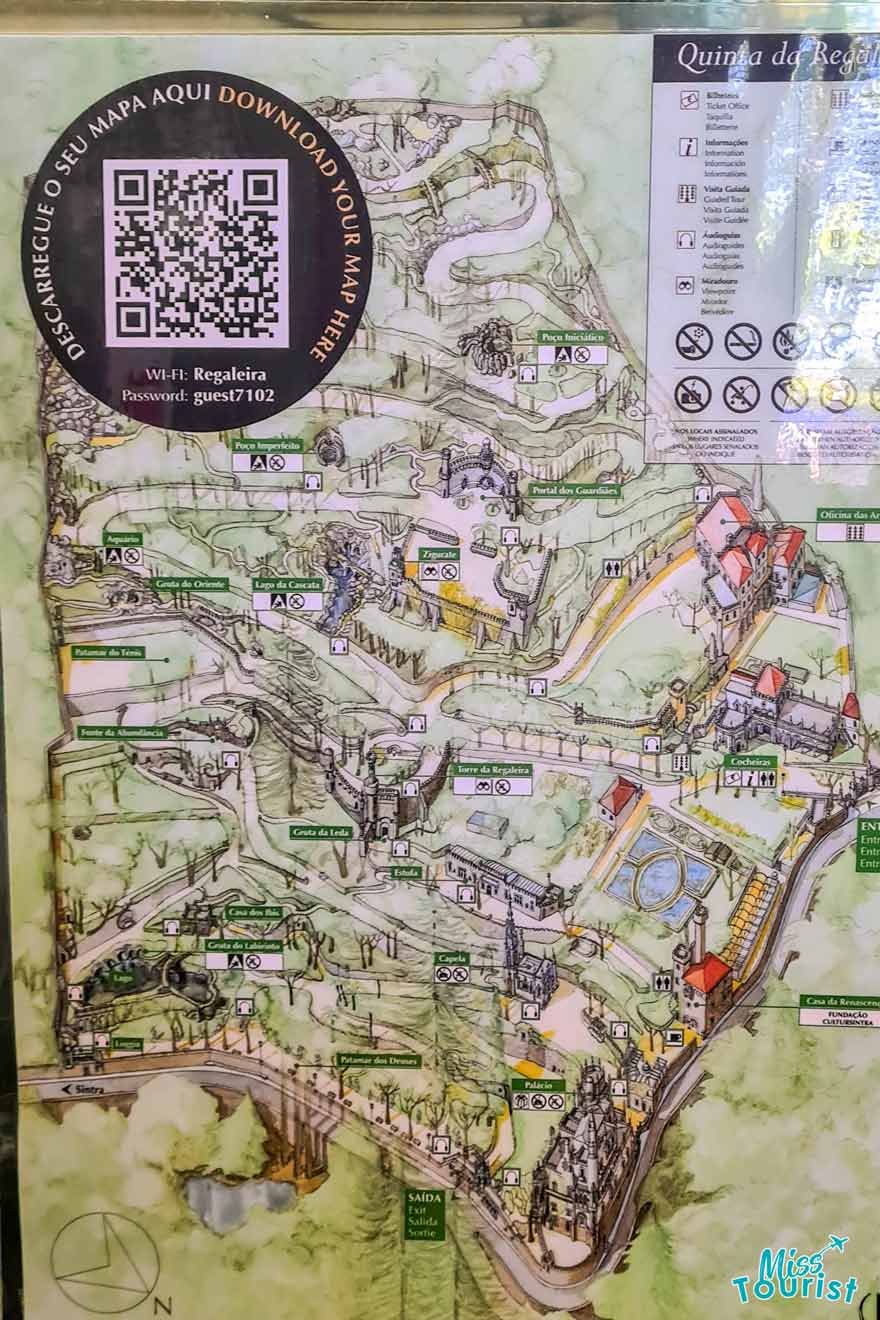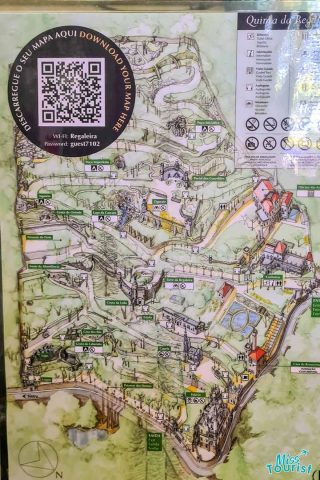 Located in the hills near Lisbon, Sintra is part of the Sintra-Cascais Natural Park and offers easy access to many hiking trails nestled in green forests and connecting the beautiful castles of the area.
If you love the outdoors, you cannot miss this opportunity, so I gathered here some of the best hikes in Sintra, check them out:
Santa Maria Trail
If you follow this hiking trail, you'll start in Sintra historical center (by the Palacio Nacional), walk on its cobbled street passing by notable monuments, and keep going into the green forest until you get to 2 of the most important monuments in Sintra: the Moorish Castle and Palace of Pena, where you can gaze at spectacular panoramic views. The hike is 2.4 km long, lasts 1h (you'll end up where you started), and is quite easy, so it's suitable for all ages!
Sintra Palace – Castle Of The Moors – Pena Palace
This 11-kilometer hike starts and ends at Sintra Palace and will take you through Sinatra's top three attractions: Sintra Palace, the Castle of the Moors (ruins of a Moorish fort) and the majestic Pena National Palace. The trail lasts 4 hours (so it is not for everyone), but I suggest you make it a day trip and visit the 3 attractions. Remember you'll need to buy a separate ticket for each of them.
Cabo da Roca to Azenhas do Mar
If you just want to enjoy the tranquility of nature and views of the ocean, this 11-kilometer coastal hike is for you, lasting about 5 hours! The trail starts at the famous Cabo da Roca lighthouse and viewpoint and passes through 4 gorgeous beaches: Praia da Aroeira, Praia da Ursa, Praia da Adraga, and Praia Grande, to finish in the picturesque village of Azenhas do Mar, where you can catch a taxi back to Sintra town.
9. Where to stay in Sintra
If you want to experience the mystic and unique vibe of Sintra and have more time to explore its other attractions and natural surroundings, why not spend the night in Sintra?
Here are 3 options for different budgets, check them out: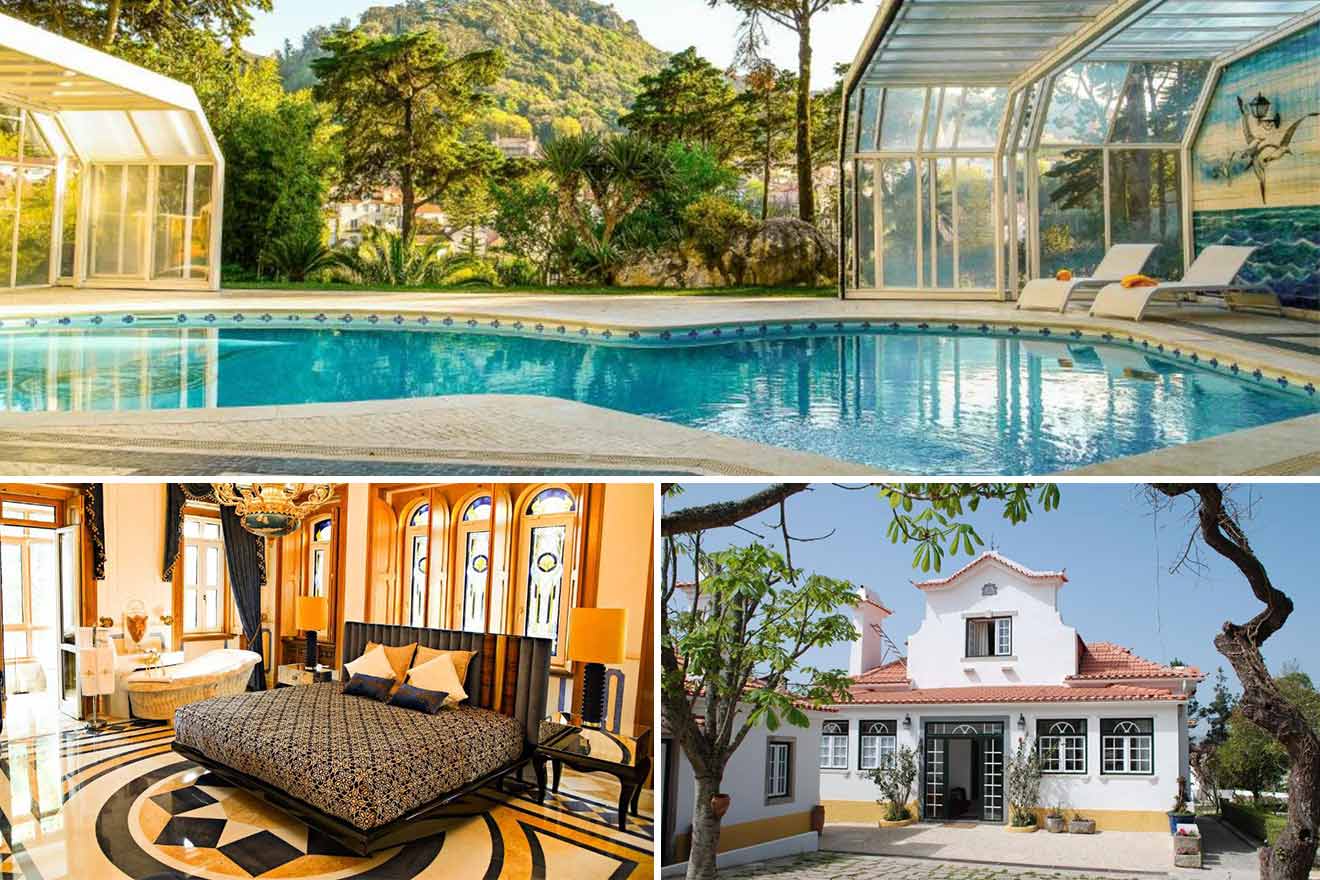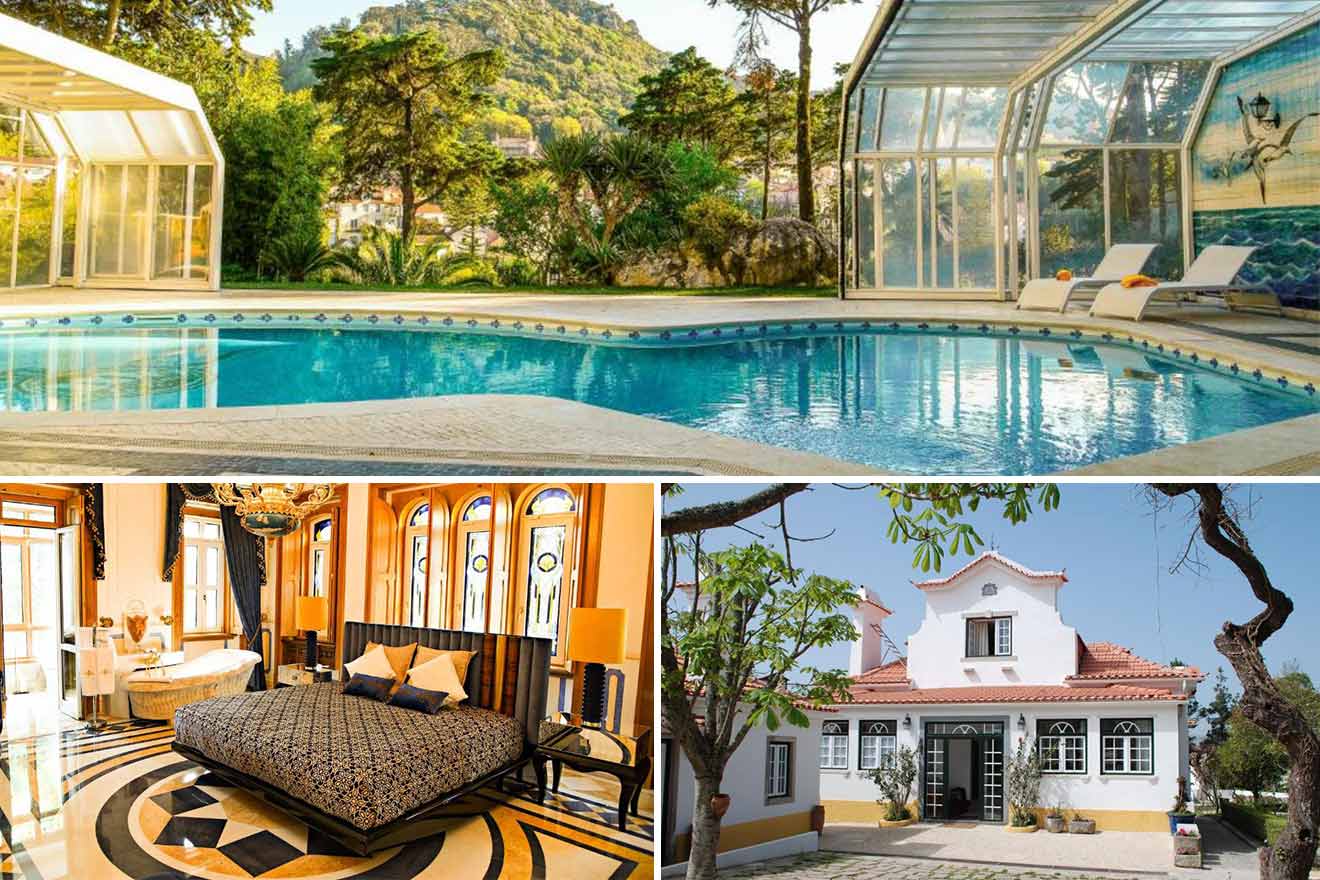 Luxury (€250 and up): Sintra Marmoris Palace – This elegant property, a former 19th-century manor house, is split across 2 huge buildings and located in Sintra city center. Here you'll get a welcome drink, gaze at views of the Moorish Castle and have access to a swimming pool!
Mid-range(€150 – €250): Storytellers Villas – These villas have an amazing location in Sintra, within walking distance of the Quinta da Regaleira, the Sintra National Palace, and the Moors Castle! Here you'll have access to a panoramic terrace, a breakfast buffet every morning, and free wifi.
Budget (up to €100): Villa das Rosas – If you want to stay on a budget, check out these cozy villas set in 19th-century buildings, perfect for families! They are nestled in landscaped gardens with native plants and have access to an outdoor pool.
FAQs about Quinta da Regaleira tickets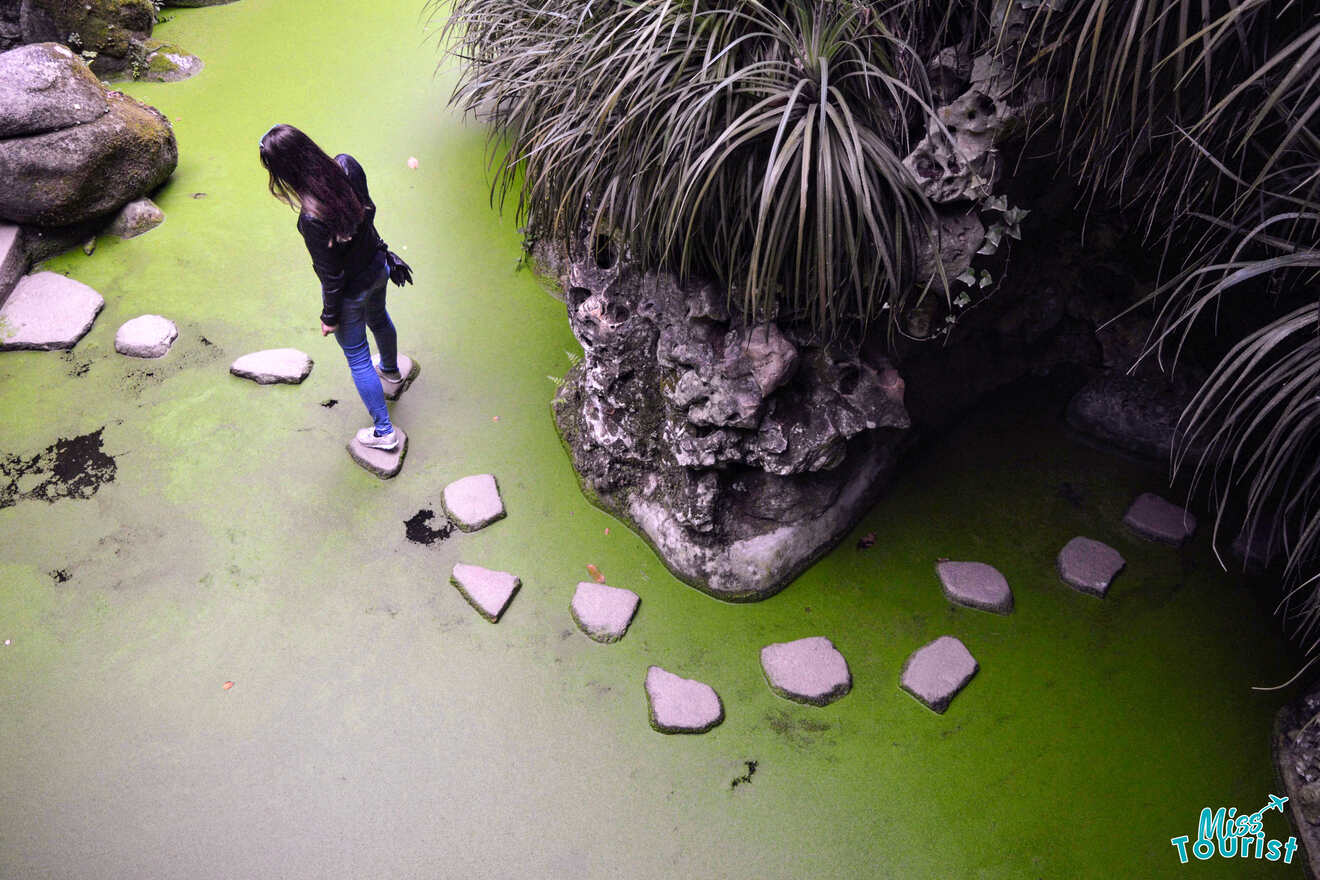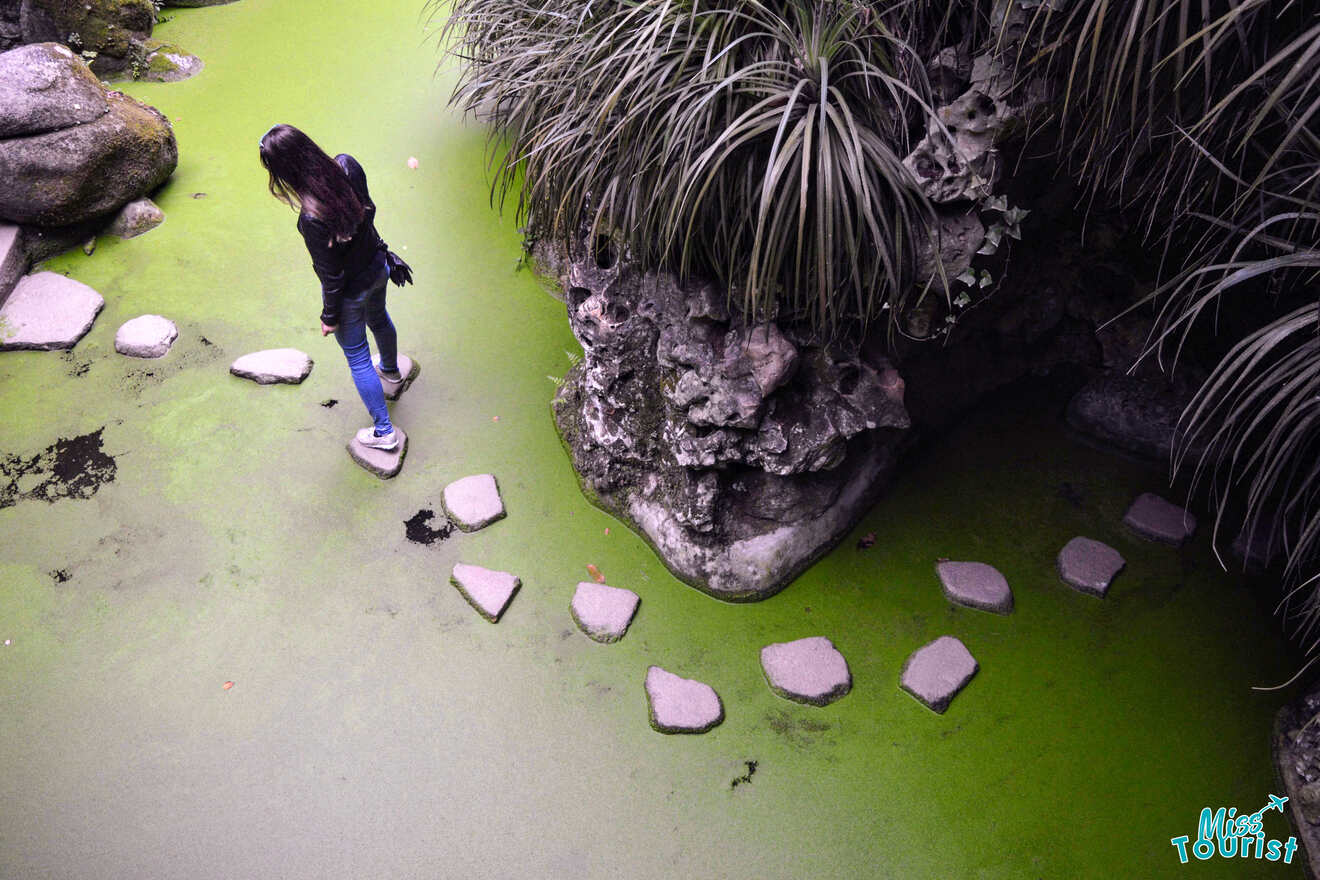 💲How much is to visit Quinta da Regaleira?
If you buy the normal ticket on the official website, it will cost you €10 (+ 3€ if you want an audio guide), while if you join a guided tour it is 18€. But, the best option is to book a guided tour from Lisbon like this one, costing €55.
🕖 How much time do you need at Quinta da Regaleira?
You should spend at least 2 to 3 hours at Quinta da Regaleira if you want to see everything. The palace complex is so big that you could actually spend a whole day visiting its Initiation Well, grounds, park, and palace.
📍Is there parking at Quinta da Regaleira?
There's no parking at Quinta da Regaleira. If you're lucky you can find a spot close to the entrance, but it is better to leave it at the free car parking at the entrance to the town or to the Quinta dos Lobos, a 10-minute walk from the Palace.
✅ Is Sintra a day trip from Lisbon?
Conclusion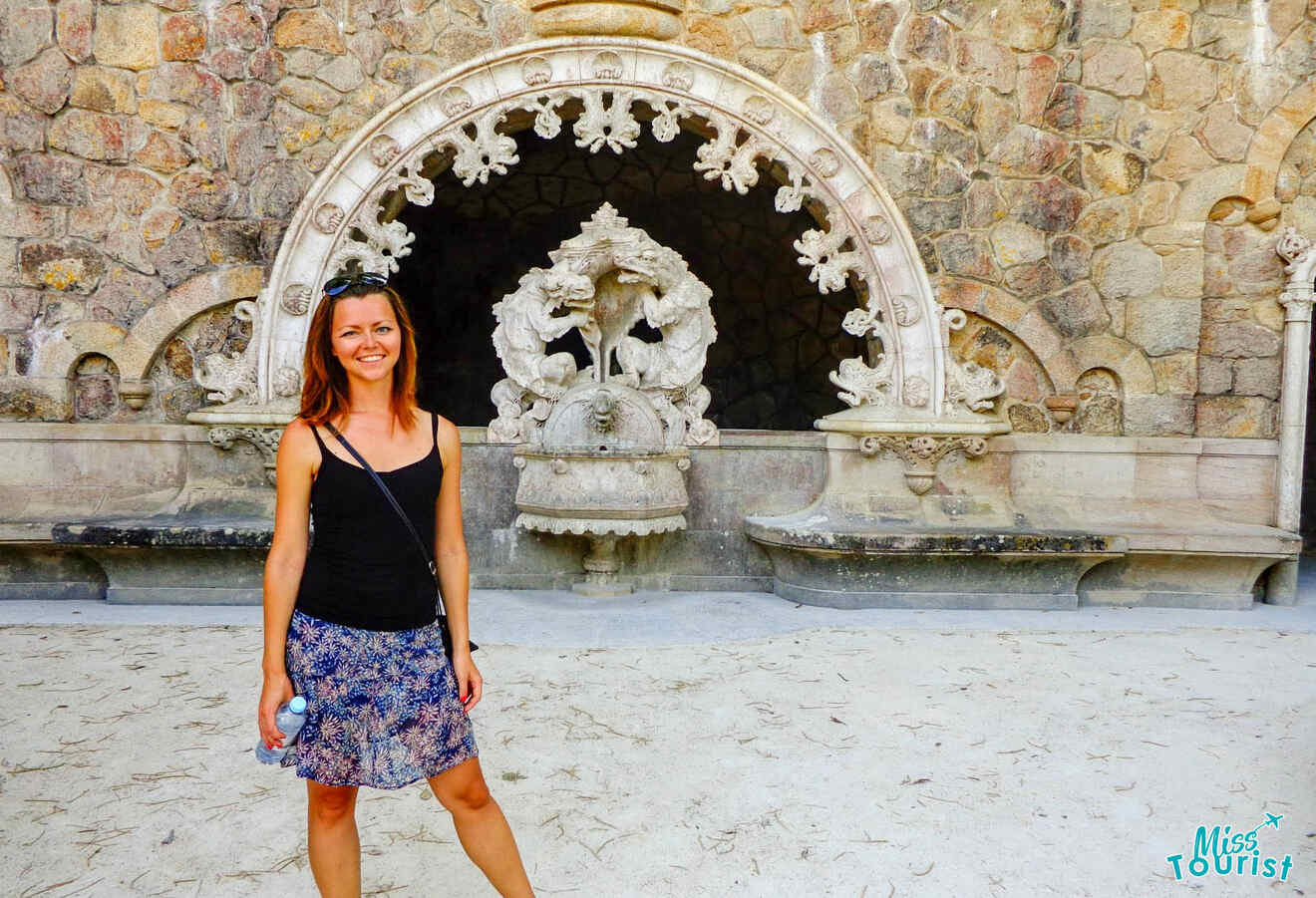 You finally reached the end of my extensive guide on Quinta da Regaleira tickets!
We went through all the different ticket options and possible tours, but I still suggest you visit it as a day tour from Lisbon, so you won't have to worry about transportation or losing time staying in line. By the way, there are many other cool day trips from the Portuguese capital you can join, check them out!
I also gave you some useful tips on how to get there, opening hours, facilities, places to stay in Sintra, and beautiful hikes in the surroundings… so you have everything at your fingertips!
But if I forgot to mention some important information, please let me know in the comments below, and I'll answer you right away!
Have a magical visit!
Yulia
---
Pin it for later!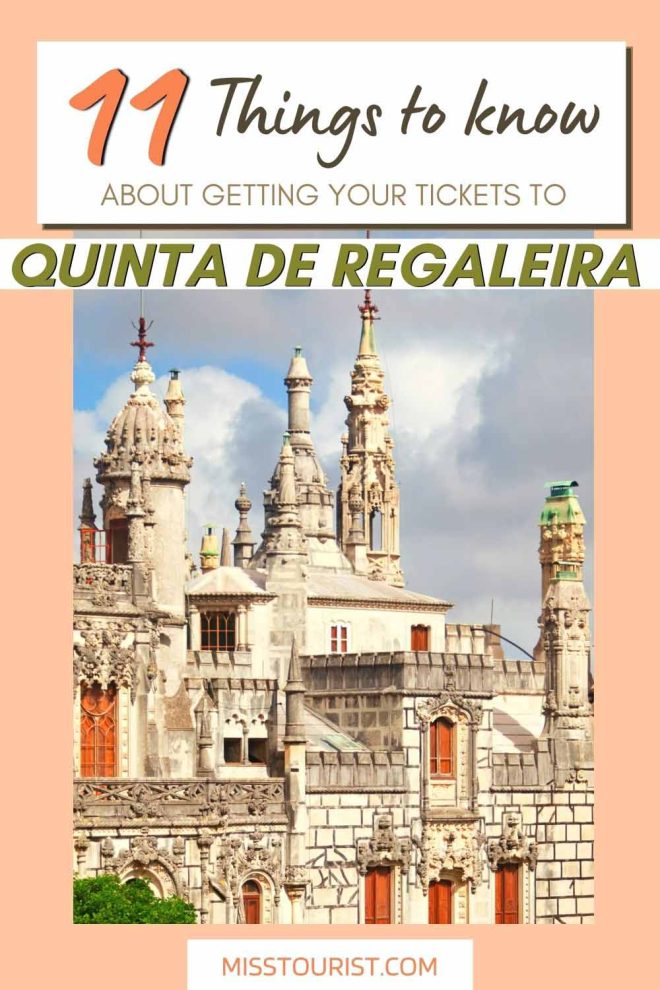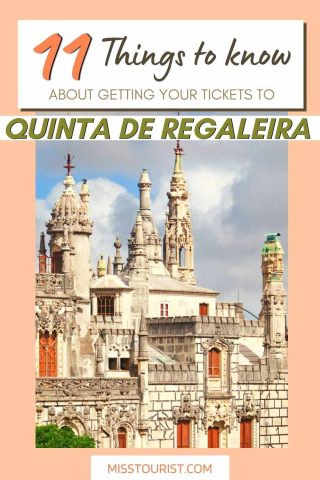 Pin it for later!