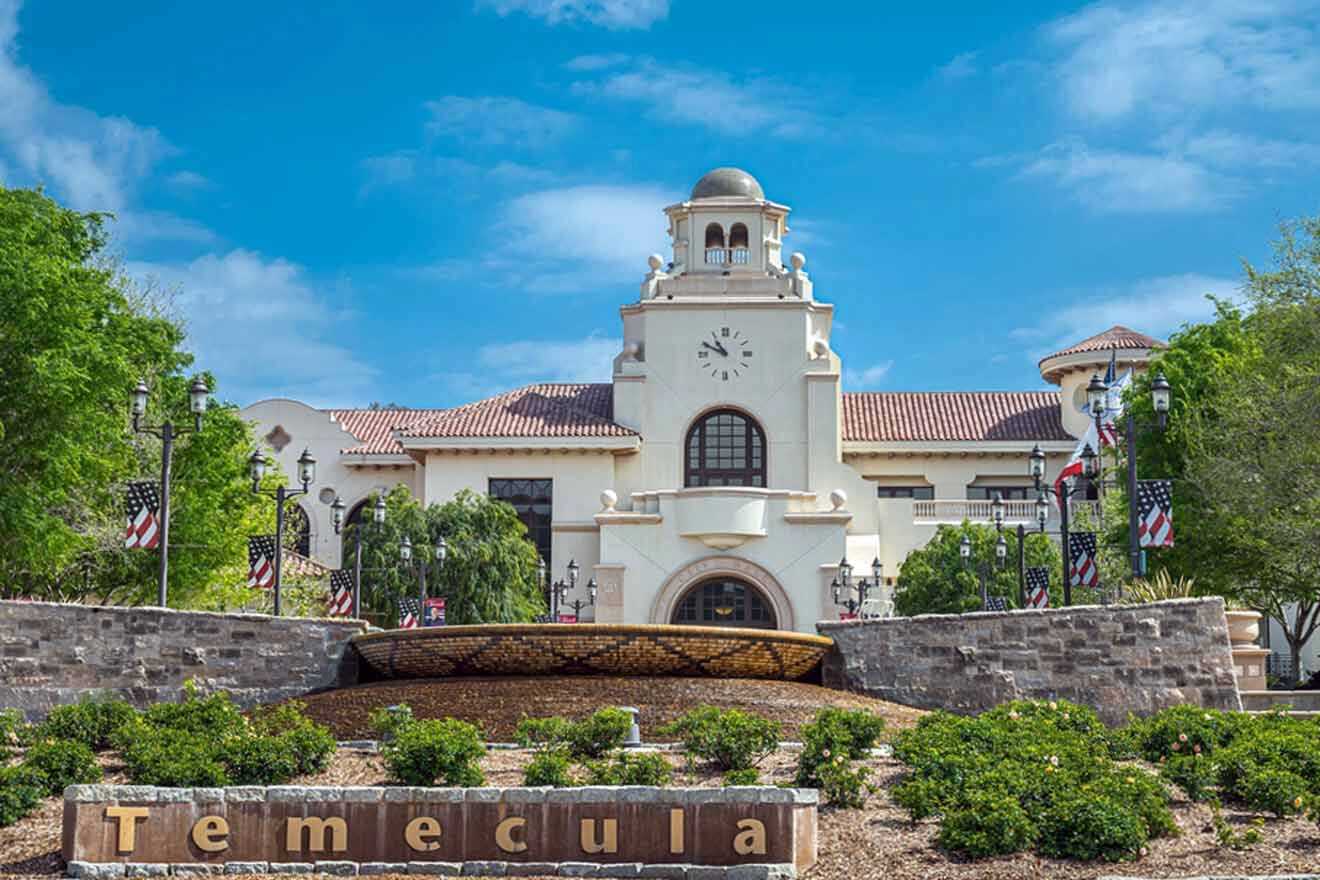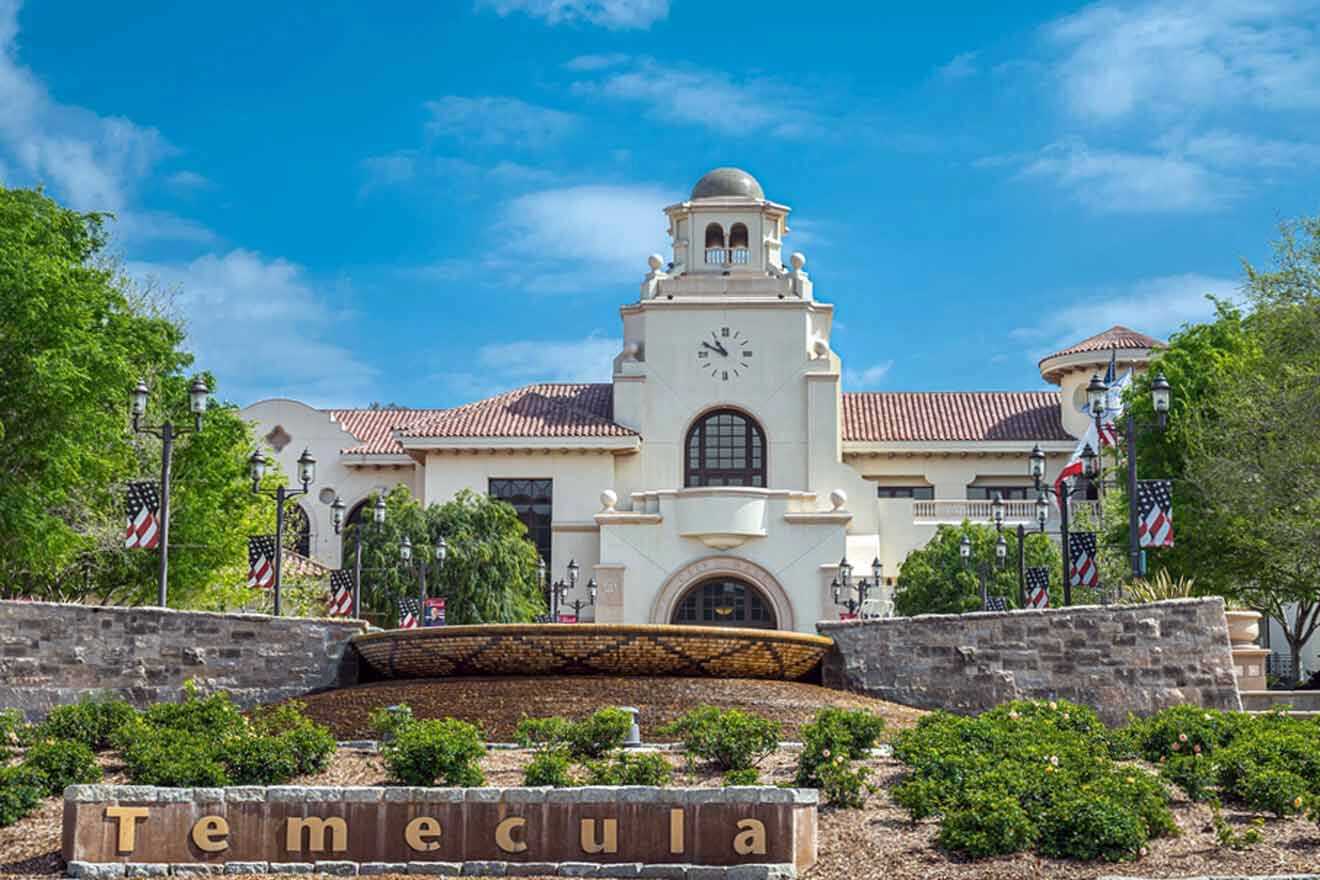 As a Southern California gal, I know a thing or two about fun things to do in Temecula, our charming, unassuming wine-country region about an hour northeast of San Diego.
This wine region is an enchanting area with a long list of fun things and fun events to do while visiting. Temecula blends the benefits of a lively city with the tranquility of the surrounding countryside. The area's vibrant atmosphere, infused with a relaxed, rustic vibe, creates this unique aura all its own.
You won't be able to resist the allure, and flavor pallet, of this Southern California gem! So join me on an incredible journey through Temecula, CA, one of the state's hidden in-land treasures that you won't want to miss.
Before we hit the vineyards, a friendly reminder – be sure to secure your tour reservations and hotel accommodations by booking in advance!
You wouldn't want to get shut out on the opportunity to save some $ or lose your spot in the excitement. So plan ahead, and immerse in all the amazing things to do in this desert city!
If you are in a hurry
When you get to Temecula, CA, you'll want to relax and grab a glass, not research and run around. Do yourself a favor and book your hotels and activities in advance:
And here are the best hotels: MAGIC VILLA Overlooking Pool Oasis (luxury), Villa Inn & Spa (mid-range), Staybridge Suites Temecula (budget)
1. Go back in time to Old Town Temecula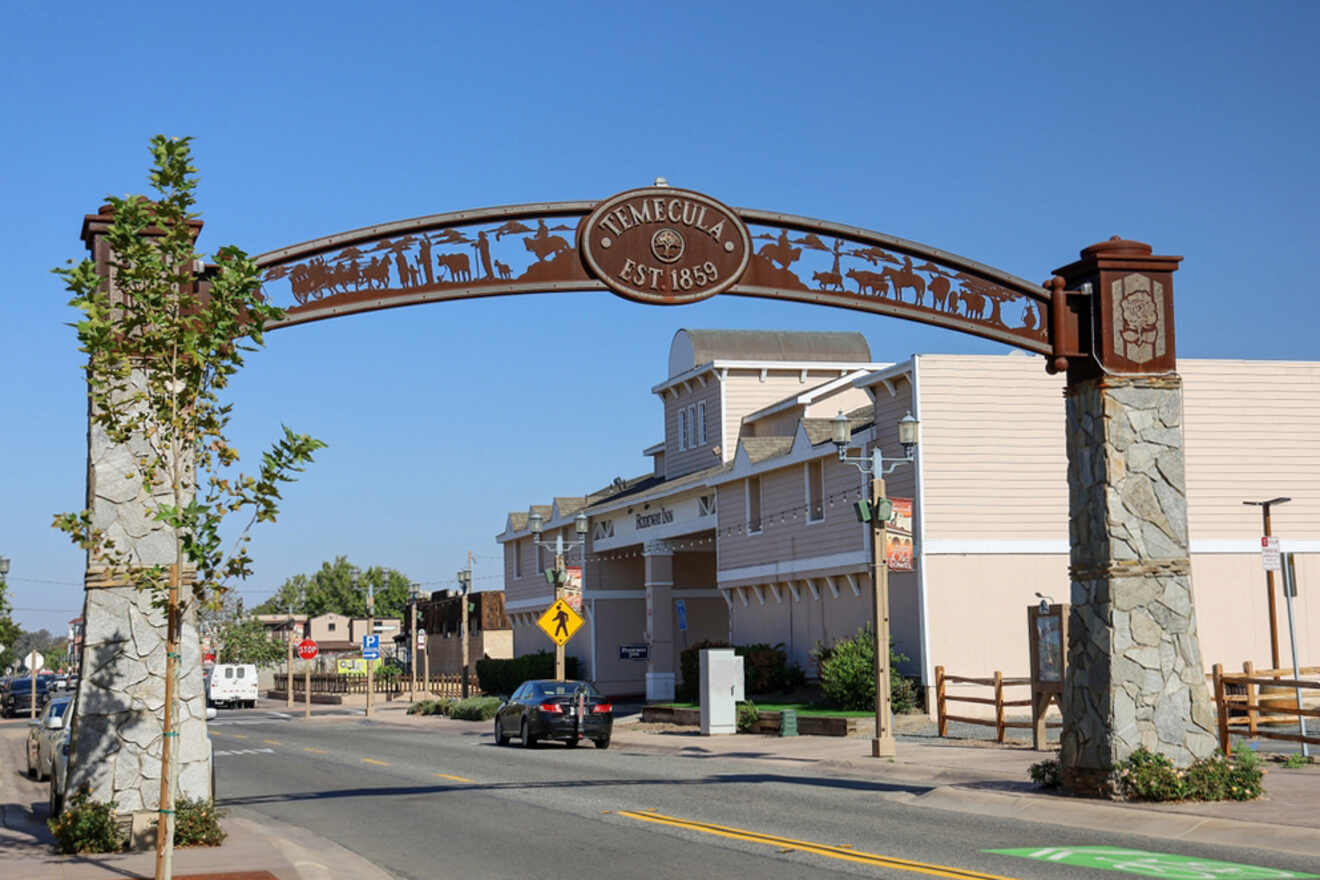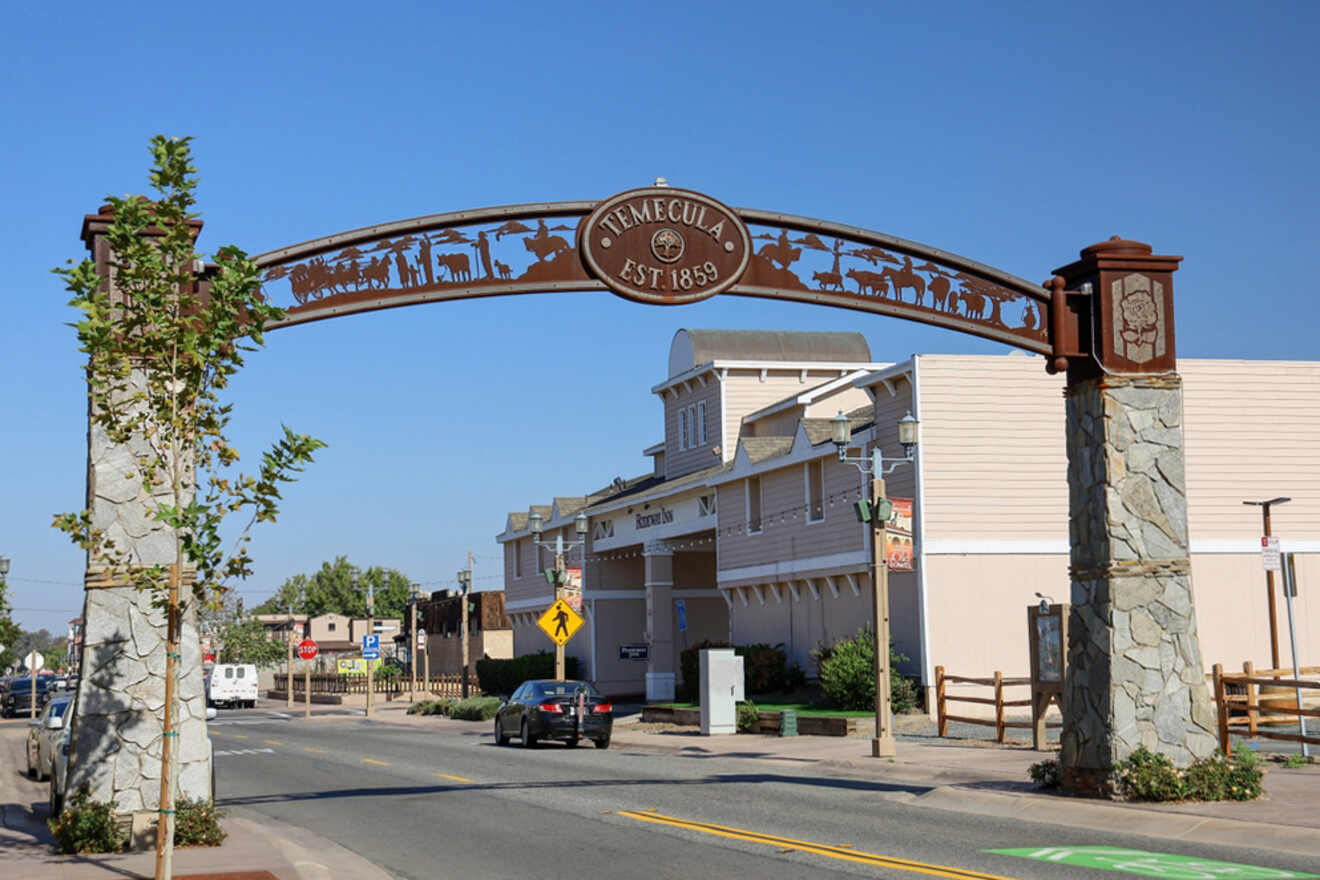 Old Town Temecula is a historic district in Temecula Valley, lined with beautifully restored rustic buildings from the 1800s, filled with charming shops, art galleries, dining options, and boutiques. With some serious West Coast charm, you'll love roaming the old-fashioned streets here.
The farm-to-table cuisine, award-winning wines, and chances to savor the region's best olive oil are the reasons you don't want to miss Old Town Temecula.
PRO TIP: If you're lucky enough to be in Old Town Temecula on a Saturday, check out the Temecula Farmer's Market, offering an abundance of fresh local produce & goods from over 40 vendors.
Want to stay close to all the action? Temecula Creek Inn is in the heart of Old Town and offers a 27-hole golf course right on the property! Rated lower than I typically recommend, what they lack in ratings is made up for in convenience.
Book a Private Trolley Car Wine Tour
2. Brush up on your history at Temecula Valley Museum
As the name suggests, the Temecula Valley Museum holds the significant history of this old railroad town turned wine country.
Housing fascinating exhibits and artifacts that tell the region's unique story, the Temecula Valley Museum lets you get up close to the Old Town collection of farming equipment, historical photographs, handcrafted artifacts, and information on the area's Luiseno Indians, Mission San Luis Rey, ranching establishments, and the arrival of the railroads.
They even have an adorable children's play area with an Old Town general store that's fully functioning!
PRICE: US$5 donation recommended
3. Play all day at Pechanga Resort & Casino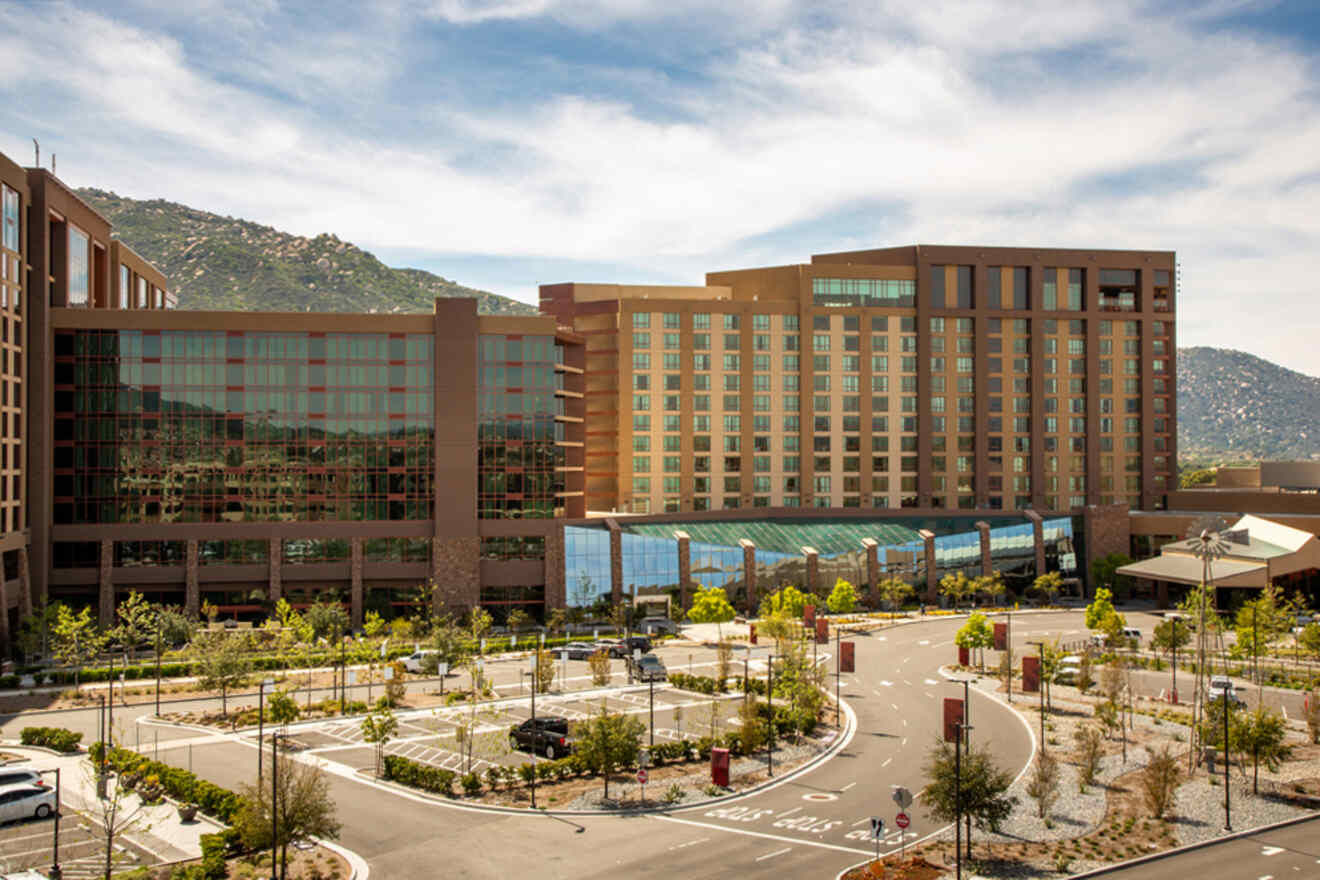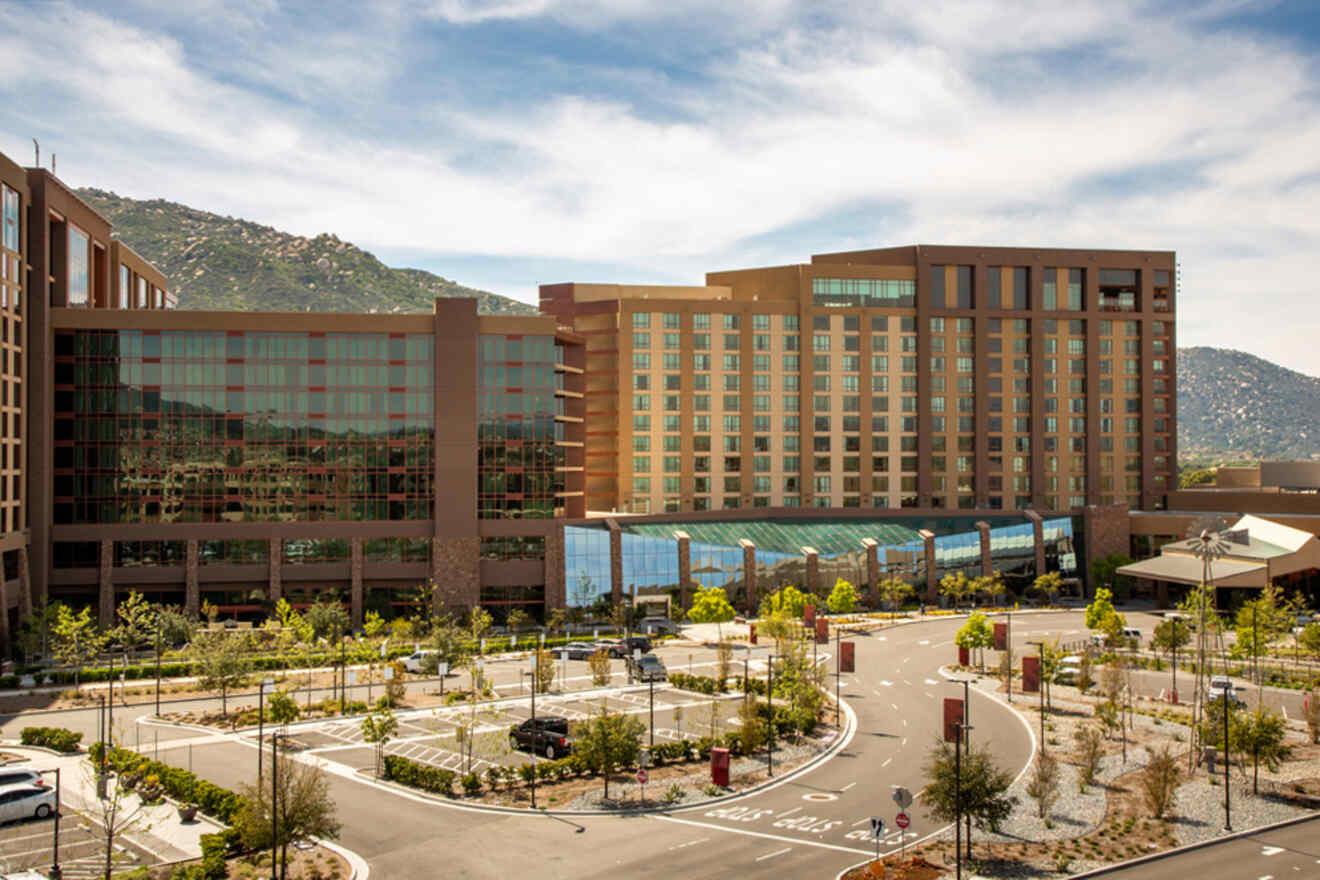 Pretty impressive, this is the largest resort casino on the West Coast!
Of the region's best things to do, Temecula's Pechanga Resort & Casino is a desert oasis in the heart of Temecula Valley. It's also an incredible place to stay while in Temecula.
I've been here quite a few times, and let me tell you, this place is not your average casino – it's a full-blown luxury experience that'll leave you feeling like a VIP at a fraction of coastal prices.
Stacked full of slot machines, poker tables, and a plethora of other ways to give your money away 😉, the resort itself is a haven amongst luxury hotels and prioritizes comfort.
Elegant accommodations, incredible dining options, a heavenly spa, and even a gorgeous golf course. This place is so lively and dynamic for holiday celebrations and special events, too. It's worth keeping in mind for the whole family.
Making a whole weekend of visiting Temecula, CA? Book a night or two at this incredible resort playground.
4. Enjoy shopping at Promenade Temecula
Get ready to shop 'til you drop at Promenade Temecula!
With a fantastic selection of shops and boutiques, you'll find everything from high-end fashion brands to popular retailers all in one space.
But it's not just about the shopping experience. This great spot offers a vibrant atmosphere where you can enjoy walking around the indoor/outdoor premises, catching a movie, or enjoying the fantastic dining options.
5. Find your favorite wine tasting in Temecula Valley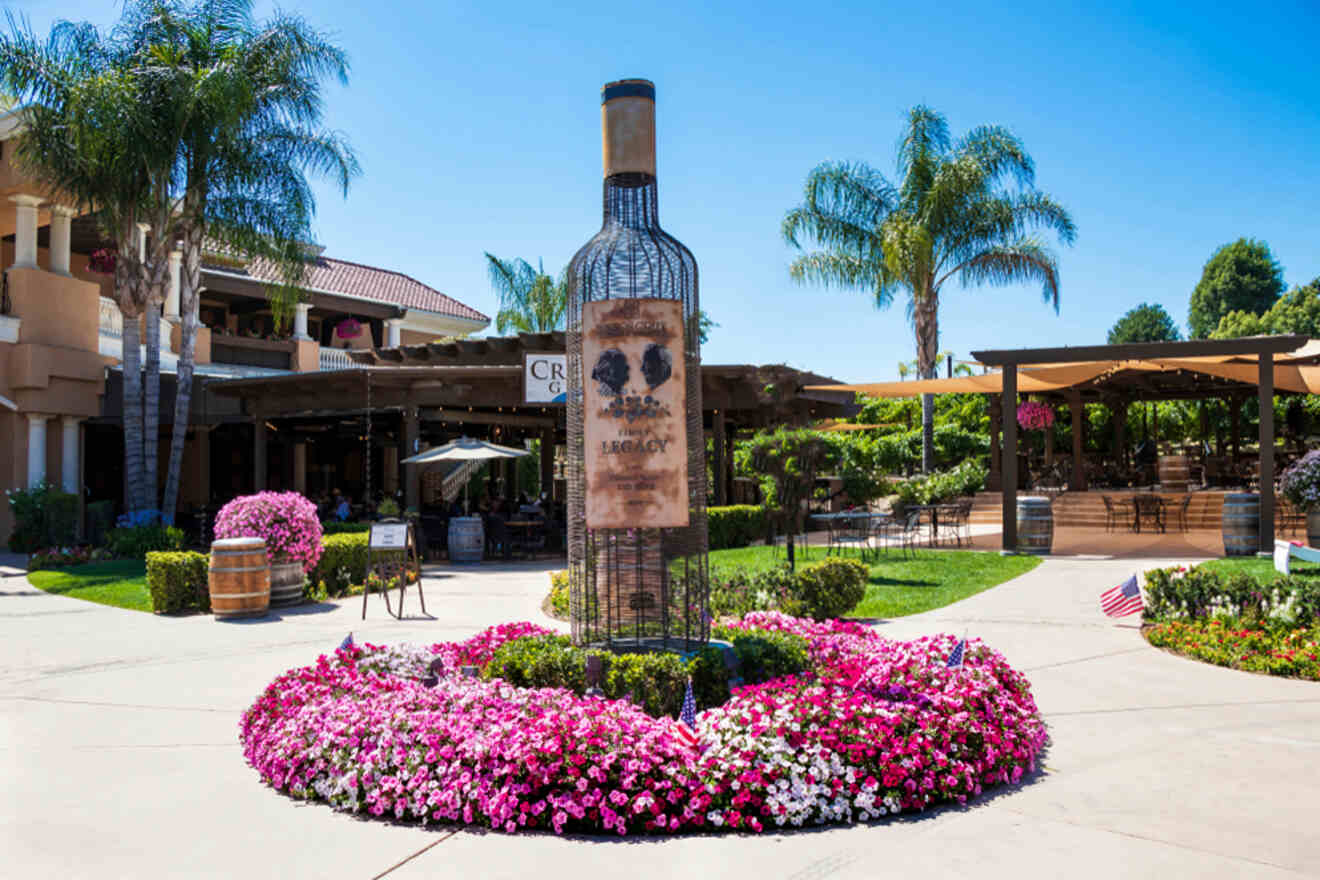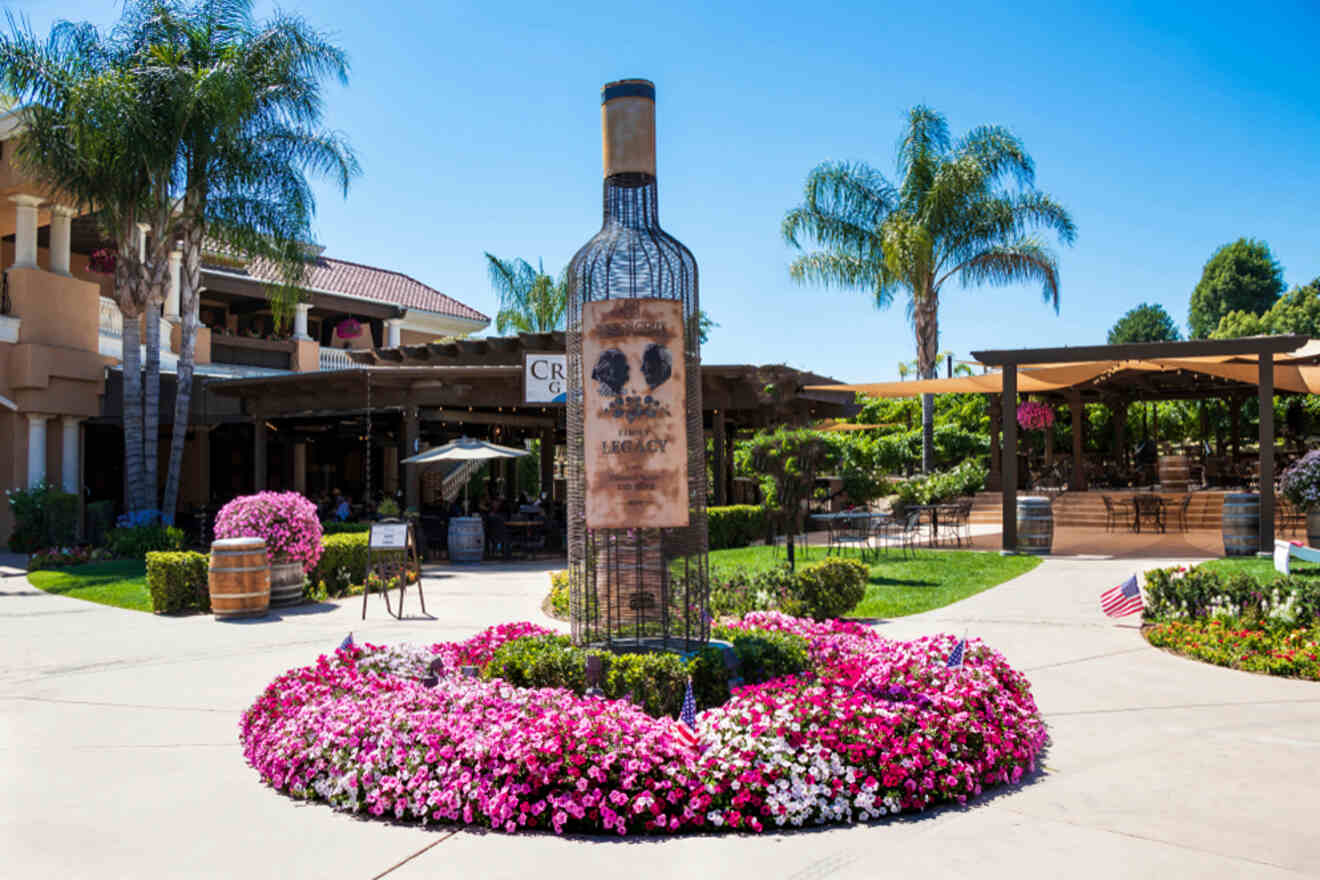 Temecula wine country has a rich history in winemaking, of course. It's actually one of the oldest wine regions in California! The first vineyards were planted here back in the 1960s, and since then, it's blown up into a renowned destination for wine enthusiasts and tourists alike.
When it comes to wine tastings, Temecula Valley offers a diverse and exciting range of experiences. Wilson Creek Winery is a favorite of mine, known for its laid-back atmosphere and incredibly delicious sparkling wines. You'll love sipping on their famous almond sparkling wine while enjoying the scenic views of Temecula Valley – it's so breathtaking!
For a more upscale wine-tasting room, head to Callaway Vineyard & Winery. They have a beautiful Mediterranean-style tasting room where you can sample their exceptional wines while taking in the panoramic vistas of the surrounding vineyards of Temecula, CA.
If you're a fan of live music, make sure to visit Thornton Winery. They host fantastic jazz concerts in their outdoor amphitheater. It's such a unique atmosphere to sip on their yummy champagne.
And one of the most beautiful, in my opinion, Leoness Cellars. This winery offers not only stunning Tuscan-inspired architecture but also seriously incredible wine. Try their Syrah – its rich flavors and velvety texture are what wine dreams are made of.
PRO TIP: I highly recommend combining a few of the wineries together on a wine-tasting tour to maximize your time and enjoyment at each one.
Here are my top 3 favorite wine-tasting tours in the area:
6. Take a glimpse into Pennypickle's Workshop
Step into the enchanting world of Pennypickle's Workshop, my absolute favorite Temecula children's museum, not only in Temecula Valley but maybe, anywhere! Trust me, once you step inside, you'll see why this is a must-stop if you're in Temecula with kids.
This Temecula museum is a place where science and adventure collide. Pennypickle offers mind-boggling experiments and interactive workshops.
This Children's Museum of Science is an absolute blast, but it can fill up, so make sure to book your tickets in advance!
PRO TIP: Looking for something else fun and creative to do with the kids besides a Temecula children's museum? Head to Painted Earth Pottery for a chance to create your own work of art.
PRICE: US$10 for adults and children
7. Join the pack at Alpaca Hacienda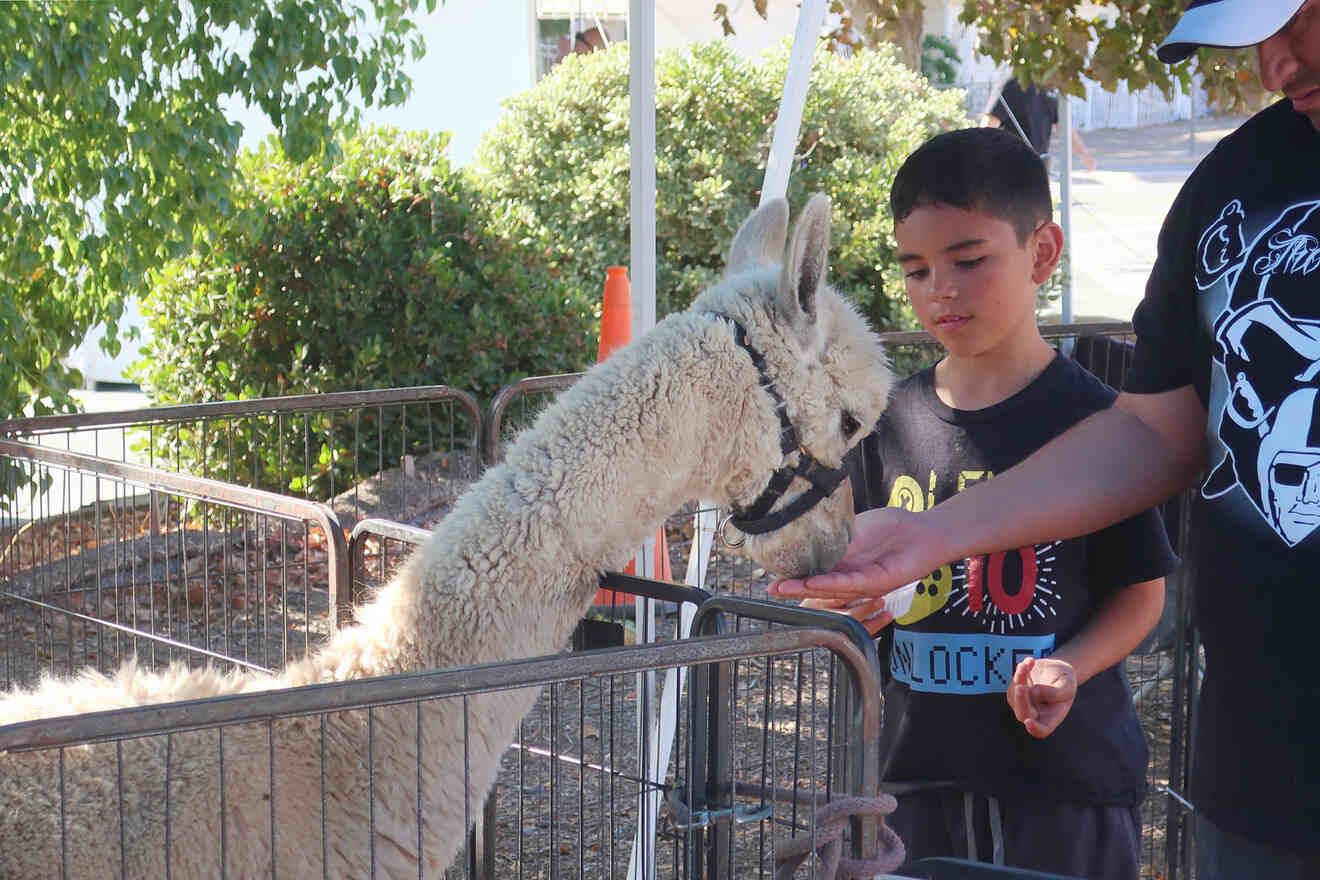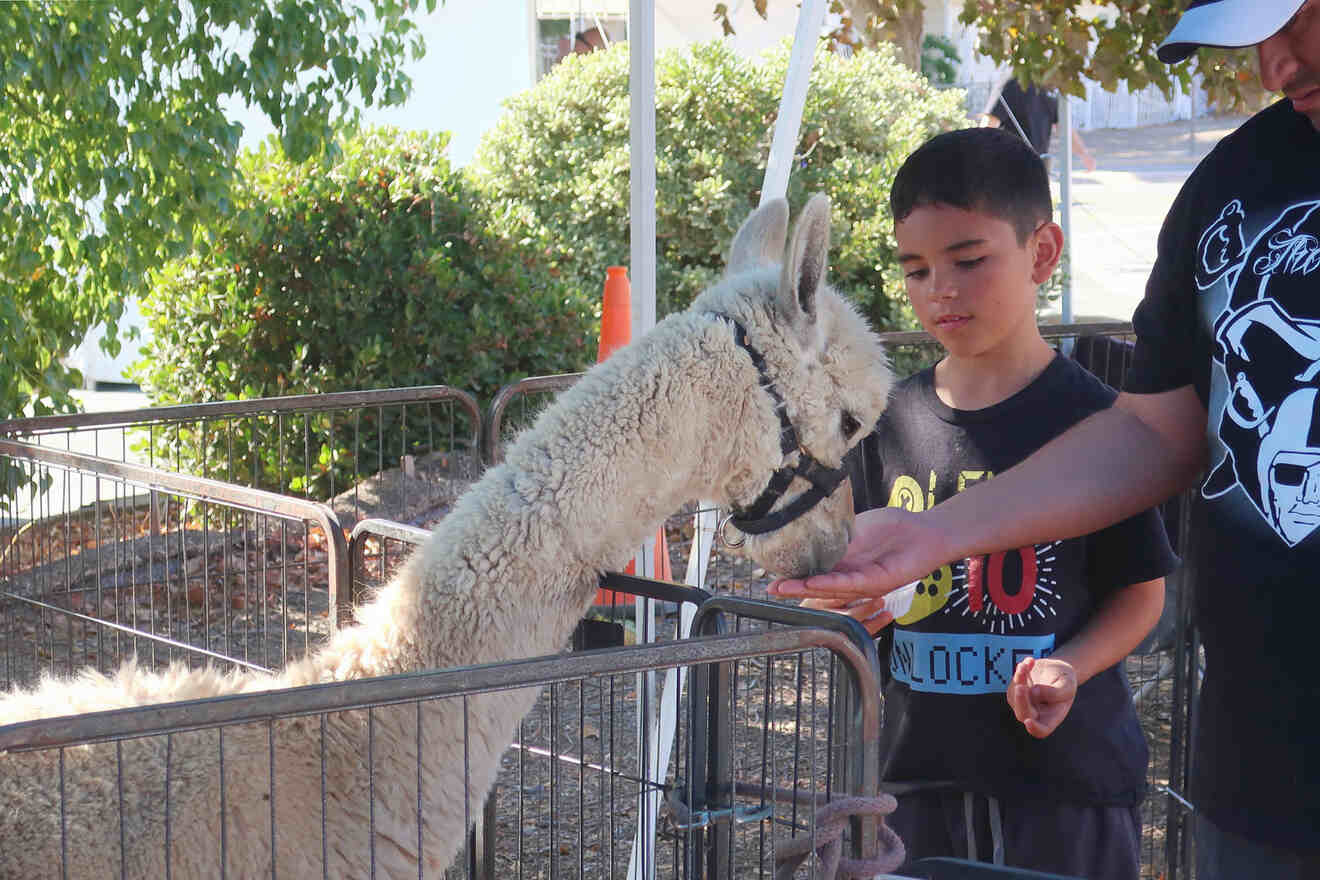 The Alpaca Hacienda in Temecula Valley is a hidden gem and an instant dose of pure love & joy!
Stop by this family ranch to see the furry Alpacas, funny looking and adorable, you cannot help but fall in love with them.
The owners of the Alpaca Hacienda have carefully cultivated a home for these cute little guys right in Temecula Valley.
It's truly incredible to see these fluffy creatures up close and learn about their long history in South America and their unique characteristics.
Pet them, feed them, and even take a leisurely walk with them around the property.
PRICE: US$10 per person
8. Float high above in a hot air balloon ride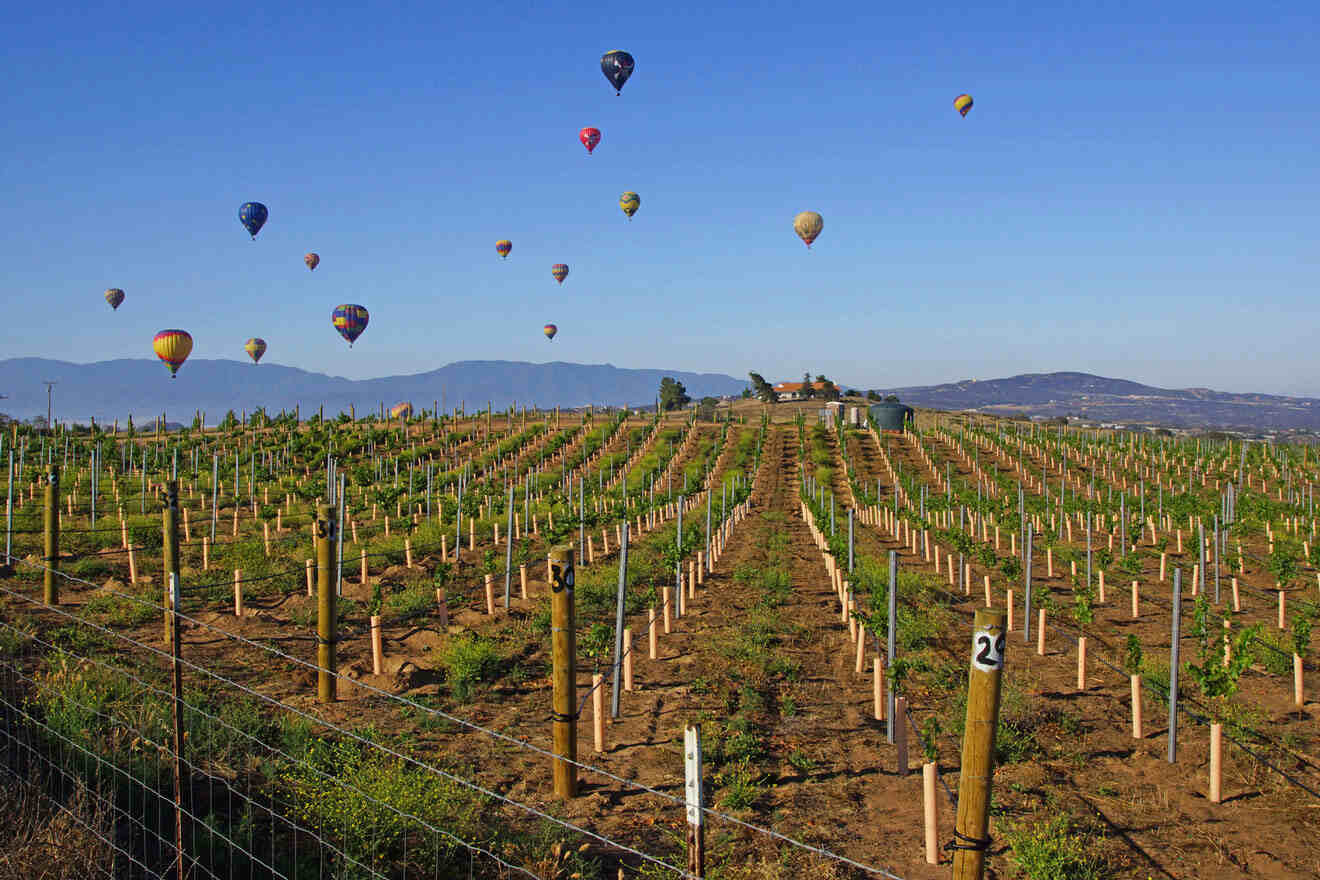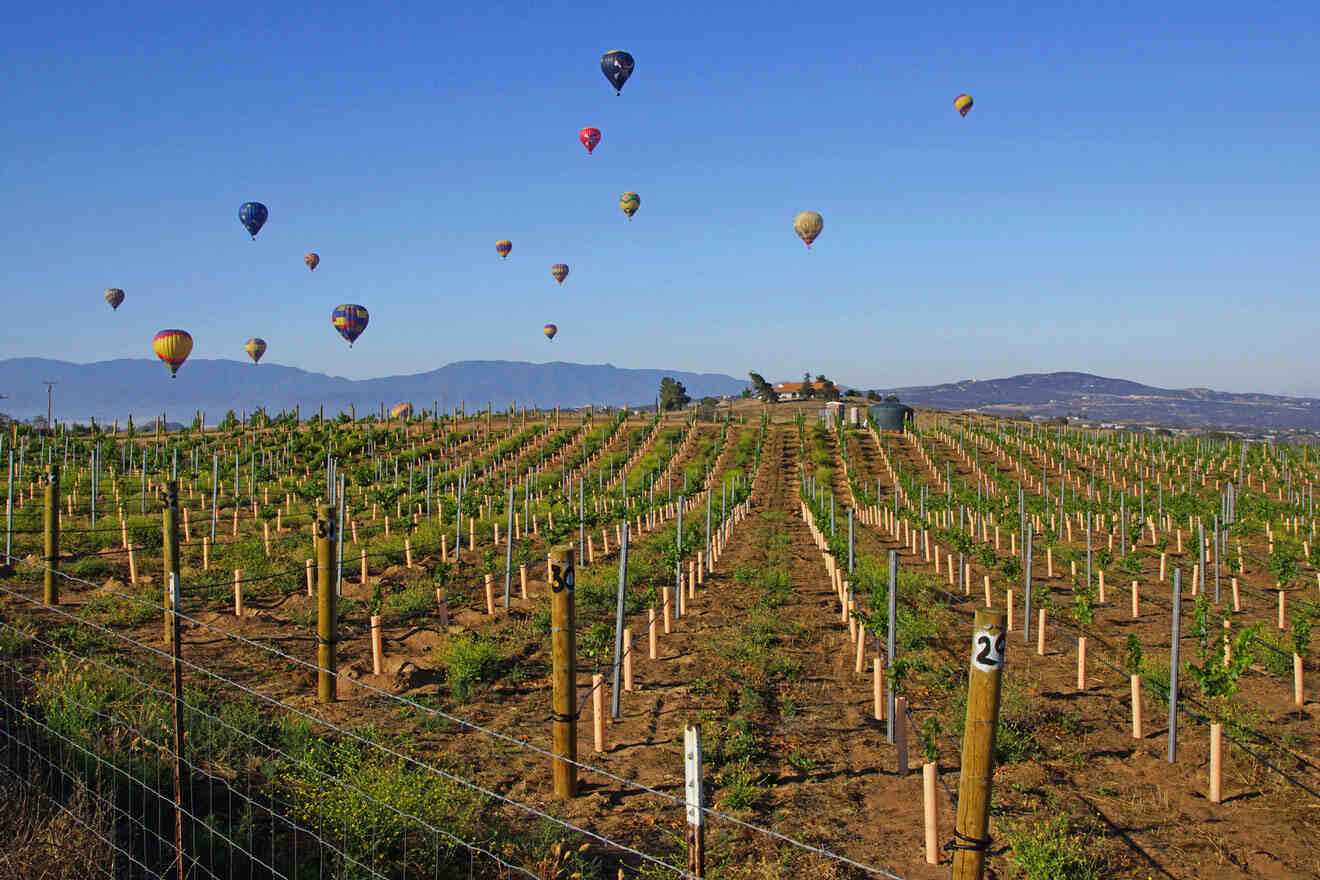 Absolutely one of my favorite things to do in Temecula, CA, the hot air balloon adventure gives you a sense of tranquility and freedom as you soar high above the beautiful rolling hills of Temecula.
The color's that paint the sky during sunrise over Temecula Valley, well, you don't forget moments like those.
Best of all, at the end of your hot air balloon ride, you'll be treated to a delightful champagne toast at the end of your flight!
PRO TIP: Don't walk, run to book your tickets for this one. The hot air balloon rides fill up fast, so book in advance!
PRICE: from US$230 per person
9. Pick your own blueberries at Temecula Berry Company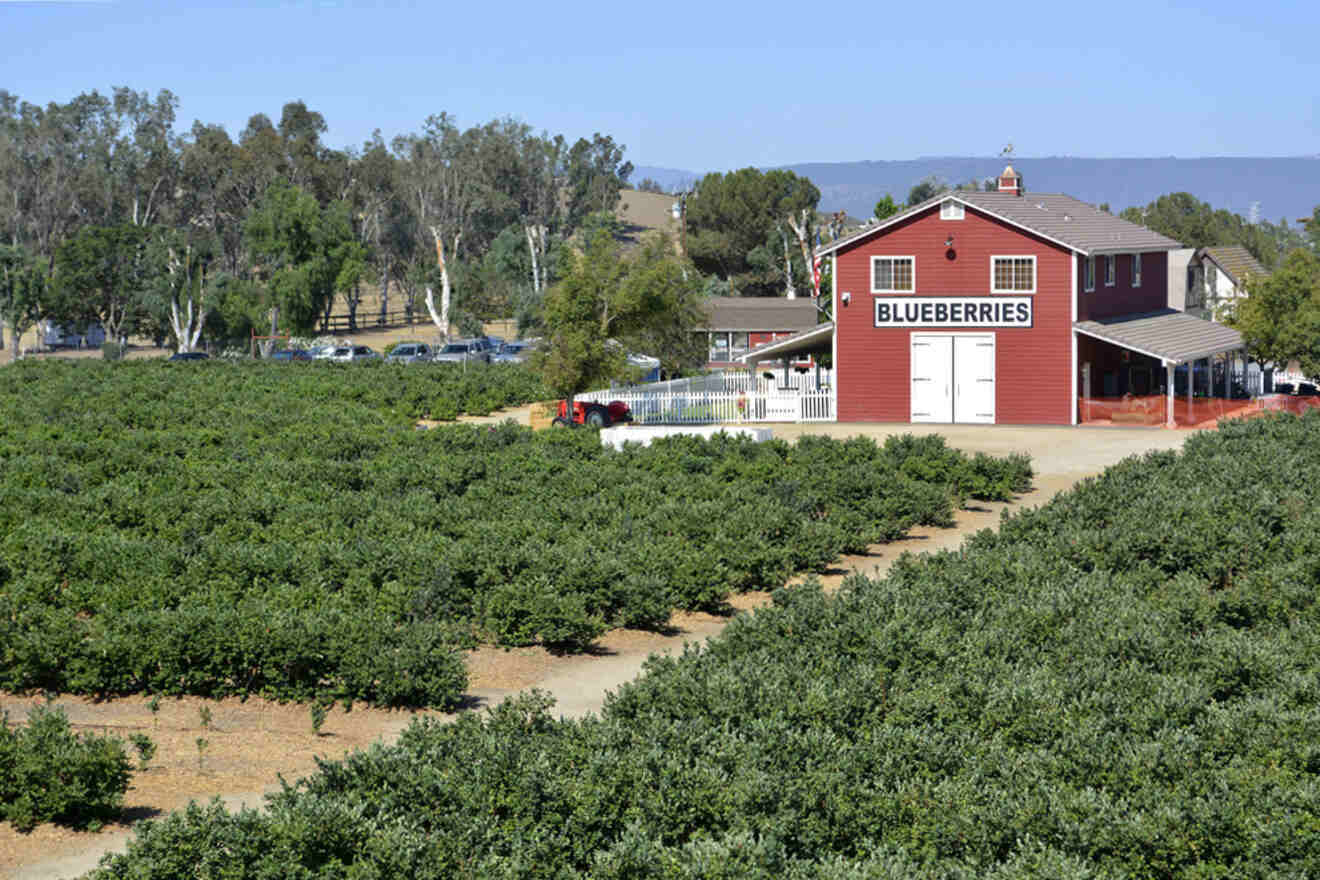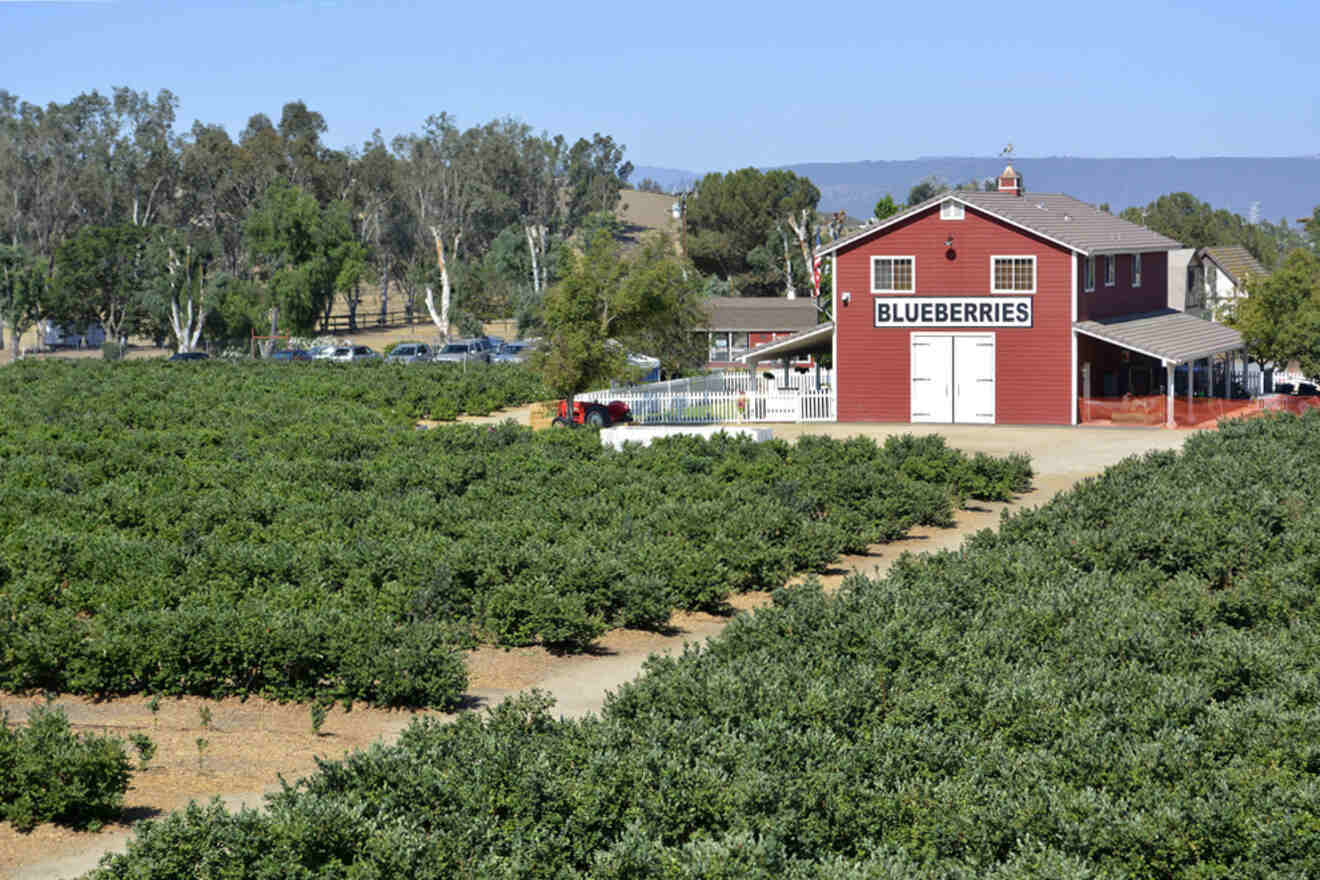 At the Temecula Berry Company, you can actually pick your own fresh blueberries.
The best part? They're all about organic and sustainable farming, so you can rest assured that the berries you pick are free from any harmful chemicals and are grown with lots of love and care.
The farm itself is pretty picturesque, with stunning views of the entire valley. It's a peaceful and idyllic setting that adds to the whole experience. You'll feel like you've escaped the hustle and bustle of the city and entered a happy, little berry paradise.
PRO TIP: Don't miss the free petting zoo at the end of the parking lot.
PRICE: Small container US$6, medium US$12, large US$20
10. Stroll around Temecula Duck Pond & Park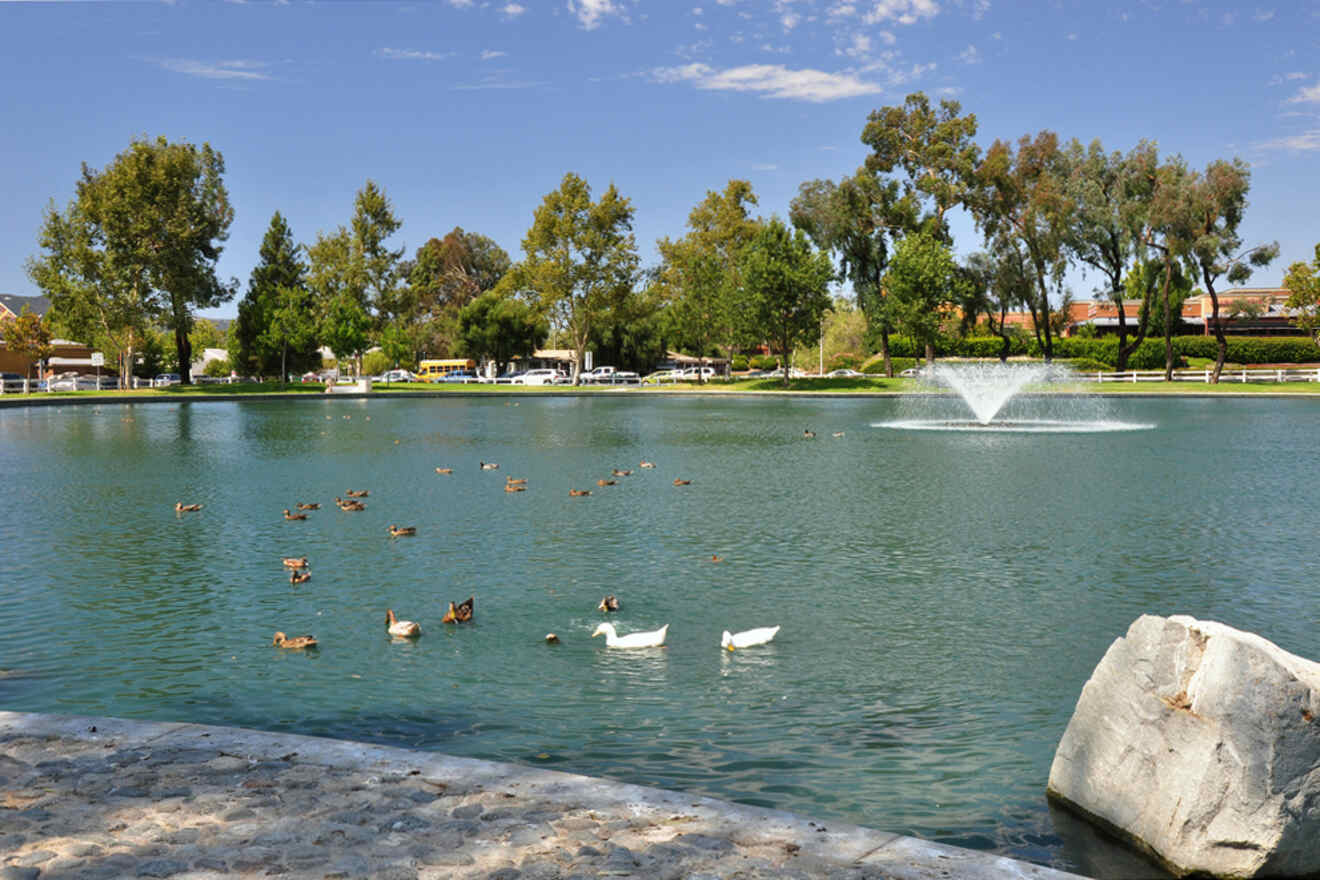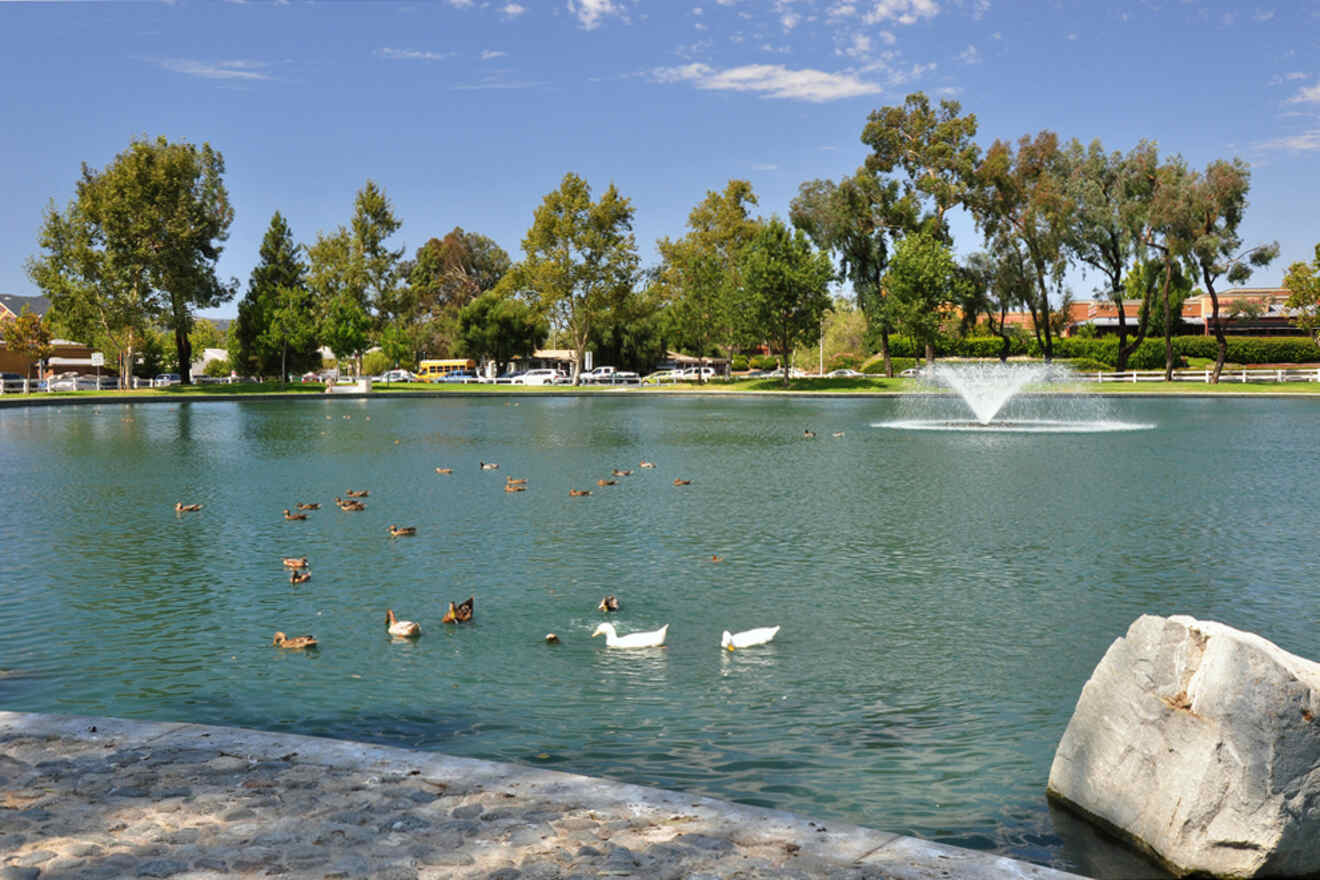 This beautiful park in Temecula, anchored by a duck pond, is picturesque, relaxing, and worth a stop during your visit to Temecula.
Enjoy a short walk around the pond, taking no more than 15 minutes, feed the sweet ducks, if you're lucky enough to see them, take part in outdoor activities, or just relax on a bench while you recharge for your afternoon of activities.
If you're after luscious green space, visit Harveston Lake Community Park for 17 acres (7 hectares) of pristine beauty and a chance to rent pedal boats on the lake!
Want to let the kids run wild? Head to Eagle Soar Playground, equipped with a fun children's playground and splash pad.
11. Sail off into the sunset with horseback riding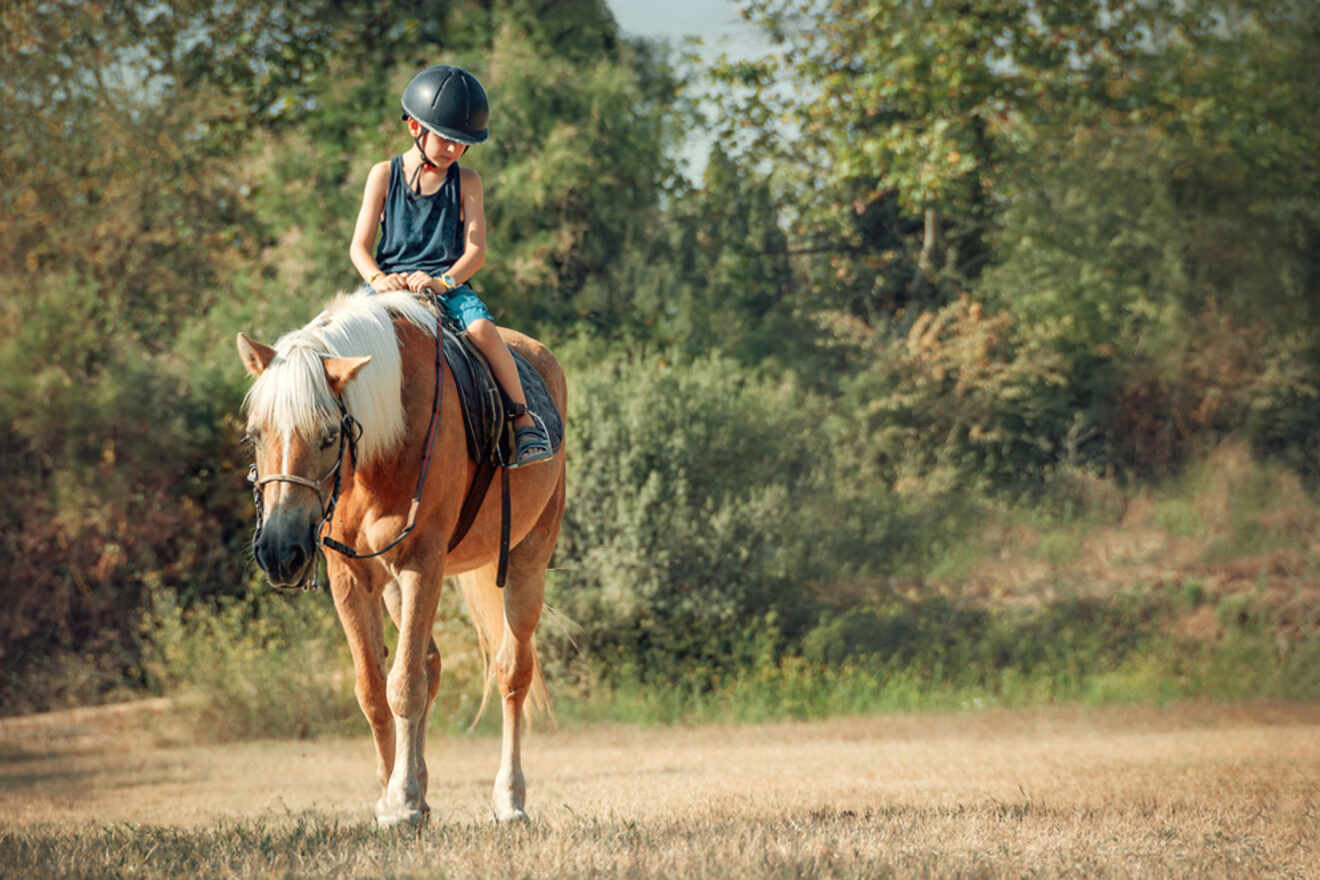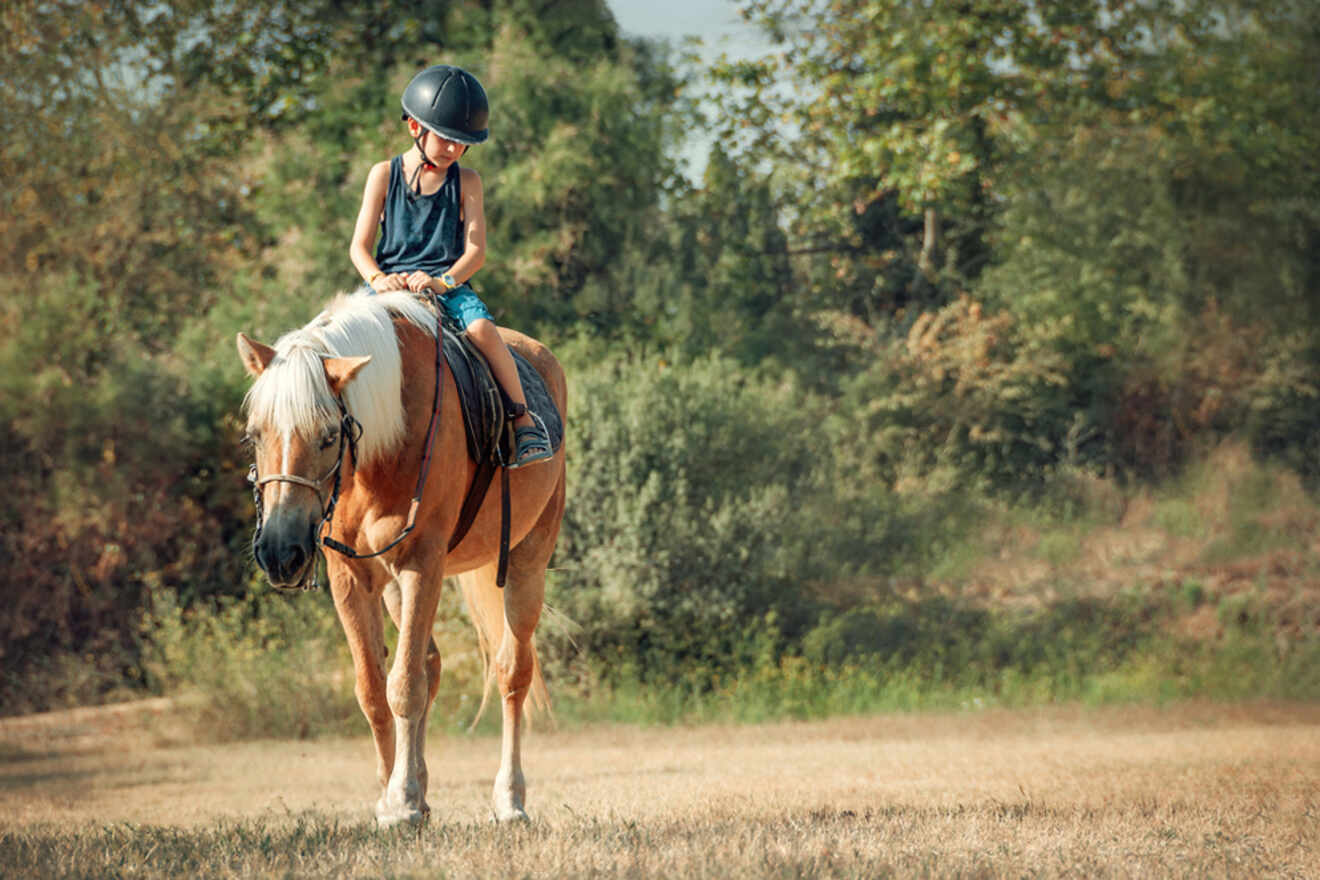 This unique opportunity in Temecula Valley allows you to experience equestrian life with horseback riding lessons at Green Acres Ranch.
Beginners are welcome at Green Acres Ranch. Get familiar with the horses, learn the history of the ranch, and also ask questions to the family who has been running the ranch for decades.
I highly recommend the sunset rides for an added touch of glitter to an already exciting adventure.
PRICE: from US$60/lesson per person
12. Get lost in a book at Temecula Public Library
Temecula Public Library is a sweet, little, air-conditioned oasis in the heart of wine country that you should check out if you have the time.
The library is a haven for avid readers and keeps a vast collection of books across every genre. They also have a wonderful children's section if you happen to be in Temecula with kids.
13. Take a day trip down to San Diego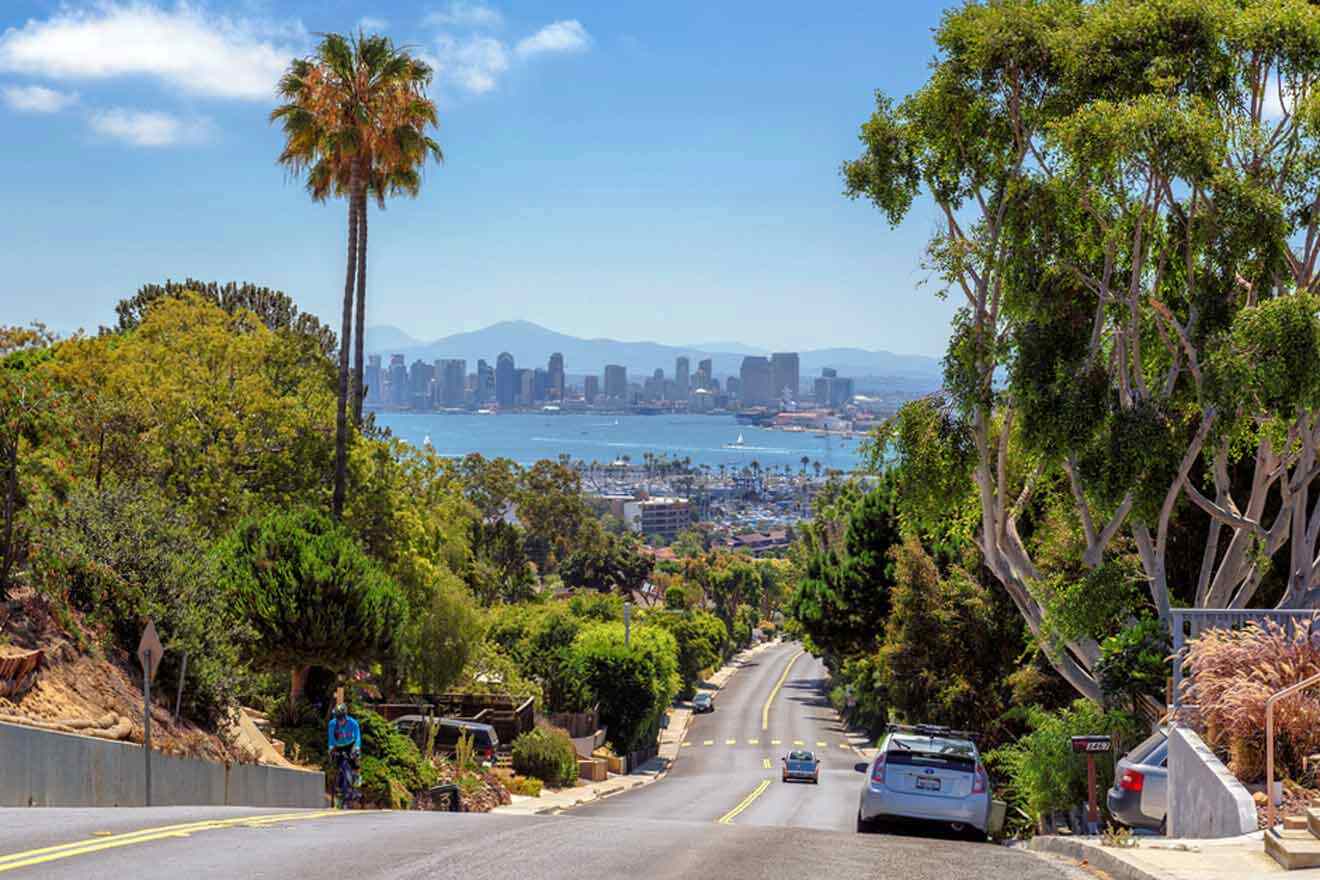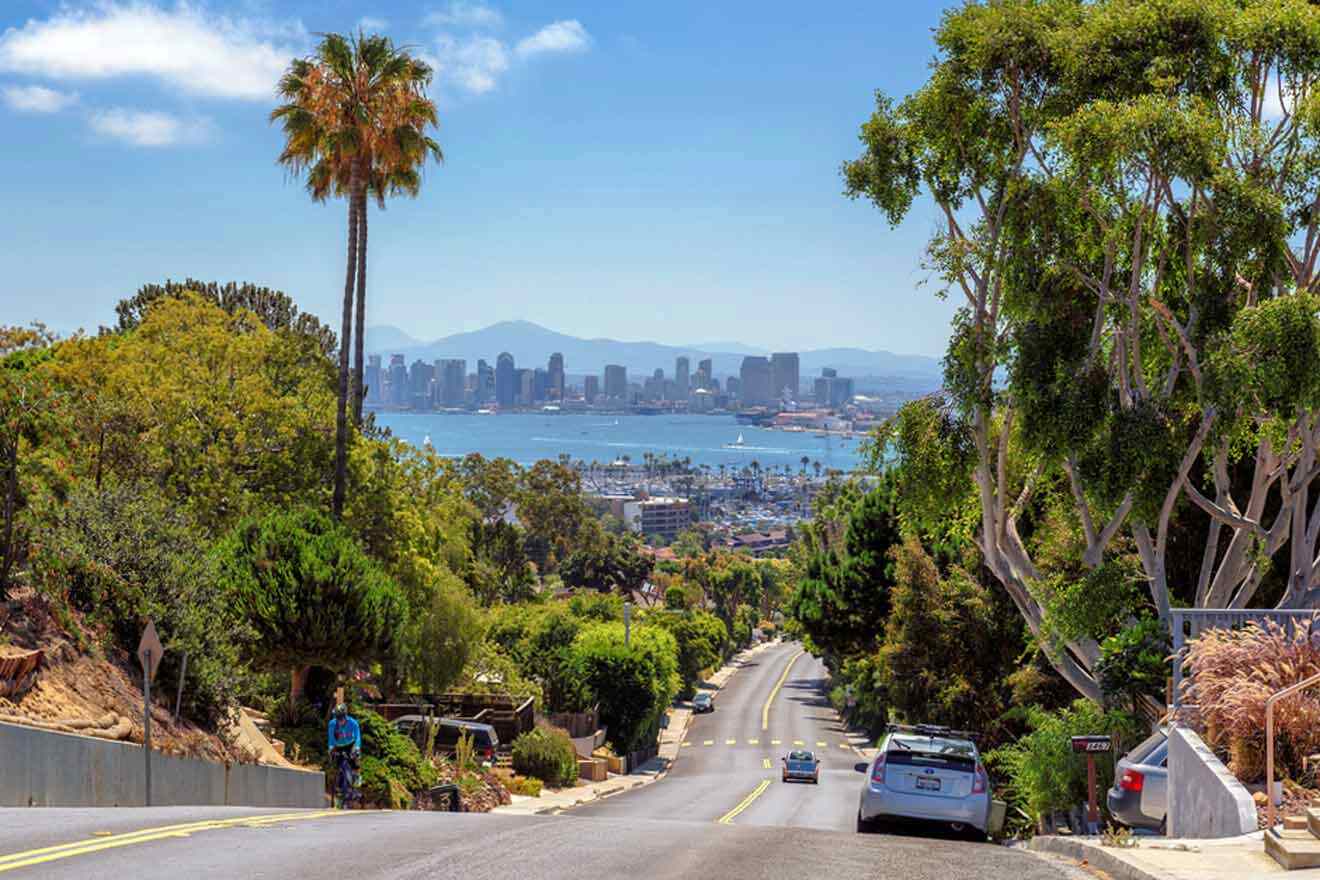 The bustling coastal city is filled with gorgeous beaches, fun activities, and amazing dining options, and I'm so lucky to call it home. If you have the time while you're in Temecula, CA, drive 1 hour south to this beautiful Southern Californian gem.
See incredible wildlife with a visit to San Diego Zoo or Safari Park, and spend your day checking out local beaches like Coronado, Pacific Beach, and La Jolla. If you have time, pop over to Balboa Park to visit some of the awesome museums or just stroll through the botanical gardens.
PRO TIP: You'll be shocked at how much more crowded this coastal city is than the valleys of Temecula, CA. Make sure you book your activities in advance!
HACK: Have a whole weekend to spare? Combo these 2 incredible parks for great $ savings: tour the Zoo & Safari Park.
To get to San Diego from Temecula, you definitely need a car. Find great deals on local rental cars.
14. Fun for everyone at Mulligan Family Fun Center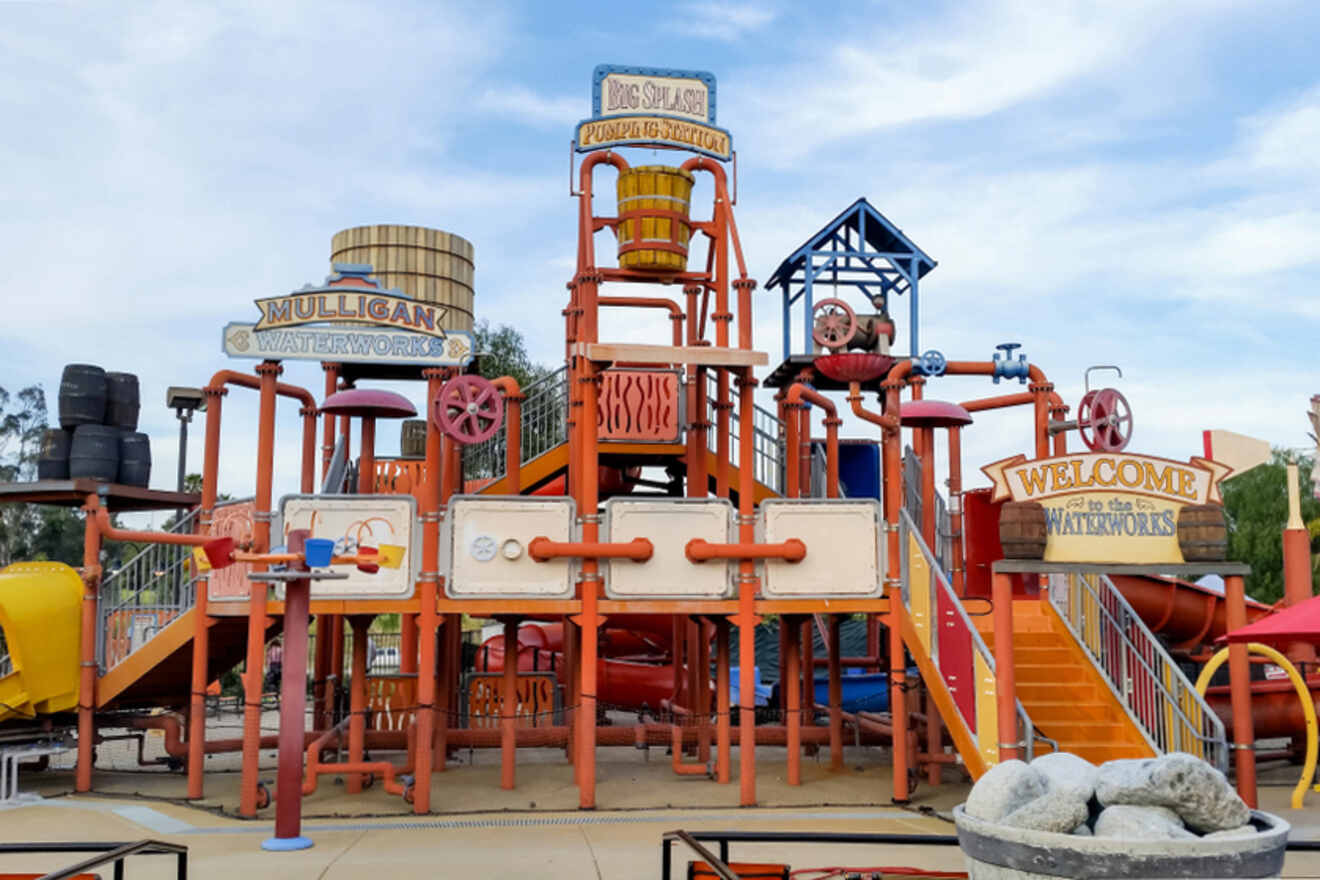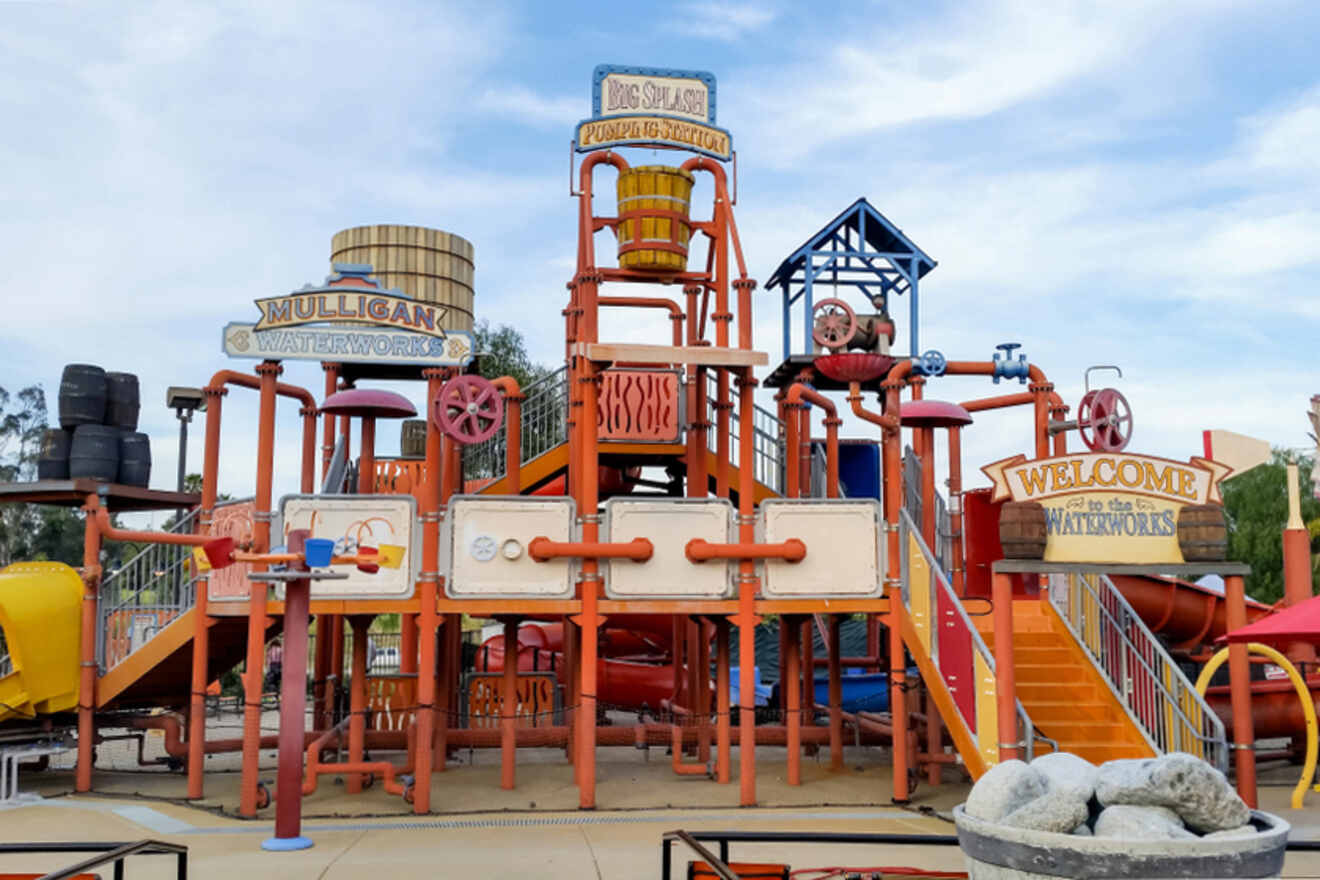 If you're in Temecula with kids in tow, I can almost guarantee you they want to go here!
Mulligan's offers a wide range of activities, from go-kart racing to mini-golf and super fun laser tag zones for the whole family.
They also have batting cages and an awesome arcade filled with exciting games and lots of fun prizes to be won!
PRO TIP: You're only less than 1 mile (c. 1 km) from Black Bear Dinner, a perfect spot for the whole family to grab a bite to eat.
15. Savor the flavor at Temecula Olive Oil Company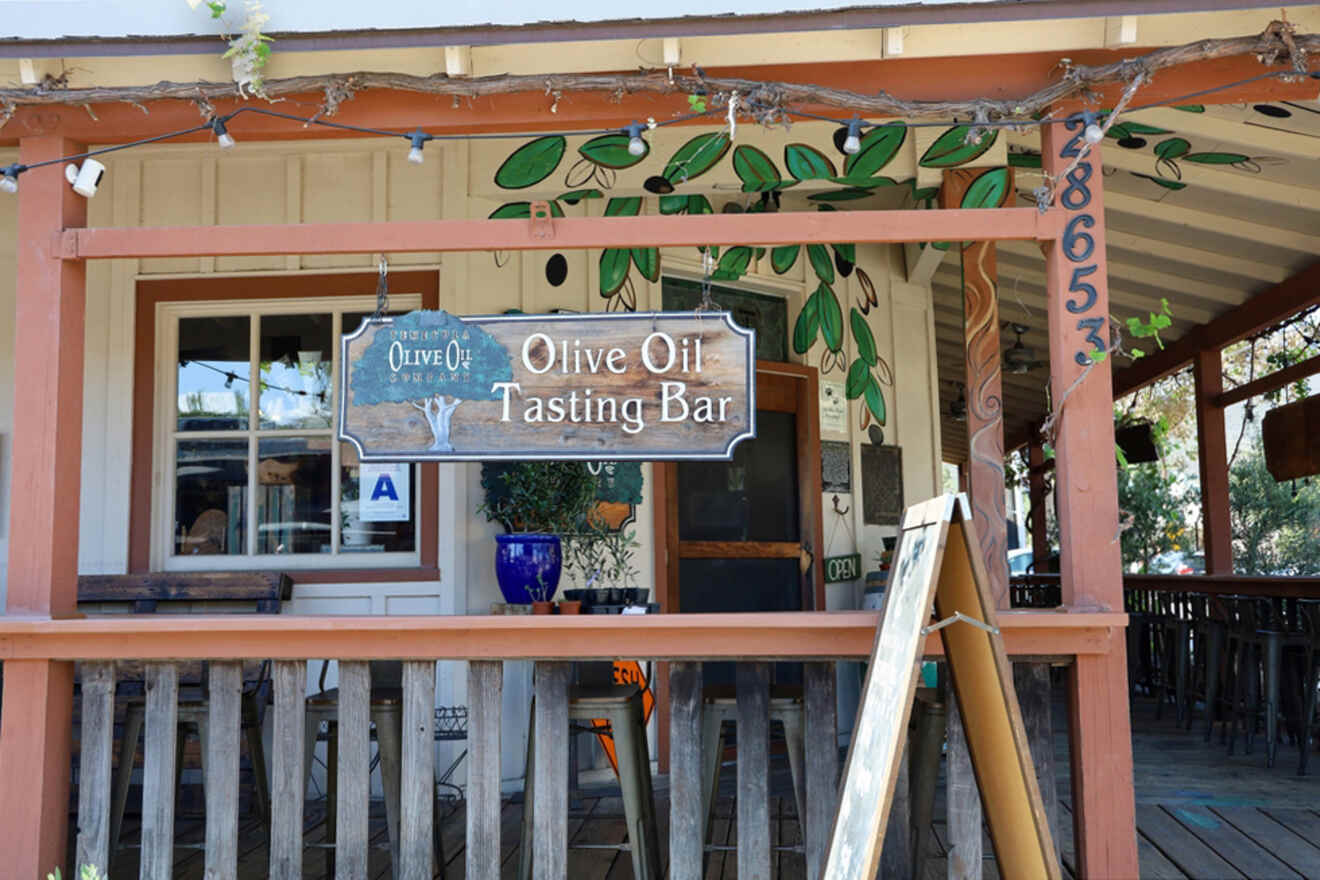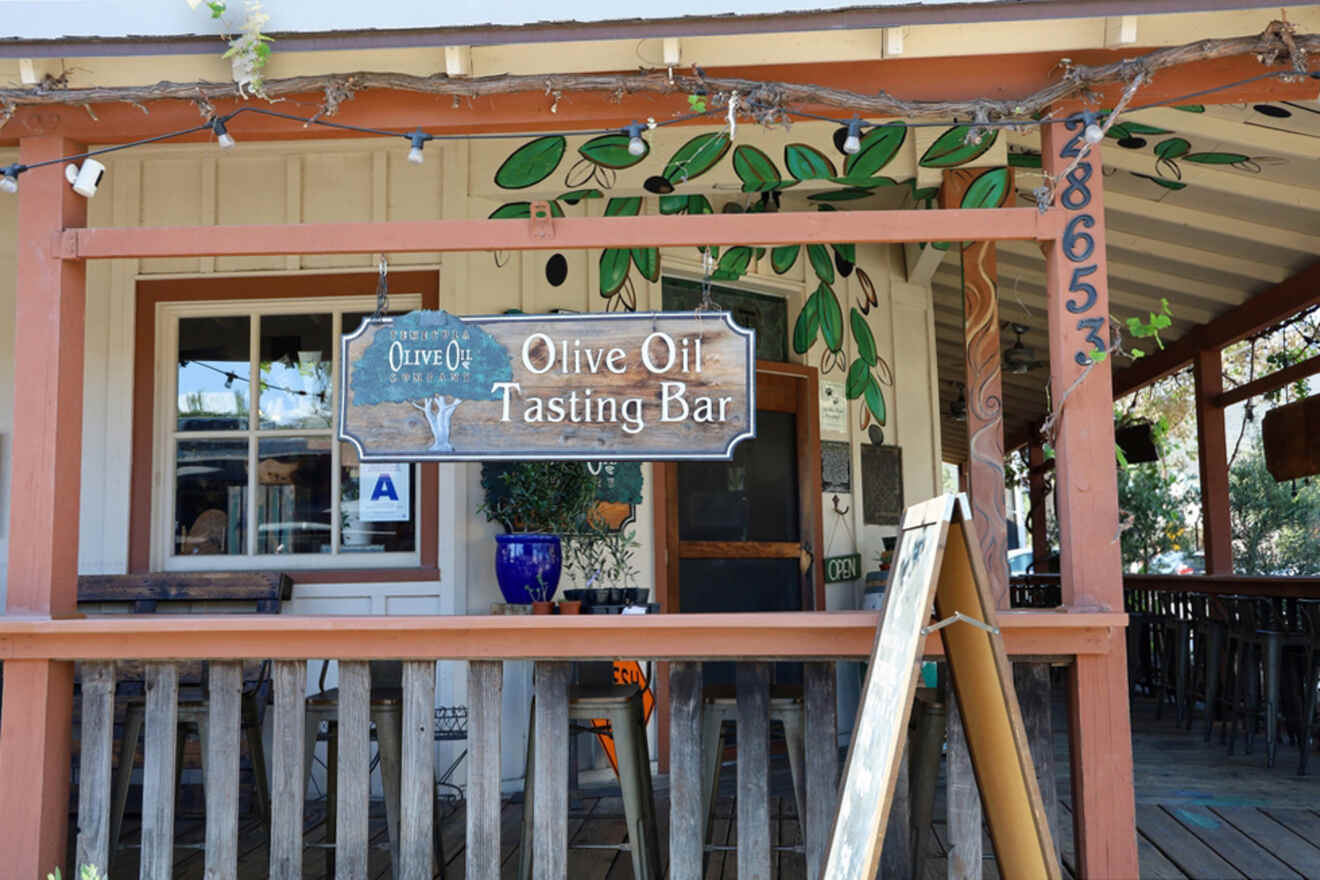 Not all tastings have to be wine tastings. This charming establishment is dedicated to the art of olive oil production. As soon as you step foot into their tasting room, you're greeted by the rich smell of freshly pressed olives.
From robust and peppery oils to smooth and buttery varieties, this shop offers an impressive selection of high-quality olive oils. You'll have the opportunity to sample different flavors and learn about their unique characteristics.
The knowledgeable staff shares fascinating insights about the olive oil production process and offers recommendations based on your preferences.
PRICE: 90-minute tour starts at US$20 per person
16. Play a round at Temecula's stunning golf courses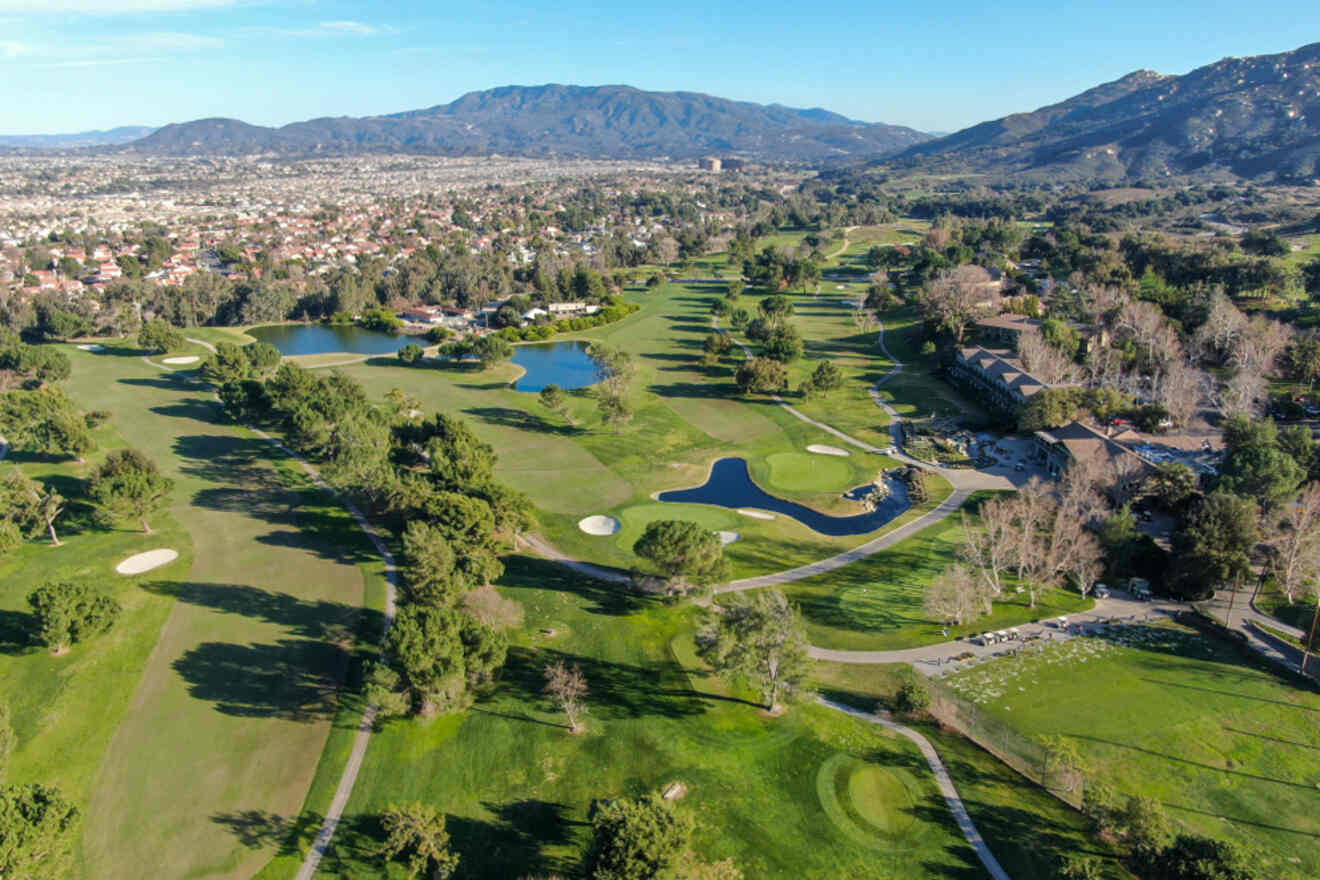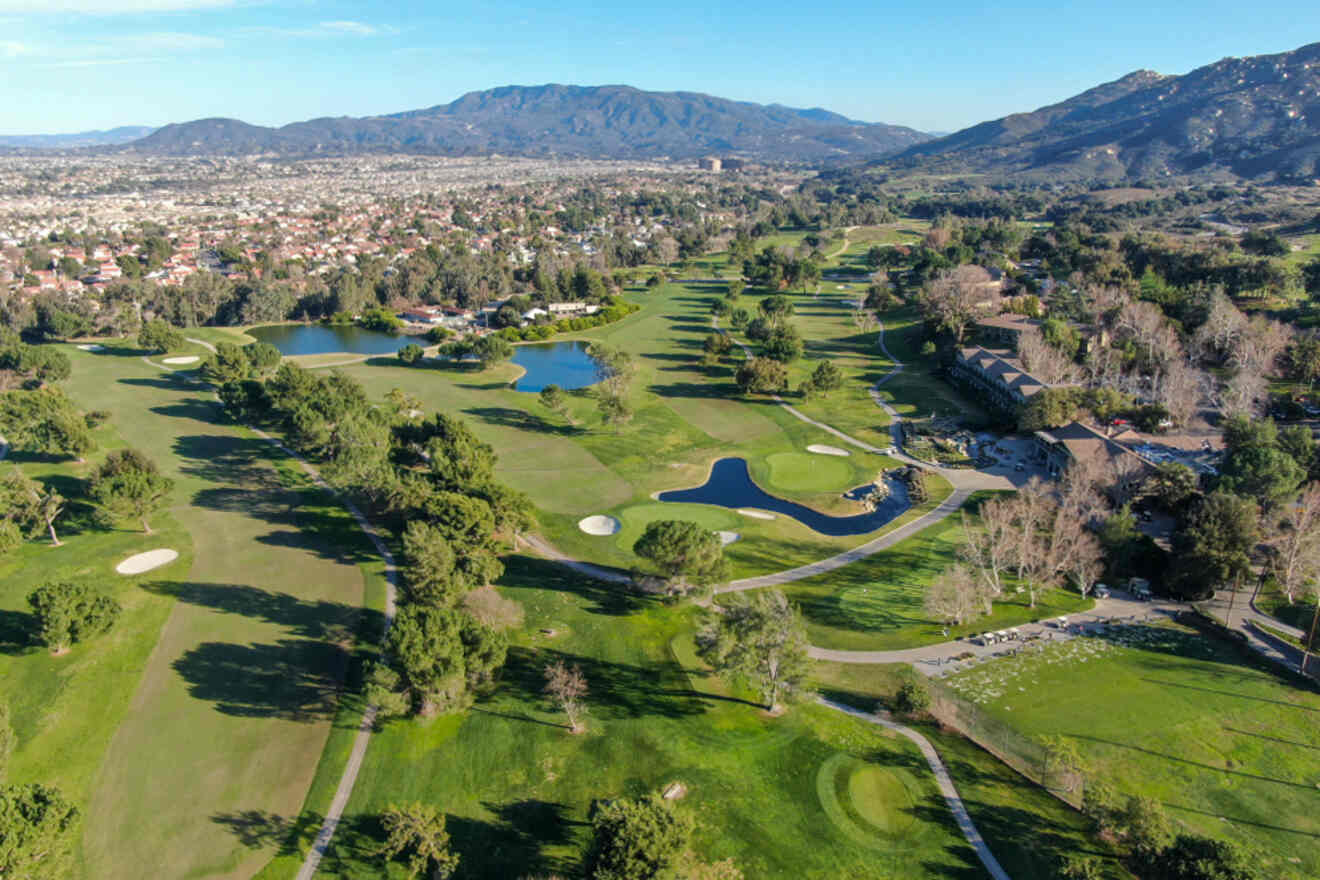 Visit Temecula and enjoy some of the best golf courses in the state!
With its stunning landscapes and perfect weather, this wine region is a golfer's paradise.
Two standout courses worth checking out are Temecula Creek Golf Club at Temecula Creek Inn and Journey at Pechanga at the aforementioned Pechanga Resort.
Both courses offer golfers an exceptional experience, whether you're a seasoned pro or a beginner looking to improve your swing.
PRICE: Temecula Creek Golf Club starts at US$45 on weekdays; Journey at Pechanga starts at US$100 on weekdays
17. Enjoy a visit to Kenny's Strawberry Farm
This charming family-owned farm offers a really fun strawberry-picking experience. They have rows and rows of fresh red strawberries, just waiting to be picked.
Head to the gift shop before you leave for more yummy farm-fresh treats to take home with you.
NOTE: Reservations are now required. Open Fri – Sun.
PRICE: US$20 for large buckets, US$8 for small buckets
18. Kick up your boots at Temecula Stampede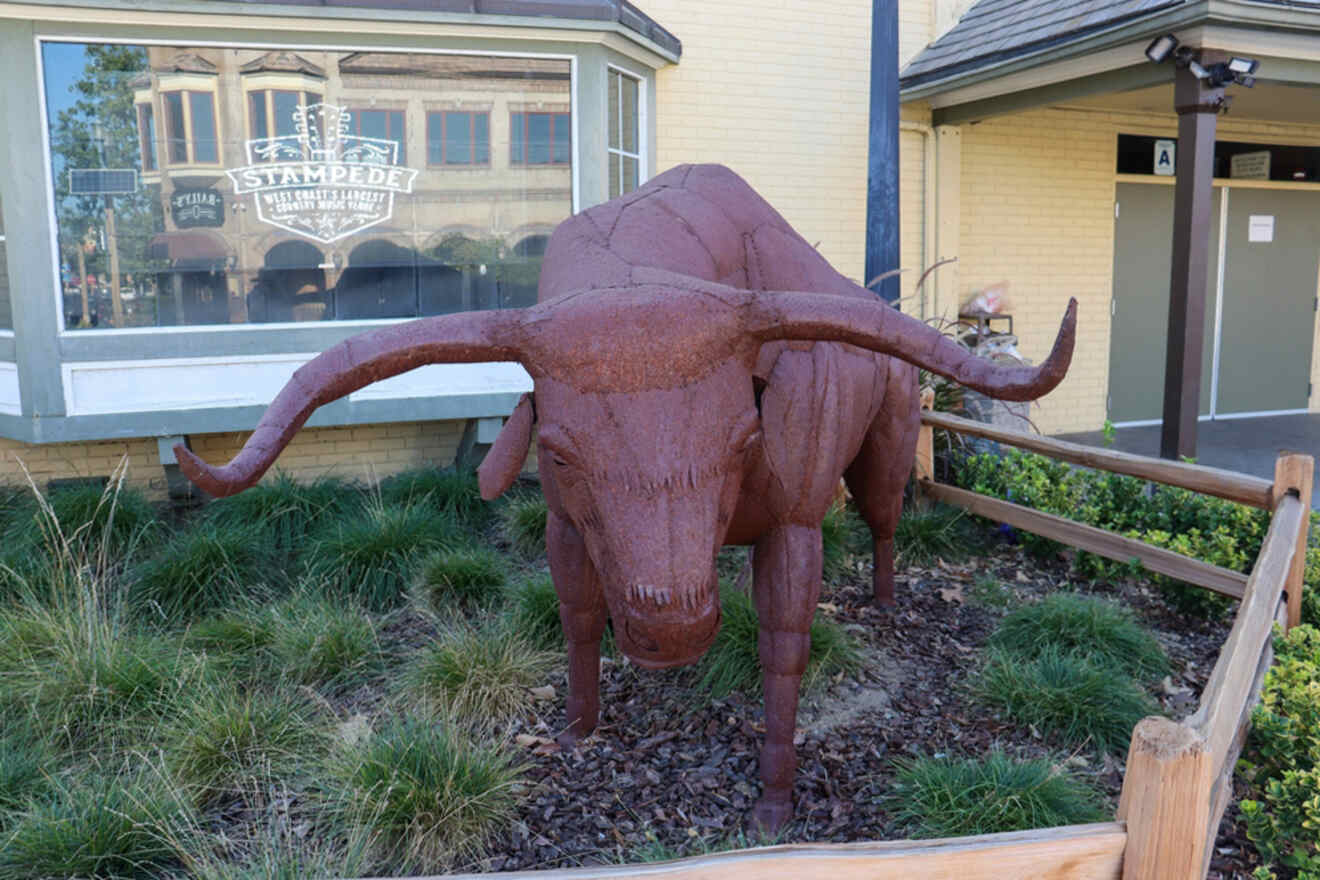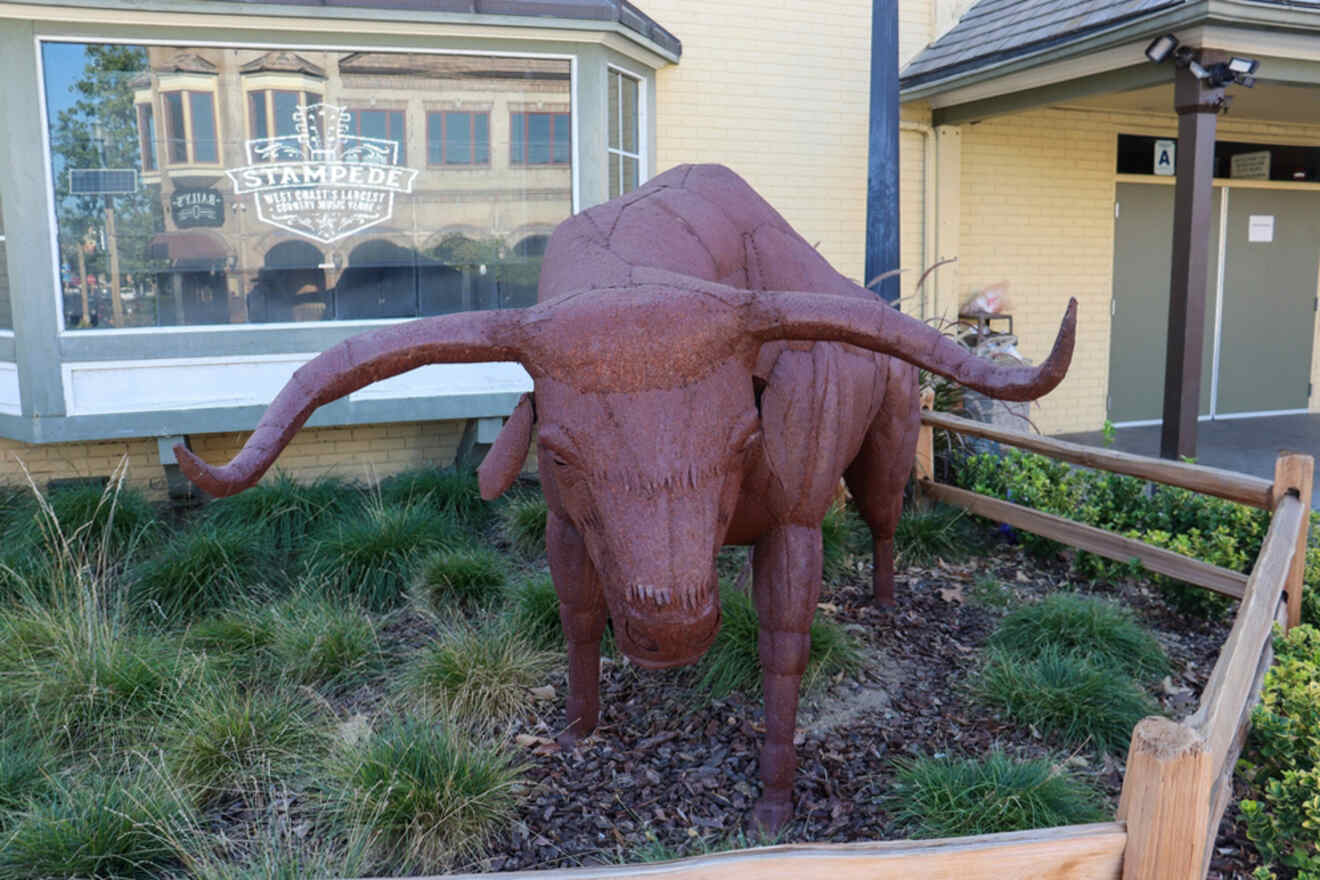 I went to college in the South and know a thing or two about country music. Located in downtown Temecula, Temecula Stampede is the real deal – the largest country music venue & line dancing venue in the area.
The Stampede hosts regular live music performances by top-notch country bands and always has an upcoming fun event on the calendar.
The venue also offers dance lessons for beginners, so even if you're new to line dancing, you can join in on the fun and learn the steps.
19. Take a hike at Vail Lake
Vail Lake is one of my favorite things to do in Temecula.
Covering an impressive 1,000 acres (405 hectares), this man-made lake was created in the 1940s and has now become a popular destination for people looking to escape downtown Temecula.
I personally like coming here for the clean and scenic hiking trails, which are never crowded and always beautiful.
The lake is best known, however, for its abundant bass population, and you'll often see people fishing at its shores.
20. Help rehabilitate baby animals at SugarPlum Zoo
If you're in Temecula with kids, I highly suggest stopping at SugarPlum Zoo, referred to as a "therapy zoo." The animals are trained to be loving and compassionate to humans.
It's a hands-on petting zoo where you can interact with re-homed and rescued animals who have found a safe space at Sugarplum Zoo. They even have pony rides for the little ones and an on-site chocolate shop.
One of the zoo's highlights is the "Zonkey" – a unique creature that crosses between a donkey and a zebra.
When my husband told me about the "zonkey," I thought he was making it up. 🤣
21. Lay in the grass at Margarita Community Park
It's always nice to have options to get away from the crowds of downtown Temecula and the wineries.
Margarita Community Park in Temecula is a perfect outdoor green space, wide and expansive, where you can find a little corner to yourself or pack a picnic lunch to enjoy at one of the picnic tables scattered around the park.
They even have a splash pad and a designated dog park!
Where to stay in Temecula
There are great options when staying in Temecula's beautiful wine region. See below for my top picks for every budget.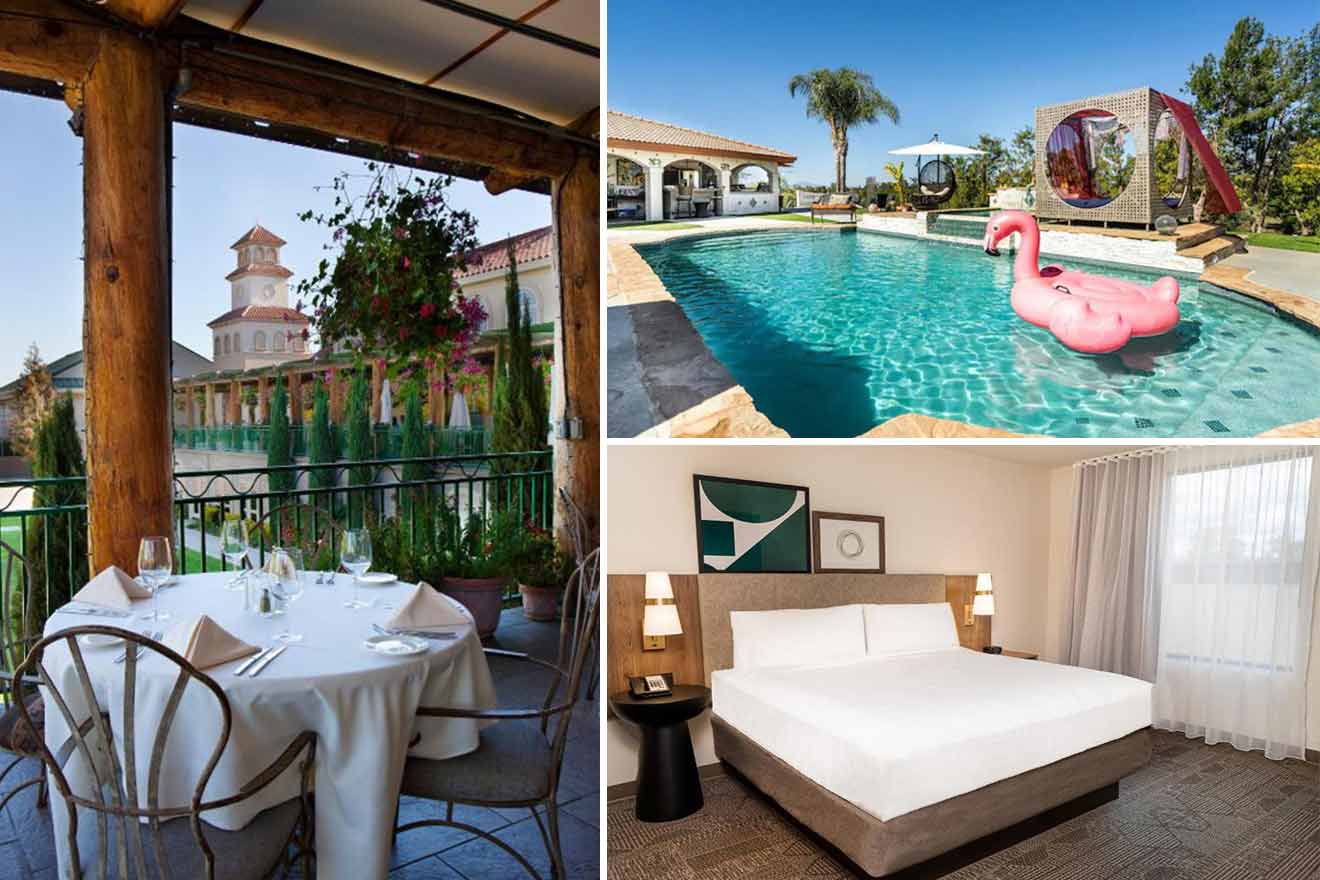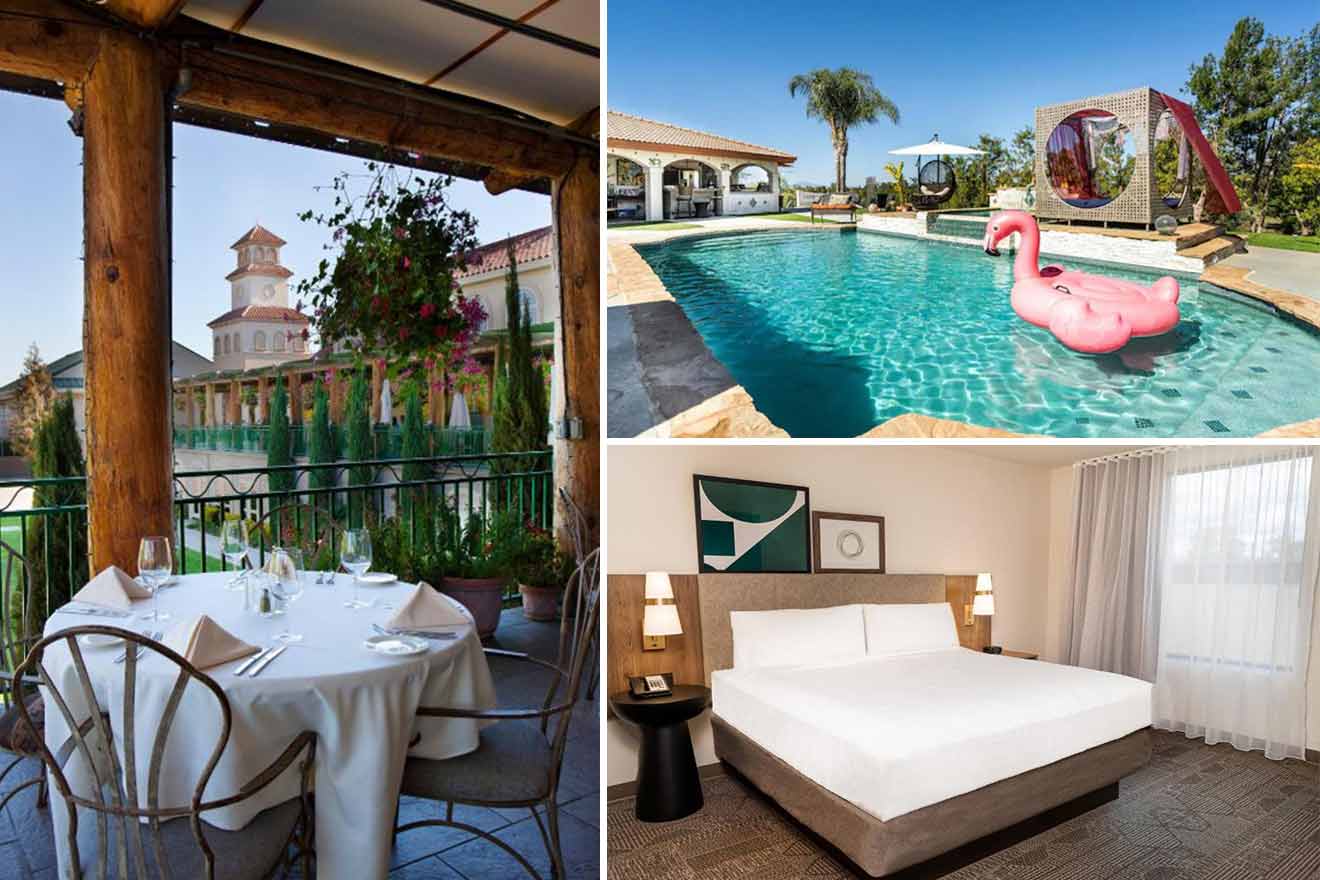 Luxury (US$300 and up)
MAGIC VILLA Overlooking Pool Oasis – This luxury villa is the perfect spot for couples or friends looking for relaxation in Temecula. It's in a great location near shops and wineries and has a gorgeous resort-style swimming pool.
Gaia Inn and Spa – This upscale option is such a treat. The muted colors of the desert combine perfectly with the blues and greens of the decor, creating a spa-like ambiance. Guest suites are stunning and have shared kitchens for enjoying a home-cooked meal over your newest bottle of wine.
Mid-Range (US$150 – US$300)
South Coast Winery Resort & Spa – I love this place! The gorgeous grounds and swimming pool juxtaposed against the backdrop of the beautiful vineyards of Temecula is the most wonderful sight to wake up to in the morning.
Villa Inn & Spa – This hotel is so beautiful. Lots of open spaces to gather, attention to detail, and comfort, surrounded by incredible landscapes! Featuring a terrace and garden with a swimming pool for all guests, some premium rooms have a deep soaking tub and private balconies overlooking the mountains!
Budget (up to US$150)
Staybridge Suites Temecula – The perfect budget option in Temecula, this casino and hotel combo provides so much fun and entertainment. With an outdoor pool, a fitness center, spa services, and a complimentary yummy buffet breakfast every morning, you won't believe the value!
Home2Suites by Hilton Temecula – With Temecula's Old Town Front St just a few minute's drive away and many of the wineries the same distance, staying here is an excellent choice if you're looking for a deal. I like their outdoor swimming pool and fitness center, and the rooms come with a kitchen and dishwasher. The best part is that it's pet-friendly!
FAQs about things to do in Temecula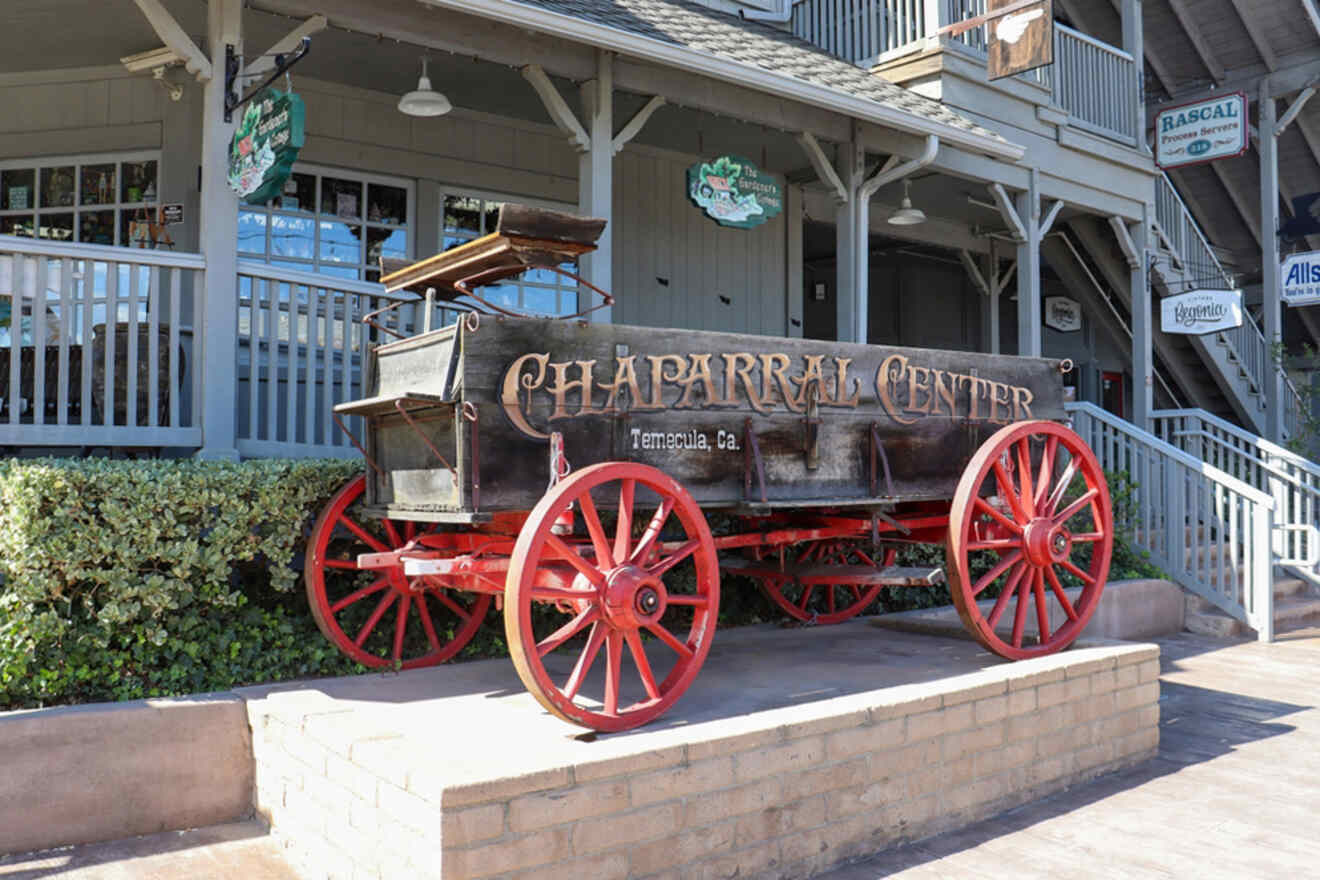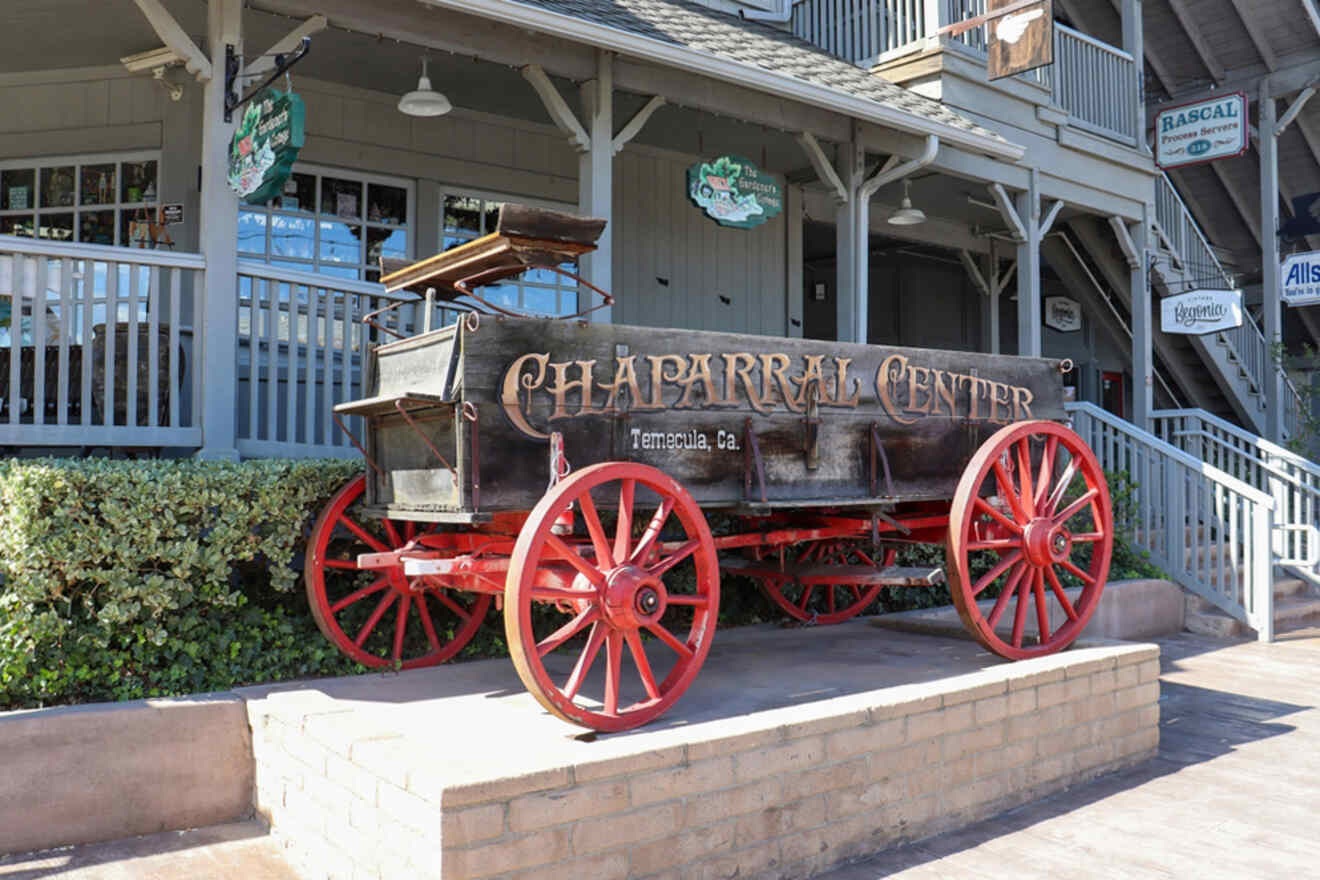 Conclusion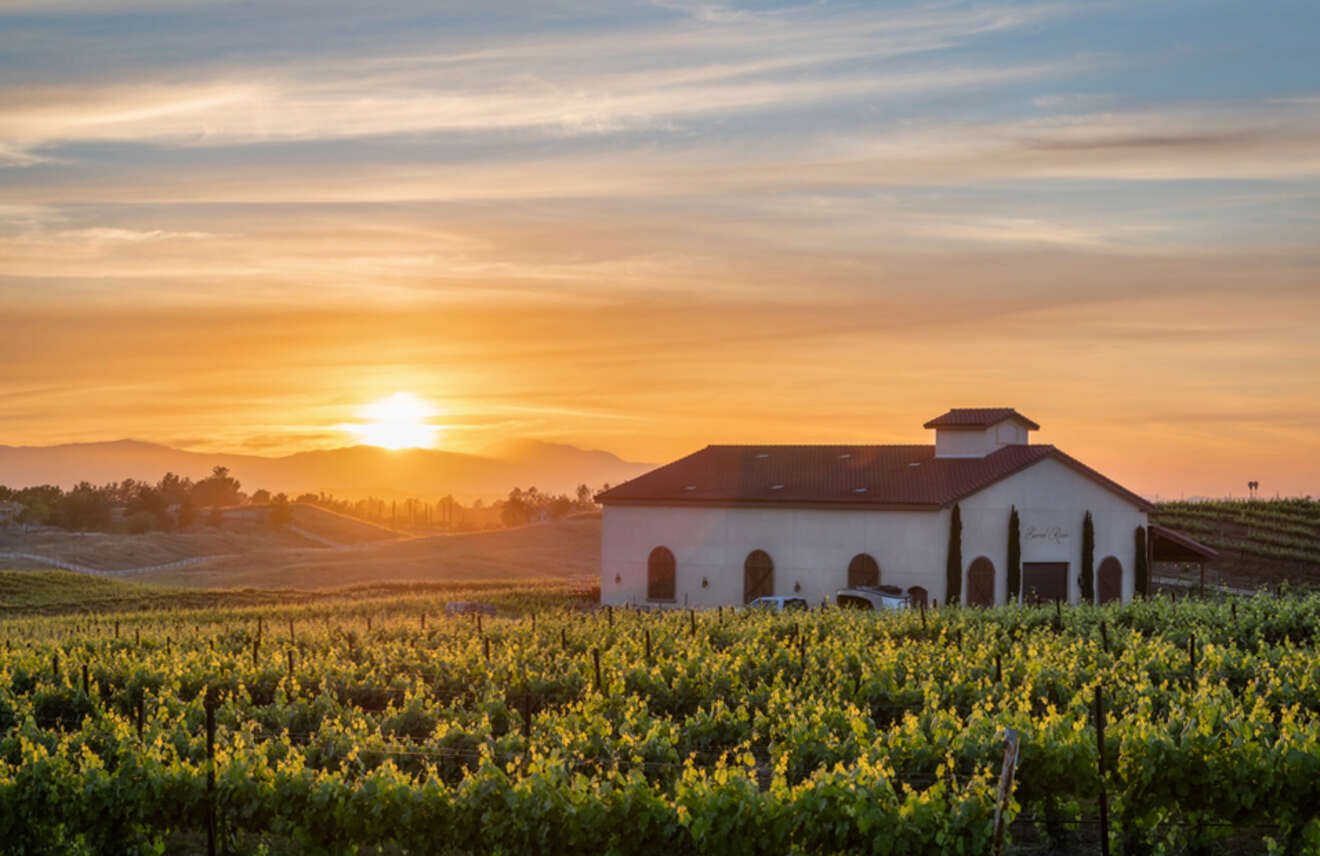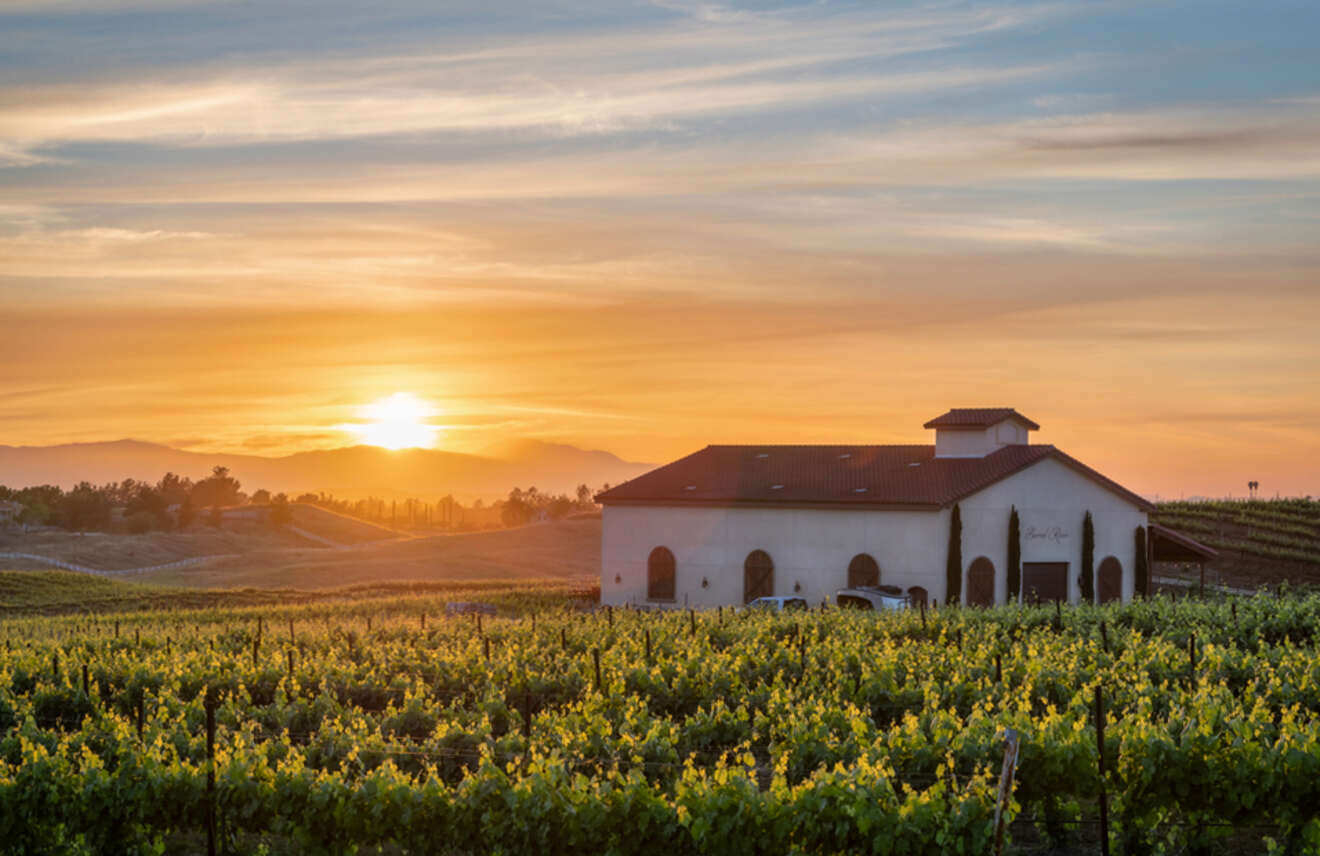 As you can see, there's much more to Temecula Valley than just wine. With so many options of things to do in Temecula, you can definitely spend a full weekend enjoying this beautiful Southern Californian city.
Whether you're on a family vacation, a girls' getaway, or a couples retreat, Temecula offers amazing countryside views and delicious opportunities.
If you're planning a trip to Temecula, make sure to book in advance for your favorite activities and hotels!
After your trip, I'd love to hear from you! Don't forget to comment below.
Aloha & safe travels,
Hayden G.
---
Pin it for later!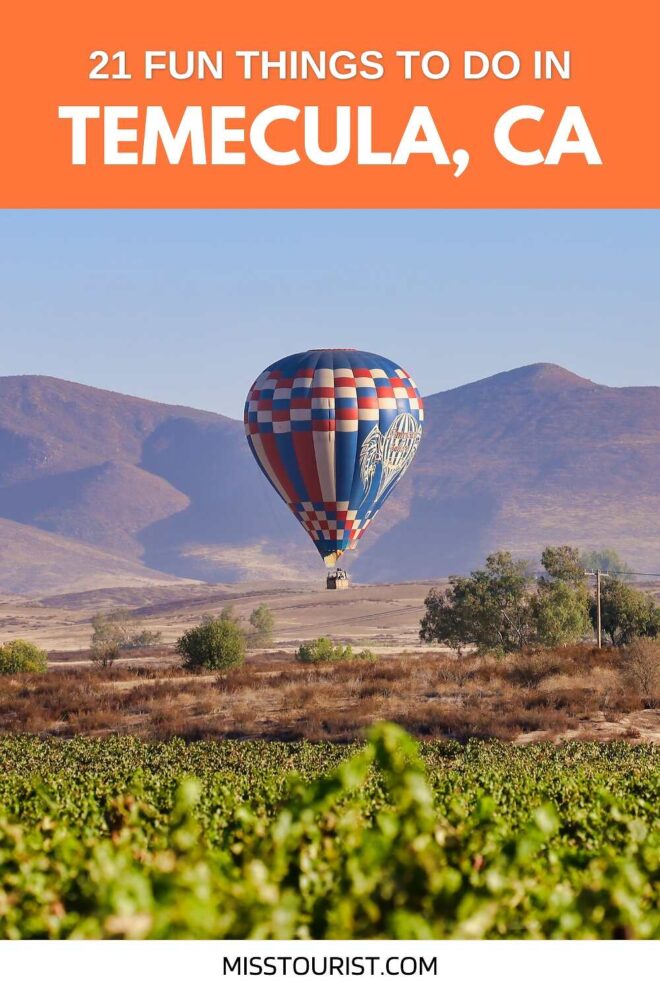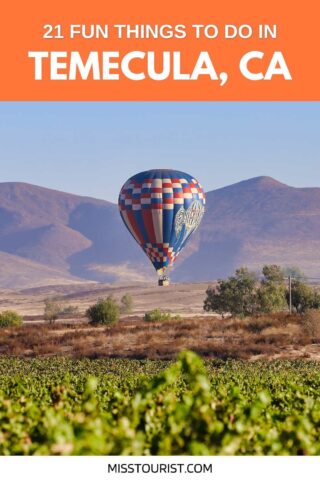 Pin it for later!