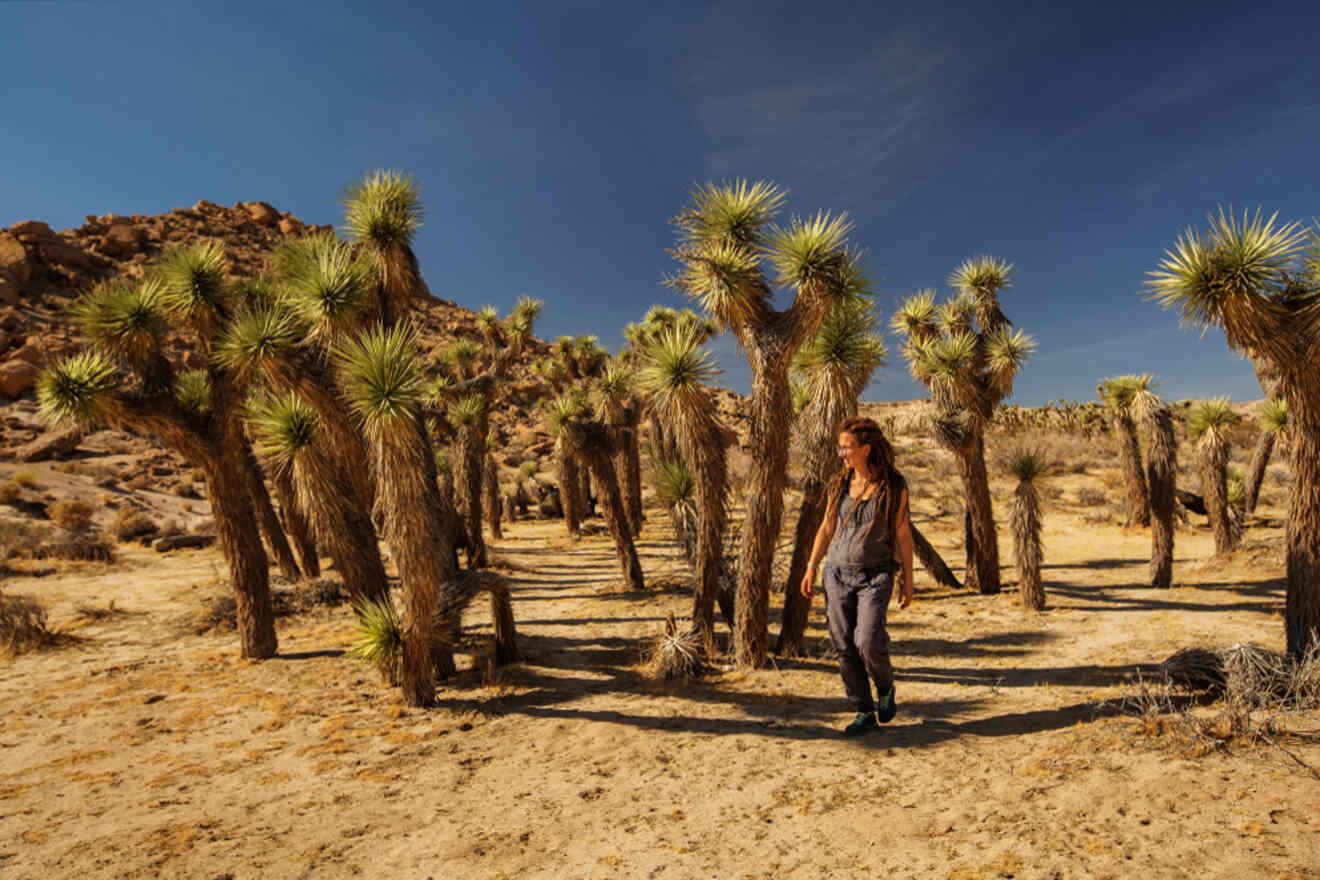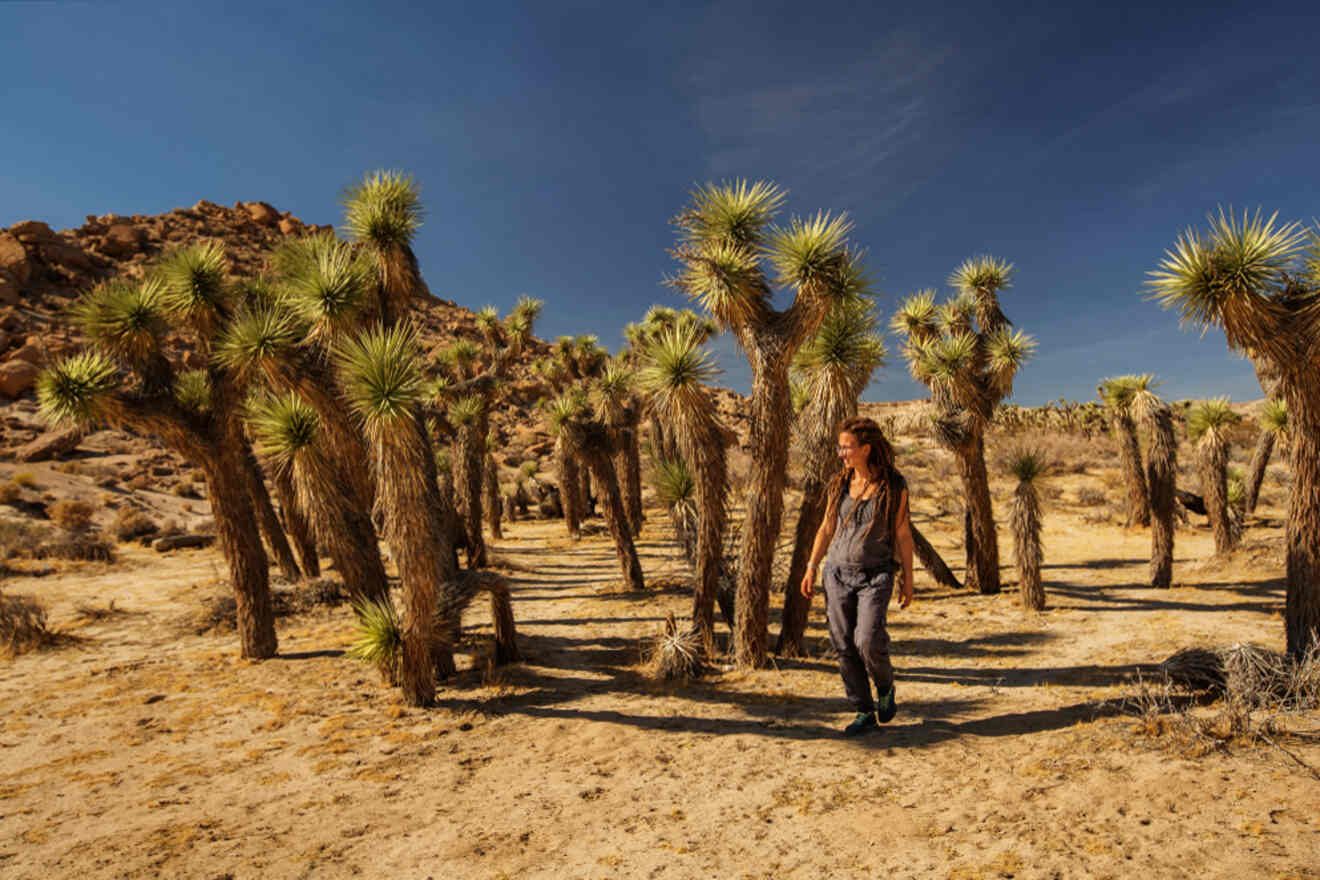 Ever heard of Joshua Tree National Park? Let me guess… the answer is most likely yes. Joshua Tree National Park is one of Southern California's most well-known national parks, located 1 hour north of Coachella Valley in Twentynine Palms.
The park is the perfect weekend trip for anyone living or staying in major Southern California cities like Los Angeles or San Diego, even if you're visiting from Las Vegas, Nevada.
I have been to the park numerous times so I have compiled a long list of things to do in Joshua Tree, for you below. Whether you're looking for the ultimate hiking trails, want to admire the natural desert beauty or looking for the best places to eat, I'll be covering it all in this post!
If you are in a hurry
If you're only spending a day at Joshua Tree National Park, I recommend booking a few guided tours to avoid getting lost during your limited time in the desert. And because there are about 800,000 acres (c. 323,750 hectares) of land to explore, there's no time to get lost!
Here are the main things to book in advance:
And here are the best accommodations: The Box, Joshua Tree (luxury), Joshua Tree Oasis (mid-range), The Getaway (budget)
And here's a map of where all these experiences will take place!
1. Uncover human history at Barker Dam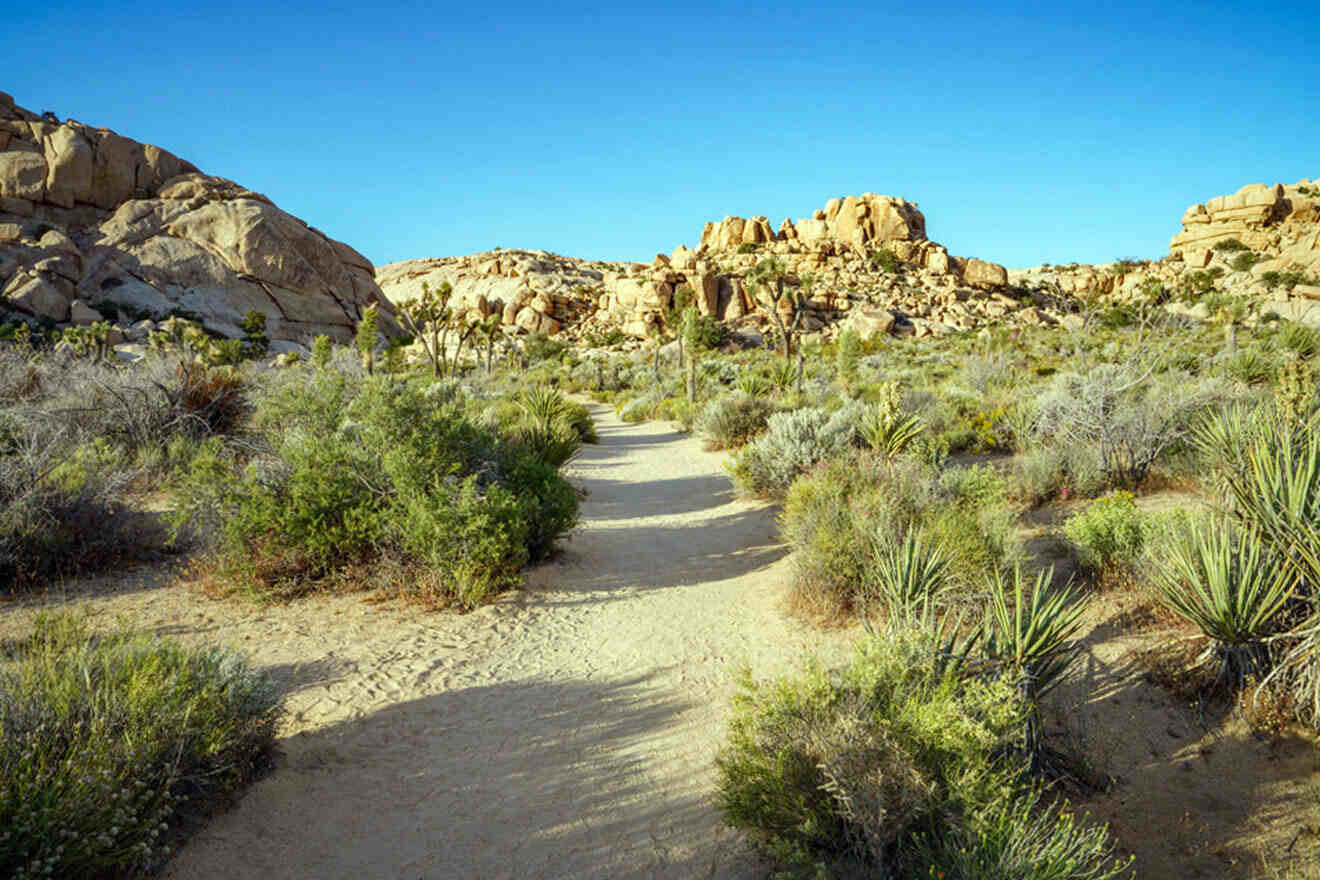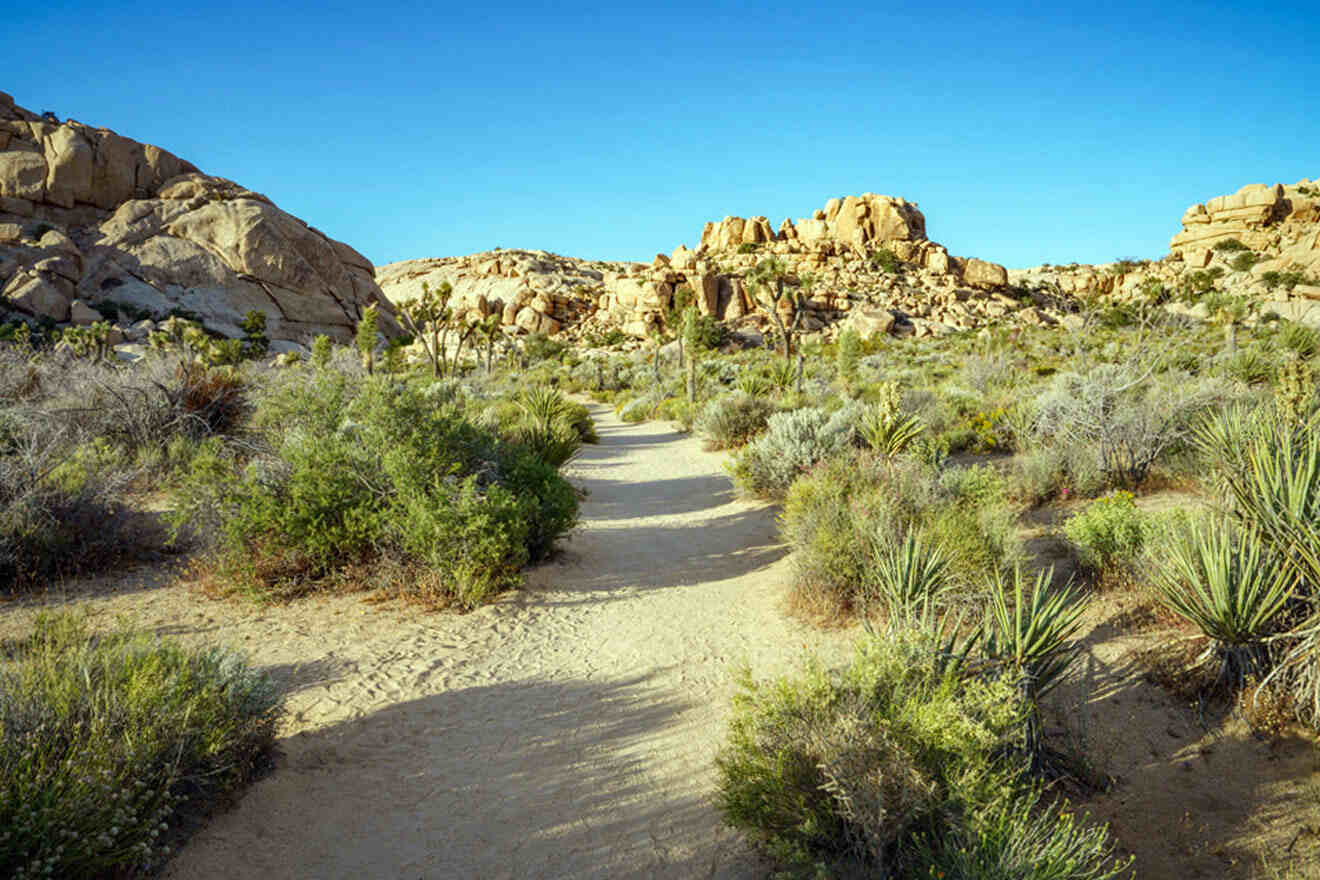 The Barker Dam Trail is another easy 1-mile (c. 2 km) loop around the rocky Joshua Tree desert. Here, you'll see more jumbo boulders, and iconic Joshua Trees and pass by the historical site on Barker Dam Nature Trail.
You'll find Native American petroglyphs on the boulders along the way, and you might just run into a desert bighorn sheep, too! As for plants (besides Joshua Trees, of course), you'll come across creosote, Mojave yucca, pinon pines, and unique flora that you most likely won't find anywhere else in California.
The dam is a museum to admire in itself with its history and early Native American ranching efforts. Because of this, the Barker Dam Nature Trail is a great hike and site for families, kids, and photographers to admire the rock formations and history that remains in the dam and on the rock walls.
NOTE: If you're traveling anywhere from Southern California, you're most likely going to be using the national park's West Entrance (the main entrance and the most used gate) rather than the South Entrance and North Entrance. This is also the entrance with the best things to do nearby, so I'll be referring to the 'West Gate' from here on out!
Getting there: once you're inside the West Gate of Joshua Tree National Park, drive straight into the Intersection Rock area, about 10 miles (c. 20 km) away. Follow the sign going left reading Barker Dam, and go straight for a bit over 1 mile (2+ km) until you end up at the Barker Dam parking lot.
2. Enjoy the panoramic views surrounding Keys View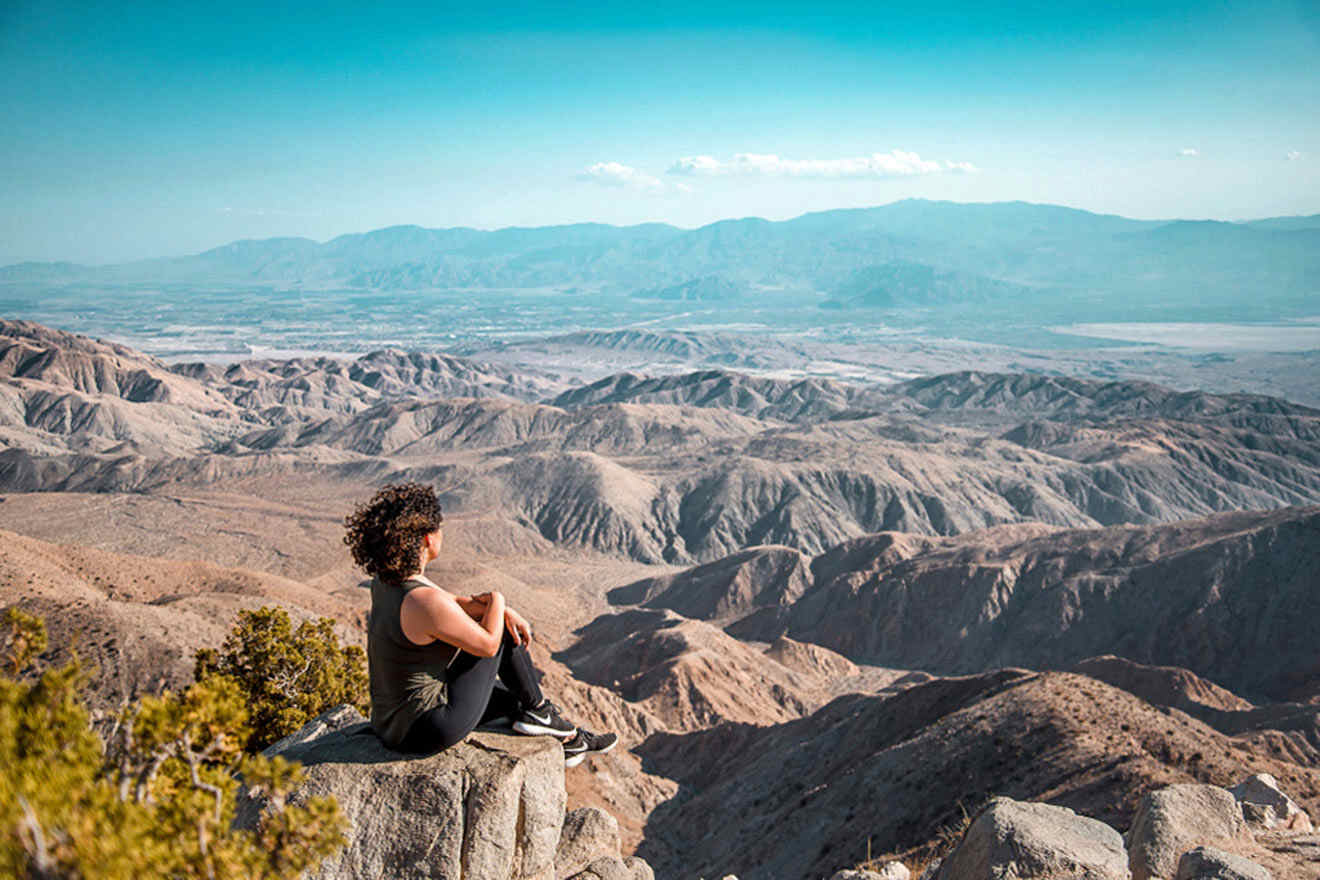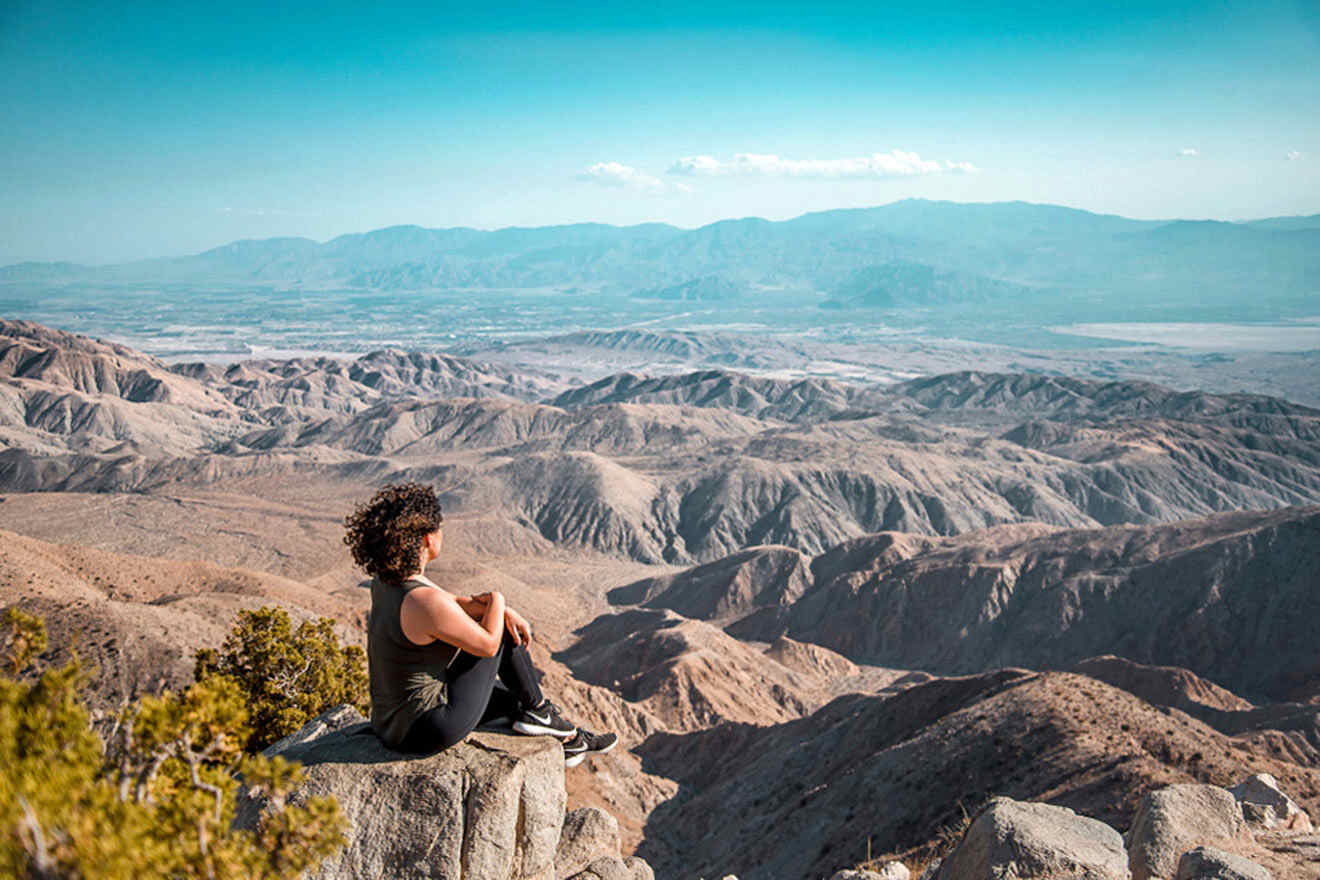 Keys View is a popular destination in Joshua Tree National Park, right on the crest of the Little San Bernardino Mountains. It's about a 20-minute drive from Park Boulevard down Keys View Road, and when you arrive, you get stunning panoramic views of the Coachella Valley.
Here are a few things to look out for while you're here enjoying the view:
Salton Sea – Located on your far left, the Salton Sea is one of the world's most inland seas and lowest points (being 230 feet or 70 meters below sea level). The lake is toxic, so I do not recommend visiting, but rather seeing from afar here at Keys View!
San Jacinto Peak – Look to the right, and you'll see San Jacinto Peak, one of the highest peaks (and hardest hike) in Southern California at about 10,800 feet (c. 3,290 m).
San Gorgonio Mountain – If you keep looking even further right, you'll spot the snow-covered peak of San Gorgonio Mountain at 11,500 feet (3,505 m).
San Andreas Fault – On the south side, you'll see the famous San Andreas Fault running through the valley below, 700 miles (c. 210 m) from the Gulf of California to the Mendocino Coast in Northern California.
Mexico – Depending on the time of year, you might even be able to see Signal Mountain in Mexico though you might want to bring your binoculars for this one!
Getting there: you can drive right up to the viewpoint, park at the Keys View parking lot, and walk up the hill to the viewpoint. Keys View is super easily accessible for wheelchairs, the elderly, and families. There are a few ways to get here, depending on the entrance you're coming from. See the map here for reference!
PRICE: The park entrance fee is US$30 for 7 days per vehicle
3. Watch the superbloom at Cholla Cactus Garden Trail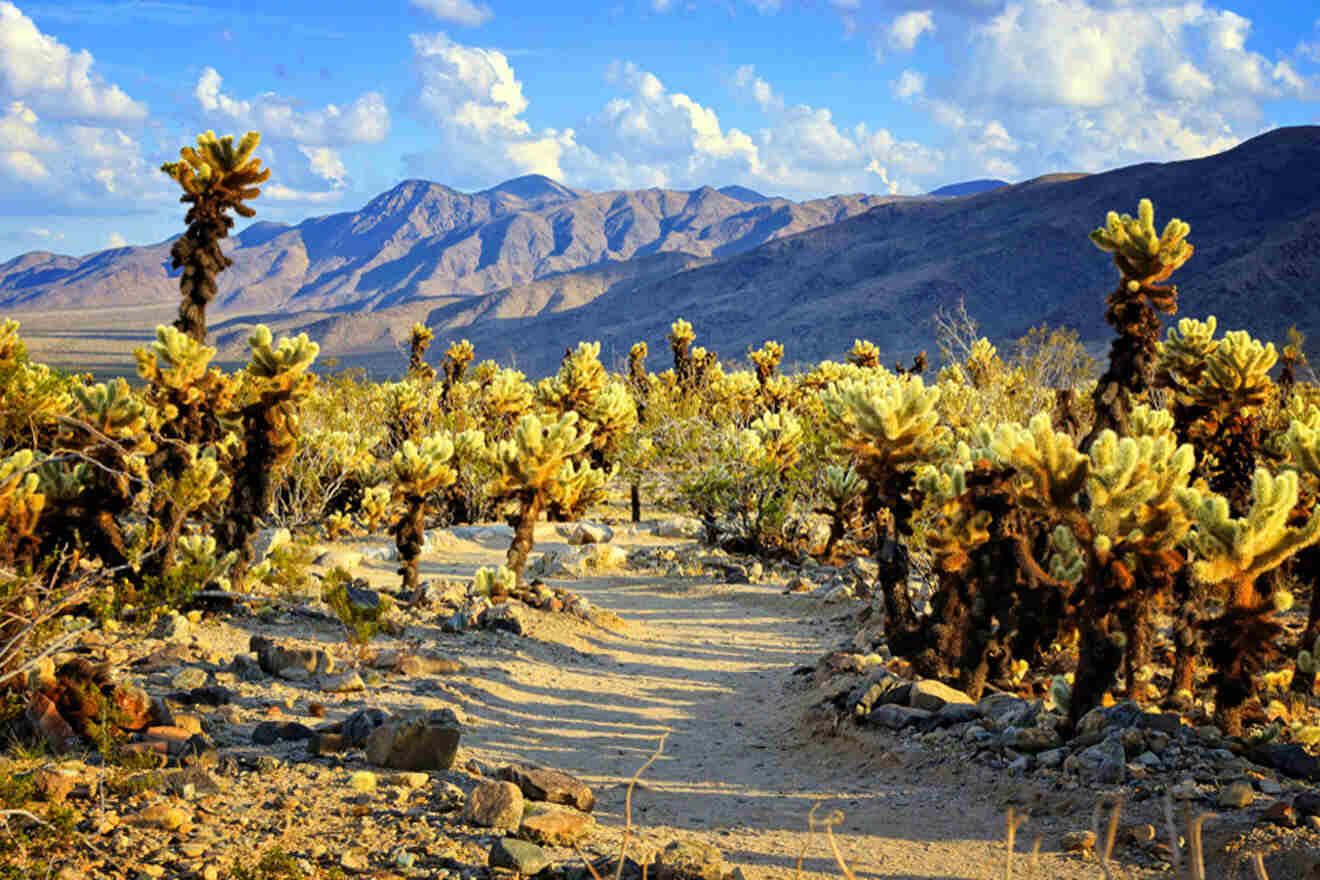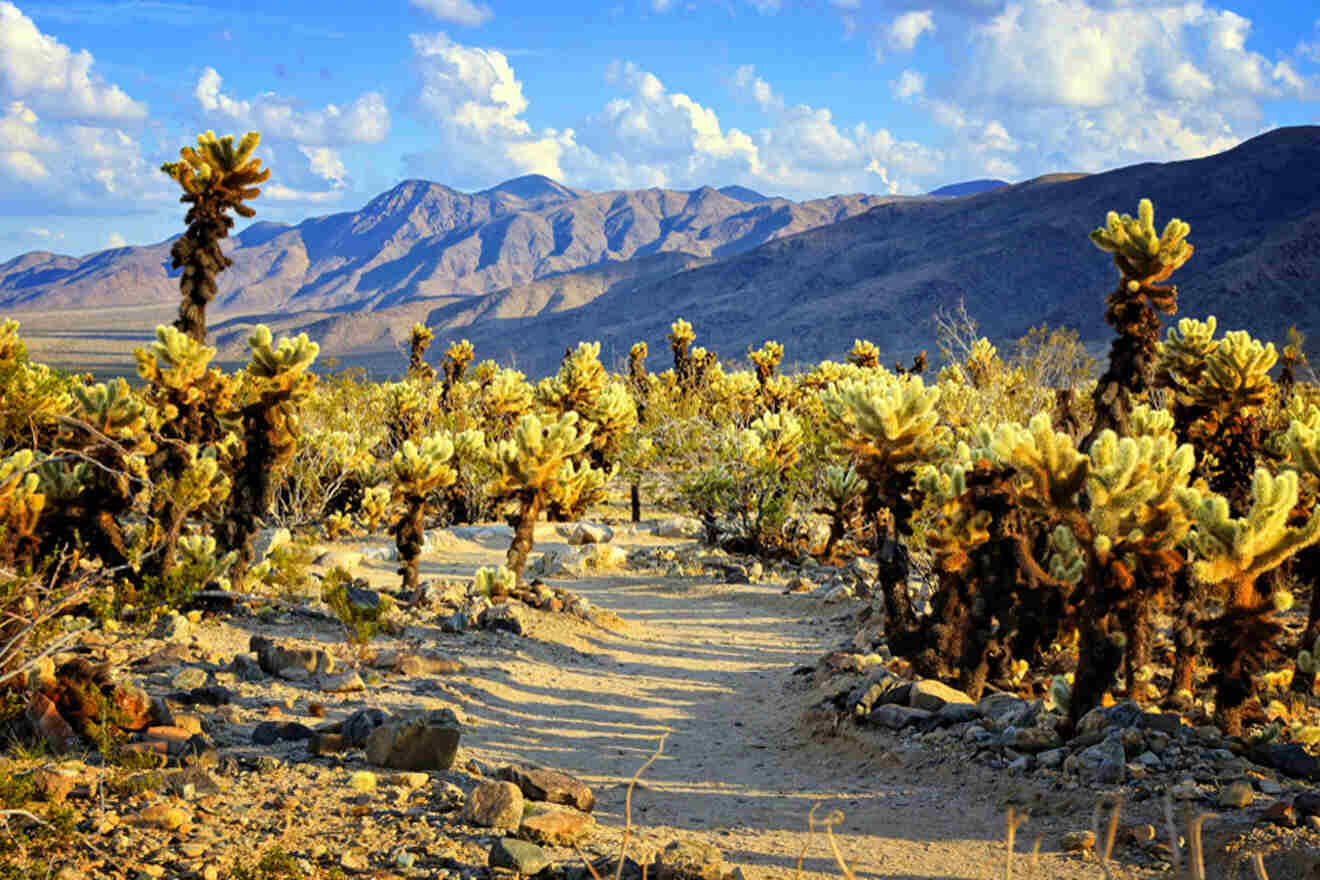 Cholla Cactus Garden Trail is a flat landscape right along Pinto Basin Road, with about 10 acres (4 hectares) of land covered in a teddy-bear cholla. You've probably never seen a desert garden quite like this, so I recommend putting this attraction high on your list!
The teddy-bear cholla is a unique variety of cacti that grows flowers at the Cholla Cactus Garden in the springtime!
Along with the teddy-bear cholla, there are plenty of other cacti here that grow wildflowers during the spring months. We call these "Superblooms," and it's a must-see natural phenomenon that thousands of people from all over California come to witness every year!
It's important to remember that the Cholla Cactus Garden Trail is not your typical lush garden, so there's no water or shade anywhere nearby. The last time I was here, I remember sweating through my clothes and feeling my heart beating through my chest because of how incredibly hot it was – not fun! I recommend bringing a wide-brimmed hat and plenty of cold water to stay hydrated.
TIP: I recommend checking out this self-driving audio tour to help navigate you throughout the park. You don't need any service once you buy and download, and it shows you around 20 of Joshua Tree's most popular destinations and even takes you on an optional Palm Springs detour.
4. Go rock climbing at Hidden Valley Nature Trail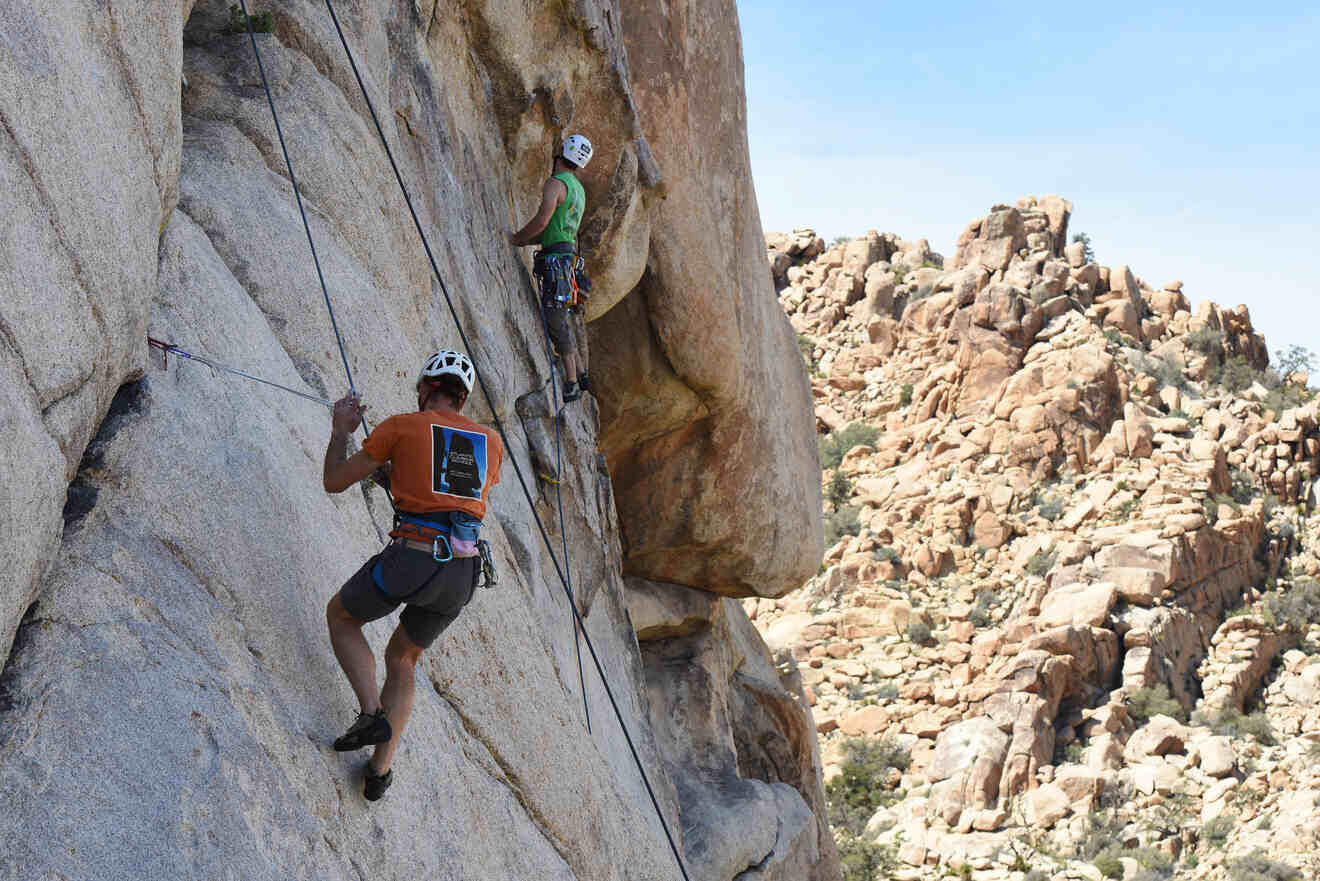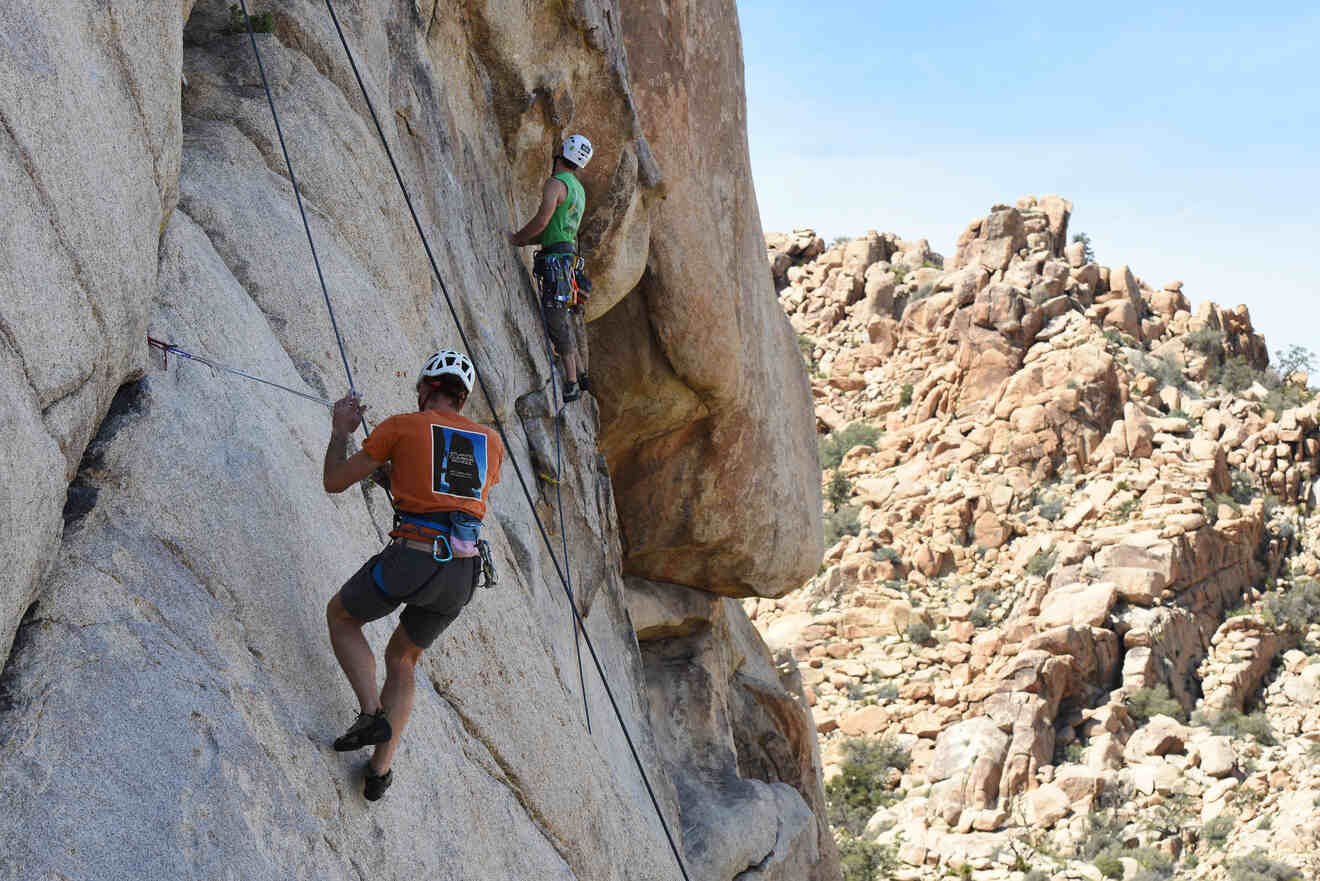 One of my favorite memories here was collecting beautiful stones and gems hidden behind the big rock formations! If you're a rock collector like me, there are even more rocks to explore here than the boulders!
Hidden Valley Nature Trail is an easy 1-mile (c. 2 km) loop showing off some of Joshua Tree's most unique, humongous boulder structures and all the unique flora and fauna of the Mojave Desert. It's located on the south side of Park Boulevard, 9 miles (15 km) east of the West Entrance.
This is one of the best places to watch rock climbers or rock climb yourself! There are plenty of popular rock formations here, including The Sentinel and Sports Challenge Rock. I don't recommend rock climbing or rock scrambling here unless you're a professional and have prior experience. It can get dangerous, especially given the fact that there isn't any phone service or hospitals nearby.
If you want to go rock climbing or rock scrambling in Joshua Tree but it's your first time, I recommend checking out this rock climbing group experience for beginners, where you'll be safe in the hands of a professional guide.
Always check the website for rock climbing updates, hike closures, and safety precautions!
PRO TIP: Wearing shoes with a good grip and comfortable soles will also benefit you during the day at Hidden Valley Trail. I've been slipping these footbeds in my shoes anytime I'm hiking, and I recommend doing the same. It'll save you from back and foot pain in the long run. Trust me, it's worth it!
5. Work up a sweat at Ryan Mountain Trail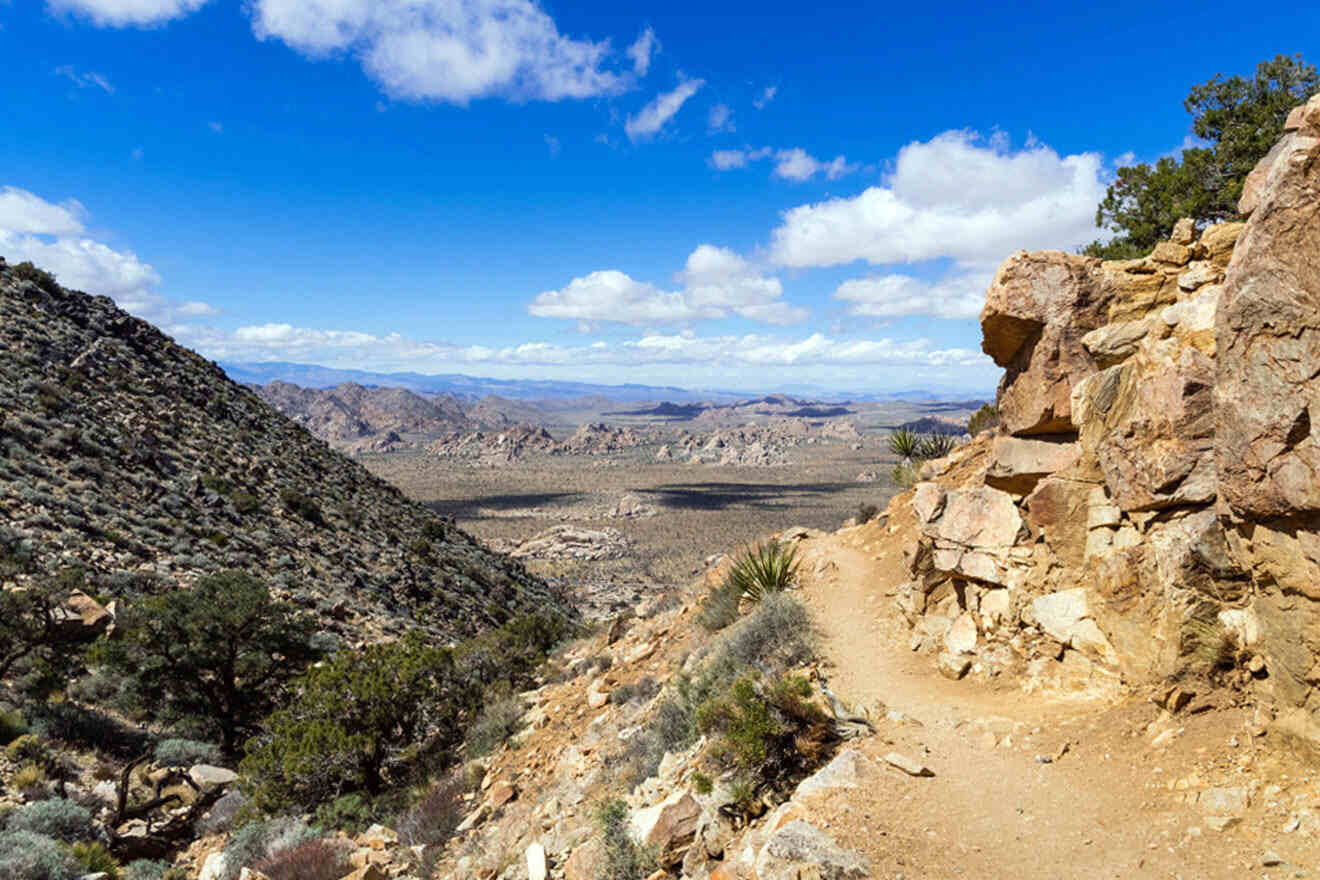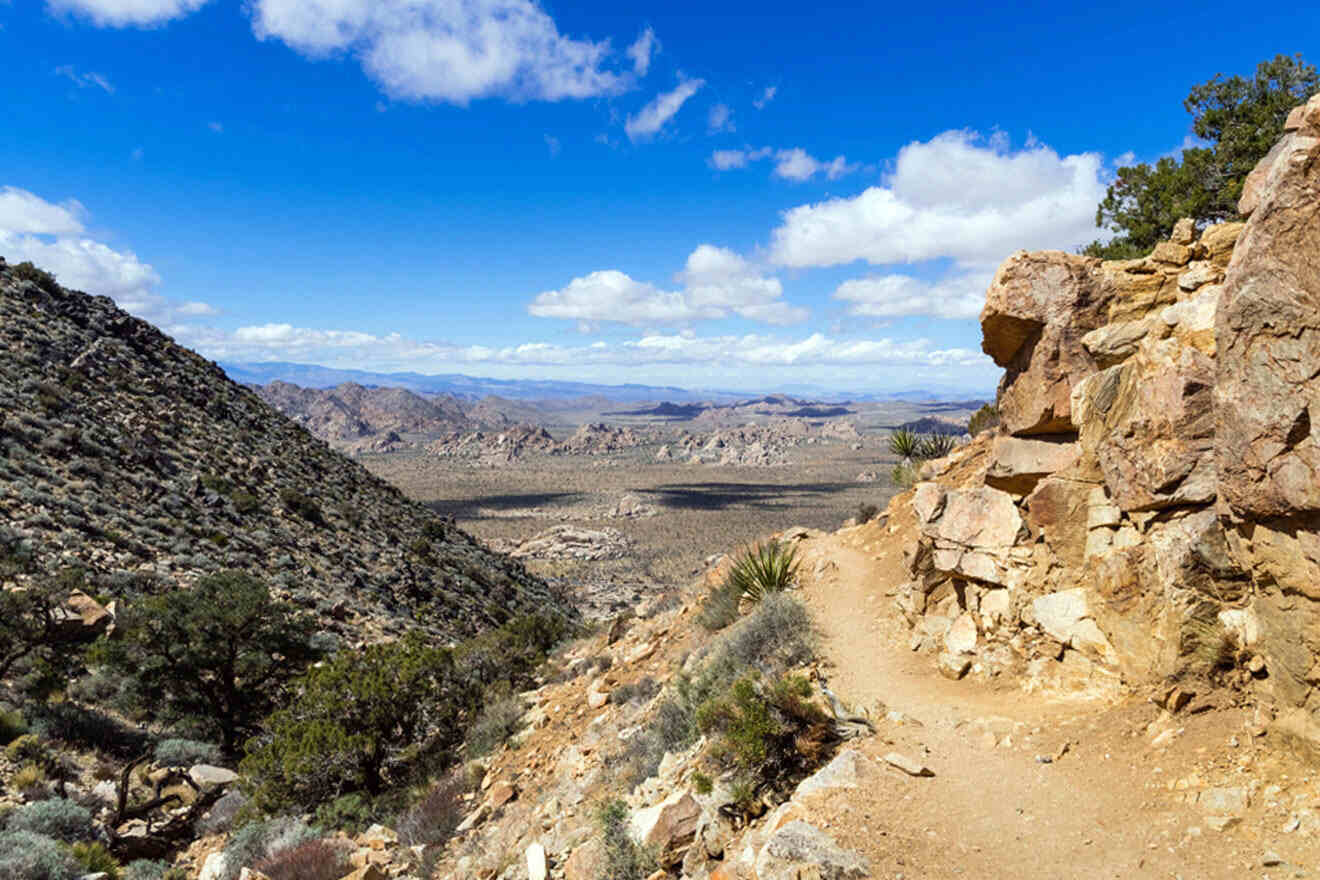 Ryan Mountain Trail is one of the most difficult hikes so far on this list. It's a 3-mile (5 km) loop in the central part of Joshua Tree National Park. It starts off pretty easy and flat but gets difficult as it gains elevation on the mountain. Similar to Keys View, you'll get stunning 360-degree views of the entire park. It should take a duration of 3 hours to complete.
I highly recommend hiking before sunrise! Not only is it the best and safest choice to avoid extreme heat, but you'll also get stunning views of the valley as the sun begins to peak behind it. If you're unable to hike before sunrise, go for a hike right before the golden hour and catch a glimpse of the sunset. Ryan Mountain Trail also has zero shade, so bring your sun hat, sunscreen, sunglasses, etc.!
PRO TIP: While you're in the desert, there are a ton of blood-sucking creatures to be on the lookout for. To avoid getting bit, I recommend wearing long sleeve sweat-resistant shirts and long pants. Bring an insect repellent to stay extra careful! This is an all-natural option that works for me!
Getting there: the trailhead is located right between Ryan Campground and Sheep Pass Campground, right along Park Boulevard.
6. Go stargazing and UFO hunting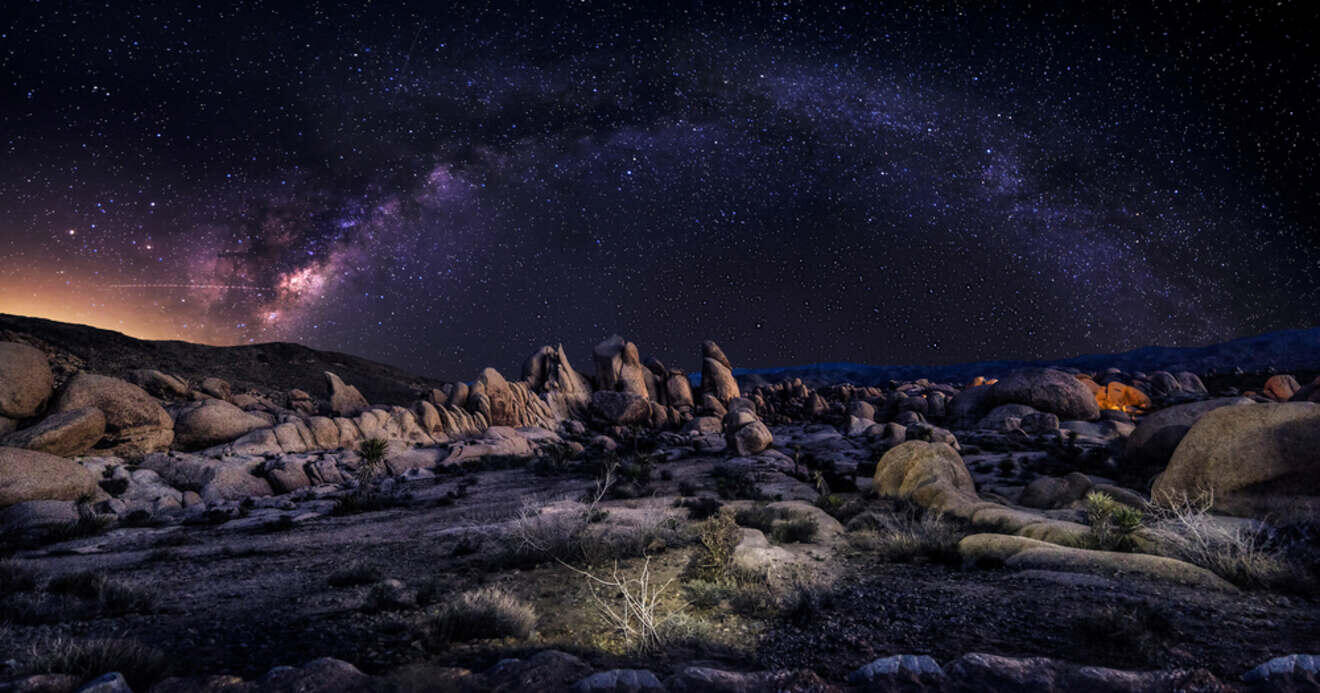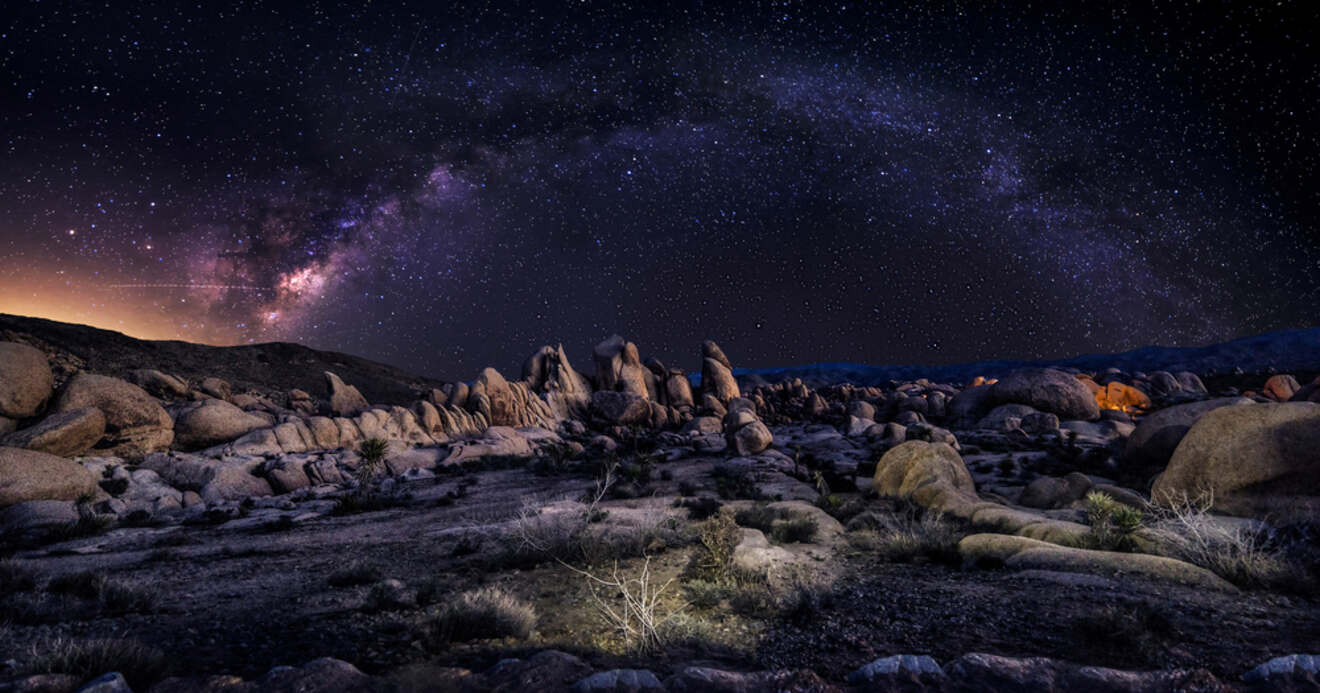 Another one of my favorite memories in Joshua Tree is laying outside and watching shooting stars pass by in front of a crystal clear night sky. Breathtaking!
Did you know that Joshua Tree is an International Dark Sky Park? Joshua Tree has one of the darkest skies in all of California, with breathtaking views of the Milky Way galaxy and shooting stars passing by every few minutes. It's hands down the most beautiful thing to see here!
I recommend booking a tour with a professional to admire the night sky and take a break from the city lights. On this tour, in particular, you're also doing a fun UFO hunt. UFOs and extraterrestrial creatures are famously known by legends and myths to be drawn to this desert, so take a look for yourself and see if you can find anything!
PRO TIP: Joshua Tree National Park is covered in Joshua Trees, obviously, and it's worth taking a good look at them and appreciating how interesting they really are. The average life span of a mature Joshua Tree is about 500 years, and each Joshua Tree features a unique size and shape unlike any other.
TOUR PRICE: From US$160 per person
7. Take a stroll at Arch Rock Nature Trail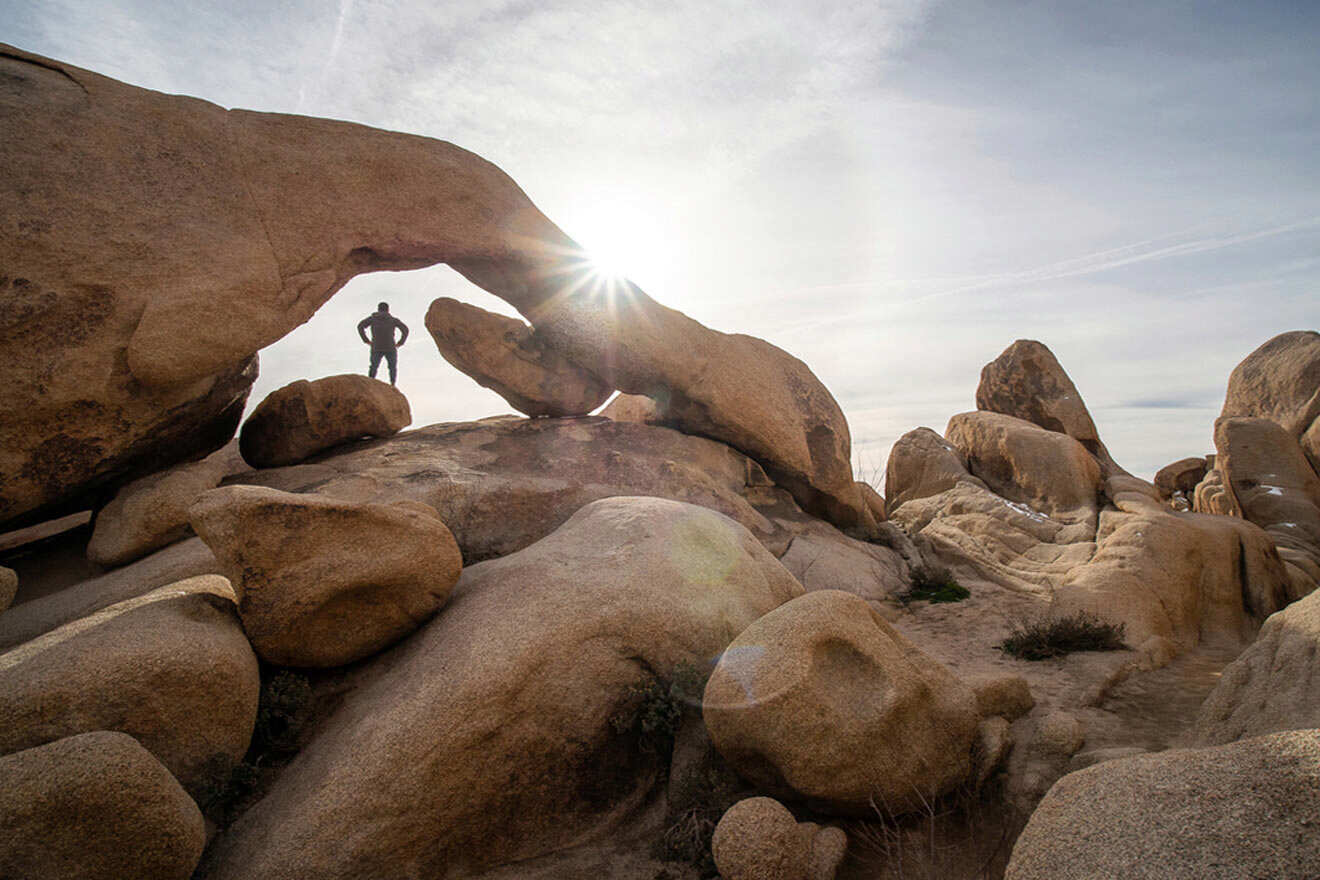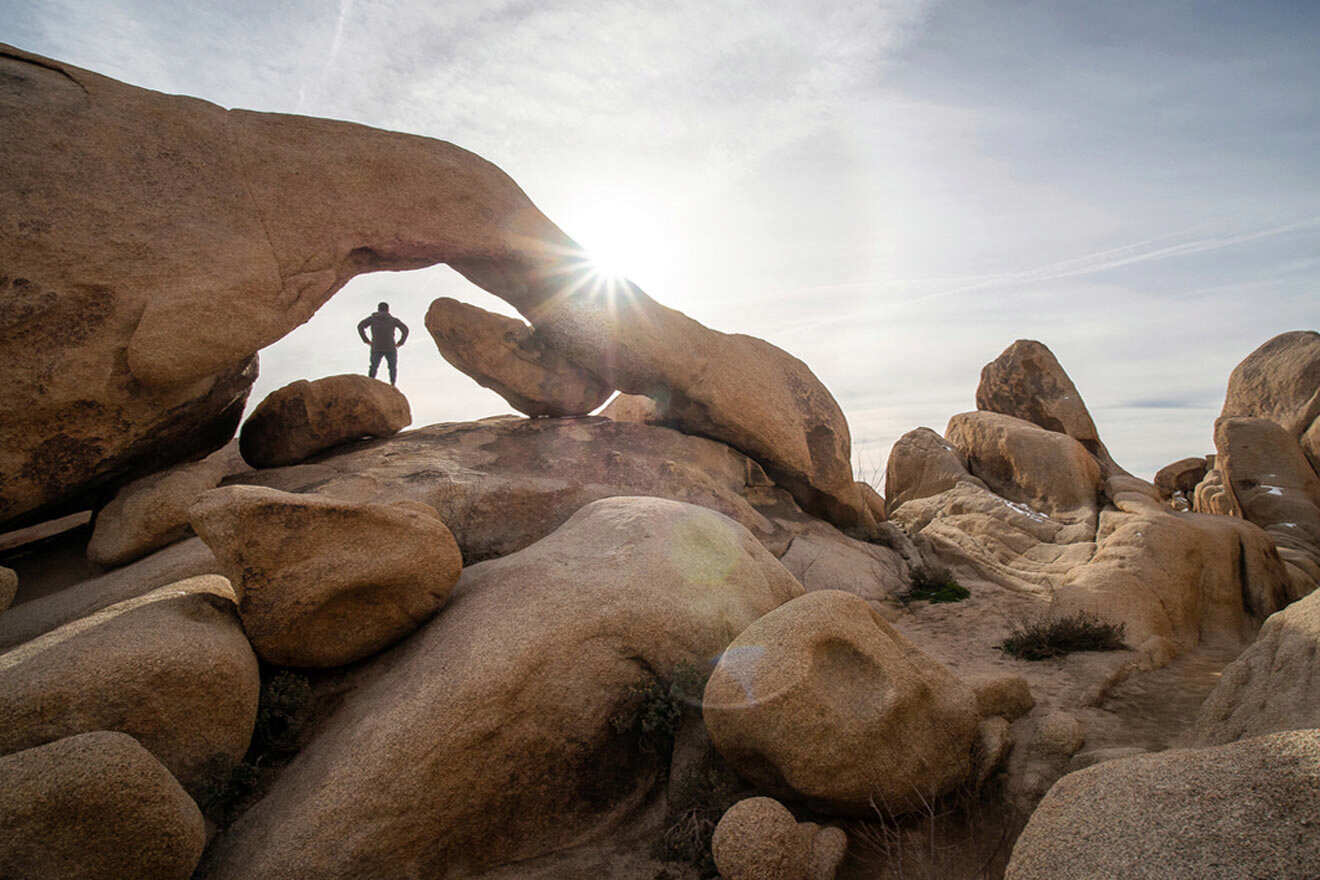 Arch Rock Trail is a short loop trail near the White Tank Campground leading to a loop section where many people take photos standing on the unique rock formations and learn about the geology in the area with the educational signs that are posted along the trail.
The trail goes in a straight line for less than a mile from the parking lot and shortly becomes a loop. You can go either way, but hiking counterclockwise is the easiest way to spot the rock-famous Arch Rock ahead.
If you want to see another attraction nearby, keep walking for the famous Heart Rock! Heart Rock is (as you may have guessed) a huge rock formation in the shape of a heart. This is a fun one to take photos of with your significant other!
PRO TIP: Joshua Tree is also home to many unique species of birds! I recommend bringing your binoculars and going bird watching nearby at Black Rock Campground (for the best wildlife sightings) or when you're hiking anywhere else in Joshua Tree.
Getting there: you can easily find the Arch Rock Trail in the Twin Tanks parking lot. I recommend using your downloaded Joshua Tree map from Google Maps to get here and follow the signs.
8. Take in the healing properties of Desert Hot Springs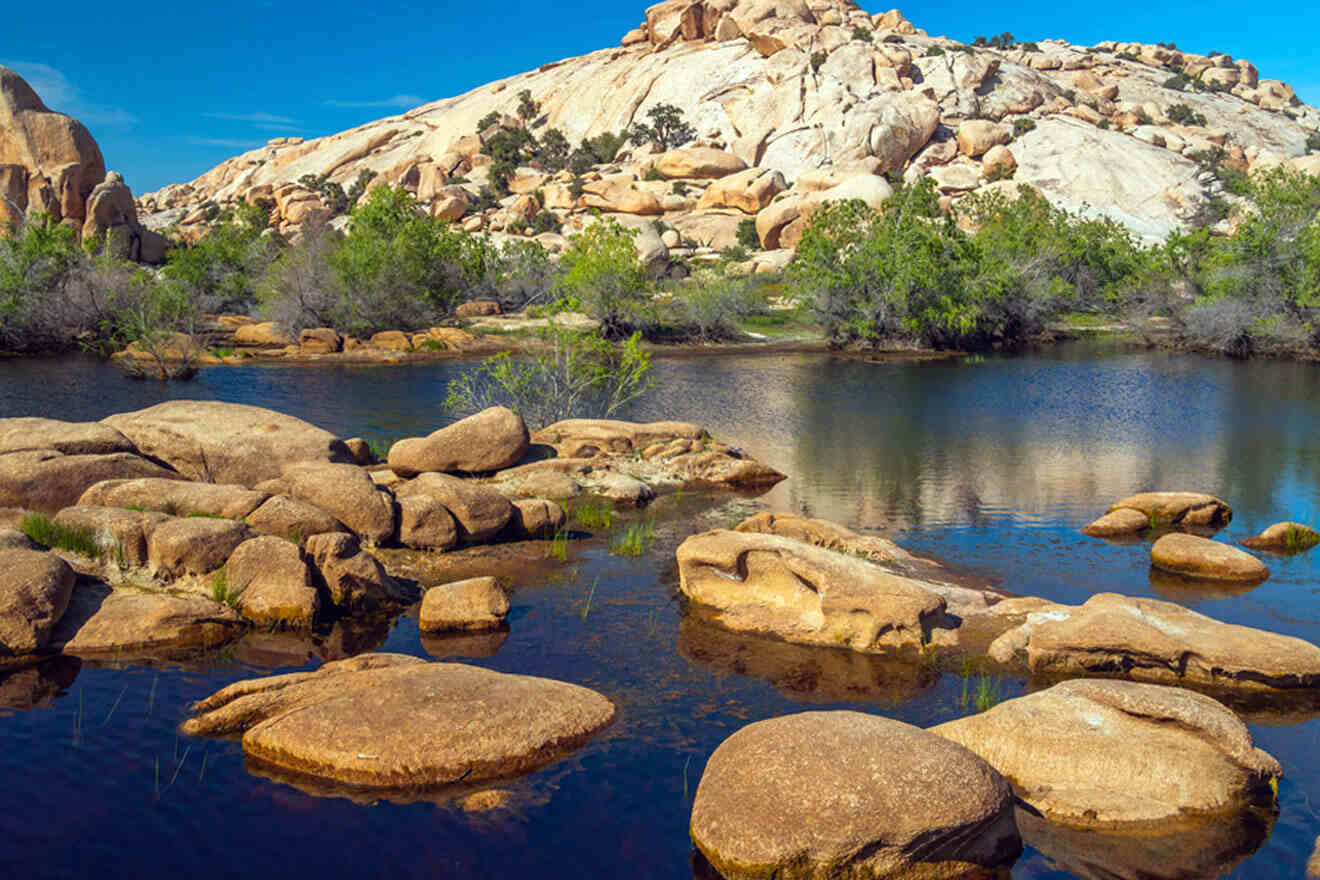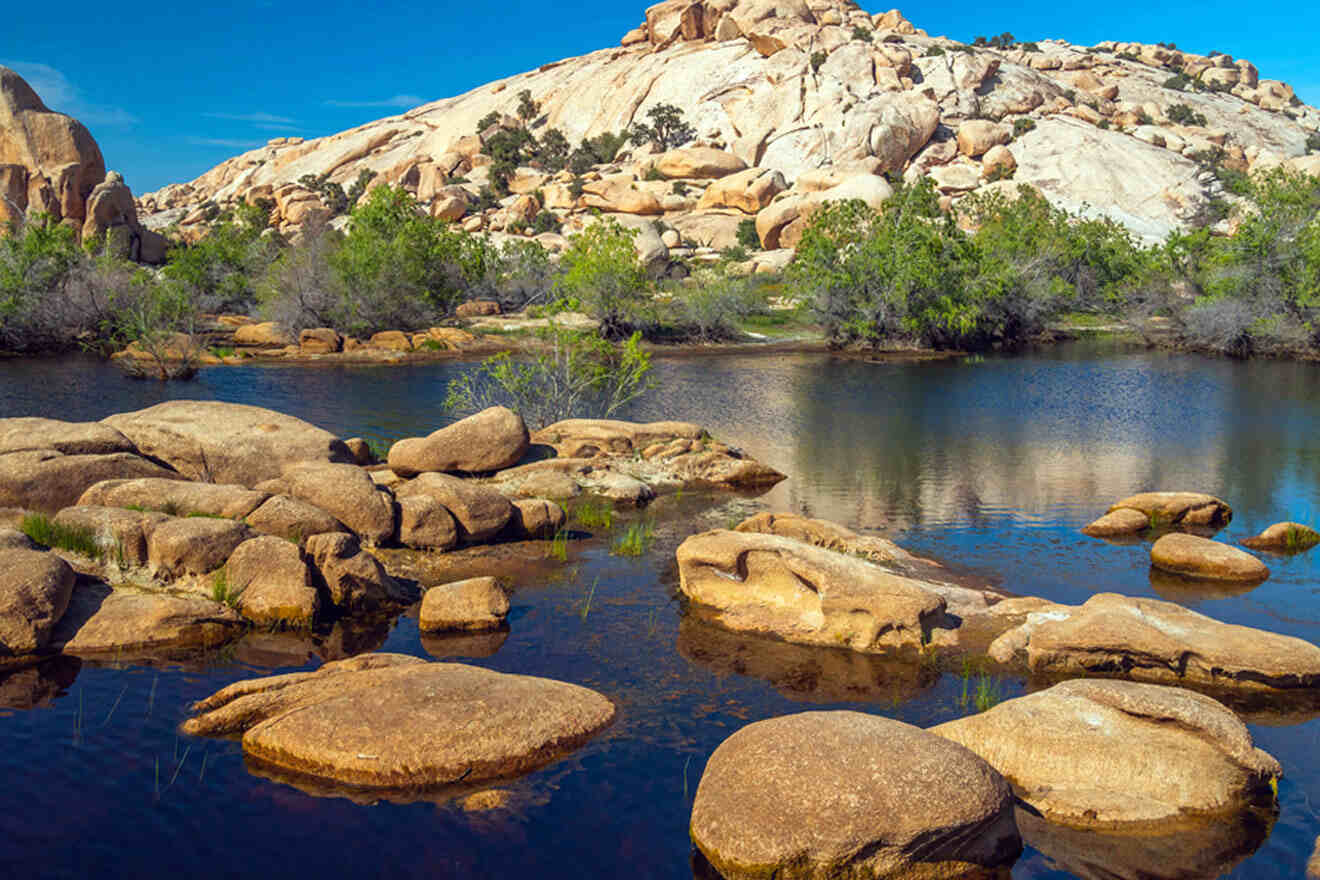 Desert Hot Springs is filled with hot springs! The temperatures range from warm to hot, and can even start boiling! Natural hot springs are known to have healing powers, where people have been using hot springs for centuries for their therapeutic effects.
Lucky for you, Desert Hot Springs is a short drive away from Joshua Tree! After all that hiking, spend a half-day at any of the wonderful hot springs available for people to relax in.
Here are 2 resorts offering the best mineral pools in Desert Hot Springs:
Two Bunch Palms – Two Bunch Palms is the most stunning spa and resort I have probably ever seen! The mineral waters originate from a 600-year old natural spring and get to over 100 degrees. They even offer other spa services, workshops, classes and events, creating memories and experiences that you'll never forget.
The Spring Resort Spa – The Spring Resort & Spa offers mineral hot springs and over 30 spa treatments. Whether you want to stay at their hotel or visit the day spa, you can relax in their mineral pools before getting a massage or facial and unwind at their beautiful desert villa.
9. See the highest mountain peaks from Boy Scout Trail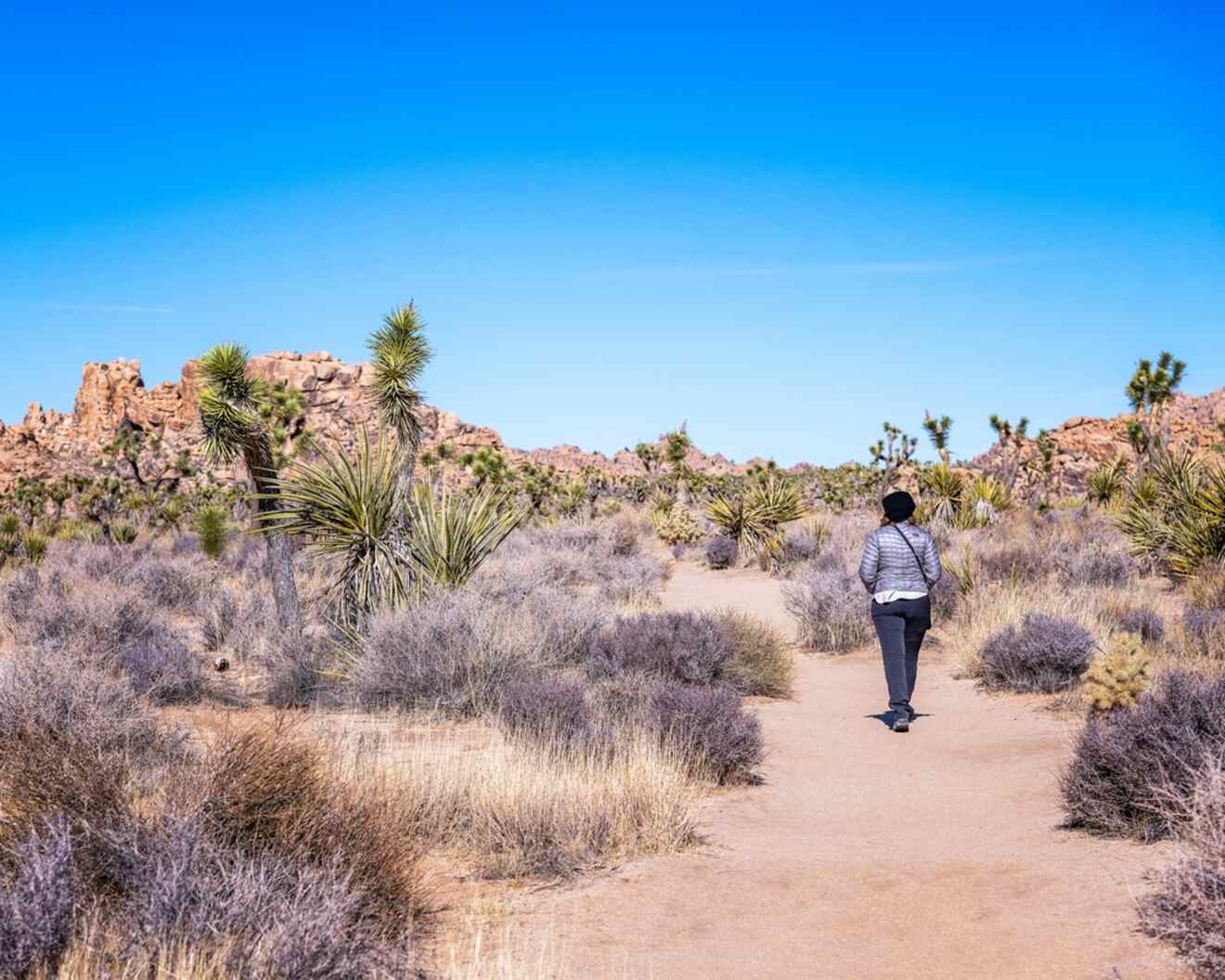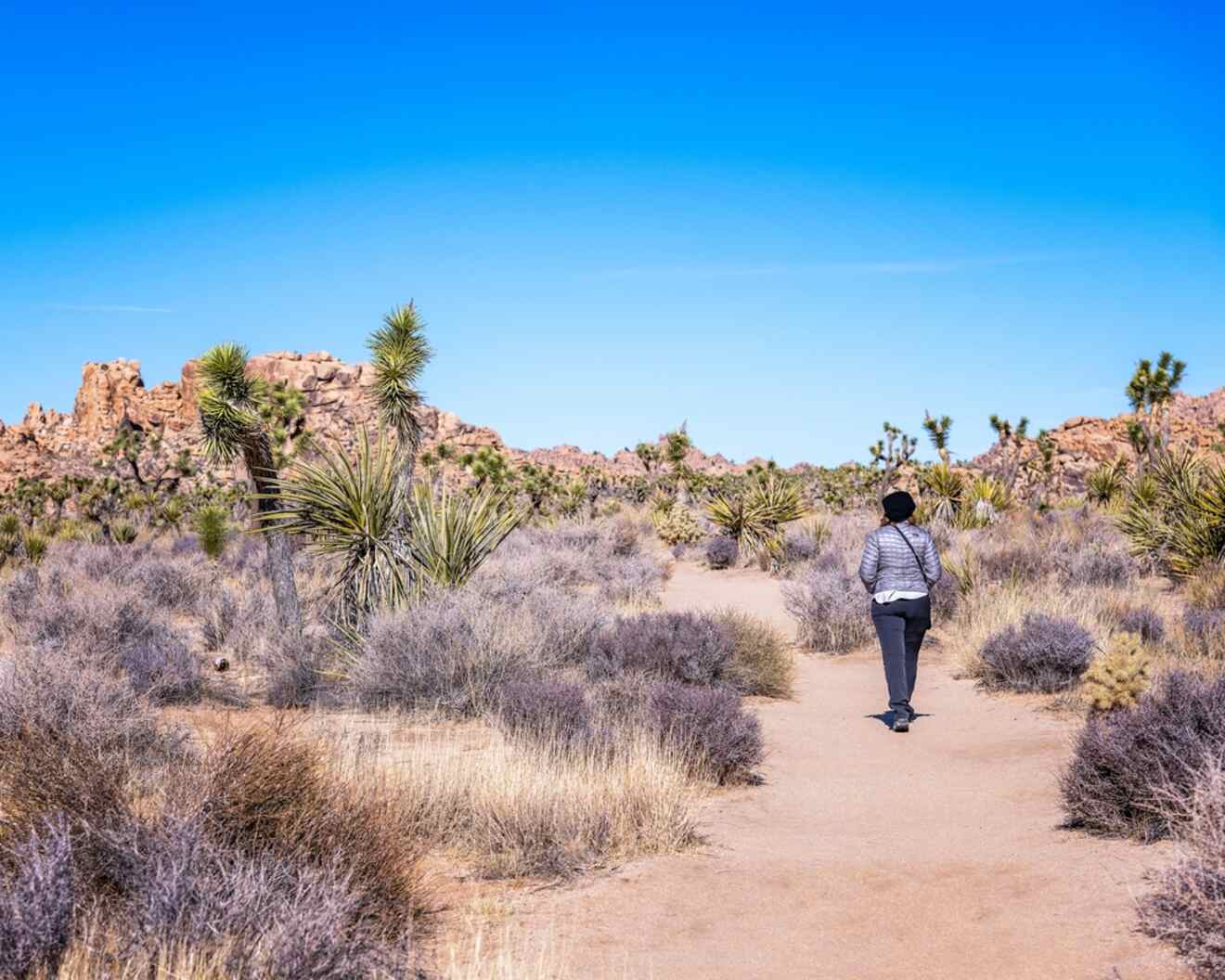 Boy Scout Trail is a remote trail offering the most beautiful views of the San Gorgonio Mountains! Here, you can expect to have a fluctuation in elevation gain hitting a maximum of about 4,240 feet (c. 1,290 m). It's a loop of about 8 miles (13 km) located within the Boy Scout Zone between Indian Cove and the Boy Scout Backcountry Trailhead.
I recommend doing this hike in the winter and fall season for the best experience and to avoid getting exhausted by the heat (especially since this is one of the longer hikes). Make sure to go around 4 or 5 AM to catch the sunrise and avoid it getting dark outside before you're back on the ground. That can get quite dangerous so plan ahead!
Usually, dispersed camping is allowed throughout the national park. However, if you're planning on doing that here, think again! If you want to camp here, you'll need to stay at a site designated for campers. You can read more about the campsites here.
The Boy Scout Trail is flat for the first half and descends for the second half of the hike. Make sure you recharge for your way back because you'll have to hike uphill for the first half going down! If you're too tired to finish the hike, it's not too late to turn back around. If that's the case, I recommend returning back once you hit the viewpoint about 5 miles (7 km) in.
10. Go horseback riding in Knob Hill Ranch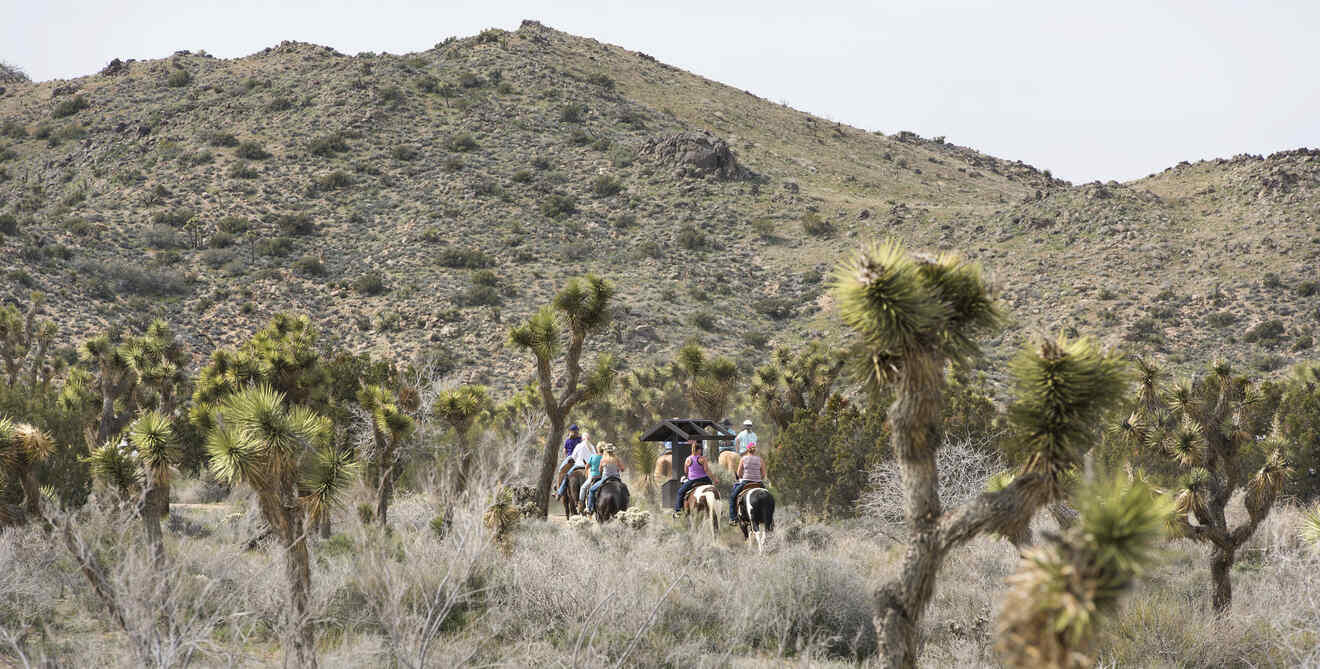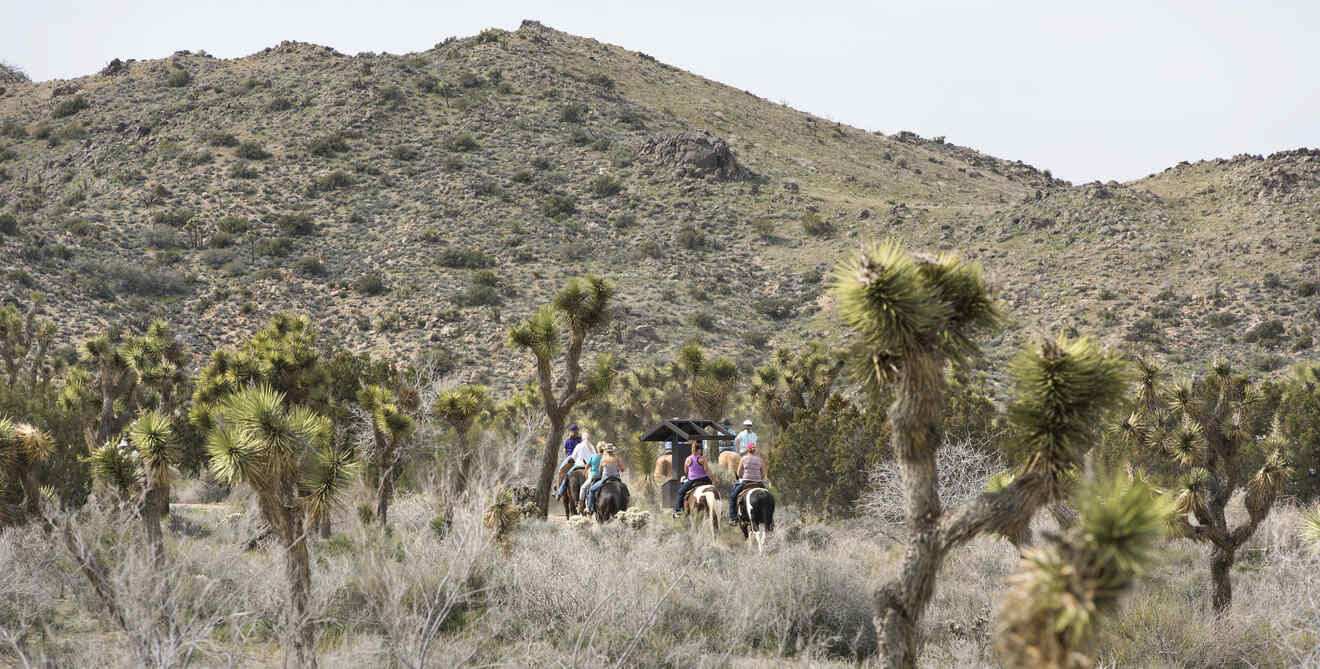 Knob Hill Ranch in Joshua Tree National Park is both a desert getaway resort and a ranch where you can go horseback riding through their serene equestrian trails. It's less than 2 miles (3 km) away from Black Rock Canyon near the West Entrance of the national park.
The ranch covers about 1,240 square miles (app. 2,000 km) of land across the Mojave desert. During the summer, the horseback rides start anywhere between 6 AM and 8 AM to avoid the heat that usually hits by 2 PM or after 4 PM until 8 PM, which is usually when the start starts to set. If you visit in the spring, fall, and winter, sessions start a bit later in the mornings since the weather isn't quite as hot.
There are a few guided tours that I recommend booking through their website:
Short West Loop Trail Ride – This is the best option if it's your first time horseback riding, but you still want the best views of Joshua Tree! This experience is a duration of 1.5 hours for US$165 per person.
California Riding & Hiking Trail – Ride through Black Rock Canyon and explore the mountains in Mt. Gorgonio and the deep valleys of Joshua Tree National Park! This experience is a duration of 2.5 hours for US$275 per person.
11. Take a photo by the infamous Skull Rock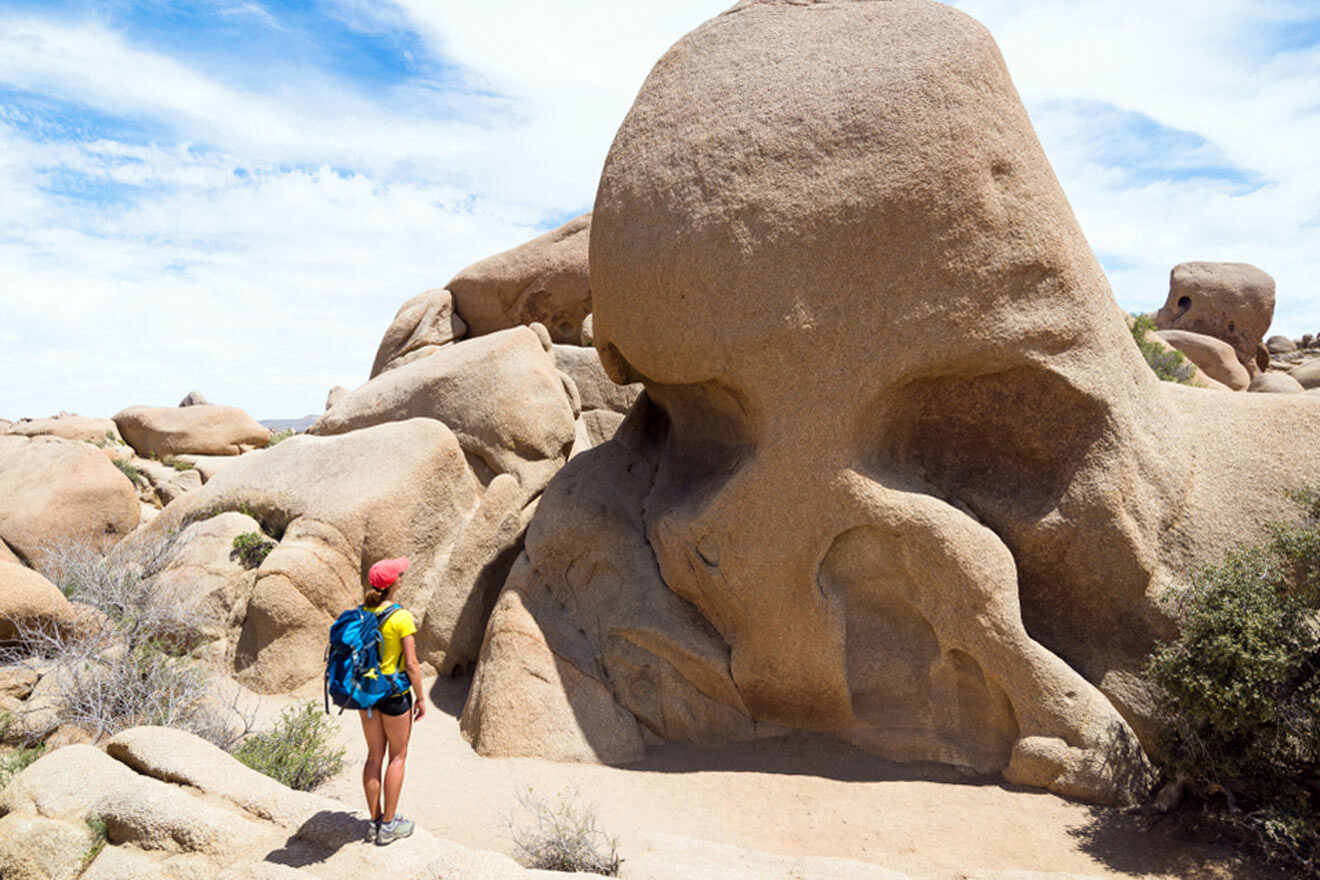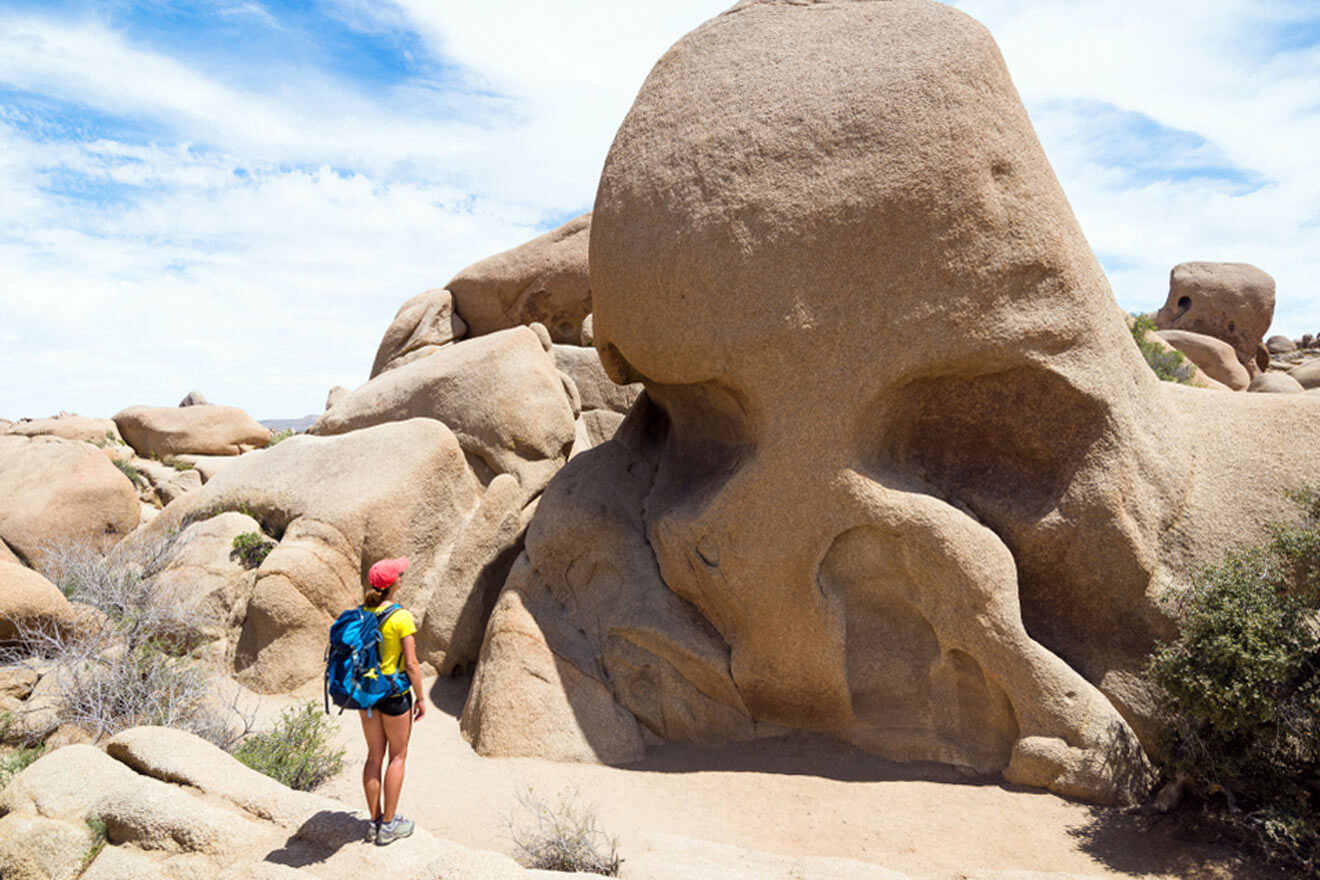 Skull Rock is another attraction in the heart of Joshua Tree National Park that is highly popular among tourists! I recommend checking it out and snapping some photos of the gigantic skull-resembling granite boulder. Skull Rock was formed through the process of water erosion over time and just so happened to form the natural phenomenon that it is today.
There are 2 ways to get to Skull Rock:
If you're looking to take photos and move on to other attractions, you can easily park at the parking lot located a short walk away. This is the easier option, and I recommend doing this if you're short on time and want a look at the unique rock formation.
You can take the "long" way and embark on an app. 2-mile (3 km) nature trail, located at Jumbo Rocks Campground. There will be signs leading you toward Skull Rock along the way, so make sure to pay attention! I've definitely gotten lost quite a few times from not paying attention to the signs (And getting lost in a hot desert isn't as fun as it sounds)!
It's also important to remember that anywhere you are in Joshua Tree National Park, California, there's always little to no phone service. So it's super important to either have a physical copy of a map or download the map of Joshua Tree onto your phone. Unless you find physical maps easier to read, I always recommend downloading a map to easily navigate where you are, with or without service.
If you want to see other unique rock formations while you're here, I recommend going further to the connected trails to see Face Rock, Split Rock, or the Discovery Trail. Split Rock is the most fascinating (being a rock literally split down the middle) and worth seeing while you're in this area!
12. Walk in the shoes of a 1900s family at Keys Ranch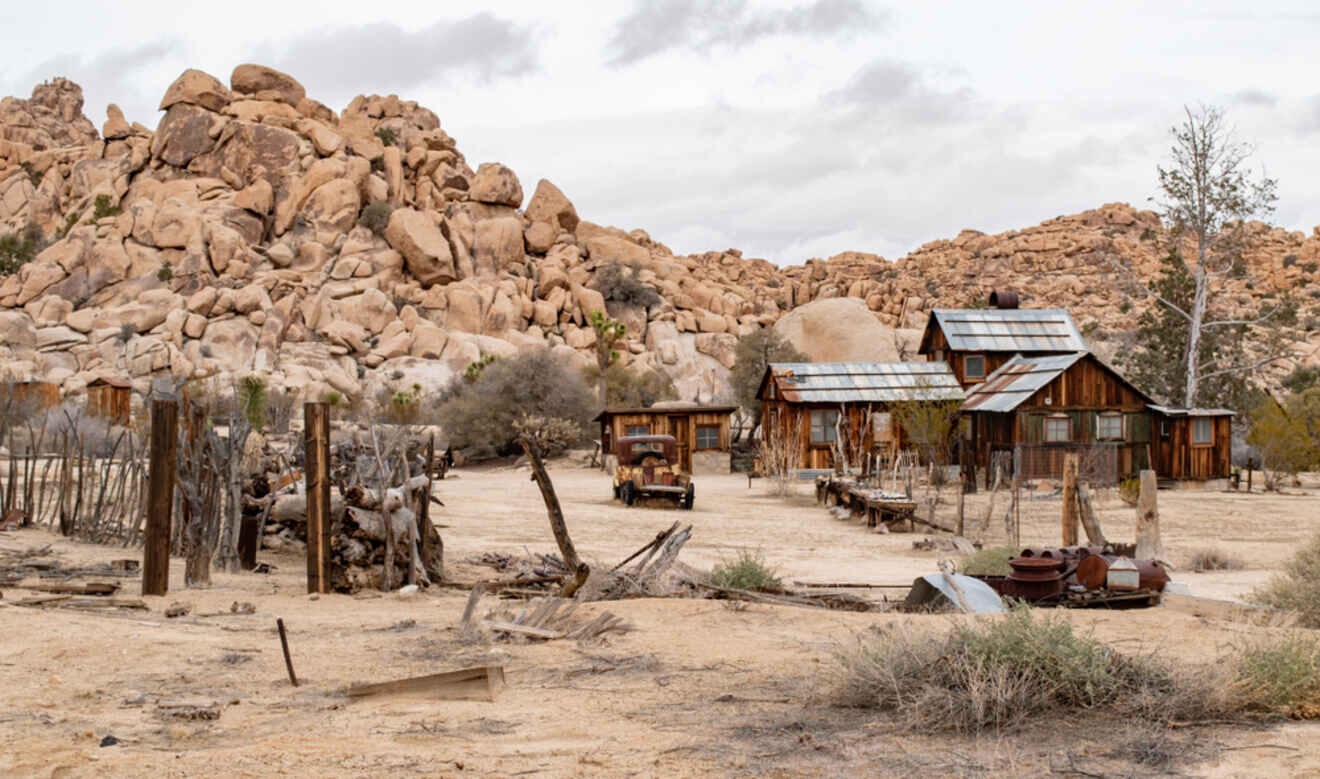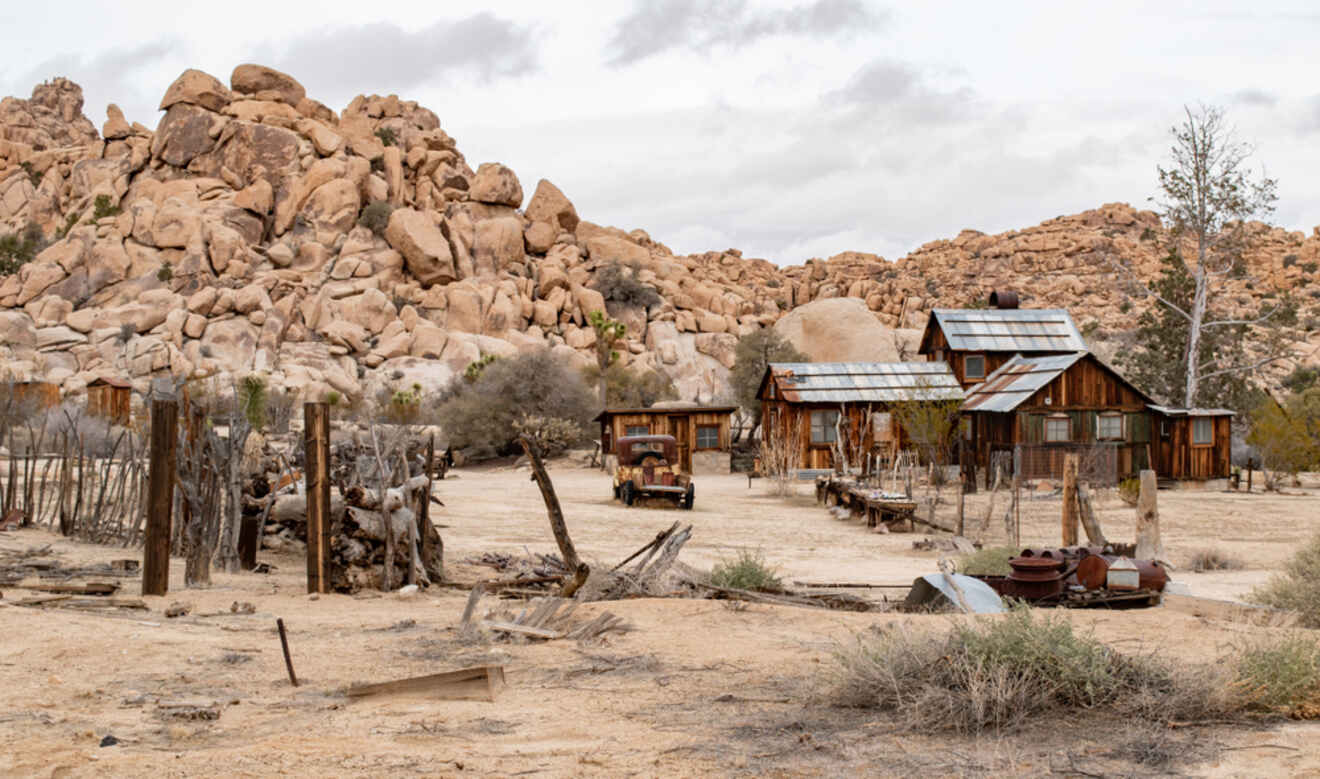 Can you imagine living in a place like Joshua Tree? Believe it or not, William and Frances Keys did along with their children for over 60 years.
Keys Ranch is the home of a family that lived in pursuit of the American Dream and gold in 1910. William Keys began a mining and ranching business to support his family and maintained a moderate standard of living in Joshua Tree. By recycling, upcycling, and reusing old parts, the family was able to continue building up the ranch. Today, it's a historical landmark that you can visit when at the park!
The ranch can only be toured by a guided ranger, with reservations that are made in advance up to 60 days in advance. I recommend doing so to secure your spot! This is a highly desirable tour, and you wouldn't want to miss out. The tour lasts about 90 minutes and is not available during the peak summer months (May, June, July, and August) due to high temperatures.
Getting there: once you pass the entrance to Hidden Valley Campground, turn left at the fork and go straight until you see a locked gate about 2 miles (3 km) ahead. Your ranger tour guide will meet you there!
PRICE: US$10 for adults, US$ 5 for kids ages 6 – 11, and US$ 1 for kids 1 and under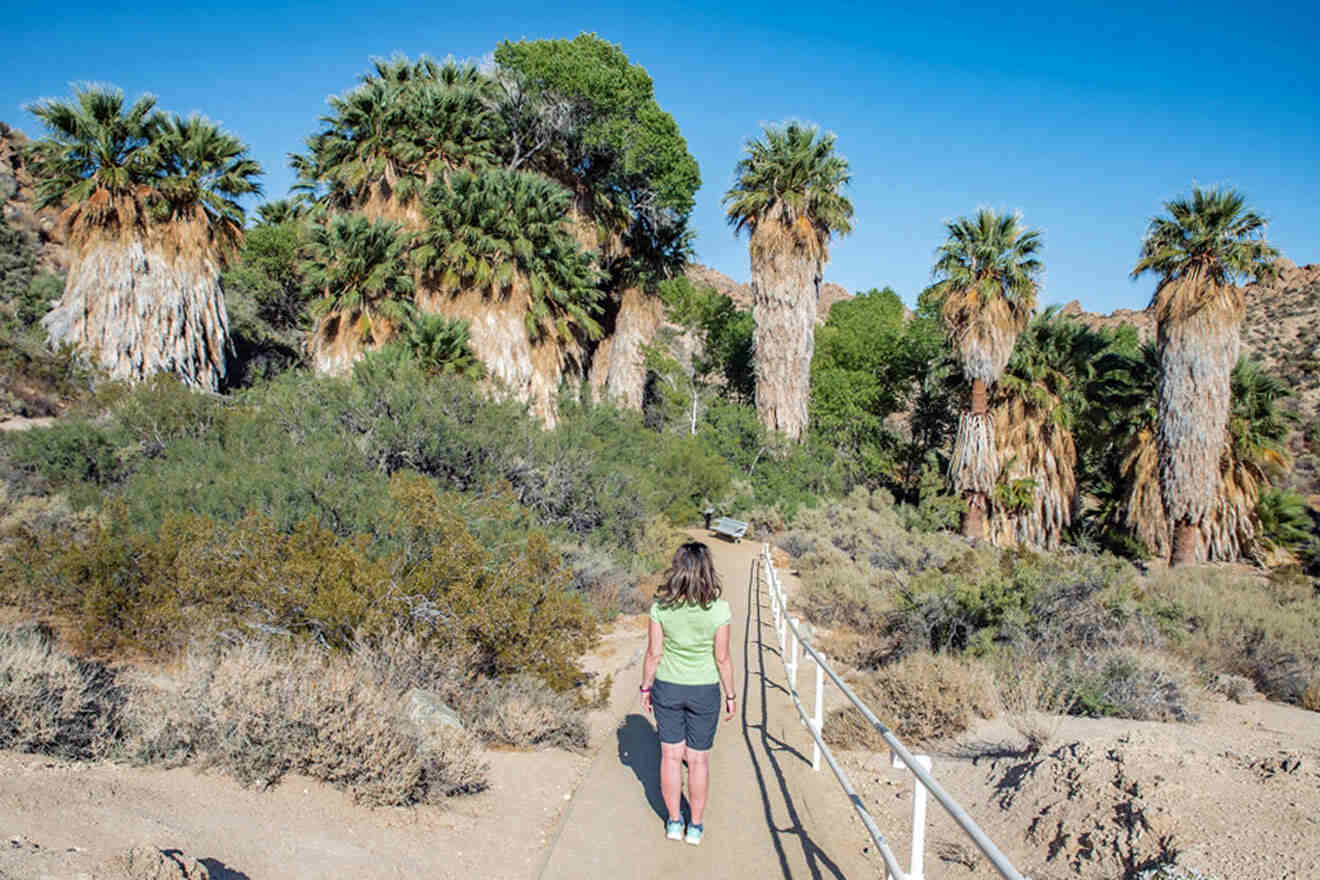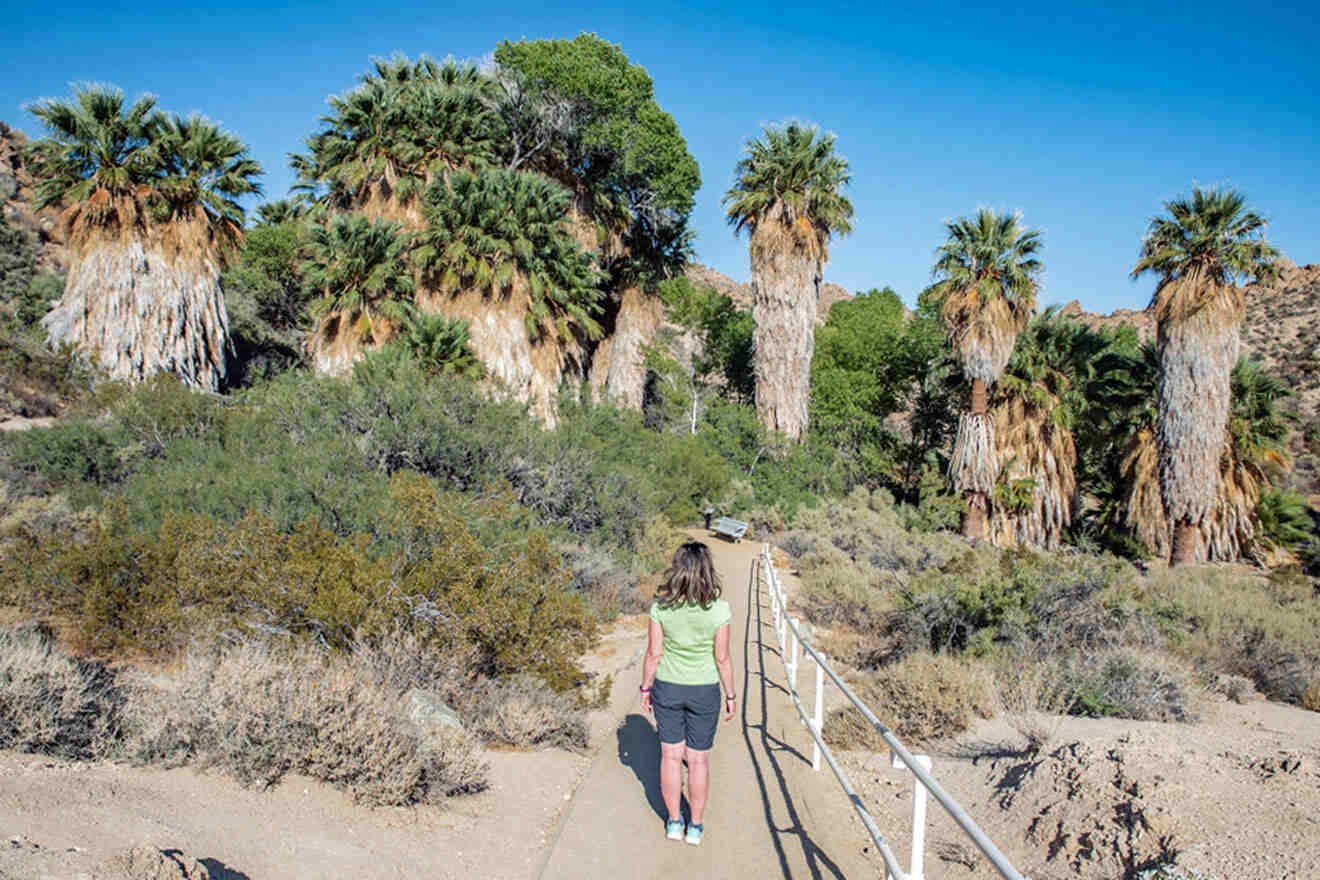 Cottonwood Spring Oasis is a natural spring that's a bit far away from the West Entrance of the park but definitely worth visiting. It was used for centuries by Native Americans, and today, you can still find bedrock mortars, clay pots, and other handmade instruments in the area. This is also another beautiful place to go bird-watching!
There's a unique story to be told through its history that is still preserved at this site. From Native Americans to the Gold Rush, this oasis was an incredibly important part of all of it. You'll even find remains of an old gold mill near the site.
There are a few hikes that start at Cottonwood Spring:
Cottonwood Wash is an easy walk leading through Palo Verde and the remains of the old mill (Moorten's Mill). This is a dry fall that will become a waterfall during the wet season (this is also where bighorn sheep come to drink water!)
Mastodon Peak is a 3-mile (c. 5 km) loop that offers a unique perspective of the valley where you'll uncover interesting geology that you haven't seen before.
Fortynine Palms Oasis Trail (Los Palms) is for advanced hikers! The 49 Palms Oasis Trail is an 8-mile (c. 13 km) round trip trail leading to a palm tree oasis in Joshua Tree. Yes, palm trees in the middle of the desert! (This is my favorite hike in Joshua Tree!)
14. Bring your RV and plan a camping trip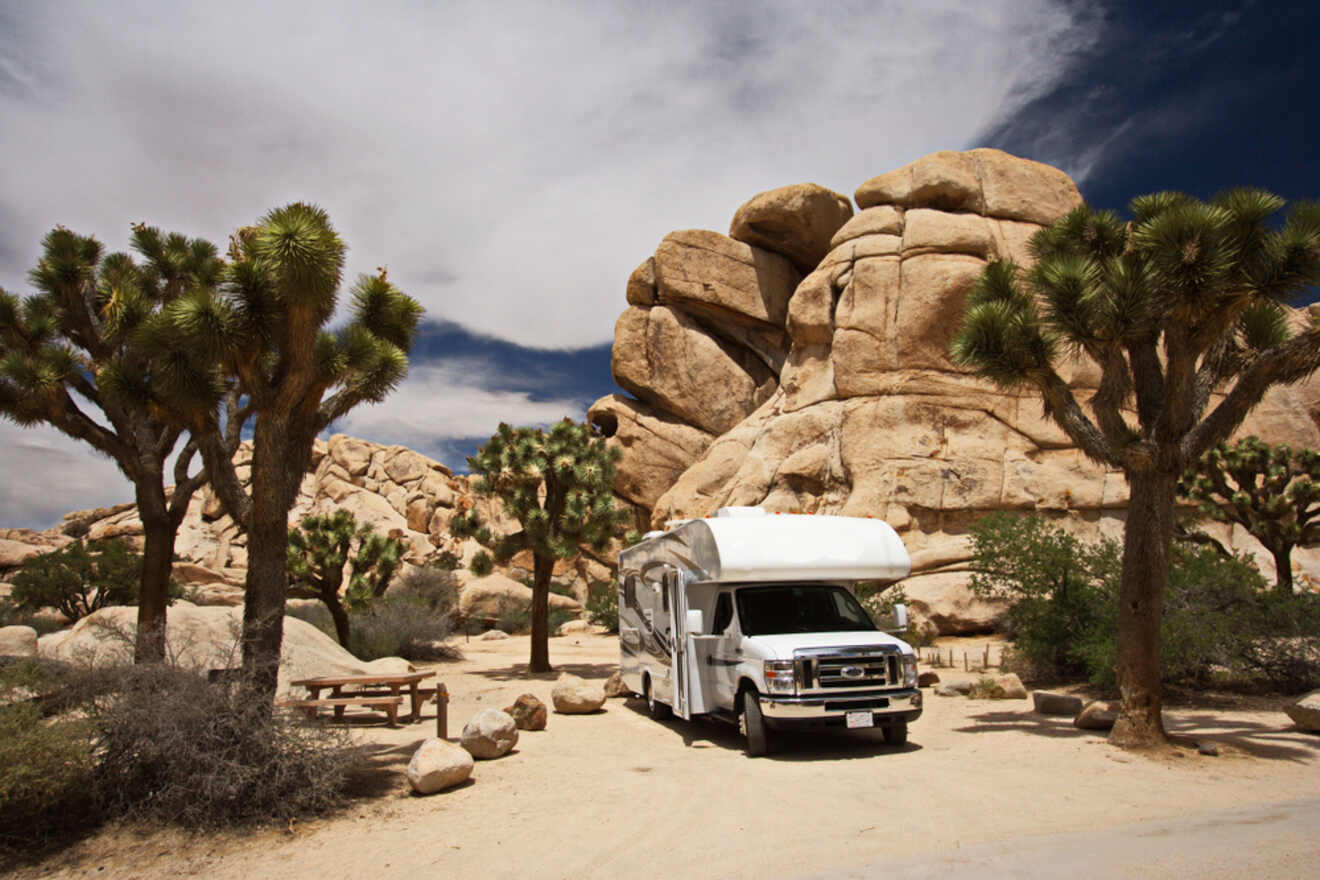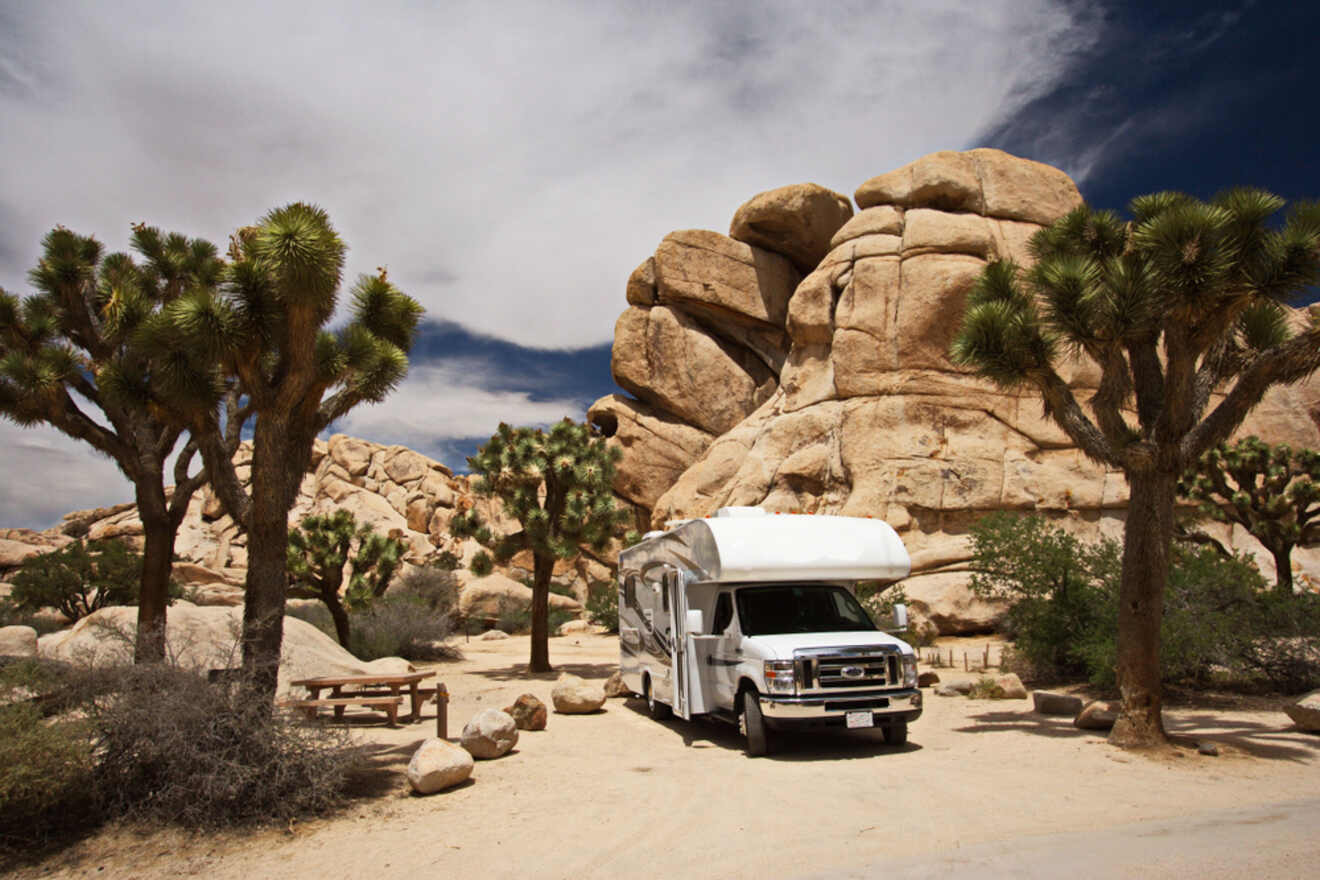 If you choose to camp instead of booking a home or hotel, stay off the park. There are about 500 campsites in the park that you can book on the same day or up to 6 months in advance. If you plan on camping on a holiday, weekend, or anytime between November and May, it will most likely be incredibly busy! Book in advance to secure a spot.
Most campgrounds are open all year. However, some areas are in the Indian Cove Campground. Cottonwood Campground, White Tank Campground, Belle Campground, and Black Rock Campground are closed during the summer.
Hidden Valley, Belle Campgrounds, and White Tank are the only campsites that offer areas on a first-come, first-served basis, so I recommend getting there as early as possible if you plan on getting a spot here! These campgrounds cost US$15/night, which is a great, budget-friendly option.
I also recommend coming here with an RV to make the most out of your camping experience when visiting Joshua Tree National Park. GoCamp is an amazing camper RV rental service that offers fully-equipped rental RVs making camping a breeze! There's also A/C in here, so you won't have to suffer in the heat.
NOTE: There are lots of coyotes outside at night, so be cautious of your surroundings while you're camping. It's rare for a coyote to attack a human, so be cordial and relaxed with our fellow mammals, and you will be safe and sound!
15. Explore the shops, museums, and cafés
Outside of Joshua Tree National Park is the small Joshua Tree town. Here, you'll find tons of vintage and thrift shops, cafés, artwork along the streets, and a crochet museum that you might miss if you didn't know it existed.
15.1 Food and coffee
First things first: coffee! Here are a few cafés in Joshua Tree that I recommend checking out:
15.2 Vintage and thrift shops
You can easily find a ton of handmade, unique, and passed-down things in Joshua Tree that you would never find anywhere else. Here's a list of the best shops to check out:
Ricochet Vintage Wears – The coolest vintage shop packed with clothing, accessories, and Joshua Tree memorabilia that you can bring home to your family and friends.
Promised Land – This is a hidden vintage clothing shop located a short walk away from Ricochey Vintage Wear. I recommend walking over afterward to take a look!
The Station Joshua Tree – Here, you can buy cacti, more memorabilia, and retro clothing and accessories to take back home.
15.3 Art and museums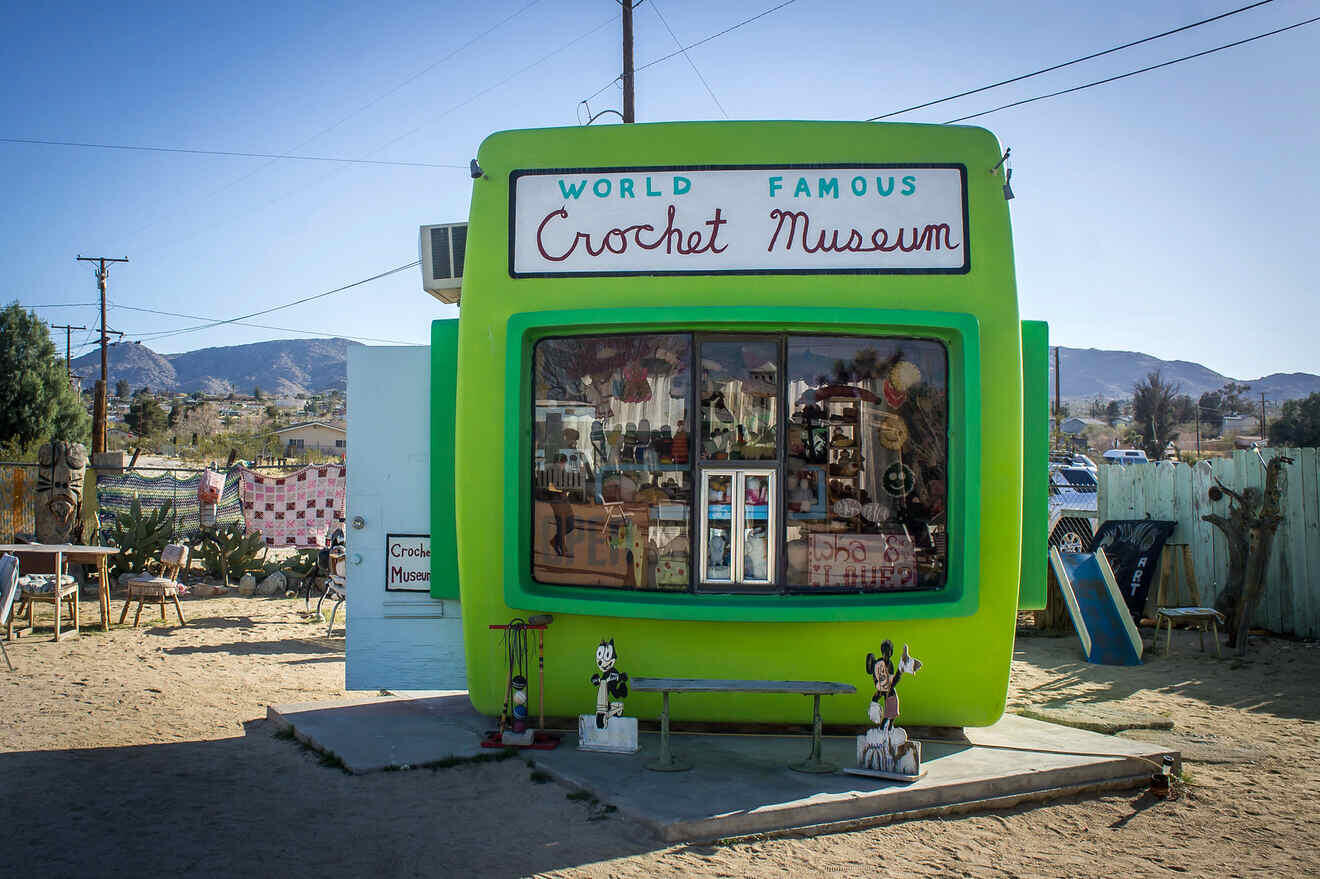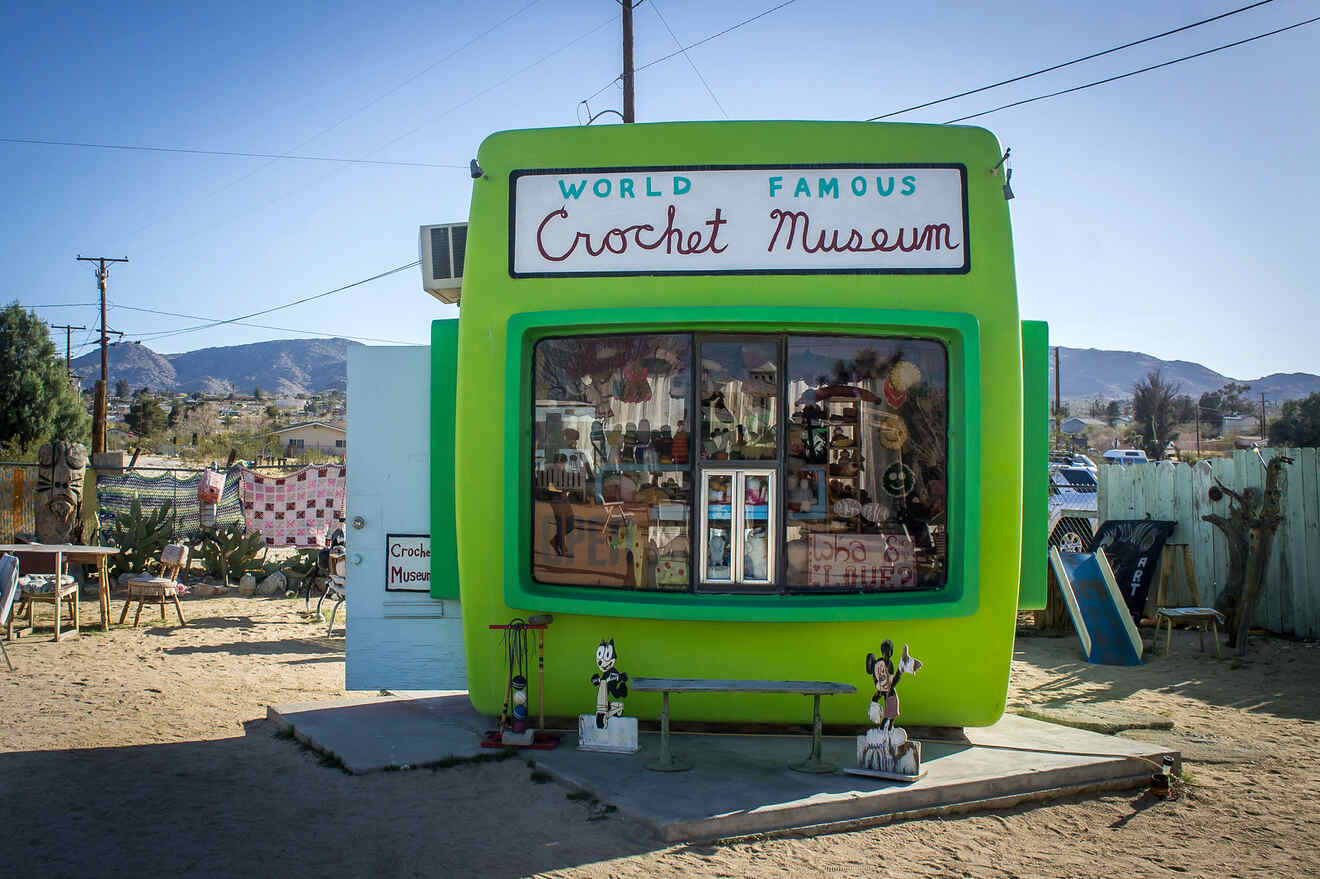 Joshua Tree is also known for funky artwork and museums along the streets of the quiet small town that many people miss because it might be considered to be "off the beaten path."
Here are a few I recommend checking out:
NOTE: Visit the Joshua Tree Saloon for a night out in the town! They have live music on the weekend afternoons between 1 PM and 3 PM and open mic on Tuesdays at 8 PM.
FAQs about things to do in Joshua Tree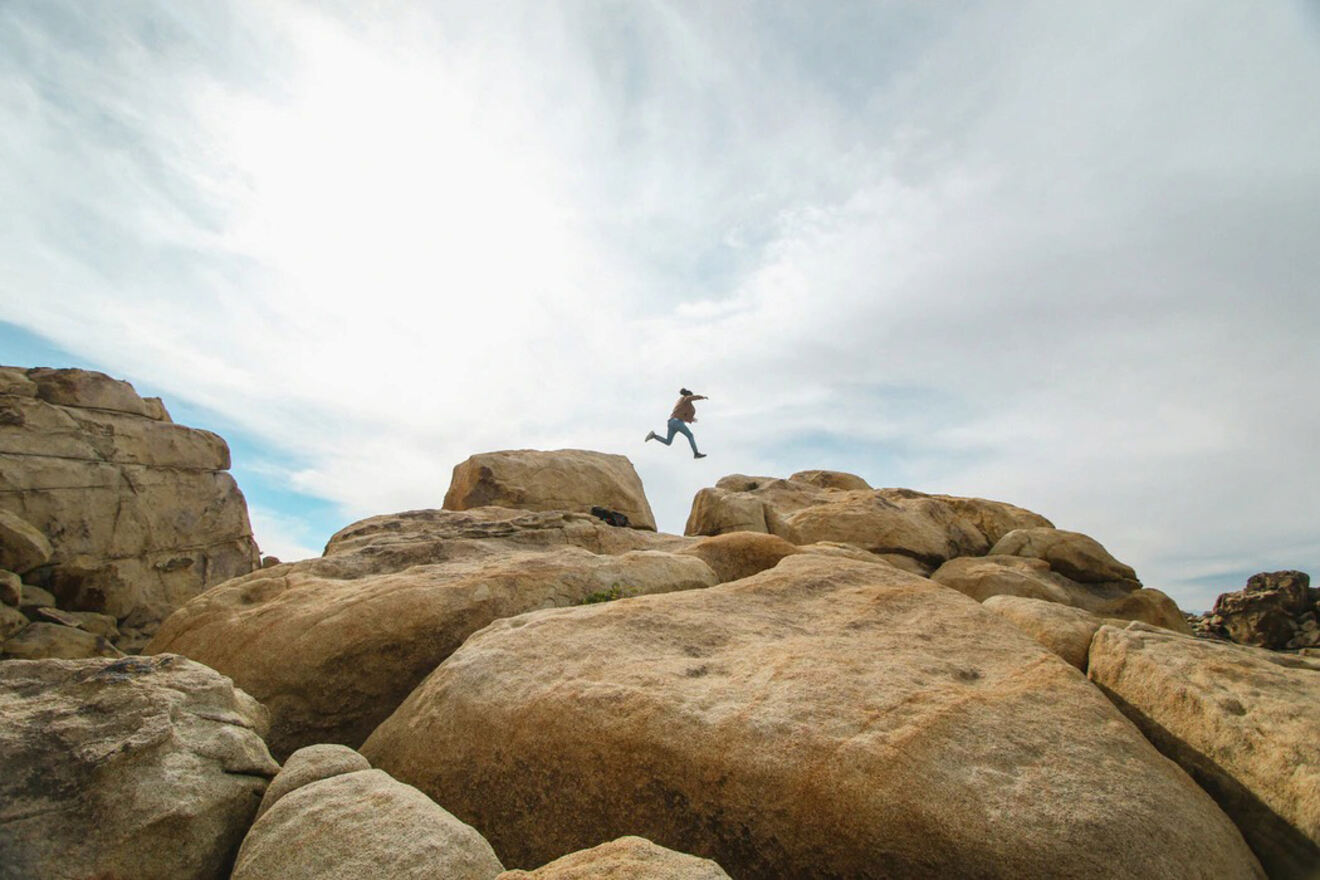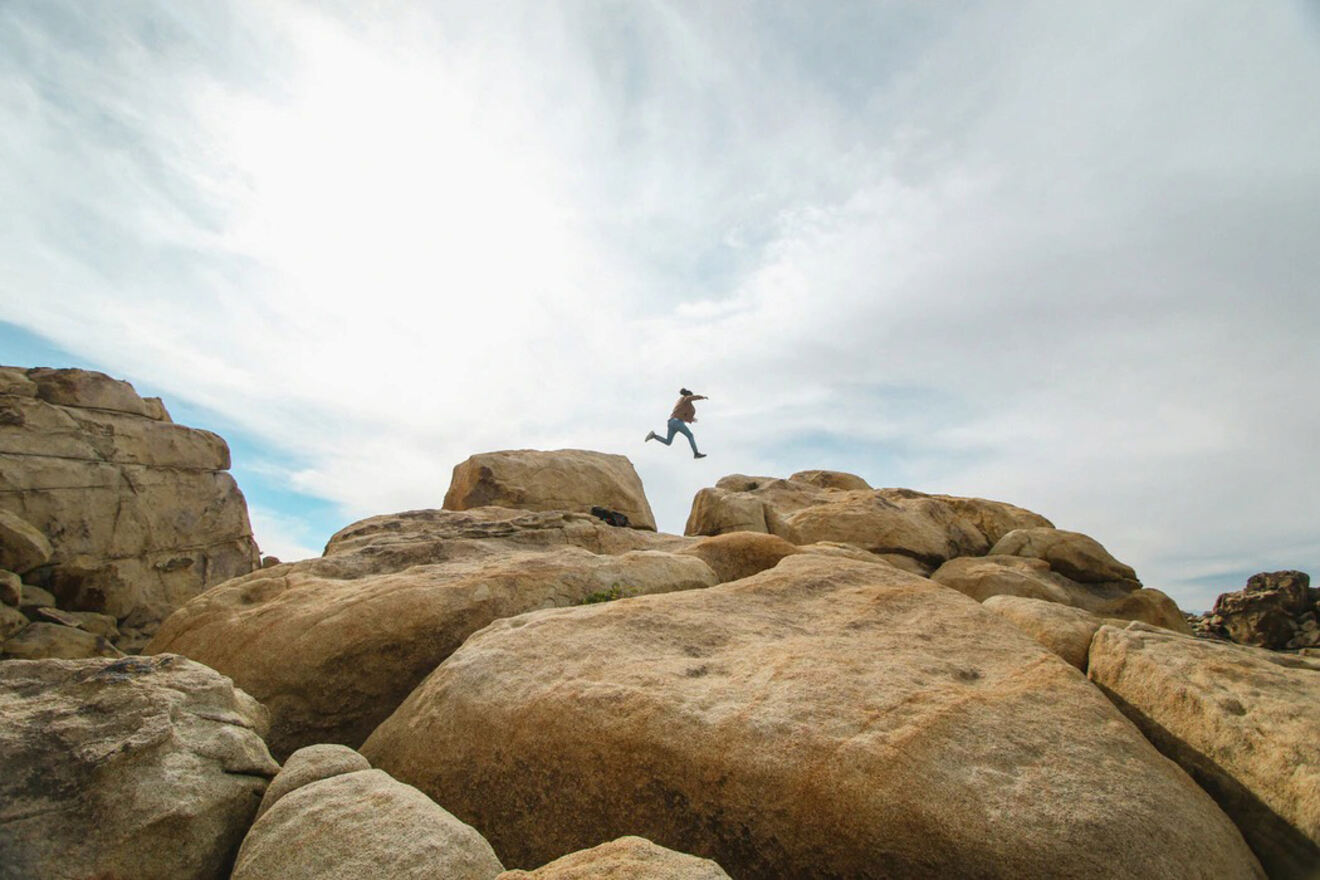 🔝 What are the best things to do in Joshua Tree National Park?
The best things to do in Joshua Tree National Park are stargazing, horseback riding, exploring the desert landscapes and boulder formations, and checking out the vintage shops, museums, and local eateries in the town of Joshua Tree.
⏲️ How much time should you spend in Joshua Tree National Park?
You need at least 2 days to explore Joshua Tree National Park. You won't be able to visit every single attraction, but you'll get a taste of what the national park has to offer.
🚸 What are some kid-friendly activities in Joshua Tree National Park?
Some kid-friendly activities are exploring the World Famous Crochet Museum and going on easier hikes/viewpoints like Keys View and the famous Skull Rock.
🌟 What are relaxing things to do in Joshua Tree National Park?
A few relaxing things to do in Joshua Tree National Park are stargazing and walking through the Cholla Cactus Garden during the springtime.
Conclusion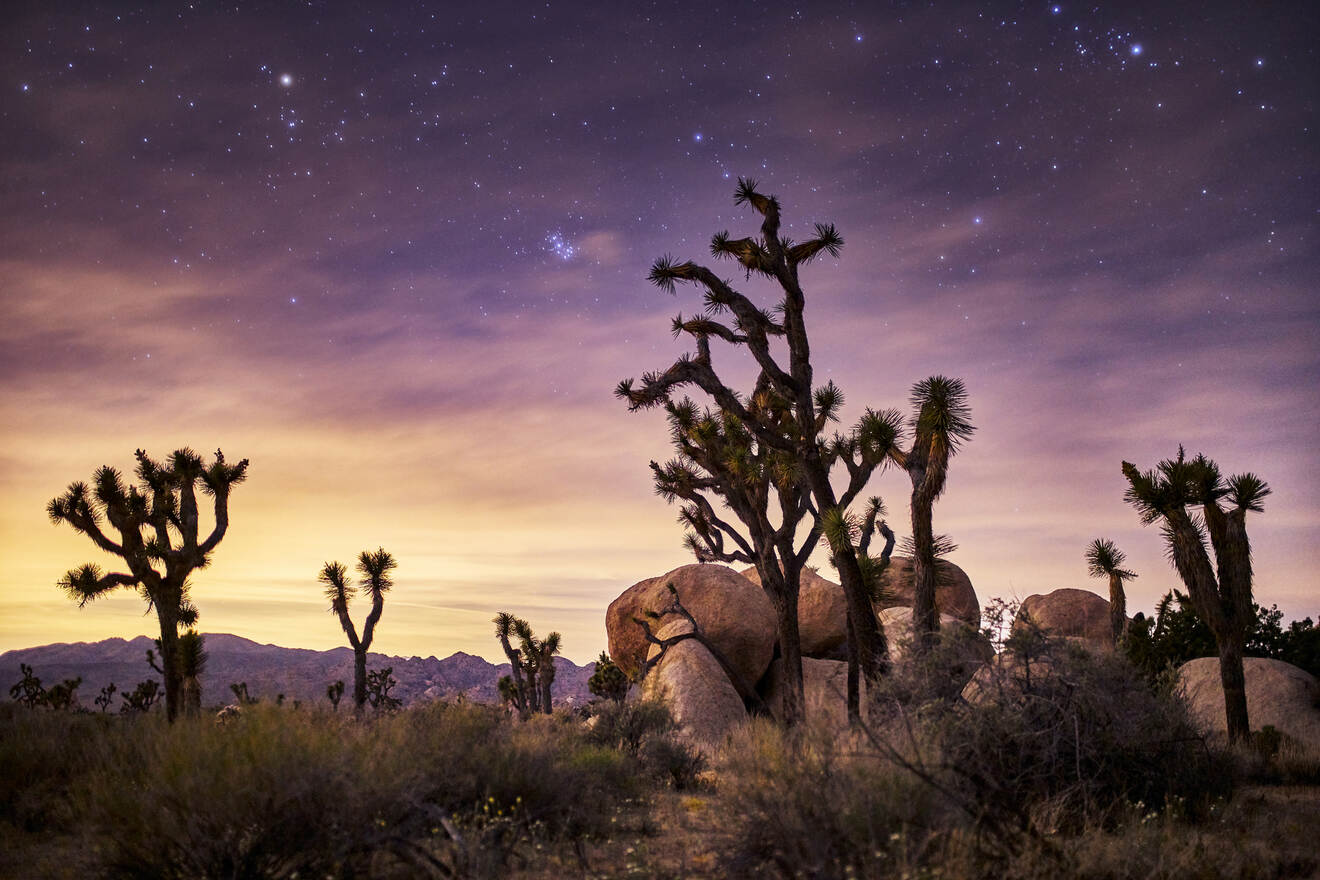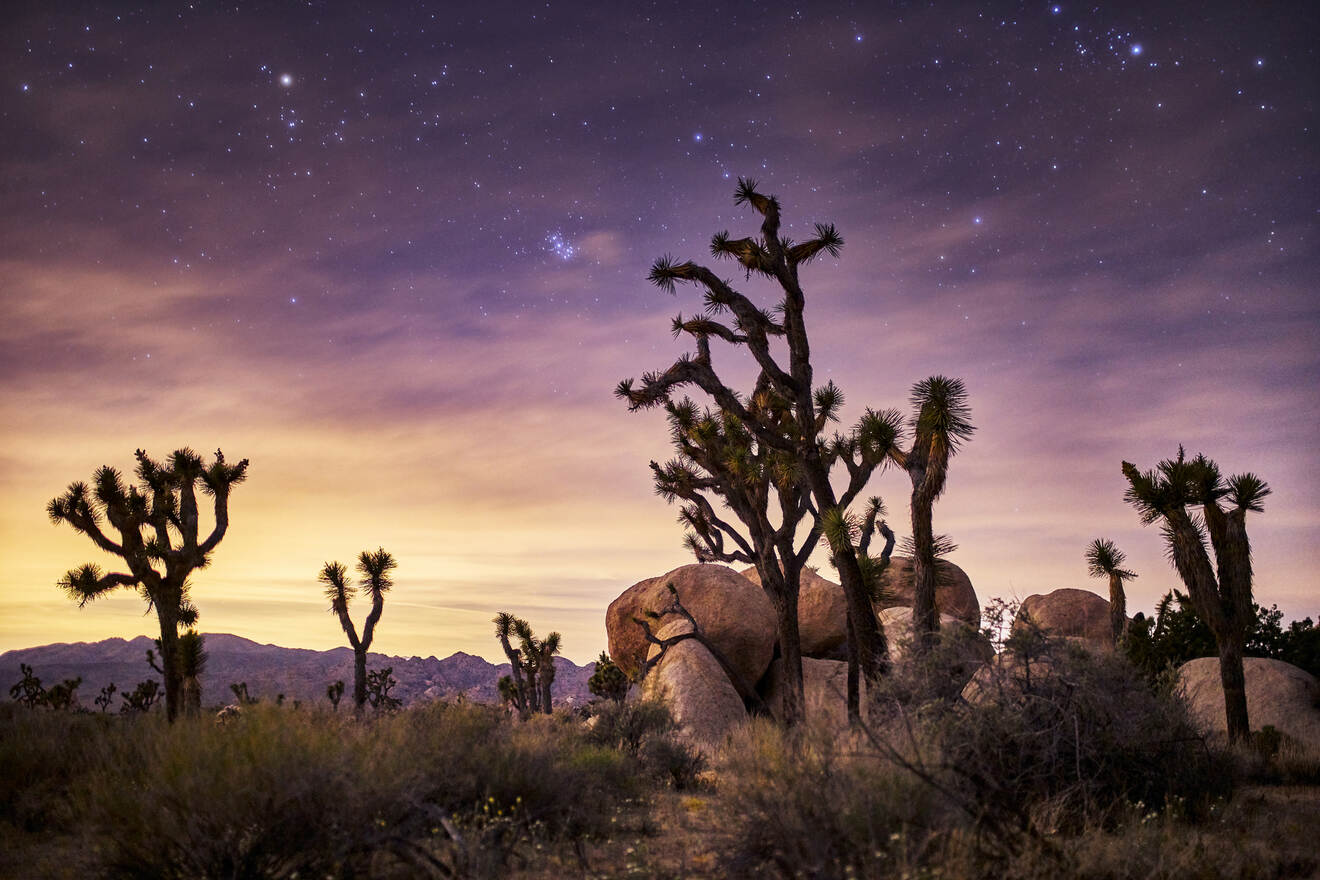 You're officially ready to get started on your next Joshua Tree National Park visit! Joshua Tree is filled with beauty and natural phenomena everywhere you turn.
From the famous Arch Rock and Skull Rock to the unique formations of Joshua Trees and wildflowers in the Cholla Cactus Garden, Joshua Tree National Park is a vast desert worth uncovering.
My 2 ultimate favorite things to do in Joshua Tree National Park are the following:
Ryan Mountain Hike – I'm an avid hiker and love a little challenge. This hike is one of my favorites and the most rewarding hike in the end.
Cottonwood Spring Oasis – My favorite thing about this place is the water and palm trees you uncover in the middle of a desert-like Joshua Tree! The life somehow surviving amidst the dryness of the desert is mindblowing, and I love to see it!
What are your favorite things you cannot wait to try out next time you visit Joshua Tree? Leave me a comment and let me know!
And don't forget to book all the tours and accommodations mentioned ahead of time to ensure your spot is saved. Probably the last thing you want to happen is planning a trip and not having all your tours ready to go.
Thank you for coming with me on this journey, and safe travels!
Xoxo,
Esabel S.
---
Pin it for later!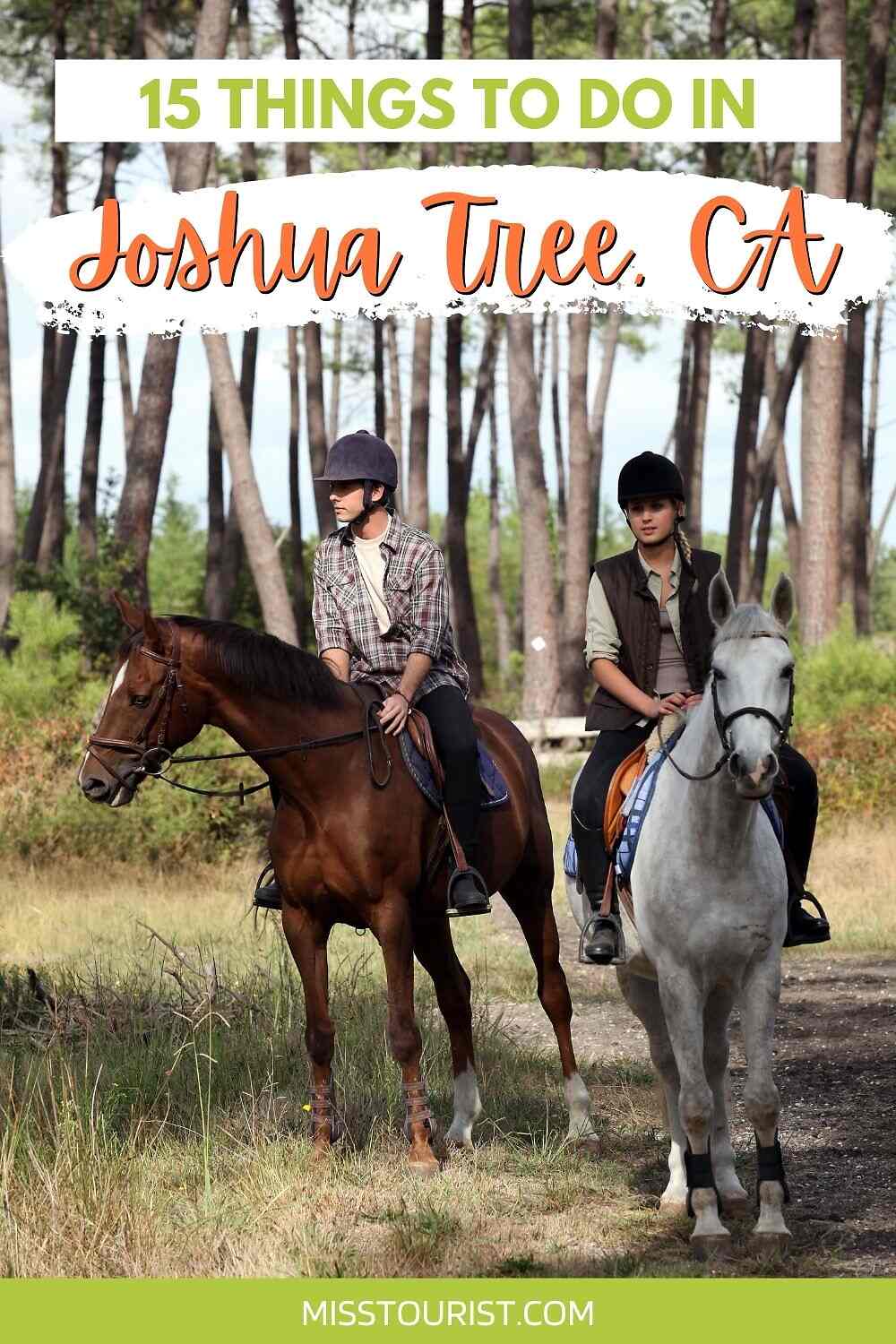 Pin it for later!