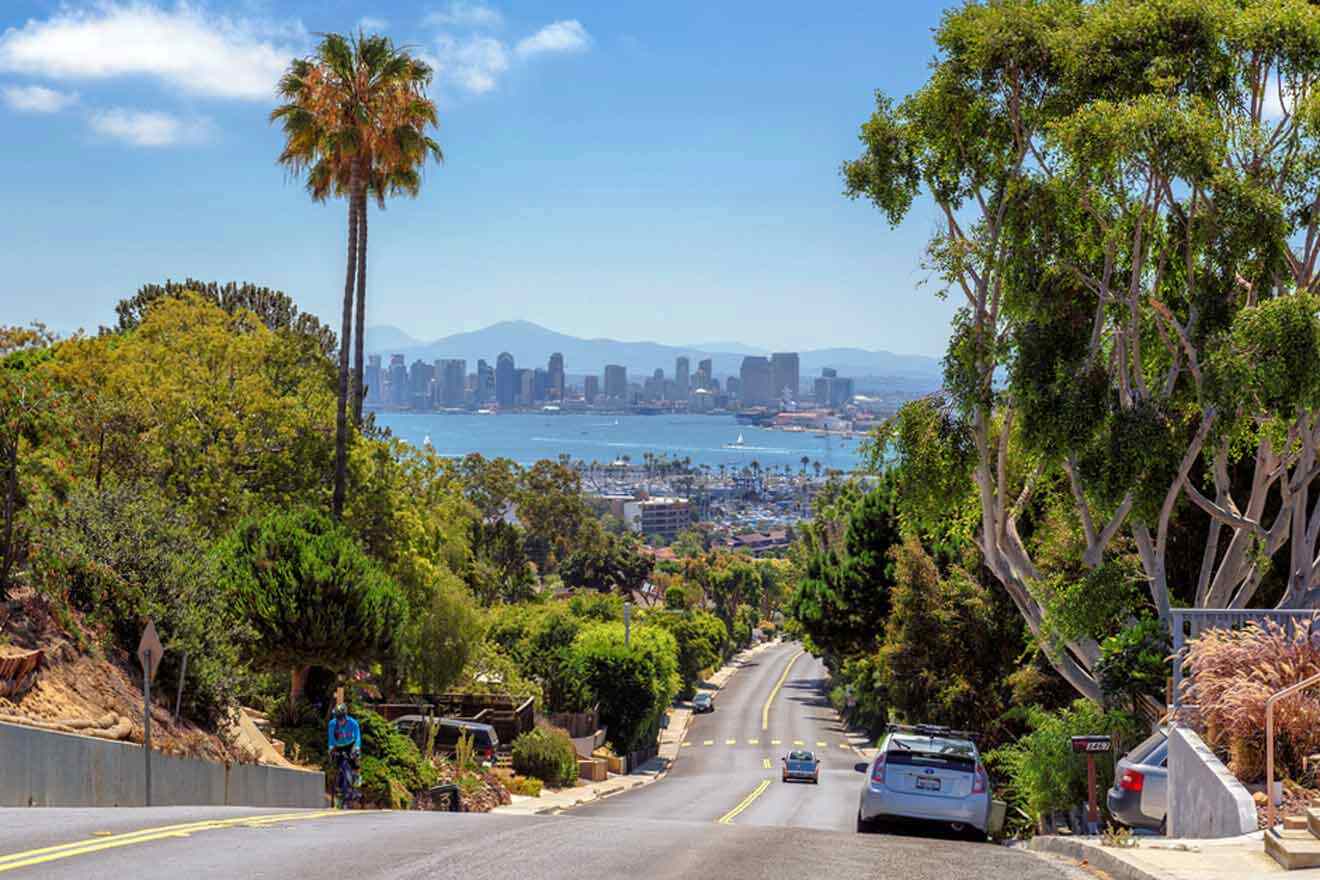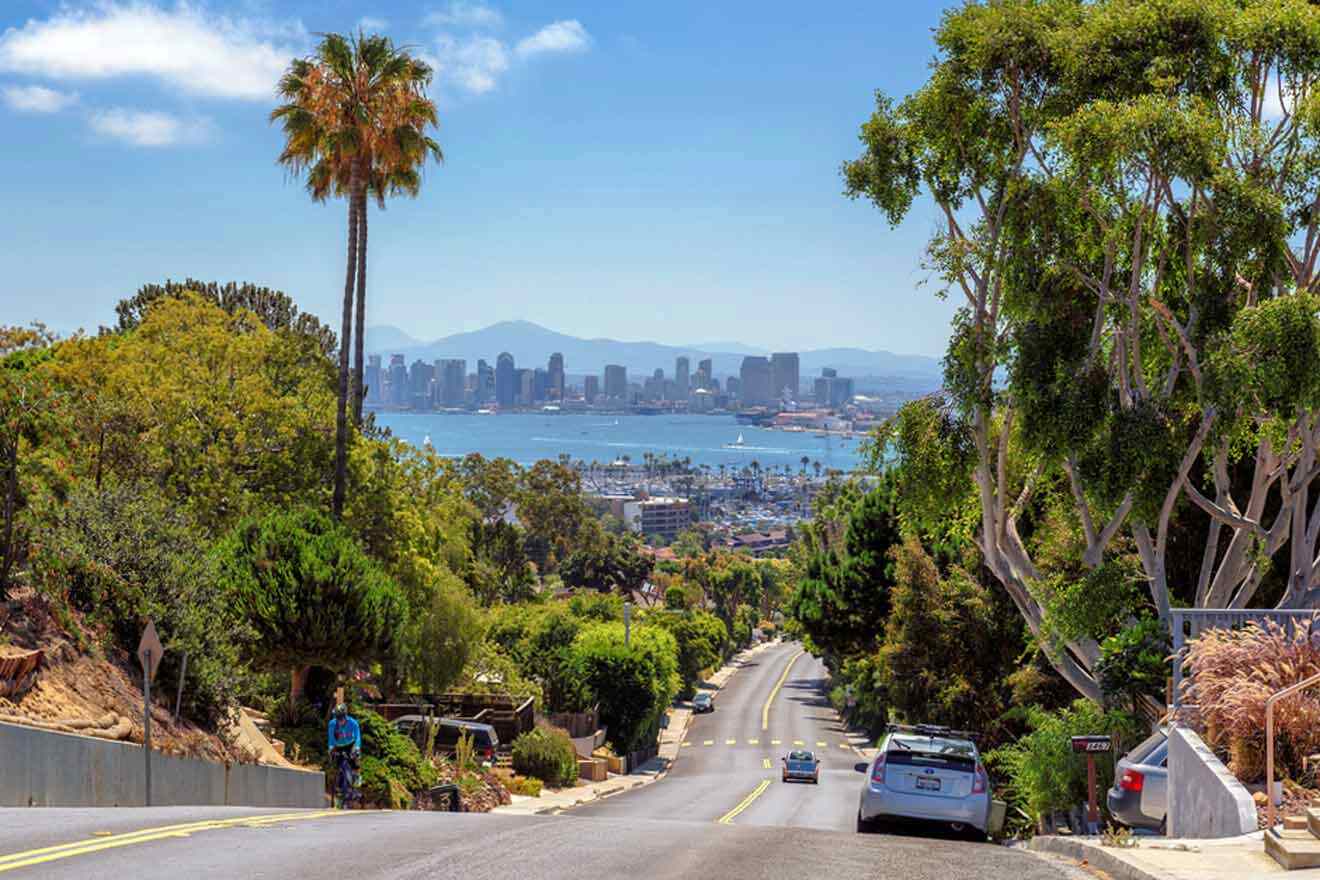 Welcome to America's Finest City: San Diego, one of the most beautiful cities in the country! We have all the top-rated beaches, perfect year-round year, authentic Mexican food, the famous San Diego Zoo, and, if we're craving a quick day trip, we're just a short drive away from all of SoCal's must-visit destinations.
Being a local San Diegan and growing up in this beautiful city, I've gotten a chance to really get to know my hometown and the surrounding area. And that's precisely why I'm writing this post! I'm happy and excited to introduce you to some of the most popular San Diego day trips you absolutely need to check out.
All destinations mentioned in this article are between 20 minutes to 3 hours away from downtown San Diego – so keep that in mind! I'll also be making notes and giving special tips and tricks along the way to make your day trips that much more smooth.
My first 2 bits of advice are:
1. Consider renting a car (you need one for most destinations mentioned here), and
2. Book all your tours and tickets in advance!
Alrighty, ready to get started? Let's go!
If you are in a hurry
To avoid wasting precious time, I recommend checking out these professional tours. They take care of all the planning, and you just show up… sign me up!
Here are the main things to book in advance:
And here are the best hotels in San Diego: Fairmont Grand Del Mar (luxury), Tower 23 Hotel (mid-range), Staypineapple, Hotel Z, Gaslamp San Diego (budget)
Here's a map of all the places you'll be visiting for the day!
1. Visit San Diego's most beautiful coastal town: La Jolla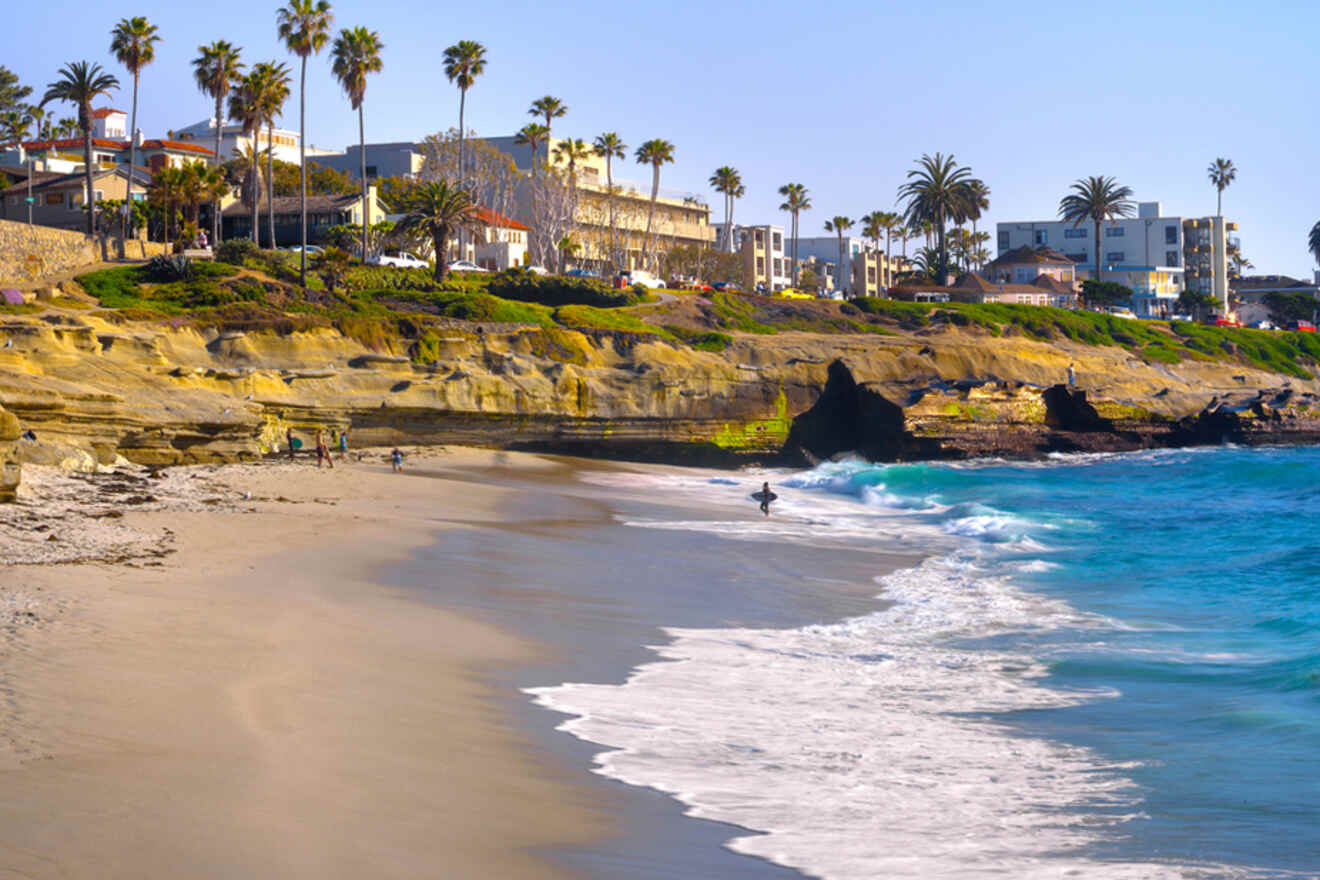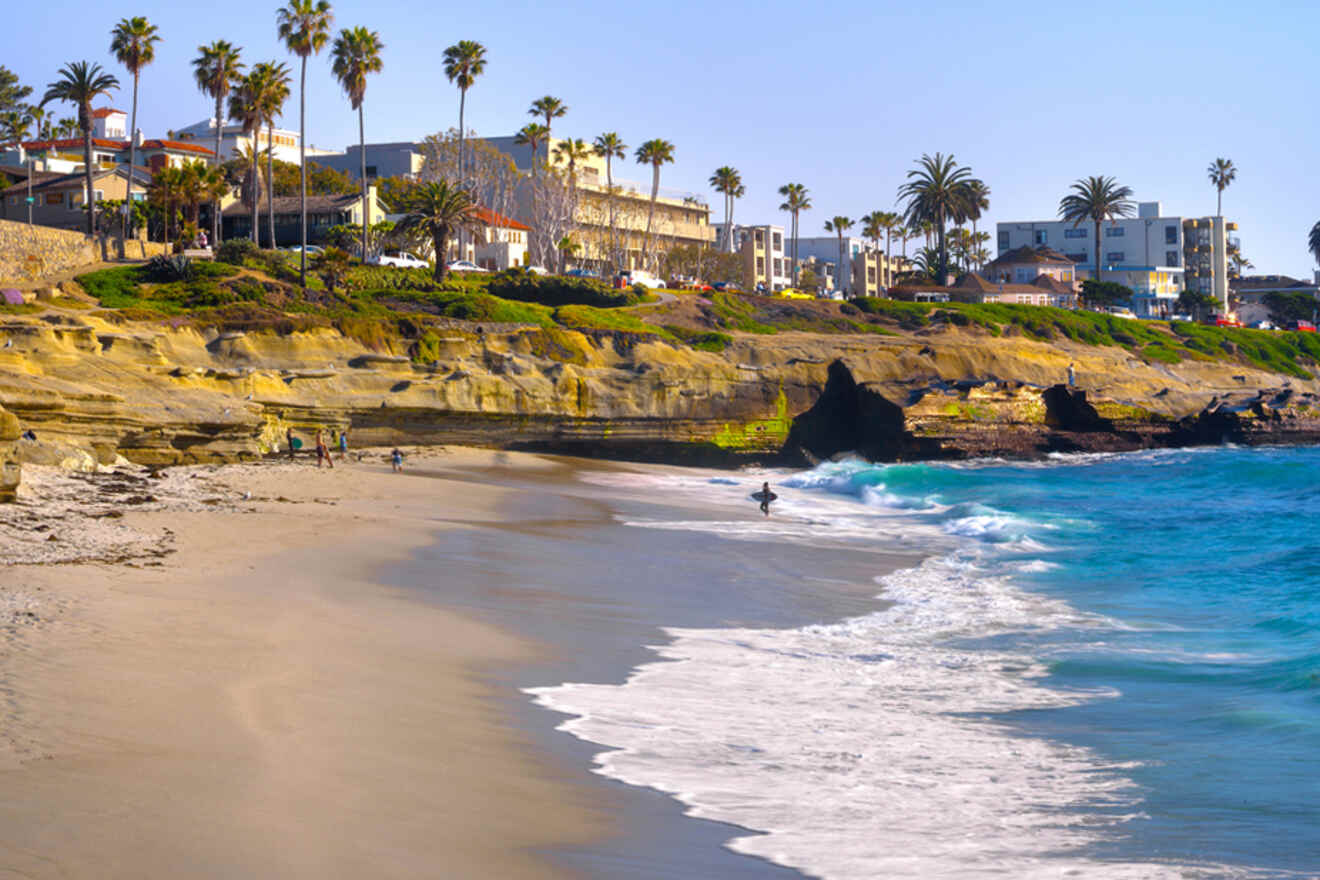 La Jolla is one of the most beautiful coastal towns in Southern California. It's about a 30-minute drive away from downtown San Diego and the perfect destination for a day trip. You get picturesque Pacific Ocean views, relaxing vibes, contemporary art galleries on every corner, and the famous sea lions sitting along the rocky bluffs and sea caves at La Jolla Cove!
After you visit La Jolla Cove, I recommend having a picnic lunch by the beach, visiting the Contemporary Art San Diego, and watching the setting sun along the Pacific Coast. Don't forget to take a look at the La Jolla Tide Pools for smaller forms of sea life.
One fun activity I recommend is going on a kayak tour! You get a chance to explore the famous La Jolla caves and make memories that will last a lifetime.
TOUR PRICE: from US$100 per person
2. Pick strawberries and admire flowers in Carlsbad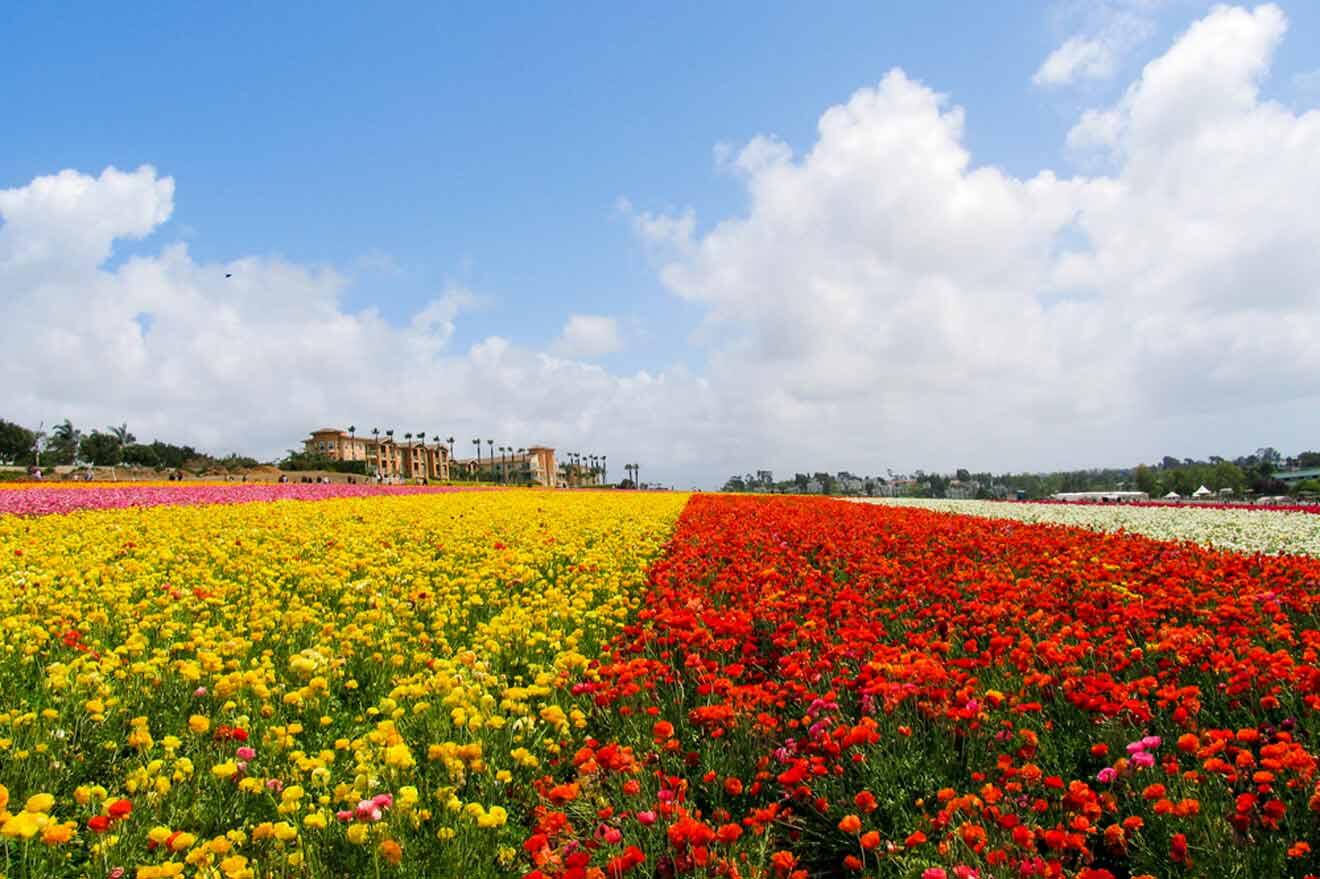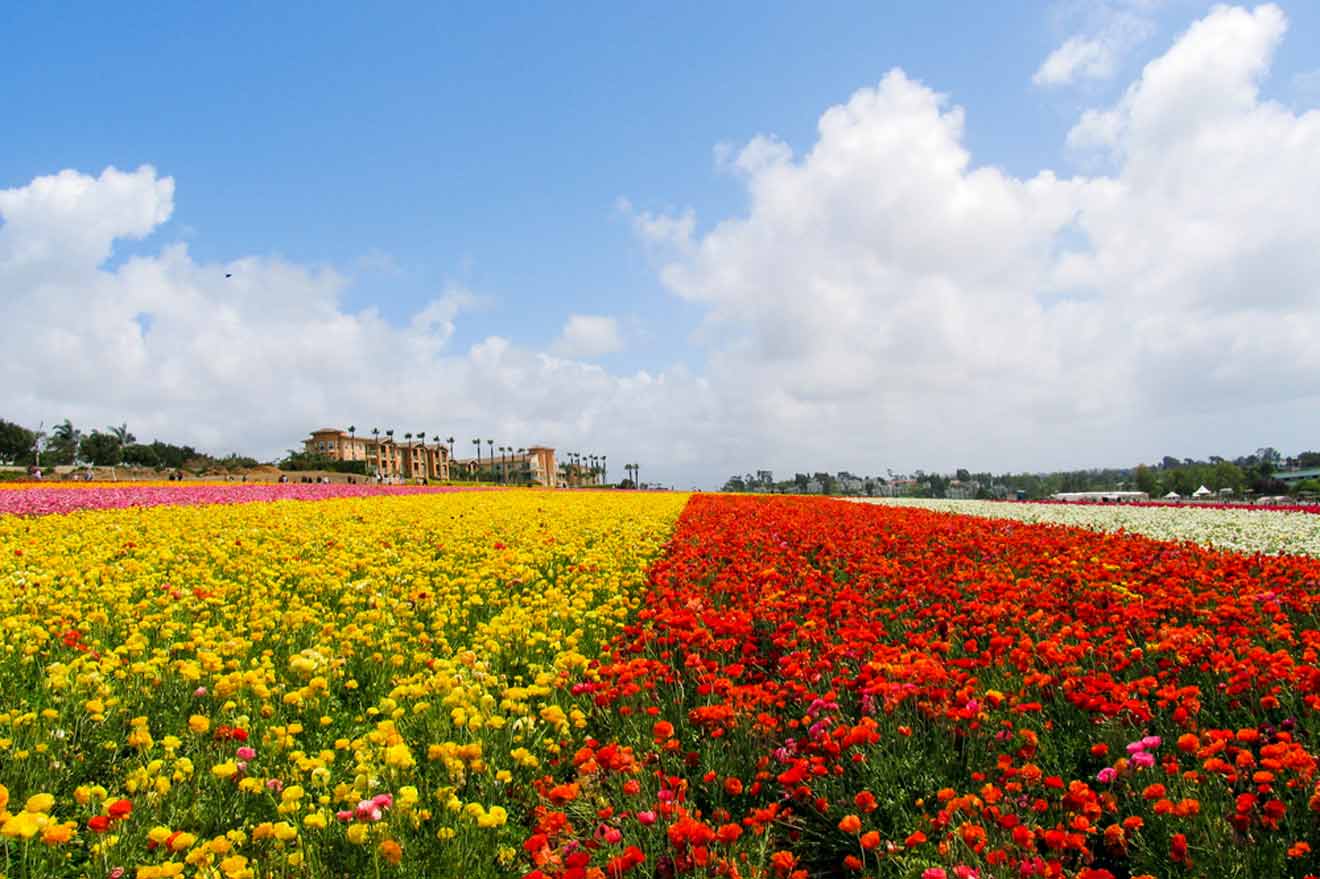 Carlsbad is a 40-minute drive from downtown San Diego – an easy commute for a lovely day at the beach town. It is the best to visit during the springtime because of its seasonal attraction, The Carlsbad Flower Fields and the Carlsbad Strawberry Co. I recommend visiting both attractions for the perfect day in Carlsbad!
The Flower Fields is an attraction that is open from March through May. There are limited tickets available per day, so you need to book ahead of time online! It's the most famous attraction in Carlsbad and is perfect for couples and families.
The Carlsbad Strawberry Co. is a huge strawberry field where visitors are given a small bucket and can stroll around picking strawberries with their loved ones! This is a more interactive activity that's fun for kids and couples as well.
For the perfect end to your day trip, visit the South Carlsbad State Beach and head over to Nick's on State! This is one of my favorite restaurants in Carlsbad, with the most beautiful interior, delicious food, and excellent service. For dinner, I recommend ordering sea bass and salmon.
3. Spend a day in the Julian mountains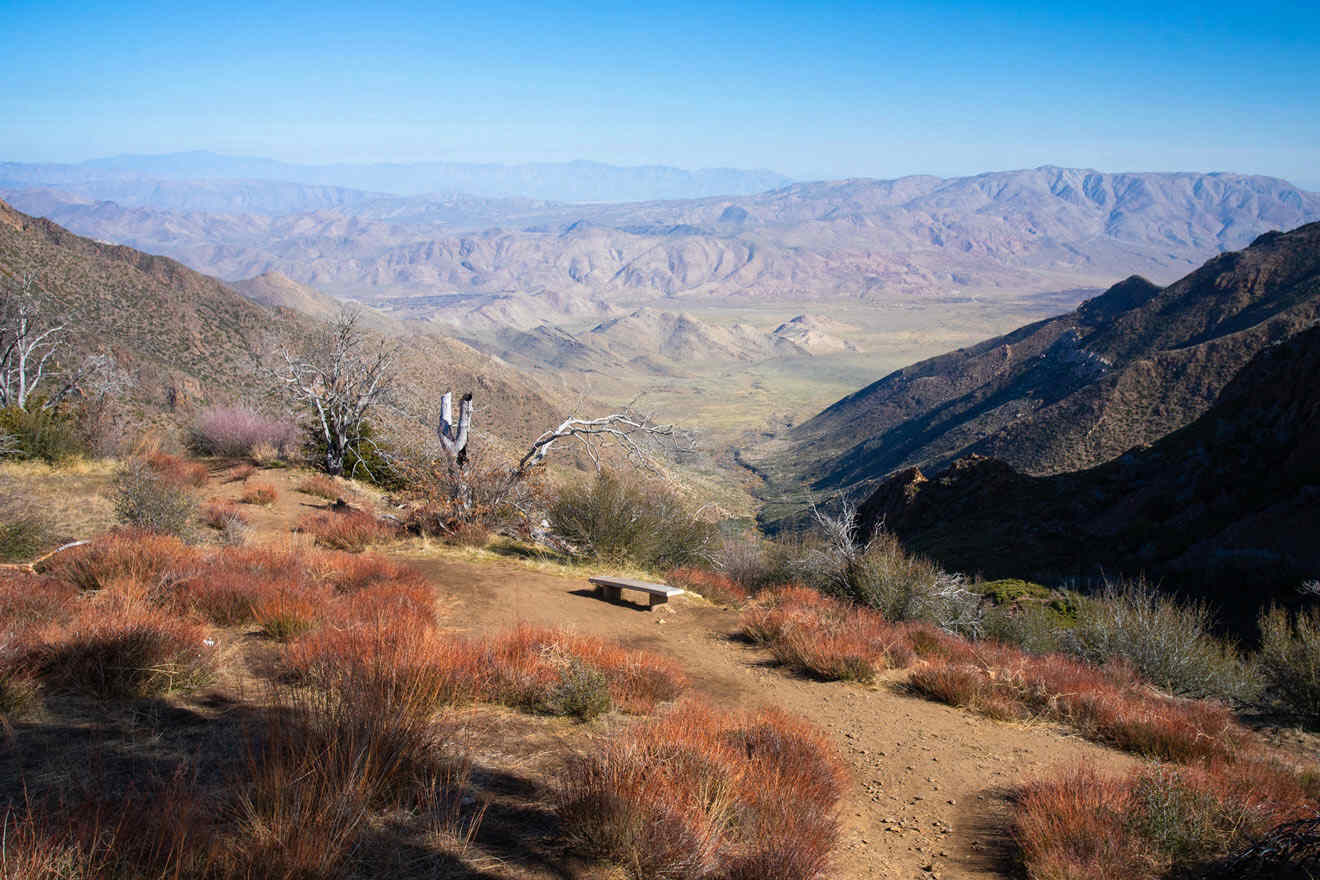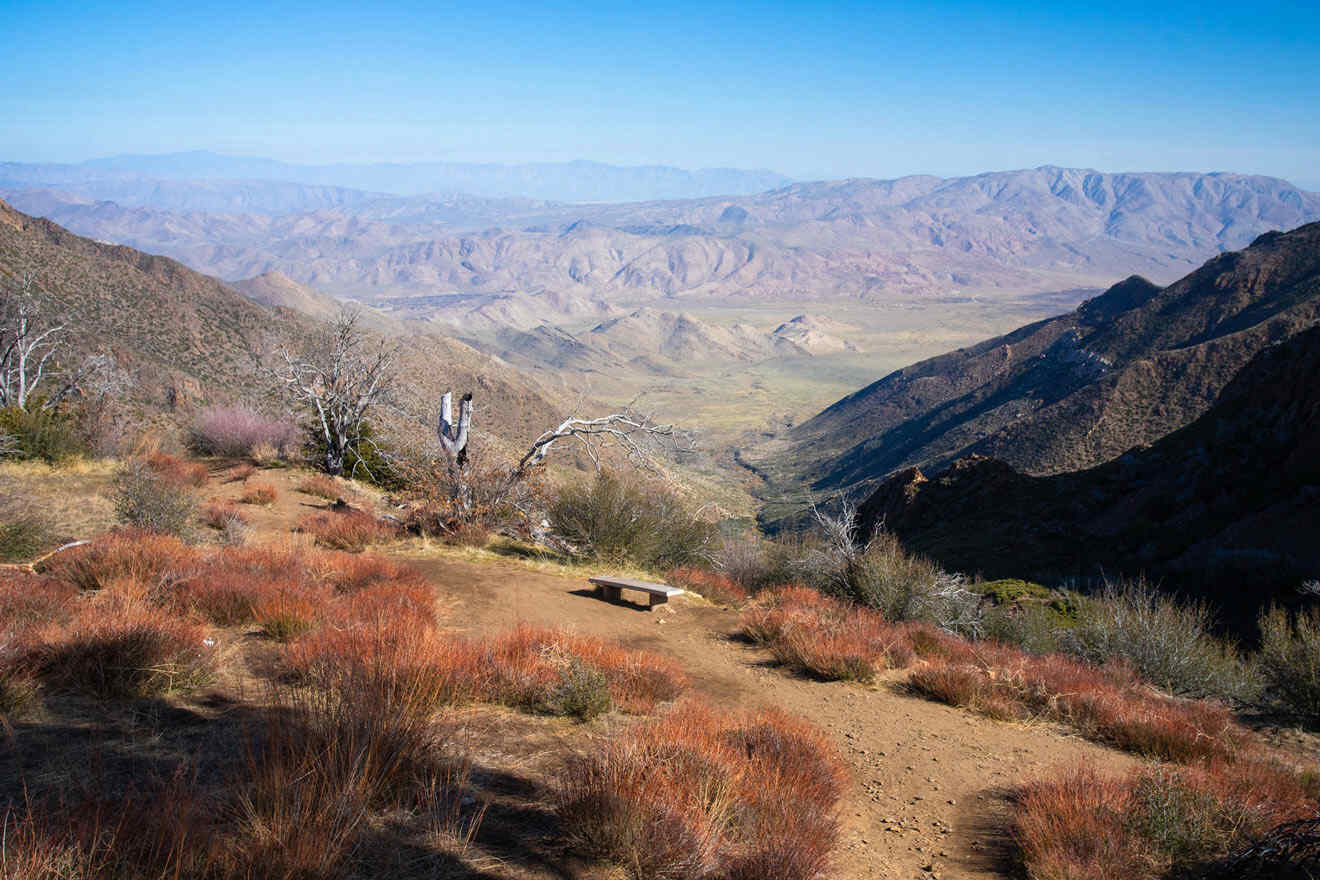 Julian is a gold rush town located an easy 1.5-hour drive from downtown San Diego. It's quite a windy road getting there, so I recommend staying cautious on the way up. If you're traveling in the winter, you'll need chains for your car!
The small town of Julian is located in the Cuyamaca Mountains and is known for its delicious homemade pies and country feel. I recommend coming here in the winter for the ultimate Julian experience. It's truly a magical day every time I'm here!
If you're visiting in the summer, take a hike through the Volcan Mountain Wilderness Preserve nearby for the most stunning views and greenery.
PRO TIP: Mom's Pies has the best pies in Julian. Come early in the morning to beat the long lines.
On your way to Julian, stop by Lake Cuyamaca and feed ducks by the lake! In the summer, rent a boat (there's only 1 shop to rent from sitting right next to the lake) or take a walk around Cuyamaca Rancho State Park and enjoy!
4. Go surfing in Laguna Beach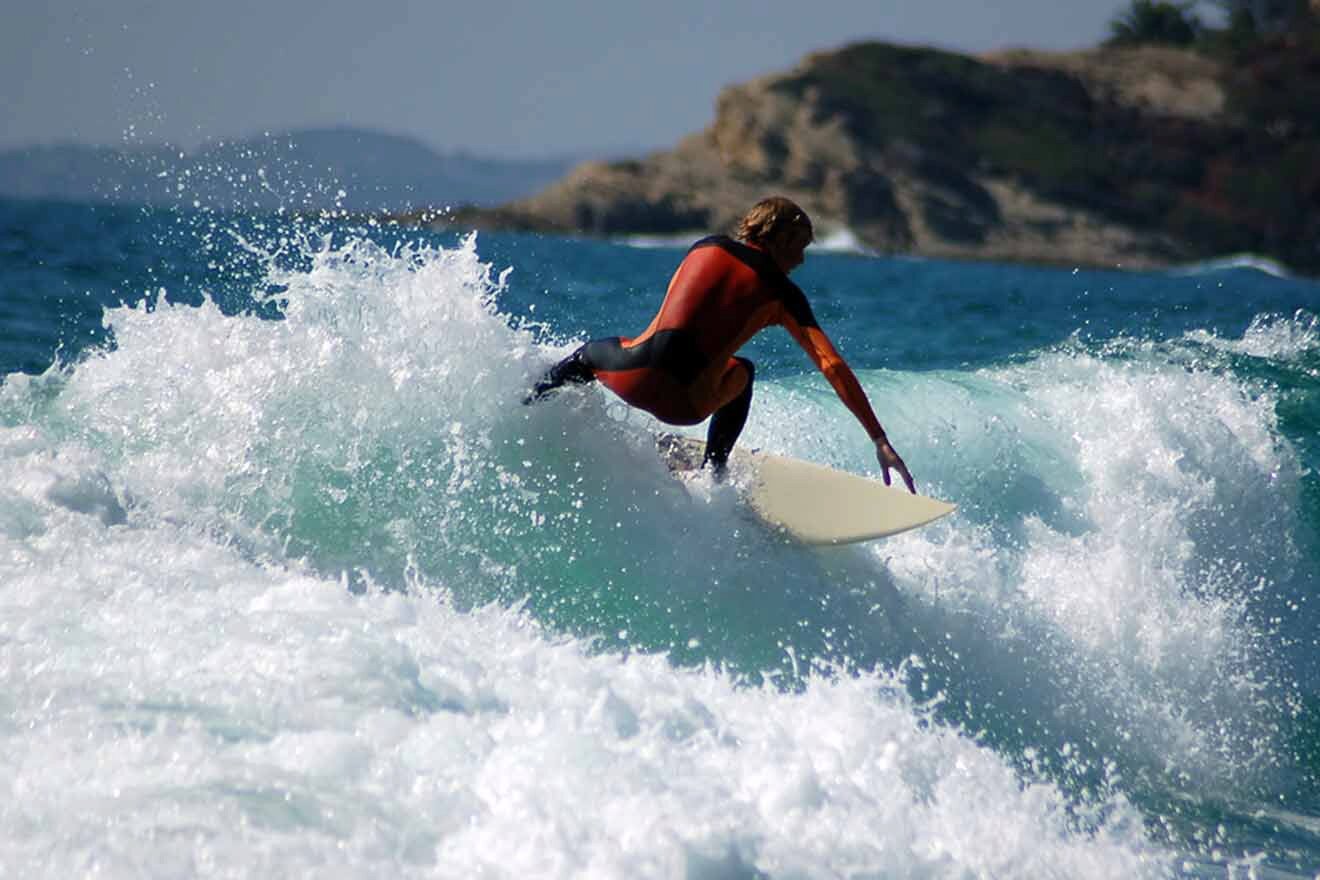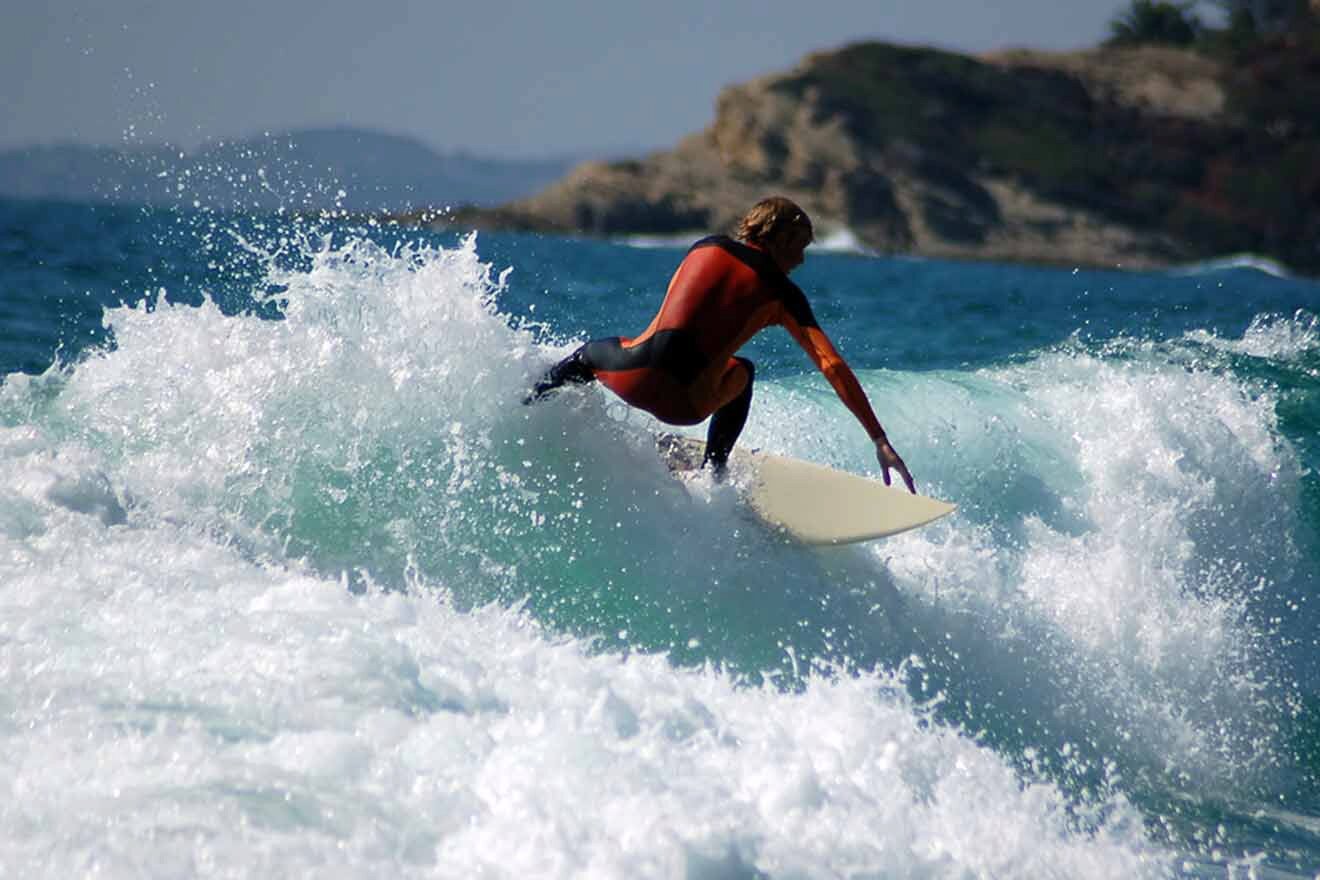 Laguna Beach is about a 1.5-hour drive from San Diego, offering one of the most fun beaches to surf in Orange County (aside from Huntington Beach), an underwater park at Crystal Cove State Park, and plenty of open spaces great for picnics with ocean views.
For the perfect day trip to Laguna Beach, take a nature walk through Crescent Bay Beach, have a picnic by the cliffs in Crescent Bay Point Park, and take a surfing lesson with a professional, or even a group of others like this tour. (Because you can't be at an Orange County beach and not surf.)
PRICE: from US$110 per person
5. Ride an aerial tramway and unwind in Palm Springs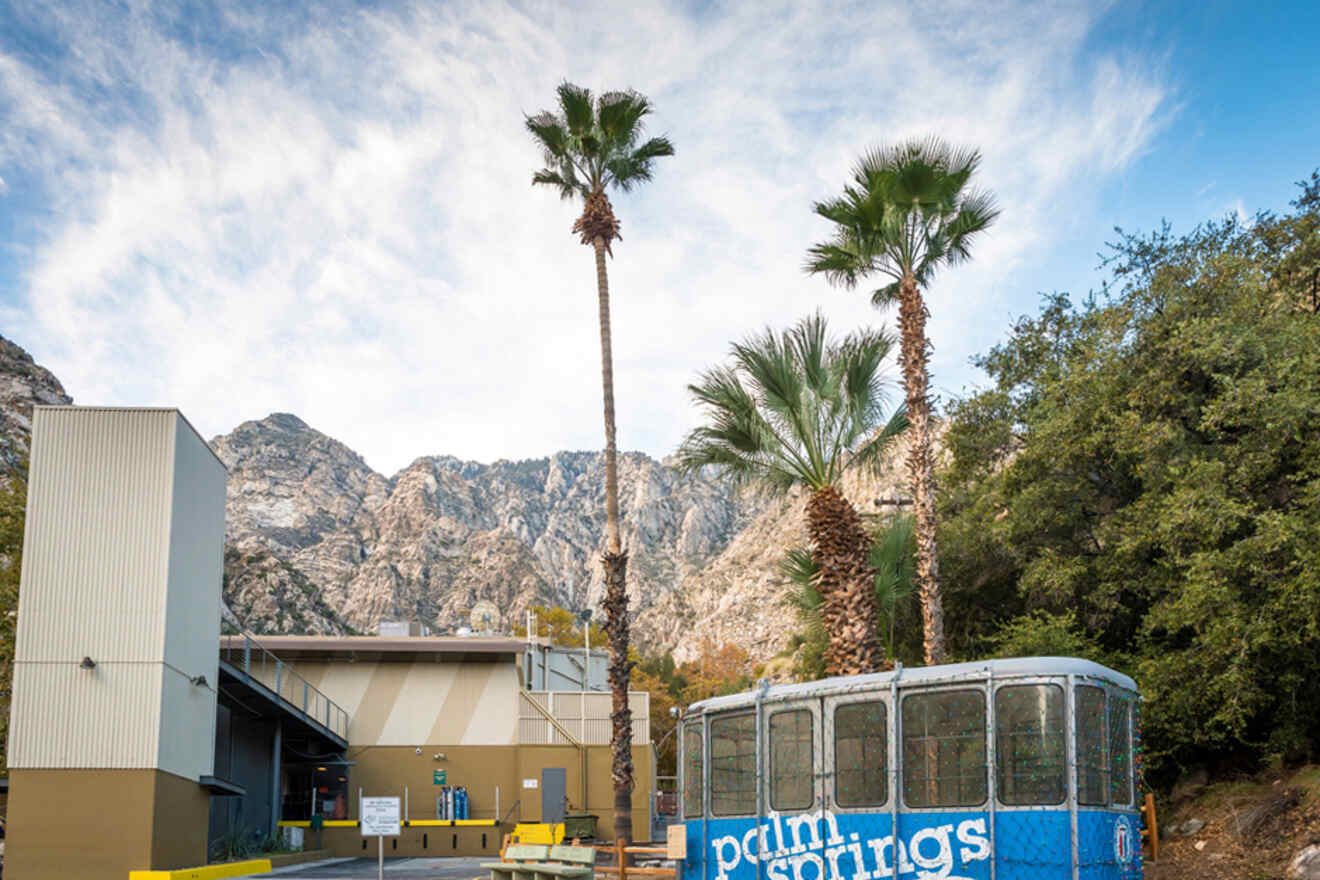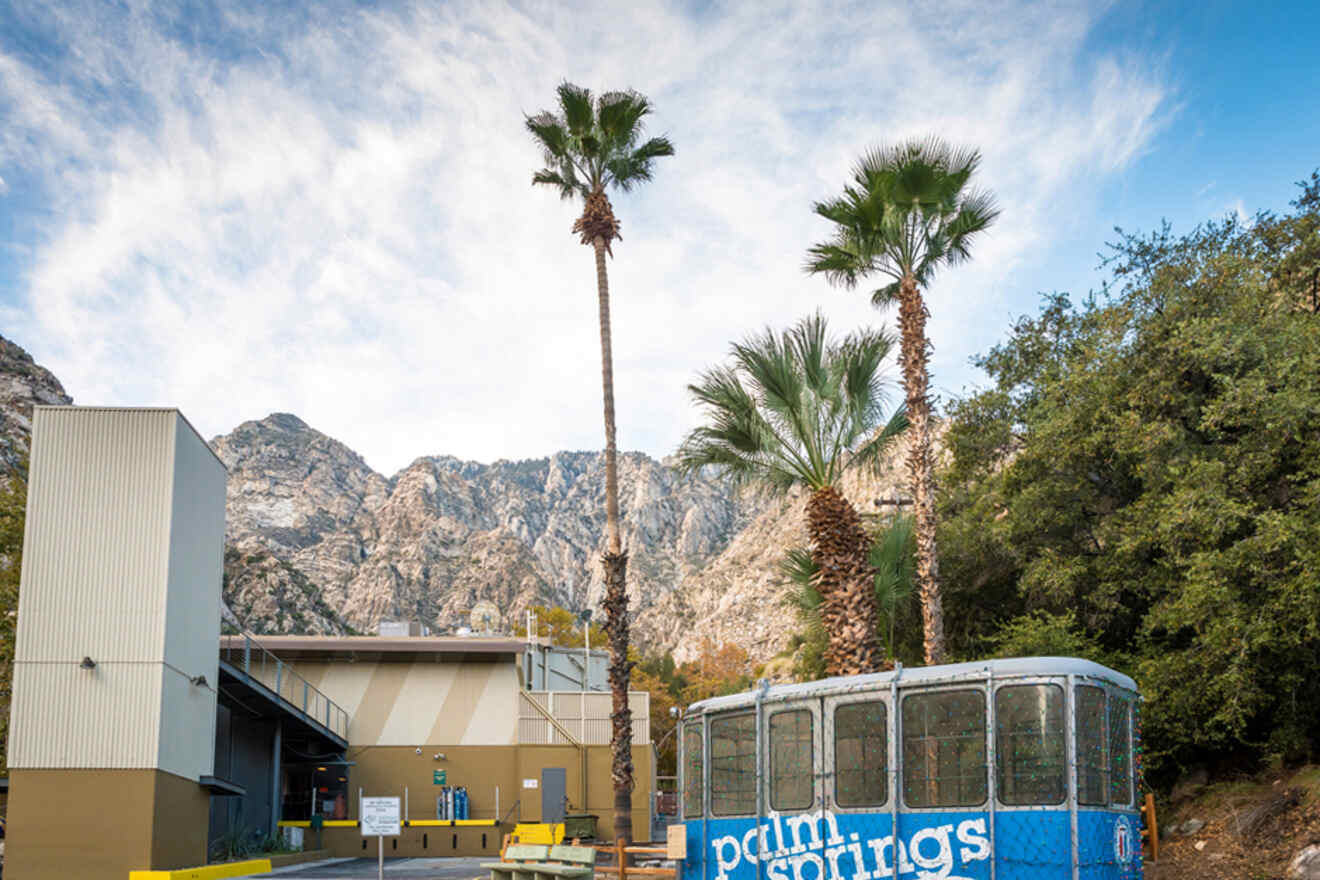 Palm Springs is a 2.5-hour drive from downtown San Diego and a great location to spend the day if you're looking for a change of weather and landscape with a desert oasis near the wine country.
There are a few things to do here, like wine tasting and shopping, but there is one thing I 100% suggest checking out while you're only here for the day: Palm Springs Aerial Tramway!
It is a scenic ride starting from the desert of Palm Springs to the San Jacinto Mountains within the San Jacinto State Park.
Here, you get a chance to watch your environment quickly change from desert grounds to mountain tops and admire the beauty along the way. Make sure you buy your tickets in advance!
TIP: The Amtrak train will take you to Palm Springs and back for a very reasonable price. I totally recommend this if you plan on staying within the city center (that way, you can just walk everywhere and take the train back home).
PRICE: from US$30 per person
Book Your Aerial Tramway Ticket
6. Have the ultimate beach day in San Clemente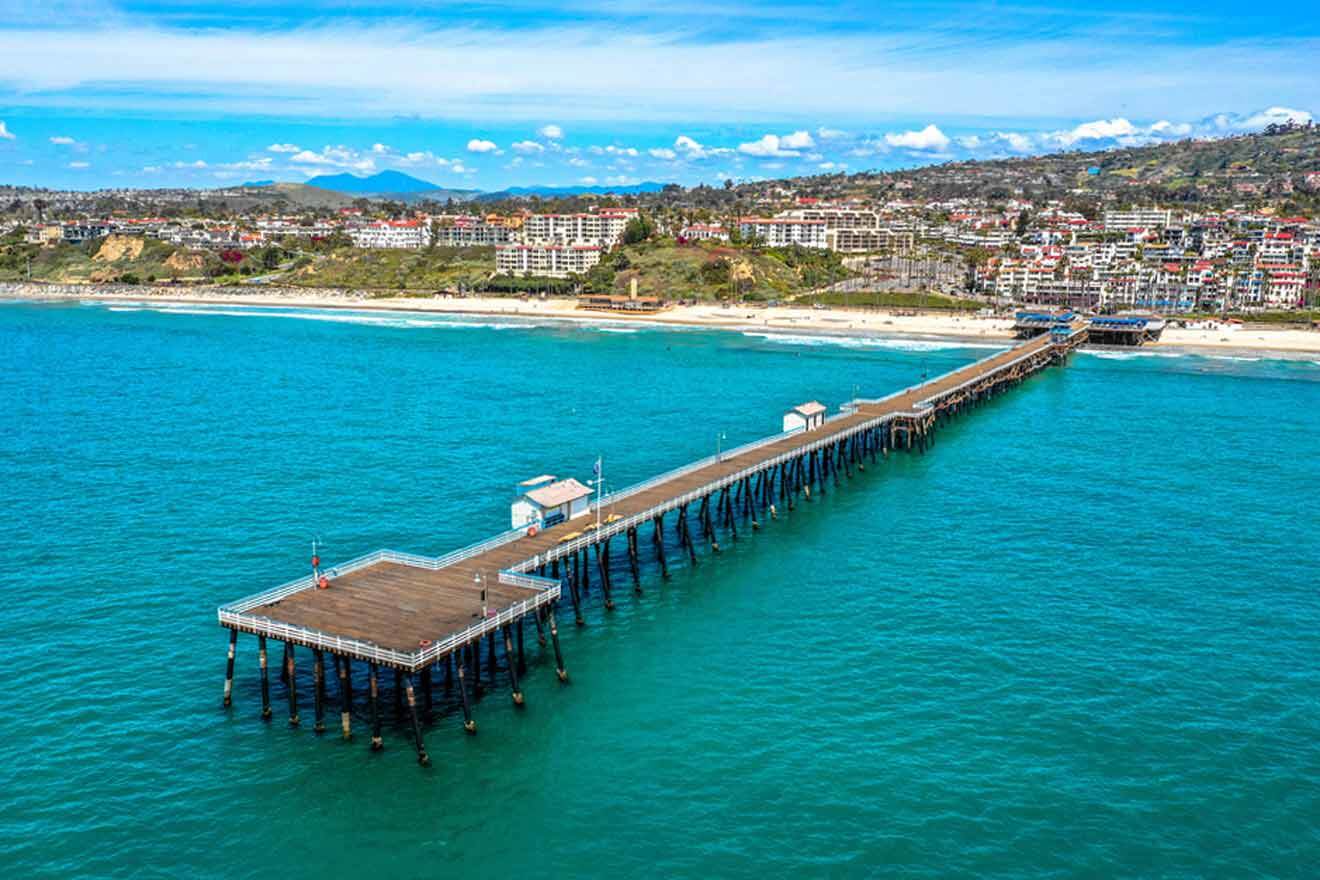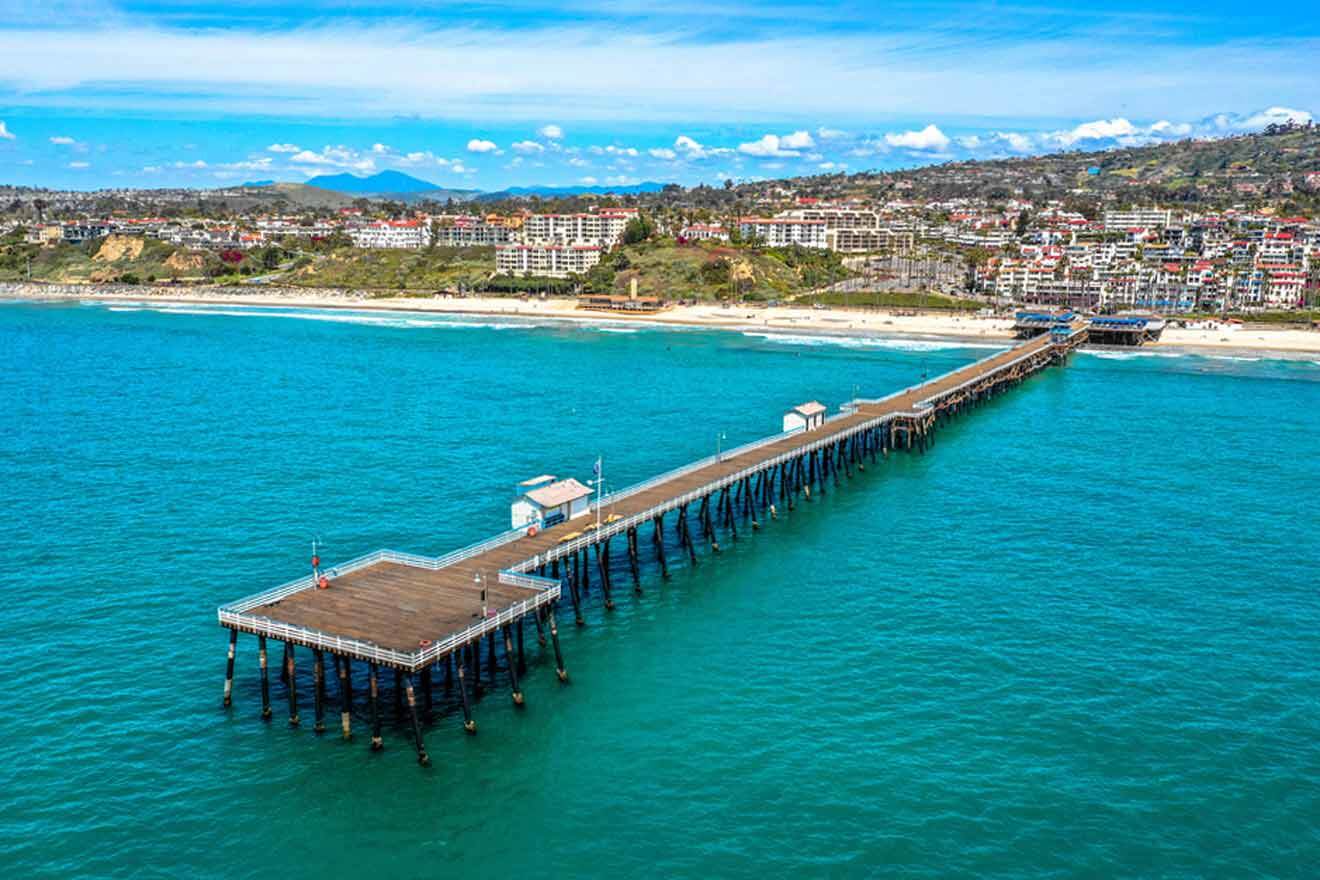 Spend the day at one of SoCal's most laid-back beach towns! San Clemente State Beach is halfway between Los Angeles and San Diego, right in the heart of Orange County. I love San Clemente because it's more low-key and you don't find too many tourists here. It's a true beach town without the hectic-touristy feel.
You can go hiking down the San Clemente Coastal Trail, walk through the museums, and go surfing at the beach! For the best lunch, visit the San Clemente Pier for Fish & Chips at Fisherman's Restaurant & Bar San Clemente.
NOTE: You can take an Amtrak train ride from San Diego (Old Town station) to San Clemente Pier using the Pacific Surfliner. Round-trip tickets start at US$26/per person. I recommend taking the train and back if you don't have a car! Just remember – the train is a longer ride so might not be as convenient.
7. Go bird watching at Idyllwild's wilderness park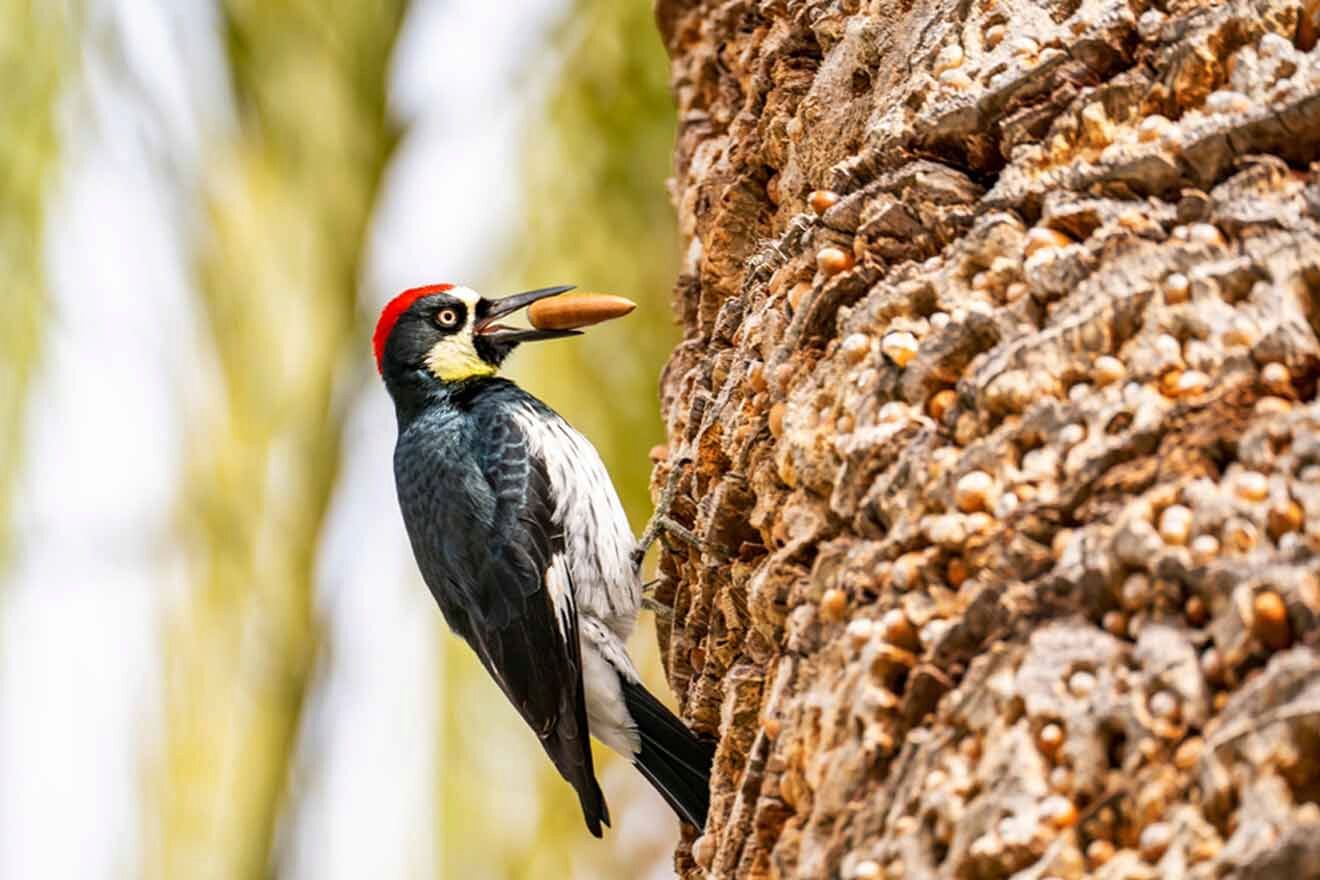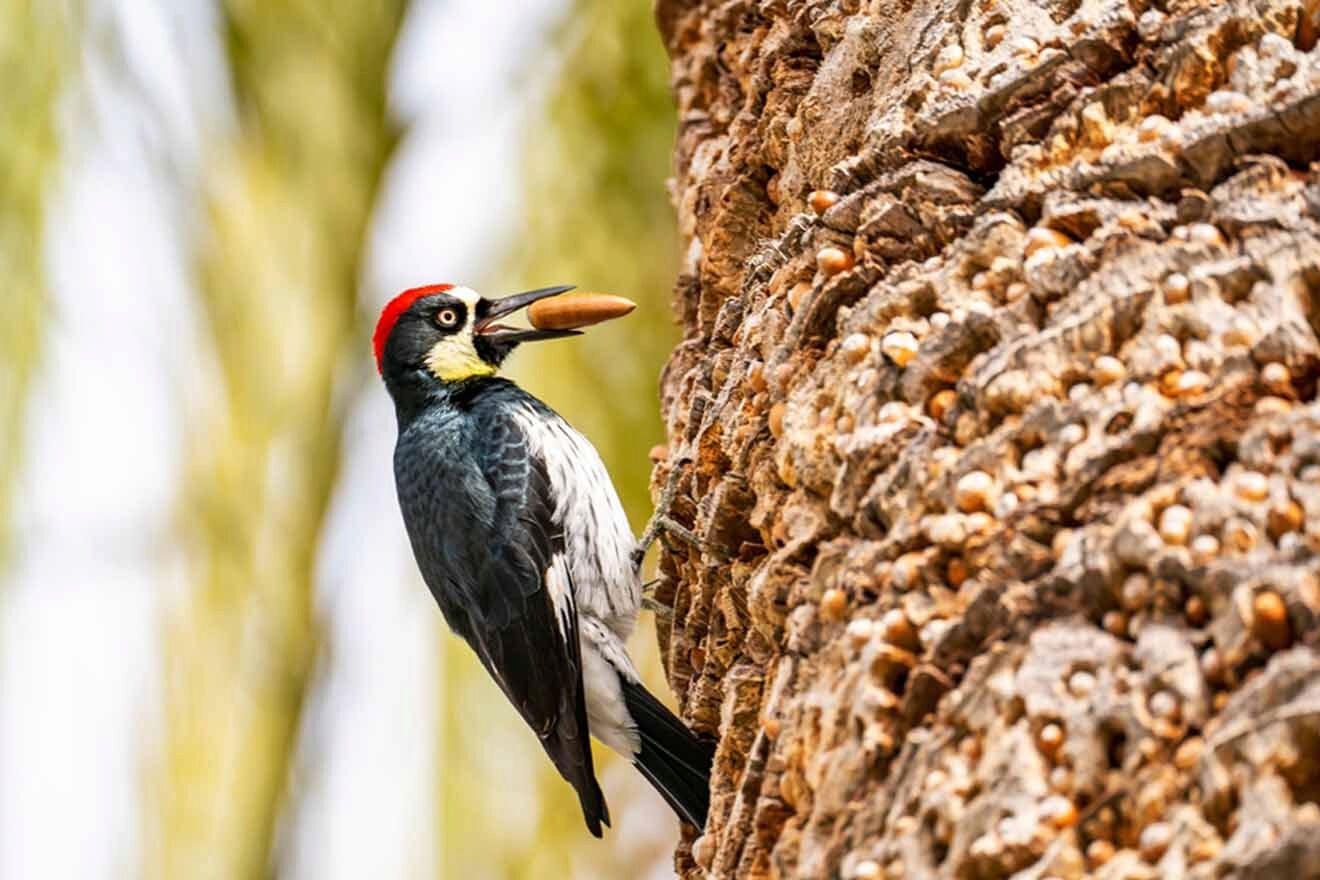 Idyllwild is a 2-hour drive away from San Diego and a short drive away from Palm Springs. Nestled near the San Jacinto State Park, it's about 19,000 acres (c. 7,700 hectares) of protected forests, which tons of birds call home! The mountains are especially rich in Acorn Woodpeckers and Mountain Chickadees and really come to life during the day with singing birds.
Come in the early morning with your binoculars for a peek at other birds like white-headed woodpeckers, quail, steller's jay, hawks, and falcons.
There are picnic tables located everywhere in the park, I suggest packing a lunch and enjoying your meal with the beautiful views overlooking the mountains and greenery. You can even hit 2 major cities in one day by driving to Palm Springs after lunch!
8. Visit the historic and charming Coronado Island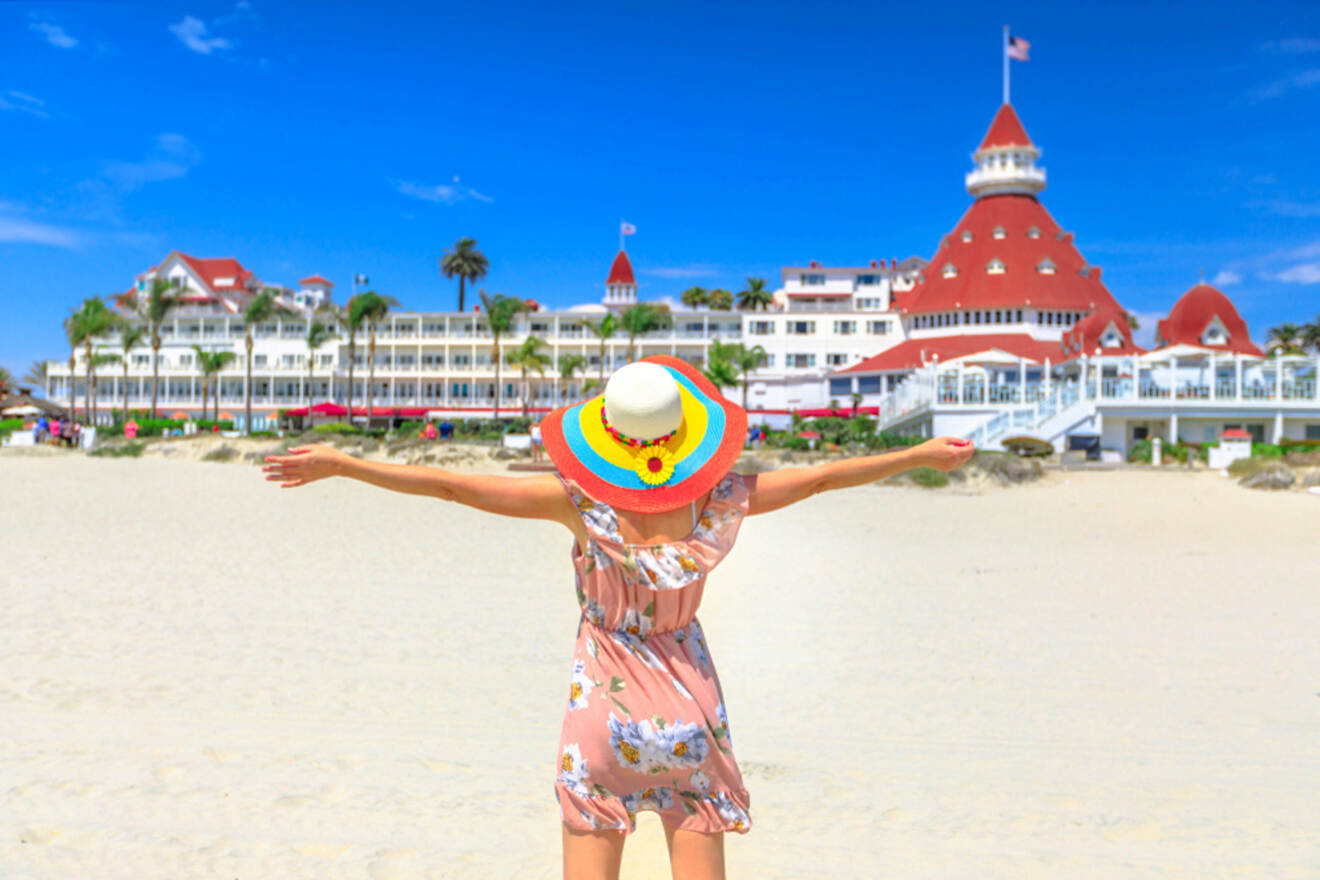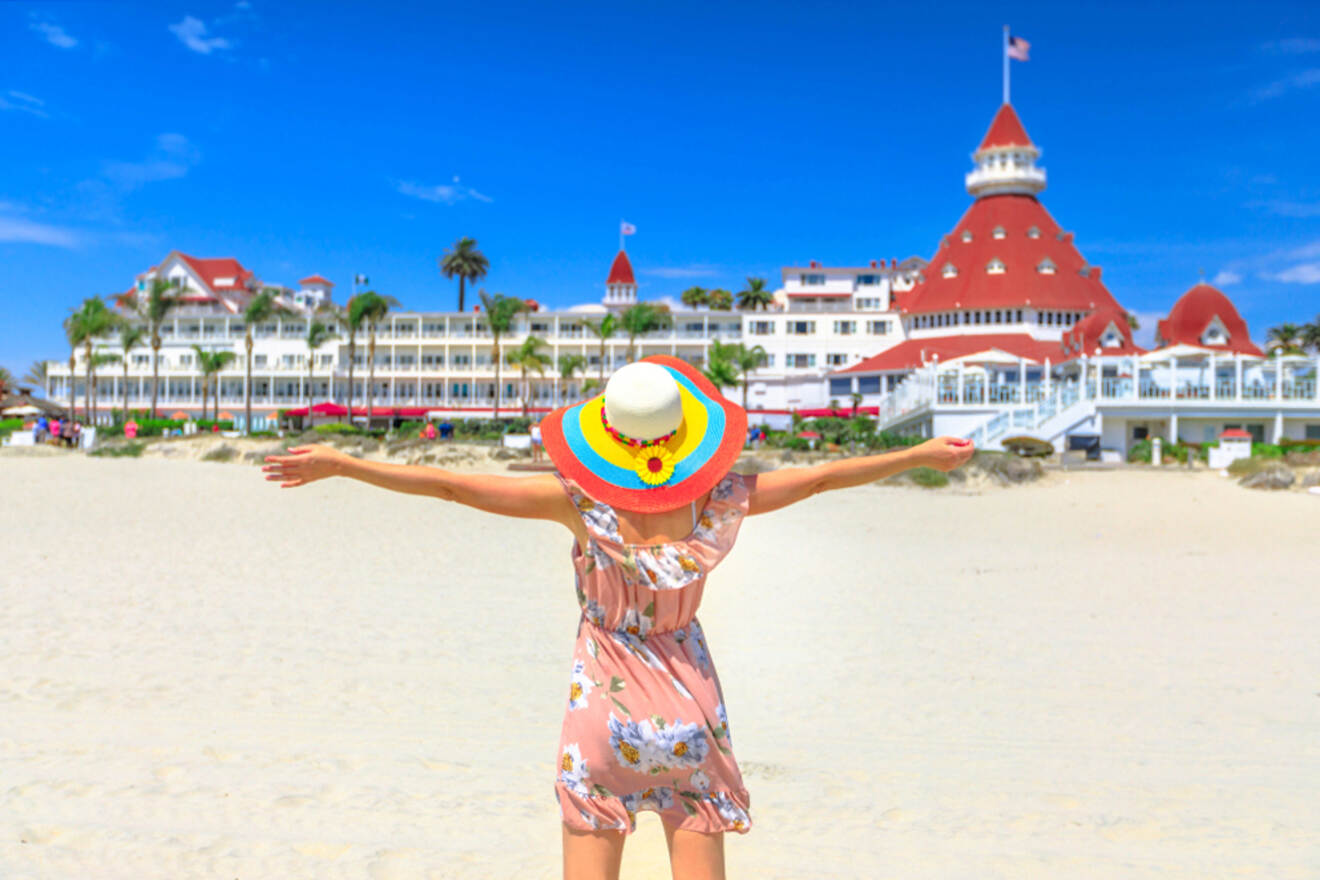 Coronado Island is only a short ferry away from downtown San Diego! This charming island is home to many public parks offering picnic tables, BBQ pits, and small gardens, with views of the San Diego skyline and harbor nearby.
It's a beautiful spot to spend the day with the whole family, and there are endless activities to do while you're here for the day.
Here are a few things I recommend:
Visit the iconic Hotel Del Coronado! This is hands down the most famous attraction on Coronado Island. Built in 1888 in Victorian style, the hotel offers all kinds of experiences for the entire family all year round.
Take a ride on the Venetian-style gondola! This experience is so romantic, perfect for couples, but make sure to book this popular activity in advance.
Visit the remains of a century-old sunken ship buried below the shores of Coronado. This is another popular attraction and easy to miss since it's quite buried under the sand. It's located towards the south of Avd De Las Arenas, and there are always people around, so just follow the crowd!
9. Explore the ins and outs of Balboa Park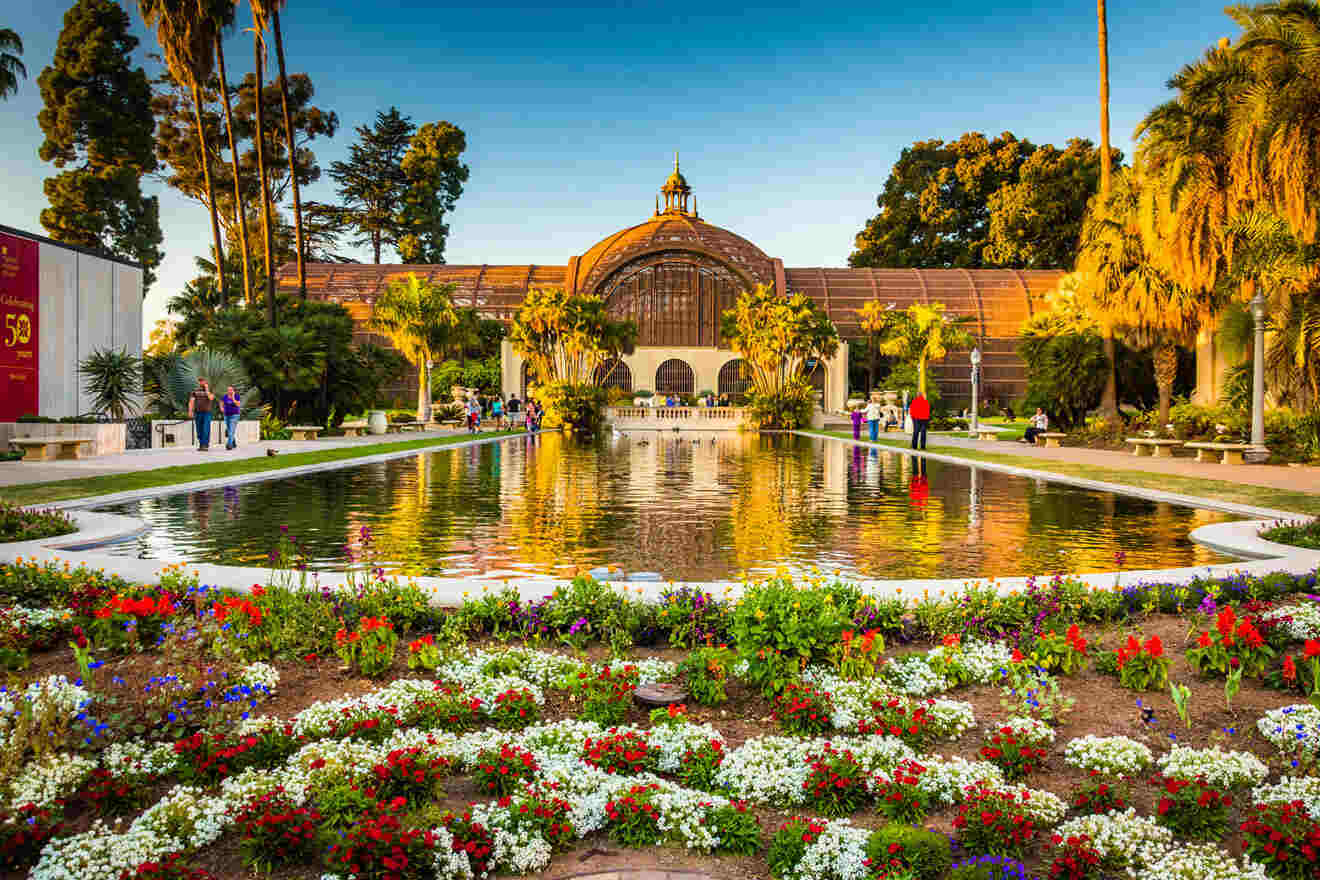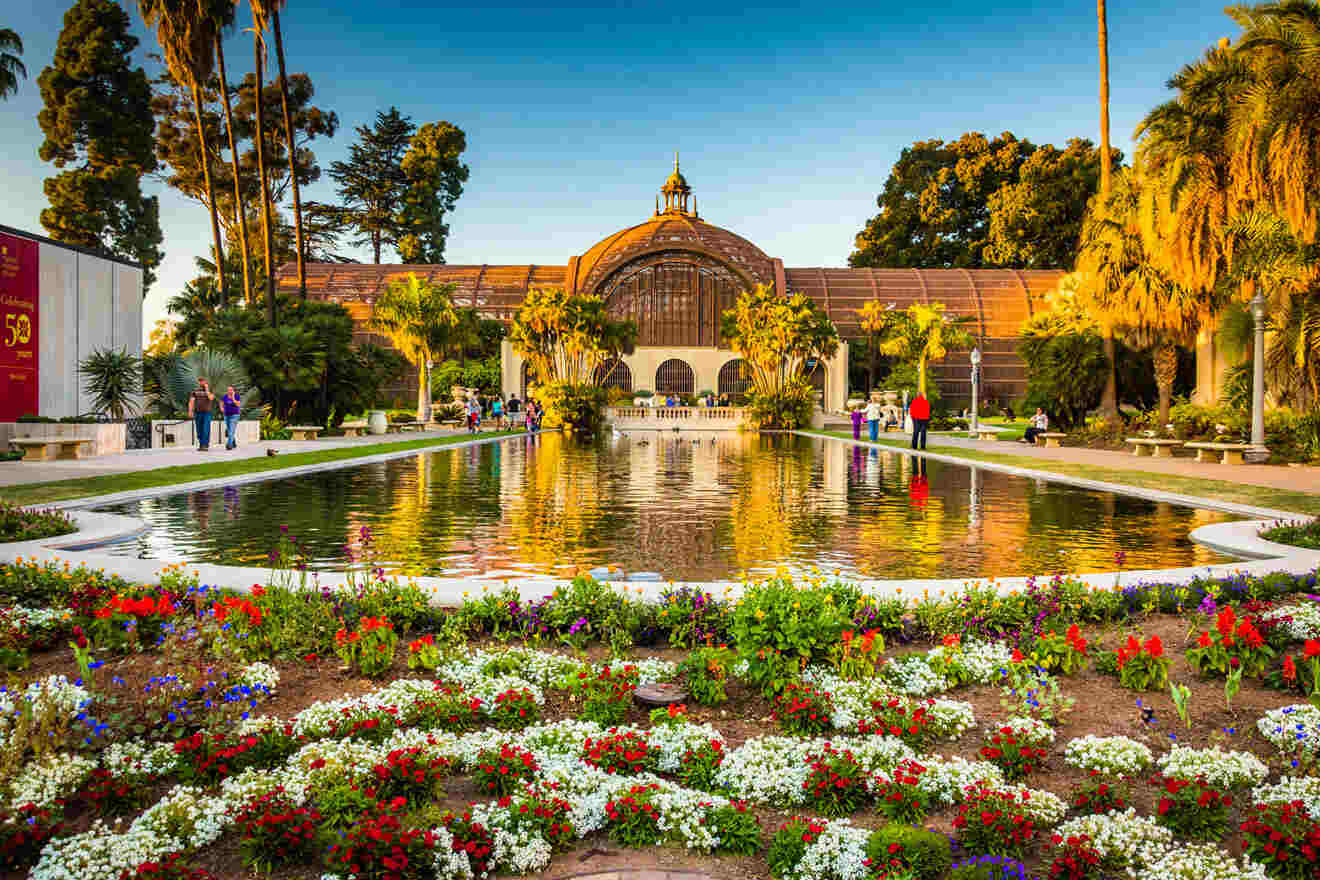 Balboa Park is a huge park located in the heart of San Diego! You'll find Spanish-inspired architecture, the famous Japanese Friendship Garden, the botanical garden, art museums, and more to explore. You can easily spend an entire day here, so I had to add Balboa Park to this list.
Unless you're in a rush, spend the entire day exploring the Museum of Us, San Diego Natural History Museum, and Fleet Science Center. You can easily hop from one to the other if you start your day early!
If you're looking for a more fast-paced way to explore the park, I recommend renting this GPS self-guided scooter to explore the park with a guide taking you to the major hotspots within the park.
The park is open 24 hours, but I recommend checking here for each museum's hours of operation.
TOUR PRICE: from US$80
10. Ride an ATV in Joshua Tree National Park for the day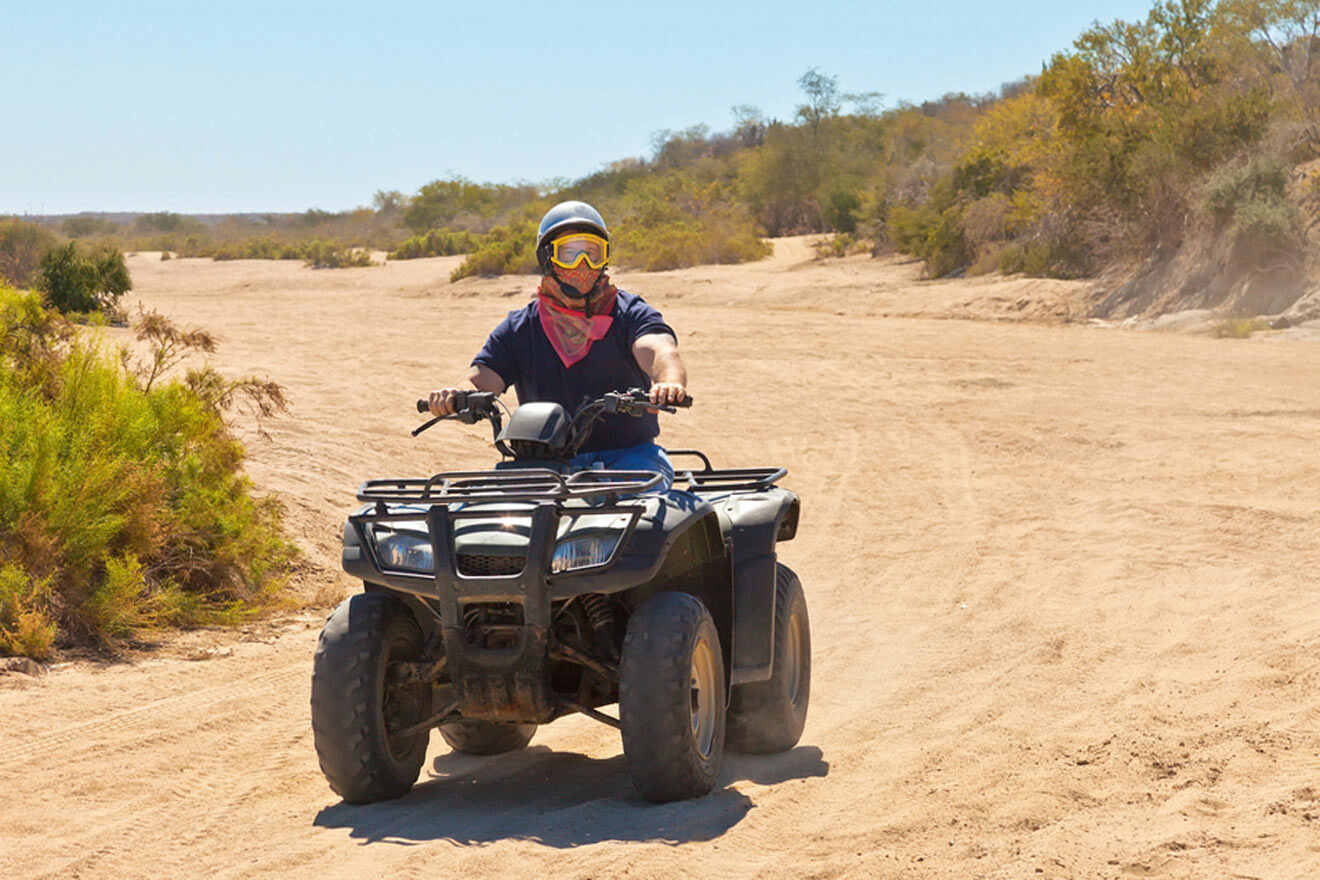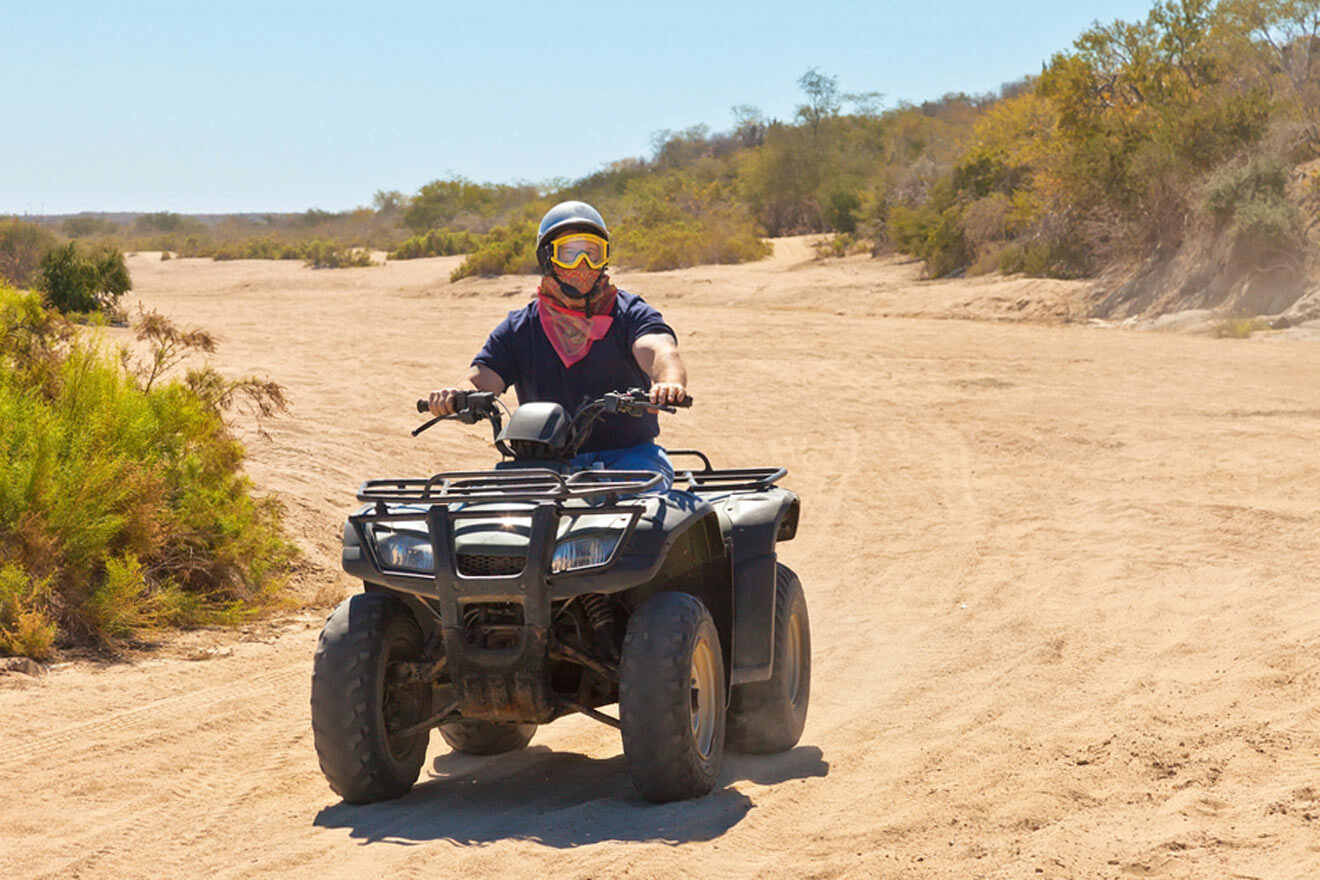 Joshua Tree National Park is a 3-hour drive from downtown San Diego, making this day trip a bit less easily accessible. It is, however, quite the experience and worth it if you leave early in the morning and leave later during sunset hour.
For your day trip to Joshua Tree National Park, you won't have much time to personally explore the entire 800,000-acre (c. 323,750 hectares) park. If you're here for more than a day, you can go stargazing, hunt aliens, rock climb, and explore the many hiking trails.
But because you only have a day, I recommend booking this private offroading tour. The tour guide takes you through the deep backcountry and teaches you the ins and outs of the desert along the journey. It's only a 3-hour journey, so you have plenty of time to explore the town and cool shops afterward.
NOTE: Please remember to come prepared with a sun hat, sunglasses, and plenty of sunscreen! It gets incredibly HOT here!
PRICE: from US$210 per person
11. Spend your day hiking at Anza-Borrego Desert State Park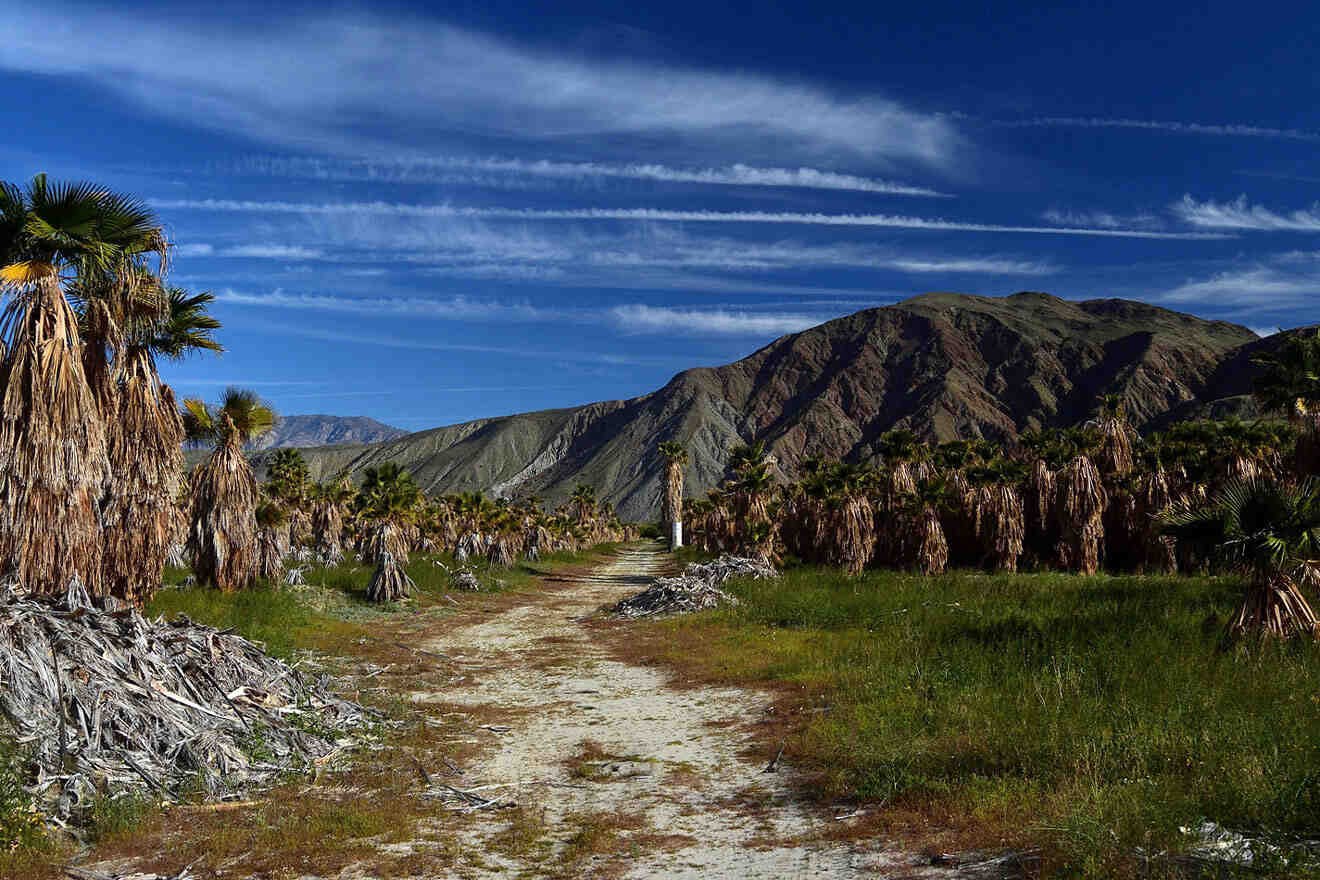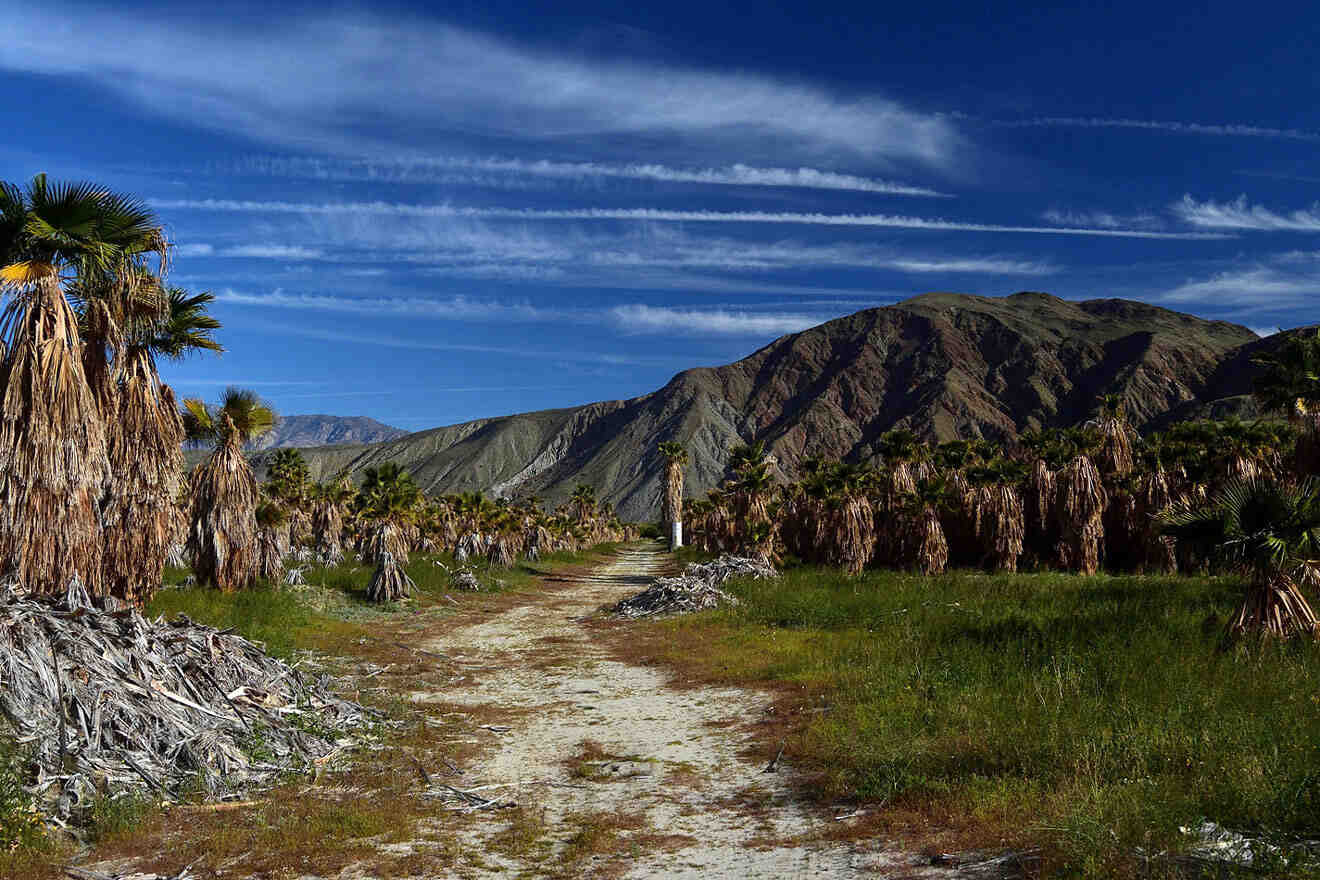 Anza-Borrego Desert State Park is California's largest state park, located a 1.5-hour drive away from downtown San Diego! Similar to Joshua Tree National Park, this is an excellent place to go sky-gazing at night, hike through the deep trenches of the desert, and more.
There are over 100 miles (160+ km) of hiking trails, and it can get as hot as 120º F (50º C), so definitely come for a day hiking trip during the winter to avoid extreme heat!
A good way to spend your day is by walking through the narrow canyon walls of The Slot hike. It's the most popular hike in the area, so try coming early to avoid the crowds! (This hike reminds me of Antelope Canyon in Arizona – a widely popular hike on the West Coast.)
12. Go snorkeling and explore Santa Catalina Island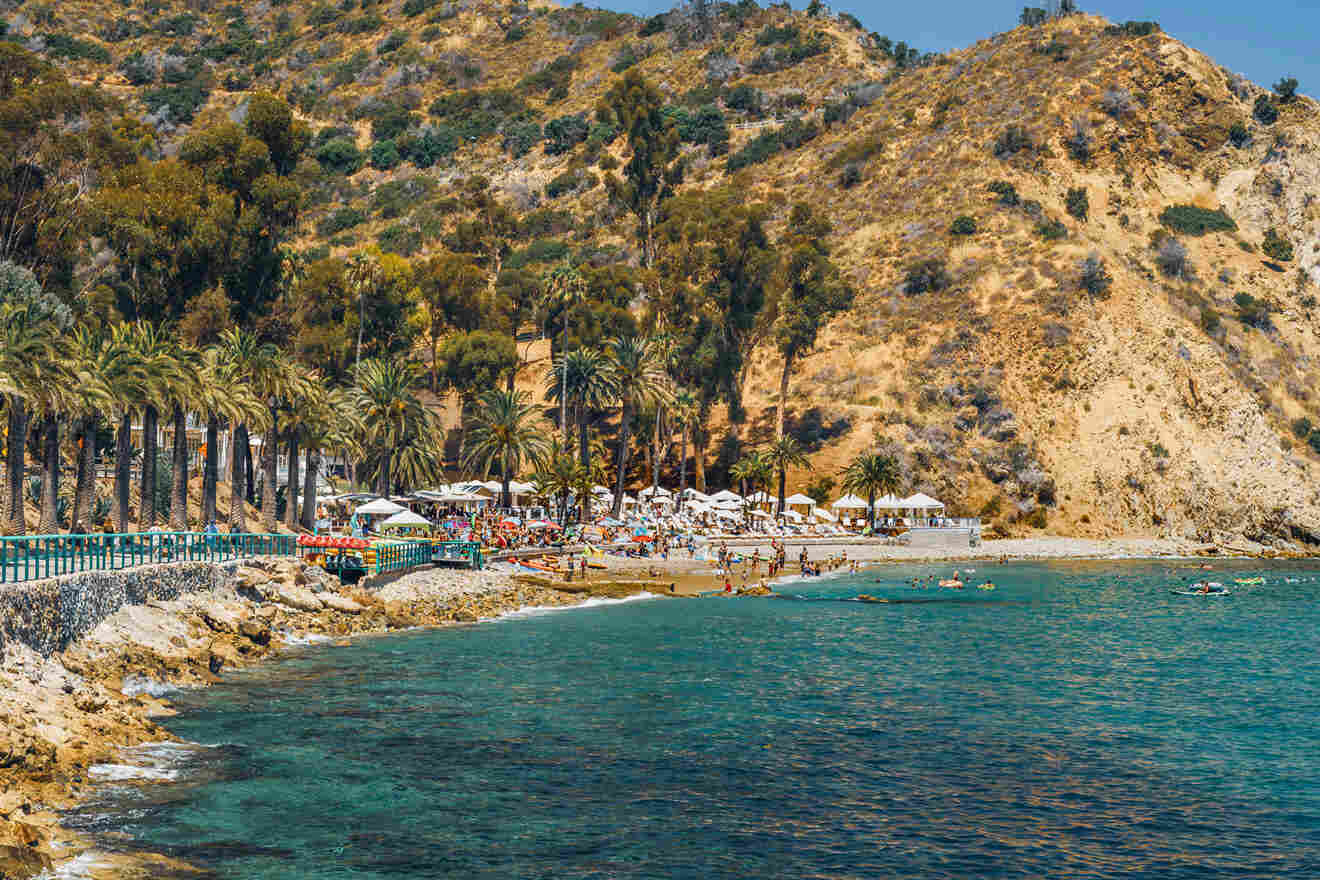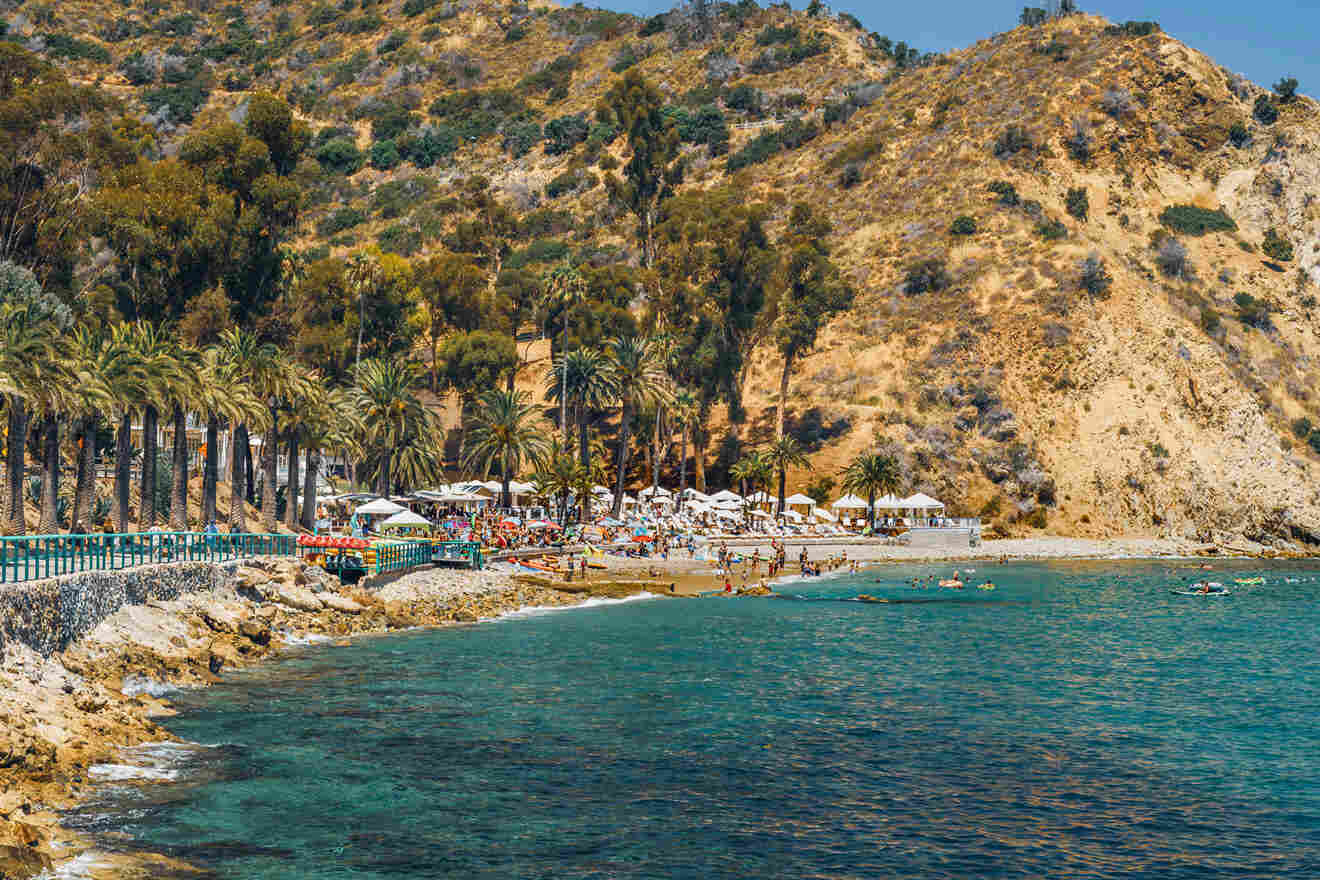 Santa Catalina Island is one of my favorite day trips from San Diego! You get transported onto another island within a few hours and come back within the same day. It's a fun little escape with tons of activities to do.
There is a ferry leaving Santa Catalina Island from Dana Point – this is the closest to San Diego and the one I recommend taking. Dana Point is about 1-hour drive from downtown San Diego, and the ferry from there is about 1.5 hours. It's quite a journey, but it's all worth it when you arrive! Plus, riding the ferry is a part of the experience. Round-trip ferry tickets from Dana Point start at US$84/person, and you can buy them here.
Outdoor activities such as snorkeling, parasailing, biking, and golfing are all available on the island. My favorite thing to do here is swim with the fish and turtles on this amazing snorkeling excursion. The waters are so clear and filled with marine life, so this is the perfect place to snorkel!
TOUR PRICE: from US$60 per person
13. Take a grand group tour from San Diego to Baja California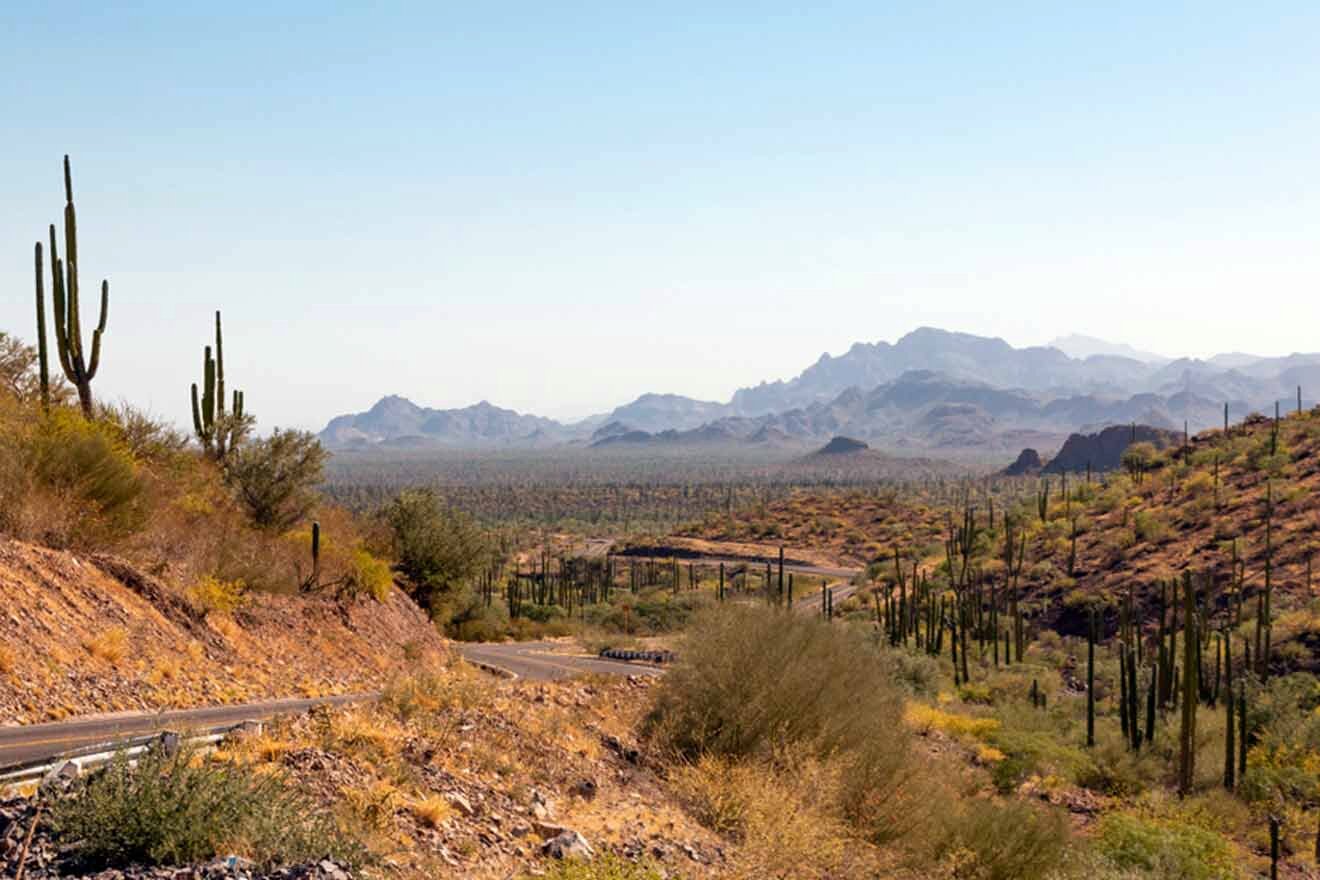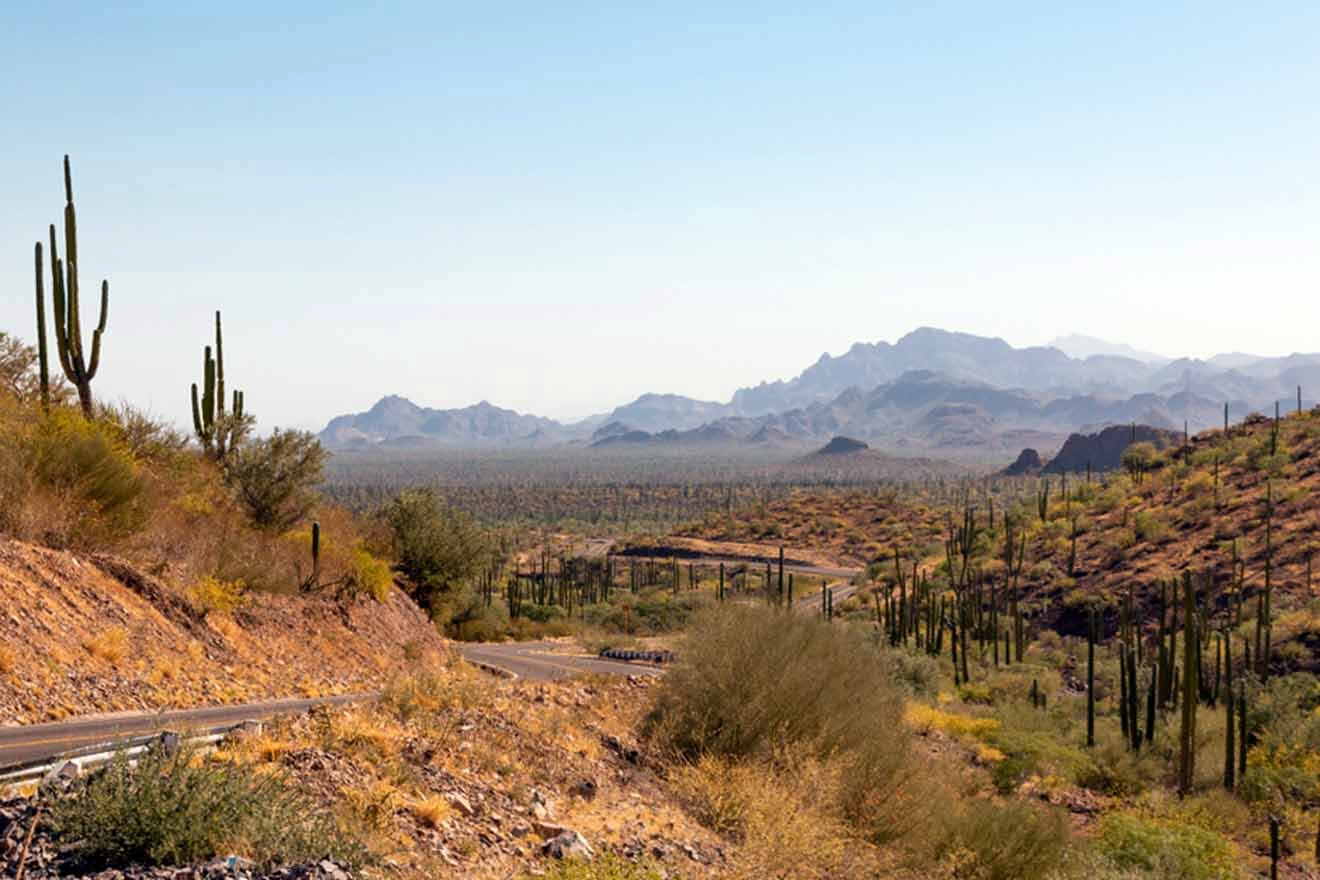 Baja California is about a 35-minute drive away from downtown San Diego. As a native San Diego girl (if I haven't already mentioned it enough), I've definitely ~almost~ driven past the border on accident. This isn't the best idea if you're not prepared because it's not always the safest day trip from San Diego due to the high crime rate.
For your day trip to Baja, California, I suggest booking a professional tour that will guide you through the streets of Mexico. This is also the best option if you're not a Spanish-speaking individual. This walking tour takes you through the streets of Tijuana for a 4.5-hour tour. I recommend checking it out for a taste of Mexico in one day!
PRICE: from US$45 per person
14. Uncover the northern coastal city of Oceanside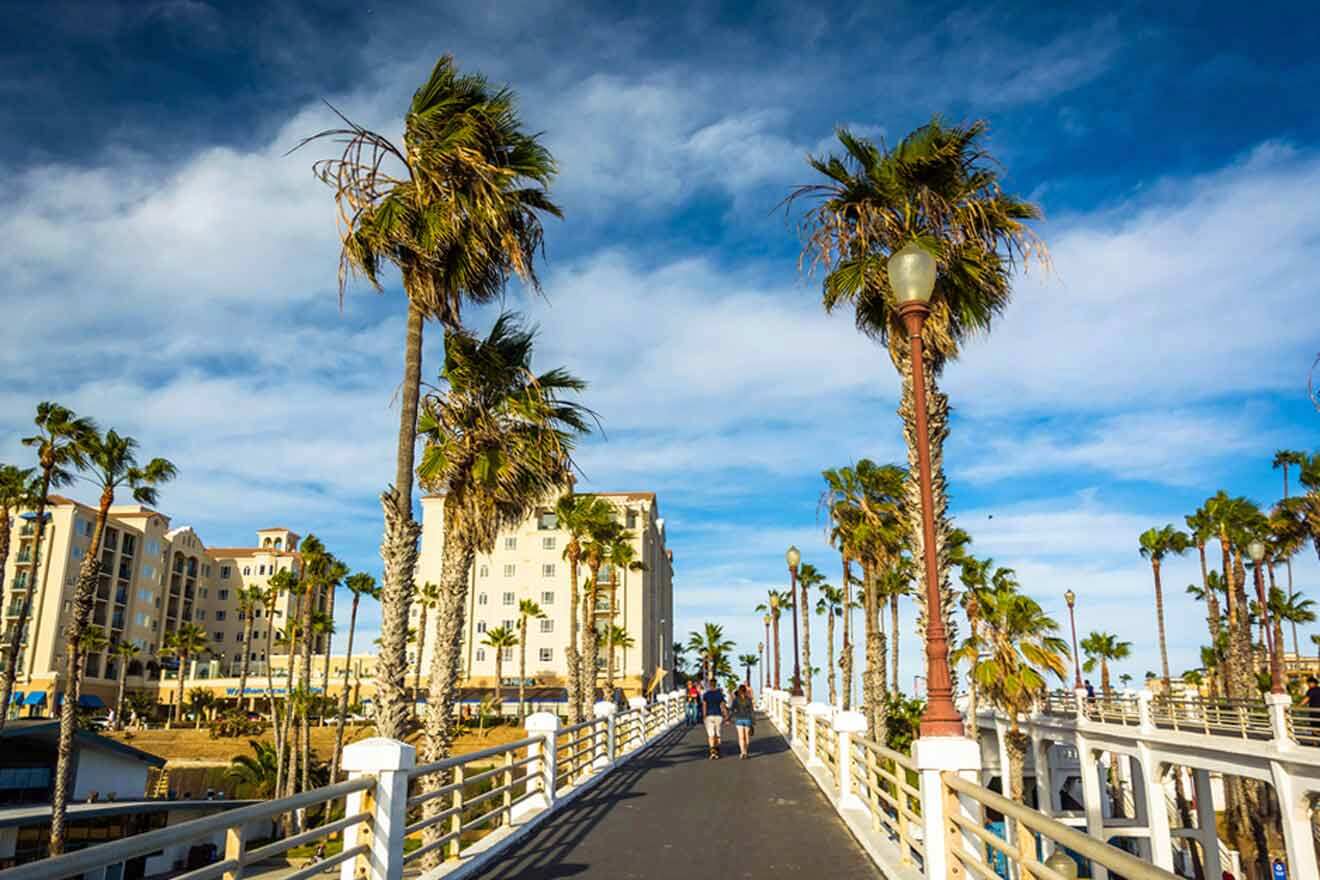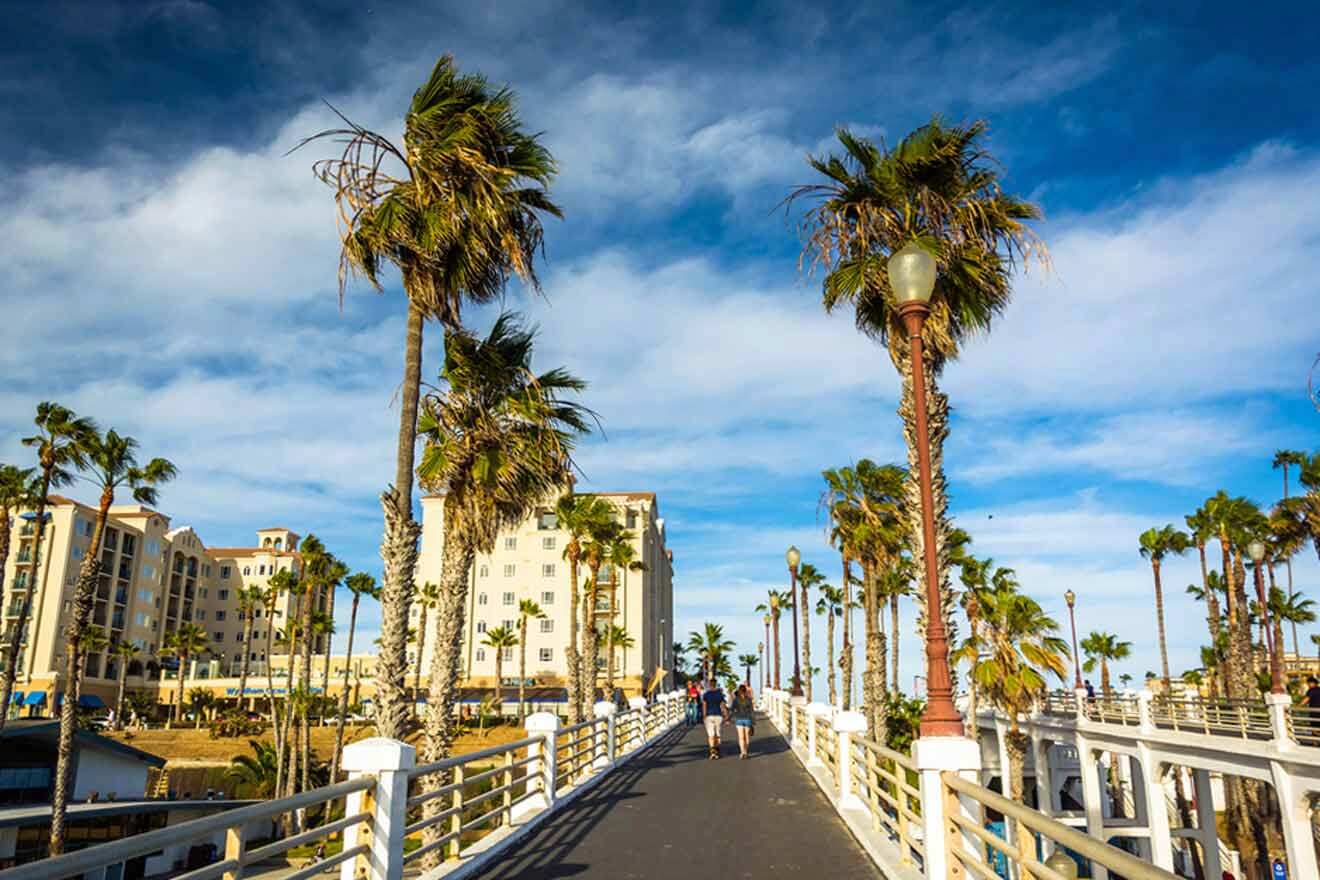 Oceanside is a 40-minute drive away from downtown San Diego and is known for its northern San Diego coastline, Marine Corps base, sandy beaches, and historical significance. This small San Diego suburb is actually quite a big deal and worth checking out.
Here are a couple of places I recommend stopping by on your day trip to Oceanside:
San Onofre State Beach is the most popular beach in Oceanside and allows you to enjoy every water activity you could possibly think of. Kayaking, surfing, fishing, sunbathing, swimming, or even whale watching from the seashore!
Mission San Luis Rey de Francia – the 18th California mission! This is a beautiful Spanish-style church with a history that dates back to 1798. A real beauty and worth checking out!
15. Walk through the historic Calico Ghost Town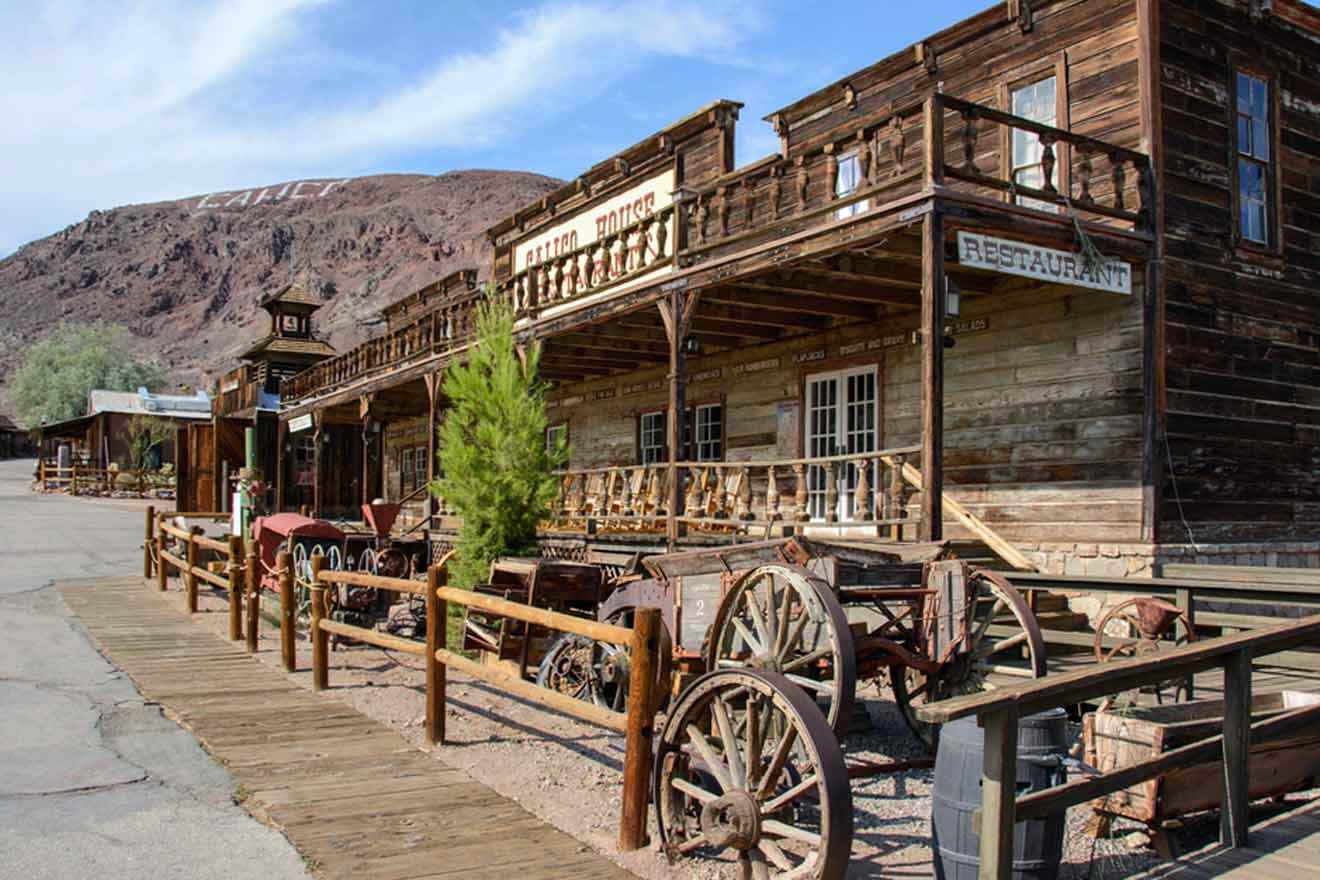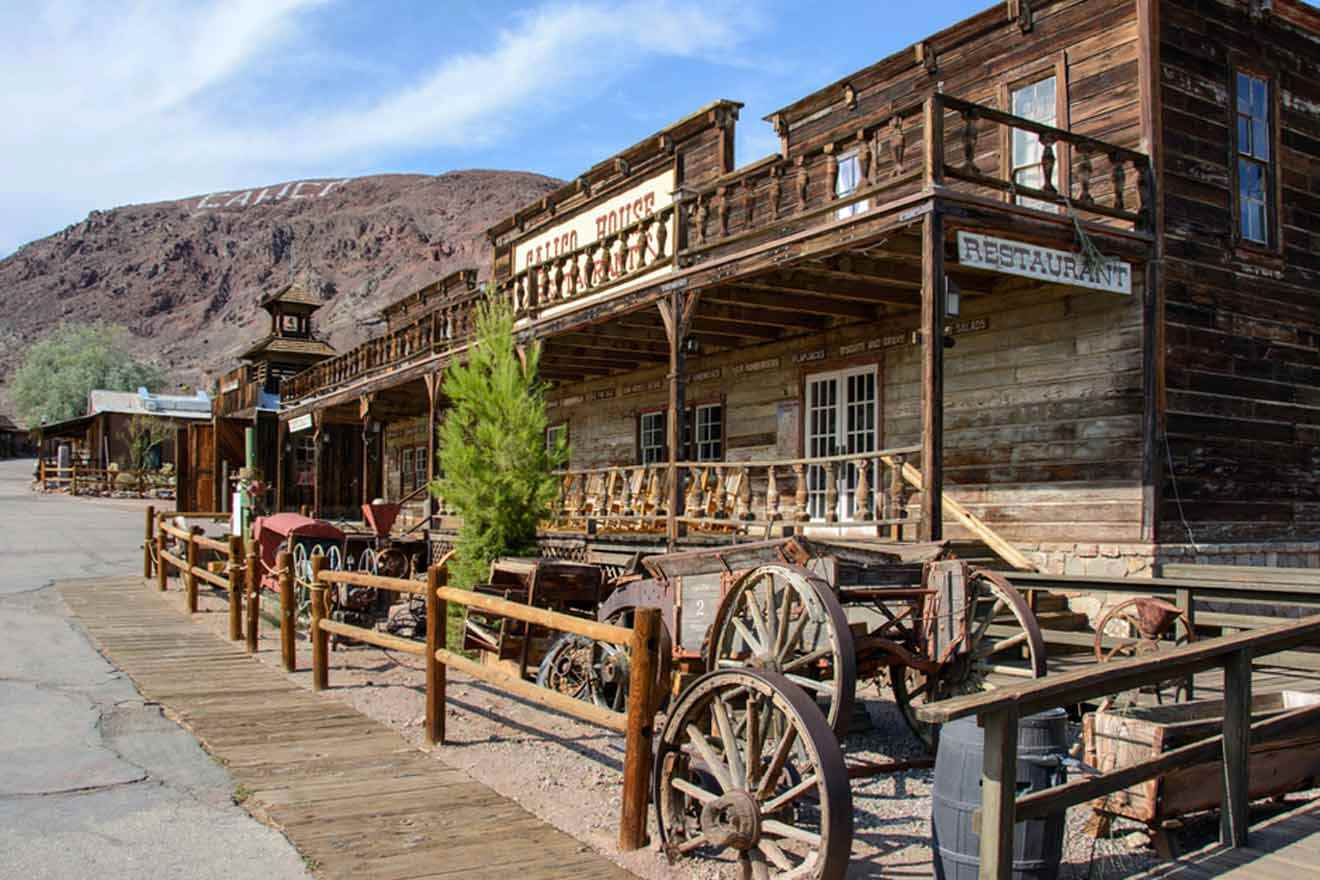 Calico Ghost Town in San Bernardino County is a 3-hour drive from downtown San Diego, making this silver rush town a longer drive on this list.
I recently visited Calico and found that there's actually SO much to do and see. You can easily spend all day here walking through the old town, exploring the gift shop, desert hiking trails, and more if you come prepared and know what you're doing.
It's a small abandoned historic town with basically one street of fascinating things to see, so take your time while you're here.
Here are some attractions worth stopping by:
Gold Panning – This is a fun activity for both adults and kids that allows you to dig for gold the same way miners in the Wild West did long ago.
Lucy Lane Museum – Take a look at some of the 1800s Calico locals' oldest photographs and artifacts.
Maggy Mine – A real-life abandoned silver mine from the 1800s. It's all out in the open as if the town is still alive and operating! Super unique and interesting to see!
Calico Odessa Railroad – Take a tour on a train similar to those used in the mining days. You'll see views of the rocky mountains along the way!
NOTE: Tours are available when you arrive, but I recommend strolling around and reading the signs without a tour. There's a ton to see, and the tour feels a bit rushed. Plus, you have all day to explore!
16. Go horseback riding to the Hollywood Sign in Los Angeles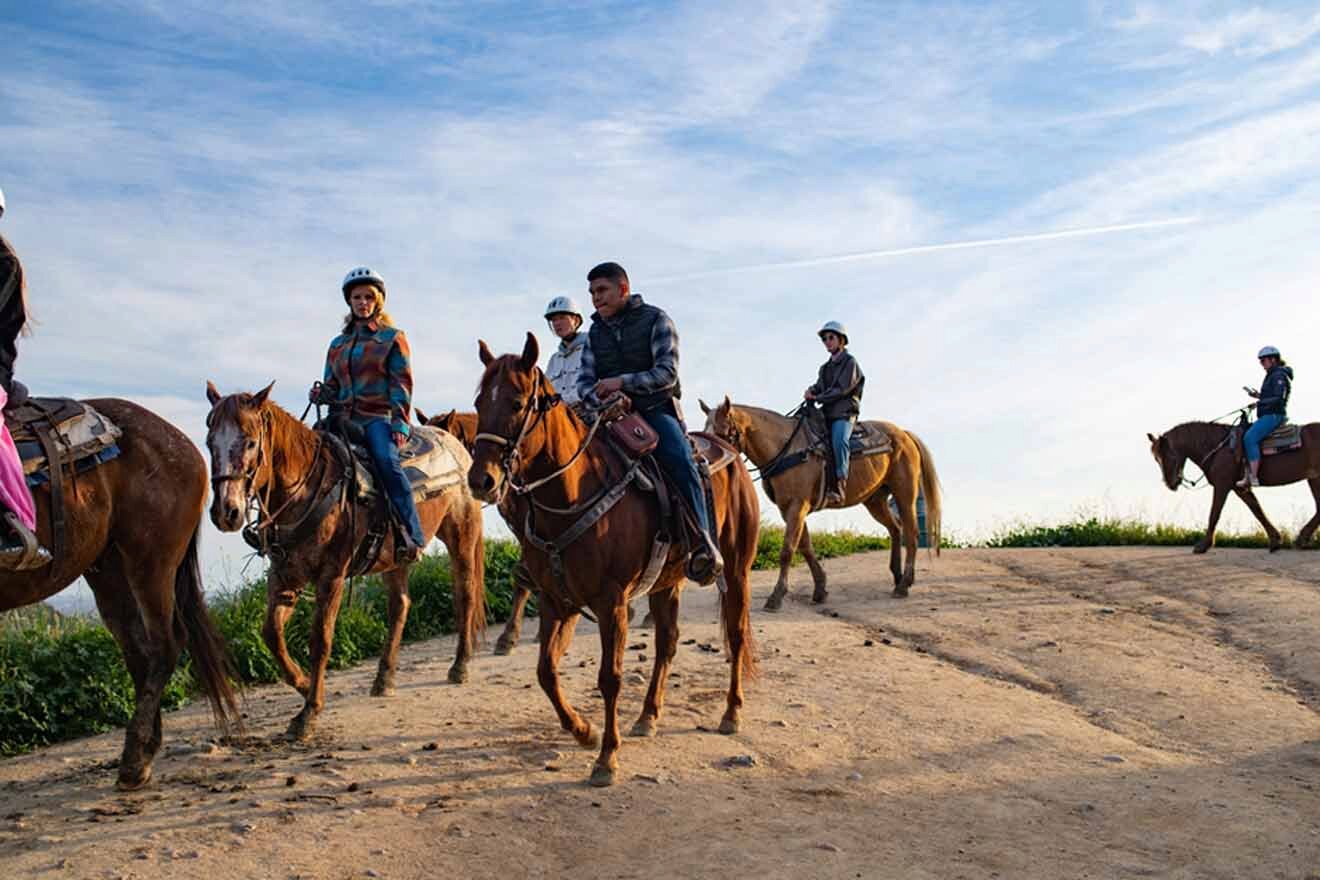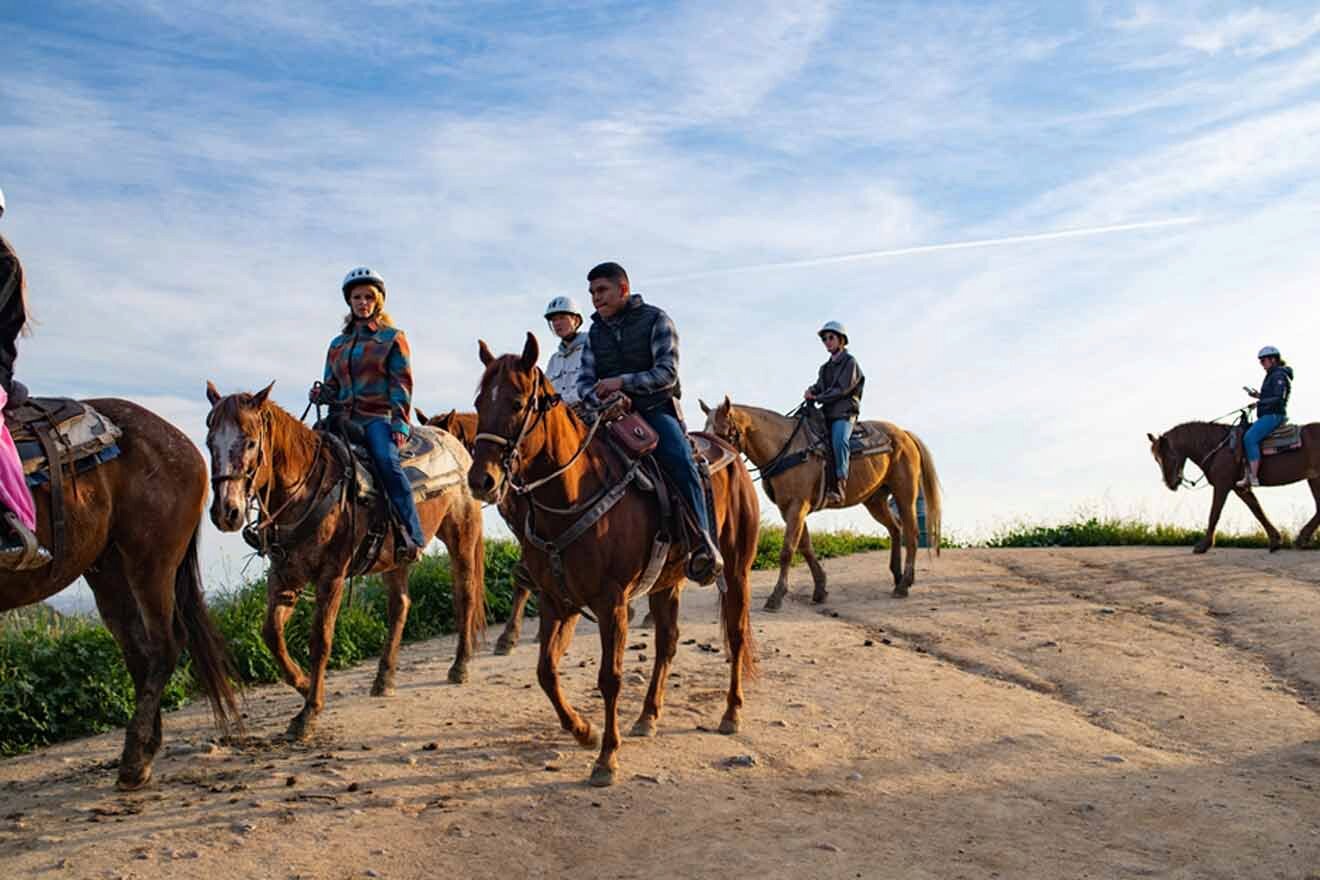 One of the most iconic things to do in Los Angeles is visit the famous Hollywood Sign and the Hollywood Walk of Fame. And lucky for you – LA is a 2.5-hour drive from San Diego, making this destination completely attainable as a day trip!
Sunset Ranch allows you to create new memories and have a unique experience going up to the Hollywood Sign while riding horses in the heart of LA. It really can't get any better than that! In the end, you get 360-degree views of Los Angeles and admire the Hollywood Sign.
After your horse riding adventure, I recommend walking over to Lake Hollywood Park for a picnic by the sunset or even driving down to Venice Beach and the neighboring Santa Monica Pier for a fun evening of games and carnival rides.
TOUR PRICE: from US$125/person (12+)
Book Your Horseback Riding Adventure
17. Ride a hot air balloon and go wine tasting in Temecula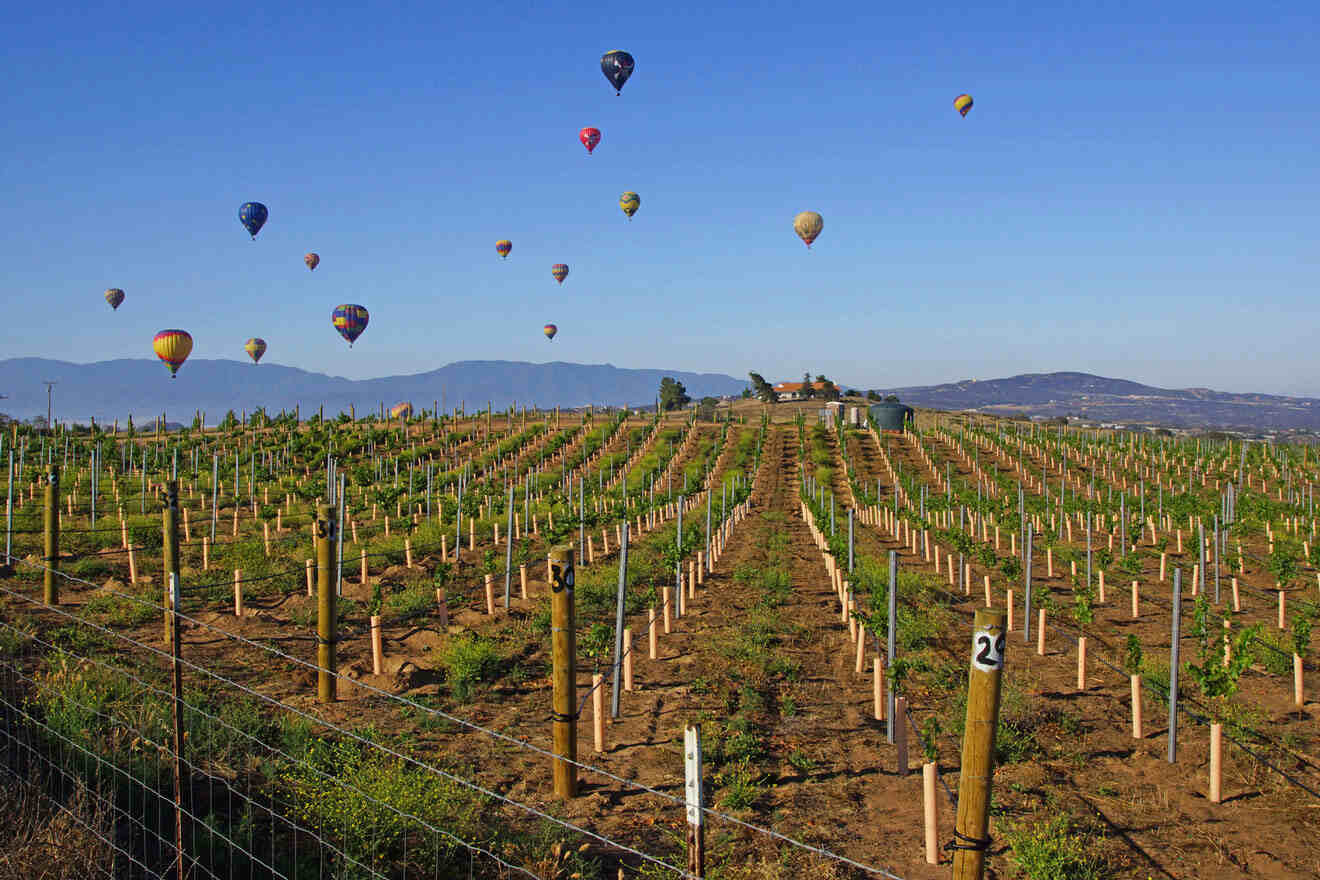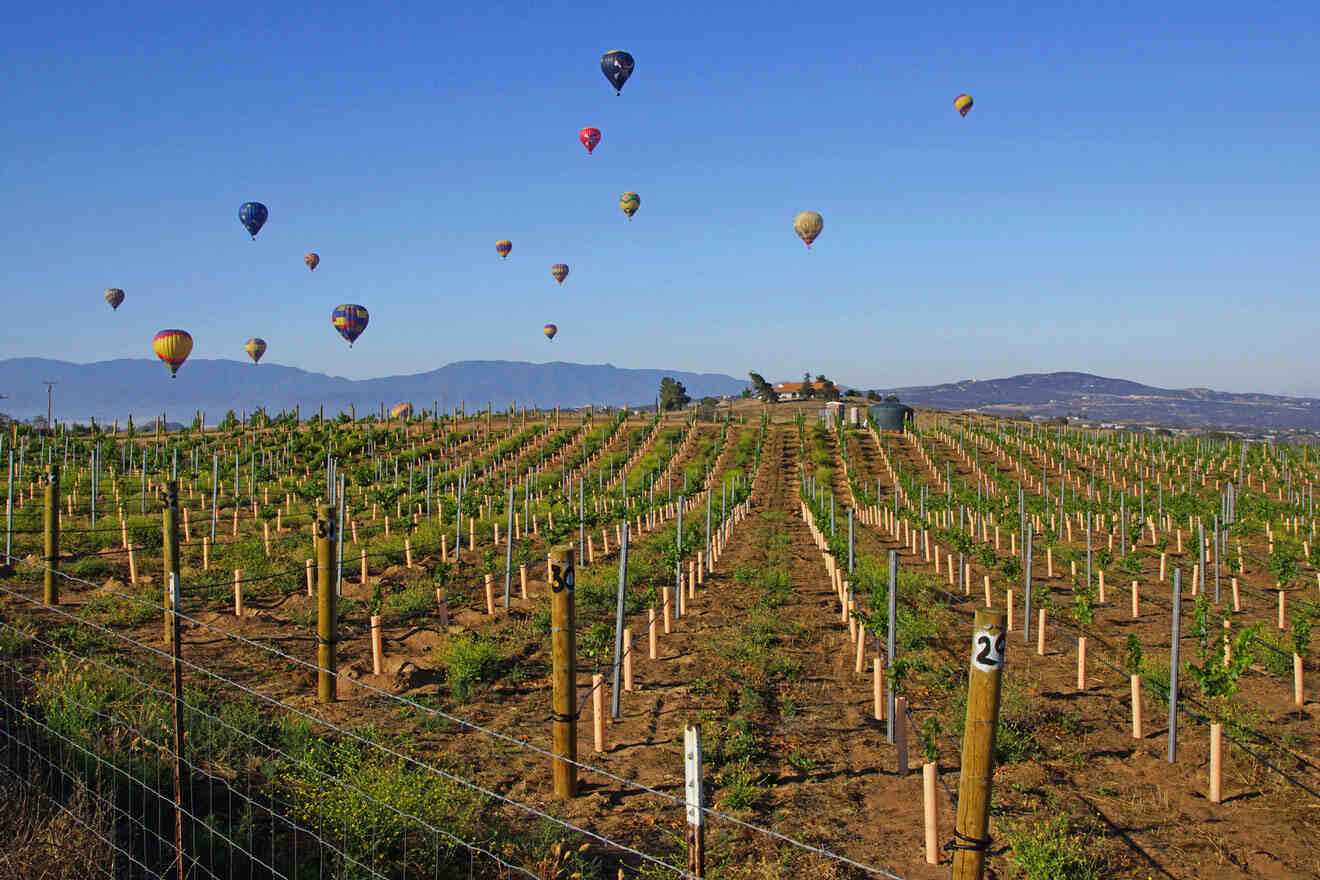 Temecula is a small wine country located right outside of downtown San Diego, about a 1.5-hour drive away. It's the absolute perfect getaway if you're looking to explore quaint vineyards and world-class wineries.
There are so many wineries to pick from in Temecula that it can get quite overwhelming. I recommend booking a wine tour and hot air balloon riding experience for the absolutely perfect day in Temecula.
This wine tour compiled 3 of the best wineries in Temecula and will take you around to each, where you can unwind and enjoy your wine without having to worry about how you're getting to the next place and/or where you're going.
The hot air balloon ride in Temecula is an experience you absolutely NEED to do during your day trip. It's a one-of-a-kind experience with views of miles of rolling hills and vineyards. This is the most romantic option on this list!
FAQs about San Diego day trips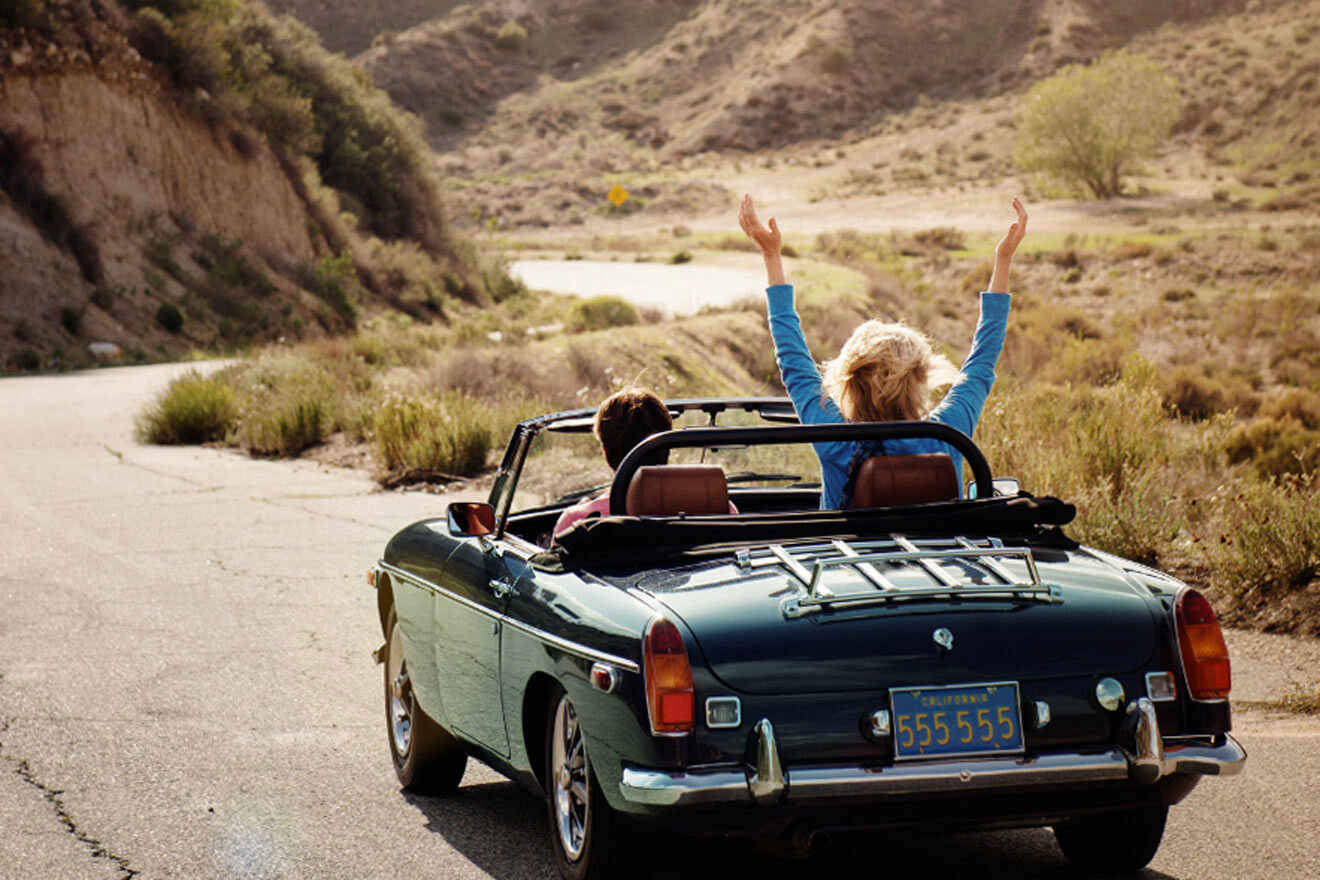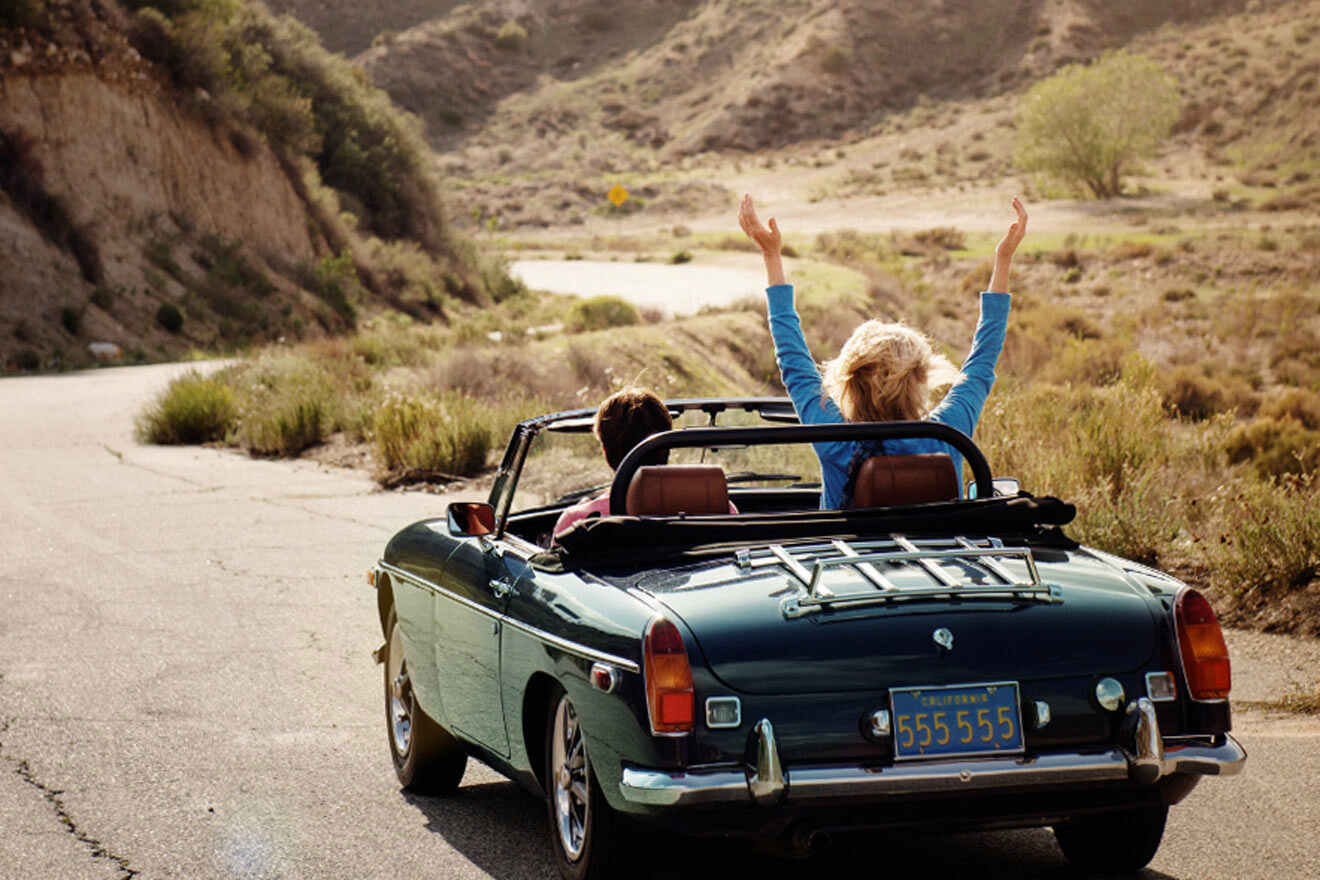 📏 What is the closest day trip destination from downtown San Diego?
The closest day trip destination from San Diego is Coronado! Coronado is a short ferry ride away from downtown San Diego, and there's no need for much driving when you arrive.
🇲🇽 Can you do a day trip from San Diego to Baja, California?
Absolutely! Going on a day trip from San Diego to Baja, California, is completely attainable. I recommend going on a group tour for the best and safest experience.
🎈 What are the best San Diego day trips for couples?
The best day trips from San Diego for couples are Temecula and Santa Catalina Island. That hot air balloon ride in Temecula is just so romantic, and being on an island for the day is a dream come true.
🧒 What are the best San Diego day trips for kids?
The best day trips from San Diego for kids are Carlsbad, La Jolla, and Julian. They each have free interactive and outdoor activities that kids would love!
Conclusion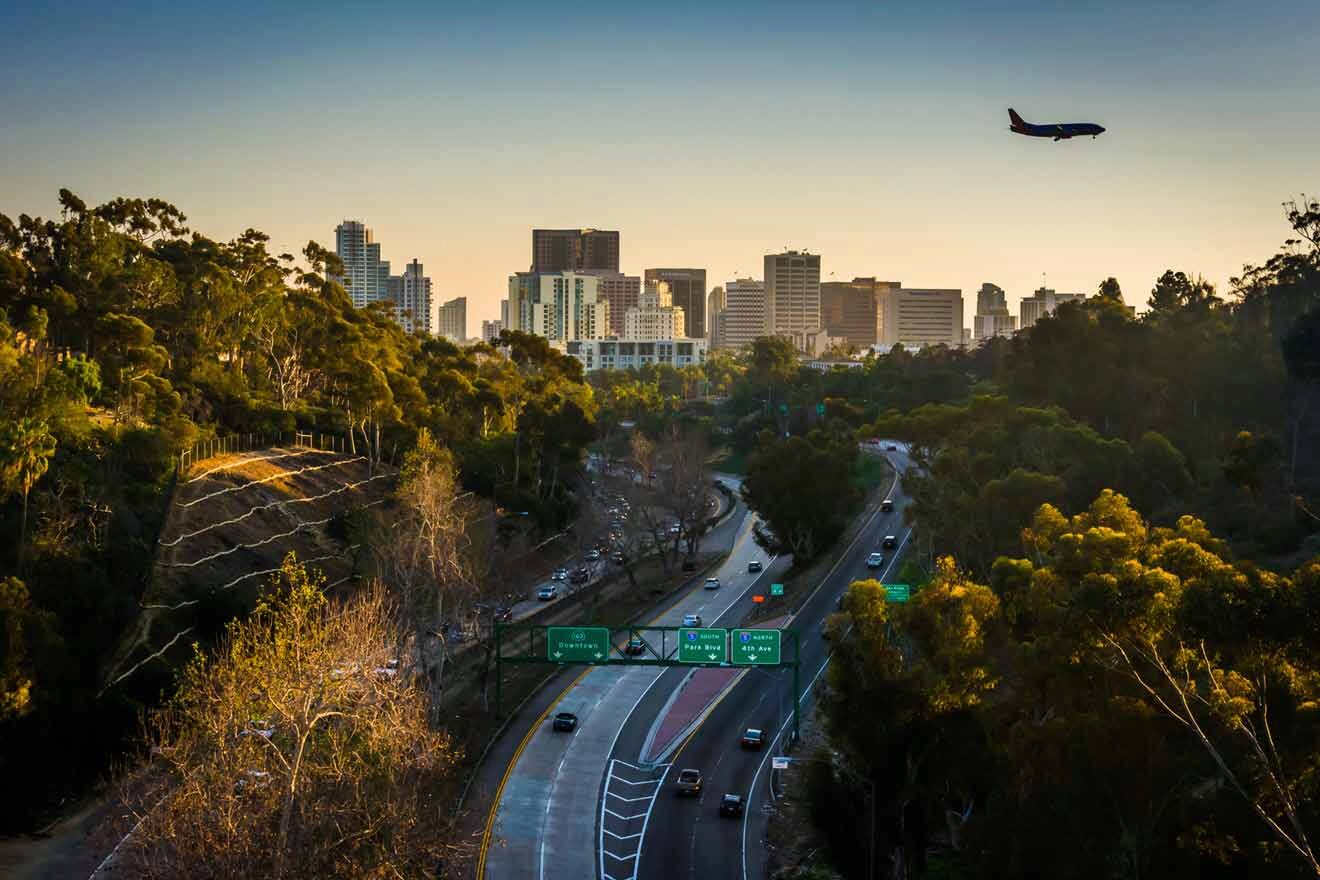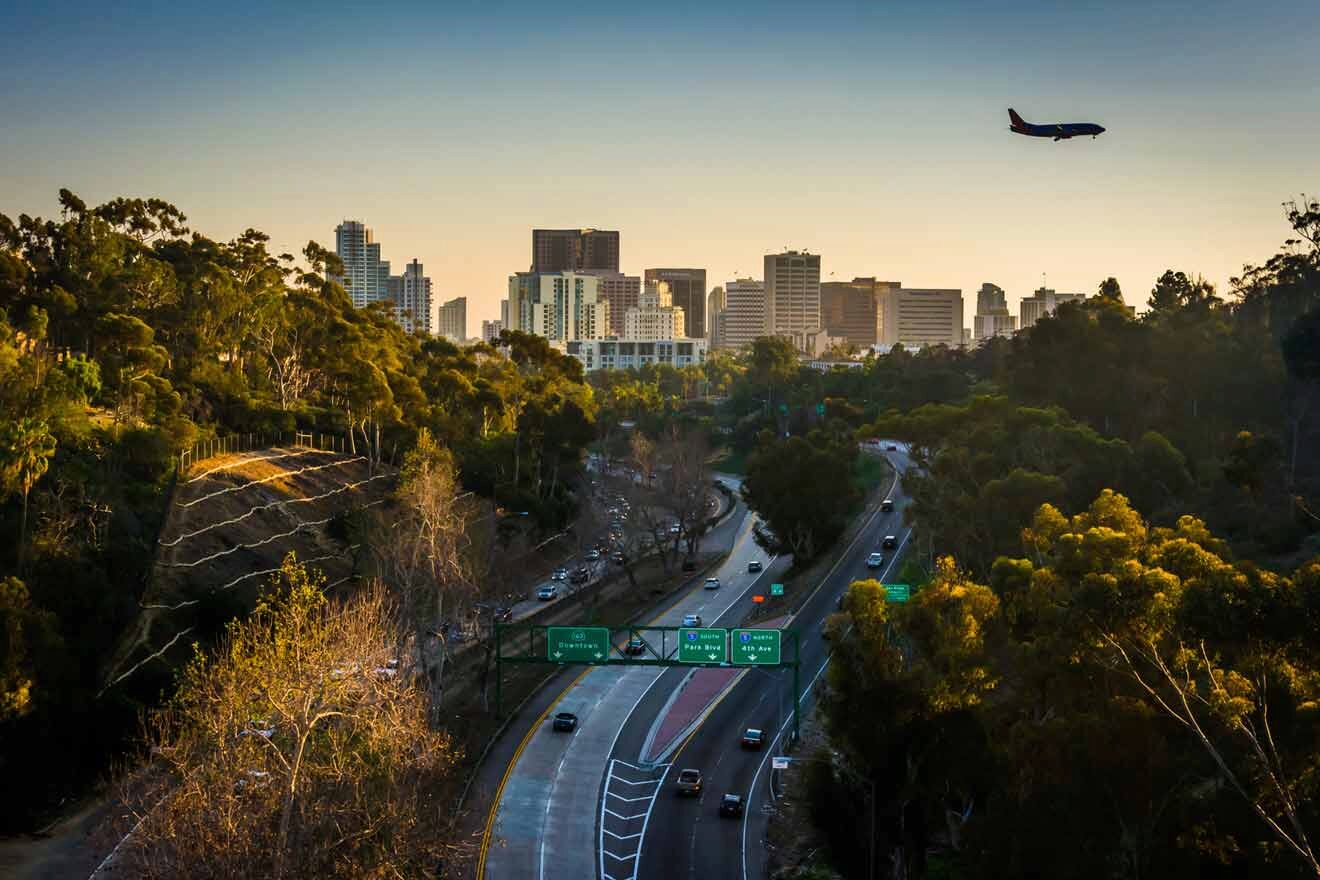 Lucky for you, San Diego County is located in an ideal spot on the map for *perfect* day trip getaways.
We're right next to all the beautiful spots in Orange County (like Laguna Beach and Mission San Juan Capistrano), the sunny resort town of Carlsbad, quant towns of Julian and San Clemente, and so much more.
If I had to choose my favorites from this list, I'd have to go with Santa Catalina Island and Julian. They're both so close to my heart since I've done them both SO many times growing up. They're also vastly different environments in comparison to what I see daily here in San Diego.
If you end up embarking on any of these wonderful San Diego day trips, be sure to plan ahead! Time is ticking when you only have one day to have the best trip, so do your part and make the most out of your time by booking tickets and reservations in advance.
Safe travels, and enjoy!
Xoxo,
Esabel S.
---
Pin it for later!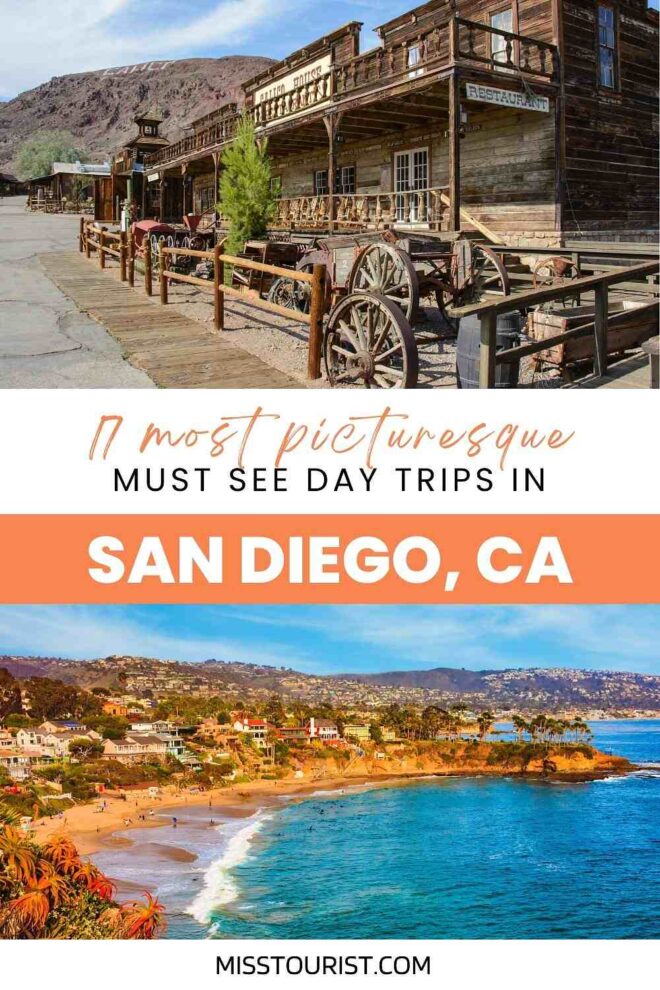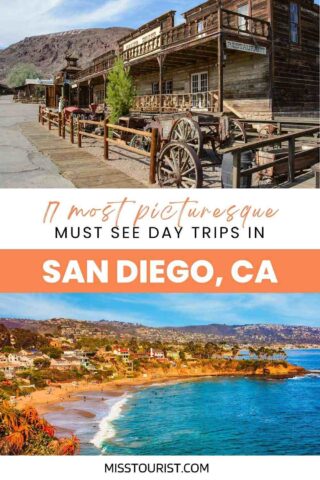 Pin it for later!