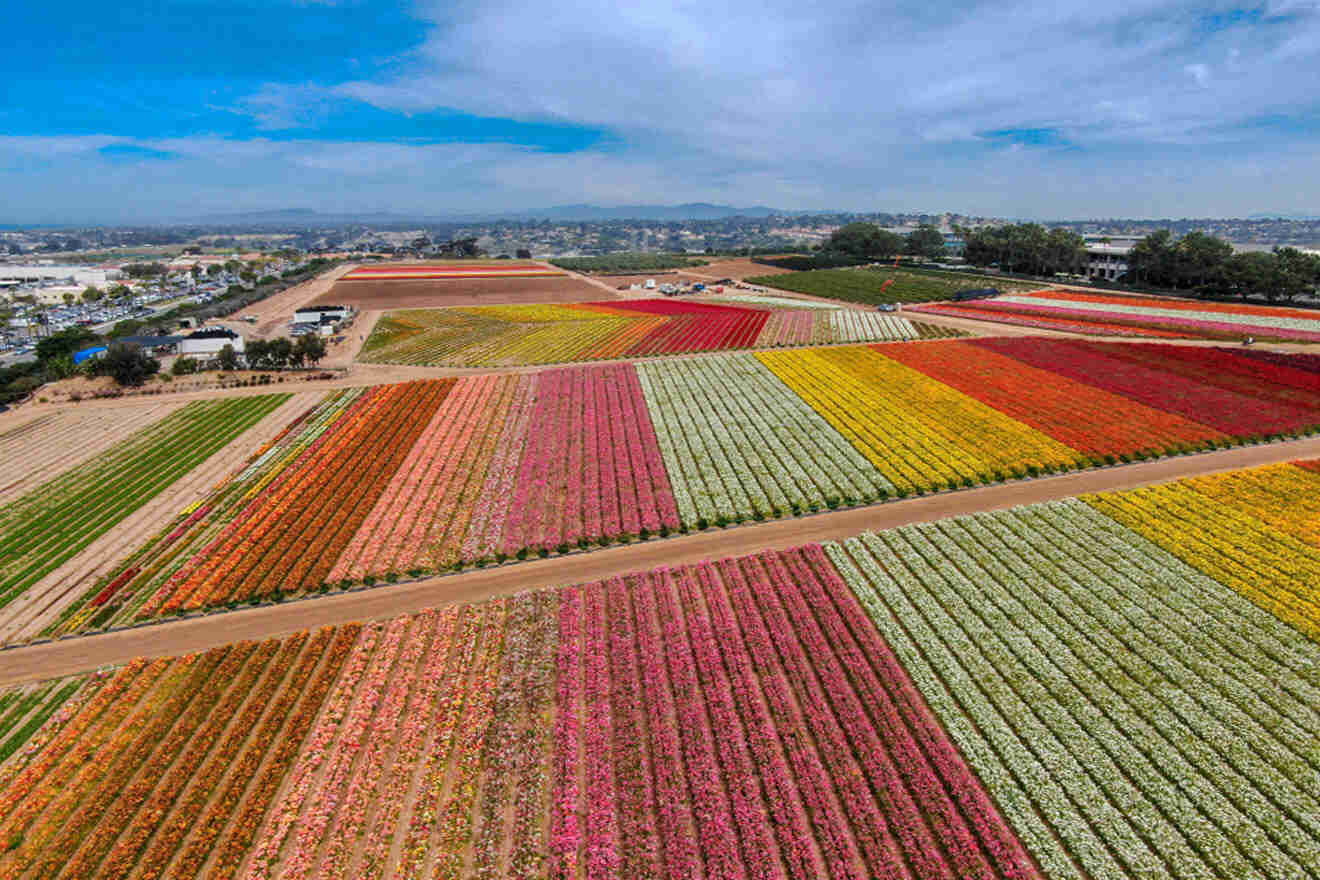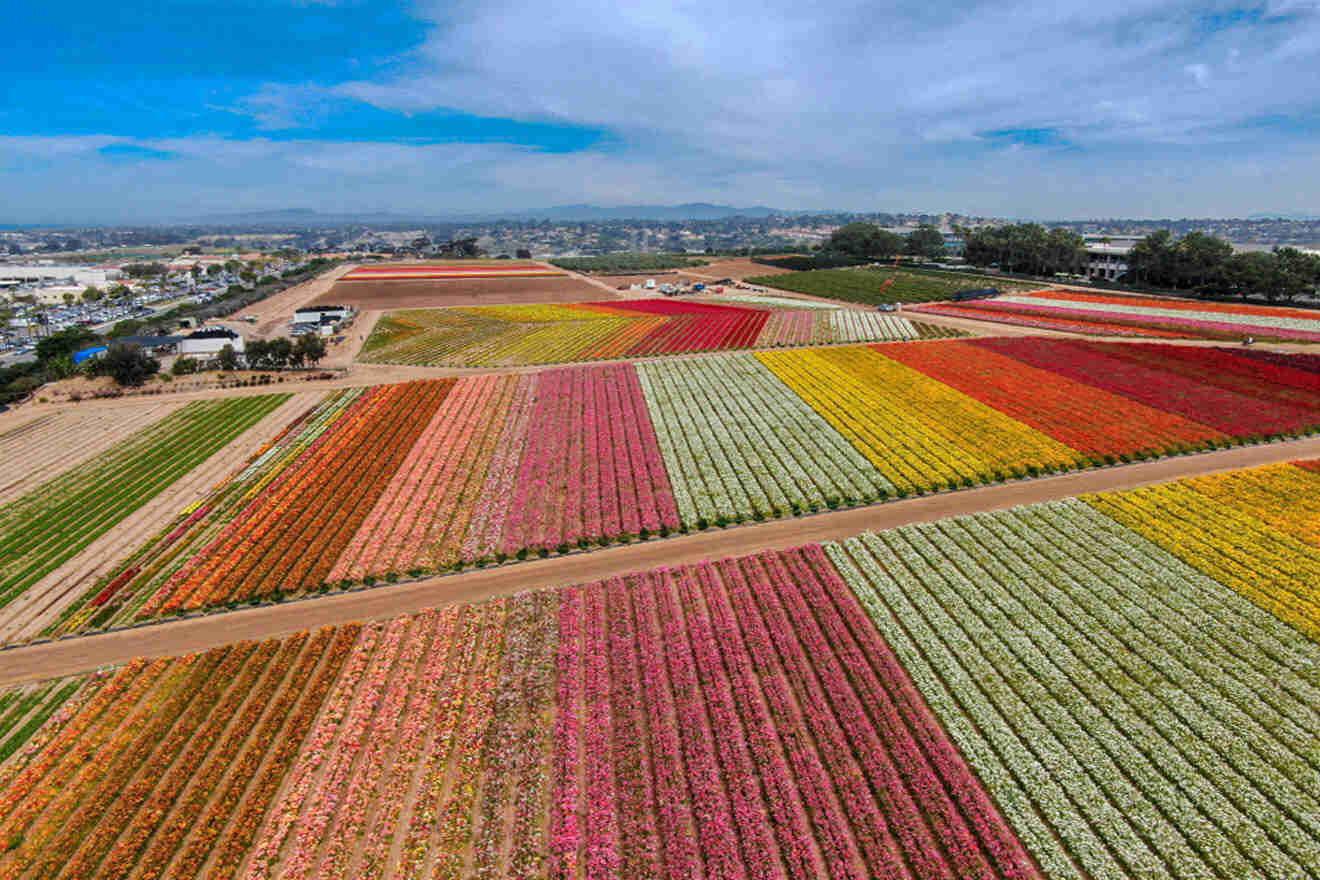 Located in North San Diego County, Carlsbad is most known for its beautiful flower fields, strawberry fields, stunning beaches, and small coastal town feel. As a San Diego native, I've always LOVED going to Carlsbad as a fun, laid-back day trip away from the big city.
And lucky for you – as a visitor, there are so many things to do in Carlsbad, California! In this post, I'm going to share with you my top picks, tricks on how to save the most money along the way, and the best food and drinks to devour while you're here.
As a popular San Diego beach town, Carlsbad can get quite busy (especially during the summer months). I recommend booking all your hotels and experiences in advance to save the most money in the long run, get exactly what you want, and have time to get ready for your trip.
Let's get started!
If you are in a hurry
If you only have a couple of days to explore the area, I suggest booking a couple of things in advance.
Here are the main things to book in advance:
And here are the best hotels: Beach Terrace (luxury), Tamarack Beach Hotel (mid-range), Leucadia Beach Inn (budget)
1. Smell the roses at the Carlsbad Flower Fields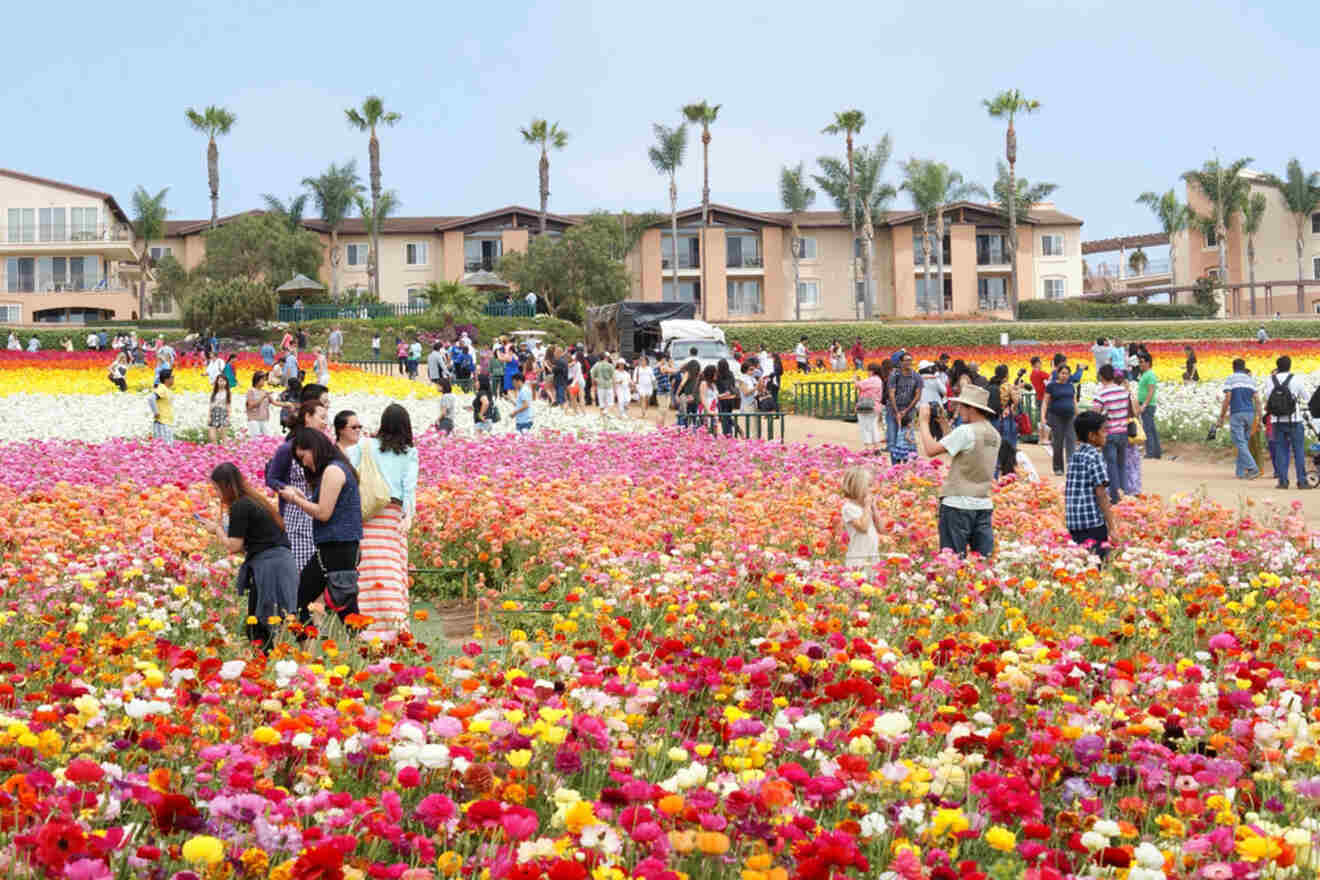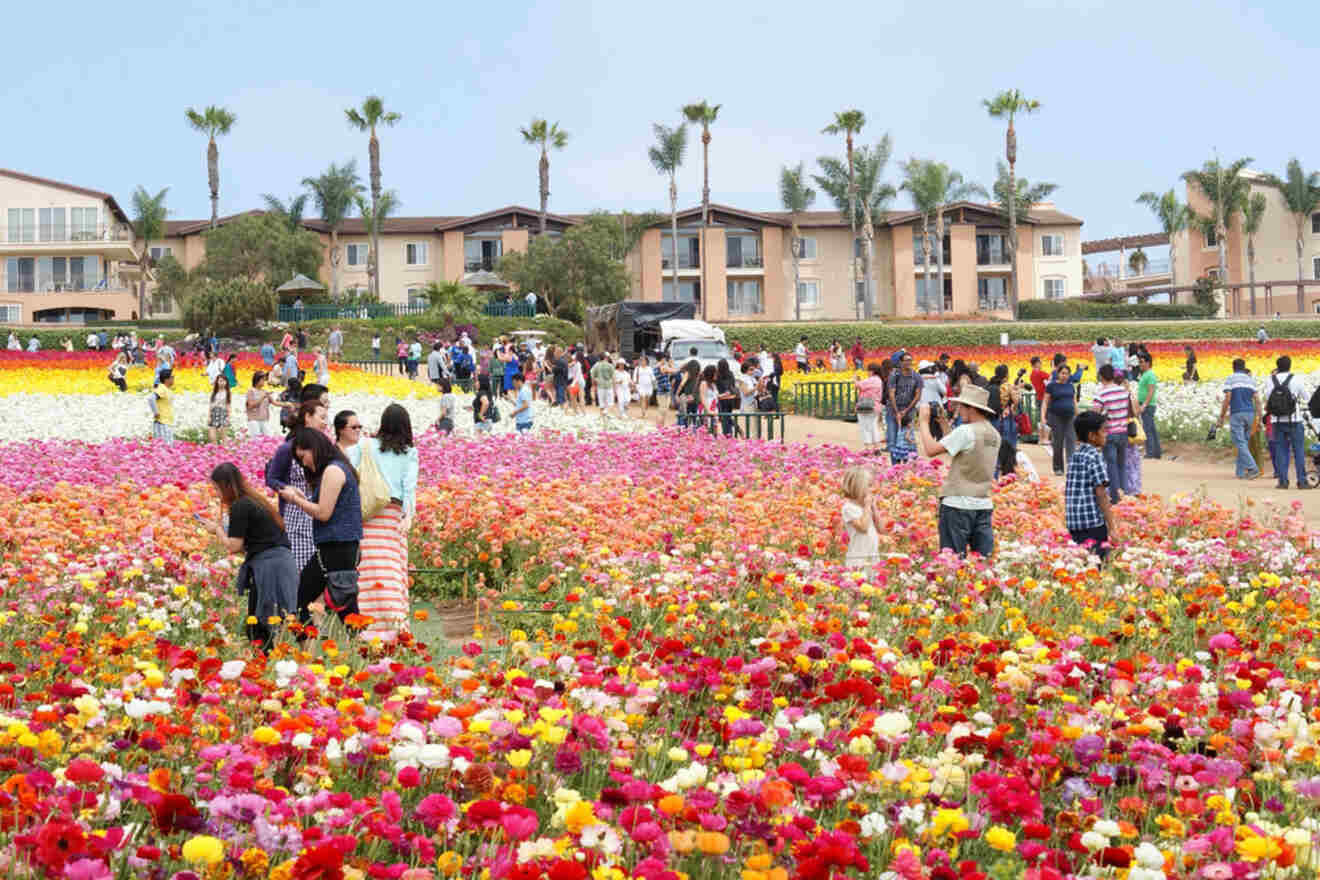 One of the most prominent attractions in Carlsbad is first on my list: Carlsbad Flower Fields. The seasonal flower field at Carlsbad Ranch is the result of 85 years of work by a local floral cultivator in the 1920s. It's arguably the most beautiful and recognizable attraction in Carlsbad and something you need to see at least once in your life.
Hop on the wagon ride, walk through the fields, check out the activities at the ranch, and take photos of your experience along the way. I also suggest stopping at the Strawberry Shack by the entrance for a fresh strawberry shake!
The Flowers Fields are open from March through May every year, and reservations need to be made in advance on their website. If you're from Southern California and plan to visit Carlsbad more than once during the season, I suggest investing in a season pass to save the most $$$.
Even if you're from elsewhere, you should know that this is a must-do when visiting Southern California. So, plan your trip & buy your ticket.
After walking through the Flower Fields, you might be hungry, so why not explore Carlsbad on a food tour? You really get a chance to eat like a local and walk through the town learning about Carlsbad's history, culture, and architecture.
PRICE: US$23 per person
2. Bring the kids to LEGOLAND California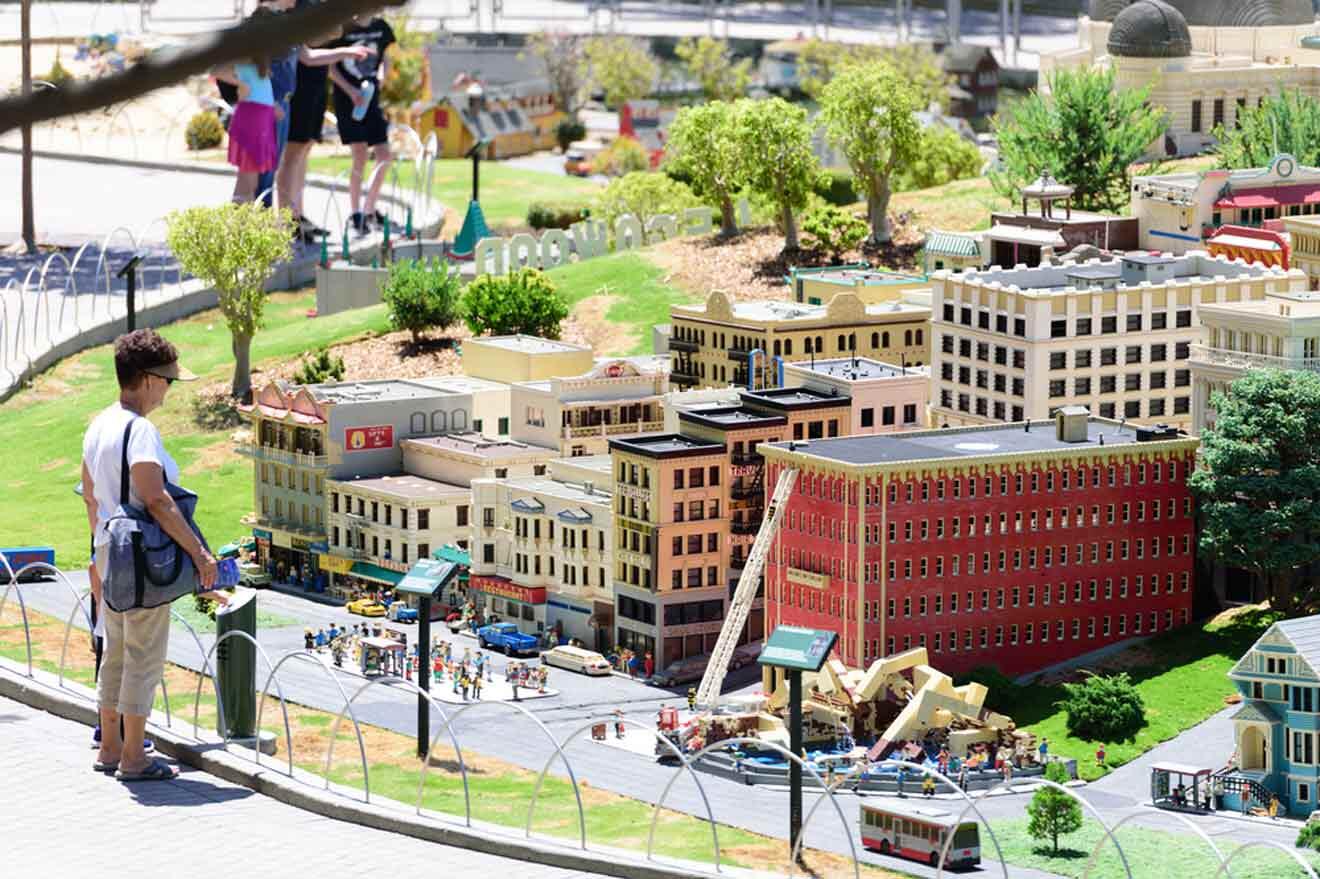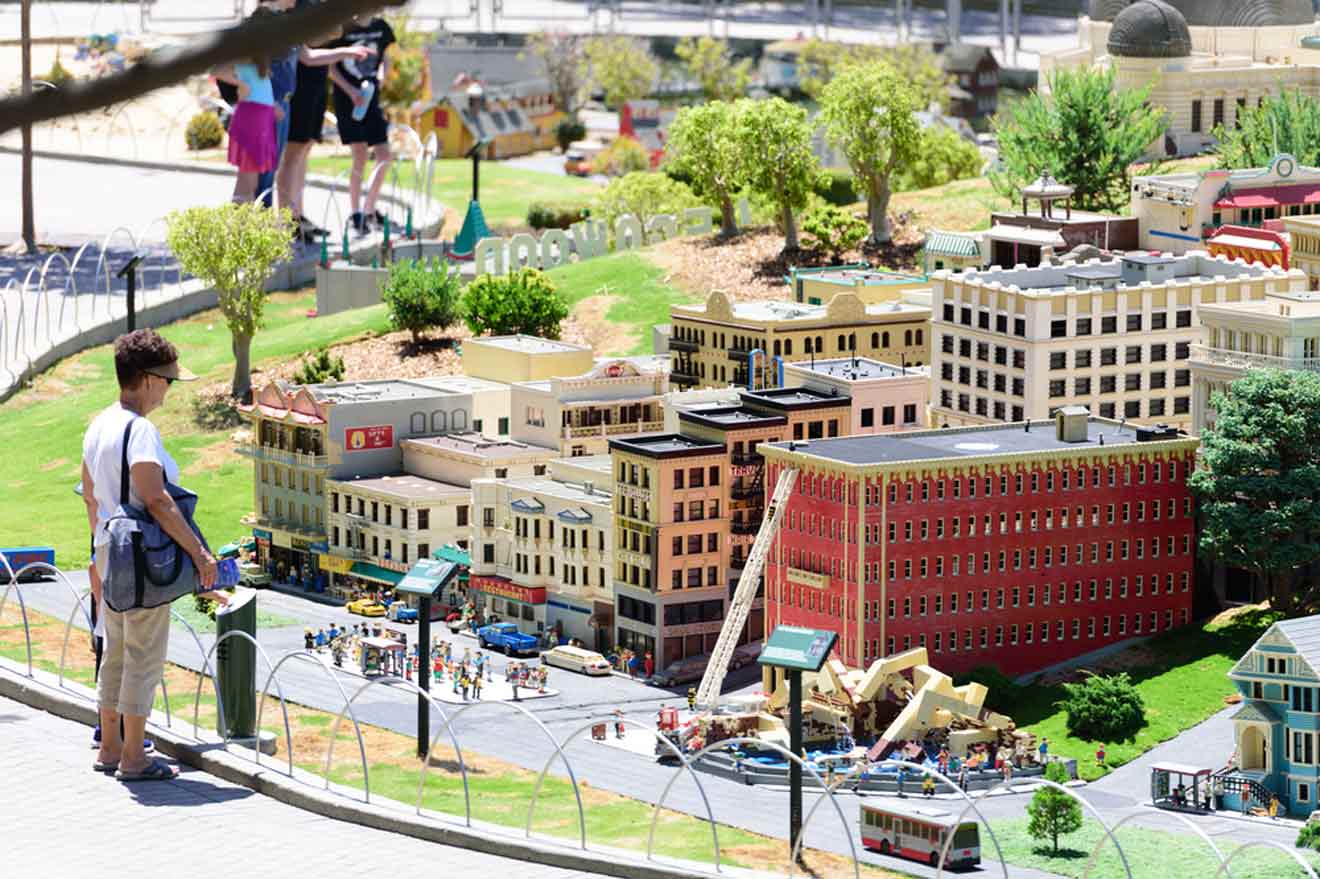 LEGOLAND California in Carlsbad is the best theme park in California for young kids (find all CA theme park hot picks in our article)! There are plenty of easy-going rides that are tested and promised to be kid-friendly and safe, built for children ages 2 to 12 years old.
LEGOLAND California has over 60 rides, attractions, shows, and other activities to enjoy, so come early in the morning and prep for a long day of fun with the kids!
Here is a list of all the rides and attractions that you can take advantage of. There are a couple of ways to make the most out of your LEGOLAND California experience:
Book your tickets online ahead of time! The gate price is always a little higher. Plus, you'll have to wait in line at the gate, which is another hassle that you don't want to go through in the mornings with the kids.
Download the mobile app for ride wait times, show times, dining options, the latest deals, updates, and more. The app keeps you in the loop, and it's seriously a lifesaver.
PRO TIP: Get your CityPass for the all-in-one ticket to 3 (or more) of San Diego's most famous attractions and save!!
PRICE: from US$60 per person
2. Get up close with marine life at SEA LIFE Aquarium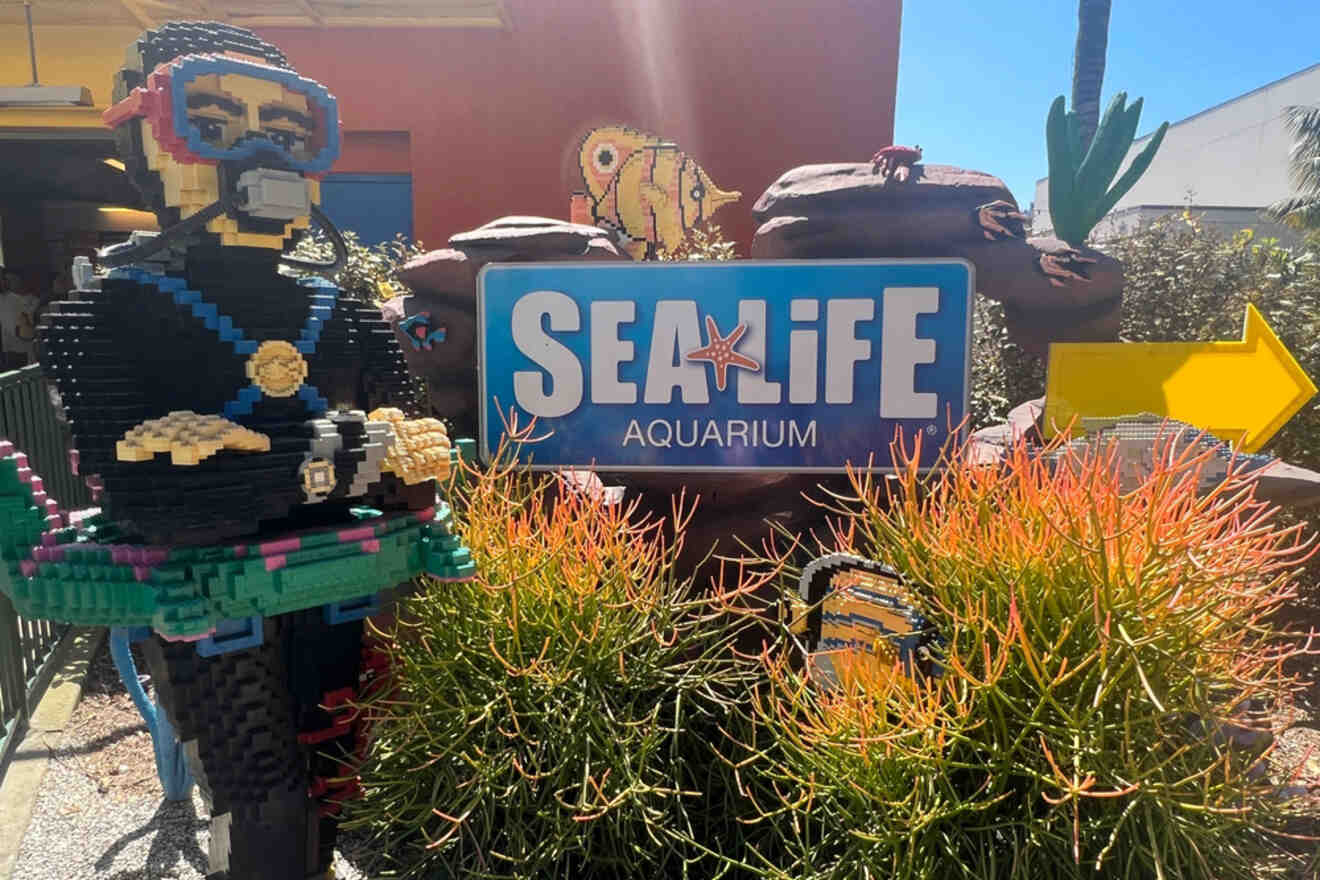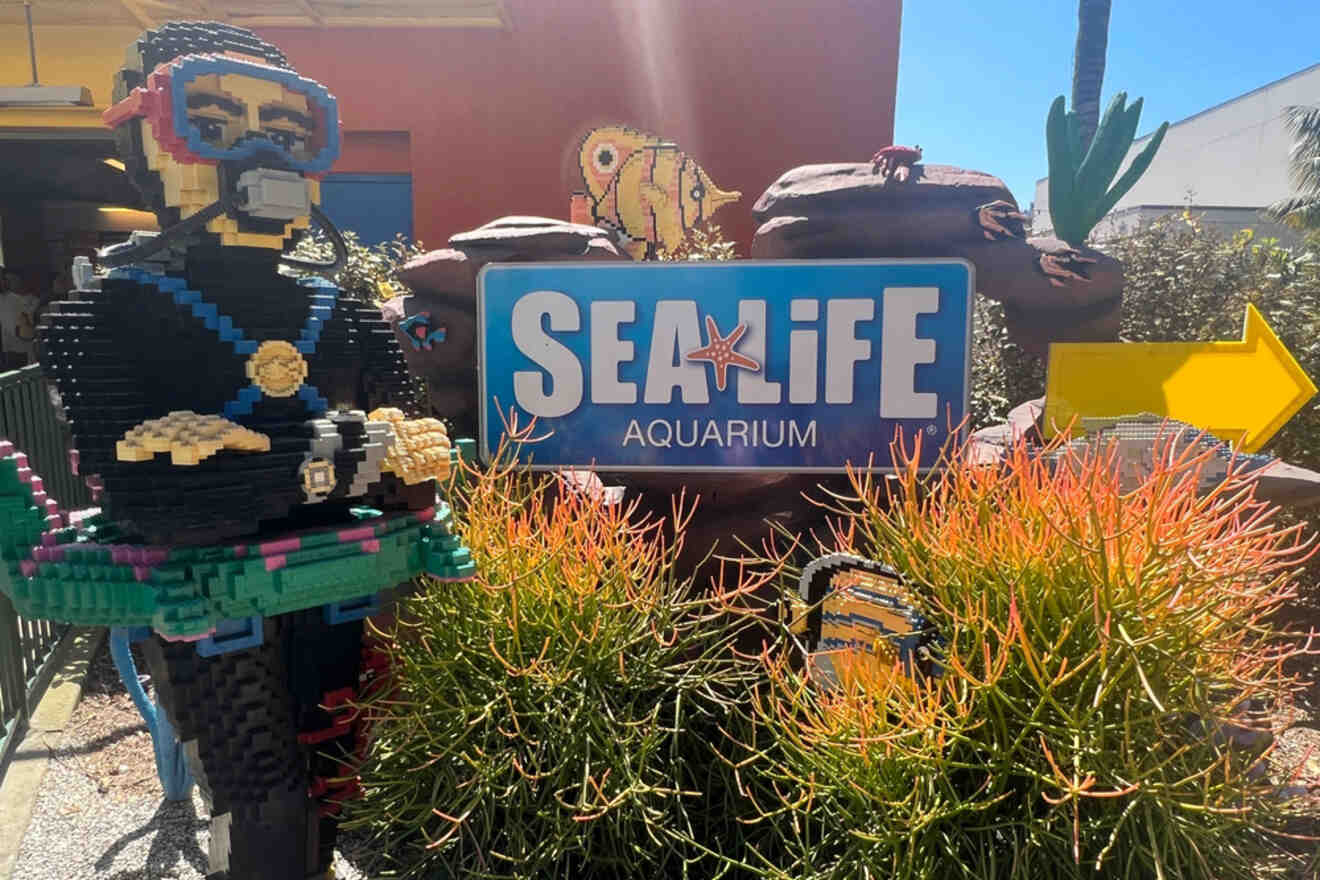 The SEA LIFE Aquarium in LEGOLAND, California, is an inside look at the mystery of the ocean and its inhabitants. It's specifically made for kids to explore with their interactive activities, lessons, and other educational opportunities that the kids are going to love and soak in.
There are over 350 species and 6,000 creations here! The theme park is filled with marine life ranging from shrimps and starfish to seahorses, sharks, and other animals found beyond our backyard and throughout the world. Kids have a chance to get up close and personal with marine life, creating memories that will stick with them forever!
For the smoothest experience for both LEGOLAND California and SEA LIFE Aquarium, I suggest downloading their mobile app – it will help make your planning SO much easier with things like ride times, show times, reservations, exclusive offers and discounts, and more. You can also download a copy of the aquarium map.
If you plan on visiting both SEA LIFE Aquarium and LEGOLAND California, consider buying the 1-day ticket (1 or multi-park). Tickets start at US$89/per person, and you get access to both parks!
3. Go camping on Carlsbad State Beach (Tamarack Beach)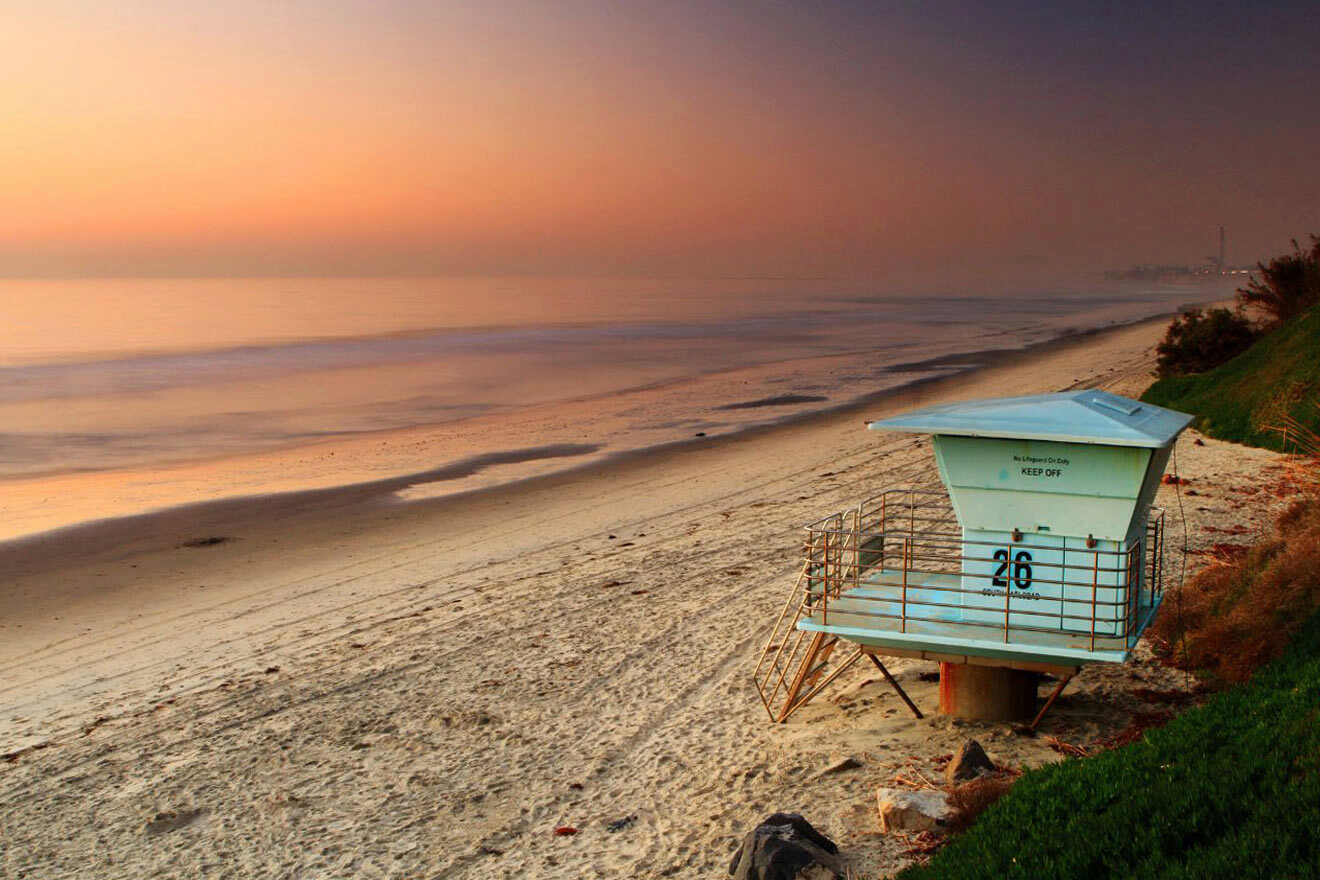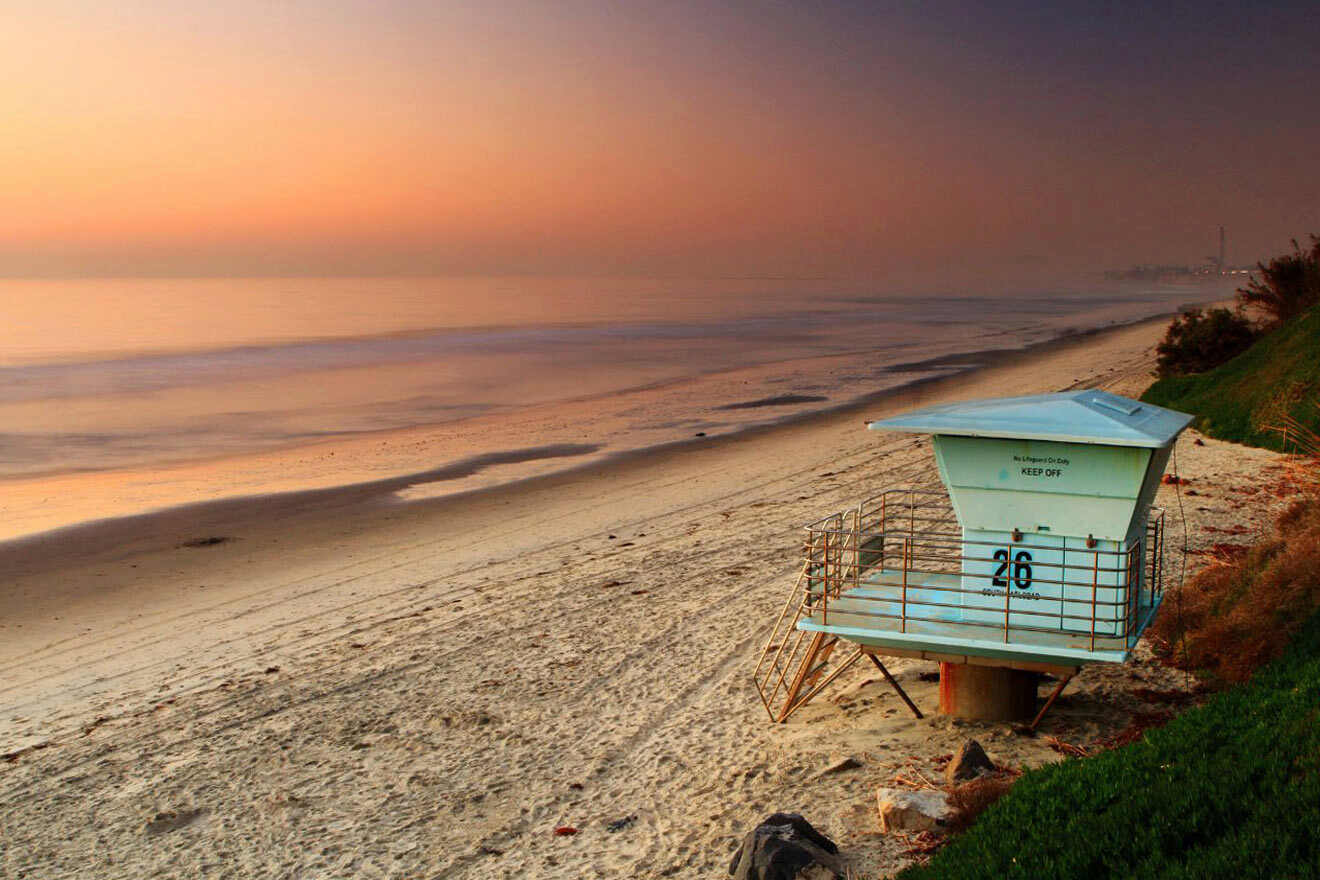 Also known as Tamarack Beach, Carlsbad State Beach near Carlsbad Village Drive is an ideal beach for the entire family! It's the perfect beach to go surfing, scuba diving, swimming, kayaking, fishing, hiking, and all kinds of beach fun.
The northern half of Carlsbad Beach is made up of smaller Carlsbad beaches divided by the 4-mile (6 km) long seawall right along Coast Highway 101. It is separated from the South Carlsbad State Beach, where you'll see a campground full of people riding bikes and a less crowded beach.
Camping at South Carlsbad State Beach is one of my personal favorite things to do in all of Carlsbad – you get to engulf yourself day and night in the seaside experience and leave all your worries to the side. I suggest bringing an RV for the best and most comfortable camping experience. Make your reservations up to 6 months in advance.
You can take a walk through the Carlsbad Sea Wall Trail nearby for stunning views of the coastal bluffs and other Carlsbad Village attractions. It's a short 30-minute roundtrip walk, so great if you're just looking for an easy stroll.
4. Pick strawberries at Carlsbad Strawberry Company
Strawberry picking season is in full swing every year at Carlsbad Strawberry Company! It's a fun experience for families to walk around during the U-Pick season (February – July) with a provided bucket in hand. Pick fresh strawberries, visit their sheep and goats, and make unforgettable memories out in the fields with the family.
The Carlsbad Strawberry Company holds different events year-round, including farmers' markets, lavender fields, and a pumpkin patch during other seasons. If you're not in Carlsbad during the U-Pick season, make sure to take a look at what's going on in their events calendar.
They're open from 9 AM to 6 PM daily, and reservations can't be made in advance! You'll need to walk in (before 5:30 PM) to buy tickets and start strawberry picking.
PRO TIP: Make sure to wear closed-toe shoes while you're here! The fields can get really muddy!
The Carlsbad Strawberry Co. is located directly next to the Carlsbad Flower Fields, so I suggest visiting both back-to-back.
PRICE: US$12 per person with buckets, US$5 per person for entrance into fields without a bucket.
5. Get fresh local produce at Carlsbad Village Farmers' Market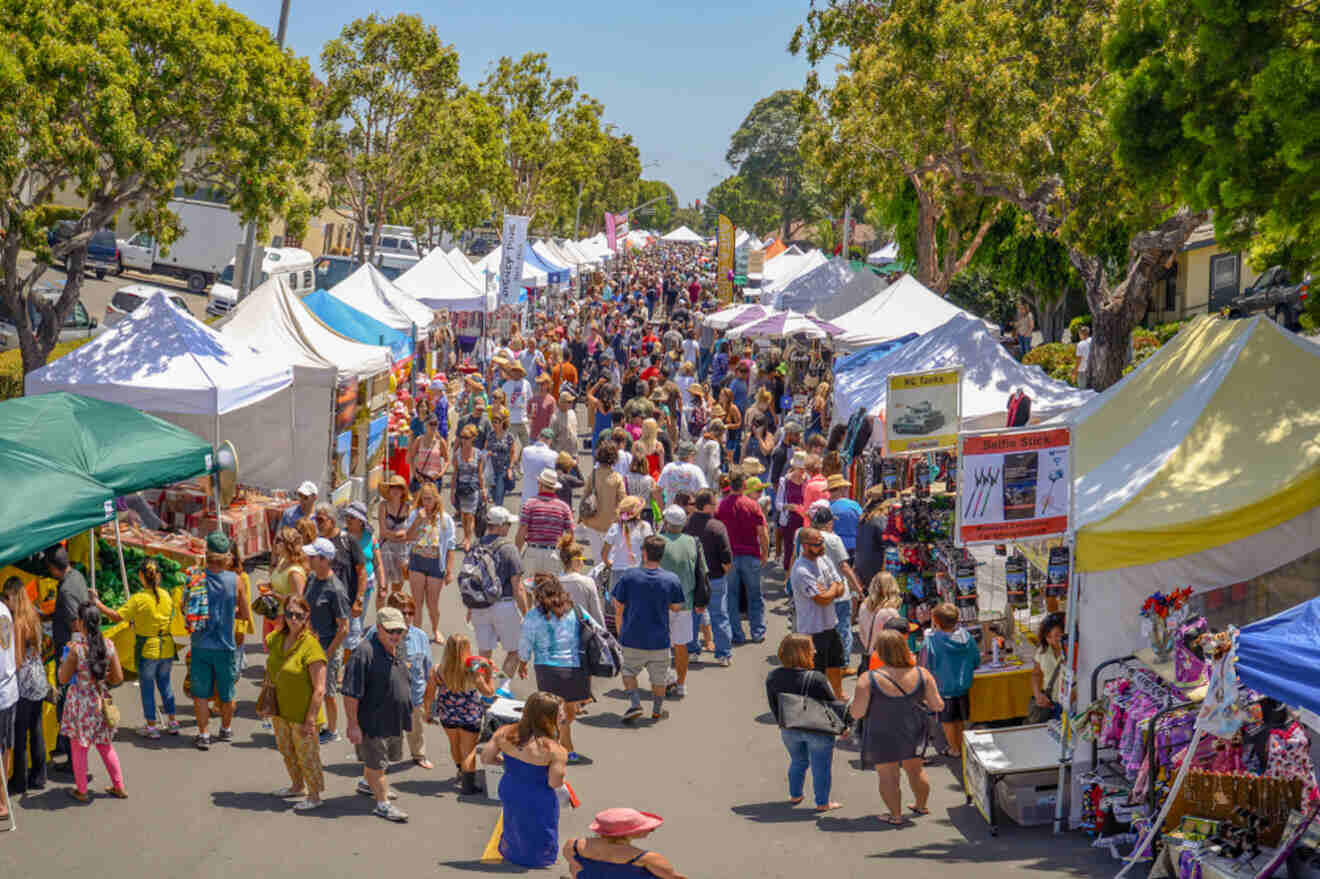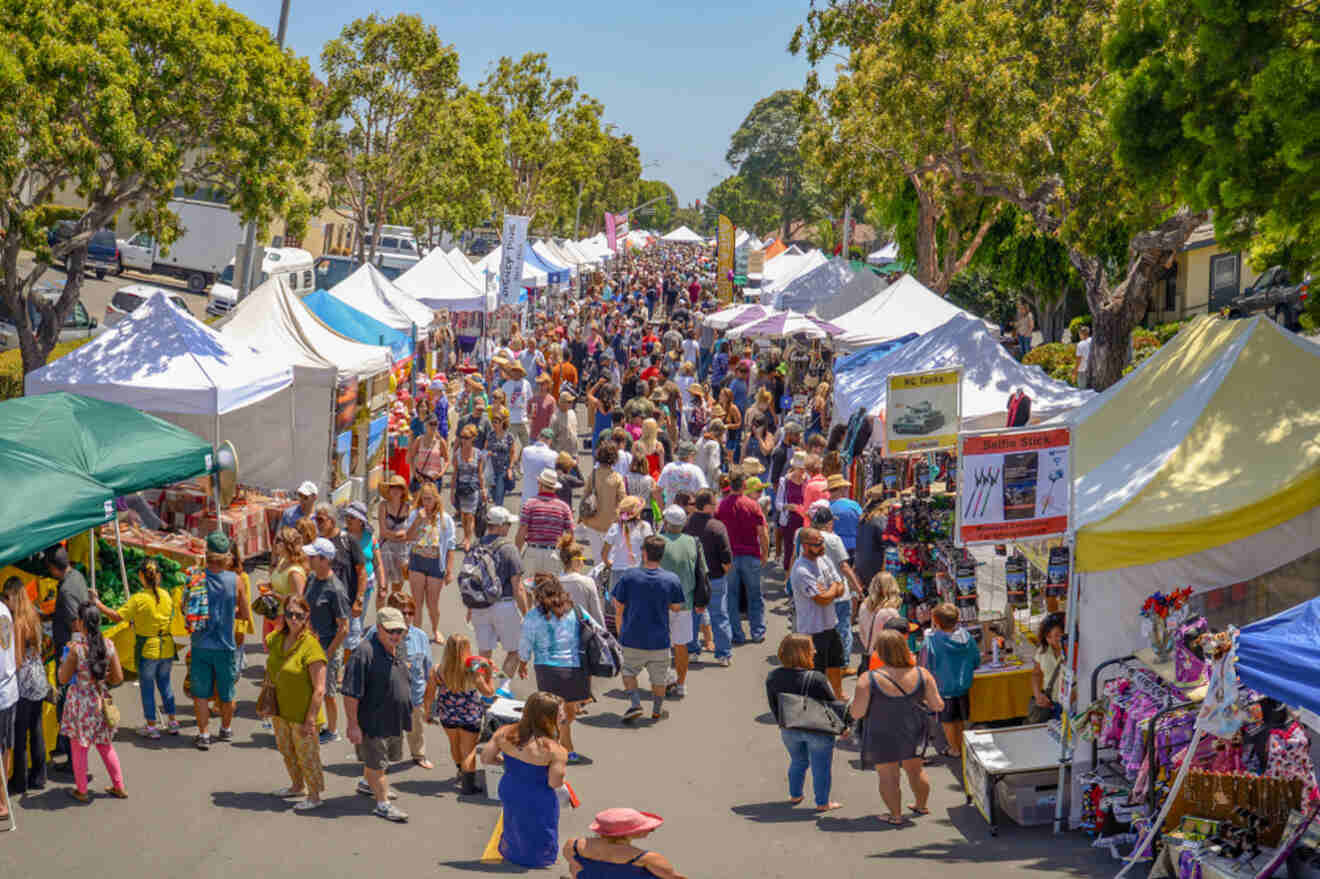 Carlsbad Village Farmer's Market is open every Wednesday starting at 2:30 PM on State Street! I suggest taking a walk down the street and picking up fresh organic produce and trying hot and cold foods while you stroll down the street.
The fresh-air grocery store is known for the organic honey, cheese, eggs, nuts, granola, bread, vegetables, fruit, plants, and so much more that local vendors grow (or make) and sell for visitors like you to indulge in.
If you happen to be visiting towards the beginning of the month, they host a live cooking demonstration the first Wednesday of each month every hour between 3 PM and 6 PM by a professional chef. You even get to try out samples of the food and new recipes to take home with you.
After walking through the State Street Farmers' Market, grab a bite down the street at Nick's on State! Nick's is one of my favorite restaurants in Carlsbad – it has a chill ambiance, and the food is absolutely amazing. I recommend ordering the spicy Thai salad and prime rib dip for the perfect lunch. And for a refreshing cocktail, order the cucumber collins!
NOTE: Bring a reusable bag with you! As you may or may not know, plastic bags in California are a big no-no. I have a mesh bag anytime I go to my local farmers market.
6. Have a watersports-filled day at Carlsbad Lagoon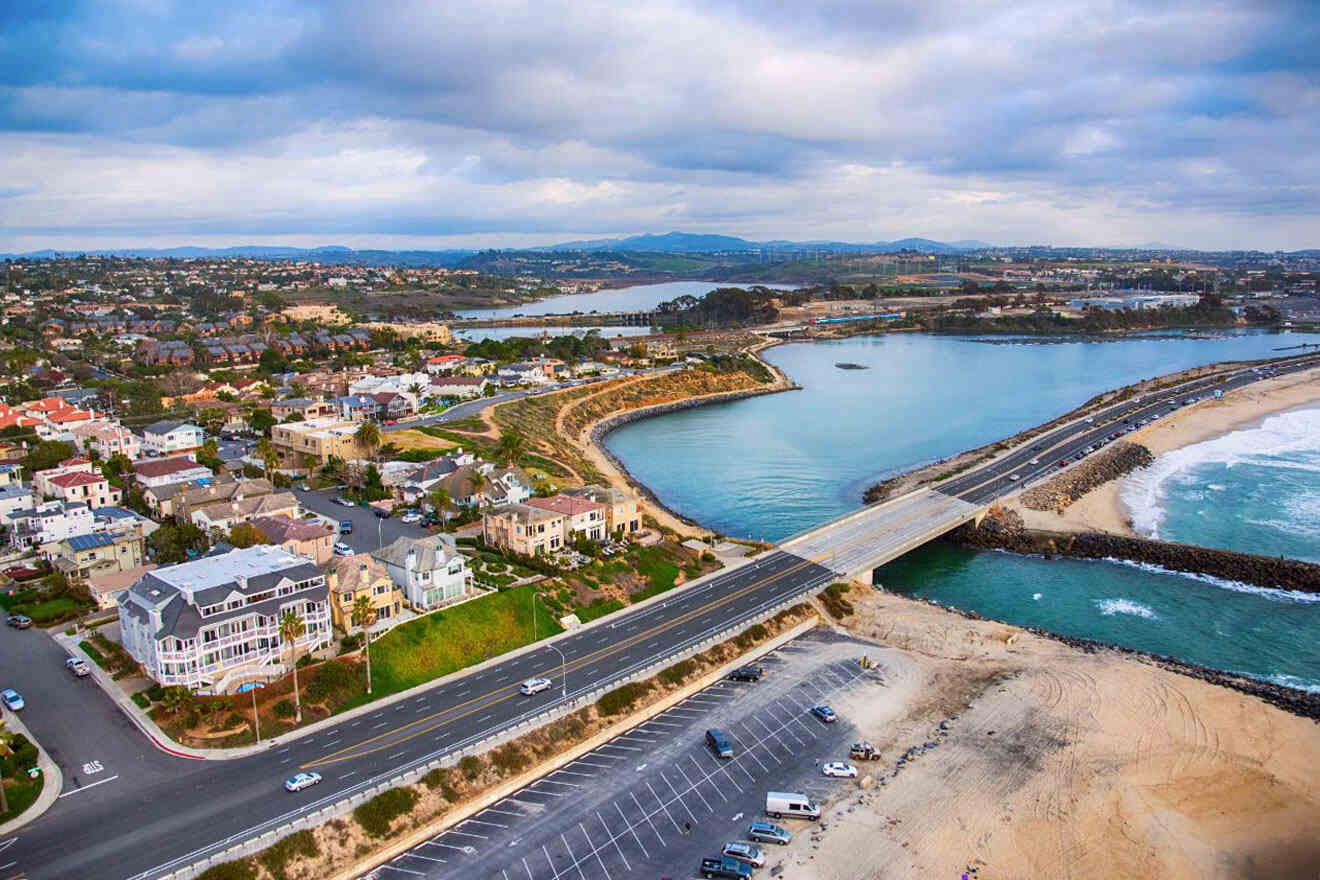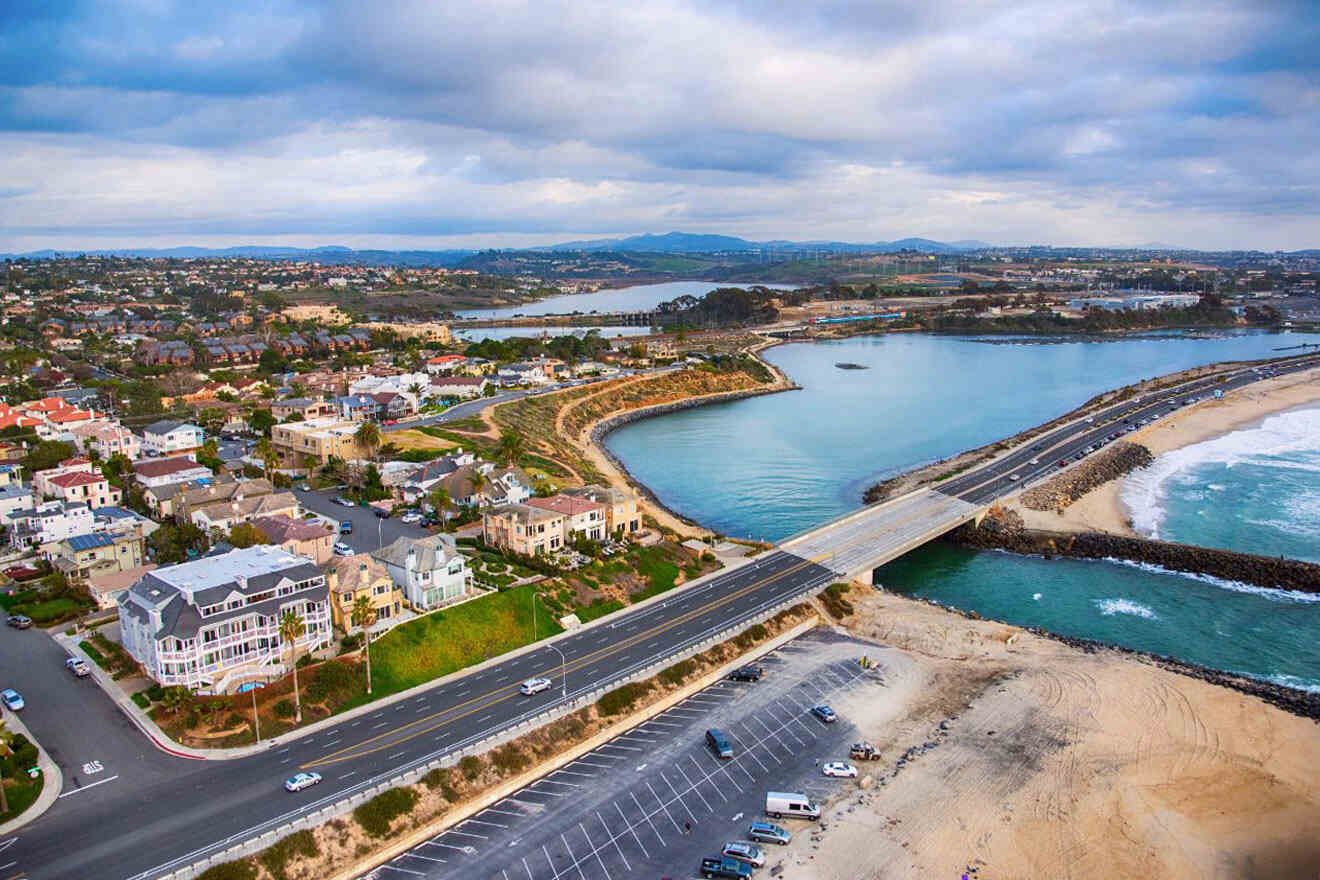 Carlsbad Lagoon (otherwise known as Agua Hedionda Lagoon) is a relaxing gem in Carlsbad used by private residents in the area, known for its watersports activities and calm waters. I've seen people go paddleboarding, jet skiing, and kayaking here many times.
Check out California Watersports for allll the watersport gear rentals you'll need for your day at the lagoon. If you want to rent a private space for the day, you can book a small area starting at US$250 per day. I only suggest doing this if you plan on staying at the lagoon all day long and/or throwing a small get-together. Otherwise, just find a place on the sand and enjoy the free areas!​
I recommend renting the Waverunner for an hour if you're here with a partner or friend, it's a thrilling experience on the water, and the price isn't so bad (starting at US$165) if you split between 2 people.
If you're looking for more than watersports by the water, take a look at this dolphin and whale-watching experience instead! This is great if you're looking for more of a sightseeing kind of traveler. The meeting point is at Oceanside Pier, a 10-min drive from Carlsbad.
If you want to visit a real lagoon in Carlsbad, the tranquil Batiquitos Lagoon nature is a rare coastal wetland in SoCal.
TOUR PRICE: from US$75 per person
7. Unwind in mineral baths at Carlsbad Mineral Spa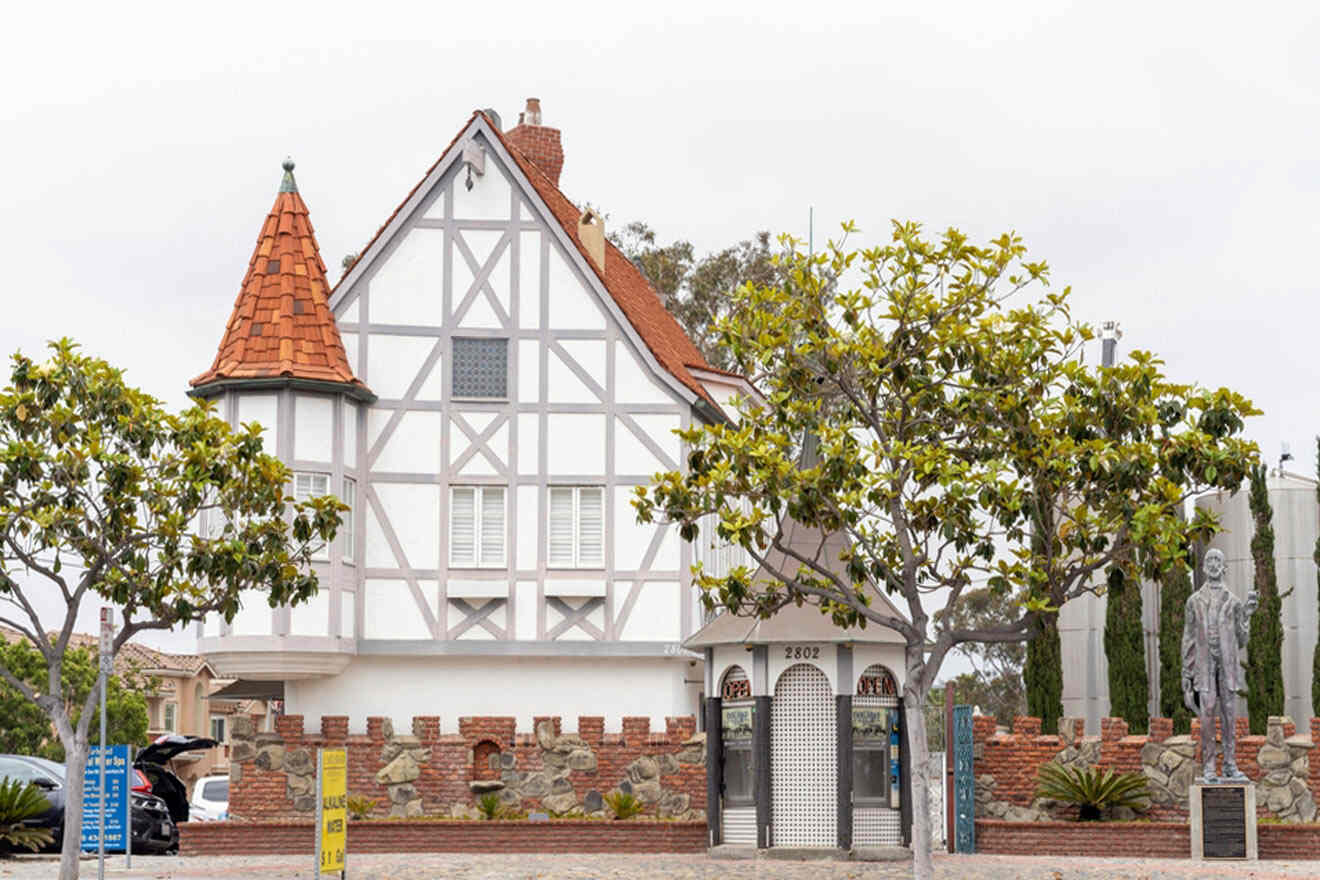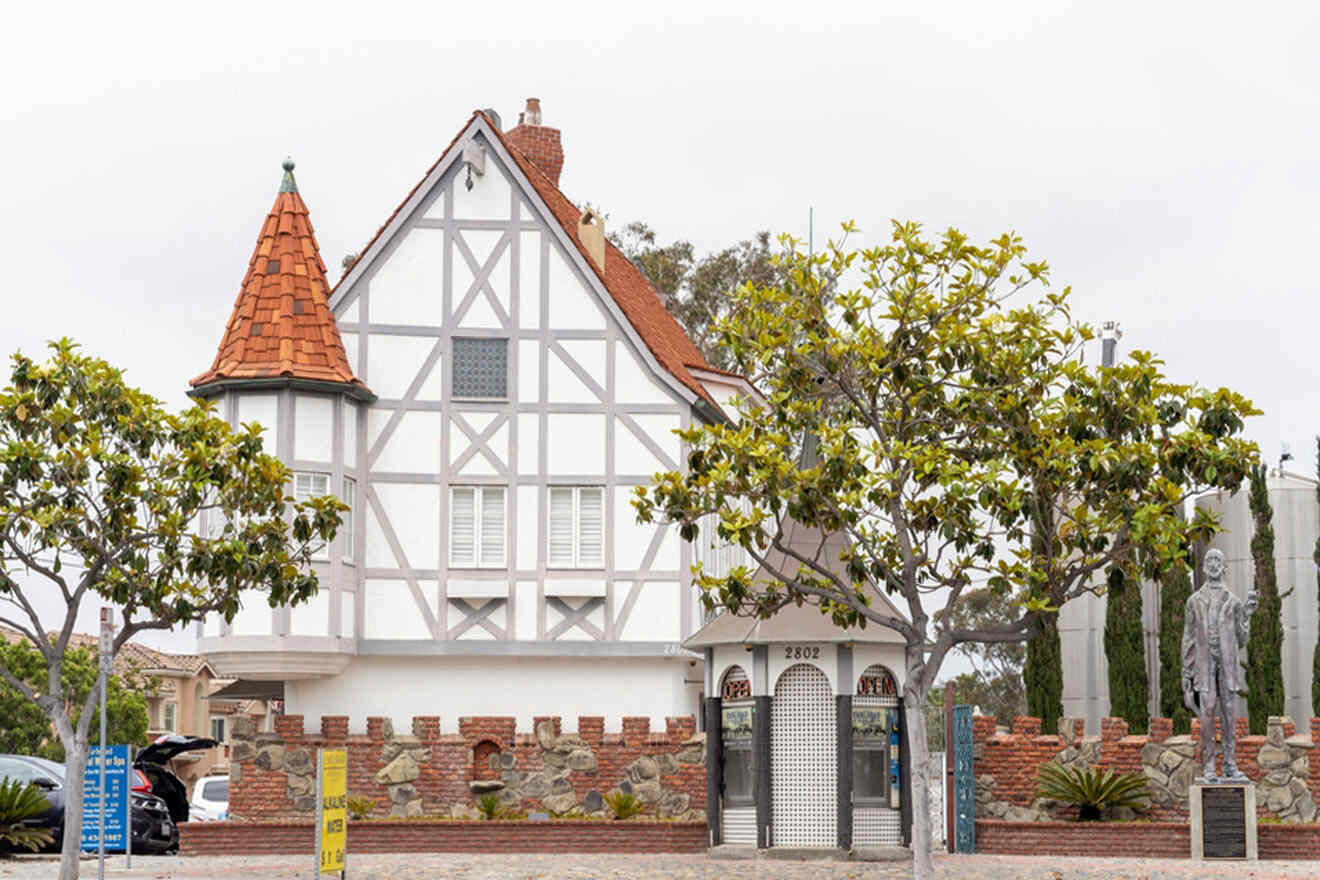 Two farmers ventured out to Carlsbad (then known as Frazier's Station) back in the 1800s and found the source of mineral waters as they were digging a well. A chemical analysis of the water found that water is identical to Europe's world-famous spa in Karlsbad, Bohemia, and the town was renamed "Carlsbad."
Carlsbad Mineral Spa has a long history in Carlsbad, dating back to 1882! Today, it serves as the first mineral water spa and premier mineral water source for hotels all over San Diego, being bottled and purchased directly from the source, and a spa for visitors to soak in the minerals that these waters hold.
The mineral water spa is still located on the site of the original well that was found by the 2 farmers. It's now declared a historic site and state historical monument.
Come here to admire the history and relax with a mineral spa treatment in their mineral baths, massages, and other services made to help you relax and refresh the body.
I love the Royal Treatment option. You get a chance to unwind in their mineral bath, get a mud facial (or substitute that for a detox wrap), and get a 1-hour full body massage. It's the best option and value for the price!
8. Shop 'till you drop at Carlsbad Premium Outlets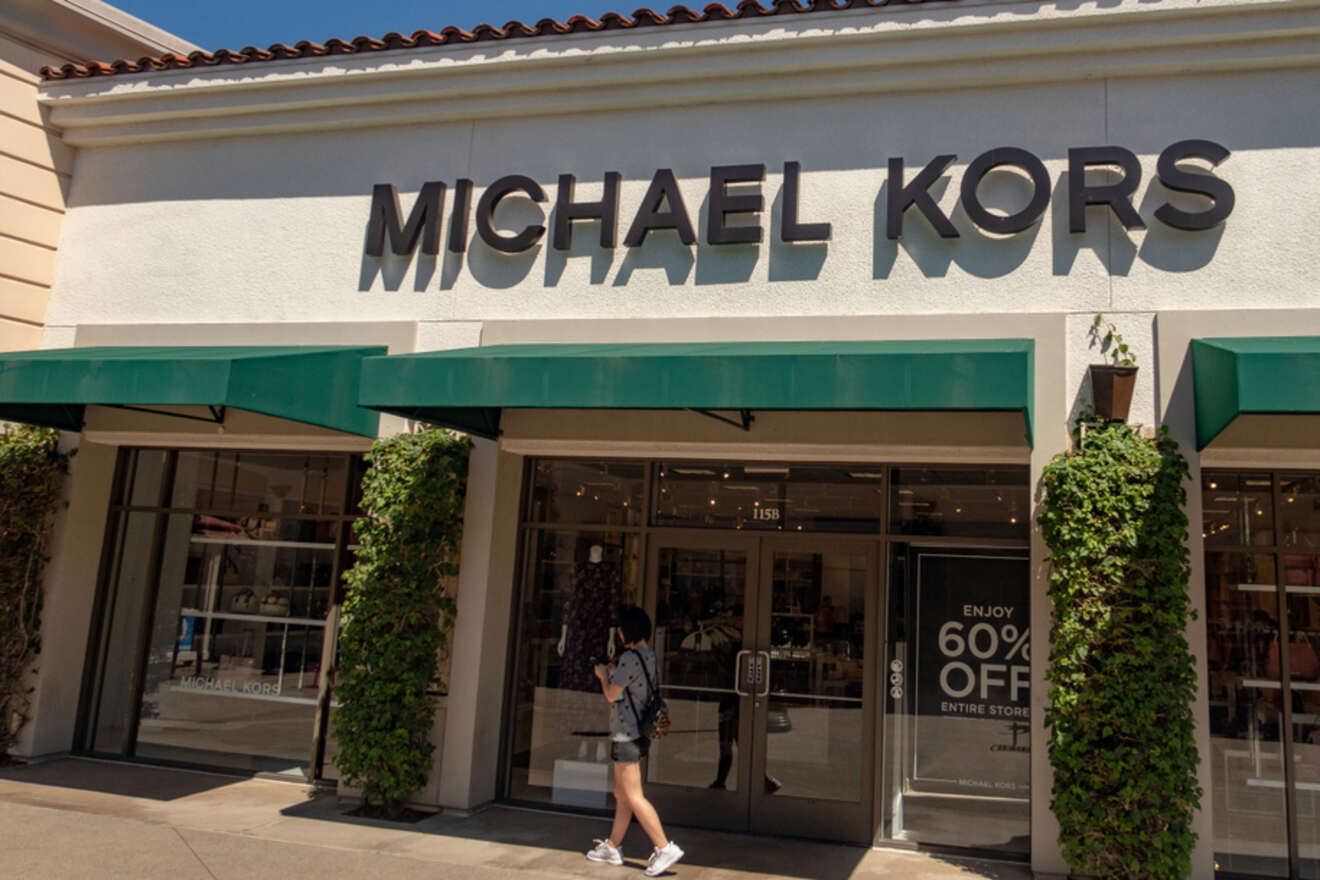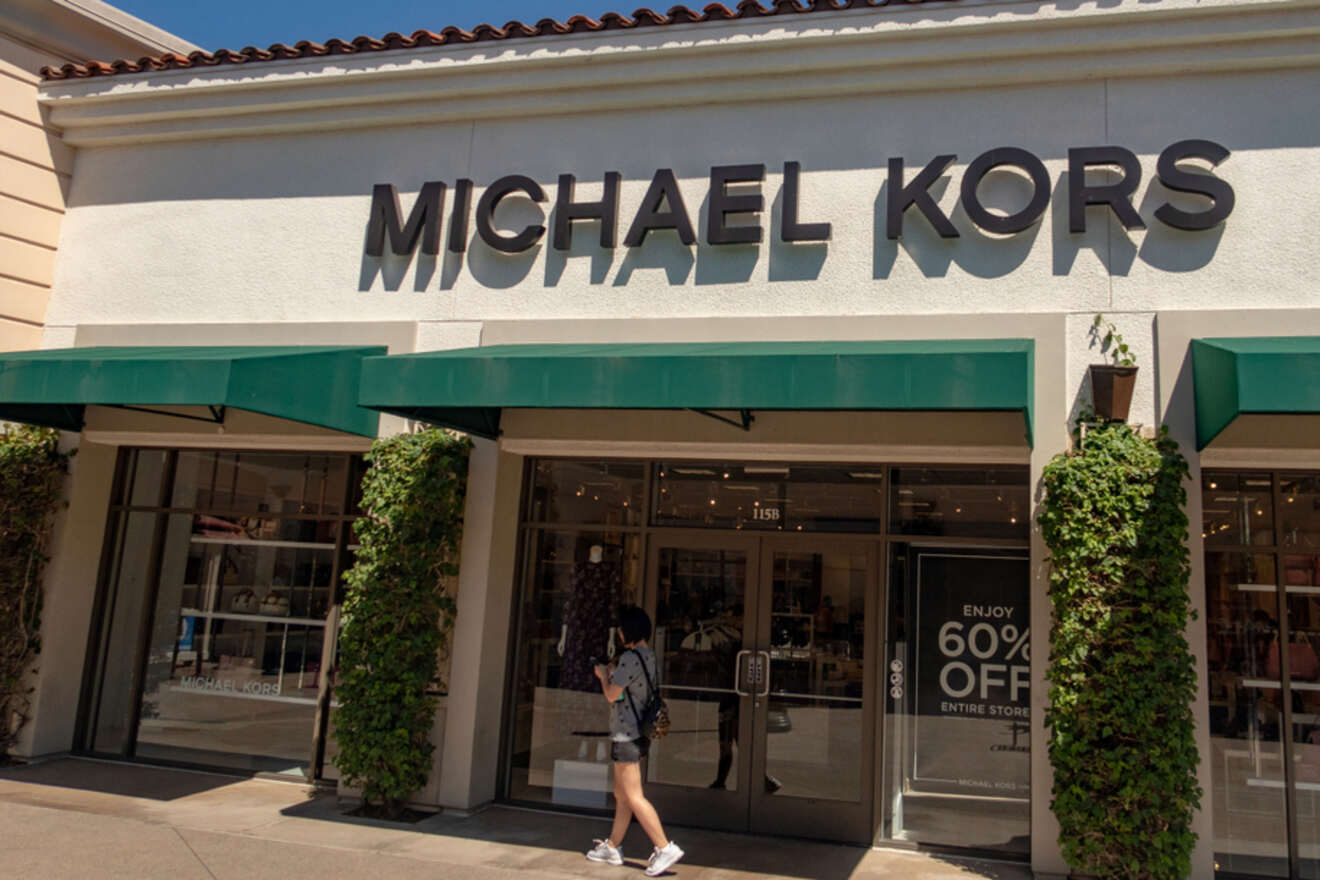 Shop and score the best deals at the Carlsbad Premium Outlets! This outlet shopping center is one of my favorites – you have access to 90 retailers like Calvin Klein, Adidas, Nine West, and Michael Kors, but you don't need to pay full price for anything. Everything here is marked down and/or holding sales you wouldn't find if they weren't outlets.
Plus, if you or someone you're with has a wheelchair or stroller, they even have rentals available for you to shop in comfort.
There are also several food options all around, so you don't have to walk around with an empty stomach. I suggest stopping by Ruby's Diner for a classic, all-American dining experience!
The outlets are open from 10 AM to 9 PM Monday through Saturday and closed from 10 AM to 7 PM on Sundays.
PRO TIP: For the perfect day, visit Carlsbad's urban wineries and go shopping at Carlsbad Premium Outlet! Witch Creek Winery nearby is the oldest urban winery with an impressive tasting room experience you're going to love.
9. Book a tee time or golf clinic at Aviara Golf Club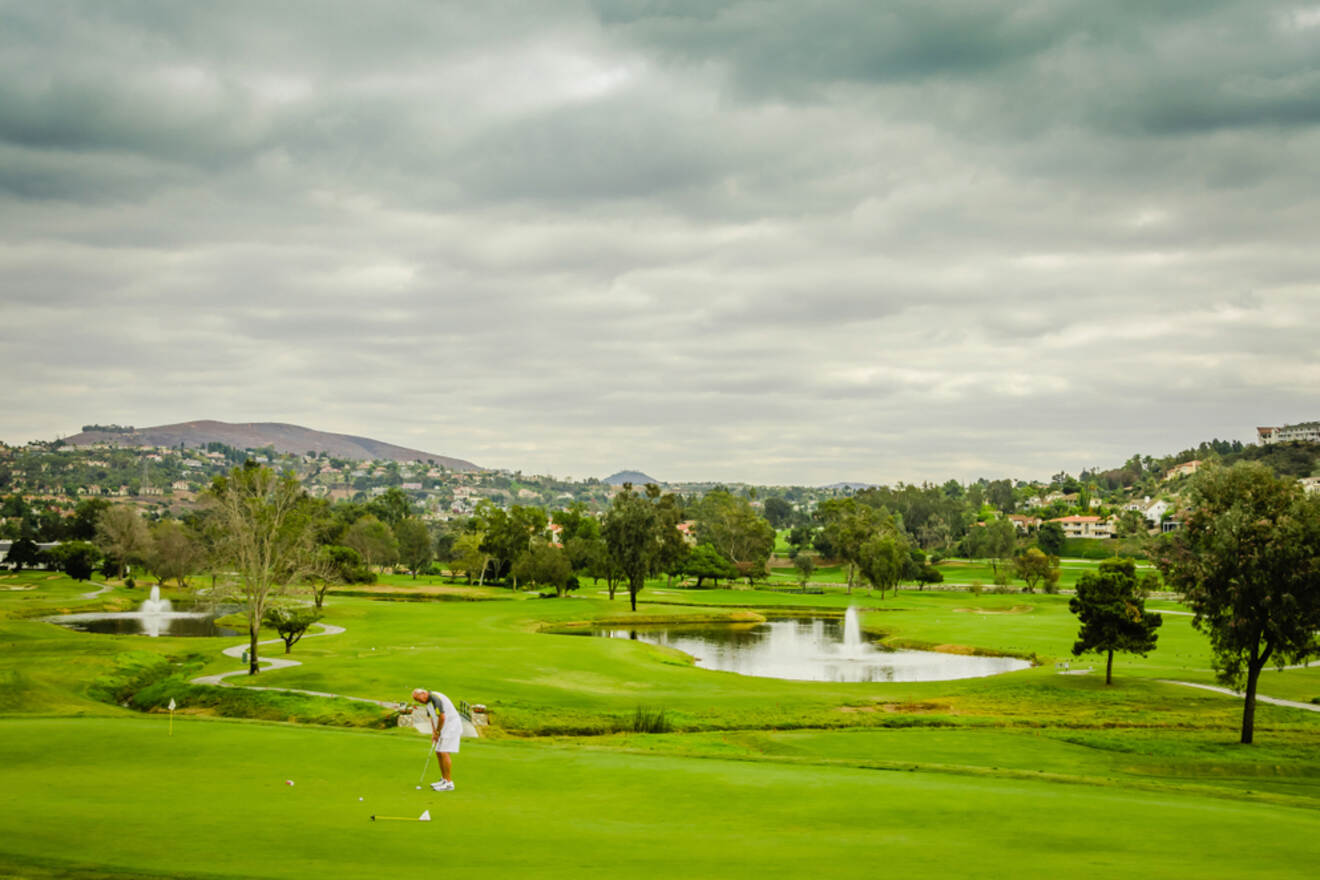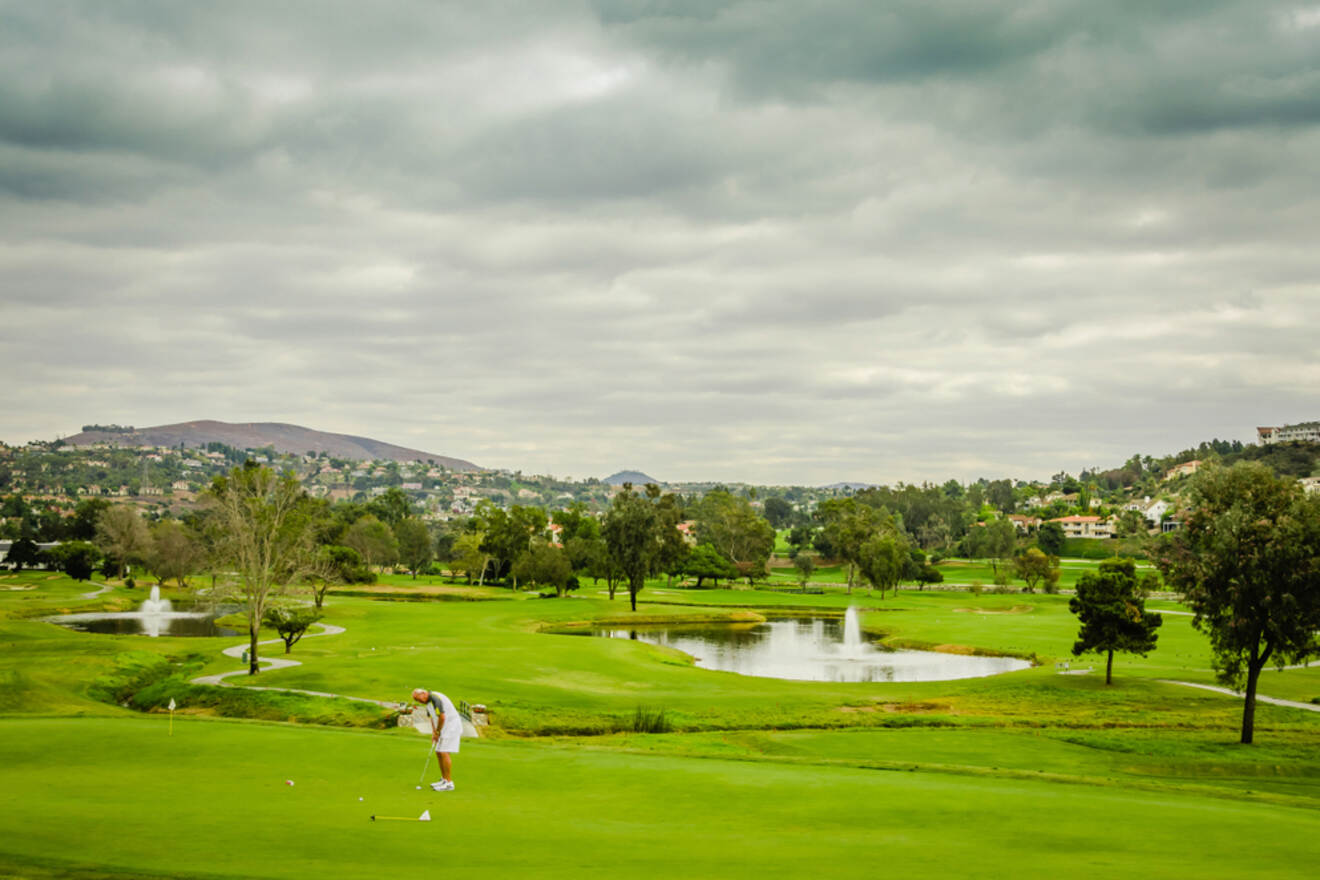 San Diego happens to be the golf manufacturing capital! So, you absolutely have to take a look at the famous courses while you're in Carlsbad. Aviara Golf Club at Park Hyatt Aviara is one of the popular golf courses in Southern California, the only golf course designed by the famous Arnold Palmer.
Aviara Golf Club has stunning views of rolling green hills filled with SoCal native wildflowers, making your golfing experience that much better. They offer public tee times available for 1 – 4 players or even classes (aka "golf clinics") for young children and adults to get the hang of the sport.
If you're a beginner like me and don't have much experience golfing, I suggest booking a gold clinic! Booking tee times here are quite pricey, so it's best to learn before committing to the hefty time slot. You're led by professionals in both private and group lessons, depending on which you prefer!
The weekly group golf clinics are available at US$30 per person. This is an excellent price and value at a highly-rated golf course. Times vary, and reservations need to be booked at least 24 hours beforehand. Call them at +1(760) 603-6900 to make your reservation.
If you're an intermediate golfer and aren't interested in classes but don't want to pay hefty fees for tee times, check out the Rancho Carlsbad Golf Course for the perfect middle solution. It's located 20 min drive away from the beautiful Torrey Pines! After your golf clinic, take the family to Torrey Pines State Beach for a scenic stroll along coastal bluffs and watch the sunset.
10. Grab a bite of the best food in Carlsbad
Savor the most delicious foods in Carlsbad with a 3-hour food tour! This Carlsbad Village walking food tour takes you to around 6 spots popular among locals that you otherwise wouldn't find as a tourist.
The knowledgeable tour guide will also go through the history of Carlsbad throughout the decades, answer any questions you might have, and recommend even more hotspots throughout the city that are worth checking out, making this a gem among Carlsbad food tours.
NOTE: You'll get a taste of delectable hot and cold food at locally operated specialty food shops, delicious California wines, and locally made desserts, so come with an empty stomach and get ready to experience the best food and wine tastings in Carlsbad!
PRO TIP: If you don't get a chance to try out Chandler's Restaurant on your tour, I suggest making a separate trip for spectacular oceanfront views and fresh seafood dishes. (Especially if you're looking for a romantic dinner in Carlsbad!)
PRICE: from US$70 per person
11. Take a tour down the historic Leo Carrillo Historic Ranch
Leo Carrillo Ranch Historic Park is named after the infamous actor Leo Carrillo (acting in over 100 movies from 1927 – 1950), with historical, educational, and recreational resources for families to enjoy.
There are historic buildings and attractions here like their visitor center, adobe buildings, hacienda, stable, carriage house tack shed, and others. You can explore all this through the Rancho Carrillo Trail (a 4-mile or 6-km) walk nearby.
There are a couple of tours available: a self-guided walking tour or a free guided walking tour every Saturday and Sunday. Both are great options and offer the same tour. I suggest wearing comfortable shoes while you're walking through the historic park! You'll find yourself doing a lot of walking through dirt walkways and stairs.
Keep in mind that Carrillo Ranch is a National Historic Landmark, so it's important to be respectful of the mark you leave behind. Don't litter, vandalize, or remove anything at the park.
PRO TIP: Anytime you're anywhere in SoCal, you should always wear a hat, sunscreen, and sunglasses to stay protected from the heat. We're lucky enough to get a cool breeze in the summer, so you might not feel like it's that necessary, but being under the San Diego sun for too long gets dangerous!
If you want to explore other parks in Carlsbad, I suggest checking out Alga Norte Community Park! You can stop by the nearby Trader Joe's or Mendocino Farms (less than 5 mins away) and enjoy lunch sitting at the picnic tables!
12. Explore music's ins and outs at the Museum of Making Music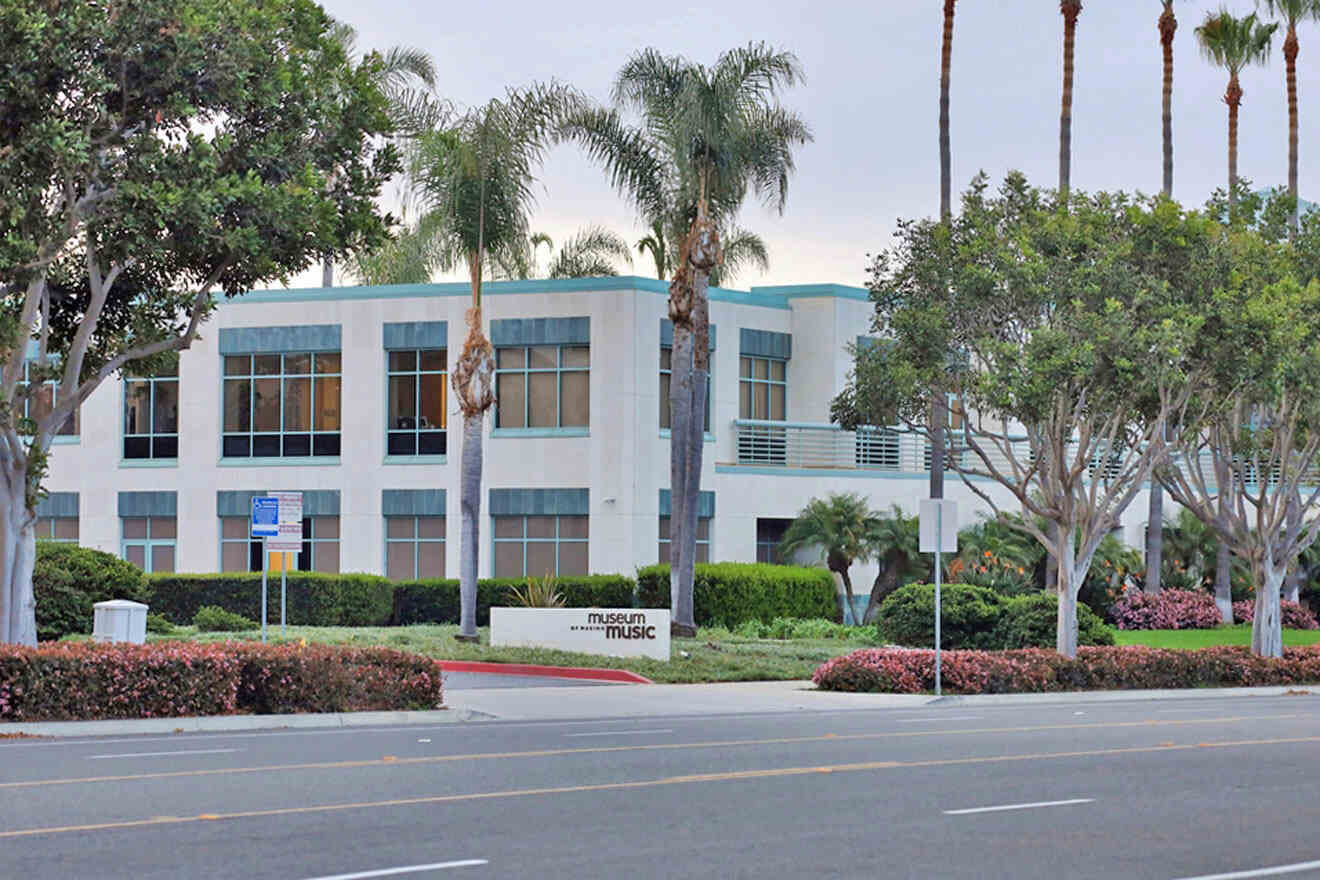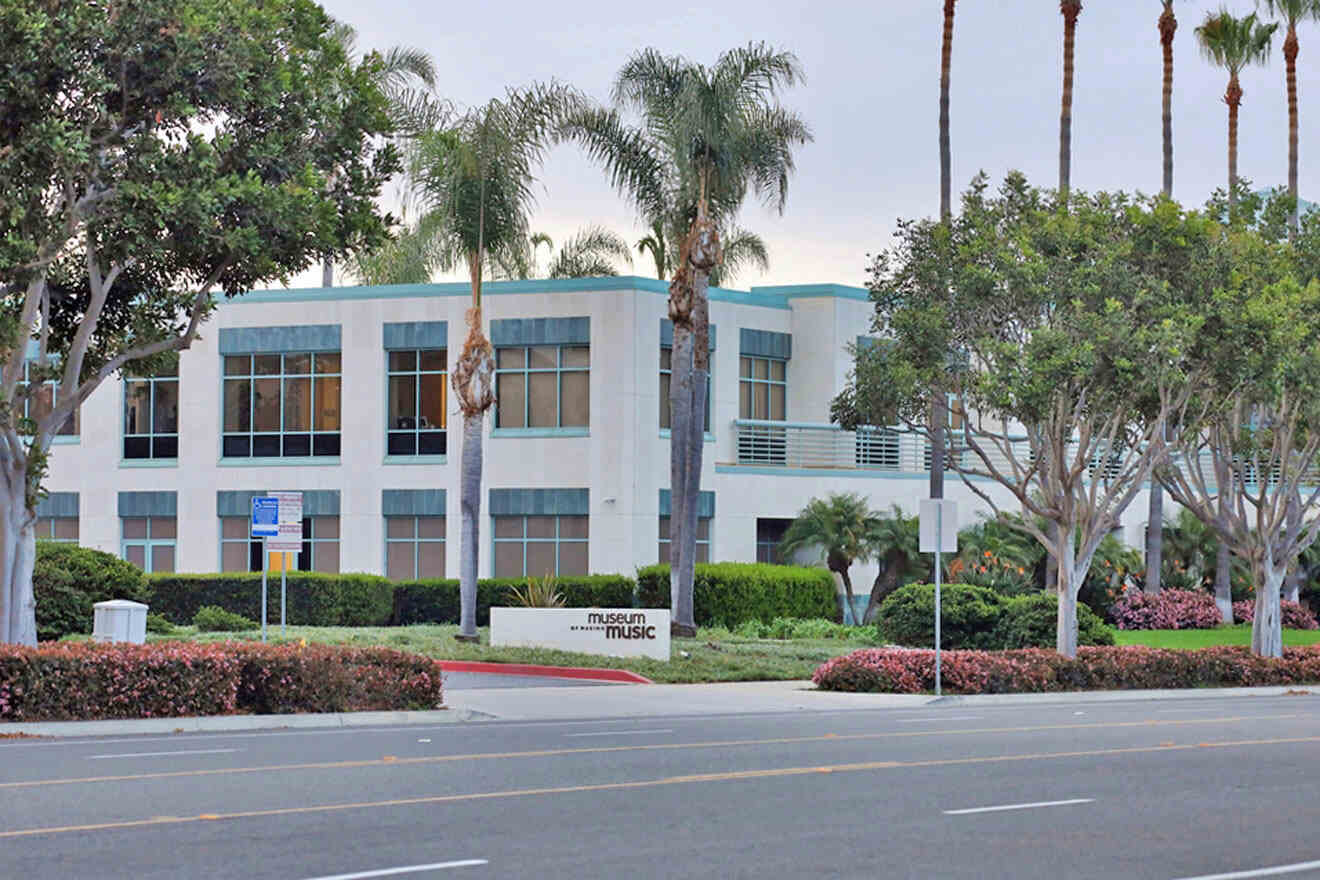 The Museum of Making Music explores the impact of music on people through its interactive exhibits and programs for children and adults of all ages. You'll hear all kinds of music here and get a chance to explore the history, too (starting from the early 1900s).
Whether you're a folk music fan, rock n' roll, or pop – there is something for everyone to listen to, an instrument to explore, and a history to uncover here.
The museum features galleries that display old musical instruments that you've probably never seen before. You'll also get a chance to hear old audio clips and actually pick up and play the instruments for yourself. It's really an inside look at the world of music making, and I recommend this for anyone with a passion for music traveling to Carlsbad, California.
Here's a little more on the galleries you can expect here:
Making the Instruments: Learn how the instruments you know and love are made!
Providing the Instruments: Get a glimpse of how instrument retailers have provided the world with musical expression throughout history.
Using the Instruments: Music is part of the human experience! Get your hands on an instrument and learn for yourself how to play.
Beyond the Instruments: Understand how music represents something beyond ourselves (social change, connection, and more)
The museum is open from Tuesday – Sunday, from 10 AM to 5 PM (and closed on Mondays).
PRO TIP: As a musical lover myself, I love attractions like these. If you want more, I recommend visiting the New Village Arts for the best live theater performances in North San Diego.
PRICE: US$15 per person
13. Find unique gems at the Gemological Institute of America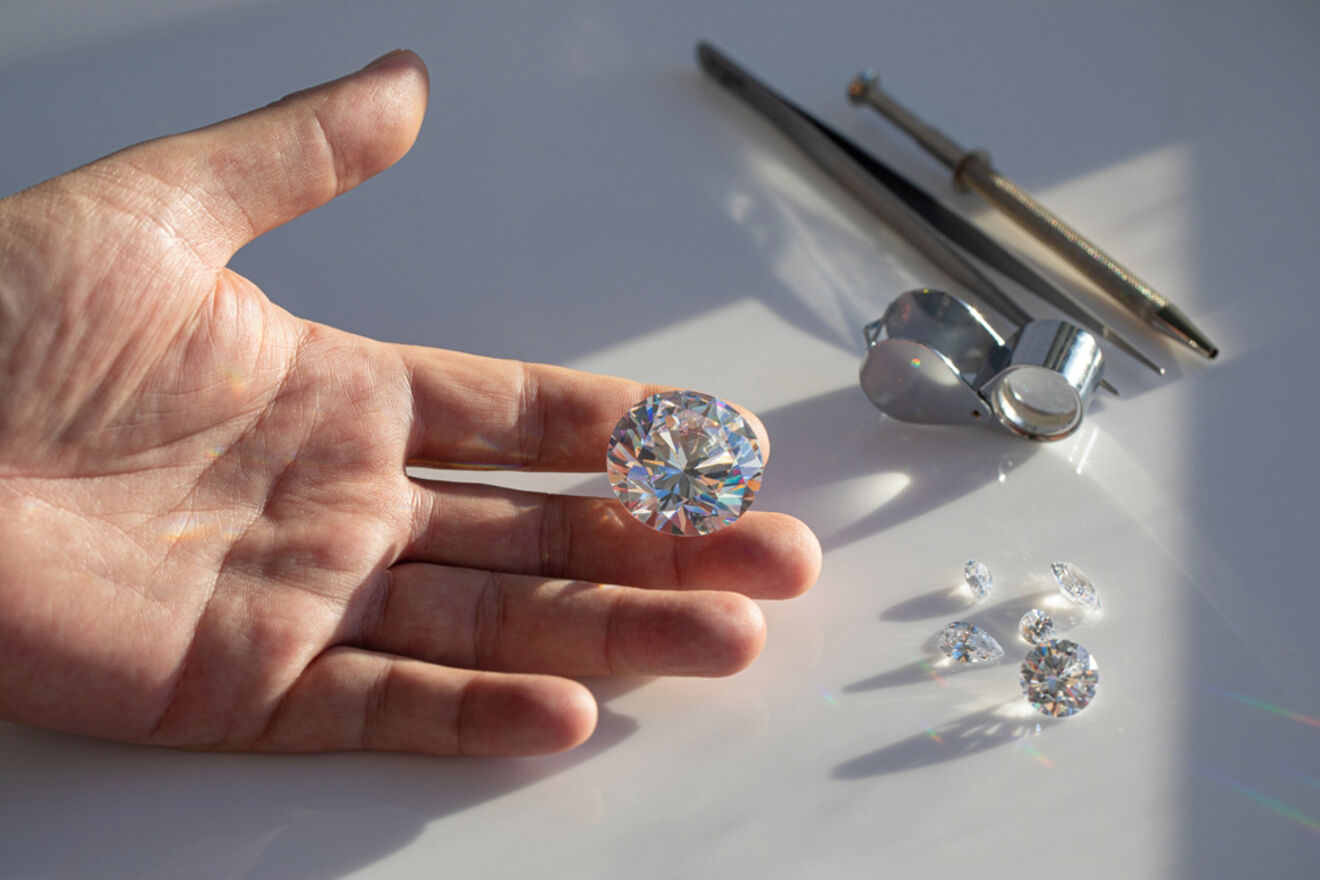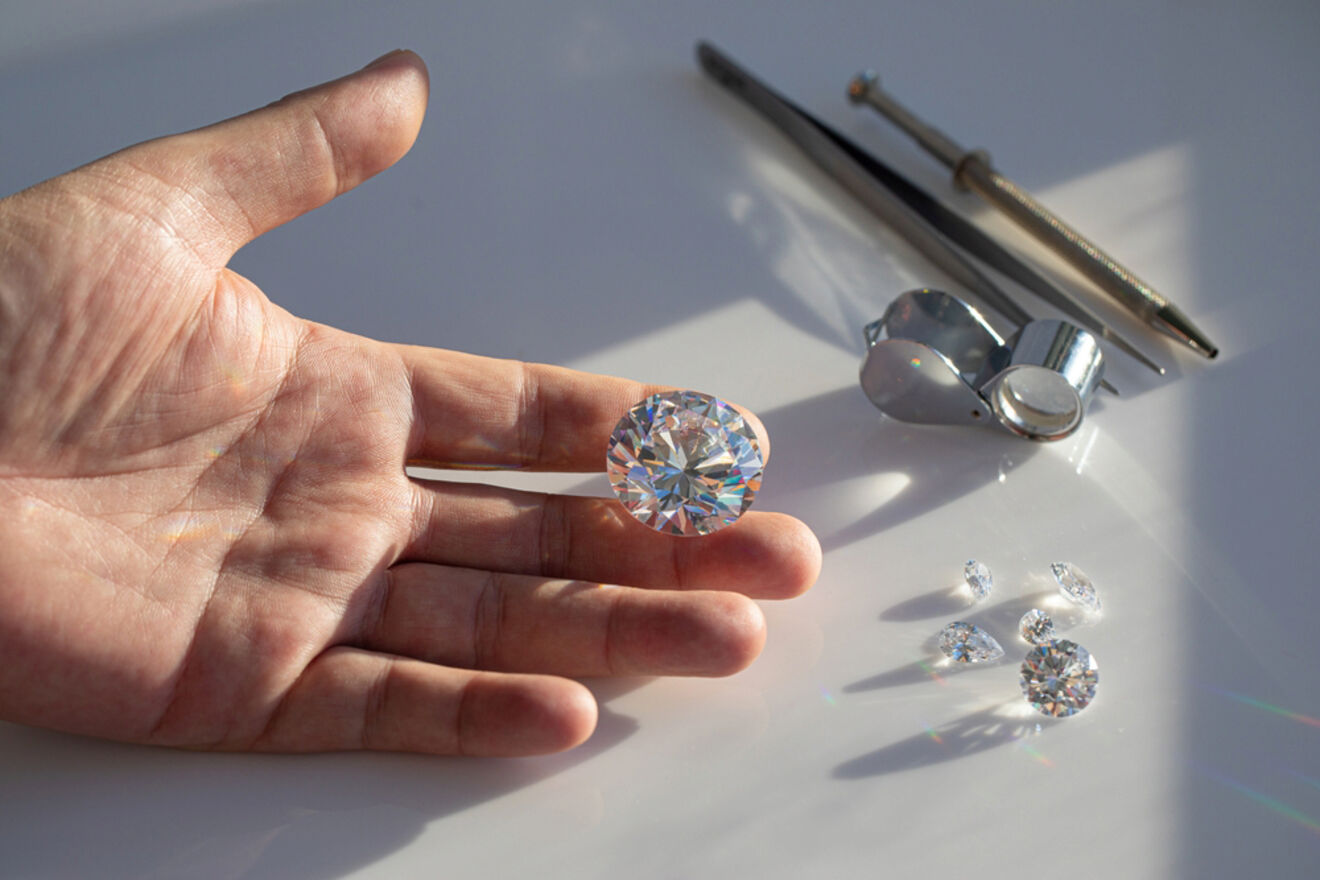 The Gemological Institute of America is a program focusing on gem studies. There are campuses scattered throughout the country for people to study using their state-of-the-art equipment and resources.
The Gemological Institute of America location in Carlsbad (Robert Mouawad Campus) is a short walk away from local beaches, LEGOLAND, California, and a 40-minute drive away from Downtown San Diego.
Why does this matter, too? Well, it provides an experience for visitors like you and me to enjoy, unlike other campuses.
The GIA Museum introduces you to the world of vibrant gems and the beauty of jewelry. The exhibits educate you and teach you the science behind each rock. It's really a unique museum offering an experience, unlike other museums throughout Southern California. I'm personally a huge rock collector, and this kind of niche museum is rare to find.
The museum is open from 9 AM to 5 PM, Monday – Friday. The good news is that it's free to explore; however, you'll need to call to make reservations in advance!
PRO TIP: The museum is also in close proximity to the Museum of Making Music and the outlets, so I suggest spending 1 day exploring all 3! (And LEGOLAND California on a separate day.)
PRICE: FREE
14. Grab dinner and explore the Green Dragon Tavern & Museum
The Green Dragon Tavern & Museum is a restaurant and museum with a high-end dining experience and free entrance into a historic museum. The museum is home to a collection of documents and antiques relevant to American history.
It's one of the most iconic and historic places in Carlsbad, great for grade school children to learn something new! It's inspired by the original Green Dragon Taven in Boston (with a more modern twist).
The restaurant has delicious American lunch and dinner and a passion for giving visitors a unique experience with an all-Amiercan ambiance and tavern feel.
PRO TIP: If you want a more immersive nightlife experience outside of the tavern, I suggest driving down to downtown San Diego for a night at the Gaslamp District!
MUSEUM PRICE: FREE
15. Discover the Miniature Engineering Craftsmanship Museum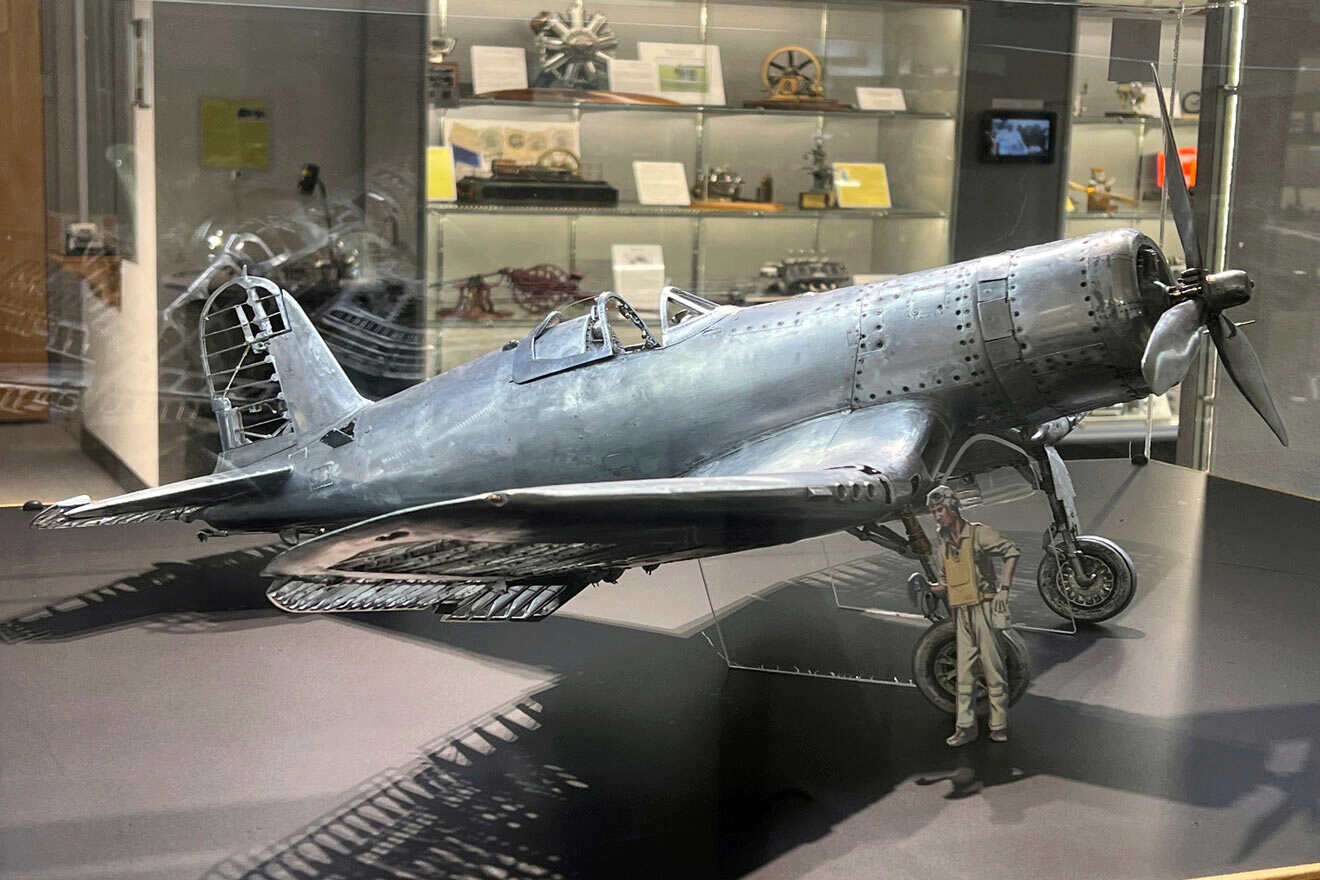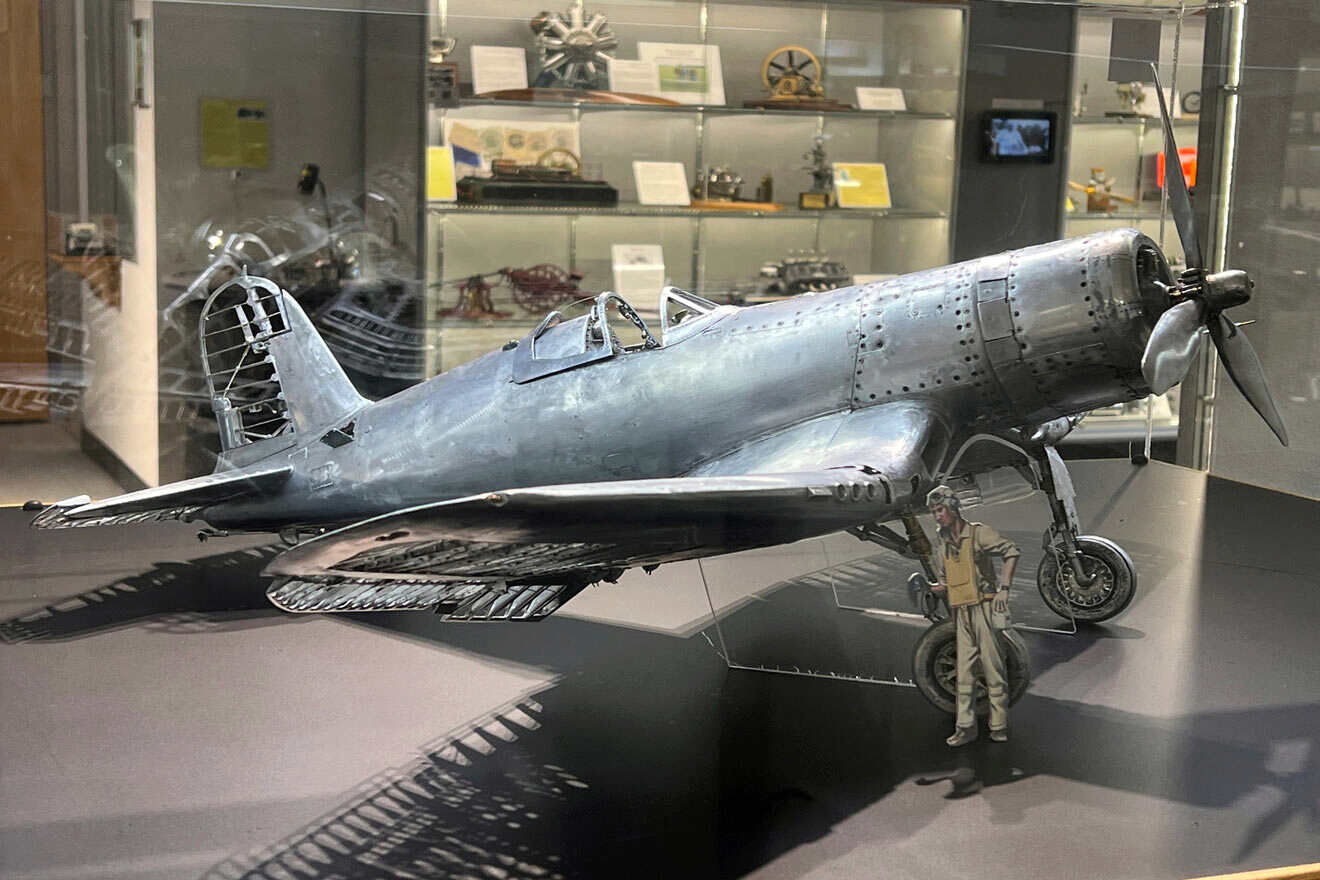 The Miniature Engineering Craftsmanship Museum is super fun to explore for all you engineer heads! The museum has over 200 miniature engines (that are fully functional), along with mini clocks, tools, guns, and ships, all on display from craftsmen all over the world for visitors like you to admire.
The museum is inside a 13,000-square-foot (c. 1,210 m²) workshop where local craftsmen actually work to create masterpieces like the ones on display. I suggest visiting with parents and older grandparents because it's a quiet museum meant for collectors and engineers to admire! Older children and young adults would also admire this museum (but leave the younger ones at home)!
NOTE: The facility is fully handicap accessible, with a wheelchair ramp from the parking lots to the exhibits.
PRICE: FREE
FAQs about things to do in Carlsbad, California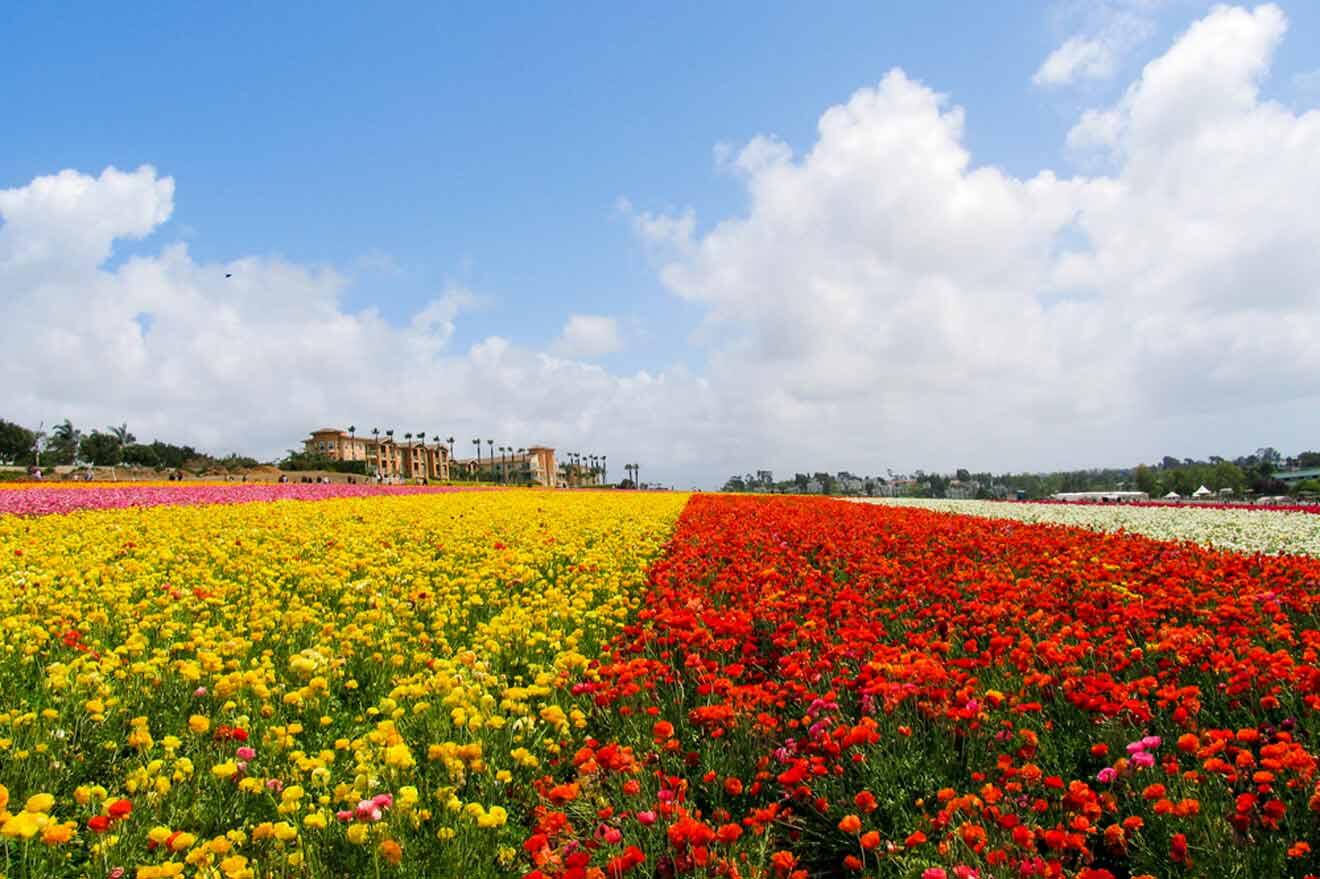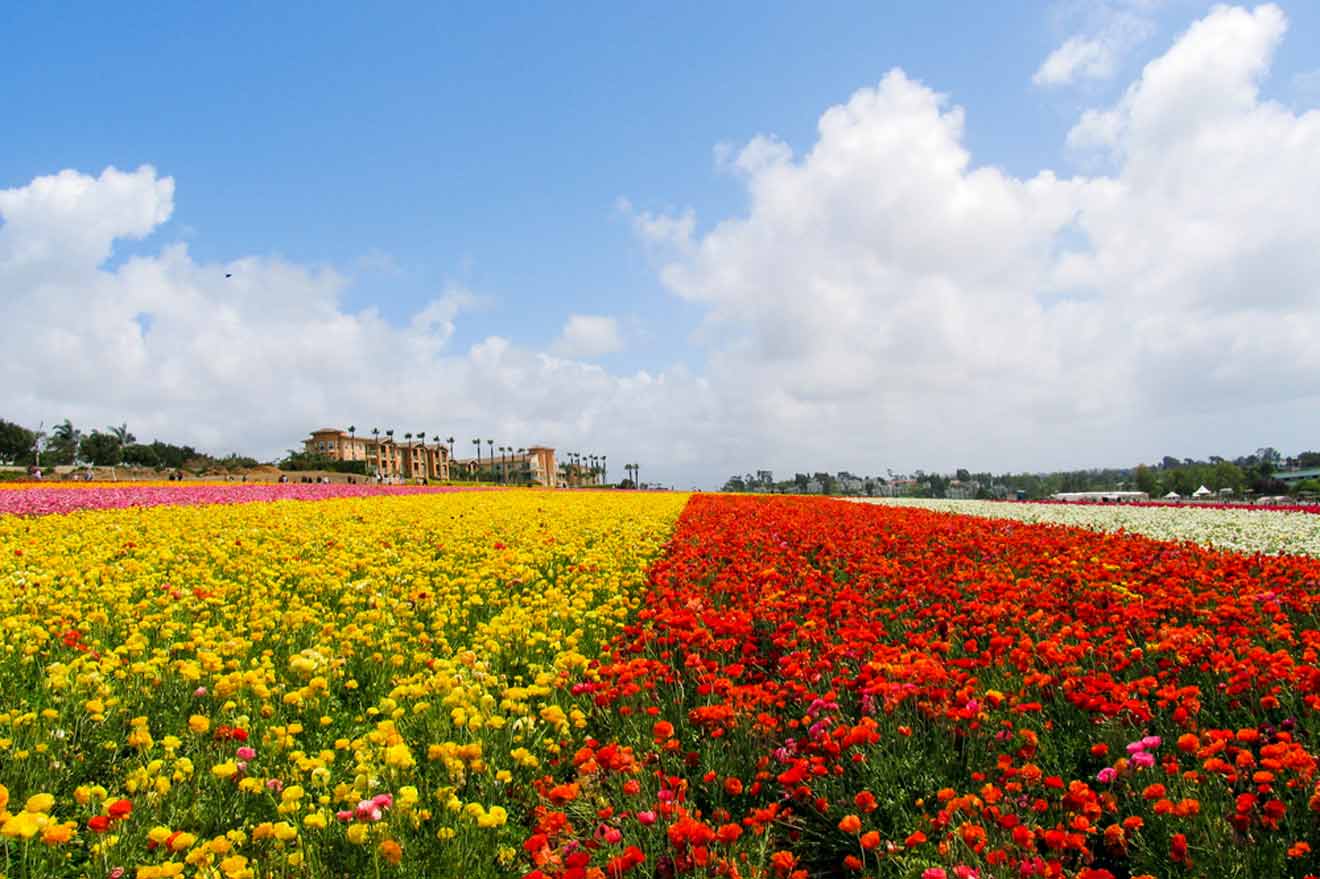 ☀️ What is Carlsbad Village best known for?
Carlsbad Village is best known for its beautiful Carlsbad State Beach, the Flower Fields at Carlsbad, and LEGOLAND California.
🐠 What are the best things to do in Carlsbad for kids?
The best things to do in Carlsbad for kids are to visit the LEGOLAND California Resort and SEA LIFE Aquarium while you're there!
🦄 What are the most unique Carlsbad museums?
The most unique Carlsbad attractions are the Gemological Institute of America Museum, Miniature Engineering Craftsmanship Museum, and Museum of Making Music. You won't be able to find anything like these 3 places anywhere in San Diego!
⏰ How many days should I spend in Carlsbad?
You can easily spend 2 – 3 days in Carlsbad doing everything on this list! I recommend planning your days in advance if you really want to make the most out of your time in Carlsbad.
Conclusion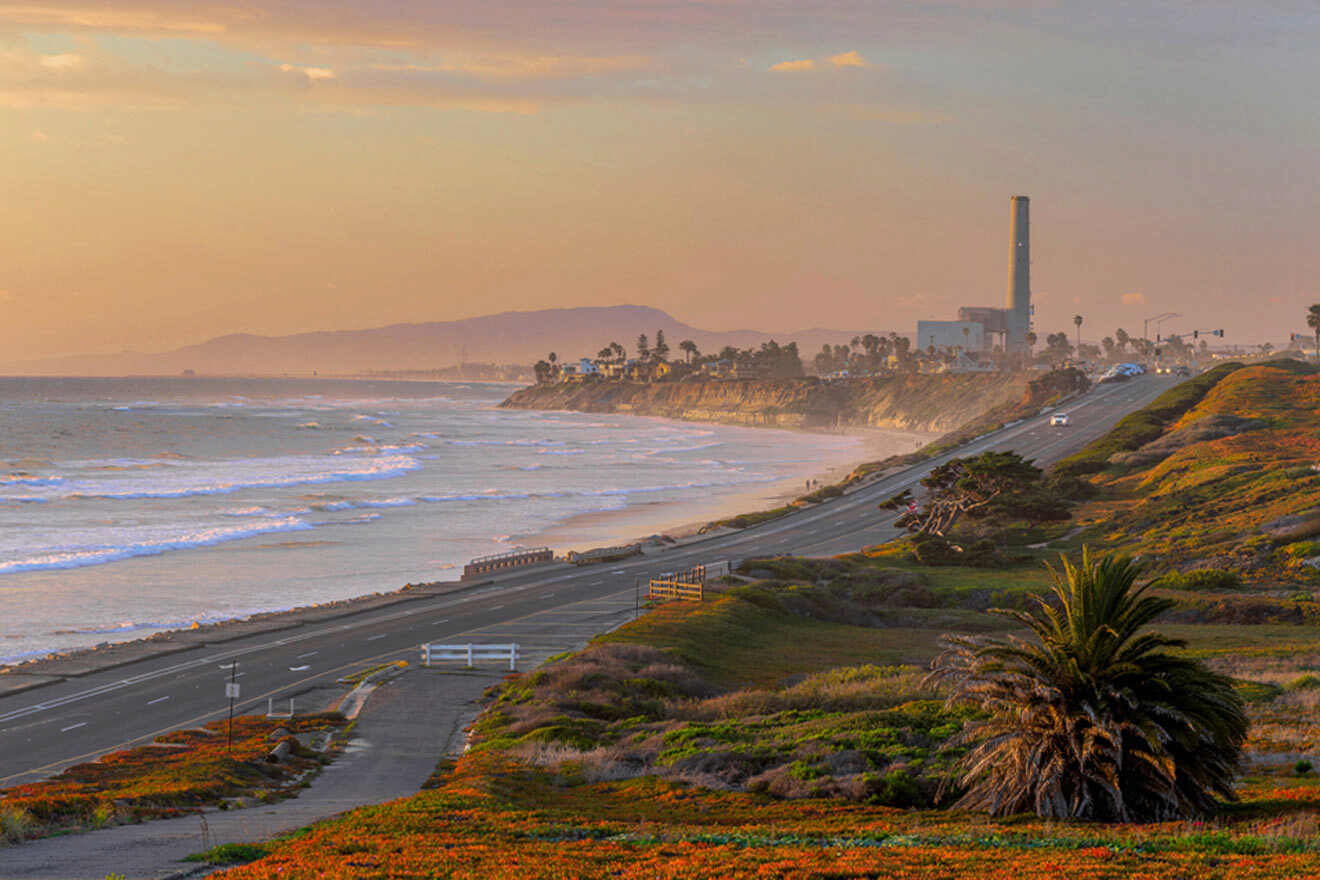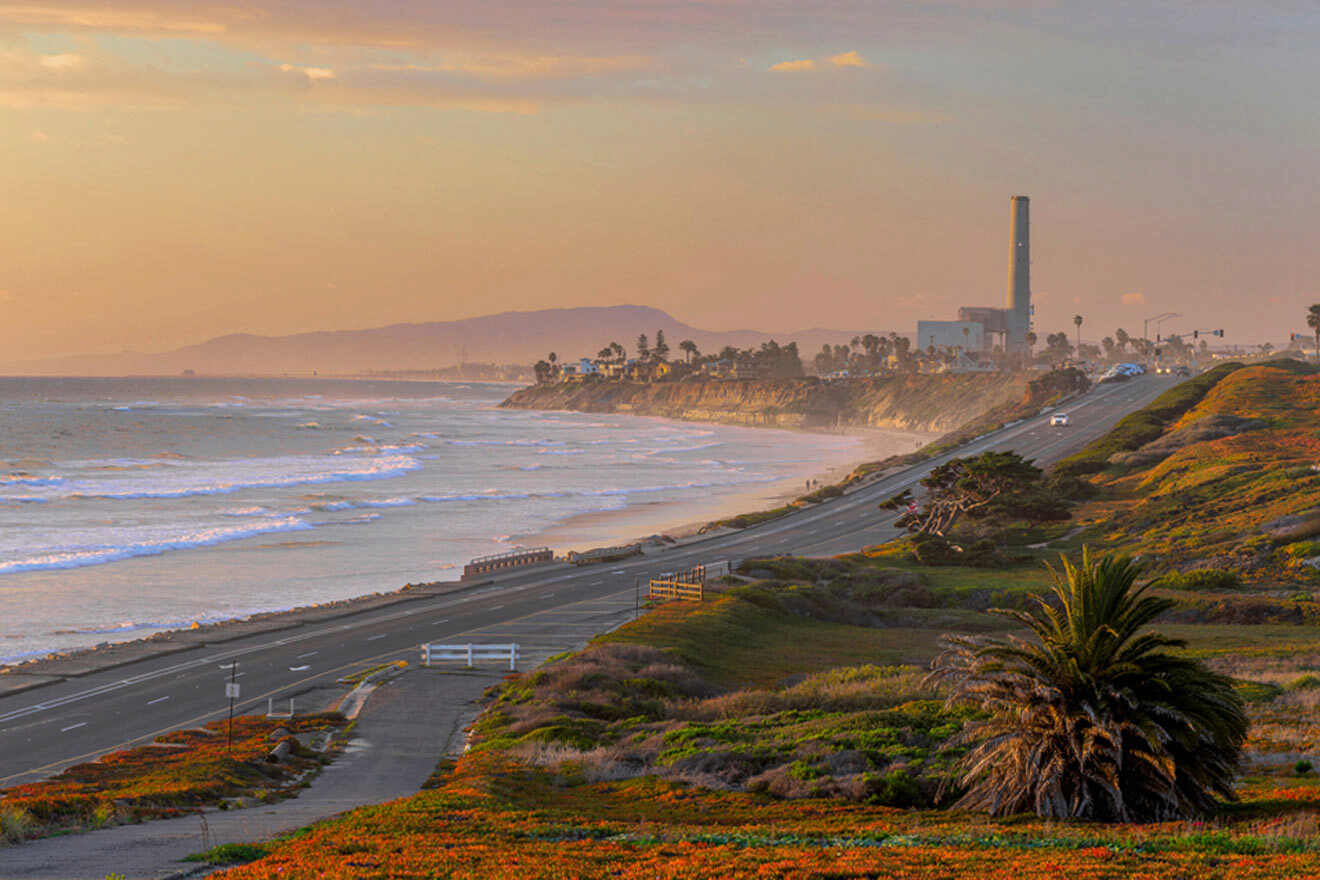 Start packing your bags for your Carlsbad vacation because you're ready to start exploring the ins and outs of beautiful Carlsbad, California!
My absolute favorites from this list of things to do in Carlsbad, California, have to be the following:
Camping at South Carlsbad State Beach – There's nothing quite like spending a night out by the ocean and stargazing as you hear the waves crash nearby. South Carlsbad State Beach is also the cleanest beach I've gone camping in San Diego, so I had to add it to my list of favorites!
Carlsbad Lagoon – This is a unique thing in a place like SoCal – we hardly have any lagoons in San Diego! That's why exploring the Carlsbad Lagoon is one of my favorite things in the area.
I hope you enjoyed reading this post as much as I liked writing it. Let me know in the comments below which attraction is your favorite!
Enjoy your trip and safe travels! And as always, make sure to book your reservations and tickets in advance! ⏱️
Xoxo,
Esabel S.
---
Pin it for later!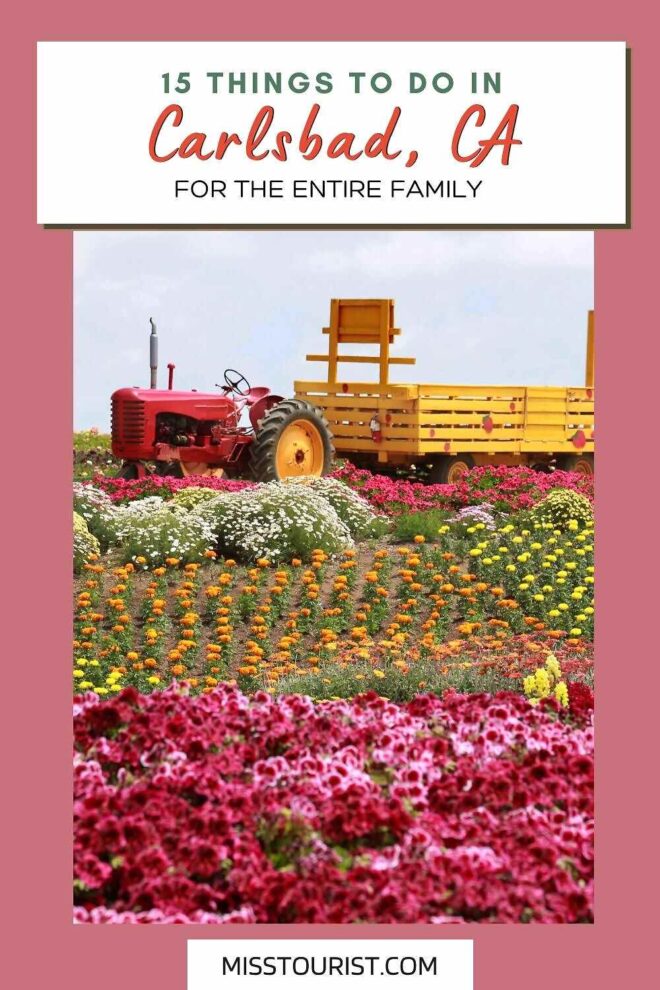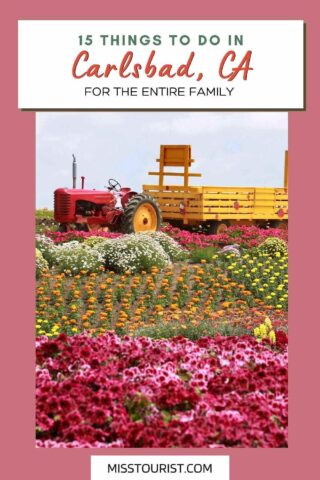 Pin it for later!