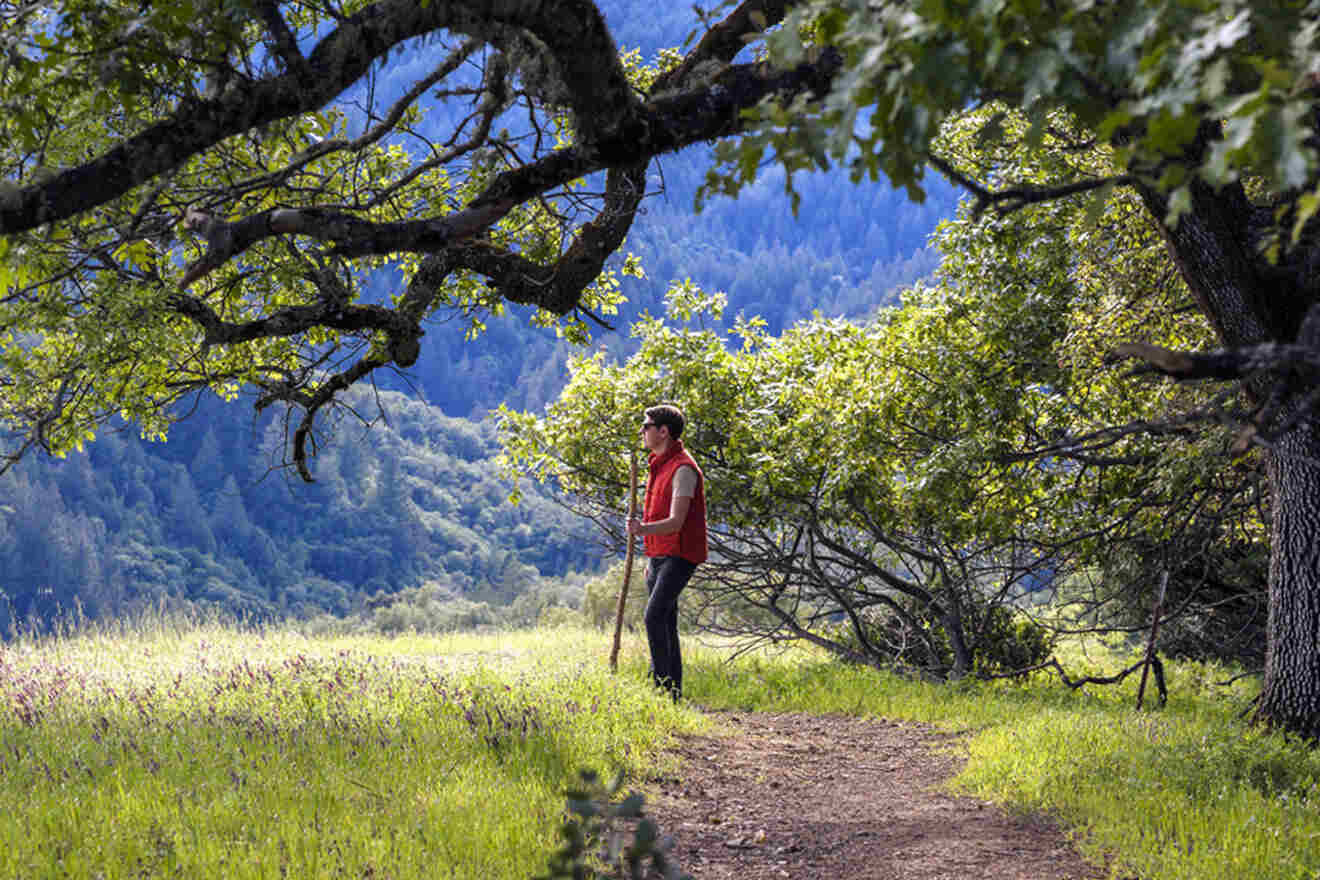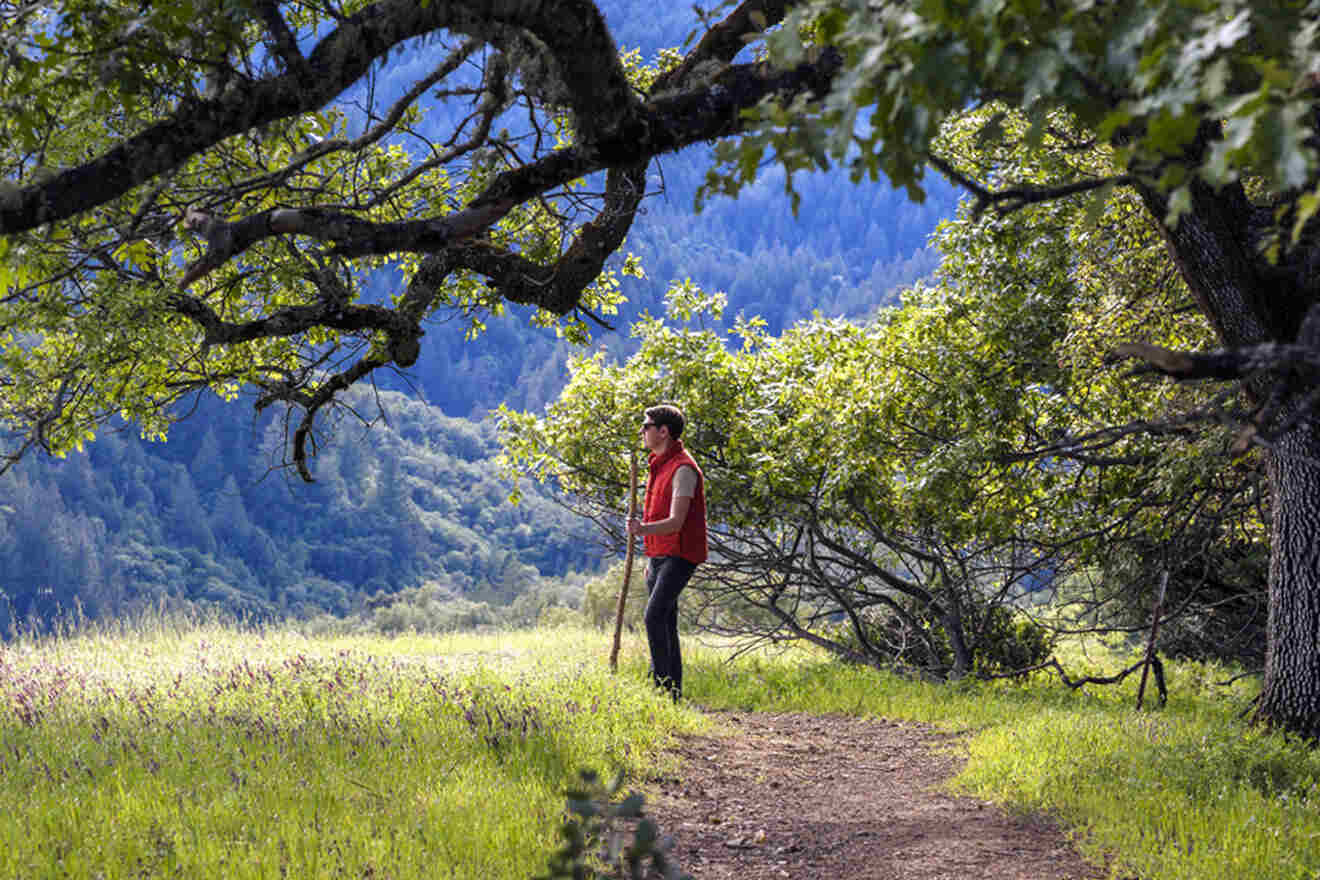 When you hear anyone mention Sonoma County, it's usually with respect to its award-winning wines & vineyards – but I'm here to break the myth that Sonoma is all grapes all the time.
As a San Diego local, I've spent quite a bit of time in the gorgeous Northern California region of Sonoma, and every time I go back, there is something new to do and taste.
Come along on a journey through this stunning, picturesque wine region and explore the best things to do in Sonoma!
Before we get on our way, a quick reminder – be sure to cement in stone your tour reservations and hotel accommodations by booking in advance!
I hate the idea of you missing out or losing out on savings, so plan ahead and get ready for an epic adventure through Sonoma County!
If you are in a hurry
When you get to Sonoma, CA, you'll want to drink in the scenery and the wine, not start making your trip plans. I highly recommend you book your hotels and activities in advance:
And here are the best hotels: Macarthur Place Inn & Spa (luxury), Best Guest Cottages (mid-range), El Pueblo Inn (budget)
---
Here is my video of the best things to do in Sonoma to help you choose visually:
---
Sonoma County is fairly spread out, and I want to make sure you know what and where I'm talking about! So, I included this map for you:
1. Visit the impressive Sonoma Plaza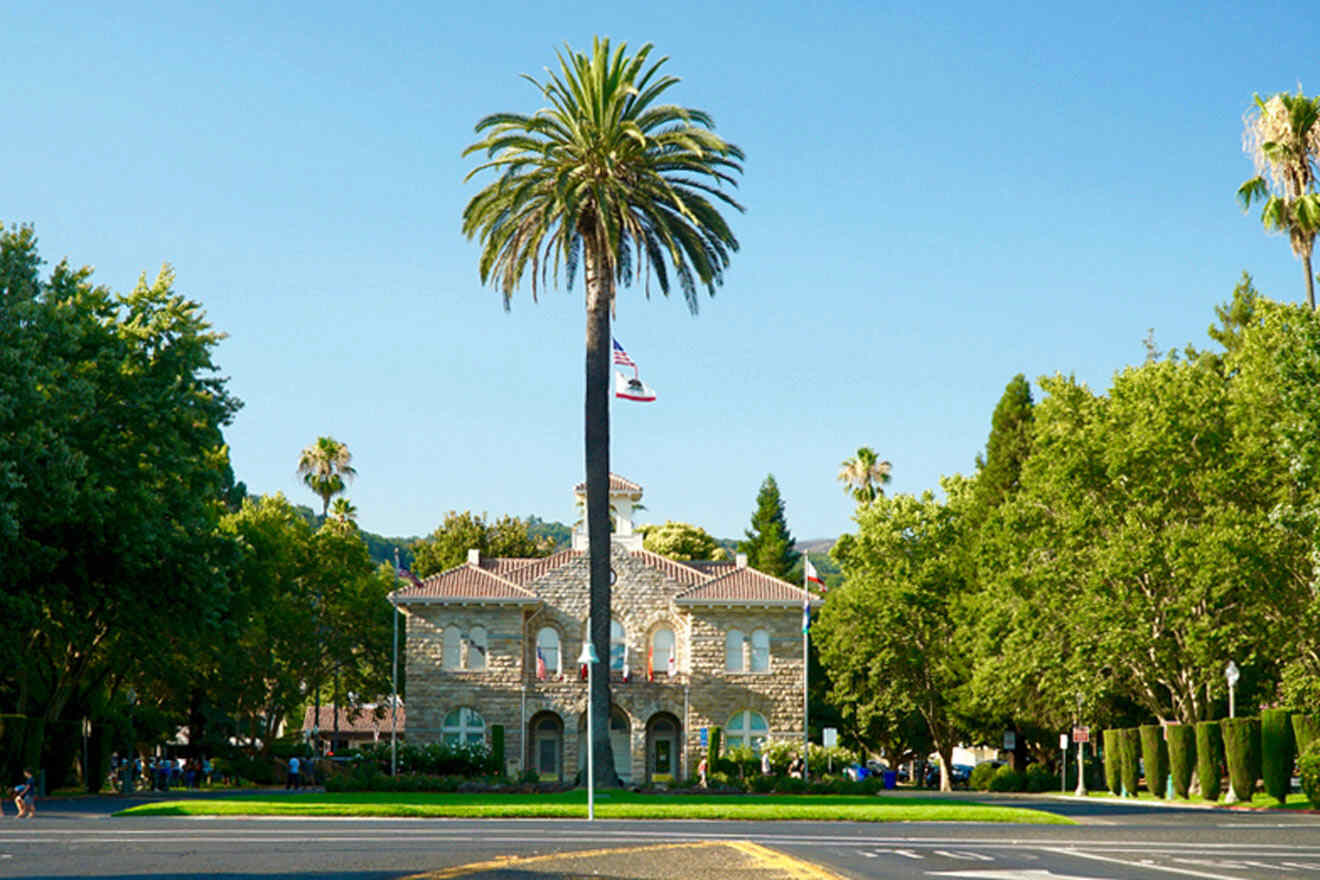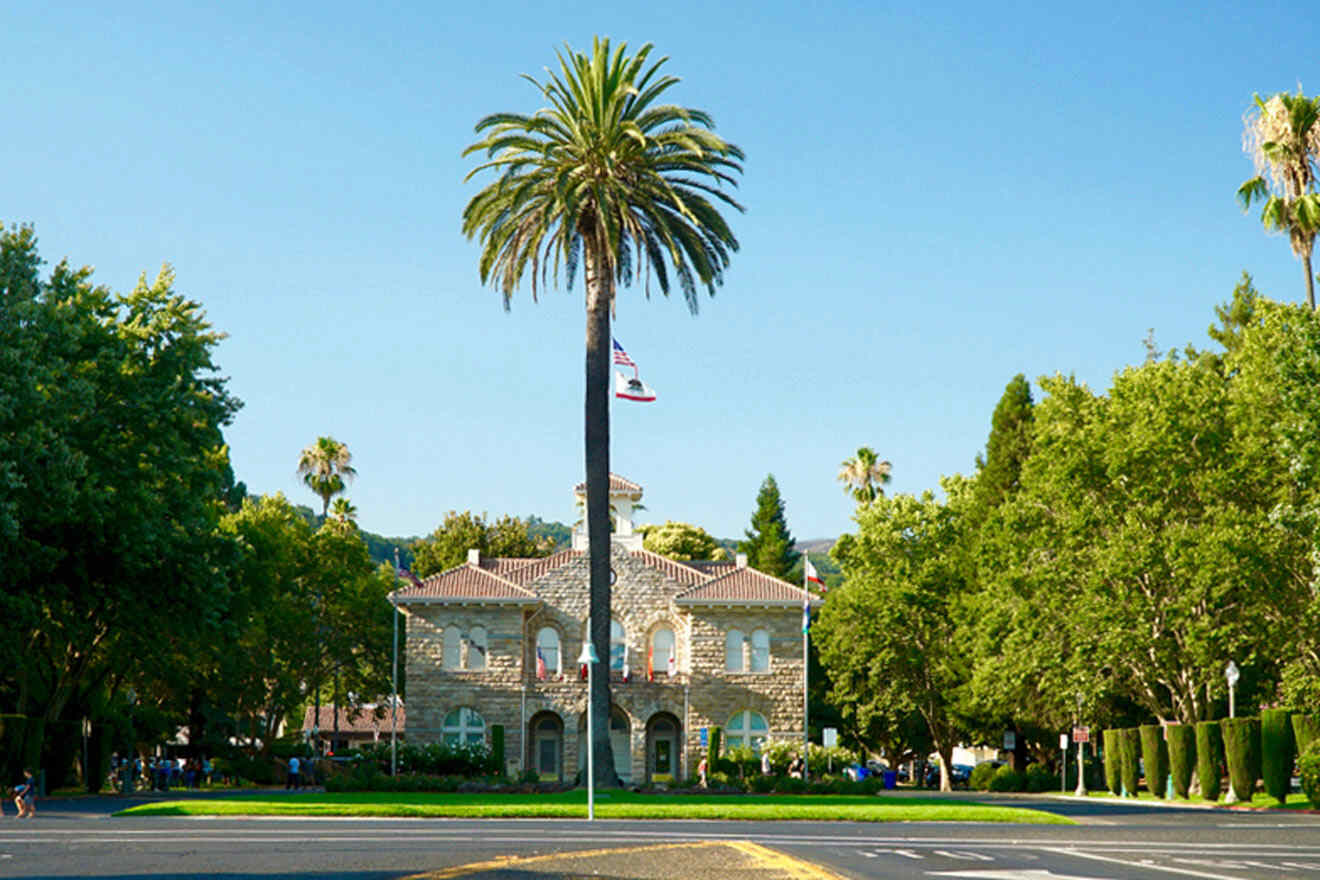 Historic Sonoma Plaza is the largest plaza in California – and once served as both a military fort & a mission!
Smack in the middle of Downtown Sonoma, you'll find Sonoma Plaza, a green and beautiful space filled with history and sites to see.
Take a walk amongst the trees and cobblestone streets, visit Sonoma's City Hall, pop into a cute café, or check out one of the many beautiful buildings in this National Historic Landmark.
2. Have a fantastic wine-tasting experience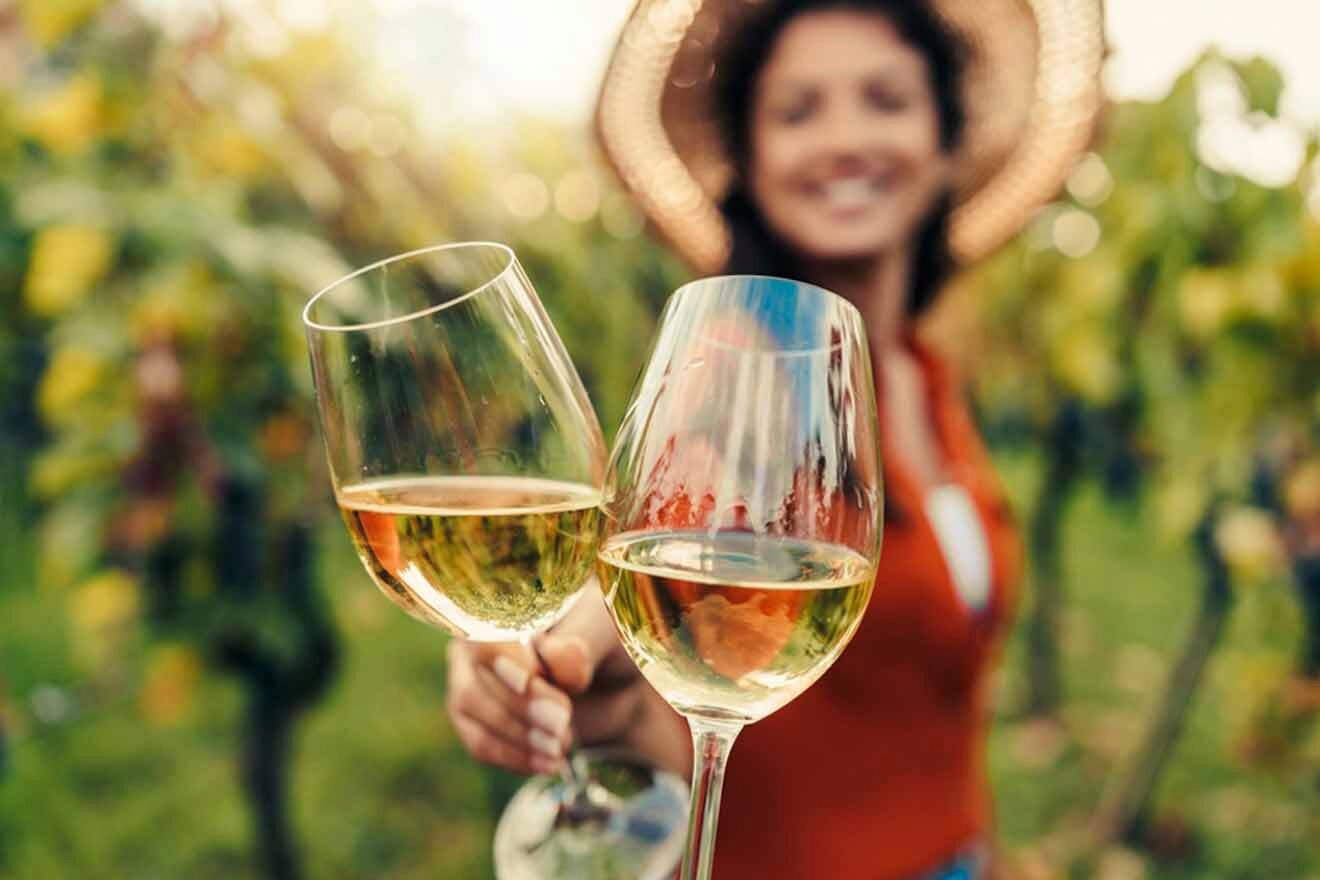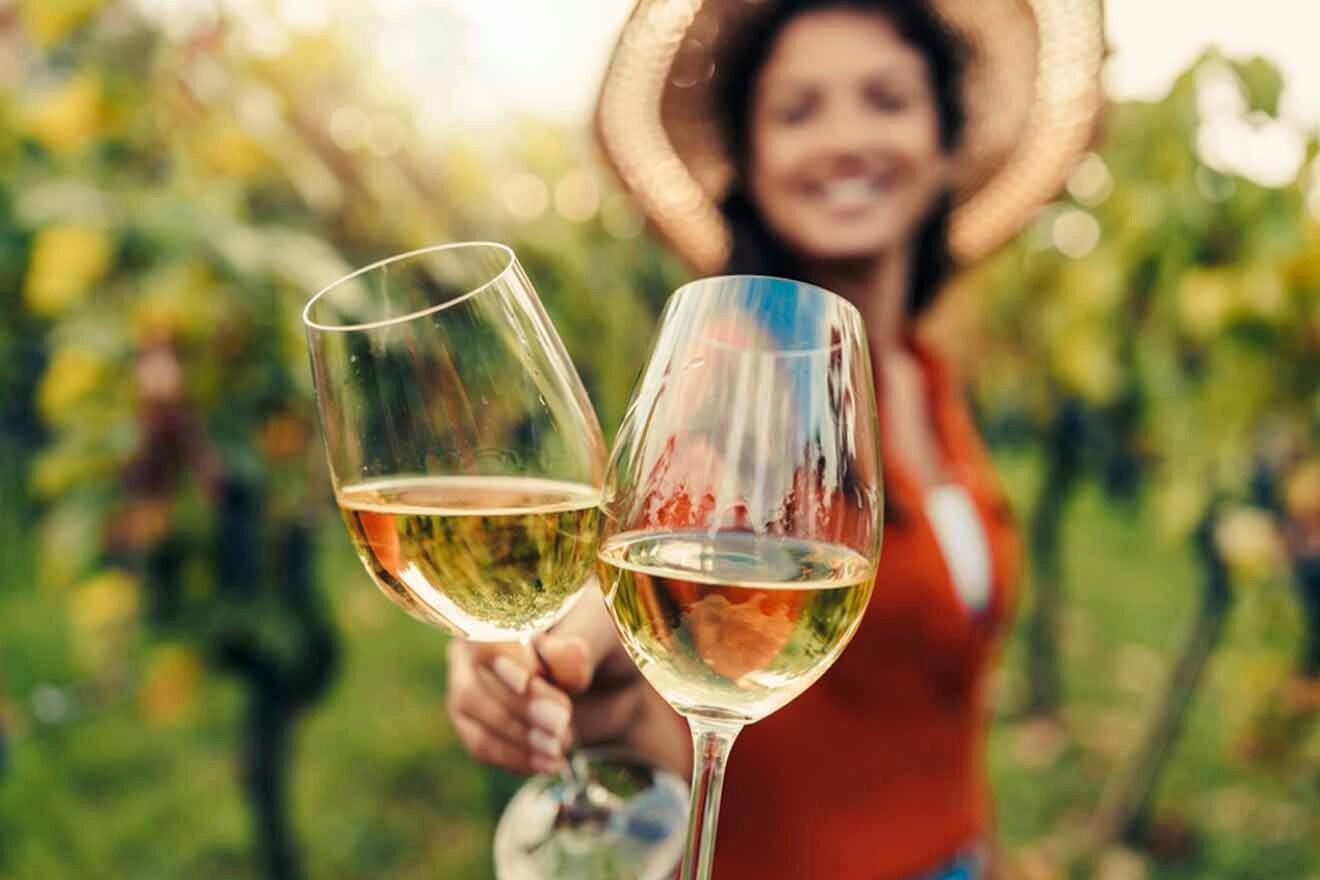 Ok – you had to know wine was going to make the top of the list when Sonoma houses some of the best wineries in the world. They are so great we even dedicated a whole article to the most beautiful wineries in Sonoma.
There are many sensational vineyards to visit and wine tastings to try, I'll include details below on some of my favorite Sonoma wineries in this great wine country.
2.1 Benziger Family Winery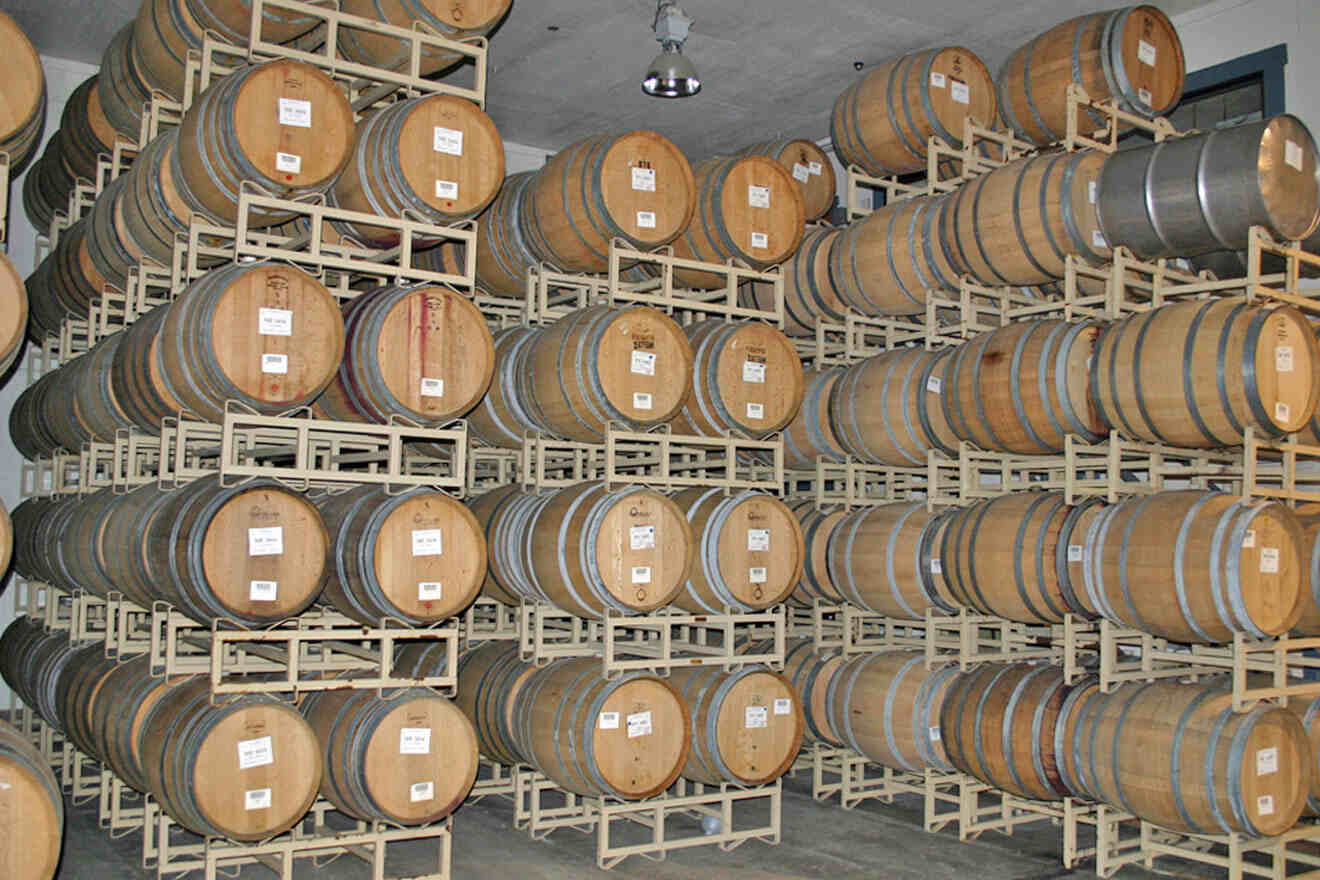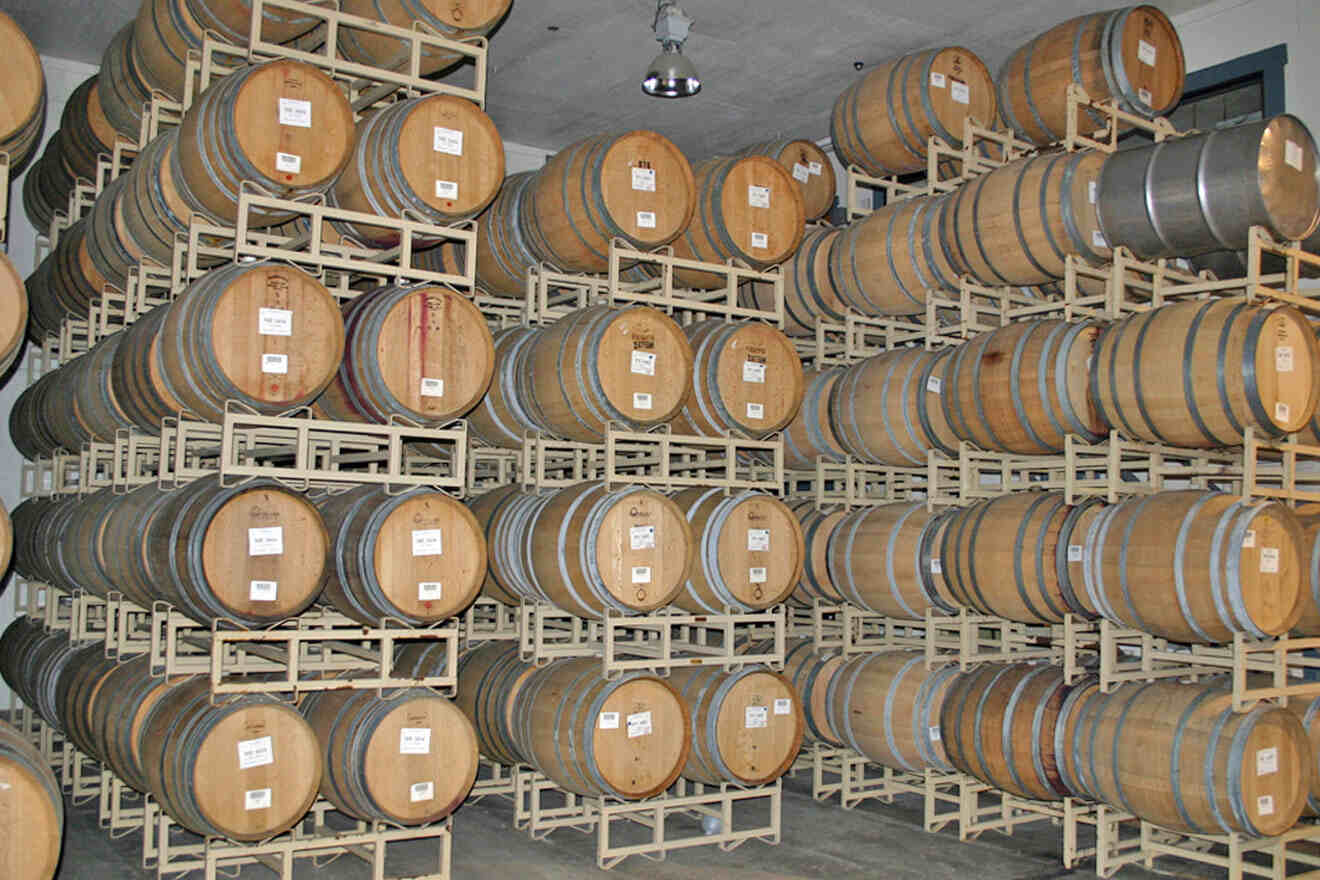 Located in the gorgeous Glen Ellen area, Benziger Family Winery leads with its family-focused operation, and it shows in its delicious wines. Don't miss the biodynamic vineyard tram tour that circles the grounds! Try the Merlot, with rich flavors of fruit & spice, this is one of my favorites!
PRICE: from US$25 per tasting
2.2 Chateau Saint Jean Winery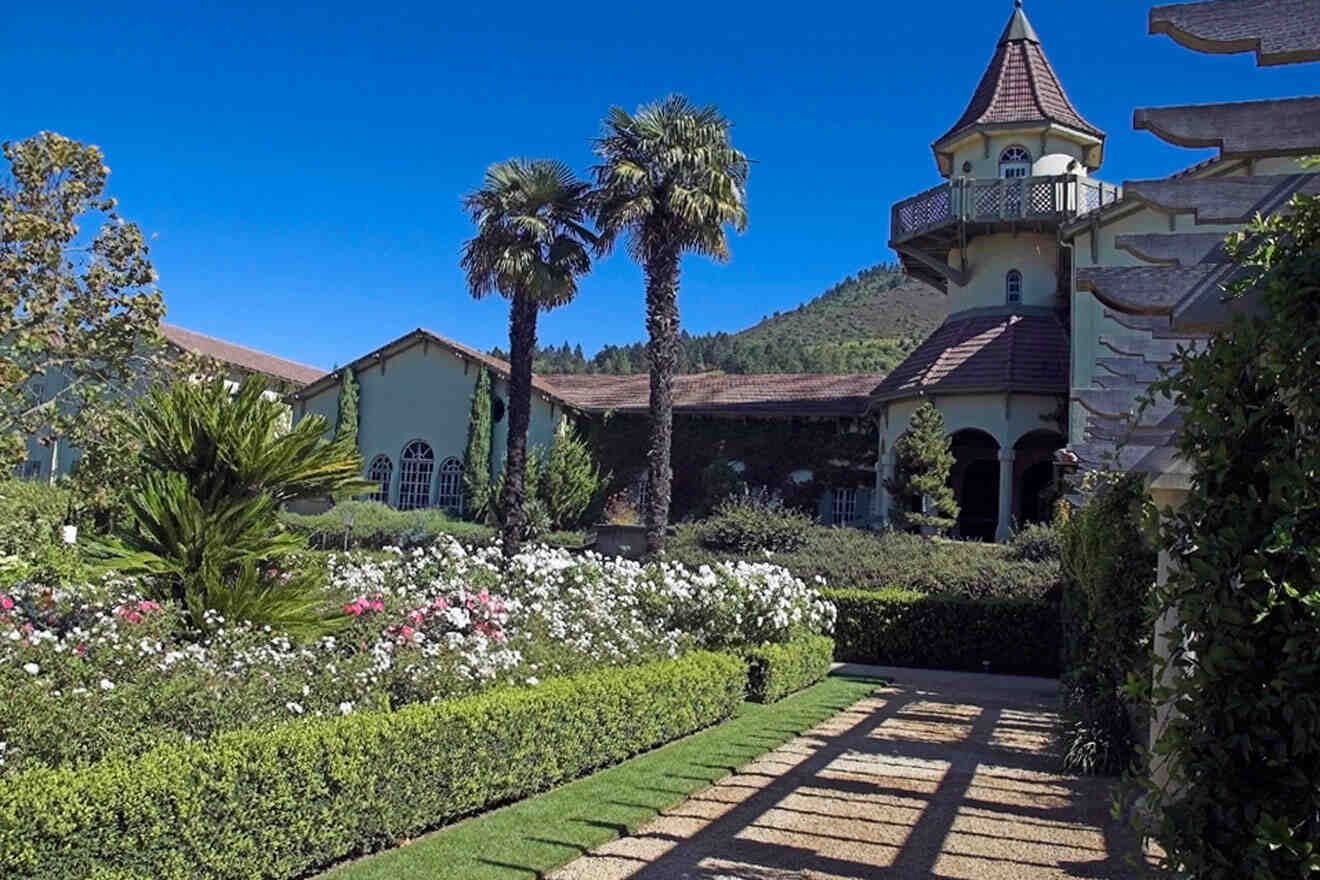 This stunning South of France-inspired premium winery of Chateau Saint Jean was one of the first to focus on single vineyard wines. The Cabernet Sauvignon and sparkling wines are what dreams are made of, and the grounds are breathtaking, so don't forget to tour them after your tasting!
PRICE: from US$30 per tasting
2.3 Buena Vista Winery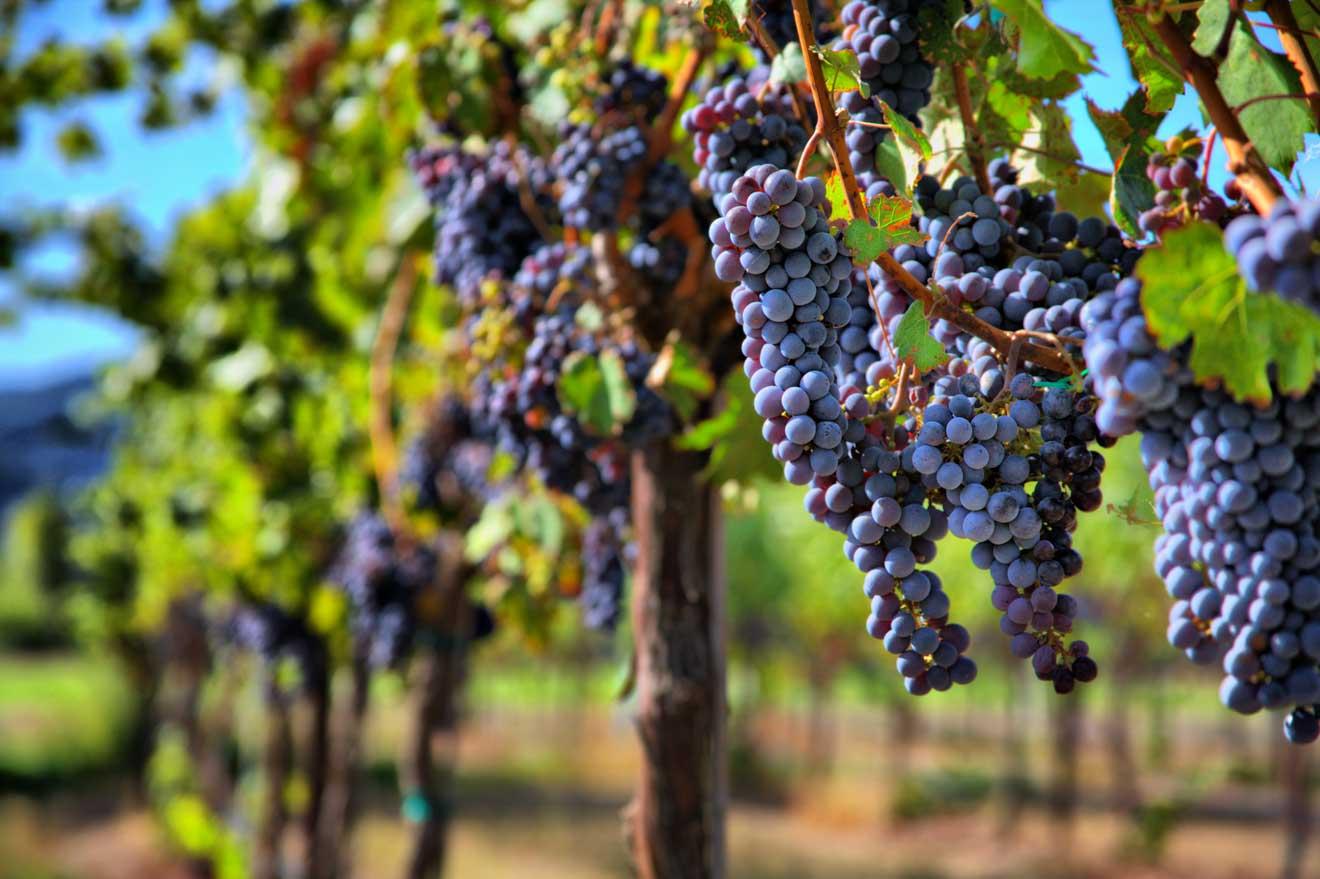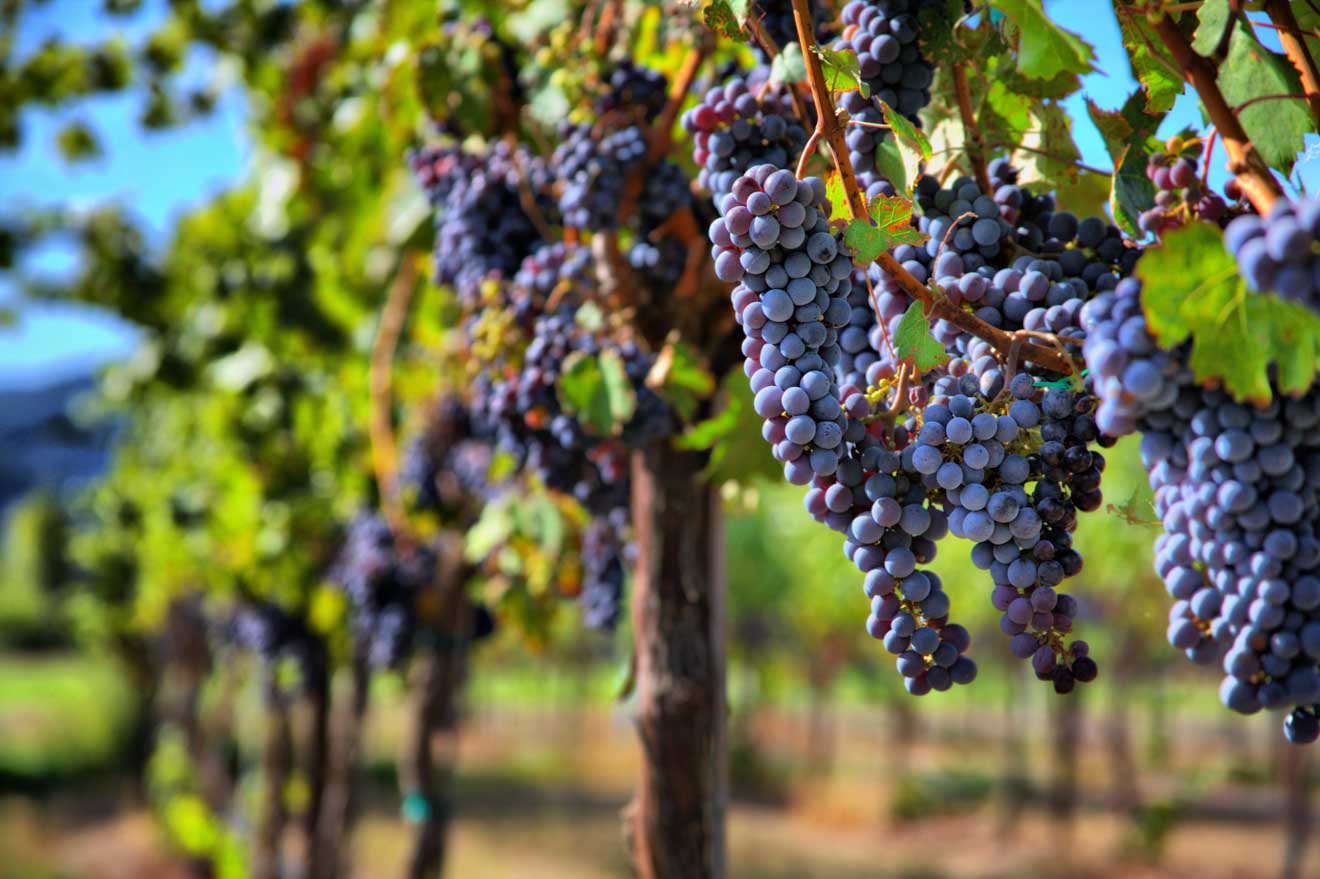 Founded in 1874, Buena Vista Winery is California's first premium vineyard experience before Sonoma was considered wine country, and also a California National Landmark. Come for the history but stay for the impeccable service and amazing Pinot Noir.
PRICE: from US$35 per tasting
2.4 Francis Ford Coppola Winery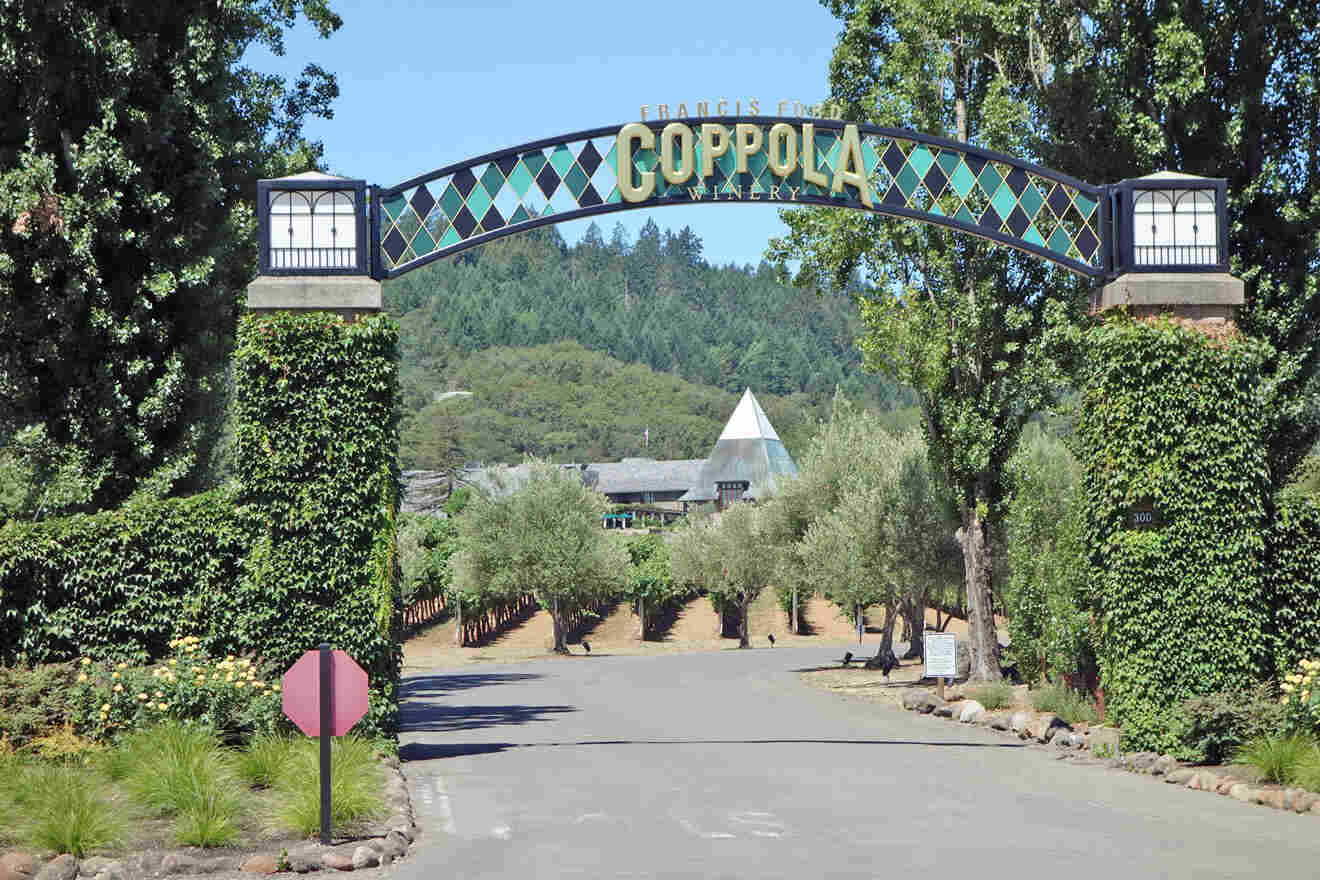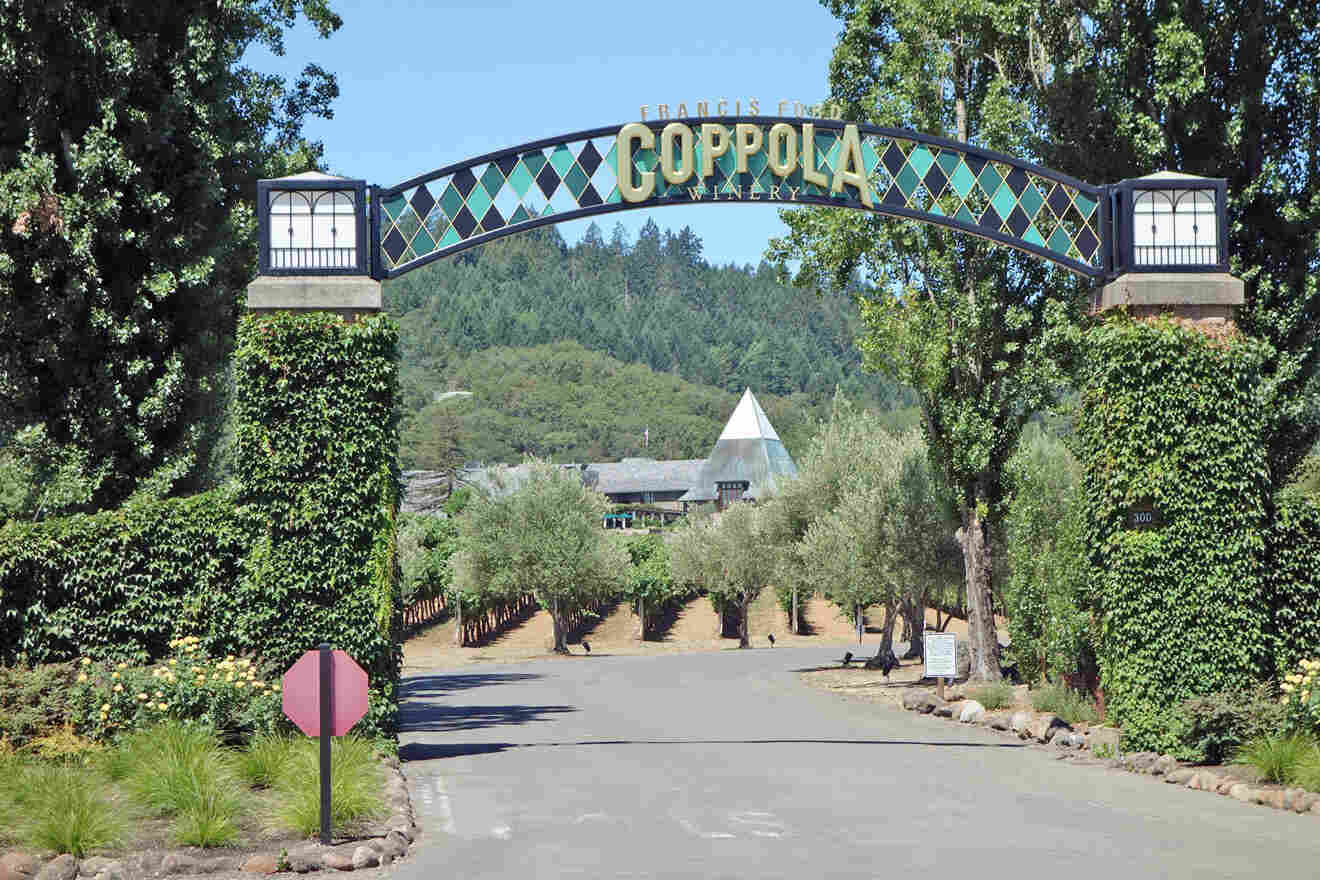 Filled with movie memorabilia and delectable wine, this vineyard has incredible wine-tasting rooms and, often, complimentary wine tastings! Try the Cabernet Sauvignon here – yum!
PRICE: from US$25 per tasting
Want to hit multiple wineries in one trip and burn a few calories along the way? Try this Sonoma Valley bike tour that will take you to wineries, cheese companies, and other attractions in Sonoma, and you can pick & choose what to taste.
Feel like this bike tour just ain't enough?😆 Don't be shy, check out our post on the top wine tours in Sonoma.
TOUR PRICE: from US$180 per person
3. Go play at the Sonoma TrainTown Railroad
When you're looking for things to do in Sonoma County, the Sonoma TrainTown Railroad is the perfect choice! A mini-amusement park fun for adults and kids, TrainTown is within walking distance of Sonoma Plaza and a great option to pair together.
With 4 miles (c. 6 km) of railroad tracks, the kiddos will love this 20-minute ride through bridges, waterfalls, and tunnels.
Don't miss the beautiful old carousel on your way out!
PRICE: Admission FREE, pay per coupon US$3.95
4. Discover the Sonoma State Historic Park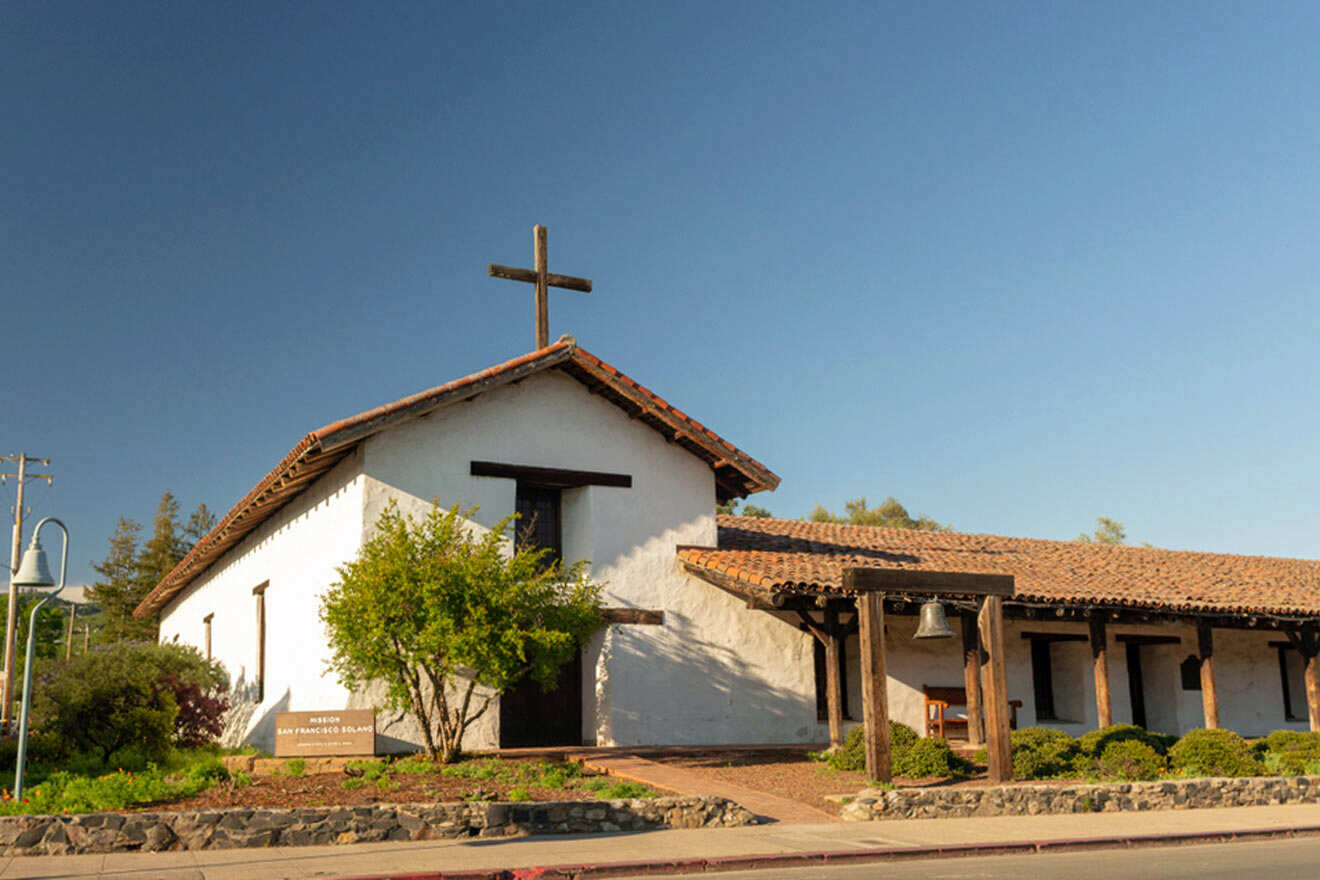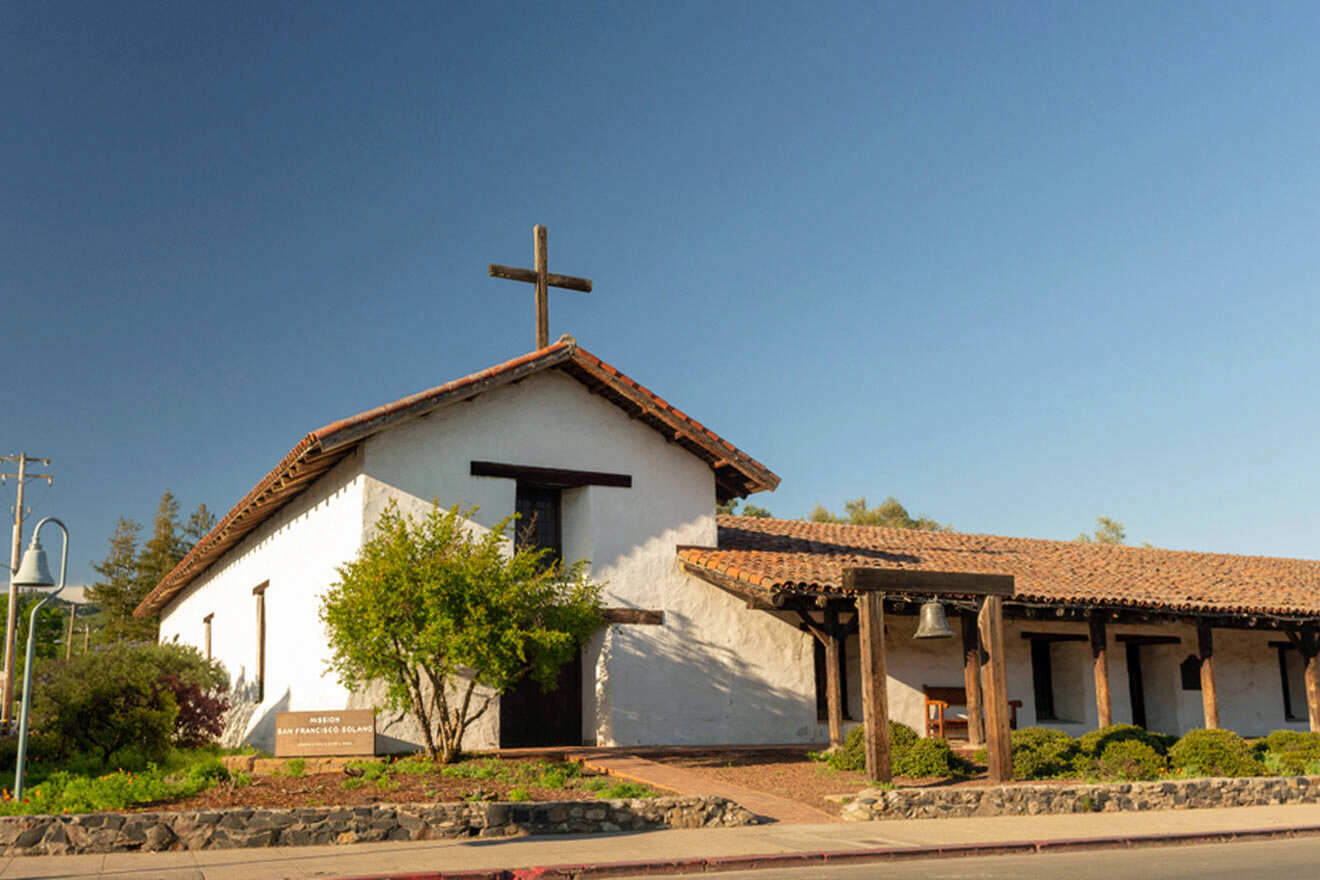 The very final mission constructed by the Spanish Franciscans, Sonoma Mission is a part of the larger Sonoma State Historic Park located at the north end of Sonoma Plaza.
You'll love the white facade and charming bell tower that adorn its once-functioning chapel.
One of the most popular stops in the park is at the Blue Wing Inn, a National Historic Monument and one of the first hotels built north of San Francisco.
Check out La Casa Restaurant & Bar (aka La Casa Grande), General Vallejo's first home, a lavish private home built in the 1830s.
Don't miss the powerful Sonoma Mission Indian Memorial paying respect to the Native Americans who died living and working enslaved at the mission.
PRICE: FREE
5. Catch some speed at the Sonoma Raceway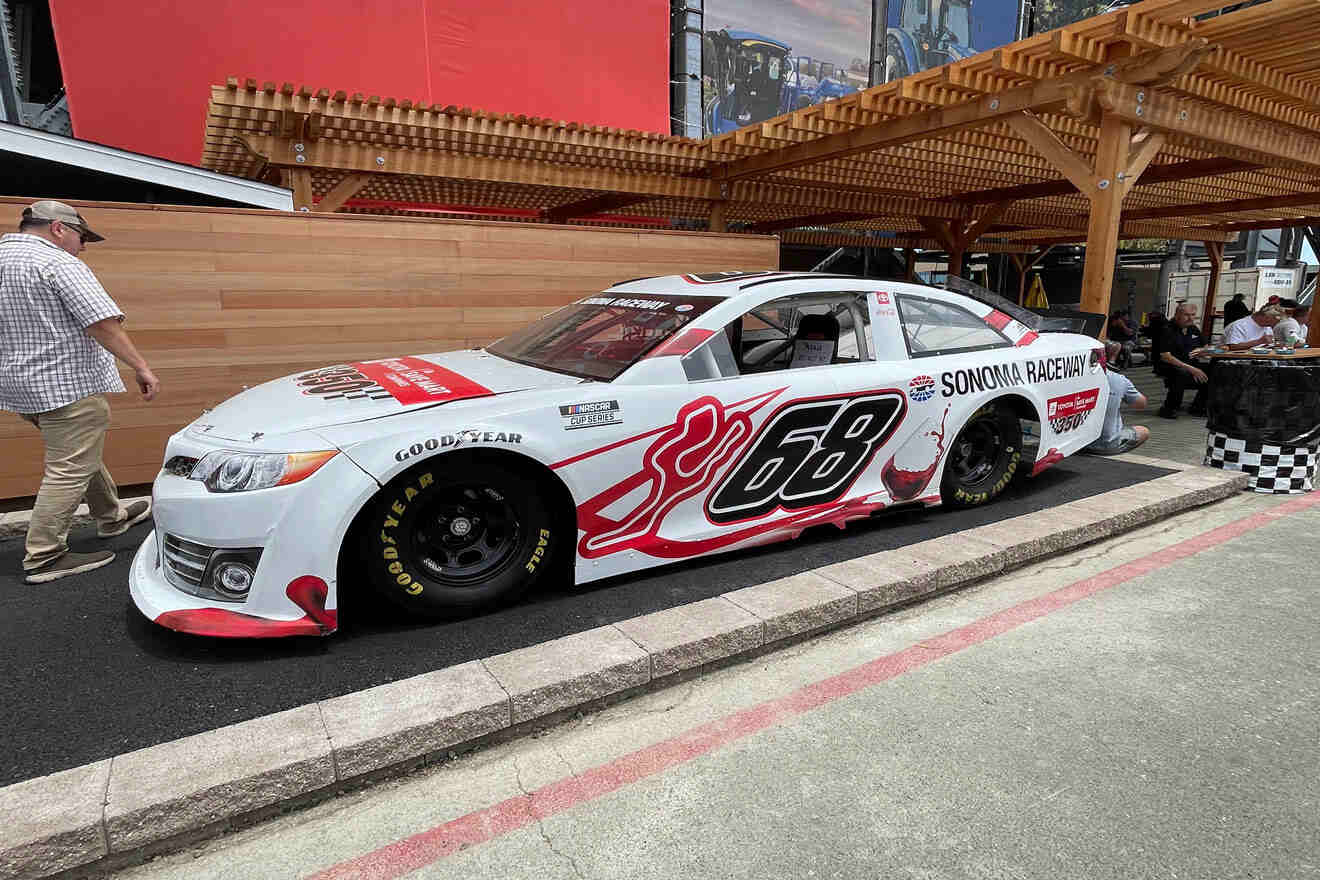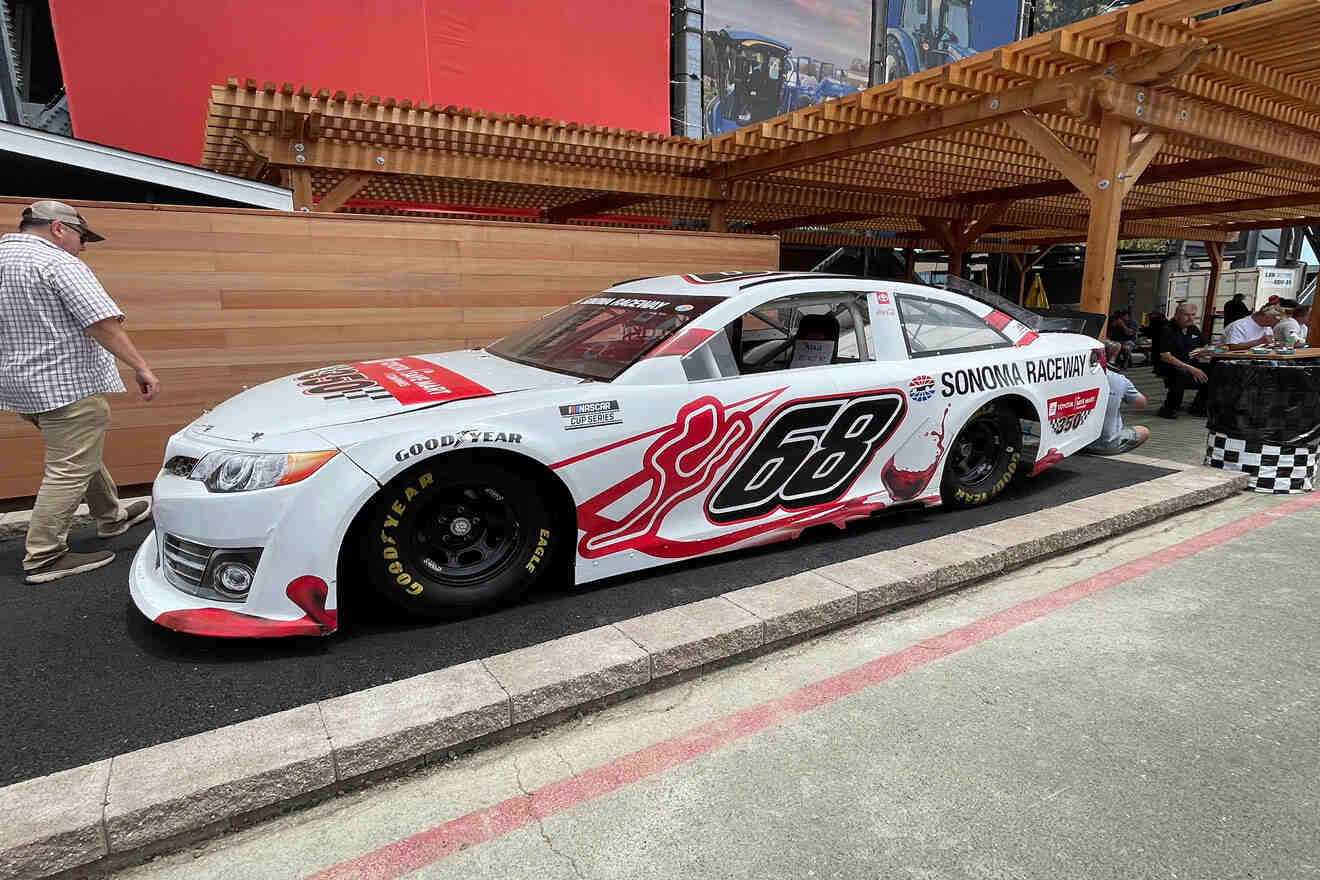 Located only 30 minutes drive across San Francisco's Golden Gate Bridge, you'll find the Sonoma Raceway.
If you have a love of fast cars or even the itch to drive one, get yourself down to the Sonoma Raceway for some Formula 1-type fun.
PRICE: Vary by event
6. Check out amazing works at the Sonoma Valley Museum of Art
I love stopping at the Sonoma Valley Museum of Art each time I visit the area because there are always rotating exhibits of contemporary art and something new to see.
Sonoma Valley Museum of Art has a strong focus on local art, new artists, as well as international sensations.
Stop by the gift shop on your way out to bring home a piece of Sonoma with you!
NOTE: Closed Mon & Tues
PRICE: US$10 per person
7. Explore the sculptures at the Empyrean Temple in Santa Rosa
If you have the time on your trip to Sonoma County, stop at the Empyrean Temple in Santa Rosa to see some gigantic and fascinating sculptures and structures.
A destination made popular by the counter-culture desert festival known as Burning Man, you can still see lots of art left over from years prior. Oh, and the views up here are incredible!
PRICE: FREE
8. Eat your way through Sonoma County on a food tour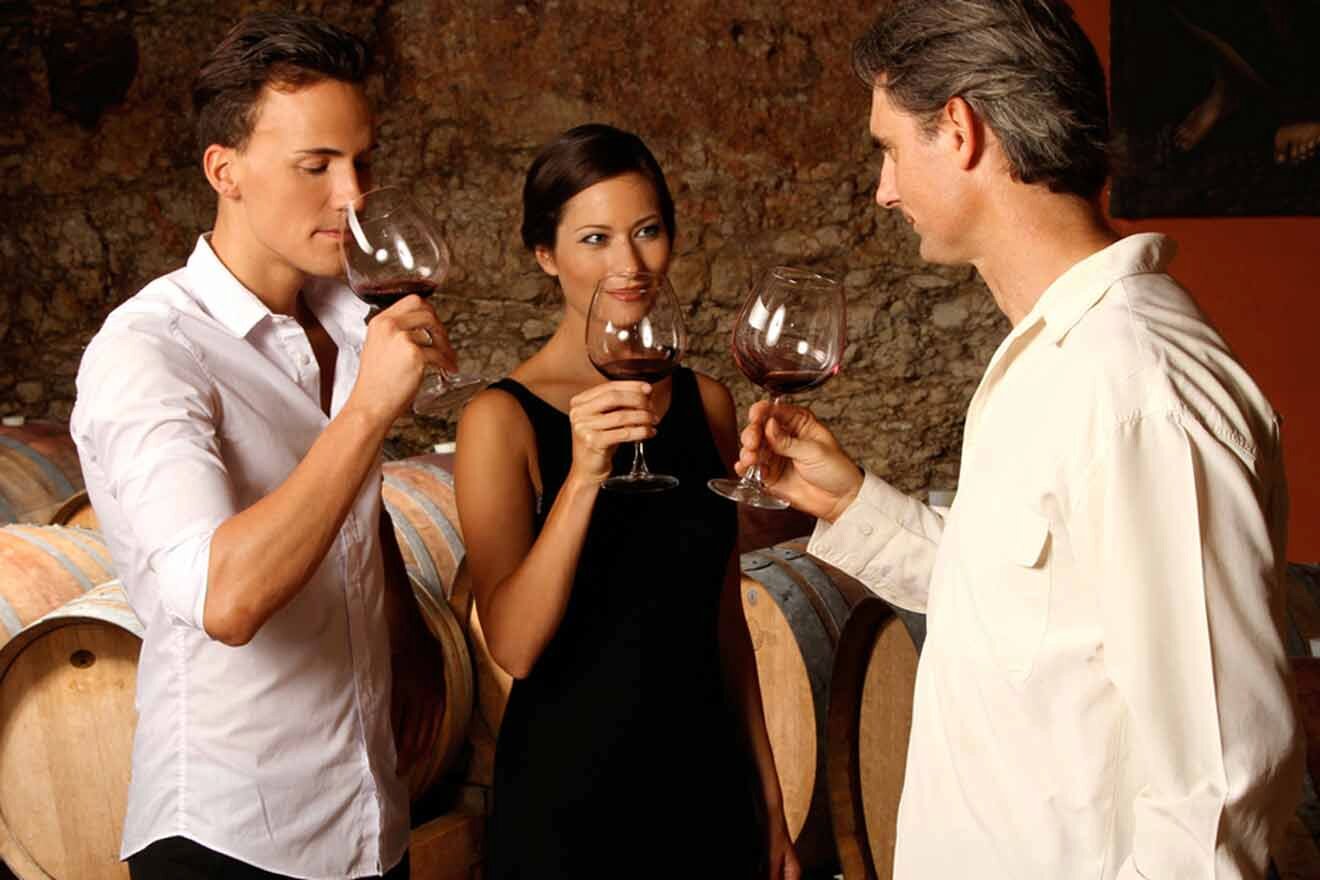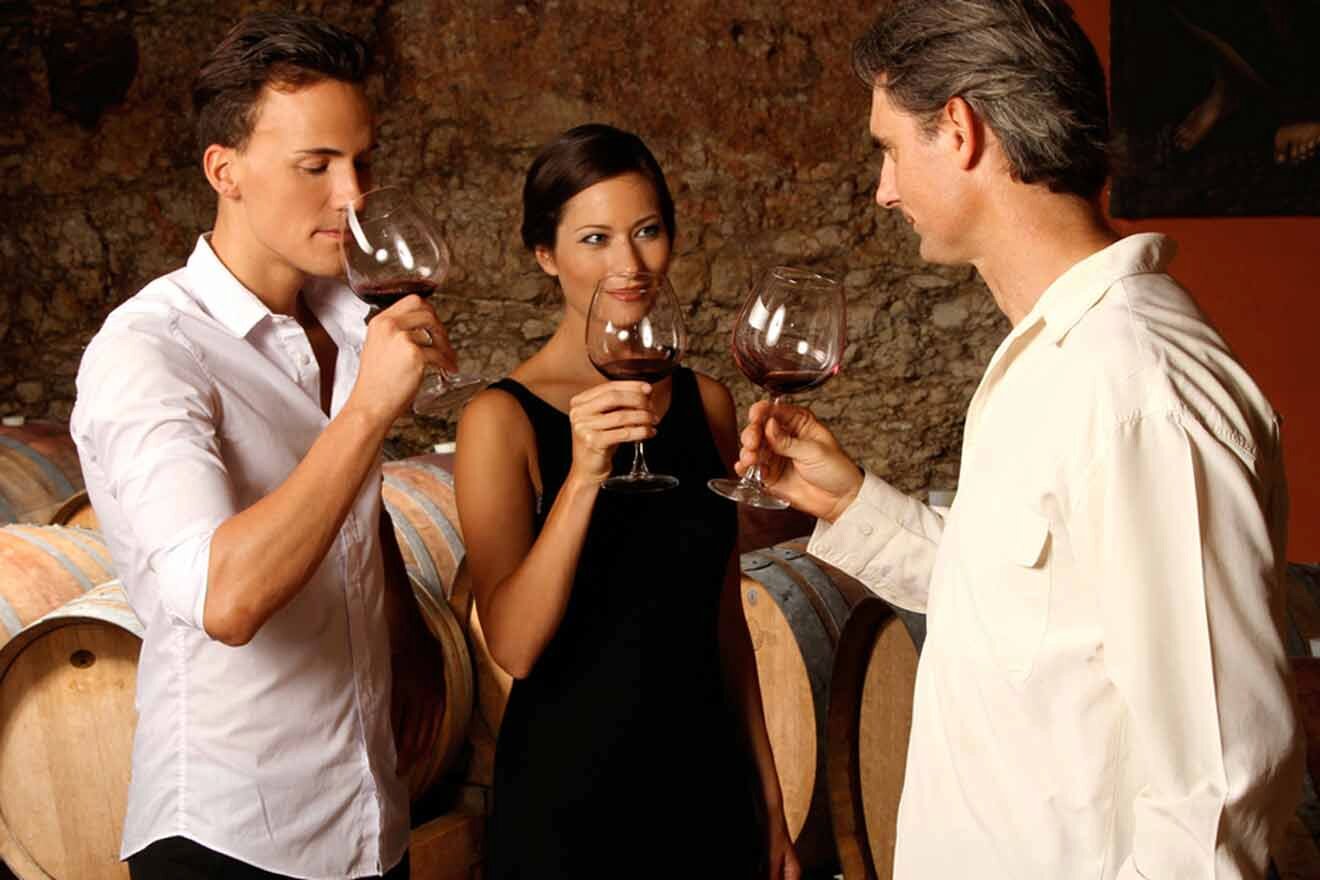 I told you there are far more things to do in Sonoma than just drinking wine, and I wasn't joking!
There is no better way to really experience the flavors of the local varietals than pairing your glass with some drool-worthy food. Sonoma's dining options are on par with its sister city to the south, San Francisco.
Check below for the top 3 food tours in Sonoma Valley:
PRICE: from US$130 per person
9. Play all day at Armstrong Redwoods State Natural Reserve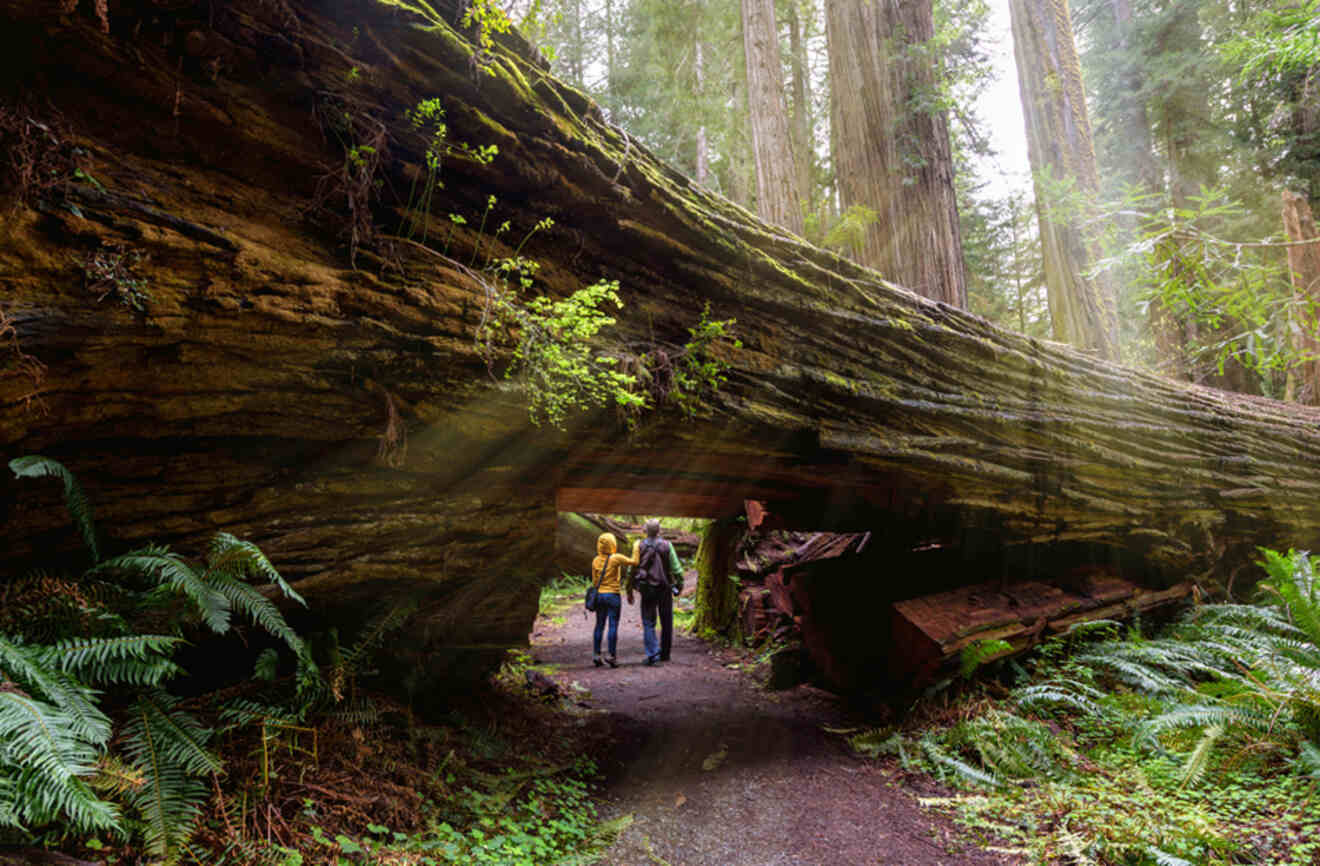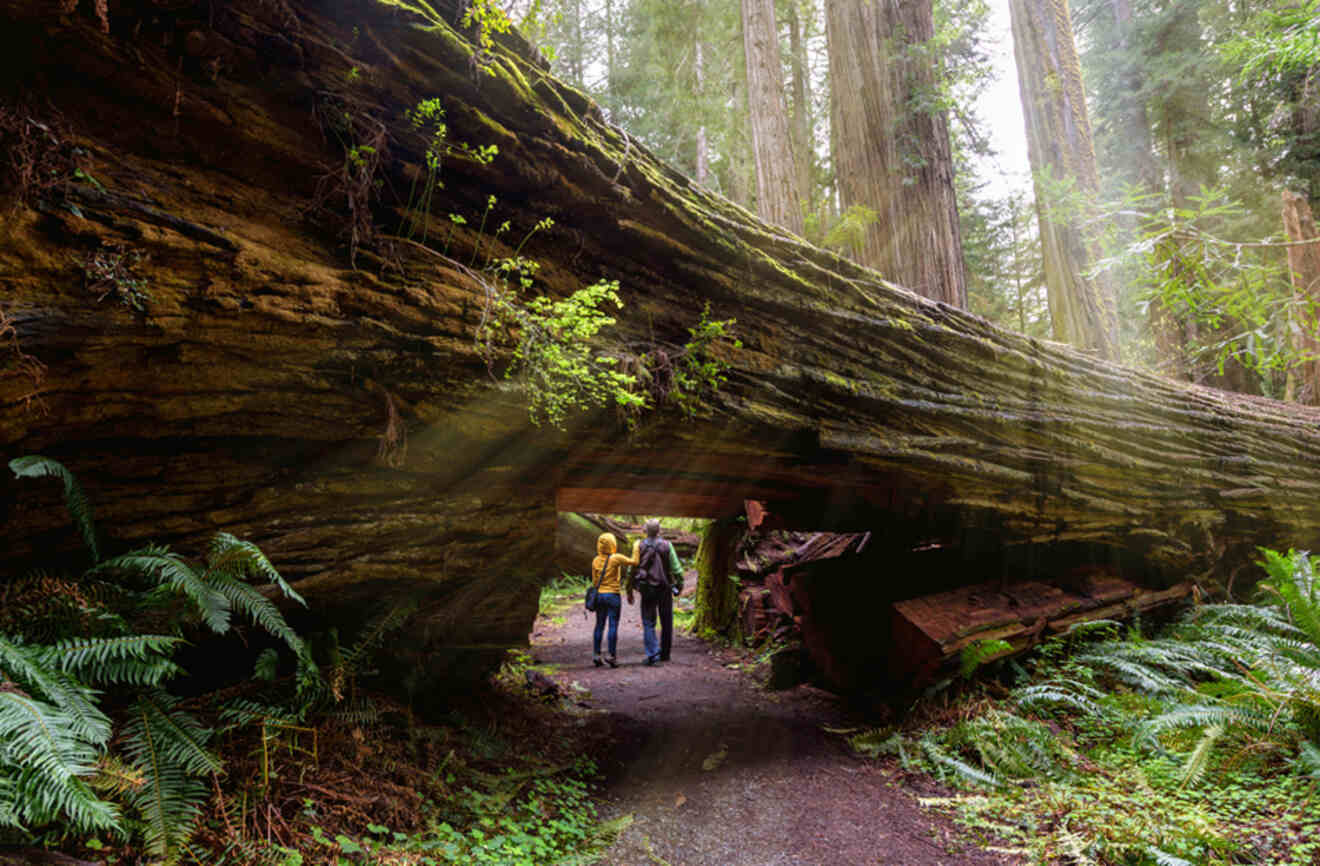 There is nothing I enjoy more in Northern California than to visit the redwood forests and see the incredible towering goliaths. Armstrong Redwoods State Natural Reserve is located within the larger Sonoma Coast State Park.
This park's main event is Colonel Armstrong, a 1,400-year-old redwood tree that stretches over 300 ft (c. 90 m)!
You can tour the park on your own or join a tour and have everything planned for you, including lunch. Just follow the guide, and enjoy your time here.
TOUR PRICE: from US$234 per person
10. Enjoy the farm-to-table cuisine at Sonoma's restaurants
One of the first things you'll notice when you visit Sonoma County is that farm-to-table cuisine is revered and plentiful.
Farm-to-table restaurants are a staple on any Sonoma itinerary, and I'm here to share a few of my favorites:
11. Spend the day in Sebastopol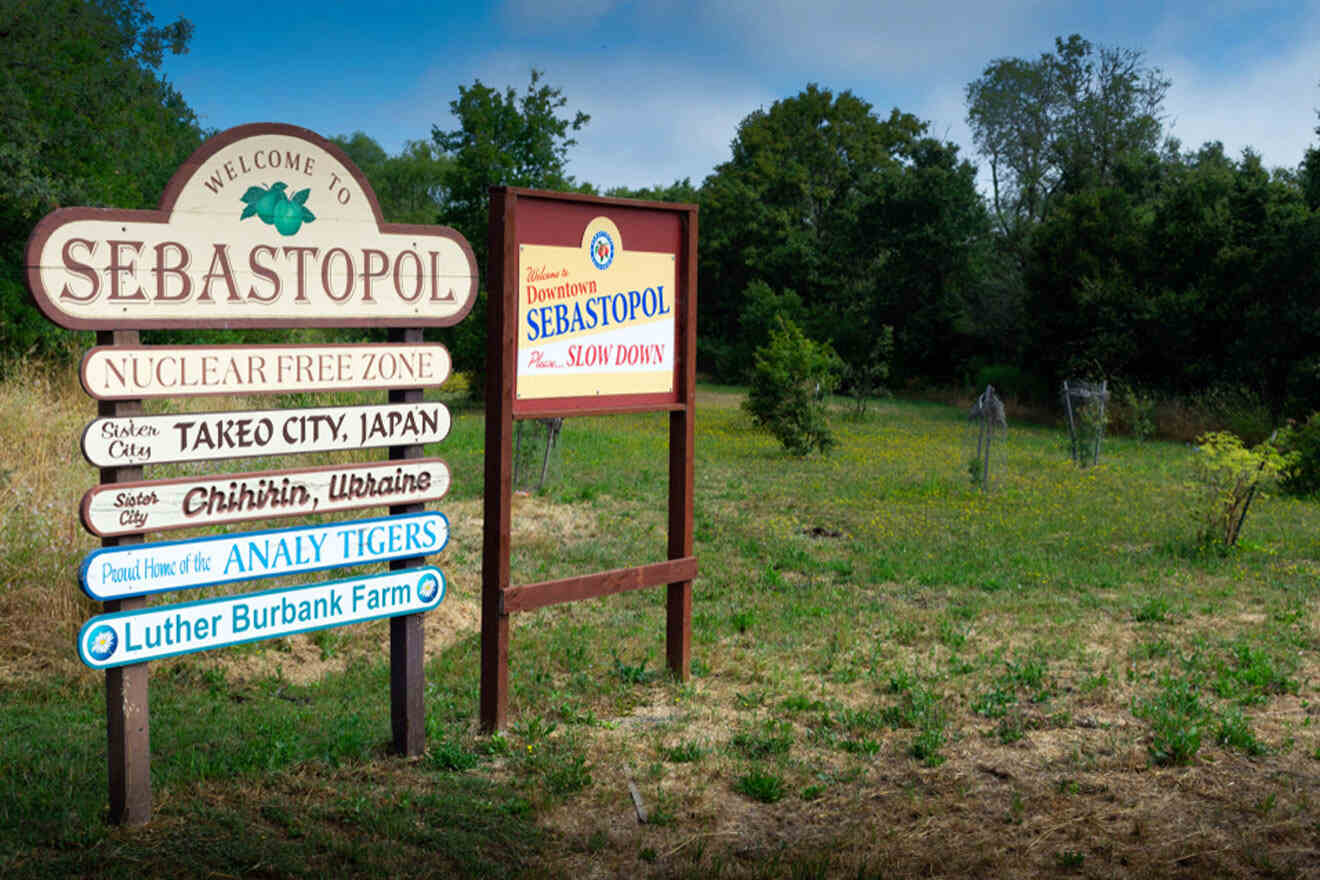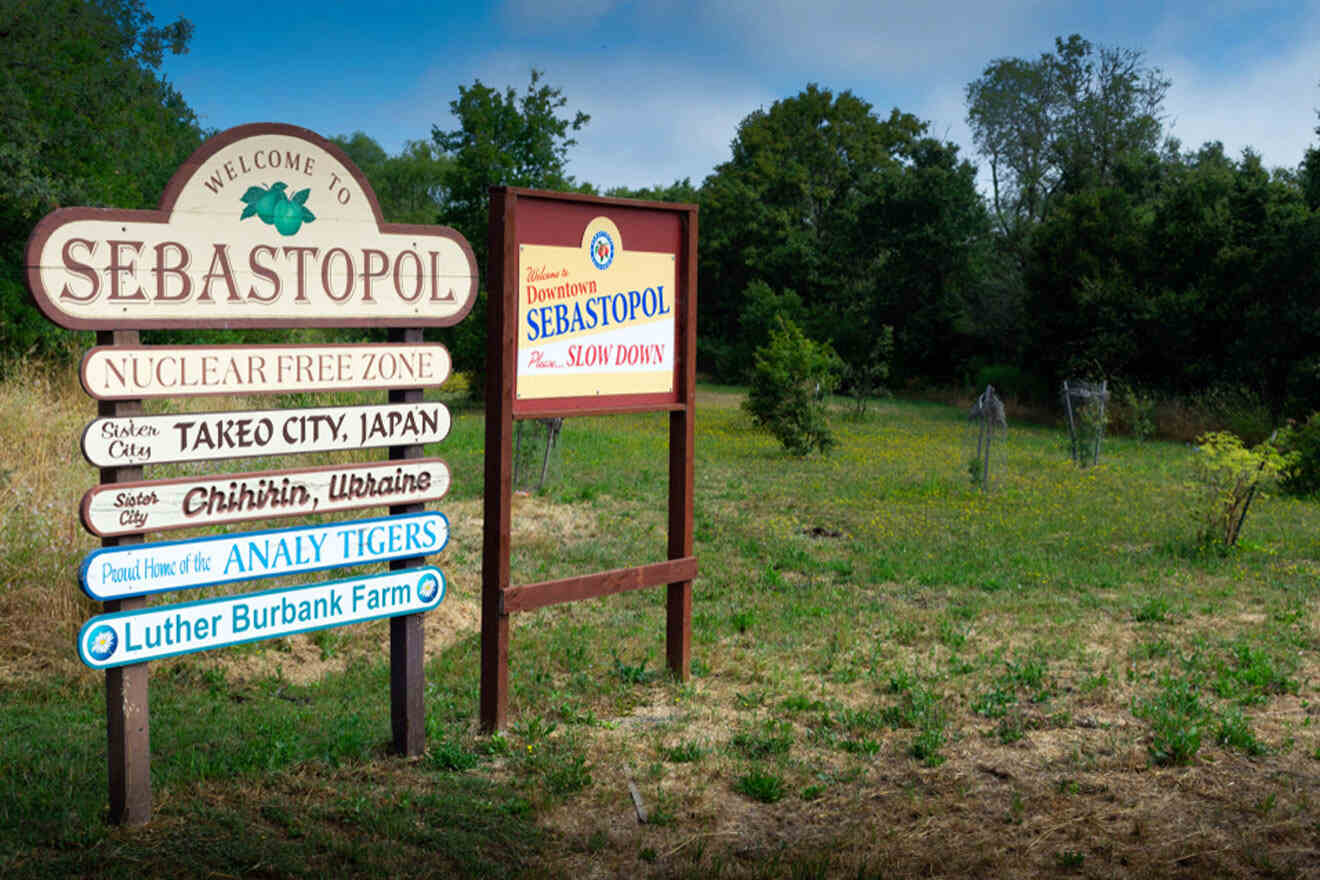 Sebastopol is my kind of town – a hippie bohemian melting pot with cool shops, interesting junk art sculptures, and a vibe all its own.
Stroll down Florence Avenue and check out the impressive local art galleries, pop into The Barlow – a local, Sonoma-only gift shop, or grab a beer at HopMonk, one of the area's more popular dining spots.
12. Sip and explore the Russian River Valley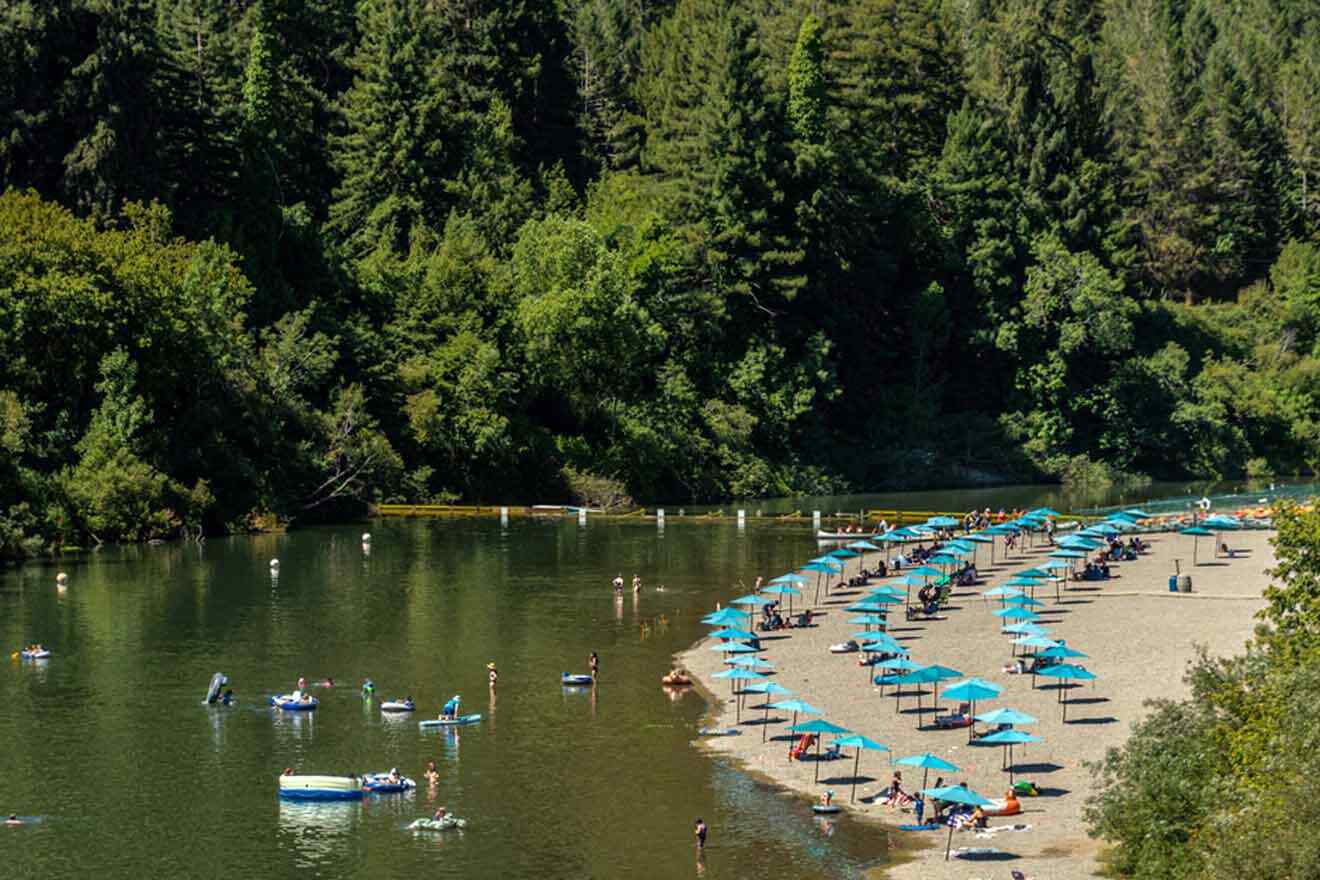 The Russian River area is rich with history, stunning natural beauty, and incredible adventures.
While some of my favorites, Armstrong Woods, Healdsburg, and Safari West, are located in this region, I think it deserves a spot on the list all its own.
The great thing about the Russian River area is that many of the eco-adventures, as well as the spas, are located here.
I highly recommend checking out Russian River Adventures if you're looking to kayak or bike and West Sonoma Inn and Spa in Guerneville for incredible massages & facials.
13. Take a hot air balloon ride in Santa Rosa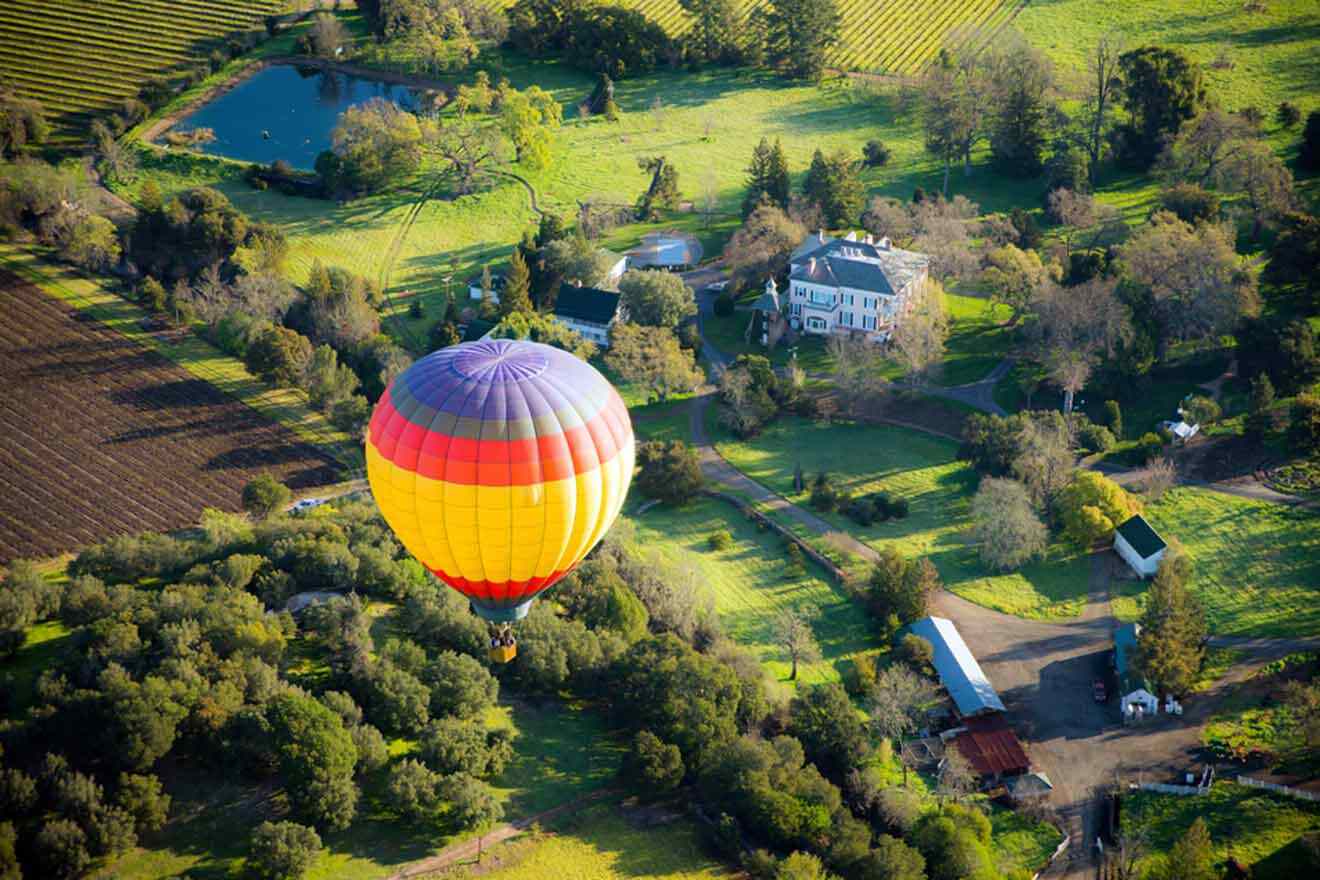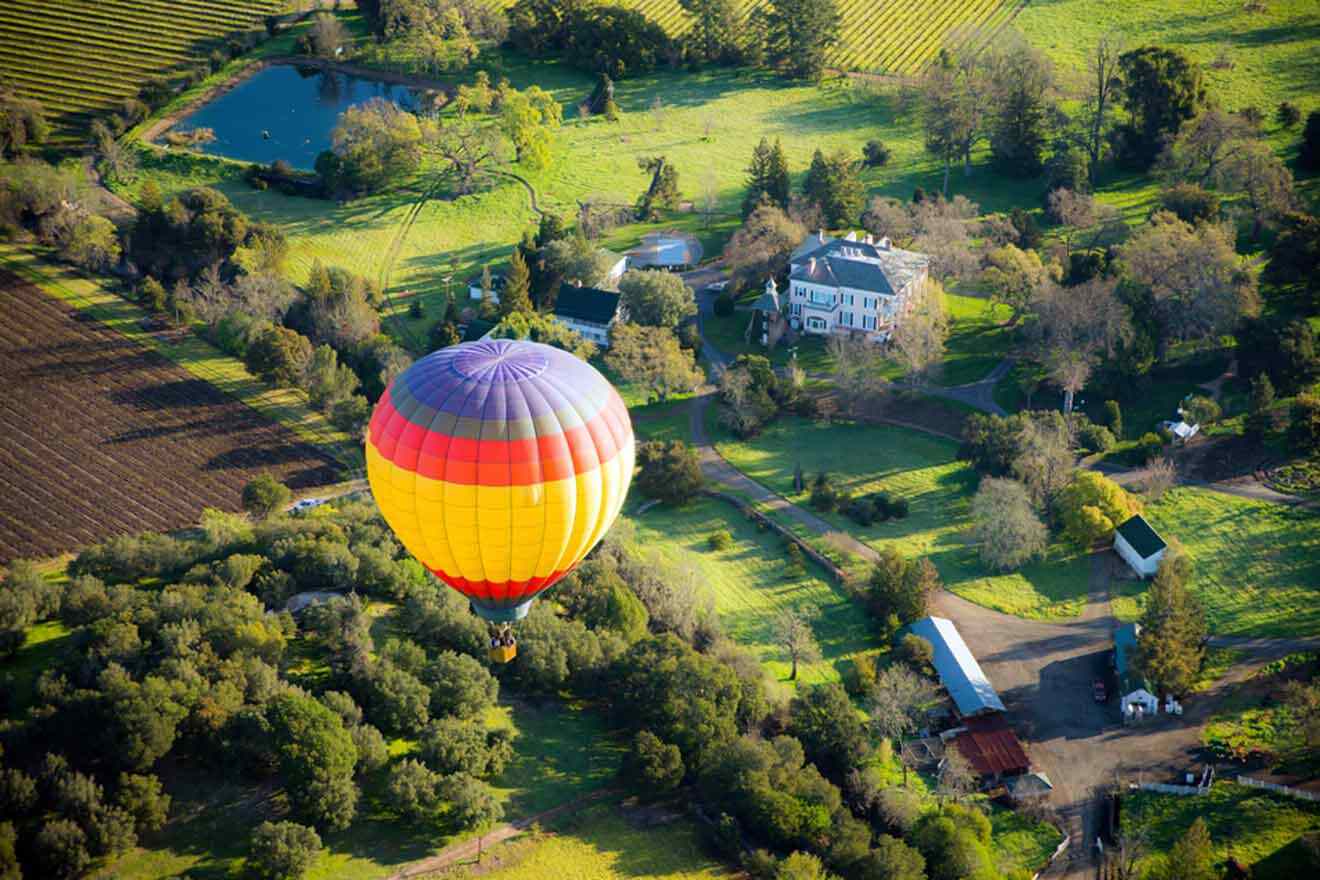 Cartoonist Charles M. Schulz lived and worked in Santa Rosa from 1969 until he passed in 2000 – he claimed Sonoma County as inspiration for his famous comic strip, Snoopy!
Santa Rosa is a beautiful location to spend the day sipping delicious wine and taking in the sites and absolutely should be on your things to do in Sonoma list.
Santa Rosa is ideal if you want to see the beauty and grandeur of Sonoma from the air in the most unique fashion of all – a hot air balloon ride.
PRICE: from US$300 per person
Book Your Hot Air Balloon Ride
14. Diving deeper into Healdsburg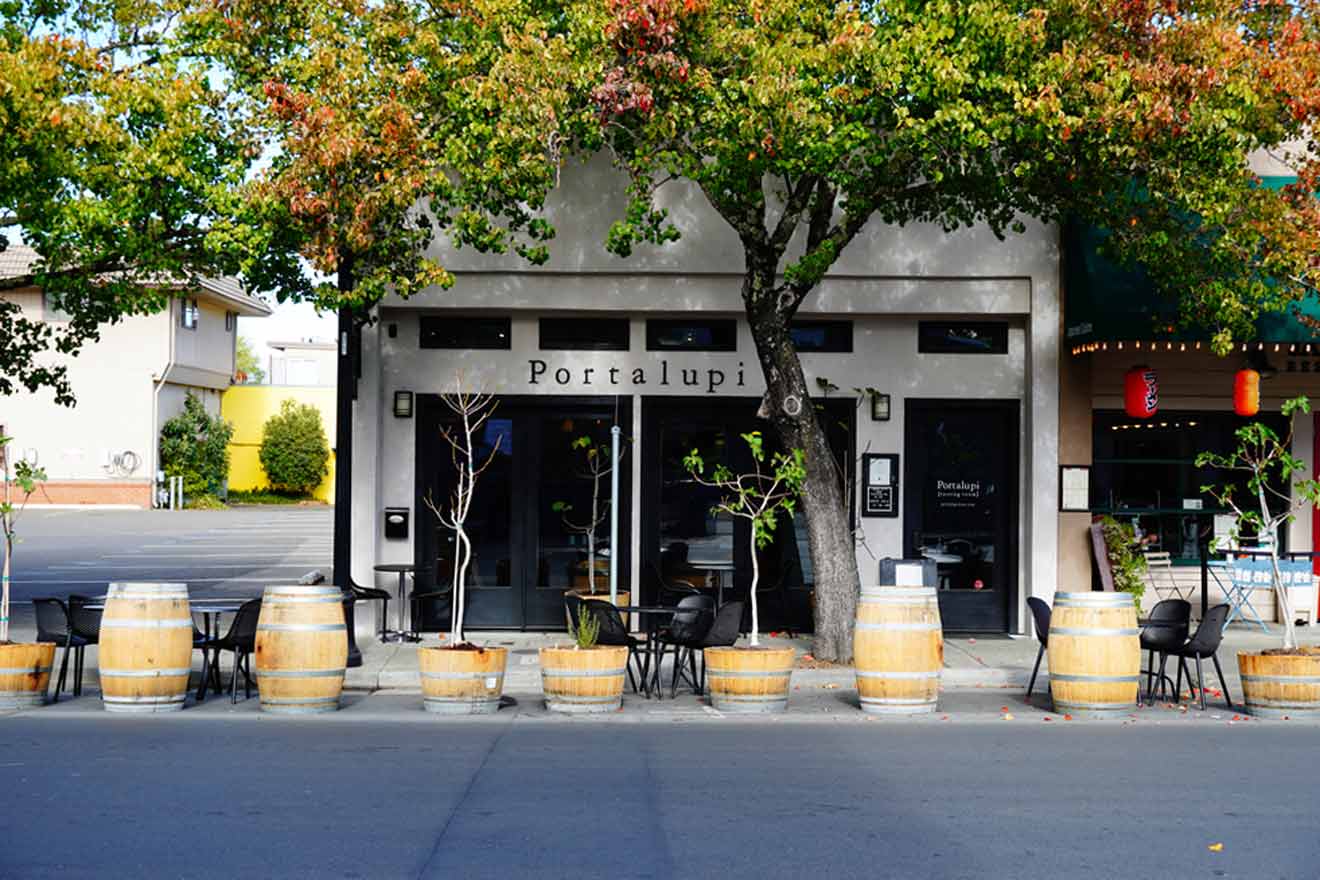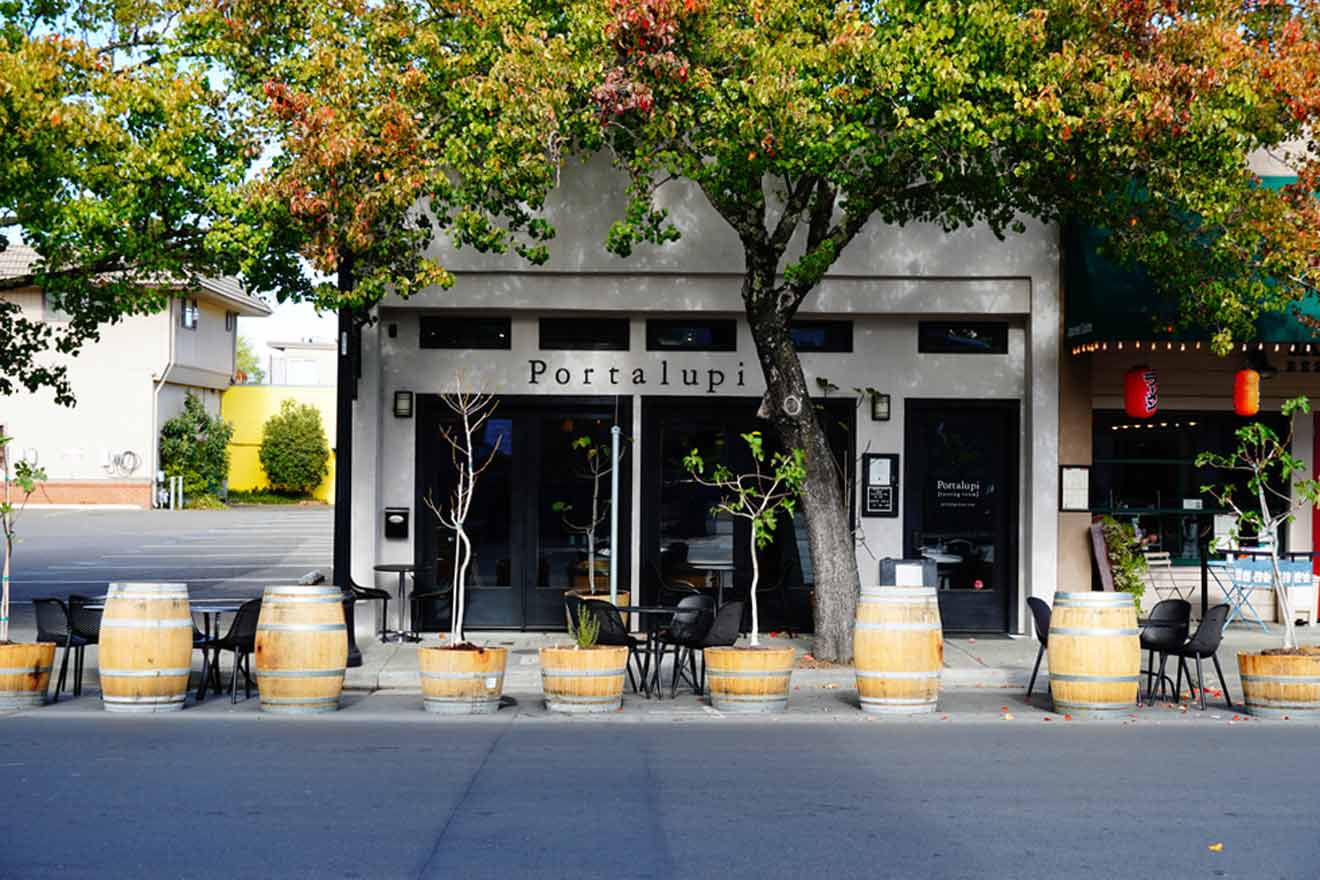 Located along the Russian River, Healdsburg is a beautiful place with great beaches and access to water.
Becoming a popular destination with people visiting San Francisco, Healdsburg is about 1.5 hours north of the city. You may come here for a kayaking adventure, a bite to eat or to sample the local vineyards.
For your ease, book this food & wine walking tour through Healdsburg. The tour guide will take care of all the planning and show you the best spots to eat and drink to ensure you spend quality time on this trip.
Healdsburg is an area within the Russian River area, which is part of larger Sonoma County, which means that you'll be exploring both Healdsburg and the Russian River at the same time.
TOUR PRICE: from US$125 per person
15. Go for a hike in Doran Regional Park in Bodega Bay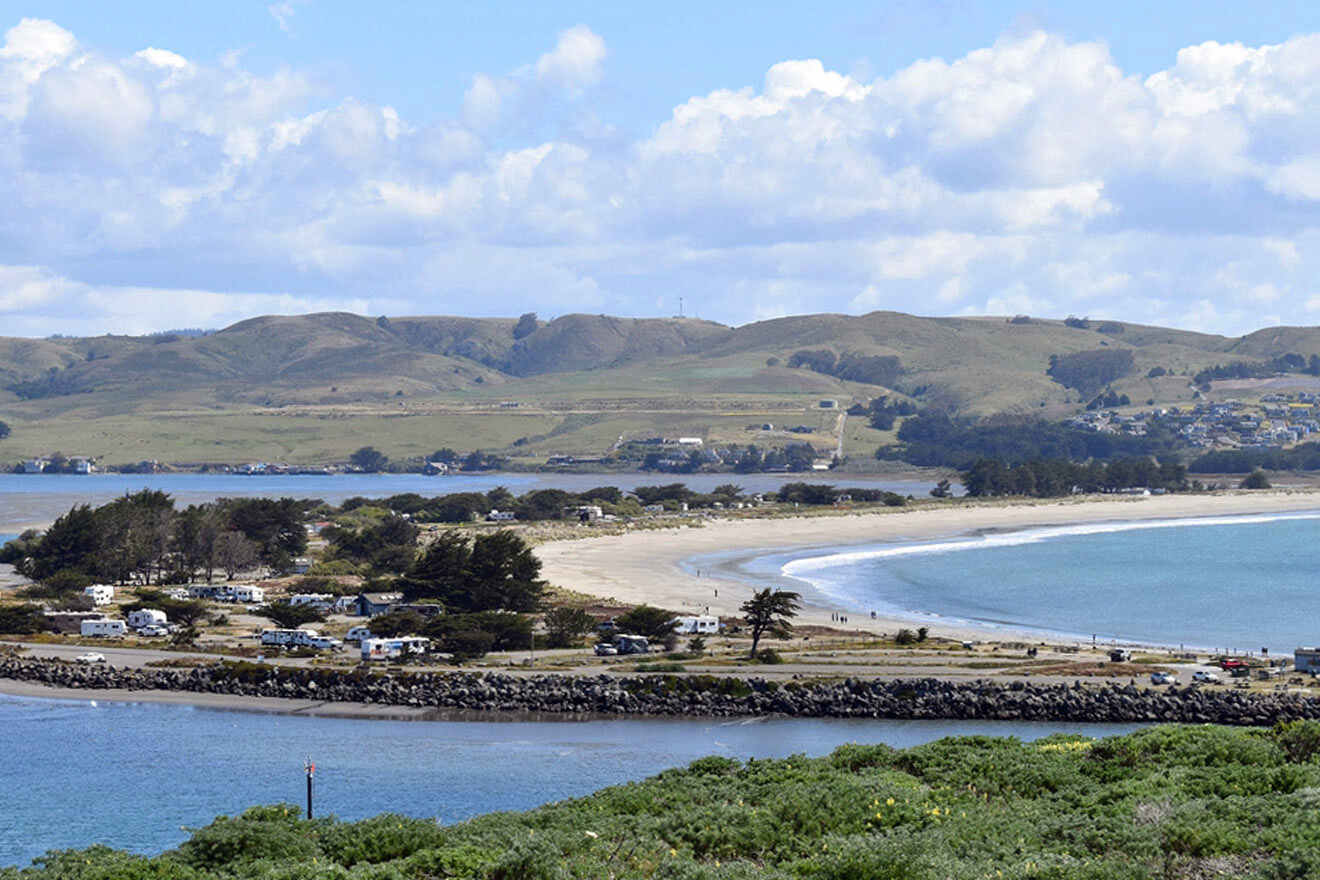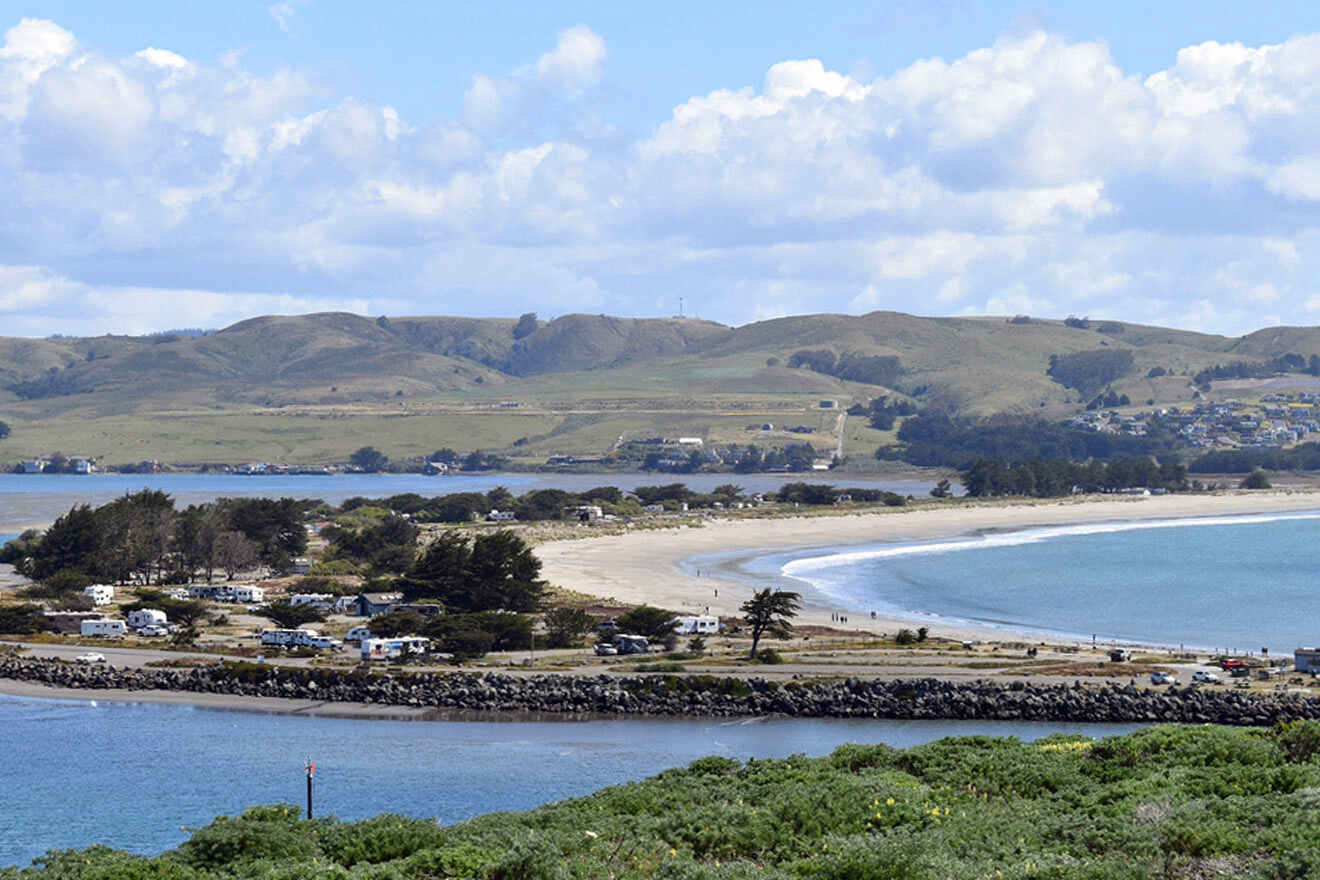 Doran and Sonoma Coast are some of the best state and regional parks in the Sonoma County area.
A popular spot for bird-watching, cycling, and hiking, Doran Regional State Park in Bodega Bay is a great choice for adventurous things to do in Sonoma. Part of the larger Sonoma Coast State Park, this area is teeming with wildlife and hiking trails to explore. One of my favorites is the Vista Trail.
If you want some epic views and to get close to the Pacific Ocean, take the Doran Beach Trail, which is an easy walk along the sand that gets you a closer view of Bodega Head.
Bodega Head is a popular spot for migrating whales and happy sea lions, so keep your eyes peeled!
PRICE: US$7 per vehicle
16. Discover movie magic at Goat Rock Beach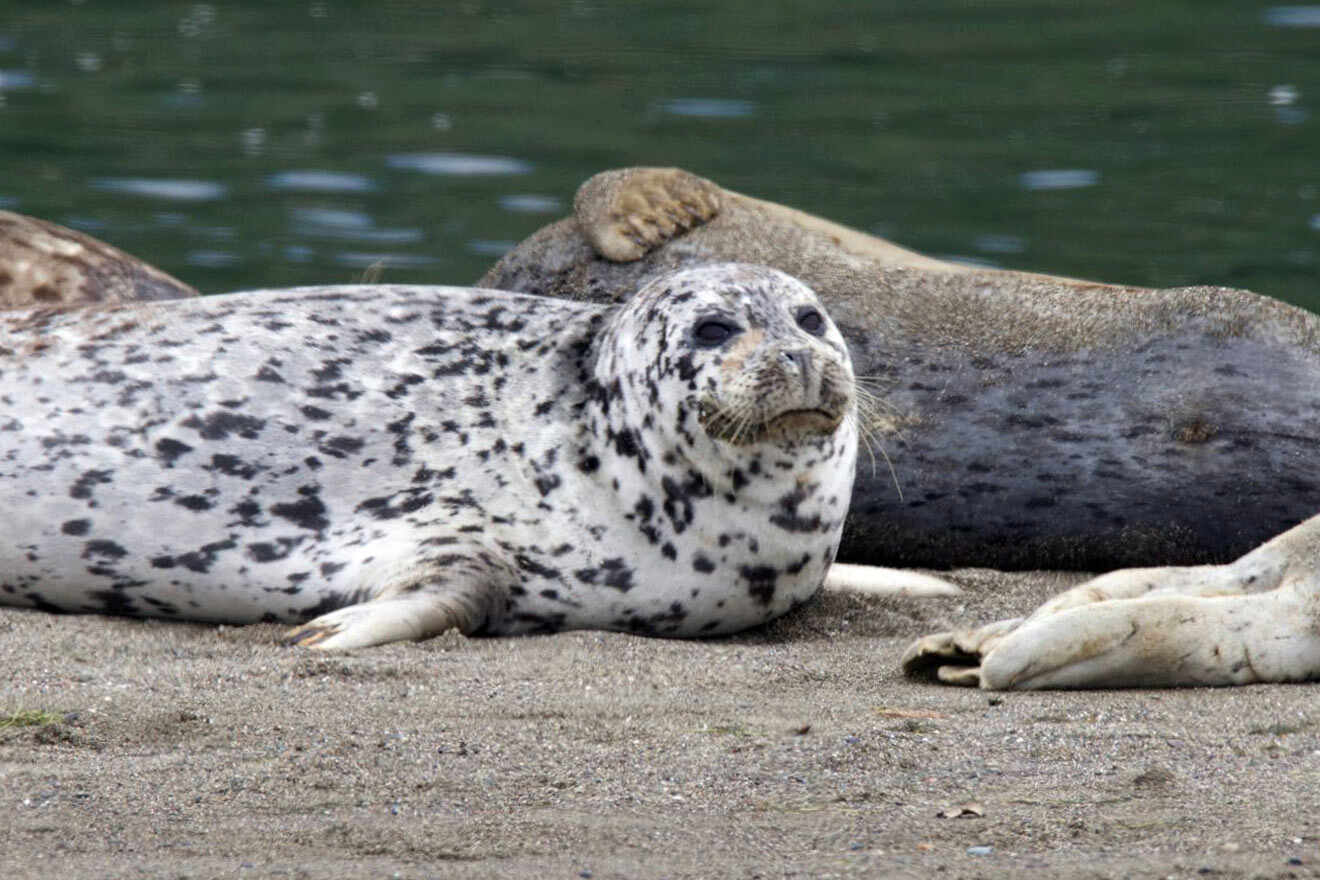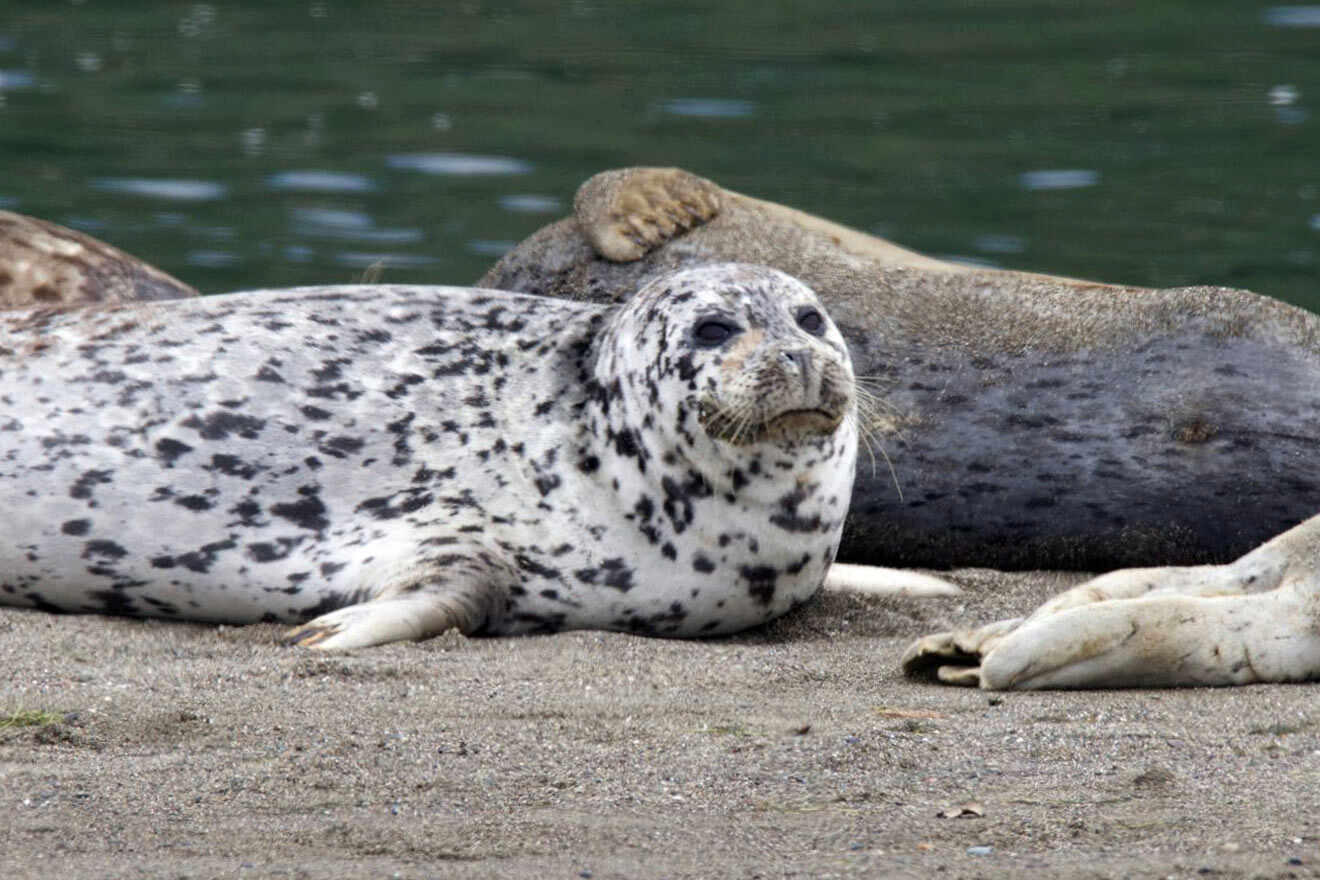 I'm a beach gal, and Goat Rock Beach, along the coast of California where the Russian River meets the Pacific Ocean, is a stunning and wonderful place to catch a sunset.
If you're a child of the 1980s, you might find it fun that Goat Rock Beach was one of the main filming locations for the cult phenomenon Goonies.
This beach has a dramatic coastline, rough surf, and lots of wildlife. Take the special opportunity to spot adult harbor seals in the summer and do some whale watching in the winter.
17. Spot the incredible wildlife at Safari West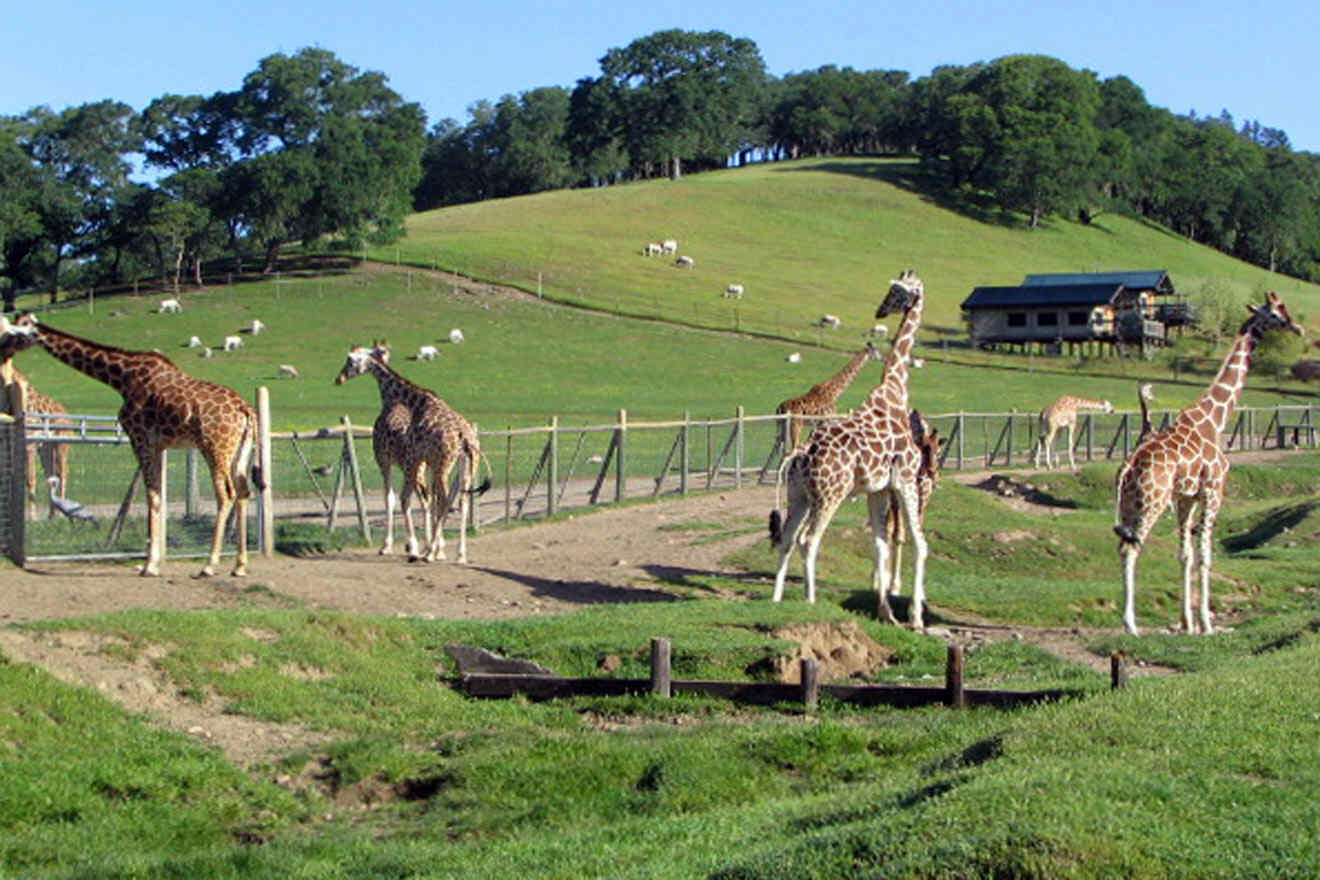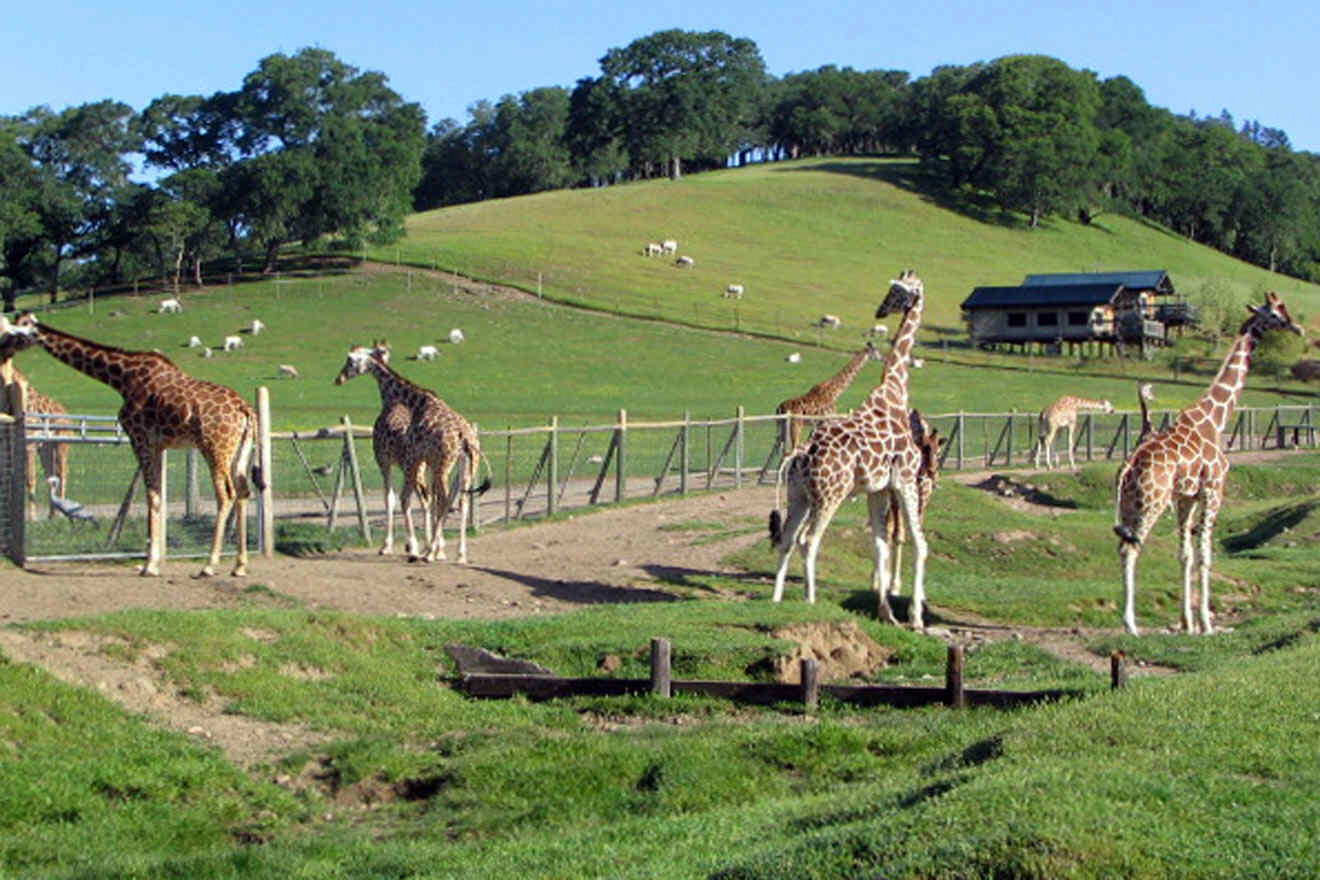 Safari West is one of the best things to do in Sonoma, and also one of the most fun!
This 400-acres (c. 160 hectares) wildlife reserve is brimming with some of the world's most fascinating and stunning animals.
While you are here, you'll have no shortage of amazing exhibits to see, with over 900 animals within 90 different species – don't miss the wildebeest and giraffes!
By far, the best way I've ever experienced Safari West was on one of their private, open-air 4-wheel drive vehicle tours. They even have tour options that combine your safari with wine tasting!
TOUR PRICE: Starting from US$105 per person depending on the season
18. Rub elbows with stars at Sonoma International Film Festival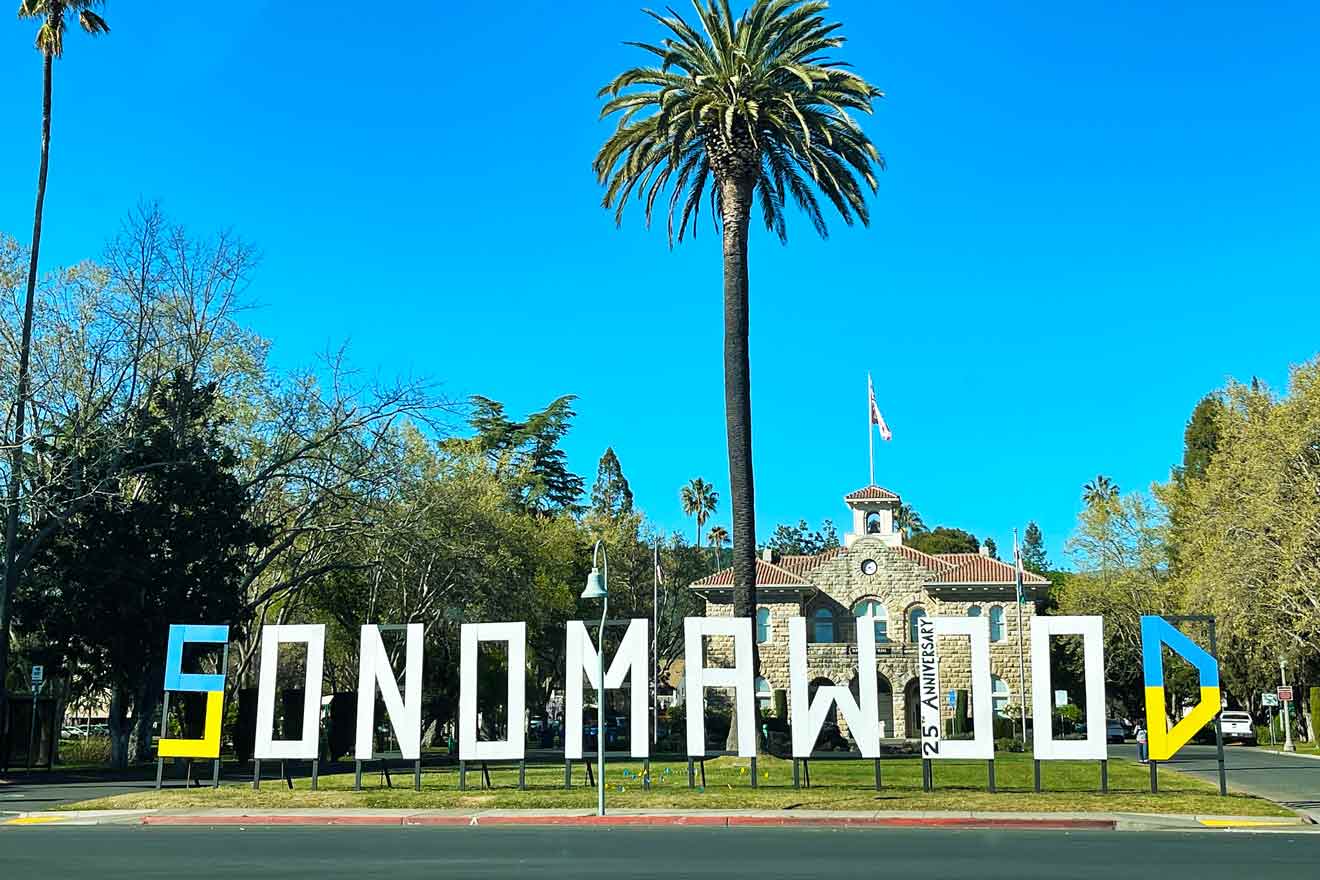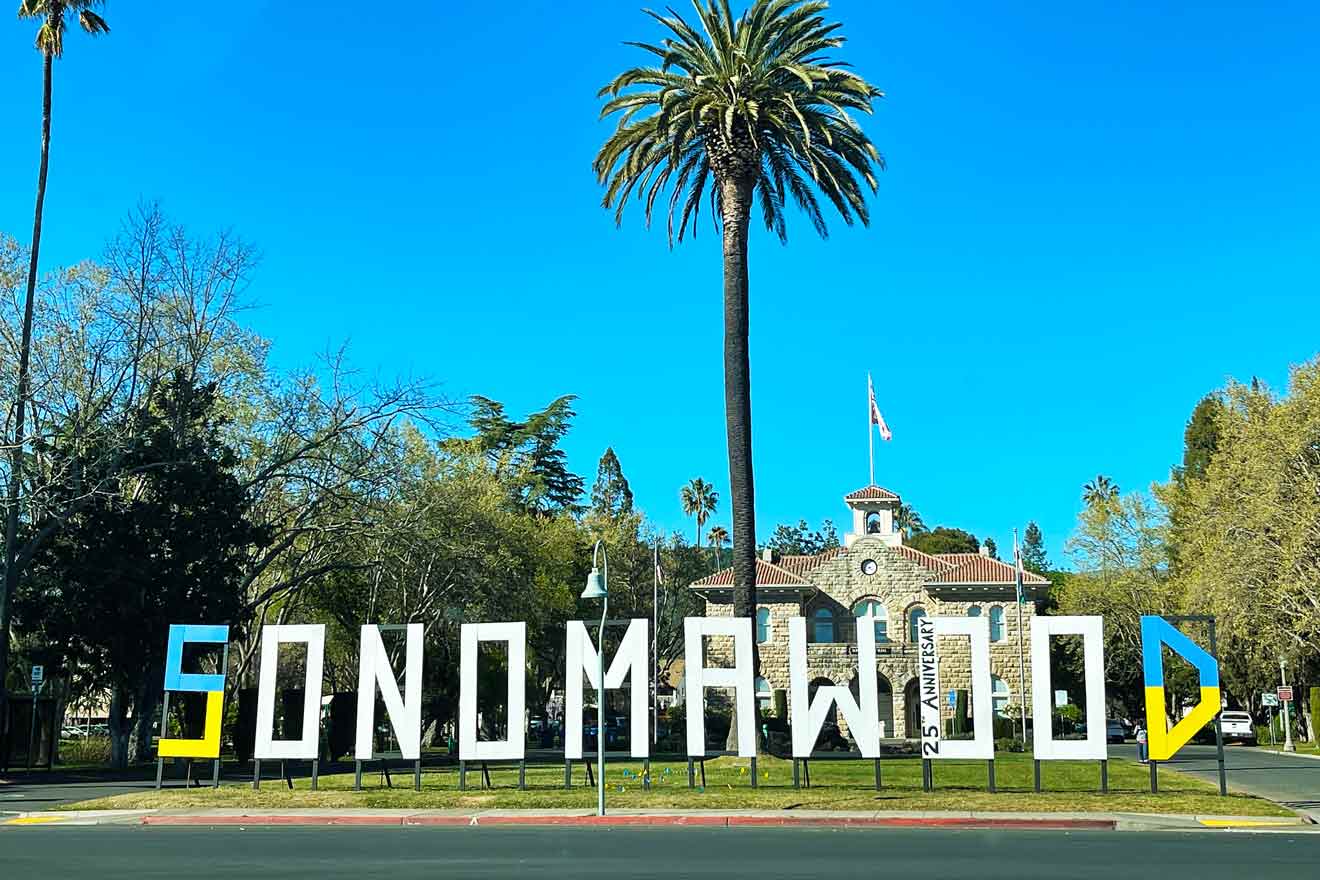 This internationally acclaimed film festival takes place each year in March and brings together some of the best talent in Hollywood and from across the globe.
Tickets are very difficult to come by, so if you plan on attending this incredible independent film festival, I highly suggest keeping tabs on their website for updated info.
19. Take in the beauty of the Sonoma Botanical Garden
I love the vibrant flowers that appear each spring and summer at the Sonoma Botanical Garden. If you can time it right during this timeframe, you'll see the most stunning flowers in full bloom.
The perfect spot in Sonoma County for relaxation and tranquility, I suggest carving out a couple of hours to really appreciate this special space.
PRICE: US$12 per person
20. Check out the amazing history of Sonoma Barracks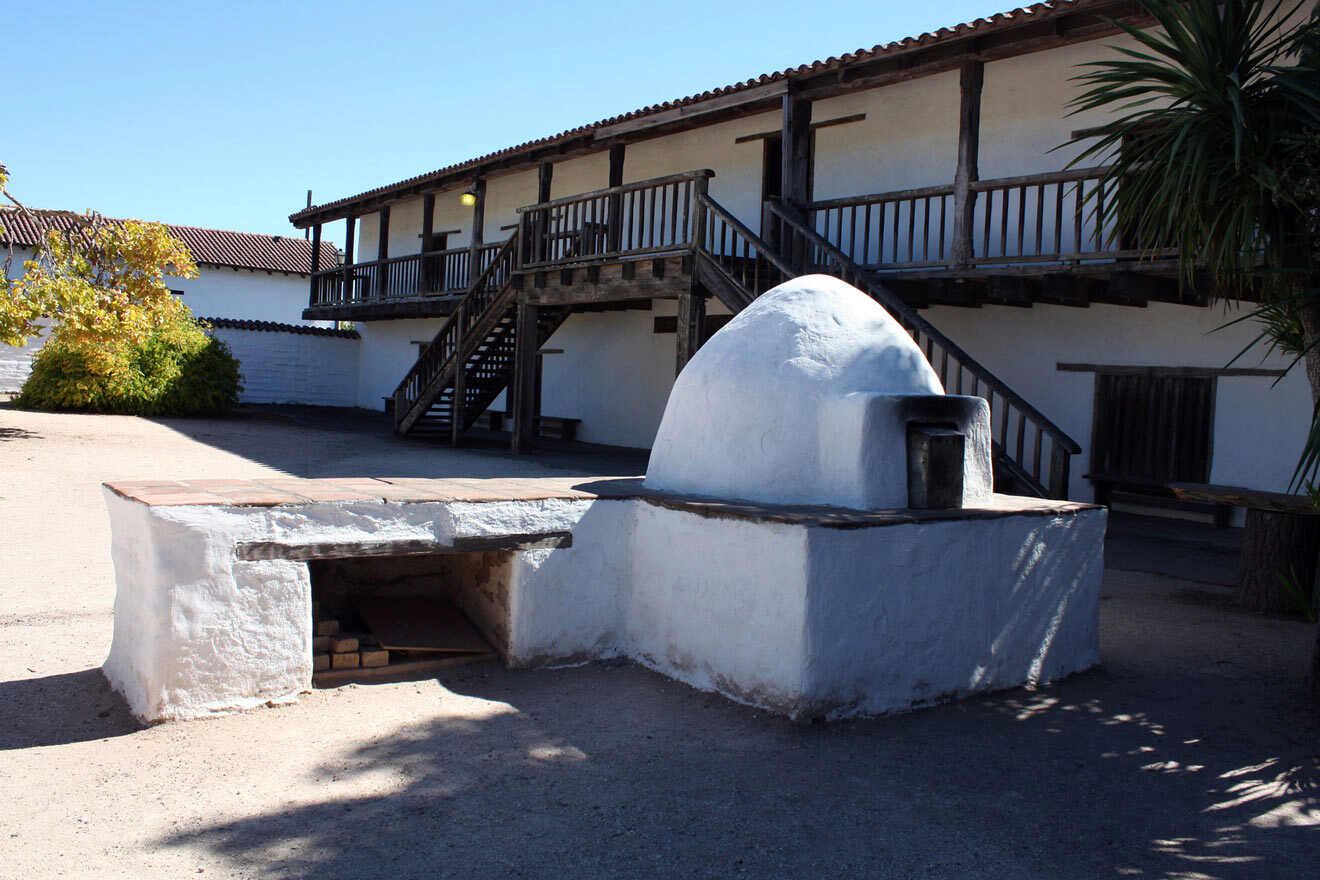 If you're into California history, check out the Sonoma Barracks within Sonoma Presidio. This late 19th-century historical spot is where Mexican army troops led by General Vallejo planned their attacks.
Have you ever seen the California State flag with the red star and adorable bear on it? Well, on June 9, 1846, American settlers surprised the Mexican guards and declared an independent California Republican at this very spot.
PRICE: FREE
Where to stay in Sonoma
There are tons of choices when staying in Sonoma's beautiful wine region. See below for my top picks for every budget with prices ranging from US$100 to US500+.
If you don't find your pick among this short list, see our extended list with the best areas & hotels to stay in Sonoma.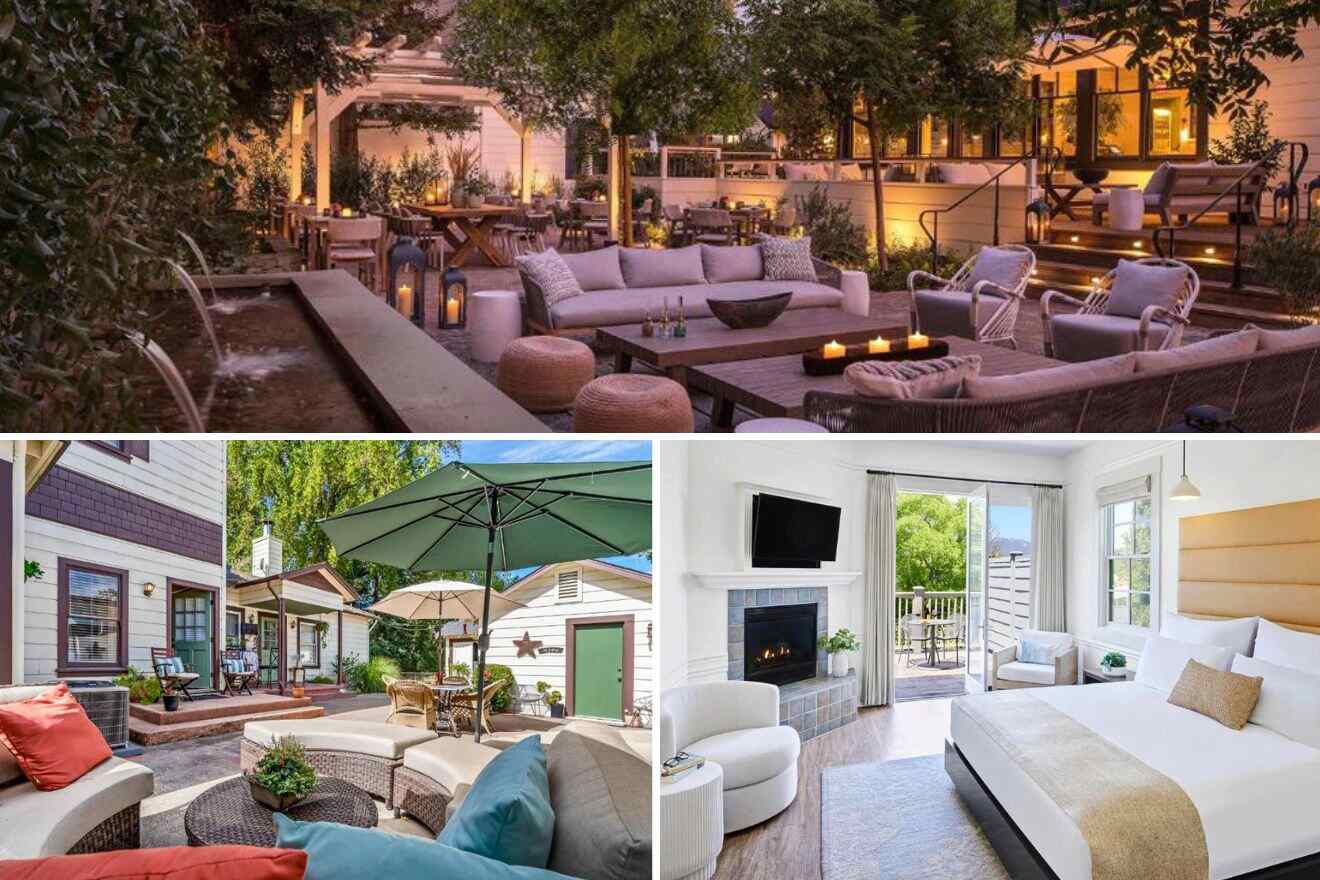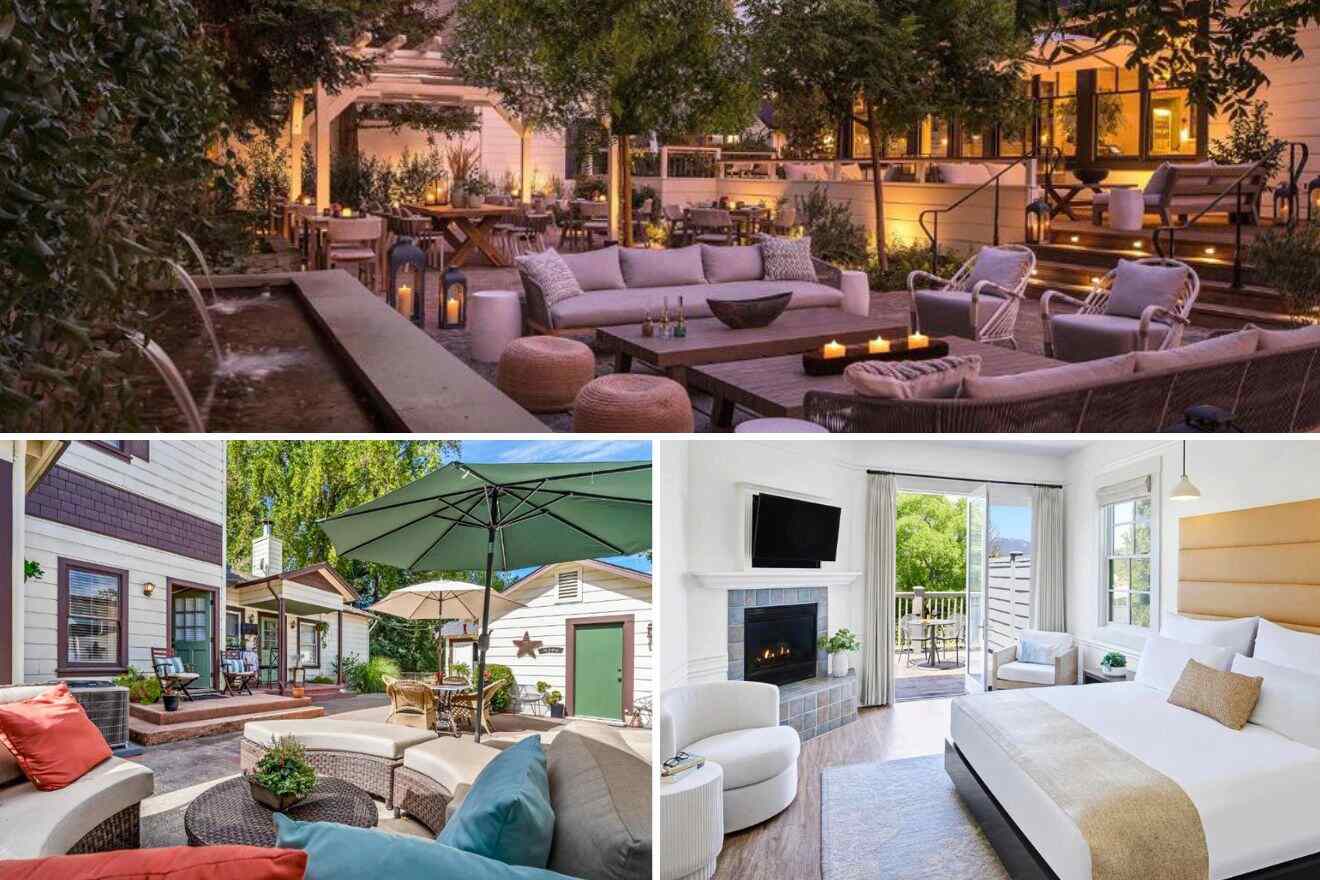 Luxury (US$500 and up)
Mid-Range (US$200 – US$300)
Budget (up to US$200)
FAQs about things to do in Sonoma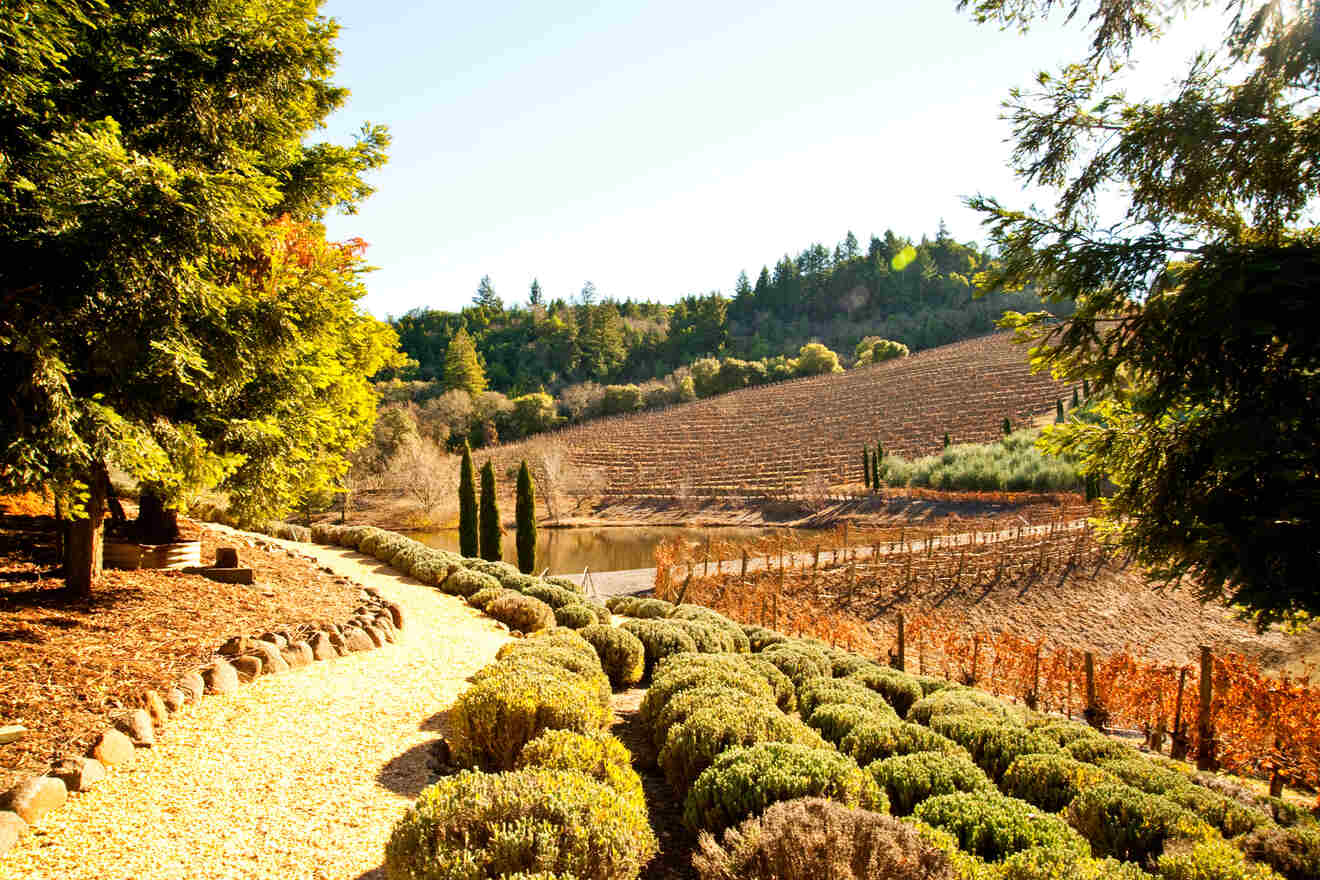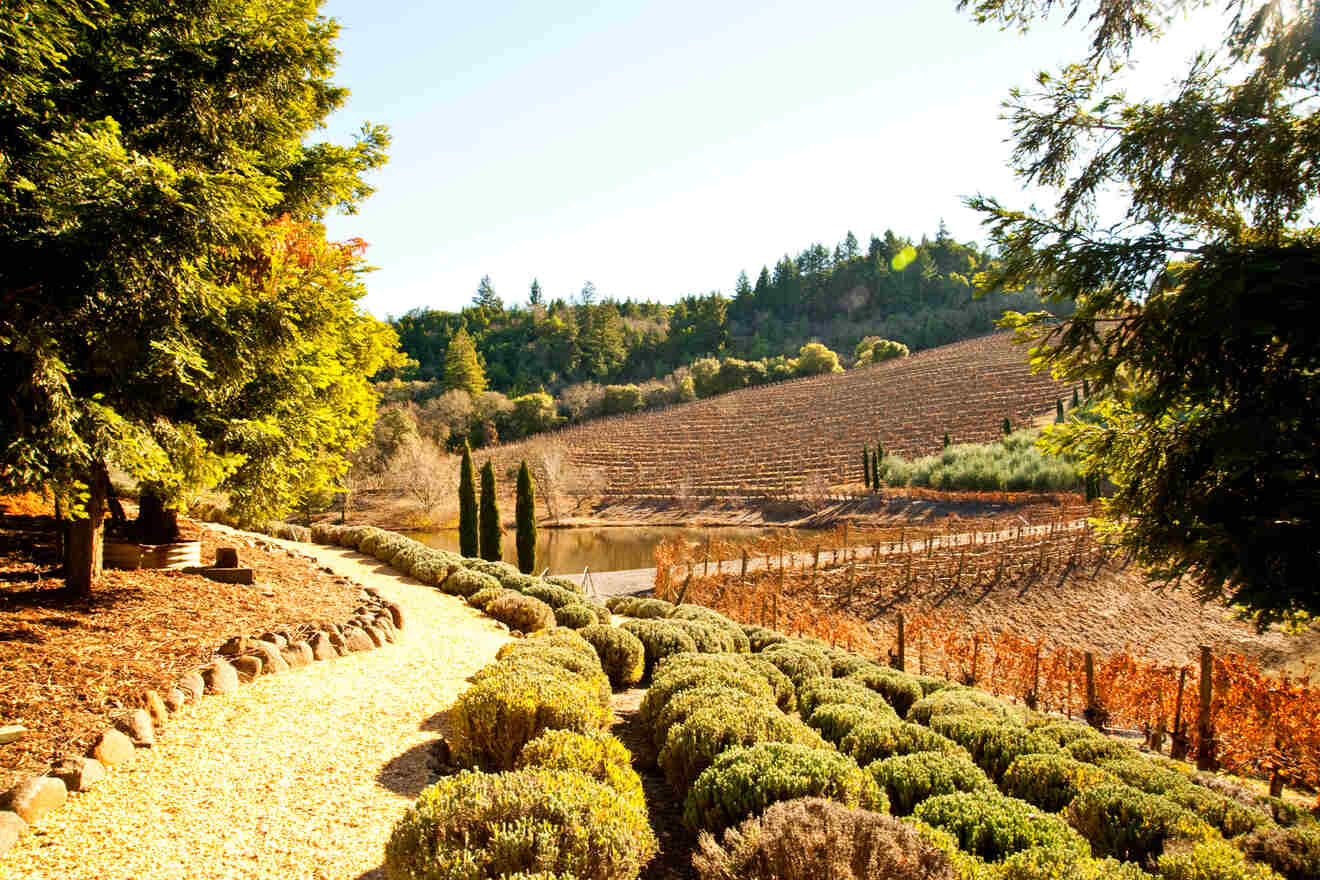 ☀️ What is the prettiest town in Sonoma
Healdsburg is the prettiest town in Sonoma County, with lovely rolling hills and beautiful vineyards.
✅ Is it better to go to Sonoma or Napa?
Sonoma and Napa are both great places for wine tastings, however, Sonoma is often considered a little less expensive. 🤑
🍷 What is Sonoma, CA, famous for?
Sonoma, CA, is known for its delicious, world-class local wines, dynamite food options, beautiful wineries, and a vast choice of wine tours.
⭐ What is the best month to visit Sonoma?
June through October are the best months to visit Sonoma so you can enjoy the beautiful, sunny weather and vibrant flowers in bloom.
Conclusion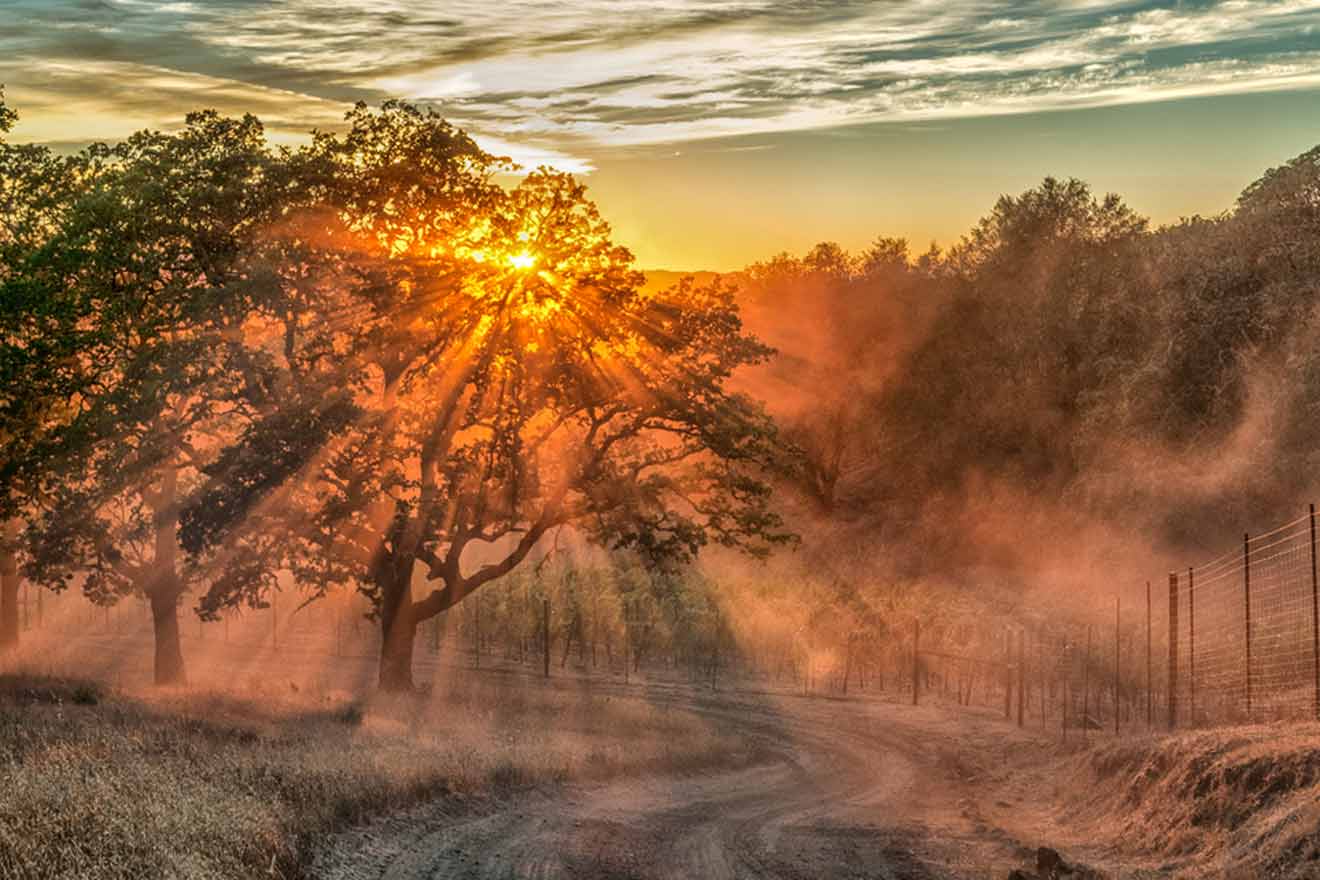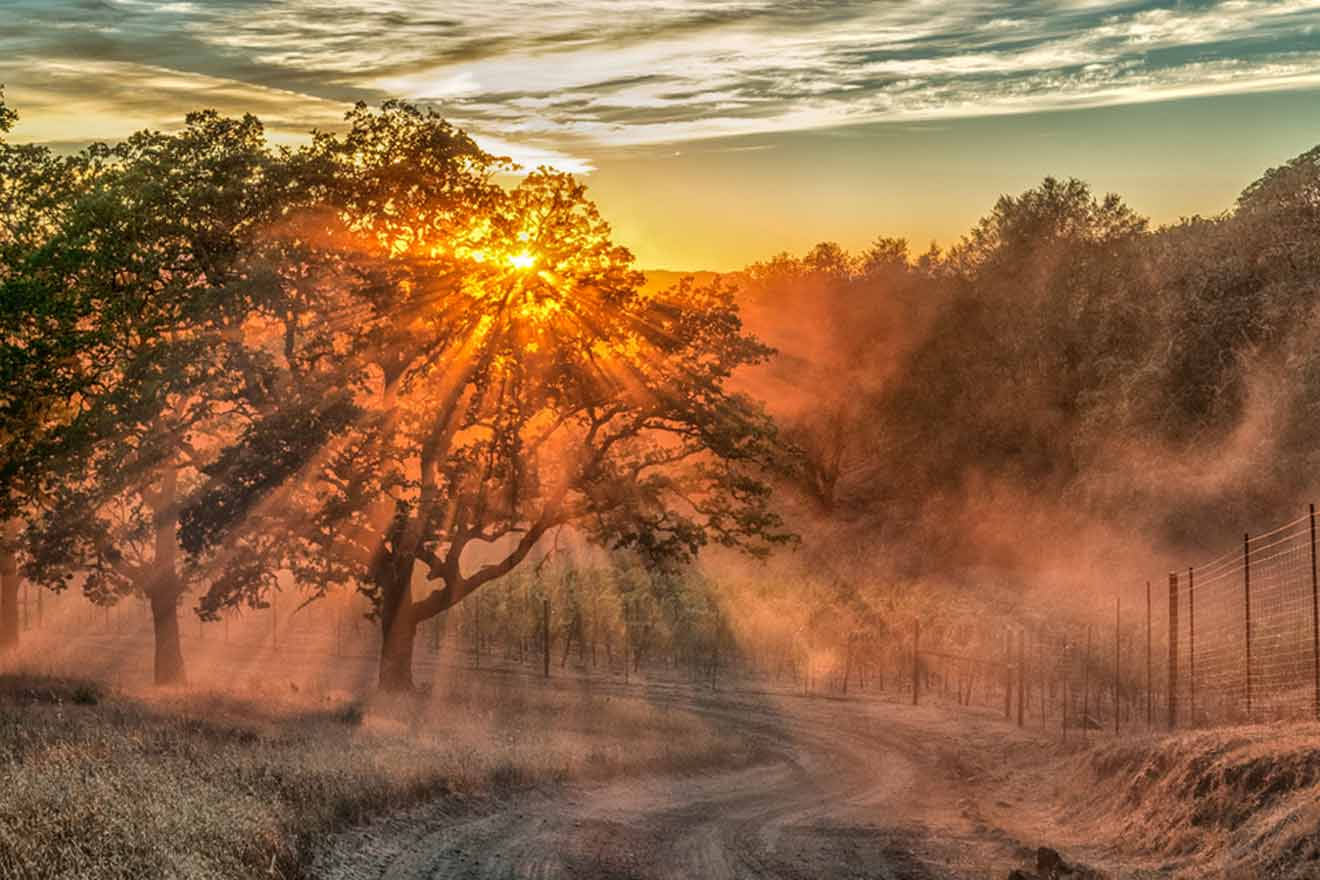 There are so many incredible and delicious things to do in Sonoma, you might need to visit for a second time (or a third).
In addition to the delectable wines, there are also mouth-watering dining experiences, and opportunities to get out in stunning nature.
If you have a trip to Sonoma coming up, I highly recommend you book in advance for your favorite activities and hotels!
I love sharing travel stories and hearing them. Feel free to comment with yours below!
Aloha & safe travels,
Hayden G.
---
Pin it for later!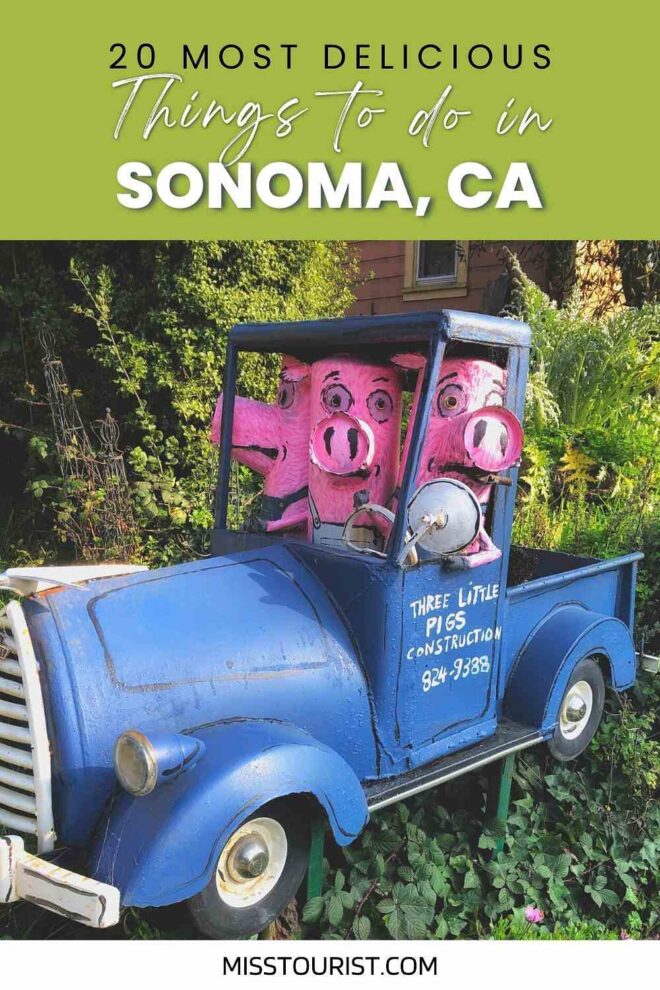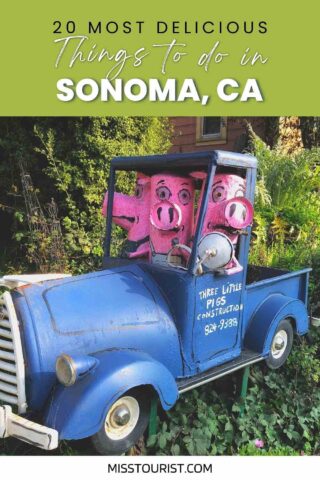 Pin it for later!