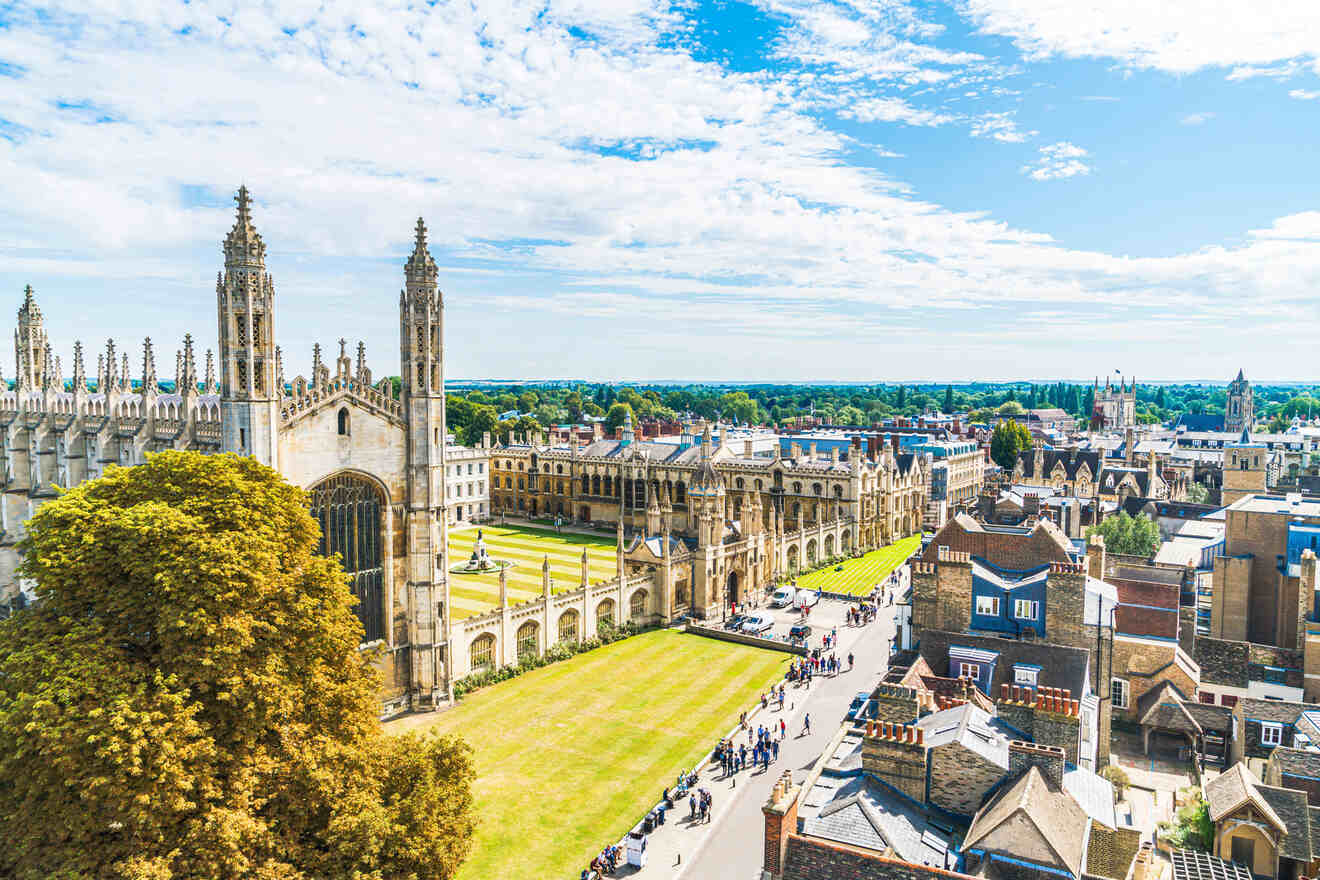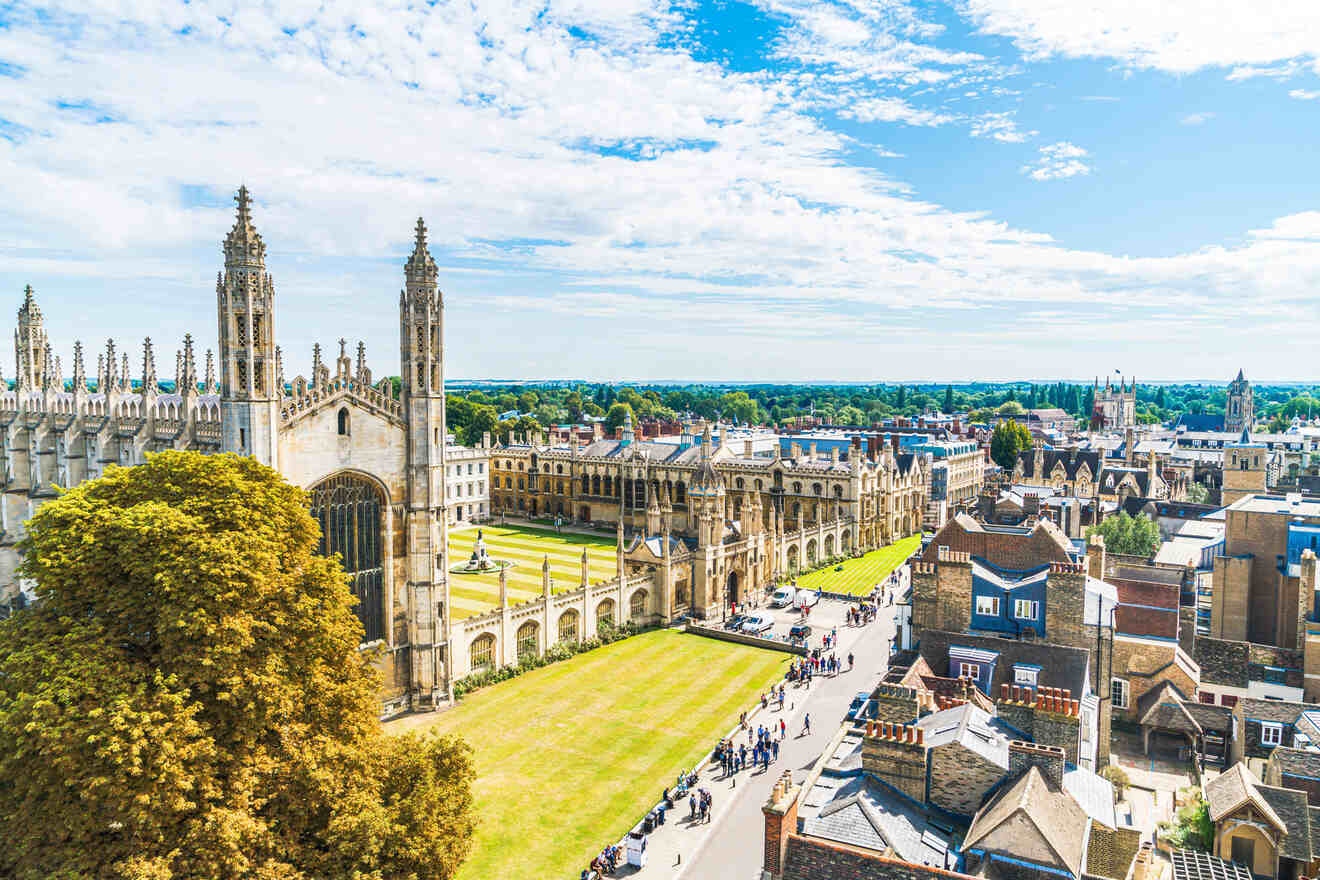 Heading to Cambridge? Then get ready to enter a time machine and arrive in a different era! If you're wondering where to start your holiday, then come along, as I'll help you with all the details!
In this post, you'll find the best things to do in Cambridge, including the top attractions in the city plus some really useful information on where to stay in Cambridge!
I was lucky enough to visit Cambridge a few times and each trip was even more amazing than the last! Now I'm ready to help you find the most fun and exciting attractions in this iconic town with a history dating back to the 1st century AD.
So let's hit the road!
If you are in a hurry
In case you don't have time to read this whole list of things to do in Cambridge, here is a quick summary of the main points.
Here are the main things to book in advance:
And here are the best hotels: Graduate Cambridge (Luxury), Christ College Cambridge (Mid-range), The Mill Suites (Budget)
1. Go punting on River Cam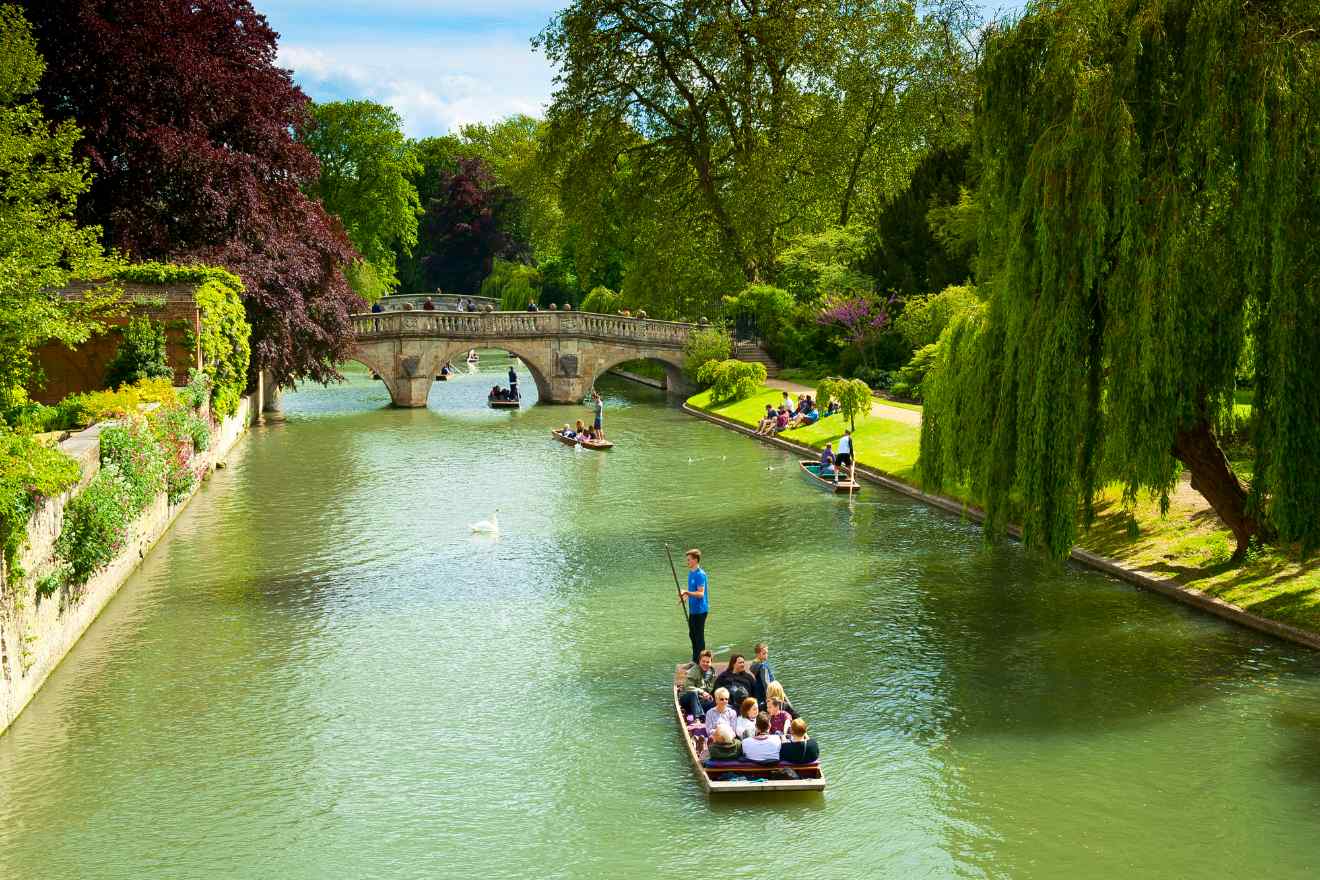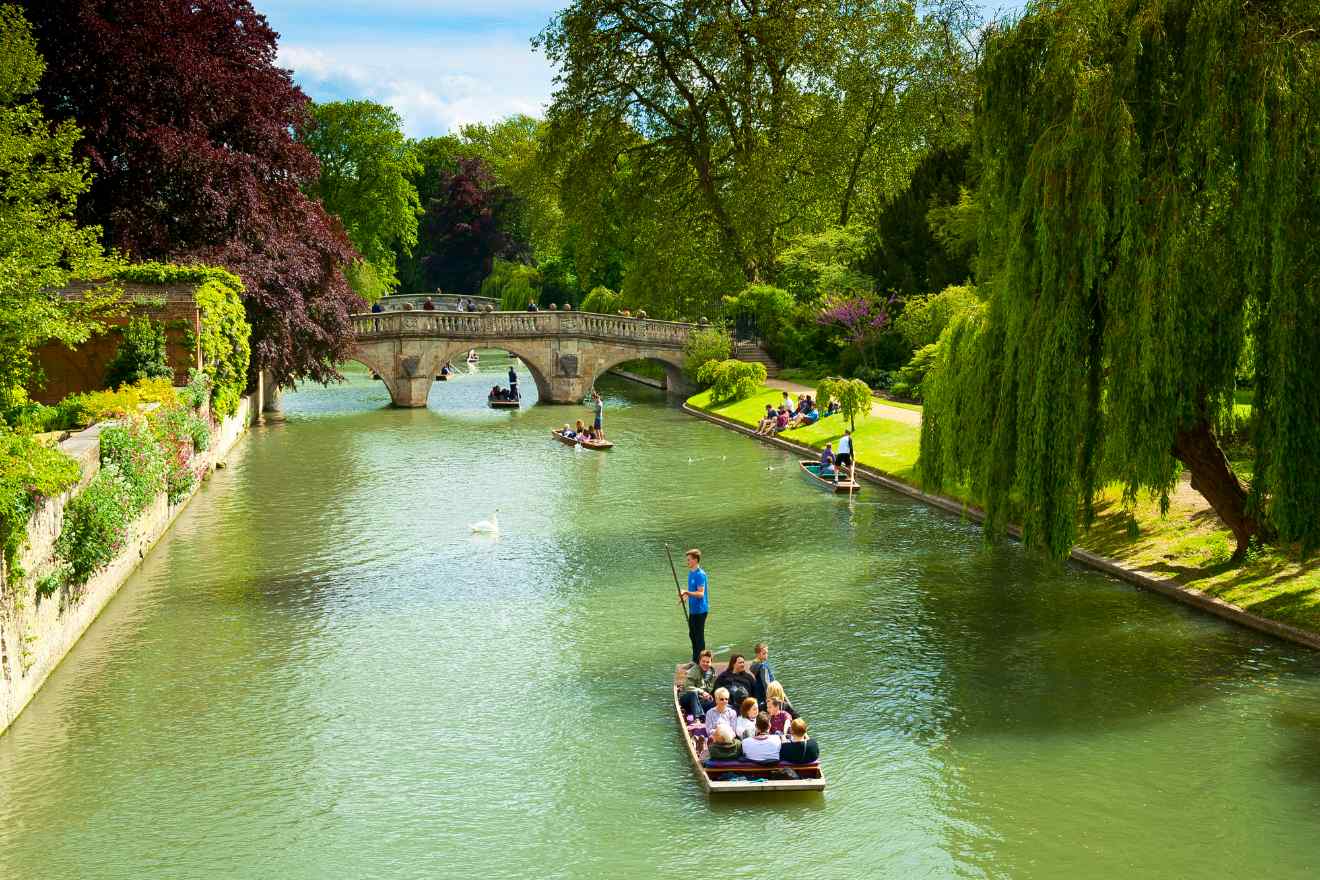 Just arrived in this beautiful city from London, sure you could go and visit all the Cambridge Museums or historic sites, but I recommend first going punting on the River Cam!

Punting is kind of a "national sport" for this wonderful city, and it's something that all tourists want to try since it looks like so much fun!
For those who don't know, a punt is a flat-bottomed boat with a square-cut bow that usually has between 1-6 seats and is moved by a pole.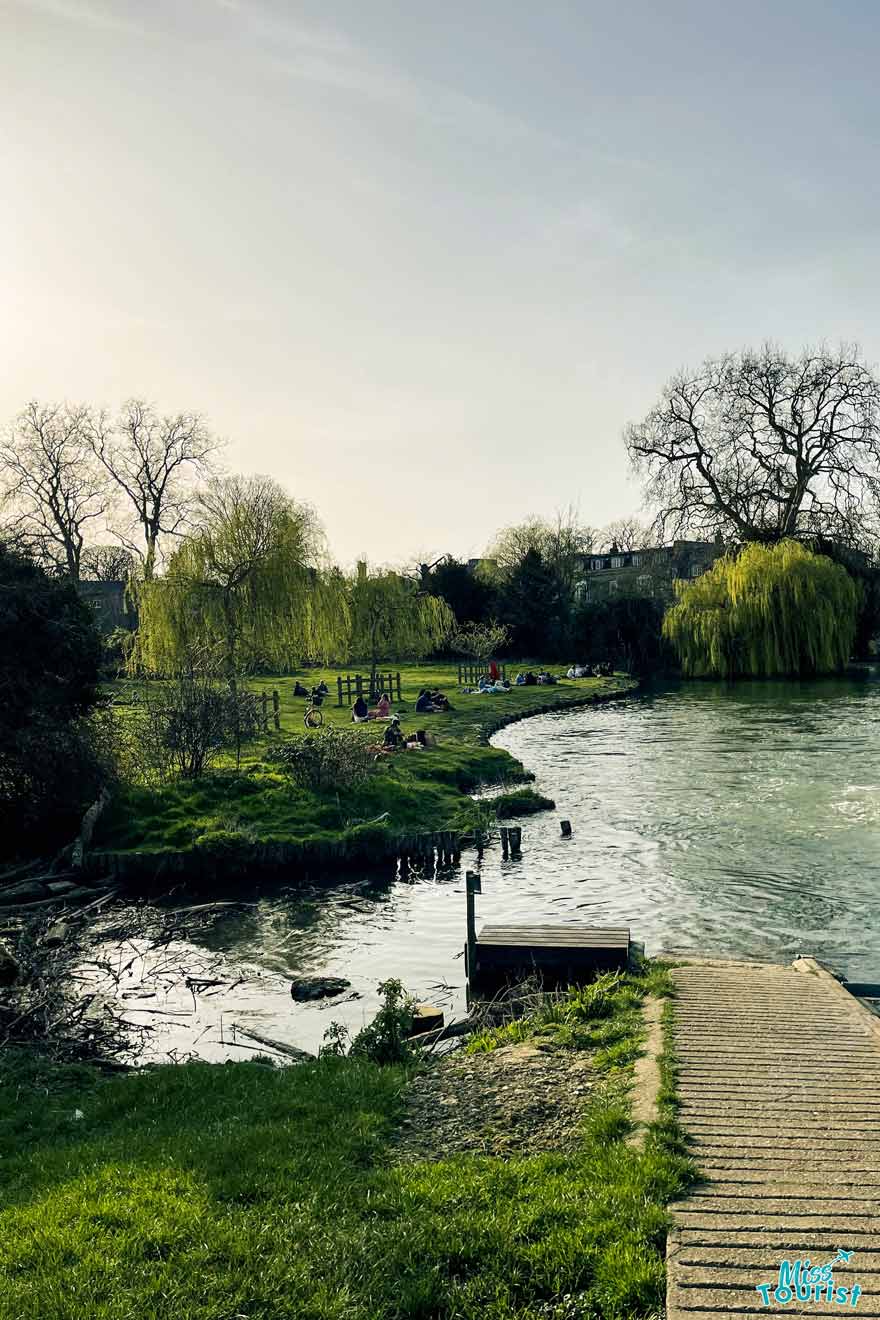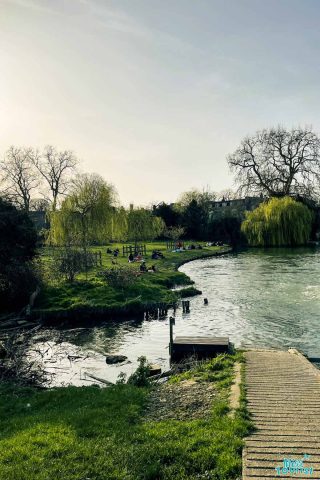 There are a lot of boat rental companies in Cambridge and someone surely will approach you to offer you a tour as you get close to the river. But if you want to be prepared and book in advance, you can join a punting tour where your guide will not only control the boat but give you some live commentary and stories along the way!
Although most people prefer to go with a tour guide (aka someone who will actually do all the work and punt) some of you who are more courageous may want to have a go at it yourself. While this sounds like fun (and it truly is) I'd recommend going a tour as punting isn't as easy as it looks, especially for people who haven't tried this before!
The tour usually lasts around 45 minutes and you get to see the back of the University colleges, and the city's beautiful natural side!
PRICE: From £50
2. Visit the Cambridge University Colleges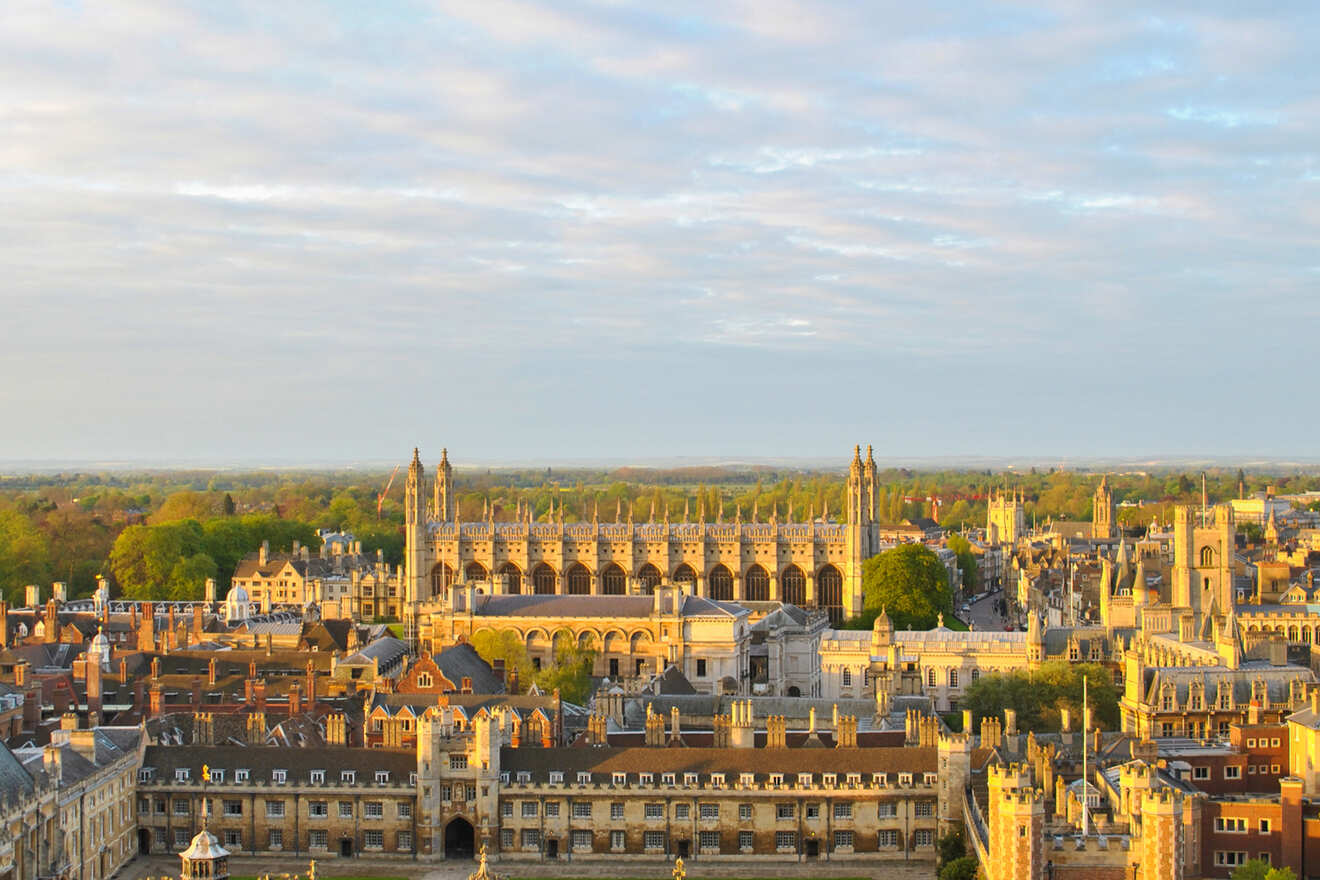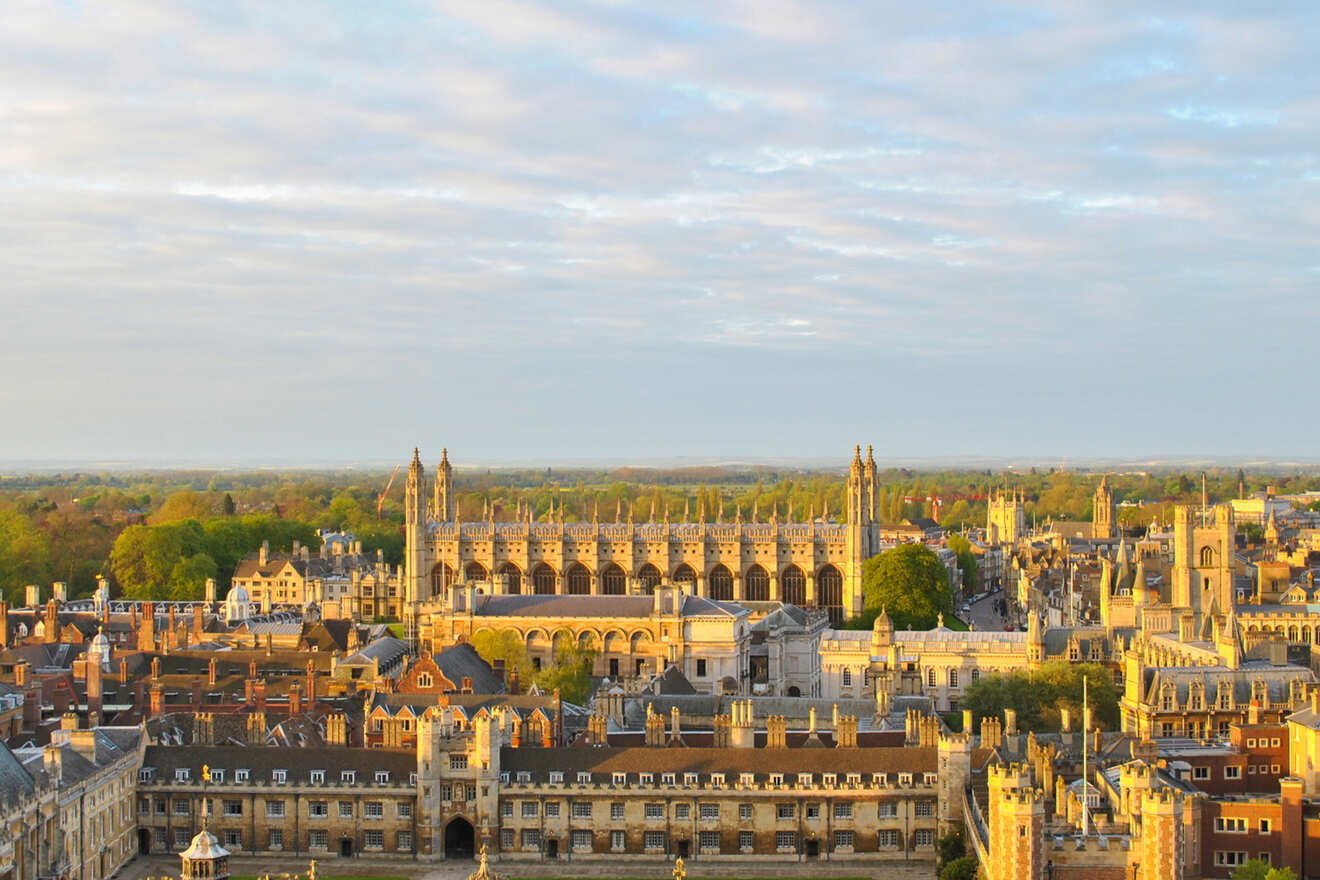 No trip to Cambridge could ever be complete without a visit to one of the 31 colleges in the city! The same can be said about Oxford as well! No stay in Oxford can be finished without checking out its halls!
This iconic university has taught and sent out some of the most brilliant minds like Charles Darwin and Isaac Newton into the world!
Luckily, we get to explore some of these places, admire their grandiose, and learn interesting facts. You can explore these places on your own or take a guided walking tour of the university if you'd like to learn all about these colleges from alumni.
Here are the best colleges that you shouldn't miss out on:
2.1 King's College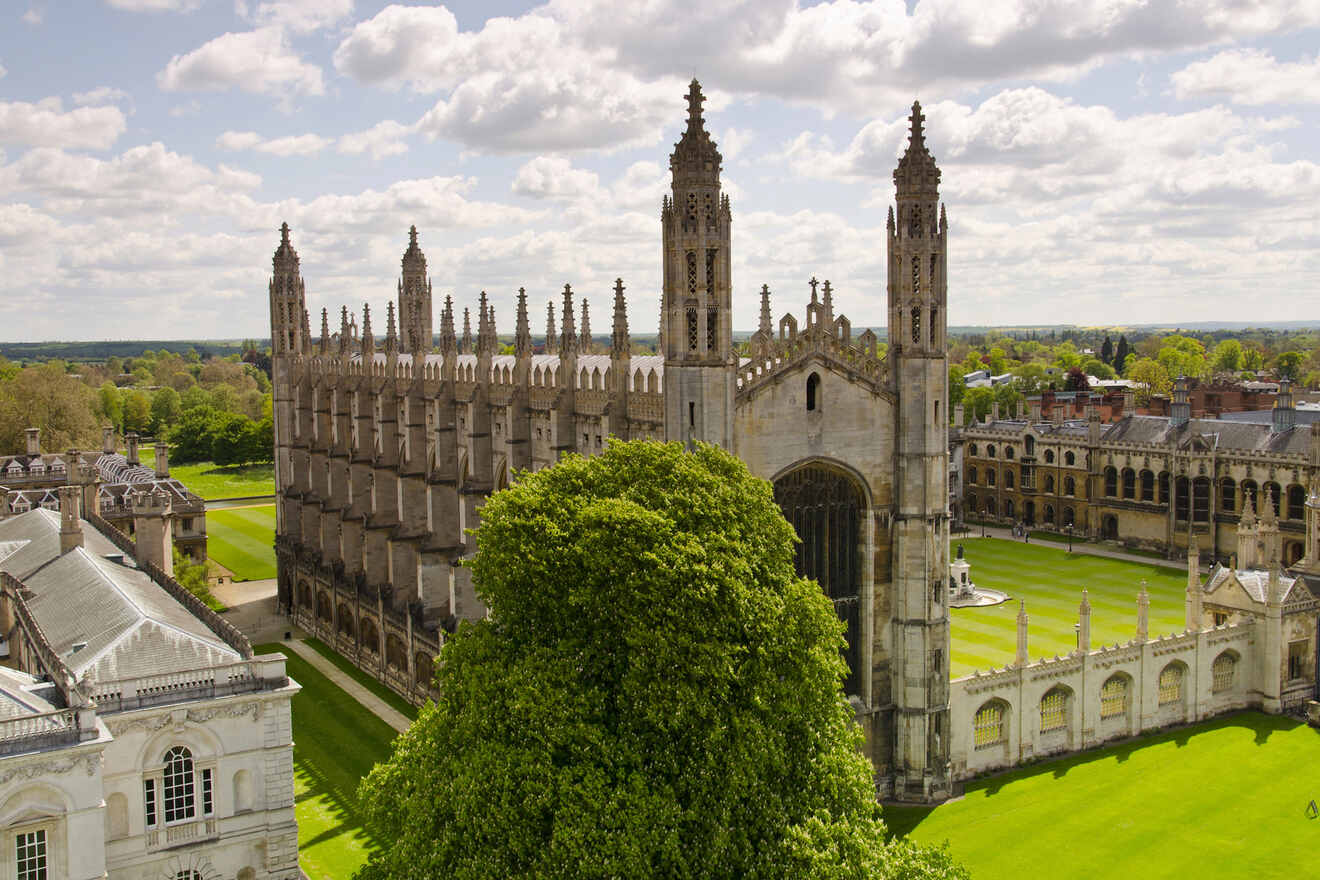 Mostly known for the King's College Chapel, this place should be a the top of your list of things to do in Cambridge!
With an incredible Gothic style, King's College Chapel has the largest fan vault in the world, fabulous stained-glass windows, and the famous rood screen (which is a common feature in the architecture of a late medieval church), which was a gift from Henry VIII to his wife Anne Boleyn.
FUN FACT: During Christmas time the BBC always broadcasts a solo performer singing "Once in Royal David's City" live from Kings College Chapel.
NOTE: You can buy your tickets for King's College Chapel and the grounds from the King's College visitor center but I recommend booking them online on their website in advance to avoid any queues on the day.
PRICE: £10
2.2 Trinity College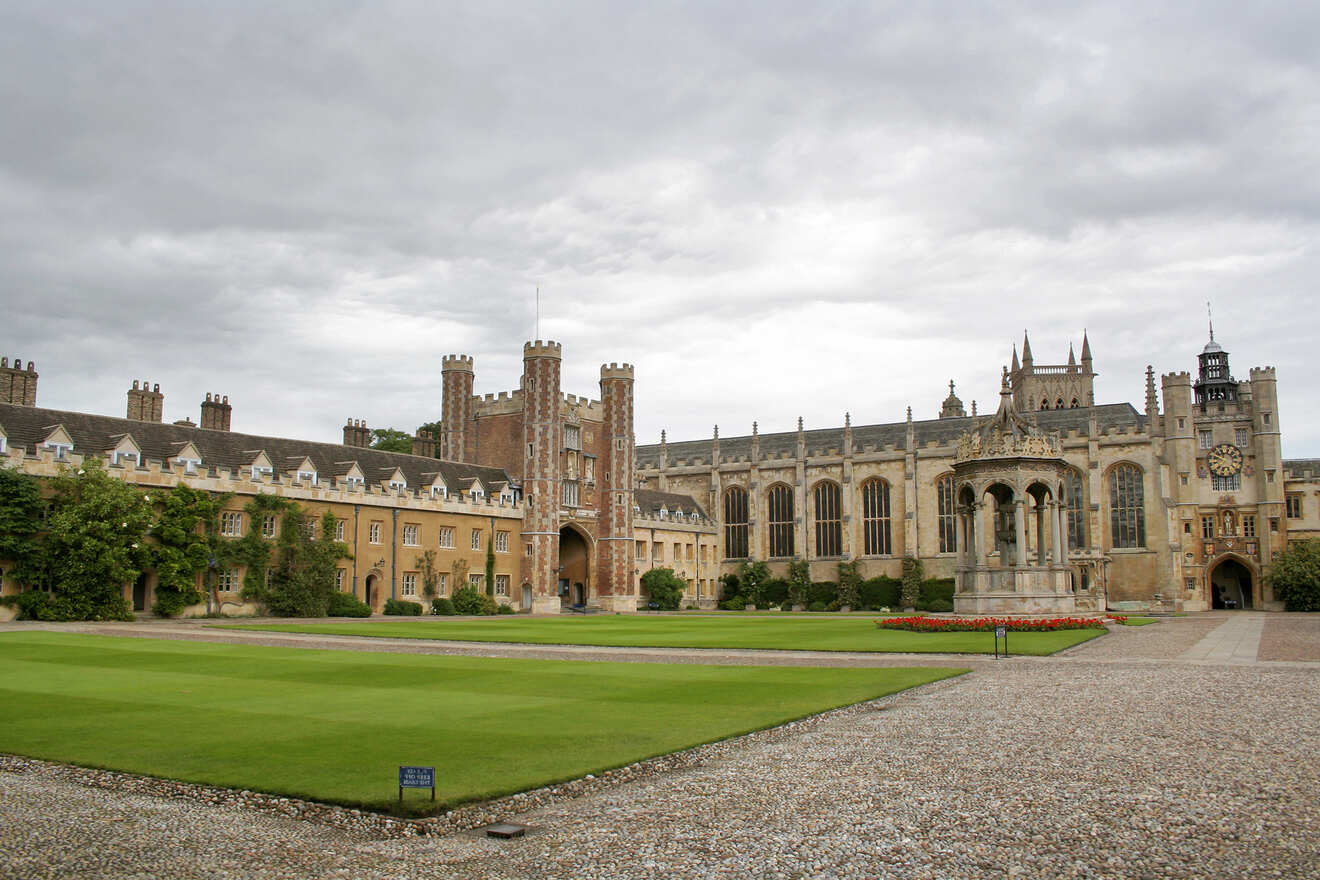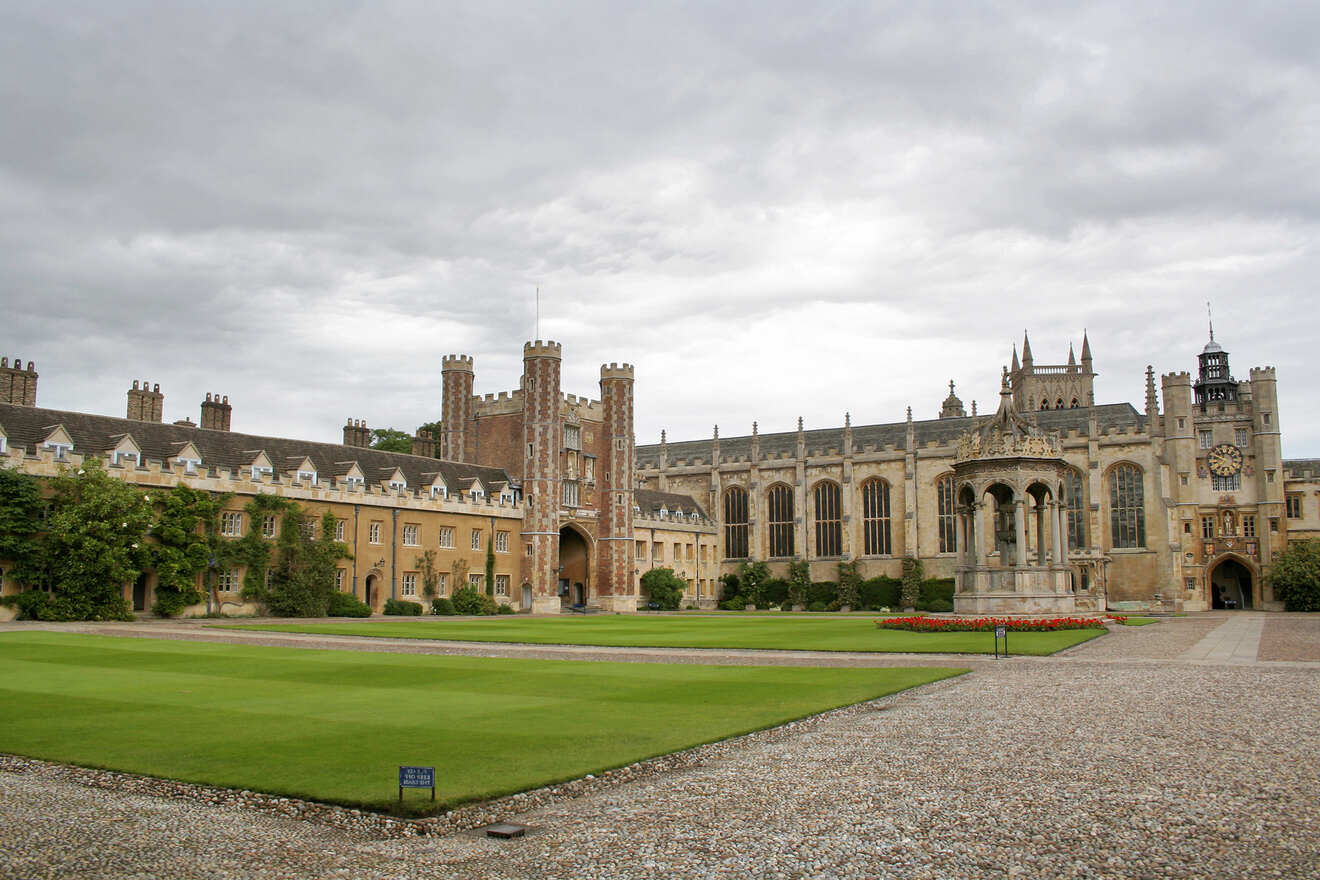 This is one of the largest colleges in Cambridge and the place where you'll also find the beautiful Wren Library.
Founded in 1546, Trinity College had lots of notable alumni such as Isaac Newton and Lord Byron. And has produced more Noble prize winners than any other college in Cambridge or Oxford.
Set nearby St John's College, Trinity College has many sites that you should check out like the Great Court, the Chapel, the Great Gate, and the Wren Library of course.
PRICE: £3 for St John's Great Court & Chapel, Free admission for Wren Library
2.3 Queen's College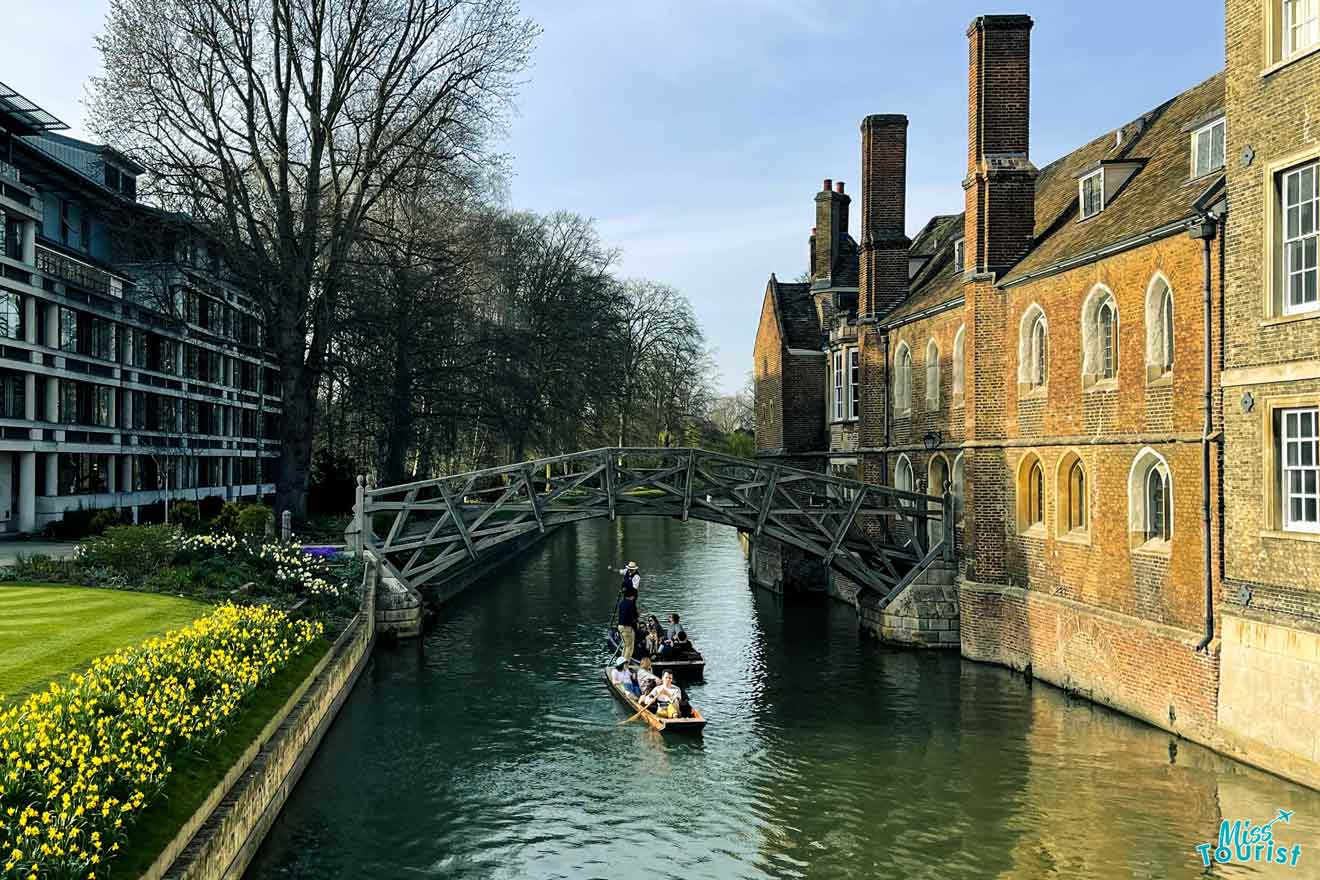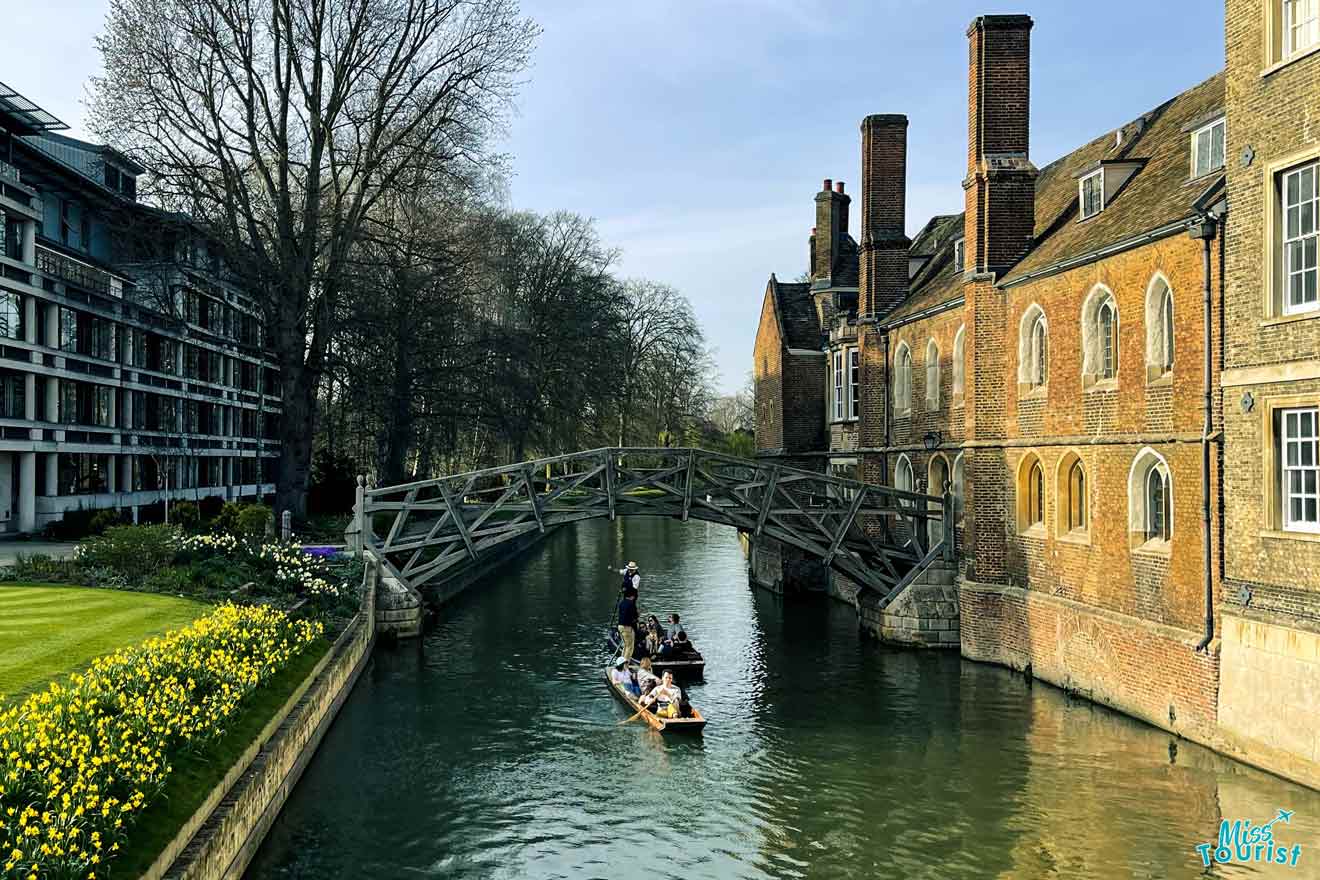 Dating back to the 15th century, Queen's College is one of the University's oldest colleges!
Some of the highlights on the campus are the medieval courtyards, a Tudor-style building, the Chapel, the President's Lodge, and the Mathematical Bridge!
The Mathematical Bridge (also known as the Wooden Bridge) is one of the most famous bridges in Southern England as it was made with no need for nails. Its strength relies on specific equations that ensured its strength, which is why it got this name!
PRICE: £5
2.4 St John's College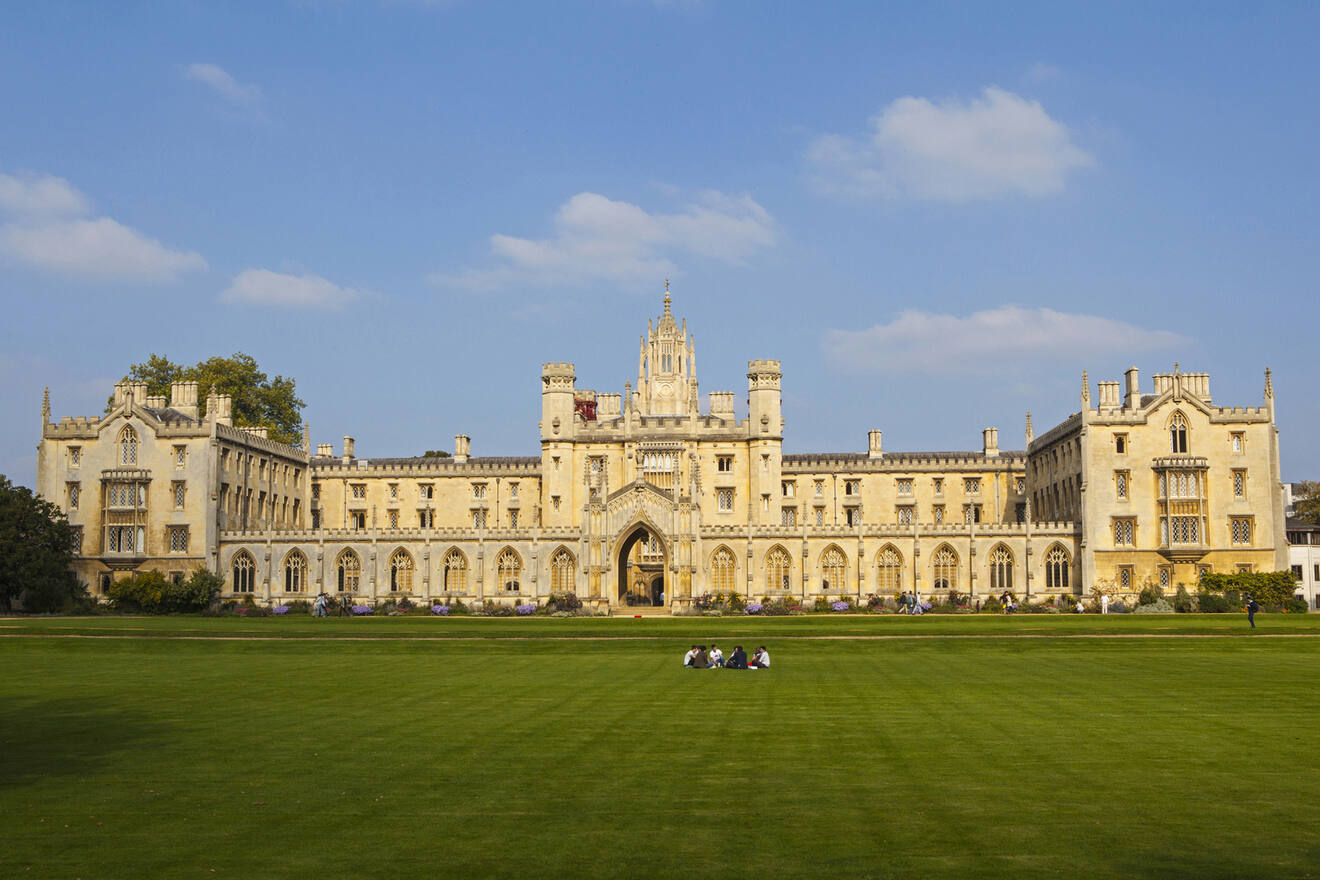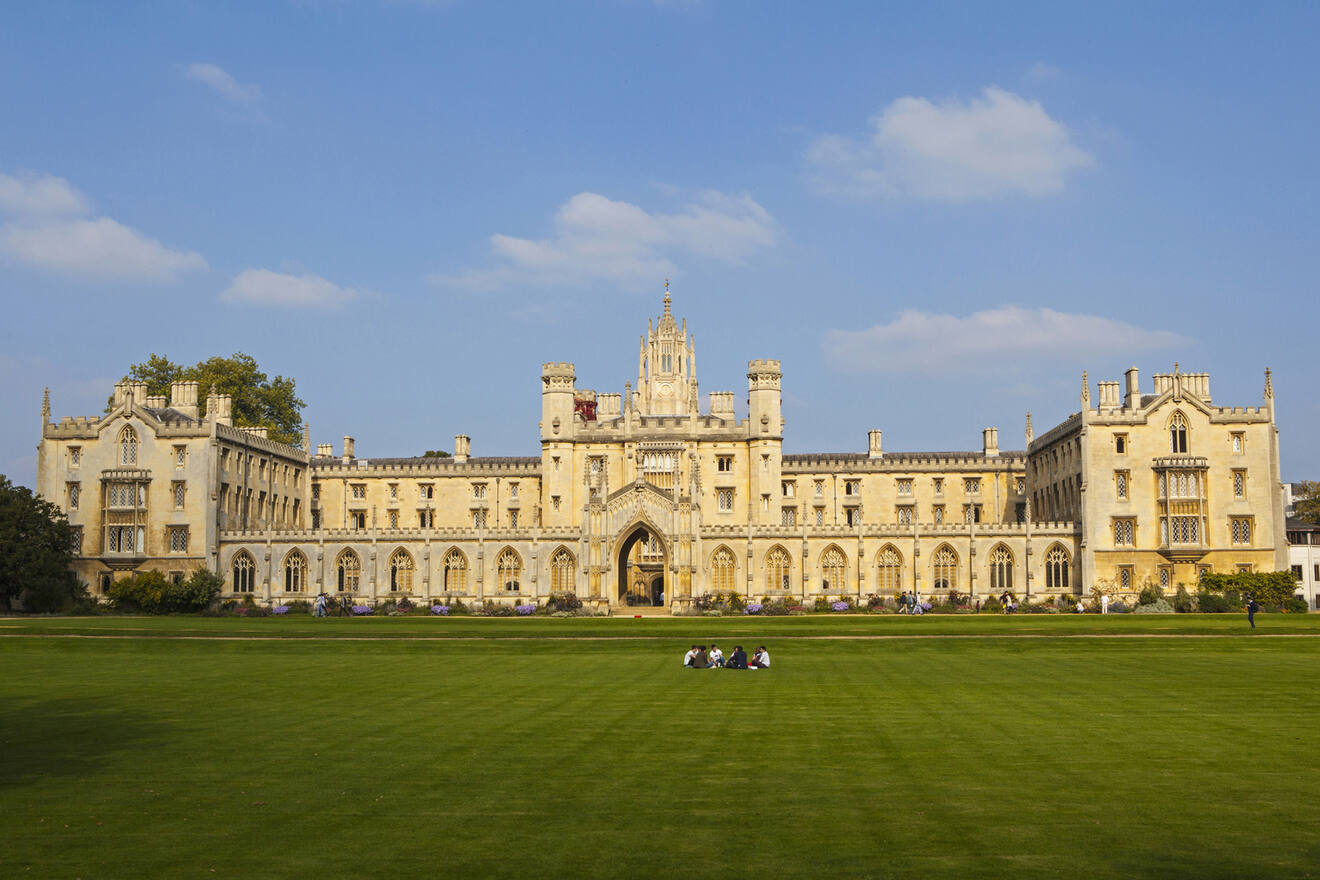 Another unique site in Cambridge!
St. John's College was founded in 1511, and some of its most notable alumni include John Dee and Robert Cecil, the 1st Earl of Salisbury!
Along with its college chapel, this place is simply incredible! Some unique sites that you shouldn't miss while visiting St John's College are the Master's Garden and the Chapel's Court.
PRICE: £10
2.5 Christ's College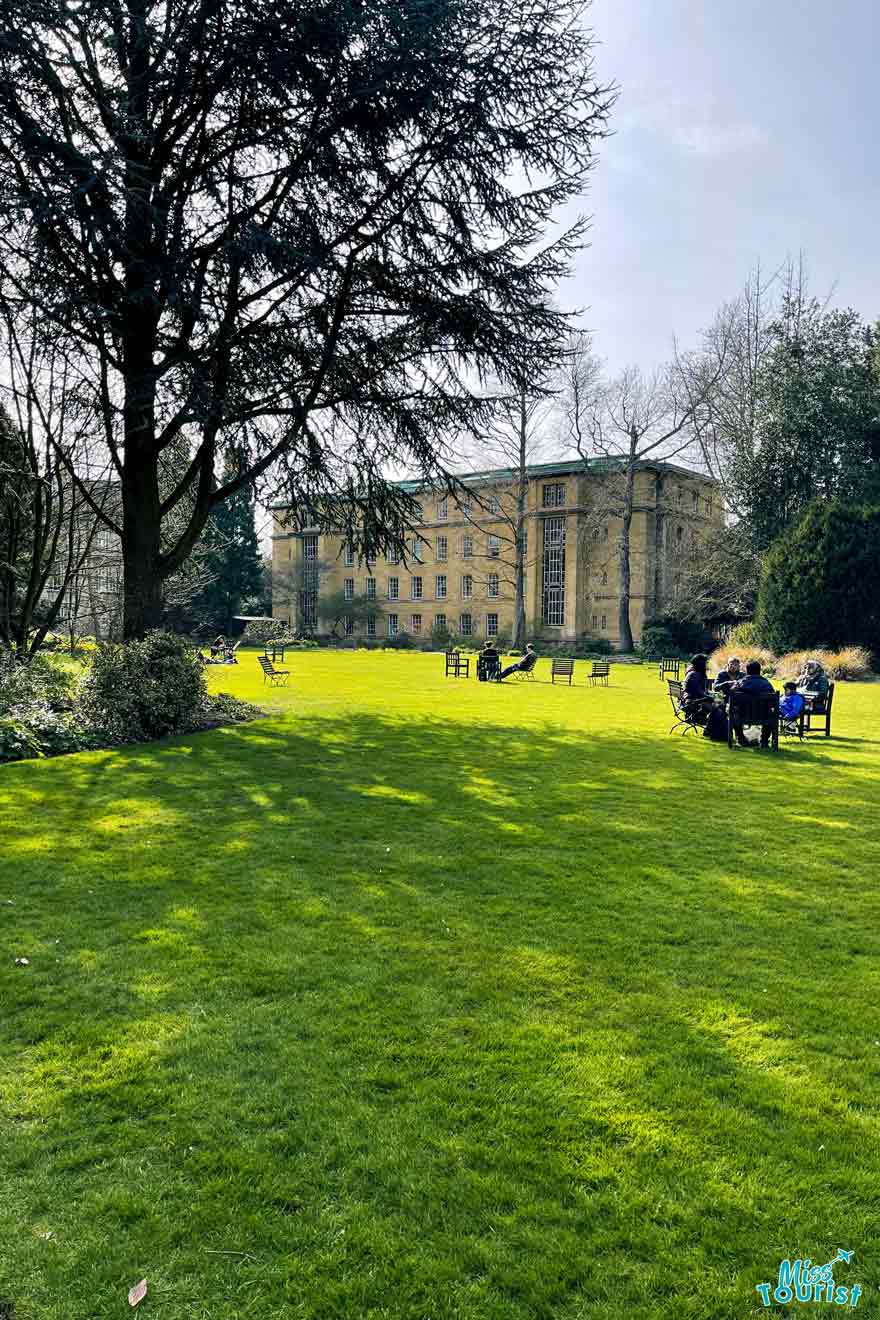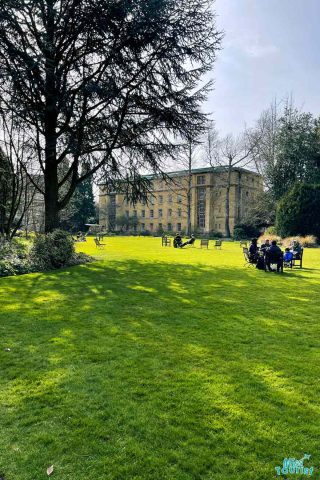 One of my favorite places in the whole city! Honestly, if you get the chance to walk around the grounds of Christ's College, you shouldn't miss the chance!
This is where Charles Darwin and John Milton went, and it has been one of the top-performing colleges in Cambridge!

Open to all visitors, Christ's College has a few spots that you shouldn't miss out like the Great Gate entrance on St. Andrews Street, the First Court with its round lawn, the Old Library, and the Fellow's Garden which is a lovely spot where you can chill on the grass and take lots of pictures.

PRO TIP: If you want to visit the library, check their website and contact them before going there as opening times may differ
PRICE: Free
3. Relax with a walk in the Botanic Garden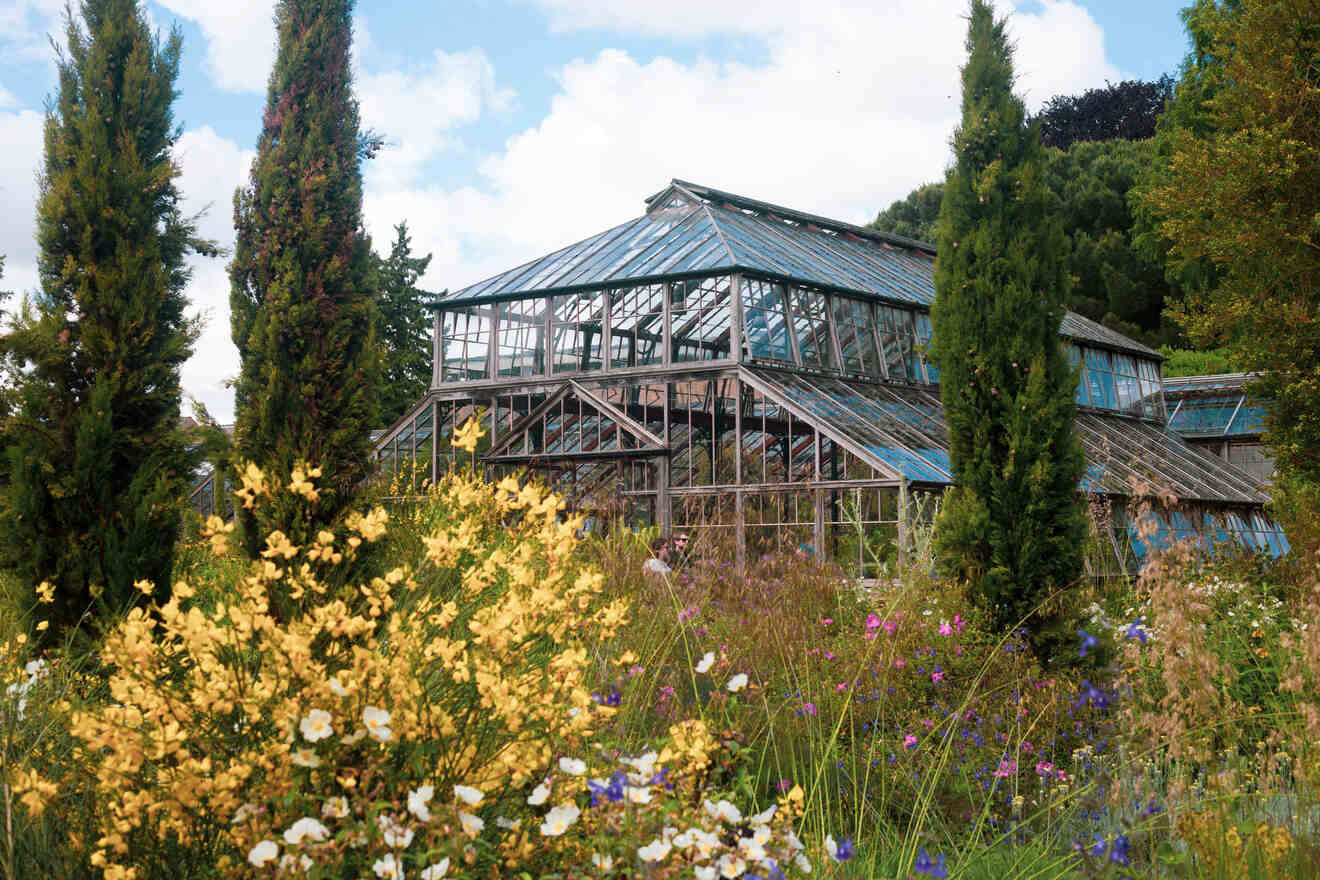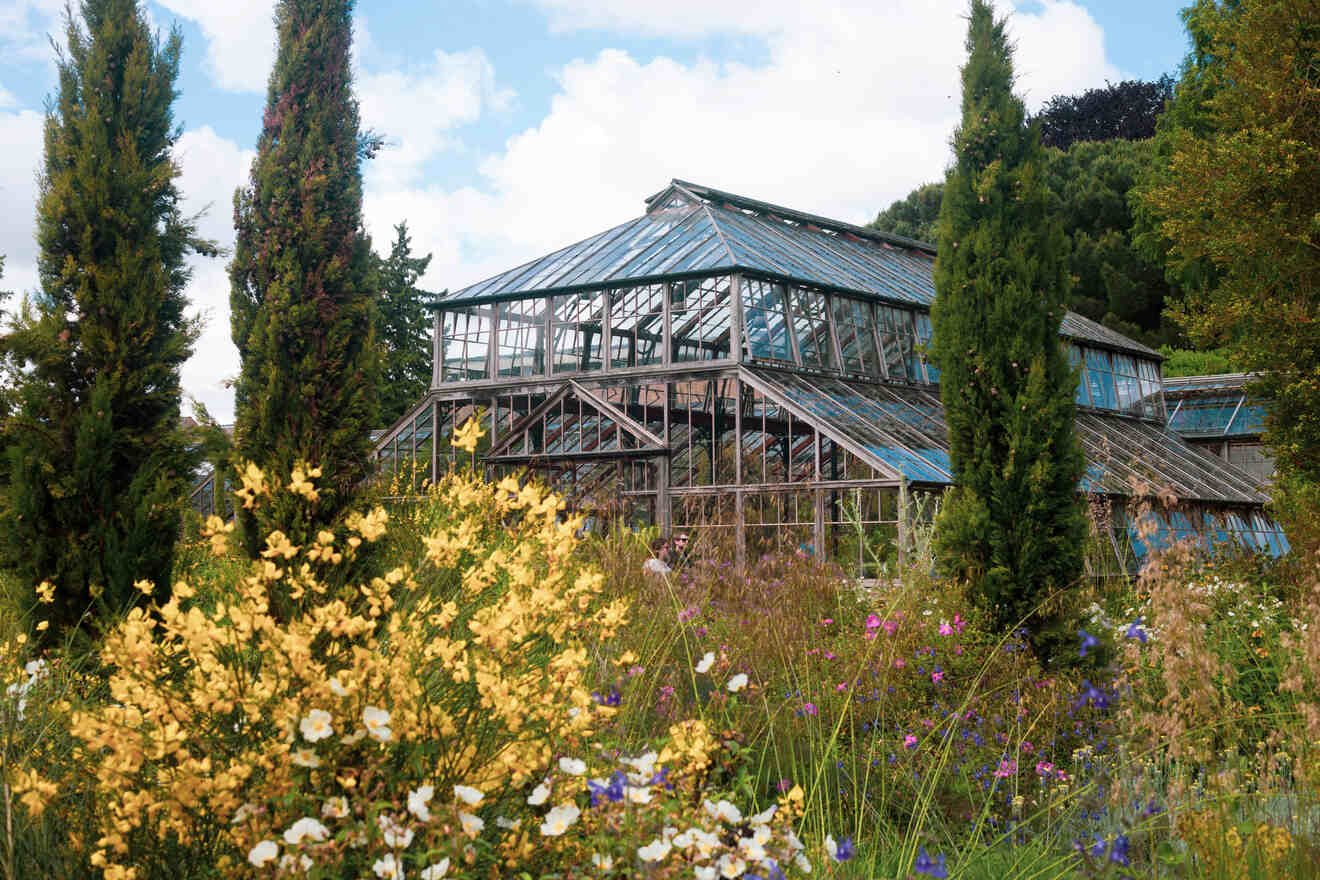 This historic city has a bit of everything!
An interesting past and fantastic architecture, plus it's filled with natural sites!
One of my favorite spots in town is the Cambridge University Botanic Garden, a place near the train station, where you can escape the crowds and enjoy this city's tranquility and beauty.
Like most things in Cambridge, the Botanical Gardens are pretty old, and they were opened to the public in 1846.
Nowadays you can find many types of plants and trees from Britain in these beautiful gardens as well as from other parts of the world, a few glasshouses that look so pretty, and a fountain.
NOTE: The Botanic Garden is pretty big so it might take you a while to explore the whole grounds, but if you've got time there's no need to hurry, you can even grab a snack and relax for a while.
PRICE: £7.50
4. See the unique displays at the Fitzwilliam Museum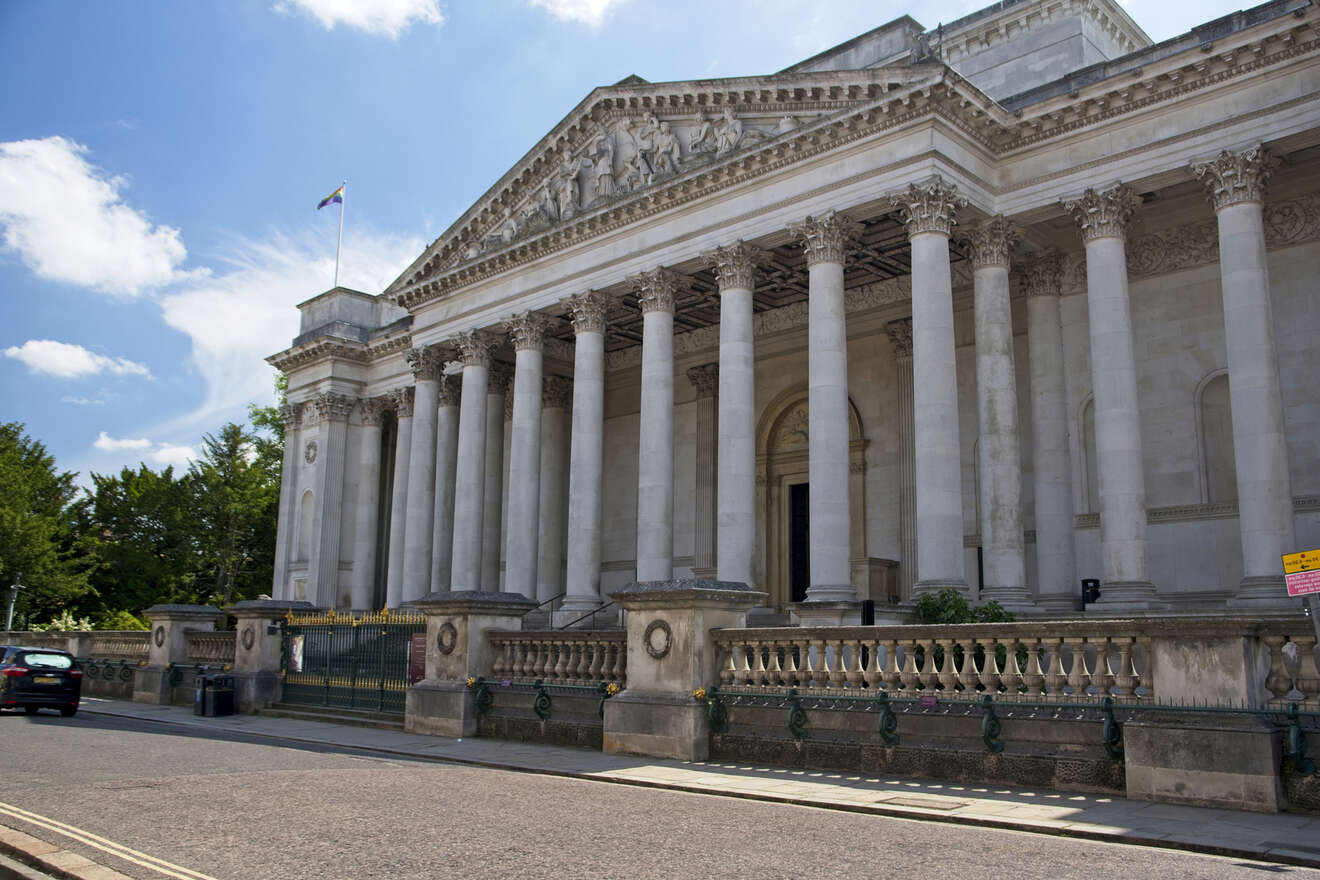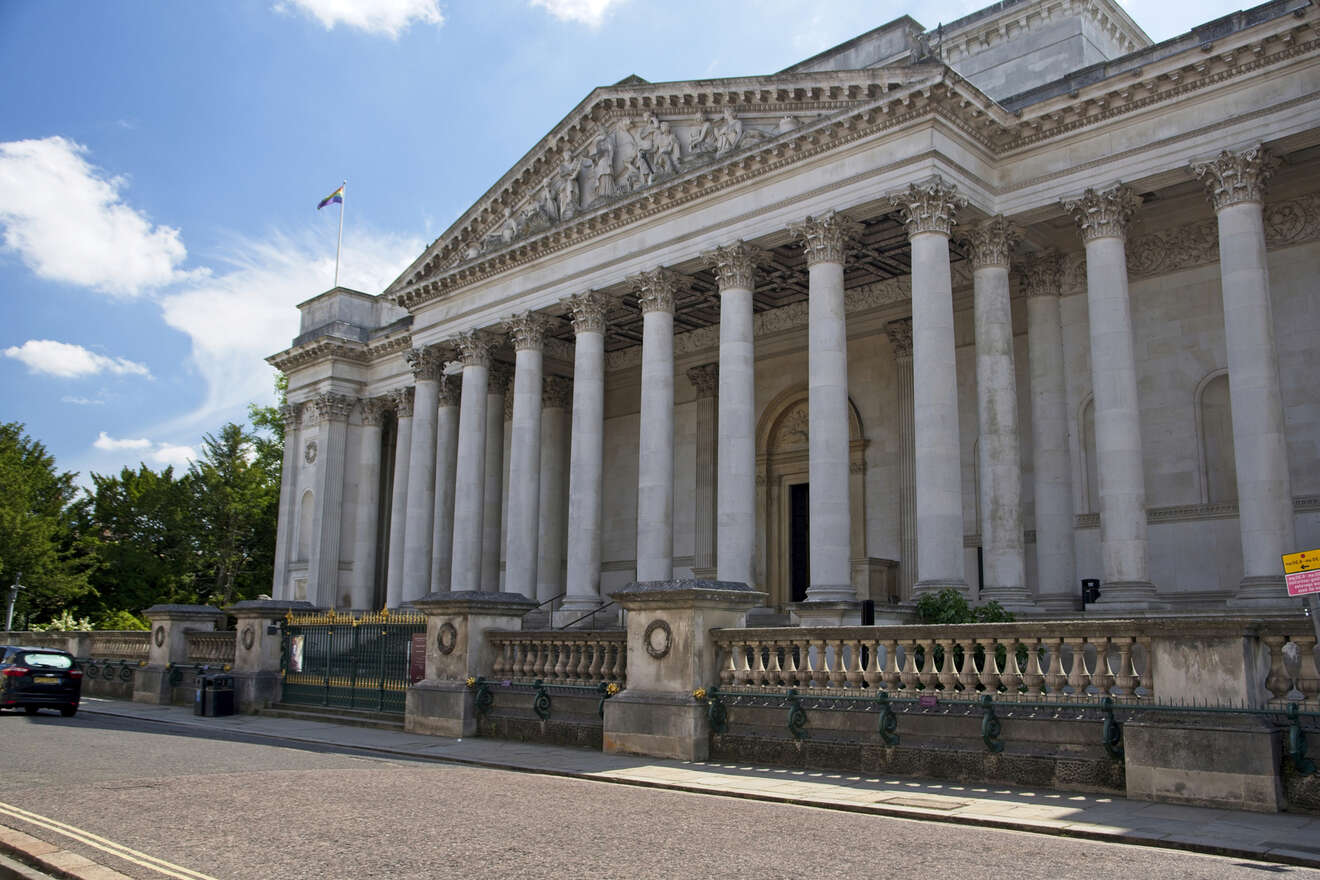 Located on Trumpington Street, the Fitzwilliam Museum hosts some unique collections of artifacts, paintings, musical manuscripts, Egyptian, Greek, and Roman antiquities, plus many other works of art from Asia.
Once you get in, take a moment to admire the entrance hall which was designed by Edward Middleton Barry. The architecture is simply stunning and each sculpture is so unique!
NOTE: The Fitzwilliam Museum is closed on Mondays
PRICE: Free
5. Catch a show at ADC theatre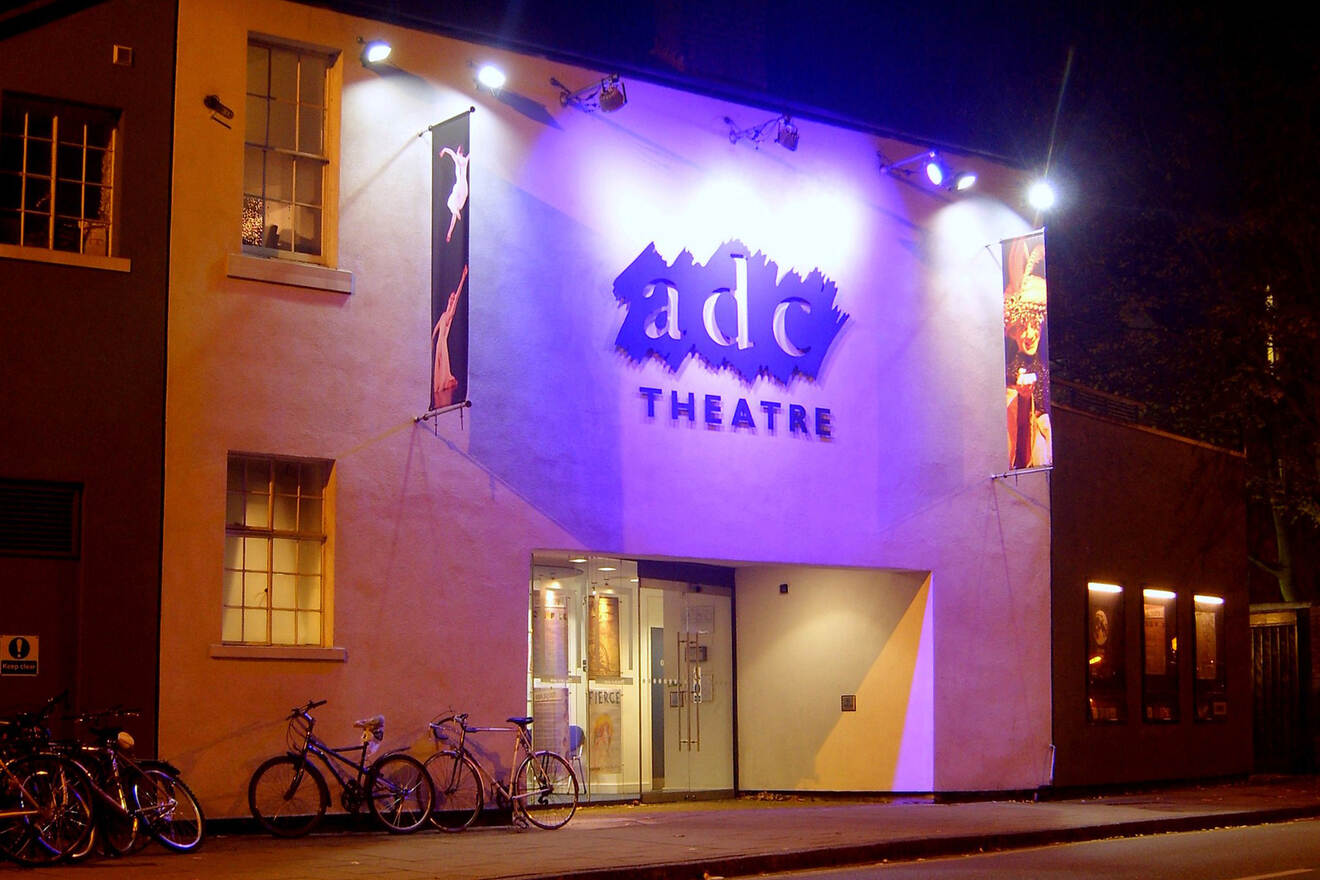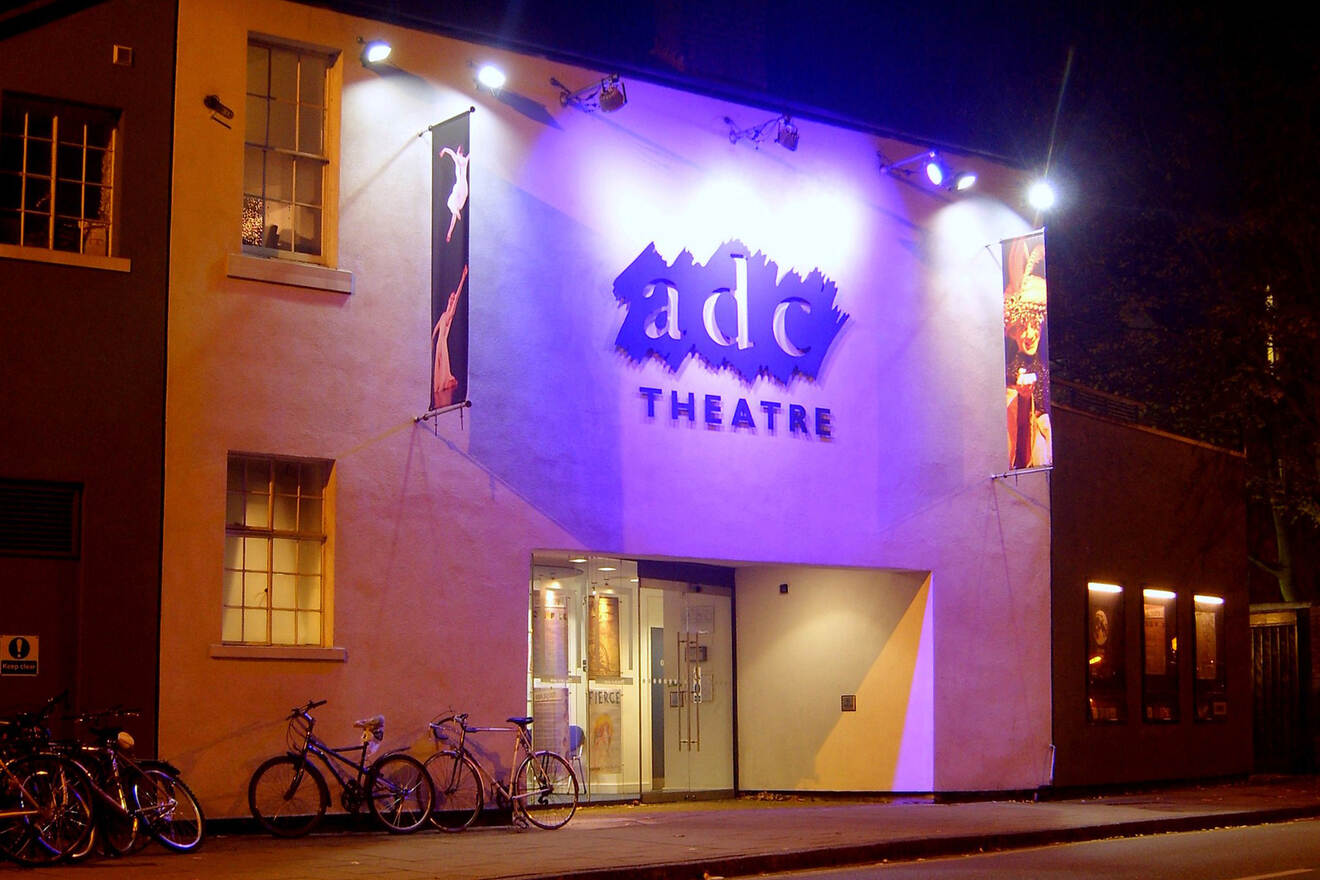 Have some free time to spare while you're in town? Then head over to the ADC Theatre and watch a show there!
ADC Theatre is a department of the University of Cambridge and the oldest university playhouse in the country.
Famous actors like Sir Ian McKellen and actresses like Rachel Weisz and Emma Thompson tried their luck here before becoming the super celebrities we know today!
NOTE: The theatre usually runs 2 shows a night during term time from Tuesday to Saturday starting at 7:45 pm and 11:00 pm. You can book your tickets online on their website.
PRICE: From £11
6. Shop for unique souvenirs at Market Square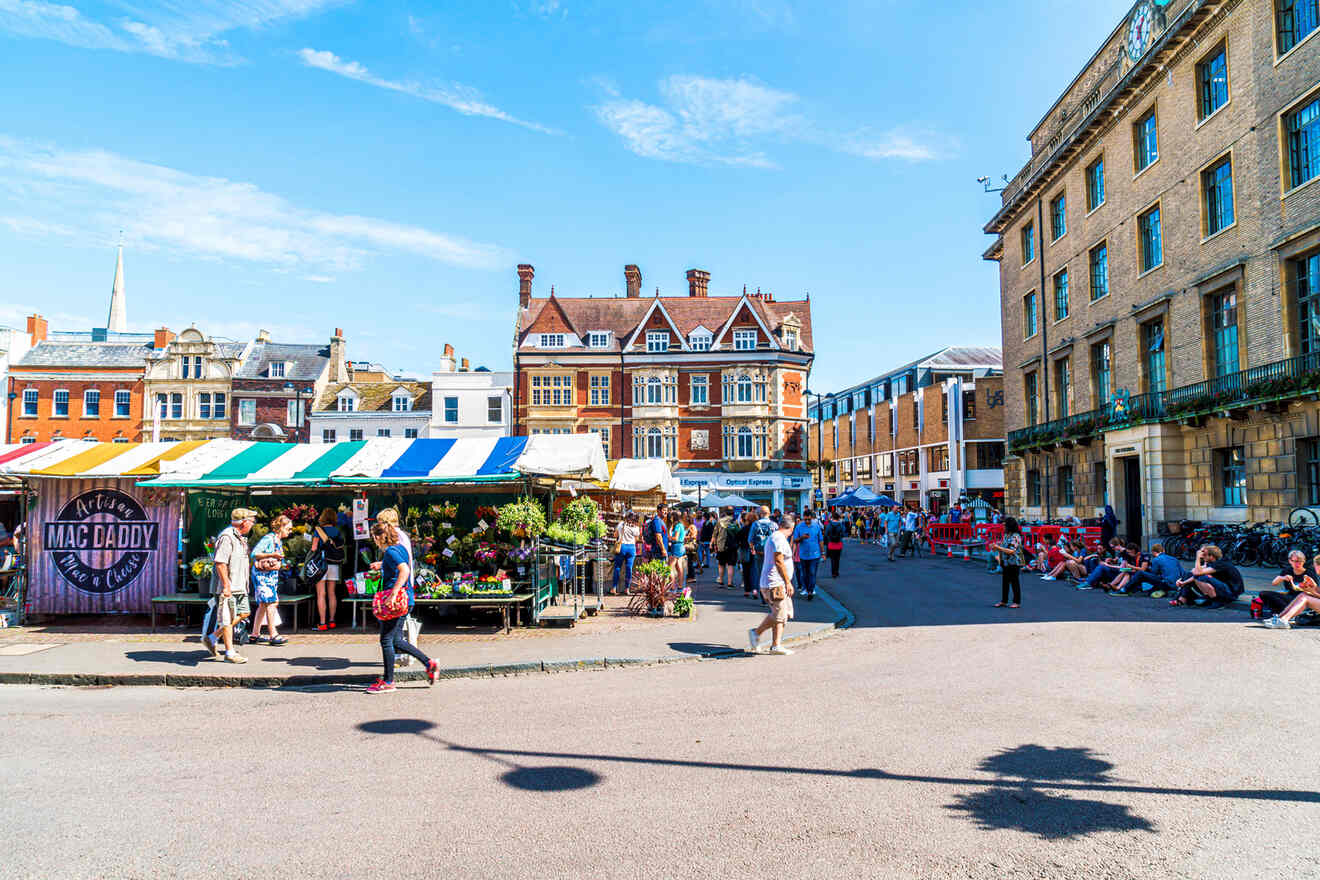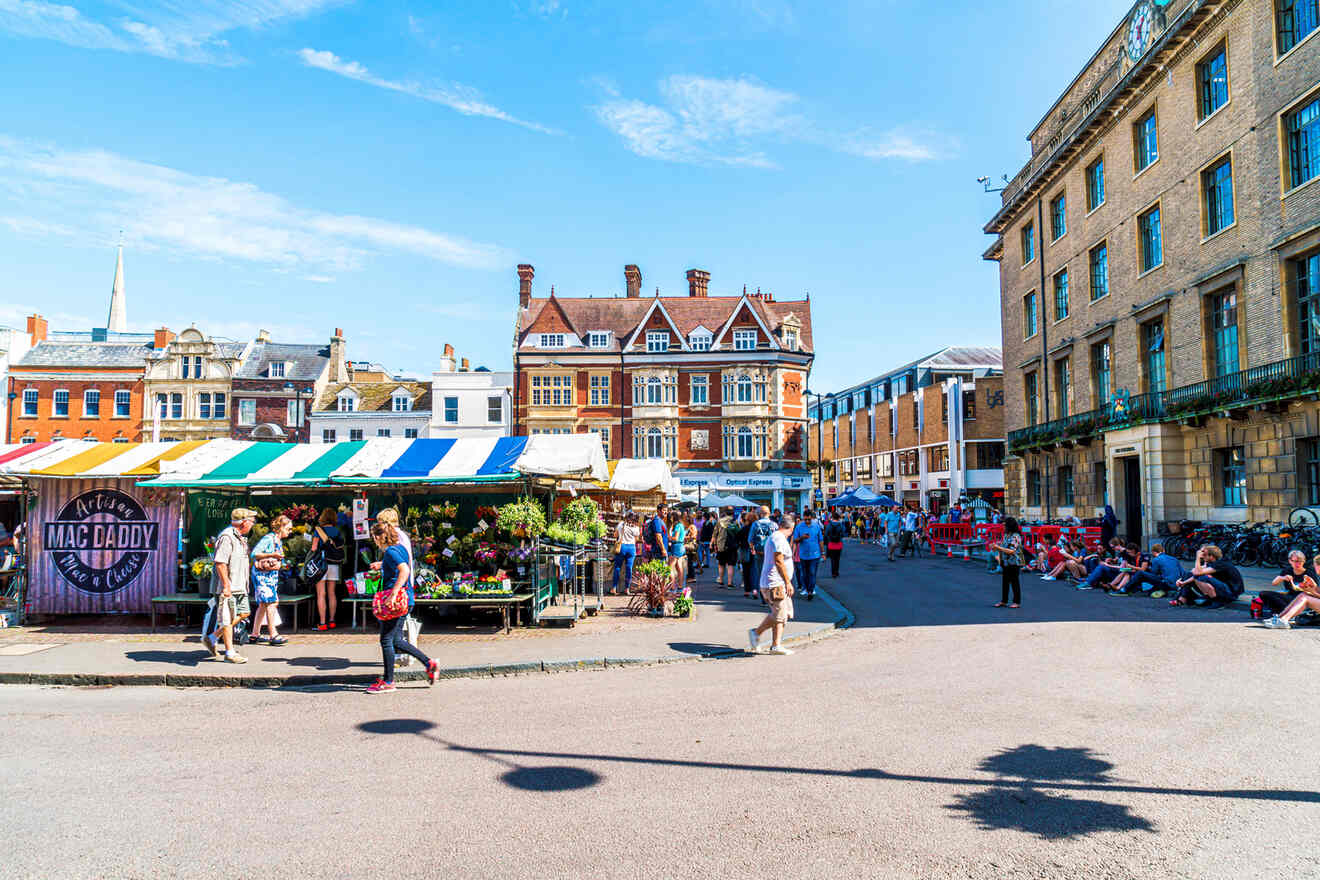 Cambridge has lots of quaint boutique shops, from where you can get the prettiest souvenirs (and so unique)!
Head over to Market Square, right near St Mary's Church to shop for old books, jewelry, and all sorts of different vintage items at the Cambridge Market!
Dating back to the Middle Ages, this outdoor market is my favorite shopping spot in the city as it has such cool stuff plus the books are amazing!
You can also grab something to eat as there are many stalls in the market square that also serve food.
Alternatively, if you're looking for some high street shops, then I recommend heading over to the Grand Arcade Shopping Mall on St Andrew Street. The Grand Arcade is pretty big and has everything from food to clothes!
7. Check out the Centre for Computing History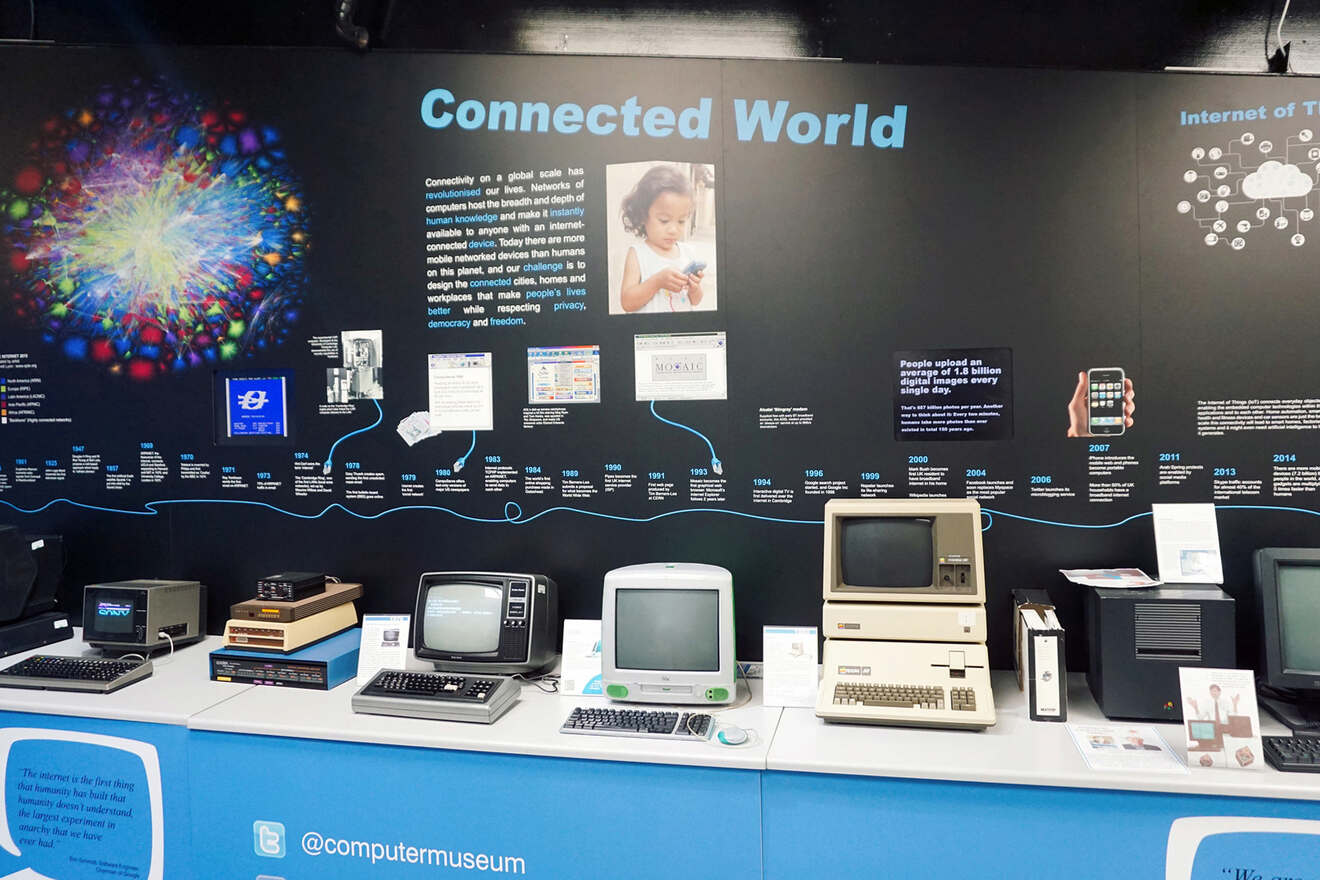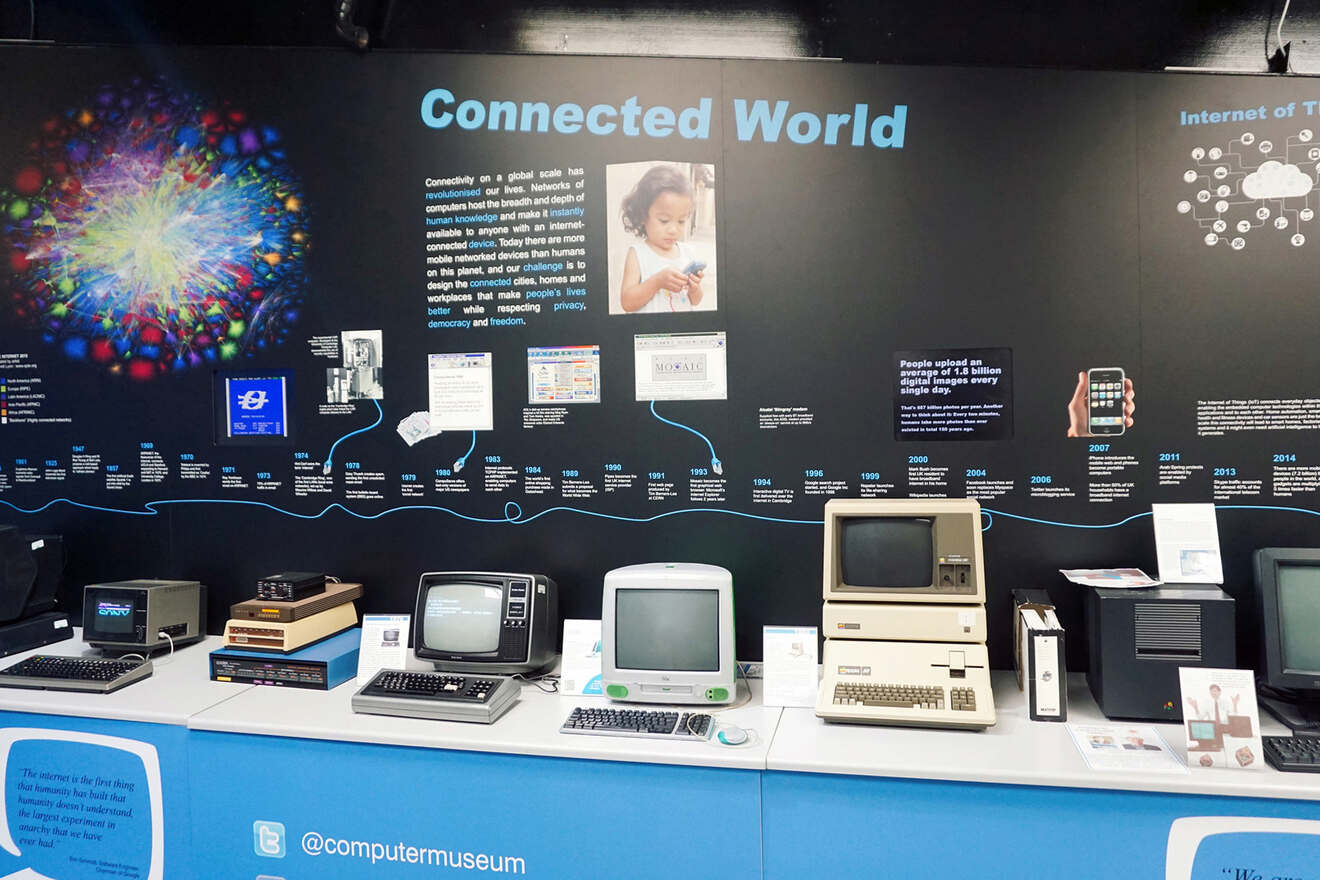 Old computers, game consoles, lots of books, and many other cool things can be discovered at the Centre for Computing History!
I know many people find this topic fascinating and finally you've got a place to visit!
Charles Babbage is considered by many the father of computers and he studied Mathematics at Cambridge. Therefore such a place was bound to exist in the city! The museum has a collection of over 24,000 items from old computers to mobiles, books, and other interesting tech things!
PRICE: £10
8. Try to guess the time at the Corpus Clock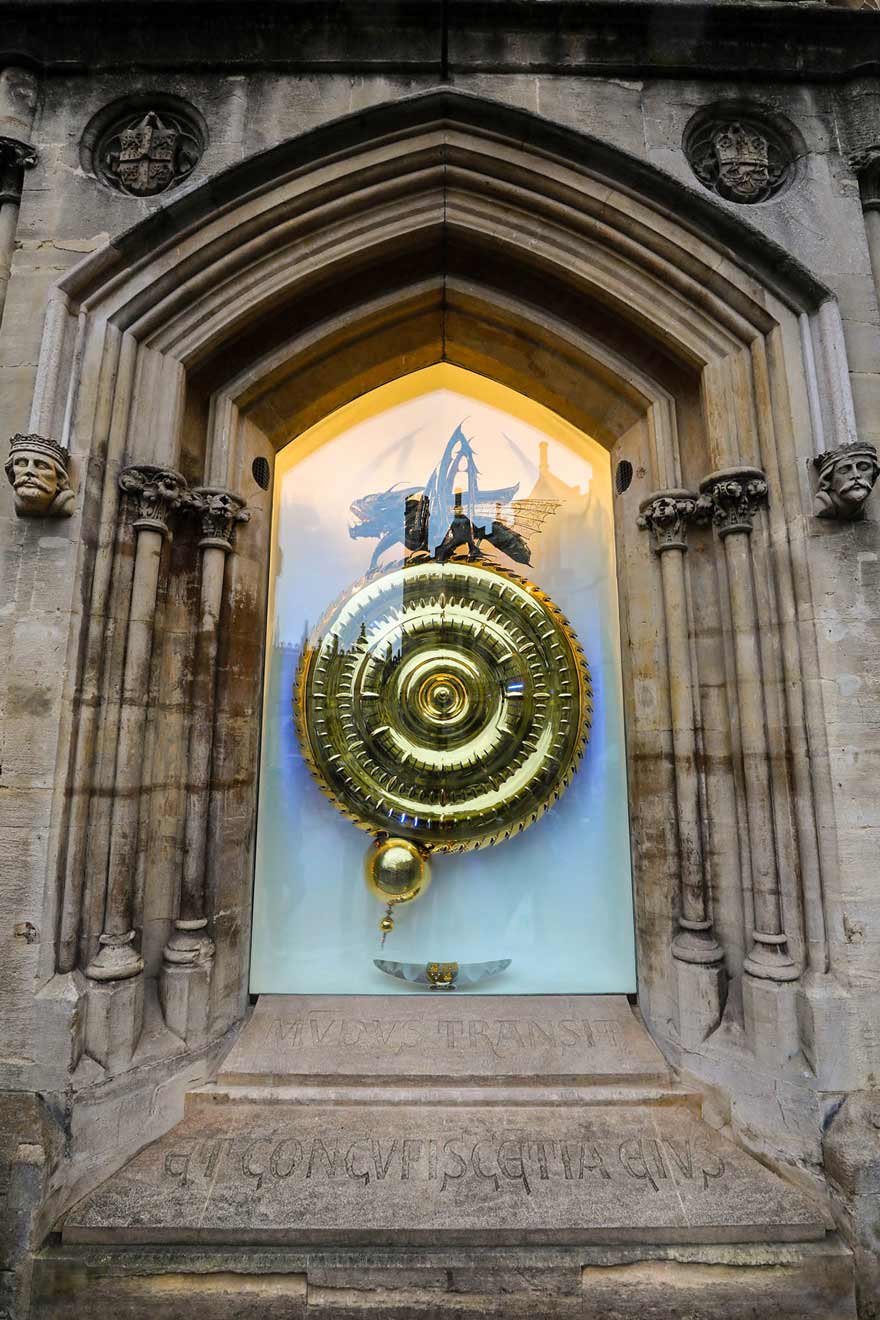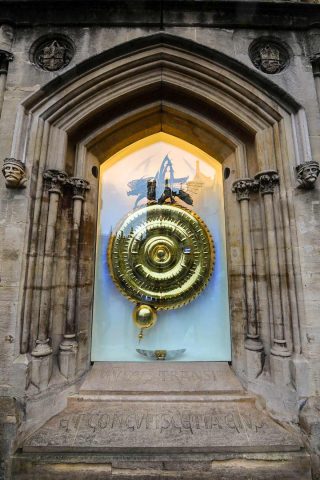 This beautiful invention overlooking King's Parade will catch your sight even if you don't want it to!

Set near Corpus Christi College and King's College, between the junction of Bene't Street and Trumpington Street, Corpus Clock is a gold-plated clock!
Offered as a gift to Corpus Christi College by Dr. John C Taylor, an old fellow of the university, the concept behind Corpus Clock is basically a reminder that time is always passing by as we move towards the end of our life.
Although the clock is accurate, it might be a bit hard to tell what the time actually is as it moves differently than a normal clock. Check out this video if you want to see how it works, it's pretty neat!
You can visit the Corpus Clock, which is on the front side of the Taylor Library for free all year round!
9. Climb up the tower at Great St Mary's University Church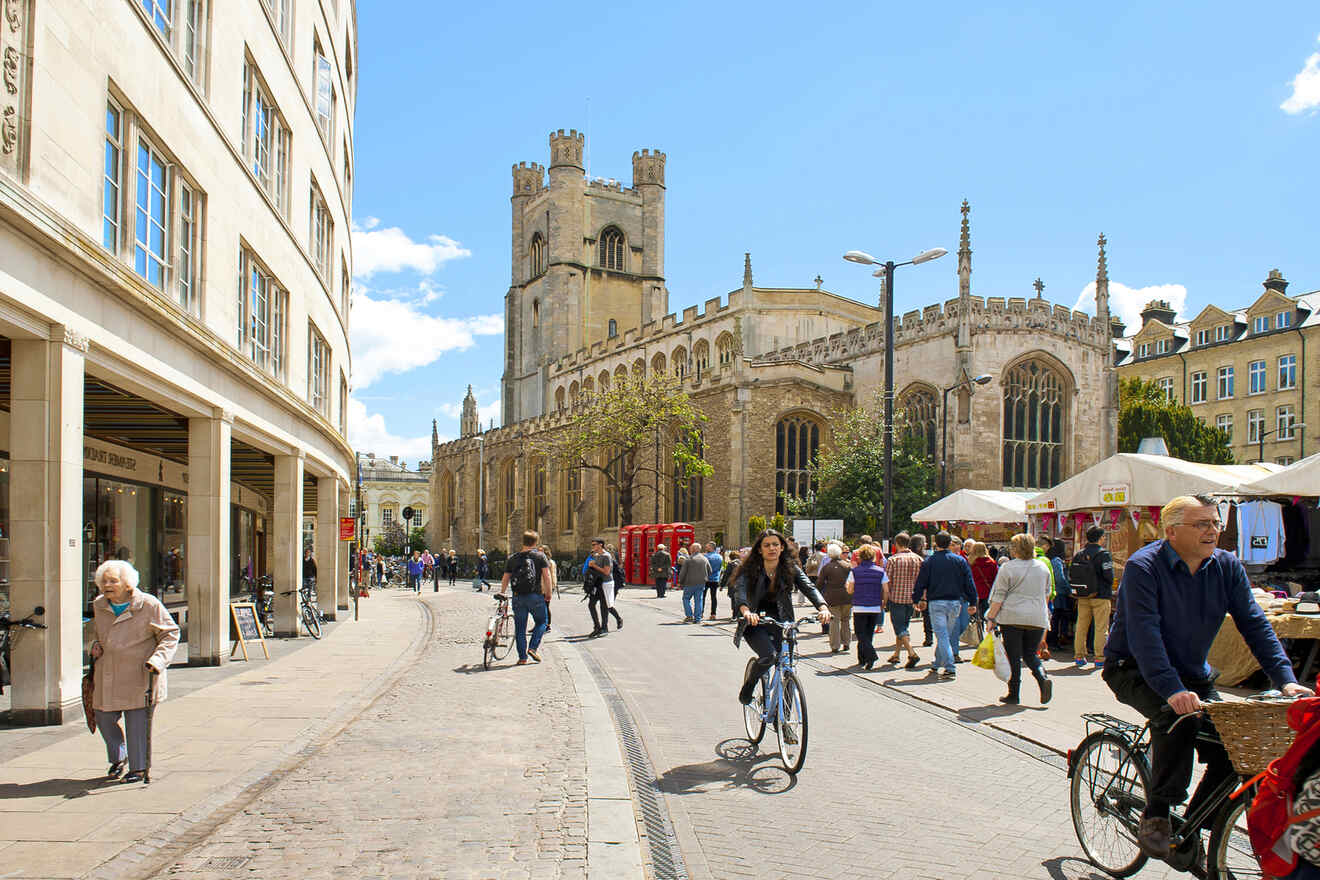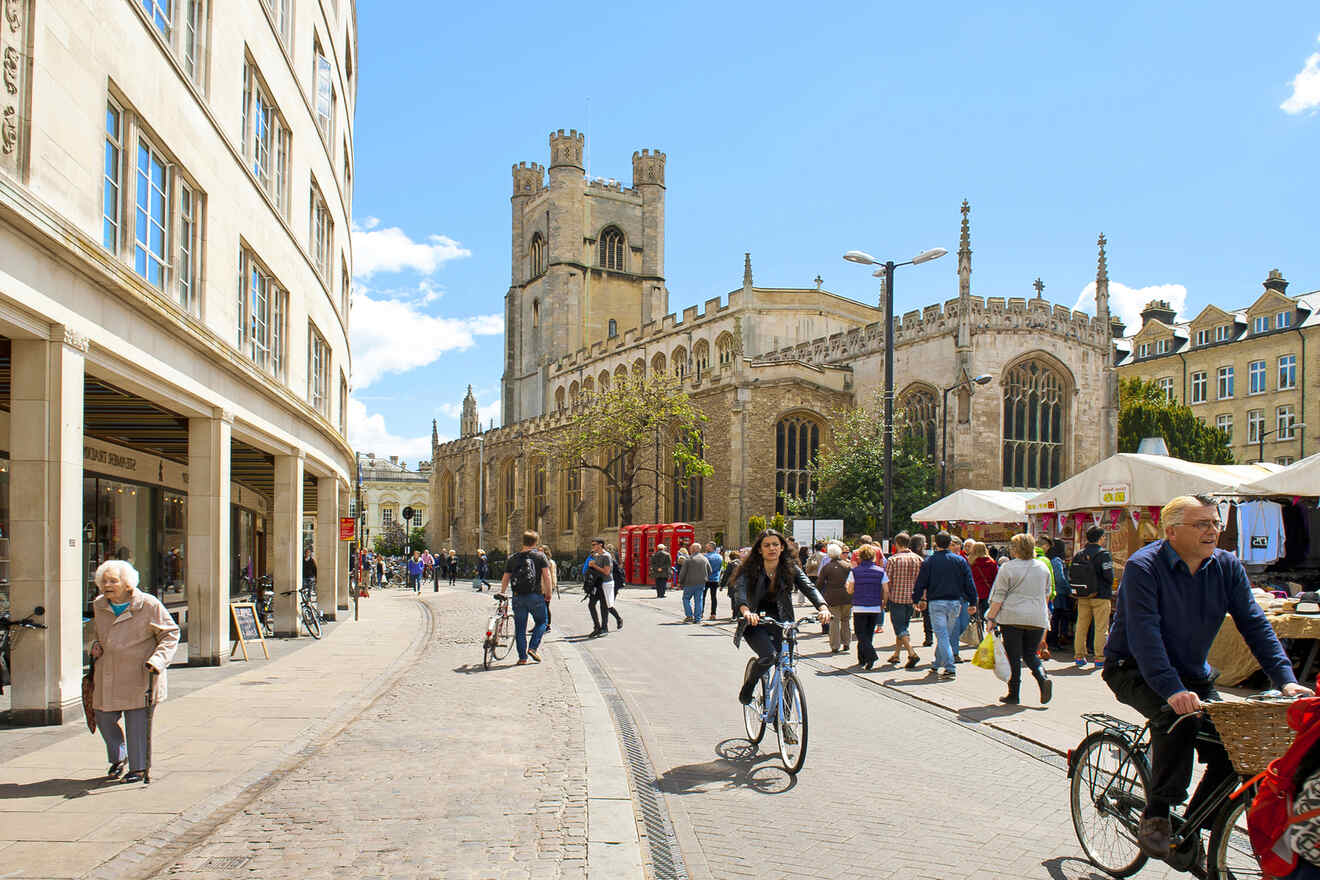 Want to get the best panoramic view of Cambridge?
Then I recommend visiting Great St Mary's University Church, a beautiful piece of architecture set near Kings College, between the narrow cobbled streets!
Great St Mary's Church is pretty important as it's the official church of the University of Cambridge. Here you'll find the University Organ and University Clock!
That's why I recommend spending some time admiring its interior before you start climbing. You'll have to climb 123 stairs to reach the top!
NOTE: Just like the Duomo in Florence, the staircase is medieval. Therefore it's super narrow. I don't recommend climbing up if you're claustrophobic or if you can't breathe in super narrow spots.
If you don't have any issues then definitely head up, the panoramic views over the city are breathtaking!
You can buy the tickets from the gift shop in the Church.
PRICE: £6 for the Tower, no entrance fee for the Church
10. Admire the art at Kettle's Yard Museum
This is such an interesting place as it is set in the former home of Jim Ede, a collector of art, and his wife, Helen Ede.
The 4 cottages (their former home) were merged and now they make one property filled with contemporary art!
Back in the day when they actually lived here, they used to hold house tours for Cambridge students, and after they left town, they handed the property and the collections to the University, which has been running the museums since then.
NOTE: Although there is free entry, the museum still has a ticketing system to track visitor numbers. I highly recommend booking those tickets in advance on their website as the time slots do book out.
PRICE: Free
11. Enjoy a pub lunch at Eagle Pub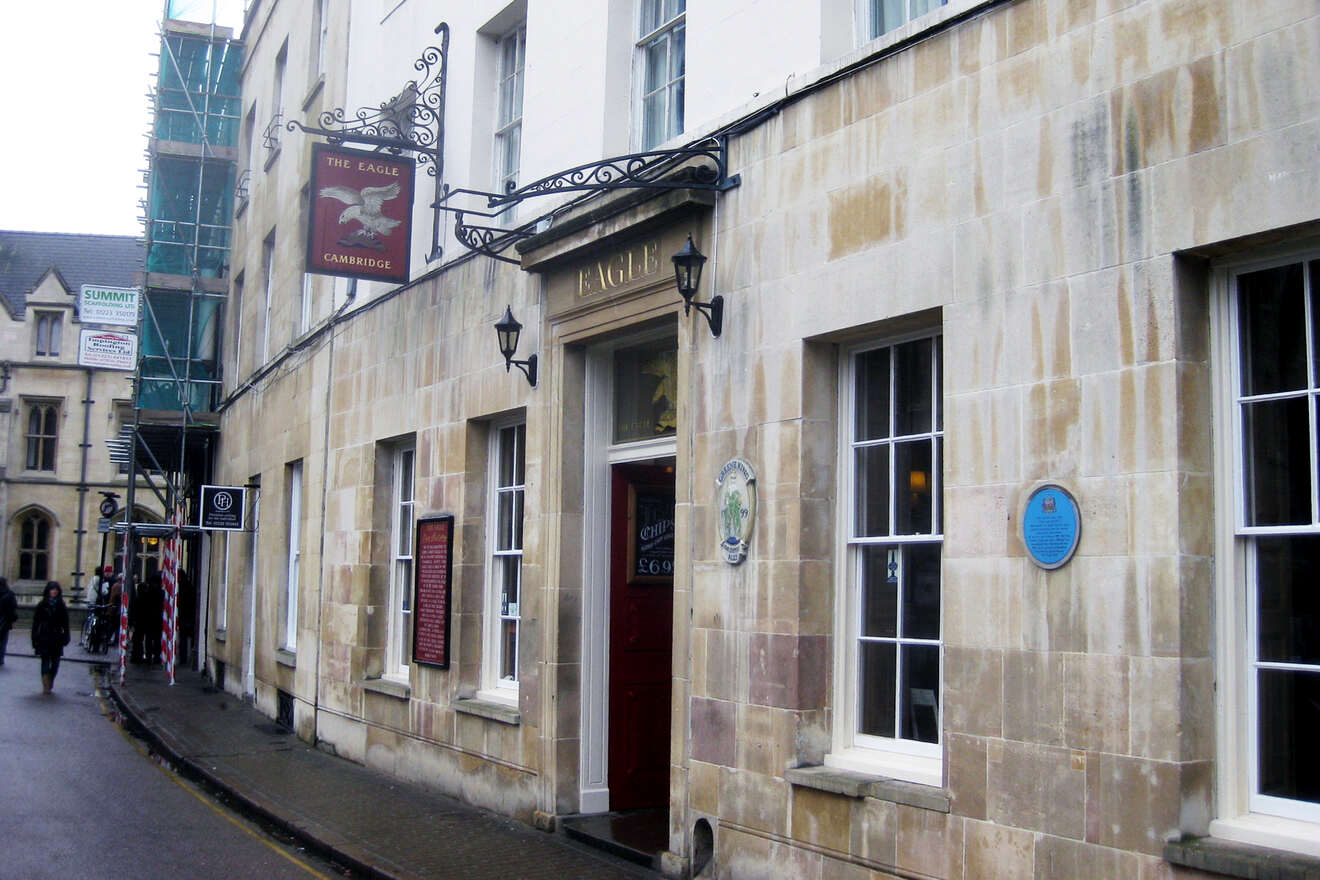 After visiting so many historic sites, and trying all these fun things to do in Cambridge, you must be famished and super thirsty (but for something a bit stronger than tea)!
Well, there's nothing like a pub lunch and a beer or 2 especially after an afternoon punting tour!
Eagle Pub is one of the most popular spots in Cambridge and one of the oldest pubs in the city as well. The famous duo Watson and Crick, who was working at the University of Cambridge's Cavendish Laboratory, announced their findings on the structure and function of the DNA at Eagle Pub!
But this is just one of the sea of Cambridge pubs. If you head down to Mill Road, you'll find even more amazing restaurants and bars where you can enjoy the famous Chelsea bun and a few drinks to celebrate your time here!
12. Travel to the Antarctic at the Polar Museum
Ever heard fascinating stories about the Arctic and Antarctic and wondered what life is like there?
Now you can learn all about explorations in these places at the Polar Museum, which is part of the Scott Polar Research Institute!
The museum exhibits different collections with objects from places like Alaska and Siberia alongside exciting pieces of art that are super fascinating, some even belong to the indigenous people of northern Canada, Greenland, and Alaska!
PRICE: Free
13. Explore the 12th century Round Church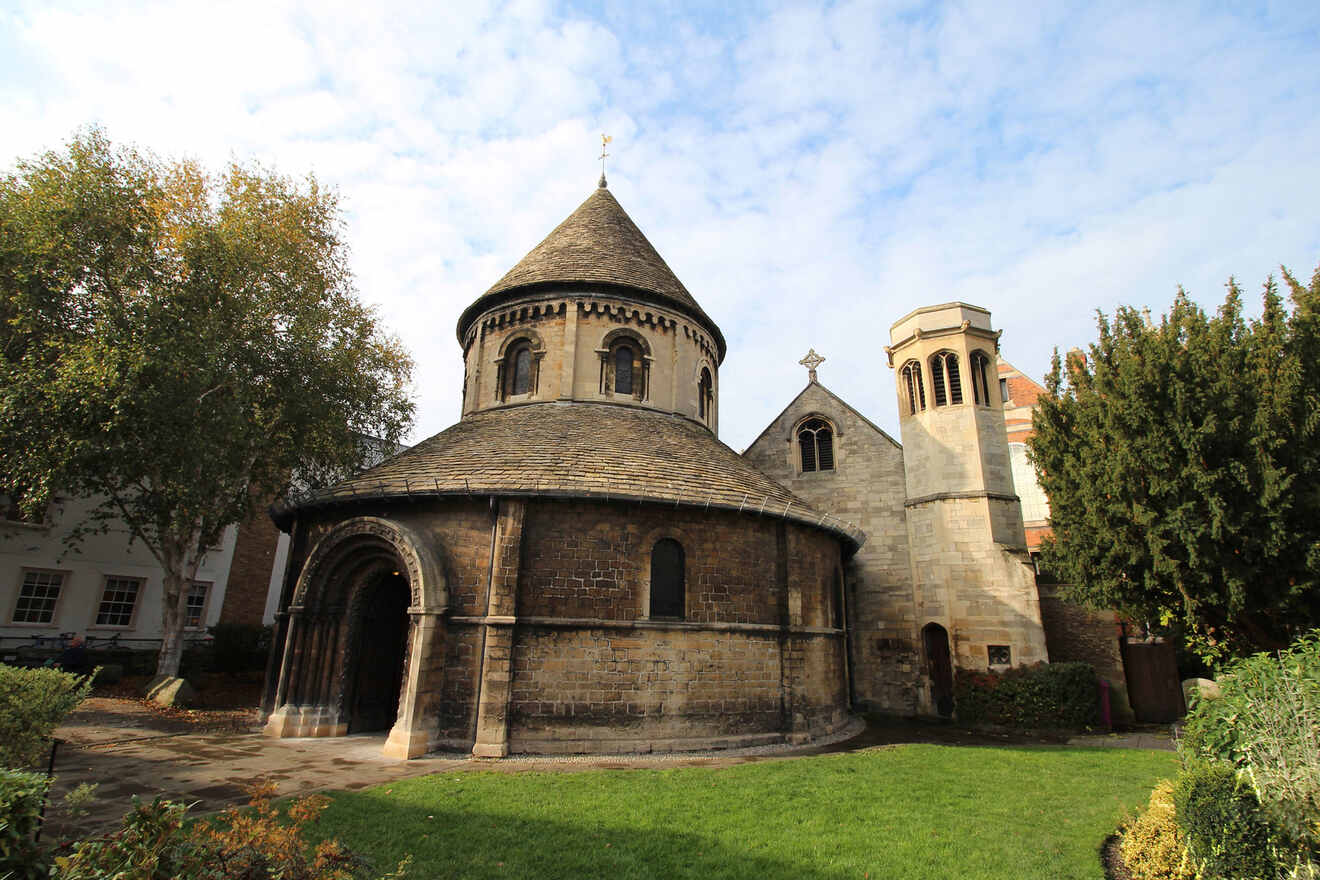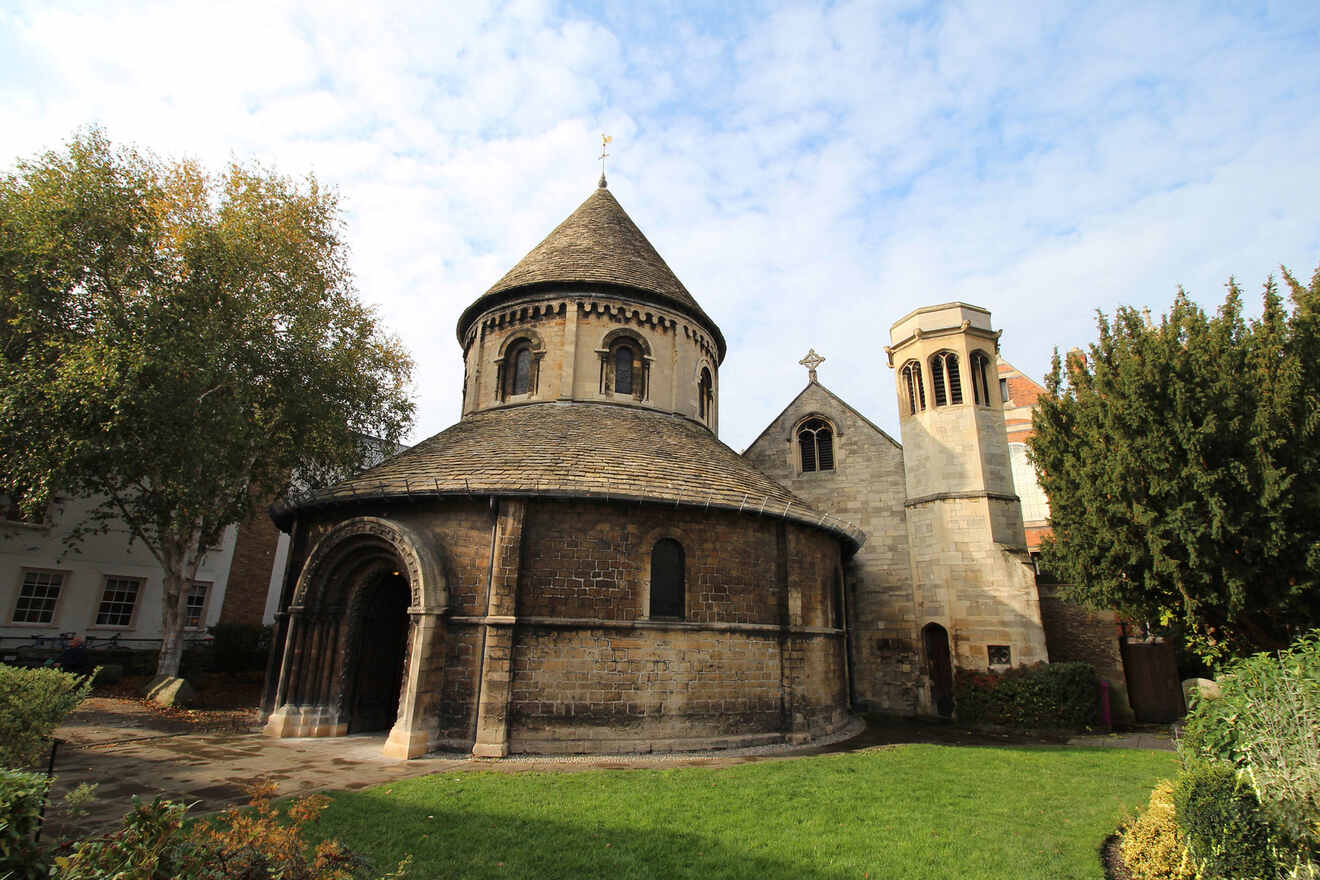 If you haven't had enough of super old historical attractions (Cambridge has that effect on people) then I think a trip to the Round Church will satisfy your quest for old places!
The Church of the Holy Sepulchre is located in Central Cambridge on Round Church Street, and it's one of only 4 medieval round churches in the UK that are still in use.
Inspired by the Church of the Holy Sepulchre in Jerusalem, the Round Church was built by crusaders in the 12 century!
Nowadays you can go there and just admire its beauty, but make sure to go inside as there is more to see including an exhibition and a short film about the city!
PRICE: £3.50
14. Enjoy a scenic sunset from Castle Mound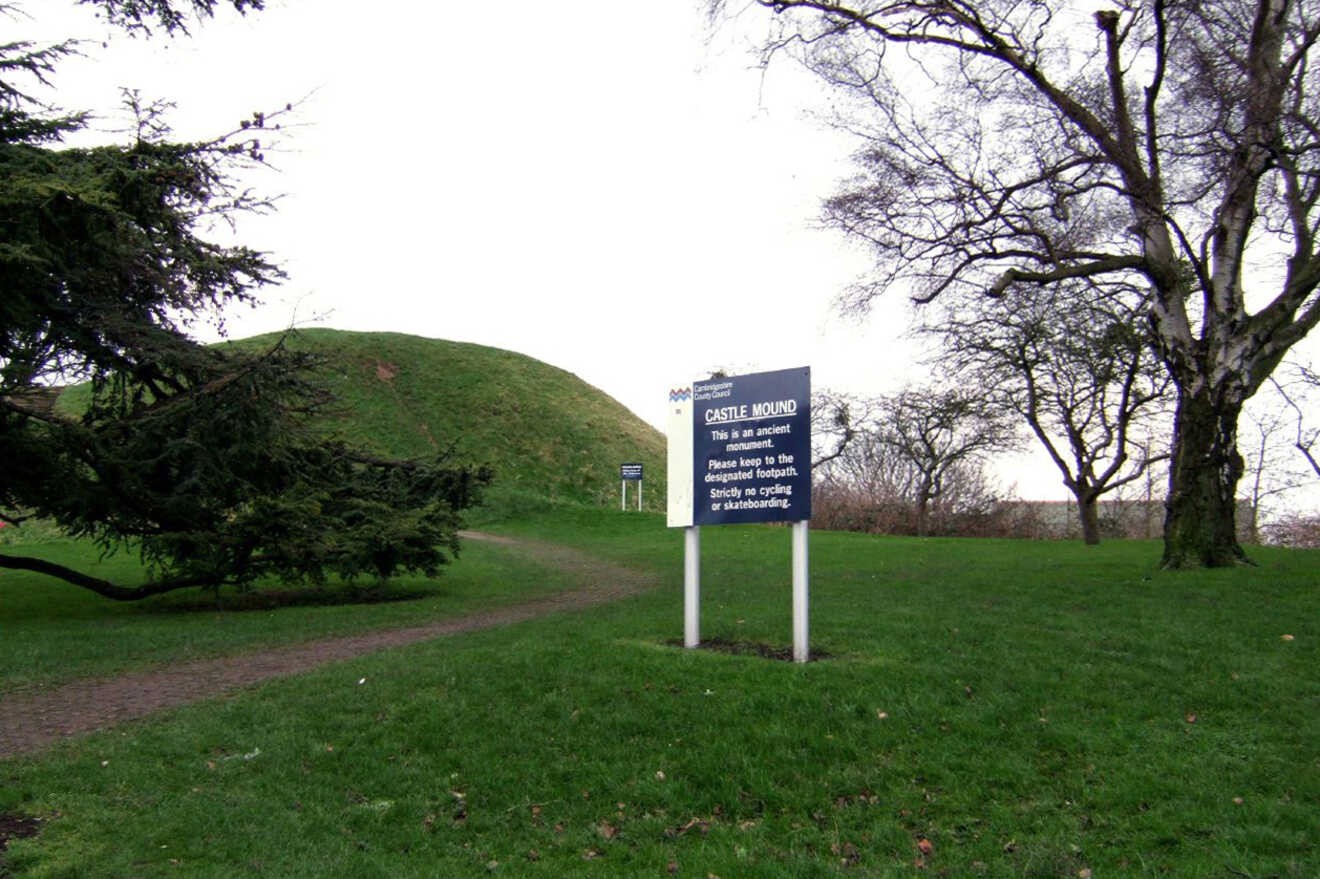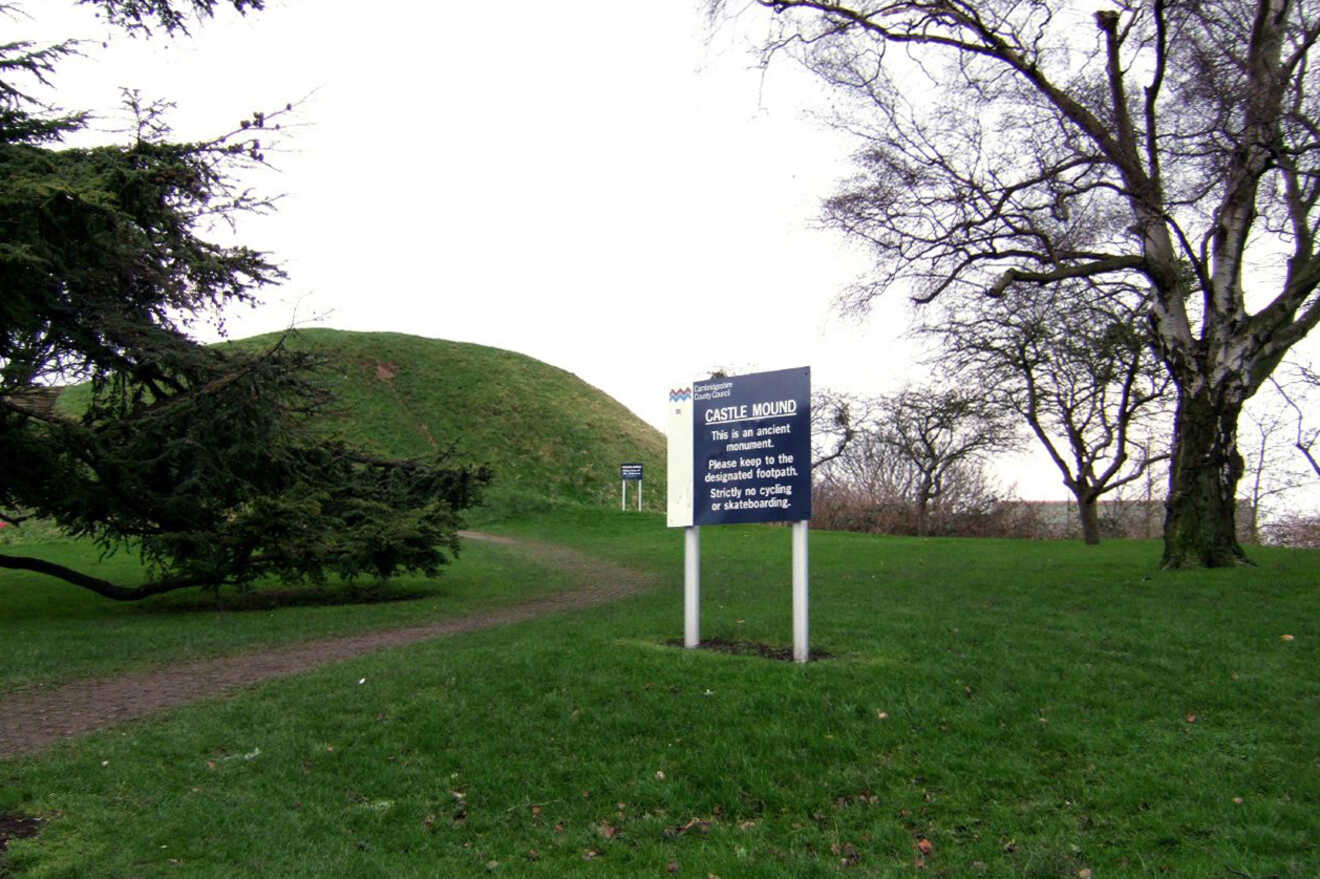 End your day of things to do in Cambridge with a scenic sunset on Castle Mound!
Also known as Cambridge Castle, this grassy mound used to be the Roman town of Duroliponte!
What did I tell you? You can't do anything in Cambridge without stumbling upon a super old place! This city is magical!
There are a few steps to climb up but it's a pretty easy and short hike. Once you get to the top of Castle Mound, you can enjoy the beautiful views of Cambridge.

PRO TIP: This spot is best at sunset when the whole town turns into this goldish-orangie color that looks as if it was stolen from a painting!
15. Learn about earth sciences at the Sedgwick Museum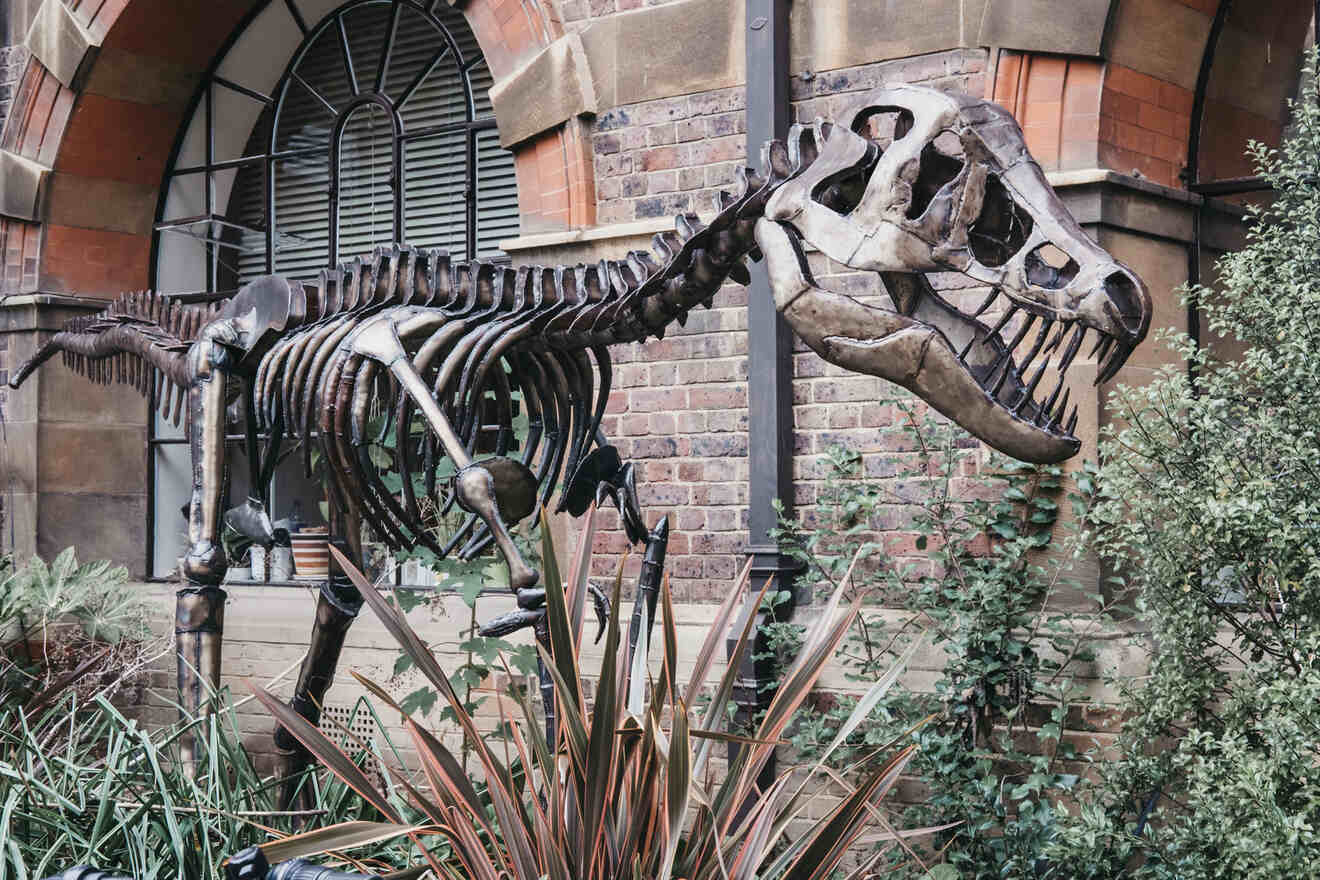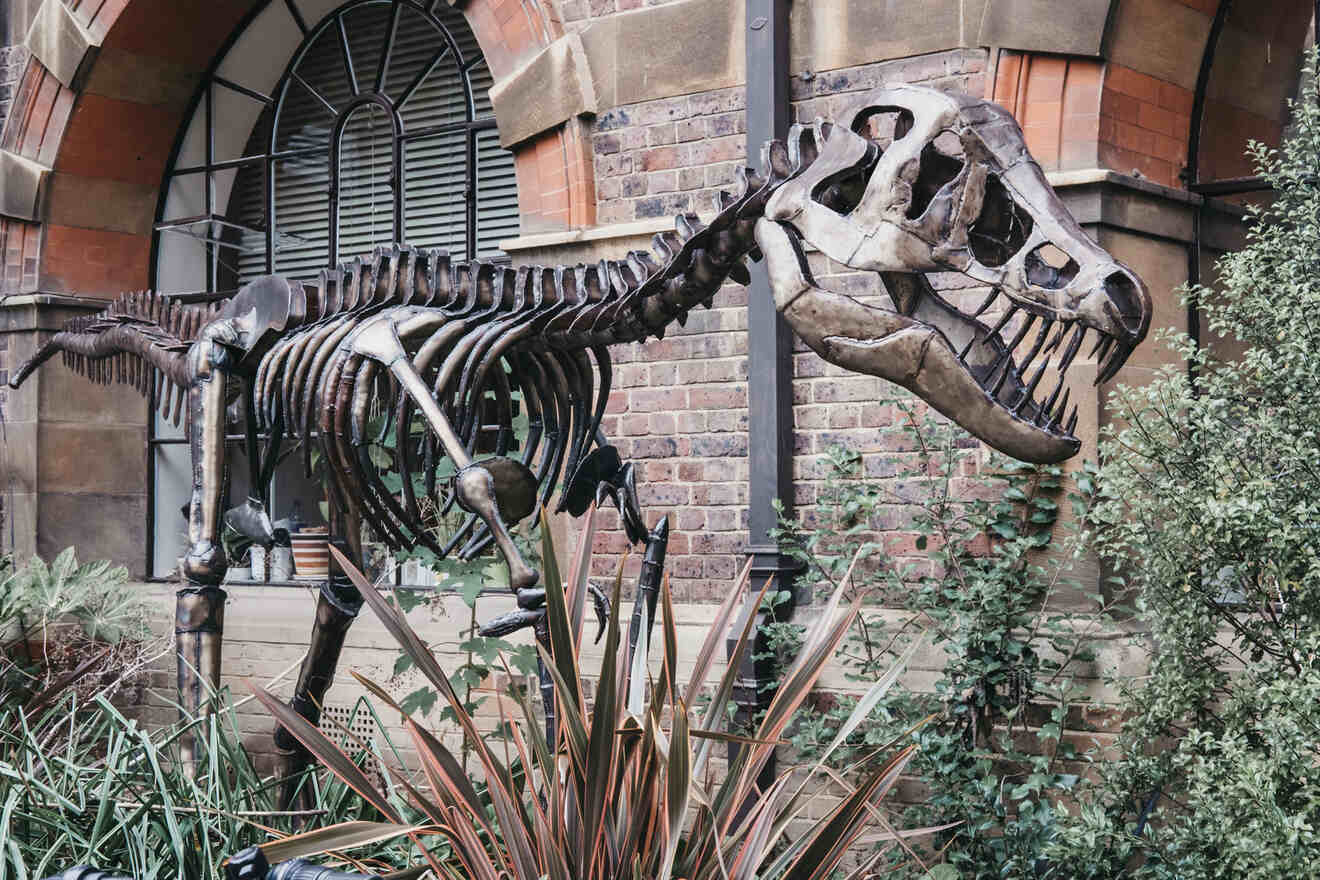 Interested in geology? Then there's no better place to visit in Cambridge than the Sedgwick Museum!
Founded in 1728, this museum is one of the oldest ones in the city and definitely worth a look.
If you're coming with the little ones then I think this place should be top of your list of things to do in Cambridge, as the museum has a collection of interesting specimens, rocks, and minerals that date back many millions of years!
NOTE: The museum is closed on Sundays
PRICE: Free
16. Take a walking tour of Cambridge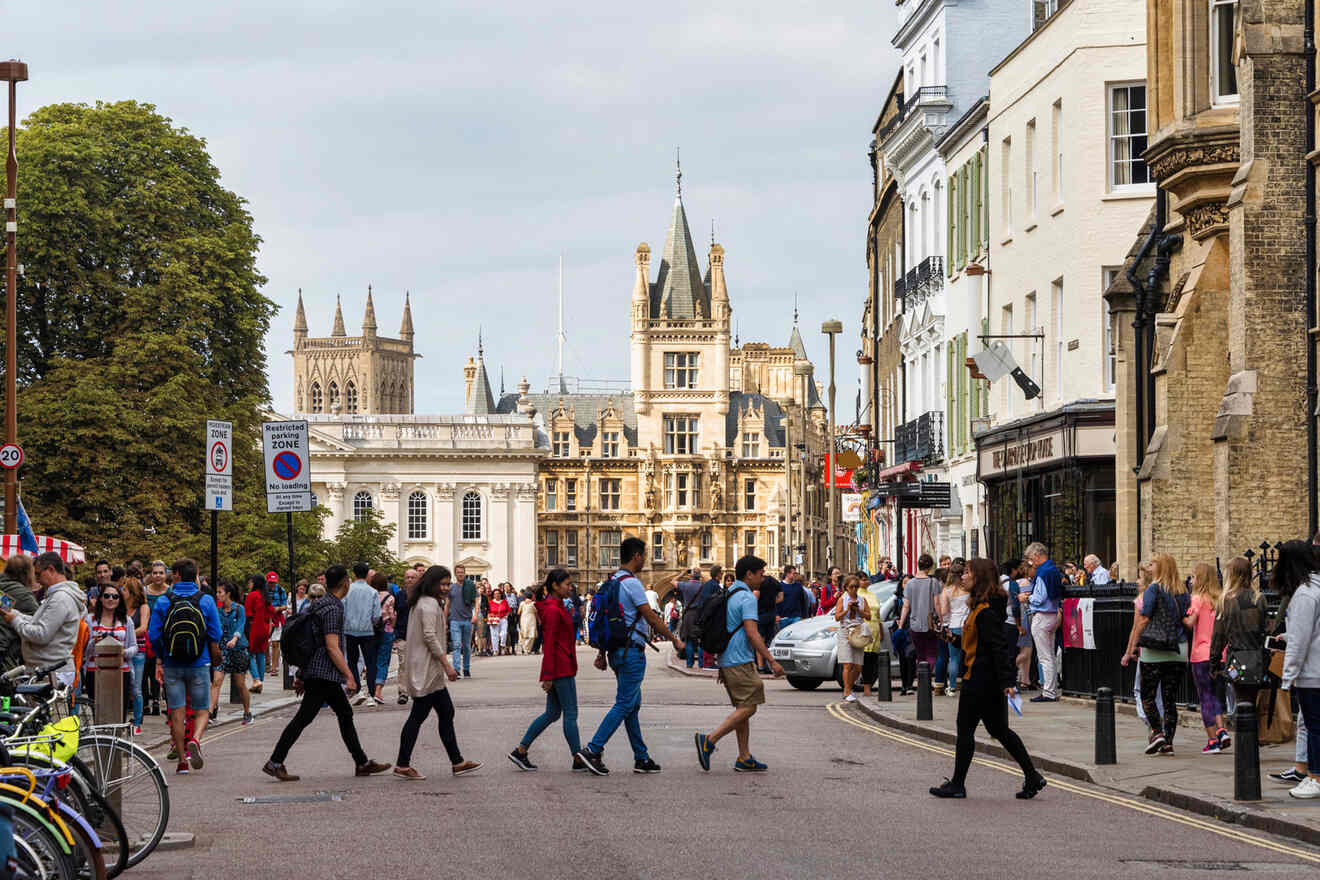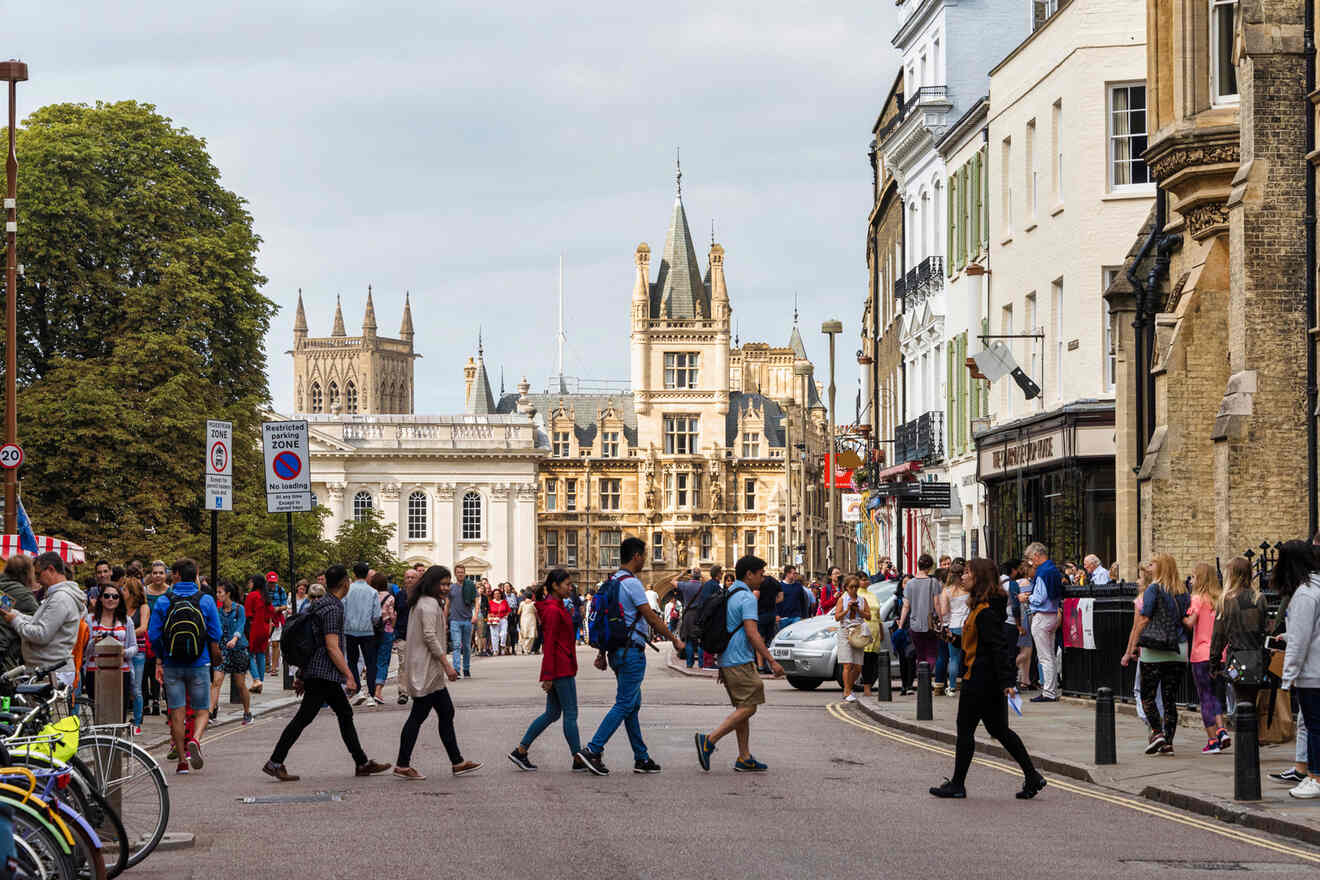 Sure you can learn lots about all the historic places in Cambridge by yourself before heading there, but it's definitely different when you hear stories from a local who has lived here their whole life or a super well-informed guide with all the details!
That's why I recommend going on walking tours when visiting a new city, especially one that's so rich in culture and history like Cambridge.
This guided historic walking tour will take you to the major locations in the city center, where you'll learn lots of interesting facts from your tour guide about the famous people who studied and live here! The whole walking tour will last 1h and 30min and it costs US$25.
17. Attend one of the Cambridge's interesting festivals
Believe it or not, Cambridge hosts a lot of festivals and special events! After all, this is a student city and even though they study at one of the most prestigious universities in the world, they still need to have some fun!
As do we, the tourists who come to explore this beautiful town! So if you're in the mood to listen to some live music and dance, check out the list below:
17.1 Cambridge Festival
Usually held at the beginning of April, this festival is held by the University and it offers lots of activities and it covers a wide range of subjects relating to Sciences and Arts, Humanities and Social Sciences!
Besides the different lectures, the festival offers around 350 activities, from panel discussions to film premieres and self-guided walking tours!
The event is held at the University, and you can learn more about future editions on their website.
PRICE: Free
17.2 The Cambridge Club Festival
Ready to dance and have the best time with your family and friends?
Held at the beginning of June, the Cambridge Club Festival takes place at the Childerley Orchard Garden, just 20 minutes away by car or public transportation from the city center.
Get ready to dance to the rhythm of musicians like Nile Rodgers or Diana Ross! The festival also has different kinds of activities like disco yoga, gong baths, and holistic treatments!
You can find out more about their ticket prices and line-ups on the official website.
PRICE: From £33
17.3 Cambridge Summer Music Festival
If you're a big fan of cultural music and you enjoy listening to unique tunes played by orchestras, choirs and bands then I think you'll love this event! It's one of the best things to do in Cambridge in the summer!
If you're in the city during the last week of July then I recommend attending this cool festival! Held in different venues in Cambridge like college chapels, churches, and Botanical gardens, the event brings well-renowned artists from all over the world.
NOTE: Tickets are for individual concerts rather than the whole festival, check their official website to learn more about what's on.
Where to stay in Cambridge
Wow! We've almost reached the end of our things to do in Cambridge post! I sure went through a lot of options but trust me, all these will come in handy once you start planning your trip!
I couldn't end the post without adding a list of the best places to stay in Cambridge. Whether you're looking for a 1-night stay close to the city center or you're thinking of spending a few nights here (which I highly recommend), you'll find all the details you need in the post.
P.S.: If you're looking for accommodation in London too, we have a whole post dedicated to the best hotels there too!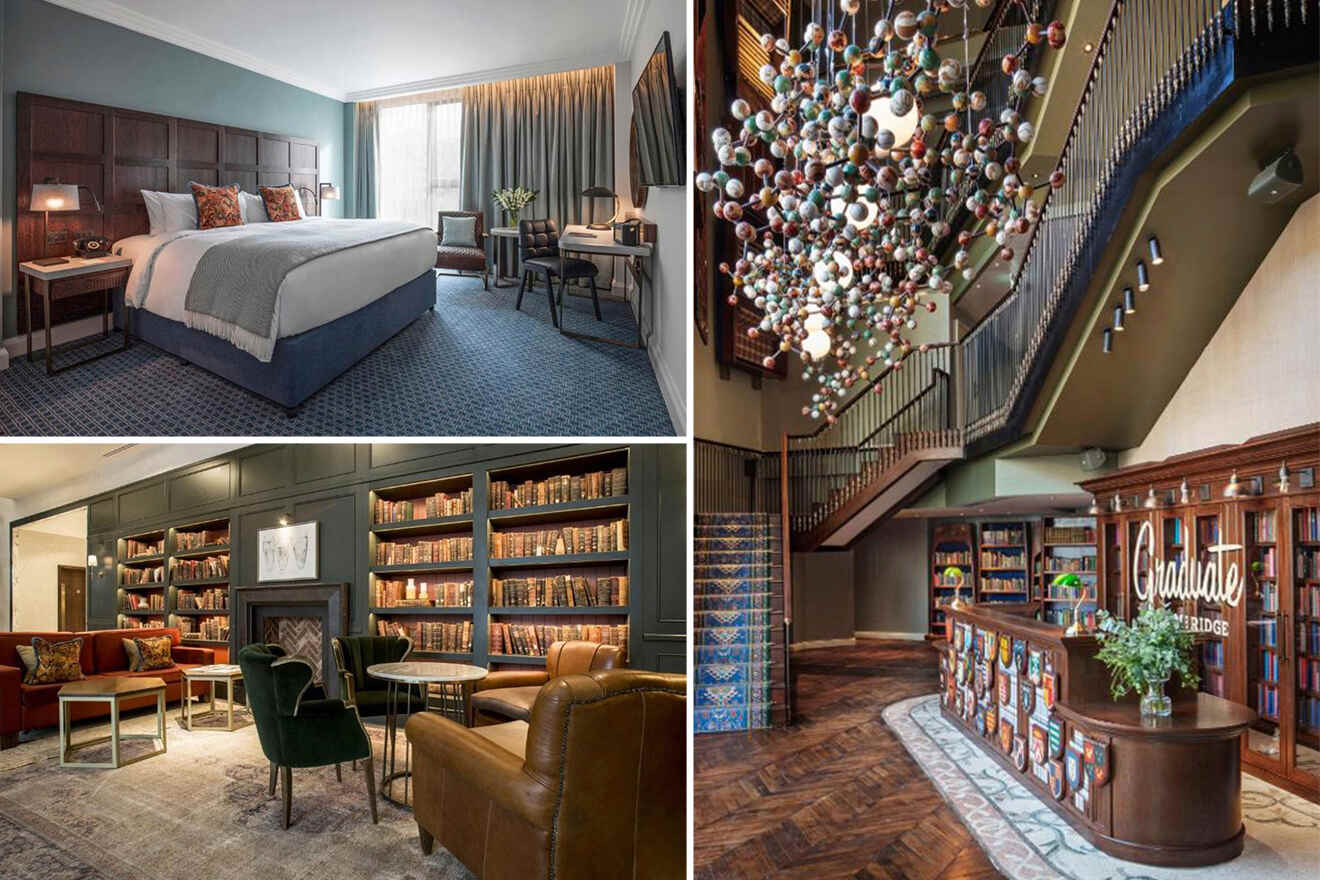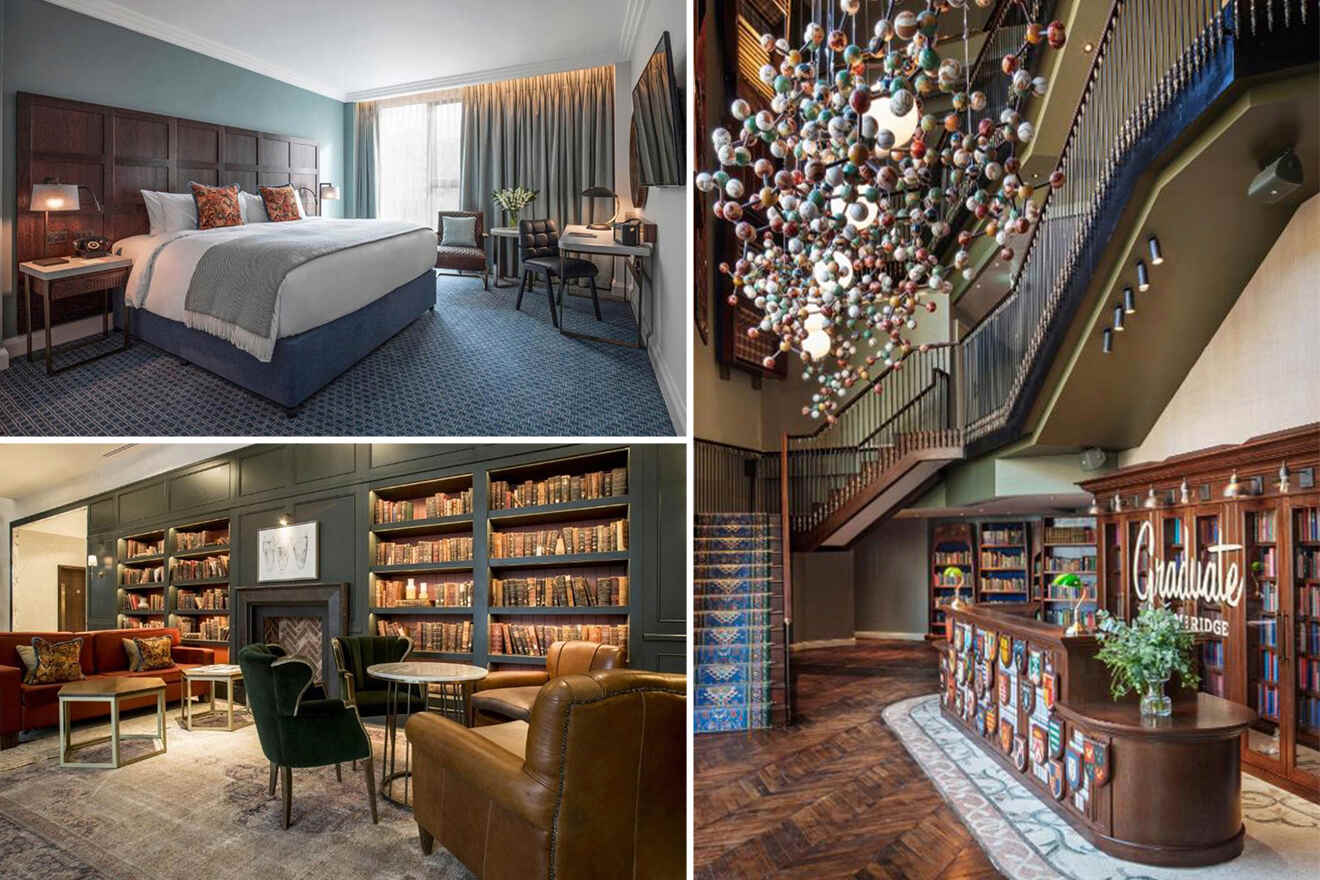 Luxury (£180 and up)
Mid Range (£80 – £130)
Budget (up to £80)
FAQs about things to do in Cambridge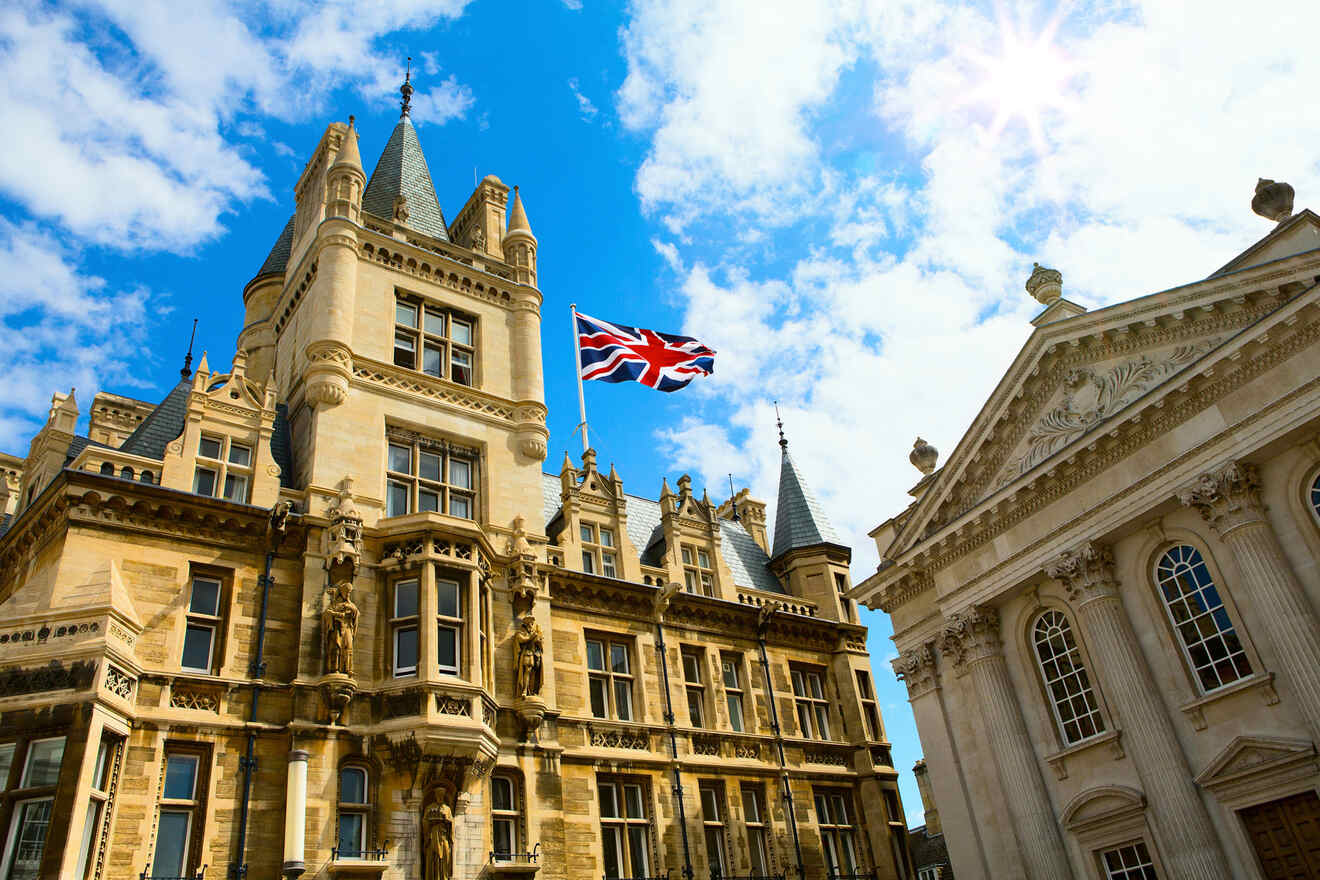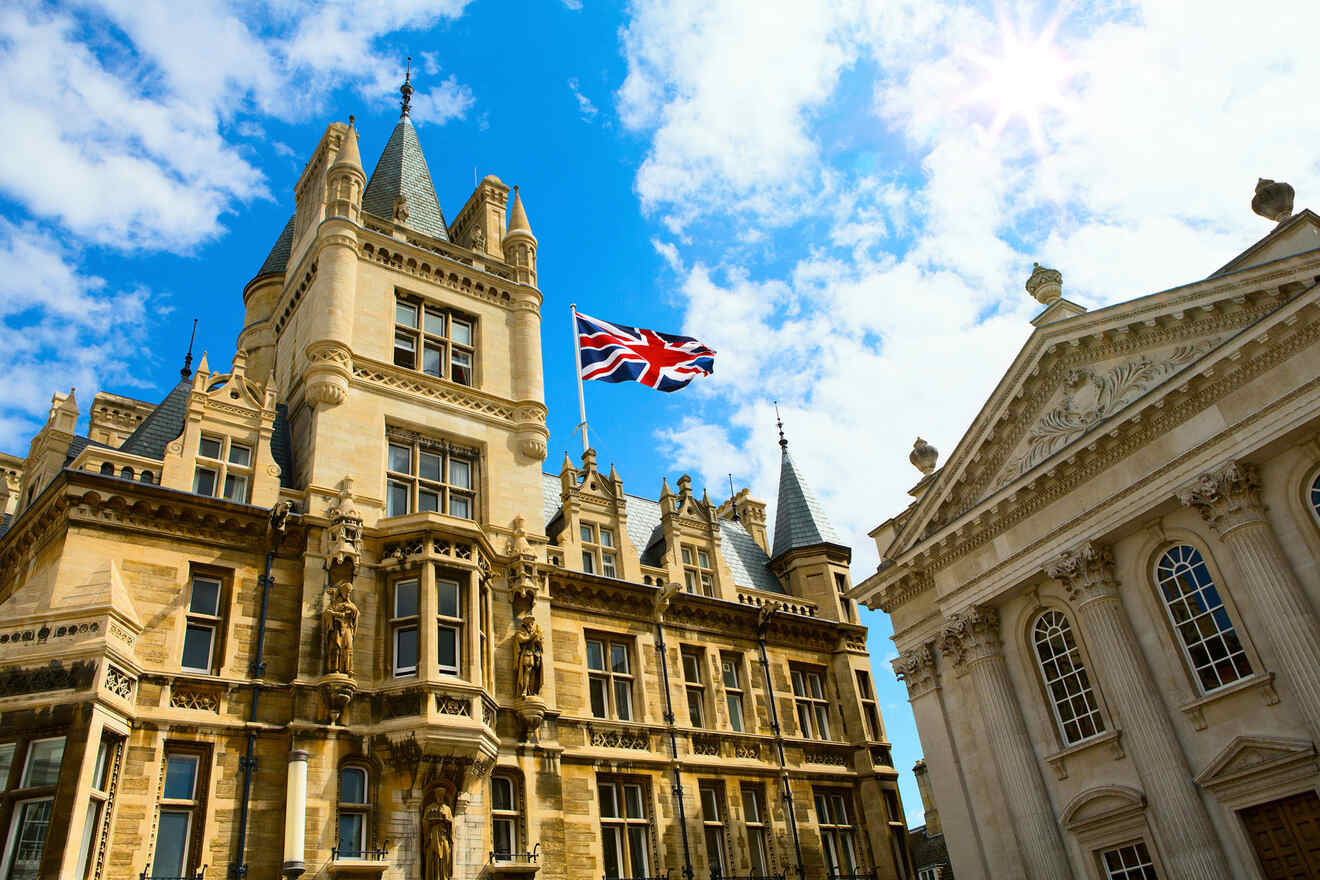 🤩How can I have fun in Cambridge?
There are so many fun things to do in Cambridge! Some of the best ones include punting on River Cam, exploring the different university colleges, and attending a live show at Cambridge Junction. 
💰 What are some cool things to do in Cambridge for free?
Some cool things to do in Cambridge for free include visiting the Kettle Yard Museum or the Cambridge American Cemetery, climbing Castle Mound, and crossing the Mathematical Bridge. 
🚄 What is there to do in Cambridge for a few hours on a day trip? 
Although it may not seem so, there are many things to do in Cambridge in a few hours like visiting one of the many colleges, shopping in Market Square, going to a museum and having a drink at a pub!
❄️Which are the best things to do in Cambridge during wintertime? 
The best things to do in Cambridge in winter are going to the North Pole at Parker's Piece (the city's own winter wonderland) and attending the Mill Road Winter Fair in December!
Conclusion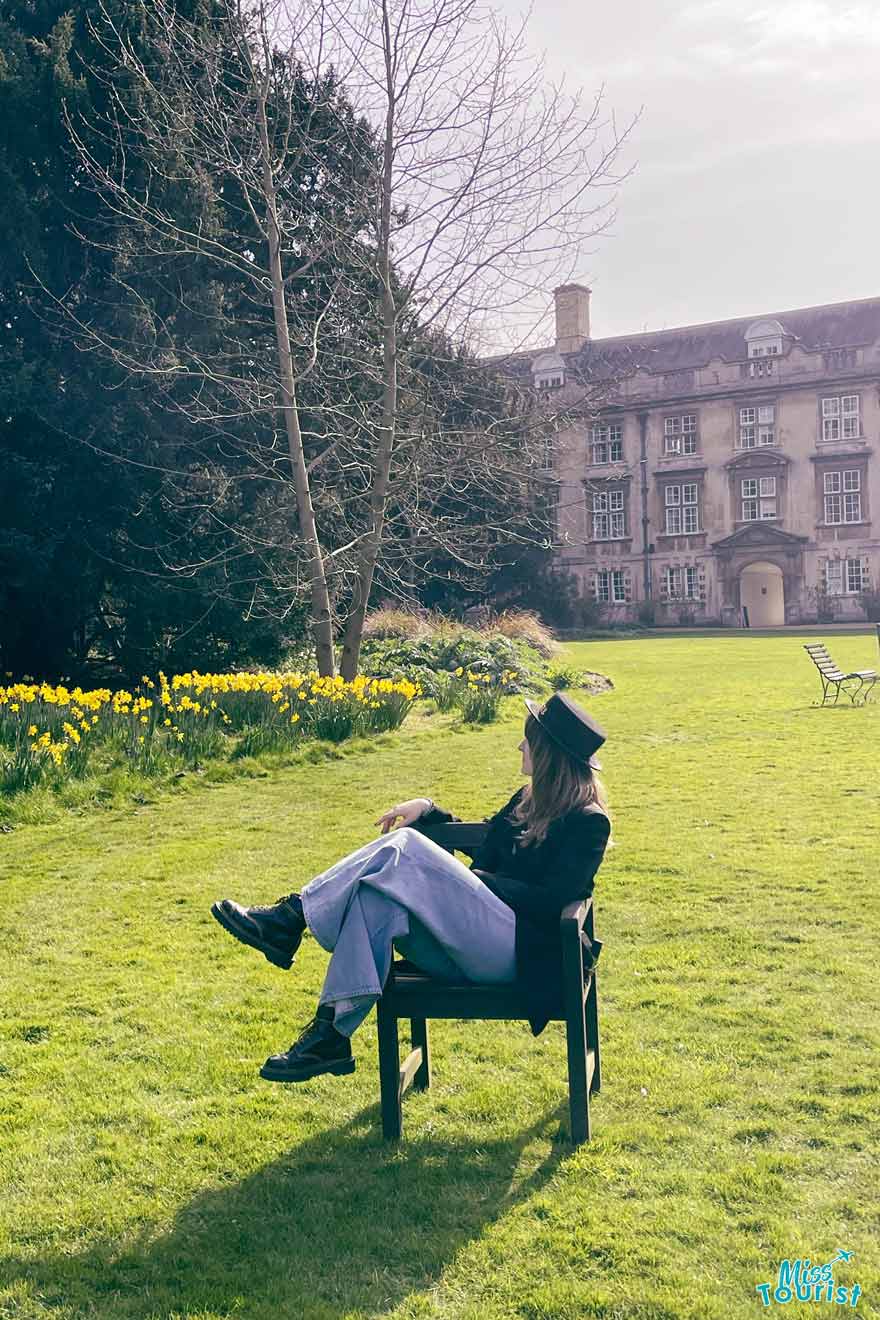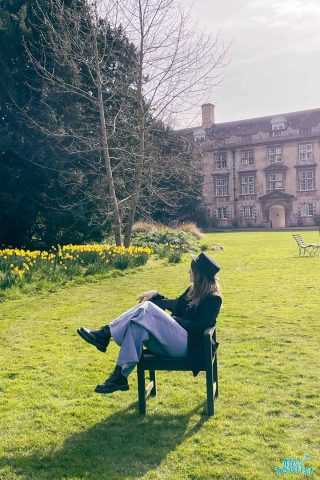 Cambridge is for sure one of the most beautiful cities in the UK!

I hope this post helped you decide which are the best things to do in Cambridge for you! The list is pretty long but trust me, once you get there you'll understand why. There are so many attractions in town that you won't know where to start!

Besides all these amazing things to do in Cambridge, I've also given you some great places to stay in town listed from most to least expensive so you should now have everything you need for an excellent trip!

Have a wonderful holiday and don't forget to leave me a comment below if you've got any questions about Cambridge or the UK!
Safe Travels,
Victoria
---
Pin it for later!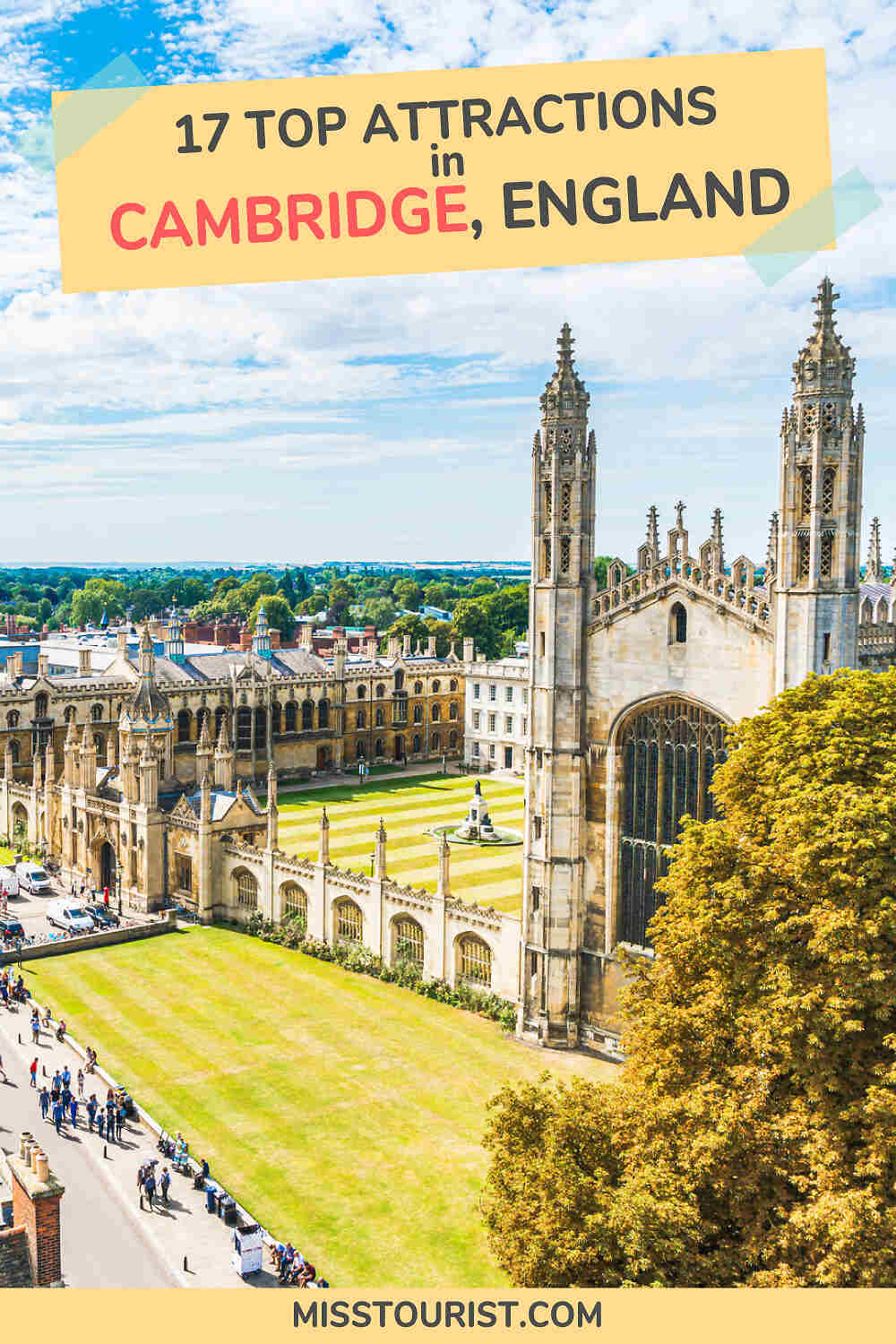 Pin it for later!