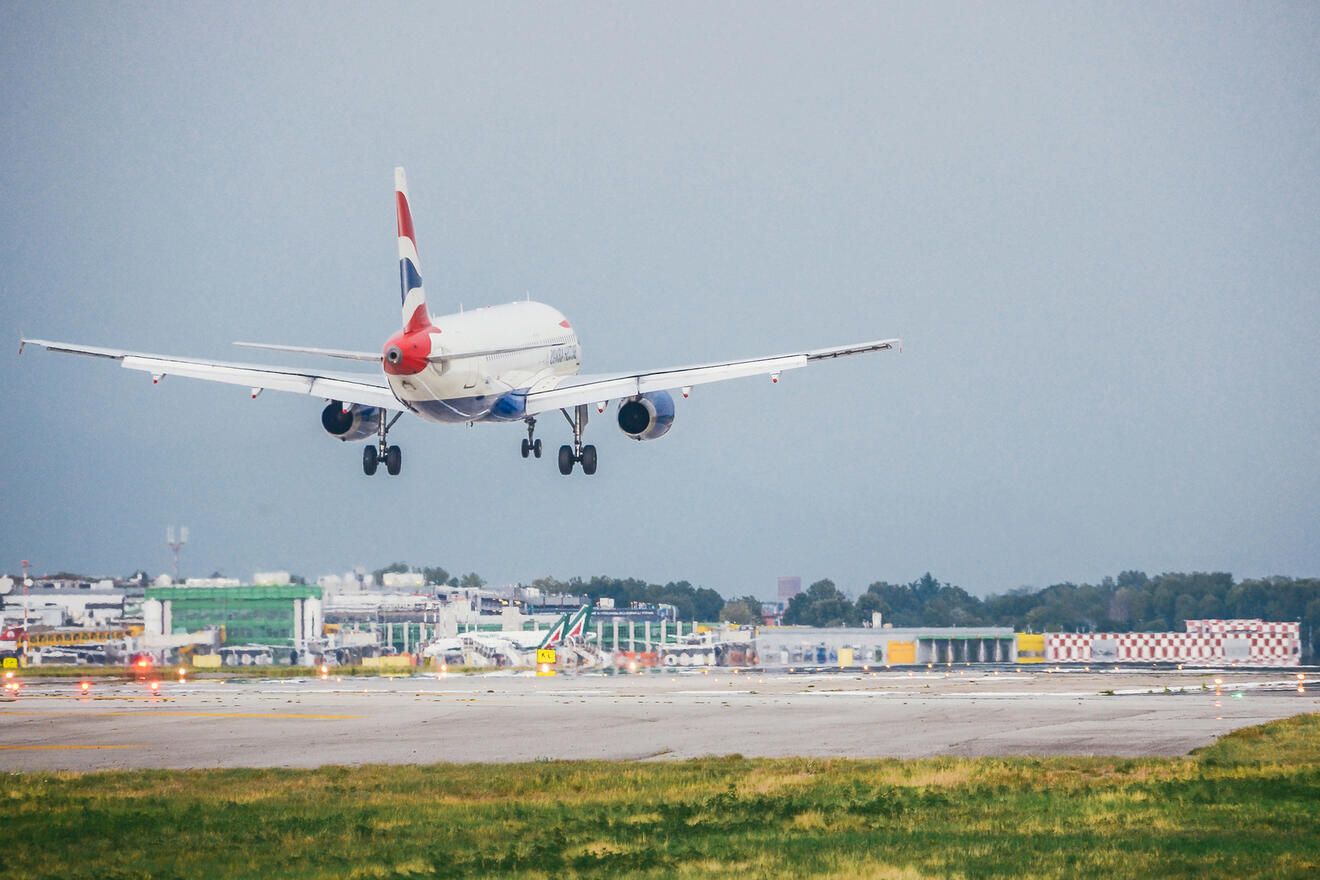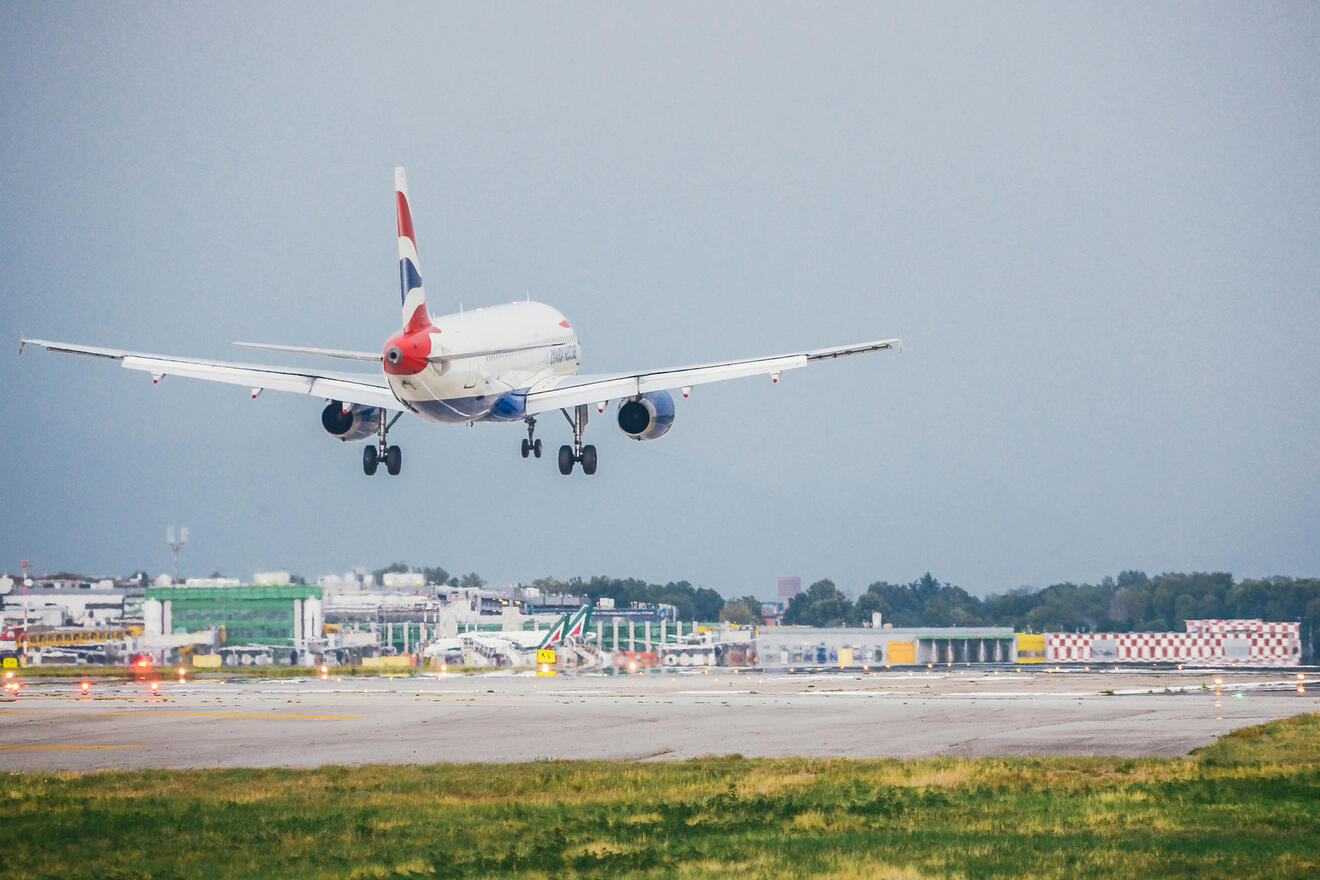 As much as we all love traveling, I think we've got to admit that layovers and waking up super early to catch a flight can be super annoying! Luckily, airports like Heathrow, in London came up with a genius solution!
In this post, you'll find the best hotels inside Heathrow Airport plus accommodations on the perimeter of the Airport, and nearby budget hotels that require just 5-10 mins by car to get there.
There are only a handful of hotels that are actually inside Heathrow Airport, so I highly recommend booking them in advance as they sell out super fast!
I know you might be in a hurry so let's start!
If you are in a hurry
Eager to book your accommodation? Then have a look at this short list of the best Heathrow hotels:
Here's a map that will help you visualize all the Heathrow hotels that I will be talking about in this post:
1. Hotels Inside Heathrow Airport
Below you'll find a list of hotels that are located right inside the airport, connected to the terminals. As you can imagine these hotels are quite special and there aren't very many, so I highly recommend booking in advance if you want to stay in a hotel inside Heathrow Airport!
You can expect to pay around £200 a night at the following hotels however I have listed them from most to least expensive in case you are looking for something a bit cheaper!
1.1 Hilton Garden Inn London Heathrow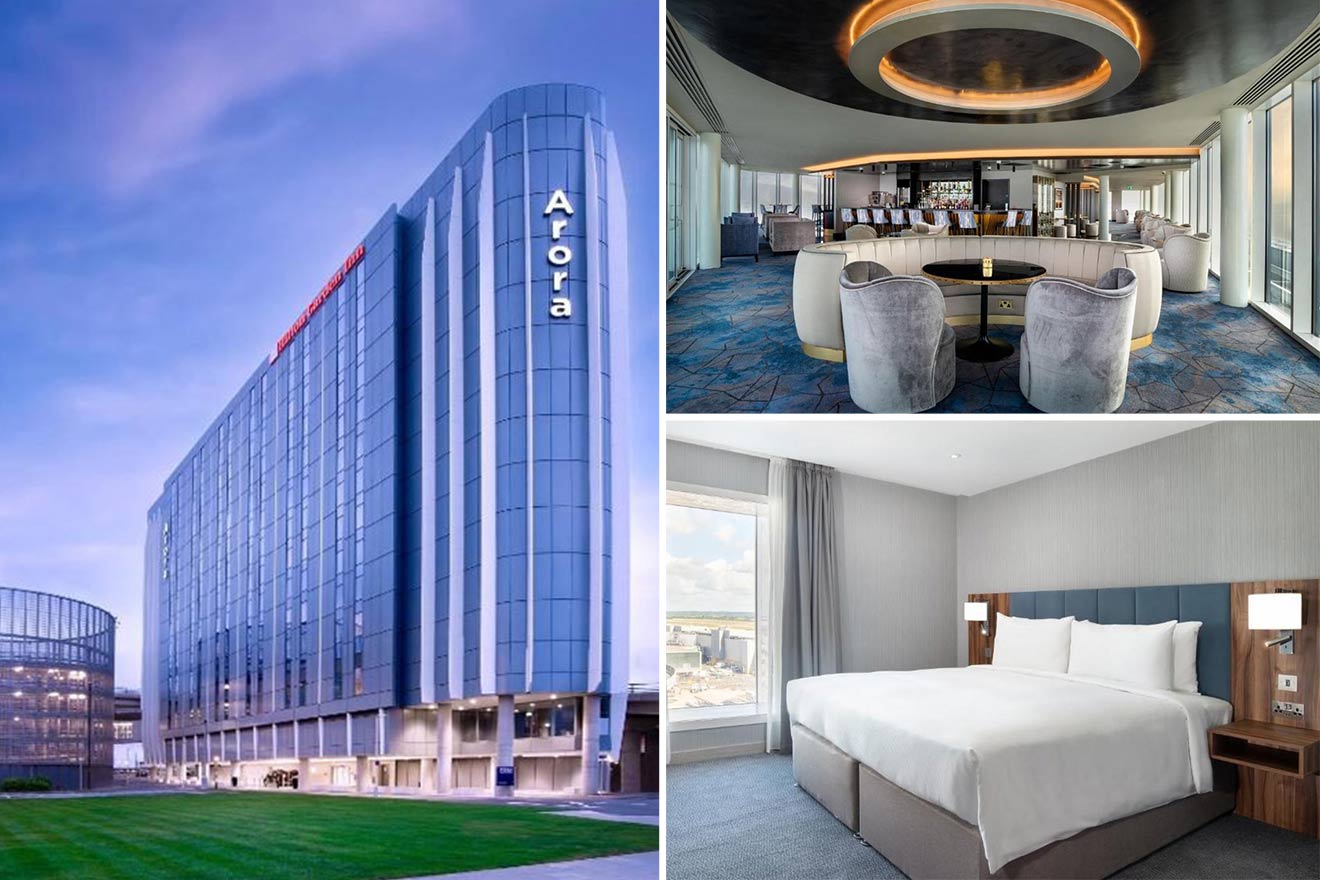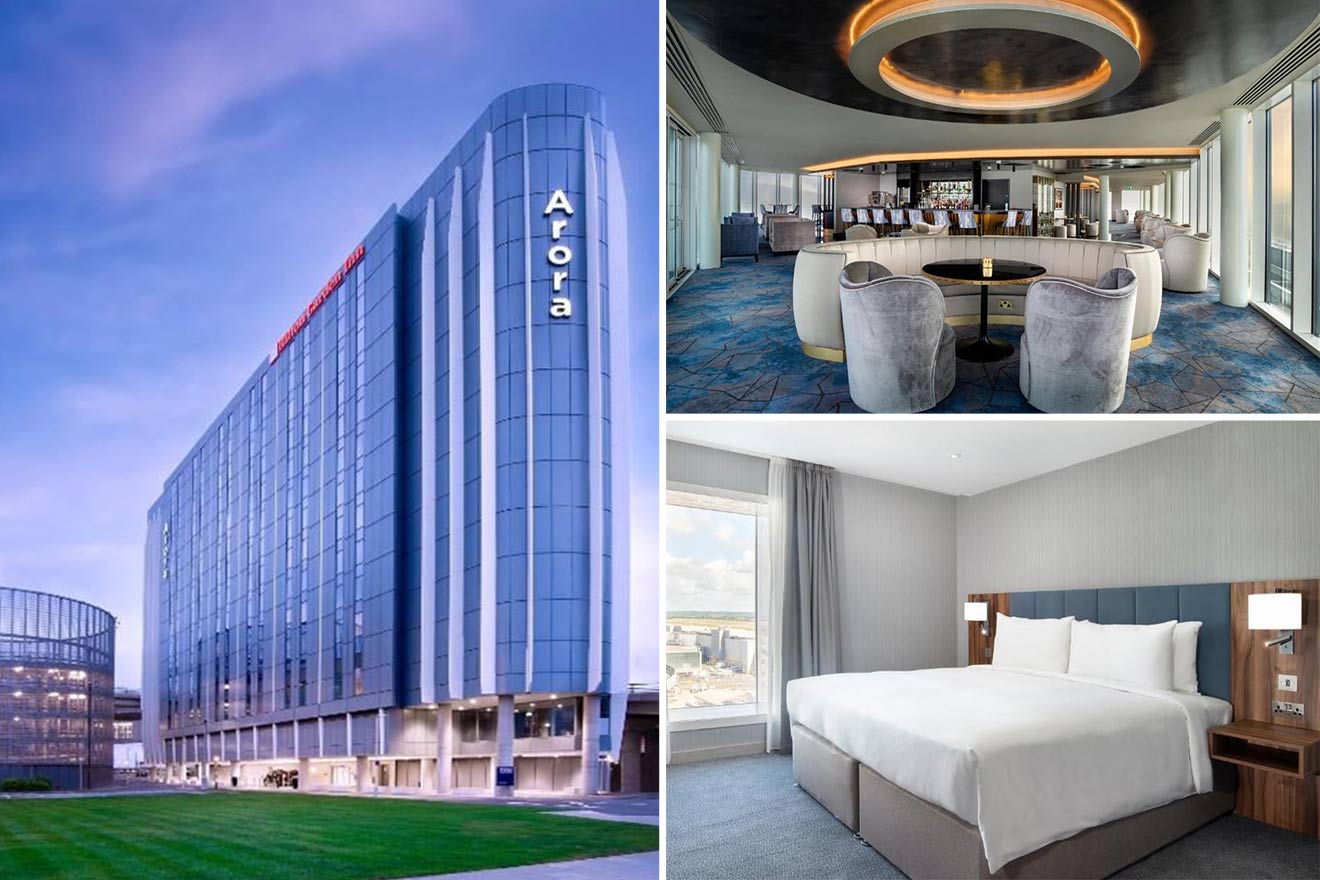 Looking to spend your layover in the British capital in style? This contemporary hotel is located inside Heathrow Airport just a few minutes away from Terminal 2 and Terminal 3. Enjoy a night of uninterrupted sleep in the comfortable rooms that have an en suite bathroom and free wifi.
If you're having some trouble sleeping don't worry, the rooftop bar overlooking the 2 runways is open for all the guests at Hilton London Heathrow Airport! In the morning before you leave. eat a delicious breakfast at the on-site restaurant or order some room service if you're too tired to head out!
1.2 Sofitel London Heathrow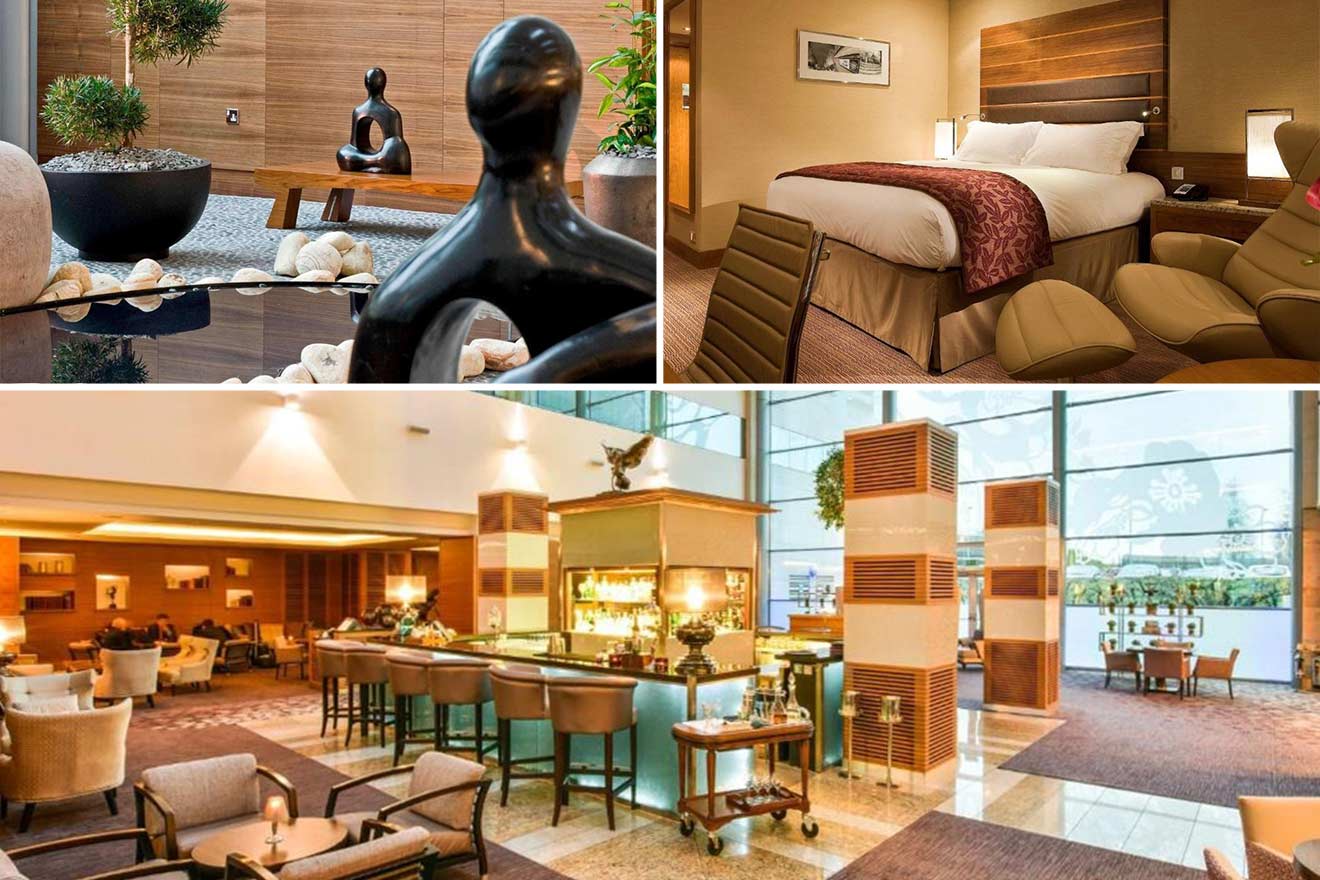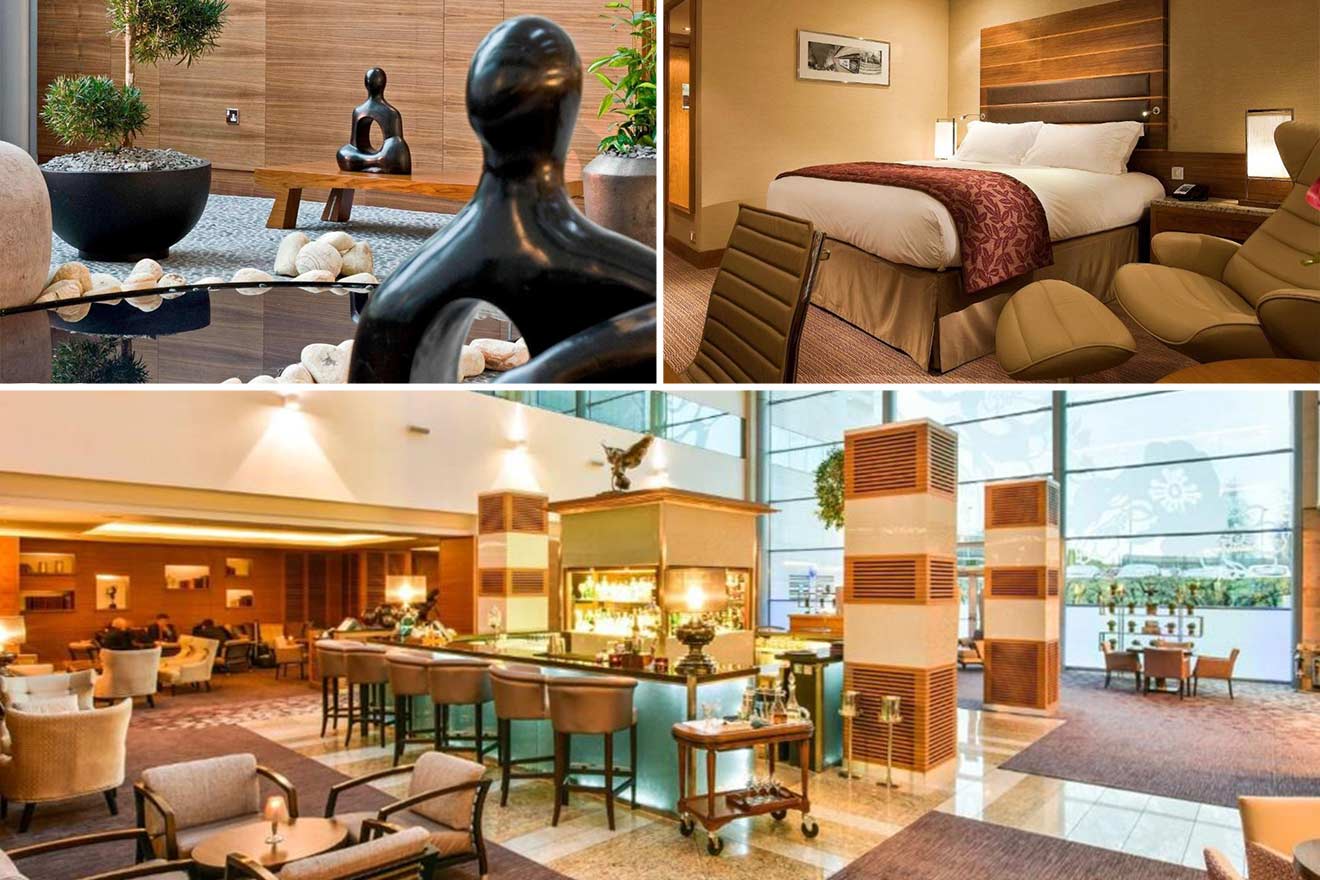 Class and elegance at its finest! No need to hurry to catch your early morning flight if you stay overnight at this airport hotel that offers direct access to Terminal 5 via a covered walkway. Besides all the comfort, Sofitel Heathrow also offers plenty of luxurious facilities and day rooms (located in the departure lounge).
The two restaurants and bars will be at your disposal whenever you feel like grabbing a bite or maybe a drink to unwind after that long flight. The gym is open 24/7 in case some of you prefer working out rather than sleeping! And if you've got some free time and want to explore Central London, you can take a direct train from the hotel!
1.3 Aerotel London Heathrow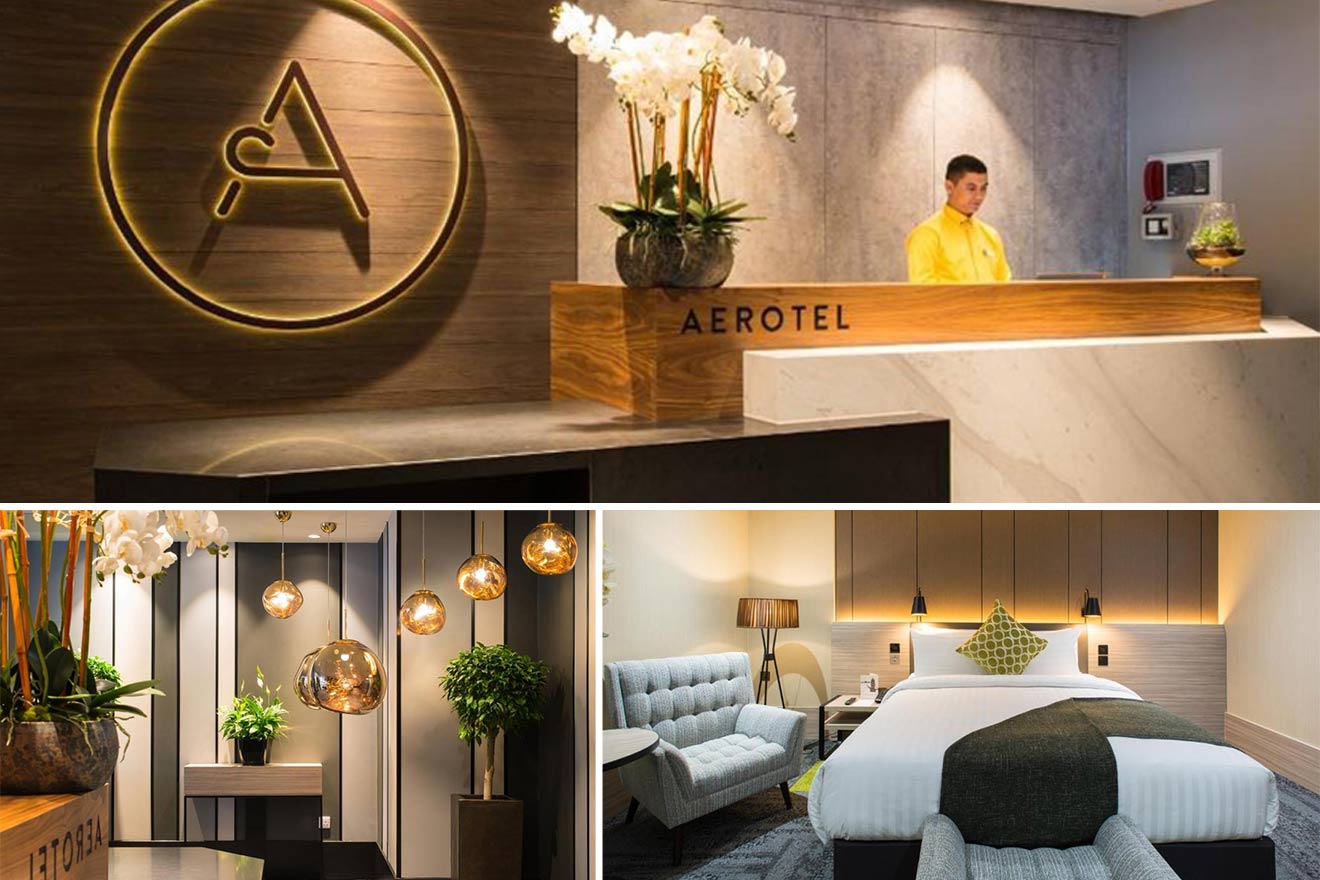 This modern hotel offers comfortable rooms inside Heathrow Terminal 3, on the ground floor in the public zone arrivals area. Plus it is only a 10-minute walk from Heathrow Terminal 2 and Heathrow Express. Although the hotel is rated a bit lower than our normal standard, I wanted to include it since there are limited options located right inside the airport and you might just need somewhere to lay your head after a long flight!
Nonetheless, the hotel still offers great facilities and it has spacious air-conditioned rooms with free wi-fi, flat-screen tv, and a private bathroom with shower facilities. All the guest rooms are sound-proofed so you can enjoy the best sleep which is probably the most important aspect for those of you who stay overnight!
1.4 Crowne Plaza London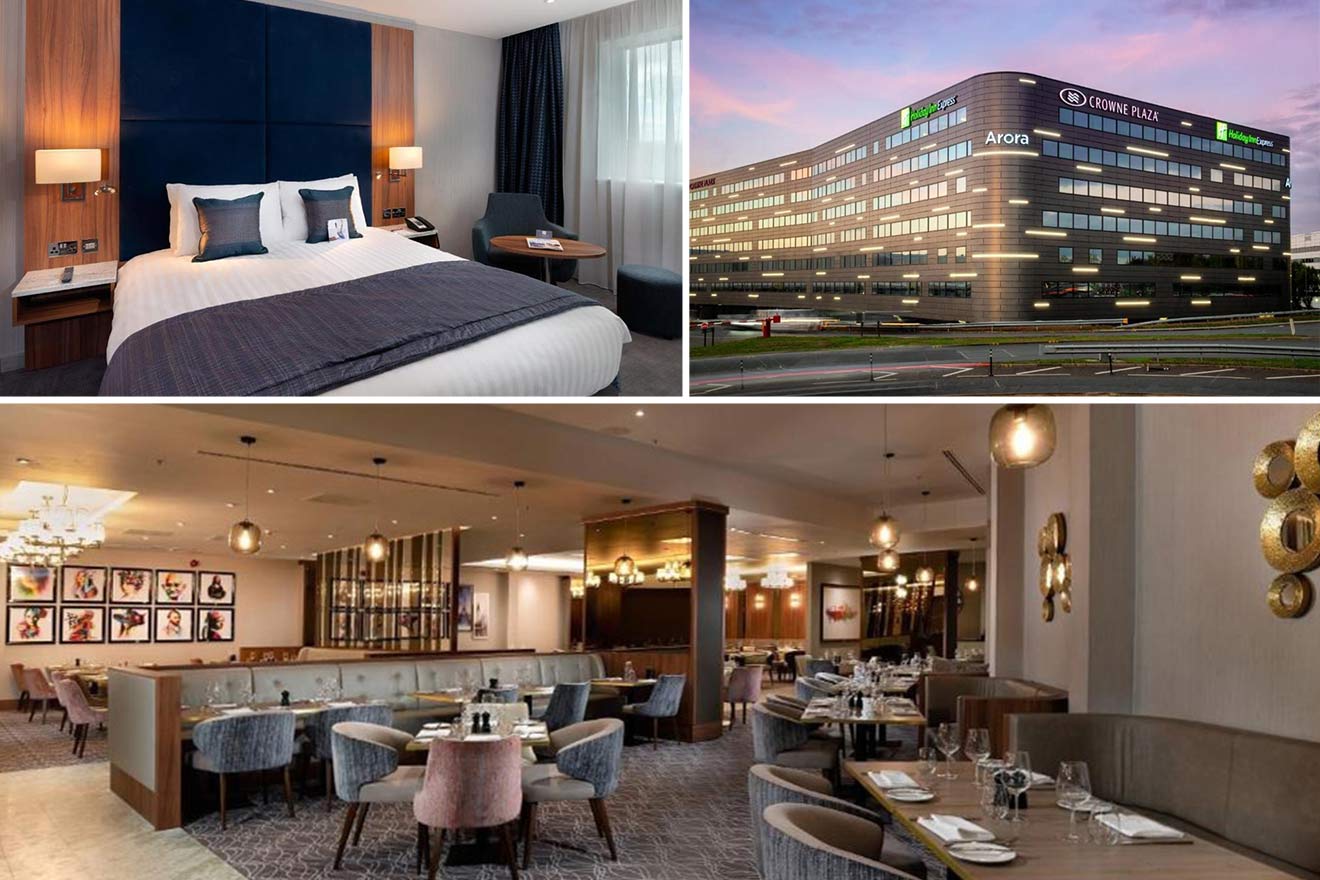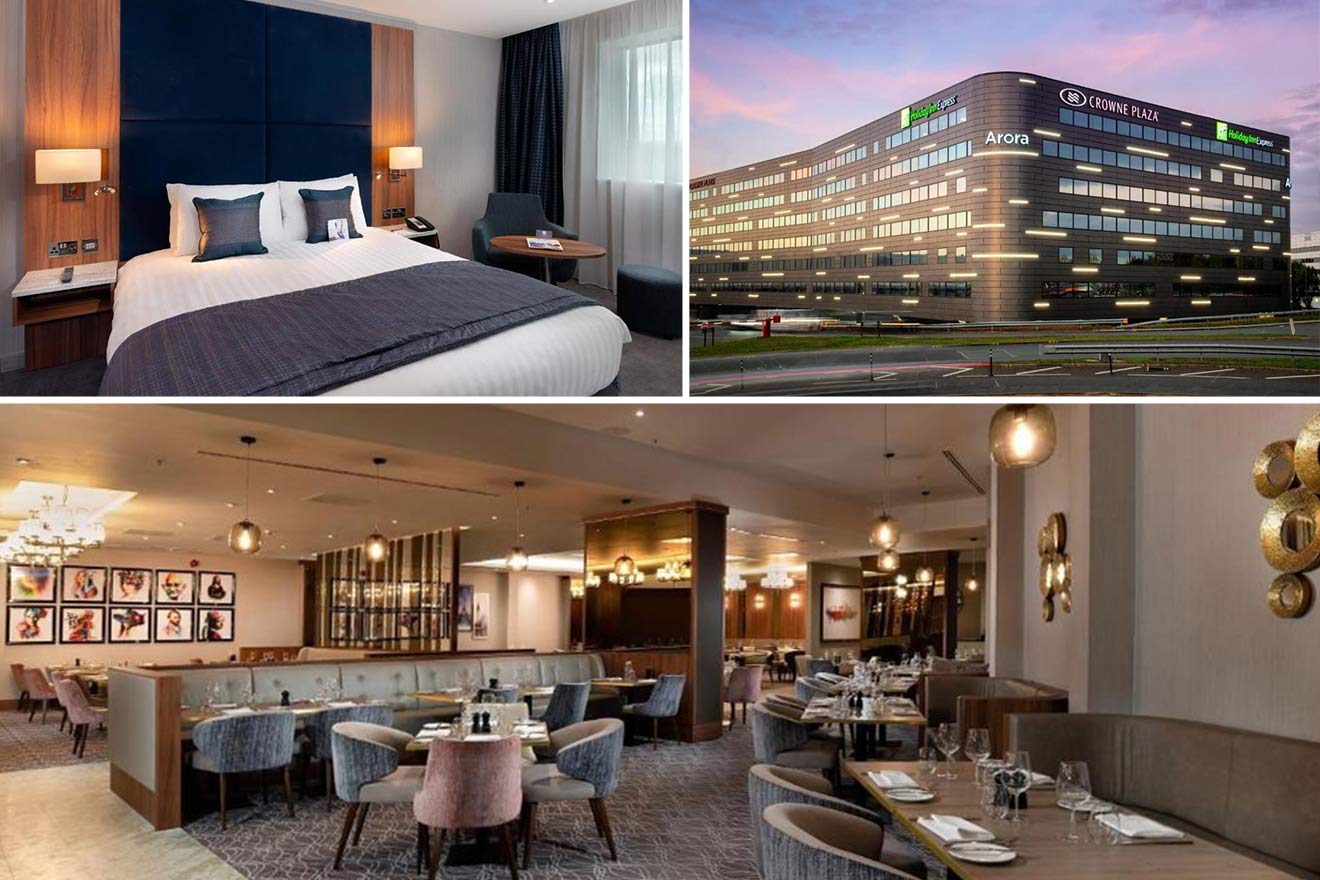 Forget all about catching a bit of sleep in the airport lounges or in the arrivals hall! Treat yourself to a room at this awesome hotel that's directly connected to Terminal 4 and offers lounge access. Once you arrive, make yourself comfortable in the spacious room (or family room) which has free wi-fi, air conditioning, and luggage storage.
Relax with a long bath in the comfort of your private bathroom or choose one of the 2 dining options or bar on site! If you've got some free time to explore London's best streets then know that you'll be within short walking distance from Heathrow 4 Terminal underground station.
1.5 Holiday Inn Express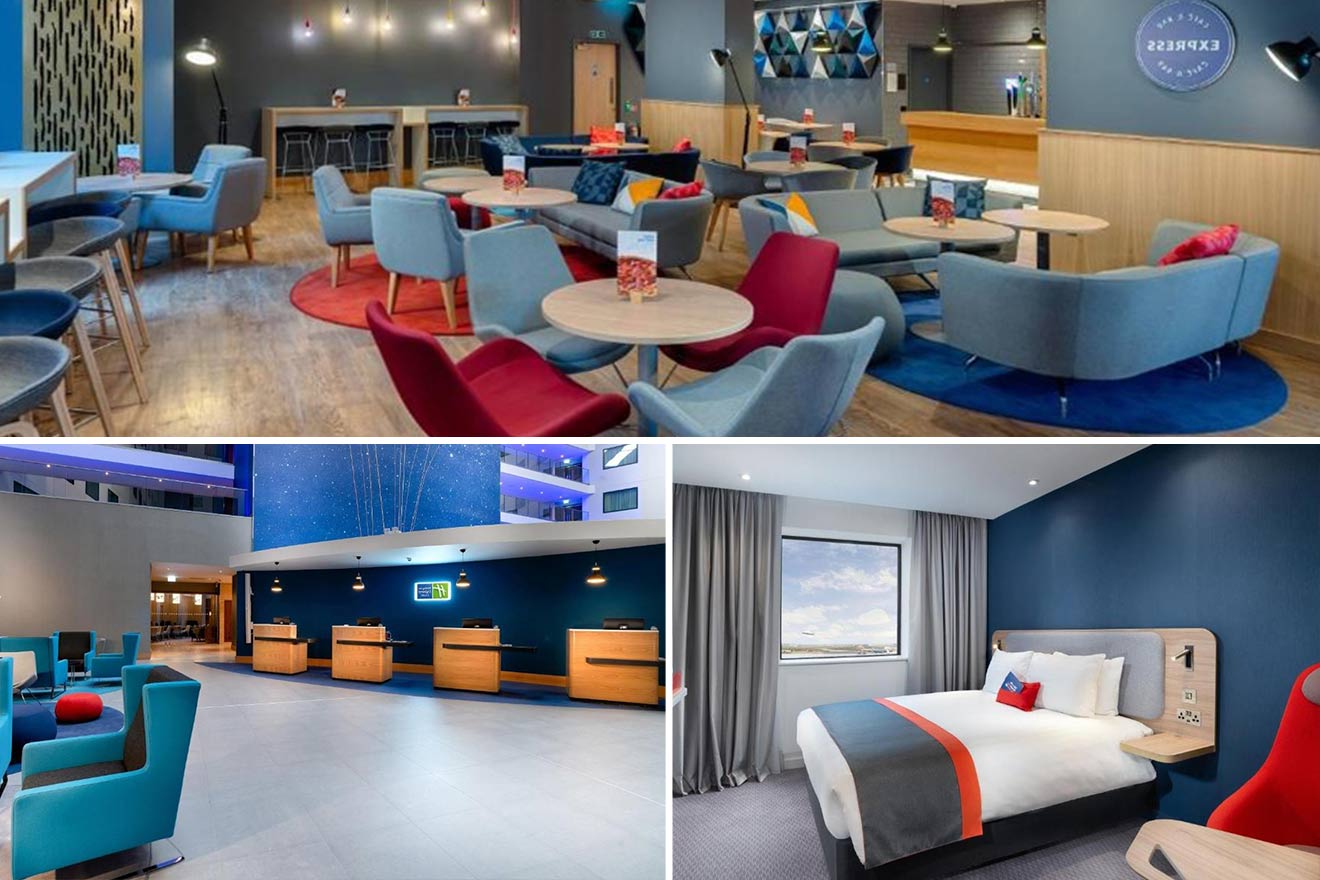 Offering easy access to Terminal 4 via a covered link bridge, this hotel inside Heathrow Airport has a perfect location and is equipped with all the necessary facilities for your stay including a delicious free breakfast! So if you arrive early and you're starving, head to the ground floor to talk to someone at the reception.
Then you can enjoy a nice long nap in your room with blackout curtains, triple-glazed windows, and a flat-screen tv. The accommodation has a restaurant on-site and a coffee shop as well, there's also a fitness center (for anyone who doesn't want to miss a work-out) but it requires an additional charge.
2. On the perimeter of Heathrow Airport
If the hotels inside the airport are full or a little out of your price range, these are the next best thing! The hotels on this list are located on the road surrounding the airport, so even if you're not inside you're super close to Heathrow with less than a 5 min drive.
Luxury (£200 and up)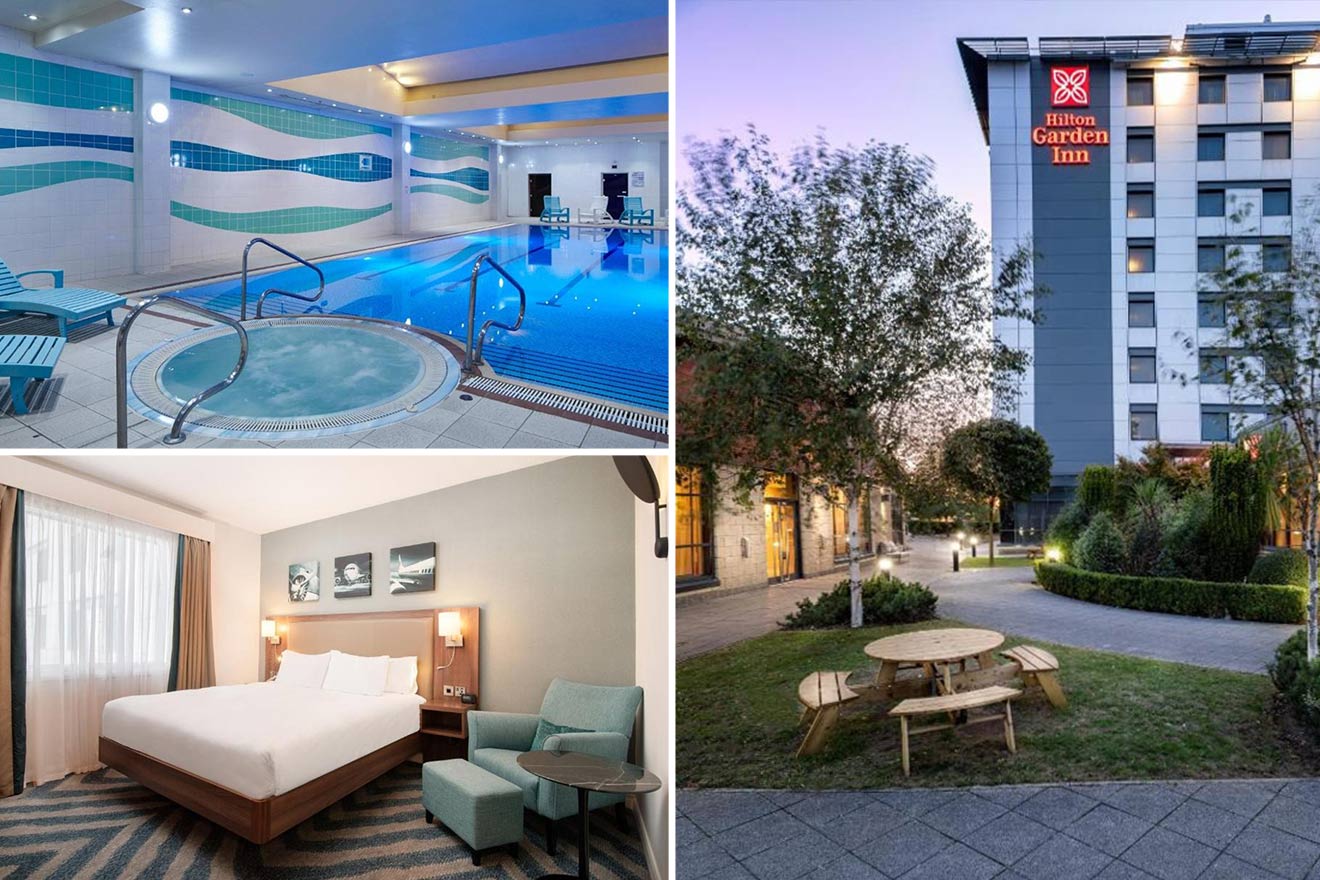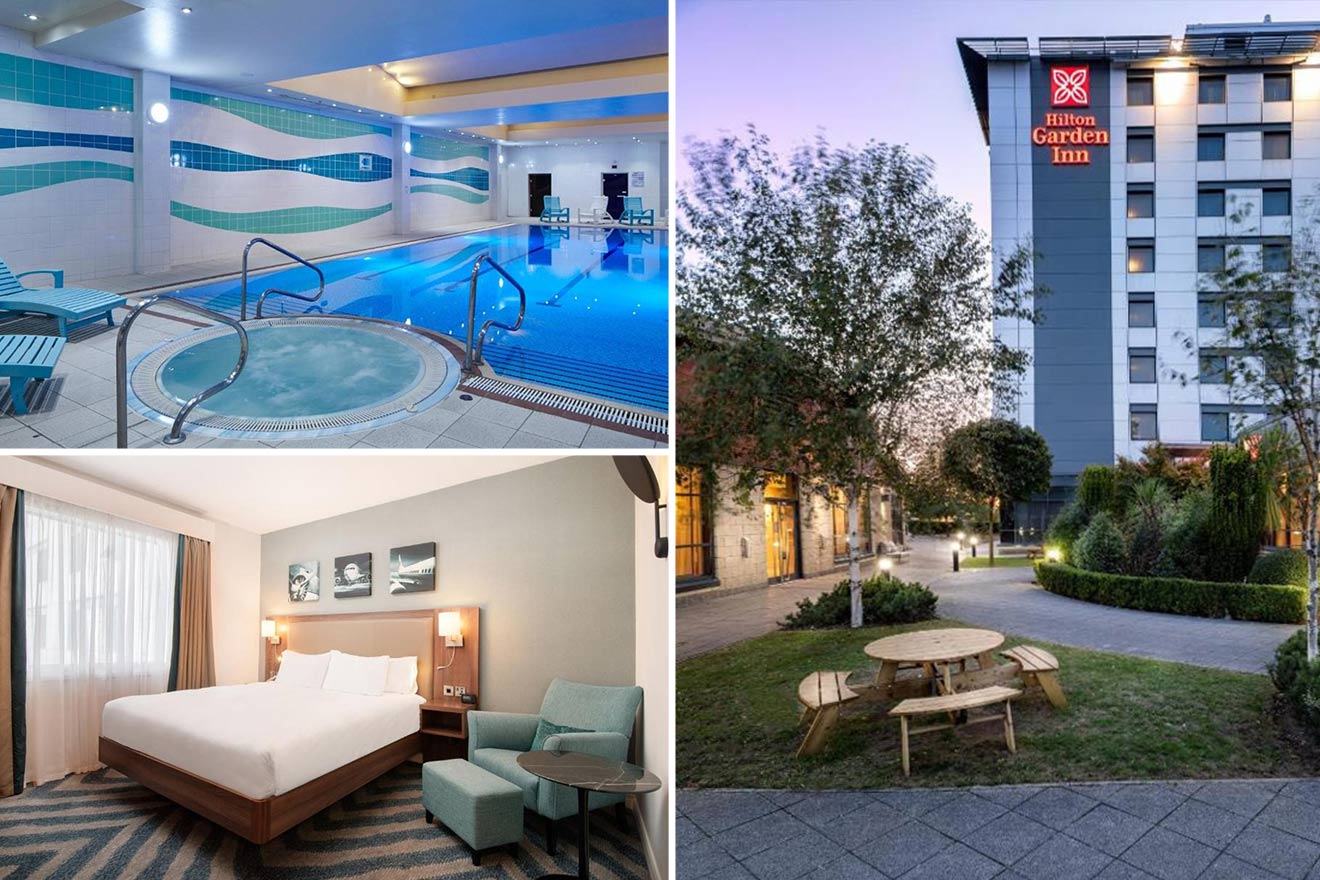 Hilton Garden Inn – Located on the eastern perimeter of Heathrow airport, this Hilton hotel has family rooms with a private bathroom and a flat-screen tv. The accommodation is served by the Heathrow Hoppa Bus but it also offers parking packages and lounge access. Order some room service if you're too tired to leave your room or head down to the restaurant and bar for some fun!
London Heathrow Marriott Hotel – Having trouble sleeping after that long flight? There's nothing like a quick dip in the indoor pool of this London Heathrow hotel set on Bath road to help you with that (you'll sleep like a baby afterward)! The guest rooms are super spacious, and they come with a sitting area, soundproof windows, and a private bathroom (definitely better than the chairs in the arrivals area). Everyone is welcome to enjoy a delicious Italian dinner at the restaurant on-site or you can order some room service if you want!
Mid Range (£100- £170)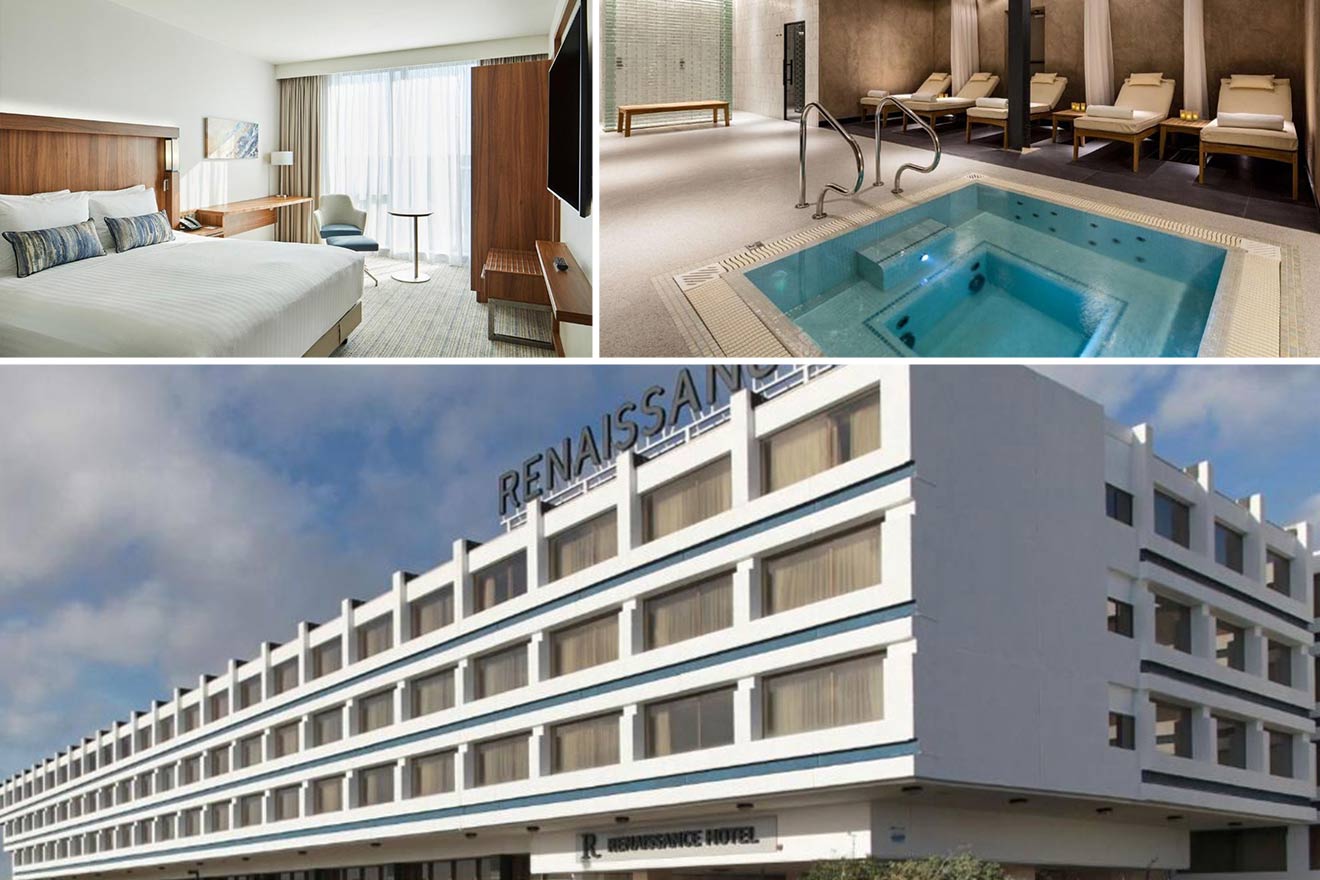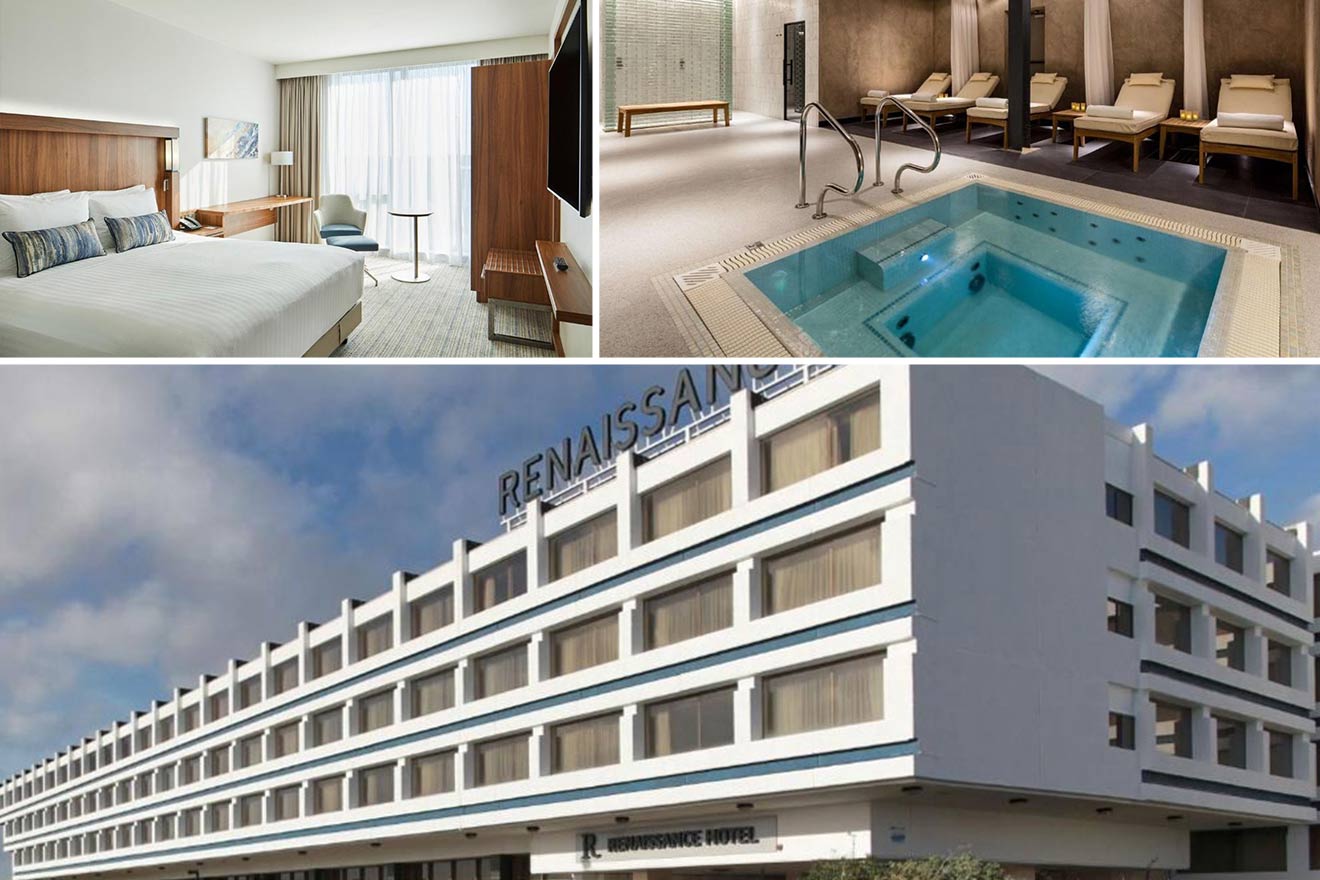 Renaissance London – Sleep like a baby at this hotel that's located a 5-minute drive away from Heathrow terminals 1, 2, and terminal 3. Each room has comfortable beds, free wifi, coffee-making facilities, and a private bathroom with shower facilities. With 3 restaurants on-site and a bar, you'll get to eat all the nourishing food you need before embarking on yet another flight. And that's not it! Some massages and yoga classes will be waiting for you in the wellness center so you can relax during your stay.
Radisson Blu Edwardian – Set just a 5-minute drive away from Heathrow Airport, right on Bath Road, this Radisson Hotel has a super elegant design, and it offers an airport shuttle to terminal 1 and the other terminals as well. Decorated with glass chandeliers, and an ornate marble staircase, the accommodation has lots of cool facilities including some spa services that will help you relax after that long flight! Each room at the hotel has Egyptian cotton bed linen, coffee facilities, and a private bathroom!
Courtyard by Marriott – This 4-star hotel offers shared lounge access and a business center. The accommodation has rooms modern rooms with a great design, large windows with curtains and a big comfortable bed so you can sleep like a baby after your flight. Guests of the hotel can enjoy a free breakfast in the morning and also access to a fitness center. I recommend you enjoy your morning coffee on the terrace which offers great views of the city and all the airplanes leaving from Heathrow Airport!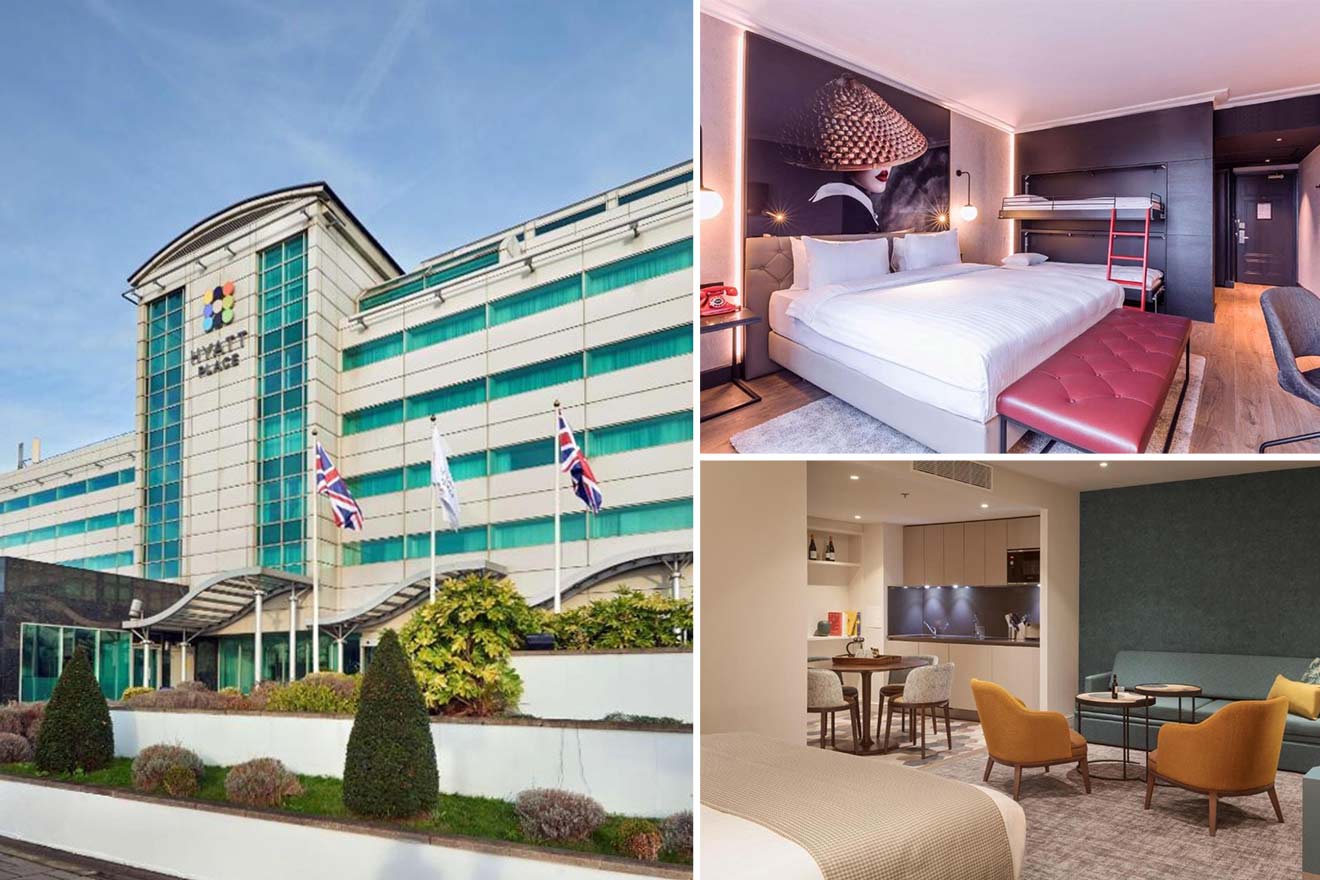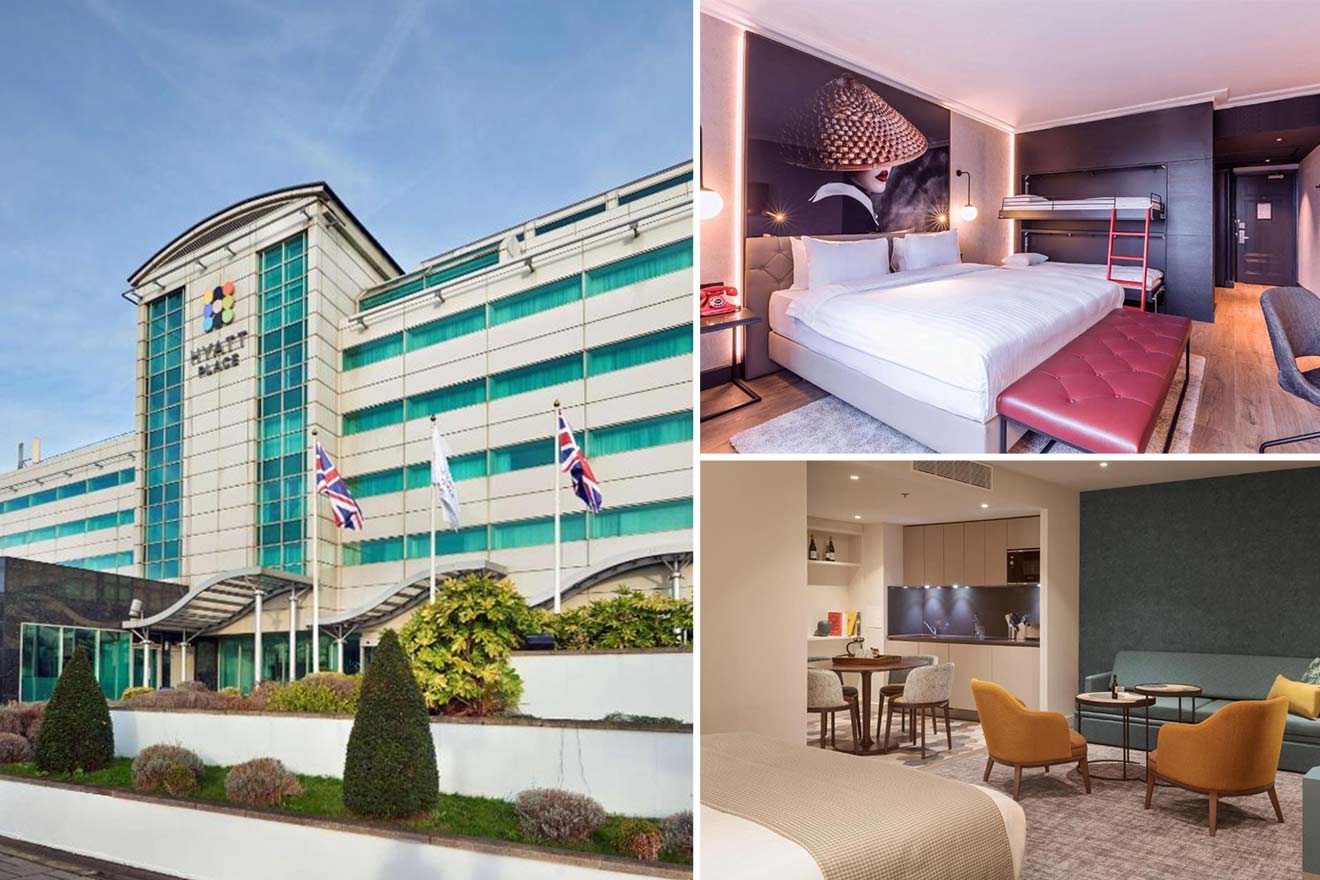 Radisson Red – No time to visit London and explore its attractions? Don't worry, the decor of this hotel will definitely make you feel as if you've seen a few (at least the famous red phone booths)! Relax in the sauna or hit the pool at this fabulous accommodation on Bath Road that has a bar and a restaurant. Each room at the Raddisson hotel is soundproofed and it comes with a private bathroom, a flat-screen tv, and coffee makers. The hotel also offers a paid shuttle service to a terminal at London Heathrow Airport.
Hyatt Place – Do you need to wait a really long time for your connecting flight? Don't worry, if you're lucky enough to get a room at this London Heathrow hotel then you're all set! With spacious rooms that have a mini-fridge, free wifi, and coffee facilities, this accommodation has everything you need for your stay. Take a long bath and then order some room service or head out to the restaurant to enjoy a delicious meal!
Staybridge Suites – This awesome hotel provides air-conditioned accommodation with a kitchenette, a flat-screen TV, and a private bathroom. In the morning you can enjoy a delicious breakfast at the hotel but if you're looking for something more diverse then the restaurant at the adjacent hotel, the Holiday Inn, is open for you as well. Hit the gym if you have some time, or relax on the terrace before you head back to the airport!
Budget (up to £100)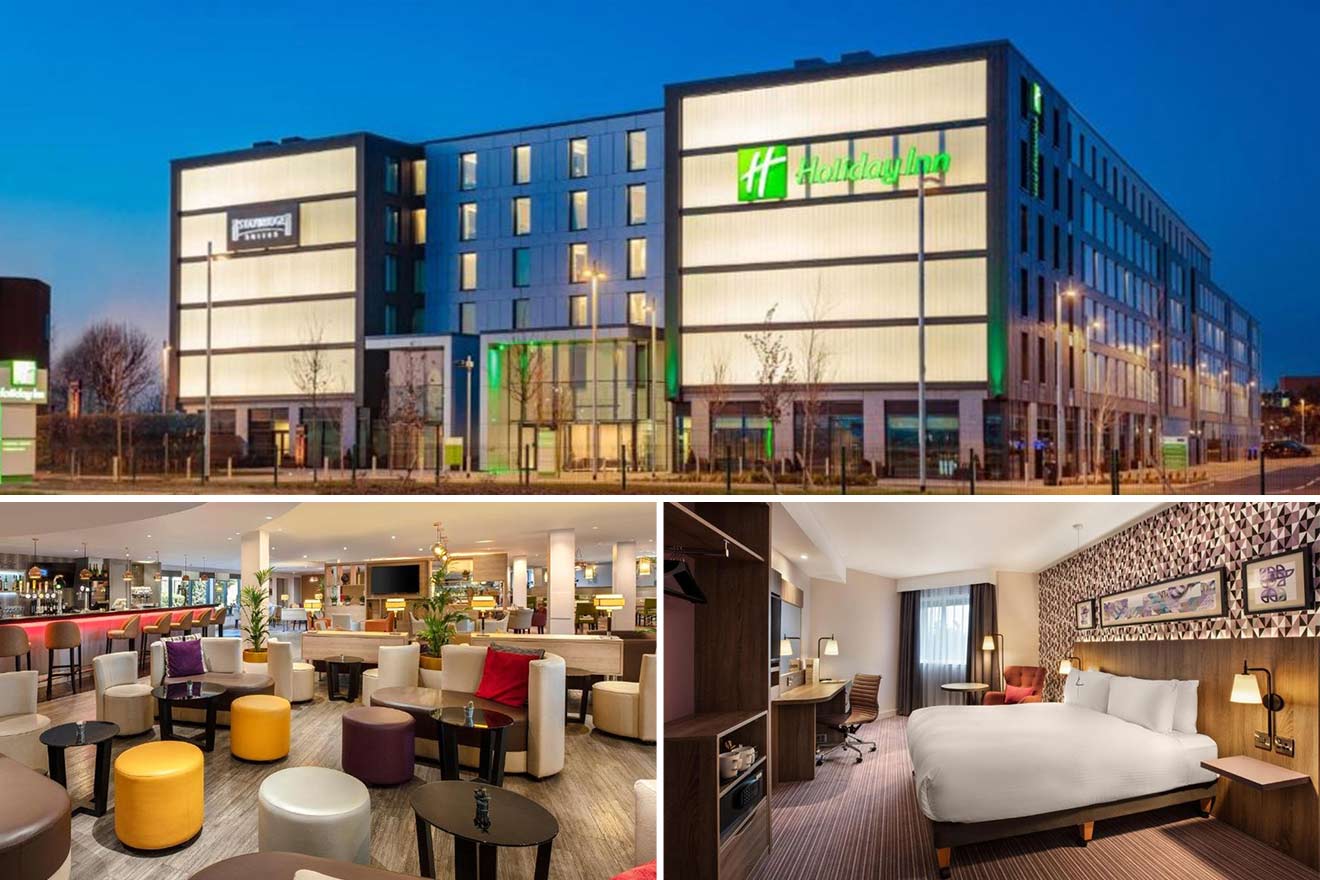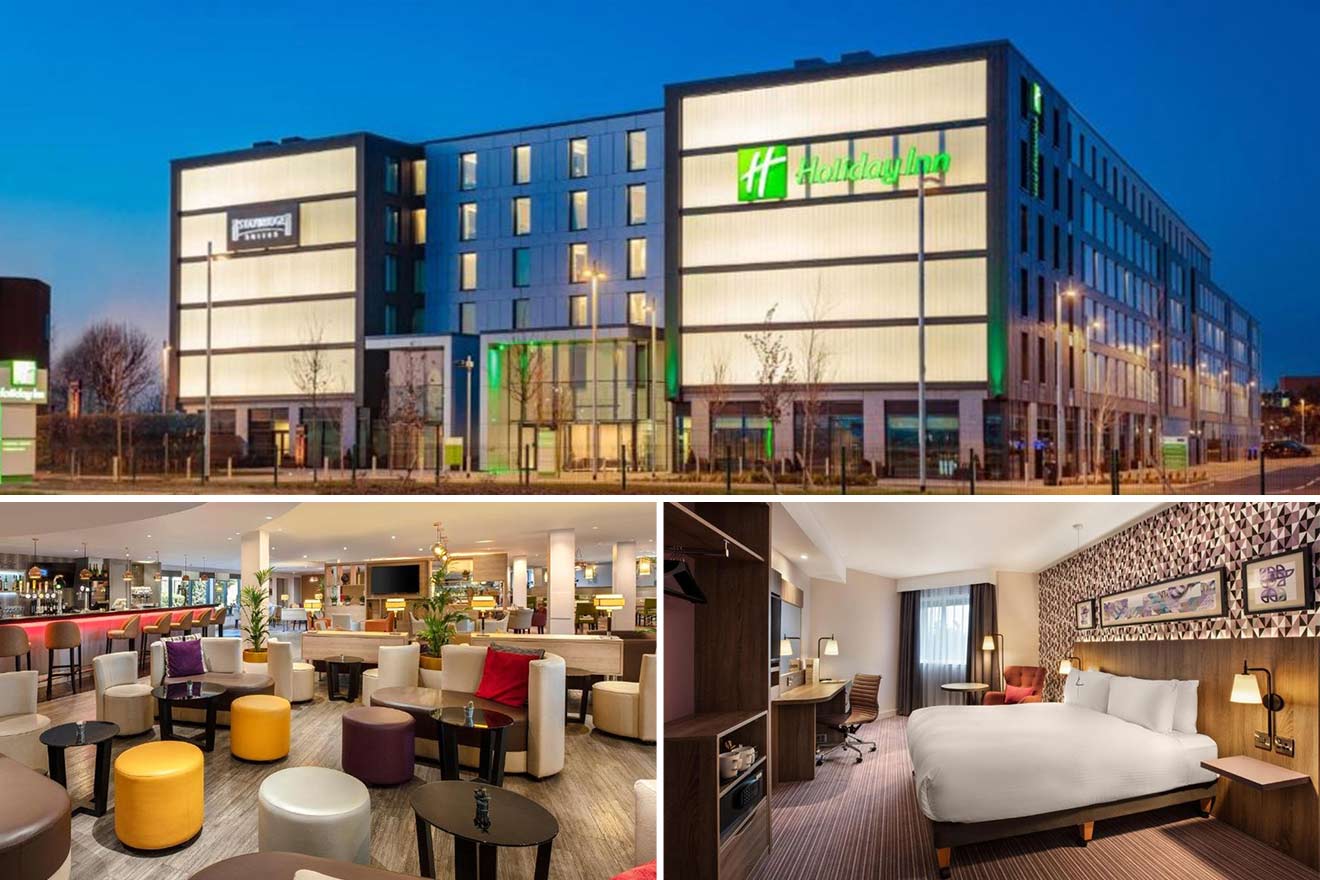 Leonardo London – Looking for something a bit more affordable? Then this hotel which sits a 5-minute drive away from London Heathrow Airport will be perfect for you! The accommodation offers an airport shuttle for all guests. You'll love the rooms at Leonardo, all of them come with a tv, comfortable beds and air-conditioning. Forget all about snacking in the airport lounges, as this hotel also has a restaurant on-site that offers delicious meals!
Holiday Inn – Enjoy the runway views from the comfort of your room at Holiday Inn London Heathrow on Bath Road which offers an airport shuttle and parking spaces. You'll enjoy the best sleep in your room which is soundproofed and has an en-suite bathroom and free wifi. Enjoy a quick and delicious breakfast at the restaurant and you'll be ready to go catch your flight!
3. Budget hotels close to Heathrow Airport
If you have a long layover and you don't mind that these hotels are not located inside an airport terminal then I recommend checking them out. Even though these options are bit cheaper than the ones in the first 2 sections, they're still located within a 3 miles (5km) radius of London Heathrow Airport and you can easily take a shuttle bus or a National Express Coach to the airport!
All the accommodations below are budget with prices from £80 to £100.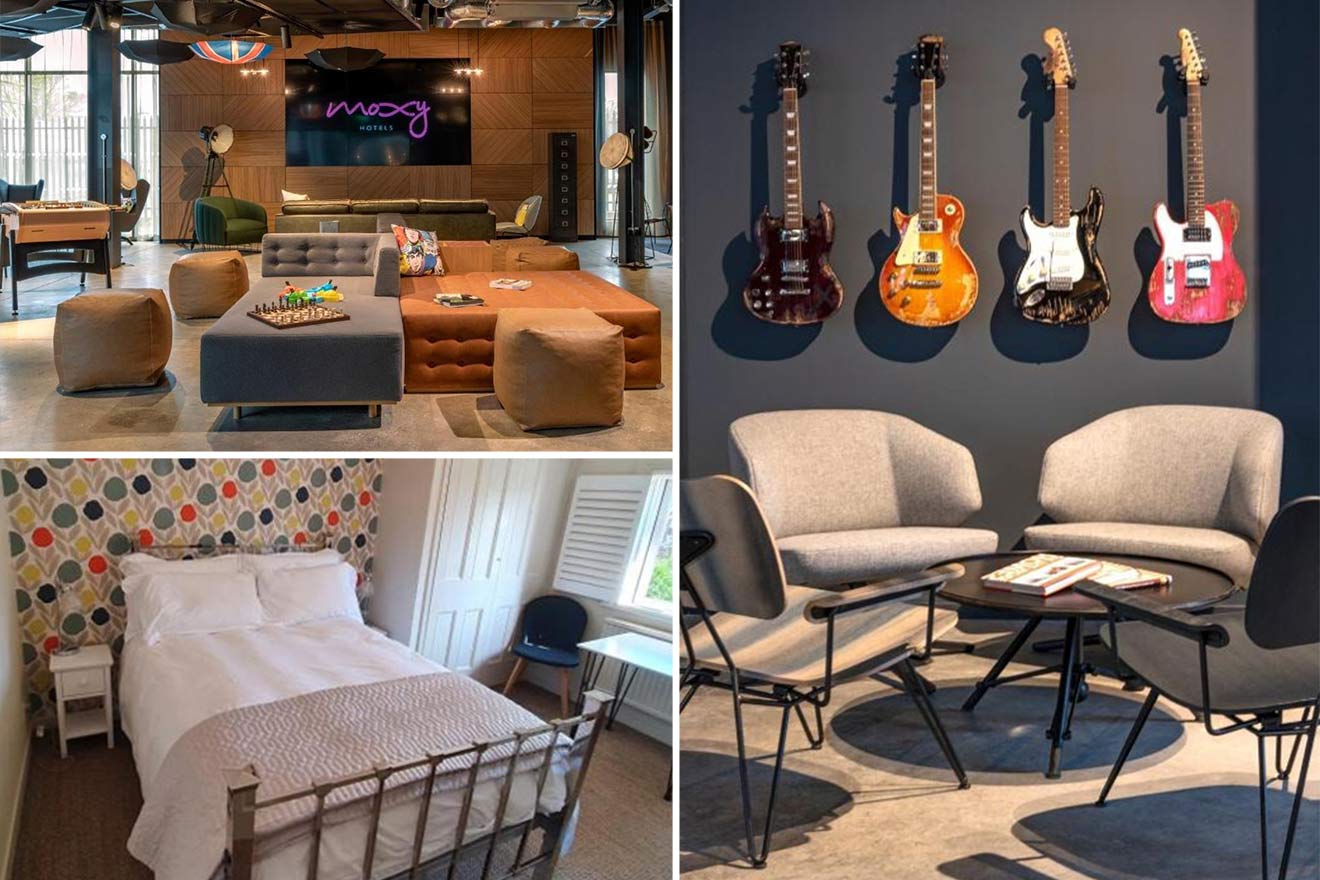 Moxy London – With a super cool design this hotel offers single and double rooms near London Heathrow Airport. Each suite at the accommodation comes with a flat-screen TV, WiFi, and air conditioning. Guests will have access to an airport shuttle (for an additional charge), and a business center. So grab a quick bite at the restaurant on-site and then you're ready to go!
The Lodge – Feel at home in this cute bed and breakfast that's located 2 miles (3 km) from London Heathrow Airport. The accommodation offers a kitchen, a lounge area and double rooms equipped with free wifi. During the day you can relax in the garden before catching your airport shuttle bus (from the accommodation).
Frequently asked questions about Heathrow Airport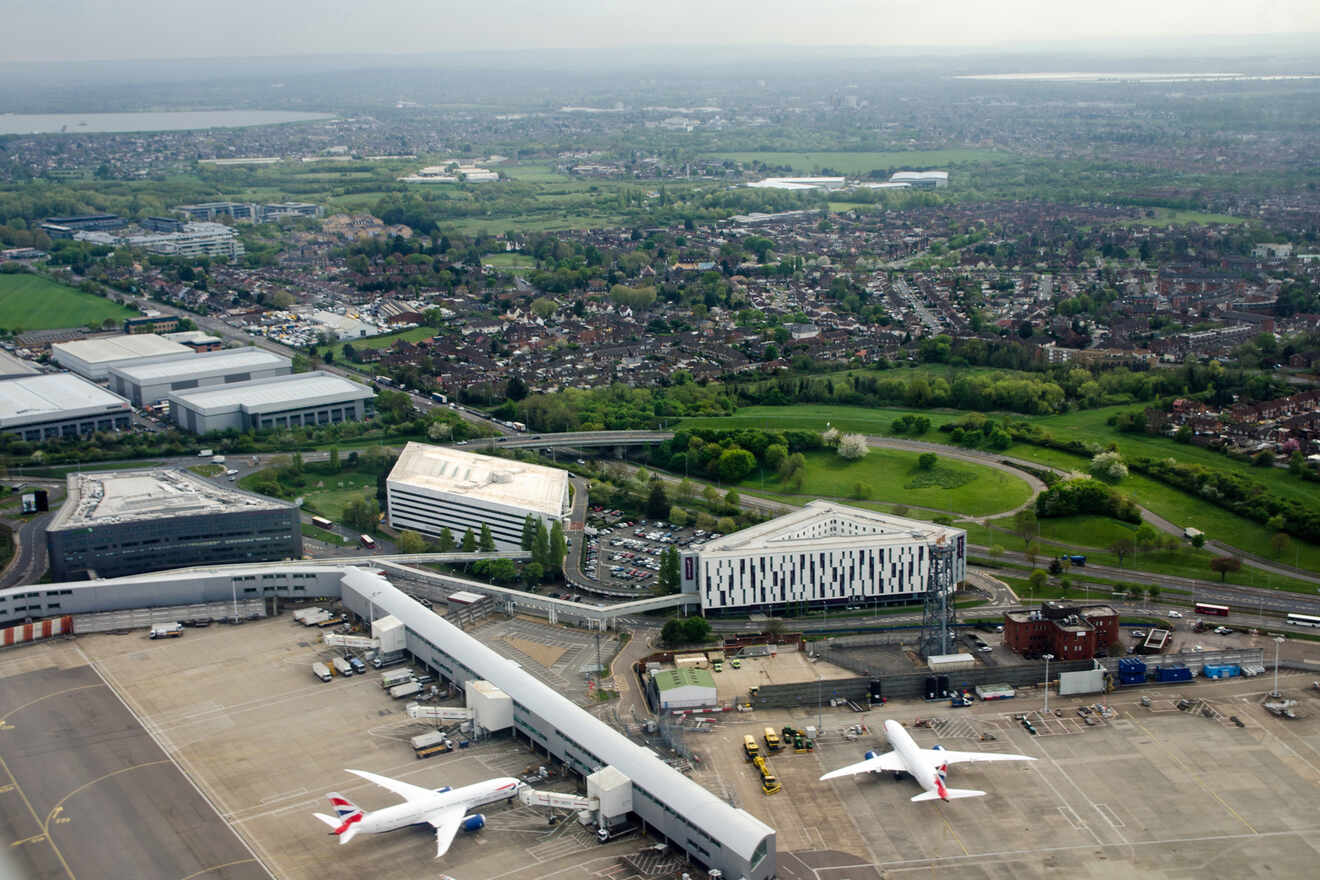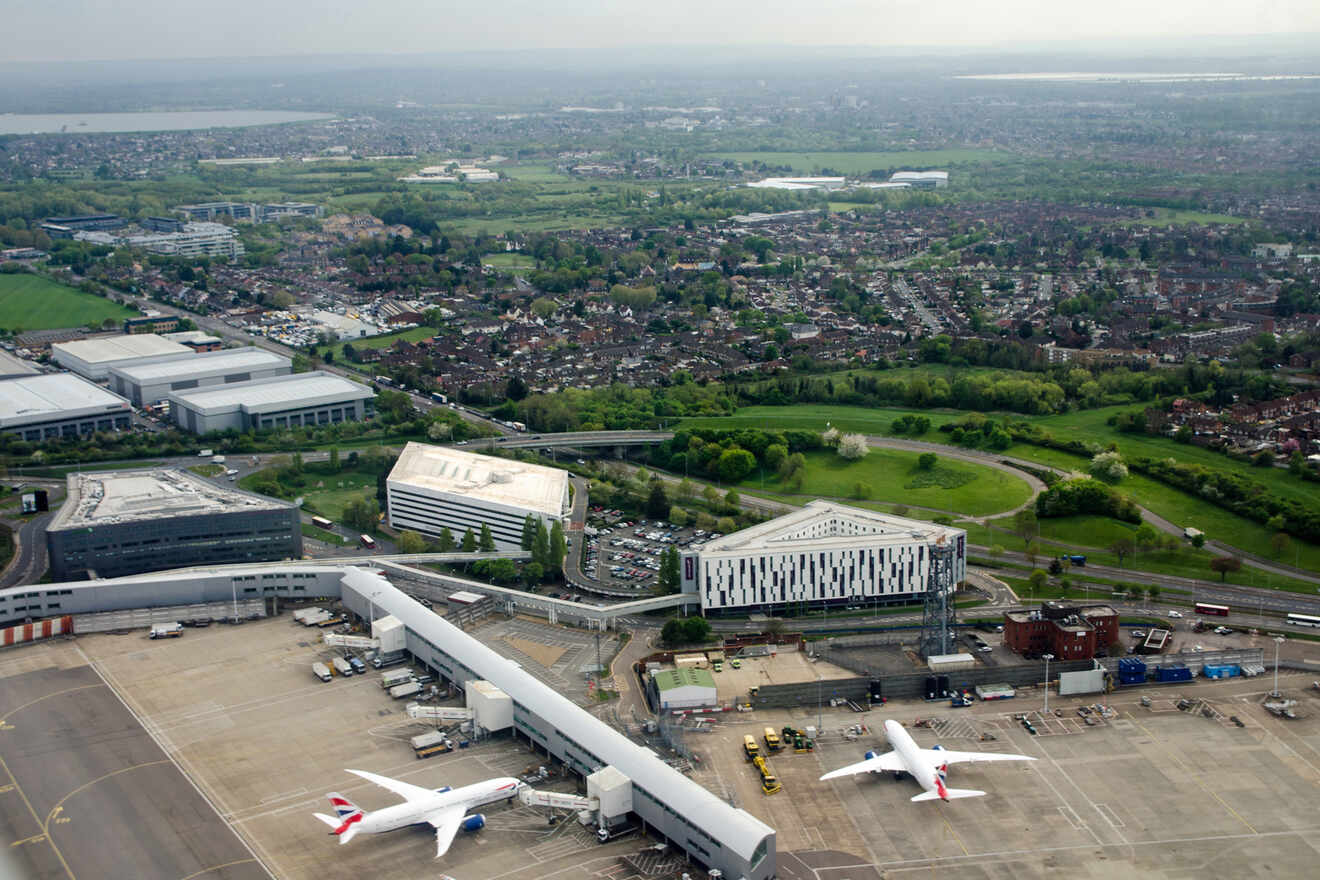 🛫 Does Heathrow have a hotel in the airport?
🅿️ Which hotels at Heathrow offer parking spaces?
🤔 Are there sleeping pods at Heathrow?
Yes, there are sleeping pods at Heathrow Airport. 
🚌 Which hotels at London Heathrow Airport offer a shuttle bus? 
Conclusion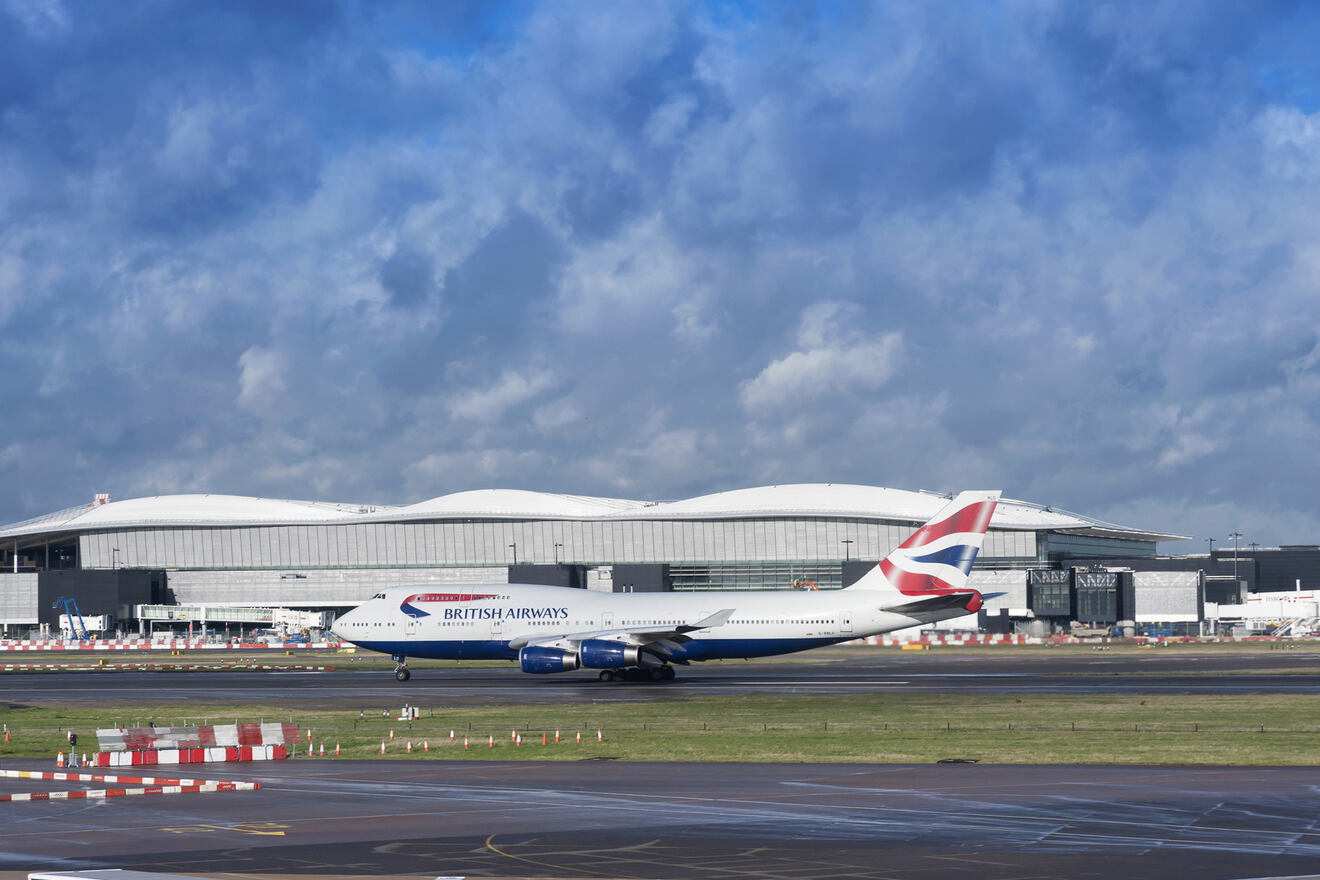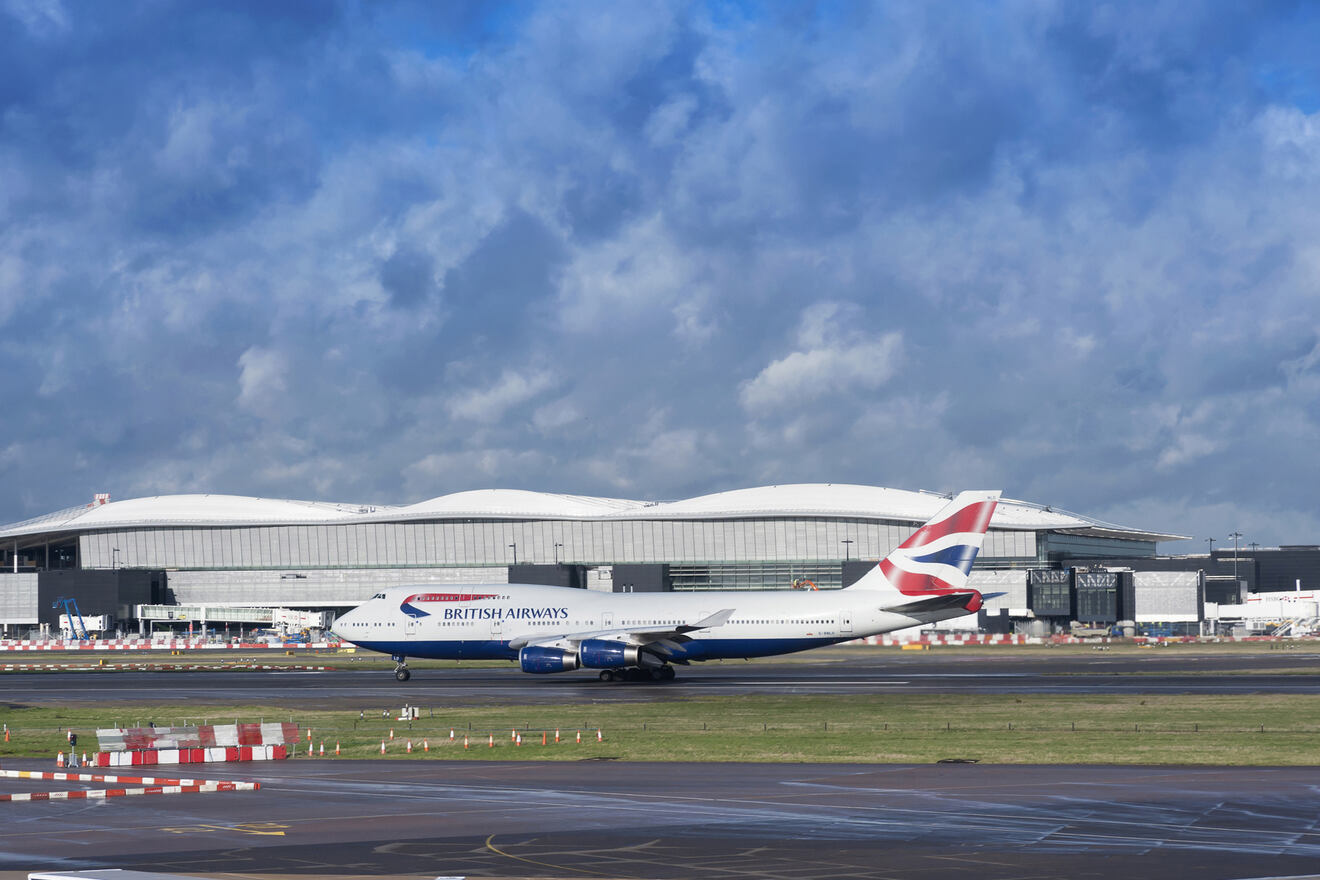 I think now you're ready to go on your trip without a care in the world, even if you've got a layover or connecting flight at Heathrow airport!
I'm sure this post helped you decide which is the best hotel inside Heathrow Airport for you. But even if you decided that it wasn't for you, I've also mentioned some top hotels on the perimeter of the airport and budget accommodations nearby!
You've got a wide range of hotels and although it may seem like a lot it will definitely help you make a wise decision. But I want to give you some extra help as well, so here are my top 2 favorite options:
Hilton Garden Inn – A fabulous hotel that's directly attached to Terminal 2 with Terminal 3 which has comfortable rooms, a restaurant, and a bar
Sofitel London – This elegant Heathrow hotel has easy access to Terminal 5 and offers panoramic views and family rooms
As I mentioned earlier, there are just a few hotels inside London Heathrow Airport so I highly recommend booking them in advance as all rooms sell out super early!
Have a wonderful trip and a fabulous layover in London! If you've got any other questions, pop them below in the commend and I'll answer them ASAP!
Safe Travels,
Victoria
---
Pin it for later!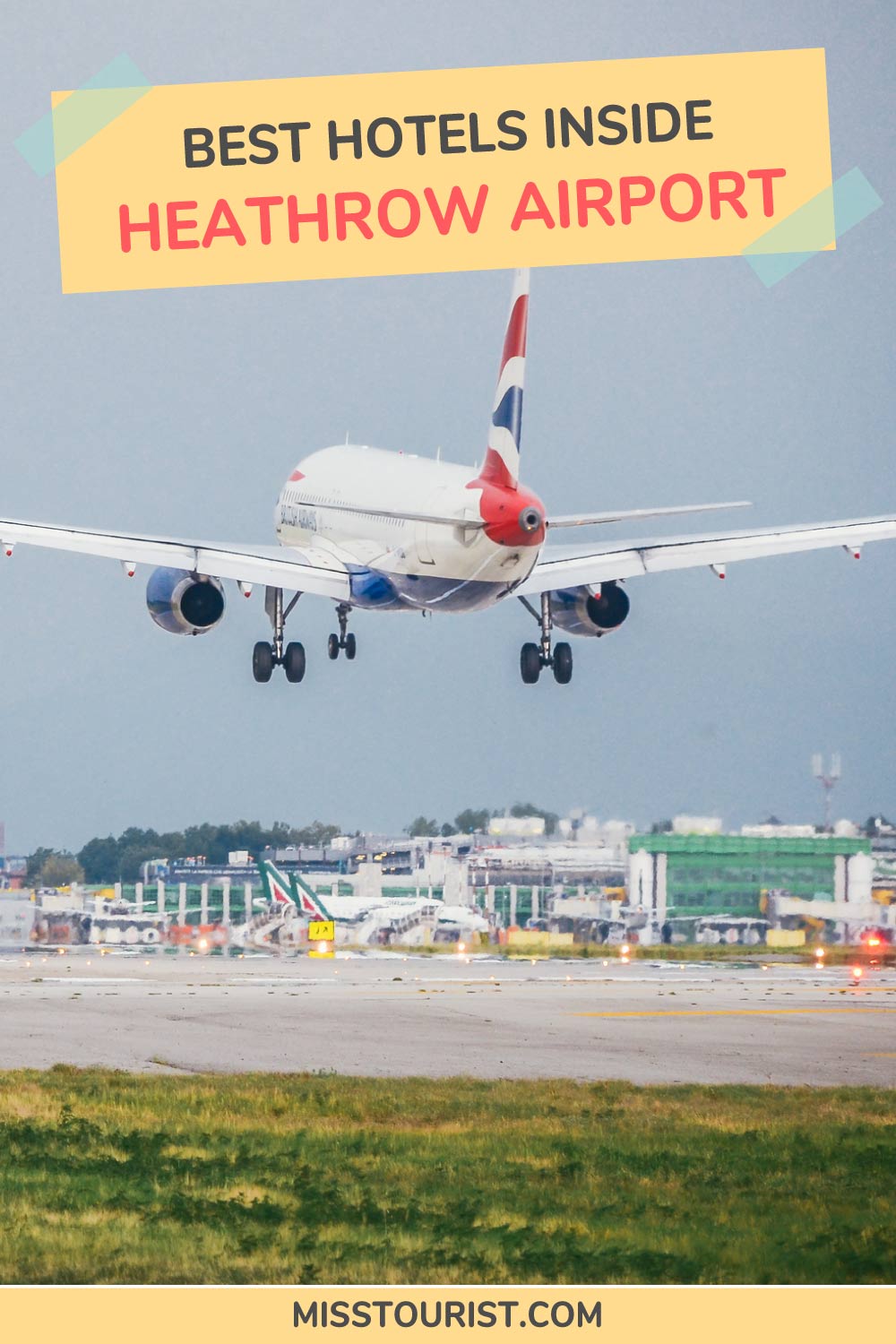 Pin it for later!