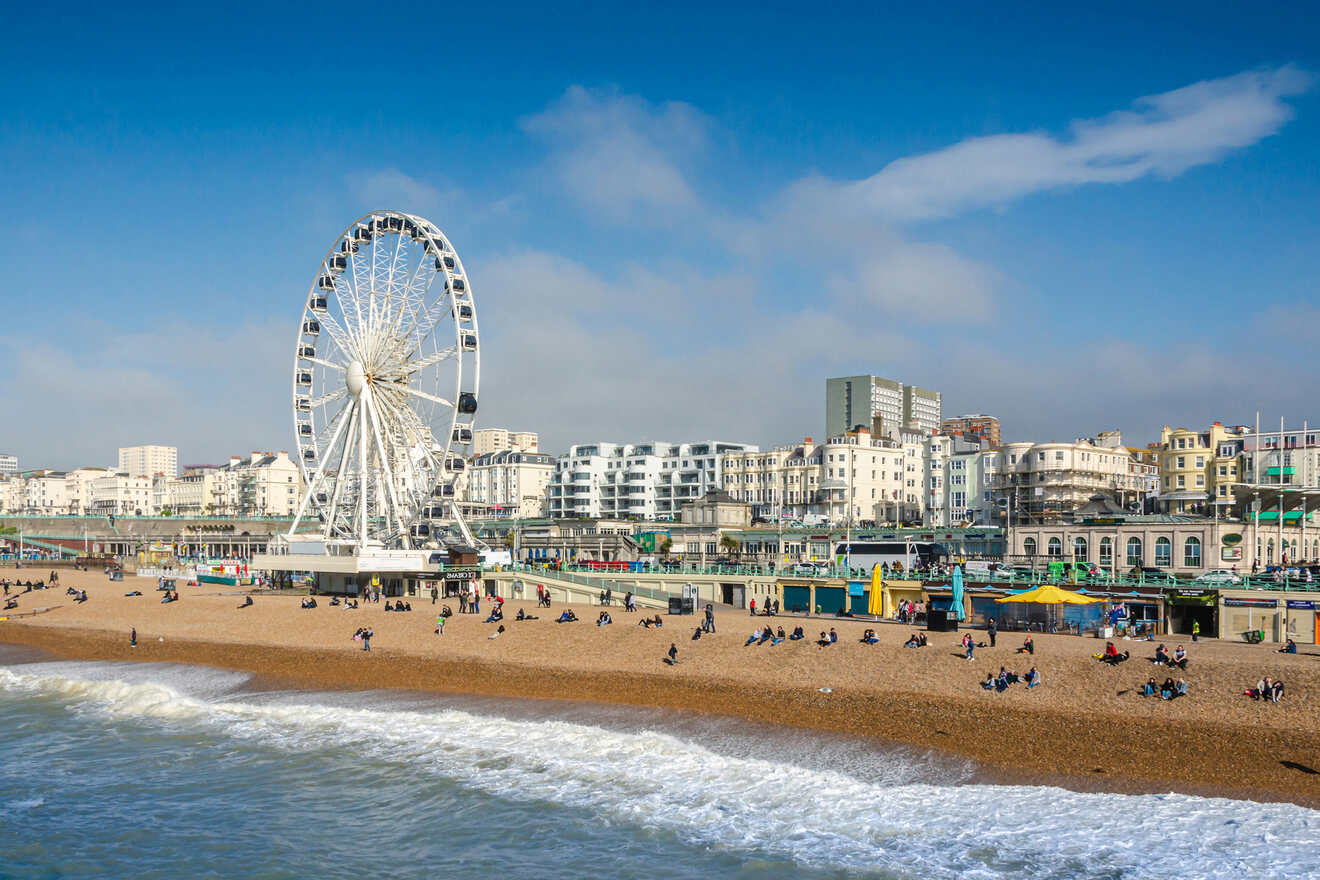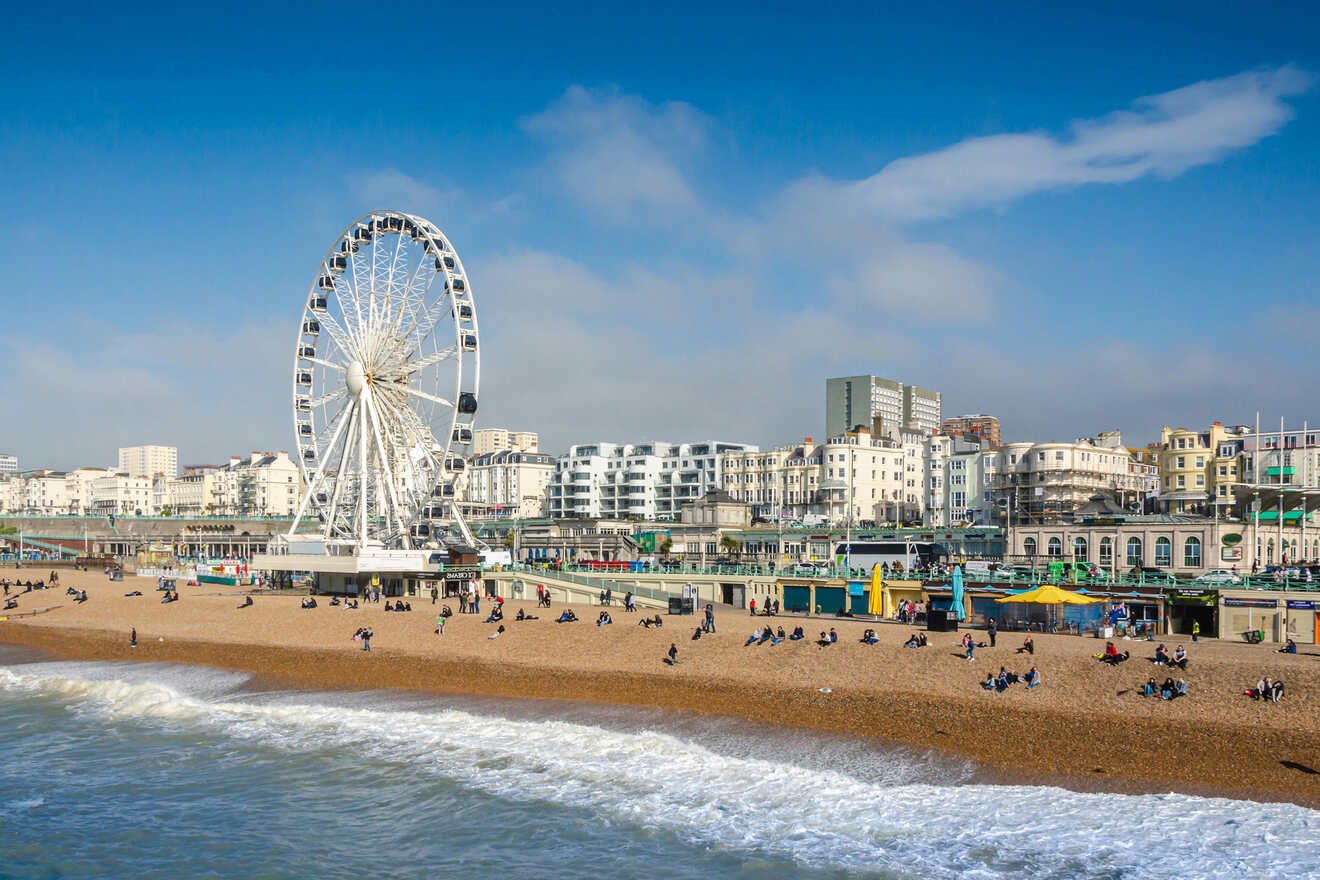 Ready for some sun and time on the beach?
I know people usually think England is this gloomy country where it rains non-stop (which is partly true), but I'm sure they haven't been to places like Brighton.
This seaside resort town sits on the south coast of England, in the county of East Sussex, and I was lucky enough to visit it a few times while I was living in Kent.
In this post, you'll find a well-detailed guide on the best things to do in Brighton all year round, plus a bonus with some cool tours that you must try!
And of course, I can't let you plan your trip without some practical tips on where to stay in Brighton and how to get there from London (which is just a stone's throw away). You'll find all that and more useful tricks below.
Now start playing Queen's song, Brighton Rock to get you in the mood, and let's go!
1. Spend a fun afternoon at Brighton Palace Pier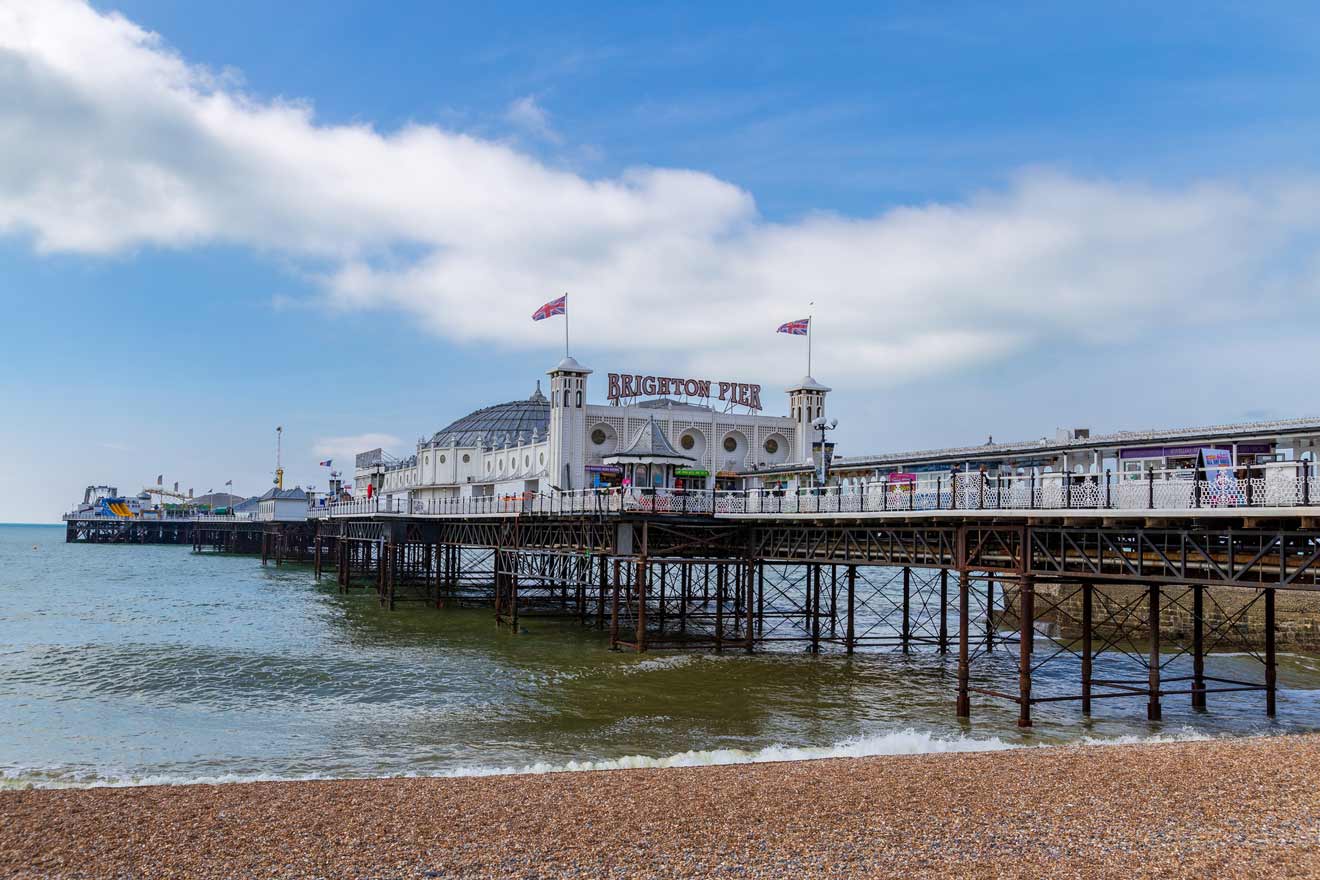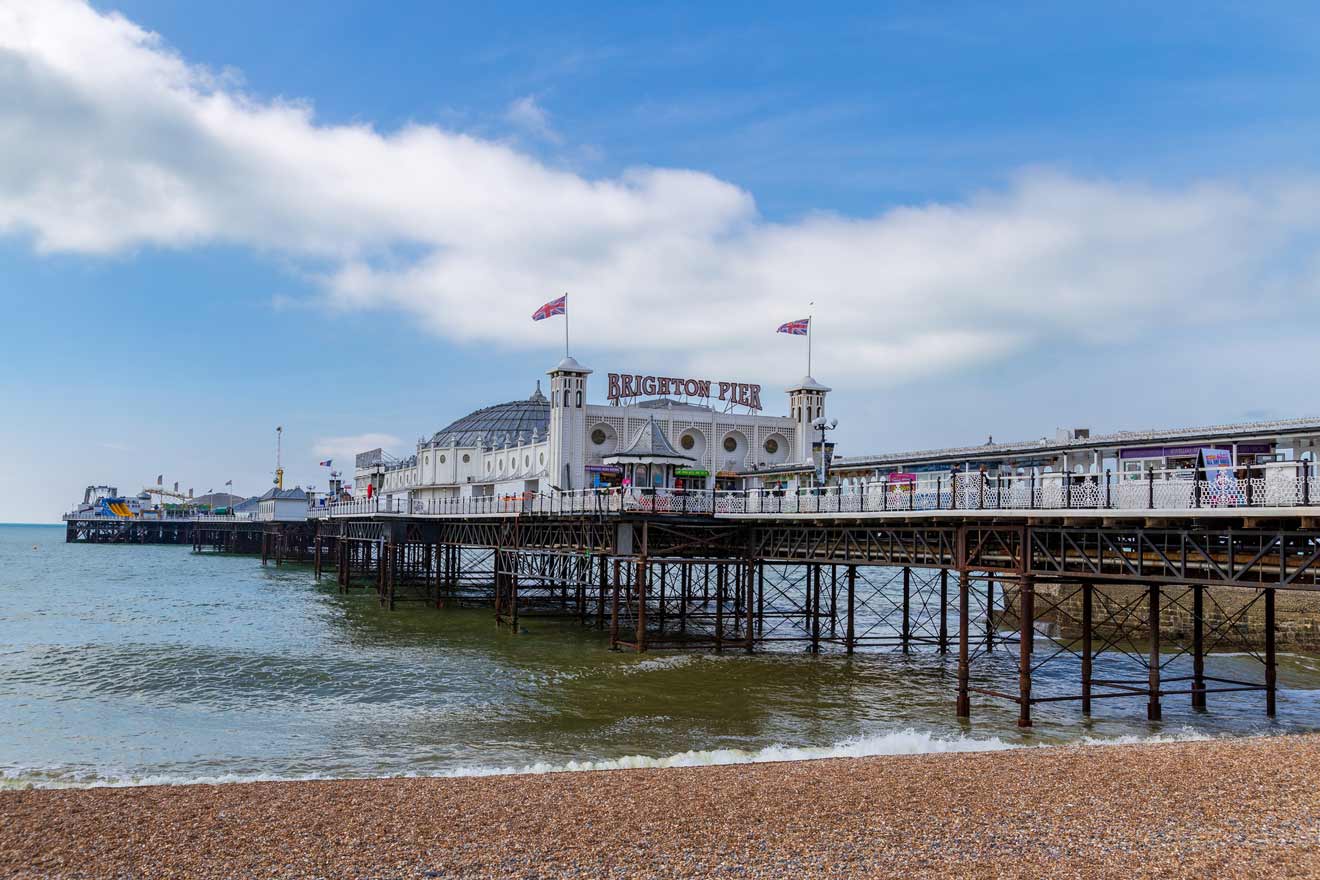 In Brighton, all roads lead to the Pier Palace!
This old yet super important UK landmark was the first thing I saw when I arrived in the city. Of course, the day I came, the weather turned for the worst. Luckily, it changed its mind in an hour or so, and the sun was shining again!
Built when piers were super popular, this iconic building stretches a few meters into the sea, and it's home to an amusement park, fairground rides, theatres, and other cool activities! It's one of the biggest tourist attractions in the city, and you shouldn't miss it!
This was actually the 3rd pier built in the city. The Royal Suspension Chain Pier (1st one) was destroyed in a storm, and the burnt-out West Pier (2nd one), which was super famous during World War 1, was abandoned in the 70s and lost to a fire in 2003. You can still see the ruins of the West Pier as you explore the promenade.
Spend a day here, and you'll feel like you've traveled back in time! That's how I felt, and although I'm not into rides and arcades, I had a great time!
NOTE: Check the weather before going, as some fairground rides may be closed if there's a storm.
Walking around the Palace Pier is free, but if you want to get on the rides, you'll have to buy your tickets in advance by topping up a card with money. There are 2 ticket offices (one near the amusement park area and one near the bumper cars) that have lists with all the prices so you can calculate how much you'll spend.
PRO TIP: If you're into rides and want to try out all the Pier Palace attractions, I recommend buying the wristband. The wristbands that grant access to all the rides cost US$25 for adults and US$14 for kids.
2. Learn new things at Brighton's museums
This seaside town makes you want to spend as much time as possible at the beach or exploring its streets. But as you know, the weather can change every 5 seconds (literally, once I felt as if I experienced all 4 seasons in one day)!
Luckily, there are plenty of things to do in Brighton inside, and one of my favorites is visiting some museums and art galleries. Let's check the best ones around:
2.1 Royal Pavilion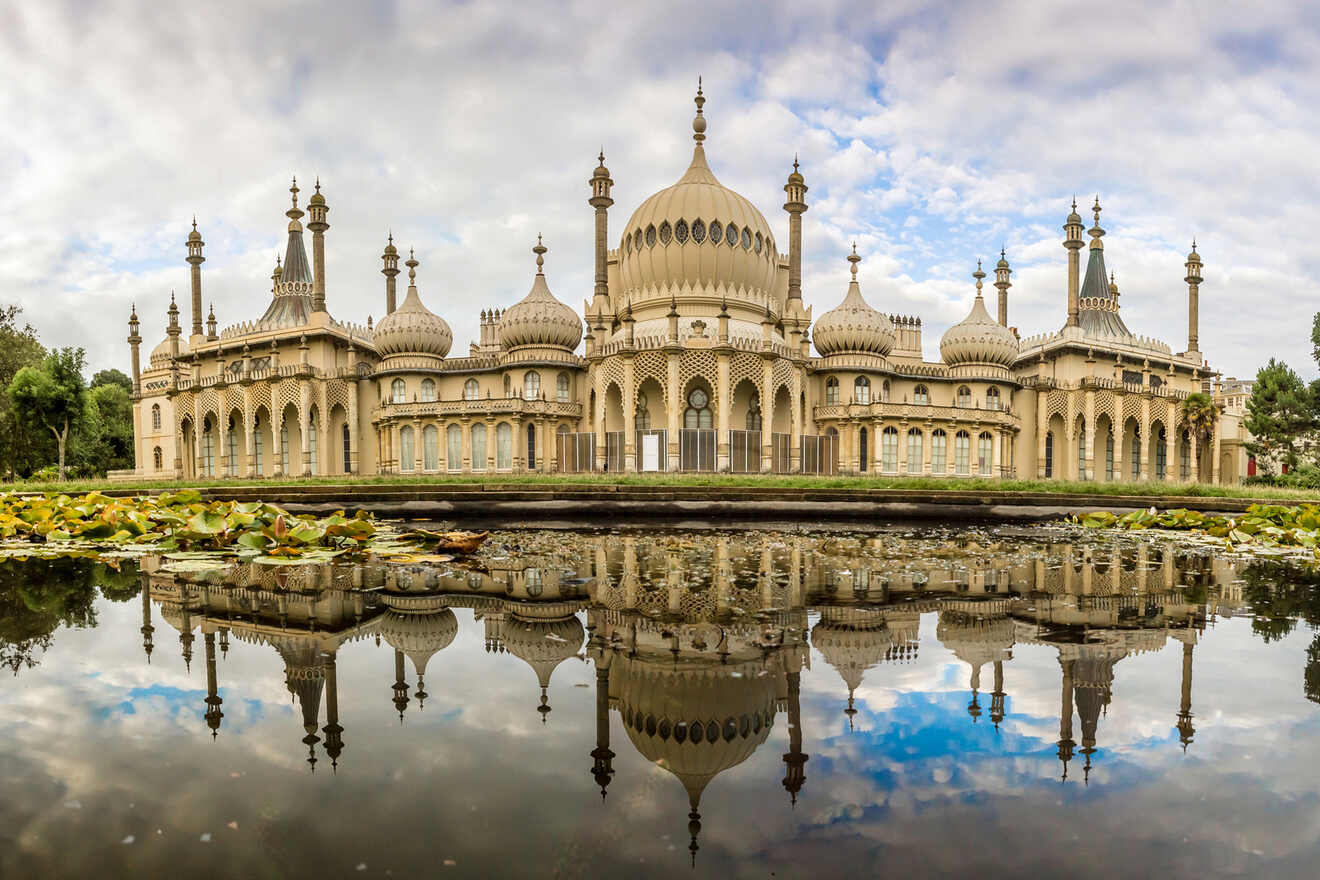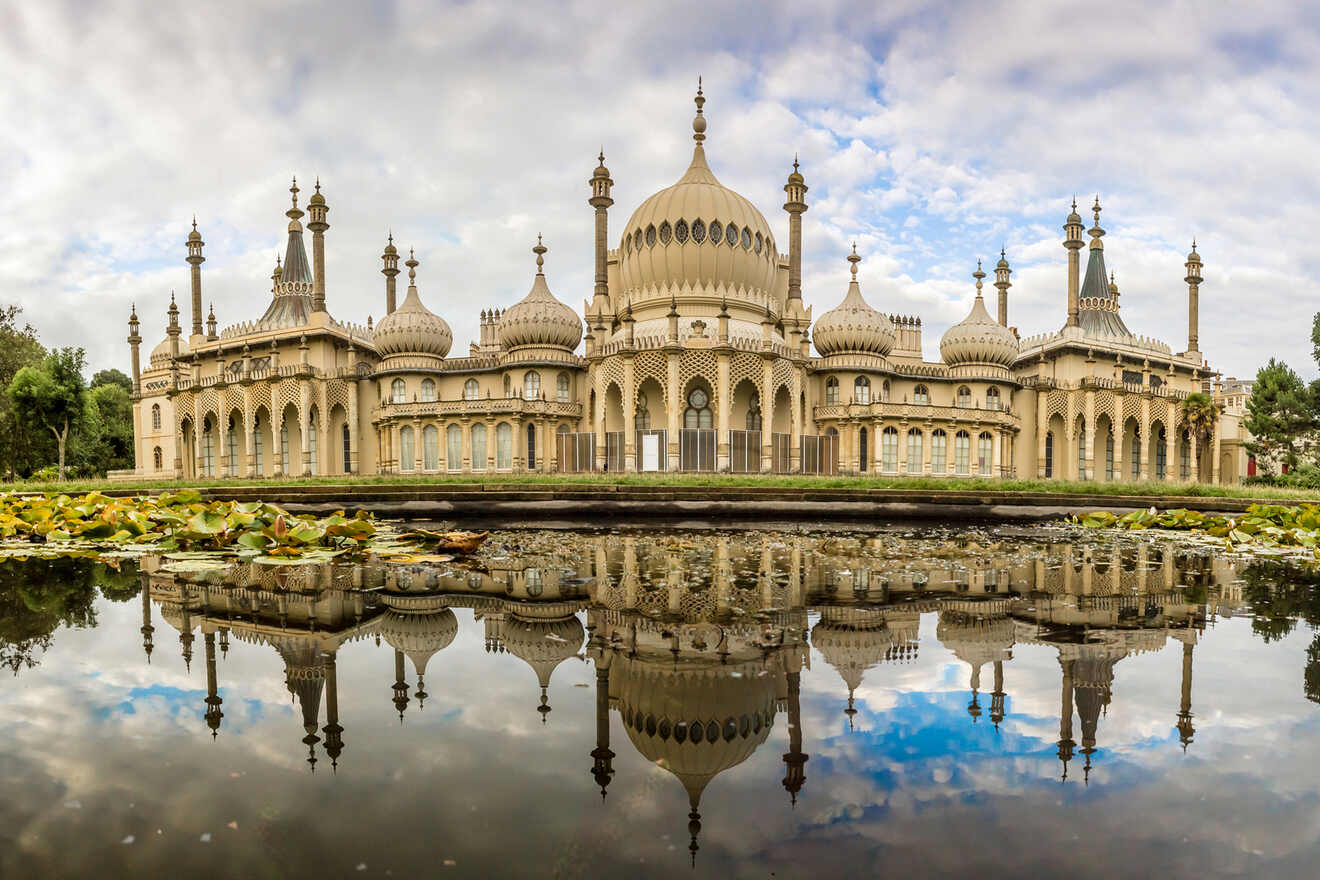 Built as a seaside palace for King George IV (the Prince Regent), by architect John Nash, this beautiful piece of architecture combines British style with elements from India and China. It's one of Brighton's landmarks and a great place to visit. Surrounded by some beautiful gardens (which you can explore for free), the Royal Pavilion is one place you shouldn't miss! Get an audio guide if you want to learn more about the fine art and costumes at the museum!
PRICE: Adults US$21, Children US$14
2.2 Brighton Fishing Museum
Let's not forget that Brighton was once a small fishing village! A lot has changed since then, but if you want to learn more about Brighton's history and sea life, visit this museum that has lots of pictures, paintings, and more items reflecting that period.
PRICE: Free
2.3 Brighton Museum & Art Gallery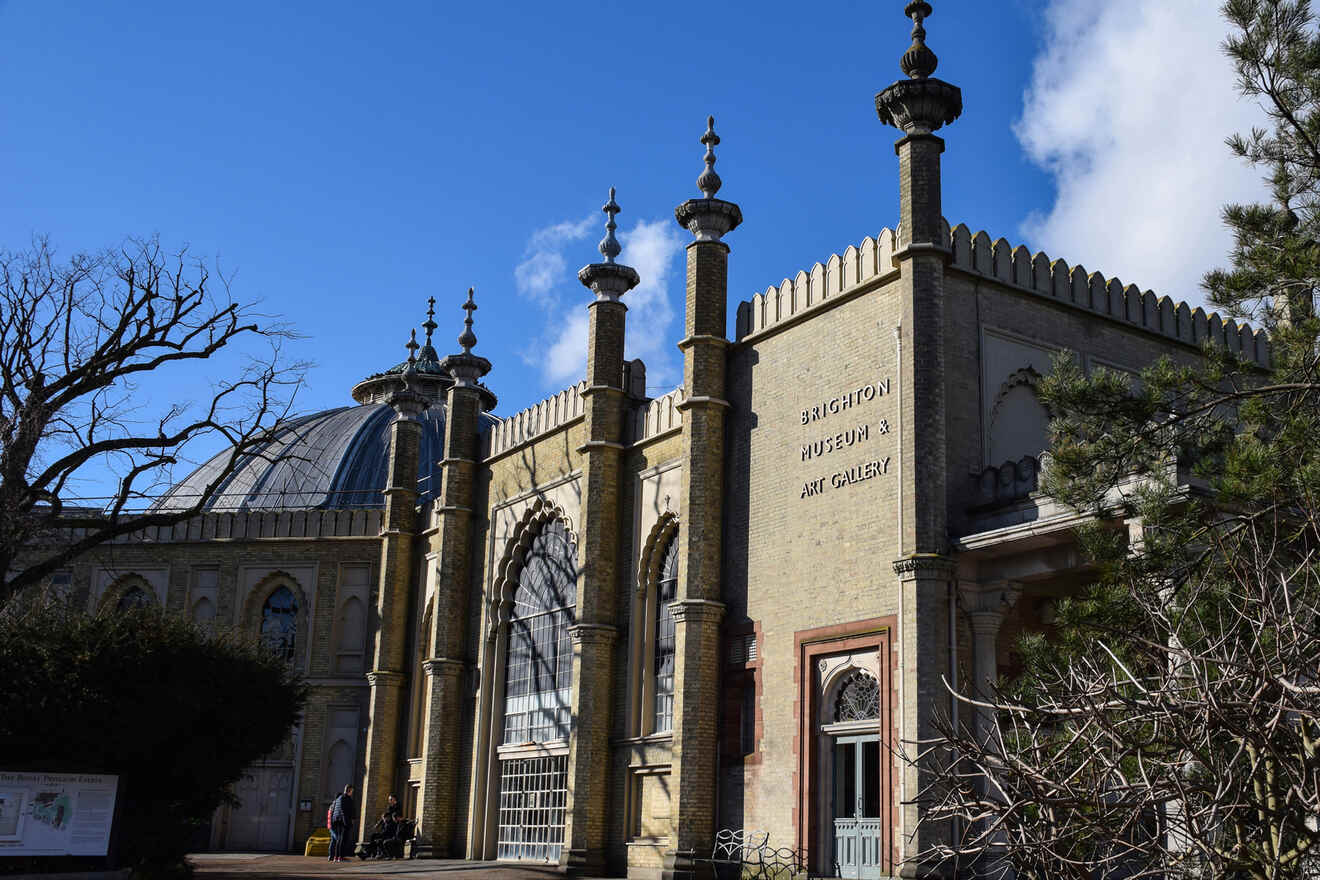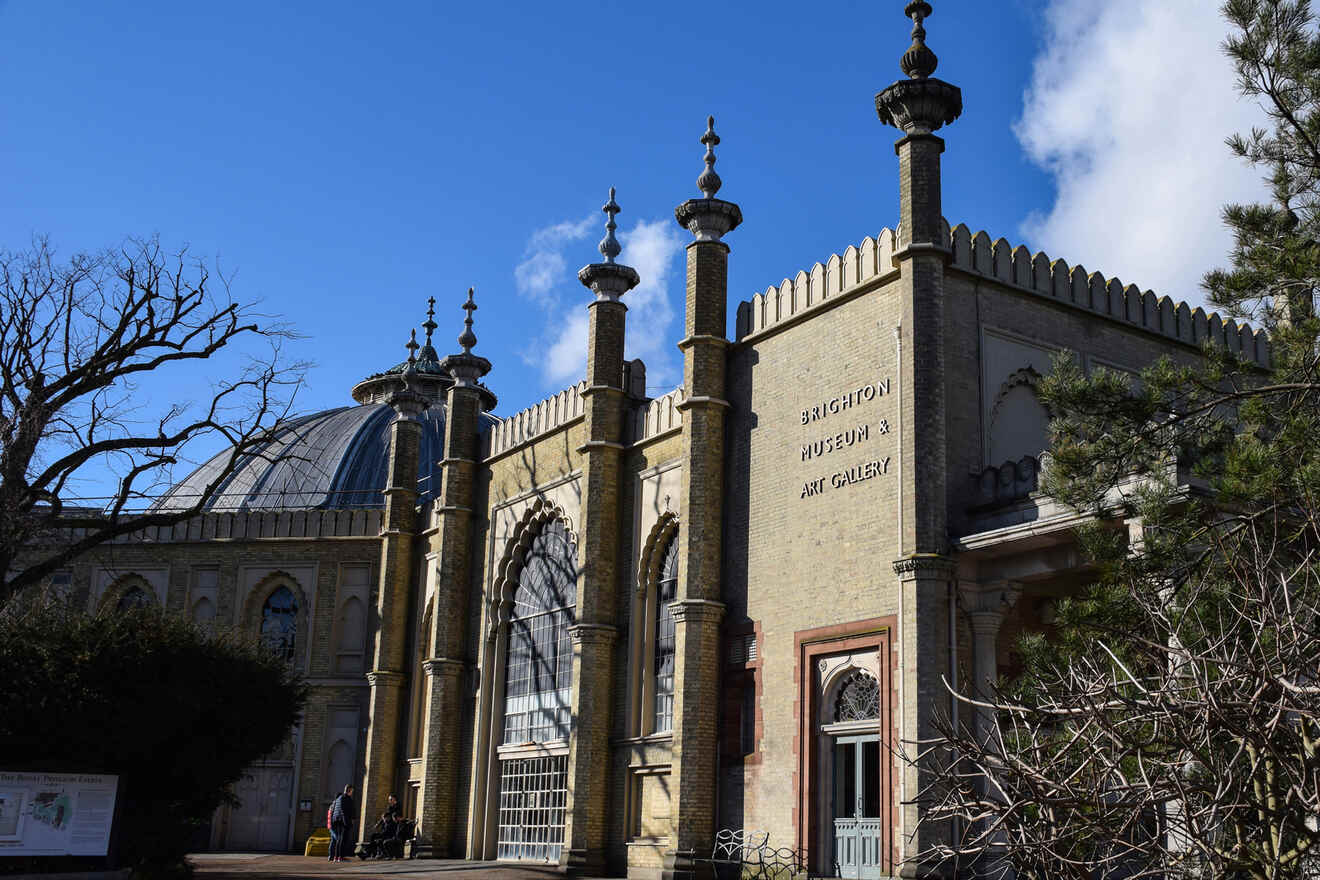 This fascinating museum sits in the Royal Pavilion gardens, in the city's cultural quarter, and it holds many collections of decorative art. Brighton Museum also has other sections featuring items from Ancient Egypt.
PRICE: Adult US$8.20, Children US$4.80
2.4 Booth Museum of Natural History
Interested in geology, fossils, and the natural world? Booth Museum has some really cool exhibitions that feature birds. It was originally a private collection supposed to host the largest collection of birds in the country, insects, and marine items, but Edward Thomas Booth donated it to the city in 1890 and ever since then it's been free for all to visit!
PRICE: Free
2.5 The Hove Museum & Art Gallery
I'm sure the kids will love the wizard's attic exhibition at this craft museum! It also features other displays on film, toys, local history, and the buildings' past.
PRICE: Free
2.6 Preston Manor
If you're a history fan, then you'll love this museum! Preston Manor is a historic house that has collections of decorative art, clock, and ceramics!
PRICE: Adults US$9.90, Children US$5.60
3. Shop until you drop at Snoopers Paradise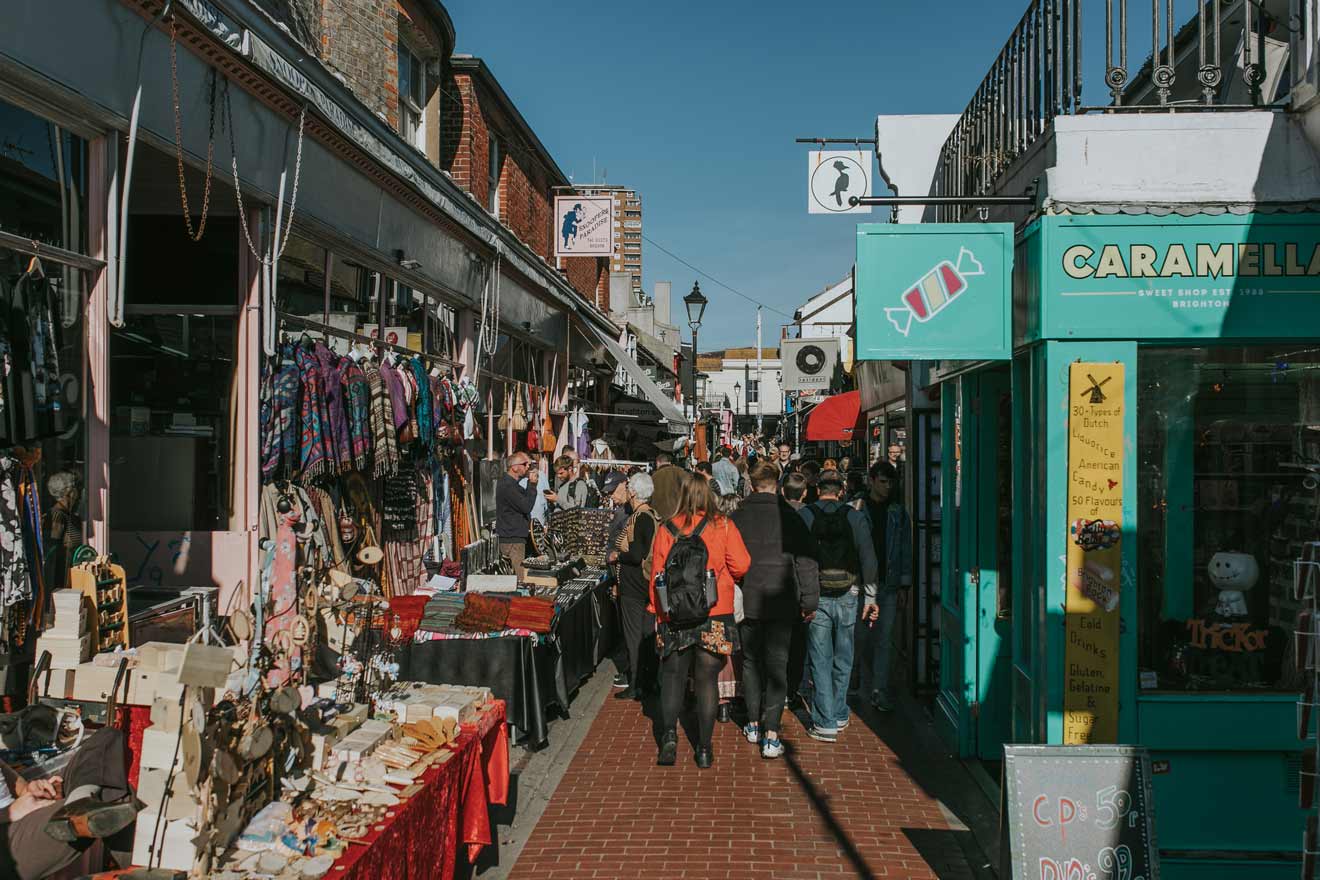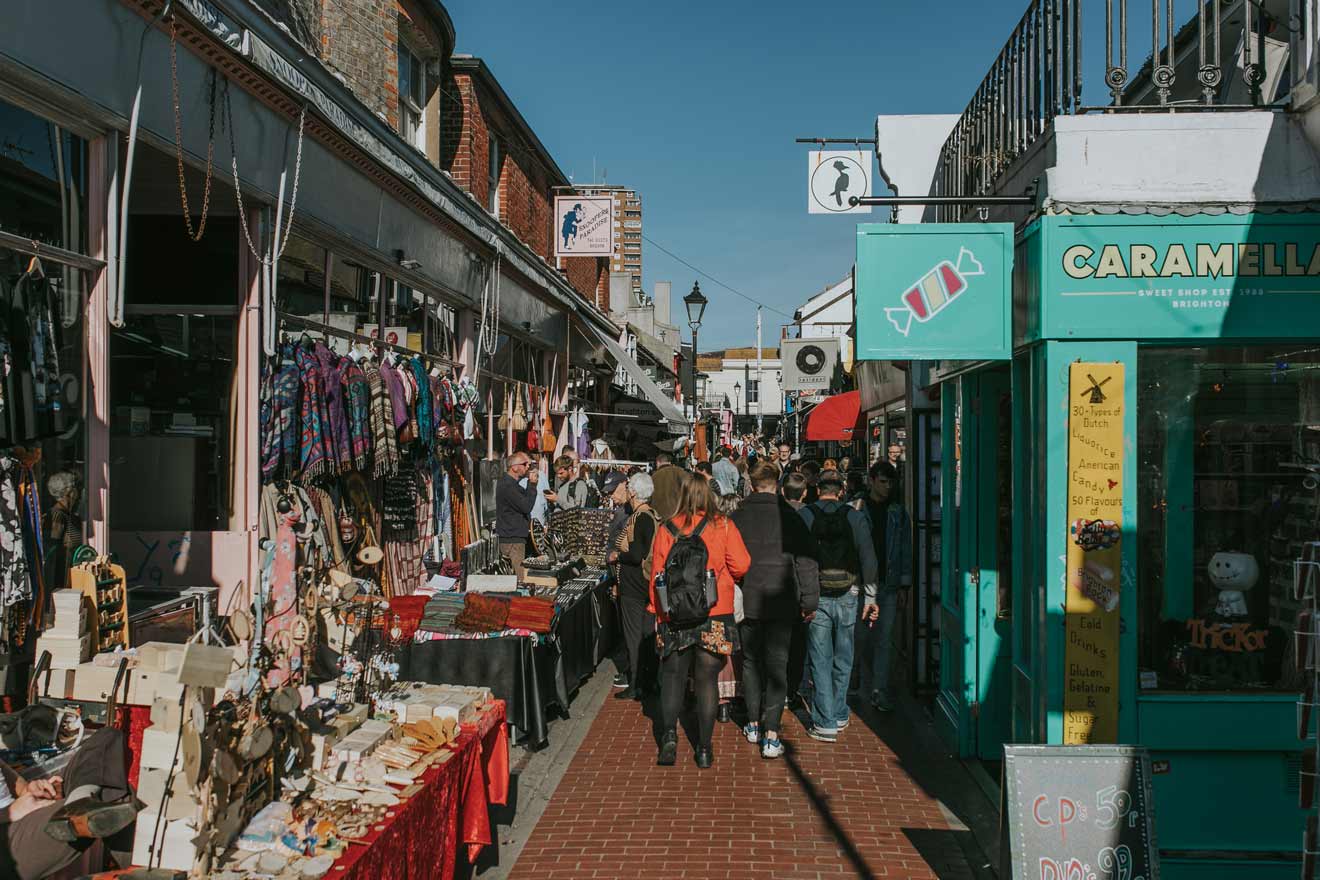 Welcome to my favorite Brighton flea market!
Are you a fan of antique shops, quirky items, and unique clothes that you won't find in any modern stores? Then a visit to Snoopers Paradise, a flea market in Brighton, located on Kensington Gardens street, will make you very happy!
This is for sure one of the best things to do in Brighton (especially for fashion and antique lovers)!
Open every day, Snoopers Paradise has 2 floors filled with books, furniture, clothes, vintage cameras, and more! Yes, it's pretty big, so you'll need lots of coffee and time if you want to browse through all the areas!
4. Have a picnic on Brighton beach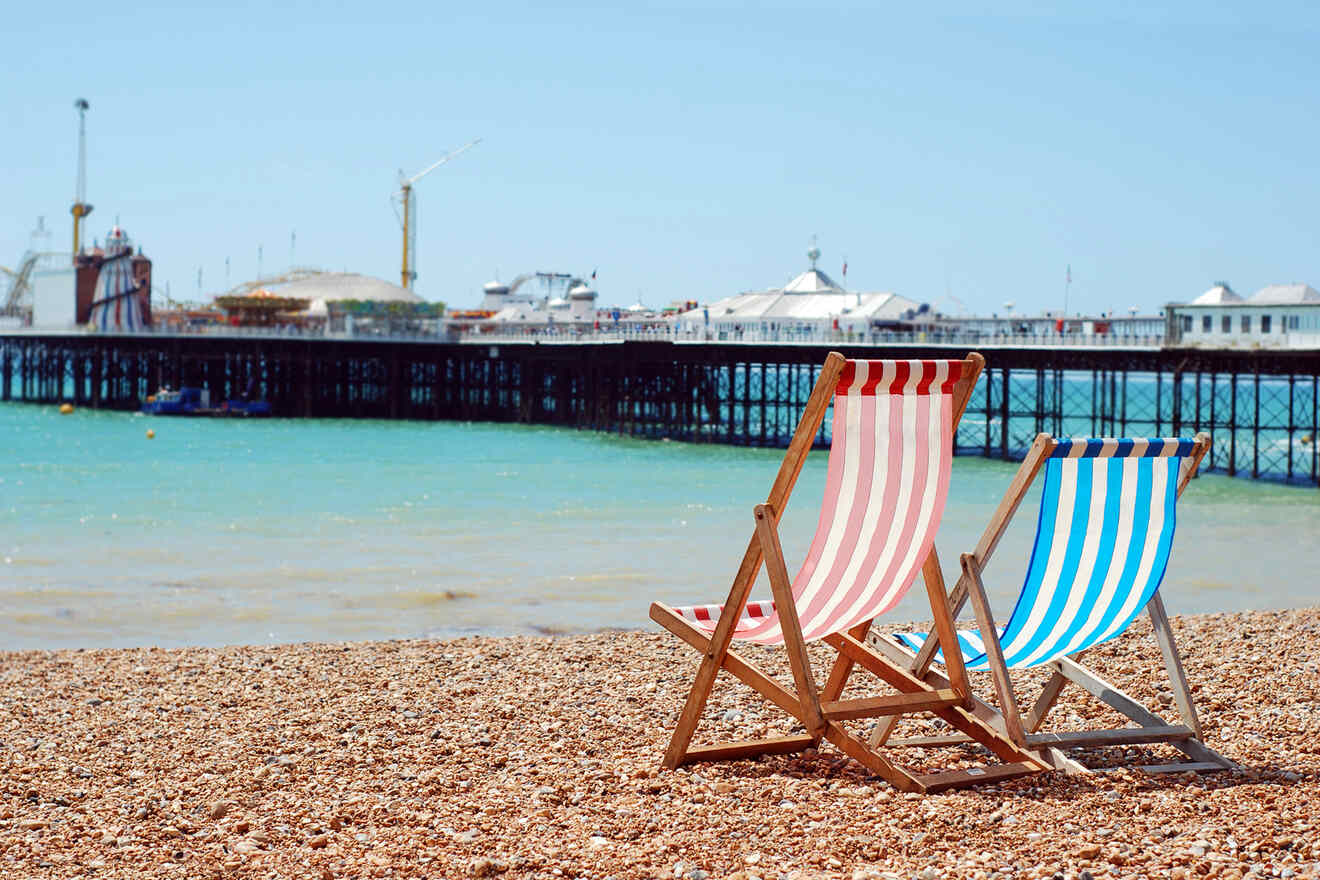 Surely the beach is one of the biggest attractions in the city! During the summer months, Brighton becomes the Hamptons of the UK, with people coming from London to enjoy the sun and the sea air.
If you're coming during summer or even spring, then you're super lucky, and I think the best way to enjoy your time at the beach is to grab a blanket from home, some fish and chips from the small restaurants near the Brighton seafront, and sit here for a while!
I came here during autumn and winter, so I wasn't so lucky with the weather, but I still had the chance to sit for a bit and to walk along Brighton beach (at least I had some moments when the sun came out, yay!). If you want to visit more locations near the sea, I recommend heading to Cardiff. It's a stunning place!
NOTE: If you're coming in December, you can attend their winter solstice event called Burning the Clocks, which takes place on Brighton Beach!
5. Go bar hopping in Brighton
Not only is Brighton a major party destination for bachelors and bachelorettes, coming from London to celebrate their last night of freedom. This city is also a university town, filled with students who want to party and have fun 24/7!
If you're up for some drinks and dancing, then check out this list of the best bars and pubs in the city:
6. Explore all the beautiful lanes of Brighton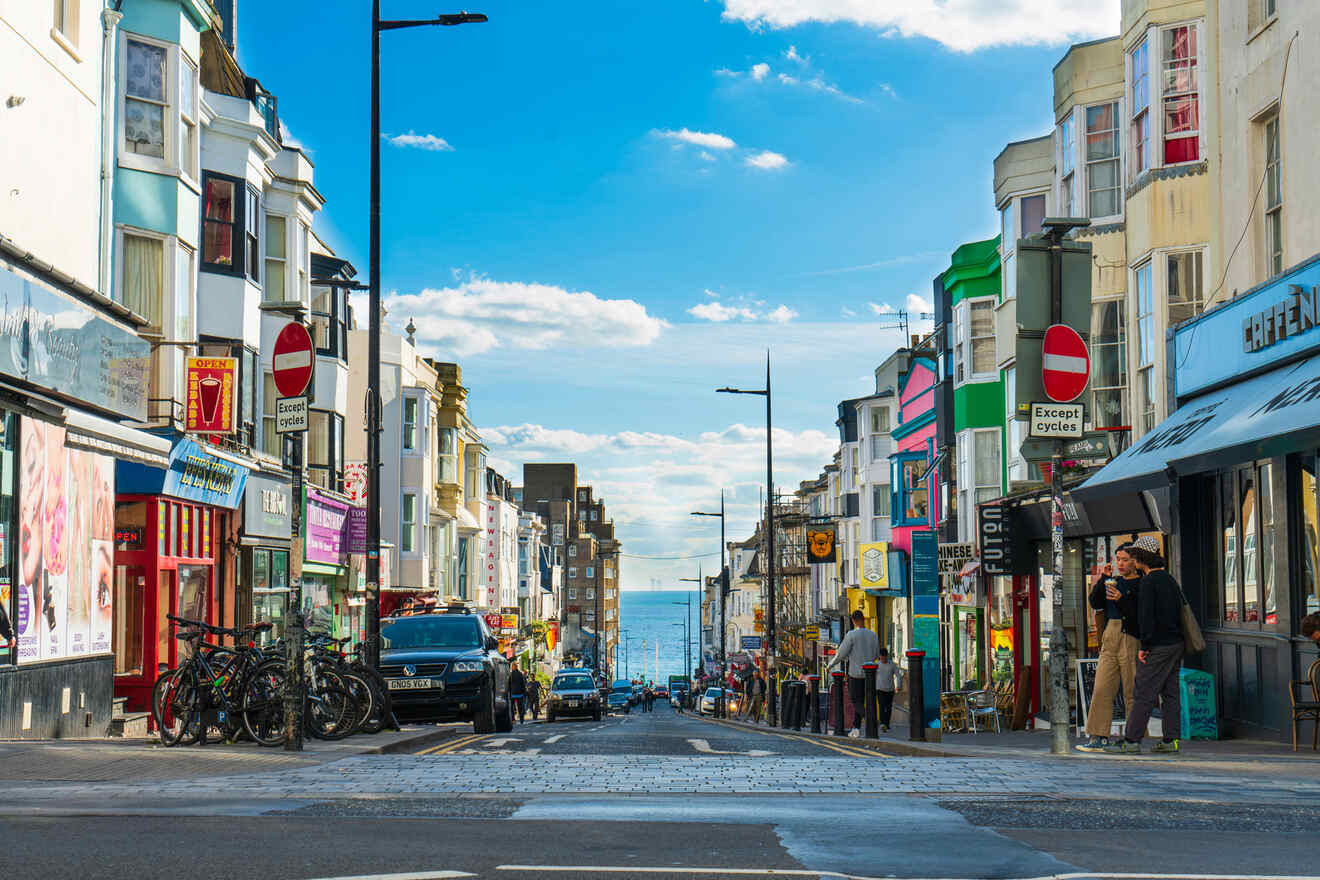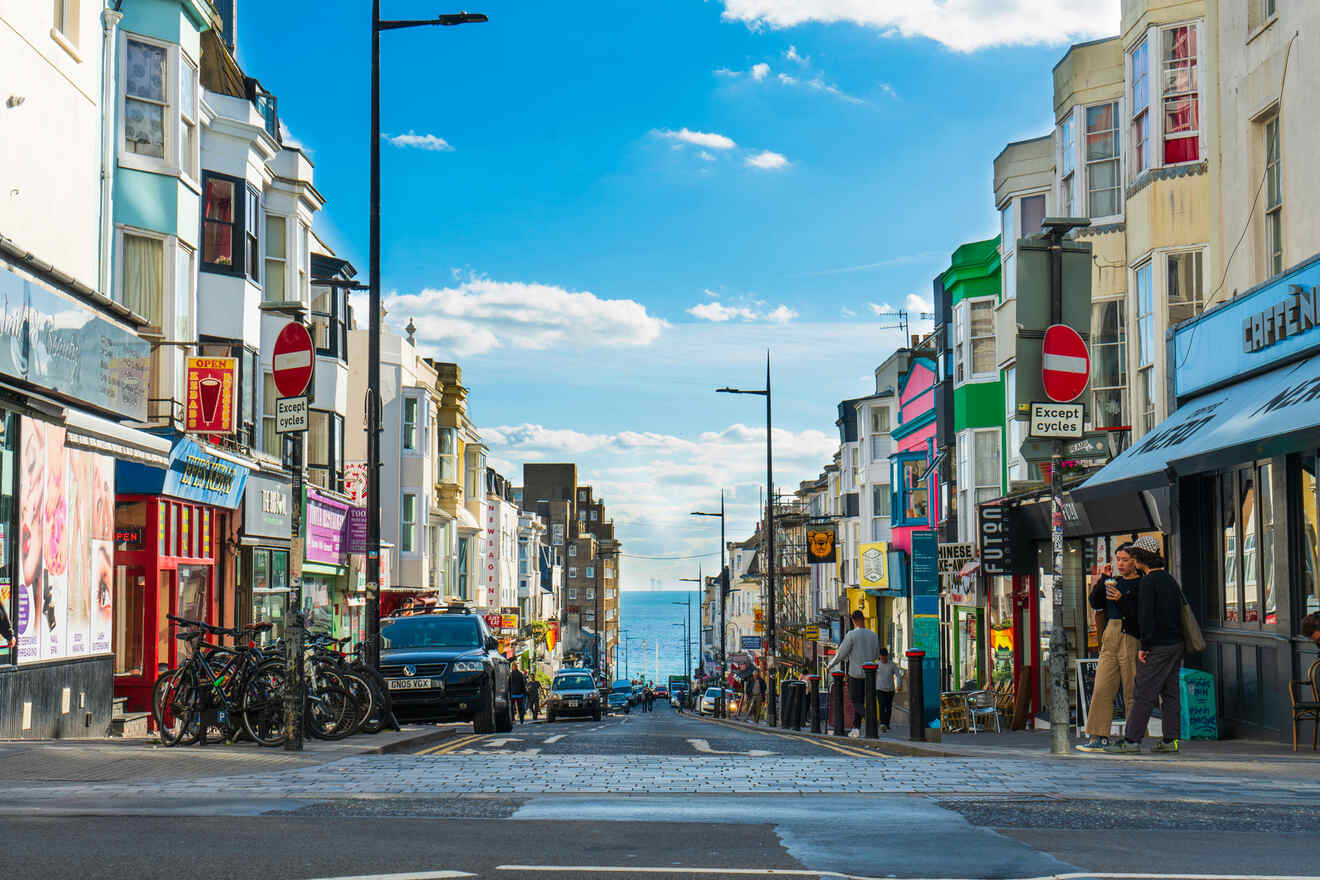 The Brighton lanes are famous! These narrow streets and passages date back to hundreds of years ago, and they show another face of the city that you might not see around the Brighton Marina and Pier.
Of course, they're filled with shops, bars, and the cutest boutique stores! I remember once I spent a few hours in the lanes (they're like a maze, once you get in, it will be so hard to get out), but I bought so many amazing things and of course some great food (by food, I mean cupcakes and cakes). It was so worth it!
When people talk about the lanes, they usually refer to either the North Laine or South Laine. They offer different things to do, so have a look below to decide which ones you want to visit or if you want to see both (I recommend exploring all of them if you've got the time)
North Laine
These narrow streets start from Brighton Station and they're filled with shops! There are so many independent stores that sell unique pieces and more!
You'll also find some cafes, bars, and some incredible street art on Brighton's North Laine! Although Bristol may be the leading city in the UK when it comes to street art, Brighton also has a fantastic art scene.
South Lane
These streets sit closer to the seaside and host many restaurants and bars. You'll find some independent stores here as well, but most of them sell jewelry.
7. Admire the views from the British Airways i360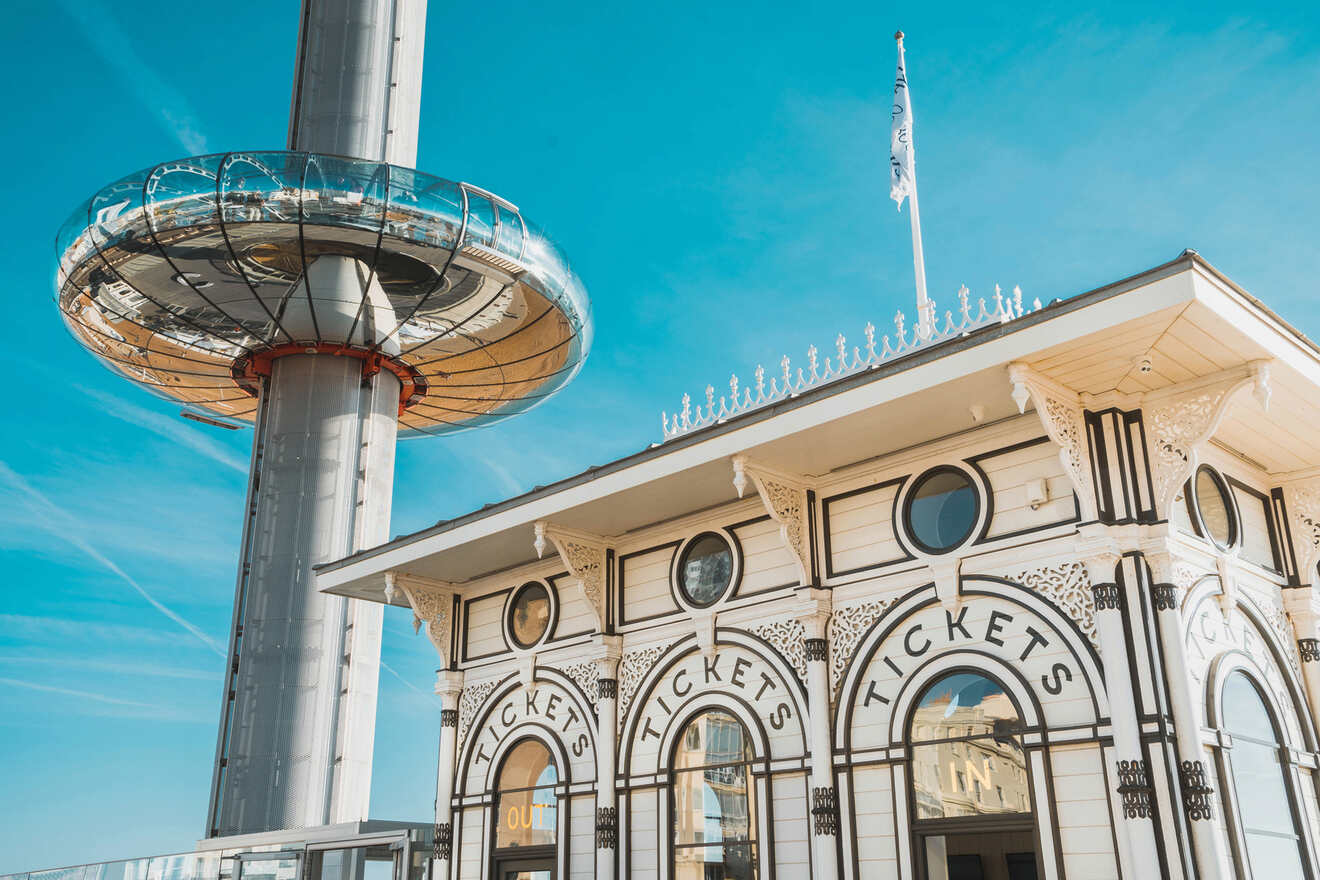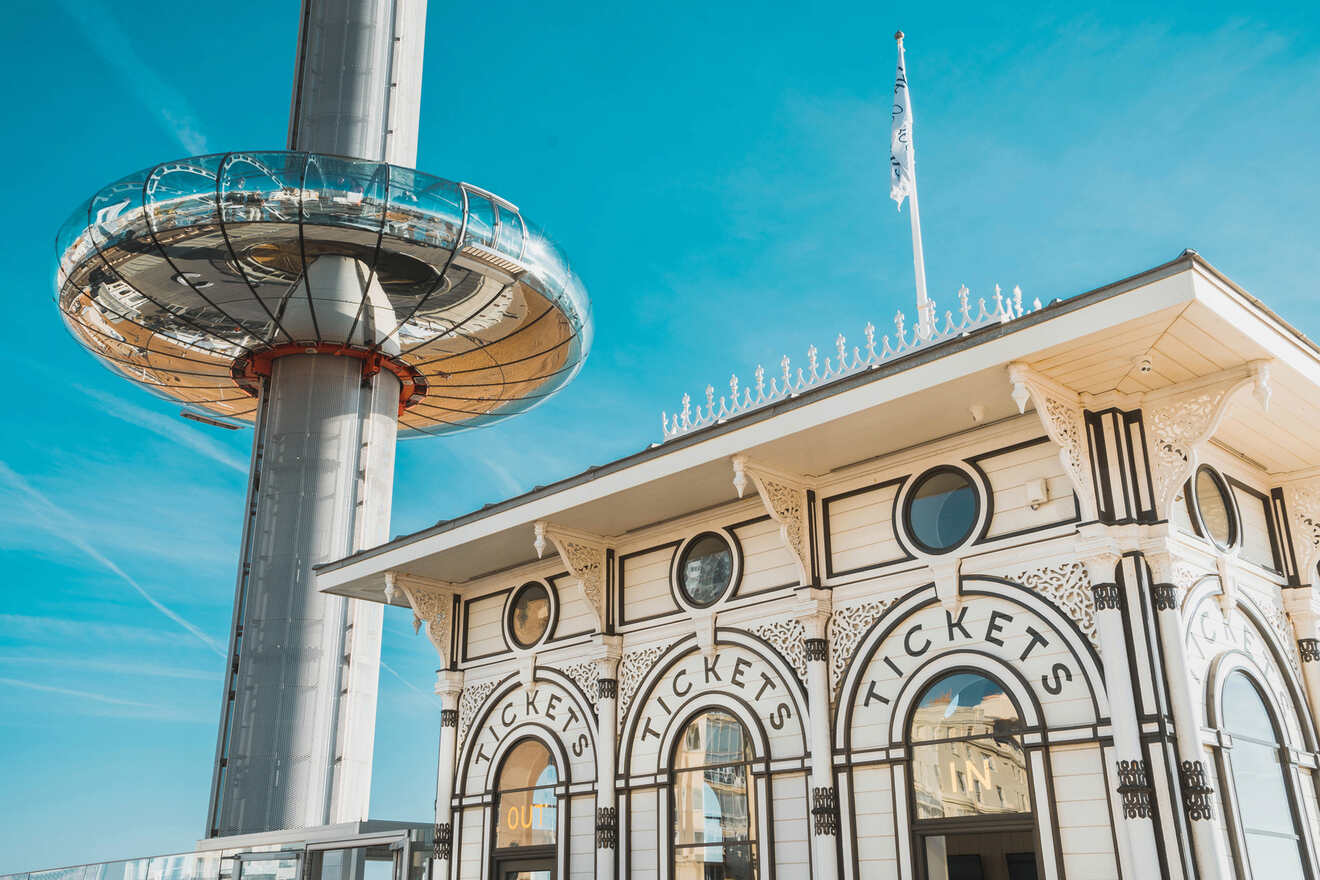 If you're not afraid of heights, then you'll love this attraction!
They opened the British Airways i360 observation tower in 2016, and since then, the monument has become one of the most important landmarks in the city (and one of the best things to do in Brighton).
Located at the seafront where the burnt-out West Pier once met the promenade, the observation tower was designed by the same people who created the London Eye.
Hop inside the circular pod and admire the 360° panoramic views of the city and the English Channel as it ascends up to a height of 138m! Sometimes, you can even see the cliffs at Beachy Head and the Isle of Wight when it's sunny!
Grab a drink from the Nyetimber Sky Bar inside the pod and enjoy the views!
PRICE: Adults US$23, Children US$12
8. Check out Brighton's coffee scene
First thing to do when you're visiting a new city?
Checking all the coffee shops!
At least that's what I do! If you're planning a day trip to London from Brighton, check out my latest post on the best cafes to work in the city! For now, let's get back to Brighton because I want to tell you all about their cute cafes! Whether you're looking for the best spots that sell specialty coffee or the most delicious pastries in the city, stick around, as I'm about to give you all the details!
9. Enjoy some fun things to do with the kids in Brighton
Planning a visit to Brighton with the kids? Well, I'm sure you'll first stop at the Palace Pier and go on all the rides there! But if you're looking for other things to do in Brighton with the whole family, stick around for a few moments, and I'll point you to the best ones!
9.1 South Downs National Park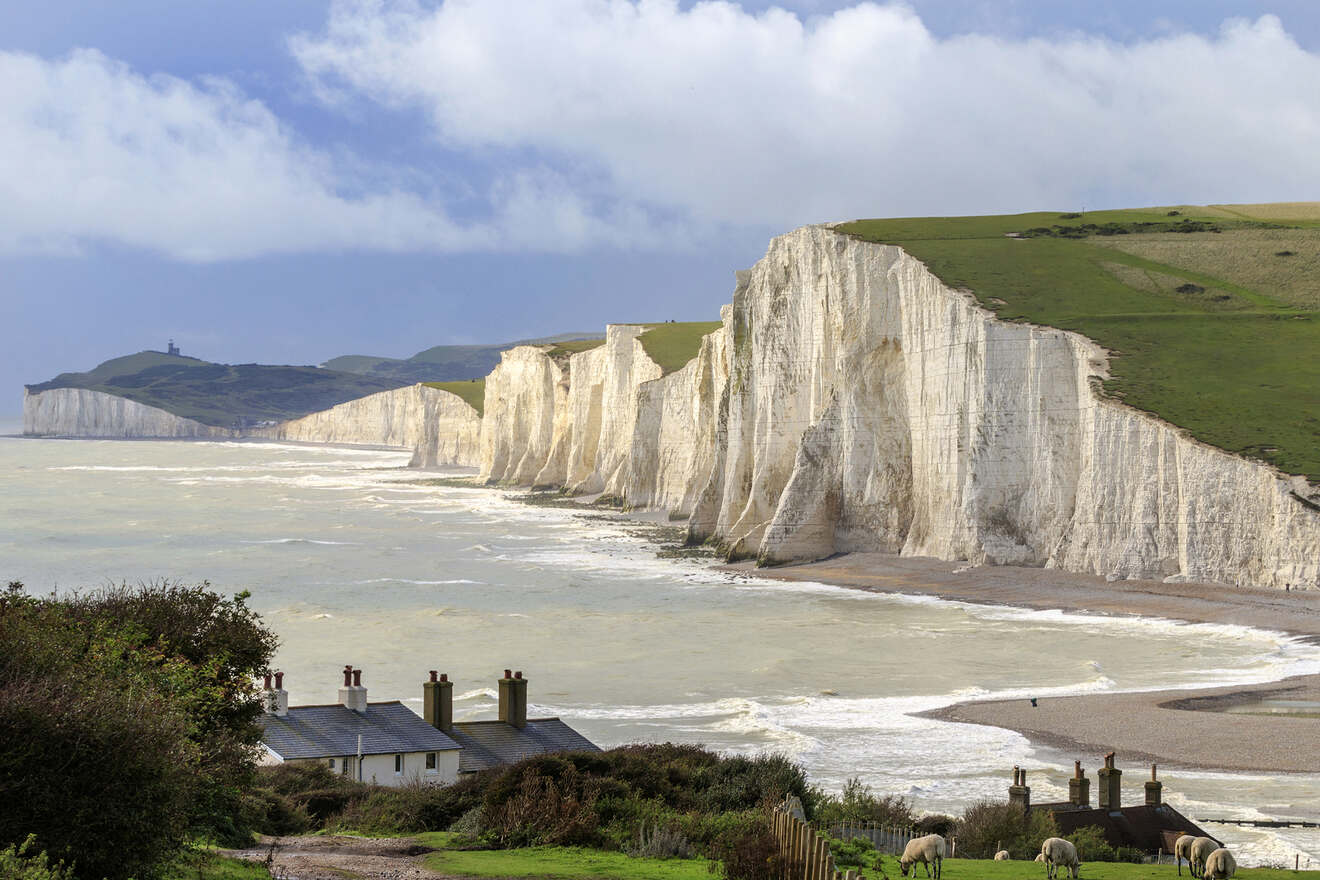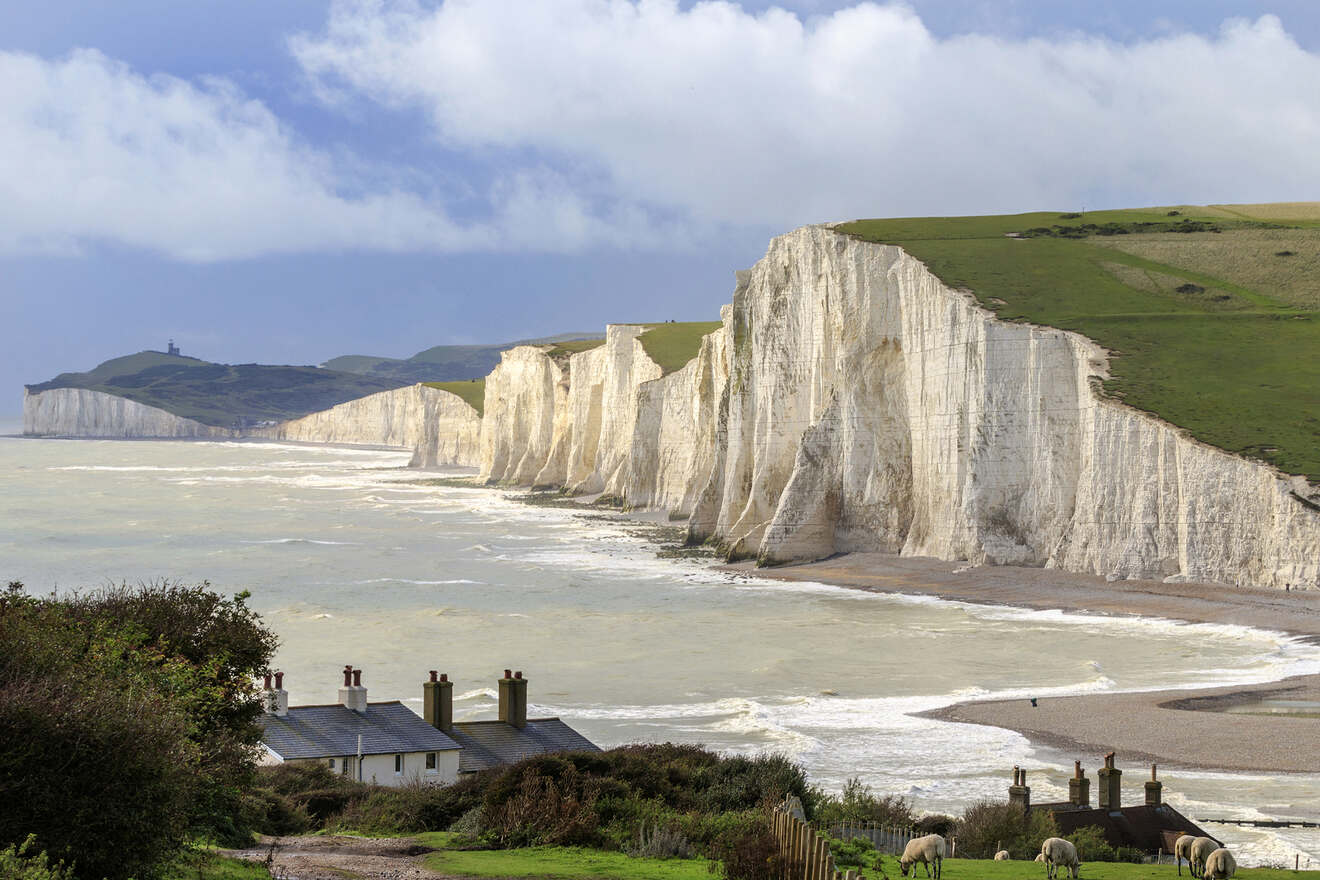 Although this National Park is located outside of the city, you shouldn't miss the chance to visit it while you're in Brighton!
South Downs National Park stretches across Hampshire, East Sussex, West Sussex and it's one of the 15 National Parks in the UK. Brighton is located near its southern boundary, and it offers easy access to visit it as it's located only a 20-minute drive away (or 1 hour away by train).
Perfect for hiking, biking, and walking, the park offers incredible landscapes! The closest hike to Brighton is the famous Devil's Dyke. Hills surround the dry, V-shaped valley, and if you're lucky enough to catch good weather, you might even see the Isle of Wight.
Sadly camping isn't allowed at Devil's Dyke, but I'm sure one full day will be enough to catch a glimpse of its beauty and explore its hiking trails.
NOTE: If you're coming by car you should know that parking starts from US$1.84 for 1 hour – US$8 for the whole day.
Getting there:
By Car: The best way is to rent a car and drive for 20 minutes northwest of Brighton on Dyke road to Devil's Dyke.
By Bus: From Old Steine station, take bus 17 in the Horsham direction for 25 minutes. Stop at Crossways Cottages station and walk for 40 minutes to get to Devil's Dyke
9.2 Brighton Toy Museum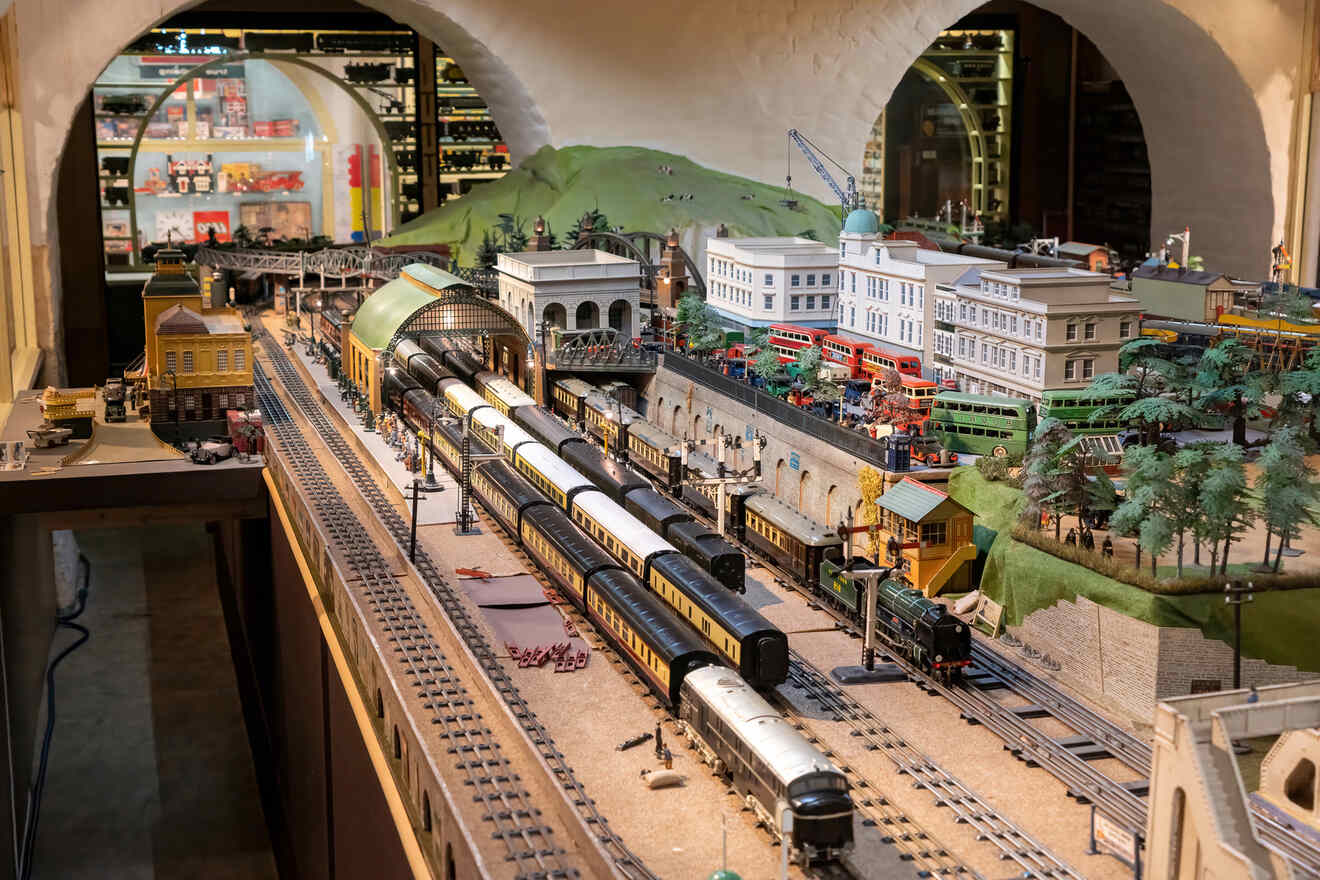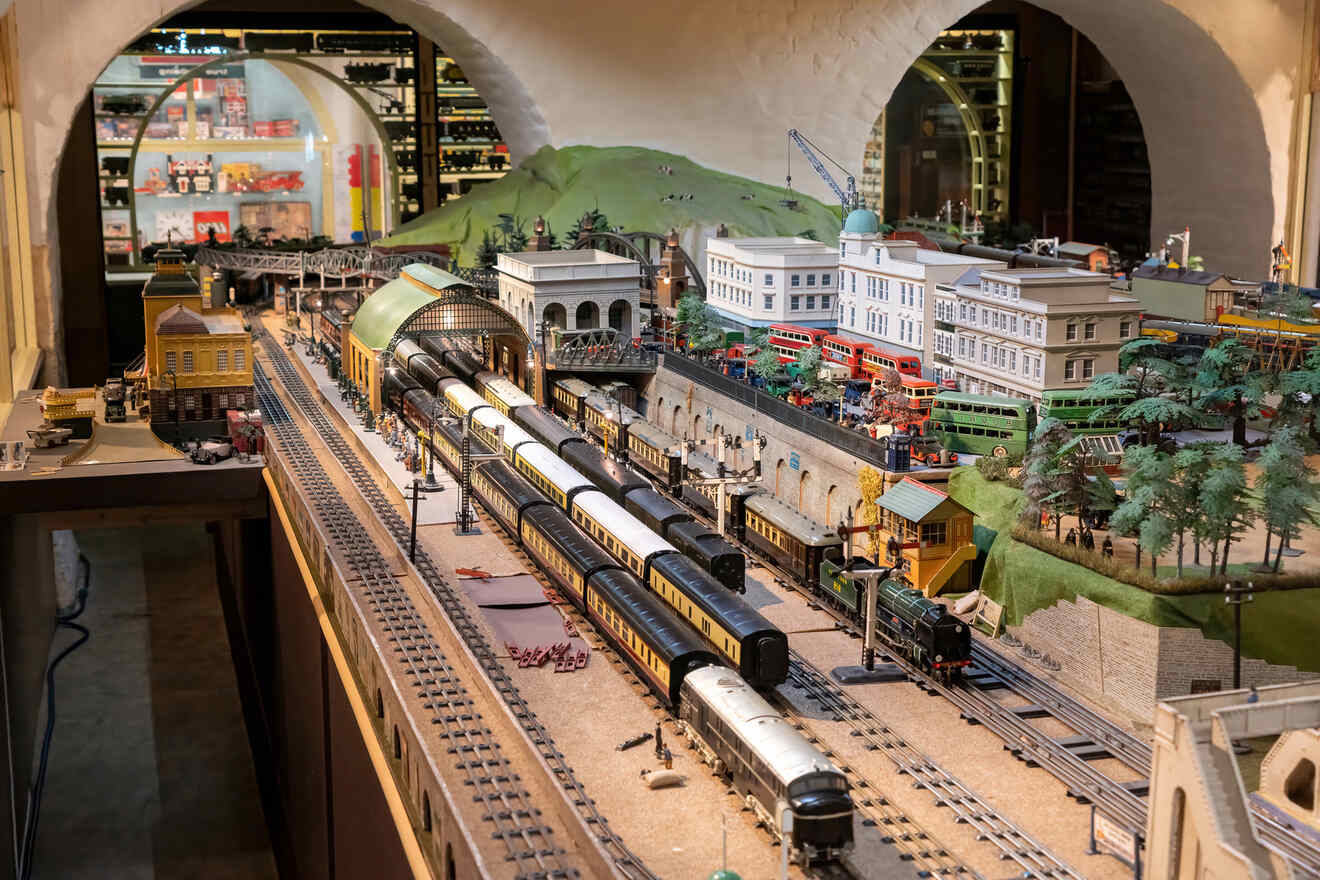 This may appeal more to the kids, although this museum is such a cool place that I'm sure the parents will love it as well!
Featuring collections of European and British toys from the 20th century, the museum has many model railways, puppets, and construction toys!
PRICE: Adults US$8.55, Children US$5.30
9.3 Sea Life Brighton
Welcome to the oldest continually operating aquarium in the world! Are you ready for a fun day of watching tropical sharks, rays, and turtles? You can even tickle a starfish in the interactive rock pool!
This sounds like my kind of place (even if I'm not a kid).
PRICE: Adults US$25, Children US$28
9.4 Bewilder Box Escape Room
Spend a fun afternoon with the kids at this award-winning escape room in Brighton! Figure out the clues and have the best time ever trying to win!
PRICE: From US$79 – US200 per group (2-7 people)
BONUS: The best tours in Brighton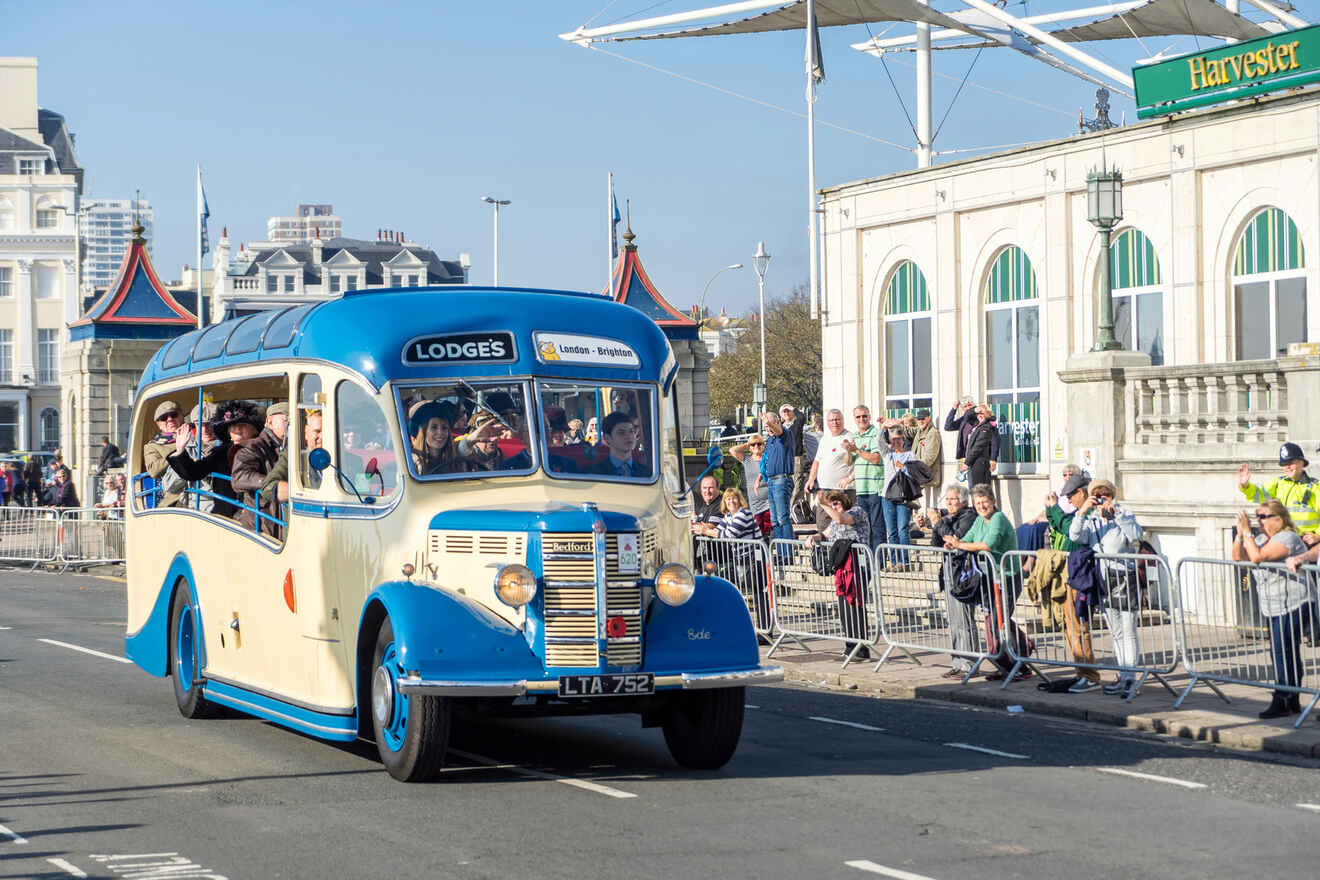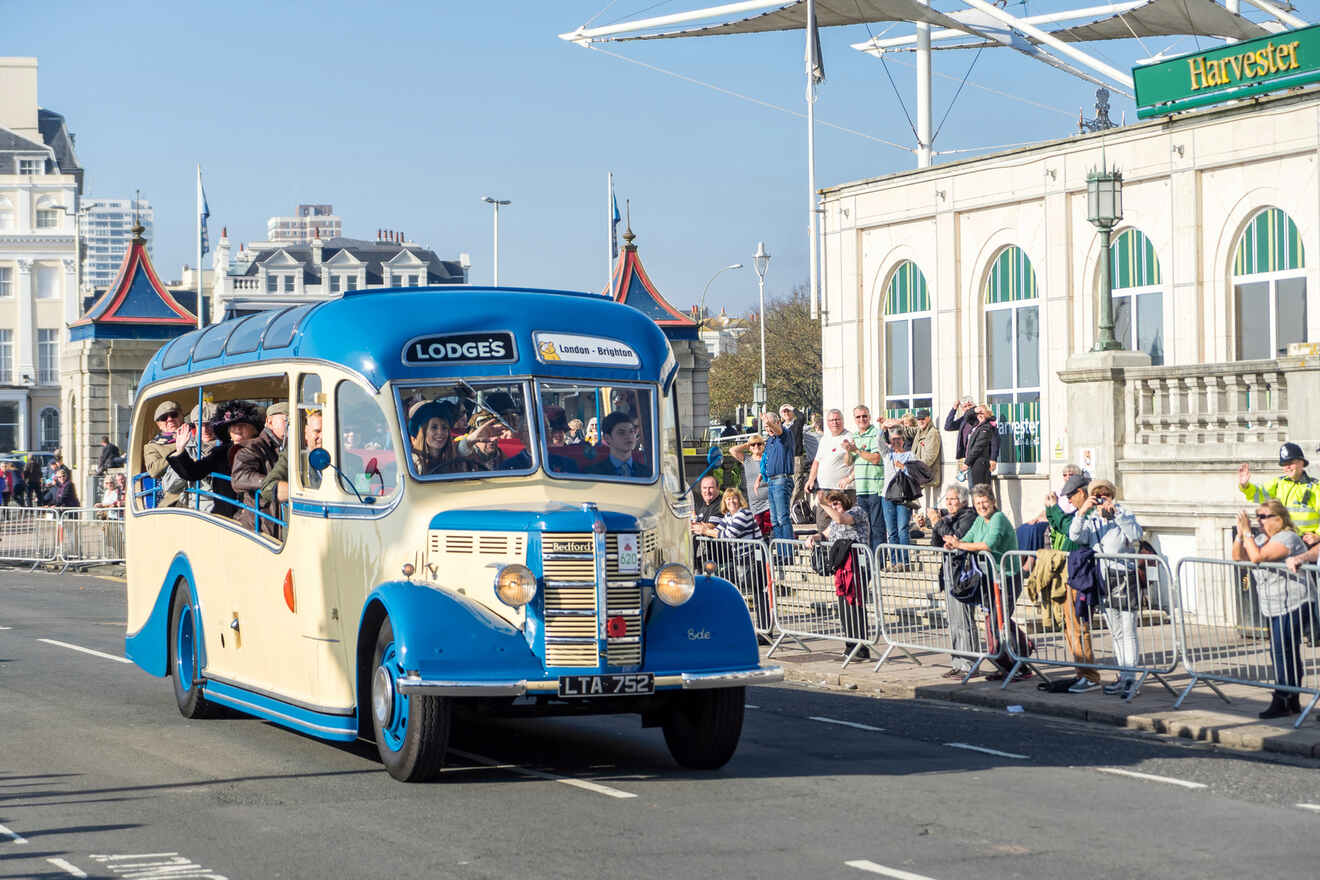 There's no better way to explore the city than to go on some tours!
I always learn so much about the places that I visit during tours! I think Brighton has many things that you could miss out on or overlook during your trip! We all get so caught up in everything we want to do that sometimes we forget to sit back and enjoy most of them!
So here is a list of Brighton's best tours that you should try out!
Where to stay in Brighton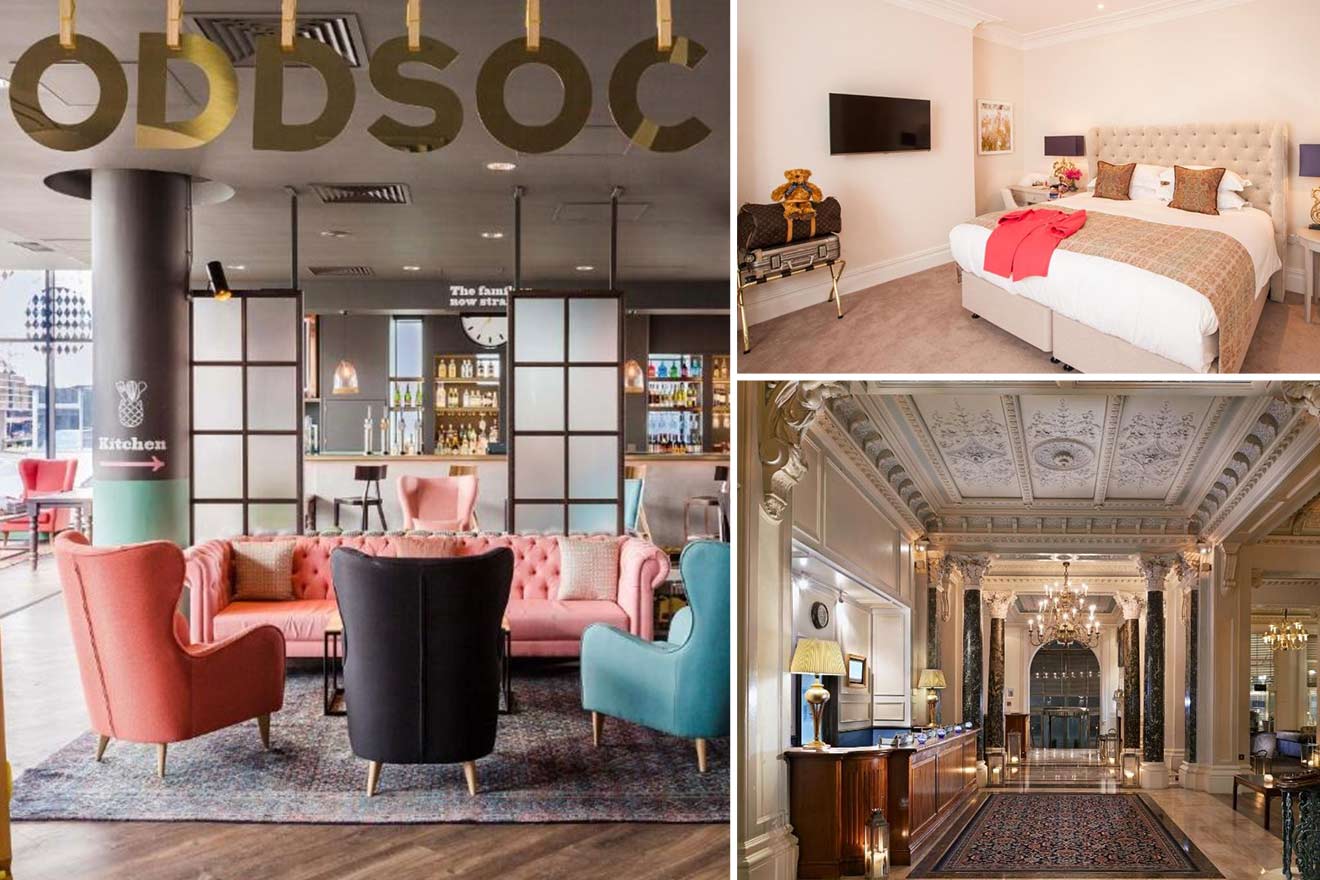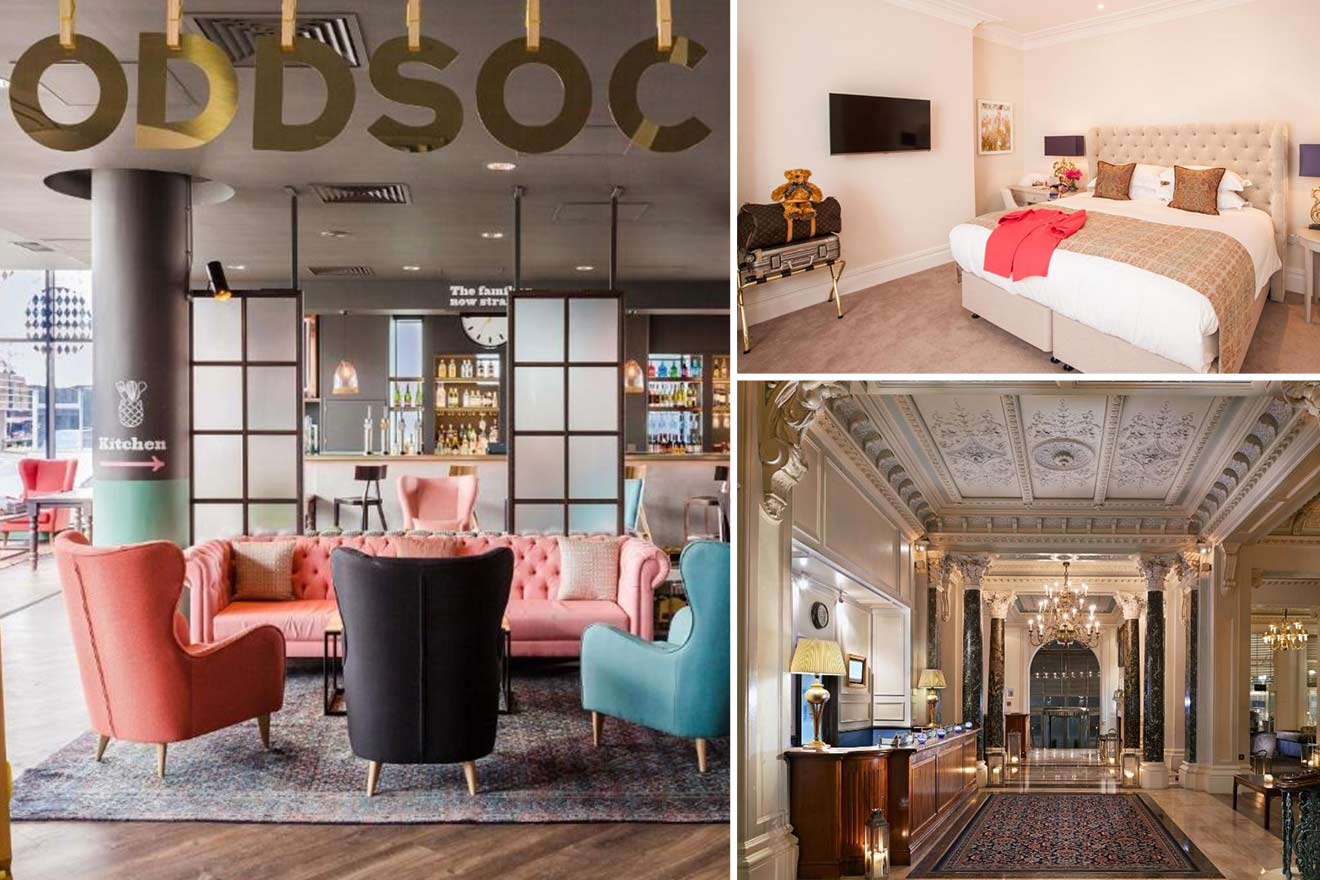 Looking for some fancy or super affordable hotels? Then check out our full guide on where to stay in Brighton! However, if you're in a hurry and want to see the best options in the city, I've made a list of the top ones. Most of them are located in the city center so you'll be close to all the attractions in town like the Brighton pier and Royal Pavilion!
Luxury (US$200 and up)
Mid Range (US$120 – US$190)
Budget (up to US$65)
Practical Information about Brighton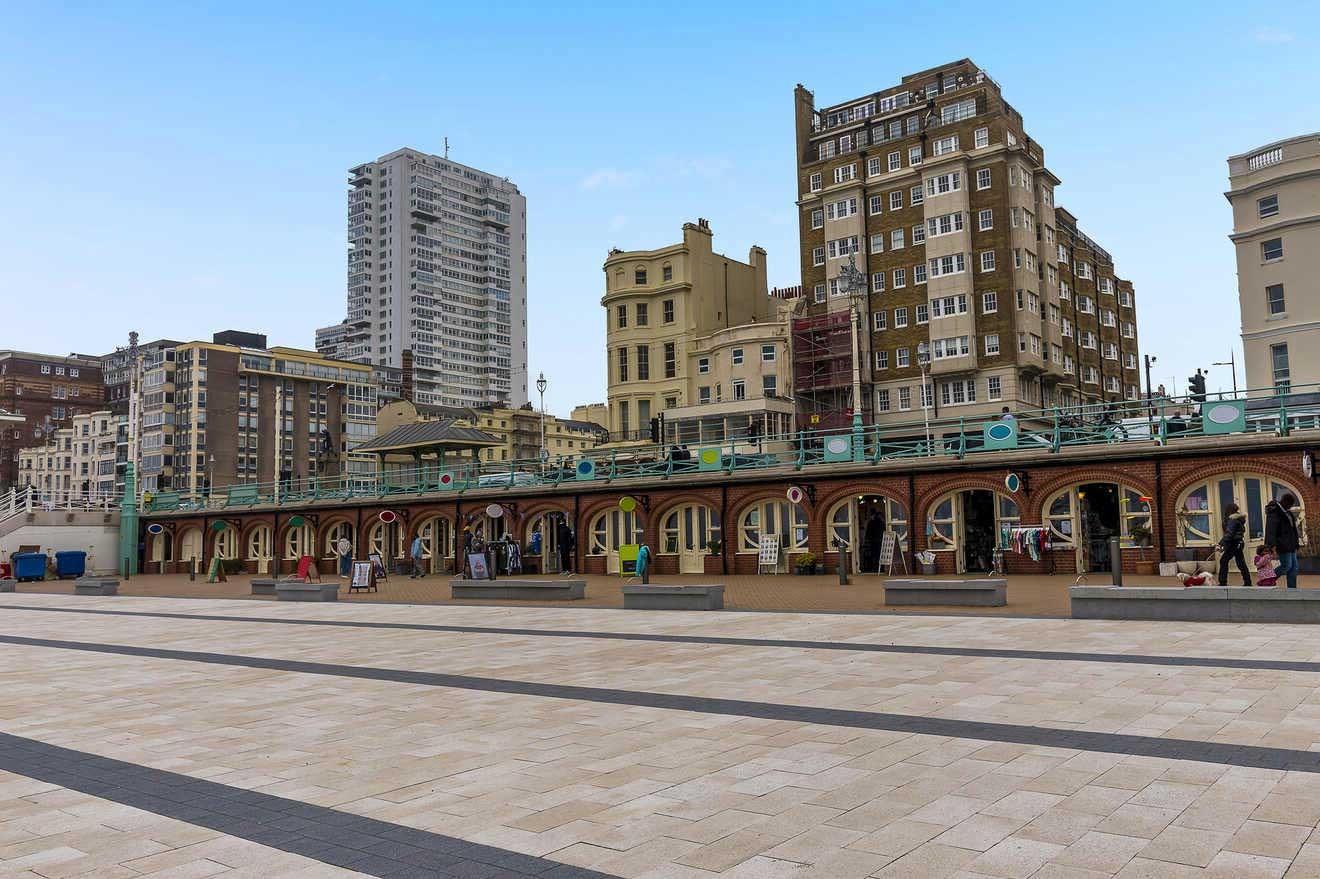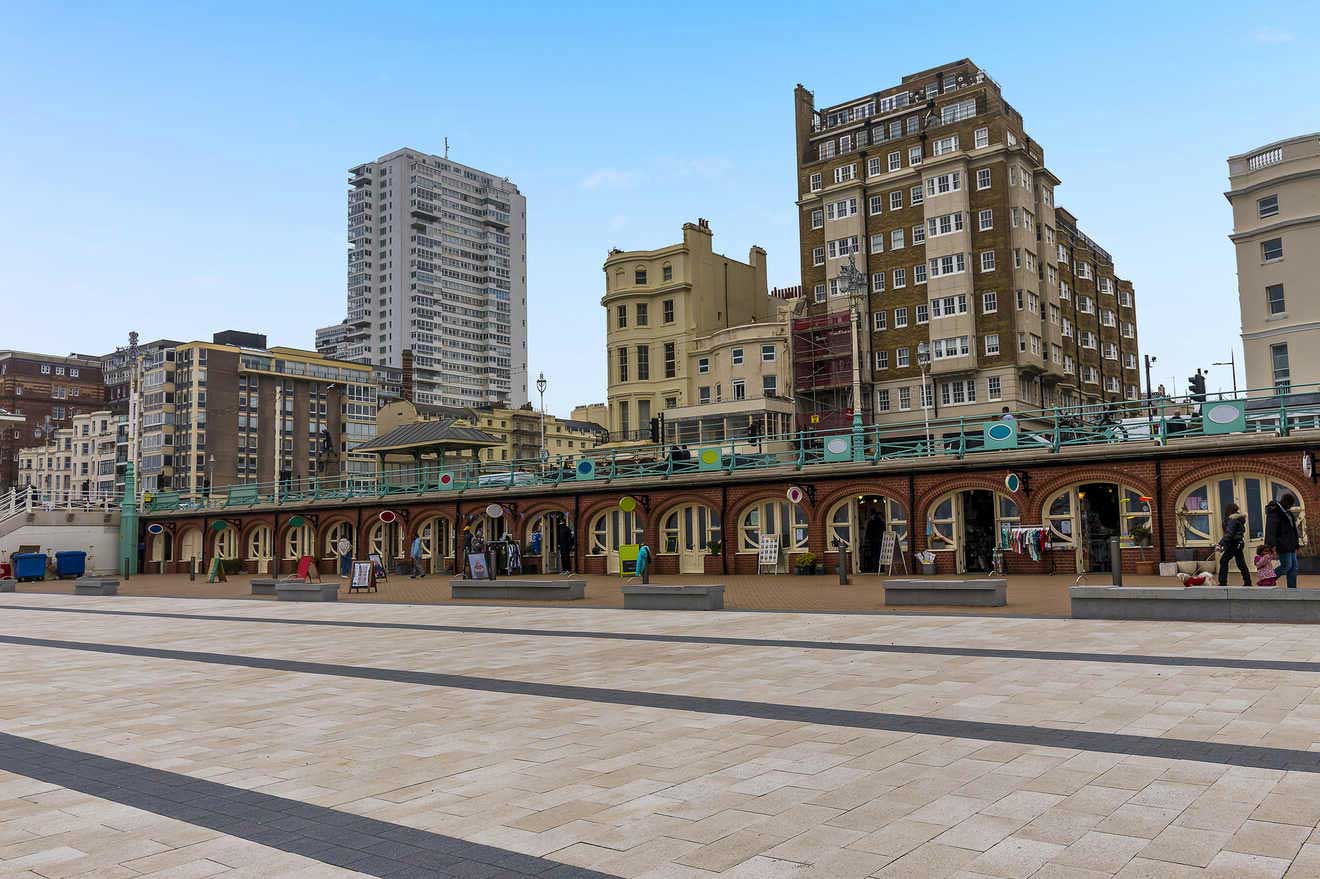 Woohoo! You've made it through all the amazing things to do in Brighton in this post! I'm sure now you're all ready to go but not before you learn a few more details to help you organize your trip better! Stick around for a few more minutes to learn a few practical tips that will come in handy during your holiday
How to get to Brighton
Find out how you can get to Brighton from London, usually the most common place to come from.
By train
From London Bridge station take the Thameslink train to Brighton. The whole journey will last 1h and cost around US$27 for a one-way ticket.
By bus
If you're looking for a more affordable way to get to Brighton from London and you've got some time on your hands, I recommend taking the bus (that's what I did). You can use National Express and arrive there in 3h. The prices differ depending on what time you're traveling but usually, a one-way ticket costs around US$13.
By car
You can also rent a car to get from London to Bristol. Usually, the journey takes around 2 hours. Rental cars start from around US$51 per day (plus fuel).
Frequently Asked Questions About Brighton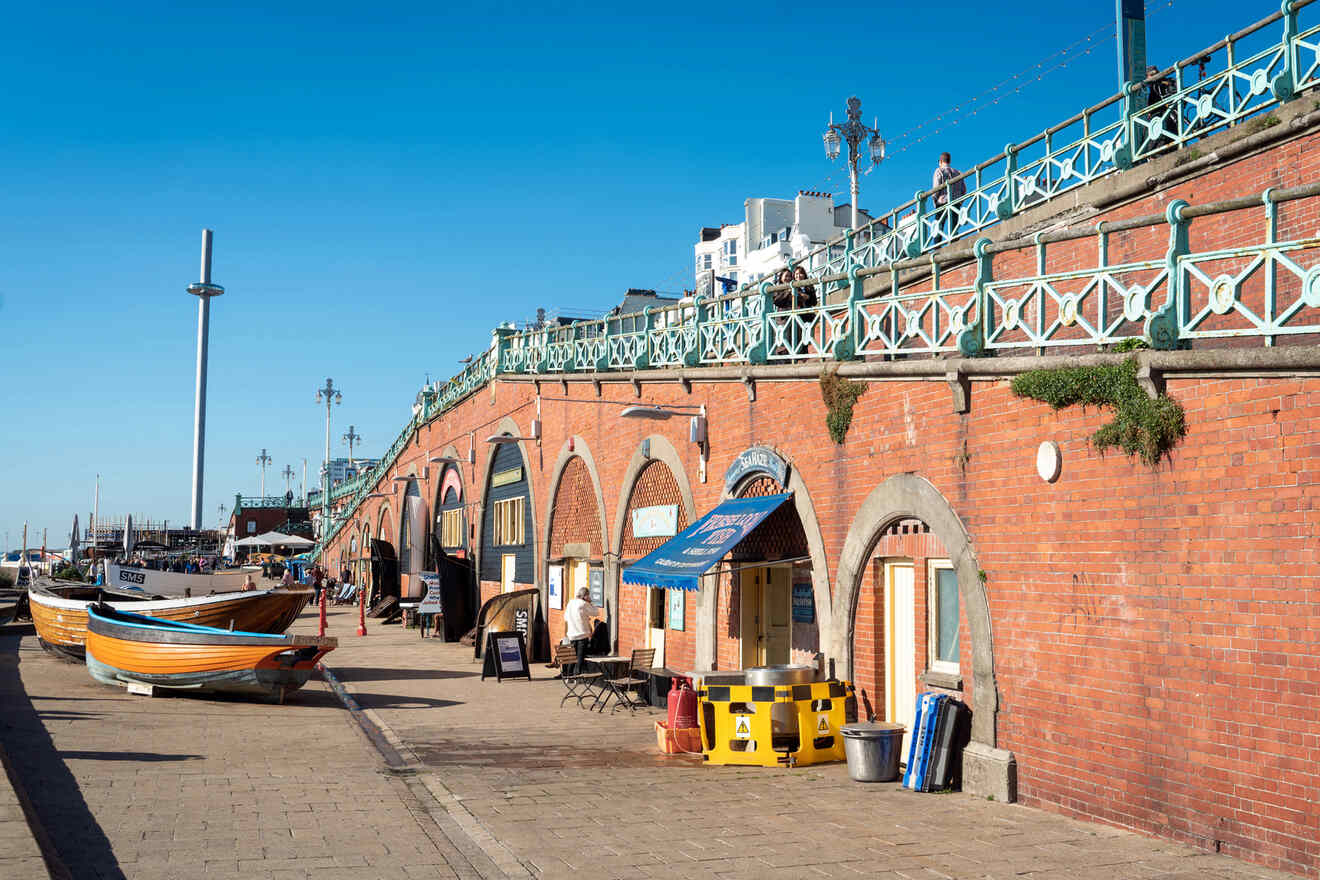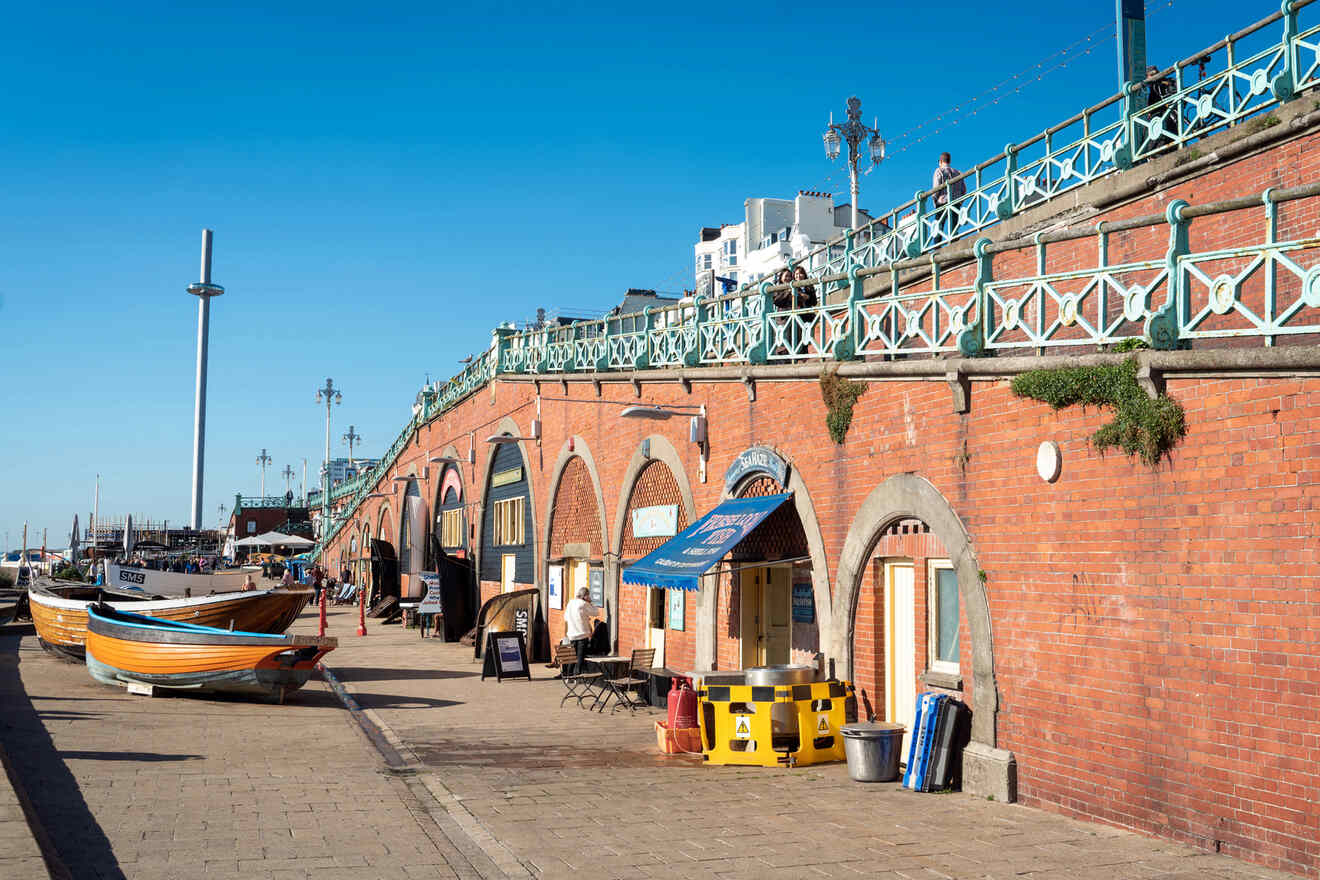 🏖️ What can you do in Brighton during the day?
There are so many things to do in Brighton during the day! You can hang out by the beach, try the rides at the Palace Pier, or take a trip to South Downs National Park!  
👶 Which are the best things to do in Brighton with the kids?
You can take the kids to the amusement park at Palace Pier, to the beach, or visit South Downs National Park!
🌊 Which are the best free things to do in Brighton?
You can explore the area around the Brighton Pier for free (but not go on any of the rides if you want to save some money), chill on the beach, or visit the Booth Museum of Natural History.
📅 How many days do I need in Brighton?
Spending 3 or 4 days in Brighton should give you plenty of time to visit all the attractions in the city. 
Conclusion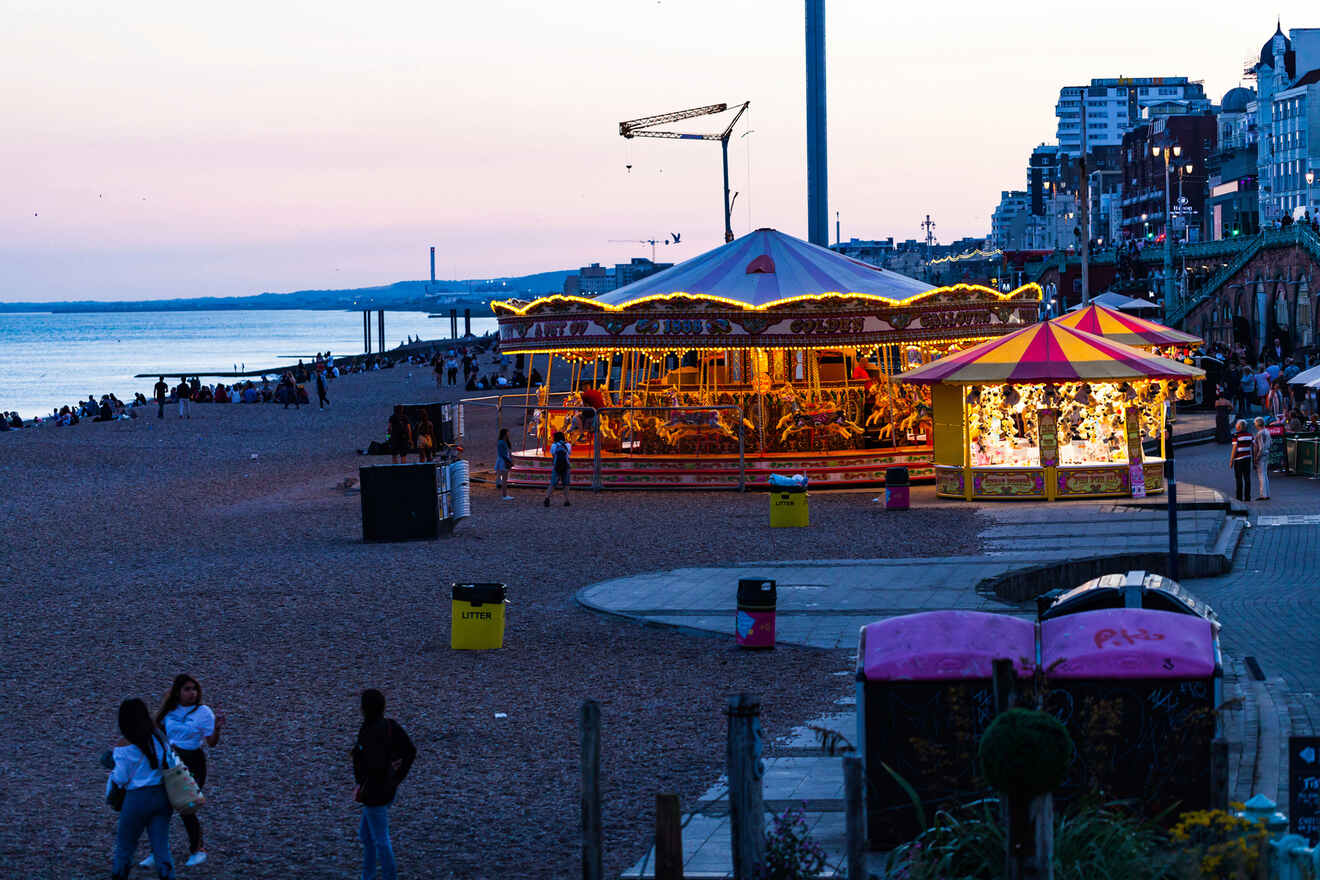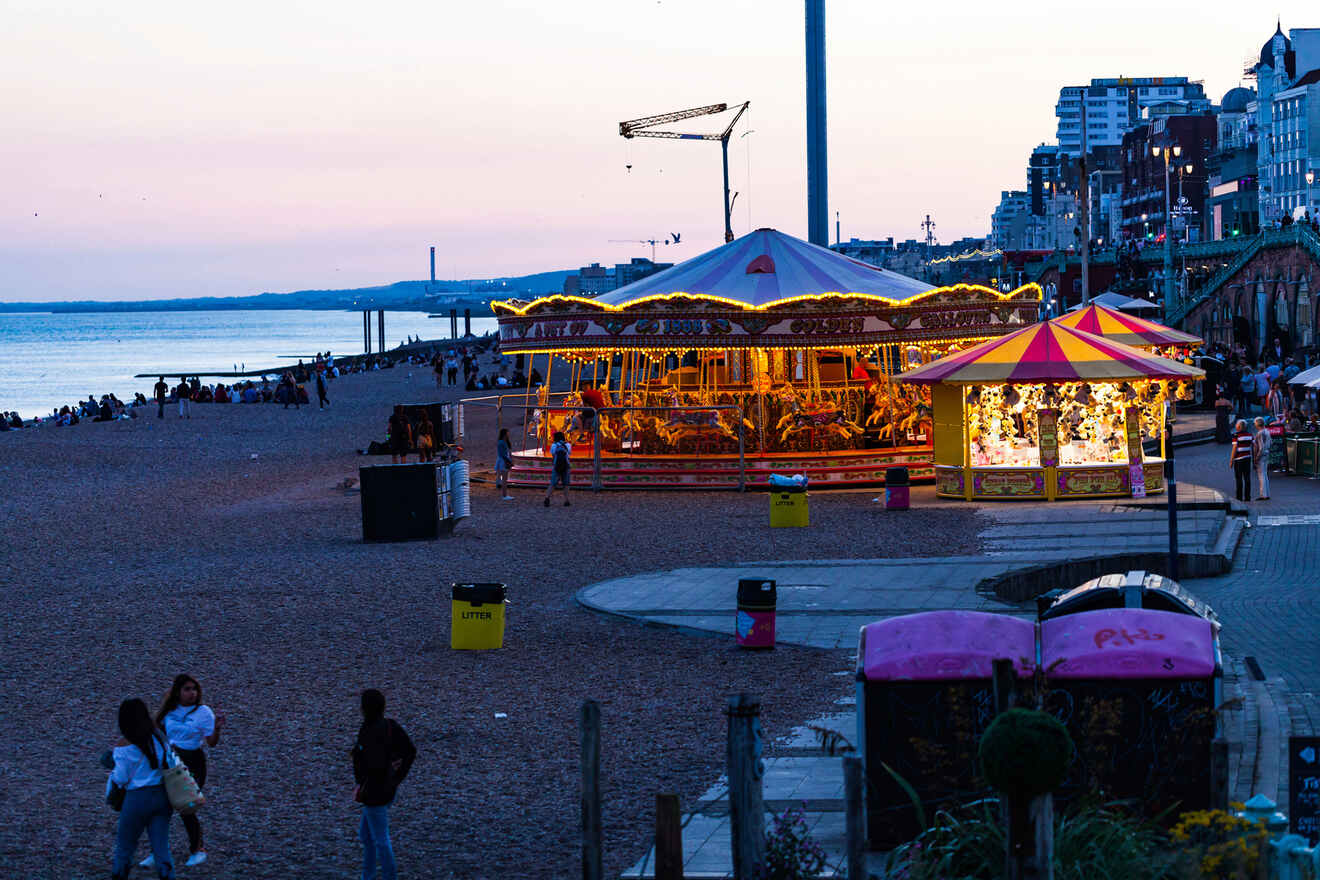 What a fantastic location! I hope you enjoyed this virtual trip around one of my favorite cities south coast of England
In this post, I talked about the best things to do in Brighton and gave you some useful tips about where to stay in the city!
Brighton is such a wonderful town that I'm sure you'll want to come back more than a couple of times to spend a relaxing day on the beach or to shop in its small boutique shops! And if you're planning a trip to London, you don't even have to get a hotel in Brighton you can just take some day trips!
Each time I came back I had even more fun and I'm sure that will happen for you as well! Try your luck at the Palace Pier, explore the South Downs Way trail, and visit the Brighton Museum and Art Gallery!
If you have any questions about any of the attractions, leave me a comment below and I'll make sure to answer it as quickly as possible!
Safe travels,
Victoria
---
Pin it for later!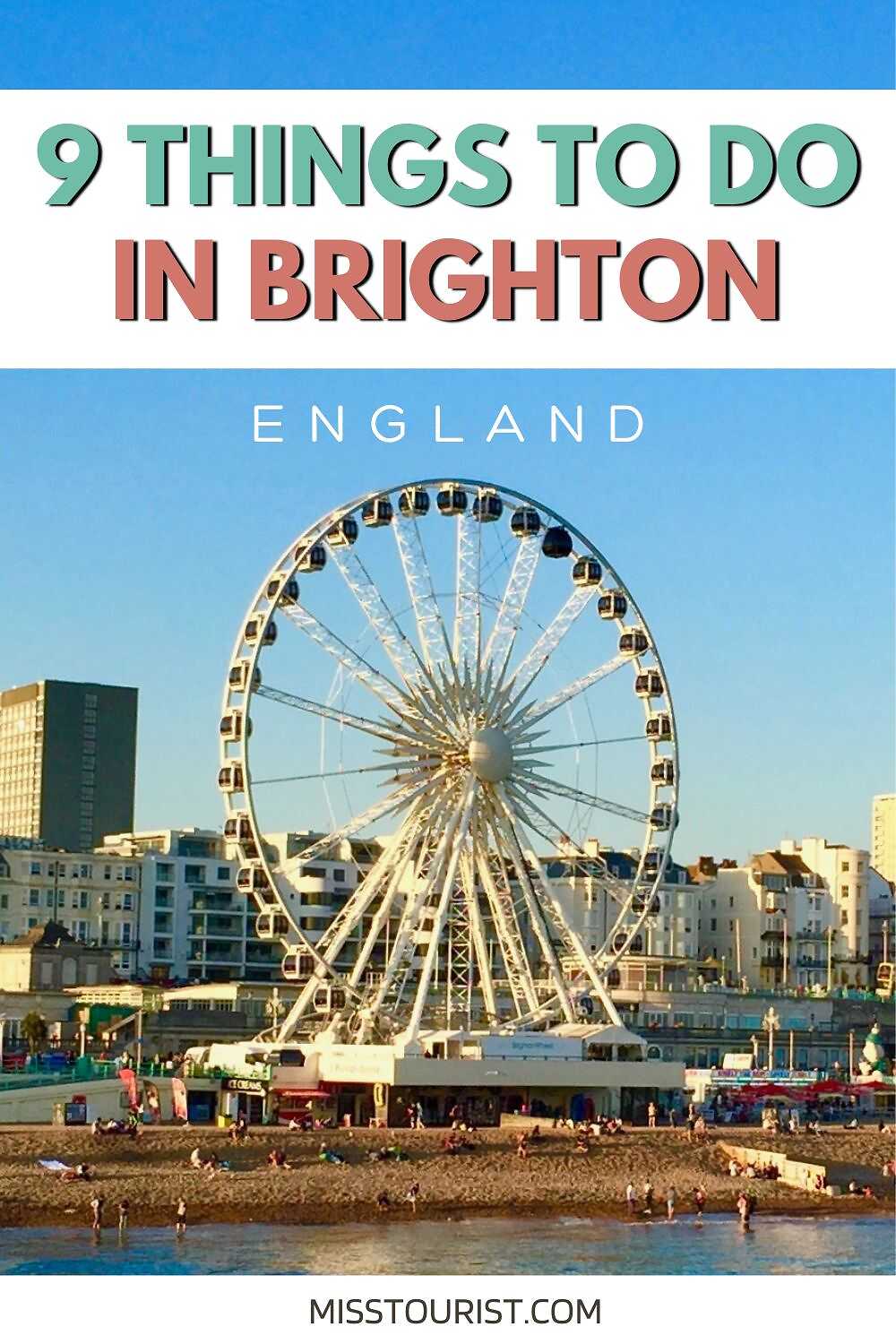 Pin it for later!