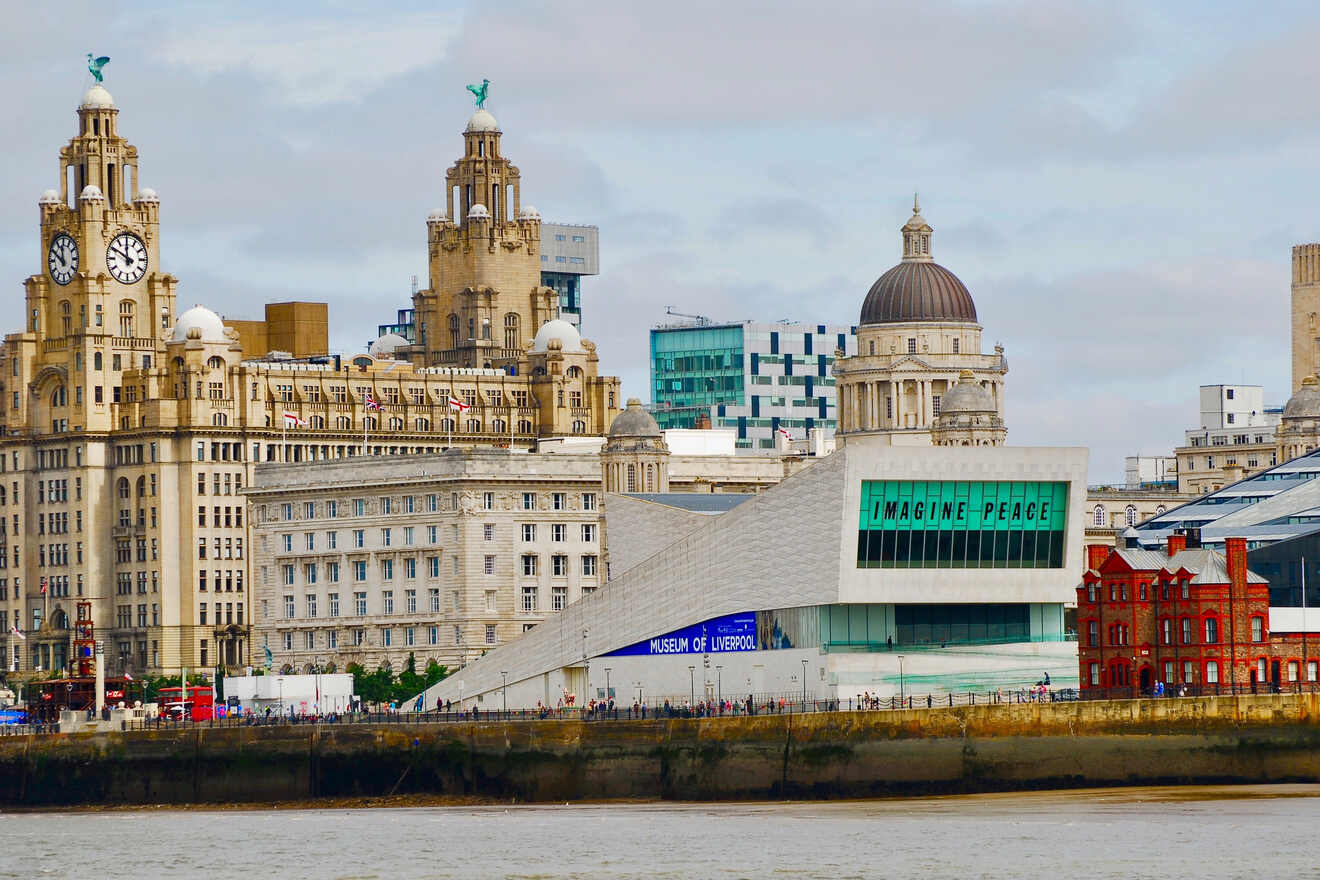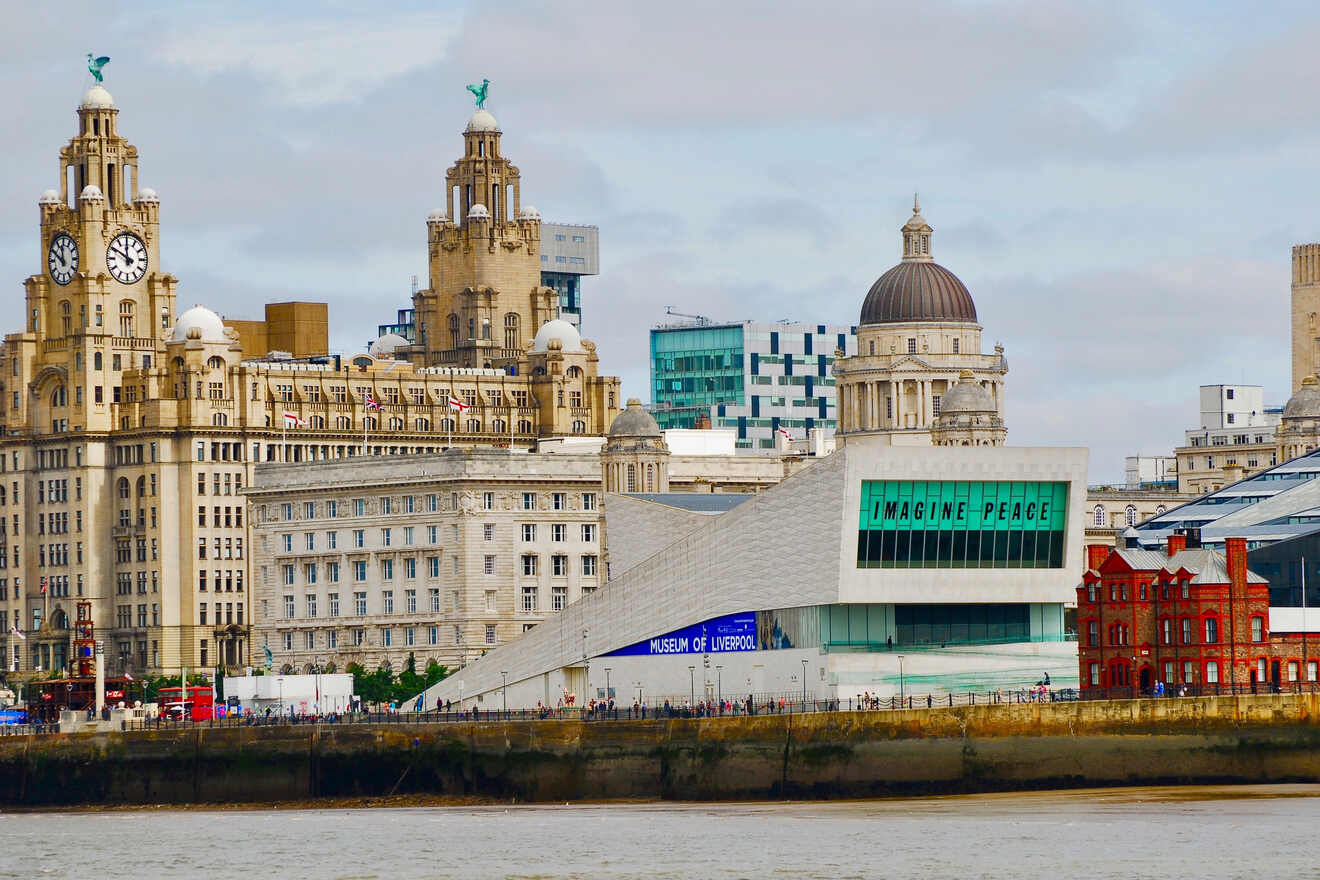 Although London has always been the talk of the town when it comes to cool places to visit in the United Kingdom, Liverpool shouldn't be overlooked by travel enthusiasts who love exploring British culture. I mean, let's not forget that one of the most famous bands in the world was discovered here!
The Beatles began their story at one of the clubs in the Liverpool City Centre! They even have the waterfront area where their statues stand (including the Pier Head), declared a World Heritage Site! I think I've said enough, I don't want to give you too many spoilers! That reminds me, you'll probably recognize a lot of locations and Grade-II listed heritage buildings when you explore the town, as Liverpool is the second most filmed city in the UK!
I hope you're ready to walk where your movie heroes did and eat the best street food ever! Now we just have to figure out a 10 to 20-minute walk away from most attractions, and recommend only the ones that I would choose myself. But remember to book early, even though it's a big city, the chances of finding a good one are slim if you wait!
Let's go find where to Stay in Liverpool!
If you are in a hurry
If you want to book now then wait no more, quickly check this list with the best hotels all located in City Centre Liverpool:
Here is a map that will help you visualize all the areas where to stay in Liverpool that I will be talking about in this post:
1. City Centre – where to stay in Liverpool for the first time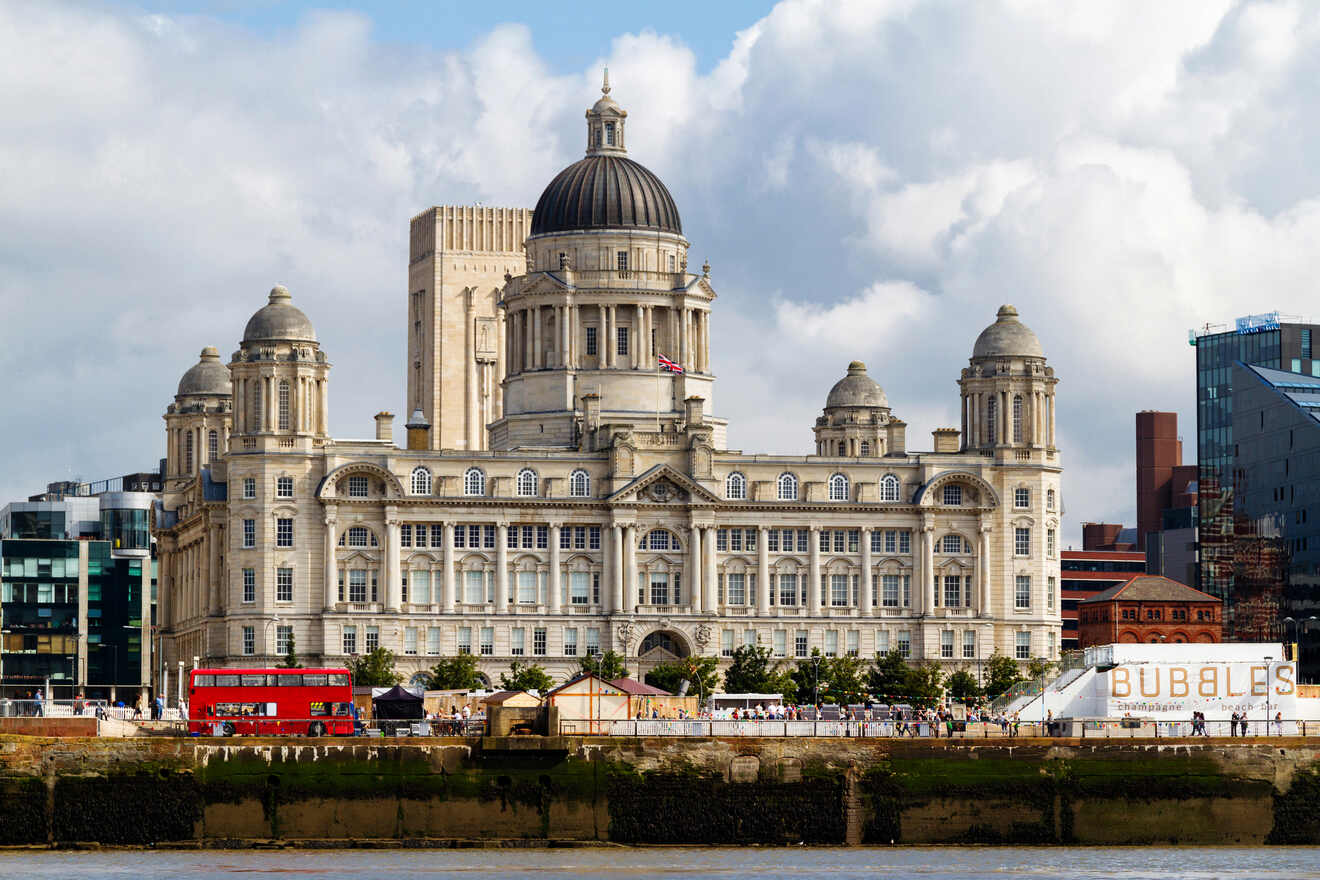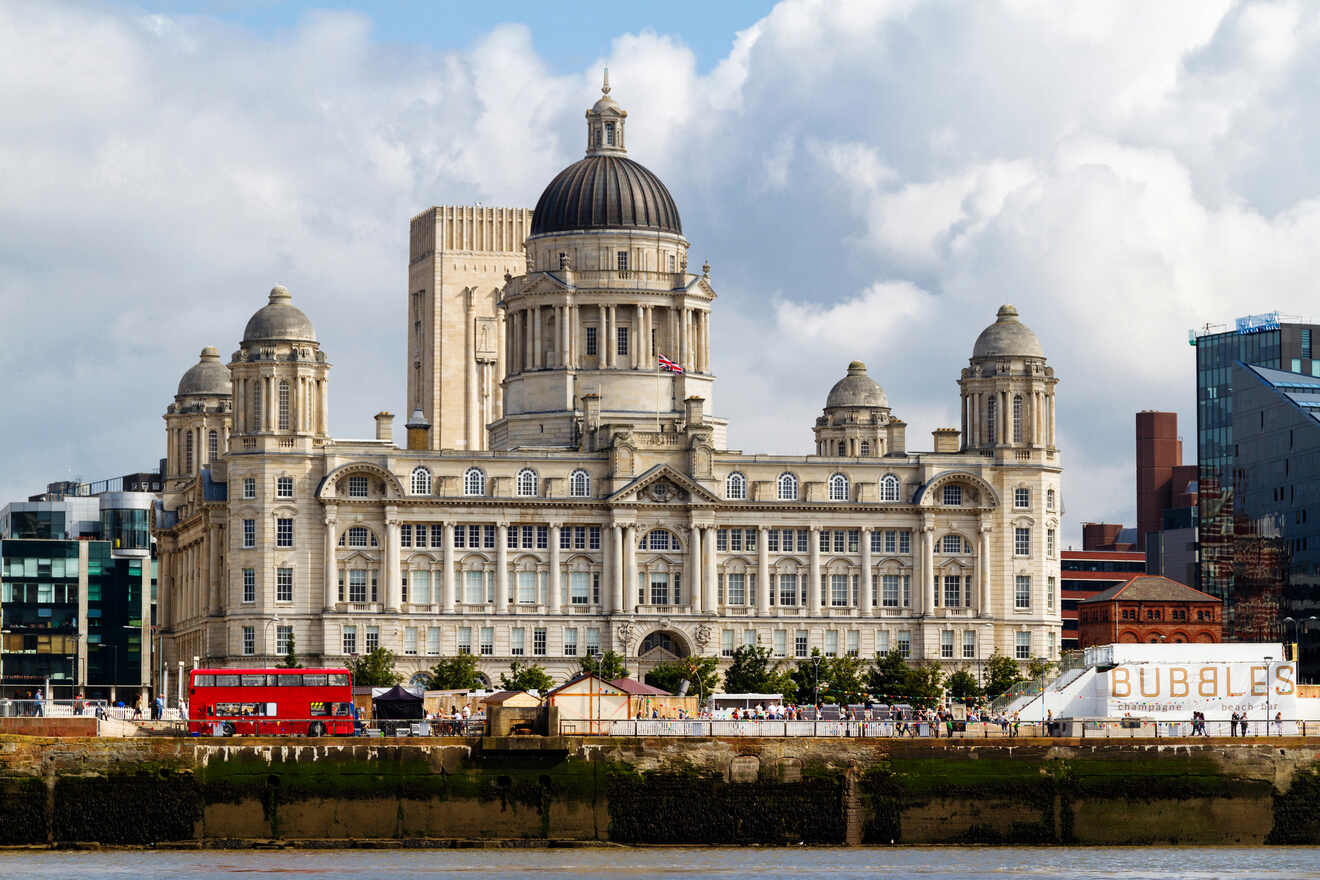 Welcome to one of the most famous neighborhoods in town! Known for its music history (after all the Beatles story has reached the ears of the entire globe) and unique architecture, the City Centre is Liverpool's "it" spot! If you're coming to town by train, as you exit the Central Station you'll step right into the City Centre. Be prepared to see modern, chic buildings combined with some of the old quirky ones, which give the impression that time has stood still here.
The City Centre is filled with fans of the Beatles who want to see the bars like the Cavern Club where their story began. There's even an International Beatles Week which attracts people to Liverpool's City Centre from all over the world.
That's why you should book your hotels here in advance, the area is world-renowned for its attractions. And hey, if you have a few spare days in the city why not take the train from Lime Street Station to visit London and stay at some of the best places in the beautiful capital city too!
As you walk around you'll probably come across tons of old Victorian buildings, most of them are located in the St George's Quarter in the City Centre, Liverpool. Any history enthusiasts will probably spend a whole day in the beautiful St. George's Hall, home to the Central Library, Walker Art Gallery Collections, and the World Museum. Once you're done with all the history, you can explore the Liverpool One shopping area which is filled with restaurants, cafes and tons of stores.
Other accommodation options in City Centre
Things to do in City Centre
Enjoy the nightlife in the Liverpool City Centre
Have a beer at Cavern Club where the Beatles were discovered
Admire the architecture of the stunning St. George's Hall
See some beautiful pieces at the Walker Art Gallery
Visit the National Museums in the Liverpool City Centre
Go shopping at Liverpool One Shopping Centre
Check out the Liver Building near the waterfront area
See the
2. Ropewalks – best place to stay in Liverpool for art lovers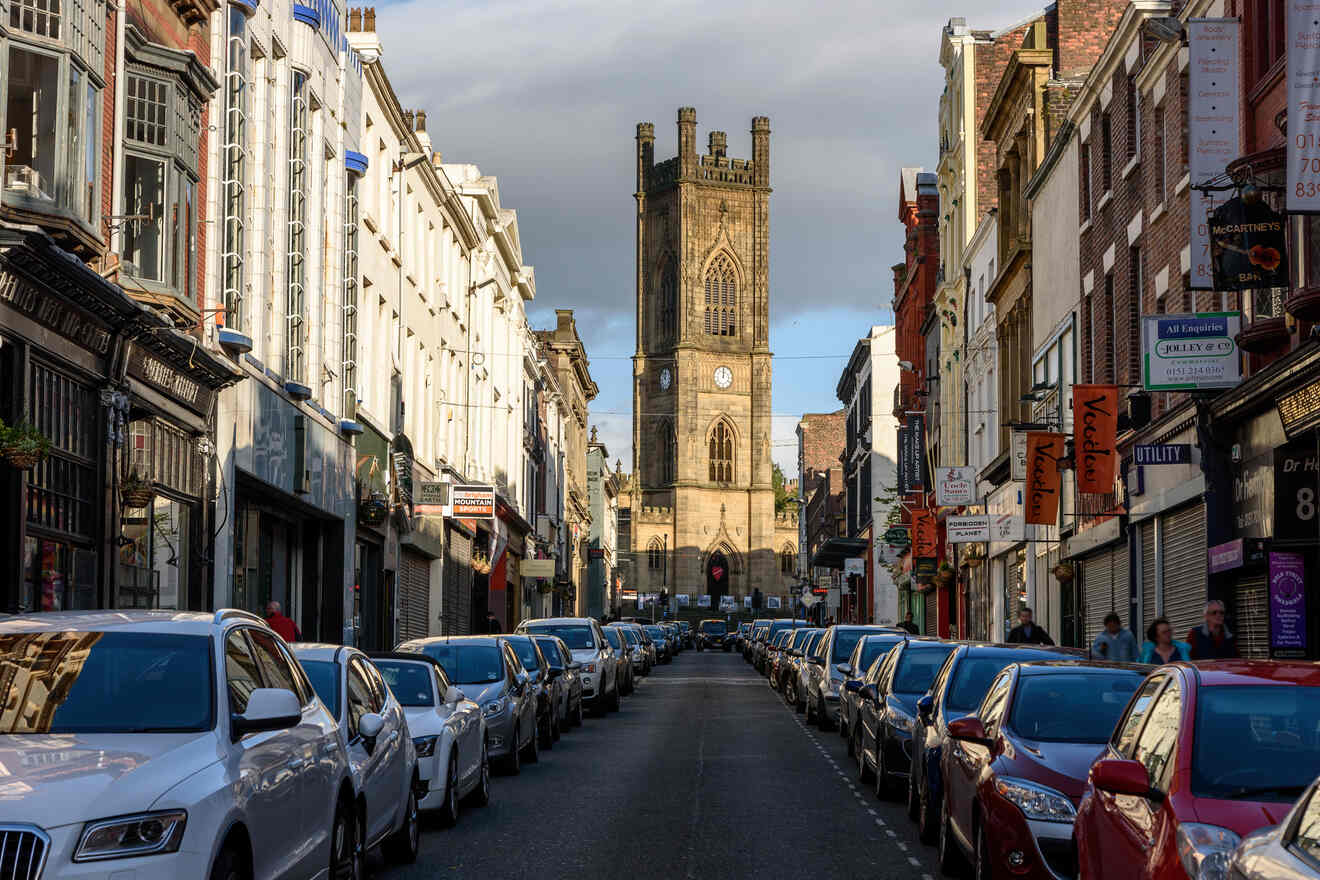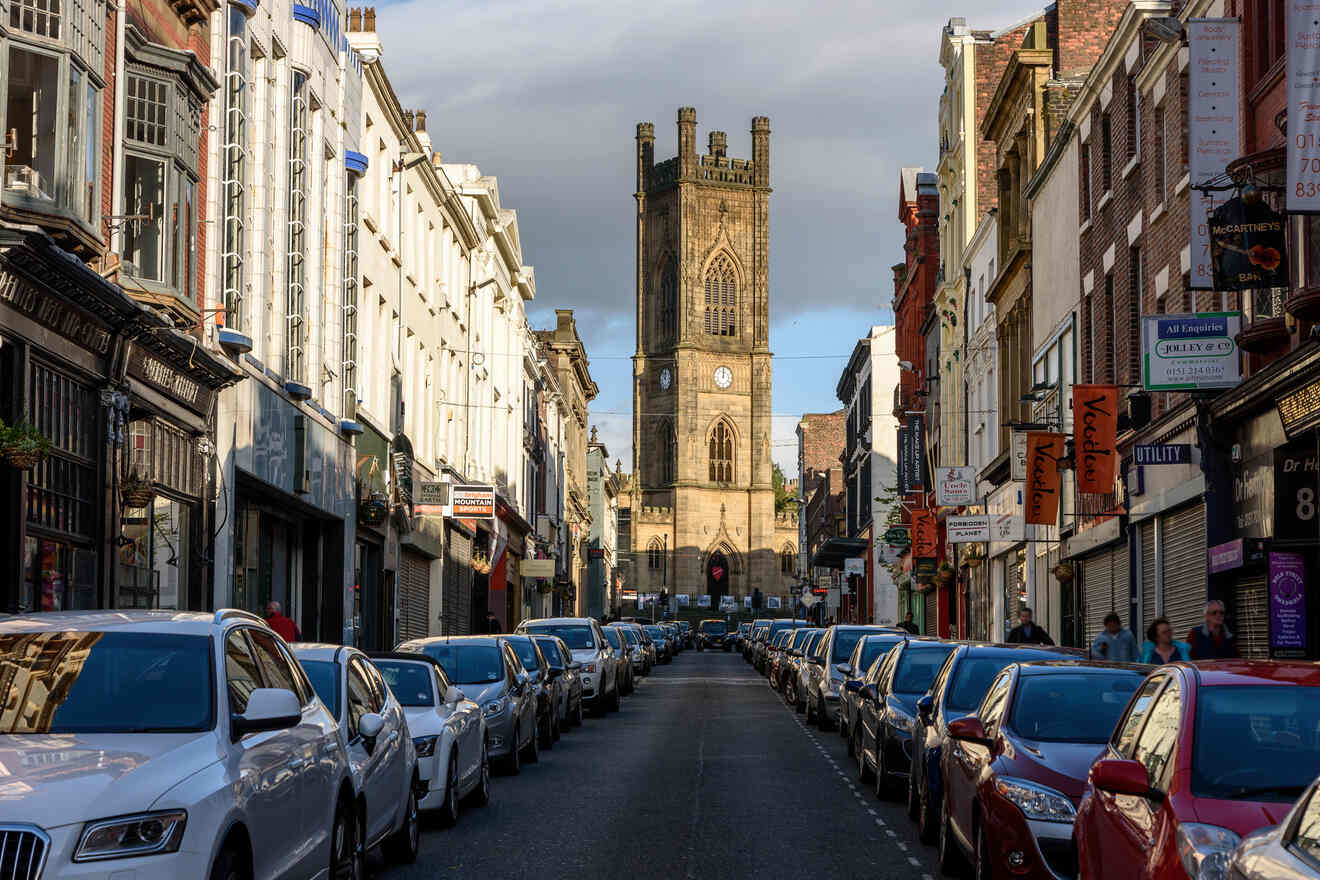 Located south of the City Centre, the history of this location goes way back to the 19th century when ropes and boats were very important in England. That's how the lively neighborhood got its name. Liverpool is the place to be for anyone who loves to have something to do at any minute, and Ropewalks makes no exception to the rule, plus it's super close to the Mersey Central Station and within walking distance of the city center.
Filled with street art along Bold Street, this is one of the best places to stay in Liverpool for creative people who want to experience the artsy side of the city. Just a few minute's walk away from Bold Street, you'll spot FACT, a gallery with materials relating to video, film, and new media. Ropewalks will offer you such a fun experience, just wait until you discover the Duke Street Food Market and all the live music bars!
If you love creating cool images and taking pictures of unique places, I've got the perfect spot for you! Right at the end of Bold Street, there's the Church of St Luke's, a beautiful historical landmark that was bombed in 1941 but still looks amazing even though it doesn't have a roof!
Now let's see the best places to stay in Liverpool:
Other accommodation options in Ropewalks
Things to do in Ropewalks
Have fun at the lively Quirky Quarter
Learn new things about film and new media at the FACT Liverpool Gallery
Take cool pictures of St Luke's Bombed Out Church
Have fun and listen to live music at the friendly Concert Square
Admire the street art during your stay in Liverpool, Ropewalks
Eat and drink at the Duke Street Food Market
See Europe's largest Chinese Arch
3. Baltic Triangle – where to stay in Liverpool for nightlife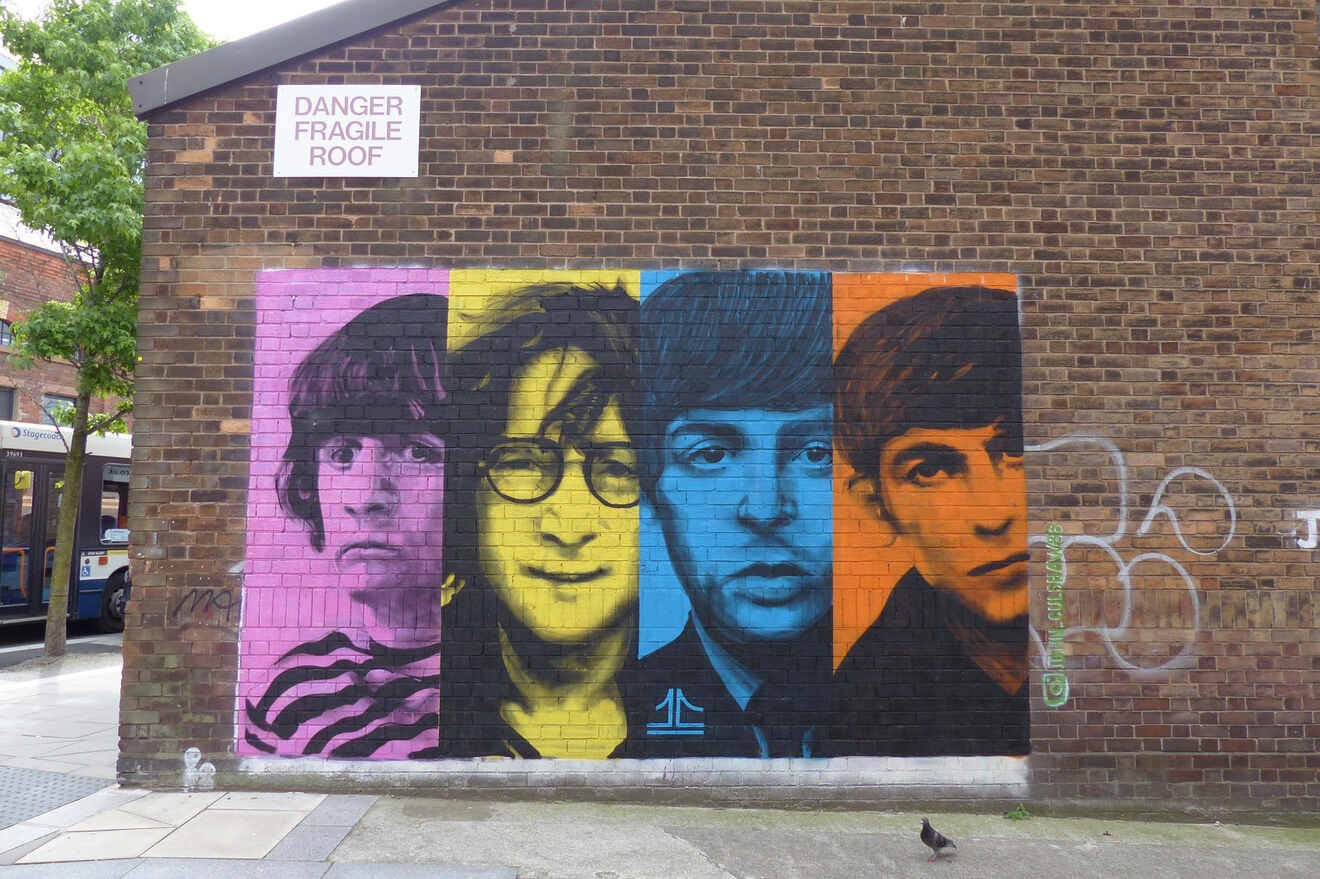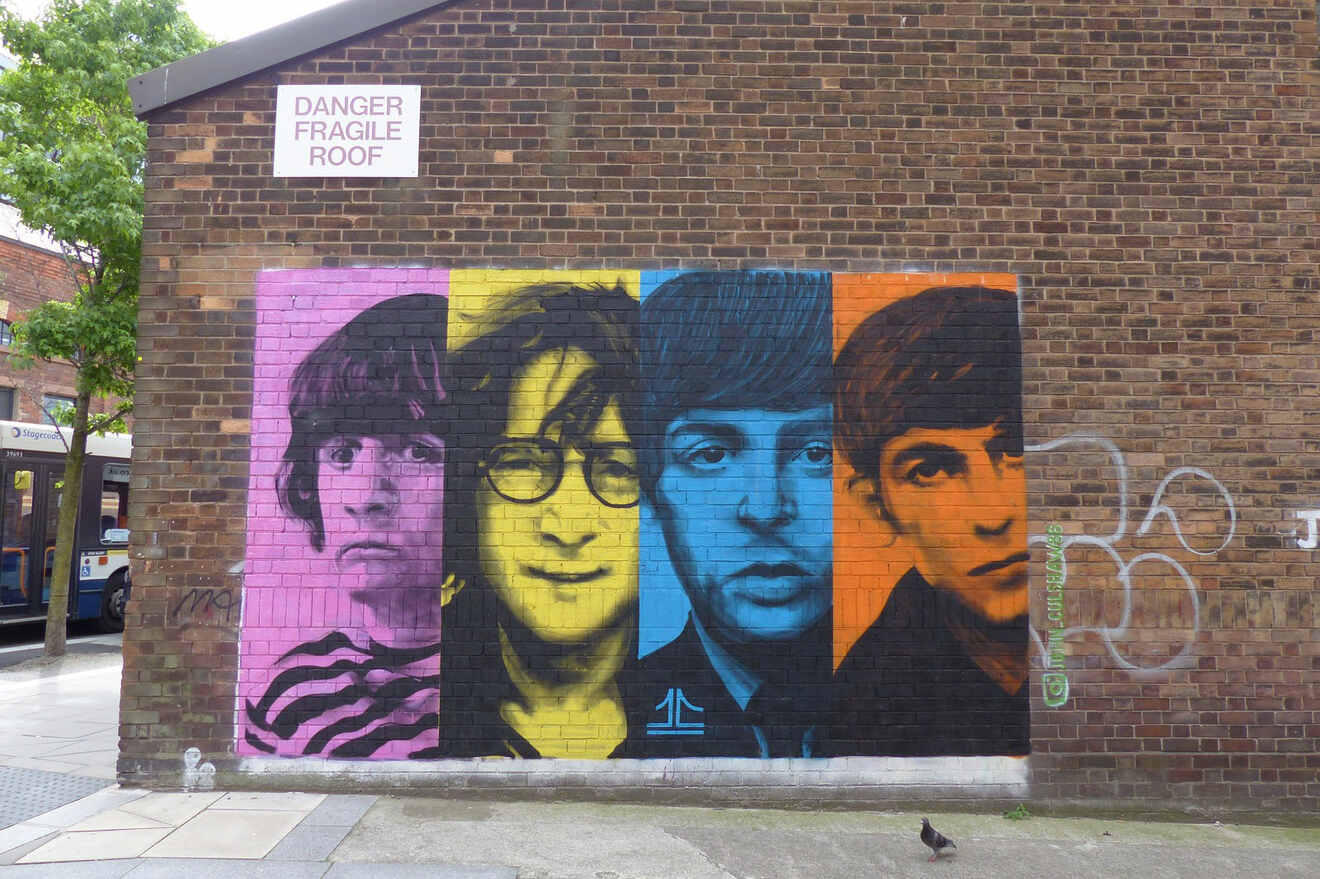 Located between Ropewalk and Albert Dock, this location used to be the industrial side of Liverpool, England. Now it has evolved in this cool neighborhood filled with warehouses that host parties, street food, and graffitis.
If you're looking for a good time after the sun goes down, you have to come to the Baltic Triangle and experience the incredible atmosphere.
The famous Baltic Market is where everyone will be! Especially during brunch time. If you're a foodie and love to try new dishes then this place will feel like paradise! It will be hard to dance with a full belly, but you have to try some of the bars here! In particular, the Yellow Sub is set in a submarine, you can't miss the chance to have some drinks here!
Make sure you explore the streets, there is tons of cool graffiti here and while you're at it, watch out for the vintage shops. I've lived in England for a while, and to be honest, I loved thrift shopping here. It's the best!
Other accommodation options in Baltic Triangle
Things to do in Baltic Triangle
Eat, drink and listen to some live music at the famous Baltic Market
Admire the Liverpool best street graffiti art
Enjoy Liverpool's nightlife at the friendly Yellow Sub
Have dinner and stay for a live performance at Camp and Furnace Liverpool
Go for a beer at the Baltic Fleet pub at night
Try the best restaurants in the Baltic Triangle
4. Albert Dock – best place to stay in Liverpool for budget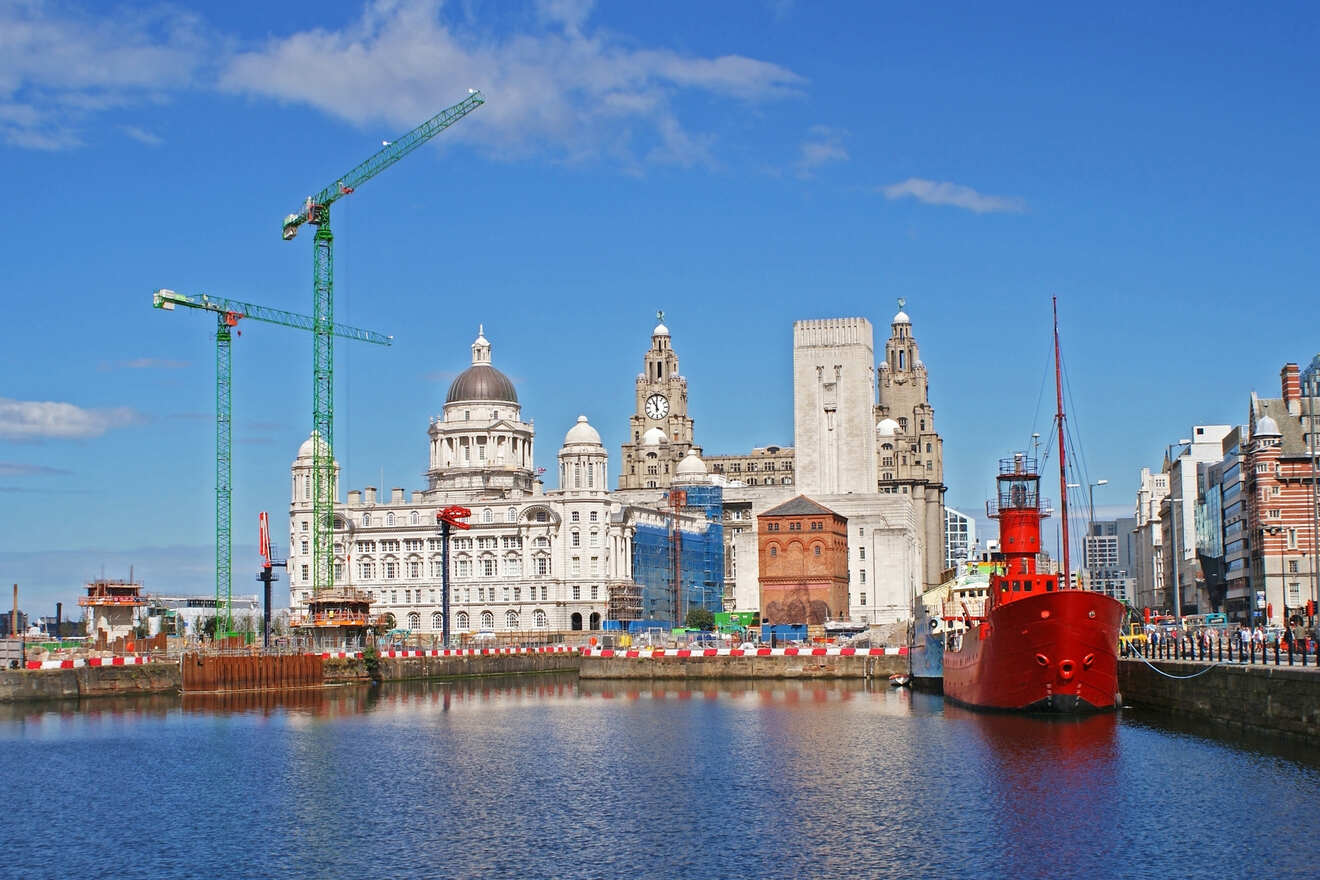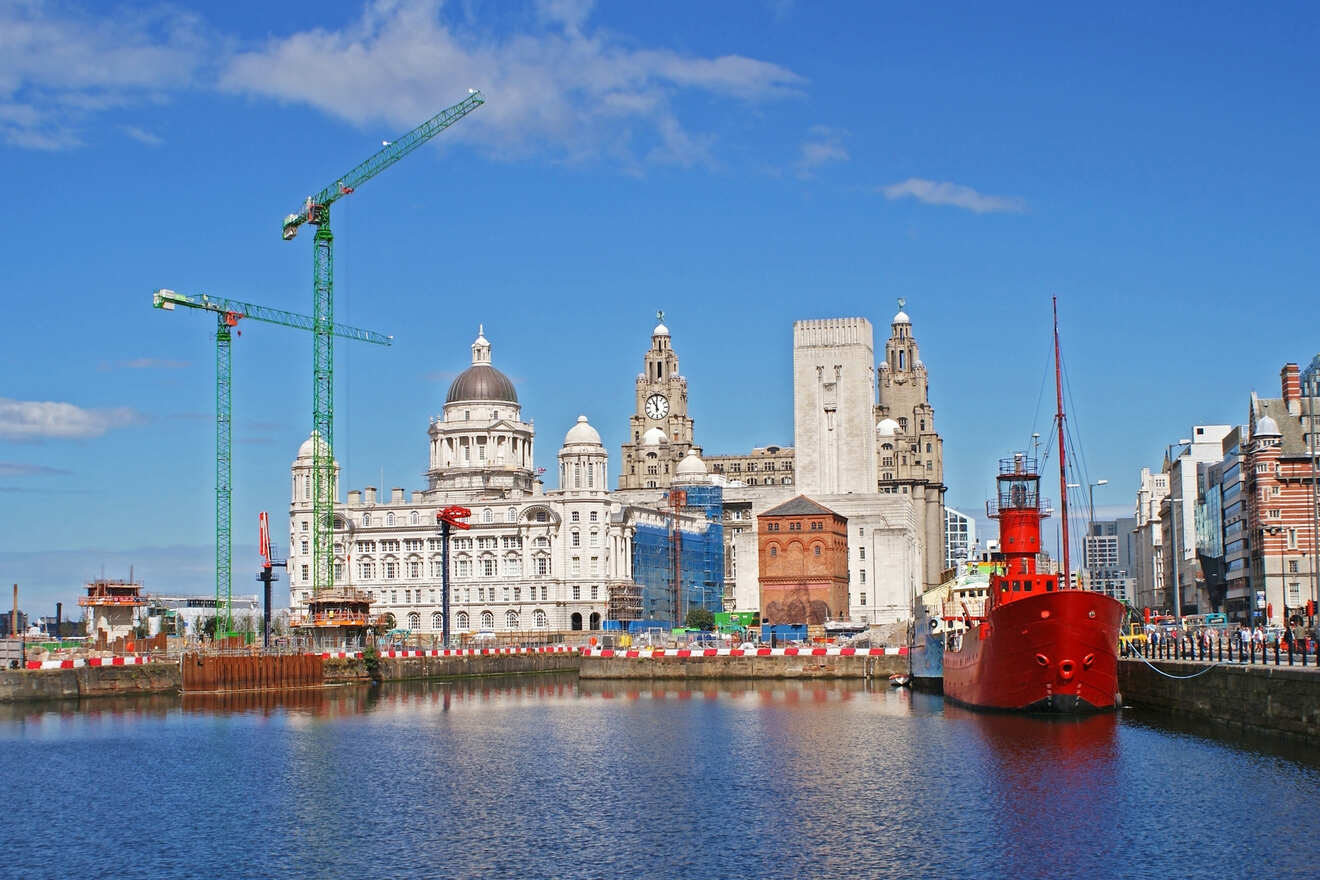 This waterfront area was built in 1840 and many years ago served as one of Liverpool's focal business points. Now it's a tranquil neighborhood where people come for a sunset stroll and to admire all the beautiful Victorian buildings. Many Liverpool hotels and apartments here are on the budget side of things, which makes the Albert Dock one of the best places to stay in the city if you're looking for affordable accommodation.
This is one of my favorite parts of the city, I think it's because I love the museums in England and the Albert Dock has plenty of them. As you explore the friendly docks, you'll discover tons of restaurants and shops. Further along, you'll spot the Tate Liverpool Art Gallery, which is a must-see! I visited the one in London and it was a fantastic experience.
Any Beatles fans will be happy to know that the Liverpool City Centre is not the only spot where you can dive into the band's history. The Beatles Story Museum is located in the Albert Dock, and they offer free entry!
The Merseyside Maritime Museum and International Slavery Museum are also two important places that you shouldn't miss especially if you're into discovering Liverpool's history. As you walk around, you're going to find the Mersey Ferries Terminal, and if I were you I wouldn't think twice before hopping on a cruise ship along the Manchester Ship Canal. Plus you can even visit another country if you want! Dublin is just a ferry ride away from Liverpool!
Other accommodation options in Albert Dock
Things to do in Albert Dock
5. Hope and Knowledge Quarter – where to stay for history lovers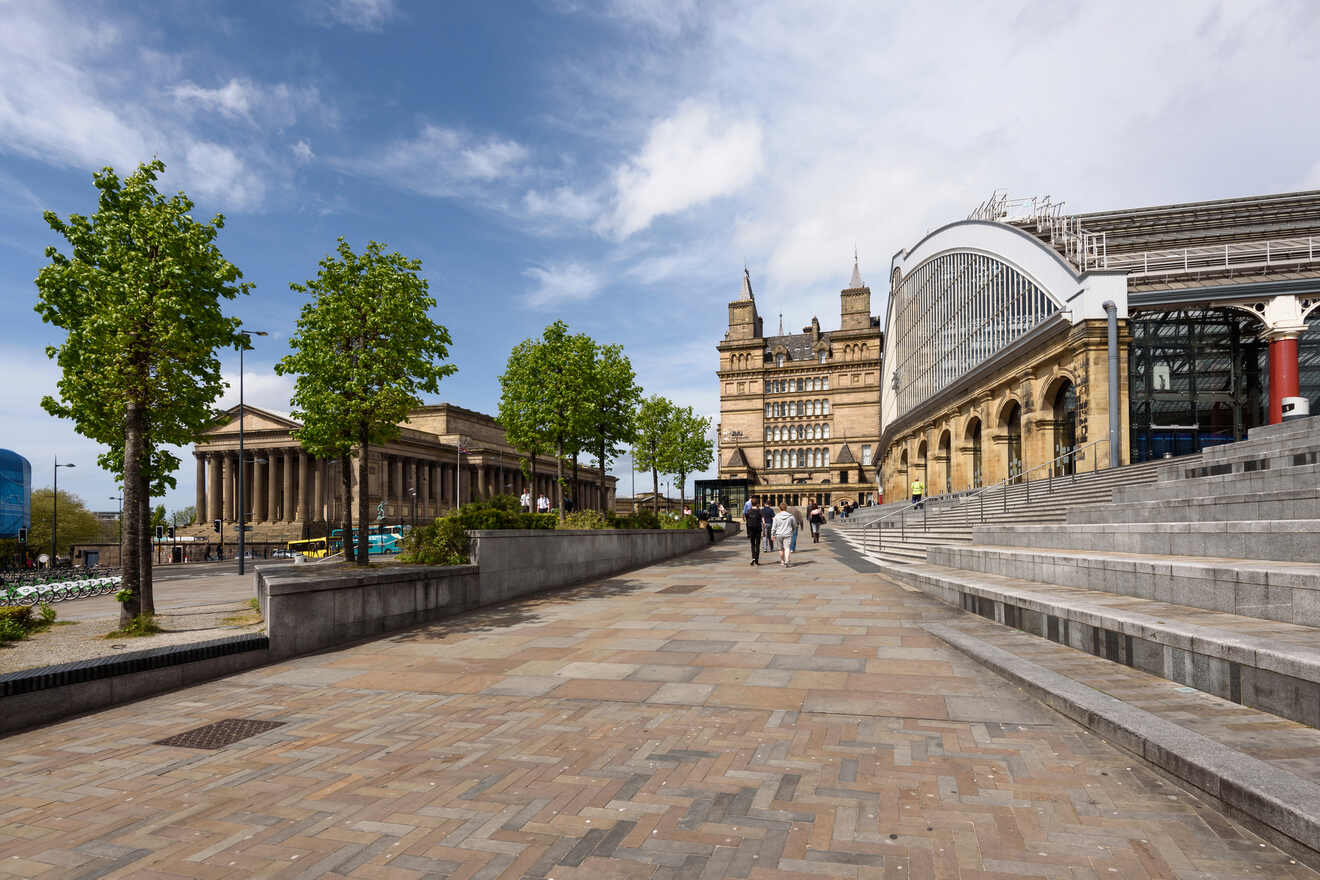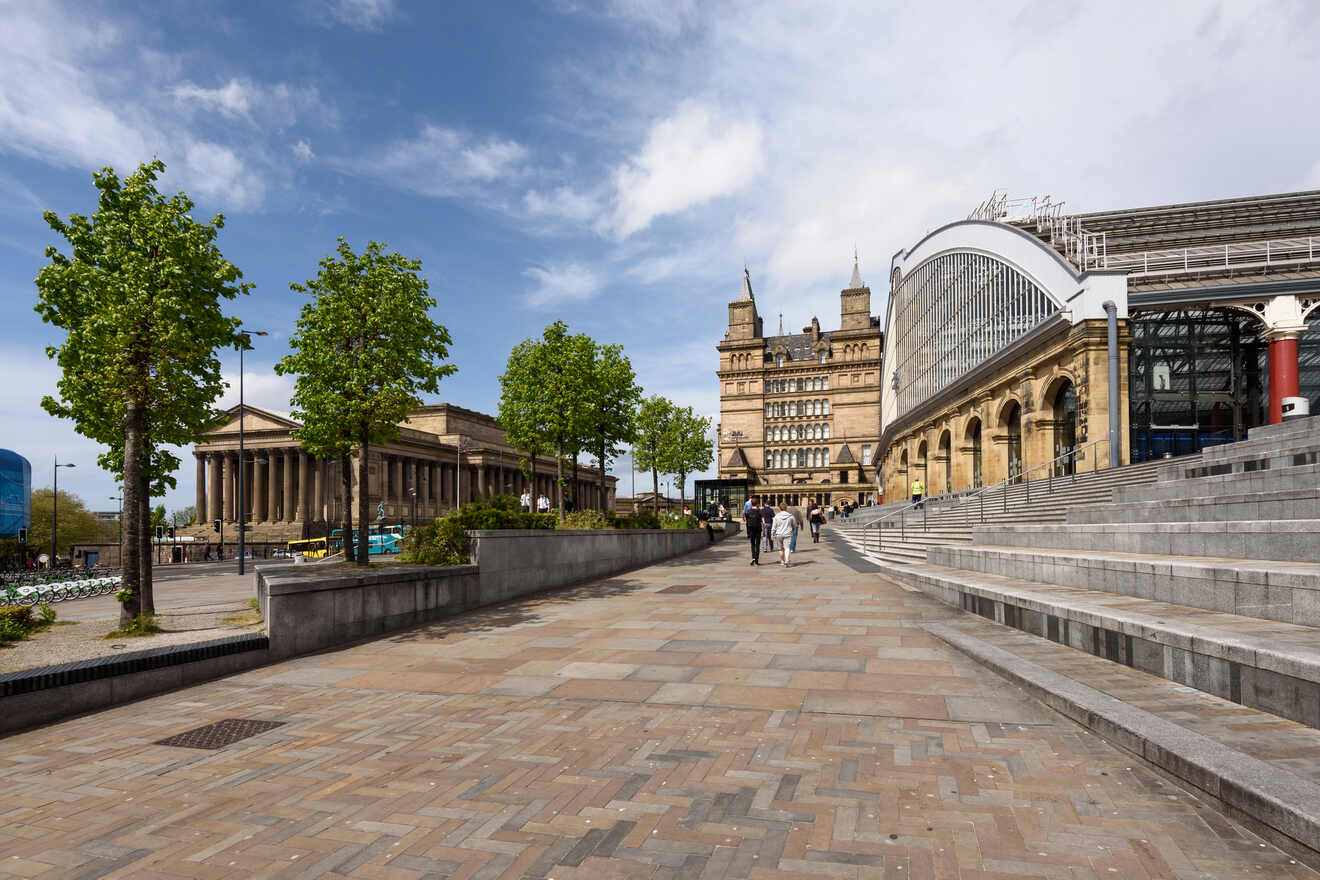 Located south of the Liverpool City Centre, this location is one of the coolest places in town! Beautiful Georgian houses and fancy restaurants fill the streets of the Hope and Knowledge Quarter. Any history enthusiast who wants to see the old part of this city in England in its full glory should book a hotel here.
Hope Street is home to the largest Anglican Cathedral globally, which was finished in 1978 by Sir Giles Gilbert Scott. Here, you'll also find the Lantern Tower, a beautiful piece of architecture that contains the biggest area of colored glass in the world!
This area is so rich in culture that there's no chance you won't want to spend at least a few days there. And if you're lucky maybe you can catch a concert at the Royal Liverpool Philharmonic, that's a once-in-a-lifetime opportunity!
Other options in Hope and Knowledge Quarter
Things to do in the Hope and Knowledge Quarter
See the beautiful Liverpool Metropolitan Cathedral
Walk around Hope Street and admire the unique Georgian houses
Visit the Lantern Tower and see the biggest area of colored glass in the world
Catch a concert at the Royal Liverpool Philharmonic
Attend a play at the Everyman Theatre
6. Crosby Beach – best place to stay in Liverpool near the beach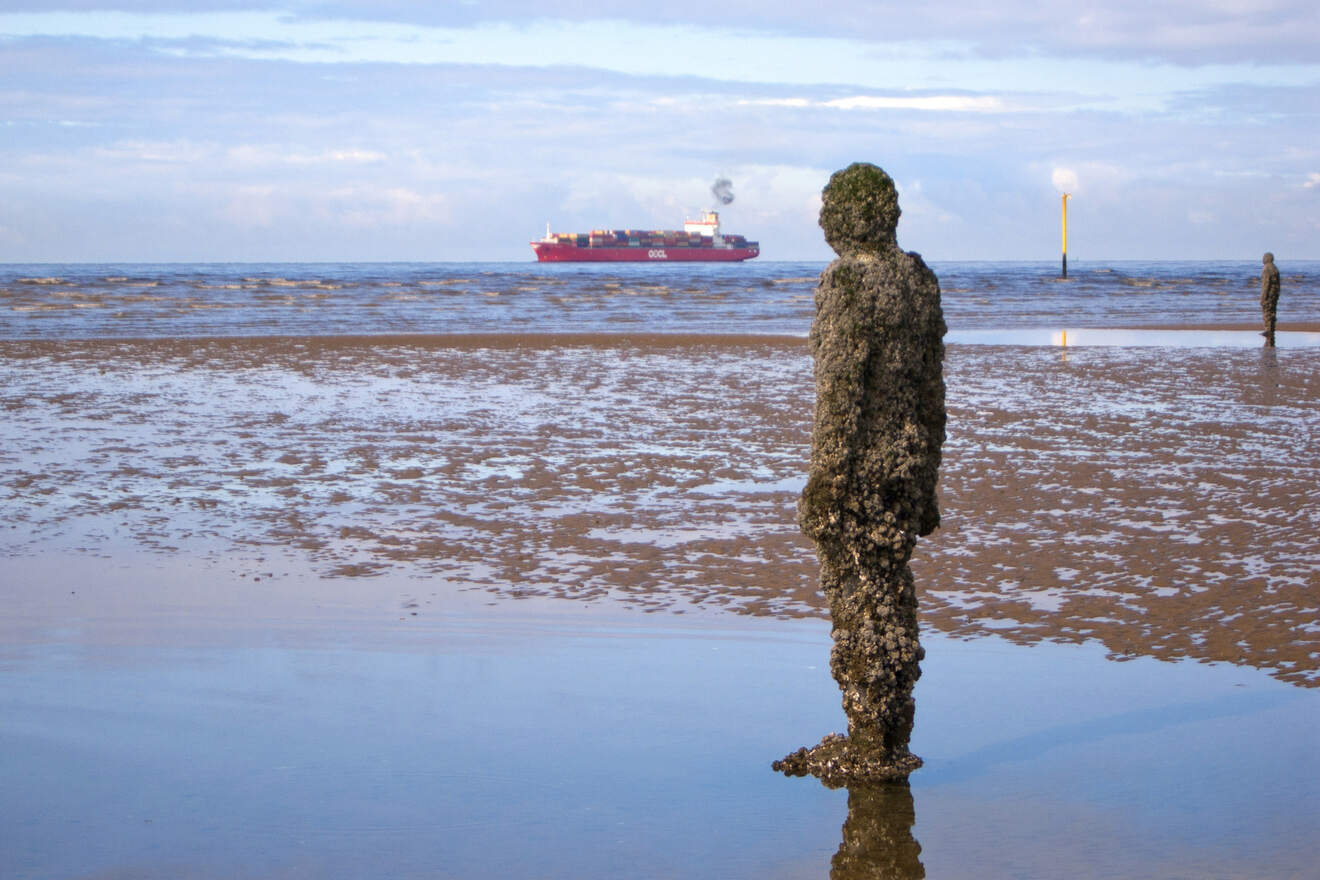 Located 6 miles (10 km) north of Liverpool City Centre, this suburb is perfect for anyone who is looking for a more tranquil experience and wants to be close to the beach. But if you want to visit a central location just hop on a train from Blundellsands and Crosby station to Liverpool Station and you'll get there in a maximum of half an hour.
The beach is super large and it kind of looks like a wild beach because there aren't any sunbeds or umbrellas, which I personally love! But don't get scared if you see some iron statues randomly placed along the beach. Anthony Gormley created them, a famous sculptor and they are the highlights of this interesting place.
Crosby Beach is one of the best places to stay in Liverpool if you're looking for some peace and quiet. There are many guest houses located within walking distance from the beach and some nice restaurants too for the perfect holiday atmosphere.
Other accommodation options in Crosby Beach
Things to do in Crosby Beach
Relax on the beach, pack some food and enjoy the sea views
Walk around the peaceful Rimrose Valley Country Park
Check out the 100 iron sculptures on the beach made by Anthony Gormley
Families can take the kids to play in the Moorside Park
Frequently asked questions about Liverpool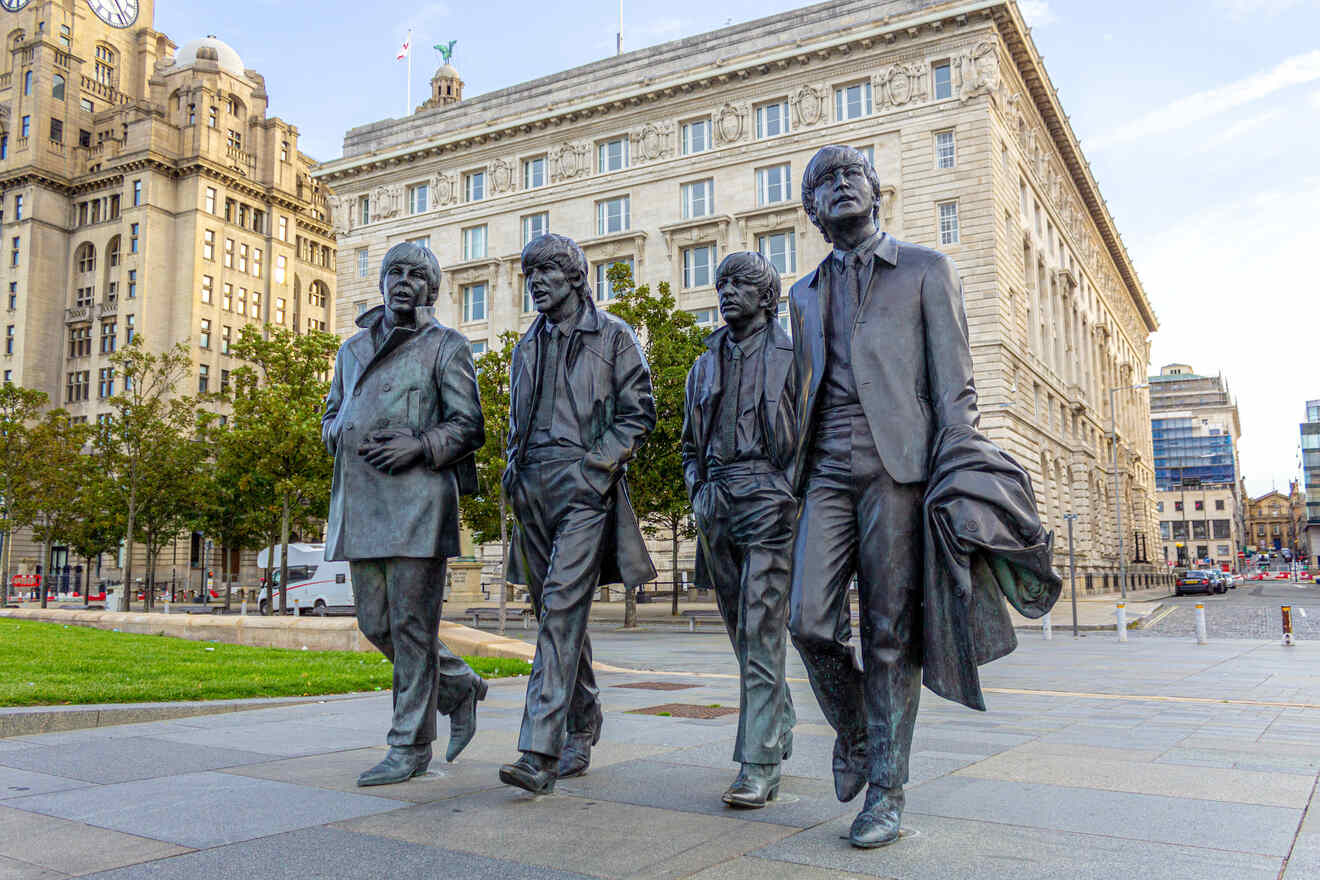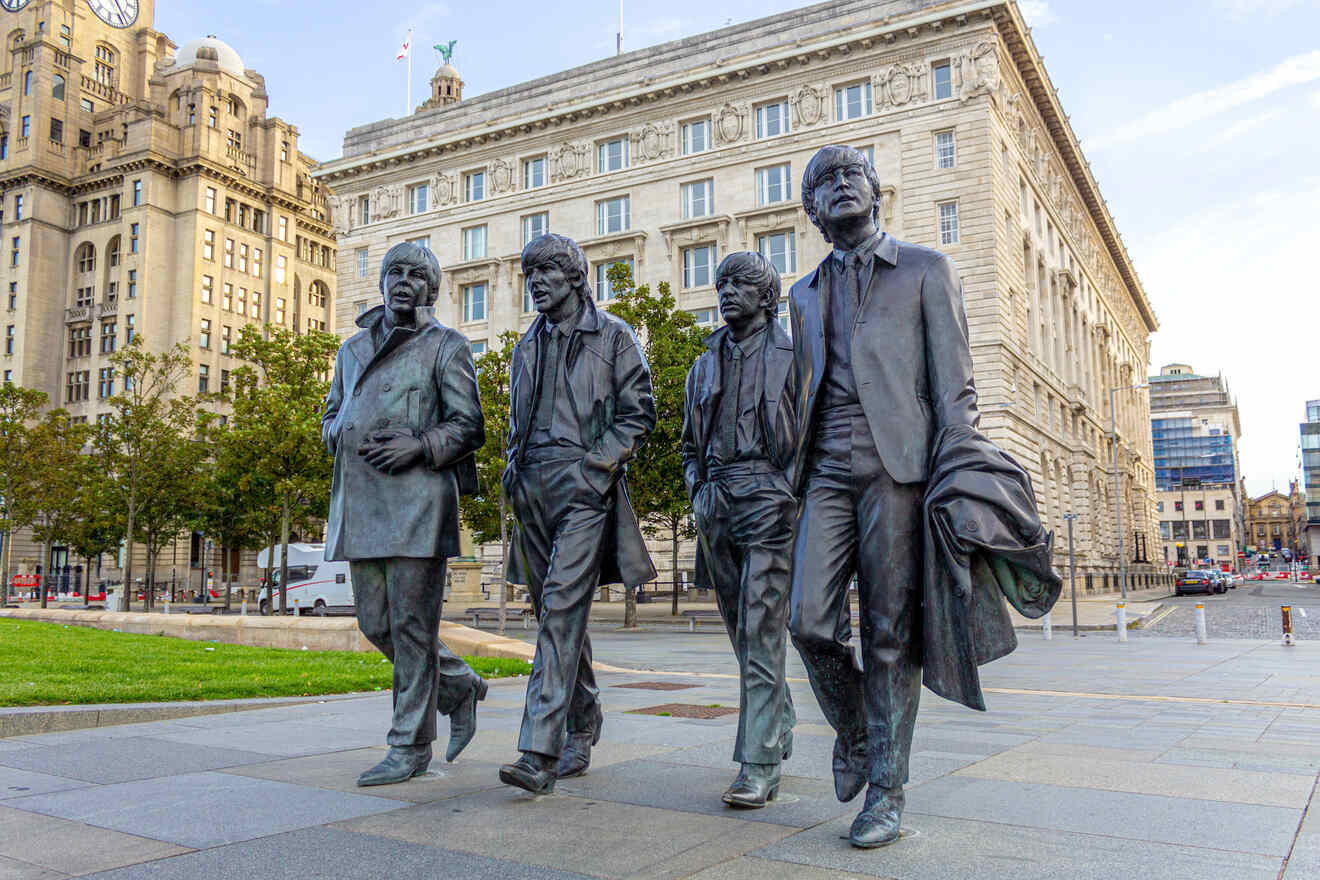 Conclusion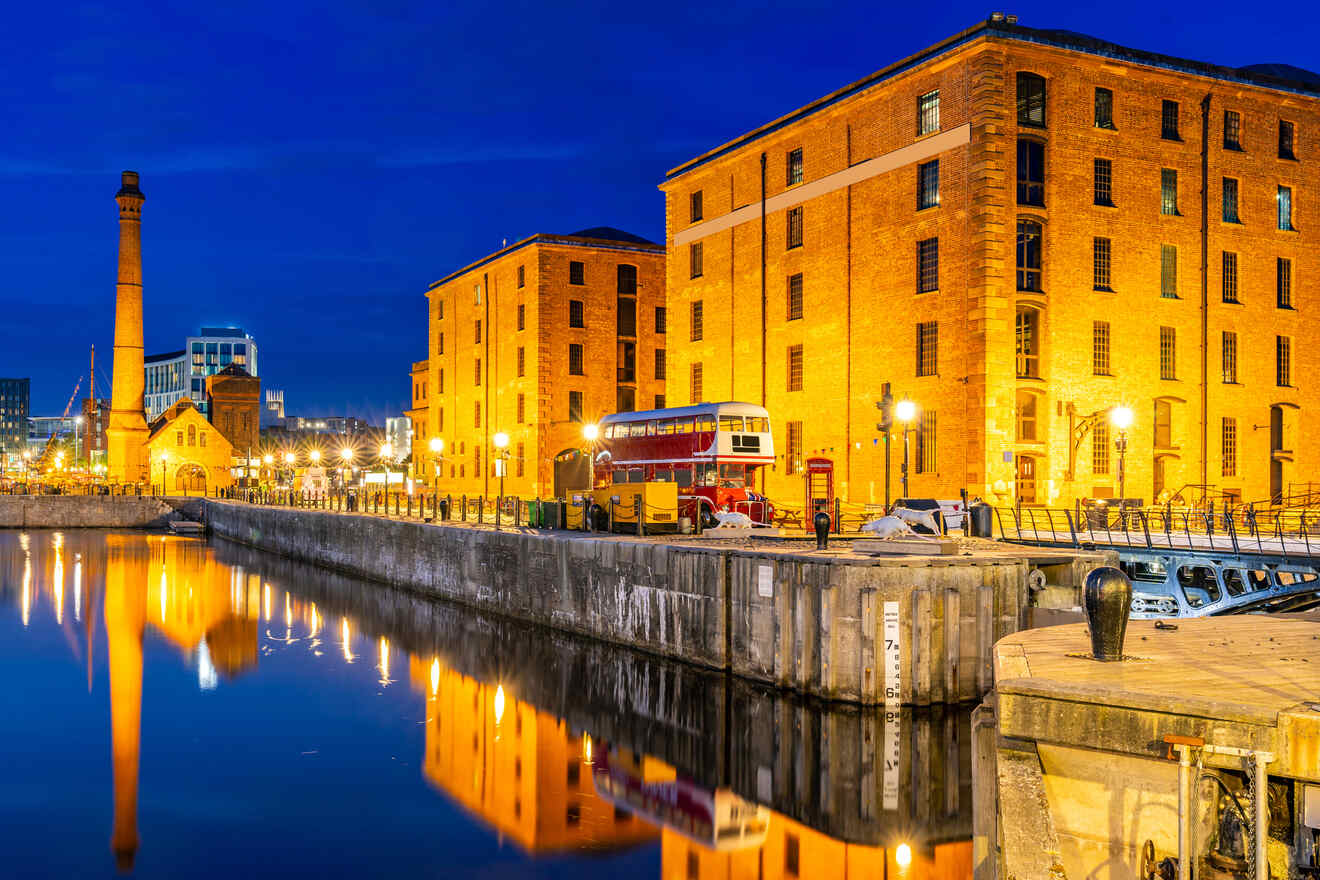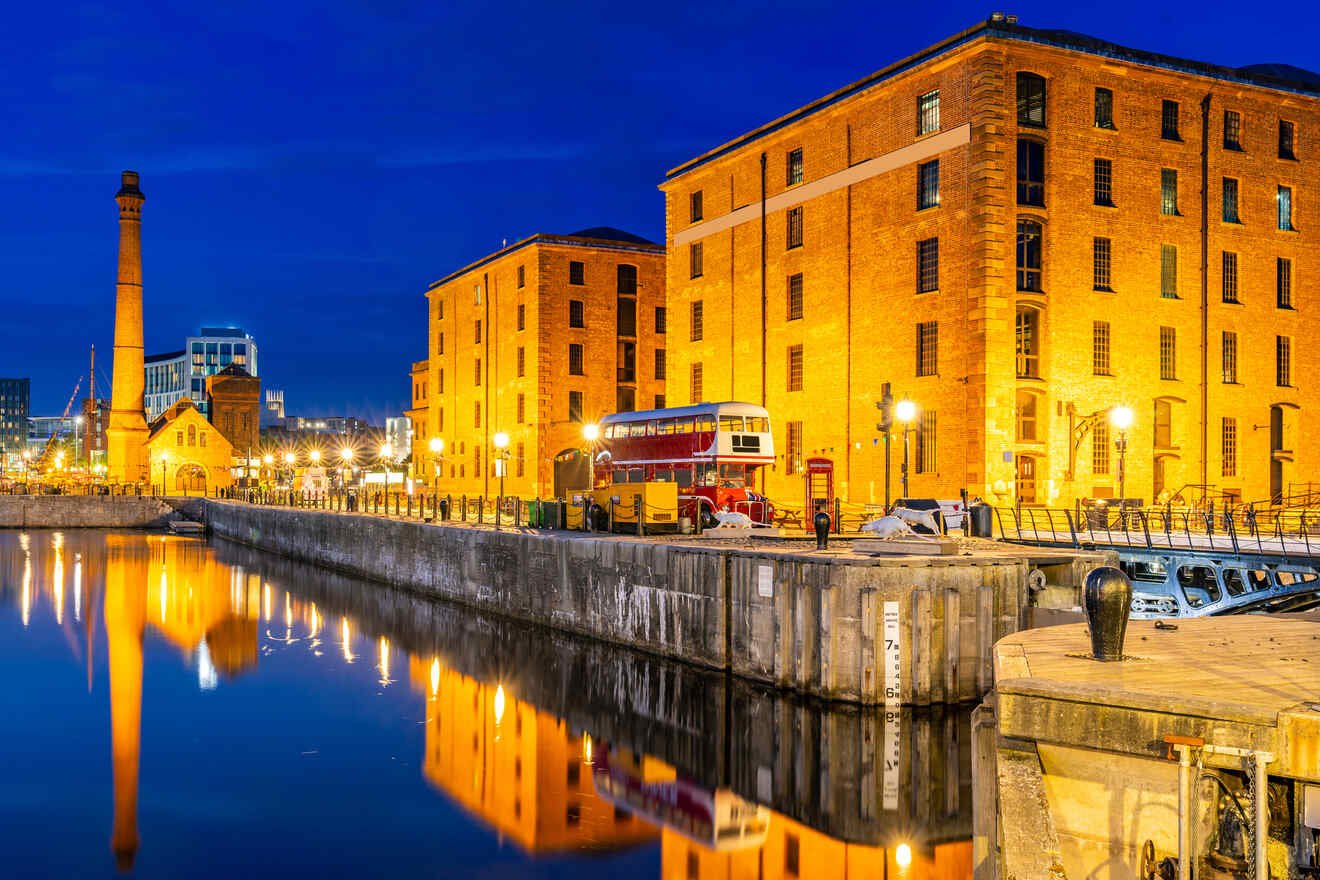 Well, that's it from me! I hope you enjoyed this visual trip around the city and I'm sure now you'll be able to find where to stay in Liverpool without any trouble. Don't forget that these are the best Liverpool hotels so that means that they will disappear in a minute, so make sure you book them in advance if you want to get a good deal.
I know I've given you tons of options for hotels in Liverpool but here are my top two favorites both located in the Liverpool City Centre
Have an amazing trip in this cool city, stay at the best hotels in Liverpool City Centre, and relax with a walk around the Albert Dock and Pier Head! Leave me a comment if you have any questions or recommendations for our readers!
Safe Travels,
Victoria
---