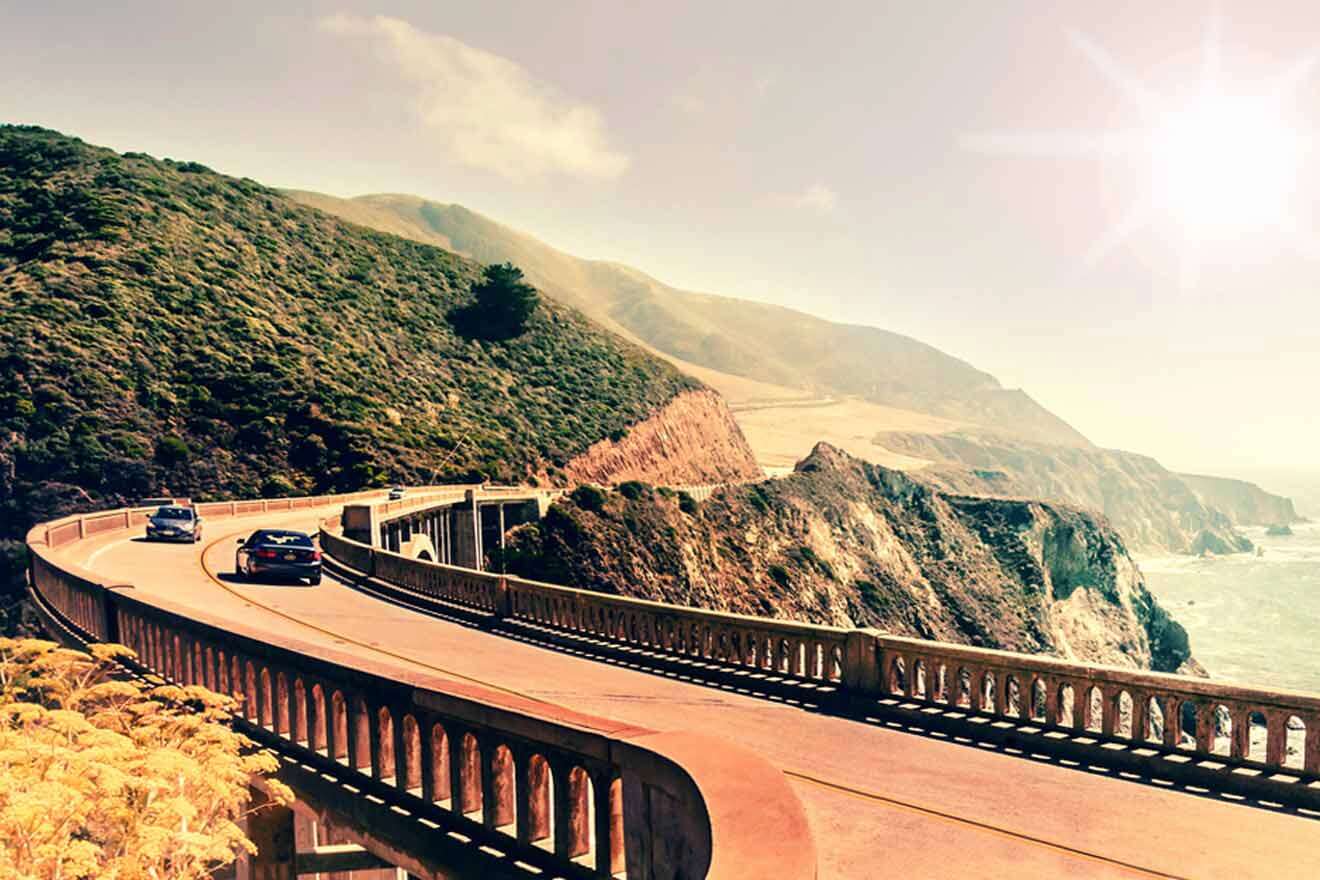 Okay, you lucky little ducks – I'm taking you on a journey along the winding curves of the legendary West Coast Big Sur Drive, where every twist and turn reveals a new viewpoint of this outrageous California coastline.
As a resident of California who's explored this scenic route countless times, I'm here to be your trusted guide on your Big Sur road trip through this iconic coastal playground, sharing the hidden gems and secret stops that make it more than just a drive – it becomes an unforgettable experience.
So, let's go!
If you are in a hurry
On your Big Sur trip, you'll want to start your adventure right away, not spend hours online booking different tours and accommodations. I highly recommend you book your hotels and activities in advance. Here are my top picks:
Depending on your jumping-off point for your Big Sur itinerary, you may stay in Monterey or Carmel. For the purpose of this post, we'll talk about driving north to south, so my hotel suggestions for you will be in Monterey.
And here are the best hotels: Spindrift Inn (luxury), Wave Street Inn (mid-range), Stage Coach Lodge (budget)
If you want more options, you can also read our post on where to stay in Monterey, where we list the best areas with hotels for every budget.
Preparing for your Big Sur drive
Before setting out on your epic Big Sur Road Trip itinerary, let's delve into the essentials for preparation and the best tips to ensure you make the most of your adventure.
How to get there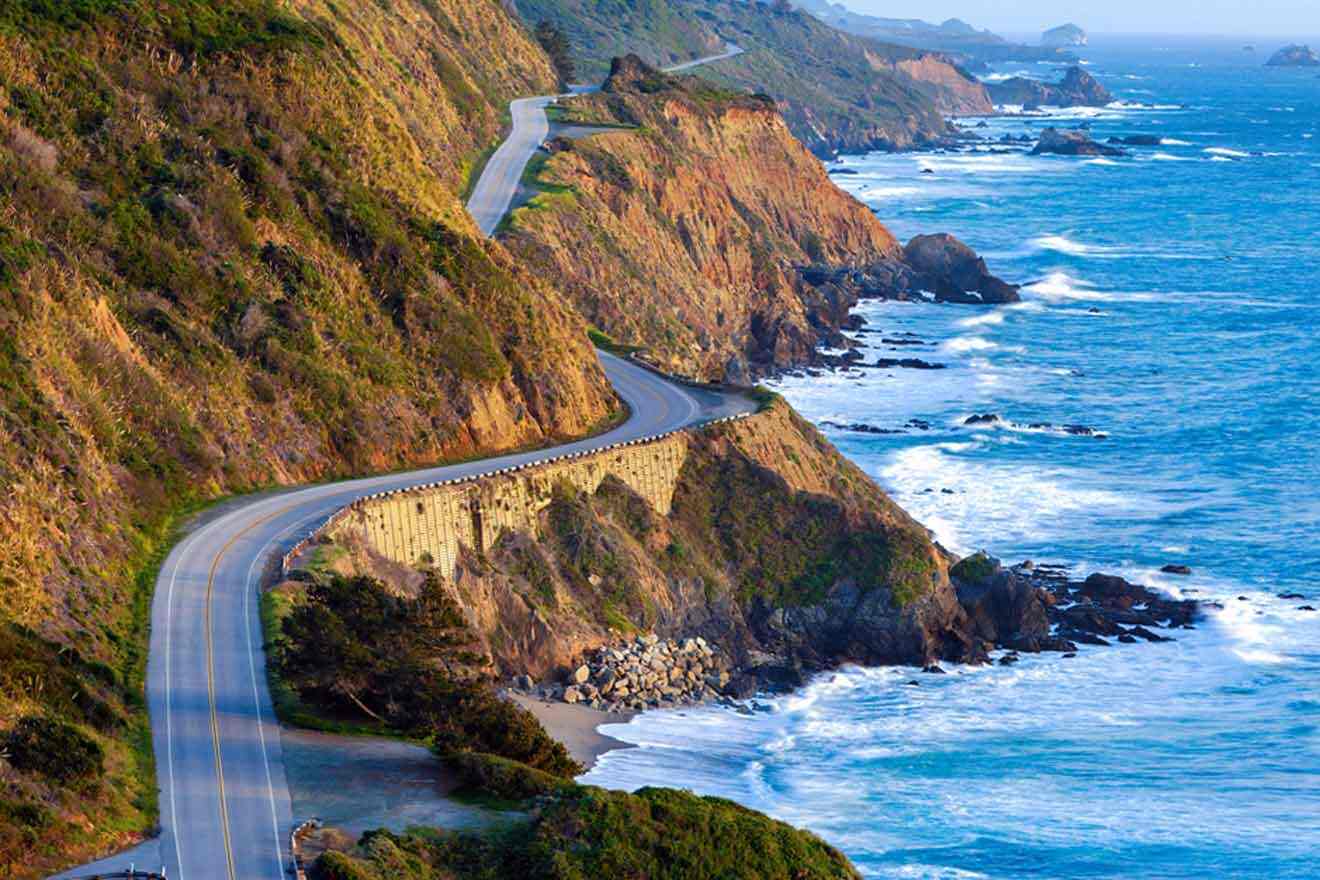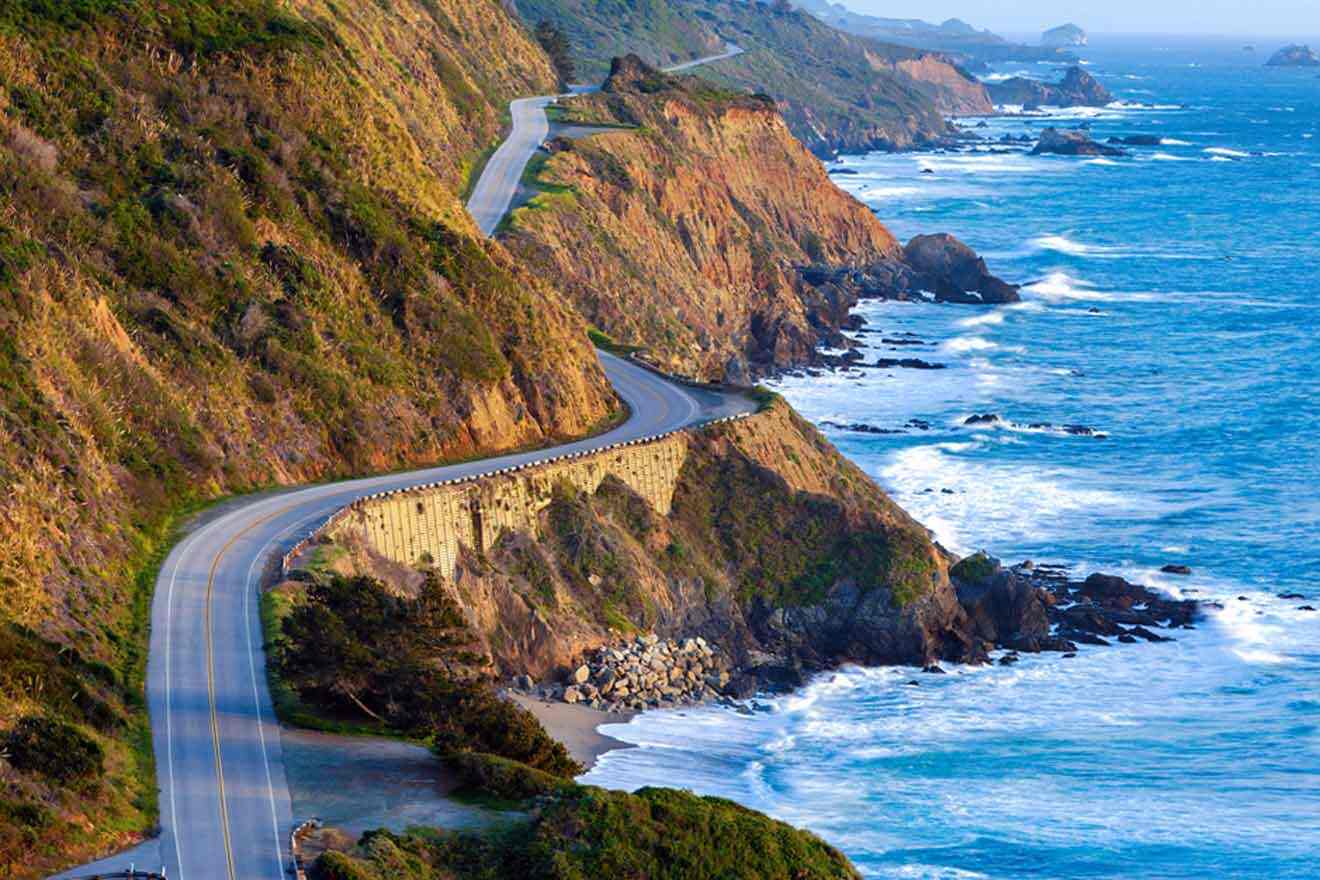 The beauty of the Big Sur road trip is the flexibility in reaching this coastal paradise whether you're arriving from major cities, seeking the convenience of a rental car, considering guided tours, or even contemplating public transport, there's a route for everyone to explore the magic of Big Sur.
From San Francisco
If you're beginning your Big Sur itinerary in San Francisco by car, set your GPS for a roughly 3.5 to 4-hour drive south along the iconic Pacific Coast Highway.
Need help renting a car in California? Check out our detailed article with top tips & tricks for rental car savings.
Alternatively, you can also catch an Amtrak train (see timetable) from San Francisco to Salinas and, from there, rent a car or join a tour to check out Big Sur.
From Los Angeles
If you're arriving from the south in Los Angeles, carve out at least a 6-hour drive north along the coast to reach the heart of Big Sur. Don't fret, you'll have endless ocean views along the way and opportunities for spontaneous stops at viewpoints and beaches.
Renting a car from Los Angeles gives you the freedom to explore Big Sur at your own pace.
Are you a daredevil? One of the coolest options I've seen recently is renting a motorcycle to accomplish this once-in-a-lifetime, epic drive.
Guided tours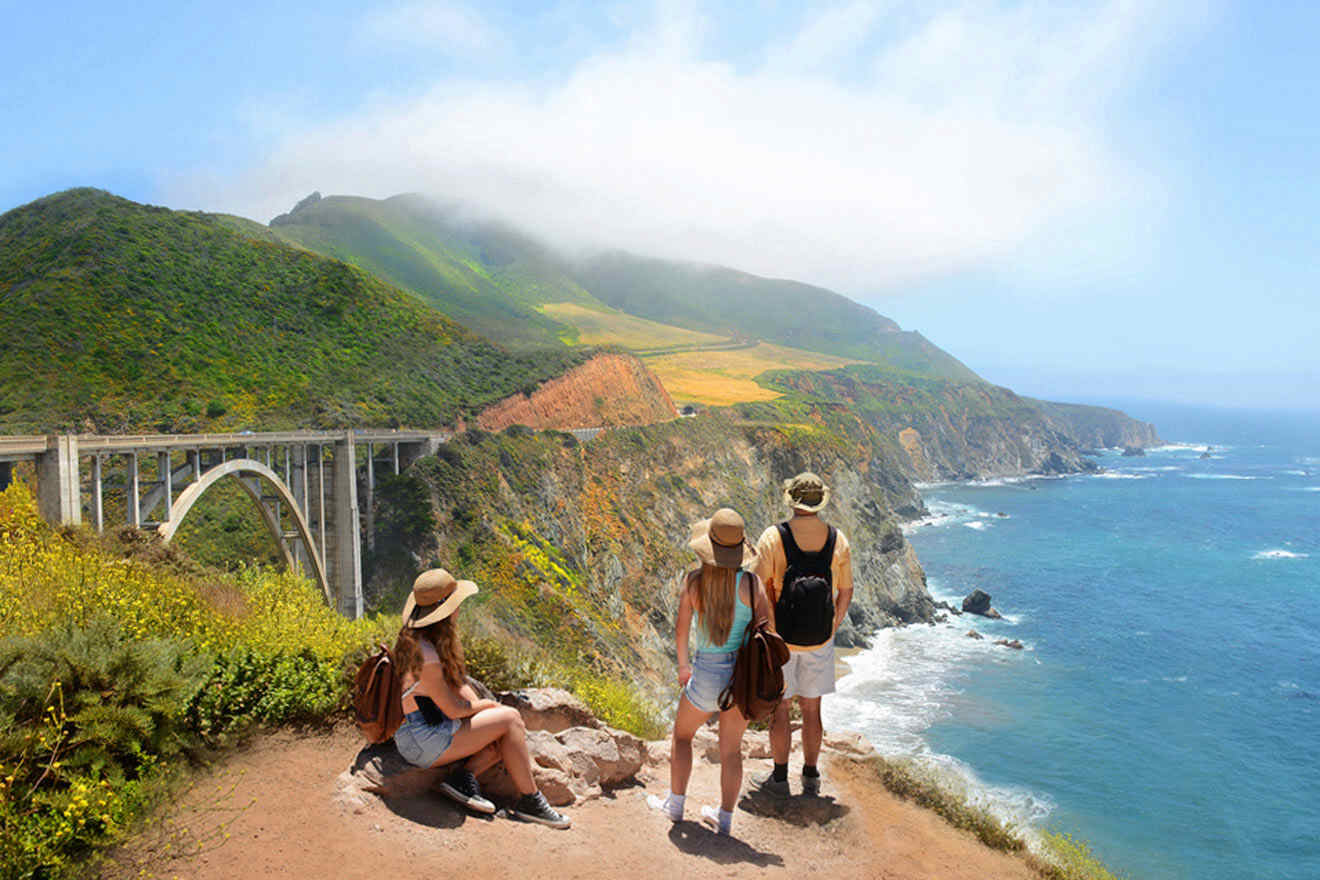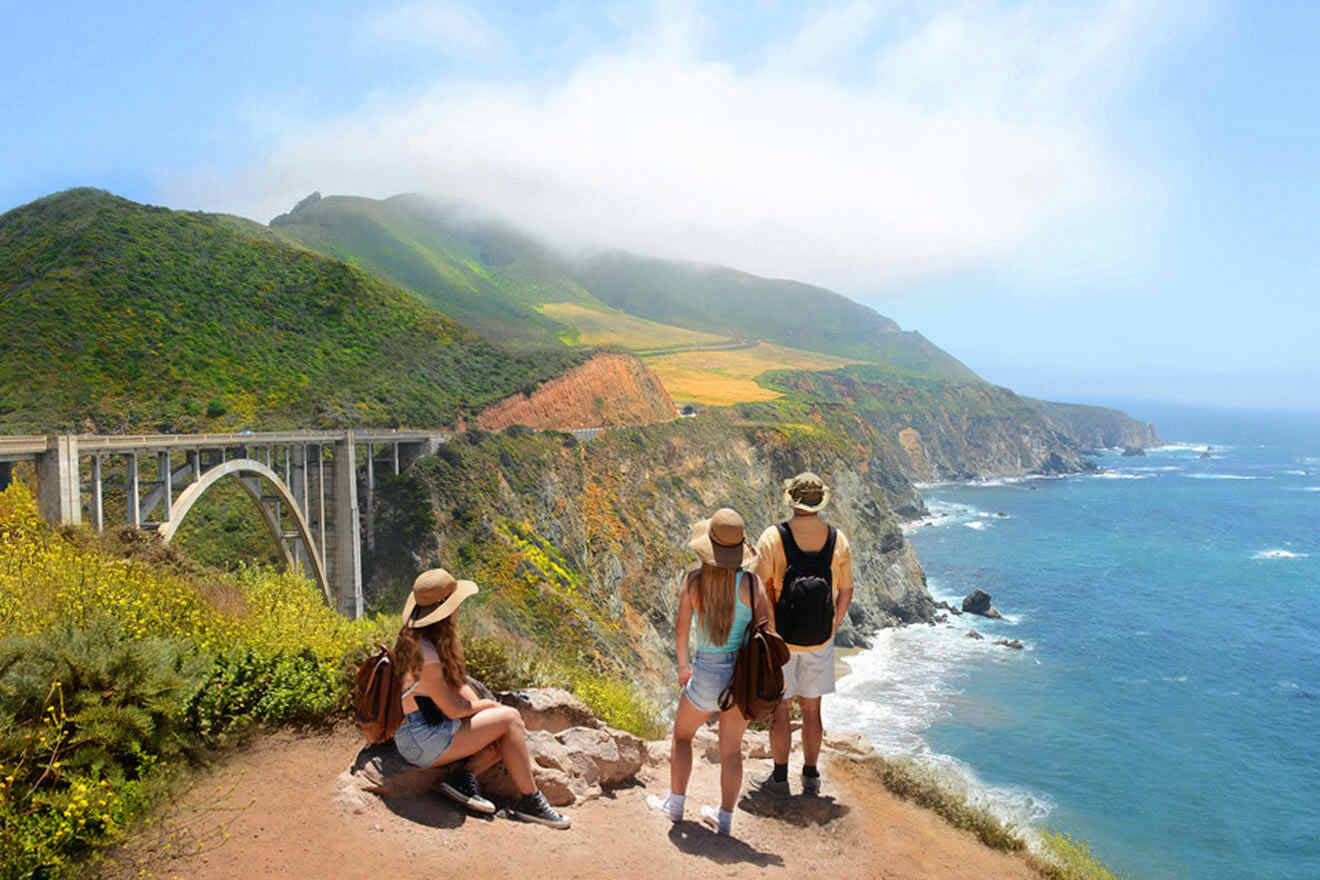 If you prefer a stress-free experience, join a guided tour and leave your Big Sur itinerary up to the pros. See below for a couple of my favorites:
Guided tour of Carmel, Monterey, & Big Sur – this awesome customizable private group tour is perfect for you and 3 of your closest friends (4 people max per vehicle). Visit Big Sur on your own terms but with the help of a knowledgeable and entertaining guide. Cost: from US$975 per group.
Guided tour of McWay Falls – a private group experience for you and friends up to 6, this incredible one-day Big Sur tour will take you to enjoy Monterey, Big Sur, Bixby Bridge, River Inn, Pfeiffer State Park, McWay Falls, and many other places. Cost: from US$130 per person.
Similarly to San Francisco, you can catch an Amtrak train (see timetable) from Los Angeles to Salinas, and from there, rent a car or join a tour to check out Big Sur.
Essential supplies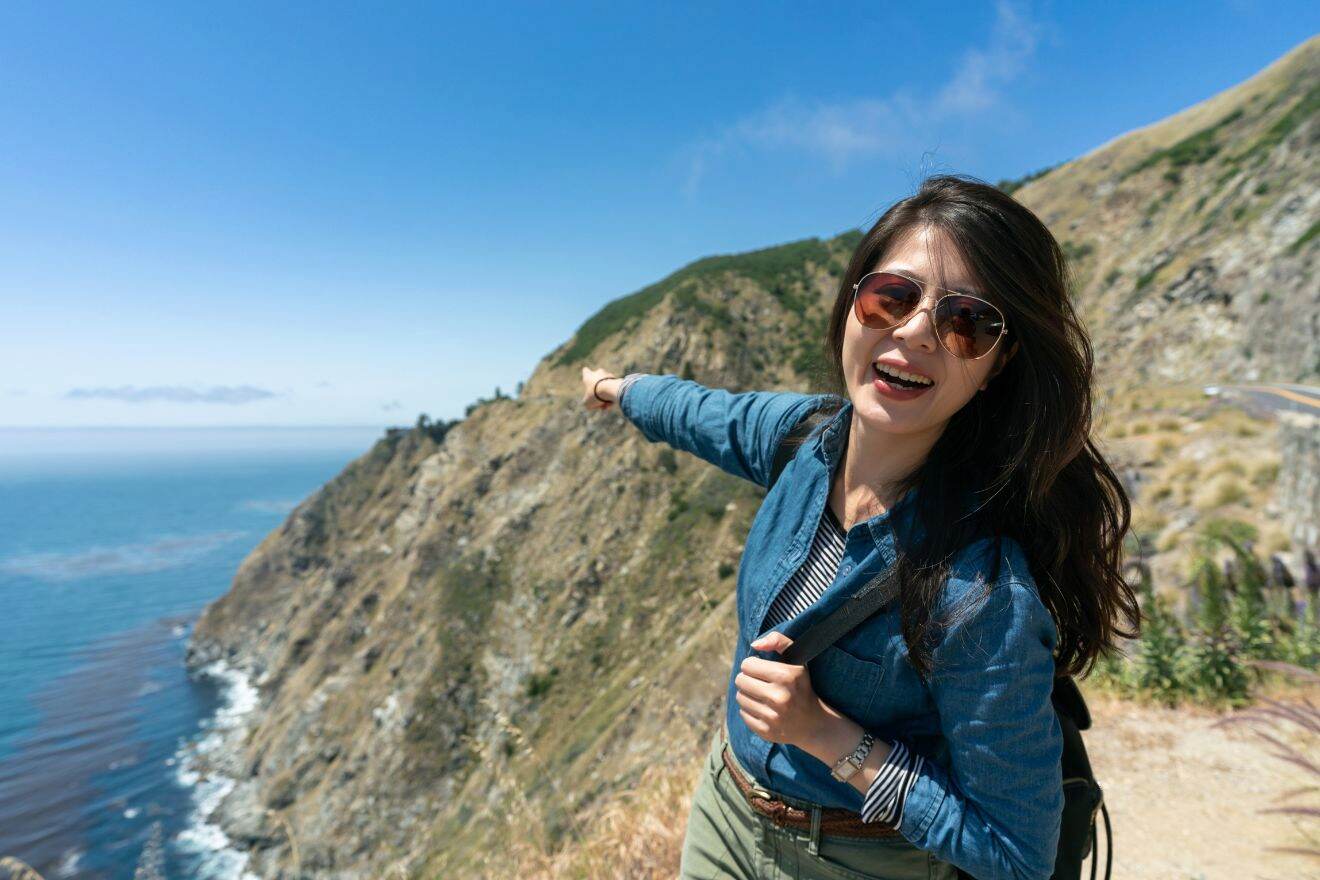 There are some essential supplies to bring with you on your Big Sur road trip. See below for my top picks.
Printed maps – although GPS navigation is widely available, it's wise to carry printed maps or a detailed road atlas. In remote areas, cell signals can be unreliable, and a physical map can be a valuable backup.
Sun protection – the California sun can be intense, so pack a good sunscreen with high SPF to protect your skin during outdoor activities.
Sunglasses – quality shades are super necessary – bring your fave shades! 😎
Layers – coastal weather can vary, so bring layers that you can easily add or remove. A light jacket or sweater is handy, even during warmer months.
Comfortable footwear – depending on your planned activities, bring comfy shoes or boots. Sandals or flip-flops are great for beach visits.
Reusable water bottle – stay hydrated by carrying a reusable water bottle and refill along your route.
Snacks – pack some snacks like granola bars, nuts, or fresh fruit to keep your energy up between hikes.
Car phone charger – ensure your phone remains charged, especially if you're using GPS navigation.
Emergency kit – keep a basic emergency kit that includes a flashlight, first-aid supplies, and basic tools.
Jumper cables – invaluable in case of a dead battery – bring 'em!
When to go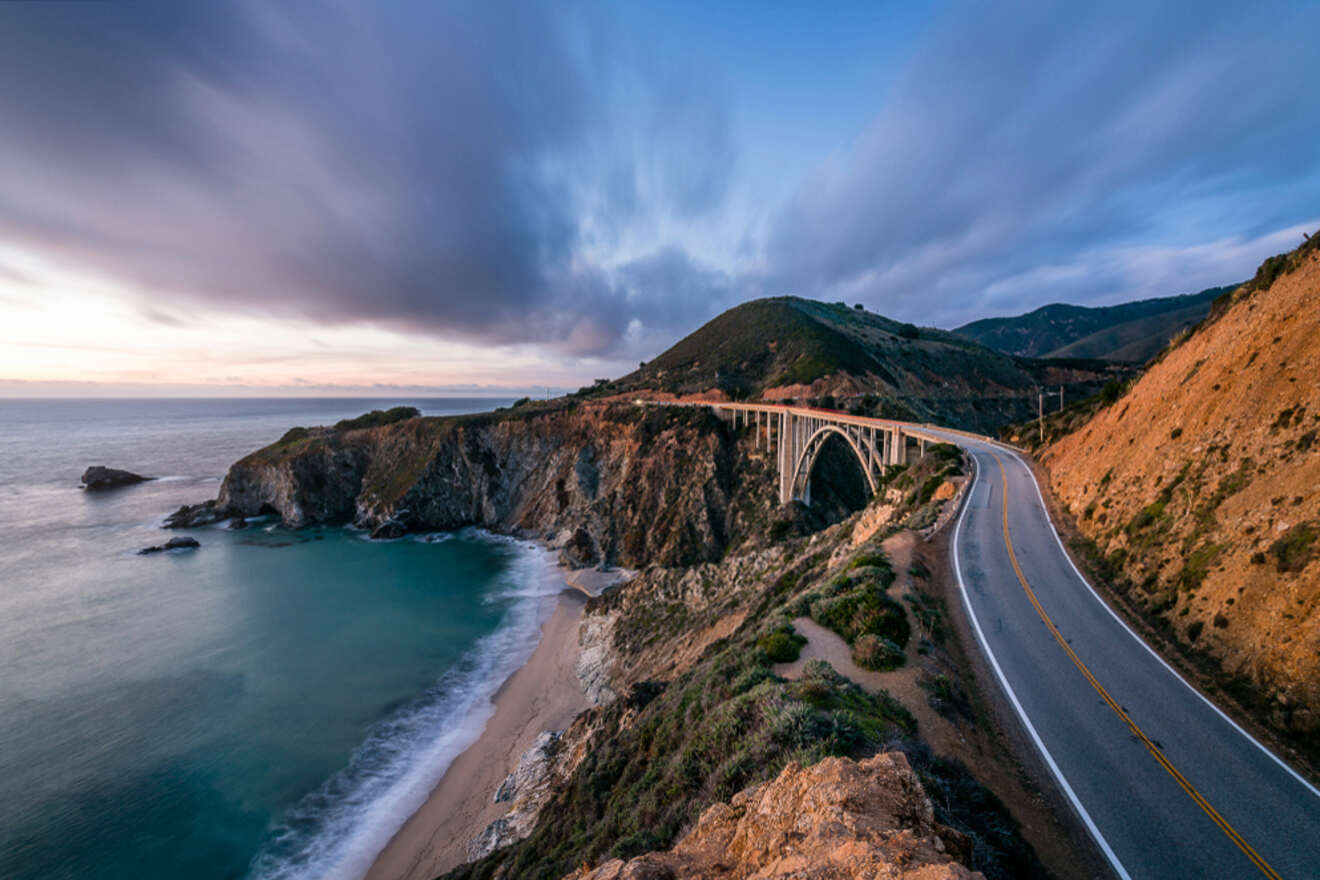 The absolute best time to undertake the Big Sur road trip is during spring or fall, but you really can't go wrong any time of year as long as weather and road conditions are safe.
Where to start
It's no secret that the Big Sur Drive provides breathtaking views of California's coastline, but planning ahead is essential to fully enjoy the Big Sur Drive.
As I said earlier, our journey will start in Monterey and head south through Big Sur, ending in Carmel-by-the-Sea, but you can also start from San Francisco or Los Angeles, or pretty much wherever you are based and how long of a road trip you're willing to take.
Other things to note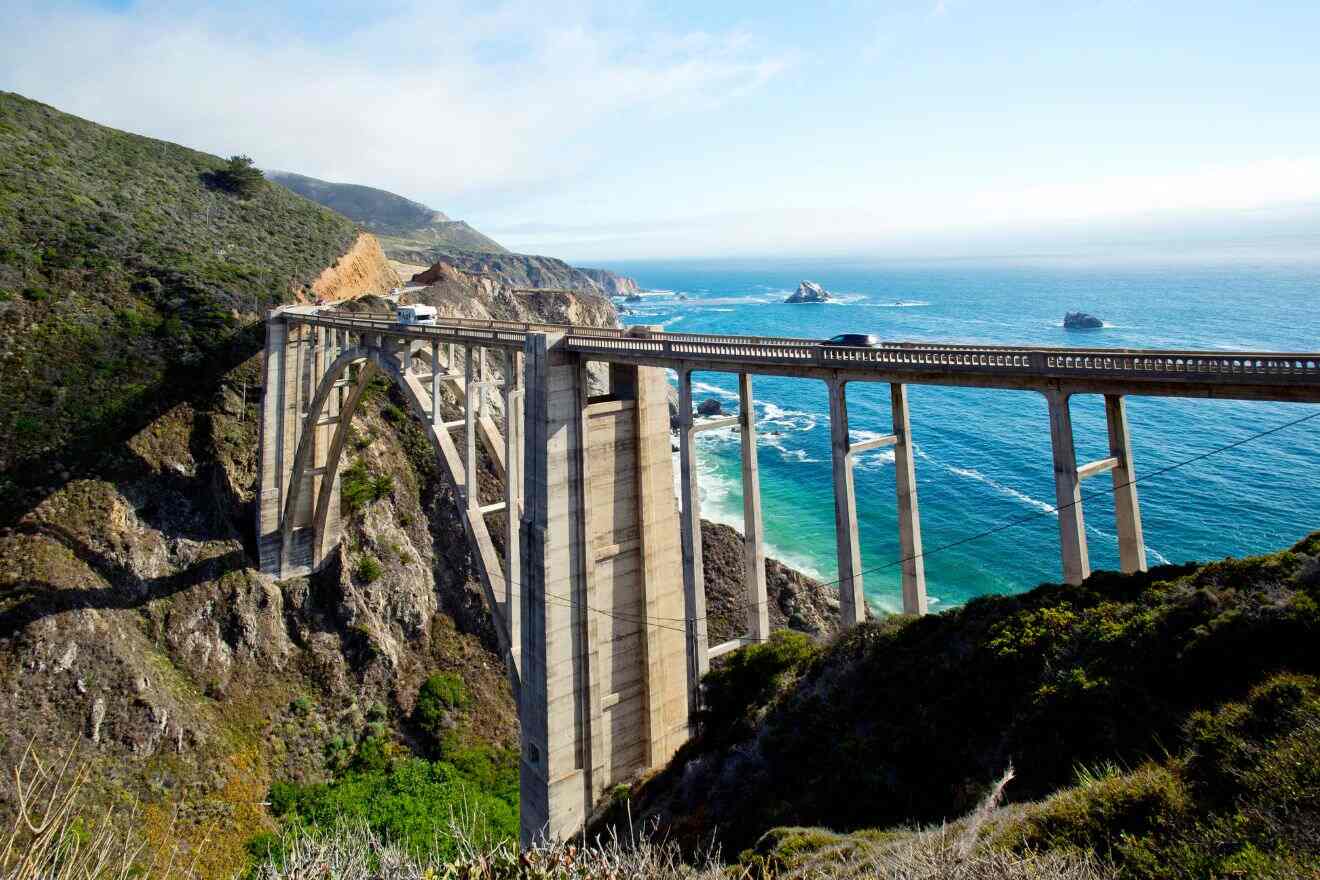 There are several things you should take into consideration:
Make sure to tune in to local radio stations for traffic updates and check for seasonal road closures or conditions.
Always check the weather and road conditions before you head out.
Please be sure to respect the environment; pack out all trash.
Plan for limited cell reception in areas. Reconnect with nature, disconnect from tech.
Prepare for changing weather conditions, and remember that gas stations can be sparse.
Navigate hairpin turns with care and try to avoid distractions; focus on the road.
Plan breaks, soak in the serene surroundings, and keep cameras ready for spontaneous moments – you never know what's around the next corner in Big Sur.
You're on vacation! Travel at a leisurely pace, and enjoy the journey – you will be inspired by the untouched beauty of the coastline.
Exploring stops along the Big Sur route
The best thing about your Big Sur Drive itinerary is that you get to do it completely at your own pace.
You'll venture through fog-kissed mornings, immerse in the tranquil sounds of crashing waves, and discover hidden beaches and coves.
Feel the ocean breeze and salty air and get to experience coastal California at its finest.
Marvel at breathtaking Pacific Ocean views and stop at numerous scenic overlooks – believe me, each one is better than the next!
Before we start, here's a map so you can see each stop:
1. See Point Lobos State Park & Point Lobos State Natural Reserve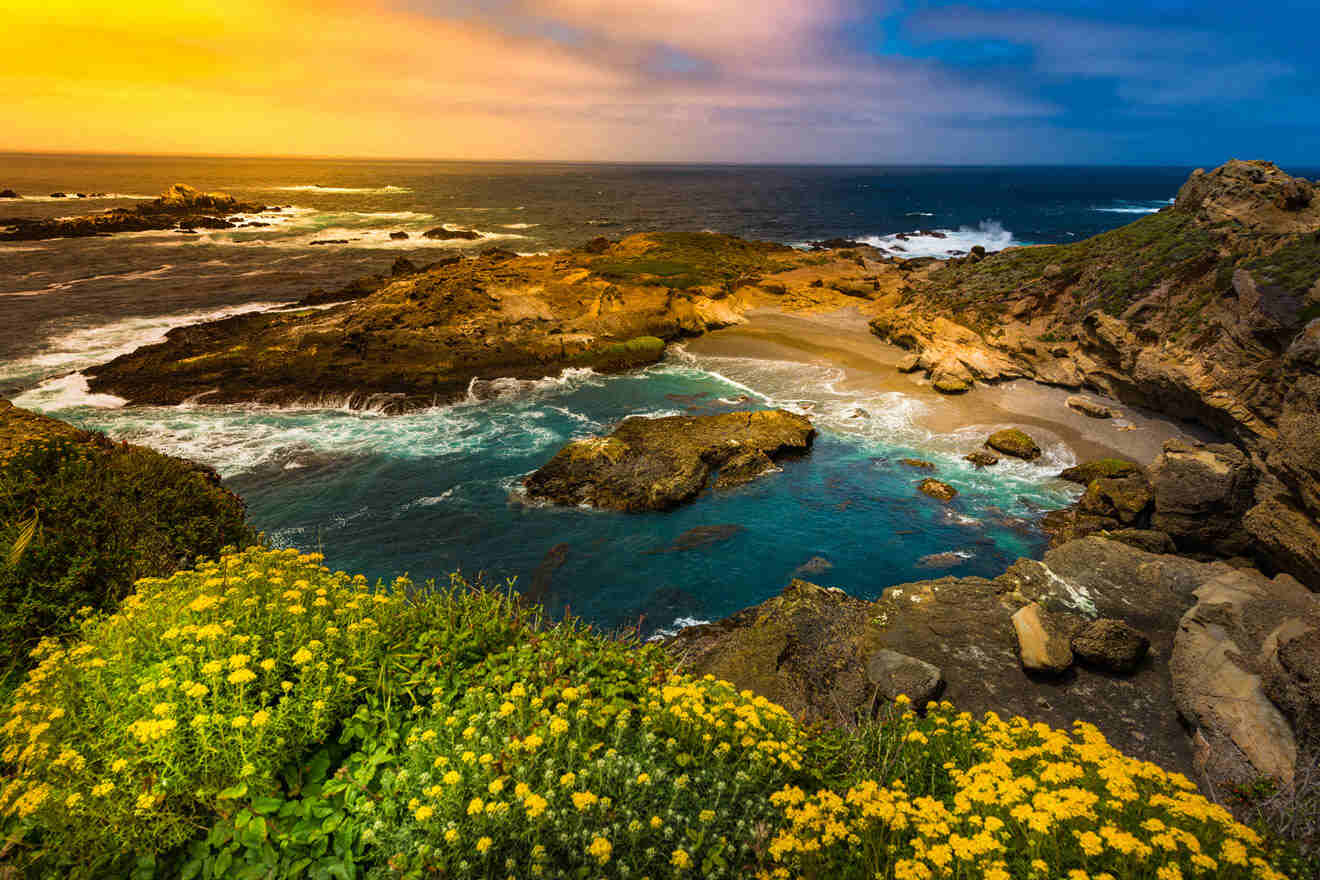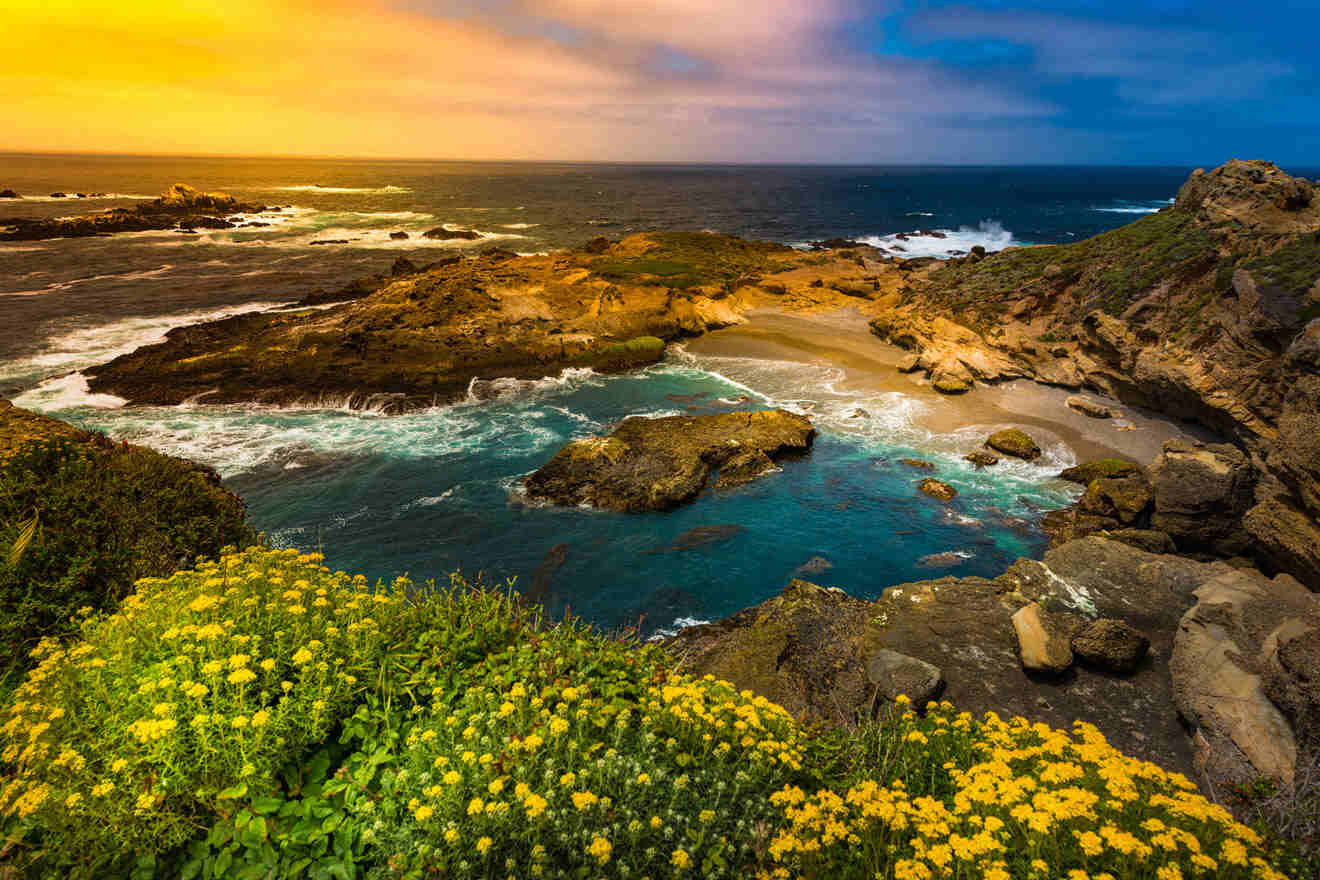 Located just south of Monterey, Point Lobos State Park & Point Lobos Natural Reserve is a haven for hikers, photographers, and nature lovers.
Explore scenic trails, gaze at the rugged coastline, and watch for sea lions, seals, and various bird species.
Check out the Bird Island Trail (see trail map), a moderate hike meandering along the coast, great for birdwatching, tide pool exploration, and views of the harbor seals.
Another favorite trail of mine, Sea Lion Point Trail (see trail map), actually takes you to a viewpoint overlooking Seal Rock, a popular resting spot for harbor seals and sea lions – it's a must-do!
Rather take a guided tour? Check out this awesome 2-hour walking tour in nature.
TOUR PRICE: from US$100 per person
2. Reach Garrapata State Park and Garrapata Beach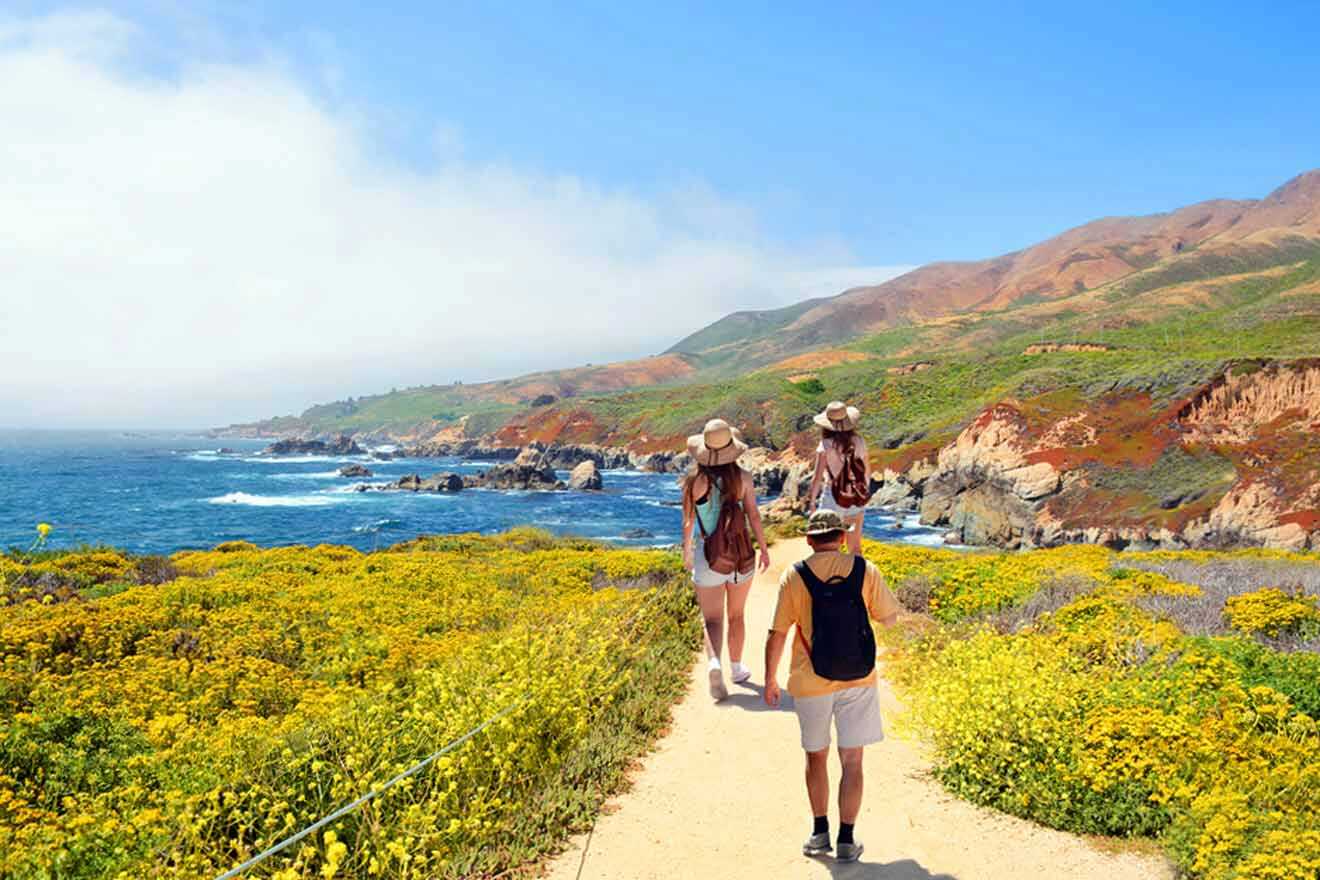 When you visit Big Sur, it's a must to appreciate the rugged beauty of Garrapata State Park. You know I'm always up for a beach stop, so Garrapata is always on my list.
Garrapata State Park has a crazy amount of diverse ecosystems within its relatively small area.
From coastal bluffs and redwood forests to meadows and rocky shores, the park gives you a chance to experience all the different California landscapes.
Don't miss Garrapata Falls (see trail map) – follow the trail that leads you through the lush canyons and across rocky terrain until you hit the sight and sound of a secluded waterfall tumbling into a serene pool down below.
3. Witness all the best viewpoints from Rocky Creek Bridge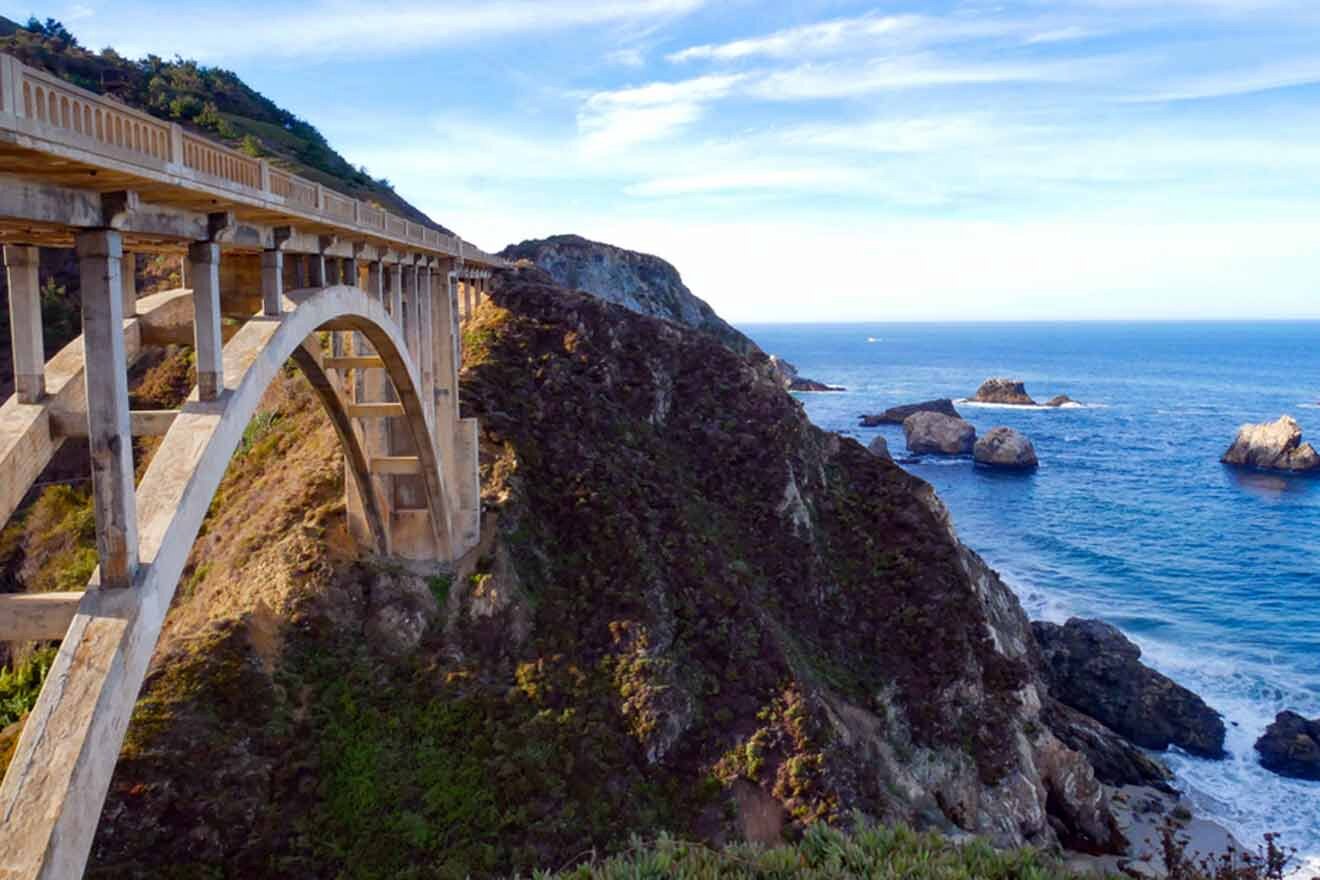 Continue south on the California coast, and you'll come across Rocky Creek Bridge. Enjoy stunning vistas of the coastline, stop for photos, or just breathe in the exquisite scenery.
Some claim that the bridge is haunted, with stories of ghosts and mysterious happenings reported by those who have crossed it at night – you've been warned! 👻
4. Navigate the iconic Bixby Creek Bridge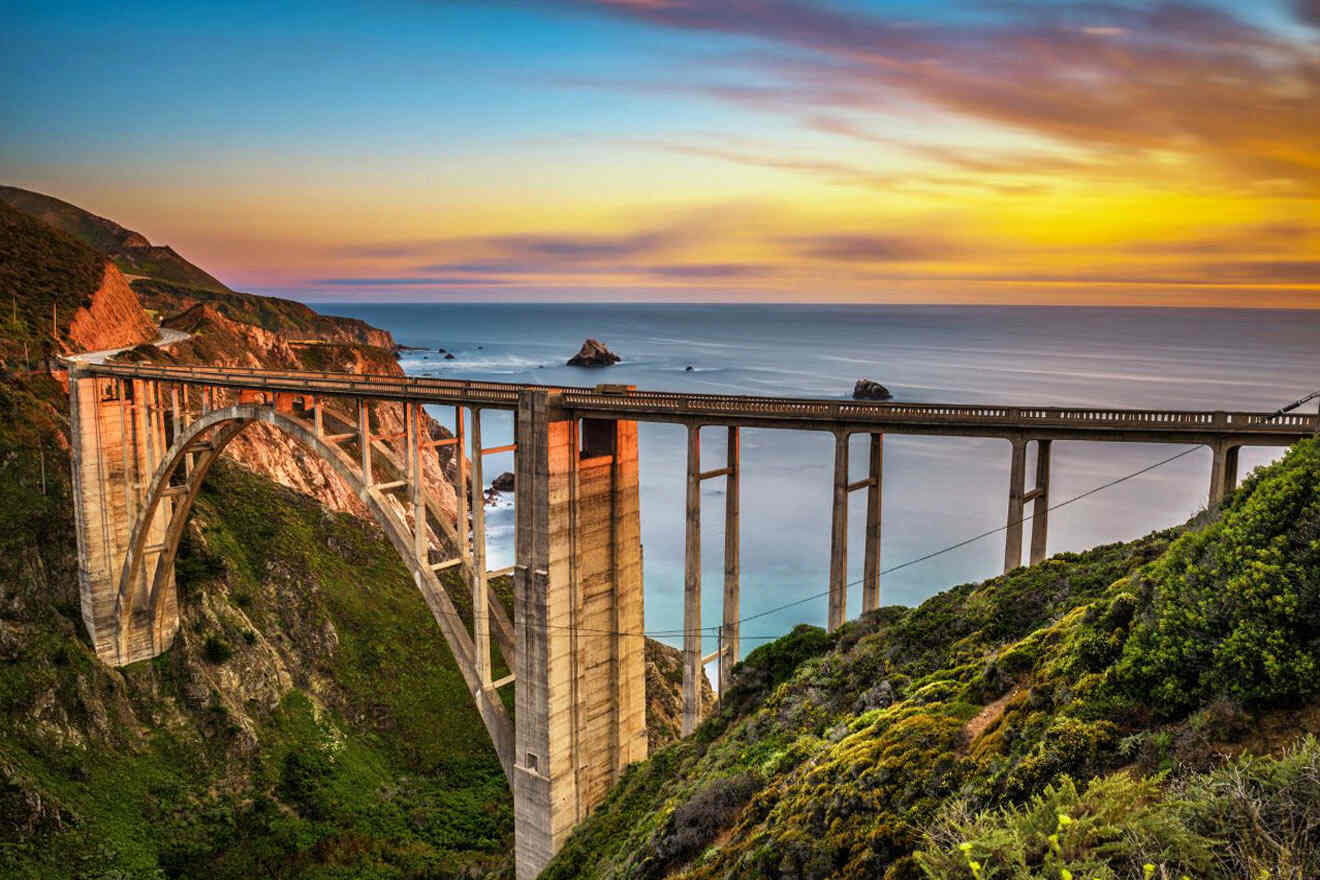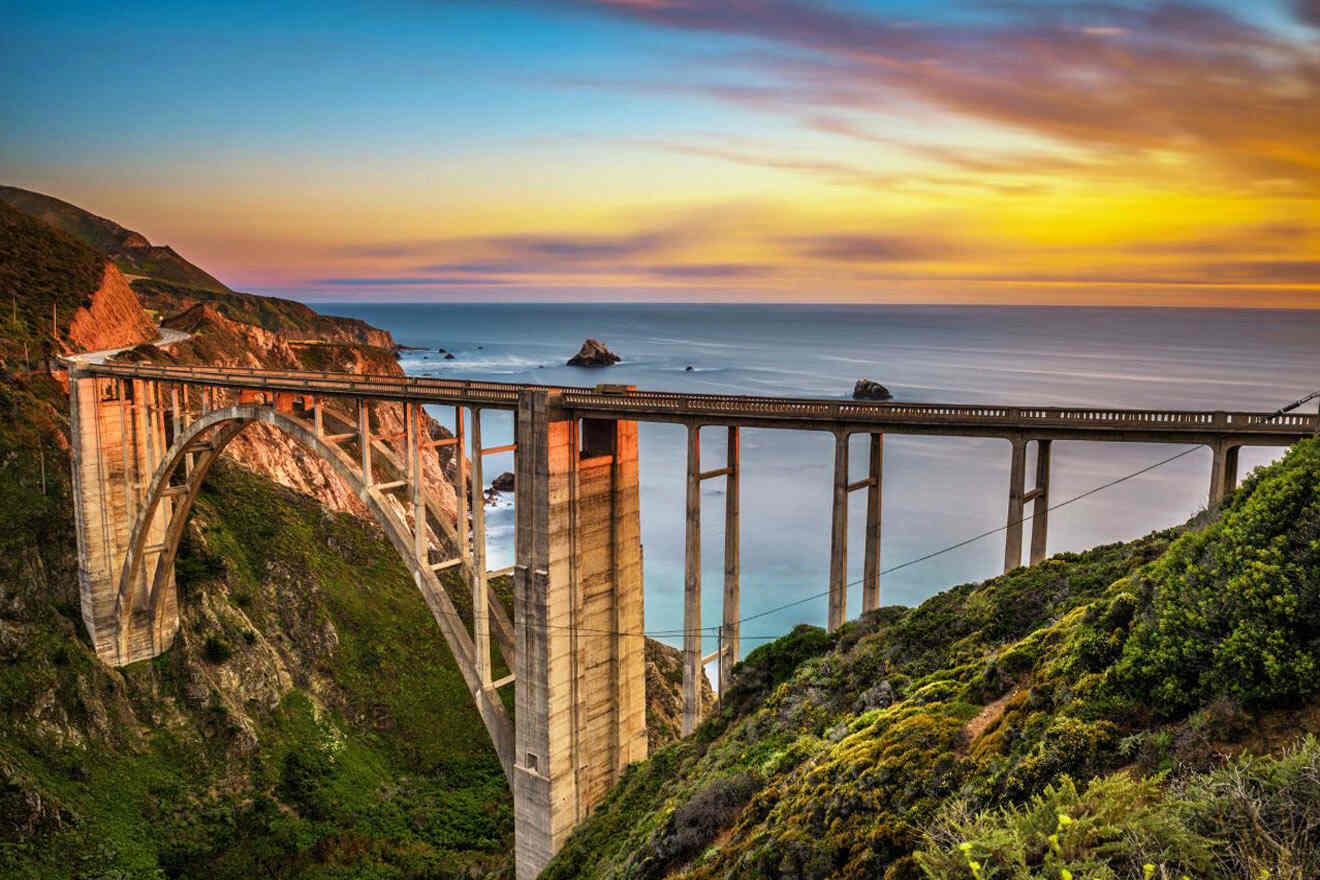 Who doesn't love a good photo op with a scenic bridge?! 📸
When you visit Big Sur, navigate the iconic Bixby Creek Bridge is a highlight of the Big Sur Drive.
One of the most iconic landmarks along Highway 1's Big Sur coastline, the Bixby Creek Bridge offers breathtaking panoramic views of the coastline and Santa Lucia Mountains in the distance.
Bixby Creek Bridge was completed in 1932, with single-span arches over Bixby Creek, 280 feet (85 m) above the creek. It was once one of the tallest single-span concrete bridges in the world.
5. Visit the historic Point Sur Lighthouse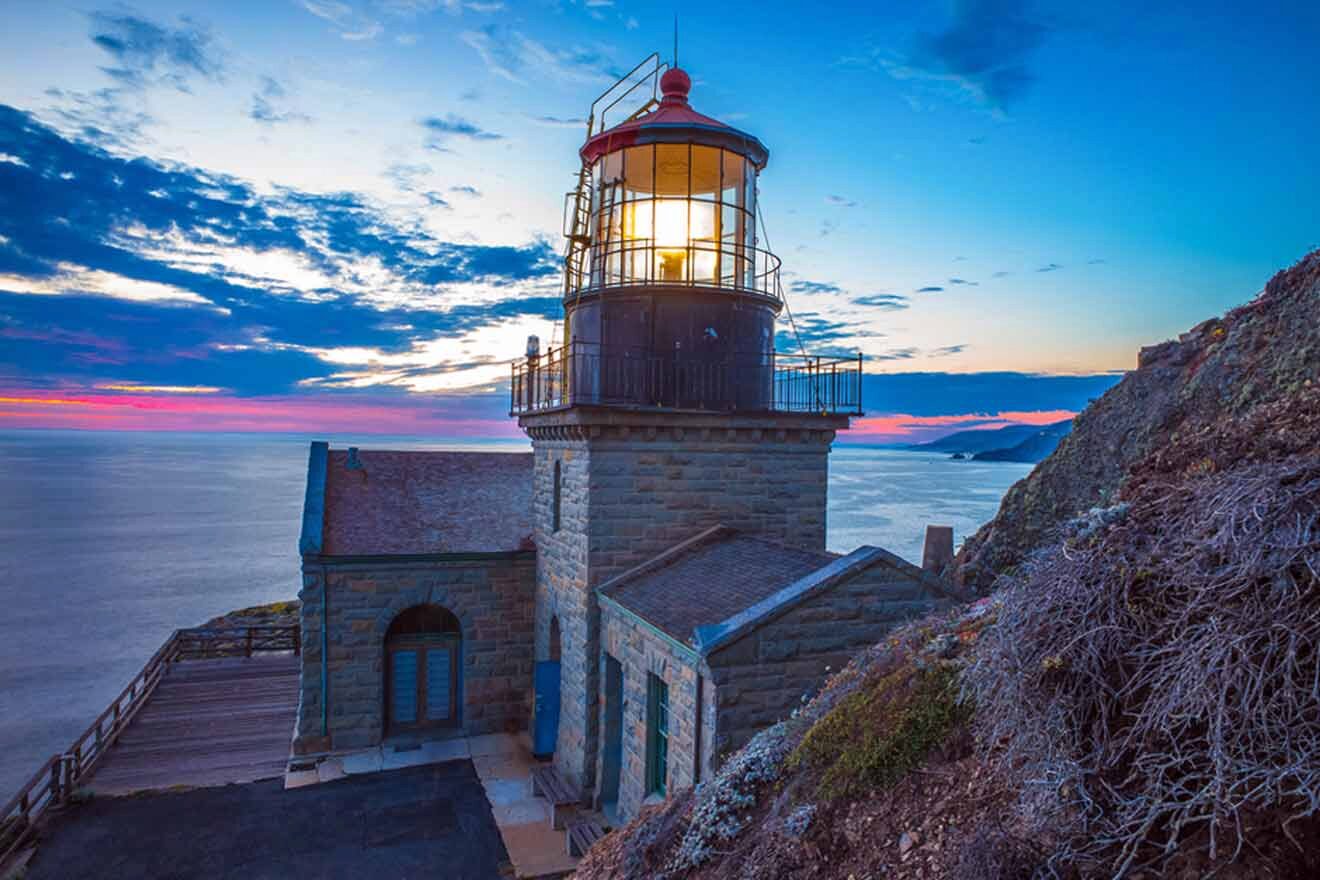 Another awesome stop is Point Sur Lighthouse but drive cautiously on winding cliffside roads on your way to Point Sur State Historic Park.
The drive to this park will allow you to capture memories with dramatic coastal backdrops and even encounter native wildlife like sea otters along the Big Sur coast.
Erected in 1889, this is one of the only complete turn-of-the-century lighthouses open to the public today.
6. Check out the purple sand at Pfeiffer Beach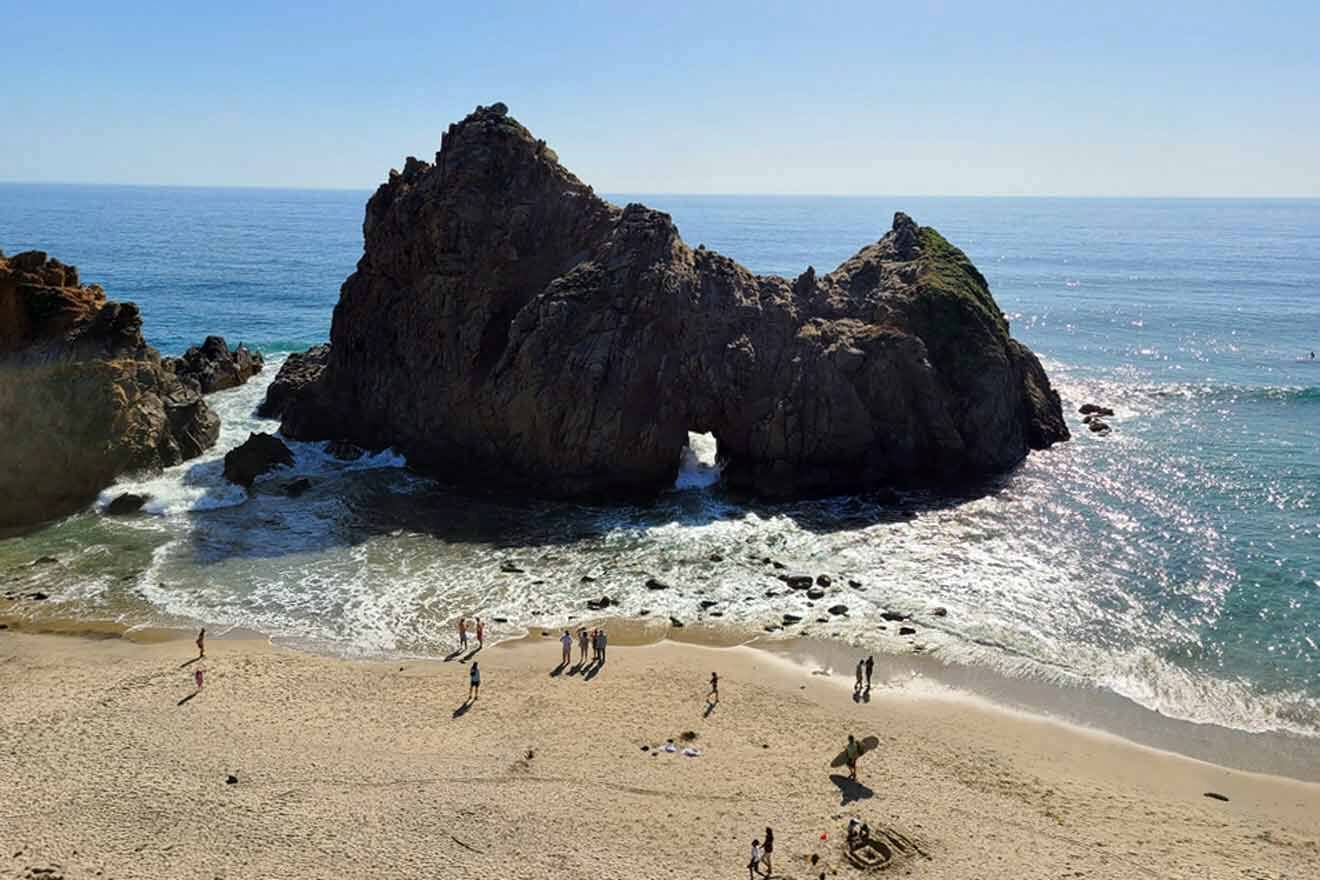 Purple sand?! 😍
Pfeiffer Beach is synonymous with its distinctive purple sand beach, a rare natural phenomenon caused by the manganese garnet minerals present in the rocks.
Don't miss the iconic Keyhole Arch, a natural rock formation that frames the setting sun during the winter months, offering a romantic vibe.
7. Relax at Carmel Beach and Pfeiffer Big Sur State Park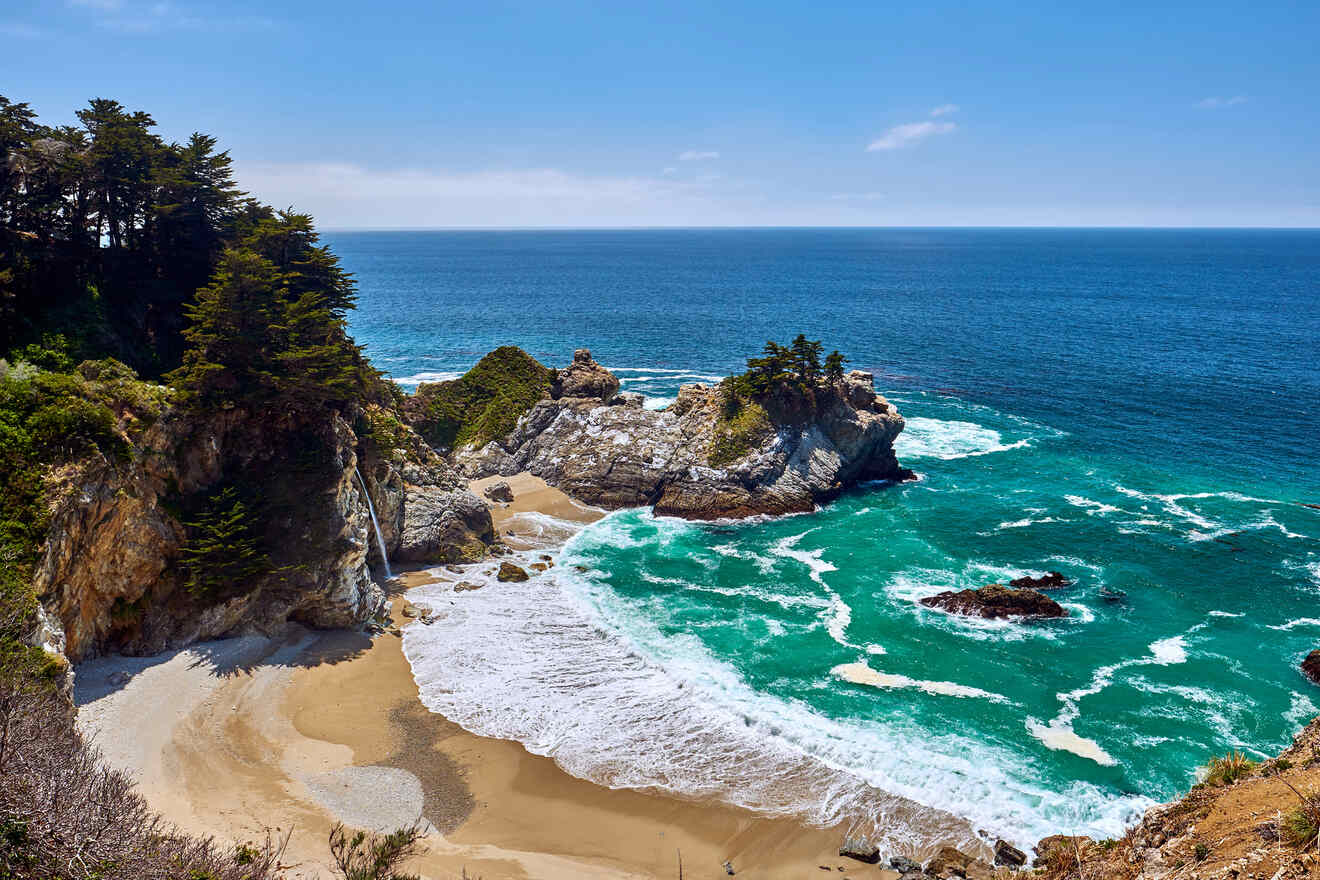 After your adventures in Santa Barbara and Morro Bay, return to the serene beauty of Big Sur and hit the road again.
When you get to Carmel Beach, you'll want to stop. 🛑
Carmel Beach is renowned for its pristine, golden sands and crystal-clear waters and is a favorite spot for beach bums like me! 😁 If you want to learn more, you can find the complete lowdown on things to do in Carmel here.
After your time at the beach, make your way over to Pfeiffer Big Sur State Park, with its lush redwood forests, amazing hiking trails, and the soothing sounds of the Big Sur River.
Don't miss the opportunity to hike the Buzzard's Roost Trail (see trail map), which rewards you with panoramic views of the forest and ocean.
The park offers camping facilities for those who wish to spend more time immersing themselves in the natural beauty of Big Sur.
8. Marvel at McWay Falls and Julia Pfeiffer Burns State Park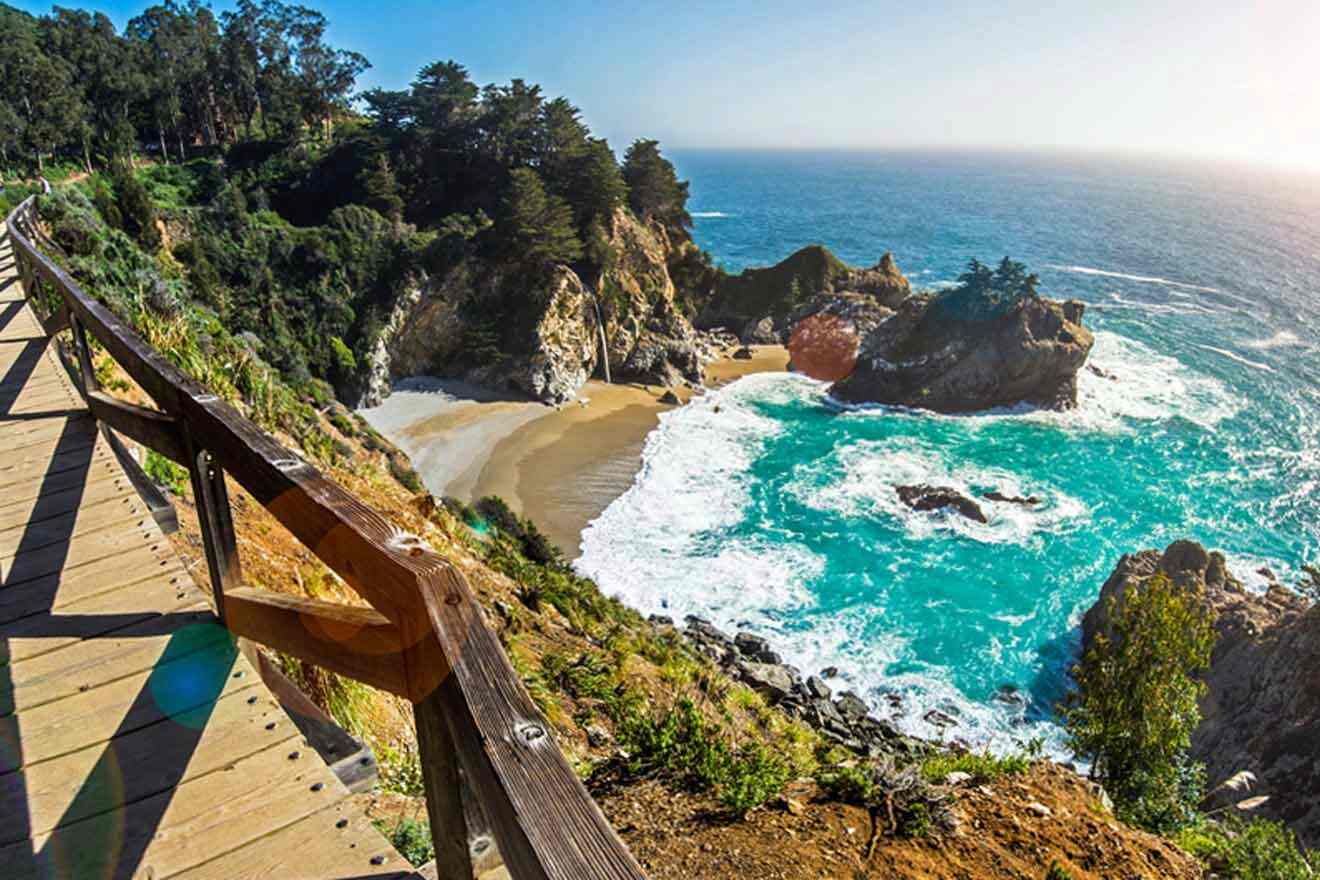 Feel the mist at McWay Falls and explore the mystical redwood forests.
Big Sur is stunning, and there is so much to do! One can stop at famous landmarks like McWay Falls Overlook Trail (see trail map) during a Big Sur road trip if you dig waterfalls as much as I do!
If you have the time, hike the trails in Julia Pfeiffer Burns State Park. One of my favorites is Canyon Trail, a short, easy trail ideal for anyone looking for a quick nature walk. It winds through a redwood canyon and provides amazing wildlife viewing opportunities.
9. Watch surfers at Sand Dollar Beach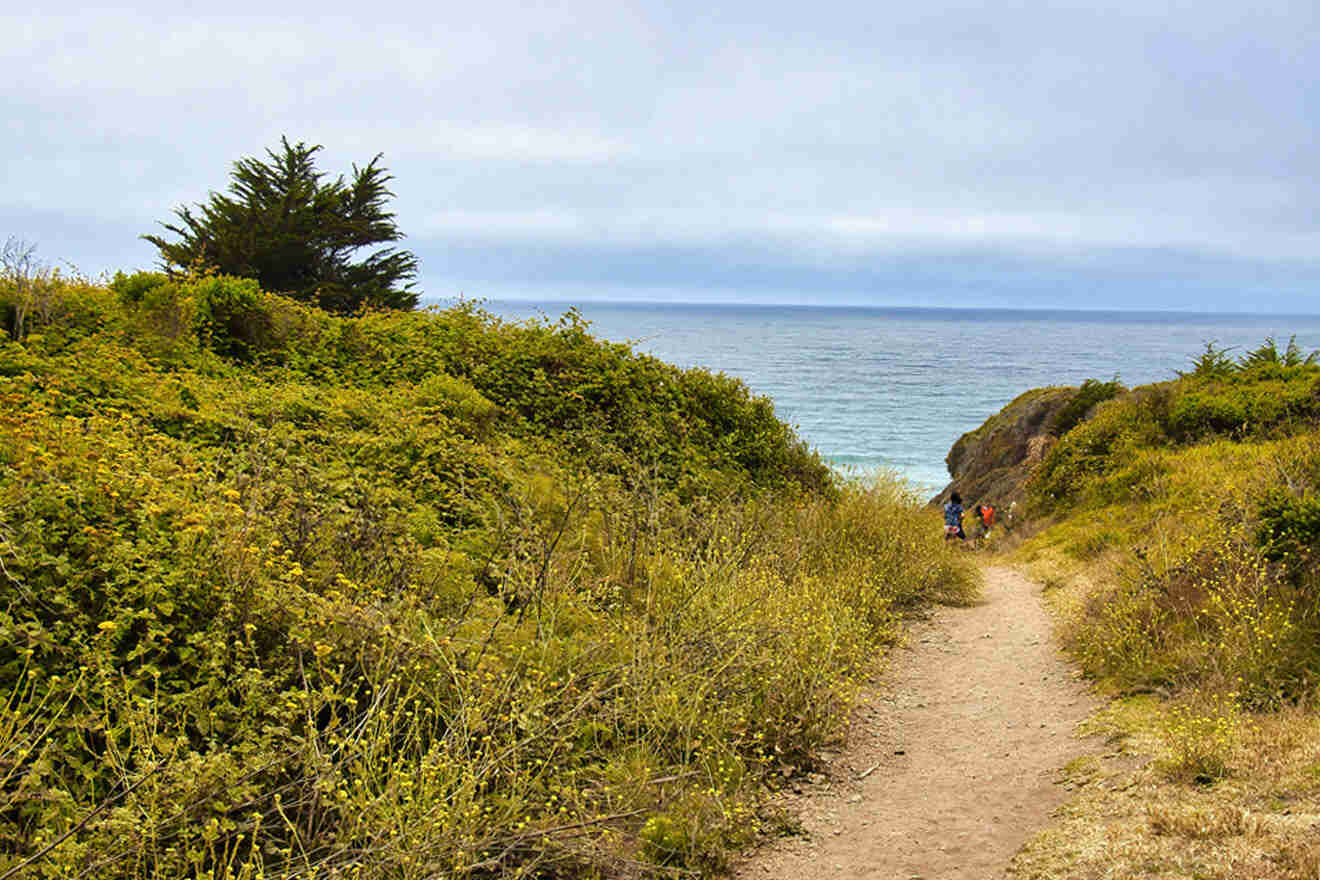 When you visit Sand Dollar Beach, you're actually visiting the largest beach in Big Sur, stretching over a ¼ mile (less than 1 km) along the coastline.
This is one of my favorite beaches when visiting Big Sur, perfect for sunbathing, beachcombing, or just hanging out and having a picnic.
As the name suggests, Sand Dollar Beach is filled with, well, sand dollars, flat sea urchins that can be found along the shore.
Catch local surfers hanging ten in the big waves and stay for an epic sunset!
10. Venture to Limekiln State Park and Andrew Molera State Park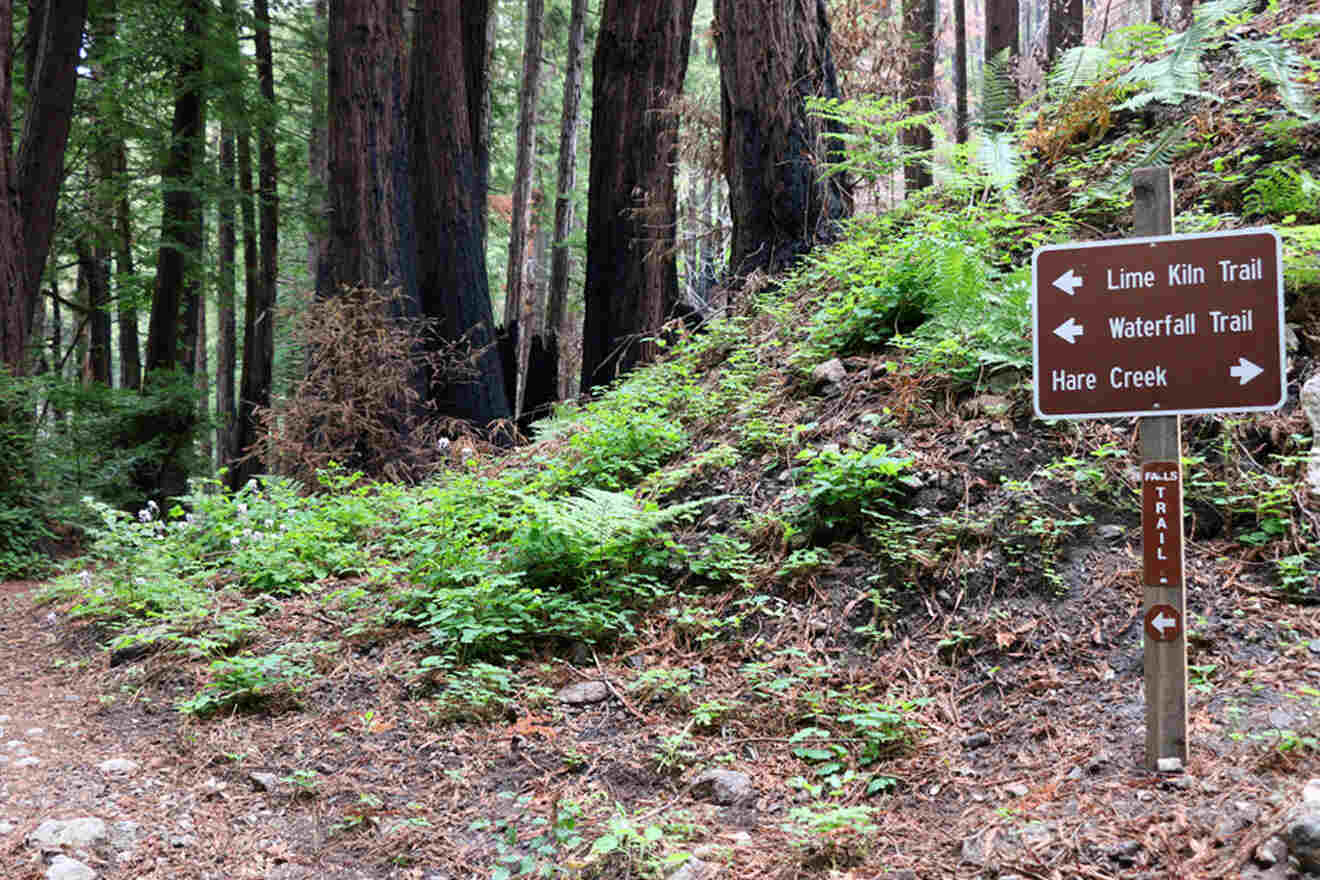 Just a short drive south of Big Sur, Limekiln State Park, and Andrew Molera State Park offer a cool change of scenery and a chance to dive into nature on the Central California coast.
Limekiln State Park is known for its historic limekilns, used in the 19th century to process limestone into lime for construction purposes. Explore well-preserved kilns and learn about the area's industrial past.
The hiking trails here are awesome; they wind through towering redwood groves and along picturesque creeks. One such trail leading to Limekiln Falls (see trail map) is a stunning waterfall surrounded by lush ferns.
If you're feeling outdoorsy, Limekiln State Park offers camping as well – check out the options here.
Another great park in the area, Andrew Molera State Park, is full of wide, open spaces and expansive meadows leading to the coastline.
You'll love this spot for picnics, beachcombing, and birdwatching.
If you're dying to hit the hiking trails, try Creamy Meadows Trail (see trail map), a relatively easy and picturesque hike that takes you through a grassy meadow and offers stunning coastal and river views.
Try Bluffs Trail (see trail map), a relatively easy and well-maintained trail that gently meanders along the coastal bluffs.
11. Discover San Simeon and Hearst Castle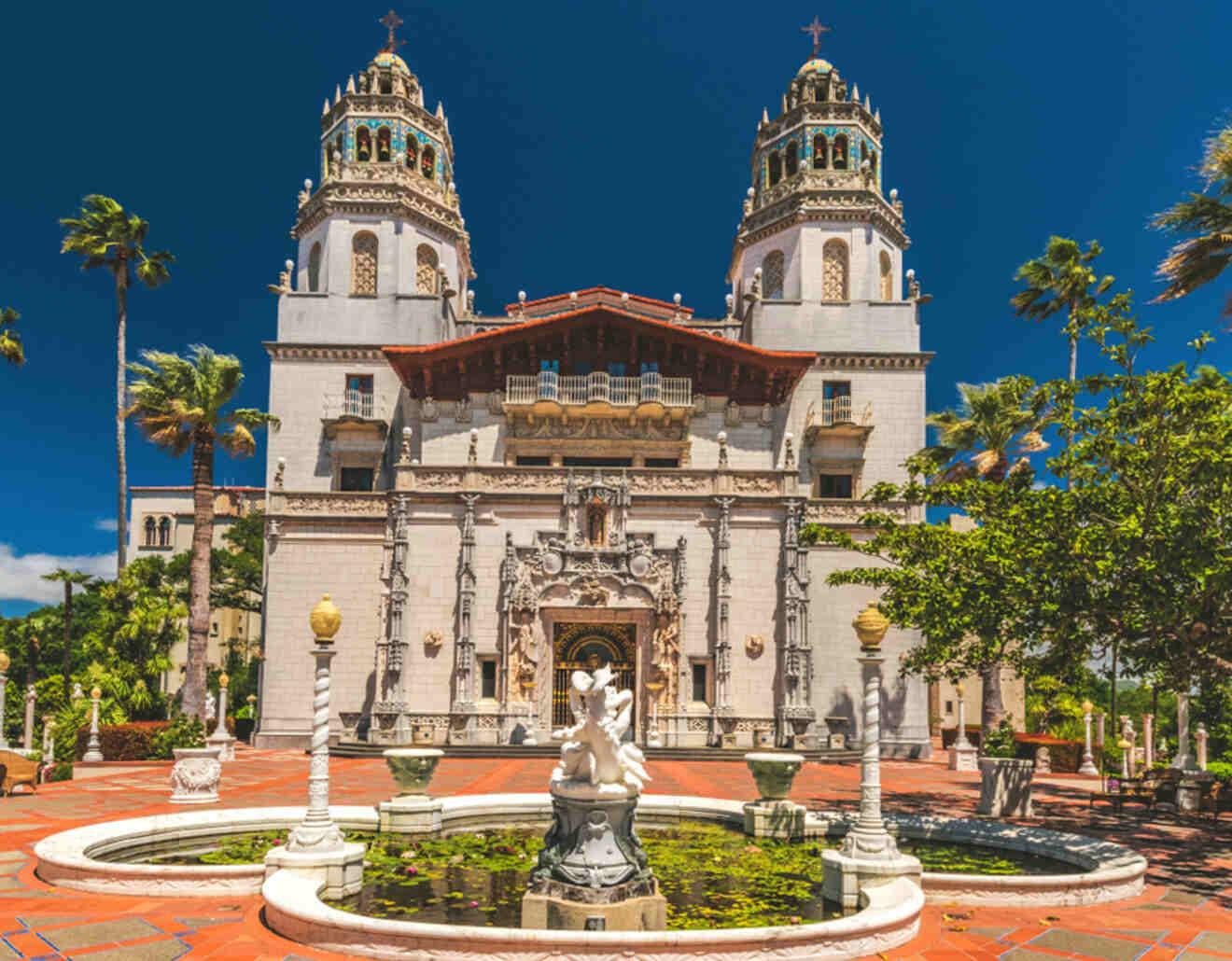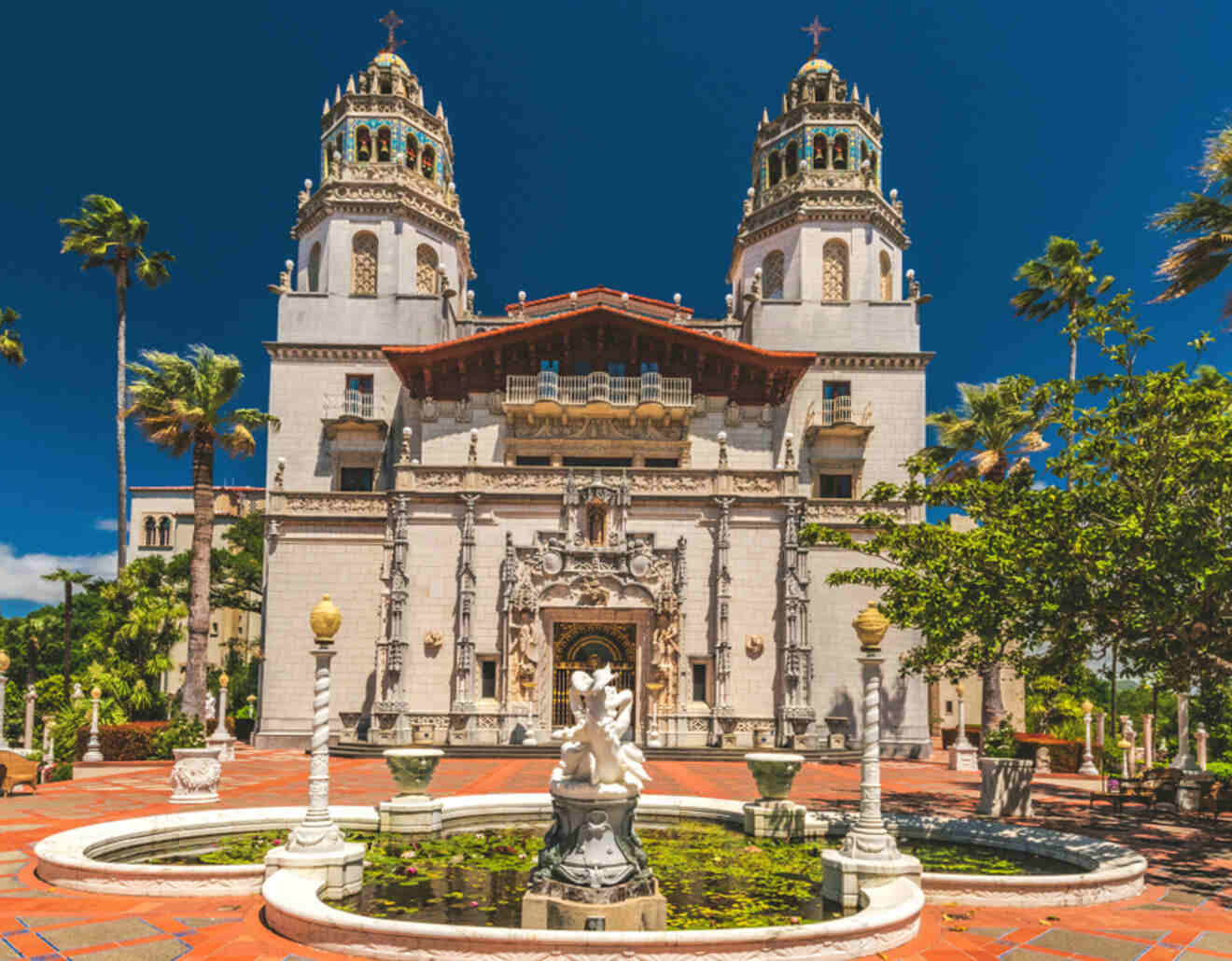 Just a short drive south of Big Sur, you'll find San Simeon, known for its stunning coastal vistas and home to one of California's most iconic landmarks – the Hearst Castle.
Visit Elephant Seal Vista Point, where you can witness these incredible mammals basking on the shore, or stroll along Moonstone Beach, known for its shimmering moonstones and tide pools.
Once you make your way to Hearst Castle, once the residence of newspaper icon William Randolph Hearst, you'll find old opulence and grandeur awaiting you.
Explore this sprawling estate, comprised of several luxurious buildings, lush gardens, and world-class art collections. It's a really cool place to see, and you can buy tickets here.
PRICE: from US$30 per person
12. Drive to Santa Barbara and Morro Bay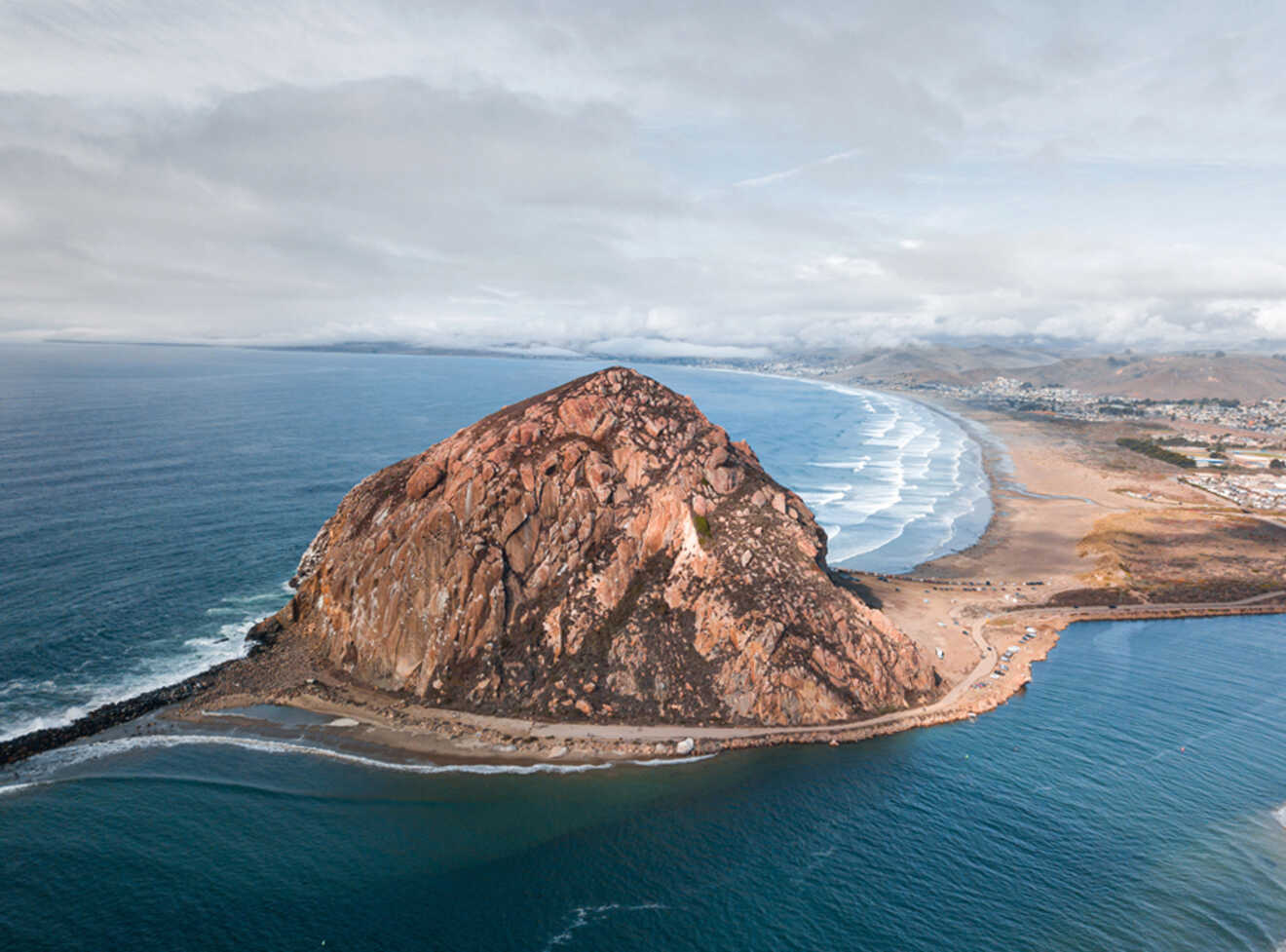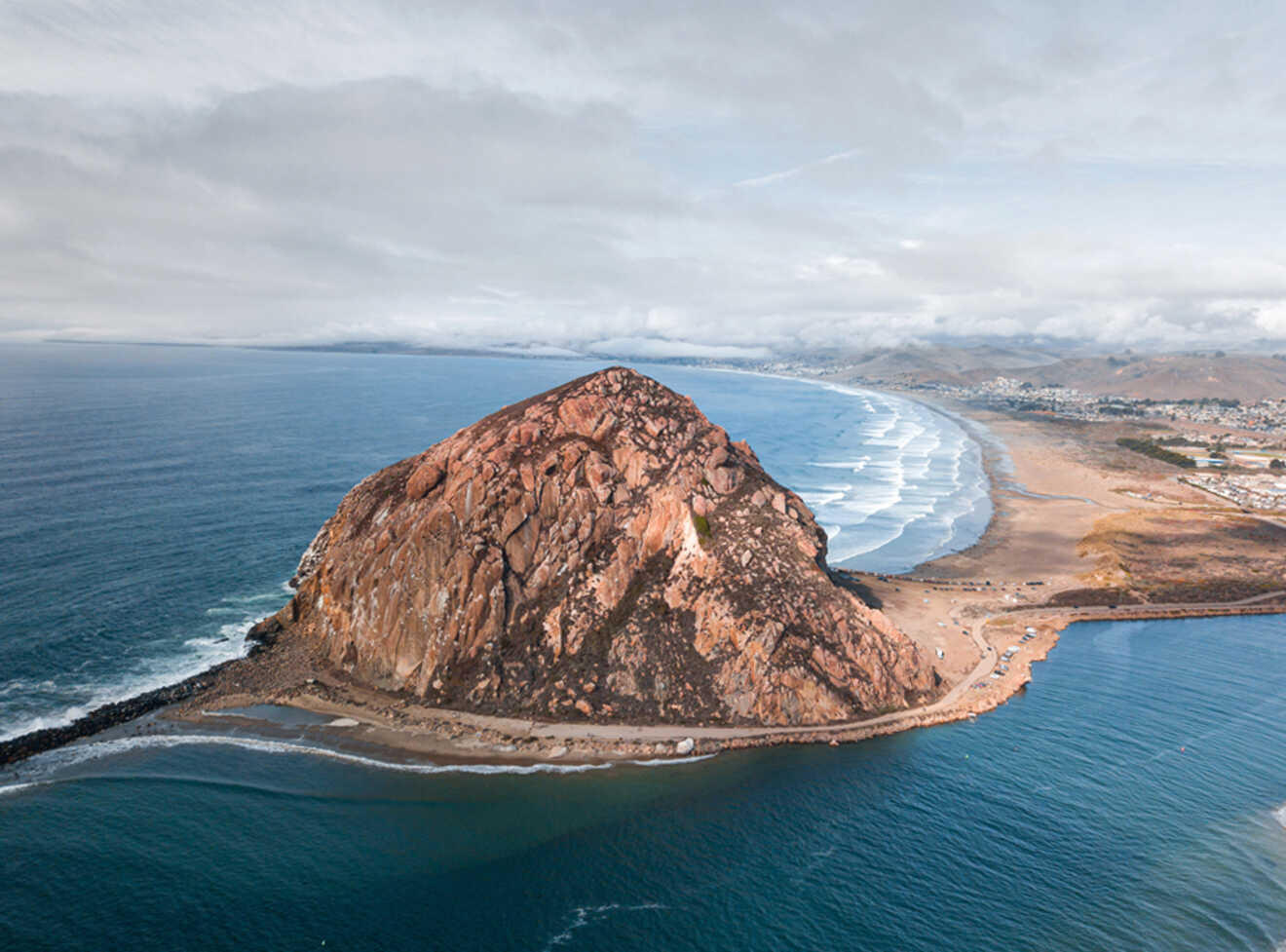 As you continue your coastal journey south from Big Sur, the picturesque towns of Santa Barbara and Morro Bay await you, and they're so beautiful!
One of my favorite cities in all of California, Santa Barbara is renowned for its stunning Spanish Colonial Revival architecture, evident in its red-tiled roofs, white stucco buildings, and charming courtyards.
Explore the historic downtown area, visit the Old Mission Santa Barbara, and admire the intricate details of this amazing building.
You'll love the vibrant waterfront area. Stearns Wharf is a popular spot for shopping, dining, and taking in views of the Pacific Ocean.
Of course, you're in wine country, so discover the nearby Santa Ynez Valley, known for its vineyards and wineries.
Enjoy wine tasting and savor delicious cuisine at local restaurants, like the amazing Boathouse at Hendry's Beach – order any of the seafood, and you won't regret it!
Don't miss the chance to stop at the iconic Morro Bay, known for the impressive Morro Rock, a volcanic rock that rises dramatically from the sea and can't be missed from the shoreline.
It's also a great place for kayaking, paddleboarding, and wildlife tours with the scenic rock formations as your backdrop.
Morro Bay is renowned for its fresh local fare; indulge in fresh seafood at cliffside eateries like The Galley Seafood Grill & Bar.
Where to stay in Big Sur
There are great places to stay around Big Sur, but since I've picked Monterey as our starting point, I've shared my top hotels in Monterey in every budget range below.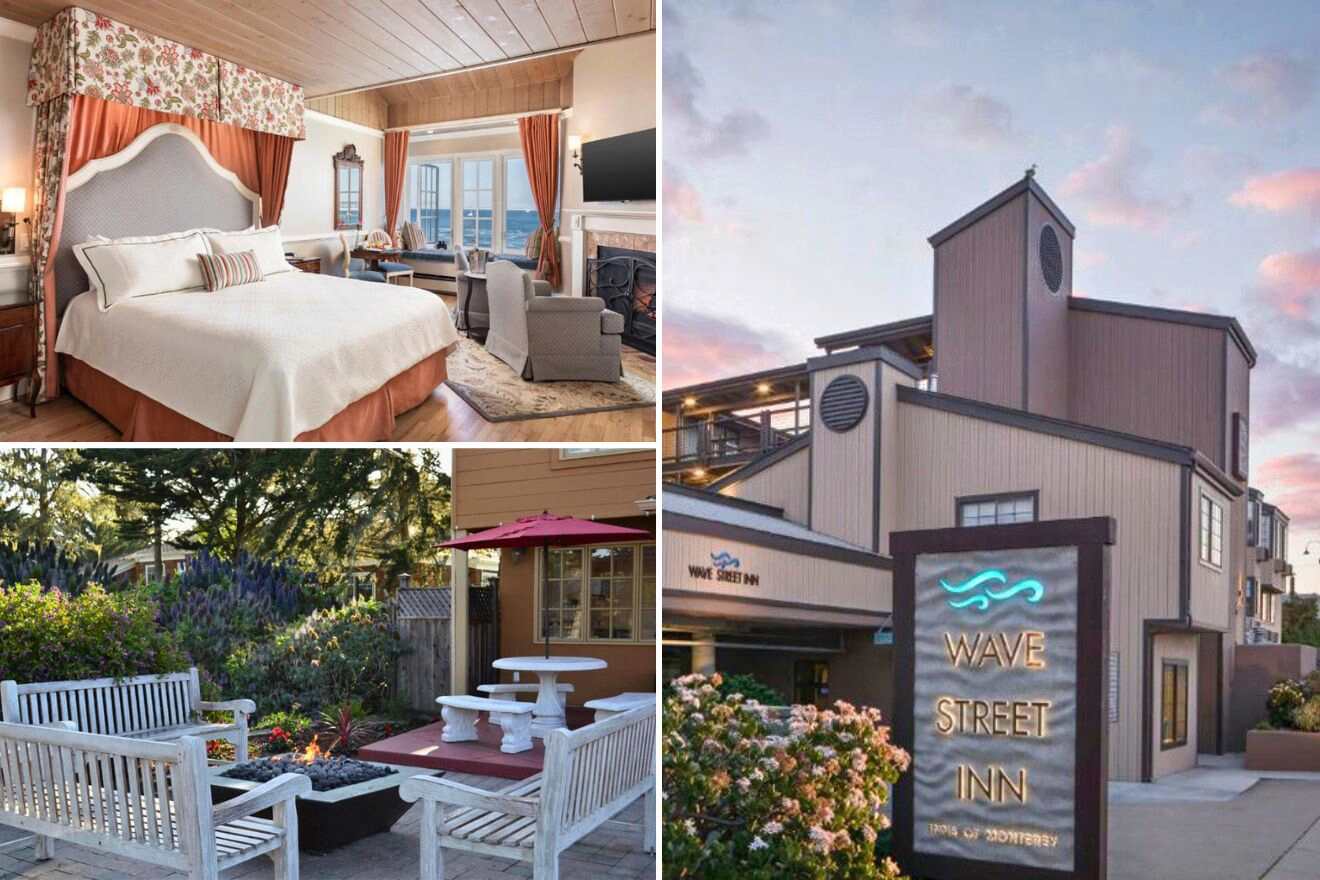 Luxury (US$450 and up)
Spindrift Inn – perfectly situated right on the beach in Monterey, you'll love this charming inn, with elegant decor, comfortable beds, and amazing service.
Monterey Plaza Hotel & Spa – with a killer spa and private pool, this luxury option with a rooftop fitness center has incredible service and a great location.
Mid-range (US$250 – US$350)
Wave Street Inn – if you're looking for a prime location in Monterey, this is it. This mid-range hotel is within walking distance of all major attractions, like the Monterey Aquarium.
Jabberwock Bed & Breakfast – this charming B&B is a great choice for luxury accommodations, with pristine design and wine and hors d'oeuvres offered each evening on the sun deck.
Budget (up to US$200)
Stage Coach Lodge – a trendy and cool Monterey motel, this budget option is super comfy, well situated, and a great option for your vacay.
Sunset Inn Pacific – with newly renovated guest rooms, lush grounds, and a charming lobby area, this is the perfect budget option for your stay.
FAQs about the Big Sur drive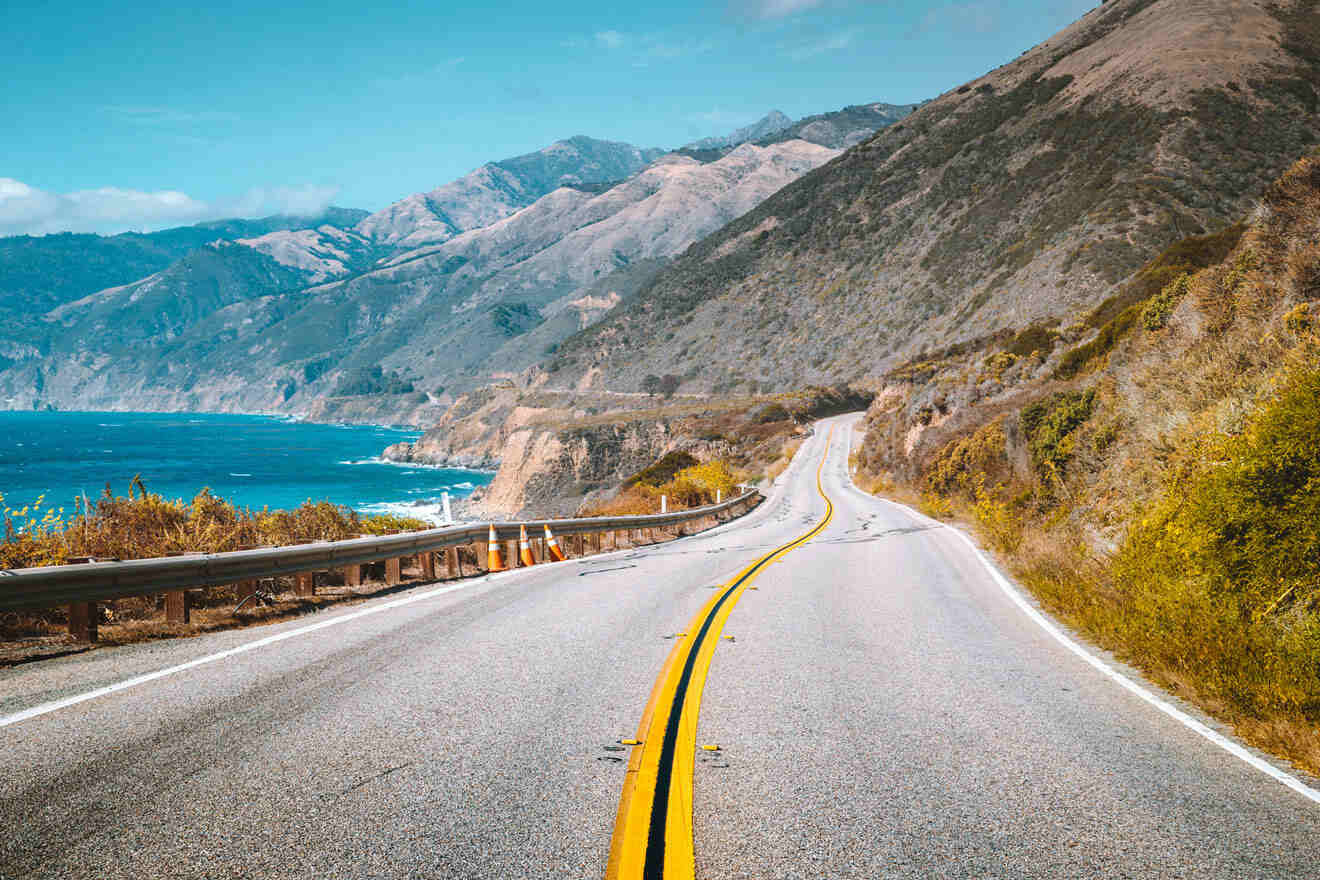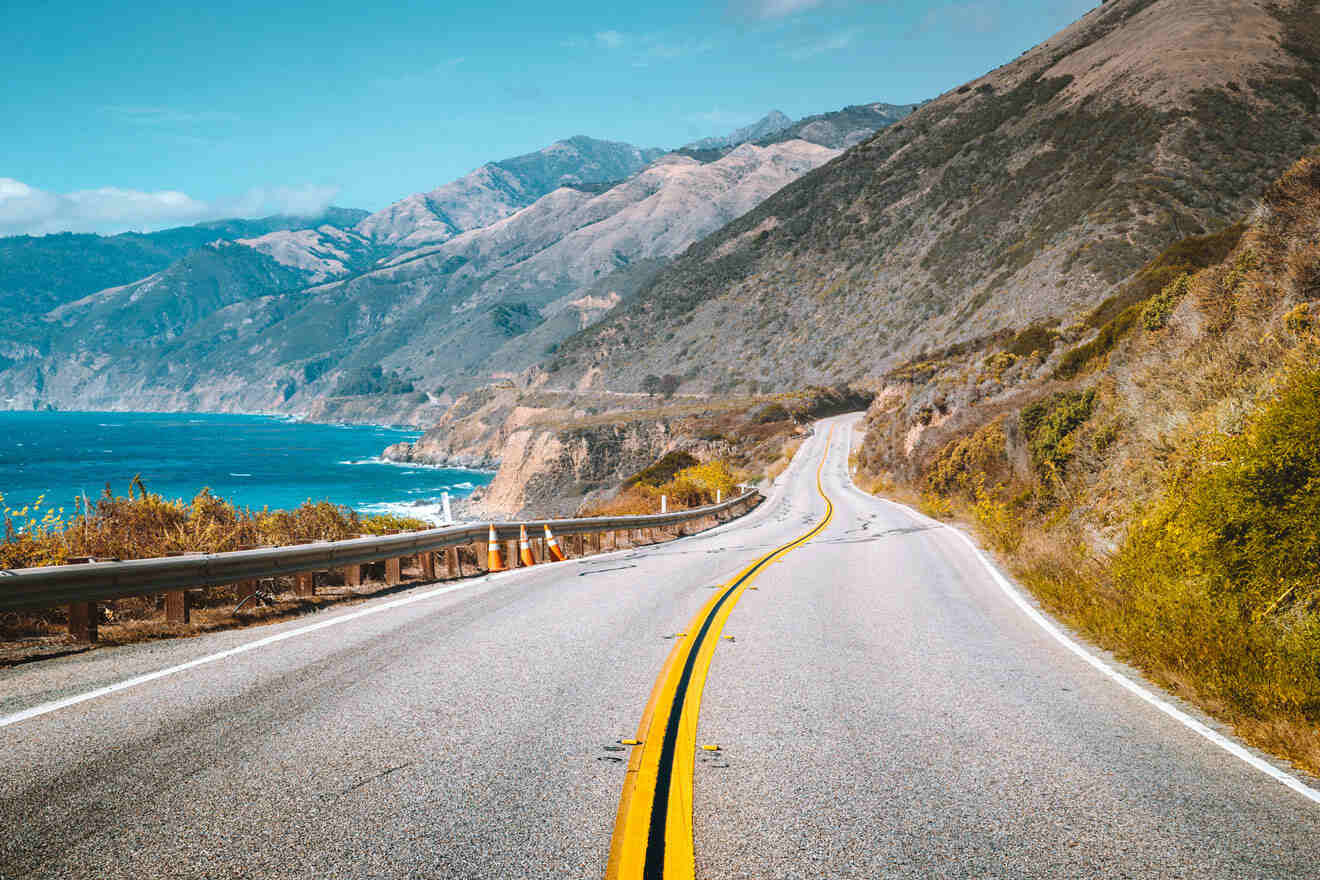 ⌚ How long is the drive along Big Sur?
The Big Sur Drive is 96 miles (155 km) long and takes at least 2.5 hours to complete without stops.
🥇 Is Big Sur worth the drive?
Absolutely! With amazing spots along the way for literally every interest, Big Sur is definitely worth the drive and something that I highly recommend you experience.
📍 Where does Big Sur start and end?
Big Sur starts at Carmel-by-the-Sea and ends at San Simeon, although you can also start from Monterey (like I suggest), San Francisco, Los Angeles, or wherever you prefer.
⛽ Are there gas stations along the Big Sur drive?
Very few. There may be a gas station here and there, but make sure you fill up before heading out on your drive.
🥑 Where are the best places to eat along Big Sur?
🏕️ Are there any camping spots along the drive?
🗺️ What are some stops along the Big Sur drive?
There are quite a few stops along the Big Sur drive, and you can see many in this list. However, my top 3 favorites are Point Lobos State Park, Sand Dollar Beach, and San Simeon with the Hearst Castle.
Conclusion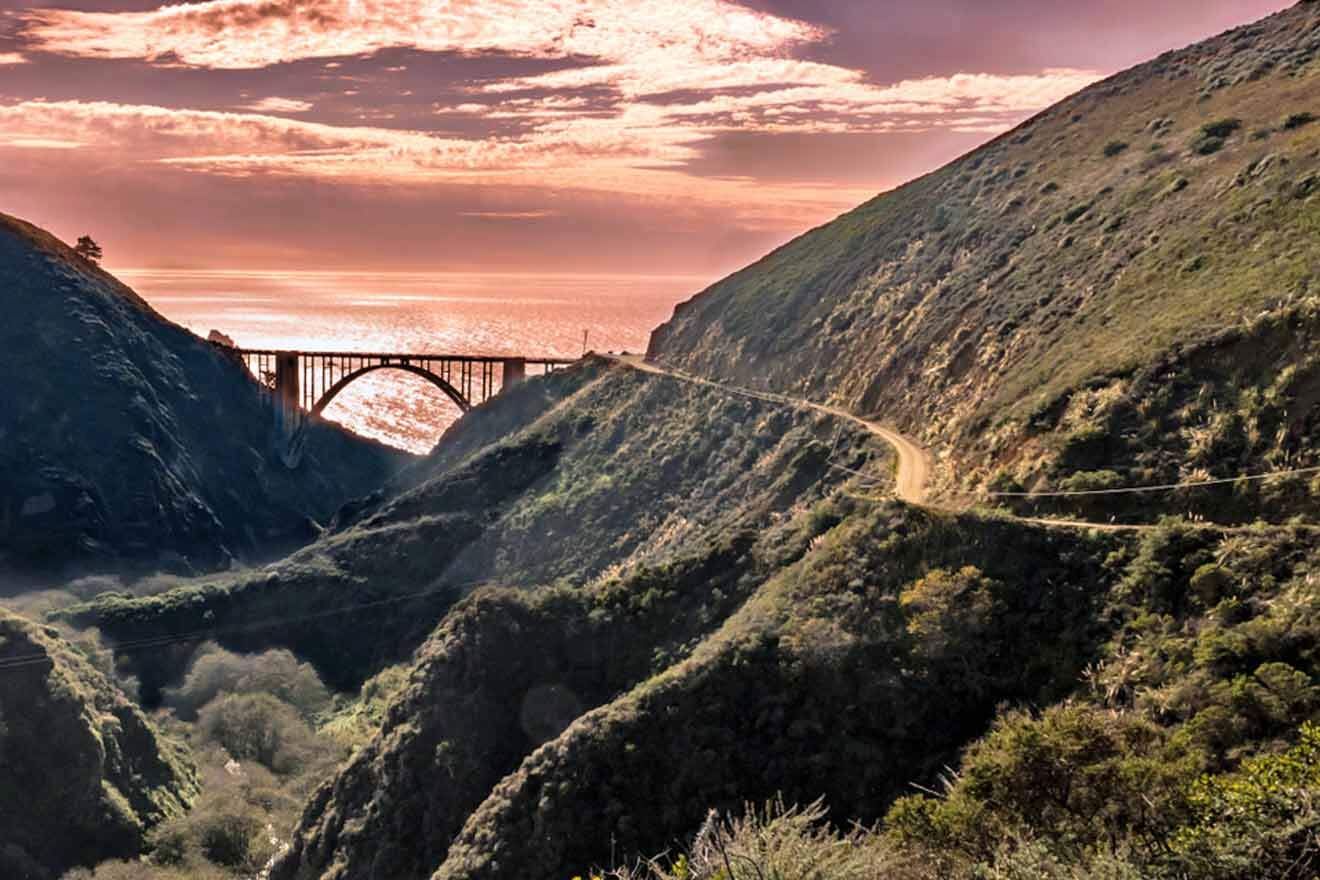 Your Big Sur drive will provide you with the most jaw-dropping landscapes: rugged coastlines, hidden waterfalls, and charming coastal towns at every windy turn.
As you navigate this iconic route along Highway 1, the magic of Big Sur will undoubtedly leave you begging for more. The good thing is that the Pacific Coast Highway keeps going all the way down to Mexico! 🤣
If you're planning to leave on your trip soon, don't forget to book in advance for your favorite tours and activities.
And when you get back, drop me a line below and let me know your fave stop along the way!
Aloha & safe travels,
Hayden G.
---
Pin it for later!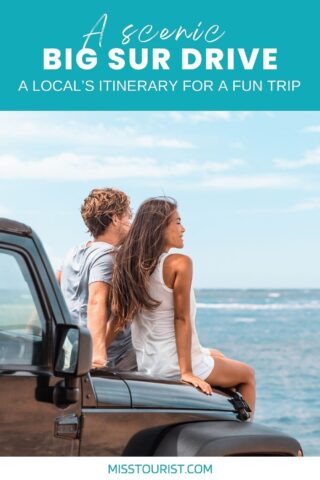 Pin it for later!