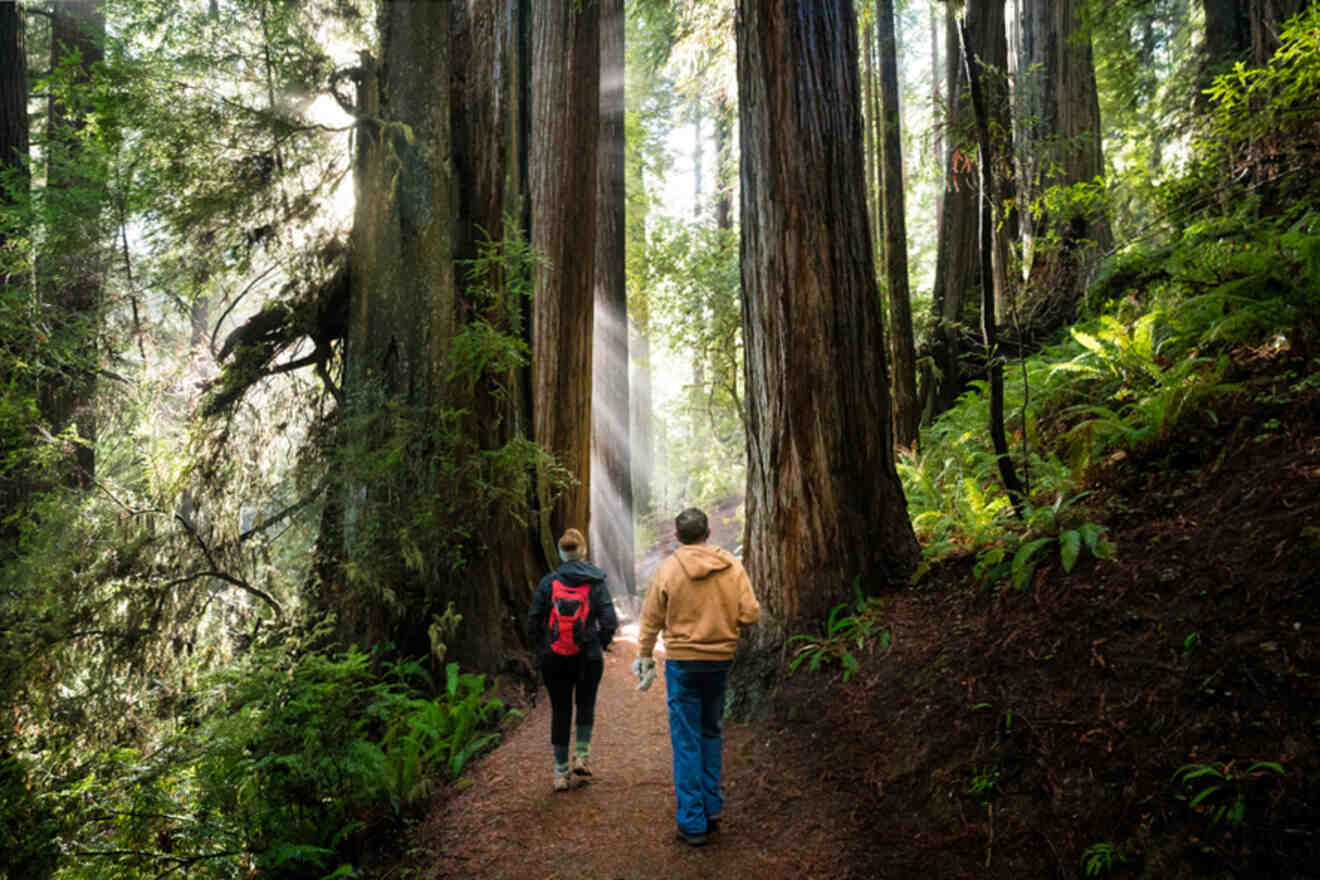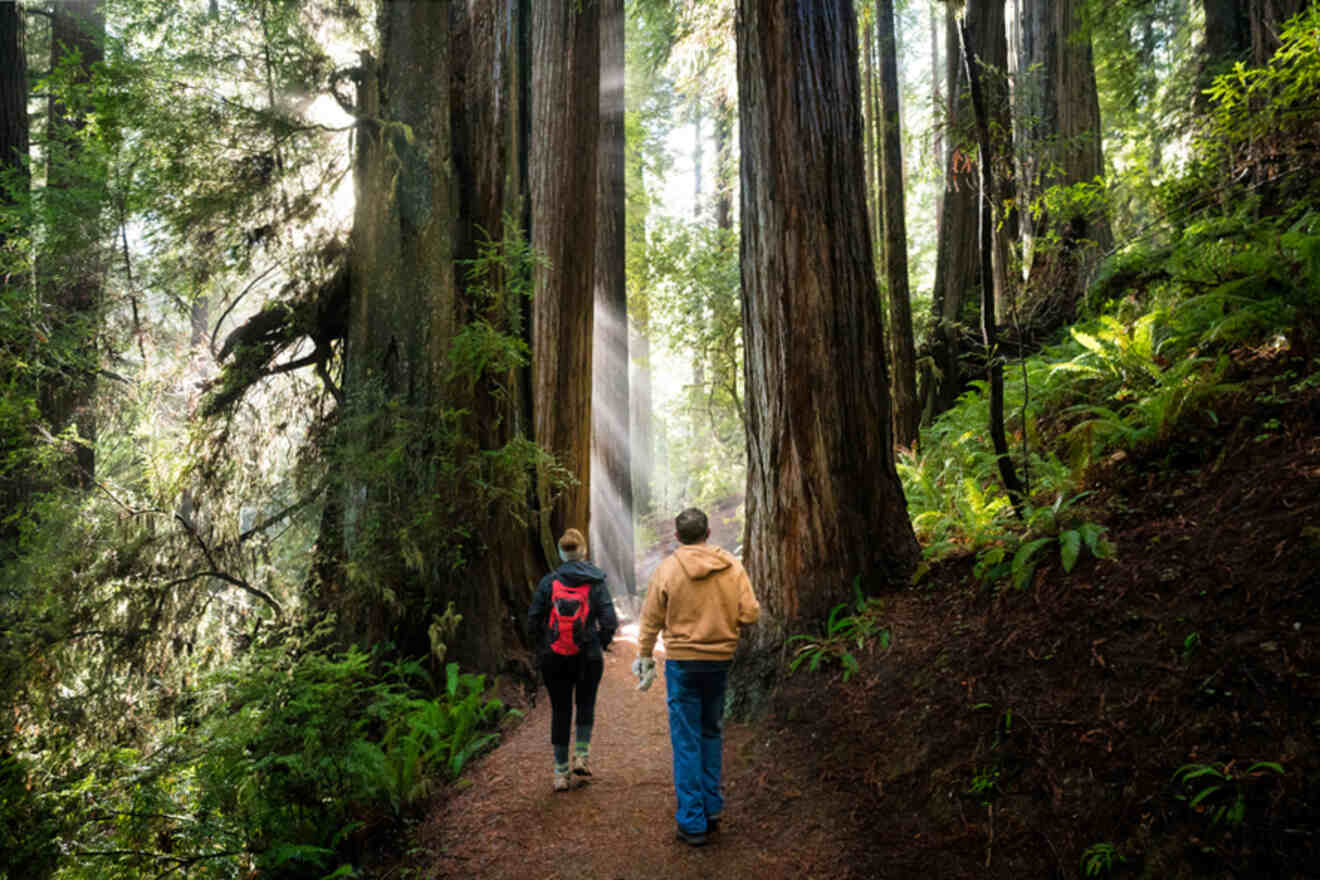 As a SoCal girl, when I think of Northern California, I see an image in my mind of misty mornings, rugged coastlines, and redwood trees as far as you can see. Just about 6 hours north of San Francisco, up by the Oregon borderline, you'll find this magical area of California that is waiting to be explored.
The coolest thing about heading to this area of California is that Redwood National Park actually consists of 4 parks: Redwood National Park, Prairie Creek Park, Del Norte Coast State Park, and Jedediah Smith State Park – all with their own unique charm, characteristics, and of course, lots of redwoods
The comfortable climate, lively ecosystems, and incredible terrain offer many fun and adventurous things to do in Redwood National Park.
Before we lace up our boots, pack our backpacks, and hit the parks, be sure to make your final decisions and nail down your tours and hotel reservations by booking in advance!
I definitely want you to make the most of your time in this nature-lovers paradise and get the best deals. So plan in advance and get lost in these incredible forests!
If you are in a hurry
When you get to Redwood National Park, you'll want to hit the parks right away, not go looking for a place to stay. Be a smart traveler and book hotels and activities in advance:
And here are the best hotels: Hampton Inn & Suites Arcata (luxury), Shiraz Boutique B&B (mid-range), Whale View Haven (budget)
If you want to explore alternative areas to stay close by or just need a more extensive list of options, check out our post on top places to stay in Redwood National Park.
I've also included a map of the general area so you can figure out the best routes to take on your adventure! Remember, visitor centers at the parks are your best friend!
1. Visit Prairie Creek Redwoods State Park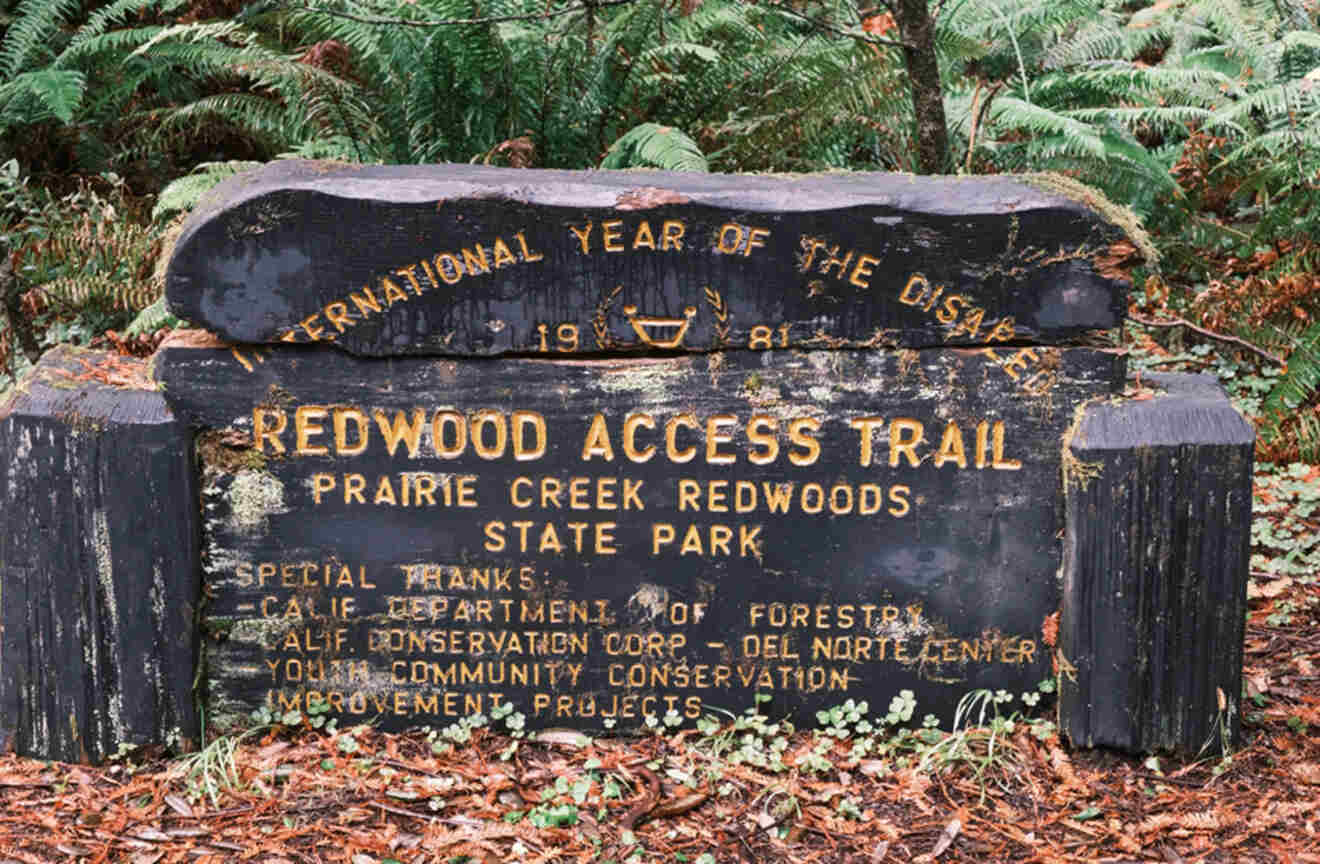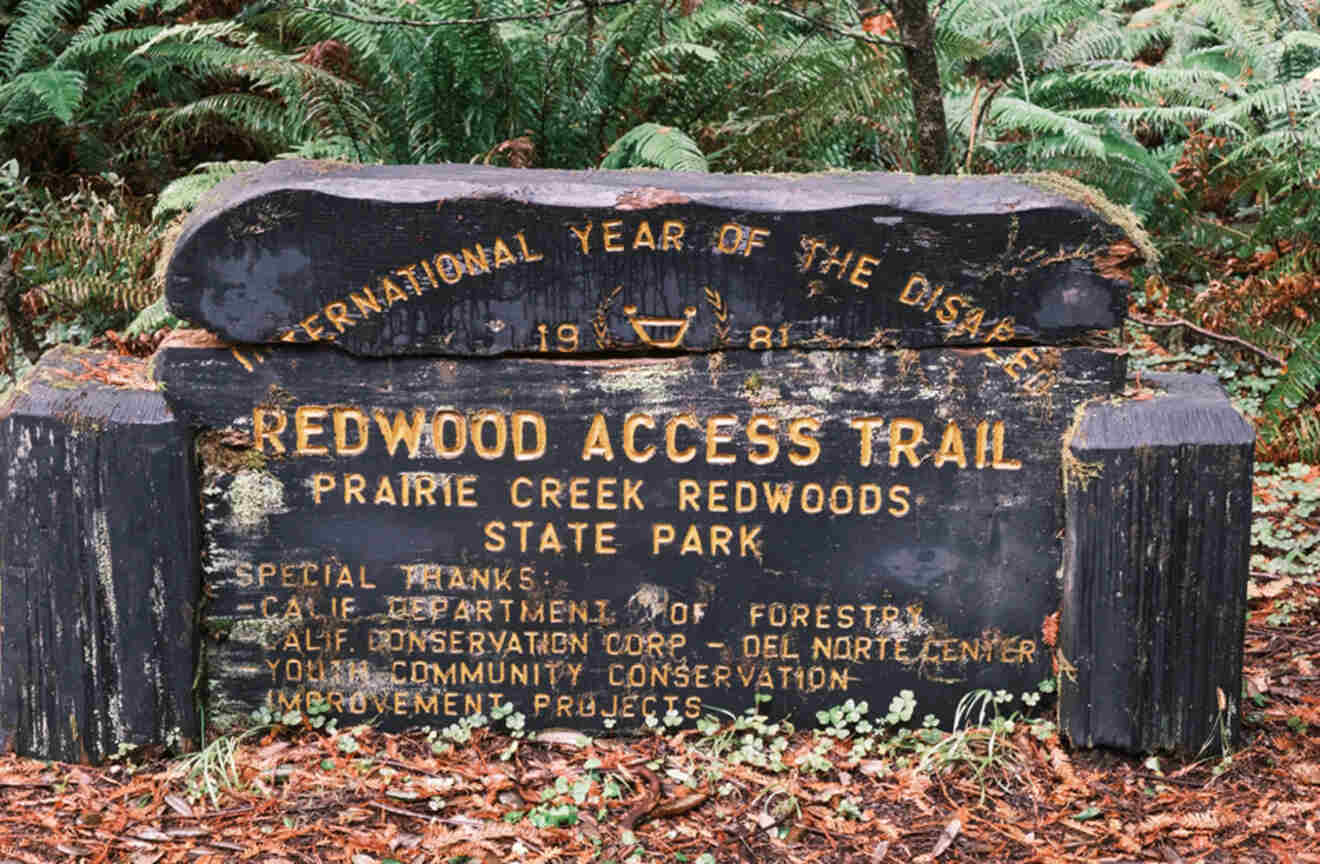 One of the most popular things to do in the Redwood National Park area is to stop at at least 1 of the big 4 parks. The first on our list is Prairie Creek Redwoods State Park.
If you're an outdoor adventurer and think you'll be able to visit multiple national parks this year, I highly recommend you get California State Park Pass and a National Park Pass so you can visit any national or state park for a one-time fee.
Don't forget to stop at the Prairie Creek Visitor Center to pick up a park map and check local weather and trail conditions.
The forest floor here is dense, moist, and lush. As you look up around you, you'll be amazed by the redwoods towering over you.
I swear, these are the tallest trees I have ever seen – it seems like they touch the clouds!
PRICE: California State Park Pass starts at US$50, National Park Pass US$80
2. Prairie Creek Trail at Prairie Creek Redwoods State Park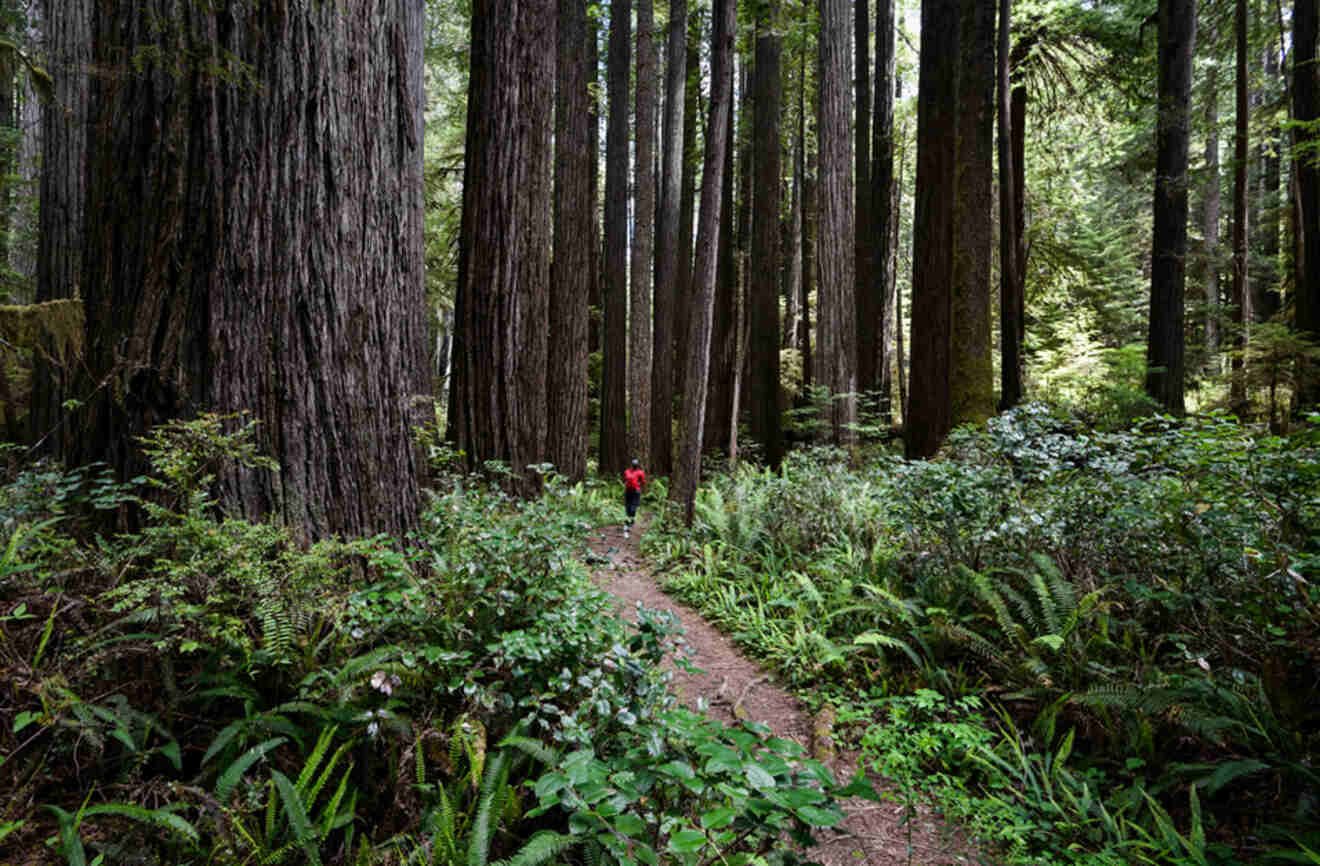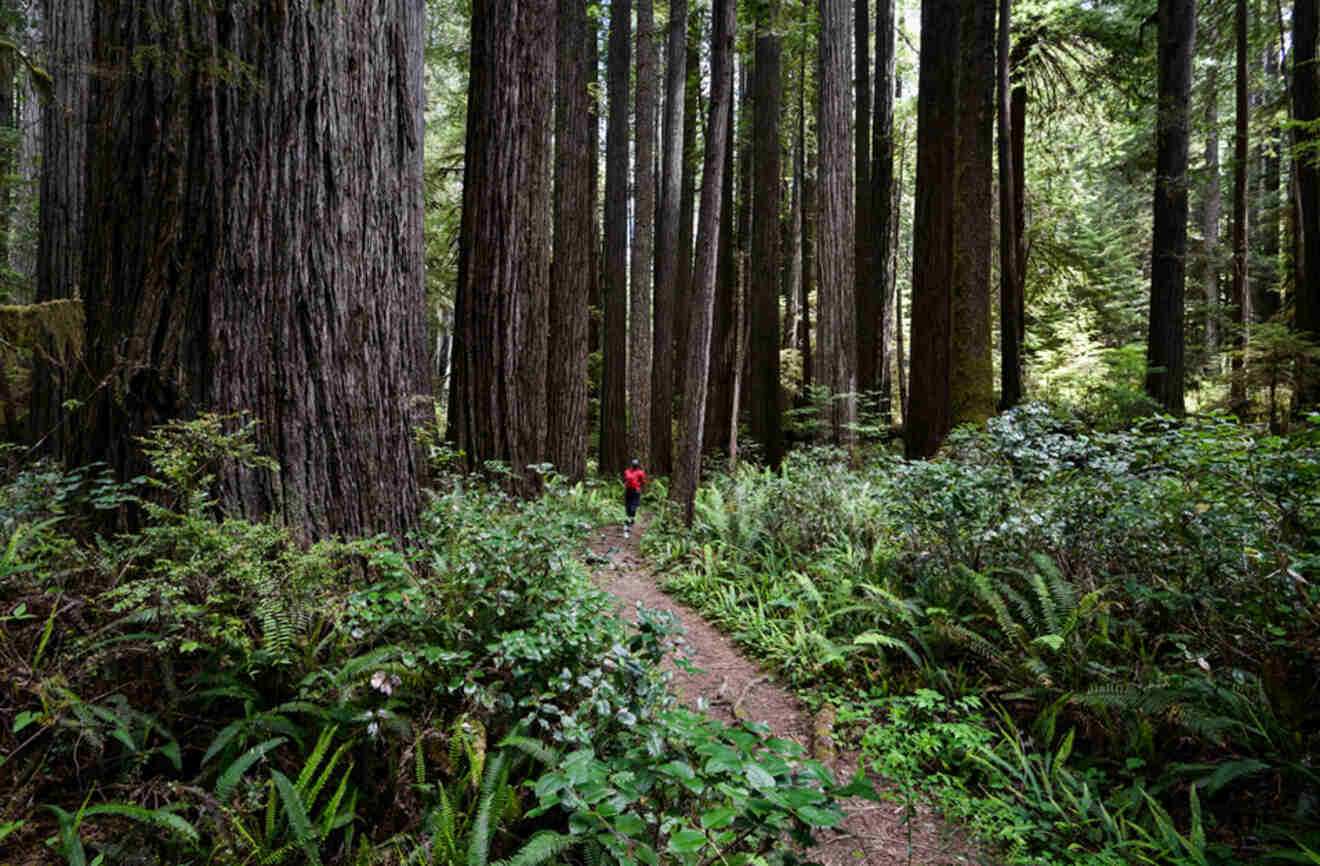 Prairie Creek Trail is an amazing 2.4-mile (3.9 km) round-trip hike that takes you right into the heart of the majestic towering trees up above and along some peaceful, flowing streams.
I can't get enough of it! The ancient forest floor, the smell of the fresh air and morning dew, and the sheer beauty of Northern California's wilderness – absolutely breathtaking!
One of the coolest things about the Prairie Creek Trail is that it will lead you to the famous Fern Canyon (featured below at number 6), which feels like an enchanted storybook filled with trickling water rolling down the cliffside, moss growing all around you, and trees encompassing you on your travels.
3. Take a walk on Elk Prairie Trail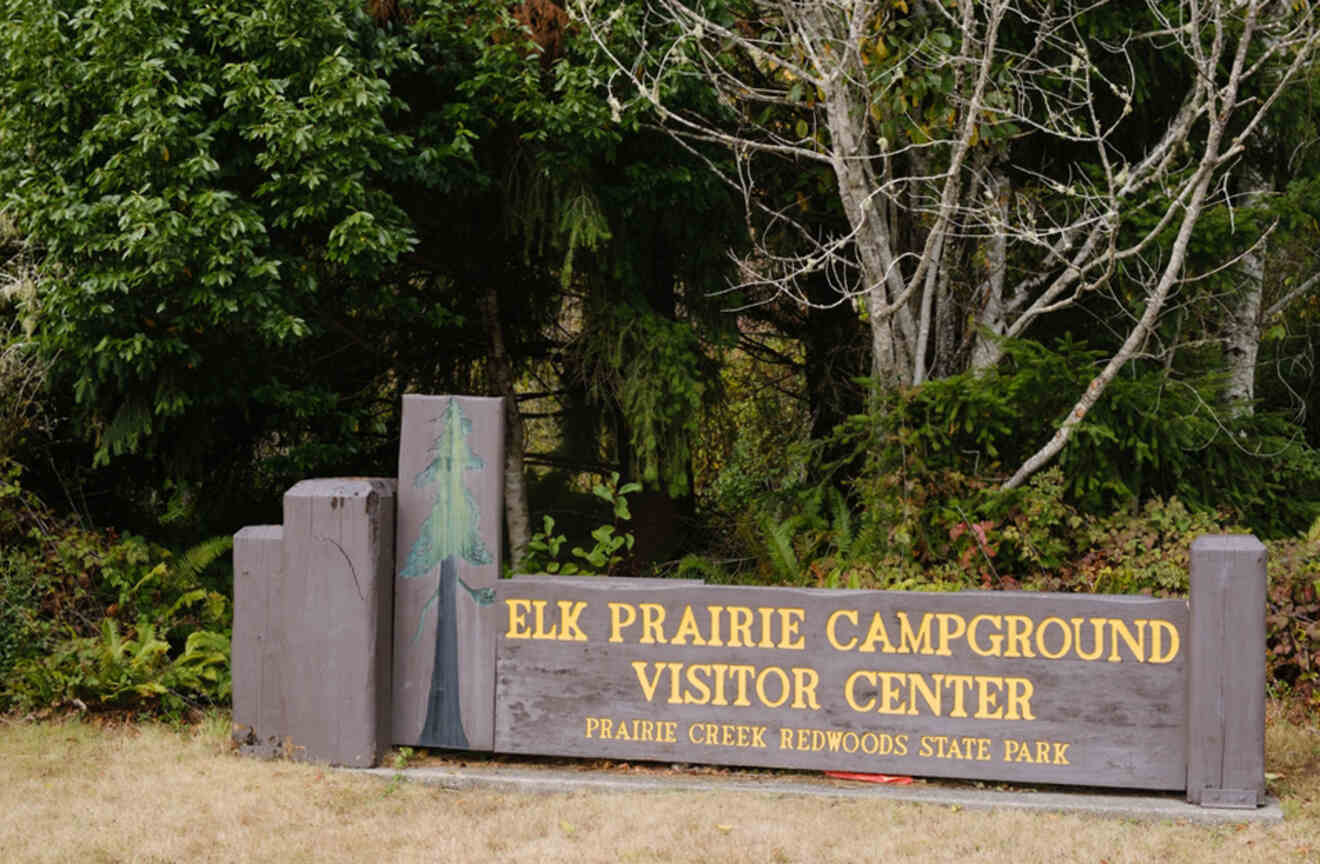 Elk Prairie Trail is a picturesque, easy trail, approximately a 3-mile loop (5 km) through a beautiful meadow.
This is an amazing environment to observe the awe-inspiring elk that call this park home and to immerse amongst the redwoods.
Keep in mind that the Roosevelt Elk that call this area home are wild animals and should not be approached or fed.
PRO TIP: Book a night at Elk Prairie Campground, and hit the trails before anyone else!
4. Cruise along Bald Hills Road Scenic Drive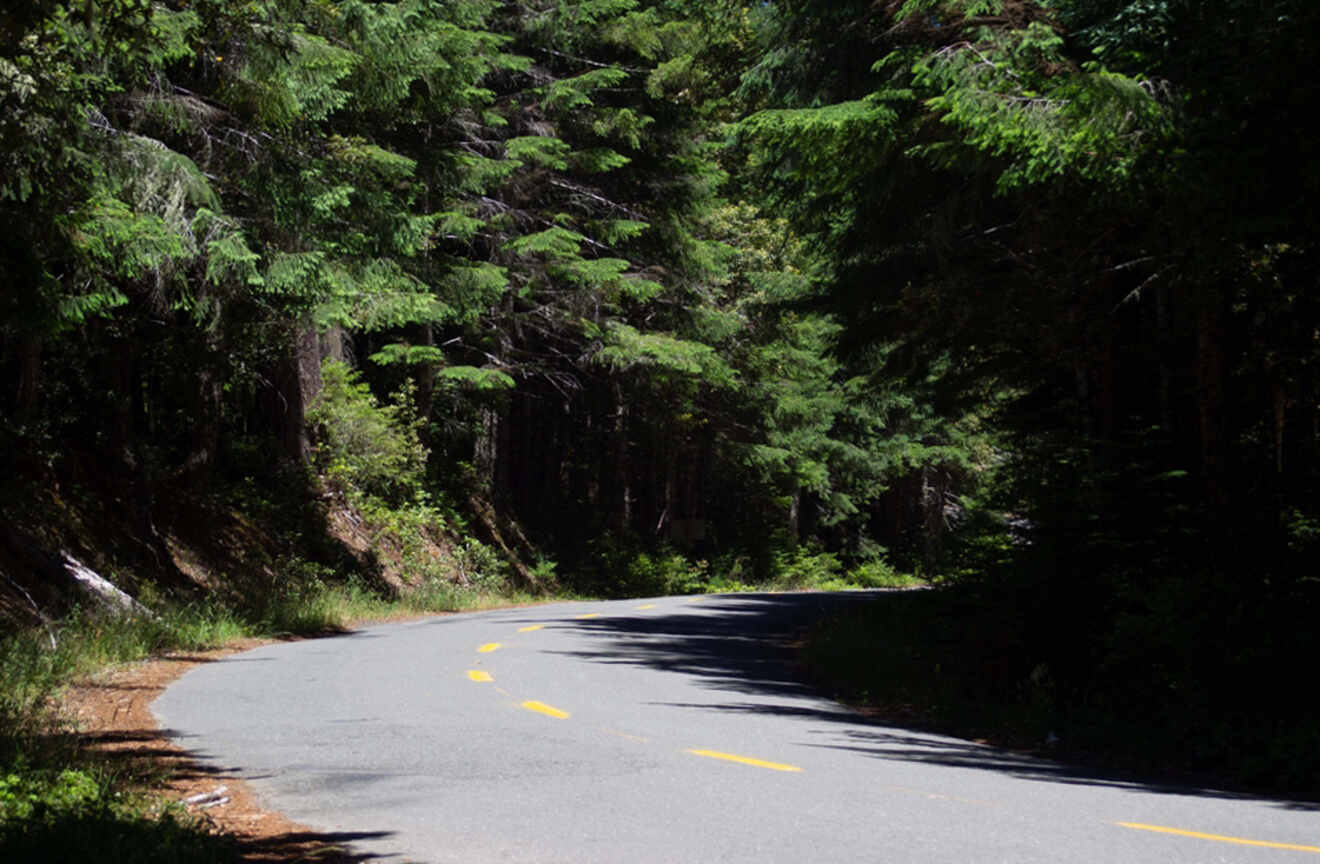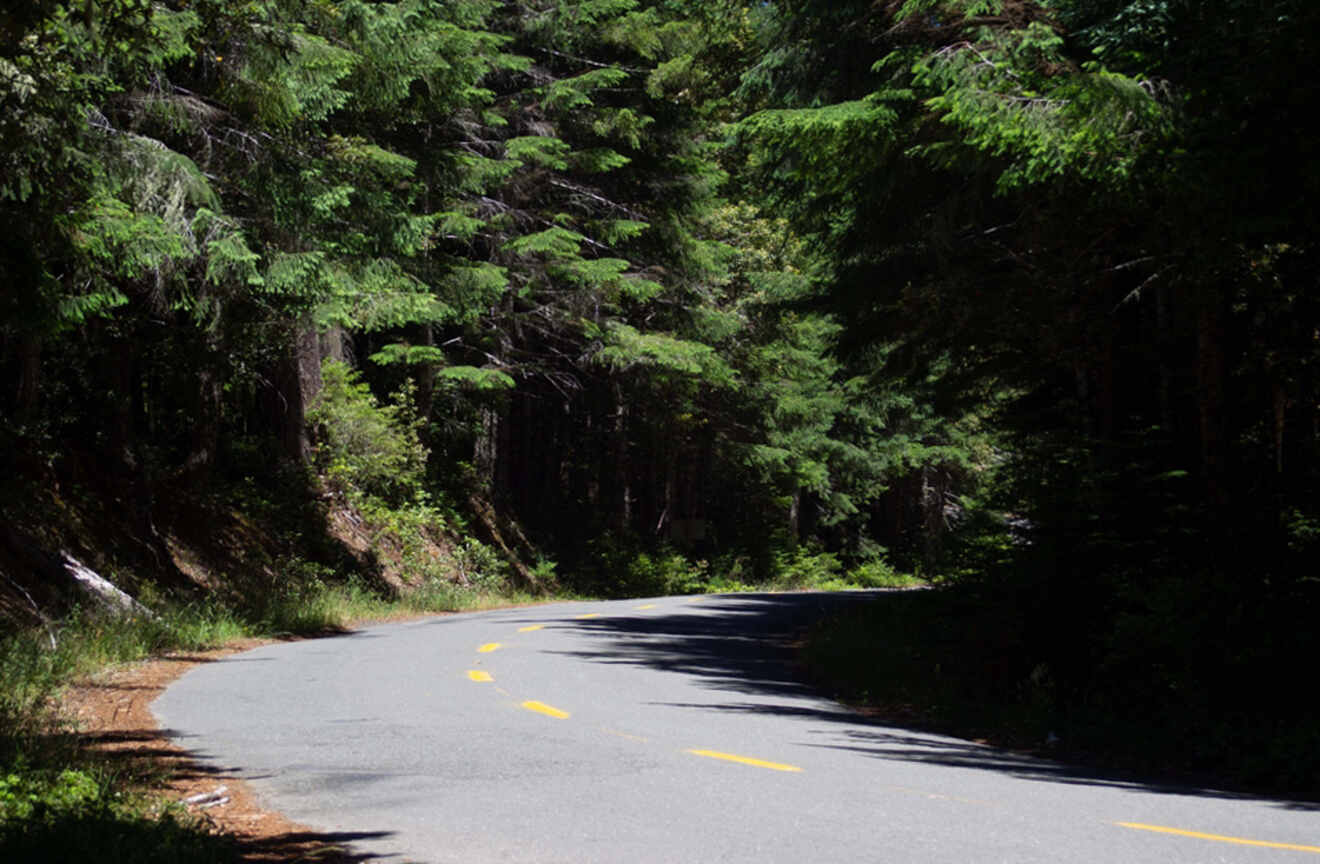 If you have time, hop on Bald Hills Road Scenic Drive and take in the beautiful scenery and keep your eyes open for spotting elk.
The road itself is about 10 mi (16 km), and it winds through Prairie Creek State Park, giving you a perfect sampling of the area's finest flora and fauna.
Stop at the Redwood Creek Overlook, the perfect spot to capture views of the Pacific Ocean and an epic California sunset.
5. Jump on the James Irvine Trail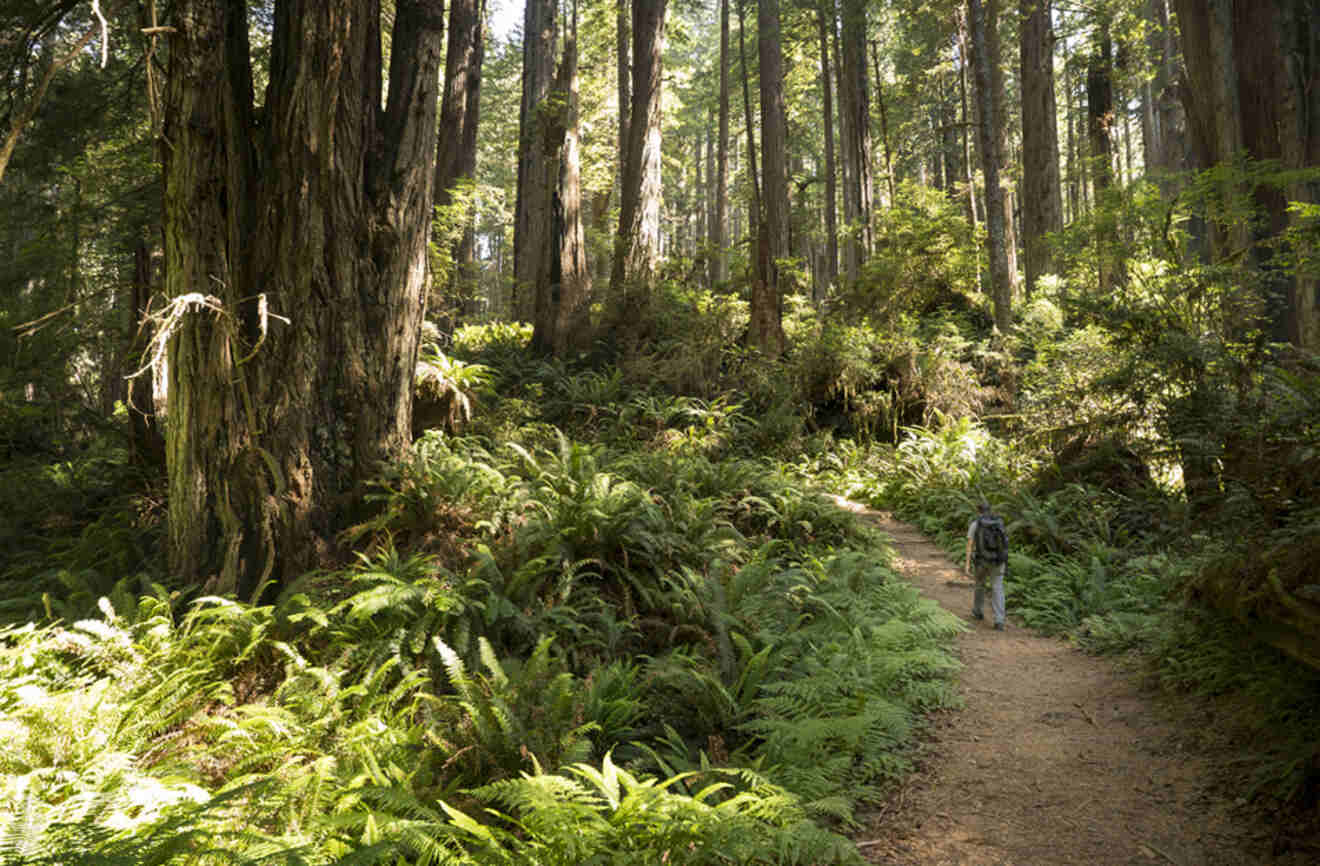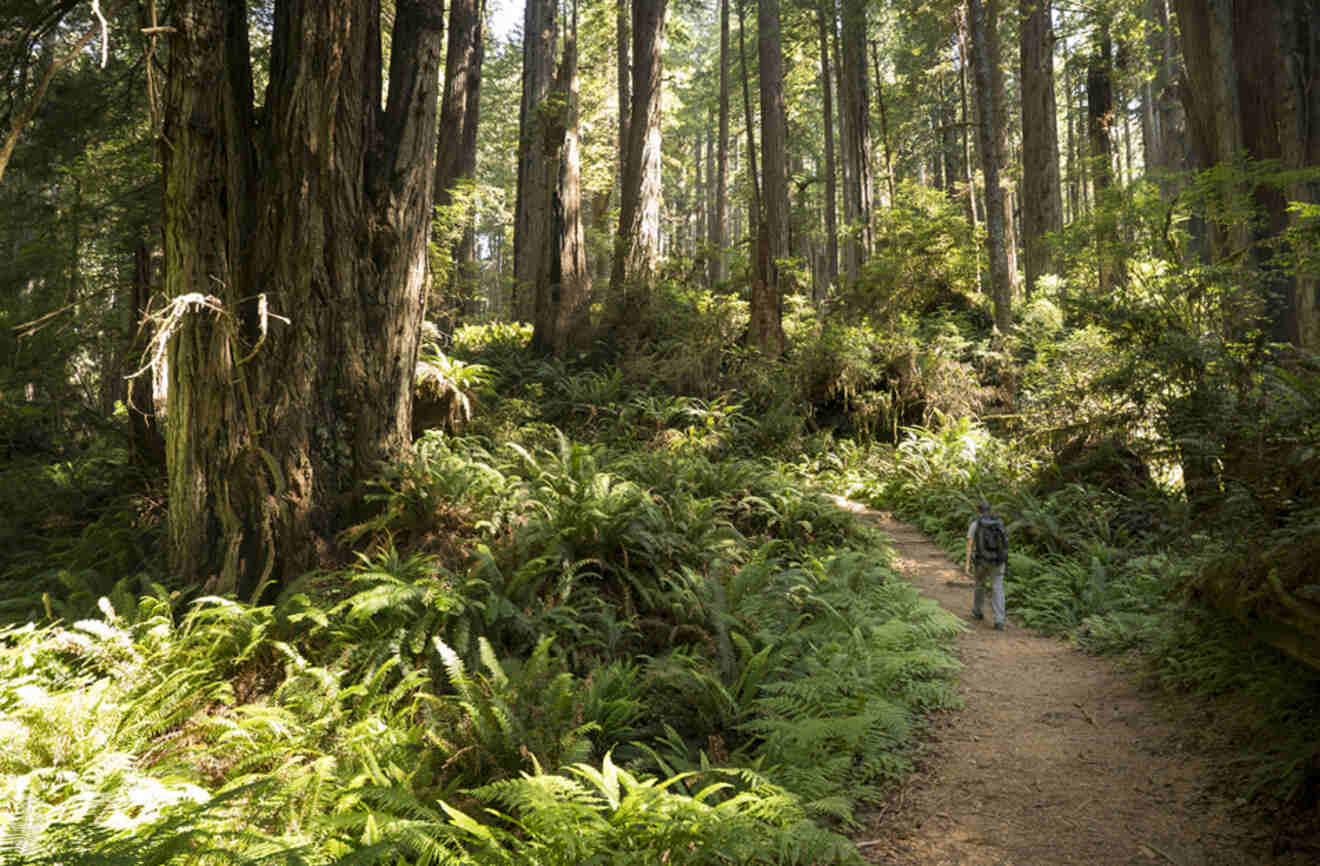 Located right next to the Prairie Creek Visitor Center, you'll find the trailhead for James Irvine Trail, a 10-mile (16 km) round-trip, moderately challenging hike through Prairie Creek National Park.
This hike tends to be super popular with people interested in birding as well as hiking, so the trail stays busy.
With some elevation gain, you'll want to be sure to bring water and enough sustenance to get you through the difficulty of this redwood trail.
6. Welcome to the jungle of Fern Canyon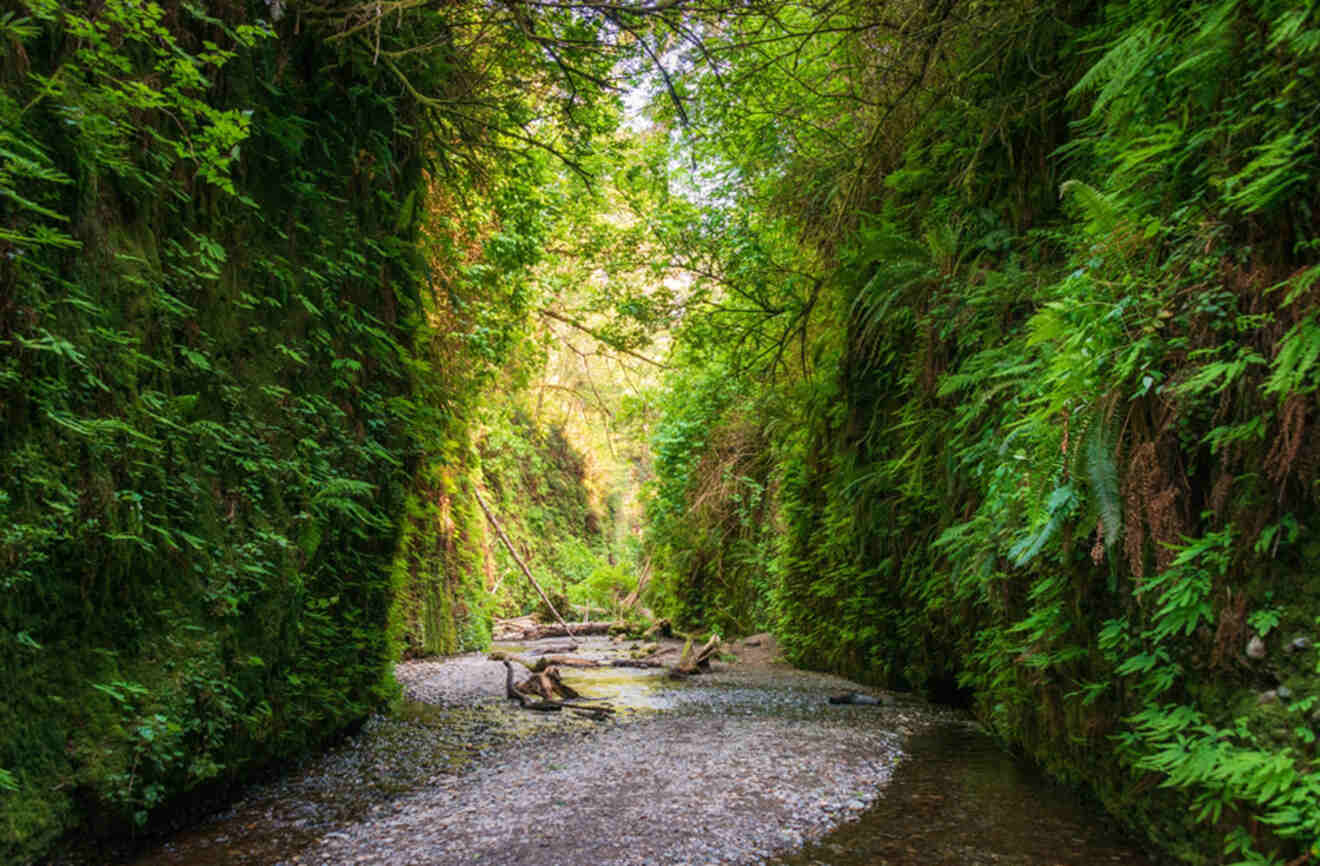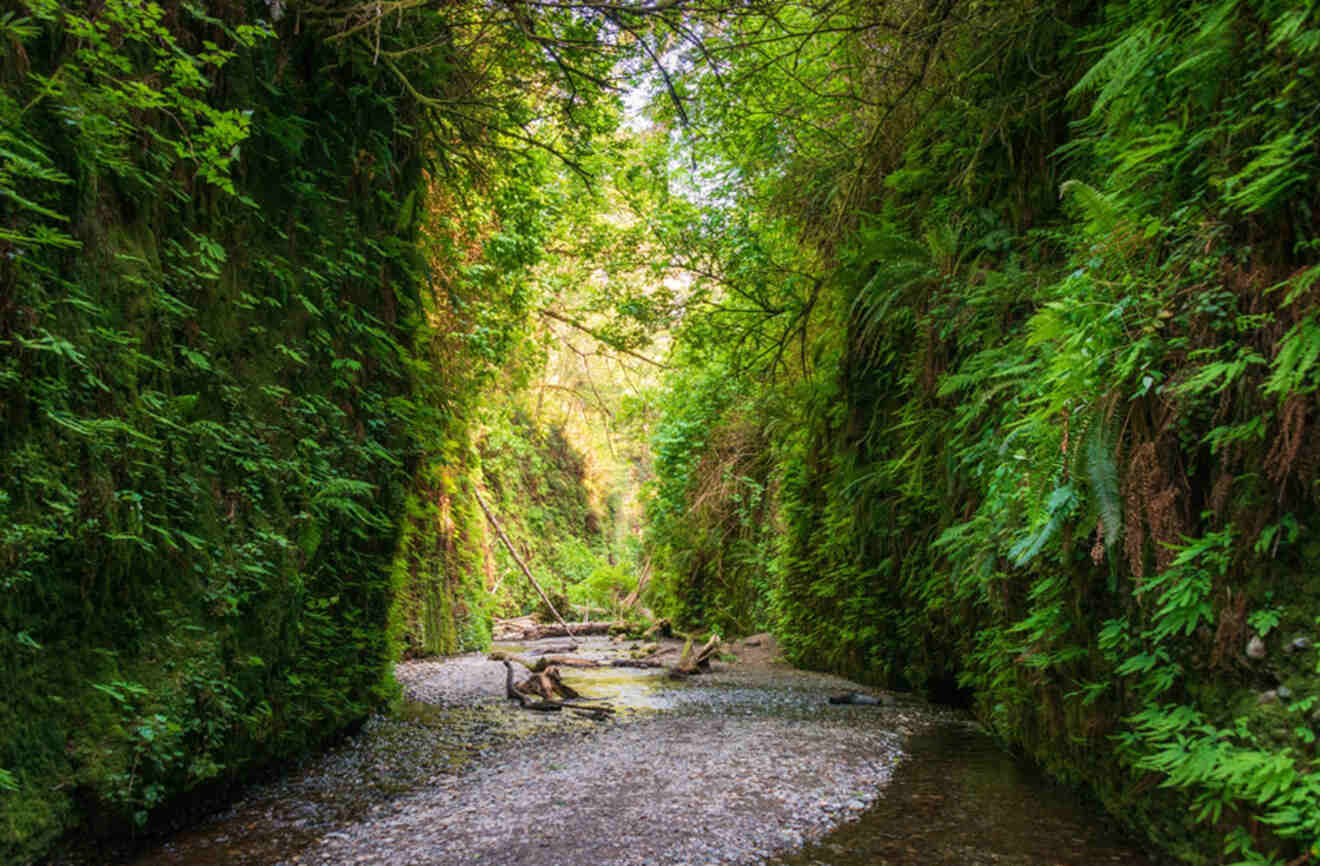 If you're interested in exploring deep, dark forest floors, moss-covered rock walls, hiking trails, and skipping river rocks, you'll love Fern Canyon Trail.
Probably my favorite spot in Prairie Creek State Park, Fern Canyon, tends to be very popular, and permits are required.
Brought to fame by Jurassic Park: The Lost World, this trail looks like a lush jungle scene and should absolutely be on your list of the best things to do in Redwood National Park.
I could stay here for hours walking the path, journaling to the sounds of dripping waterfalls, or being intoxicated by the smell of fresh, dewy air.
7. Stay the night at Gold Bluffs Beach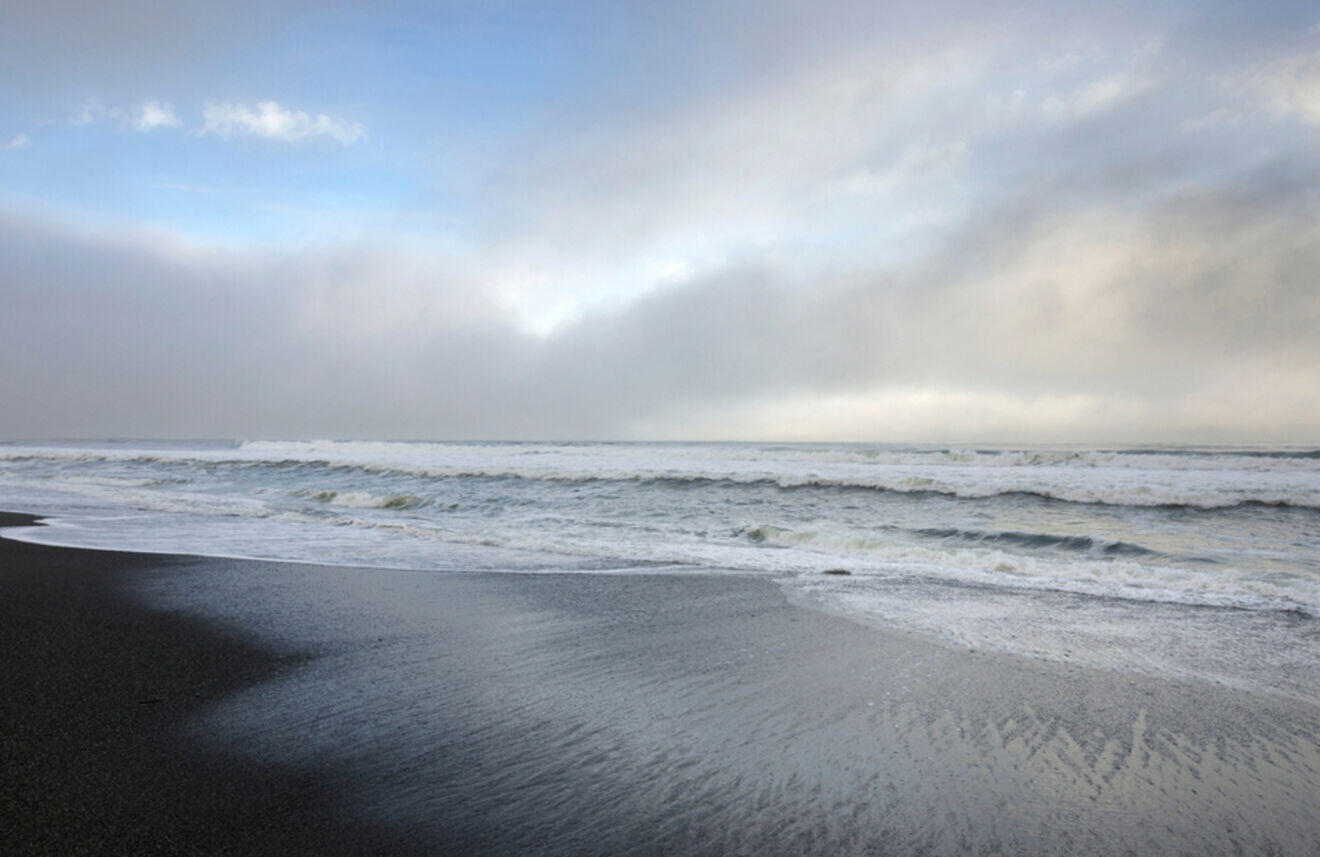 Did somebody say 'beach'? I'm in! Gold Bluffs Beach in Prairie Creek State Park is scenic, breathtaking, and worth some time to explore.
From Gold Bluffs Beach, hike to the high bluff overlook to spot sea lions and whales playing in the Pacific Ocean down below. The loop trail is only 1 mile (1.6 km) and a fairly easy hike at that.
There is also a popular hike and bike trail from Gold Bluffs if you're dying to get on 2 wheels! Even better, you can grab a bike rental and explore the area that way instead.
I love this area so much that I'd actually recommend spending the night at the local campsite – Gold Bluffs Beach Campground. Just keep in mind you'll need a permit to camp.
PRICE: Bike tour starts at US$45 for a half day
8. Look up at Big Tree Wayside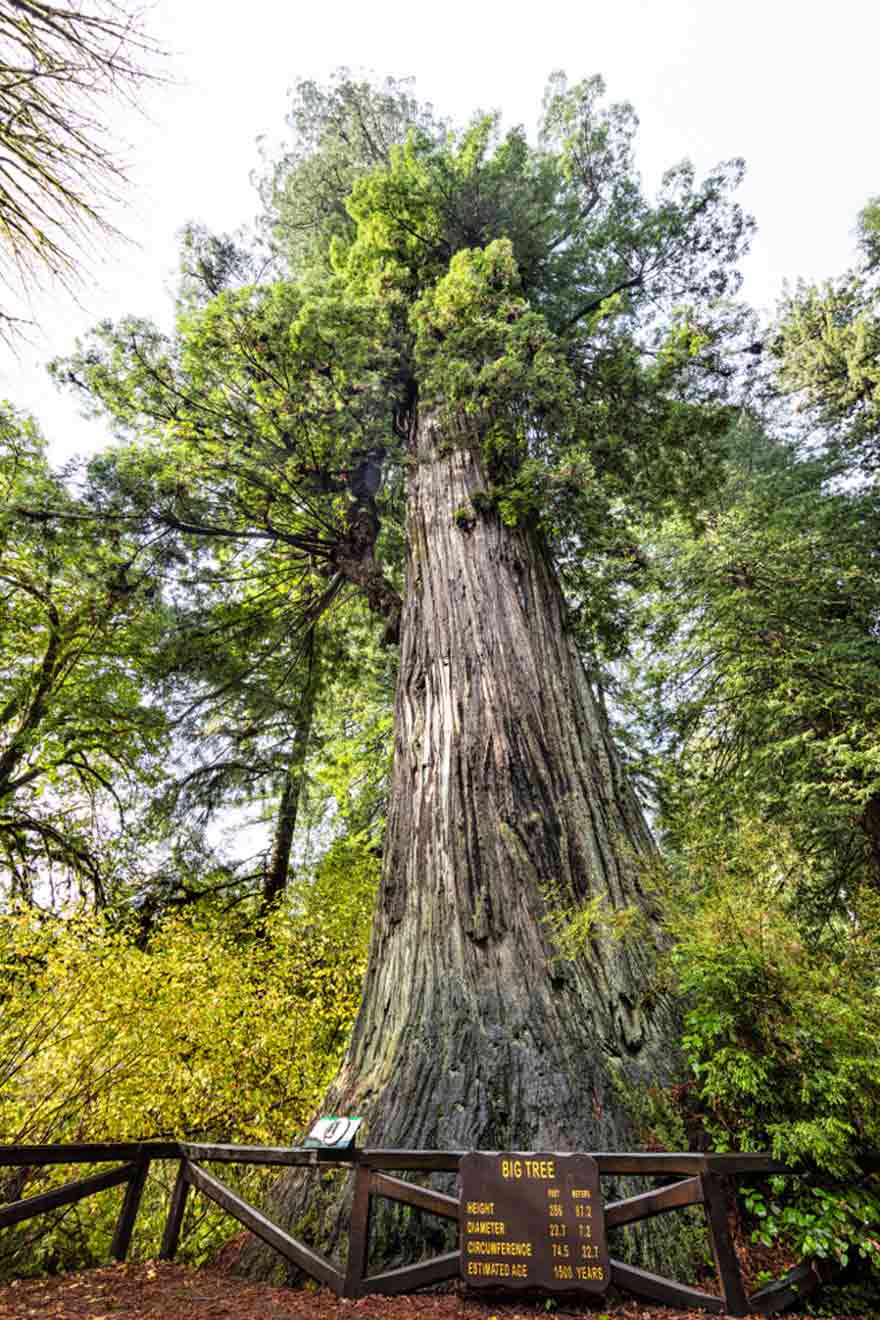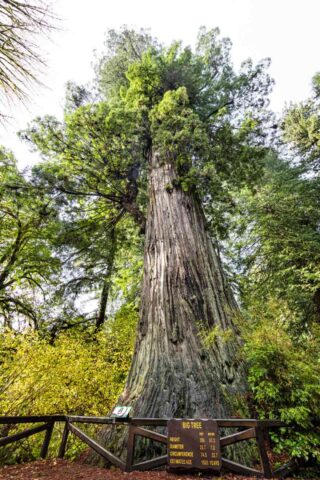 The place to come to in Prairie Creek Redwoods State Park if you want to see old-growth redwoods in a concentrated area is Big Tree Wayside.
An easy stroll from the closest parking lot at Newton B. Drury Scenic Byway, this is the perfect place to see a lot of redwoods in a very short period of time!
Just a 0.3 mile (0.5 km) walk, you can stop by here for a quick photo op or stroll.
9. Discover the Foothill Trail Loop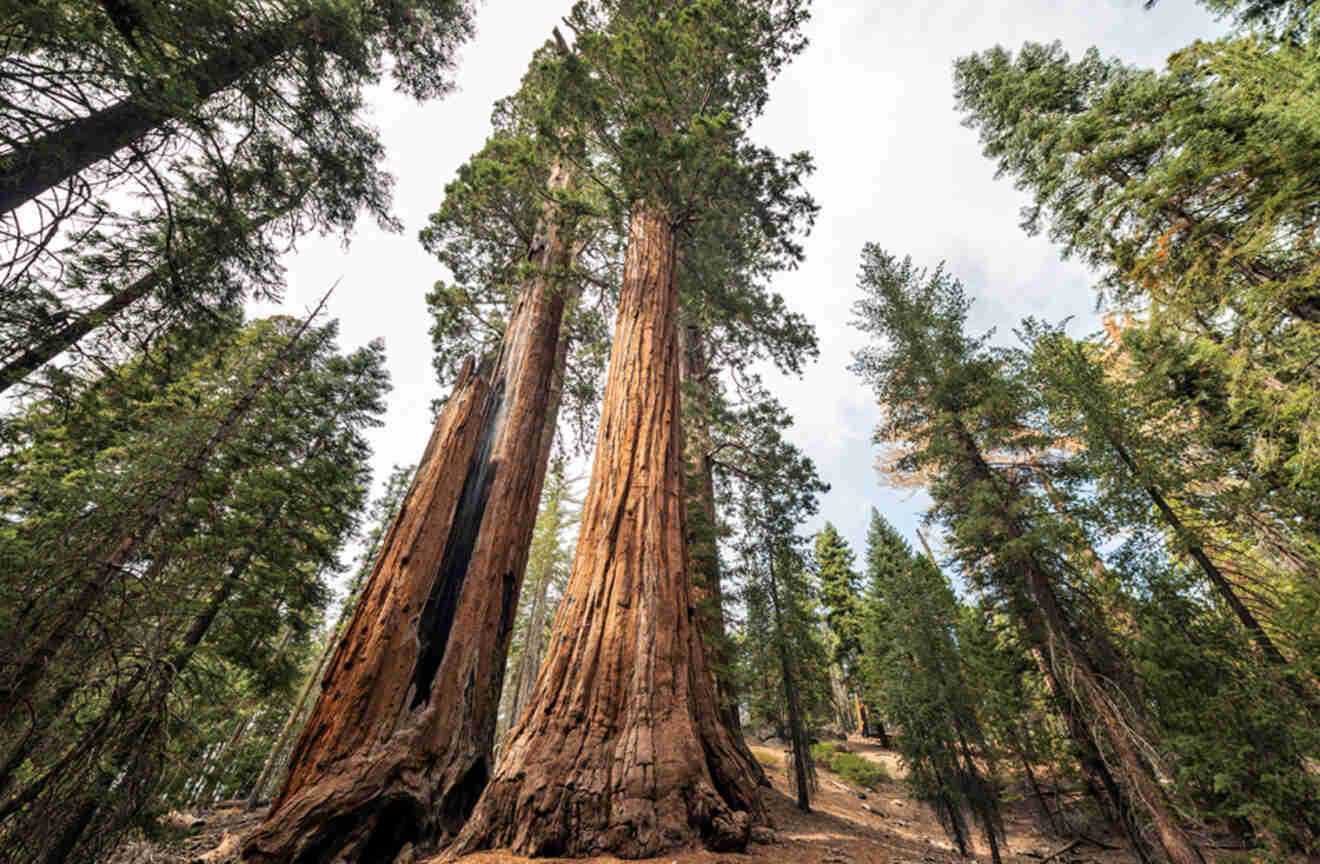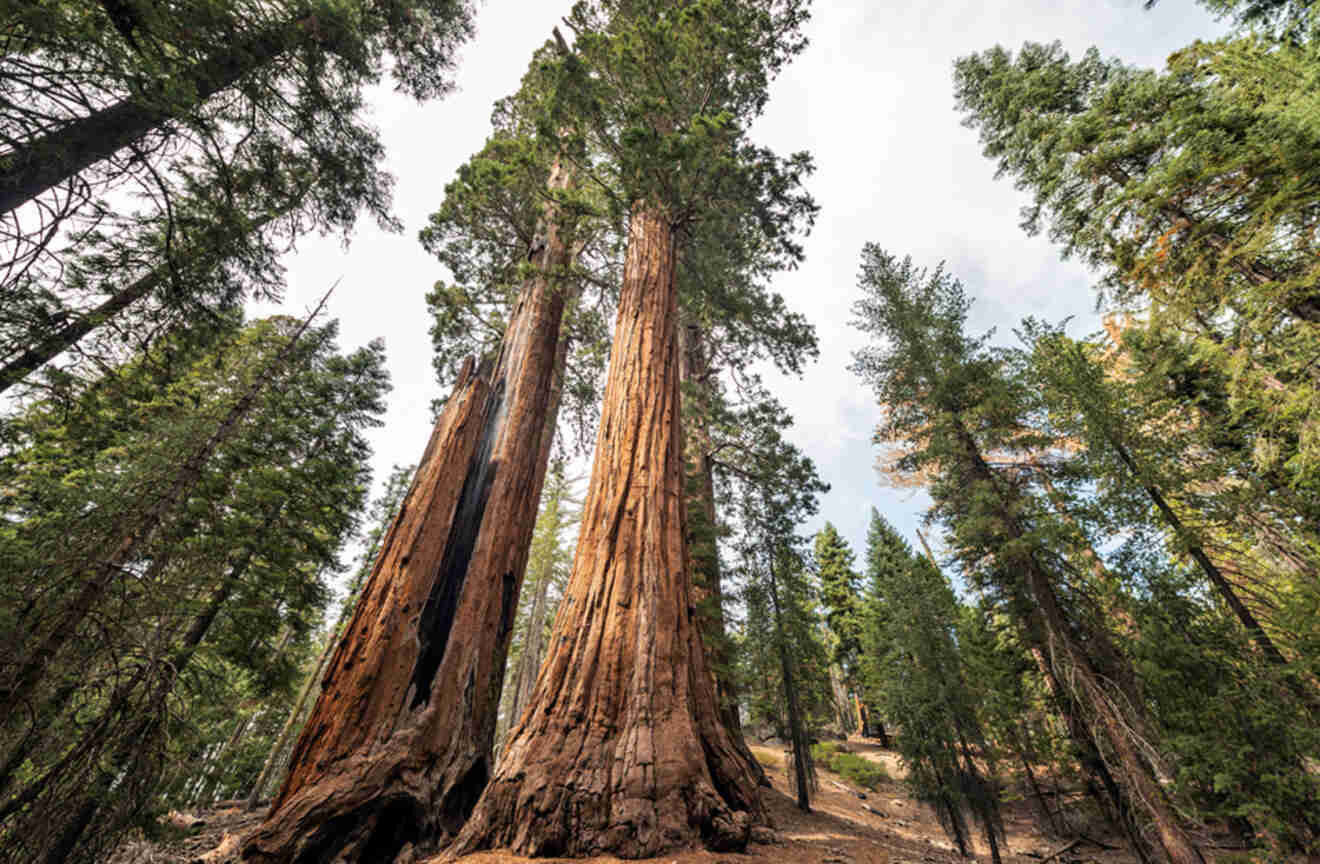 Inside Prairie Creek Redwoods State Park, you'll find the Foothill Trail Loop, a 2.4-mile (3.9 km) loop around old growth redwoods and fern-covered rock walls.
A fairly easy walk, I would recommend this trail if you want to immerse in the redwoods more than, say, the Gold Bluffs Coastal Trail, but not up for a big trek.
This trail gives me Fern Canyon vibes, but it's a more challenging trail and will take you longer.
10. Wind through the Newton B Drury Scenic Parkway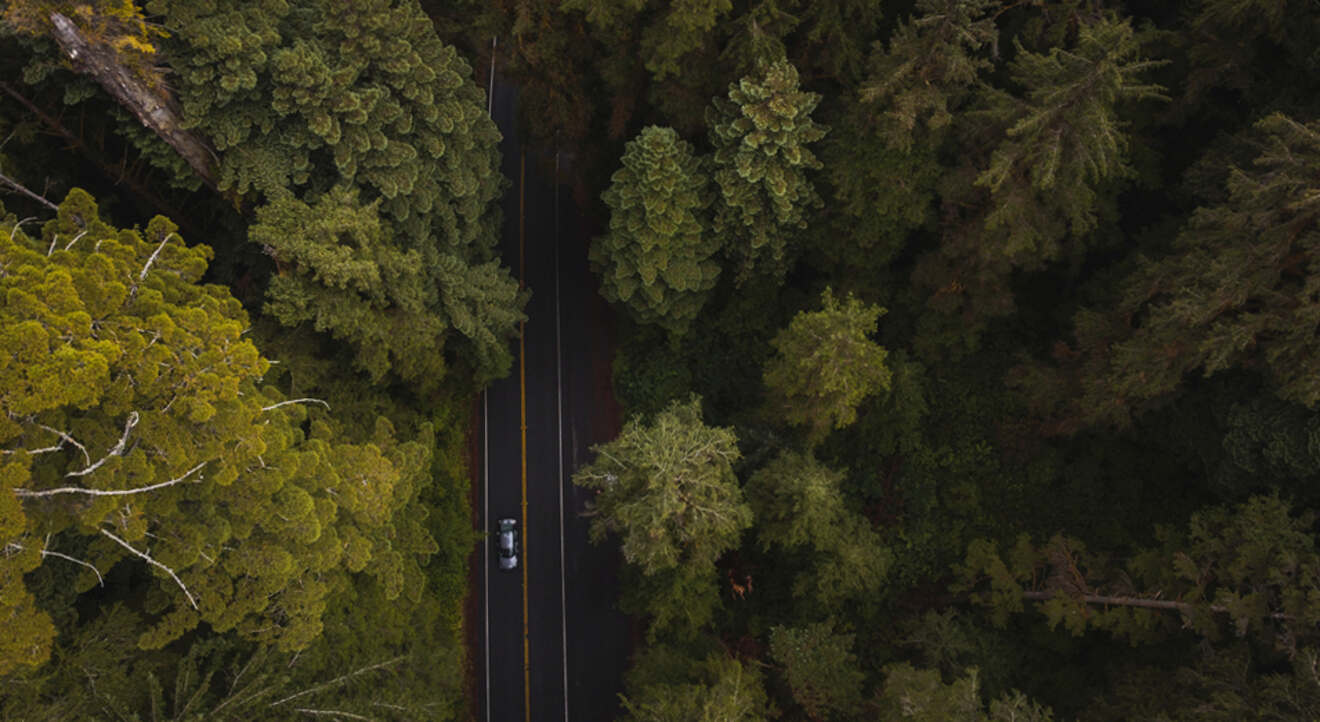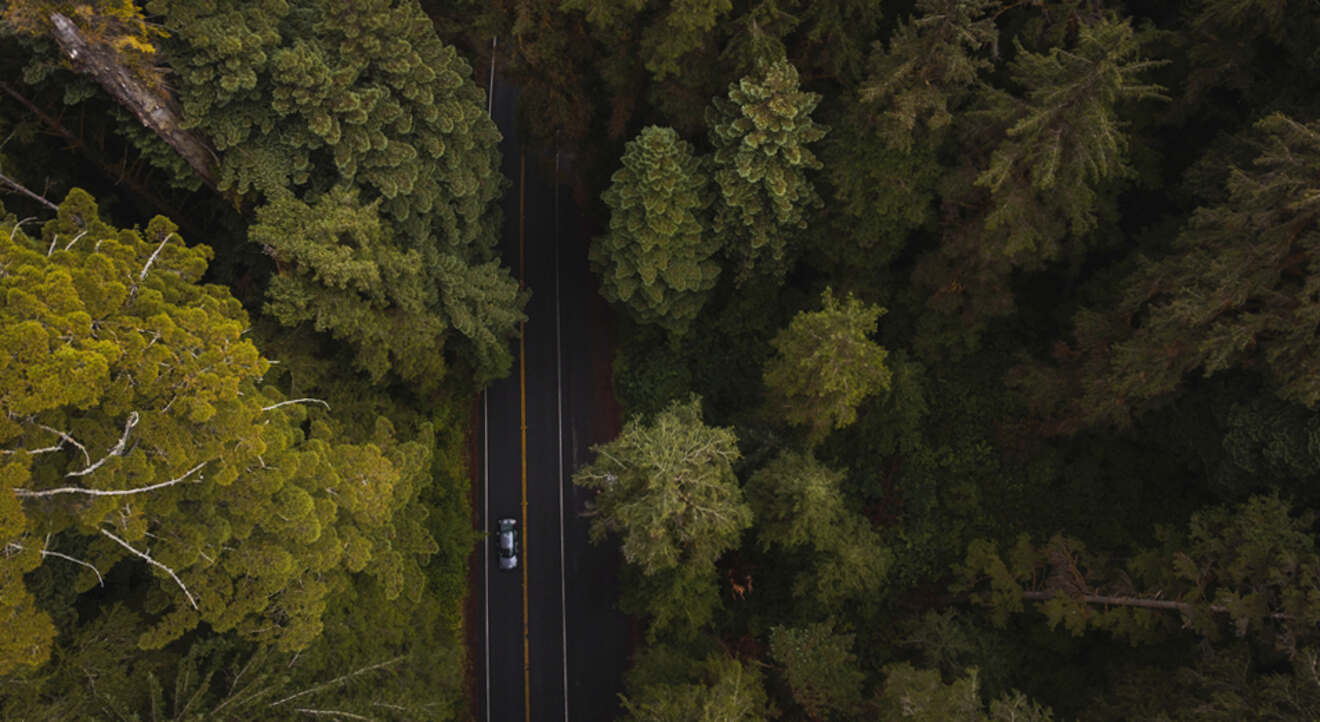 Newton B Drury Scenic Highway is a gorgeous stretch of road that runs through the national and state parks, offering pull-off points for amazing views of the rugged coastline and incredible towering redwoods.
The Crescent Beach Overlook is one of my favorite stops along the Drury Scenic Parkway, providing a perfect opportunity to pause and really appreciate the breathtaking beauty of the Northern California coastline. As you look down, you'll see the blue ocean, the rugged coast, and the familiar sight of those giant trees.
11. Play among the giants at Redwood National Park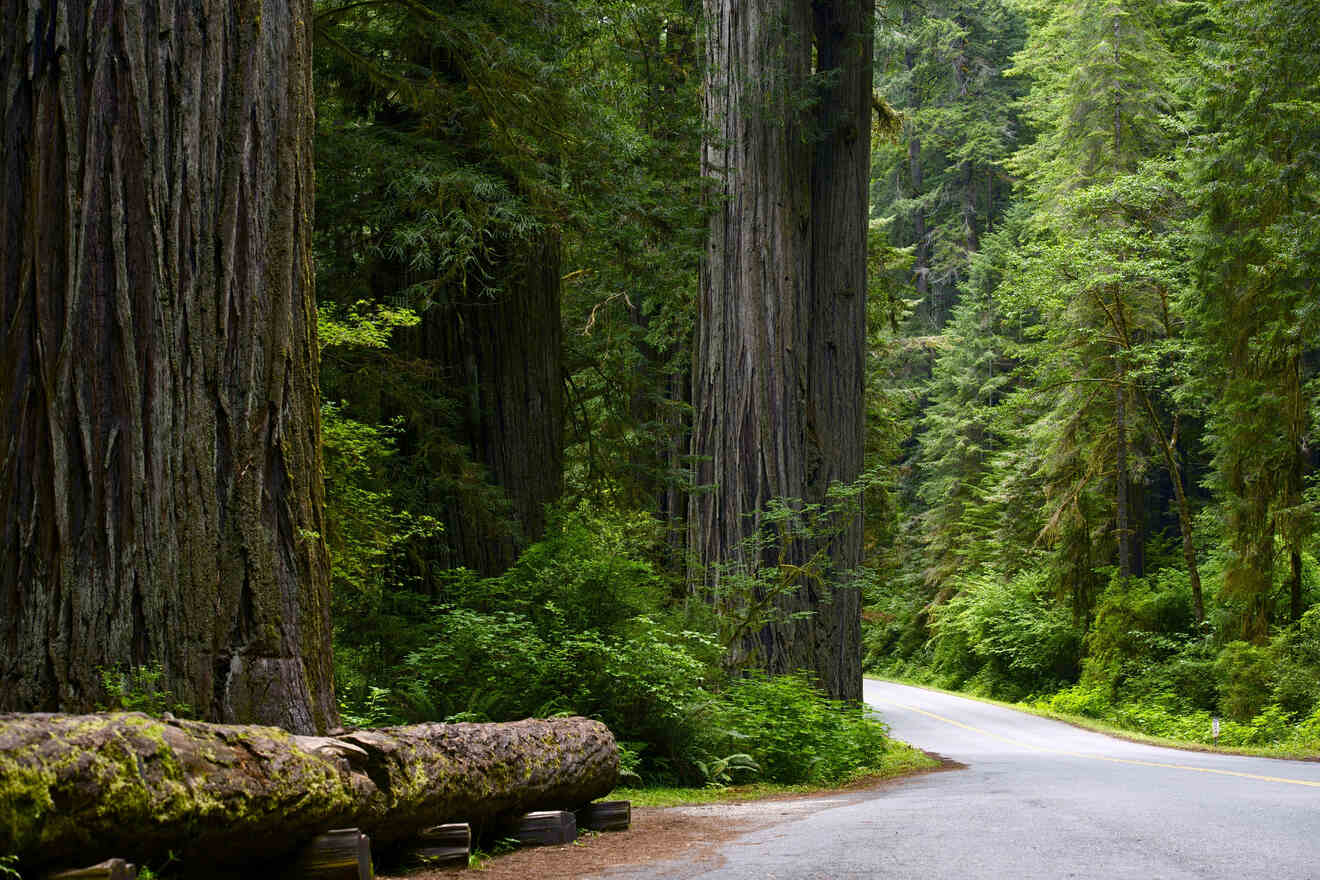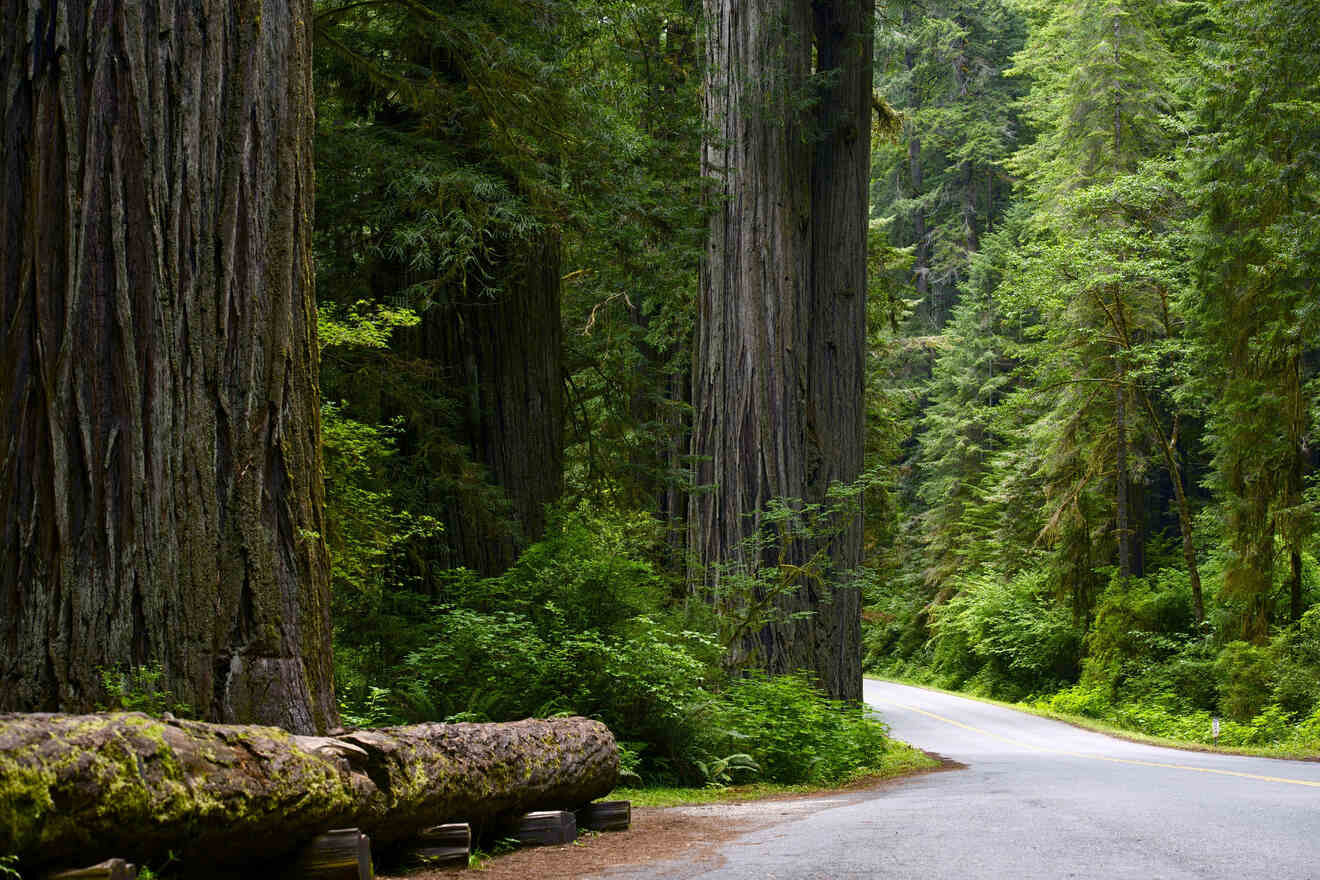 I absolutely love this park, with its majestic redwoods and amazing trails. It provides so many incredible things to do. While some don't realize, Redwood National Park is just one of 4 of the major parks in this circuit of National and State Parks.
For the adventurers, I highly recommend you explore the park on horseback with this guided tour offered by the park. As you trot through the forest on horseback, towering trees all around you and trickling streams and waterfalls – it's so peaceful!
There are tons of hiking and biking options at Redwood National Park. Many of the trail networks intertwine and allow you to extend or shorten your hikes as you see fit.
TOUR PRICE: Starting at US$125 per person
12. Pick up the Trillium Falls Trail from Elk Meadow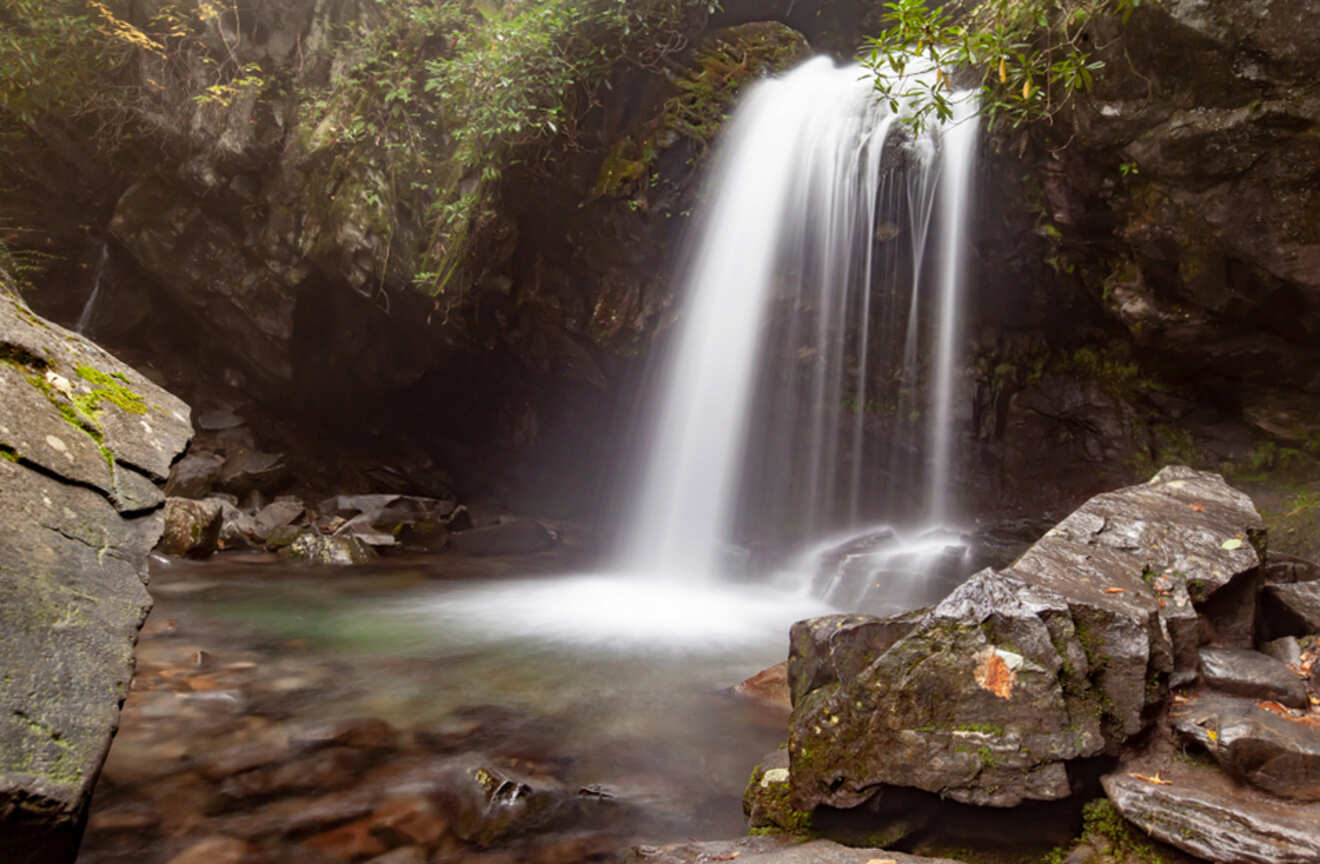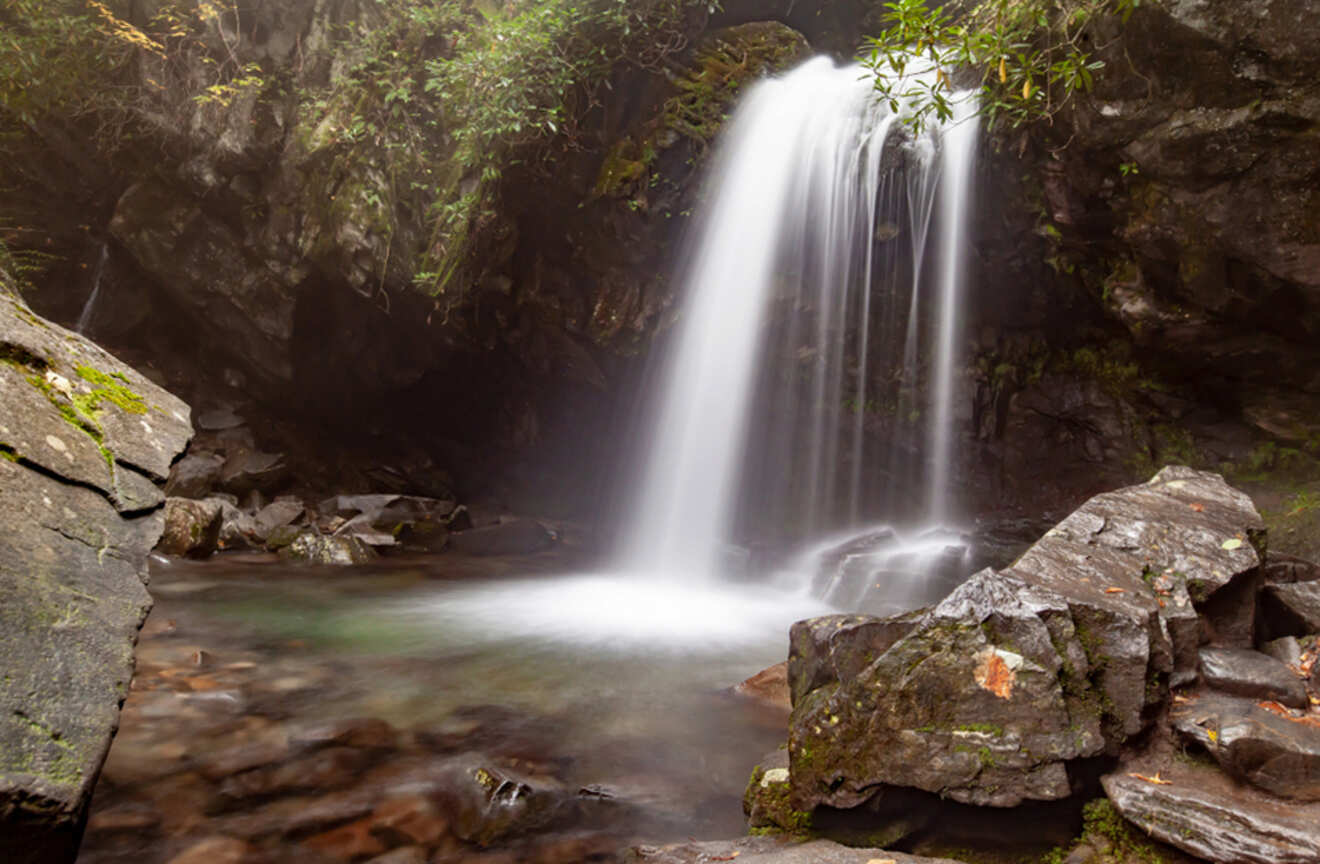 Some of the most fun things to do in Redwood National Park are to spot local wildlife and go chase waterfalls!
Start at Elk Meadow and quietly wander, keeping your eyes open for the illustrious Roosevelt elk that calls this area home. They are so neat to see up close – just be mindful to keep a safe distance, as with all wild animals.
You can then jump on the Trillium Falls Trailhead, a 2.6-mile (4.2 km) easy hike through beautiful vegetation and vibrant trillium flower fields.
Before you know it, you'll be rewarded with the magical view of Trillium Falls cascading down below! 😃
13. Explore the scenic Coastal Trail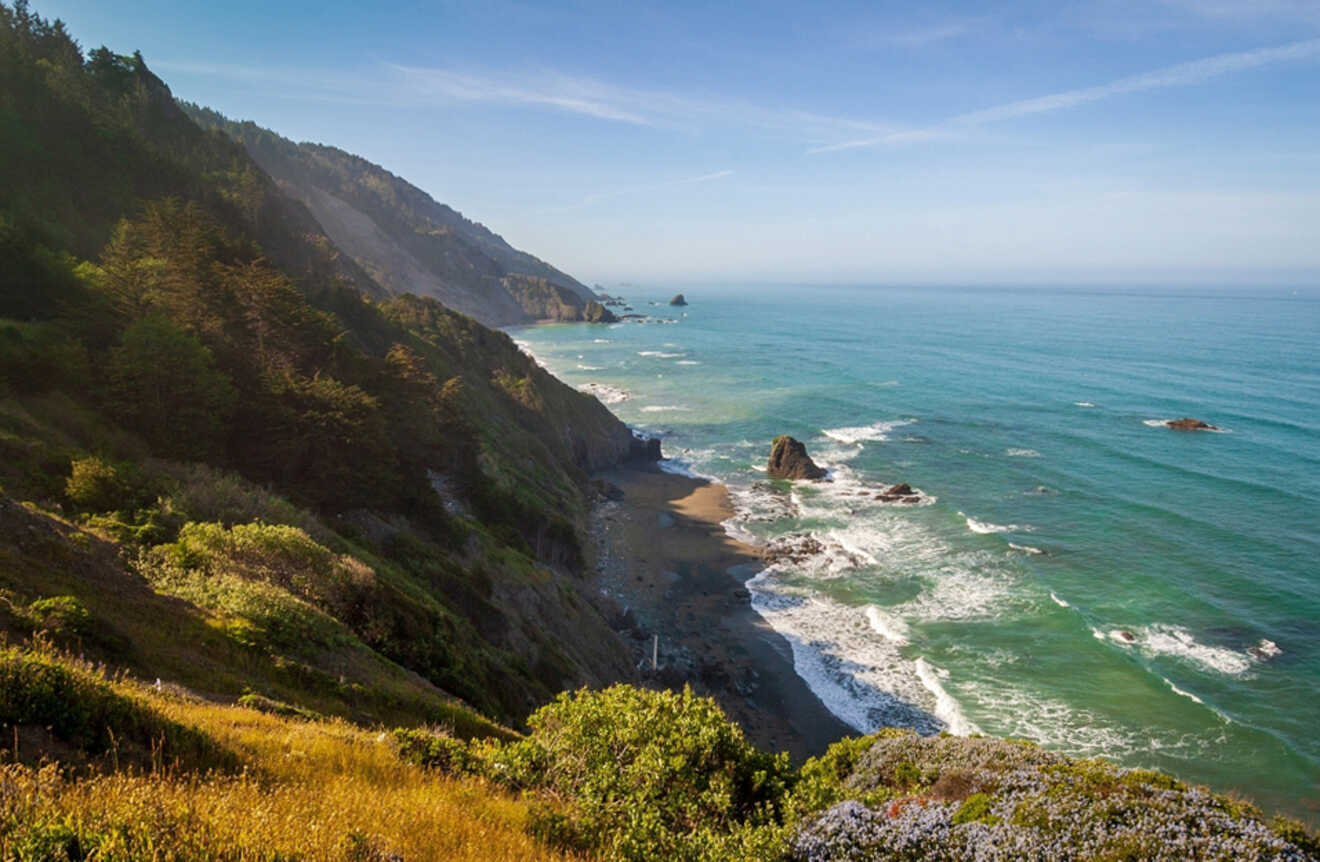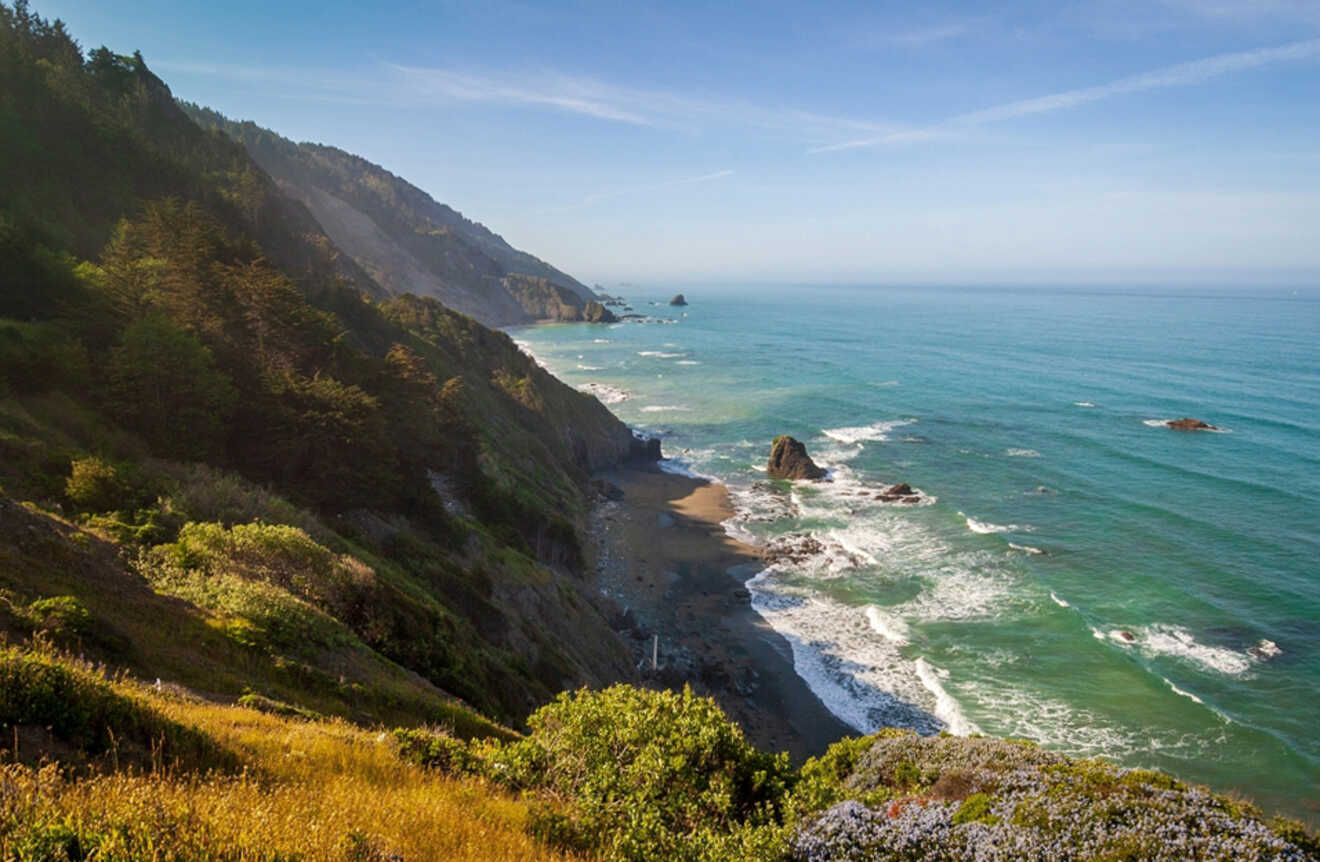 I love this trail in Redwood National Park because it offers amazing views and beach access.
When you visit Redwood National Park, you'll be amazed by all the possibilities for hiking and panoramic vistas.
At only 2.3 miles (3.7 km) roundtrip, the Coastal Trail is an easy hike that won't take you more than 1 hour, but you'll come back with some killer photos of the forest and the Pacific Ocean!
It's a really unique feeling to be on the coastline facing the great big ocean, with these goliath trees behind you lining the cliffside – so beautiful!
14. Adventure on the Tall Trees Grove Loop Trail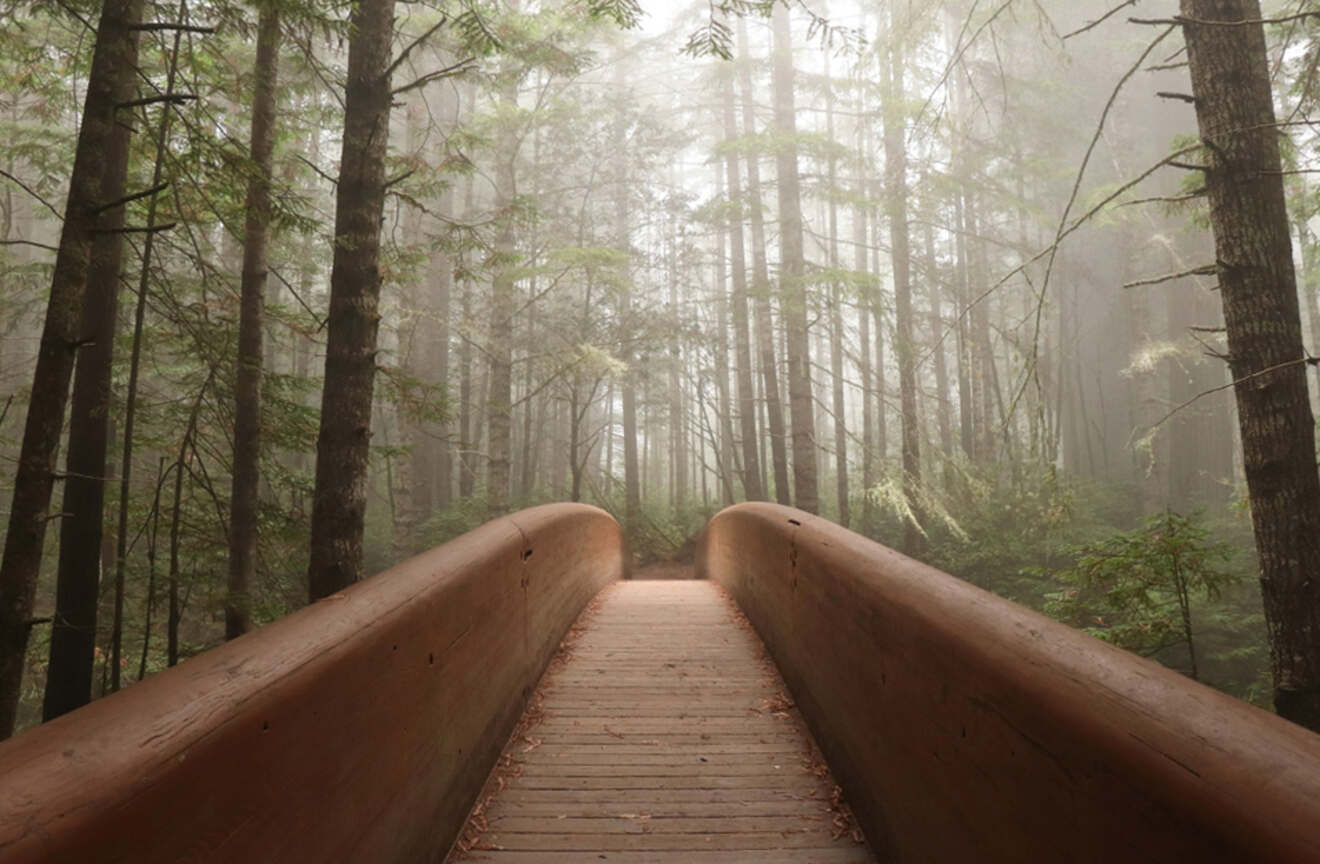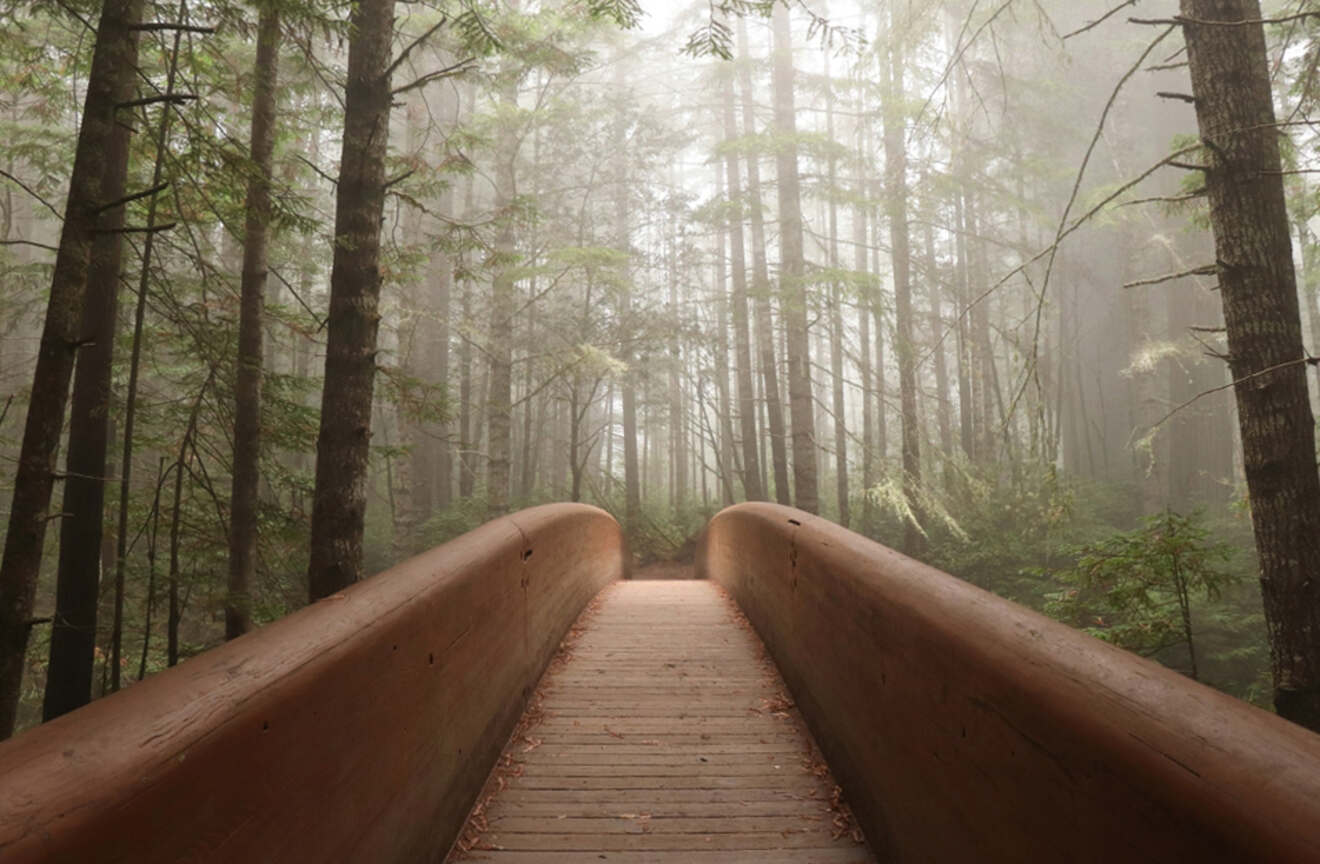 Inside Redwood National Park, the Tall Trees Grove Loop Trail is a moderately challenging 3.6 miles (5.8 km) hike through the towering redwoods.
On the Tall Trees Trail, you'll experience an elevation gain of 1,600 feet (488 m) and travel down to the Redwood Creek riverbed.
If you are not an avid backpacker, I'd probably skip this hike and opt for one of the easier options.
NOTE: Permits required.
15. Walk at the Lady Bird Johnson Grove in Redwood National Park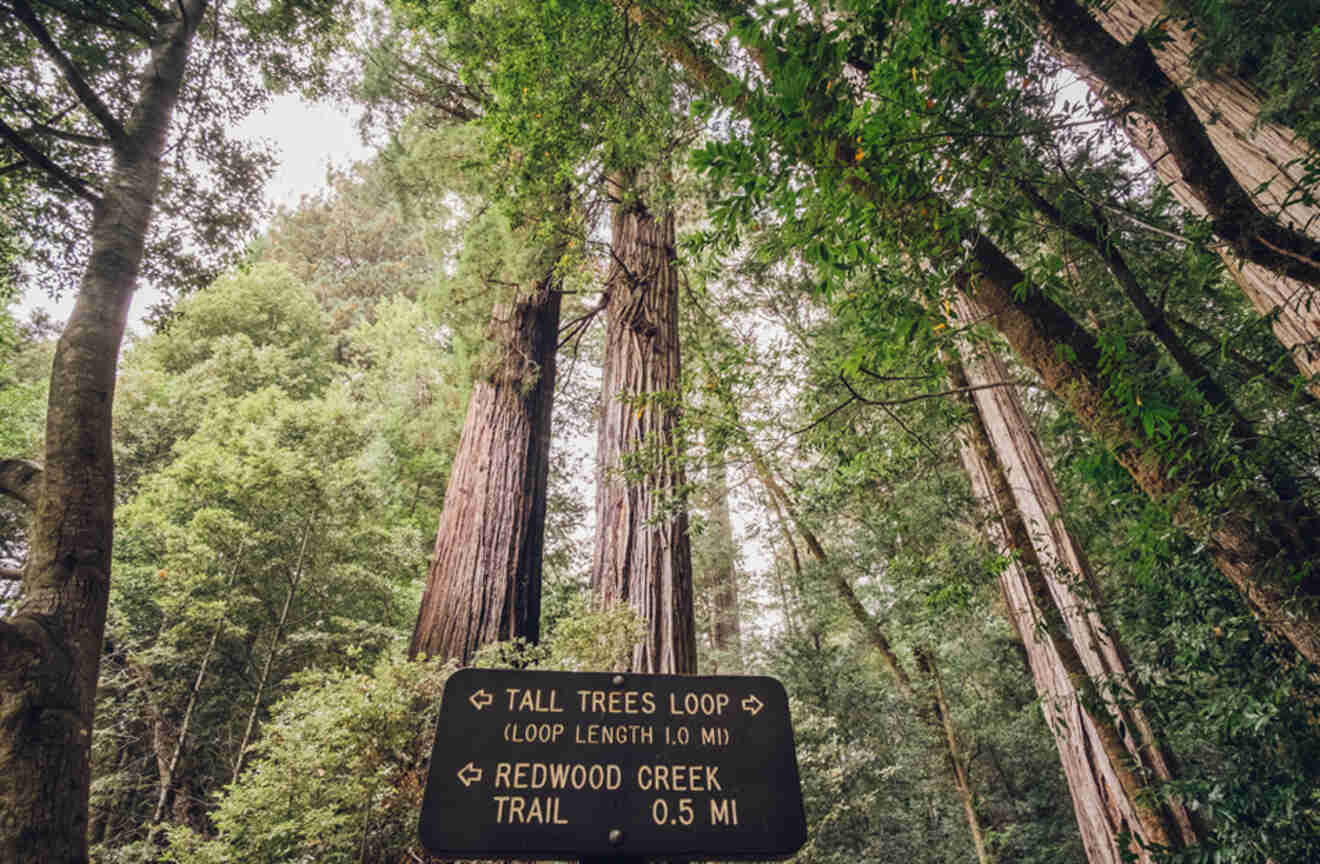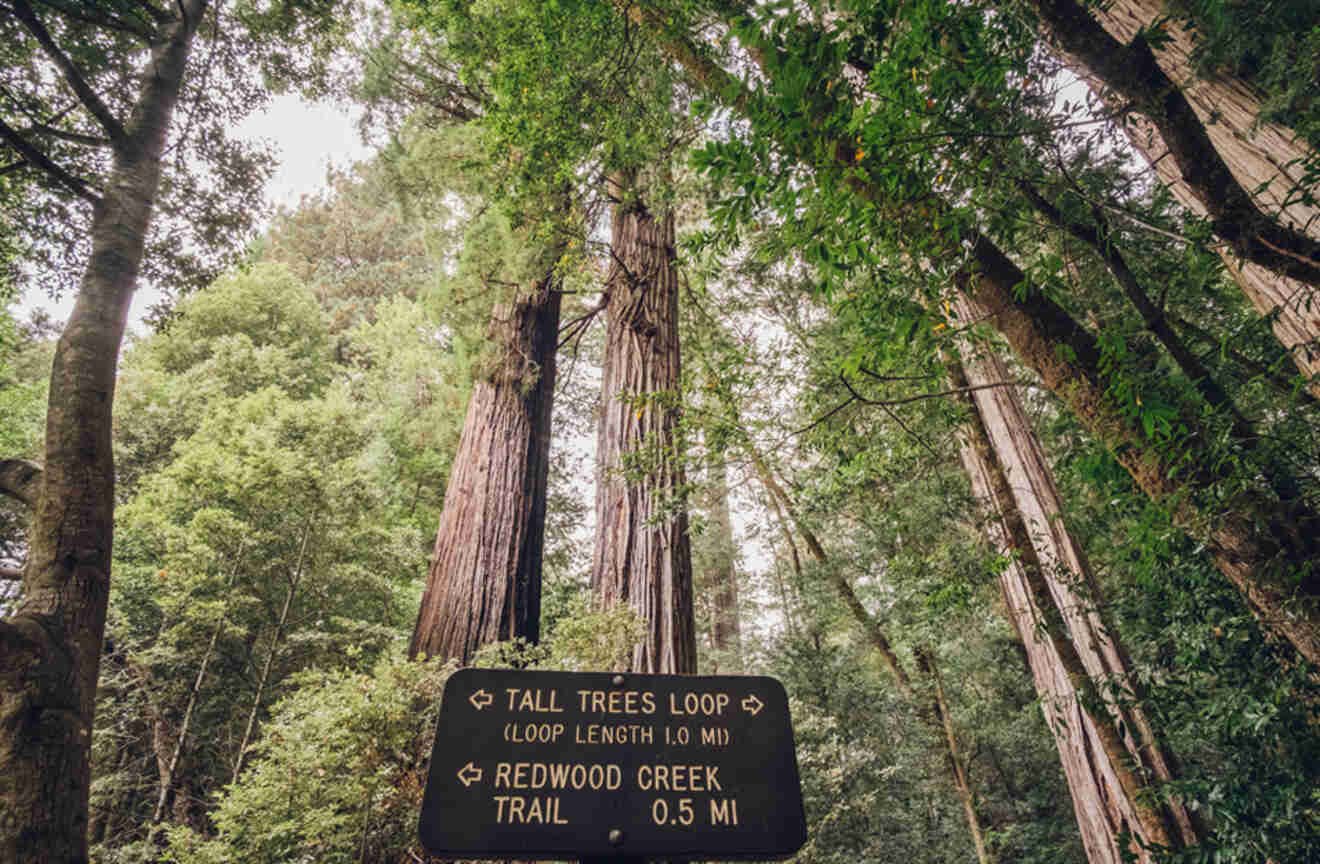 Named for the first lady of our former President Lyndon B. Johnson, Lady Bird Johnson was a huge proponent of conservation efforts and the environment, so Lady Bird Johnson Grove was the perfect dedication to her spirit and progress.
Lady Bird Johnson Grove Trail is off Bald Hills Road in Redwood National Park, covering 1.5 miles (2.4 km) of impressive redwood groves.
This easy hike takes you through the misty forest, moss-covered rocks, and towering trees.
Some of the trees are over 350 feet (107 km) tall, making it even more incredible to see when some of the fallen trees splay across the ground.
16. See the natural beauty of Jedediah Smith Redwoods State Park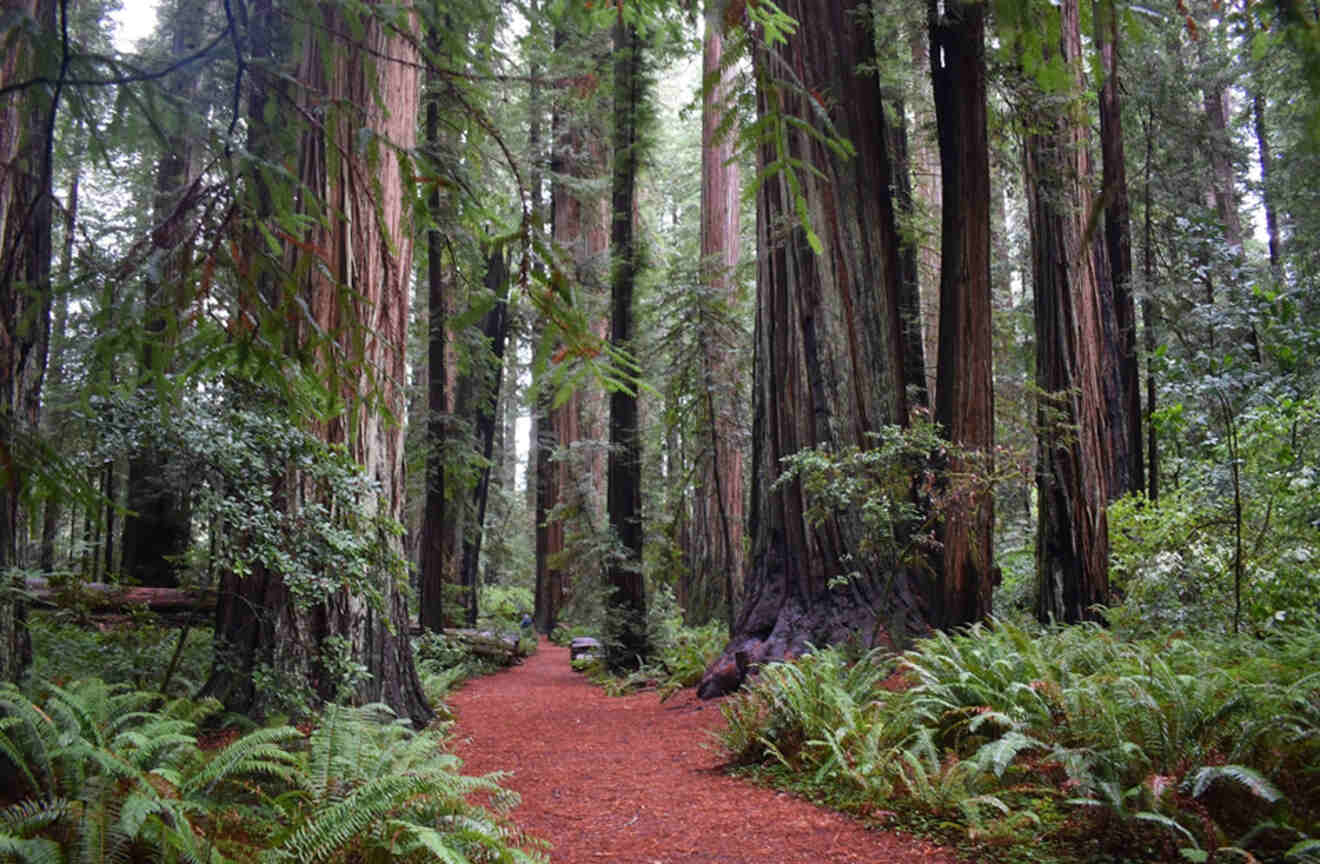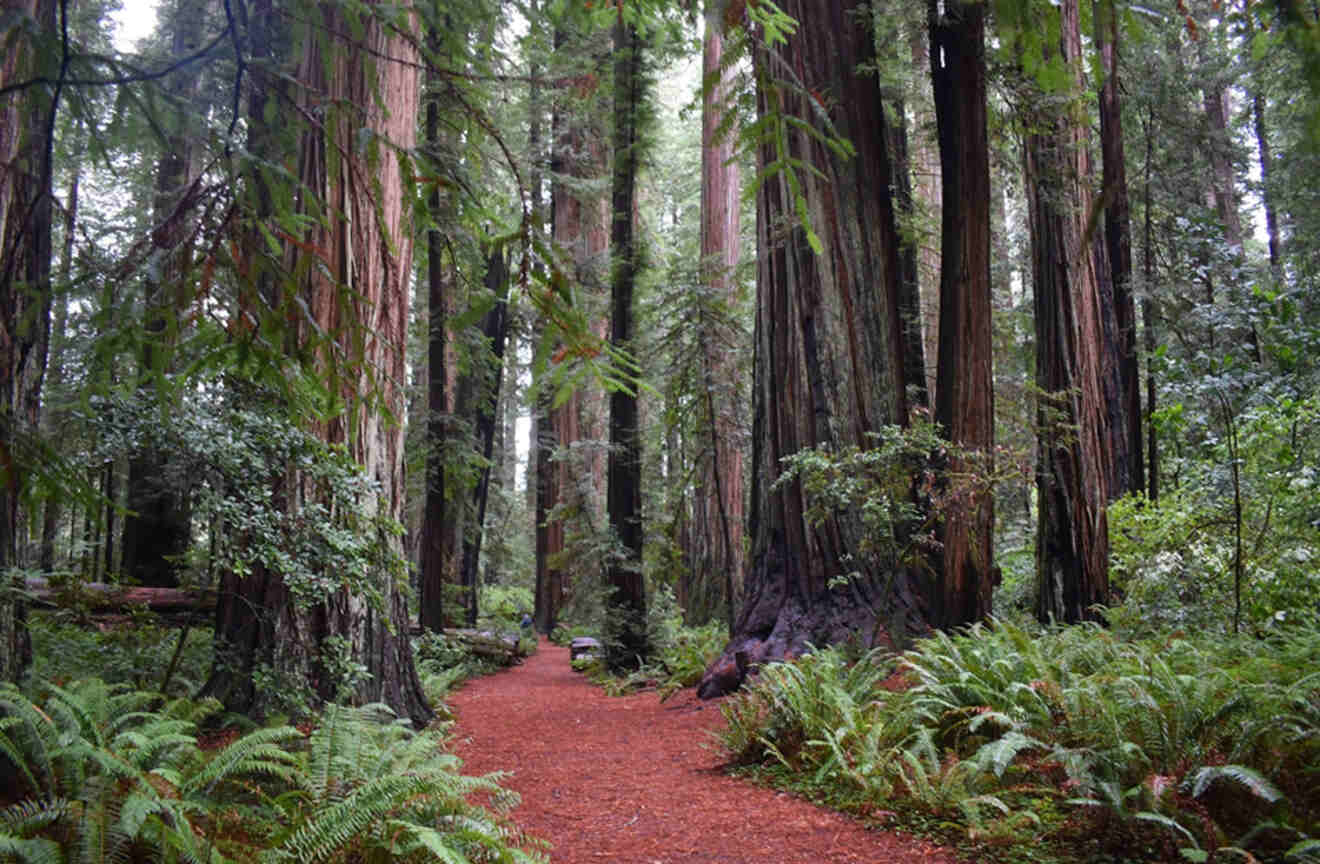 When you arrive at Jedediah Smith Redwoods State Park, I suggest you stop at the visitor center and grab a park map so you can quickly hit your stops. There is a lot you'll want to see!
Within Jedediah Smith Redwoods State Park, you'll want to explore the old growth redwoods, as well as the unique access to the Smith River – opening up a world of activities for you!
I absolutely love to kayak on an ocean or river, so this guided kayaking tour was one of my best memories from the trip! It's fun, scenic, and you get a totally new perspective of the coastal redwoods.
Home to some of the world's largest and oldest redwood trees, including the towering Grove of Titans, Jedediah Smith Redwoods State Park deserves a spot on your list.
TOUR PRICE: Starting at US$15
17. Take on the challenge of Boy Scout Tree Trail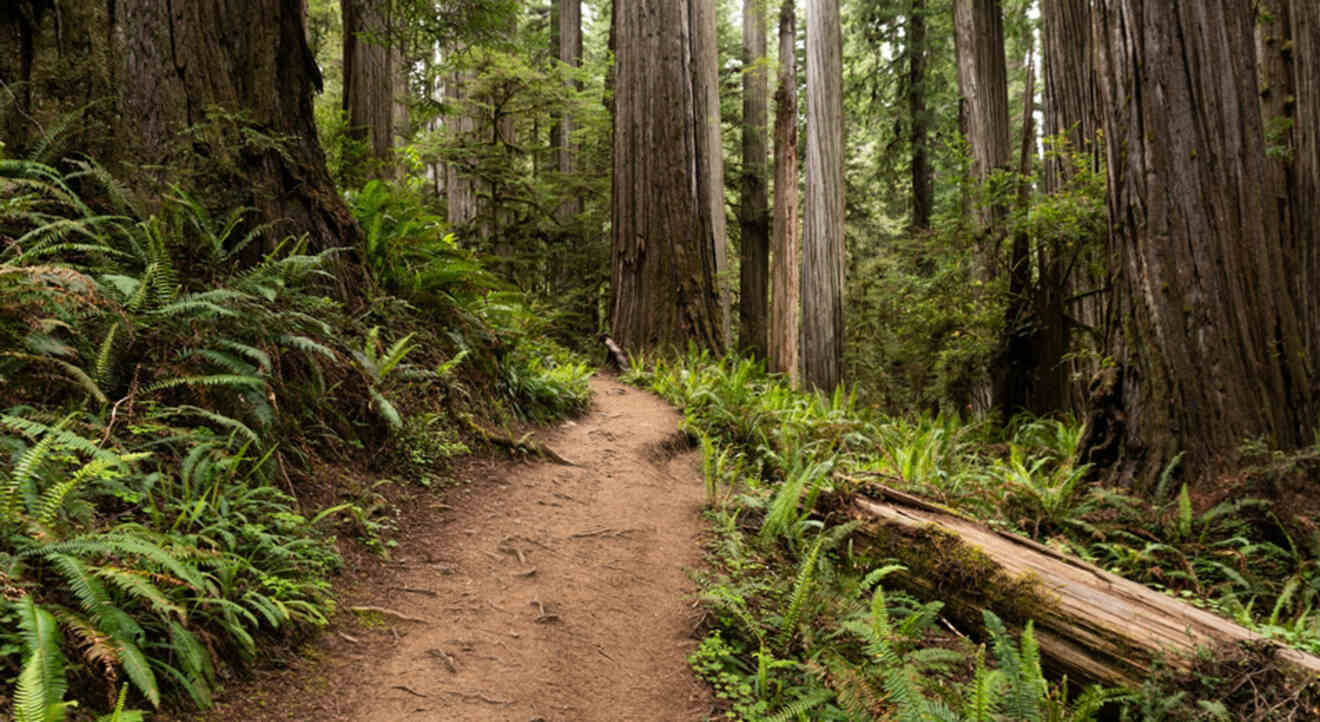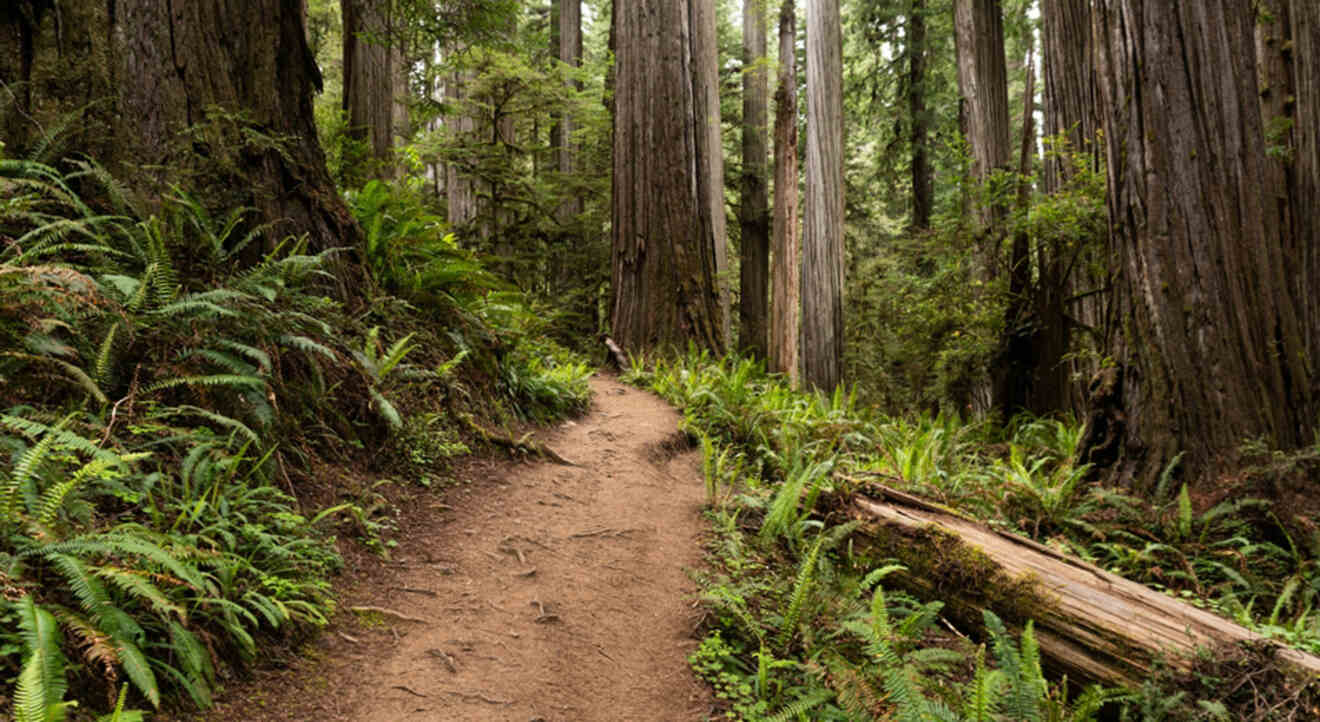 Inside Jedediah Smith Redwoods State Park, you'll find the Boy Scout Tree Trail – 5.2 miles (8.4 km) of challenging terrain and elevation gain.
At the end of the trail, you'll come upon the Boy Scout Tree measuring approximately 270 ft (over 80 m) tall, estimated to be about 1,500 years old!
It's one thing to read how big these trees are, but when you view them in person, you feel so small! It really puts things in perspective.
18. Get inspired on the Stout Grove Trail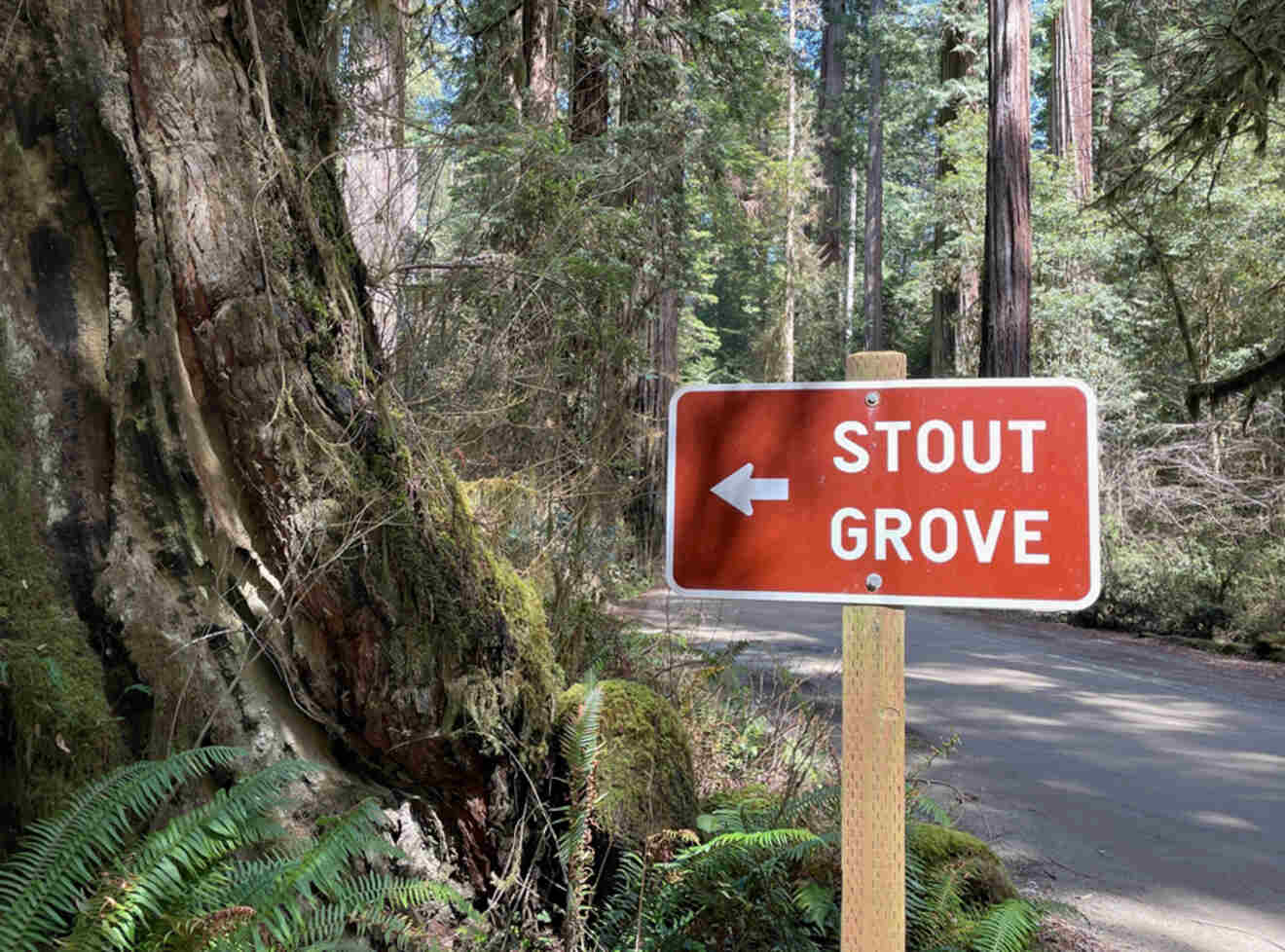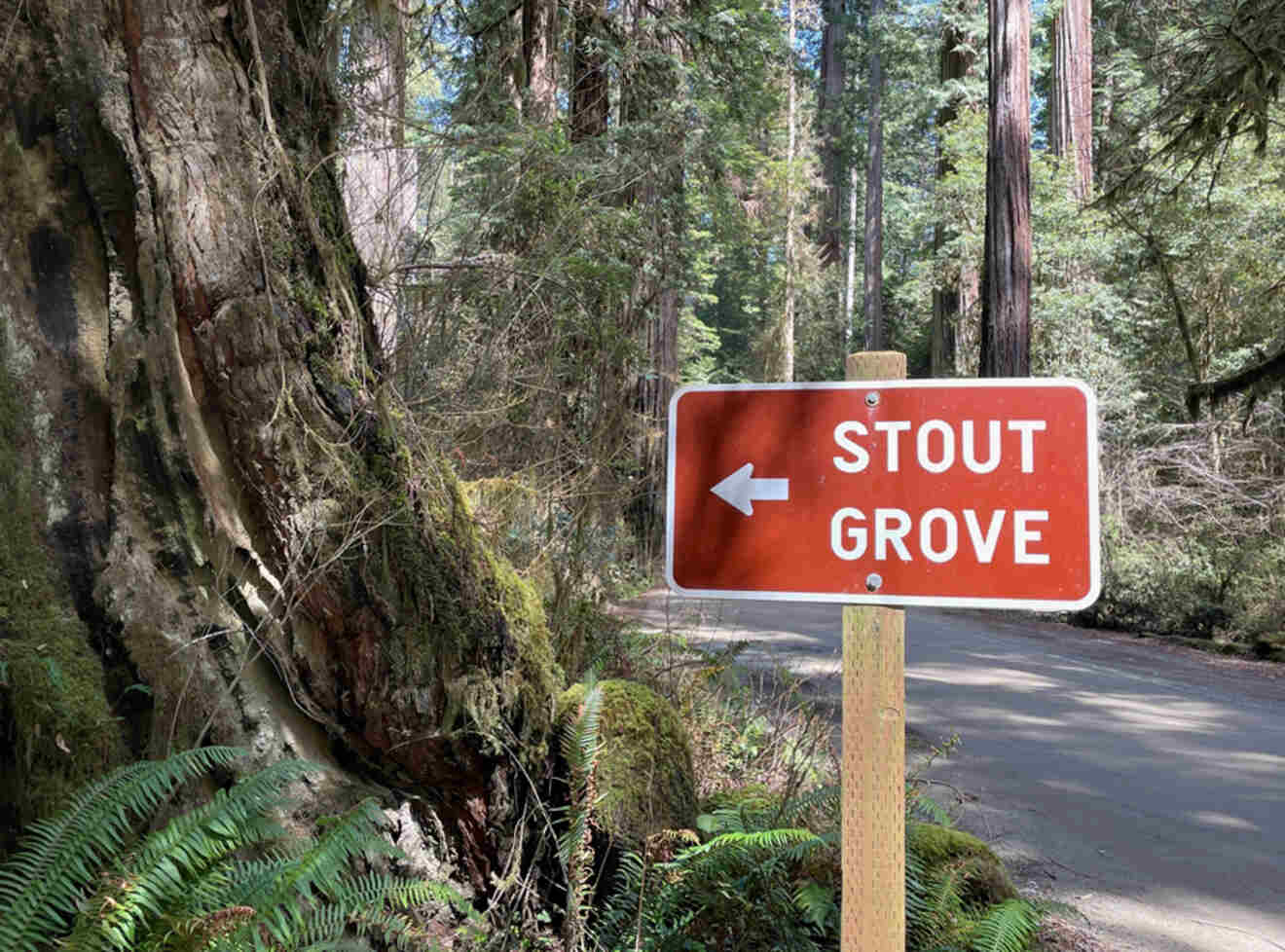 One of the best trails in Jedediah Smith Redwoods State Park, Stout Grove Trail, is an easy hike that makes you feel as if you're deep into the forest, even though you don't have to travel very far!
Stout Grove Loop Trail is approximately 2 miles (3 km) that meanders through the giant redwoods.
I love this trail because anyone can do it, no matter their skill level, and still, be able to enjoy the exquisite beauty of the redwood forest.
PRO TIP: Pair it with Fern Falls and get out to marvel at another stunning waterfall or Mill Creek Trail, which both connect to Stout Grove Trail for a much more challenging route.
19. Take a scenic drive on Howland Hill Road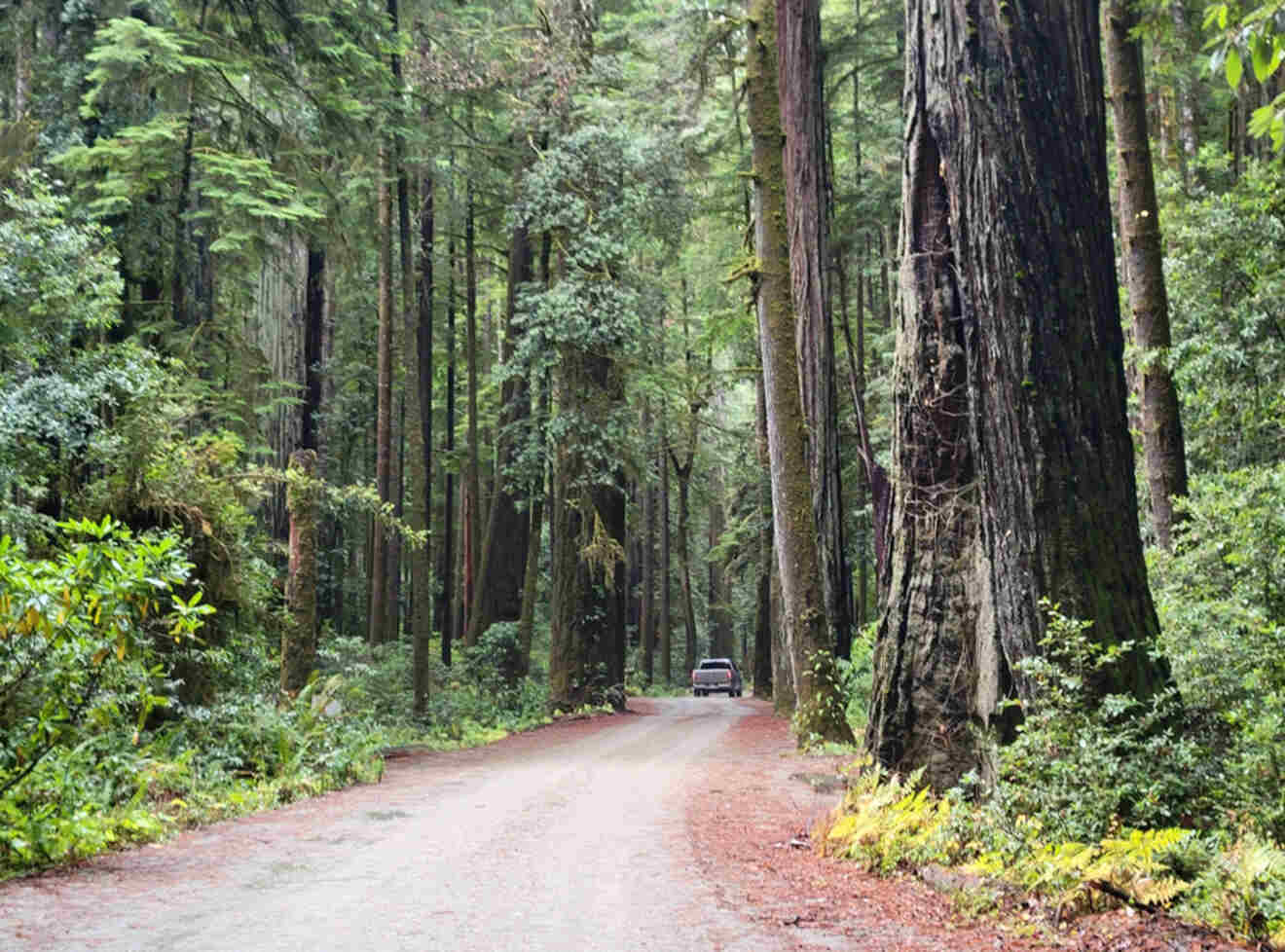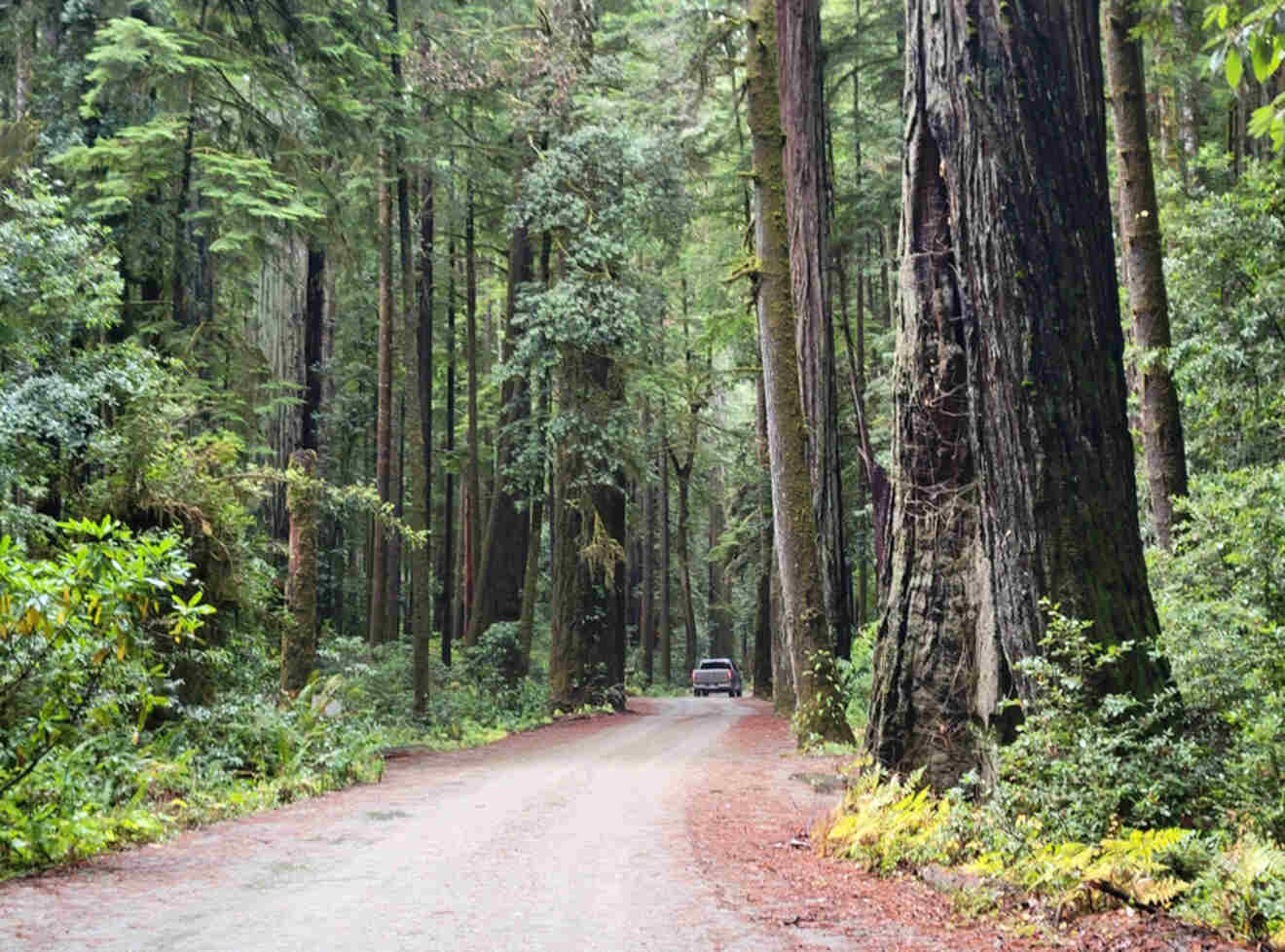 One of my favorite things to do at Redwood National and State Parks is to cruise the scenic byways.
Howland Hill Road is the perfect scenic driving option to put you below the giant redwoods bending over the road.
Howland Hill Road, done right, will take you about 1 hour. The route will take you through stunning redwoods that literally arch over the road, making you feel like you're inside a tunnel. It's SO cool!
20. Take time to explore Del Norte Coast Redwoods State Park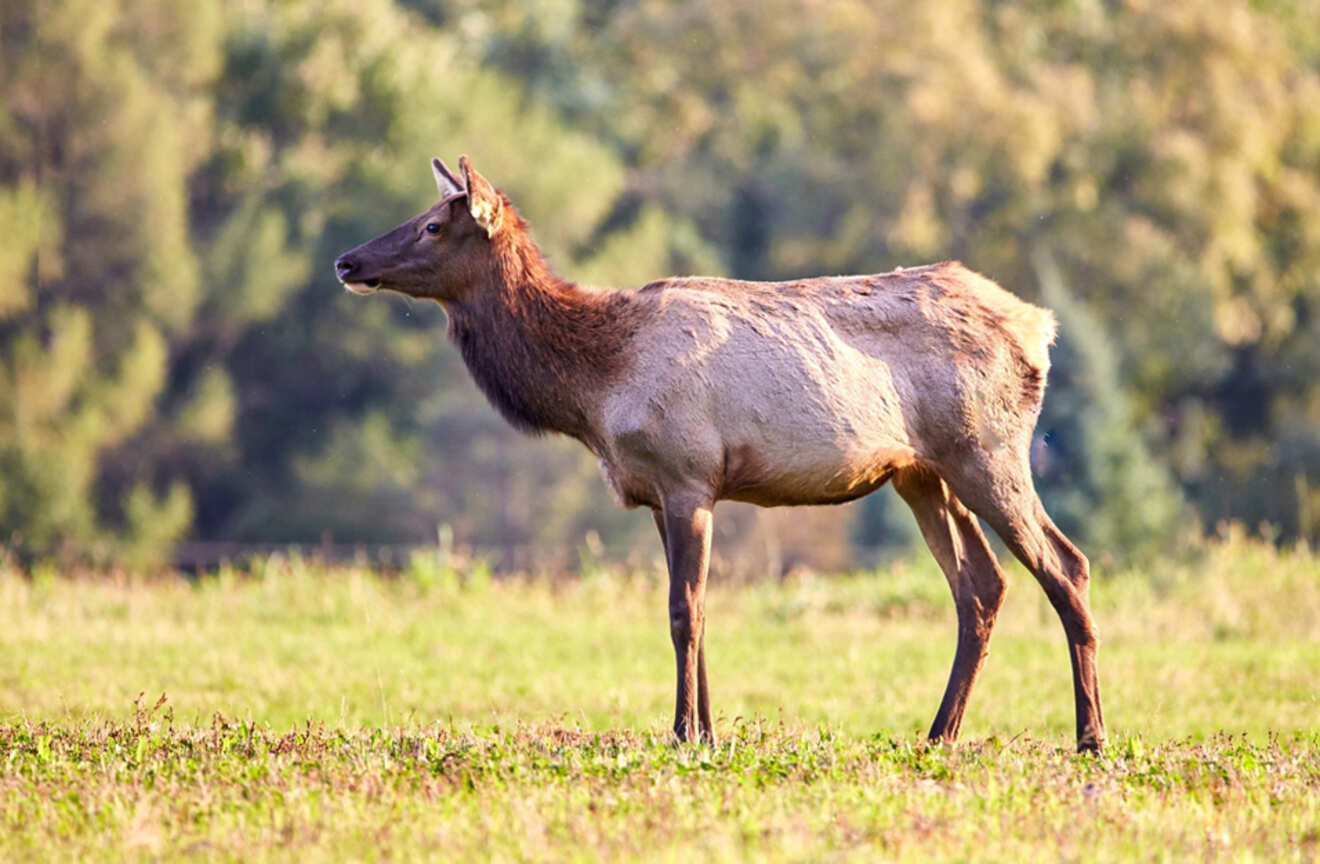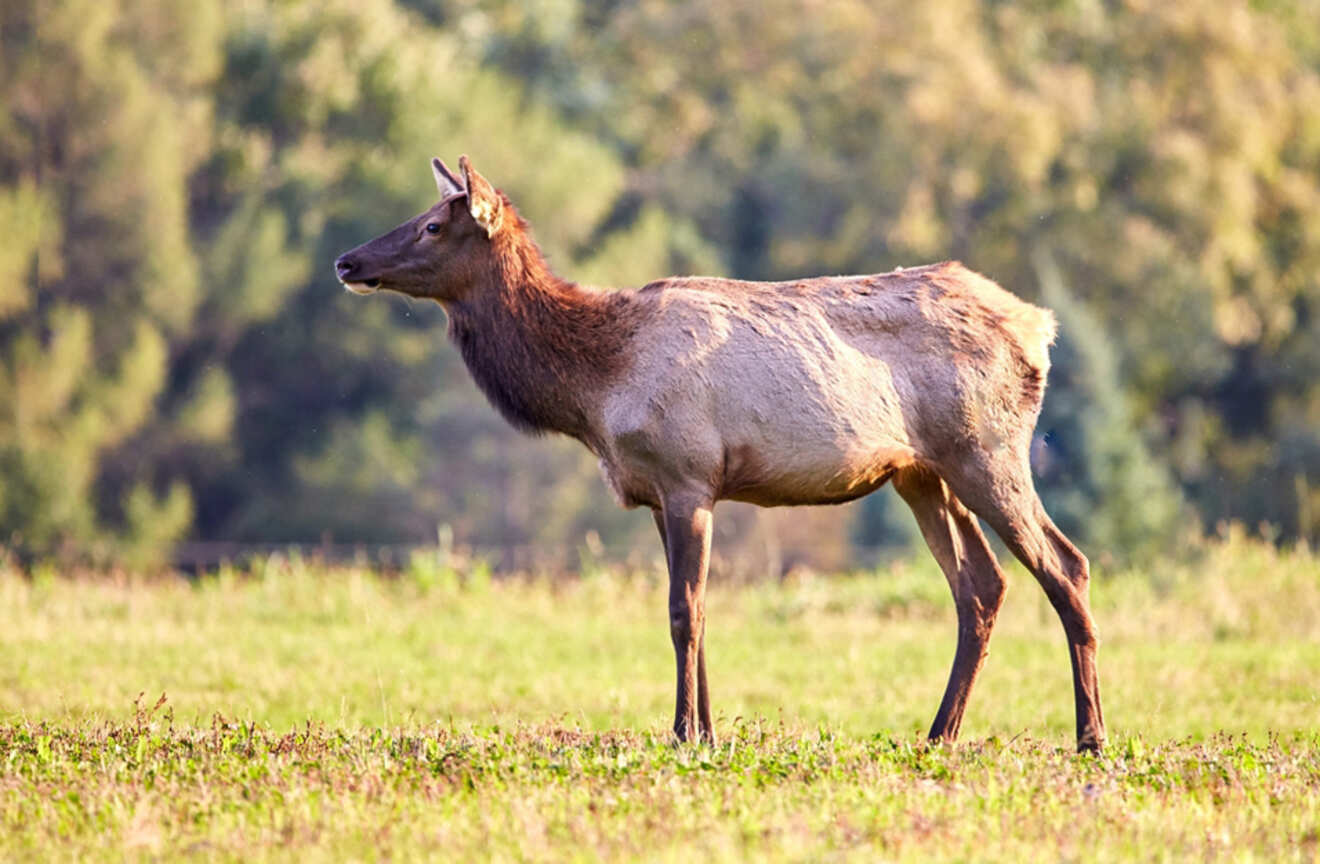 One of the big 4 within Redwood National & State Parks, Del Norte Coast Redwoods State Park is home to some of the tallest trees on Earth, with redwoods reaching heights of over 300 feet (90+ m).
By far, the coolest thing about visiting this state park is the opportunity to spot Roosevelt elk, black bears, and a wide variety of bird species.
The park's coastline features stunning sea walls, tide pools, and sandy beaches – one of my favorite places to explore.
If you want to stay overnight and get a special experience in the park, the Mill Creek Campground is one of my favorite camping spots. It usually stays pretty quiet, even when it's completely booked, and you're sleeping amidst the redwoods and the sounds of nature – it's so special.
21. Soak in the beauty at the Klamath River Overlook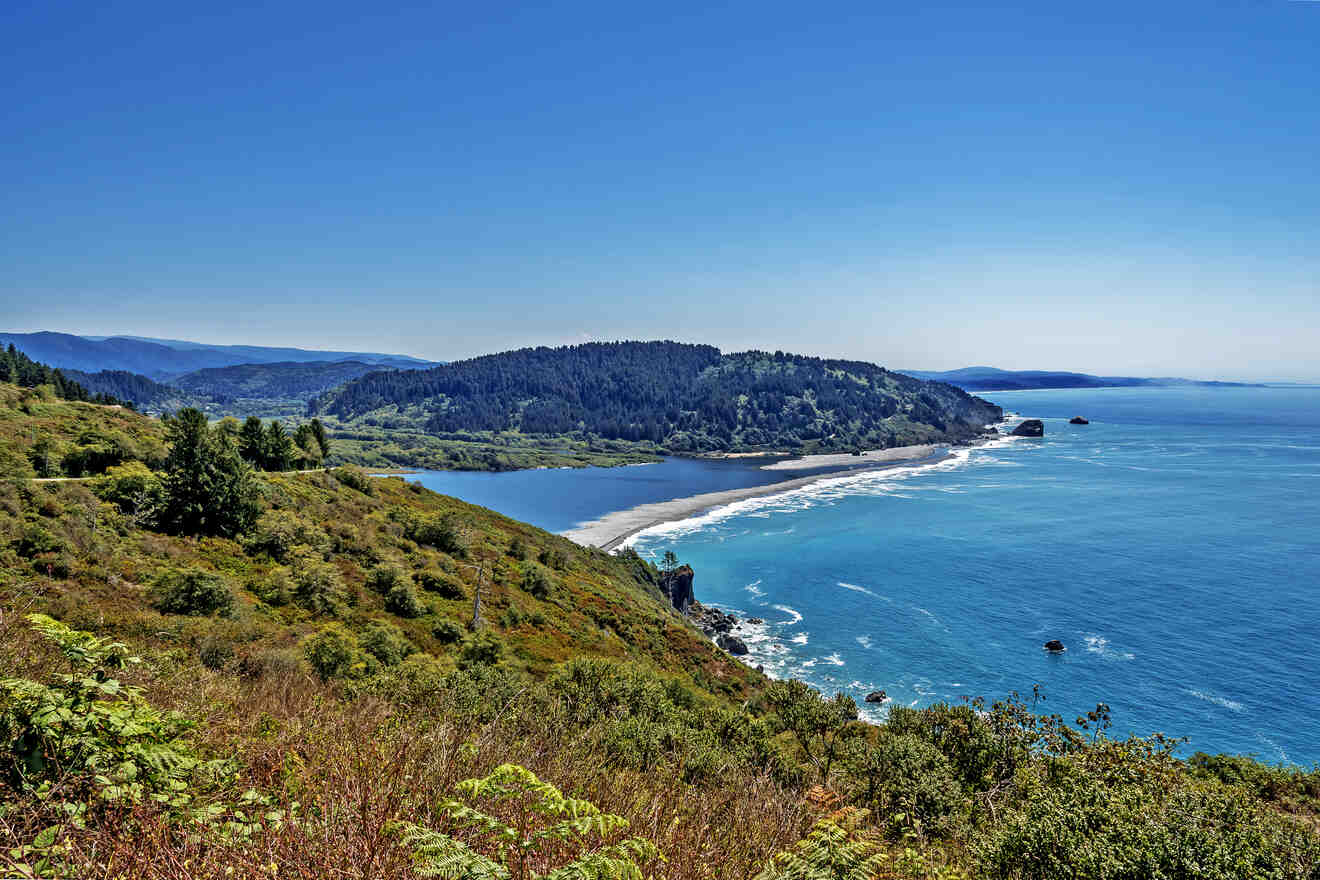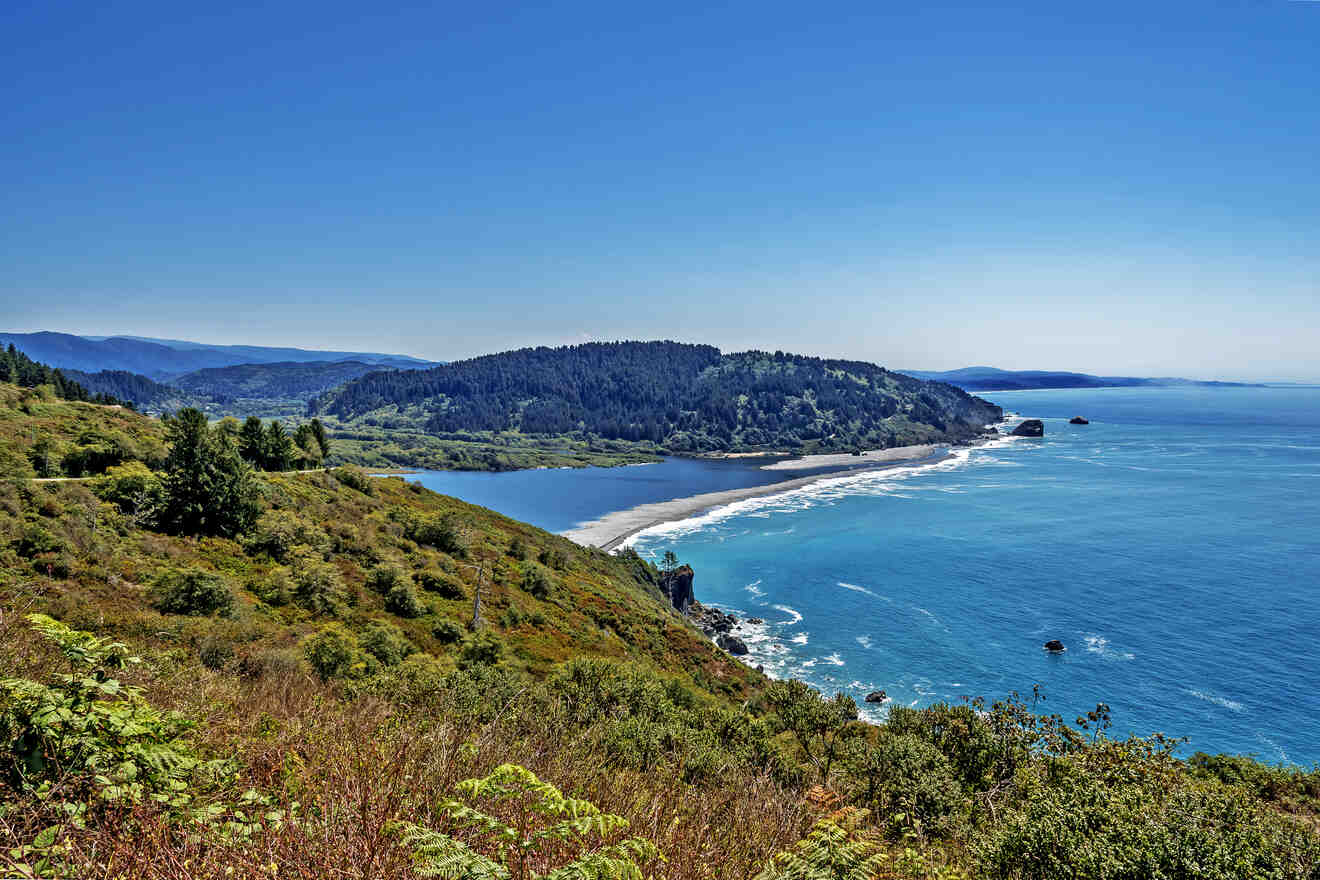 Scenic vistas abound at Redwood National and State Parks, but the Klamath River Overlook is really something special.
Often times overlooks can take you on long, arduous journeys through unmarked paths until you stumble out upon an opening to a gorgeous viewpoint. Not this one, though. Simple, easily accessible, and scenic, Klamath River Overlook is a great option for places to stop.
This 1-mile (1.6 km) out-and-back hike is moderately challenging, but the result is utter perfection. Spot the exact place where the Klamath River flows into the Pacific Ocean, with the coastal redwoods behind. It's so pretty!
22. Set out on a backpacking adventure on the Lost Coast Trail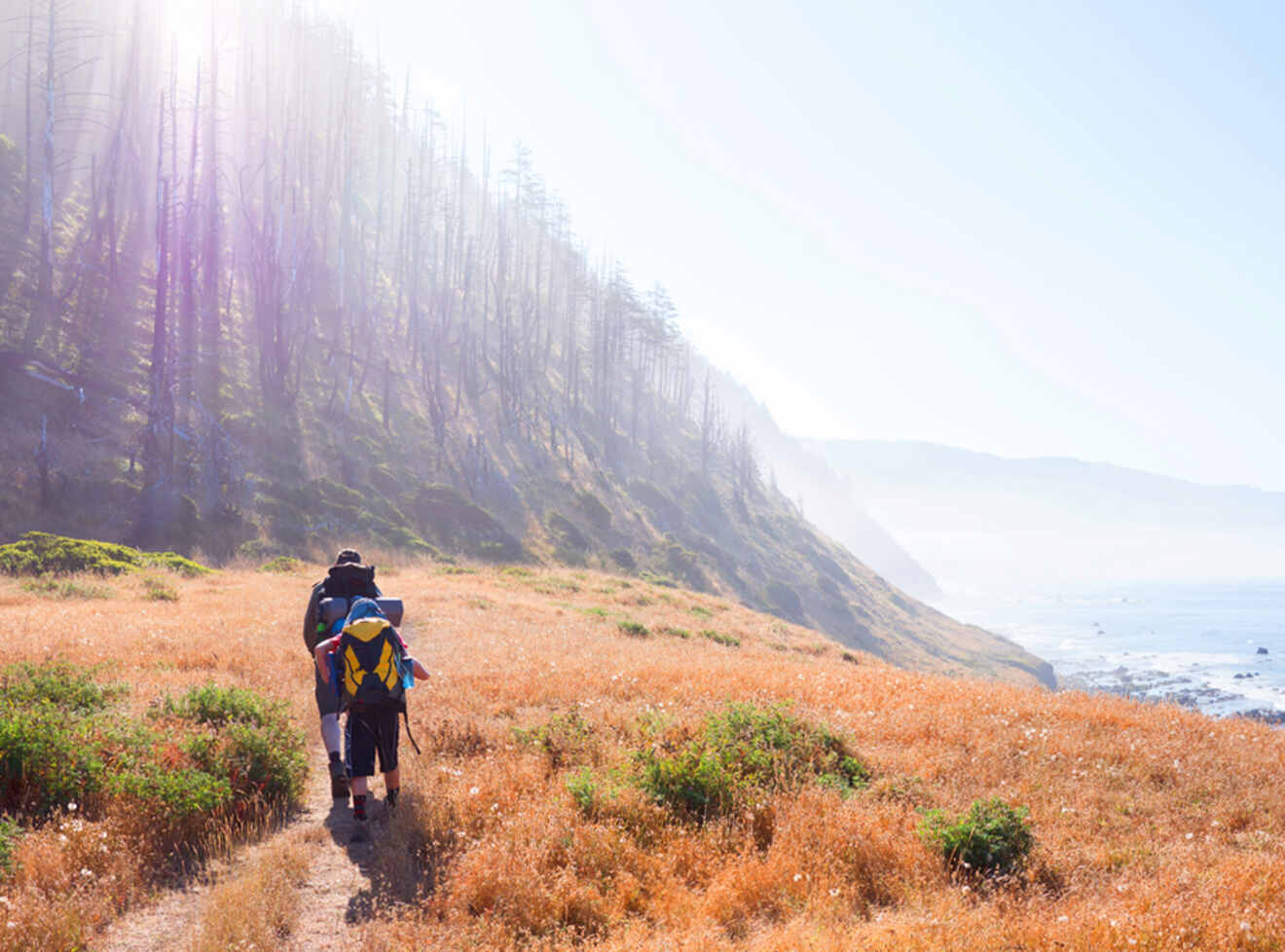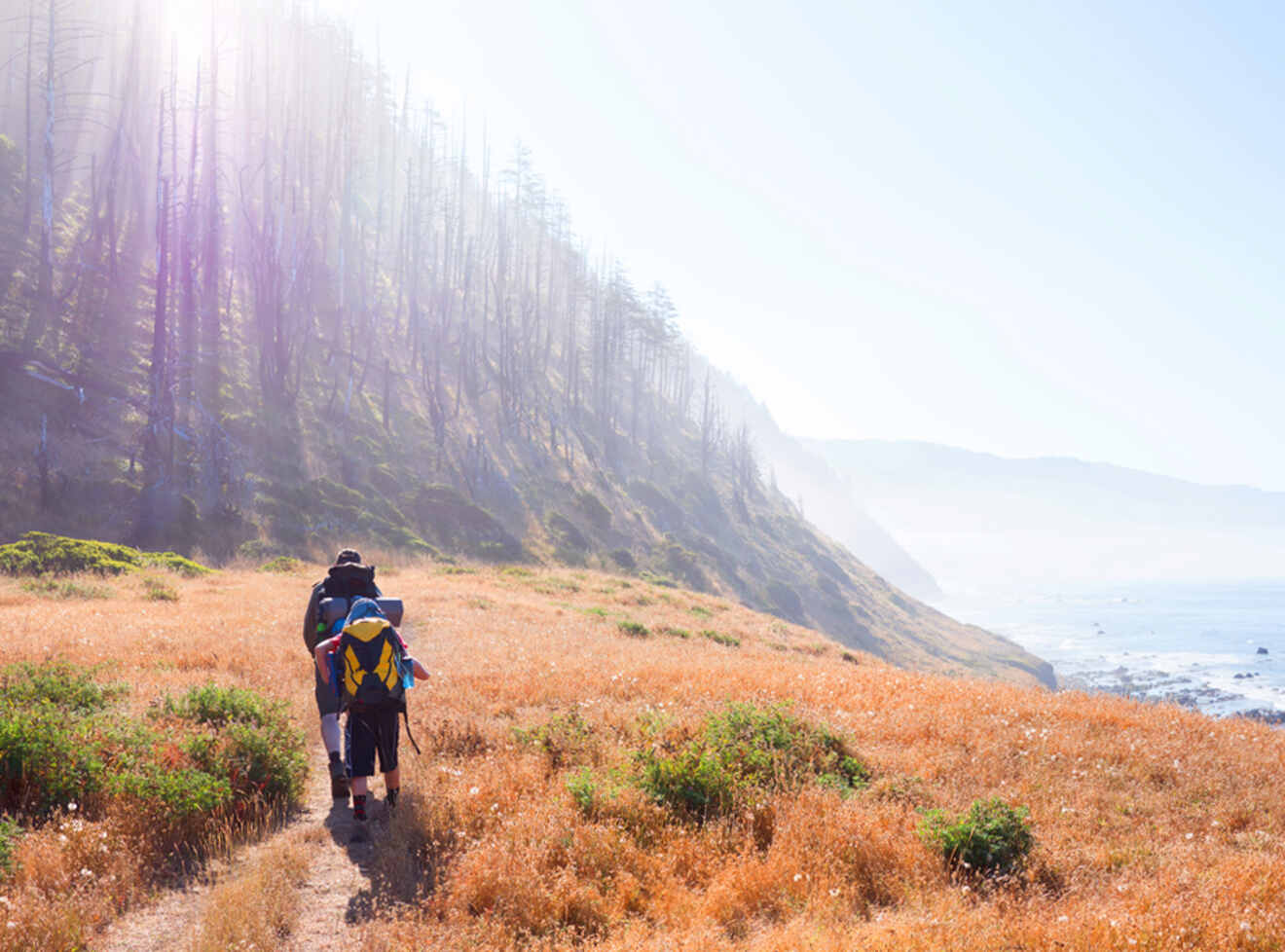 Part of the King Range National Conservation Area, this intensive, challenging trek will take you through coastal bluffs, wind-swept beaches, tide pool areas, and wildlife refuges.
The Lost Coast Trail is a bit more challenging than most of us plan to do during our vacations – even the adventurous ones!
But, stretching from 25 to 55 miles (40 to 88 kilometers) depending on the specific route, the Lost Coast Trail is a bucket list item that an avid adventurer wants to add to their list!
23. Hang out at Humboldt Redwoods State Park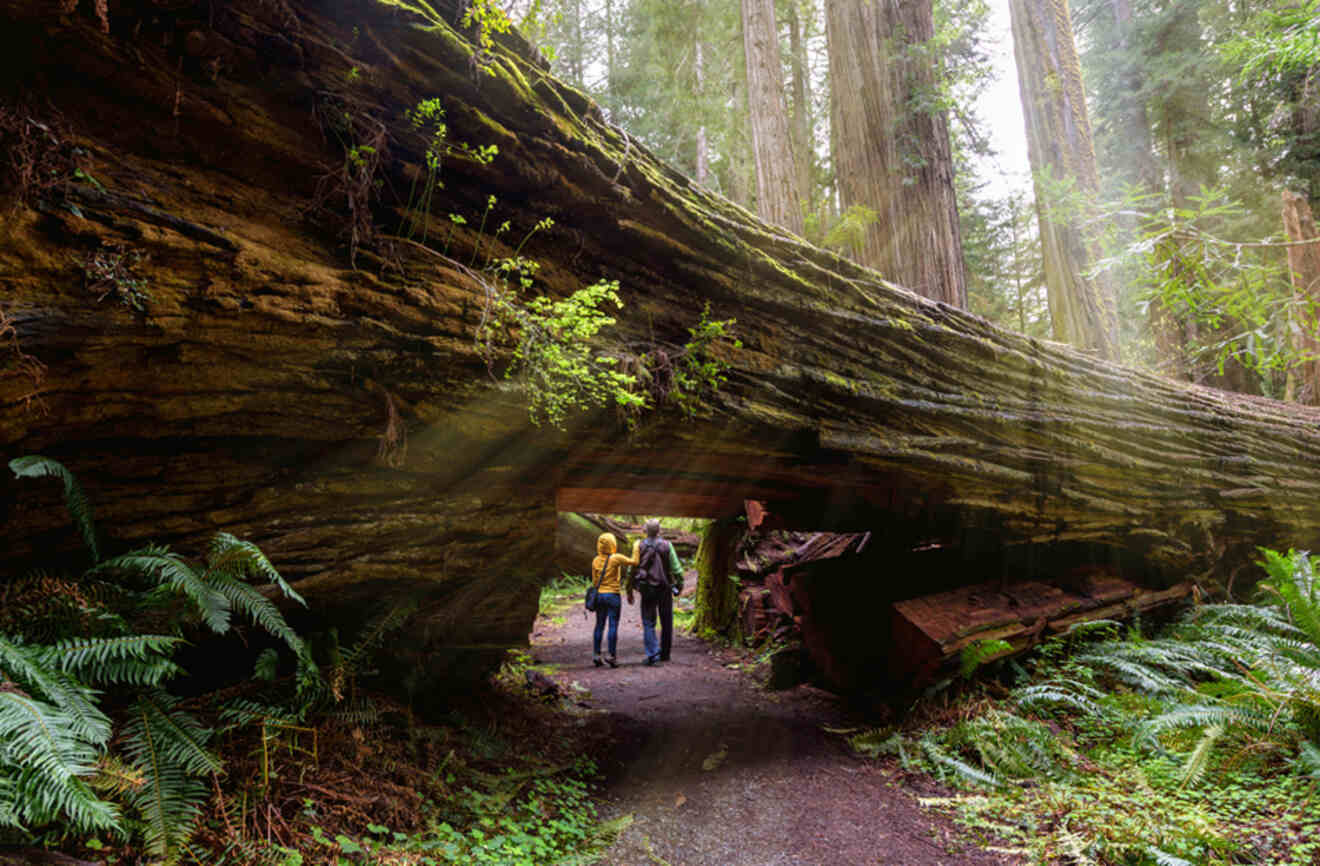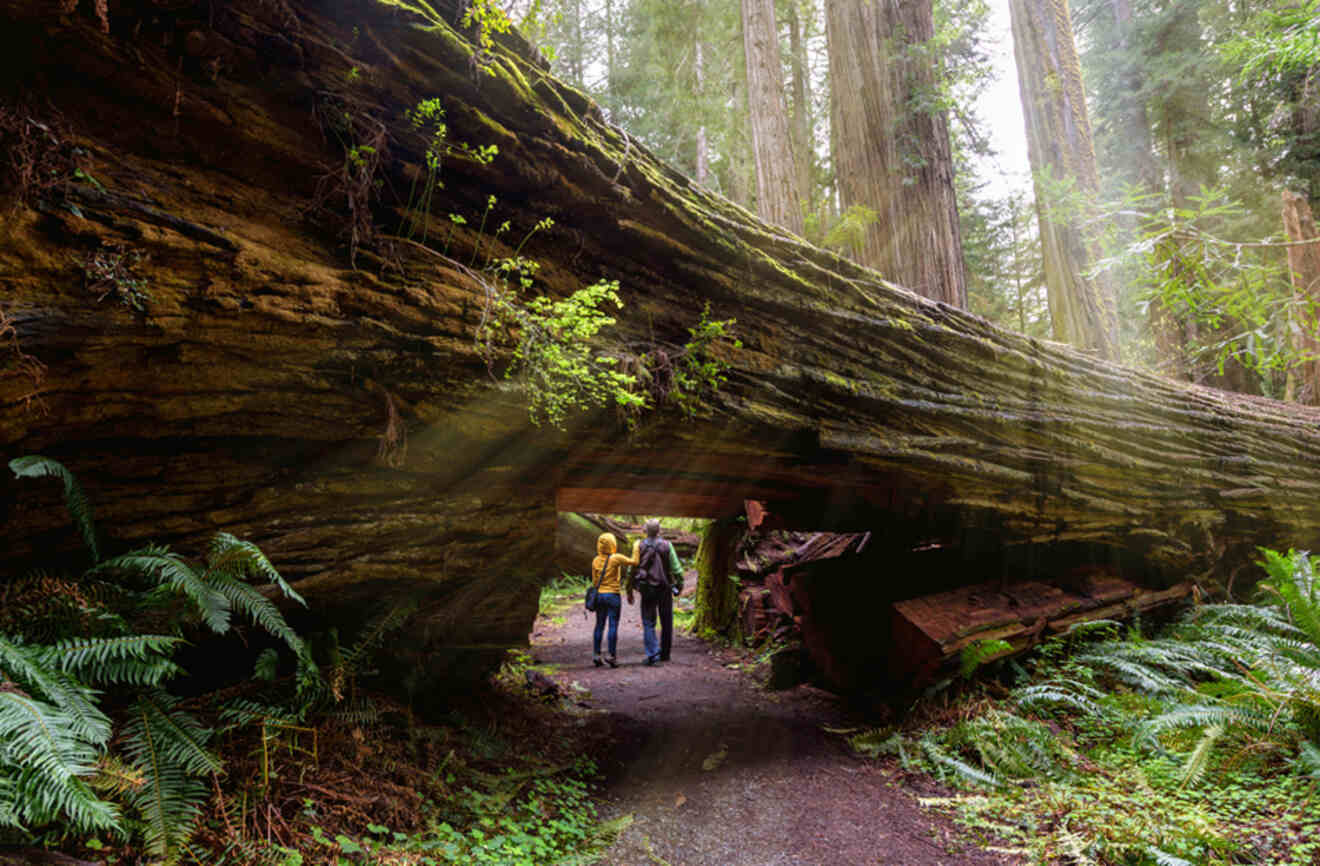 Another absolutely stunning example of old-growth redwood forests and a beautifully conserved land and wildlife sanctuary – Humboldt Redwoods State Park spans over 53,000 acres (21,450 hectares) of pristine habitats for local wildlife and ancient redwoods.
Two of my favorite hikes in Humboldt Redwoods State Park are Founder's Grove Nature Trail and Rockefeller Loop Trail.
The Founder's Grove Nature Trail is such a beautiful, easy, serene 0.5-mile (1.3 km) walk through gorgeous redwoods and well-trodden red-dirt pathways.
The Rockefeller Loop Trail is a similarly peaceful and easy stroll of 0.5 miles (1 km) through the redwood forest.
Where to stay in Redwood National Park
When you're visiting Redwood National and State Parks, you'll typically be staying in one of 4 towns outside the parks. See below for my top picks for every budget within a reasonable distance of the attractions, with prices ranging from US$200 to US$300 and above.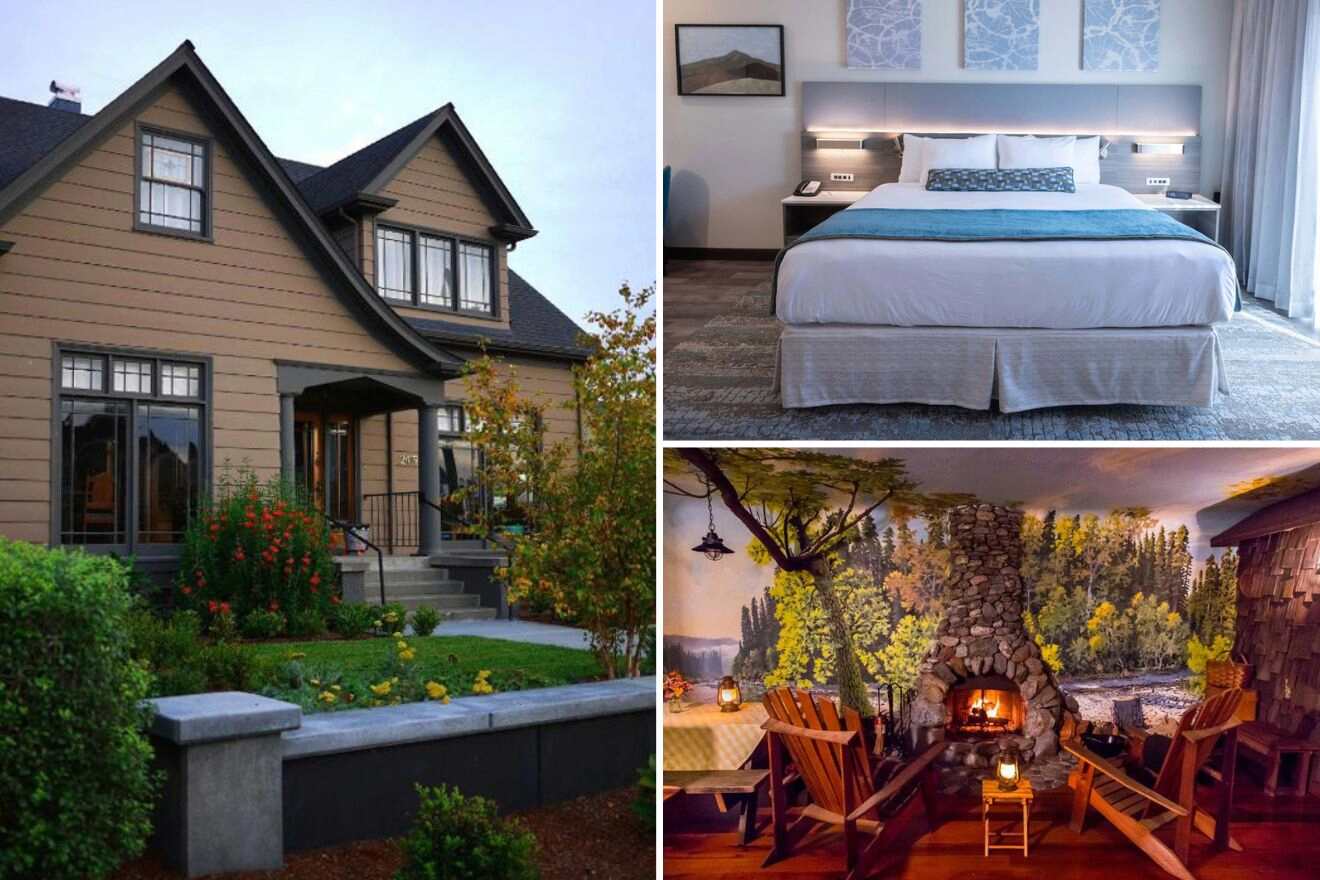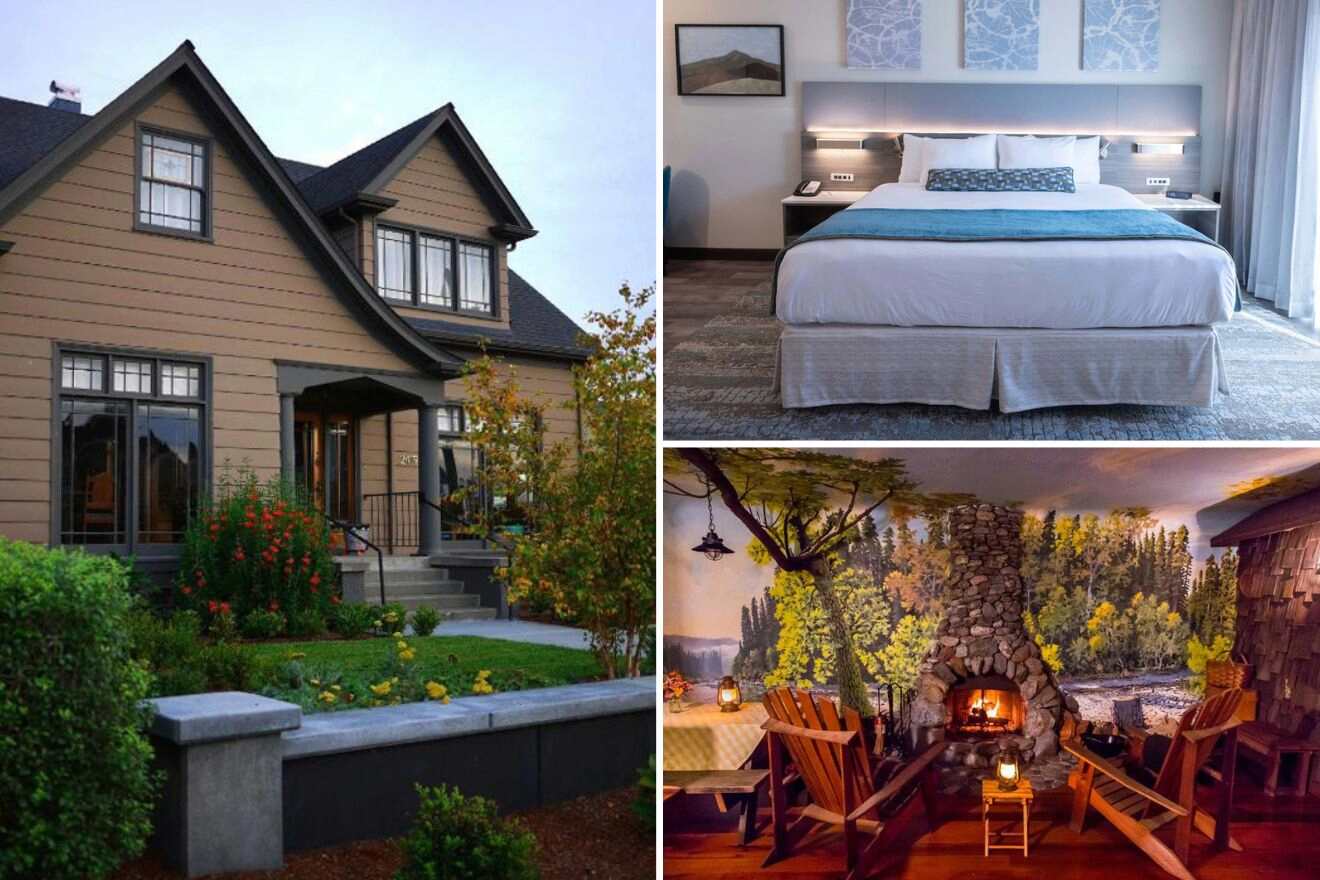 Luxury (US$300 and up)
Hydrangea Inn – Located in Eureka, about 30 minutes drive from Klamath River, this adorable inn is a historic 1930s home with tons of character and gorgeous, detailed design. The rooms themselves are historically decorated with loads of charm.
Hampton Inn & Suites Arcata – Comfortable, spacious, and clean, this option puts you in Arcata, close to the parks. Options for suites with full kitchen and laundry facilities make your trip even easier.
Mid-Range (US$225 – US$300)
The Front Porch Hidden Oasis – Oh my goodness, this place is all charm! You definitely want to stay at this cute and eclectic cottage with fairy lights, bright paint, private patios, and a hot tub! I might just have to book a return trip to stay at this spot again!
Shiraz Boutique B&B – Located in Crescent City, this beautiful budget option is actually an old historic home turned B&B, with Wi-Fi, air-conditioning, and private bathrooms. They also provide American breakfast options.
Budget (up to US$225)
Bluelake Casino & Hotel – Situated in Arcata, near Humboldt University, this hotel is modern, clean, and comfortable, with great amenities and an on-site casino. If you need someplace lively and convenient, this is it.
Whale View Haven – This stunning Airbnb option stands out for its epic views, classy decor, and comfortable layout. It sleeps 8 and contains 5 bathrooms, a Pacific Ocean view, and great access to Crescent City for dinner or activities.
Practical information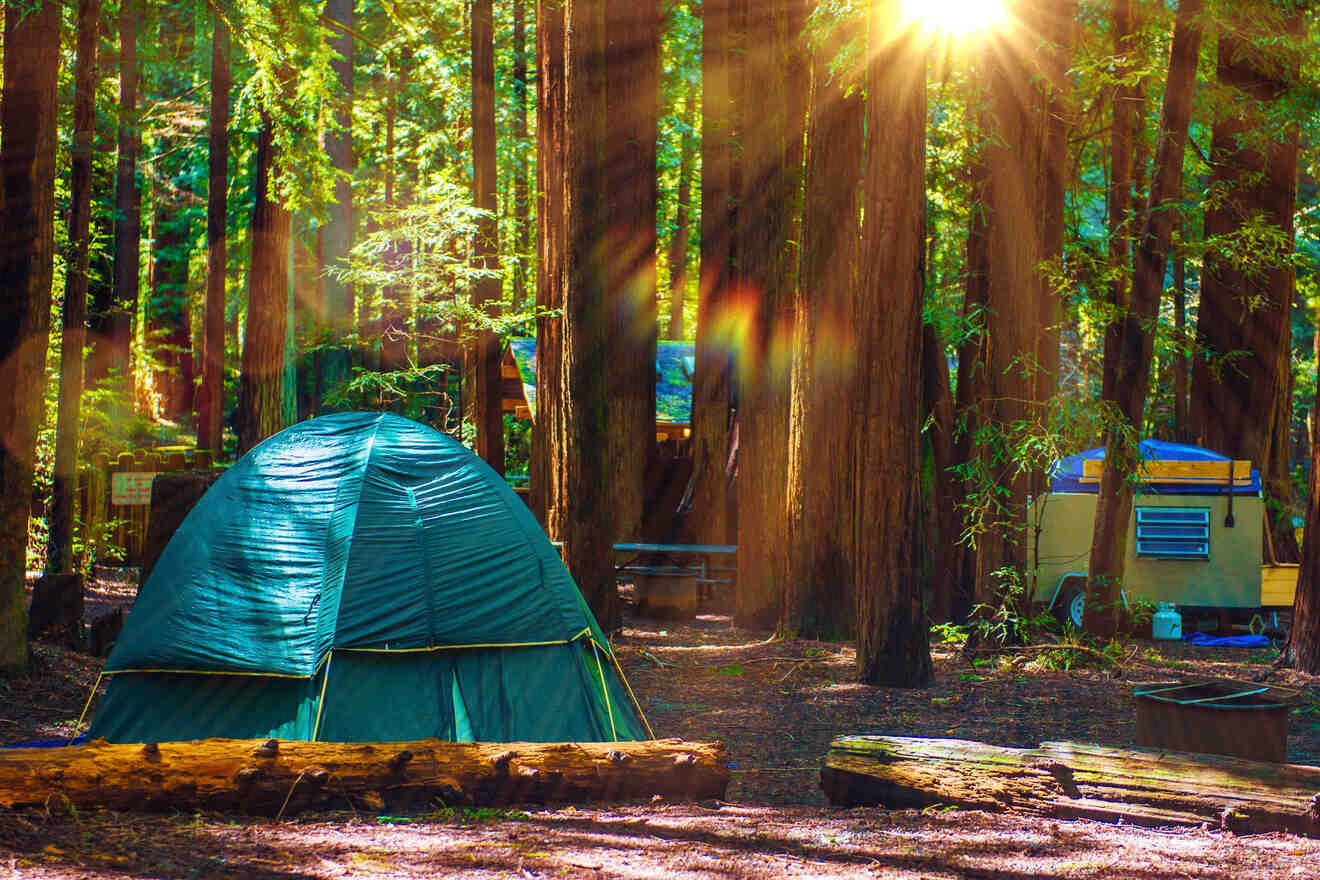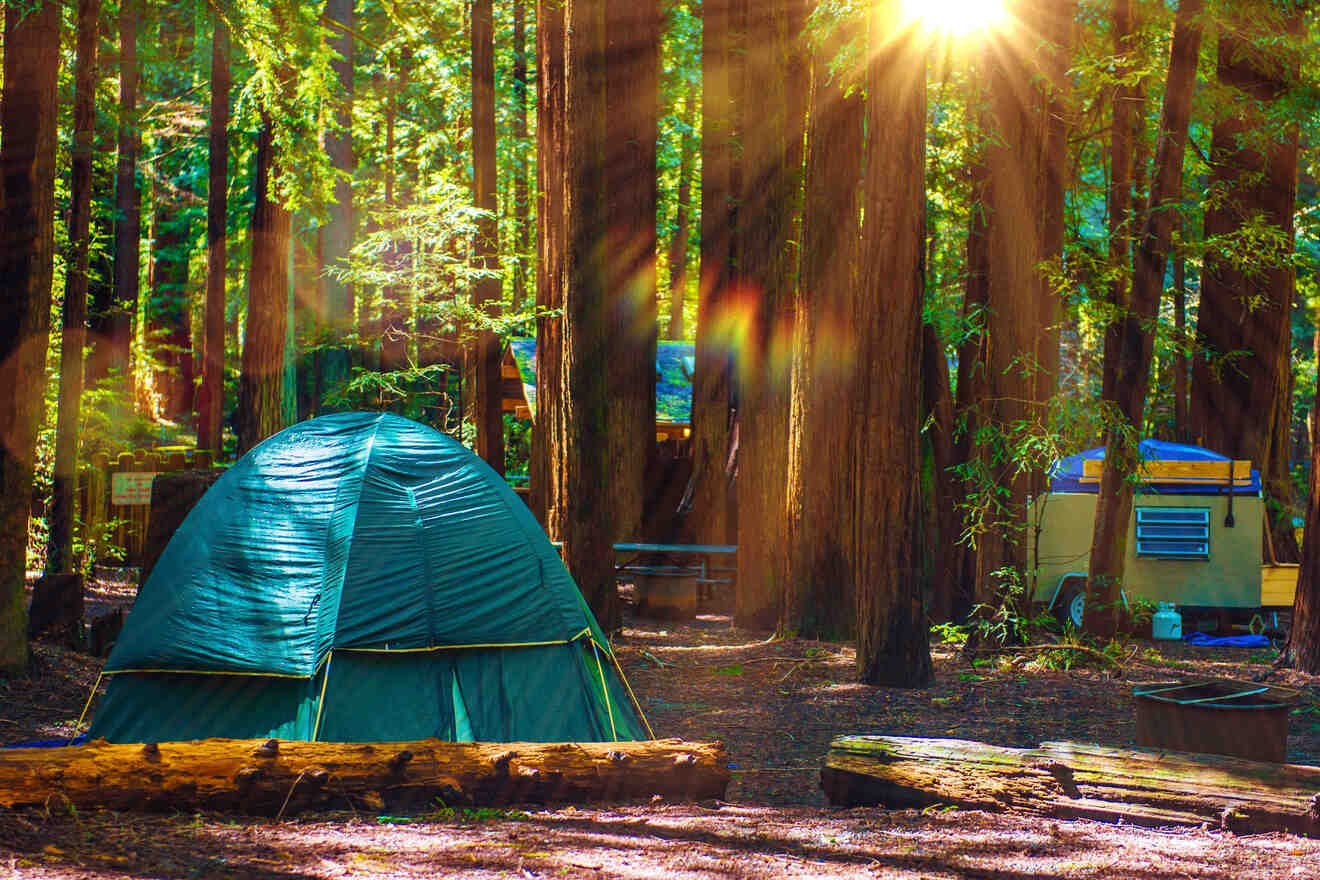 When visiting Redwood National Park, you'll want to be well-prepared for your adventure ahead. Please see below for some valuable information to help set your expectations for the park conditions.
Visitor centers
At each park, you'll find a visitor center.
This is where you can obtain hiking permits, ask park rangers for advice on the best trails for your athletic level or time constraints, enjoy the local exhibits on the flora & fauna, or simply – use the restroom facilities!
Transportation & parking
Here is what you should be aware of in terms of transportation and parking:
It is advisable to have your own vehicle when visiting the parks. If you cannot bring your own, you can always rent one through Rentalcars.
There is a shuttle service during the high peak spring and summer months, but keep in mind they can get quite busy. You may have to wait for multiple shuttles before there is room for you to hop on.
Almost every trailhead, attraction, and visitor center has free, limited parking available.
Admission fees
Here's a breakdown of all fees:
Private Vehicle (valid for 7 days): US$35, valid for all vehicle passengers
Motorcycle (valid for 7 days): US$30, valid for all motorcycle passengers
Individual (pedestrian/bicycle): US$20, valid for 7 days
Redwood Annual Pass: US$55
America the Beautiful – National Parks and Federal Recreational Lands Pass: US$80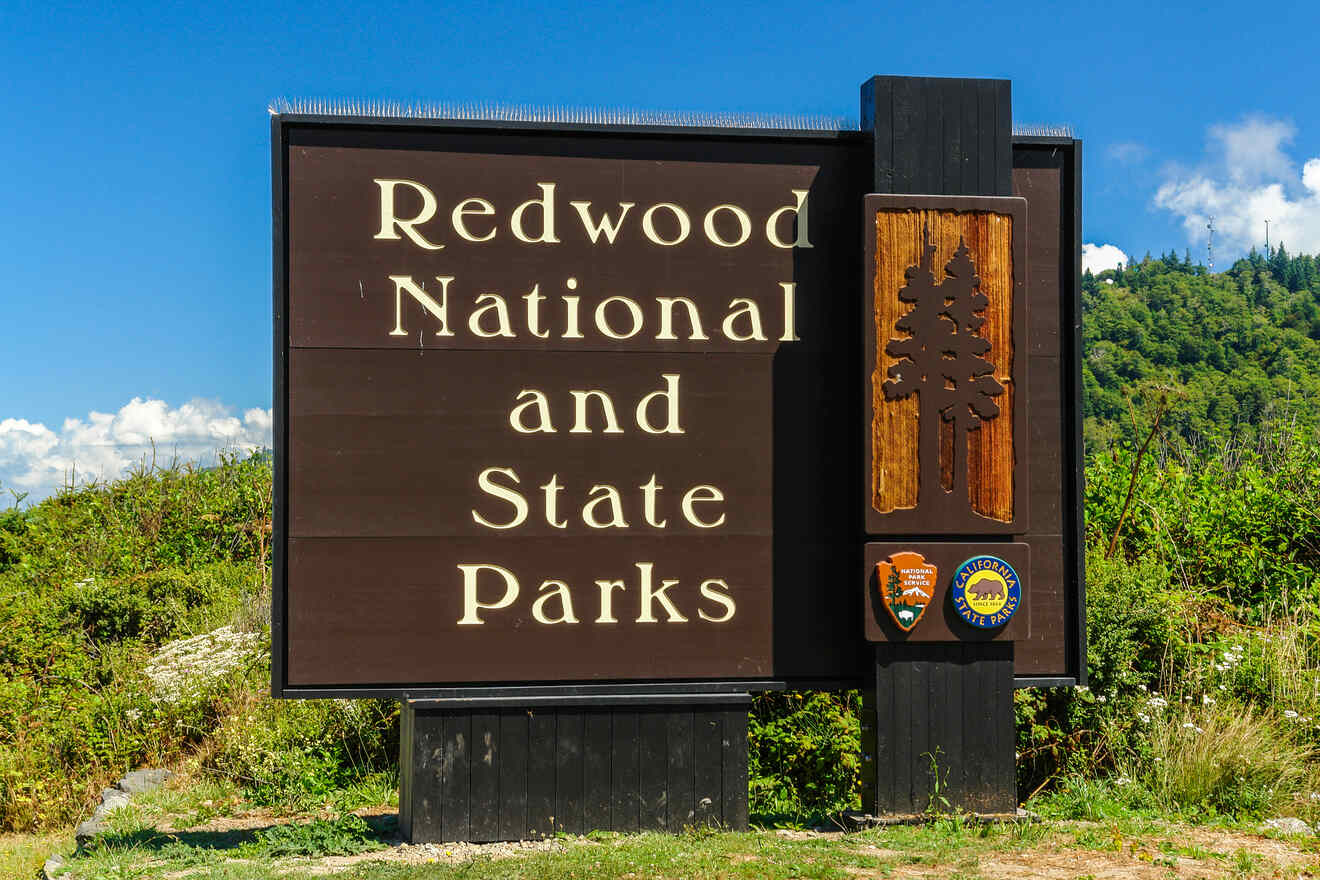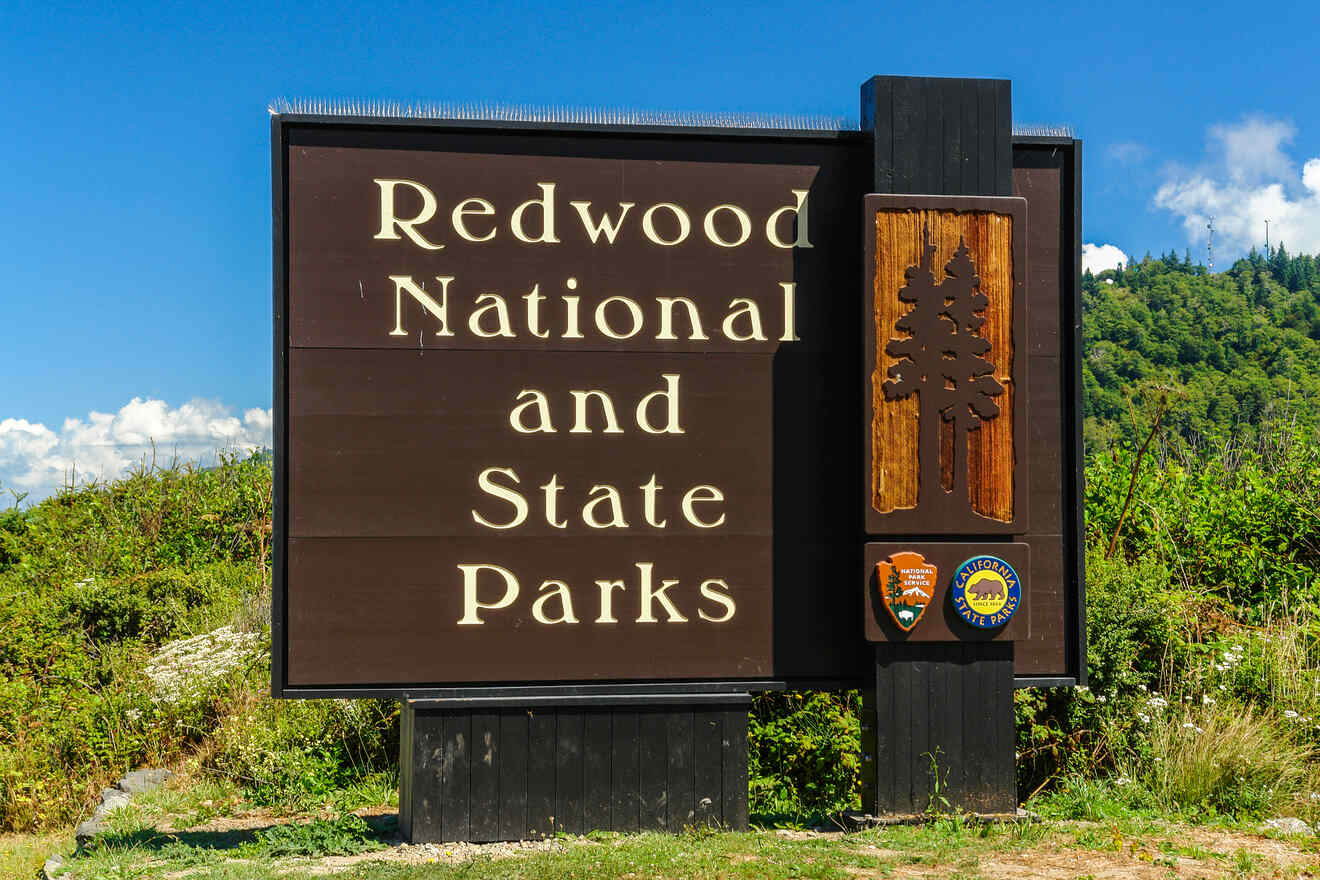 Appropriate attire
Always remember these things:
Layered clothing – The park's temperature fluctuates greatly from day to night
Sturdy footwear – There is uneven terrain, rocks, and gravel
Rain gear – Be prepared with a rain jacket and change of socks
Mosquito repellent – Especially in the summertime, you'll want protection
Hiking socks – Keep you dry and cool and your feet comfortable
Backpack – Make sure you pack in what you need
Water bottle – Super important in any weather conditions
Binoculars and camera – It's always great to savor your memories
Seasonal gear – winter time may call for hiking poles, whereas summertime, a good hat
Safety
It's important to be safe at all times, so:
Stay on designated trails
Beware of wildlife and do not approach
Always check weather conditions
NEVER hike without informing someone where you will be
Carry a basic First-Aid kit in your backpack
Keep in mind that cell phone coverage is limited
Take fire safety precautions if you plan on having a campfire
Save any emergency contact information
Pack in/pack out – don't leave anything on the trail
FAQs about things to do in Redwood National Park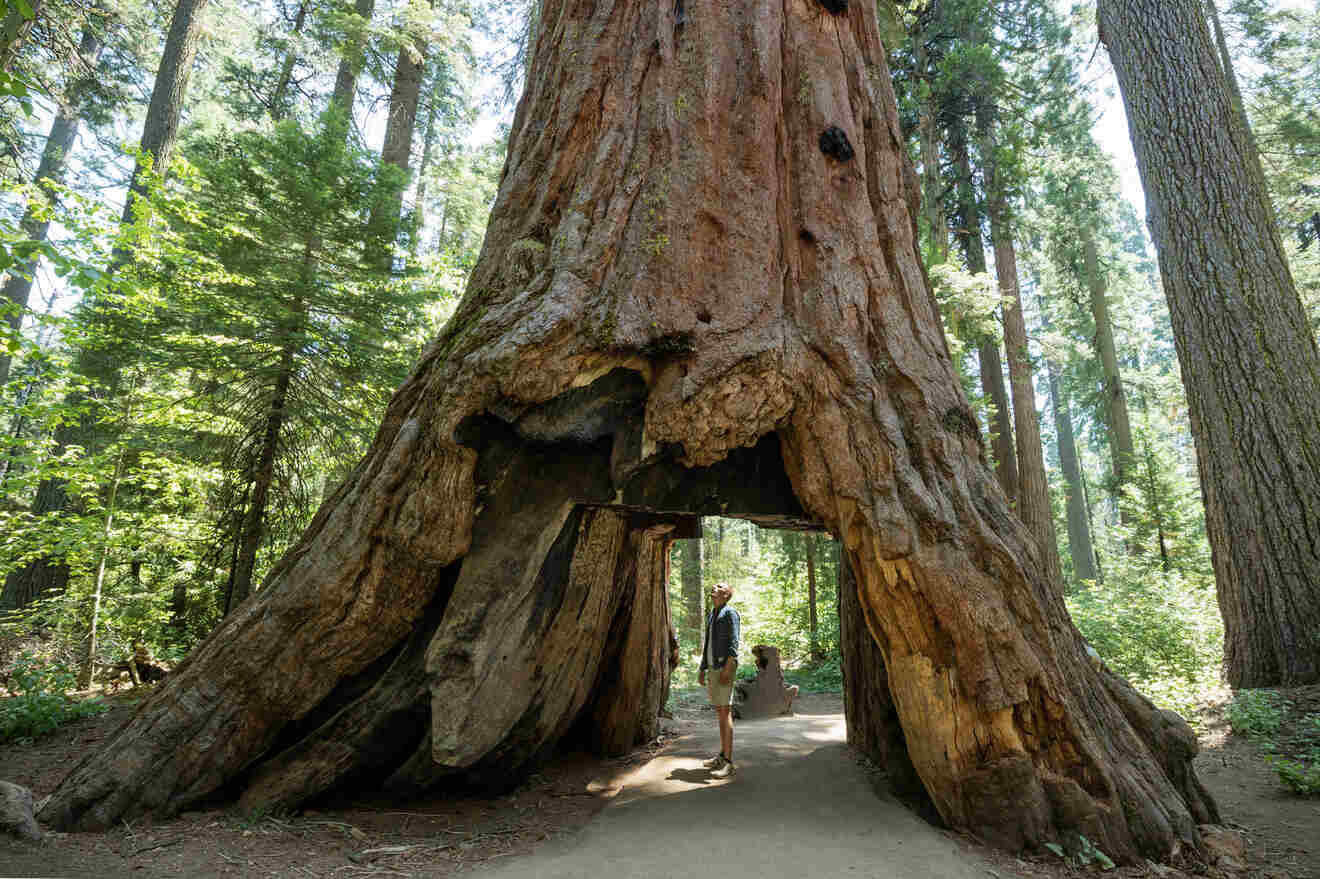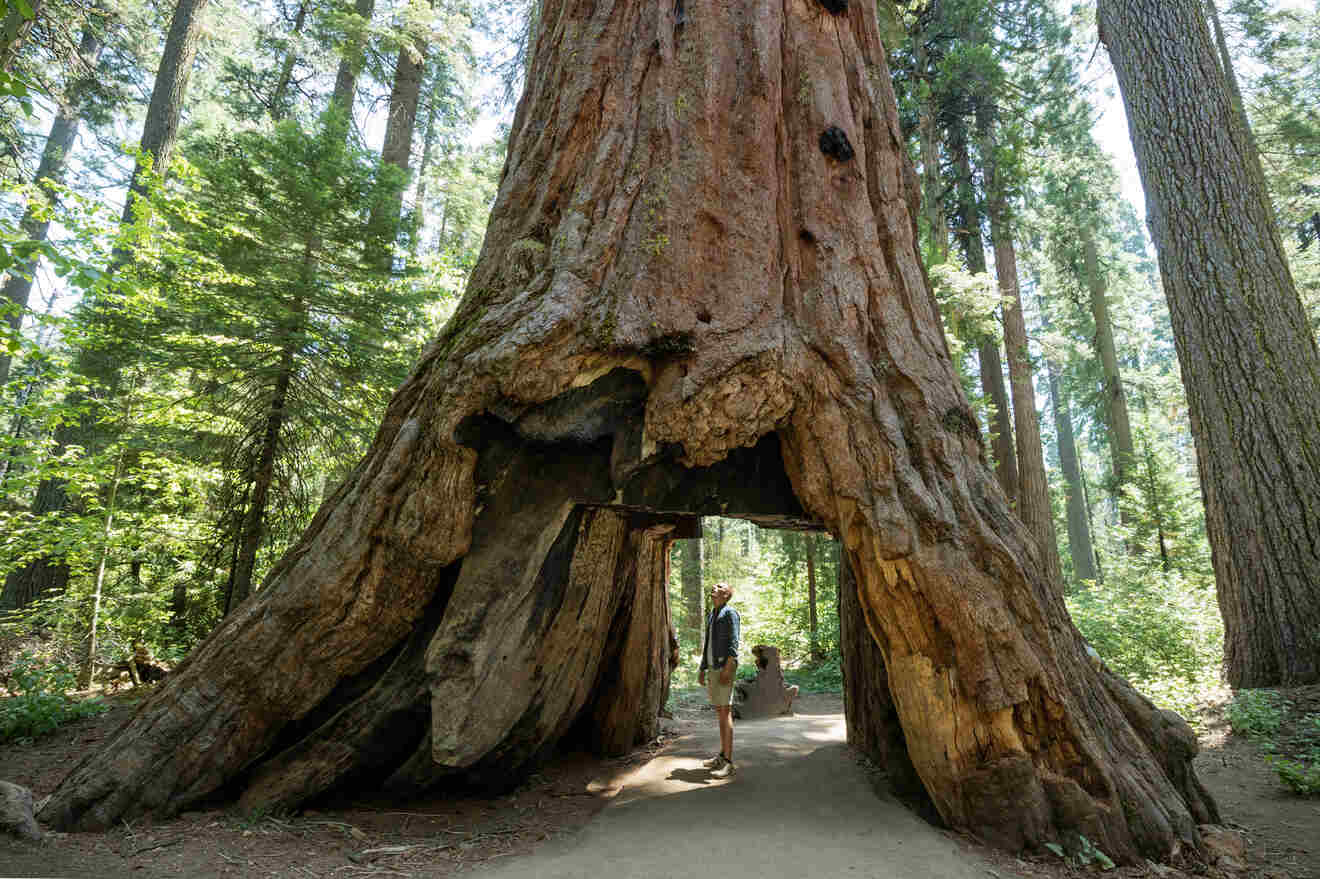 👟 What activities can you do at Redwood National Park?
⌚ How long do you need at Redwood National Park?
You need at least 2 – 3 days at Redwood National Park and the State Parks.
🗓️ Is 1 day enough for Redwood National Park?
One day is not enough to see all that Redwood National Park and State Parks offer.
✅ Is Redwood National Park worth visiting?
Yes, Redwood National Park and State Parks are definitely worth visiting – the giant redwood trees, the incredible hiking, and the wildlife make it very special.
Conclusion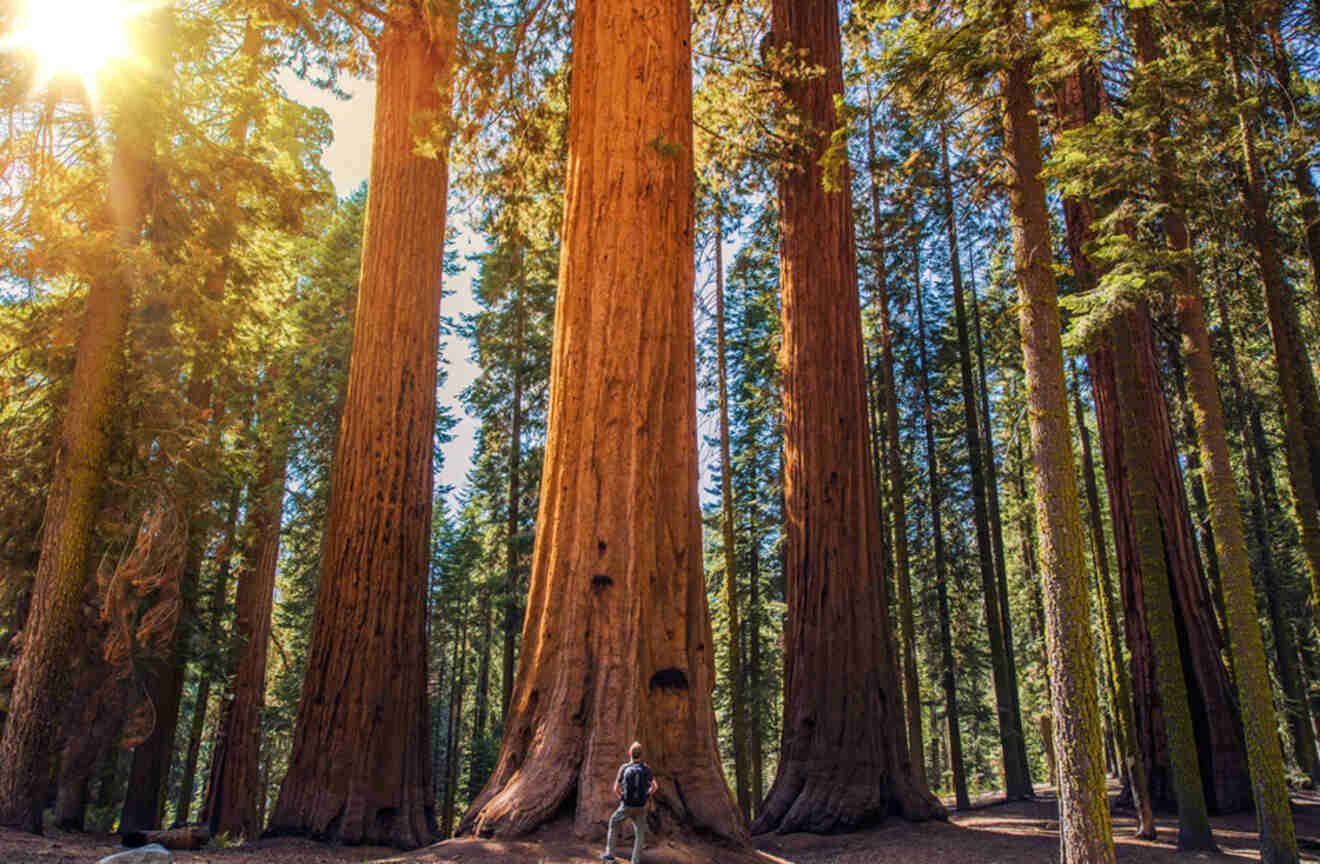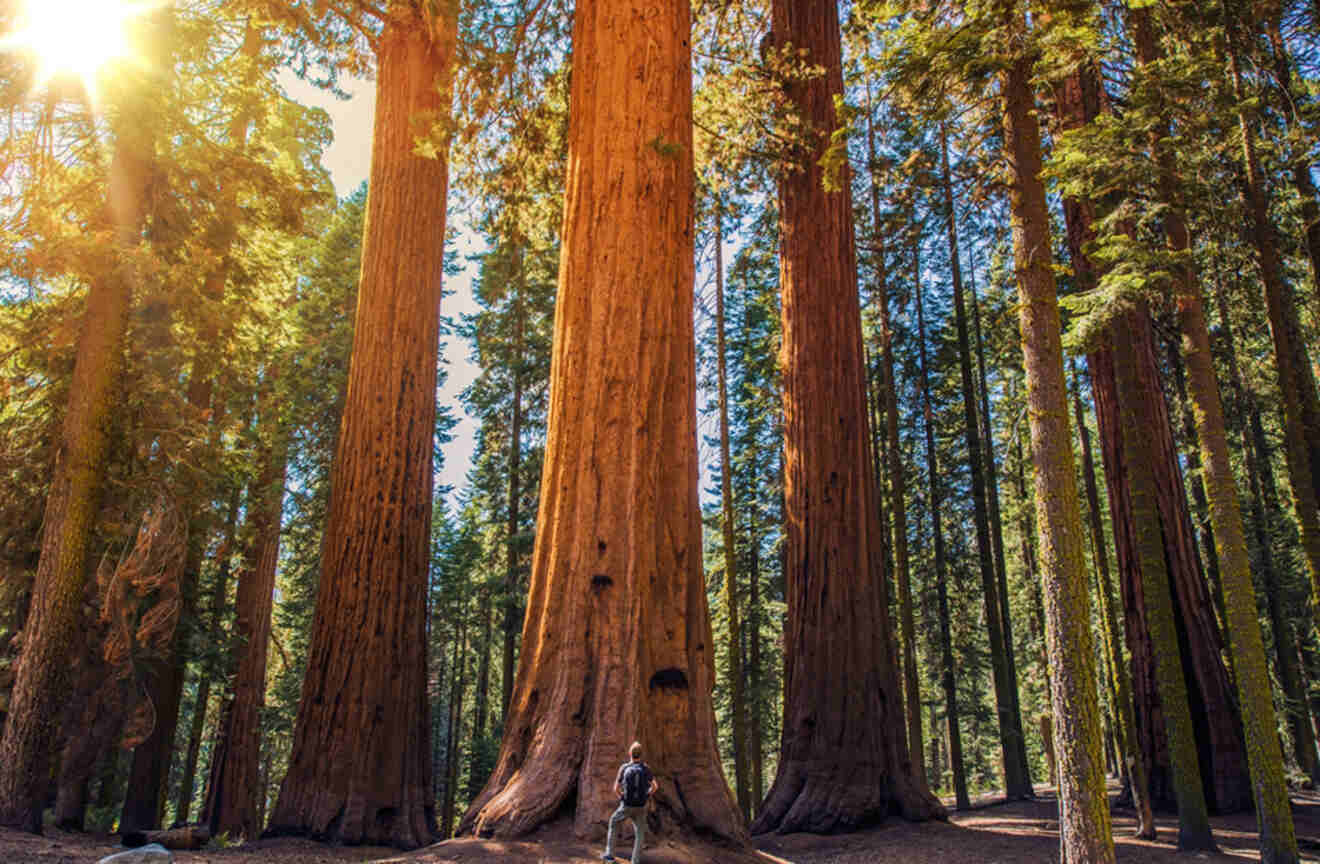 If you made it this far, you're tired! 🤣 BUT, you also saw all the incredible and adventurous things to do in Redwood National Park and State Park system. Wildlife viewing, adventure sports, and endless hiking opportunities are available all across this Northern California outdoor playground.
No matter what your hiking skill level, there are trails and activities that make a trip to Redwood National Park well worth it.
If you're planning a trip to Redwood National and State Parks, consider getting your California State Park passes ahead of time and book in advance for your favorite activities, campgrounds, and hotels!
I want to hear all about your adventures! Please drop me a line below, so I know what your favorites are.
Aloha & safe travels,
Hayden G.
---
Pin it for later!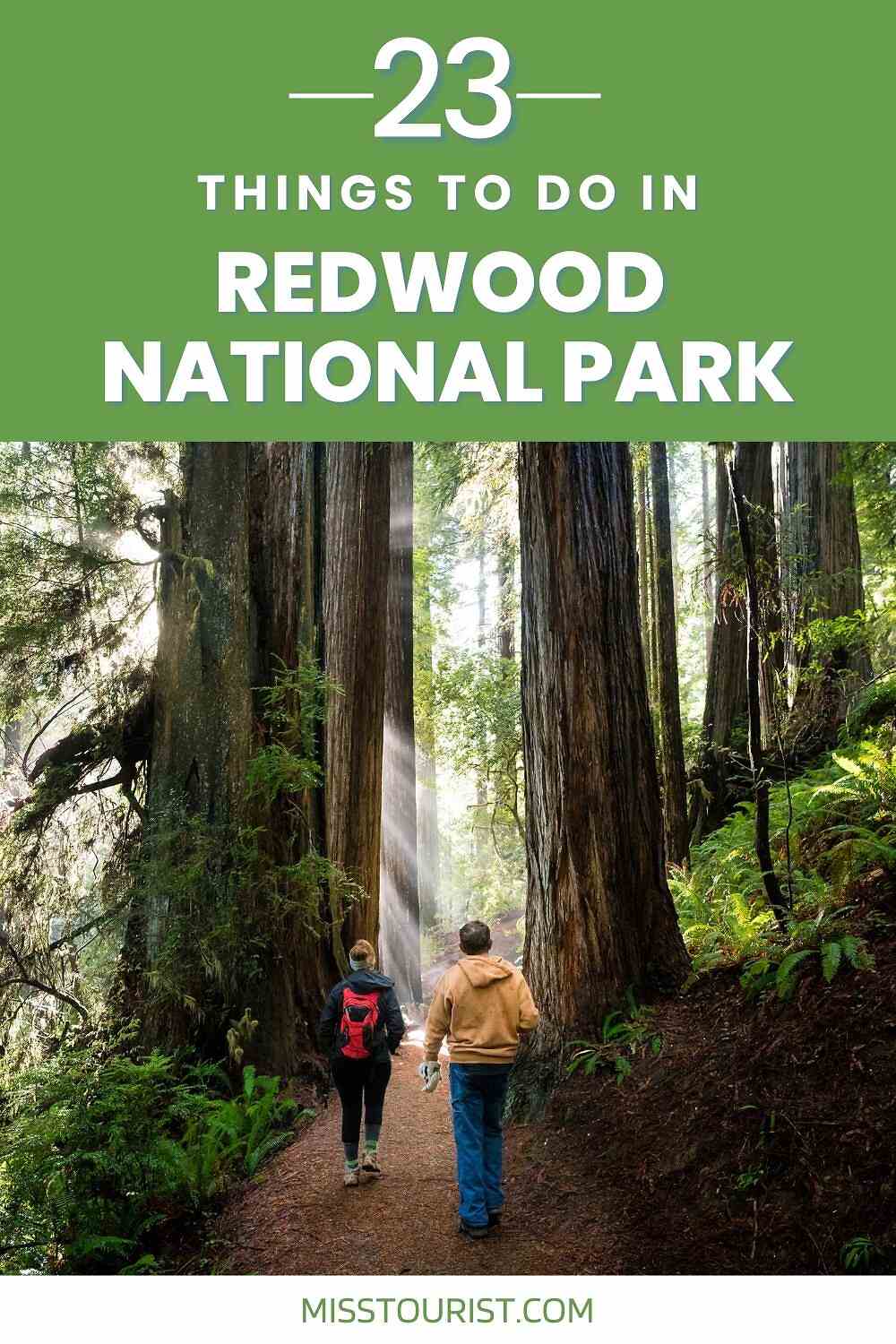 Pin it for later!