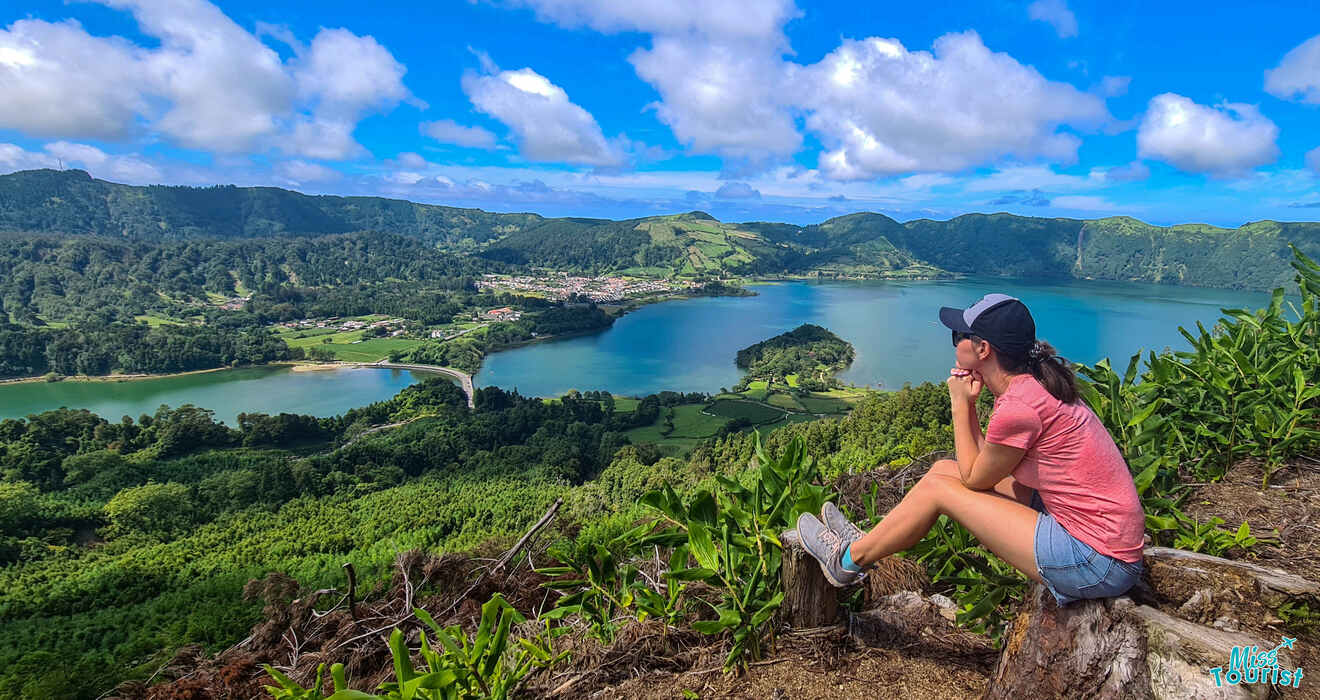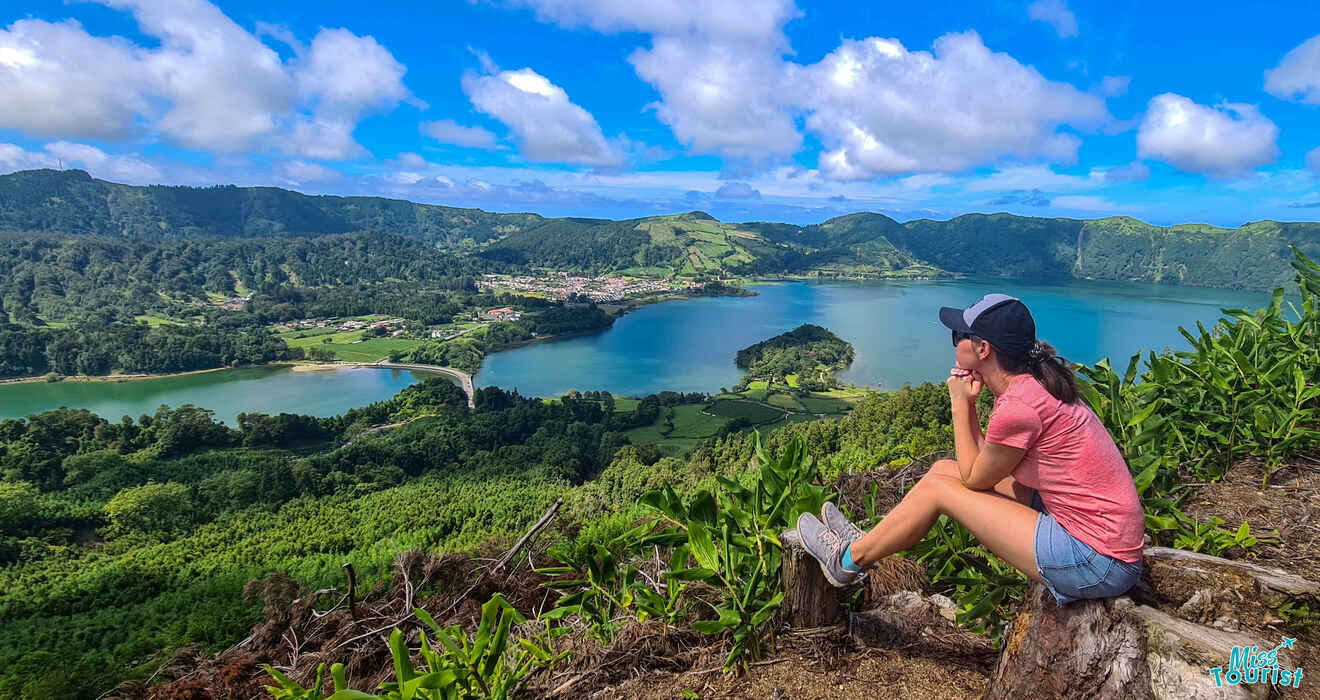 Nicknamed the Green Island for all the stunning nature that it hosts, São Miguel is the biggest of the nine Islands of the Azores and is located a 2-hour flight from Portugal's mainland.
Whether you want to chill in natural hot springs, join a hiking tour, or gaze at the Atlantic Ocean from panoramic viewpoints, this hidden gem offers all this and much more… So you could have a hard time deciding where to start.
Since I've just come back from my vacation in Sao Miguel, I decided to share my experience with this guide to the best things to do on São Miguel Island. Everything in the list is divided based on the location so you can easily split your vacation between the west, east and central São Miguel.
I also included a bonus with the best tours on the island, some practical tips about renting a car, food, the weather, and more… So you have everything you need here!
NOTE: If you want to visit any other island in the Azores archipelago, São Miguel is where the international airport of the Azores is located, so it's worth making a stop to check it out!
Let's go!
If you are in a hurry
If you just want to check out the best activities on the island, here you find the best tours in São Miguel Island.
Here are the main things to book in advance:
Check out this map to see where the best attractions and activities in São Miguel Island are located:
1. Things to do on the West coast of Sao Miguel Island, Azores
Now it's time to explore all the top highlights and natural wonders of the western half of São Miguel Island, including Sete Cidades (the seven blue and green lakes), Mosteiros, the beautiful city of Ponta Delgada, and more!
If you don't have much time on the island or you don't have a car, you can join this full-day tour of São Miguel West, during which they'll pick you up with a van and give you lunch for €70.
1.1 Experience Sete Cidades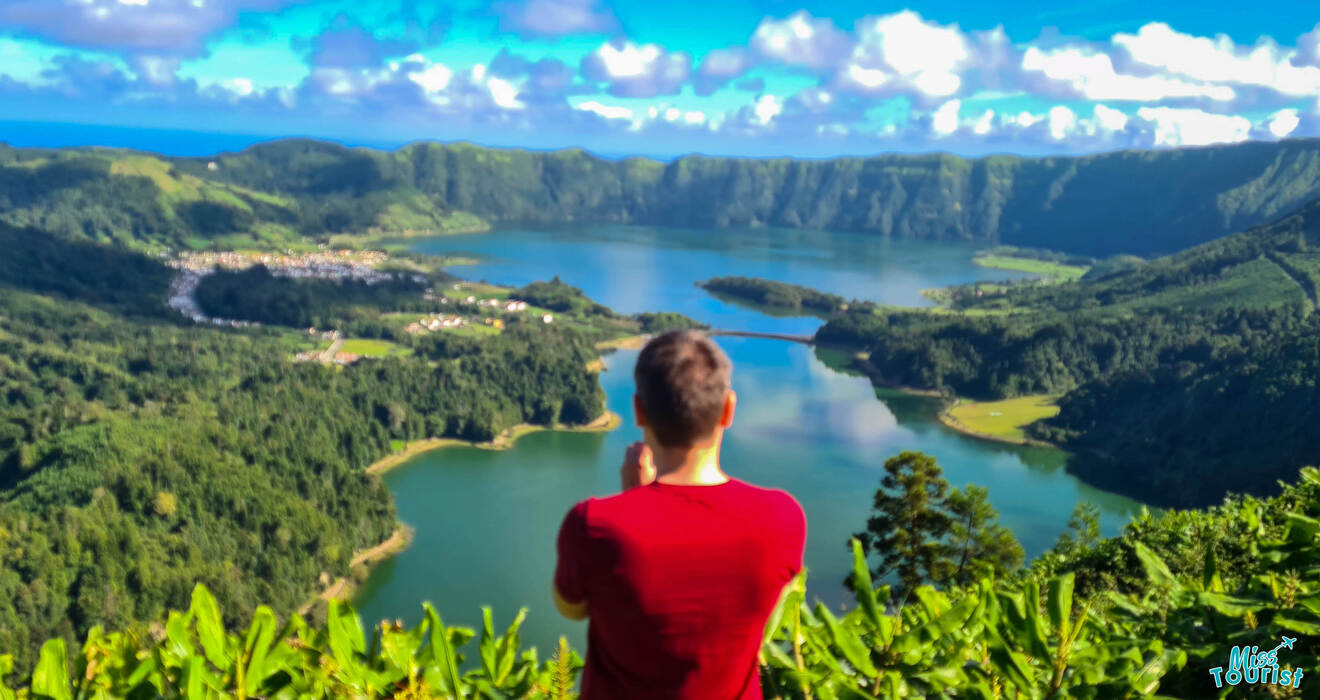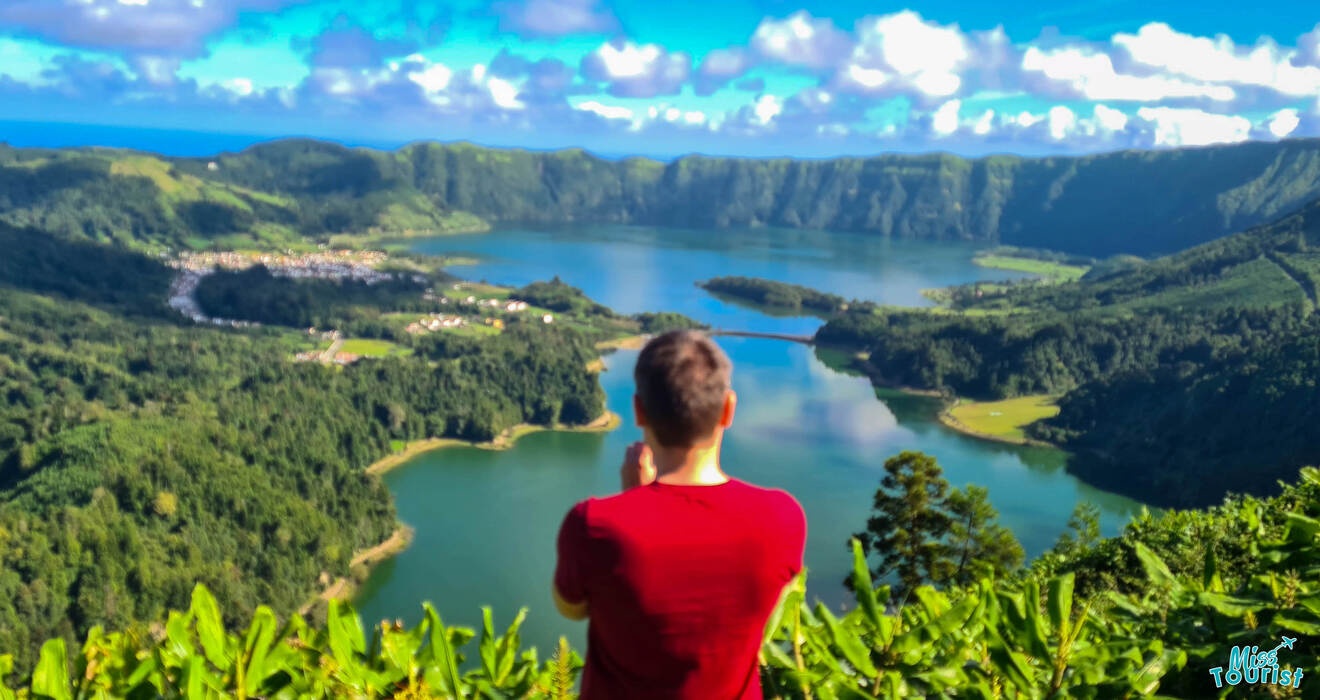 The Lagoa das Sete Cidades (the seven cities' lakes) is one of the island's most popular places to visit and one of the best things to do in Sao Miguel. It's for a good reason, this place is absolutely stunning!
The name Sete Cidades comes from the seven craters present on Sao Miguel island, resulting from the volcanic eruptions of millions of years ago, which created the Verde, Azul, Santiago, Rasa, Alferes, and Caldeiras Secas lakes.
The Green and Blue lakes (called twin lakes), are definitely the star attractions here: 2 of the 7 wonders of Portugal!
Even if they look like 2 separate lakes, they are actually one lake divided by a bridge. The result is a half-blue, half-green lake reflecting both the sky and the surrounding hills, the visual effect is just crazy!
Hiking in Sete Cidades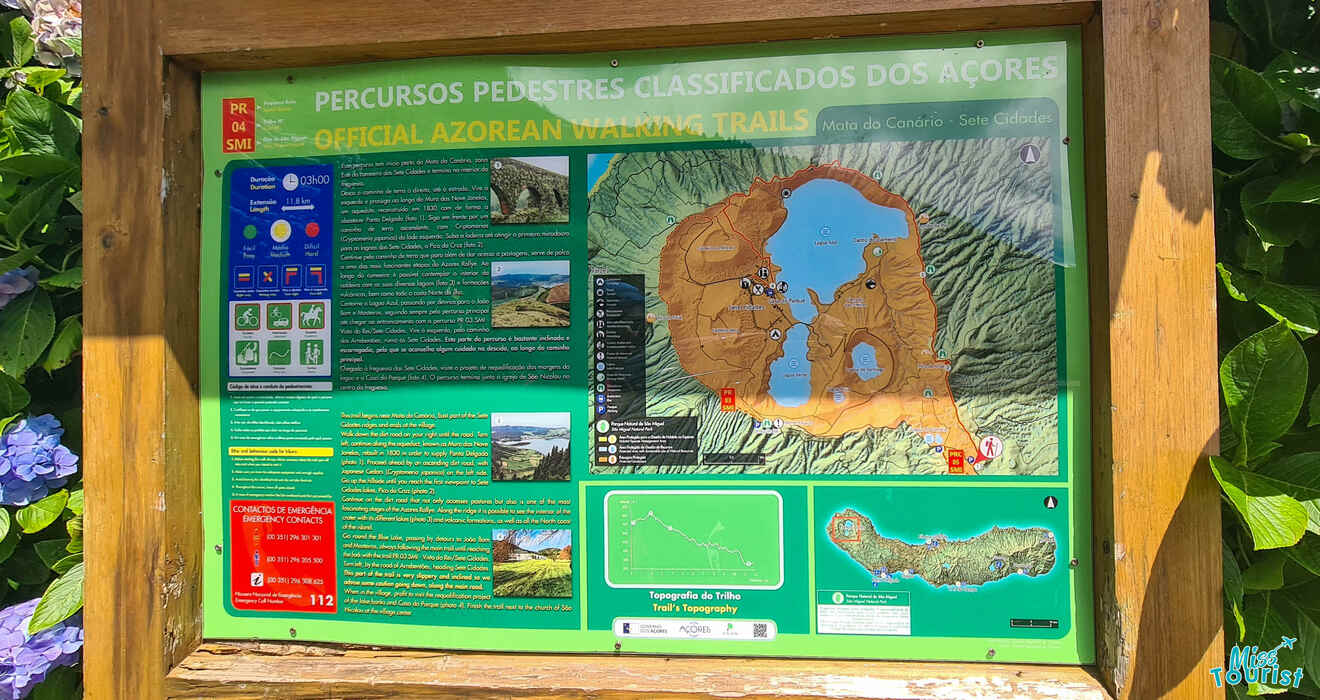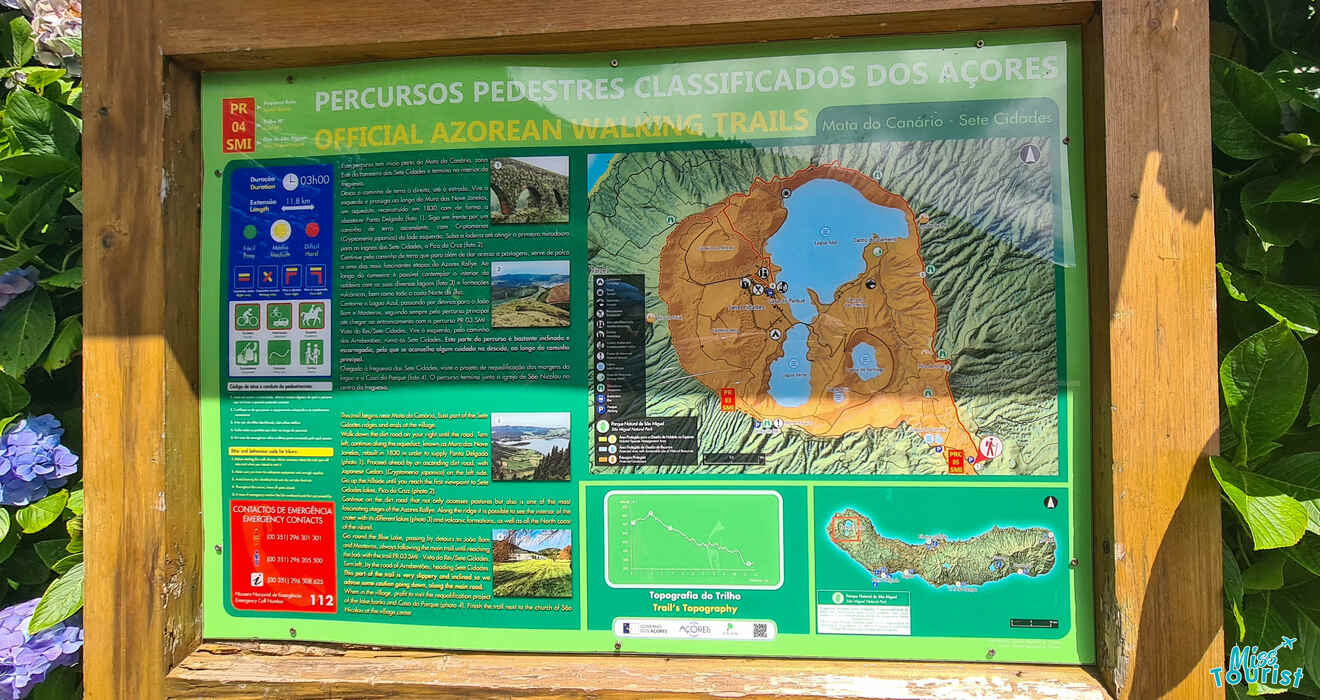 Here, you can also follow many hiking paths, all taking a few hours to complete (2/3h) and bringing you amazing viewpoints. The 2 BEST hikes you can find here are:
The Mata Do Canário: This trail lasts about 3-3.5 hours and is 7.3 miles (12 km) long, starting near the Canary Forest and leading you around the blue lake to end in the village of Sete Cidades. During the hike, you will enjoy stunning views of the lakes, rolling green hills, the coast, and animals like cows. More info on the trail here
Vista do Rei: This hike starts at the incredible Vista do Rei viewpoint and leads down to the village of Sete Cidades, passing through the opposite sides of the lake crater than the Mata do Canário. The trail is shorter than the previous one, being 4.6 miles (7 km) long and lasting 2-3 hours, but still offers views of the Sete Cidades on the right, and of the coast of Sao Miguel Island on the left. More info about the hike here
Lookouts in Sete Cidade
Apart from amazing hikes, Sete Cidade also offers incredible lookouts that are reachable by car every 5 mins. You'll have the most breathtaking views of the lake and natural landscapes.
Here is a list of some MUST-sees: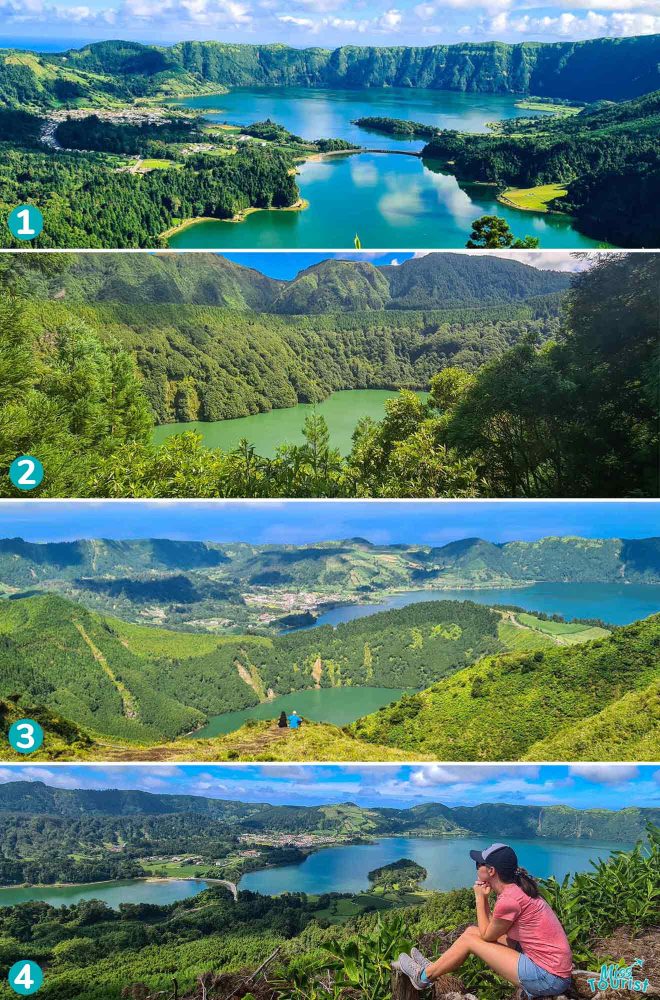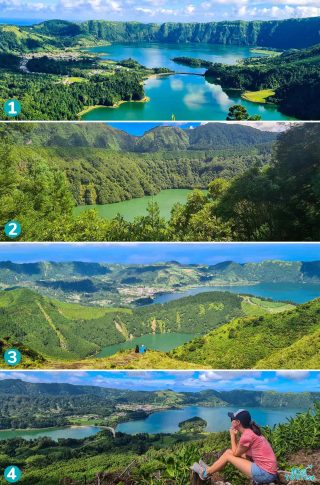 If you want to see the best of the seven hills, join this 8 hour guided hike through the crater lakes and spectacular viewpoints, with a picnic lunch included, for €60
Location: Google maps
1.2 Swim at the warm beach of Ponta da Ferraria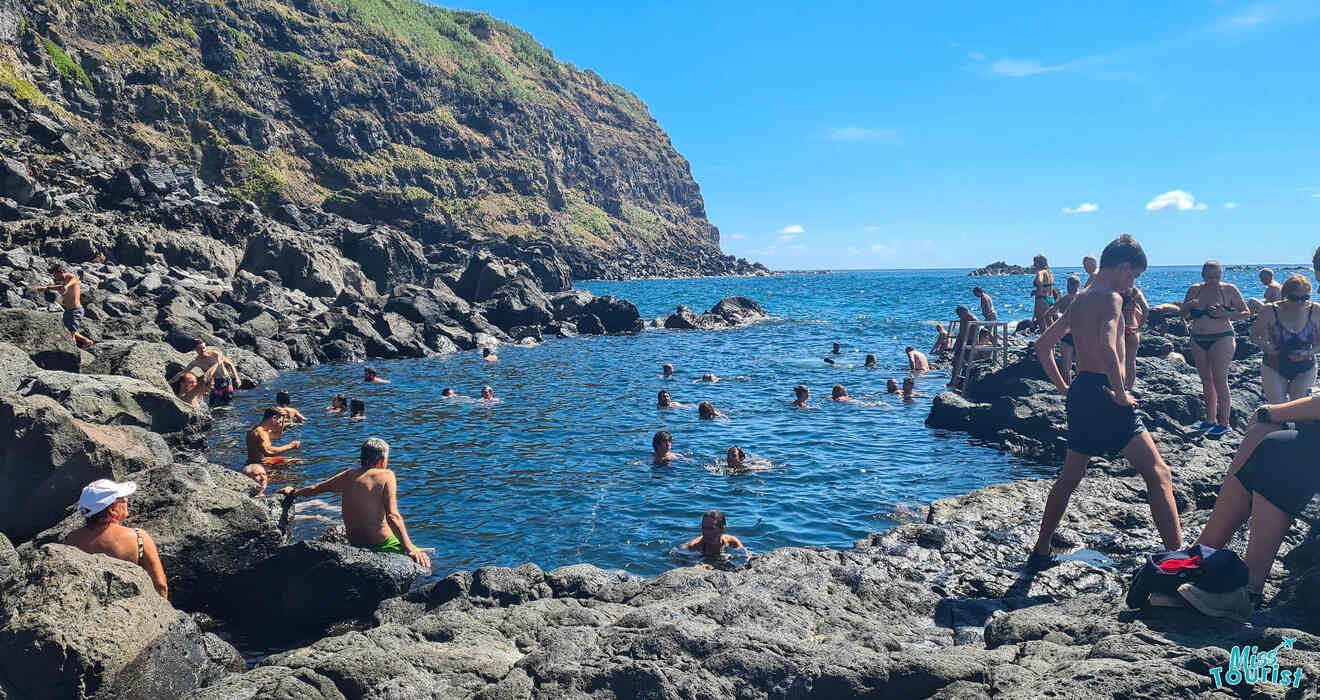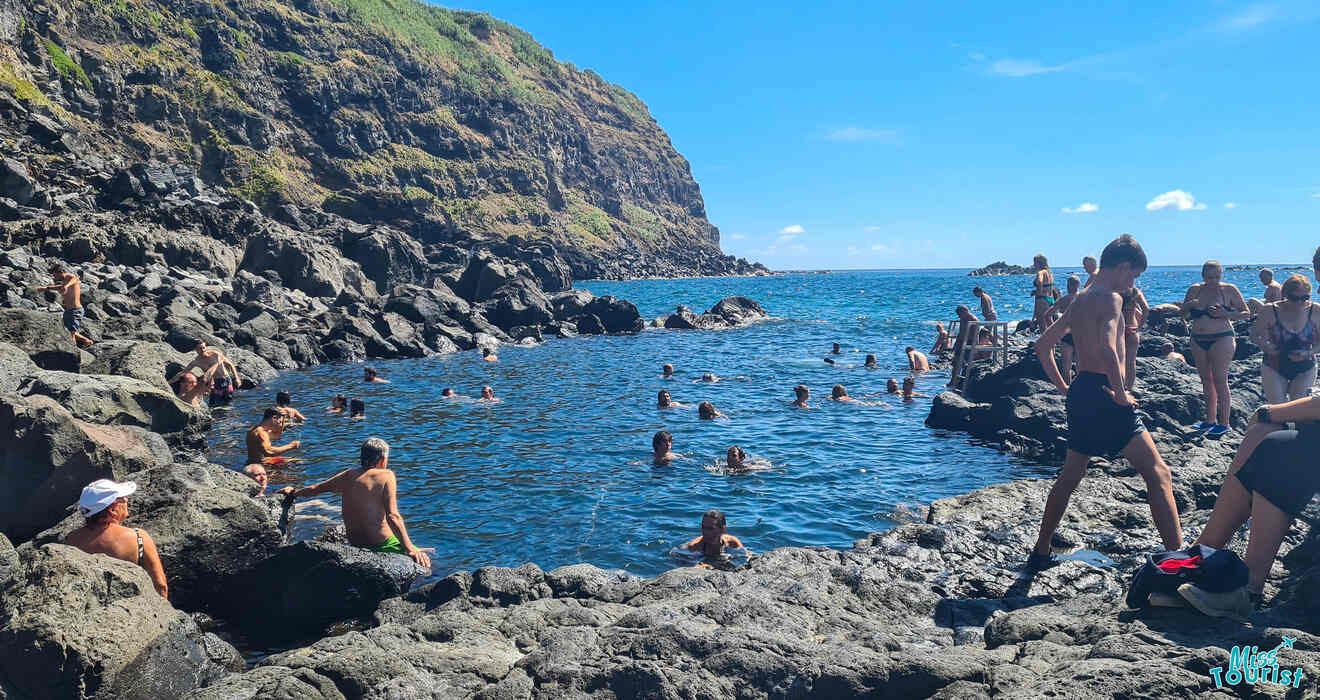 Ponta da Ferraria is a beautiful beach on the most western point of the island, with a small thermal pool, very well equipped with changing rooms, toilets, showers and a lifeguard on duty.
The water of the pool is heated by the geothermal natural spring beneath the waves, and mixes with the cold water from the ocean, so different areas of the pool have different temperatures from 18C to 28C.
At low tide you can easily access the pool by a small inlet in the ocean, so check out when exactly it is on the day you go!
Also, the beach gets very hot from the black volcanic stones, so make sure you take sunblock with you!
Location: Google maps
1.3 See the rocks of Mosteiros Beach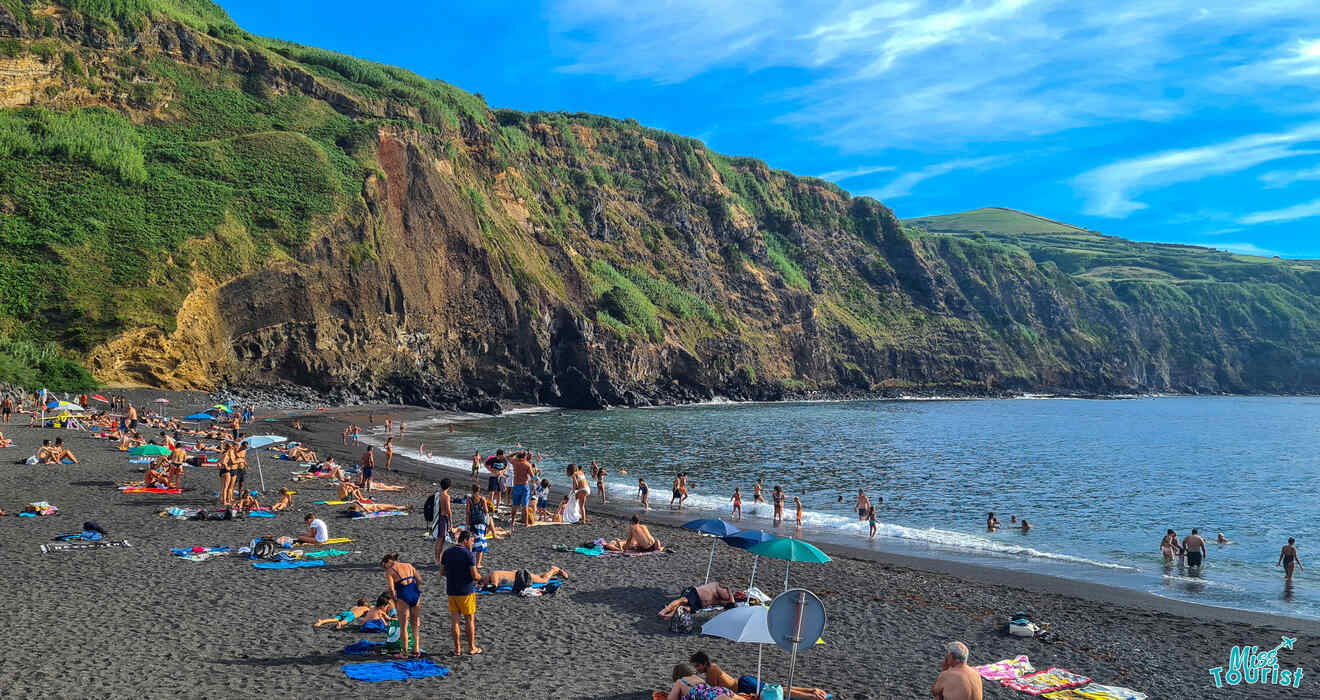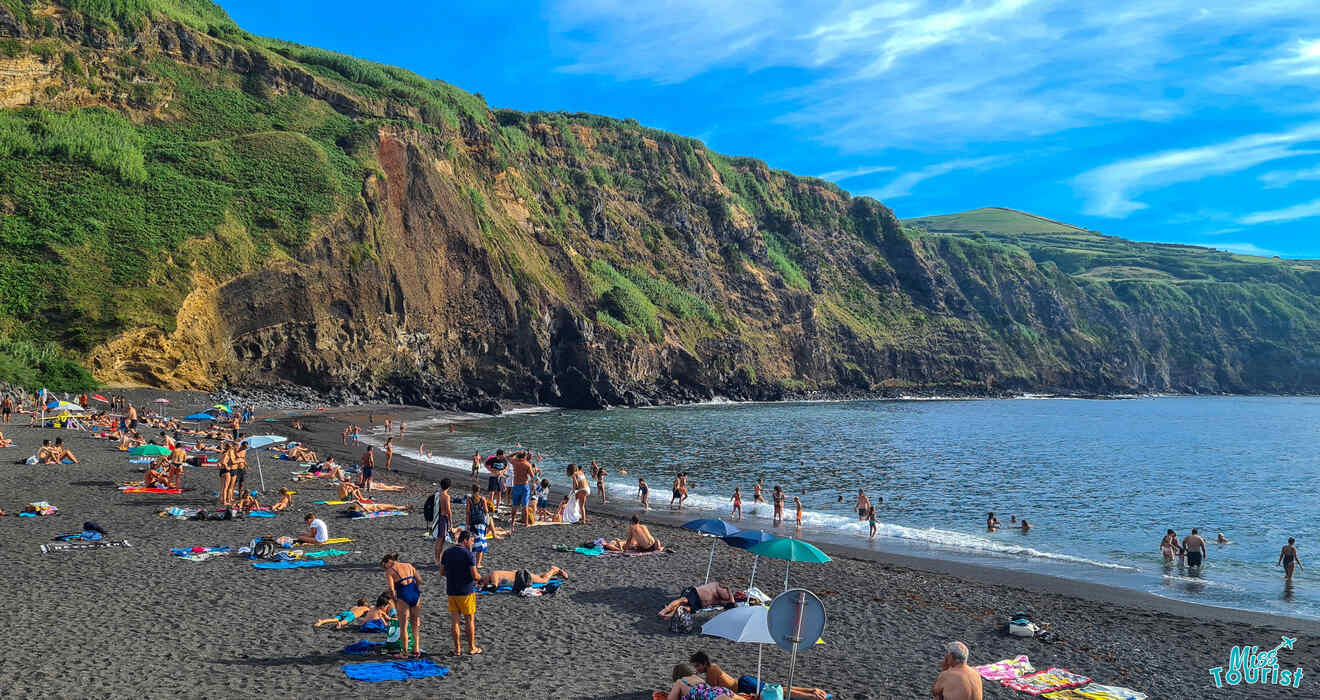 Located by the small Mosteiros town, 45 minutes driving from Punta Delgada, there is the picturesque Mosteiros beach, featuring interesting rock formations coming from the ocean, black sand, and a natural pool.
This spacious beach offers some of the best sunsets on the whole island, and many cafes around where you can enjoy them with a happy hour drink!
Location: Google maps
1.4 Visit the Azorean Pineapple Plantation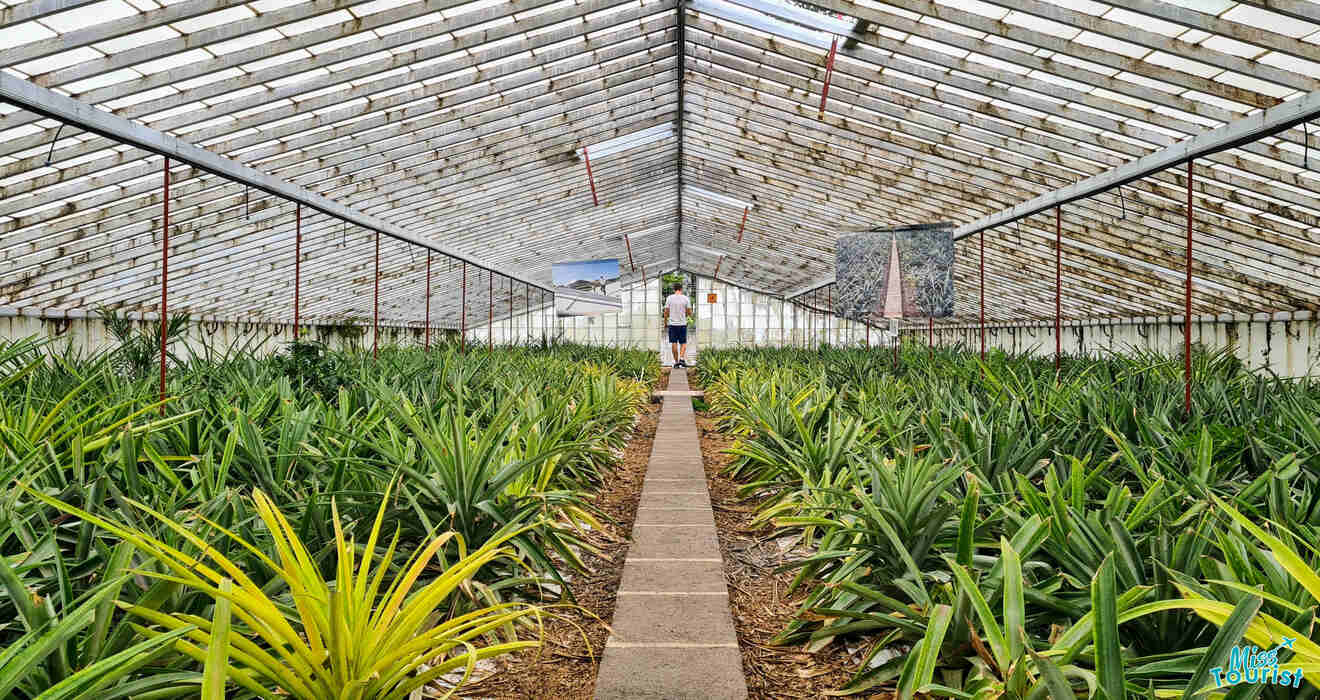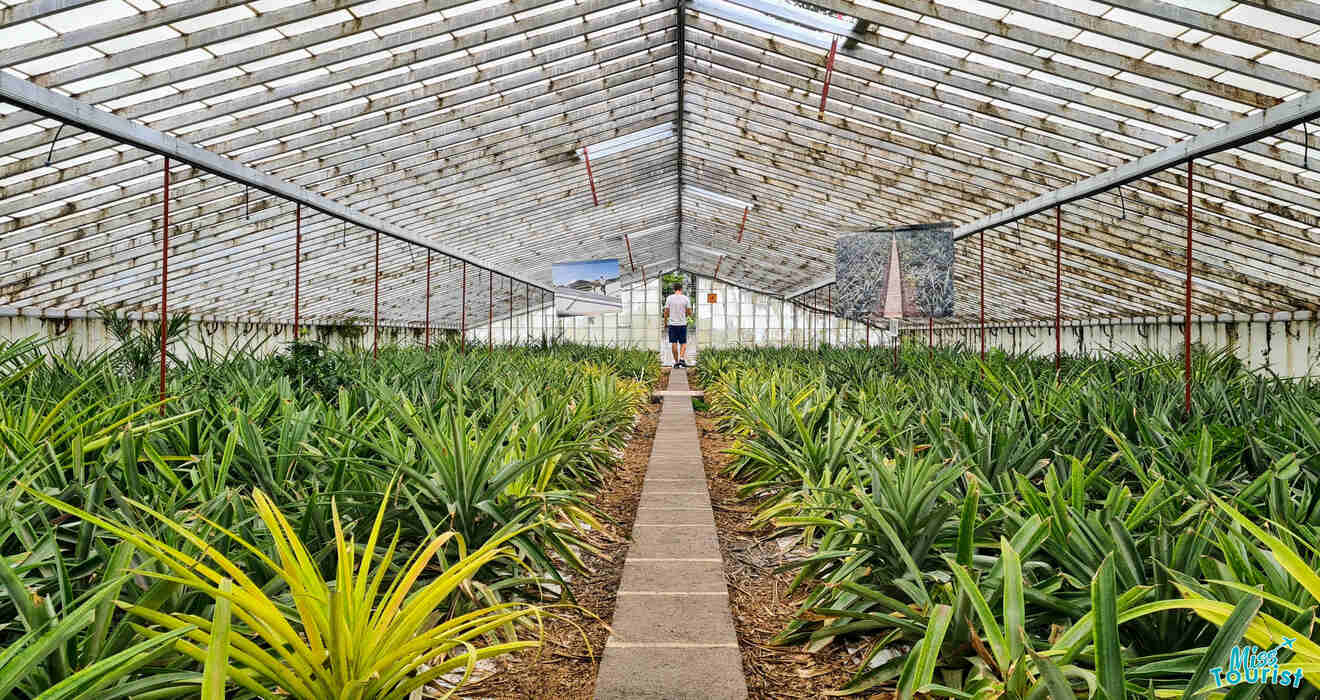 Did you know that there are more than 6,000 pineapple plantations in Sao Miguel and that it is the only place in the whole world where they grow them in greenhouses?
A few Pineapple plantations on the island are open to the public and they are a very good occasion to learn how they grow and their history in Sao Miguel.
I've been to one of them (the Augusto Arruda Pineapple Plantation), and I can give you a hint: once in the Azores they produced a lot of oranges, but they had a bad year, and all the crops died. Since oranges take 4 years to reproduce, while pineapples only take from 8 months to 2 years (depending on the type), they started to grow them instead.
Now they produce a very special type of pineapple, super sweet and delicious, and they are mainly kept in the Azores for local consumption and tourists, and there are only minimal exports.
This plantation in Ponta Delgada opened access to tourists for free, so you can actually see how it grows. The concept is really good, you go in and read all the info for free and at the end of the visit they even give you pineapple liqueur and jam for free.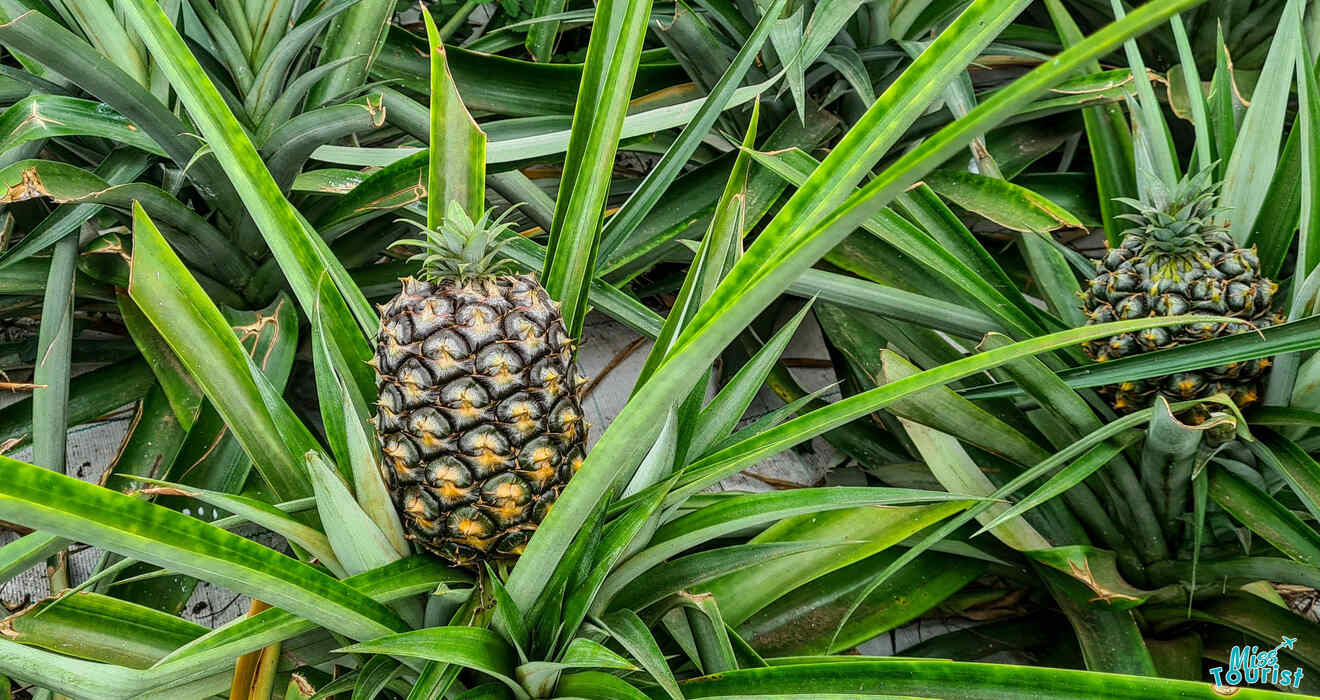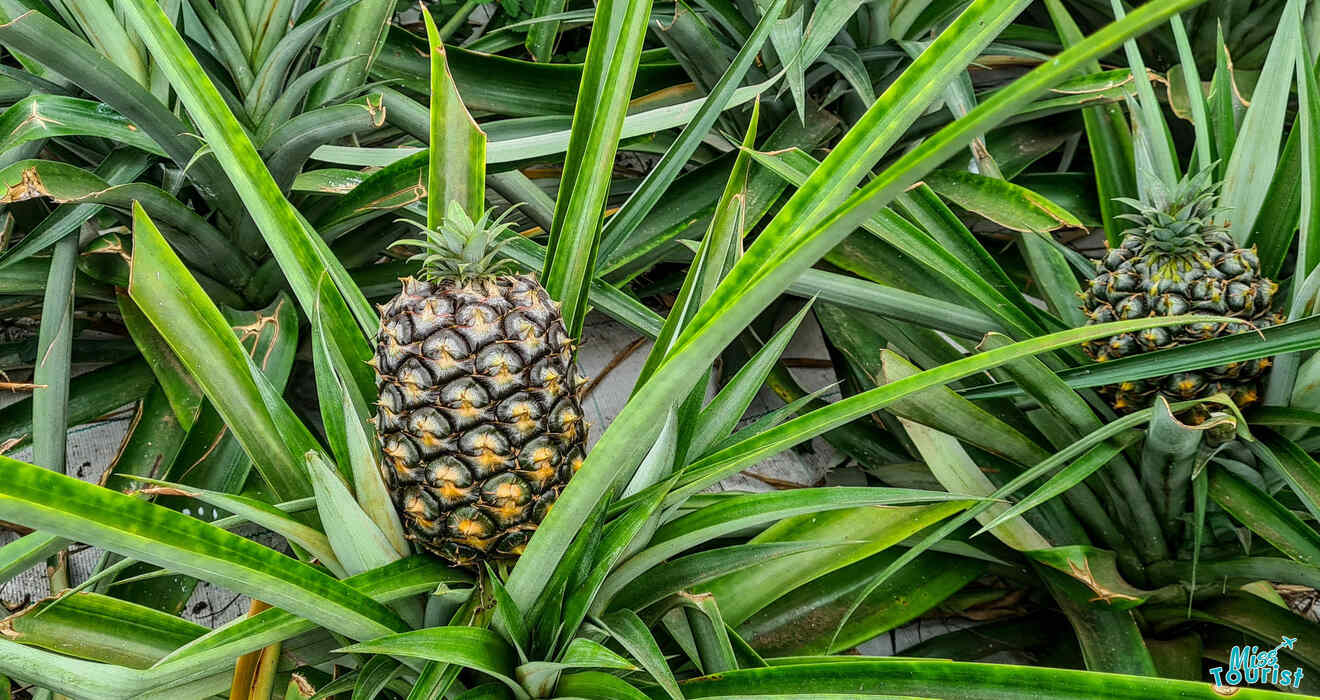 Then it's up to you to decide if you want to order something else or buy the jam at the gift shop (or you can just walk away too, no hard feelings!).
The whole visit takes around 15-20 minutes, and is super nice and interesting, especially if you are traveling with kids!
P.S.: This location and the next is not exactly in the West, but I am adding it here nevertheless because you will probably not do much in Ponta Delgada itself.
Location: Google maps
1.5 Explore Ponta Delgada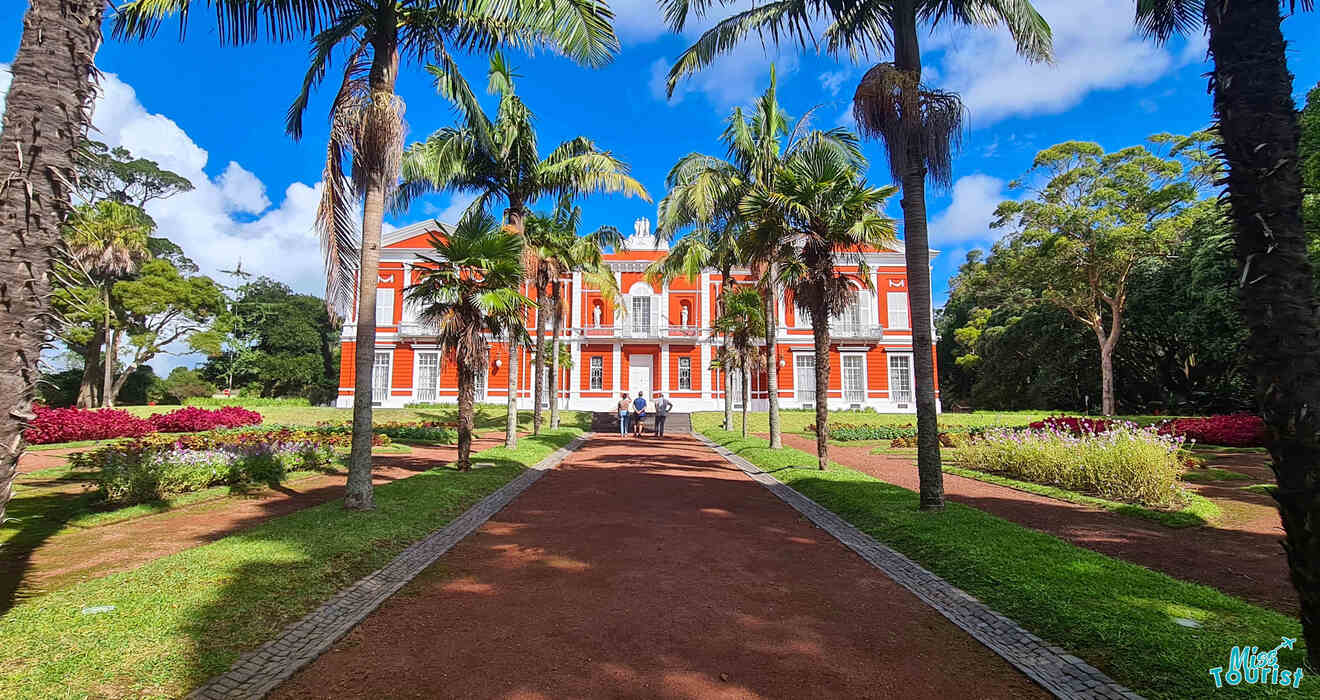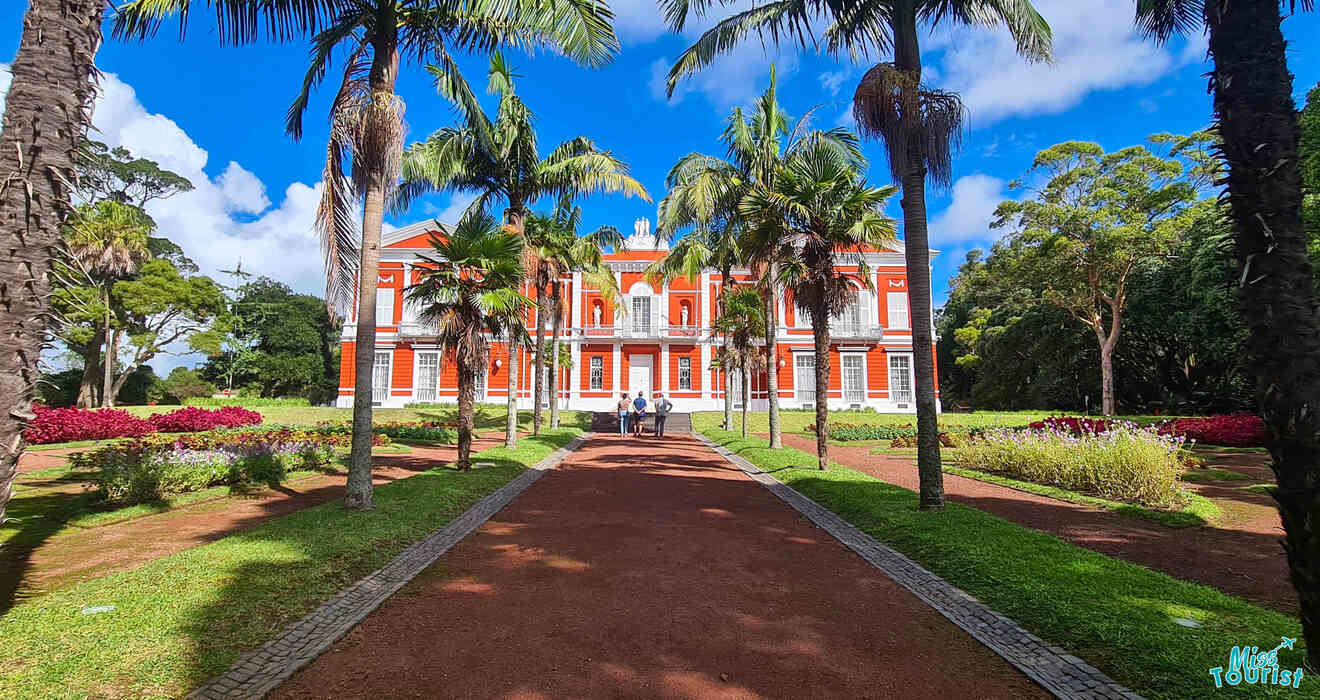 Ponta Delgada is one of the best (and main) cities where to stay in Sao Miguel, and from where most of the tours to the best attractions in the island start. So if you have enough time, it is definitely worth checking out!
I recommend you just lose yourself in the city's cobblestone streets. Look out for the Ponta Delgada waterfront, the central square, the arches of the city gates, and some ancient churches.
But there actually are some must-sees in the city, above which the old fortress Forte de Sao Bras, now a Military Museum, the Mercado da Graça (the local market) and the Jose do Canto Botanical Garden. All things that you can check out on this 4-hours walking tour, for €35.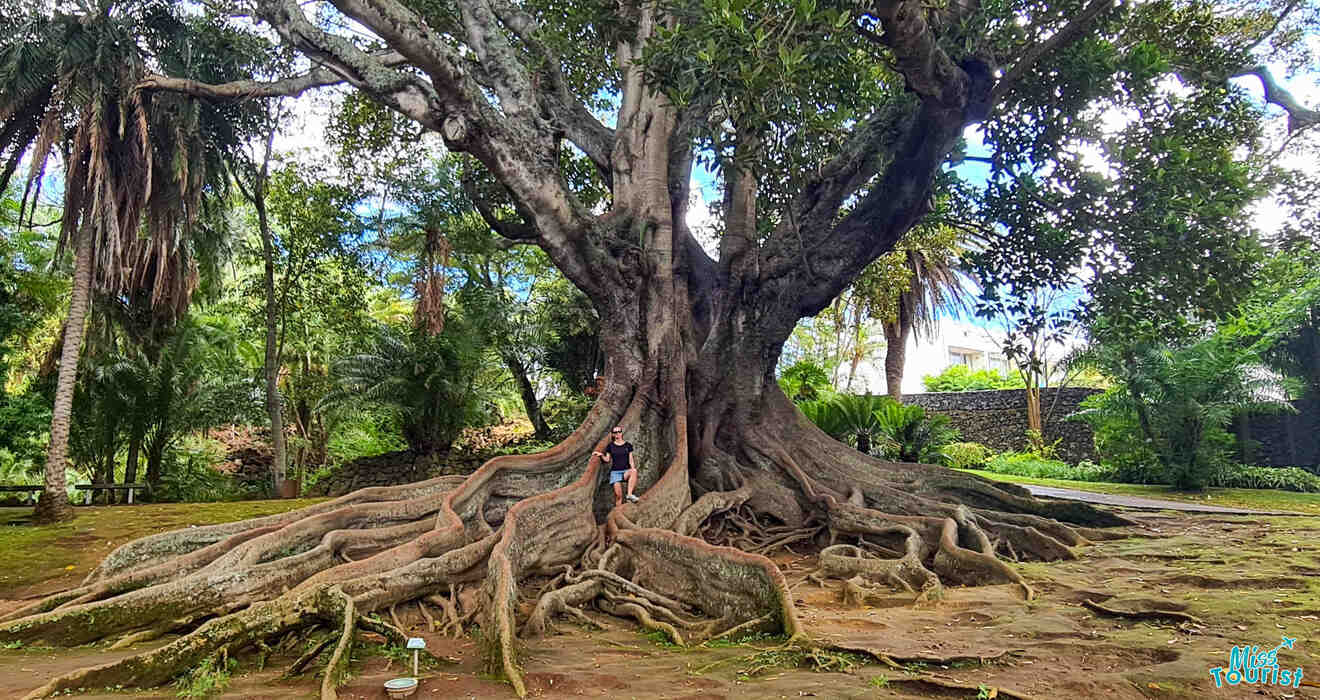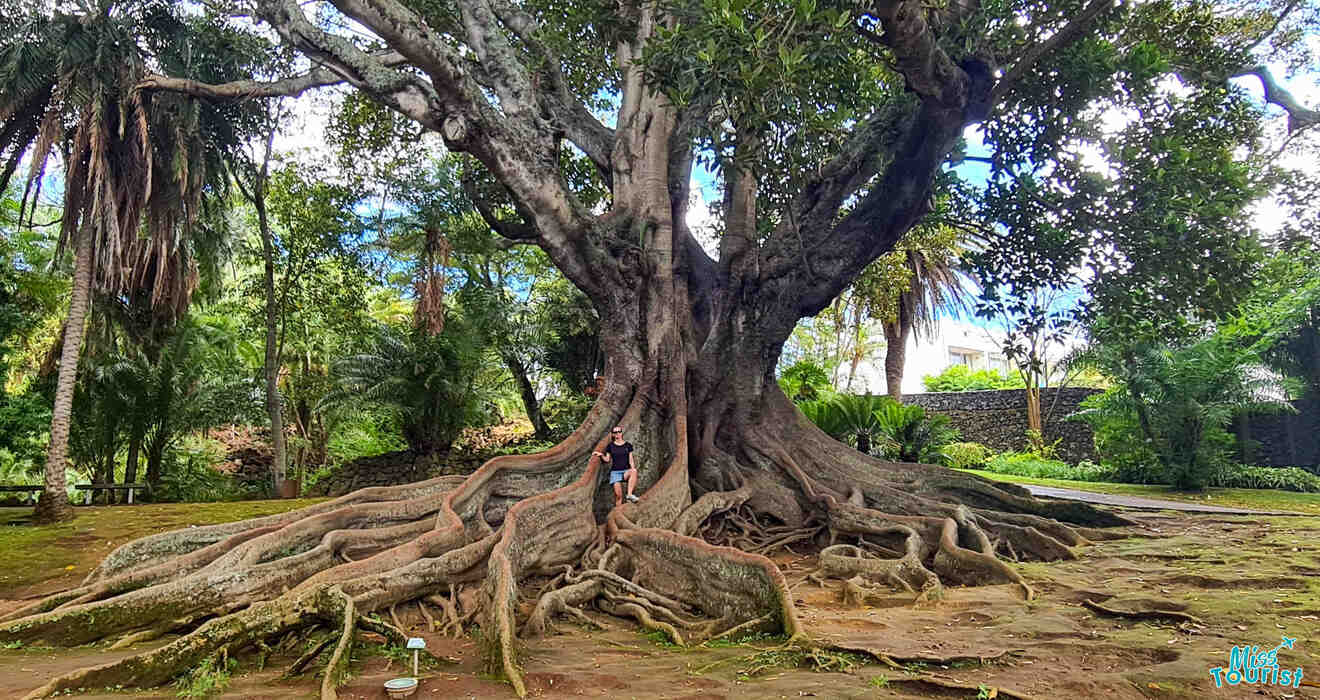 There are also 3(!) botanical gardens you should definitely visit, check them out:
Jardim Botânico António Borges – This is the most famous botanical garden in Sao Miguel, with grottos, exotic plants, hundreds of years old trees, and a nice cafe where to have a delicious snack. It actually reminded me of Quinta da Regaleira park in Sintra a little bit for the architecture of the palace and how the place was organized. And the entrance is free!
Palacio de Sant'Ana – This beautiful garden is located in the presidential palace and features a lake, as well as many trees and flowers. It's super nice to just stroll and look around. The entrance costs €2 (and they will ask for your ID before entering).
Jardim Botânico José do Canto – it is €5 to enter and it is a pretty big nicely organized garden (see the map of the place here). You will see some endemic plants and unique trees, the whole visit can take about an hour!
P.S.: If as a bonus you want to visit a very local place, check out the small fishing village of Caloura, only 20 minutes from Ponta Delgada!
2. Things to do in Central Sao Miguel Island, Azores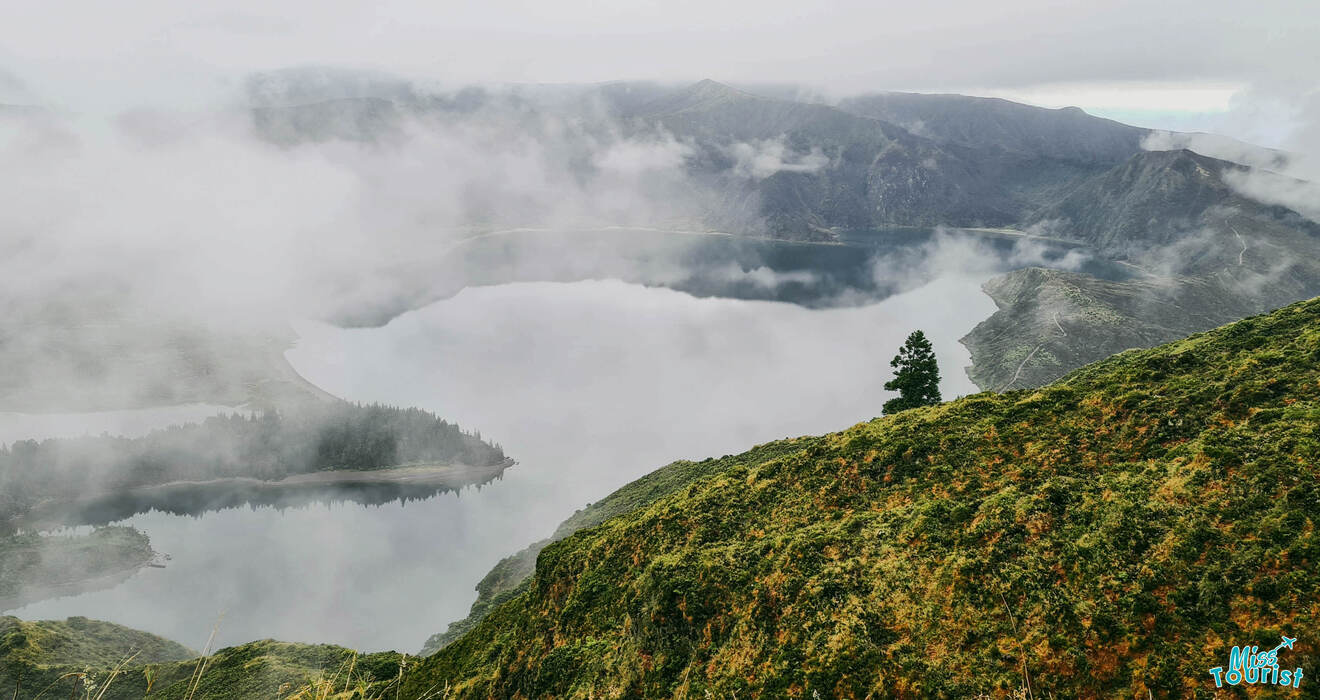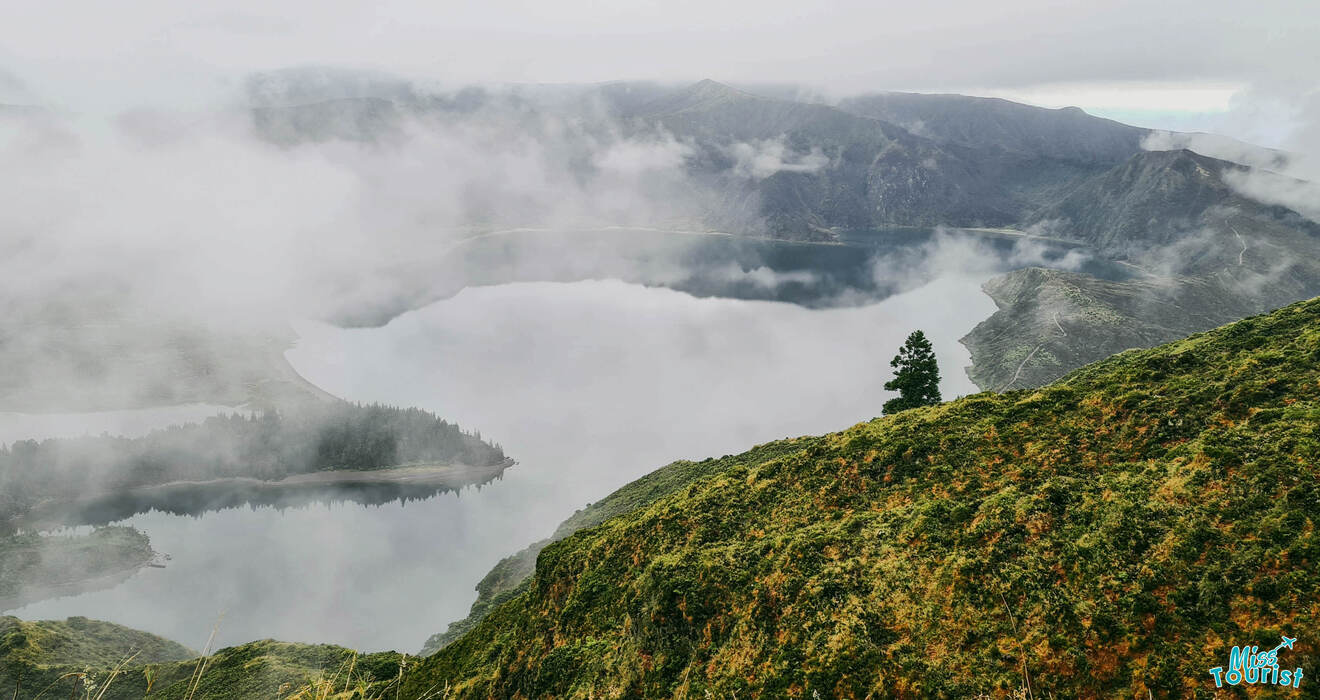 The central part of São Miguel island is as beautiful and rich in natural attractions as its west and east coast, so I had to dedicate a section to that too. Let's see the best things to do in central Sao Miguel.
2.1 Relax at Ribeira Grande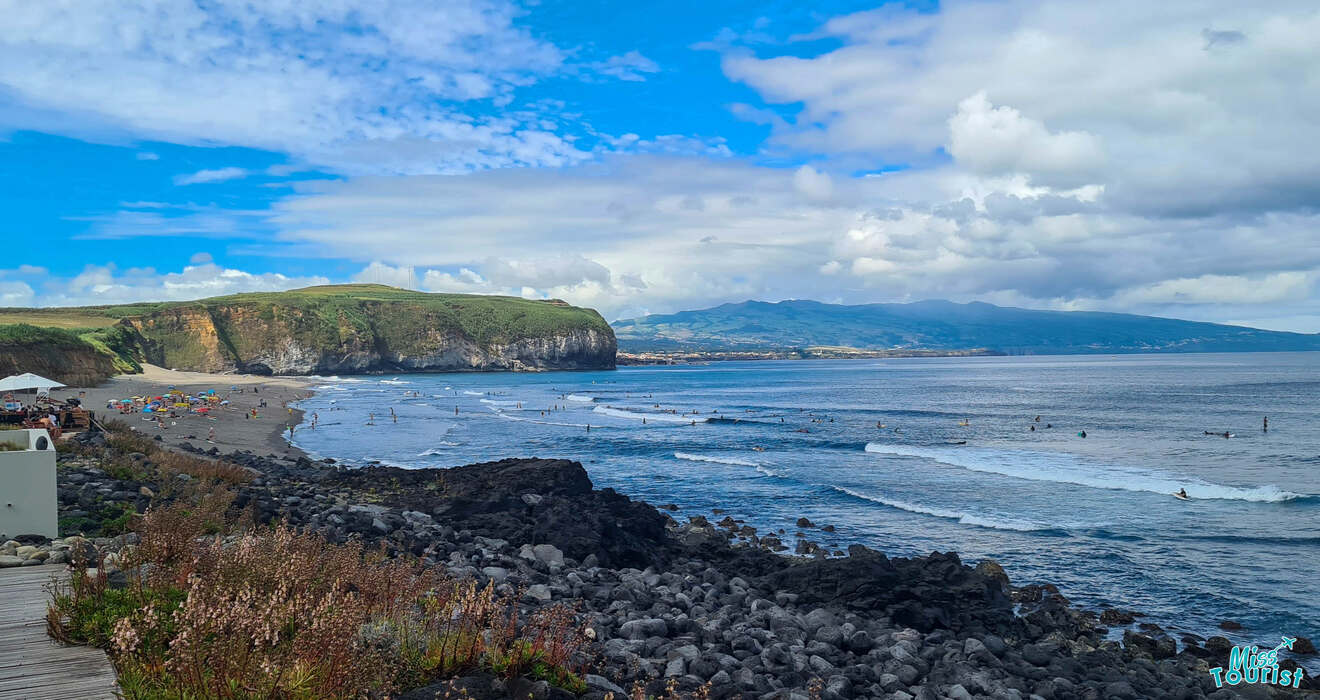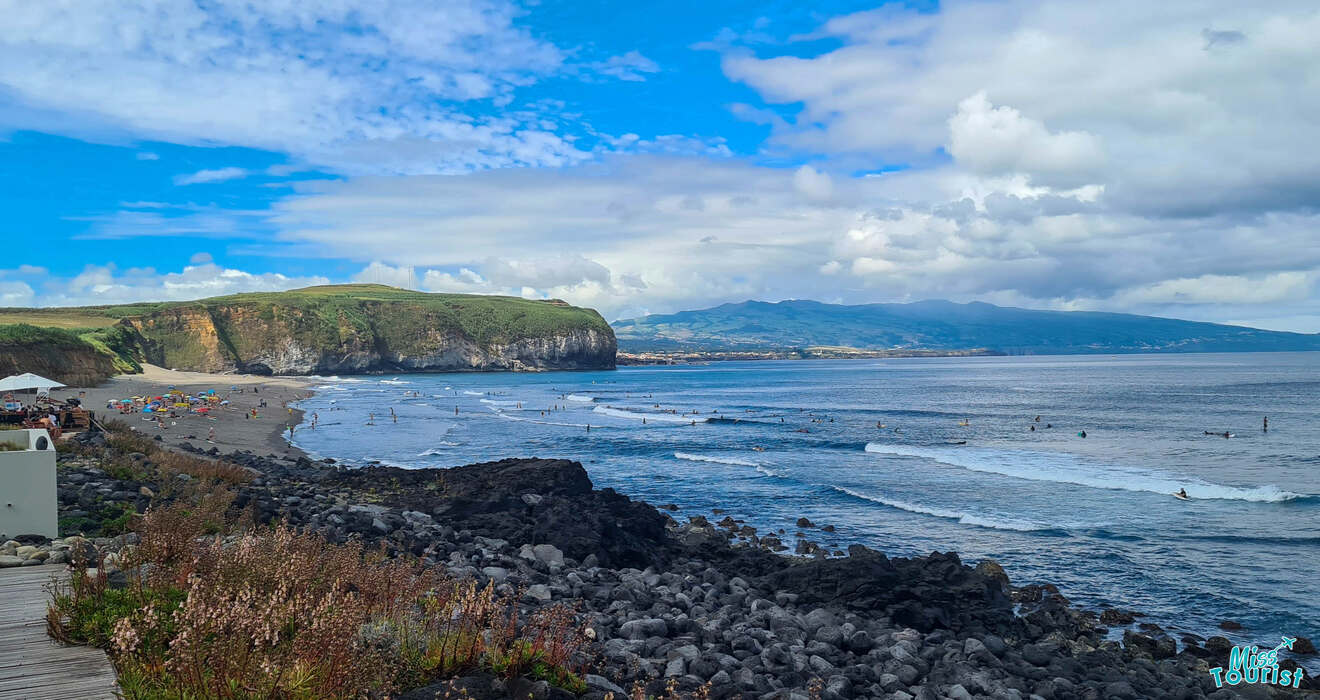 Located in the north of São Miguel, this is definitely my favorite beach (and the biggest one I've been to) on the whole island. There is tons of space for everyone, so it is never really crowded.
The waves are also perfect for beginner surfers. They're very easy to catch and the water is shallow until far away from the shore, so you'll find many surf schools where you can take lessons. It actually reminded me of Florianopolis in Brazil because the conditions seem perfect for beginner surfers!
As almost everywhere on the island, the beach is fully equipped with all the facilities: showers, toilets, changing rooms, and lifeguards! There is a nice cafe with the view to the ocean too!
Location: Google maps
2.2 See Salto do Cabrito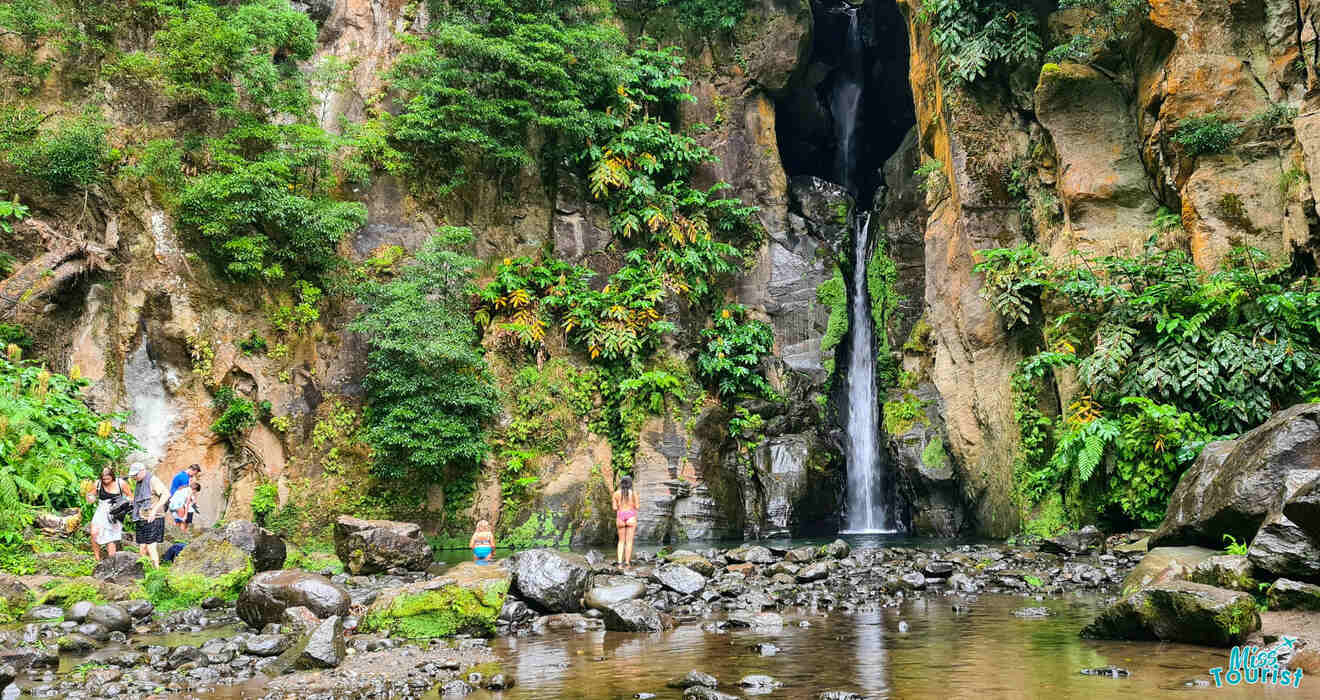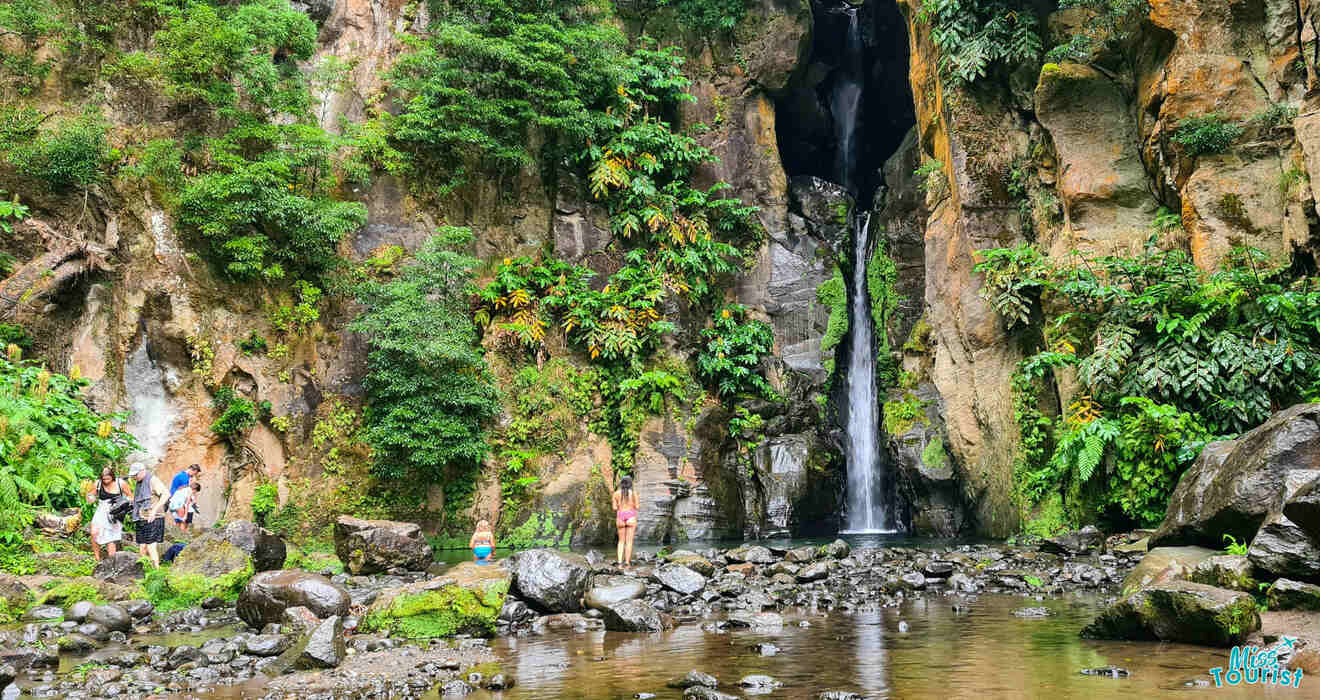 This is a small and beautiful waterfall where you can stop to have a refreshing dip (the water in summer is not too cold), to have a picnic, or to just see it… the entrance is free!
There are 2 ways to get there: either following the 20 minute hike there from Termas das Caldeiras (other natural thermal pools) or drive and park the car right next to the waterfall.
PRO TIP: If you are getting there by car, don't stop once you see the first parking, go on for 3 more minutes down to go directly to the fall, otherwise it is quite a steep uphill walking on the way back!
Location: Google maps
2.3 Soak in the Caldeira Velha thermal pools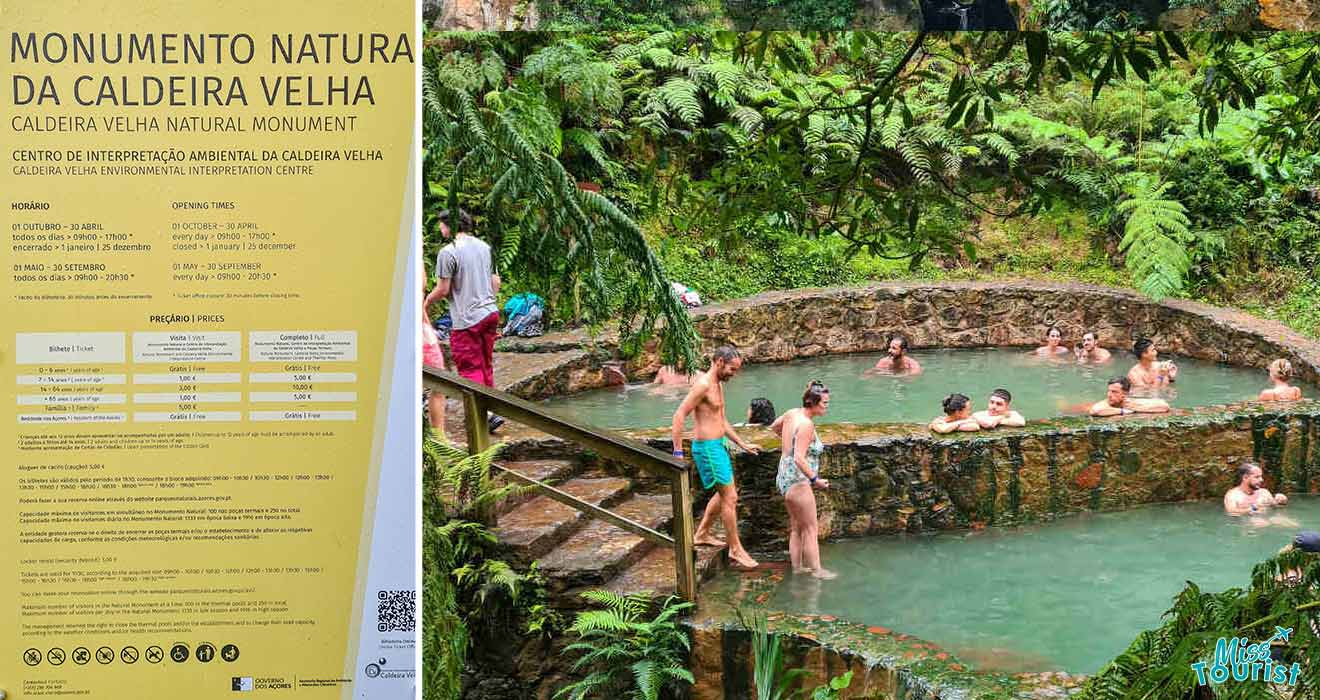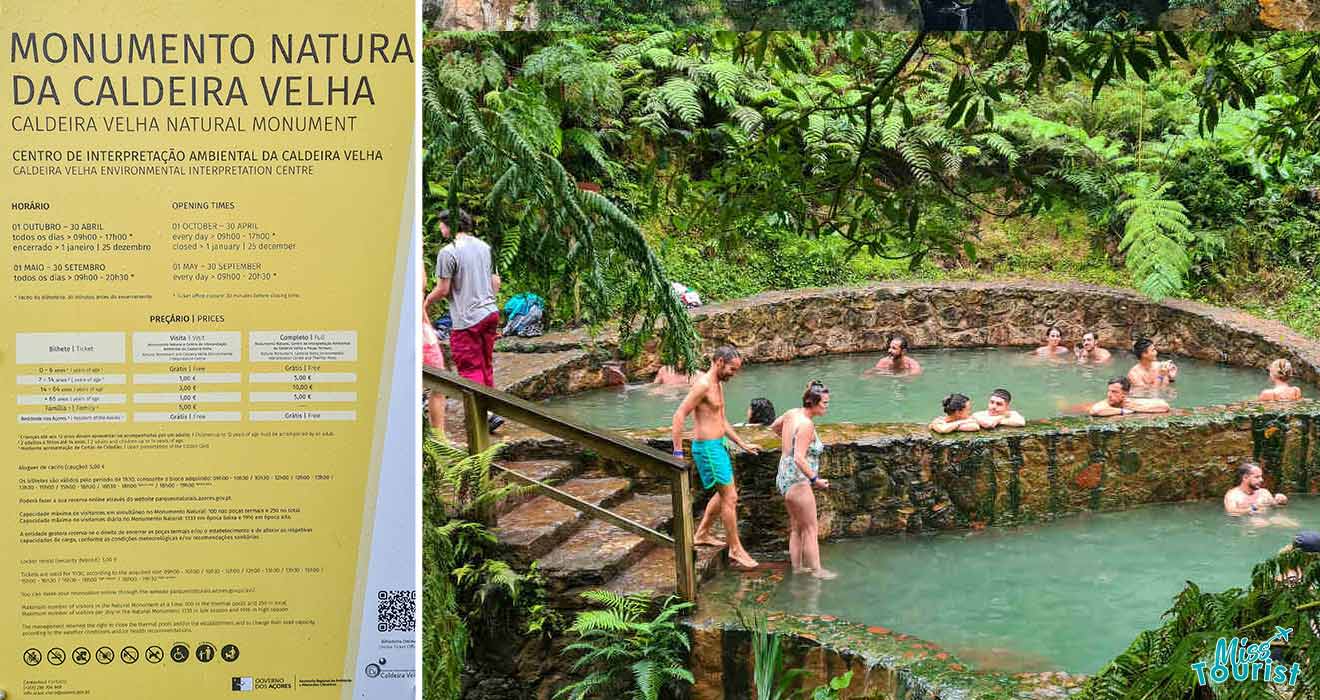 Literally in the middle of the road connecting Riberia Grande to Ponta Delgada, there are other amazing thermal pools with a waterfall backdrop! The Caldeira Velha is perfect to walk around or to just soak up in the warm waters.
Just visiting them costs €3 for adults, while if you want to swim too it is €10 altogether, but take into consideration that the water is a bit colder than in Poça da Dona Beija.
They accept only 150 people per hour so it easily gets booked out. I suggest you reserve your spot in advance if you want to go!
You can even check them out as a part of this half-day guided trip from Ponta Delgada, during which they'll also take you to the serene crater lake of Lagoa do Fogo and to Ribeira Grande, for €40.
Price: €3 entrance / €10 if you want to swim in the thermal pool
Location: Google maps
2.4 Visit the Cha Gorreana Tea plantation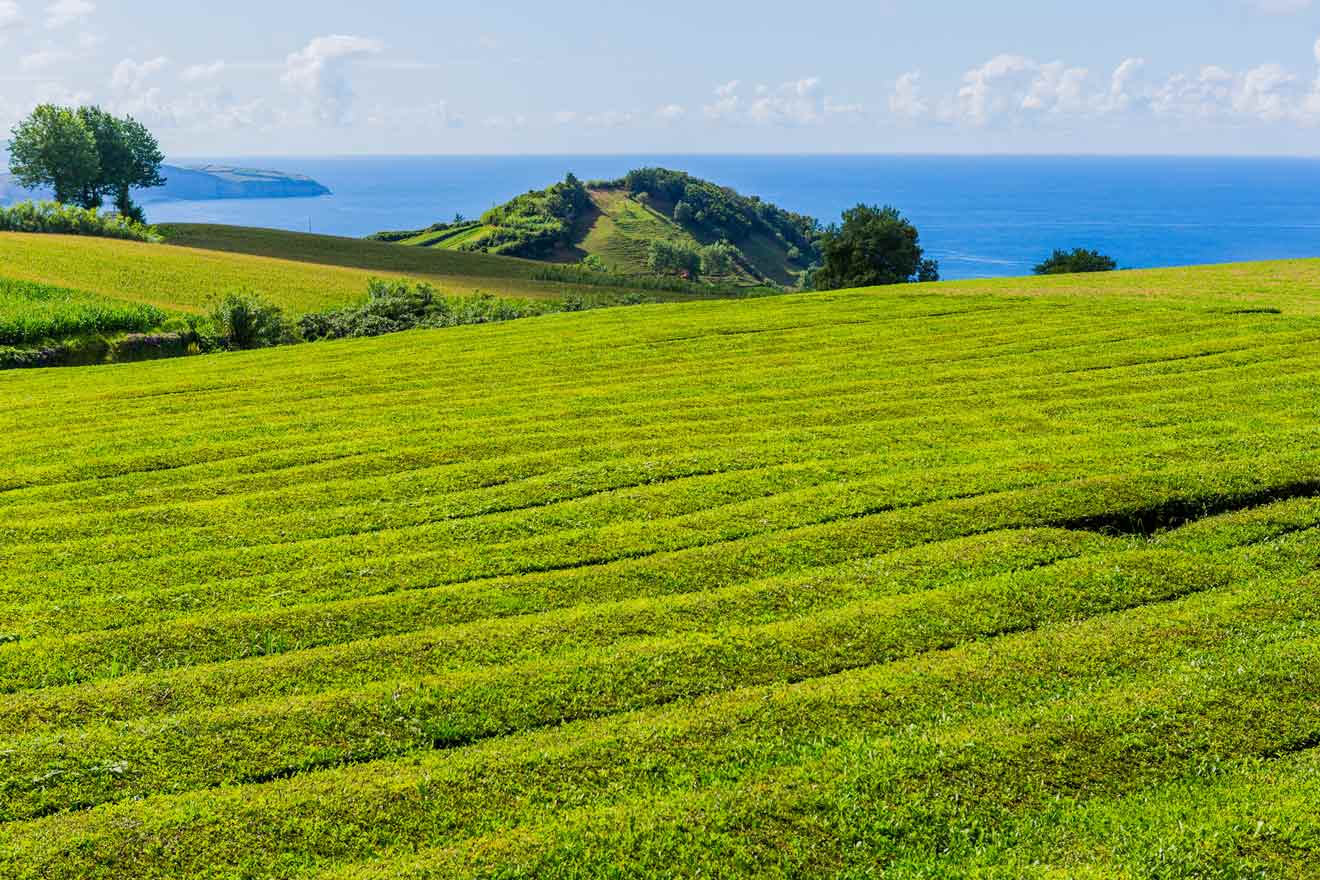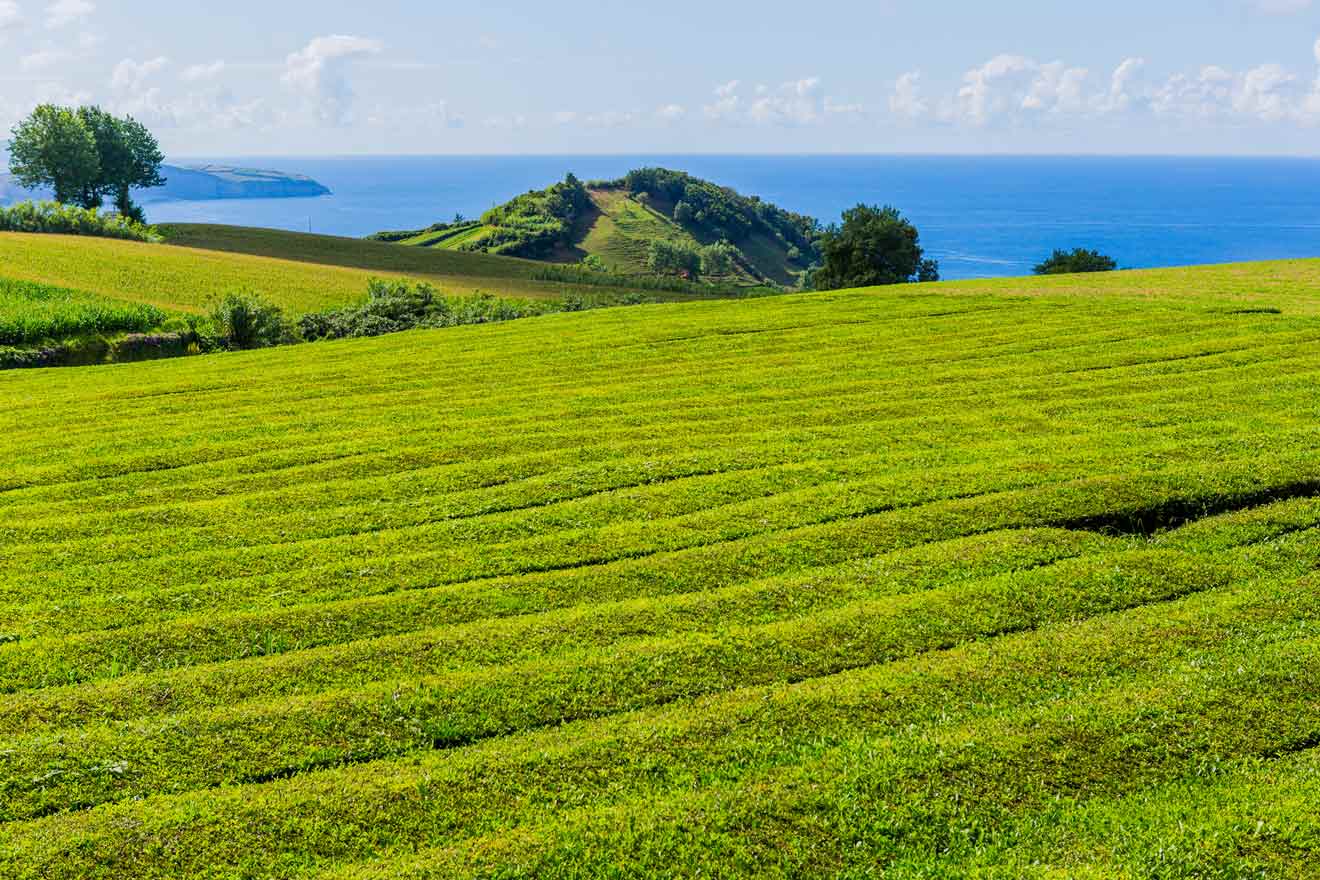 Gorreana is the ONLY tea plantation in Europe, so use your chance!
The Chá Gorreana tea plantation is owned by a 5th-generation family; they have been growing tea here since 1883! Once there were 62 tea plantations in all the Azores Islands, but Cha Gorreana is now the only one left.
Nowadays, the tea factory is open to the public and is an interesting place to visit to see how they produce black, green, and Oolong tea with traditional methods and 'Marshalls' machinery dating back to the 1840s.
You will learn a lot about the processing and manufacturing of the tea, and at the end of the visit, you can stop at the tea room and gift shop to sample different types of teas! The visit is also free!
Location: Google maps
3. Things to do on the East coast of Sao Miguel Island
As I mentioned in the intro, I divided the best things to do in São Miguel by zone, since I figured you will probably want to see everything in one part of the island first and then drive to the other.
I will start my list with the east coast, offering many natural wonders like the Furnas Lake or parks like the terra nostra gardens. If you have a rental car, you can check them out at your own pace and preference. Otherwise, I found a great guided tour that takes you to most of the highlights of the east coast in one day, for €70 per person.
3.1 Have a picnic at Furnas Lake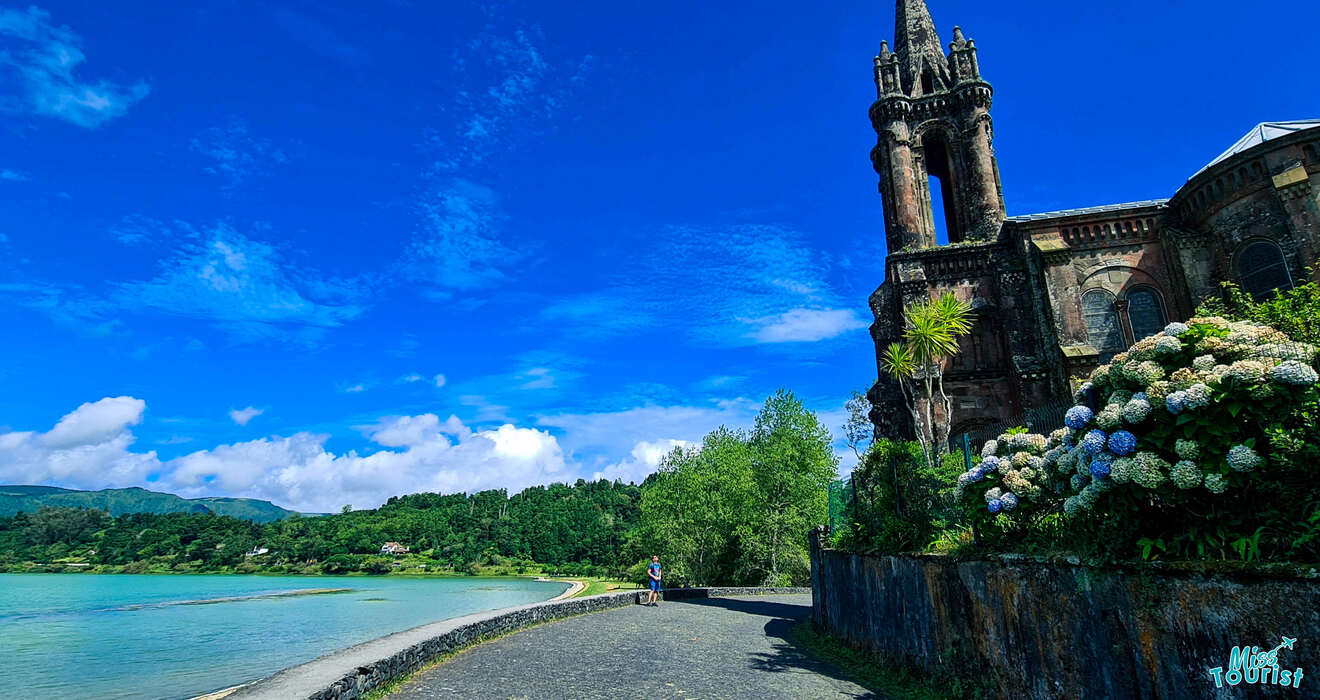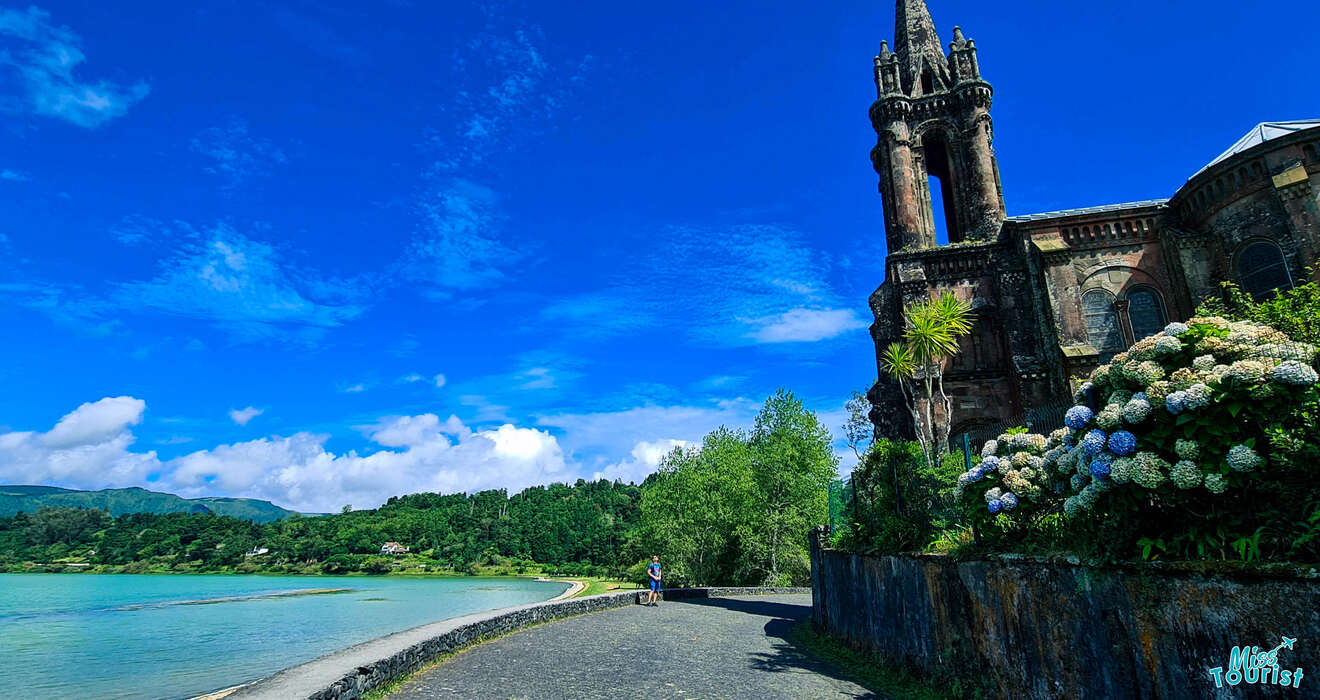 Along the south coast of Sao Miguel's east side, you'll find Furnas Lake, in which waters are heated by the surrounding lava rock cliffs. This is a beautiful place to just chill, walk around while enjoying the water views or have a picnic.
Here you'll also find a museum (Capela de Nossa Senhora das Vitórias) where you can enter for just €3 and learn about the initiative for cleaning the lake. We visited and it was very impressive how much the people working there care about the project!
Sadly about 50 years ago people used to throw chemicals into the lake, so now they're slowly cleaning the lake in an attempt to rebuild the natural habitat. Unfortunately, the waters are still suffering from that (you'll see it from the little foam of the waters), but they're slowly achieving their goal!
If you don't have a car to get there, you can visit it on this 4 hours guided excursion to Sete Cidades, Furnas and Lagoa do Fogo (Fire Lake), for €48.
Location: Google maps
3.2 See the Fumarolas da Lagoa das Furnas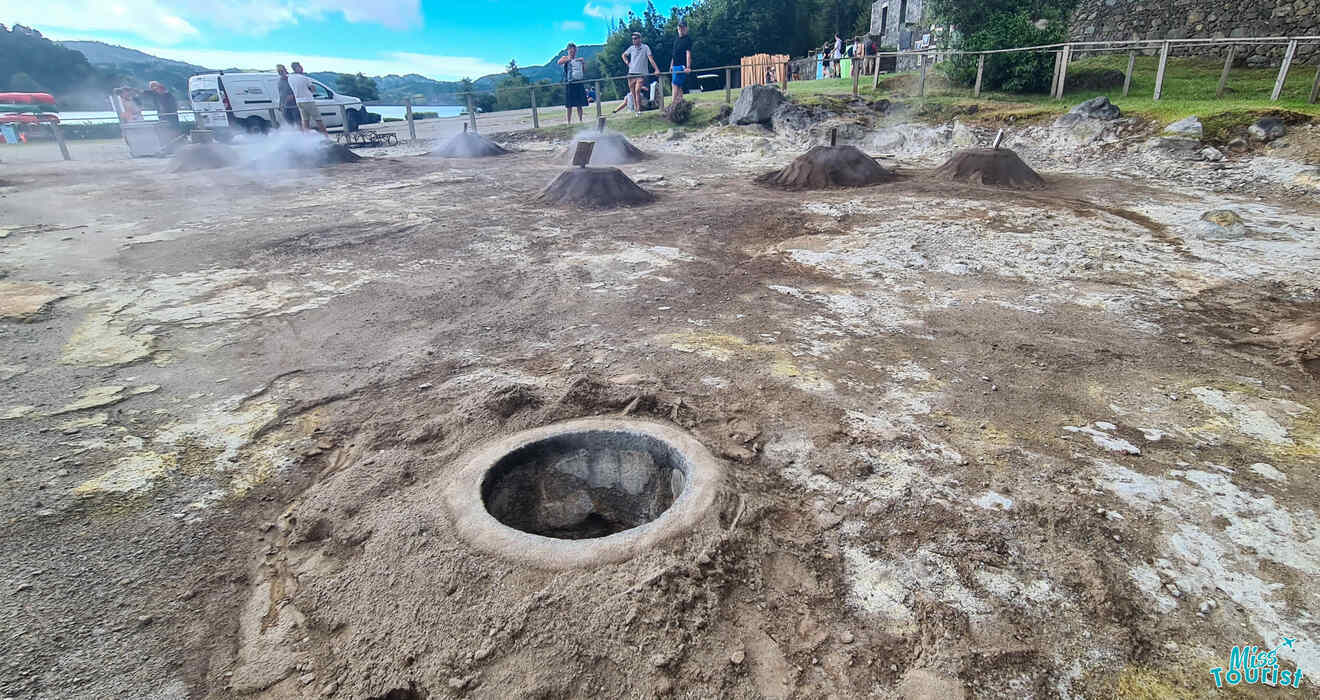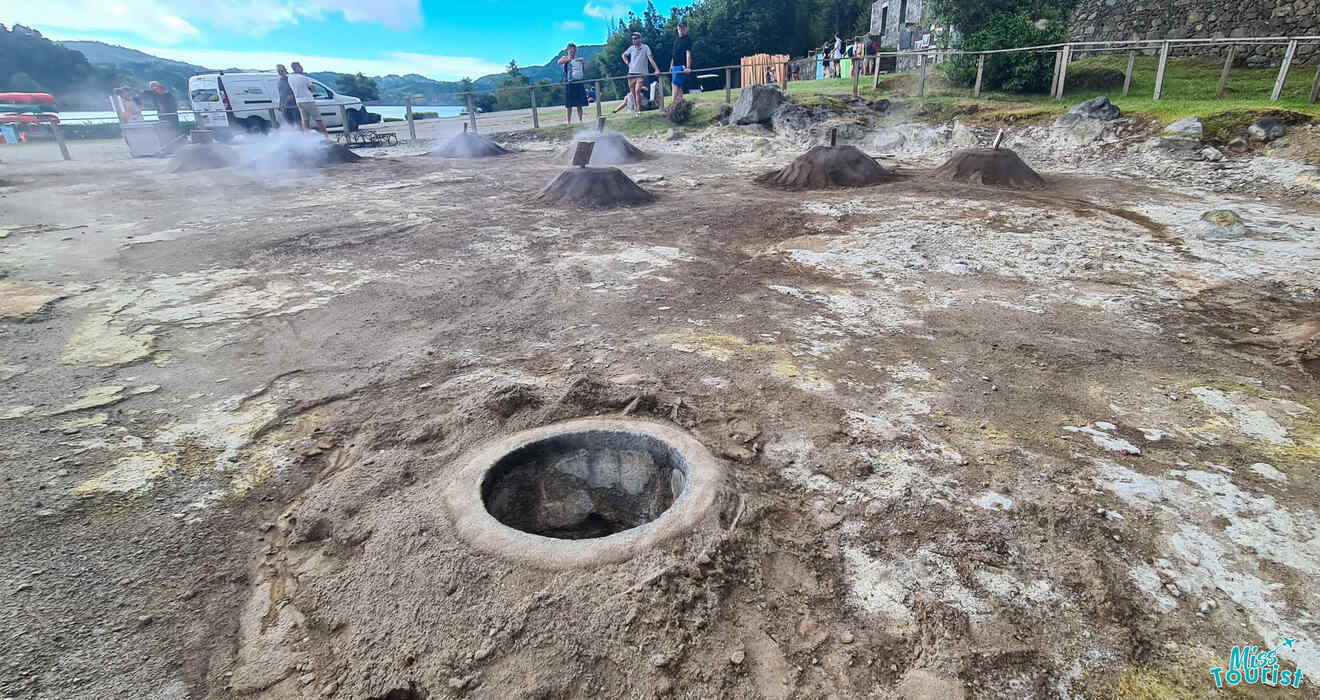 Just north of Furnas lake you'll find a park with the real attraction of this place: the underground cooking pits (Fumarolas) in the geothermal springs.
At ~11 am you will see people putting the traditional Cozido das Furnas, a typical Portuguese stew consisting of beef, potatoes, and vegetables, in the hole to be prepared for 6/7 hours. Every hole is labeled with the name of the restaurant which is currently cooking. This is a cool way to choose where to have dinner!
It costs €3 to enter to see the Fumarolas and from here you can also do a 2-hour hike to a waterfall for an extra €7. You need to show your park ticket at the entrance to the hike so make sure you don't lose it!
Location: Google maps
3.3 Soak in the hot springs at Poça da Dona Beija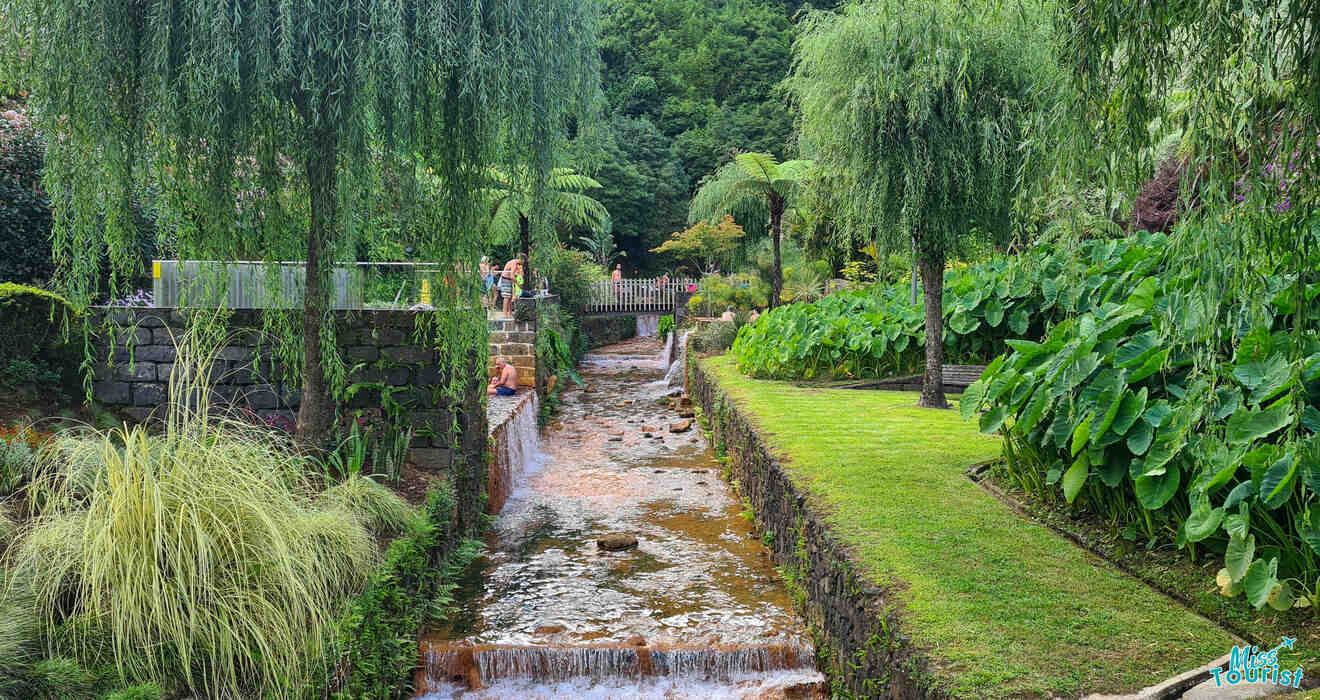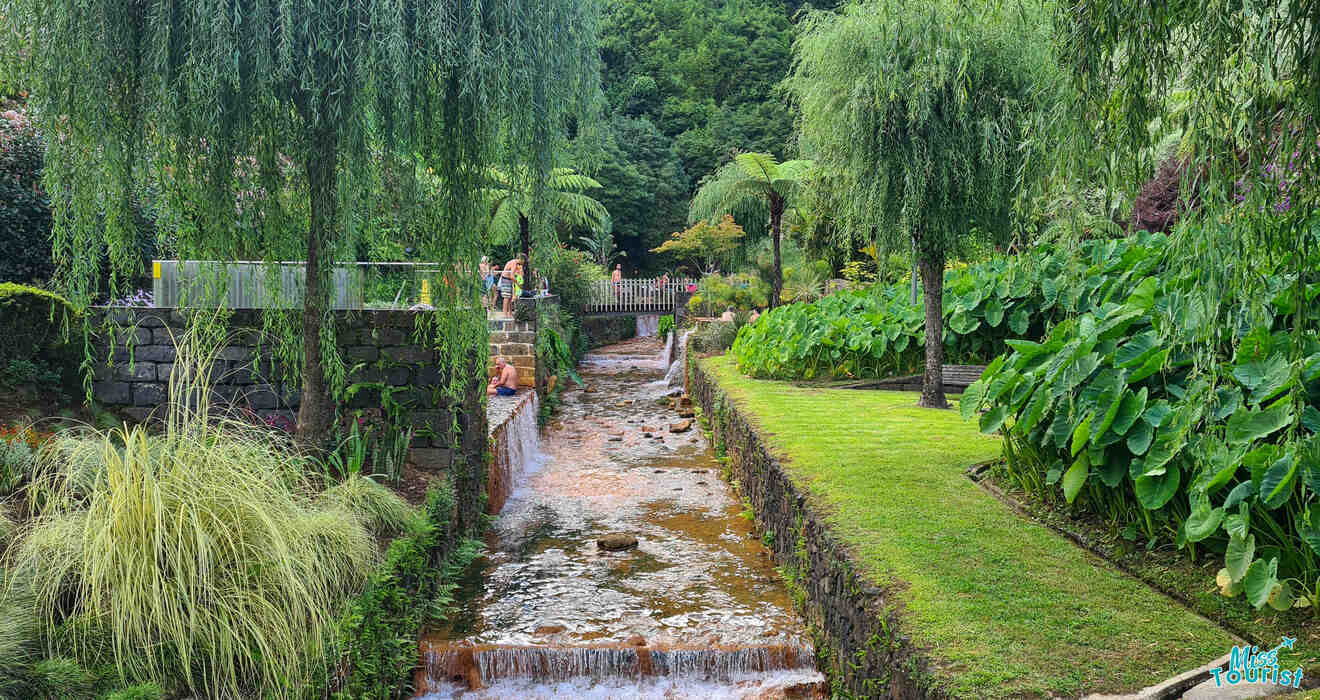 Poça da Dona Beija is a very well organized set of hot springs and thermal pools, each of them with different water temperatures so you'll for sure find the right one for you! The place is nestled in a jungle-like setting so it will make you feel relaxed right away.
Here they also offer changing rooms, showers, and lockers, but if you want to have access to the last 2 you need to pay extra. But, I've heard that they actually don't recommend taking a shower right away because the good minerals of the springs need time to absorb in your skin!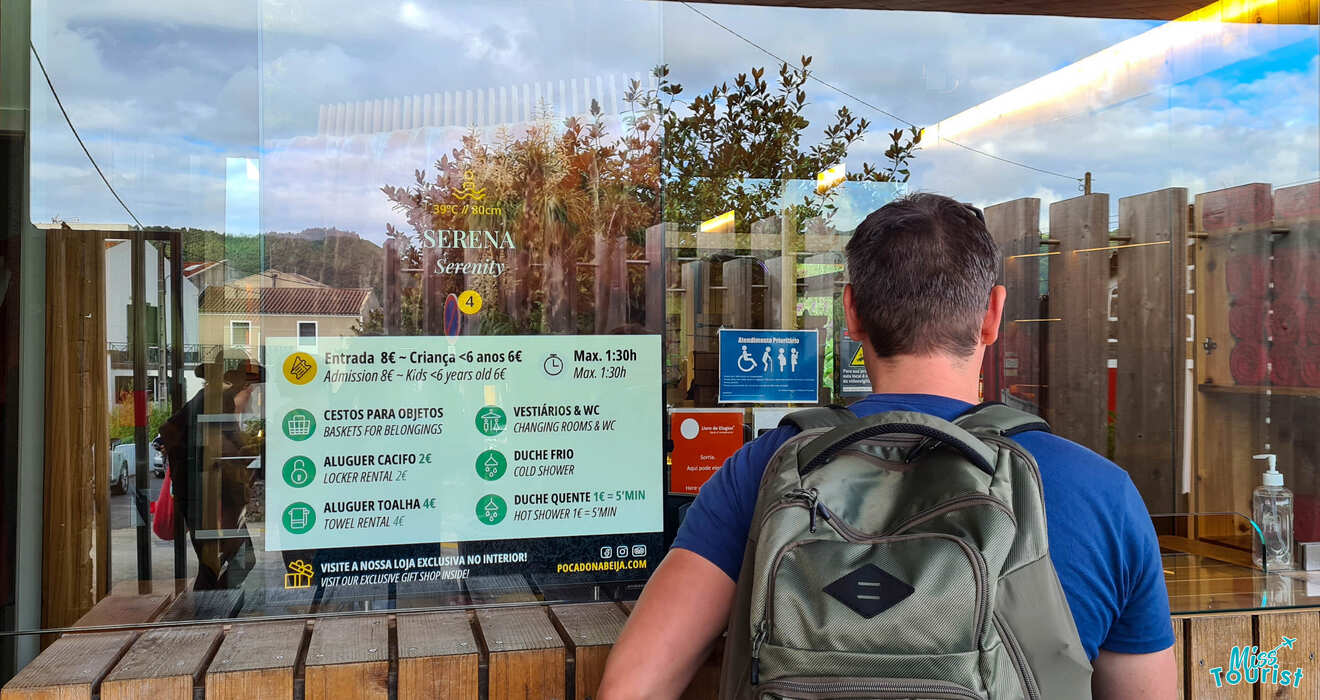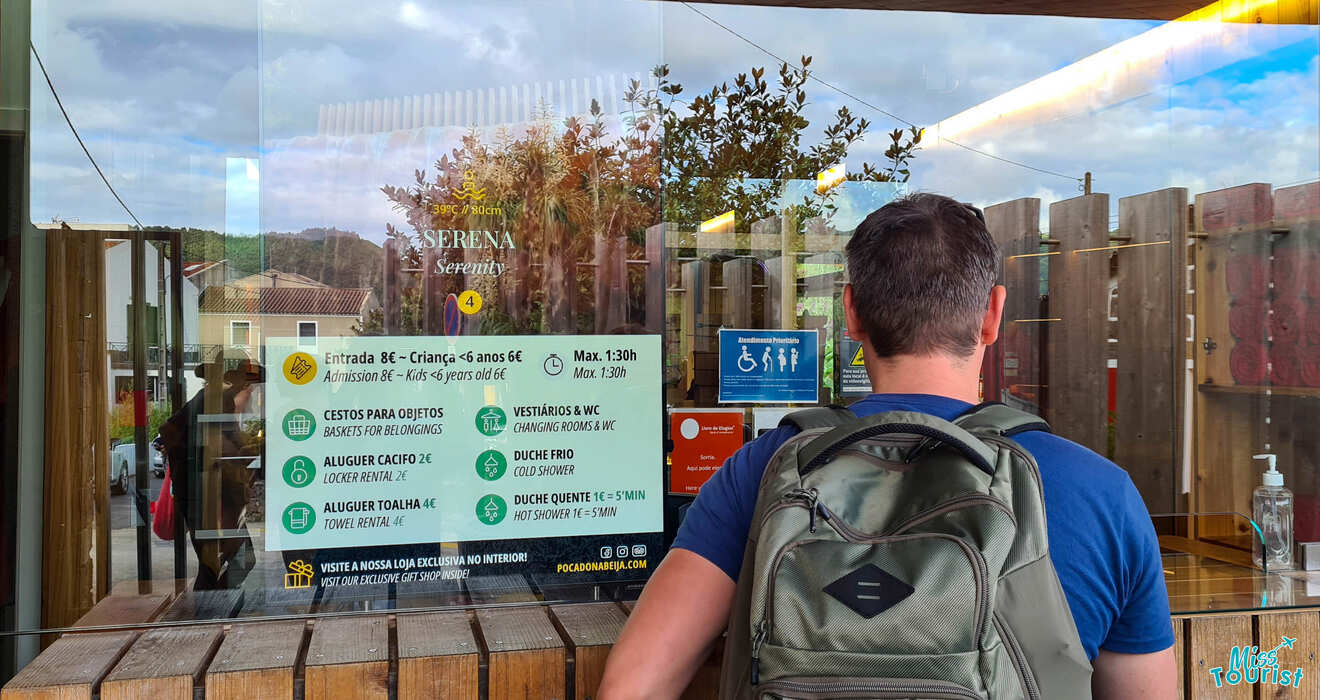 I loved this place, it's just so beautiful and quiet… definitely one of my favorite things to do in Sao Miguel, and is open all day long (from 8.30 am to 11 pm)!
PRO TIP: Make sure you wear dark swimming suits to the hot springs and do not wet your hair if it is dyed. The water of the springs is yellowish and can color your swimming suit and hair.
Price: €8
Location: Google maps
3.4 Relax at Terra Nostra Gardens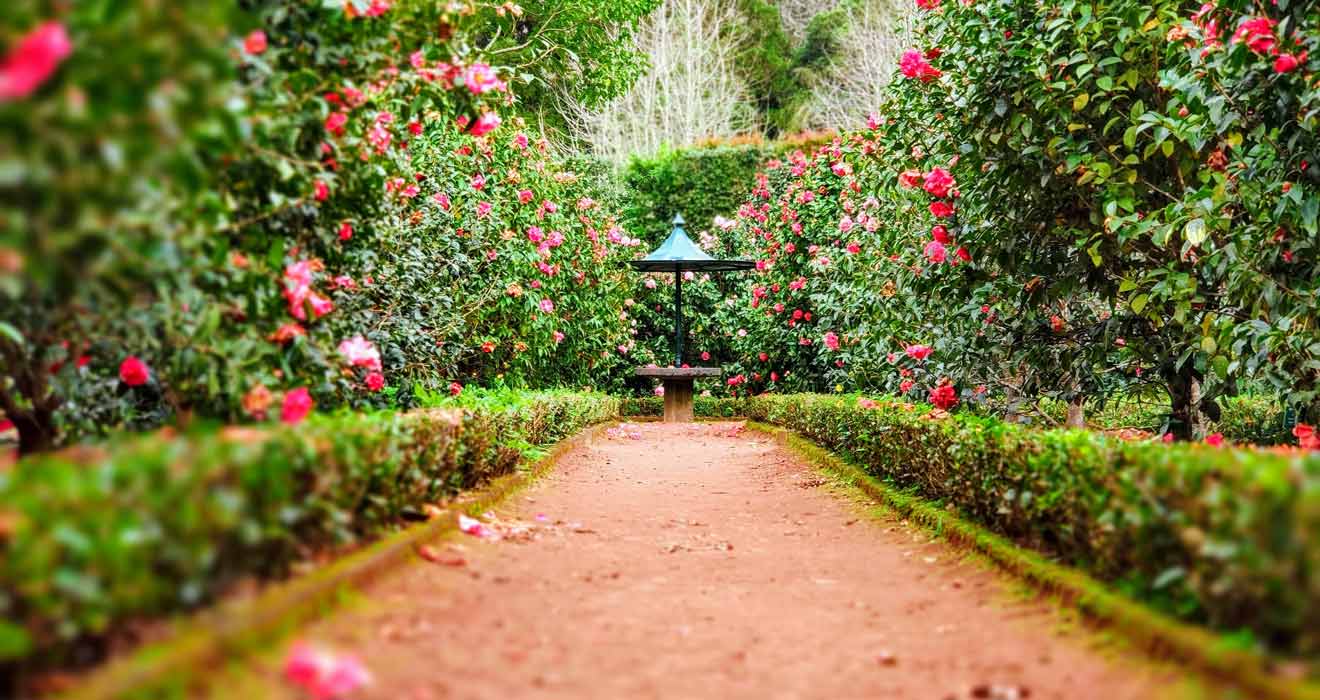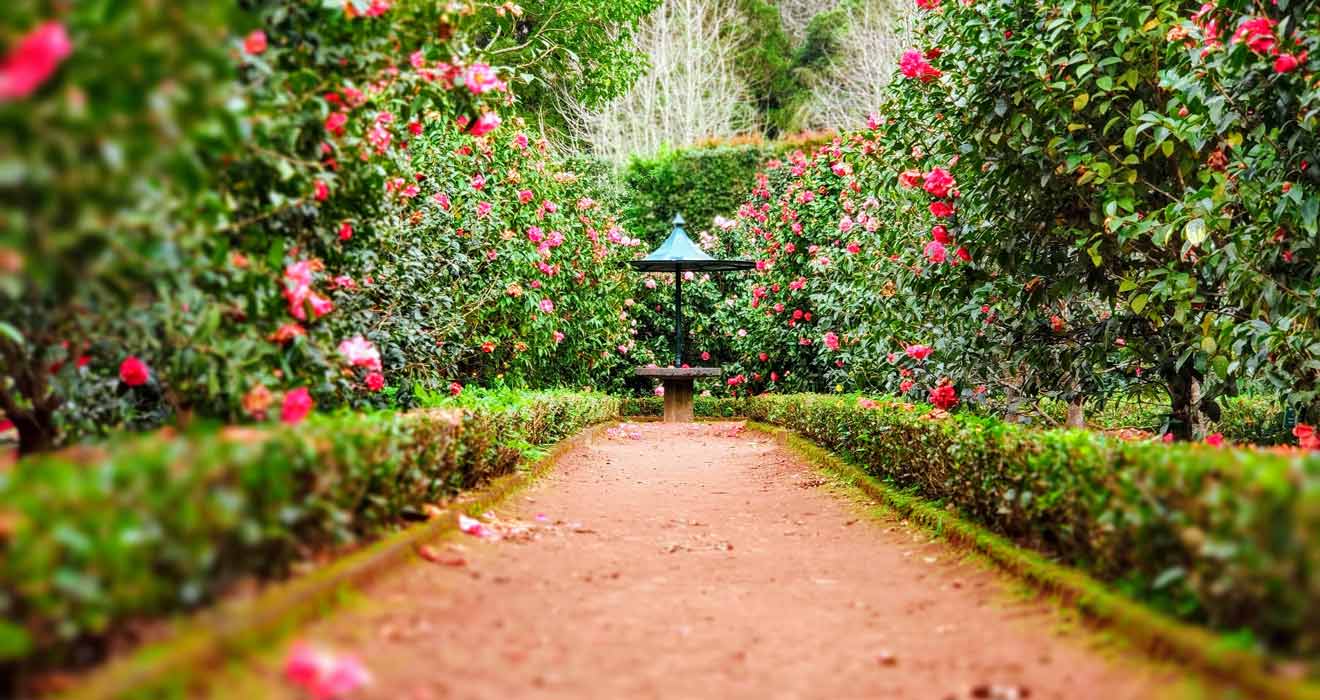 If you want to spend some quiet time in a natural setting, I definitely recommend you go to Terra Nostra Gardens, which are actually part of the Terra Nostra Hotel in the town of Furnas.
In Terra Nostra park you can soak in the hot springs, just stroll and lose yourself in their very beautiful gardens, or have a delicious meal at the Terra Nostra hotel restaurant, where they serve one of the best cozido stew in all of Furnas!
NOTE: It is €10 to visit (€5 for kids) but please note that it closes quite early (at 4.30 pm) so try to come in the morning if you want to fully enjoy it!
Otherwise, you can even visit the place as a part of this full-day tour, including a visit to the Gorreana Tea Plantation, and to the Furnas Lake and hot springs, for €60.
Location: Google maps
3.5 See the Caldeiras mud springs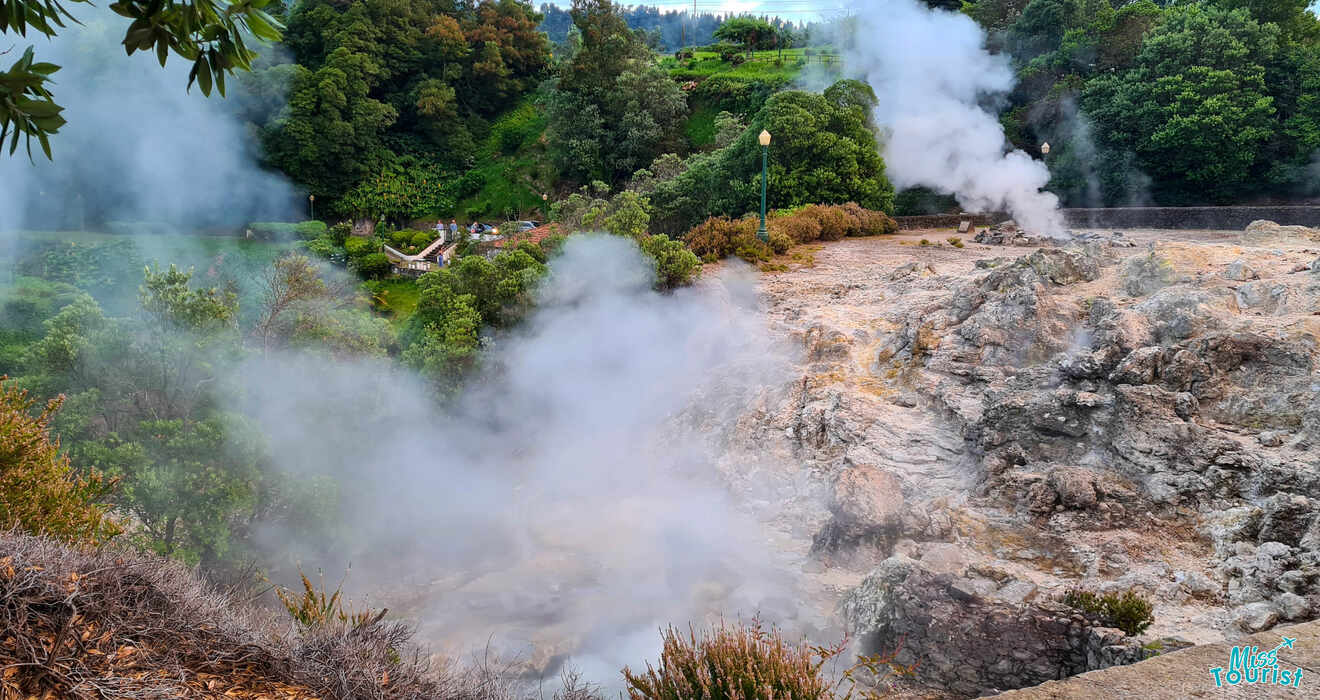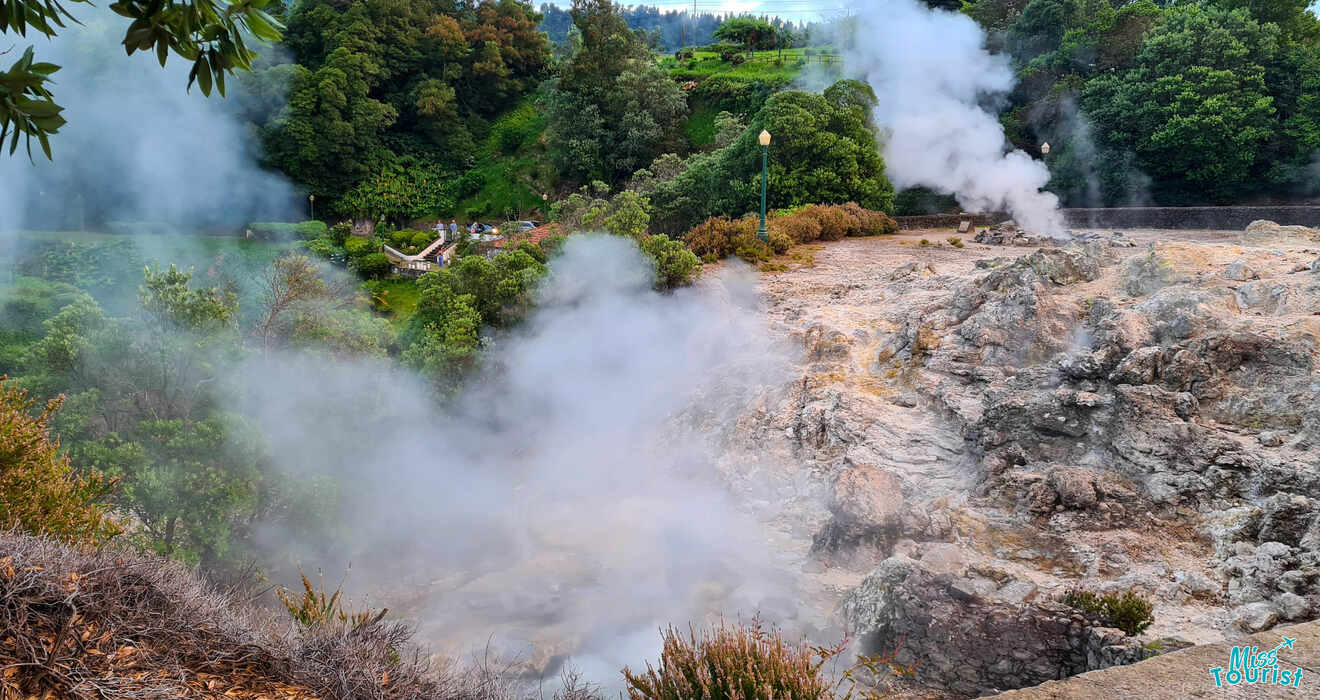 Only 5 minutes driving from Terra Nostra, you will find the Caldeiras geothermal pools. These hot and mud springs are in the same volcanic complex as the furna lake, surrounded by vivid green trees. Another place in Sao Miguel to connect with nature and chill.
If you are driving there, you'll see geysers with the fog coming from the land and smell it right away… you cannot miss it!
The place is close to a free parking spot and free to visit, so you can actually just do a quick stop to see them (if you don't mind the smell, it does smell quite a lot!).
Location: Google maps
3.6 Enjoy the view from various East Miradouros (lookouts)
Are you a fan of viewpoints? Then you'll be happy to know that on the east coast of Sao Miguel you'll find many cliffy lookouts with panoramic views of the Atlantic ocean.
The lookouts here are one after the other around 5 mins apart and they all have parking spots!
If you have a car, you can basically do a "Miradouros" tour, and check out the Atlantic Ocean from different angles. If this sounds cool to you, check out my favorite viewpoints in Sao Miguel East Coast: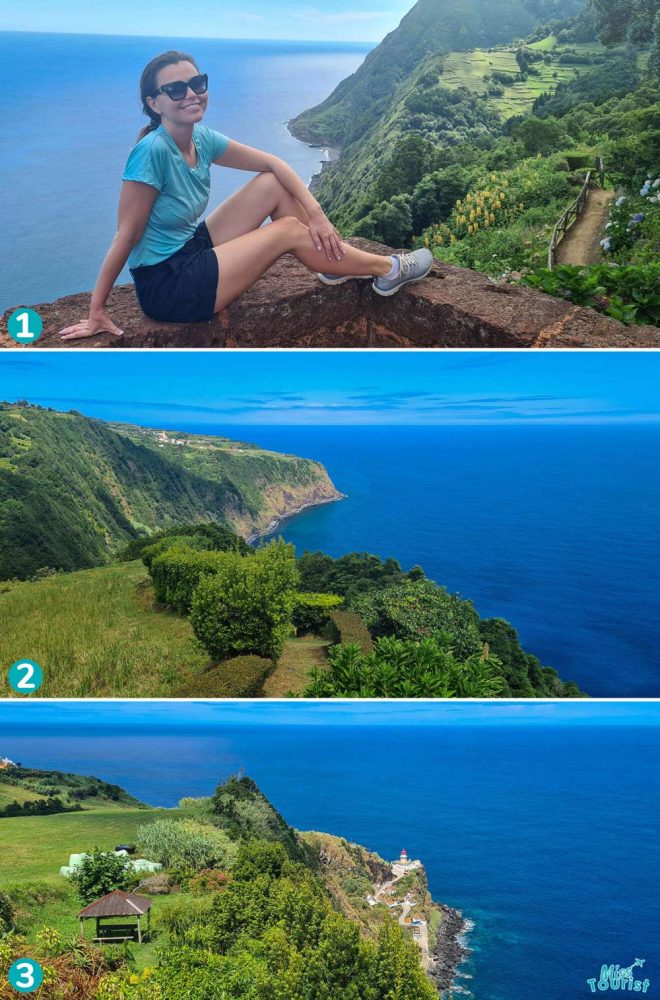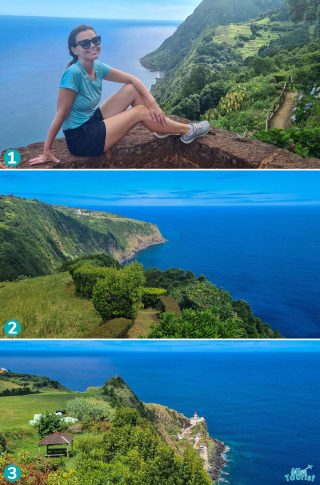 Miradouro da Ponta do Sossego – This is definitely my favorite Miradouro, extremely well curated with manicured gardens and bushes cut, benches everywhere, picnic spots, and bbq… A truly beautiful place!
Miradouro da Ponta da Madrugada – This jaw-dropping viewpoint offers almost the same views as Ponta do Sossego, but in a wilder context with wild trees and untrimmed shrubs, and fewer crowds.
Viewpoint Vista dos Barcos – This tiny viewpoint has a very nice view of the lighthouse and the port from above (you can hike to that lighthouse too if you feel like it), and offers some seats to have a picnic.
P.S.: Another MUST-viewpoint in Sao Miguel is the one from Ermida de Nossa Senhora da Paz, an ancient chapel located south of the island that was built after the apparition of the Virgin Mary to a shepherd. From here you will have the best views of green fields and the Islet Vila Franco do Campo.
3.7 Explore Parque Natural da Ribeira dos Caldeirões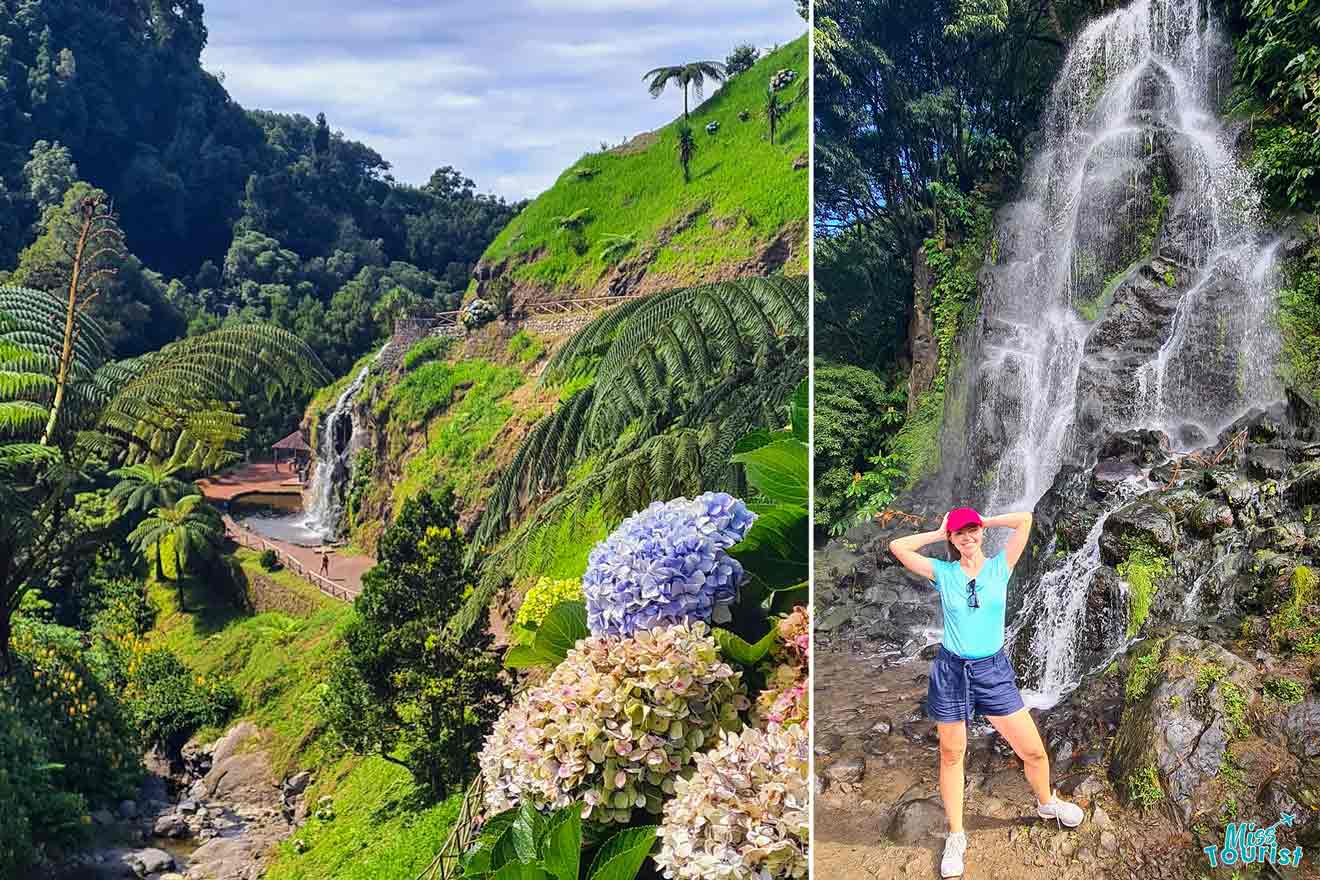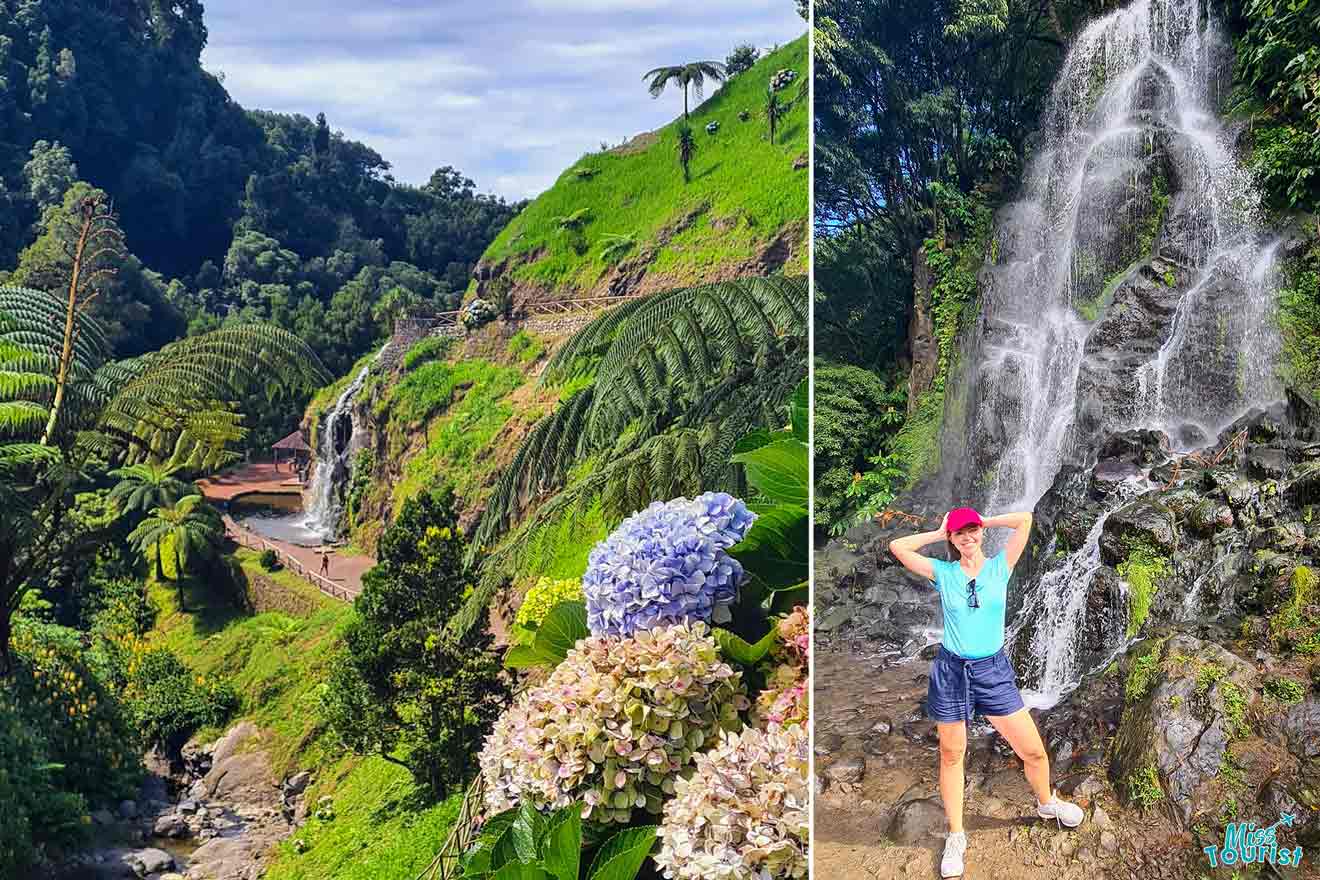 This is definitely my personal favorite park in Sao Miguel. It's like a scene from a fairy tale. Hortensias everywhere, waterfalls and mills, and lush green cliffs… It reminded me of Bali or the Hobbiton in New Zealand!
Here you will find 2 beautiful waterfalls 600m from each other: the first one is the main attraction and comes from a tree-clung cliff, while the second is set in a garden-like setting. Make sure you don't miss them!
This is definitely a place to enjoy some peace and chill, but if you feel like is too quiet for you, you can join this canyoning tour, during which you'll explore Parque Natural da Ribeira dos Caldeirões by jumping, sliding, and rappelling down the waterfalls, for €55.
Location: Google maps
BONUS: Best tours in São Miguel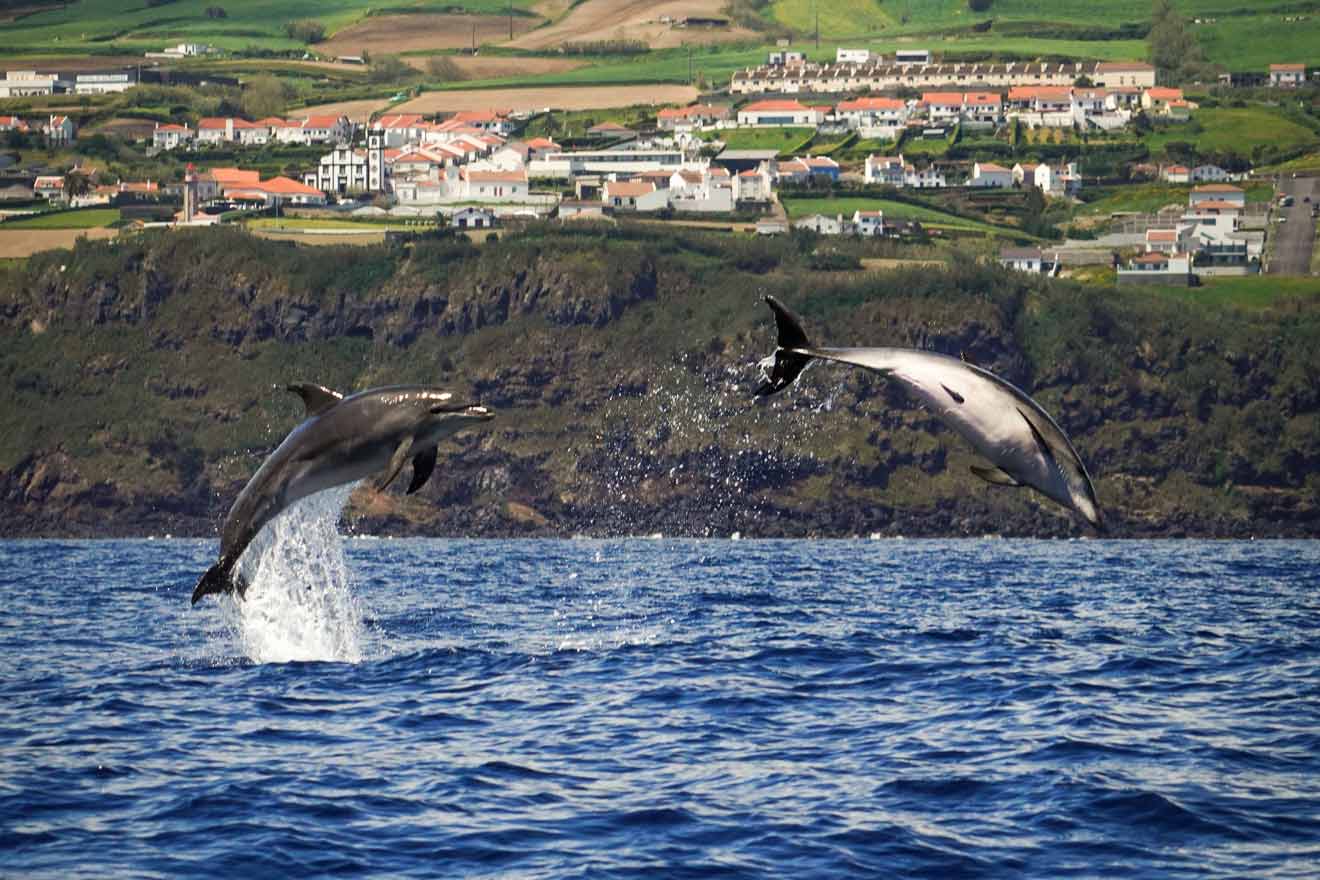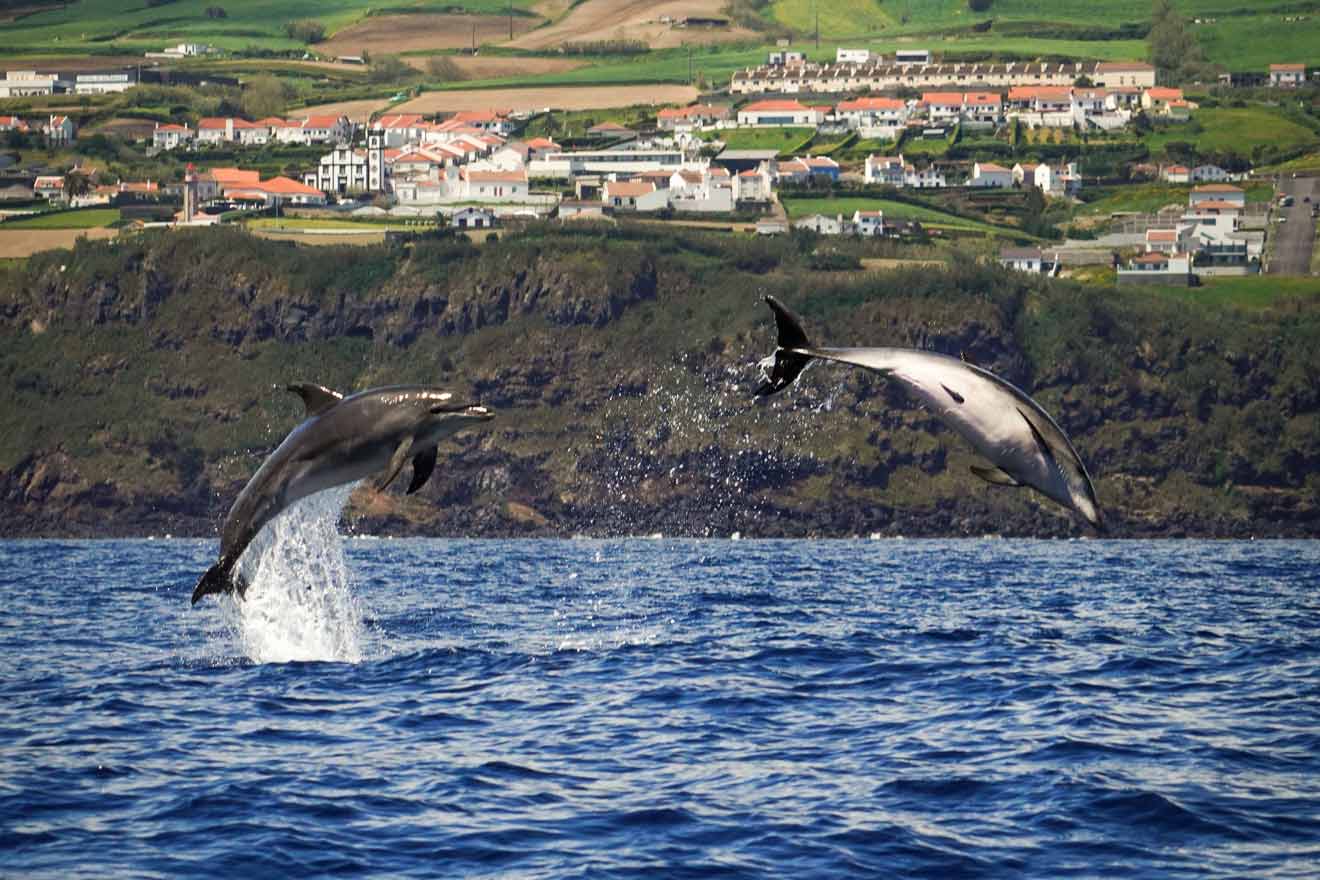 If you don't want to rent a car during your holiday in São Miguel, you can also easily explore the island on the many tours offered.
I've already mentioned throughout the post the 2 full-day tours to explore the East and the West coast of São Miguel, but I want to give you some more options, check them out here below:
Practical Information
Now that we have all your activities planned, here is some practical information that can be useful to know before actually getting to São Miguel and the other islands in the Azores.
Where to stay in Sao Miguel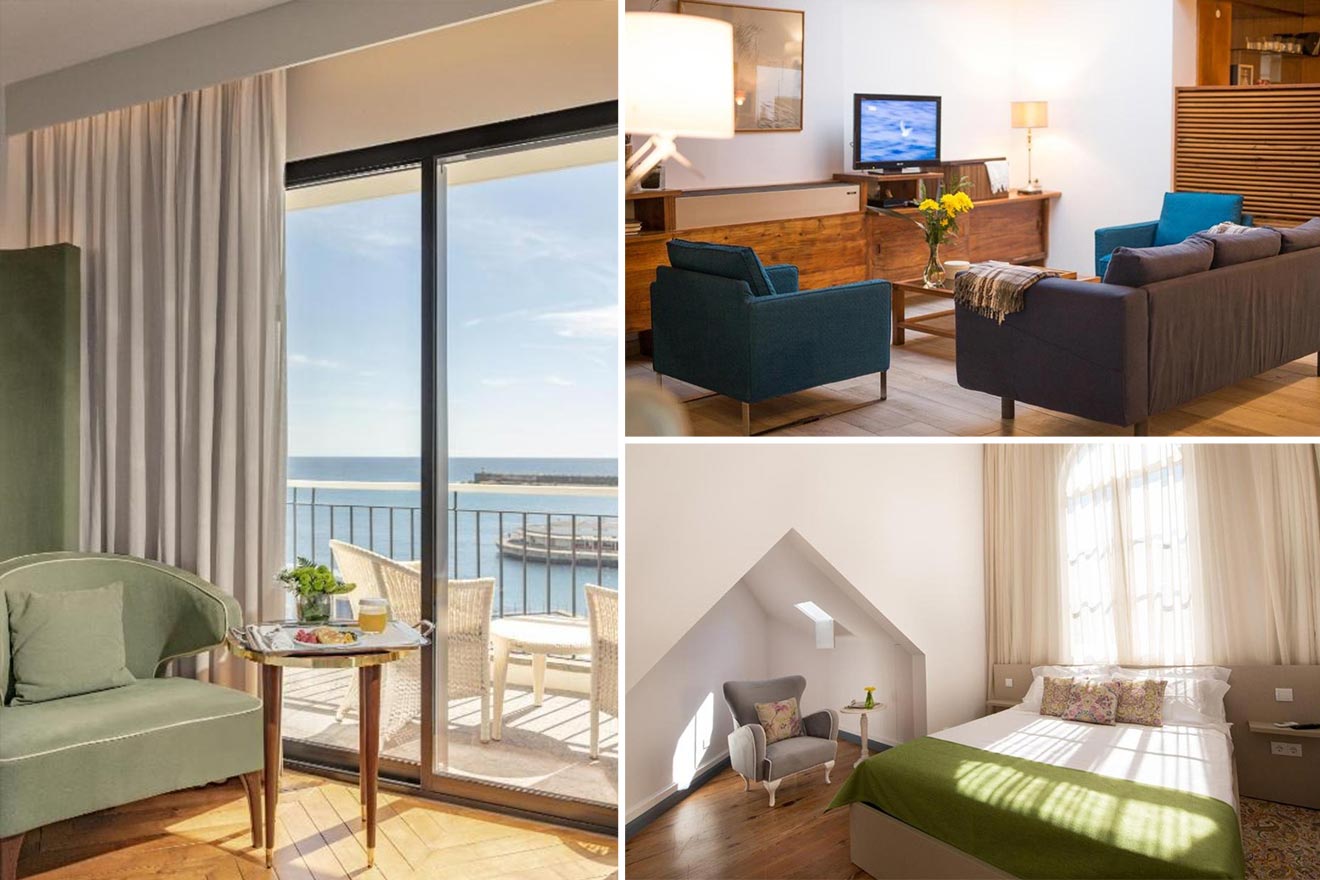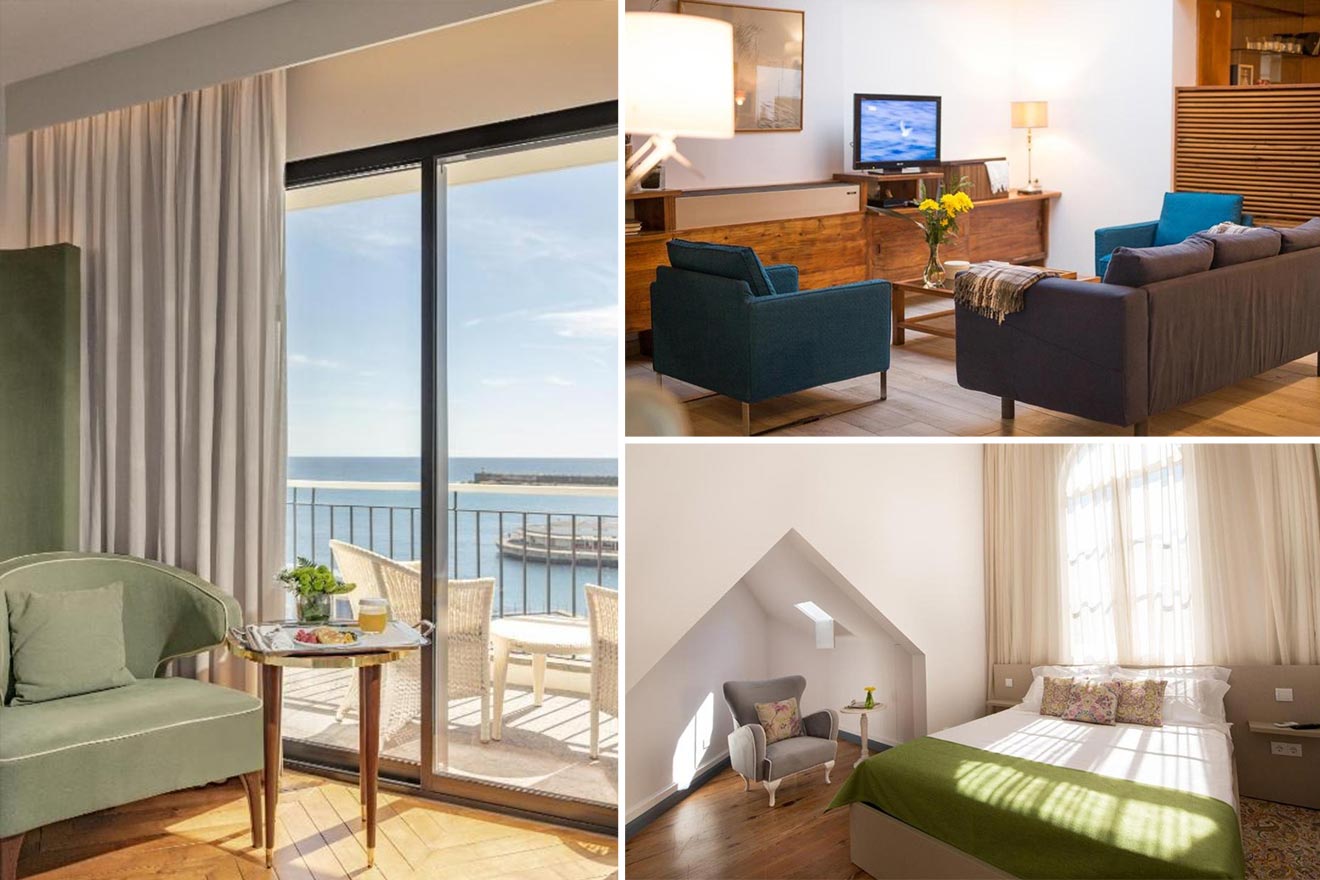 If you are wondering where to stay in Sao Miguel, Ponta Delgada is definitely the best city in the island, from where most of the tours to the best attractions start. I gathered here below one great option for any budget, check them out:
Luxury (€200 and up): Grand Hotel Açores Atlântico – This stunning 5-star hotel is set in a prime location overlooking the Ponta Delgada's Marina and offers an on-site restaurant, a heated indoor swimming pool, and 8 conference rooms.
Mid Range (€70 – €170): Casa das Palmeiras Charming House – Feel at home in this extremely charming house, featuring elegant rooms with private balconies and the most delicious breakfast you'll ever have… all for great value!
Budget (up to €50): Hotel Alcides – If you want to stay on a budget during your holiday, check out this affordable hotel with a super friendly staff, spacious rooms, and all day room service available!
Where to eat in Sao Miguel, Azores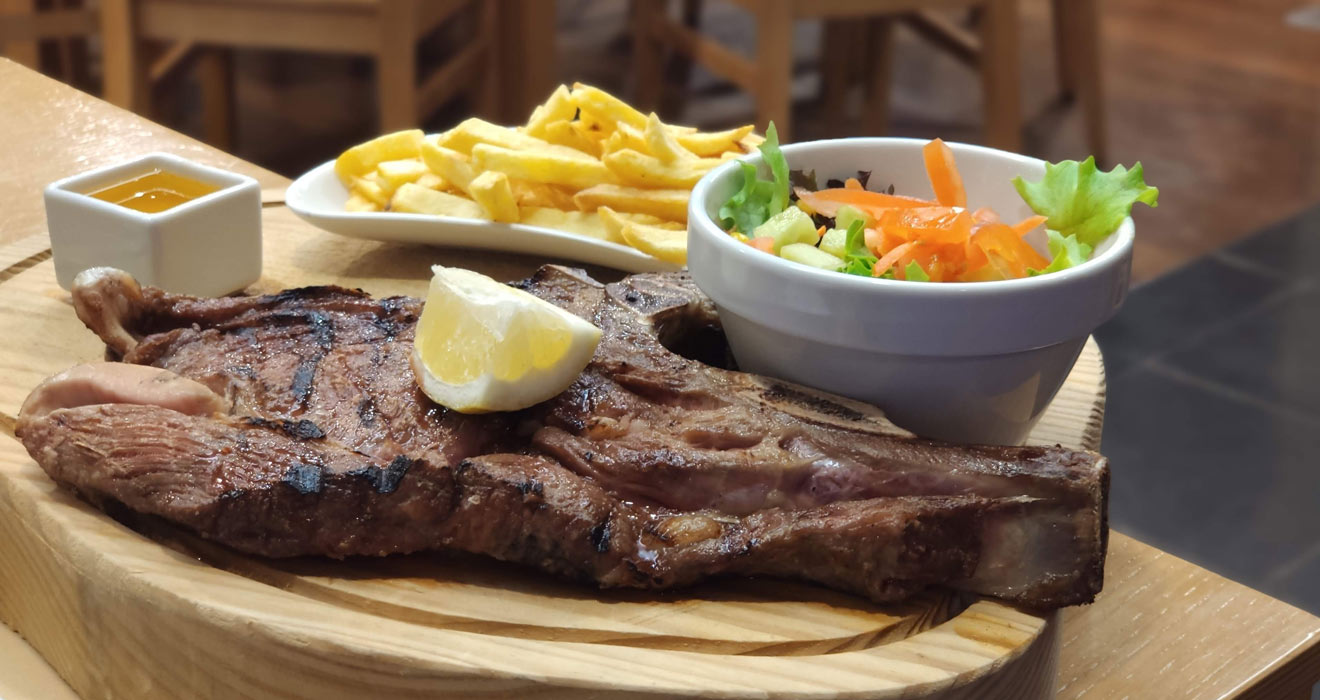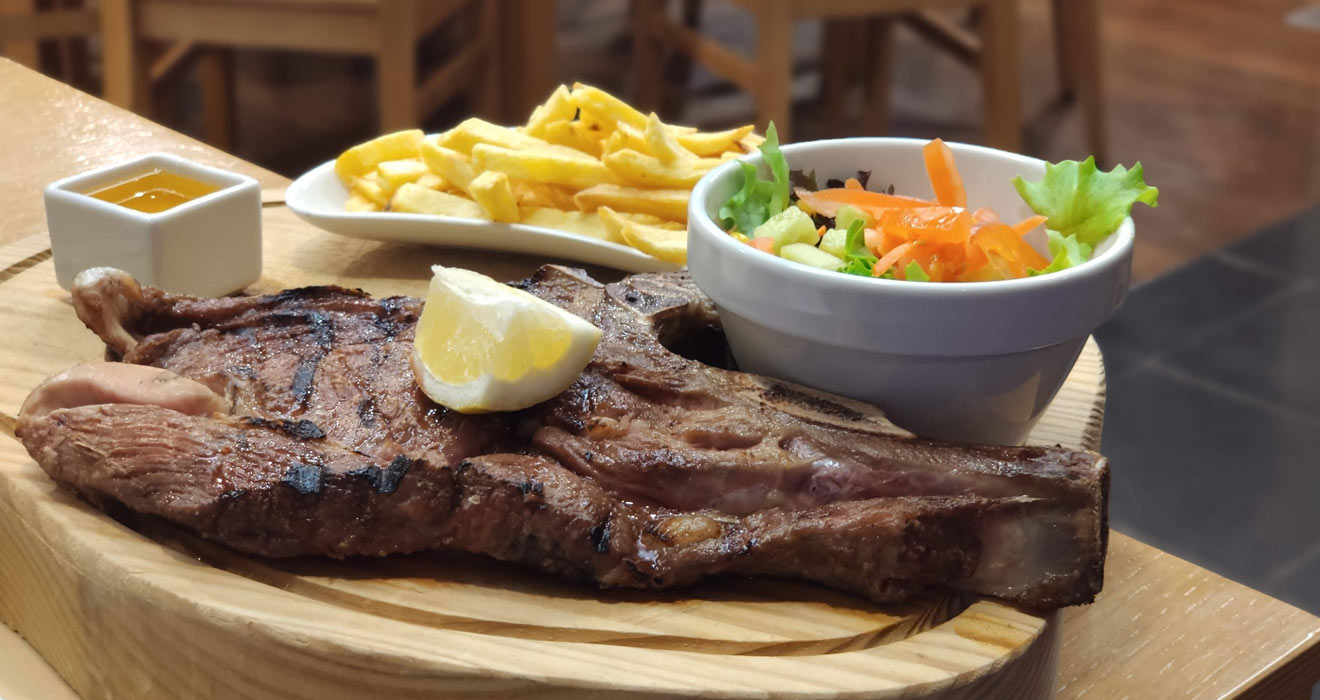 Being a remote island in the middle of the Atlantic Ocean, São Miguel has some peculiar and delicious food you MUST try during your visit, so I gathered here a quick list of the most typical delicacies of the island, and where to try them:
P.S.: There are not many restaurants outside of the few towns in the islands, and some of the best ones are concentrated in Ponta Delgada
Cozido das Furnas: This is one of the most traditional foods in the Azores islands: a stew made of meat, potatoes, and vegetables mixed in a pot and cooked in the ground (using the heat of the geothermal springs) and buried for 6/7 hours. The best place to try it is definitely Terra nostra hotel.
Pineapple: In the Azores, they produce a very special type of pineapple, super sweet and smaller than the average one. You can either buy it at the many markets or go to visit a pineapple plantation to learn also how they grow them. There are 6,000 plantations in the island, but only a handful are open to the public, like the Augusto Arruda Pineapple Plantation where they even give you pineapple liqueur and jam for free!
Seafood: With the rich marine life populating the ocean water around the Azores, you can imagine that fresh fish is just delicious here! One of the best places to try it is Bar Caloura, located in an incredible spot with direct views of the ocean. Some must-tries here are the mussels with their sauce, the tuna steak, and pineapple cake
BBQ: In the Azores, the picnic culture is very strong, so you'll find organized and clean picnic places with garbage bins, tables, benches, etc., in any part of the islands. It is very common to find them in viewpoints (miradouros): the perfect place to bring your own food and enjoy it with breathtaking sunset and water views!
Quiejadas da Vilas: In this list, it couldn't miss something sweet, and these baked tarts are just delicious! These yolky custards are originally from Vila Franca do Campo, so the best place to try them is in this local bakery, but you can find them in any cafeteria or bakery around the island.
Depending on how much time you have on the island, you can either try this food by yourself or join this small-group food tour in Ponta Delgada, rich with a knowledgeable local guide. They will bring you to sample local specialties at many local markets and eateries like Mercado da Graca, Louvre Michaelense, and O Principe dos Queijos. The tour lasts 3 hours and costs €80.
Sao Miguel Weather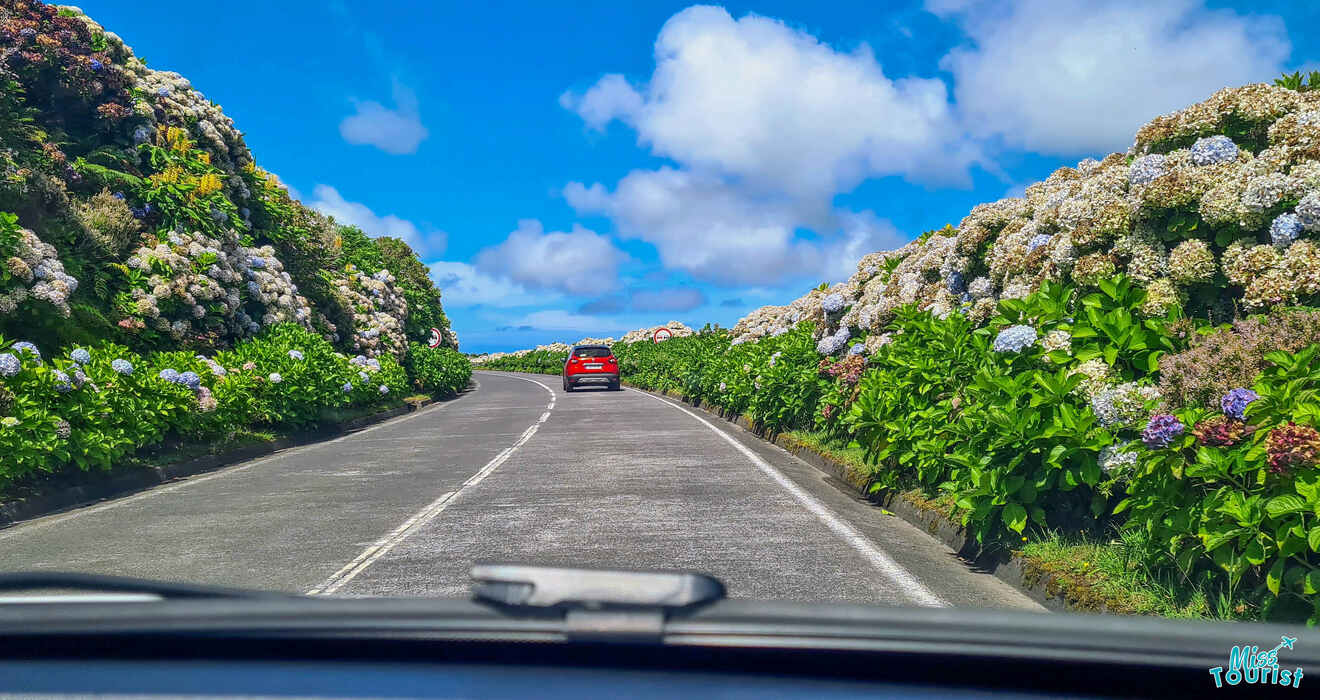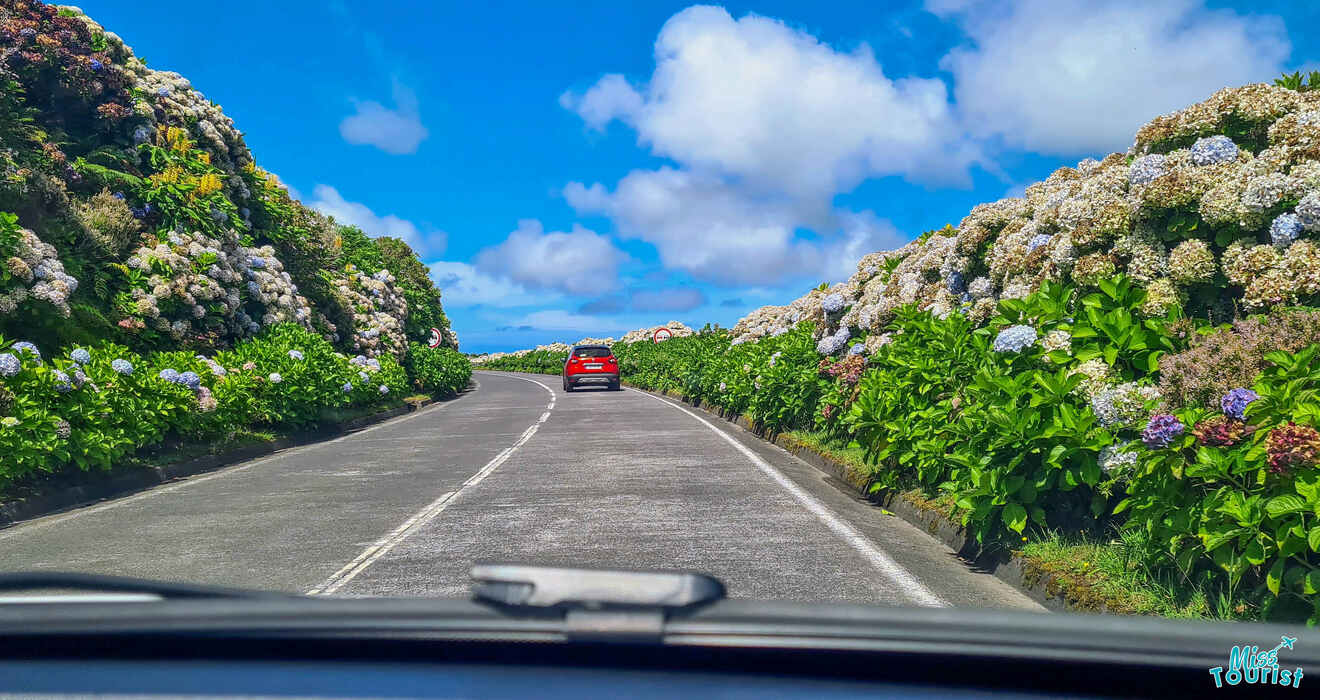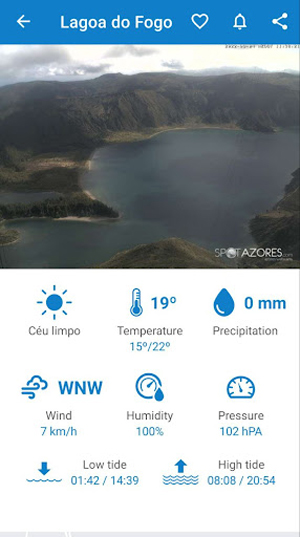 The weather in the Azores offers mild temperatures almost year-round, ranging from a minimum of 13ºC (55ºF) to a maximum of 28ºC (82ºF) in the summer; there's really no off-season there! Anyways, the warmer and best time to go to the Azores is between June and October.
Since the Azores Islands are in the middle of the Atlantic Ocean, the weather can change very quickly, so get ready for unexpected rain showers at any time… Locals like to say that you can experience all four seasons in one day, and that's true.
If you want to check out how the weather is in one part of the island before going there, Spot Azores is a very cool and useful site (you can also download the app) that gives you a live webcam pic of how the conditions are in a particular spot. That's pretty much how we planned which part of the island we are visiting today. 🙂
The best thing you can do is always bring with you a light jacket and an umbrella, but at the same time also sunglasses and strong sunscreen… The sun is super hot there!
Renting a car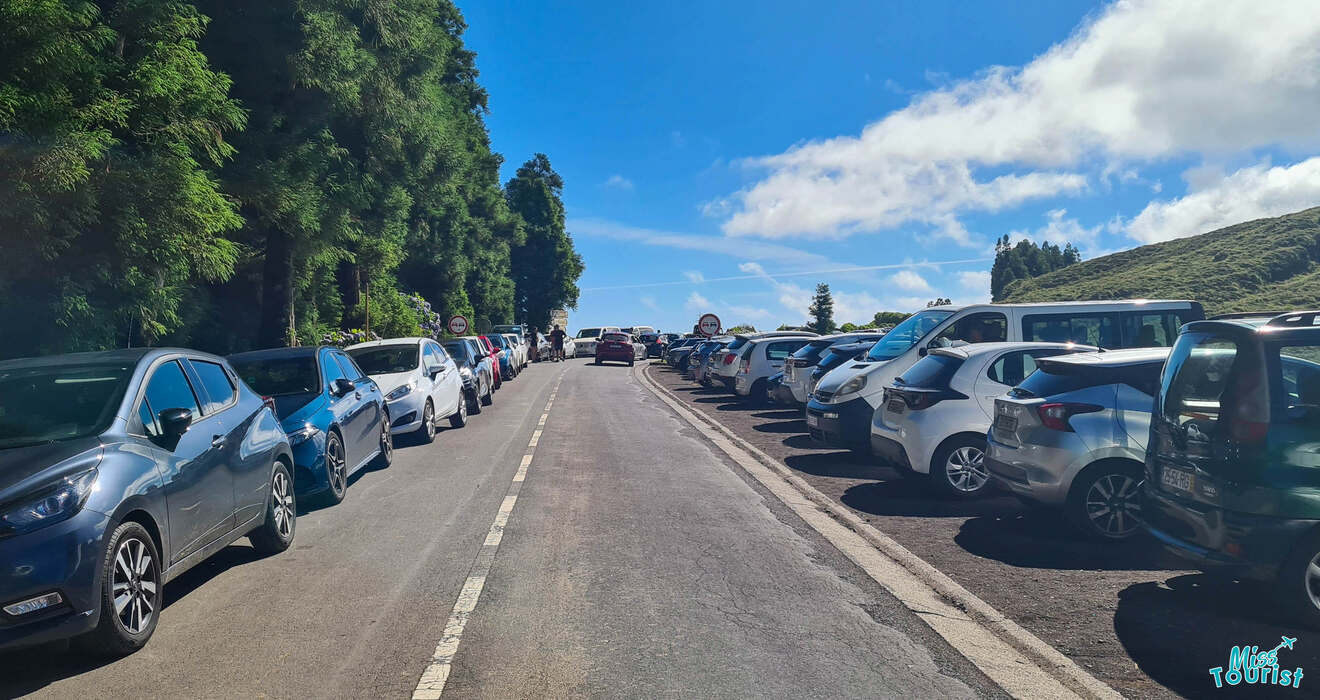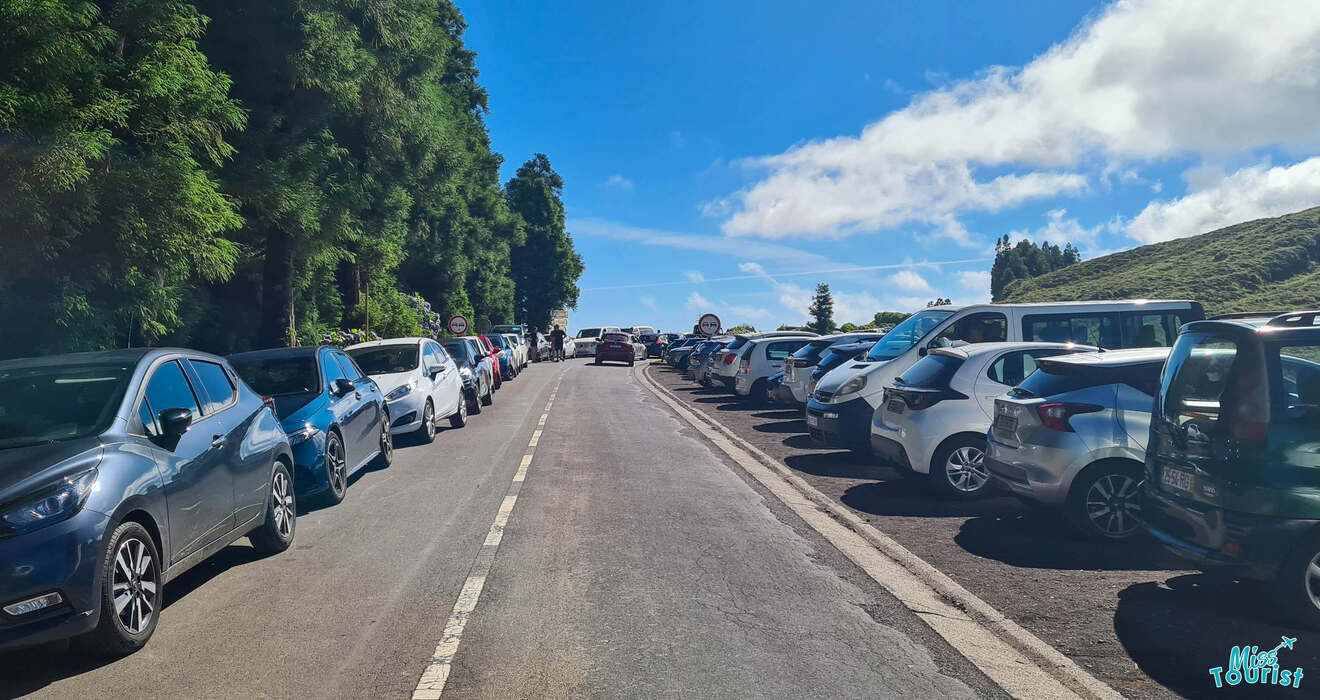 The best choice to get around in Sao Miguel is definitely by car. Public transport is not that good on the island, and a lot of natural places are inaccessible otherwise (unless you join a guided tour). That is what we did and we had no regrets!
Apart from that, having your own rented car in the Azores offers many benefits. There are super good quality roads (not much uphill like in Madeira) here, and there is not much traffic at any time of the day, so it's quite easy to get to places.
Other advantages or renting a car? You get a lot of beautiful panoramas, you can stop at all the viewpoints you want on the way, and there is a free car park almost everywhere!
Renting a car in São Miguel Island is possible only from Ponta Delgada, and costs about €80 a day (goes up to 100 during the season). It is definitely not your super affordable €10 a day or something, but those are the prices currently and I don't think it is getting any cheaper in the future to be honest. If you are traveling with family or a group of friends, you can split!
Other islands in the Azores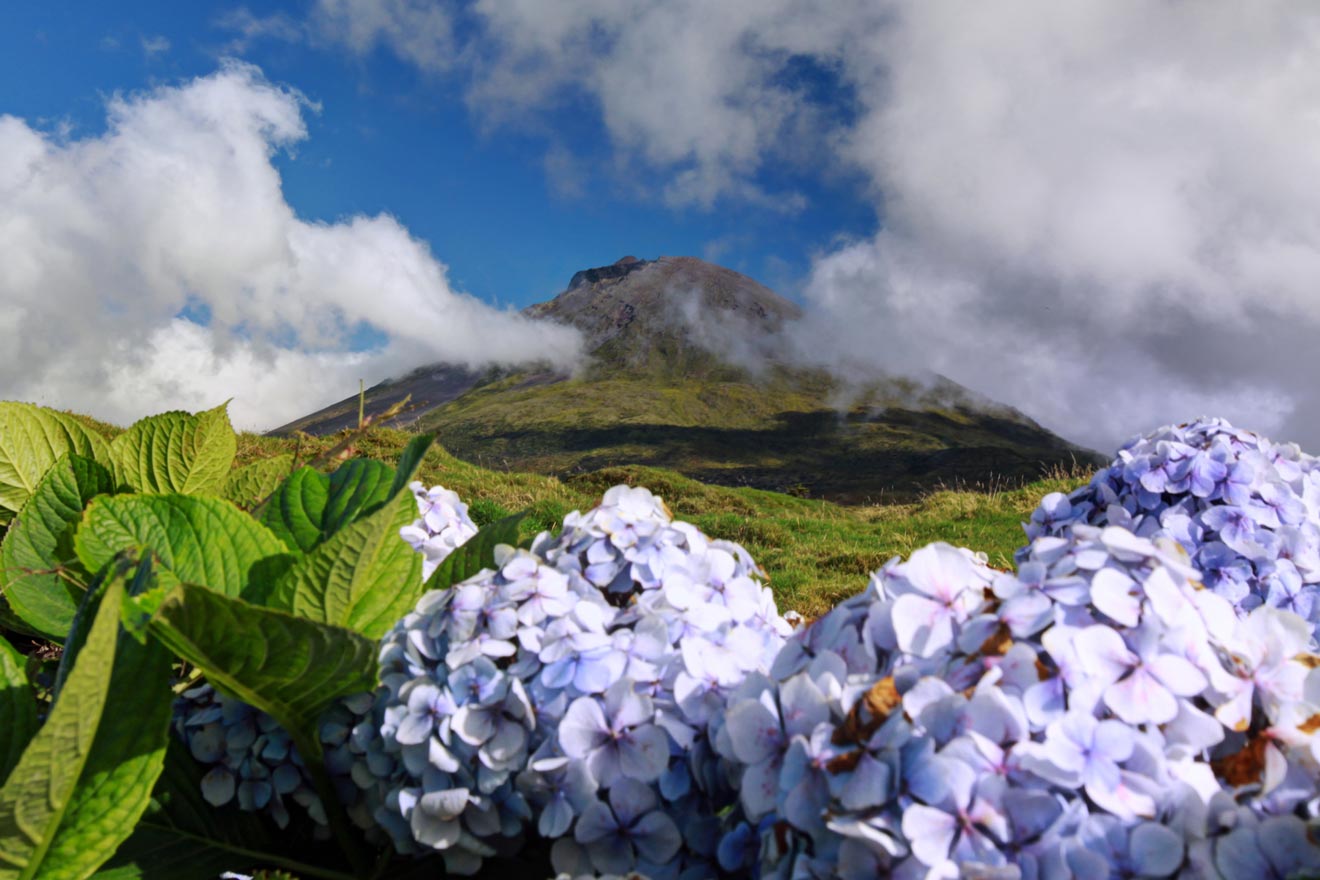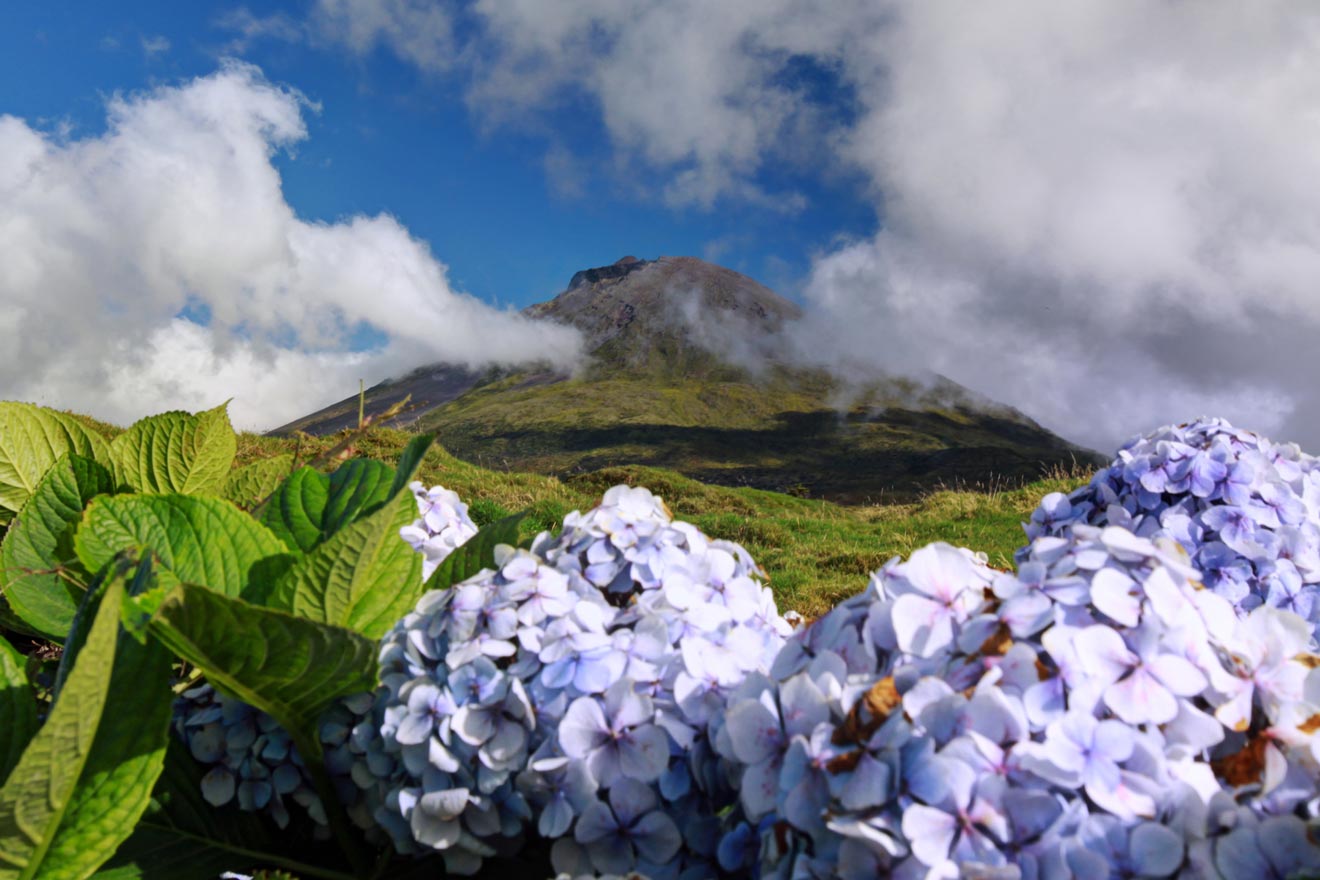 We just saw everything about Sao Miguel, part of the Azores Archipelago, but there are still 8 islands left!
Even if Sao Miguel is the biggest one and the only one with an airport receiving international and direct flights, from here, you can take the ferry or internal flights to other islands.
Even if they all offer stunning nature, each island is unique and beautiful, so I gathered a quick list of the 8 remaining Azores islands so you know what to expect from each one:
Terceira – this is the 3rd largest Azorean island, known for its rich culture and many summer festivals. As in Sao Miguel, here you can dip in natural swimming pools or on great beaches, explore a real volcano (Algar do Carvão), and visit the city of Angra do Heroísmo, a UNESCO World Heritage Site that looks like Cuba for its colorful streets.
Pico – Pico, the 2nd largest island in the Azores, is known as the island of mountains, hosting the highest peak in Portugal (over 7,000 feet): one of the most popular hiking trails in Europe! The island landscape is characterized by a large volcano, stone walls, and vineyards. Locals have been making white and red wine here since the 15th century
Corvo – known as "The Black Island of the Azores", is the smallest of the Azores Islands, with only one village and a population of 400 people, who are all very friendly to tourists. If you love birds, this is the place to be, receiving rare migratory bird species from all over the world
Faial – Faial is called "Blue Island" for the countless blue hydrangeas flowers that cover the island in summer and is the 4th biggest island of the archipelago. This is a popular stop for those crossing the Atlantic, so it always has a lively atmosphere, especially in the summertime.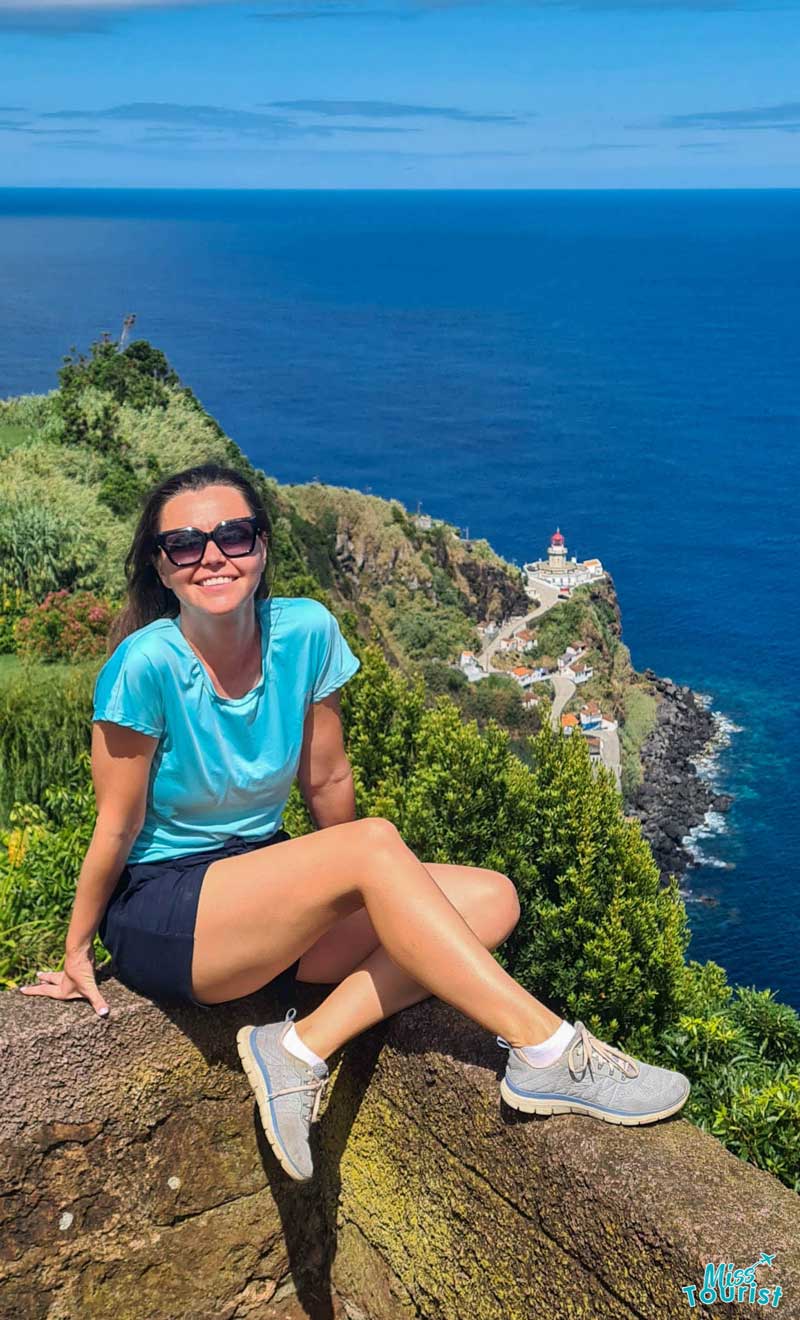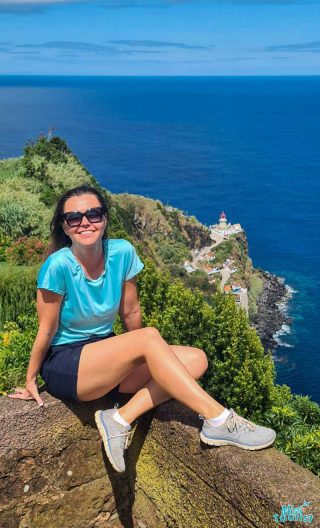 Flores Island – Flores (meaning flowers) is the greenest island in the Azores, featuring lush botanical gardens, many different flowers, wild animal life, crater lakes, and many waterfalls… A paradise for nature lovers and outdoor enthusiasts! With a population of 4,000 inhabitants, Flores Island is not too touristy and very tranquil.
São Jorge – This island is the foodie's paradise, known for the best cheeses (like the famous Queijo São Jorge) and shellfish in Azores Islands, and hosting the only artisanal coffee plantation in Europe, where you can have a delicious coffee while gazing at the beautiful view of Pico Island.
Graciosa – Meaning "graceful" this small island is very peaceful and is actually the flattest island in the Azores, the reason why it is used for agricultural purposes. This place is ideal for diving, spotting dolphins and whales, or just relaxing on one of the 2 beaches.
Santa Maria – Located furthest south, Santa Maria has the warmest and sunniest weather in the Azores, characterized by white sandy beaches and clear waters where you can dip or dive all year round. This island is also the oldest of the Azores archipelago, so it's the "mother island".
| | |
| --- | --- |
| 🤩 Range of activities: | Average |
| 👪 Family-friendly score: | Medium |
| 🚗 Best day trip: | Sao Miguel East |
| 🎢 Top paid attraction: | Lagoa das Furnas |
| 🚶🏽‍♂️ Best free activity: | Two Lakes, at Sete Cidades |
| 👧 Best attraction for kids: | Whale watching tour |
| ⛪ Best church: | Nossa Senhora da Paz |
| 🍍 Must try food: | Pineapple |
| 📅 How many days: | 3-5 days |
| 📍 Best place to stay: | Furnas boutique hotel |
| ✈️ Cost of traveling: | Medium |
FAQs about São Miguel, Azores Islands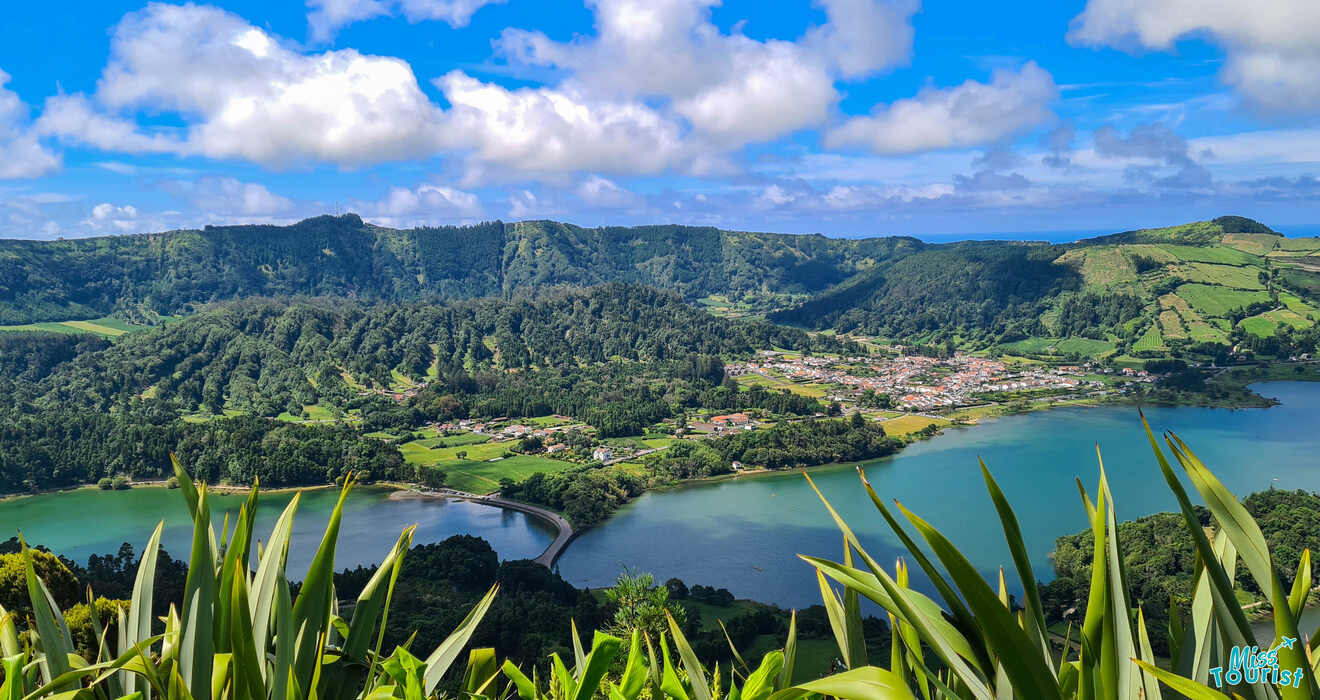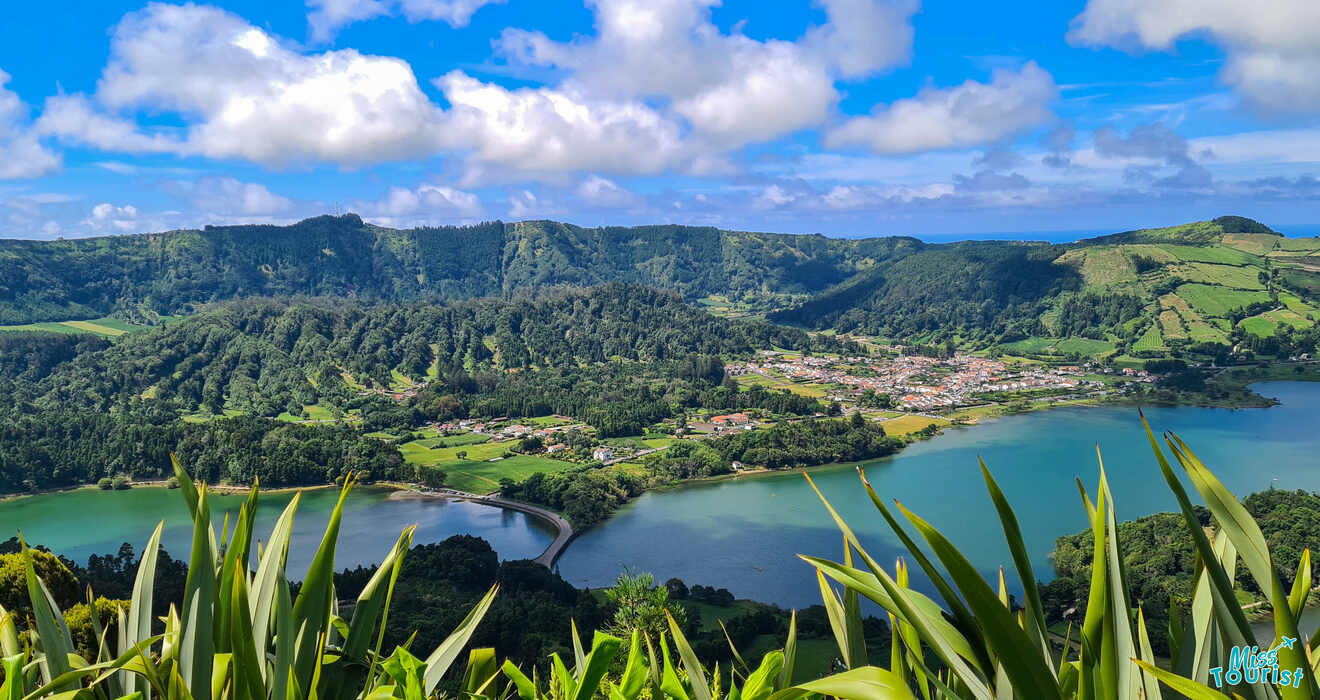 🤩 What are the best things to do when visiting Sao Miguel, Azores Islands?
The best things to do in Sao Miguel are seeing the two lakes at the popular Seven Cities, seeing how they cook the traditional Cozido das Furnas at the Lagoa das Furnas, or a dip in the natural swimming pool of Ponta da Ferraria, in a natural cove.
📅 How many days do you need in São Miguel Azores?
To visit most of Sao Miguel's natural attractions, you need at least 3-5 days. 
🏨 Which is the best place to stay in São Miguel?
The best places to stay in Sao are Furnas boutique hotel, which has an amazing position to explore the east side of the island, and Terra Nostra hotel, which hosts a beautiful garden.
📍 Where is Sao Miguel, Azores?
São Miguel, the biggest of the Azores Archipelago of mainland Portugal, is located in the North Atlantic Ocean, a 2-hour flight from Lisbon.
Conclusion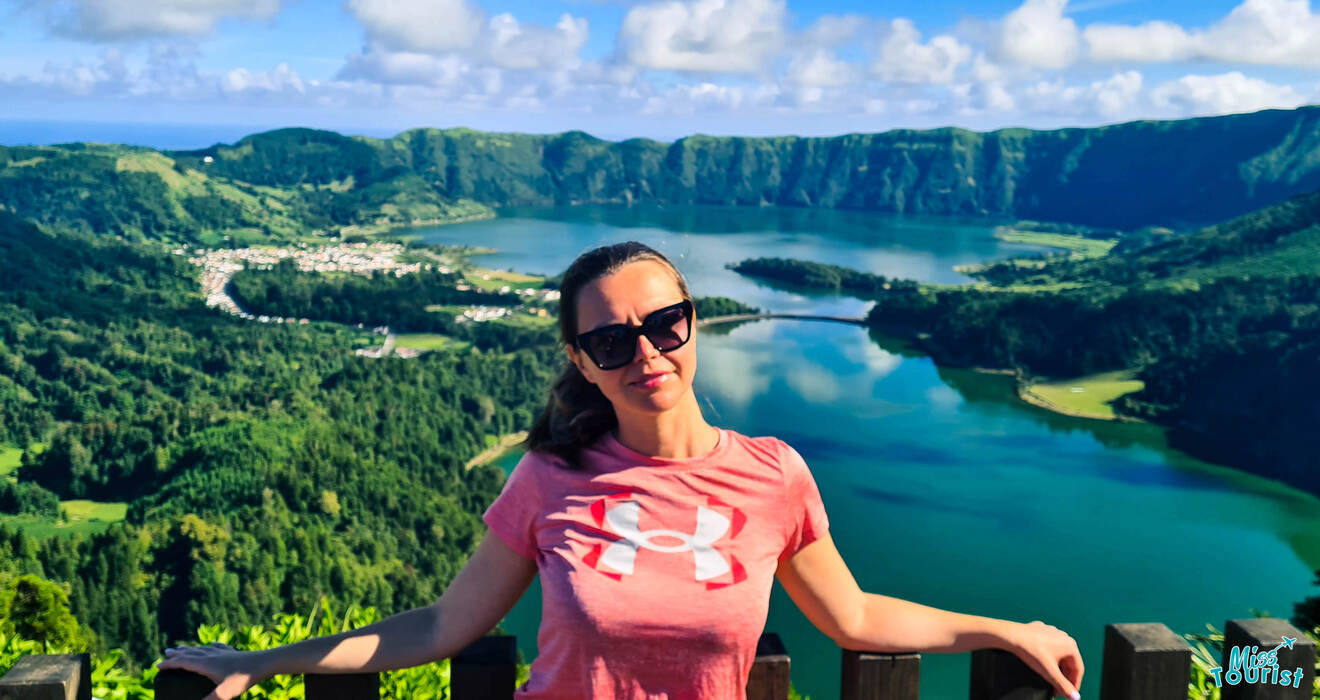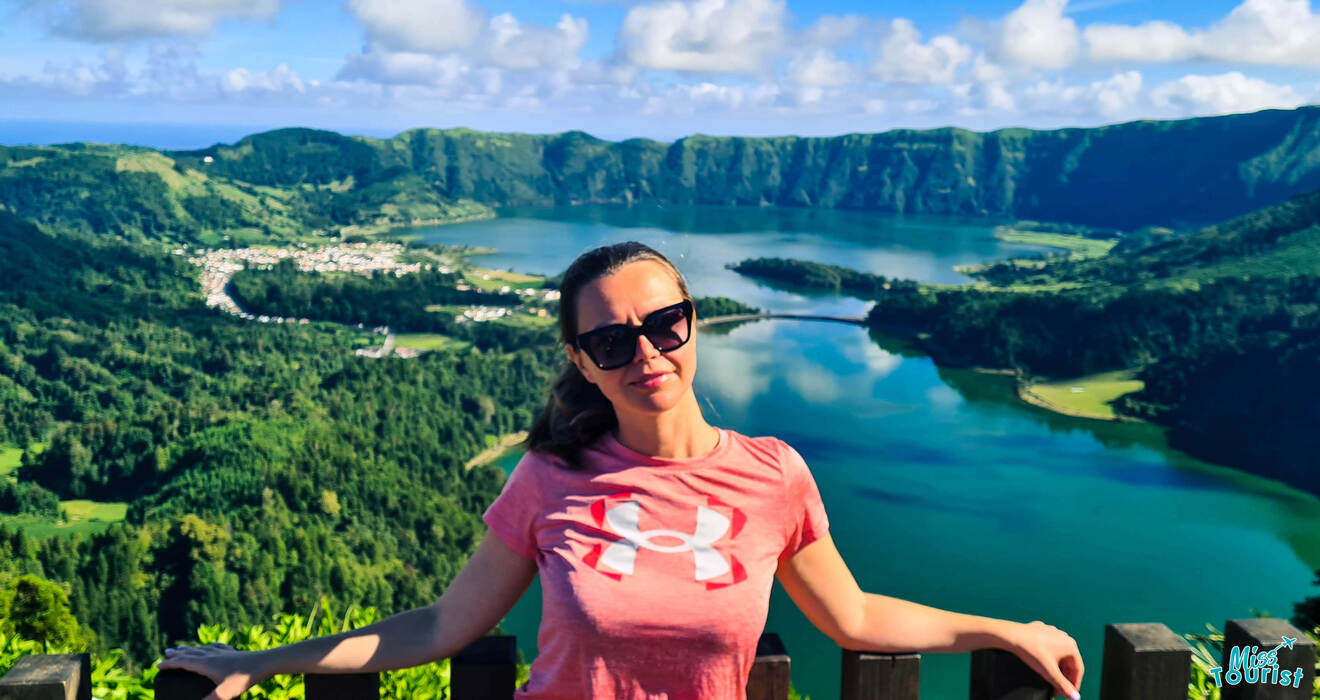 There you have it, this was my list of the best things to do in Sao Miguel, the largest of the Azores islands.
Here there is everything you should have on your bucket list when visiting São Miguel: boat tours to explore its rich marine life, beaches with a natural hot spring, volcanic lakes, day trips around this magical island, and much more!
In all honesty, I was pleasantly surprised about how great the infrastructure on the island is – the roads are in perfect condition and there are not many cars on it, there are perfectly organized and clean BBQ stands (with wood and garbage bins!) every 20 min on the road, all beaches have showers and changing cabins and most of them have a lifeguard on duty too. All the trees and bushes are so well curated and manicured, I thought we are somewhere in New Zealand, not in Portugal! 🙂
Anyway, I hope you found this travel guide useful, but if you think I've missed something, please let me know in the comments below, I will be super happy to update my list!
Have an amazing holiday!
Yulia
---
Pin it for later!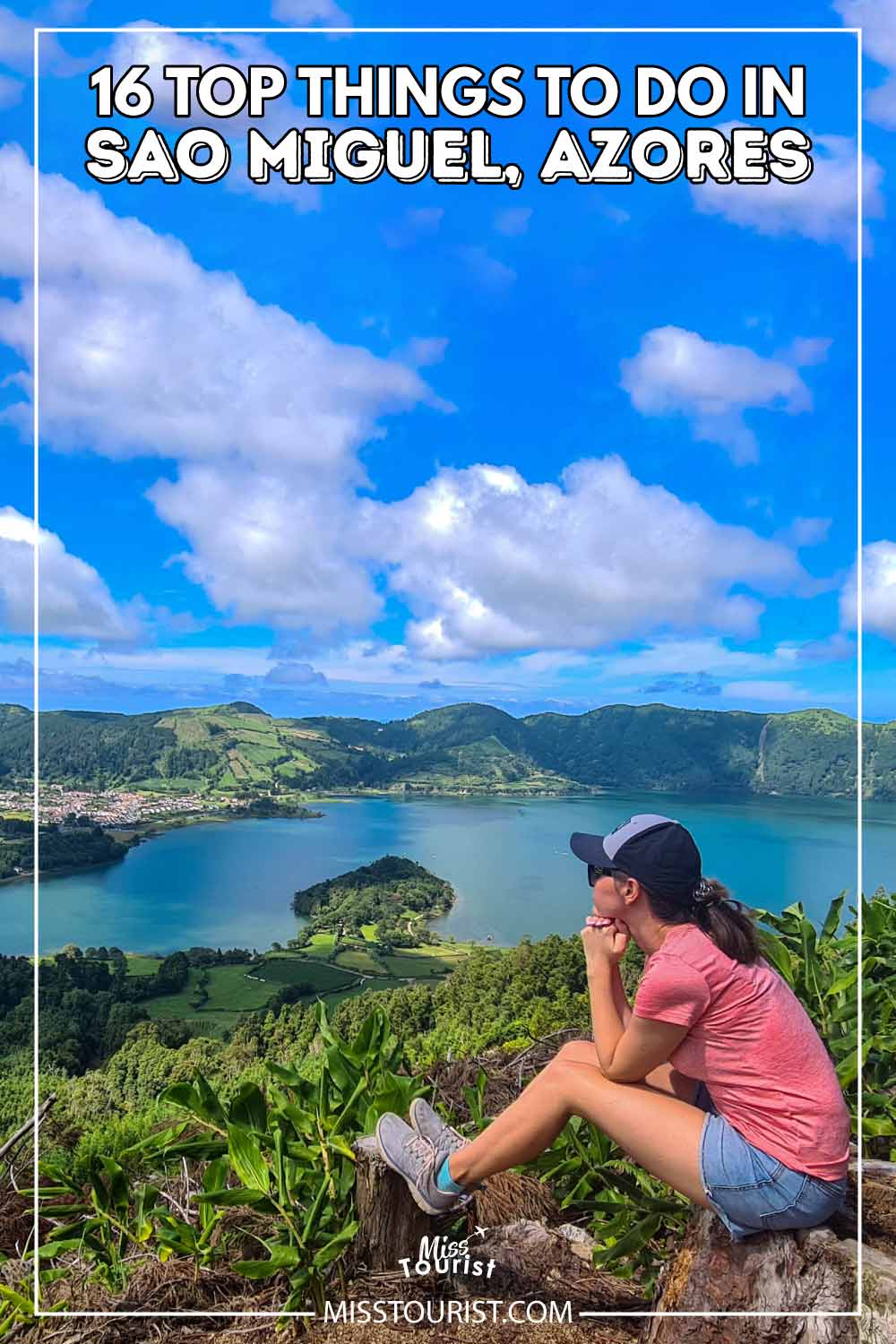 Pin it for later!