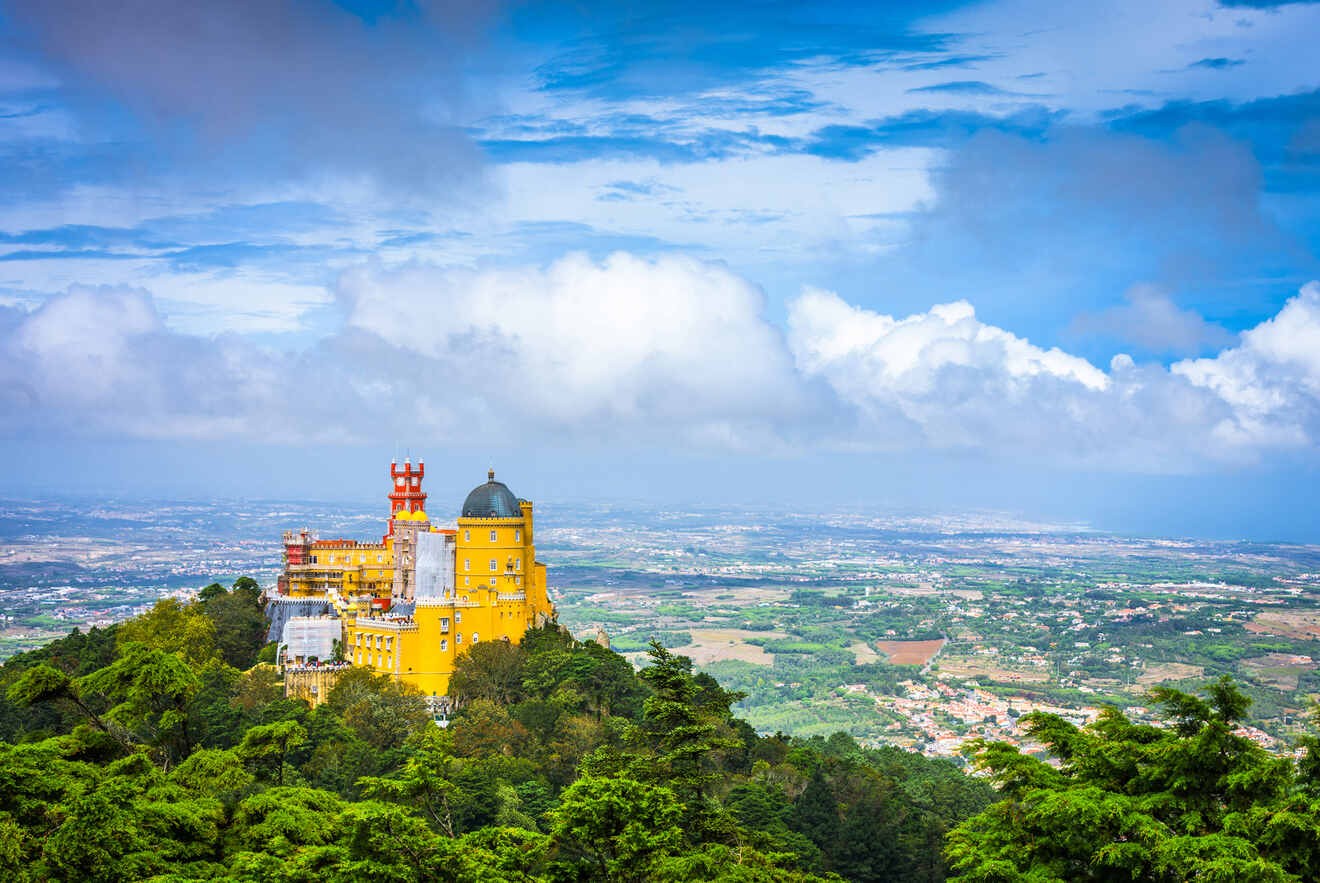 Portugal's capital is one of the most popular destinations in Europe, offering so much to see and do in the town itself, but also providing access to many amazing spots within just one hour of driving.
In fact, just in Lisbon's close surroundings, you can reach picturesque towns, UNESCO world heritage sites, viewpoints right on the Pacific Coast, beautiful beaches, hikes, surf spots, and soo much more!
The options to explore Portugal from its capital city are so endless that it's hard to know where to start… I lived there, so I had this feeling many times!
That's why I made this guide with all the amazing day trips from Lisbon, covering everything from cultural attractions, beach day trips, and natural beauty spots… you could stay in Lisbon for months if you do them all!
I've also included a bonus section comparing all the different ways to get around Portugal with the different prices so you can choose the best method of transport for your trip!
So rent a car and let's start checking out this big and fun list with all the best day trips from Lisbon, the Portuguese Capital… which one will you do first?
Let's find it out!
Here's a map with all the best day trips from Lisbon, to show you where they're actually located: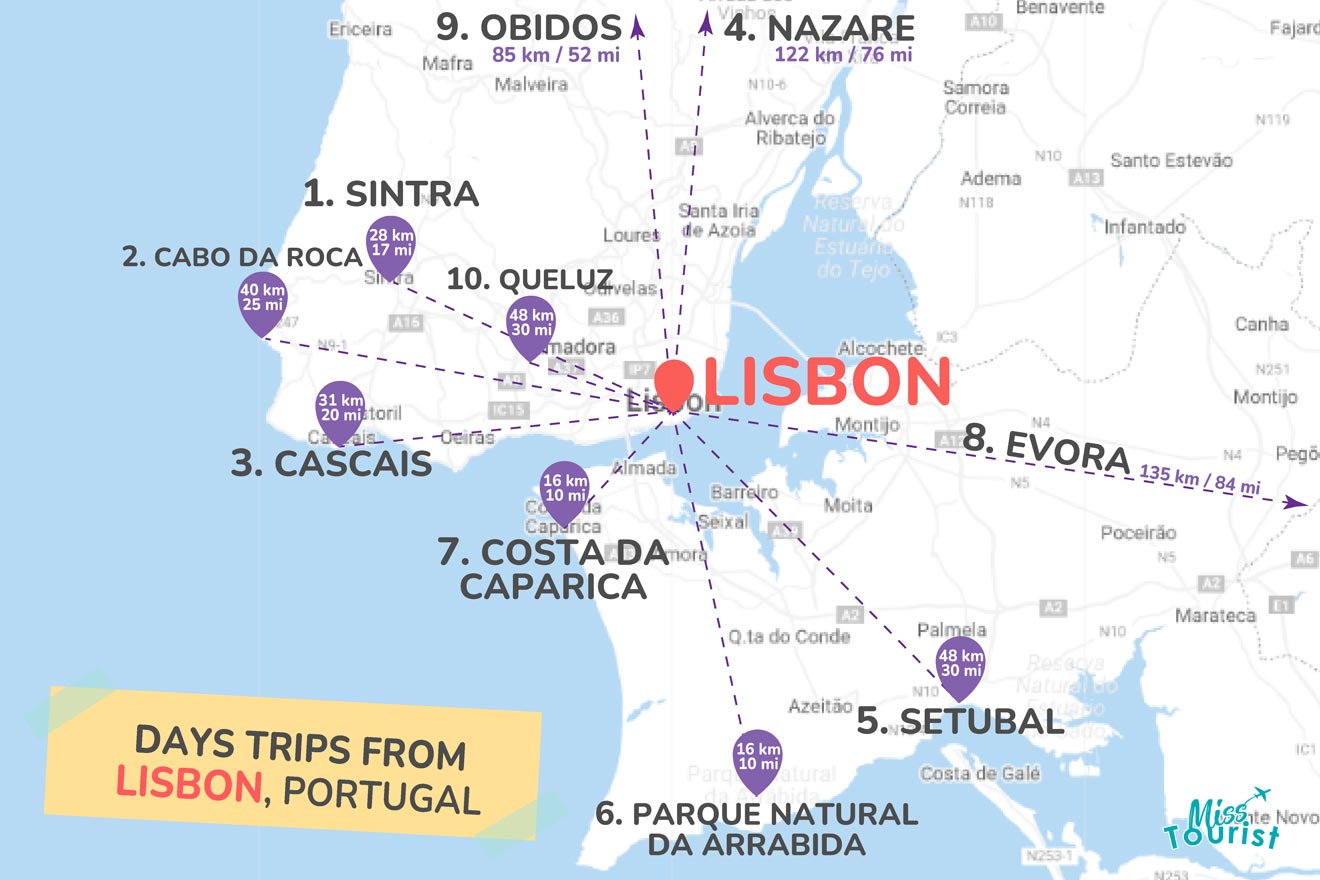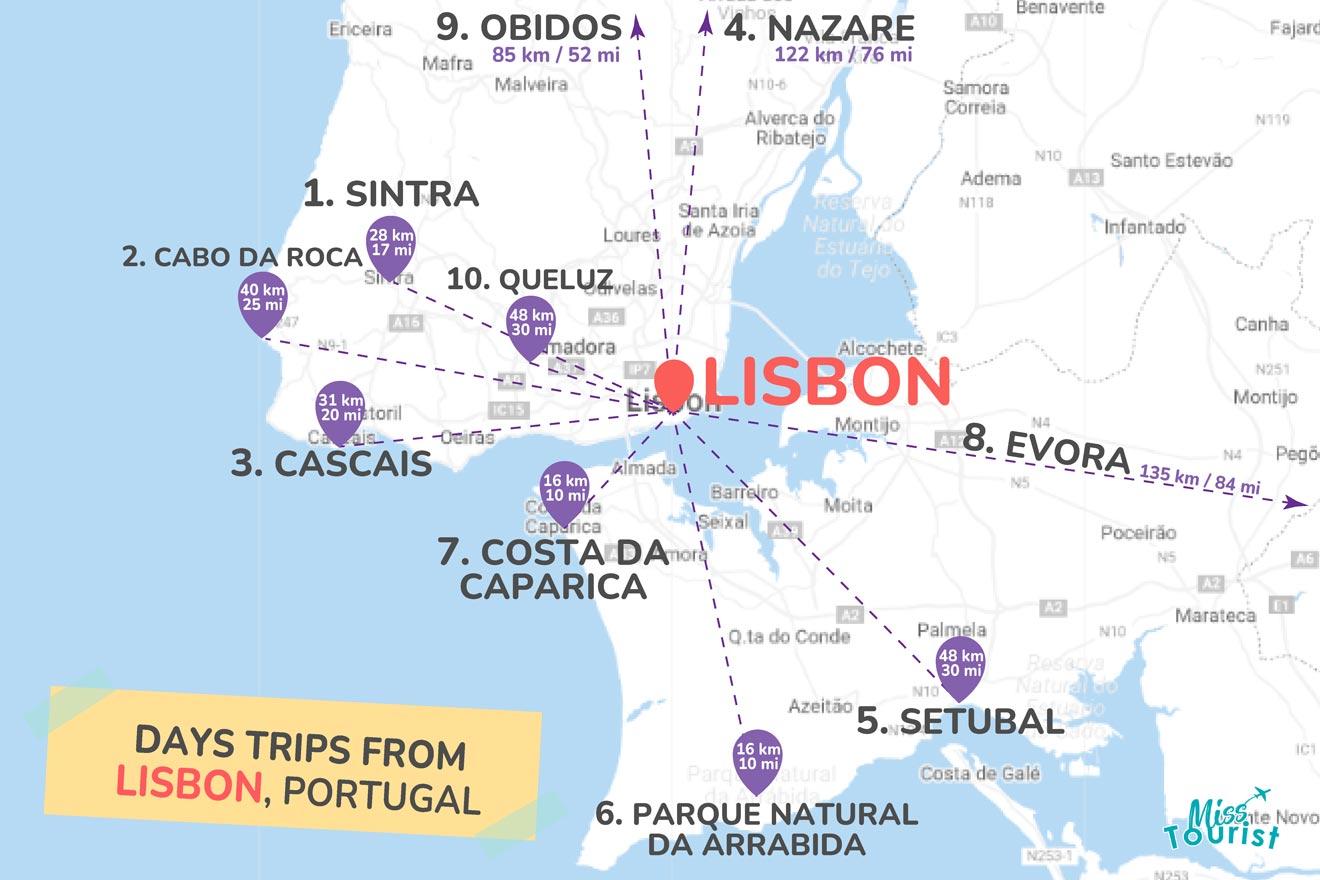 1. Visit Sintra and the Pena National Palace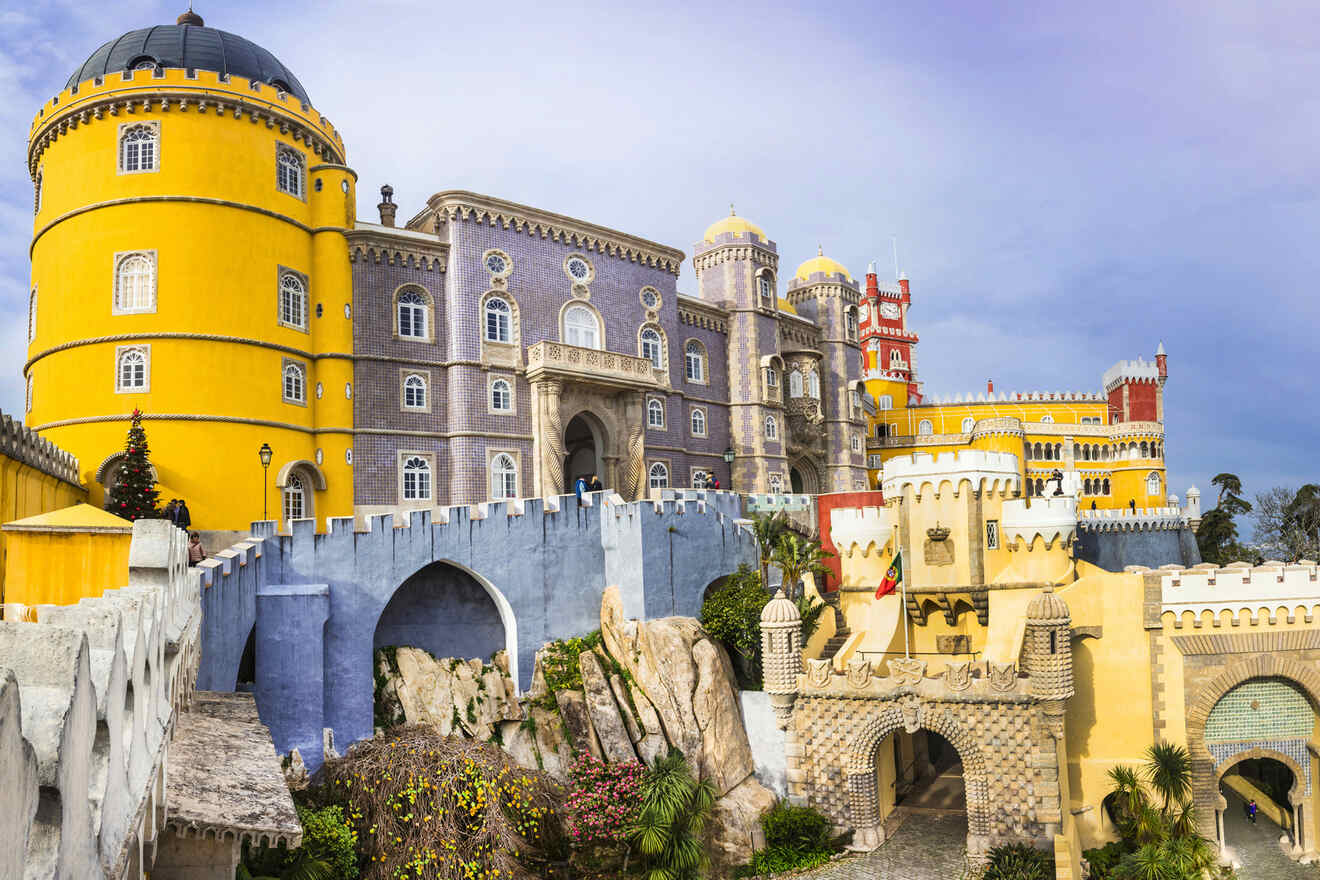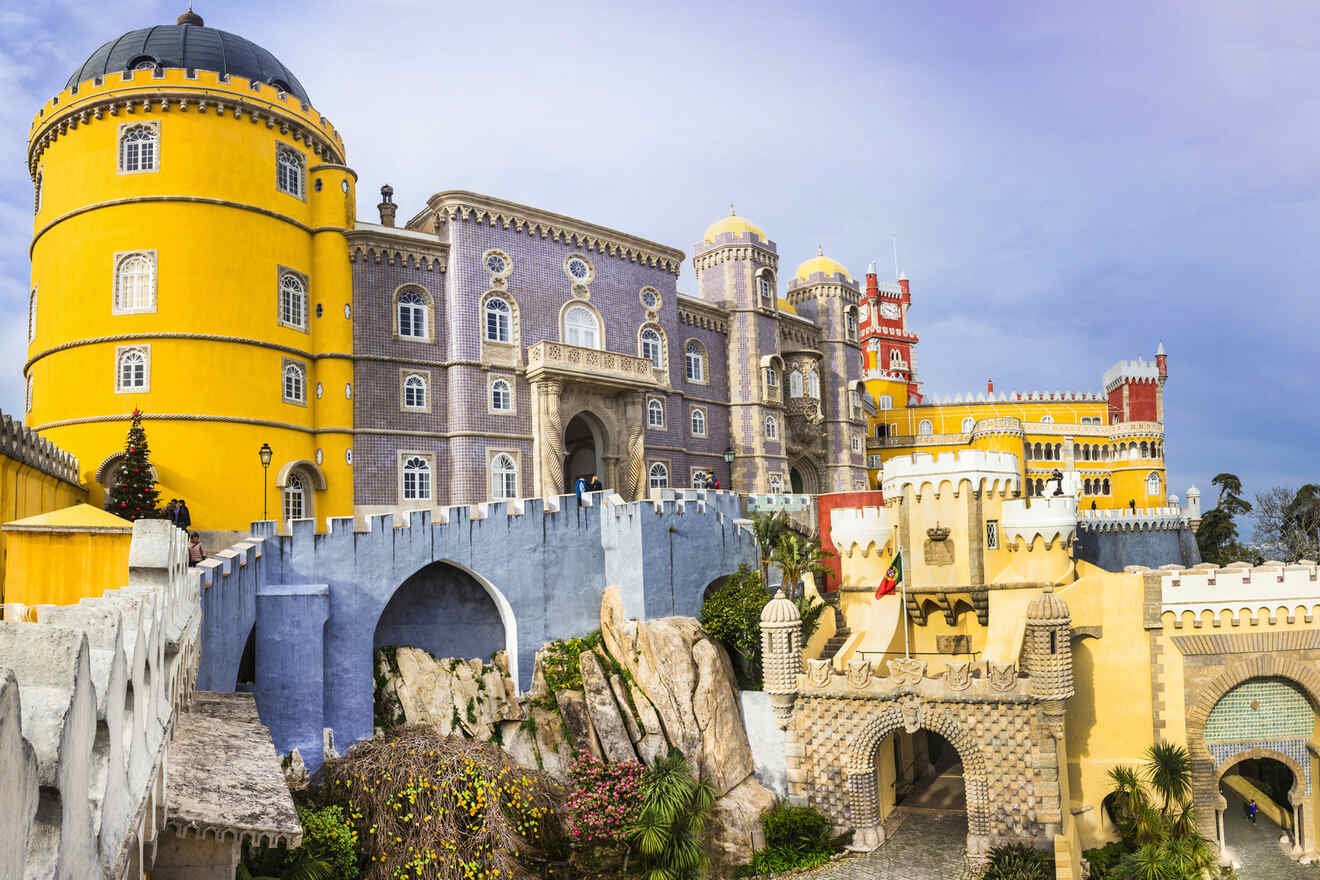 The picturesque town of Sintra, just a 30-minute drive from the Portuguese capital, is definitely one of the best and most popular Lisbon day trips… and no wonder why!
This small town, nestled in the green of nature, hosts a historic city center and a wide collection of historic palaces, most of them winning UNESCO world heritage status! Let's check them out:
Pena Palace:
The most famous one is for sure the colorful and imponent Pena Palace, located right on a mountain top above the city and characterized by its tapering twin chimneys. This 14th-century castle is really special for its mix of Neo-Gothic, Neo-Islamic, and Neo-Renaissance architecture and for its iconic golden tower and red brick chapel steeple. Once the summer holiday home of the kings and queens of Portugal, the national palace is now the perfect place to enjoy countless halls, rooms, and decadent salons!
Visiting all this will take you around 1.30 hours and you can book your tickets in advance to avoid waiting in line!
PRICE: €14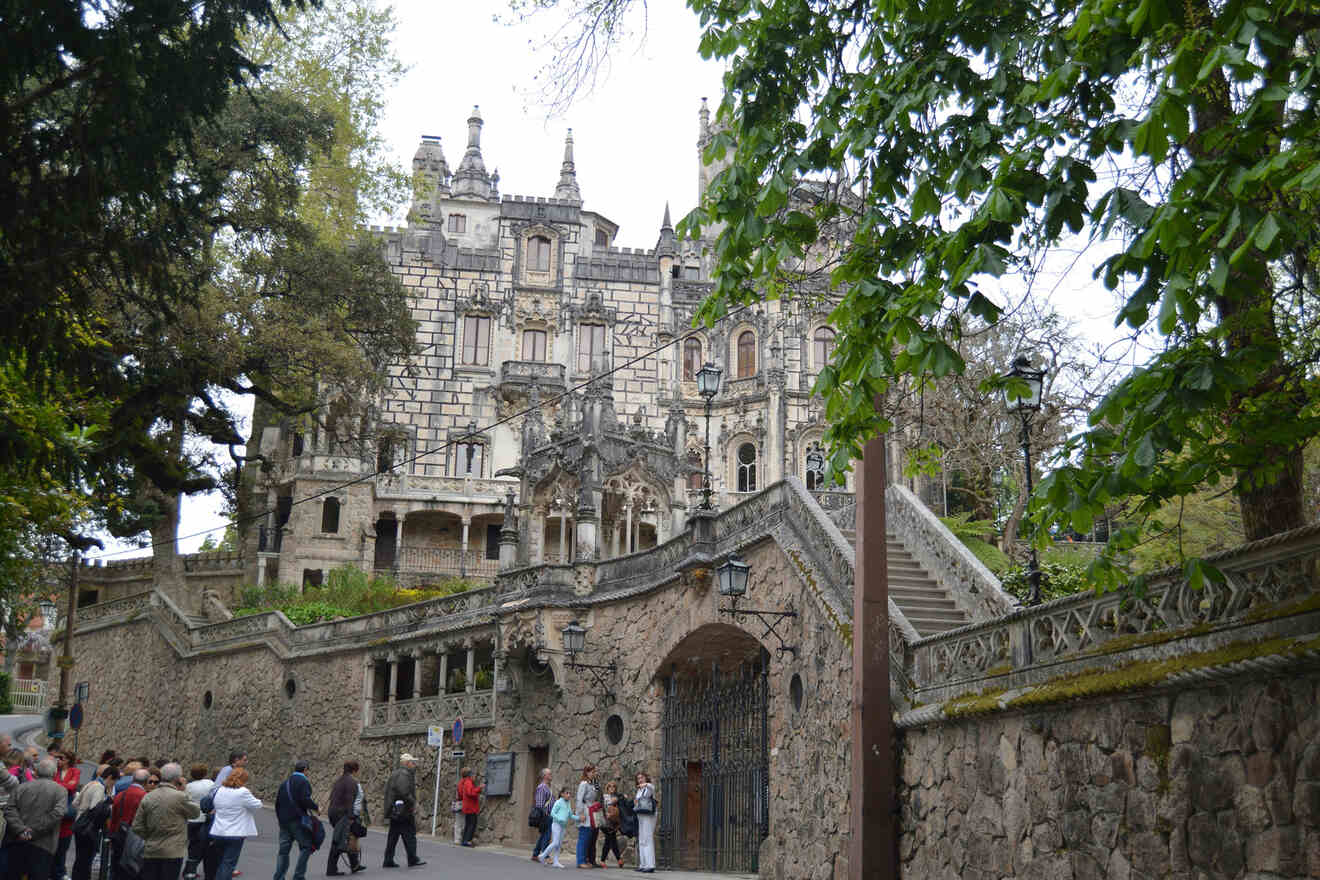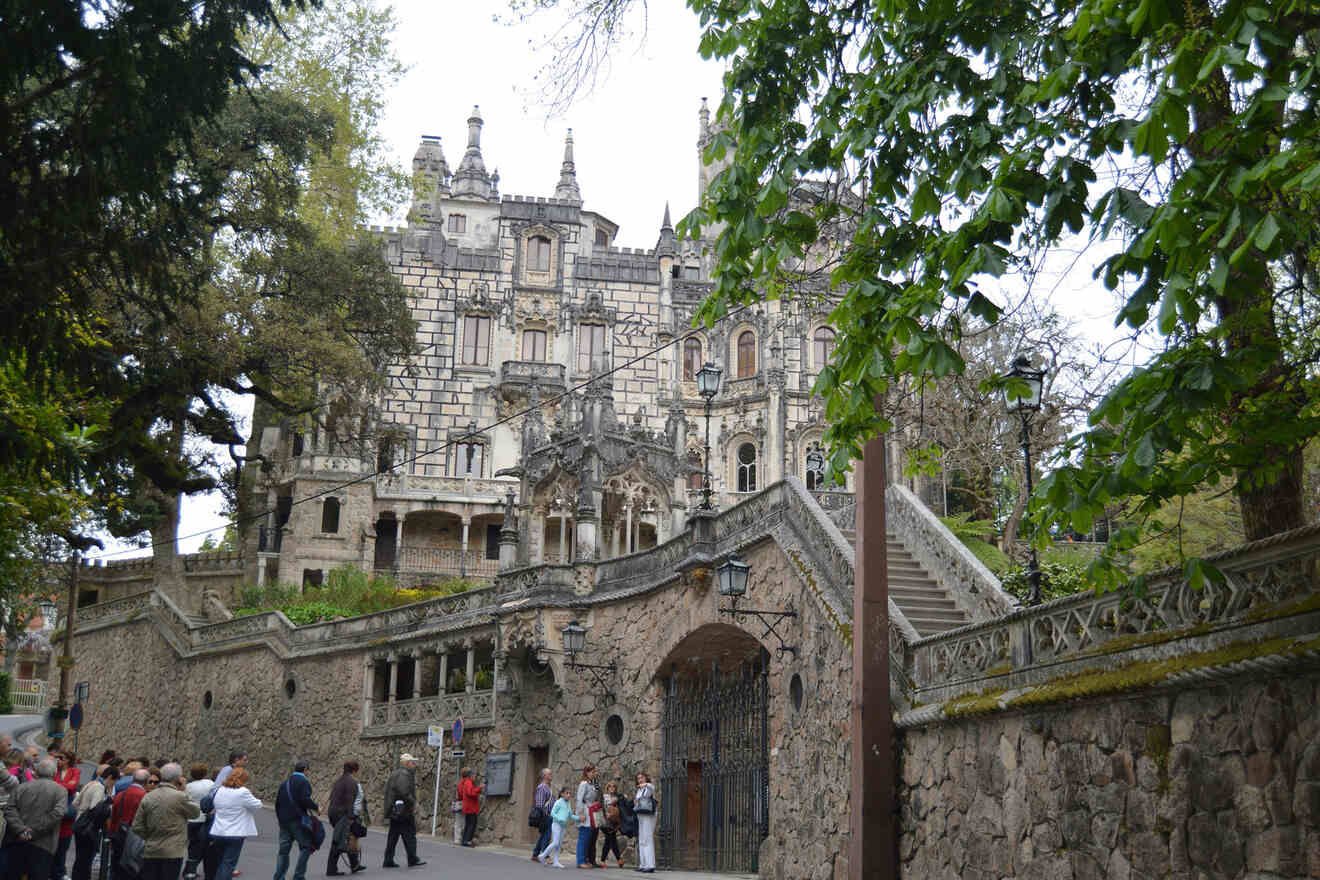 Quinta de la Regaleira palace:
Another must-see day trip from Lisbon is the Quinta de la Regaleira Palace, a UNESCO World Heritage site in Sintra. This romantic palace features a gothic façade and some luxurious gardens just behind the residence, which are actually the main attraction of the castle. A typical visit here will take you around 1 or 2 hours, and indeed you'll spend most of the time in the gardens.
PRICE: €10.
PRO TIP: There is a bus that you can take to get directly from one castle to the other which costs €7.
If we talk about castles in Sintra, I could keep going forever, but one or two palaces in one day are enough for your day trip, especially if you want to visit other attractions like the Sintra Natural Park, rich in vegetation, hidden trails and caves… you will feel like in the forest!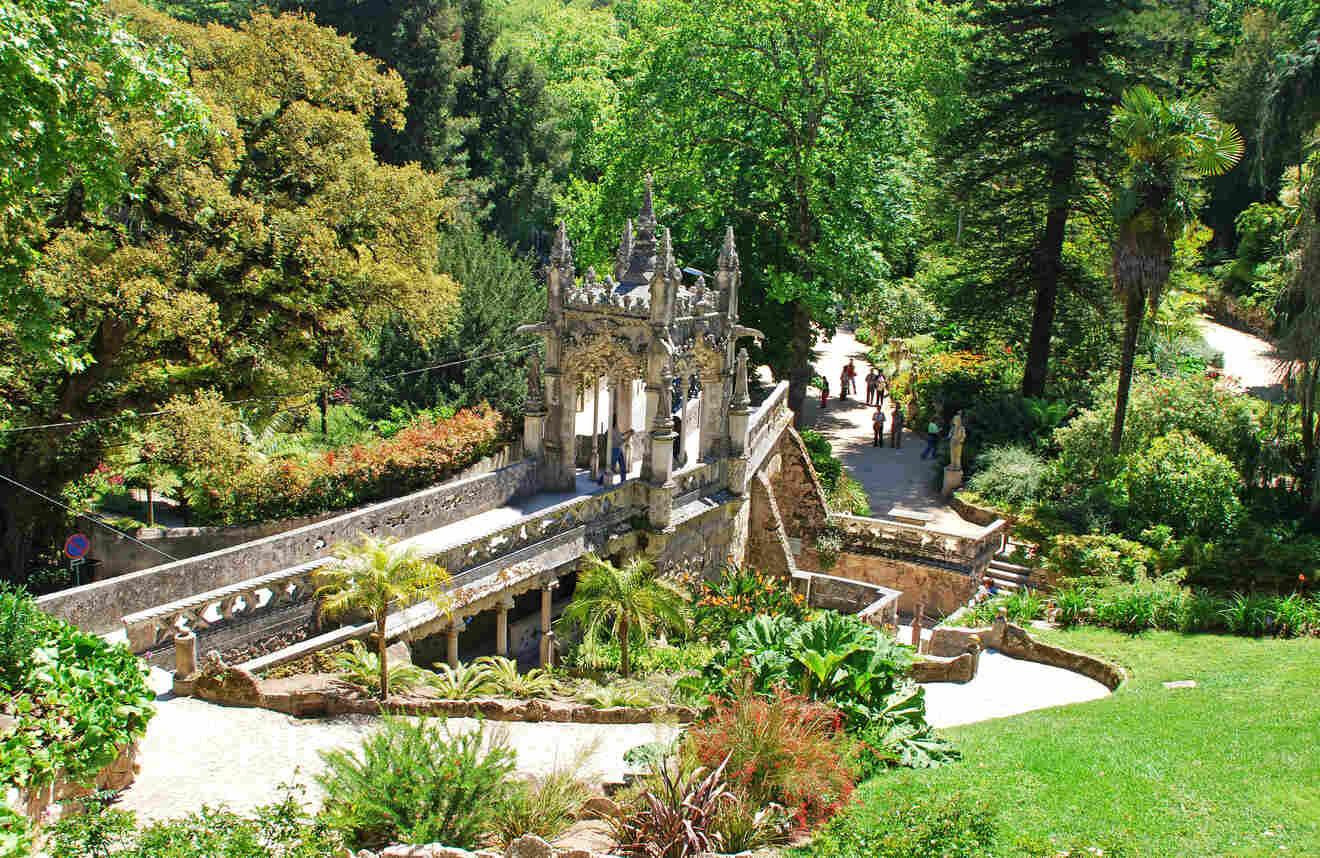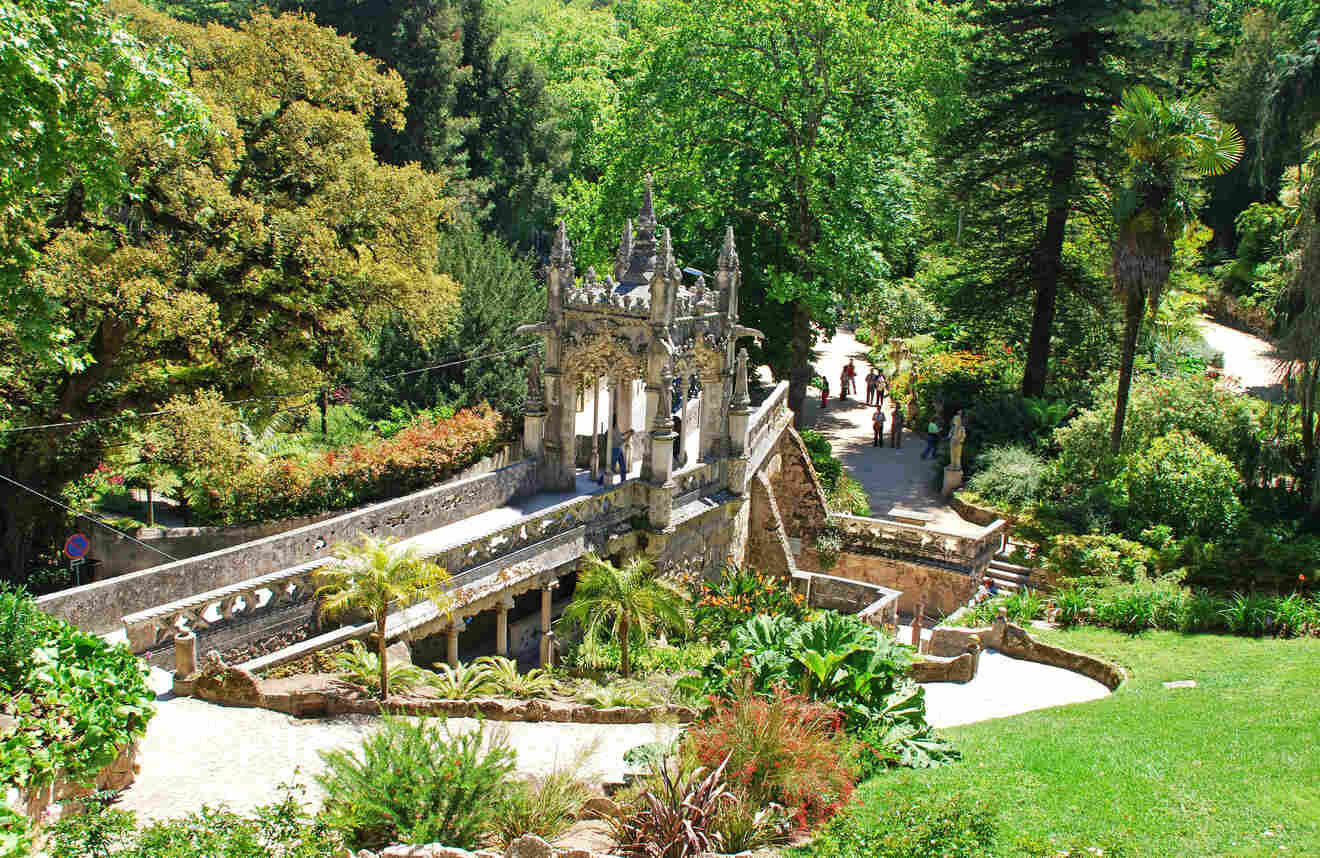 How to get there:
By Car: Getting to Sintra by car will take you just half an hour by heading northwest of the city on the A37.

By Train: Taking the train from Lisbon's Rossio railway station in the city center to Portela de Sintra Station will take you around 40 minutes and cost you €7 for a round-trip ticket. It's very handy and it leaves every 30 minutes on weekdays and weekends.

Guided Tour: If instead, you don't want to worry about anything during your day trip to Sintra, choose to take a full guided day trip from Lisbon. It includes a hotel or pick up and drop-off in Lisbon and the entrance to Pena Park and Quinta da Regaleira with a guide, for around €75.
2. See the sunset from the edge of Europe at Cabo da Roca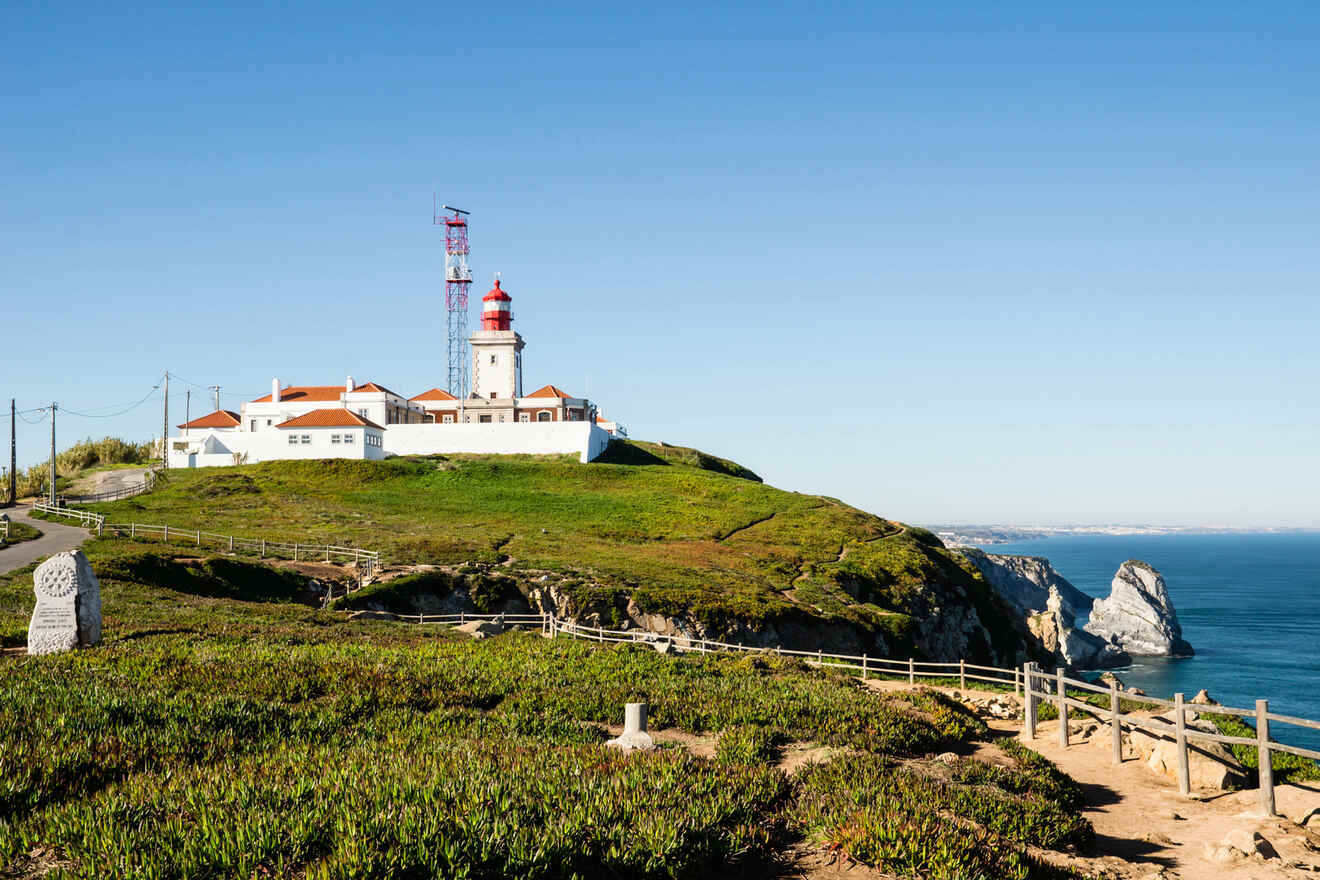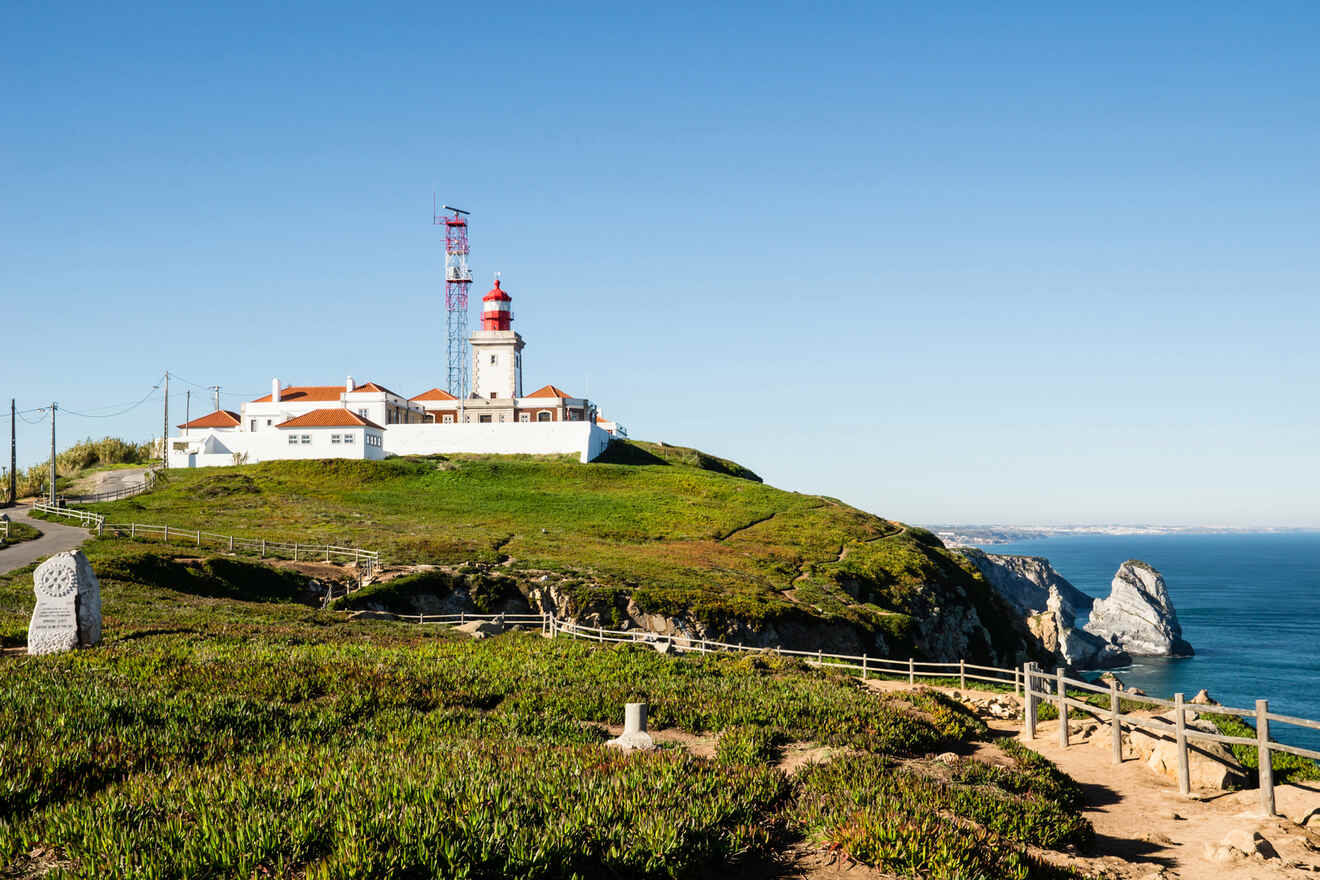 There are some experiences in the world that are just unique, and being at Cabo da Roca is one of these! Located in the municipality of Sintra, Cabo da Roca lies around 40 minutes driving from Lisbon and is the Westernmost point in the whole of mainland Europe.
Just take a map right now and look at Europe: the Iberian peninsula looks like the head of a man looking at the Atlantic Ocean, Spain is the hair blown by the wind, Portugal looks like the face, and Cabo da Roca the tip of the nose!
Apart from the feeling of being in such a special location, this spot is amazing to see the sunset, with stunning views of the Atlantic ocean! Just go to the tip of the cape, where you'll find a lighthouse and monument with an inscription saying "Where the land ends and the sea begins", sit, and enjoy the beautiful Panorama!
What more can I say? This is for sure a MUST day trip from Lisbon Portugal!
PRO TIP: As in all of Portugal, this spot is particularly windy, being completely exposed to the ocean. I suggest you bring a sweater or jumper if you want to enjoy the sunset without having to run away from the cold… at this time it gets a little chilly!
How to get there: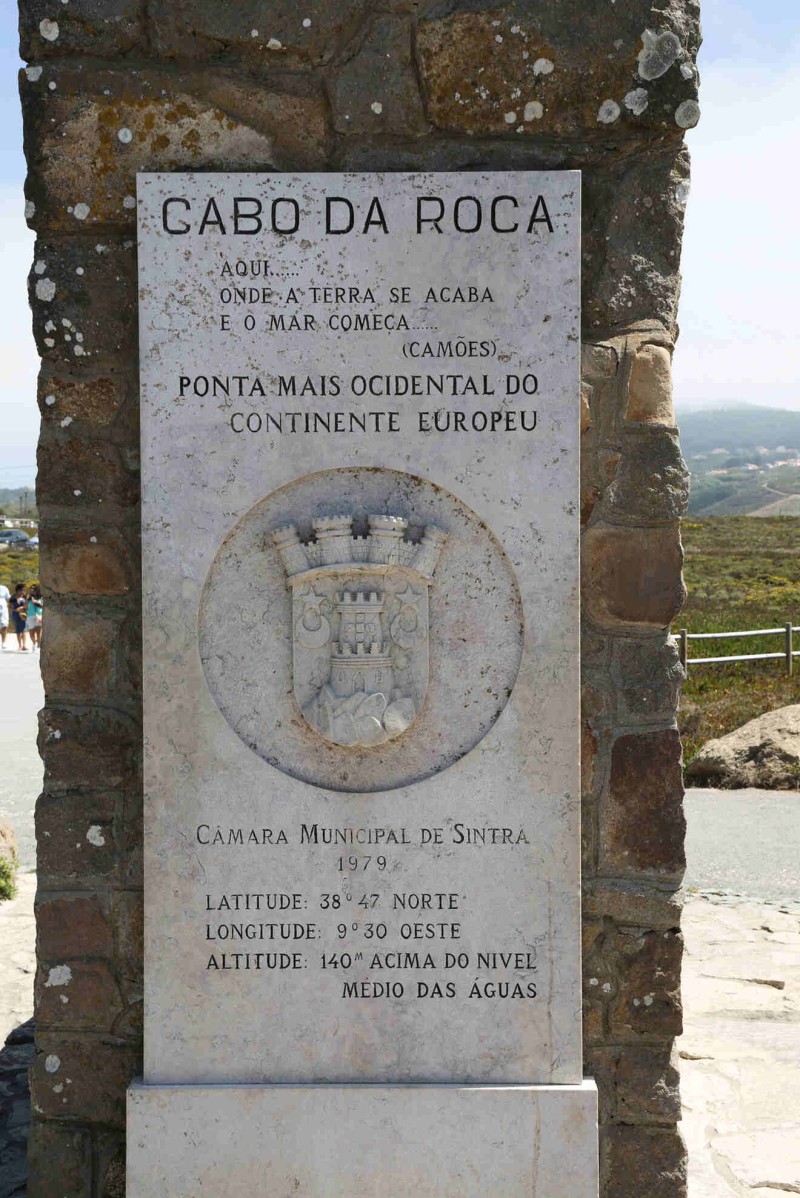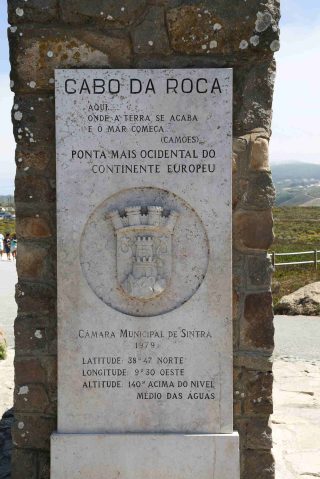 By Car: Getting to Cabo da Roca by car will take you 45 minutes driving: from Lisbon you just need to take the A5 to Aldeia de Juzo and here get on the N247 all the way to Cabo Da Roca!
By Public Transport: If you don't have a car, you can get to Cabo da Roca in 2 ways by public transport but both will need you to do some changes but the journeys each run every 20 minutes and take 40 minutes for the journey, costing you around €5.
Take the train to Cascais from Lisbon's Cais do Sodre station, then walk to the Cascais bus station and take bus 403 to Cabo da Roca.
Take the train to Sintra from Lisbon's Rossio station then take bus 403 (the bus stops in Sintra are at the railway station).
Guided Tour: While there aren't any tours that go solely to Cape Roca, this day trip tour covers all of Sintra AND Cabo da Roca as well as Cascais in one day for around €62.
3. Have a relaxing day in Cascais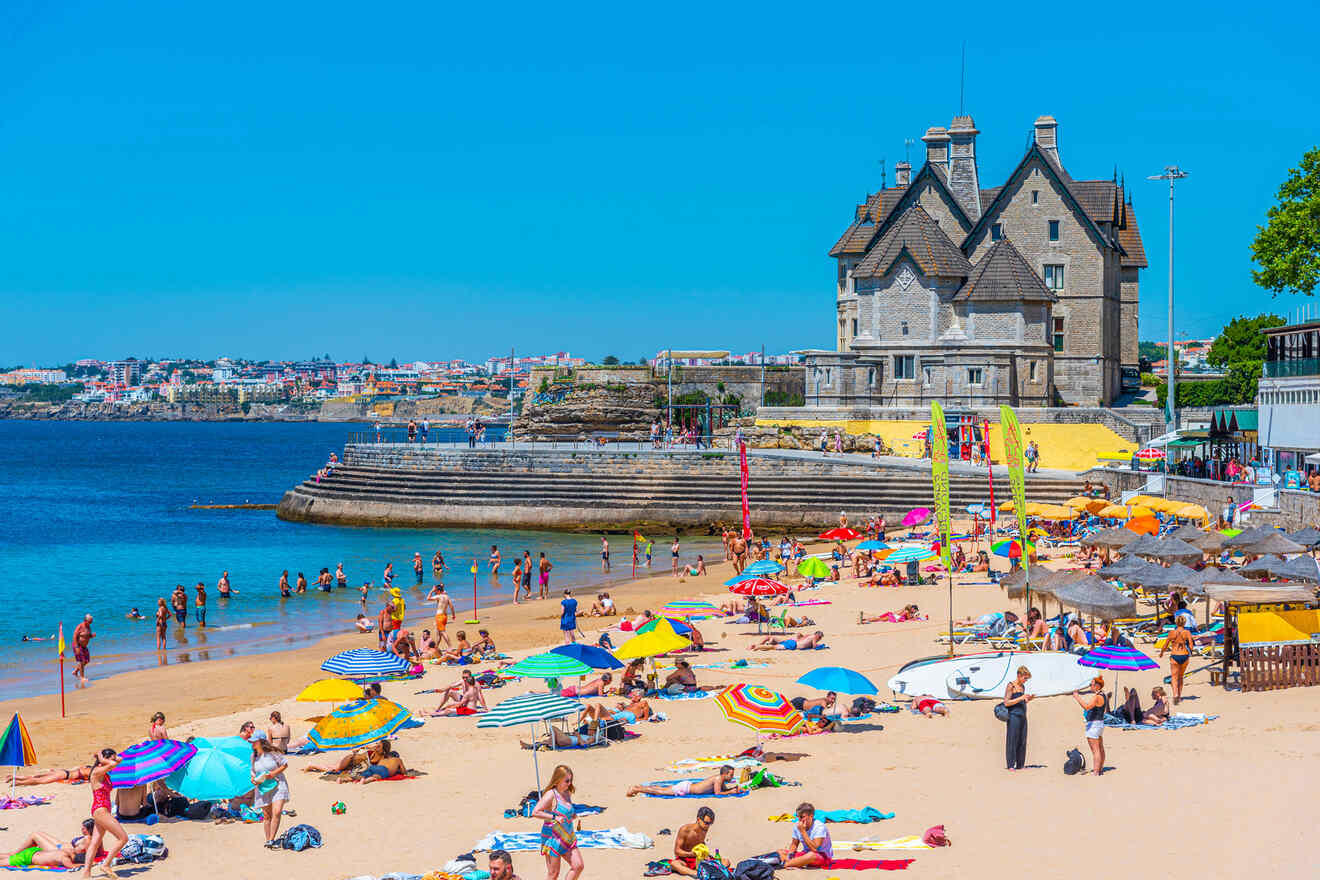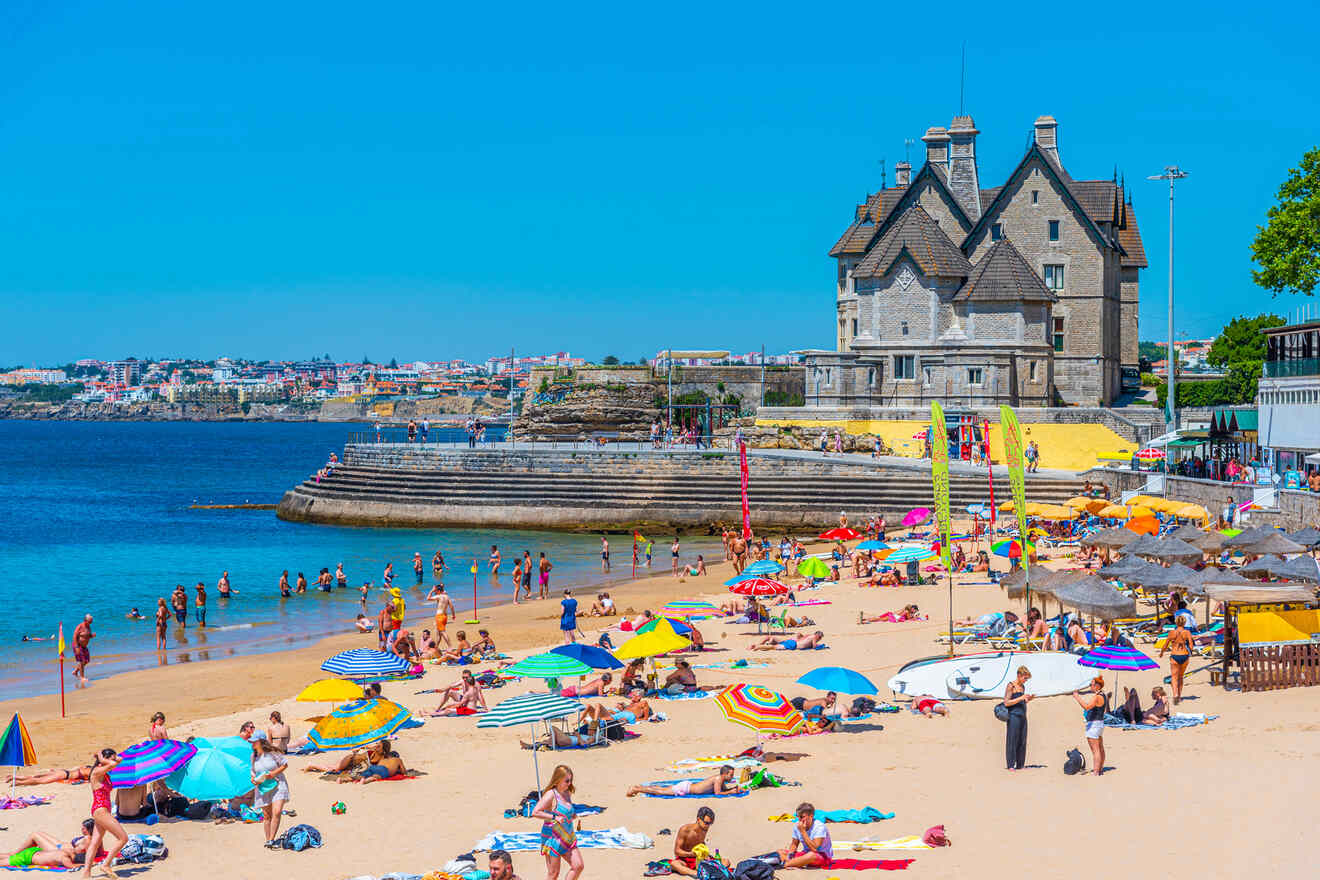 Cascais is a beautiful coastal town, located 45 minutes drive west of Lisbon. Once a fishing village, today it is an upscale destination, hosting wealthy houses and some of the finest beaches near Lisbon.
This is the perfect spot if you want to have a lazy day trip, soaking up some sun and swimming at Praia de Ribeira beach.
Enjoy a shopping evening in Cascais town center, and eat some delicious seafood in the best restaurants in the whole region!
But if you're not the kind of person who enjoys doing "nothing" the whole day, you can visit the Casa de Santa Maria museum, where you can admire the coastal bay, the painting, and ceiling designs… Another great part, the entrance is free!
But my favorite thing to see in Cascais is the Boca do Inferno (Mouth of Hell) cliff, a natural rock arch with a cave that sucks in the ocean waves and shoots water out the top… a show that I will never get tired of watching!
So you see, there is enough to do for you if you decide to take a day trip to Cascais, one of the best day trips from Lisbon!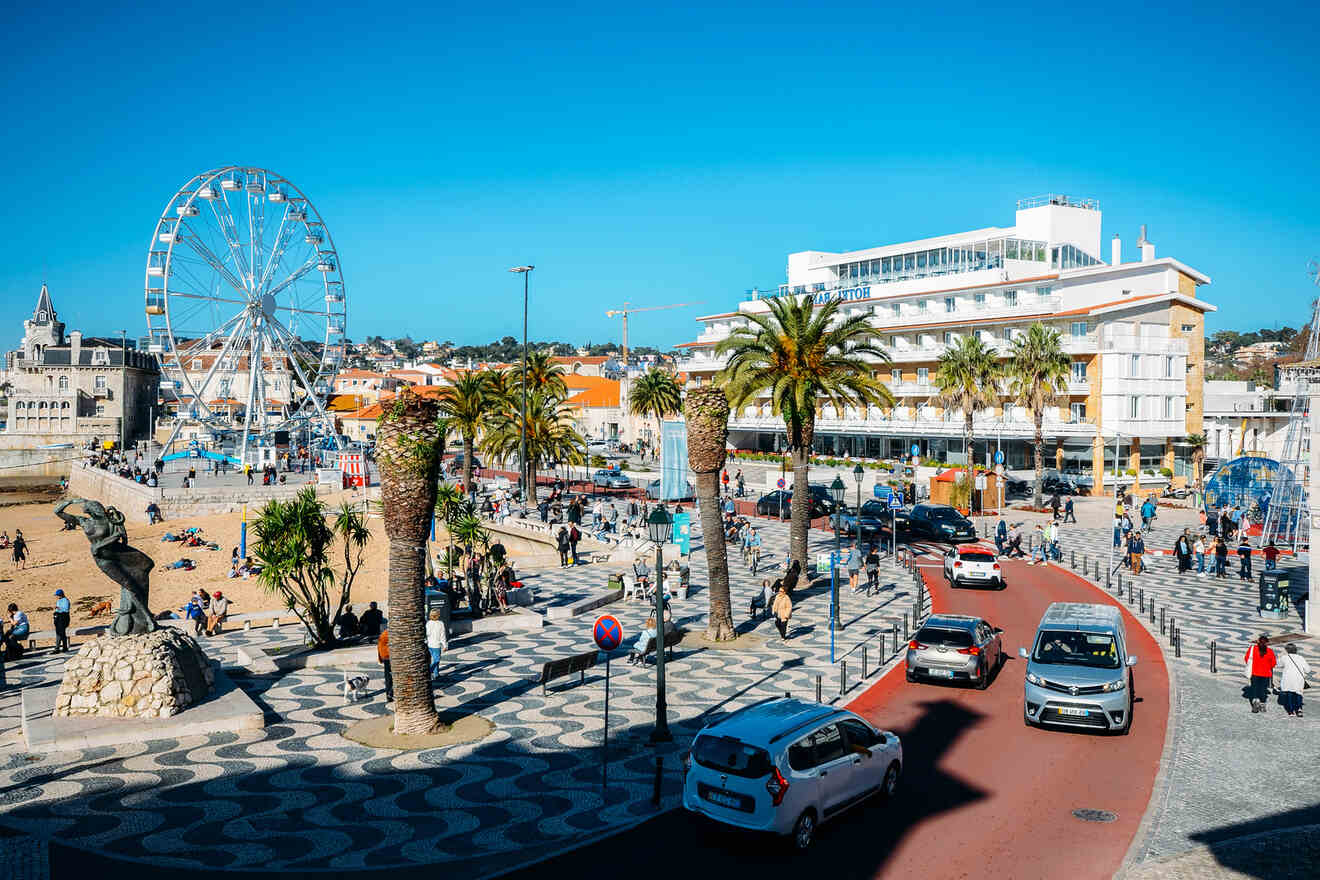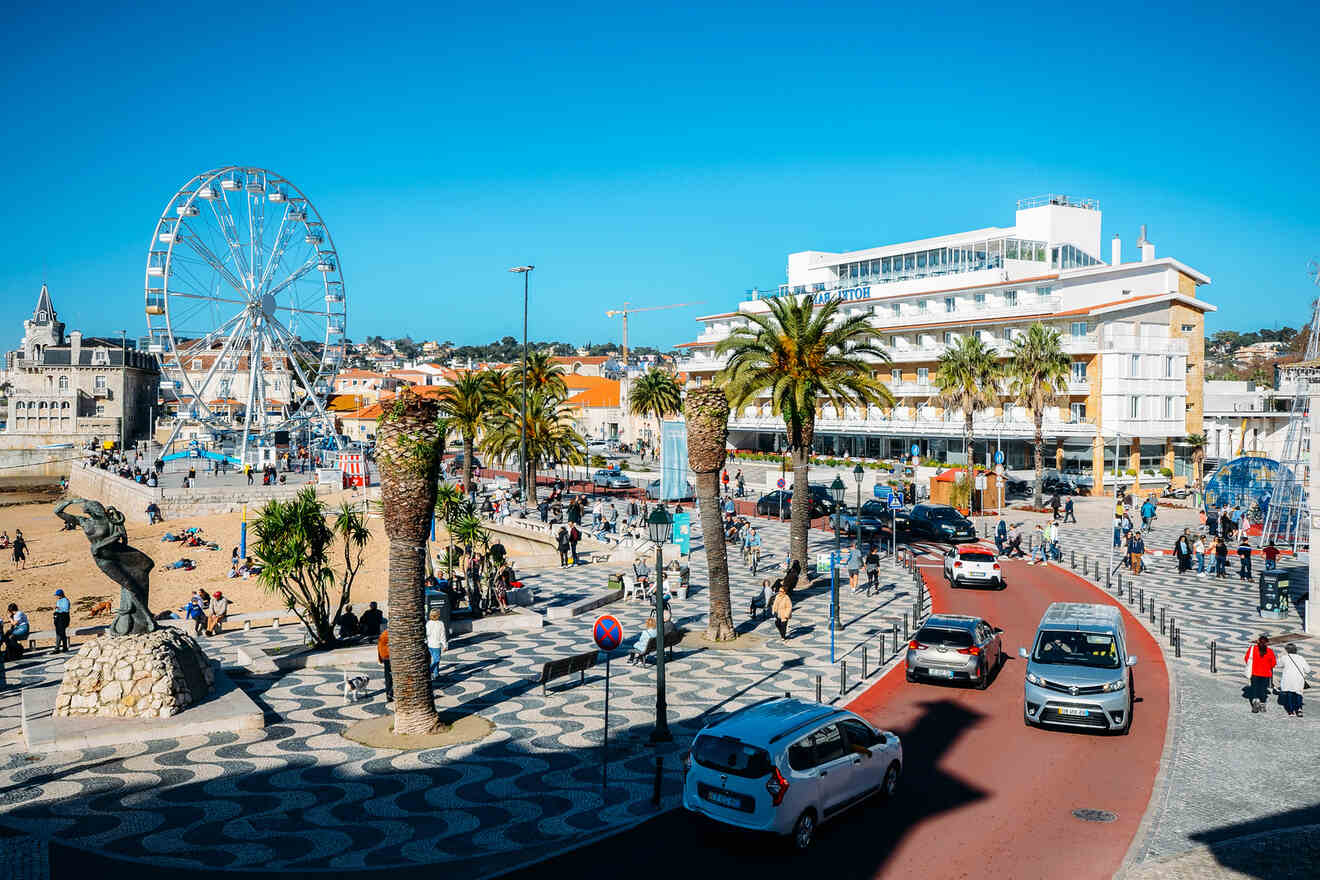 How to get there:
By Car: The most scenic way to get to Cascais is by car, following the coastline for about 40 minutes (if you're not the driver, keep an eye on the ocean… you could even spot dolphins!)
By train/bus: You can easily reach Cascais by train from Cais do Sodre station in Lisbon's historic center (the green line) and get off at the last stop, Cascais Station. Once you arrive in the city, it is just a short walk to its beautiful waterfront. The journey will take you around half an hour and cost you 3euros: the train leaves every 20 minutes!
Guided Tour: Again there is no specific tour just for Cascais but if you would like to visit without driving yourself or using public transport, you can join this tour which includes Sintra, Cascais, Cabo da Roca and more.
4. Go see the crazy waves at Nazare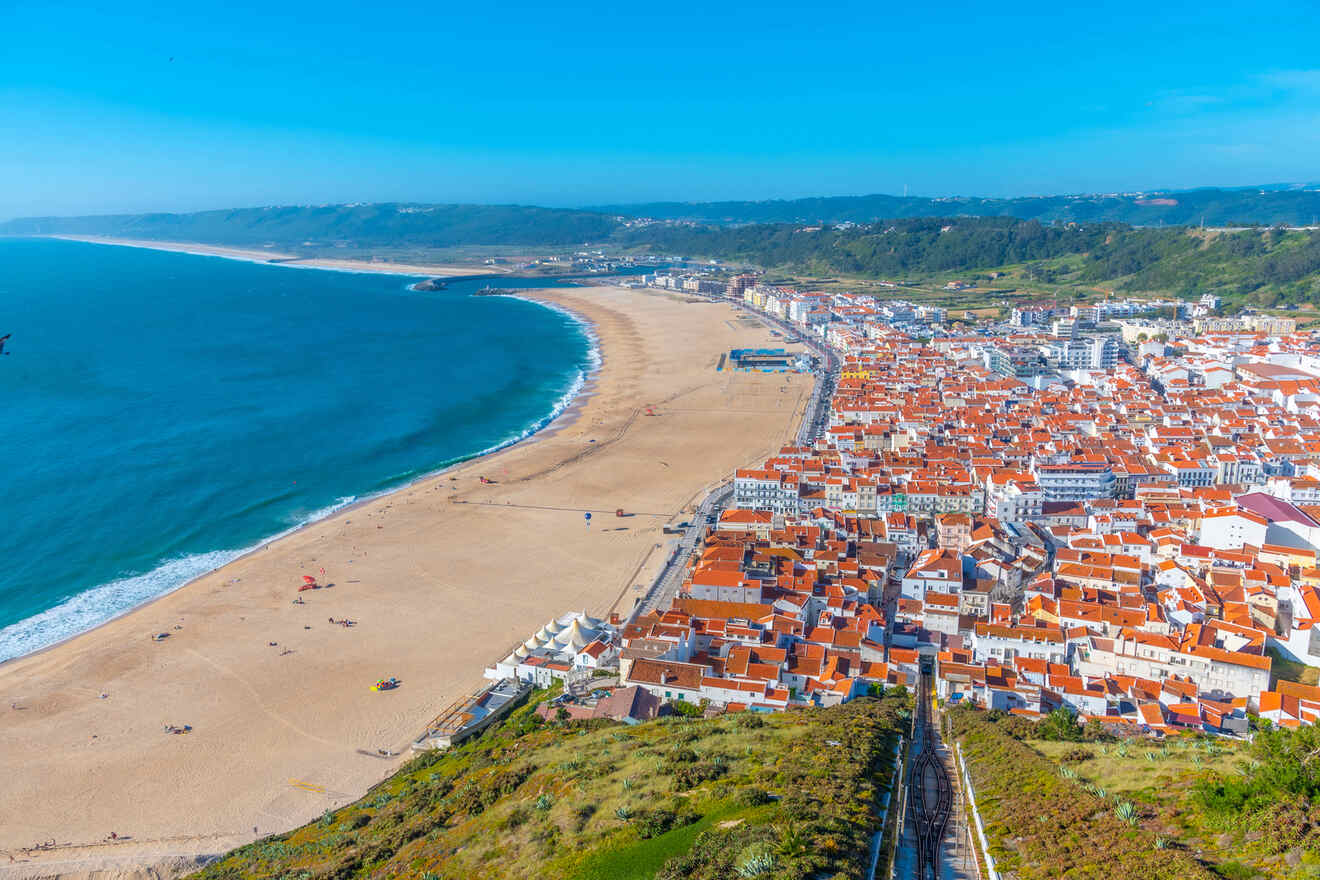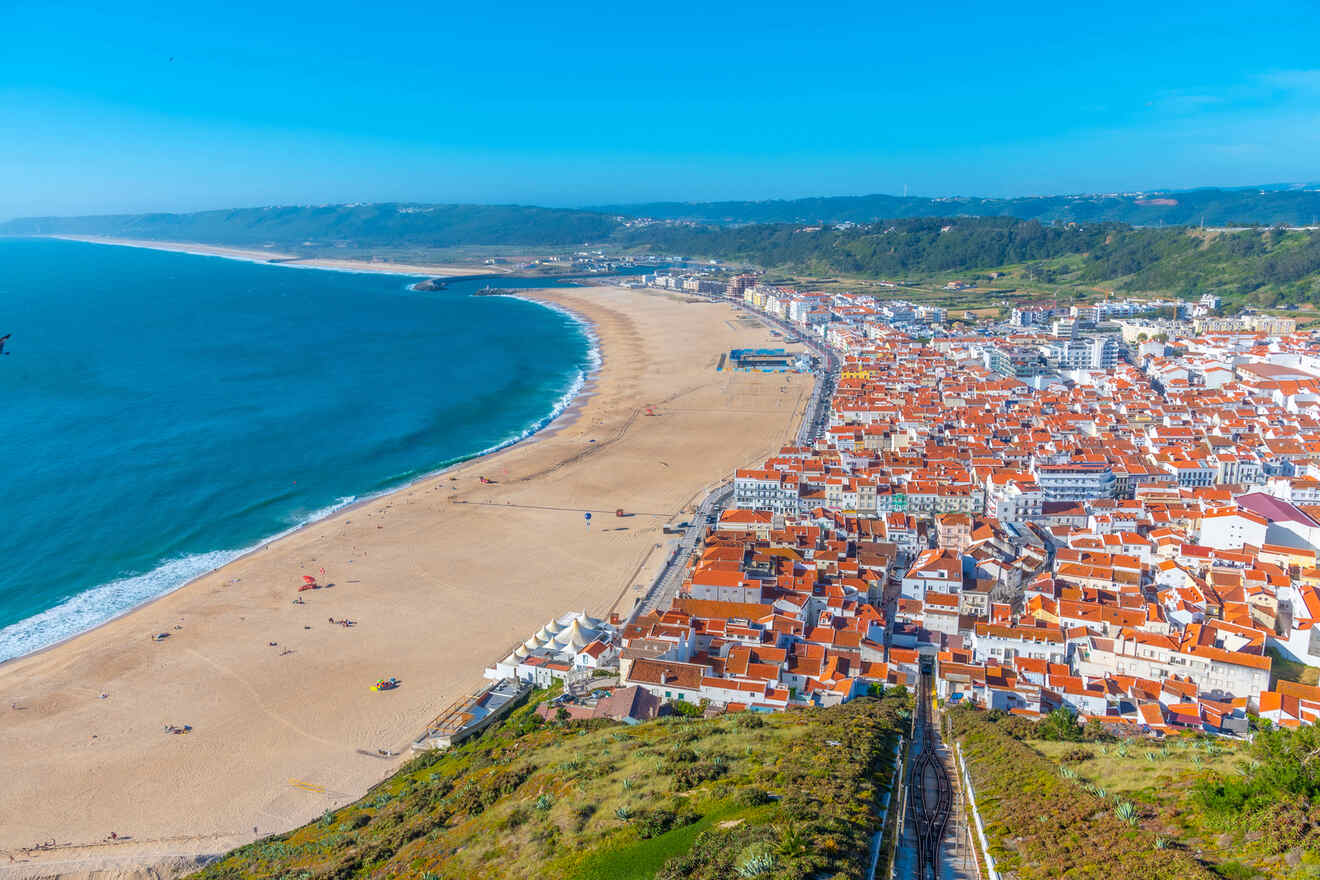 An absolute must in your Portugal (and life) bucket list is seeing some of the biggest waves in the whole world!
In fact, this small fishing town won the world record for the highest wave ever surfed: a huge 24-meter wave off North Beach near Nazare's famous lighthouse.
Every year, when the swell comes (usually around November/December), you can see the same breathtaking show of extremely huge waves coming from the Atlantic Ocean, and crazy surfers riding them! Even if you're not surfing obsessed like me, seeing and feeling the power of the ocean is an experience that will shake and enchant you!
But Nazare is a beautiful town to visit all year round, offering many attractions and activities! If you want to just chill on the beach, right by the exciting North Beach, Praia do Norte is the right place to lie on the golden sand and maybe have a picnic with family or friends.
Nazare also extends along a cliff to Sítio old town, which you can reach with a funicular, going 110 meters up from the headland. When you get to the top, you will enjoy jaw-dropping views of the entire Nazaré coastline!
Last but not least, if you still have some time from your day trip in Nazare, you could extend it to Fatima town, (check out this great tour!) a famous pilgrimage destination for Christians from all over the world.
This is because of the Virgin Mary, who supposedly appeared to three shepherd children and performed a series of miracles. Since then, the Sanctuary of Our Lady of Fátima has been a magnificent sight receiving countless pilgrims. But even if you're not Christian, this sacred location is very interesting to visit, hosting a beautiful old cathedral, shrines, and much more… and is free!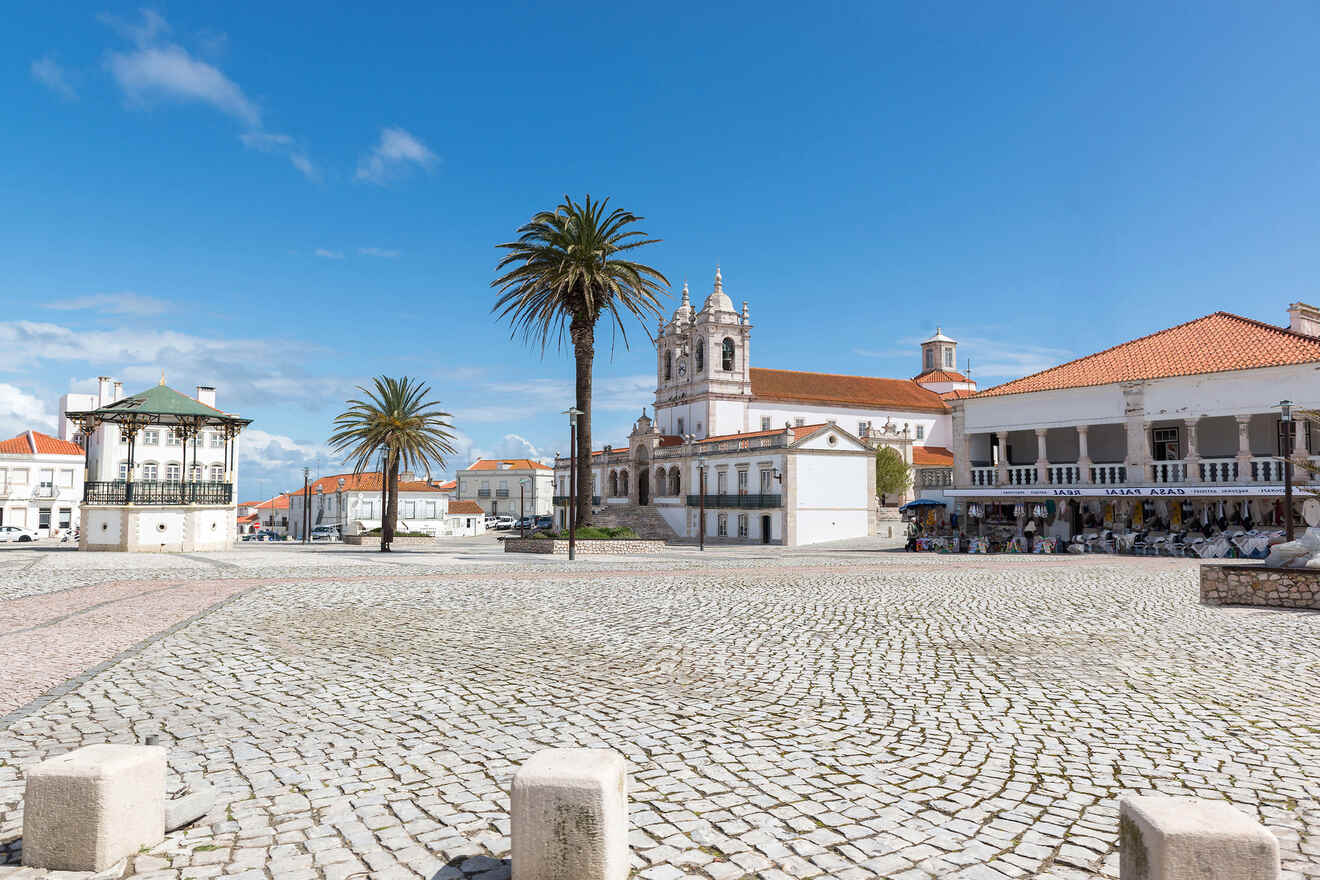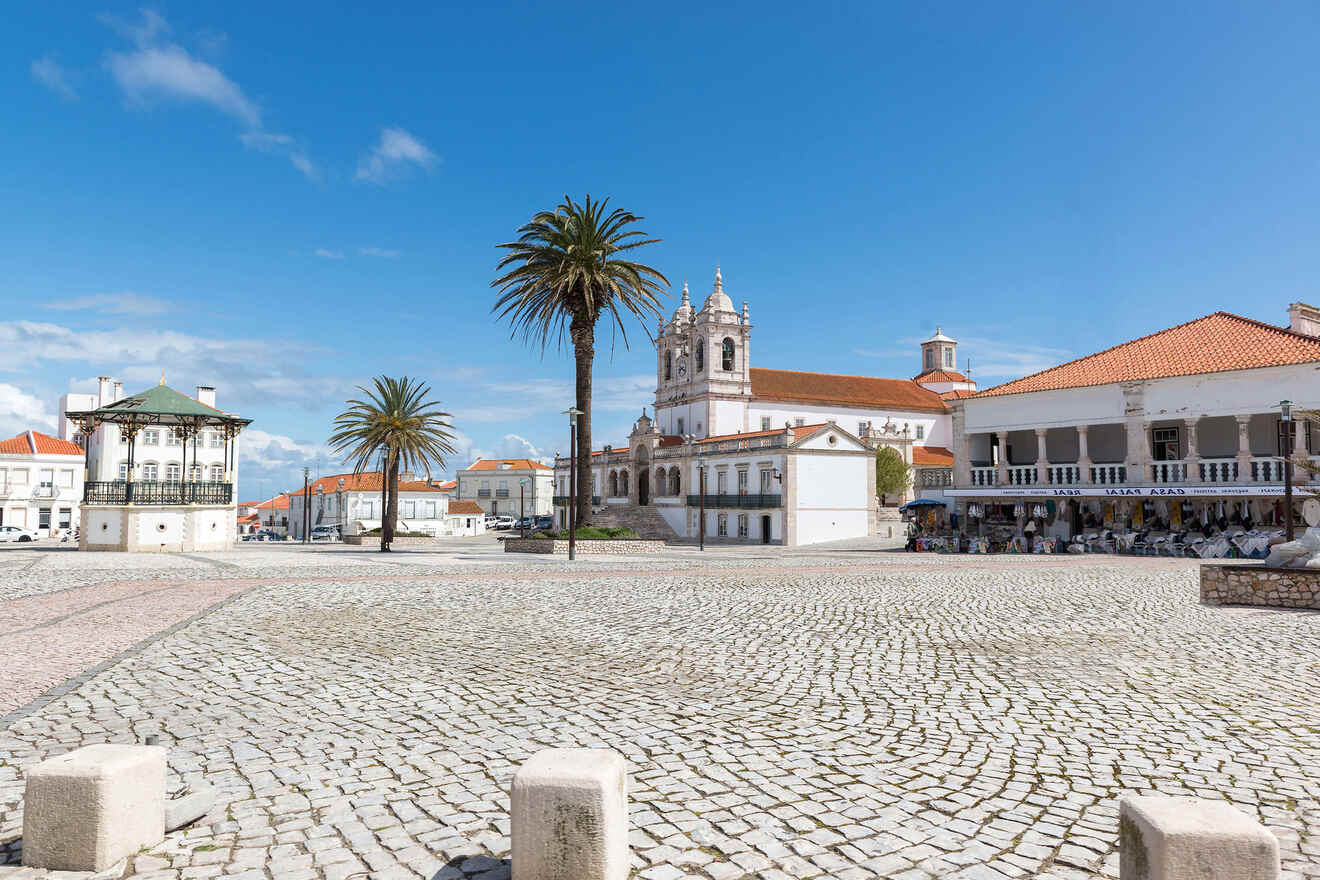 How to get there:
By Car: To drive from Lisbon to Nazaré will take you around 1.5 hours on the A8 road, and cost you about €7 in toll fares.
By bus: The bus is the cheapest way to get to Nazaré, leaving from the Sete Rios bus terminal (metro's blue line) regularly throughout the day. The trip will take you about one hour and 50 minutes, and cost you €11 one way.
Guided Tour: If you prefer to be driven there by a guide, jump on board this tour which takes you to see Nazare, Fatima, and Obidos.
5. Do some wine tasting in Setubal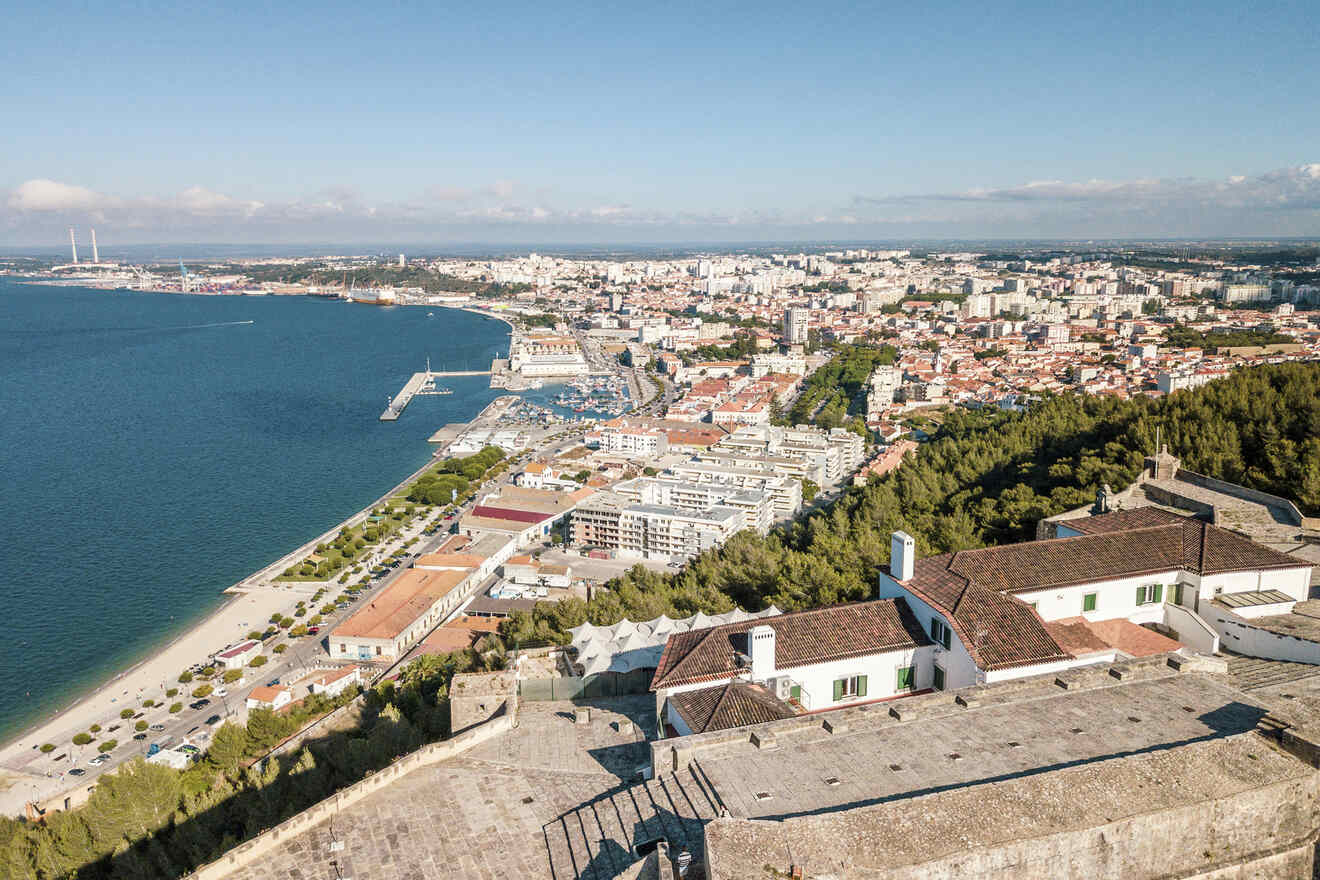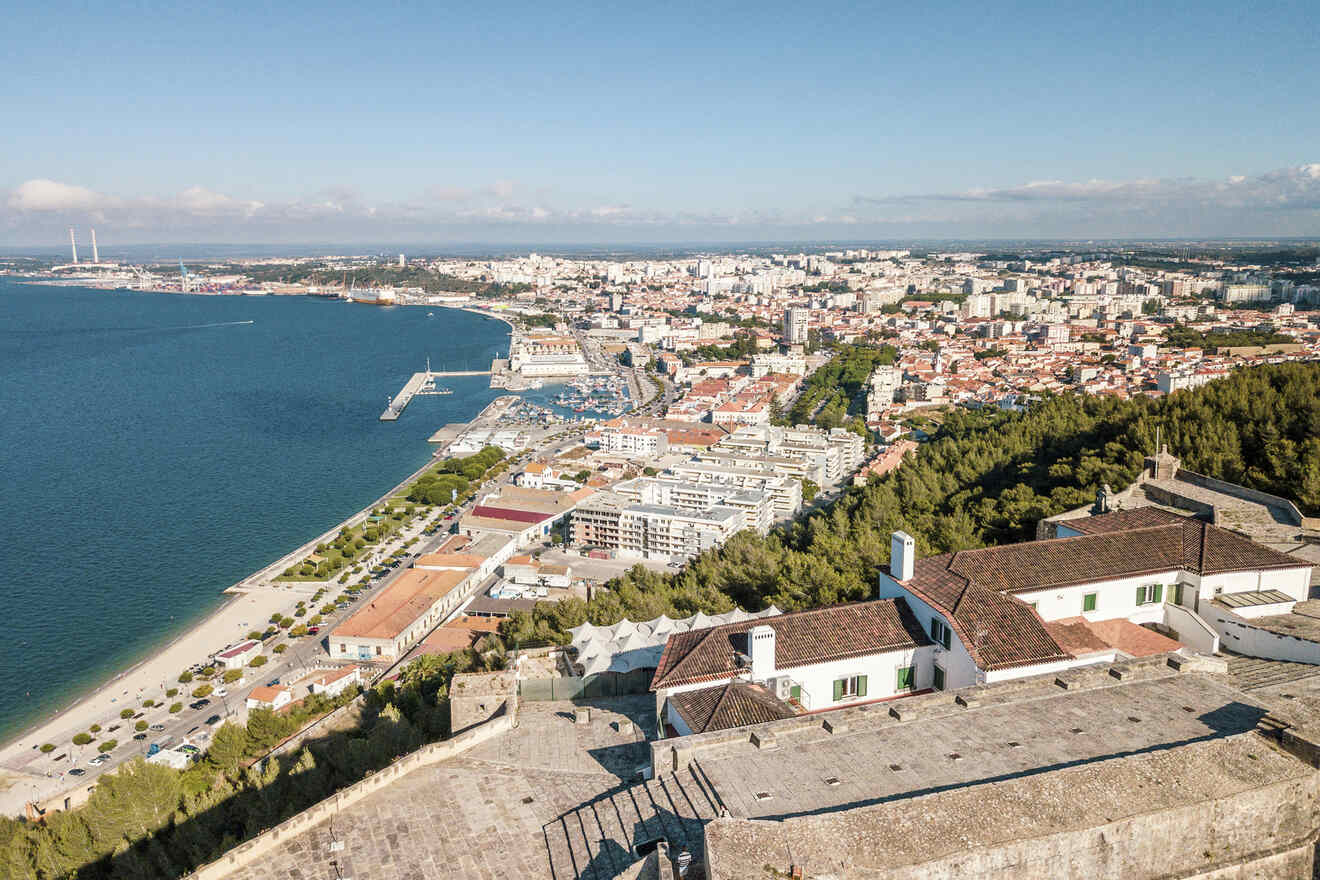 If you're fond of wine, you'll be happy to know that Setubal is one of Portugal's best wine areas and also offers some amazing landscapes… This combo makes the region one of the best day trips from Lisbon in my opinion!
Located more or less a 1-hour drive west of Lisbon, Setubal is famous for the production of its dessert wine, in particular, the varieties Moscatel and Moscatel Roxo: this is one of the oldest and most famous wines in the world!
I am absolutely in love with Moscatel: this fortified wine has a very unique flavor of orange blossoms and honey, and is very good to drink in summer with some ice cubes!
Apart from the delicious sweet wines, the region is also famous for the production of local cheeses… the best combination to have before or after a meal, and you can even find other local delicacies like sweets.
If you want to have a complete tasting experience, I suggest you take a guided wine day trip in the Setúbal region, starting from Lisbon. With this guided tour you will get an introduction to the wines and cheeses of this beautiful region, and, of course, you will try them all, stopping at multiple wineries along the way/
And the best part is that you'll have all this while exploring the beautiful natural landscapes in the surroundings… What are you waiting for? Book it now!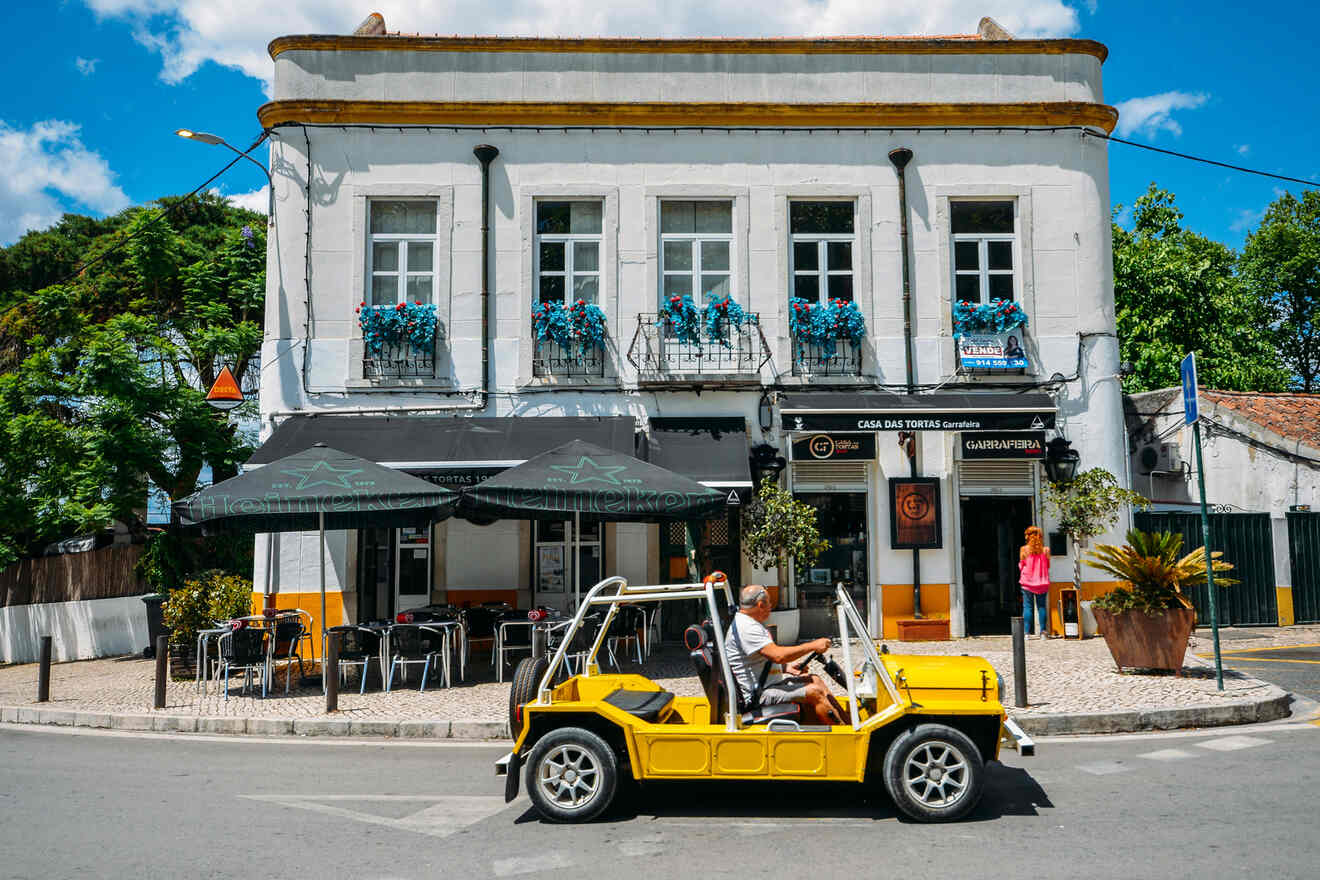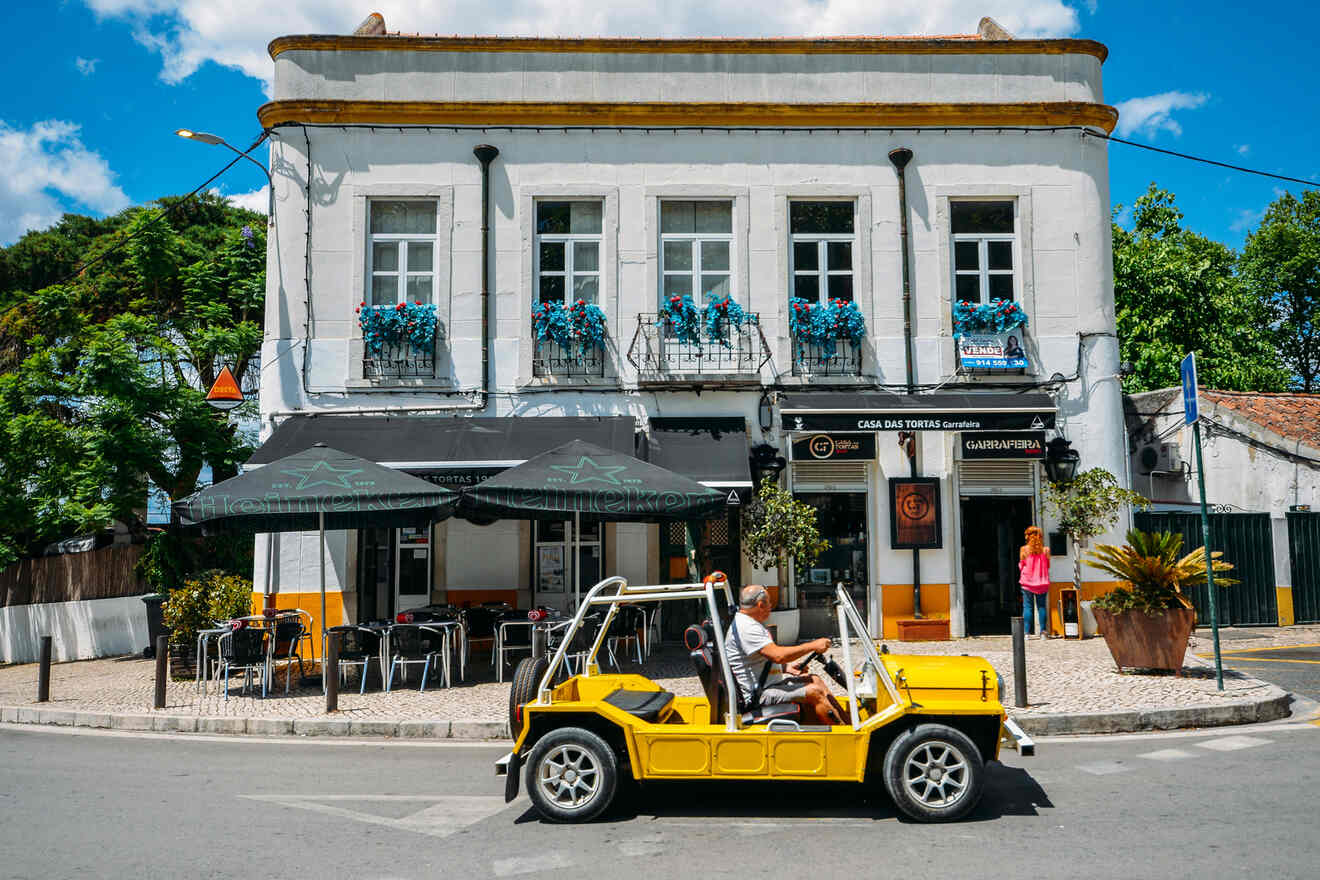 If you're really passionate about wine and you're planning on having more day trips from Lisbon of this type, here are some other wine tours for you:
Arrabida and Sesimbra Day Trip: taste the finer sides of Arrabida and Sesimbra during this small-group tour from Lisbon (of 8h), where you'll try 4 wines at an authentic Portuguese winery and learn about the cities at the same time!
Lisbon Northern Region Tour: join this full-day, private day tour to Cheleiros and Bucelas, and explore 2 historic Portuguese wineries! In 6 hours you'll learn all about wine varieties and local grapes, and get a personal introduction to the wine regions of Portugal.
Evora Wine Tour: with this day trip you'll explore Evora's labyrinth of squares, cobbled streets, and architecture while learning about delicious local wines. The day tour includes wine tasting at a local winery and entrance to the Cathedral, Bones Chapel, and University.
6. Explore Parque Natural Da Arrabida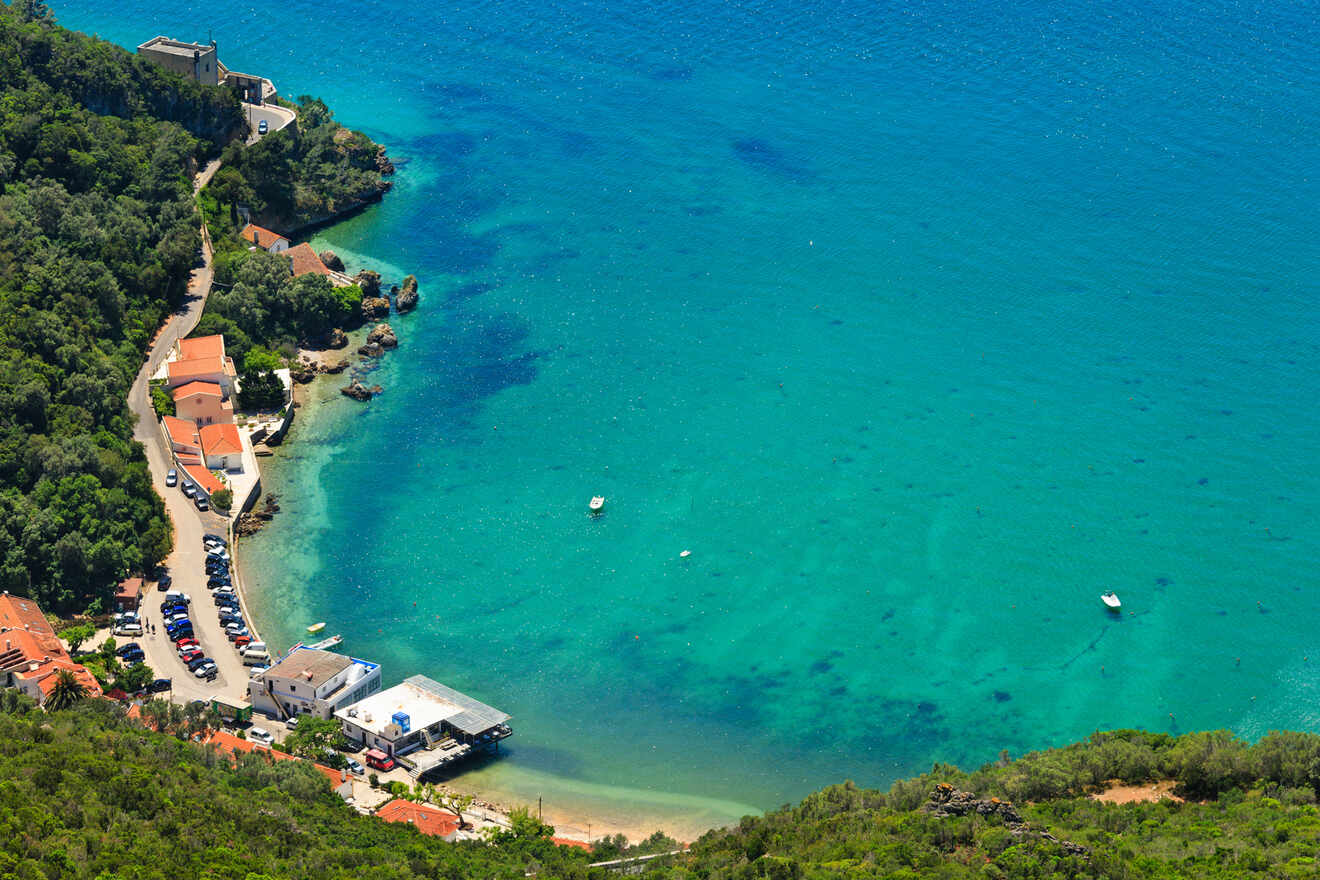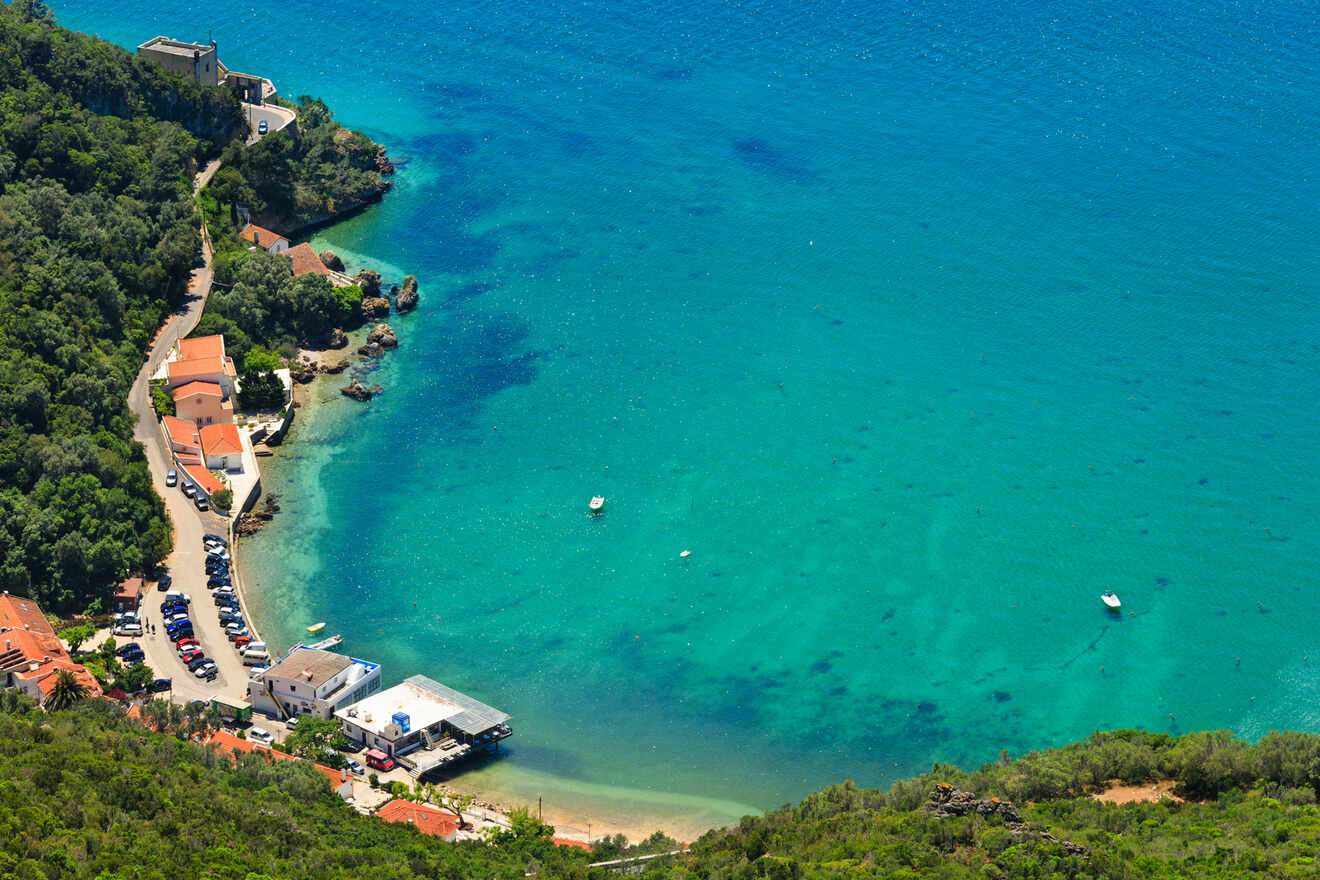 The Parque Natural Da Arrabida, located between Setúbal and the fishing town of Sesimbra, is right next to the sea and offers one of the most beautiful natural sceneries in Portugal!
Here your eyes will be constantly excited by the lively blue of the ocean waters, the white tones of the cliffs, and the vivid green of the indigenous vegetation covering all the mountain range.
NOTE: To preserve the rare vegetation species of the park, it is only possible to visit certain areas when accompanied by an official guide or with a tour, but it is totally worth it!
In the natural park, you can engage in the most various outdoor activities from hiking to mountain climbing and even kayaking.
In fact, if you're here I suggest you join a kayaking tour to admire the breathtaking views of nature right from the water, as you paddle through the tranquil river, and discover many hidden caves and secluded beaches!
Otherwise, you can also just relax on the many little white sand beaches, dip in the ocean, or have cozy picnics.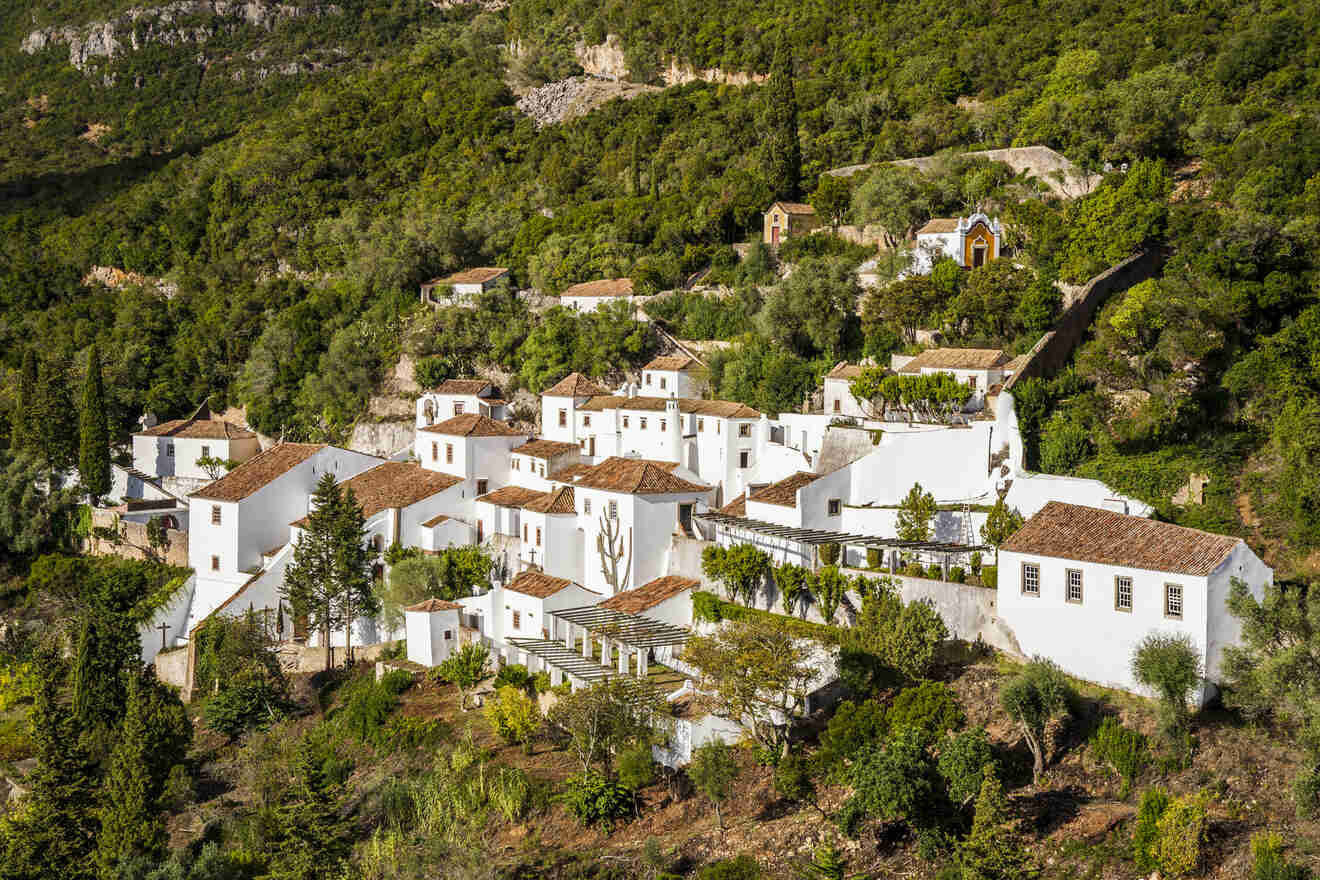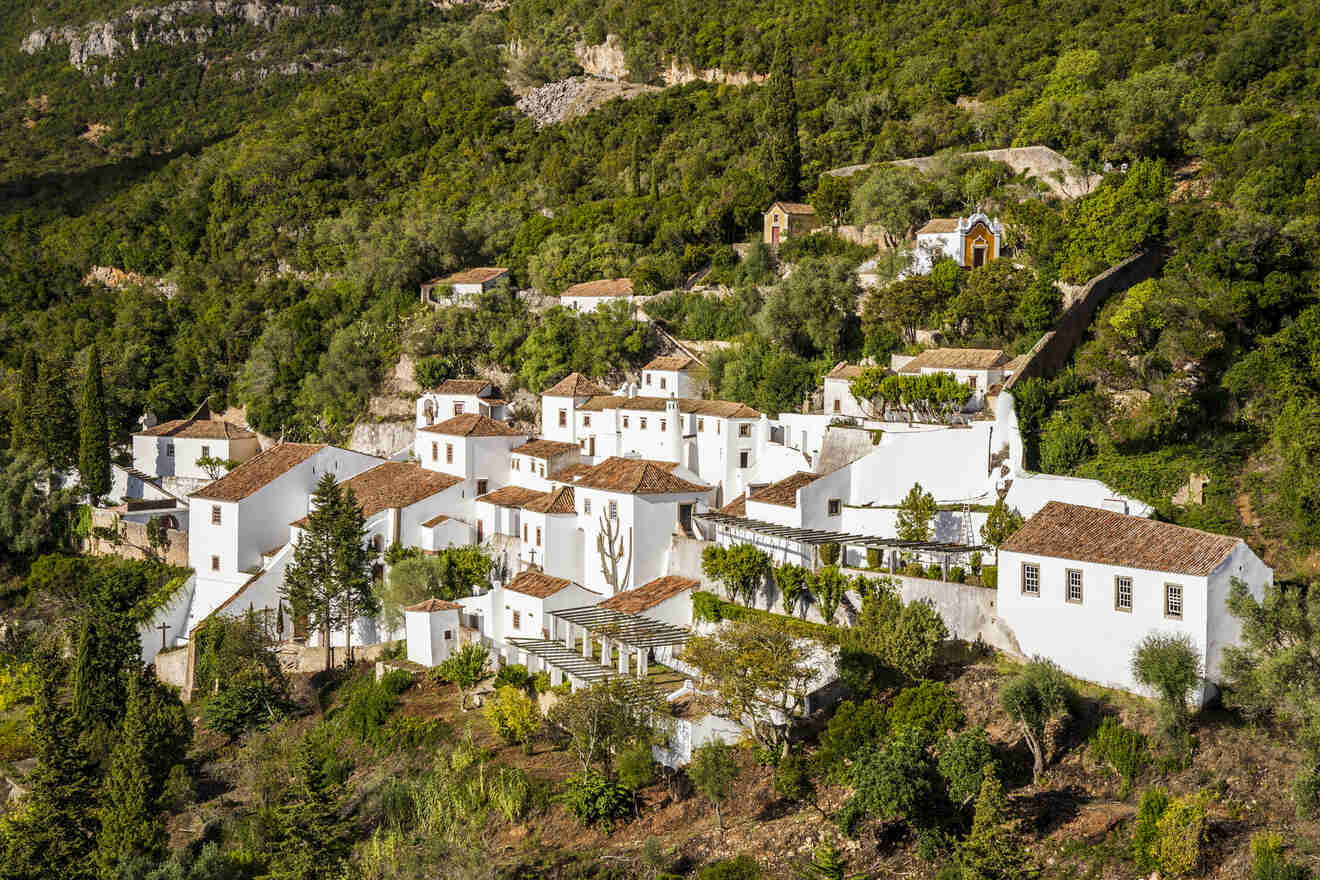 How to get there:
By Car: The easiest and best option to get to the park is to rent a car, which will take you around a 1-hour drive outside of Lisbon to the coastline… but the whole time you'll be rewarded with stunning views of pristine beaches.
By public transport: The most affordable option is to take the bus and train but I don't recommend this option as you will have to make multiple changes and it will take at least 2 to 3 hours.
Take the train from Campolide to Coina then take bus 2N to Vila Nogueira Azeitão and change to bus 230 which will take you to your destination at Maçã (En 379) Calhariz. The whole cost of the trip will be around €10.
Guided Tour: Combine a trip to Arrábida National Park with a visit to Sesimbra and some delicious wine tasting on this action-packed day trip from Lisbon. This tour of the Setubal region covers all the sights of the area and plenty of photo opportunities for around €55 per person.
7. Have a surf day in Costa da Caparica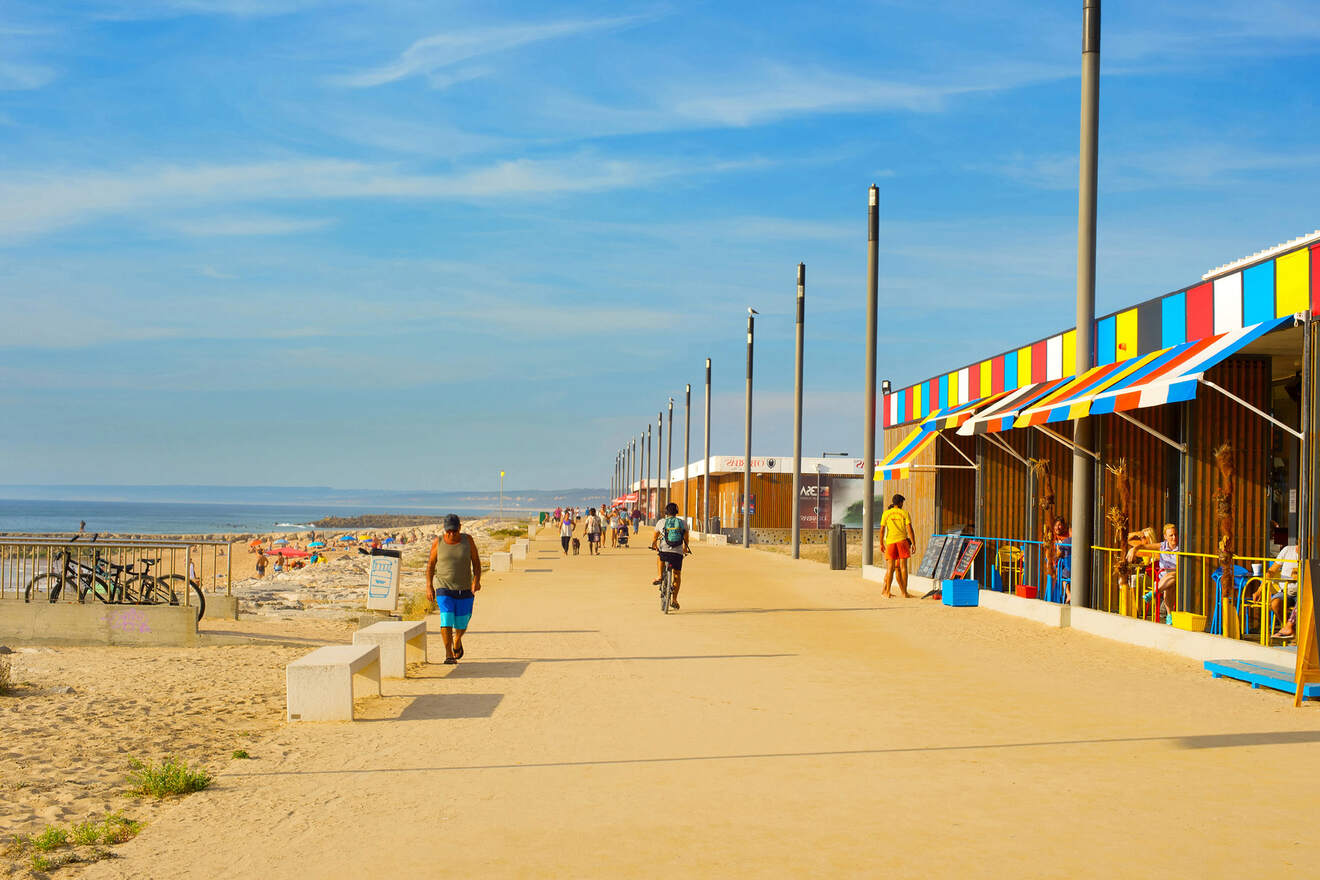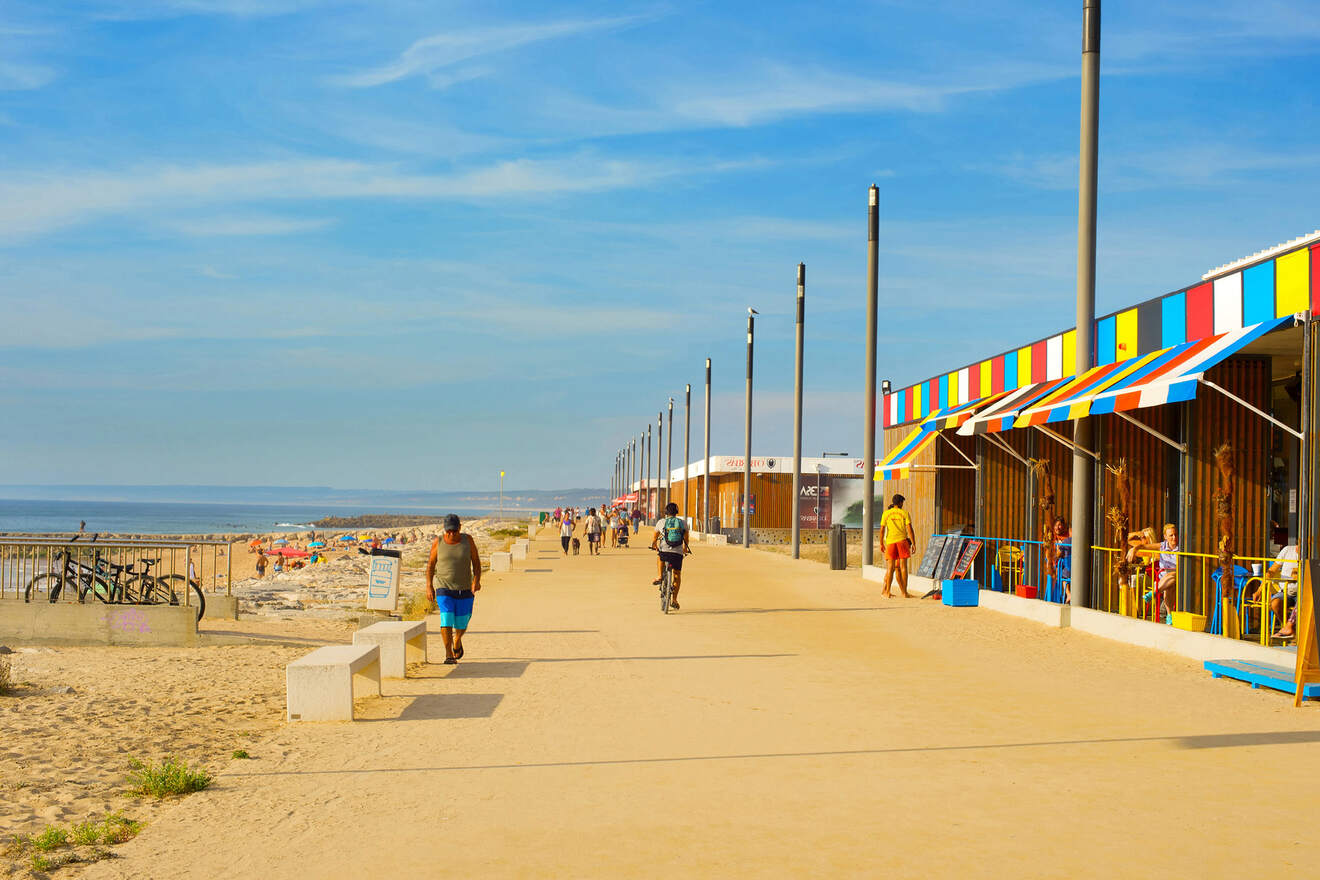 As you might already know, Portugal is one of the best surf destinations in the whole world, so you cannot leave the country without doing a surf class, or riding some good waves if you're already experienced!
There are many surf spots all along the coast of Portugal, offering different breaks and conditions, but the closest one is the beach town of Costa da Caparica, offering many white-sand beaches one after the other… all good for surfing!
This beach town lies on the other side of Lisbon's red bridge, a 15 – 20 minute ride by car or 40 minutes by bus, and it is all about surfing! Here you'll find a very lively (but at the same time relaxed) atmosphere, with plenty of beach bars and restaurants, surf shops and surf schools.
From May to September, the peak season for tourism, this is the best place to practice your surf skills or take a lesson if you are a beginner, while in winter waves get bigger!
How to get there:
By Car: Driving to Costa da Caparica from Lisbon is the easiest way, and it will take you only 15 – 20 minutes by crossing the 25 de Abril Bridge.
By bus: There are many buses you can take from Lisbon to Costa da Caparica. The best ones are 153 from Sete Rios, and number 161 from Avenida Padre Manuel da Nóbrega. They both end up at the same terminal in the center of Caparica, about a 10-minute walk from the beach and they will take around 40 minutes to get there. The cost of the ticket is about €4.
By ferry: You can also opt for a panoramic ride on the ferry to get to Costa da Caparica. Take the ferry at Cais do Sodré: it leaves every 10 minutes and it will take you to Cacilhas on the other side. Here you can take bus 124 or 135 toCosta da Caparica. The whole journey will cost you around €6.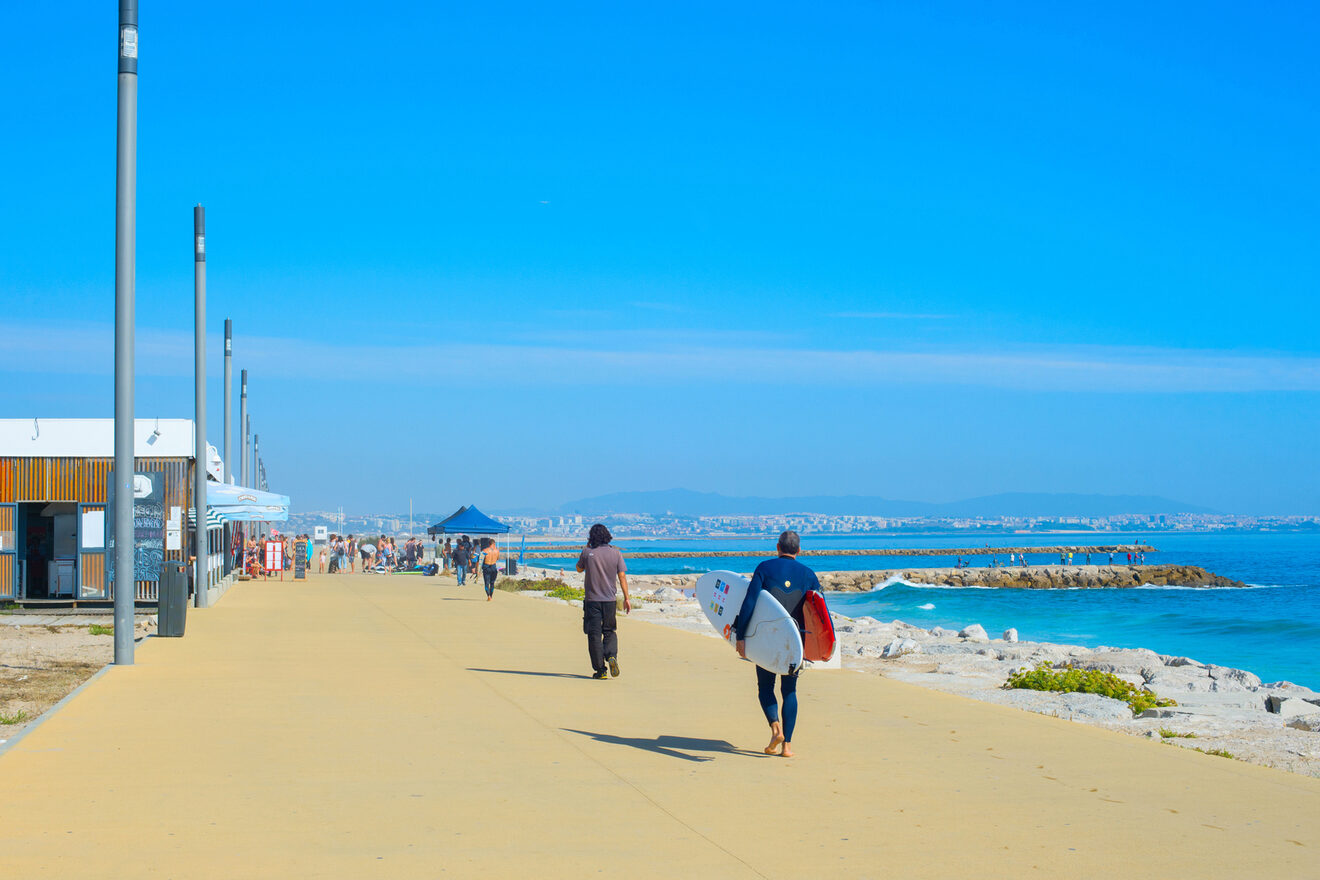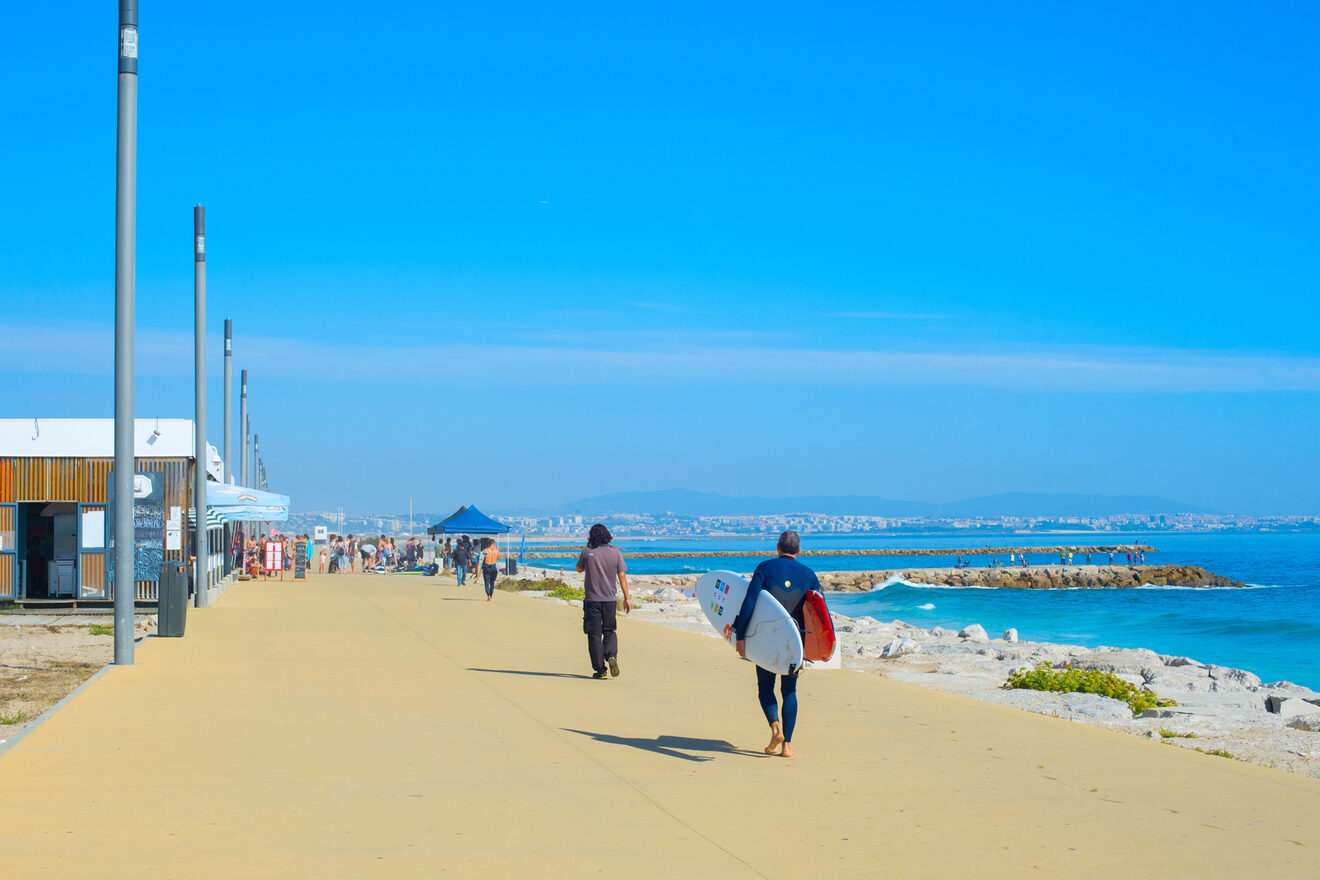 Other surfing day trips from Lisbon:
Nearby Lisbon there are countless spots for you to practice your surf skills, even if most surfers focus on the Algarve coast. Check out the following spots, they're not on the Costa Da Caparica but they are all perfect for a day trip to enjoy the white sand beach and good waves:
Carcavelos: this surf beach is located only 10 minutes drive from Lisbon. It gets consistent waves most of the year and offers many peaks for all levels! If you are a complete beginner, you can find local surf schools offering equipment and surf lessons and after surfing, you can relax in the many cafes and bars on the beachfront.
Guincho: just 30 mins drive west of Lisbon you'll find the 1km long Guincho beach, one of the best beach breaks in the area. Summer is more mellow so is good for any level (check out the schools for a surf lesson), while the winter here is just for experienced surfers. Afterward, the Bar do Guincho, is the best spot to watch the sunset with some good food!
Peniche: located about an hour north of Lisbon on the Atlantic coast, Peniche is a lovely surf town offering almost 10 beaches for an exciting surf day trip from Lisbon (and even more surf schools)! From the Supertubos beach offering world-class surfing to rocky reef beaches for the pros and sandy beaches for beginners, you'll find the right spot for you here!
8. Check out the historic town of Evora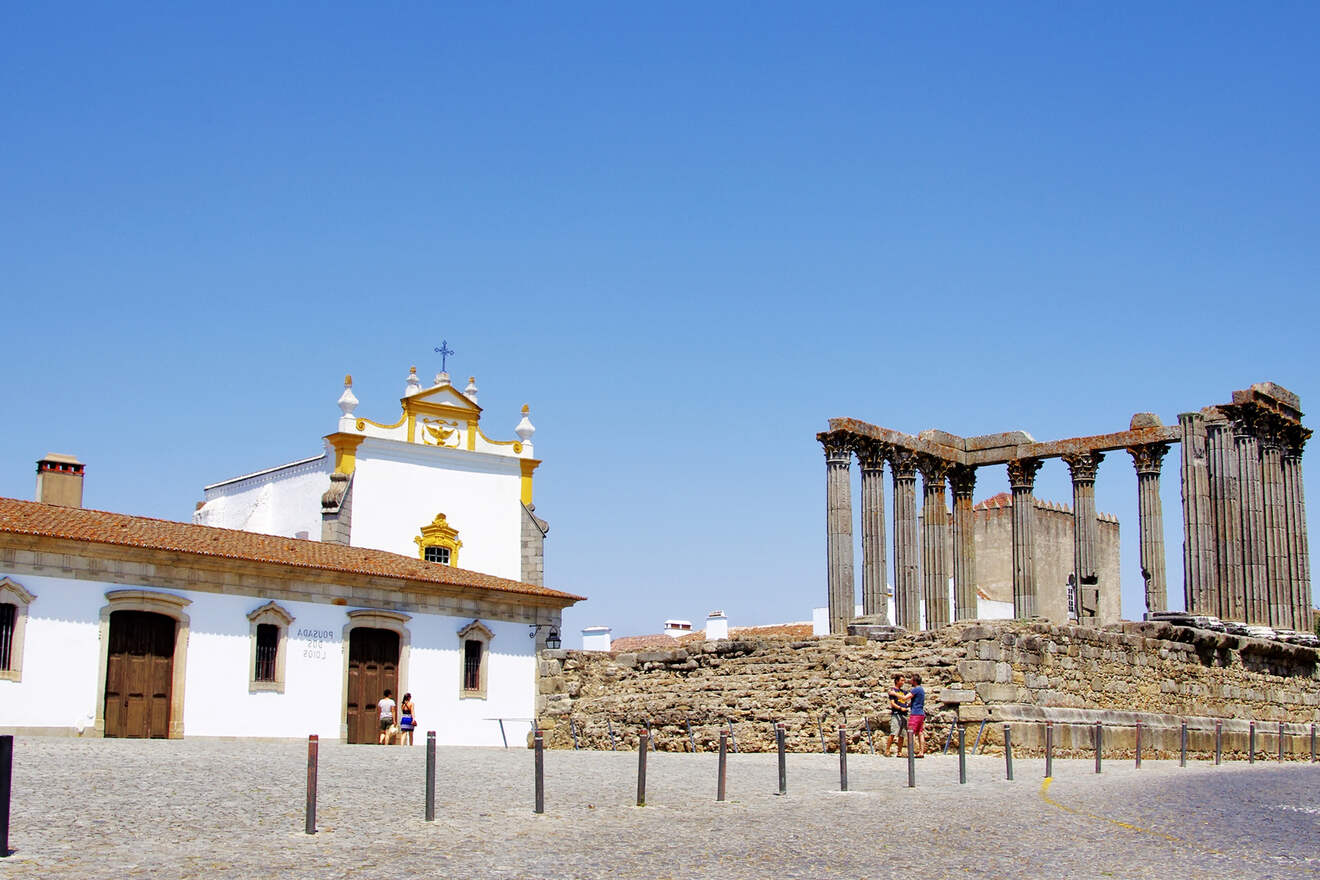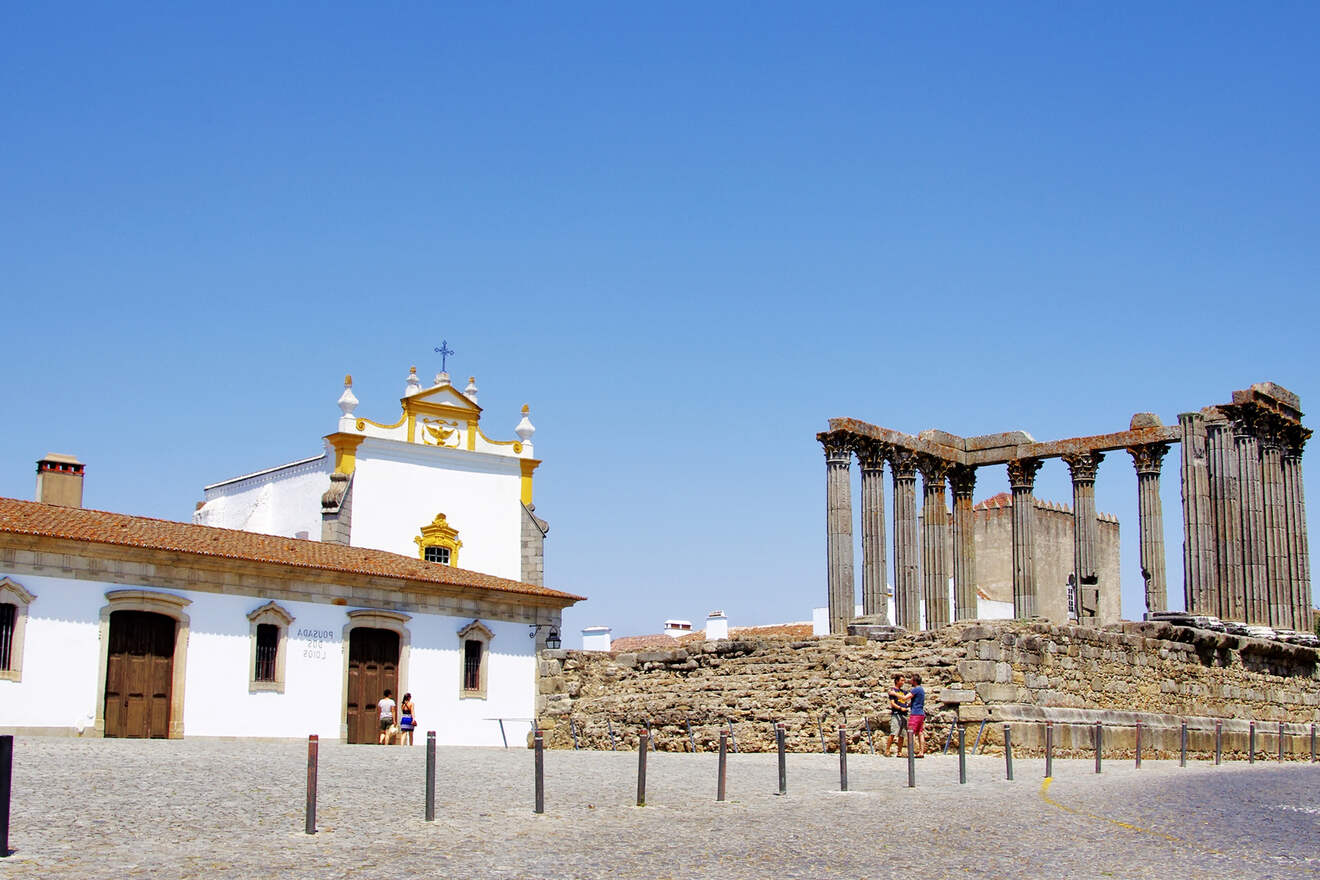 Évora is a medieval town located a 90-minute car or train ride south of Lisbon. Not only is it the capital of the Alentejo region in Portugal, with its huge amount of charming, historical attractions, this beautiful city is one of the best day trips from Lisbon!
Here you'll find a mix of different influences: from the ancient city walls, temples (don't miss the famous Roman Temple), and ruins of Roman rule, to the Moorish fortified gate and the Se Cathedral.
But the best thing you can do in Évora is to just get lost inside the old town walls and gaze at the stunning architecture of the typical white houses decorated with painted azulejos tiles and yellow colors.
The second best thing is definitely visiting Evora Cathedral and climbing it to the top to get the best views of the city. On a good day, you can see for miles over the countryside!
And when you need a break from all the walking and the heat (in summer it is SO hot here) the town square is the best place to enjoy a coffee or a typical Portuguese meal in the shade!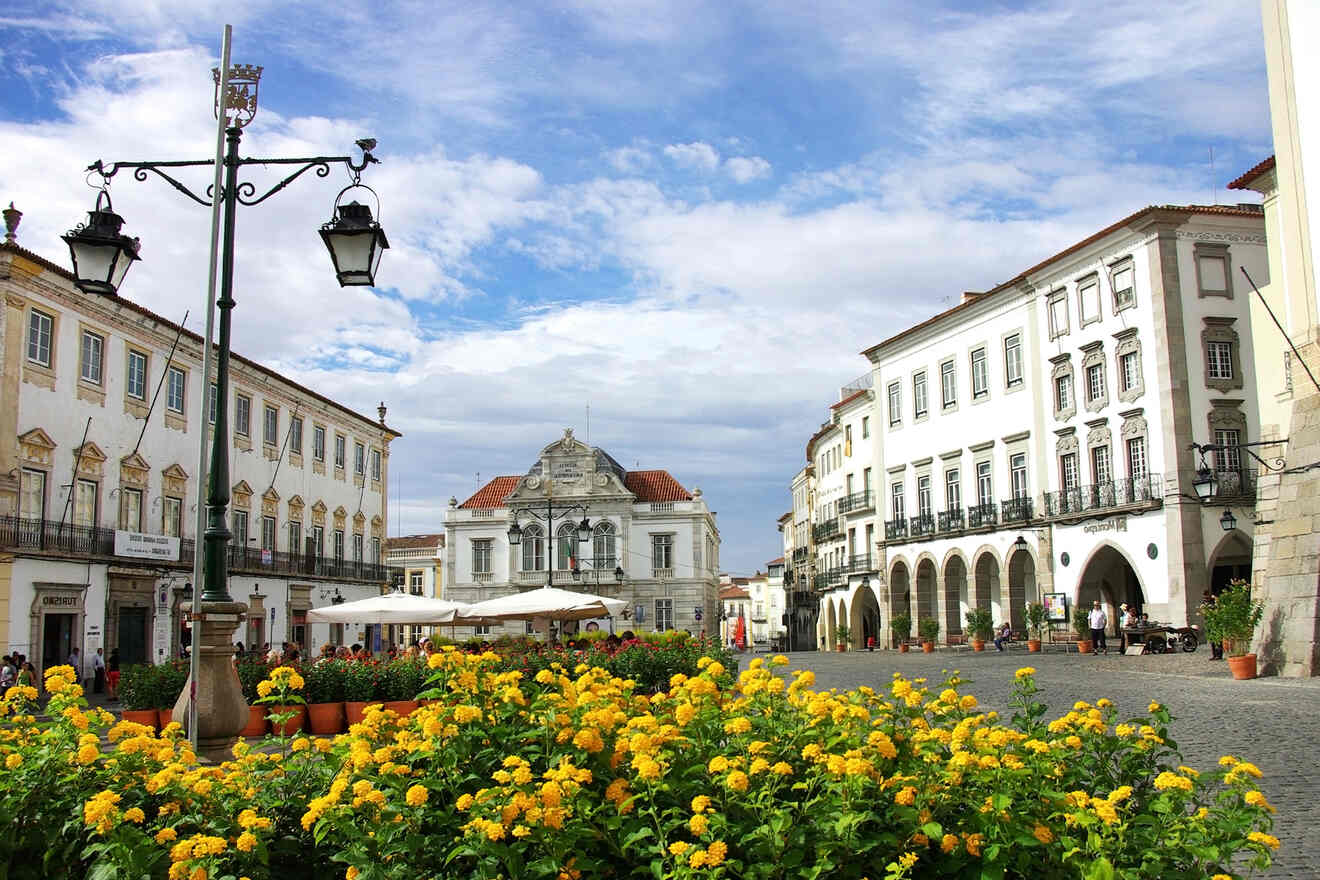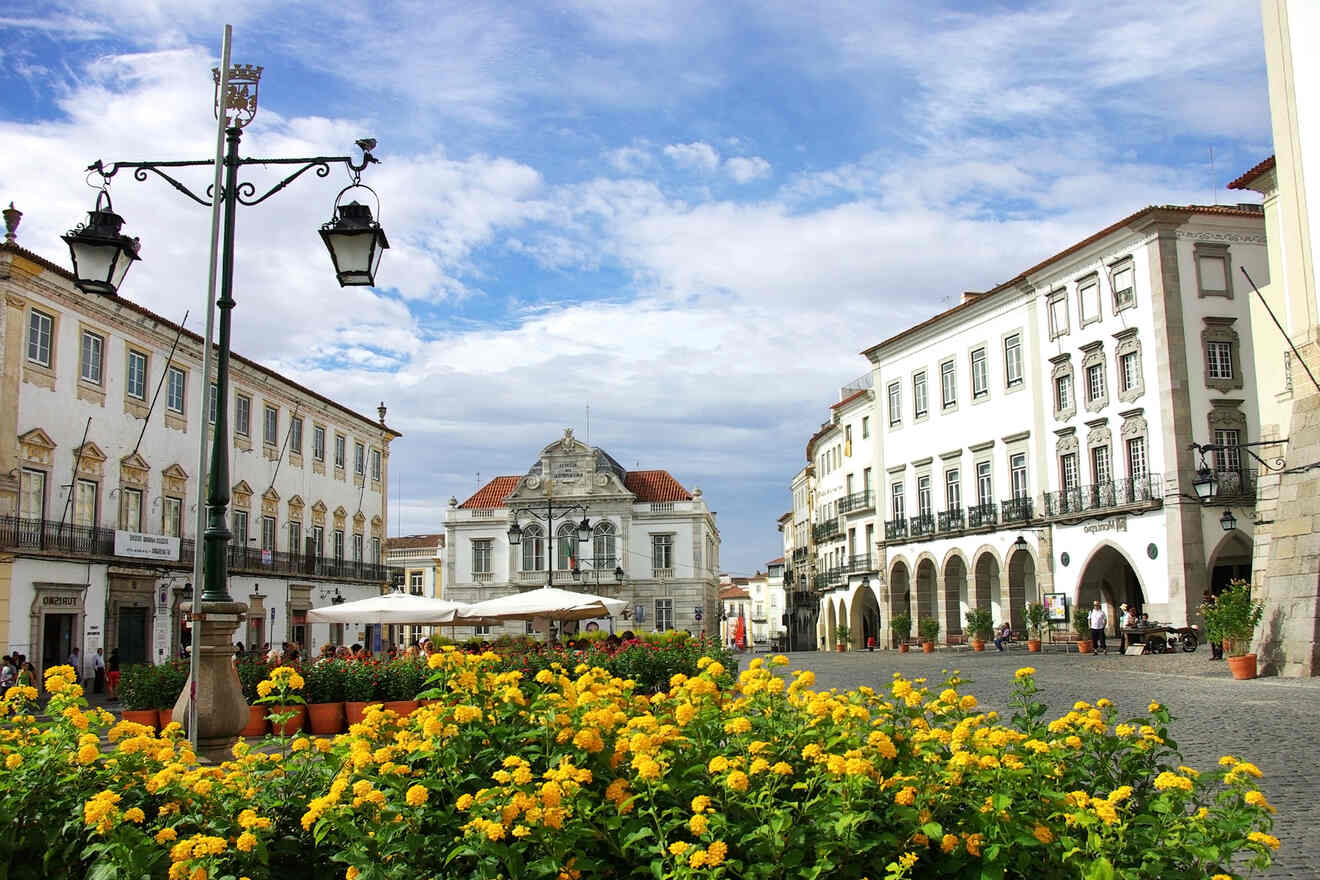 How to get there:
By Car: Driving to Evora is a little bit quicker than taking a bus or train, taking you around an hour and a half, and will permit you also to stop to visit any spot between the two cities!
By train/bus: Whether you take a bus or a train to Evora, it will take you around 2 hours. While buses run much more frequently, trains are definitely more comfortable, but take into consideration that there are limited trains per day and a ticket to Evora will cost you around €10.
The good thing about buses is that they leave from Lisbon Sete Rios bus station almost every hour, while trains depart from Lisbon's Oriente Station. A bus ticket to Evora will cost you around €10.
Guided Tour: Join a tour that takes you to Evora with a small group. Enjoy an olive oil tasting, explore the old town, and be taken through this UNESCO site with a knowledgeable guide over the course of a day.
9. Explore the medieval Óbidos town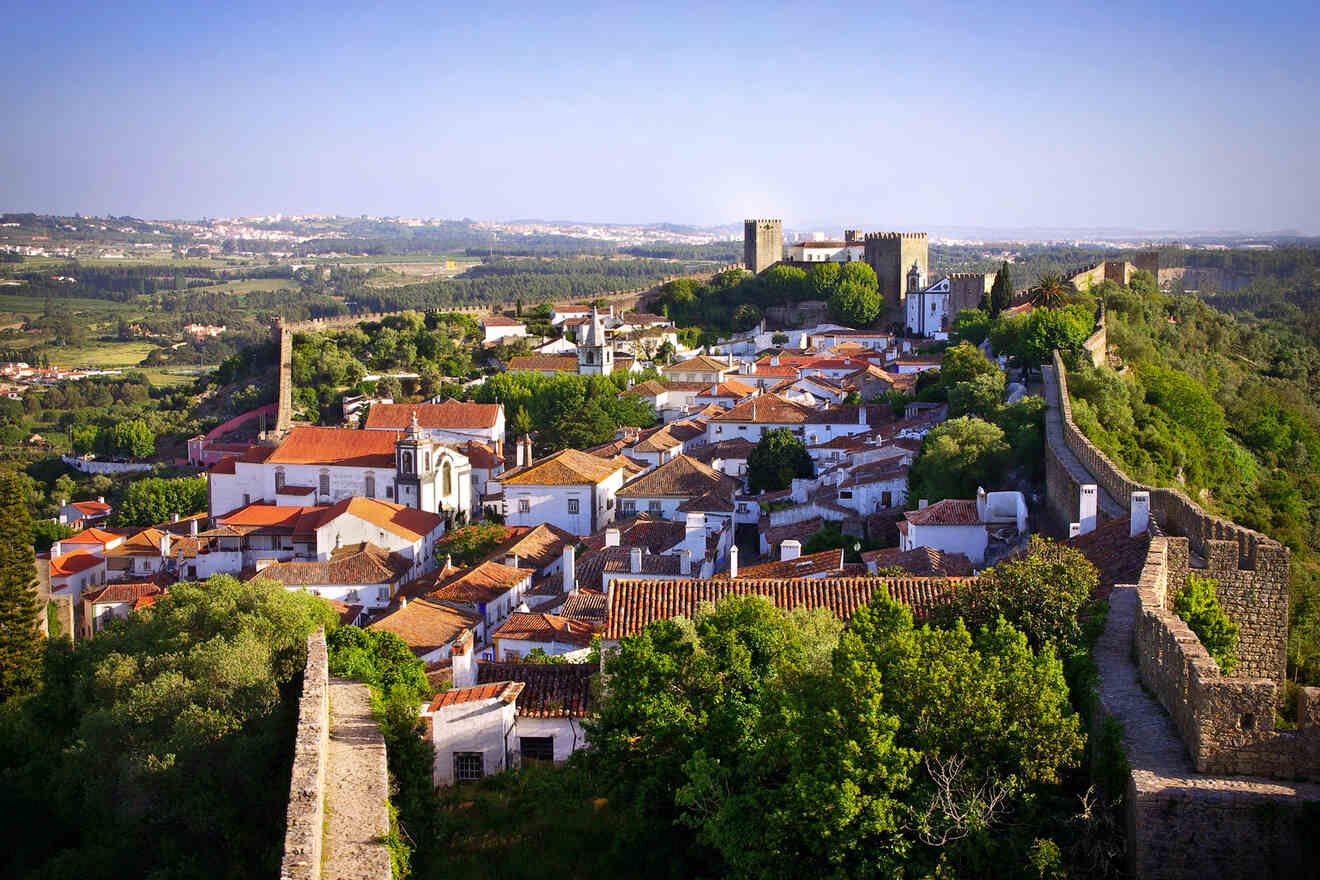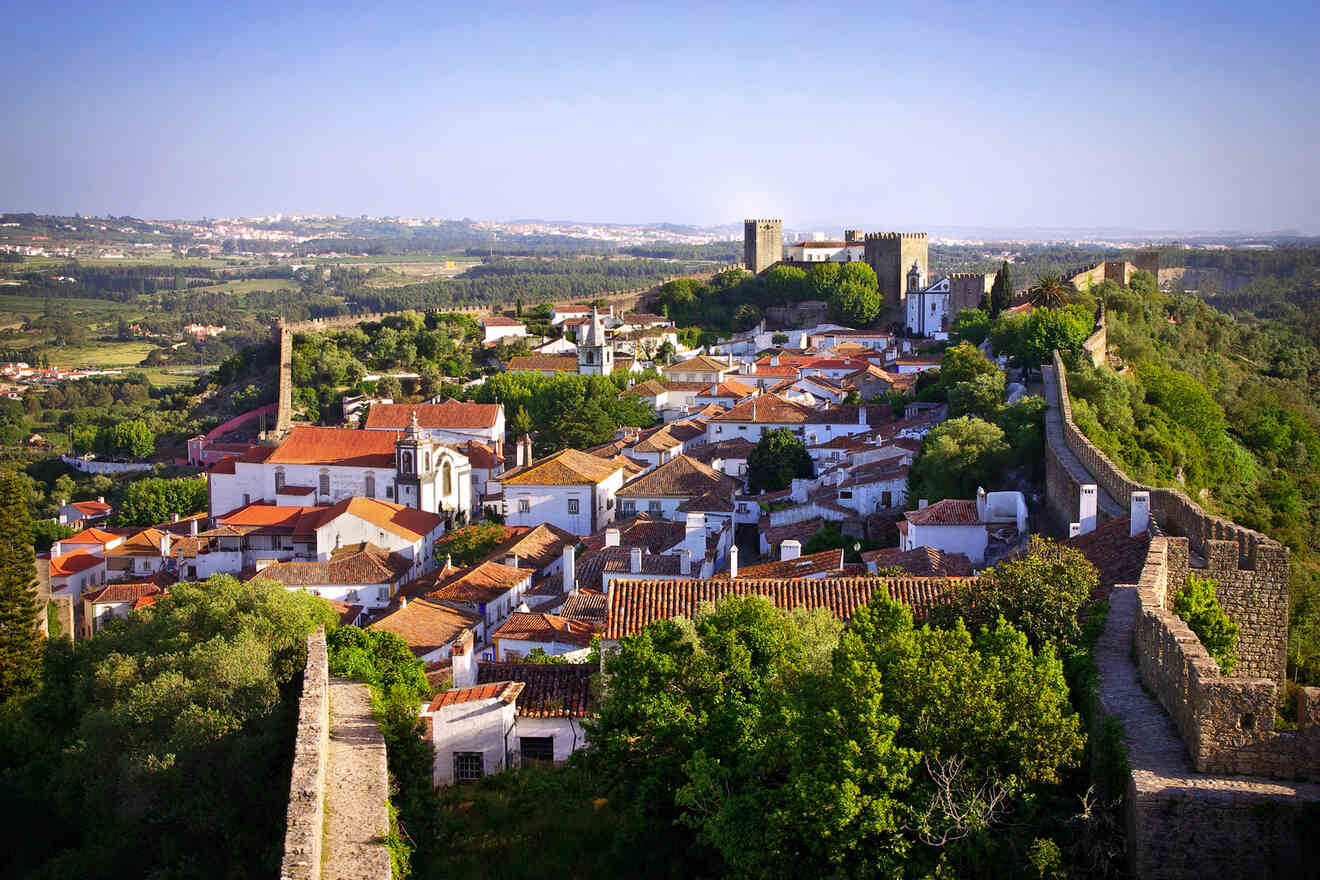 Another great destination for a day trip from the Portuguese capital is the small medieval town of Obidos, only one hours' drive north of Lisbon!
This is one of my favorite spots ever: as soon as you step inside its medieval walls you will immediately be brought back in time… It feels like visiting a big castle (you will understand once you'll get there!).
The winding cobblestone streets of the historic center, the tiny white houses sprinkled with yellow and blue and ornate with beautiful flowers, the old ladies selling ginjinha (a typical Portuguese cherry liquor) in the narrow streets… This place is just magical!
PRO TIP: I suggest you walk the stairs up to the castle walls and admire the views of the old town from above and the surrounding countryside.
But another interesting thing about the city is that it was named a UNESCO city of literature in 2015, hosting the largest literary hotel (the Literary Man Hotel) in the world with over a whopping 36,000 books! So, book lovers, you already know where to go in Portugal!
Even if you only spend an afternoon in the city (it's quite small), no matter how long you stay you'll definitely love the town!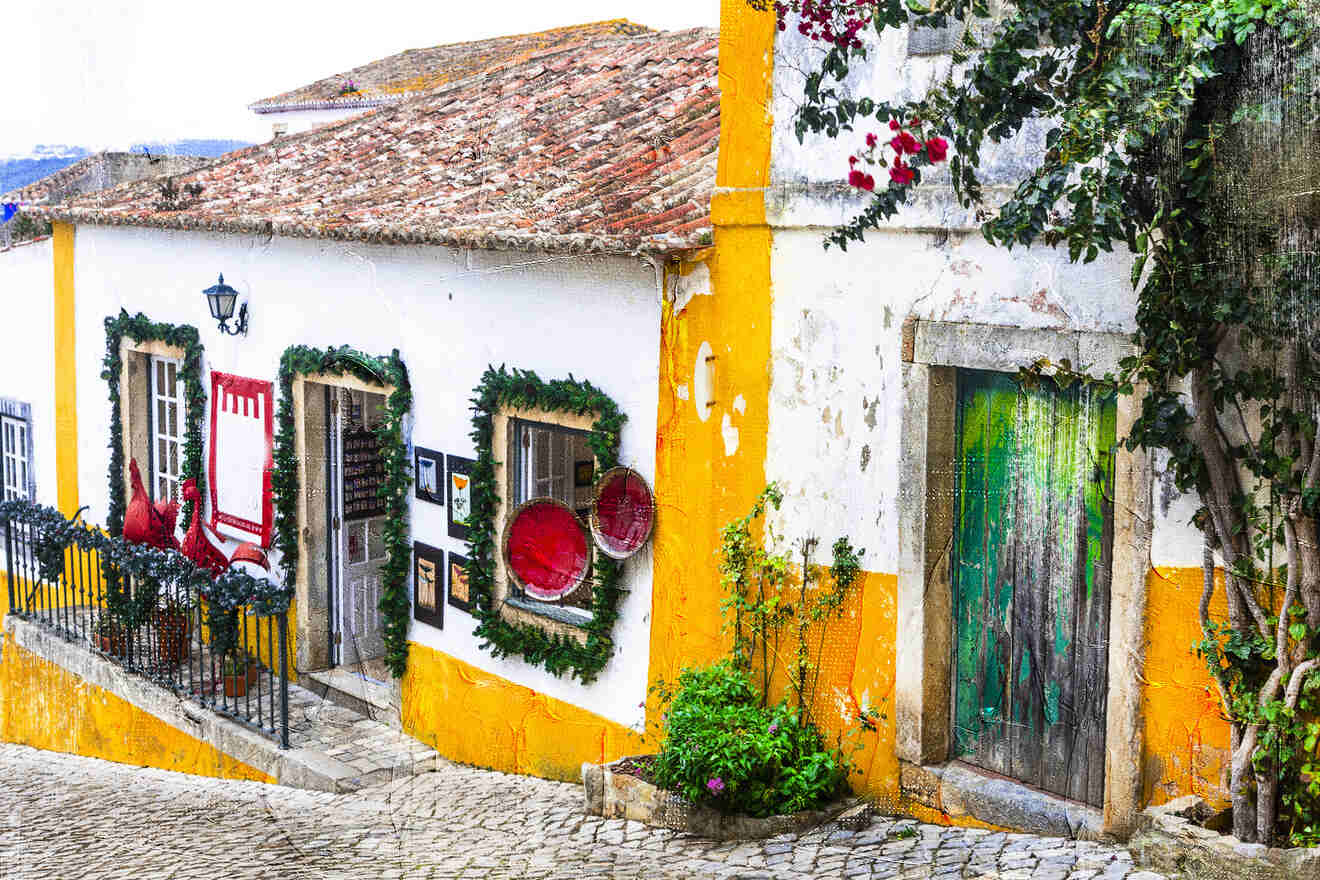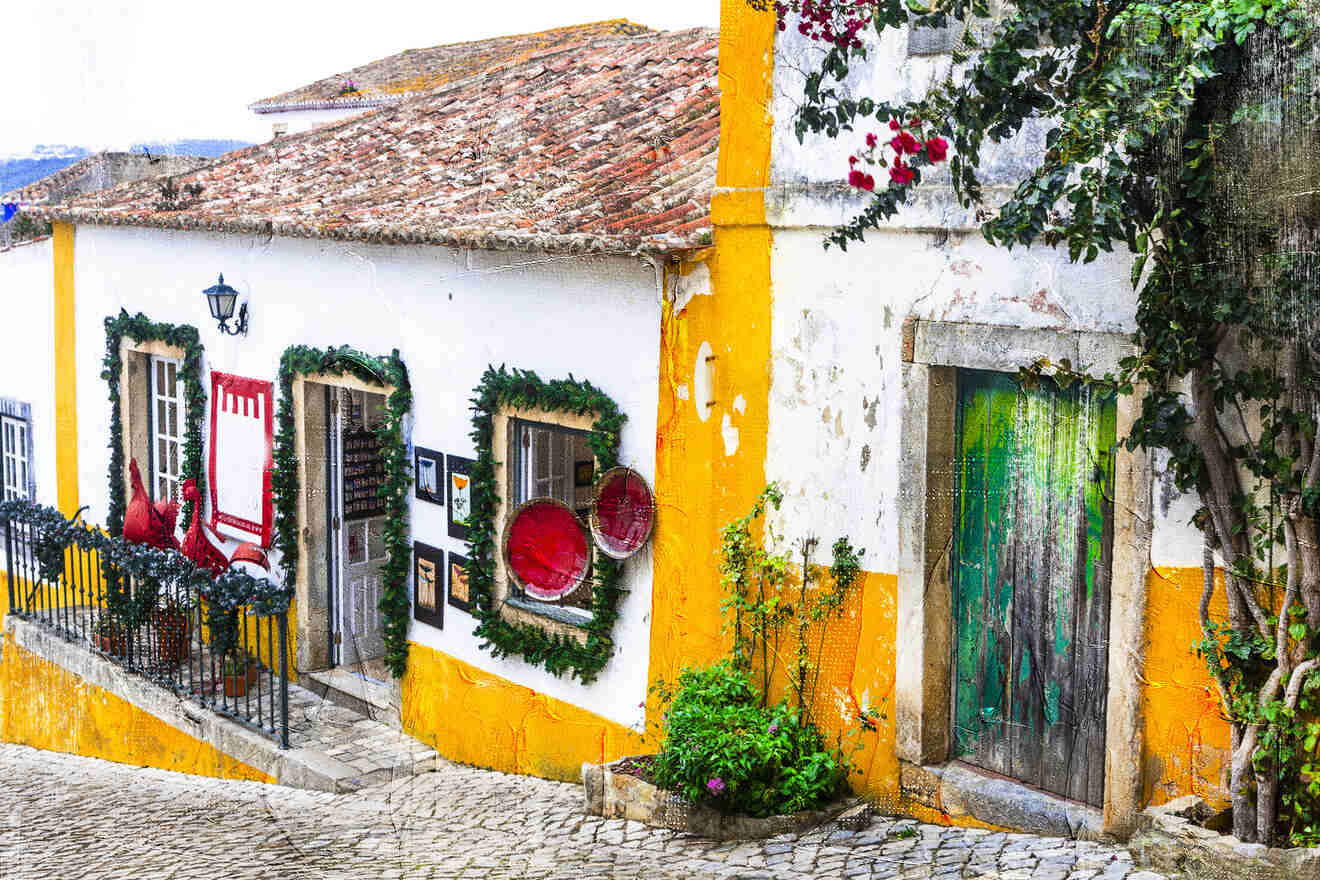 How to get there:
By Car: The easiest and fastest way to reach Obidos is, as everywhere in Portugal, by car: just head north out of the center of Lisbon on the A8, it will take you around an hour and you will find free parking there!
By train/bus: There are also some public transport links: one is the train but is a slow regional service so it will take you between 2 and 3 hours, depending on where in Lisbon you depart from and cost you around €10 euros.
A better option is the express bus service leaving from Campo Grande bus station, taking you just 1 hour and offering wifi and air conditioning… for €8 euros for each ride!
Guided Tour: Obidos tours are combined with Nazare and Fatima to bring you to a bunch of interesting places throughout the day so sit back and let your guide fill your brain with knowledge on this day trip.
10. Visit the Queluz National Palace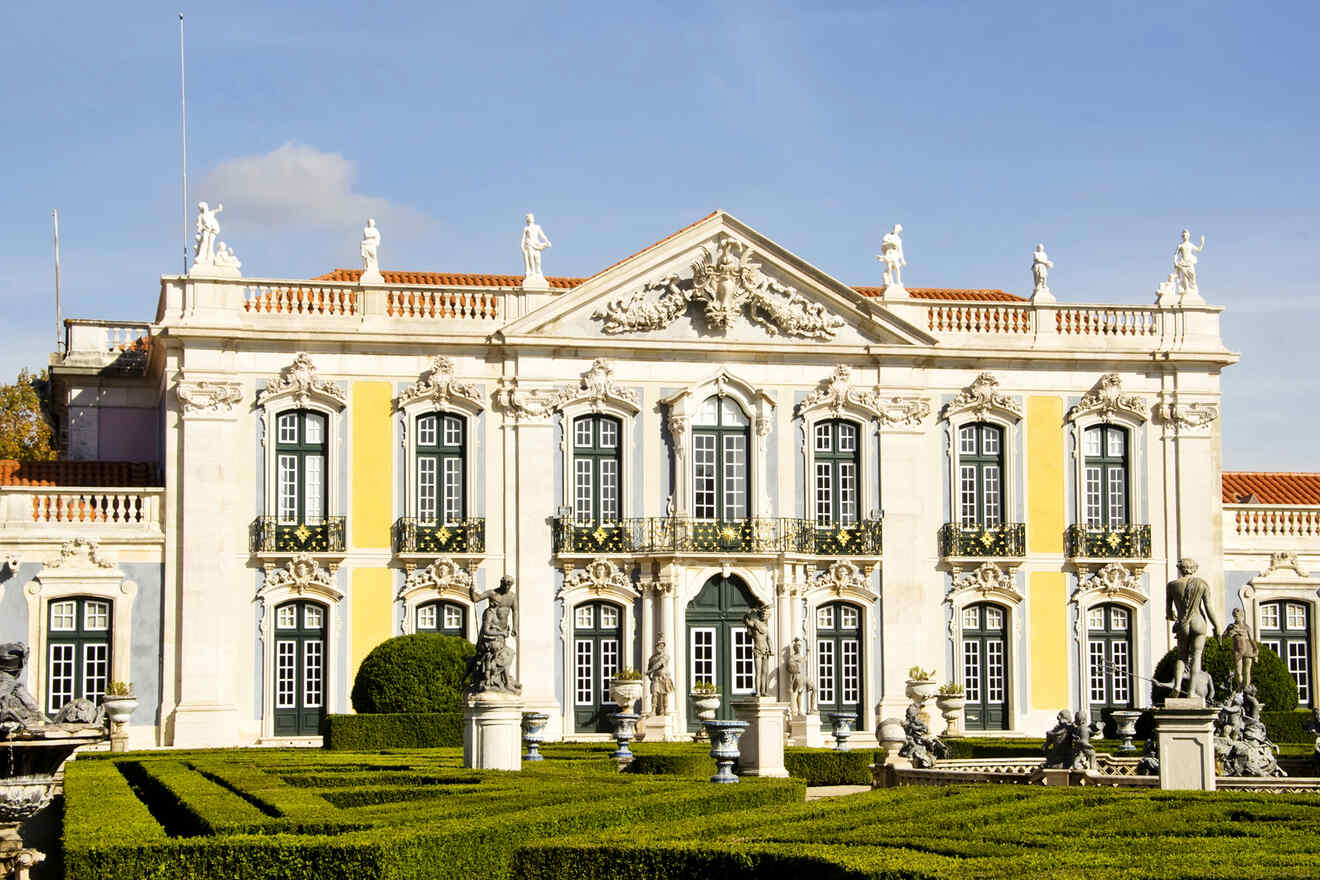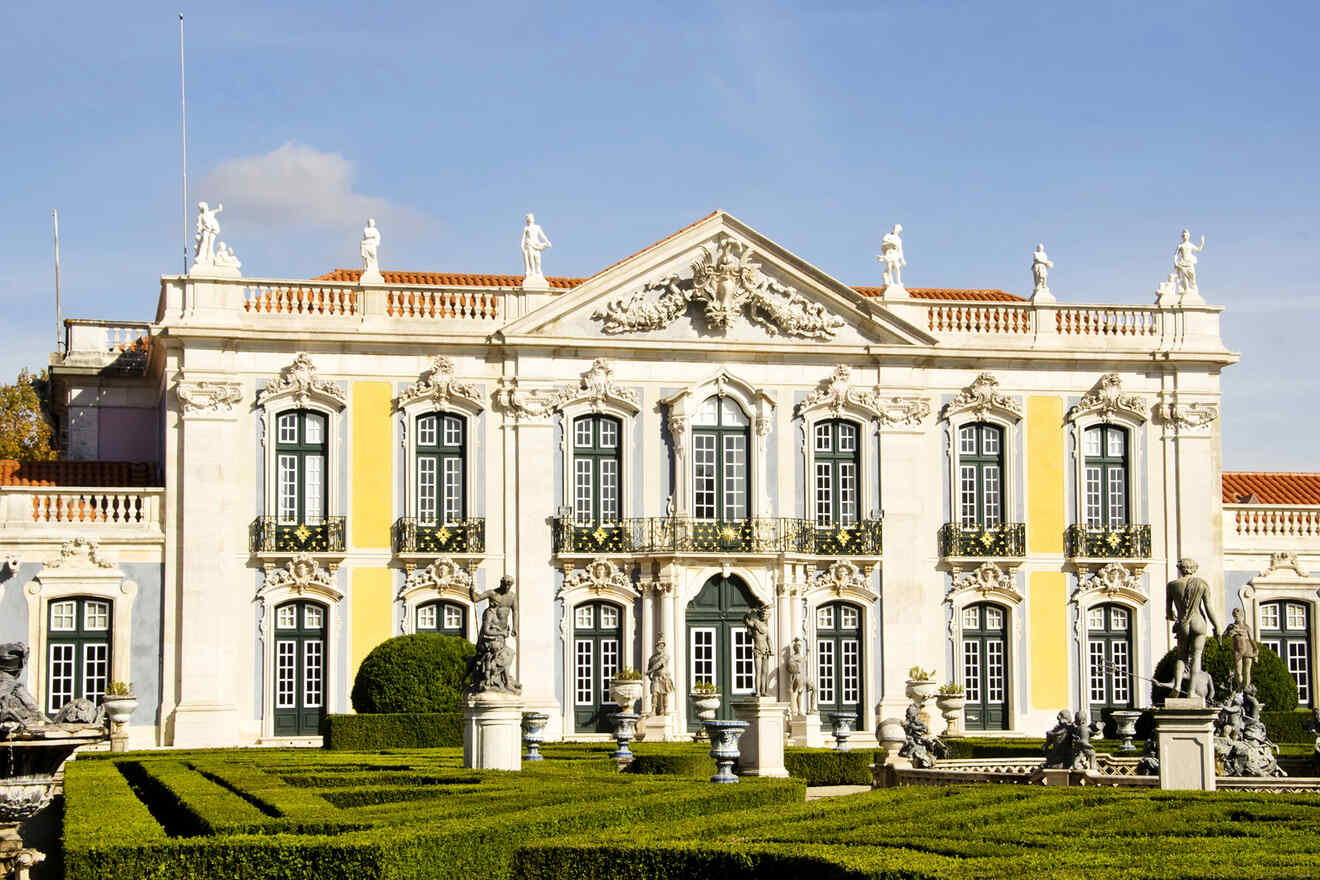 Are you all about architecture when visiting a new place? Then you cannot miss Queluz National Palace, located a 20-minute drive northwest of Lisbon, and just southeast of Sintra!
Built-in the 1700s as a retreat for king Dom Pedro de Braganza, The Queluz National Palace is now the last great Rococo building in Europe but also includes Baroque and Neoclassical styles.
The palace is considered one of Portugal's most sumptuous palaces, and you will immediately understand why: the swooping rooflines and the white columns and spires just make it so beautiful and unique!
Visiting the palace will take you around 2 hours because it has so many rooms to see: the elegant and huge Throne Room, with mirrors, paintings, and gilded statues, the grand Sala do Embaixadores, the exotic ornate Dressing Room, the Dom Quixote Room and much more… you just have to go there to explore them all!
But one of the best parts of the palace is its gardens, featuring beautiful fountains, and a very big collection of sculptures by English John Cheere. If you're lucky, you could even attend demonstrations of horsemanship by the Portuguese School of Equestrian Art, hosted at the palace just some days of the year.
PRO TIP: You can visit the palace with this skip-the-line ticket, which will cost you around €10 euros per person, otherwise, the entrance costs €11.20 and you may have to wait.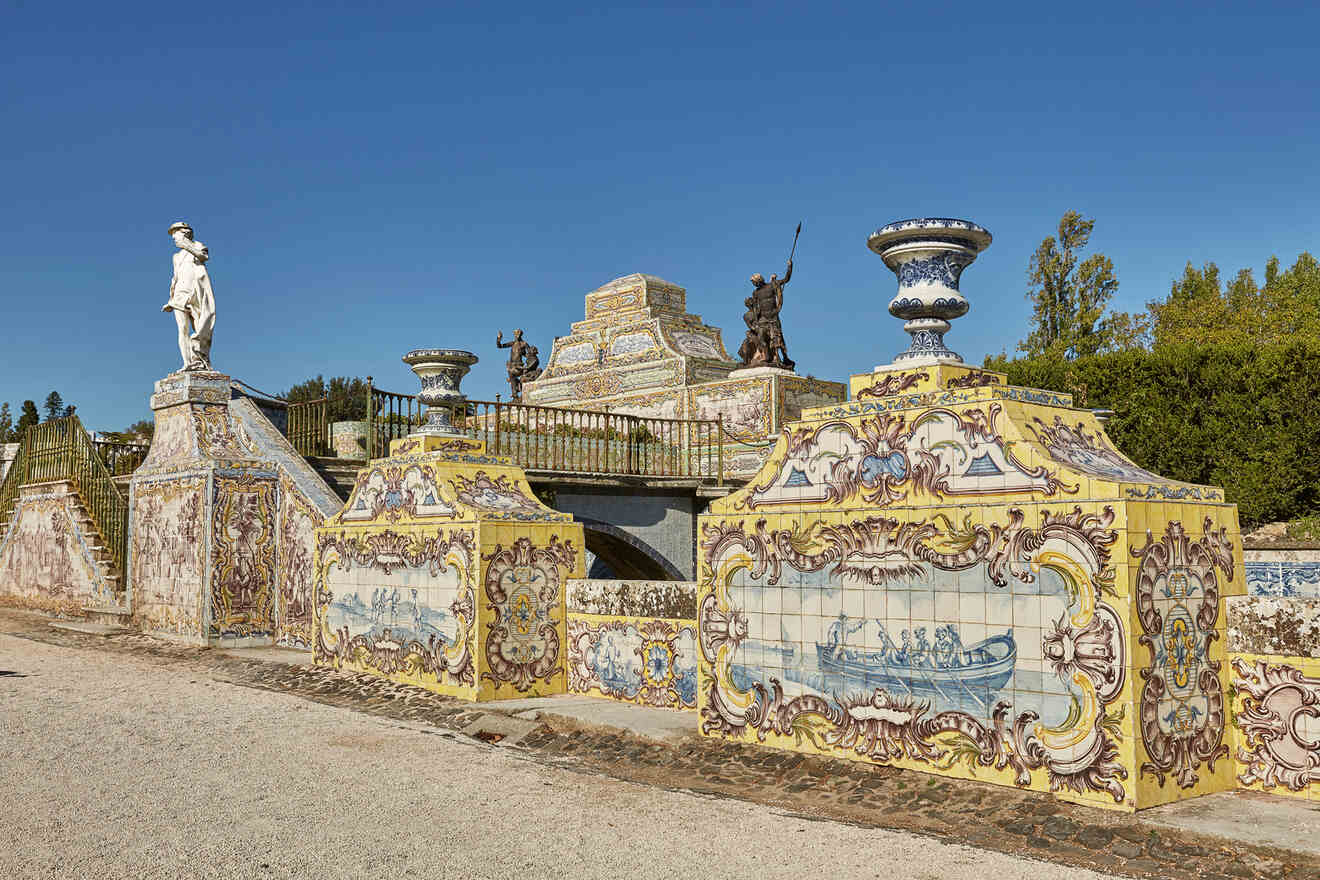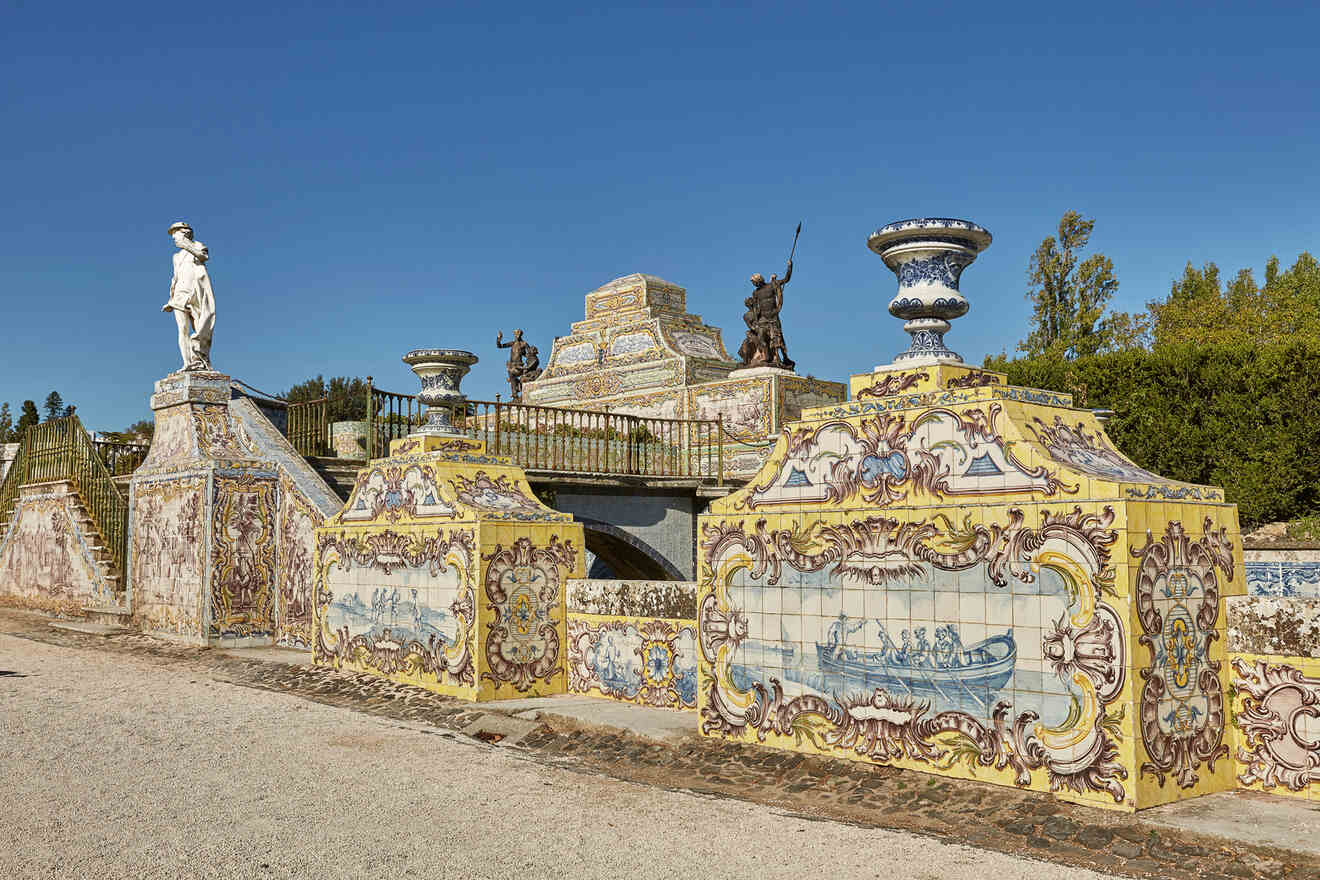 How to get there:
By Car: Getting to Queluz National Palace by car will take you just an easy 15 minutes ride on the A27 road.
By train/bus: If you don't have a car, you can reach Palácio Nacional de Queluz by taking the Sintra line train from Rossio to Queluz-Belas train station, in Lisbon. Once arrived, you'll just need to follow the signs to the palace and gardens for a 15-minute walk.
Guided Tour: There aren't any tours that go just to the Queluz National Palace but you can join a tour where you'll get to visit the Palace as well as other attractions. With this tour, you will also get to visit Sintra, Cabo Da Roca and Cascais!
| | |
| --- | --- |
| 🤩 Range of activities: | Large |
| 👪 Family-friendly score: | High |
| 🏛️ Best museum: | Pena Palace |
| 👧 Best attraction for kids: | Parque Natural Da Arrabida |
| 📅 How many days: | 5-7 |
| 🚶🏽‍♂️ Best free activity: | Cabo da Roca |
| ✈️ Cost of traveling: | Medium |
BONUS: How to get around Portugal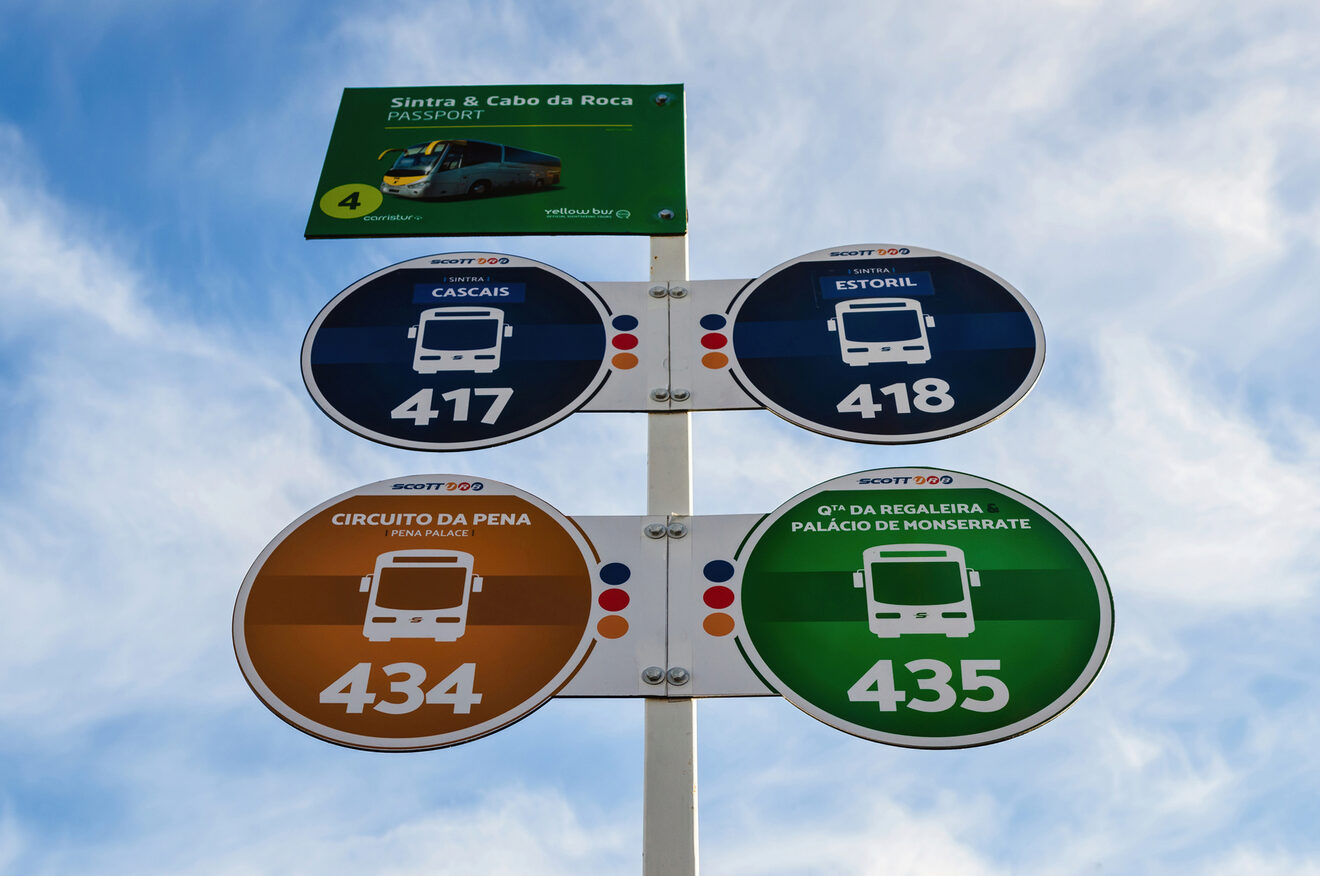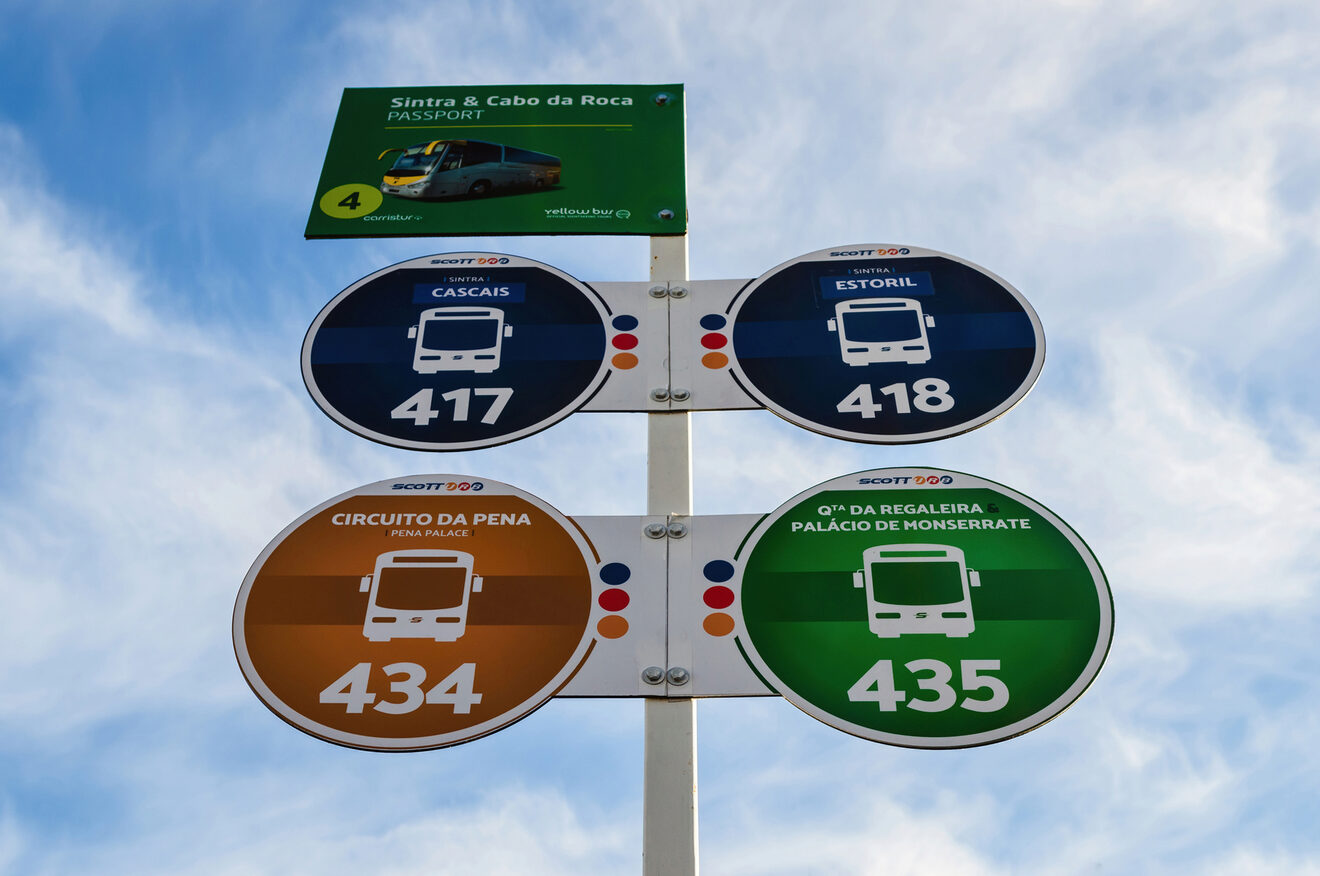 If you plan on doing several day trips from Lisbon, it's important to check out the different transportation options to understand which one is the most convenient for you in terms of time and money.
Renting a car
The best one is for sure renting your own car, it's the fastest way of traveling and it gives you a lot of flexibility with the choice to change or extend your day trips from Lisbon. There's nothing better than being able to stop on the way and not having to depend on fixed times.
You can rent cars from the airport and from offices in the city center and for one day it will cost you around €50, plus around €1.60 per km in fuel.
Public Transportation
If you don't have a car, in terms of public transport Lisbon has great connections to all the surrounding areas as well as other cities across the whole country.
From metro, bus, and trams, you will always find a way to reach your day trip destination from Lisbon, but it is good to plan it in advance in order to check out the different times and travel lengths. The transport system generally works from 6:30 a.m. to 1:00 a.m.
It depends on the destination whether the bus or train will be more convenient, so there's no secret recipe for this. But generally speaking, if you want to save some money the Viva Viagem card is the easiest and cheapest way to get around and outside Lisbon.
The card itself will cost you only 50 cents and you can charge it with individual tickets (1.50€), a day pass (€6.40), or up to €40 to use as a pay as you go.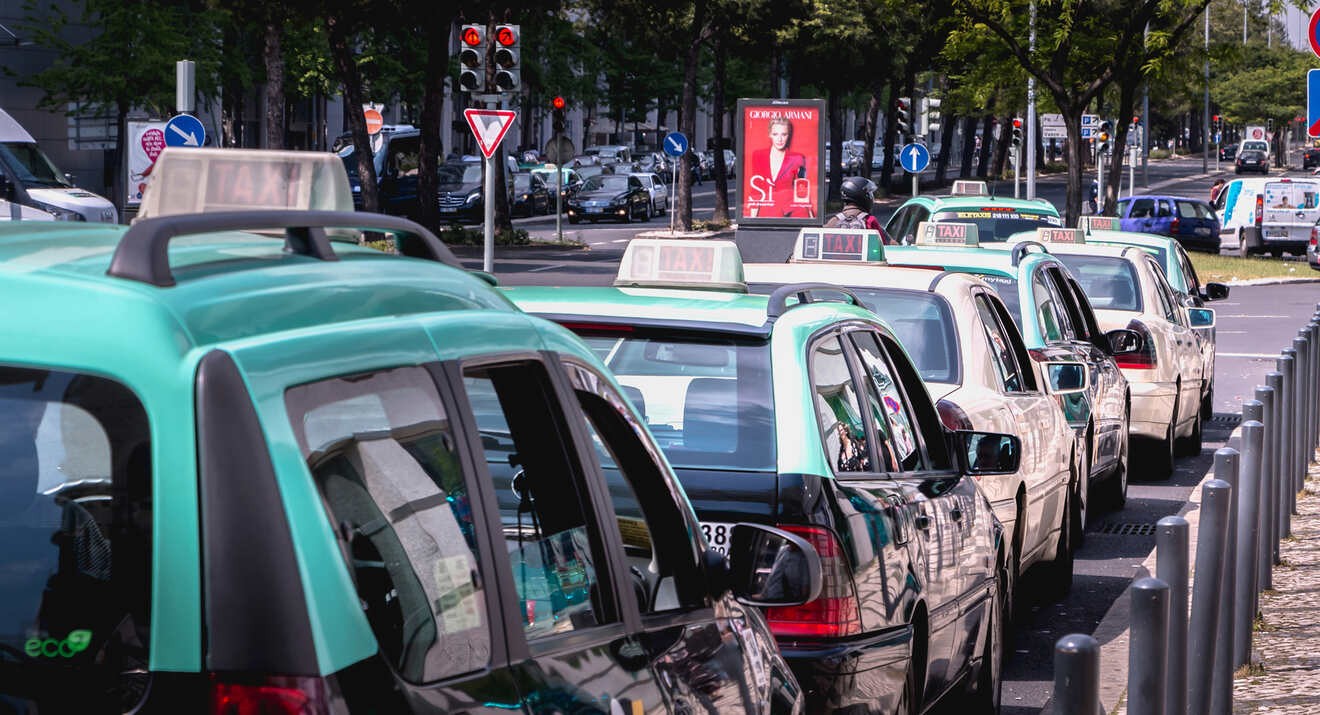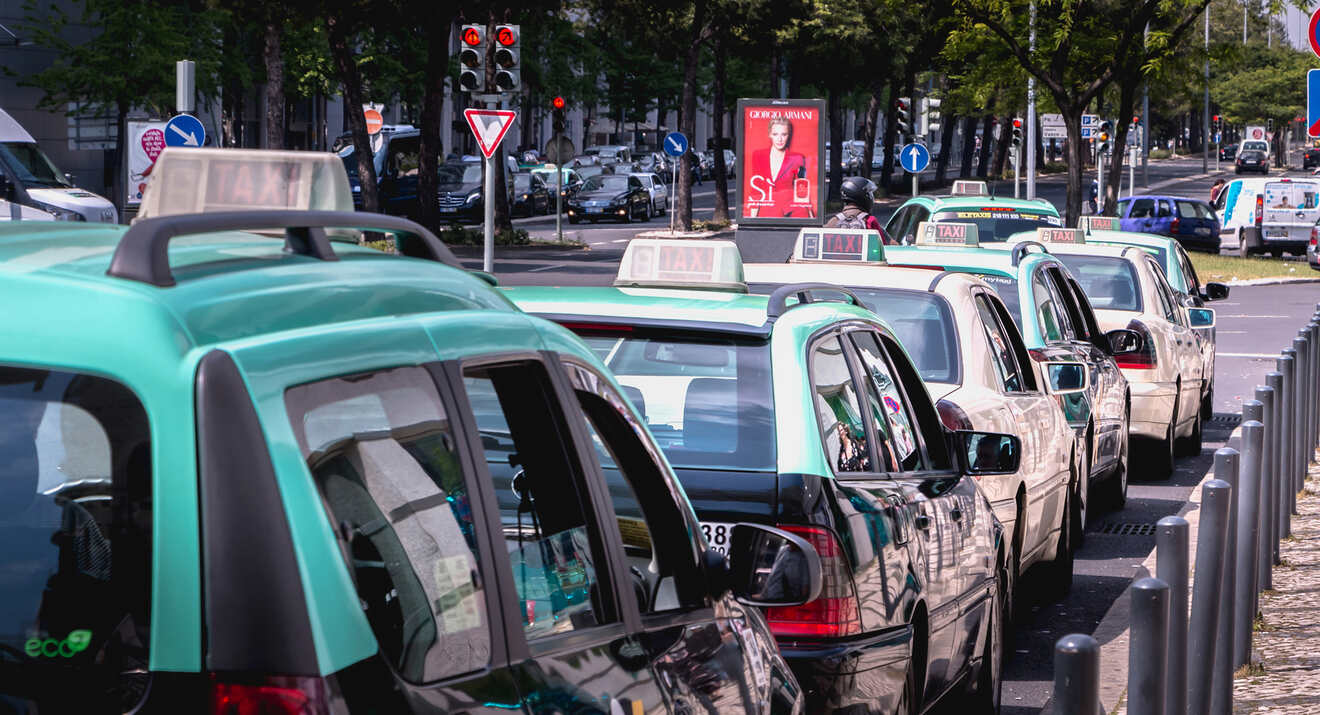 Taxis/Ride Sharing
While taxis or the ride-hailing app Uber or Bolt can be a good option to get around the close surroundings of Lisbon, they can get quite expensive if you go for more than 30 minutes on day trips.
Fares start at 3.4€ until .47 euros per kilometer (they get more expensive at night). So if you plan on doing many "long" day trips from Lisbon, just rent a car: it's cheaper and it will give you more freedom!
Guided Tours
If you prefer not to drive yourself and don't have time or patience for public transport, there are plenty of guided tours which you can take to see the most popular day trips from Lisbon. Here are the best ones I found:
Sintra and Cascais: Join this 8 hour, small group tour to see Portugal's natural and architectural wonders: Sintra Natural Park, the hidden trails and caves at Pena Park, and the bluffs of Roca Cape. It even includes a scenic drive along the Atlantic coast and some free time at Cascais Beach!
Day Trip with Wine Tasting: Taste the flavors of Arrabida and Sesimbra during this 8 hour, small-group guided trip from Lisbon. You will learn about the history of the magnanimous Palmela Castle, try wines at an authentic Portuguese winery, spend some leisure time at Portinho da Arrabida Beach and meander the fishing town of Sesimbra!
A Journey through Wonderland: Discover the highlights of Sintra on a private half-day tour from Lisbon, of about 6 hours! You will learn about two UNESCO World Heritage sites—Pena National Palace and Quinta da Regaleira, and see Montserrate Palace and other landmarks without having to share your trip with other people.
Frequently asked questions about Lisbon day trips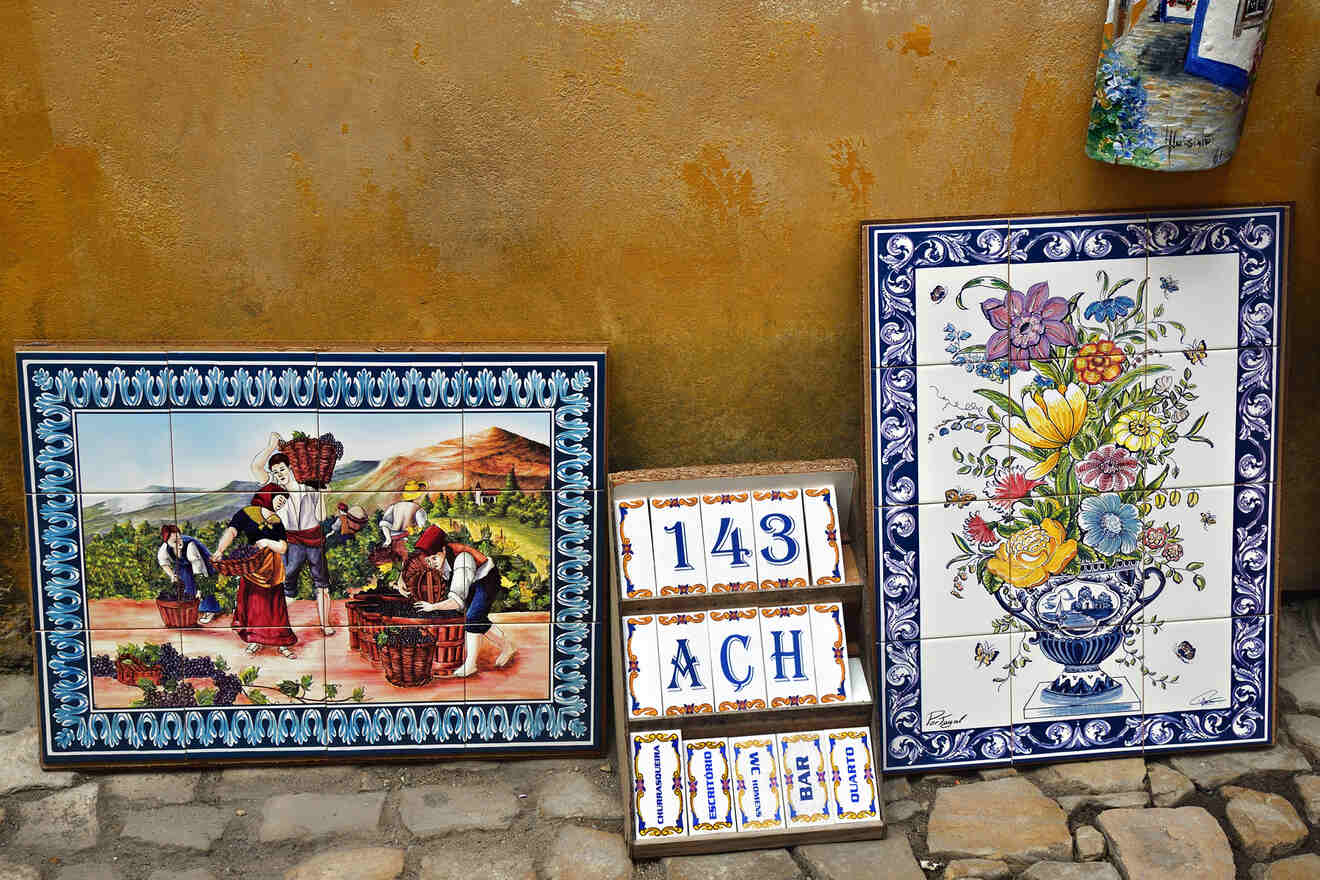 🚗 Which are the best day trips from Lisbon Portugal?
The best day trips from Lisbon are exploring the medieval Óbidos and its town center, having a private tour to taste the best wines of the Setubal region, and checking out Roca Cape, the westernmost point of continental Europe.
🇵🇹 Which area of Portugal is a popular day trip from Lisbon Portugal?
The northwest of Portugal is a popular day trip from Lisbon, offering many places to visit like the charming village of Óbidos, several surf spots like Peniche and Ericeira, and the unique town of Sintra with the Pena Palace, a UNESCO world heritage site!
❓ Is Porto worth a day trip from Lisbon Portugal?
While Porto is definitely worth a visit, a day trip is not long enough to visit the city since it takes 3 hours to drive from Lisbon to Puerto. I suggest you spend more than a day in Porto, at least 1 night and 2 days!
👪 Which are the best day trips from Lisbon Portugal with the family?
The best things to do during a day trip with the family from Lisbon are: having a tour of the city center of Sintra, exploring Da Arrabida Nature Park, or visiting Evora and its famous Roman Temple!
Conclusion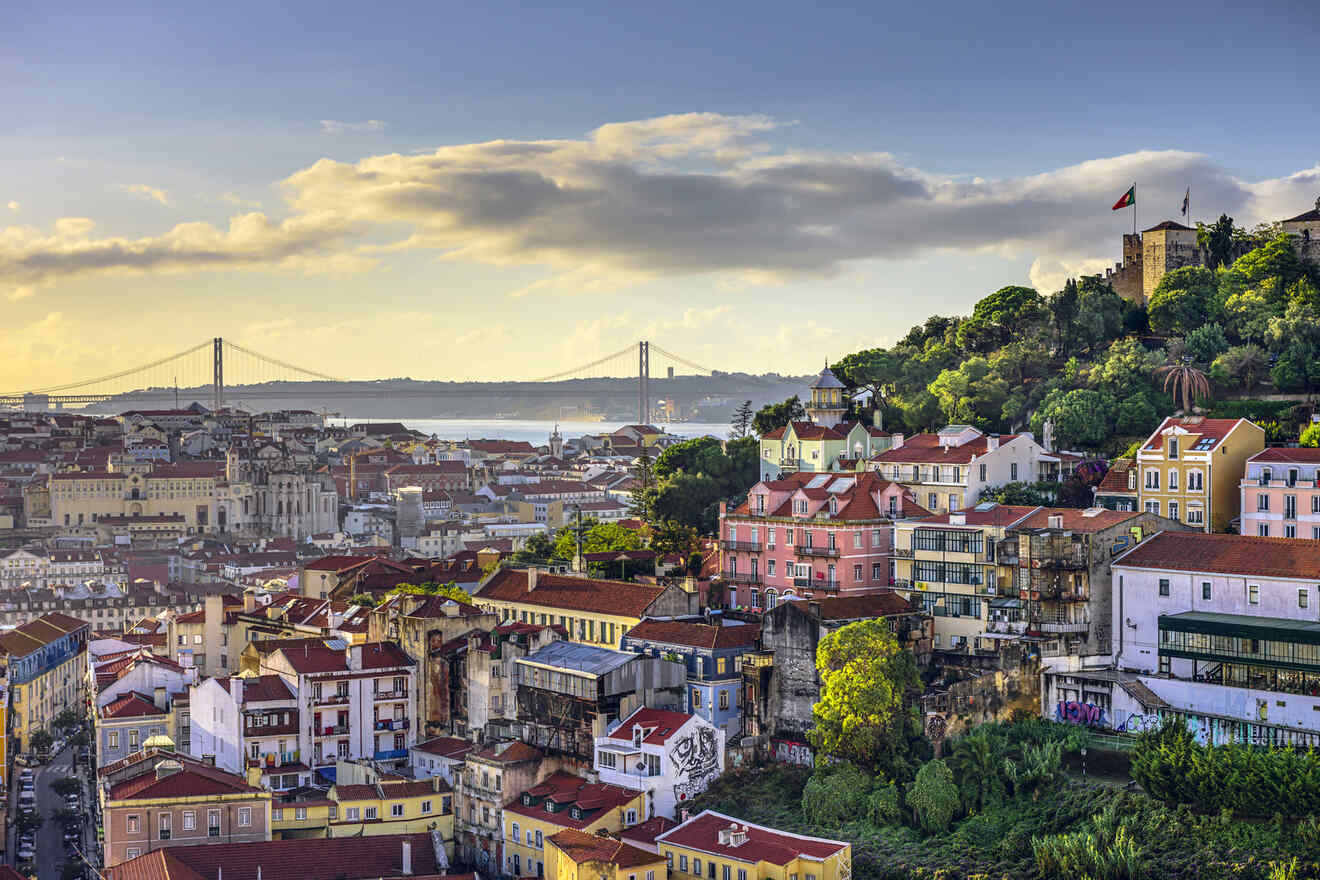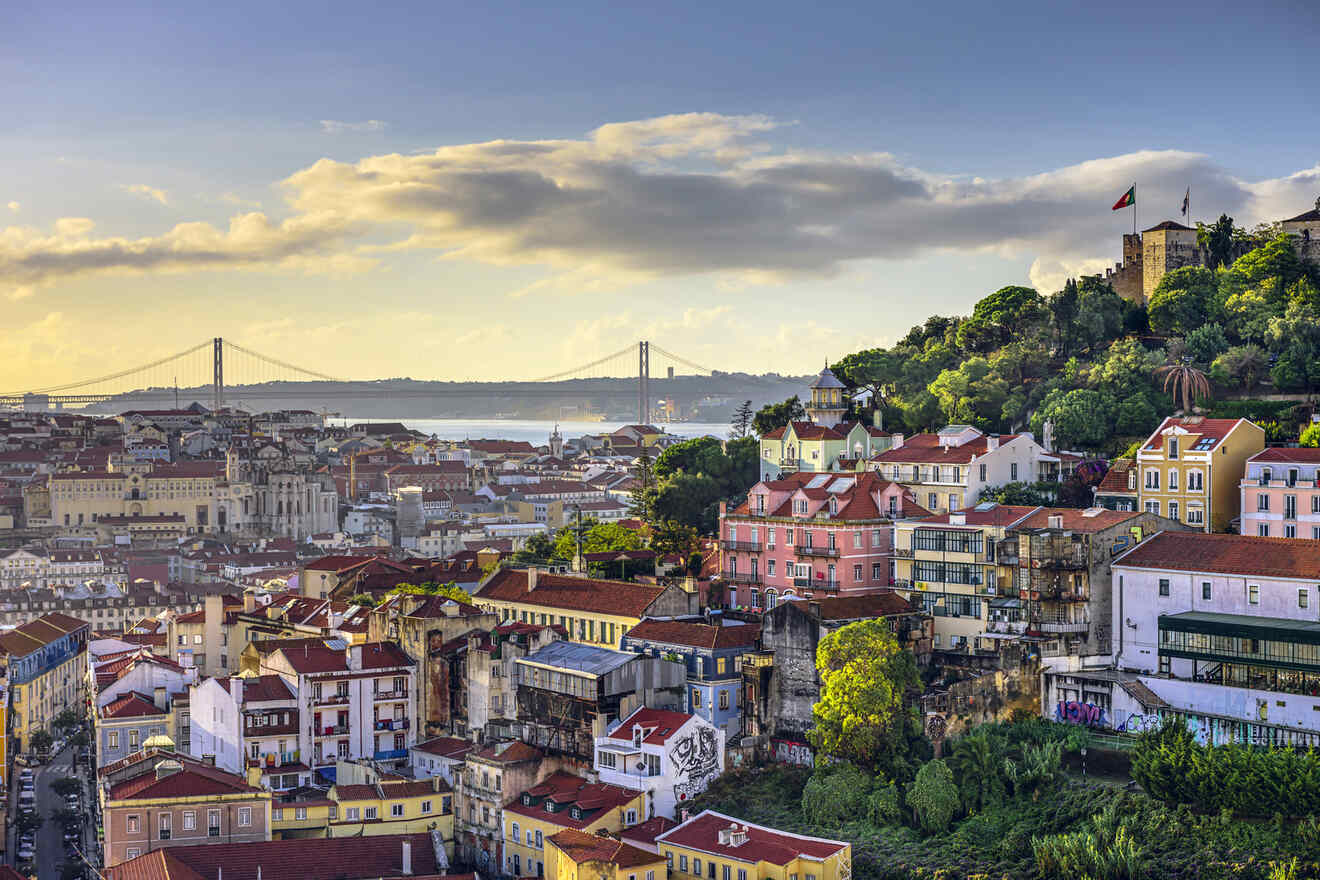 Congratulations… You made it until the end of this long and extensive guide about the best Lisbon day trips!
From religious sites to charming medieval cities, natural landscapes, and UNESCO world heritage sites like the Pena Palace, we covered everything you can do during your stay in the Portuguese capital.
I hope this article will give you the inspiration for some cool day trips from Lisbon, and that you enjoyed reading it as much as I did share my experience.
If you have any questions about a destination or any suggestions for this blog, please leave them in the comments… I am looking forward to reading them and answering you!
In the meantime, I hope you have a wonderful trip!
Elena
---
Pin it for later!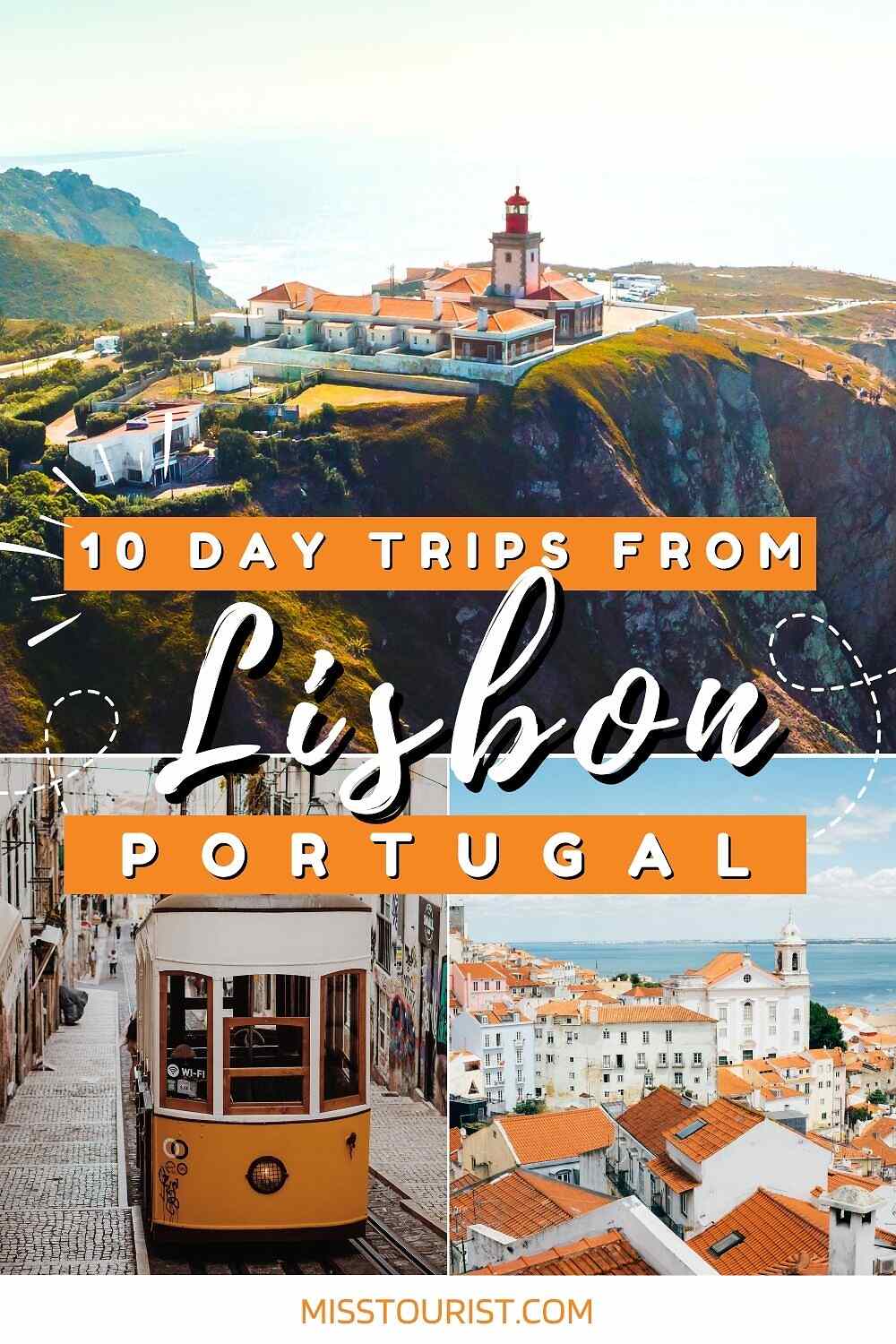 Pin it for later!