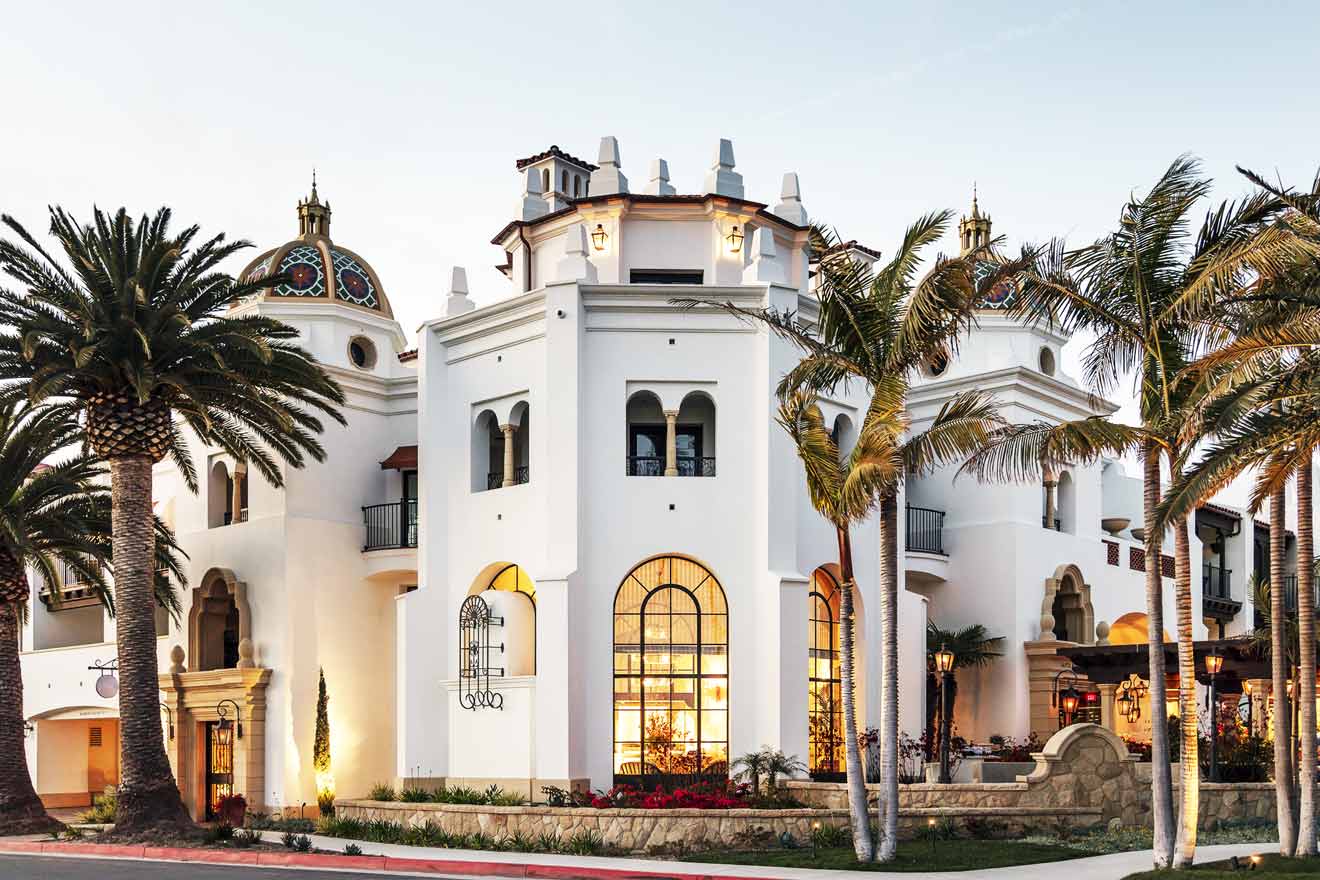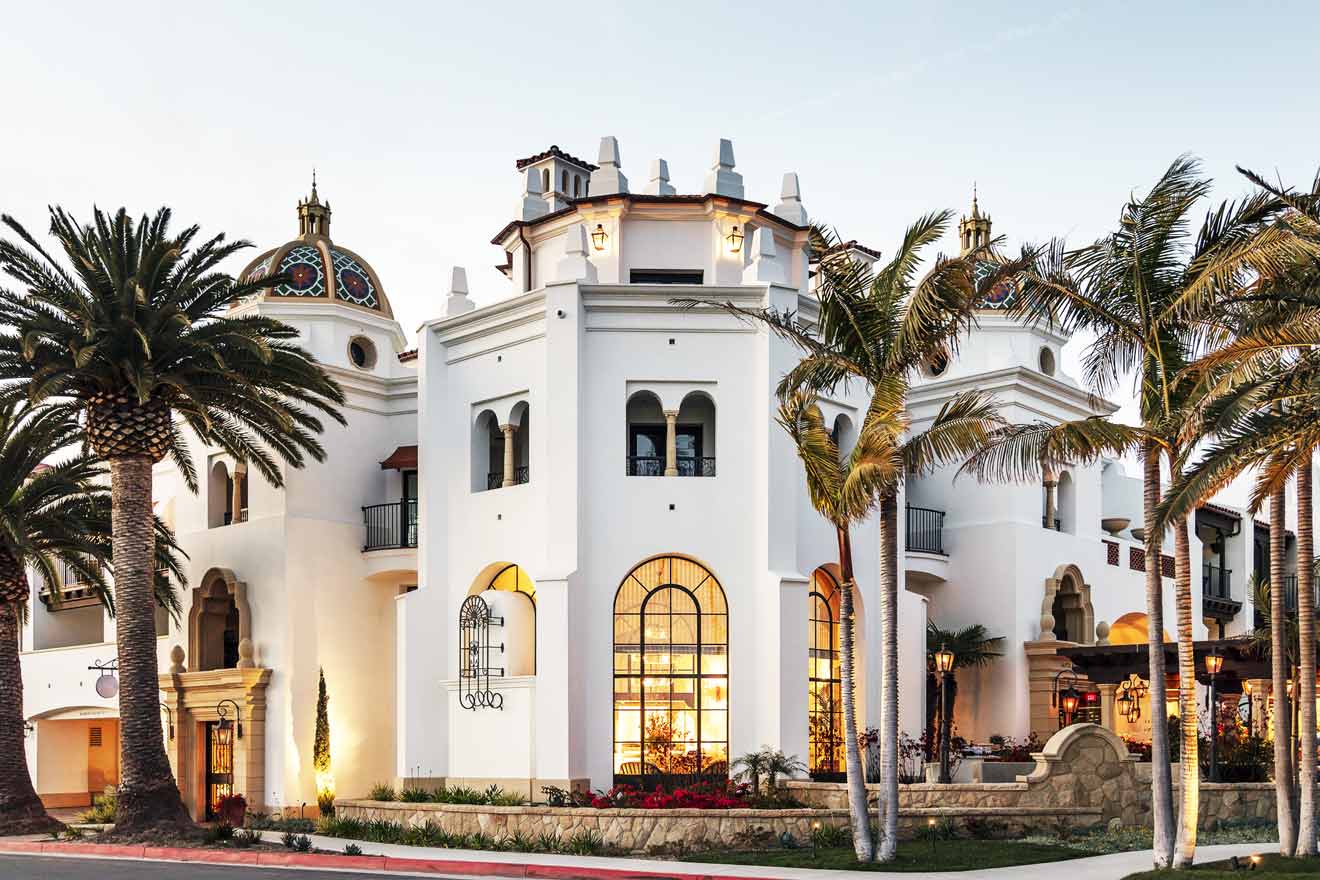 It's easy to see all the Spanish influences on the architecture of this mesmerizing town that's set between the Pacific Coast and the Santa Ynez Mountains! Welcome to the American Riviera! A place that you'll never get tired of!
In this post, you'll find the best Santa Barbara Boutique hotels, which I hand-picked myself so you can have the options with the best reviews! I've also listed them from most to least expensive.
And I've also added 2 extra bonus sections (since Santa Barbara is such a fabulous destination)! The first one has 2 unique beachfront hotels, and the other one has some cool hotels with a pool.
I wouldn't miss those ones, they're pretty spectacular! And since we're on the hotel chapter, I should mention that the accommodations sell out super fast here, since the town is by the beach and it's super popular with all tourists. Make sure you book your favorite in advance so you won't miss it!
Let's go, the wineries are waiting!
If you are in a hurry
As you'll see there are many boutique hotels in this post! If you don't feel like reading the whole article, check out the list below, it has the best ones:
Need some guidance with all these locations of the boutique hotels? Then check out the map below, it's super helpful:
Luxury (US$600 and up)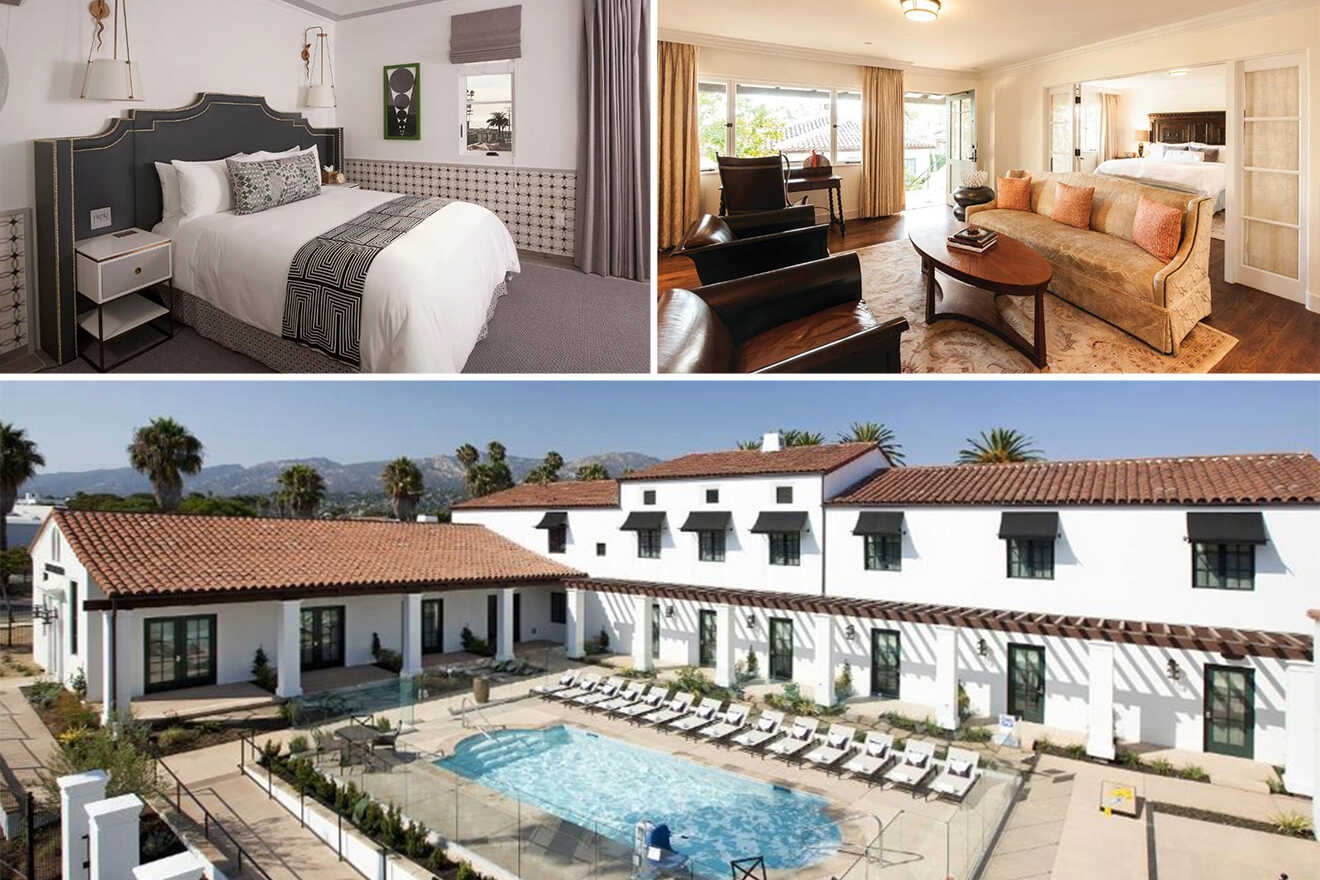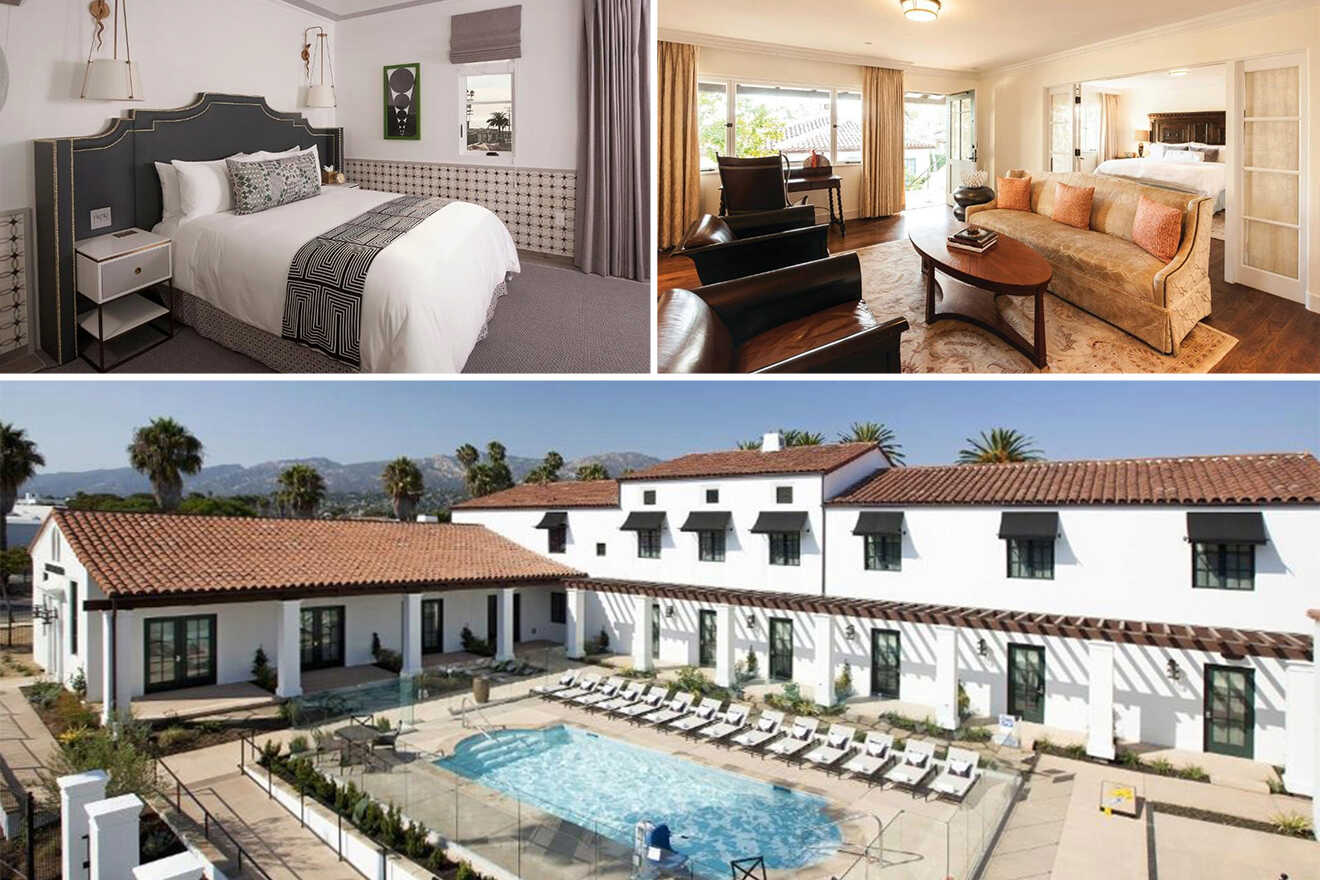 Hotel Californian – Ready for a beachy getaway? Me too! But let's find you a cool hotel. This one is amazing and it features sweeping pacific ocean views (especially from the outdoor pool). The spacious suites feature a balcony and a unique design based on geometrical patterns! With a spa and wellness centre, room service, plus 2 fancy restaurants this hotel can't be missed!
El Encanto, A Belmond Hotel – Set only a 5 min drive away from Central Santa Barbara, this boutique hotel offers such a pleasant ambiance! Maybe it's the Pacific Ocean views or the super elegant decor with hardwood floors, fancy fireplaces and spacious guest rooms. I love all the patios and small gardens, it gives off this homey feeling. And the hotel also has a business center with fax and photocopying services.
The Waterman – If you're looking for a place that will keep you busy with its many cool features, then I recommend this West Beach one! Featuring an outdoor swimming pool, a library, a patio with table tennis and lots of games, this place will become your favorite! The modern rooms come with mountain or courtyard views! Don't forget to book your hotels early, they will sell out so fast!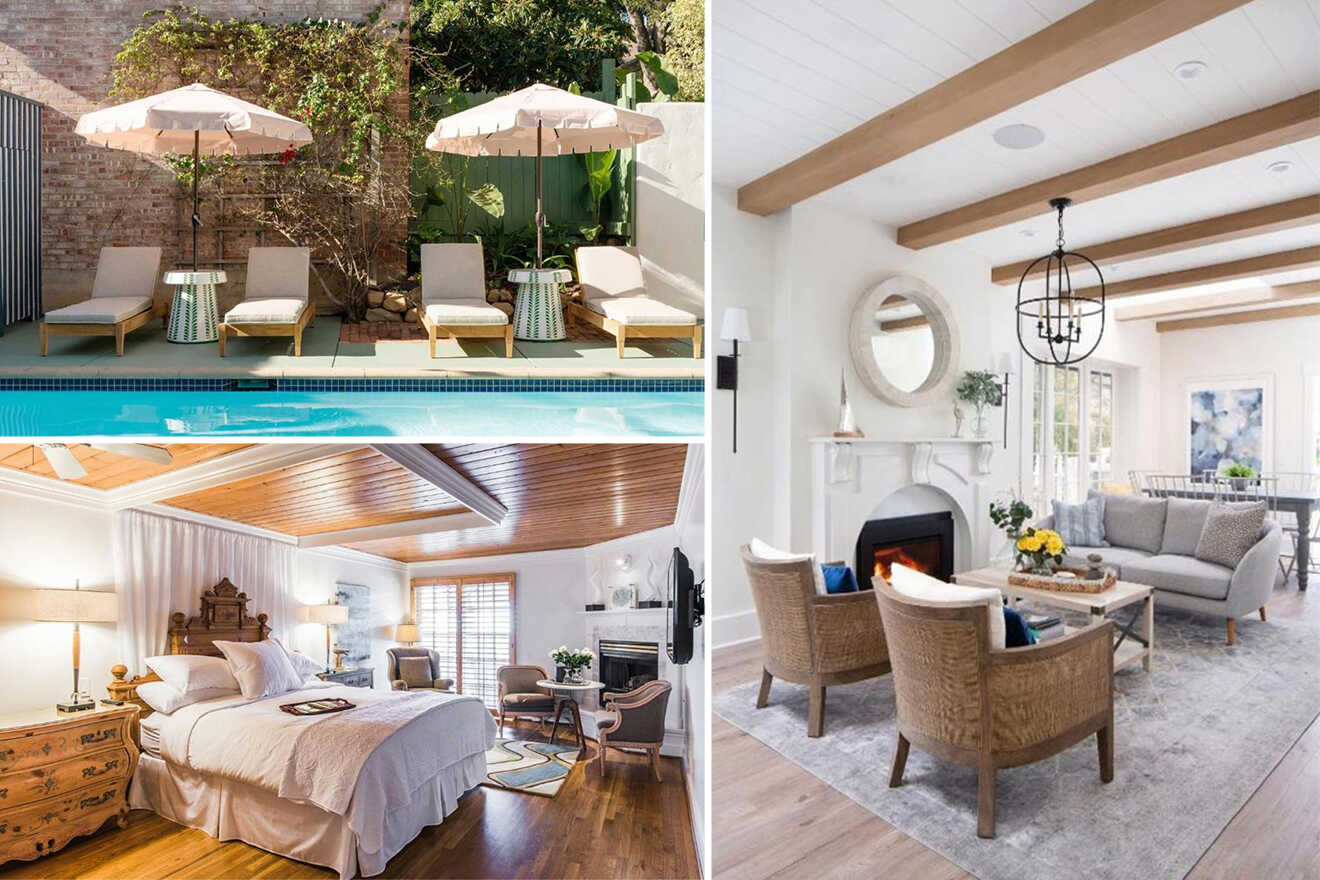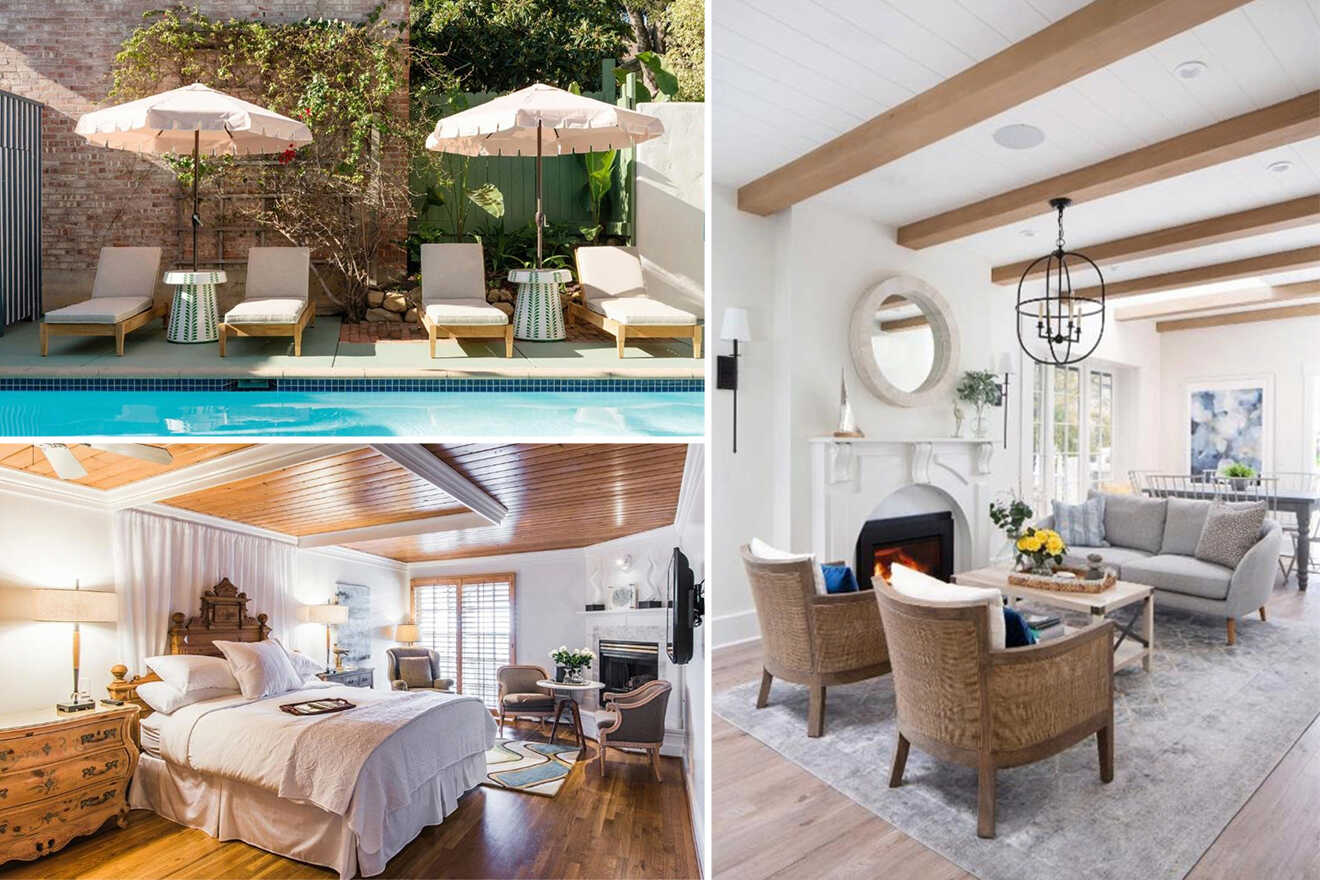 Palihouse Santa Barbara – Set in historic Downtown Santa Barbara this boutique hotel has such cute furnishings and flowery wallpapers! The spacious suites at Palihouse Santa Barbara come with a balcony (where you can enjoy your room service) and air conditioning. Start your morning with some room service and then head out to sunbathe under the Californian sun by the outdoor swimming pool.
Hideaway Santa Barbara Kirkwood Collection Property – Located just a short walk of West Beach, this boutique hotel has lots of wooden furnishings (including some wooden beams) and it offers free private parking. Every morning you can enjoy a free breakfast (Hideaway Santa Barbara offers a vegetarian breakfast too) and then go explore West Beach or relax on your room's patio.
Inn On SummerHill – Fancy sleeping in a Victorian bed? Well, this fantastic inn offers guest rooms decorated with period furniture and a private bathroom equipped with free toiletries. Definitely go for the 2nd-floor rooms as they boast ocean views from the balcony. The boutique hotel offers free wi-fi and a hot tub.
Mid Range (US$300 – US$400)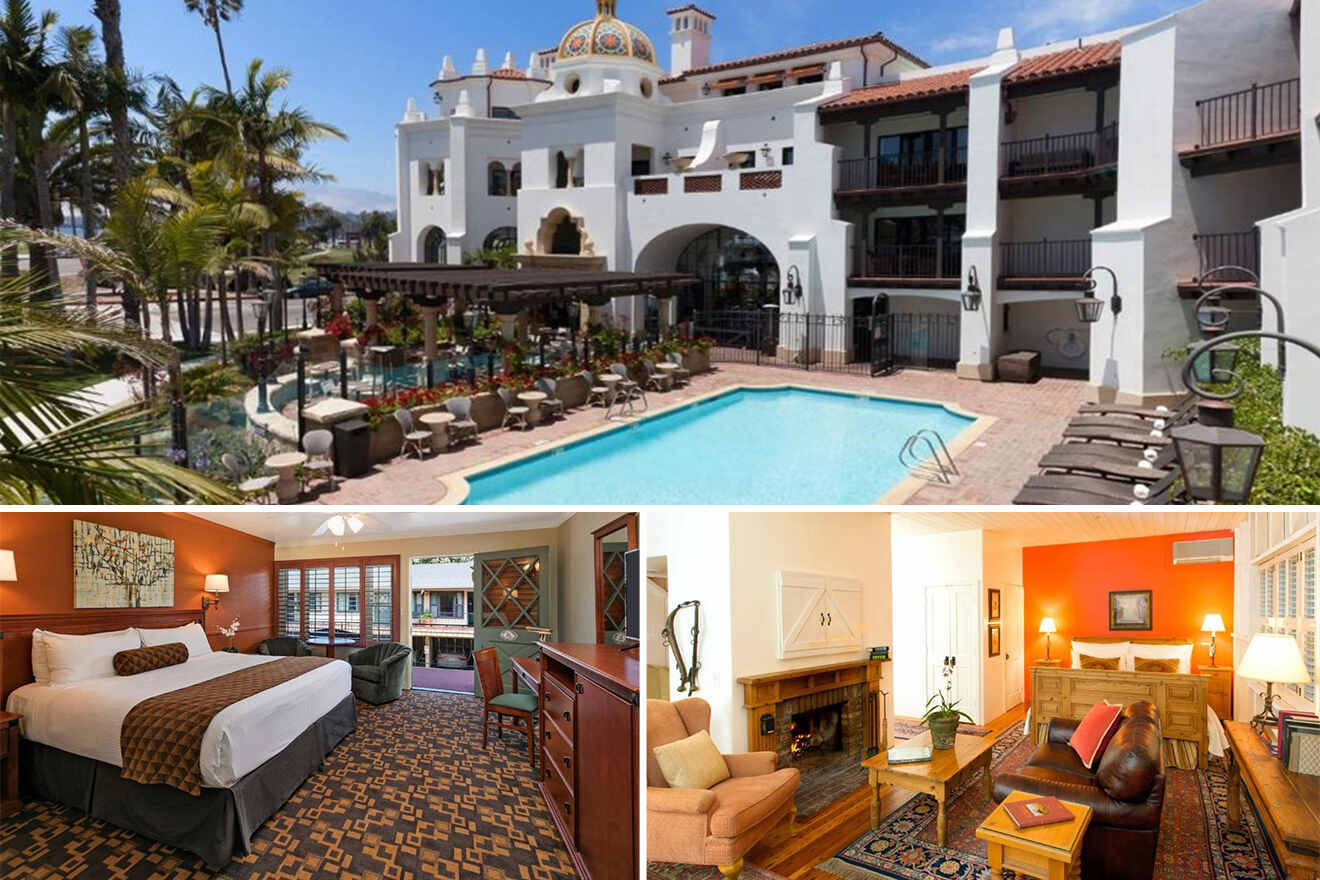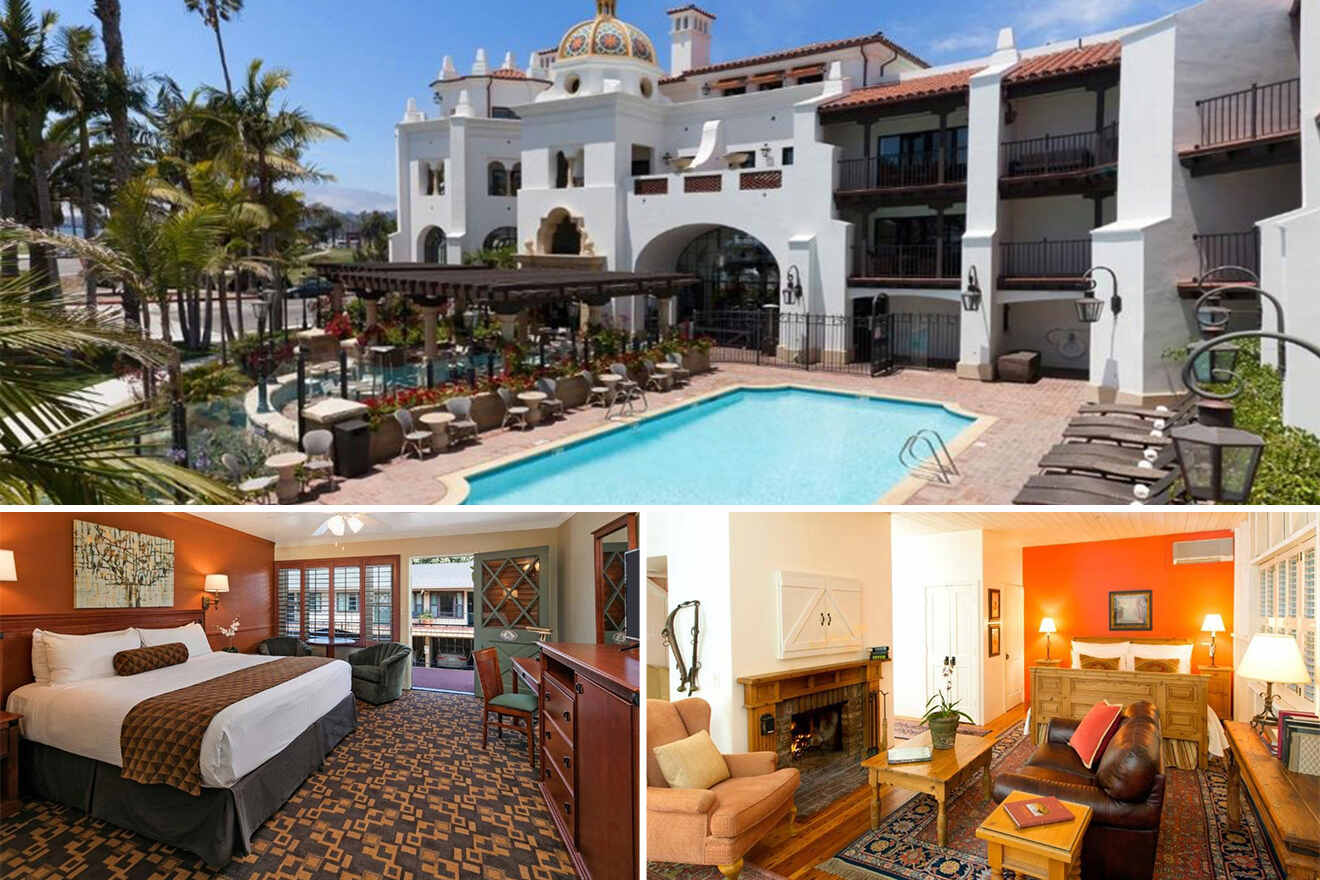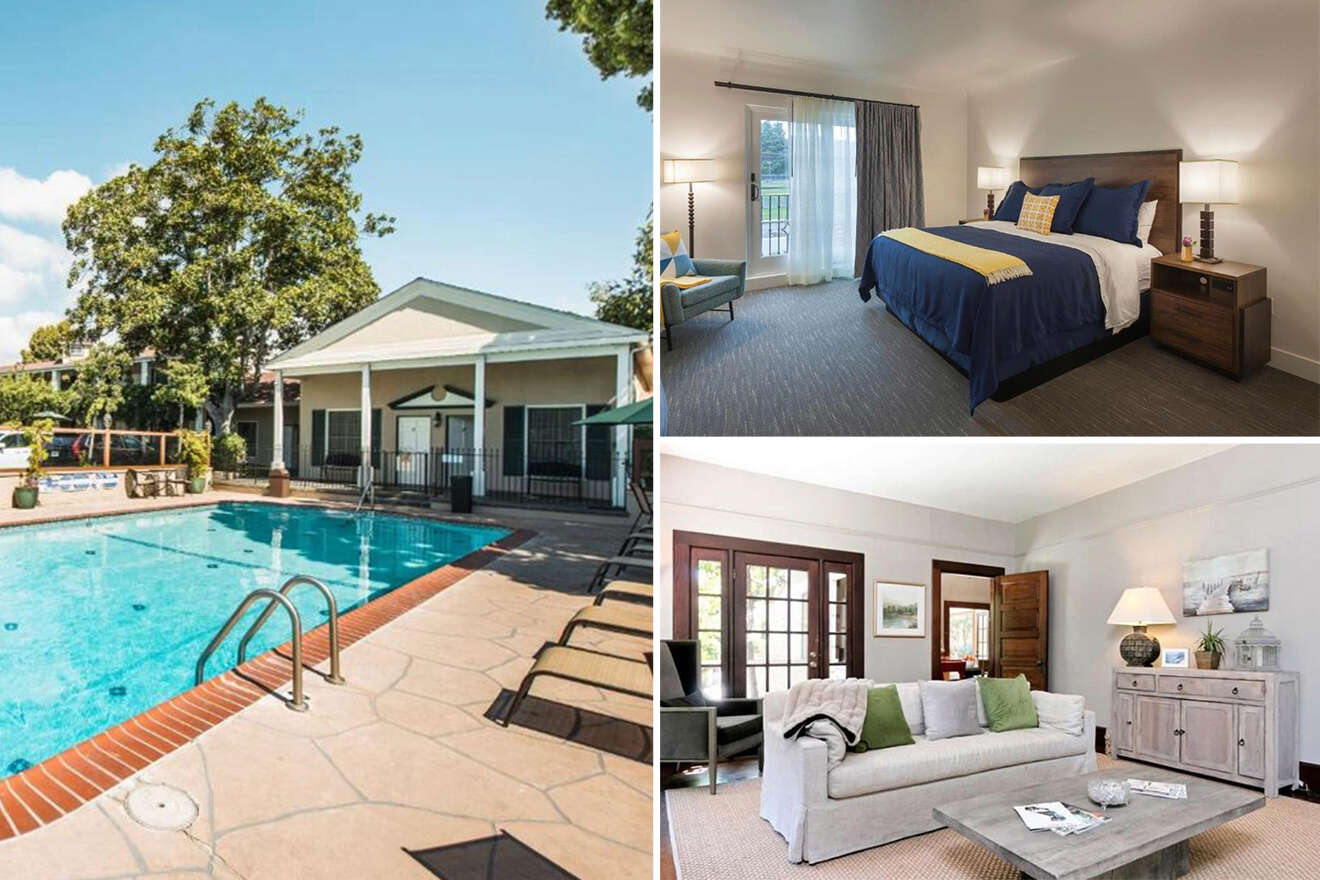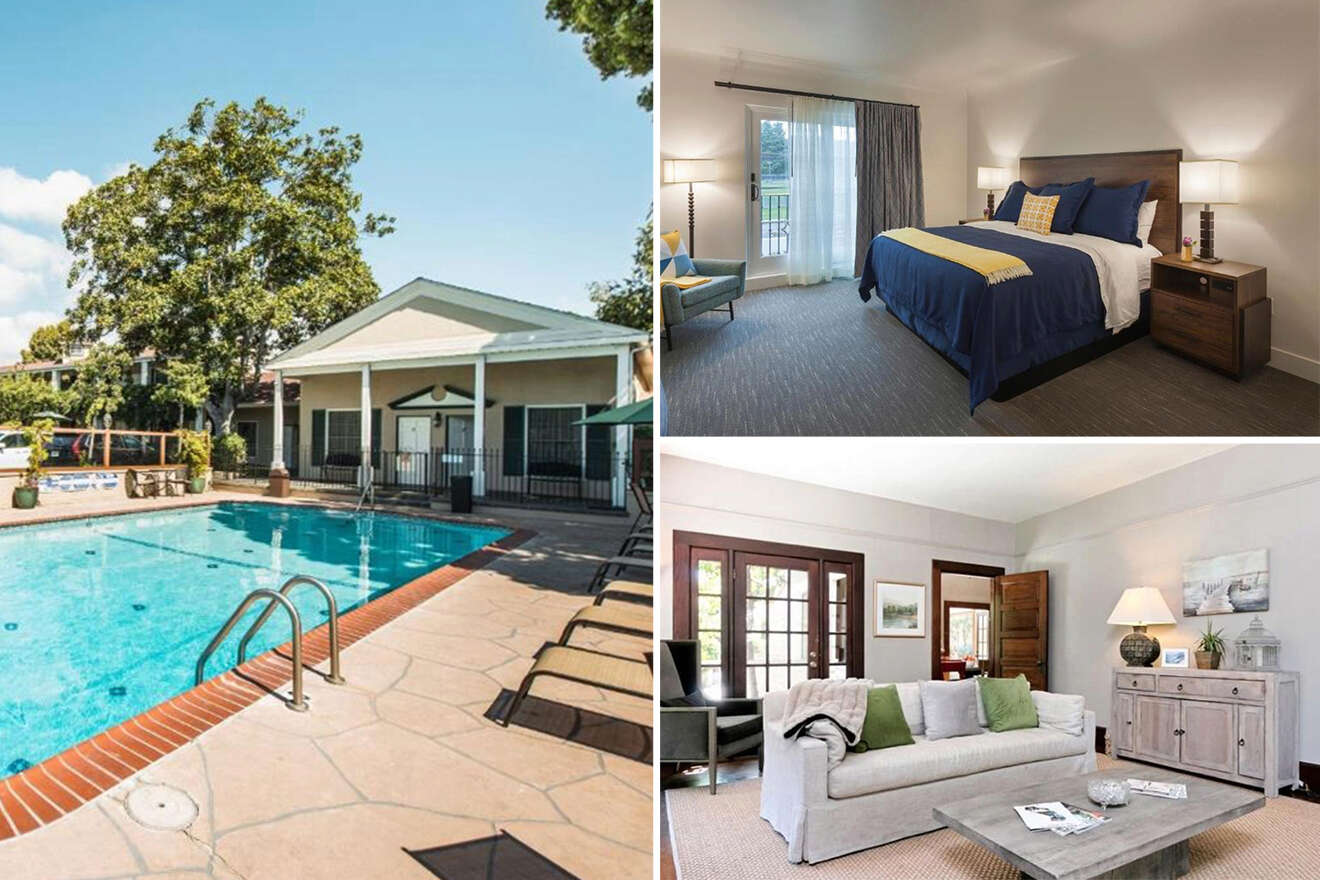 Budget (up to US$300)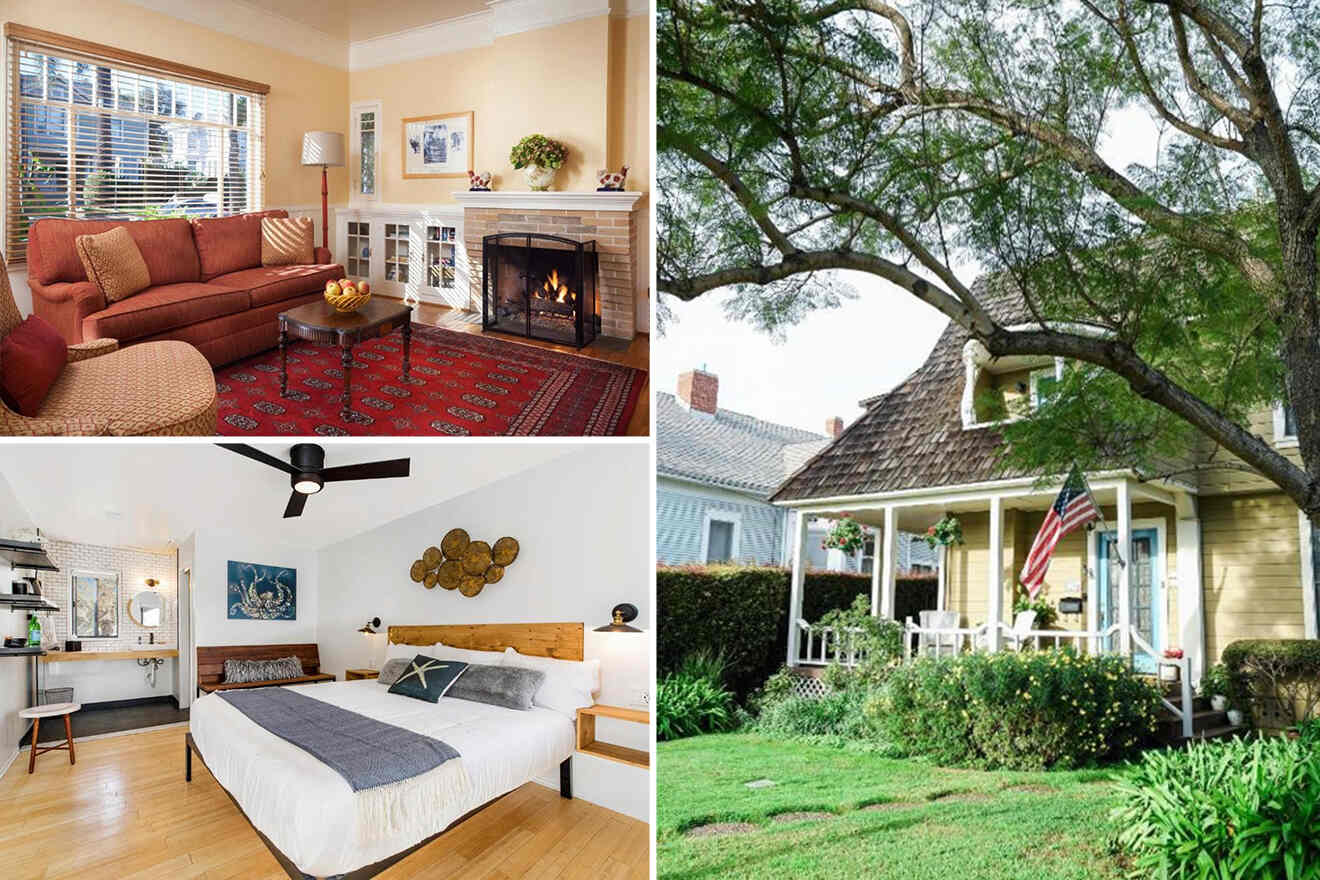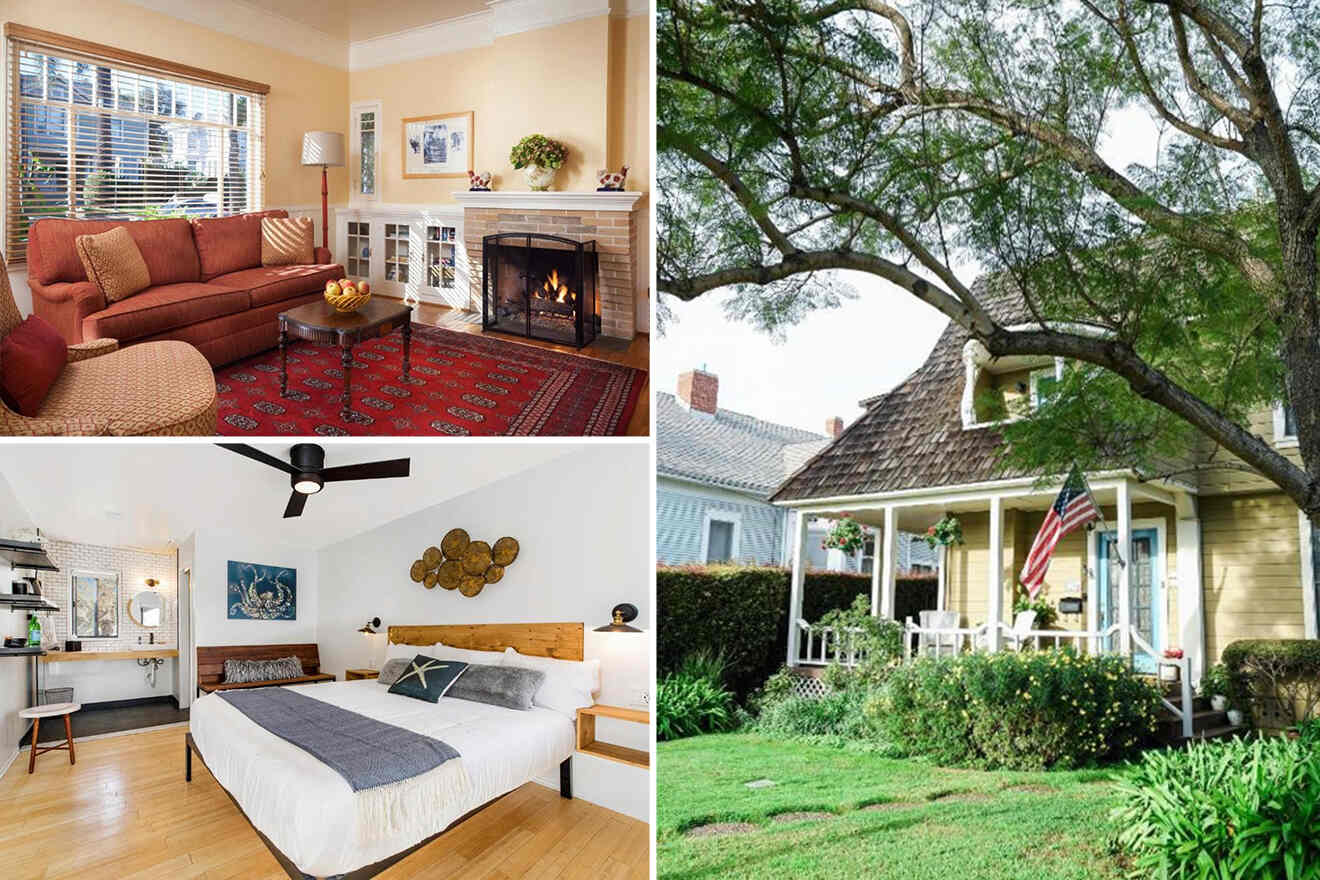 BONUS 1: Best beachfront hotels in Santa Barbara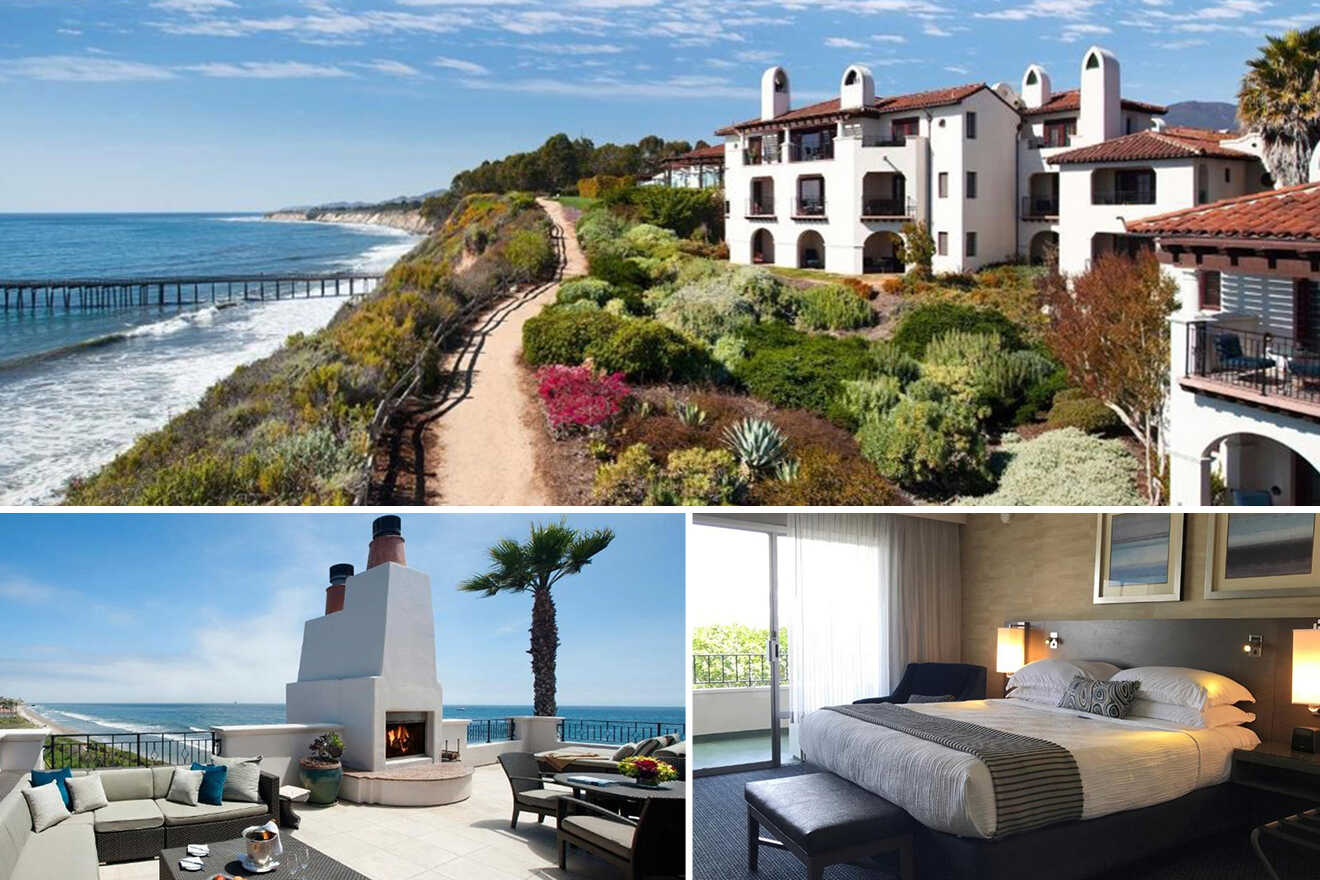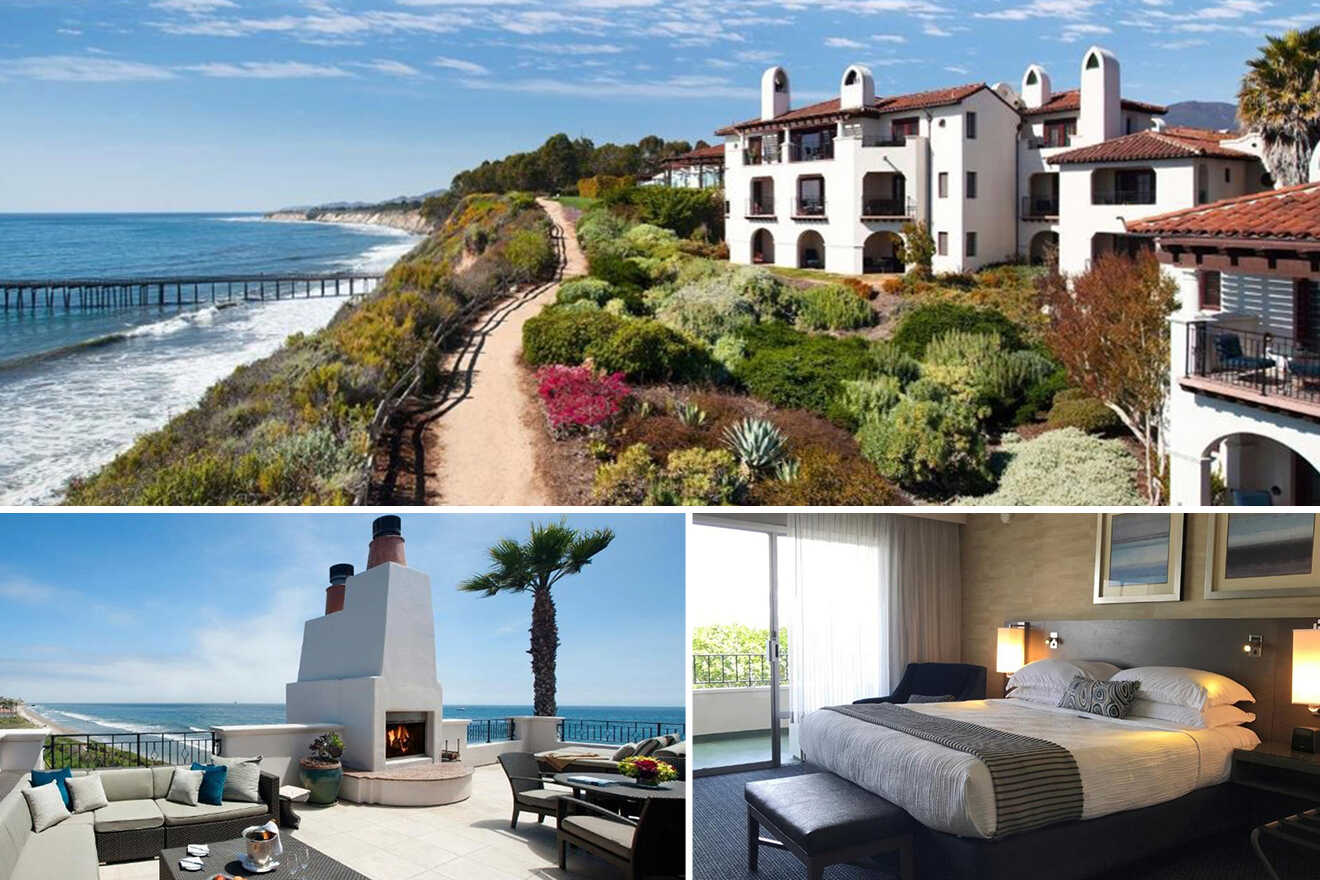 With such an abundant beach space it'd be a shame not to take advantage of that and book yourself a Santa Barbara hotel that's set on the beachfront. That way you can wake-up, enjoy a cup of coffee, some breakfast, and then head jump straight in the water!
That would be the perfect wake-up call, so without further ado, here are the best beachfront hotels in Santa Barbara:
Luxury: The Ritz-Carlton Bacara – The coastal walkway near the hotel won my heart! Another fabulous example of Spanish Revival-style architecture, this beachfront hotel features beautifully-decorated rooms with a fireplace and a balcony where you can admire the ocean views! With 3 swimming pools, 5 restaurants and an on-site fitness centre this place can't be missed!
Mid Range: West Beach Inn – Set only a short walk away from Santa Barbara City College this hotel features family rooms with free wi-fi, coffee makers and sea views! During your stay you can swim in the outdoor pool, chill in the hot tub, and enjoy some quiet nights in the garden!
BONUS 2: Best hotels in Santa Barbara with pools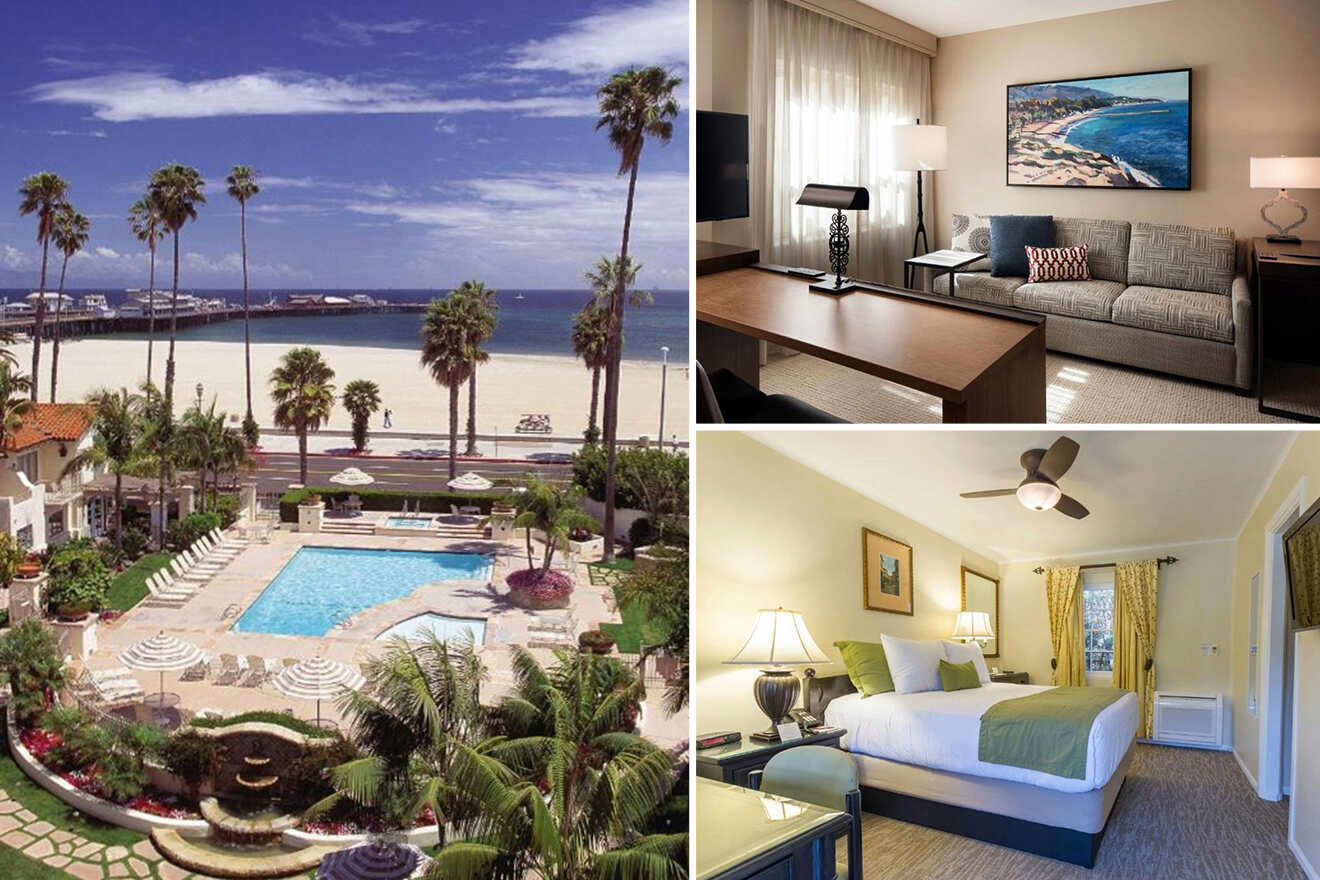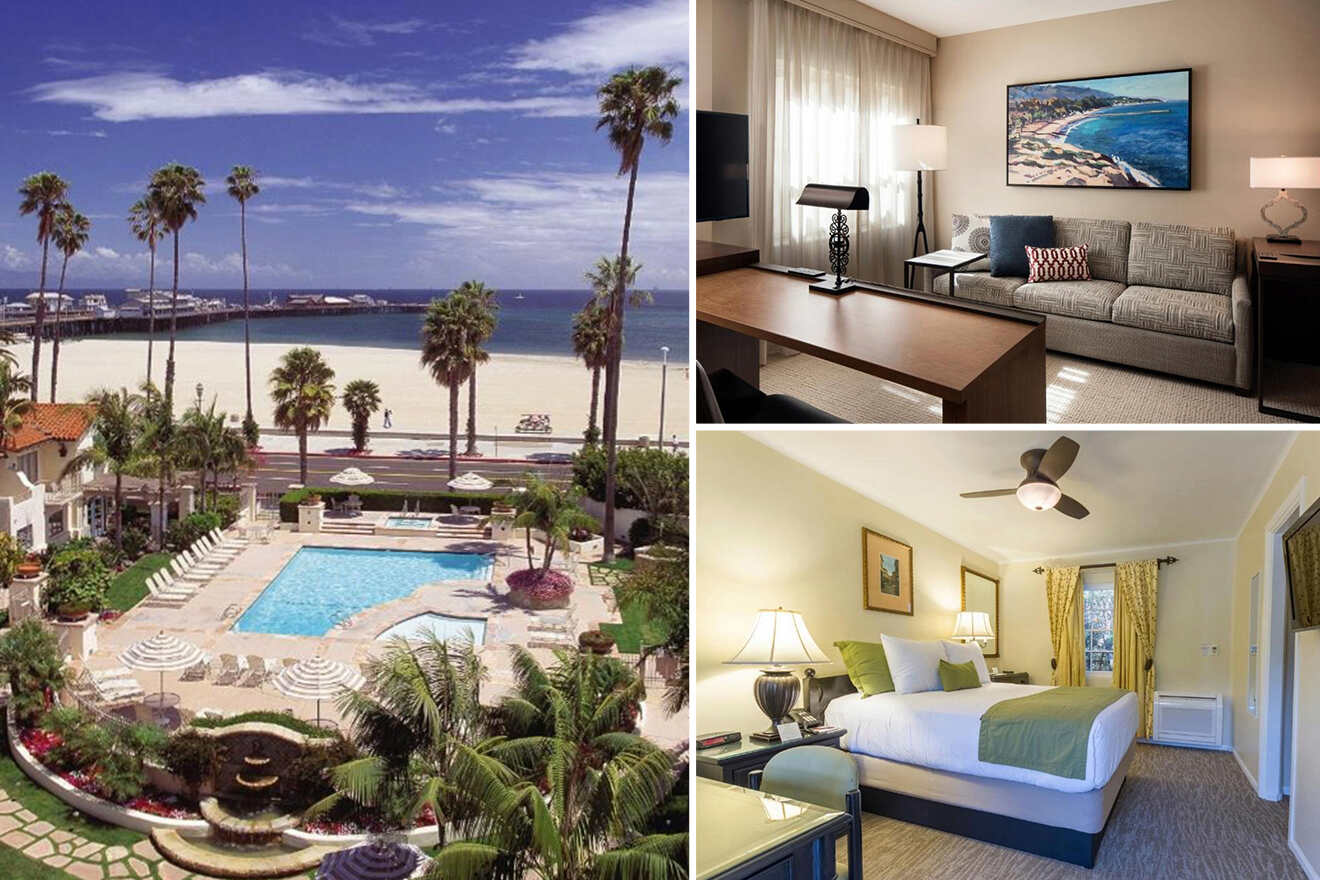 It's true you can always head to West or East beach to cool off during those hot summer days, but isn't it amazing when you can just wake up, get your swimsuit and have your coffee by the pool while enjoying the sun?
If you can't say no to a hotel with a pool or can't imagine going on holiday to a place like Santa Barbara without staying at one, then check out the list below, it has the best ones listed from most to least expensive:
Luxury (US$600 and up)
Harbor View Inn – The wind is blowing through the palm trees, the sun is shining, it seems like the perfect day in Santa Barbara to enjoy some relaxing time by the pool! Grab a drink from the bar and enjoy all the perks of this hotel that's set a short drive away from Santa Barbara Mission! And there are many, including a fitness centre and a spa.
Residence Inn by Marriott – This Santa Barbara hotel is ready to offer you an unforgettable time! Perfect for guests who need a place near the Santa Barbara Airport, this accommodation comes with an outdoor pool, a hot tub, a fire pit and a fitness center All the suites here are super spacious and some come with a small kitchen.
Hilton Garden Inn – Big fan of modern hotels? Then you'll like this one that's set a 20 min drive from the Santa Barbara Botanical Gardens. The accommodation features an outdoor pool, a fitness center and a lovely terrace where you can sit to have a drink and enjoy the city views!
Budget (up to US$300)
Coast Village Inn – We're in Santa Barbara, so even the most affordable hotels here have a swimming pool! Just like this one which offers amazing facilities and a fairly good price. The rooms have super comfortable beds, a private bathroom and free wifi. Each morning you can enjoy a fresh coffee and tea from the lobby and then go explore the city and attractions like Santa Barbara City College.
FAQs about Santa Barbara boutique hotels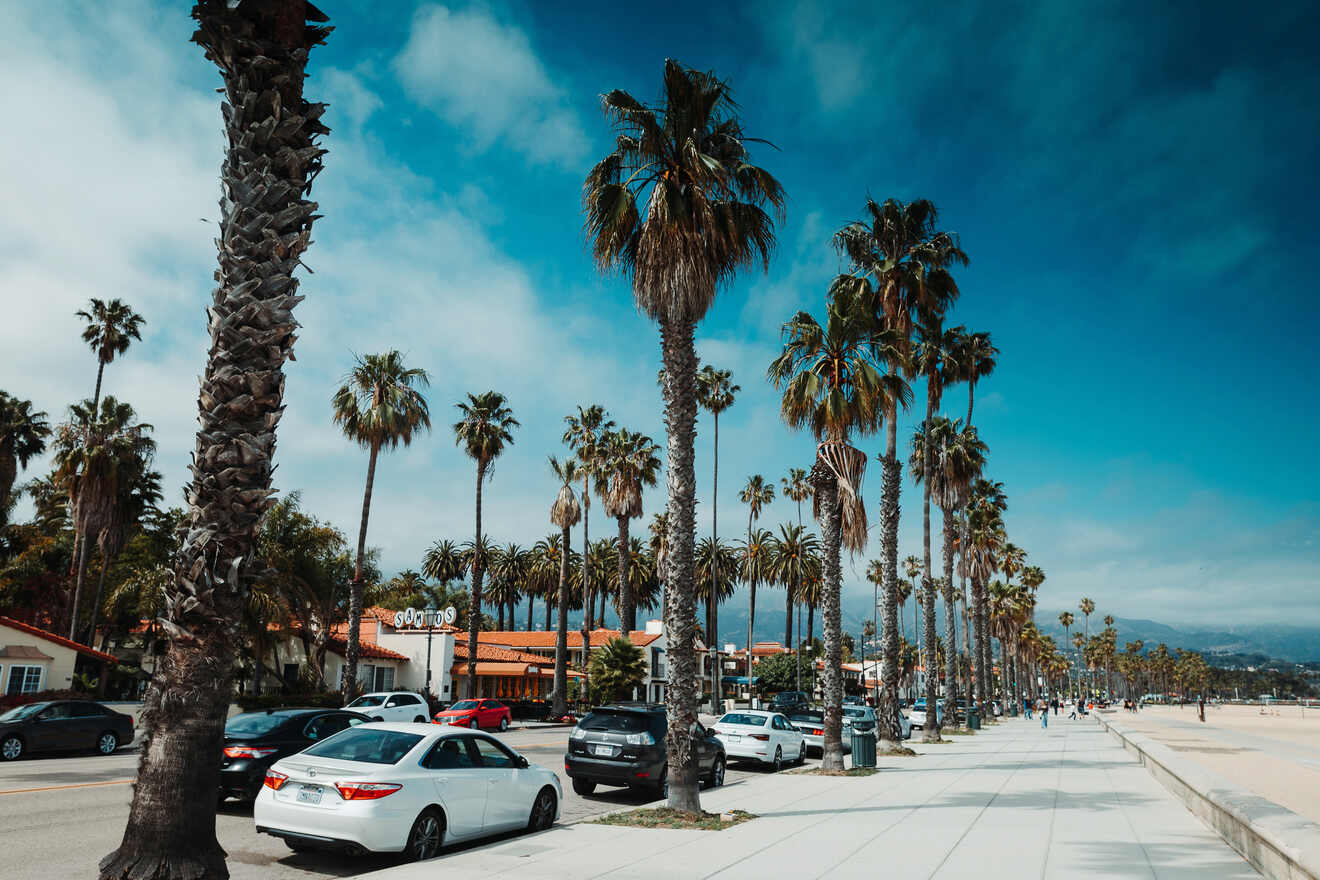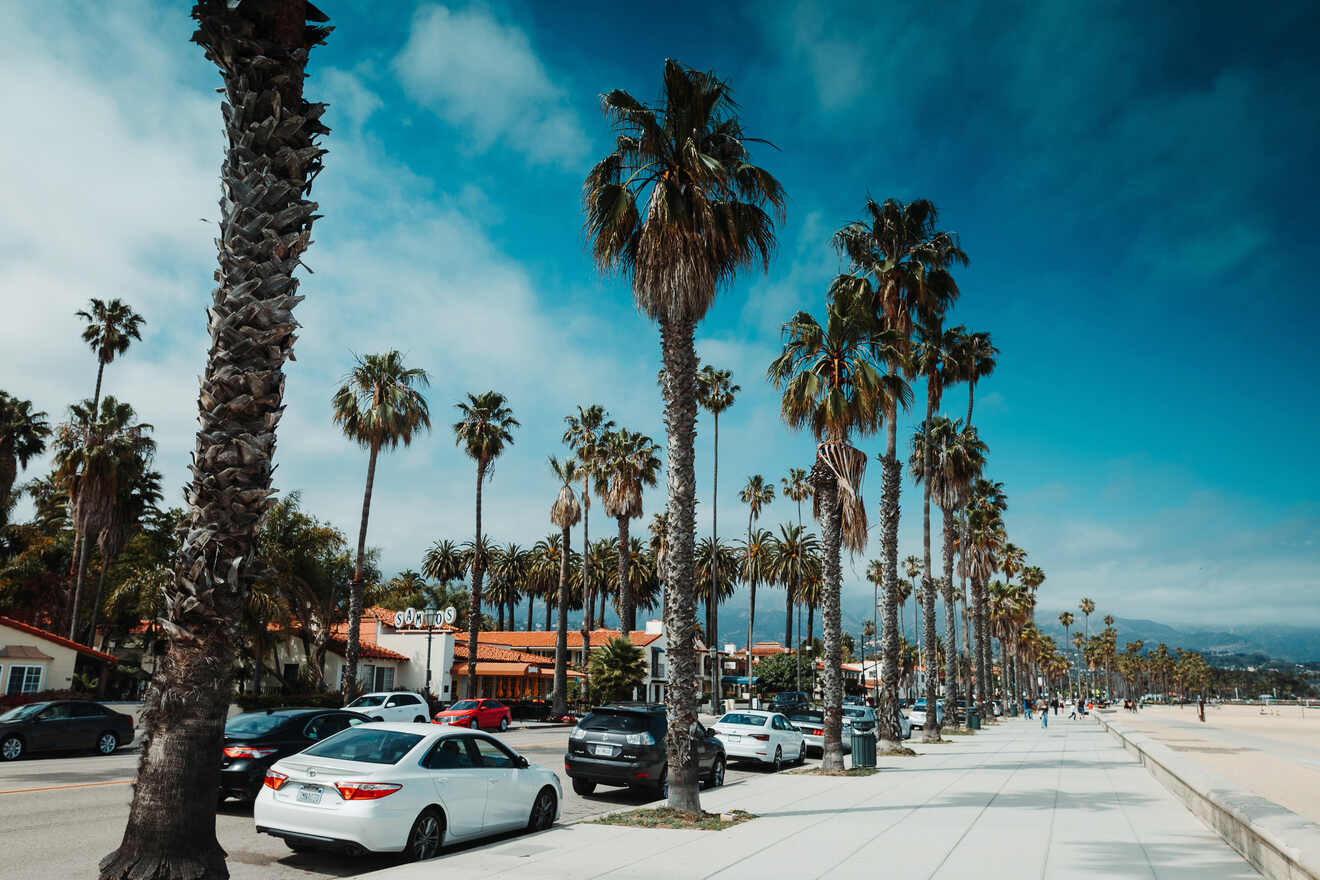 🍷 Which are the best boutique hotels in Santa Barbara wine country?
💘 Which boutique hotels in Santa Barbara are romantic?
📅 How many days do you need to see Santa Barbara?
I recommend spending 4 to 5 days in Santa Barbara. That way you'll have time to chill at the beach, and visit some of its city parks and attractions like the Santa Barbara Municipal Golf Course and the Santa Barbara Museum of Art.
🏖️ Does Santa Barbara have hotels near the beach?
Yes, there are many Santa Barbara hotels set near the beach. The Ritz-Carlton Bacara is one of the best ones, as the views are incredible here!
📸 Where do celebrities live in Santa Barbara?
Many celebrities like Oprah Winfrey, Ellen DeGeneres, Rob Lowe, and Ariana Grande are known to have houses in the Montecito area. So if you want to spot your favorite star head over there!
Conclusion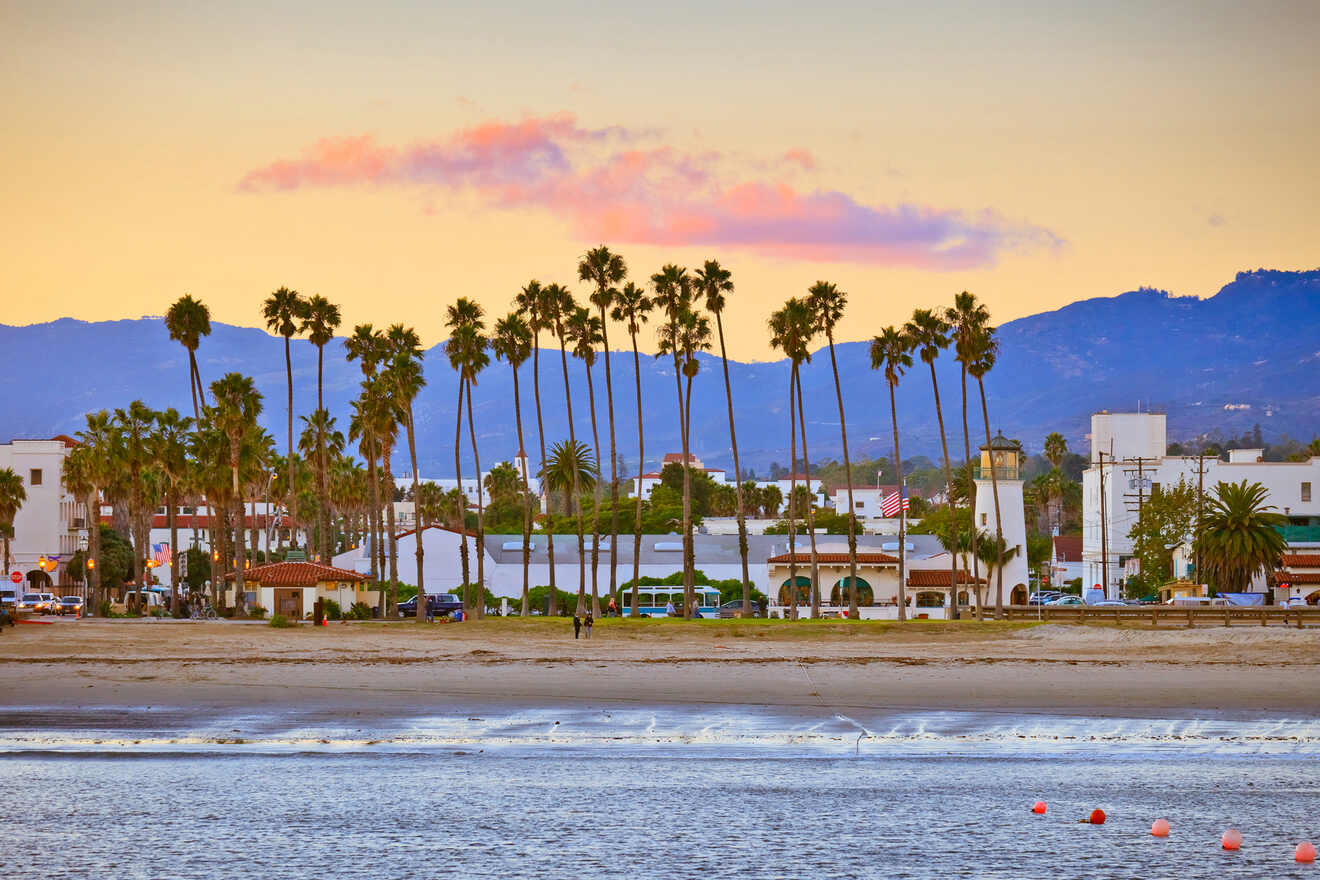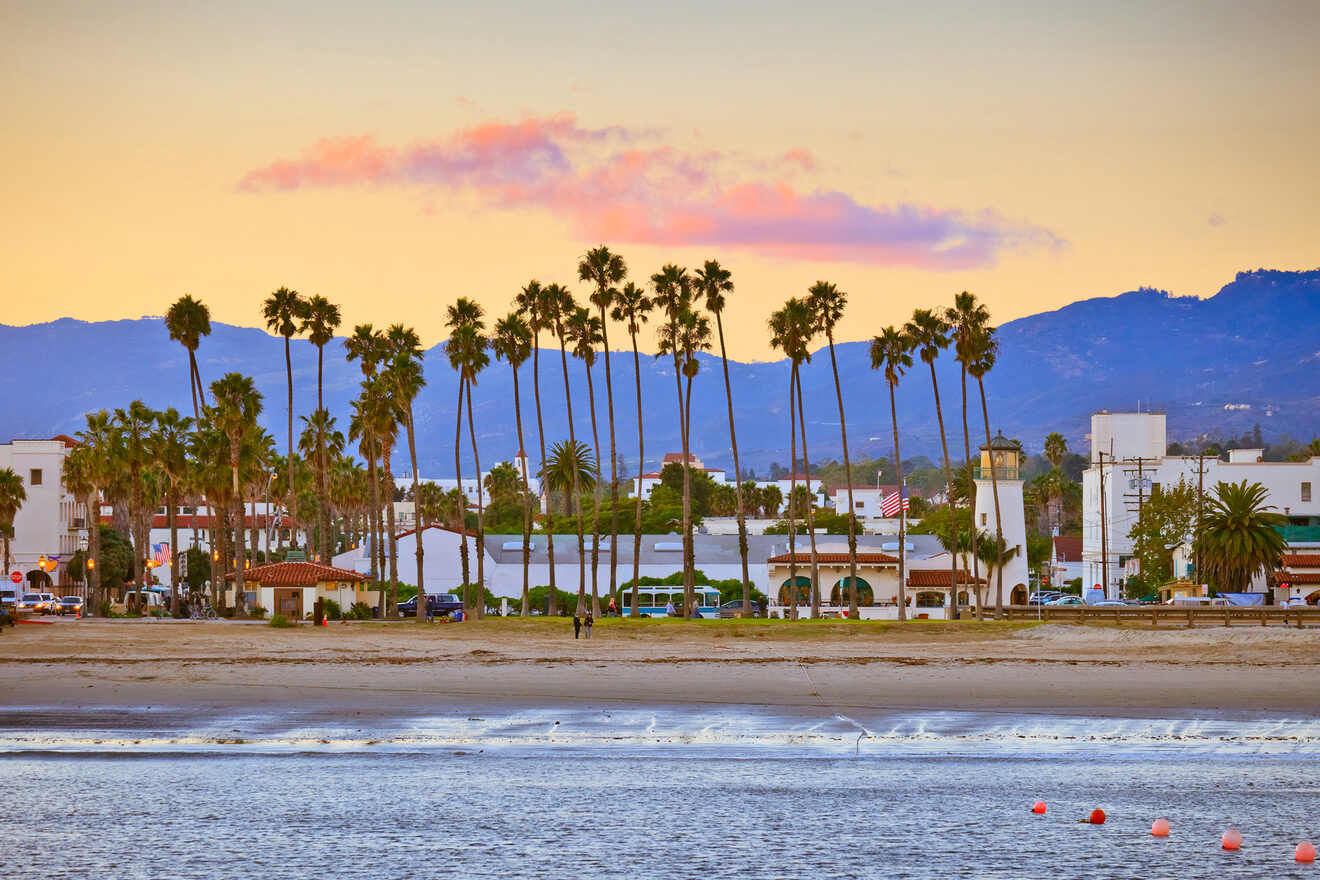 I bet everyone wants to book their tickets and hotels right now. I know the feeling! Some locations have that effect on you. But before you do that I think we should do a quick recap of what you'll find in the post.
Firstly, the article has the best Santa Barbara boutique hotels, listed from most to least expensive. Then there's also 2 bonuses, one with the best beachfront hotels in the city and the second with the top accommodations that have a pool.
That's a lot of content, and hotel options for you. I get easily overwhelmed where there are so many options and I know some of you may feel the same. So if you need some extra help, just check out my 2 favorite boutique hotels in Santa Barbara:
Hotel Californian – Its Spanish influences, the pool, top-notch room service and the spa center make this hotel one of the best ones in the city
Brisas Del Mar Inn at the Beach – A stunning mid-range hotel with Mediterranean-style that offers free bikes, a pool and a sun deck
As I said earlier, these are the best boutique hotels in Santa Barbara, which means they won't be available for too long. I always advise my readers to book early when possible to save money and also get a broader range of options.
This was all I had to say (for now, as I'll be back with more amazing destinations). The article is super detailed but if I've missed anything or maybe you've got some other suggestions that you'd like to share, just pop a comment below and I'll make sure to answer it!
Safe travels,
Victoria
---
Pin it for later!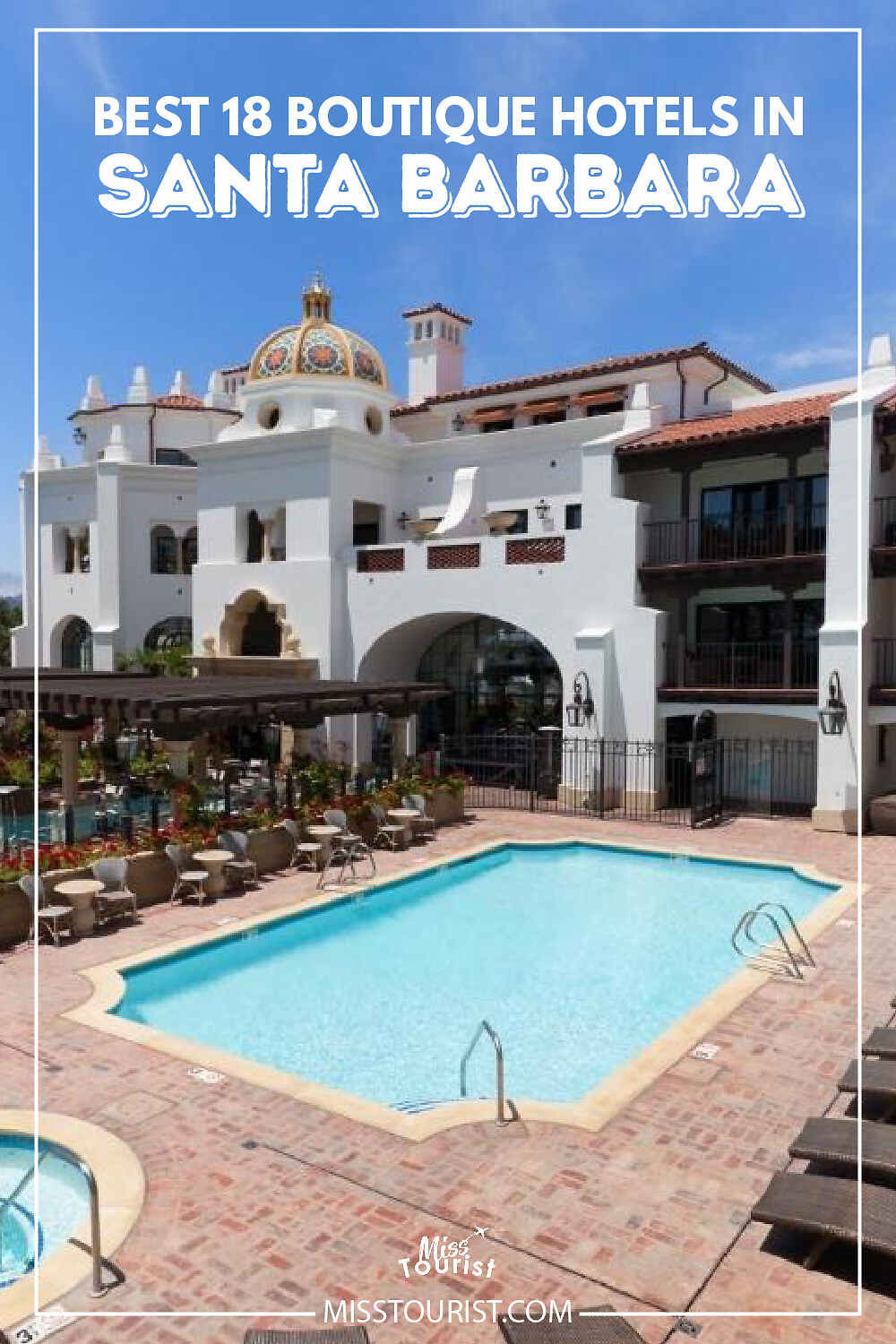 Pin it for later!