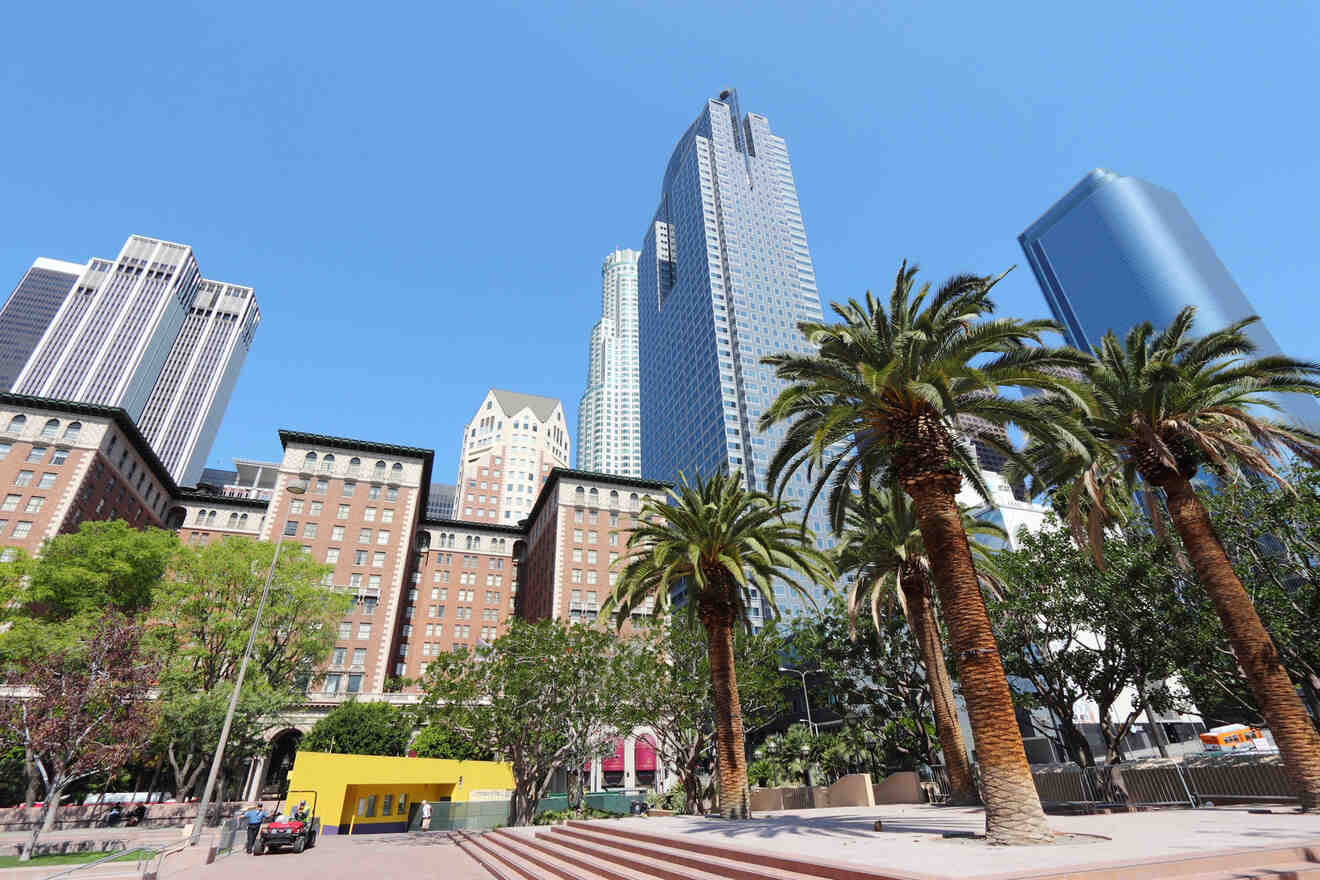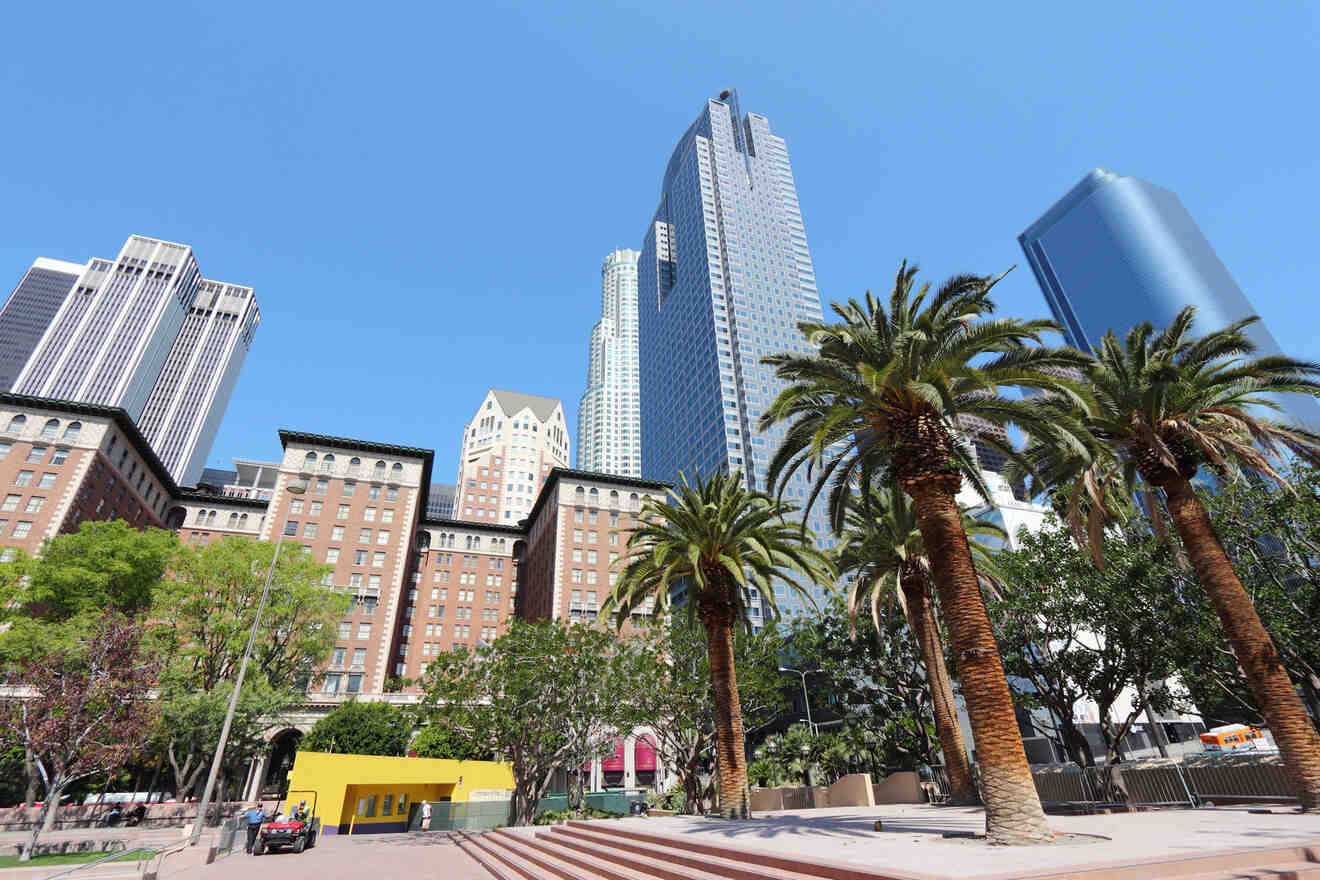 Dreaming of taking a trip to Downtown LA? Well, lucky for you, there's SO much to do here. Los Angeles happens to be the biggest city in California and also one of the most well-known. Let's be honest when you think of California, one of the first things that come to mind is Los Angeles and that Hollywood lifestyle!
There's no shortage of activities, tours, events, and things to do in Downtown LA being held every single day. I'm a SoCal girl through and through and have been around the city plenty of times to know what's worth visiting. (Hint: The Hollywood Walk of Fame isn't one of them!)
Throughout this article, I'll be giving you a list of 17 charming things to do in Downtown LA. I'll also make a note of my favorite restaurants and ways you can save $ along the way.
Let's get started! 🤙🏼
If you are in a hurry
The city can get incredibly overwhelming if you don't have a lot of time to explore, especially when you need to sit in LA traffic for a good chunk of your day.
Here are the main things to book in advance:
And here are the best hotels: The Prospect Hollywood (luxury), Conrad Los Angeles (mid-range), LA PodLife (budget)
1. Eat and attend an event at Grand Central Market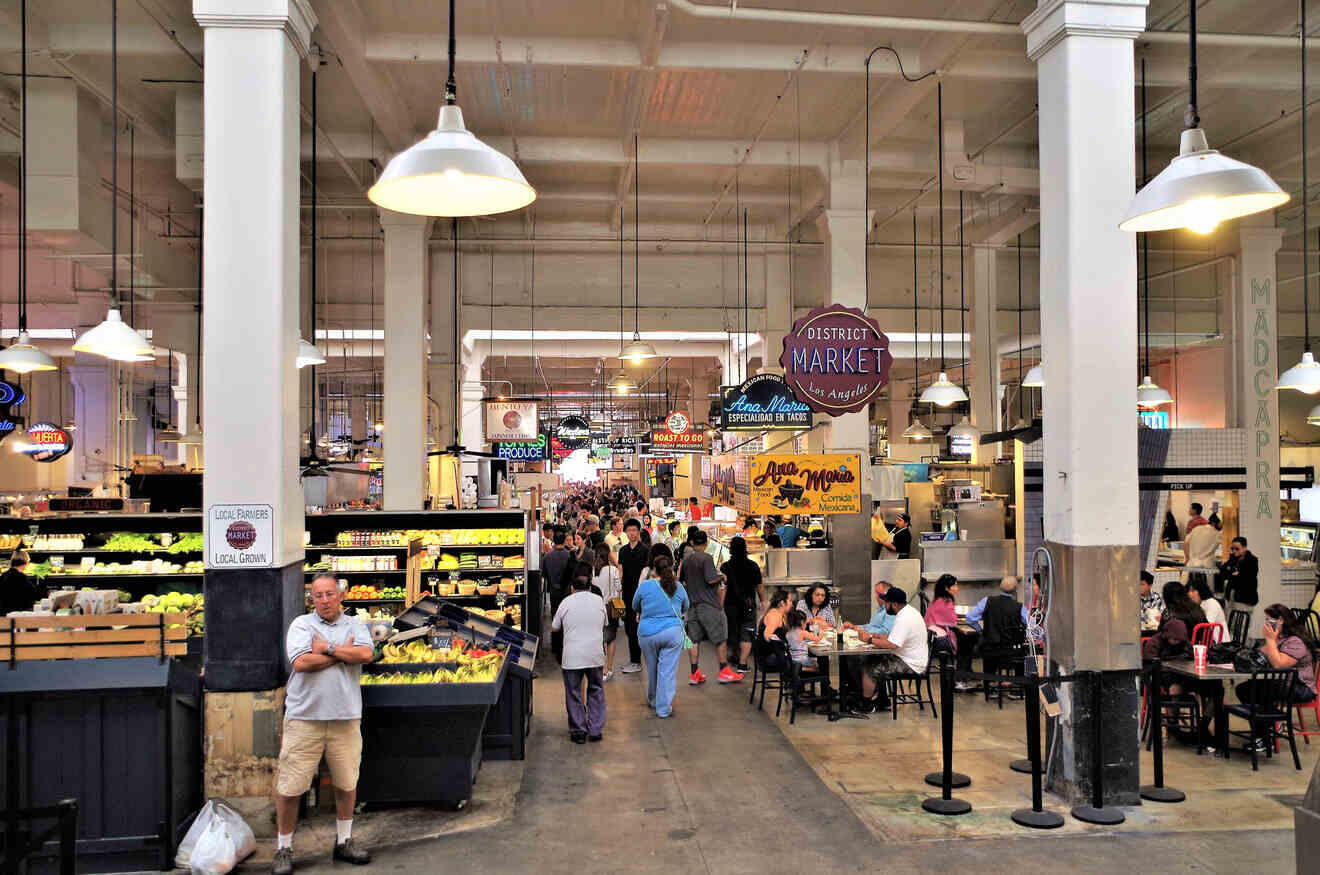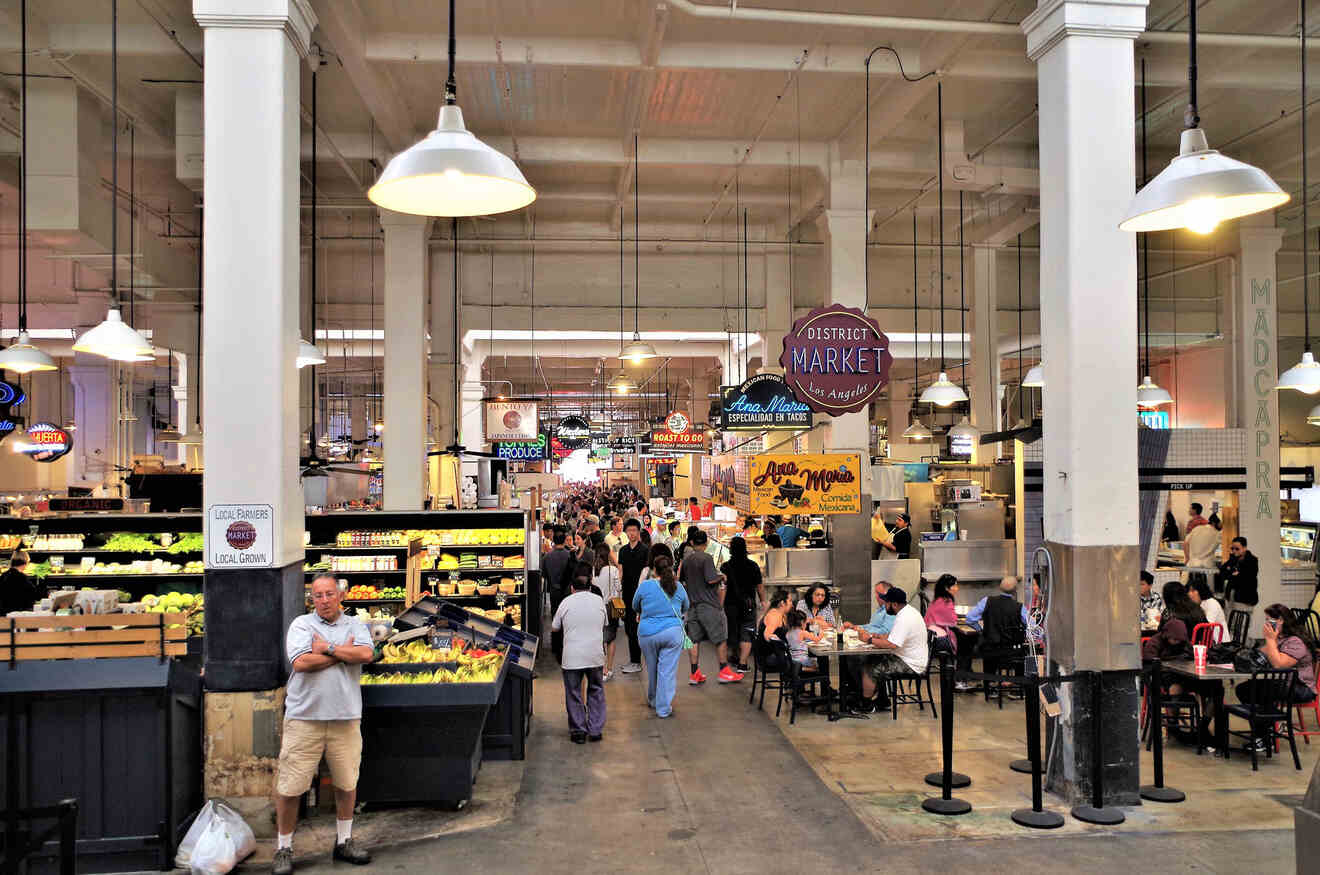 The famous Grand Central Market is an open-air shopping center in the heart of Los Angeles! With over 30,000 ft² (c. 2,790 m²) of space filled with vendors, food trucks, the world's best chefs, and entrepreneurs, everyone comes together here to showcase their skills, offering the best food and events in the city.
The events are changing every week at the Grand Central Market so there's always something new happening here. I recommend taking a look at their event schedule to plan your visit ahead.
They're open every day from 8 AM – 9 PM and vary between vendors. If you're planning on visiting a specific vendor, make sure to check the vendor's website for their specific operating hours!
PRO TIP: Don't miss out on LA's (2nd) best burger – For The Win (see here for their new hours). It's my 2nd favorite place for burgers in LA. The first is In-N-Out, of course.
PRICE: FREE
2. Enjoy classical music at Walt Disney Concert Hall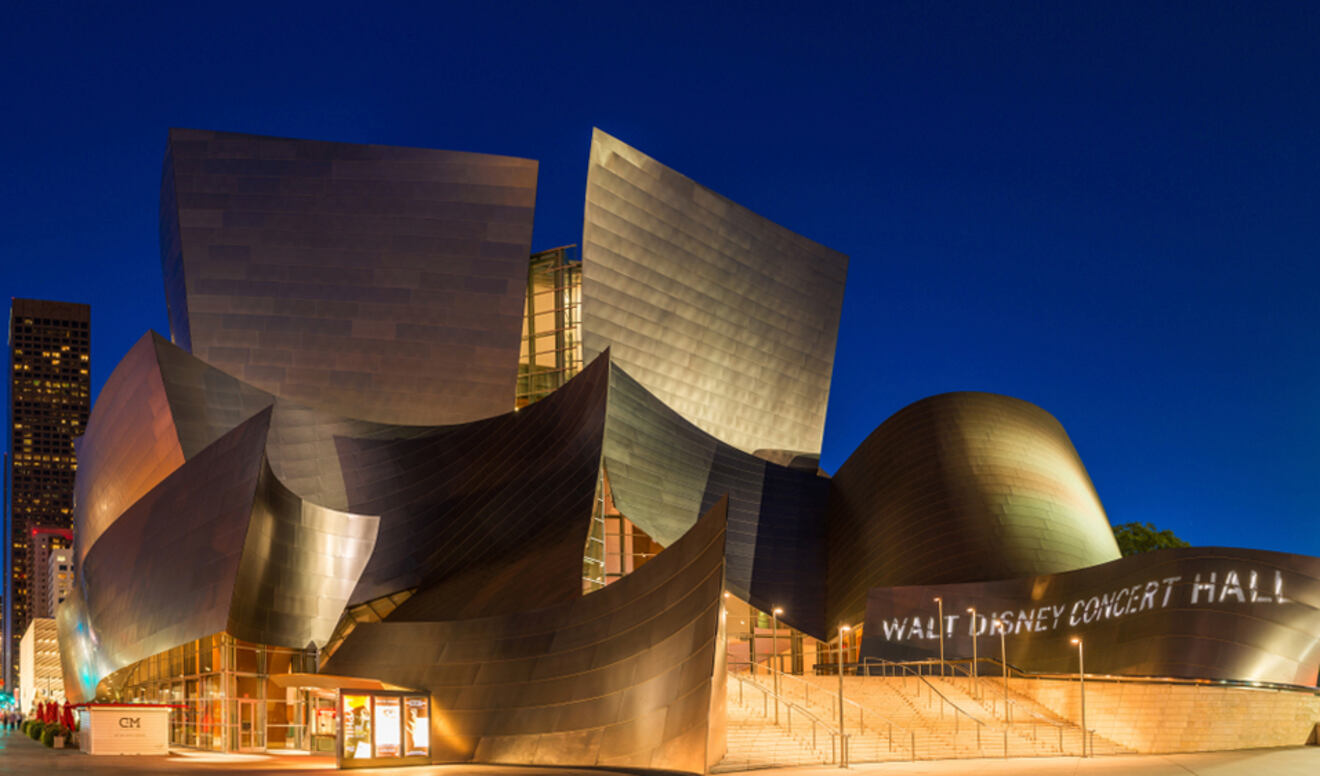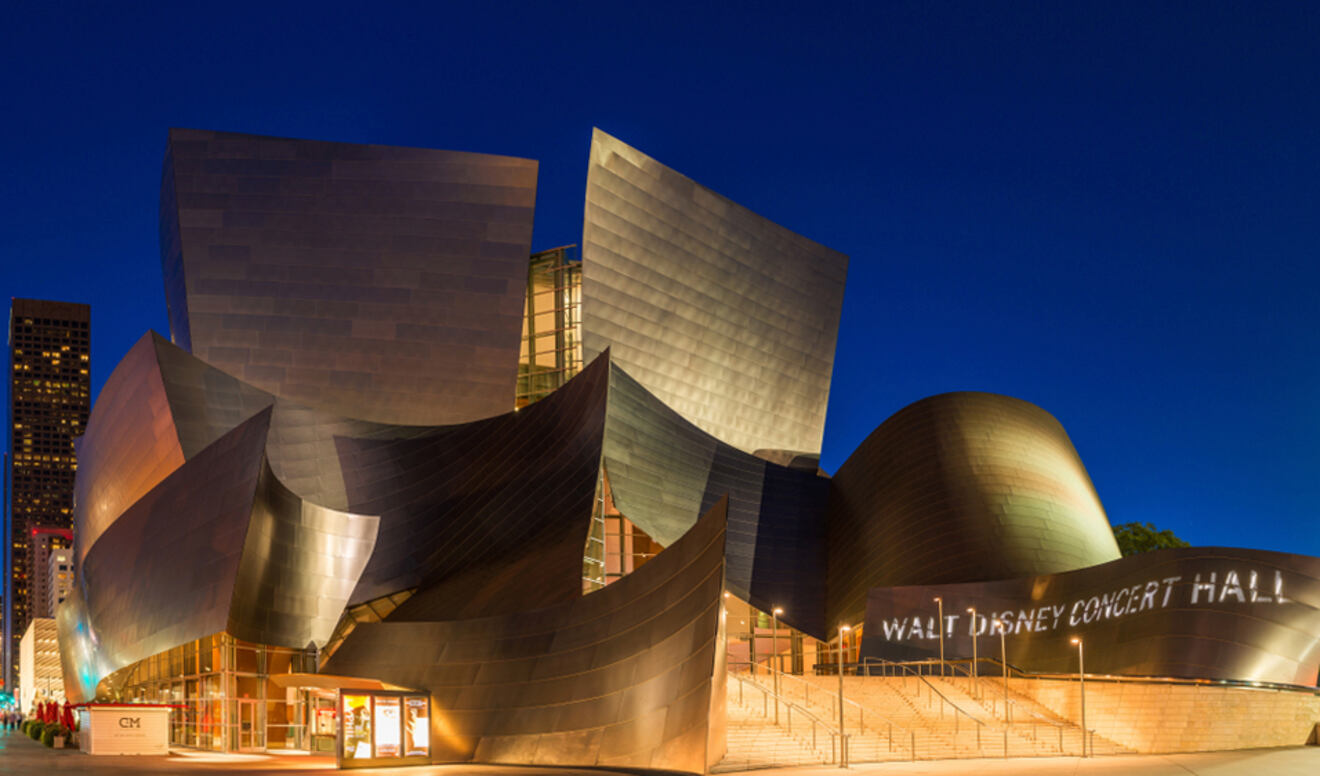 Walt Disney Concert Hall on Grand Ave. and 1st St. is home to Los Angeles Philharmonic (otherwise known as LA Phil) and an internationally recognized architectural landmark that people from all over the world come to see.
If you're a lover of music and architecture, you will really appreciate both the makeup of the building and the fact that it's the most sophisticated concert hall in the world.
You can see the event calendar and buy your tickets here. Tickets get sold out pretty quickly, so I recommend keeping an eye out and booking ahead of time in order to secure a spot.
A couple of things to keep in mind: because this is a sophisticated show, it's required to dress for the occasion! Business casual is a safe way to go if you want to blend in. The second thing is that photos and videotaping are not allowed during the show. Put your phone away and enjoy the experience!
PRO TIP: If you plan on going to a few different concerts, buy a package for concerts at the music center and save some money! If you don't want to visit the same concert 4 different times, you can buy 3 at the same time, create your own package, and save that way.
PRICE: Packages start at US$148/4 concerts
3. Explore the largest bookstore in California: The Last Bookstore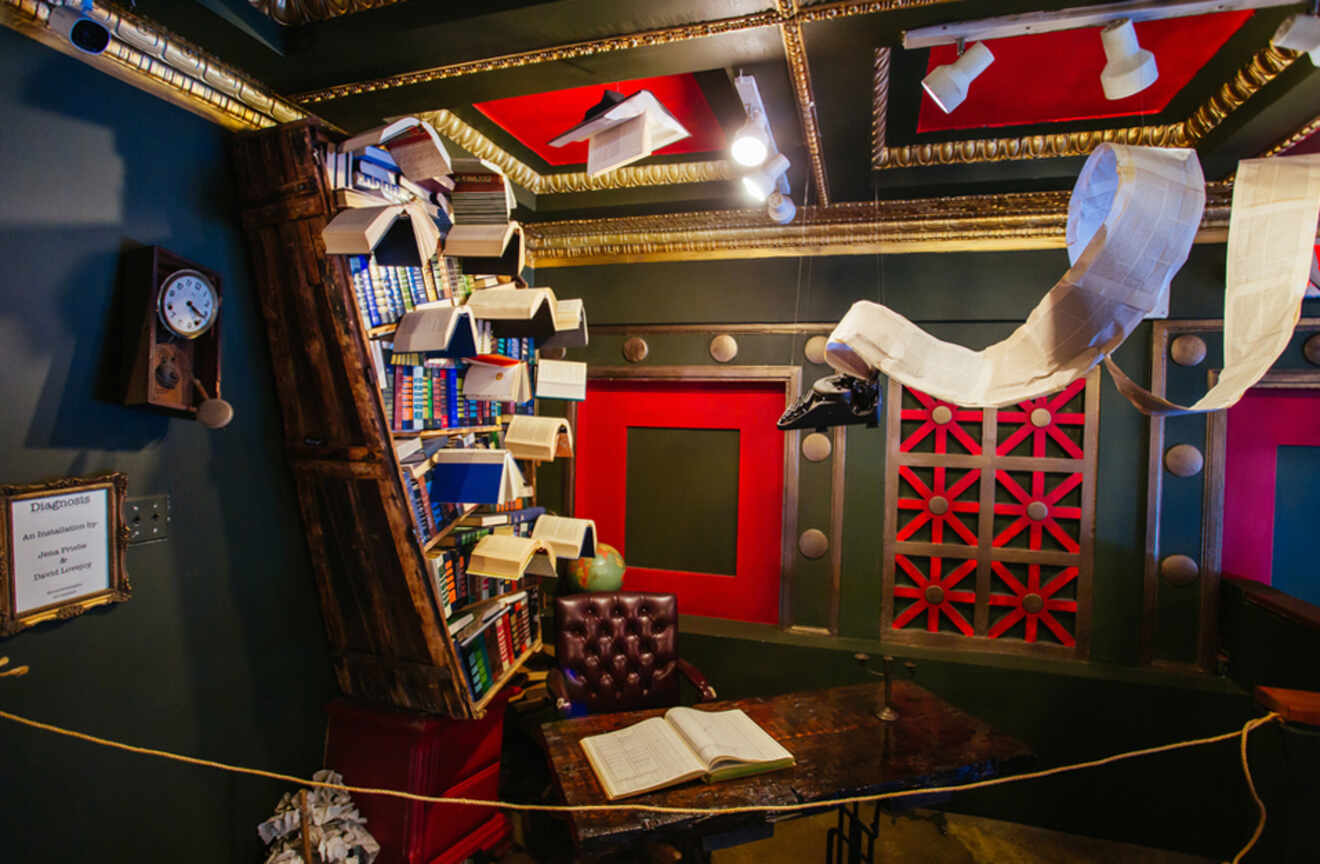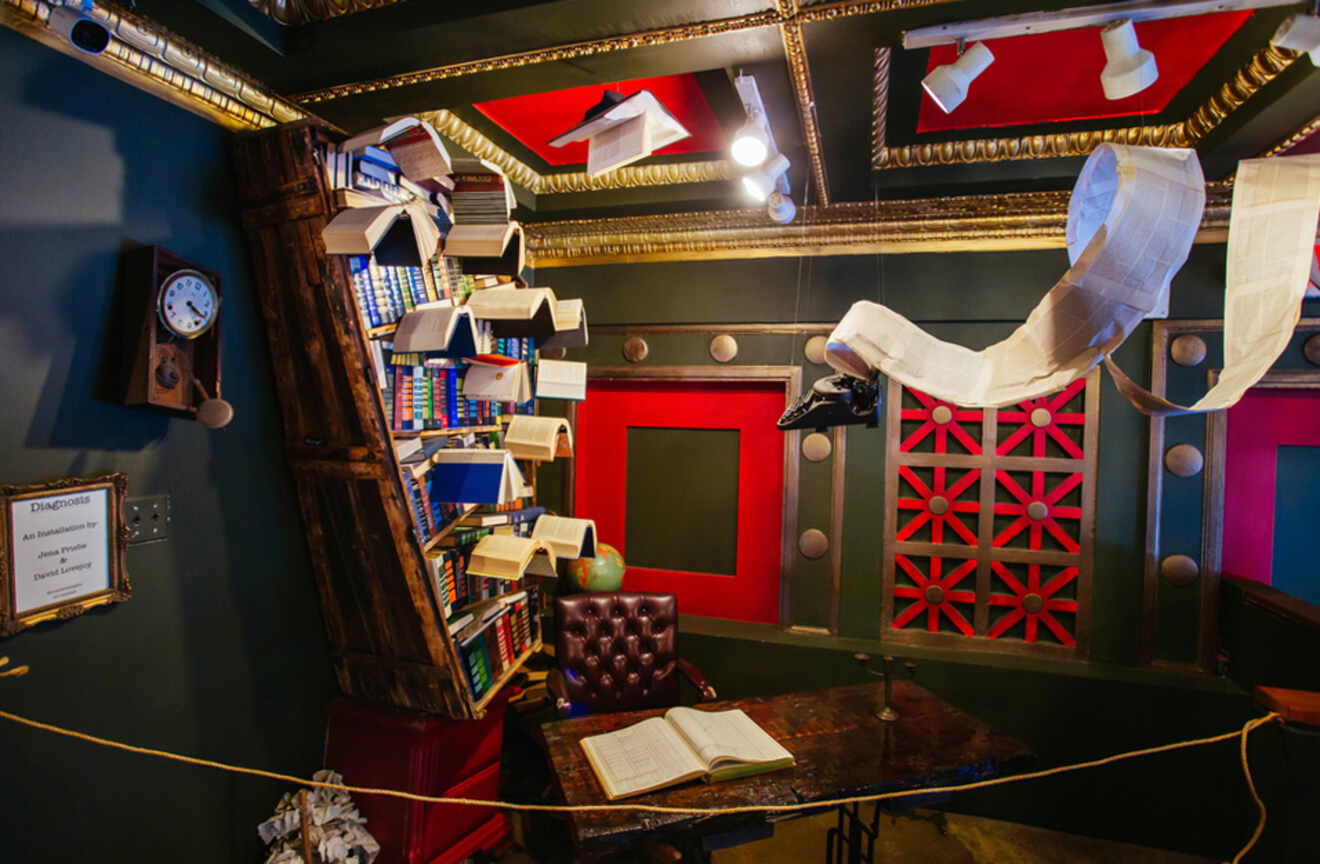 The Last Bookstore is ironically not the last bookstore to be made in California, however, it is the largest. Starting in 2005 as a small loft store, it quickly grew to a 22,000 ft² (c. 2,045 m²) bookstore. They sell used books, new books, and will even trade books.
You can easily spend your entire day here exploring the 250,000 books they have, along with their tens of thousands of vinyl records, rare books section, and art galleries. This place is 100% a unique must-see while you're in the city!
It's tempting, but don't spend a full day there on your first day in Downtown LA! This is a great tour that I recommend checking out if you're interested in exploring more of Los Angeles' historic downtown area. They'll take you around 9 different spots within 2 hours, where you can later decide which you want to spend more time on a different day.
PRO TIP: Take a walk to Old Bank District and visit the old 20th-century commercial buildings. The tall buildings are now converted into apartment buildings. It's worth taking a look if you're a fan of architecture and history!
PRICE: FREE!
4. See LA's contemporary art museum: The Broad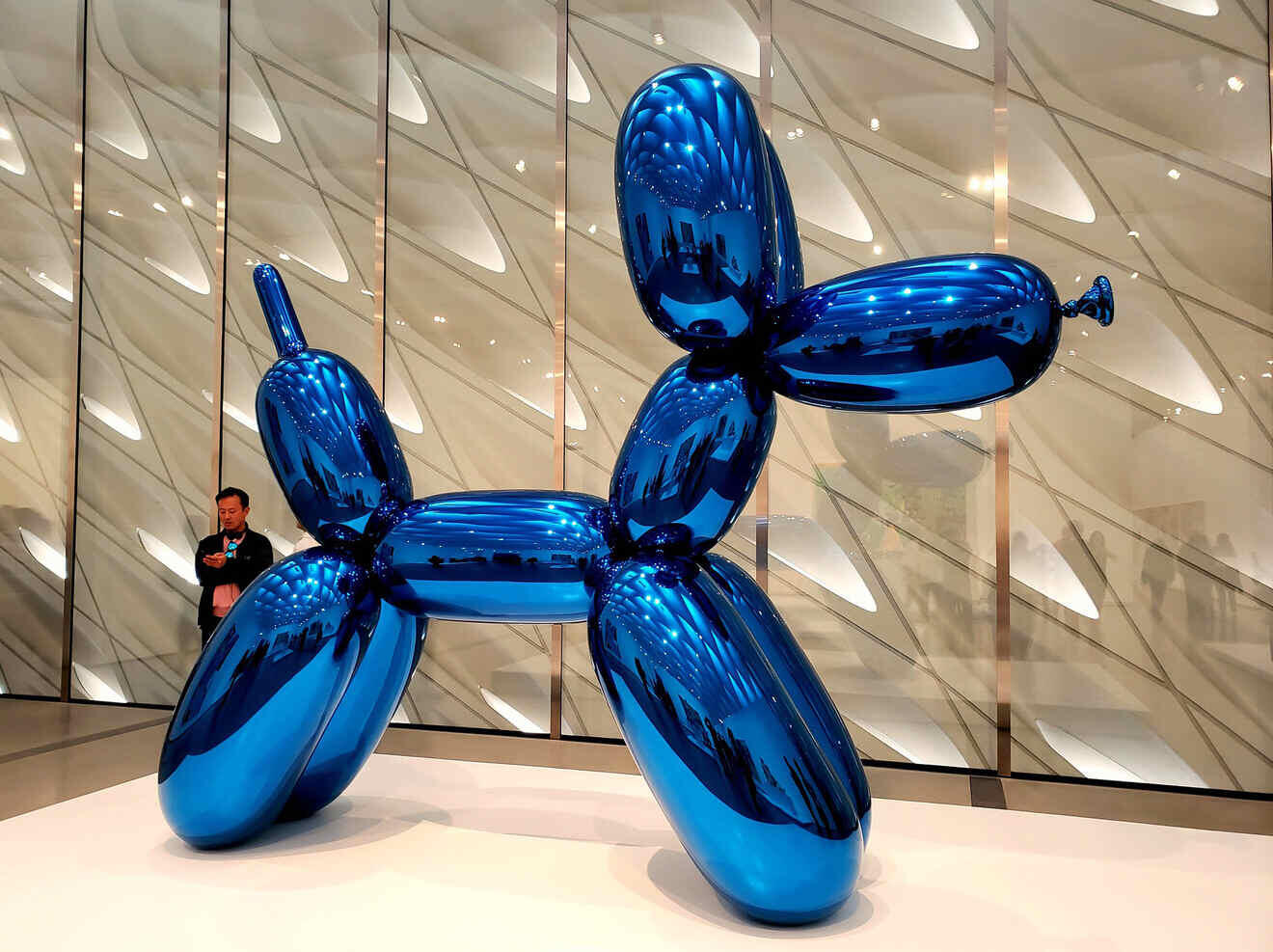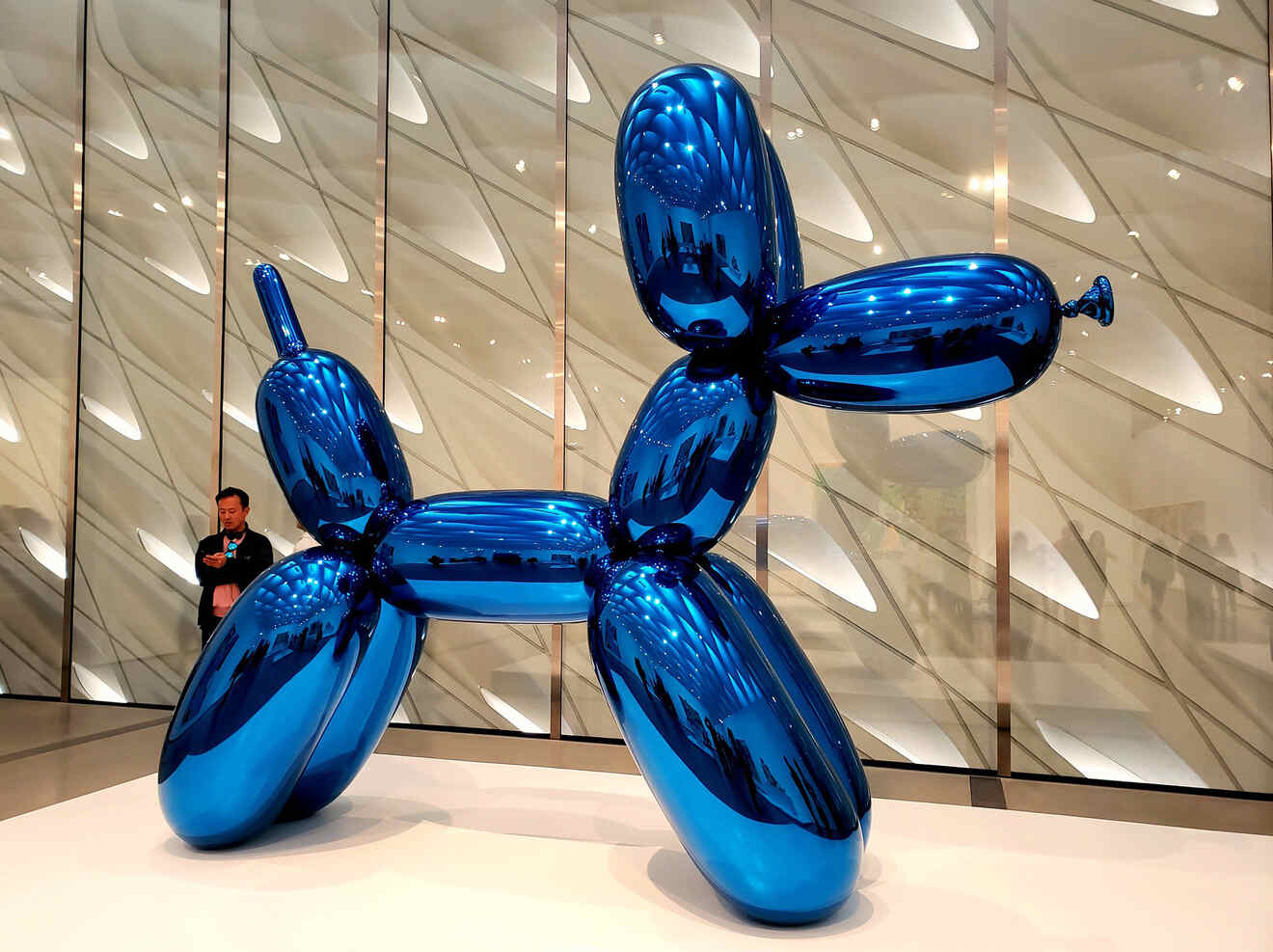 The Broad in Bunker Hill is a collection of modern art dating back from the 1950s to the present day. Not only is the museum known for its stunning art pieces and interactive displays, but the architecture of the 120,000 ft² (11,148 m²) building is worth visiting on its own!
There are over 2,000 pieces of art in the museum created by 200 different artists. The artists are both well-known, influential contemporary art artists like Jean-Michel Basquiat, Mark Bradford, and Jasper Johns, and also a representation of newer, up-and-coming artists.
The museum is open Tuesdays, Wednesdays, and Fridays from 11 AM to 5 PM, Saturdays and Sundays from 10 AM to 6 PM, and they're closed on Mondays.
PRO TIP: Otium is a phenomenal restaurant right next to The Broad – they offer brunch, lunch, dinner, signature cocktails, and a spectacular wine list for the perfect end to your day at the museum.
PRICE: FREE! (Make sure to reserve your free ticket in advance here!)
5. Take a stroll down Grand Park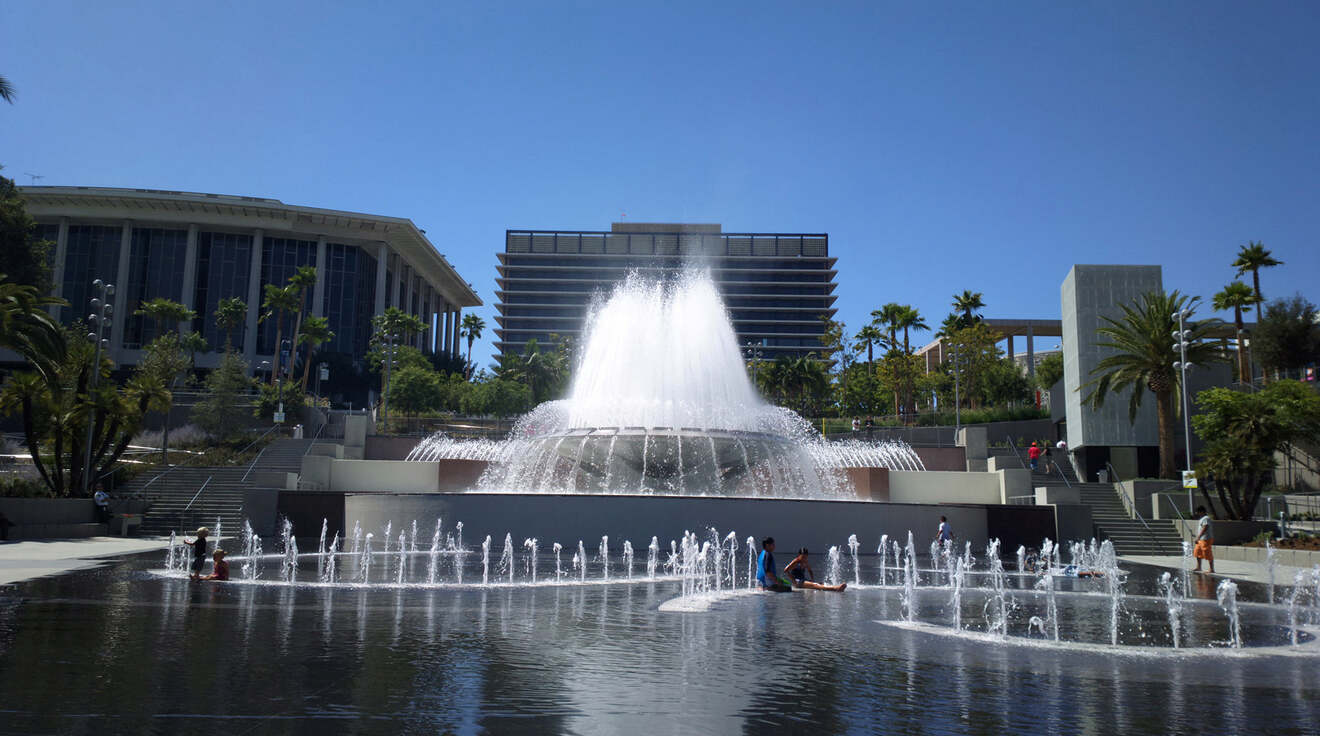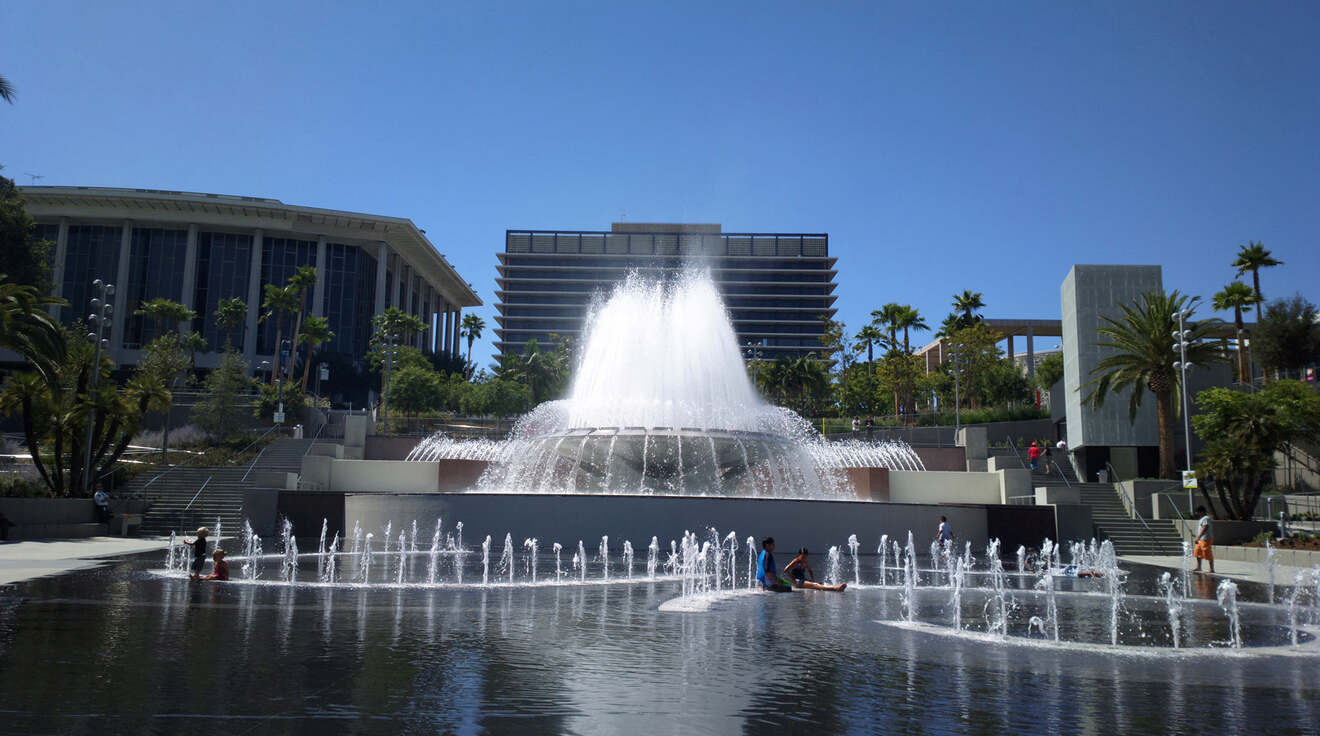 Grand Park in Bunker Hill has 4 key areas: the historic Arthur J. Will Memorial Fountain, an intimate performance lawn, a community terrace planted with plants representing the diverse cultural make-up of Los Angeles, and a grand event lawn.
I recommend getting ice cream nearby at Little Damage and walking to the park, where you can enjoy all the free entertainment and relax by the fountain (it's only about a 20-minute walk).
I recommend checking for events beforehand here to make sure you're able to reserve a spot or buy any tickets beforehand.
PRO TIP: On your walk, you'll also pass by The Last Bookstore and Bradbury Building, hitting 3 major Downtown areas!
PRICE: FREE
6. Admire LA's famous landmark, the Bradbury Building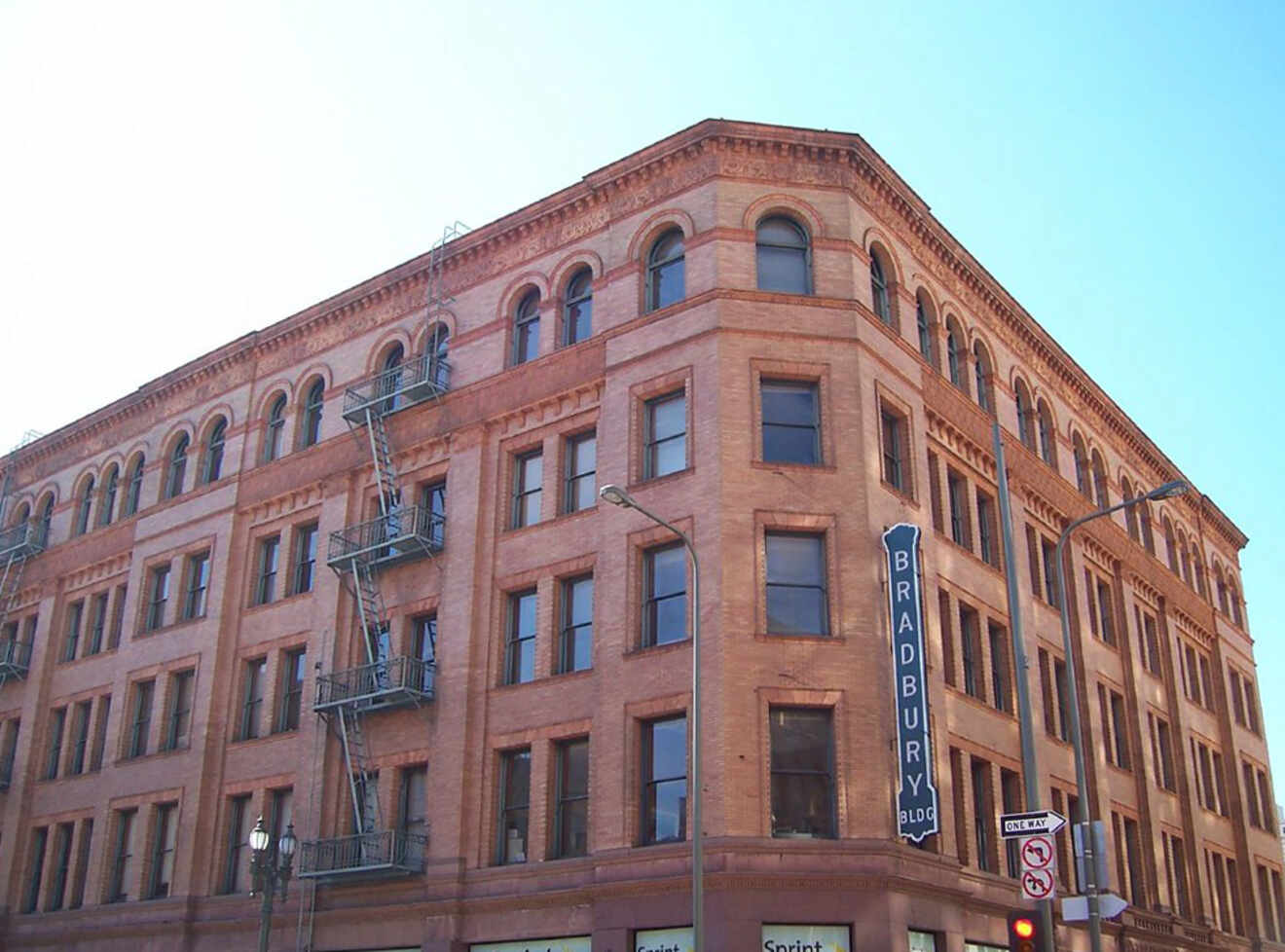 You've probably seen The Bradbury Building in hit Hollywood movies like 500 Days of Summer and Blade Runner!
The Bradbury Building in Los Angeles is a real treasure in plain sight! It's the oldest commercial building in the city, officially opening in 1893. The Italian Renaissance-inspired ground floor interior has a glass ceiling, a 50-foot (15 m) high ceiling, marble stairs, and iron railings. It's one of the city's most national historic landmarks in Los Angeles and totally worth checking out.
After visiting the Bradbury Building, I recommend checking out a few other historical sites within the same vicinity: The Grand Central Market, the Million Dollar Theater, and Angels Flight Railway (AKA the world's shortest railway).
The building is open 9 AM to 5 PM on Monday – Friday and 10 AM to 2 PM on Saturday and Sunday. It can get busy during the weekend, so I recommend going during the weekdays!
PRICE: FREE!
7. Pay tribute to the biggest music names at the GRAMMY Museum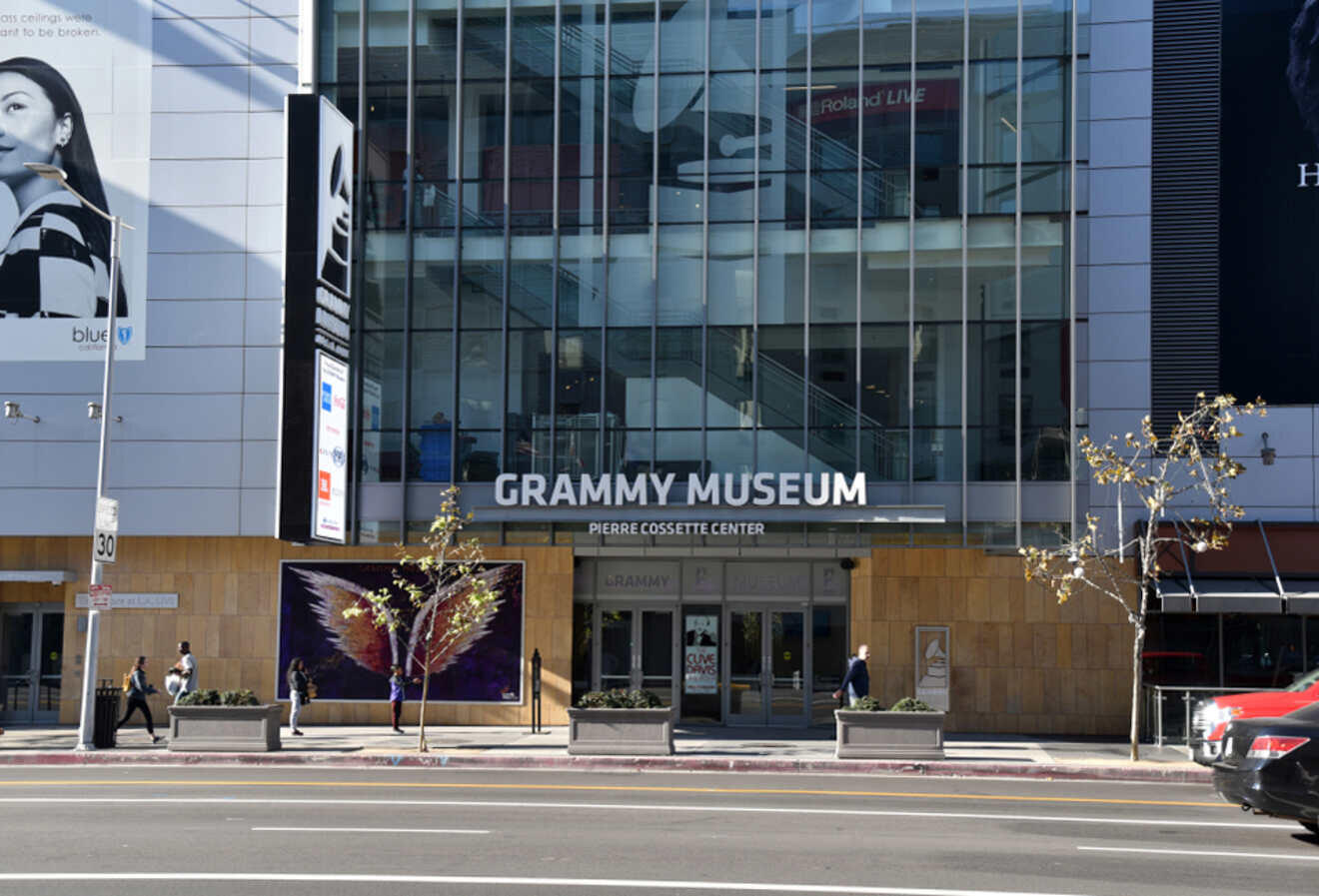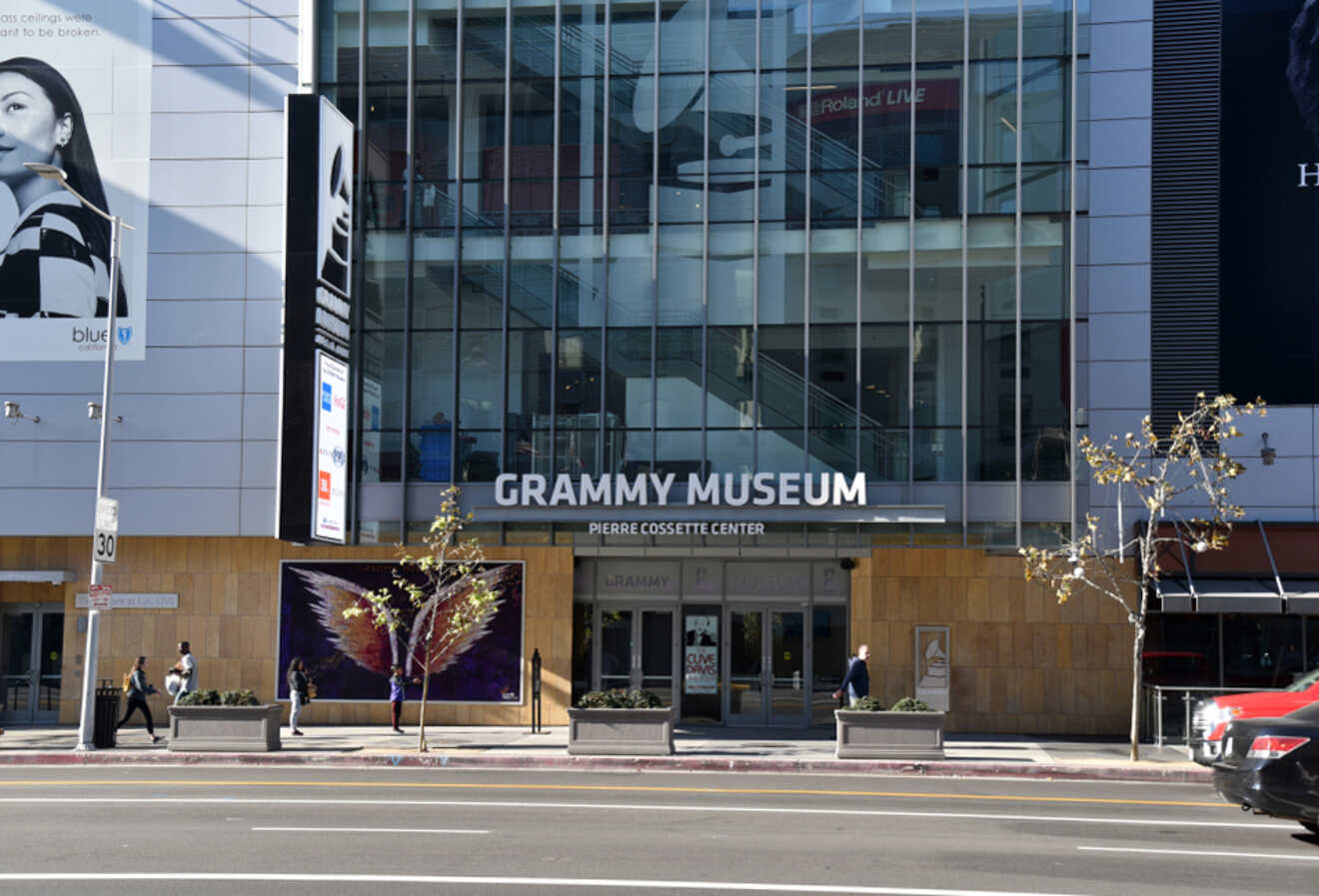 The GRAMMY Museum on Olympic Blvd. is a fun place to learn about some of the biggest names in American music history! Not only are there unique exhibits throughout the museum, but they also do their best to promote music education for the next generation of music creators with community programs and education for over 400,000 students to date.
The museum has so many cool things to explore, and you feel great about supporting the museum because of the efforts they support.
If you plan on visiting the museum more than 4 times a year, it's worth getting a membership pass. For US$75, you get free admission into the museum for a year, early entry to programs and events, discounts at the museum store and café, and a few other bonuses. If you're not from the area or it's a one-time thing – I recommend getting a single-day pass.
The museum is open on Monday, Wednesday, Friday, and Sunday from 11 AM to 5 PM, Saturday from 10 AM to 6 PM, and closed on Tuesdays.
The museum also offers group deals and group tours. It's worth checking out for your first time here because it's easy to get overwhelmed and lost on your own!
PRO TIP: If you're taking the metro, you can get to Downtown LA through the purple line! I like to use Google Maps on my phone if I get lost, but always keep the purple line in mind!
PRICE: US$18/person for adults, US$12/person for youth (ages 5 – 17)
8. Visit City Hall, an iconic LA monument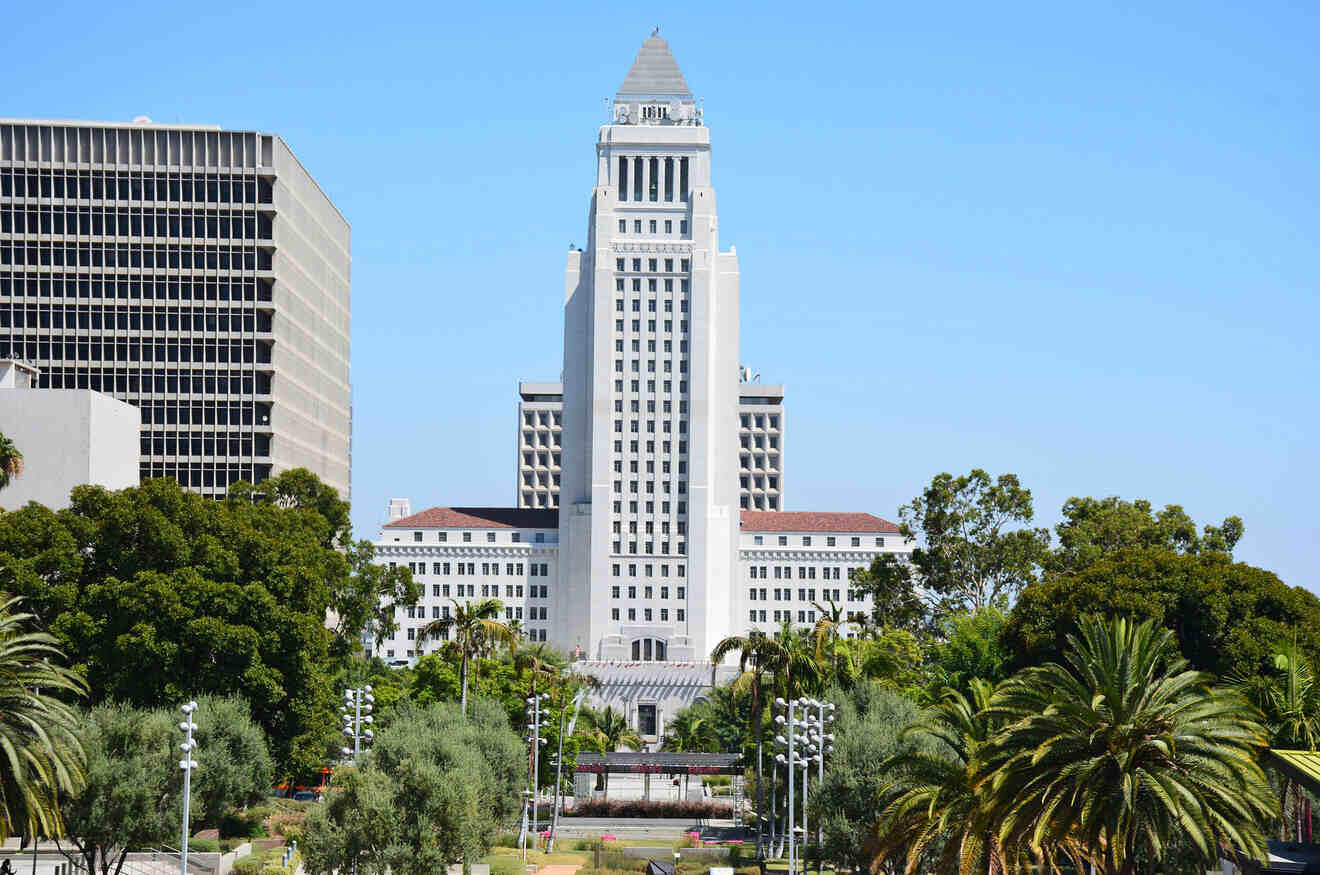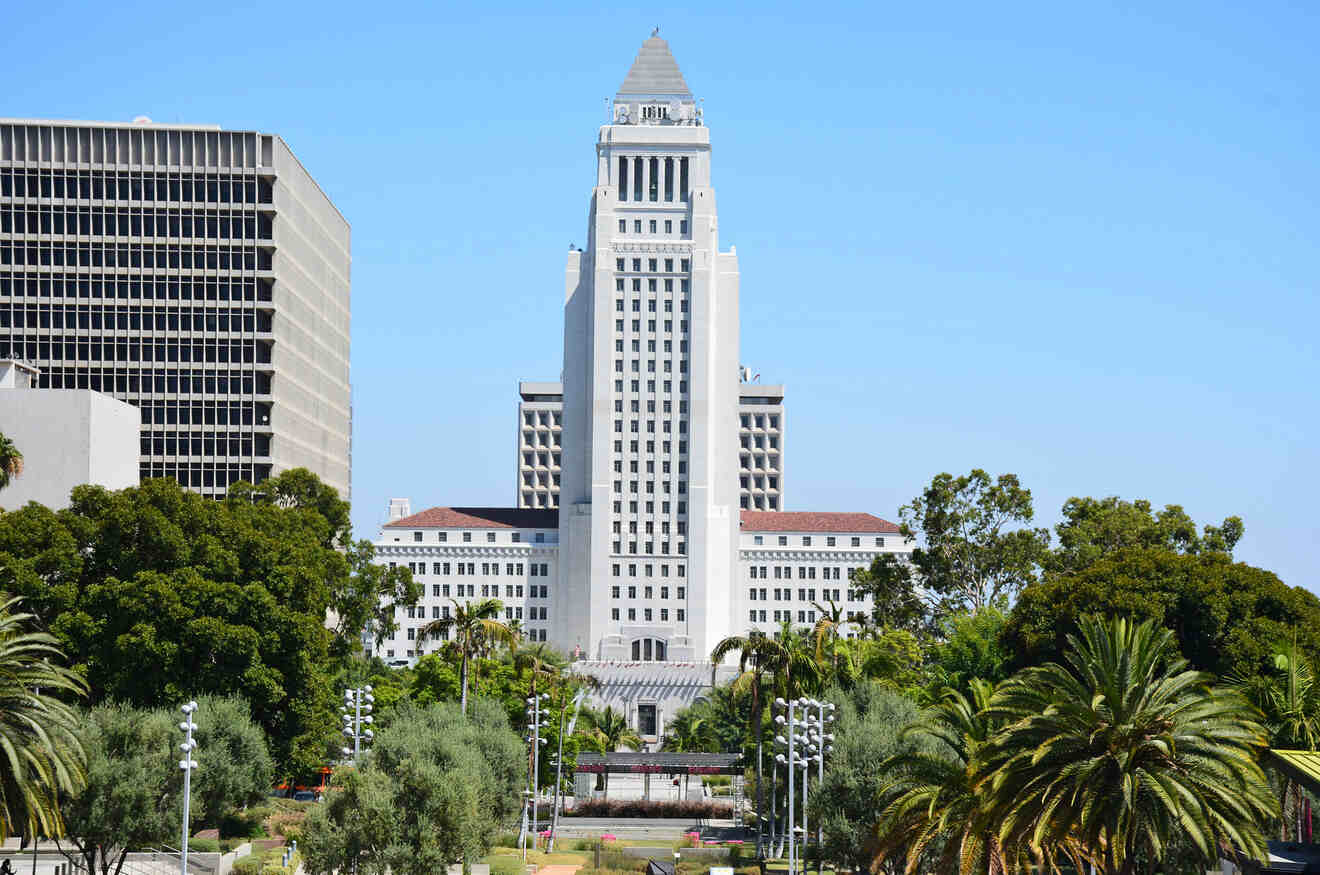 The city hall is a famous modern American government building that you've also probably seen in dozens of Hollywood movies (like The Nice Guys and Bad Teacher), stamps, city documents, and more.
One of the best spots in the building I recommend checking out is the observation level on the 27th floor. Here, you'll get extraordinary 360-degree views of LA. The 26th floor is also worth checking out – this is an art gallery showcasing some of LA's best artists throughout the years.
Since it's a government building, there are extra precautions being taken when entering the building. I recommend bringing a small purse/backpack or none at all in order to avoid it being confiscated while you're inside.
City Hall is open from 8 AM to 5 PM, Monday – Friday, and closed on weekends.
NOTE: You might get lost on your first time going up the building (this happens a lot, don't worry). There's an elevator going up from the 1st floor to the 22nd, and then another separate elevator on the 22nd floor going from the 22nd to the 26th and 27th.
PRICE: FREE!
9. Spend the day in Downtown LA's Art District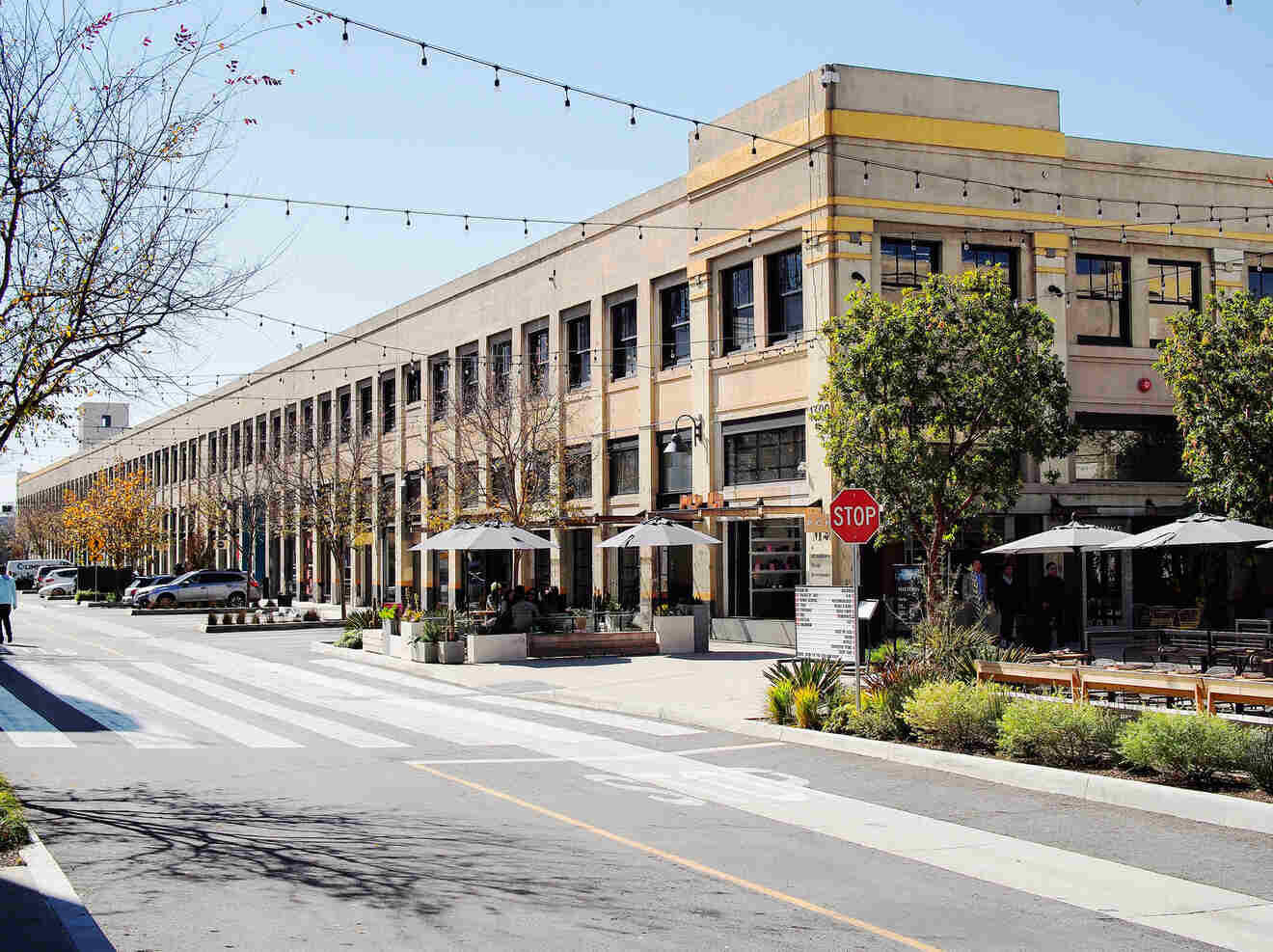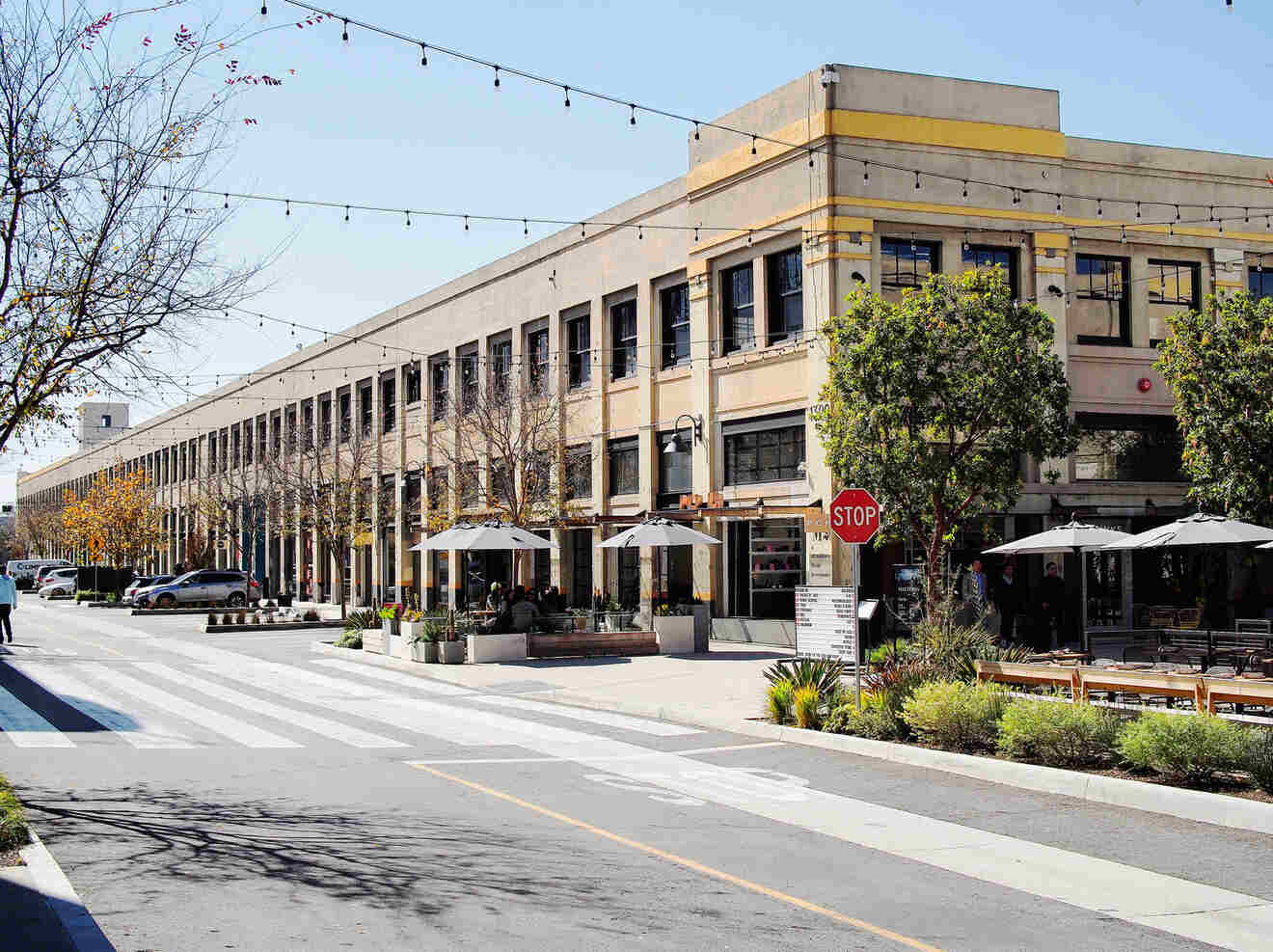 The Art District is the go-to hub for creatives, breweries, shops, galleries, and more! There's SO much to do here, and it's a great spot to find local Los Angeles eateries (and avoid the large tourist crowds).
You can start your day off by grabbing breakfast at Zinc Cafe & Market and heading over to Art Share LA for a walk around the most diverse exhibit you'll find in the Los Angeles area.
Here, you'll see an art gallery, a ceramics studio, a theater, classrooms, and residences all centered around inclusivity, meaning you'll find art pieces from up-and-coming artists and established artists in LA.
Then, I recommend checking out Le Labo for a unique perfume-picking experience and ending the day at a local brewery, Angel City Brewery, for old-world craft brewing that's been around since 1997. You can even play board games while you're here, so it's great for groups and couples!
NOTE: Rather have a tour guide show you around? Book this tour to explore other hotspots around the Arts District!
TOUR PRICE: US$50
10. Admire 1920s architecture at the historic Central Library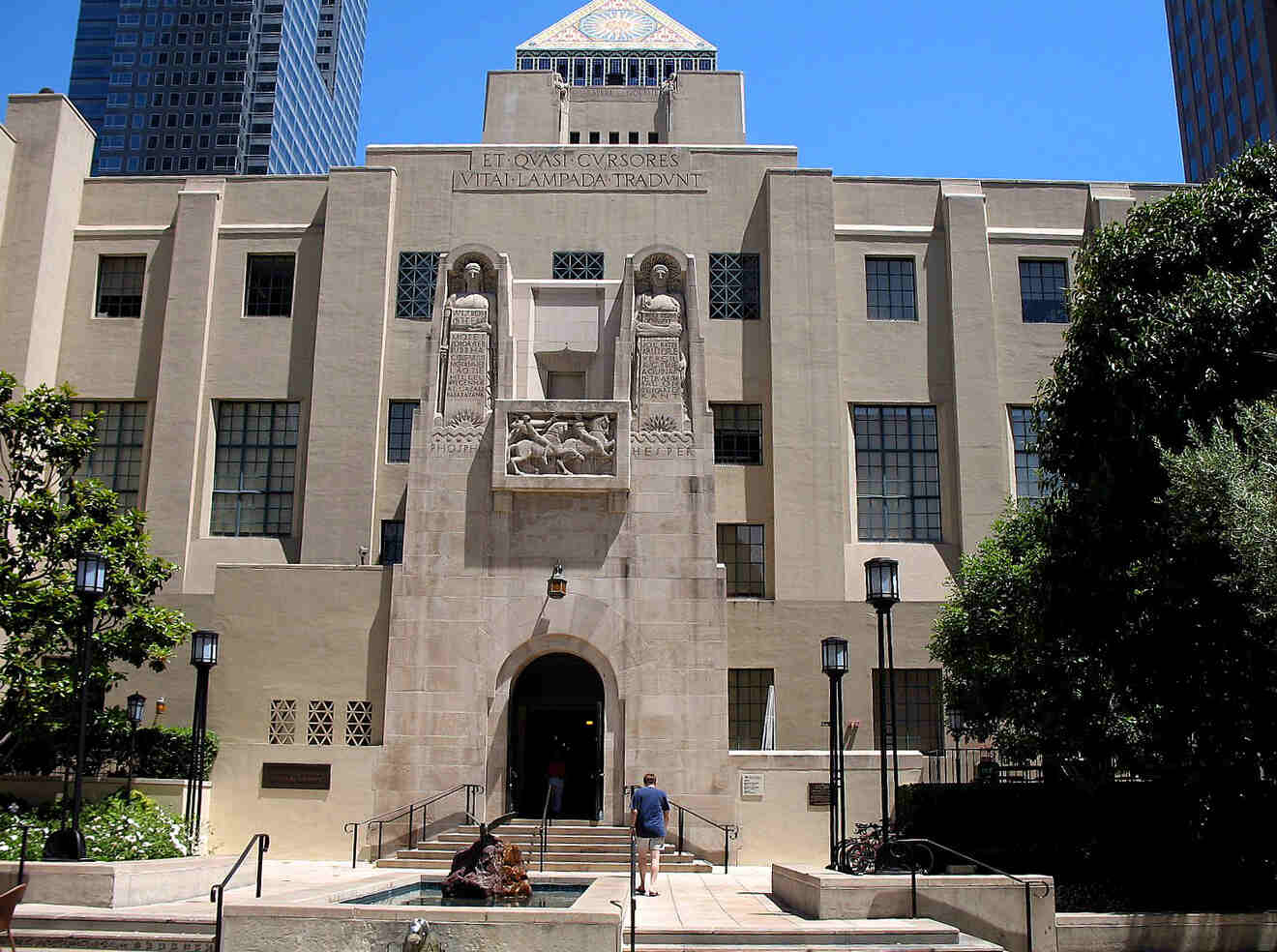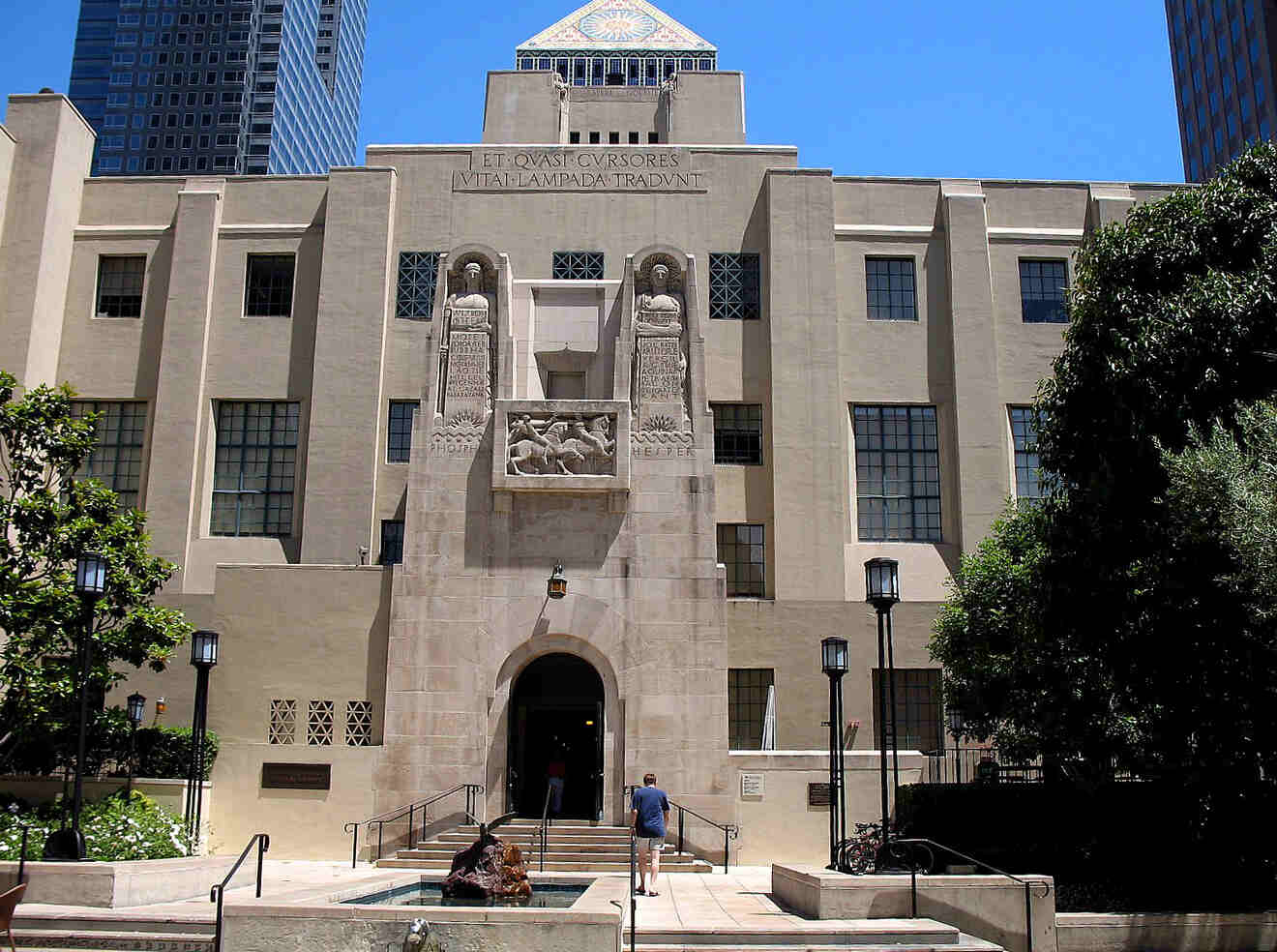 Downtown Los Angeles' historic public Los Angeles Central Library is a real architectural gem in LA! It has whimsical chandeliers and 8-stories to explore unique, comprehensive book collections from all over the world.
The library actually offers free hour-long tours for visitors interested in learning more! This is a great opportunity to take advantage of! (See here for more info on tour times!)
The Los Angeles public library also hosts online and in-person classes throughout the week that are free and available for anyone that wants to sign up. I recommend checking the library's schedule here and dropping in to check it out!
After your trip to the library, I recommend keeping the theme going and taking a visit to the Library Bar across the street! This is a darker-aesthetic bar offering handcrafted cocktails & small bites in a cozy setting, with walls lined with vintage books and leather couches.
If you're interested in taking a look at all of Downtown Los Angeles' stunning architecture, I recommend checking out this 2-hour walking tour to get a taste of what Downtown LA has to offer.
11. See the splendid Union Station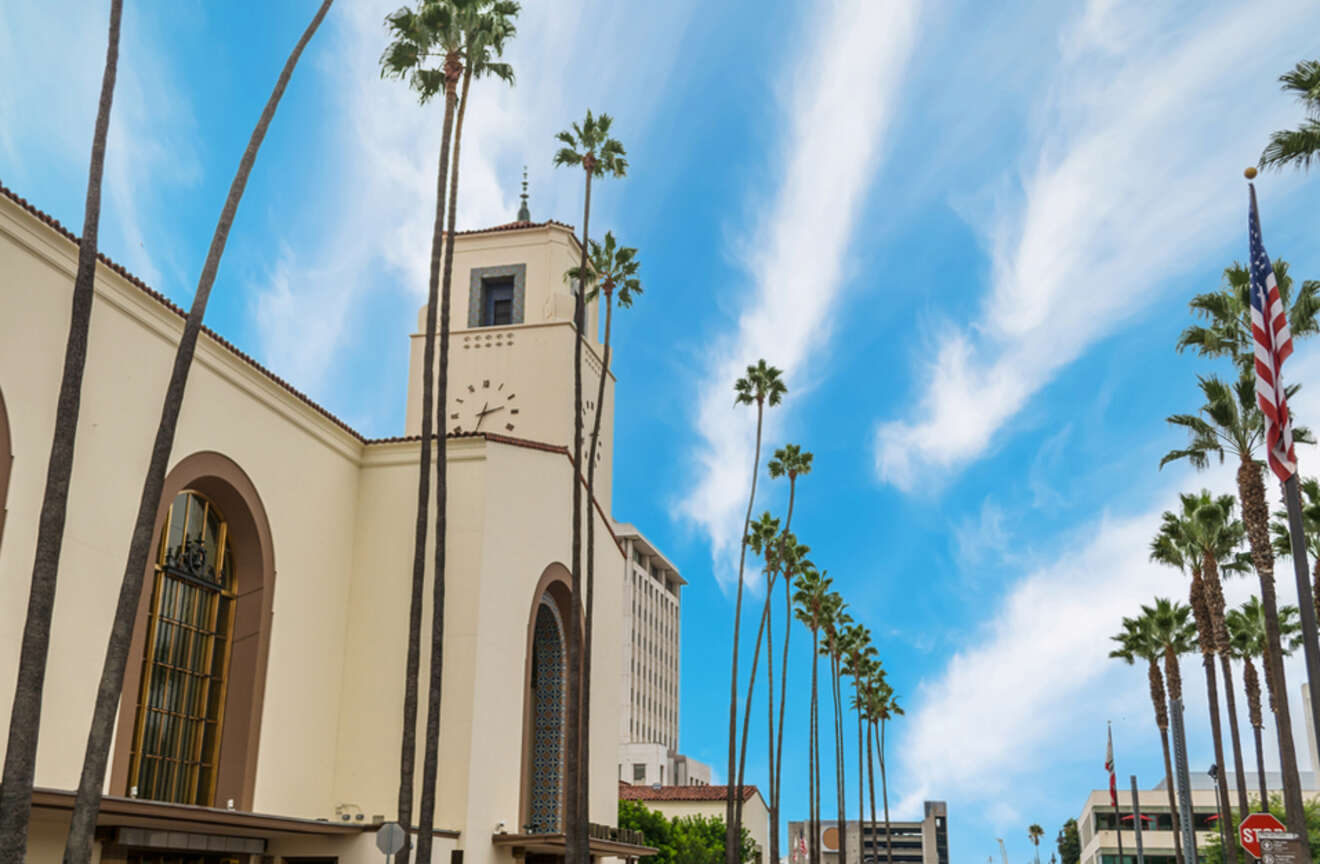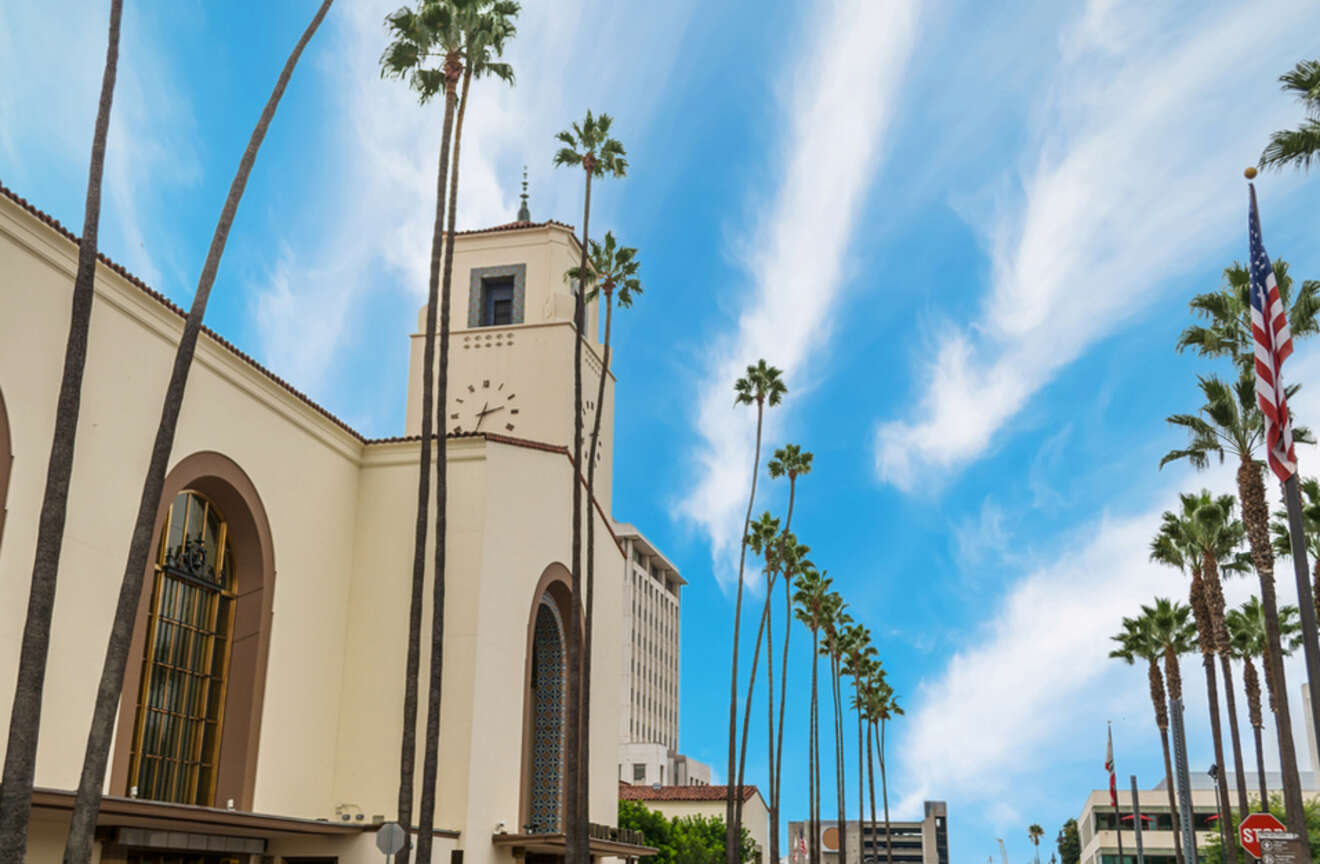 Located in the heart of LA (on Alameda St.), Union Station is a spectacular gateway to some of the best locations in all of California and within Los Angeles City. Public transportation in LA isn't very dependable, but the train is definitely a novelty.
The Los Angeles train station is also another stunning piece of architecture in LA and offers culture and pieces of history. It's almost like a mini free museum on the inside when you first walk in!
Events are also held at Union Station throughout the year, so make sure to plan ahead and check the website here for current happenings at Union Station.
There are a few Amtrak routes I recommend trying out from Union Station if you're looking to explore different cities:
Pacific Surfliner: The most scenic route going from LA to San Luis Obispo and Santa Barbara, or down to San Diego, which I 100% recommend checking out for views of the ocean!
12. Indulge in noodles and boba at Little Tokyo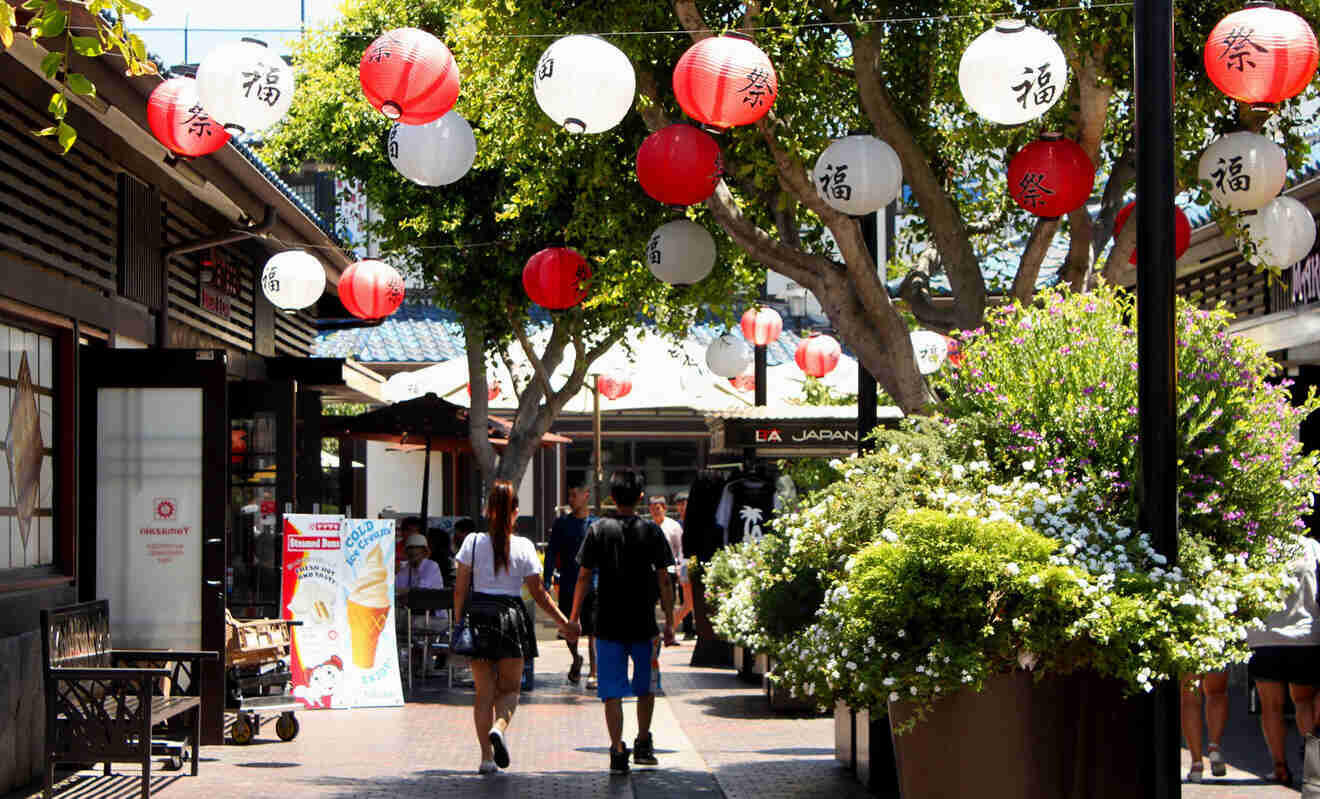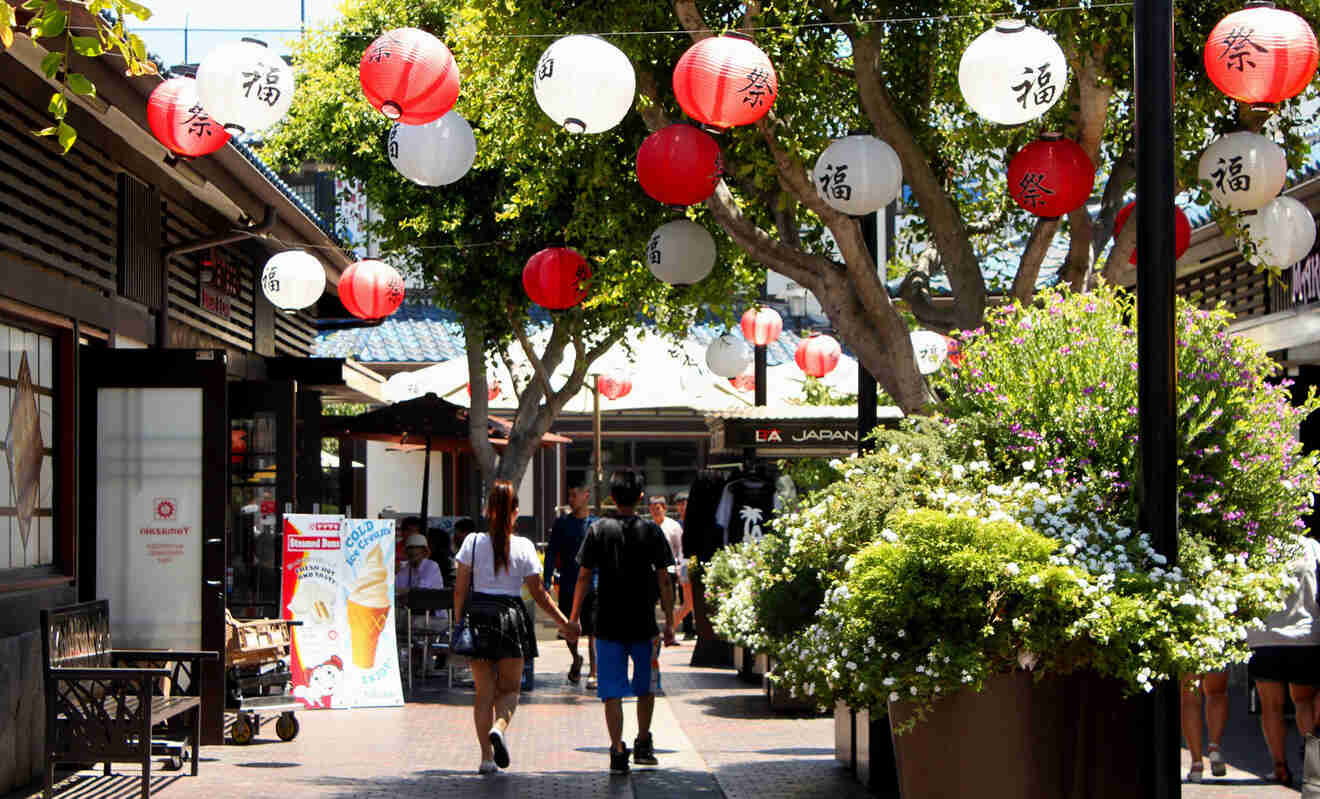 Little Tokyo is one of the 3 remaining Japantowns in the US and the oldest town in Los Angeles, being over 130 years old. You'll find tons of family-run businesses running boba and tea shops, ramen spots, vintage stores, cultural centers, and so much more.
I recommend stopping by Marugame Monzo for fresh-cut udon noodles served Japanese style (this one is a super popular option) or TaNoTa Takoyaki, serving takoyaki, the most popular street food in Japan.
As for boba, stop by Gong Cha for some authentic, fresh boba drinks for your soul. My favorite is the Lychee Oolong Tea with boba… it's the perfect summer drink!
Little Tokyo is also very well-known for its annual Nisei Week festival, where Japanese cultural events, activities, and entertainment are happening all week. This is a spectacular time to visit Little Tokyo, so make sure to plan ahead and check the schedule here for the annual dates.
13. Watch a live performance at the historic Orpheum Theatre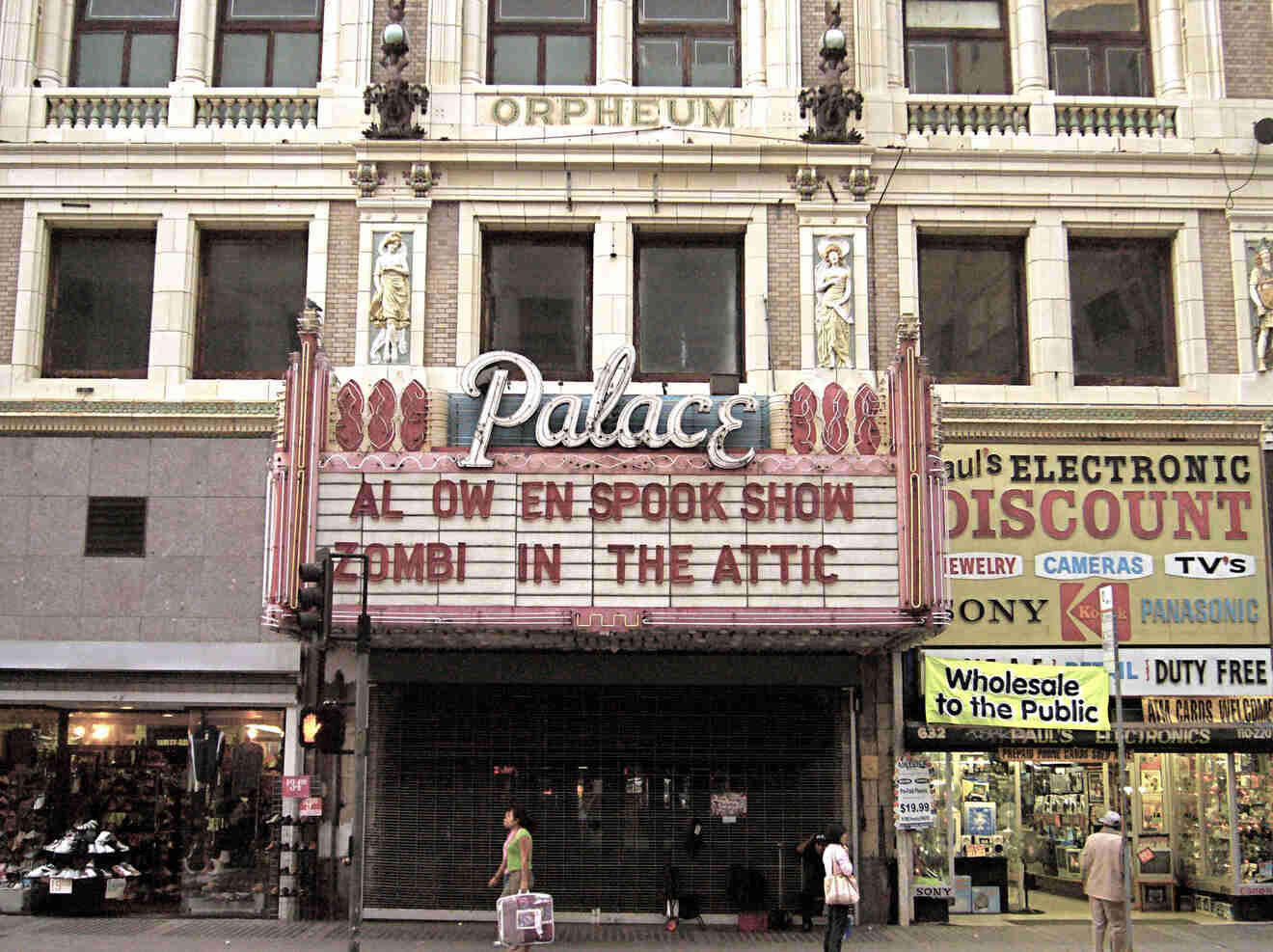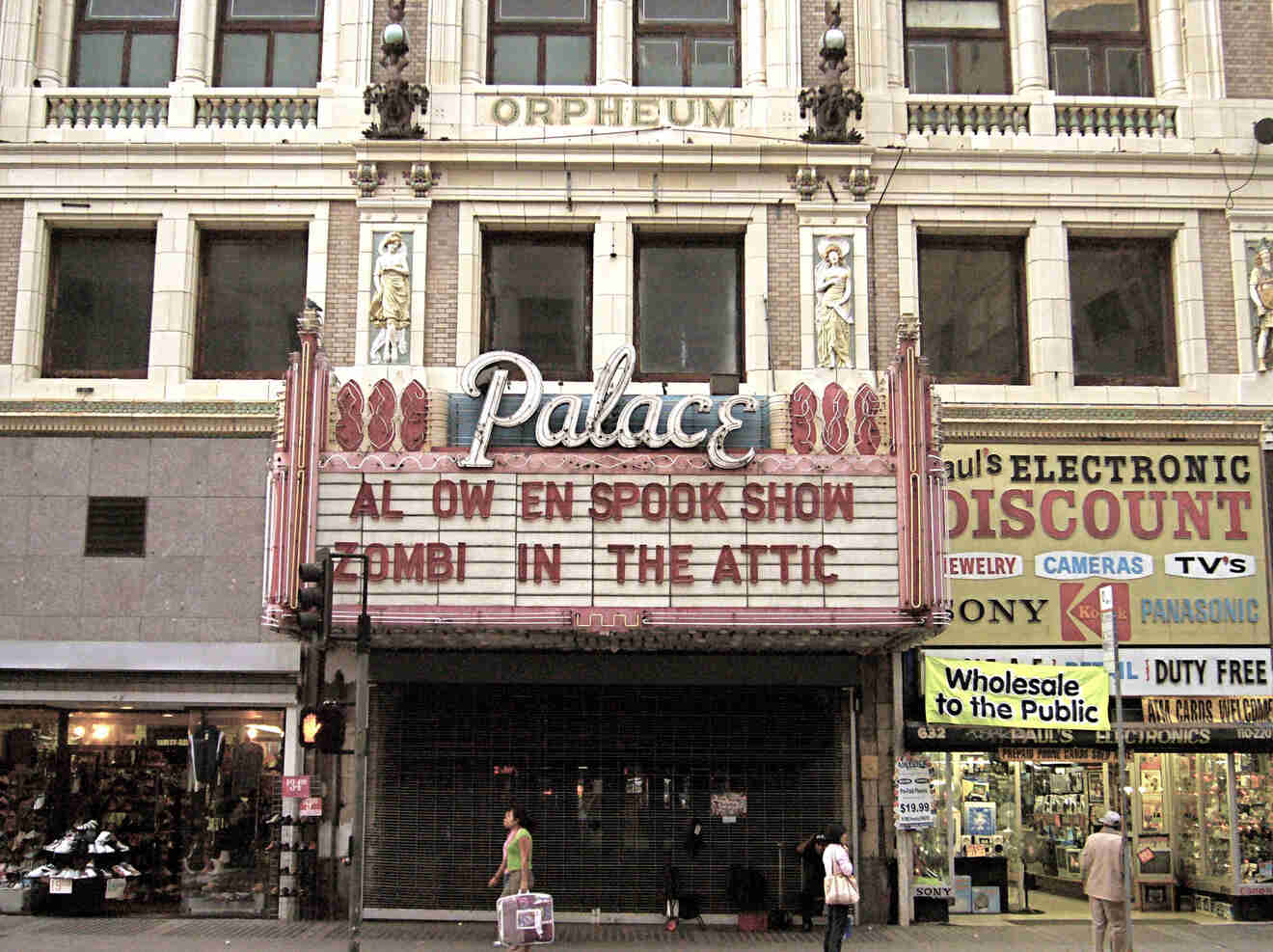 The Orpheum Theatre has been the hotspot for all of Los Angeles' most entertaining live shows for over 80 years. (If you're a New Yorker – you can think of this as the Broadway of LA)
There are shows running a few times a week, which are so much fun to watch, especially as a chance of pace if you're exploring LA for a few days. It's nice to just sit and relax with some good ol' fashion live entertainment.
Tickets are sold at the box office, but I recommend booking through Ticketmaster to avoid any technical complications and to have the flexibility to buy tickets 24/7, versus within the complicated box office hours (Wednesdays from 10 AM to 5 PM and one hour before showtime on show days).
The shows are always interchanging, so I recommend checking out what is currently playing and booking in advance!
PRO TIP: Dress the part while you're here! Similarly to Disney Hall, I recommend dressing in business casual attire to blend in!
14. Take a stroll down Olvera Street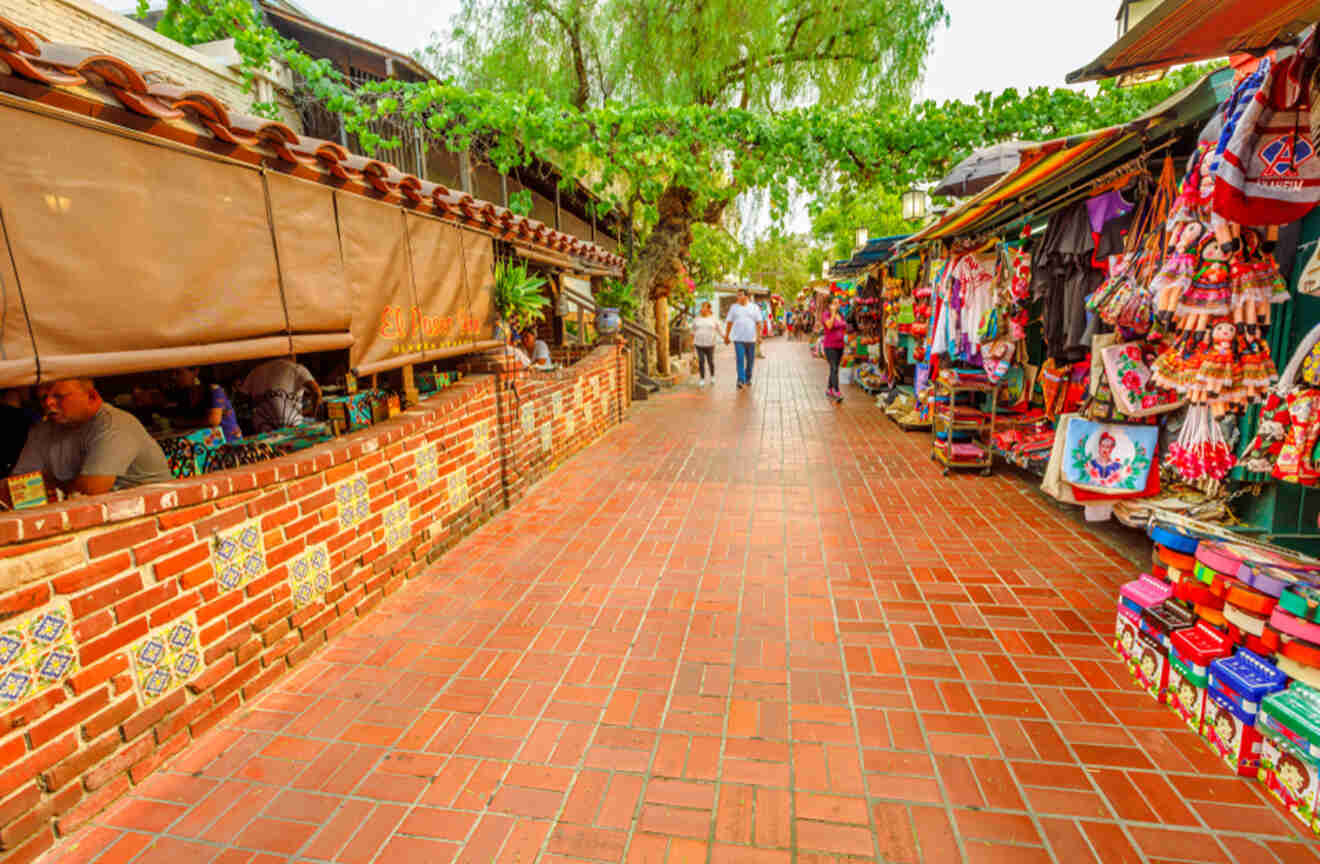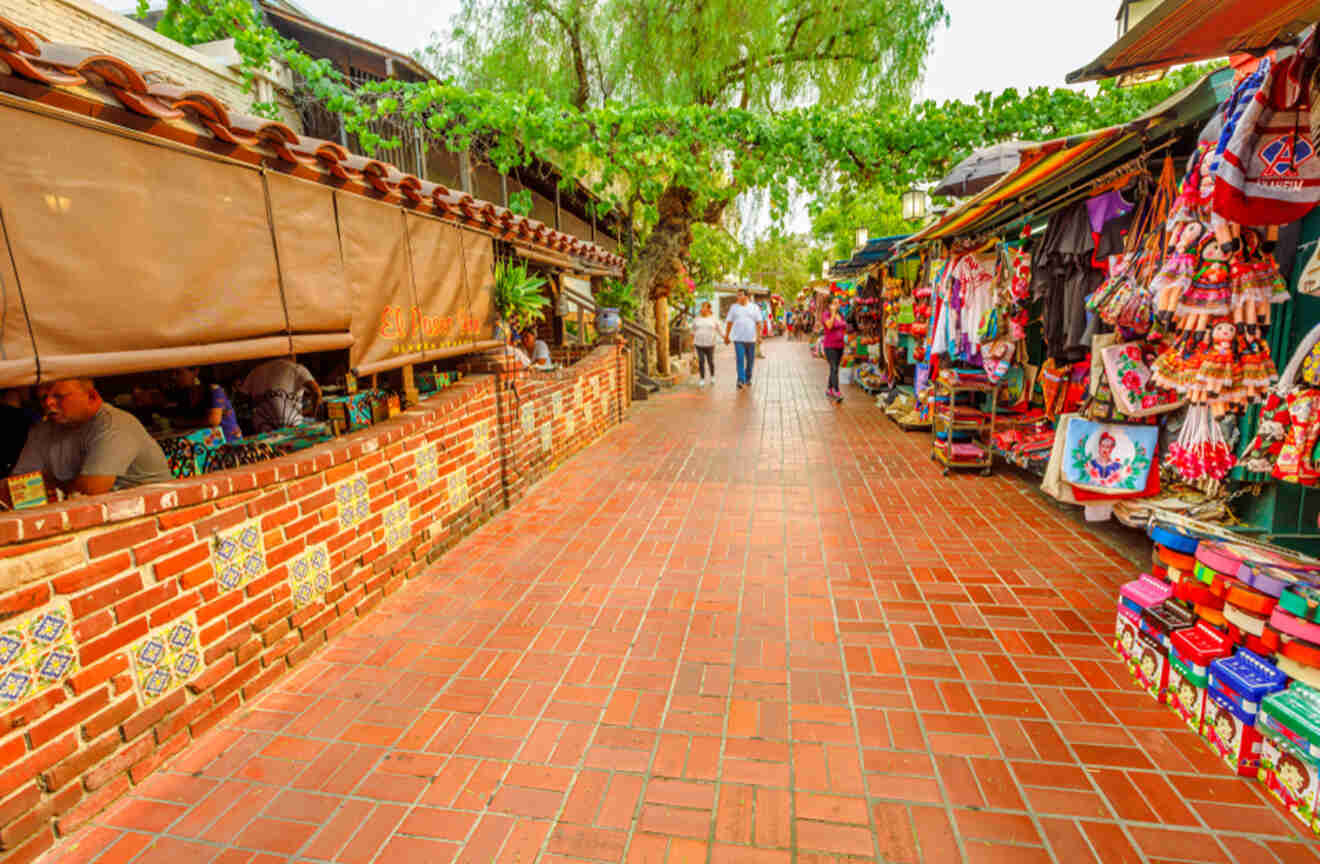 Olvera Street is known for its culture and historic core, being the oldest part of Downtown Los Angeles. Today, the historical park is a colorful Mexican marketplace offering things like handcrafted goods, Mexican street art, and food market trucks offering delicious food (like taquitos and tacos).
The street is covered with 27 historical buildings, traditional music, and Mexican and Aztec dancers performing on the weekends.
While tourist attractions like the Hollywood Sign and Hollywood Walk of Fame are fascinating and very popular, there's a long history in Los Angeles that I recommend indulging in. Olvera Street in Downtown LA takes you back in time, helping you better understand the roots of this city.
The street holds an annual event from December 16th to 24th at 5:30 PM, called Las Posadas. It's Los Angeles' oldest Christmas event, and everyone is invited to the free event! The songs are performed in English and Spanish!
PRO TIP: Don't shy away from trying new Mexican food! SoCal is known for its amazing Mexican food, so I couldn't recommend it enough!
15. Explore all of Downtown LA's rooftop bars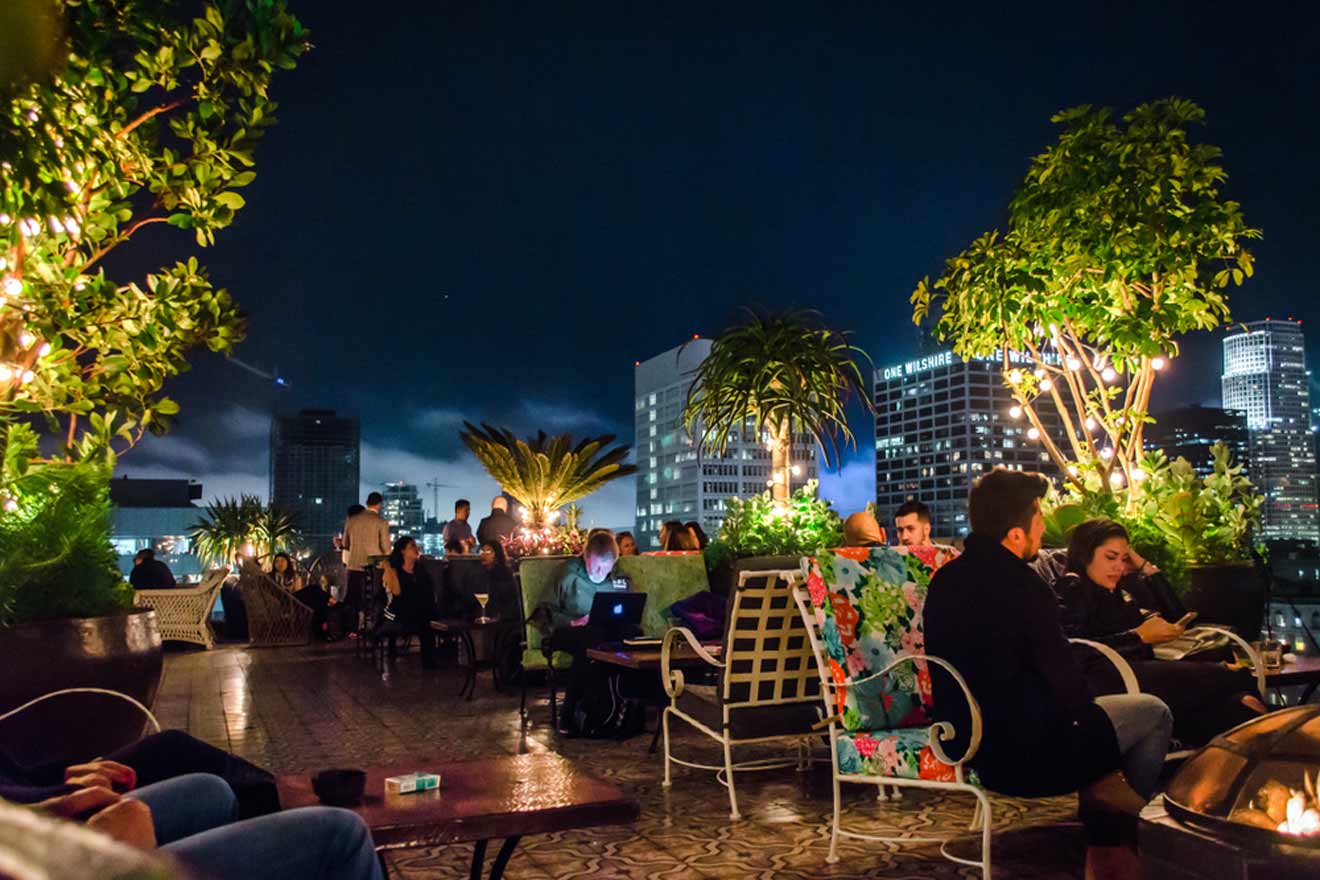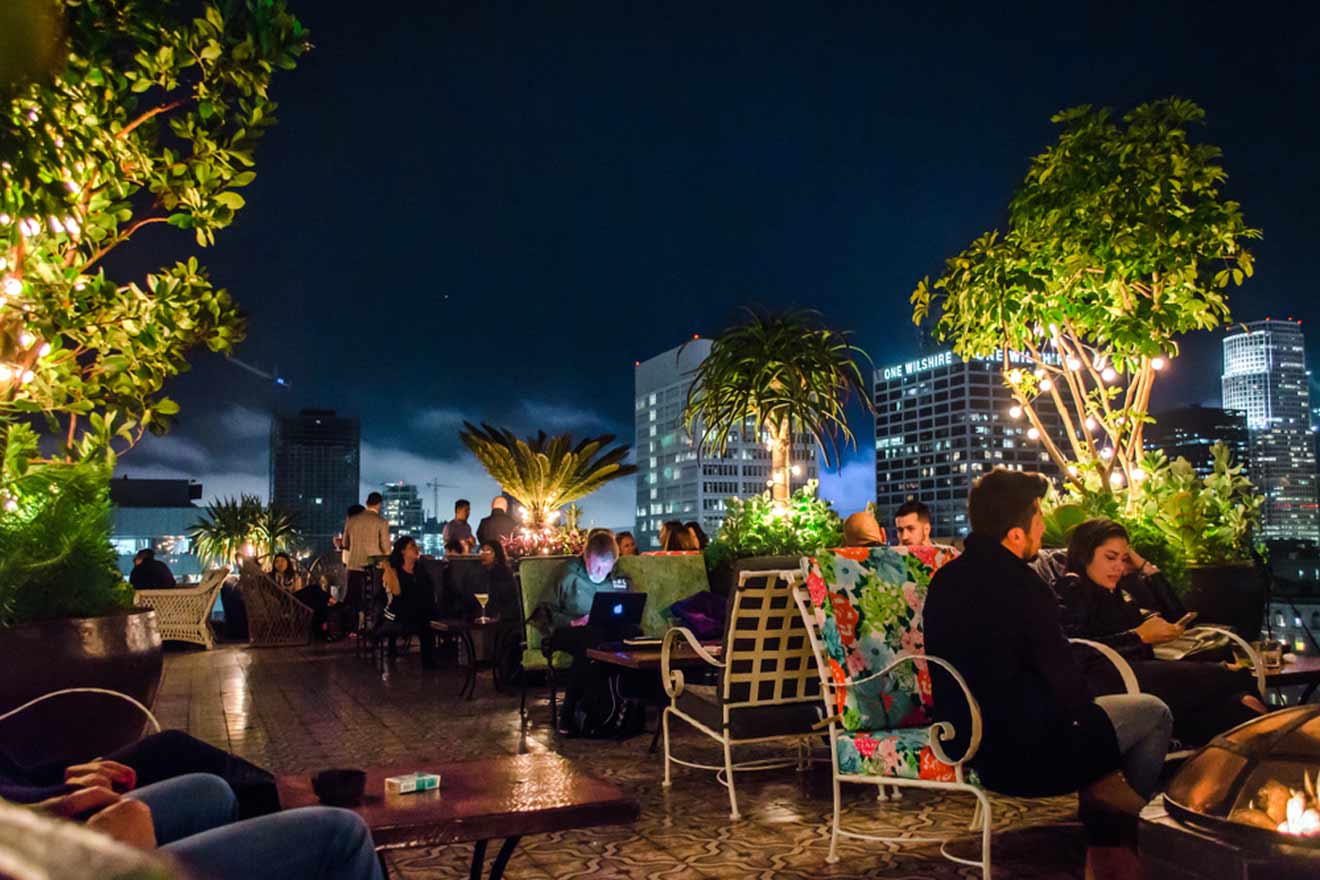 Downtown LA is no stranger to fun rooftop bars. You either get beautiful views of the entire city or find that you're sitting among the skyscrapers. Either way, it's an experience I recommend every traveler coming to a city like Downtown LA experiences at least for 1 night.
Here are 2 great rooftop bars I recommend checking out in Downtown LA:
Spire 73 is on the 73rd floor of InterContinental Los Angeles, being the highest rooftop in all of the Western hemisphere! Being on the tallest building for a rooftop bar and having an observation deck, you can only imagine the kind of views it offers. Quite literally – one of the best in the world! This is highly popular in LA, so book your reservations in advance!
Perch is a rooftop bar offering stunning views of the city lights, along with a bistro and drinks, making it a convenient place to both eat and drink. There's a very chill, European-inspired atmosphere here that is unmatched at any other rooftop bar in LA. This is one of my all-time favorites!
NOTE: If you're not a fan of rooftop bars and would rather party like a rockstar when in LA, I recommend joining this awesome Club Crawl tour. Here, you'll get the full nightlife experience for a few hours and meet new people along the way. The best part of traveling!
16. Ride The World's Shortest Railway: Angels Flight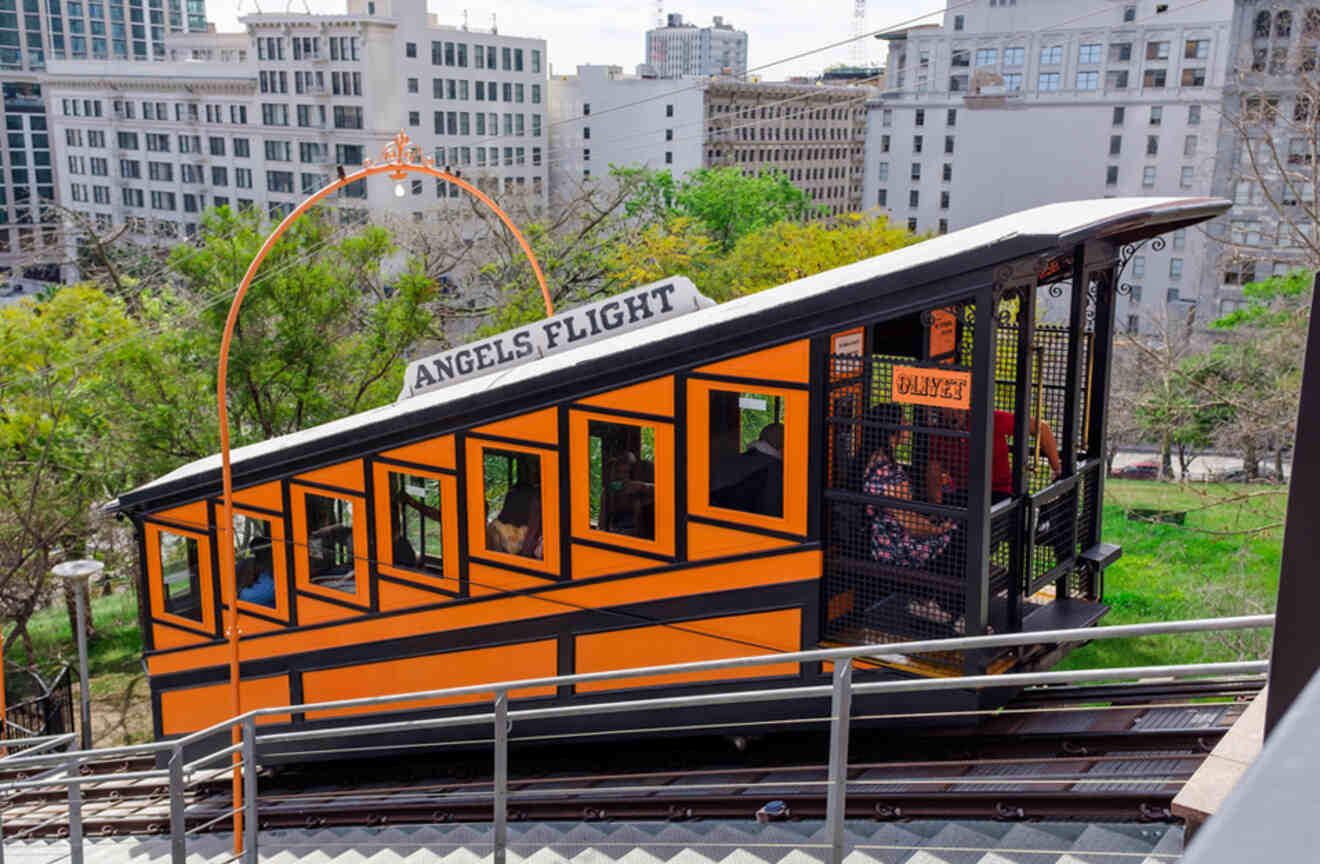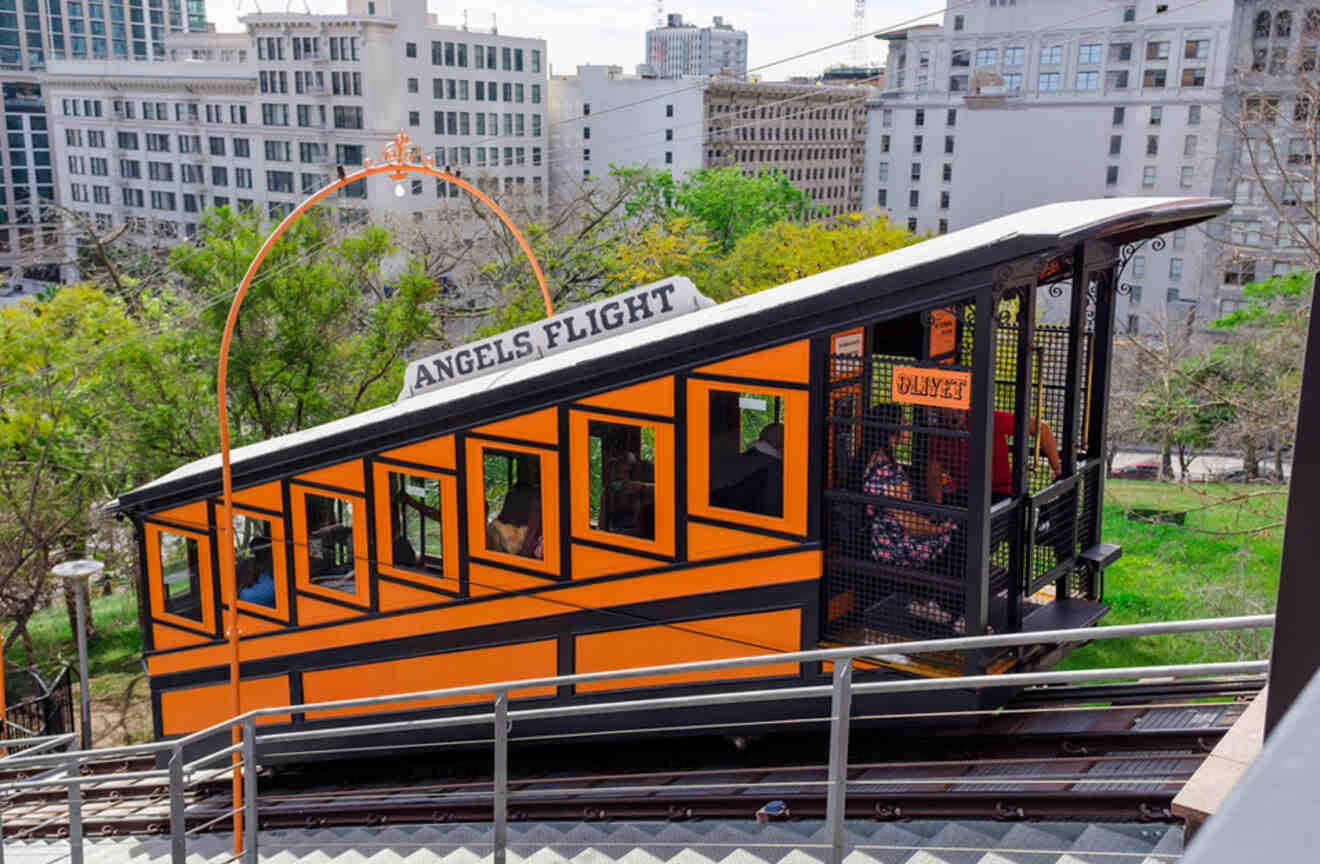 You've probably seen Angels Flight Railway in dozens of Hollywood movies: La La Land, The Muppets, and more.
Angels Flight Railway, also known as "The World's Shortest Railway", is one of LA's most iconic landmarks. It's a short cable railway built on a hillside in Downtown Los Angeles, taking passengers from Hill Street to Grand Avenue, being about 300 feet (91 meters) in total.
It's hard to miss this old historical landmark and totally worth checking out when you're in the Grand Central Market area. It connects the market to the Water Court shopping mall at the top, so you can easily incorporate it into your day in Downtown LA.
Angels Flight Railway is open daily from 6:45 AM to 10 PM. No need to book in advance, just pop in and buy tickets when you arrive!
PRICE: US$1/one way ticket, US$2/round-trip ticket (that you can keep as a souvenir), and $.50 if you have LA's Metro TAP card!
17. Experience the Chinese culture in Chinatown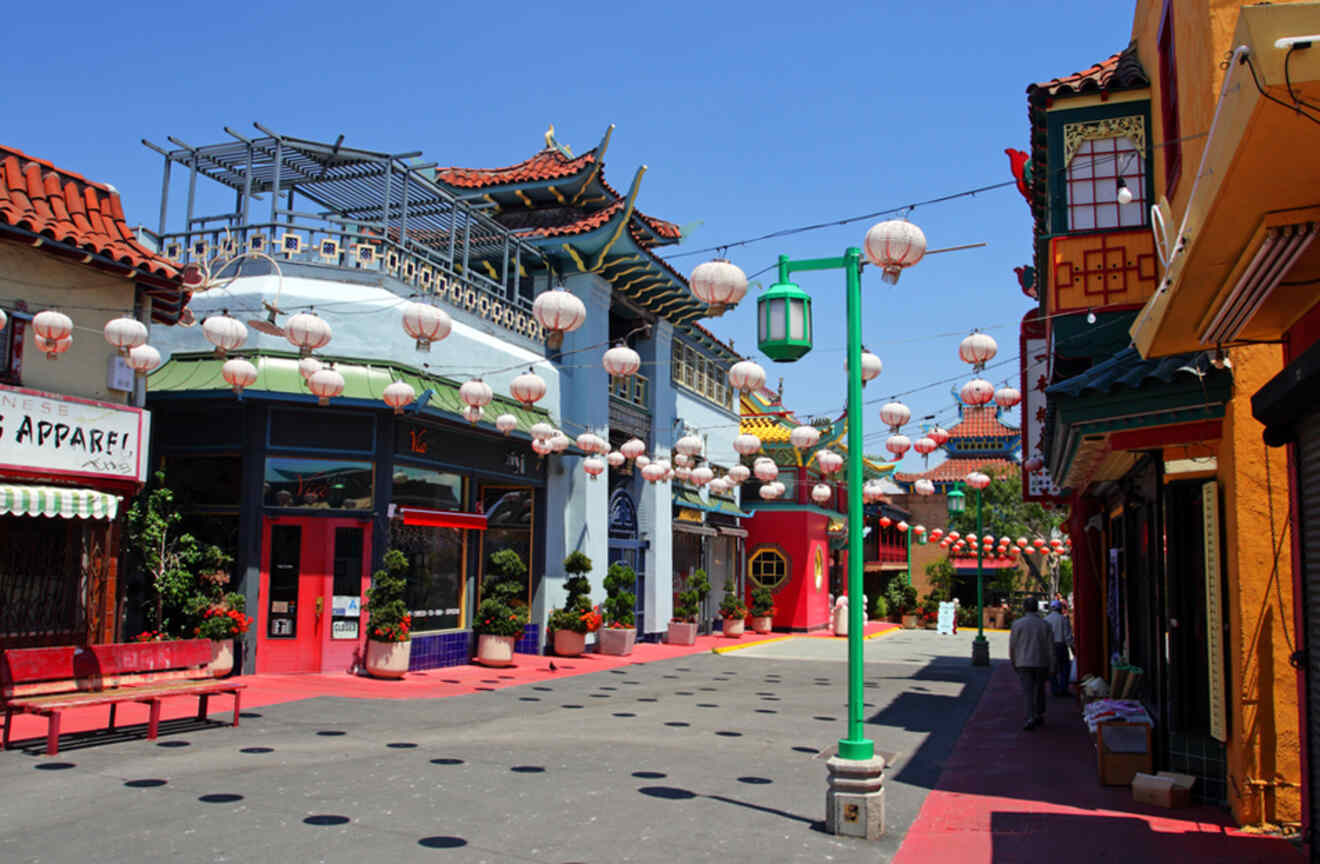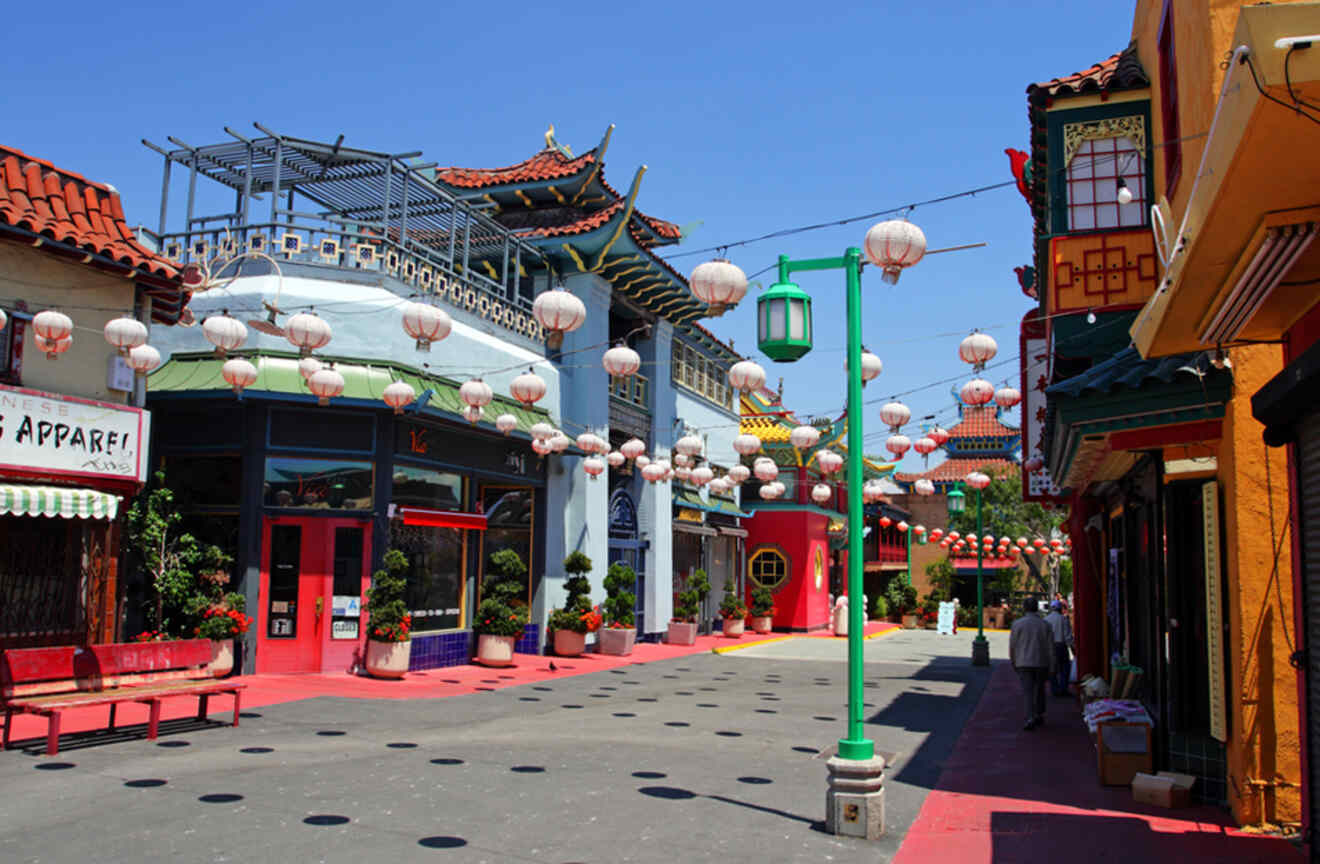 This is one of the best ways to get out of the hectic LA city and immerse yourself into a different culture without actually leaving!
Chinatown is super well-known as a vibrant community of culture, community, fun shops and restaurants, and a place for tourists to explore.
The town holds annual events like Chinese New Year, Moon Festival and others to celebrate Chinese culture and give others in the LA area a chance to join.
NOTE: Most Chinatown businesses are open daily between 10 AM to 6 PM. Check out Foo-Chow for the absolute best Chinese dining destination in Chinatown!
FAQs about things to do in Downtown LA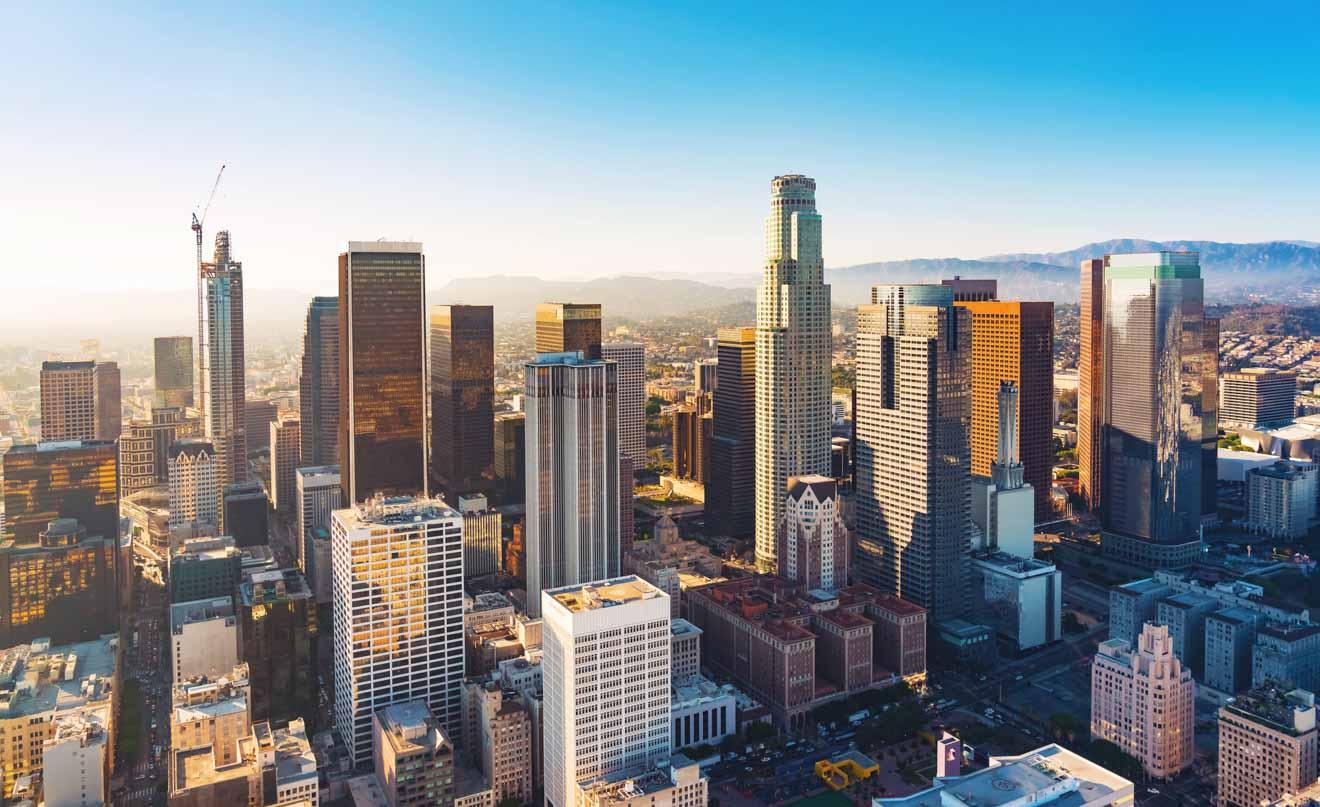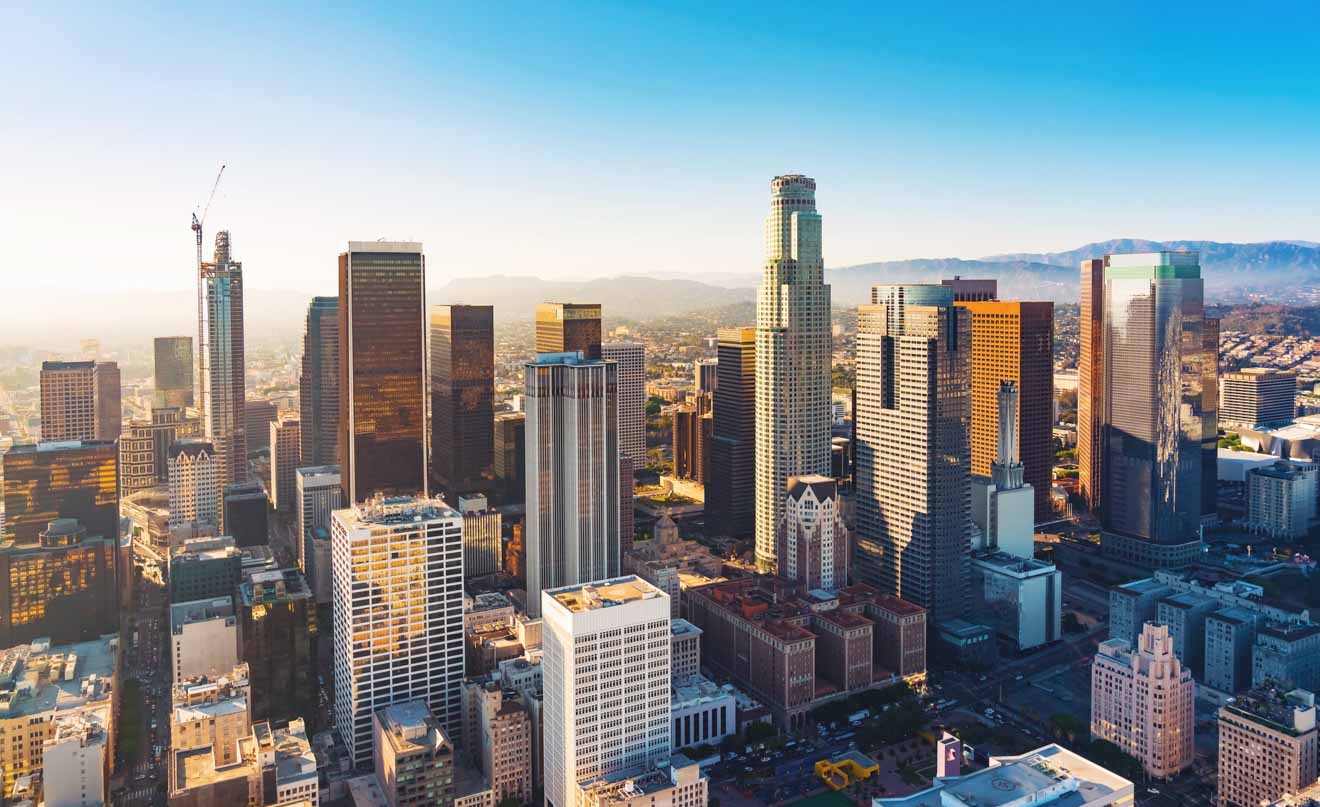 🤪 What are a few of the coolest things to do in Downtown LA?
The coolest things to do in Downtown LA are visiting the GRAMMY Museum and The Broad. They're both so interactive and interesting, making it impossible to not have a good time.
😎 What are the most unique things to do in Downtown LA?
Explore all the historic sites, architecture and unique art all around the city! Like everything you see on this tour.
🗺️ What is the best area for things to do in Downtown LA?
Little Tokyo and The Arts District are the best areas to explore because they're both so unique with so many shops, restaurants and art museums to explore within!
🌐 What are the safest things to do in Downtown LA?
The safest things to do in Downtown LA are watching shows at the Orpheum Theatre and a visit to the Walt Disney Concert Hall. They're both fool-proof and it's hard to get into trouble while you're there!
Conclusion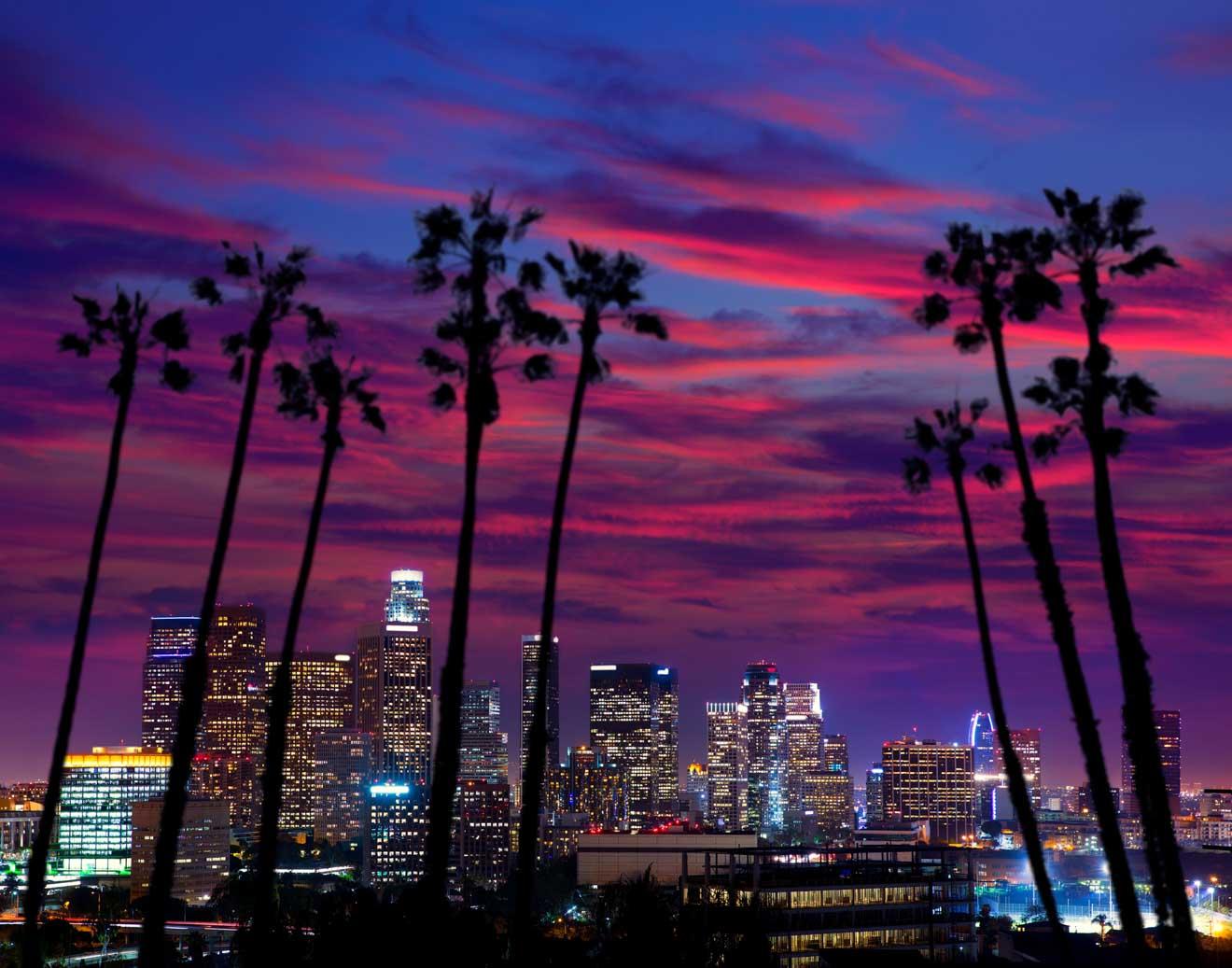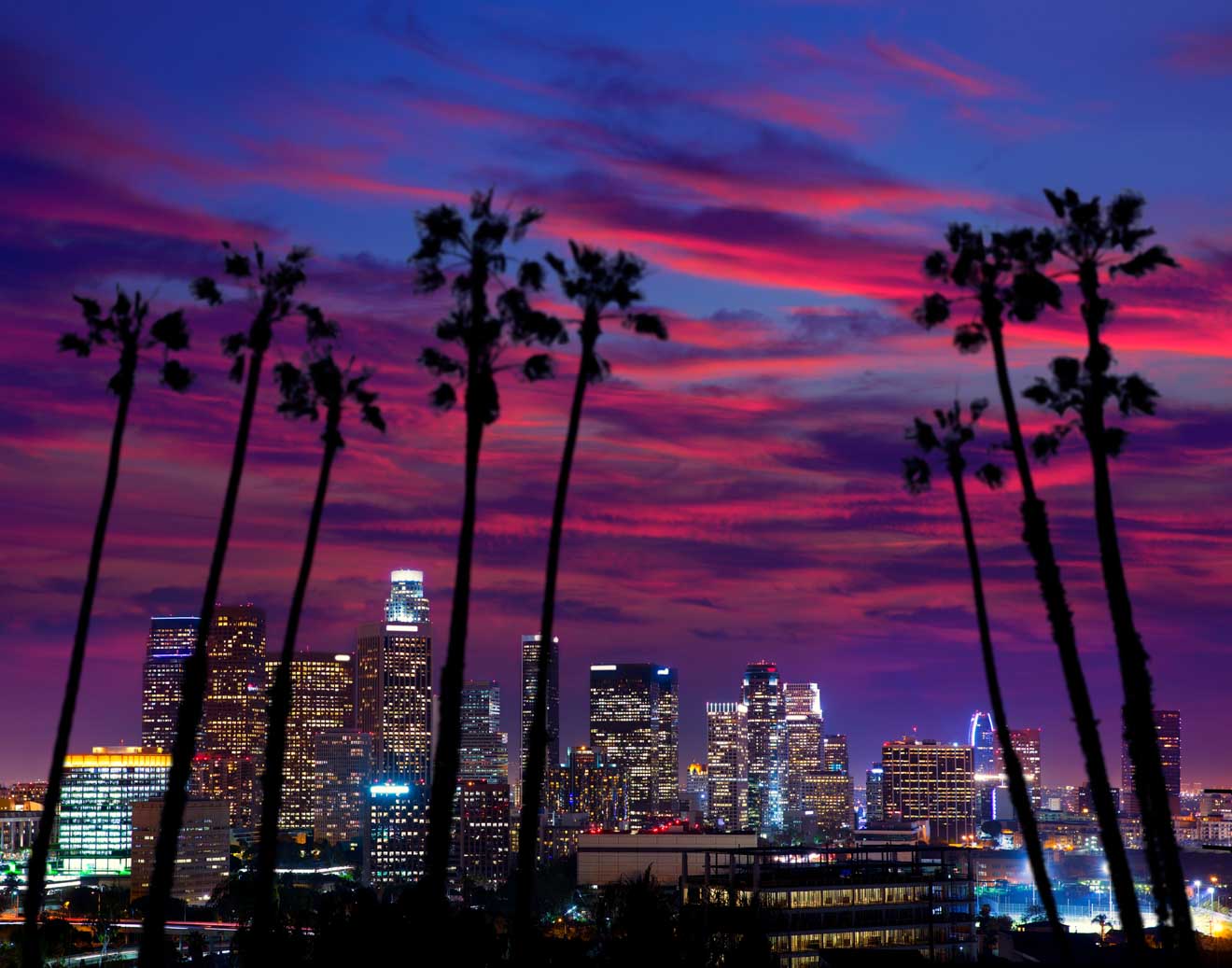 Now that you have an idea of where to go, you're officially ready to book your next trip to Downtown LA! I'm personally a huge lover of all things history and architecture so every single one of these things to do in Downtown LA on this list is a recommendation coming from the bottom of my heart.
My top 2 favorites though, have to be the Bradbury Building and The Last Bookstore. They're both so unique and vastly different from what LA is known to be. There's so much charm and history to explore in both these places!
Since there's so many options to choose from, I recommend booking an accumulative tour like this one (as far in advance as you can) where you get a taste of some of these things and more.
Safe travels! I hope you enjoy your trip to Downtown LA! If you get the chance to try any of these things, leave me a comment and let me know.
Xoxo,
Esabel S.
---
Pin it for later!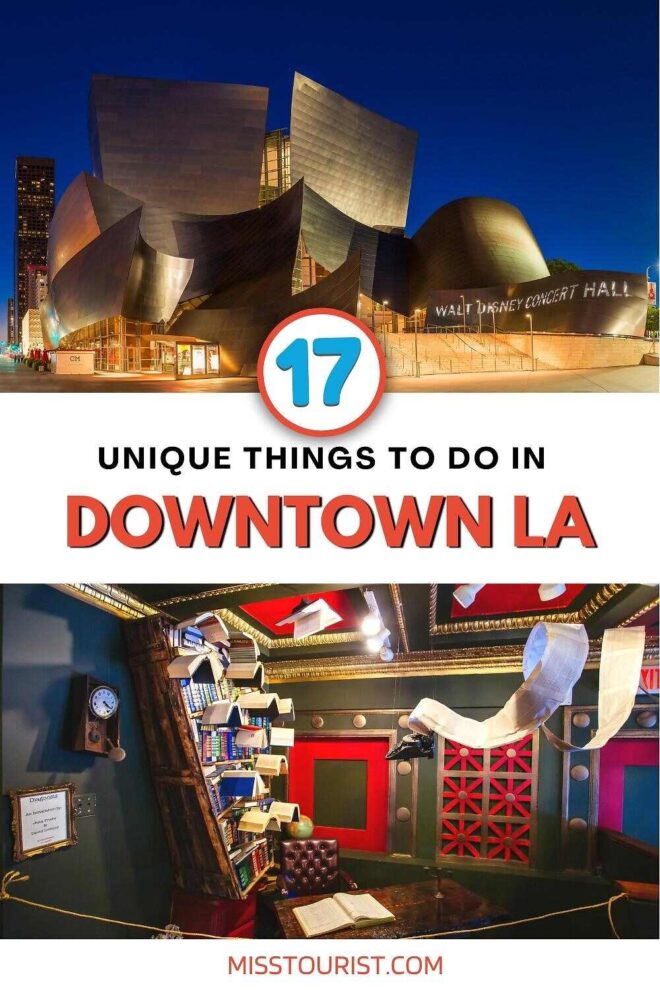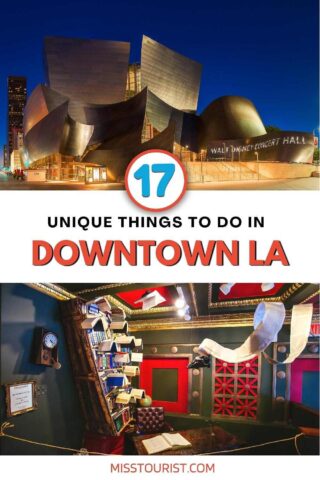 Pin it for later!