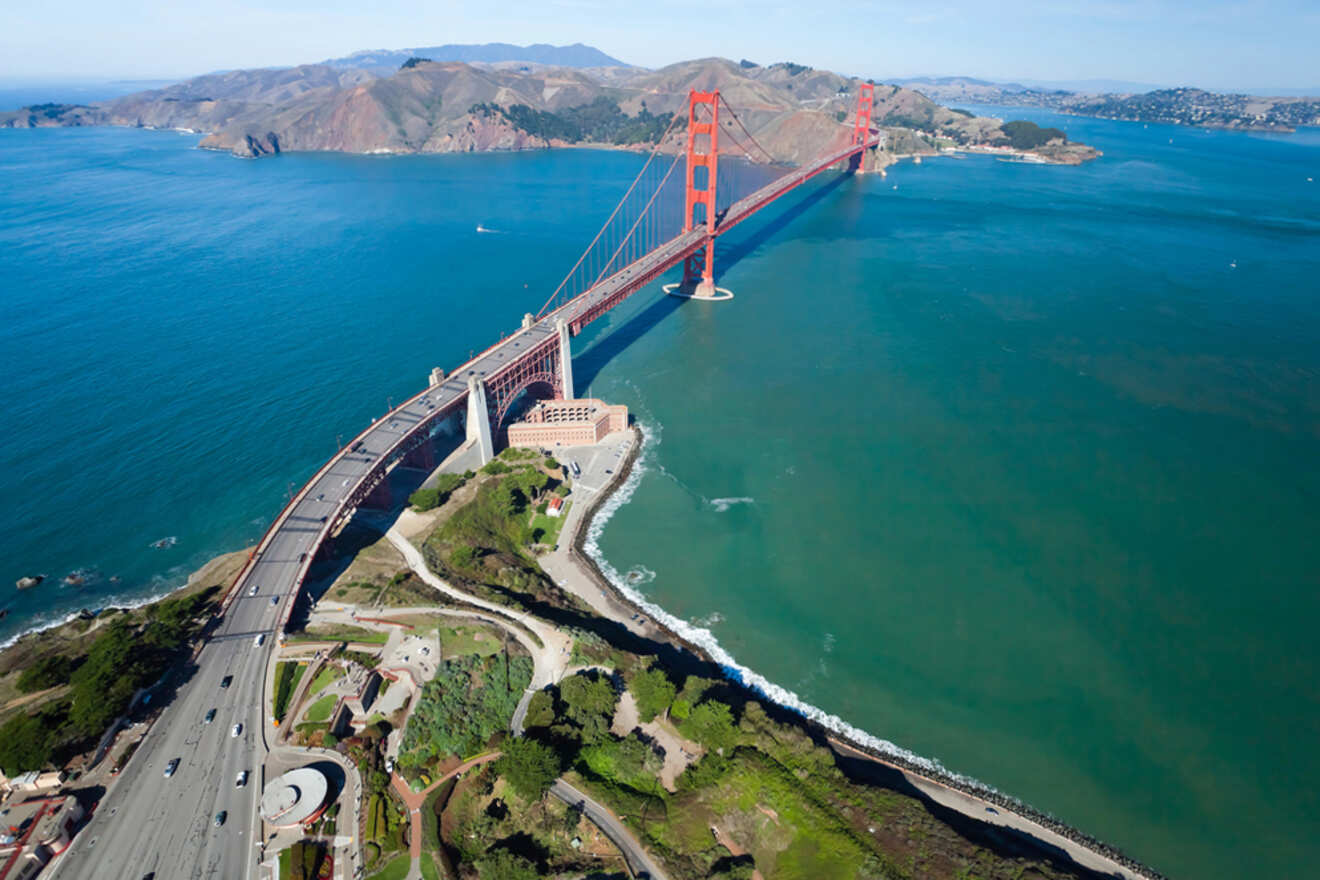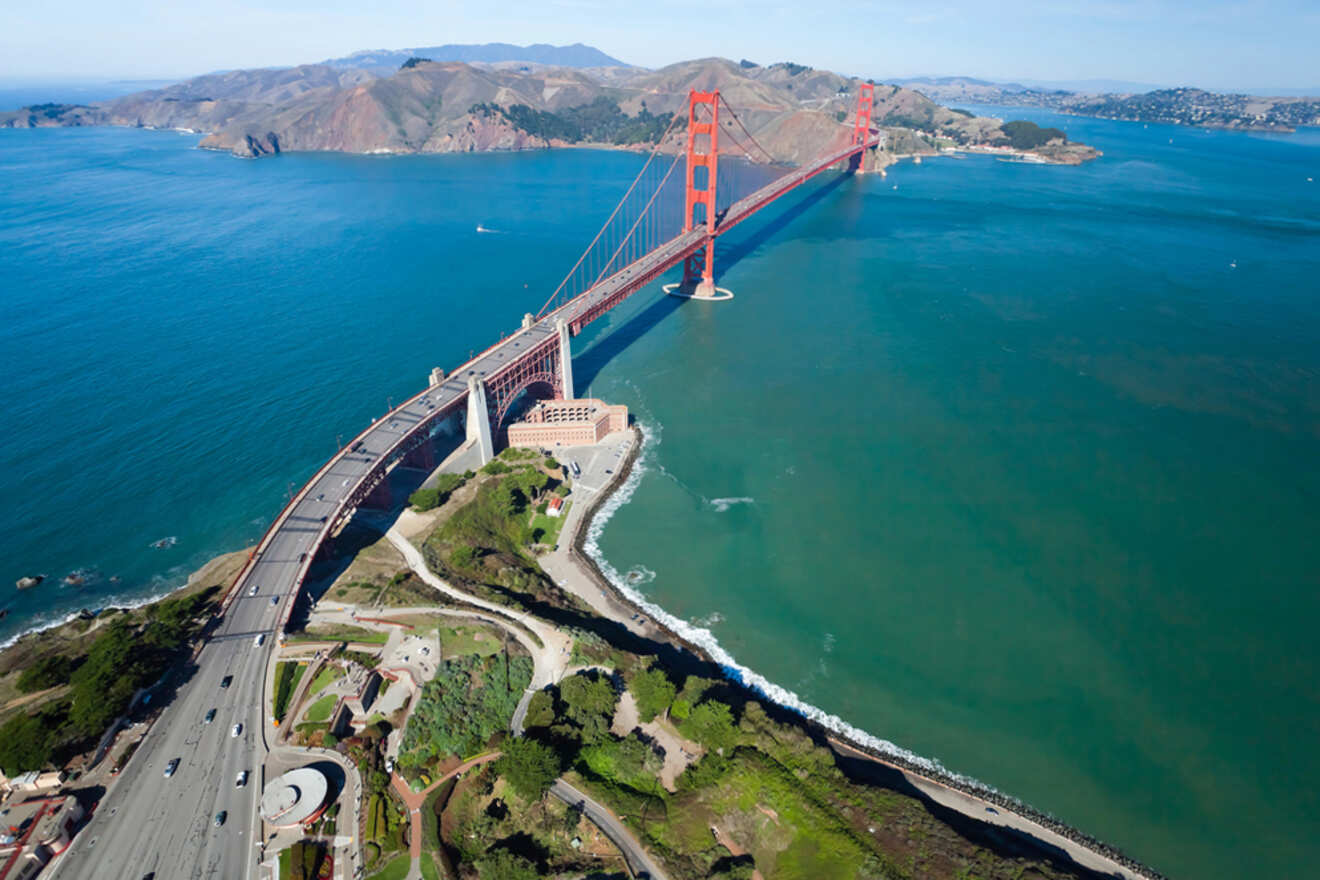 The drive from San Francisco to San Diego is hands down the most scenic route you'll ever come across in the US. I've lived in California my whole life and can't tell you how many times I've journeyed my way up to San Francisco and back down to San Diego. The scenery and amount of stops you can make along the way are truly endless. It never gets old!
In this post, I'm going to share with you 18 stops on your San Francisco to San Diego road trip and some tips and tricks along the way that make my drive down the coast that much better. With this guide, you'll be following the Pacific Coast Highway Route 1 and Route 101 for the majority of the time, with scenic views along the 560 miles (c. 900 km) ride.
A few things to keep in mind while you're reading this post are: planning ahead and booking anything in advance is going to save you a lot of time and money, and anywhere you stop on this road trip down the West Coast is going to offer stunning views so don't put too much stress on yourself and enjoy the ride!
Ready? Here we go! 🚗💨
If you are in a hurry
There's a handful of spots here that you'll need to book tickets for! Don't stress yourself out while you're already making your way down the coast, and get your tickets in advance.
Here are the main things to book in advance:
And here are the best hotels: Hotel Californian (luxury), Hofsas House Hotel (mid-range), Samesun Ocean Beach (budget)
Here's a map of all the places you'll be visiting!
1. Prepare for your journey down San Francisco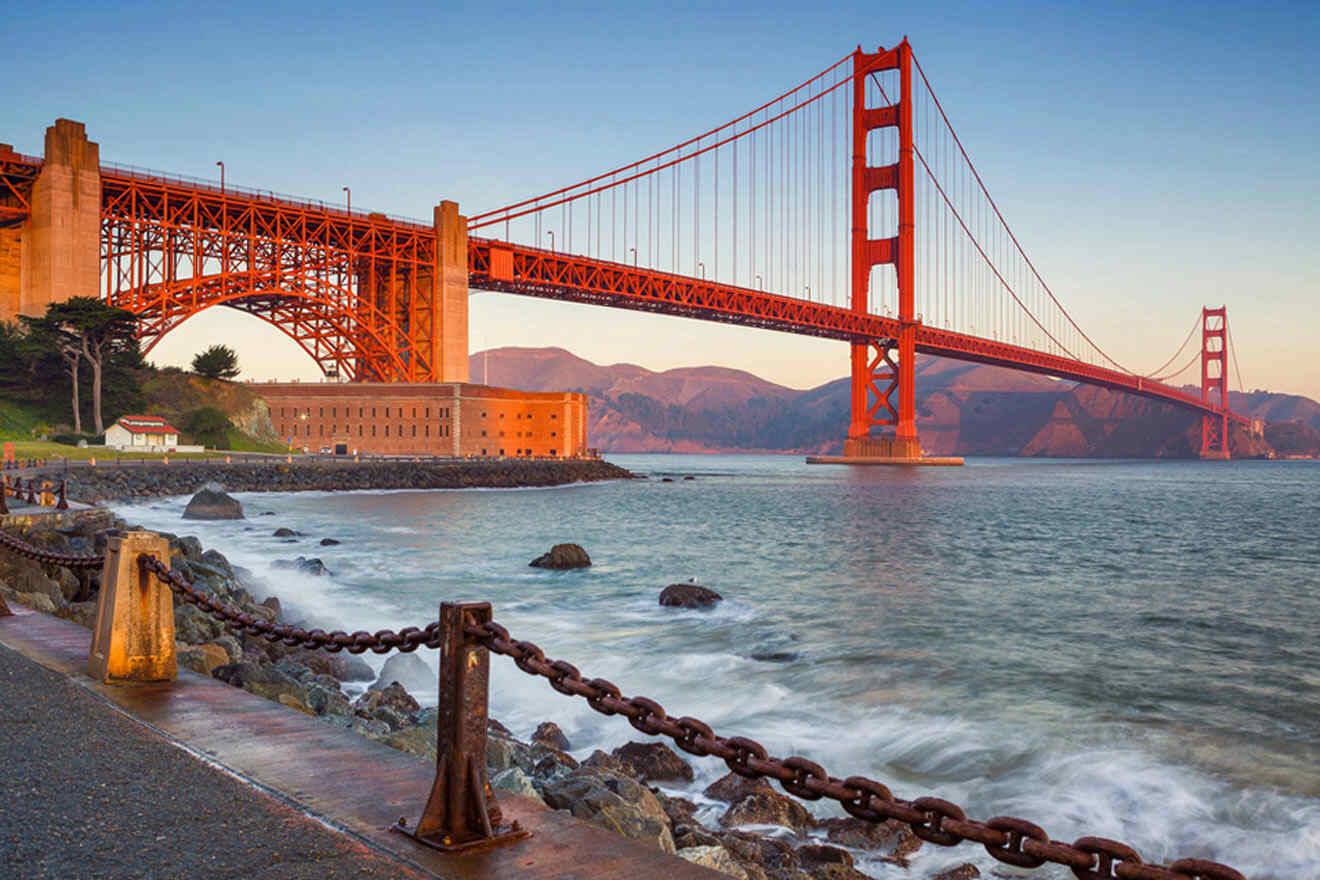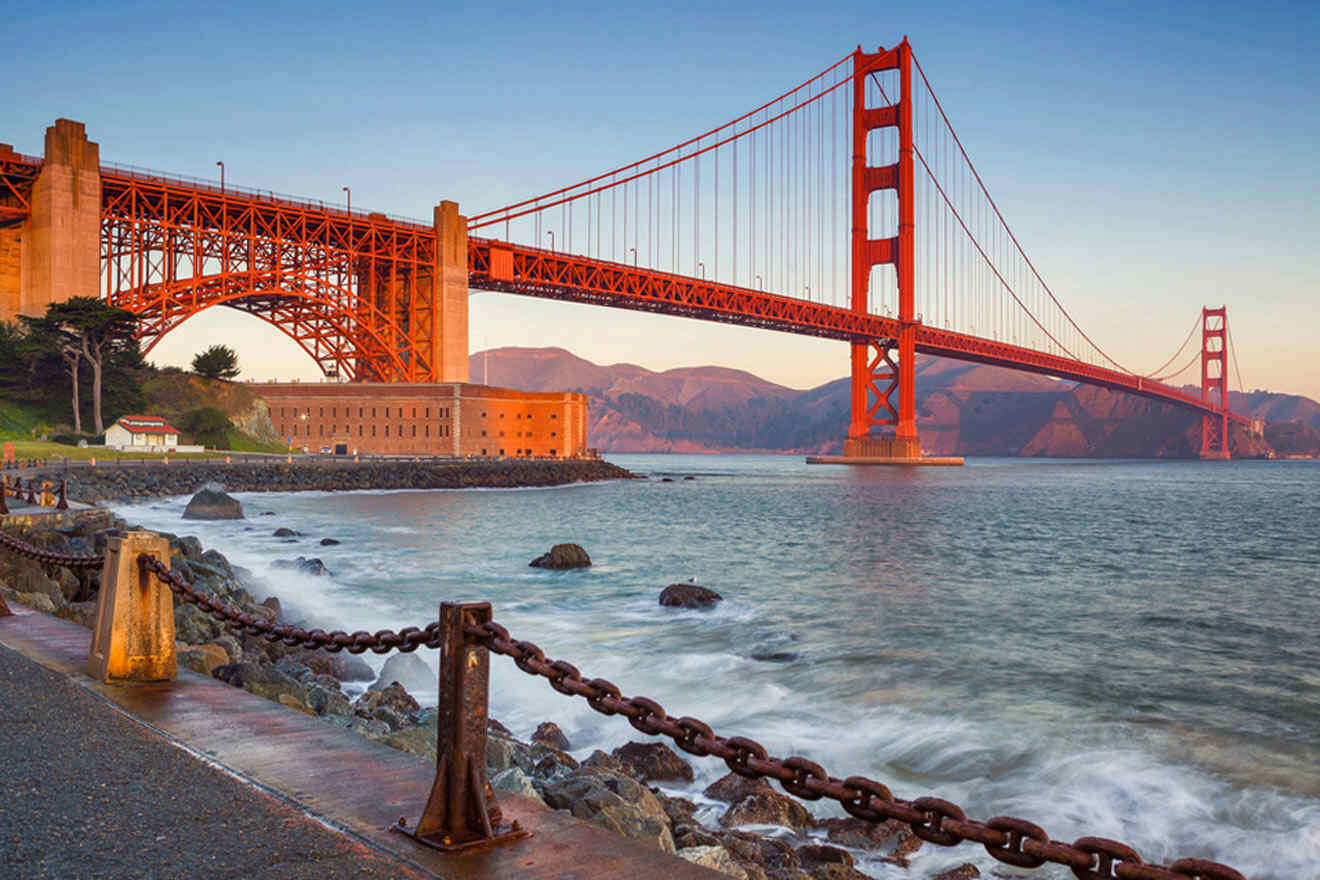 Your journey down the coast is going to start at one of California's best-known cities, San Francisco! I recommend cruising through the Golden Gate Bridge one last time and taking in the views of the San Francisco skyline before you start heading south on scenic Highway 101 and Highway 1.
But before you start your journey down south, I recommend making sure your car maintenance is up to date, your tank is filled, and you have a load of snacks to munch on. If you're using a rental, check for any damage beforehand and make sure to double-check what type of gas your car takes. This is important because if you end up damaging the car along the way, this is going to cost you some big bucks.
Here's a little checklist of items I recommend packing for your road trip:
2. First stop: Half Moon Bay State Beach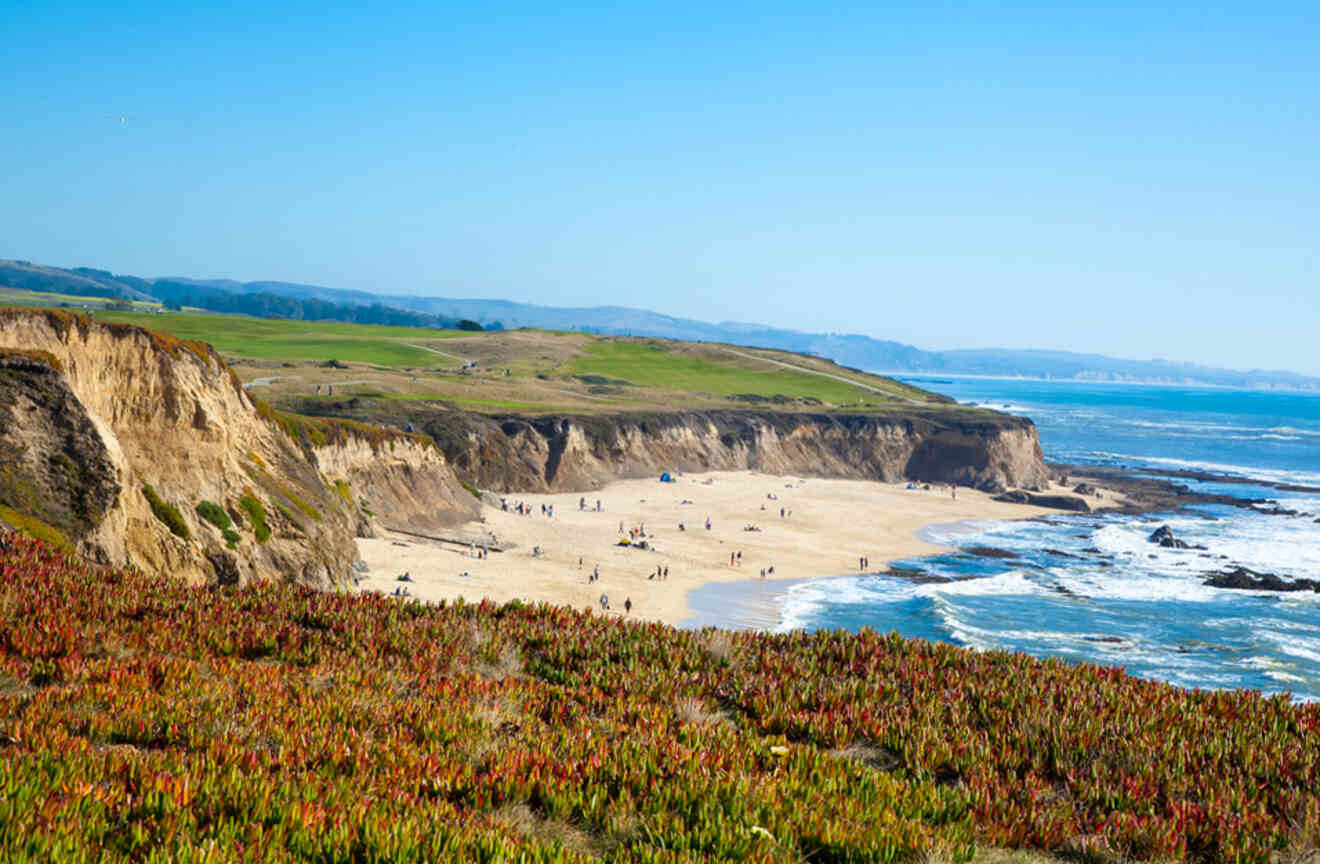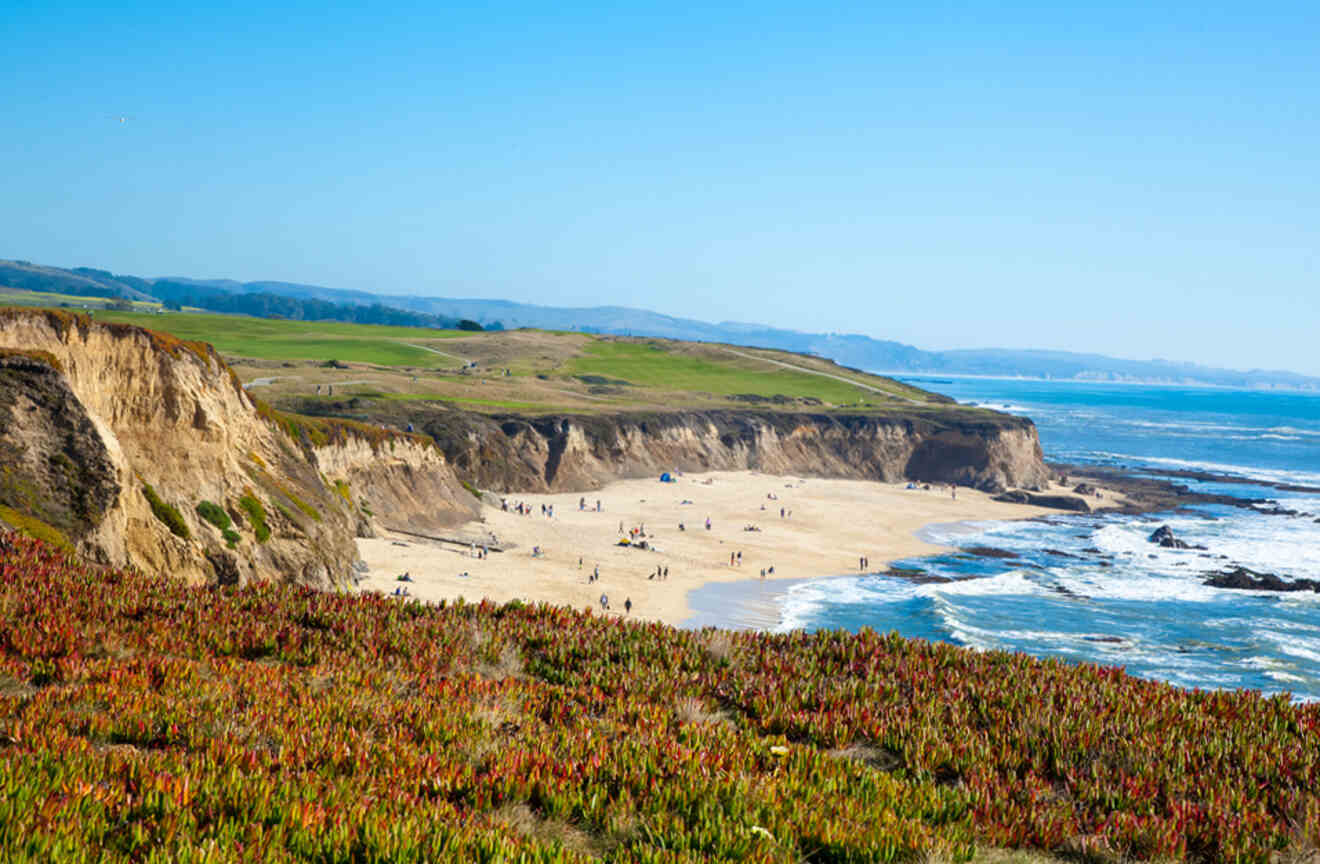 Now that you're hitting the road, it's time to stop 45 minutes away from San Francisco in Half Moon Bay Beach – an old settlement dating back to the early 1800s, with pieces of history preserved with every corner you turn!
The park has 4 beaches to explore: Francis Beach, Venice Beach, Dunes Beach, and Roosevelt Beach. Because you're only here for a quick stop, I recommend stopping by Dunes Beach since it's most accessible to Highway 1 (via Young Avenue). It's a beautiful place to stop for photos while slowing down and appreciating the views of the California Coast, sandy dunes, and coastal bluffs.
NOTE: This is usually a quiet beach, so I don't recommend getting down and playing in the sand with kids!
3. Next up, Pigeon Point Lighthouse!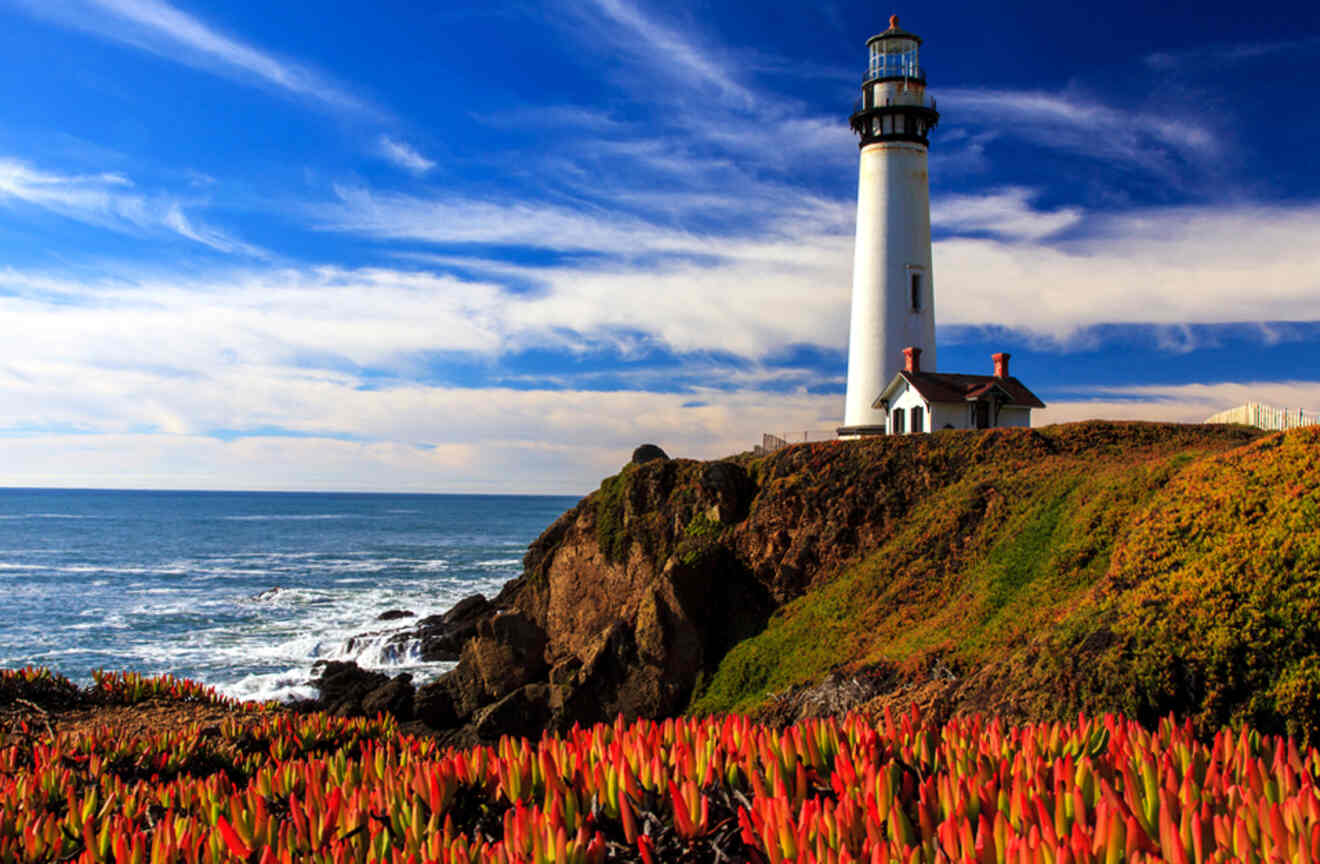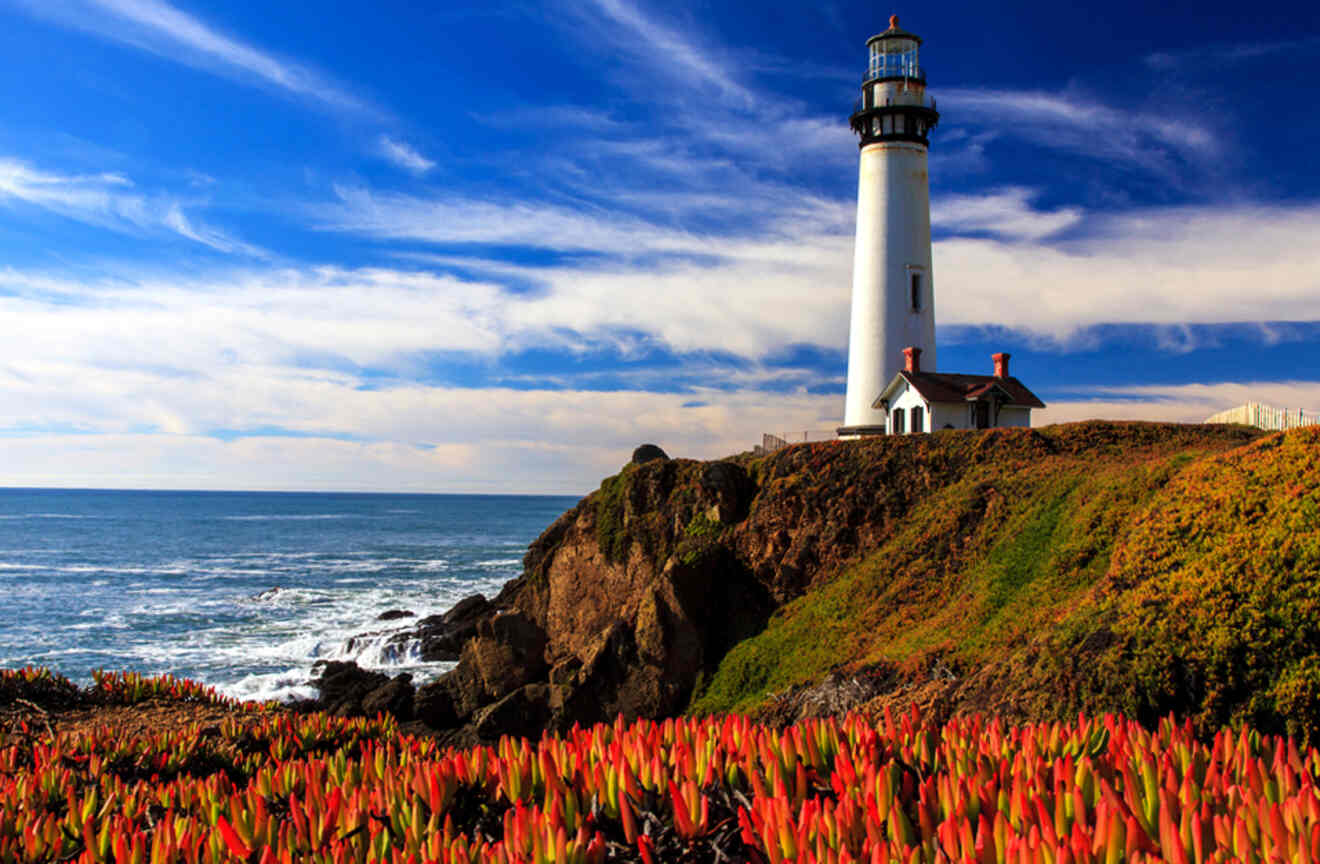 Stop by one of the tallest lighthouses in California, the Pigeon Point Lighthouse, about a 30-minute drive south of Half Moon Bay State Beach, where you can stop and enjoy the Pacific Ocean views from the 115-foot (35 meters) tower.
If you're traveling from late November through May, you can even watch the whales passing by as they migrate south to Baja, California. You'll also be able to spot all kinds of unique marine mammals (like elephant seals and California sea lions), so take advantage of this free must-visit spot.
PRO TIP: Be ready to stop here for at least 2 hours or so if you plan on whale watching! I also recommend checking the weather beforehand and avoiding coming on windy days.
4. Hit the road again towards Santa Cruz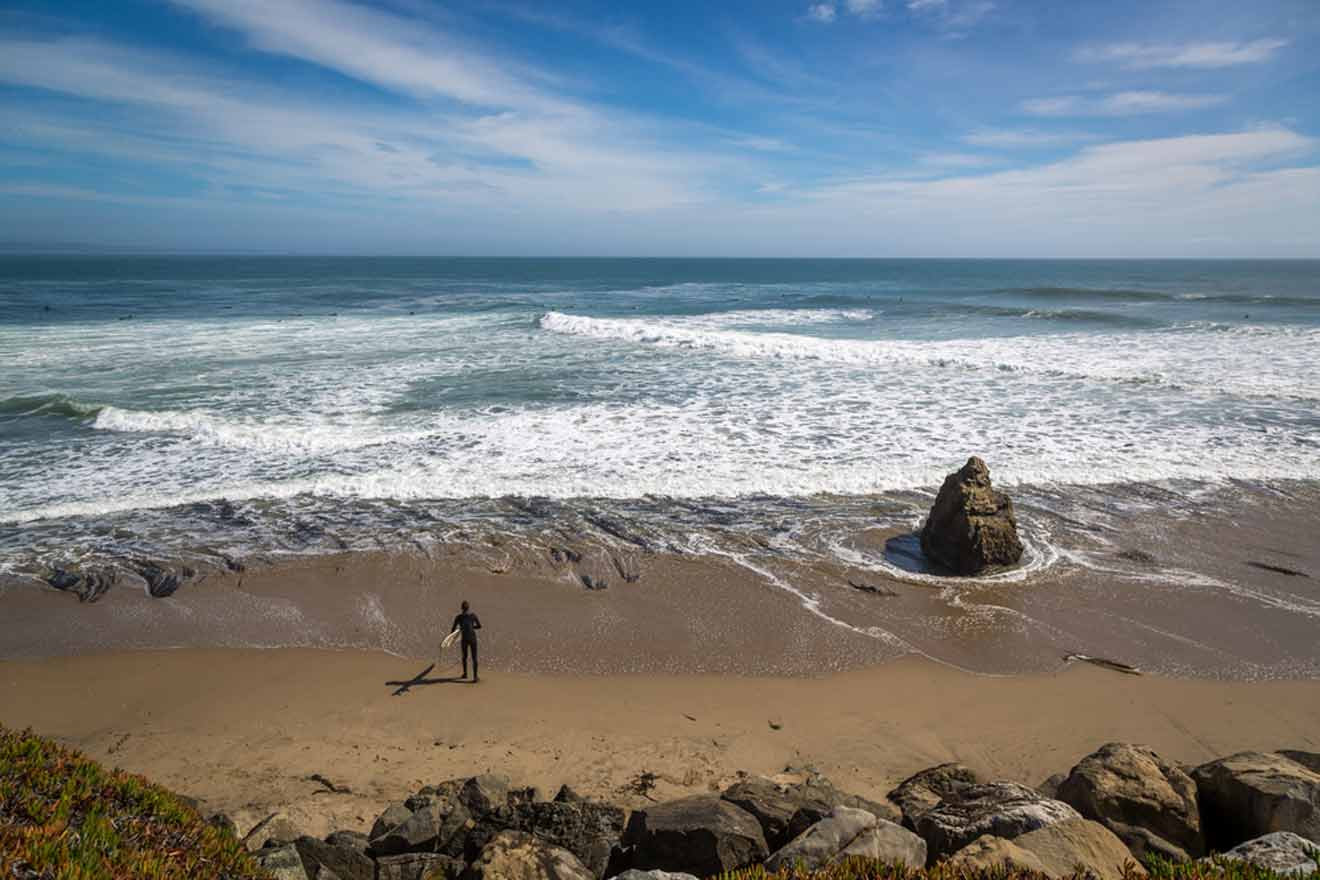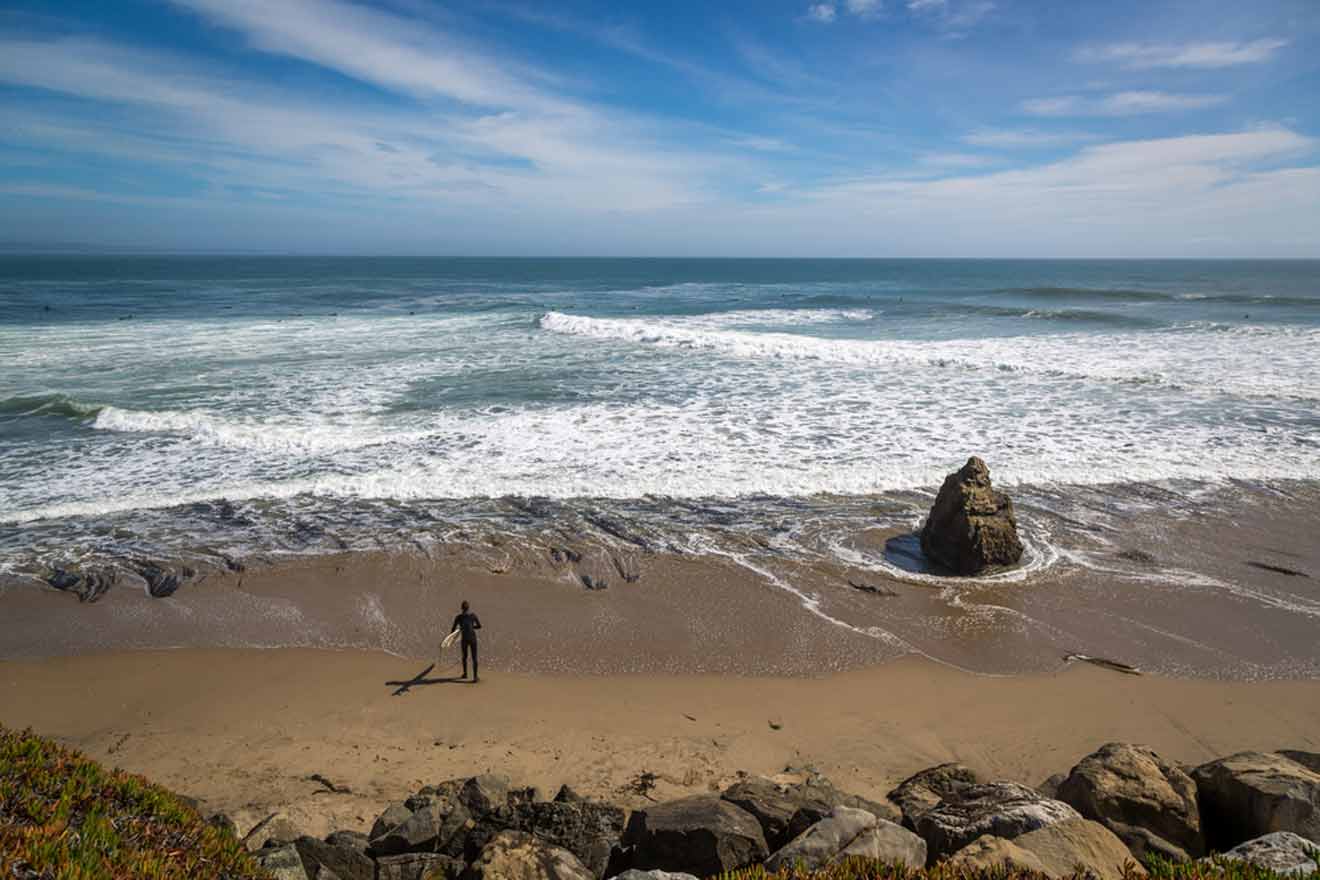 Santa Cruz is a small beach town with the oldest amusement park in California: Santa Cruz Beach Boardwalk! If you need to be awakened from all the road trip driving, I suggest hopping on the wooden 90+-year-old ride, the Giant Dipper.
While you're in Santa Cruz, I recommend stopping at the Natural Bridges State Beach, where you'll find a beautiful beach filled with sea stars, crabs, sea anemones, and other unique marine life! Here, you'll even find the only State Monarch Preserve in California, where thousands of Monarch butterflies migrate from mid-October to mid-February. It's a beautiful sight to see, and I couldn't recommend it enough!
PRO TIP: Leave your mason jars in the car and enjoy the beautiful Natural Bridges State Beach views for what it is!
The entrance to the state park is where West Cliff Drive ends by Swanton Boulevard. There is a free parking lot nearby for only 20 minutes, otherwise, day parking use is US$10/per vehicle.
5. Head down to Monterey for lunch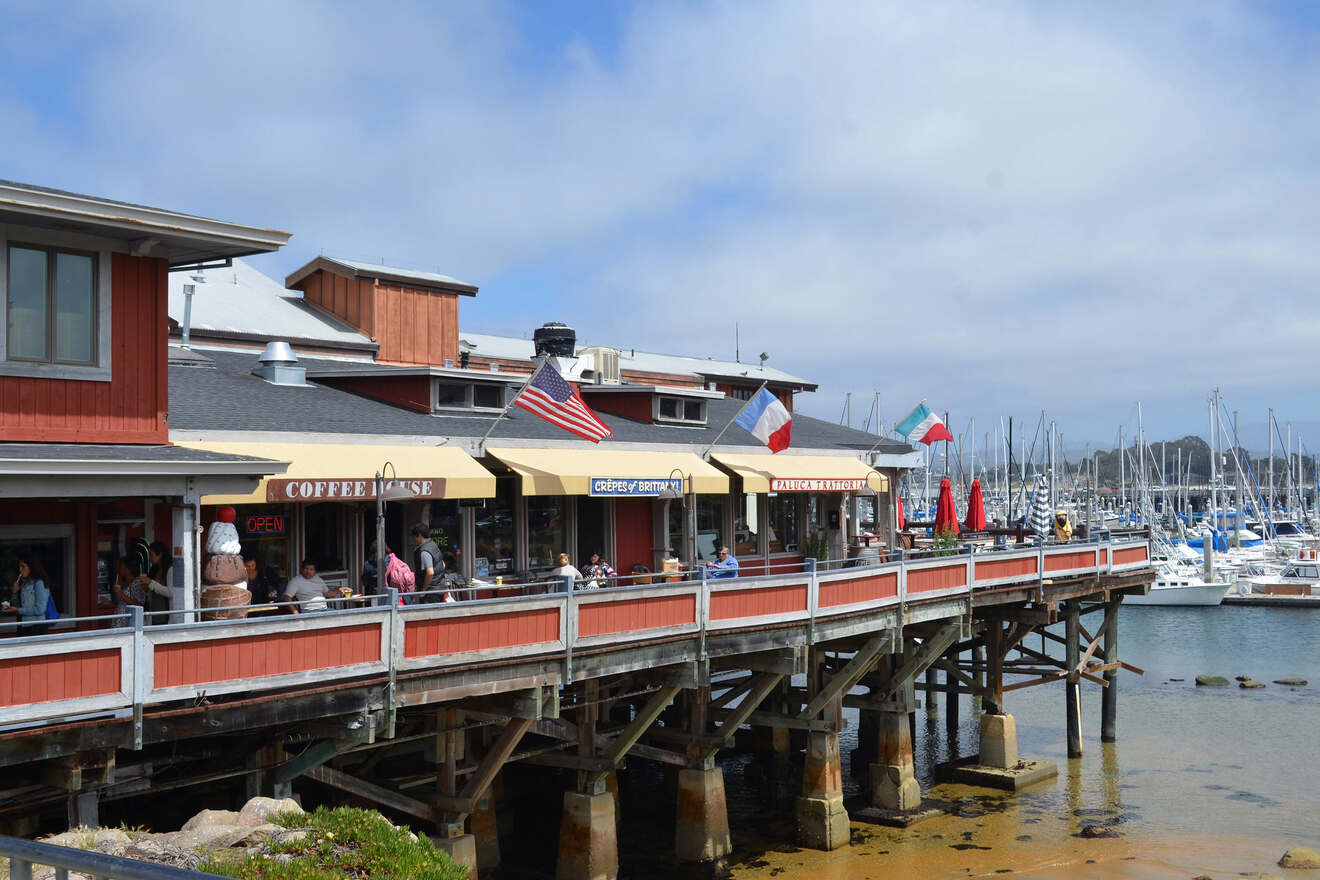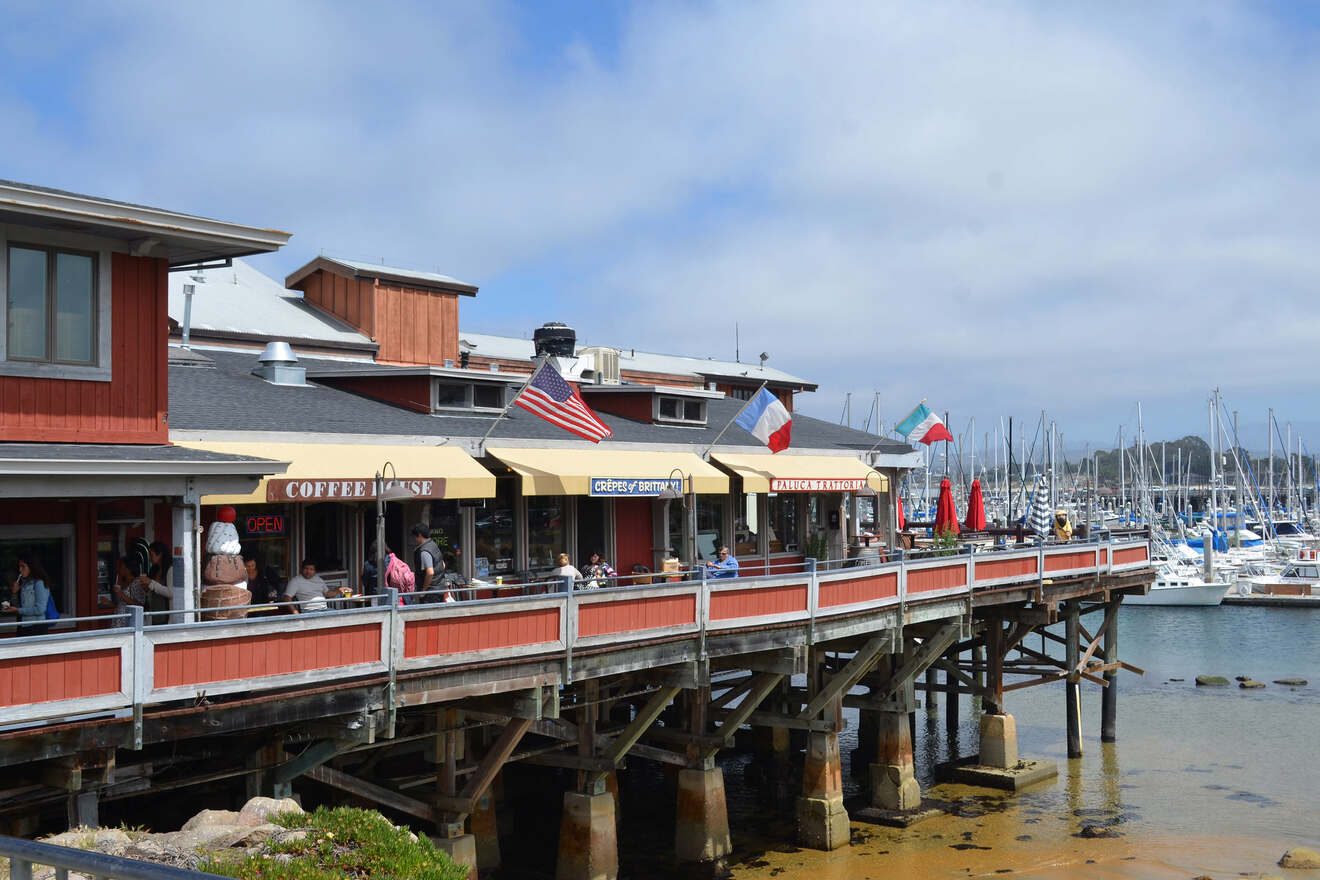 Monterey is about 1 hour south of Santa Cruz, straight down the famous California Pacific Coast Highway 1. At this point, you're about a 2-hour drive south of San Francisco (without stops), and by now, you're probably pretty hungry.
One of the things Monterey is most known for is the Old Fisherman's Wharf. I recommend stopping by for a quick bite of fresh fish and chips before heading on the road again. Here are a couple of places to check out:
PRO TIP: On your way heading out of Monterey towards Carmel in the 17-mile drive, book a self-guided tour in advance to make note of all the attractions you'll be passing by on the scenic drive.
If you have time or decide to stop at Monterey for a day, I recommend going whale watching, visiting Sand Dollar Beach, the historic Cannery Row, and exploring Monterey Bay Aquarium for the perfect Monterey day outing.
6. Begin your 17-Mile Drive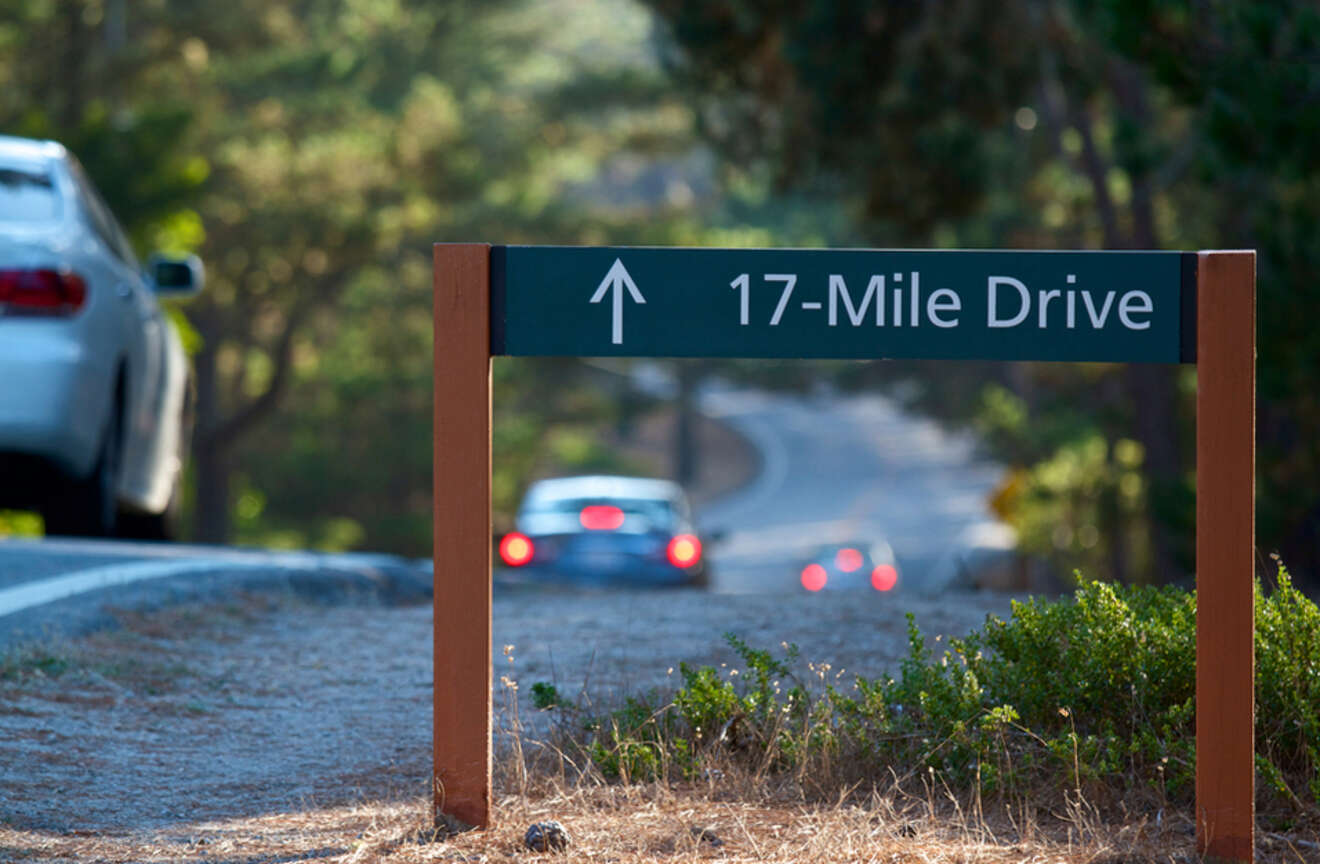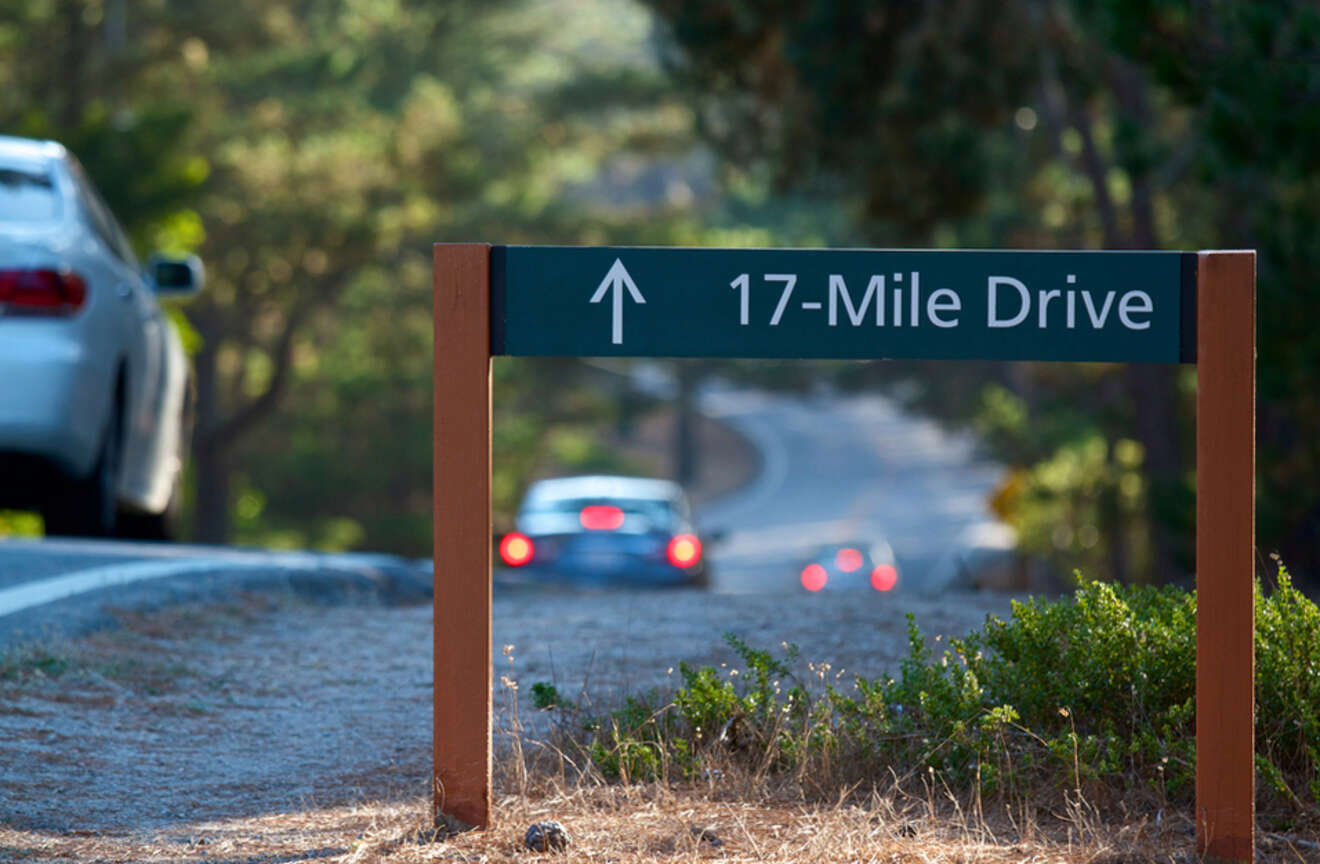 The 17-Mile Drive is one of the world's most scenic drives in the world. Visitors from everywhere come to experience the endless Pacific Ocean views, dramatic coastal cliffs, the most photographed tree in North America, and so much more.
The journey takes about 3 hours down the coast, with multiple spots to check out at every corner. If you're not already listening to the self-guided audio tour for pointers along the way, I recommend stopping by the Del Monte Forest, the Lone Cypress, Spanish Bay, Point Joe, Fanshell Overlook, and the Pebble Beach Resorts for breathtaking views and memories that will last a lifetime. Click here for a map and additional information.
The gate to enter the 17-Mile Drive Route is US$11.25/per vehicle. You can get this reimbursed if you stop at Pebble Beach Resorts and spend at least US$35 or more at one of their restaurants!
7. End your scenic drive in Carmel-by-the-Sea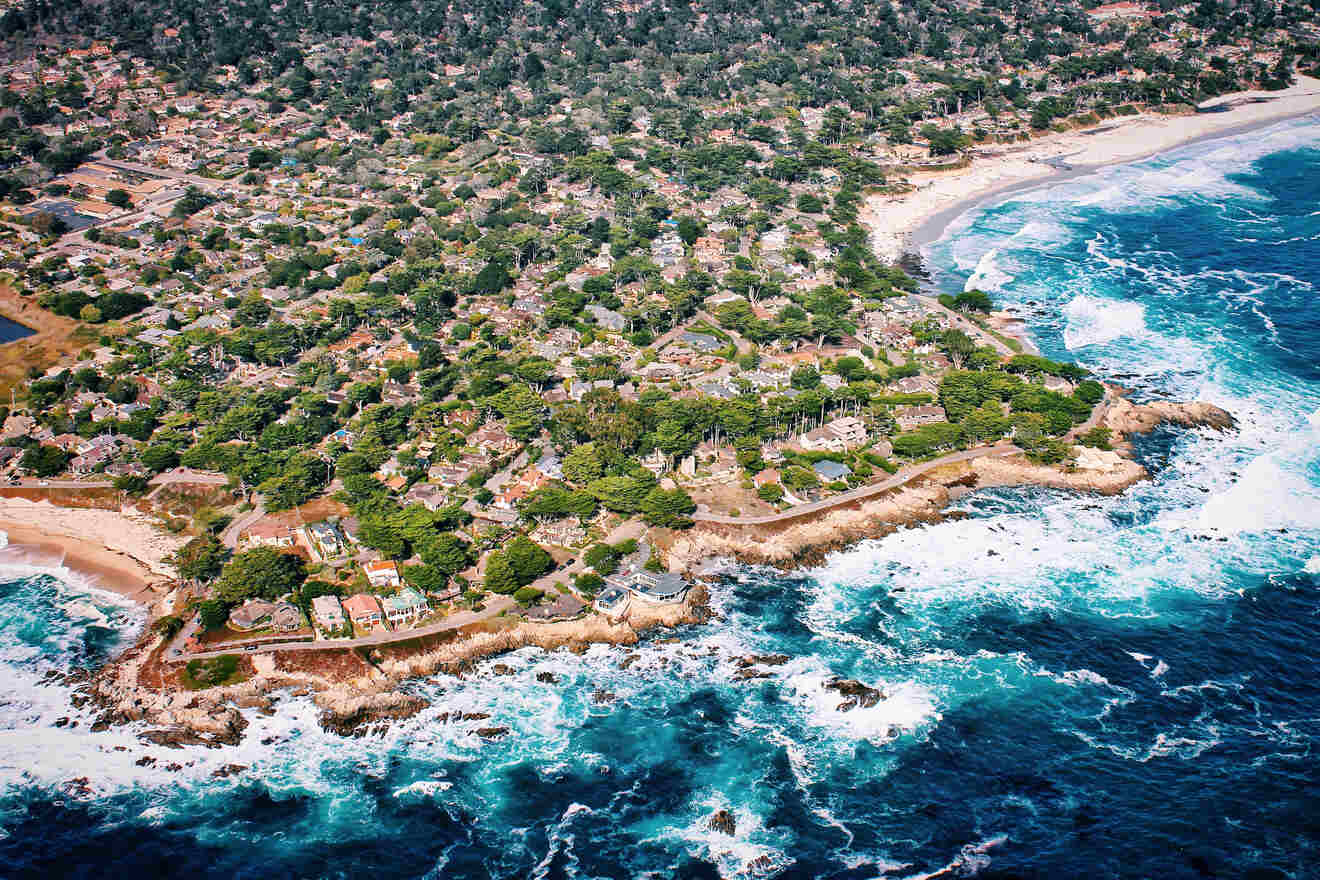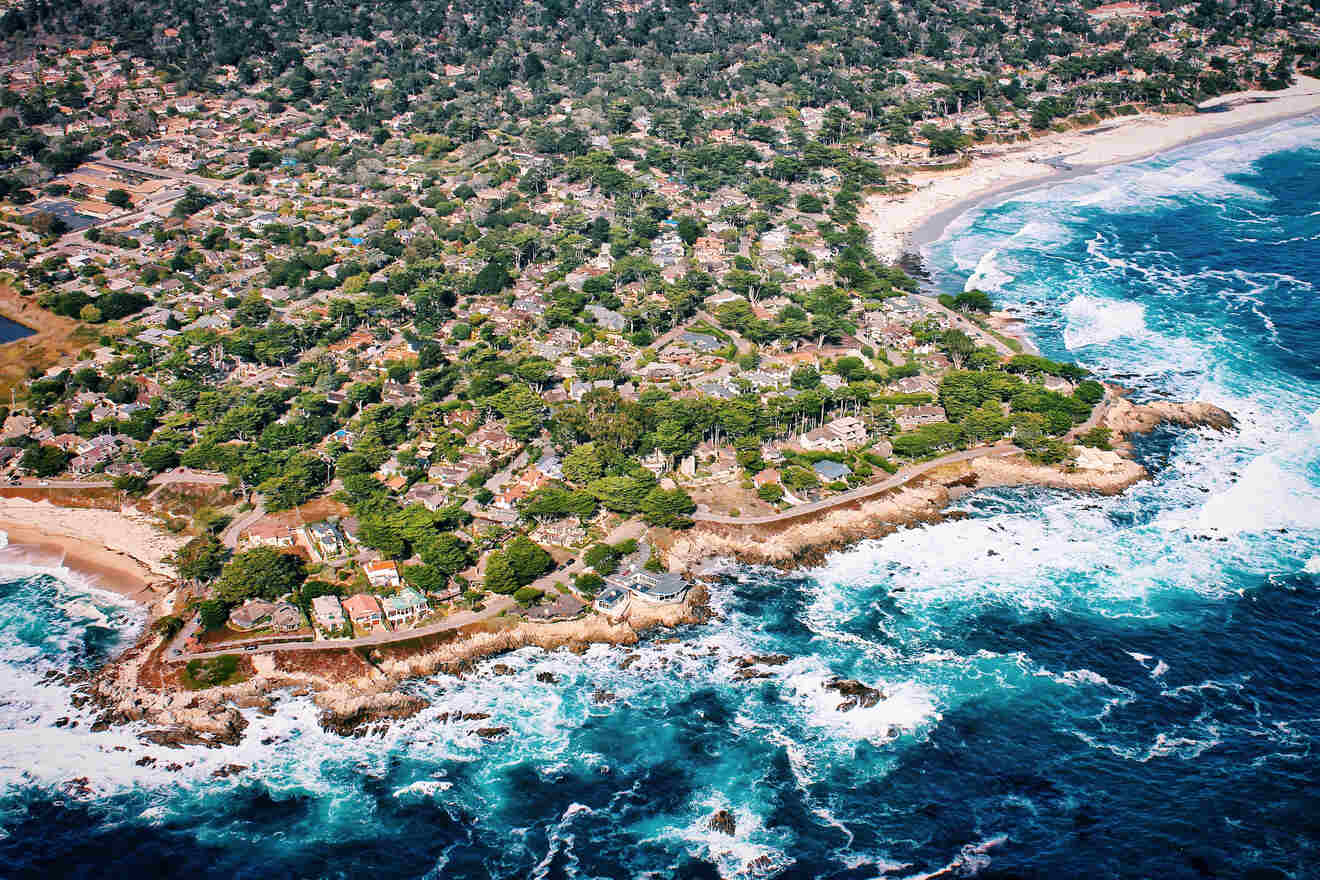 As soon as you think the best part has already happened, your San Francisco to San Diego drive lands in the beautiful Carmel-by-the-Sea.
Carmel-by-the-Sea is the most charming beach town in California. I recommend cruising past the fairytale-inspired architecture and local art galleries and getting down to Carmel Beach for the most relaxing white-sand beach I've ever been to.
I recommend stopping by the following cottages for all fairytale vibes:
8. Cruise down the coast to the famous Big Sur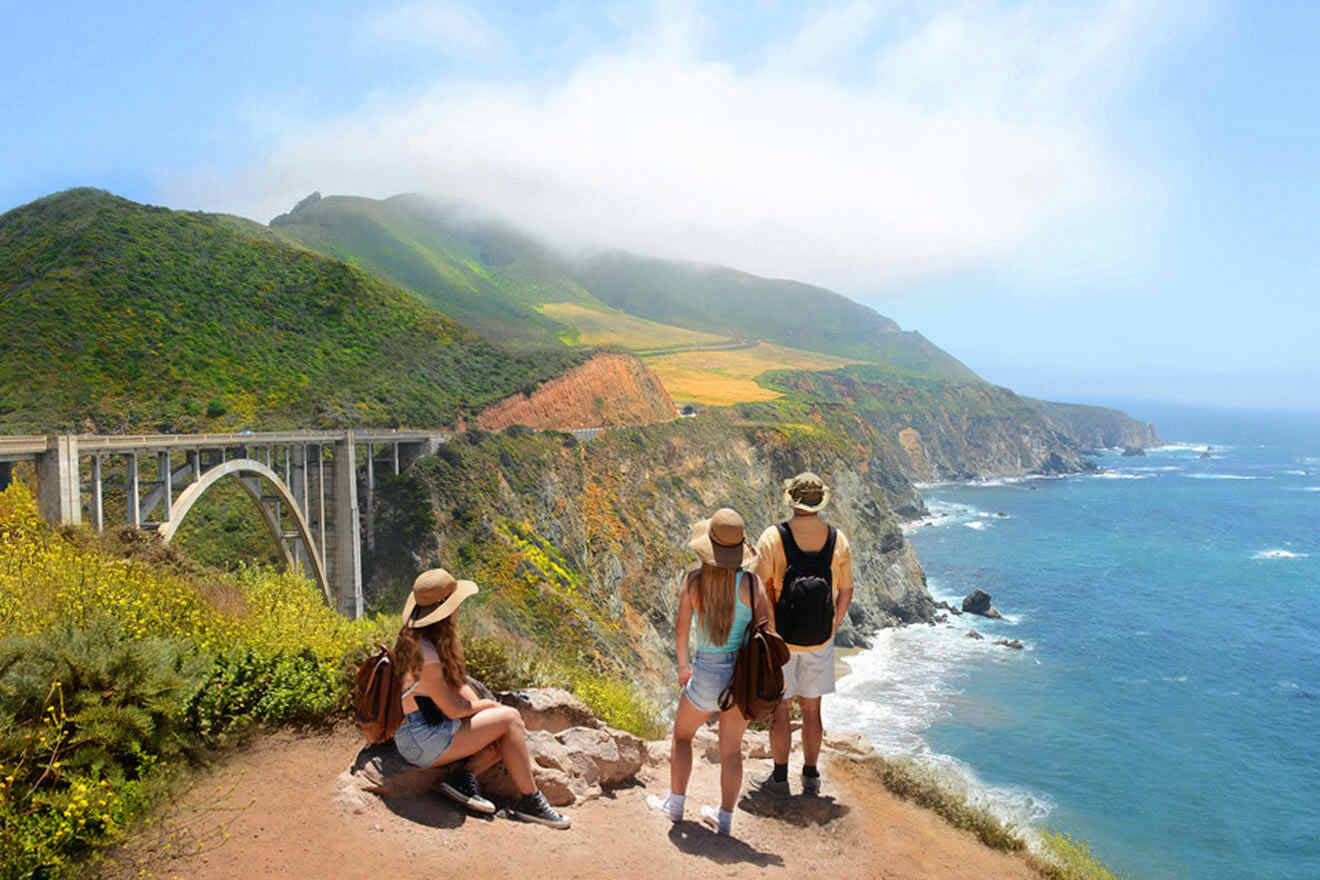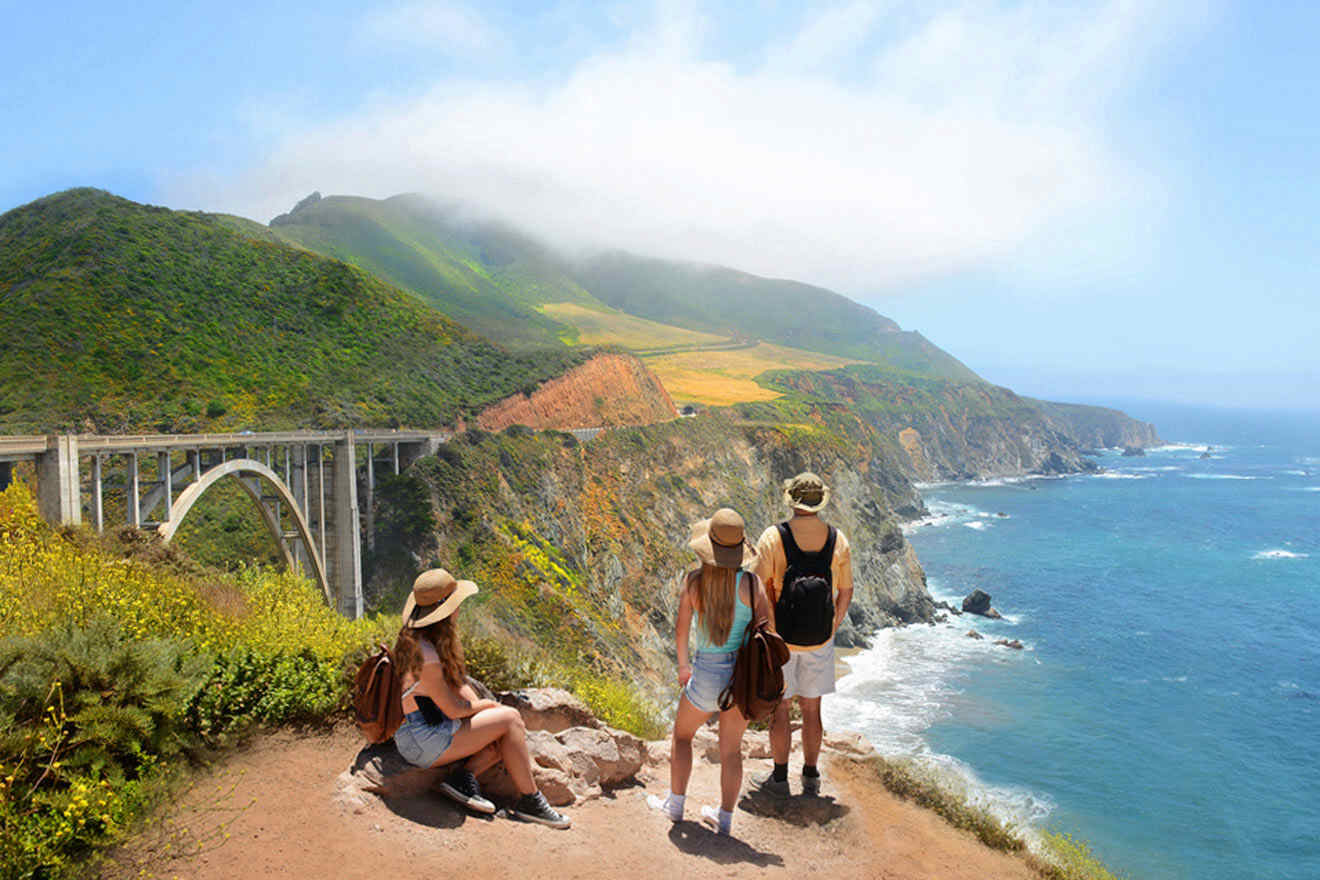 Located right along the Pacific Coast Highway, a 45-minute drive from Carmel-by-the-Sea, and officially 3 hours away from your starting point in San Francisco, you've made it to Big Sur!
Big Sur has an amazing amount of marine life, coastal bluffs, and a variety of natural reserves that will blow you away. I recommend checking out this self-guided audio tour that will help guide you through the most stunning views of the Highway 1 coastline.
If you're short on time and can't visit each attraction in the tour, I suggest stopping at these 2 popular attractions:
9. Visit the Hearst Castle at San Simeon in San Luis Obispo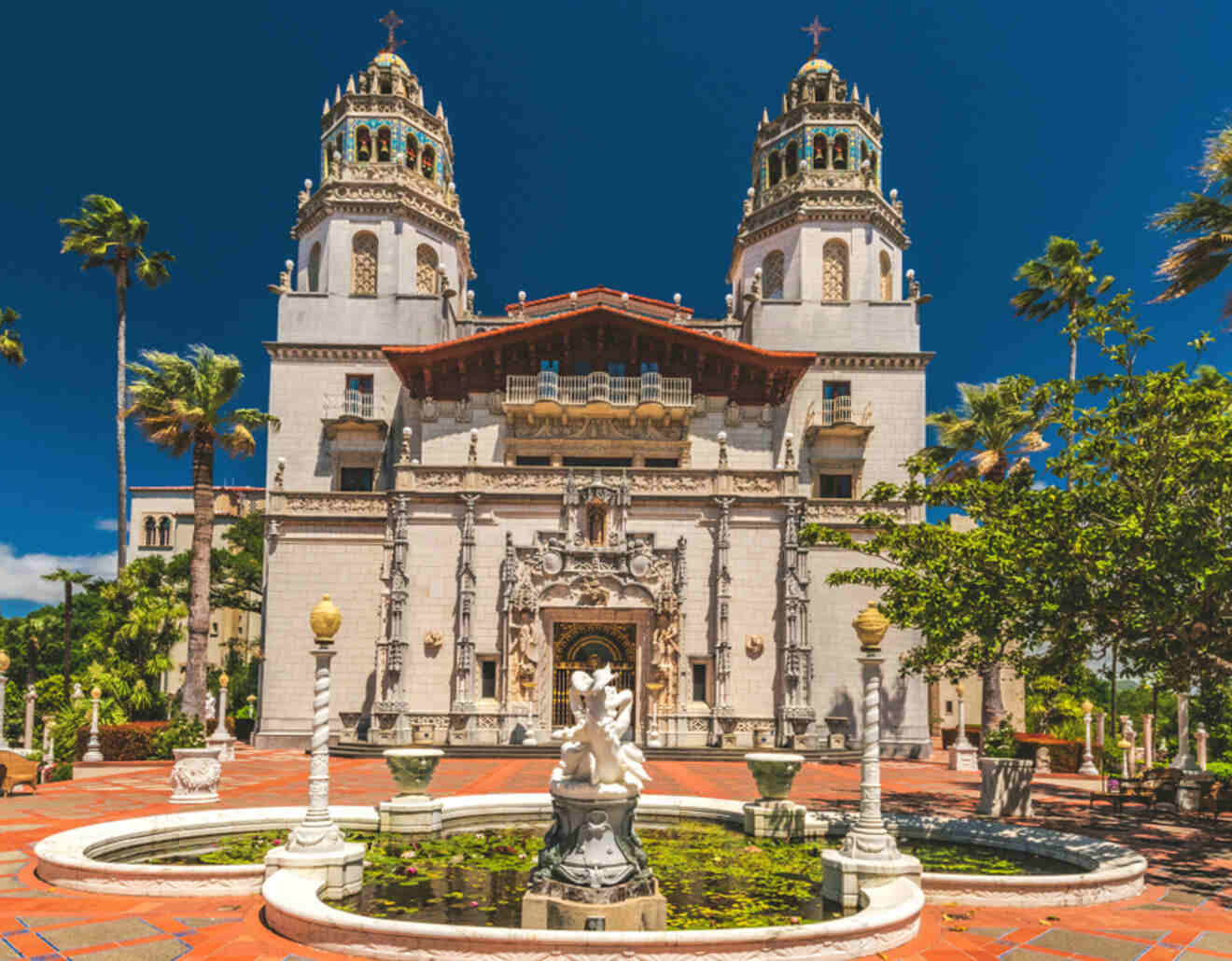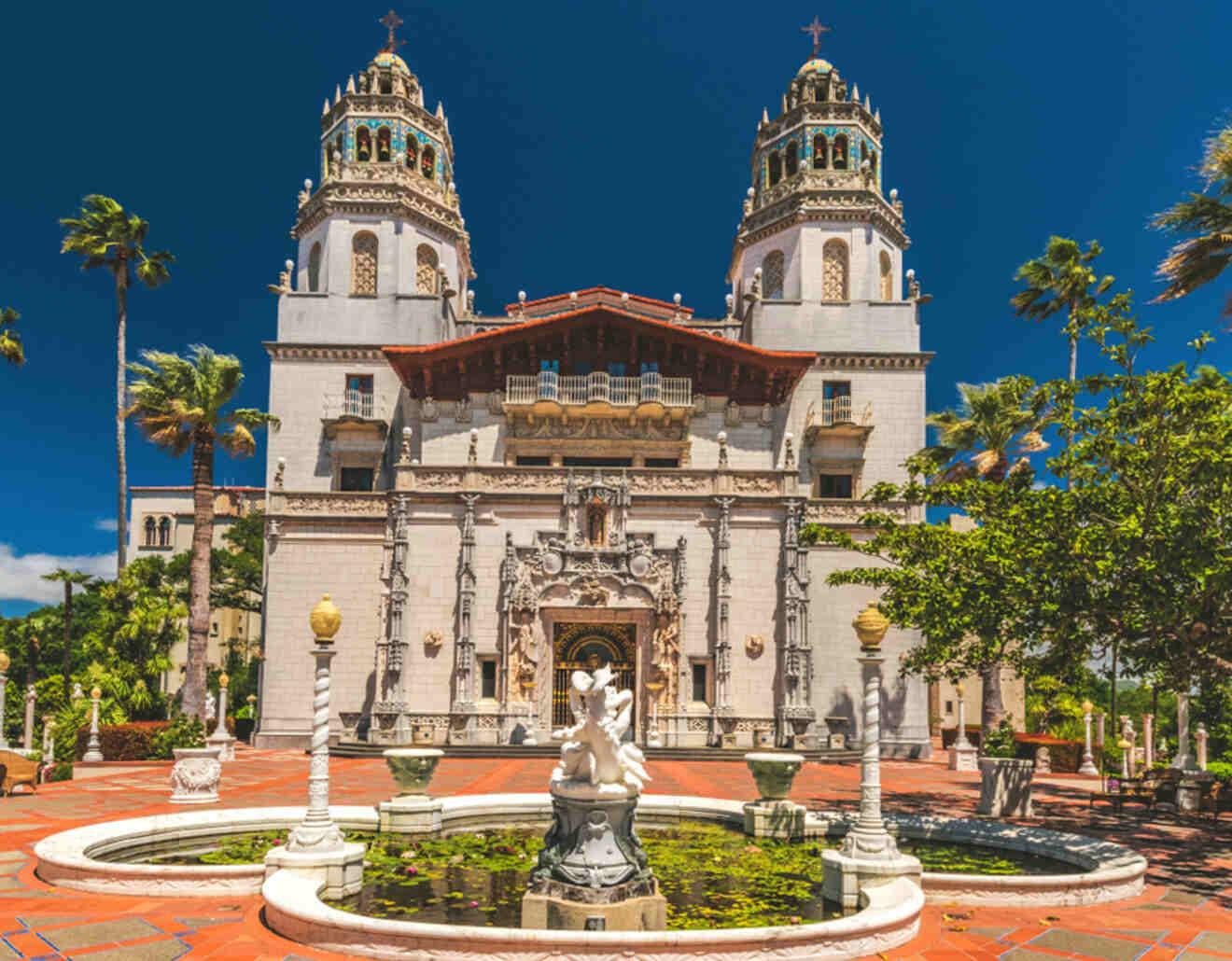 The world-famous Hearst Castle is located in San Simeon, a small village off the coast of San Luis Obispo. Now that you've reached San Luis Obispo, you've reached about half of your San Francisco to San Diego drive! Well done!
The Hearst Castle is a popular destination among locals like myself anytime they're making a trip up north towards San Francisco or down south towards San Diego. It's a must-visit and, today, one of California's most unique national historic landmarks.
The castle was owned by William Randolph Hearst and his architect, Julia Morgan. Together, they created a mansion that he called "The Enchanted Hill," over 250,000 acres (c. 101,170 hectares) of land. There are 46 rooms in the guesthouses, with a beauty salon, library, theater, and more. Honestly, this is the ultimate road trip route stop, and I recommend checking it out!
While you're in San Luis Obispo, take a drive to Dinosaur Caves Park, Avila Beac, in Pismo Beach, plus see another Monarch butterfly haven! The Monarch Butterfly Grove is open from November – February every year, with over 10,000 Monarch butterflies flocking around the area. If you missed the preserve I mentioned more up north, I recommend checking this out!
I recommend stopping by the Copper Café at the Madonna Inn in the San Luis Obispo area for their world-famous cakes! 😋
PRICE: Their Grand Rooms Tour is US$30/per person for adults, US$15/per person for youth (5 – 12). Buy your tickets in advance here!
10. Head south towards Morro Bay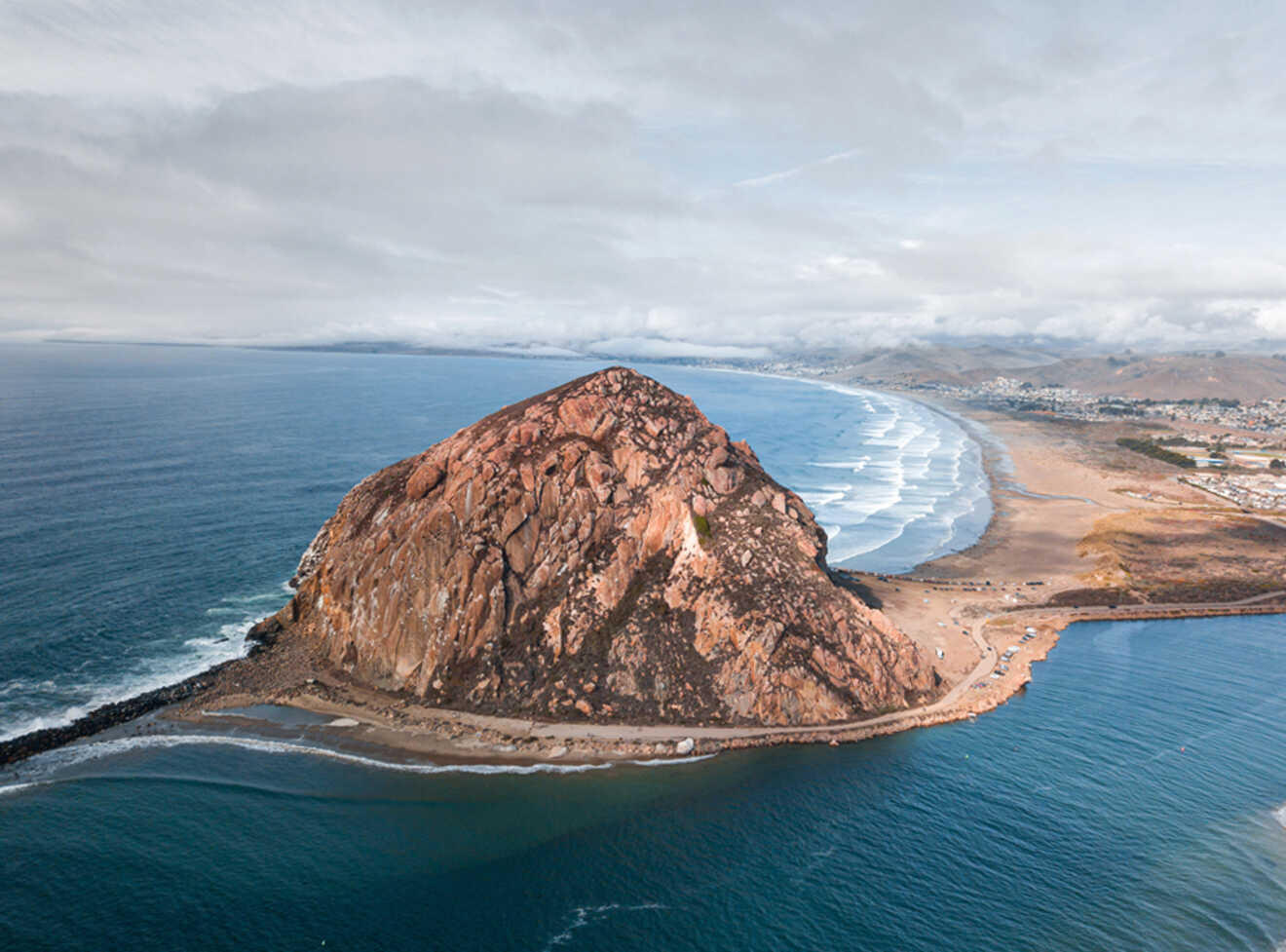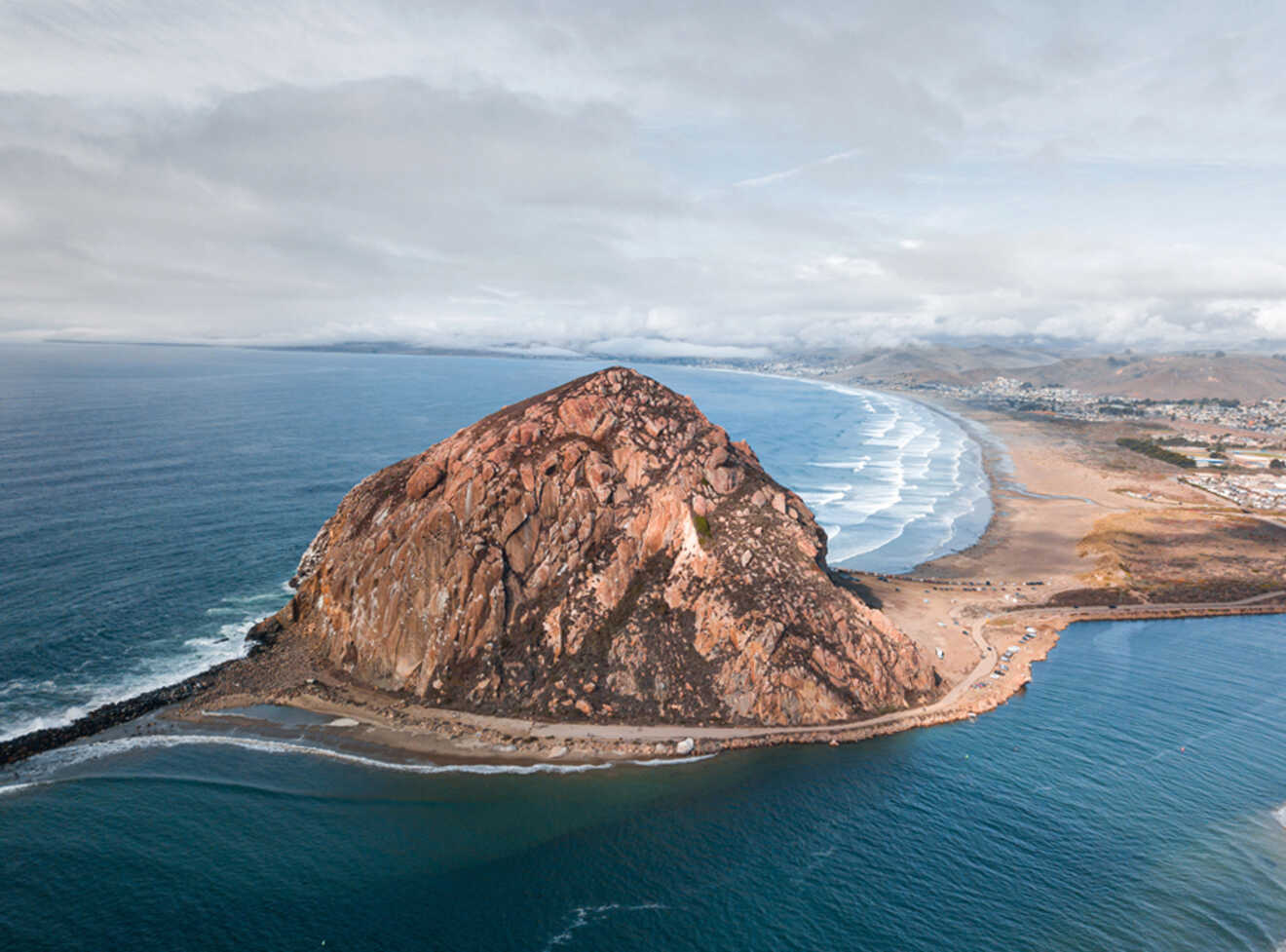 Morro Bay is a 30-minute drive from Hearst Castle, still located within San Luis Obispo County, and still about halfway through your San Francisco to San Diego drive! (I told you there's so much to do on the way!)
The most interesting thing in Morro Bay is the Morro Rock, a 576-foot-tall (176 meters) volcanic plug right on the Morro Beach shore. The rock is protected and preserved by the state because Native Americans consider it a sacred site, so you cannot climb the rock, but it's quite fascinating to see.
PRO TIP: Wear your jacket! The central coastal beaches are always quite cold in comparison to SoCal beaches, so bring your blankets and jackets from the car before getting down!
11. Grab a Danish to-go at Solvang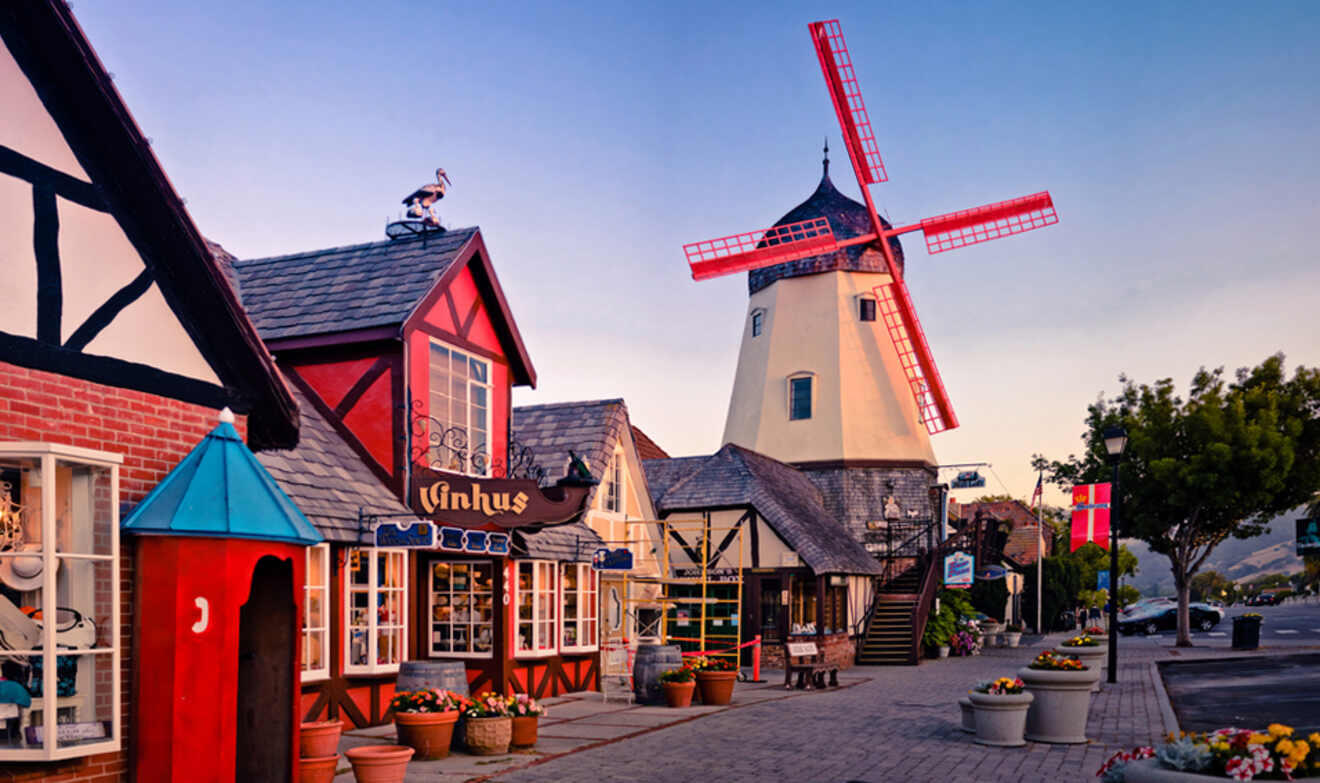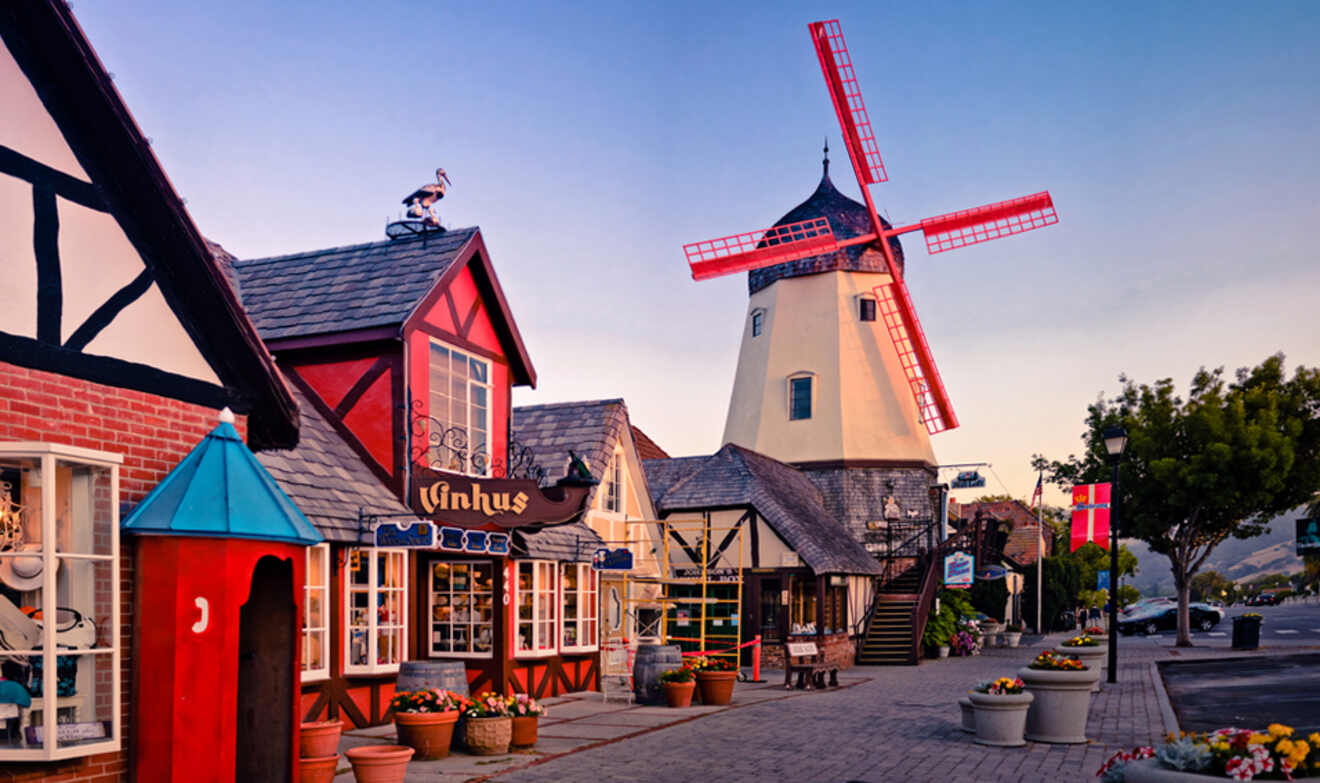 Solvang is another adorable town with similar vibes as Carmel-by-the-Sea. It's located in Santa Barbara County near Los Padres National Forest, about a 1.5-hour drive away from Morro Bay, 5 hours away from San Francisco, and inching closer and closer to San Diego, being 4 hours away.
Here, you'll experience a taste of Danish culture, a charming downtown area with architecture that takes you back to Europe, and a small-town feel that you'll absolutely adore.
I recommend downloading the Solvang Heritage Walk App! It takes you through the town's best spots, highlighting buildings, history, and museums you won't want to miss. The app will take you through a self-guided tour that can take anywhere between 1 and 2 hours, depending on if you have time to explore or want to hit the road ASAP. It's totally up to you!
PRO TIP: I recommend grabbing danishes and whichever pastries you like from Olsen's Danish Village Bakery (and maybe a couple extra to enjoy later, too).
12. Head over to Santa Barbara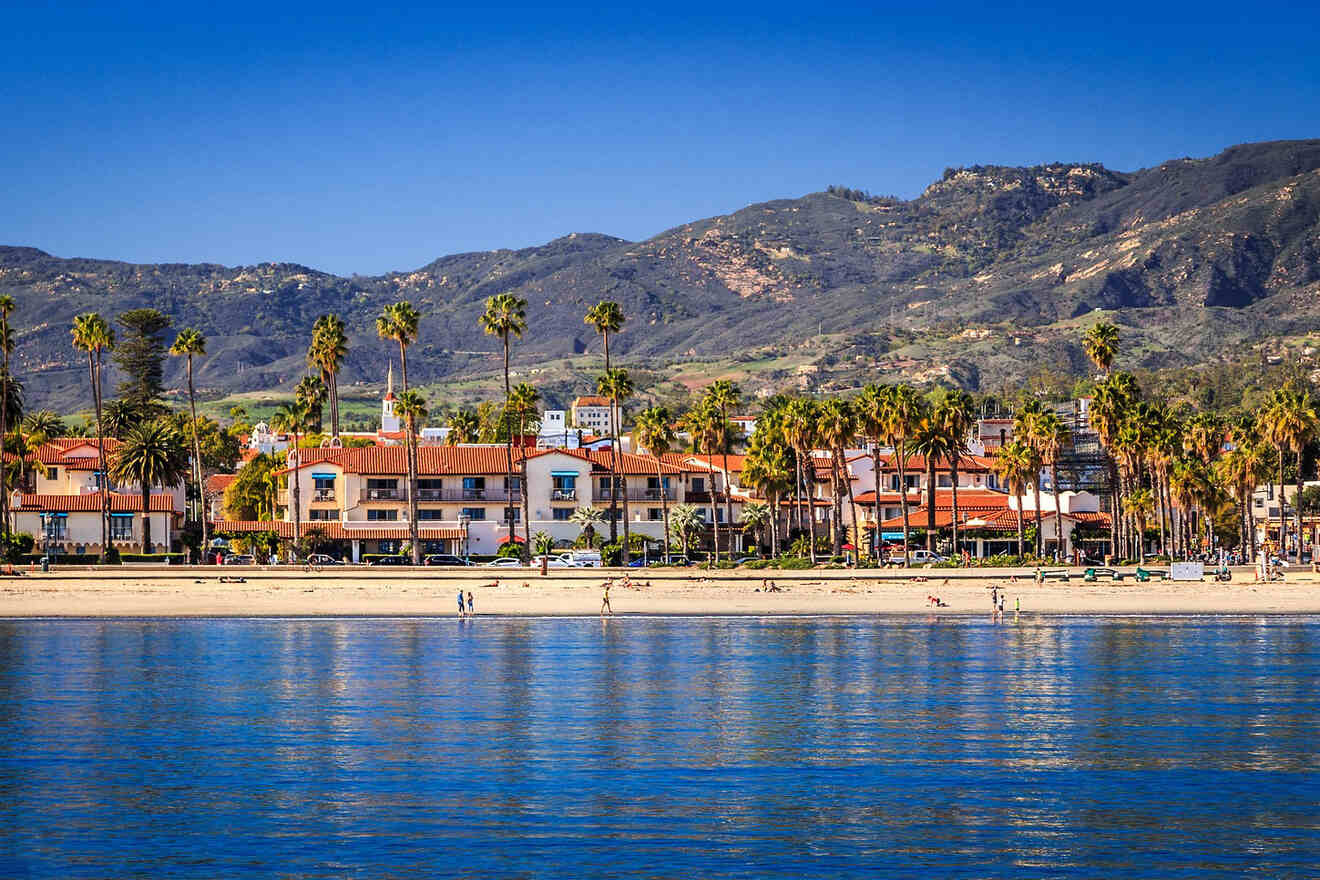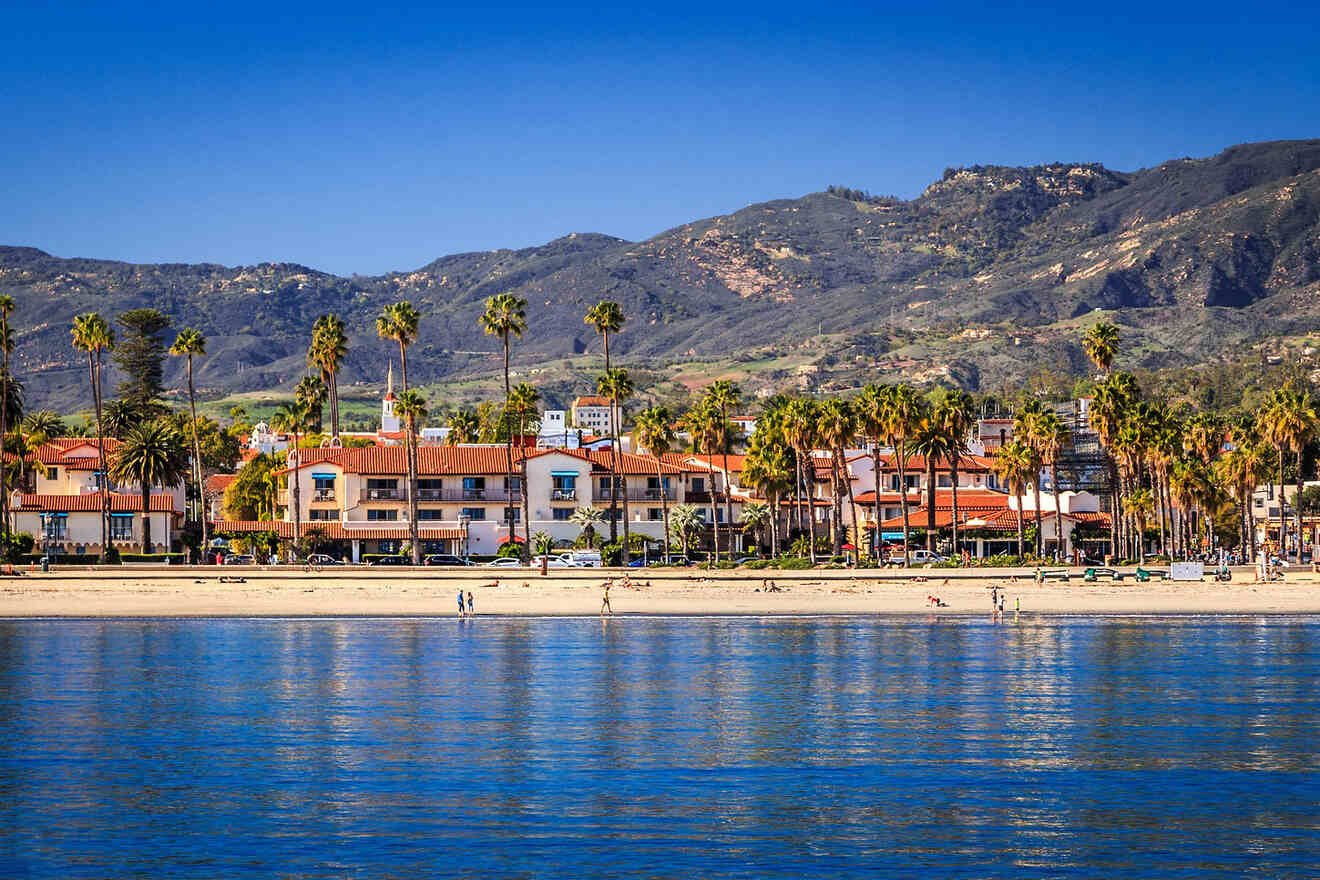 Santa Barbara is a 45-minute drive away from Solvang, still a 5-hour drive from San Francisco, and a 4-hour drive from San Diego. The city is one of the most diverse in terms of things to do, like wine tasting, museums, and their zoo, so I recommend taking a separate day trip from San Diego or Los Angeles to Santa Barbara another day.
For this short stop, there are a few things I recommend checking out before heading the road again:
13. Next up, Malibu!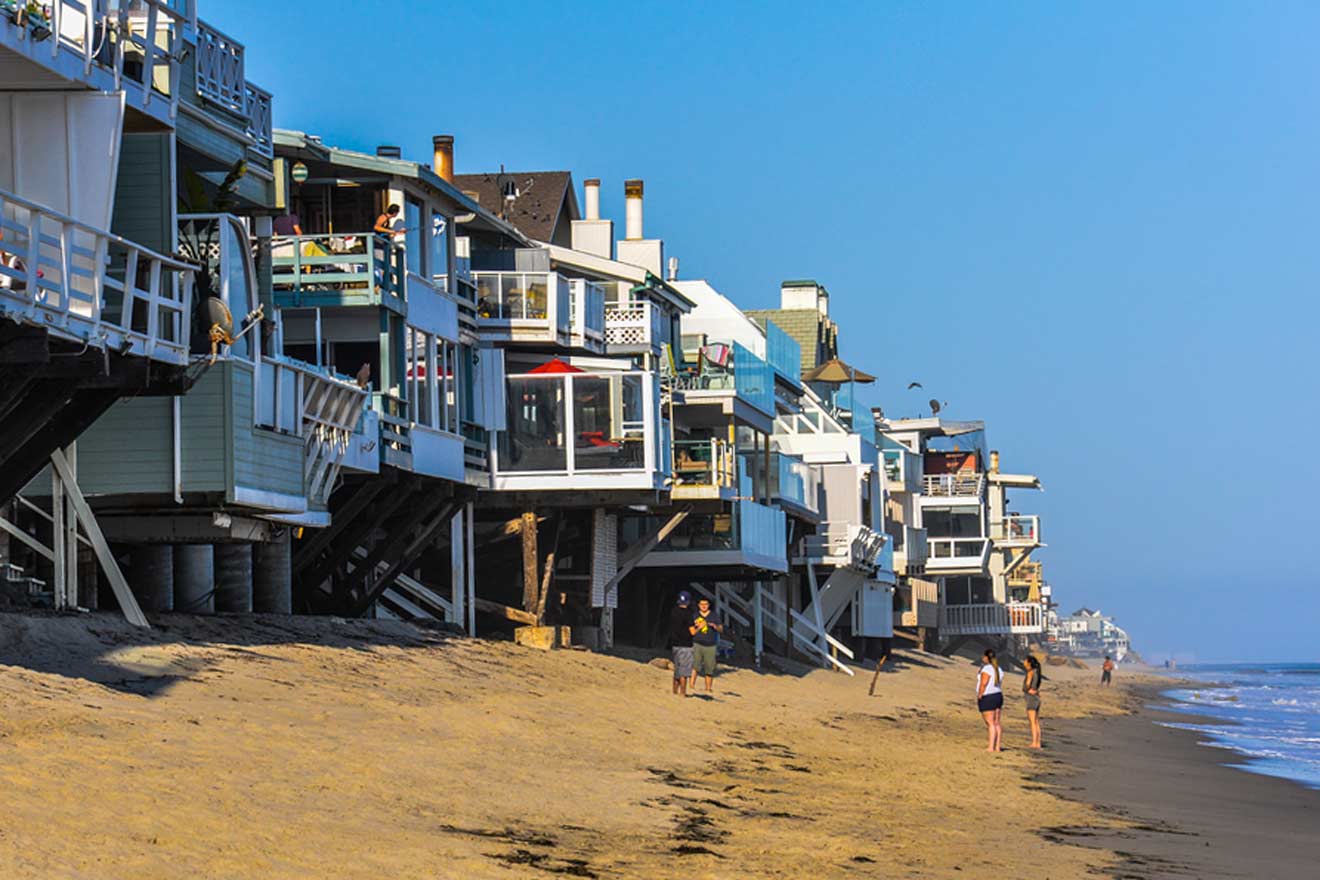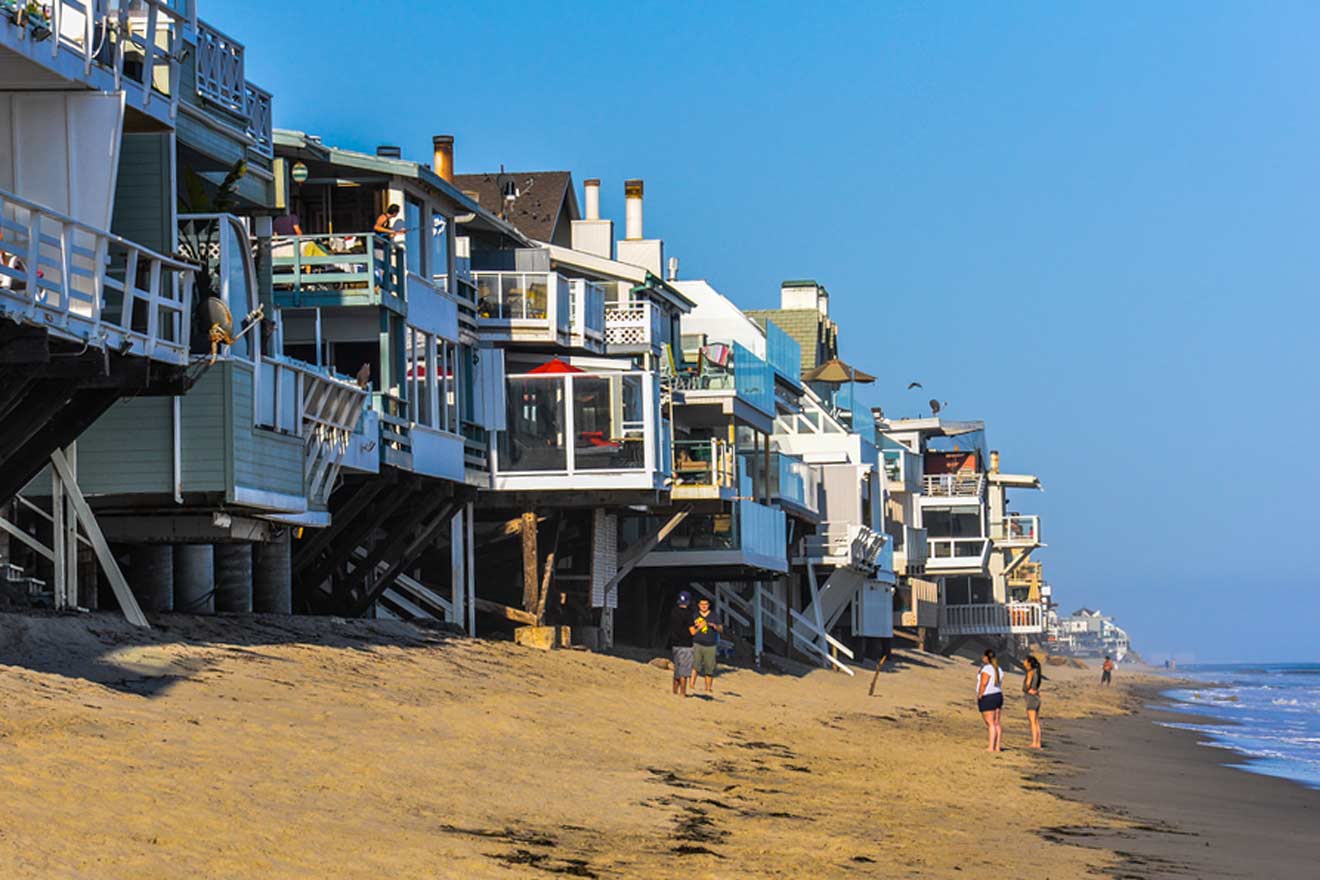 Now that you're getting closer and closer to San Diego, it's time to take a break near all of Southern California's most relaxing beaches. No need to take down your jacket here unless it's winter and/or raining! It stays pretty warm all year long.
Malibu is known to have some of the best beaches and surfing spots in the country. It really has the laid-back stereotypical California vibe, and there's no better place to just *chill* after a long day of driving than Malibu.
I recommend checking out Malibu Farm for a quick bite. It's right on the Malibu Pier, conveniently located right on California's Pacific Coast Highway 1, where the views (of course) are amazing. It's super popular, so make sure to make your reservations ahead of time.
PRO TIP: Tons of celebrities live around here, so keep an eye out for your favorite A-listers!
14. Stop for a quick break at the Santa Monica Pier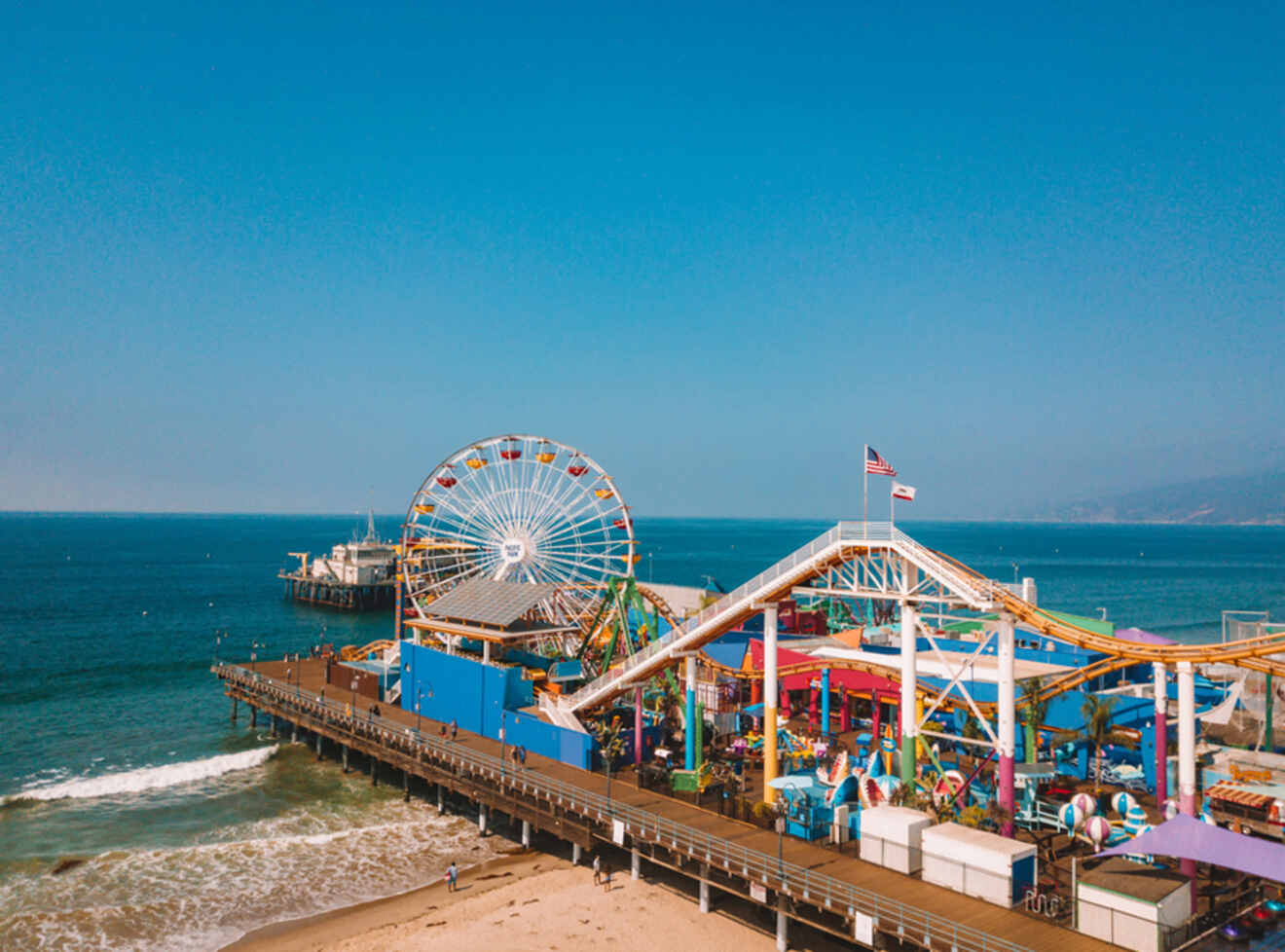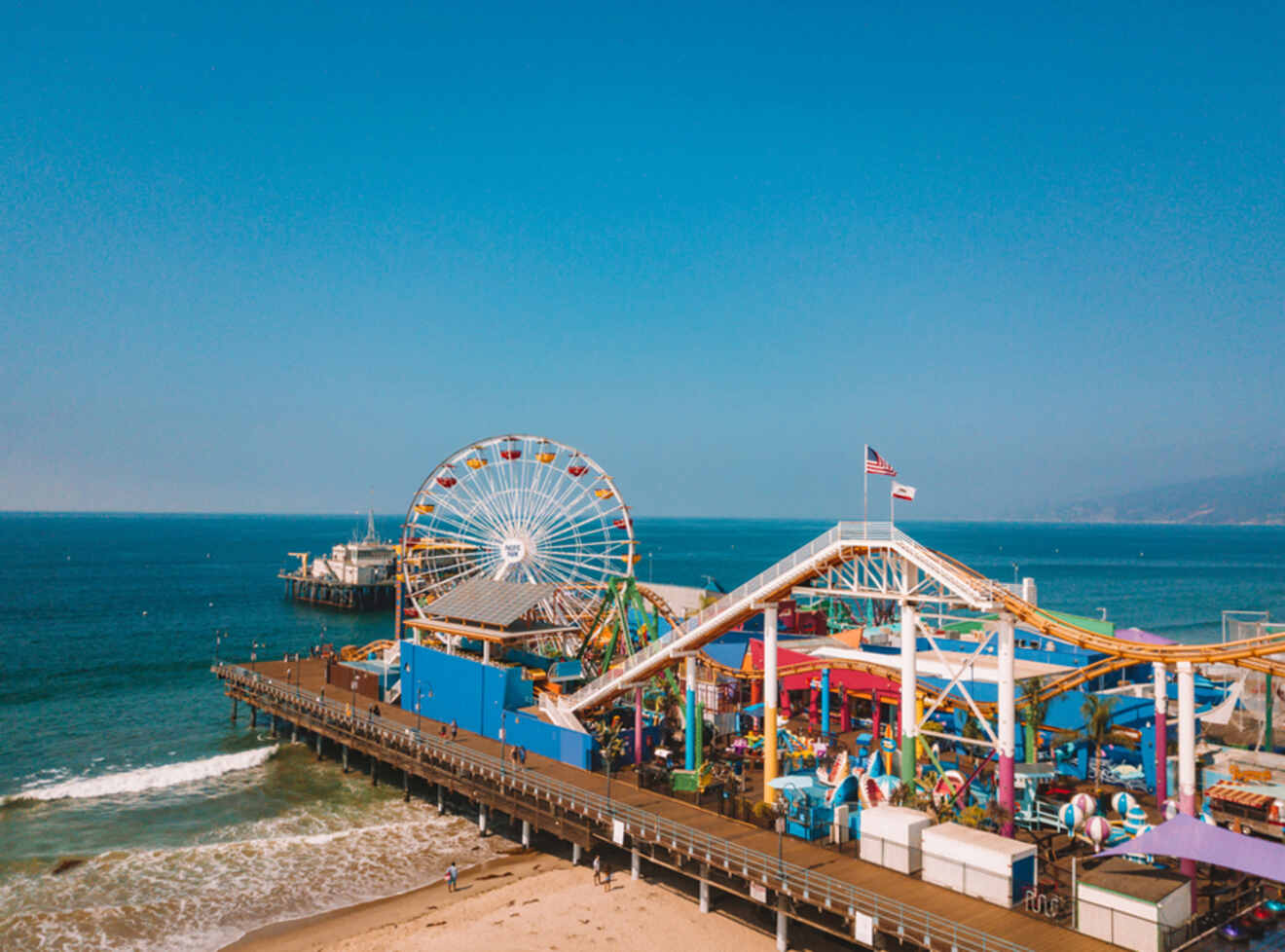 Next stop on this list is going to be the iconic Santa Monica Pier! Santa Monica has dozens of carnival rides & arcade games, rides, street performers, and tons of entertainment everywhere you turn. Lucky for you, you happen to be cruising through one of the most sought-after California beach towns!
I really recommend taking advantage of the fun arcade games and rides while you're here, especially if you're traveling with kids and they need to let energy out of their system.
If you want to explore more, I head inland towards the Santa Monica Mountains or downtown Los Angeles to see the Hollywood Sign and some of California's most historic and iconic sites.
If you're on this San Diego road trip in December, Santa Monica holds free holiday musical performances, ice skating by the beach, and their annual Polar Bear Plunge. These are all fun detours in Santa Monica to look into here!
15. Take a quick walk along the Huntington Beach Pier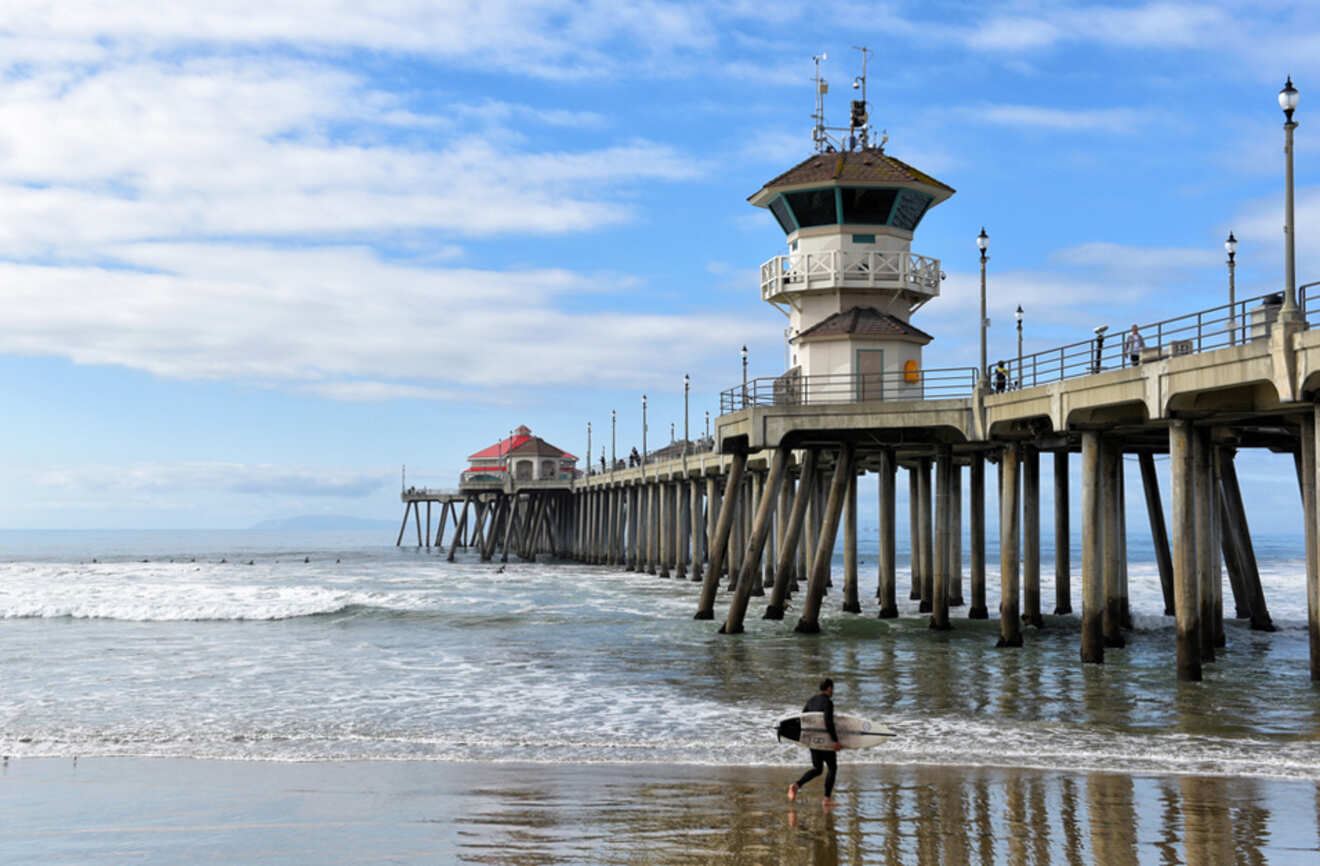 Huntington Beach is a 1.5-hour drive away from San Diego! You're getting so close! And the closer you get to San Diego, the more beach towns you find along the way.
Huntington Beach Pier is one of the best places to surf! Because this is a stop through a road trip, you won't have enough time, so I recommend coming back to experience the best surfing in California. This location is not for beginners, so I only recommend it for advanced surfers! (They don't call it "surf city" for no reason!)
For now, I recommend doing the following:
16. Explore Crystal Cove State Park in Laguna Beach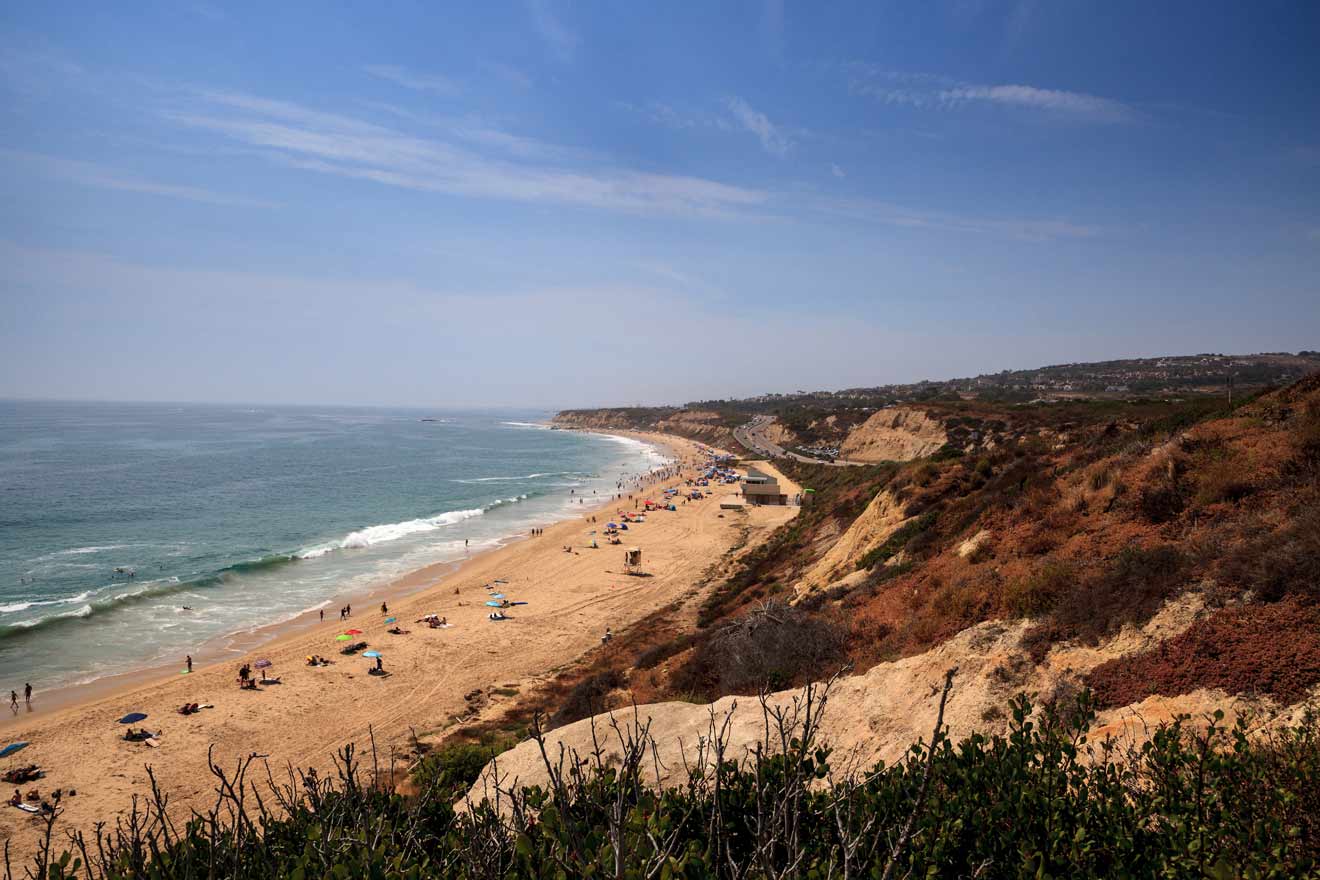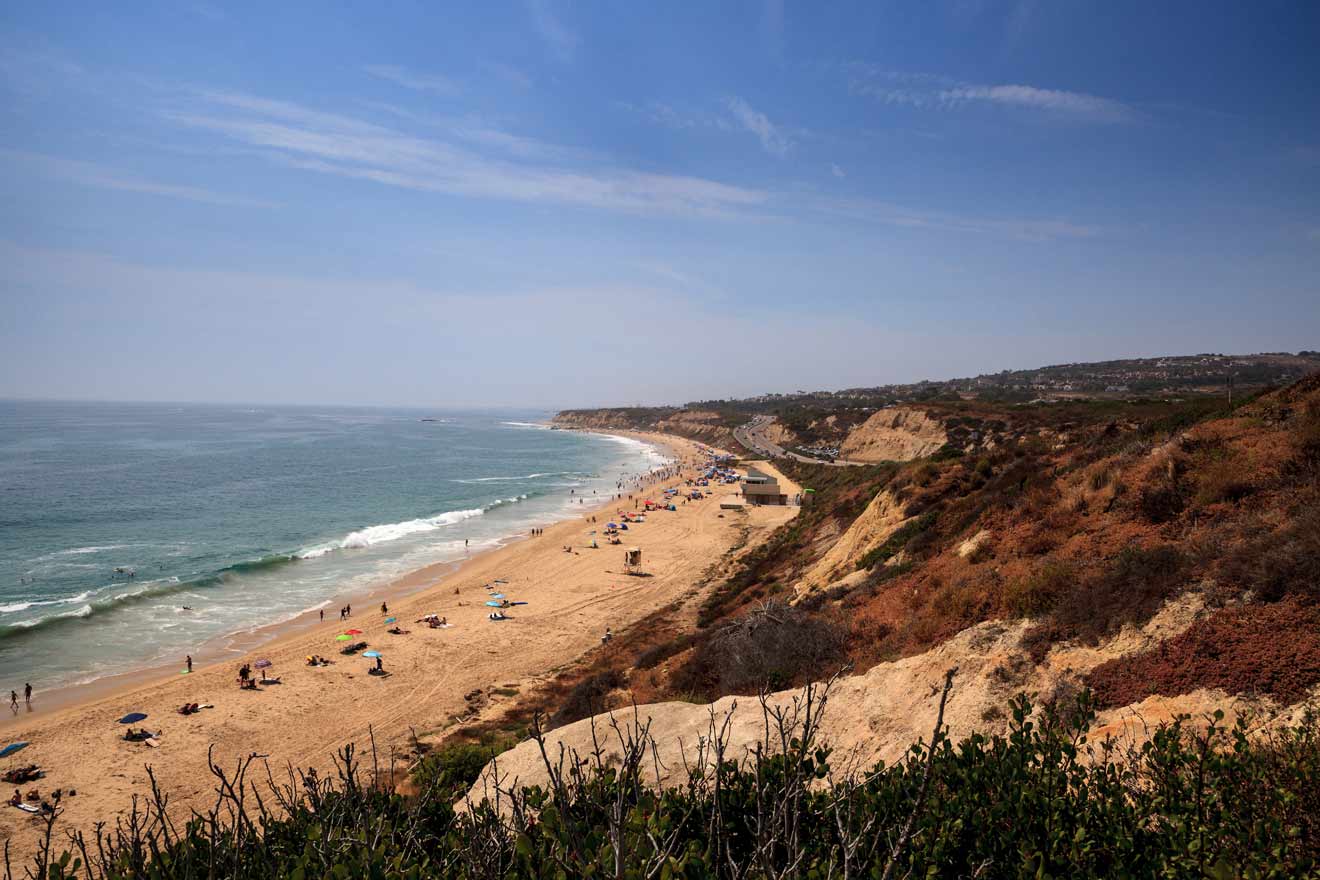 Stop by Crystal Cove State Park in Laguna Beach! It is the most popular destination in Laguna Beach, and it's definitely worth a visit while you're here. Crystal Cove State Park is known for its sandstone caves, tide pools, and stunning beaches, giving you a variety of activities to enjoy for your quick detour in Laguna Beach.
The #1 thing I recommend doing here is exploring the Crystal Cove State Park "underwater forest," with one of the most diverse marine ecosystems in the world. As you can imagine, there's so much to see here! I recommend exploring the tidepools and taking a look at all the shells and life along the cove.
NOTE: As cool as all the marine life might be, we want to do our best not to disturb their natural habitat! Be cautious and respect their homes.
17. Go whale-watching at Dana Point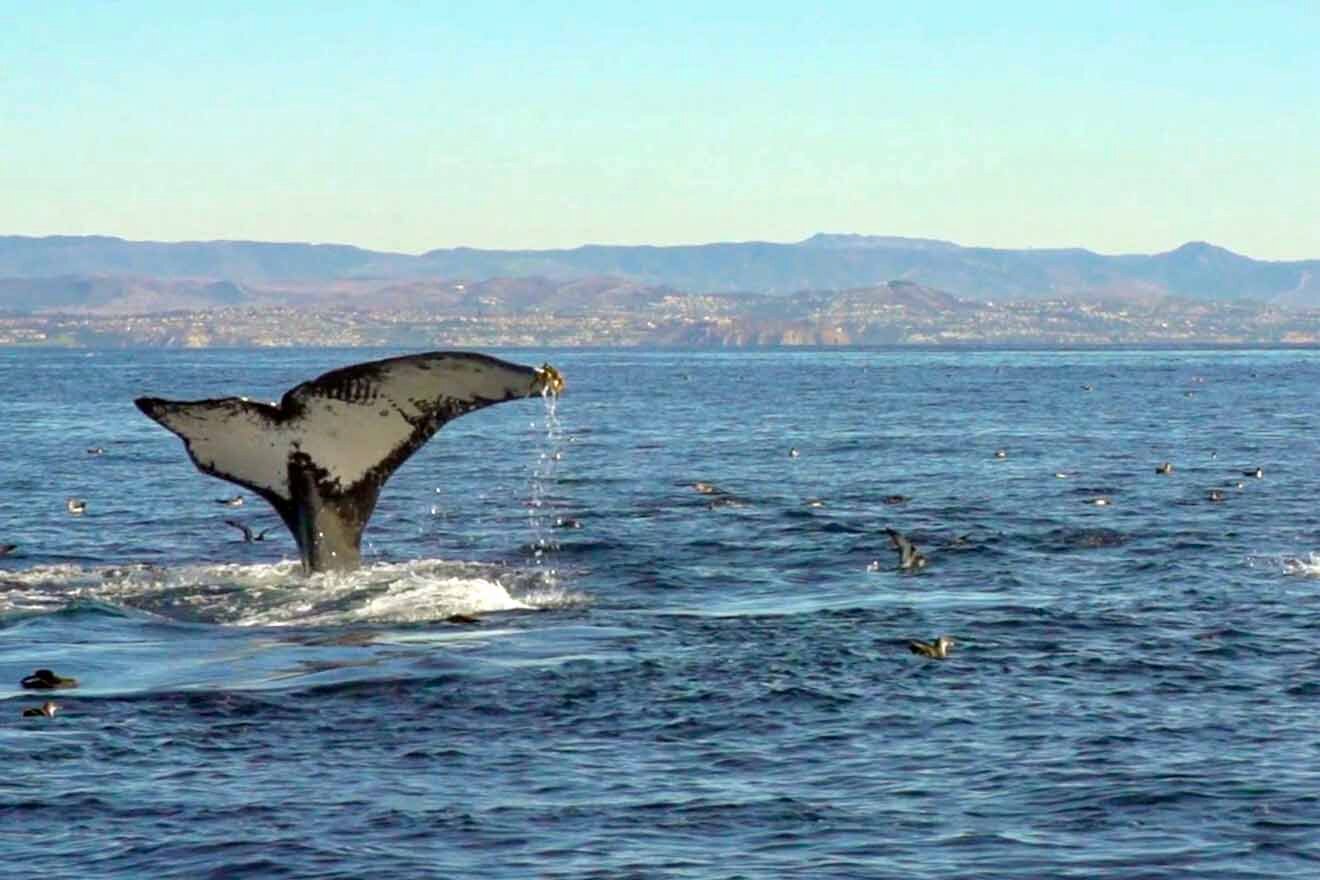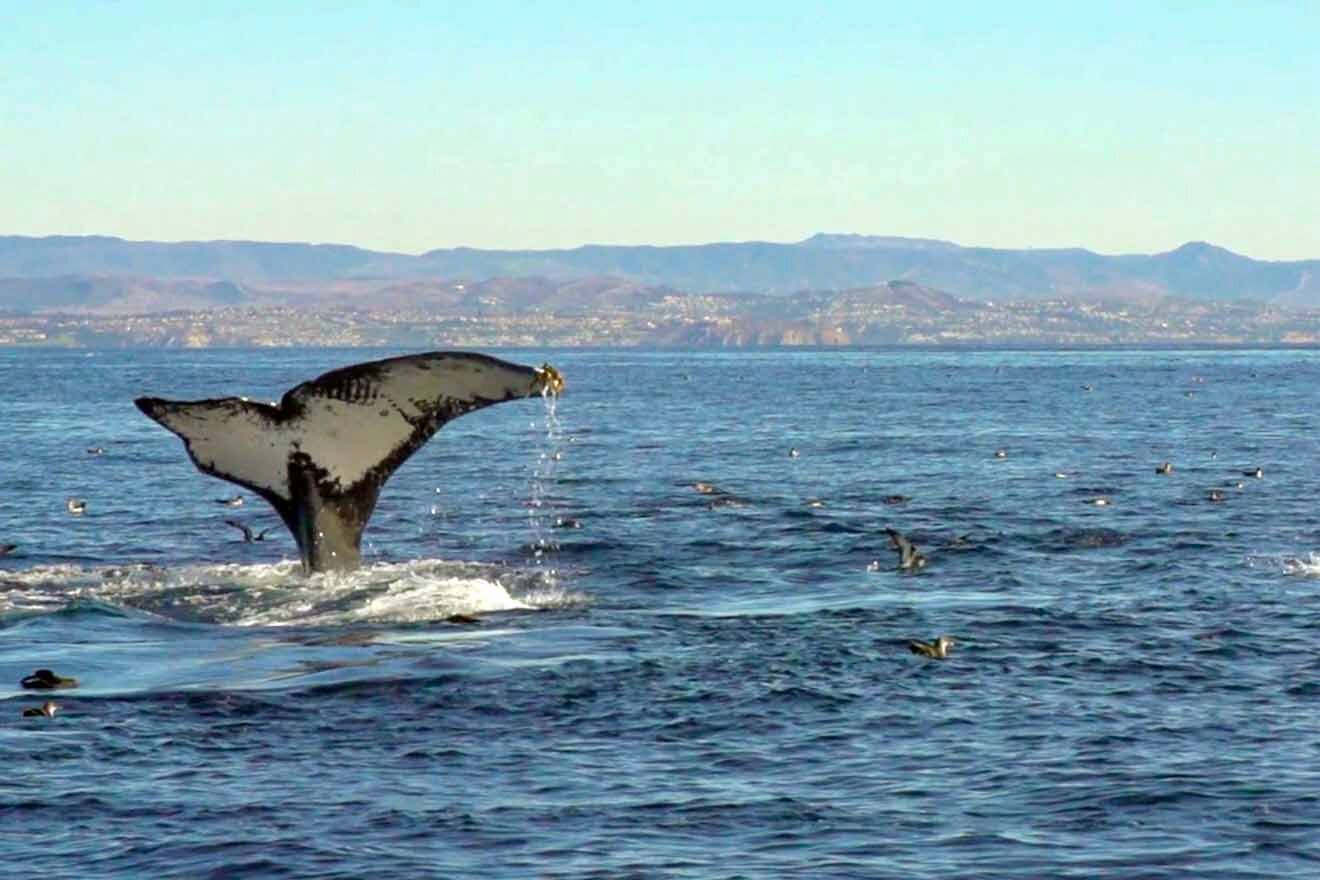 The Dana Point Harbor is one of the most significant points in Orange County, making this stop another essential that I absolutely had to add to this list. Being right around the corner (a little over 1-hour drive) from San Diego, you're officially at your last stop before making it.
Dana Point is known to be the whale-watching capital of the world, which is quite an impressive title. There are multiple ports in Dana Point where dozens of tours are being held every day.
This is an awesome tour where you get a chance to search for marine life along the Pacific Ocean on the Dana Point coast. I recommend checking it out if you plan on staying overnight in Dana Point since it's a bit off track and takes a bit more planning than a quick stop.
If you do stay overnight, check out the Blue Lantern Inn for your accommodations. The hotel is a stunning option sitting right on the harbor, making it convenient for easy access to all the major attractions to stroll around the next morning before heading down south to sunny San Diego.
NOTE: There's also a port in Dana Point going to Santa Catalina Island if you want to do a little island detour the next day before arriving in San Diego!
18. Last but not least, San Diego!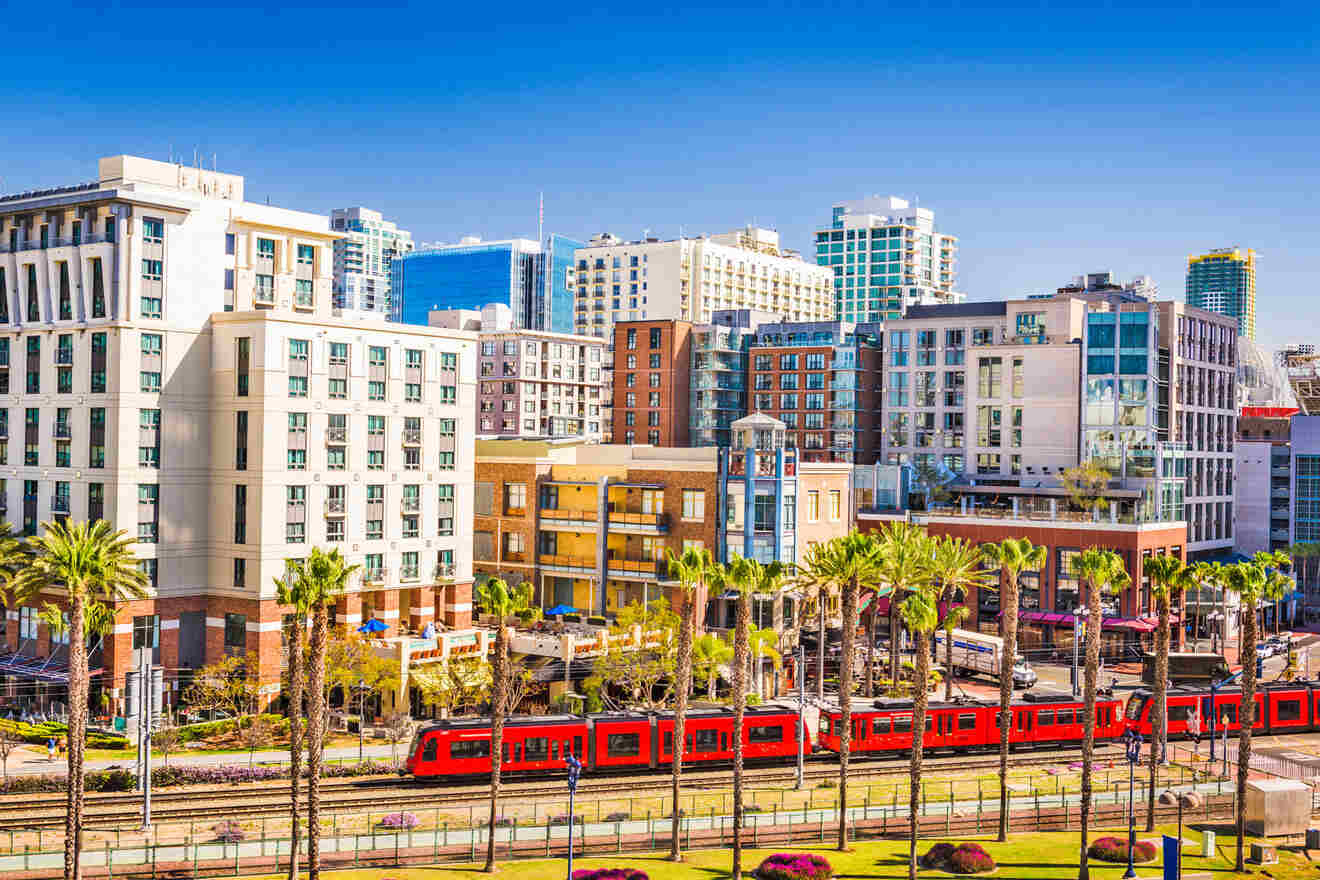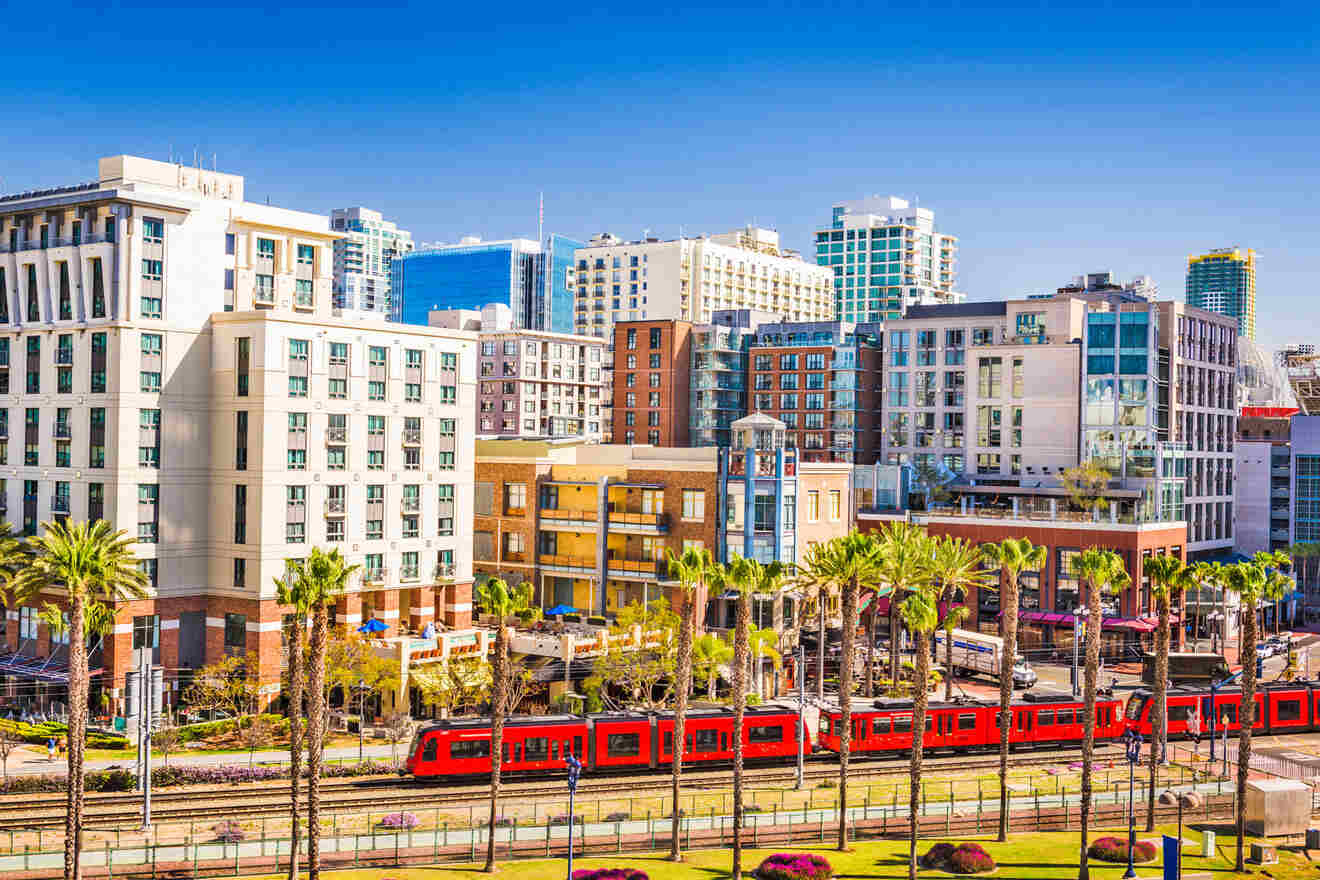 You did it!! You've officially made it to America's finest city, San Diego (and you're probably exhausted by now). With California's cities being known for all their gorgeous beaches, coastal views, perfect weather, Spanish-style architecture, and more – San Diego is no exception!
Here's a mini San Diego itinerary to check out while you're in San Diego County:
Where to stay during your San Francisco to San Diego road trip
The drive down the coast from San Francisco to San Diego non-stop is just about 10 hours or so. I recommend staying overnight at some of these places to avoid driving in the dark and putting yourself at harm by being behind the wheel when you're exhausted from a long day.
Here are a few hotels I recommend staying at, depending on your budget.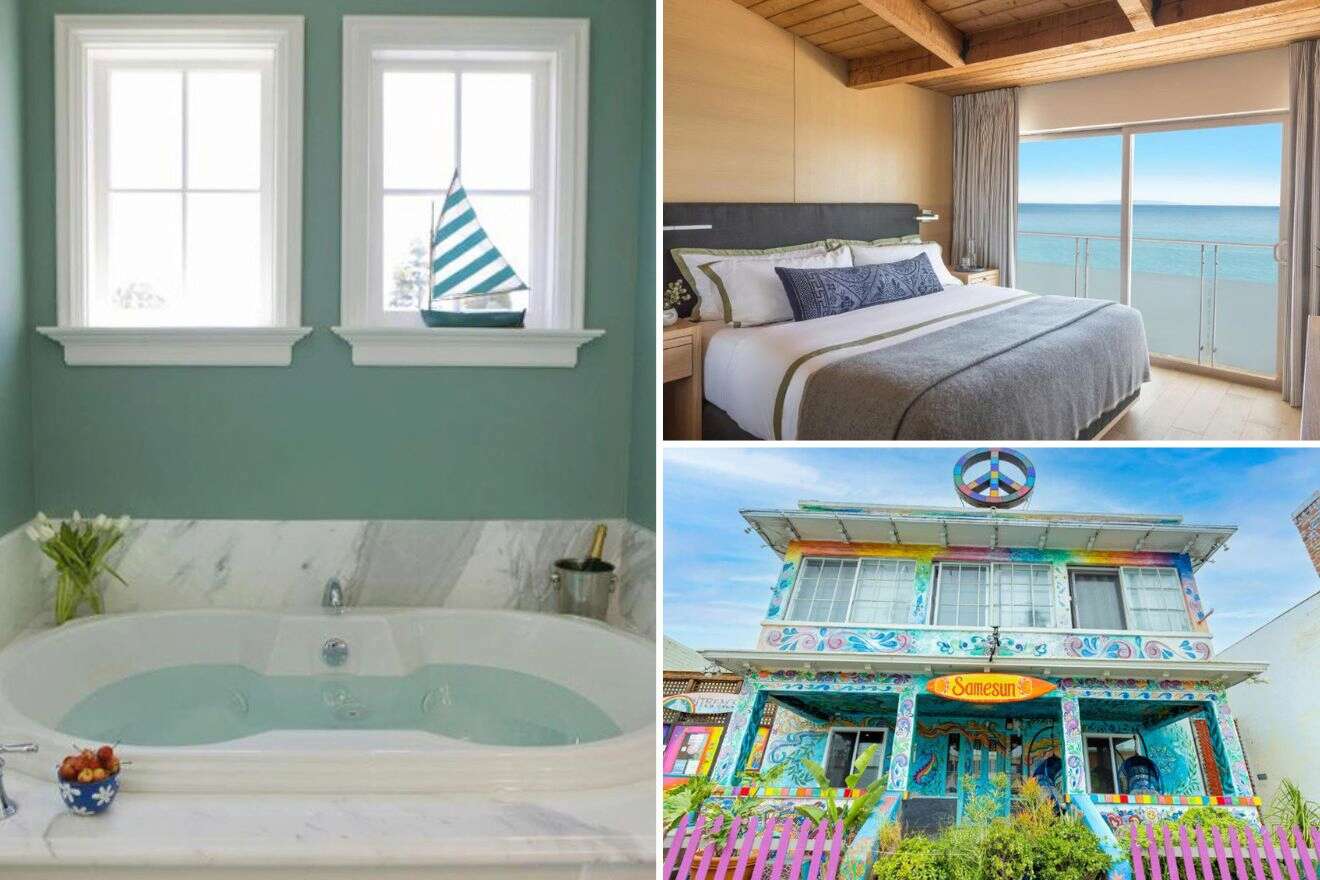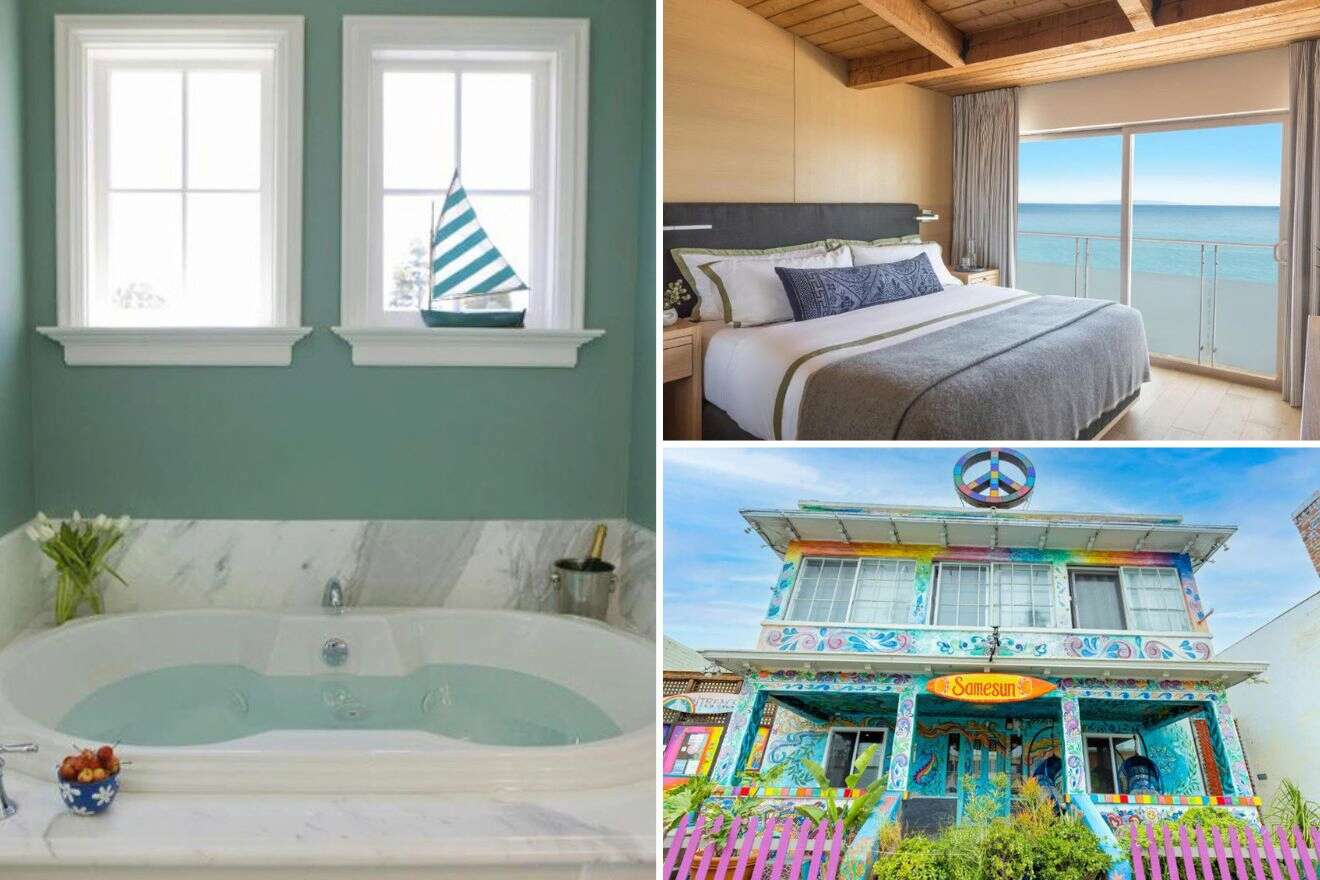 FAQs about your San Francisco to San Diego road trip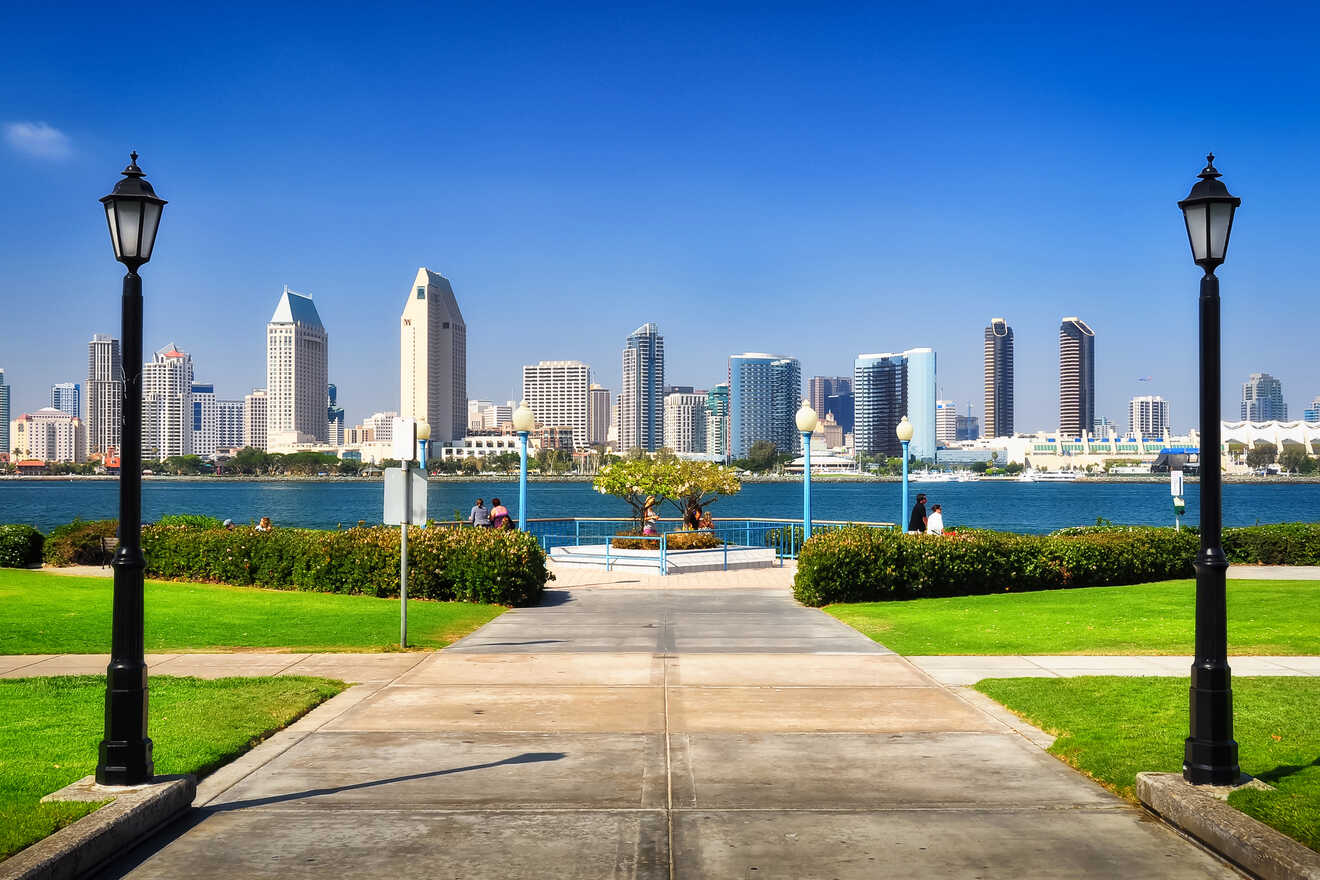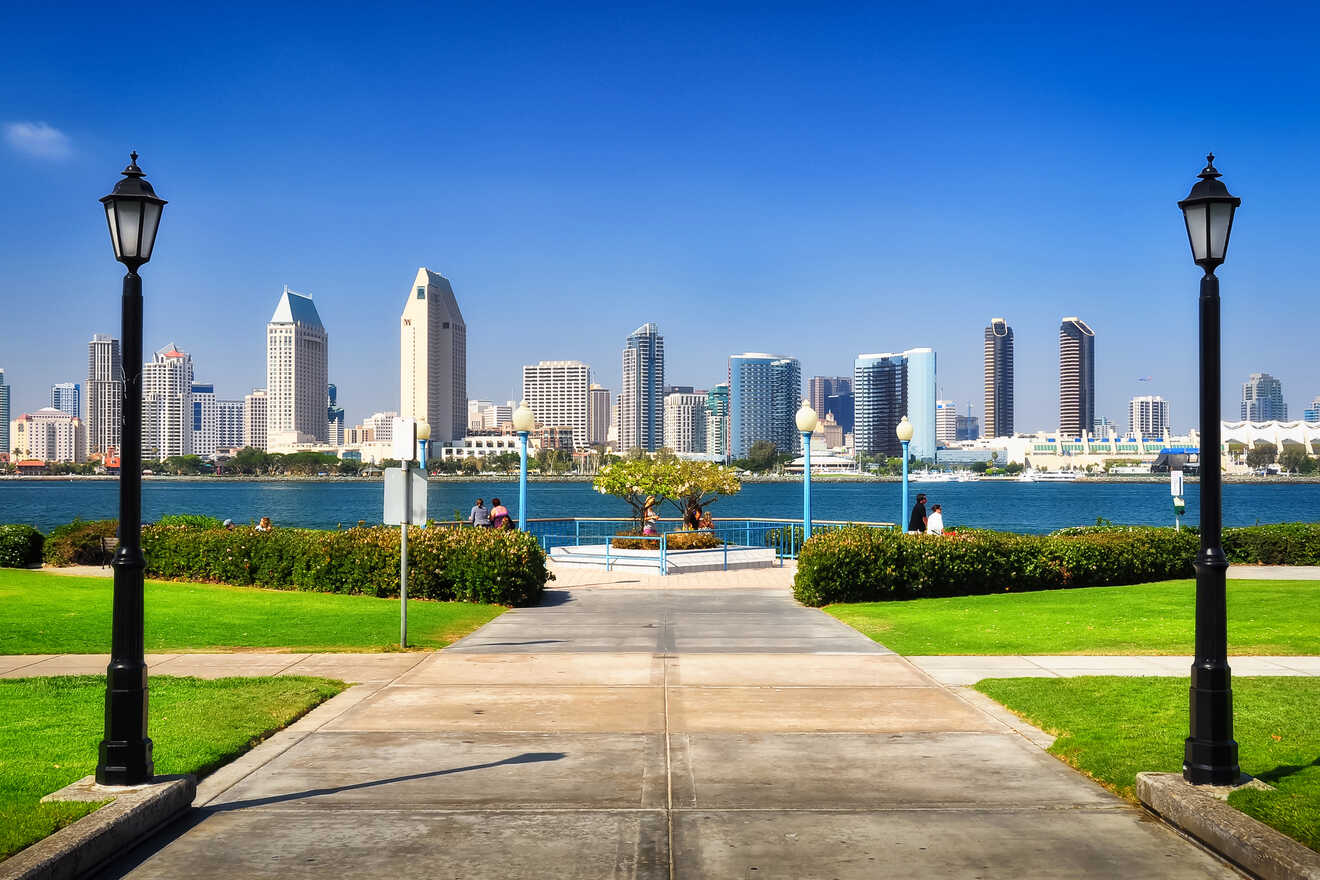 🕒 How long will a San Francisco to San Diego road trip take?
Using the inland route, a San Francisco to San Diego road trip is about 8.5 hours. Using the Pacific Coast Highway (scenic route), it can take between 10 hours and up to 2 days with stops.
🗺️ Where should I stop on a San Francisco to San Diego road trip?
The best places to stop are anywhere between the 17-Mile Drive. The coastal bluffs and natural preserves offer the best coastal views in California.
🌊 How long is the coastal drive on a San Francisco to San Diego road trip?
The coastal drive on a San Francisco to San Diego road trip is about 600 miles (c. 960 km).
📅 When is the best time to do a San Francisco to San Diego road trip?
The best time to do a San Francisco to San Diego road trip is during the spring and summer months (April – September). This is because this Pacific Coast Highway itinerary is filled with cliffside routes that can be dangerous if it's windy or rainy during the fall and winter months.
Conclusion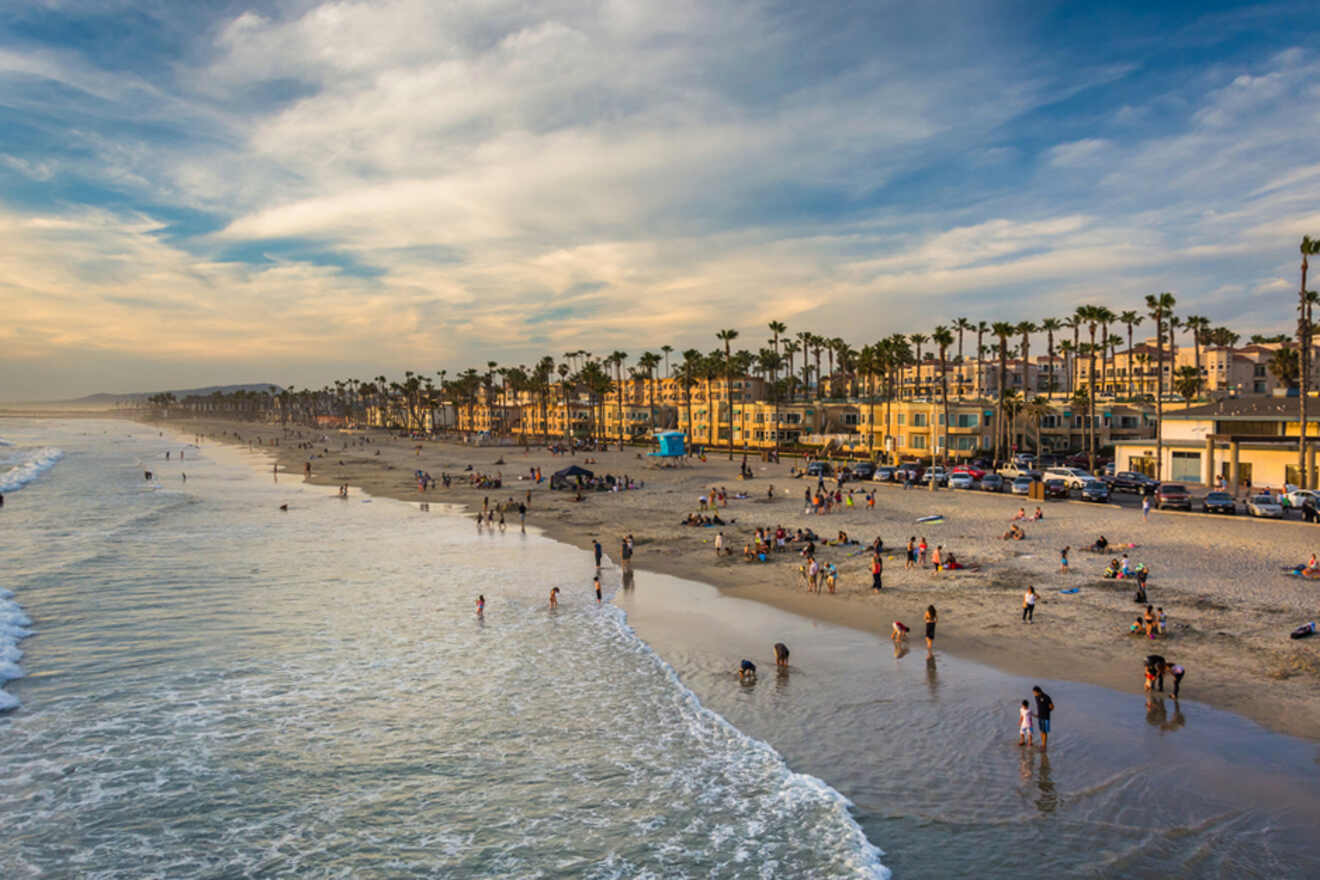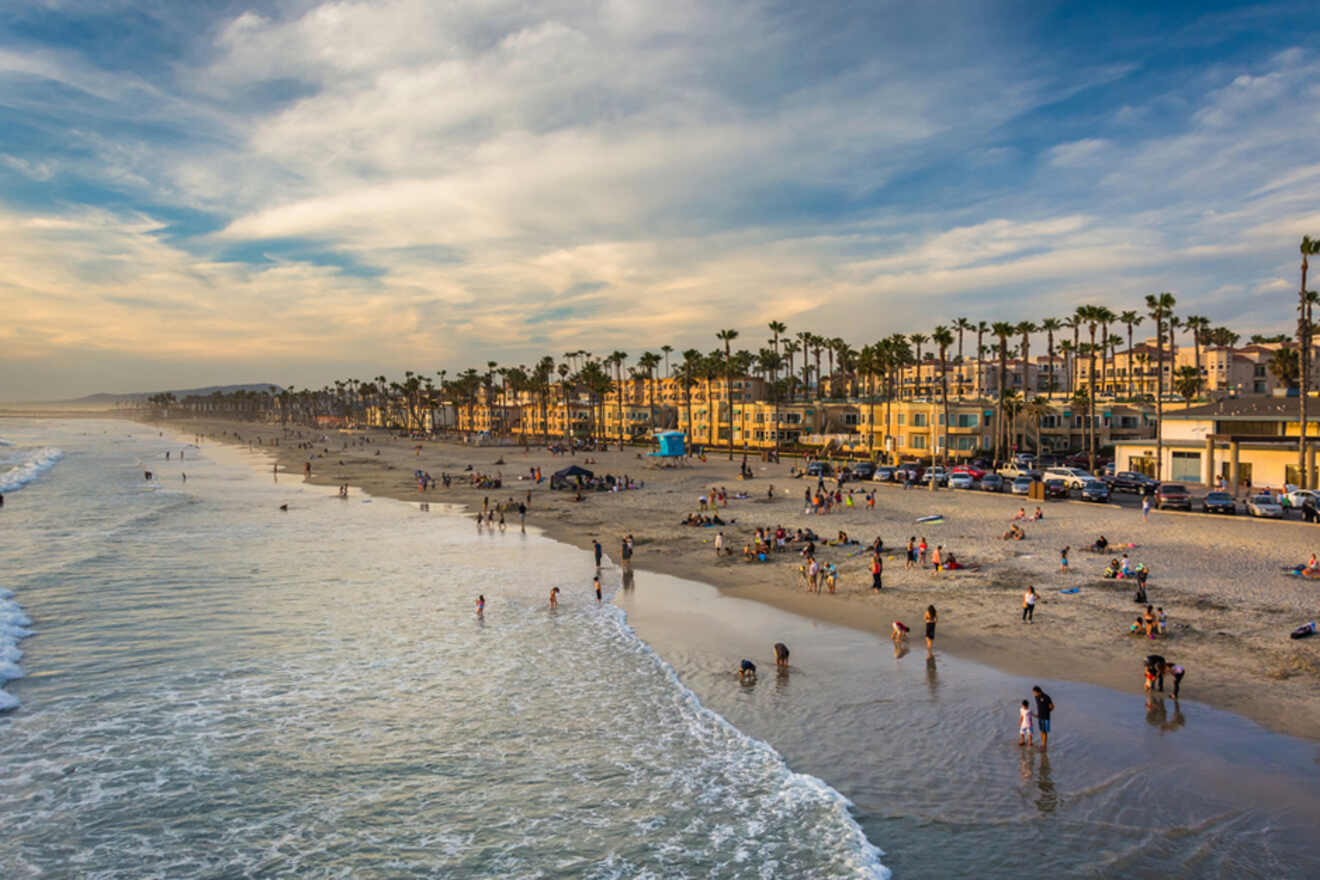 The next time you go on a San Francisco road trip heading towards San Diego, I'm confident you'll know all the hotspots to check out along the way! Whether it's a laid-back beach town in Southern California, the famous 17-Mile Drive along the coast, or visiting one of the many state parks California has to offer, you have options!
I had a great time writing this post and genuinely love traveling to each and every one of these spots (whether I'm on a road trip or just exploring the city). It's hard picking favorites here, but if I had to, I would say Carmel-by-the Sea and Santa Barbara are my top 2 favorite places to visit on a San Francisco to San Diego road trip.
I hope you enjoy your road trip heading down the California Coast! If you happen to visit any of these places, leave me a comment and let me know! I'd love to hear all about your experience.
P.S. Don't forget to book your stays and tours in advance to ensure your road trip goes smoothly!
Have fun and safe travels! ✈️
Esabel S.
---
Pin it for later!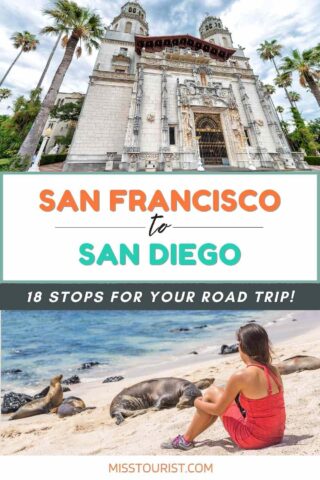 Pin it for later!