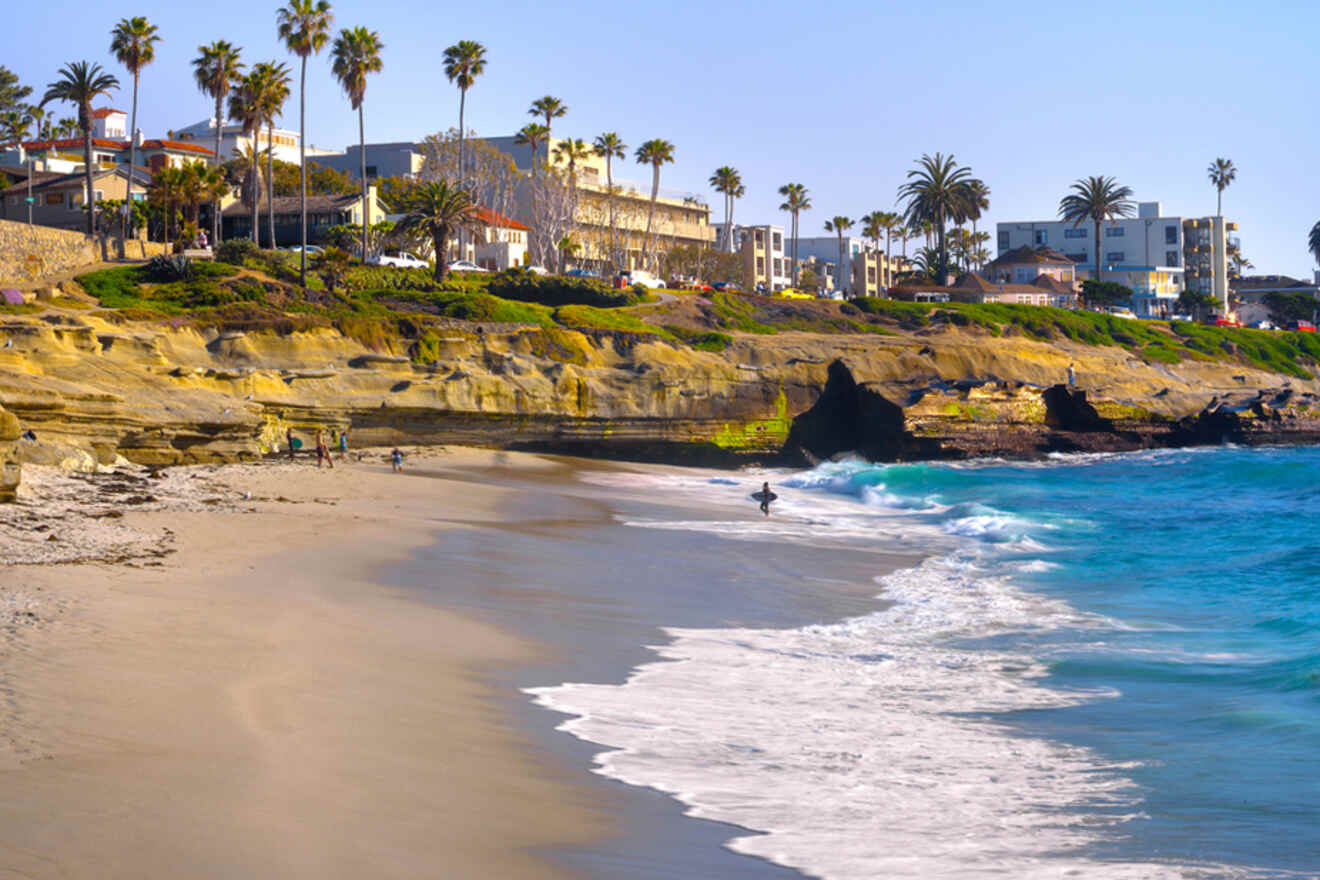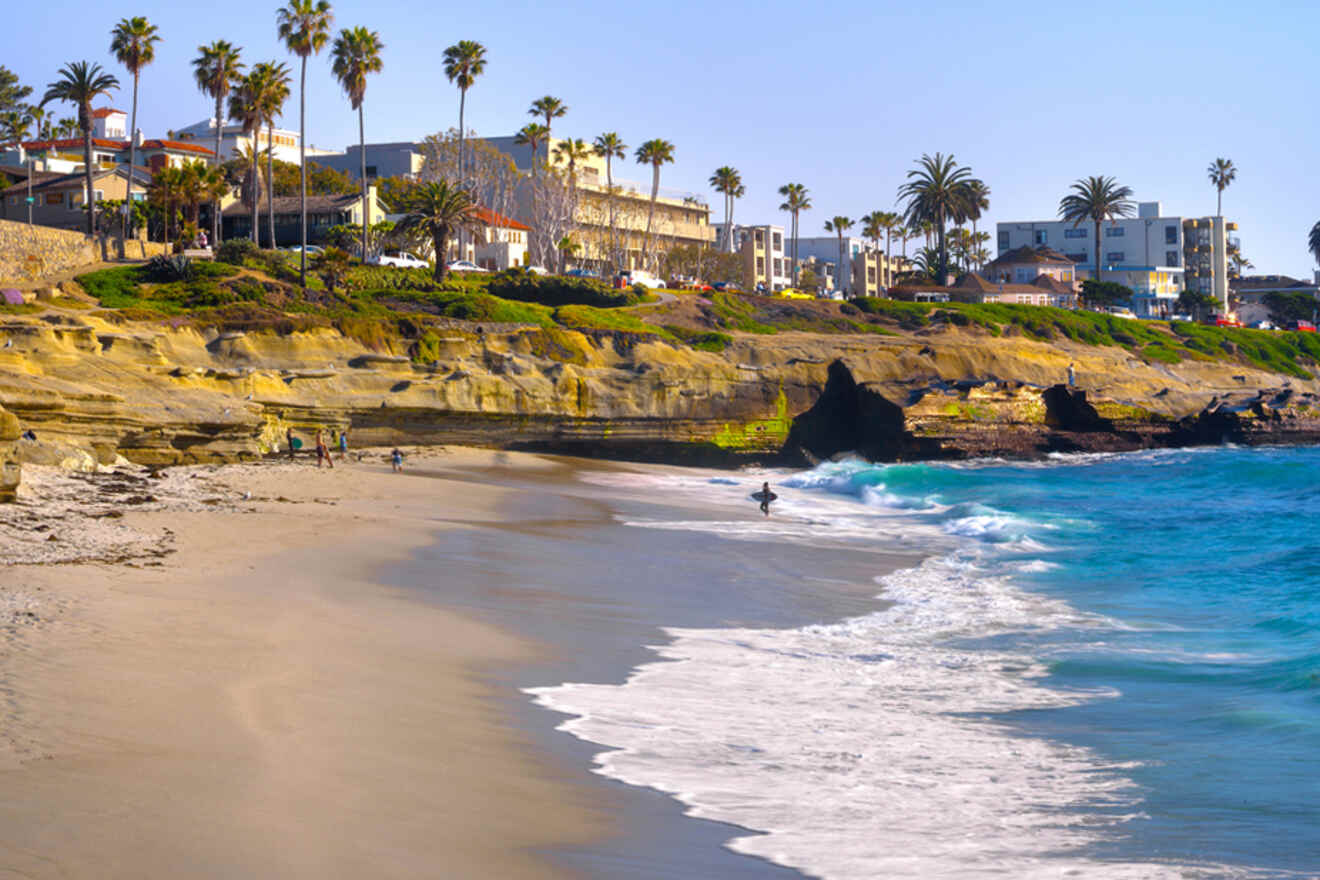 Who loves waking up to the sound of the waves crashing on the shores and to the smell of salty air? I can already visualize many raised hands! La Jolla is such a fantasy-like area in San Diego that you'll never get tired of it!
If you want to find the perfect La Jolla beach hotel, then follow me in this post, where you'll find the best hotels in La Jolla, which I listed from most to least expensive, so that you can easily pick the place of your dreams!
Before we start, I do want to mention that La Jolla is one of the most famous areas in San Diego, not only with tourists but with locals, too. That's why I highly recommend booking your hotel here in advance. Your favorite one can easily slip out of your hands if you wait too long, or it can reach a super high price.
Alrighty! I don't want to make you wait a minute longer!
Grab your surfboards, and let's start!
If you are in a hurry
Want to book your La Jolla hotel right now? Then check out the list below where you'll find the best hotels in La Jolla:
1. La Valencia Hotel – historic hotel near La Jolla Cove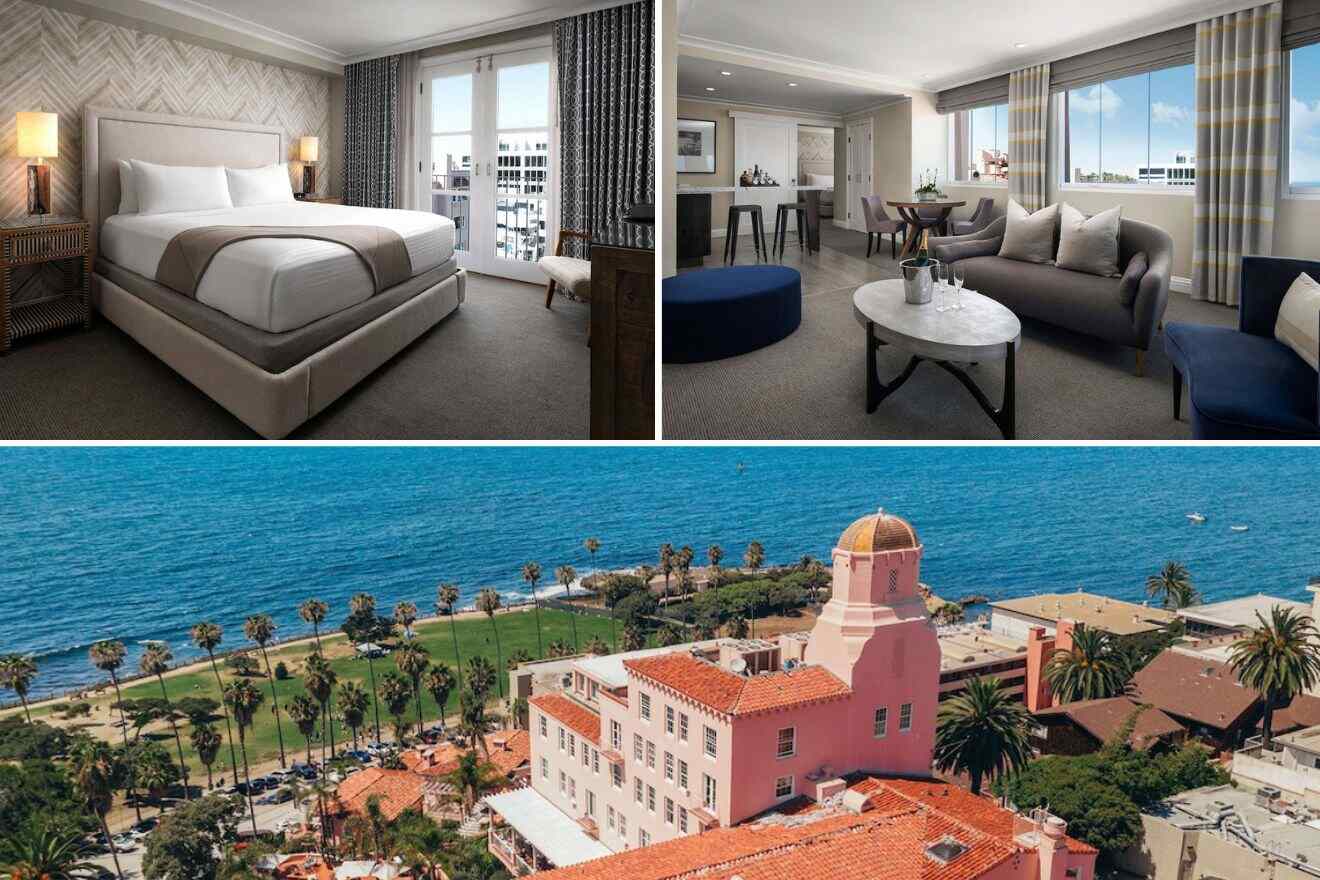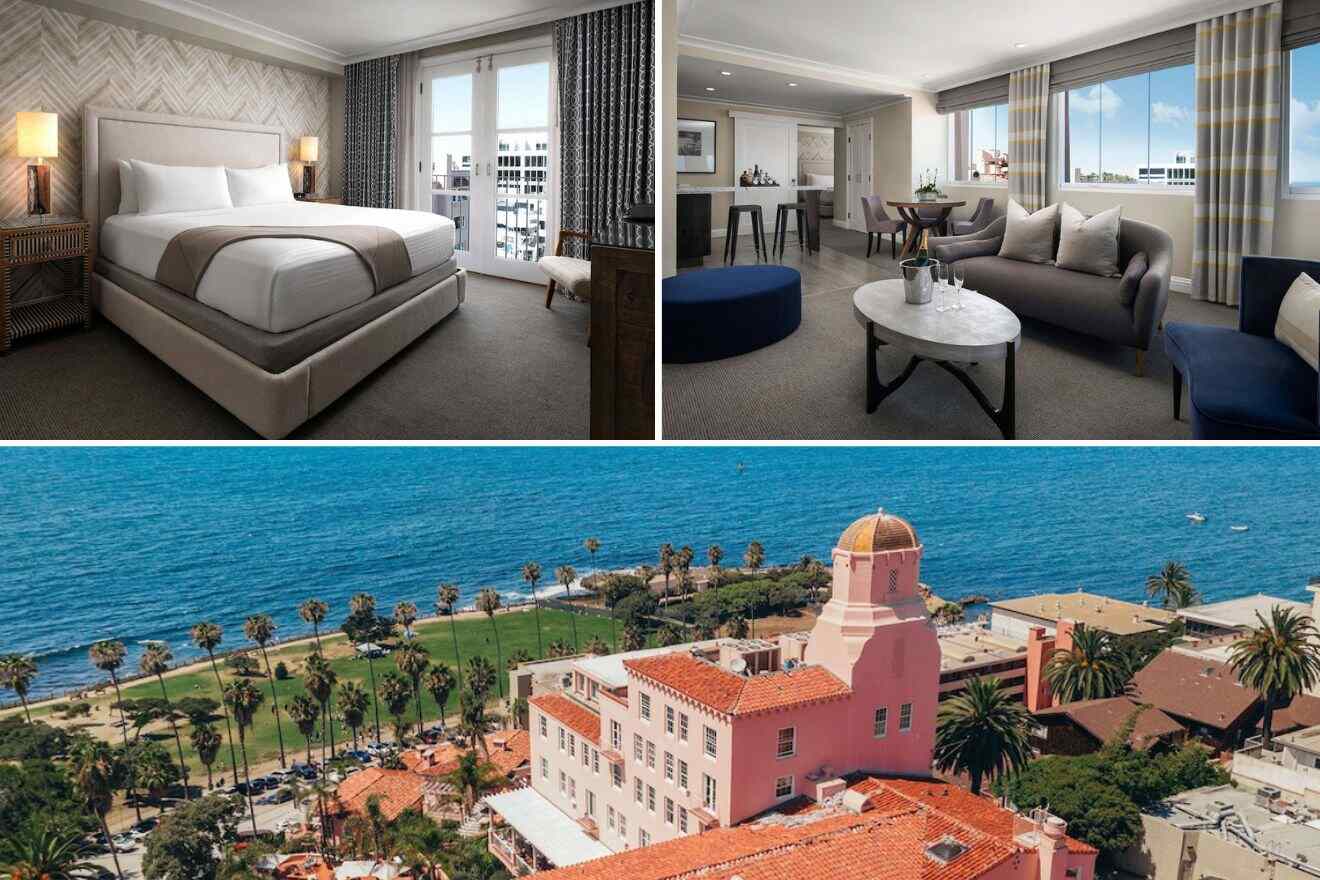 Wake up in the most fabulous guest rooms at this oceanfront hotel with a perfect location in La Jolla Village! Comfy beds, a flat-screen TV, and free Wi-Fi! You'll find all this and more at the luxury hotel overlooking the Pacific Ocean!
Set within walking distance of La Jolla Cove, the "Pink Lady" (that's how the hotel is nicknamed) also comes with an outdoor pool where you can enjoy your mornings alongside a cup of coffee or your preferred drink, 2 restaurants, and a poolside bar. Guests can also enjoy in-room massages during their stay (I'll definitely book one after that long flight or road trip to get there).
2. Orli La Jolla – stylish hotel with Pacific Ocean views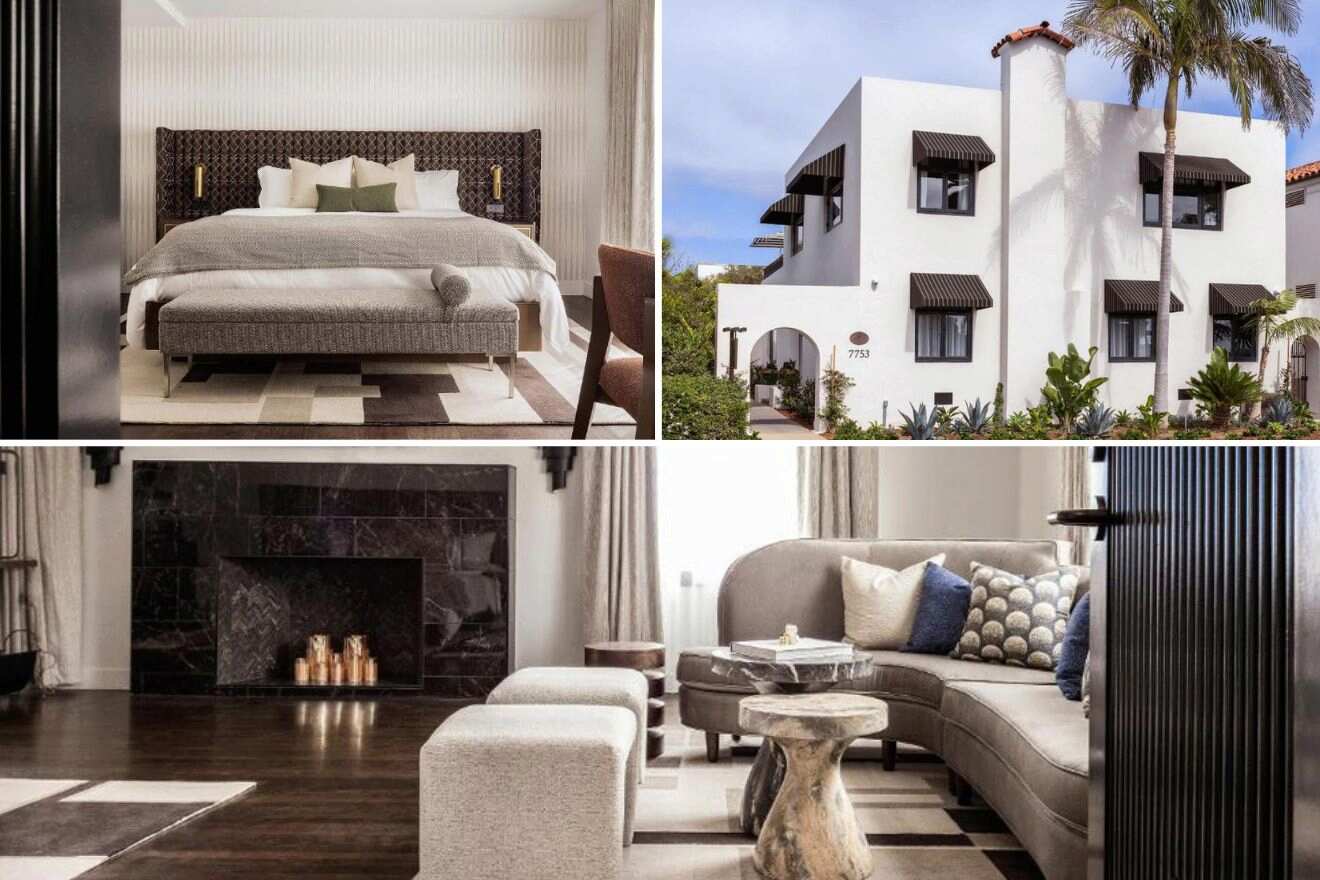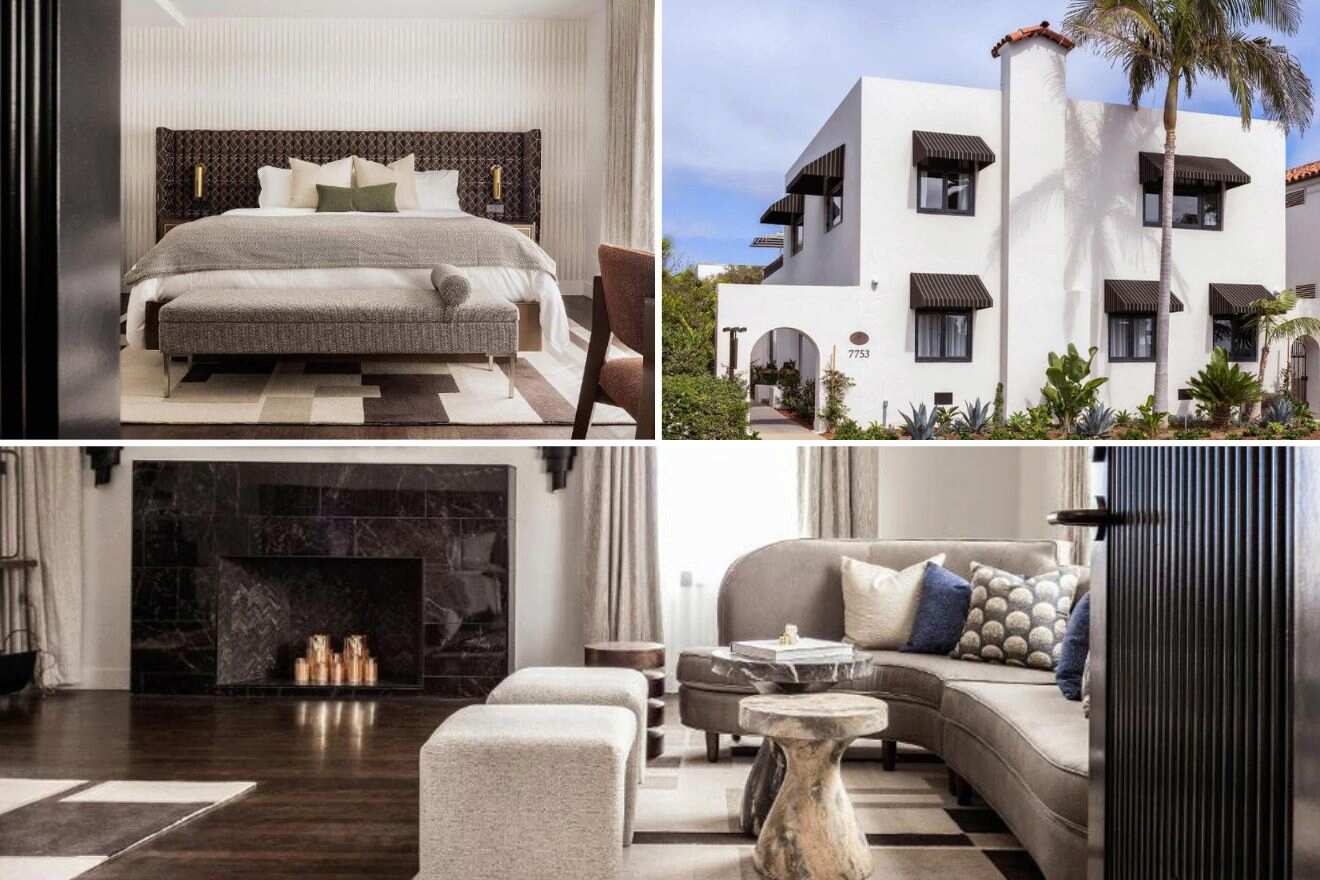 San Diego's beaches are so incredible, and you'll find some of the top ones in La Jolla Village! Just like this stylish luxury hotel with ocean views, that has some amazing rooms with balconies that overlook the Pacific Ocean!
Start your morning with a yummy coffee while admiring the fabulous vistas! Then you can chill on the terrace or borrow some bikes from the hotel and head out to explore San Diego's incredible areas. Of course, the beach is within walking distance, so you can plan a whole day of sunbathing and swimming! Don't forget to book your La Jolla hotels in advance. This area is super popular, and the great spots will sell out fast!
3. Pantai Inn – Balinese-inspired boutique hotel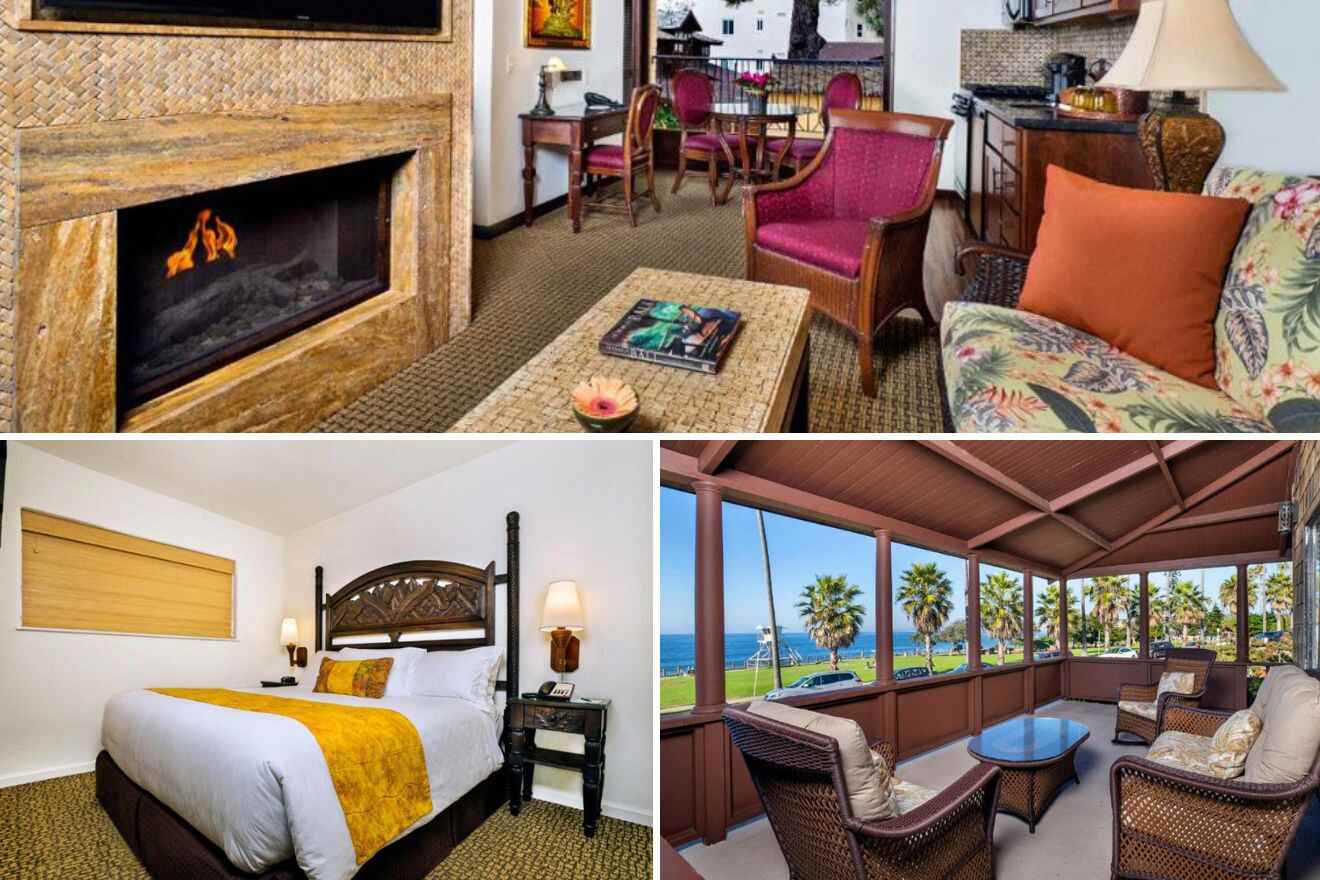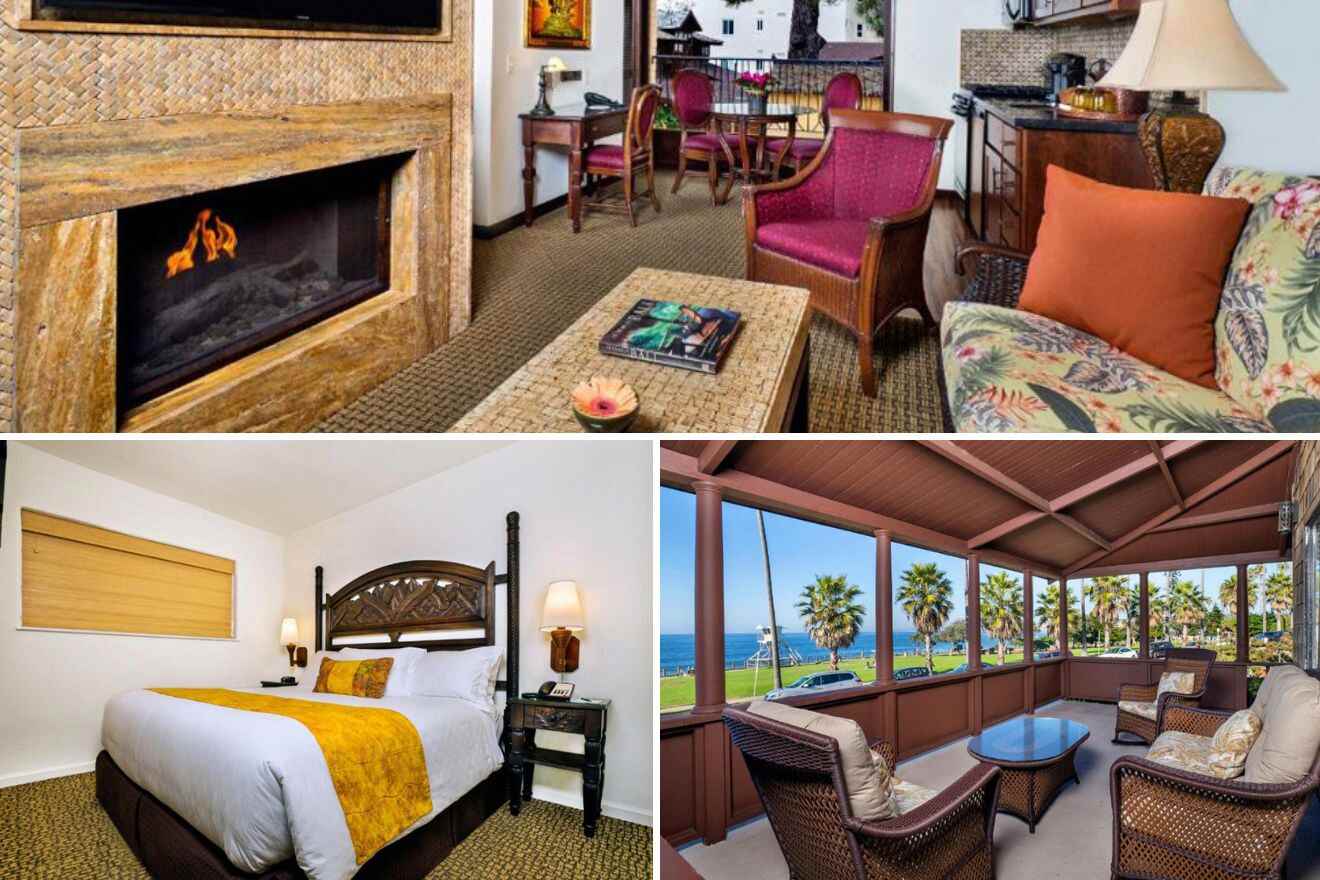 Coffee with an ocean view? Yes, please! This incredible hotel in La Jolla Cove comes with Balinese-inspired rooms with a balcony overlooking the Pacific Ocean, a small kitchen, and fireplaces! The perfect spot to relax after a day of visiting attractions like Balboa Park or San Diego Zoo.
The suites even feature custom-made wood-carved furnishings and Indonesian artwork (wow)! And of course, you'll find many other cool things here, like many activities (horse riding and snorkeling, anyone?), a nice outdoor fireplace where you can enjoy your nights, and a fitness center.
4. La Jolla Beach and Tennis Club – for a fun family trip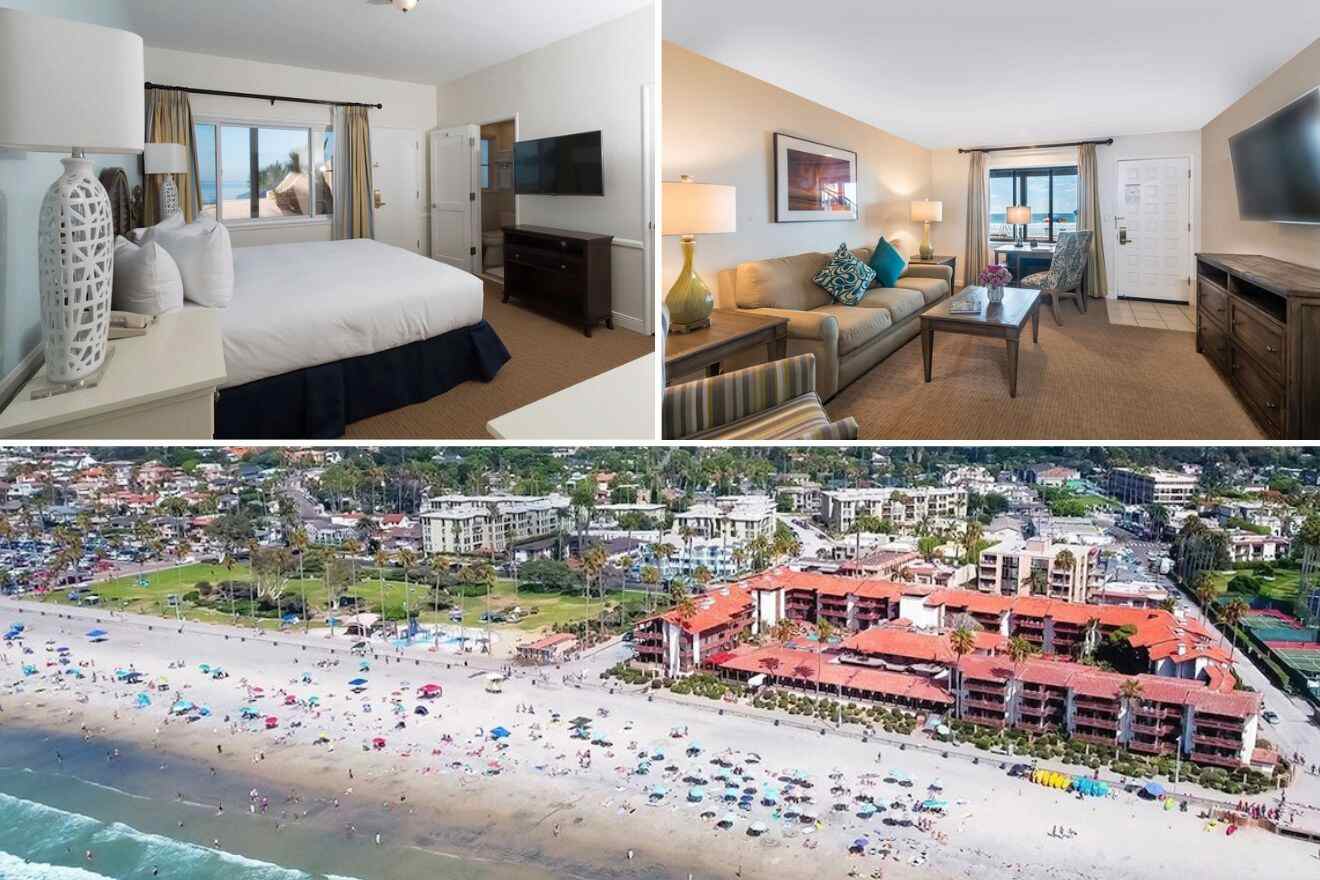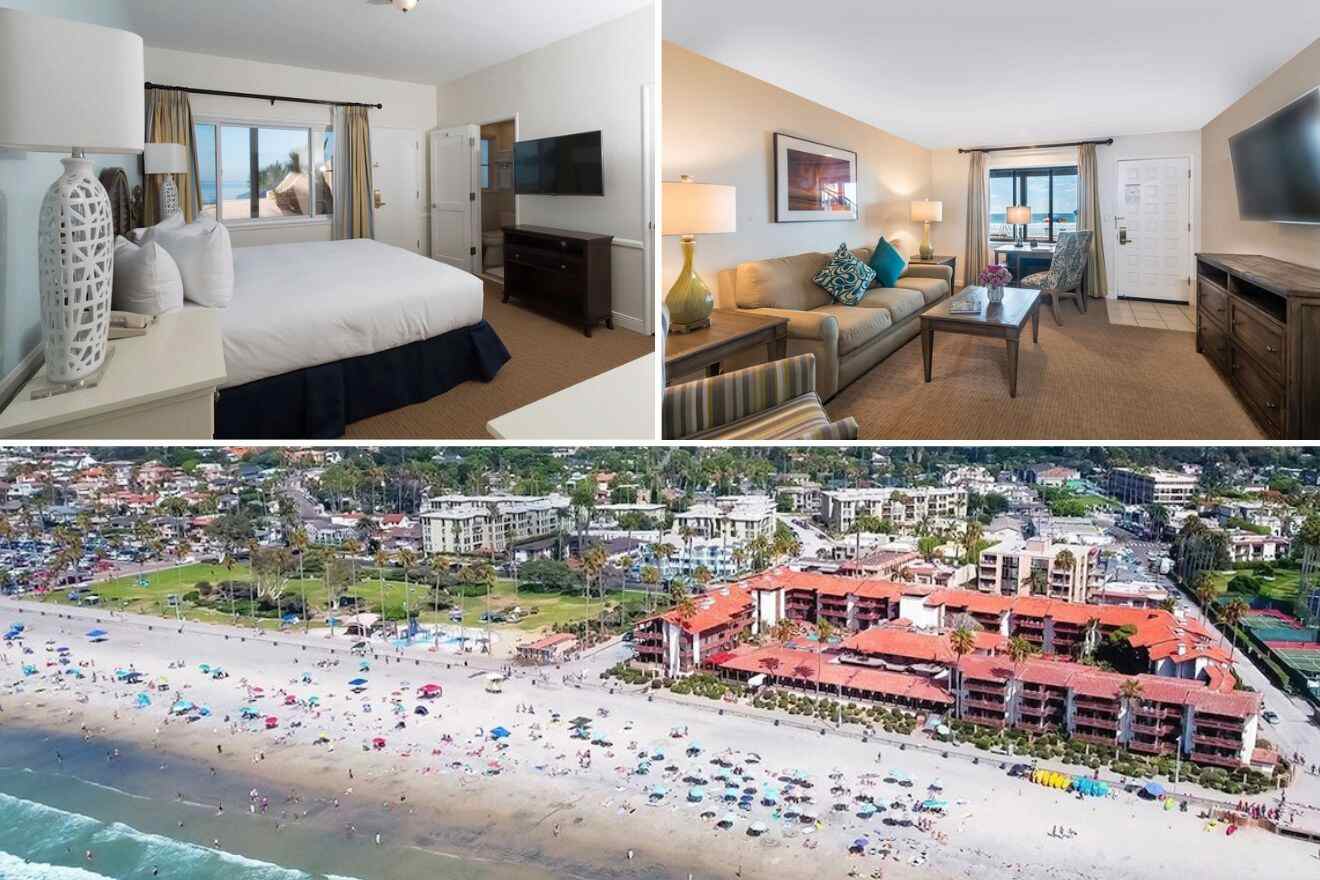 Set on a private beach in La Jolla Shores, this amazing hotel is perfect for those who want to stay as close as possible to the ocean! The modern accommodation comes equipped with all the facilities you need for your stay, including spacious rooms, an outdoor pool and a children's pool, plus many others!
Not only is the hotel set right on the beach, but it is also near the Birch Aquarium, a great spot to check out, especially if you're coming with the kids! There's no doubt that La Jolla is the perfect destination for your next trip, and this hotel which also offers a spa center, beach chairs, and a nine-hole golf course, is definitely a keeper!
5. La Jolla Shores Hotel – for a relaxed stay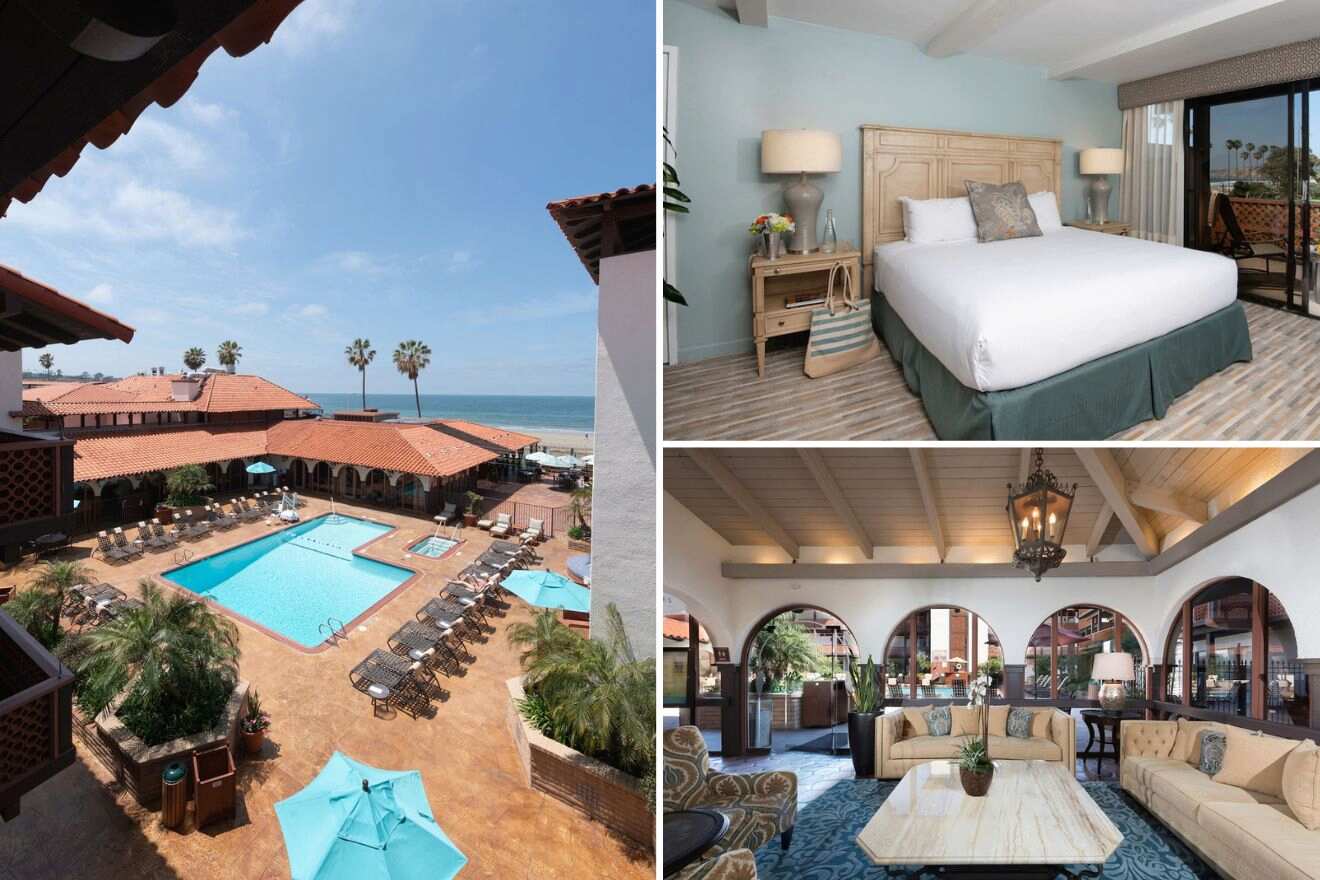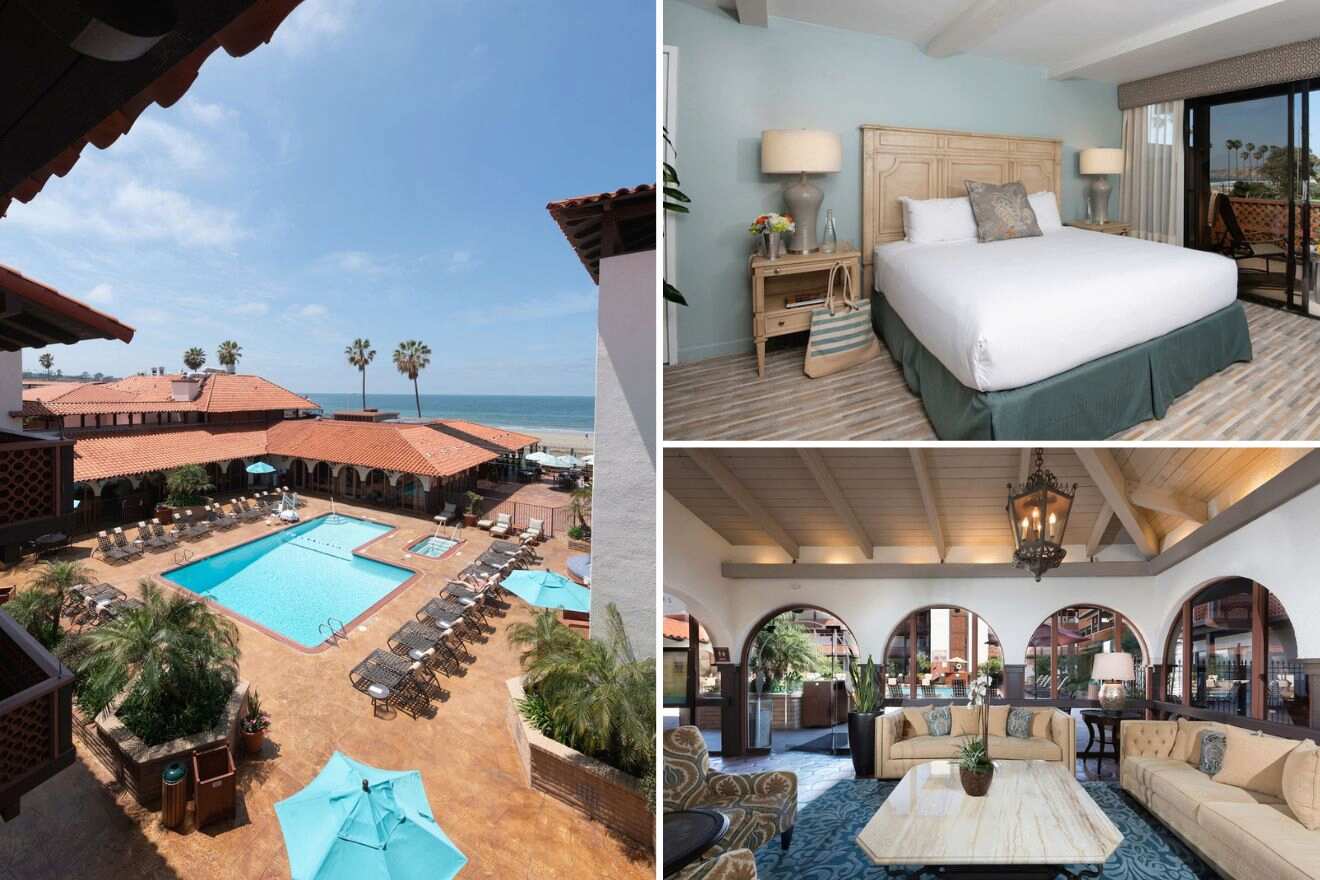 Jump from your comfy bed at this beachfront hotel in La Jolla Shores straight into the ocean! This is one of the best La Jolla Shores hotels in San Diego! Conveniently located right on the beach, the place has great reviews, and it comes with rooms that have furnished balconies with a breathtaking ocean view!
There are so many things to do in La Jolla, but before you check those out, make sure you enjoy all the perks at this hotel! Chill by the outdoor pool, sunbathe on La Jolla Shores Beach, and hit the sauna when you need that detox sesh! Yep, there's something here for every type of traveler!
6. Scripps Inn – for nature lovers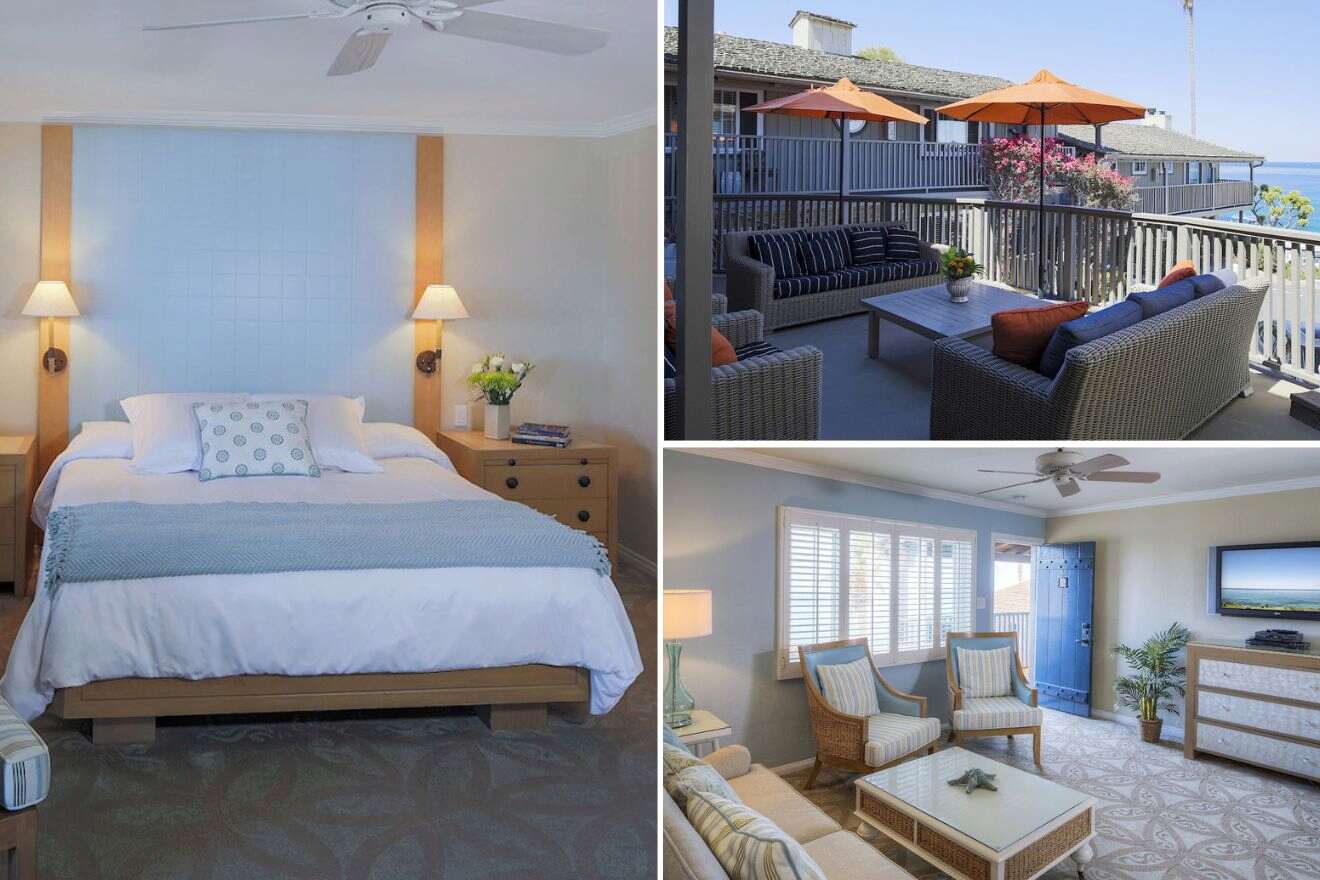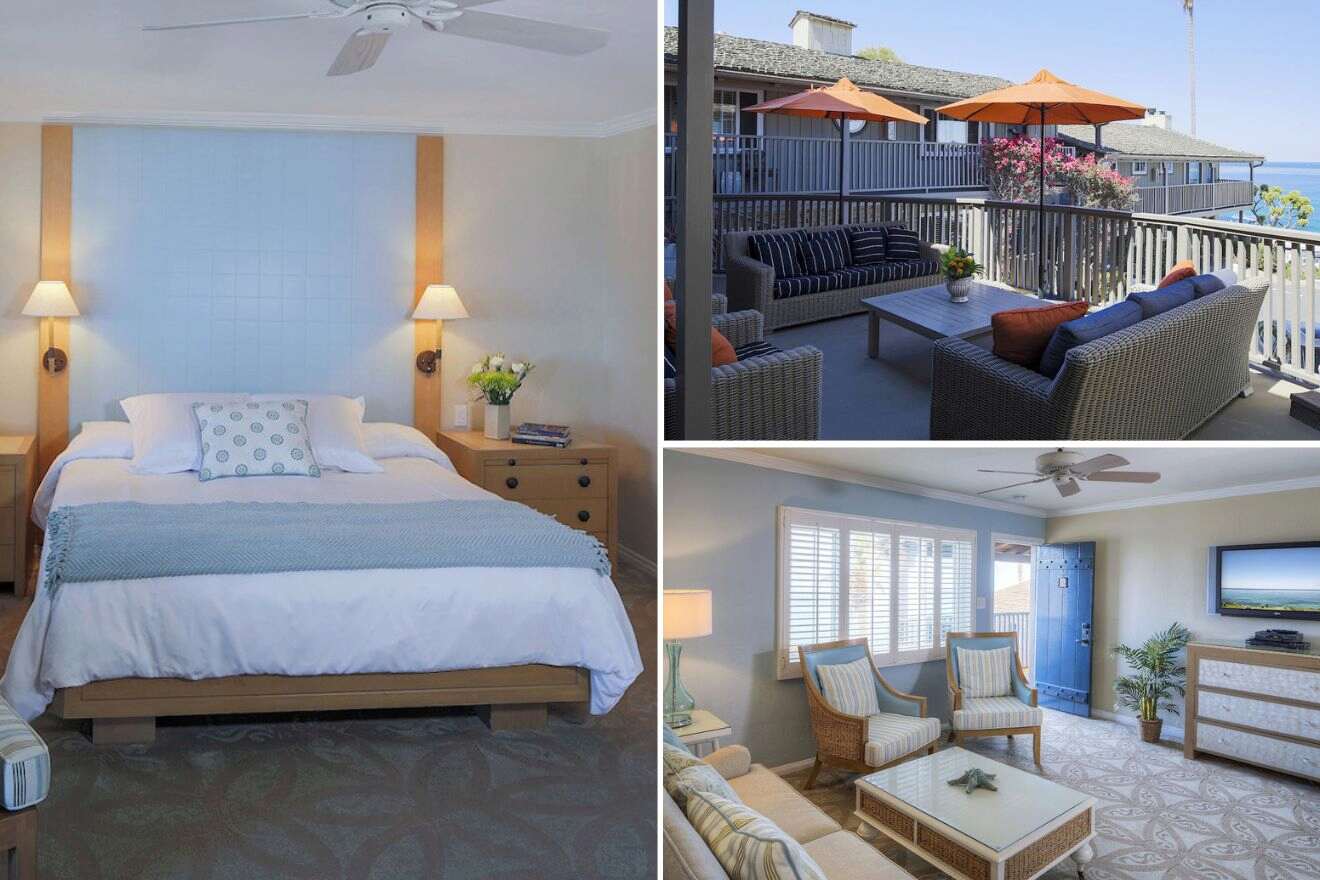 Simple, homie, and so cozy! This amazing place to stay in La Jolla Village offers some amazing ocean views! Perfect for those who want a more relaxed or tranquil trip, the accommodation has rooms with coffee makers, a small refrigerator, a flat-screen TV, and ceiling fans.
If you're an early bird, I'd definitely recommend waking up in time to catch the sunrise from the terrace! The views will be absolutely insane, and then you can continue your day with some coffee, breakfast, and a visit to downtown La Jolla.
7. Grande Colonial Hotel La Jolla – elegant hotel with a pool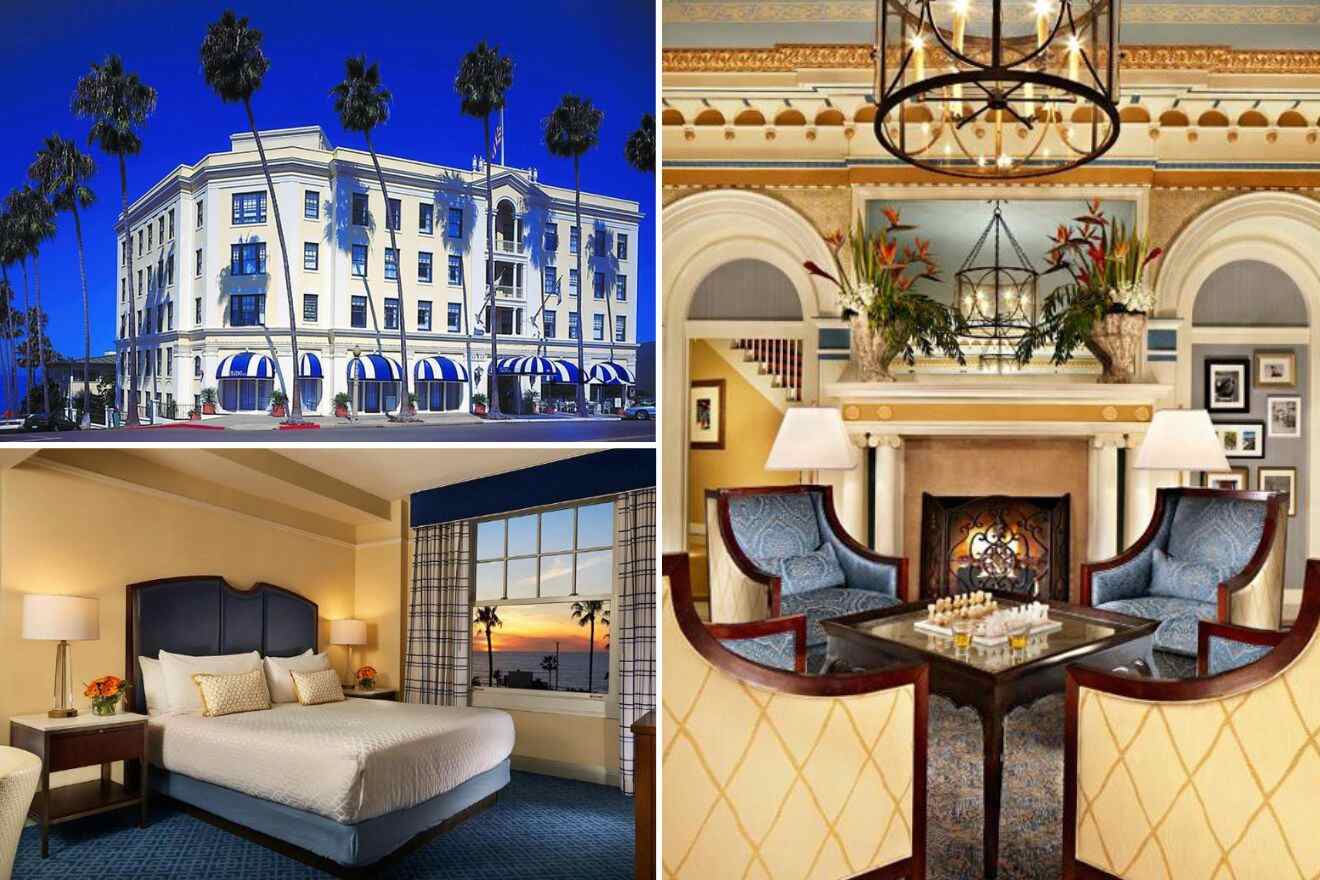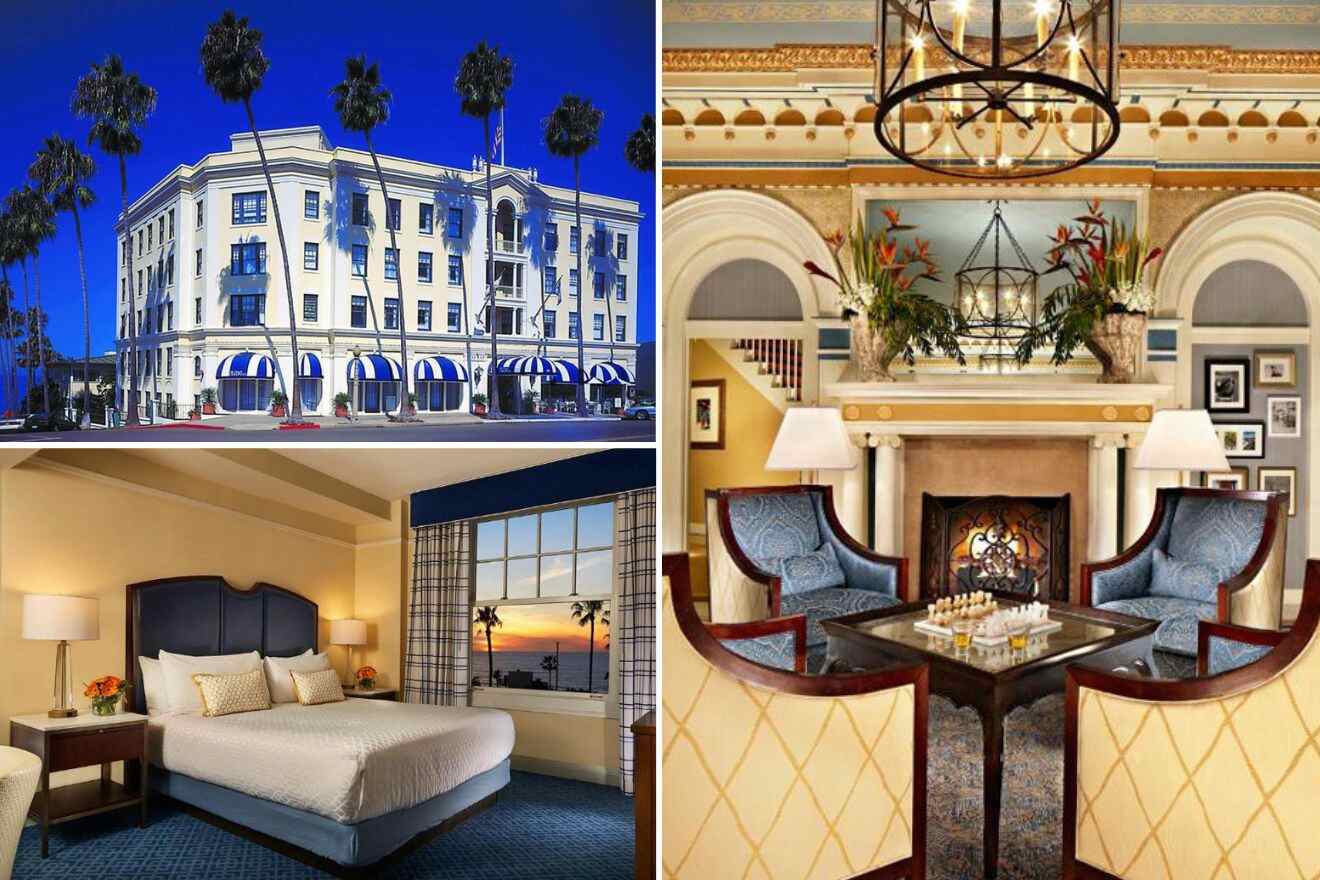 Is there something better than waking up every day to that incredible sight of the blue ocean? Just some moments of staring into it can improve your day so much! Am I right? And this hotel in La Jolla Cove sure offers a breathtaking view from its spacious rooms with a flat-screen TV and free Wi-Fi.
The elegant hotel is beautifully decorated with unique furnishings, and it has an onsite restaurant where guests can indulge in some of the most delicious dishes! Set just a 20 min drive away from the San Diego Zoo and other attractions, the accommodation comes with an outdoor pool, spa treatments, and a bicycle rental.
8. Hilton La Jolla Torrey Pines – for golf enthusiasts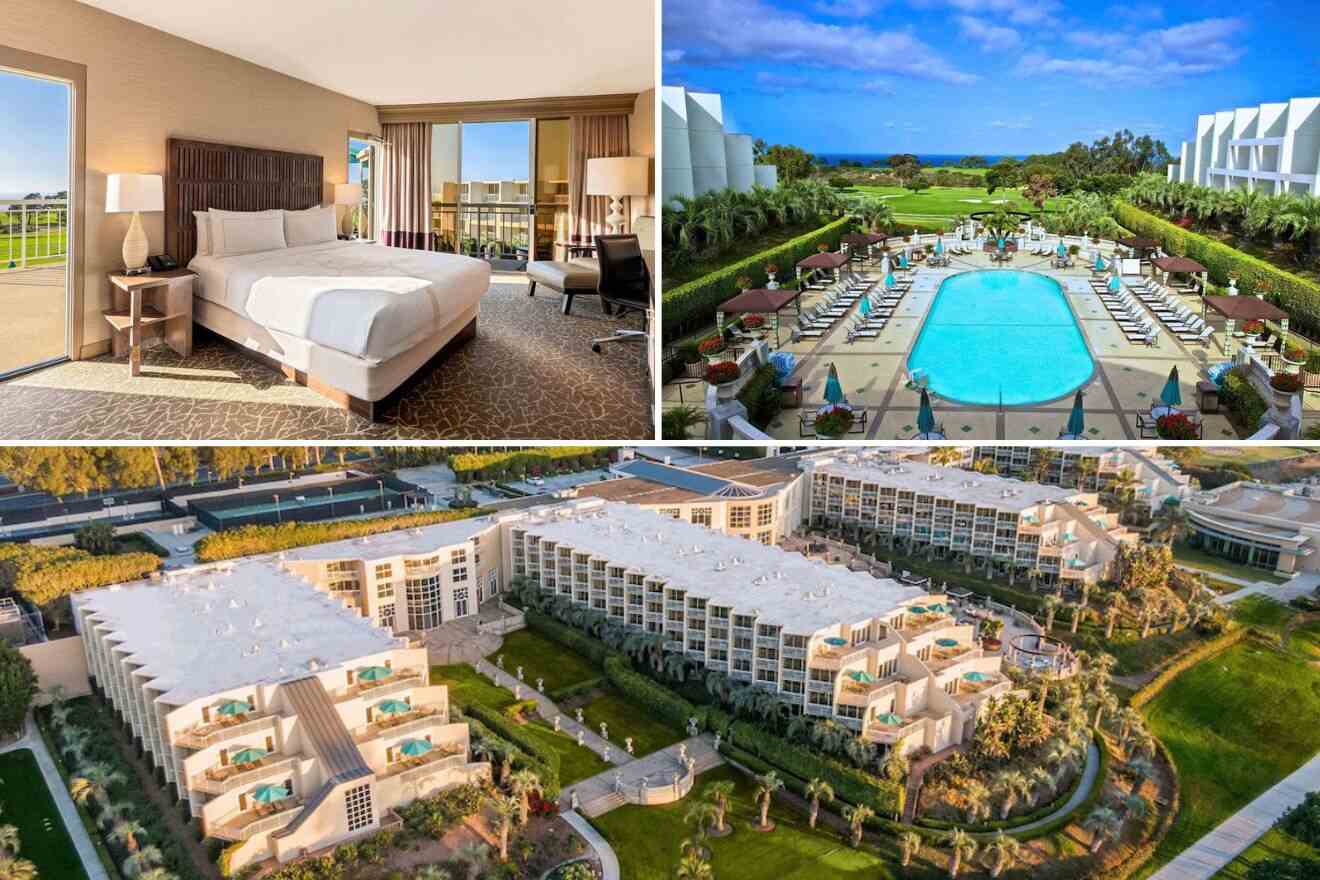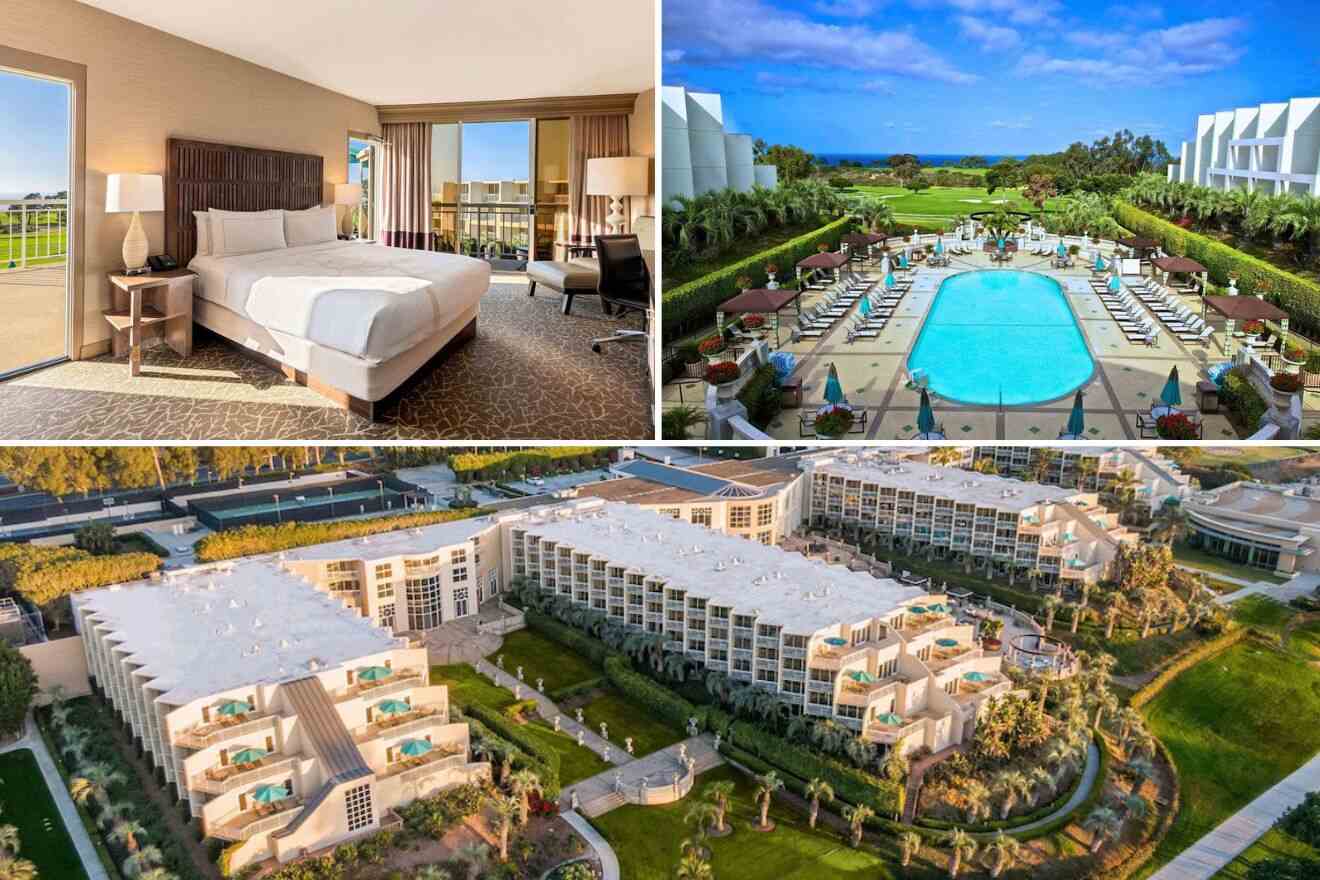 Although this hotel has a lower score than I'd normally recommend, I wanted to include it since it is located super close to the famous Torrey Pines Golf Course and the Torrey Pines Natural State Reserve. The accommodation offers no more and no less than a 36 holes golf course, a poolside bar, and of course incredible ocean views!
All the rooms have stunning decor, and I loved the fact that they used soft colors. It just blends so well with the green golf course that you can see from your balcony and that lively blue of the Pacific Ocean. The hotel also comes with a spa center, a restaurant, and an outdoor tennis court.
9. Inn by the Sea, La Jolla – a modern hotel with a pool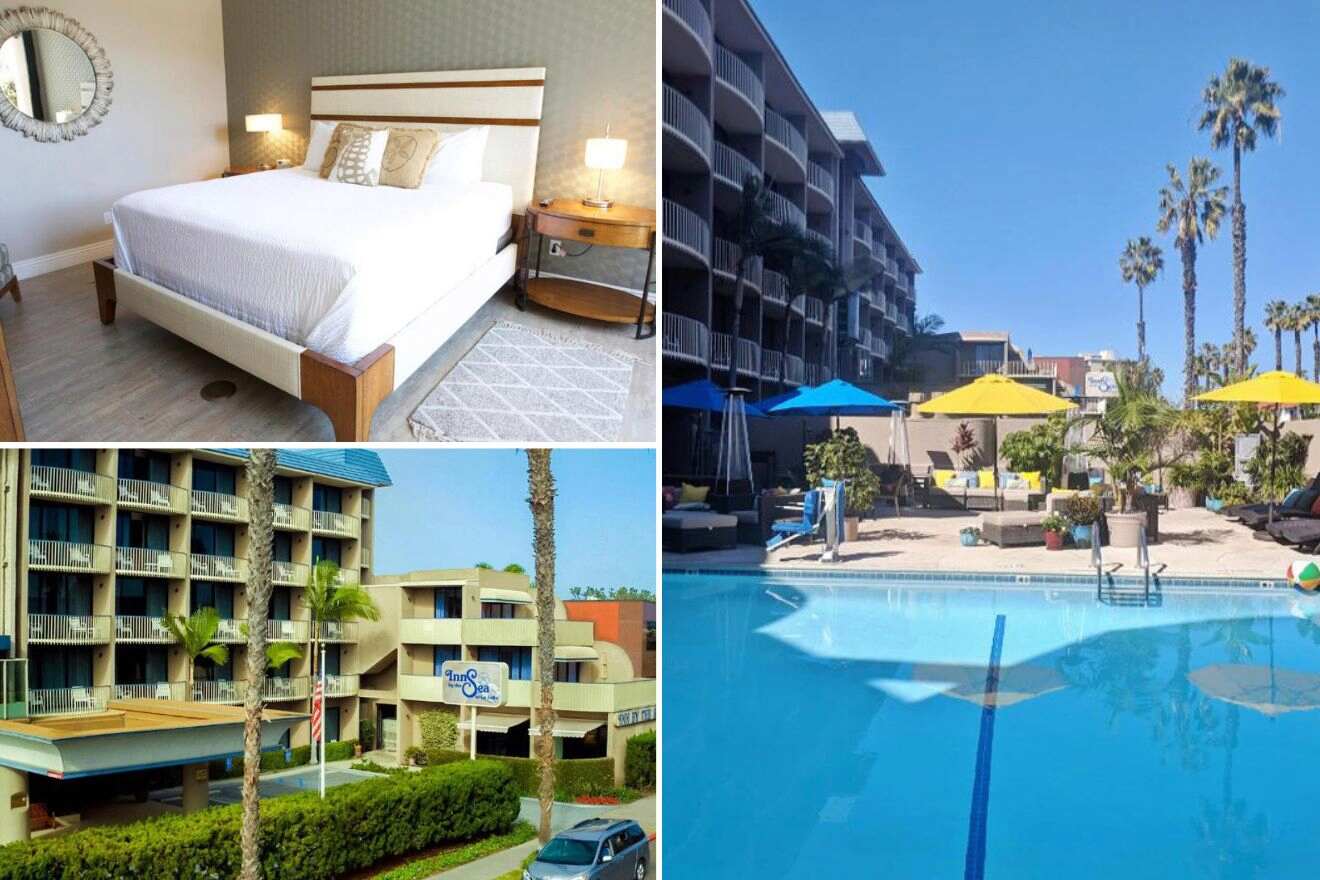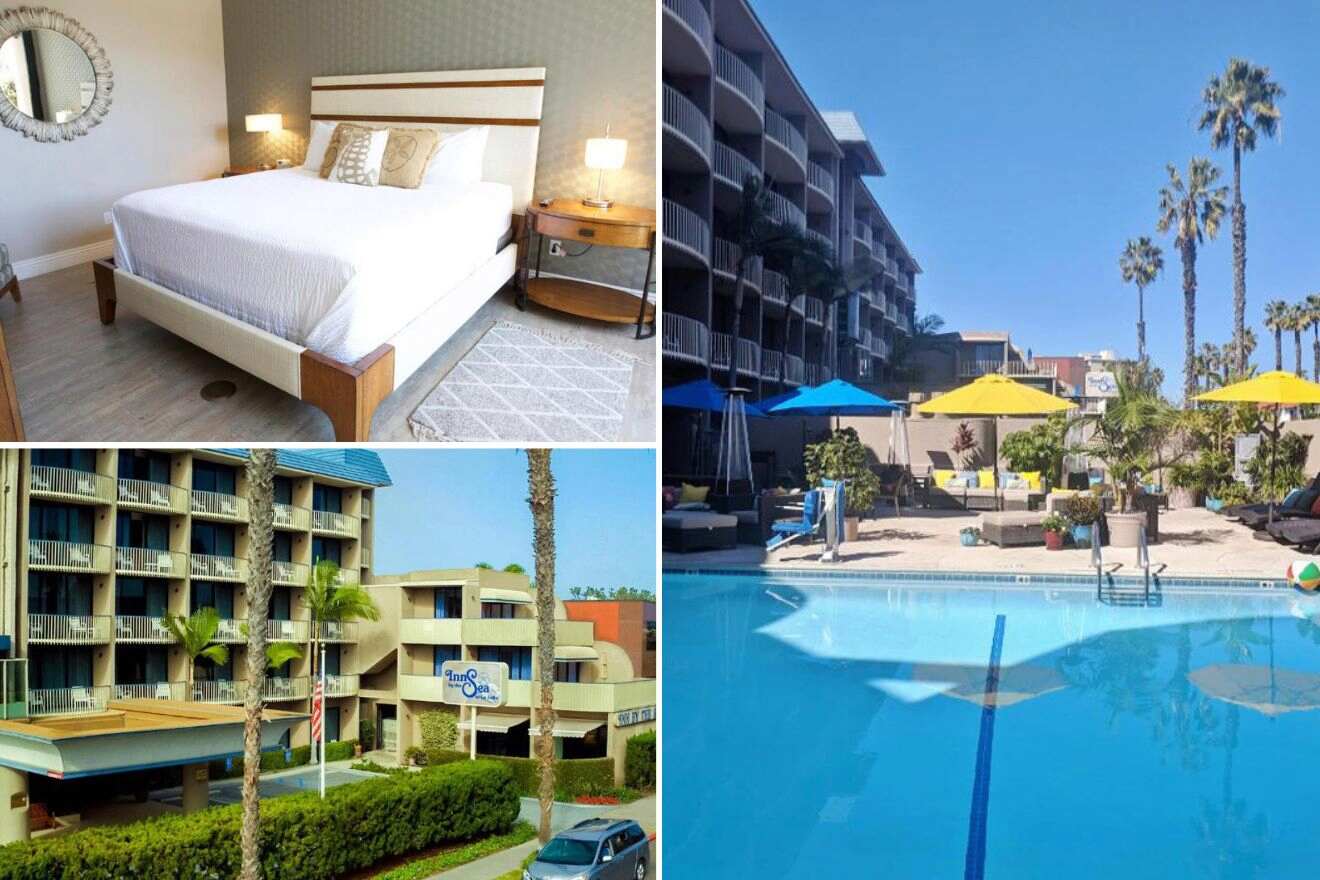 Whether you're coming with your family, partner, or friends, La Jolla will definitely offer you some unforgettable moments here! And a good trip surely includes a fabulous hotel where you feel right at home! Just like this hotel near La Jolla Shores Beach which has a modern design, rooms with a balcony overlooking the ocean, and an outdoor pool where you can relax.
Sounds like the perfect hotel to me! You can start your mornings with a yummy breakfast in bed and then hit the beach or just go for a swim in the pool. I would also make sure to visit all the other attractions in San Diego! Maybe start with Kellogg Park on Camino Del Oro or Cuvier Park?
10. The Shoal La Jolla Beach – for surfers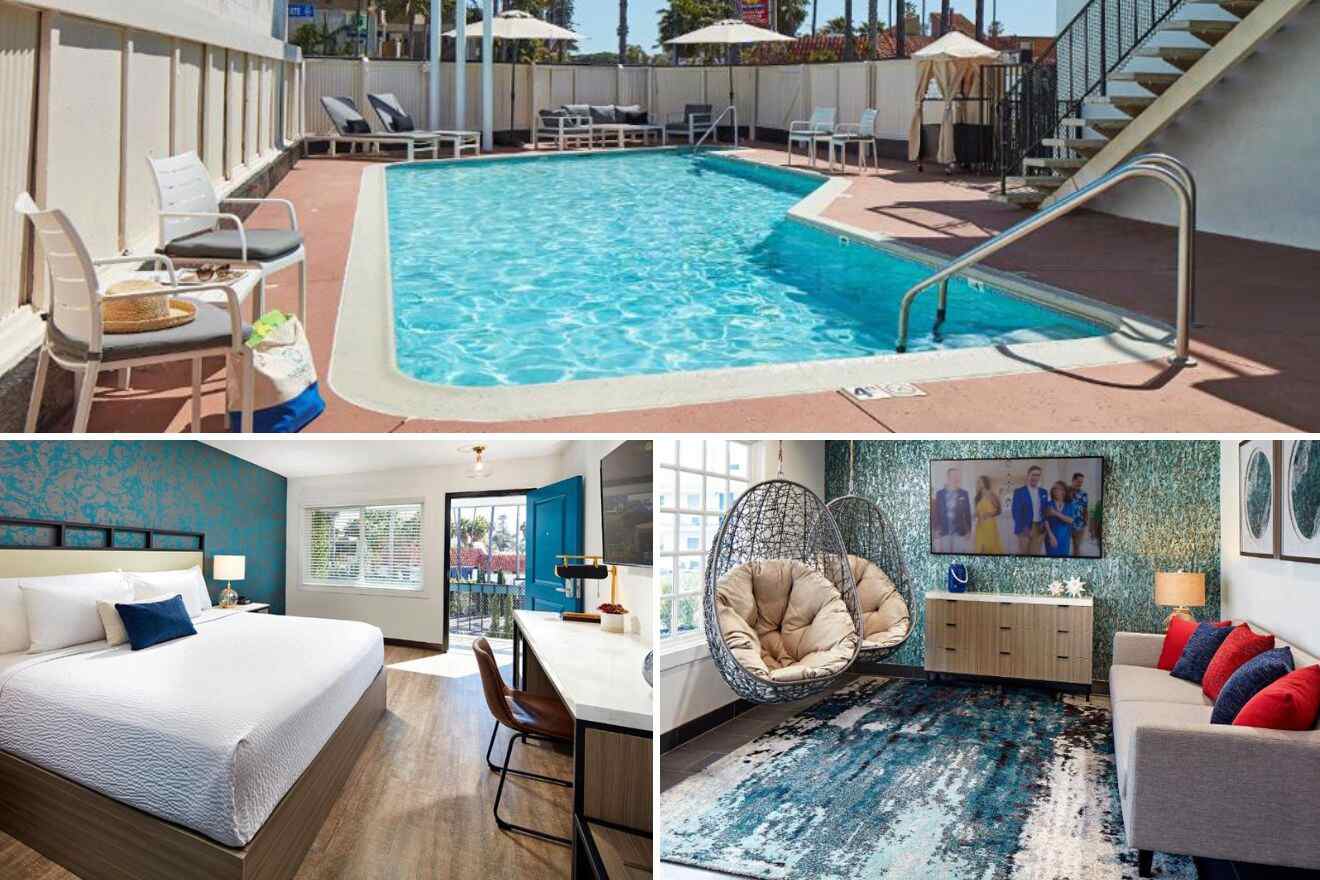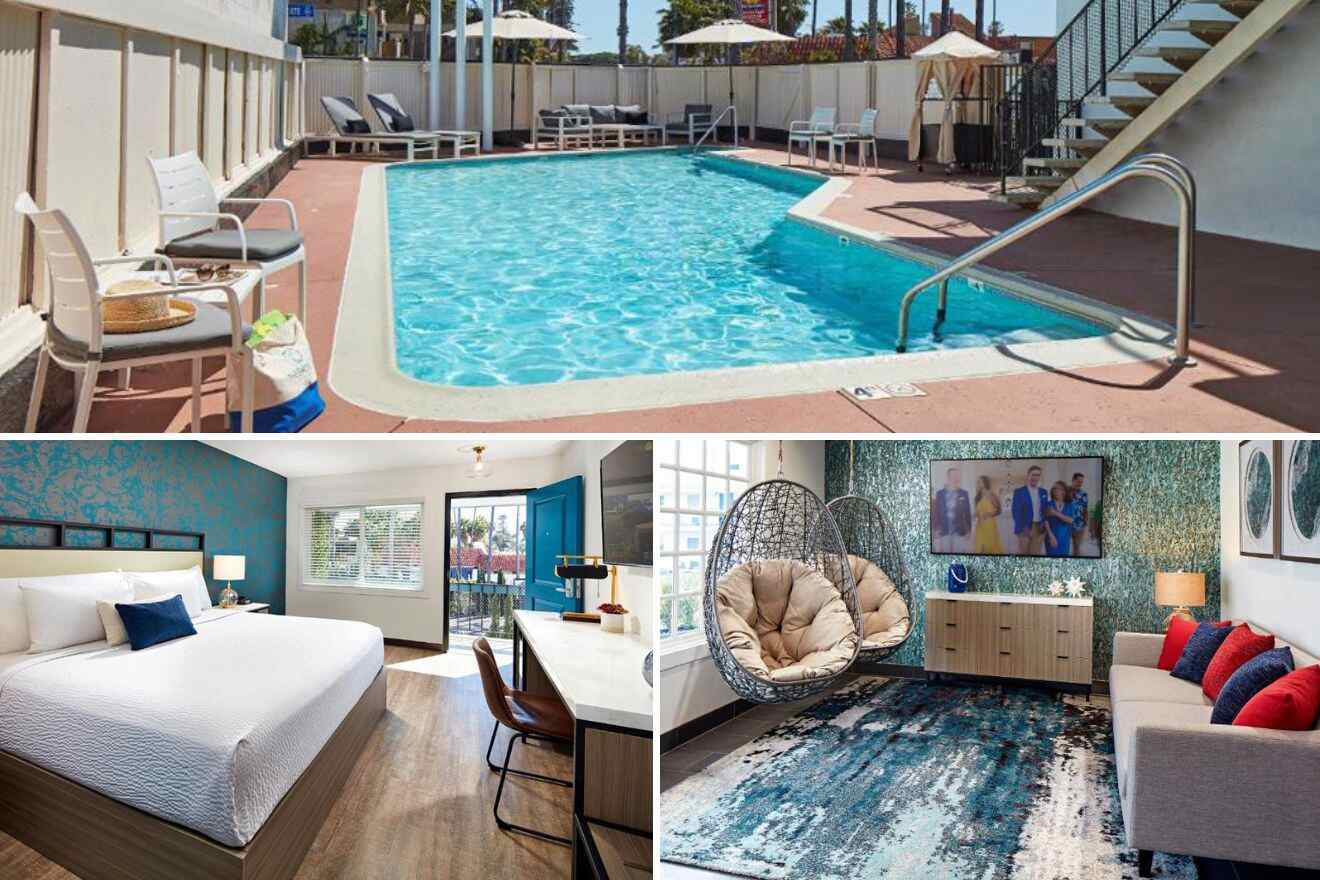 Set near Windansea Beach, a known spot for good surfing, this hotel is super modern, and it has a cool design! The accommodation offers spacious suites with a private bathroom, a seating area, and free Wi-Fi.
Perfect for surfers who want to stay as close as possible to the most amazing Windansea Beach, the accommodation also comes with an outdoor pool, private parking, and bicycle rental!
11. La Jolla Riviera Inn – a great place for families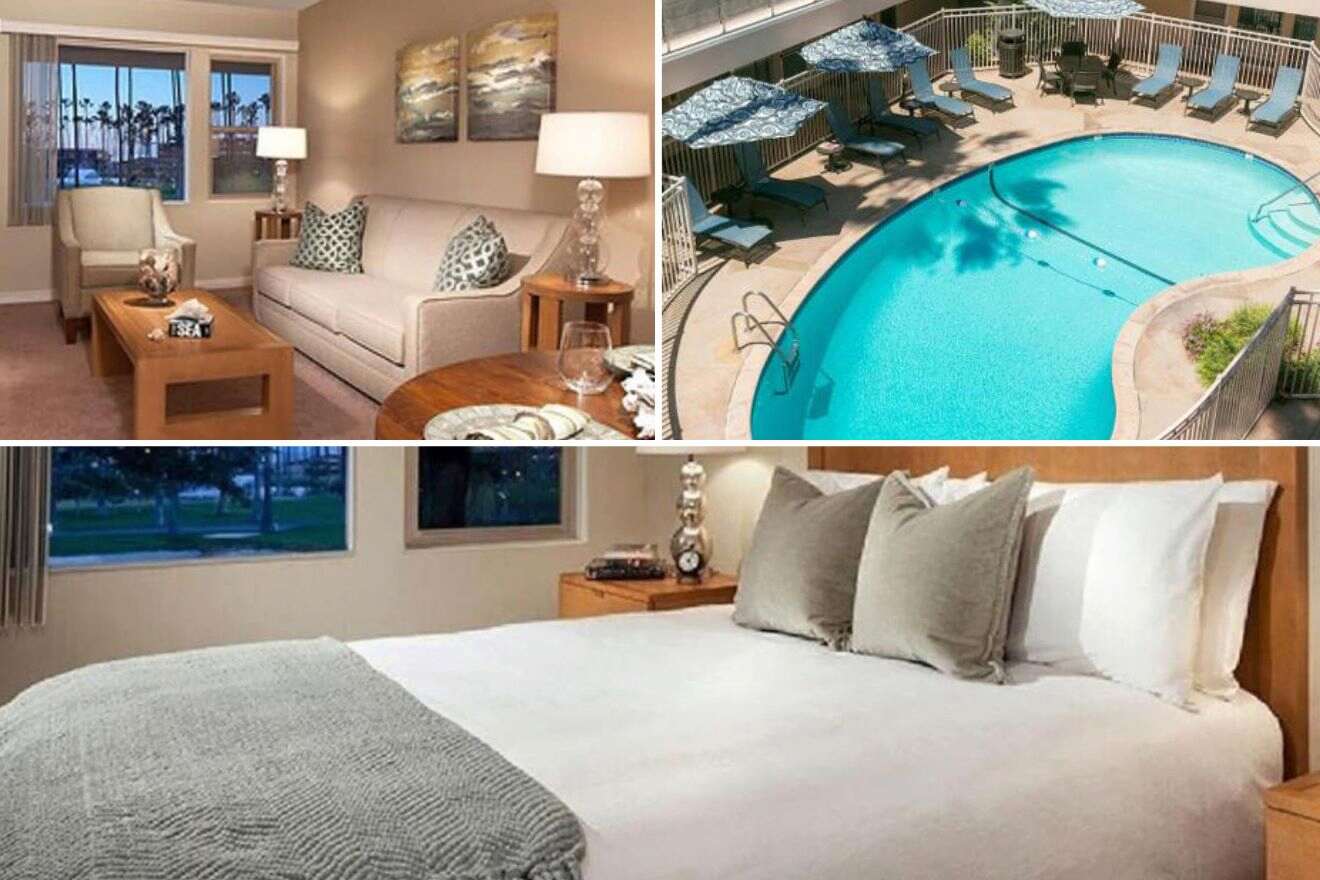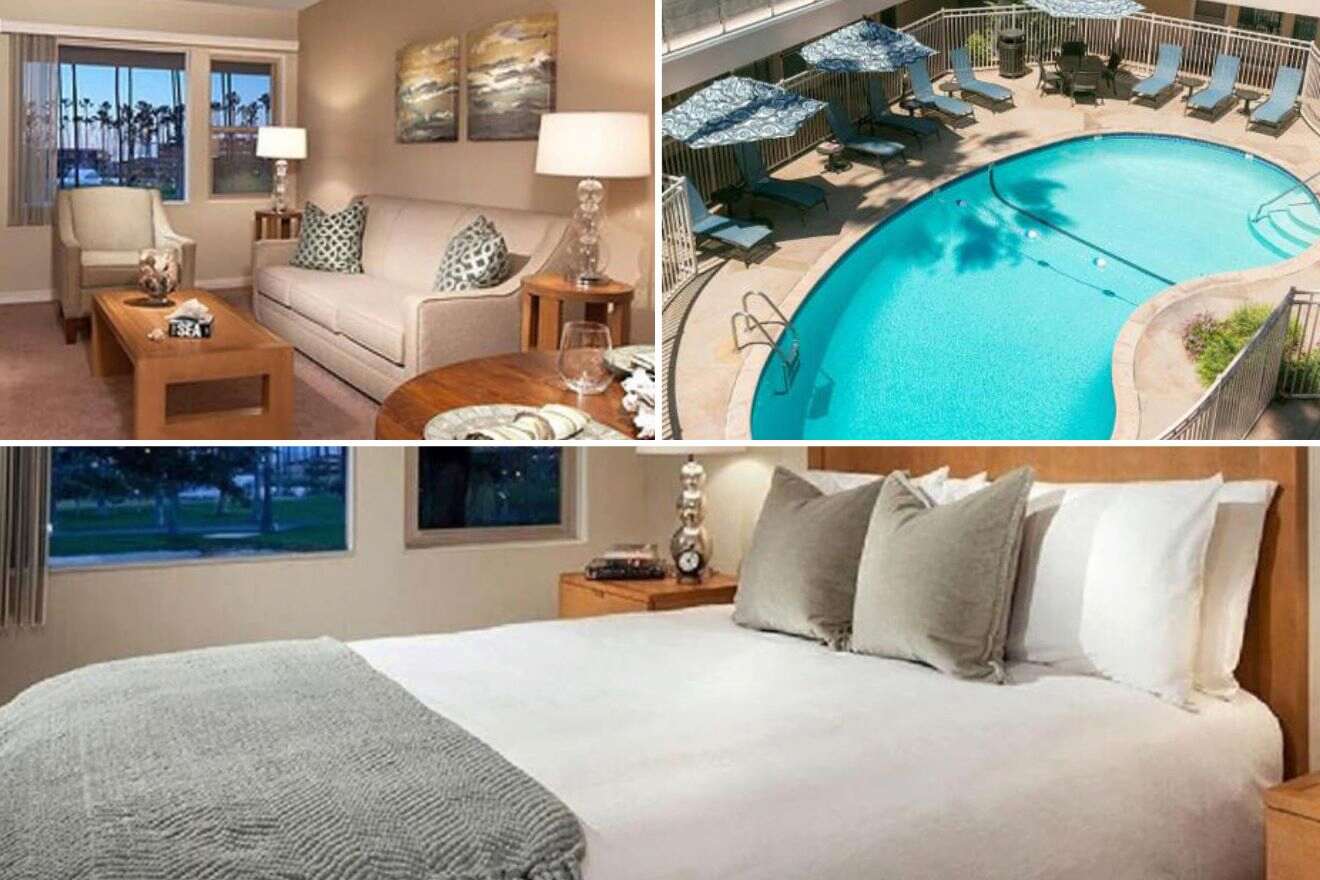 Still looking for the most amazing place to stay in La Jolla Cove, San Diego? Then have a look at this accommodation that is a bit more affordable than the ones above but just as awesome! The hotel has spacious suites with a small kitchen, a private bathroom, and a flat-screen TV.
When you're not out and about exploring San Diego or visiting La Jolla's Underwater Park (where, by the way, you can see some incredible marine life like dolphins and sea lions), you can chill in the sun loungers by the outdoor pool of the hotel.
12. Sands Of La Jolla – for a tranquil holiday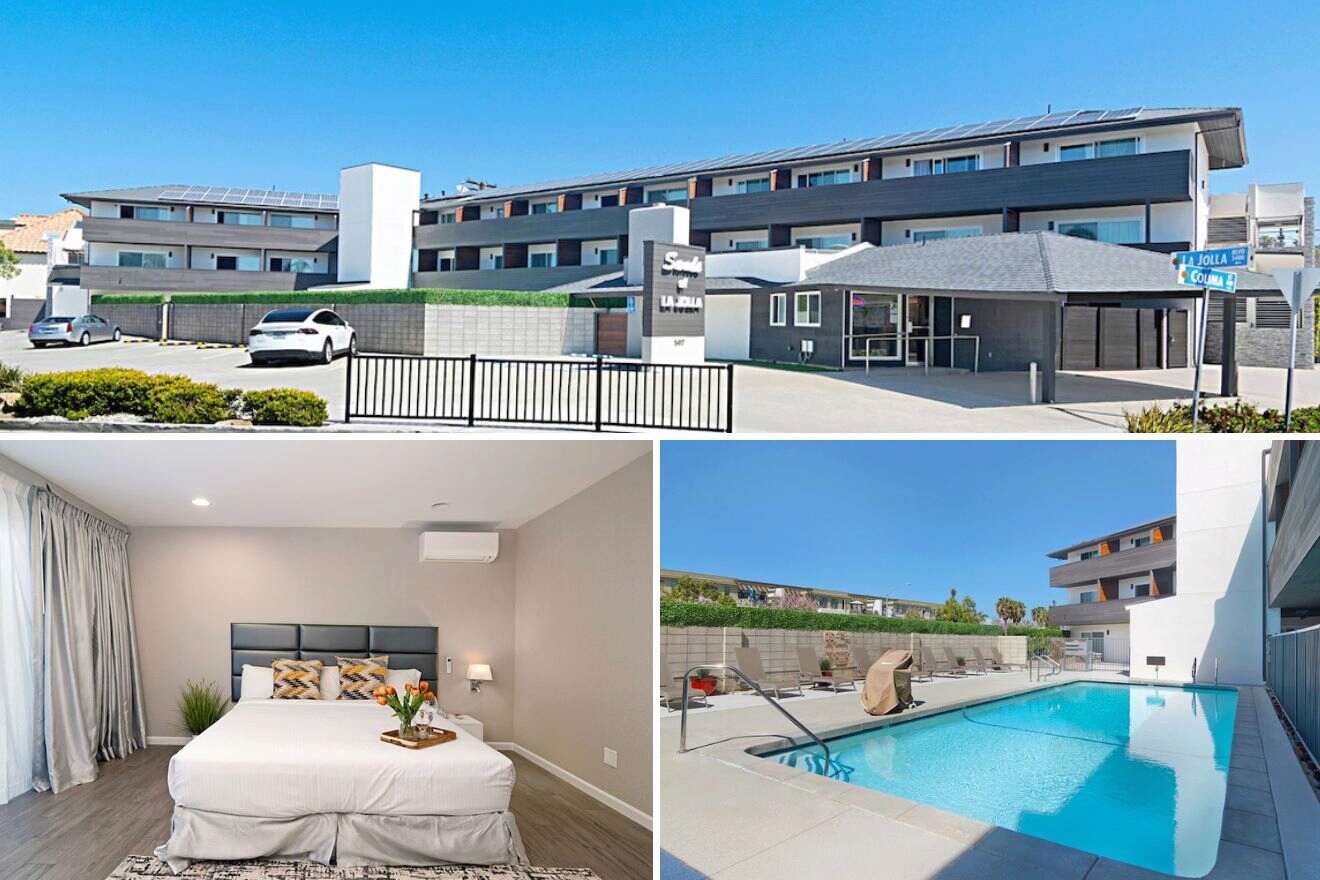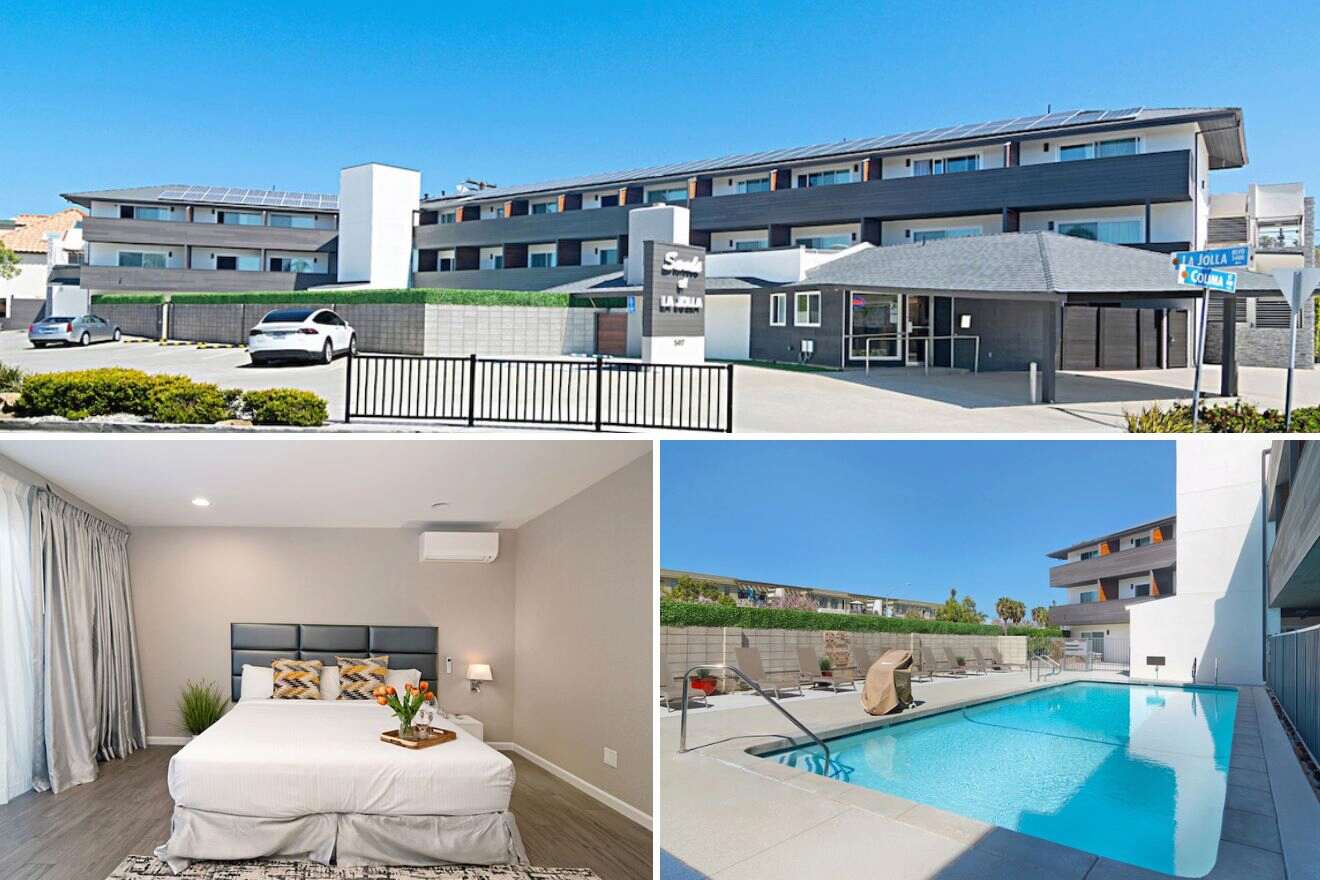 Located in Bird Rock, La Jolla, this simple yet very well-equipped hotel comes with everything you need for your holiday in one of the best areas in San Diego! The rooms offer so much space, a flat-screen TV, a private bathroom, and free Wi-Fi.
Although a bit further away from all the attractions in La Jolla, the beach is pretty close, plus you can always use public transport or rent a car if you want to explore the whole coastal area! Which I highly recommend as it is incredible!
FAQs about La Jolla beach hotel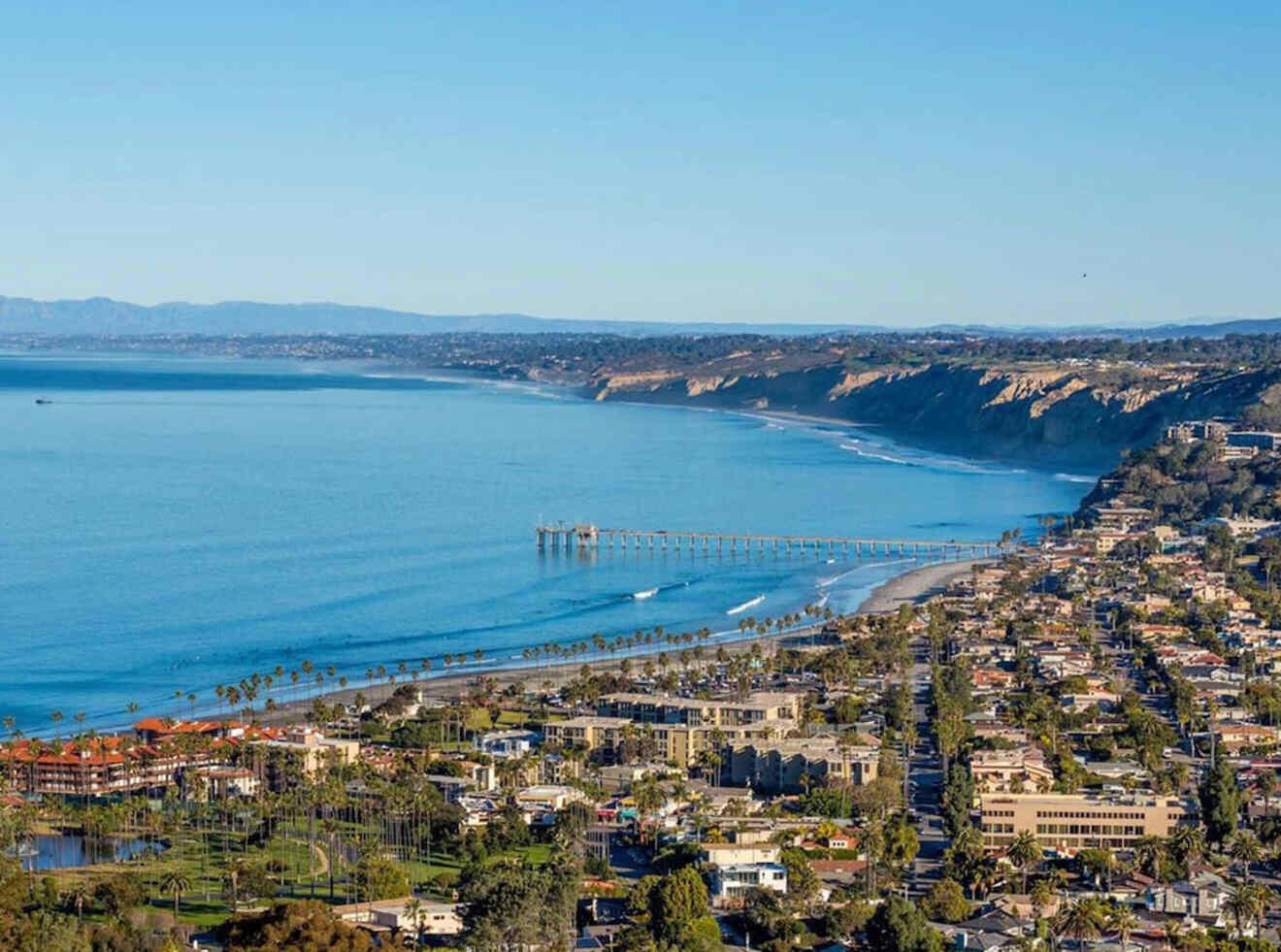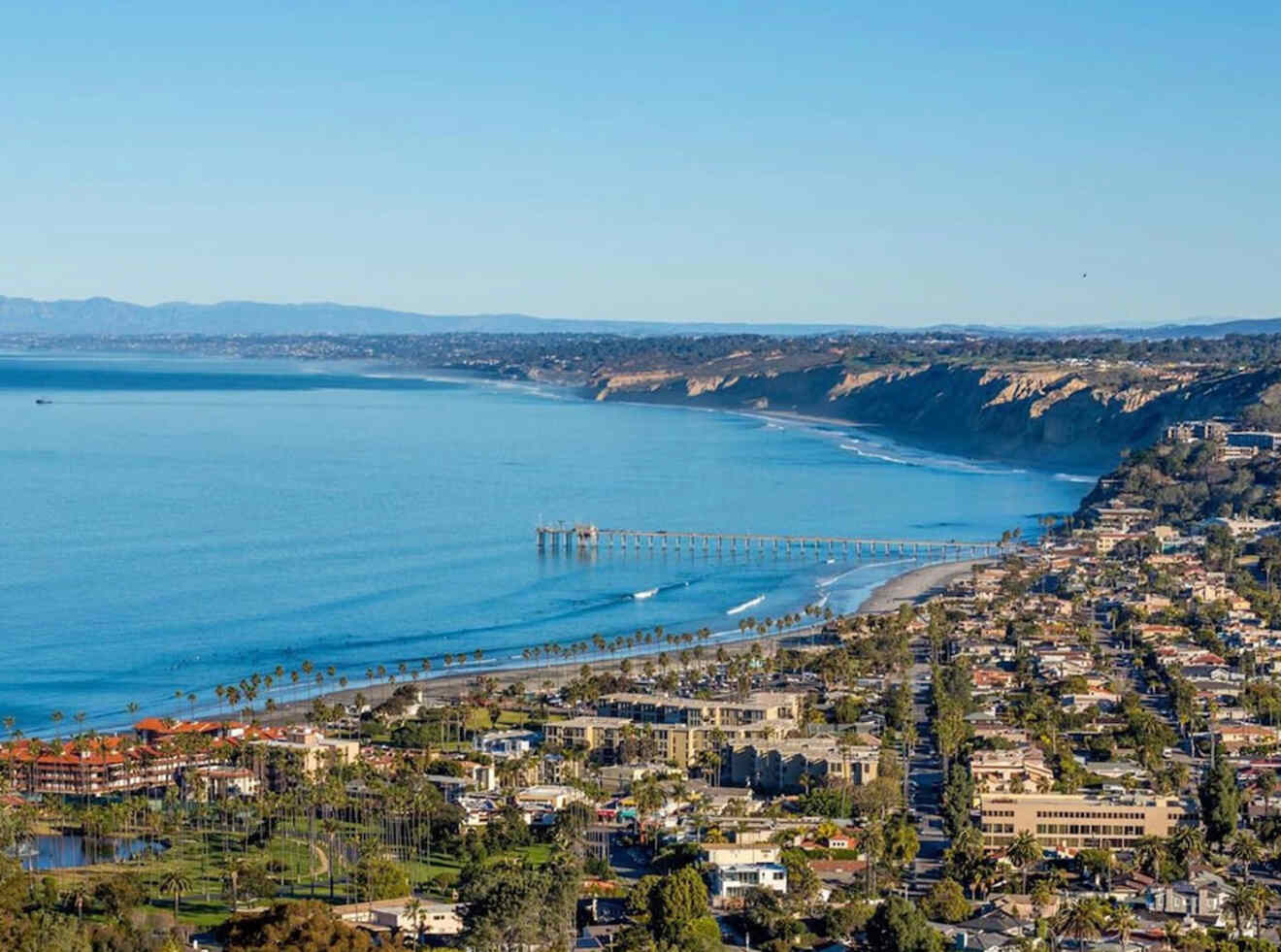 👌 Is it worth it to stay in La Jolla?
Yes! La Jolla is one of the best places to stay in San Diego! There are numerous sandy beaches here, cliff tops with breathtaking views, and great restaurants.
🏄‍♀️ Why is La Jolla so popular?
This area is super popular for its beaches and because it offers amazing spots for surfing and fun water sports like snorkeling, kayaking, and swimming.
🌊 Which are the best La Jolla hotels with ocean views?
🦐 Which are some great La Jolla Shores restaurants?
Conclusion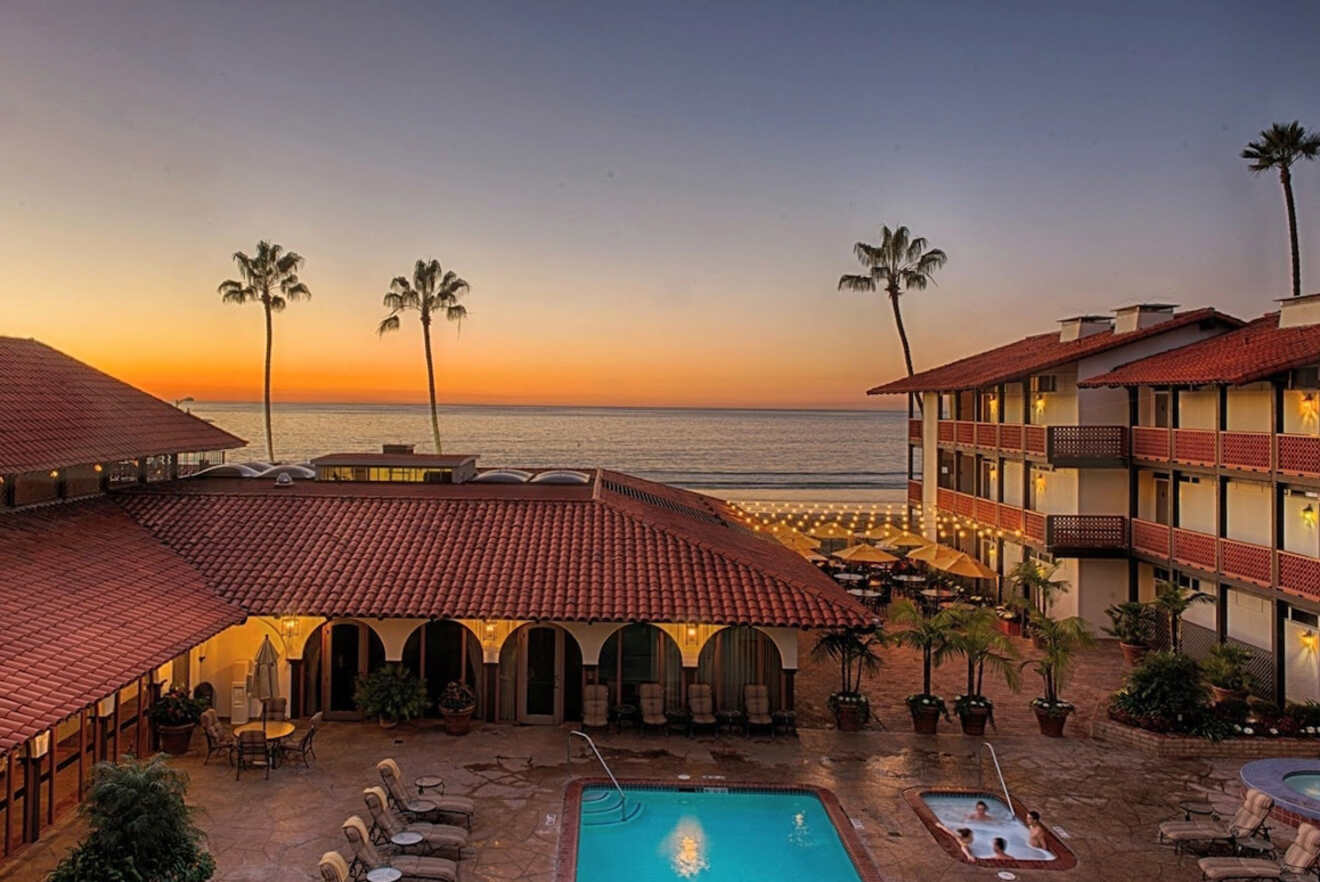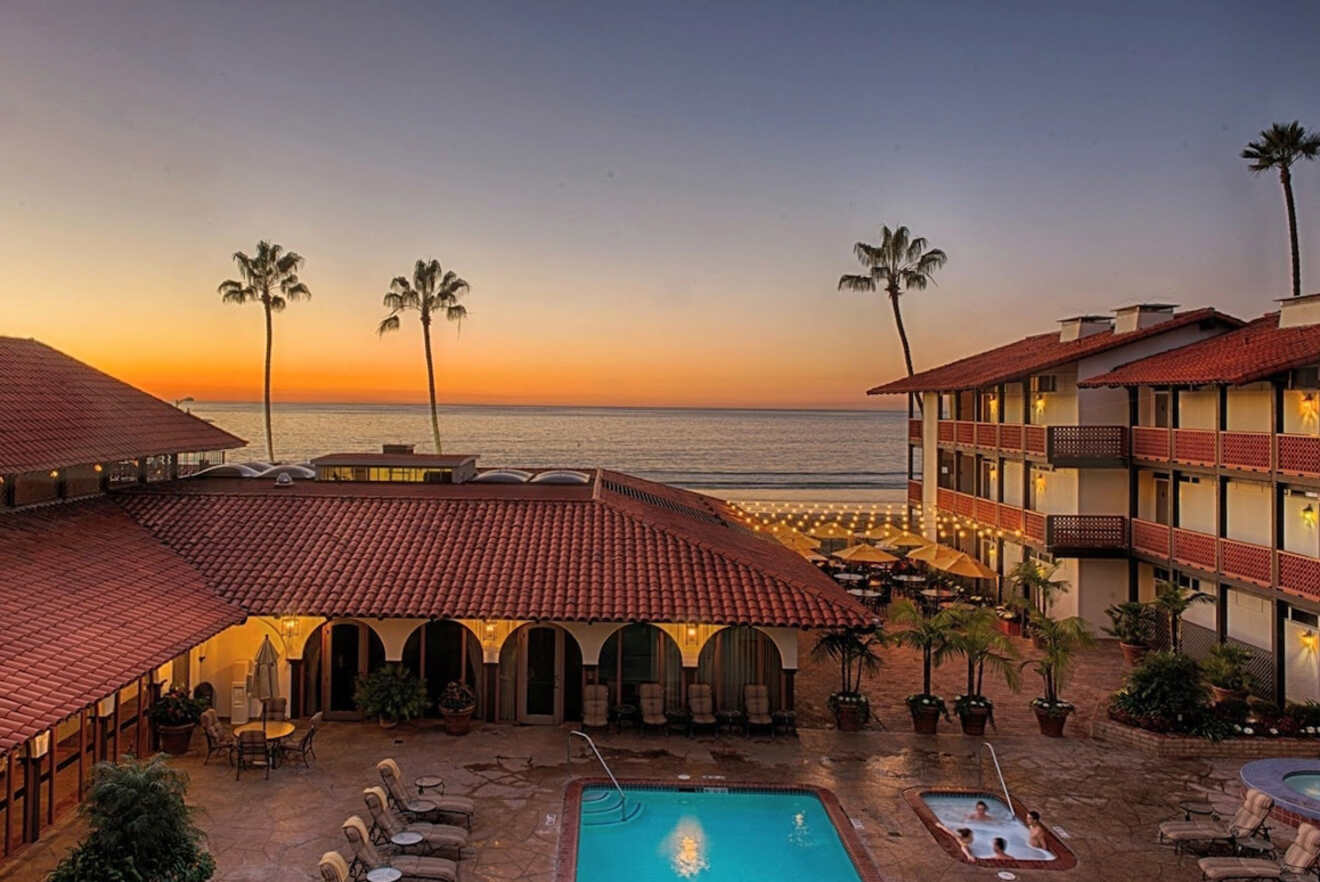 What a place! La Jolla is rapidly growing on me, and I could venture out to say that it's one of my favorite areas in San Diego! I mean, those cliffside views are just unbelievable!
It's been such a pleasure to go through this list of the best hotels in La Jolla today!
Don't forget that these are some of the top picks in the area, which means that they'll definitely sell out sooner than other places with a lower score. So secure your spot early, and you won't regret it!
Before we wrap it up and you leave to plan this fun holiday, have a look at my 2 favorite La Jolla hotels (this may help you if you're still debating which one to pick):
Orli La Jolla – A super stylish hotel with spacious rooms and a terrace with great ocean views.
Grande Colonial La Jolla – This elegant hotel on Prospect Street comes with an outdoor pool, a restaurant, and a bar.
There you have it, the best of the best!
Enjoy your time in La Jolla, and make sure you keep an eye on the sea lions and dolphins! If you've got any other questions about these oceanfront hotels, don't hesitate to leave me a comment below, and I'll answer ASAP!
Safe travels,
Victoria
---
Pin it for later!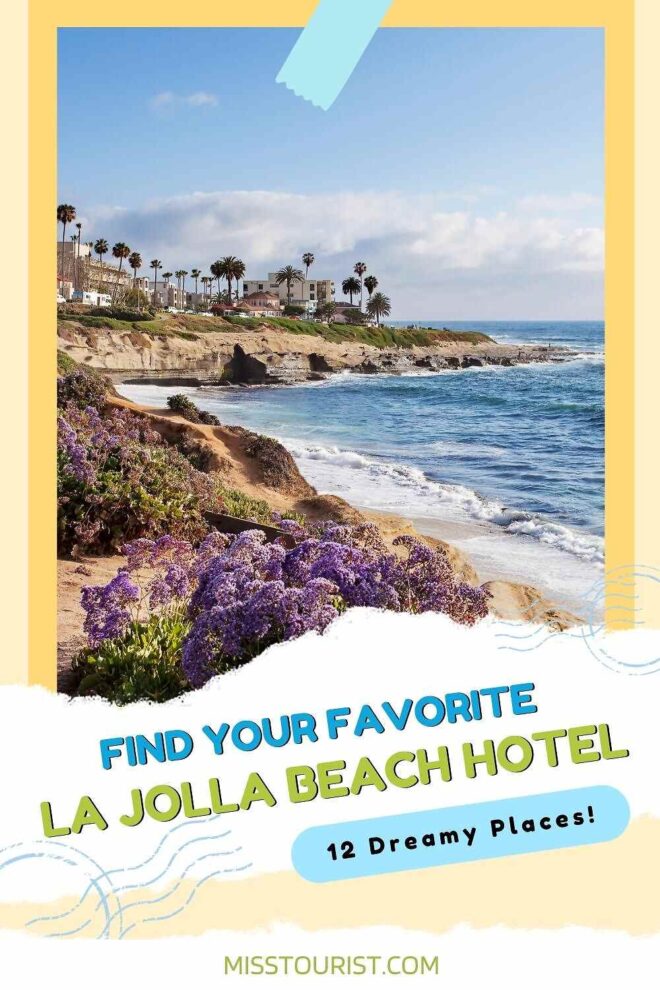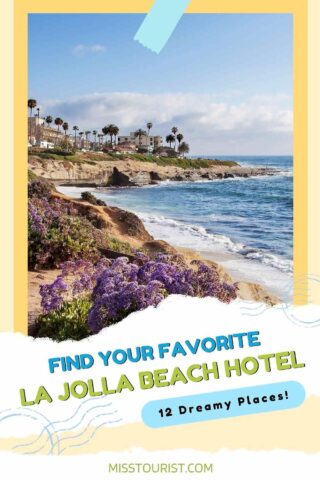 Pin it for later!