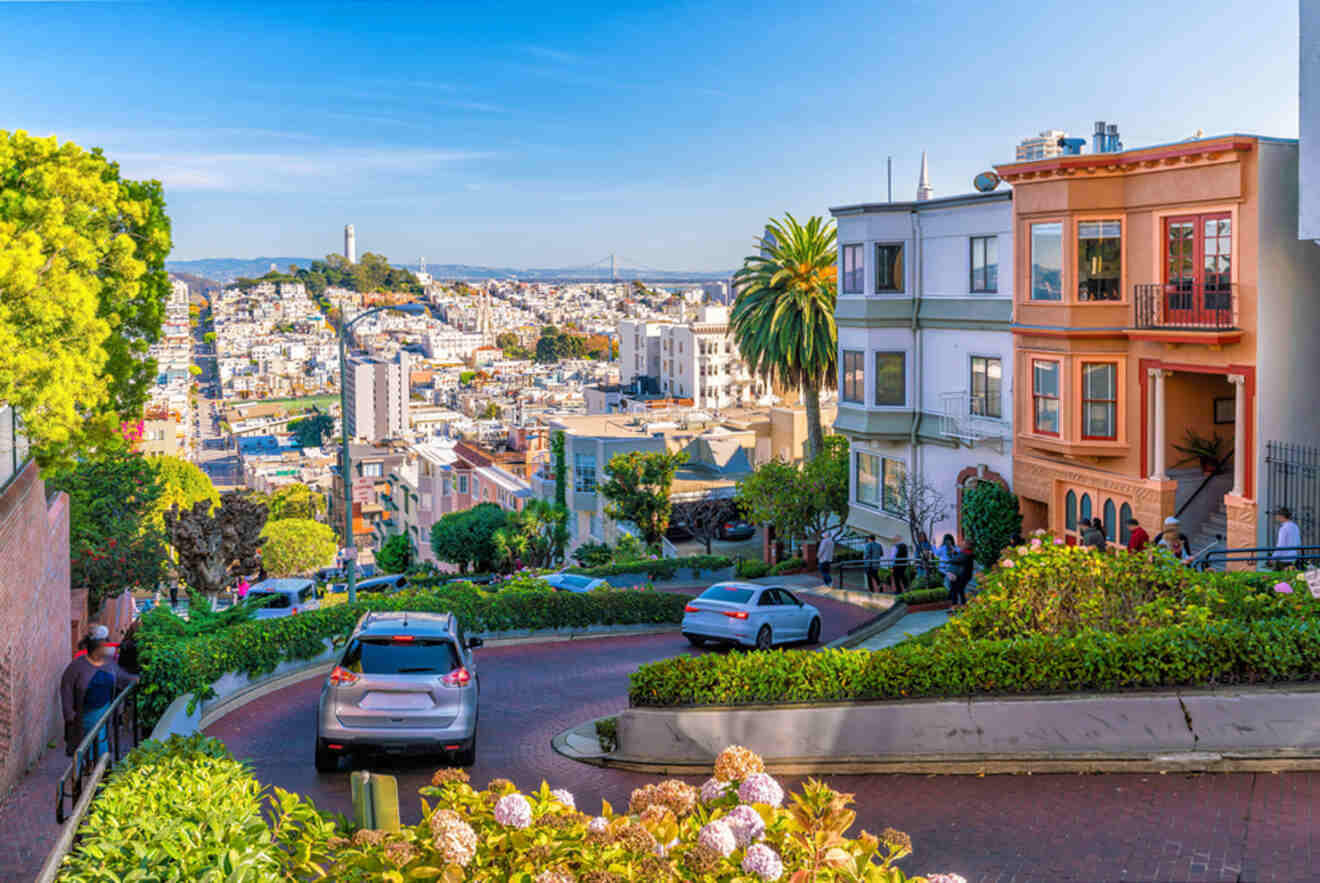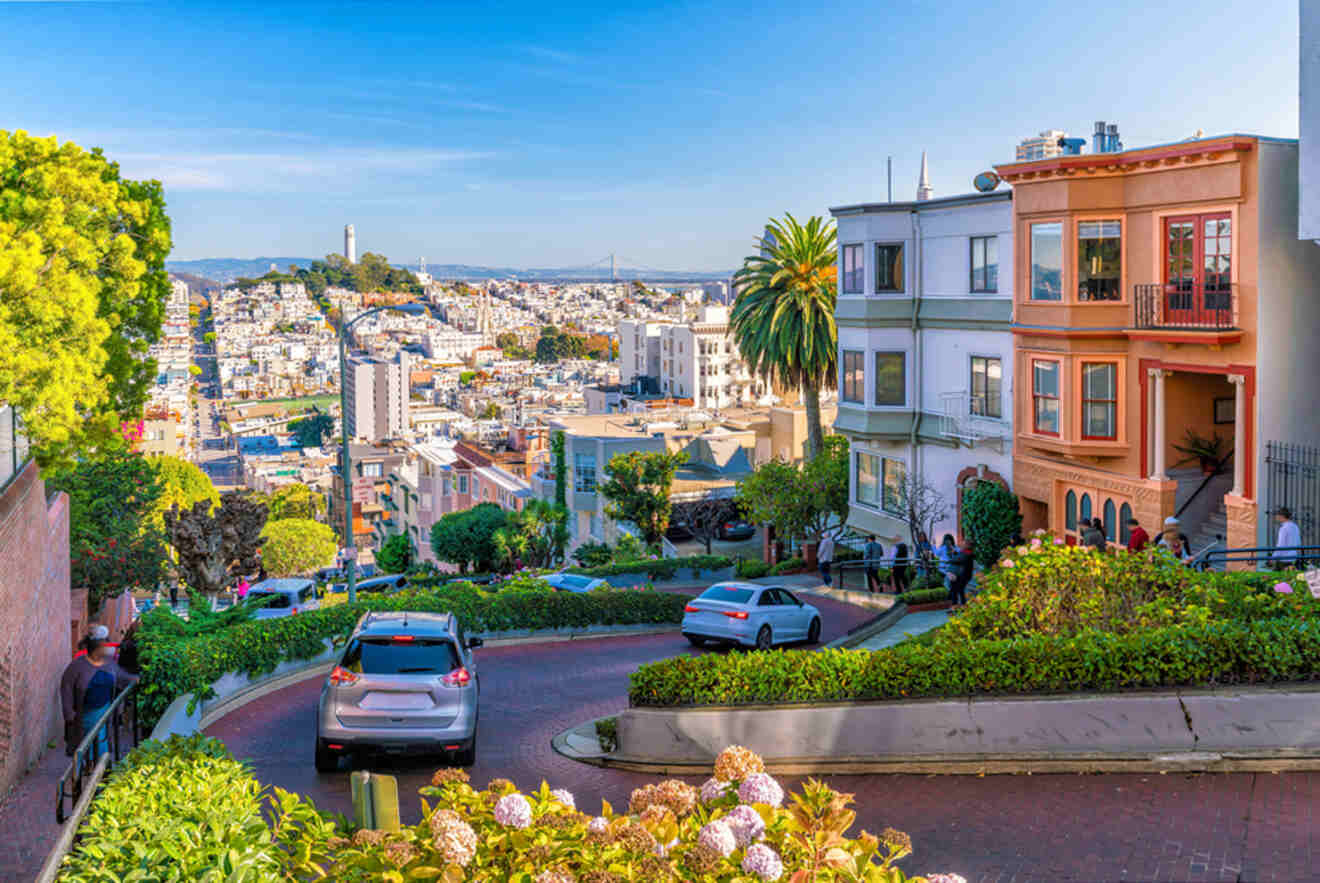 Welcome to the vibrant city of San Francisco, where a world of unforgettable experiences awaits you! Known for its iconic landmarks, diverse culture, and picturesque landscapes, this city has something special to offer every traveler.
Whether you're a history buff, a foodie, an art enthusiast, or an adventurer seeking new thrills, San Francisco has it all.
As a local California gal, the San Francisco skyline is one of my favorites in all of California. As a visitor, you're basically guaranteed a good time from the range of activities offered.
If you plan on visiting the golden city, read this post for the best things to do in San Francisco that you're absolutely going to love. I'll also be sharing some of the best tips and tricks to keep in mind along the way, and the most important one is to book your tours and hotels in advance!
Ready to get started?
If you are in a hurry
Explore the Northern California city with a tour guide if you're running short on time and book these experiences ASAP!
And here are the best hotels: The Fairmont Heritage Place Ghirardelli Square (luxury), The Ritz-Carlton, San Francisco (mid-range), Club Donatello (budget)
1. Experience the iconic Golden Gate Bridge for yourself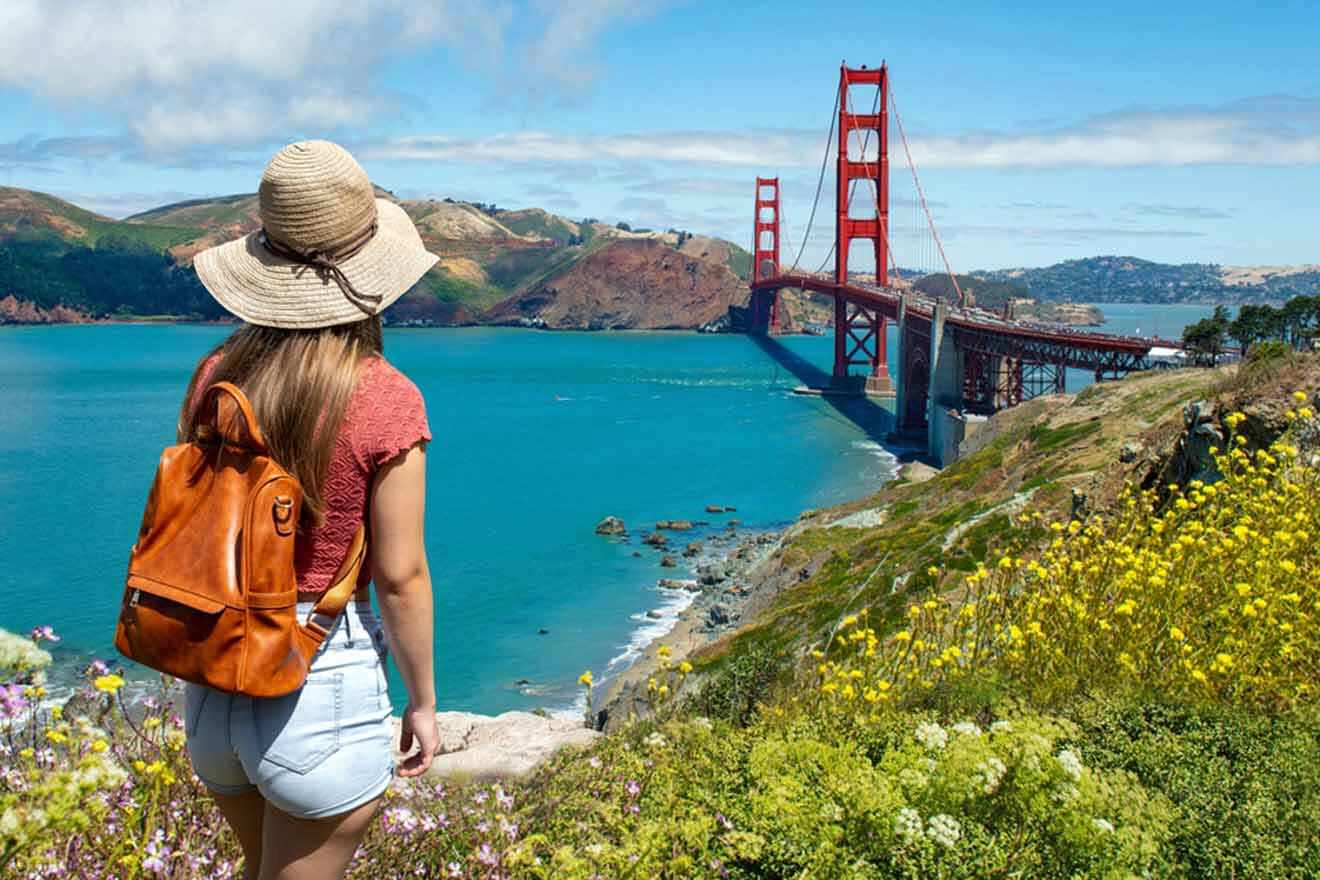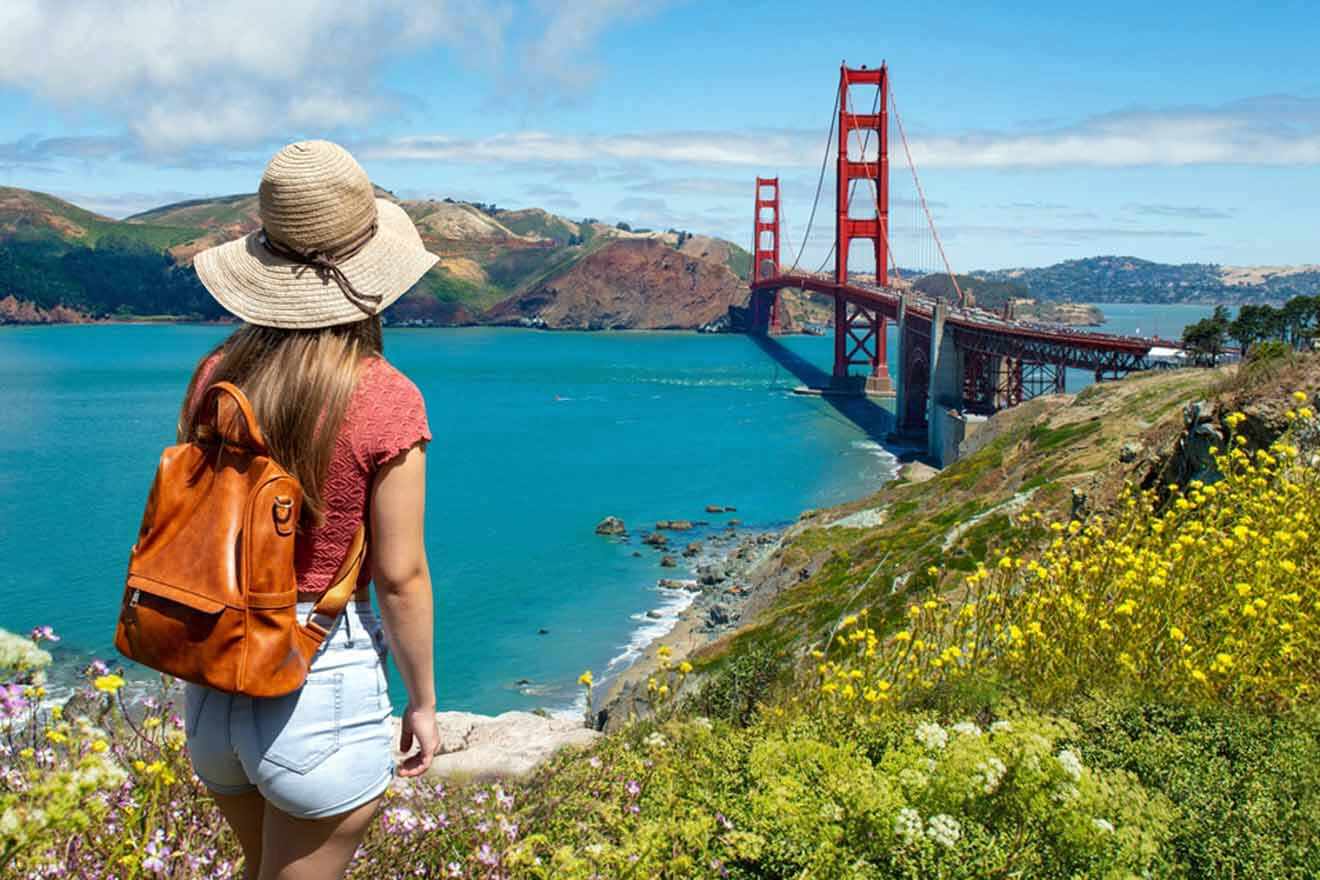 Behold the world-renowned Golden Gate Bridge! This iconic structure stands among the most celebrated bridges globally, capturing the hearts of millions of visitors who flock to witness its breathtaking beauty overlooking the picturesque San Francisco Bay.
Here are a few ways to admire the Golden Gate Bridge:
Embark on a guided bike tour across the actual bridge – A thrilling and enjoyable activity great for the whole family! No need to worry about bringing anything, they provide bikes and helmets.
Stroll through the historic Presidio – Explore the Presidio loop on this walking tour, where you'll delve into the fascinating history of San Francisco while ascending to the most perfect spots offering stunning views of the Golden Gate Bridge (and stop by the famous Yoda Fountain along the way).
Cruise from bridge to bridge – This tour offers a unique experience cruising between 2 renowned bridges in the San Francisco Bay Area: The Golden Gate Bridge and the Bay Bridge. The Bay Bridge, constructed during the Gold Rush to link San Francisco and Oakland, holds its own charm, making this cruise a unique choice for those seeking to admire both structures.
TIP: Once you cross the bridge, check out the Marin Headlands in Marin County.
2. Walk through the cells of Alcatraz Island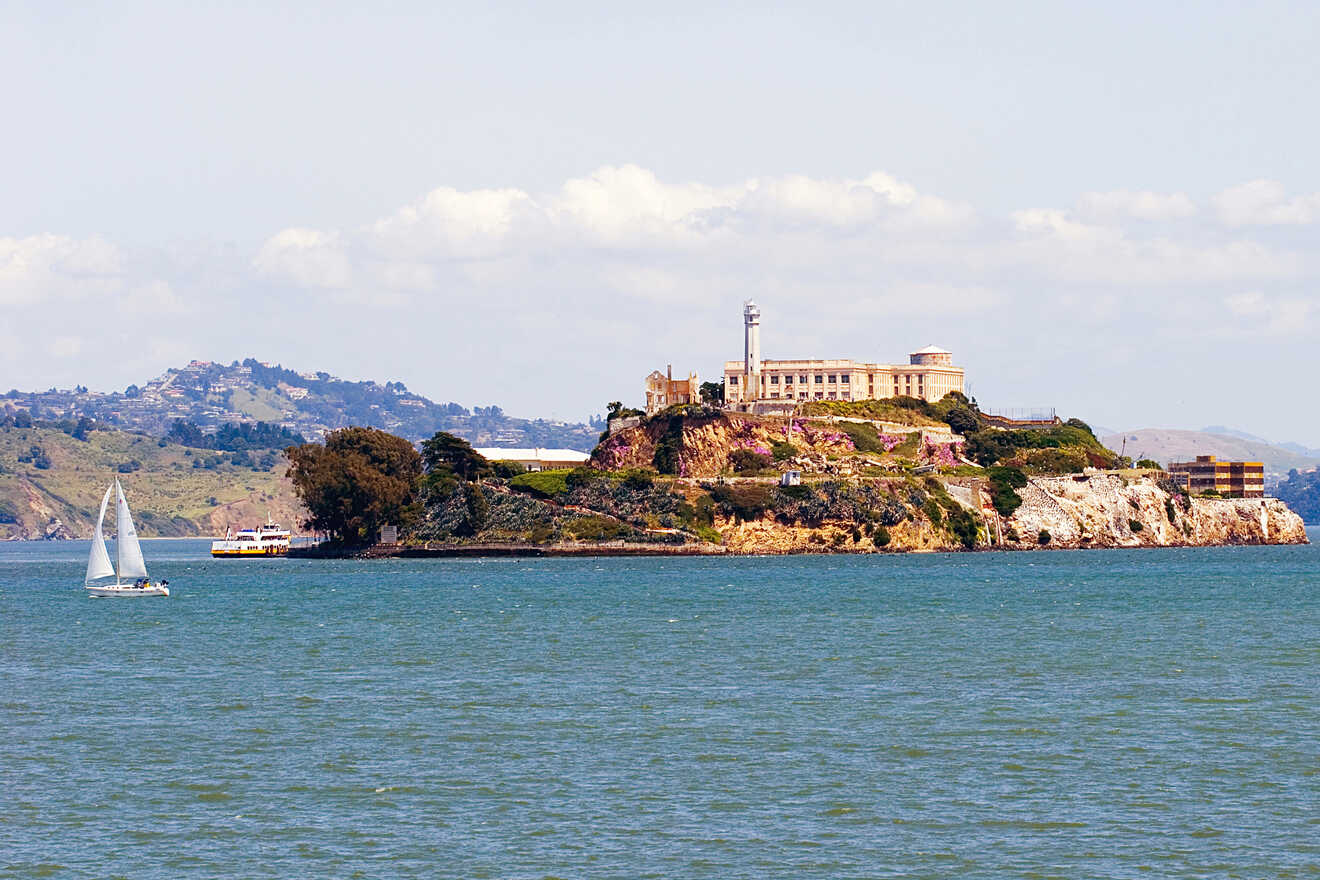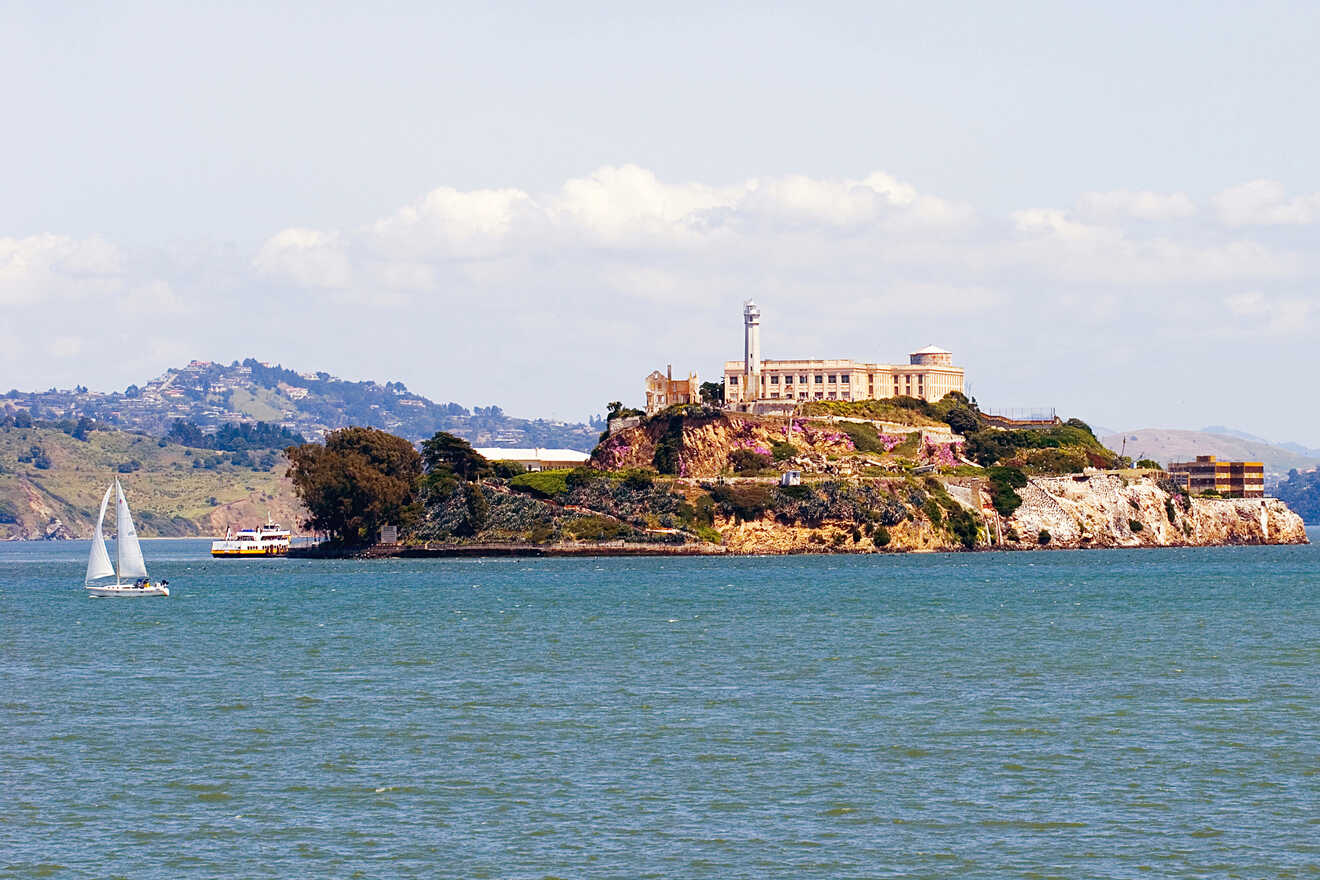 Take a journey through time as Alcatraz Island welcomes you to explore the infamous 1930s maximum-security federal prison, now transformed into a museum, offering profound insights into life behind its imposing walls.
With every Alcatraz ticket, you have access to the award-winning audio tour. When booking your Alcatraz Island tour, you'll find various options available, but it's important to note that they all provide the same core experience.
The real difference lies in the additional experiences you can choose to have before or after the main Alcatraz visit, and you can read all about the Alcatraz tour options in our posts on Alcatraz tours, and Alcatraz tickets.
Nevertheless, here are a few tours that I sincerely recommend:
The 3-in-1 tour – This is the most valuable tour that I've personally done in San Francisco. The package is with the original ferry ride to/from Alcatraz, tour of Alcatraz itself, a trip to the Muir Woods National Monument, and viewpoints where you can take photos standing by San Francisco's Golden Gate Bridge.
The Alcatraz Island and Golden Gate Bridge cruise – This tour takes you on the original ferry ride to/from the island, on the tour of the island, and on an unforgettable cruise through the San Francisco Bay, under the iconic Golden Gate Bridge.
TOUR PRICE: from US$123 per person
3. Relax at Golden Gate Park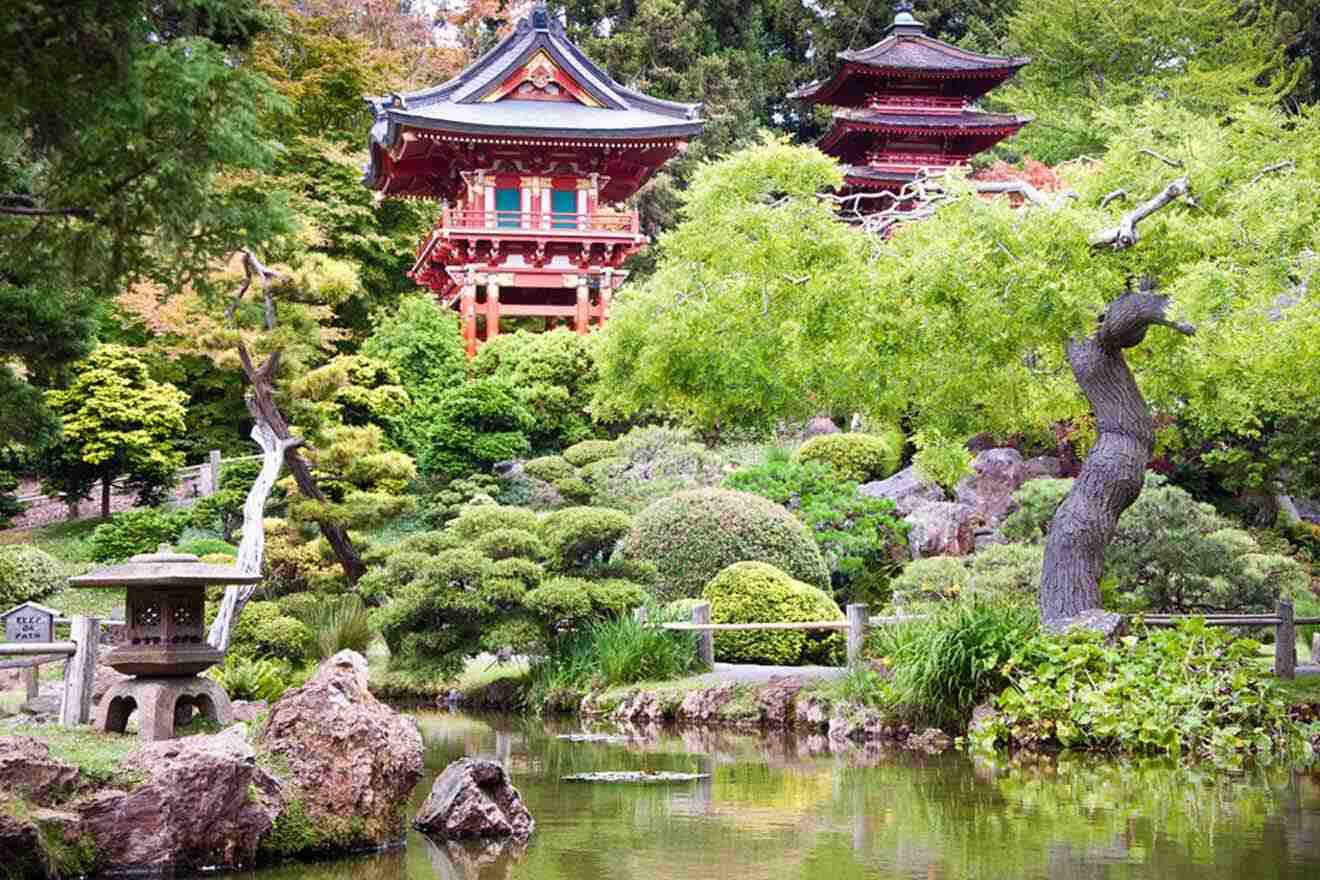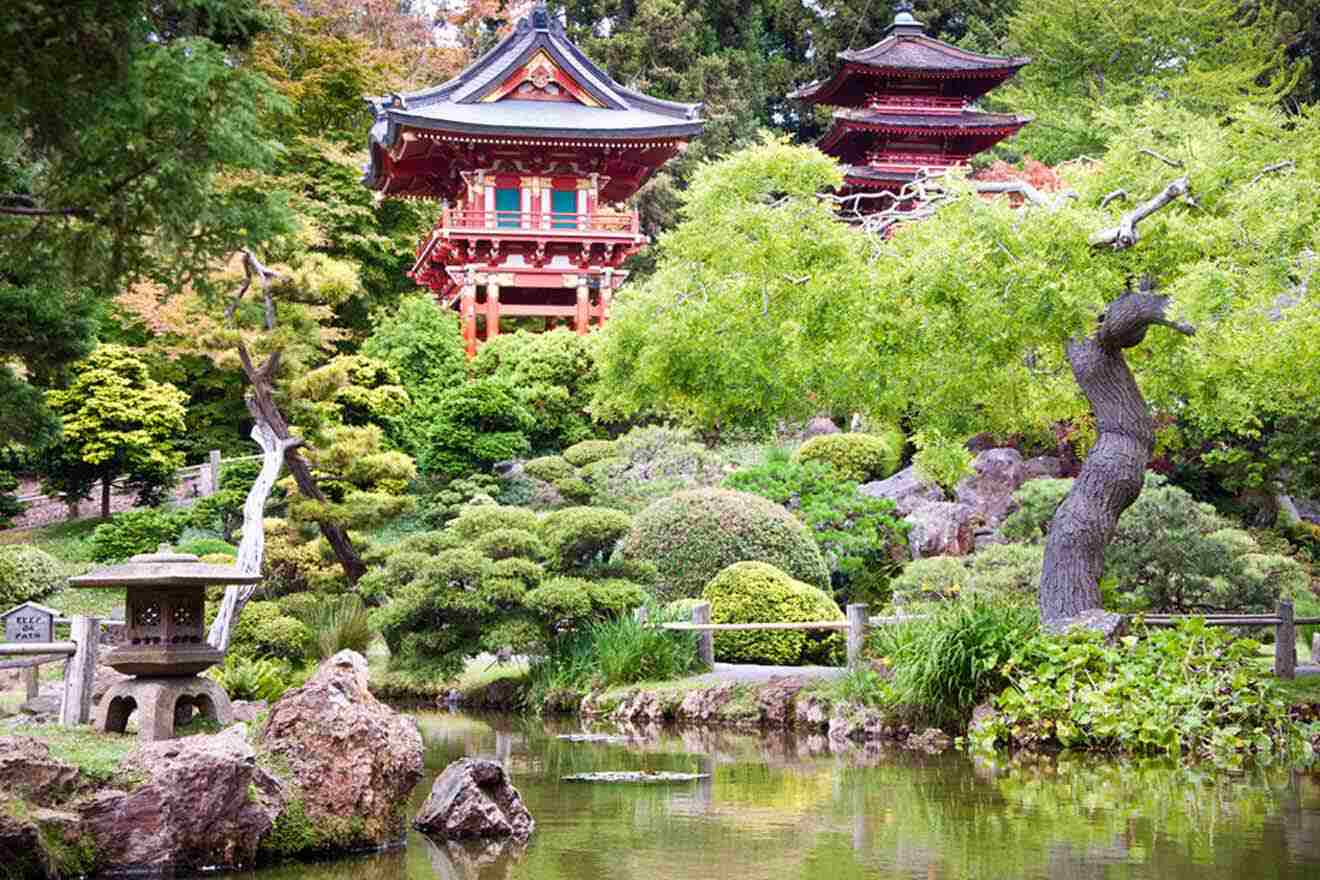 Located near Ocean Beach, there are plenty of attractions I suggest visiting at the Golden Gate Park.
Here are some of my favorites:
The de Young Museum: This fine arts museum features art from the 17th century to the 21st century with textile arts, costumes, African art, and international contemporary art. Find interesting sculptures, paintings, and more!
Japanese Tea Garden: This Japanese-style garden was once an exhibit in 1894 and today stands as one of the city's most popular attractions, with beautiful cherry blossom trees in April and classic Japanese elements.
California Academy of Sciences: The natural history museum and exhibit is home to over 46 million specimens – making it one of the largest natural history museums in the world.
Stow Lake: Take a walk along one of the most charming man-made lakes in San Francisco!
For an easier and more efficient experience, you can glide through every attraction with a segway tour.
NOTE: Can't get enough? Take a short drive to Twin Peaks for the most stunning views of the Bay Area!
4. Ride the world-renowned cable car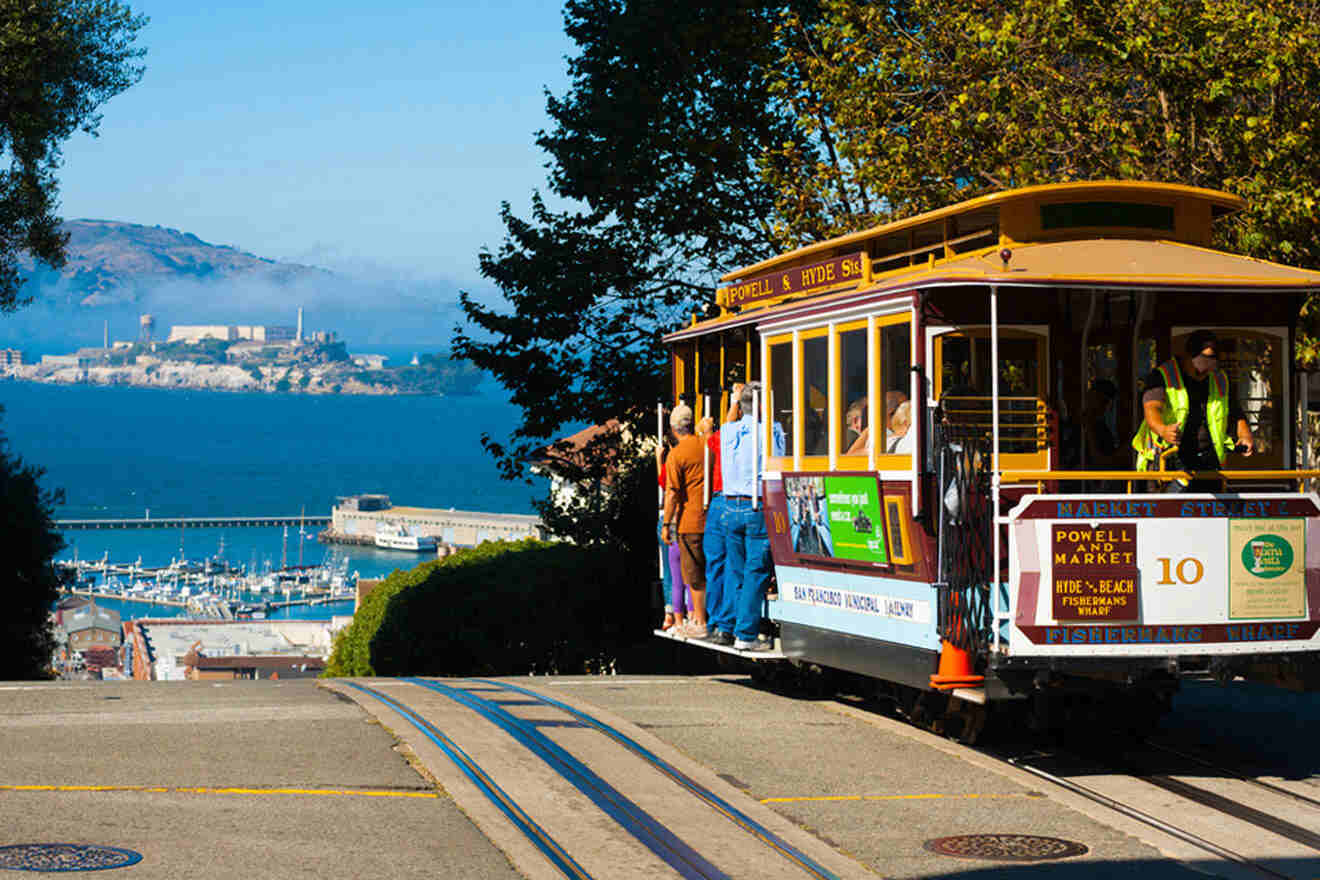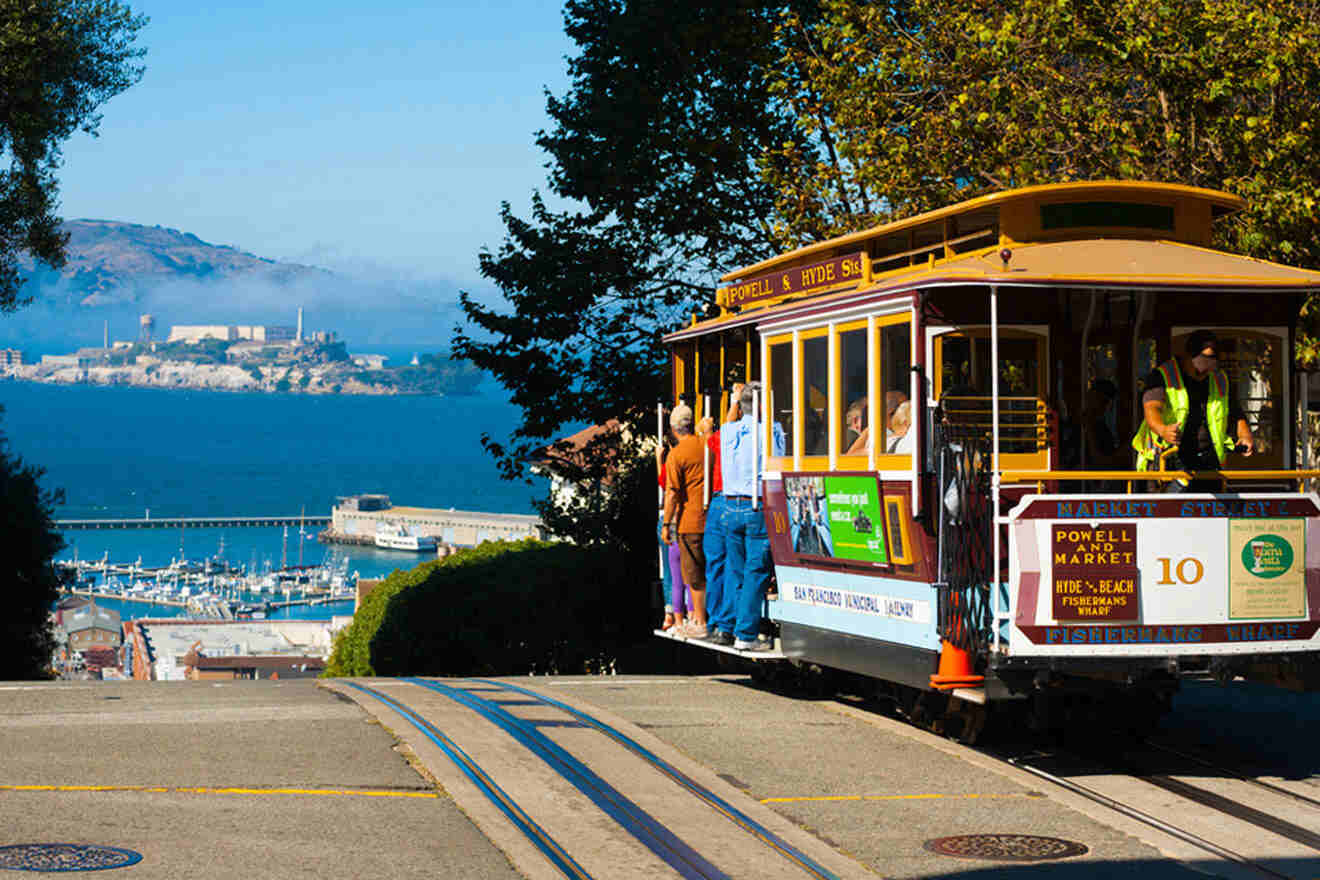 San Francisco is most well-known for their world-renowned cable cars! The city's iconic and last manually operated cable car system is now considered a National Historic Landmark and maintained for visitors to enjoy a memorable journey through the city's charming streets.
Booking tickets for the cable cars is a breeze with the user-friendly MuniMobile app. However, if you're an international traveler, it's important to keep in mind that the app doesn't accept credit cards from outside the United States, so opt for PayPal, Apple Pay, or Google Pay instead.
The app serves as your ticket for all public transit services in San Francisco, so make sure to download and prepare beforehand.
Due to the cable cars' immense popularity, queues to board can be quite lengthy. The service operates from 7 AM to 10:30 PM, but to beat the crowd, I recommend arriving right at 7 AM or even a little earlier.
There are 3 cable car routes going through the city: Powell Hyde, Powell-Mason, and California Van Ness.
The Powell Hyde and Powell-Mason lines journey from downtown San Francisco to Fisherman's Wharf, while the California Van Ness route journeys through California Street, the Financial District, and the luxurious Nob Hill neighborhood. For your trip to Fisherman's Wharf, opt for either the Powell Hyde or Powell-Mason route, as they both lead to that area.
NOTE: All cable car tickets purchased on the app are one-way only. If you plan to go somewhere else or return to your starting point, be sure to purchase another ticket accordingly.
PRICE: from US$8 per person
5. Explore the surrounding area of the iconic Fisherman's Wharf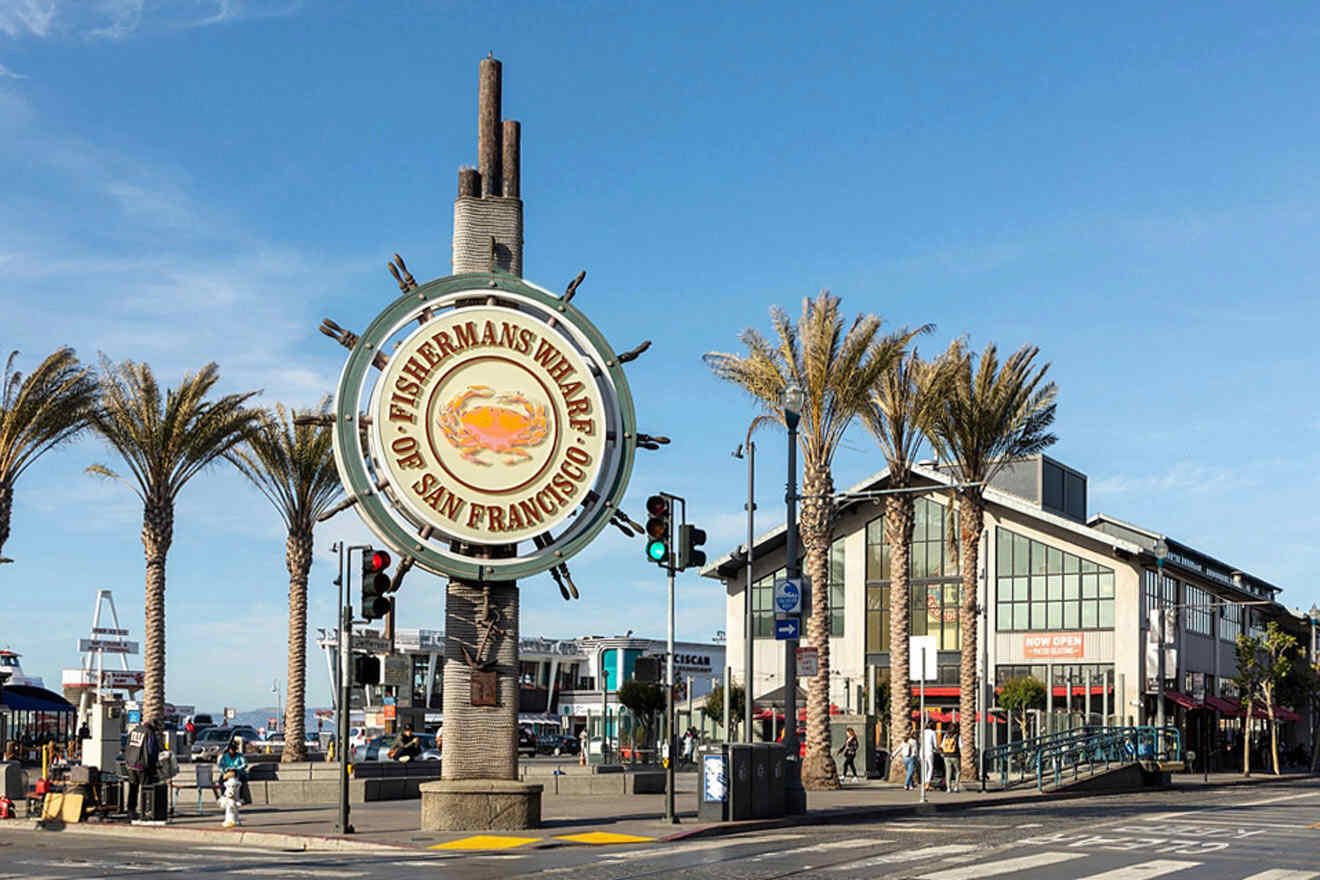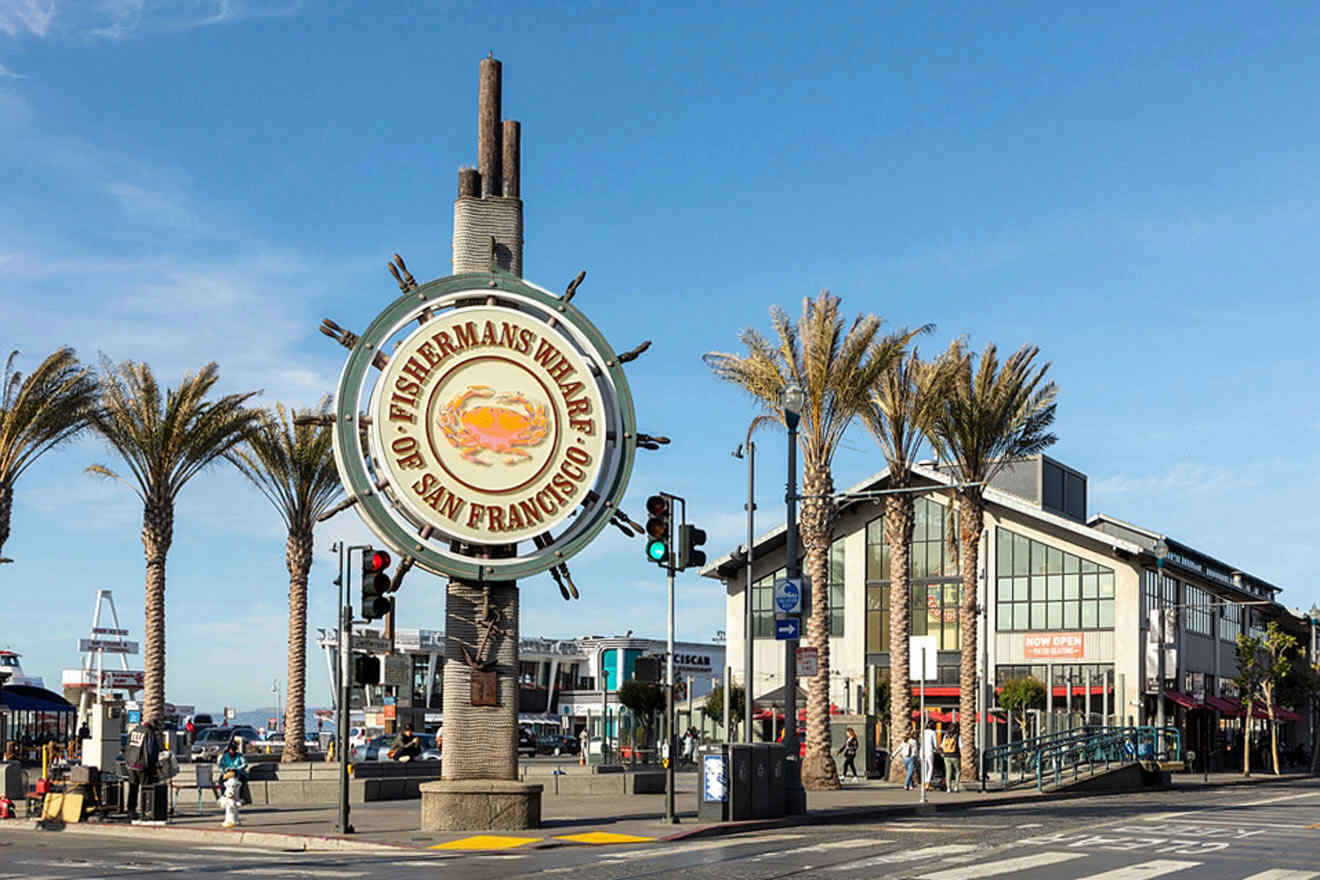 Once you get off the 20-minute cable car ride to Fisherman's Wharf, you'll see a crowd of people exploring the famous Pier 39, the California sea lions sunbathing outside and walking through the old marina.
Most importantly, you'll also be greeted by a plethora of fantastic seafood restaurants, tantalizing food vendors, captivating attractions, charming shops, and more. I suggest stopping at Pier Market Seafood Restaurant for the best fresh seafood and views of Pier 39.
The Aquarium of the Bay and Exploratorium are 2 museums located near the Fisherman's Wharf that I suggest visiting. The aquarium is a captivating exhibit home to an impressive array of over 20,000 marine life animals and the Exploratorium is a fascinating museum for both adults and kids delving into the ins and outs of human perception.
I suggest visiting both while you're in the Fisherman's Wharf and then heading to the Ghirardelli Square for the most delicious hot fudge sundae that San Francisco offers.
PRICE: from US$33 for the aquarium; from US$20 for the Exploratorium
6. Admire thousands of artworks at San Francisco Museum of Art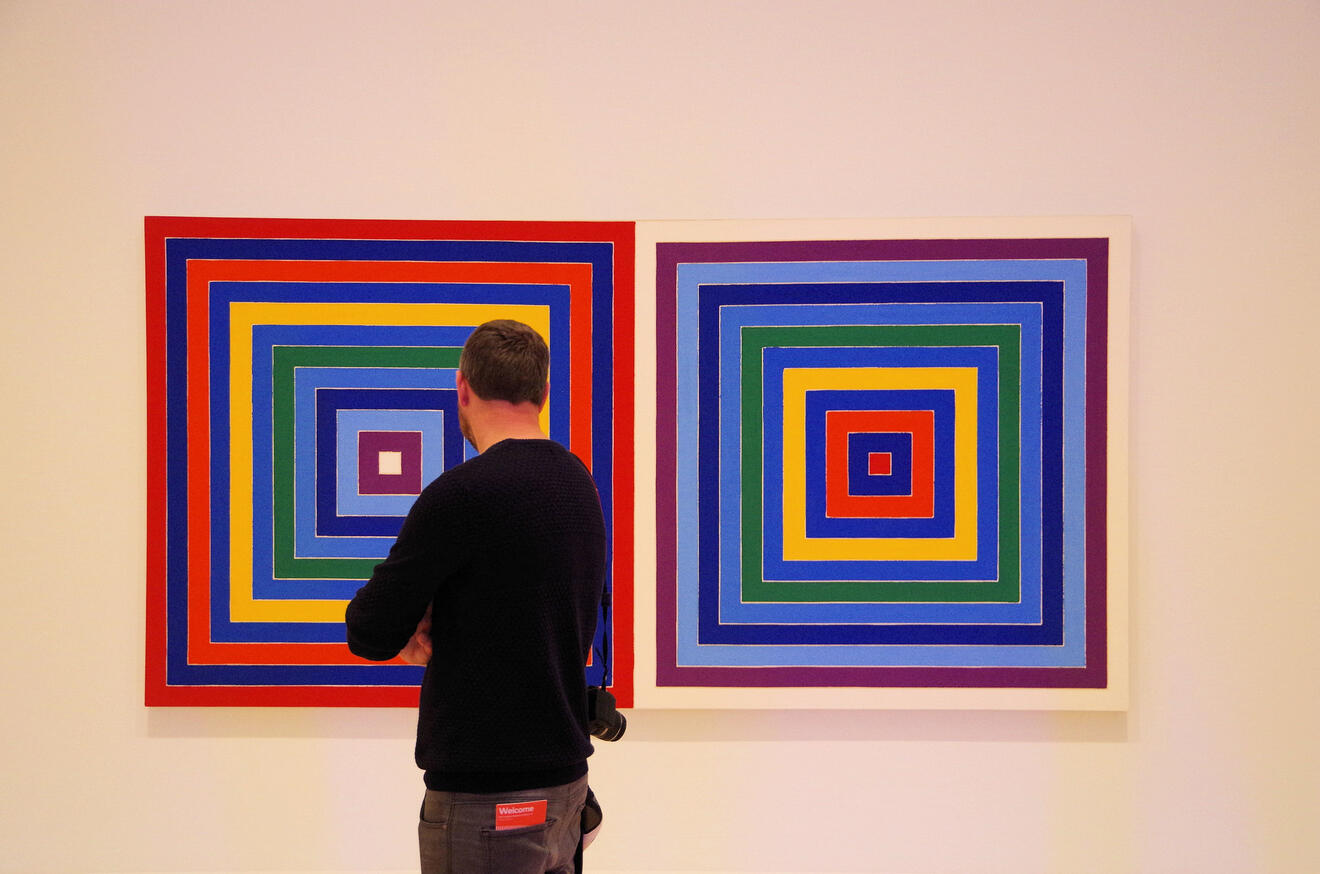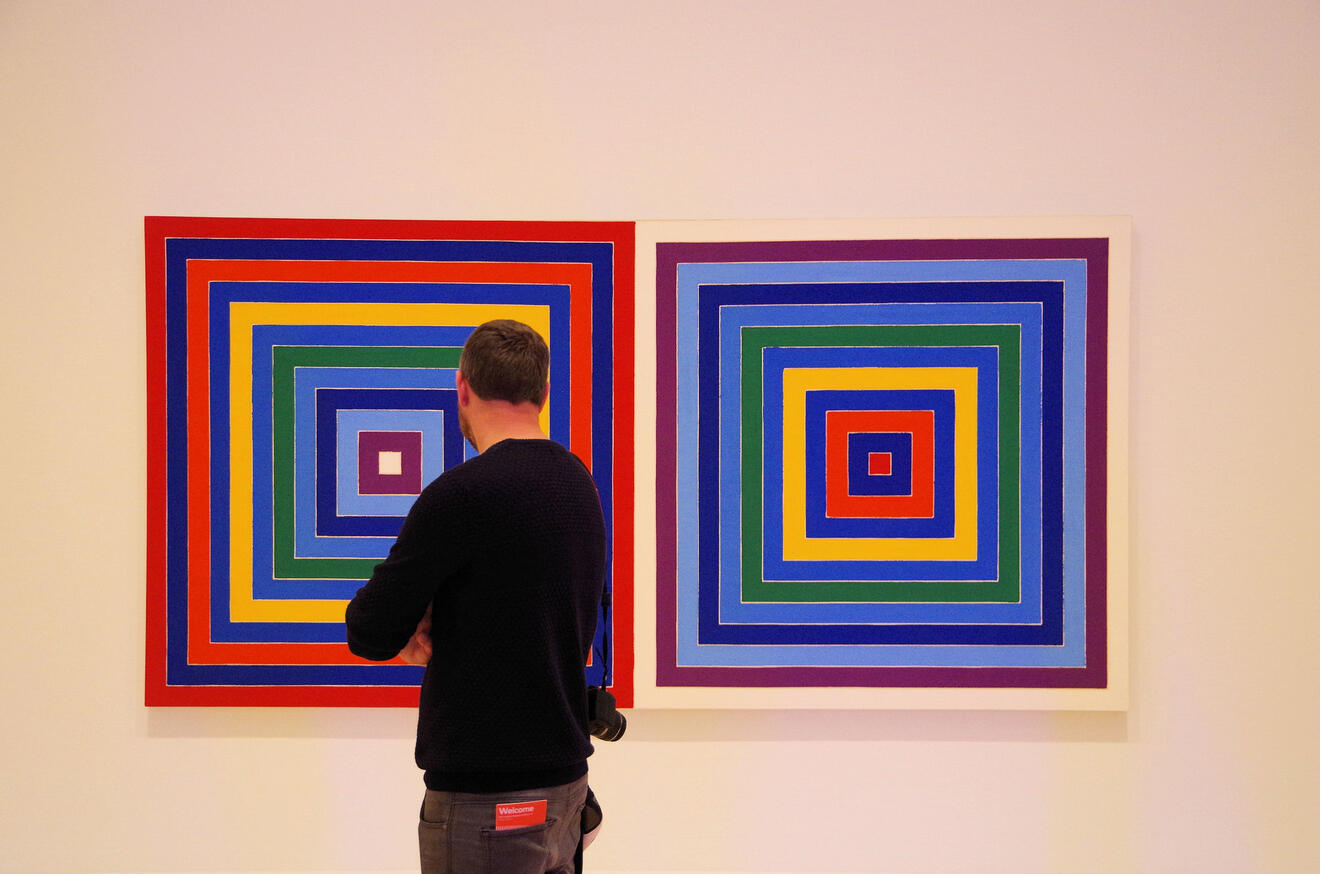 The San Francisco Museum of Modern Art is a large contemporary art museum in the heart of San Francisco! It's the first museum on the West Coast that specialized especially in 20th-century art.
Today, the museum has over 33,000 works of painting, sculpture, media art, and more for the art lovers to explore. Plus, it's one of the largest museums in the United States and in the world for modern and contemporary art.
The museum is open Friday – Tuesday from 10 AM – 5 PM and Thursdays from 1 PM to 8 PM, and closed on Wednesdays.
Not an art museum type of person? Or want a more kid-friendly museum instead? Visit the Walt Disney Family Museum for a look at the legacy of Walt Disney and the Kimball Natural History Museum to explore the past, present, and future of life on Earth.
PRICE: US$19 per person
7. Visit the historic Palace of Fine Arts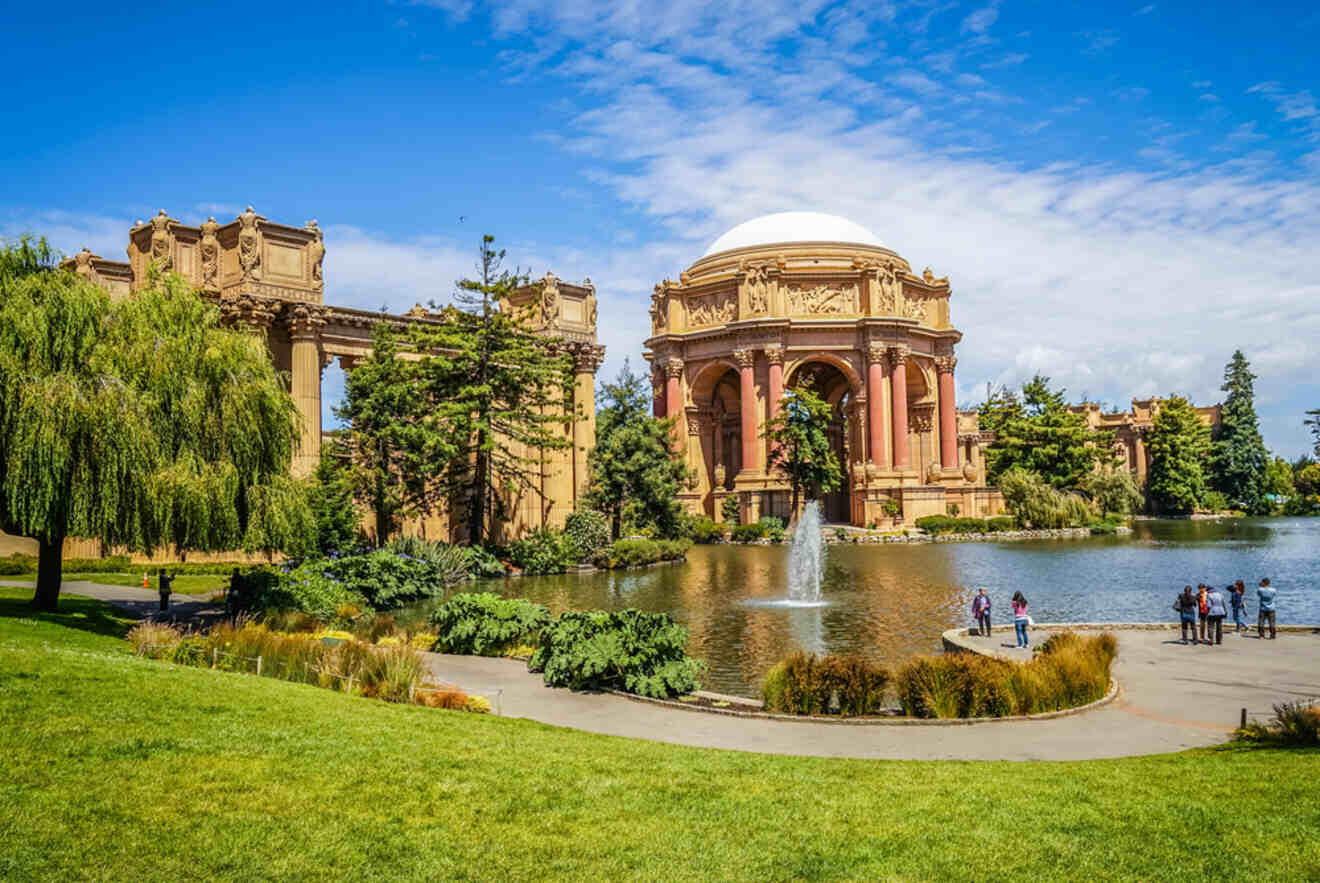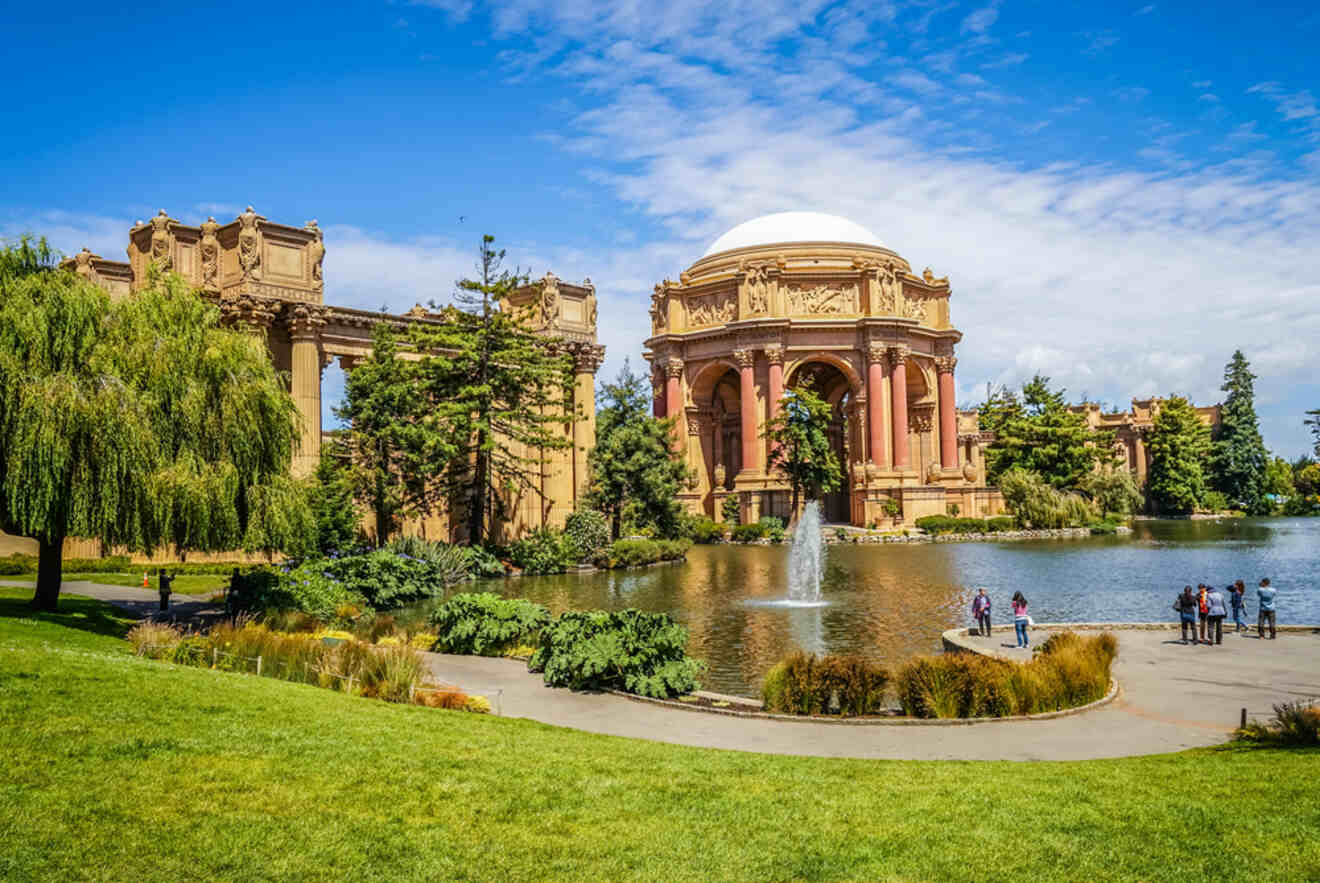 The Palace of Fine Arts in the Marina District of San Francisco is a monument originally built as an art exhibit in 1915 and rebuilt between 1964 and 1974. The monument is made up of an open rotunda, a lagoon, and an exhibition center. The exhibition center is now known as San Francisco's largest one-story building and it's used as a popular venue for weddings or other special occasions.
Being one of the most popular San Francisco landmarks, I suggest coming ready with your camera to snap some beautiful photos and admire the architecture.
The venue is open from 10 AM to 5 PM Tuesday – Sundays and closed on Monday.
PRICE: FREE!
8. Get 360-degree views of San Francisco at the Coit Tower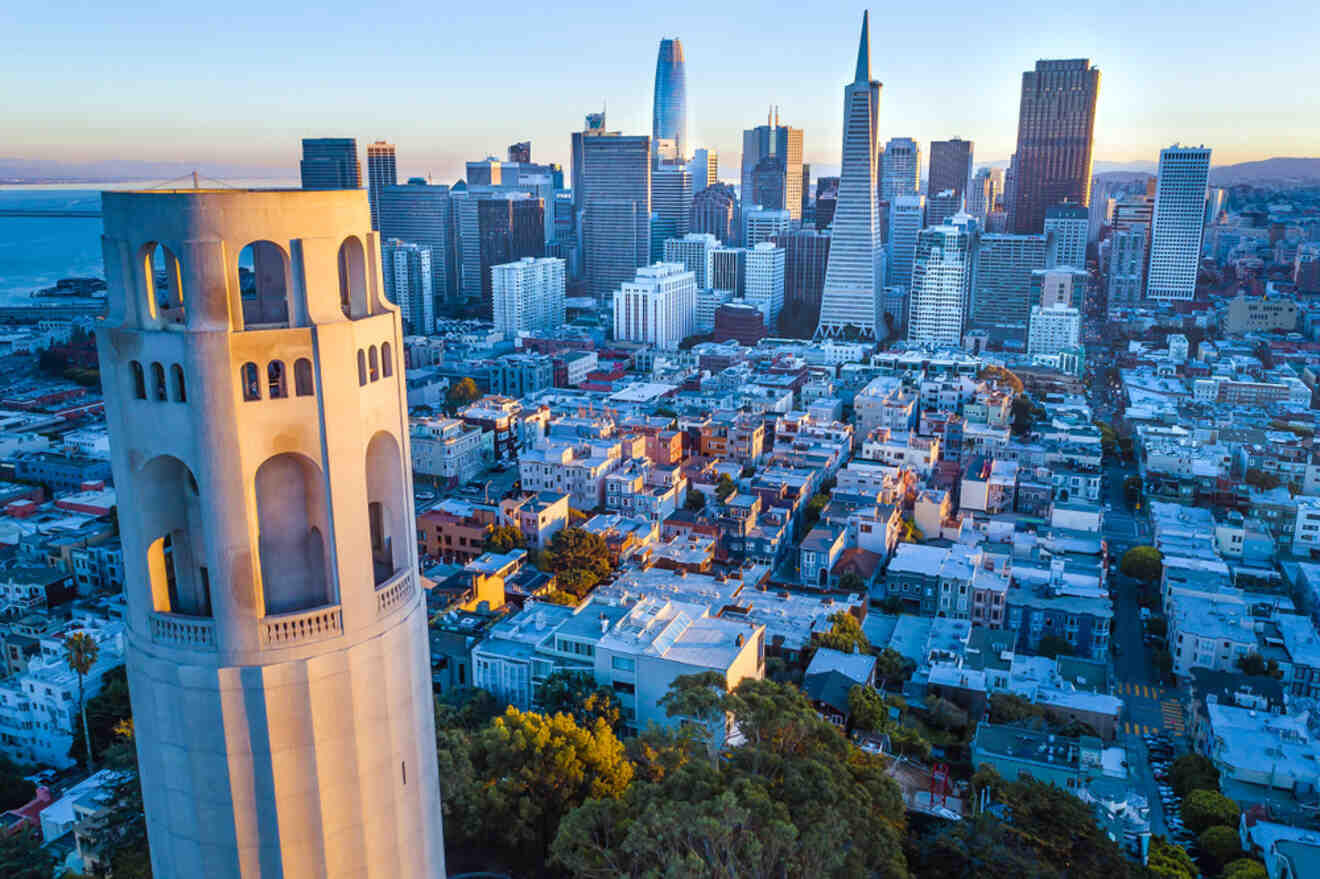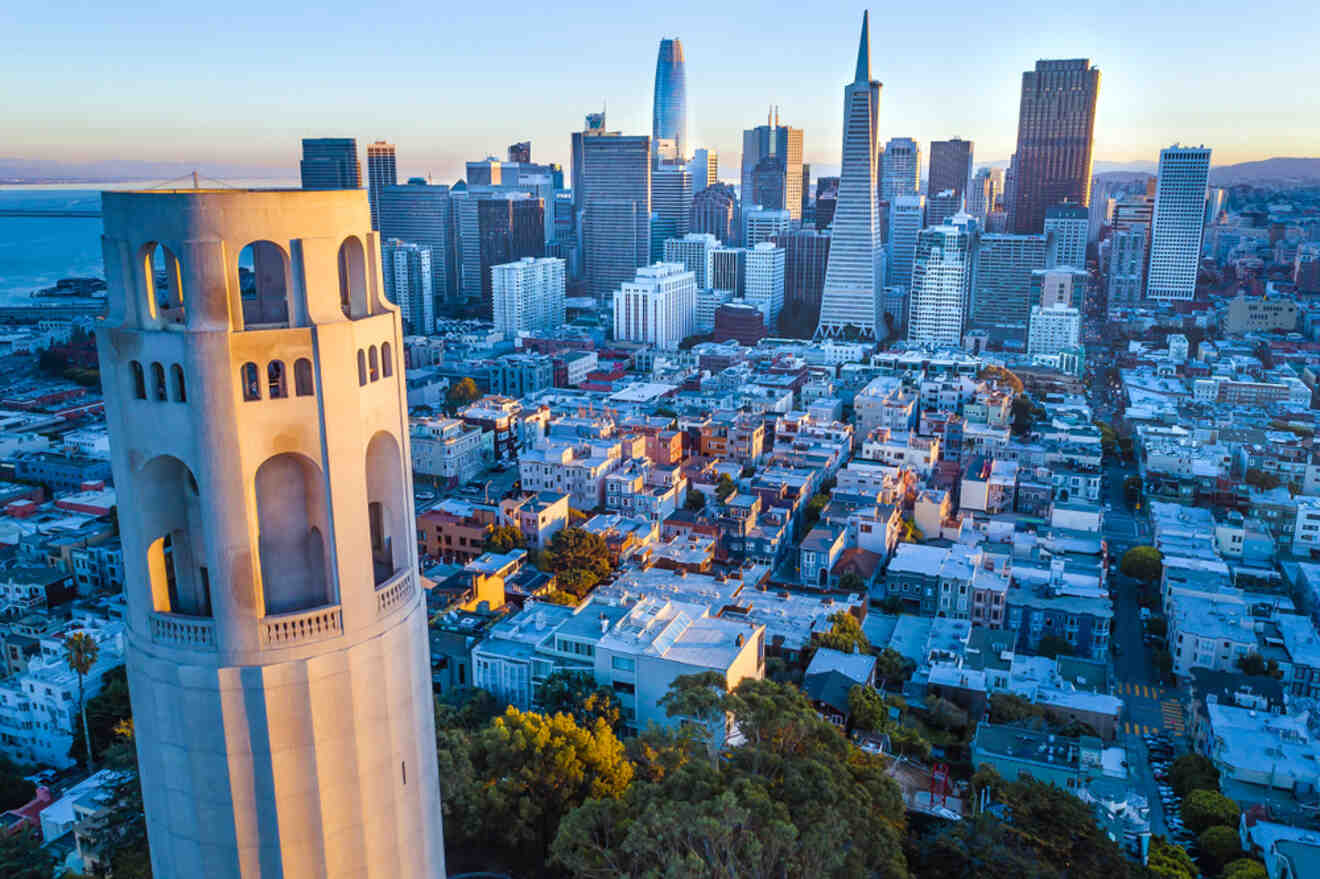 Coit Tower is a landmark in San Francisco's Telegraph Hill that has been towering the city skyline since 1933. There's an observation deck at the top of the 210 ft (64 m) building overlooking the entire city and bay, where you also get the most stunning views of the Golden Gate Bridge and San Francisco-Oakland Bay Bridge.
There is a 90-year-old elevator taking you to the very top of the building that sometimes might stop working due to mechanical issues. If that's the case, you'll need to take the 13 flights of stairs going up – so get ready for a workout!
If you're lucky, you might spot the San Francisco Giants playing in Oracle Park while you're at the observation deck!
PRICE: US$10 for adults (non-residents). Book your tickets in advance here!
9. Take a crooked drive along Lombard Street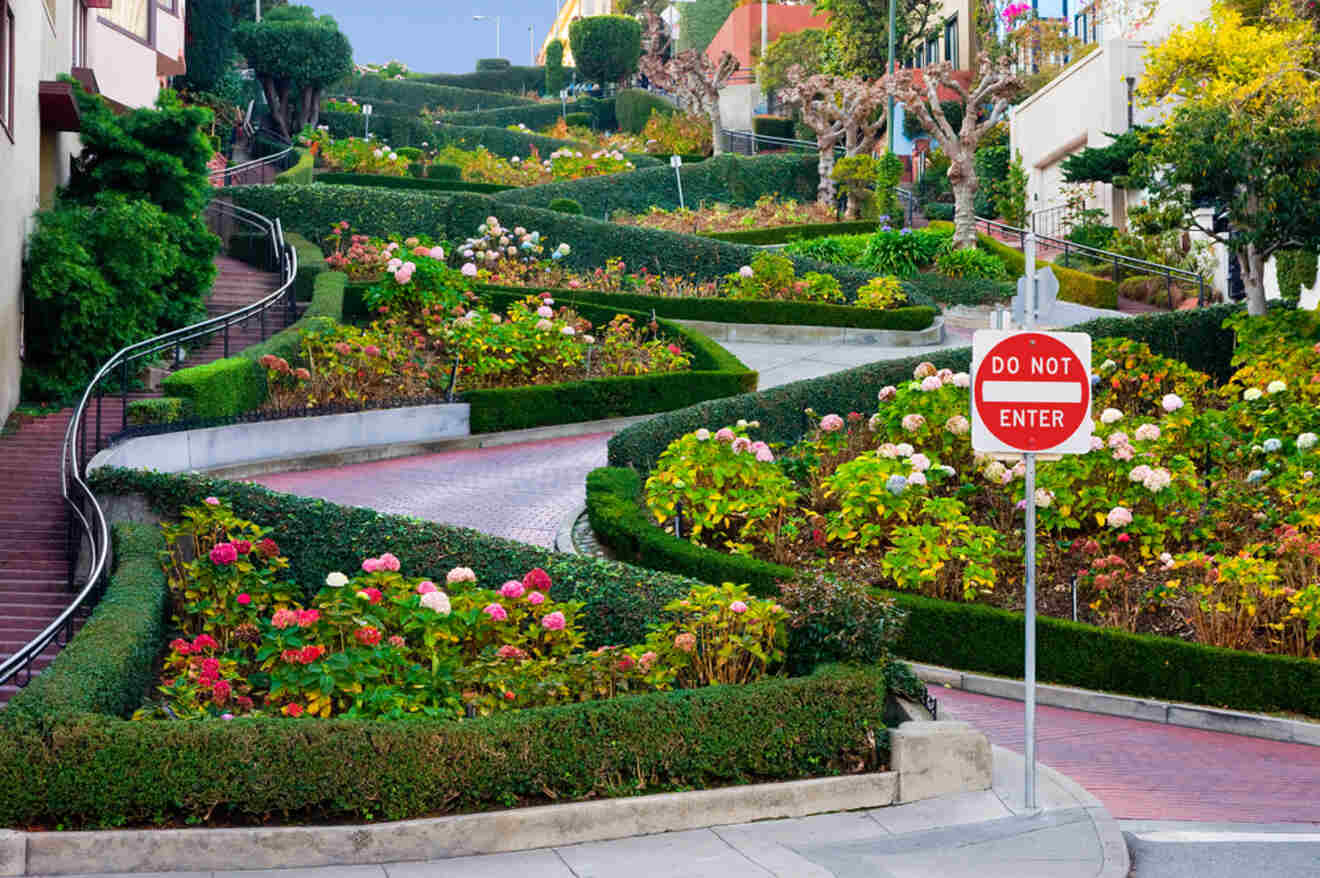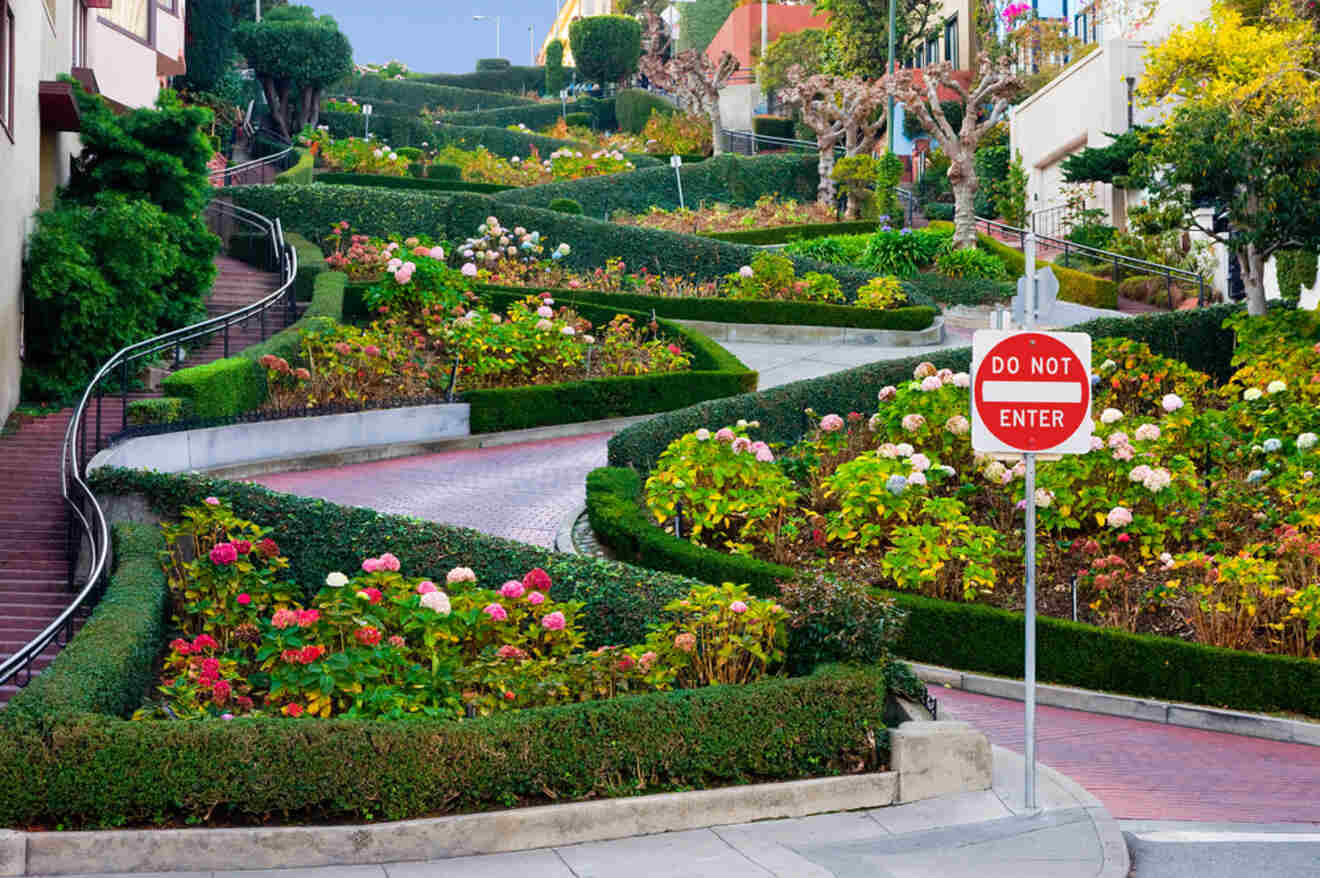 Lombard Street is the crookedest street in the world and one of the most popular landmarks in San Francisco.
Running straight through Telegraph Hill, millions of visitors drive down the sharp turns, Russian Hill mansions, and admire the views of the perfectly lined up flowers along the streets. I suggest coming to take a look for yourself and taking in the views of the San Francisco Bay and Coit Tower from the very top of the street.
If you're up for a challenge, go on a hilly walking tour for 5 miles (8 km) around the city of San Francisco and experience it for yourself!
NOTE: San Francisco residents live on Lombard Street! Be careful of where you're driving or walking to avoid a disturbance.
PRICE: from US$54 per person
10. Get a taste of Italian food in North Beach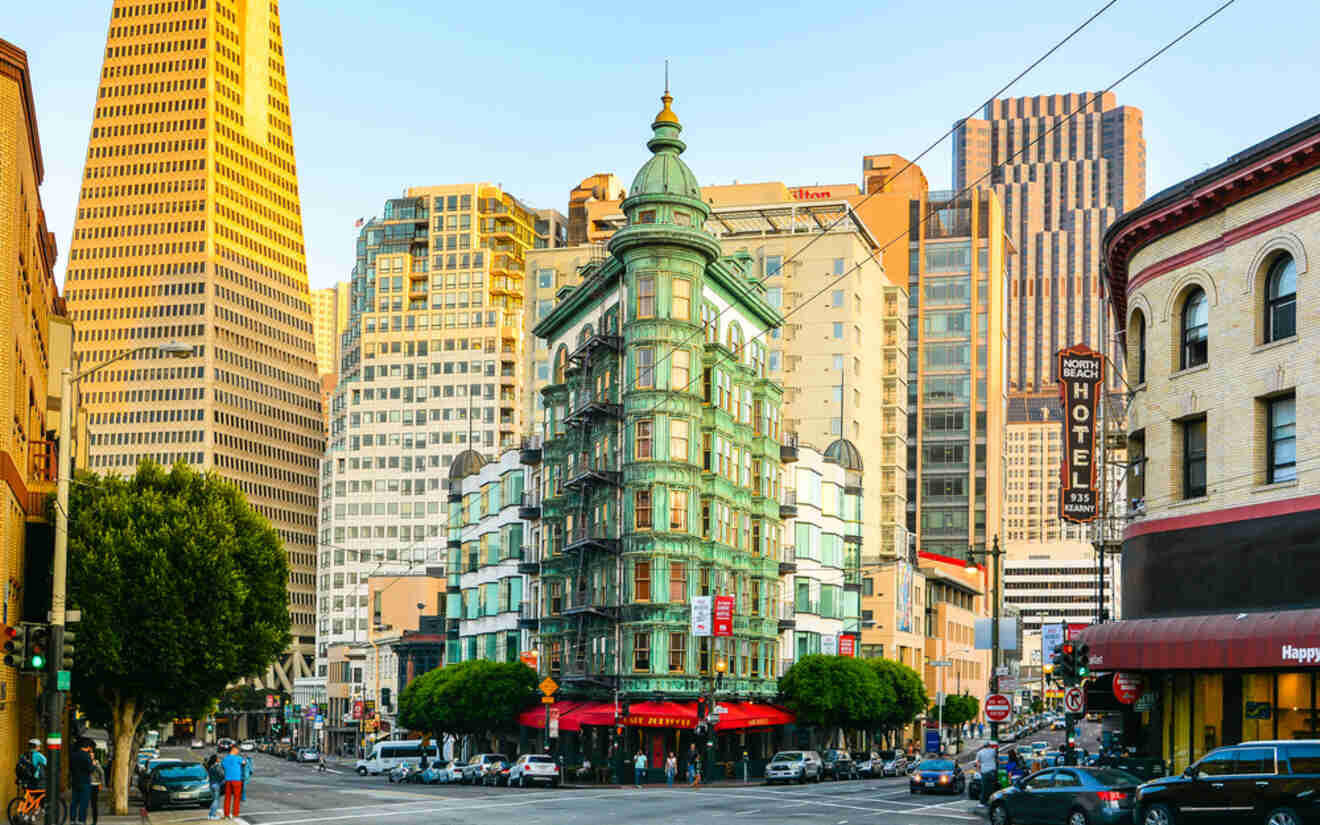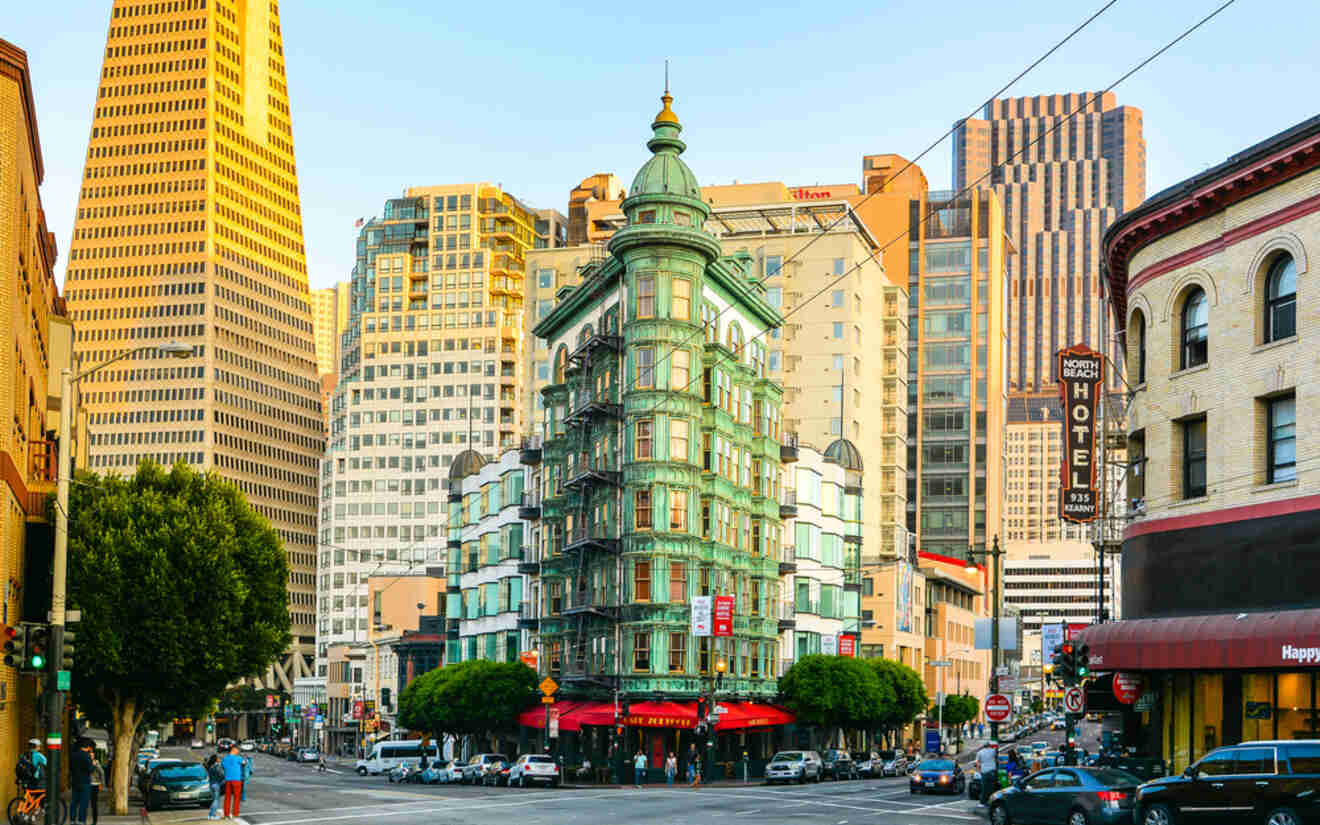 North Beach is San Francisco's Little Italy! It's well-known for the best Italian food in San Francisco and I suggest you get a taste of all the delis on this 3-hour tour. Not only do you explore the history of North Beach and the best Italian food spots, but you also get to see the historic landmarks like Saint Peter and Paul Church.
North Beach is my favorite area to explore in San Francisco but if you're looking for Mexican food and more Hispanic-latino culture, head over to Mission District instead! You'll also find the famous Mission Dolores Park and various art murals placed all over the neighborhood.
PRO TIP: Stop by the City Lights Bookstore nearby for the most iconic bookstore in all of the Bay Area.
TOUR PRICE: from US$80 per person
Feast Your Way Through Little Italy
11. Take a trip to the San Francisco Zoo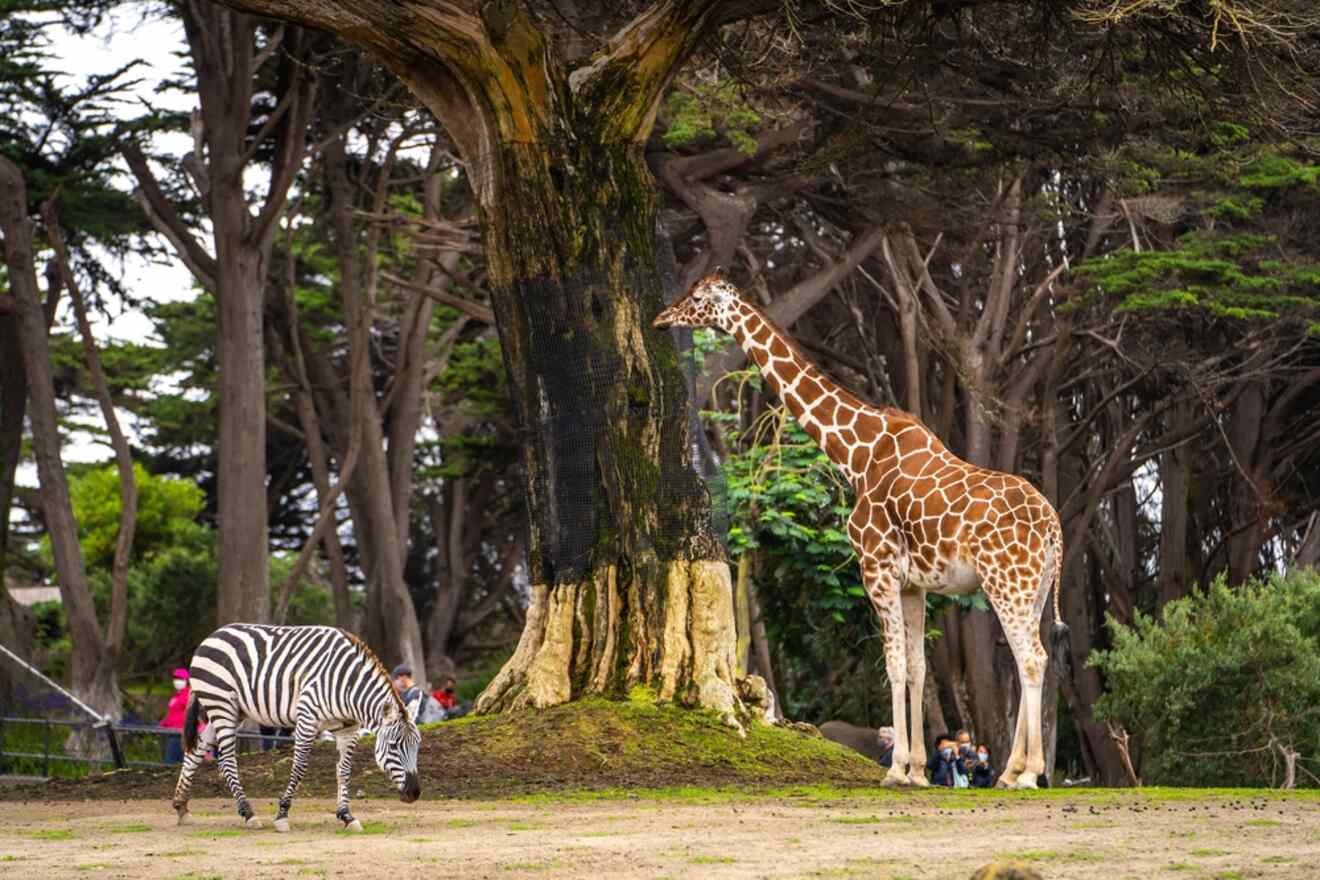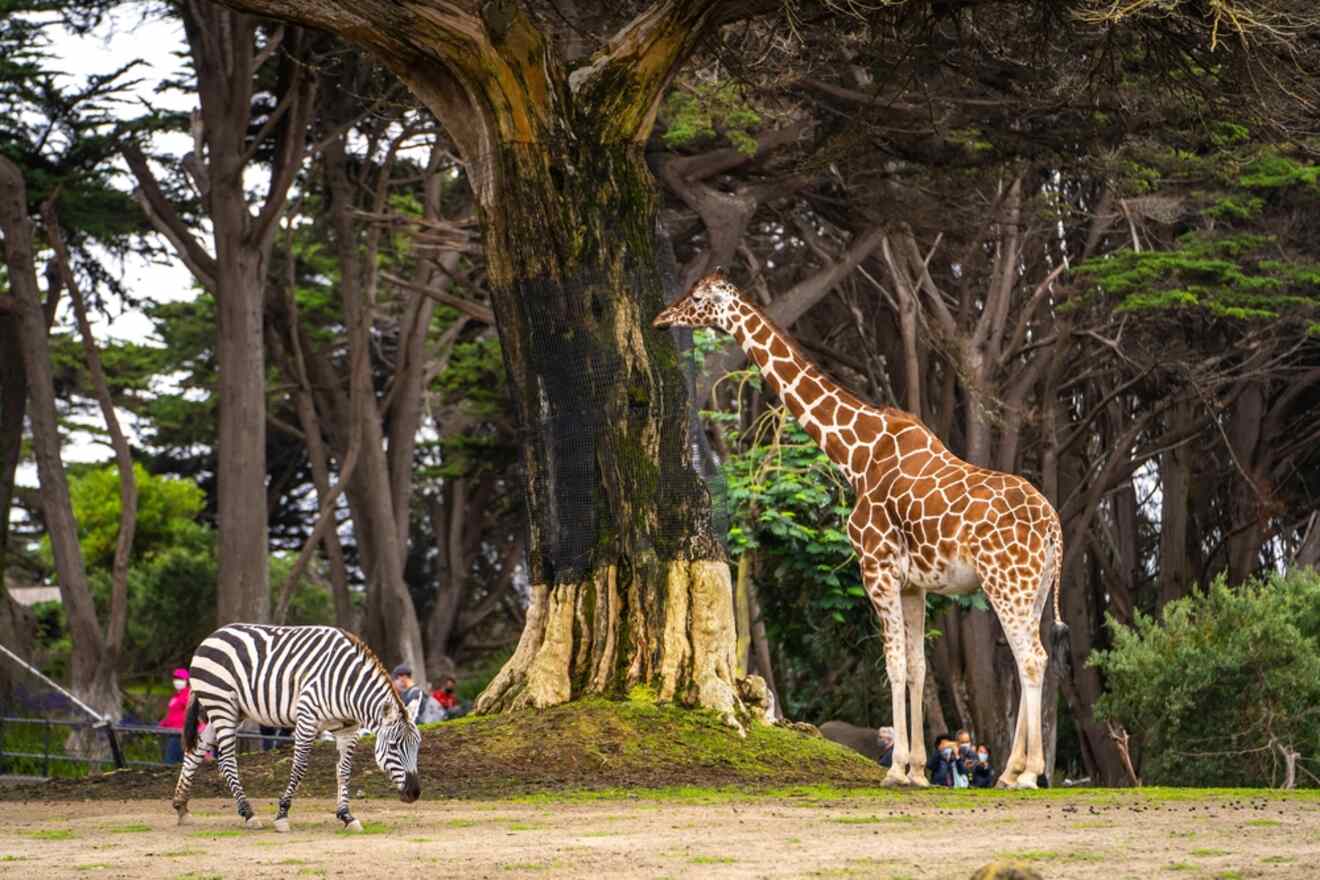 San Francisco Zoo is a small zoo housing more than 1,000 animals and over 250 species. They pride themselves in raising awareness in the importance of wildlife conservation and allowing visitors a way to take an inside look at the biodiversity that is celebrated every day. They have exhibits, sculptures, and more that you can take your time exploring.
The zoo has plenty of beautiful gardens to explore, but if you want more, I suggest taking a drive or bus afterwards up to the San Francisco Botanical Garden for an hour walk along the stunning botanicals (about 8,000 plants to be exact).
PRICE: US$25 for adults US$18 for kids
12. Dine and shop around Union Square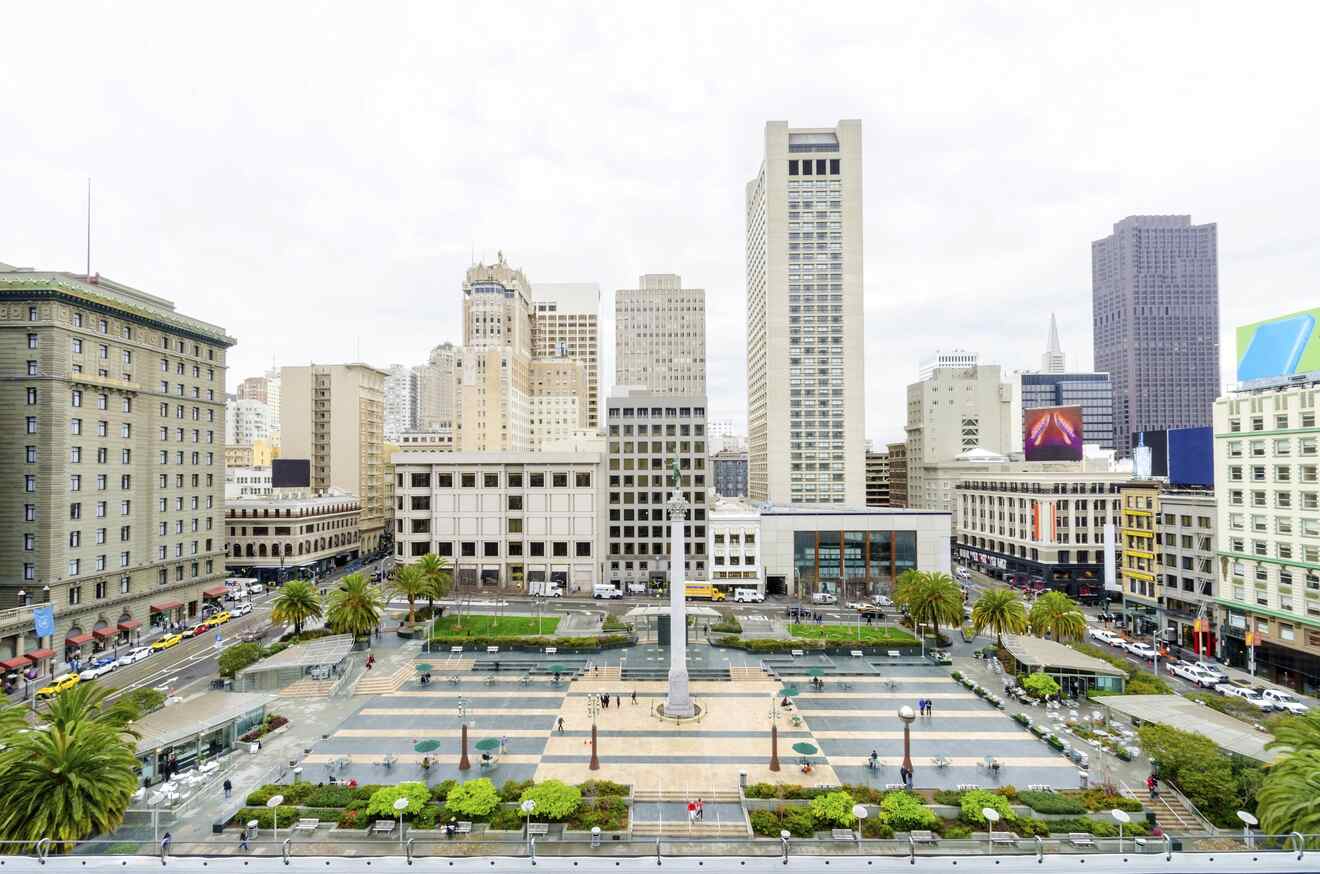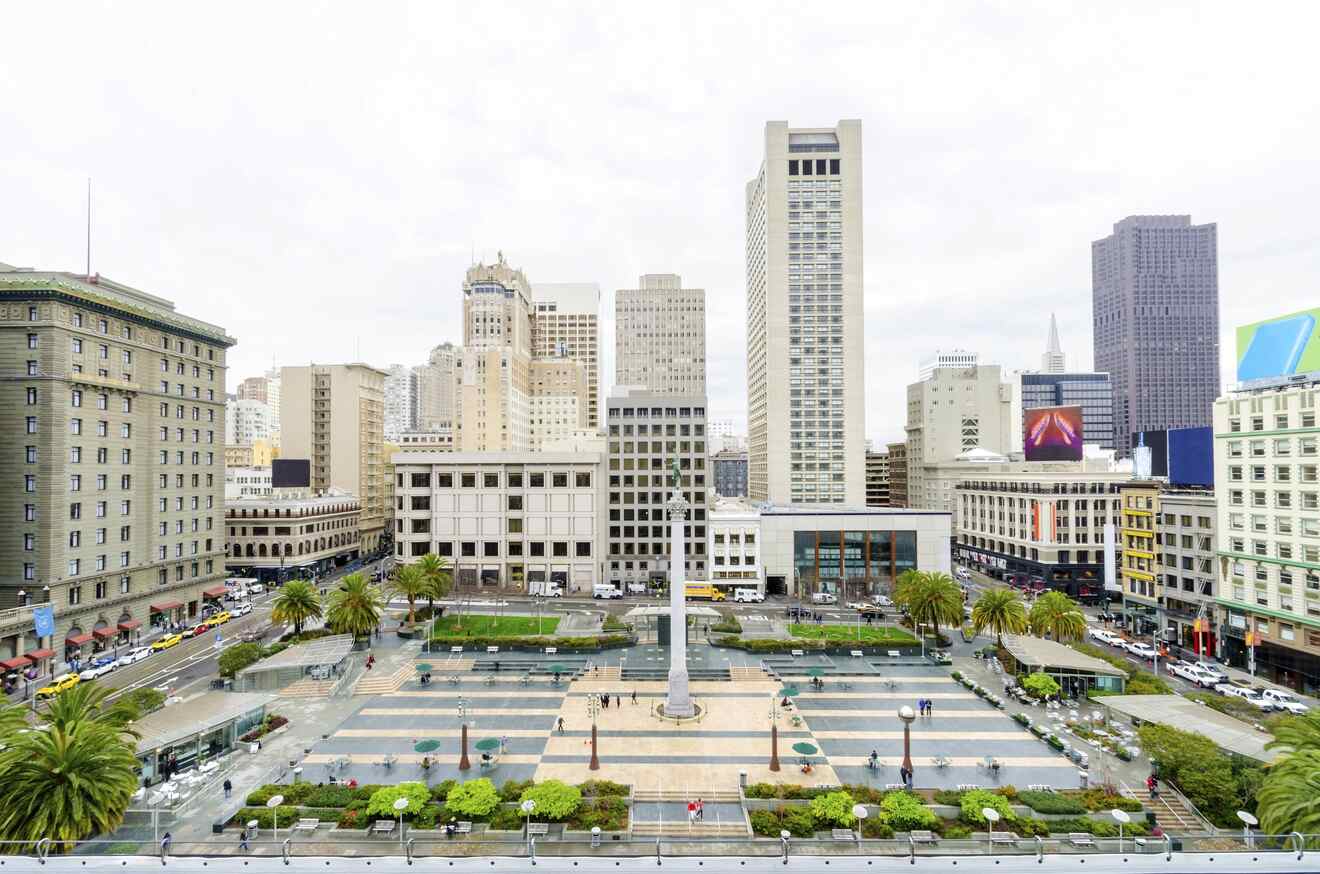 Union Square is the ultimate shopping center while you're in San Francisco! San Franciscans and locals also come for quick bites, fine dining, local cafés, and bars to unwind. There are a plethora of options to choose from but I recommend visiting Sears Fine Food for the best classic diner and Tad's Steakhouse for an older local favorite steakhouse.
After you eat, stroll through the shops ranging from stores specializing in shoes, electronics, clothing, arts, antiques, and more. It's always a good time to shop at Union Square but make sure to bring a jacket because the Golden City can get quite cold and/or windy when you least expect it.
There are also seasonal events like ice skating in the winter and spooky Halloween events in October. Take a look on their website in advance and plan ahead.
NOTE: Bush Street goes straight through downtown, the Financial District near the Union Square. I recommend staying away from the Tenderloin District along that street – it's not the safest and there's a ton of drug activity that isn't necessarily tourist-friendly.
13. Admire the tallest trees in the world at Muir Woods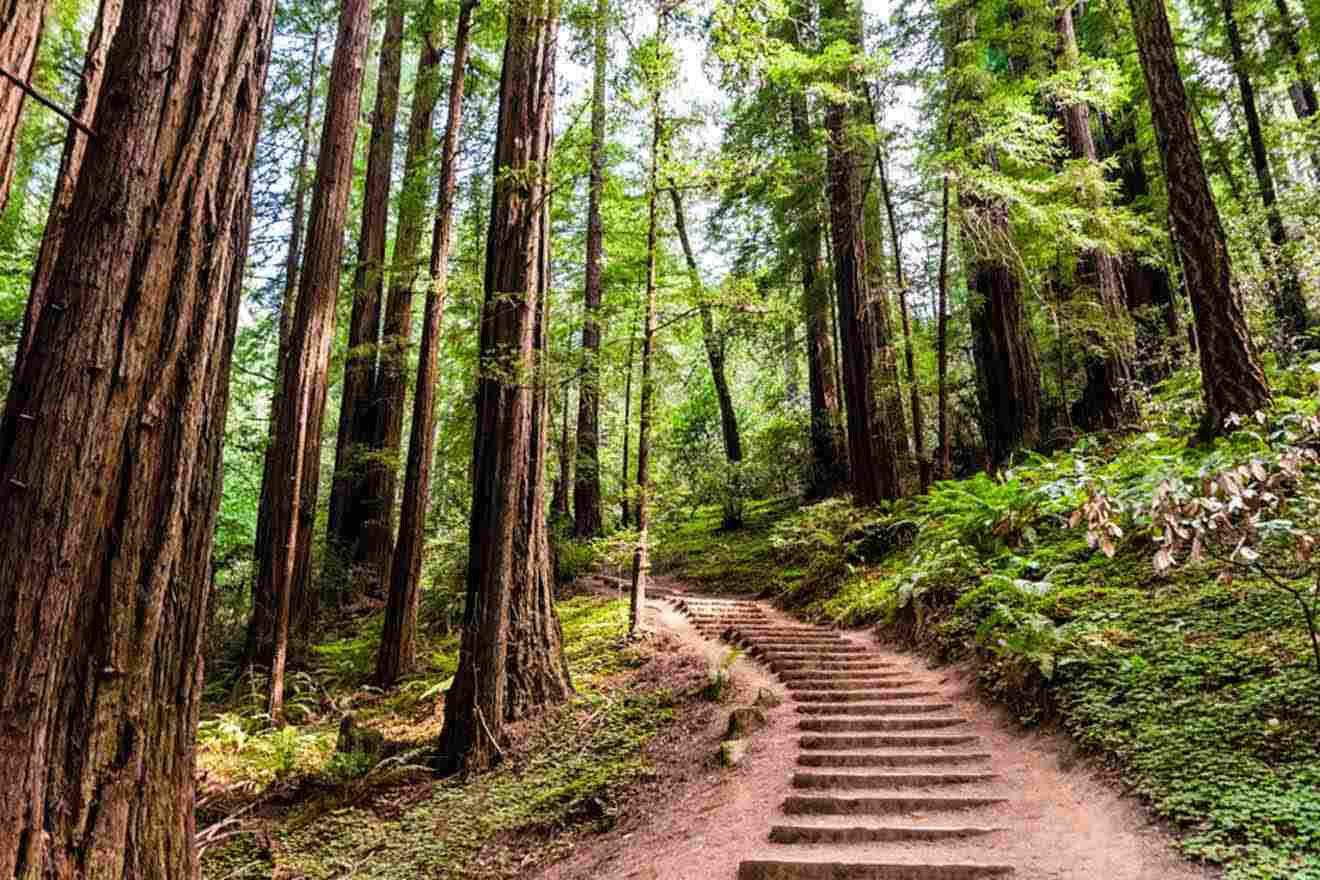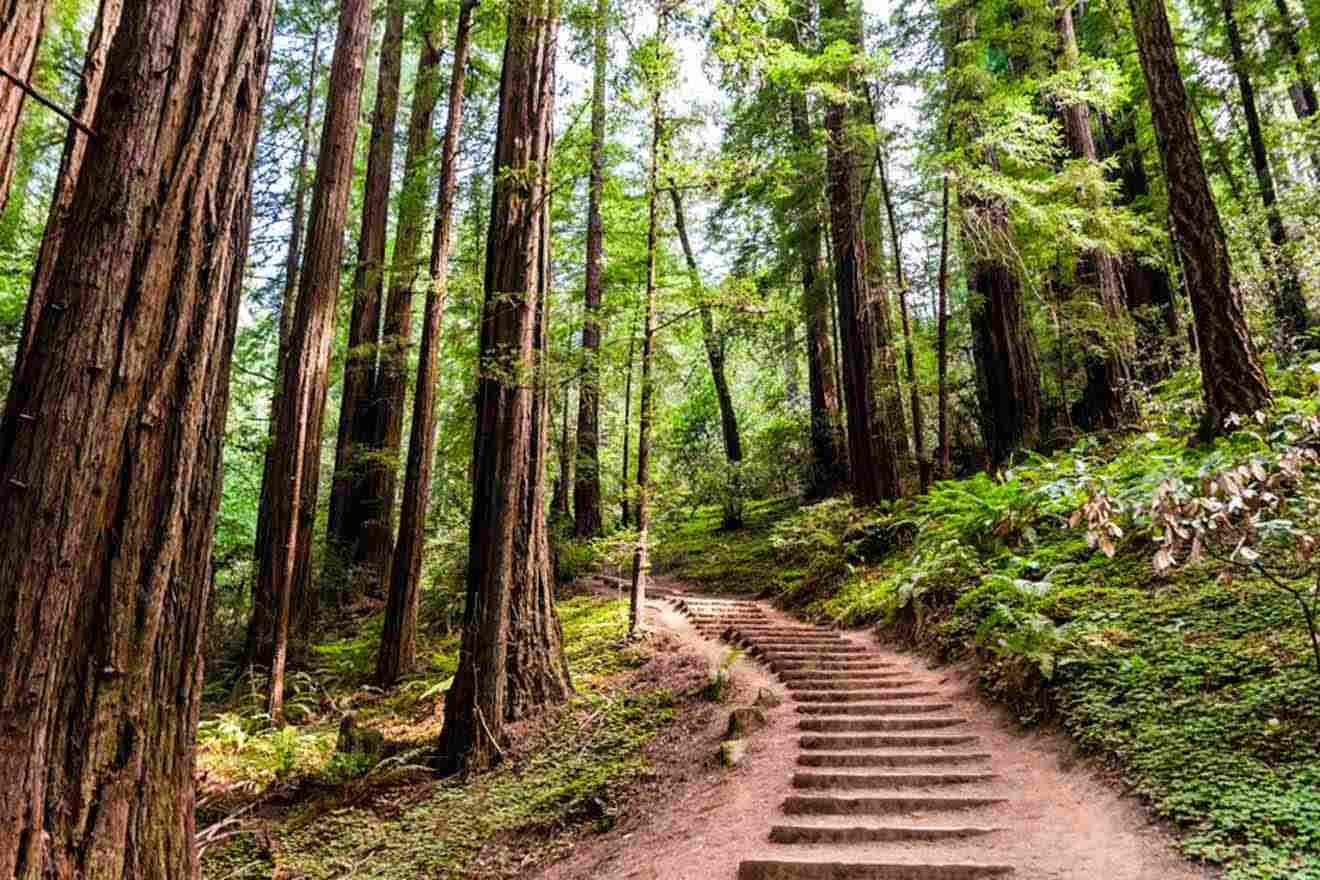 Located just a little over 10 miles (less than 20 km) north of the Golden Gate Bridge, lies the enchanting Muir Woods, a forest boasting the majestic redwood trees – nature's tallest wonders. As a self-proclaimed tree hugger, I can proudly say that this natural landmark is truly one of the coolest I've ever seen.
This 3-in-1 tour is a great choice if you're trying to make the most out of your day in the area. I loved my experience last time and couldn't recommend it enough!
However, if you prefer to dedicate more time to the woods and save Alcatraz Island and the Golden Gate Bridge for another day, the immersive Muir Woods tour is a fantastic option. Led by a knowledgeable local guide, this excursion allows you to take a slow pace through the forest while learning about its history and connecting with nature.
My favorite time to go is the late winter and early springtime since the majestic forest gets more rain around that time, and it looks even greener than usual. You'll find a variety of hiking trails in the shade as you walk through the woods and admire the famous redwoods.
TOUR PRICE: from US$90 per person
14. Take your kids to Children's Creativity Museum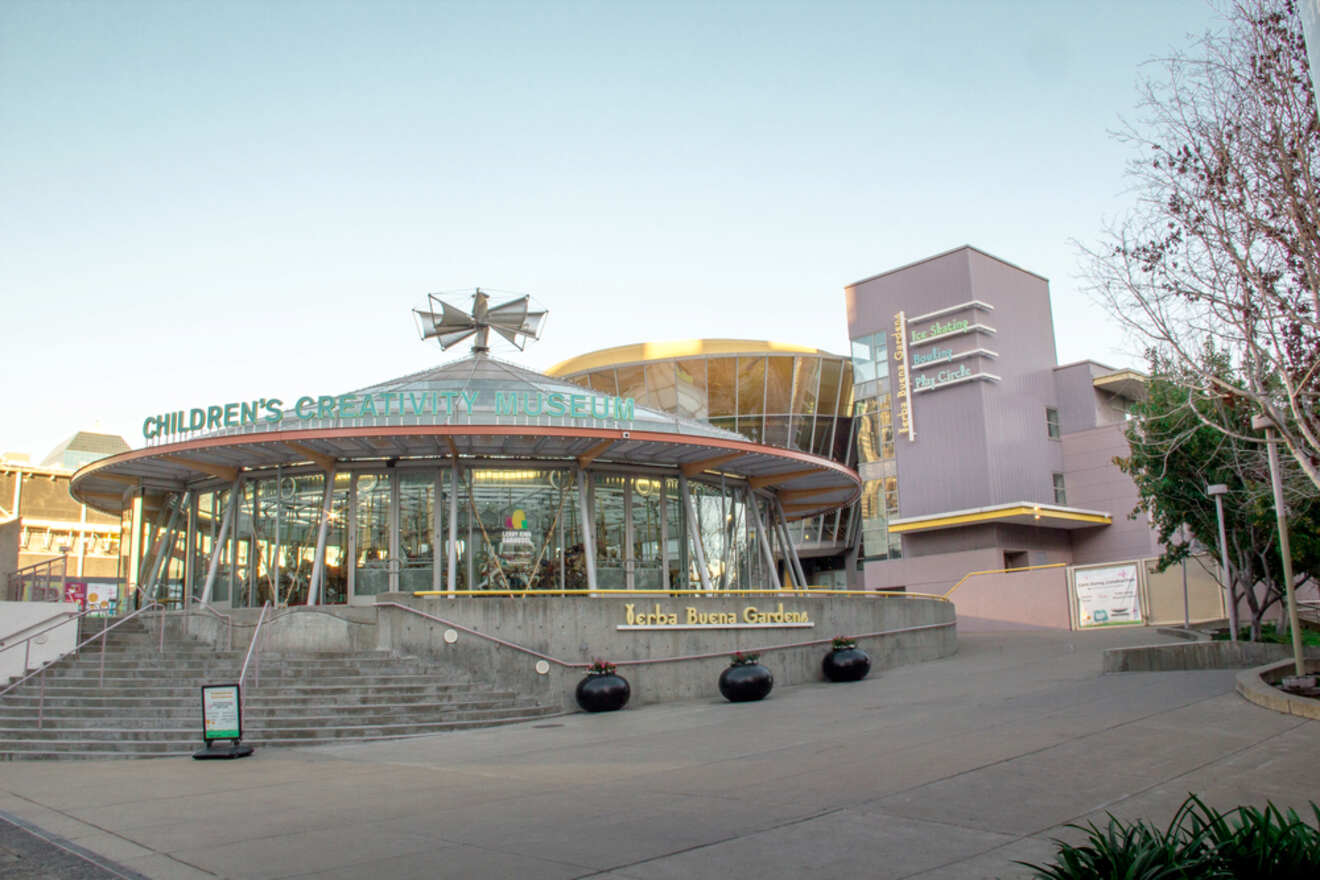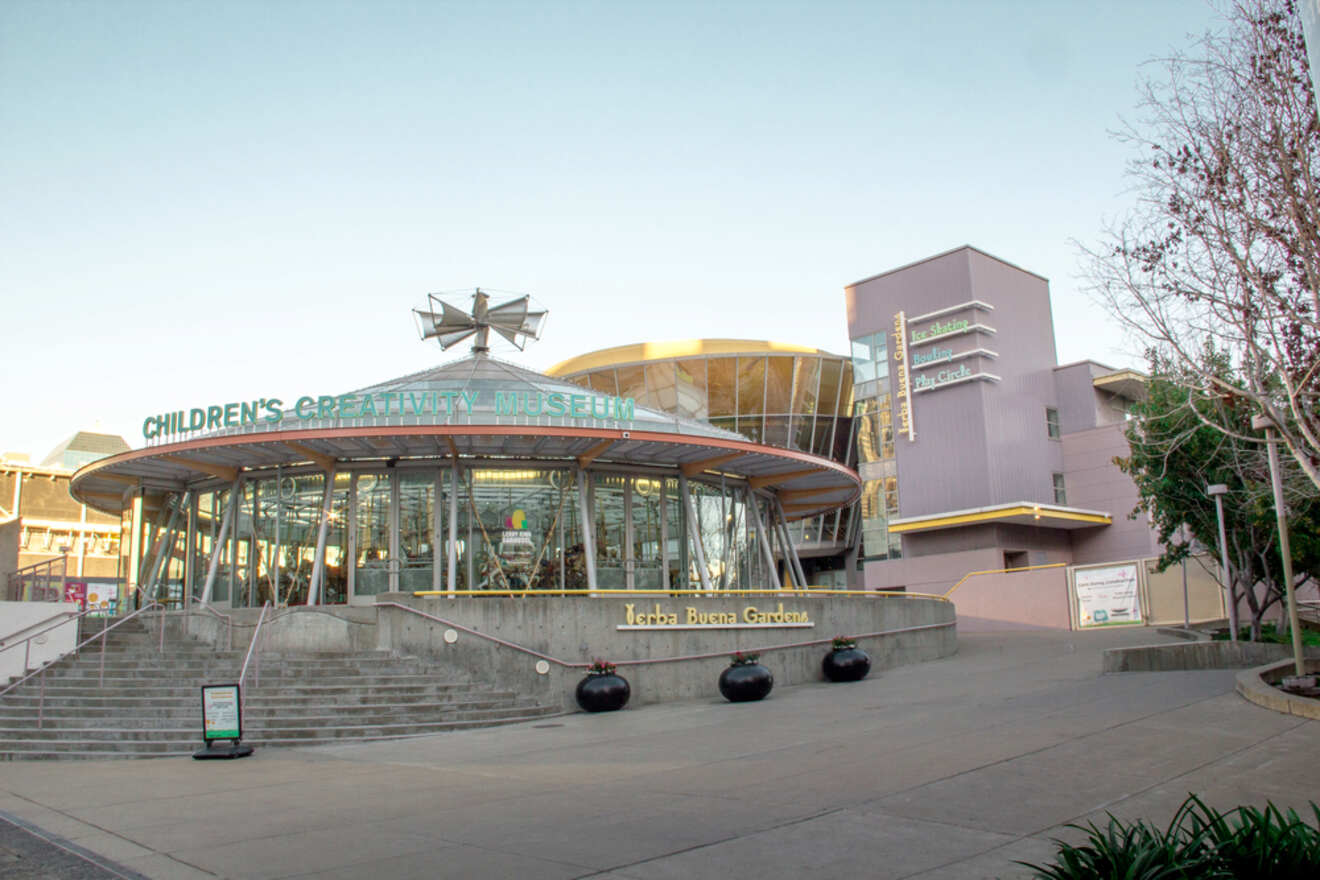 The Children's Creativity Museum in San Francisco is an interactive and educational wonderland designed to inspire and engage young minds. This innovative museum encourages children to explore their creativity through a variety of hands-on exhibits and activities.
The museum offers interactive experiences like digital art, animation, music production, and storytelling, inspiring kids to express themselves, learn through play, and develop essential skills in a fun environment.
Through its diverse exhibits and programs, the Children's Creativity Museum fosters creativity, critical thinking, and problem-solving abilities in children, helping them grow into confident and imaginative individuals.
They are open from Thursday – Sunday, 10 AM to 4 PM. The museum is catered for 2 – 12 year olds, so I suggest visiting if you're traveling with young kids.
PRICE: US$20 per person
15. Explore North America's oldest Chinatown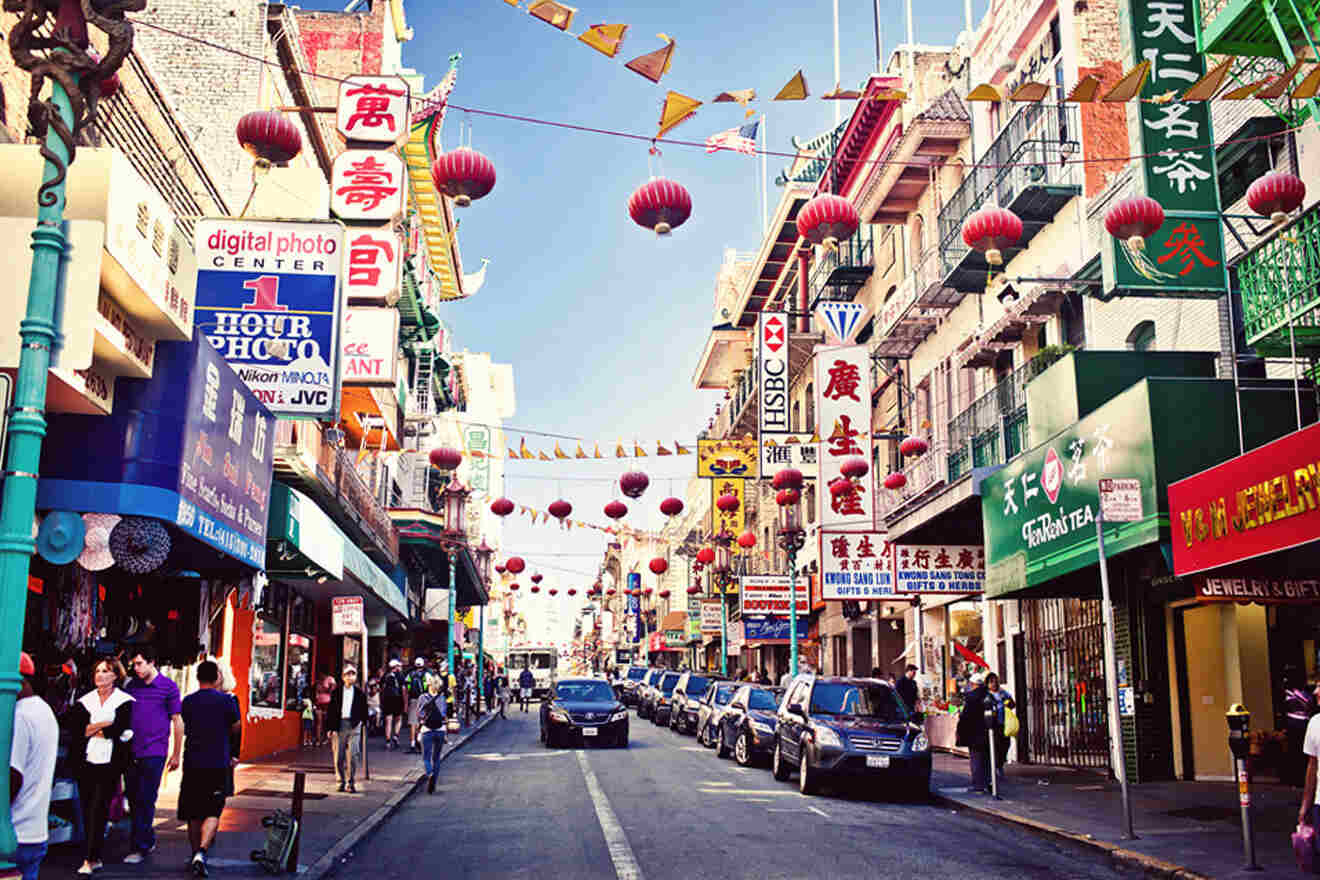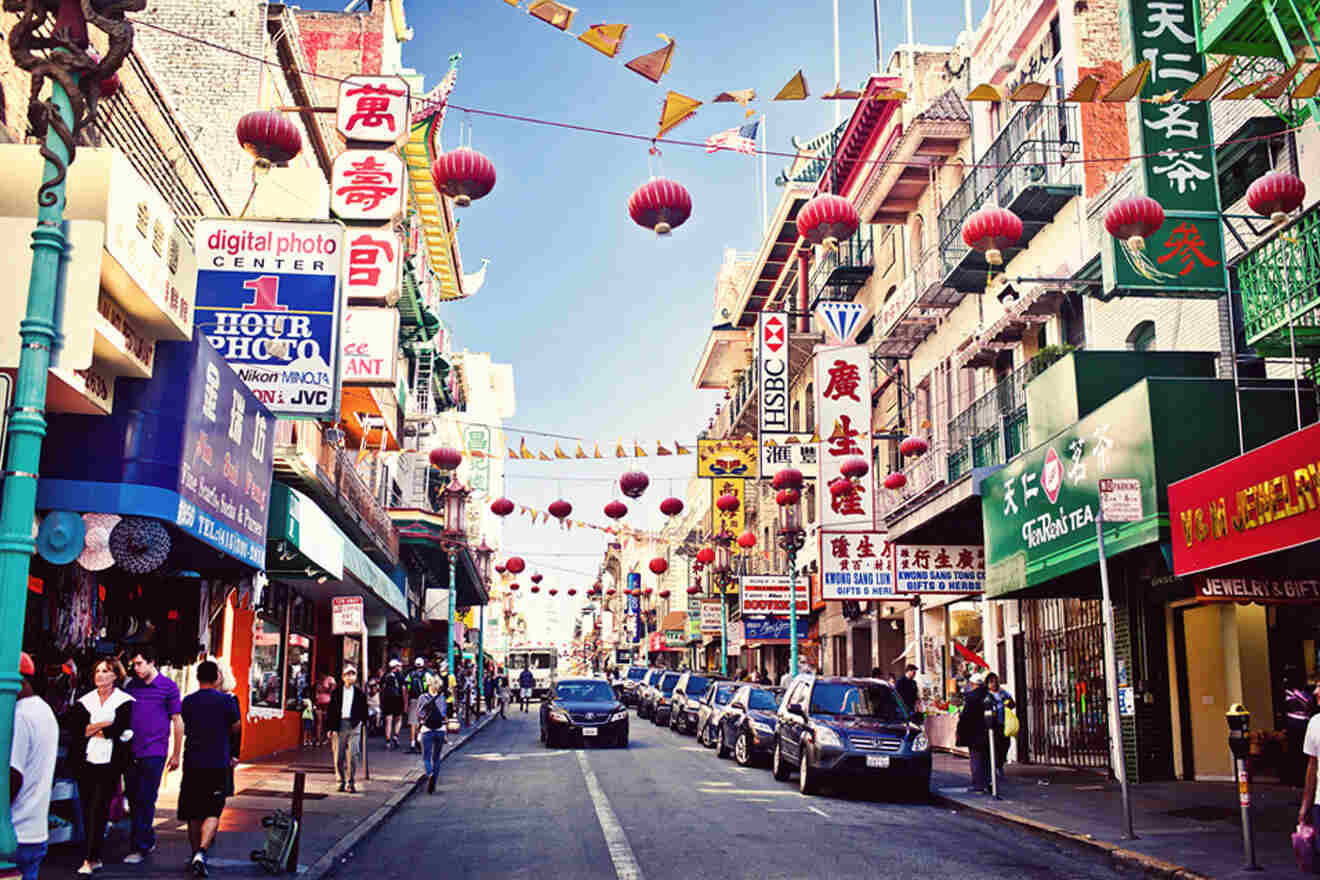 Grant Avenue is one of the most iconic streets in San Francisco and offers a diverse array of activities and attractions. Here are some of the best things to do in the area:
Explore the vibrant shopping scene in San Francisco's Chinatown! Check out the local shops selling unique souvenirs, Chinese goods, clothing, and more!
Grab a bite of the best dim sum and authentic Szechuan dishes with a plethora of options throughout Grant Avenue. Palette Tea House is my personal favorite place for dim sum!
Take a leisurely stroll along Grant Avenue and immerse yourself in the vibrant atmosphere of Chinatown. Admire the traditional Chinese architecture, Asian Art Museum, Dragon Gate, plethora of temples, ornate street lamps, and colorful murals that make this area so captivating.
Take a walk to the Ferry Building nearby afterwards to end your day with the best local vendors selling cheese, coffee, candy, and more!
16. Snap a photo in front of the Painted Ladies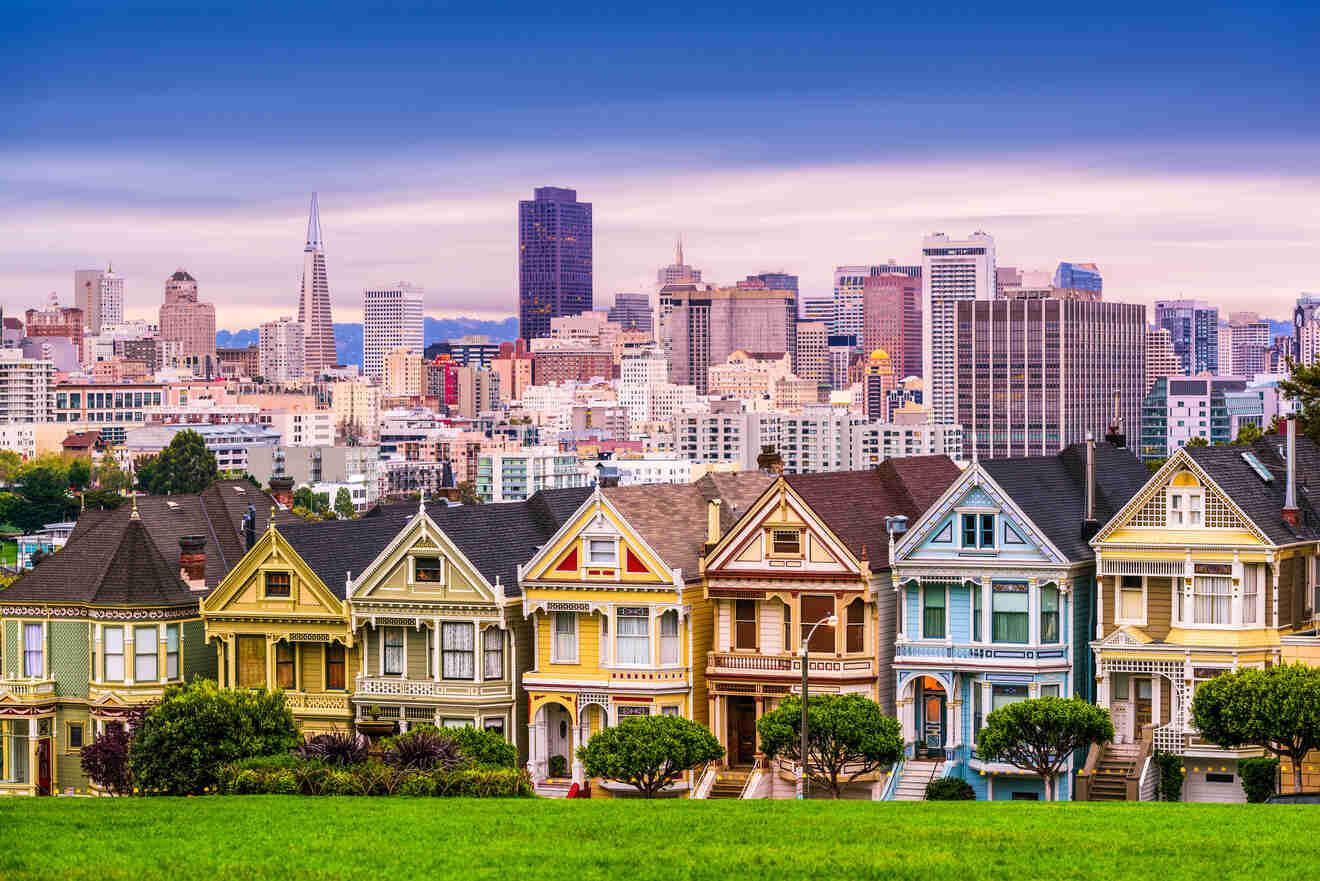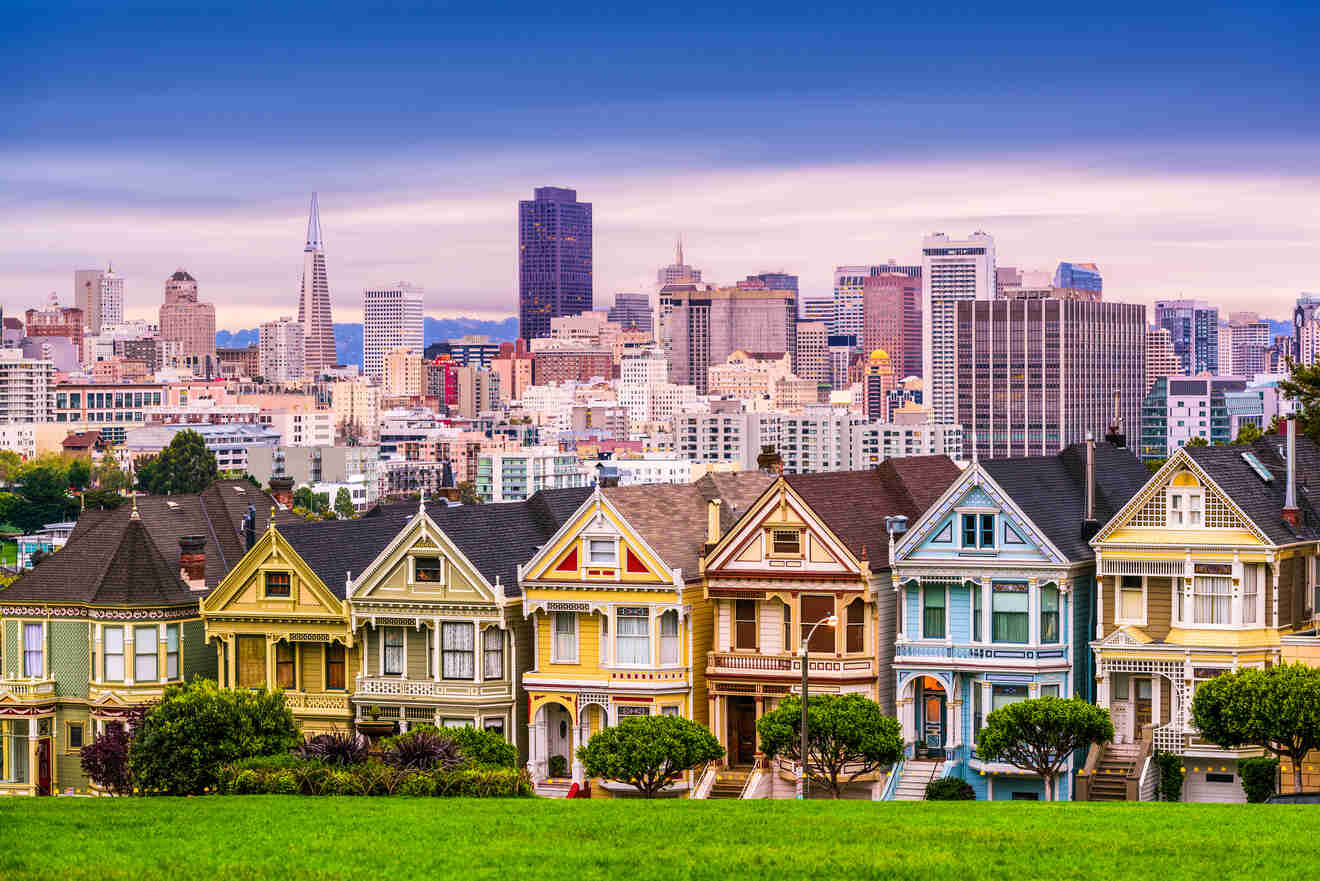 Ever heard of the hit American TV show Full House? Well, if you're a fan like me, visiting San Francisco means you absolutely have to visit the Painted Ladies, too. The Painted Ladies in San Francisco are a picturesque row of Victorian and Edwardian houses, renowned for their stunning and vibrant colors.
Located across from Alamo Square Park, these iconic homes offer a perfect view of the city skyline in the background. Built in the late 19th and early 20th centuries, the Painted Ladies showcase details that make them a prime example of San Francisco's historic architecture.
TIP: Since you're in the area, I suggest visiting the San Francisco Opera for an intimate night in the town. The opera is popular among locals but not among tourists so you can mingle with San Francisco residents and avoid the large crowds.
FAQs about things to do in San Francisco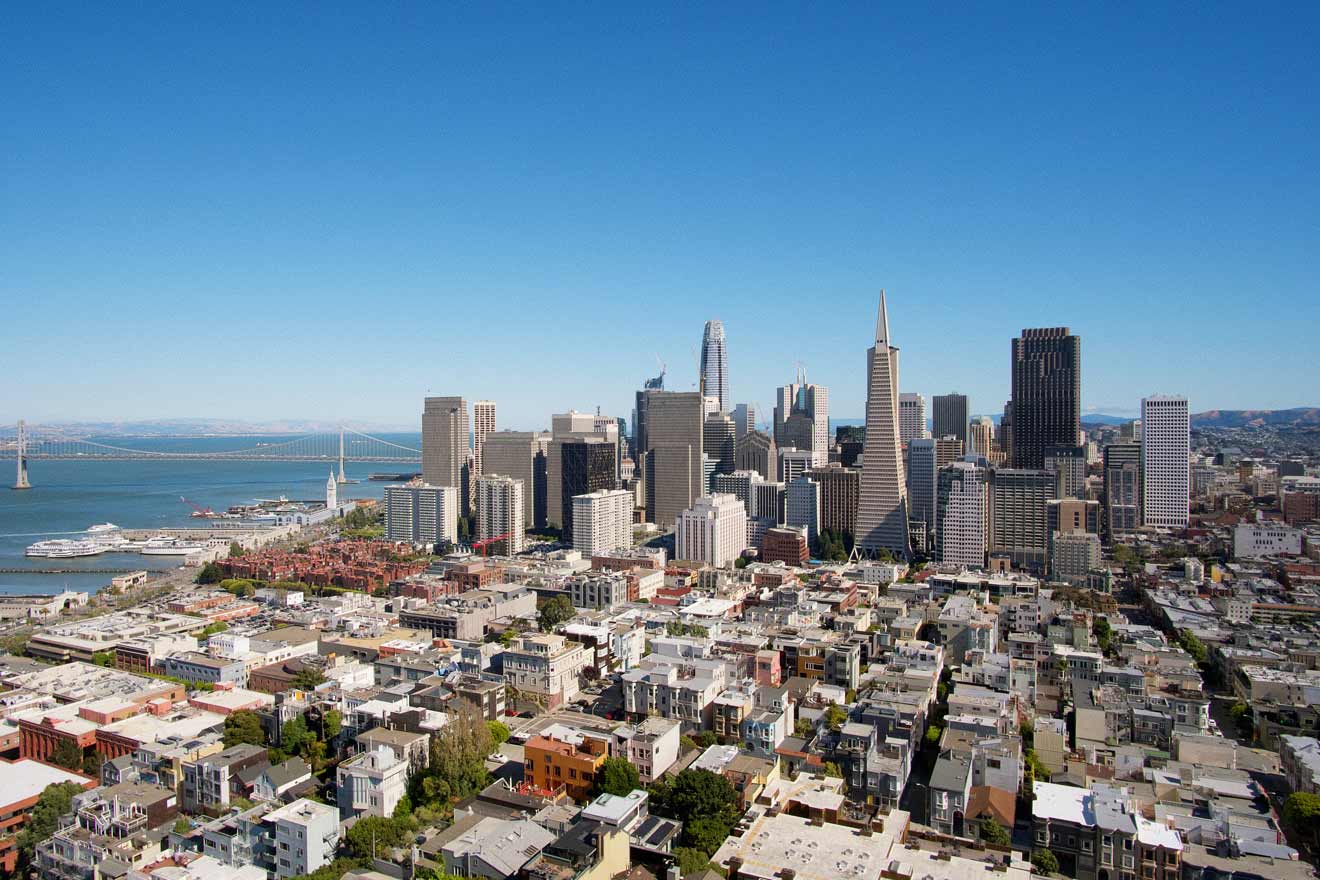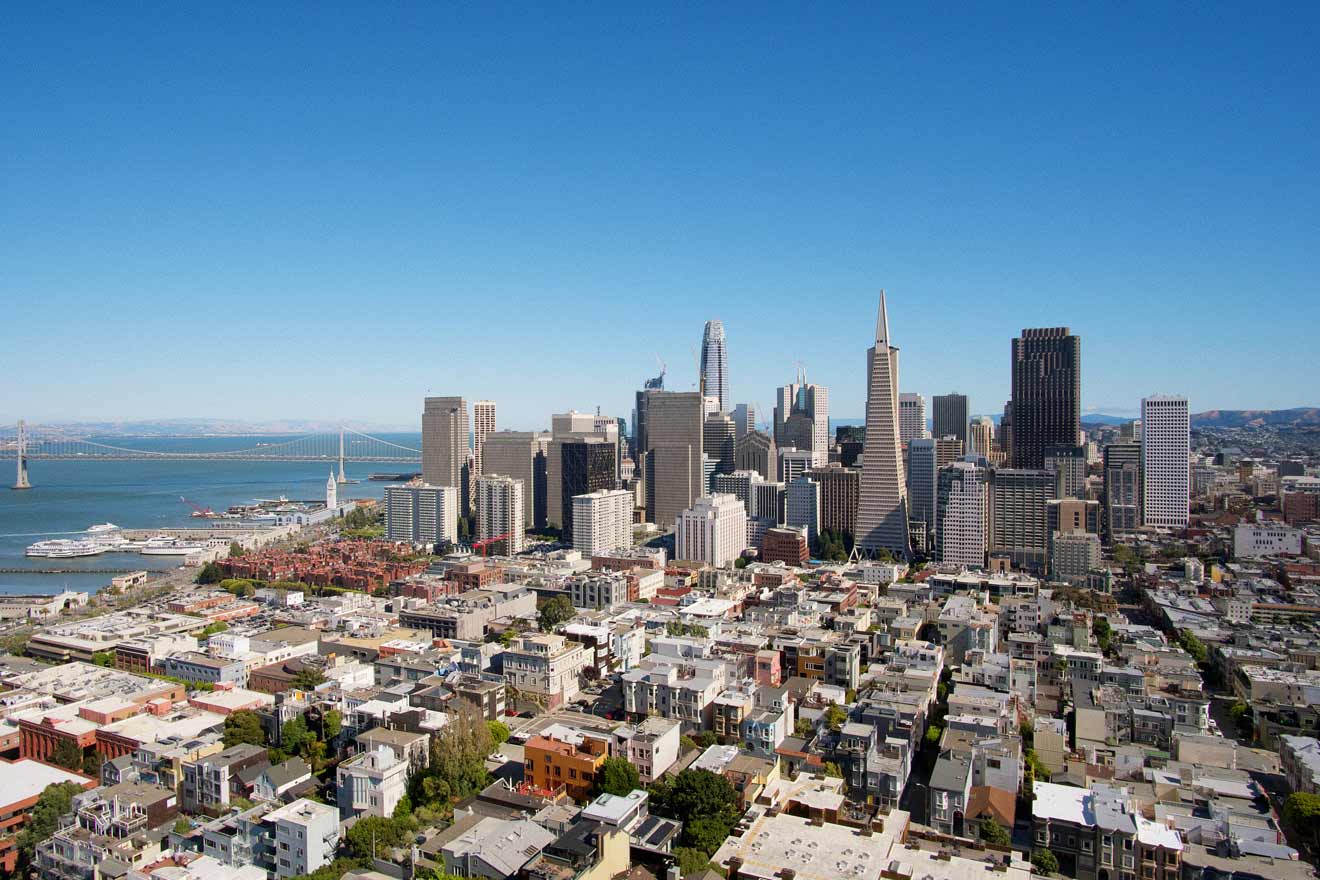 🚃 What is San Francisco known for?
San Francisco city is most well-known for its iconic Alcatraz Island, Golden Gate Bridge, manually-operated cable cars, the crooked Lombard Street, the Painted Ladies, and all the outdoor activities that are offered!
🌁 What are the best things to do in San Francisco for kids?
The best San Francisco things to do for kids are visiting the Children's Creativity Museum, Exploratorium and Aquarium of the Bay.
🏩 What is the most romantic thing to do in San Francisco?
The most romantic thing to do in San Francisco is take a relaxing cruise along the San Francisco Bay! This tour offers both the cruise and the whole Alcatraz Island experience – the best value!
🌉 When is the best time to visit San Francisco?
The best time to visit San Francisco is during fall, from September – November. The weather is just right and the crowds aren't too overwhelming.
Conclusion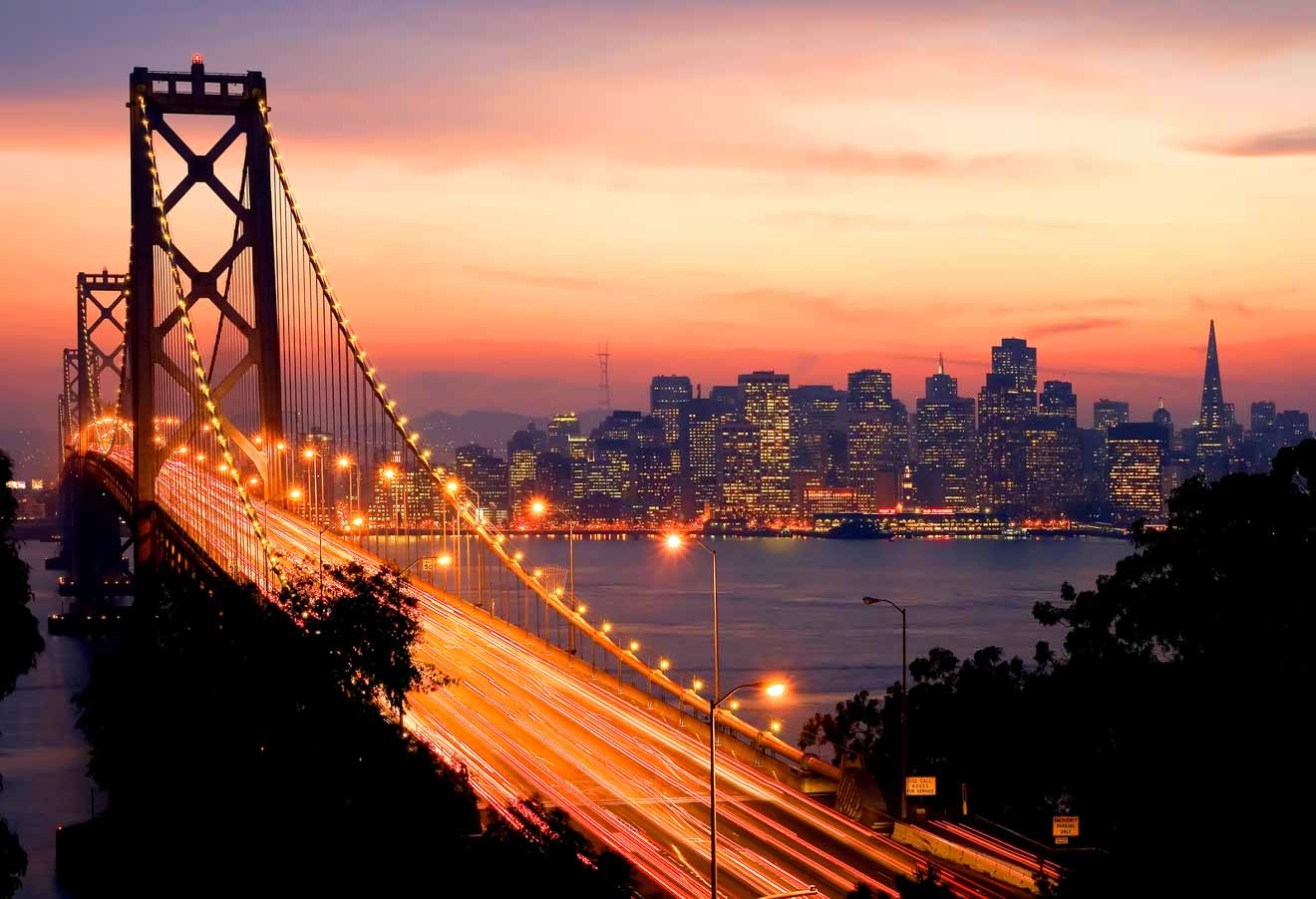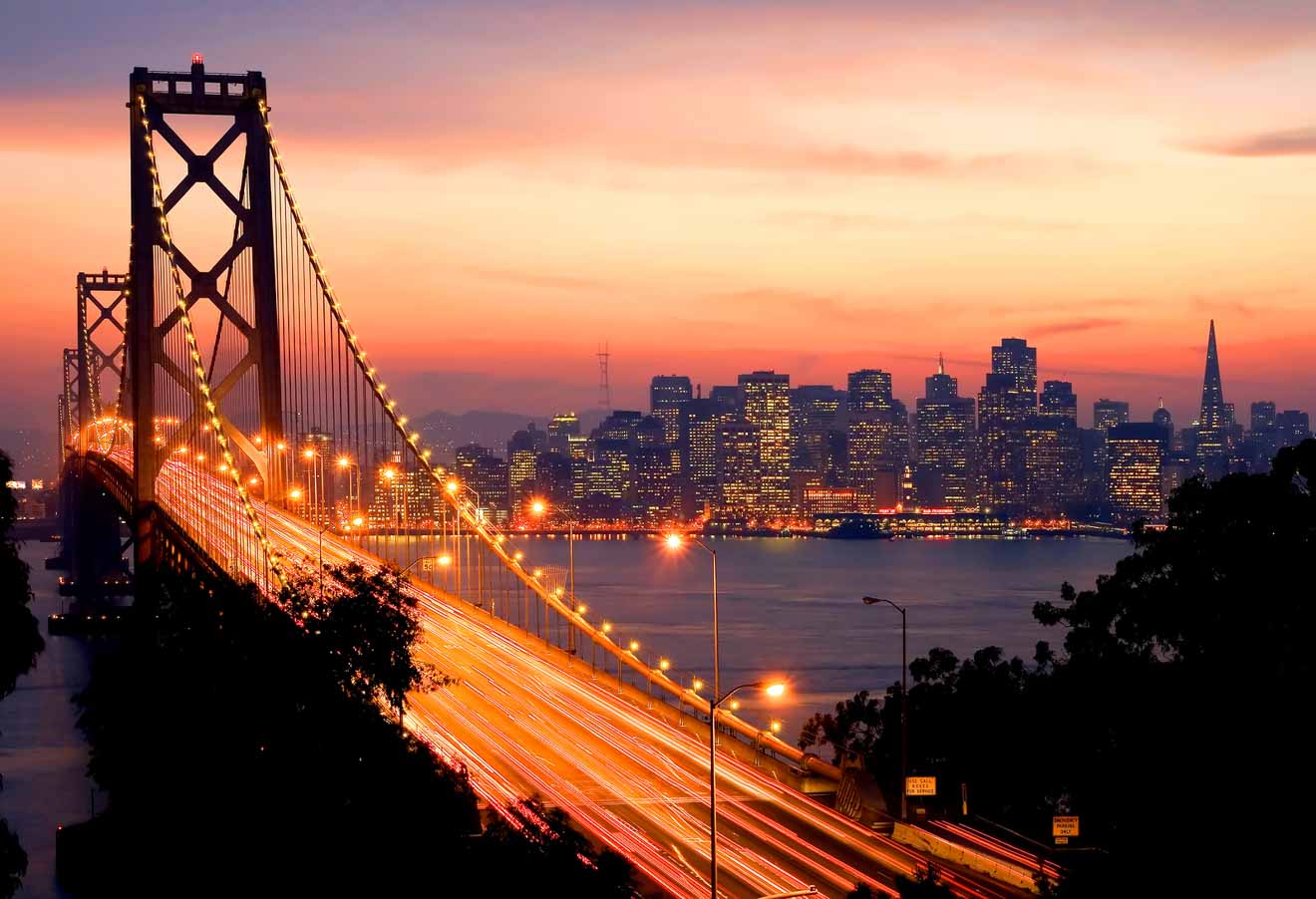 Ready for your next trip to San Francisco? There are SO many things to do in San Francisco and the list can go on and on. If you plan on visiting anytime soon, remember to plan your reservations in advance! Waiting until the last minute can jeopardize your entire trip.
My favorite things to do in San Francisco have to be taking the combo tour of Alcatraz Island, Muir Woods & Golden Gate.
Stepping into the real prison cells on the island is a surreal experience unlike anything I've ever seen before. As for Muir Woods, it's another surreal experience to be surrounded by the tallest living things on this planet! You absolutely have to check it out for yourself!
I hope you enjoy your trip to San Francisco! Let me know if you have any questions in the comment section below. Always happy to help!
Safe travels!
Xoxo,
Esabel S.
---
Pin it for later!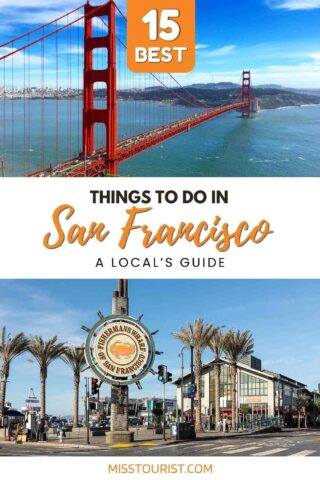 Pin it for later!