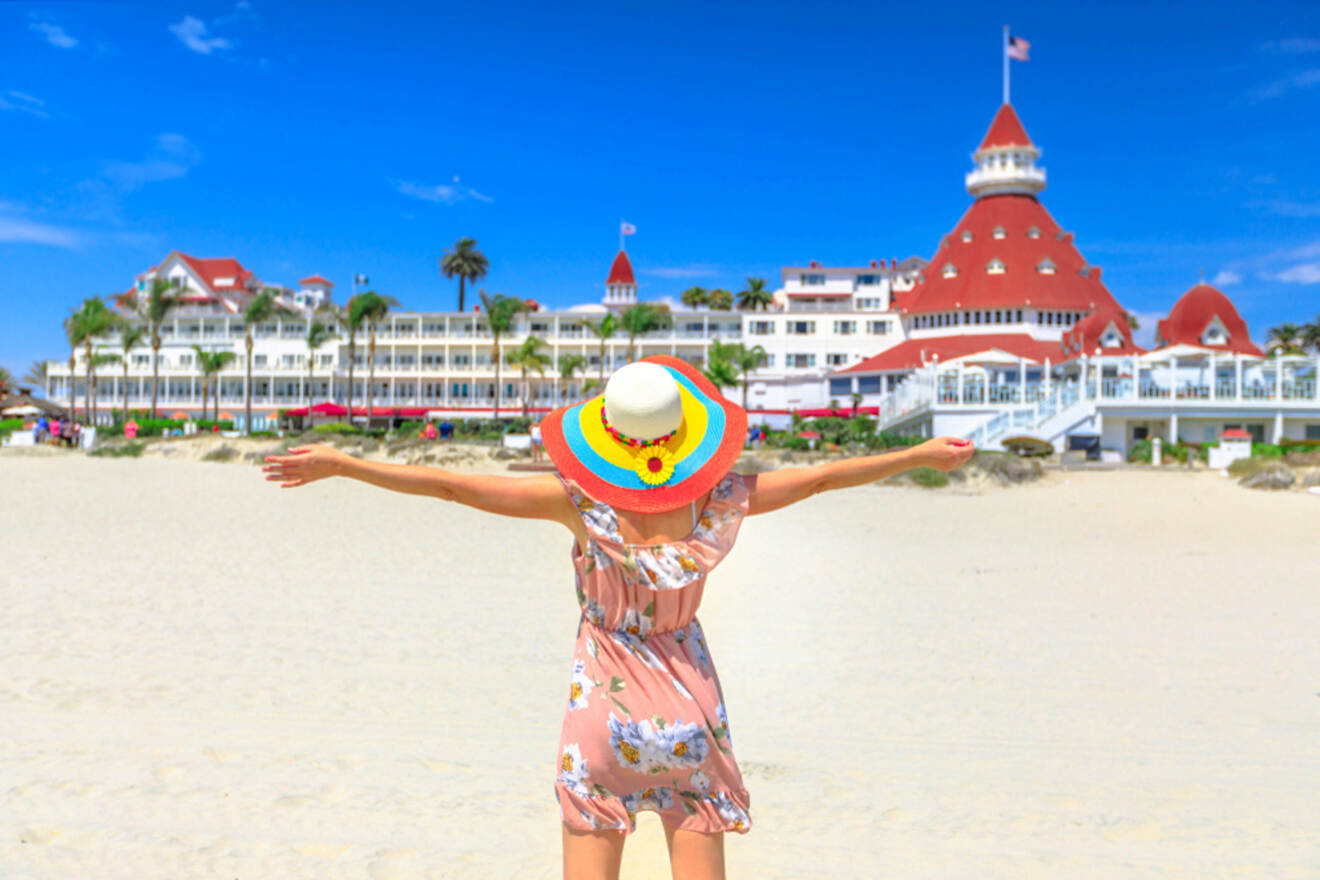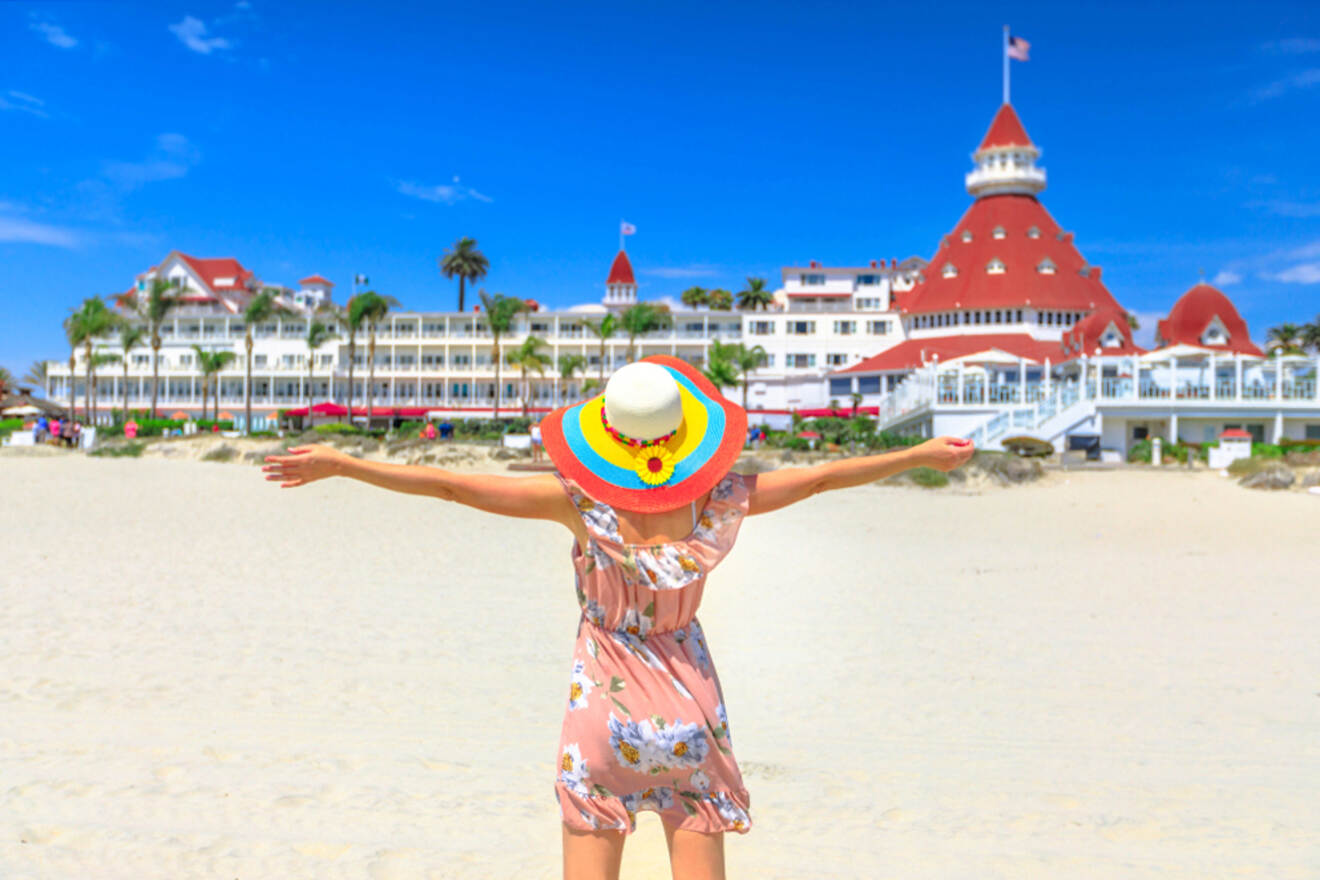 Growing up in San Diego, one of the most beautiful places to visit with my family was always Coronado Island (otherwise known as the Crown City). Coronado, CA, has a small-town charm unlike anywhere in San Diego, and it's only a short ferry away from downtown San Diego. It's an absolute must-see and offers a long list of fun activities year-round.
Coronado is most known for its gorgeous beaches, historical significance, and the iconic Hotel Del Coronado. I love it here, and I can't wait to share with you the best things to do in Coronado Island!
P.S. The tours I'm going to share with you are always in high demand! The most important thing to keep in mind here is to book ASAP. The sooner you book, the more cash you end up saving, and you can have peace of mind knowing your spot is saved. It's a good idea all around, and I'll remind you at the end, too 😉
Alright, hold onto your sun hats because we're about to get started!
If you are in a hurry
Only have a day to explore Coronado Island? No worries at all! There are a plethora of tours on the island that will give you the best value for the best prices.
Here are the main things to book in advance:
And here are the best hotels: Hotel Del Coronado (luxury), Hotel Marisol Coronado (mid-range), El Rancho Motel (budget)
1. Visit the world-famous beach resort Hotel Del Coronado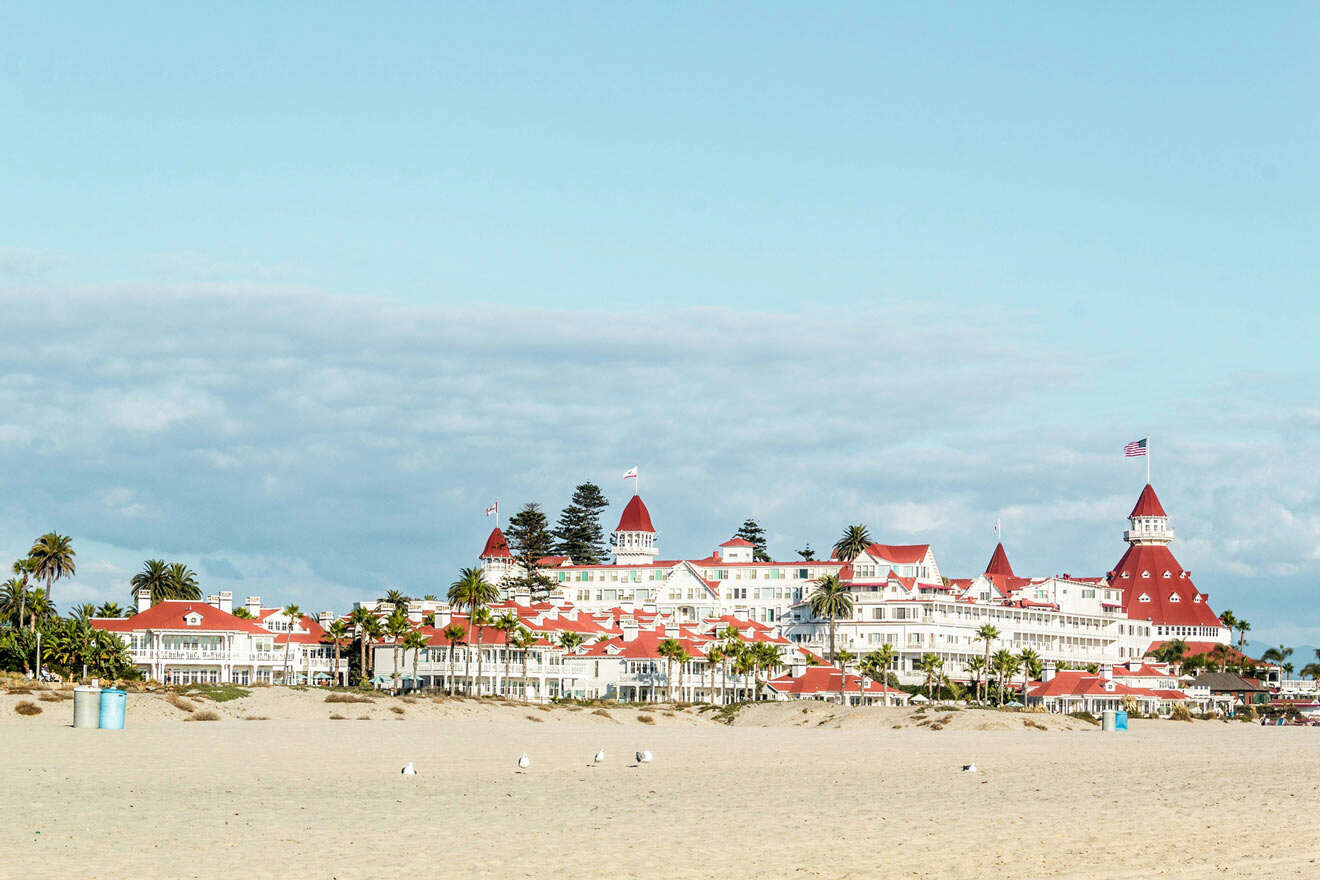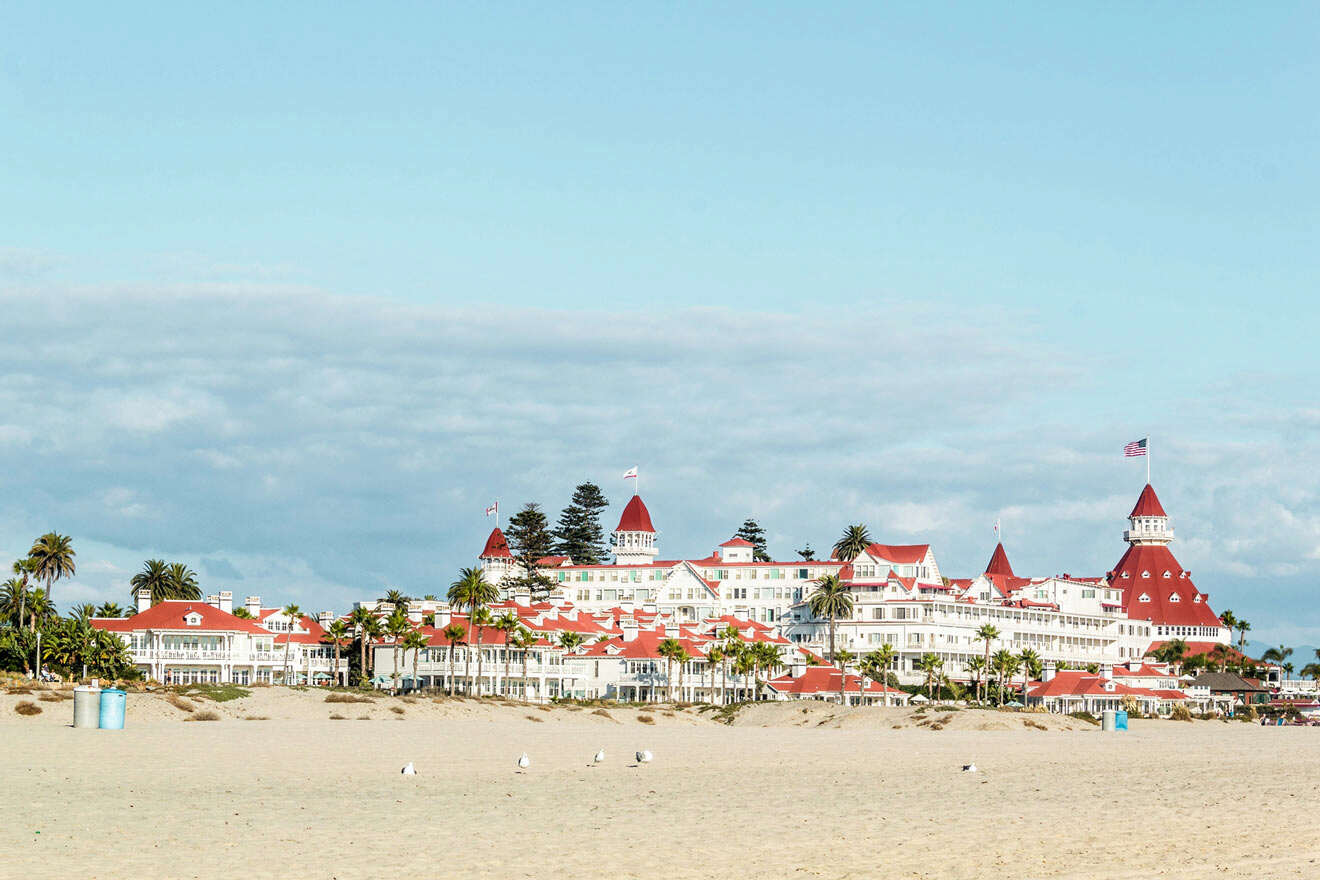 The legendary Hollywood movie Some Like It Hot, with Marilyn Monroe, was filmed in 1958 at Hotel Del Coronado (followed by over 25 other famous films!)
Known to be a "living legend" and a national historic landmark, the iconic Hotel Del Coronado is hands down the most famous attraction in Coronado Island. Built in 1888, the beautiful Victorian-style resort offers seaside views, fun experiences for you and the whole family all year long, and an experience that you'll never forget.
There is so much fun to be explored here. Depending on what time of year you visit, there's something for everyone. Here are a few things I recommend checking out:
Pick between 5 different tours offered at the hotel – There is a handful to choose from, but I recommend visiting the Ice Museum and original Legendary Tour to uncover Hotel Del Coronado's rich history.
Go ice skating by the sea –This is one of the most family-friendly activities in Coronado if you're visiting in the winter. It's quite the experience with beautiful views of the Pacific. Unlike anything I've ever seen! Tickets are available online in the fall, so be on the lookout!
Partake in their recreational activities like Beach Yoga, Beach Spin, Del Surf Academy, Beach Bonfire, and so many more. The best part? You don't need to be a guest at their hotel to book or make reservations for any of these classes!
You might have figured this out already, but this is both an attraction and a hotel. If you choose to be a hotel guest, you'll need to book at least 5 – 6 months (yes, months) in advance. Thousands of visitors from around the world are curious to explore this resort, so rooms sell out fast!
NOTE: Several legends have visited, stayed, filmed movies, and taken photographs at the Hotel Del Coronado! Charlie Chaplin, Marilyn Monroe, and Frank Baum, to name a few. The Wizard of Oz's Emerald City was even inspired by the hotel!
That being said, the hotel is rated lower than I usually recommend, but it is the most iconic one on the island and definitely worth staying.
HOTEL PRICE: Rooms start at US$450/per night.
2. Explore all the recreational activities at Coronado Beach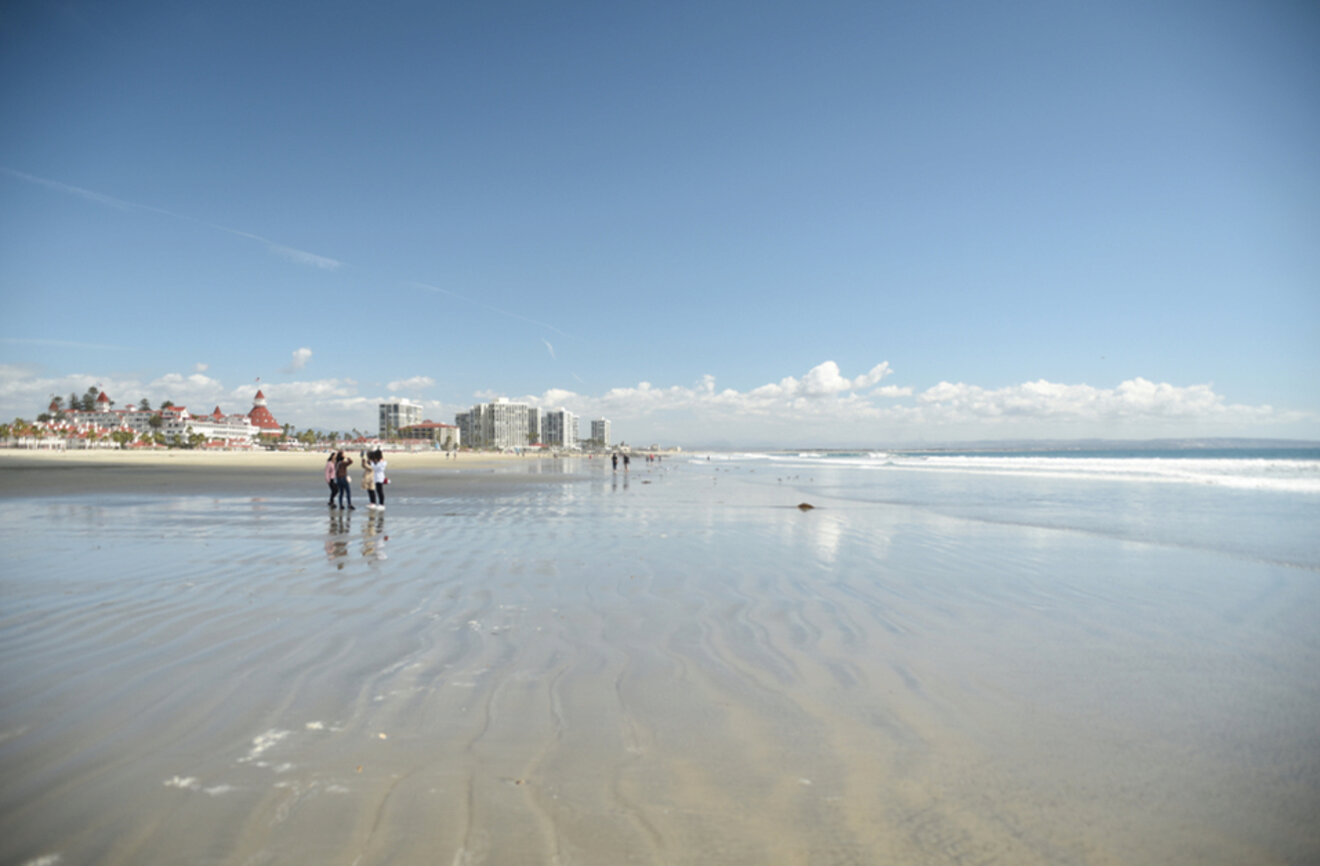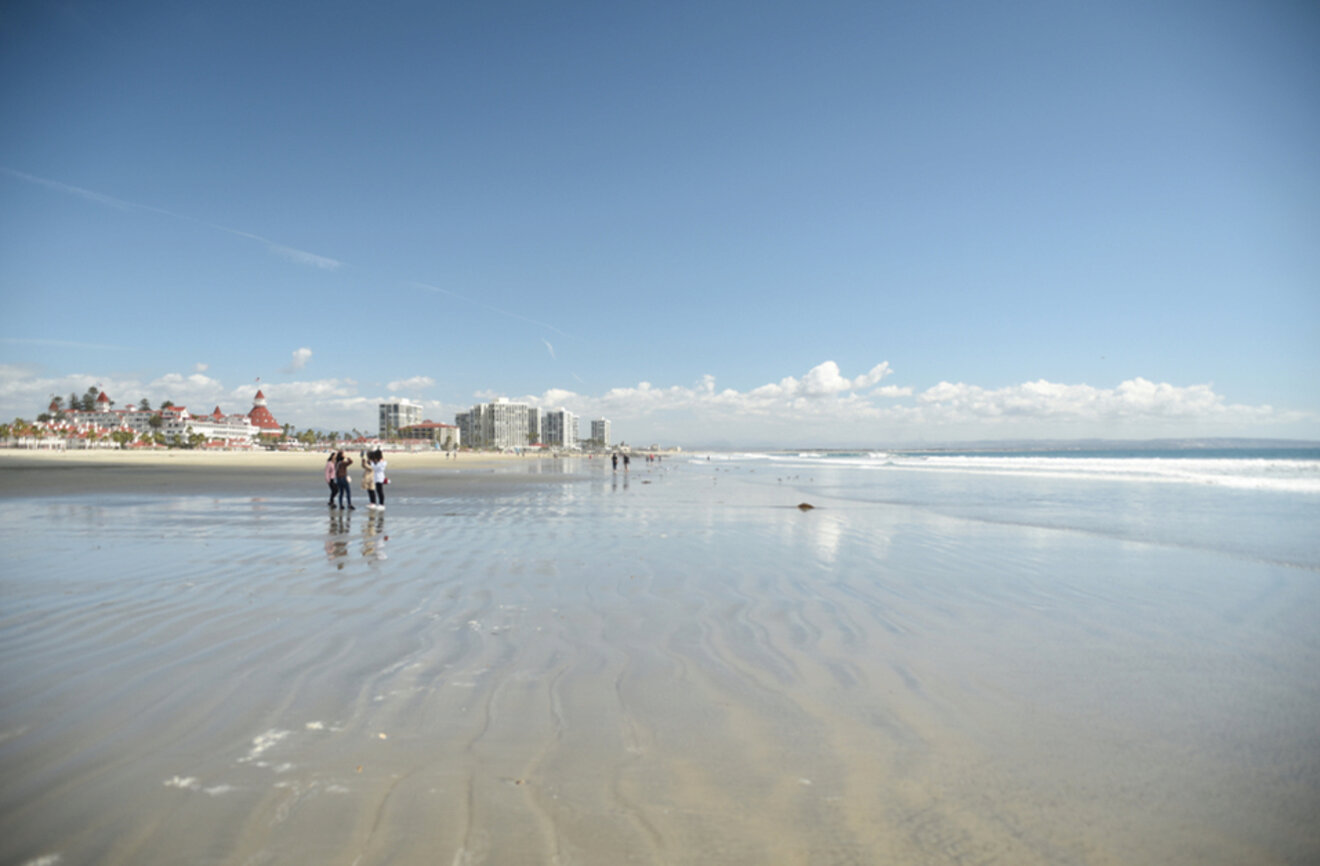 After taking a visit to the Hotel Del Coronado, walk over to the beautiful Coronado Beach!
Located right in front of the hotel, Coronado Beach is a long sandy stretch across Ocean Blvd., with views of Hotel Del Coronado, the Coronado Bridge, and beachside mansions on the south end of the beach. I recommend exploring the lively tide pools and bringing a blanket and sandwiches for a little picnic after taking a dip in the ocean.
North Beach (aka the Coronado Dog Beach) is a 20-minute walk from the hotel towards the northern end, where you'll find a dog-friendly beach filled with locals walking their canine friends.
PRO TIP: Take a peak at the remains of a 1930s sunken ship buried below the shores of Coronado. The ship is right off the west coast of the beach, south of Avd De Las Arenas. There are always a ton of people around it, so it's easy to spot!
If you're looking for a tour, I've done this ride with Arcimoto's open-air electric vehicles, and let me tell you – it was an absolute thrill! I recommend trying it out if you're traveling from downtown San Diego to Coronado Island. The self-guided tour's GPS will take you to every major attraction, including Coronado Beach!
TOUR PRICE: US$116 per person
3. Dine and shop around the Coronado Ferry Landing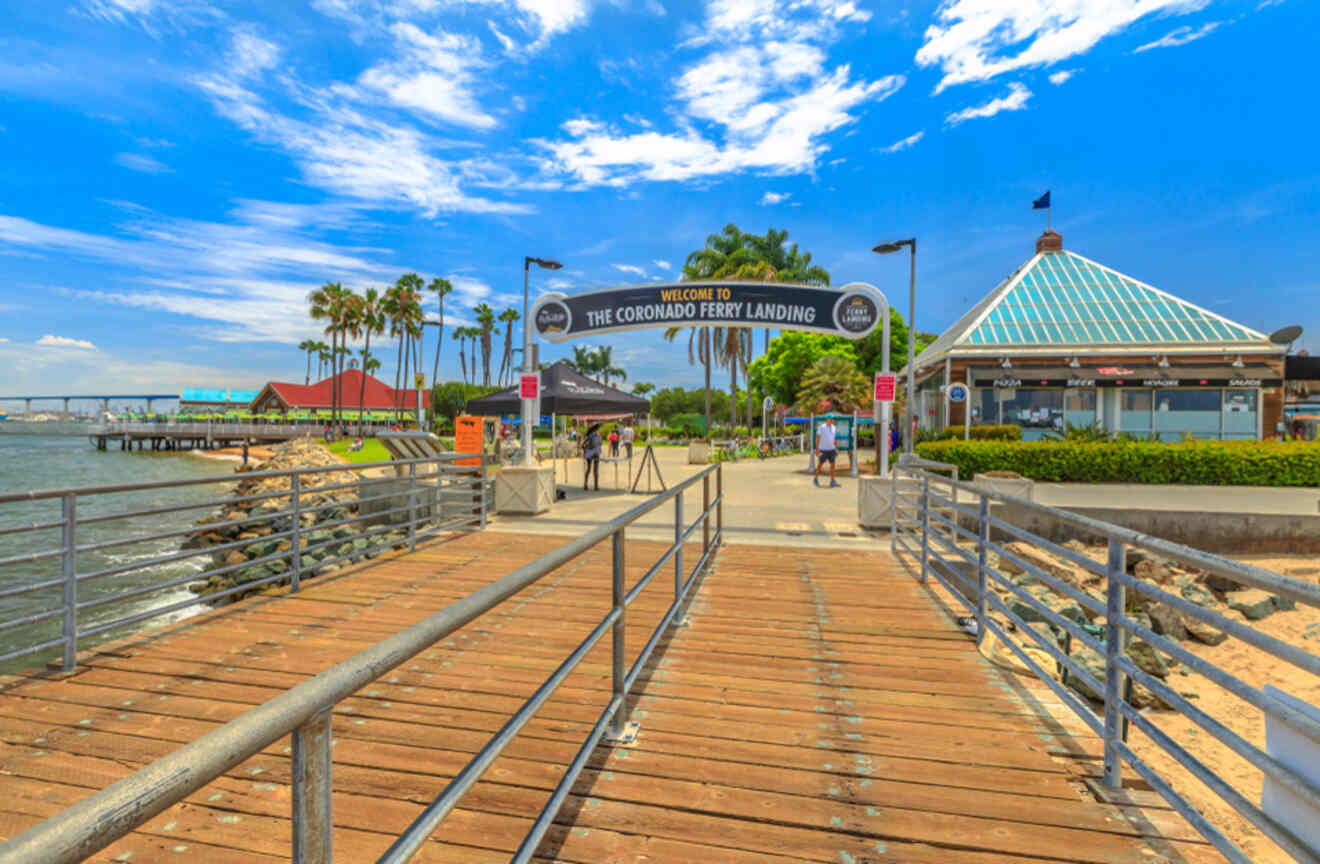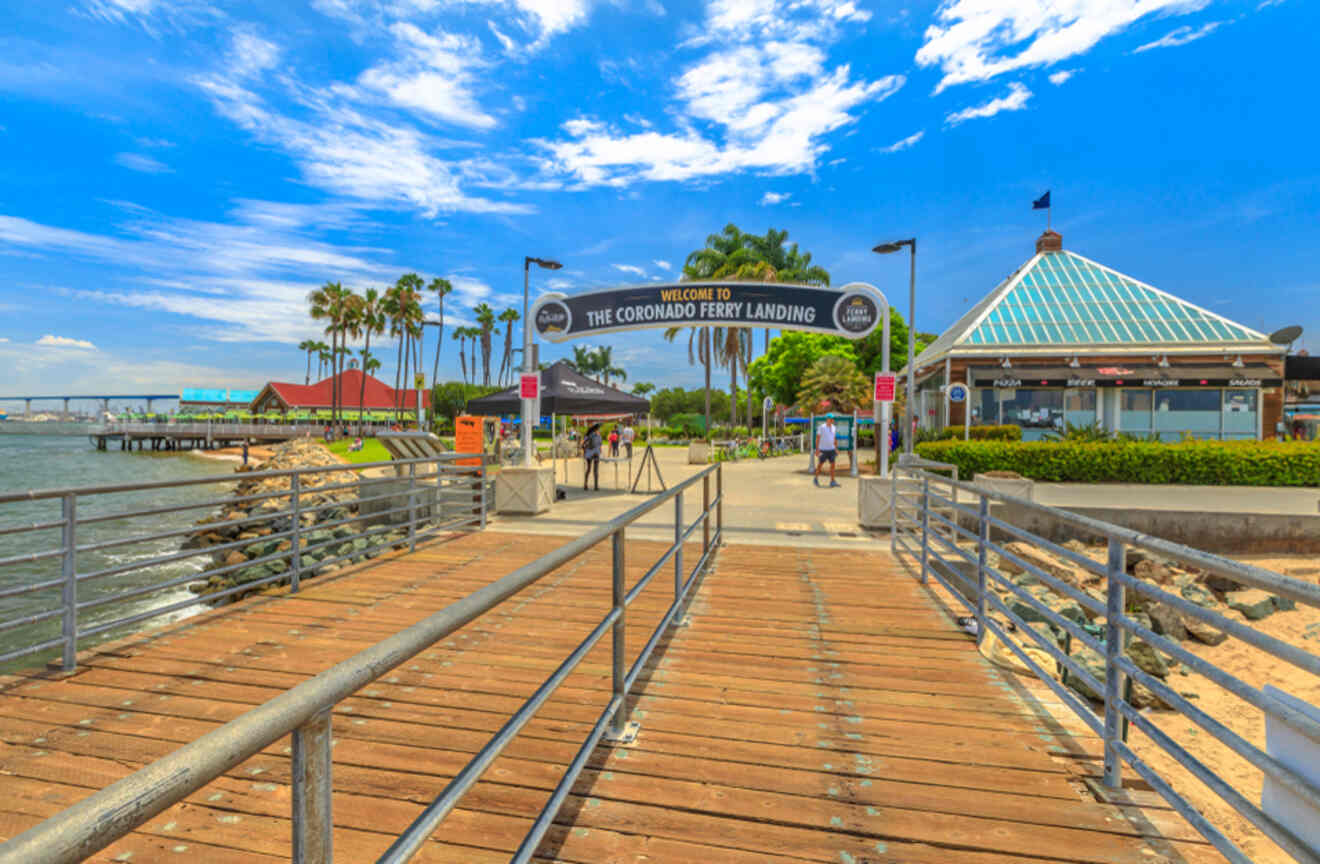 One of my favorite memories of visiting Coronado growing up was taking the ferry to and from downtown San Diego to Coronado Island. It's a very simple commute, lasting only about 15 minutes. HOWEVER, those 15 minutes are filled with views of the San Diego skyline, the bendy Coronado Bridge, the San Diego harbor, and views of the dock that lies ahead of you.
Once you land on the Coronado Ferry Landing Pier, you see a strip of boutique shops, restaurants, and mini beaches, and you are still left with the San Diego skyline! There's a Greek restaurant here that I love and recommend called Spiro's.
I've been here many times and always had the best experience! I suggest taking advantage of their patio seating for seaside views. You may even catch the sunset if you're here for dinner!
If you're looking to state a more adventure-filled day upon landing, I recommend renting jet skis to ride on the San Diego Bay for US$100 per hour, going on a bike tour around the island, or even continuing your cruise along the bay if you can't get enough! You'll have the time of your life doing any of these, trust me.
There are 2 ports from the downtown San Diego area: Broadway Pier and the Convention Center. Both land at the Coronado Ferry Landing! Roundtrip tickets for the ferry are US$14/per person (4+), and it's US$7 for one-way tickets. You can ride for free if you travel between 5:40 AM and 8:50 AM! You can easily buy tickets here!
TIP: Don't know where to start once you get to Coronado Island? I recommend a history walking tour to get started. You'll get a chance to explore the island a bit and then have a feel of what you want to explore more afterward.
TOUR PRICE: US$55 per person
4. Collect shells at Silver Strand State Beach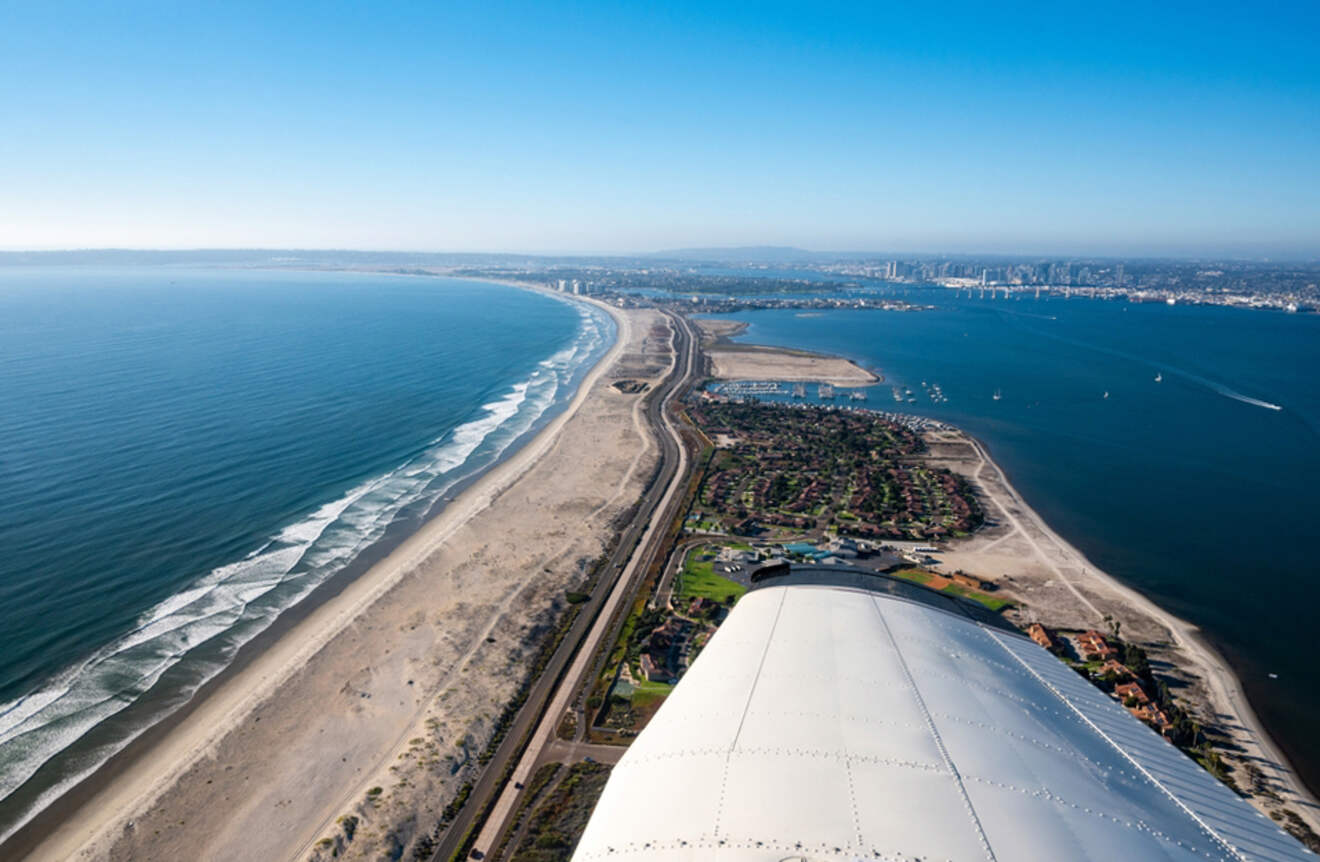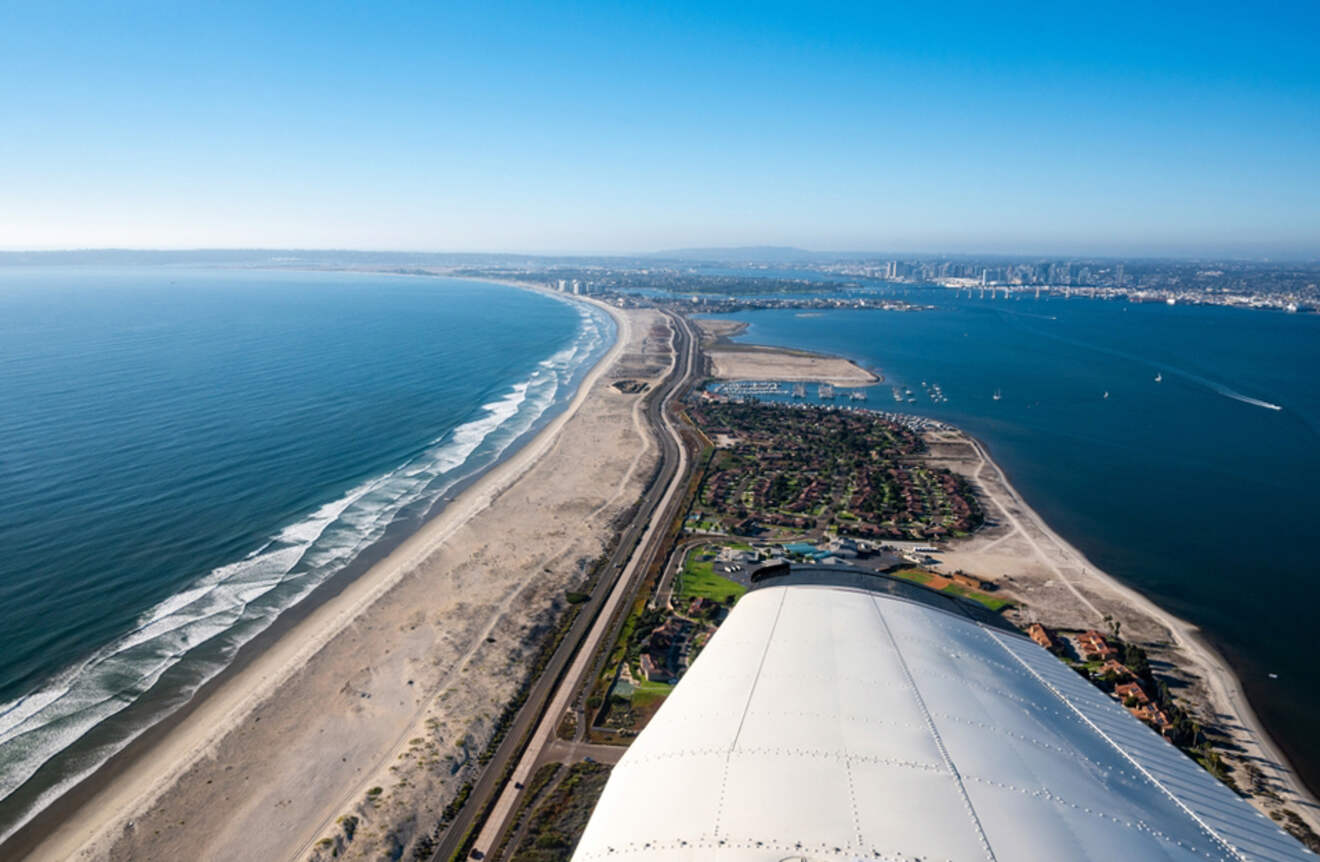 Silver Strand State Beach in Coronado Island is known for its stunning skyline views of San Diego's Bay, skyline, and its fantastic shell collecting opportunities!
You can easily spend a few hours here by yourself, with your family or significant other. Here, it's easy to enjoy simple things like playing in the sand, relaxing under the San Diego sun, having another picnic, biking along the 24-mile (c. 40 km) San Diego bike path, and taking in scenic ocean views. The bike path is a bit tough, so I recommend this for seasoned bikers!
You can even bring an RV and camp onsite! I recommend checking out GOCamp – their Wendy van is an excellent choice for couples or small families looking for an overnight adventure at Silver Strand State Beach. Bring beach chairs, surfboards, and everything you need to avoid having to rent equipment!
NOTE: You will need to reserve your camping reservation beforehand online! If you're planning to go the RV route, the prices start at $50/per night, depending on how big your RV is.
I like to bring a little mason jar to collect shells anytime I'm at the beach. I 100% recommend doing that at this specific beach!
5. Take the kids to Glorietta Bay Beach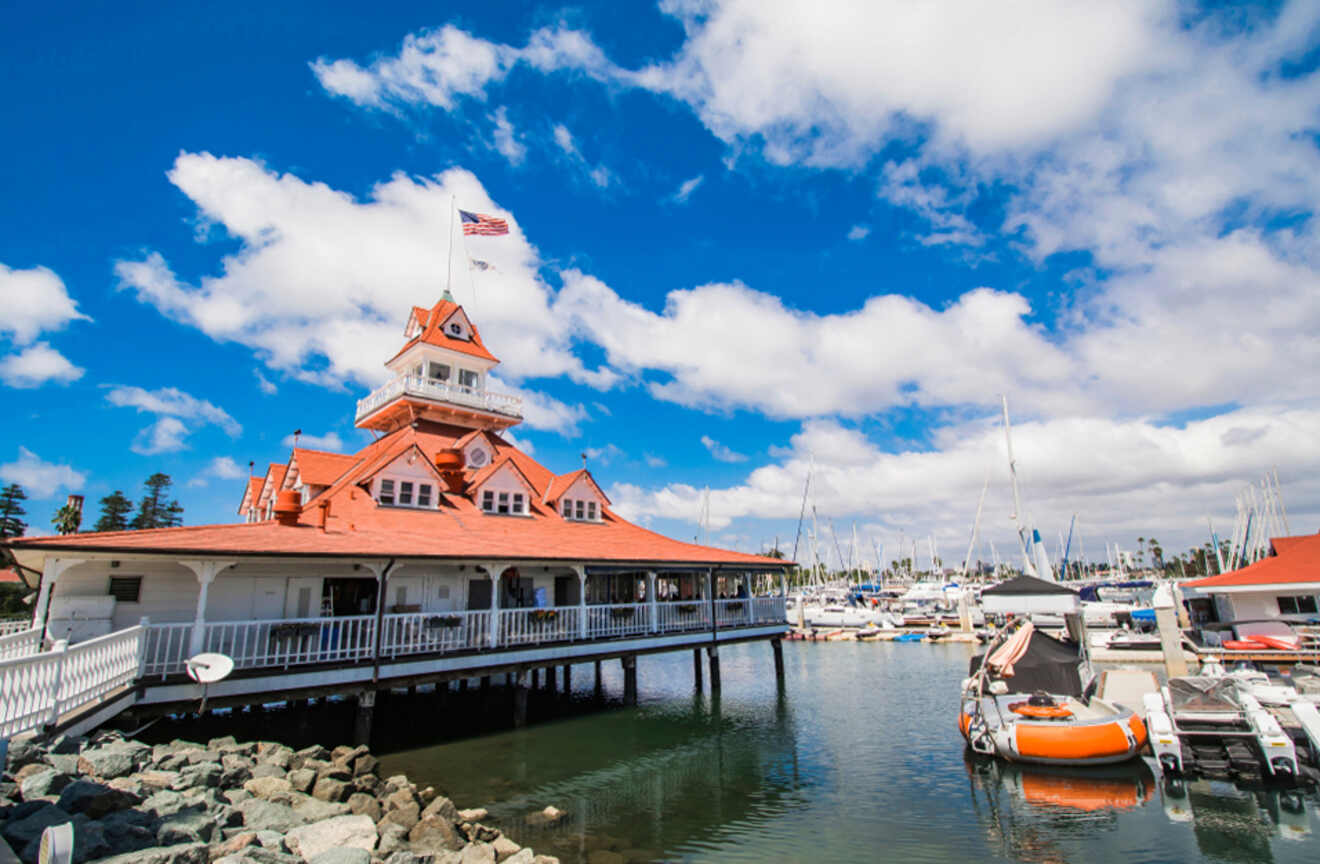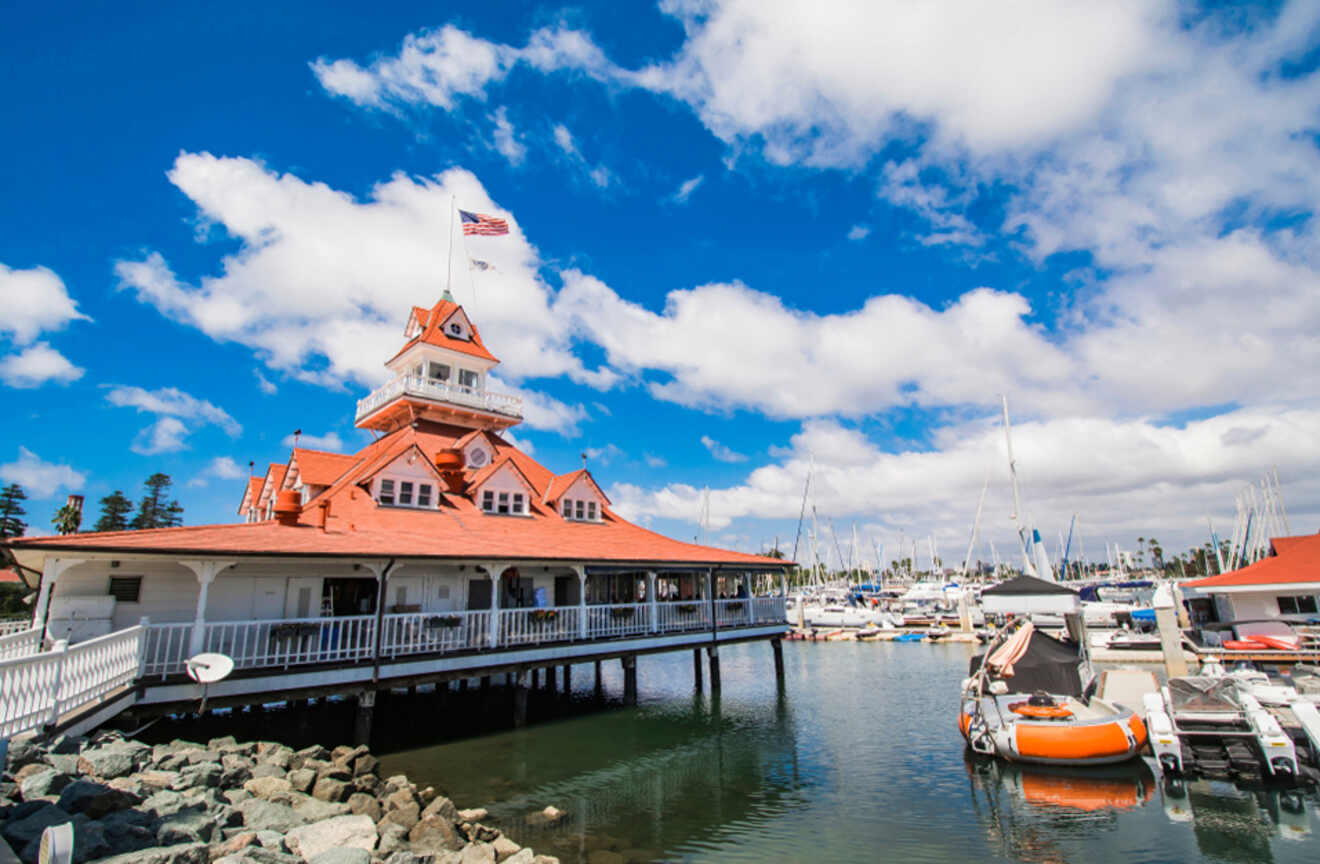 Glorietta Bay Beach is the perfect playground and small beach to bring the kids! This is a popular location with picnic tables for families to throw birthday parties, quinceñeras, get-togethers, or any other kind of family gathering.
The park is another great spot for skyline views, views of the Coronado Bridge, and San Diego Bay. It's south of the Coronado Recreation Center and a 10-minute drive away from Silver Strand State Beach.
There are bathrooms at the park, so that's covered! The only thing I would say to prepare is the food and essentials needed for your picnic. Being a small island and with high demand for these types of supplies between tourists and locals, the prices are a bit higher. So you'll end up saving a pretty penny shopping in the city beforehand!
PRO TIP: If you didn't get a chance to visit the SS Monte Carlo shipwreck when you were at Coronado State Beach, you could easily see it while you're here at the park! It's only a 10-minute walk or a 3-minute drive away from the park.
6. Ride a gondola along the Coronado Cays
Why leave California for Venice when you can bring Venice to California?! This unique gondola experience offers a ride through the calm canals of the Coronado Cays.
The Venetian-style gondola ride is one of the most romantic things to do on Coronado Island! It's great for couples celebrating anniversaries, birthdays, or some other type of celebration (maybe even including a ring, if you know what I mean).
You can even order wine by bottle and chocolate truffles to enjoy with your partner during your gondola ride OR, you can bring your special bottle of wine for a corkage fee of US$10. There are different tours throughout the day, depending on the mood you want to set: a daytime cruise or a more romantic sunset cruise.
NOTE: Coronado Cays is a small neighborhood with private residence homes sitting right on the water. This means it's important to remain respectful when you're here and not cause too much ruckus that might cause a disturbance to the neighborhood. That's why I recommend this for couples rather than families with children.
7. Take in the views at Coronado's smaller parks
Coronado Island is home to so many parks with unbeatable views everywhere you turn. I recommend bringing a sun hat, blanket, and snacks with you anytime you're visiting the parks!
7.1 Centennial Park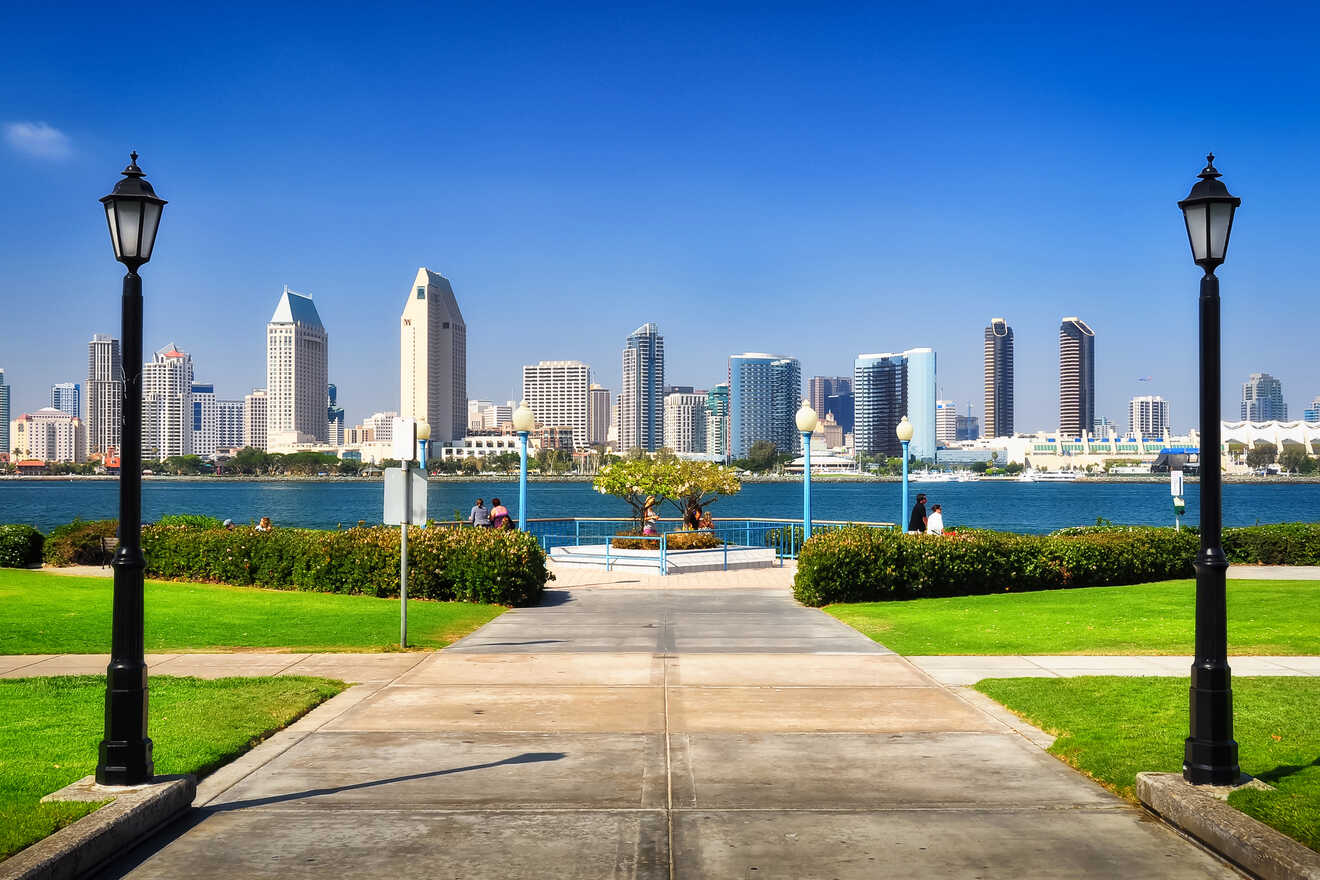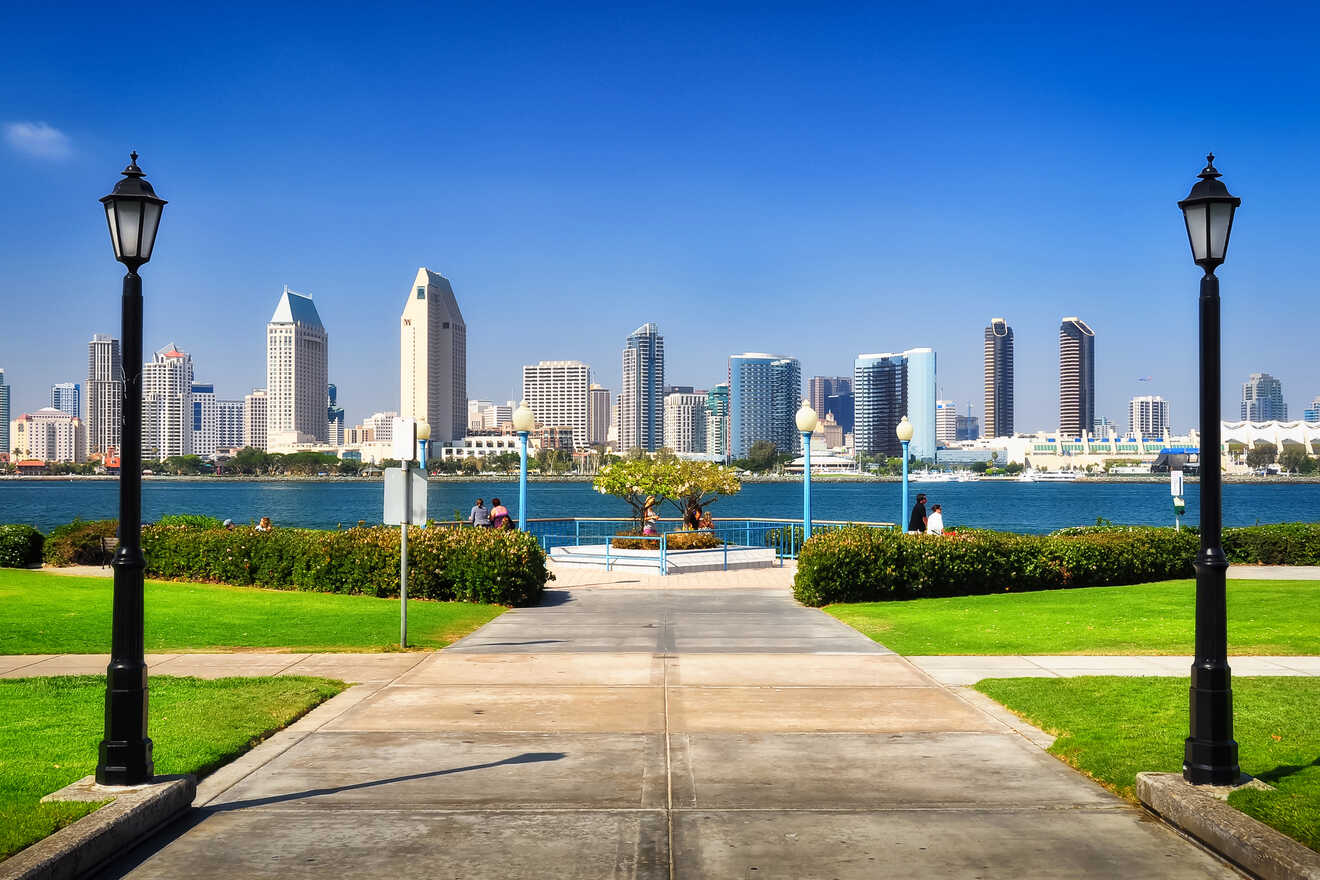 Centennial Park is a popular park towards Orange Avenue (which is the island's Main Street), just steps away from the Coronado Ferry Landing. It's an excellent spot that many use to host events and weddings, with lots of outdoor space and beautiful views of the San Diego skyline.
I recommend coming here for another picnic, to explore the rose garden and the small beach nearby!
PRO TIP: Walk down to the San Diego Skyline Viewpoint to take some beautiful photos in front of the San Diego Bay and breathtaking skyline, and towards downtown Coronado to appreciate the beautiful homes along the street, one of which will take you down memory lane: Frank Baum's house aka the author of The Wizard of Oz.
7.2 Spreckels Park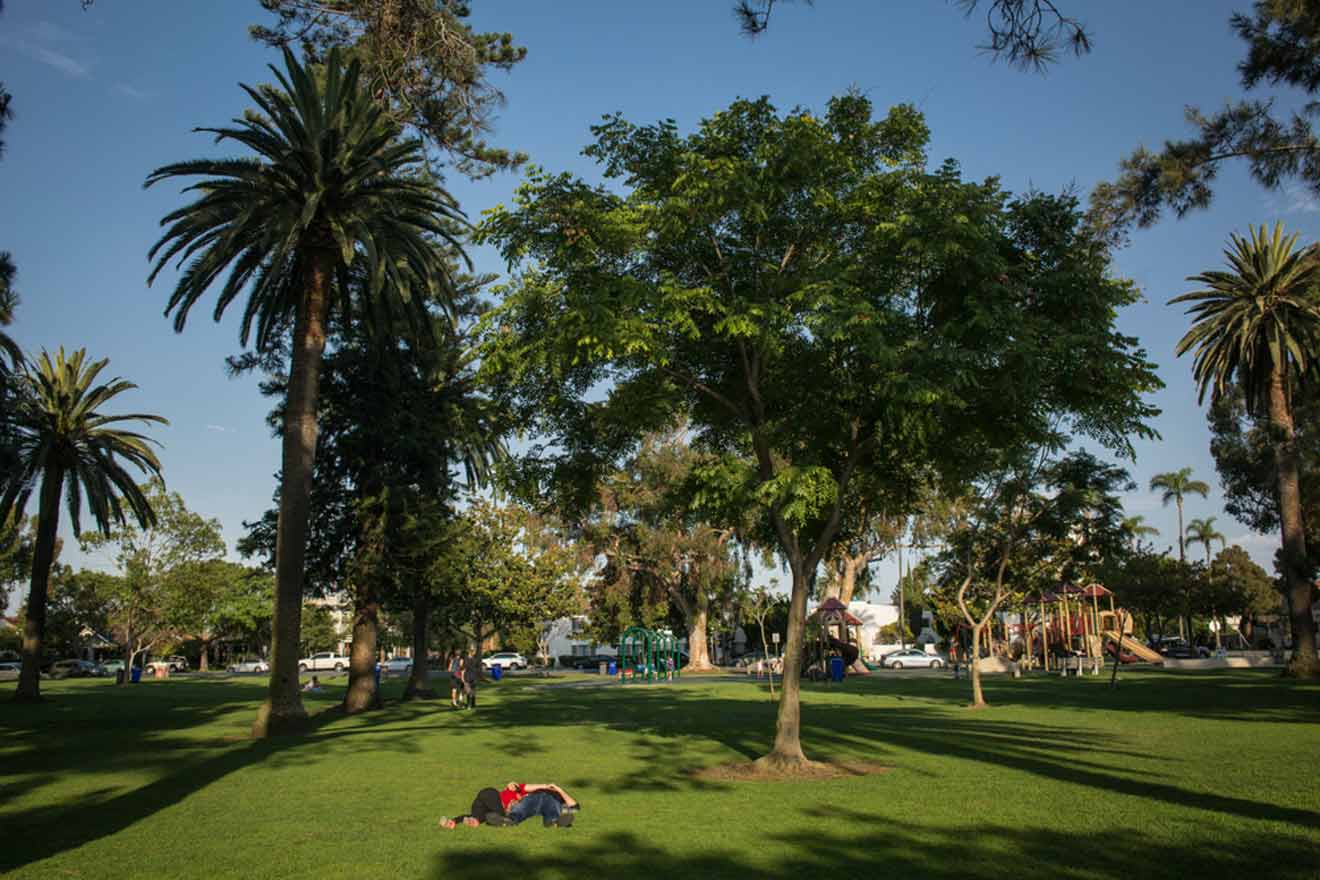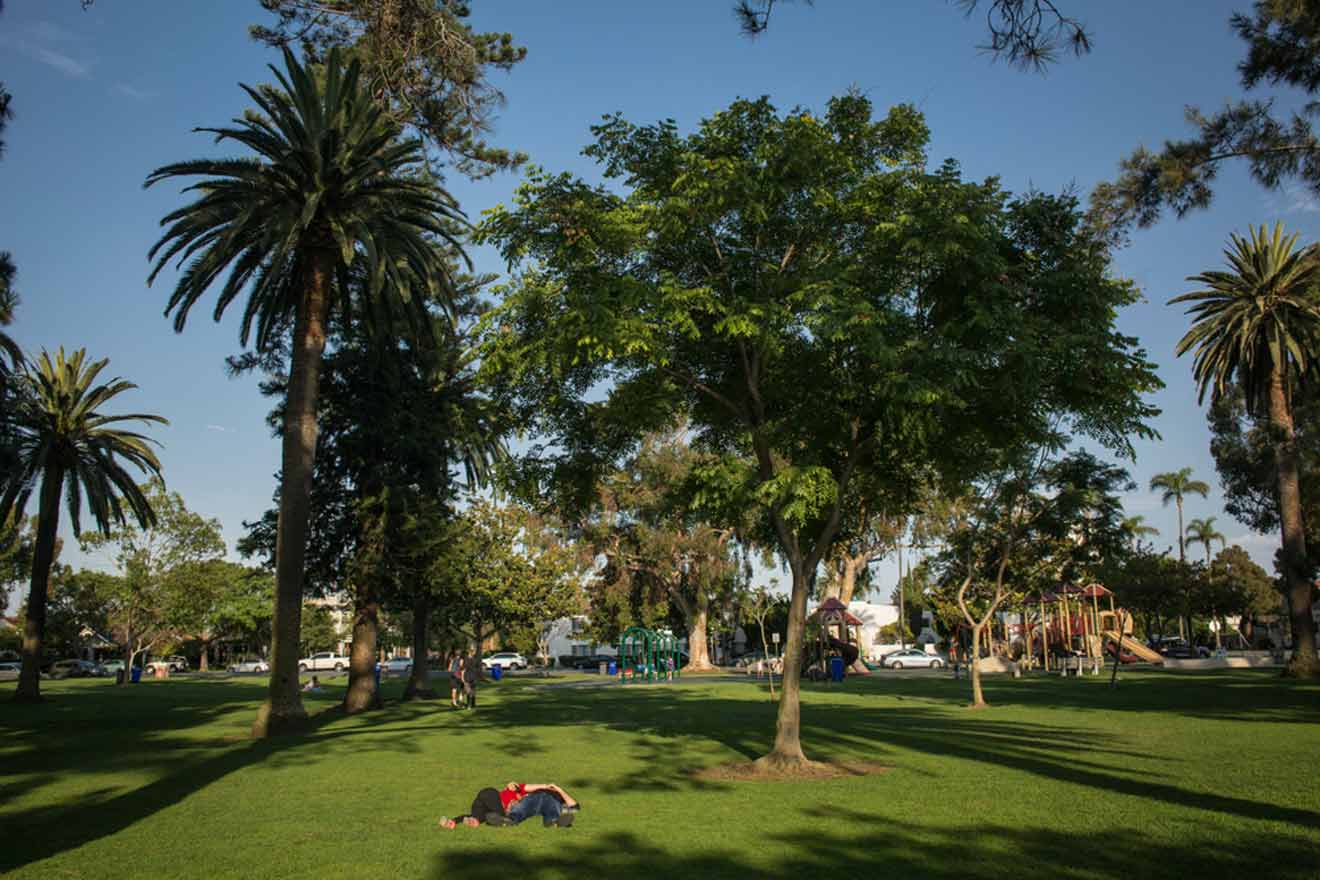 J.D. Spreckels was the man who made Coronado Island (and all of San Diego, really) the bustling city that it is today!
Spreckels Park is one of the top attractions in all of Coronado Island! It's located in the center of the island, with a beautiful gazebo that is used for events during summer, like the Coronado Flower Show, and concerts every single Sunday, as well as holiday celebrations for families and children. Visit Spreckels Park if you're on a family vacation in Coronado Island.
I recommend taking a walk down Orange Ave. for the best eateries before heading to this park. Stop by Little Frenchie for the cutest Parisian-inspired restaurant and food in San Diego!
7.3 Tidelands Park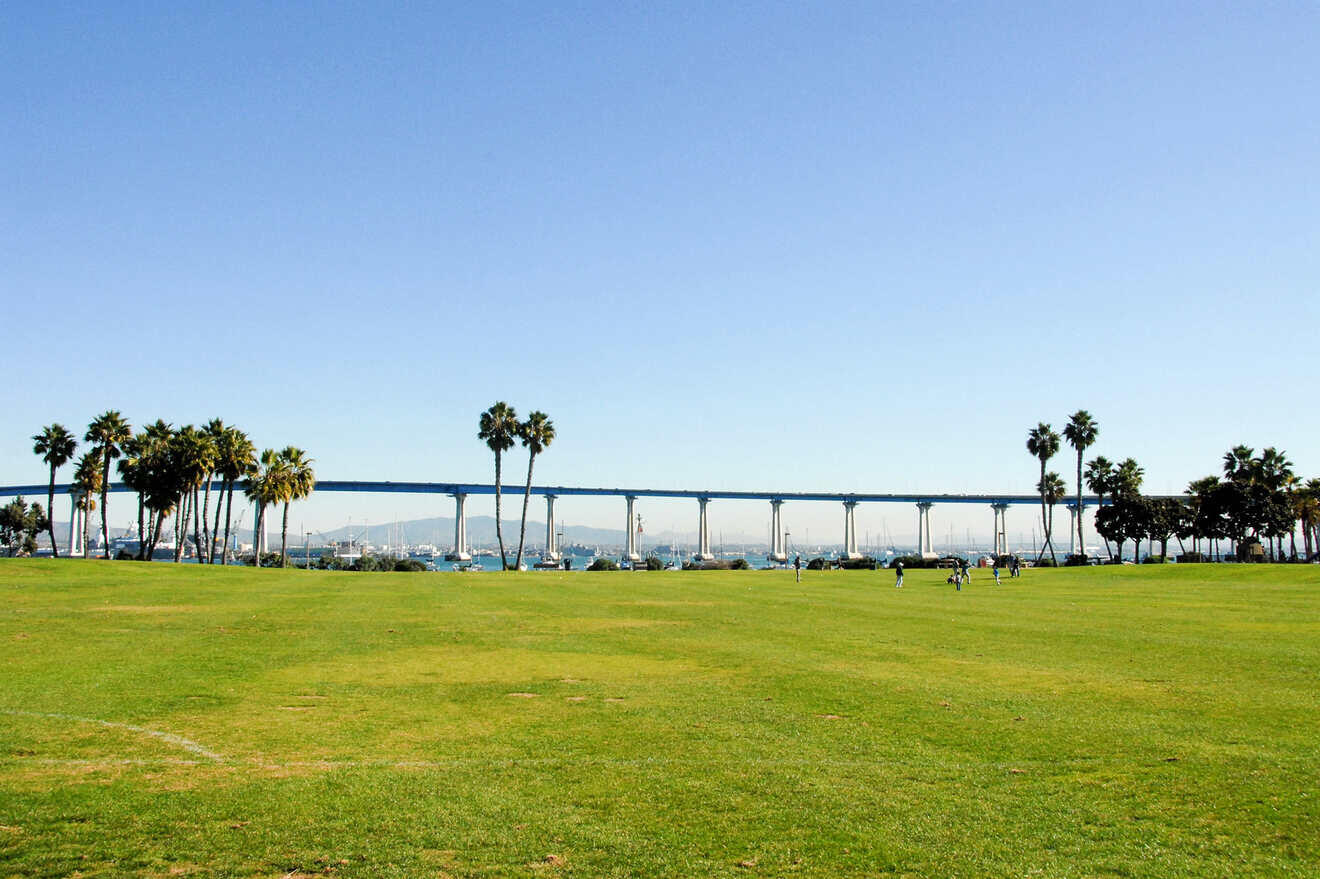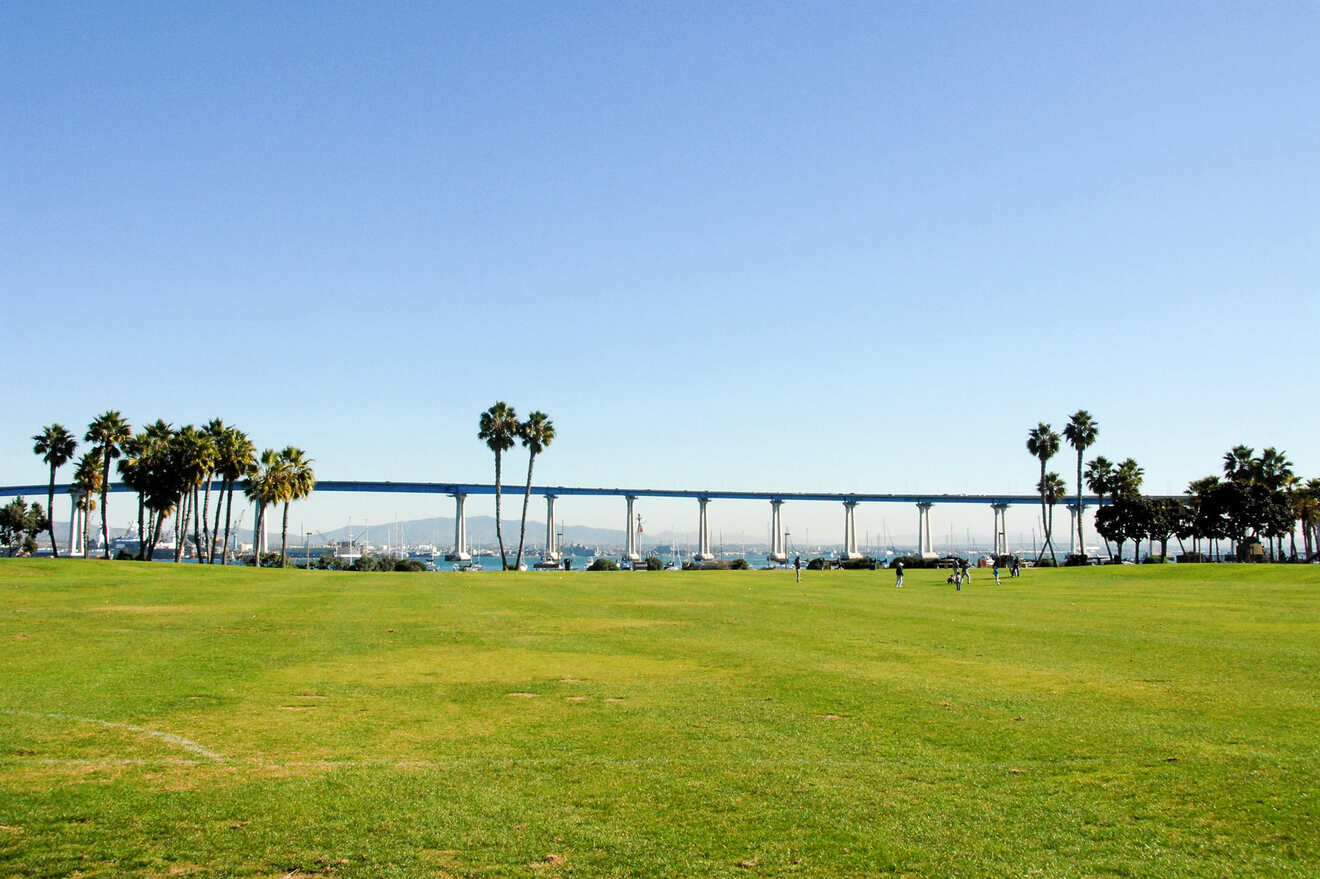 Tidelands Park is the biggest park in Coronado! There's a lot of room here to run around, bike, play sports, work out, have a picnic, and do whatever you please. All with a view of the bay, of course!
For a fun little detour, check out the Coronado Skate Park for some of the city's best skateboarders and performers.
Bring your furry friends, too! Dogs are allowed on a leash here!
8. Enjoy a drink at Coronado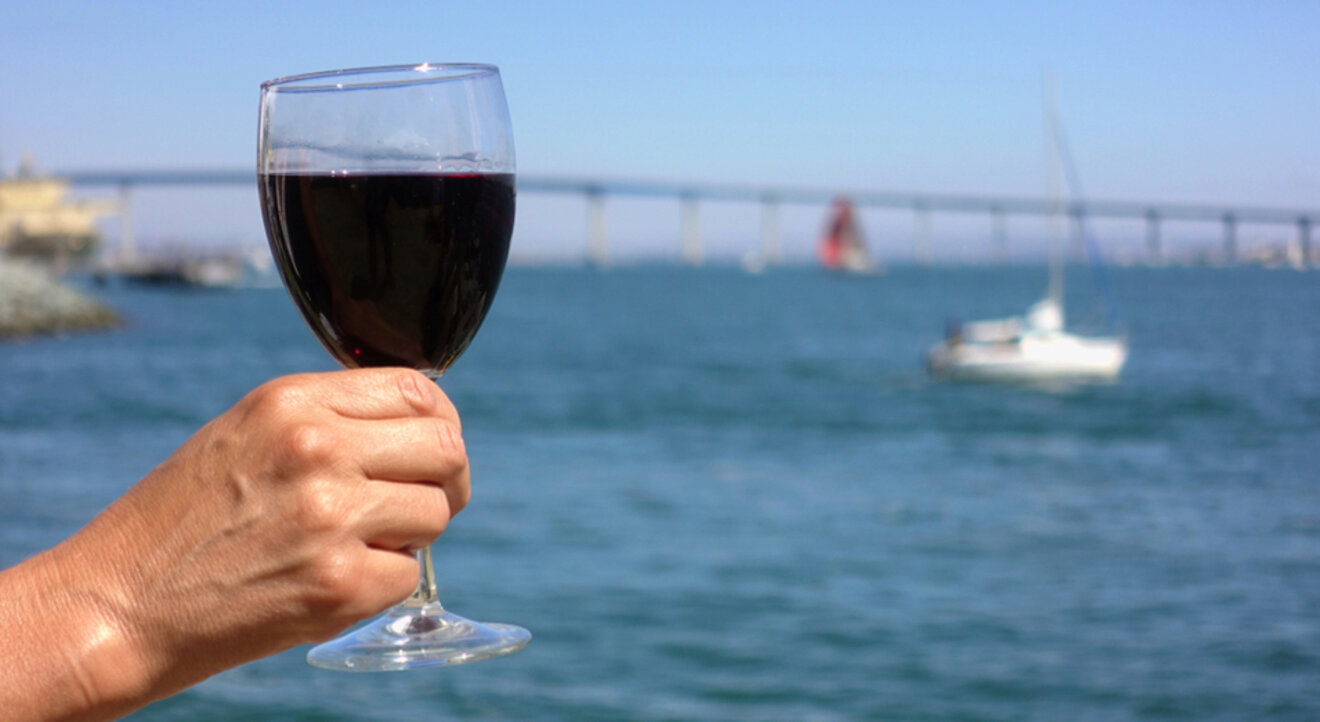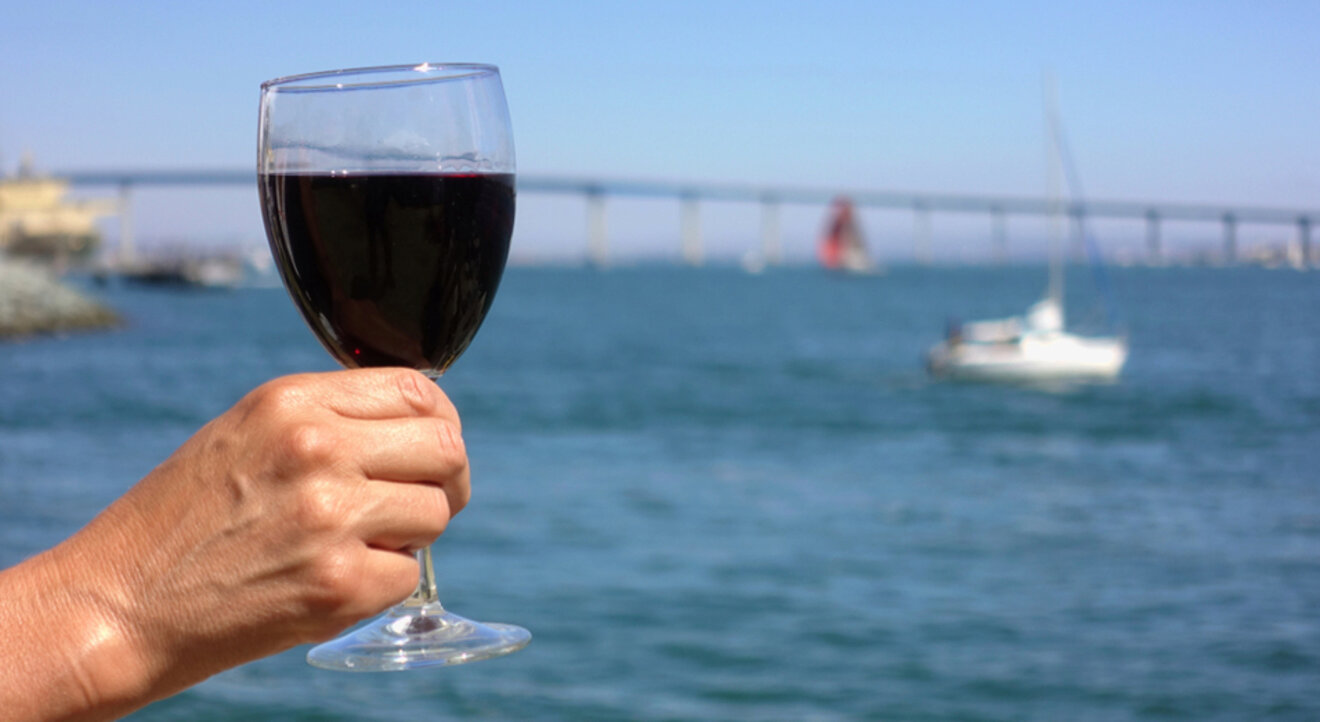 Coronado Island is home to quite a few wine bars, cocktail bars, and local pubs. After a day of recreational activities, it's always nice to unwind at a local bar! And lucky for you, there's something for everyone on this little island!
Here are a few spots I recommend checking out:
Wine A Bit – A wine lover's paradise! This wine bar offers 200 unique boutique wines by the glass, along with appetizers and small plates if you're here for lunch. They even have 20 specially crafted beers if you so please!
McP's Irish Pub – This pub has been a local favorite for over 40 years! This is a great place if you're looking for a sports bar and a casual drink.
FAQs about things to do in Coronado Island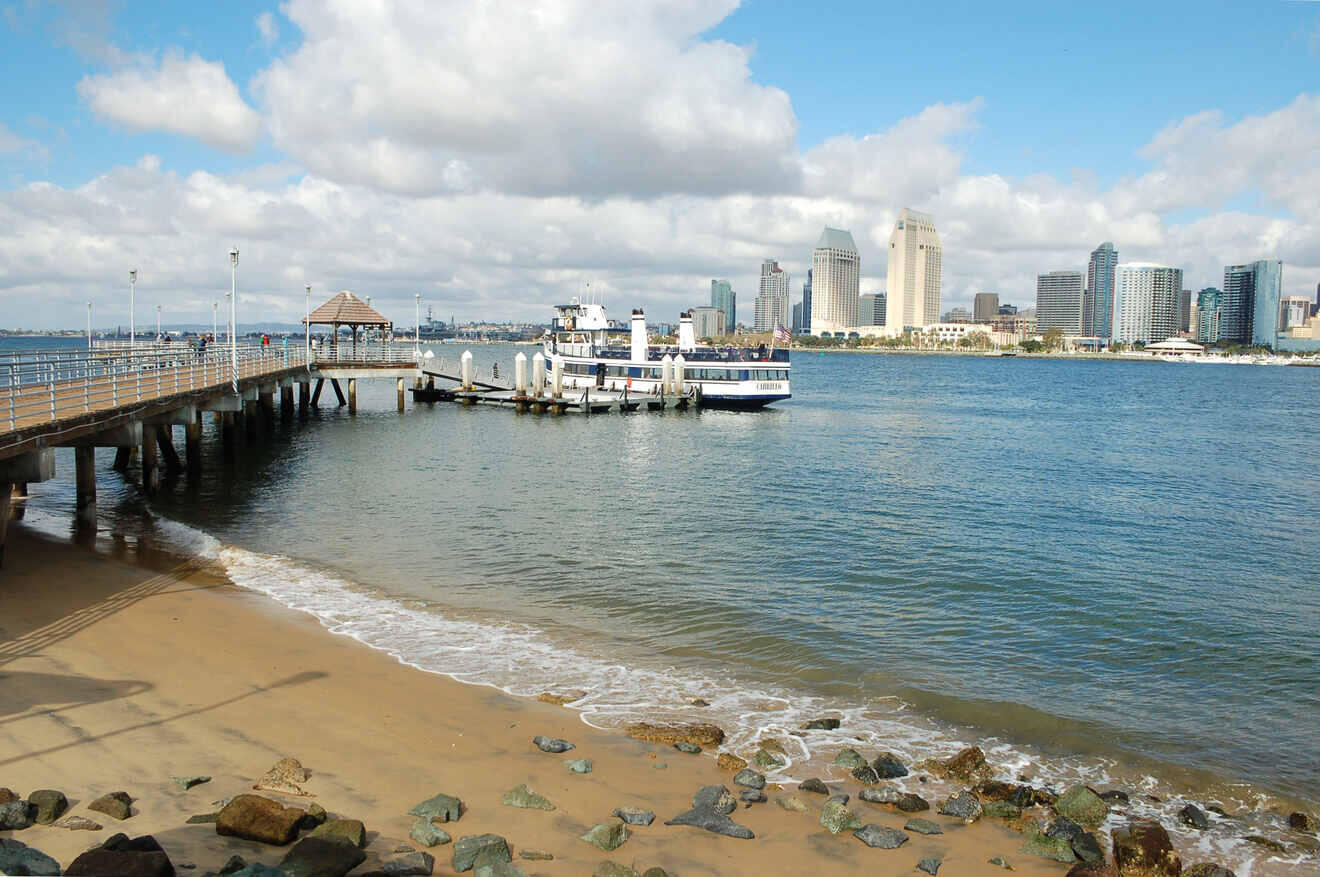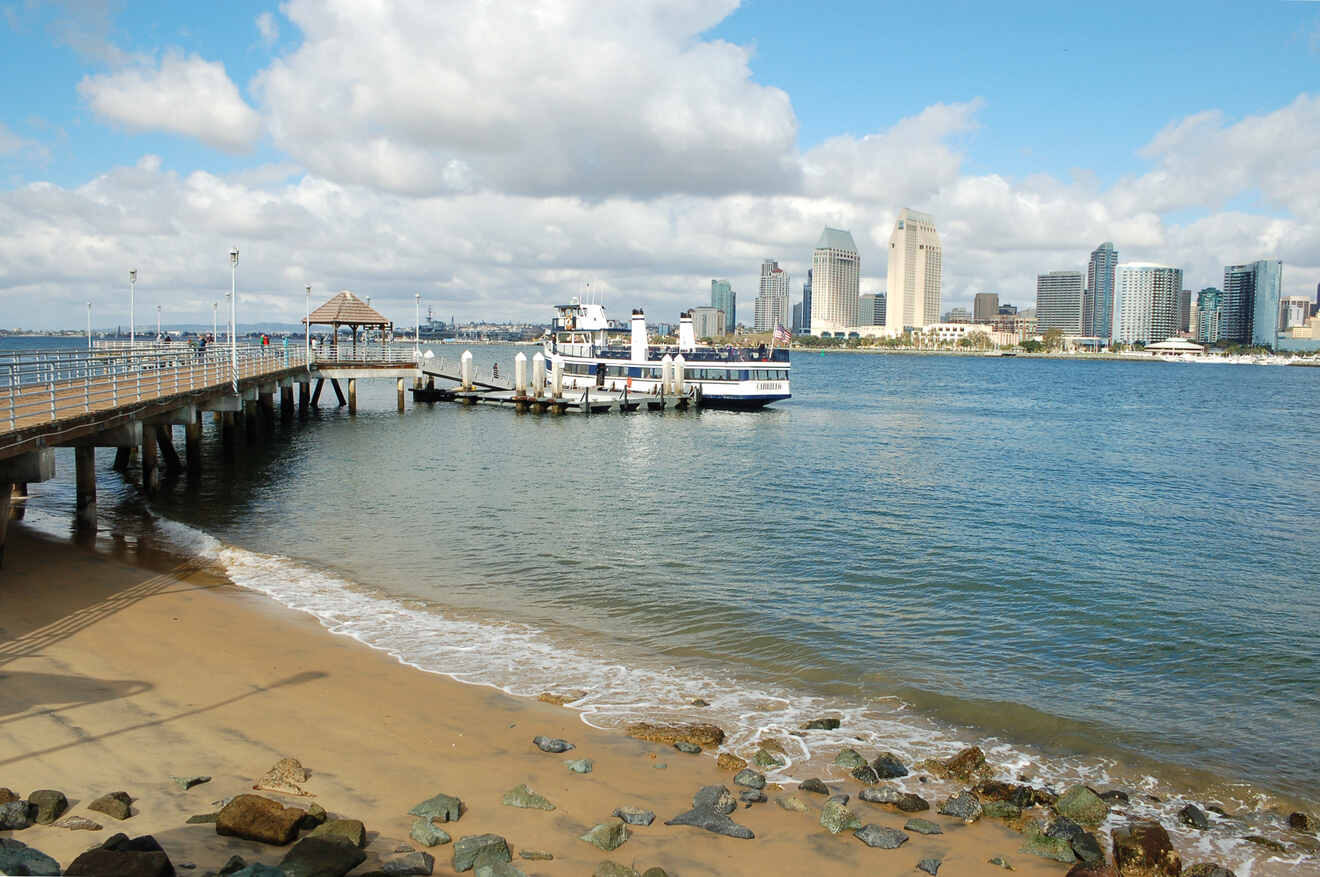 🏝️ What are some things worth doing on Coronado Island?
Some things worth doing on Coronado Island are walking around the Coronado Ferry Landing and Silver Strand State Beach. Both offer unique experiences that all visitors would love!
💙 What is Coronado Island most known for?
Coronado Island is known for its historic Hotel Del Coronado because of its iconic history and beautiful beachfront resort.
👨‍👩‍👧 What are the best things to do in Coronado Island for kids?
The best things to do in Coronado Island for kids are exploring the beautiful beaches and parks. The Glorietta Bay Park and Silver Strand State Beach are great for both families and kids to play in the sand and collect seashells!
👩‍❤️‍👨 What is the best thing to do in Coronado Island for couples?
The best thing to do in Coronado Island for couples is to go on a gondola ride at the Coronado Cays.
Conclusion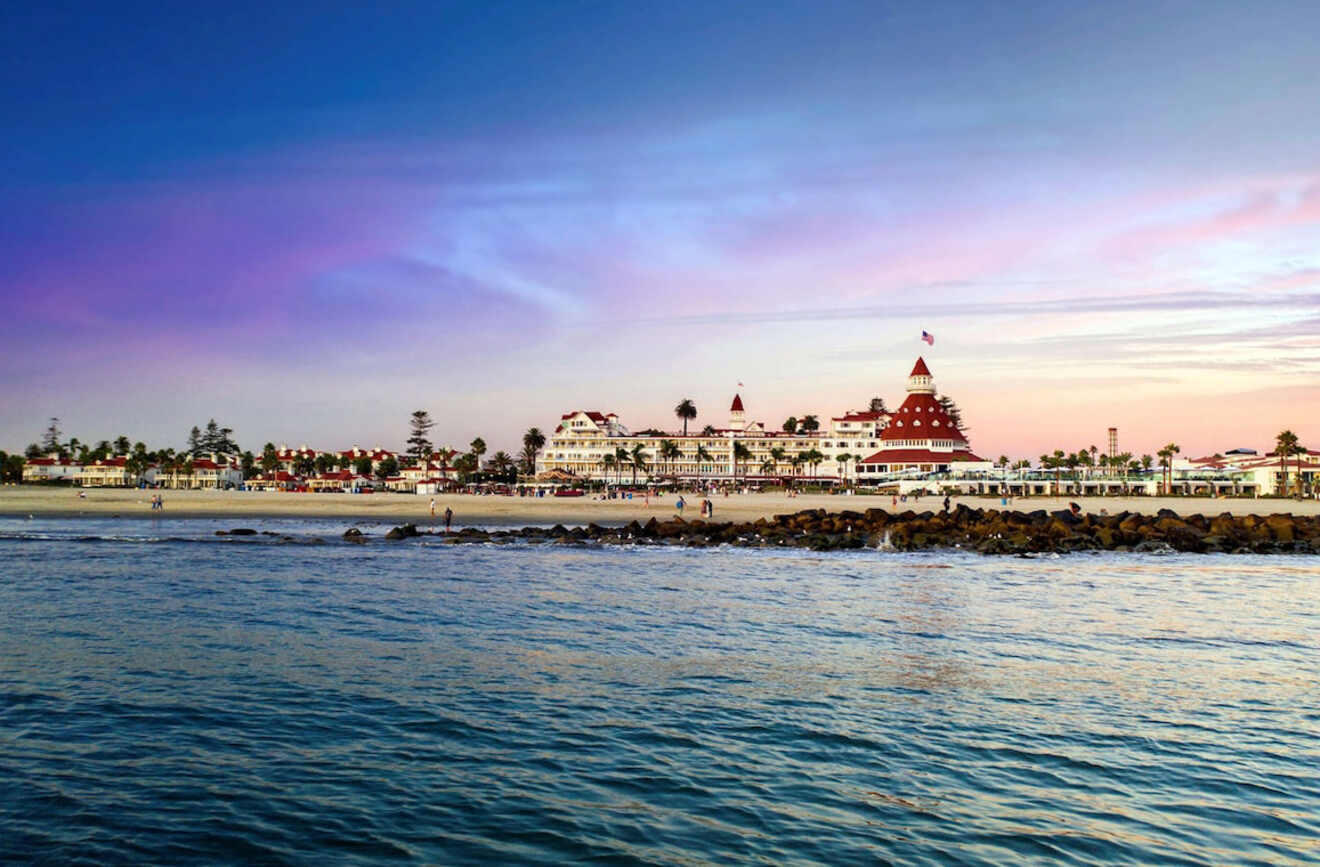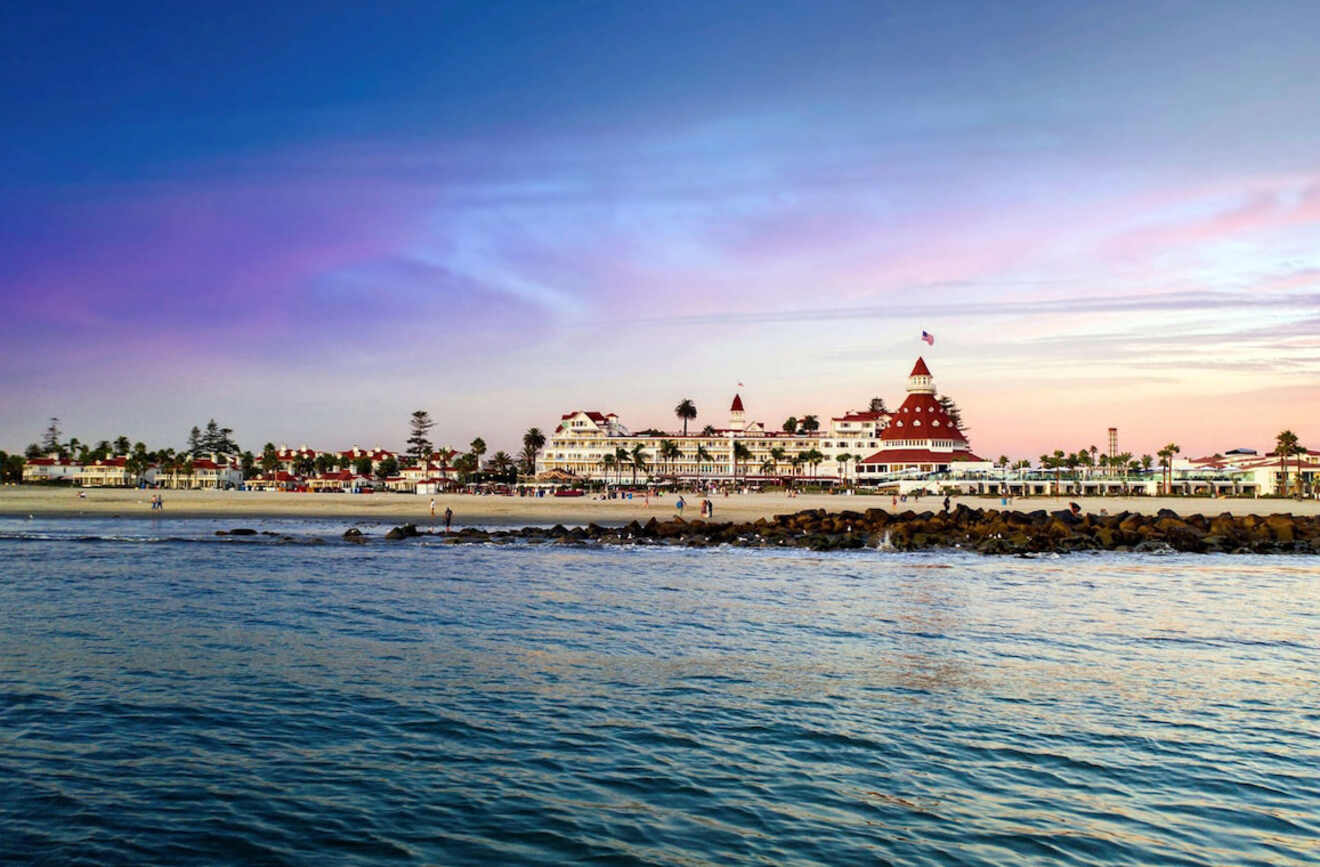 Now that you have an idea of all the best things to do in Coronado Island, you're ready to set sail and hop on that ferry! If you end up booking any of these tours and tickets, be sure to book far in advance to secure the best deals.
Not only is it important to save money, but it also gets so packed all year long, so booking in advance will ensure your spot is saved.
My favorite activities from this list are, hands down, ice skating at the famous Hotel Del Coronado during the winter and walking around the Coronado Ferry Landing after taking the 15-minute ferry from downtown San Diego. I've done both activities many times growing up, so they're close to my heart.
Enjoy your trip and safe travels! (Don't forget to leave me a comment whenever you visit!)
Xoxo,
Esabel S.
---
Pin it for later!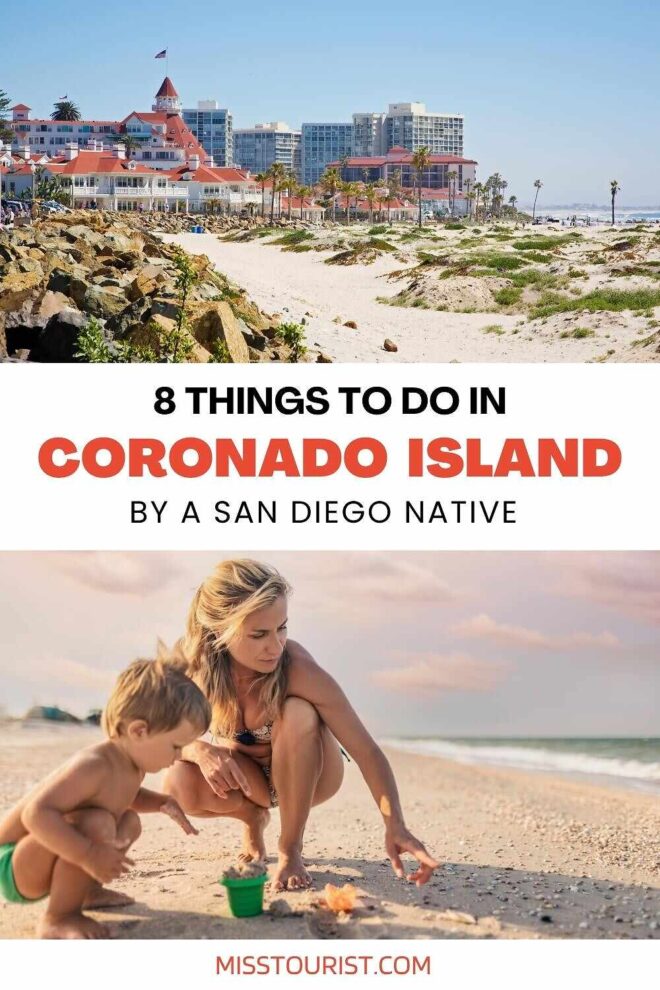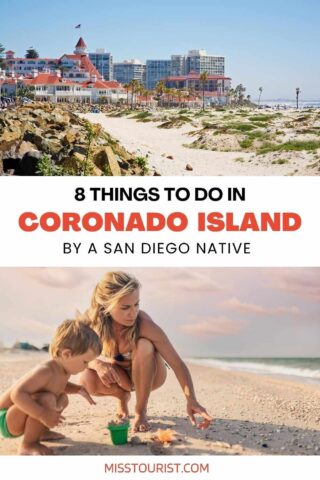 Pin it for later!